Our memories of Italy 2022:
We enjoyed another great / interesting trip to Italy with a number of wonderful memories, including:
the smell of jasmine

pizzas - of note being the endless choices

Giuseppe and our experience at Pizzeria Da Saro
meeting Luigi and his goats
Vincenzo, Rocky and their goats
the heat (up to 38 C) early in the trip

our gelato challenge, including the one made of Buffalo milk
the coastal scenery at Maratea, Pisciotta and Massa Lubrensa where the mountains touch the sea
the expansive vistas from our lodgings of the colourful Tyrrhenian Sea and Bay of Naples
traffic along the Amalfi coast
narrow twisting mountain roads and streets in rural villages / beautiful hill-top towns

the Napoli suite (including the bathroom and 3 balconies) and gardens at Villa il Torre

breakfasts everywhere, of note being wide selection of cakes
welcoming and wonderful hosts - Marianna, Pasqualini, Danila, Lea, Massimo, Valentina and Cristiano
Marianna, Pasqualini and all the staff at il Ruspante
making fresh pasta, and then enjoying the fruits of our labour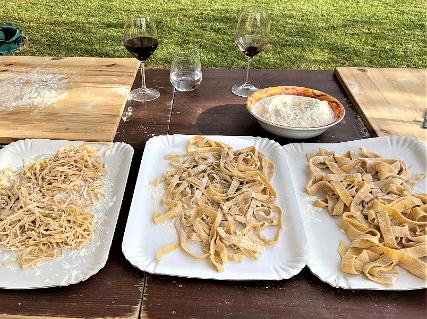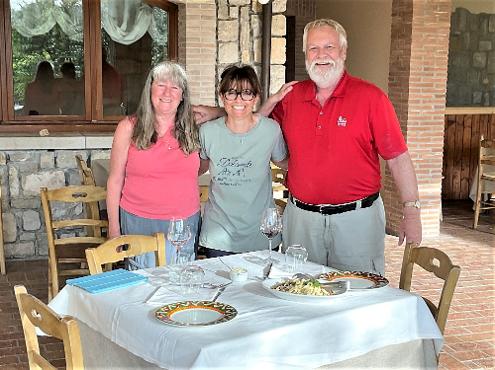 all of our lodgings - we chose very well
our swim in the sea
Il Mirto, if only the day was hotter

the lemon farm tour with Eugenio

piano piano (slowly slowly)

the flowers adorning the many terraces at Villa Cheta
an Italian Villa (Cheta) as we imagined it to be back in the day, fit for my princess

stunning sunsets, particularly over the Bay of Naples

overnighting in Montreal - not a good memory

delicious bruschettas served before every meal in and around Il Ruspante

socializing, e.g. chatting with Caroline and Mario on the gorgeous roof-top terrace of Hotel Marulivo

Prosecco, on the roof-top of Hotel Marulivo, the terrace at Villa il Turro and our last day at Torre Cangiani

just sitting in the town square of Pisciotta, enjoying a granita and watching the locals

Bello and Bella, the Ruspante donkeys

the town of Castro dei Volci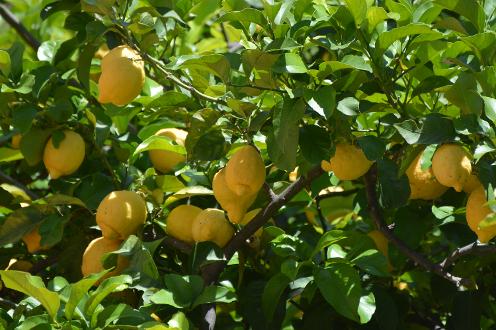 The only pottery purchased - a plate in Pisciotta.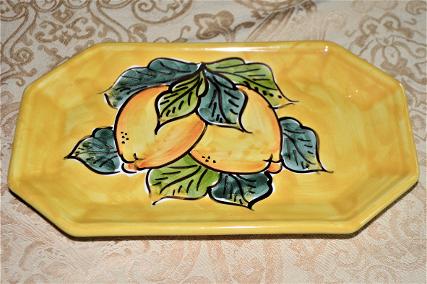 The Gelato Challenge
One of our goals of the trip was to enjoy a gelato each day. Although we had many, unfortunately we failed. In some cases we were unable to find a gelateria, but more often we were simply full from breakfast.
Flavours included chocolate (many times), limone, strawberry, mango, passion fruit, sour cherry / amareno, coffee, pistacchio, and hazelnut. In one case we tried a granita (flavoured ice - lemon and orange) but we could have had a gelati so we're counting it. In the end
we did try many - in total 8. However each gelato has two or three scoops of different flavours such that in total we had 16 scoops, or one a day. Perhaps not our original goal but still a decent achievement. Perhaps we'll do better next trip.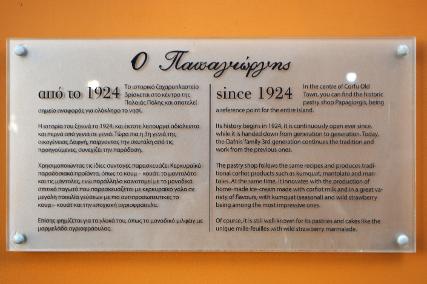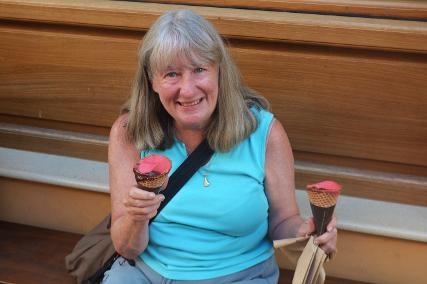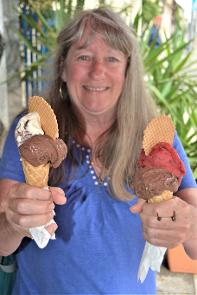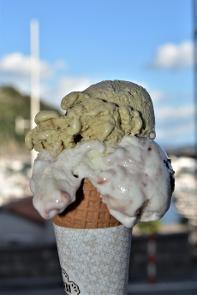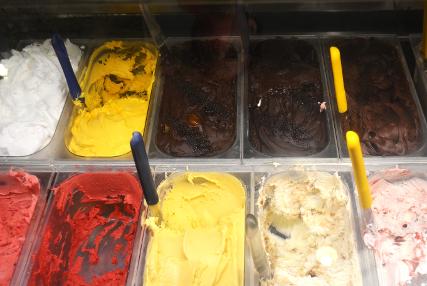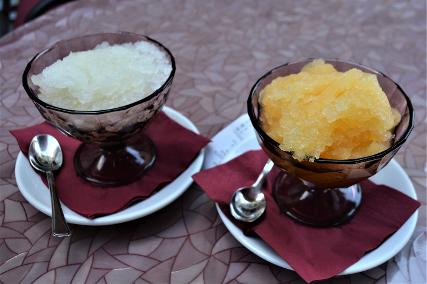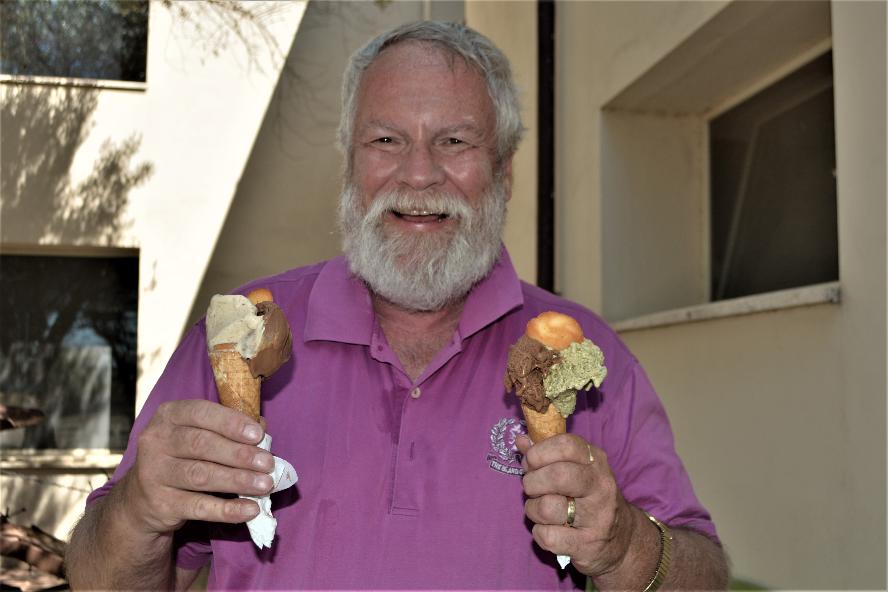 Expenses (based on average exchange rate 1 euro = $1.35 Canadian):
Here are the costs of our trip:
$ 2,940 airfare, including seat selection
$ 3,126 lodging ($195 Canadian $ per night)
$ 1,361 food ($85 per day for dinner etc. including wine as breakfasts are included in all lodging)
$ 1,965 vehicle ($1,619 or $101 per day for the vehicle plus fuel / tolls of $323 plus parking $24)
$ 35 souvenirs - a plate plus two bottles of olive oil plus a bottle of (very inexpensive) wine
$ 77 tours - the lemon farm tour
$ 9,505 for 16 days
The average cost per day excluding airfare and souvenirs (i.e. lodging, food, entrances, vehicle and miscellaneous) was $408 (302 euros), which except for car rental that increased from $23 per day to $101 per day was more or less in line our last trip to Italy.
Average cost per day (in euros) excluding airfare and souvenirs
Lodging Food Car rental
2022 Campania and Basilicata 138 60 72
2018 Umbria 127 60 15
One observation is the increase in price of vehicle rental. Like Costa Rica the cost of renting a basic economy car has shot through the roof. What cost us 15 euros per day in Umbria in 2018 was now 72 euros per day.
Lodging ranged from a low of 80 euros (Il Ruspante) to a high of 226 euros (Villa Cheta). All included a very significant, filling breakfast.
Here is a list of the lodgings where we stayed, the amount we paid and a link to their website.
$ 116 La Locanda del Ruspante Castro dei Volci www.ilruspante.it
$ 162 Villa il Turro Massa Lubrense www.villailturro.com
$ 327 Villa Cheta Maratea www.villacheta.it
$ 200 Hotel Marulivo Pisciotta www.marulivohotel.it
$ 175 Torre Cangiani Massa Lubrense www.torrecangiani.com
If you are ever travelling through this region of Italy check these places out.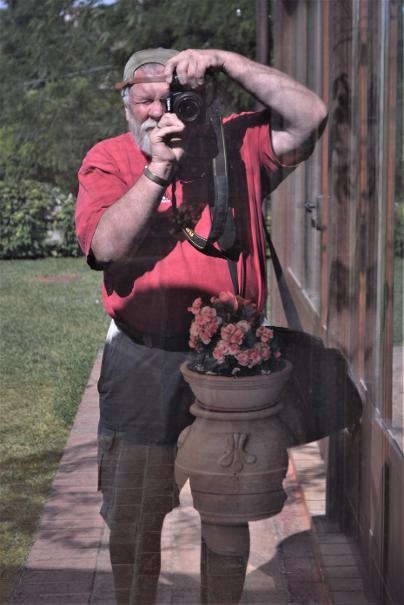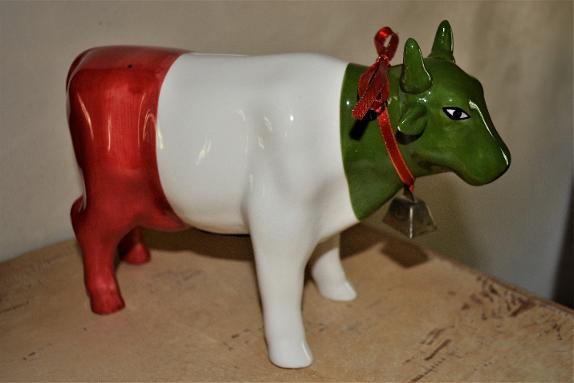 June 15 and 16, 2022 - Torre Cangiani to Naples to Munich to Montreal to Halifax with an overnight stay in the Montreal airport - not in a hotel, but on a bench in the actual airport
This is it, the end of our trip to Italy. Having a long day ahead of us and knowing traffic can be challenging along the Sorrento Peninsula, not to mention Naples we were down for an early breakfast to fill us for what we knew would be a long day.
Before we leave though we would be remiss to not mention how much we enjoyed Cristiano's company. He is very very funny, and I certainly pushed his buttons with my paparazzi efforts, trying to sneak a photo whenever I could. He took it all in great stride. Again it is the hosts that make a place and as we have said before if not for their vision and execution travelers like us would spend our time in bland, non-descript lodgings rather than a place like Torre Cangiani with its history and wonderful hosts. Thank you Cristiano, Valentina, Rafaella and Matilde ... and Chiara.
____________________
The struggles of travel these days.
We took one wrong turn approaching the Naples airport but good instinct got us to where we had planned to go, including a petrol station to gas up and the car rental return.
For reasons we don't recall the Naples to Munich flight was over an hour late meaning rather than 2 hours to make our connection we had approximately 45 minutes, during which we had to change terminals. After a long hike, and then a shuttle bus we would have just made our boarding time only to find out the flight was delayed, and then further delayed, apparently due to insufficient staff to clean the plane, or at least so we were told. And then after boarding the flight was yet further delayed, waiting for clearance to depart. As a result we were two hours late taking off. Of course we expected this would cause problems in Montreal.
We made up some time but still landed only 25 minutes before our flight to Halifax was to depart. We assumed there was no way we would make the connection but when we first saw a board we noted our flight was delayed 20 minutes. We rushed but still arrived after that re-scheduled departure only to find the boarding area still full. The flight had again been delayed, this time to 10:15 pm. Then delayed again until 11:30 pm. Then delayed once again until 1:00 am. Then at 12:04 am cancelled. Of course by then there was only one or two agents to serve 150+ passengers looking for hotels, compounded by the fact the F1 Grand Prix was in Montreal that weekend with hotels being at a premium. By the time we got to the front of the line just before 3:00 am we had decided to just find a couch and hang out in the airport. At least we got some food vouchers. We were re-booked on an 11:00 am flight, which was also 45 minutes late due to a passing thunderstorm, but we did eventually make it home ... very very tired.
Not that we are complaining - much better to have problems returning as opposed to going when one is excited about their upcoming trip, and better here in Canada rather than somewhere else. Still, not a fun way to end what was otherwise an excellent trip.
Having finished packing we went for our last Italian breakfast. It was a bit rushed as we wanted to get on the road for a planned two hour drive to Naples airport.
Needing our 'fuel' it was a two coffee pot morning. Breakfast was similar to yesterday with the exception that Cristiano served me some wild boar salame - nice.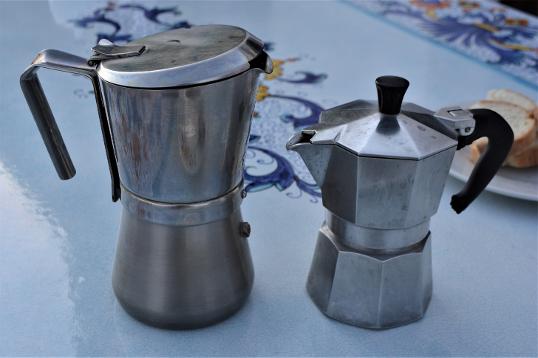 Wild boar salame. Fresh tomatoes and cheese.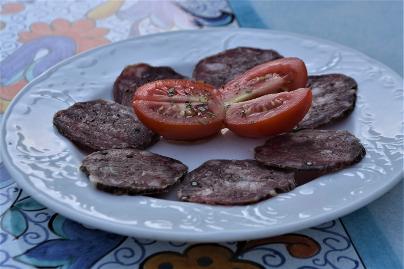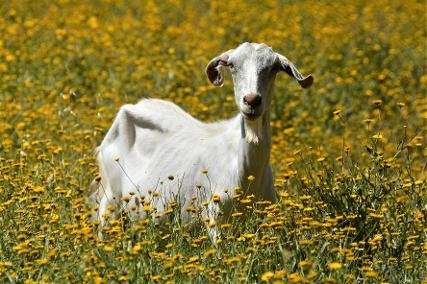 June 14, 2022 - Torre Cangiani, Massa Lubrense
A very quiet last full day in Italy. We spent most of the day at Torre Cangiani. It started with another great breakfast. Freshly squeezed orange juice - somewhat surprisingly the first of the trip - yoghurt with walnuts and honey, all then all the standards - coffee, cakes, fruit etc. plus a plate of fresh tomatoes from the garden. Torre Cangiani is a small working farm with much of its products (for dinner and breakfast) grown on-site.
A bit of history - based on research of Massa Lubrense's history the Cangiani family inhabited the territory since the 14th century. Torre Cangiani is made up of a farmhouse protected by an Anti-Saracen tower built between the 16th and 17th centuries to protect the family against attacks of Turkish pirates that were common in the area. Given the ancient history of the property the guest rooms are all furnished with antique furniture true to the history of the building.
One thing one notices is the number of boats / ferries moving people to / from the islands of Capri and Ischia. Throughout the day the bay is full of numerous tour boats to what are obviously popular destinations.
In the afternoon we drove to a nearby beach but it turned out not to be easy to access, with difficult parking with a significant descent/assent so we bailed, returning to Torre Cangiani where we uncorked a bottle of Prosecco which we enjoyed on a bench, with some just picked cherries, a 'gift' from those working on nearby trees, overlooking the Bay of Naples. A wonderful way to spend our last afternoon.
For dinner we took the short drive to Massa Lubrense where we ate at Il Cantuccio. While there is a large nice looking indoor area everyone was outdoors, overlooking the bay and enjoying what was a stunning sunset. We started with a delicious bruschetta, very tasty tomatoes and herbs. I then had the meat balls (polpette) with nicely fried potatoes while there was no doubt what Gayle was going to order - a pizza! The setting, as you will see by the sunset photos, was as good as it could get.
For a moment we thought we were in Greece - fresh squeezed orange juice and yoghurt with walnuts and honey (Cristiano's own).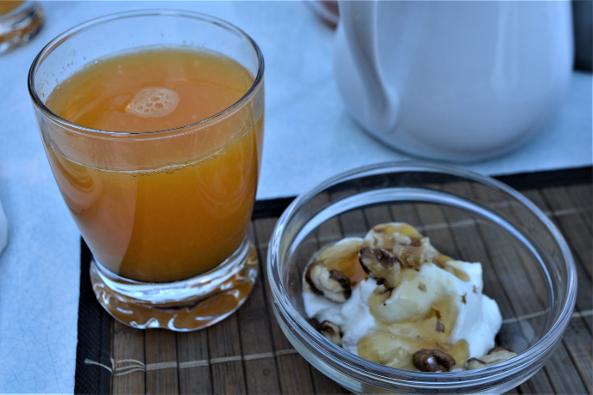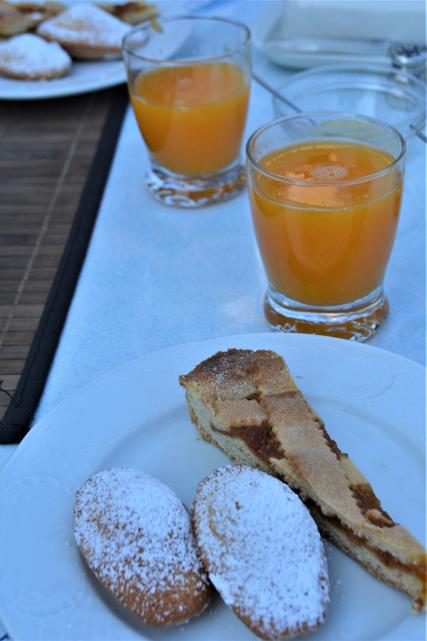 Gayle enjoying her
Cristiano. freshly squeezed OJ.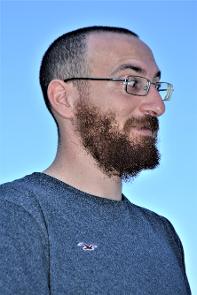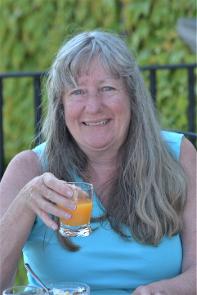 And a plate of fresh tomatoes for breakfast. Somewhat unusual but so delicious.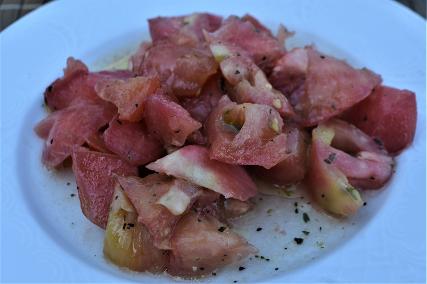 There are many posh hotels / resorts throughout Massa Lubrense, but particularly along the coast.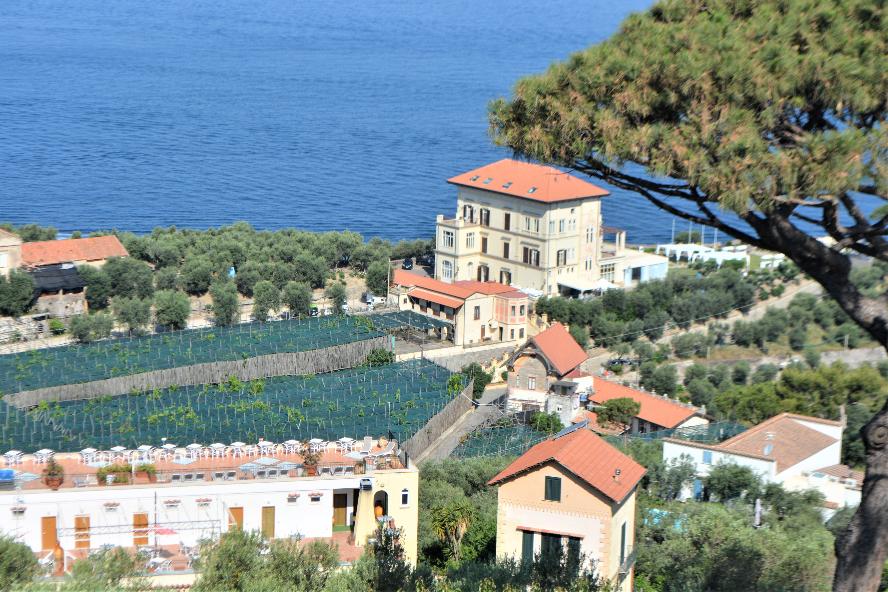 Looking through the morning mist to Sorrento, tucked into the bay mid right.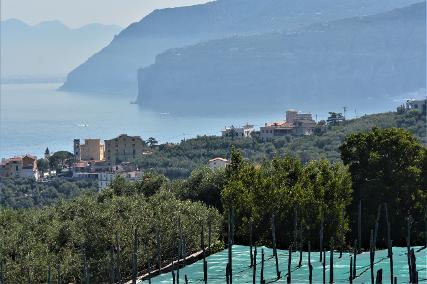 The point of this photo is not the tree, as beautiful as it is, but the steady stream of boats shuffling tourists from Sorrento to Capri or Ischia.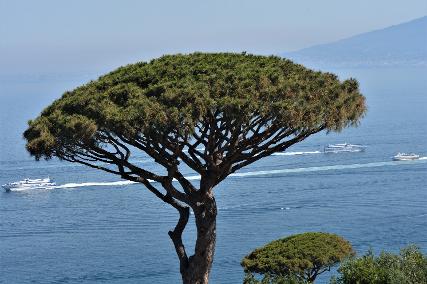 It seems every where we stayed had one of these urns with flowers. The tower / torre - our room being the one above the entrance door - with its wonderful view out the window to the Bay of Naples.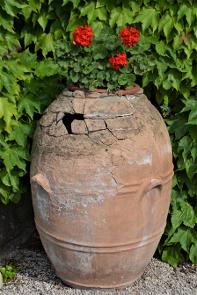 Some of the very colourful tiling and pottery in the area.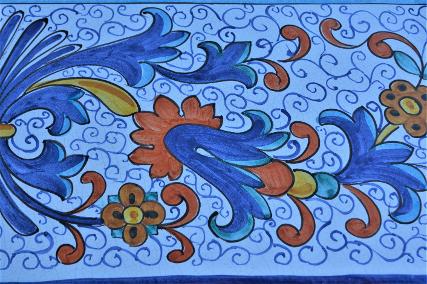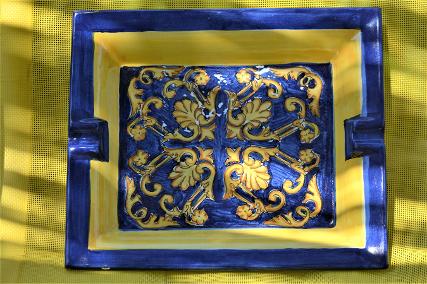 Torre Cangiani is a small working farm - recall the tomatoes for breakfast - with Cristiano and others working during the
day.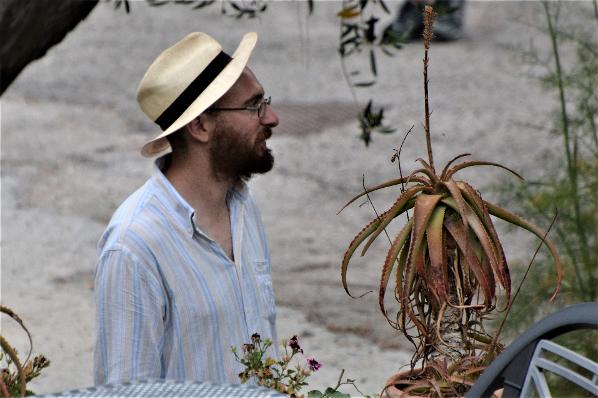 During the late afternoon we enjoyed a bottle of Prosecco (with some fresh picked cherries) on a bench overlooking the bay. Can it get any better?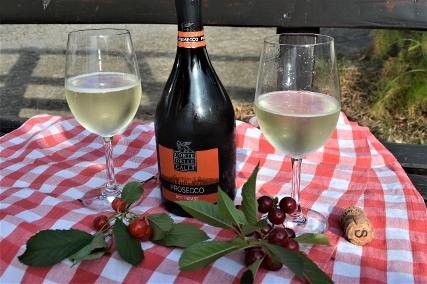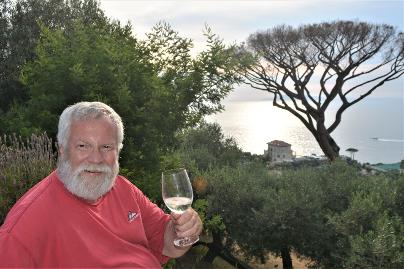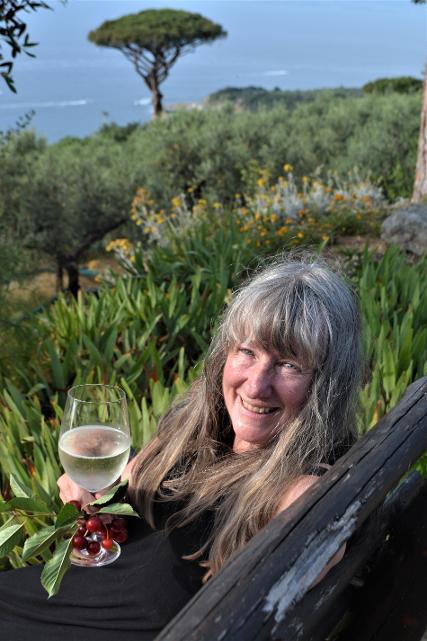 Dinner started with a very delicious bruschetta. And then I had the polpette (meatballs).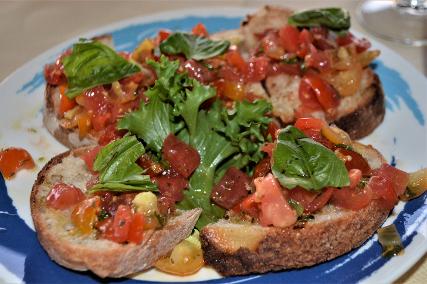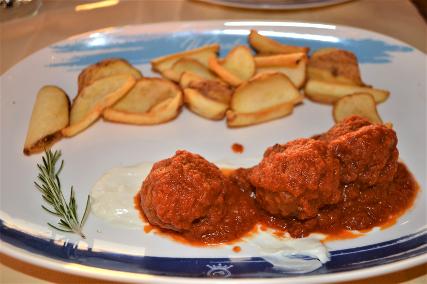 Our last night and Gayle was going to have her pizza.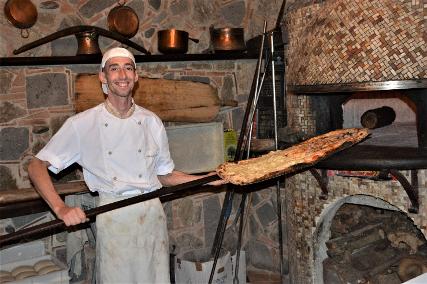 A simple tomato and mozzarella, with fresh basil.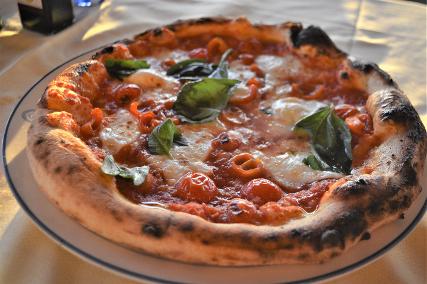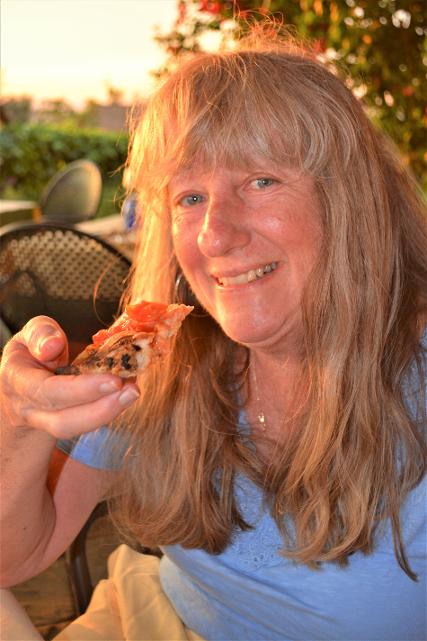 Throughout dinner we were treated to the most colourful sunset in quite a while.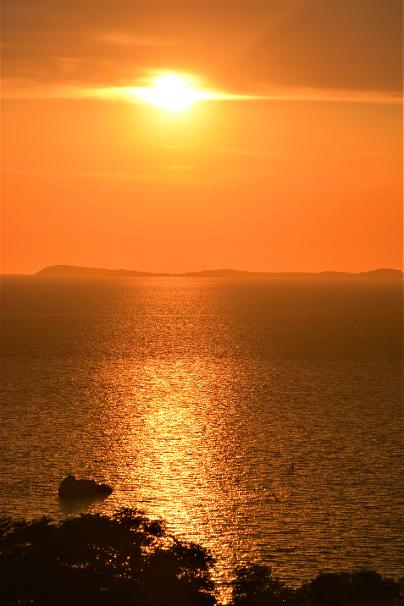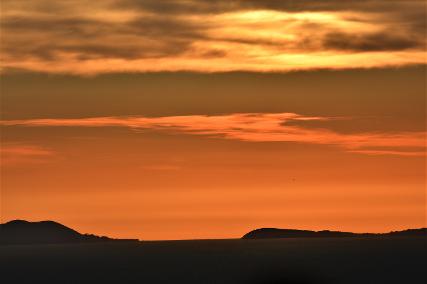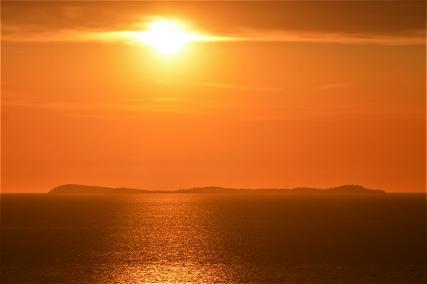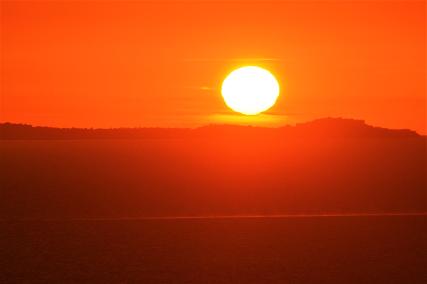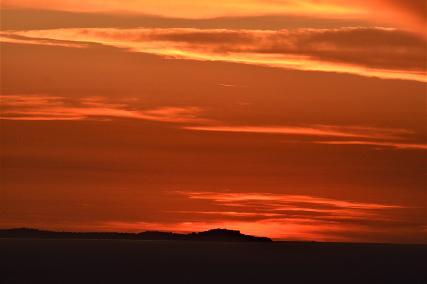 June 13, 2022 - Hotel Marulivo, Pisciotta to Torre Cangiani, Massa Lubrense
Our stay at Hotel Marulivo came to an end this morning. Would we return? In a heartbeat. A beautiful sea view room, a superb breakfast, excellent internet, a small quaint town, a stunning roof-top terrace with views to die for, and most important of all welcoming, friendly hosts. Such a great choice of lodging.
We left on what would have been a lengthy drive (nearly three and a half hours) with no stops. But of course that never happens. Our first major stop was before Santa Maria di Castellabatte where we saw a sign to a beach, drove the couple of kms to the coast and enjoyed a wonderful swim at Spaggia Pubblica di Ogliastro Marina. Not a huge beach but easy to access, very sandy and with a gentle descent into the warm water. Other than the pool at Villa Cheta and Gayle dipping her toe in at Il Mirto this was are only 'sea' swim. It would have been easy to not take the time but we are extremely glad we did.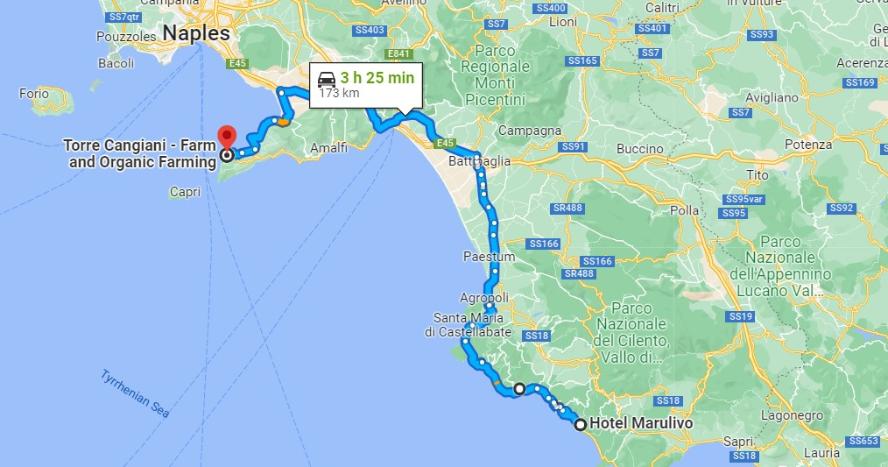 As we continued beyond Agropoli we encountered a number of buffalo farms. Our son loves to cook with Buffalo Mozzarella so we stopped in to one. We were not hungry enough to have lunch but could not resist a Latte di Buffalo gelati - chocolate and hazelnut for Gayle and chocolate and pistachio for Norm.
From Battipaglia we connected with the the E45 highway, which while making time is a bit white knuckle driving around Salerno. This time we found the correct exit to the north side of the Sorrento Peninsula for the 1 1/4 hour drive to the far tip of Massa Lubrense. While less than the Amalfi / Positano south route there is still a ton of traffic and narrow, winding roads. But we did make it, and easily (thanks to the map we had from our stay at Villa Il Torre) found Torre Cangiani.
When planning our (cancelled) 2020 trip we intended to stay at Torre Cangiani, in the separated cottage, for four nights. We were fortunate to even get two nights in the Tower Room, and thankful we decided to take them. A wonderfully positioned farmhouse with unobstructed views of the Bay of Naples and the islands of Capri, Ischia and Procida.
We were welcomed by Cristiano, who along with his wife Valentina, mother Matilde and assistant Rafaela manage the small (four rooms) farmhouse. After showing us our room Cristiano took us up to the breakfast terrace where he offered us limoncello as we looked out with our mouths agape at the Bay of Naples and the deep blue colour of the sea. The family - even three year old Chiara helps out - serves dinner a number of nights, including tonight. Simple but wonderful home cooking, accompanied by a bottle of wine. We started with a couple of croquettes along with warm cheese served in lemon leaves - no you don't eat the lemon leaves - followed by a nicely presented pasta with a tomato sauce. Next was an eggplant dish - rolled eggplant in a bowl filled with tomato sauce. I am not normally a big fan of eggplant but even I have to admit this was really good. Of course Gayle was in heaven. For dessert we had an excellent chocolate mouse. Dinner was enjoyed while watching the sun progressively drop in the sky, eventually setting with a blaze of colour. We have found another winner!
We know we have posted this view many times but hey, what a way to start the day.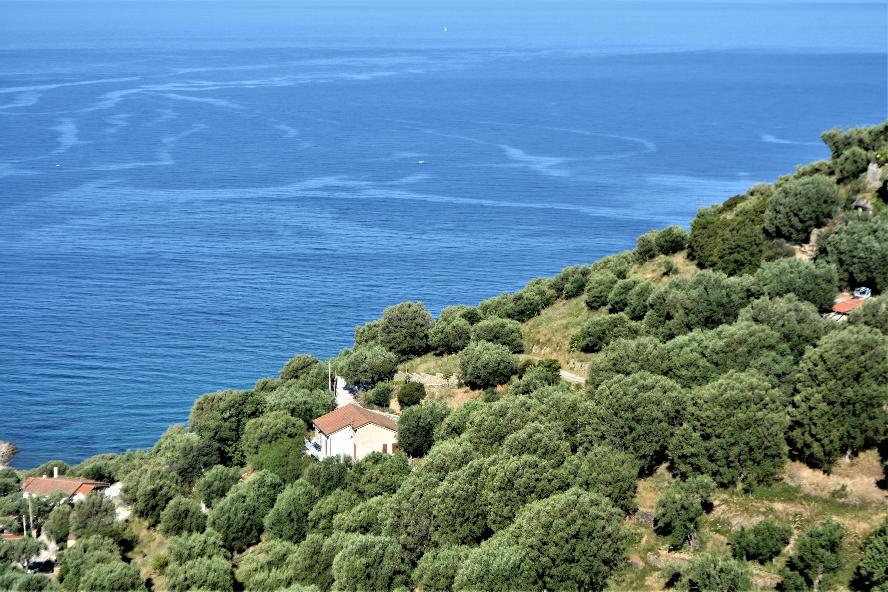 So much choice for breakfast - and this is only a small sampling.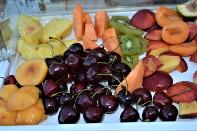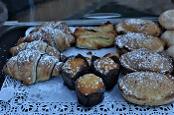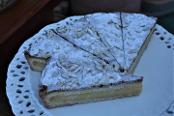 A breakfast table overlooking the sea. Gayle with a cappuccino, yoghurt ++.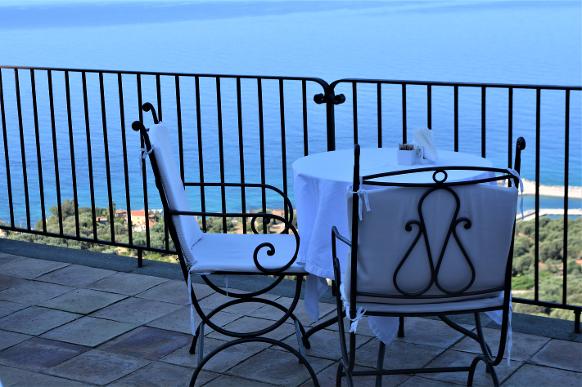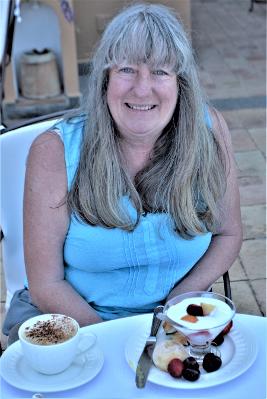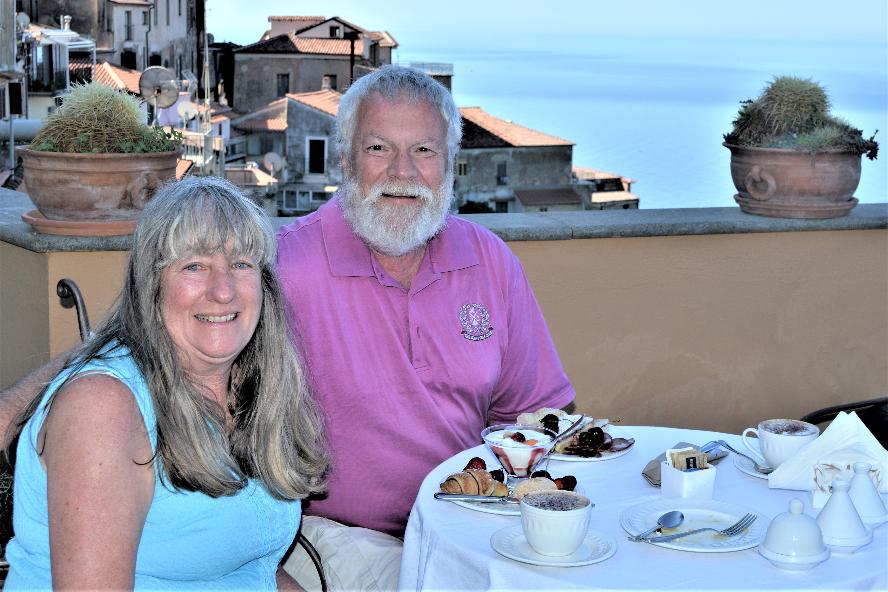 Hotel Mariluvo (the stone wall in the middle) as we were driving out of town.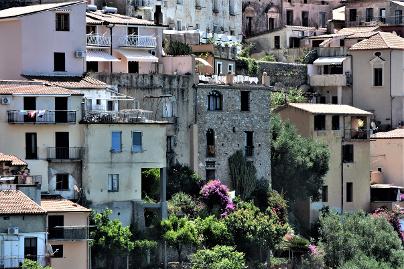 Caroline and Mario also enjoying breakfast.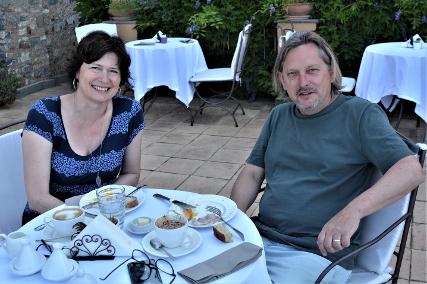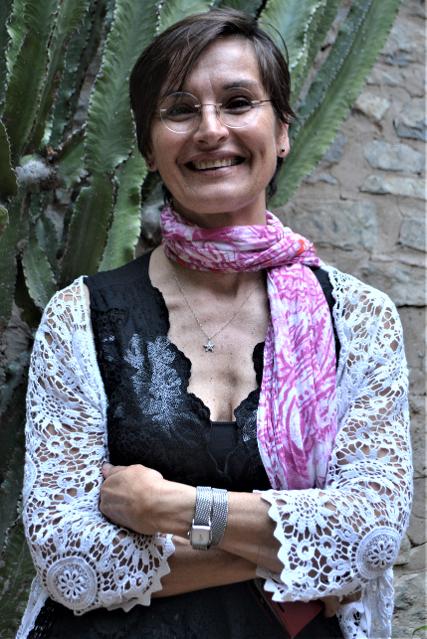 Tomatoes at a fruit market.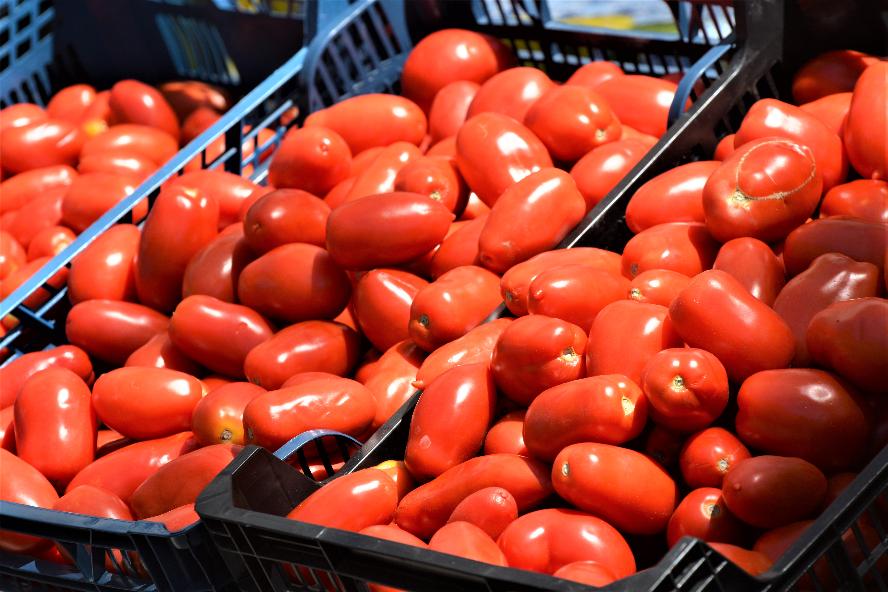 Coastal scenery shortly after leaving Pisciotta.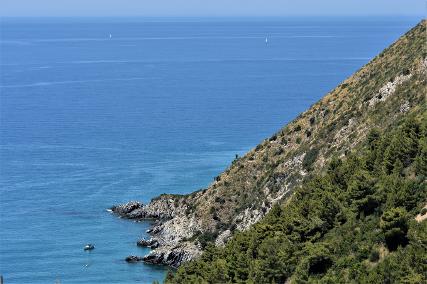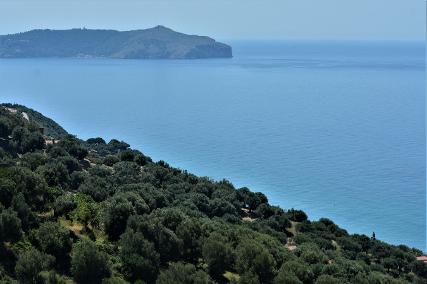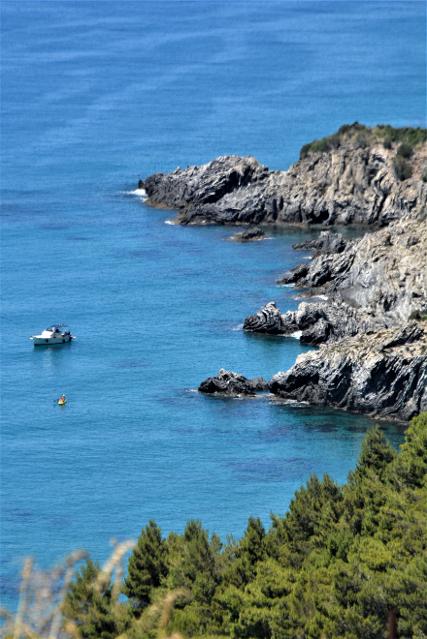 Ogliastro Marina Beach. Gayle enjoying a swim.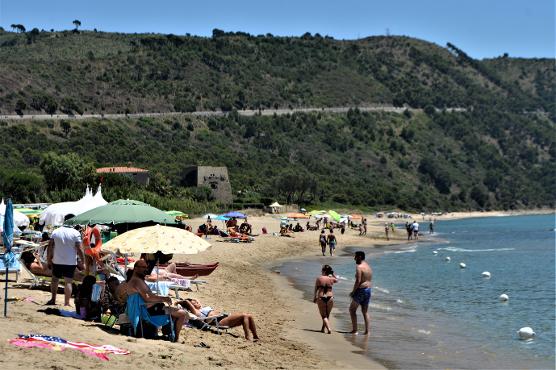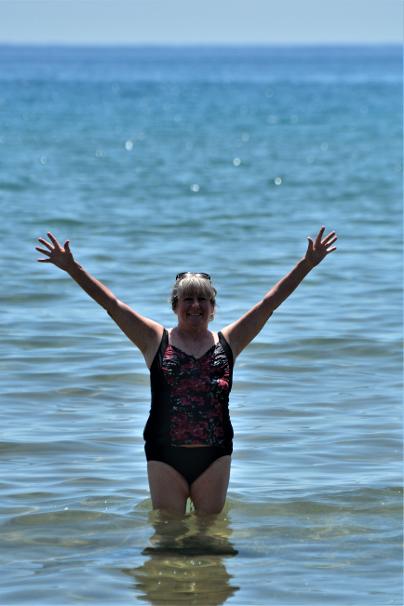 More castles, towers and hill-top towns.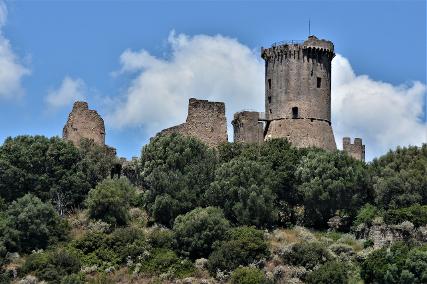 Some of the buffalos who provide the world with Buffalo mozzarella.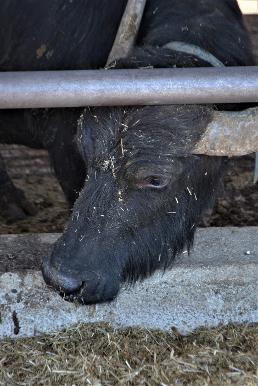 There are a number of Buffalo farms in this area - a source of Buffalo mozzarella and some very tasty gelati.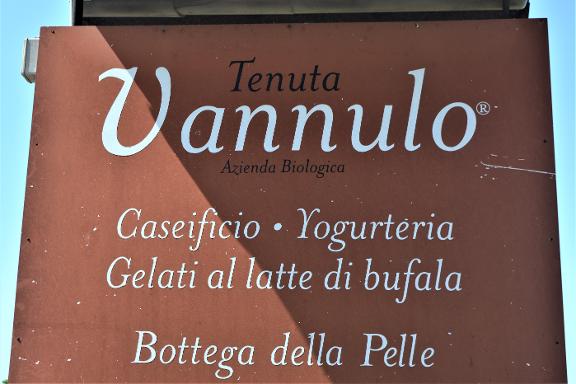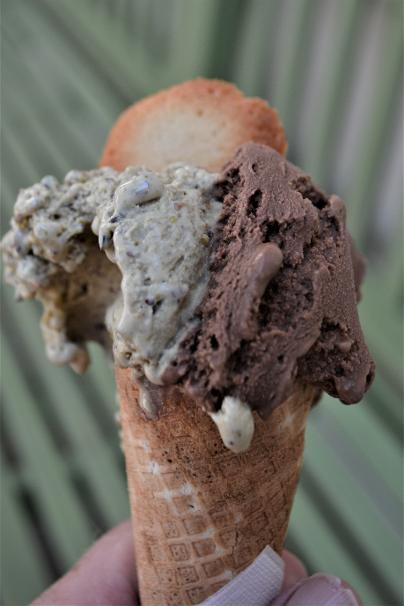 More gelati - this time made with buffalo milk.
Afterwards we stopped at a Buffalo Mozzarella shop - didn't buy anything but took a few photos.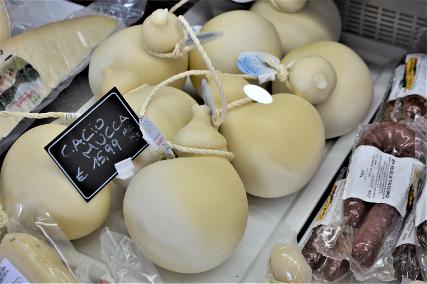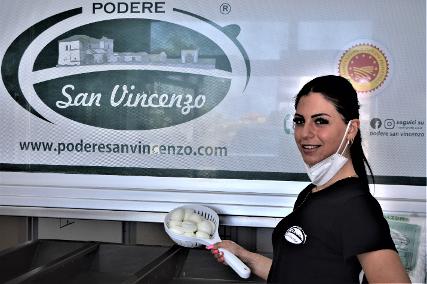 We were welcome to Torre Cangiani with glasses of limoncello and this view to the Bay of Naples.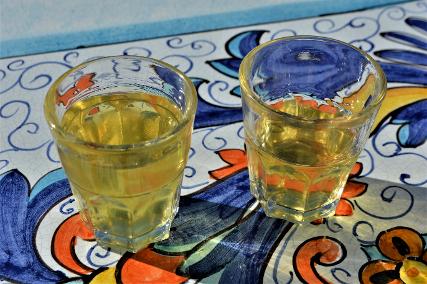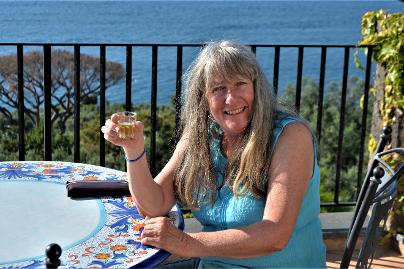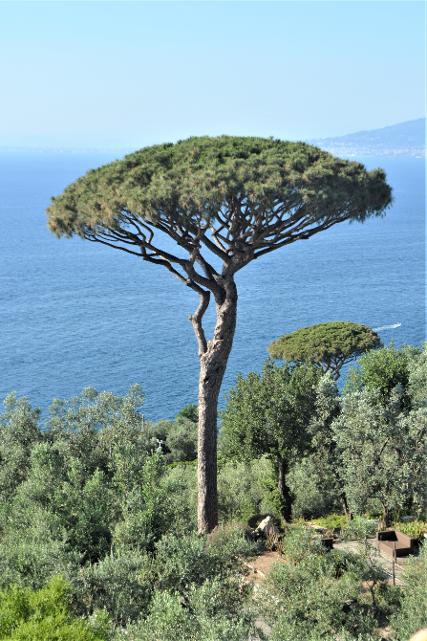 A tray of fruit in the kitchen. The ever smiling and always helpful Rafaela.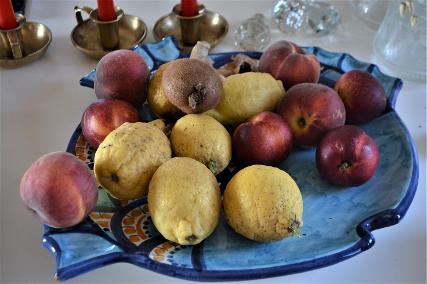 Somewhat shy Chiara with her mom Valentina.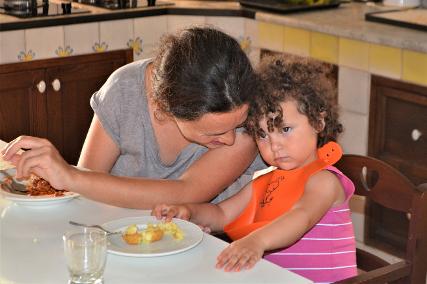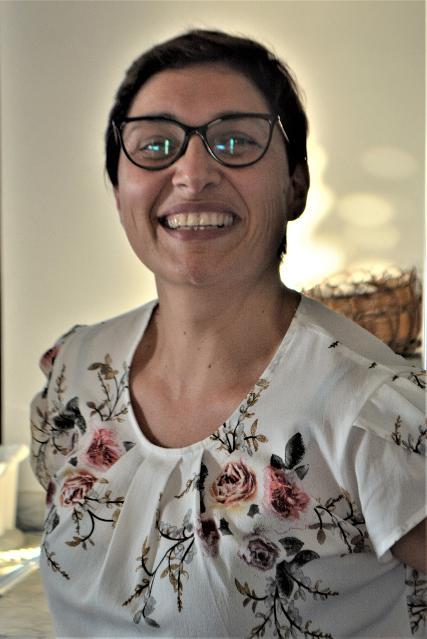 Croquettes and cheese stuffed lemon leaves. Dinner enjoyed with a bottle of wine via candlelight.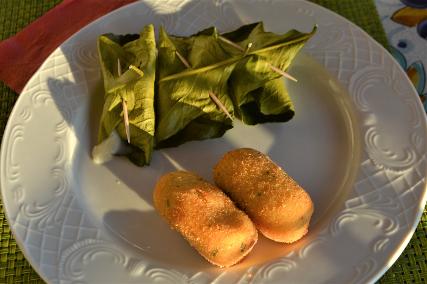 Pasta covered with a tomato sauce.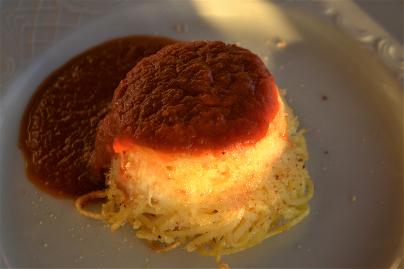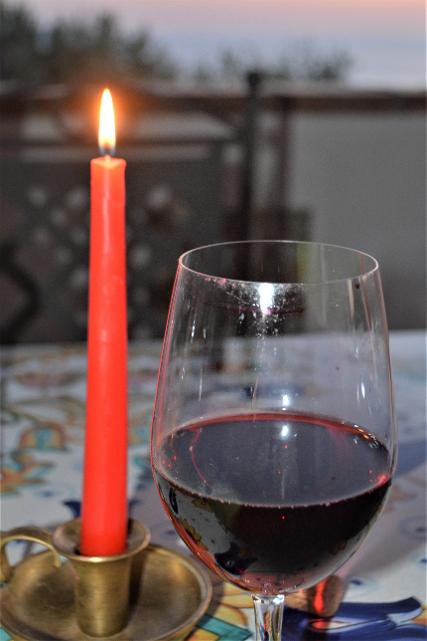 Melanzane (eggplant) smothered with a tomato sauce. Chocolate mouse.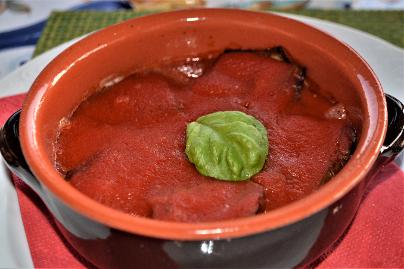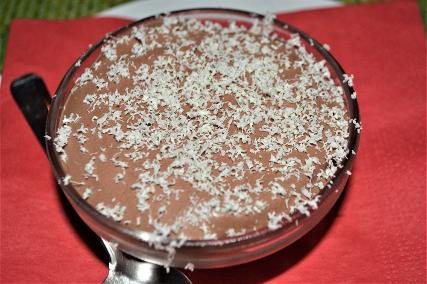 The progressing sunset while enjoying dinner at Torre Cangiani.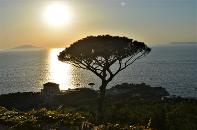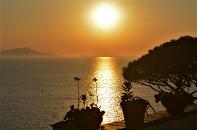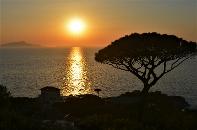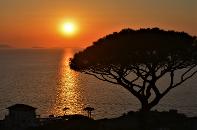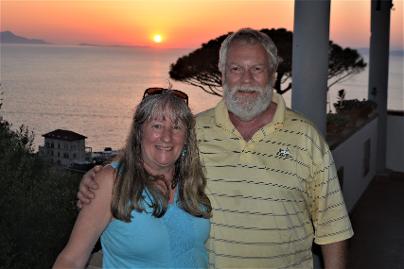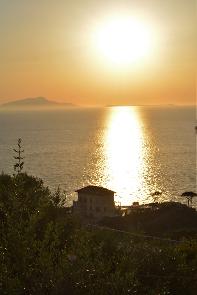 June 12, 2022 - Hotel Marulivo, Pisciotta with a drive to and lunch in Sanza
Our day started with a wonderful breakfast with great variety in a perfect setting overlooking the Tyrrhenian Sea from the roof-top terrace of Hotel Marulivo. Coffee, juice, yoghurt, croissants, breads, pastries/sweets, cakes, a selection of meats and cheeses, eggs, fruit, nuts and no doubt others we don't recall.
A bit of history. Marulivo was a long abandoned ruin of a 14th century monastery prior to being lovingly and skillfully restored. The hotel is located in what was once the ancient convent tower, dedicated to Santa Caterina d'Alessandria, in the medieval heart of the small village of Pisciotta. The convent is perhaps as old as the most ancient part of what was once the castle of Pisciotta, Palazzo Marchesale. Over the centuries the ancient monastery changed its destiny several times, becoming a noble palace and then falling into oblivion of an abandonment that lasted almost a century. Once owned by a 'Pinto' woman the property is now again owned by another another 'Pinto' woman.
A photo of Hotel Marulivo before restoration.
"Here, where the horizon no longer marks the border between sea and sky,
time finds its magic and the enchantment of the ancient walls"
Having a craving for pizza and a desire to relax and enjoy the terrace in the evening without having to leave for dinner we decided to take a drive to the town of Sanza, home to Ristorante da Saro, a very highly rated ristorante in the Cilento and Vallo di Diano National Park region. It is quite a drive to Sanza - more or less 1 1/2 hours along the faster southern route and 2 hours through the mountains to return. But a drive well worth it. The scenery, both along the coast and in the mountains was stunning.
Being a Sunday we expected the ristorante to be busy but that was anything but the case. It was virtually deserted, with only two others having lunch. As a result the wood-fired pizza oven was not fired up - the wood had only started to be burned for the evening crowd. We were warmly greeted by Giuseppe who immediately treated us as family. We were of course very disappointed we could not get pizza - Giuseppe explained how busy it was the previous evening and how busy he expected tonight to be but that families tend to have lunch at home on Sundays. W started with a selection of appetizers - a plate of cured meats for me, lots of cheese, including the house specialty, a heated cheese covered with pistachios, and a Caprese salad (with very tasty tomatoes this time!). Gayle then had ricotta filled ravioli covered in a simple but delicious tomato sauce to which she added shavings of parmesan. I had a fettuccini pasta with more pistachios. Whether it was because there were so few guests or they are just naturally friendly Deboreh, our server and Giuseppe were wonderful, as were the other guests who took a photo of us. Absent the pizza this was the perfect experience.
The drive back was a bit of a challenge - with the winding, twisting roads up and down the mountains, the need to be on the alert for animals taking possession of the road, some of the narrow streets in the mountain villages, and the constant desire to glance at the beautiful scenery. On top of that the lack of signage as to what road we were on and the next village / town we were headed to necessitated the 'GPS', aka my instincts, be turned on. And again it did not fail and we did wind our way down the mountain, back to the coast and eventually to Pisciotta.
As planned we spent the evening enjoying more Prosecco and the beautiful views, including the sunset, from Marulivo's roof-top terrace. We enjoyed a lengthy chat about travel experiences with Caroline and Mario, a German couple who had been at Marulivo for a week, hiking in the area. Of course Massimo was the perfect host, making us laugh with almost everything he said.
Breakfast (or at least a small portion of it) at Hotel Marulivo.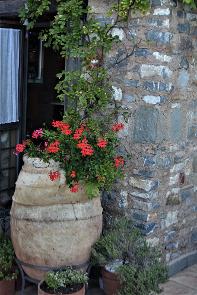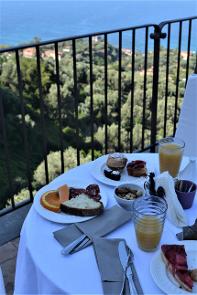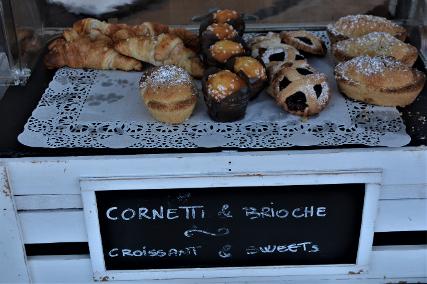 A strawberry tart and chocolate cake - what a way to start the day!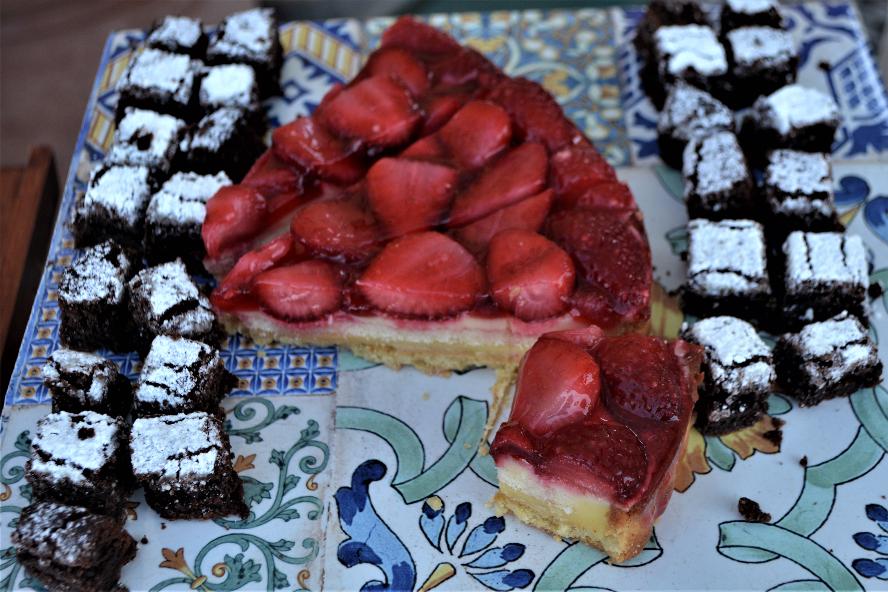 Breakfast included a selection of meats, cheeses, cakes, pastries, bread, fruit, croissants, nuts, yoghurt, eggs, juice +++.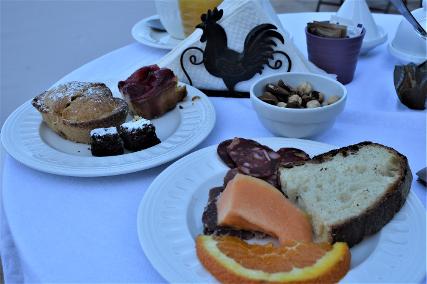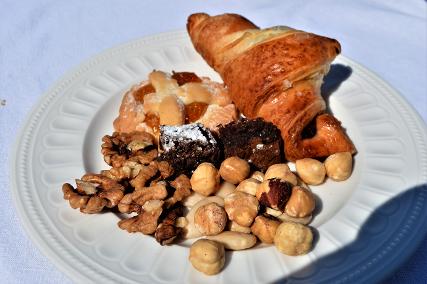 A video of the views from Hotel Marulivo's roof-top terrace.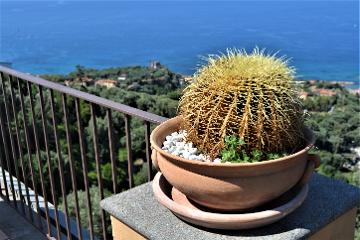 We decided to drive to Sanza for an afternoon pizza. We actually did a loop, the first half as seen here, down the coast, across to Policastro and then up to Sanza, about an hour and a half drive.
We returned along a very narrow, twisty road through Rofrano, then on to Alfano and Laurito, Futani and finally Caprioli. A longer two hour drive we encountered animals on the road and spectacular mountain scenery. A very scenic, albeit tiring drive complicated by the absence of signage. But we made it.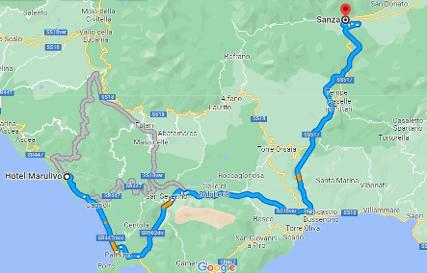 A train pulling into the Pisciotta Stazione. No doubt a nice property to own, right on the sea.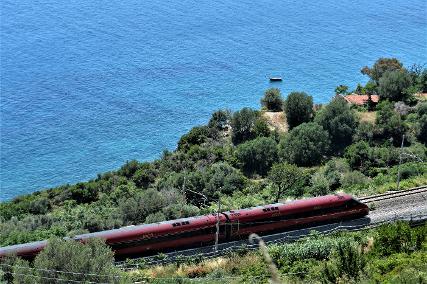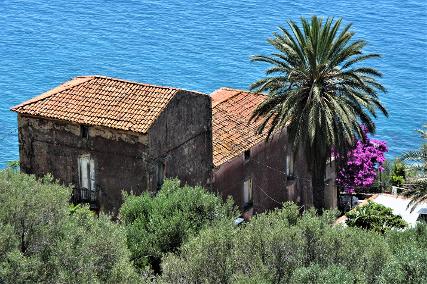 Spiaggia (beach) Le Saline just south of Pisciotta. A mountain town on our drive to Sanza.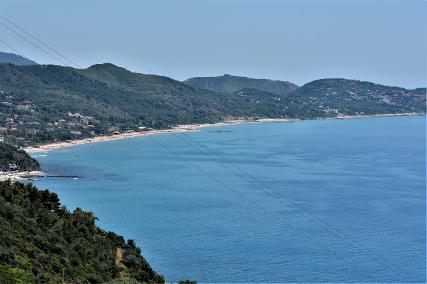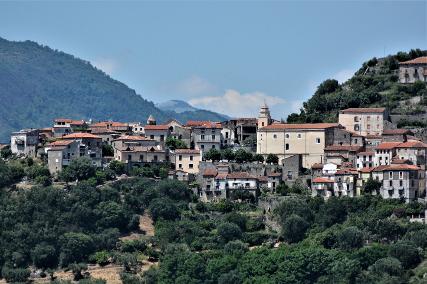 Ristorante Pizzeria da Saro. The menu. Giuseppe.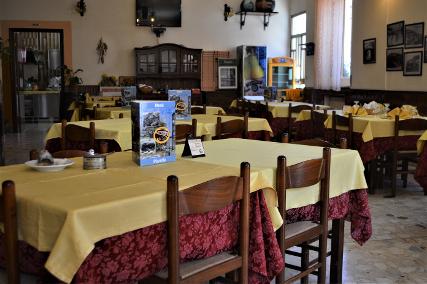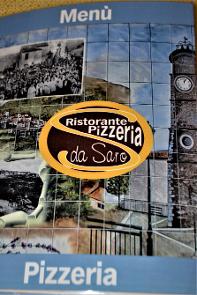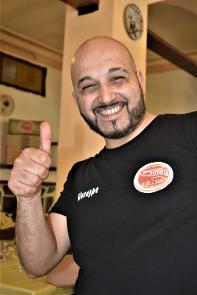 A Caprese salad. Local meats. A selection of cheese. Warm cheese with pistachios.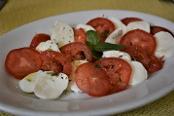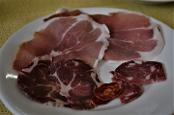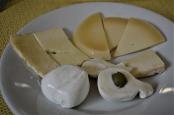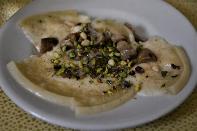 Pasta covered with pistachios Getting the pizza oven ready for the evening crowd.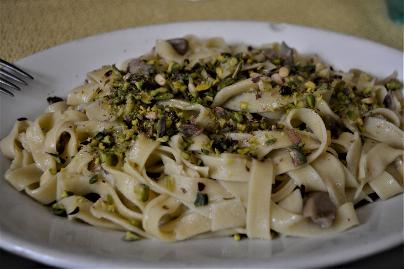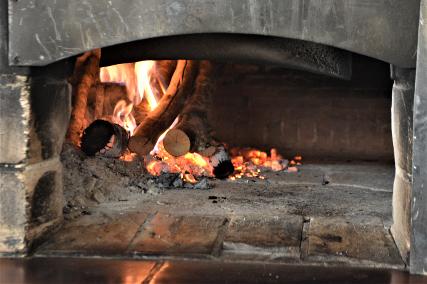 Giuseppe teaching Norm how to cook a pizza. Deboreh, Gayle, Giuseppe and Norm.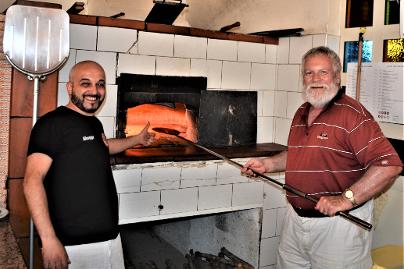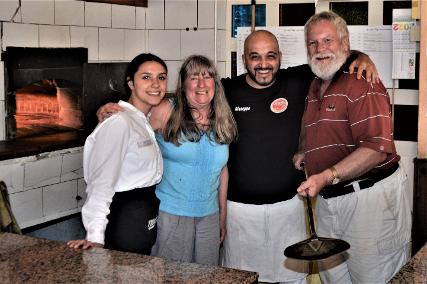 The cheese graters. Gayle using a cheese grater. Ricotta filled ravioli smothered in a simple tomato sauce.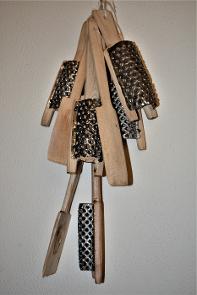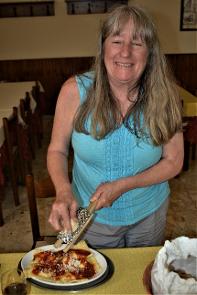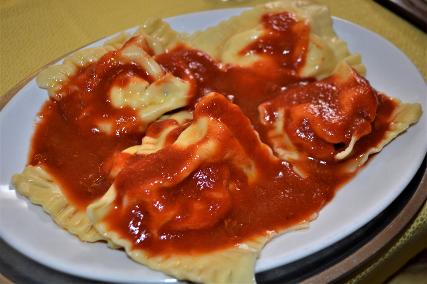 A bunch of men enjoying their time in the town square - Alfano or Laurito.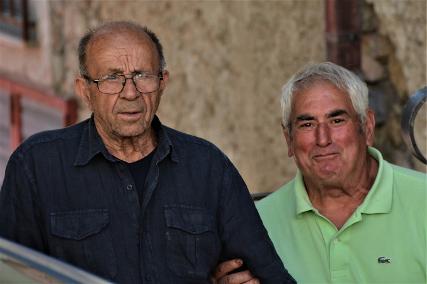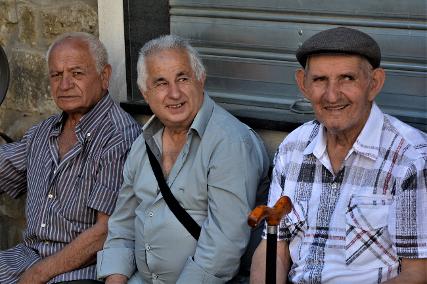 In rural areas such as this one always needs to be alert for others using the road.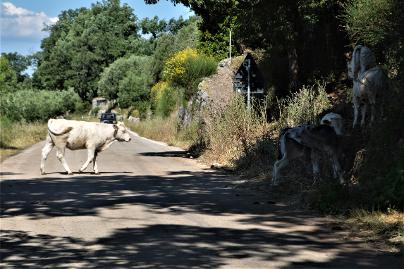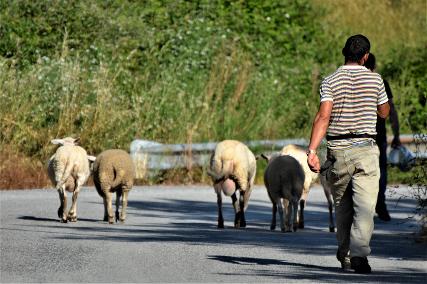 Being spring cherries are in season. These along the roadside glistened in the sun.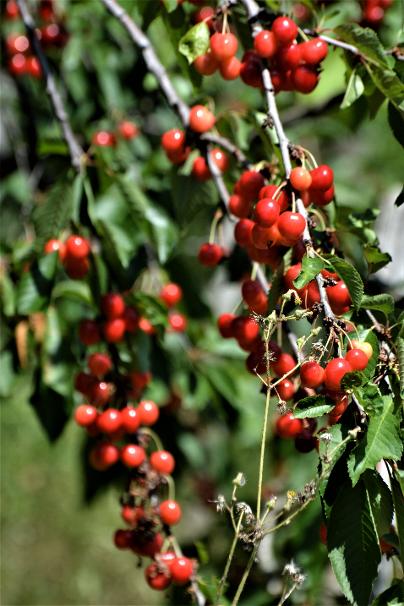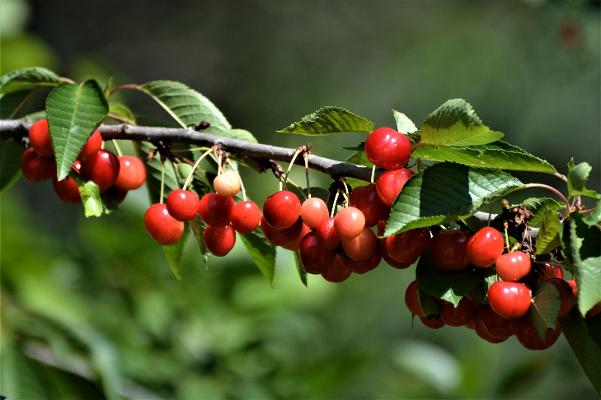 The view from Hotel Marulivo's roof-top terrace never gets old.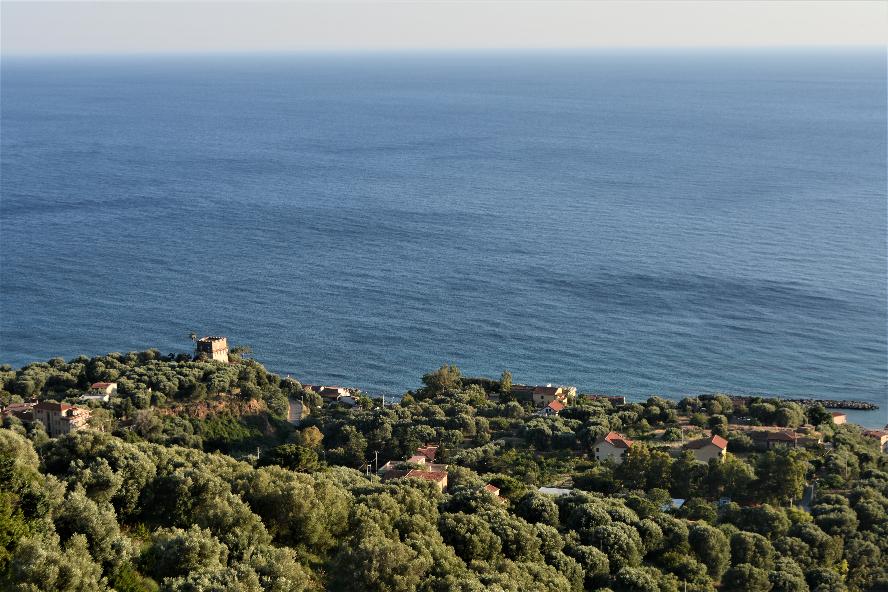 Caroline and Mario Massimo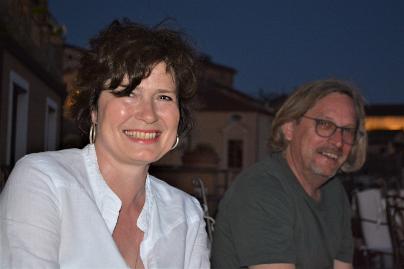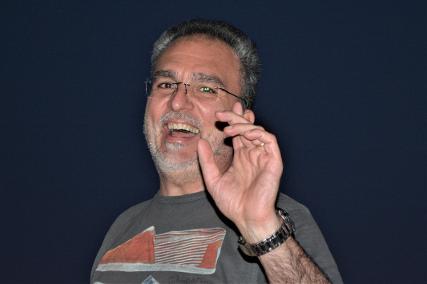 The sun sets over another glass of Prosecco.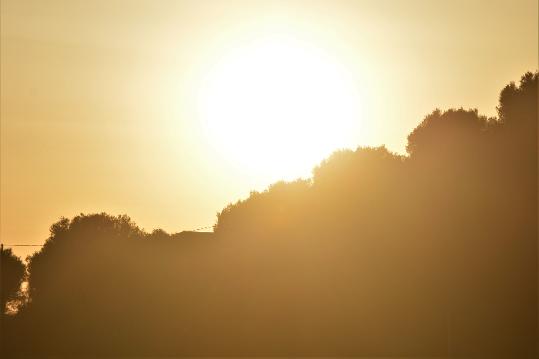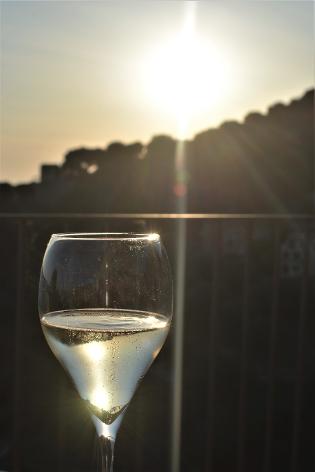 June 11, 2022 - Villa Cheta, Maratea, Basilicata to Hotel Marulivo, Pisciotta
After four wonderful days at Villa Cheta and enjoying the unbelievably scenic Maratea coastline we packed up and headed up the coast to Pisciotta. We expected to enjoy more water on this trip and have not been disappointed. Villa il Turro provided wonderful vistas of the Gulf of Naples and the Maratea coast of the Tyrrhenian Sea. There is something wonderful about looking out to the sea, whether from one's room or while driving along the coast. At the same time the mountains east of the Maratea coastline were attractive in their own right with a number of hill-top towns and villages. It was very nice to have a pool, and while the dinners were perhaps not the best the service was very friendly and attentive and Cheta certainly did have the 'look and feel' of an Italian villa.
The drive to our next stop, Hotel Marulivo in Pisciotta, was relatively short although we seemed to make it considerably longer with our numerous photo stops. The drive was initially along the coast before crossing some coastal mountains that provided more wonderful views. The town of Lentiscosa seemed worthy of a stop but we chose to continue not knowing how easy / difficult the rest of the drive would be.

We arrived in Pisciotta mid afternoon, finding Lea and the hotel quite easily. Lea returned with Gayle to the town square to show me where to park the car. After checking in - our room was not huge but very cute / nicely decorated with a wonderful view of the water / sea. The Hotel also has a spectacular roof-top terrace where evening drinks and breakfast are served.
One of the great things about small towns (Pisciotta's population in 2017 was only 2,627) is the existence of a town square that attracts the local inhabitants - particularly the elderly men who gather to play cards and/or discuss the day's events. Benches, bars and cafes are often full. After arriving we went down to the square where we got a 'granita' - a semi-frozen flavoured dessert made from sugar, water and flavouring. Originally from Sicily granita is related to sorbet and Italian ice with a smoother, more crystalline texture. We tried one lemon flavoured (more intense and therefore preferred), and one orange.
After watching the goings on we returned to Marulivo where Massimo greeted us on the roof-top serving us a couple of drinks - a Prosecco for Gayle and a Limoncello Spritzer for me which we enjoyed while watching the sunset and chatting with a German couple.
We chose the top ranked restaurant in Pisciotta for dinner but sadly were quite disappointed. The outdoor setting was nice, although the sloped alleyway was quite uncomfortable. The food was just so-so and the service mixed. What was shocking was that after believing one could not get a bad tomato in Italy we discovered that one actually can. The tomatoes in the Insalata Pomodoro could have been imported from Canada. They were hard, with white pulpy interiors and not at all juicy or flavourful. Not one of our memorable meals.
Villa Cheta certainly had some quirky art. Here are a few examples.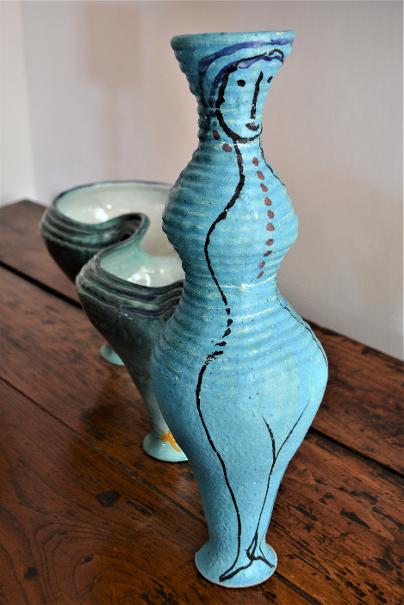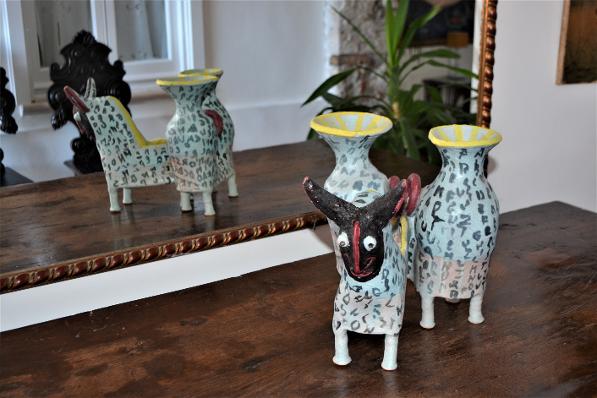 Portrait of a ghost? Just laying around. A chandelier one just can't miss.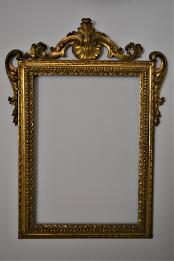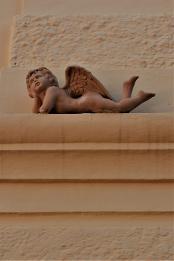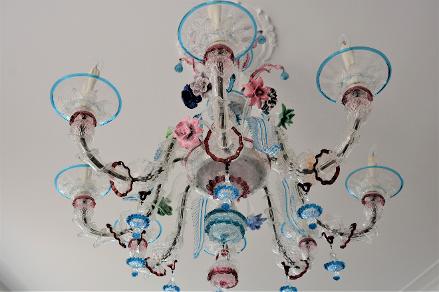 The terraces at Villa Cheta.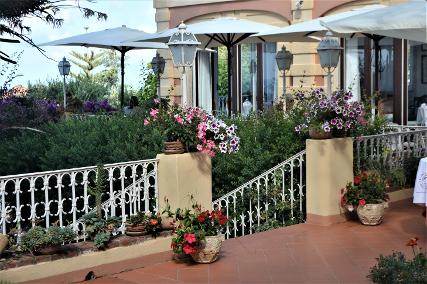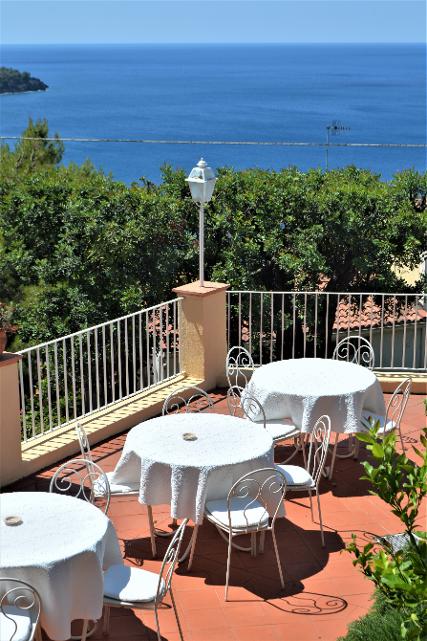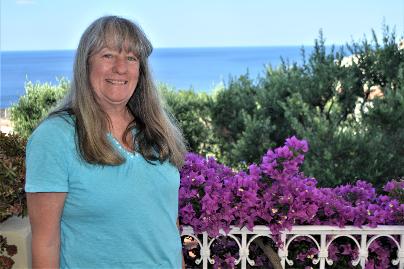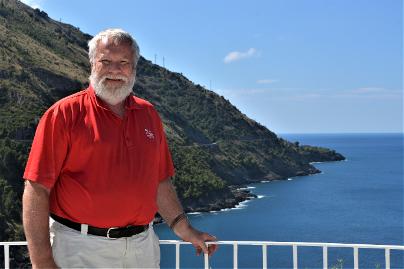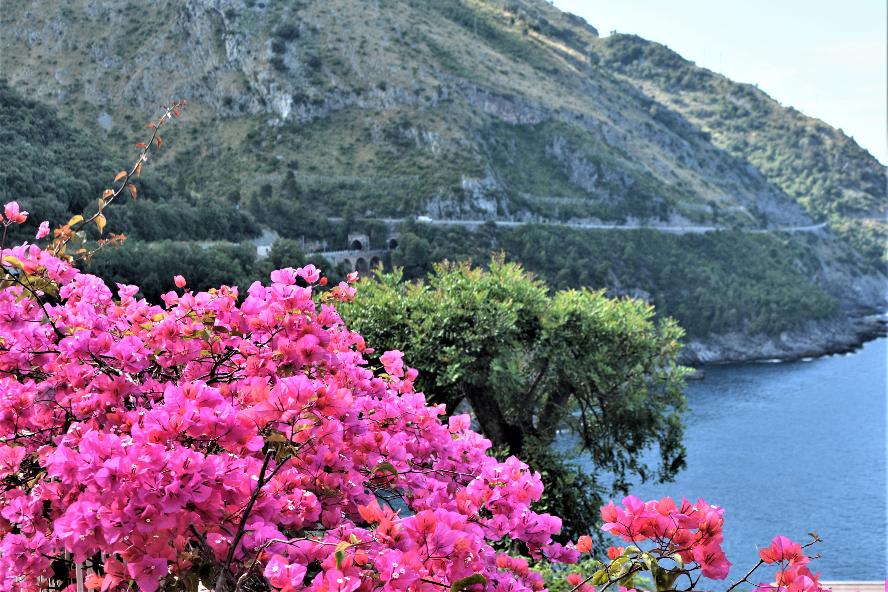 From the terrace of Villa Cheta. Oh to be a princess.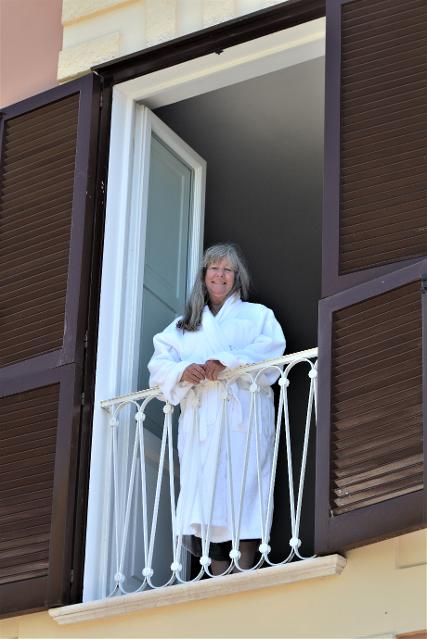 Time to say Arrivederci to Maratea. A church in a mountain town.
Another attractive town set on a hillside.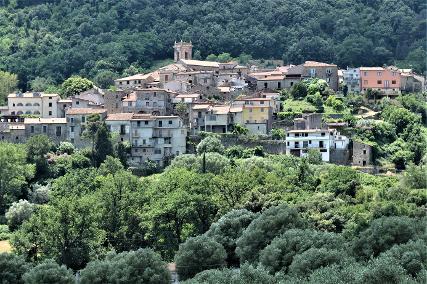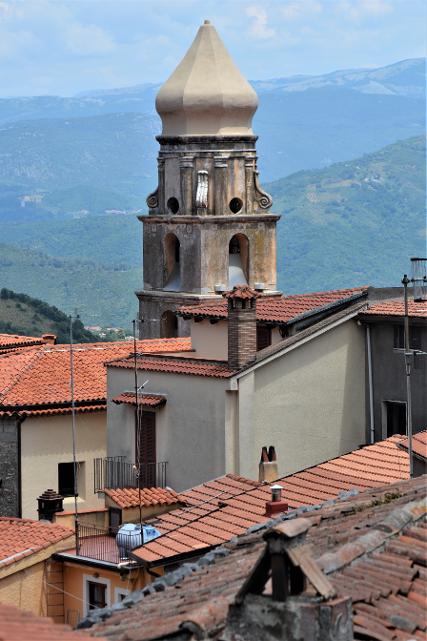 No not the US south-west - there actually is a considerable amount of cactus in this region of Italy.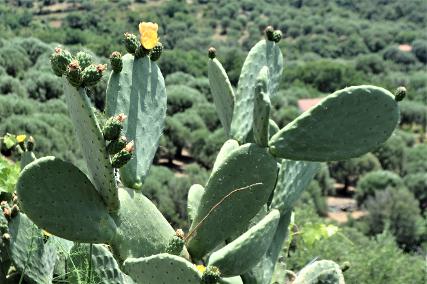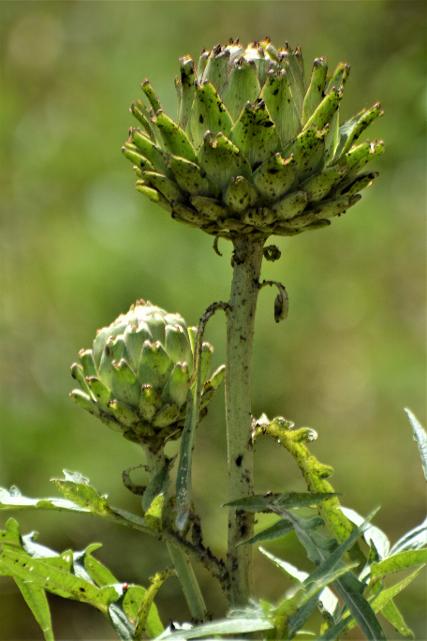 Some of the towns and scenery along the way. The town / church on the left is Lentiscosa.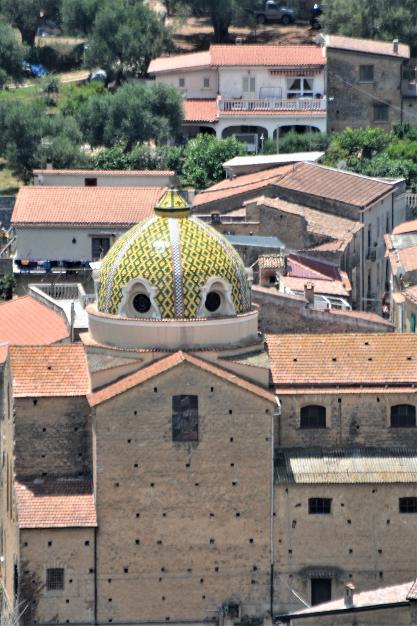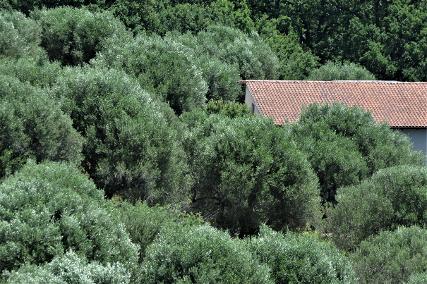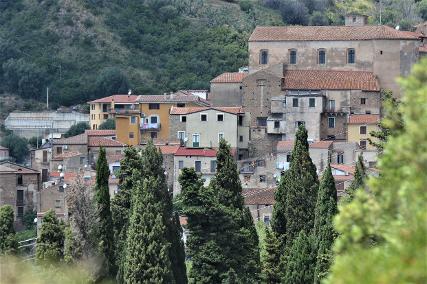 The view from our sea-view room at Hotel Marulivo.
Children playing in the town square. Granita - flavoured (lemon and orange) ice.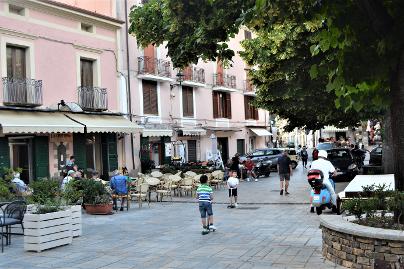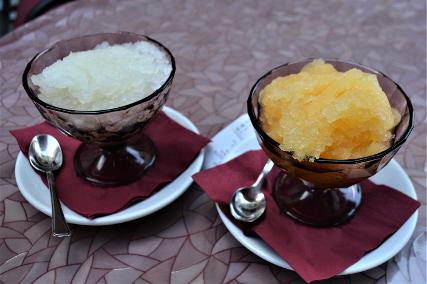 The town square - where the local men (primarily) socialize.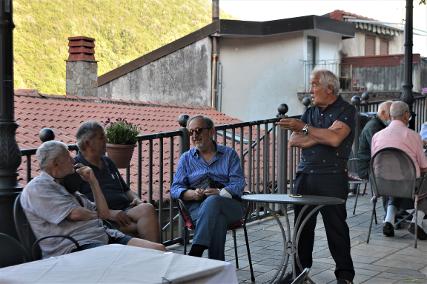 A view of the village in the evening light from the roof-top terrace of Hotel Marulivo.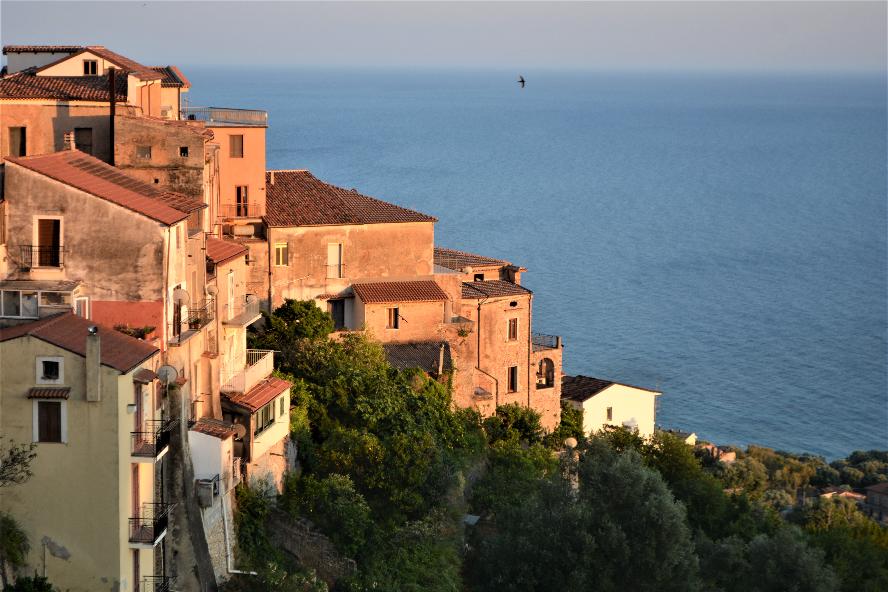 A tower in the port and while perhaps not the best sunset of the trip still a nice orange colour.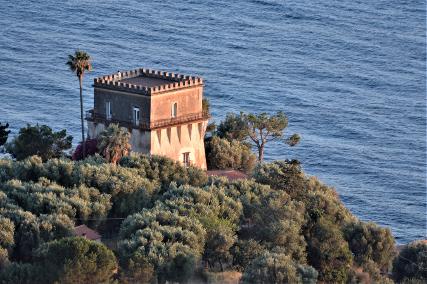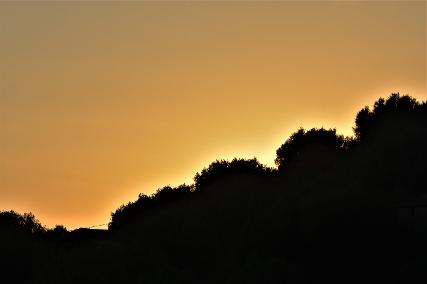 Tapas to enjoy with our drinks on the roof-top - Prosecco for Gayle and a Limoncello Spritzer for me.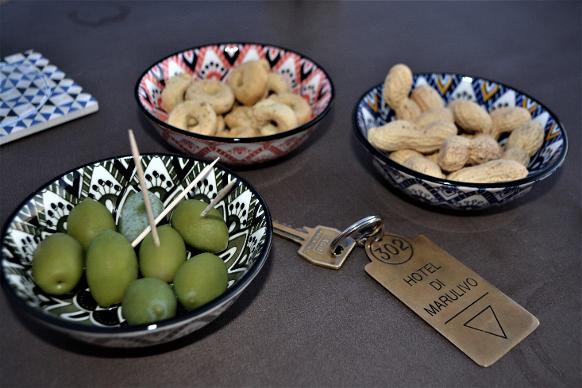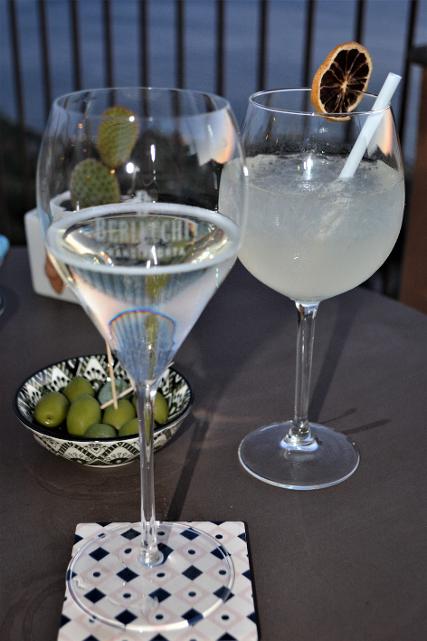 Very nice / colourful tiles on our dinner table. A not so great Insalata pomodoro.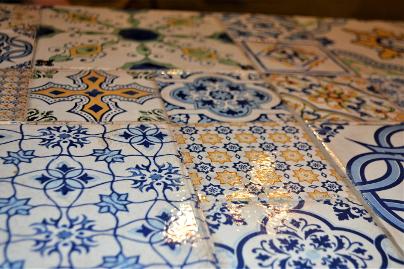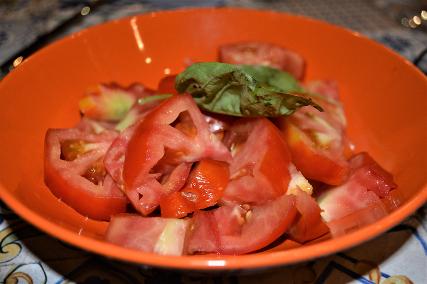 Melenzana (eggplant) in buttunata. Paccheri con zucca (pumpkin).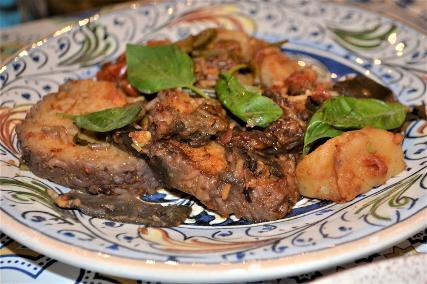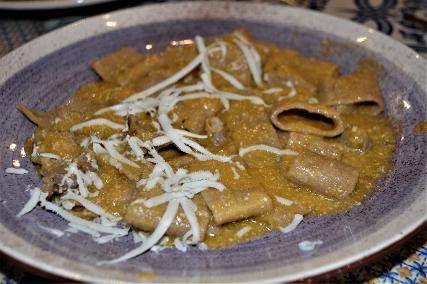 June 10, 2022 - Villa Cheta, Maratea, Basilicata; Il Mirto
Our last full day at Villa Cheta. It was a bit warmer today but still not as hot as last week.
Today's journey was to 'Il Mirto' promoted as one of the most relaxing and characteristic places of Maratea and the Lucanian coast. Directly overlooking the sea, with various accesses Il Mirto offers 'tranquility and coolness throughout the summer season'. Somewhat surprisingly, on a mid June Friday afternoon we were literally the only people there. As promised we enjoyed
a relaxing couple of hours lounging around / napping. Gayle did test out the water only to conclude it was way too cold and a little too rough to get in.
On the way back we stopped in the port of Maratea where we continued out gelati testing. Today Gayle had a combination of Sorbetta al Cioccolata and Caffe while I had Amarena (sour cherry) and Pistacchio.
We decided to again have dinner at Villa Cheta in spite of our so-so meal the first night. The convenience of being able to enjoy a bottle of wine (a nice 2014 Basilisco Aglianico del Vulture Teodosio, a local Basilicanti wine) and then simply walking up to our room won us over. The meal was certainly better than the previous one. We started by sharing the Sformatino di patate, 'nduja e fonduta di caciocavallo (potato pie 'ndufa and cheese fondue). Then I had the Ferruzzellini al ragu di agnello, radicchio e scaglie di pecorinio (ferruzzelli pasta with lamb ragout, radicchio and cheese shavings) while Gayle had the Carpacchio vegetariano con mozzarella di bufalo e pesto di rucola (vegetarian carpaccio with buffalo mozzarella and rocket pesto). Dessert was a lovely Pie al limone e meringhe (lemon and meringue pie), similar to a Pavlova.
After which we did just simply walk up to our room.
A nice cappuccino to start our morning. Fresh fruit including nisperos and cherries.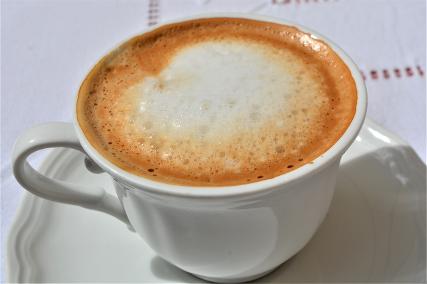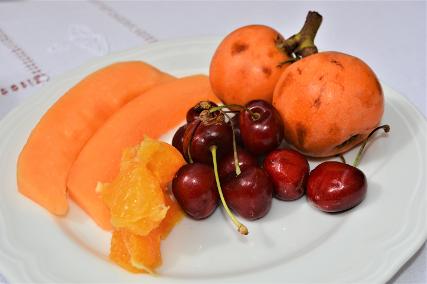 The wonderful landscaping around the pool set in a superbly well maintained area with a mountain backdrop.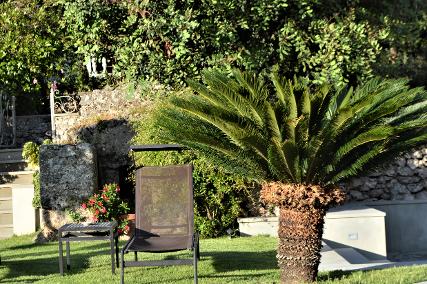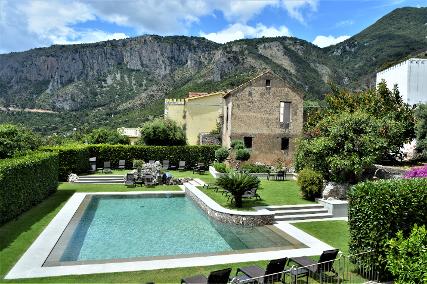 The coastline with its beaches south of Maratea. Il Mirto, a visually stunning swimming area.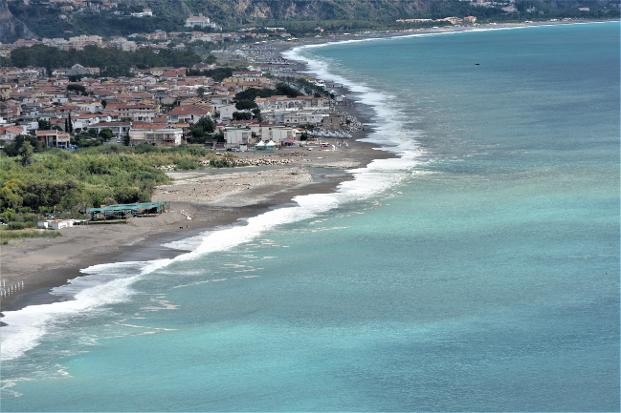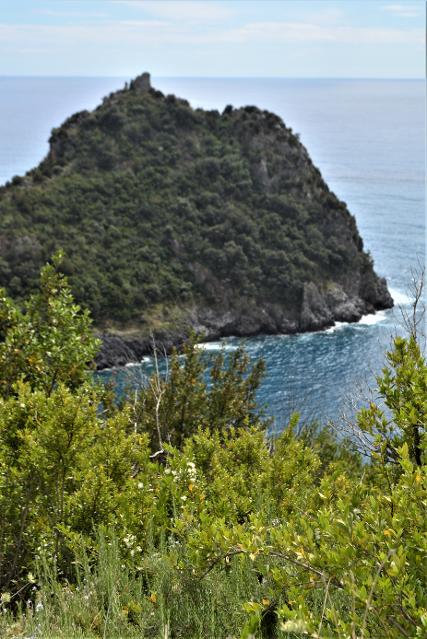 Our perception is that many Italian beaches / swimming areas are a bit 'junky'. Il Mirto is anything but with nice landscaping and quality lounge chairs.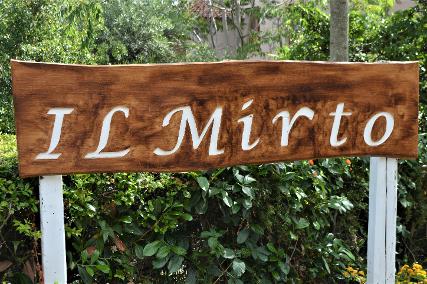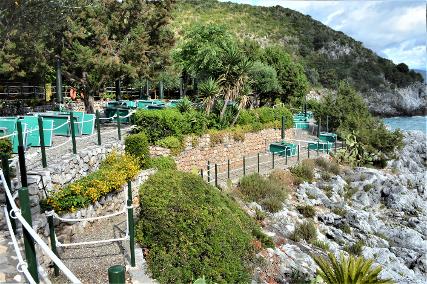 Some of the stunning Il Mirto, with its very turquoise coloured water.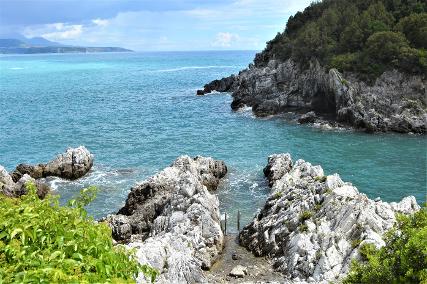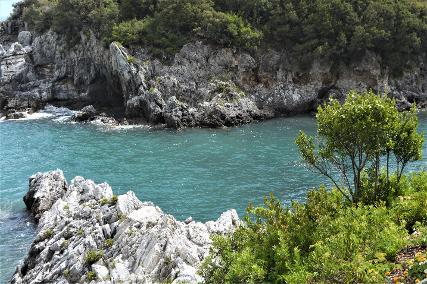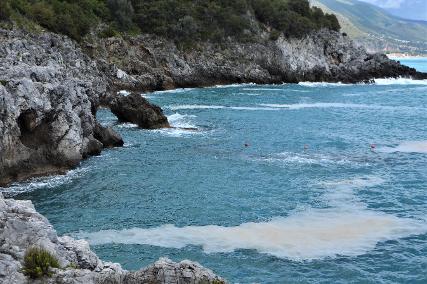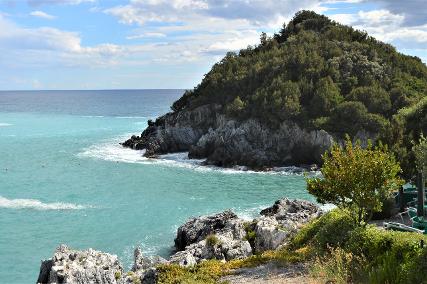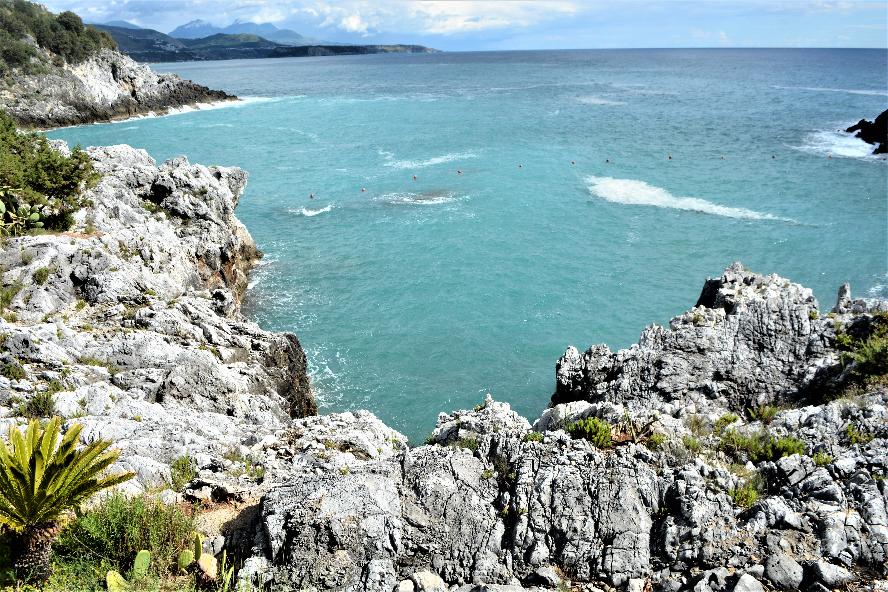 Gelati time at Emilio in Maratea.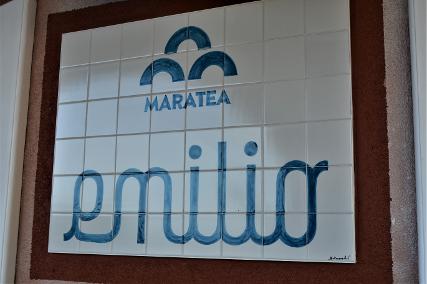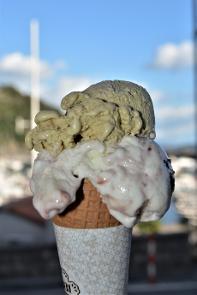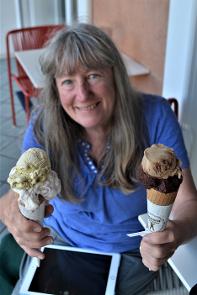 The marble statue of Christ the Redeemer overseeing Maratea.
Not a spectacular sunset tonight but still with some colour.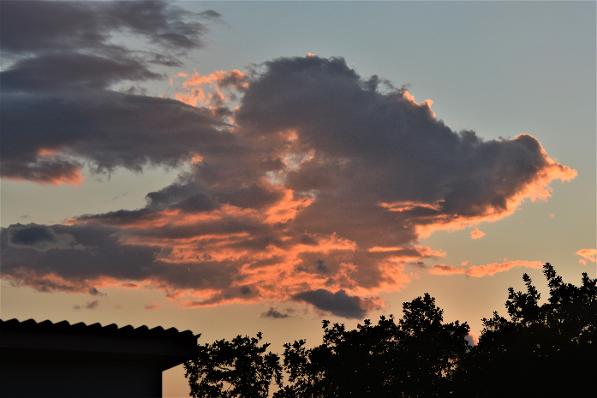 Sformatino di patate (there is a potato pie underneath). Ferruzzellini al ragu di agnello (lamb).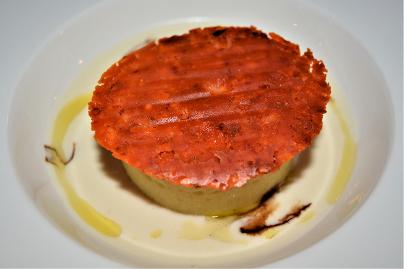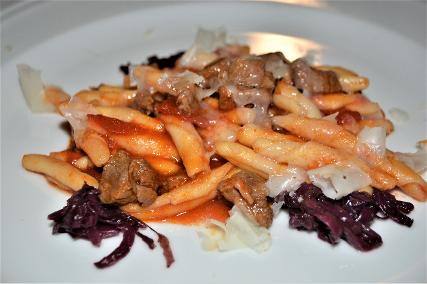 Carpacchio vegetariano con mozzarella di bufalo. Pie al limone e meringhe.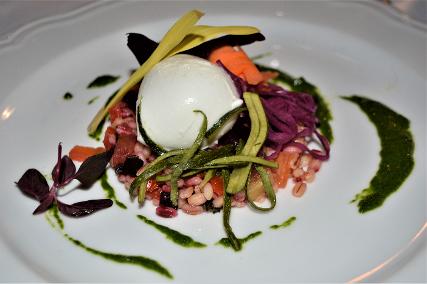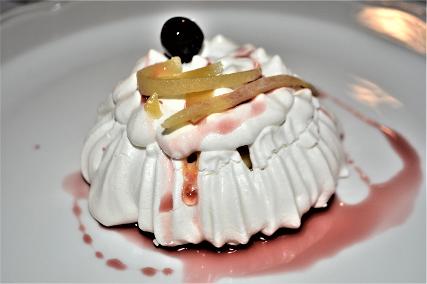 June 09, 2022 - Villa Cheta, Maratea; Sapri and the mountains east of Maratea
We woke to our first rain of the trip this morning, quite heavy at times. But it did stop after breakfast with the rest of the day again being decent, although somewhat cooler than we had become accustomed to, with a high in the low 20s.
We ventured a bit further afield today, first heading north to Sapri. While at Casa de San Martin in the Pyrenees we met a dog named 'Turco'. Then when at Lupaia in Tuscany we stayed in a room named 'Turco'. So when we saw a Gelateria named 'Turco' we knew we had to stop.
After our gelati we headed east into the mountains. On the way, in addition to enjoying the scenic vistas of the water and the coast, including the afternoon sun streaming through the clouds creating spotlights on the bay, we encountered another goatherd - Vincenzo and his dog Rocky. We continued counter-clockwise past the attractive hill-top town of Rivello and along the border of Basilicata and Calabria on to Castrocucco di Maratea from where we again drove the coast back to Villa Cheta.
After a short rest we returned to the town of Maratea for dinner at La Cambusa where we got the last table and enjoyed a great meal. Although there was nothing actually on the menu for Gayle - this is essentially entirely a seafood restaurant - they started her with a tasty appetizer and then served a nice pasta dish adorned with edible flowers. I began my meal with a wonderful pulpo after which I had pasta with seafood - both delicious. For dessert Gayle ordered the Tiramisu which was served in a strange way - essentially one made it themselves having been provided the components. Quite creative and tasty. A nice half bottle of wine - I did have to drive the twisty roads back - accompanied what was a very enjoyable and delicious meal.
Orange juice 'rosso' along with coffee of course and fruit and cakes and and and ... for breakfast.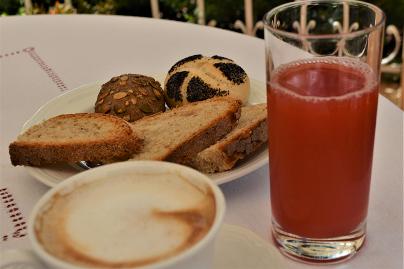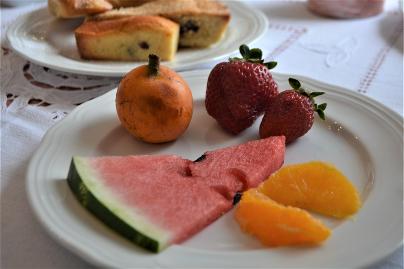 The coastal views just don't get old.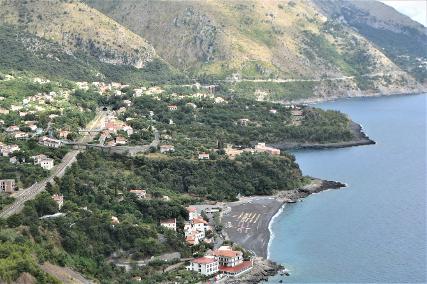 We befriended a dog in Spain named 'Turco' and stayed in a room in Tuscany named 'Turco' so when we saw a gelateria named 'Turco' we just had to stop, and try the Gelato Cioccolata del Turco.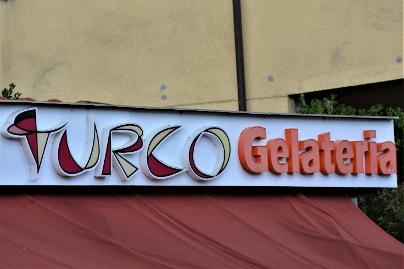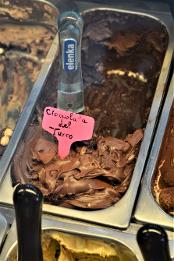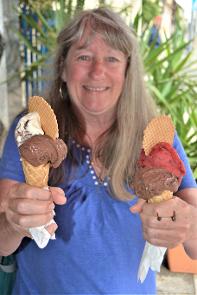 As we headed inland we came across a goatherd with his small flock.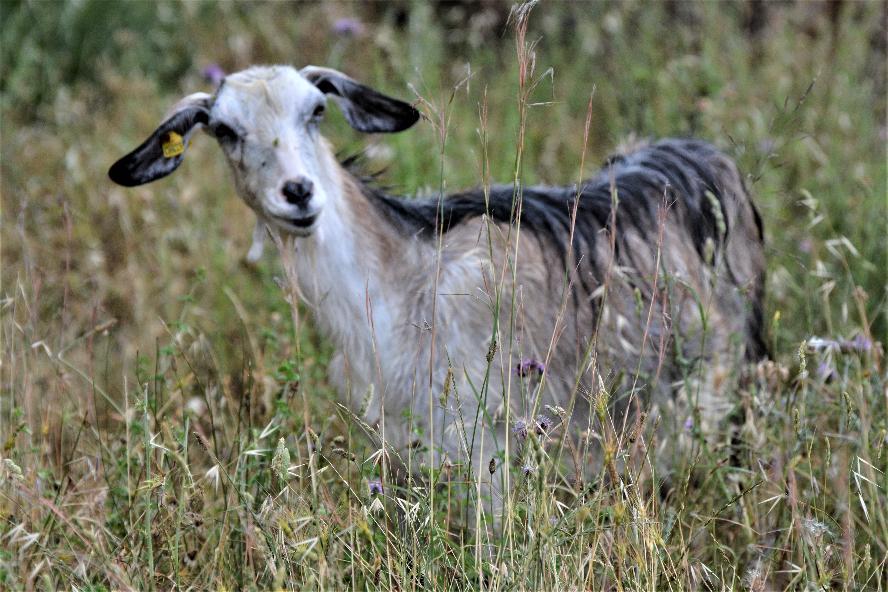 Rocky (the dog) and Vincenzo (the goatherd).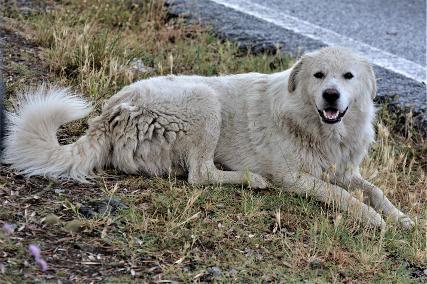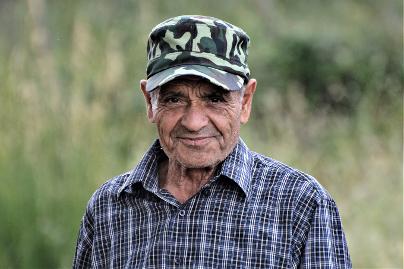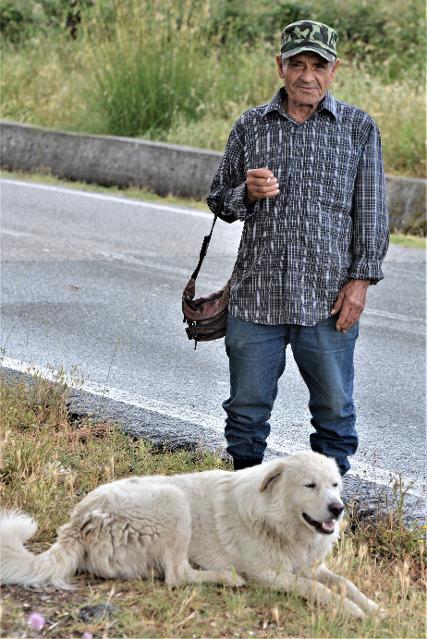 Beautiful sunlight streaming through the clouds.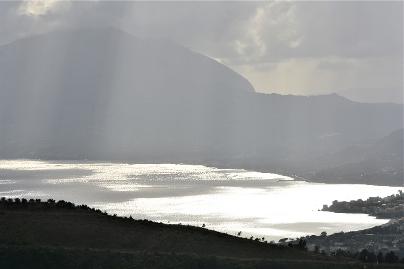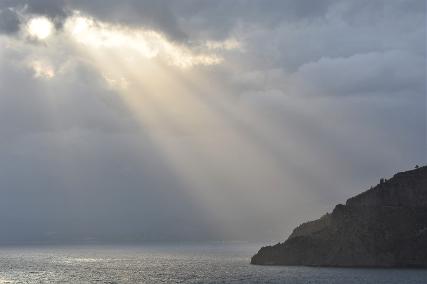 An old abandoned building. Another gorgeous / colourful sunset.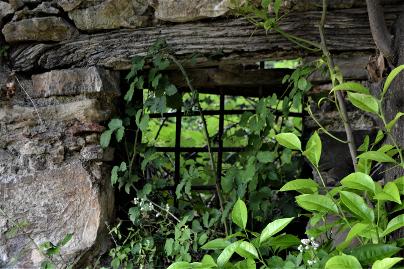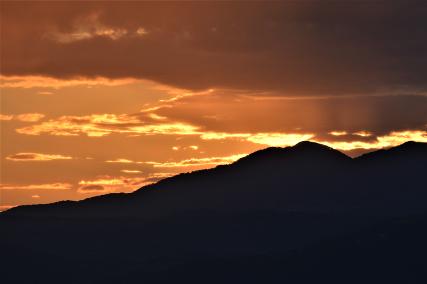 Dinner at La Cambusa in Maratea.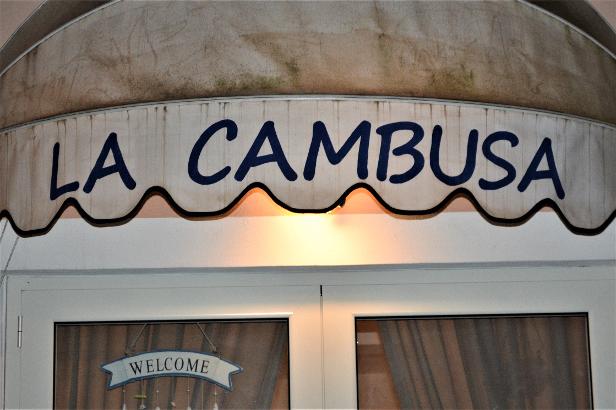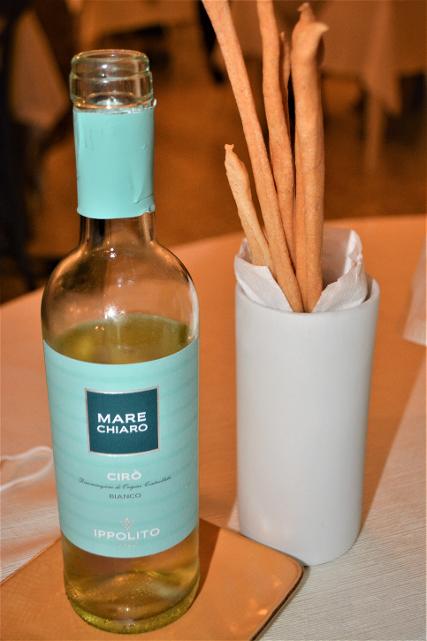 A nice little 'on the house' starter for Gayle. Seared octopus, zucchini cream with mint.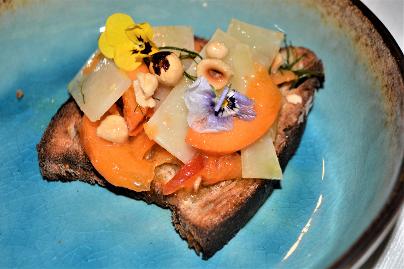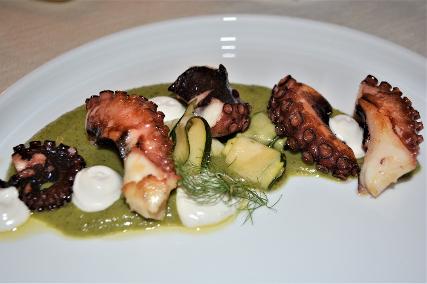 Vegetarian pasta for Gayle. Pacchero pasta with seafood for me.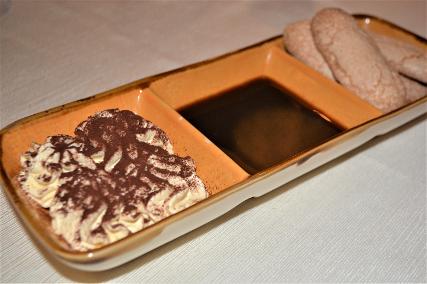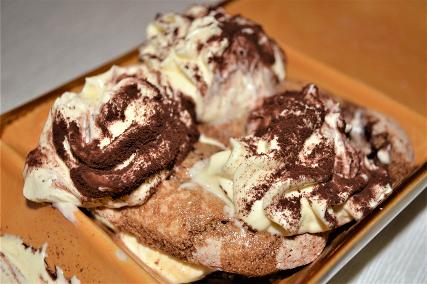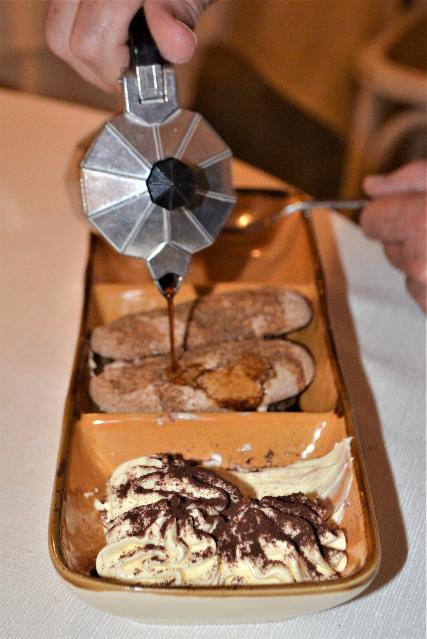 June 08, 2022 - Villa Cheta, Maratea, Basilicata; a drive along the Maratea coastline
Today was a day to enjoy Villa Cheta, first with a nice breakfast on the outdoor terrace and a swim in the beautifully landscaped pool. We had an issue with the Wifi not working in our room but worked around the inconvenience by using one of the common areas. Where dinner was less than overwhelming (although the service was wonderful) we decided to try a restaurant in Maratea, or elsewhere along the coast and therefore headed out late afternoon.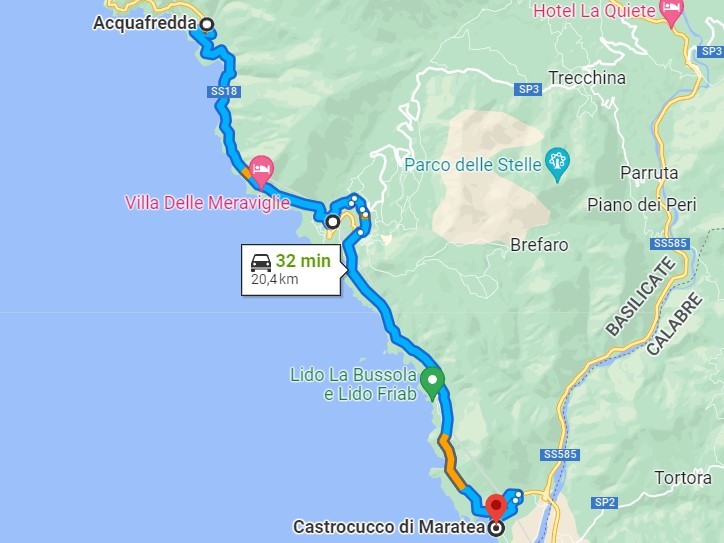 The 20 km Maratea coastline is simply spectacular.
From Acquafredda to Maratea and then on to Castrocucco di Maratea the road winds in and out along the coast providing wonderful vistas of the sea and the mountains.
We checked out a couple of places in Maratea before continuing down the coast. In the end we decided pizza was our calling for tonight, stopping at a place that had the most un-Italian name - the White Horse. But the ristorante provided outdoor seating with a great view of the sea and the sunset and served excellent,
and very large, pizzas and calzones. The 20 minute drive back was not as difficult as expected with virtually no other traffic and now some familiarity with the road.
Some of the interesting artwork at Villa Cheta Two unique chairs.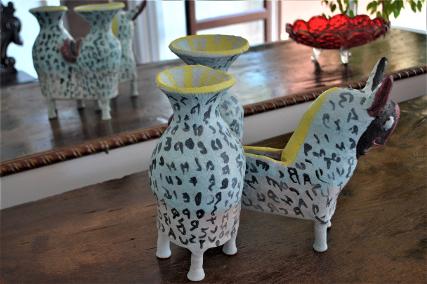 The indoor dining room at Villa Cheta.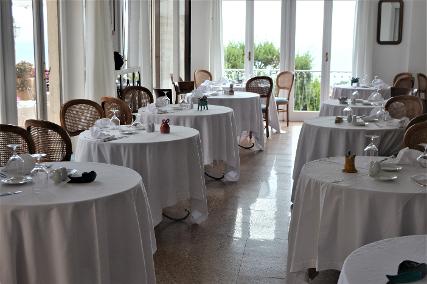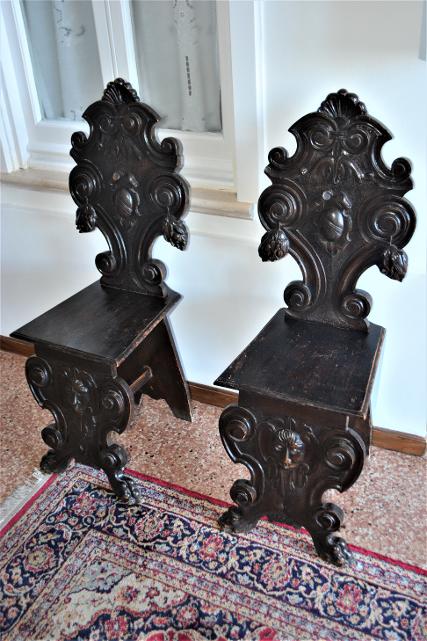 There were so many photo opportunities on the terrace.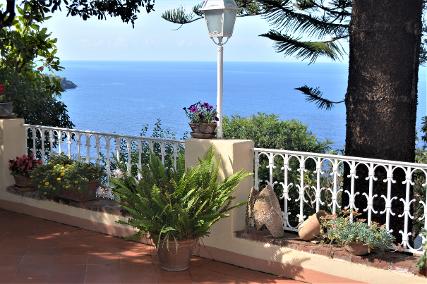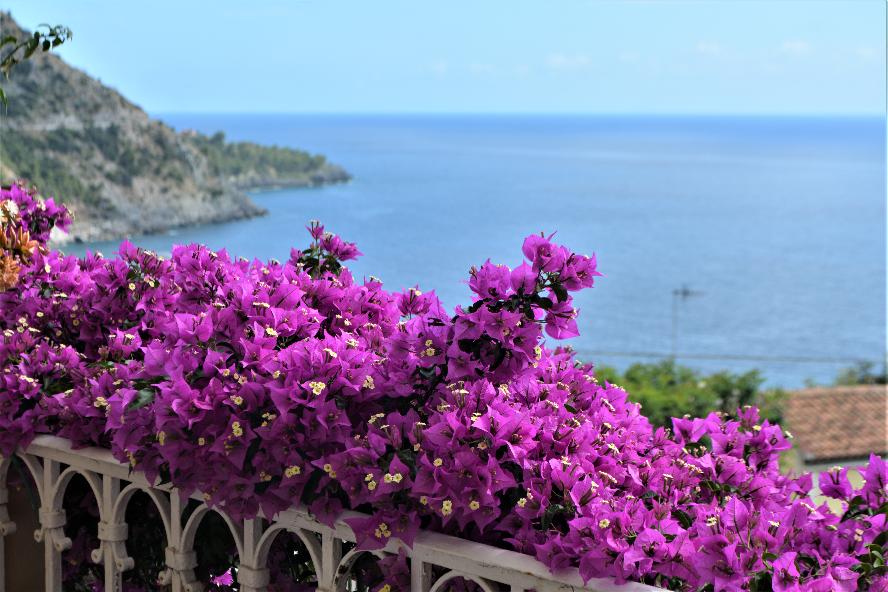 Villa Cheta as seen from down the road.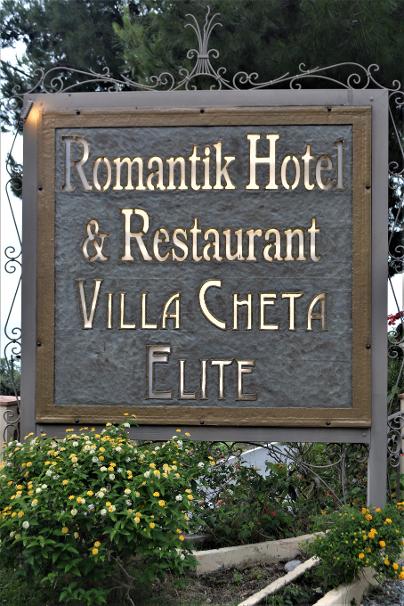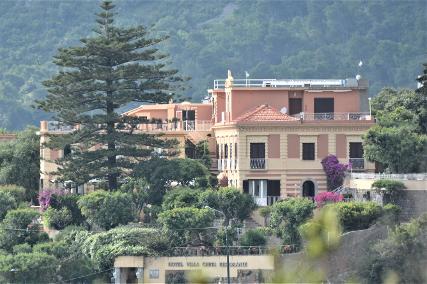 The mountains of the region. And one of a number of coastal caves.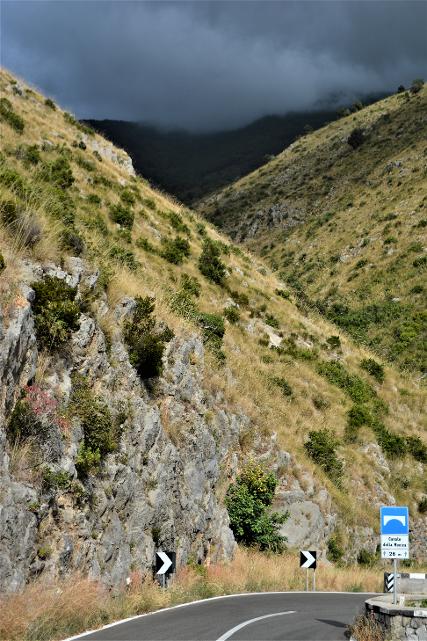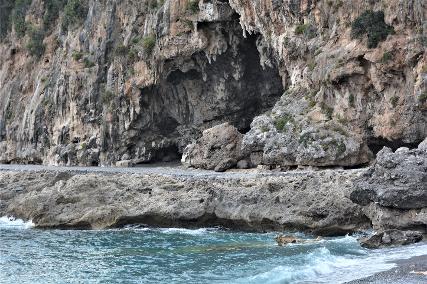 The trains run along the coast, mostly through tunnels.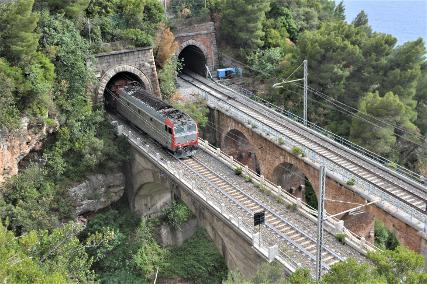 Colourful flowers in Maratea.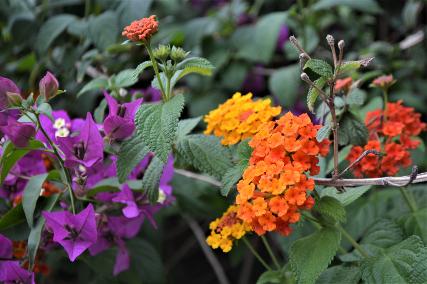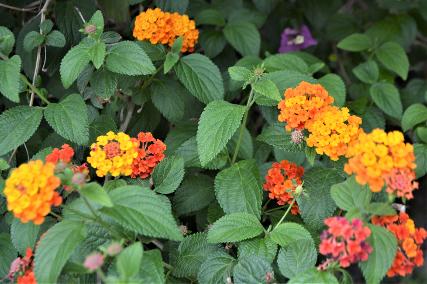 Flowers and coastline => beautiful.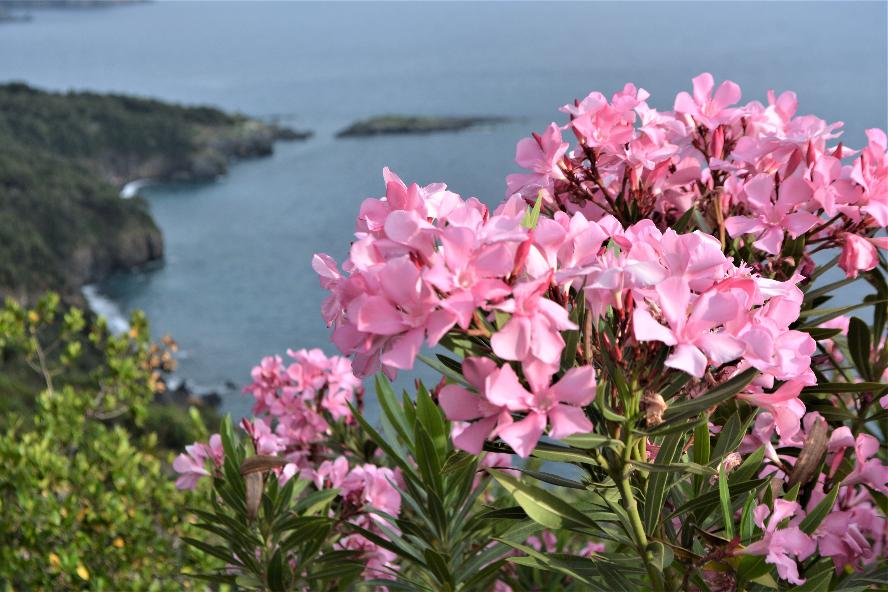 Near the southern end of the Maratea drive.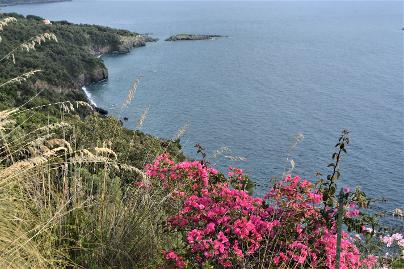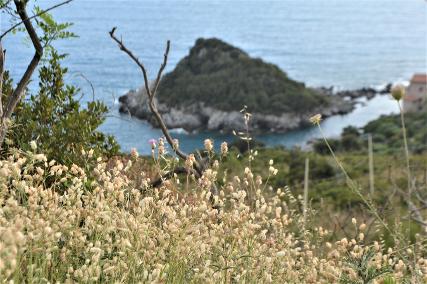 A tower (there were a number) along the way. Sunset while enjoying pizzas.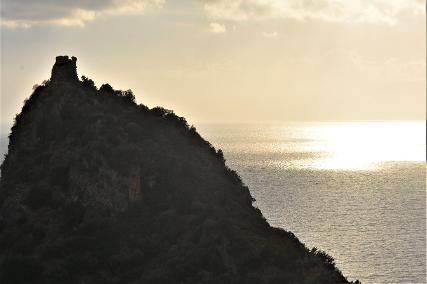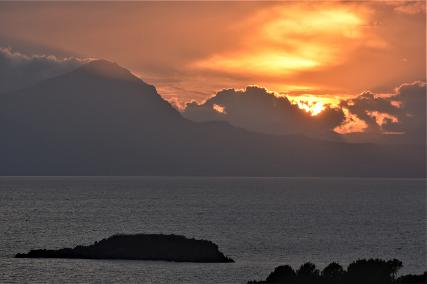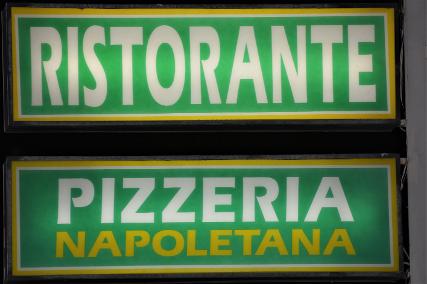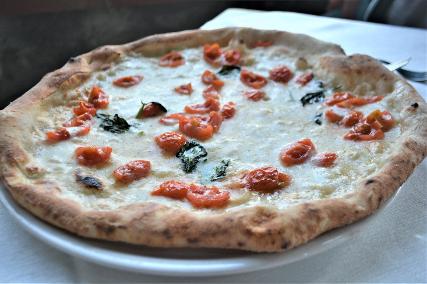 We were in the mood for pizza tonight. Coming across a ristorante / pizzeria with great views of the sea and sunset we stopped for dinner in spite of its very un-Italian name - the White Horse.
Gayle enjoyed a very simple, and very huge, mozzarella and tomato pizza while I had a calzone with funghi, ham and ricotta - also very large. Both were very good and very filling. Good choice.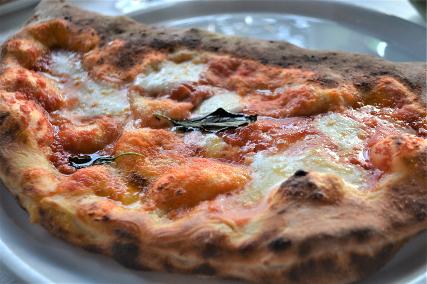 June 07, 2022 - Villa il Turro, Massa Lubrense to Villa Cheta, Maratea, Basilicata
Today is again a moving day that started with yet another lovely and filling breakfast including the traditional selection of fruits and cakes. Being the only guests to take the 9:30 am breakfast slot we were able to spend some more time chatting with Danila (whose English is much better than she gives herself credit for), packed, said our goodbyes and headed out. This time we took the north coast past Sorrento towards Pompei. Much quicker than the Amalfi coast route, although still a good hour back to the A3.
Upon connecting to the A3 we decided to make some time on the highway, passing Salerno and Eboli before leaving the highway for a smaller rural road which we drove south to Lagonegro. We then turned west towards Trecchina and then drove a very small road over the mountains to Maratea. In Maratea we realized Villa Cheta was actually 10 kms north in Acquafredda. The drive along the coast - a drive we would take a number of times the coming days - was spectacular.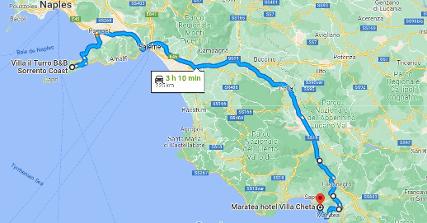 We easily found Villa Cheta, a beautifully kept traditional Italian villa with gorgeous flowers, historic paintings and artefacts, a wonderful pool and a number of terraces with great vistas of the sea. Our corner superior sea view room looked out to the sea on the front, and the pool and mountains on the side. We had booked Villa Cheta on a non-refundable rate back in 2020, having paid 515 euros for three nights. While the Villa would not refund the deposit when we cancelled due to Covid-19 they did agree to push it forward if we stayed with them at some later date. We very much appreciated the entire amount was applied to our bill.
Prior to dinner we went out to get some water and drinks. We found a (very) small Alimentari - Da Ginetto - where we saw a fellow with this huge ball of something - bigger than his head. Curious we asked him what it was at which point he got his (huge) knife and cut it in half showing us this enormous piece of cheese. Of course we had to buy some - it actually was very good.
We returned to Villa Cheta where we enjoyed a nice swim before heading to dinner. The highlight of dinner was a wonderful white wine from the nearby Campania region - made from the flanghina grape. At 26 euros it was excellent value. The meal itself was ok - nothing wrong but nothing memorable and relatively small portions. Gayle had the vegetable tempura while I started with the carpaccio di polipo with a reduction of aceto balsamic. I then had the risotto allo schiopetto con gamberi e racicchio. The one whole shrimp (see photo) was pretty sad. But the wine was excellent and it was nice to be able to simply walk to our room when finished.
The sign at the entrance to Villa il Turro. A video of the outdoor common areas.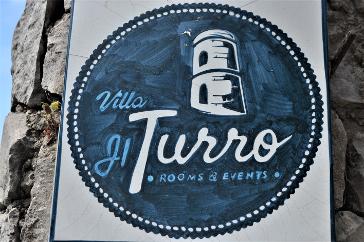 Saying arrivederci to Danila.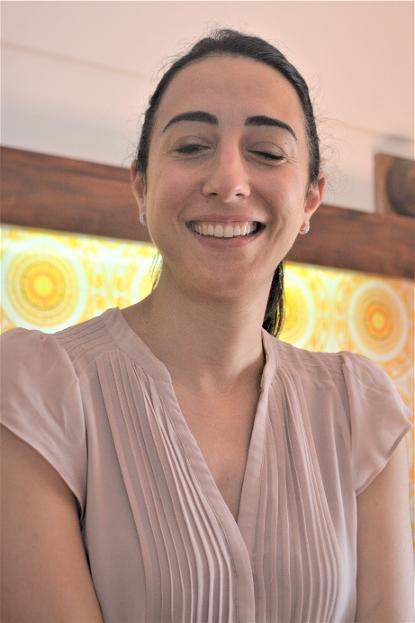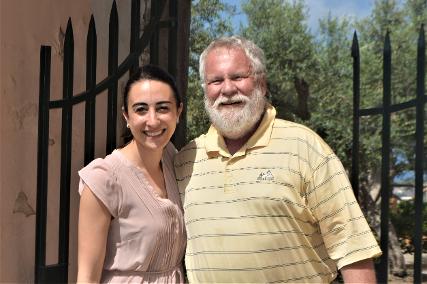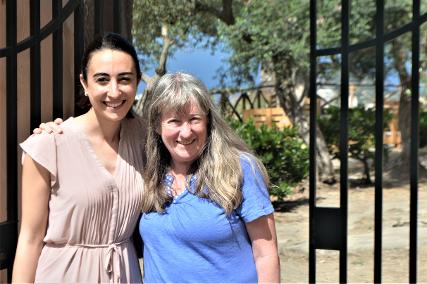 Fruit, croissants and cakes for breakfast.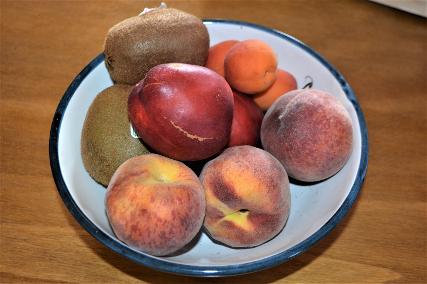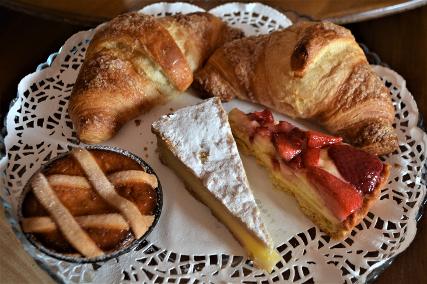 Chairs and flowers and the views of the sea made Villa il Turro visually pleasing.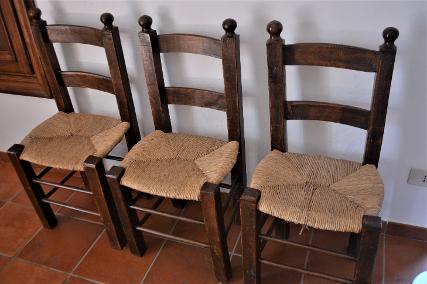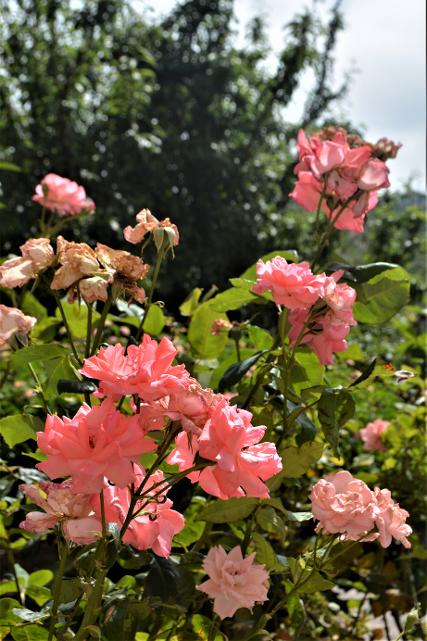 The mountain town of Rivello.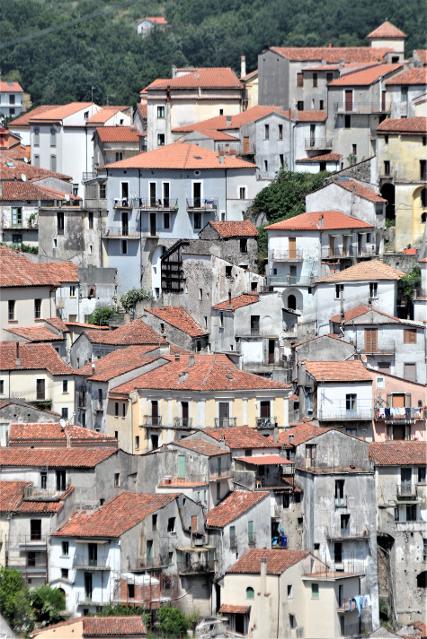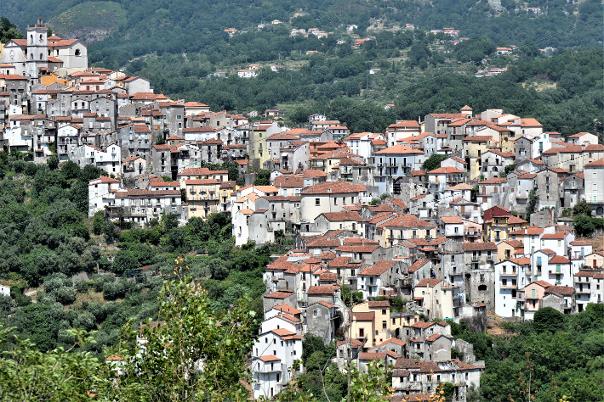 Churches along the Sorrento coast. A Nispero tree. Maratea coastline.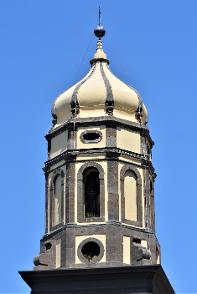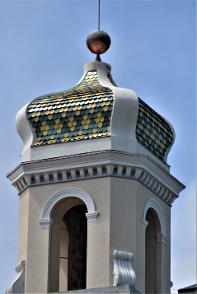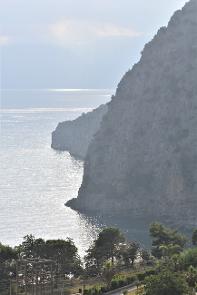 Our view out our front window. Our view our our side window.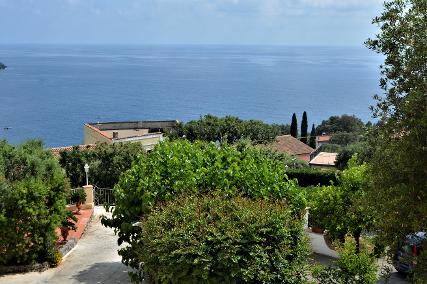 One of the beautiful terraces of Villa Cheta.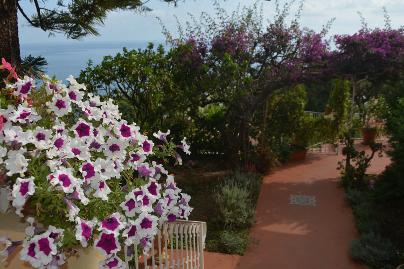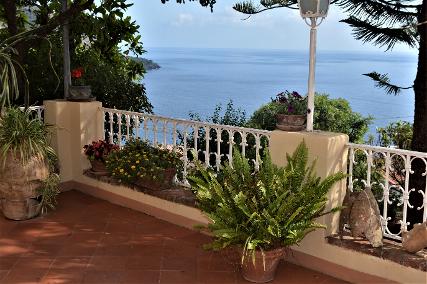 Villa Cheta. Antique headboards in our large sea view room.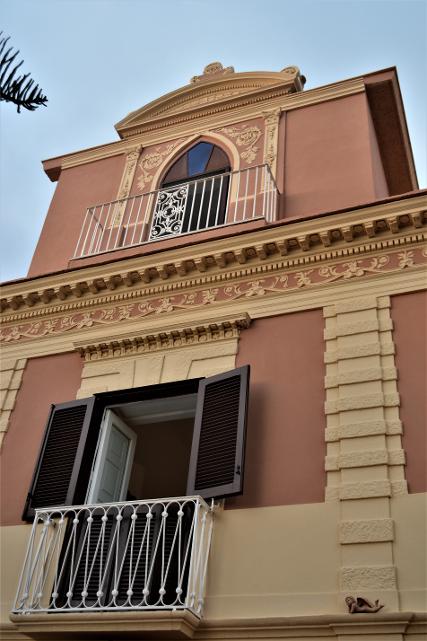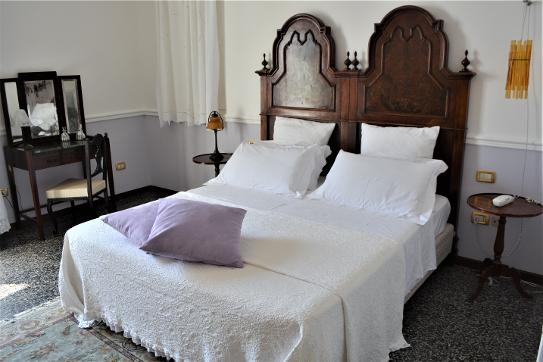 A cantaloupe? A squash of some sort? No a cheese - a very large cheese. Actually quite good cheese.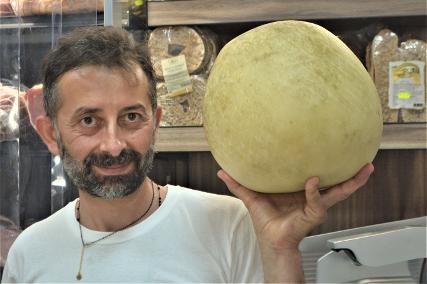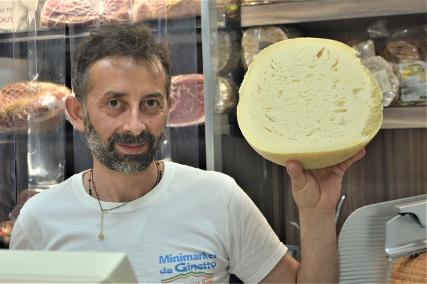 Dinner tables on the terrace. Vegetable tempura.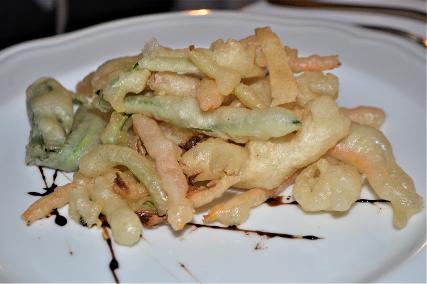 Carpaccio di polipo/ octopus. Risotto with (a) shrimp and radicchio.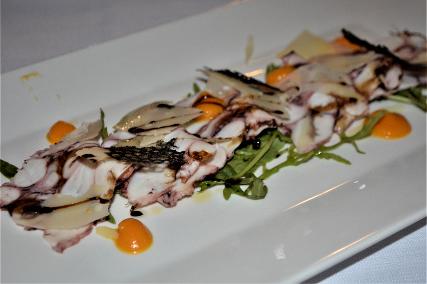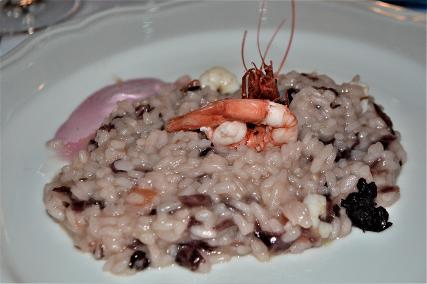 Parmigiana de melanzane. Bocconotto with chocolate and black cherries.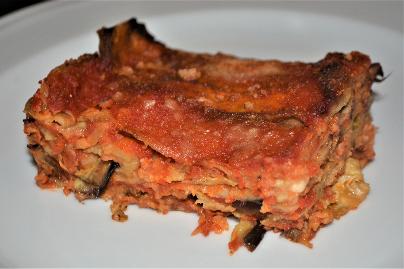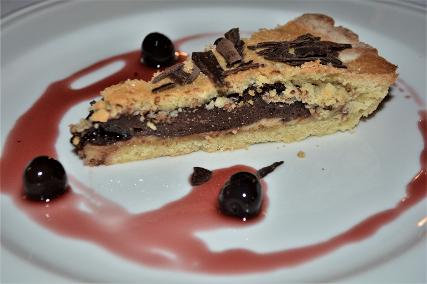 June 06, 2022 - Villa il Turro, Massa Lubrense and a tour of La Masseria, a lemon farm
For the most part another quiet / relaxing day hanging around the Villa.
We did decide to take part in a late afternoon 'Farm & Food Experience' at a nearby lemon farm - La Masseria, followed by dinner at the farm.
'La Masseria' dates from 1898 when the family's great-grandfather Ferdinando Gargiulo was one of the first farmers in the area to plant a lemon orchard. His success as a grower led to equal success as an exporter of this unique fruit. The farm has a wide variety of crops overlooking the Naples Gulf. On the terraces olive trees produce Peninsula Extra Virgin Olive Oil, lemon trees produce the exclusive 'Oval of Sorrento' variety and Chestnut trees produce sweet, fragrant fruit. The trunks of the chestnut trees are used to build the pergolas that defend the lemons from bad weather. Additionally the farm has other citrus fruits - oranges and mandarins as well as seasonal vegetables, including for example in the summer - tomatoes, eggplants, zucchini and onions.
Since 1994 the farm has drastically reduced its use of pesticides and returned to natural fertilization, using bees as environmental sentinels. Since 2011, Eugenio, fourth generation in his family has added a component to the farm, being Gastronomic Tours, with La Masseria recognized by Campania Region as an Educational Farm hosting students and tourist groups to tour the farm and taste its products.
Eugenio led the tour of perhaps 20 guests, explaining the varieties of lemons, the growing cycle (unlike oranges that only flower once a year the lemon has four flowering periods), the protection from insects, rodents and the sun, and the picking process, of both the lemons and olives. Plus we got to meet a variety of animals here on the farm.
After the tour we gathered for a tasting and dinner that started with bruschetta - both pomodori and courgettes (tomato and zucchini), a small plate of meat, cheese and bread, zucchini flower fritters and pasta, all served with the farm's wine. Dessert was of course a (semi-freddo) lemon tiramisu cake after which we sampled the limoncello.
The two-hour tour was 25 euros each with the dinner another 25 euros each. We bought a 500 ml bottle of extra virgin olive oil (10 euros) and a 333 ml bottle of limoncello (7 euros).
Eugenio did a great job as tour leader. One can tell this is something he truly enjoys. All in all a very good experience.
We returned to Villa il Turro where we enjoyed some of our newly acquired limoncello under the lights of the lovely garden area.
Early morning coffee while I worked on the travel blog. The croissants and cakes here are unbelievably good.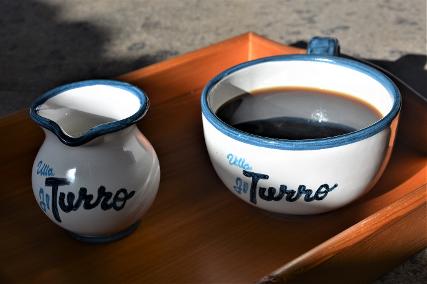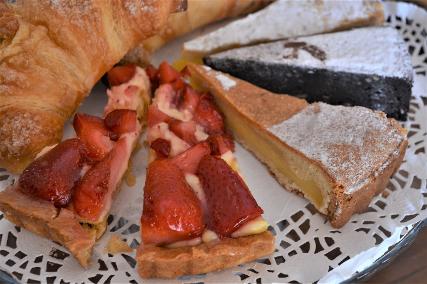 Eugenio, family member and tour guide. 'La Masseria' farm.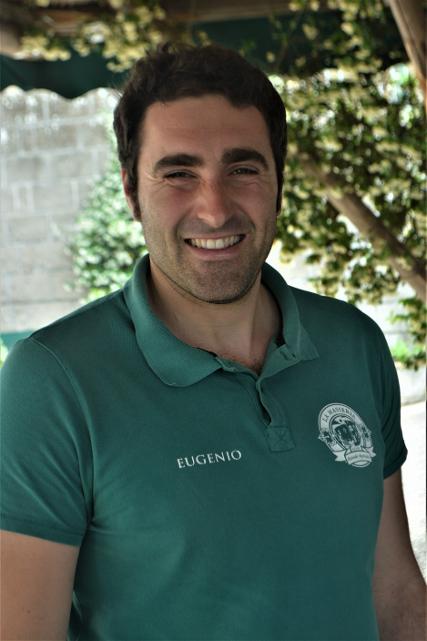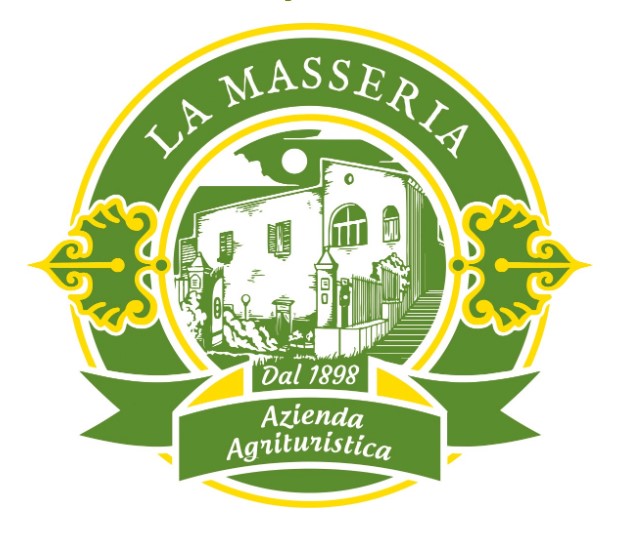 Colourful flowers adorn the farm.
An old wine press. And an even older olive pressing stone wheel.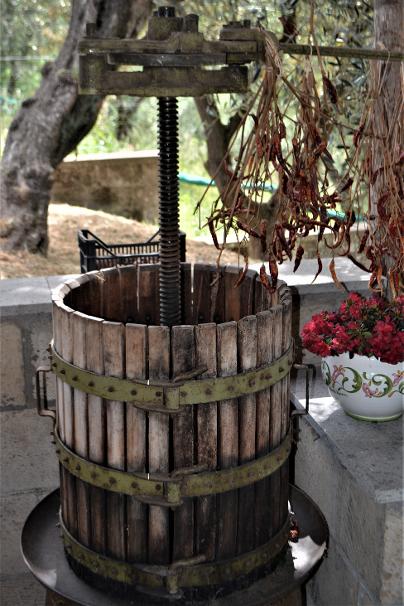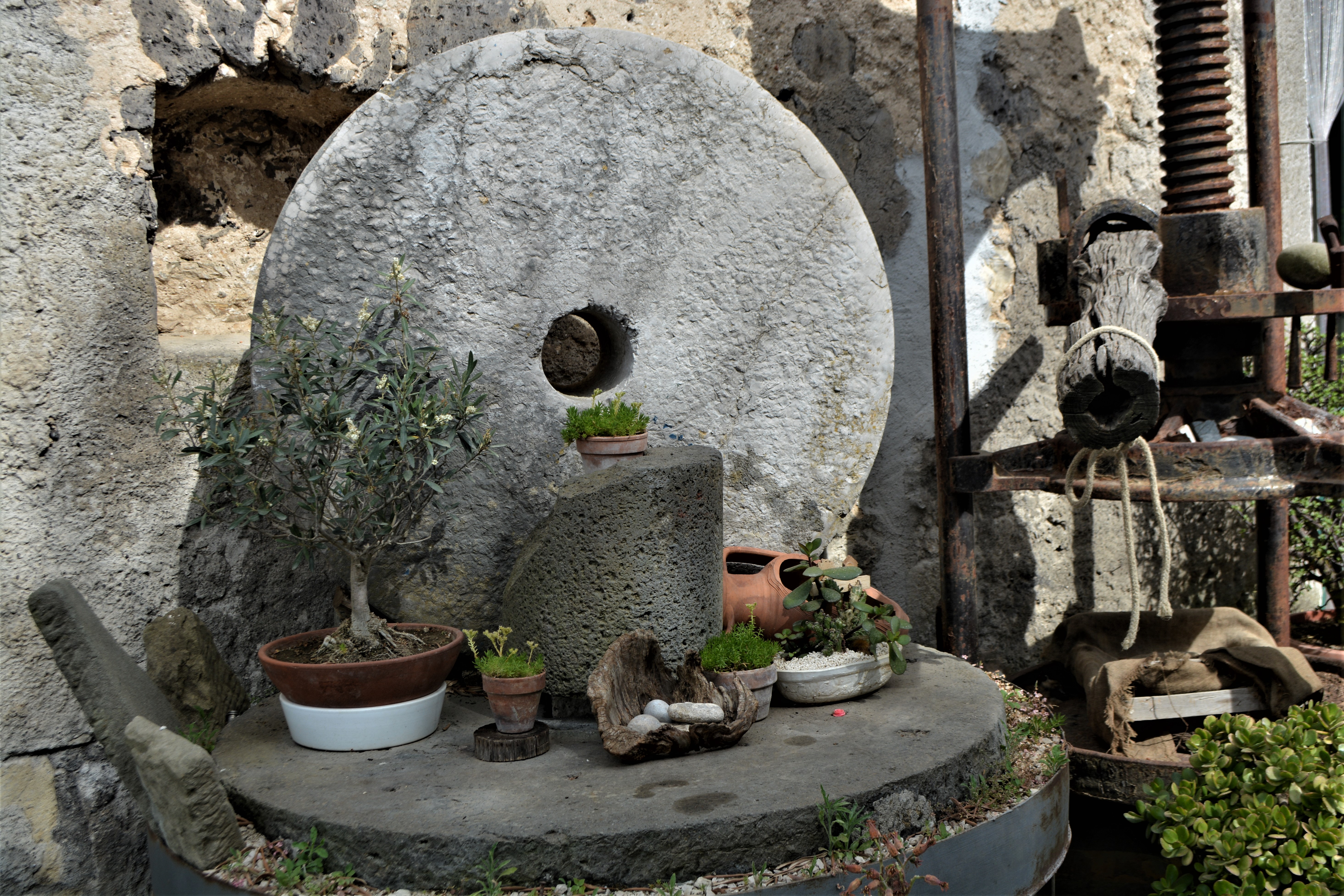 The farm was not without a few animals.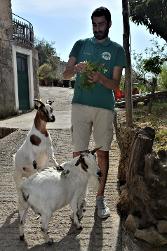 There were very playful (and hungry) goats, as well as geese.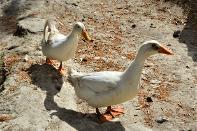 And chickens, and pigs and a few cows.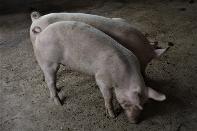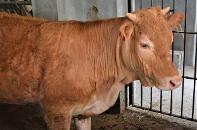 Although we drove a few kms down the road and then doubled back to get to La Masseria, as the crow flies Villa il Turro was actually quite close, and could be seen from the farm.
Eugenio showing his acrobatic skills at crossing over the lemon trees, the unusually narrow ladders to squeeze in the trees, the one on the left of wood, the one on the right of metal, and the dense planting of the trees.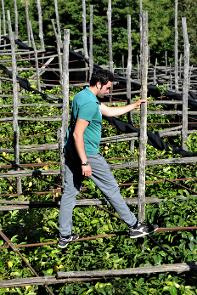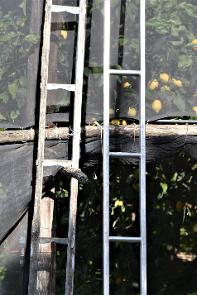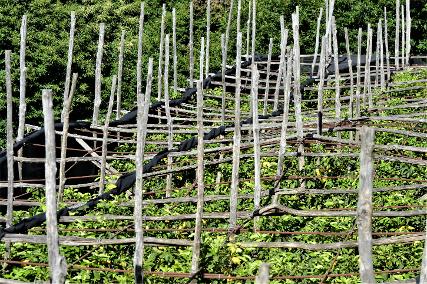 Lemons, lemons, lemons - lots and lots of lemons.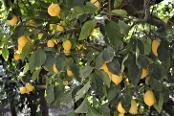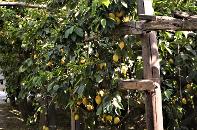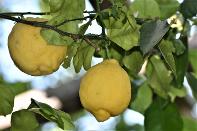 Covered by more lemons than I could ever count. Note I wore my 'yellow / lemon' shirt.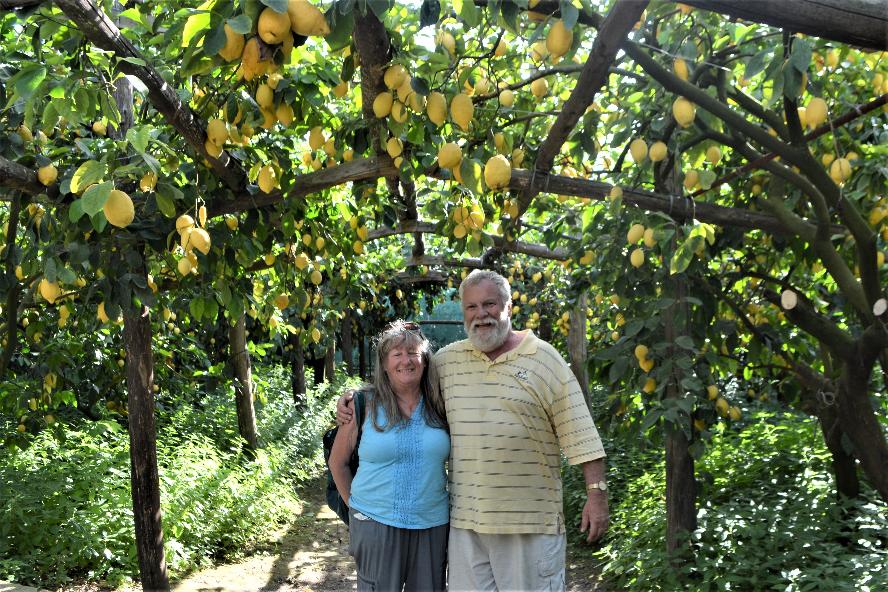 The smoother skinned Sorrento lemons are rounder in shape than the rougher skinned Amalfi variety.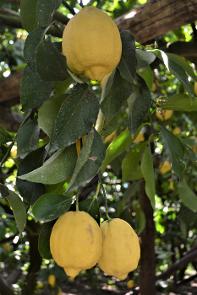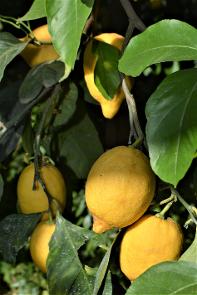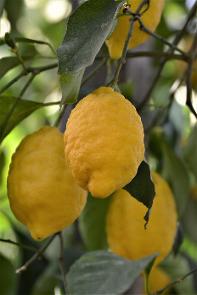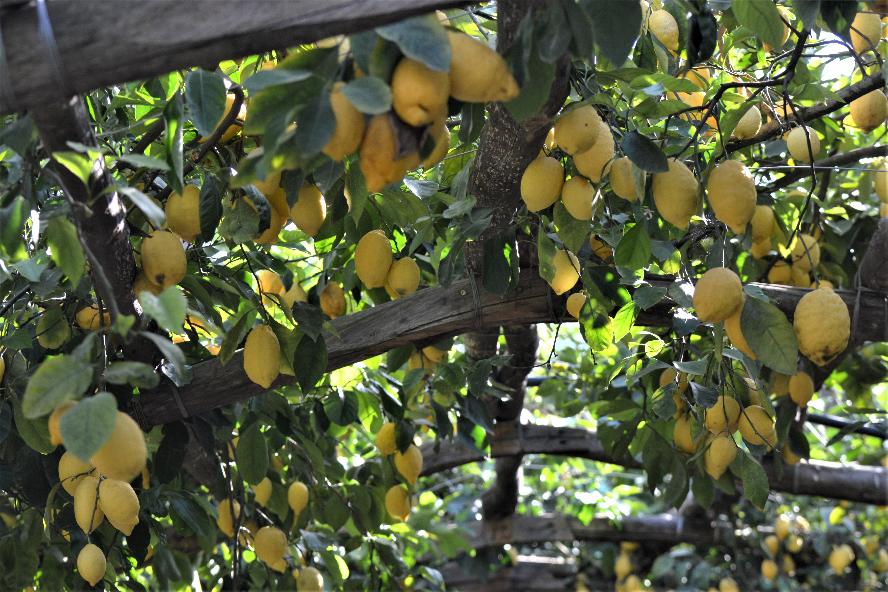 One year old bitter orange plants, which after three years are used as a base to which the lemon tree is grafted.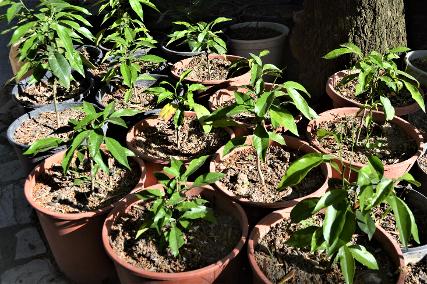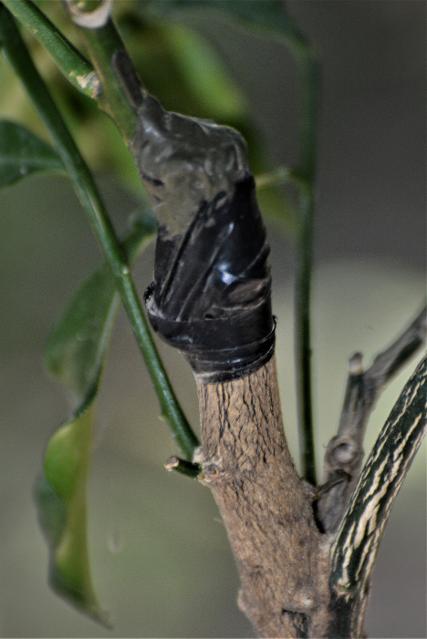 The wine cellar - the farm no longer grows grapes (it did back in the day) but now focuses on lemons. They do purchase grapes which they press and age for wine for the Masseria.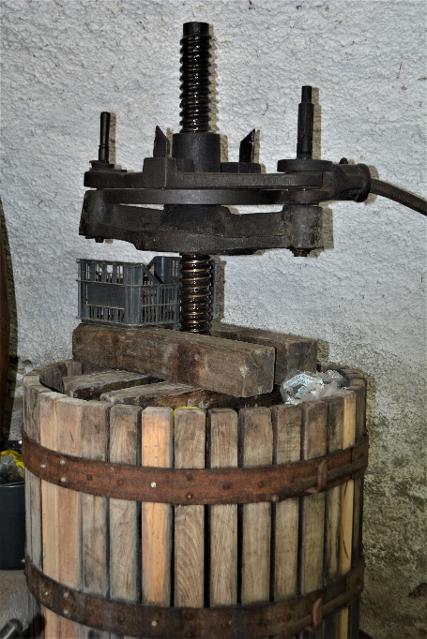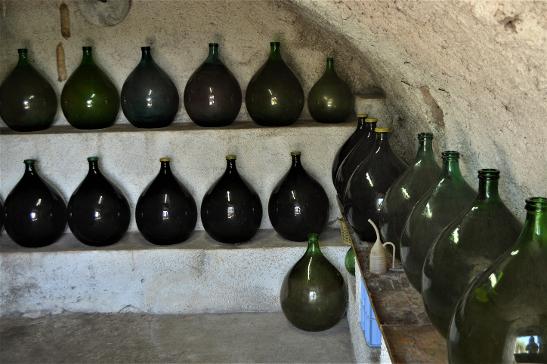 Relaxing at lunch. Mama the cook. Oils from the farm.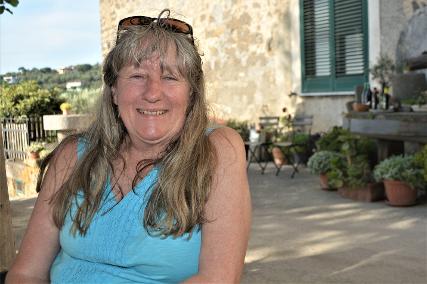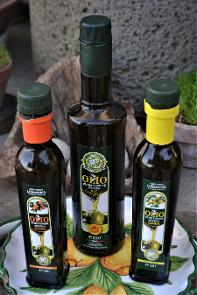 Pomodori and zucchini bruschetta. Meats, cheese and bread.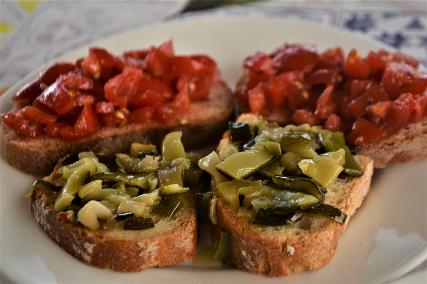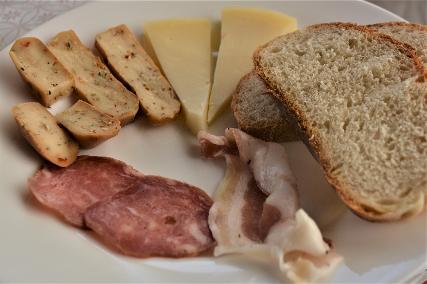 Zucchini flower fritters. Pasta.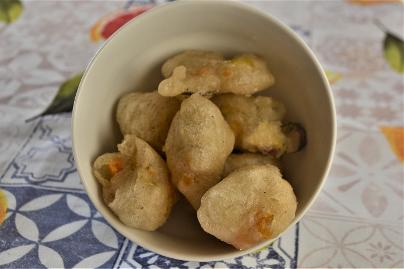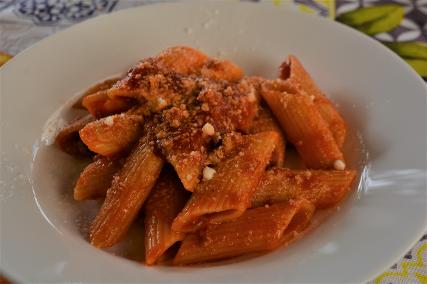 A semi-frozen lemon cake for dessert. Limoncello glasses Eugenio serving the liemoncello.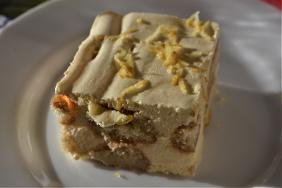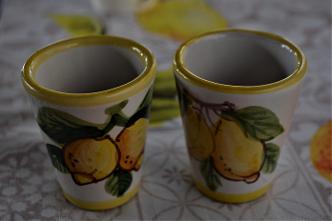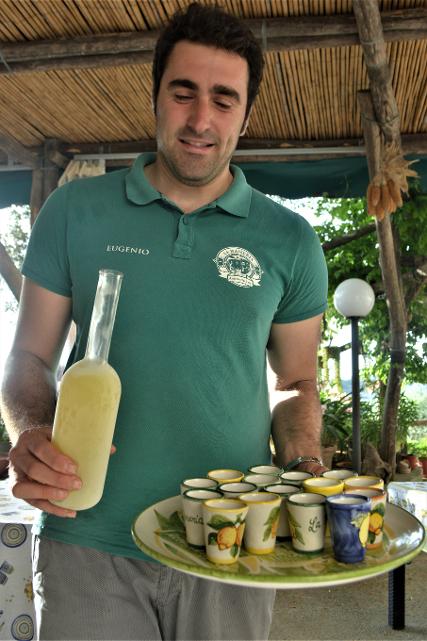 Another nice sunset over the Tyrrenian Sea. Very nicely lit area at Villa il Turro.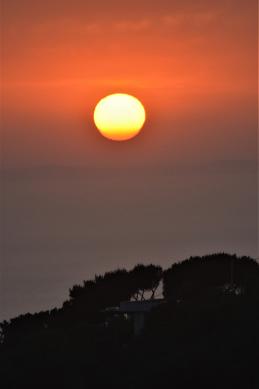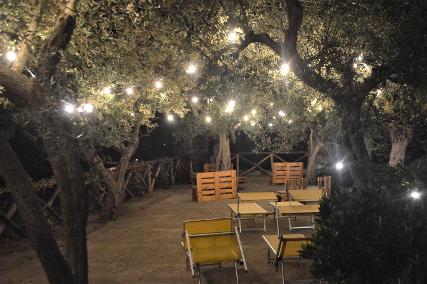 June 05, 2022 - Villa il Turro, Massa Lubrense, short drive to Termini
We enjoyed a quiet day beginning with a wonderful breakfast of excellent cappuccino and a number of cakes along with delicious croissants. We then 'packed' to move downstairs from our Napoli suite to Ischia, also a nice (albeit considerably smaller) room on the ground level.
We relaxed in the gardens, worked on the travel blog and met a new friend - Fiona, one of the villa's five very well looked after cats. Danila pointed us to a nearby Gelateria where we enjoyed a tasty treat. We then continued our drive to Termini where we found a decent ceramics shop although nothing just quite caught our eye. We continued along the coast, enjoying great vistas of the coastline and the islands of Capri, Ischia and Procida before circling back to Villa il Turro.
We returned to nearby Monticchio for dinner at A Cammerella. The staff were nice but the food less so. Our 'pizza caprese' was a good start - interesting in that it was presented on tasty pizza dough, but after that dinner went downhill. Gayle's eggplant parmigiana was burnt around the edges while my pulpo with glasswort (a salt-marsh plant with fleshy scale-like leaves we had never heard of. Apparently the ashes of the burnt plant were formerly used in glass-making) was ok (actually the glasswort was quite tasty) but a very small serving for the 16 euro price. It was a short drive (< 1 km) from the ristorante back to our villa.
We did decide to do a lemon farm tour tomorrow, which we are looking forward to.
View of the north of Capri from Villa il Turro. Covered lemon trees.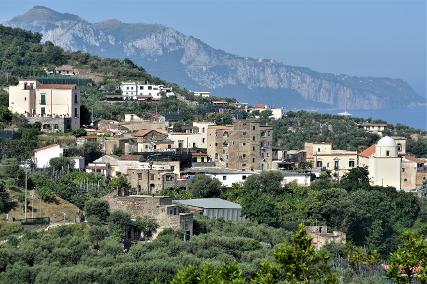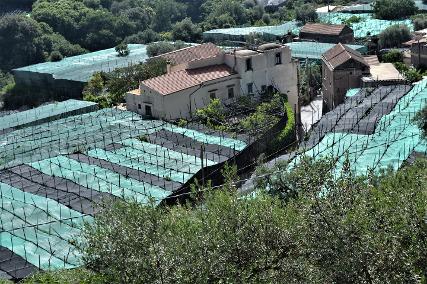 The Tower. Danila, the manager of Villa Il Turro.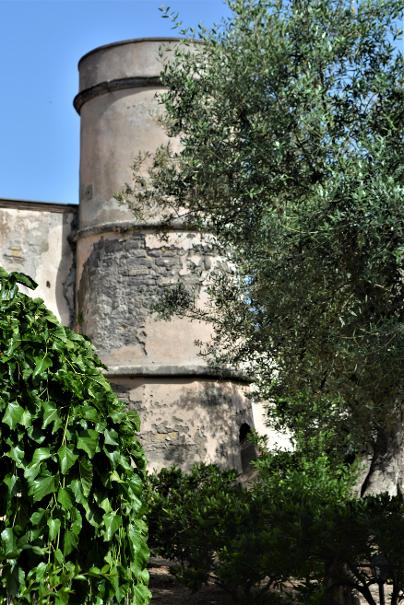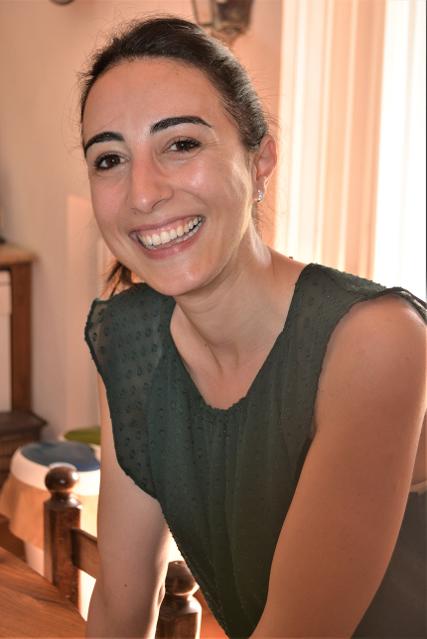 All the pottery was attractively branded Villa Il Turro. Croissants and cakes each morning.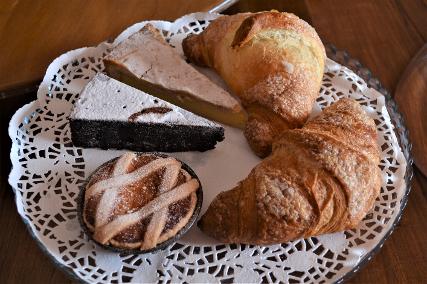 Coffee / cappuchino and espresso cups.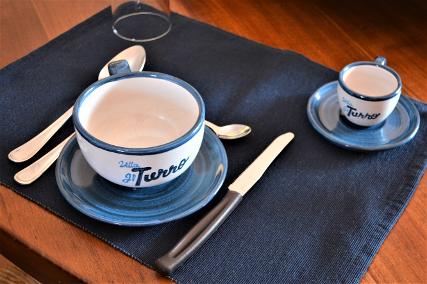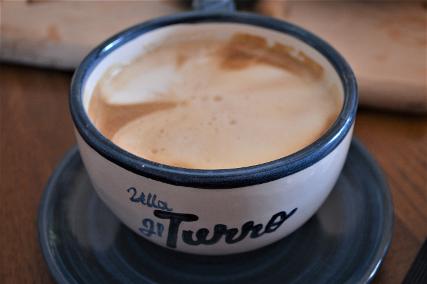 Our two rooms - Napoli and Ischia.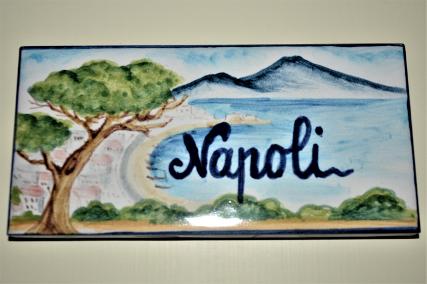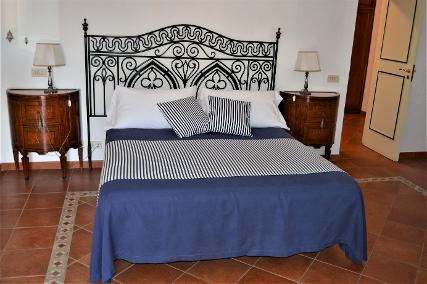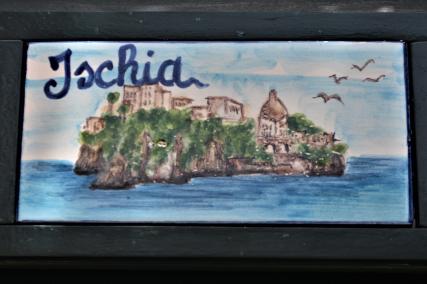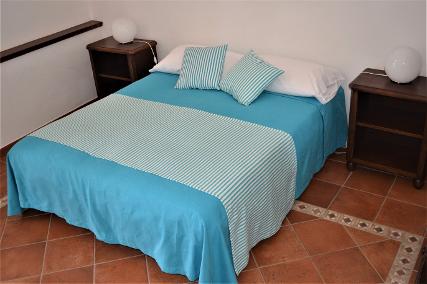 Both sides of the gates of the Villa.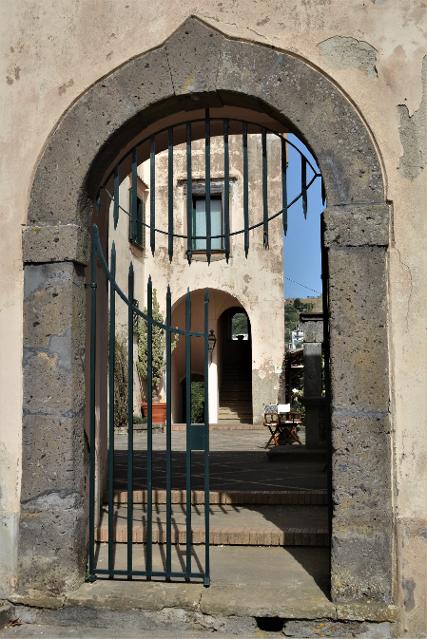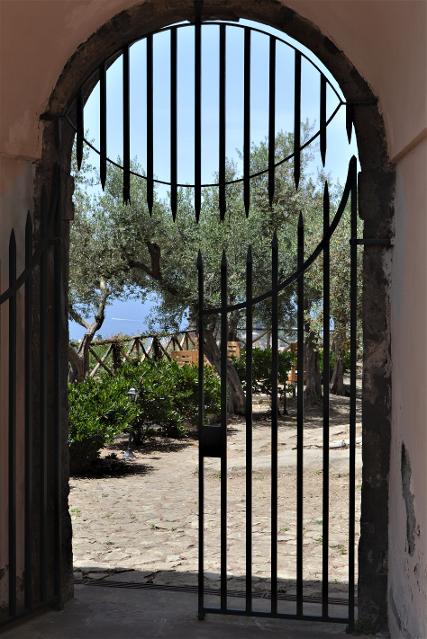 The nice seating area overlooking the sea and the island of Ischia. Our new found friend Fiona.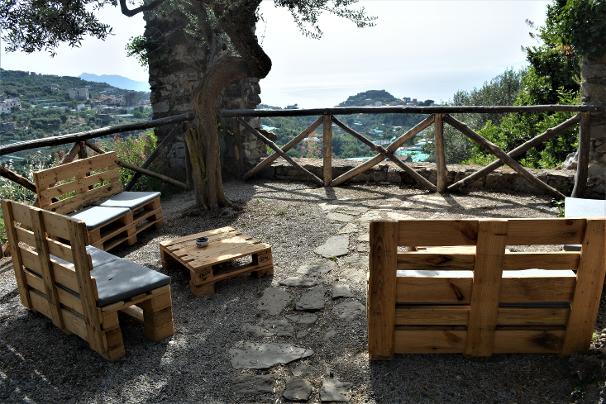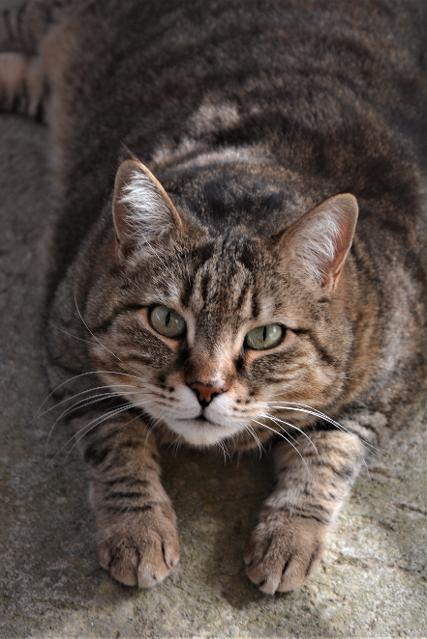 Gelateria Ikigai in nearby Monticchio. Gayle with our treat of the day.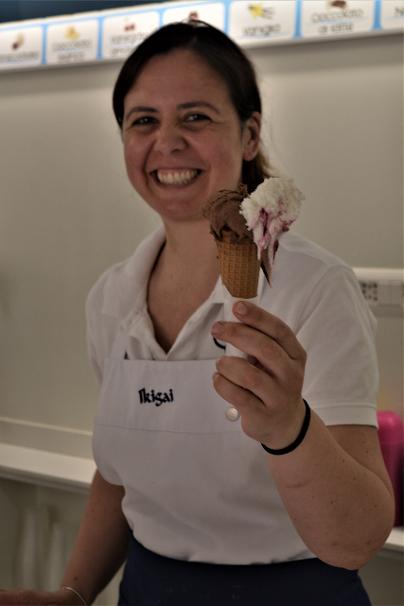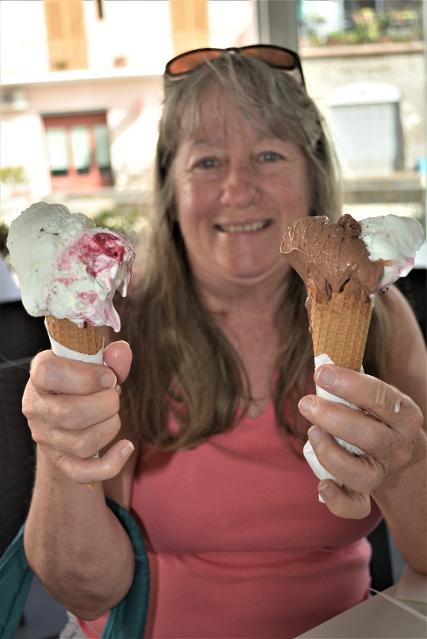 Again lots of choice of flavours.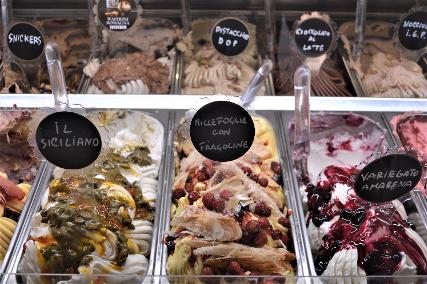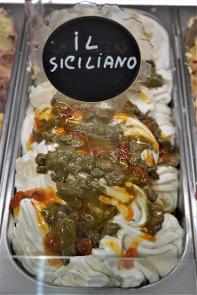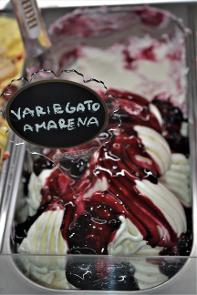 In addition to Gelato there were a number of decadent looking cakes.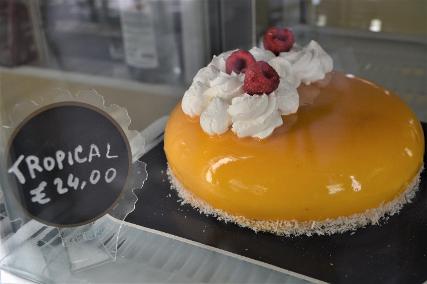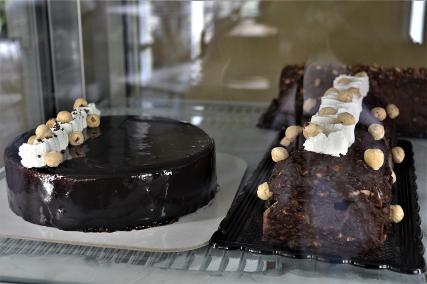 Capri, as seen from the village square in Termini.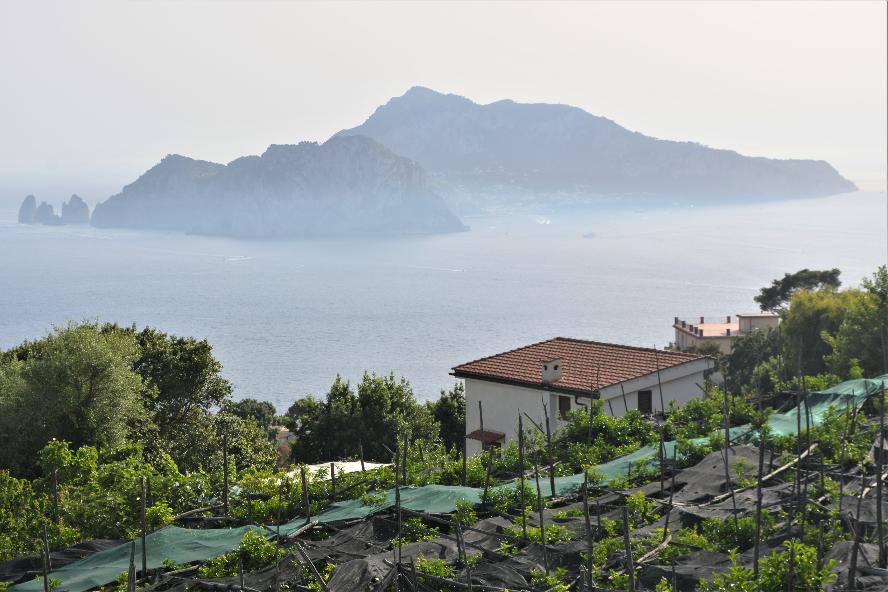 The setting sun providing spotlights over the islands of Ischia and Procida.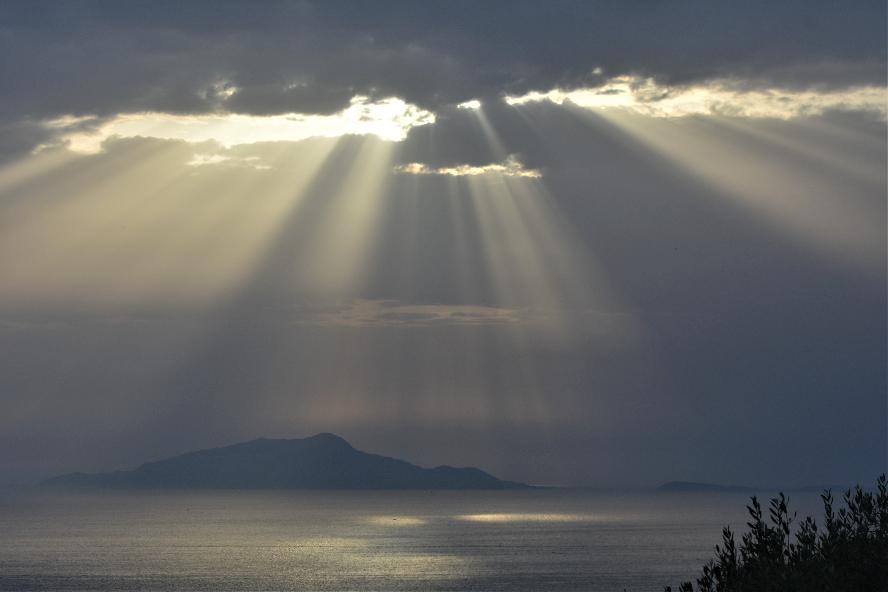 What's an Italian meal without wine? A caprese salad on pizza dough.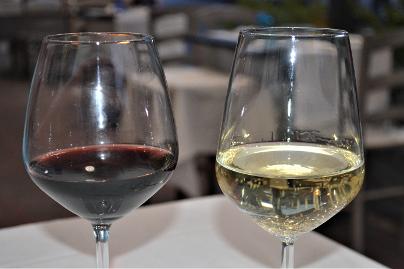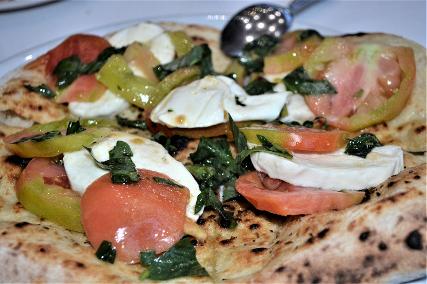 Eggplant parmigiana - burnt around the edges.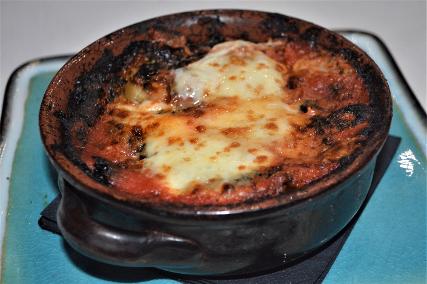 Pulpo with glasswort (actually much smaller than it appears in this cropped photo.)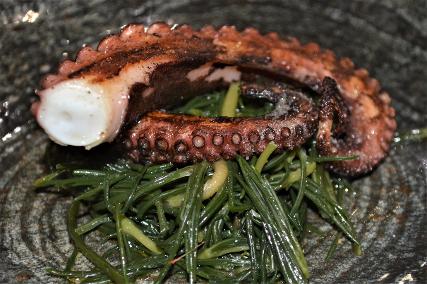 June 04, 2022 - la Locanda del Ruspante to Villa il Turro, Massa Lubrense
Our last morning at la Locanda del Ruspante. We were initially a bit worried five nights might be too much but that certainly did not turn out to be the case. With daily drives, the afternoon in Castro dei Volsci, our visit with Luigi the goatherd and the pasta cooking class the days whizzed by. This morning staff were preparing for the wedding. While we tried to stay out of the way Marianna and others continued to be very attentive to us during our last morning. We enjoyed a final breakfast, took a number of photos, paid our 'conto', packed and were on our way. We are so appreciative of all that Marianna, Pasqualino, Martina and the rest of the staff did for us - always available to help. Whether we will ever be back to this part of Italy is hard to say but we leave with very fond memories.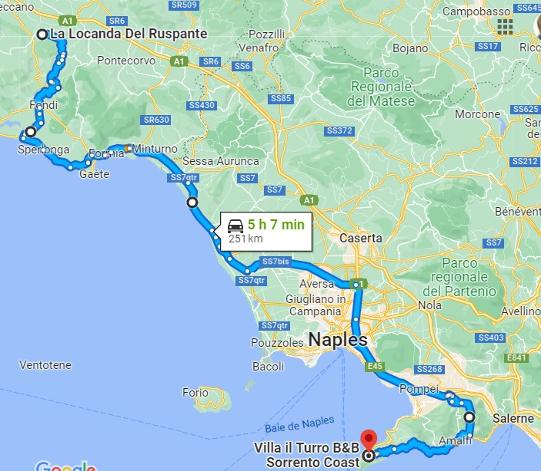 Today was a long (> 7 hours on the road) moving day, in part because we chose to drive to Sperlonga on the coast and then south, and in part because we missed the (not very well signed) exit to the northern coast of the Sorrento Peninsula, ending up crossing the mountains to Ravello, and then driving the unbelievable busy stop and go traffic along the Amalfi coast.
We can't really explain what it is like driving the very narrow roads, made less wide with parked cars and people everywhere. It gets really exciting / nerve wracking when encountering a bus. One has to experience first-hand the drive to understand it. But we made it - through Amalfi, Priana and Positano and on to Massa Lubrensa.
It took some effort, and the help of four teenagers and their 'google.maps' on their cell phones, and another random fellow on the road who pointed us the final bit but we eventually did find Villa il Turro where we were warmly greeted by Danila.
After the hub-bub of the Amalfi coast il Turro was a very quiet, peaceful oasis with a wonderful view of the sea, and the islands of Ischia and Procida, and the north half of Capri. Danila provided a nice history of the Villa, dating from 1790. She showed us the gardens, including the islands that can be seen off the coast, explained the reason for the coverings over the lemon trees (protection against rain / hail), and then showed us to our 'Napoli' Suite. There was little choice when we booked - only the suite the first night and then one of the downstairs rooms the following two nights. It was a shame we did not arrive earlier to enjoy more time in the Suite, a huge space with a bathroom, including a jacuzzi, bigger than many rooms, and three, count them three balconies! The balconies also provided the additional benefit of a perfect view of the setting sun.
We took Danila's recommendation of a ristorante back in Sant'Agata. Gayle had an excellent caprese salad with a very fresh ball of Buffalo mozarrella. I had the gamberini (shrimp) and calamari alla brace (grilled). We each had an arancini (rice ball). At the end of the meal we were offered a piece of lemon cake courtesy of Danila / Il Turro, along with a glass each of limoncello, courtesy of Ristorante Cardillo. A very nice way to finish the meal.
We returned to Villa Il Turro where we enjoyed a bottle of Prosecco on one of our balconies overlooking the lights of the coast. We certainly have the feeling we are really going to like this place.


The wedding reception area. One of many bouquets of flowers.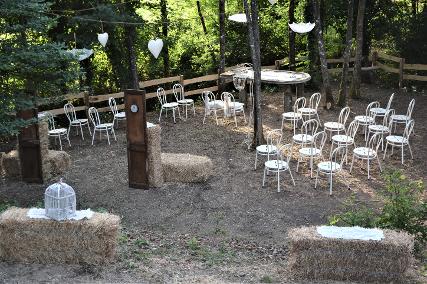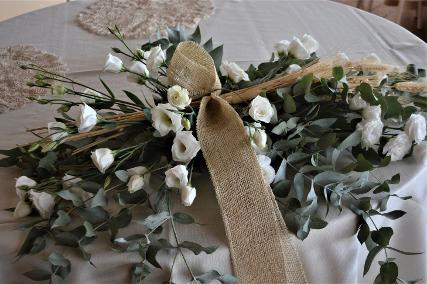 Croissants, cakes and cookies - a staple for breakfast.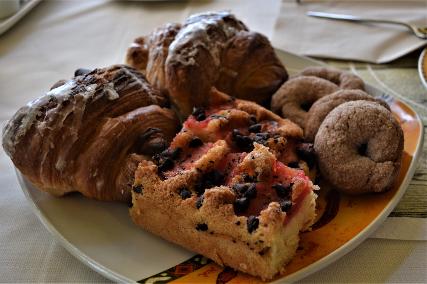 And we finally got the coffee right - due espresso con latte calde separare.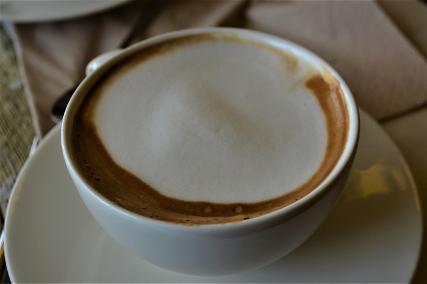 A beautiful window at the top of the landing, Our four poster bed.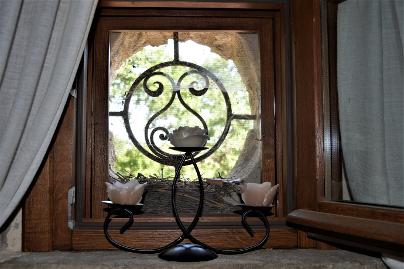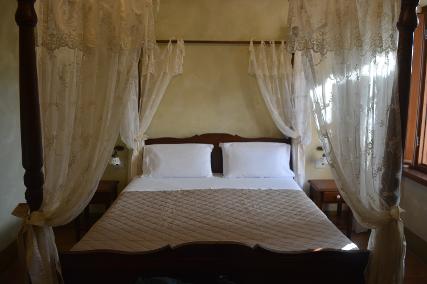 Ladies working in the kitchen. A sampling of the food being prepared for the wedding.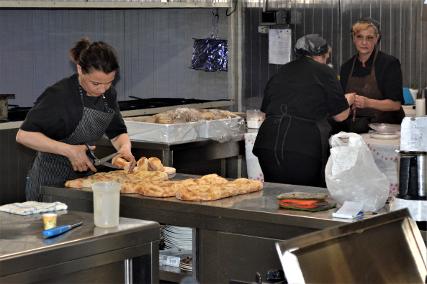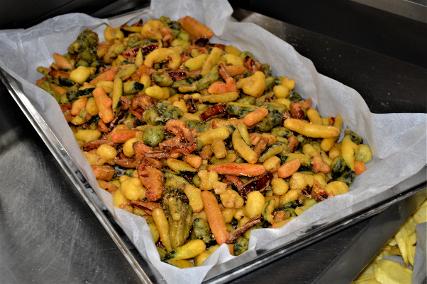 Marianna (due), Antonella, Marianna, Emanuela and Martina.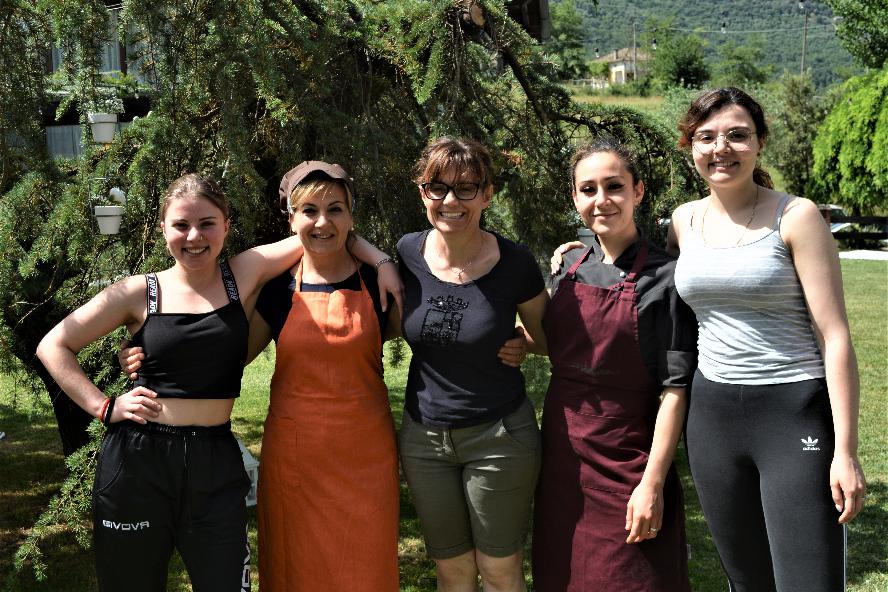 More Ruspante farm animals.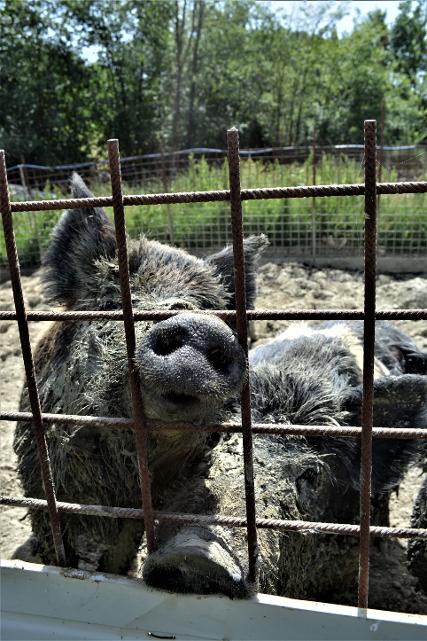 And with that we left la Locanda del RUSPANTE, after a wonderful stay with wonderful people.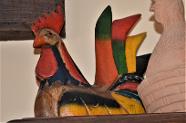 The poppies are so colourful in the fields / ditches this time of year.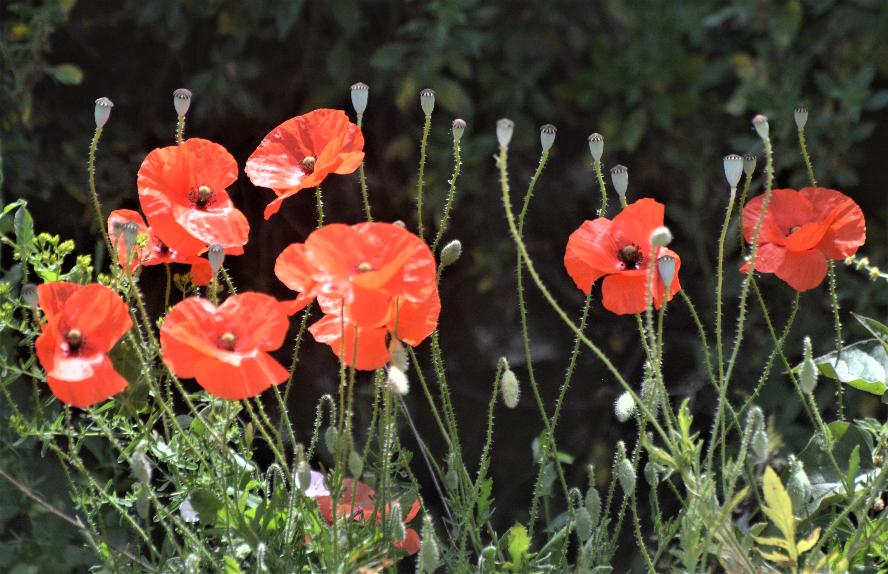 An abandoned old stone building.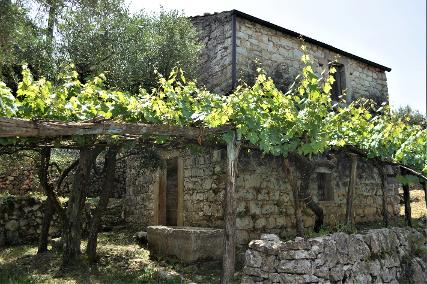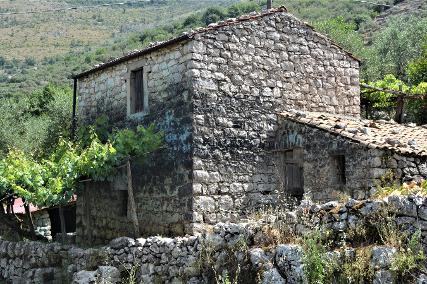 Being spring there are flowers around virtually every corner.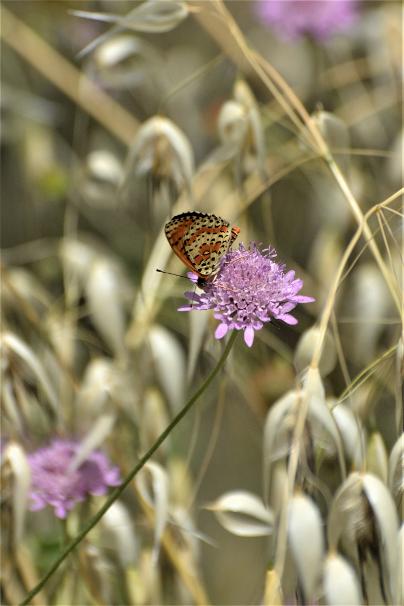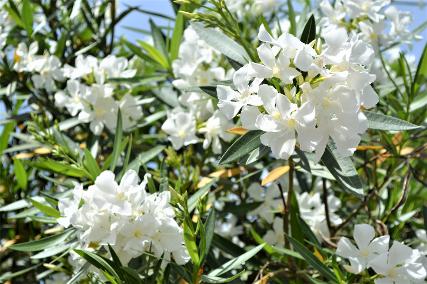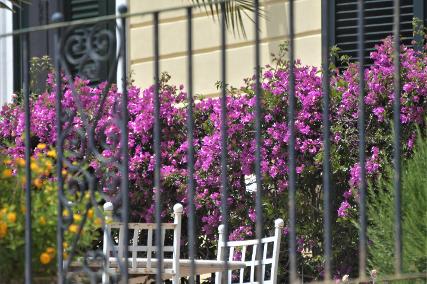 Not exactly our idea of a 'quaint' beach - near Gaeta.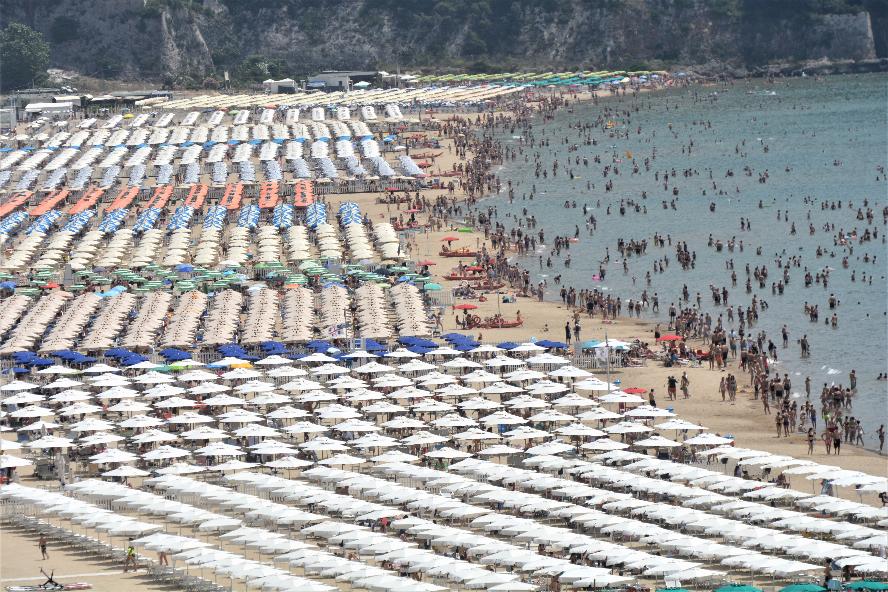 The Acquedotto Vespasiano with over 100 arches still standing.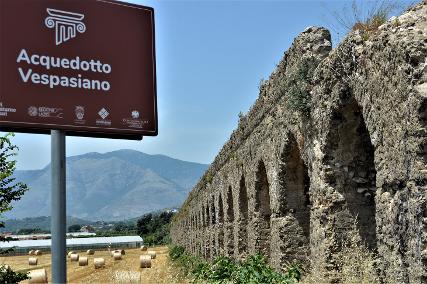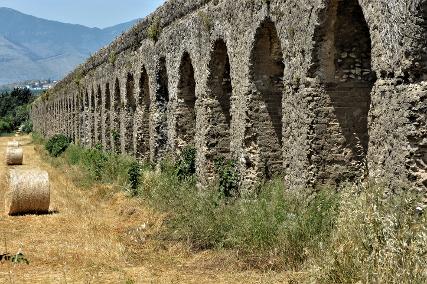 The beautiful church cupolo in Priana (photo taken out of car window while stuck in traffic).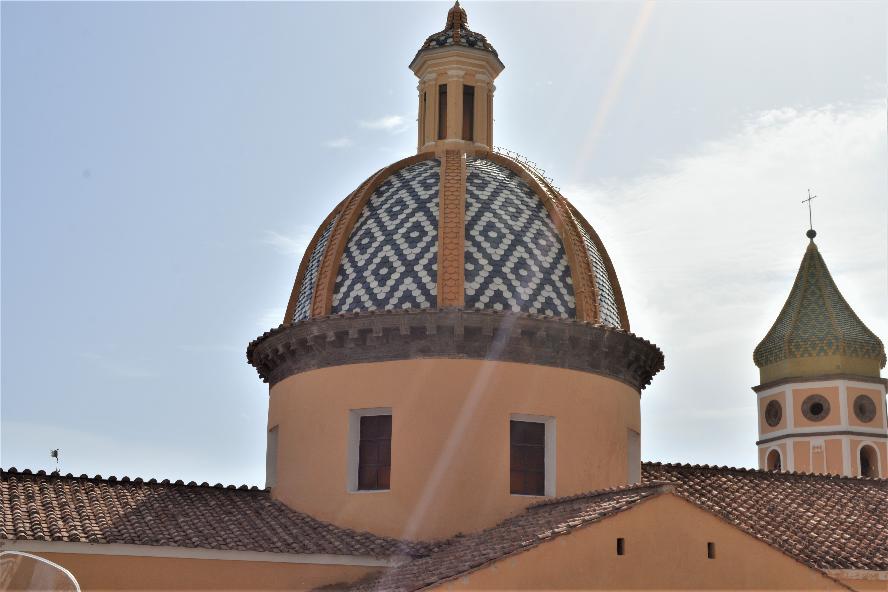 The Napoli suite had not one, not two but three balconies, including one accessed from the bathroom.
The main balcony leading to the tower provides a spectacular view of of the sea and the island of Ischia, along with wonderful sunsets.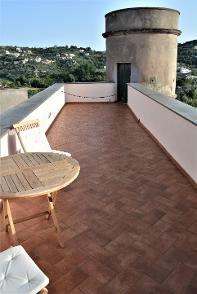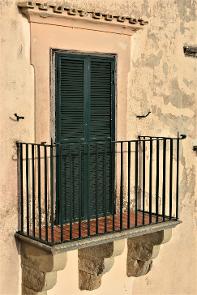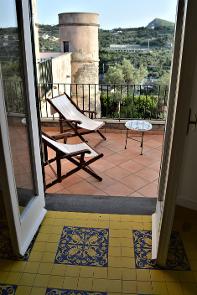 The brightly coloured bathroom, with its jacuzzi, was HUGE - bigger than many rooms.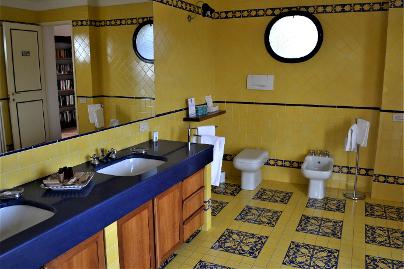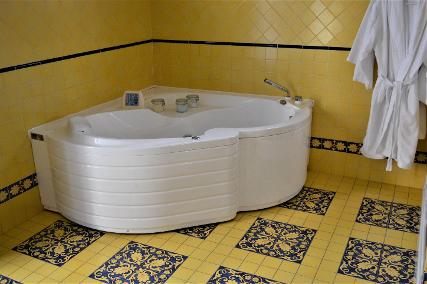 One of the walls of Villa Il Turro covered with aromatic jasmine.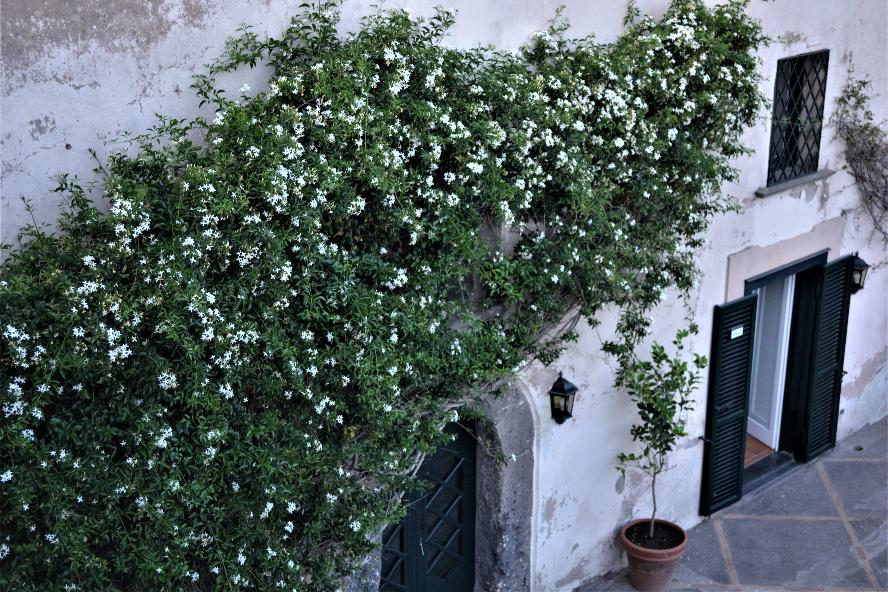 Sunset over Ischia and Procida.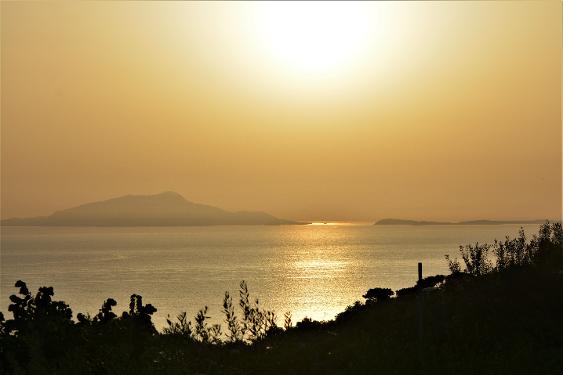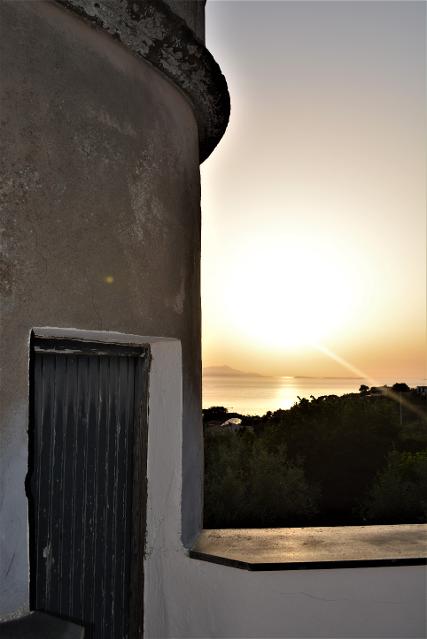 To start a caprese salad with a very fresh ball of Buffalo mozzarella.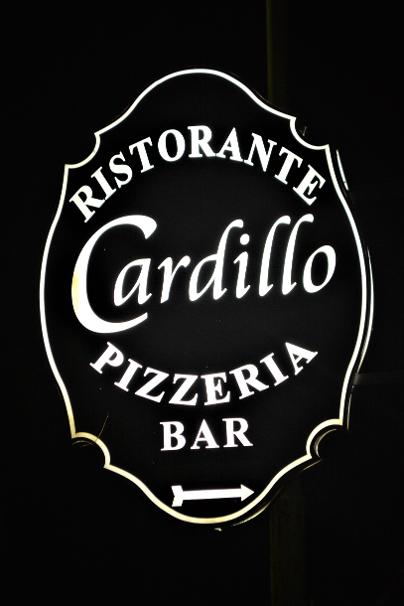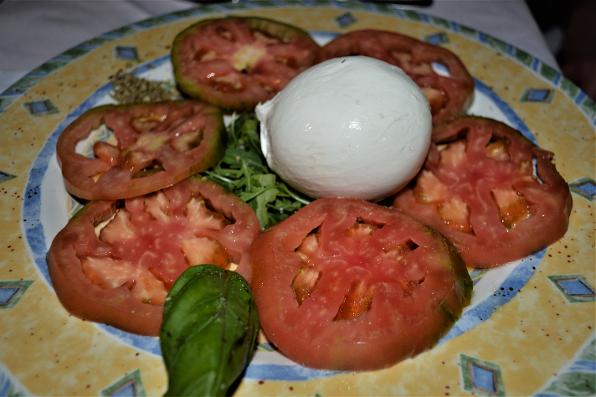 Arancini (or rice) balls. Gamberini (shrimp) and calamari.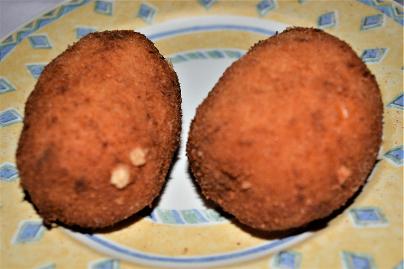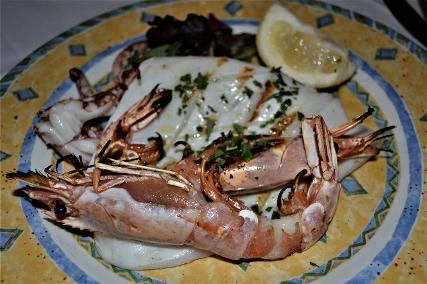 Lemon cake courtesy of Danila. Lemoncello courtesy of Ristorante Cardillo.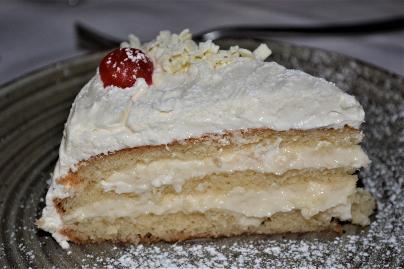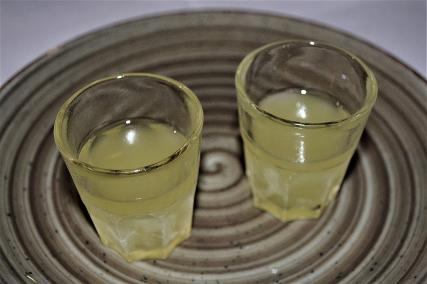 A bottle of Prosecco to finish the evening.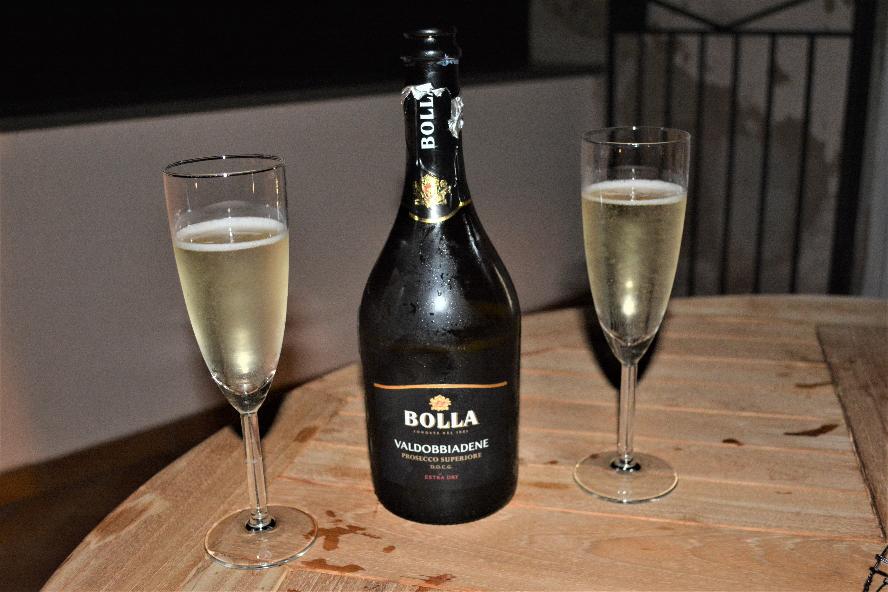 June 03, 2022 - Locanda del Ruspante - another afternoon drive and pasta cooking class
Yet another very busy day for the staff at il Ruspante as they were preparing for a wedding tomorrow, a growing business for the agritourismo. After breakfast we spent a couple of hours working on the travel blog after which we went our for an afternoon drive.
While it has been quite hot since we arrived - generally 33 C / 34 C - today was that much more so. When we got to the car and opened it up the thermometer read 50 C! Of course that was with a locked vehicle but even after driving for a while the temperature only dropped to 37 C (99 F) - certainly hot by our definition.
Not too far we first went towards Ceccano, then continued on through Prossedi where we decided to cut the drive a bit short. However we did decide to ascend to the small village of Pisterzo. Regrettably, although the drive was reasonably scenic, the village itself was nothing special, and effectively closed-up. We returned to the valley and headed to Amaseno from where we returned to Il Ruspante in plenty of time for our cooking class.
Being the only guests we took the pasta cooking class 'light', making, rolling and cutting the pasta into three widths. We did not make the sauces - leaving that to the skilled staff. Emanuela led the class with Marianna providing encouraging words throughout. It was a great deal of fun, with the pasta actually tasting as we would expect had it been made by the kitchen staff. It was made with nothing but farina flour (TIPO 00) and eggs - two eggs to 400 g of flour. There were only two problems - the first being how difficult it was to take photos / videos given how sticky my fingers were with the flour / egg mixture and second the volume of pasta - three large servings - the first a fettucinni with fungi, the second pappardella with a pistachio and basil sauce and finally taglialini in a pomodori sauce. Way too much. But it was delicious and such a fun thing to do.
One disappointment today was the failure to maintain our gelato challenge, in part because we did not come upon a Gelateria but honestly we didn't try that hard as we were still bursting at the seams with all the food we had last night and expecting another filling meal of pasta (proven to be accurate) tonight. Perhaps tomorrow.
Chocolate cake and fresh cherries to start the day.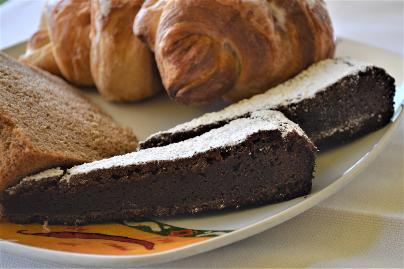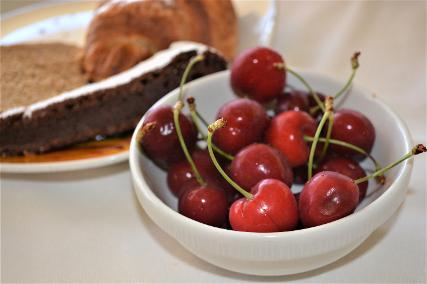 Relaxing after breakfast. I tried my best to 'frame' this photo.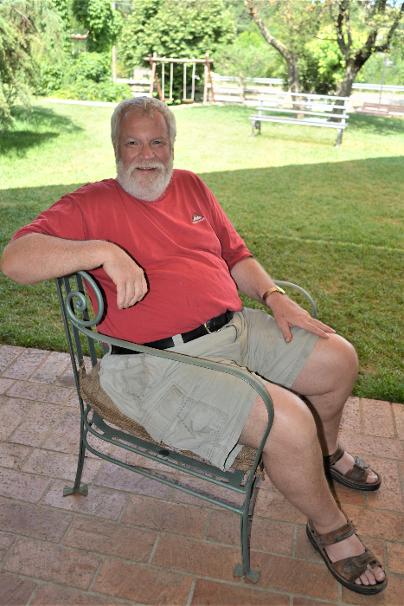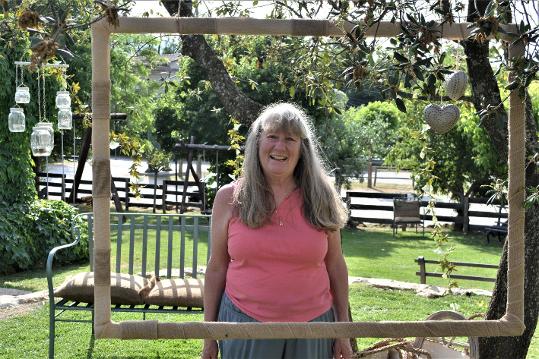 Being an agritourismo there are plenty of animals - chickens and pigs (although we think this fellow is a boar) ...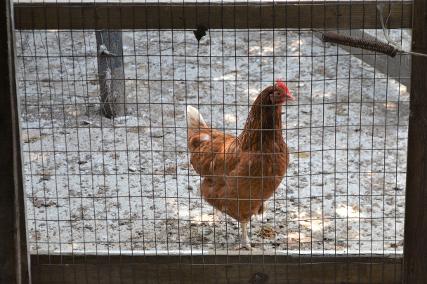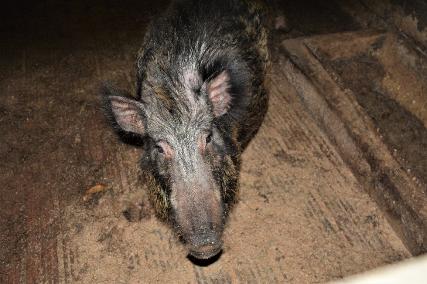 ... and rabbits and donkeys.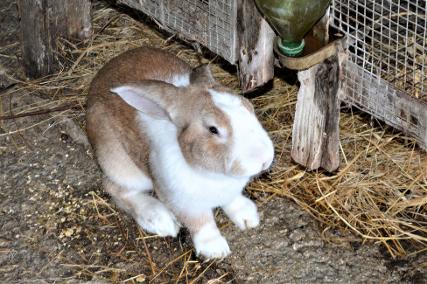 Gayle feeding Bello an apple.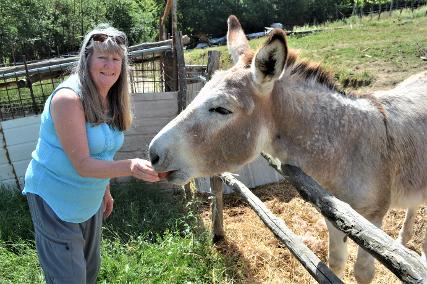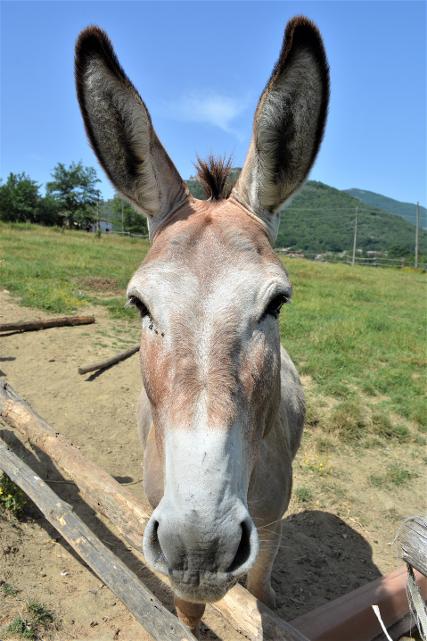 The Il Ruspante (yet to find a home) gate. 50 C when we opened the door to the car!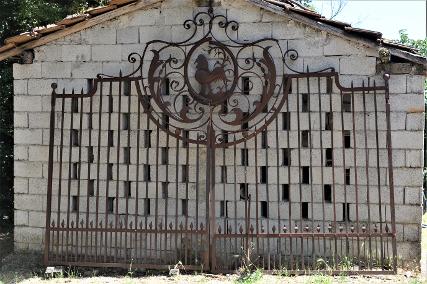 Giuliano di Roma. Pisterzo.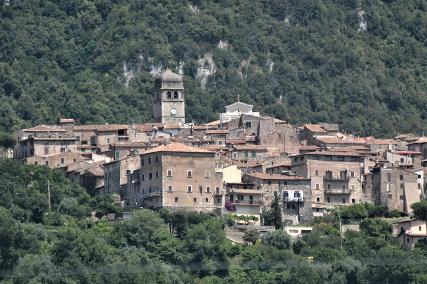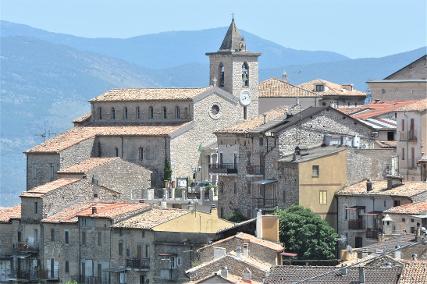 Roadside colour as we drove up to Pisterzo.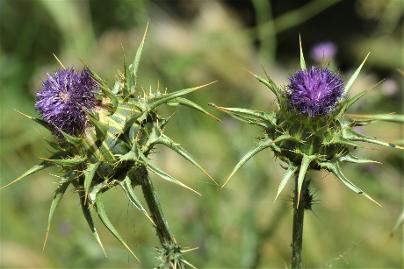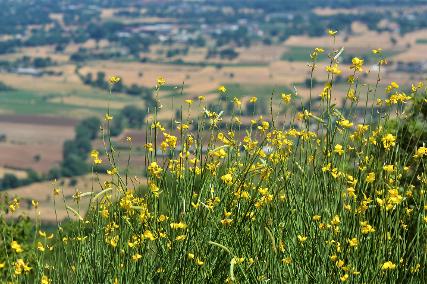 The recipe for the pasta - two eggs per 400 g of TIPO 00 farina / flour. Emanuela.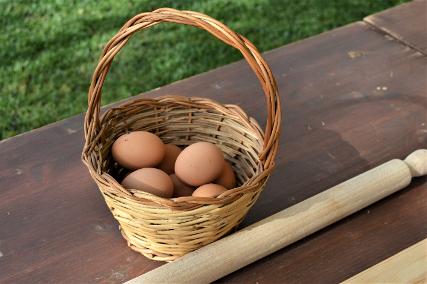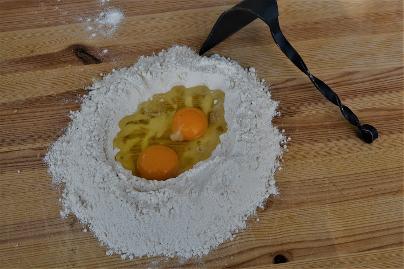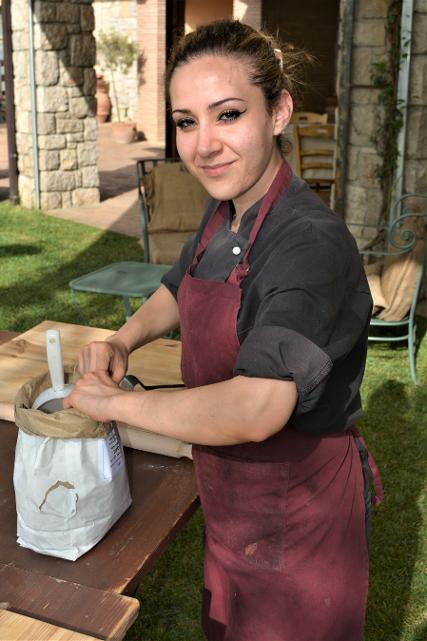 Working the flour egg mixture.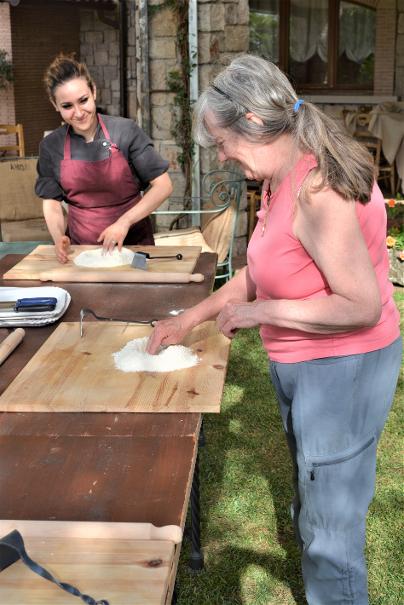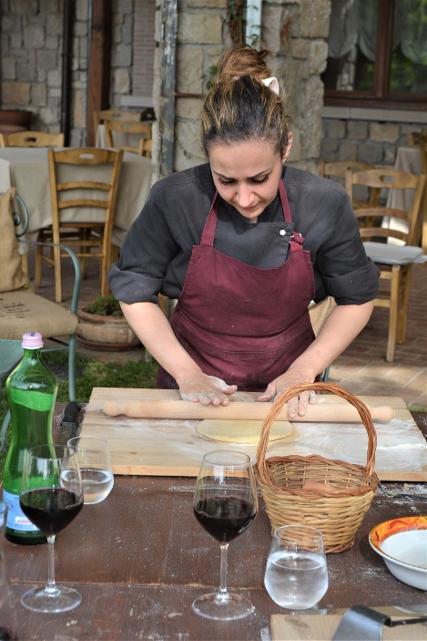 Videos of our pasta class.
Yet another video of rolling the pasta. The pasta after being rolled, before being cut.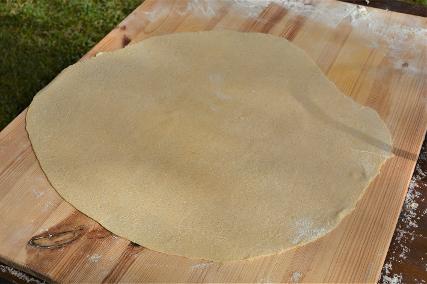 The finished product - cut in three widths to make taglionini, fettuccini and the widest - pappardella.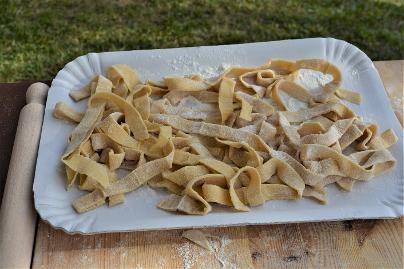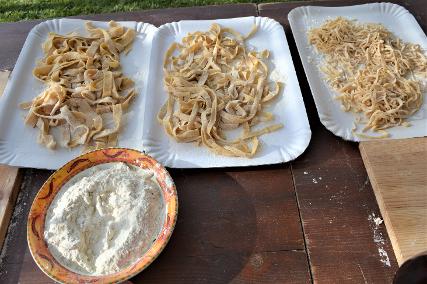 With Emanuela, our pasta teacher.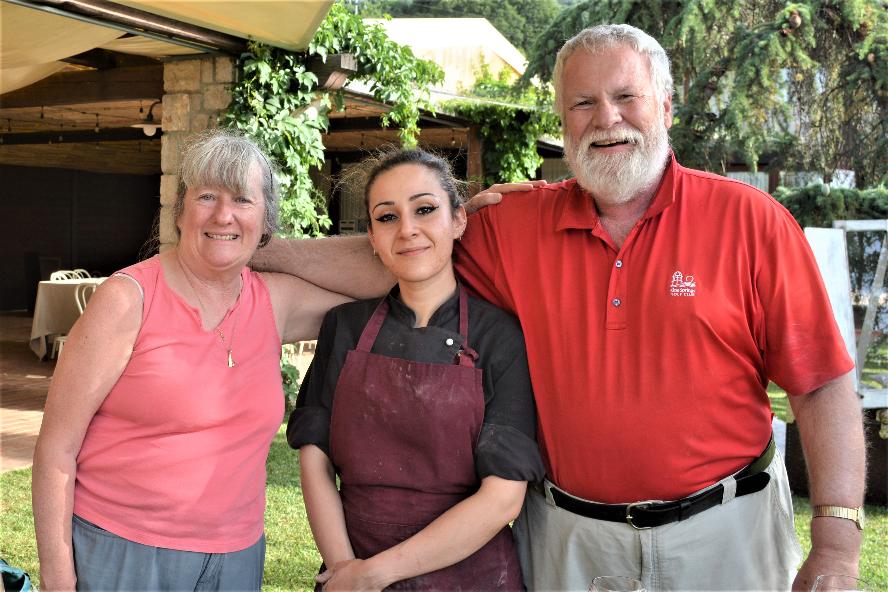 With Marianna. Pretty neat how the light creates a perfect halo on Gayle's head.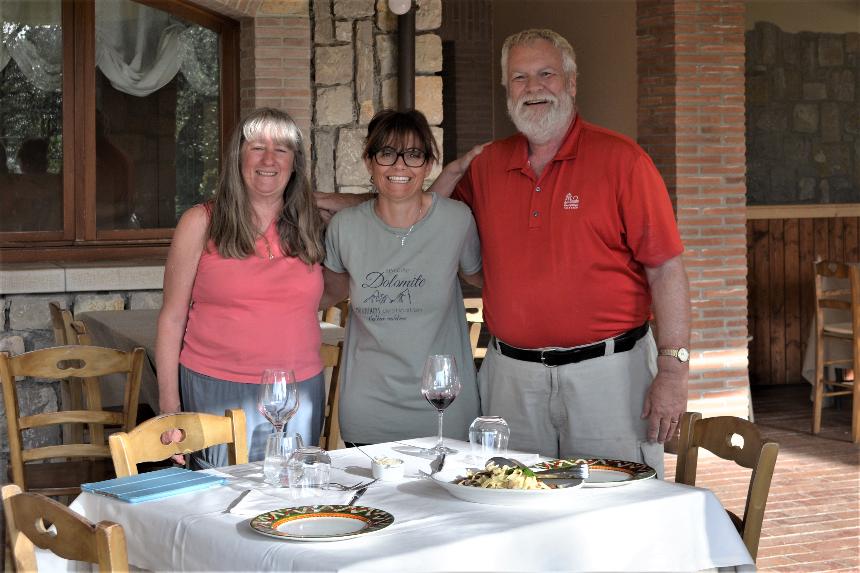 Fettuccini with funghi. Gayle enjoying her pasta.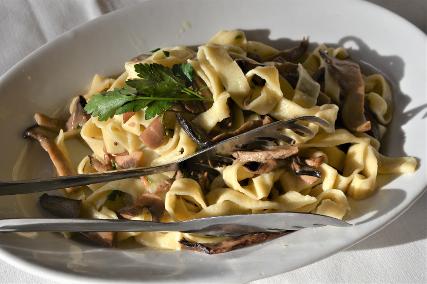 Pappardella a la pistachio and basil and pancetta for me.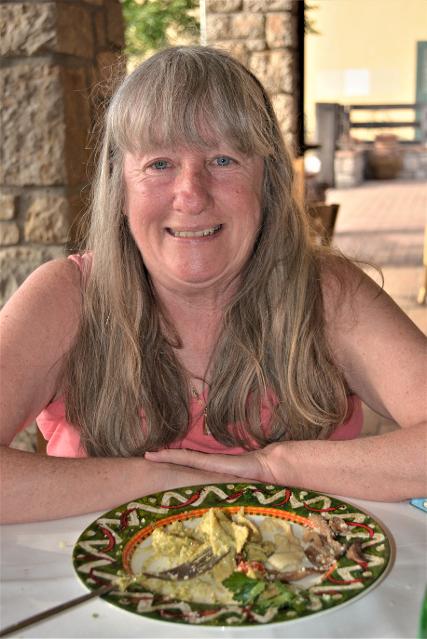 Pomodori taglinonini. Cookies for dolci.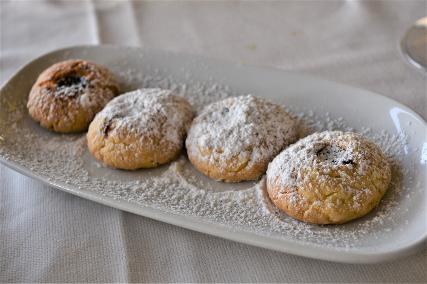 Fireworks bring a finish to the Castro del Volci festival.
June 02, 2022 - la Locanda del Ruspante with a drive to Isola del Liri and Ripi
Another slow (piano) start to the day. Sleep in, breakfast at 9:30 am for an hour + and then back to the room to rest.
Today is the start of a couple of days of festival. Il Ruspante is not serving dinner tonight as they are preparing lunch for 150 +/- guests. Quite the operation from the setting of the tables to hosting the guests and of course prepping and cooking that much food. The parking lot was jam packed.
While at Il Brigante a couple of nights ago Vincenzo went on and on about how beautiful the waterfall in Isola del Liri is. A bit of research confirmed there is a waterfall in the middle of town. With no better destination to shoot for we decided to make this our day's journey. Generally a pretty drive past a number of hill-top villages we struggled to find the waterfall in what was not really a quaint town as we expected. But being persistent we did find the waterfall, which sadly turned out to be a bit of a disappointment. The waterfall itself was fine but its location amongst some buildings was nothing special. Oh well.
Completing a counter-clockwise circle we then headed towards Frosinone and back to Ripi for, yes you guessed it, another delicious gelato at Meringo. We both decided a 'piccola' (small) would be enough, and indeed it was. Perhaps somewhat boring we both ordered sour cherry and chocolate (for me the same as yesterday) but one might as well enjoy what they enjoy.
By the time we returned to Il Ruspante 6:00 ish, the crowds were gone. Although the restaurant was not open
Marianna said they would prepare us an antipasti plate. We started, as seems to be the standard in this area, with a delicious bruschetta. Then a plate of garbanzo beans with marinated vegetables and some barley, for me with pancetta. We (naively) thought we were done. But no. Then came two huge antipasti plates, all vegetables for Gayle and five different meats along with marinated vegetables for me. And then a chocolate pastry for dessert. It was way way too much. We took some back to our room but sadly were unable to eat any given the meal we had the next night. Feeling somewhat bloated we waddled back to our room and quickly called it a night.
Another 'piano - piano' (slowly slowly) breakfast.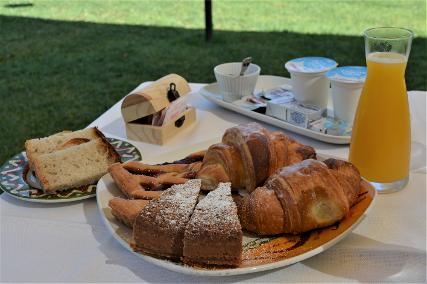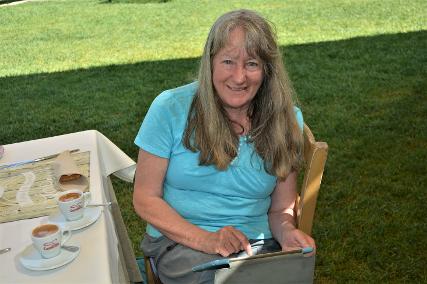 Italians love their festivals and holidays. Today was one and as such Il Ruspante served lunch to 150 + guests. It was quite an operation with this being only a portion of the tables set up for the meal.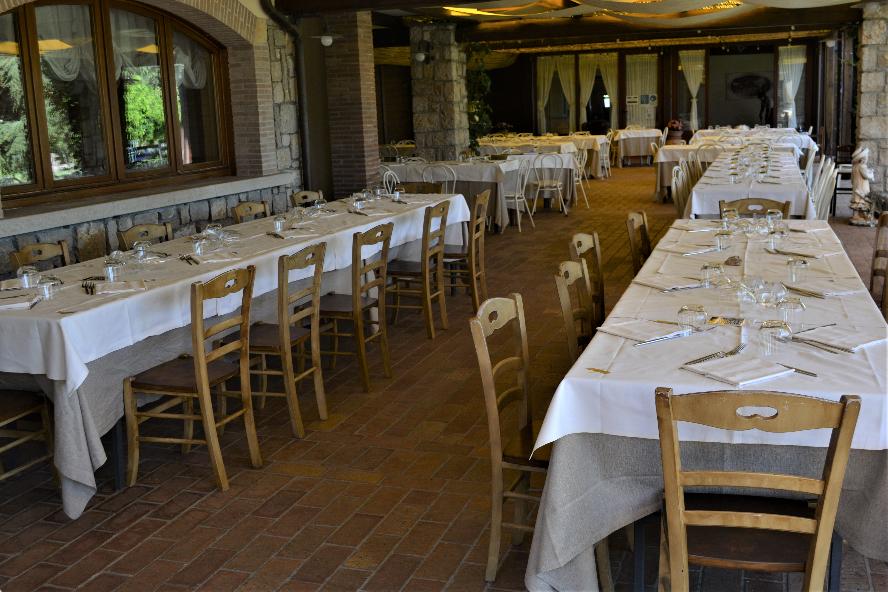 Vincenzo (the owner and cook at Il Brigante) raved about the waterfalls in Isola del Liri. Given we were randomly driving about the area we chose to make this our day's destination.
After some effort we found the falls, and while the photo actually makes them look somewhat attractive they were amongst a number of buildings that detracted from their beauty. Not worth the effort but what is awesome to one (Vincenzo) may be less so to others (Gayle and me).
Throughout this region of Lazio there are many hill-top villages. Below is another encountered on our drive to Isola del Liri. With the mountains providing a beautiful backdrop these towns (much smaller than those in Sicilia) are very attractive from a distance.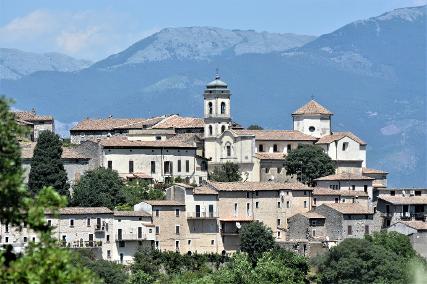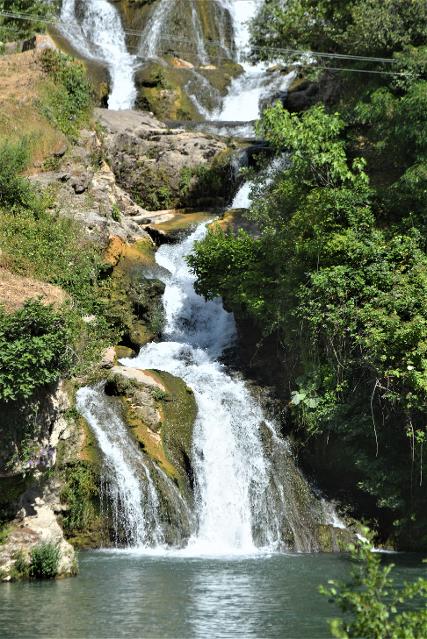 And these are piccola / the smallest cones. We both had sour cherry and chocolate - a great combination.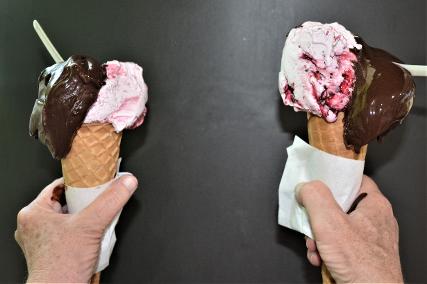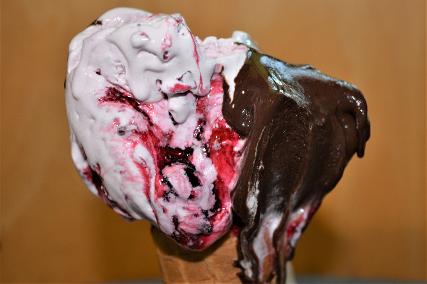 Often when driving or walking about one experiences this wonderful aroma. It is jasmine, often growing prolifically along walls such as here.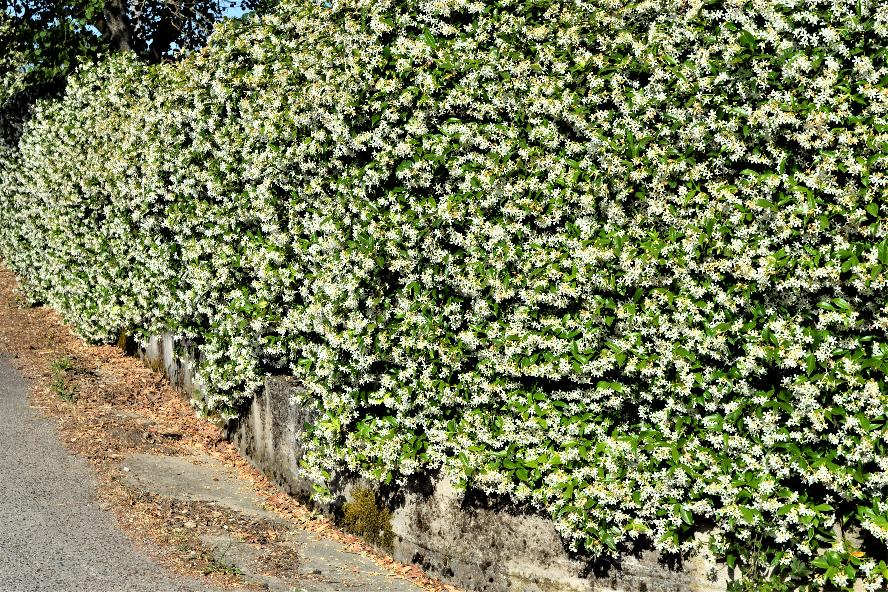 The standard meal starter in the region - bruschetta. A form of barley, with pancetta for me.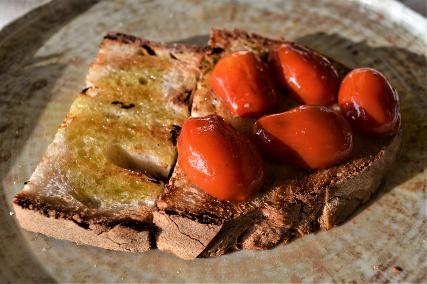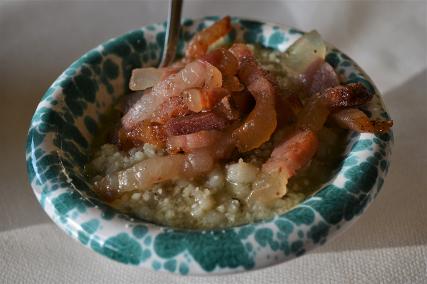 A first serving of garbanzo beans and other marinated veggies. We thought this was it, but then came the two antipasti plates. Gayle's included spinach, potatoes, and red peppers among other vegetables.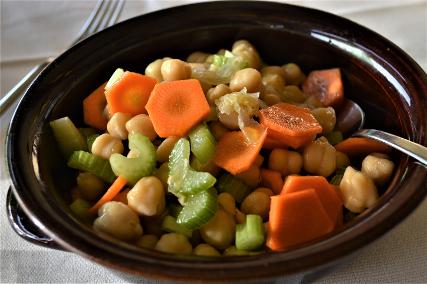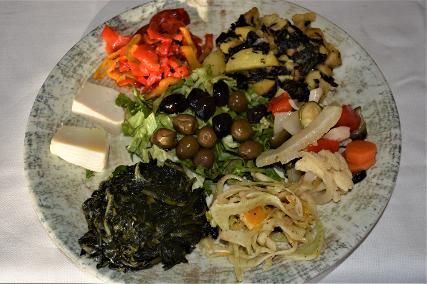 My antipasti plate - five different meats, two cheese and lots of vegetables.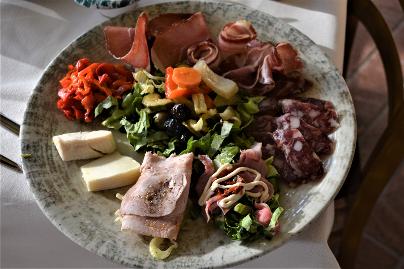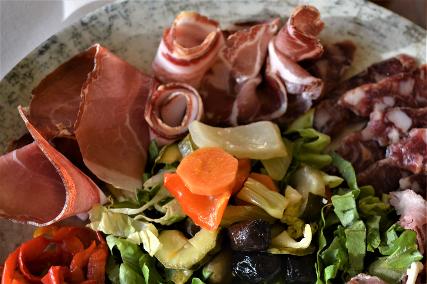 June 01, 2022 - la Locanda del Ruspante with a drive to Pofi and Ripi
After breakfast, and a bit of work on the travel blog, and of course a nap we finally made our way out early afternoon for a drive towards the village of Pofi, and then on to Ripi where Marianna told us about a large Gelateria. We enjoyed a nice drive including ascending to the top of the hill-top villages - Pofi seemed quaint and interesting while Ripi not so much.
A bit by luck but we did stumble upon Meringo Gelateria, and what a find. 48 different flavours, cheaper than yesterdays, and better - smoother with richer flavours. Gayle had the chocolate with strawberry and passion fruit, while I had the chocolate with sour cherry and limone. The sour cherry was particularly intense in flavour. As we were eating inside, in an air conditioned room we decided to go with the waffle cones. Still very messy, but very flavourful.
We returned to la Locanda del Ruspante where Pasqualino and Marianna took us on the highlight of the day - a 35 to 45 minute trip to the Amesano mountains, the last portion of which was on a narrow, somewhat rough gravel mountain 'road' to meet Luigi the goatherd, and his mother Angela. Luigi looks after 200 +/- goats, all of which he knows by name. Luigi is only 24 but has been goatherding his entire life as his father and grandfather did before him on this same land. As this was a 'one-off' visit we did not get the 'full tour' that includes taking part in milking, cheese making and then enjoying the fruits of our efforts. But we enjoyed a wonderful experience with Luigi and his herd, along with meeting his mother who provided us with coffee, cake and a specially branded drink of Amaro. Although we didn't milk the goats ourselves Luigi demonstrated his efficient technique. We are so appreciative Pasqualino and Marianna took their time to allow us to enjoy the experience of being among the goats.
On our way back, although we didn't get a photo we saw a few water buffalo, from whose milk the Buffalo Mozzarella is made.
We returned nearly to Pofi for dinner at Locanda del Contadino. Being hot during the day and quite warm at night it is nice to be able to eat outside. Still quite full from the gelato Gayle had a pasta dish - tagliolini funghi al tartufo while I the Grigante Ricci alla brasa - a selection of grilled meats. With tiramisu on the dolci / dessert offerings Gayle could not resist. I settled for a limoncello to end another good day.
A goat in a field just outside the village of Pofi - we love the name.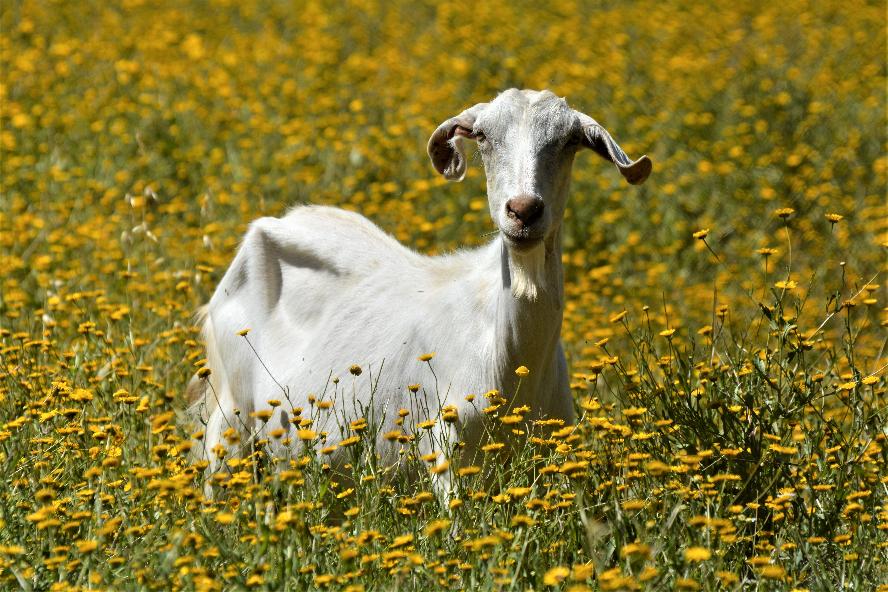 Gelateria Meringo. The price list - for multiple scoops of multiple flavours.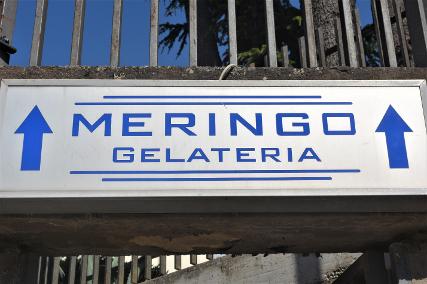 Lots of flavours - 48 in total!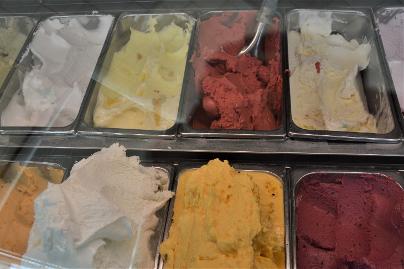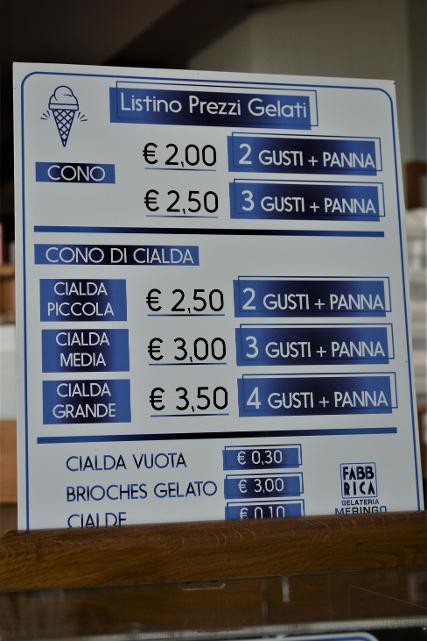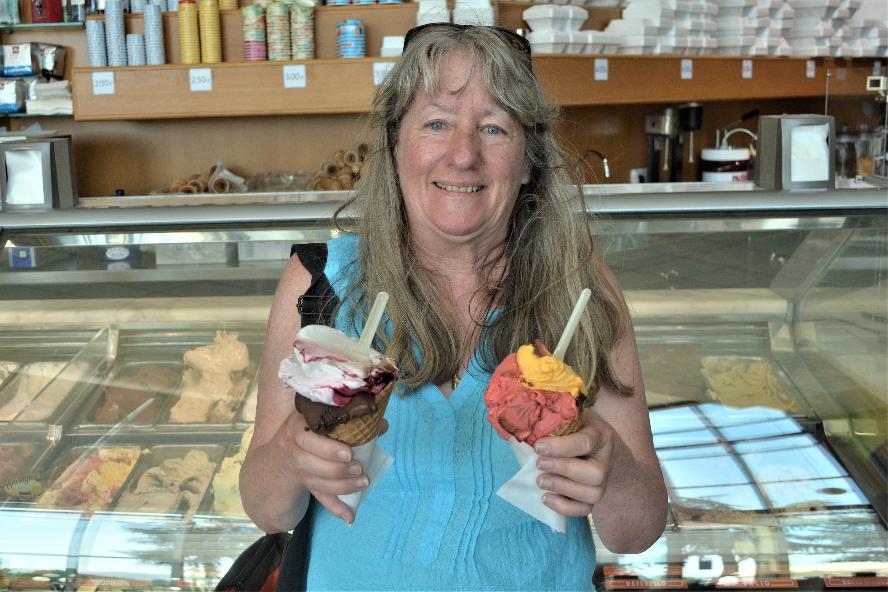 Meet Luigi the goatherd. And a few of his goats.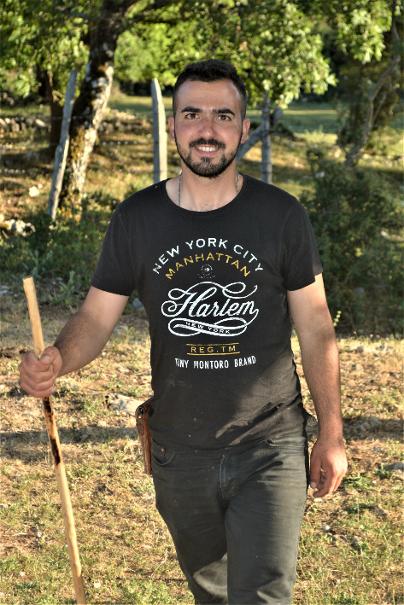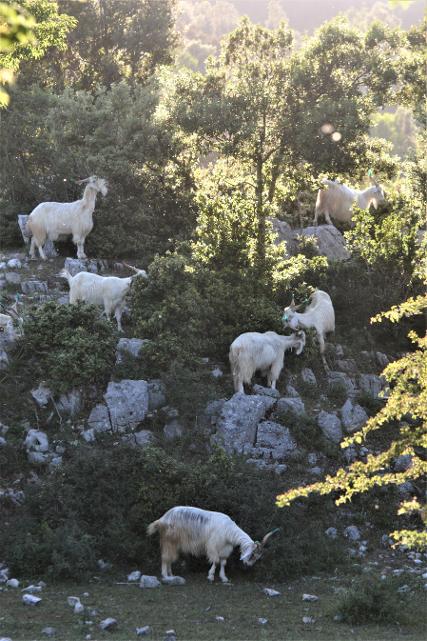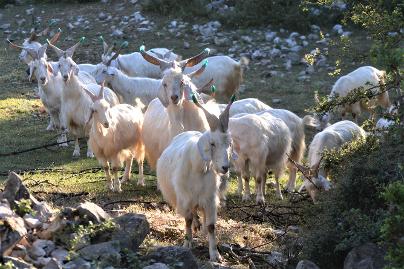 In addition to the goats there were a number of cows, and a couple of horses. Note the cow bells.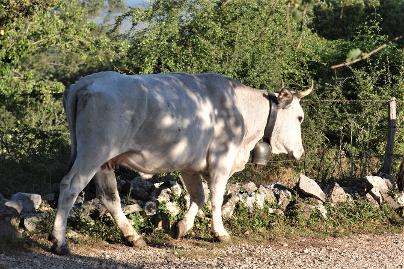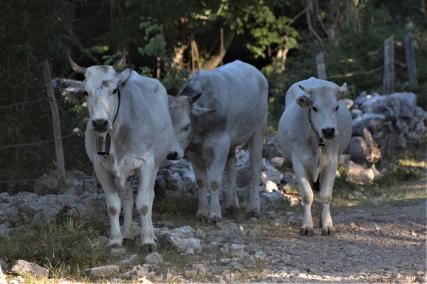 Of course one can't have a herd of goats without a number of helpful 'goat dogs'.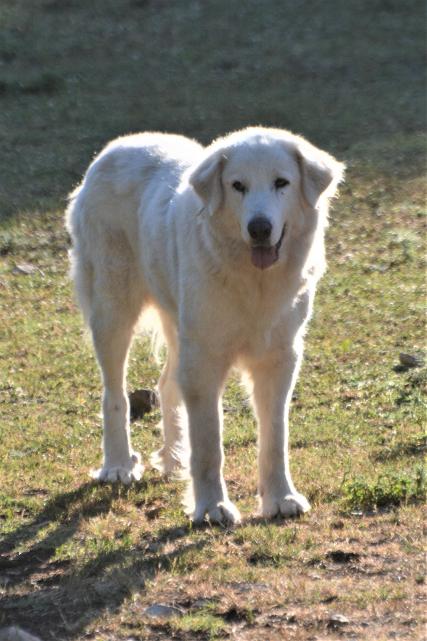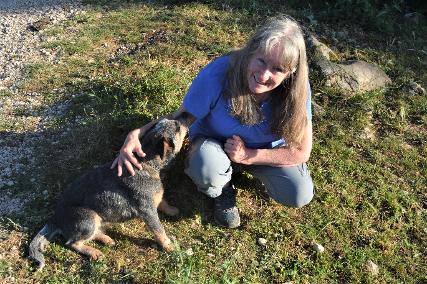 A couple more videos of the herd of goats.
Marianna. Gayle and me with Luigi.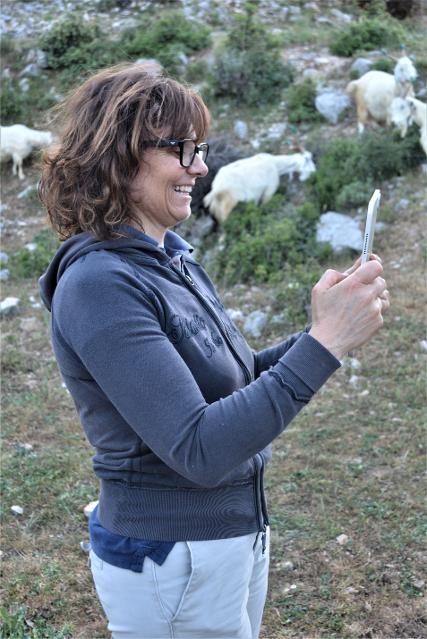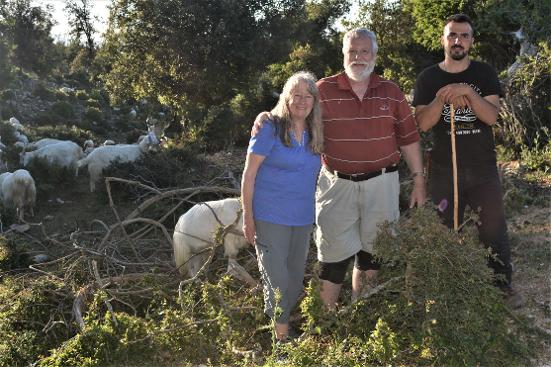 Some of the goats, including Bernadina (on the right) did seem quite interested in us.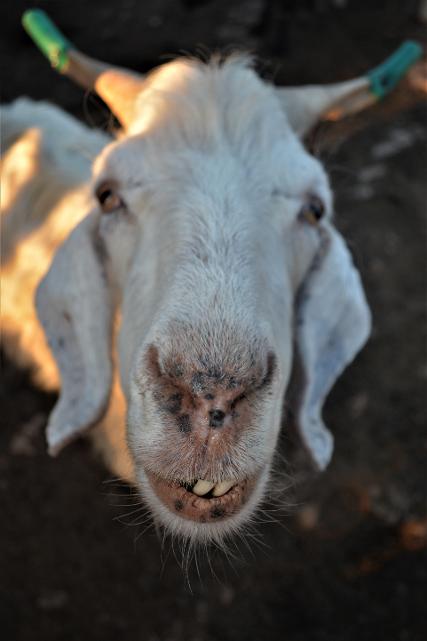 Goats peacefully grazing in the evening light.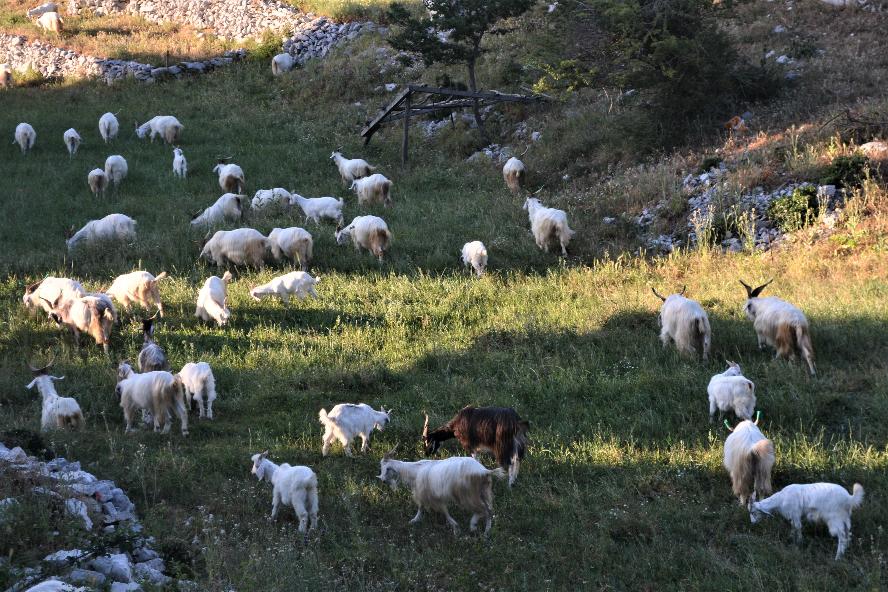 Luigi's mom Angela provided us with a nice piece of cake and a drink of Amaro della Capra from their own branded bottle of liqueur.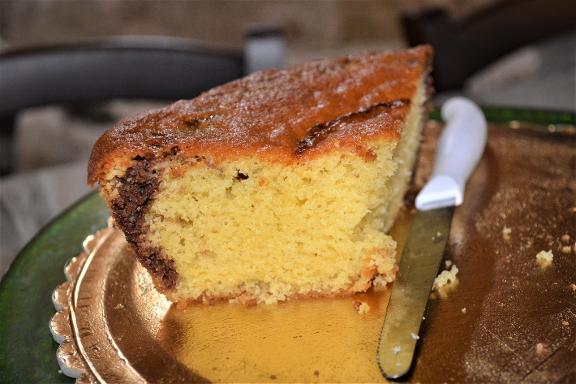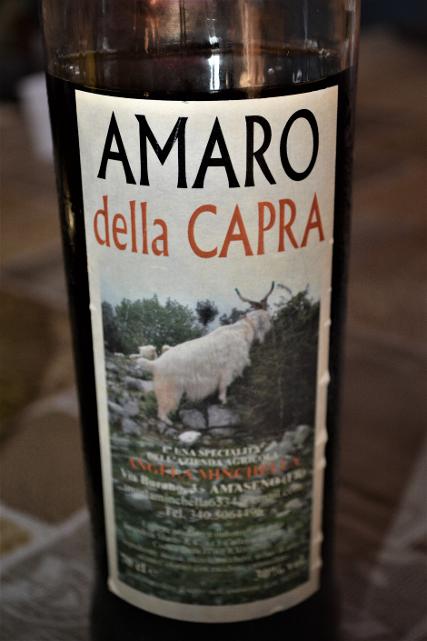 A traditional twig broom. Sunset.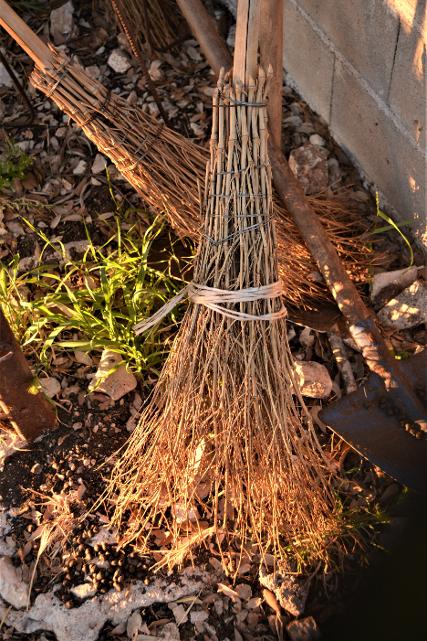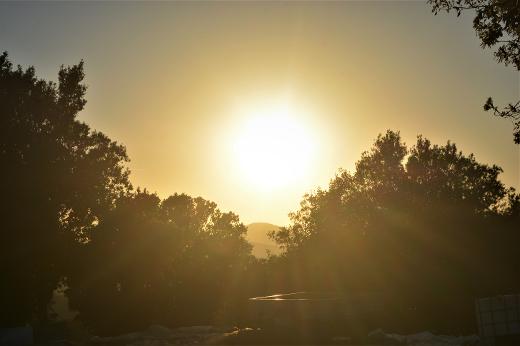 Luigi showing us how to milk a goat.
Luigi milking one of the goats.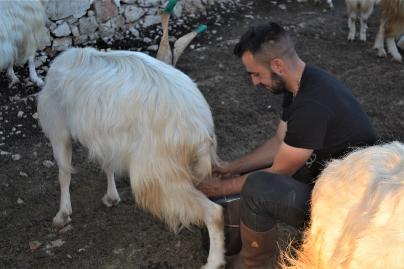 Locanda del Contadino The dessert menu. The dinner menu.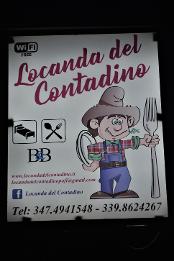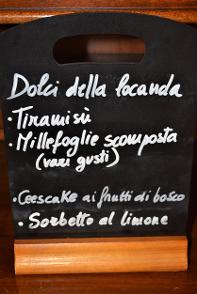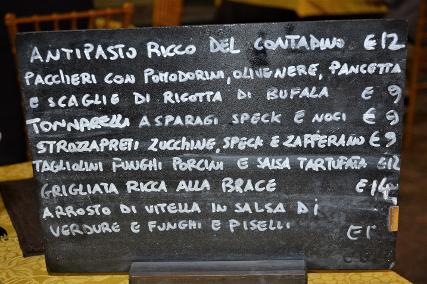 The standard Bruschetta starter - oh so good. Tagliotini con fungi porcini e tartufo.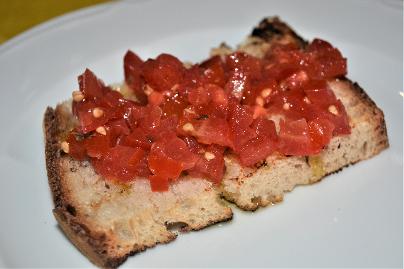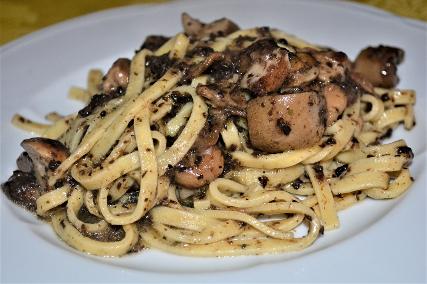 Grigliata Ricca - grilled meats. Tiramisu.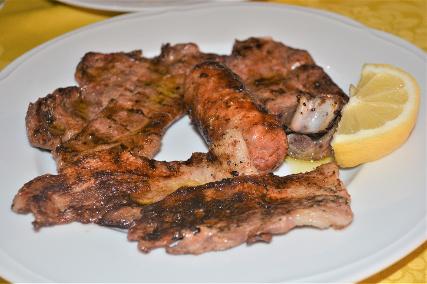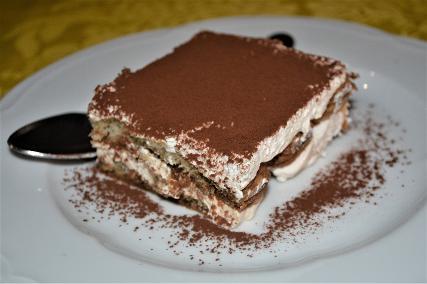 May 31, 2022 - la Locanda del Ruspante and Castro dei Volsci, Lazio
After a good long sleep, interrupted only by the singing of the Nightingales, we finally wandered across the road for breakfast some time after nine. A typical Italian breakfast with a number of cakes and sweets, yoghurt, bread, jam and coffee.
After a relaxing morning / early afternoon we finally made our way out, going to the nearby village of Madonna del Piano where we easily found Il Mastro Gelatiera. And so the challenge begins. Gayle made the mistake of getting a cone, not the wisest thing when eating outside on a 30+ day. Her choice - both chocolate, dark and bianco. I on the other hand had a cup of limone and mango. Very nice.
We then drove up the hill to the Borgo - generally a fortified village dating back to the period from the Middle Ages to the Renaissance - of Castro dei Volci. Known only as Castro, from the Latin Castrum or fortified place / castle until 1872 when the 'dei Volsci' was added, referring to the people living in this area in pre-Roman times. The town is in the Province of Frosinone in the region of Lazio, surrounded by beautiful landscape, lush from the water that descends along the hillsides down to the Sacco River valley.
I was very aware the walk through the town would be difficult for one who struggles with their knees. And it was. Up up up, and then down down down. But it was worth it, particularly given the 'rest' break in the piazza 04 November where we saw a number of the locals hanging out. There were many attractive narrow alleys adorned with flower pots, painted bicycles etc. I resisted walking up to the church although Gayle did make the trek.
Castro dei Volsci was preparing for Friday's festival in honour of Sant'Oliva with posters, lights etc. There is part of us that wants to attend to see the procession, dancing etc. but given the perceived lack of parking and risk of Covid-19 given we expect it to be very crowded, we have decided to pass.
Being a Tuesday most restaurants were closed, but we did find a pizzeria just outside the town's wall that was operto (open). Vincenzo was very hospitable and patient with our questions. After seeing how large the pizzas were we decided to share one (a great decision as we were both full with our halves). Fior de latte (mozzarella cheese), pomodori (tomatoes) and funghi (mushrooms) with proscuitto on my half. Perfect.
It was a short (perhaps 5 kms) drive back to Il Ruspante where we again crashed quite quickly.
A croissant and tart to start breakfast. And a couple of fried eggs.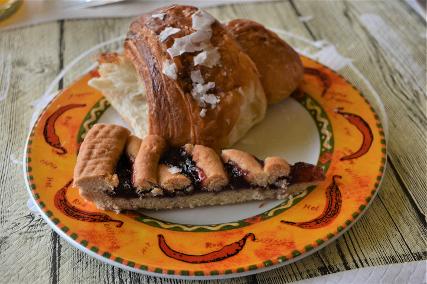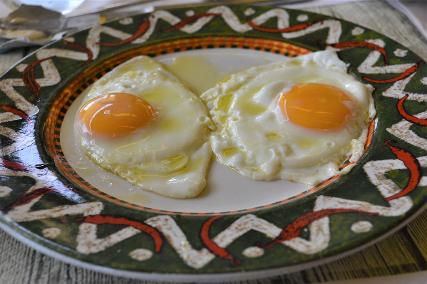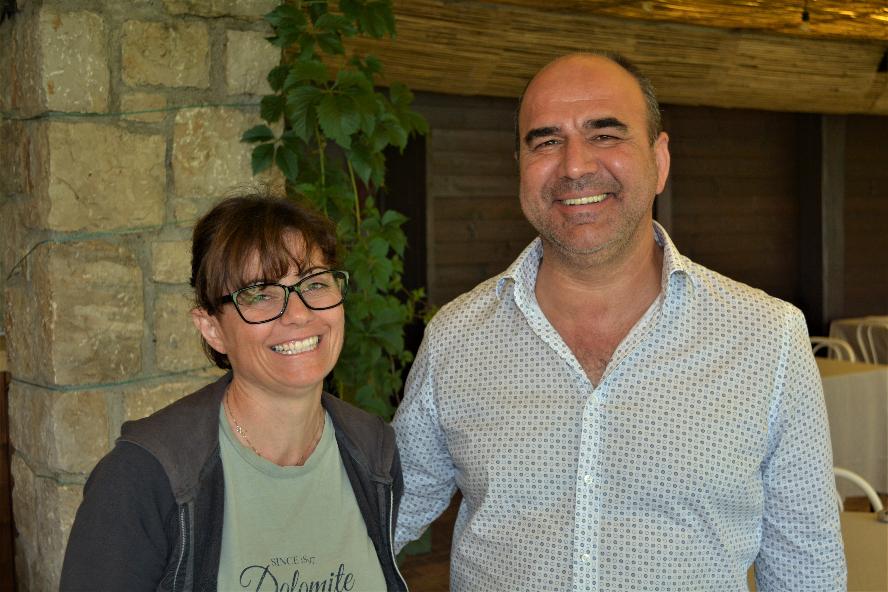 Gayle's new friend L'Asino, or as we renamed him - Bello.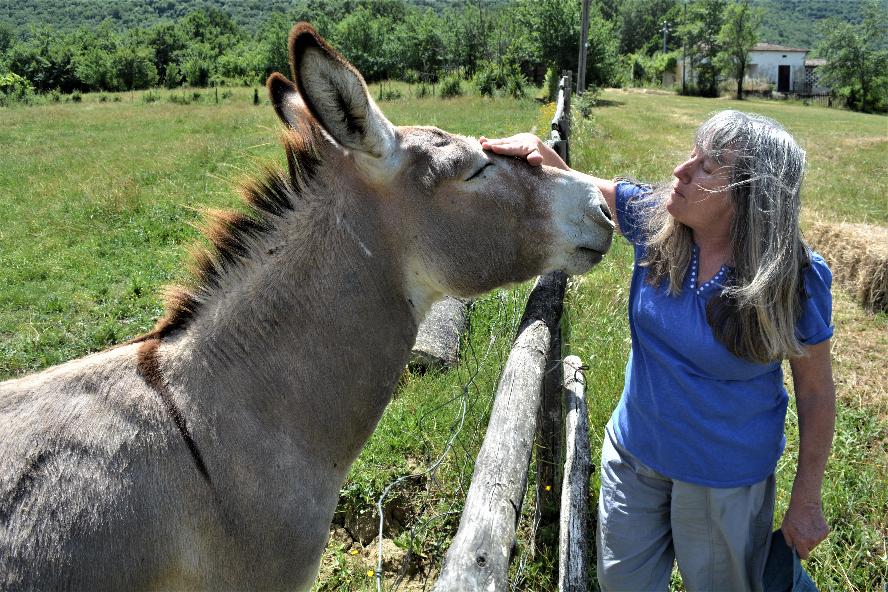 Il Mastro Gelateria, where we could choose from 26 flavours.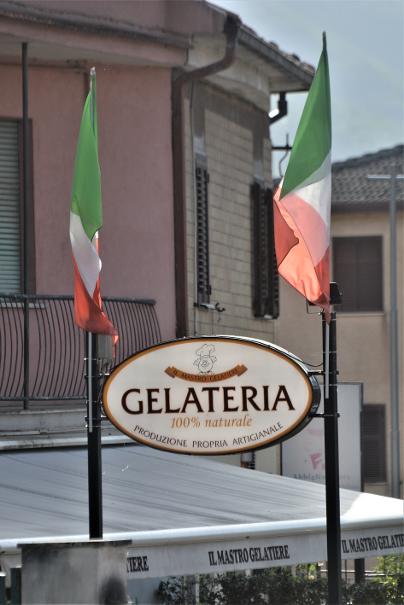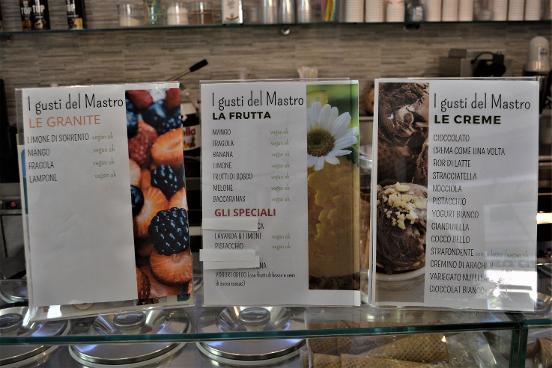 The gelato challenge begins.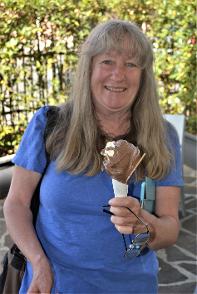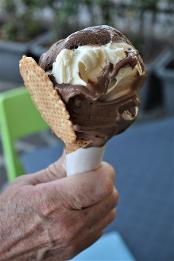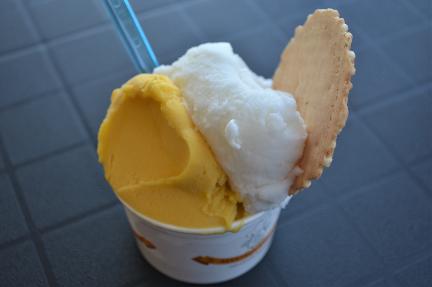 Castro dei Volsci. A published video, i.e. not mine, of the village.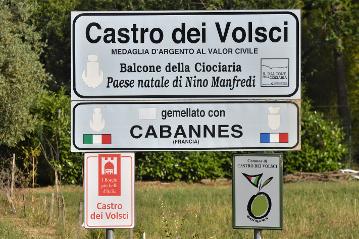 From the 04 November square - across the roofs to the hills beyond, and locals playing foosball.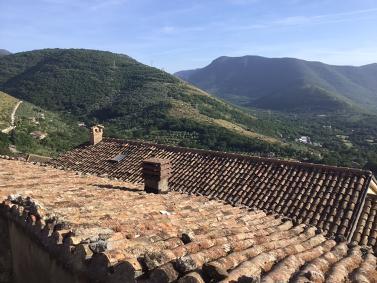 A 'newer' building dating from 1860. This Friday is a festival honouring Sant'Oliva.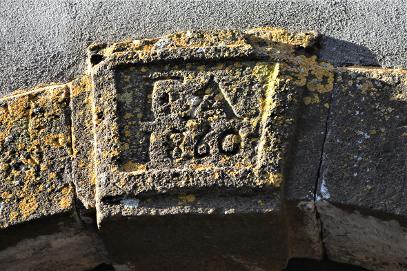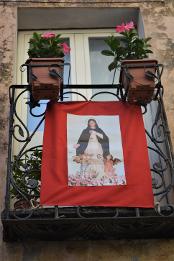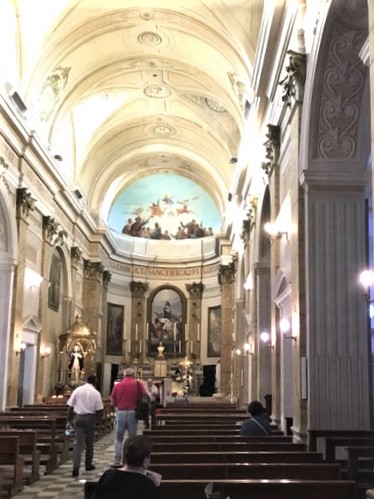 Lots of narrow alleyways with their stone steps up ... and down.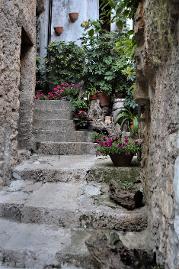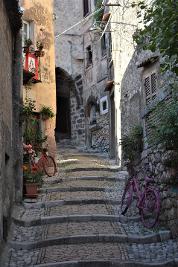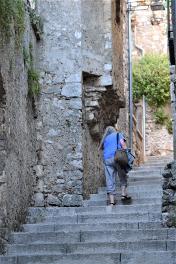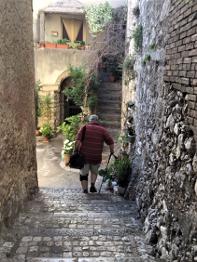 Lots of steps - lots of flower pots.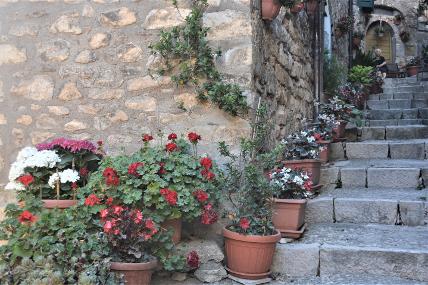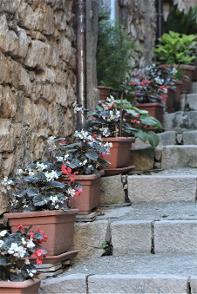 A number of bicycles were painted and decorated with flowers - very artistic.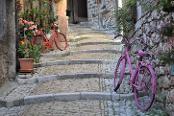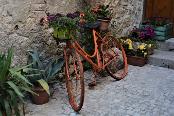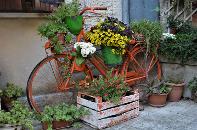 Many of the old wooden doors were adorned with knockers.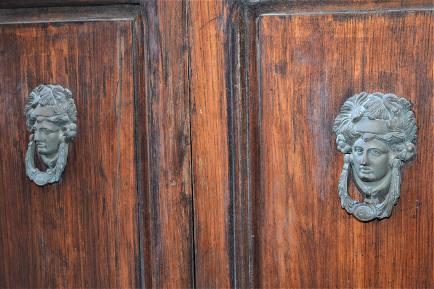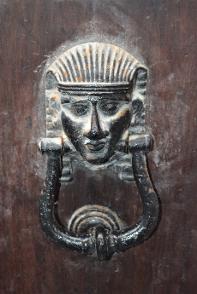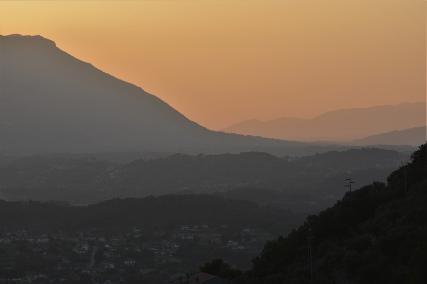 Pizzeria I Briganti, owned by Vincenzo - also the pizza baker.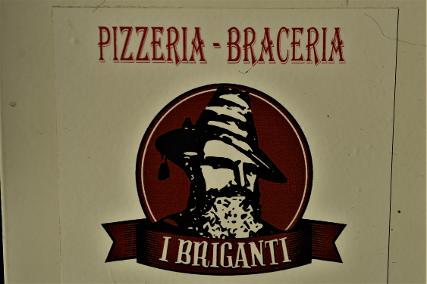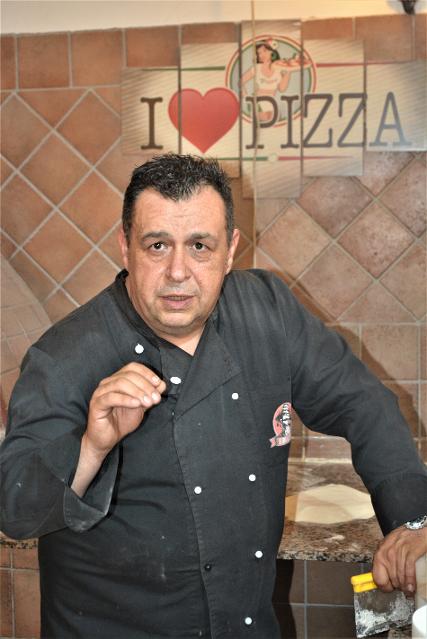 The wood pizza oven. A short video of Vicenzo removing the pizzas.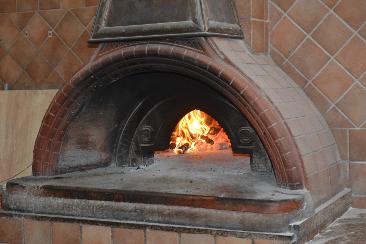 Bruschetta to start and Gayle's half of the pizza - mozzarella, tomato and mushrooms, enjoyed with a glass of wine.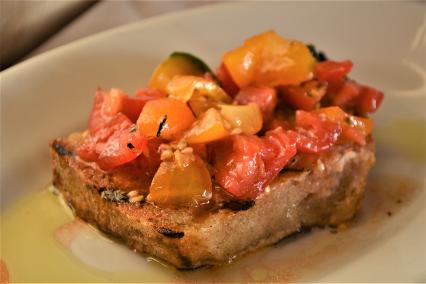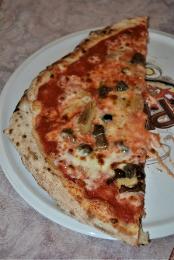 Half the pizza included proscuitto.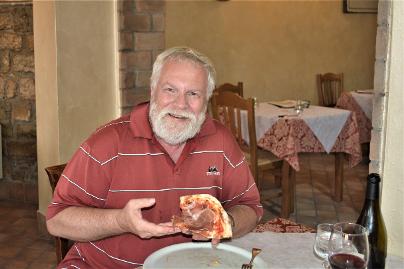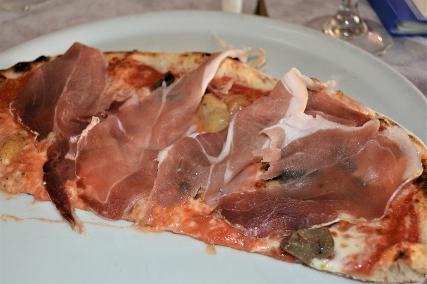 The hill-top town of Castro dei Volci. Decorations / lights for the celebration on Friday.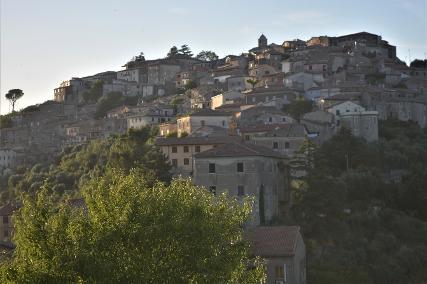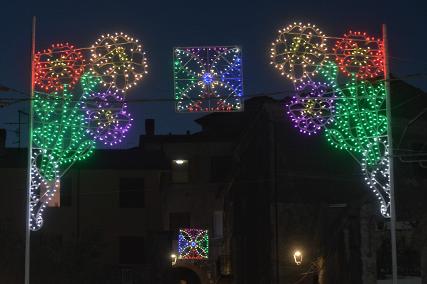 May 29 / 30, 2022 - Halifax to Toronto to Frankfurt to Napoli (Naples) to
la Locanda del Ruspante, Castro del Volsci, Lazio
We're back on the road again. A little anxiety to begin as our flight to Toronto was delayed 40 minutes, meaning a tighter connection. In response we switched to an earlier flight but it did mean some scrambling. In the end it all worked out as we connected to our Lufthansa flight to Frankfurt with no problem. After the overnight flight we then boarded to a flight to Napoli. A half hour late but we are back in Italy.
It was an easy process to get our rental vehicle and we were off to our first stop just south of Frosinone. Driving direct it was indicated as a 1 1/2 hour drive. However we left the A1 / E45 toll highway at Cassino, about 40 km south of our destination to drive the slower country roads. And slower they were - twisting and turning through the hilly terrain. Add to that stops for photos and the drive became 3 1/2 hours, but we made it, finding our lodging la Locanda del Ruspante with no problems, it being right on the road we were travelling.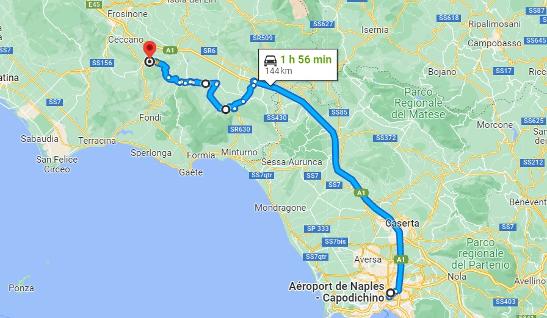 Some of the extra time was spent searching for gelato (Italian ice cream). We set a goal of having a gelato a day on the trip but failed from the get go. We did see a few shops that indicated they had gelato, including one advertising it was 'hand made' but sadly all they had was frozen ice cream bars in a cooler. Not being the real thing we passed. Perhaps tomorrow.
On the transatlantic flight we both watched the movie Made In Italy, similar to Under the Tuscan Sun - the repair of a dilapidated Tuscan property into a wonderful Italian home / villa. Along our way we saw a number of potential properties that fit the scenario.
Upon arriving at la Locanda del Ruspante we were greeted by Pasqualino, who speaks virtually no English. But he was hospitable in offering us a birra or vino rosso along with a plate of cookies and then showing us to our room while we waited for Marianna who arrived about an hour later. We then laid down for a much needed nap before heading to the restaurant for dinner.
We were provided a small Brushetta to start. Although we thought it might put us to sleep we could not resist a half litro of vino for only 3 euros. Gayle, who was truly exhausted, only had the Entratina scomposta della regina Margherita di Savoie - fried Buffalo mozzarella in a tomato sauce, with rustic bread and basil - excellent. I started with the Pappardelle al sugo di costini de maiale (with pork ribs) - enough for a meal on its own. But I also ordered the Arrosto misto di carne alla brace - a selection of lamb, chicken, sausage and pancetta - no doubt too much meat.
Upon returning to our room I think it took us < 1 minute to fall asleep.
Gelateria Artigianale (hand made) - not. This is a surprisingly mountainous region.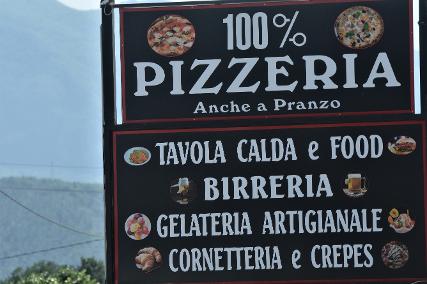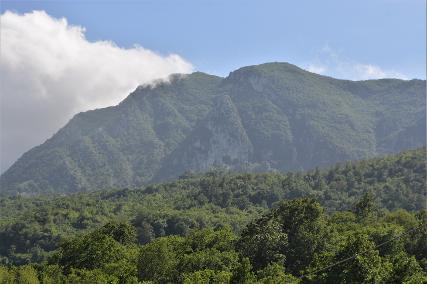 Olive trees and vineyards - yes we are back in Italy!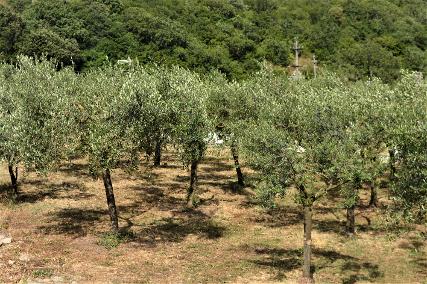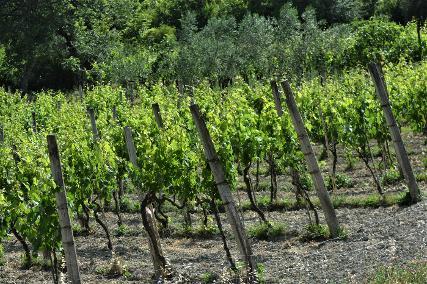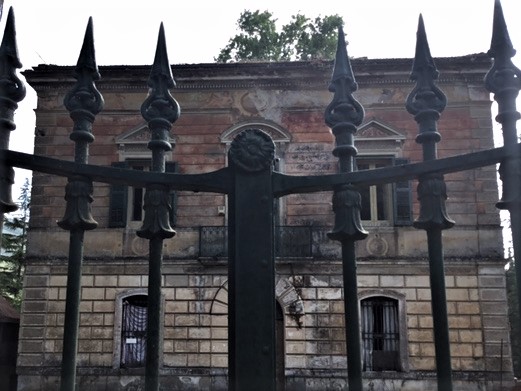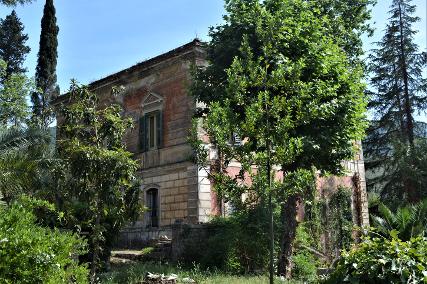 It is haying season here in Lazio.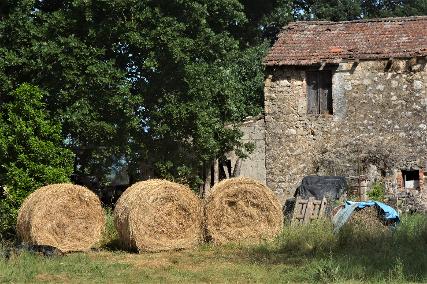 Being spring the fields are alive with colourful wildflowers.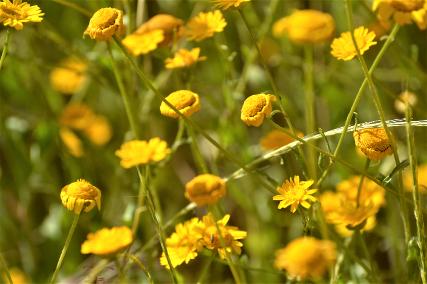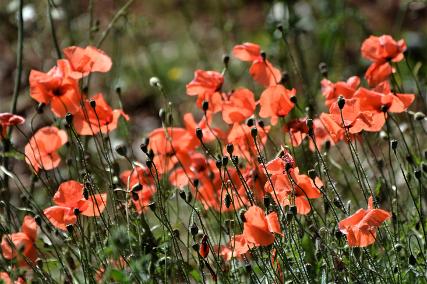 Sheep grazing in a field of yellow flowers.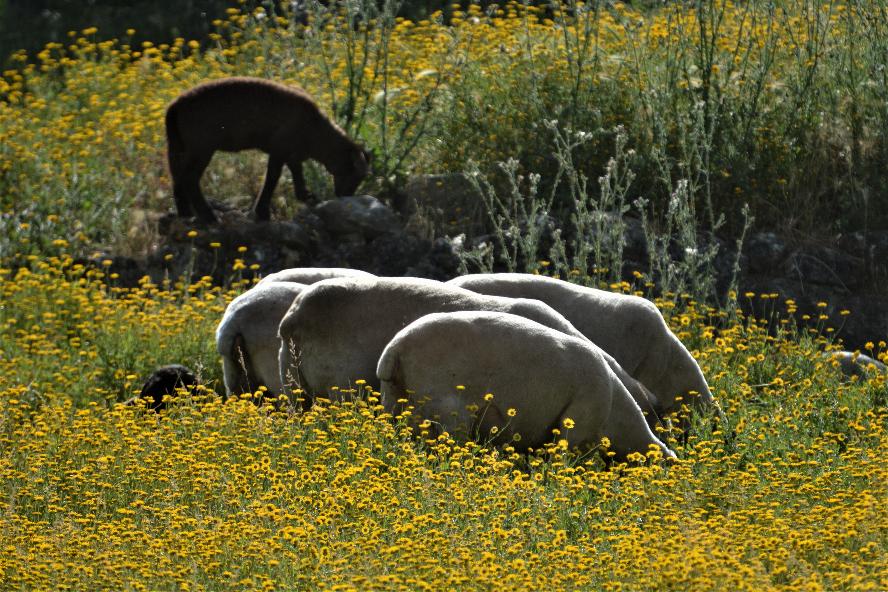 One gets a feeling that they chose well when greeted upon arrival with a beer or a carafe of wine and a tray of cookies.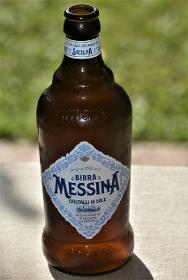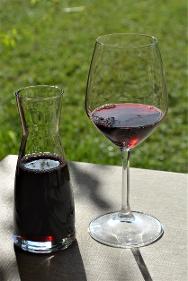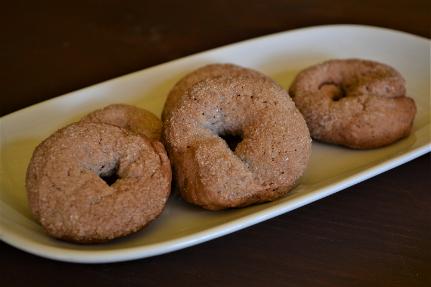 la Locanda del Ruspante, built in 1911.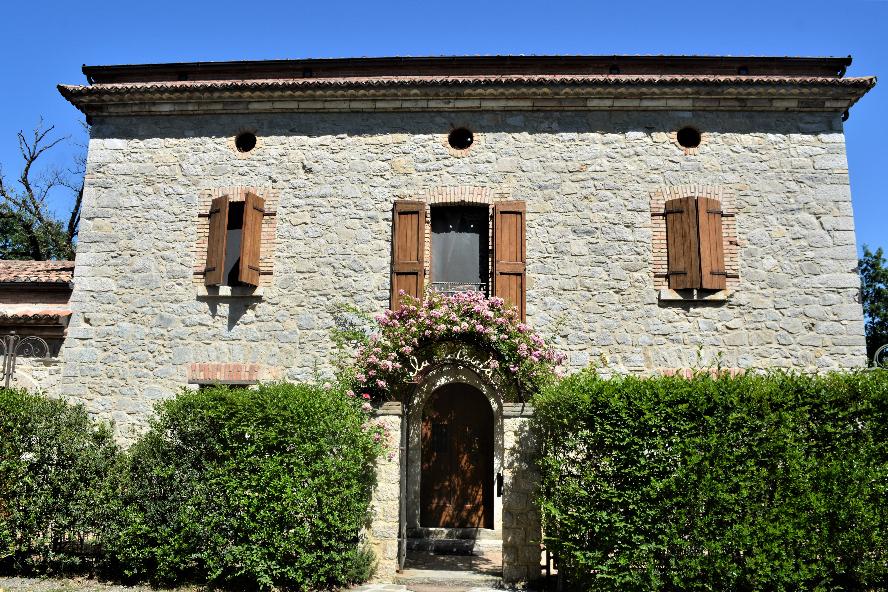 A Bruschetta to start. Buffalo mozzarella, tomato sauce, bread and basil.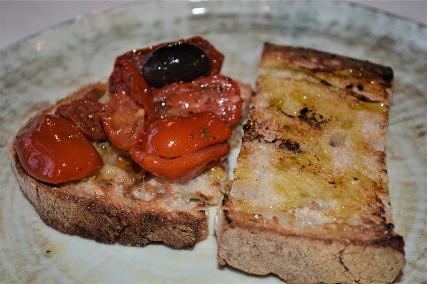 Pappardella with pork, Mixed meats (chicken, sausage, lamb and pancetta).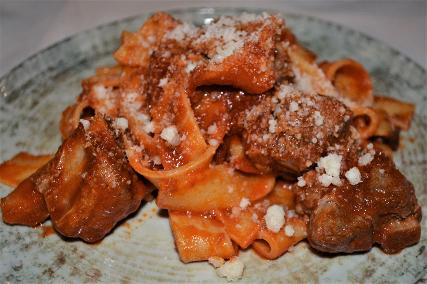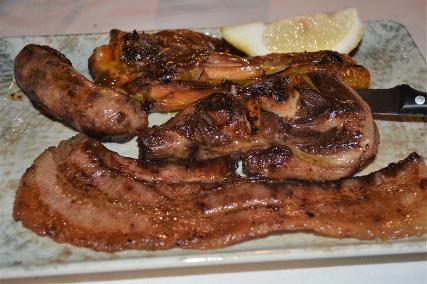 North and south of Naples - May 29, 2022 to June 15, 2022
We're off again. Are we 100% comfortable given the continuing presence of Covid-19? No. But we're not getting any younger and having missed out on a number of trips the past two years we decided to pack and go. This trip is a somewhat shorter version of the one planned in the spring of 2020 - 16 days rather than 25, and as a result to going as far south, i.e. not making it to the region of Cantabria which was planned previously. This itinerary first takes us 130 kms north of Naples and then back past Naples, eventually 220 kms south to Maratea (the previous trip would have extended 410 kms south of Naples).
We will be flying into Naples airport (via Toronto and Frankfurt) and then heading north, more or less two hours to
La Locanda Del Ruspante
, just south of Frosinone where we will be staying the first five nights. Our previously planned trip had us staying at the point of the Sorrentine Peninsula (adjacent to the more famous Amalfi Coast) west of Sorrento for four nights at Torre Cangiani. However Torre Cangiani is only available for two nights at the end of our trip so we will be staying at another place in Massa Lubrense -
Villa Il Turro
- for three nights. It is then south to
Villa Cheta
, a hotel hanging from a cliff side with views of the coast and Tyrrhenian sea just north of Scalea for four nights. After that it is back north along to the coast to Pisciotta and
Marulivo Hotel
(near Parco Nazionale del Cilento on the map) for two nights, and then finally back to the Amalfi and
Torre Cangiani
for our last two nights.