Our memories of Thailand 2013:
extremely open, polite and kind people

fascinating wats / temples and traditions
interesting hill-tribe culture
expansive mountains and rural areas in the north
extensive agriculture (rice, tea, coffee, pineapples, corn etc.)
very good coffee - much better than expected
a wide selection of tropical fruits, many of which we have never encountered, or even heard of
the great work of Joy's House
the personal touch of our tour guides (and drivers)
swimming in the warmest turquoise waters ever
very good food - often eaten sitting on the floor off low tables
peace and tranquility throughout (except for the vehicles/traffic in Chiang Mai)
the views across Chiang Saen lake from Viang Yonok
tuk tuks
the monks
consistently great weather
taking your shoes off whenever entering a building
western toilets where we stayed, but generally not in public buildings/areas
the Chiang Mai Sunday street market
the orchids
the respect held for the king, queen and queen mother (since passed)
the history of opium and drug production
February 10, 2013 - Lanjia Lodge
- tours of Lahu and Hmong villages and a serious hike in the jungle
Our stay at the Lanjia Lodge (Lanjia means 'peaceful' in Hmong) included a program of activities. Last night was the dancing and 'singing' and this morning started with a video on the northern hill-tribes of Thailand, explaining the customs of the various tribes, where they originated (Tibet, China, Nepal, Burma etc.), their respective dress and traditions.
We then visited a Lahu shaman, with a British couple. Roger actually has had a skin condition on his hand for a number of months and asked our guide Ton whether the shaman could take a look. The shaman went through a process with candles that he blew out over (and over and over etc.) the sore. Whether successful or not we'll have to wait - Roger has promised updates.
We then met an Hmong elder who taught us the art of making batik with bee's wax. We each attempted our own, with my outcome once again convincing me math, rather than the arts was my calling. Next it was across the road to the Hmong village and a visit to their most revered shaman (the Hmong have nine where the Lahu have only three). Ton did an excellent job explaining the process of becoming a shaman, their dreams, powers and responsibility to the village. It was all extremely informative and interesting.
We returned to the lodge for lunch and a restful break before joining a Dutch couple for a trek through the jungle. And when I say trek this was no easy walk along a cart path, but rather an up and down venture along a loosely labeled 'trail' that was only a few inches wide at times. We squeezed under vines and ducked under bamboo, eventually reaching a waterfall where we had a 'refreshing' (read cold) dip. Then it was further up the mountain before descending through corn fields, tapped rubber trees and bananas back to the road - a strenuous 1 3/4 hours.
Our final activity was planting a (redwood) tree as part of a project to reforest the area. Quite tired we were driven back to the lodge for dinner and our last night in Thailand.
Ton explaining the beliefs of the Lahu shaman.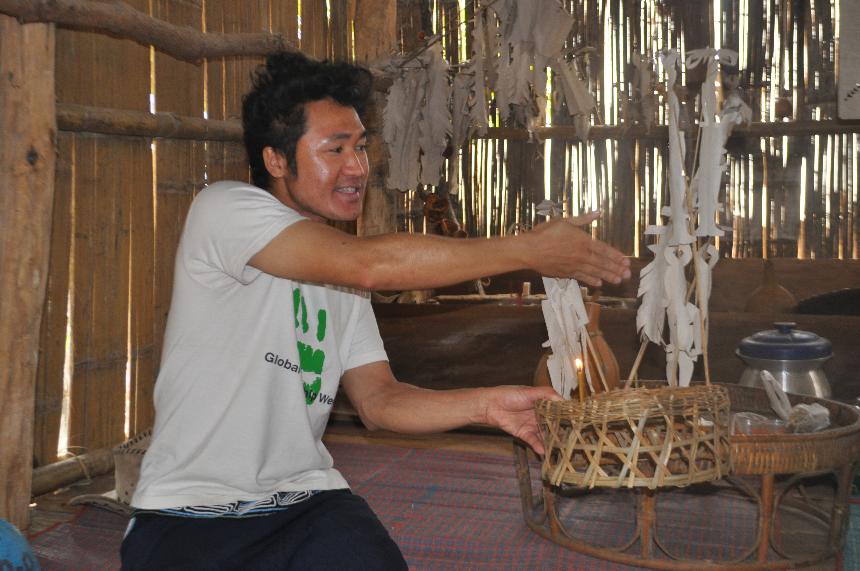 Roger's mysterious skin condition being 'cured' by the shaman.
Norm being trained (a considerable challenge) in the traditional art of batik.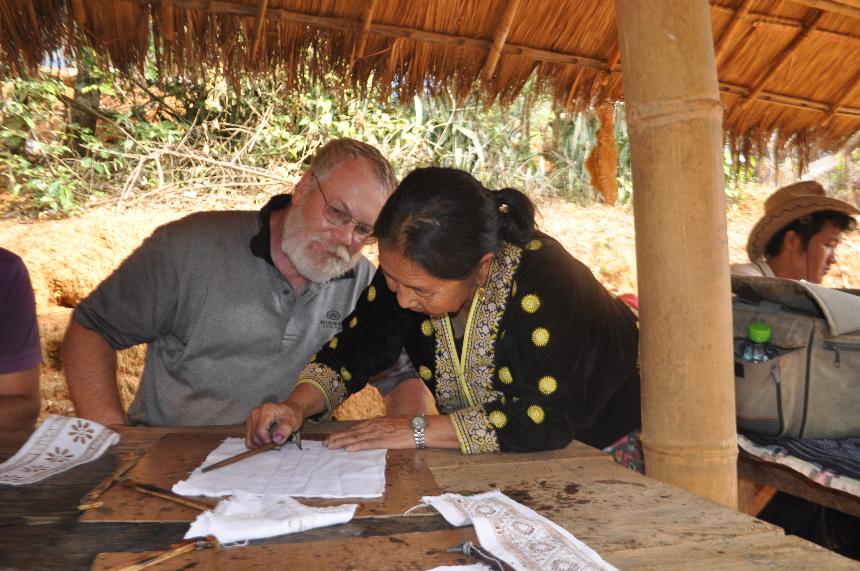 Those of all ages help with the drying of the corn seed.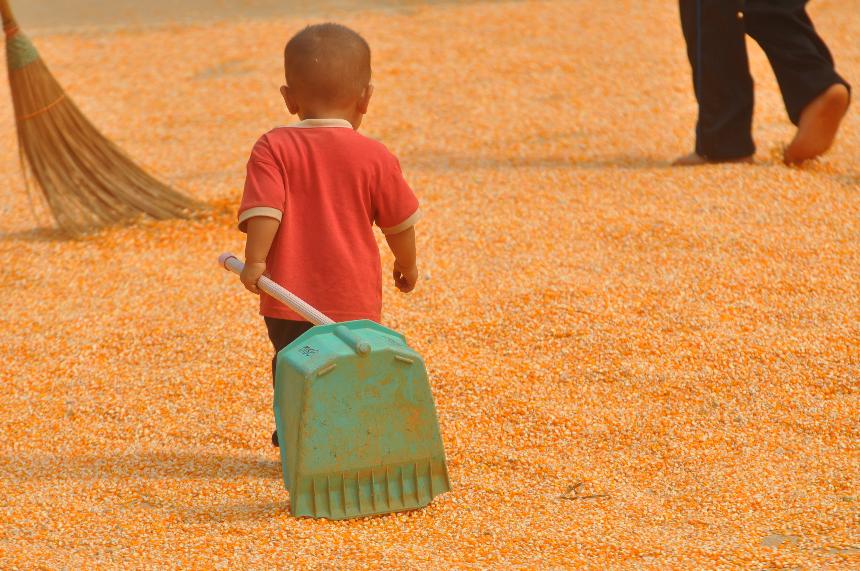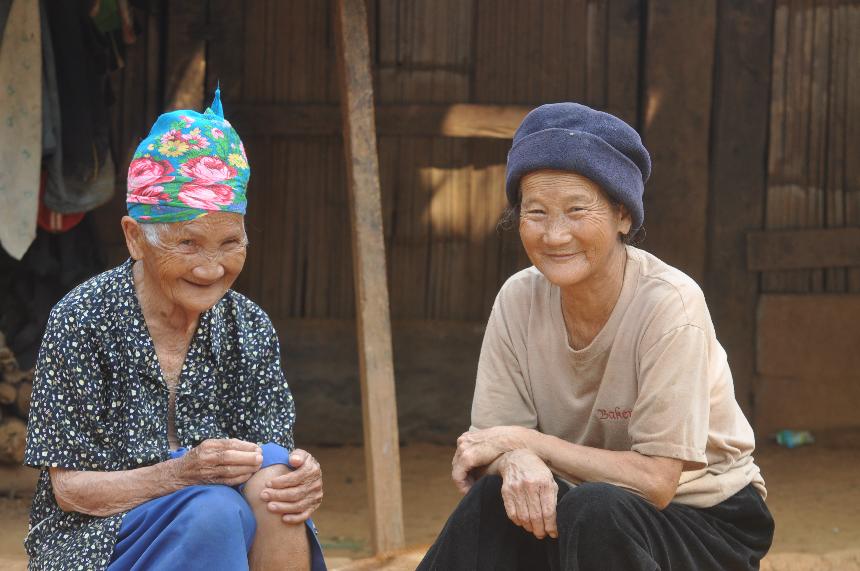 "You said this was going to be warm like in Koh Samui"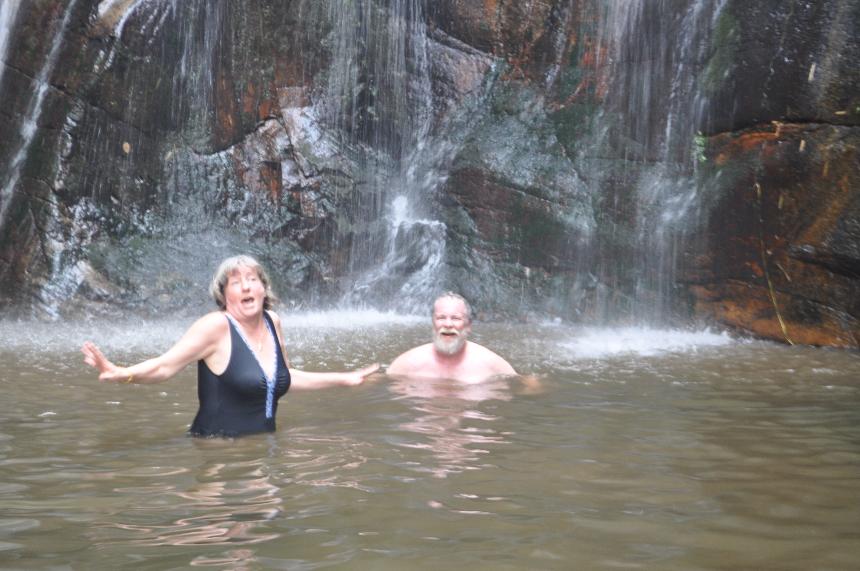 Planting trees in our names, part of the Lanjia (peaceful) experience.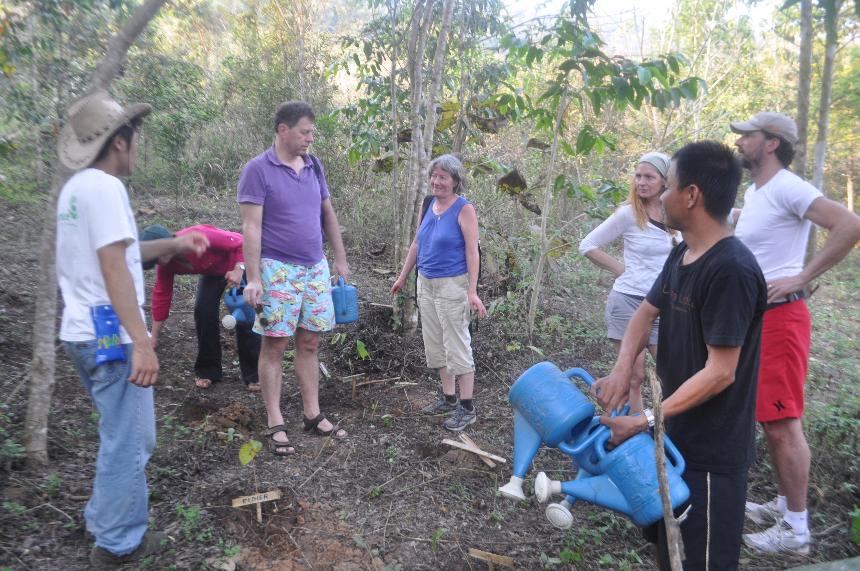 February 09, 2013 - to Lanjia Lodge and the Hmong and Lahu hill-tribes
Today was another transition day as we left Viang Yonok for a short one-hour drive to Lanjia Lodge. After a leisurely breakfast and morning we said good-bye to Vassana, her mother and Chai and were driven towards Chaing Khong to a lodge built on a mountain pass in Hmong and Lahu villages.
Along the drive we passed a considerable number of wats / temples, one of which we visited. In the temple the monk engaged us in a converstaion, actually asking where in Canada we were from and appearing to be knowledgeable about Halifax. Liek many of the monks he was very pleasant and willing to chat.
Lanjia Lodge is built on a hillside, with wonderful views down a valley to the Mekong river and beyond. We were the only ones in our building (there are four thatched roof buildings with four rooms each) although another couple arrived very late in the evening. With the lodge having no internet and not much else to do, during the day we read, solved a Sudoku or two, and simply relaxed. The room was very simple, but interesting with nothing more than a bed on a raised floor. A mosquito net is placed around the bed - we were told there have been no incidents of malaria for four or five years but it is always best to be safe.
Being by ourselves we enjoyed a private dinner with our own Hmong servers. The food, while not spicy, was very flavourful. After dinner, we were entertained by a group of tribe children and adults with traditional dance and singing. The performance was short - perhaps only five minutes and the singing not exactly Grammy quality, but the dress was very colourful and the dancing interesting.
With a monk at Wat Phra That Pha Ngao, dating from 462 A.D. - near Chiang Saen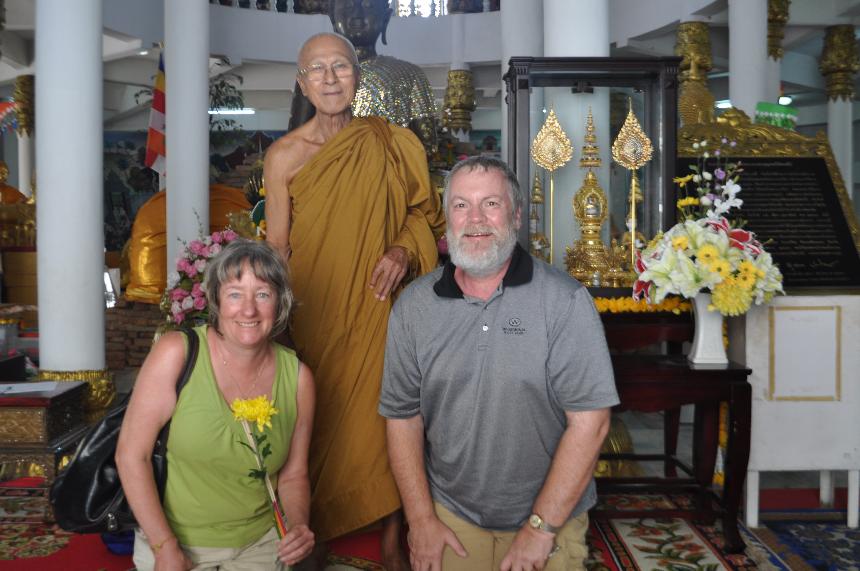 One of the temple gates over-looking the Mekong River adn Laos in the distance.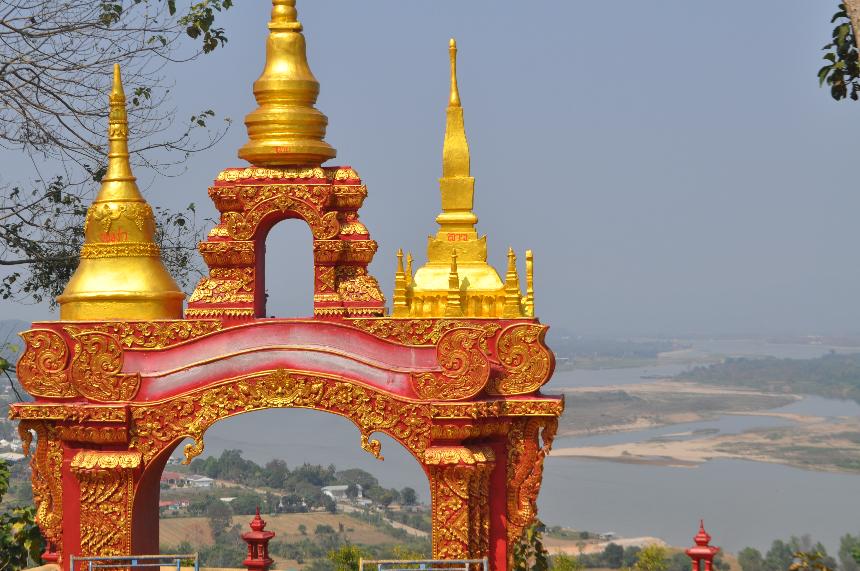 Another massive Buddah on the road-side.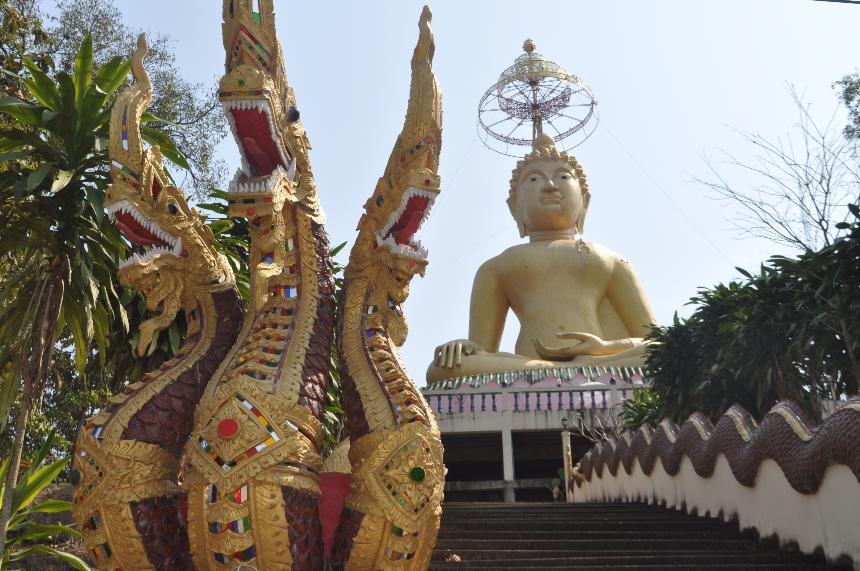 Our simple but interesting room at Lanjia Lodge.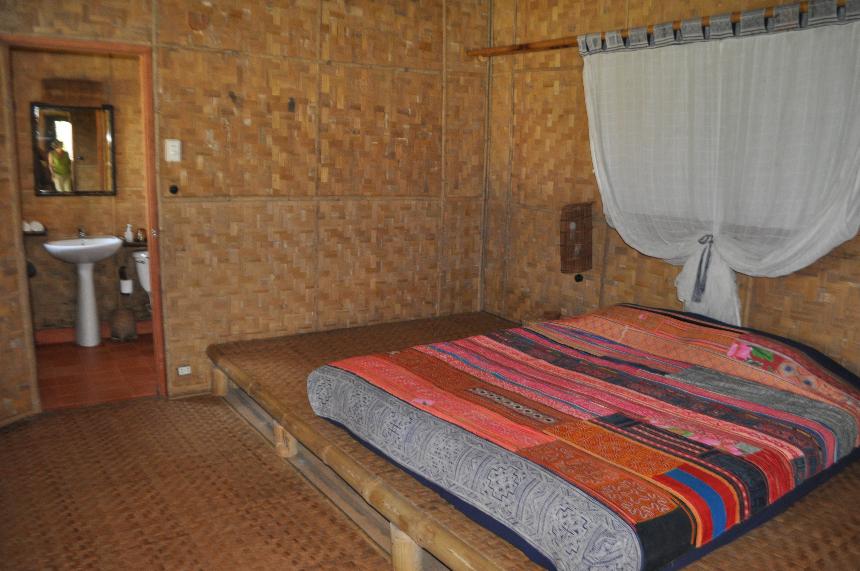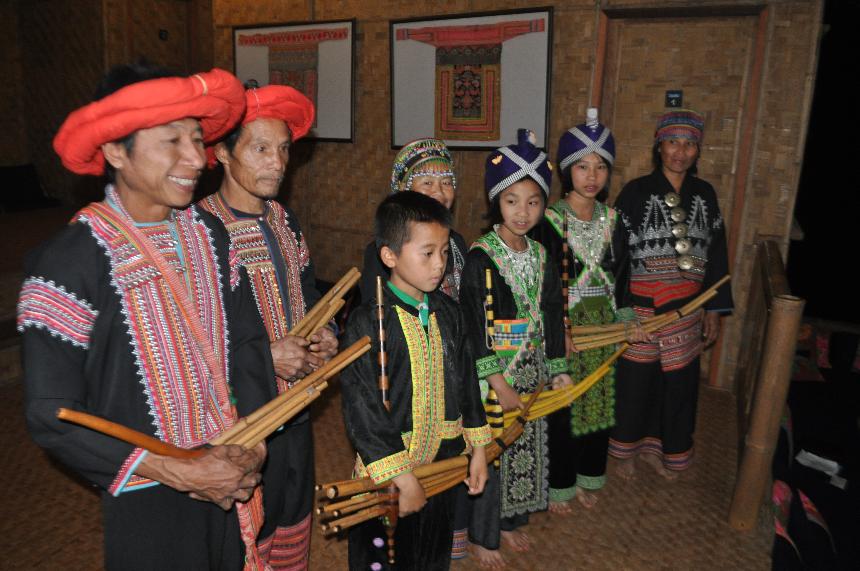 February 08, 2013 - a tour of the mountains and hill-tribes of northern Thailand
We expected this to be a full day and it certainly was. Immediately after breakfast we left on an all day journey with Chai, our driver and personal tour guide. We had read about Chai on TripAdvisor so were somewhat prepared for his humourous side, and he did not disappoint. Ian had indicated we would see some isolated mountain areas, places where tourists don't normally go - and again we were not disappointed.
Having seen a number of rice fields on the way to Chiang Saen I asked Chai to stop when we saw a group of workers in a field. Beyond some nice photos Chai explained the process of separating and replanting the rice in neighbouring plots, a very labour intensive process but one that considrably increases the yield.
We then took a small one-lane mountain road, over a pass to two hill-tribe villages, the first Yao and the other Akha. We wandered through the Yao village with Chai explaining the growth of bamboo and a local showing us his 'home' and silver products. There were a number of stalls with the tribes-people selling thier wares, including traditional hats, pillow covers, bags, toys, dolls etc. Being the shopper I am we did our best to support the local economy, including the purchase of a nice Akha head-piece.
We then continued further up to Doi Salong past a number of tea plantations. We stopped for lunch in Mae Salong, a Chinese influenced mountain village where we had another simple, but local meal - Gayle had rice, vegetables (Chinese broccoli) and shitake mushrooms, Chai the roasted pig's leg and me roasted duck. Then it was to the top of Doi Salong where there is a memorial to the Queen mother, extremely revered for being instrumental in converting the locals from opium harvesting to other agriculture products. The views across the valleys from the summit to tea plantations below were spectacular. On the way down we stopped at a tea plantation where we sampled a number of locally grown teas. It was then to Doi Tung, along a route that had us pass numerous pineapple fields, another new crop for the area.
At Doi Tung the queen mother had a royal palace and extensive gardens built. Although it was late in the day we still spent some time enjoying the immaculately maintained grounds and flower beds, complete with the sounds of babbling brooks flowing throughout. Gayle was particularly impressed with the display of orchids.
But we were still not finished, as Chai had a 'secret' for us. He drove to the top of Doi Tung where there is a great vantage point for watching the sun set over the mountains of Myanmar. The spot is on the border with a bamboo picket fence, complete with barbed-wire separating the two coutnries. Armies from each patrol the border.
We arrived back at Viang Yonok well after dark to be provided dinner, and then another couple of surprises - first a very nice coconut cake for Gayle's birthday and then a present that was over the top - a Burmese table covering that we had been admiring in the restaurant. The gift was so very generous of Vassana.
We enjoyed a fantastic day. Chai, the self proclaimed "most handsome man in the world" was entertaining throughout - even laughing at a few of my one-liners. He provided a very personal expereince and invited us back for another tour some day that he promises will be "same, same but different".
Carrying rice plants in a traditional basket.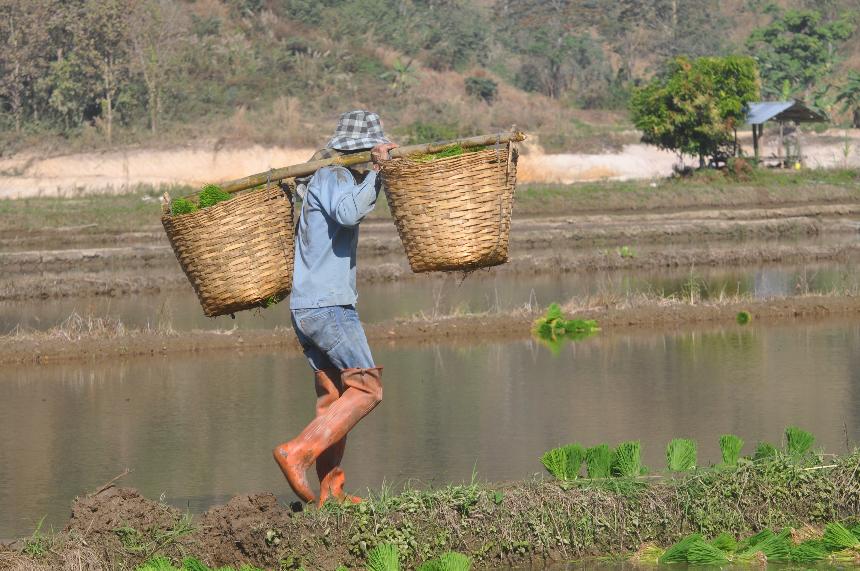 A large group working in a rice field.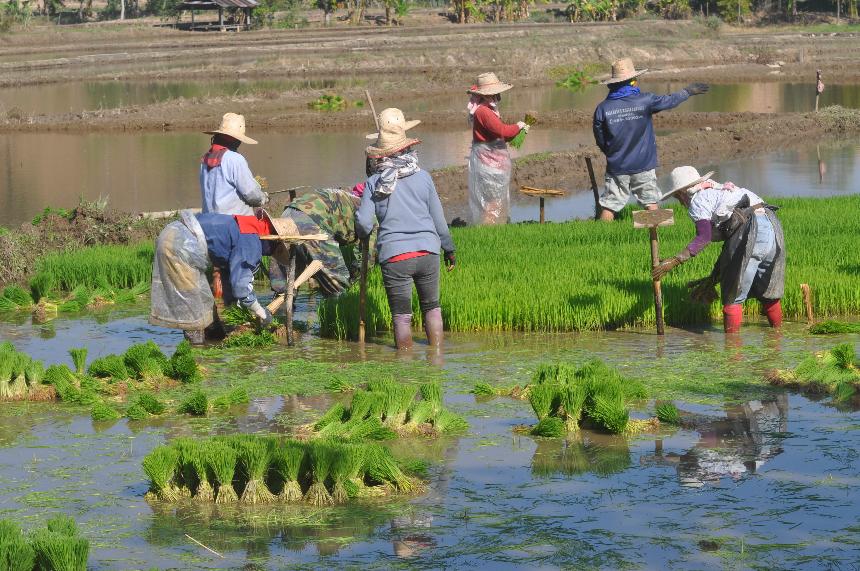 Chai, our driver, tour guide, self proclaimed handsome guy, and all round funny Thai man.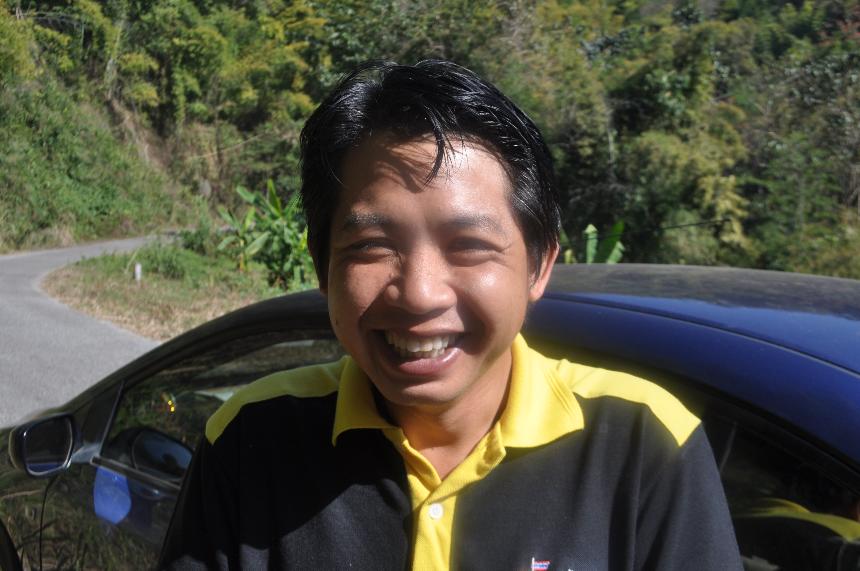 When in Chiang Mai our hotel had a display of Yao children's hats. Arriving here in a Yao village one of the first woman we saw had this young child wearing such a hat.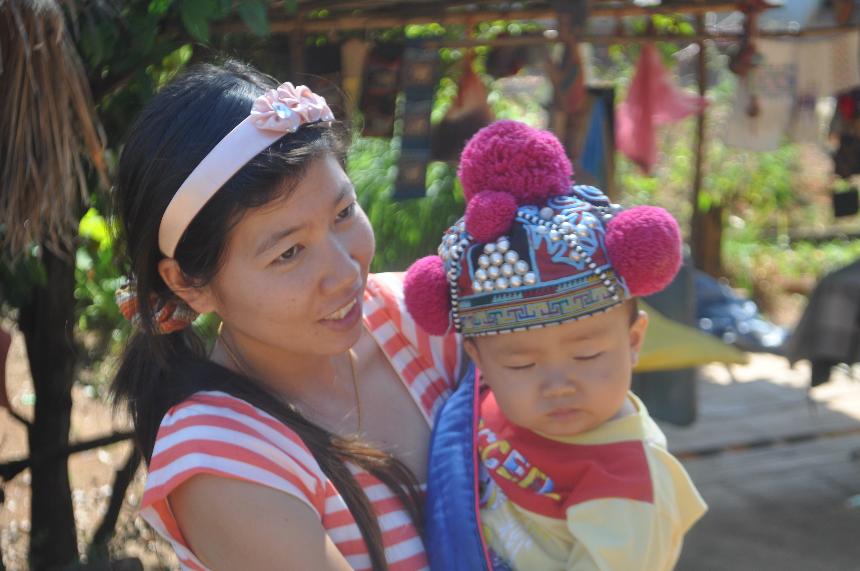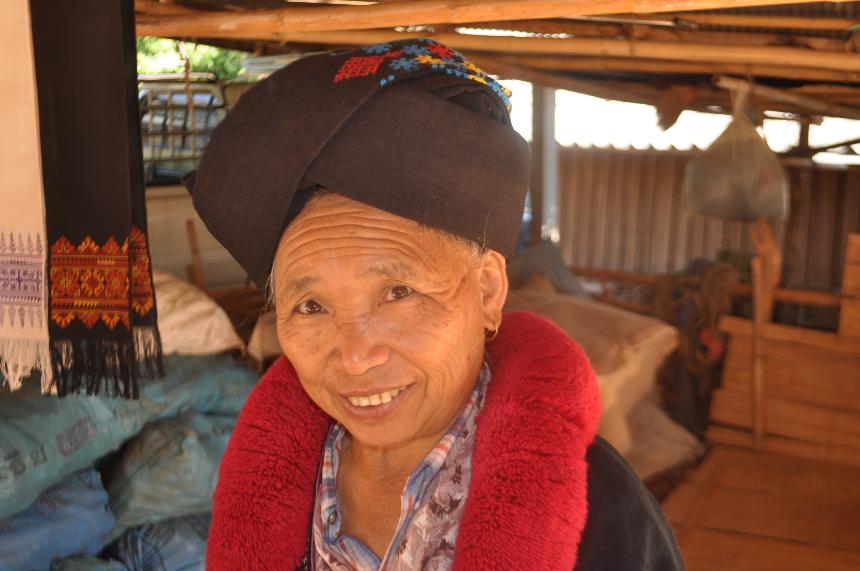 The Akha tribe have the most elaborate head-ware, modeled by an Akha wanna-be :-).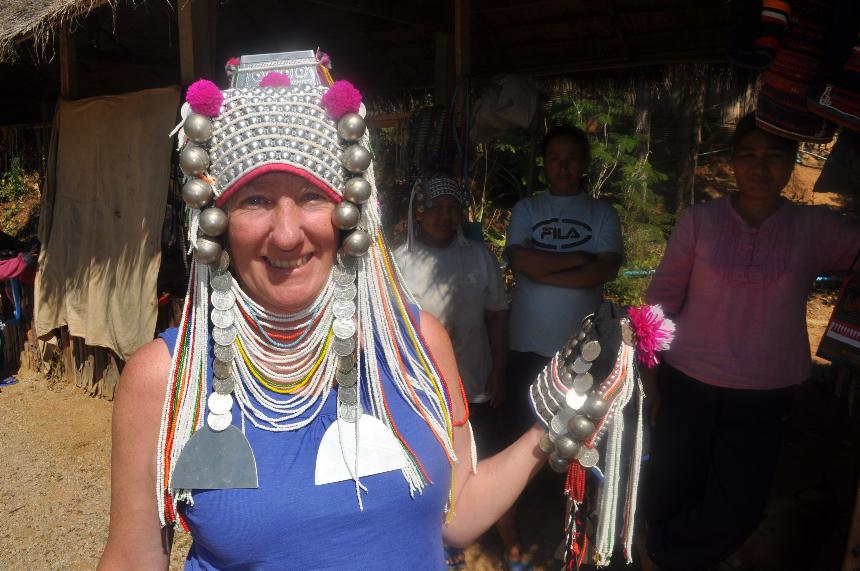 Growing wild and naturally there are poinsettia flowers throughout the region.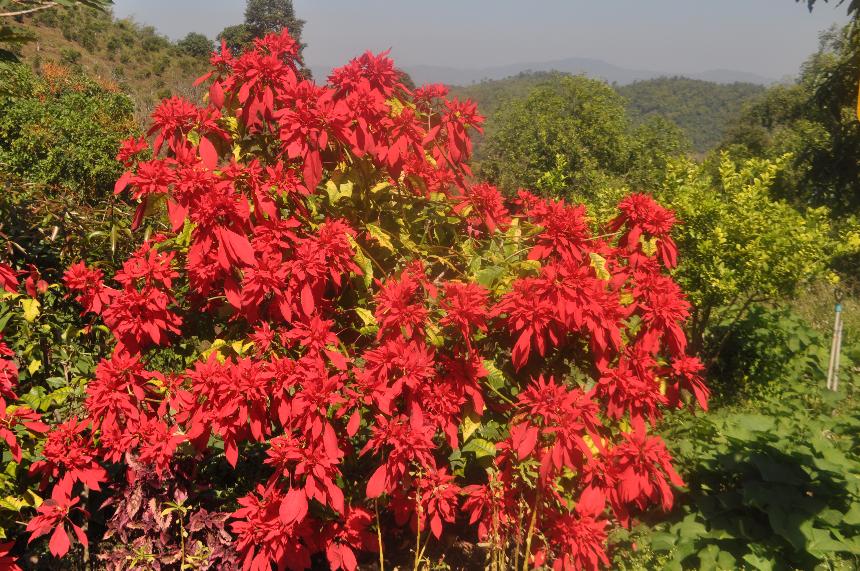 Lunch at a small Chinese restaurant in Mae Salong where I was able to get roasted duck, which had not been available in the market due to the upcoming Chinese New Year (in two days).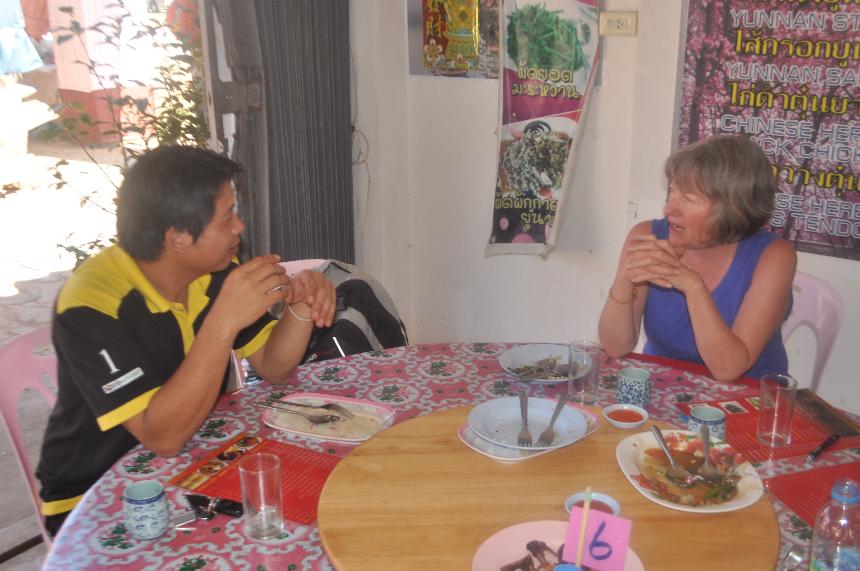 Chai, after again entertaining us with one of his many funny lines.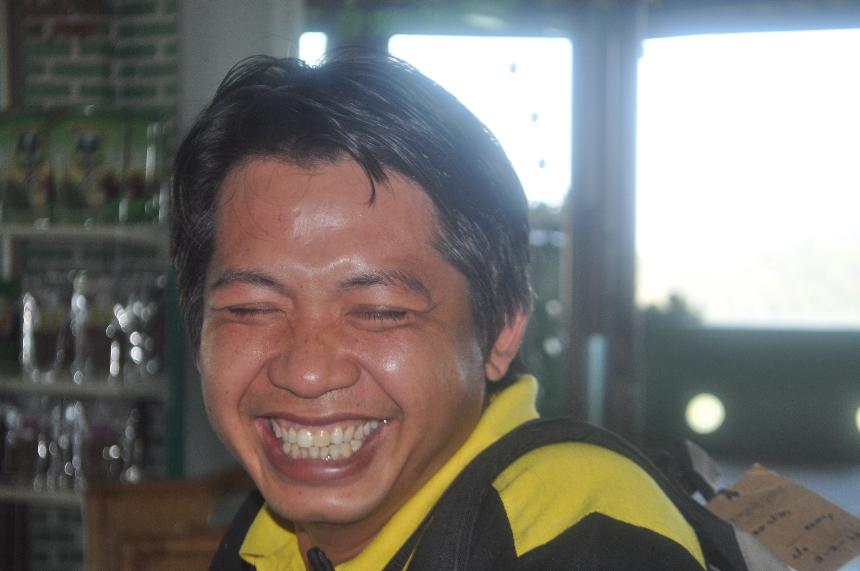 Tea, one of the new crops now relatively common in the mountains of northern Thailand. We visited this tea plantation, sampling a number of locally grown teas.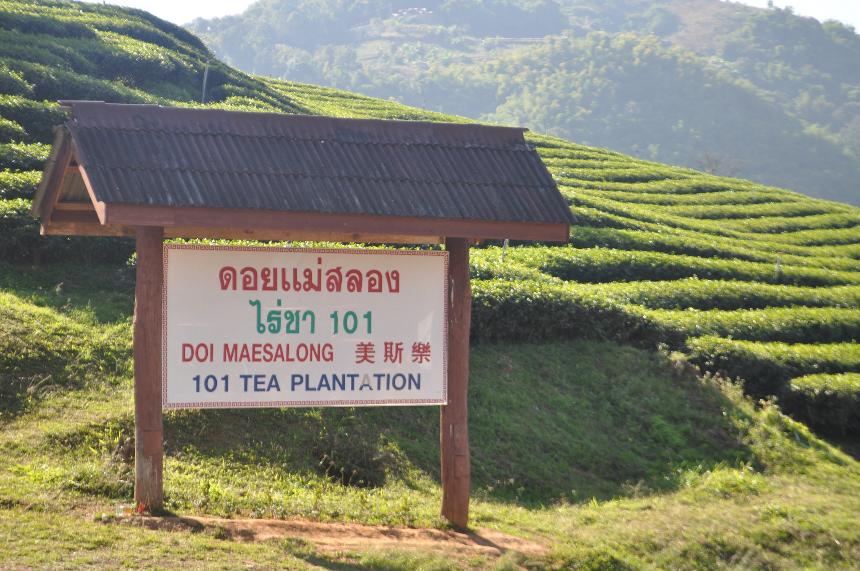 A display of orchids at Doi Tung royal gardens in honour of the Queen Mother, who had a summer palace in the north of Thailand at this site. Here presence in the north transformed an economy based on opium production to one of other grops and employemnt, e.e.g building and tending the royal gardens.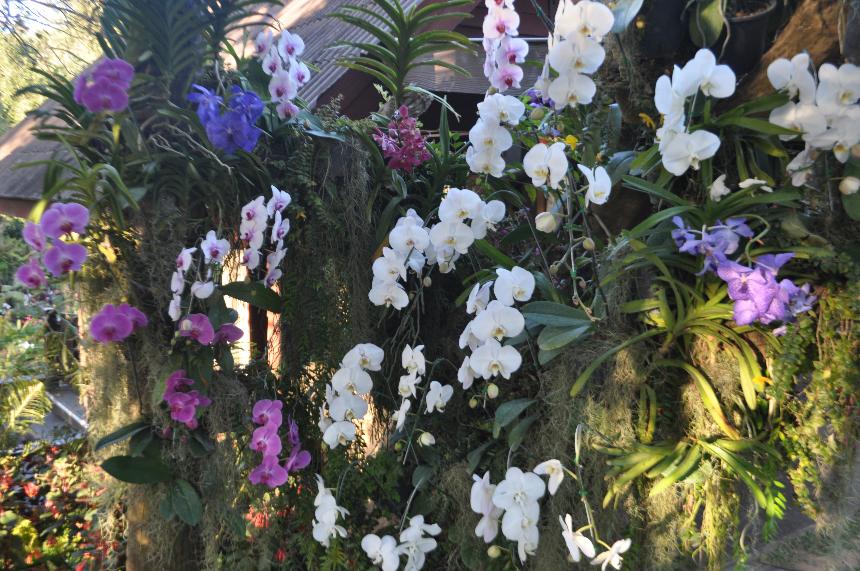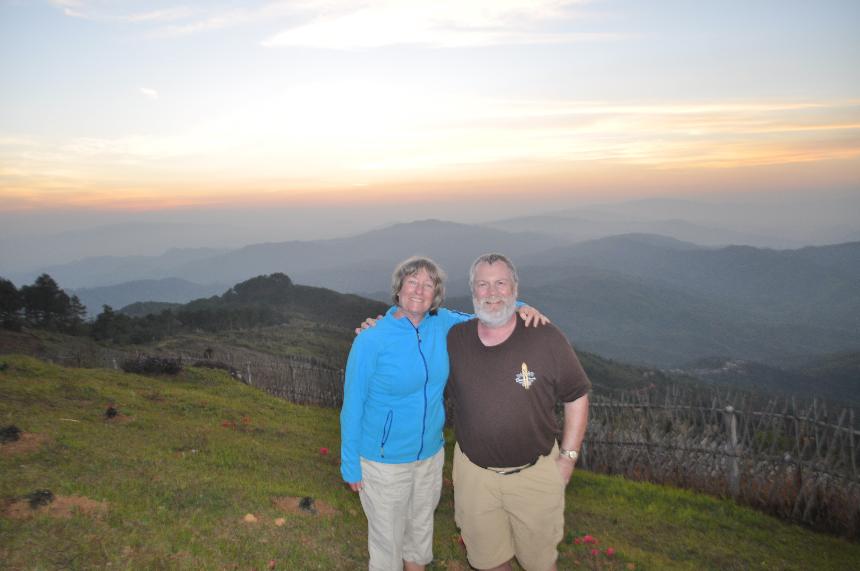 Being our last night at Viang Yonok, where we were out for the day, Vassana generously baking a coconut cake for Gayle's birthday.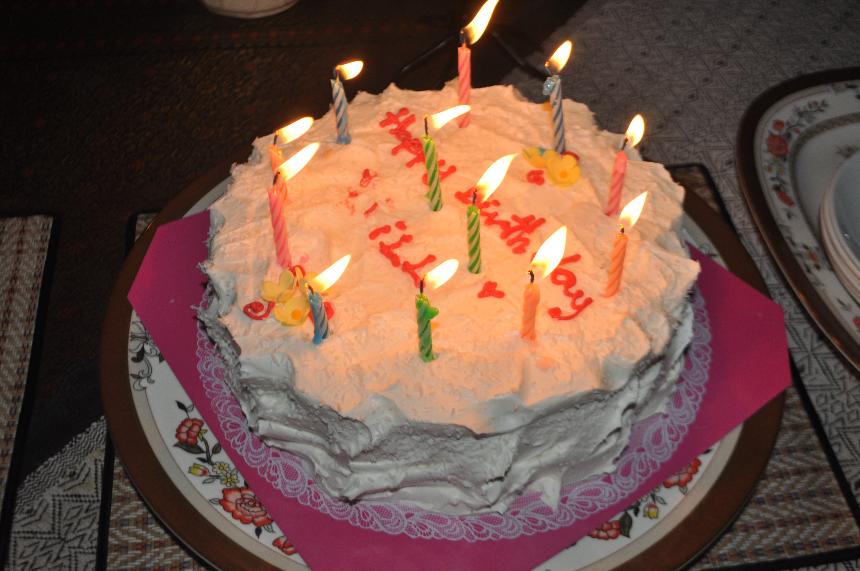 February 07, 2013 - Viang Yonok, Chiang Saen
Today we went nowhere and essentially did nothing. We had breakfast, and then relaxed at our cottage, enjoying the warmth of the sun and the spectacular view over the lake. Sure I caught up on this blog, Gayle read a bit about Laos, and we washed some clothes, but otherwise pretty much did nothing.
We then enjoyed another great dinner, although with the Chinese New Year this Sunday they were unable to find any duck. But the substitute grilled chicken in the green curry was just fine, along with some delicious coconut rice. We also were treated to a special Mai Tai (Vassana was a bartender back in the day) served in a pineapple - also very nice. Now we have to go find some Thai whiskey in order to try to replicate the drink when we return home.
Often we are torn between all the things one can, and feels they should do while travelling in a foreign country and just having a quiet / relaxing day. Today was the latter and we loved it. Tomorrow it's back to seeing the area, but that's tomorrow.
Mama - the cook, and a very fine one indeed.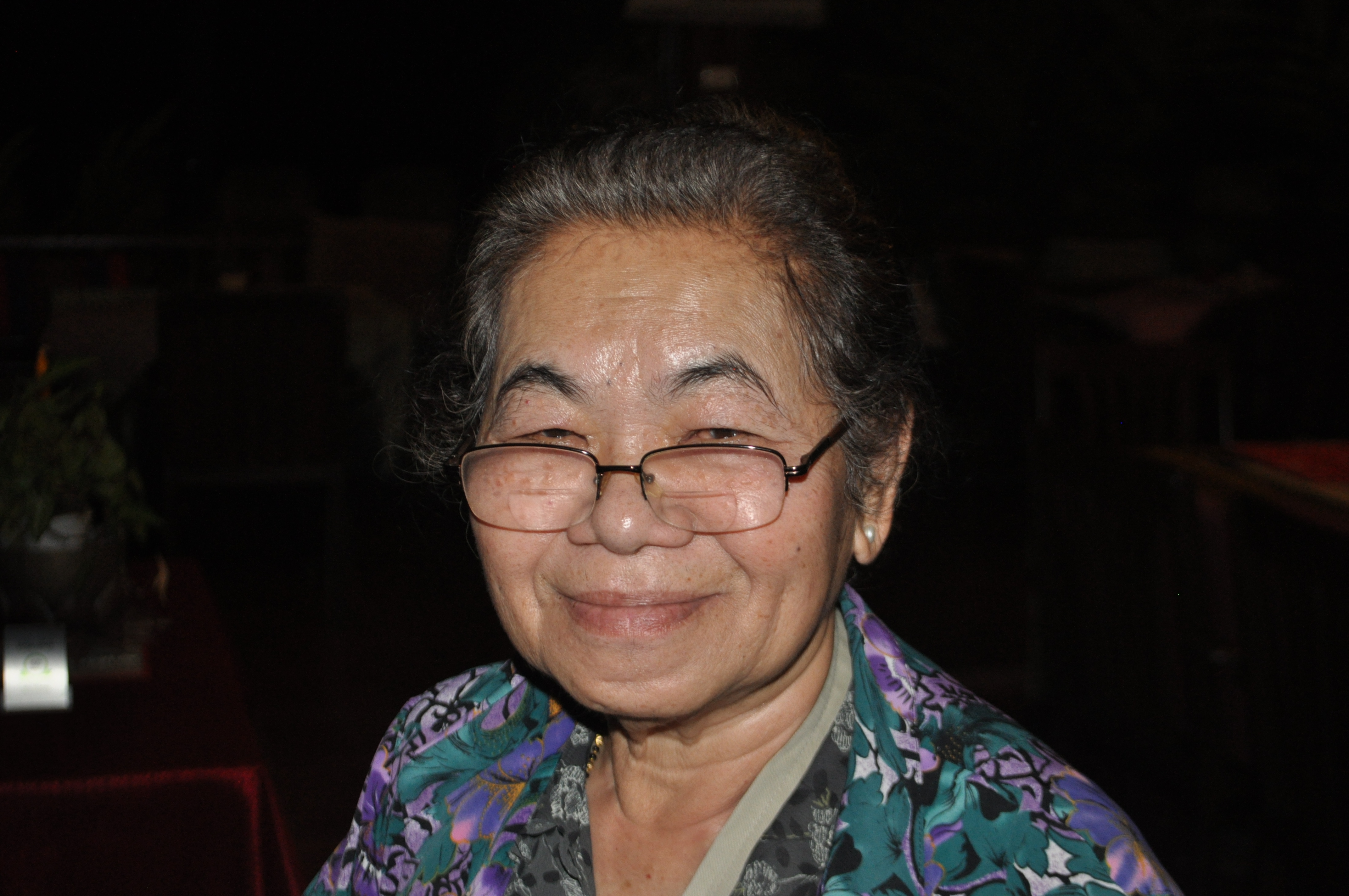 One breakfast option is a stuffed fruit filled - pineapple, banana, papaya and mango, pancacke covered with local honey and nuts.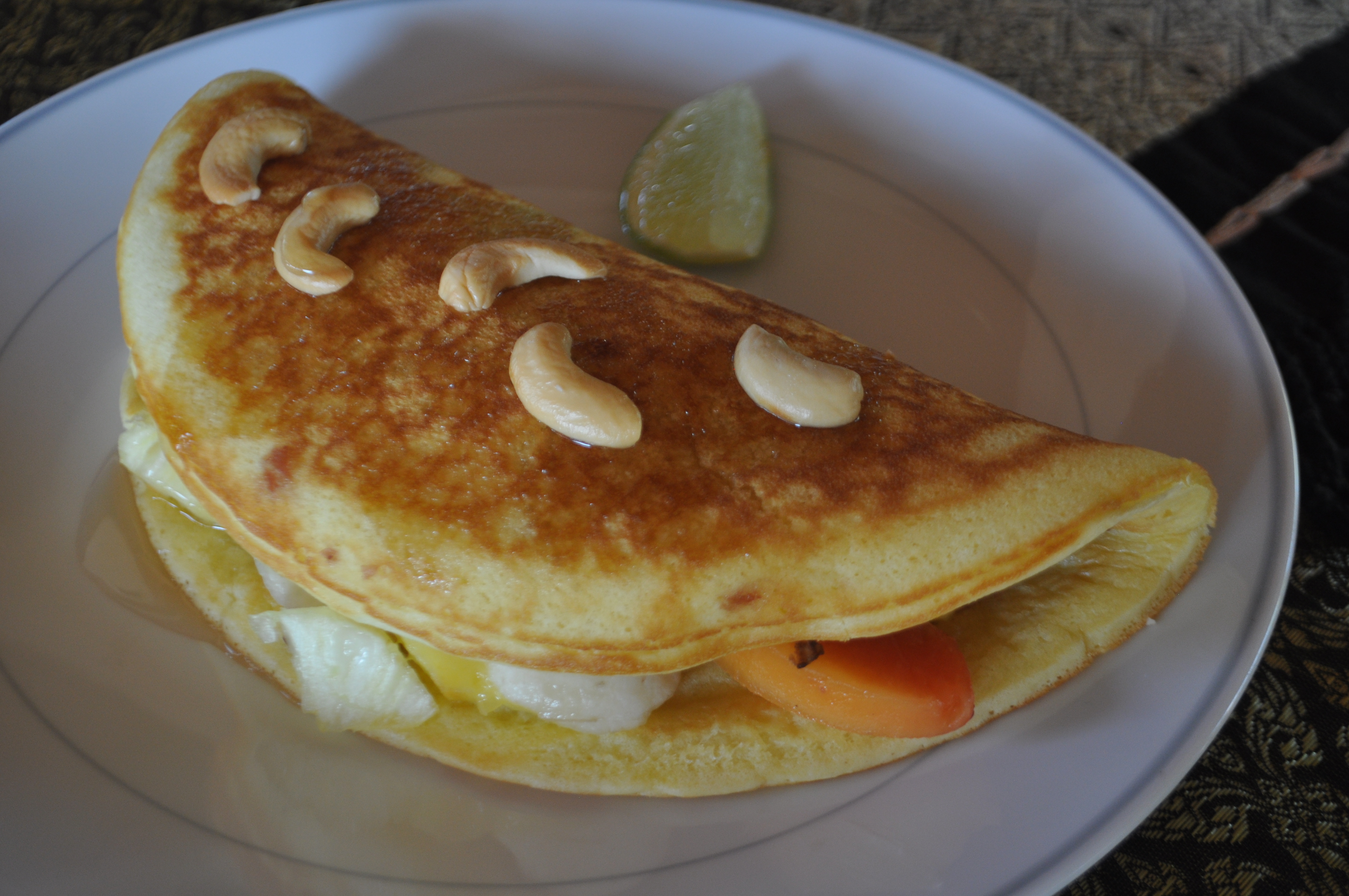 Not unique, but interesting signage none-the-less. On the other side it indicates 55 m to the pool.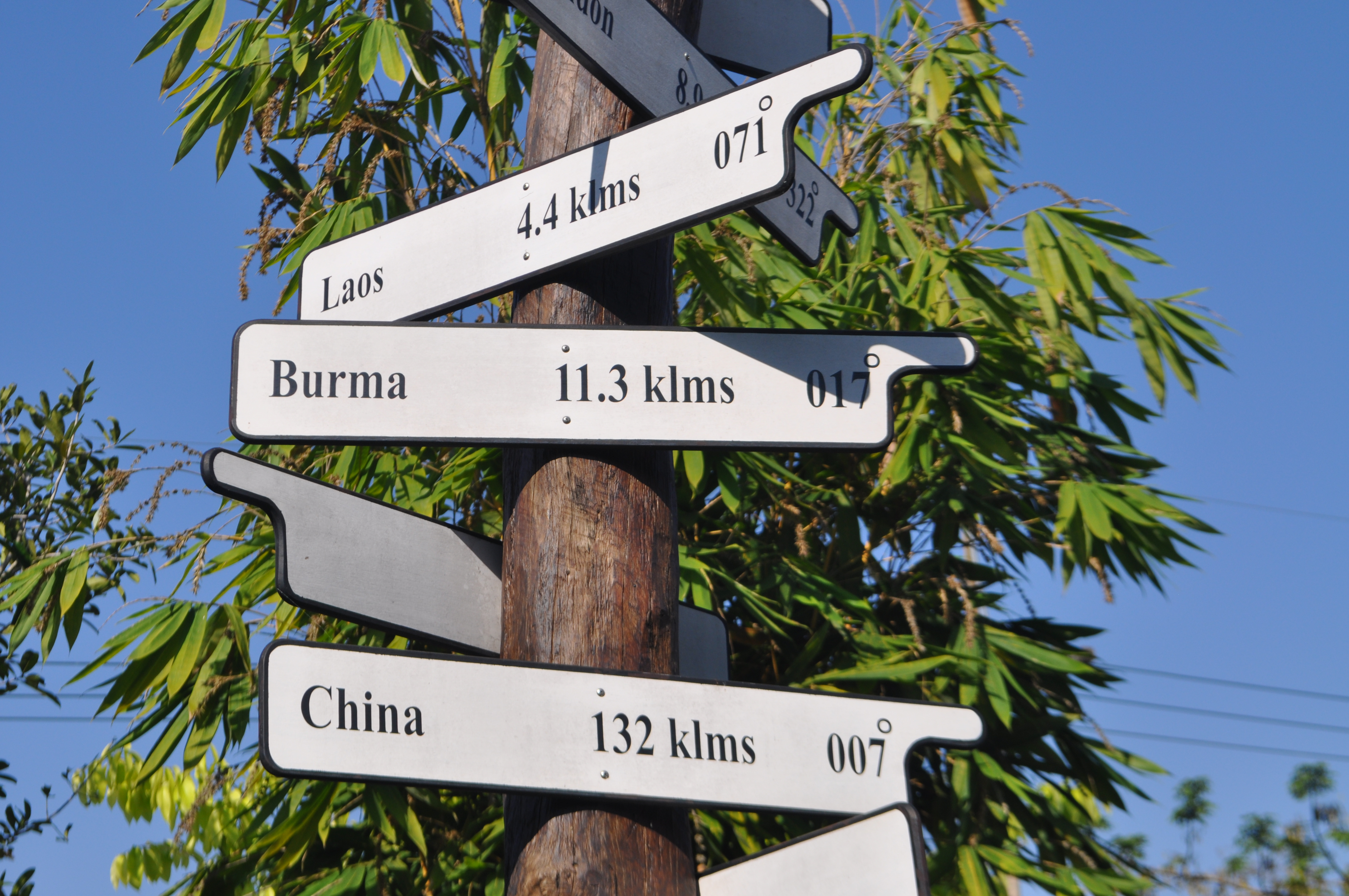 A small but nice pool, benefiting from the afternoon sun shining directly on it from over the lake.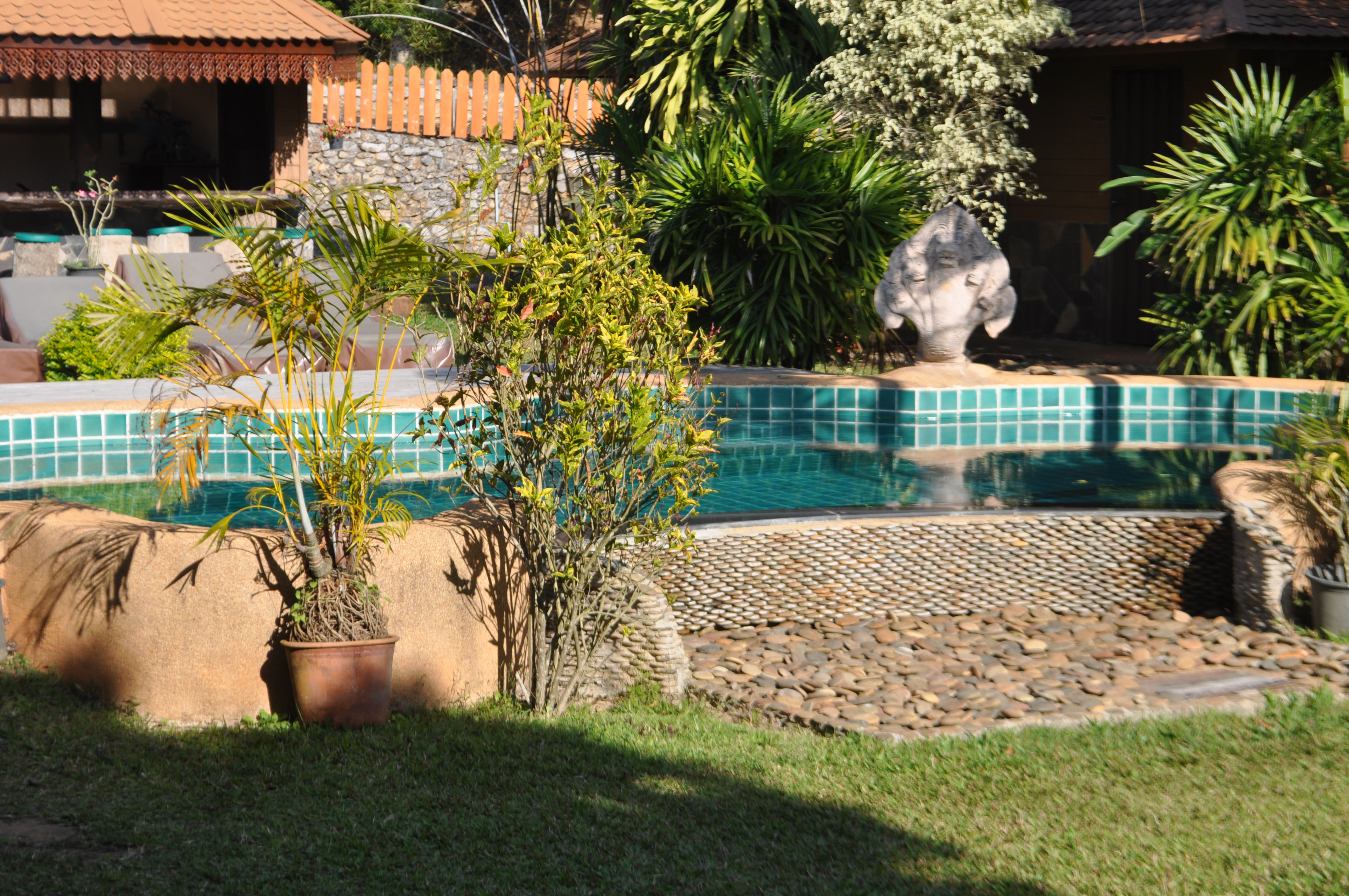 Right across the country road this herd (we're guessing there were 15 or so) of water buffalo wandered along, munching grass both in and out of the water.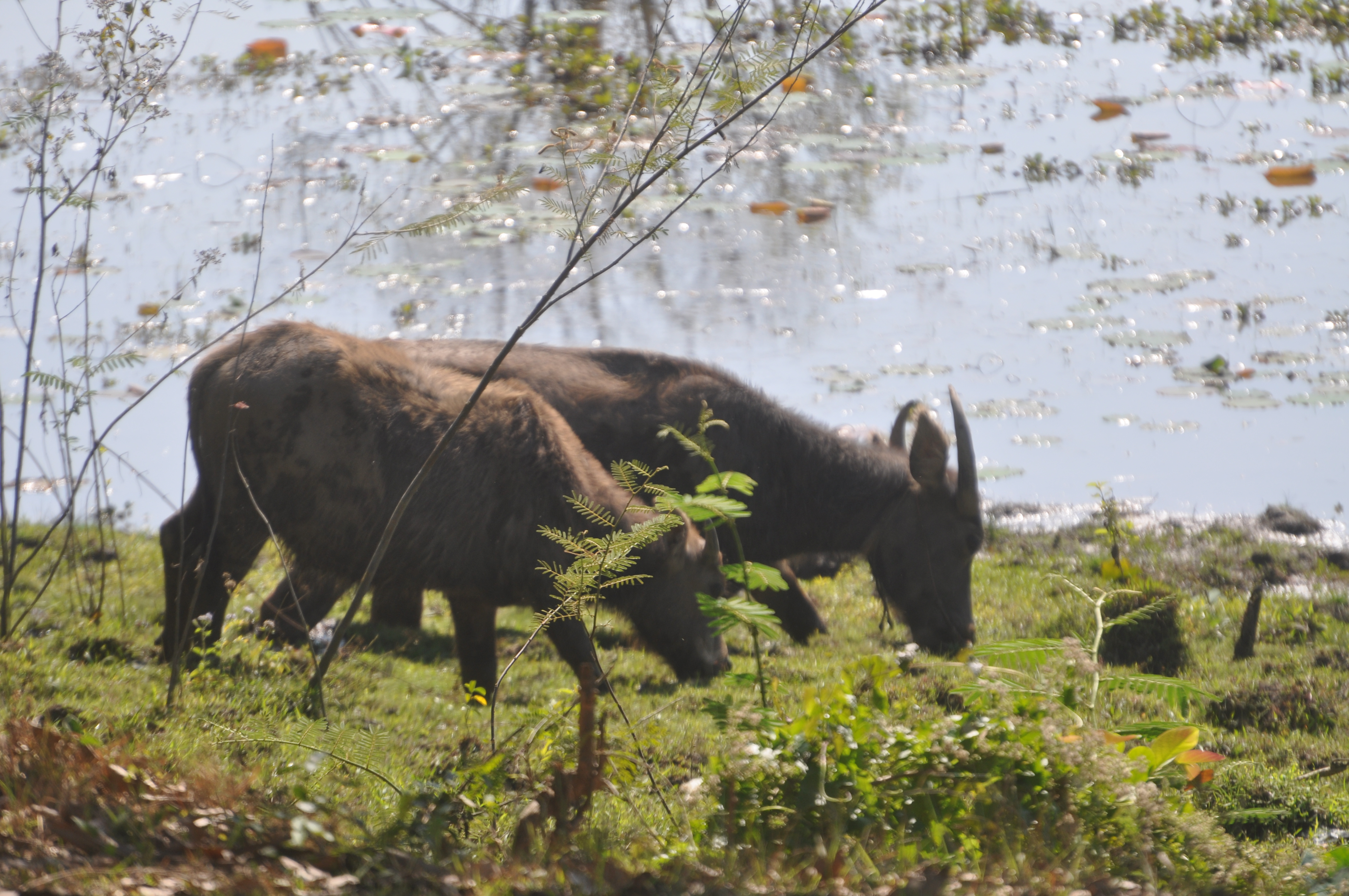 The property has orchids, of all different beautiful colours growing everywhere.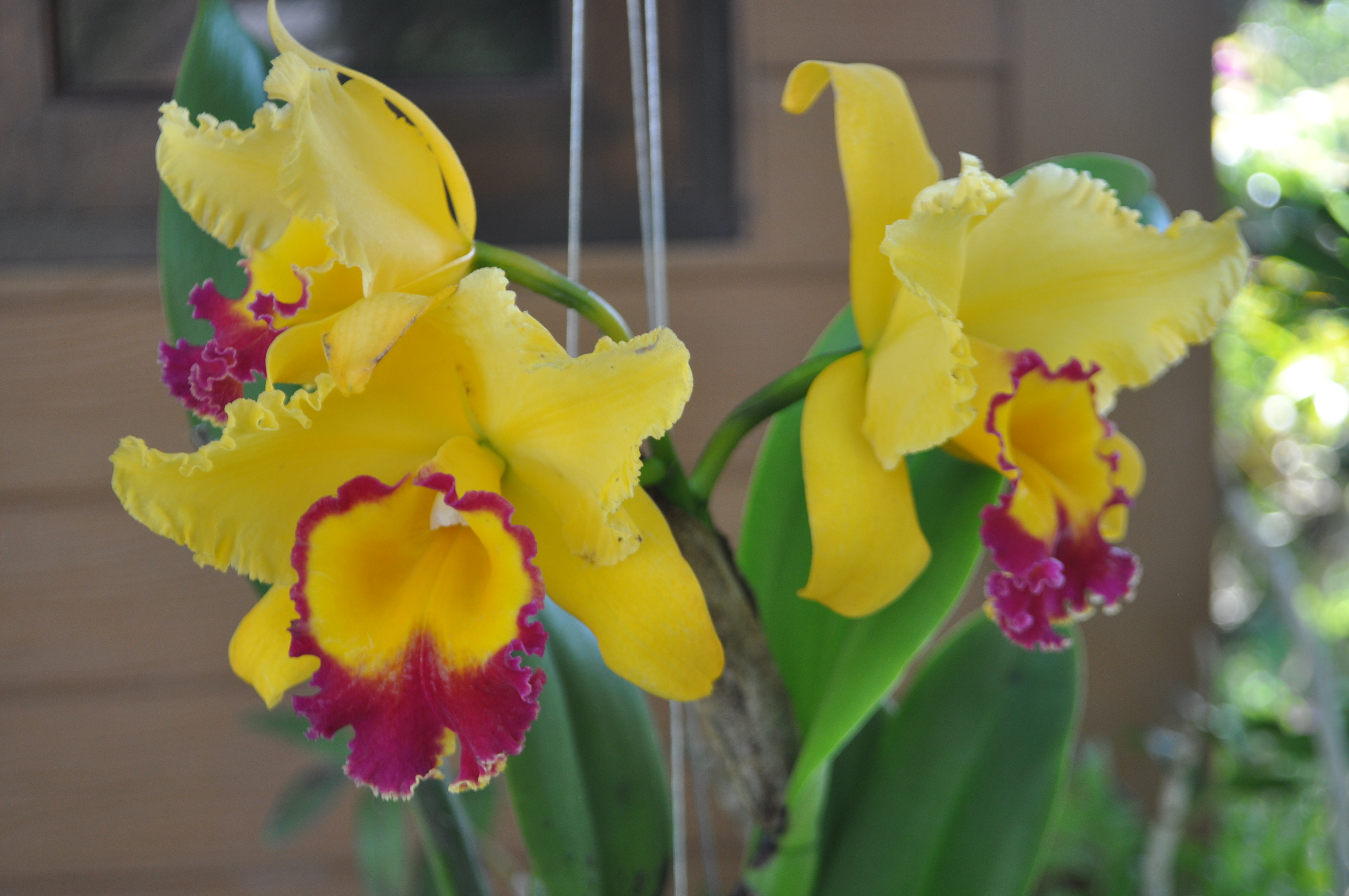 Vassana made Gayle and me one of her specital Mai Tais - Thai whiseky, Triple Sec, Cherry Brandy and fresh pineapple, watermelon, lemon and orange juice served in a pineapple ... wonderful.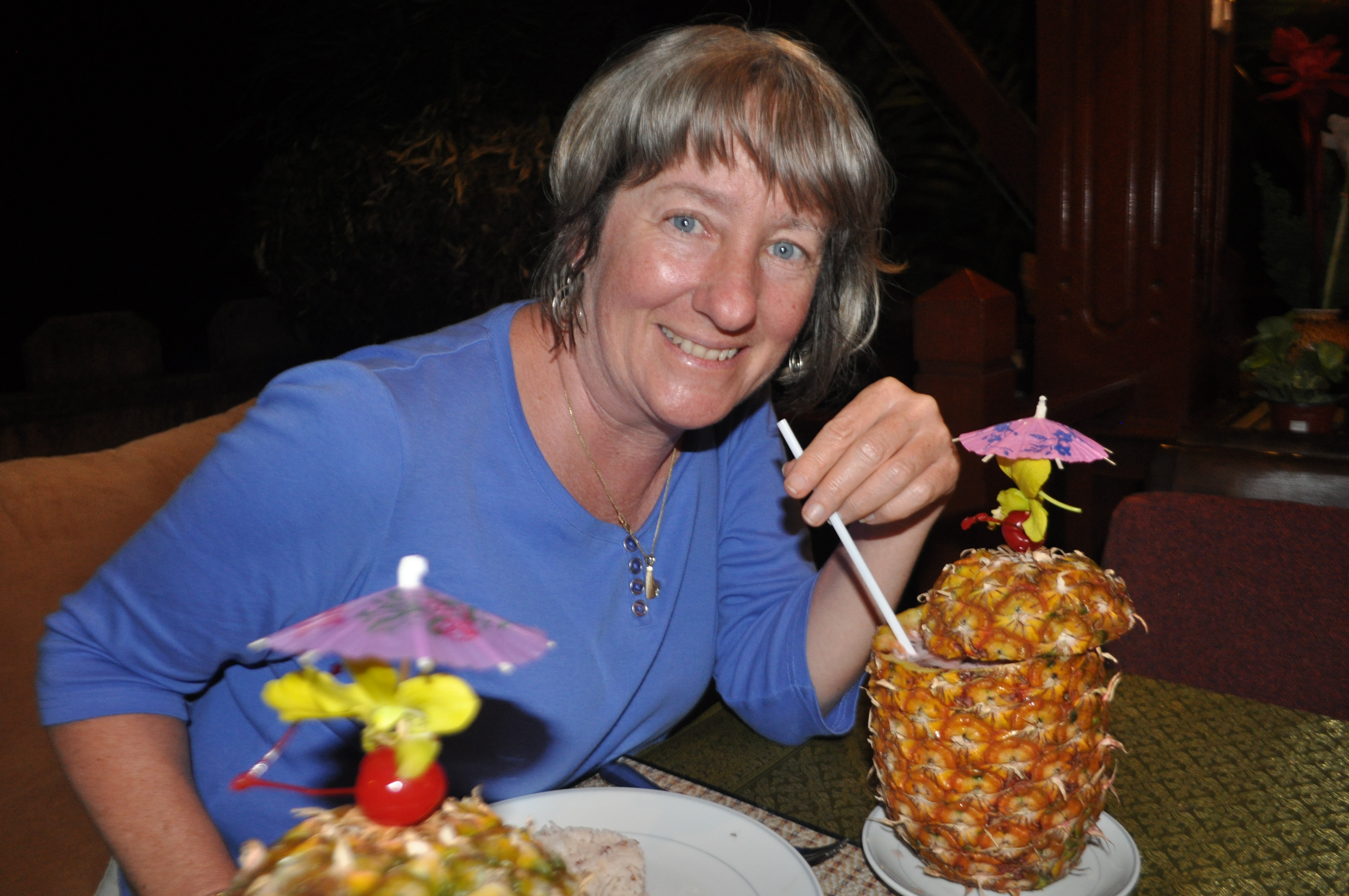 February 06 2013 - Hall of Opium, Golden Triangle and Chiang Saen
Today first took us to the Hall of Opium, an extensive exhibit on the history of opium (and other drug) production, the wars fought over the drugs and the impacts the drugs have had on individuals and societies. We spent 2 1/2 hours in the museum, which included some very interesting history on the role of the British in forcing the continuation of the opium trade during the 1800s in order to finance its other interests. When the Chinese attempted to curtail the trade the countries went to war (a couple of times) with the British prevailing each time. Quite informative.
We then spent a short time at the Golden Triangle - somewhat touristy with numerous shops. The area is where Thailand, Myanmar and Laos come together (see photo below) and in spite of it being illegal to do so was an area that produced enormous amounts of opium until the 1970s/1980s, at which time the King's mother initated projects in order that the locals focused on other crops (coffee, pineapple etc) rather than opium.
We then took the bus (20 baht or 70 cents each) the 11 km to Chiang Saen. Once a very significant centre of over 200,000 evidence of habitation dates to 1329. Under Burmese rule in the 16th century the importance of Chiang Saen diminished, until it was united in the territory of the northern precinct of Thailand in 1894. Being on the significant Mae Khong river trade route the city is gaining again in both population and importance. We strolled through town, first to the market where we saw a number of things (remember we're now out of the big city), including bugs (at least three varieties), wiggling fish, pigs feet and snouts - and those were the things we could identify.
We then visited the Wat Chedi Luang, built in A.D. 1332 or three years after Phaya Saen Phoo had established the city of Chiang Saen. Biggest in Chiang Saen, the Chedi was constructed in bell-shaped style. The Vihara in the front and the east of the Chedi houses the Buddha image in the attitude of subduing Mara (devil) or calling the earth to witness (or so the brochure says).
We returned to Viang Yonok (by tuk tuk of course) where we enjoyed a nice meal of Pad Thai, Tom Kah chicken soup and a very good beef done in a coconut chili sauce with basil.
One of a number of shrines at the Golden Triangle.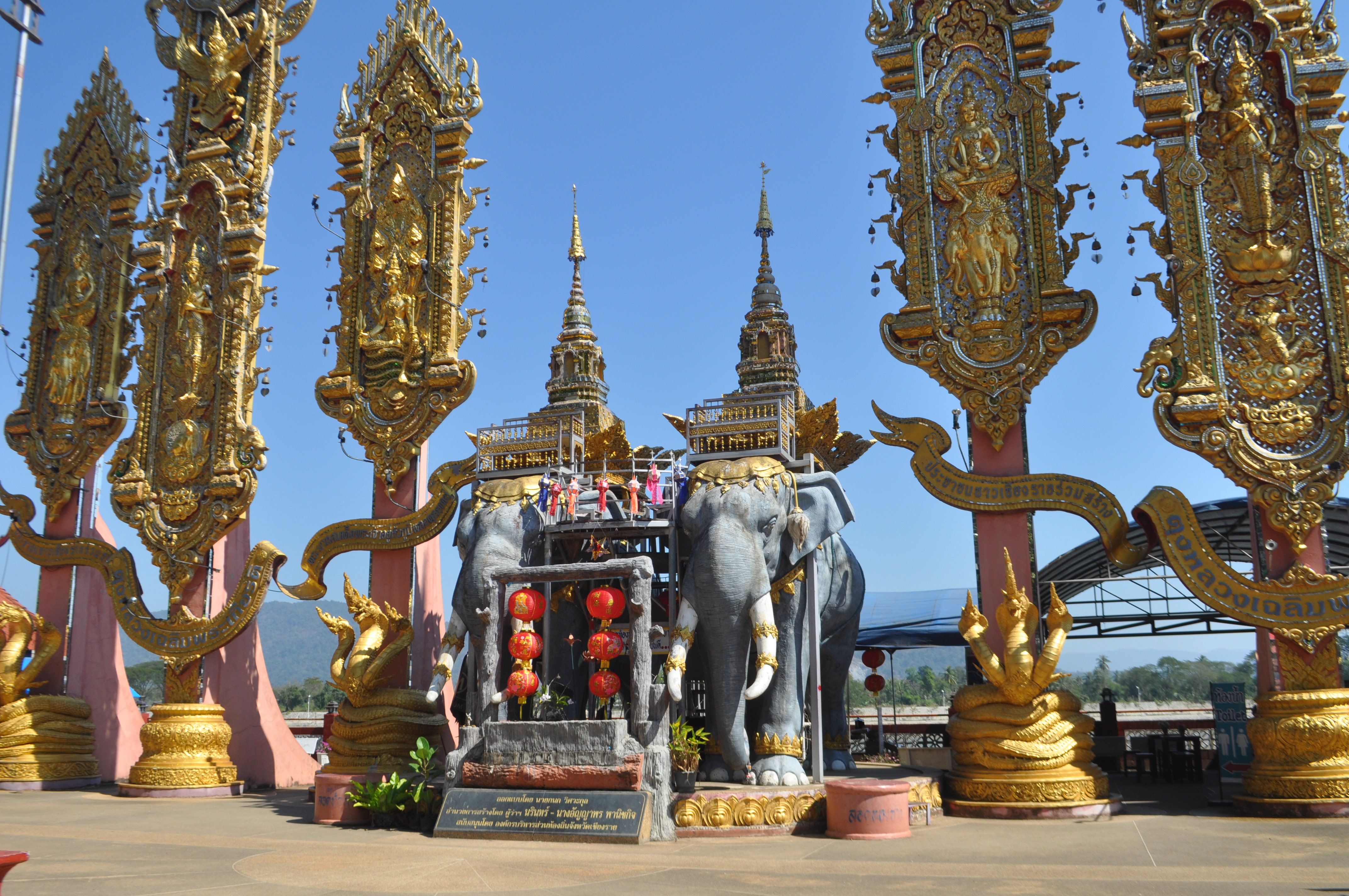 The Golden Triangle is the intersection of Thailand (the dirt in the foreground), Myanmar (formally Burma) across the smaller river on the left, and Loas to the right of the wider Mae Khong river.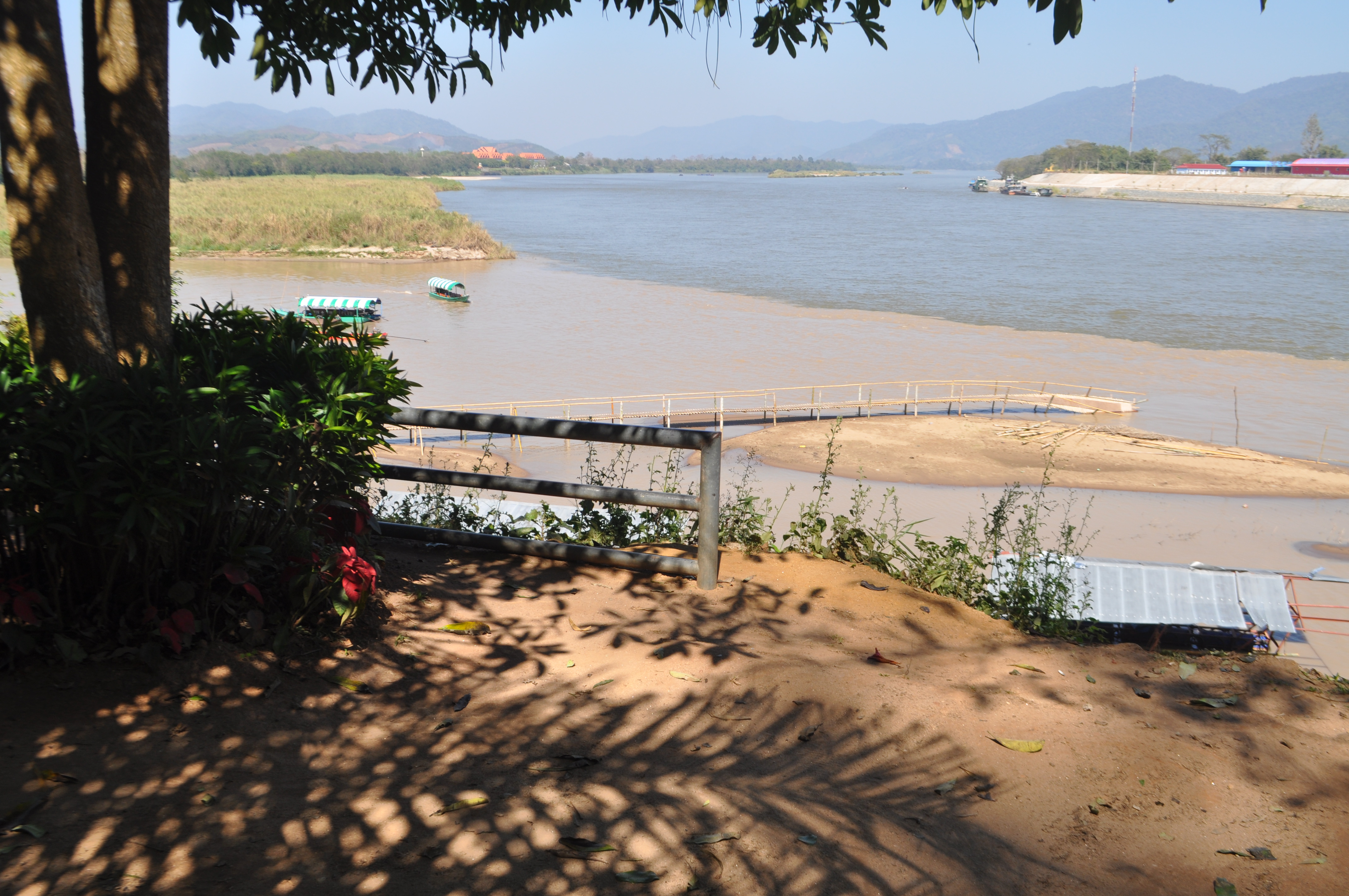 We knew we would eventually find some neat bugs for sale at a market, and no I did not have the nerve to try some.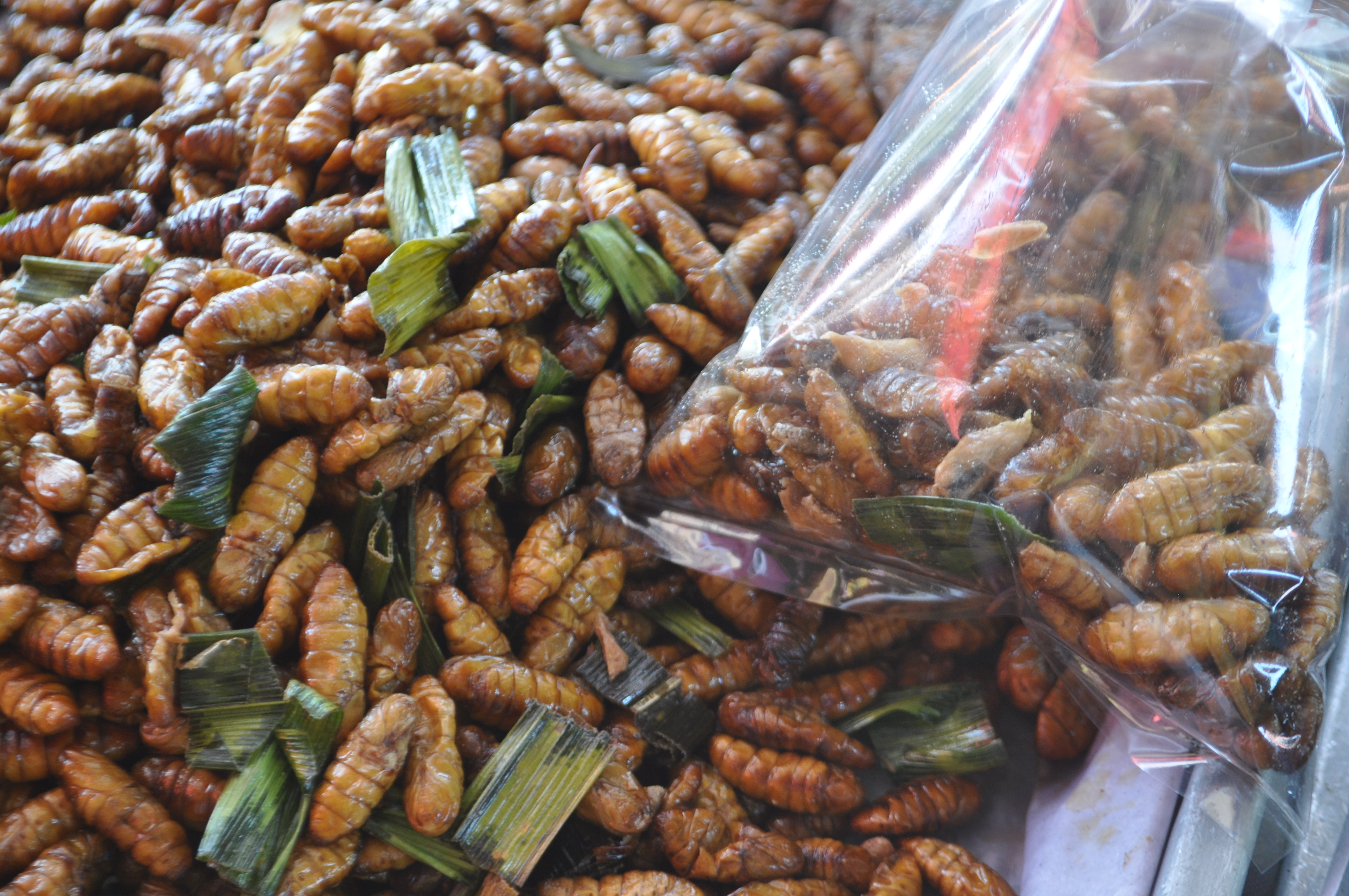 If I posted my video you would see the gills moving and the fish breathing ... the ultimate in fresh.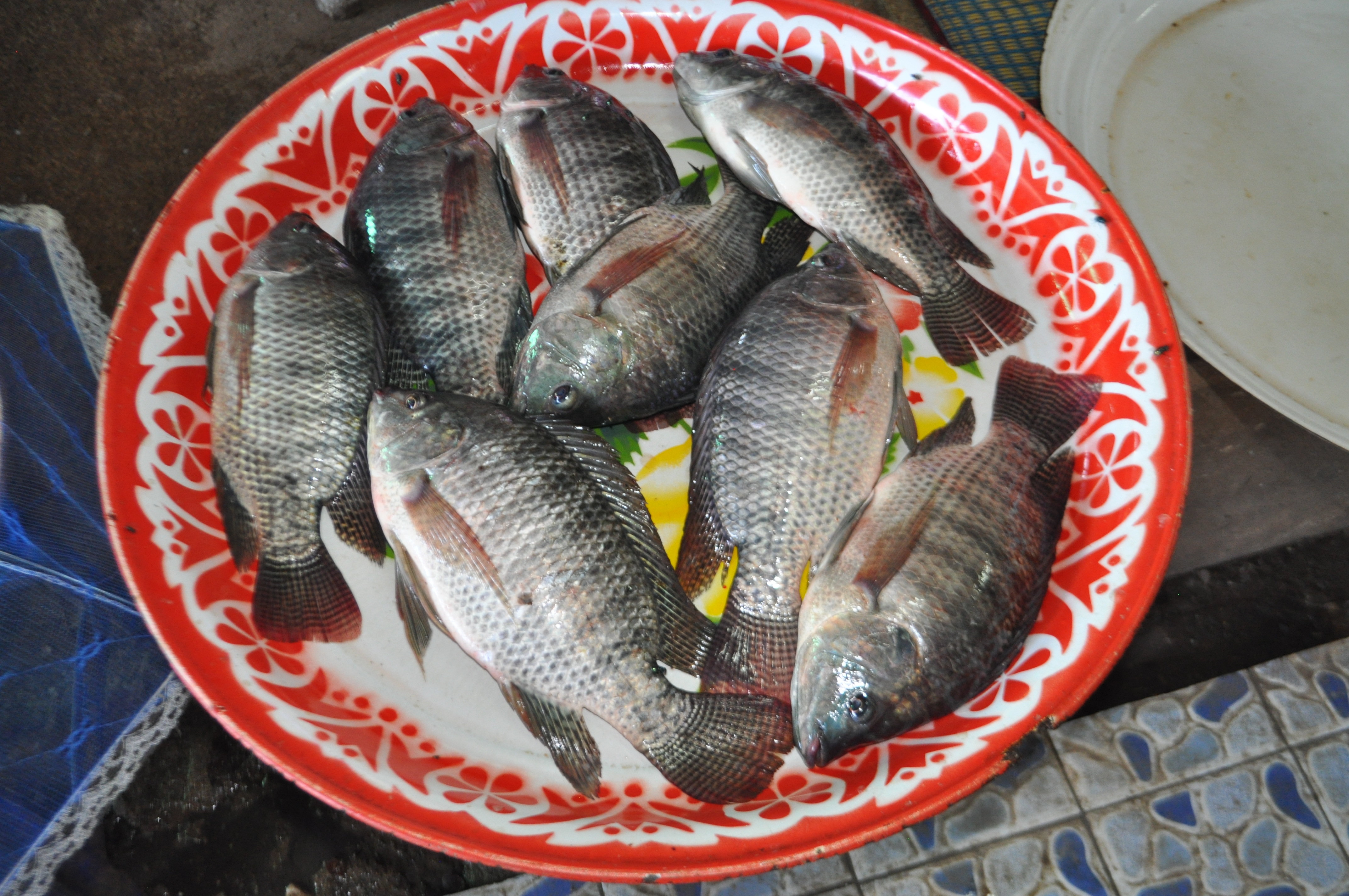 A seller in the market without a lot of business ... truly asleep on the job, or should I say the vegetables!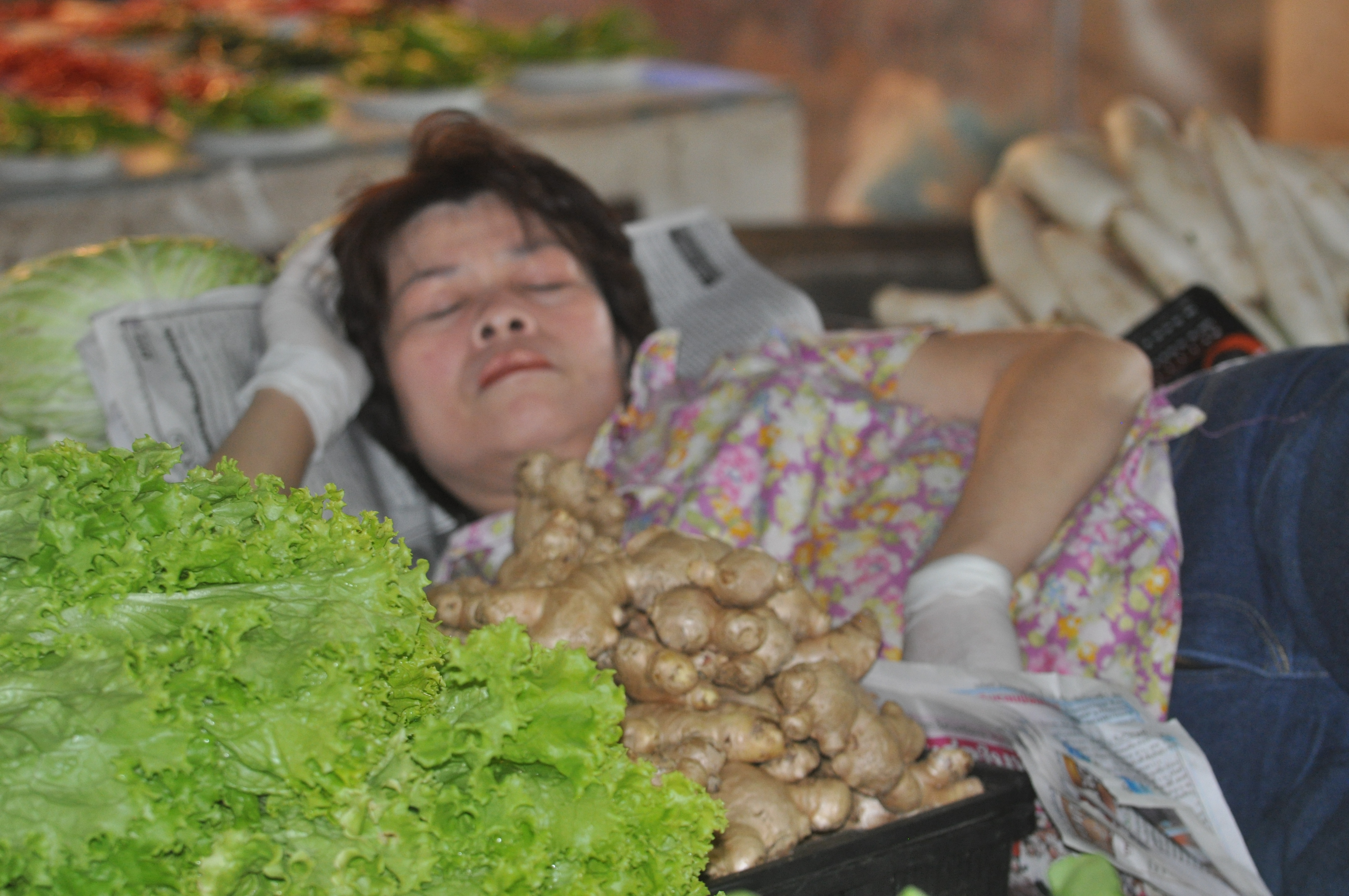 ... and a street vendor equally short of customers.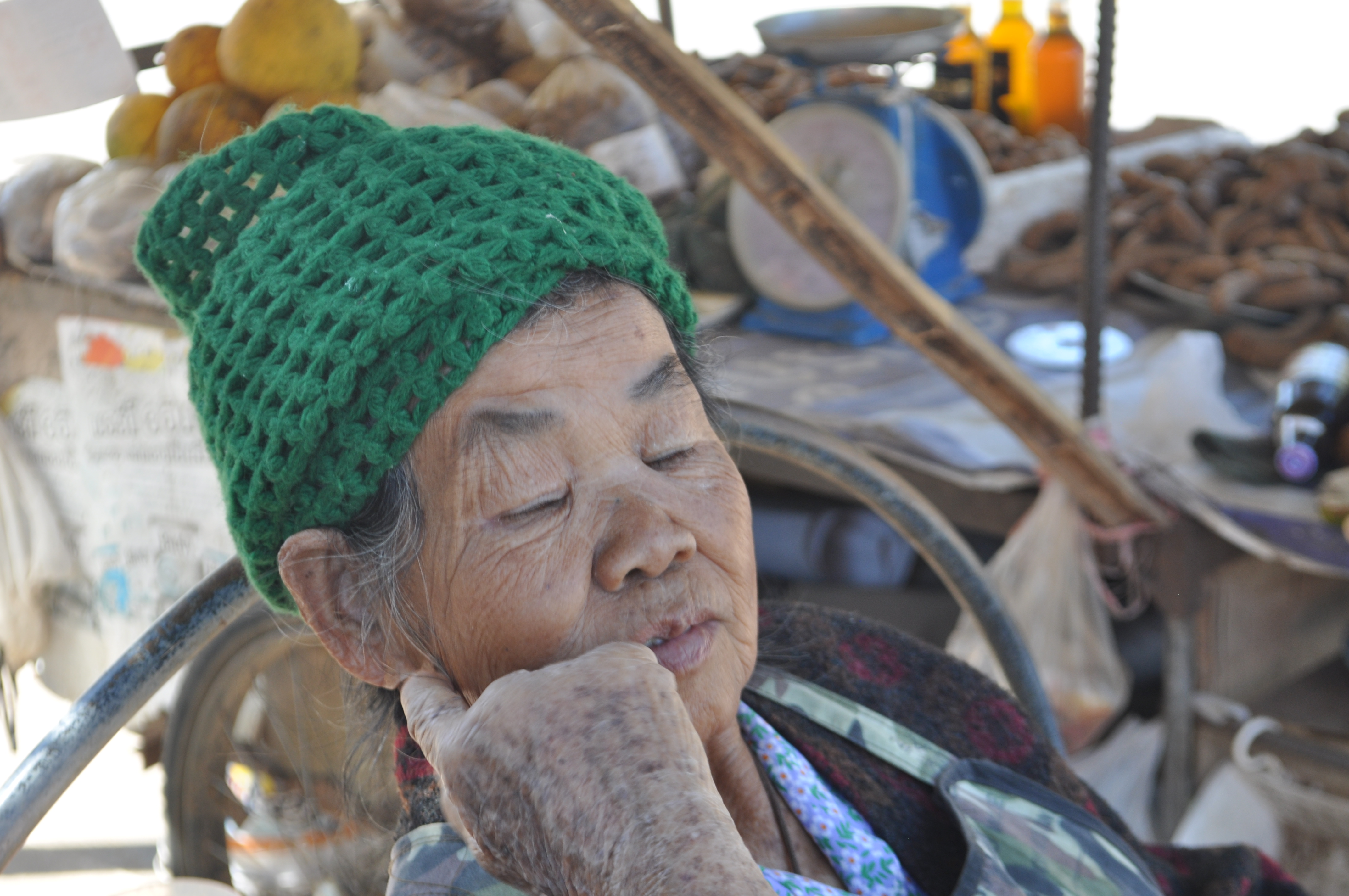 Buddahs in the Wat Chedi Luang, once very well known for its beautiful pagoda, shaped like a bell, standing inside the city wall.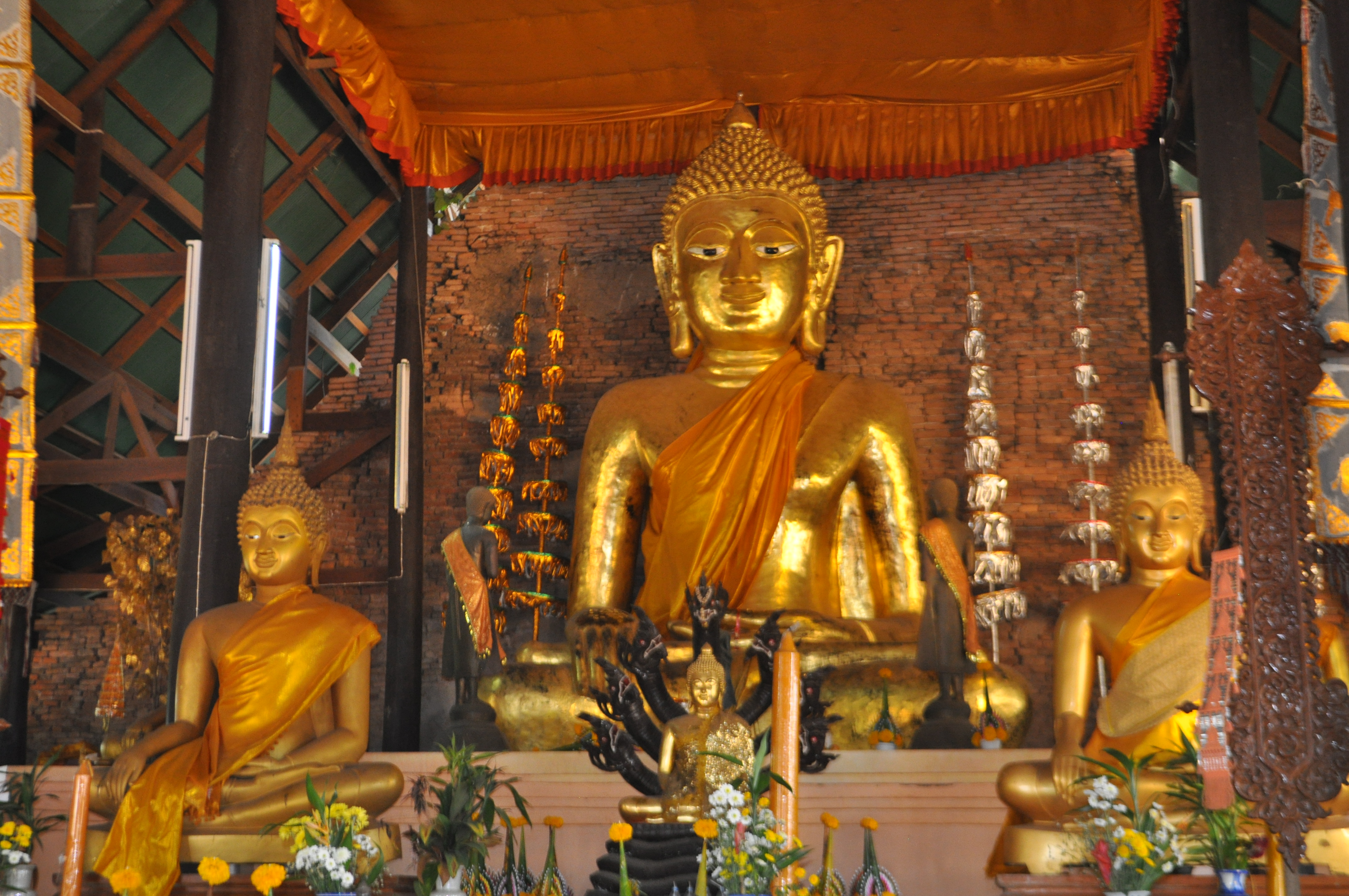 The abbot of Wat Chedi Luang, Chiangsaen, a 680 year old ancient temple that used to be a royal temple of the old city. After this blessing the abbot engaged me in a discussion of my "width". He seemed to be quite impressed when I share with him my weight, given I don't actually know my width, or circumfernce for that matter.
February 05, 2013 - leave Chiang Mai; by bus to Chiang Saen
It's somewhat difficult to make a travel day exciting but here goes. After another wonderful breakfast at the Tamarind Village we (I - as Gayle insists I am the shopper) spent some time and bahts in the gift shop - buying a traditional Yao children's cap (the Yao - one of northern Thailand's five main ethnic minority groups live in remote mountainous areas. Yao women are skilled at embroidery and take great pride in creating colourful whimsical hats for their babies, with red pompons often attached to the top, along with silver coins, feathers and other trinkets), a Karen (another hilltribe) pillow cover, a couple of Lisu (yes another hilltribe) toiletry bags and a nice pair of earings, also from the Karen tribe, for Gayle's upcoming birthday.
It was then off by tuk tuk to the bus station for our 5 1/4 hour trip through Chiang Rai to Chiang Saen. Although there are some pretty rickety buses here in Thailand you will see below we had a nice modern air conditioned - and no that doesn't mean open windows - bus. The ticket for the 5+ hour trip was only 232 baht, or $8.25 each. And for that we received a bottle of water, a pastry like thing, a cookie and a Men in Black movie, albeit in Thai. We passed through a national park, the city of Chiang Rai, and past numerous rice fields which were more prominent the further north we drove. We arrived a few minutes early after which we were picked up by a driver from the hotel, which is 4 km or so outside of Chiang Saen.
Our cottage at Viang Yonok is fantastic, particularly for the price - $89 including breakfast. It has a very nice deck that looks across over Chiang Saen lake. We immediately noticed beautiful orchids everywhere, heard a multitude of birds, and the owners, Ian and Vassana have two Dalmations. This is relaxation in a rural setting. From every indication it looks like we will be very glad to have decided to stay here four nights.
Aren't these the cutest banana leaf covers placed over the juices.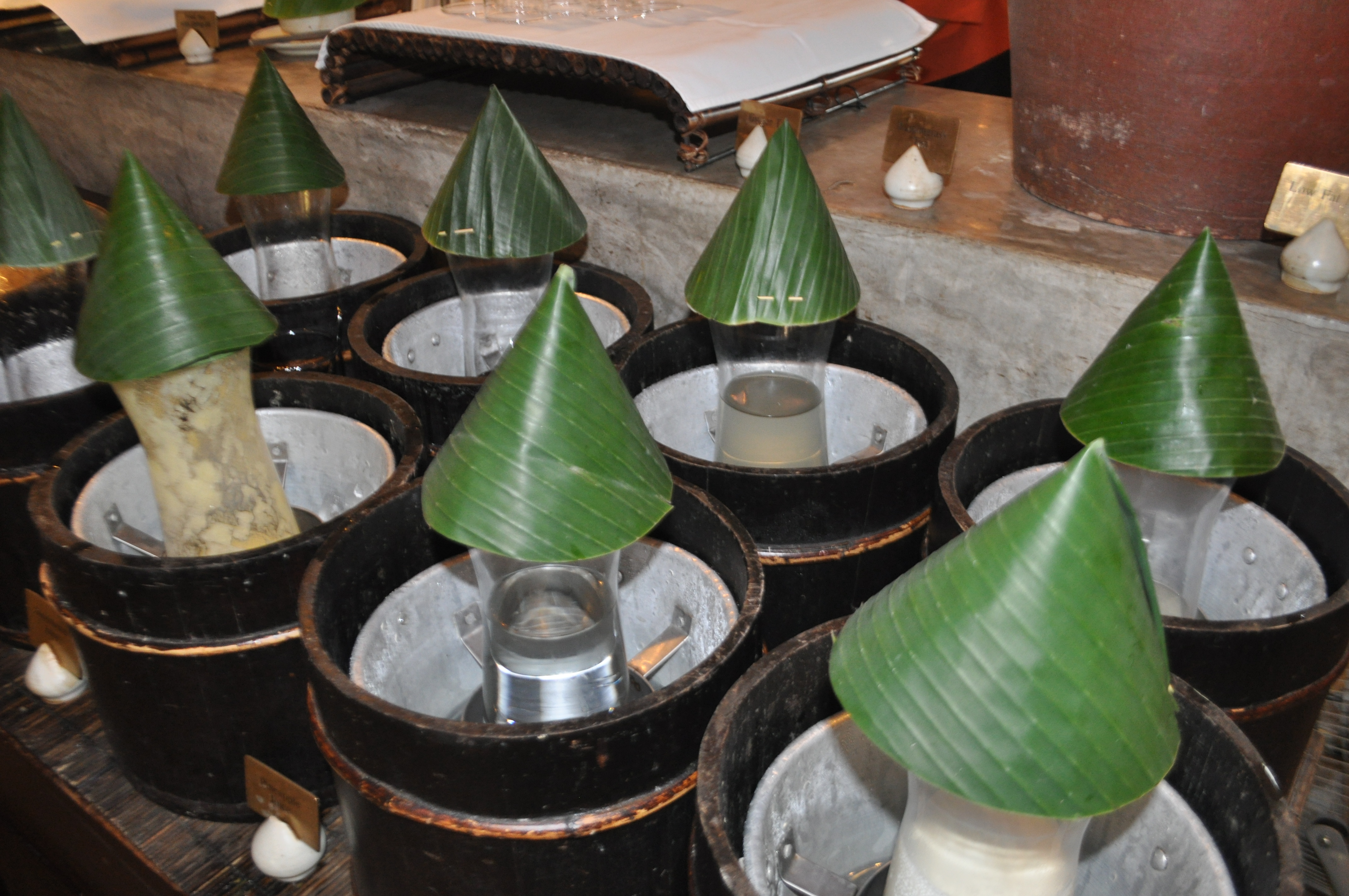 We again took a tuk tuk to the bus station - this time with all our gear - tight squeeze but a fun way to travel in the city.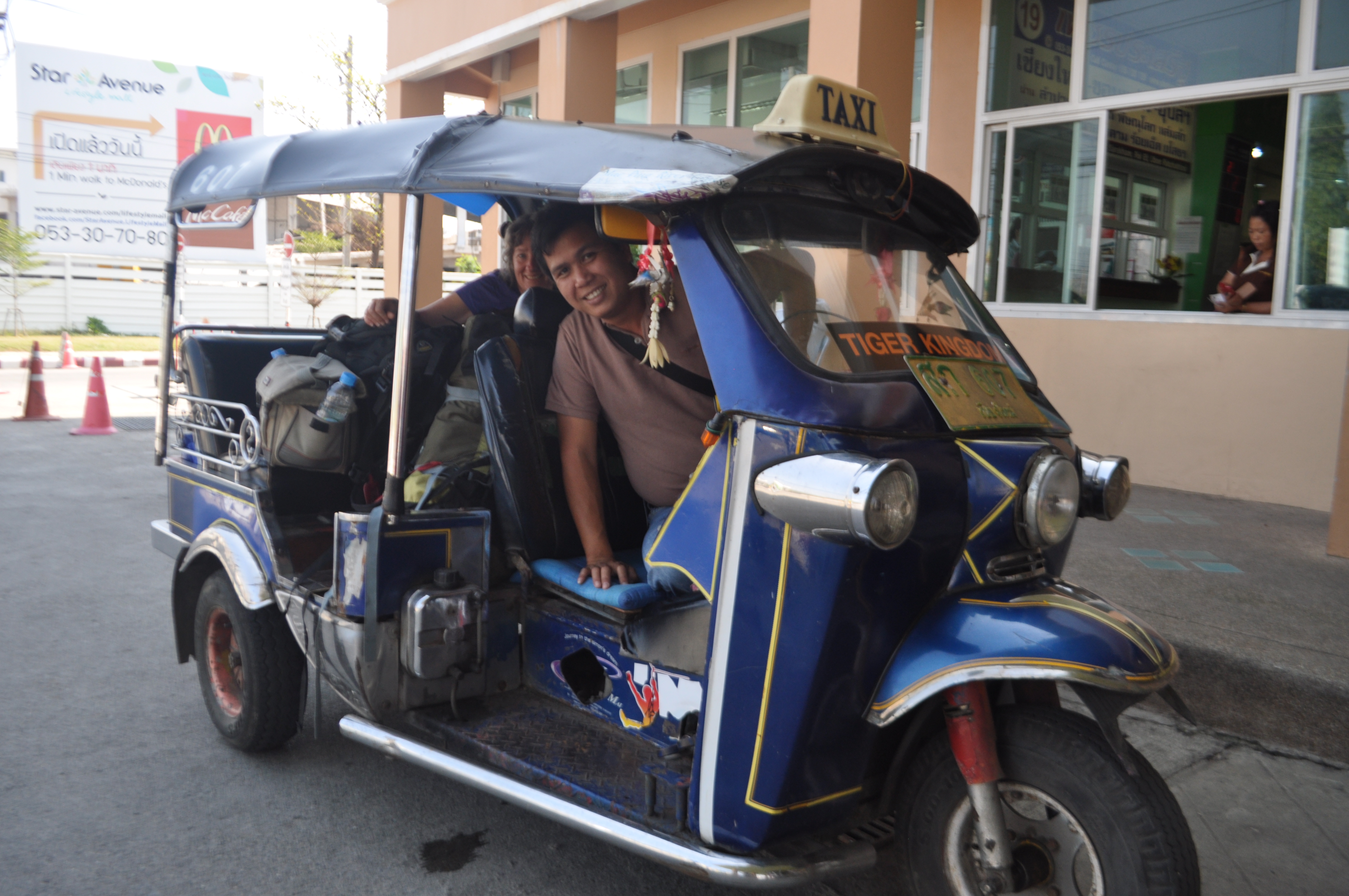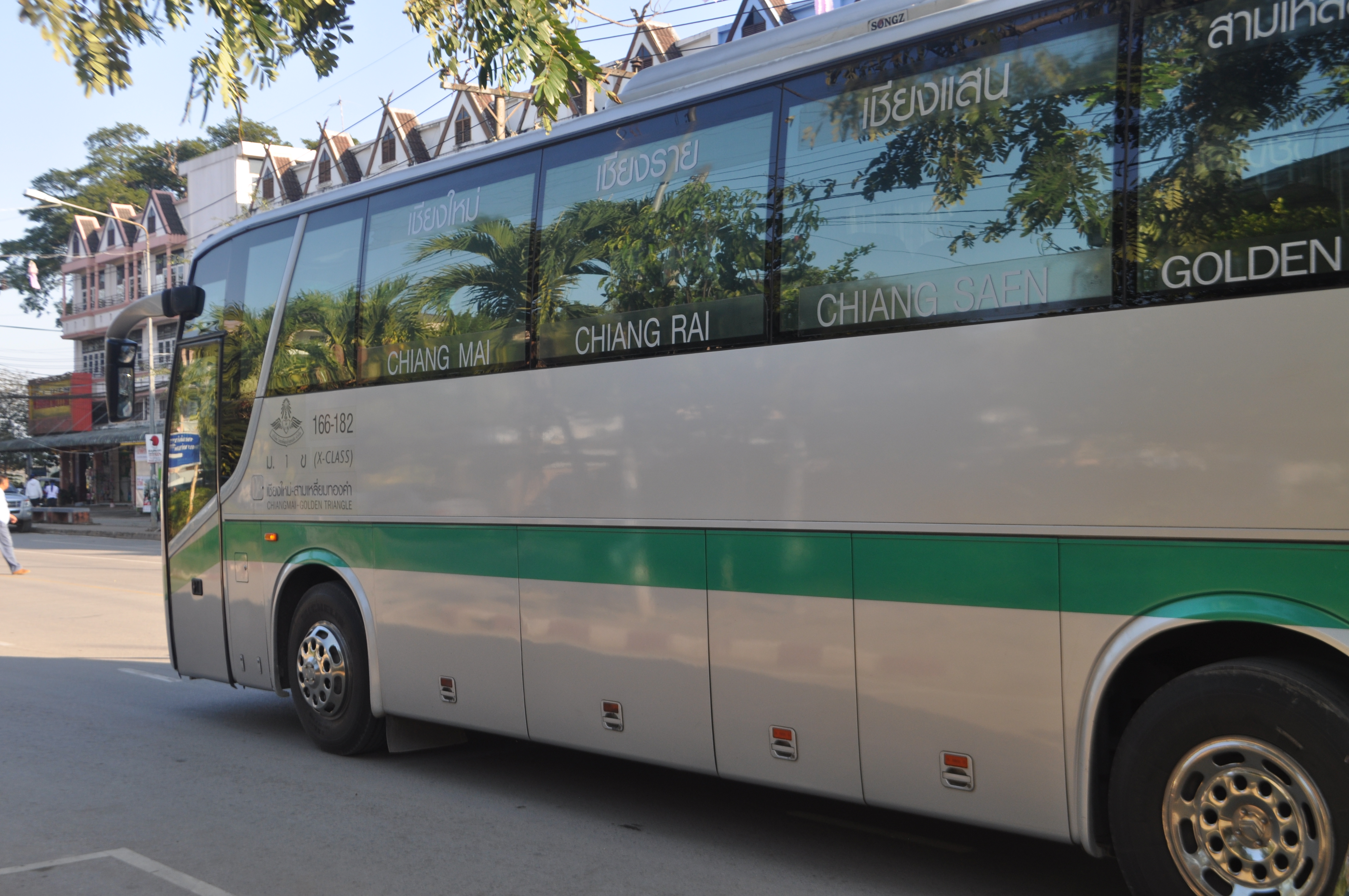 Waiting to be picked up at the Chiang Saen bus stop - yes that's the station behind Gayle.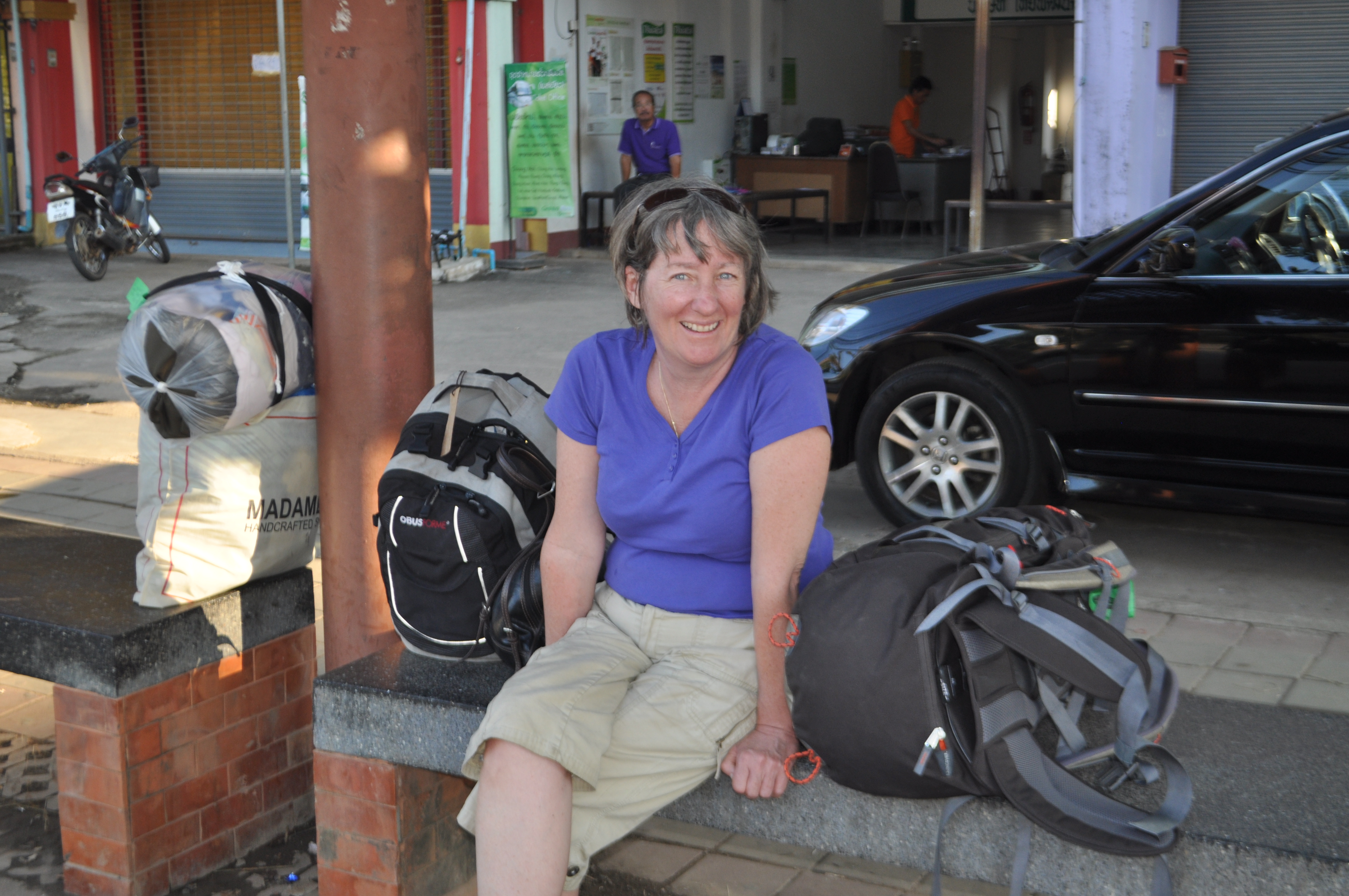 The interior of Woodpecker, our cottage at Viang Yonok - what we imagine as tradtional Thai with nice rattan walls and wood trim throughout. The cottage has a very nice deck overlooking Chiang Saen lake.
Sunset from our cottage deck at Viang Yonok, looking across Chiang Saen lake.
February 04, 2013 - Chiang Mai
After six days full of activities today was considerably less adventurous. The morning started with an extensive breakfast (by far the best of the trip so far) at pool-side. No less than eight different juices, there was a wide choice of fruit, a number of salads, meat (including duck breast) and an omelette station. Very filling and excellent quality.
We took a tuk tuk (say that fast three times) the three or four miles to the bus station to purchase our tickets for tomorrow's trip to Chiang Saen. Rather than get a drive back we decided to walk the streets in order to get a closer look at the street vendors and shops / businesses along the way. The walk was a challenge, at times without sidewalks and even when there were one often had to step on the road to bypass all the vehicles and scooters parked in the way. One reason for walking was to stop at the Thai Tribal Craft shop about half way. Unfortunately it was primarily small pouches and bags and not much else. At the Ping River we walked a street with a number of very up-scale arts / crafts shops. Some very nice and interesting textile, glass, wood, silk etc. products, but nothing that caught our eye. Crossing the river we continued through the heat (sorry to those of you suffering from further snowfalls) along a very busy street to the walls and the Thapae Gate to enter the old city and return to our hotel.
After a restful break we had our 'free' 10 minute back and shoulder massage and then it was off to dinner at the hotel's restaurant where we enjoyed a wonderful meal, again at pool's edge, accompanied by two musicians playing quiet dinner music. We first shared the crisp-fried pumpkin and sweet corn sticks dipped in curry batter served with peanut sauce. Then for me the Tom Kha Gai - chicken in coconut milk soup with galangal (still not sure what that is) and lemongrass and Gayle the spiced mushroom tempura (read more with photo). For our main courses Gayle had a Tom Kha Pak Ruam, a coconut soup with mixed vegetables and I the Kaeng Ped Yang Linchee - sliced roasted duck breast and lychee in a red curry sauce. A very nice candle lit meal to end the day.
The pool at the Tamarind Village. Breakfast - very extensive with great coffee enjoyed outside at the edge of the pool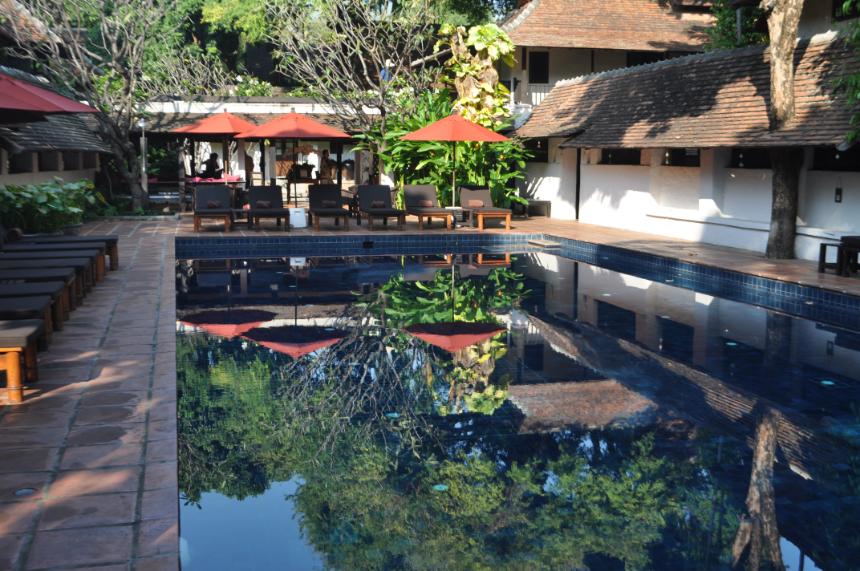 There are street vendors on every block, providing a wealth of choices for lunch or a snack.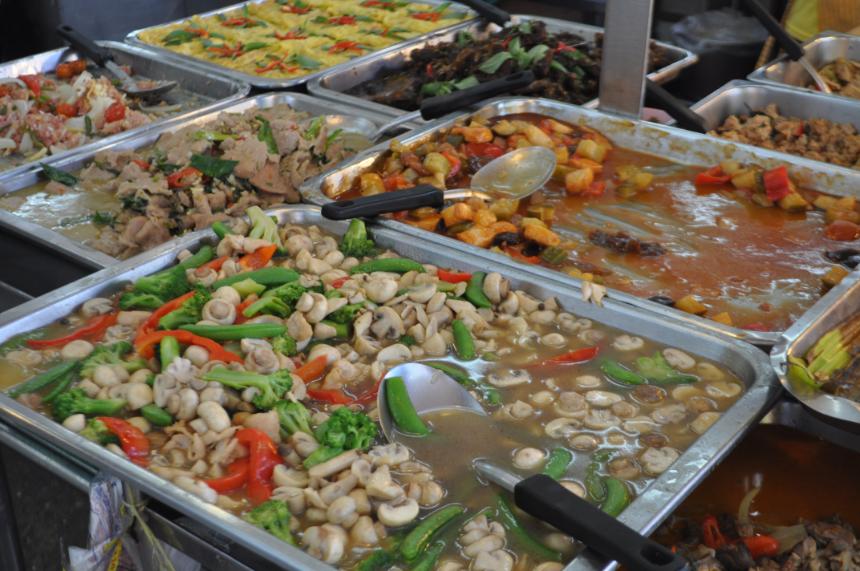 Duck, at a roadside stall, actually right next door to a motorcycle repair shop.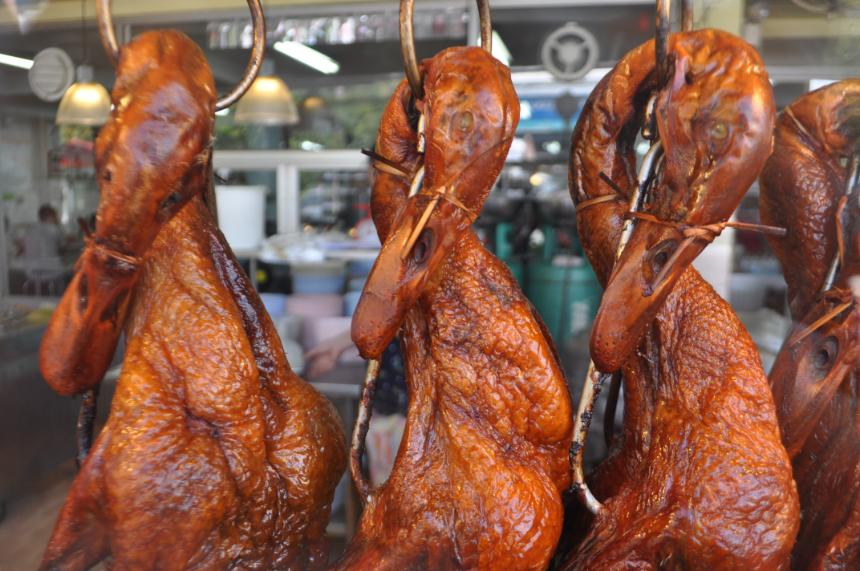 Chiang Mai apparently has over 700 wats / temples. One can't walk a block without encountering at least one.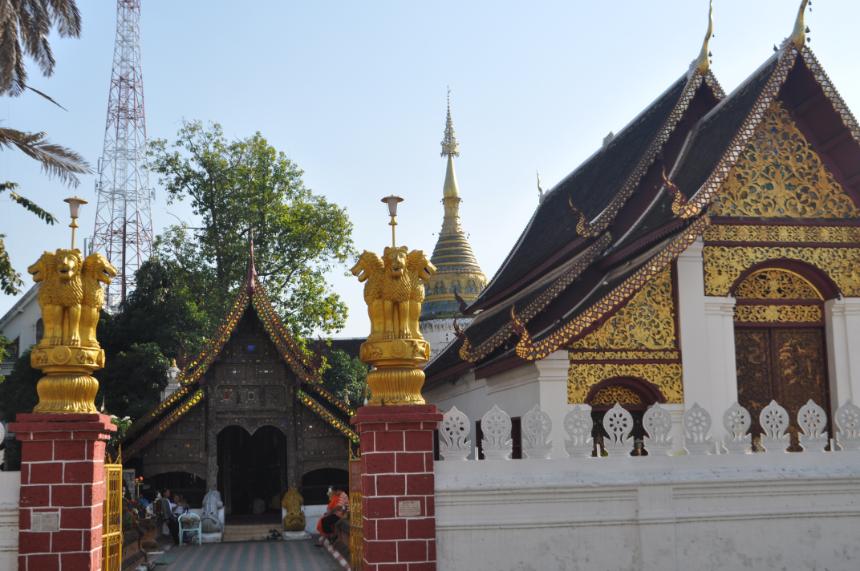 A white elephant shrine at one of the wats / temples.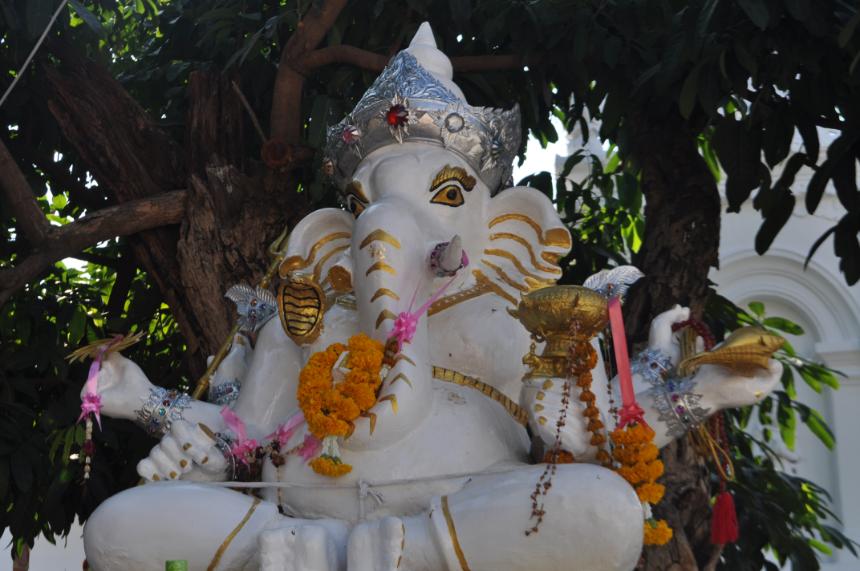 Remember the ducks a few photos ago? Kaeng Ped Yang Linchee - roasted and sliced with lychee in a red curry sauce.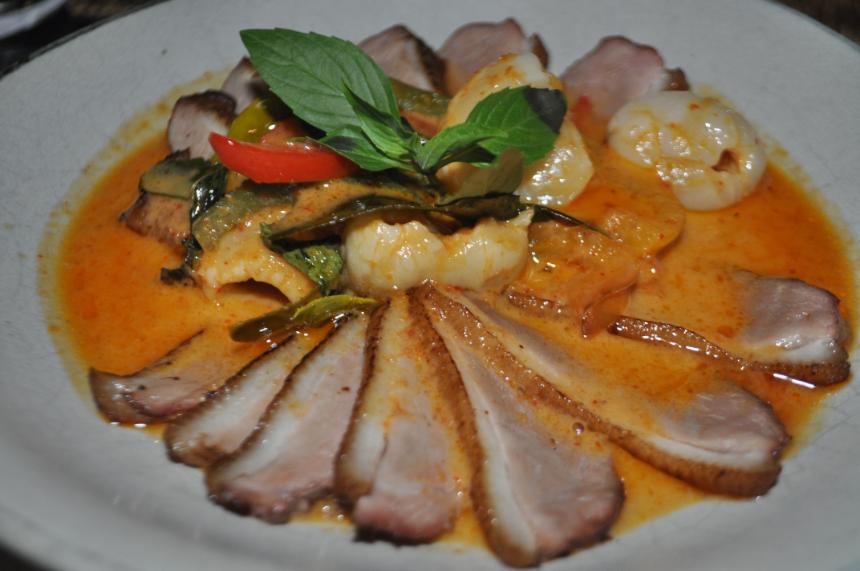 ... and finally Gayle finishing off her spiced mushroom tempura, a crispy melange of oyster, enoke and oringi mushrooms from the Royal Project farms. The spiced tempura batter is made from an old-fashioned recipe passed down from one generation to the next, making this an authentic family creation ... or so the menu says.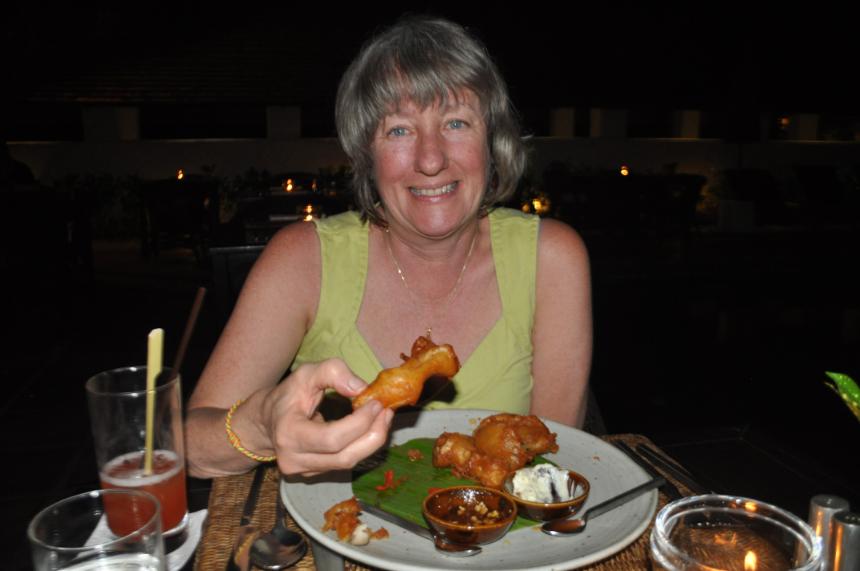 February 03, 2013 - Old City of Chiang Mai
After six nights at Joy's House during which we enjoyed five interesting and informative tours we packed our bags and made the 20 minute journey to the Tamarind Village, right in the centre of Old Chiang Mai. The Tamarind Village is an oasis within the core of a busy city. On Ratchadamnoen Road, the main street and location of the Sunday street market it is so quiet we heard the crickets chirp at night and the birds and roosters in the morning, all with absolutely no traffic or street noise. You would never know outside the hotel there is the busy existence of a city.
In the afternoon we went for a walk, looking for a vegetarian restaurant that received good reviews. Another hot day, pushing 32 C we successfully found the restaurant only to unfortunately be greeted with a sign that read "Excuse me! Closed. No tap water, can't cook". At least the sign was in English. We found another place nearby which was quite nice - Gayle enjoyed another pad thai for only 50 baht ($1.90).
Walking back to the Village we experienced the Chiang Mai Sunday street market, which was in full swing. Stalls set up along both sides and the middle of the street, massage areas, side streets of food vendors - there was everything. Clothes, trinkets, CDs, musical instruments, more t-shirts, handbags, dresses, baby stuff, wood carvings, children's toys - it was overwhelming, as were the number of people. Shoulder to shoulder - packed the width of the street. I'm guessing the main street market was perhaps 1 mile long but it was really much more as virtually every side street and wat was also filled with vendors and their stalls. You really have to experience it to fully appreciate how busy and how many people there are. That said most of the items for sale were quite inexpensive, and correspondingly quite cheaply made. We ended up buying a couple of tissue box covers we had seen at Joy's house, some chopsticks and a nice Christmas ornament. What was really nice was to then walk directly off the street, literally squeezing between a couple of stalls, and down the bamboo lined lane to the tranquility of our hotel.
Right in the middle of the city but our hotel has an unbelievable peaceful, zen like vibe.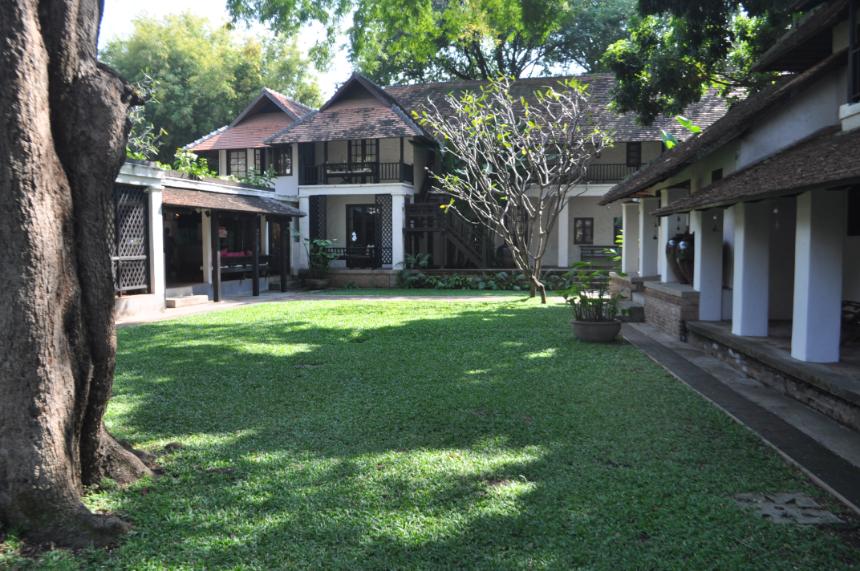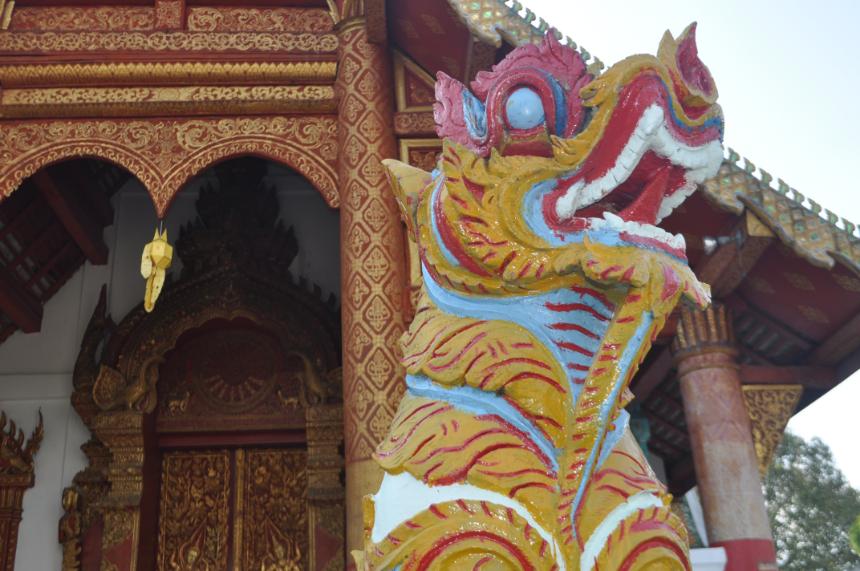 Monks too use the tuk tuks. Notice the driver has a mask on. A noticeable number of locals have these breathing masks. The air does not seem that bad but I guess when you are walking or driving in the fumes every day it can have adverse effects.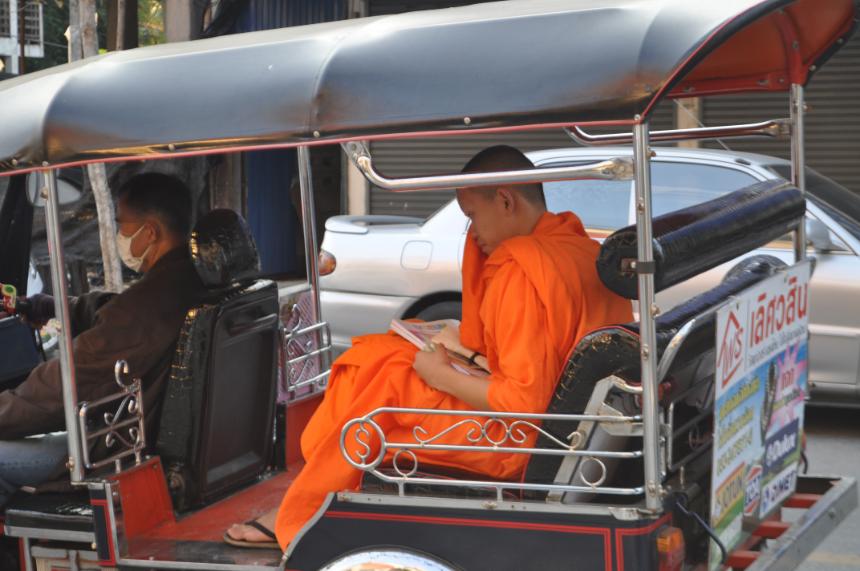 There were a number of massage areas at the steet market - amazingly cheap, e.g. 70 baht (approx. $2.50) for a 30 minute foot, or shoulder and back massage.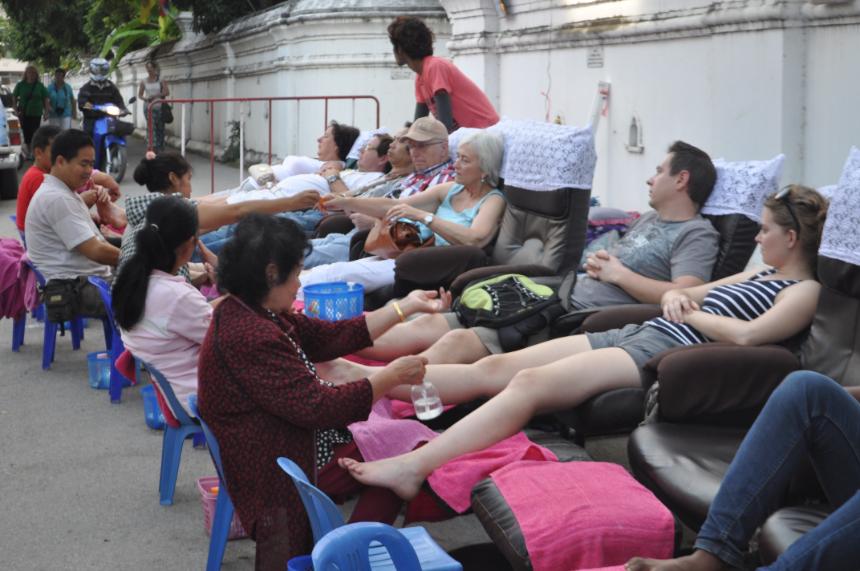 The market included a seemingly endless number of food stalls - grilled meats, fish, juice, vegetables, noodles, rice, eggs, quails eggs, desserts, and a number of things I can't describe. Here we have some shrimp dumplings.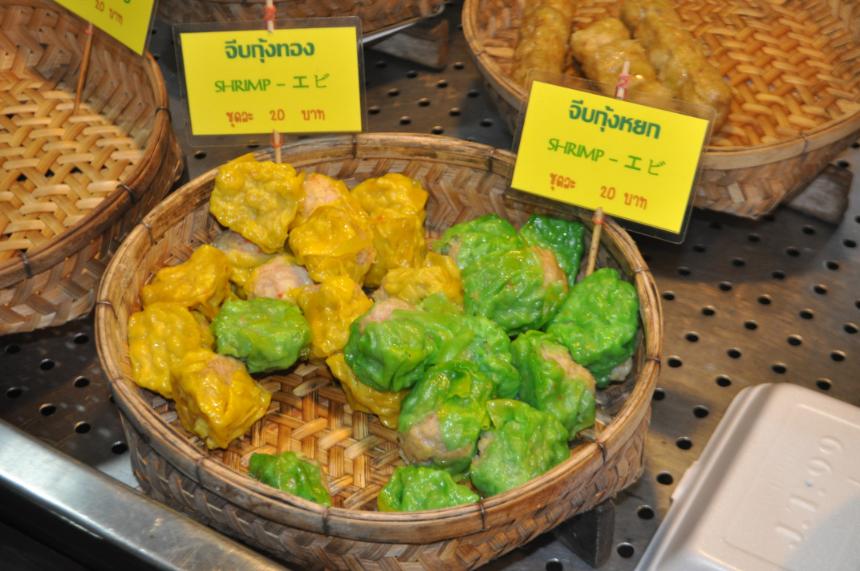 Octopus, or squid on a stick anyone?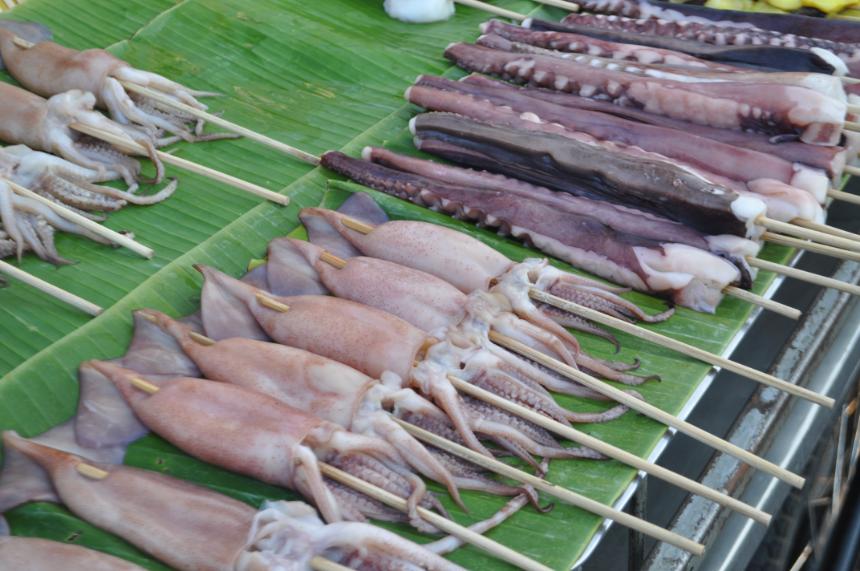 ... and here we have some vegetarian snacks - at least that's what the sign said. Acutally I would not want to count the pictures of food items we have no idea what they are.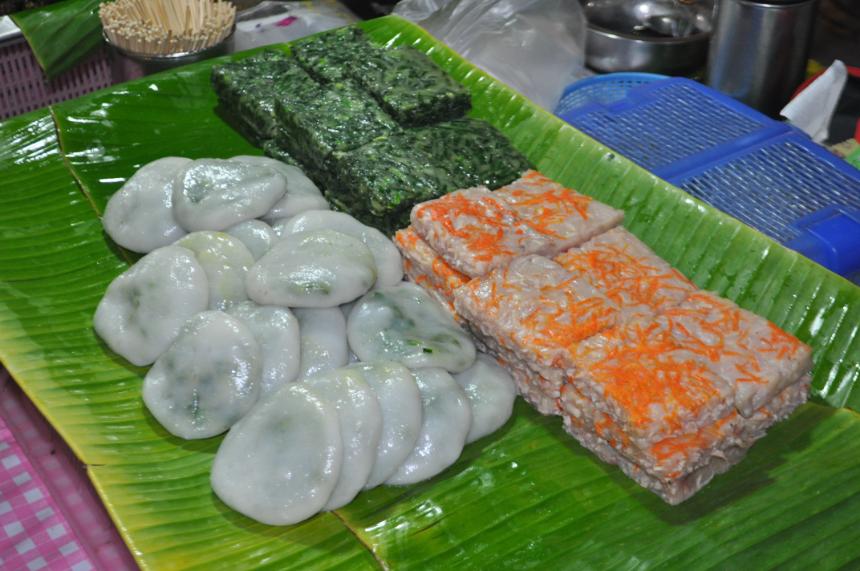 Chiang Mai is famous for its beautiful hand painted paper umbrellas. Apparently the craft was learned from a monk who brought the art form with him from Burma in the last century. Here a young lady is painting an umbrella at the street market.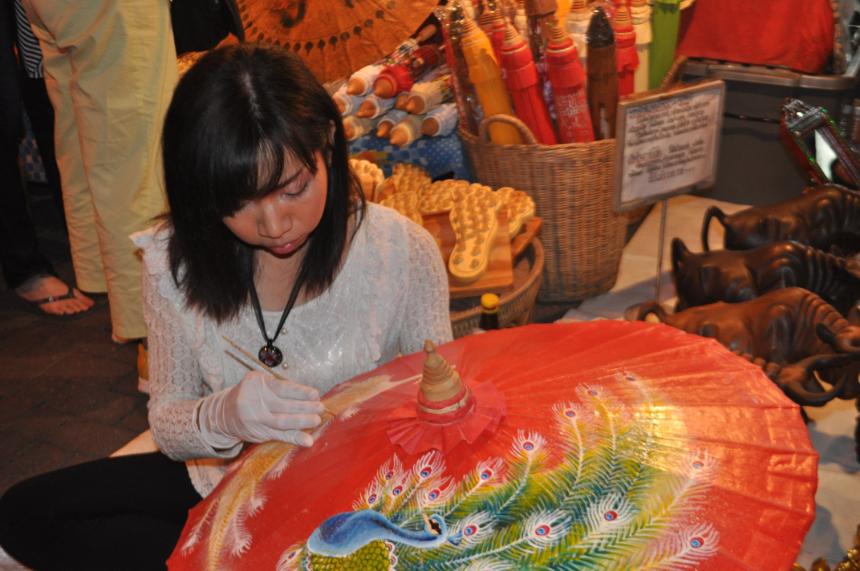 ... and to provide some idea as to how busy the Sunday night Chiang Mai walking street is.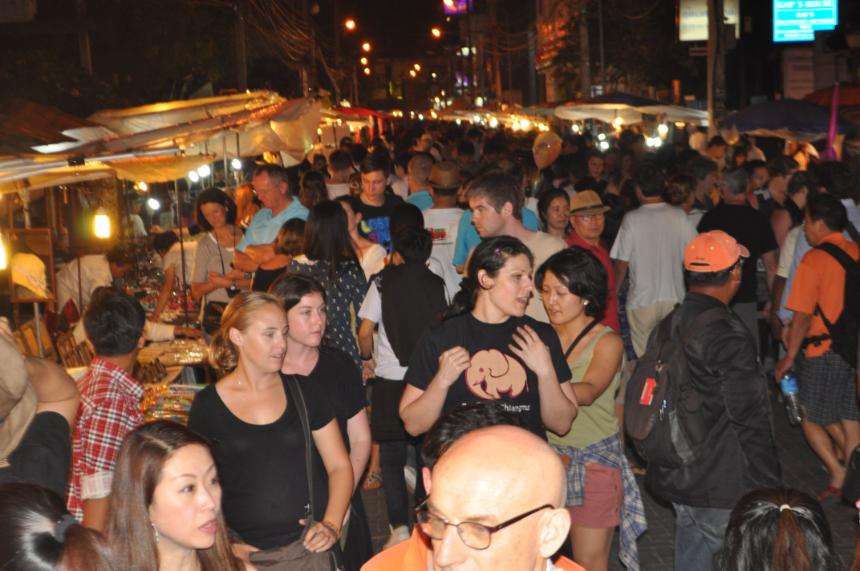 February 02, 2013 - Children's Shelter Foundation
The primary purpose of Joy's House is to run the Children's Shelter Foundation, a farm for orphans, street-children, under-privileged, handicapped and deaf children. The farm, operating since 2007 is in the middle of the forest hills about 30 minutes from Chiang Mai. The foundation has built a family house, a farm house and a small school in a quiet, peaceful setting near Lotus lake. As well a guesthouse has been built to house visitors, sponsors and volunteers. Vegetables and fruit trees are grown on the large organic farm with the goal of being self-sufficient from the proceeds of tourism and farming. Currently there are 25 children (although up to 50 can be accommodated) at the farm along with three farmer families, seven teachers, including one full time who lives on site, a cook and at the moment a volunteer from Norway. Many of the children experience love, care, warmth and security for the first time in their lives. More information can be found at www.childrens-shelter.com.
After a quick lunch at a small noodle shop, we went to a supermarket to purchase ingredients for pizza. It was then off to the farm to meet the children. We weren't two steps out of our vehicle when Oh and Gaifild greeted us and held our hands for the next hour as we were led around the farm. Pee Bee, our driver and lead guide did an excellent job showing us - we were with a Swiss fellow and his daughter - and explaining all the vegetables and fruits. We then saw the new library, the children's rooms, the guesthouse, and the chickens and ducks (Gaifild was proud to tell me there are 24 ducks). From there it was off to the kitchen where we met Julie, a young Norwegian girl who has taken a year off after high school, 3+ months of which are being spent in Thailand, two of those months volunteering at the farm. This is an absolutely great experience for her. Tomorrow, with the regular cook away she has the job of feeding the 25 children - quite the job for a 20 year old.
And then the process began, with everyone assisting in one way or another. Yes the older (14. 15 and 16) children took on the lead roles but even the very young (six and seven) helped with the pizza dough, or cleaning up. Vegetables to be peeled and cut, both for the pizza and the BIG salad, sauce to be spiced - it was a very effective operation. What was perhaps the most impressive was the clean-up after the meal. Without any instruction or direction these children, some of whom could barely reach the sink went into action, cleaning up and washing every pot, pan and cup. Everyone was involved in a very impressive display of teamwork.
Then some guitar (see Youtube video at www.youtube.com/watch?v=JLlZkAqIgI8) and singing culminating with a 25 child rendition of True Colours, complete with sign language. Afterwards thanks all around and more hugs than I think I've had in the past 20 years. Every child gave each of us a big hug, some multiple times.
The time spent at the farm with the children was a wonderful experience, a memory we will have for a long long time.
Oh greeting Gayle on our arrival.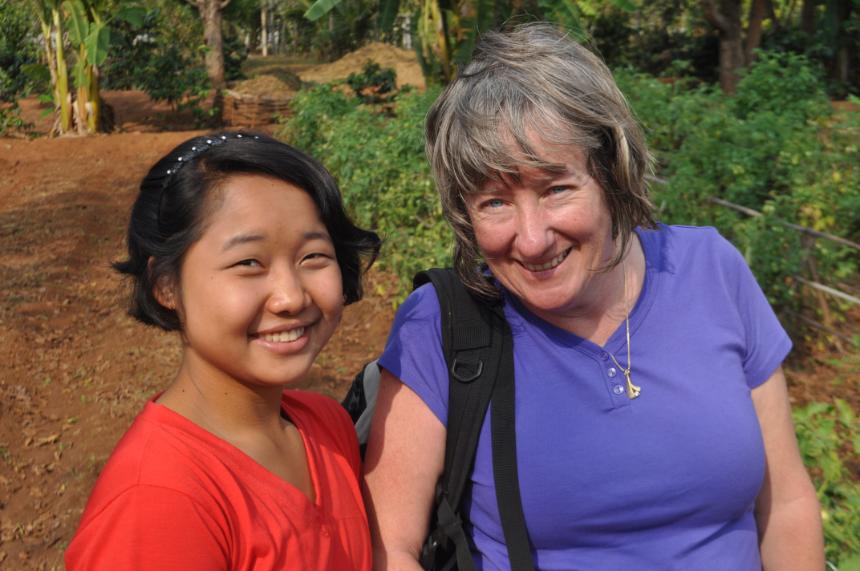 Preparing the pizza and salad ingredients.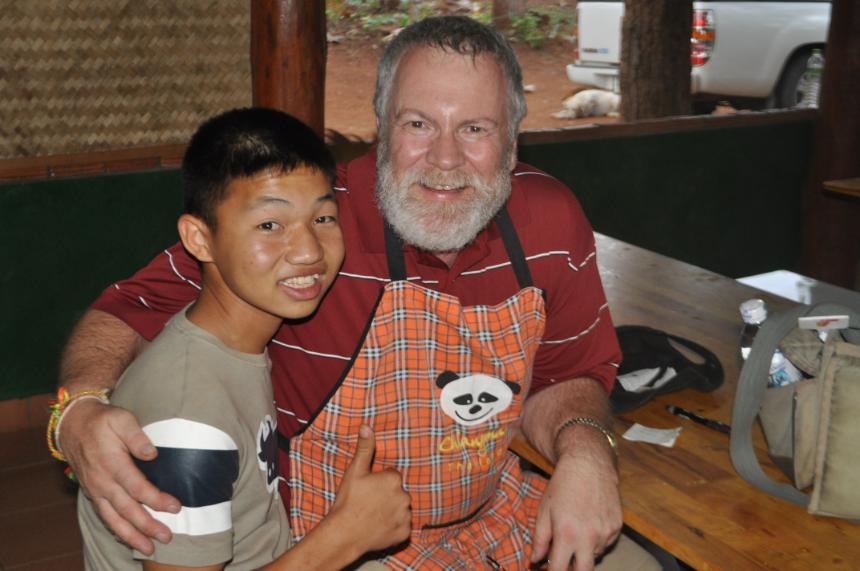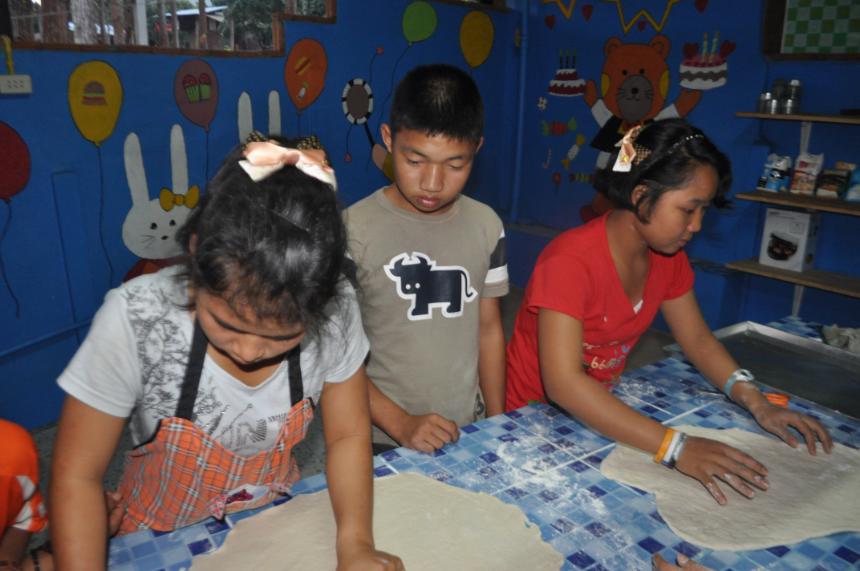 Enjoying the pizza, a special treat for the children.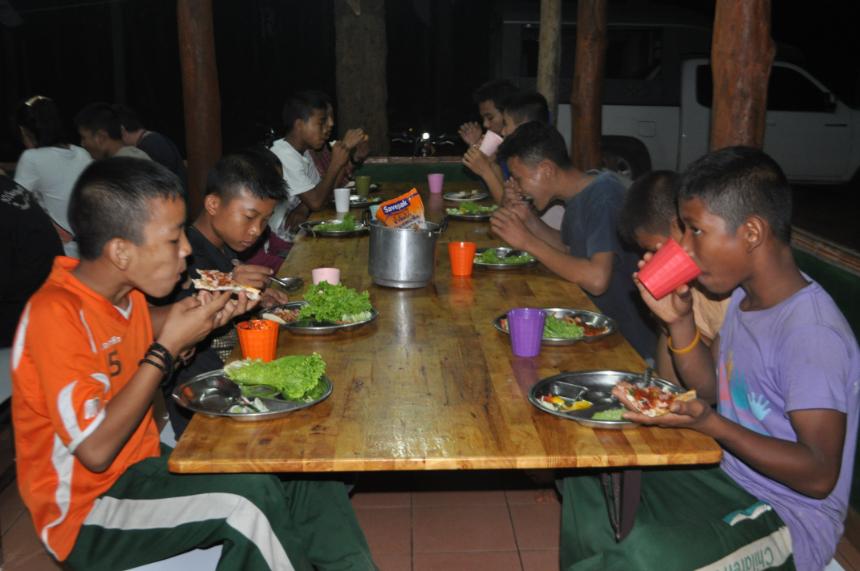 Julie, the volunteer from Norway, and one of the children.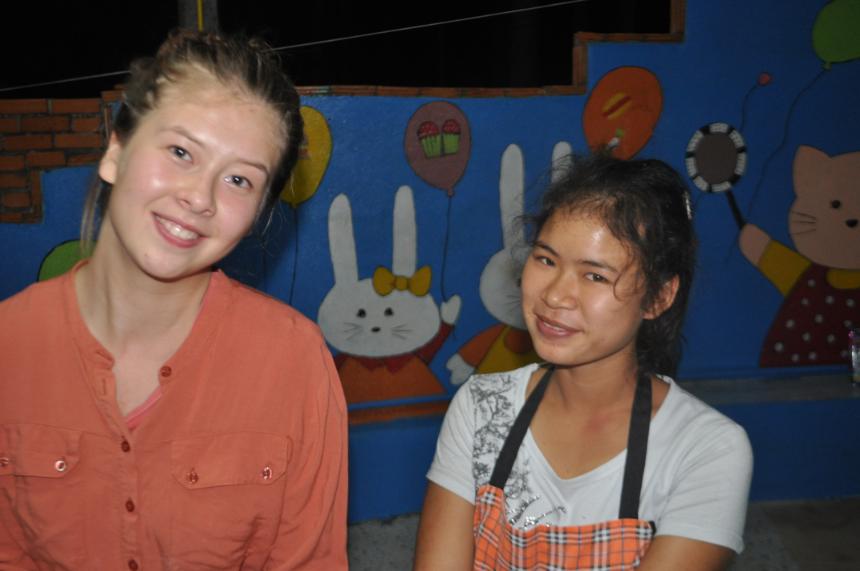 All the children pitching in to clean up.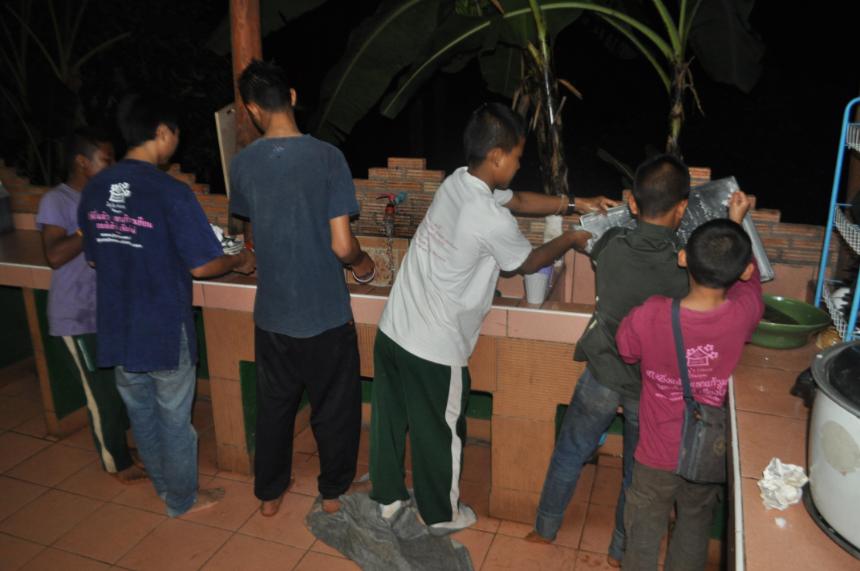 All the children signing and singing True Colours at the end of the evening.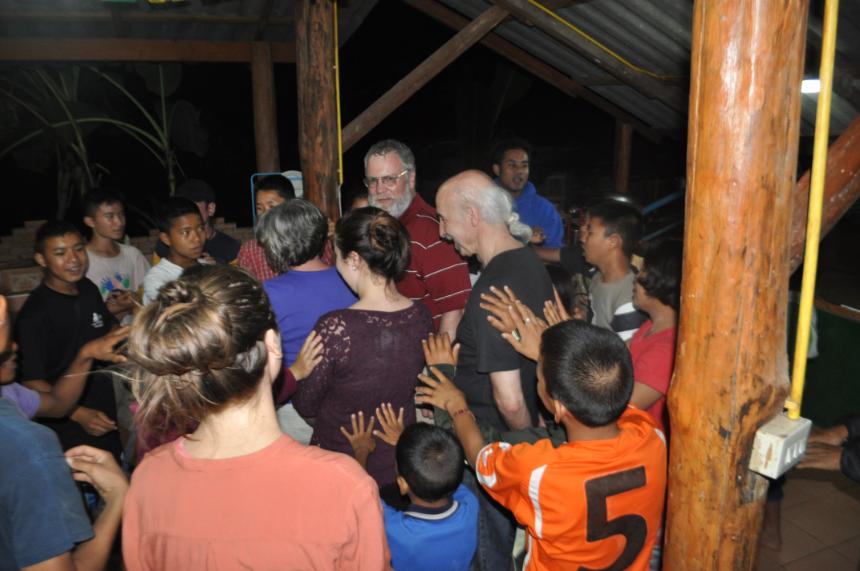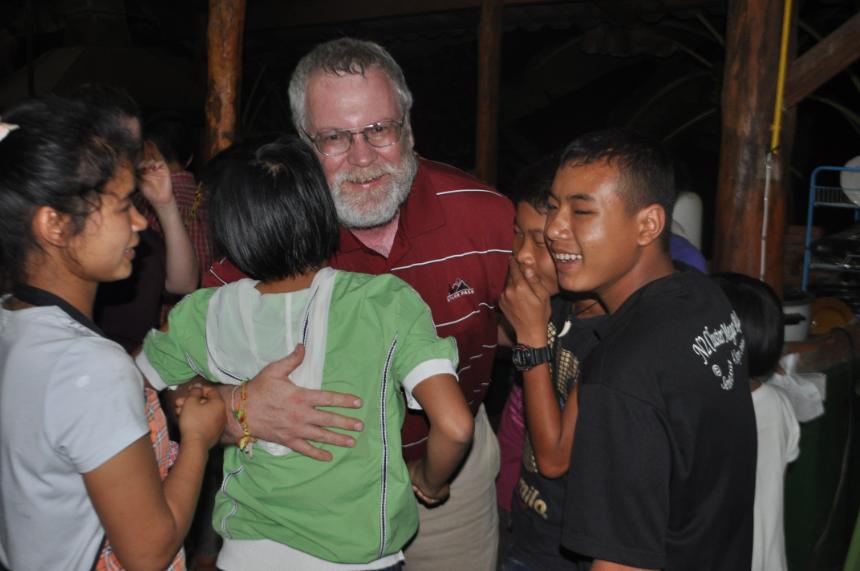 A big smile and hug from Oh.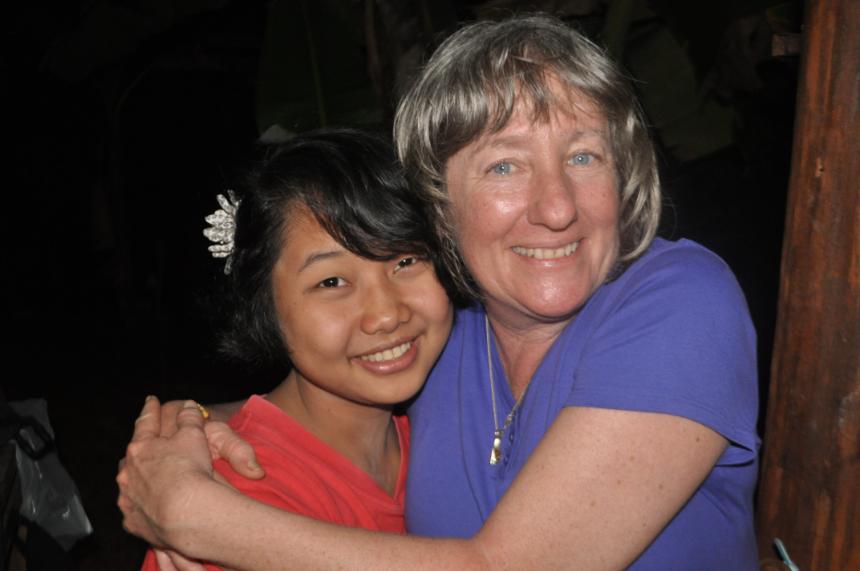 ... and final waves as we drove away.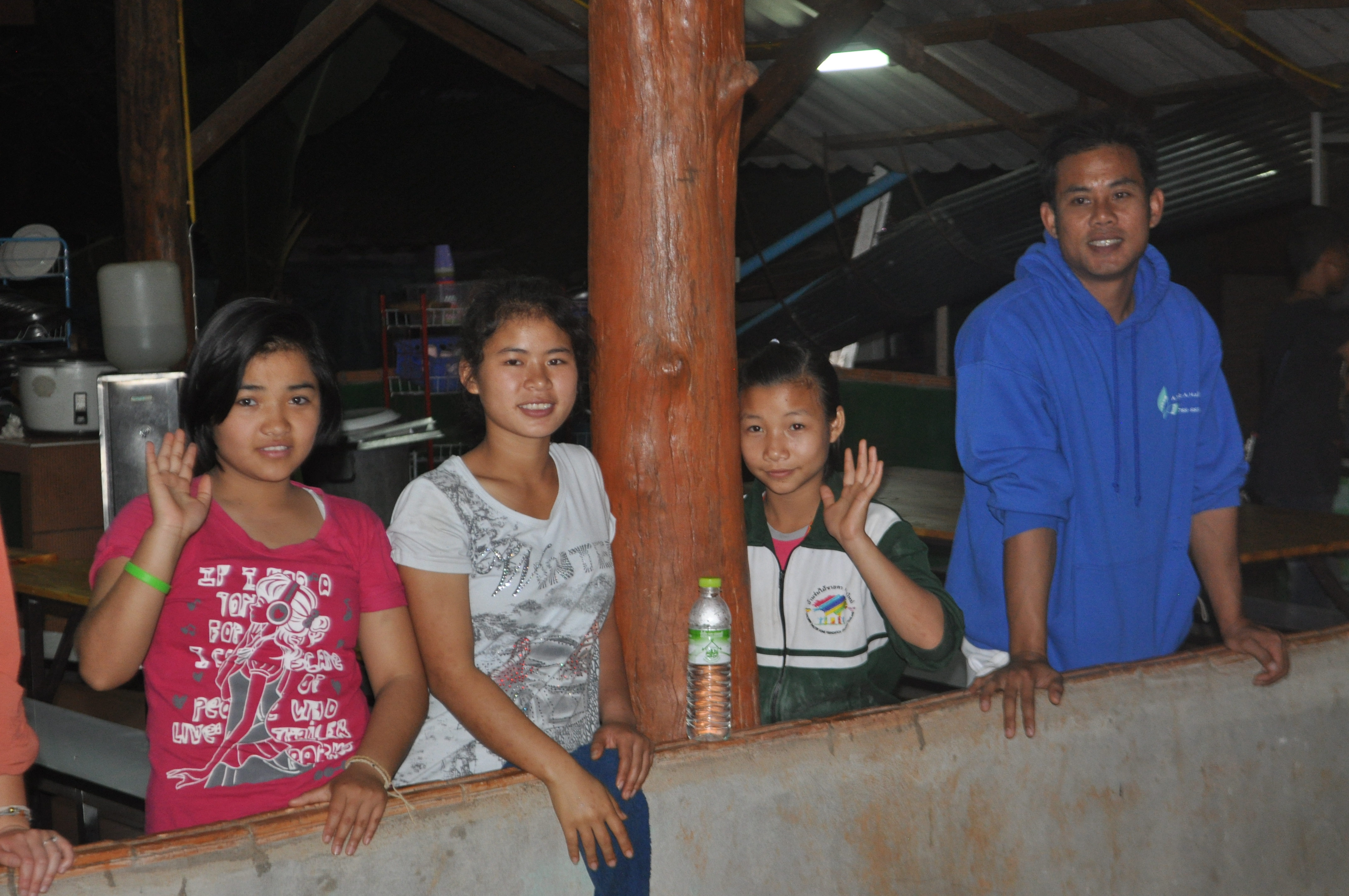 February 01, 2013 - Doi Inthanon national park
Today's adventure took us to Doi Inthanon national park, where the tallest mountain (2,565 m or 8,415 ft) in Thailand is located. The park, 2+ hours south-west of Chiang Mai is filled with impressive waterfalls, wild orchids and a village of the Karen hilltribe, the largest tribal group in Tailand. On the way we stopped at a handicraft centre with some beautiful wood products. Our first stop in the park was the Wachirathan waterfall - quite impressive. We then continued on to the top of the park and the highest point in Thailand, where there was a short trail into a thick wooded area of mossy overhanging trees and shrines, such as the elephant below.
Our next stop were a pair of chedis in honour of the king and queen, after which we had lunch at a roadside stand - grilled meats, eggs, salads and of course sticky rice. Our driver and guide today were Sanit (which means knife) and Dao (star). Dao was wonderful, a real free spirit. She is from the Akha hill tribe, one of the most traditional of tribes maintaining a strong connection to their past. Dao told us her village still does not have electricity, being very isolated in the hills north of Chiang Rai.
After lunch we were met by Joseph, a Karen villager who led us on a 1 3/4 trek through the lush forest, along a river, past a number of waterfalls, around the rice fields and water buffalo, eventually to his village. The hike was at times gentle, yet at others fairly strenuous (at least for these aged bodies) up and down the mountainside. The tribe are into growing flowers and vegetables for sale, along with coffee. We passed a number of tribe members, many of the women being in traditional dress. We then met Mr. Somsak, a coffee producer who has apparently made quite a name for himself with coverage of his coffee production in magazines and on TV. We watched Somsak roast and air out the beans, of course drank some of his coffee and generally had a leisurely time chatting (well Dao did the chatting). We had expected Thailand to be a country where tea is the popular drink but that is not the case. It is actually coffee and it surprised us that coffee is actually produced here - who knew.
Leaving, we drove back to Chiang Mai for dinner again at Joy's house. Most every night the students practice their musical skills singing a range of songs, from Bieber to Dylan. While the kids aren't yet professional they make a great effort, obviously enjoy and have fun singing and playing for the guests.
A moss covered shrine at the summit of Do Inthanon national park.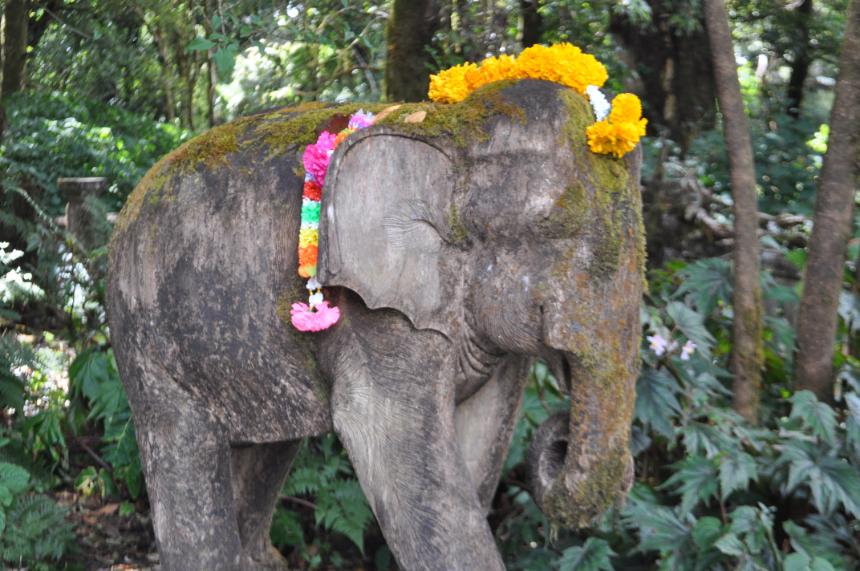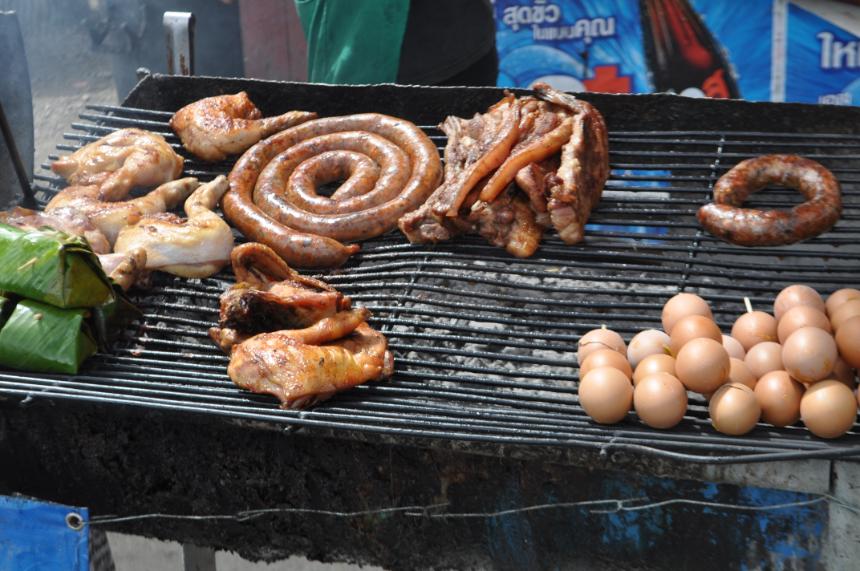 Sanit (our driver) and Dao (our funny tour guide).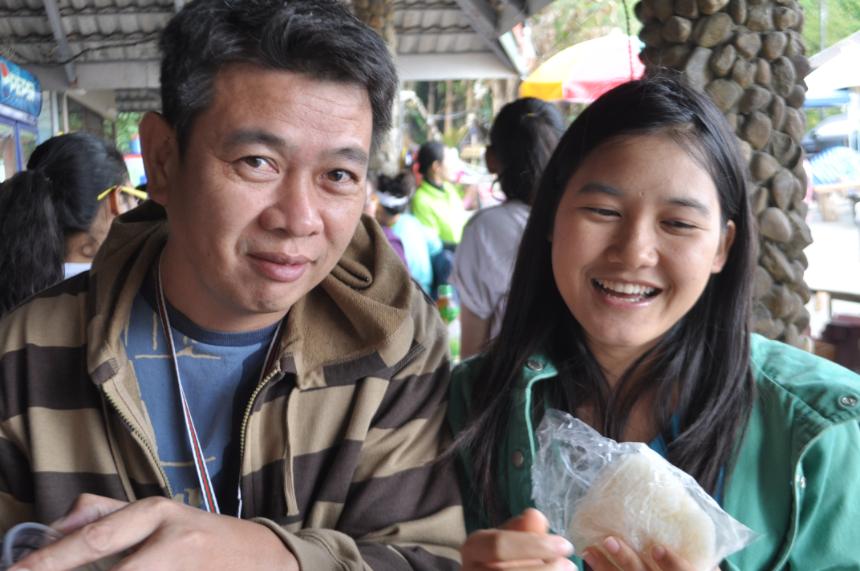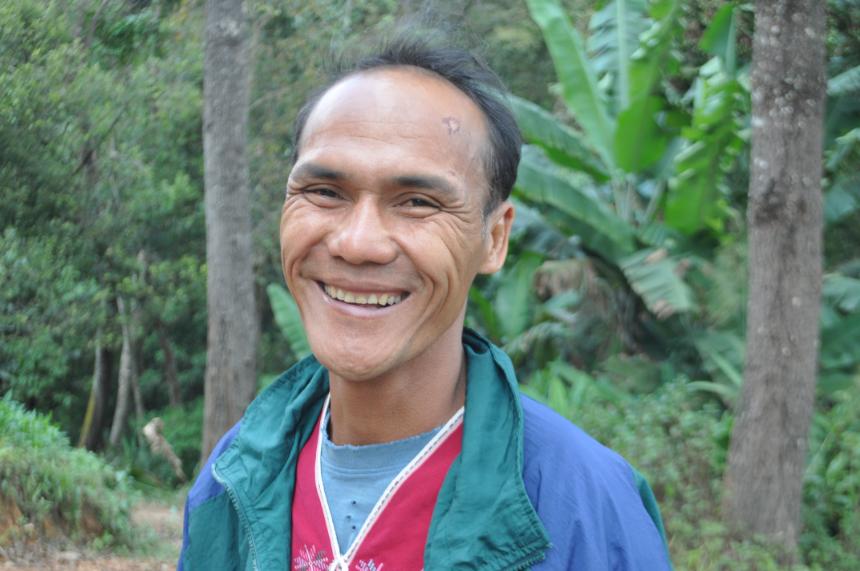 ... by one of the many waterfalls along the trail.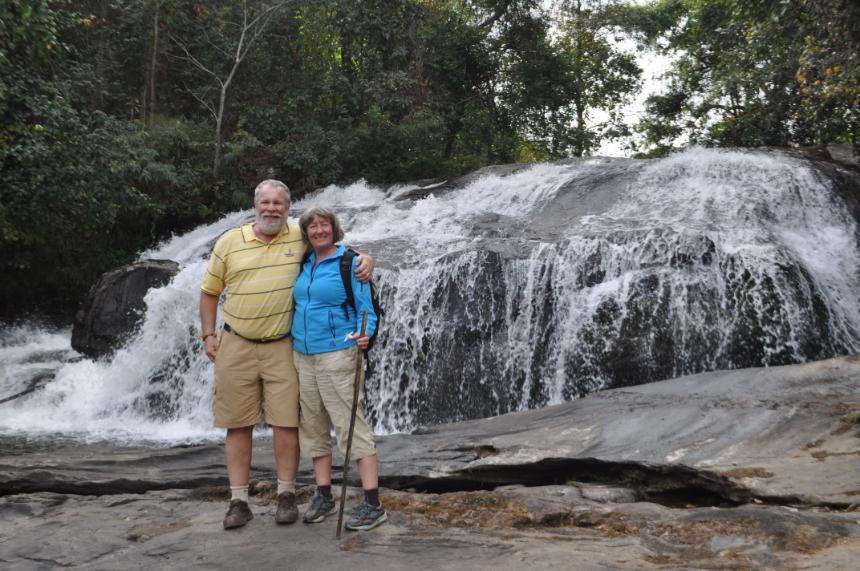 The bamboo 'bridge' has to be replaced each year after washing away during the rainy season.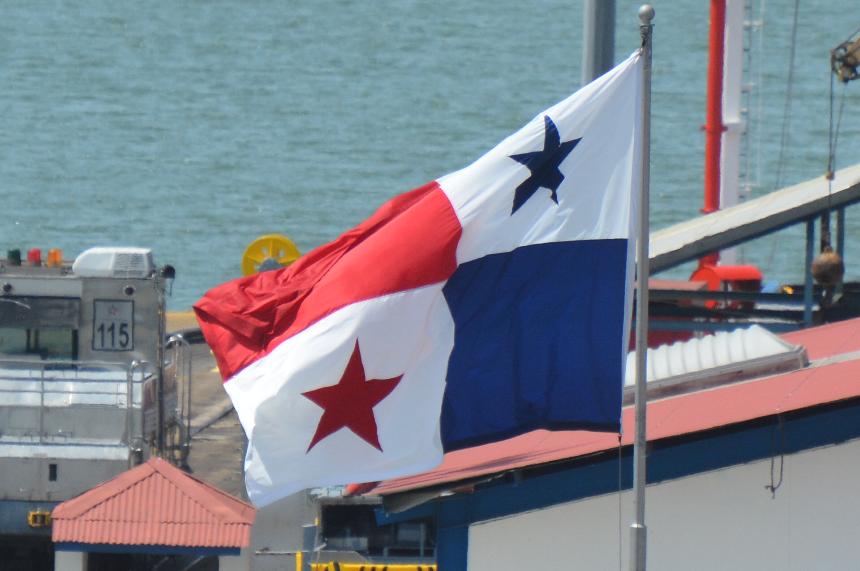 Mr. Somsak cooling his roasted coffee beans - coffee doesn't get any fresher than this.
Mr. Somsak showing me some of his coverage in a magazine.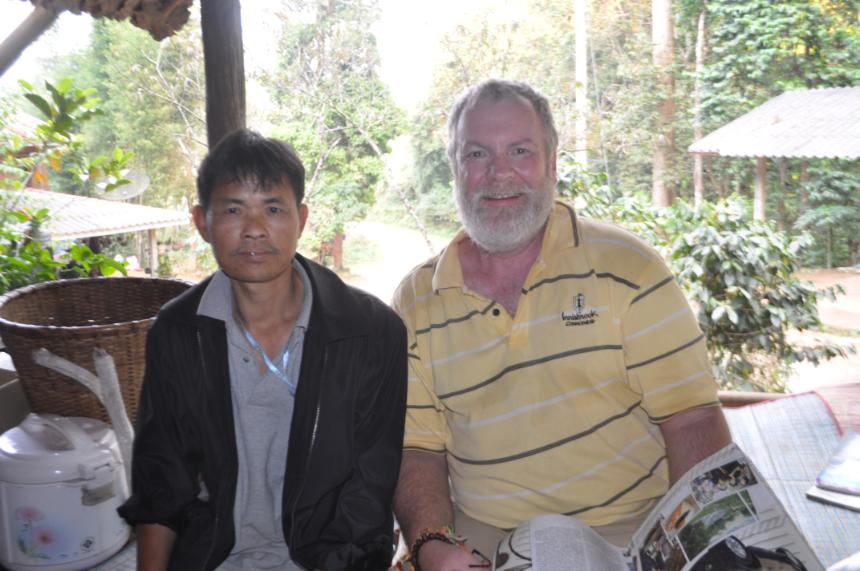 The kids entertaining Joy's House guests.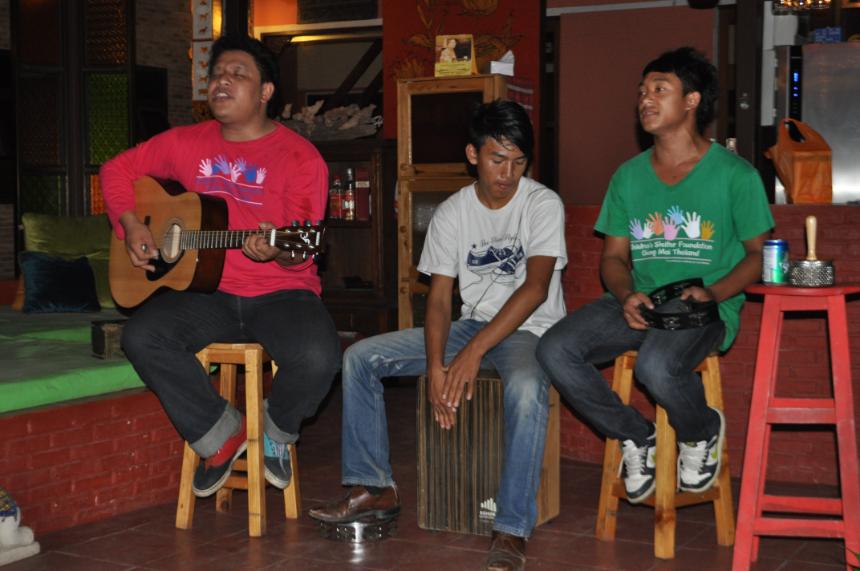 January 31, 2013 - a day at an elephant camp
Today was spent at the Ran-Tong elephant camp (www.elephant-training.com) about 1 1/2 hours from Chiang Mai well out in the rural hills. We started with some basic mahout (the elephant handler) training, learning a number of commands, they being:
"song" - kneel you big beast and let the tourist jump on board

"sai" - swing to the left
"kwa" - swing to the right
"how" - stop, so you don't get dizzy, but more important I don't fall off
"toi" - back up, followed by "how" so your elephant doesn't back up into places he shouldn't
"pai" - straight ahead, and
"mainlong" - down you massive elephant so I can finally get off
After mastering (?) our commands we went for a short ride - two to an elephant - up a dirt road in order to get the 'feel' of riding the elephant. Unlike some of the other tours that provided basket seating we had the experience, and the challenge, of riding bareback. I must say that when you're more or less 15 feet high, essentially sitting on the elephant's head, looking down over his trunk it is not the most comfortable feeling. While the elephants were pretty reliable there was a scary moment for one of the other couples on the trip (see photo below) when their ride decided he wanted to eat most of a tree part way down a slope. Asian elephants eat 250 to 280 kg per day, over 20 hours. They only sleep - standing up except for the babies - for about four hours. One of the mothers had her little (?) guy in tow. The young stay with their moms for three years before being separated.
After lunch of make them yourself spring rolls and a pad thai served in banana leaves we spent some time feeding our elephants (lots and lots of) bananas. The elephants are extremely gentle, allowing you to place the banana right on their tongue, as well as of course the end of their trunk. Banana, skin, stock, leaves, bamboo - they eat it all.
We then rode the elephants for an hour or so back into the forest and then down a very steep slope to the river. At times keeping your balance was a challenge, particularly when you are at a severe angle descending a precarious path of rocks and mud. But we all managed to make it the river that we then crossed - slowly. A bit downstream we dismounted (Mainlong) and took the elephants in the river for a bath. This is where it gets wet and dirty, particularly when the elephants snort water everywhere. You can get a sense of the action from this video I posted on Youtube - http://www.youtube.com/watch?v=E-Njm9l_aUI&feature=youtu.be.
It was then the 1 1/2 hour drive back, filled with fumes as you ride in the back of an open vehicle. We spent the day with three other couples, one from Vancouver, another from England and the third from Southern France. Returning to Joy's house we had another Thai massage - certainly significantly less forceful (Gayle describes it as wonderful) than the previous, and a nice Thai dinner.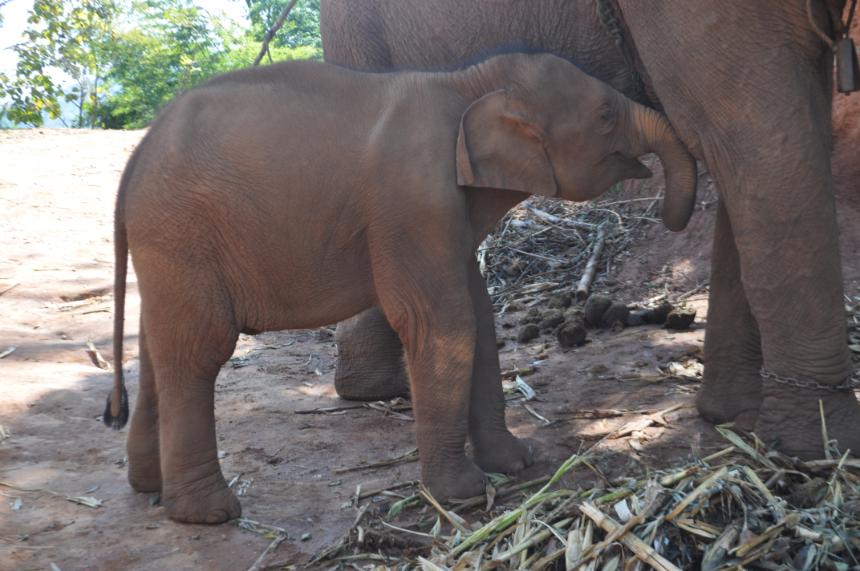 ... and a somewhat larger elephant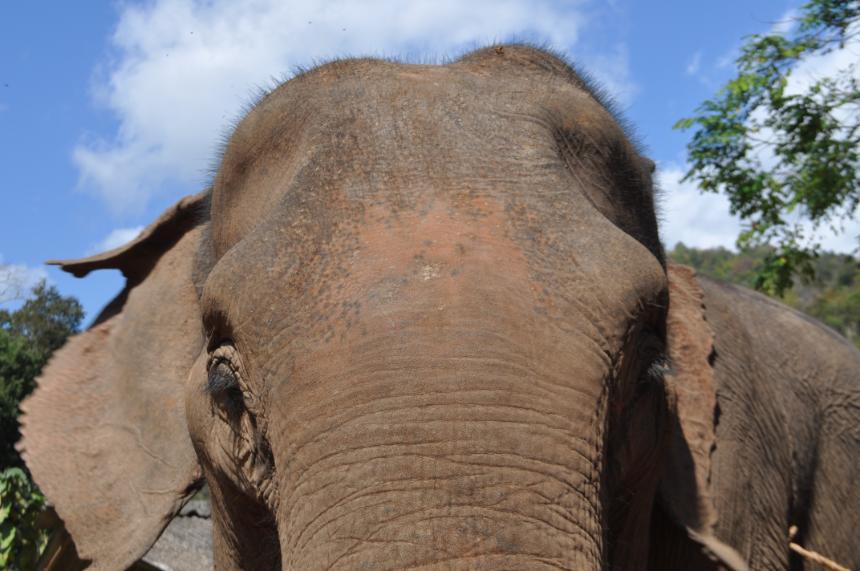 Not exactly elegance and grace - and I'm not referring to the elephant.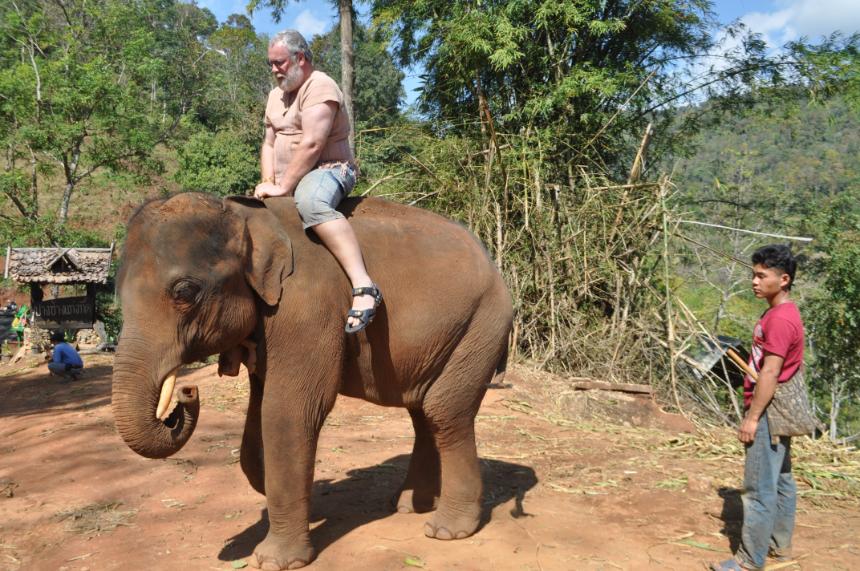 Feeding time - really it's always feeding time.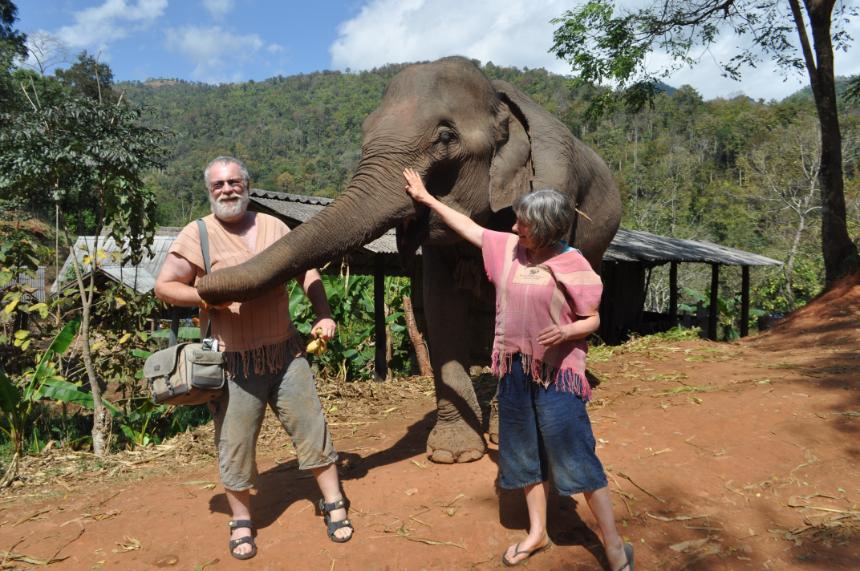 How - Toi, Toi !!! (stop, back-up, back-up, hit reverse - quick)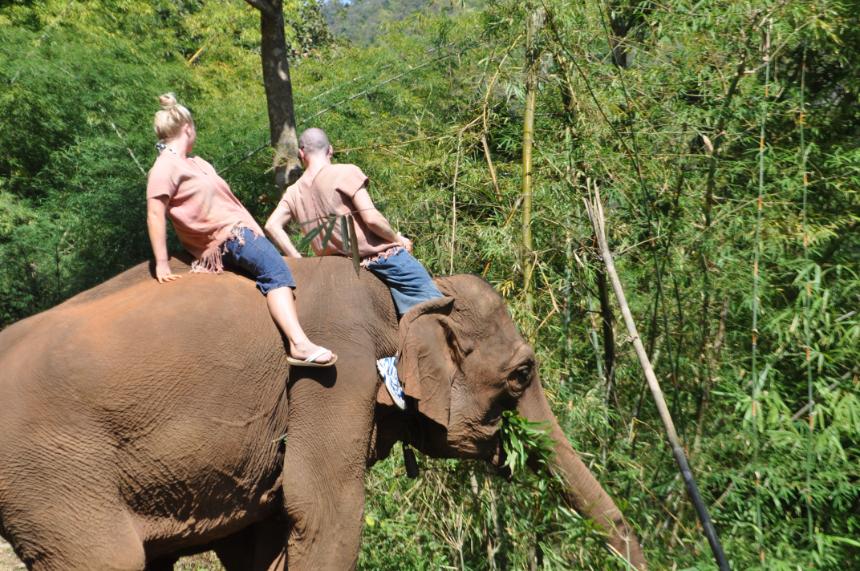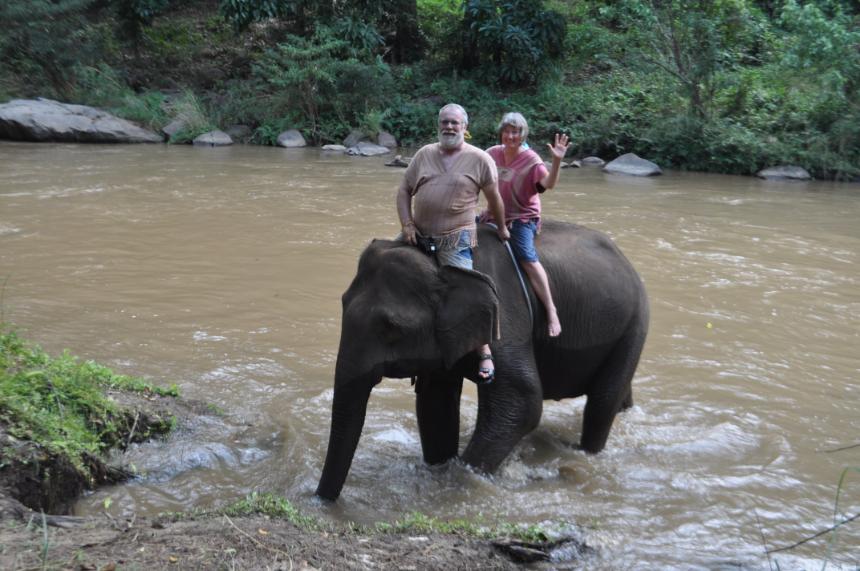 A good bath to finish off the experience.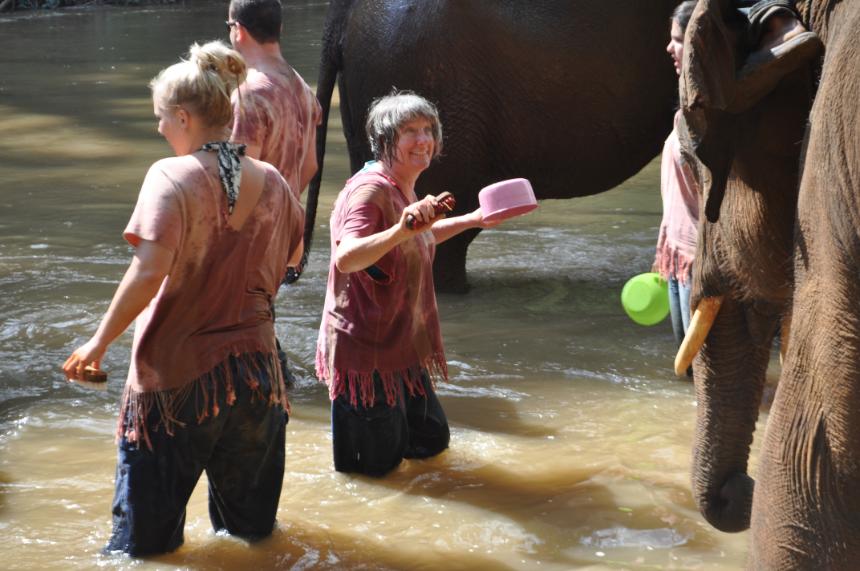 Apparently he was a pretty good kisser!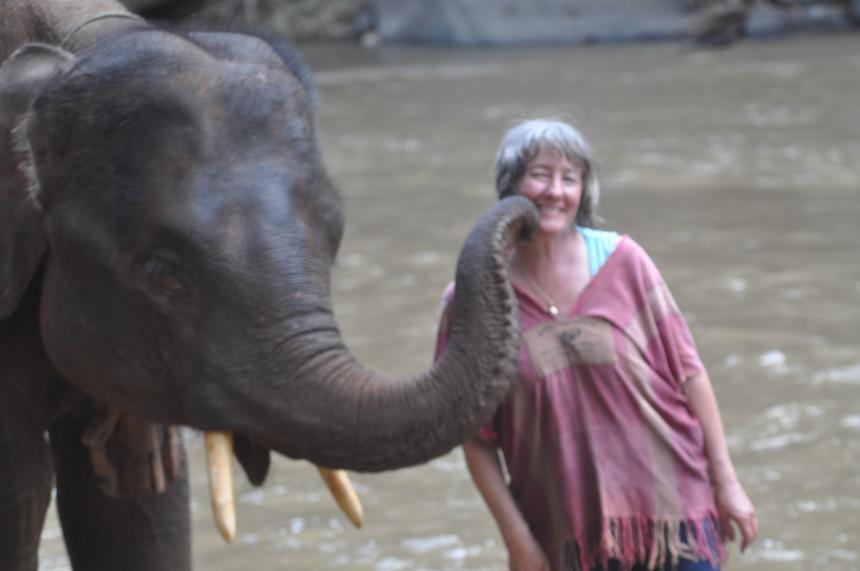 ... and another good home cooked meal by the students in training at Joy's House.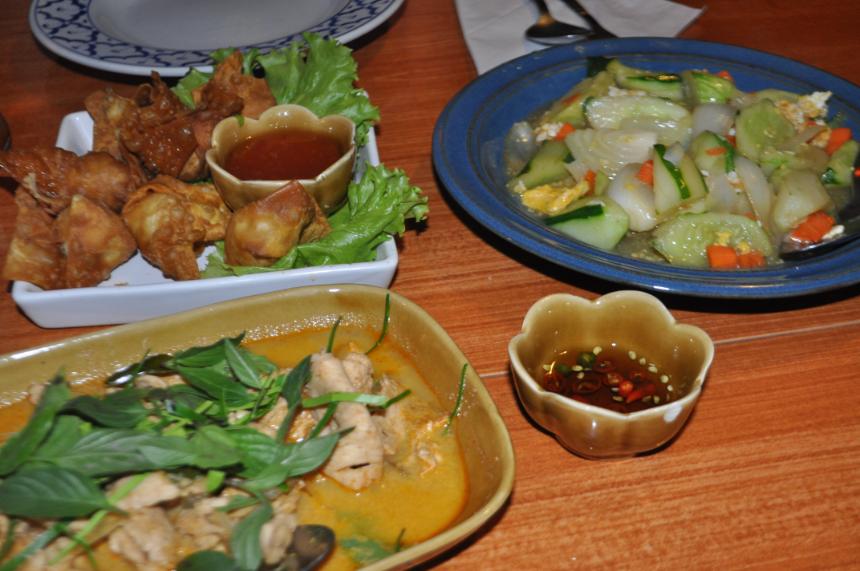 January 30, 2013 - Joy's House, Chiang Mai
(monks, Doi Suthep, Wat Umong, lakeside lunch)
Our program today started very early, with a 6:30 am departure in order to provide offerings to the monks. There is a process/ritual that must be followed as one provides the monks with their daily sustenance. For example it is forbidden to touch the monks bowl. If one does, the offering must be discarded. As the final offering is provided the monks begin to chant. Once again an experience that without the guidance of Wow (who was our guide again today) would have been nowhere near what it was.
We then were driven up Doi Suthep, a mountain named for a revered hermit who lived on its slopes. Part way up we stopped for breakfast, including barbequed pork with sticky rice along with egg sandwiches. We then ascended to Wat Doi Suthep, a temple near the top of the mountain (doi). There are a number of legends about the founding of the temple. The temple is said to have been founded in 1383 when the first chedi was built. There is a legend of a white elephant, who carrying a relic (apparently a bone) is said to have climbed up Doi Suthep, trumpeted three times before dying at the site. It was interpreted as a sign and King Nu Naone ordered the construction of a temple at the site. Regardless the temple is very impressive and very popular.
After a lengthy visit we returned to the city and another temple, the Wat Umong, built in 1297. The wooded grounds include a large pond and ''talking trees' that have words of wisdom attached to them. The wat is famous for its ancient tunnels and large stupa. The tunnels with Buddhist images below the chedi were supposedly built to keep a famous monk within the grounds as he had a habit of just wandering off into the bush. Wat Umong is unique in that the resident monks live in a very natural setting, occasionally feeding the deer that live in the area. It is possible to practice meditation at Wat Umong and to learn from the monks.
Our final stop was a lake outside of Chiang Mai where we enjoyed lunch, including a very hot and sour soup. When the driver and Wow have tears in their eyes you kind of know the soup had some spice to it. We spent an hour or so relaxing at the waters edge before returning to Joy's where we encountered a severe thunder and lightening storm with heavy rain. Power went out for a few hours resulting in dinner by candlelight.
Monks receiving their daily offerings.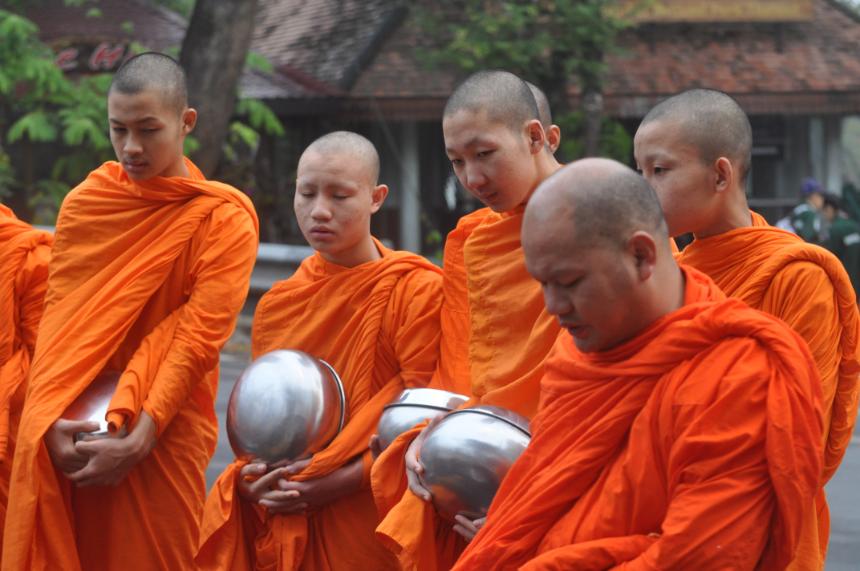 Gayle appling gold leaf to the Buddha as part of the ritual. To give respect one offers flowers, incense, light (a candle) and gold leaf.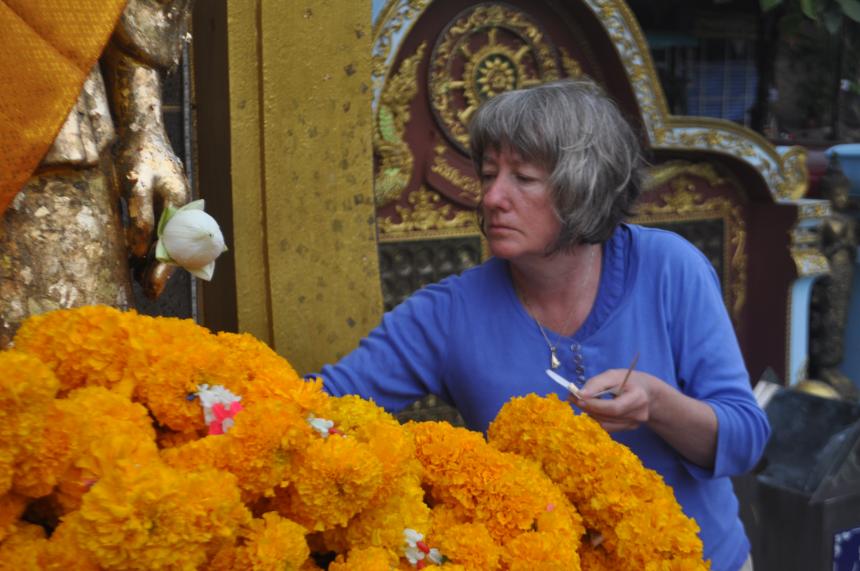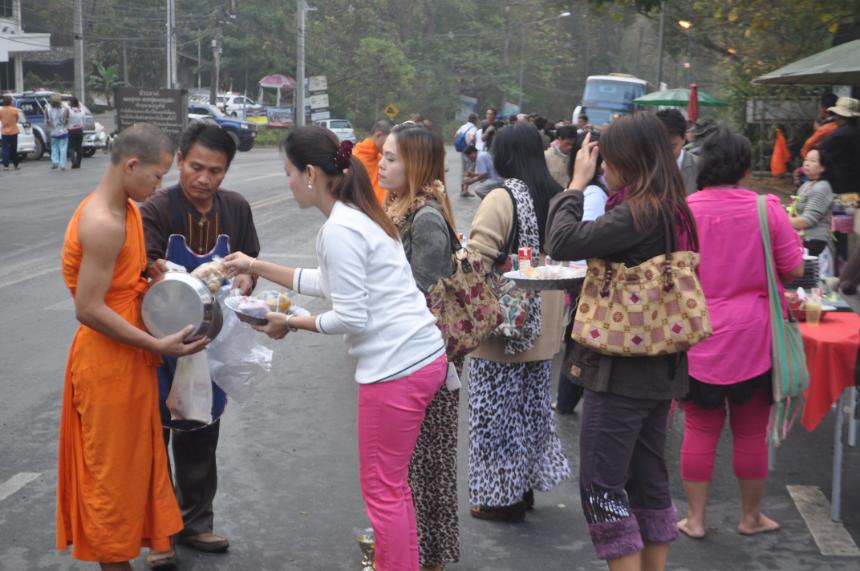 The monk in Wat Doi Suthep who blessed us with good luck.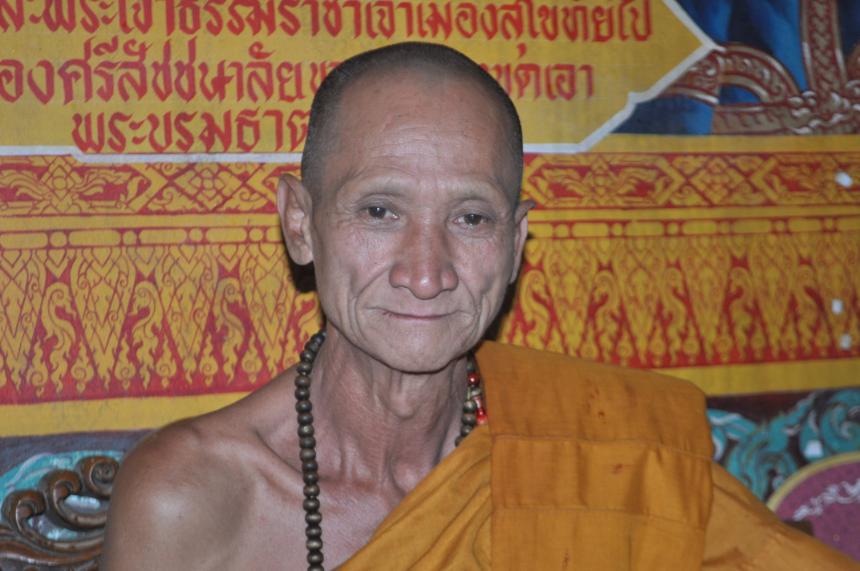 The remaining photos are of the Wat Doi Suthep.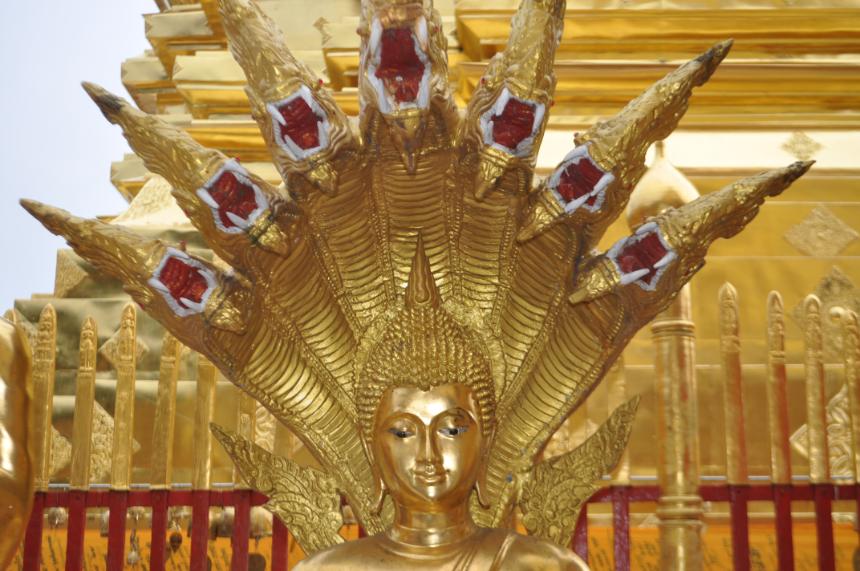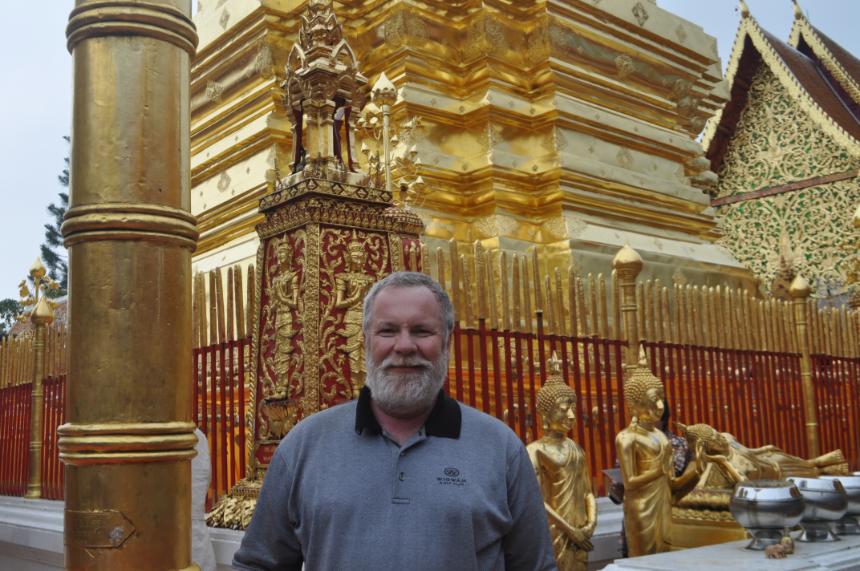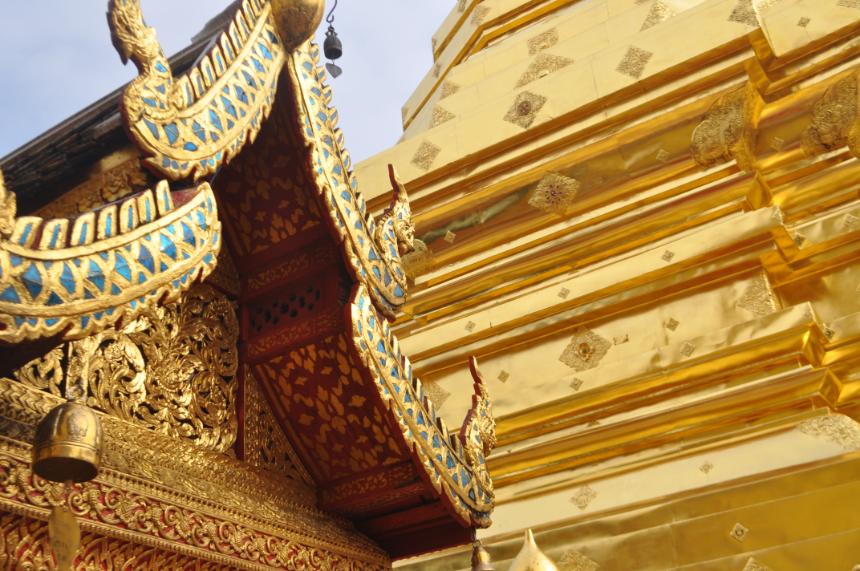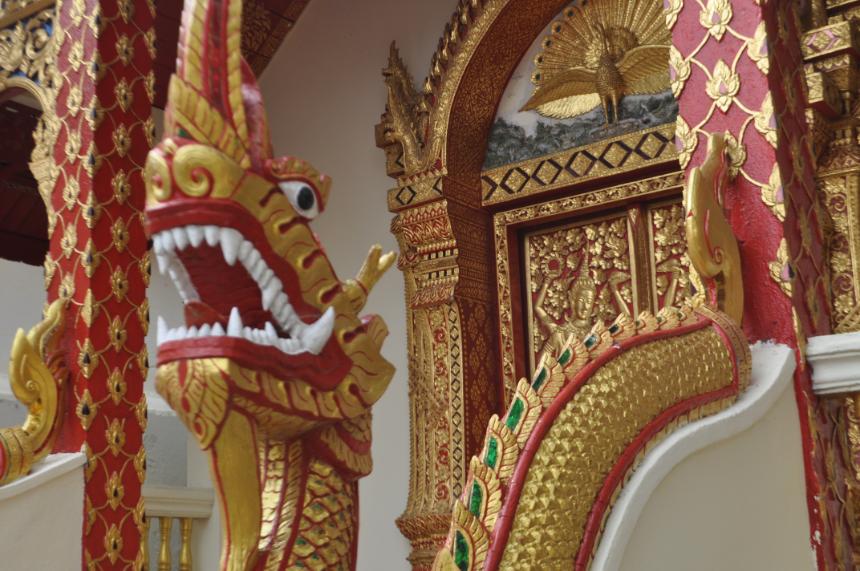 January 29, 2013 - Joy's House, Chiang Mai
(temples, market, old city, and boat ride tour during the day)
After our 'vacation' (lazing around on a beach; swimming in the Gulf of Thailand or the pool, eating and relaxing) today we started our 'adventure travel'. Joy's House arranges a number of tours, many of the one-day ones we have signed up for. The first was the
Temple, Markets and the Old City of Chiang Mai (lunch/snack)

We will guide you to the local interesting places of Chiang Mai. You will see the flower market, Warrawot Market and the old famous temples. You will get close with traditional Thai life. You will enjoy a Temple Ceremony and have some typical Thai snack at the market. We enjoy lunch in a typical Thai Restaurant. In traditional style we will drive by TUK TUK or open red Taxi in the City. We will guide you to the traditional museum and also to the local streets inside. Boat trip on our river Ping back to Joy's House.
Most tours are 2,500 baht ($89 Canadian $) per person. For that we had our own personal guide and (tuk tuk) driver. Each were teenagers - Wow and Nat are students in training - living, working (and studying) here at Joy's House. Wow (full name is Waralee but she is known to all as Wow) was very polite, pleasant, knowledgeable and informative - an excellent tour guide. Being a dedicated guide we were very comfortable asking her not only about the temples and other aspects of the tour but about Thai life, the city of Chiang Mai, her schooling, family etc.
No doubt the best aspect of having Wow guide us was her direction in the temples, demonstrating the process of praying to the Buddha, what men versus women can and can not do, how to pay your respects to the Buddhas and monks. She also purchased the appropriate offerings and directed us as to how to present them. Without Wow we would not have had a clue.
Our first stop was the Watket Karam, a temple near the Mae Ping river, whose pagoda's birth sign is the "Dog" and represents the original pagoda in the topmost heaven on earth - the spire was purposely tilted so that it did not point at the pagoda in heaven. Associated with the Wat is a nice museum containing history and artifacts from Thailand, China and Burma.
We then went to the Warorot Market - the largest in Chiang Mai, where we saw some things to eat I wouldn't want to even guess what they were - although the eels and coconut worms were easy to pick out. There is a flower section, a dried fish section, a fresh fish section, dried fruits, fresh fruit, desserts, meat, trinkets, clothes - you name it they have it. The market covers blocks and blocks with stalls everywhere.
After lunch in a small nearby restaurant we quickly toured a city museum, with an exhibit on the Kings of Siam/Thailand among others. We then visited the largest temple in Chiang Mai, the Wat Chedi Luang. The Chedi (a mound containing Buddhist relics, typically the ashes of the deceased) was built on the spot where King Mengrai was killed by lightning in 1317. The enormous Chedi was originally 90 meters high but an earthquake in 1545 reduced it's height to 'just' 60 meters. Originally covered in gold the Chedi contains the ashes of King Ku Na - the stuff we learn!
Back in the tuk tuk to the river where we took a boat up the Mae Ping to a small farm museum where we enjoyed more drink and fruit. From there it was back to Joy's House and dinner. A long but very interesting day. We saw and learned a great deal.
Nat and Wow on the tuk tuk.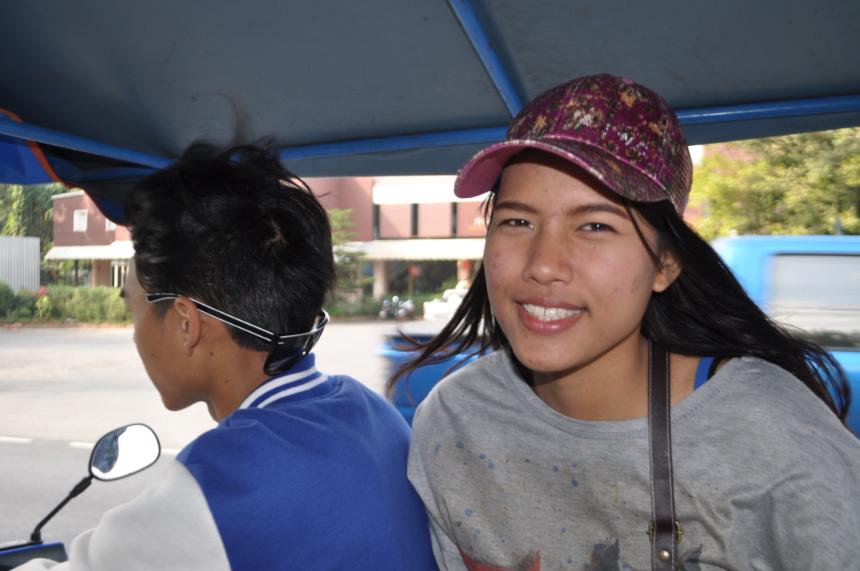 Making a donation at the temple (Watket Karam).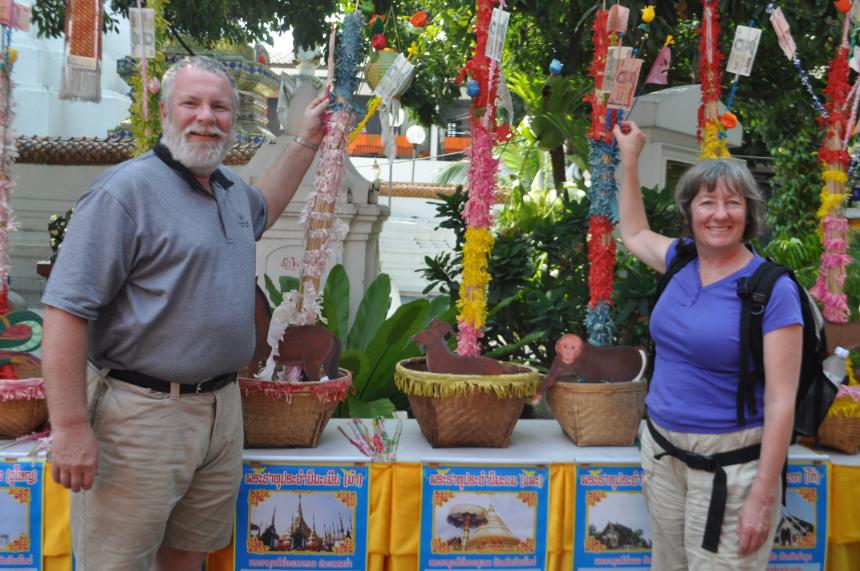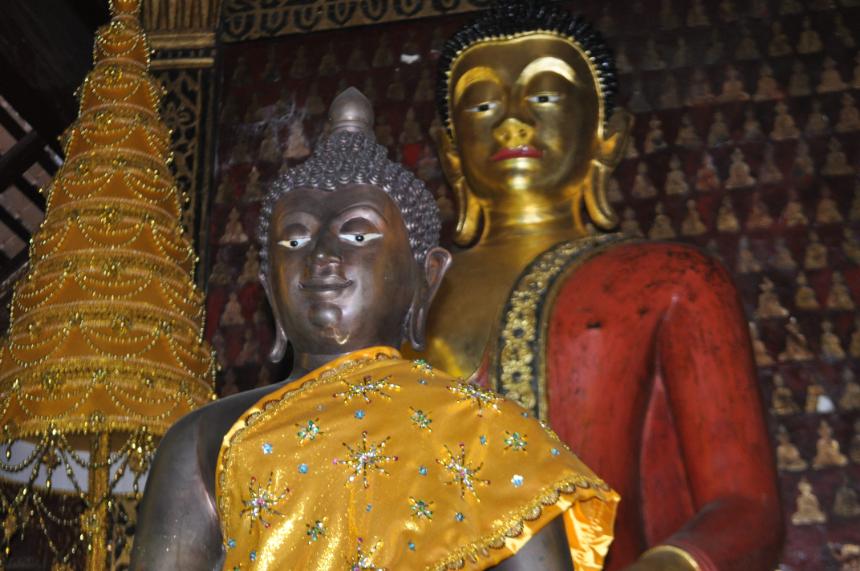 Flower arrangements typically found around the Buddhas.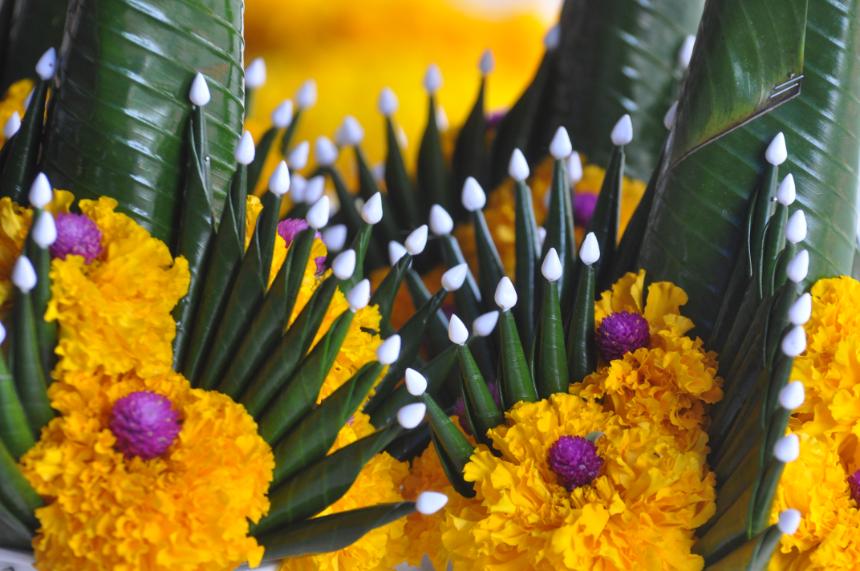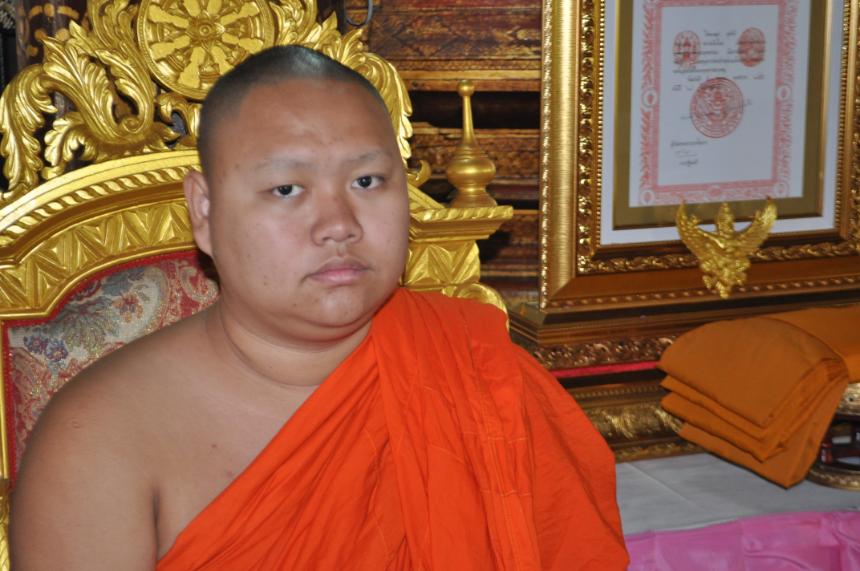 A lady selling in the market (I've spared you the photos of the eels and worms LOL).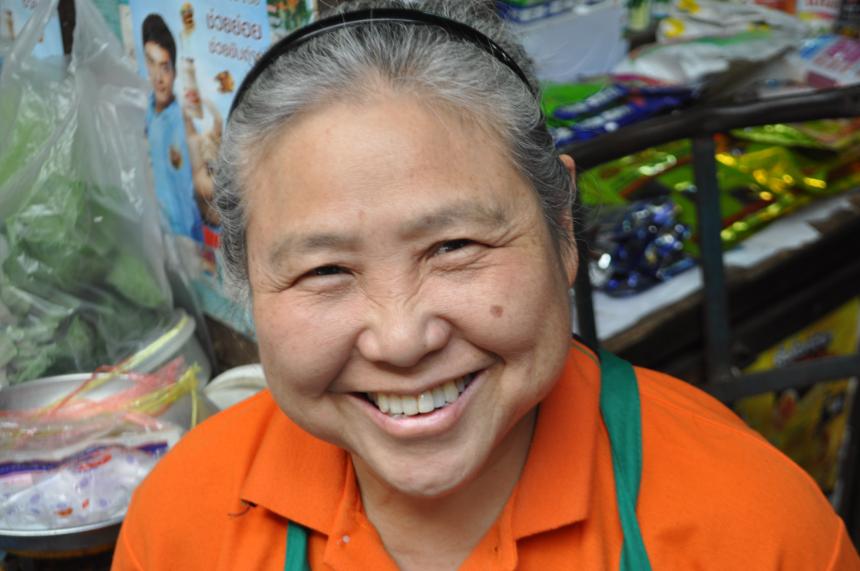 A street outside the market.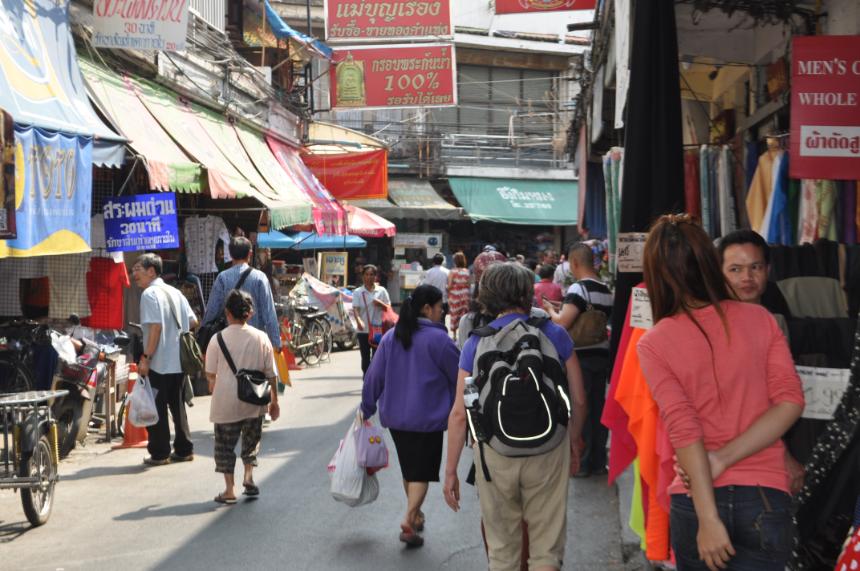 Wow and Gayle paying their respects to the Buddha at the Wat Chedi Luang.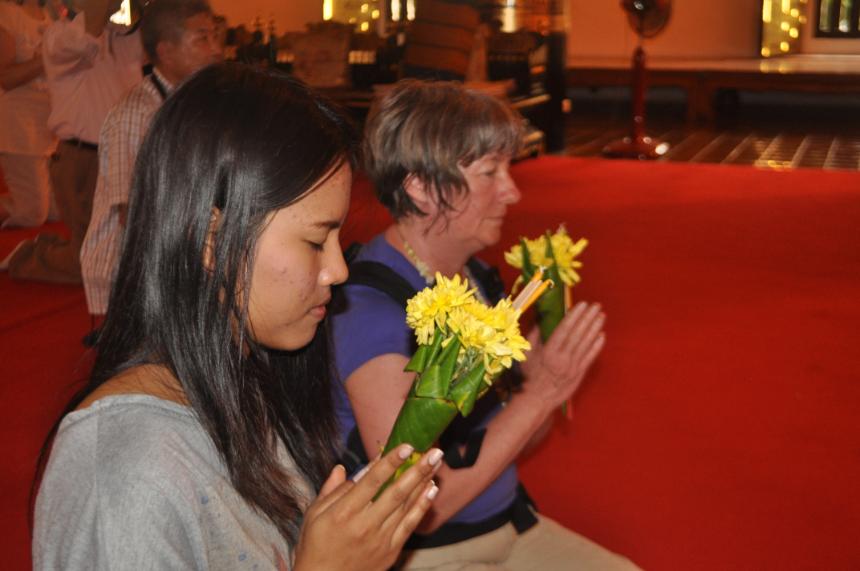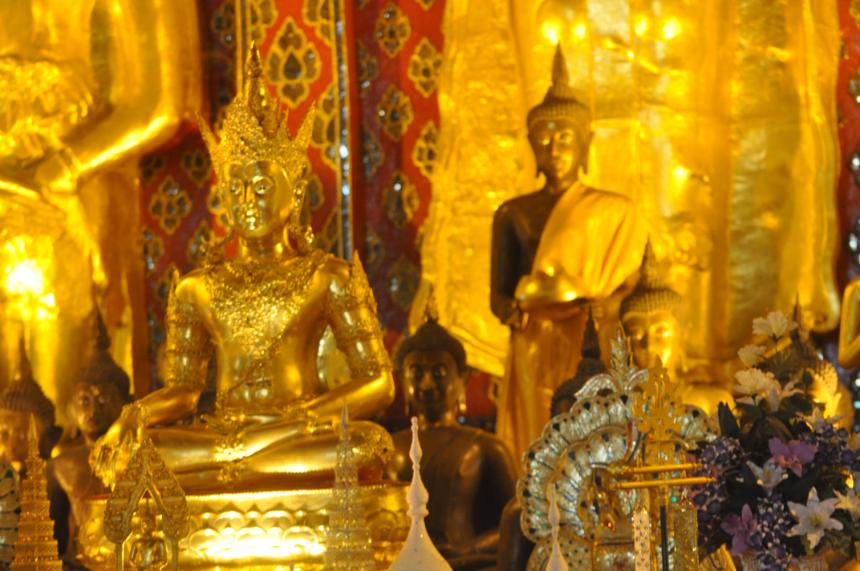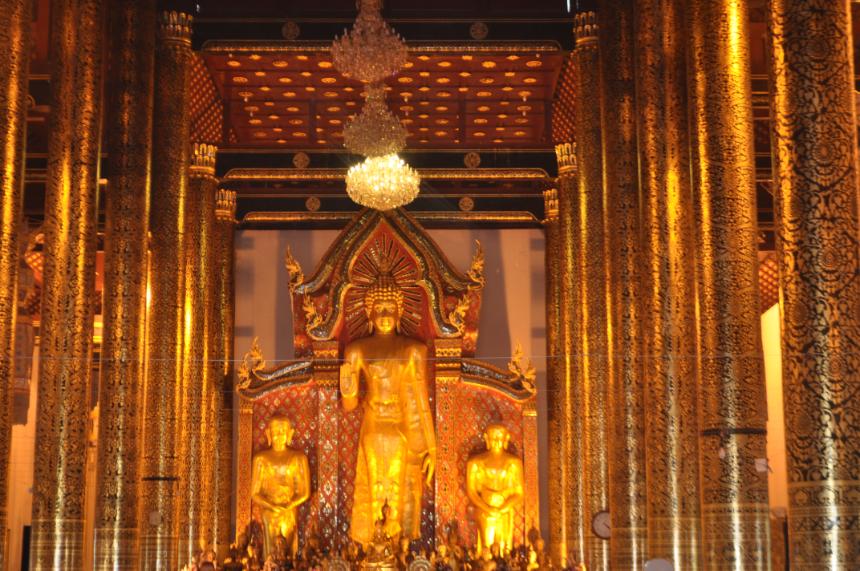 The outside of a portion of the Wat Chedi Luang.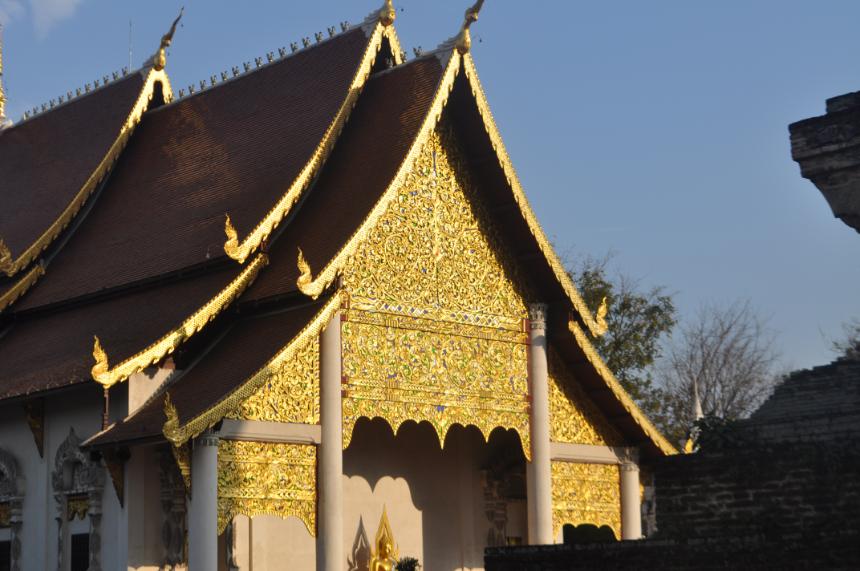 January 28, 2013 - Joy's House, Chiang Mai
After a last early morning swim we left Lipa Lodge and its friendly manager Pichai. Greeting us at every meal and constantly checking to see if everything was ok Pichai was helpful throughout the stay.
The taxi took us to airport via the south of the island, a different route and allowing us to see the other side. The flight from Koh Samui to Bangkok was just under an hour, from where we immediately boarded a second one hour flight to Chiang Mai, a large (the second largest in the country with a populating of just under one million) city in the north of Thailand.
Our first stay here is for six night's at Joy's House (www.joyshouse.net), located in a quiet (other than the chirping birds) residential area in the suburbs. Joy and Ulli run and sponsor their own charity project. Started in 2006 with the donation of some farmland the now officially approved Foundation serves children in need from the hilltribe villages of North Thailand. In addition to the house in Chiang Mai Joy, Ulli and their team focus on the development of youngsters, first and still at a children's camp (that we will be visiting later in the week). Now that some of the children are older they stay and are trained and educated at the House here in the city. In addition to attending school the young adults experience practical training around the House cooking and serving meals, cleaning, bartending, and as guides. With their formal education, practical experience and good manners they apparently have a wealth of opportunities.
Joy's House offers guests a number of day (and longer) tours. We plan to take one each day, the first tomorrow being a visit to a number of temples and the market in the old city of Chiang Mai, followed by a boat trip from the city centre back to Joy's House.
Upon arriving at Joy's House we were provided dinner.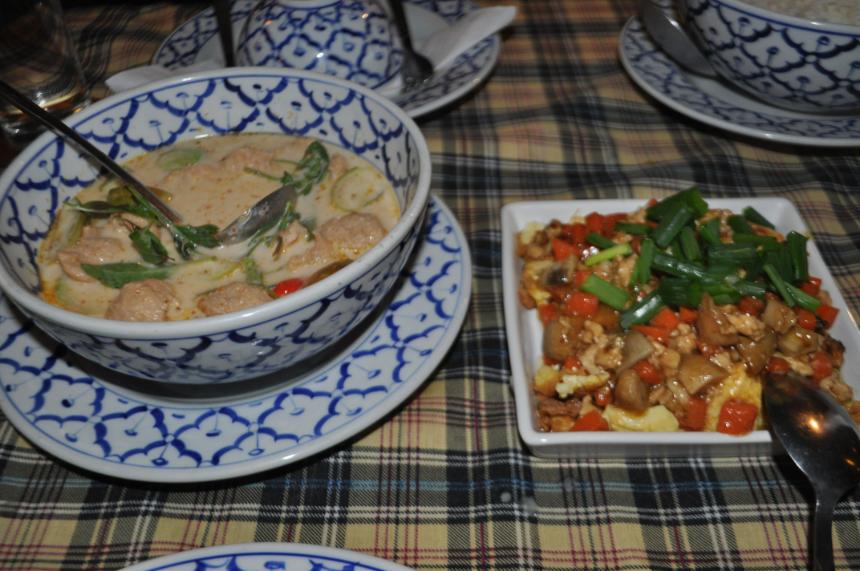 January 27, 2013 - Lipa Lodge, Lipa Noi, Koh Samui, Thailand
With one exception today was the relaxing day we anticipated. Breakfast, a swim in the sea, some reading, a swim in the pool, lunch (Gayle had a superb vegetable green curry), another swim in the sea, another dip in the pool - you get the picture.
We decided to each get a massage - Gayle an oil massage and me a 'firmer' Thai massage. The good part was the setting, right on the edge of the beach looking out over the water to the setting sun. The not so good part was the force with which the masseuse applied herself, particularly with my traditional Thai massage. There were times my bones felt like they were on fire - I never knew pressure could feel that way. I'm sure it did me some good but one word I would not use to describe the hour long process was 'relaxing'. Certainly massages are very popular here with signs every few hundred meters advertising the opportunity. Price for a one hour Thai massage is 300 to 350 baht, or $10 to $12.
The Lipa Lodge restaurant, located right on the beach, looking out to the Gulf of Thailand.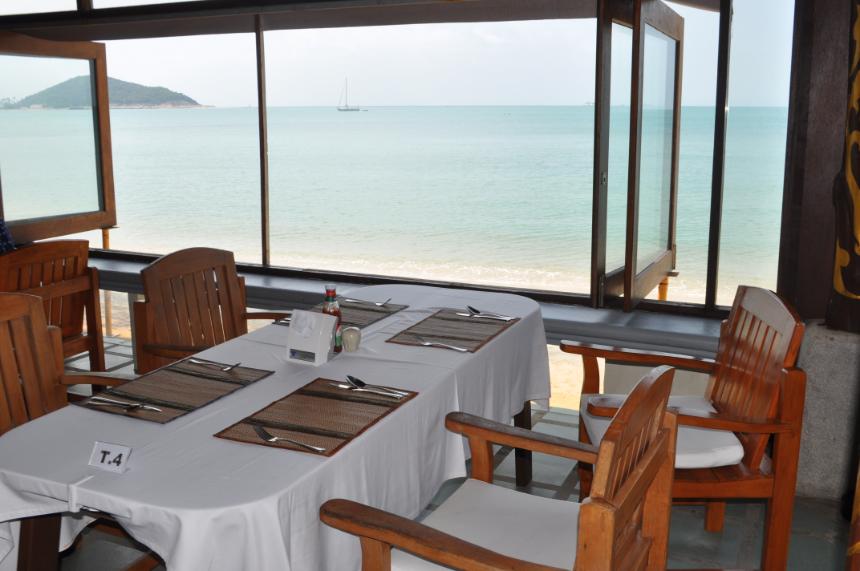 Gayle enjoying her vegetable green curry.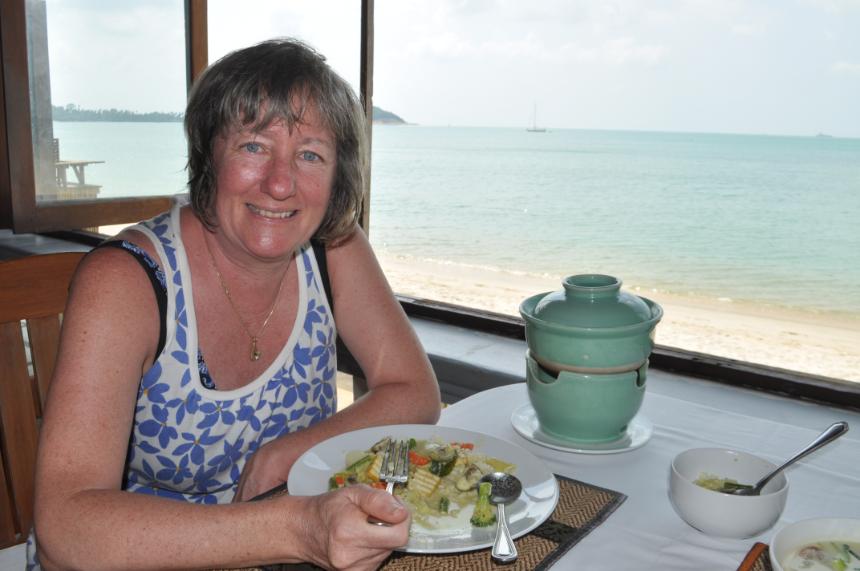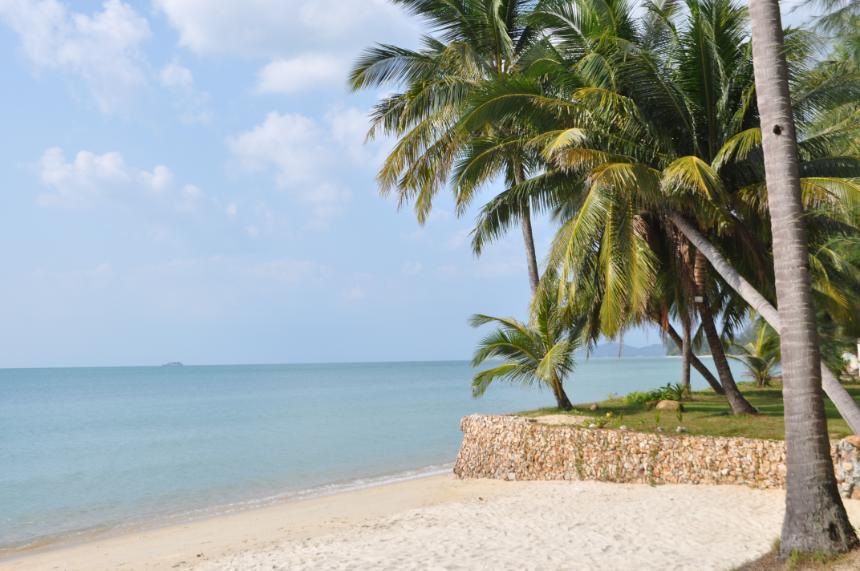 Preparing for our massages.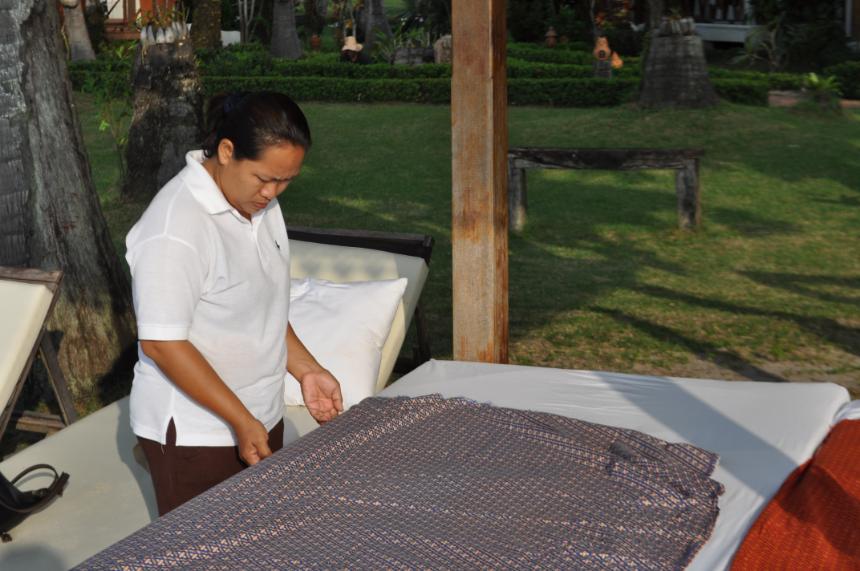 A wave goodbye after providing us with our massages.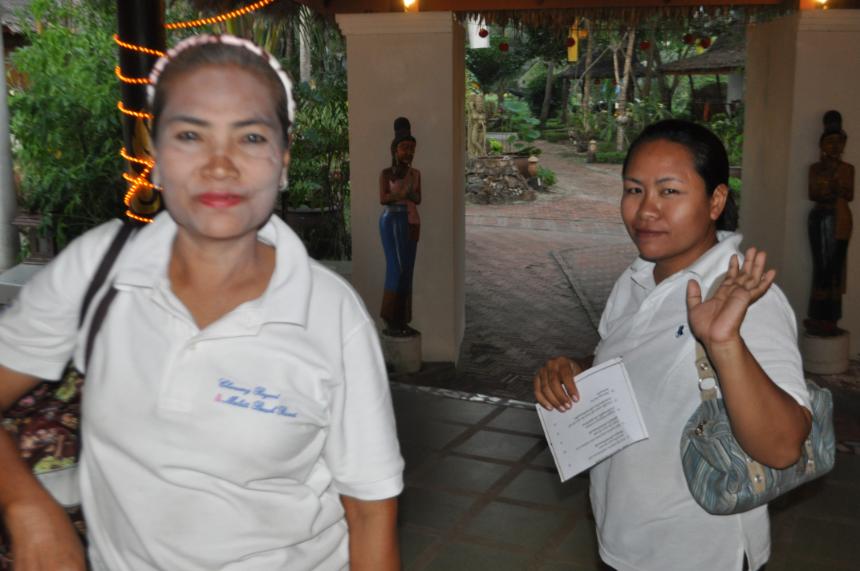 January 26, 2013 - boat trip around the island of Koh Pha-ngan
We spent the day on an eight-hour boat tour, around the island of Koh Pha-ngan, north of Ko Samui on the Chantara, a Burmese junk (www.jonque-chantara.com) built of teak wood. The Chantara was put into service in Burma near the end of the 20th century, first sailing from the Burmese banks. After the 2004 Tsunami the junk sailed south via Singapore, up the coast of Malaysia to the Gulf of Thailand. Then renovated, the Chantara is now based in Bangrak Bay, in the north of Koh Samui sailing tours around nearby islands in the Gulf of Thailand, including the Angthong Marine Park and our trip around the island of Koh Pha-ngan.
After a light breakfast we first sailed up the west side to a (much) smaller island, Koh Mah, supposedly known for its snorkeling. Unfortunately the snorkeling really wasn't all that great. I saw a few small fish while Gayle struck out. But again the water is wonderfully warm so the swim was very pleasant.
After the swim we enjoyed a fabulous lunch, by far the best we've ever had on boat trips such as this. In addition to the five wonderful dishes for everyone else a special vegetarian dish was prepared for Gayle - excellent and much appreciated.
We then motored (through some somewhat choppier waters) around the north of the island eventually stopping in a bay where we were taken ashore to either jet-ski, swim, or simply lounge around on the beach - no Gayle and I were no up for jet-skiing. Banana muffins and ice-cream greeted us as we returned and boarded to then continue the trip down the east coast and back to Koh Samui. The weather was near perfect with just enough cloud cover to keep us from burning too much. Koh Pha-ngan is impressive, reminding us of St. Lucia with signicant mountains/hills and a number of very nice looking beaches. Although we didn't stop we did pass the famous beach/location of the monthly 'full-moon' party. When bars advertise as not opening, yes not opening until 7:00 am to catch the after party partiers you kind of get a sense of what the evening must be like. There is a full moon tomorrow but I think we're a little old for all night partying :-)
With the 45 minute to an hour drive each way from where we are staying it was a long, but enjoyable day on and in the water.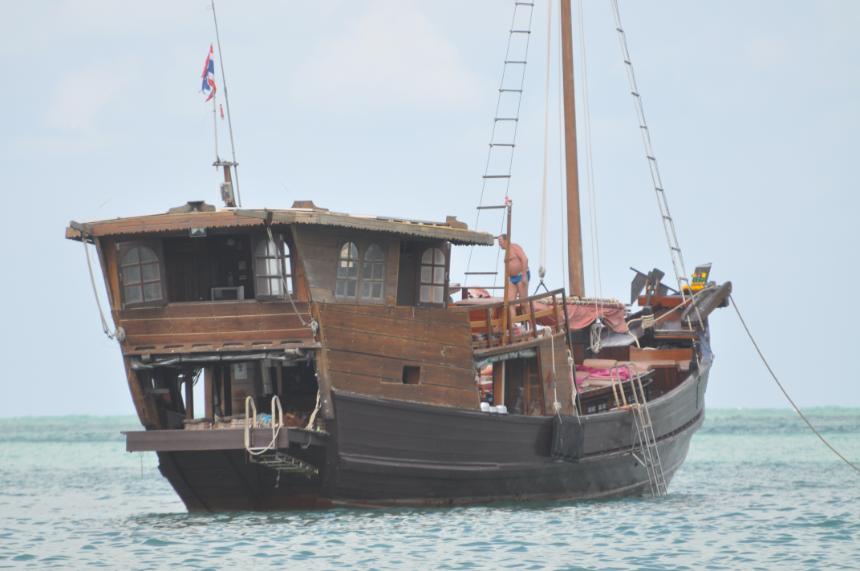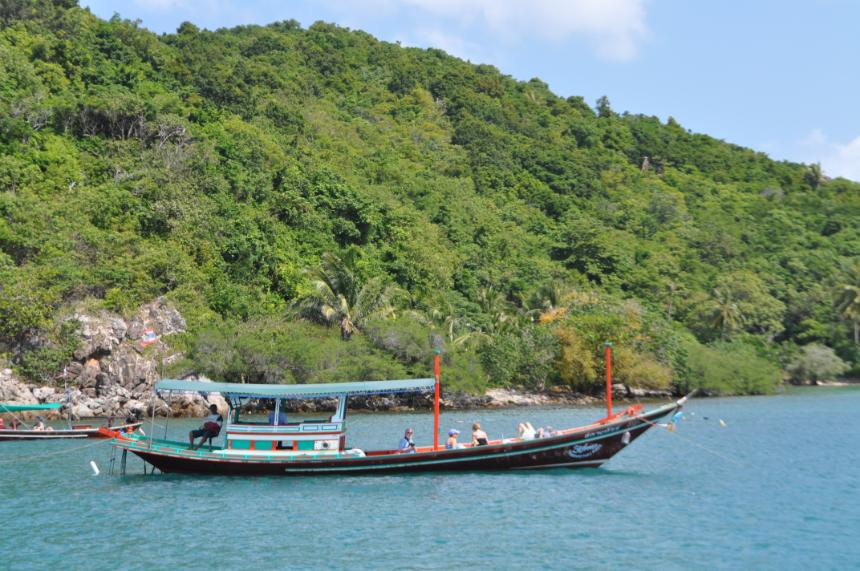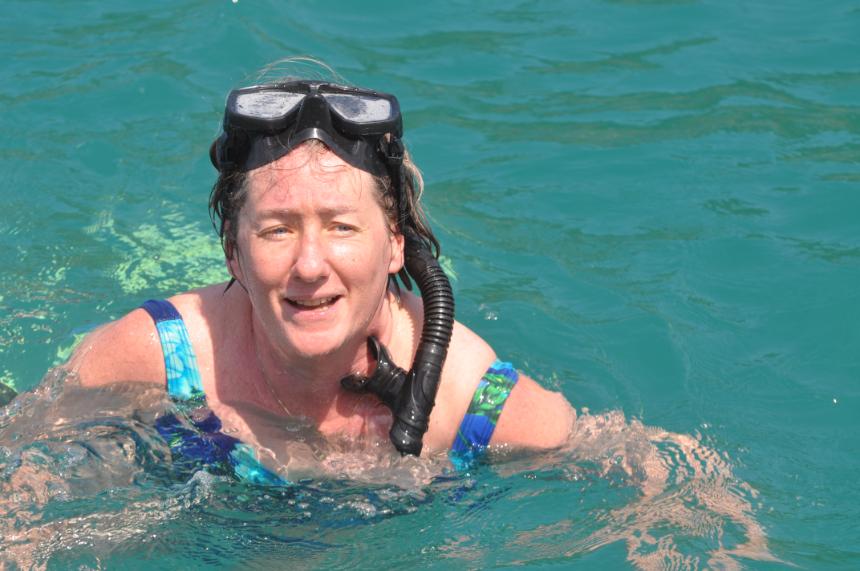 January 25, 2013 - Lipa Lodge, Koh Samui
As expected this was a quiet day, spent lounging around the boutique resort. Lipa Lodge has only 11 units, most cottages in a nice tropical setting amongst tall coconut trees. We are actually in an elevated room with a wonderful view of the sea. The room itself, while nice has more of a hotel rather than a cottage feel, but the view from the terrace is great, and where this is our only stay on the water we felt the constant views of the sea where the priority. I realize this may be somewhat cruel given the deep freeze I understand is occurring back home but the water in the gulf is a very warm 26 degrees C during January - probably the warmest we've experienced.
Breakfast is western, with eggs, bacon, ham, toast and fruit. Nice but not as elaborate as most European breakfasts. An interesting (and new for us) addition to the fruit tray today was the mangosteen (see photo), a white fleshy fruit in a small hard shell. Very very tasty. Being on the gulf there is considerable seafood on the menu. For lunch I had a Lipa seafood dish attractively served in a pineapple. Then for supper, after a seafood lemongrass soup I had the king prawns, cooked in garlic and red chilies - both delicious although the soup was a bit spicy, even for me. Gayle meanwhile enjoyed a vegetable coconut soup.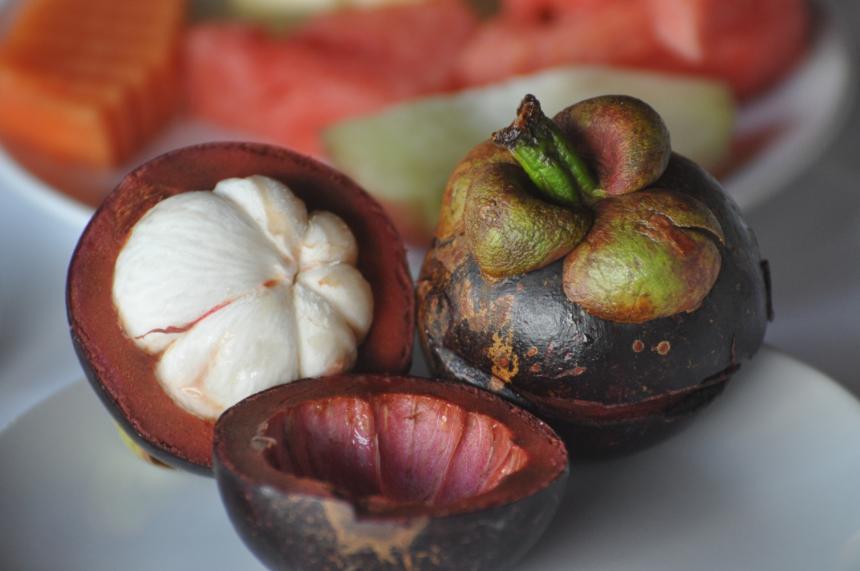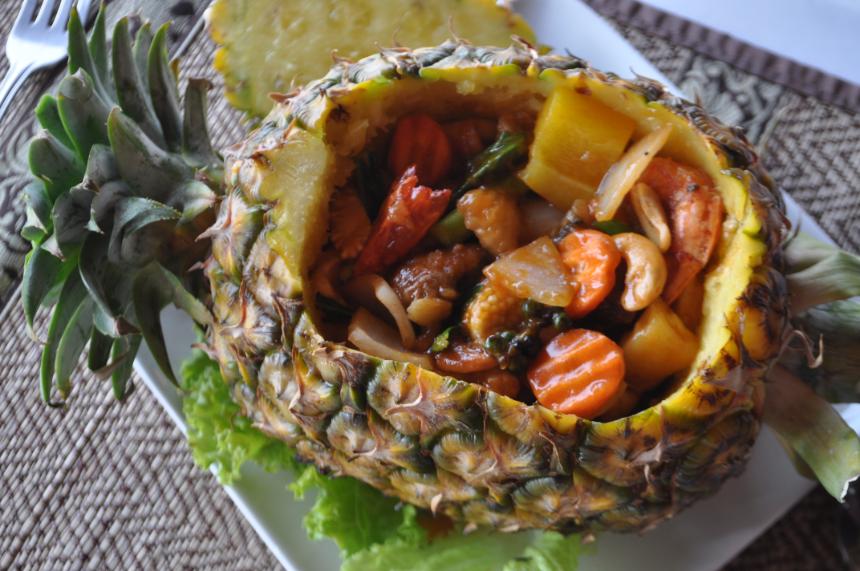 January 24, 2013 - Lipa Lodge, Ko Samui
After an excellent sleep we awoke to a day of sunshine. Fortunately there was a bit of breeze that offset some of the heat. This first part of the trip is about vegging out, sitting around the pool or on our terrace enjoying the turquoise water of the Gulf of Thailand (Siam).
Without transportation for the most part we'll be staying around the lodge. We did take a short walk down the beautiful long sandy beach, but otherwise read and ate. The food is similar to that we've had at Thai restaurants in Halifax and elsewhere. The prices here at the lodge are generally half to three-quarters of what similar dishes would be at home. A beer is $3, spring rolls $4 and a massaman beef curry dish $8. The food has been very good.
We're looking into a boat trip around a couple of nearby islands on a Burmese junk on Saturday but have not yet heard back to an email inquiry.
Photos below of the shadow of a coconut tree and the beach from our terrace.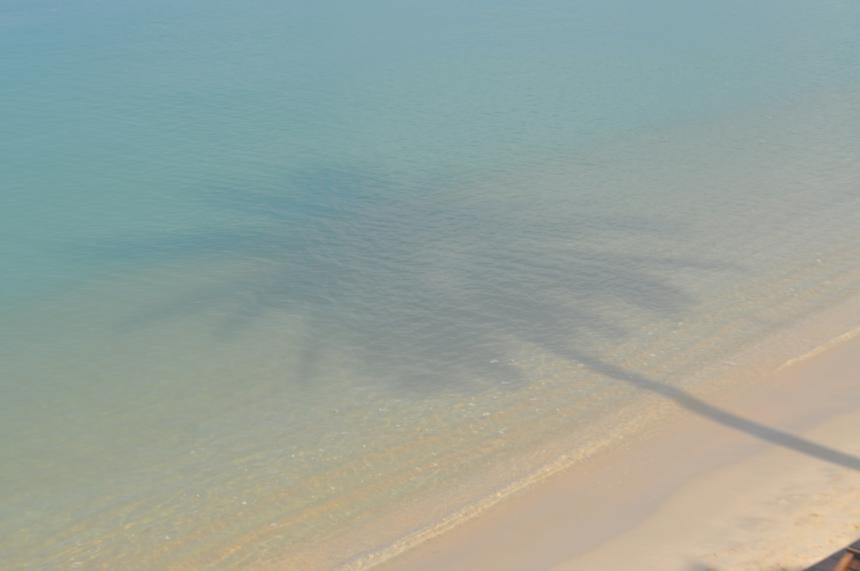 January 23, 2013 - Oslo to Bangkok to Lipa Lodge, Koh Samui
We made it. After three calendar days and four flights we're here at Lipa Lodge on the west coast of the island of Koh Samui, about an hour's flight south of Bangkok.
First impressions are so-so. Stretches of beautiful sandy beaches and tropical vegetation, including some dense rain forest are offset by miles of pretty rickety businesses and street stands that for the most part look pretty run down.
Our place, and our room, are right on the beach, on a really nice sandy stretch. While I was napping Gayle went in for a short swim, saying the water was very warm, as one would expect given how hot and humid it is here.
I'm going to keep this short as I really need to get some sleep.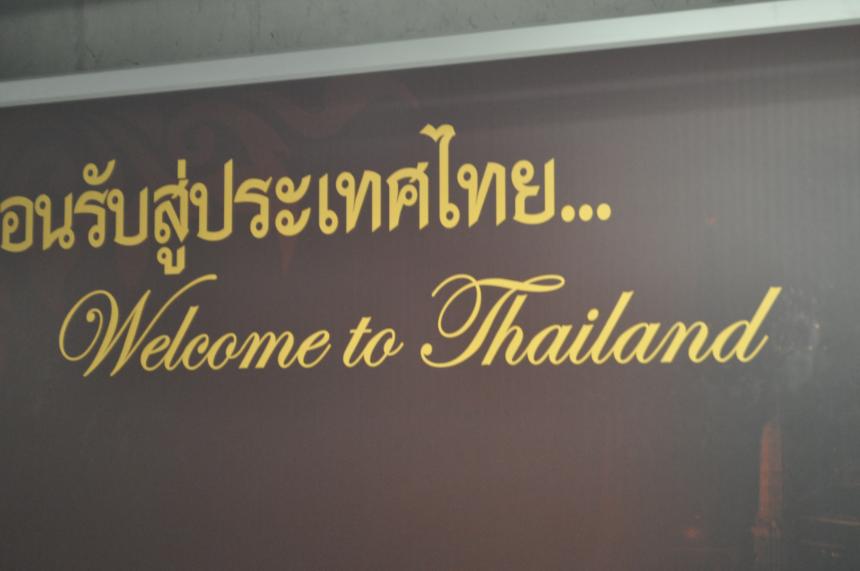 January 22, 2003 - Halifax to Newark to Oslo
Not much to say other than we've made it here to Oslo, where it is - 20 C, a tad cold given we didn't deplane at the terminal but rather had to descend an icy ramp to waiting buses. We are in the midst of a 3 1/2 hour lay-over before catching our overnight Thai flight to Bangkok.