January 31, 2016 - February 17, 2016 - south of San Francisco and the Big Island / Hawai'i
When in Maui and Kauai in 2012 Gayle really enjoyed her experience. On the other hand, while the trip was unique and interesting and some of the scenery spectacular returning was not high on my list. But wanting to do something a bit special for Gayle's 60th birthday I suggested a longer trip to the Big Island rather than a week in the Caribbean. We're more than happy we did. We really enjoyed the Big Island - the relaxed way in which we experienced it; the moonscape lava tubes and the tropical rain forests. The B&Bs we chose were fantastic, two of them with spectacular panoramic views of the ocean. The decision to stay three nights south of San Francisco was also a very good one. Not only did it break the lengthy journey from Halifax to Hawai'i but the opportunity to drive the California coastline and spend some time on the Monterrey Peninsula was well worth the stop.
Is Hawai'i expensive? Yes, particularly for our accommodation with the current level of the US$ (approx. $1.44). Using Aeroplan minimizes airfare which is very helpful. Car rental was reasonable and comparable to Europe. Food, at $101 (Cdn) per day - remember breakfast was included in most of the B&Bs - was comparable to what we have spent in Europe. However our B&Bs were considerably more - averaging $301 (Cdn) as compared to a low of $113 in Greece to a high of $204 in Corsica/Provence spent during our last few trips to Europe. While the B&Bs, as opposed to resorts which cost that much more, did not have pools the ocean and beaches were never that far away. That said we did stay in nicer B&Bs and at Ka'waa Loa Plantation spent more to be in the Suite. Overall, with the benefit of Aeroplan tickets the trip cost $9,275 (Cdn), quite reasonable for 17 nights (3 south of San Francisco; 14 in Hawai'i).
Memories of south of San Francisco / Monterrey Peninsula
the spectacular California coastline

17 Mile Drive and the Monterrey Peninsula

coffee and muffins at Whale City Bakery, Davenport

elephant seals at Ano Nuevo
Memories of the Big Island, Hawai'i
the panoramic views of the valley and ocean from Waipi'o Rim B&B and the lanai of Ka'waa Loa Plantation

the orange glow of the lava through the evening steam at Volcano National Park

the extensive fields of lava

the tropical rainforest 'jungle' along the Hamakua Coast

vibrant colourful flowers and vegetation

the lava outdoor shower at Ka'waa Loa Plantation

the drives around Waimea and the Kohala Mountains through ranch country and rolling green mountainsides

observing whales, dolphins and up-close sea turtles

snorkeling at Two Steps - the colourful tropical fish

B&B breakfasts - original, delicious and beautifully presented

memories of each B&B - sitting by the gas fire pit and sharing experiences with other travellers at Honu Kai; the 'old Hawai'i' feel of our 1940s cabin in Volcano; the scenic vistas incl. whales offshore, solitude and sounds of nature, think frogs, at Waipi'o Rim; and enjoying the expansive lanai overlooking Kealakekua Bay at Ka'waa Loa Plantation

macadamia nuts

the Coffee Shack and Kona lime pie

fish and chips at Quinn's Almost-By-The-Sea

the absence of high-rise development on the Big Island

the existence of crosswalk flags (and drivers respecting low speed limits)

watching the surfers riding the breaking waves

nenes

the nice Hawaiian music both at Honu Kai and Ka'waa Loa Plantation

the generally sunny days with very little rain, the pleasant temperatures and warm ocean water

The flag of Hawai'i, the only flag that incorporates the flag of another country.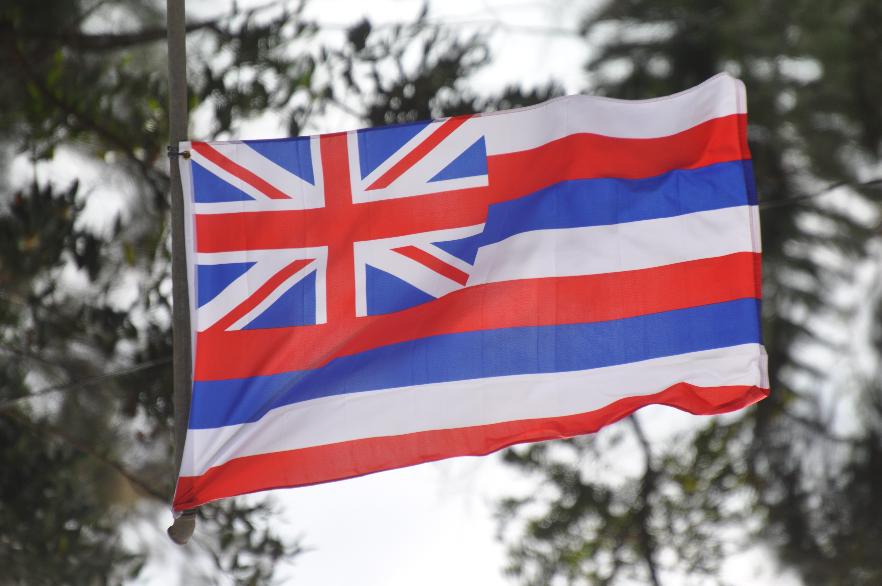 What's not to love amongst tropical colours in a tropical environment surrounded by tropical plants.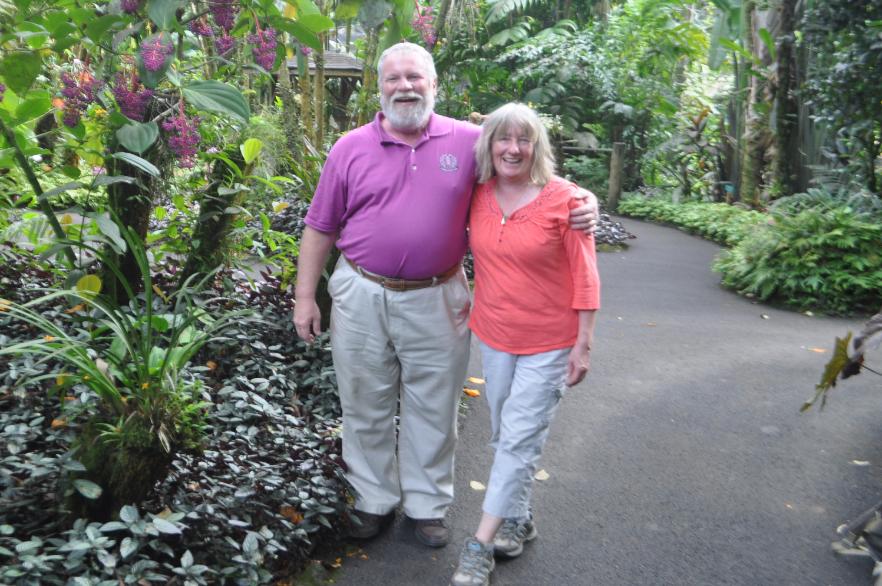 February 17, 2016 - last day at Ka'waa Loa Plantation and on the Big Island / Hawai'i

Our last day on the Big Island. Another nice breakfast; another nice outdoor shower in the lava rock enclosure; another couple of hours sitting on the lanai enjoying the view to the ocean on another sunny morning. Just after finishing packing and about to leave a met a young couple from Texas who had just arrived. We got chatting, providing them info about our experiences, e.g. Two Steps for snorkeling, the beach for the sea turtles etc. and before we knew our time had disappeared such that when we passed the Coffee Shack we couldn't sit down to enjoy a last piece of (Kona lime) pie. Rather we ordered a piece as take-out. Still some good.
From there it was north to the Ocean Rider Seahorse Farm. Although expensive ($42 US$ each for a one hour tour) the TripAdvisor reviews were generally very positive and it did seem like a unique experience not available elsewhere. The tour was somewhat informative, i.e. the biologist did a decent job but really all we did was look into big blue containers to see a bunch of small seahorses swimming around. Gayle enjoyed the experience while I thought it was grossly expensive for what it was. The brochure described having the seahorse wrapped around your finger as "... so amazing!" I found it quite anti-climatic.
We (me especially) had enjoyed our first meal in Kona at Quinn's Almost By the Sea - perhaps the best fish and chips I had ever had so we decided to return for dinner before heading back to the airport to return our vehicle and catch our late evening (10:30 pm) flight. I found out the fish was 'Ono'. It was as good this time as the first time. I certainly filled up as did Gayle. A last-minute t-shirt for Paul and then back to the airport for the long trip home.
Hannah, always smiling and making us feel young by referring to us as "you kids".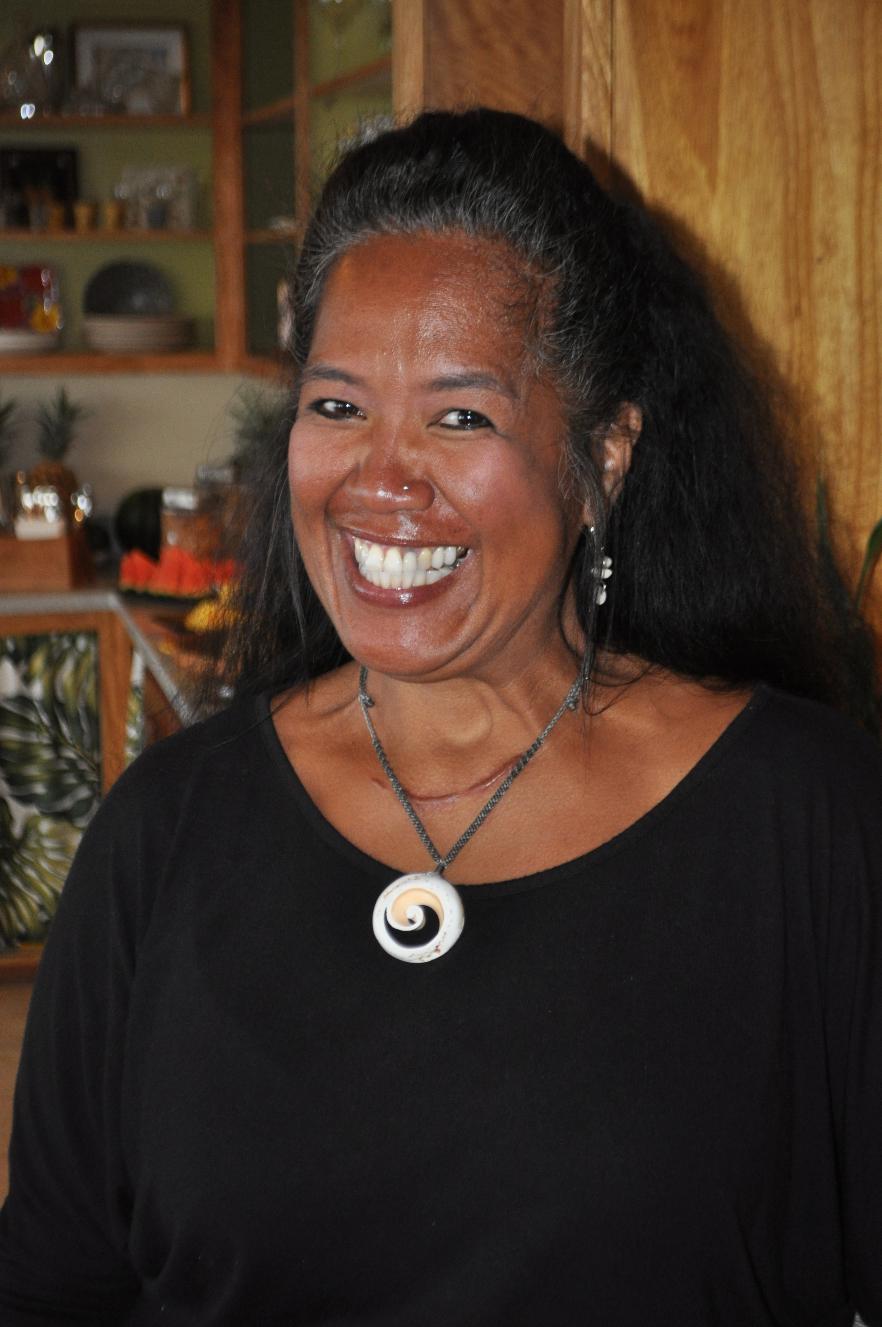 OK so there is this shop called Donkey Balls (macadamia nuts covered in chocolate). Outside is the 'Weather Station'.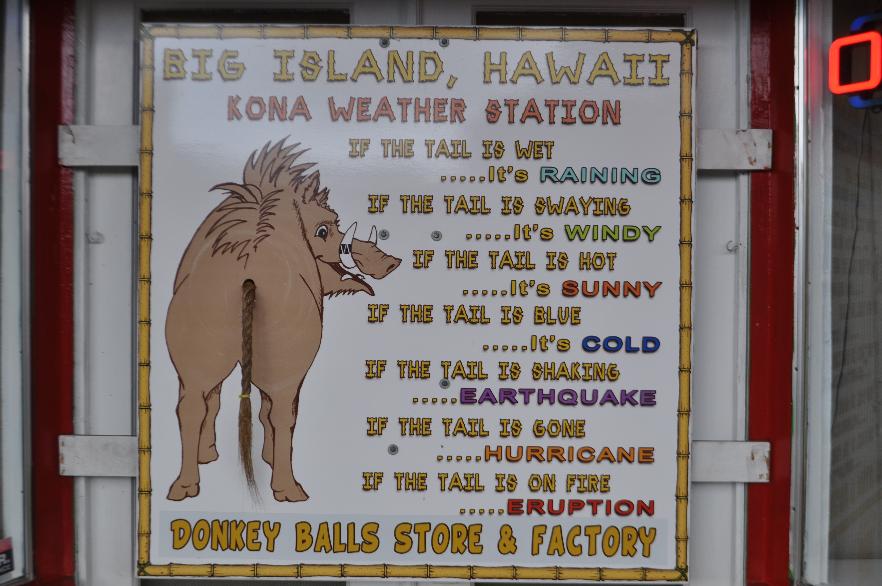 The Seahorse Farm and a school of seahorses racing (?) for food, i.e. shrimp brine.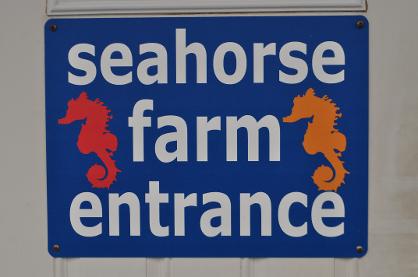 Somewhat out of focus leaning over the tank and taking a photo through the water but you get the idea.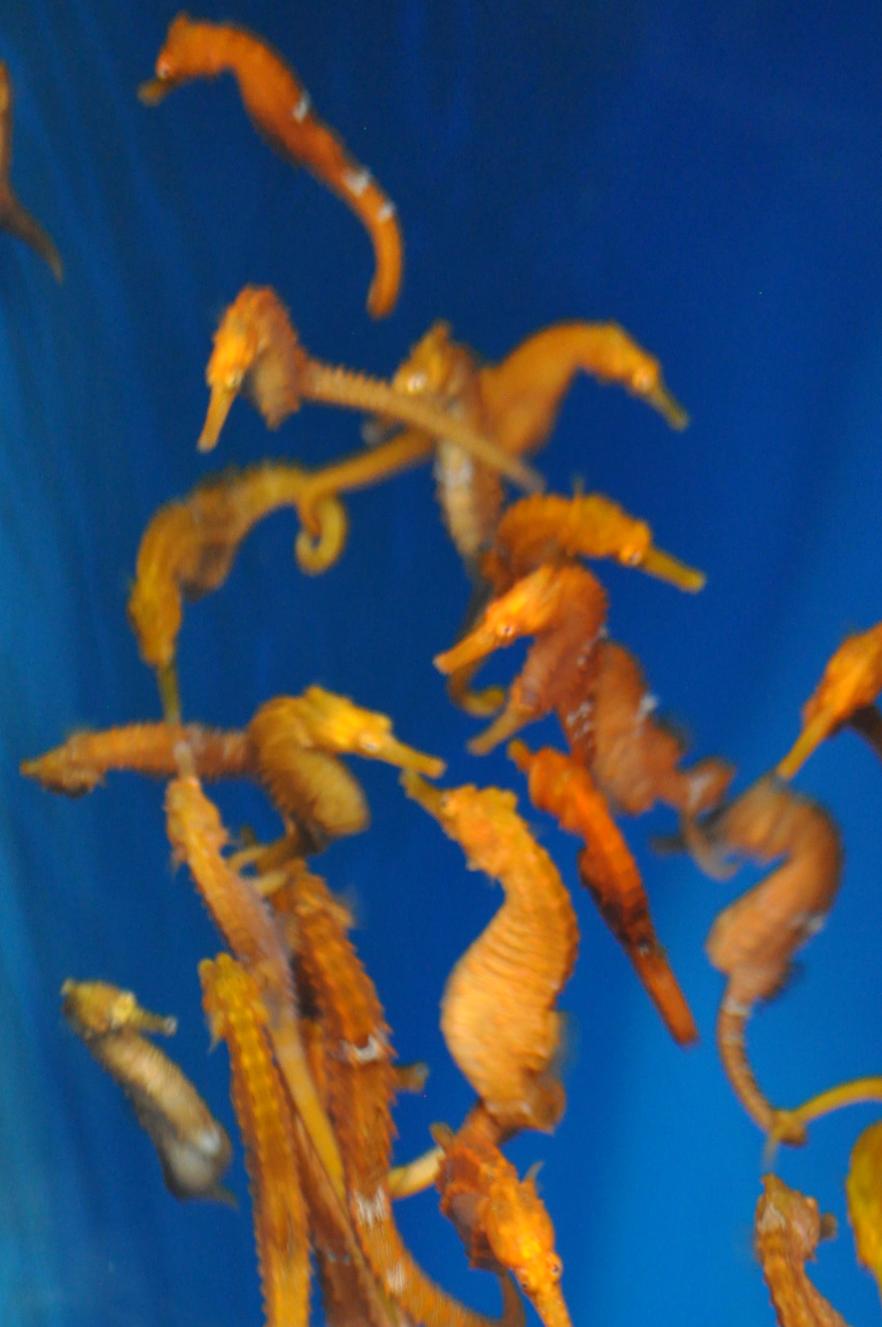 A short video of the seahorses.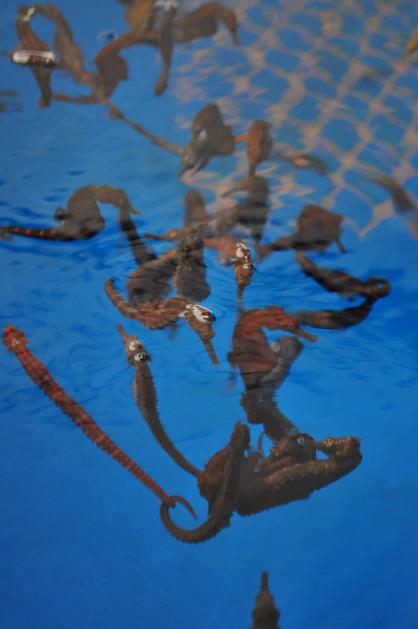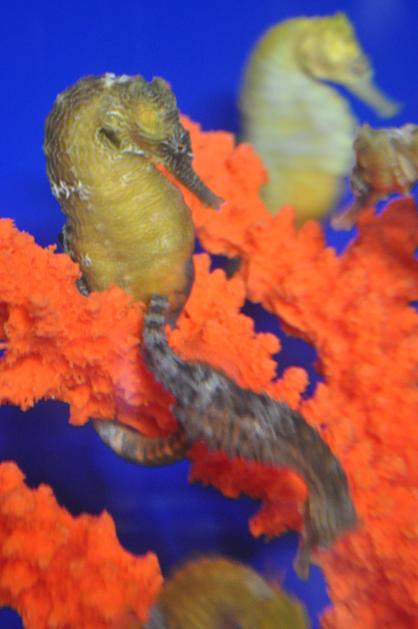 Seahorse thinking Gayle's fingers are a coral reef.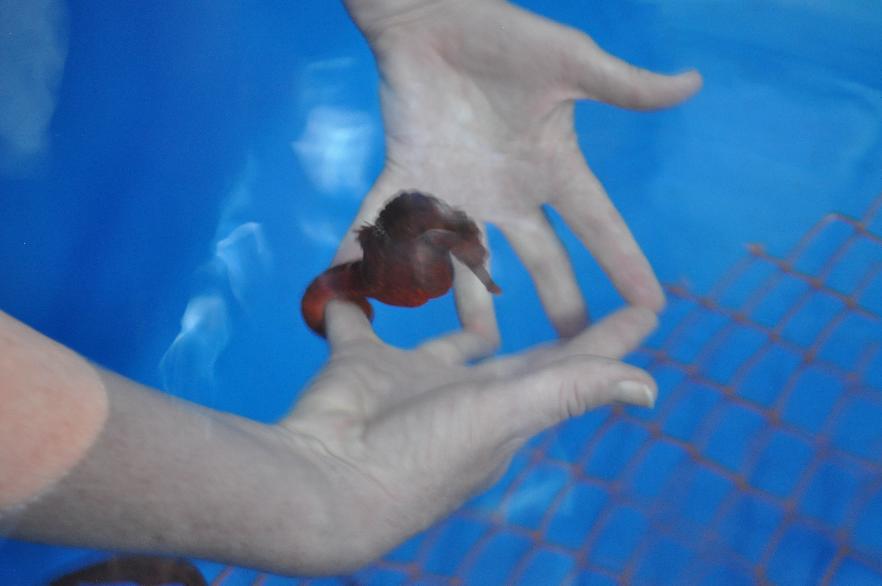 Lava, a tree line near the coast and then nothing but ocean.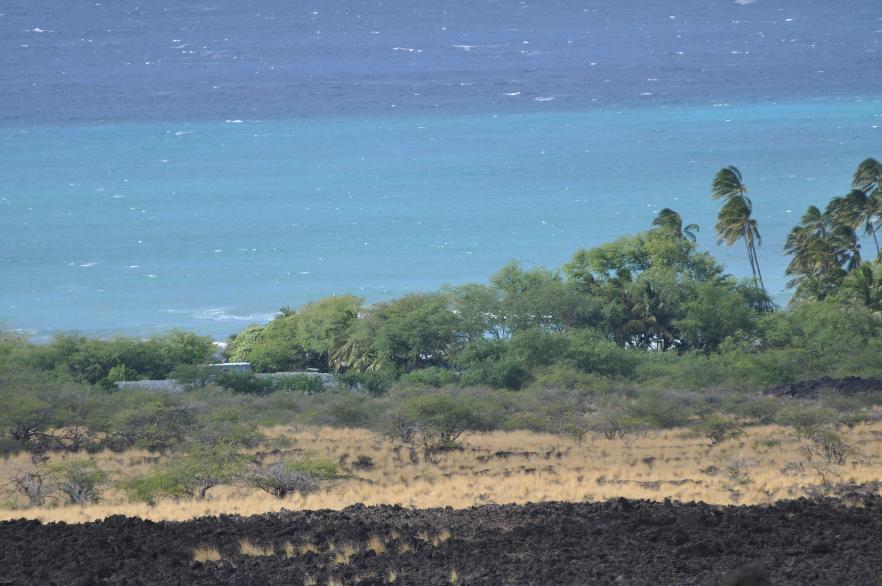 Ocean, waves, rocks, crashing surf.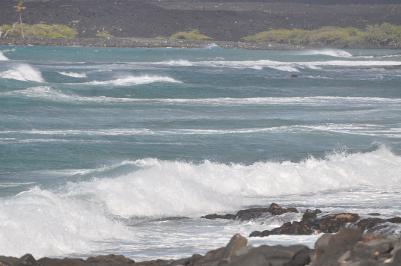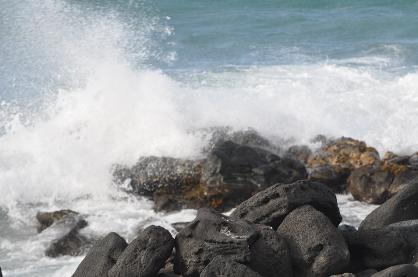 Enjoying our last few hours Oceanside at Kekaha Kai State Park.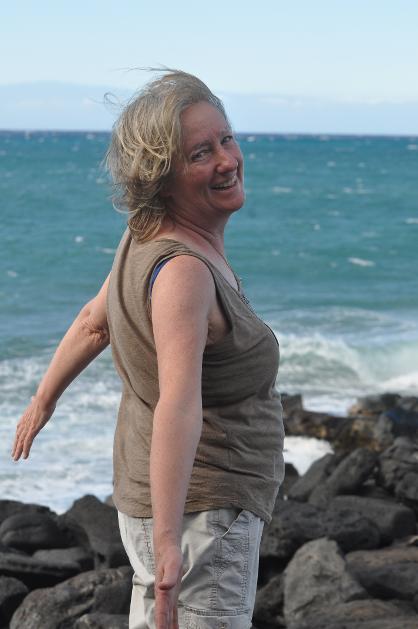 February 16, 2016 - another morning at Ka'waa Loa Plantation; see sea turtles
One of the neat aspects of Ka'waa Loa Plantation is the outdoor lava shower - two stalls with plants growing on the lava rock walls in the lush tropical environment. This made the indoor shower somewhat redundant as all our showers were enjoyed in the great outdoors.
Again it was into the afternoon before we got out. After a short stop at the nearby Painted Church we returned to the Coffee Shack where Gayle enjoyed a healthy vegetarian sandwich and I a not so healthy piece of Kona lime pie. We then stopped in at the tree-house we mentioned yesterday. This is not your average tree-house, being multiple stories and weather proof with apparently full indoor plumbing. We can only imagine the view of the coast from up there.
This area of Hawai'i, the Kona Coast because of its volcanic soil and rainfall on the mountainside is known for the quality of its coffee. The coffee beans are grown in many small farms, most of which provide tours and/or tastings. We stopped in at one - The Royal Kona Museum and Coffee Mill where we watched an excellent short video on the coffee production and processing. Most of the process remains manual, which is reflected in the price.
We then drove back through Kailua-Kona in search of wind chimes. Gayle saw some chimes she liked at Honu Kai and then again in Honaka'a which had us searching a couple of shops but without success. From there it was north of the city to the Kaloko-Honokohau Historical Park and in particular the beach where sea turtles are known to come ashore. We were not disappointed as there were many sea turtles both on the shore/rocks and in the water. It was easy to approach them, to within a reasonably close distance. The water was shallow - more for wading rather than swimming, but while Gayle was out enjoying it two turtles swam within an arm's reach of her. Really cool experience.
As we enjoyed the little food we had at Mi's Bistro the previous night we decided to return. Gayle's eggplant/pumpkin soup sounded wonderful but unfortunately did not deliver. On the other hand both the Shrimp Scampi and the Grilled Big Island Beef Tenderloin were excellent and very reasonably priced. For me an extremely enjoyable meal.
We returned to the Plantation and opened the bottle of Prosecco - originally bought for Gayle's birthday but not yet opened. We saved it for our final night, enjoying it with some pineapple upside-down cake (every evening there is a different baked good put out for guests; one of the reasons we so much enjoy B&Bs), and of course the Hawaiian music.
So we sit on the lanai drinking our coffee, eating our breakfast and get to look down to Kealakekua Bay. Some nice.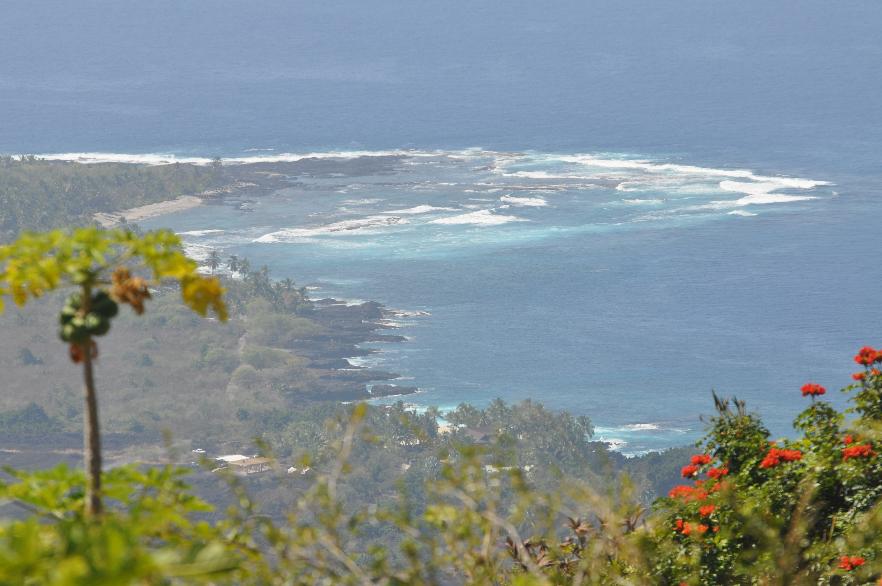 Never did use our indoor shower. Why would you with this outdoor lava shower.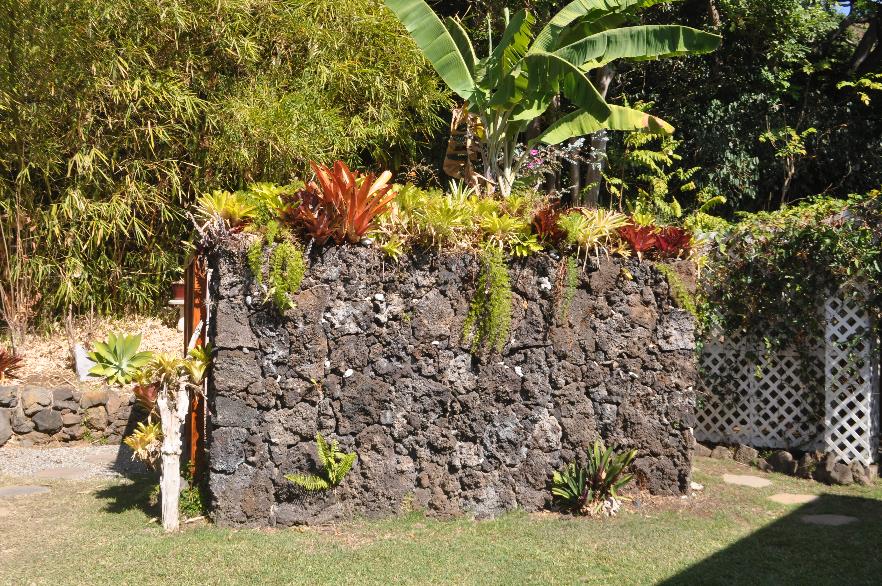 Inside our "Lava Lava Outdoor Shower"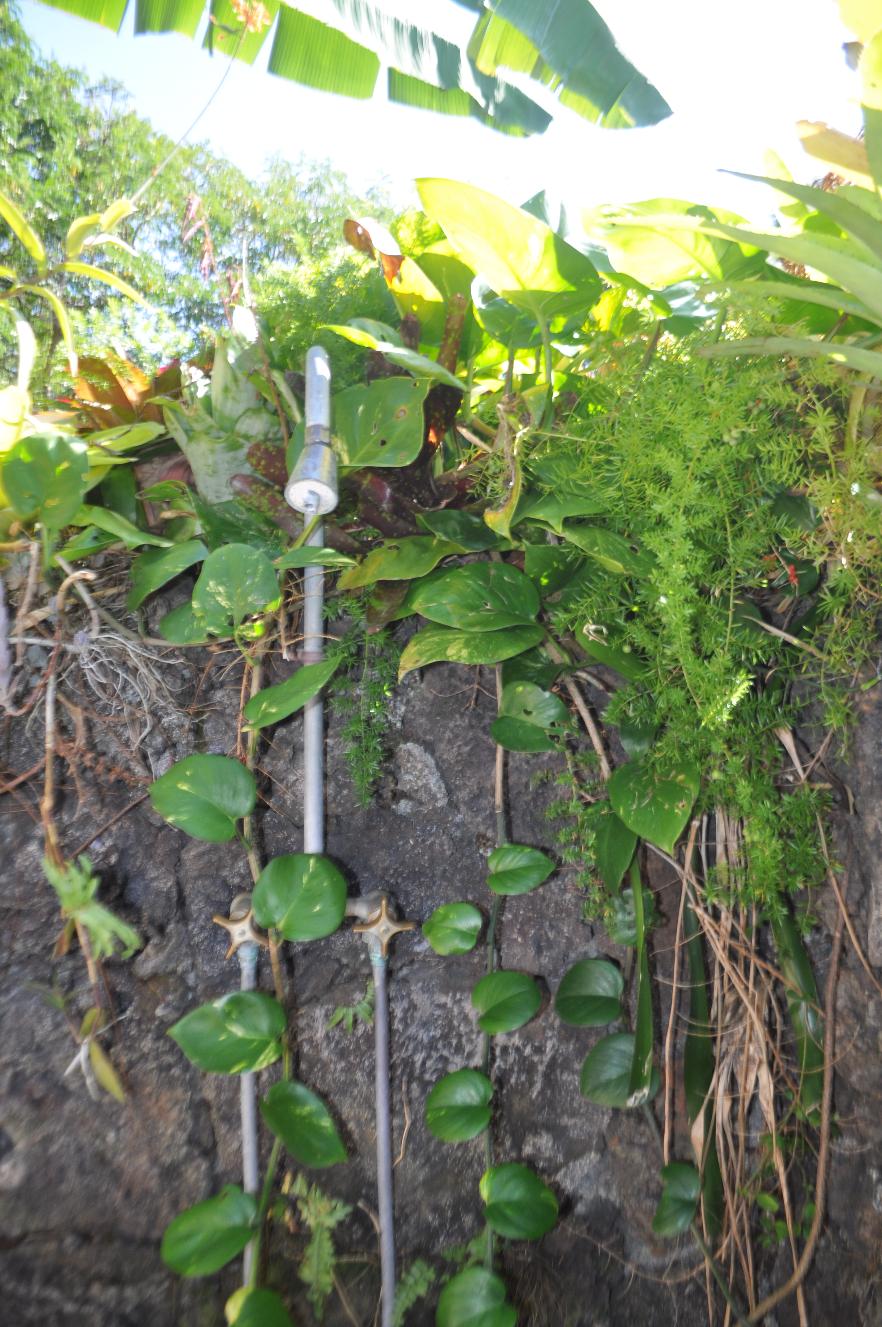 Remember that woodworker fellow from yesterday who lived in a 'tree-house'. Here it is.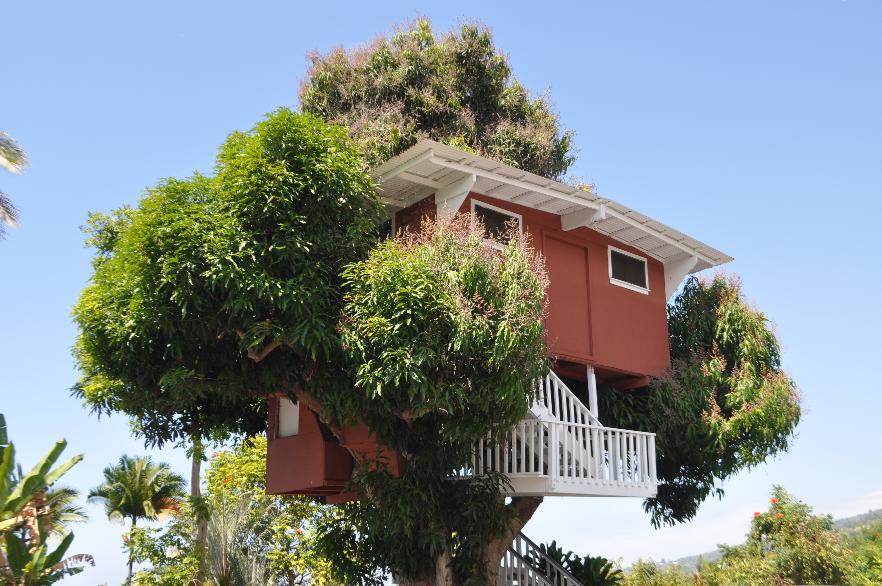 This is where Kona coffee is grown and processed.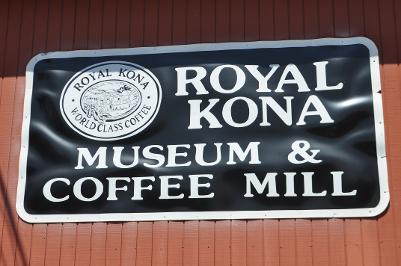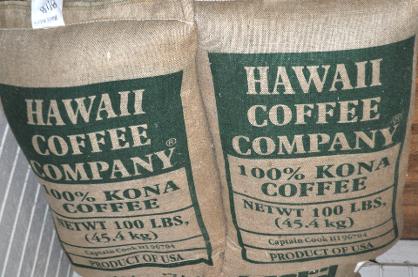 At a roadside fruit stand.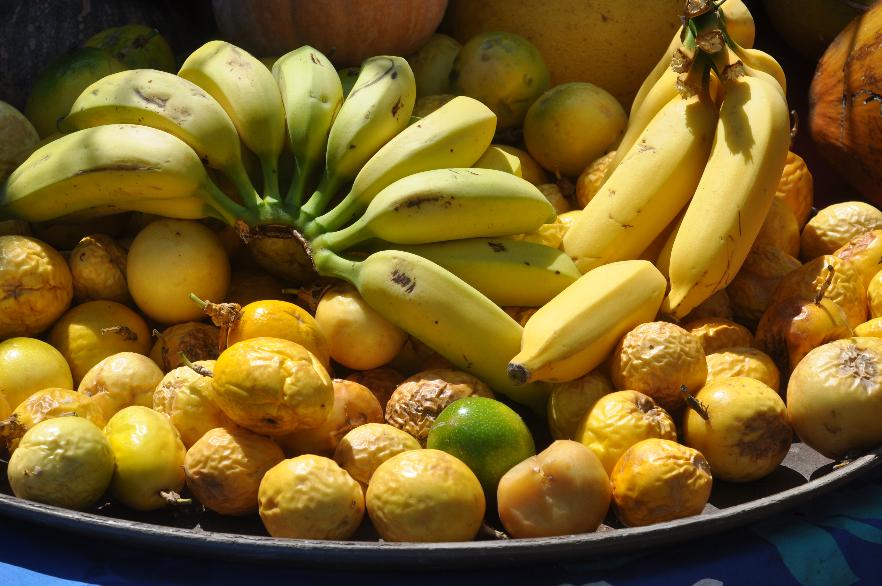 Back to the Coffee Shack for a sandwich and another piece of pie (love that Kona lime).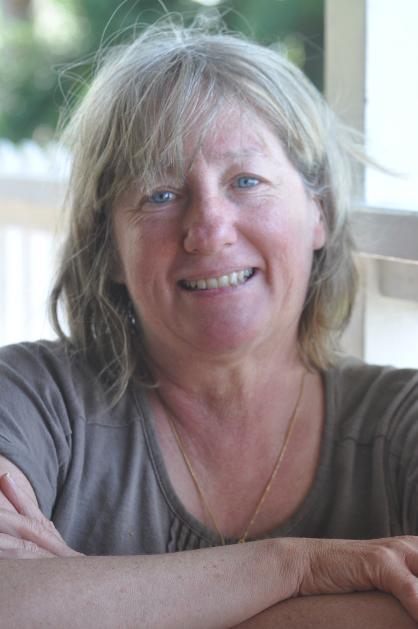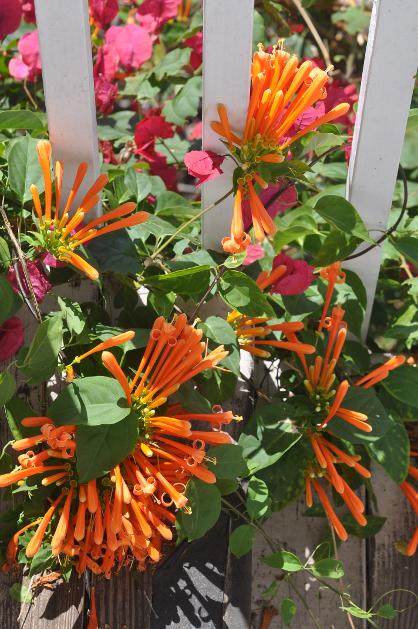 North of the airport where there are miles and miles of nothing but lava fields.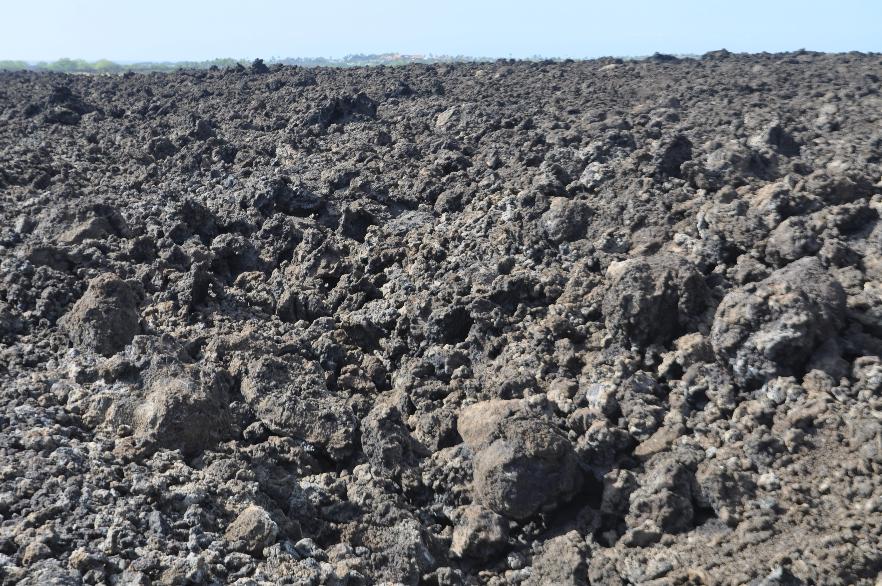 A sea turtle (there were many) on the rocks at Kaloko-Honokohau Historical Park.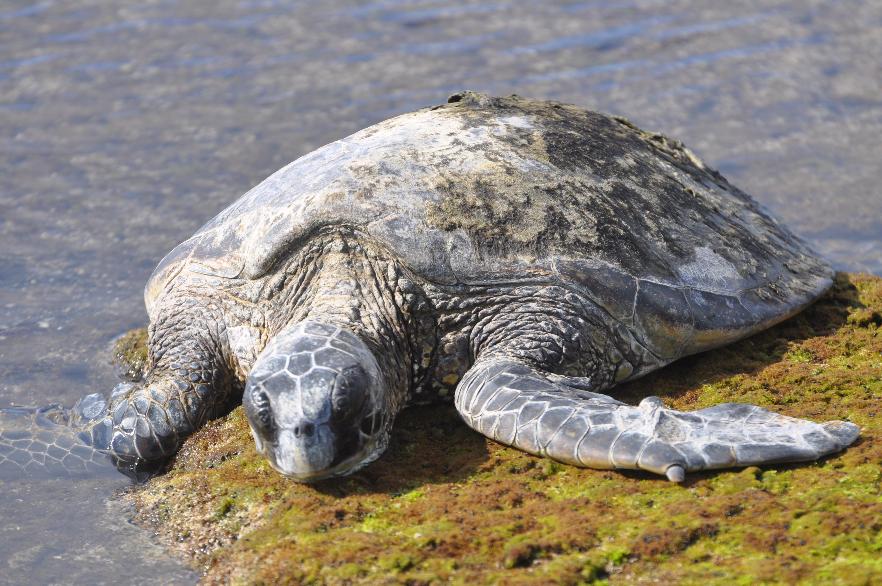 Not really this close - the telephoto lens helps.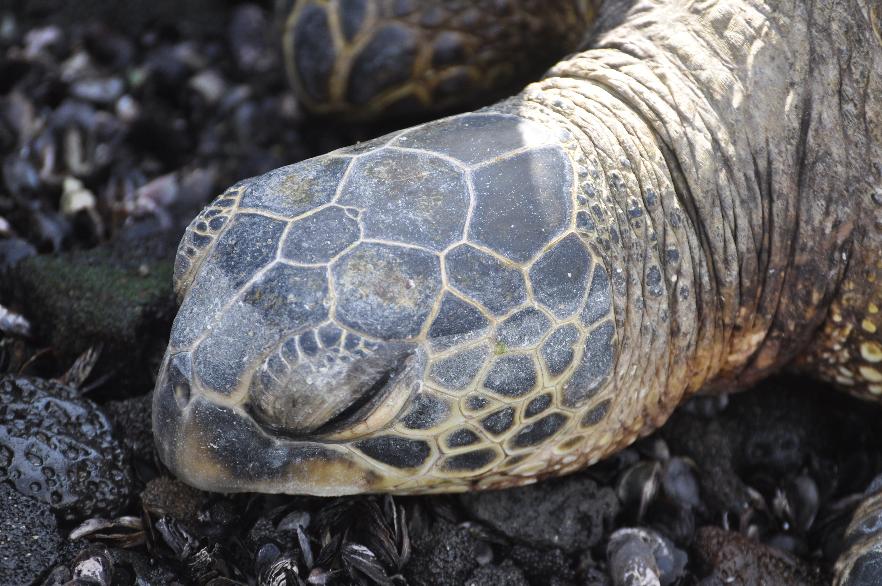 Shrimp Scampi with Meyer lemon garlic butter sauce and Grilled Big Island Beef Tenderloin with garlic mashed potato, sautéed greens, Hanakua mushrooms and a Chianti demi-glaze.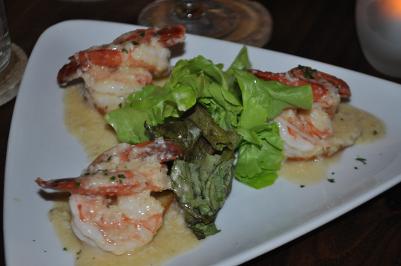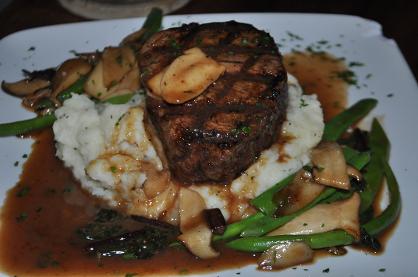 Each night there was a baked treat at the Planation. Tonight pineapple upside-down cake.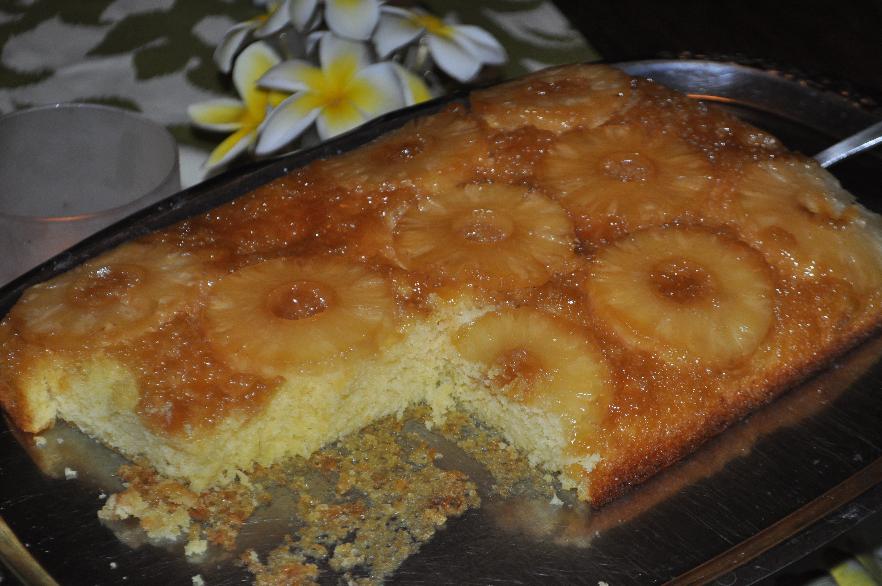 Our bottle of Prosecco; our last night in Hawaii.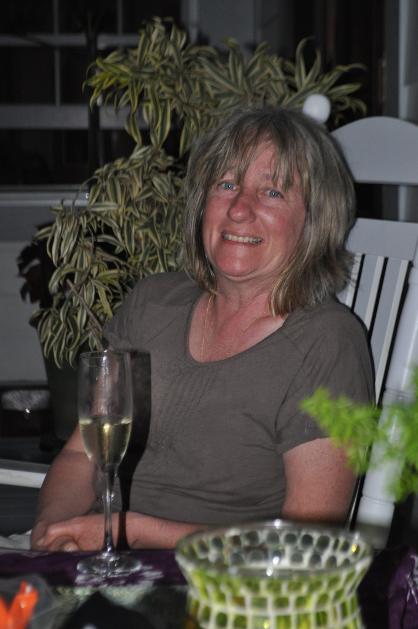 February 15, 2016 - the morning at Ka'waa Loa Plantation; with an afternoon drive around the nearby area

As has become our custom, one we quite enjoy, we spent the morning at the Plantation. Early afternoon we drove the nearby 10 mile Kona Heritage Corridor along the old Mamalahoa Highway. Our fist stop was the Keauhou General Store built in 1919 by a Japanese immigrant. Subsequently the store underwent various additions and remodels through the years becoming the department store for the area, with musical goods and instruments, records, appliances, radios, jewelry, stationery, hardware, photo supplies, sporting goods, sewing supplies, groceries and more. However with the new highway in 1967 most traffic then by-passed the store. Eventually the family members lost interest in the business at which time (2010) it was bought by Kurt & Thea Brown who restored the property. Today the store features fresh Kona coffee, homemade cookies, along with convenience foods and beverages, local produce, beer and wine - plus a large dose of history and artifacts from a by-gone era. We enjoyed an interesting chat with Thea about the history of the store.
Being Monday most of the craft shops along the Heritage Corridor (and there were many) were closed. We did enjoy another nice chat with a fellow - a woodworker, who actually lived in a nearby well-known tree house back in the 1970s (photo tomorrow). We continued on and down into Kona where we visited the Hulihee Palace, a former vacation home of Hawaiian royalty. Originally built of lava rock the building is more of a 'home' than a palace - albeit a nice home in an ideal setting but still not of 'palace' size and scale. The self-guided tour included a number of artifacts that provided an interesting glimpse of royal life during the second half of the 19th century.
As we wandered back to our vehicle we stopped at a seaside restaurant with a great view of the ocean for a couple of drinks and a snack. Then a bit of shopping - we found some seahorse themed items - and a drive along Ali'i Drive, the road that hugs the coastline south of Kailua-Kona. Although the ocean is often obscured by homes or (tasteful) resorts - no high rises - there are a number of parks at which one has a great view of the ocean and the activity taking place there. What was particularly interesting were the surfers, many of the them riding the waves. Quite impressive. Finally we stopped at another state beach park where a musician was playing in the pavilion.
For dinner we decided on an Italian restaurant near our Plantation. Unfortunately they were full-up until 8:15 pm so we went back to Ka'waa Loa, relaxed for a while and then returned for dinner. For some reason we were not all that hungry so Gayle only had a Caesar Salad while I the Island Style Cioppino - a rich broth of tomato and local fennel simmered with scallops, prawns and blue crab, served with grilled garlic bread and pesto aioli. It was very good. We returned to the lounge where we enjoyed the sounds of the soothing Hawaiian music playing softly in the background.
Gayle, outside the Keauhou Store, and Thea Brown, owner of the store.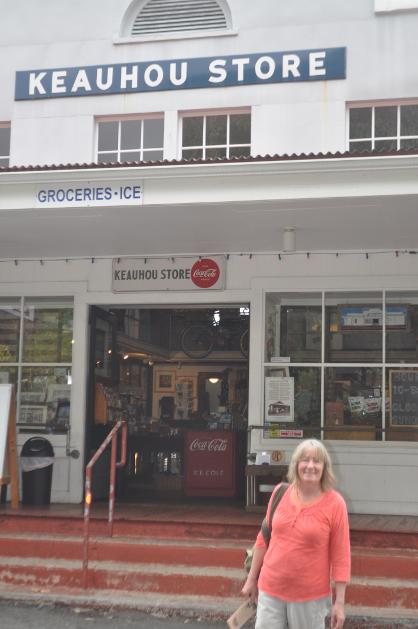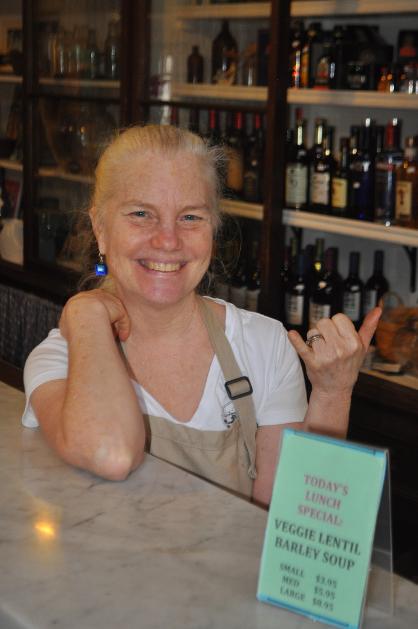 Poinsettias growing wild on the roadside.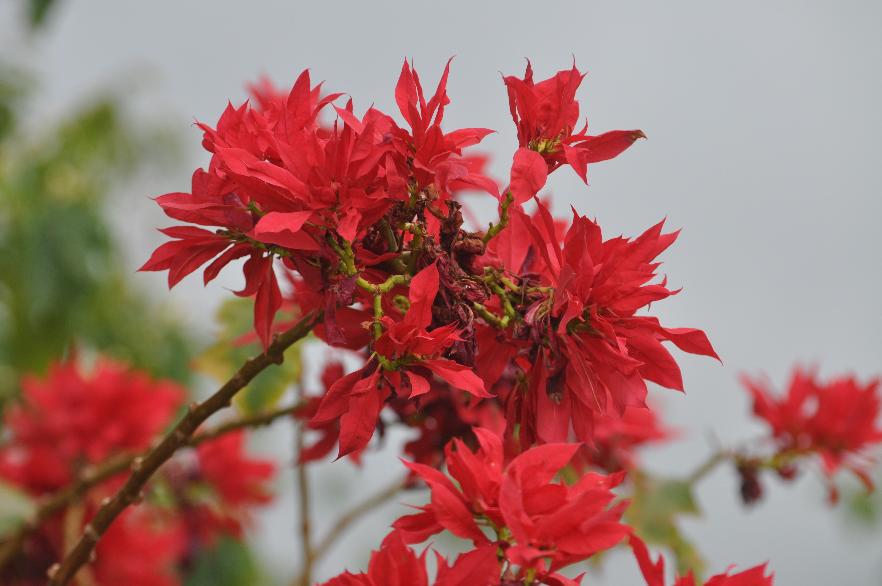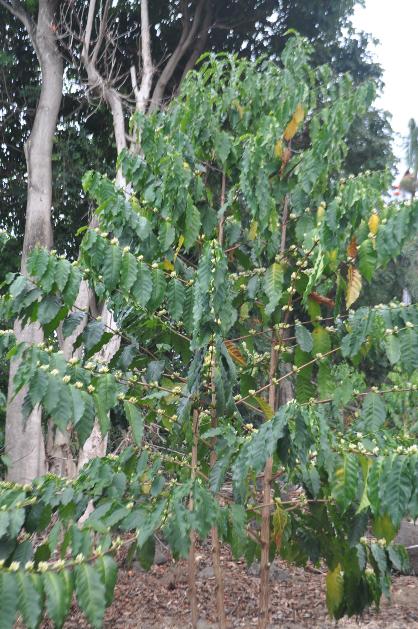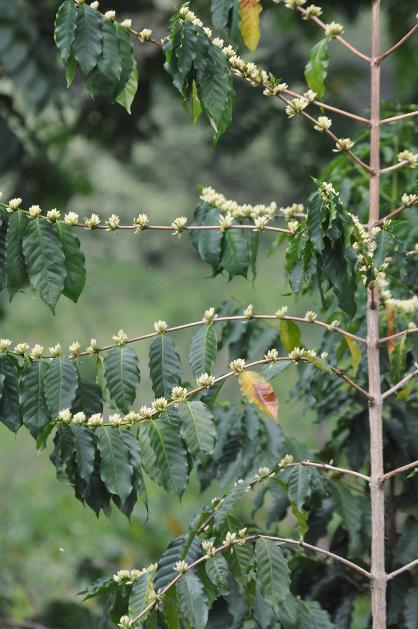 Hulihee Palace in Kailua-Kona and a nearby interesting Banyan tree.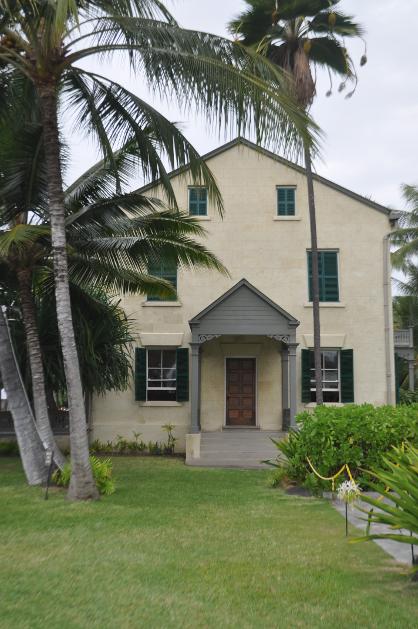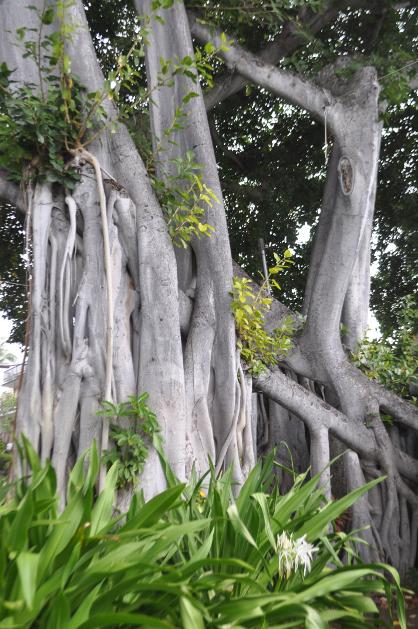 While strolling through Kailua-Kona we stopped at the Kona Canoe Club - a nice bar/restaurant on the ocean and enjoyed a couple of Happy Hour drinks and I an appetizer of chicken satay.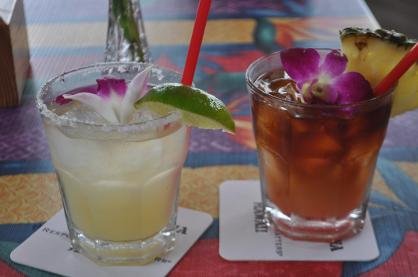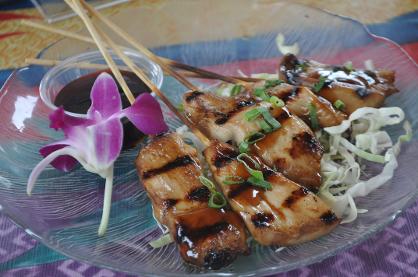 One of the many surfers we saw riding the waves along Ail'i Drive near Pahoehoe Banyans Beach Park.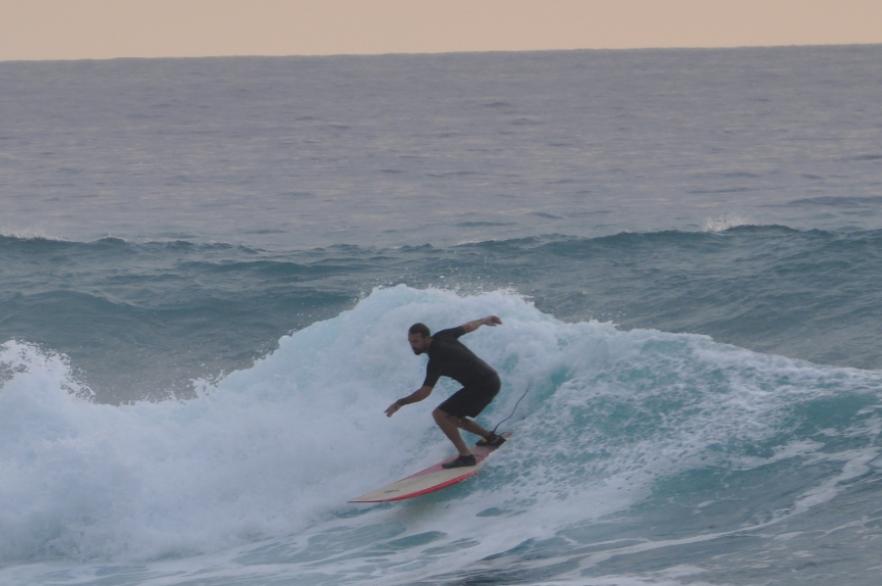 A musician playing at Kahalu'u Beach Park.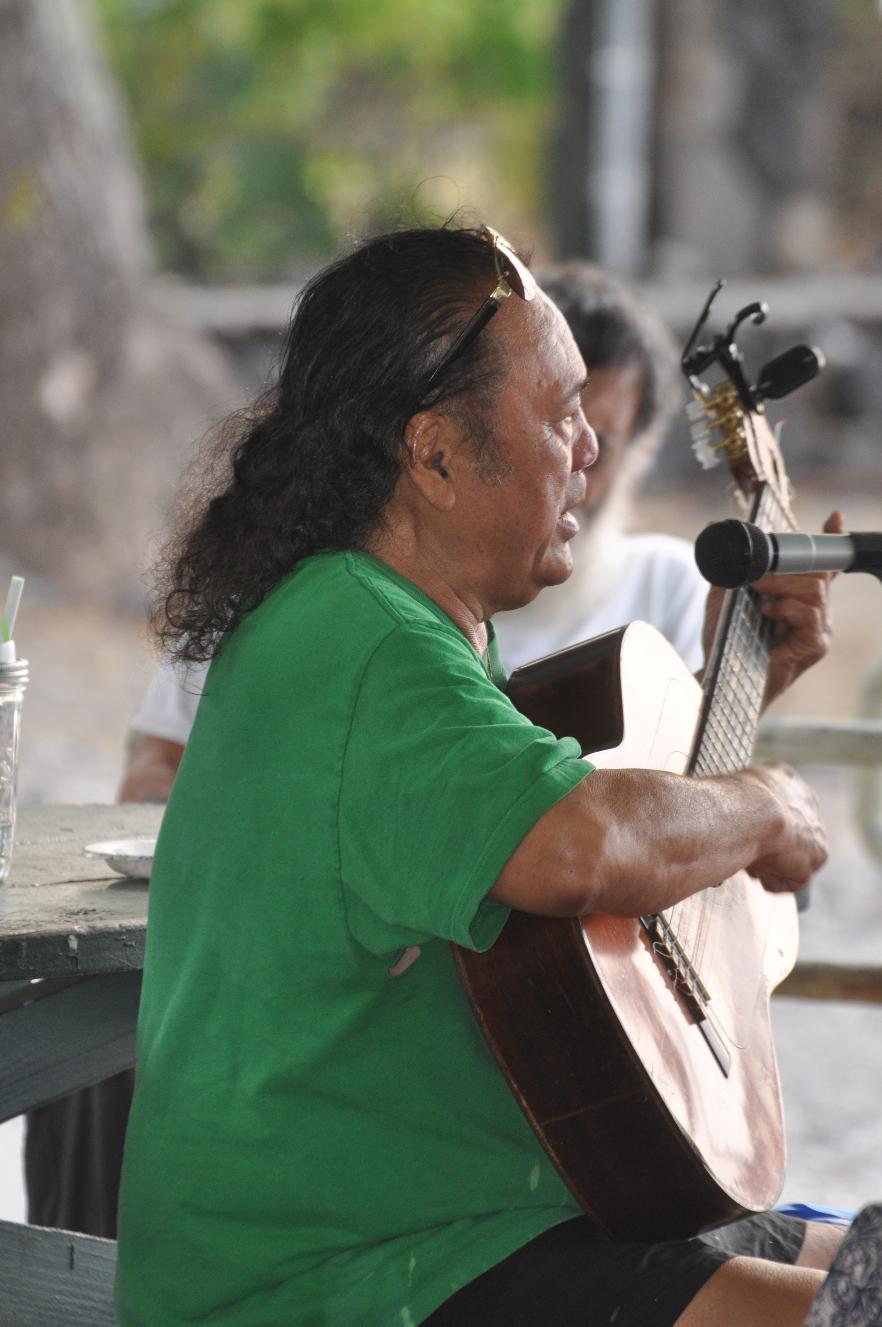 My Island Style Cioppino.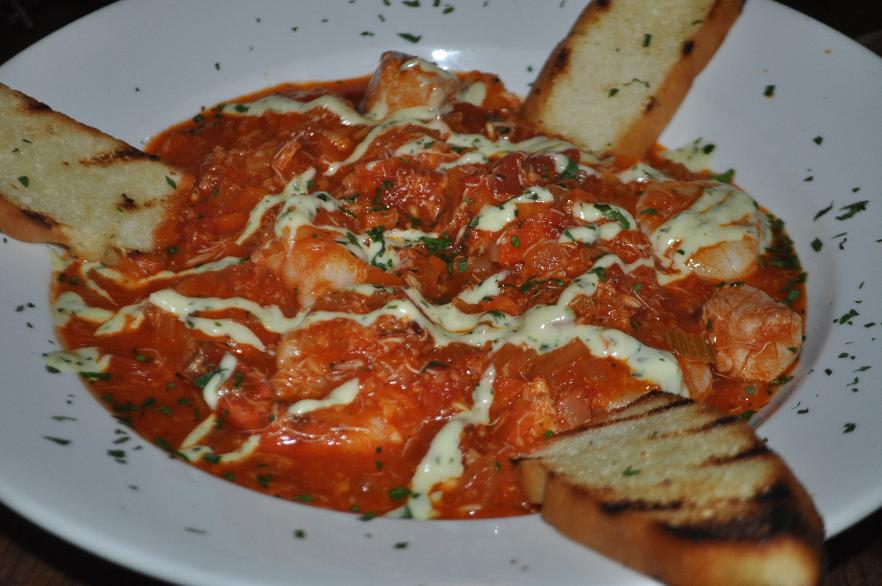 February 14, 2016 - the morning at Ka'waa Loa Plantation; afternoon at Pu'uhonua o Honaunau National Park and snorkeling nearby

What a great way to start a day - a huge, delicious buffet breakfast - lots of fruit, french toast, a plate of pulled pork etc. etc. enjoyed out on the lanai looking down to the coast and Kealoakekua Bay. After having breakfast, chatting with other guests, enjoying the outdoor lava shower, and working on this blog the morning was all of a sudden gone.

We decided to go snorkeling at a place known as 'Two Steps' because - you guessed it, there are two rock steps to get into the water. Although Gayle unfortunately had some difficulty with her mask fitting and as a result was not out all that long, the snorkeling was wonderful, with lots of coral and a large variety of bright and colourful fish near shore. What was really cool though were the dolphins in the bay; apparently hundreds that could be seen from time to time surfacing. It would have been something to be one of those who was swimming further from shore in among the dolphins, but we were not comfortable enough to get that far out. Just the same it was quite something to see the dolphins, including their 'spinning' actions.

We then went over to nearby Pu'uhonua o Honaunau National Historical Park where the ali'i, or royal chiefs, established one of their most important residences. Separated from the royal grounds by a massive lava built in 1550 wall was the pu'uhonua, or place of refuge for defeated warriors, noncombatants in time of war, and those who violated kapu, the sacred laws. The national historical park is maintained as a setting of where old Hawaiin ways continue in the modern world. Wandering through the Royal Grounds and Place of Refuge was a very quiet and peaceful experience, no doubt quite different than it was in the day.

Rather than fight the Valentine's Day crowds we decided to order a pizza (Hawaiian of course) and bring it back to eat on the lanai at the Plantation. Expensive (a large pizza is $26 US) but very good, along with a bottle of wine it was a nice change from restaurant eating.


A large and tasty buffet breakfast here at Ka'waa Loa Plantation.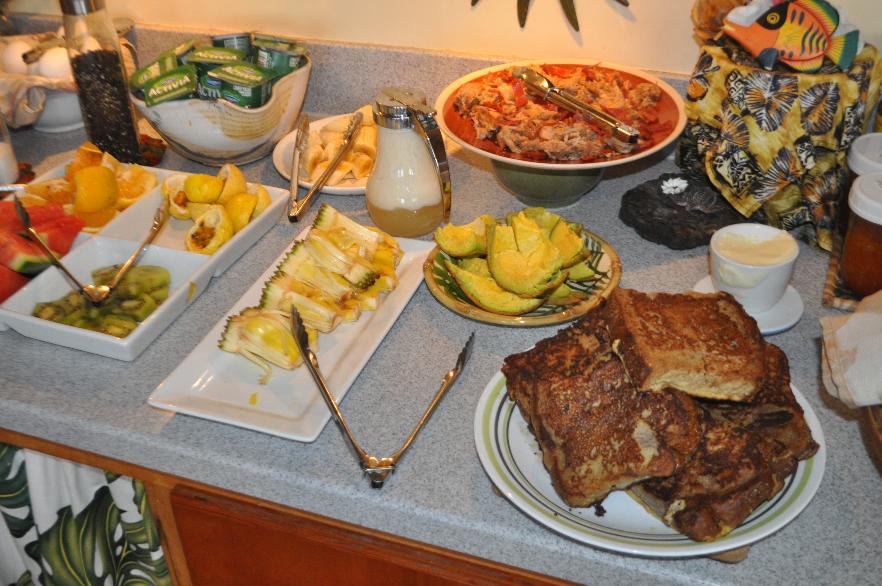 Enjoying the morning rocking away on the lanai.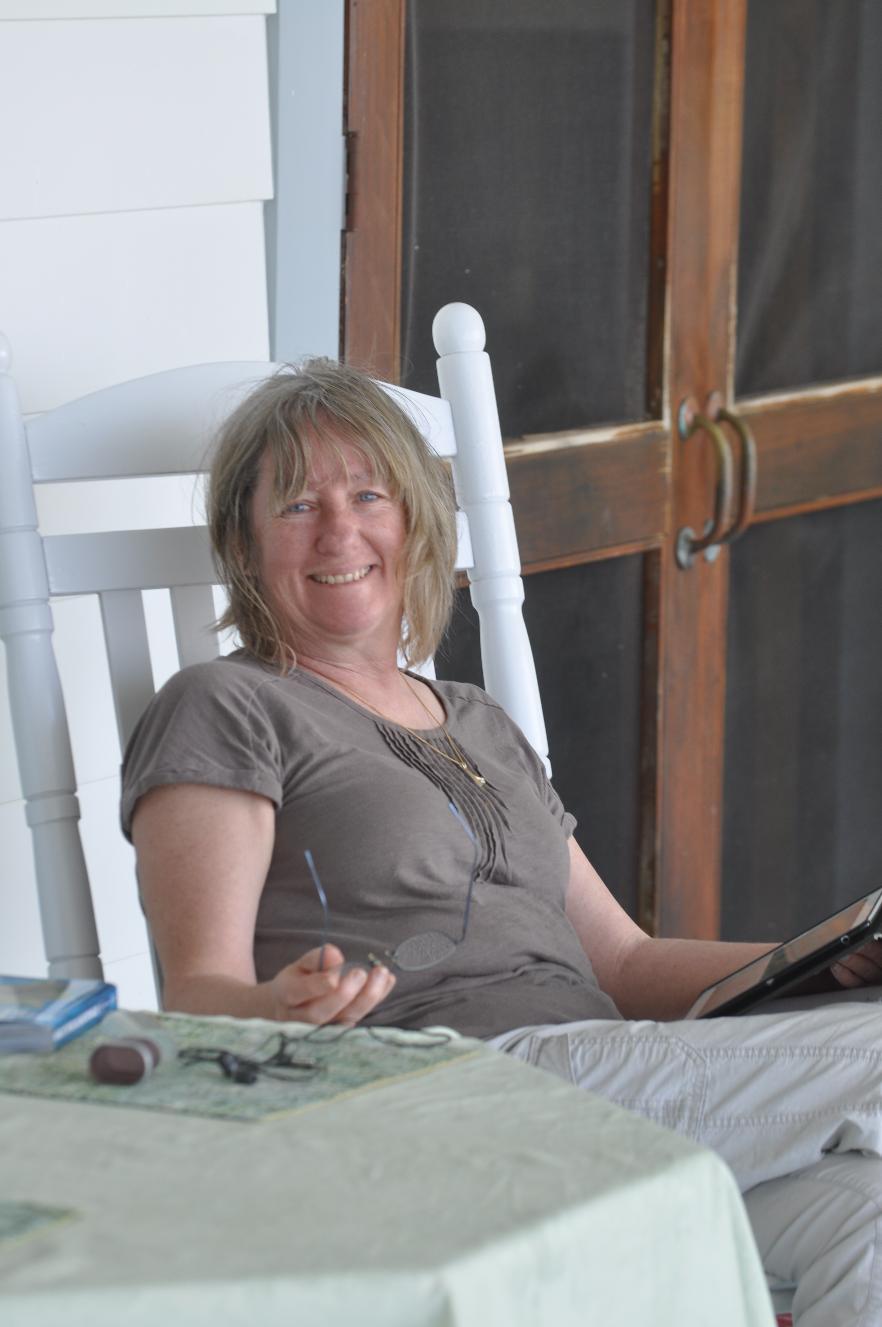 The protected Royal Grounds and Place of Refuge.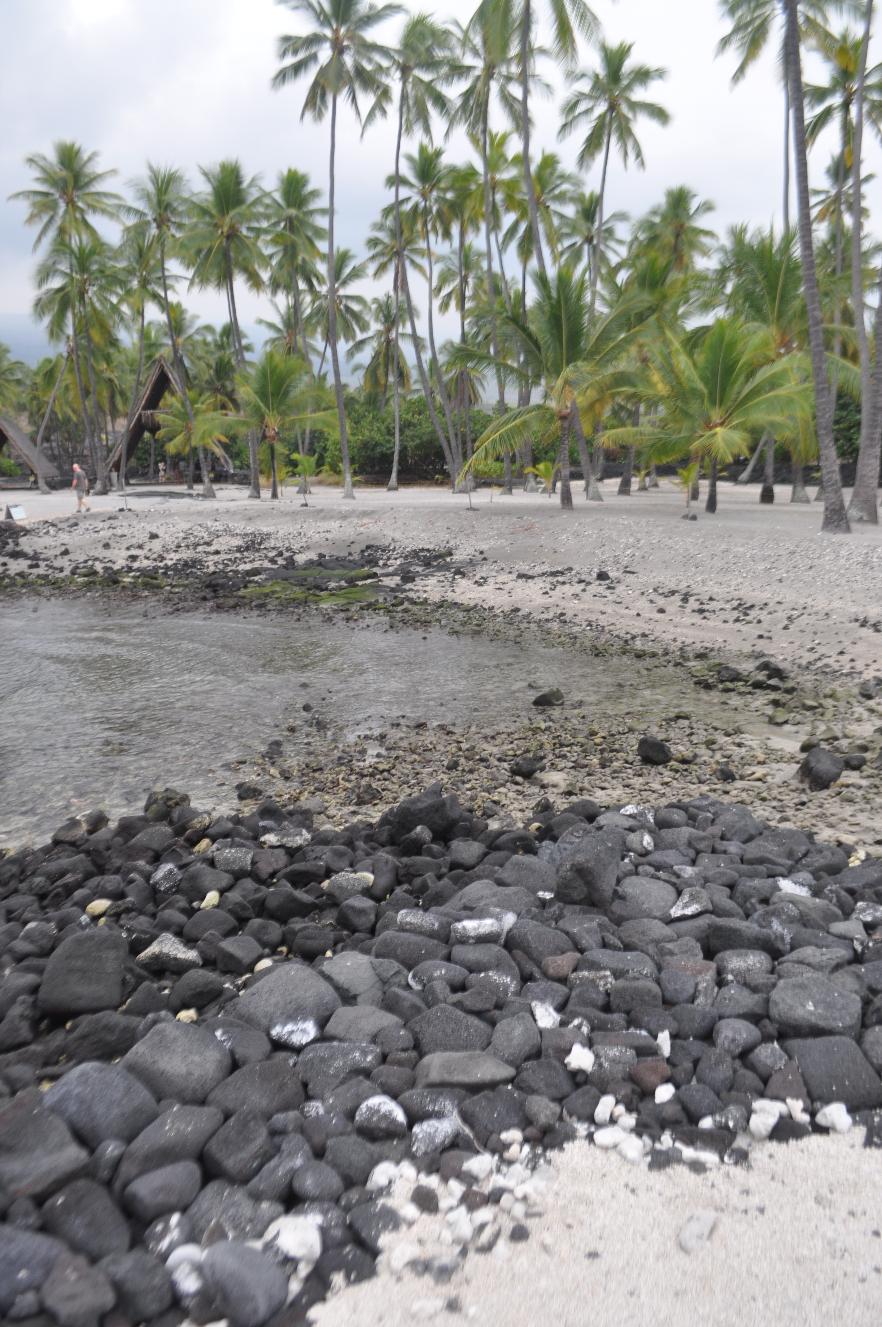 A palm branch hanging over the lava rocks.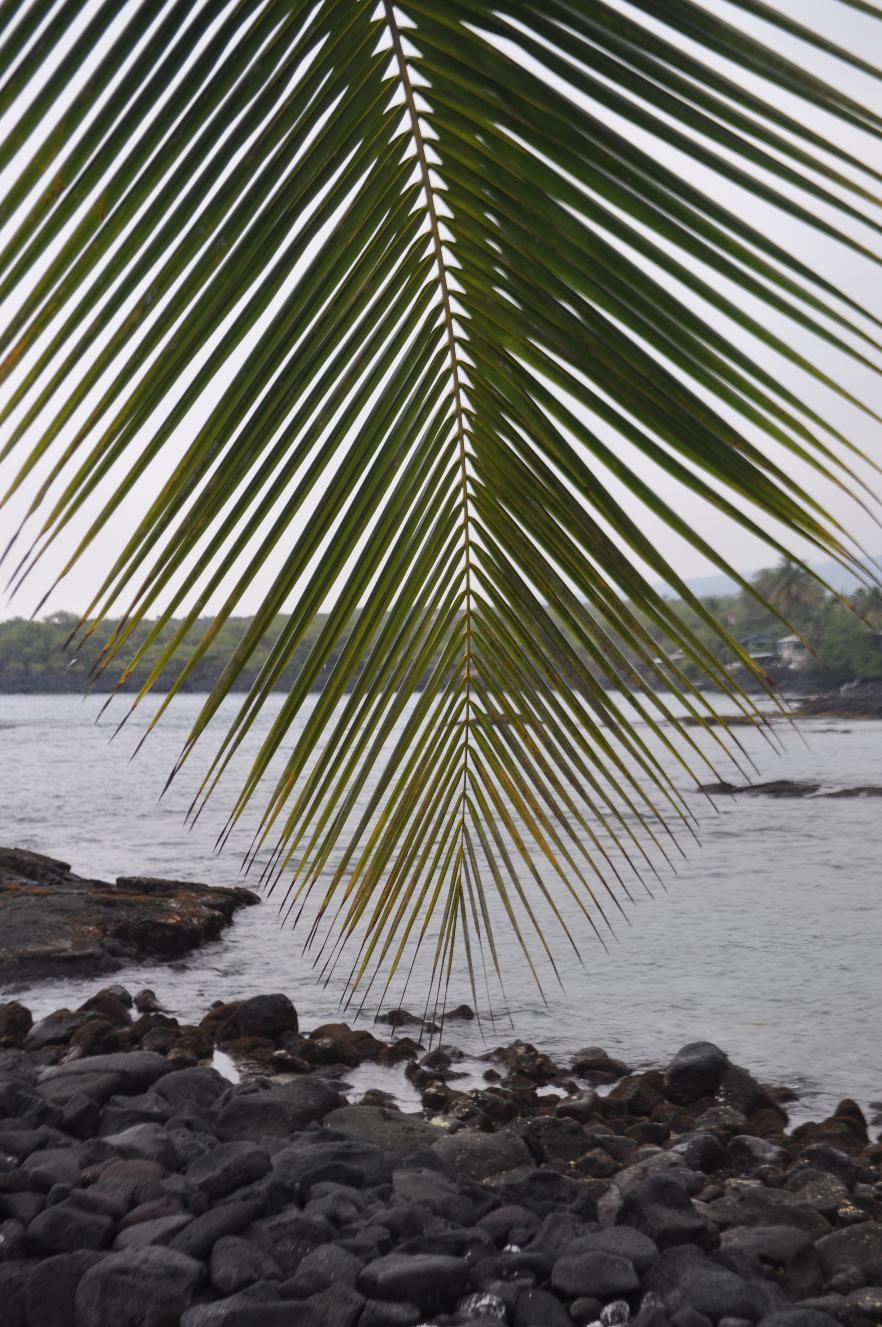 Some of the Ki'i, or guardians of the royal grounds.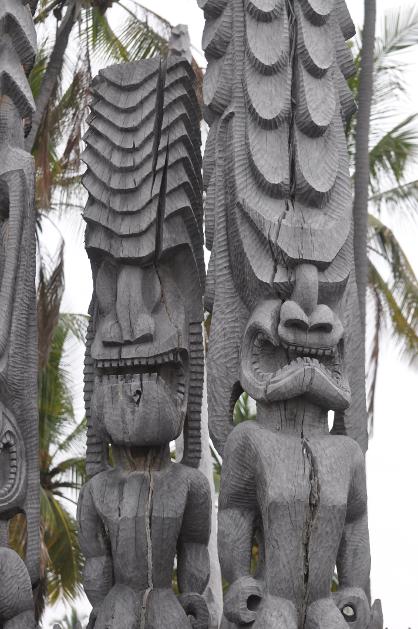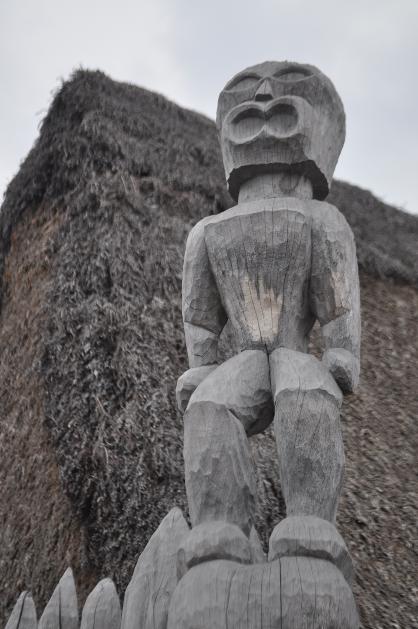 Waves crashing over the volcanic lava.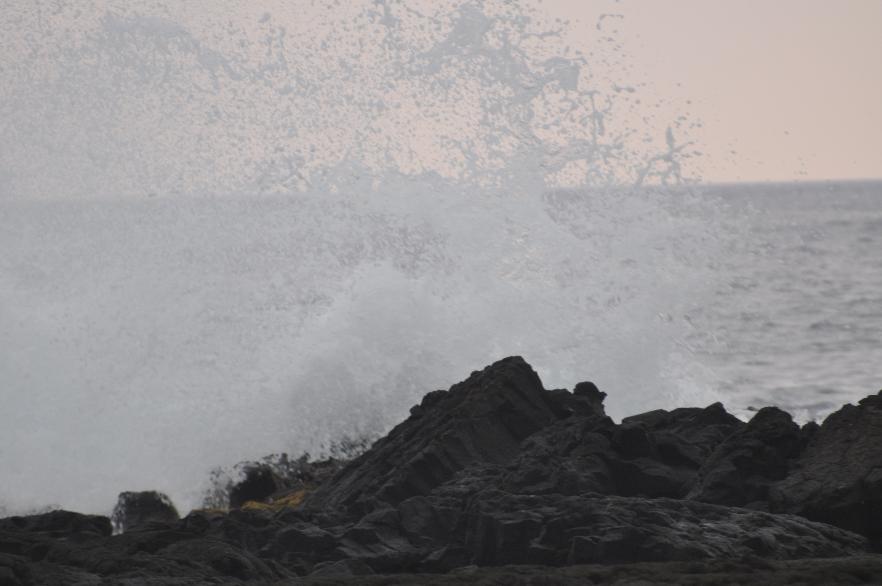 Palm trees in the Royal Grounds and Place of Refuge.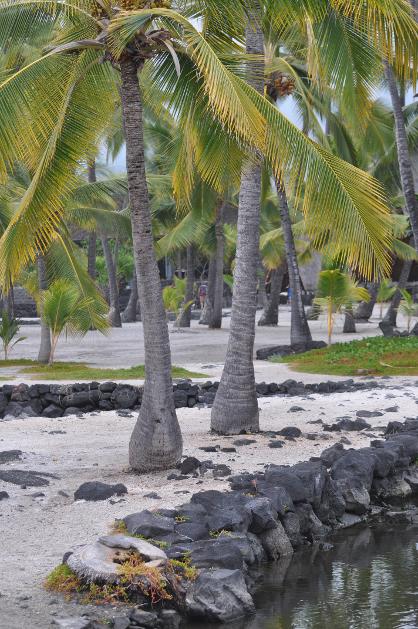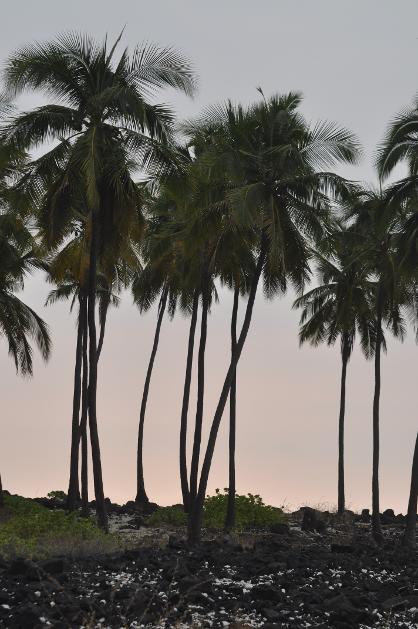 The variety of flowers and their vibrant colours makes it so picturesque while driving around the island.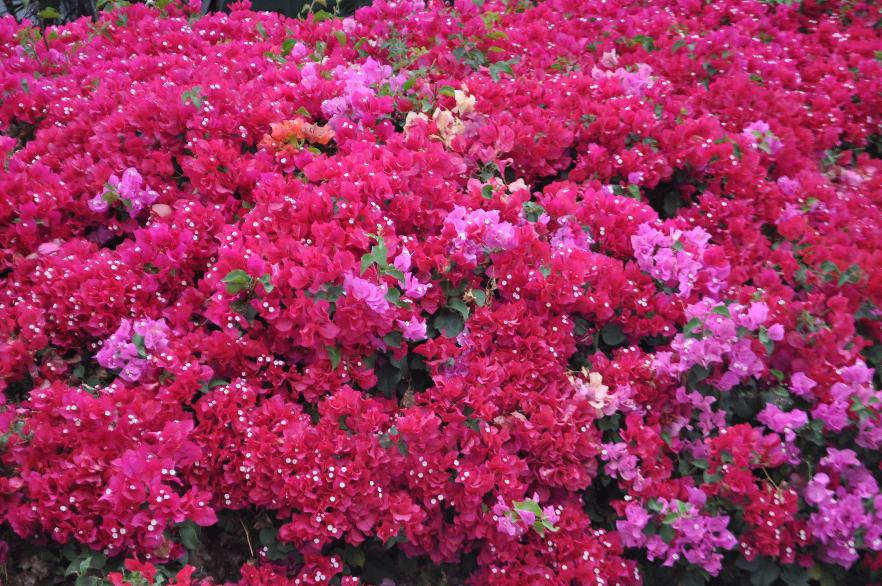 For dinner we picked up a 'Hawaiian' pizza and brought it back to the Plantation to eat on the lanai.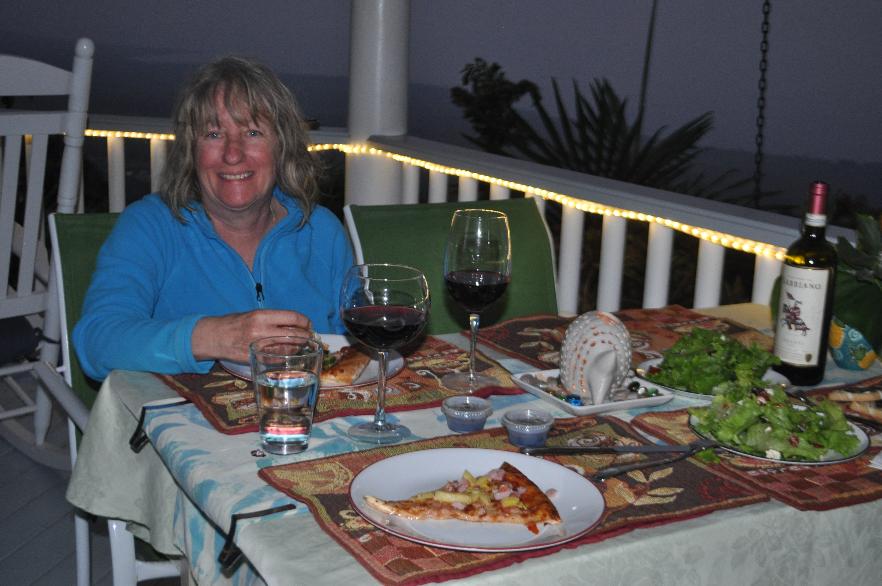 Being Valentine's day the B&B baked some 'valentine' cookies.



February 13, 2016 - leaving Waipi'o Rim B&B and on to Captain Cook

Our last morning here and another beautiful sunny day. Steve tells us we have enjoyed an unusual stretch of great weather. Nancy outdid herself with yet another wonderful breakfast with apples and macadamia nuts. We're certainly going to miss these. We climbed the tree house - which provides great views of the taro farming in the valley, and enjoyed watching the chickens wander around. In addition to all the fruit on the property there are a dozen or so chickens providing fresh eggs.

On the way out we stopped at a nice craft shop in nearby Kukuihaele where we bought a carved tiki, some honu (turtle) coasters and a CD of Hawaiian music. We then visited the Hawaii Vanilla Company where although we could not take a tour of the farm - they are booked up three weeks ahead - we did enjoy some nice vanilla ice cream and bought a bottle of vanilla extract and a couple of bars of soap. Next it was a stop at the Tex Drive-In for a mahi-mahi fish sandwich and a few malasadas, a Portuguese doughy donut-like thing. We then took the Old Mamalahoa Highway towards Waimea, a really nice drive, first through some rain forest and then ranch country. From there it was across the slope to Waikoloa Village, another town that uses crosswalk flags, and then back to the coast past nothing but lava fields. From here it was south to Kailua-Kona and on to our final stop just past Captain Cook overlooking Kealakekua Bay where we will spend the next/last four nights at Ka'waa Loa Plantaion.

We easily found the Planation and are very impressed. The lanai (terrace) surrounding the home is extensive with rocking chairs and wonderful views to the coast below. Our room is huge, very tastefully decorated with a beautiful four-poster bed. Having made the stop at Tex Drive-In we were not super hungry but did go out to The Strawberry Patch were we shared a nice Thai red curry. Another wonderful day.


Promise - today will be the last day of scenic views of Waipi'o Valley and beach.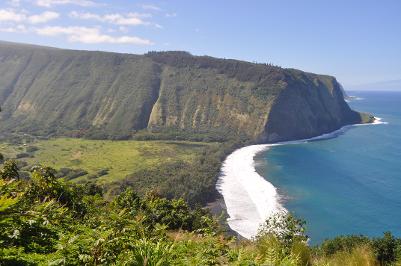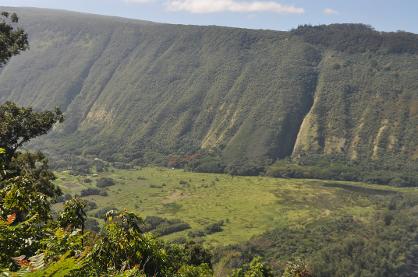 Yet another attractively presented and tasty breakfast - thanks Nancy.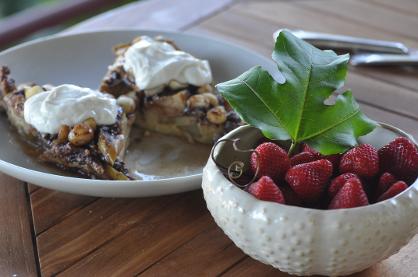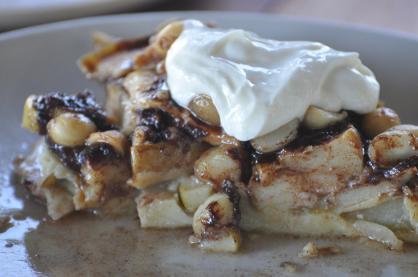 Beautiful flowers everywhere here at Waipi'o Rim B&B.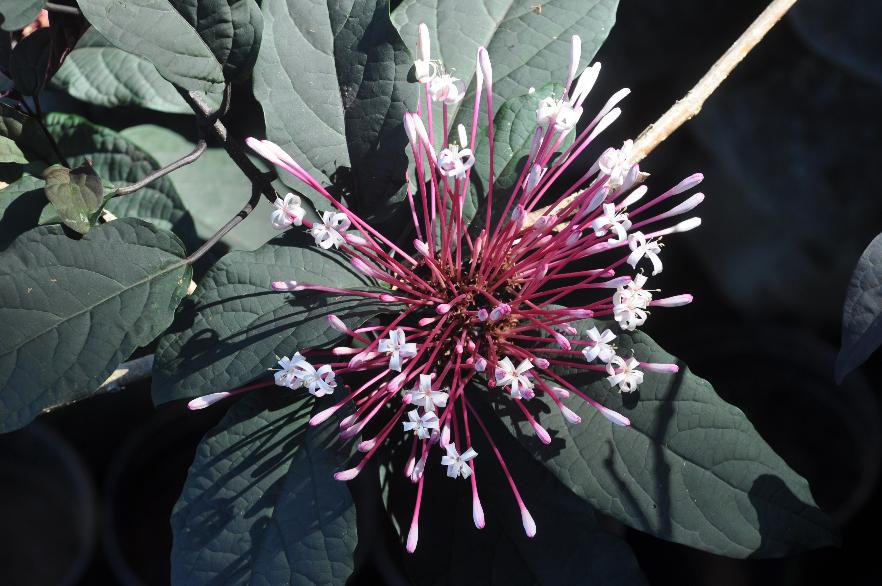 The taro patches in the valley below as seen from the tree house.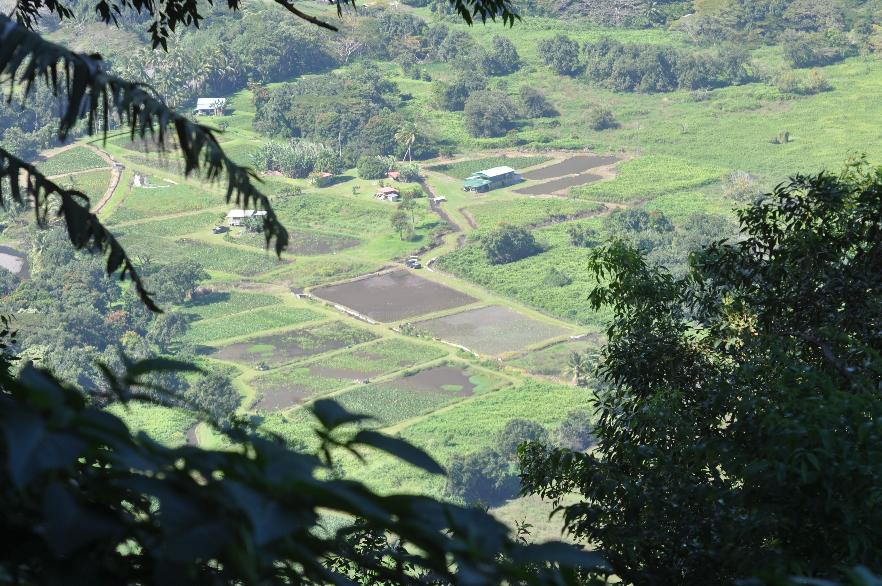 We're told it's all feathers.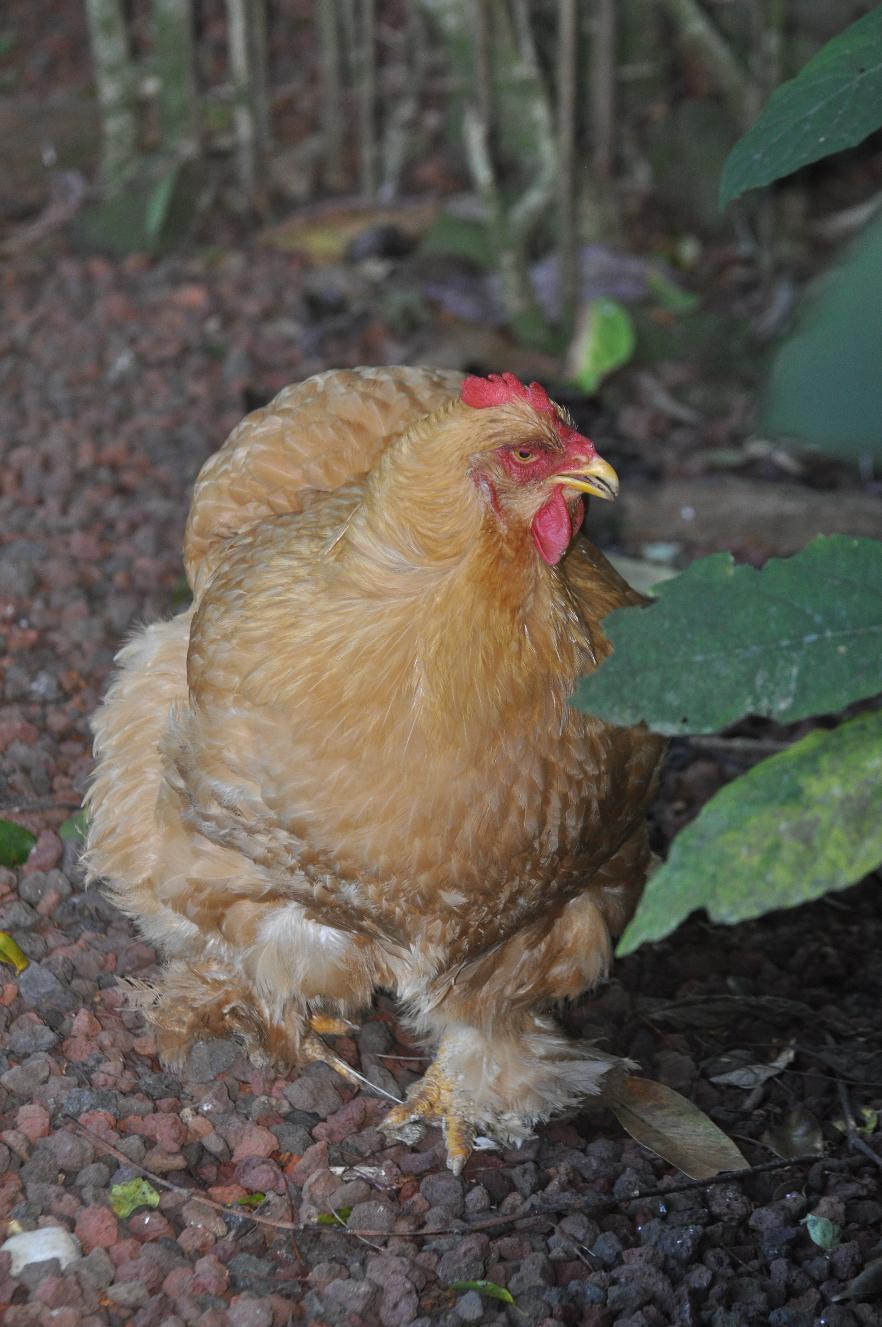 Definitely farm to table.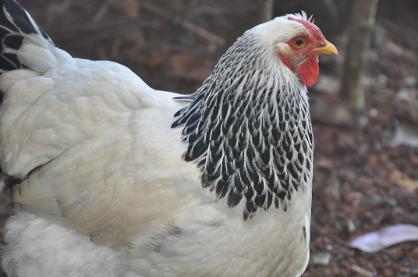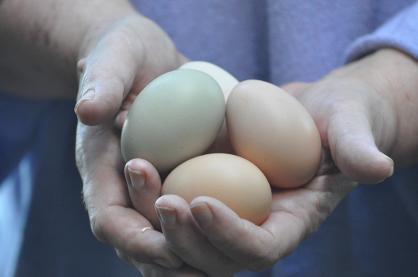 Nancy and Steve our wonderful hosts.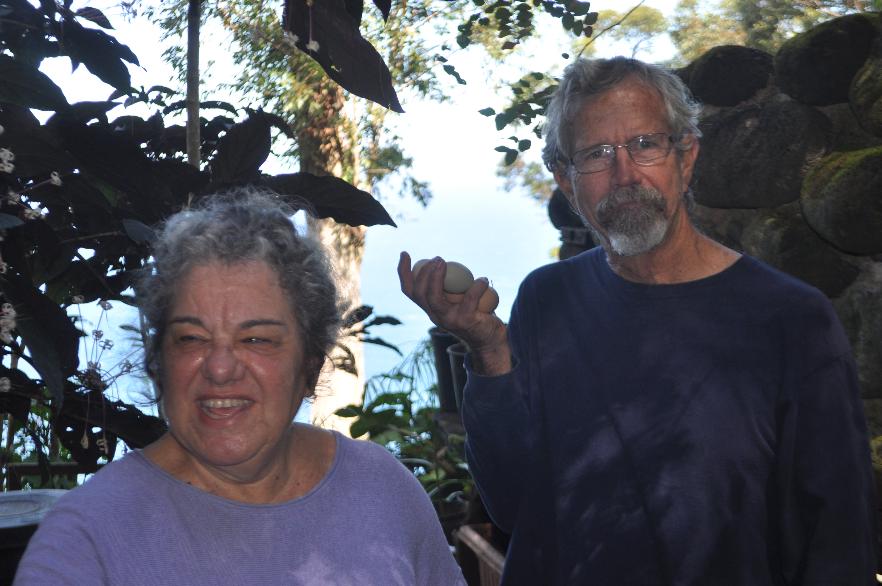 Steve's tree-house providing a great view of the taro farming in the valley and yet another photo of the coastline.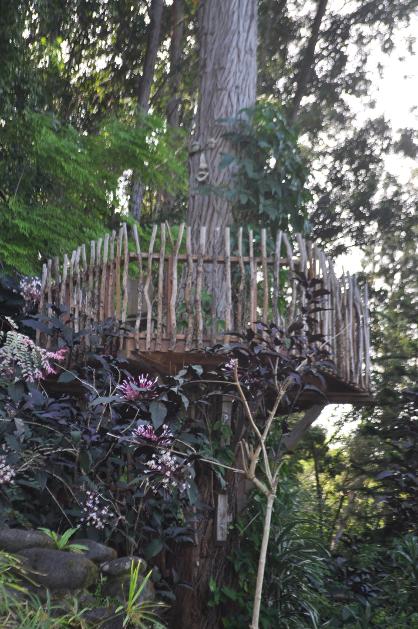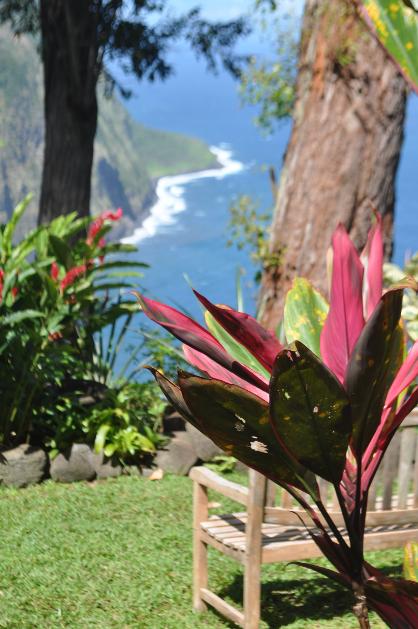 The way to the Hawaiian Vanilla Company.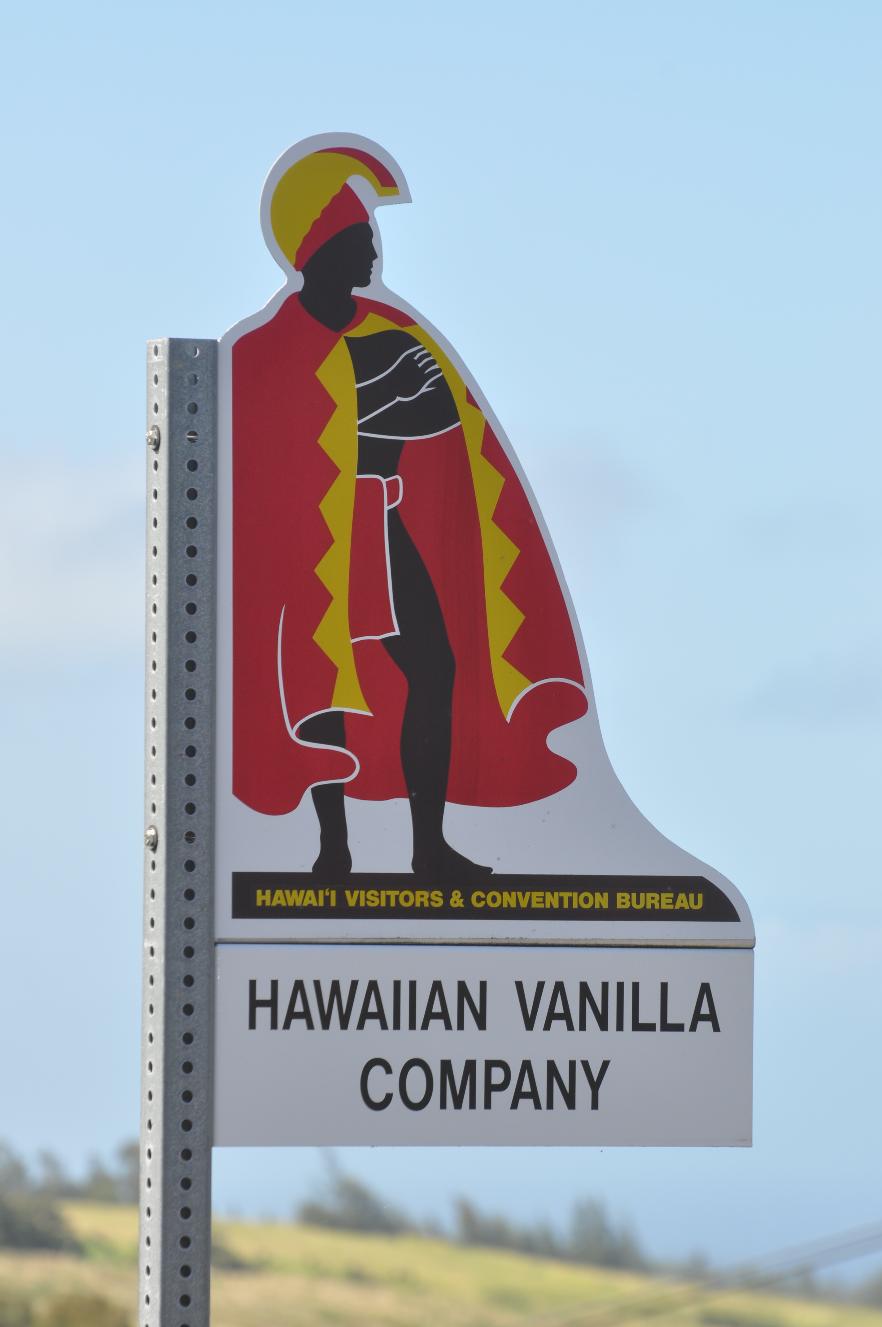 A few wispy plants growing in the black lava all down the coast, north of Kailua-Kona.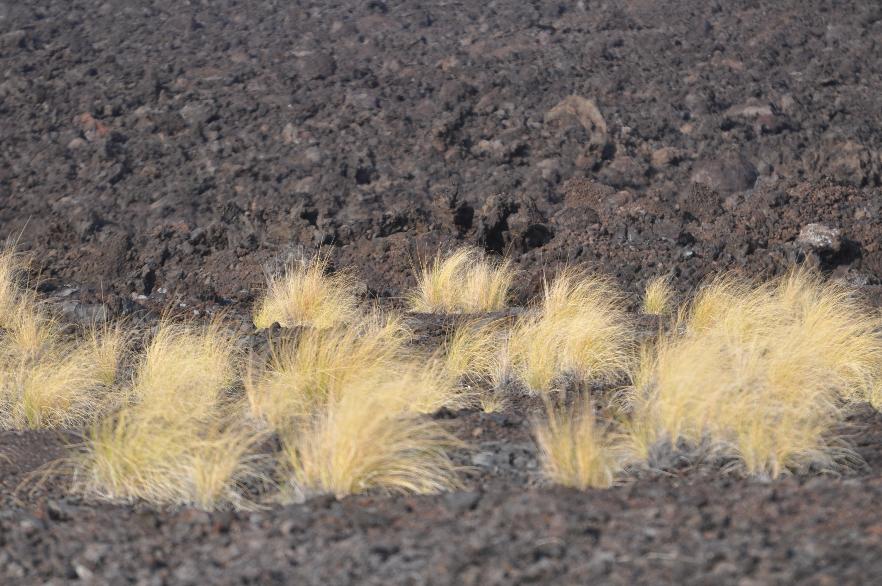 The terrace, or lanai here at the Ka'waa Loa Plantation is beautiful, overlooking the coast and ocean.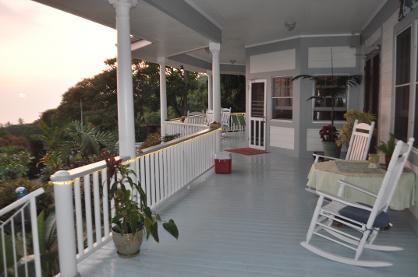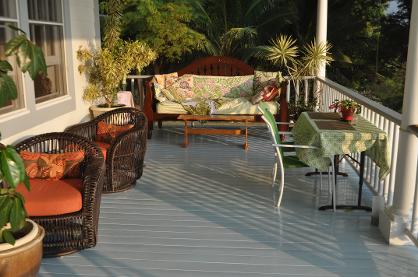 Our large Ka'waa Loa Suite has this beautiful 4-poster bed.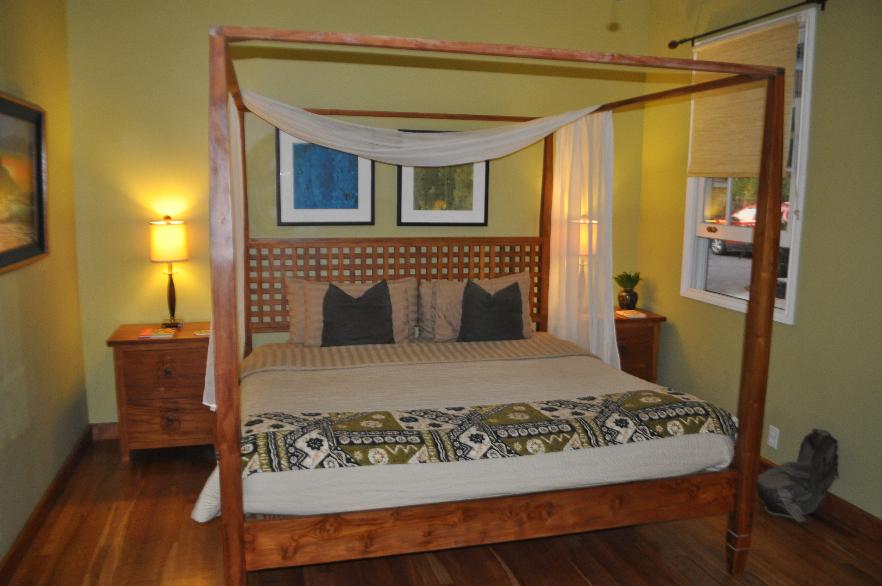 Our shrimp Thai red curry.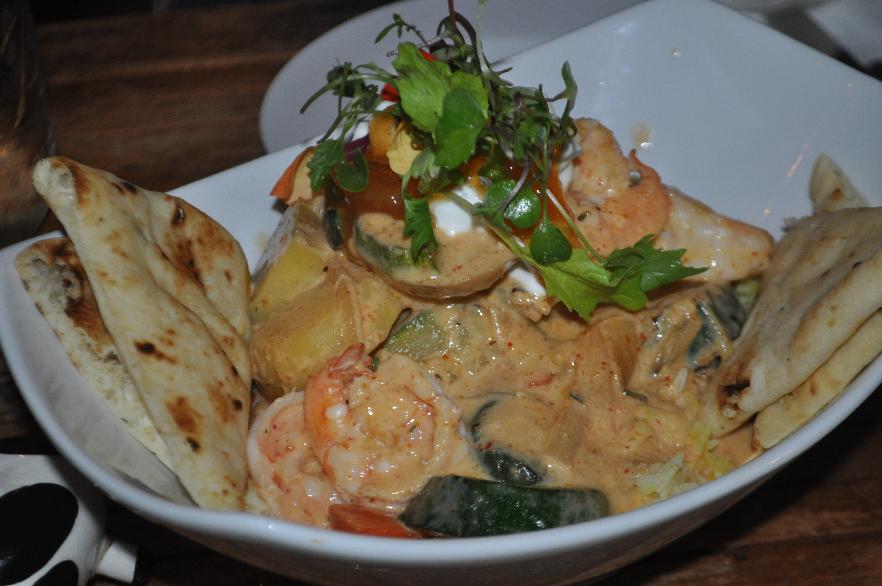 February 12, 2016 - Waipi'o Rim B&B with dinner in Waimea

Hard to believe but we spent a second full day here at the B&B. That should tell you something about how comfortable and relaxing this place is. A quiet day working on the travel blog, reading, napping, and enjoying the view from the balcony.

These breakfasts keep getting better and better. It seems that just when we thought Nancy could not be more creative she surpassed herself. We started with an interesting fruit tray and then some wonderful French toast, with kumquat jelly, strawberry jam, and kumquat marmalade. Beautifully presented, filling, and tasty these set the bar for breakfasts at a B&B.

As mentioned numerous times the view is spectacular. Below is a short video that attempts to capture the vistas but nothing is the same as seeing them first hand.

One of the things (there are many) that make Waipi'o Rim B&B special is the thematic attention to detail. Nancy has done a terrific job at making the room interesting with art and nic naks all with a sea theme - shells, seahorses, fish, turtles etc. The sheets had tropical fish, the plates were sea themed and even the cream pitcher had a beautiful seahorse handle.

The only unfortunate aspect of our visit was the fact the valley was closed to other than inhabitants due to an outbreak of Dengue fever last fall. There have been three confirmed cases in the valley and over 200 on the island (most in the south-west). Fortunately Steve forewarned us a couple of weeks prior to our trip. He did say he had a few cancellations in spite of the fact the mosquitoes for the most part (we only saw one in our five days) remained in the valley and during this cooler time there were few anyway. We were not concerned, and it gave me an excuse for not hiking down and back up the 1,000 foot 25% slope.

We decided to spend the big bucks and have dinner at Merriman's, a well known restaurant in Waimea. Appetizers (details with photos below) were in the mid teens, while the filet mignon was $46 (US - $65 Cdn with tax, tip and exchange). Being in ranch country I thought it appropriate to have beef. To this I added a side of local grown Hamakua mushrooms. We almost went on a tour of the mushroom farm but in the end didn't so I thought the least I should do is have some with my filet. Good decision. A bottle of water (Gayle is theorizing she is having issues with the ice in drinks) was $7 US ($12 Cdn all in) but it was Hawaii Volcano water, double filtered in lava rocks - or so the label indicated. A glass of Spanish Rioja wine (very nice) was $15 US - the cheapest glass of wine was $12 US. So yes the meal was expensive, as we expected but we will say the food was excellent and the service impeccable. The thing is the restaurant was full, both when we booked and when we ate, i.e. the prices are not causing guests to go elsewhere.

We returned to our B&B and as is the case each night went to sleep to a symphony of frogs and the sound of the surf. In order to remember these sounds of nature there is a short video - well really audio - below of the chorus of night music.

Breakfast started with a tray of a wide variety of fruit - star fruit, rambutan, banana and kumquat.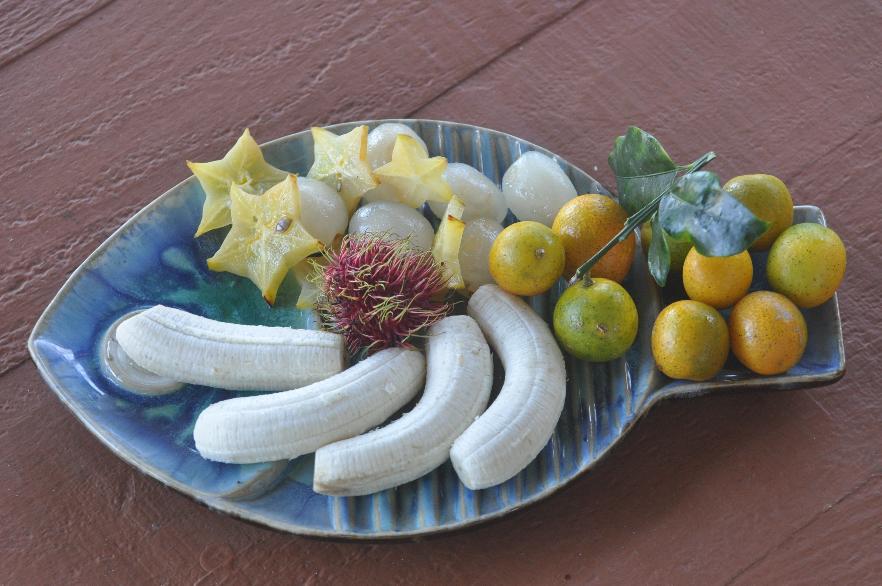 ... plus kumquat jelly, strawberrry jam, kumquat marmalade (beyond delicious) and Nancy's special french toast.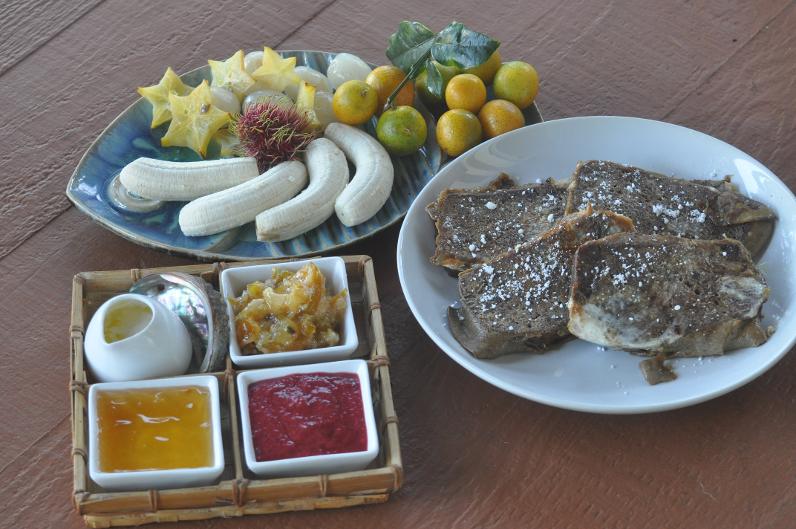 Quite the grade - only 4 wheel-drive vehicles are recommended - to reach the valley and notice that you can't go down any way due to the Dengue fever outbreak.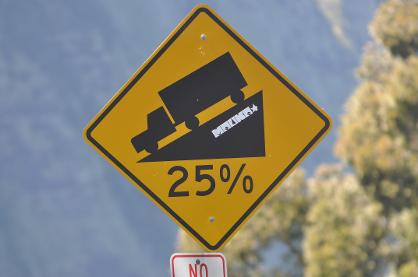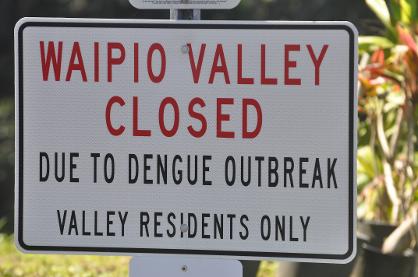 At least it was explained why the Valley was closed.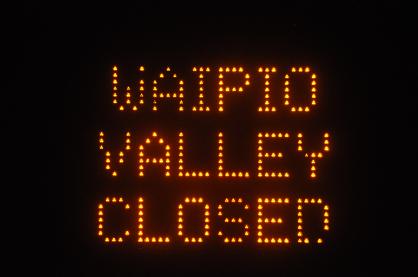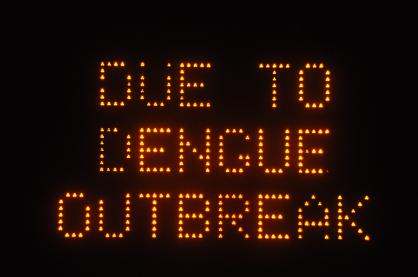 The panoramic views enjoyed from the balcony of Waipi'o Rim B&B.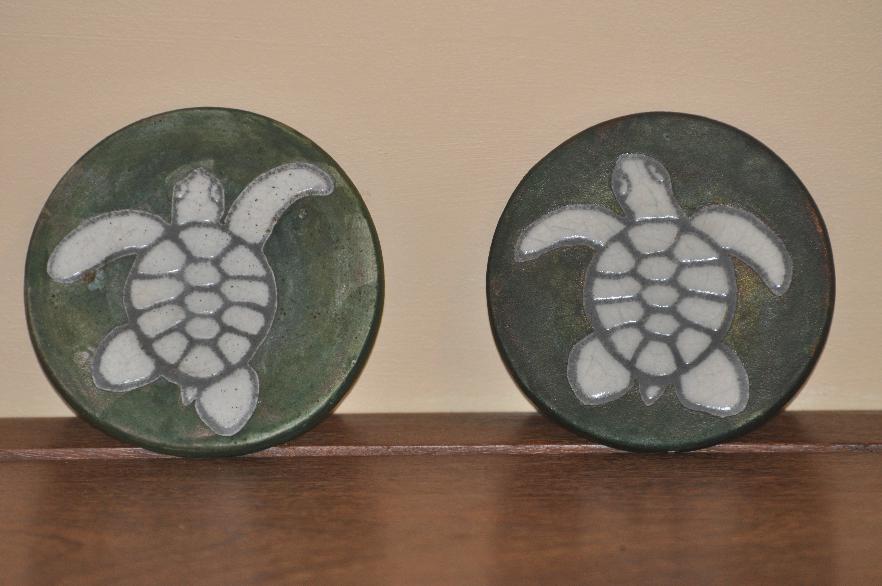 A painting of the valley set off by a pair of carved pumice 'feet'.



Cream for our coffee was service in this beautiful seahorse adorned pewter pitcher.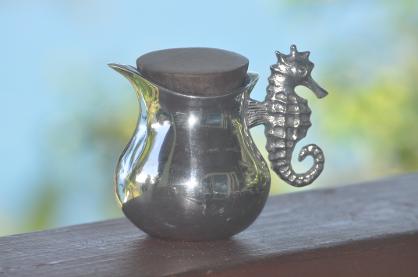 A locally made (I tried to source one but was unsuccessful) mermaid doll and a nice vase.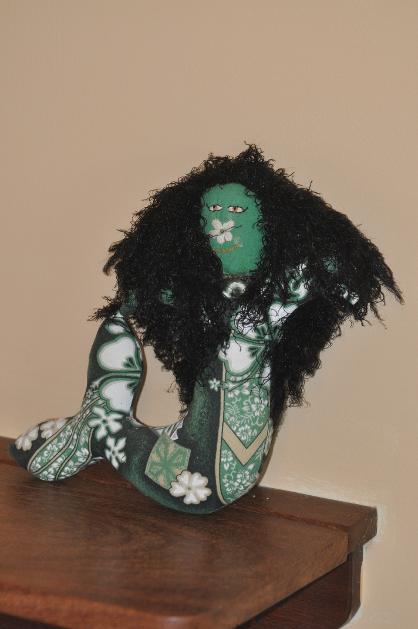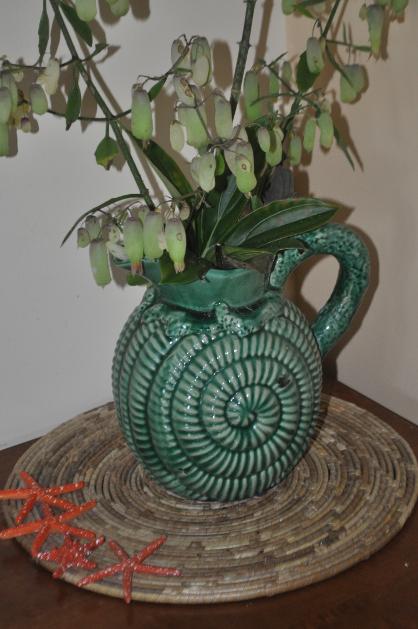 Gayle had a warm crusted island goat cheese with local Rincon farm strawberries, sweet onion and Hirabara Farms Earth grown lettuce, covered with a cassis vinaigrette, and hand made ricotta cheese cavatelli pasta, with Waimea asparagus, Hamakua mushrooms and basil macadamia nut pesto - wow that's a lot.


My filet mignon with Jalapeno whipped potatoes, grilled Waimea asparagus and Waimea churned herb butter, along with a side of pan roasted Hamakua mushrooms.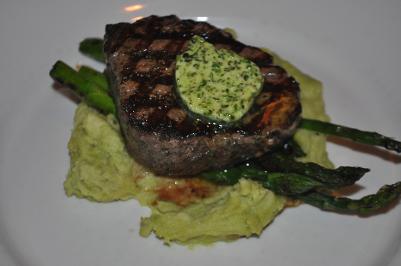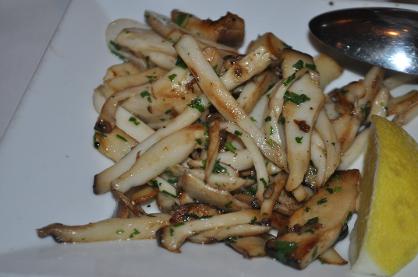 Enjoying dinner at Merriman's in Waimea.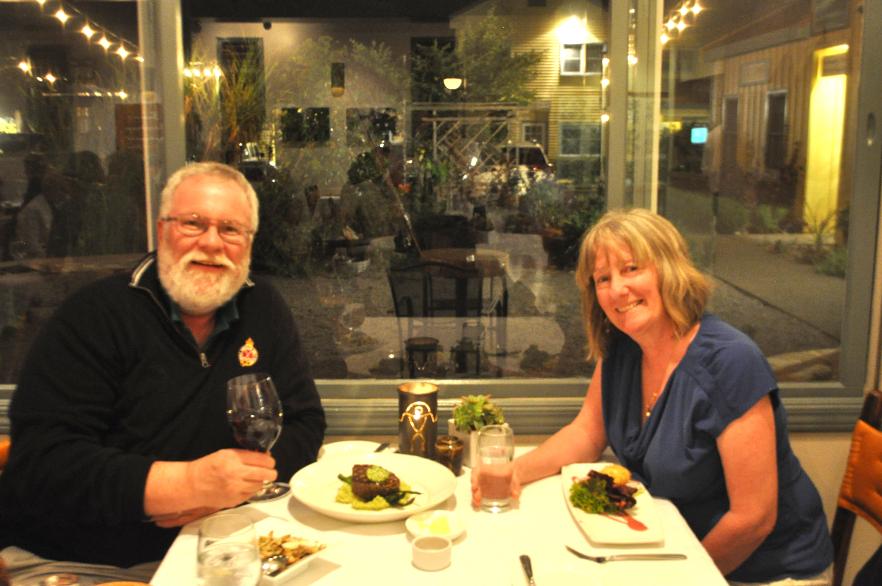 The symphony of the jungle.


February 11, 2016 - to Waimea; to Haw'i and along the Kohala Coast

This is no doubt getting a bit repetitious as we awoke to another great day, with more of the same weather, panoramic vistas and a very tasty breakfast. This morning there was a papaya stuffed with banana, topped with cocoa, garnished with rambutan and star-fruit, a cheese omelette with fresh avocado and tomato as well as some tropical guava bread.
The exciting thing late in the morning was when Steve came over to tell us he had seen a whale out in the bay. It took a while but both Gayle and I did see him/her surfacing a few times. Steve tells us that while there is the odd whale on this side there are many more on the west side of the island, the Kohala Coast.
It was again mid afternoon before we got on the road, driving over to Waimea and then north along the Kohala Mountains through extensive ranch country to Haw'i at the north end of the island. From there we turned south driving along the coast, where we first stopped at Mahukona Beach Park. Not really much of a beach but there were a surprising number of people either just enjoying the sun or snorkeling. The waves crashing against the rocks were impressive. As we continued our drive there were a number of cars pulled over. Assuming they were watching whales we too stopped and again were able to see (in the distance) a number spouting water. Our final stop along the coast was Hapuna Beach Park. As the day was getting late we stayed for only a half hour (we will likely return) on what was a beautiful, long sandy beach with nice pathways and washroom. Although there were many out in the water unfortunately the waves were higher than our comfort level, which will likely preclude us from swimming here.

We then drove back across the north end of the island (27 miles) in time to stop at Waipi'o Cookhouse to pick up a hamburger and roasted potatoes that we brought back to our B&B to eat with a glass of wine on our balcony.
Yet another relatively uneventful day, exactly what we want vacationing here in Hawaii.
The beach from a slightly different angle - out at the Lookoff.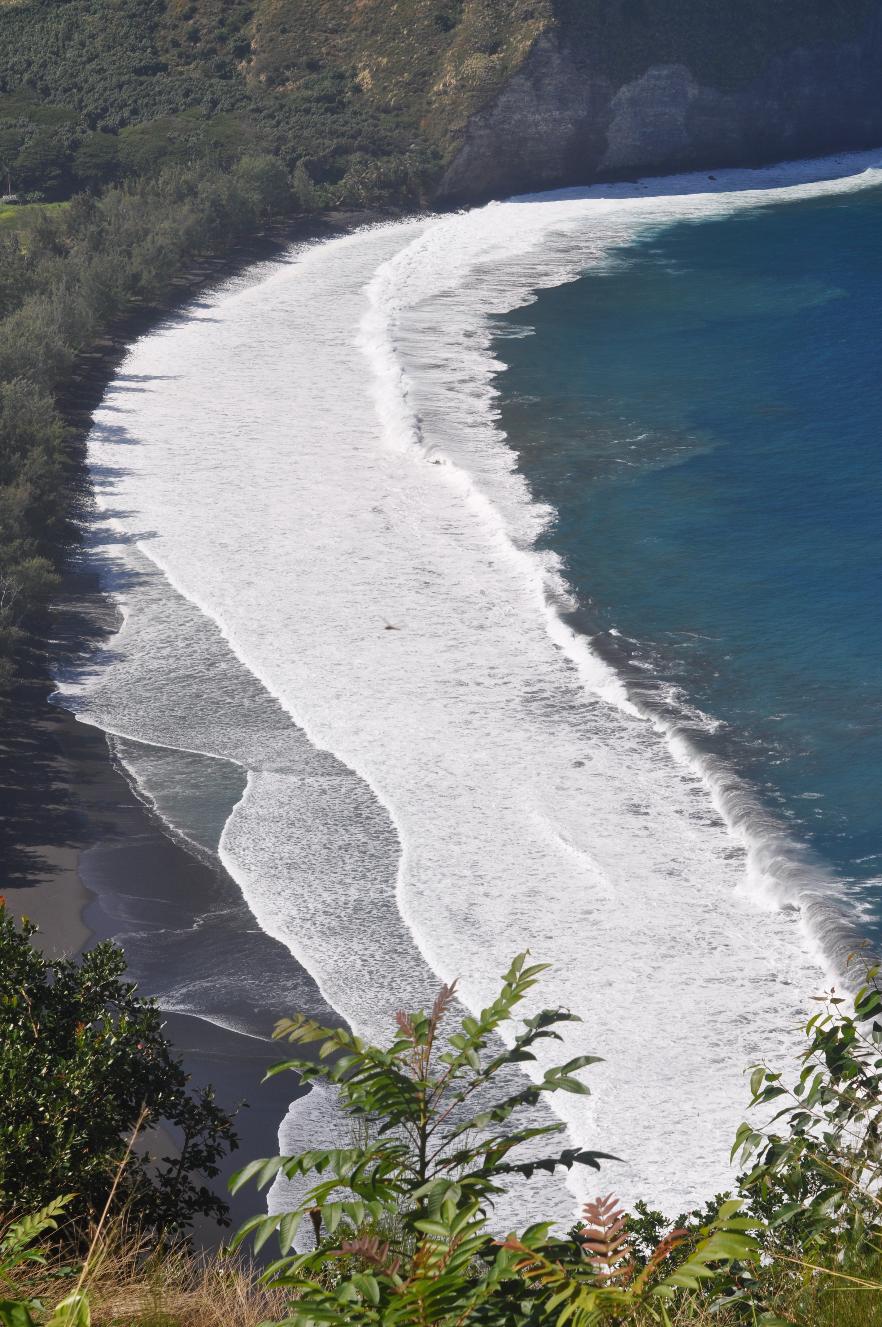 Our breakfast fruit tray along with some guava bread.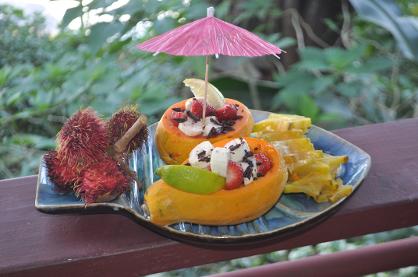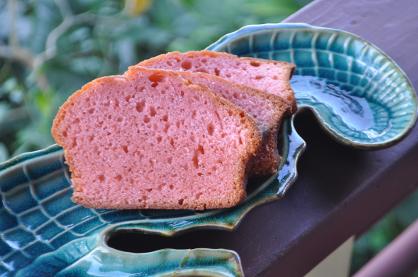 The view from out shower.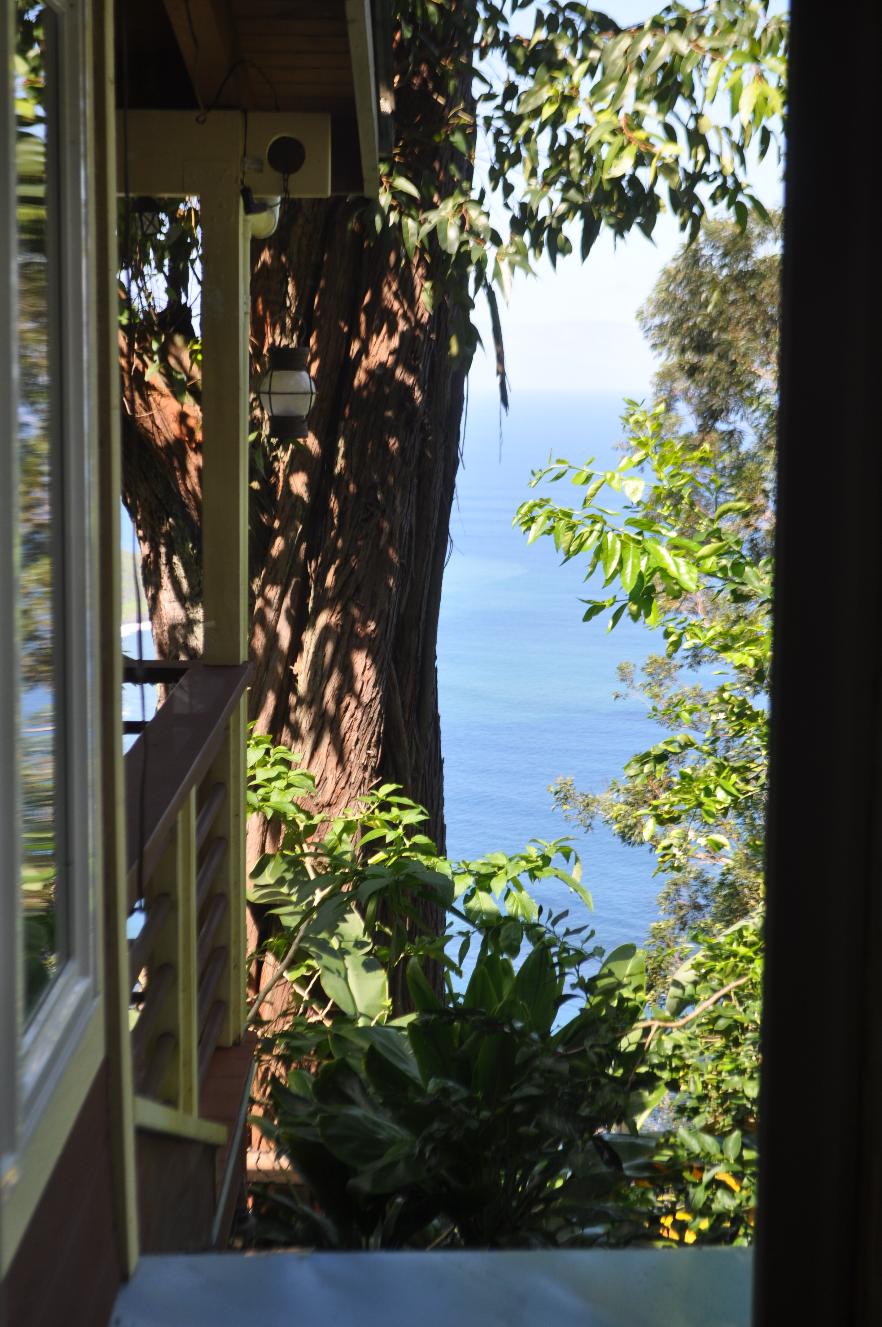 Steve juicing some freshly picked lemons and the fruits of his labour for us to enjoy.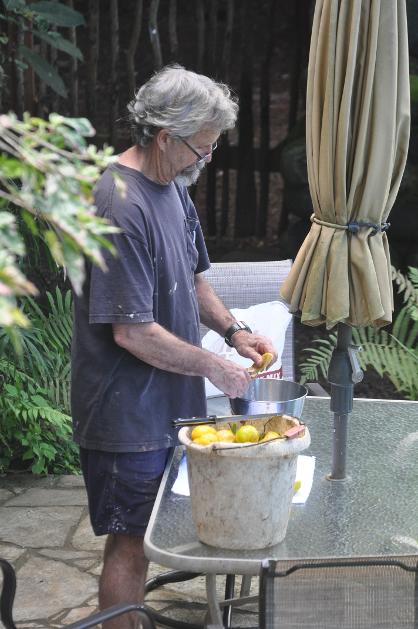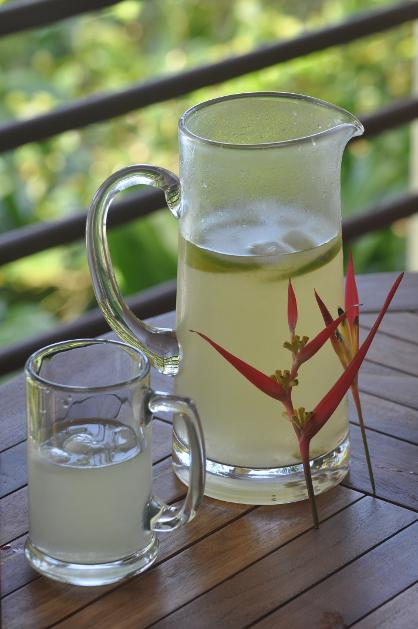 Being out in the jungle we have these cute little geckos scurrying around.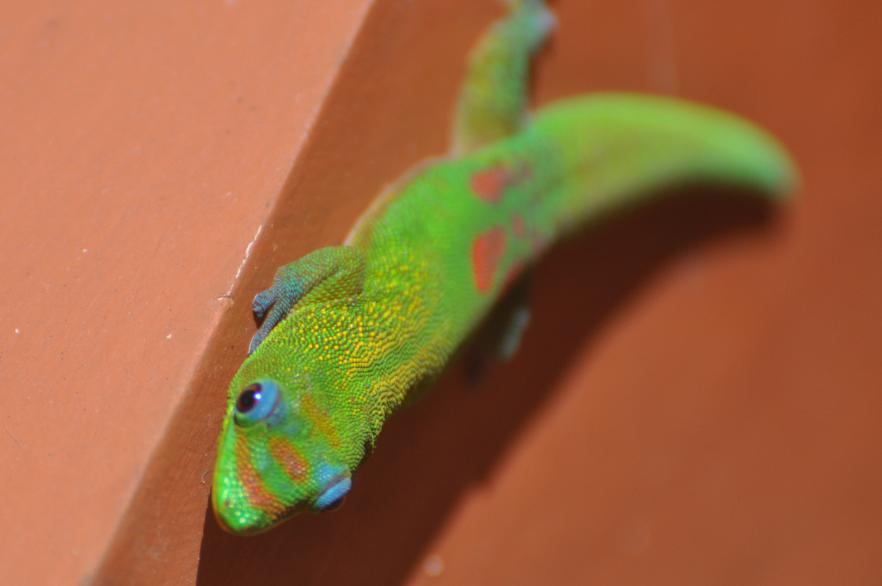 A ripe tangerine and a couple of grapefruit on trees just feet away from our balcony.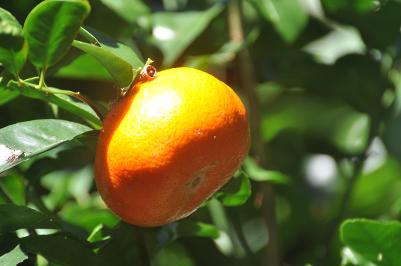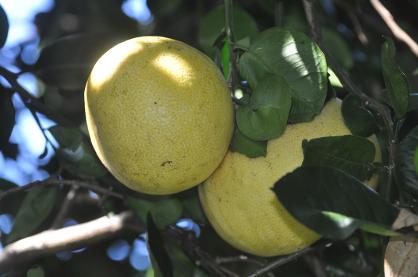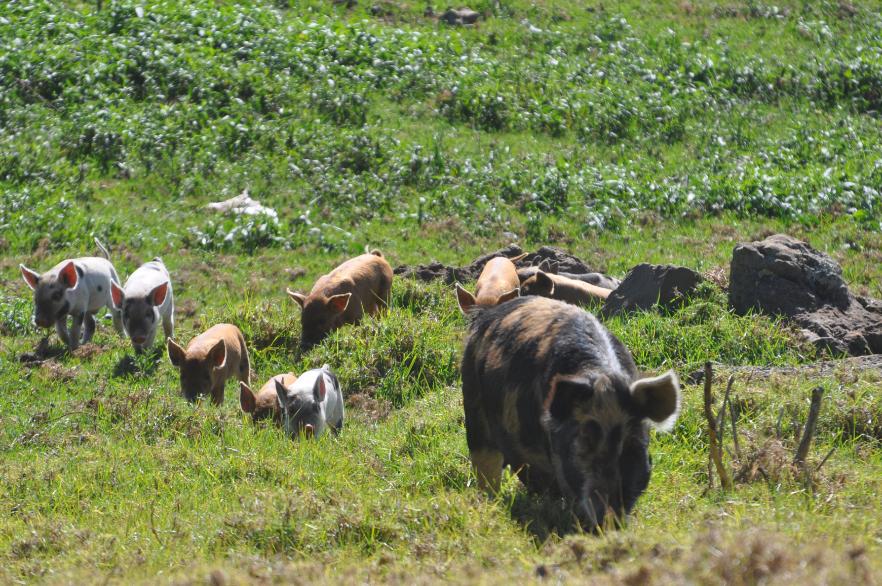 These little piggies went to market while this little piggy followed along.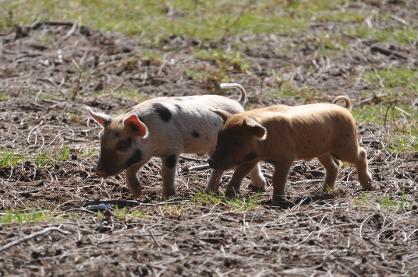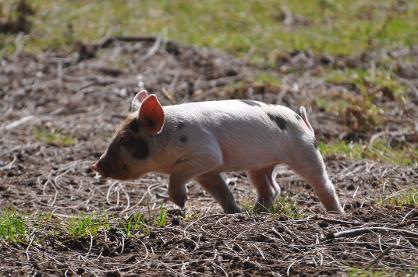 You would think they've never seen a tourist before.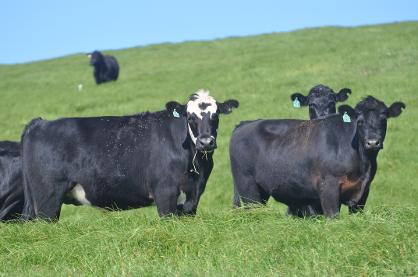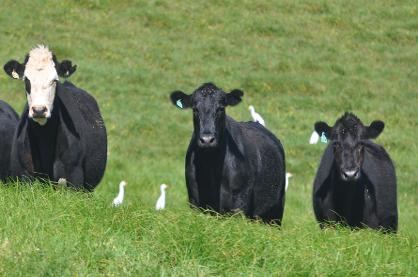 These fellows seemed to be particularly interested as to why someone would be photographing them.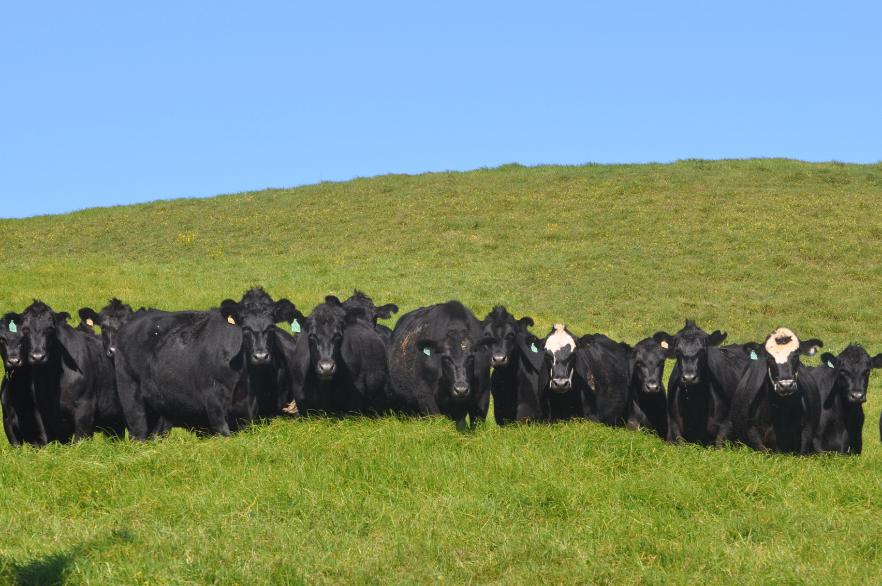 Waves crashing over the rocks at Mahukona State Park.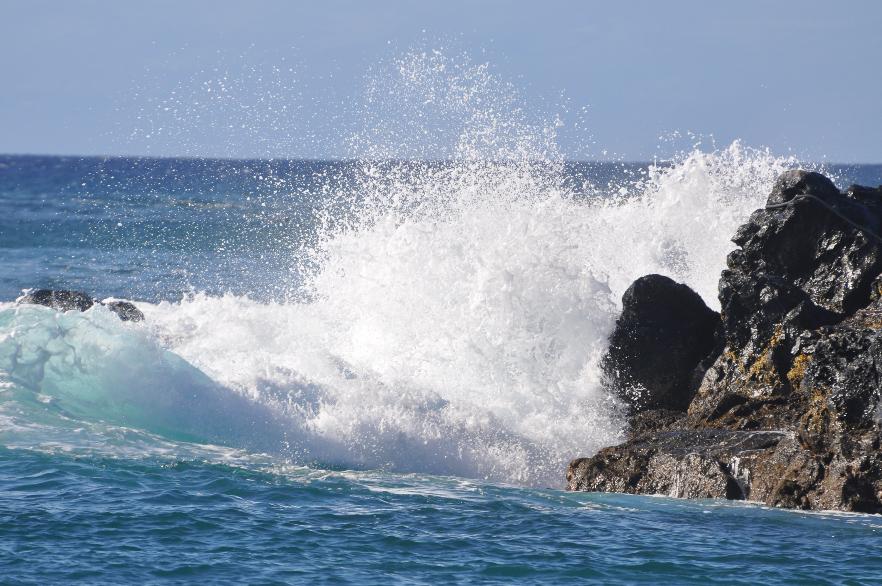 The lovely sandy beach at Hapuna State Beach Park.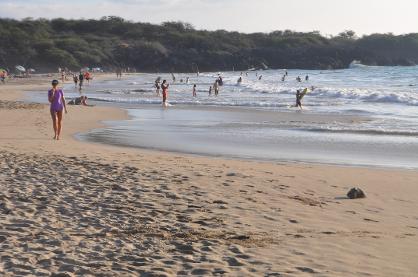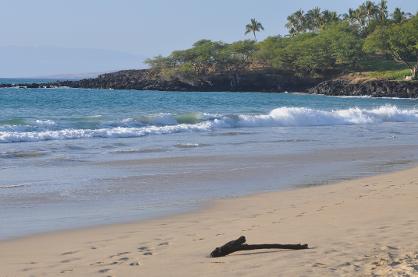 February 10, 2016 - Waipi'o Rim B&B to Hilo to Waimea

After another interesting and delicious breakfast and a relaxing morning we drove back down the Hamakua Coast towards Hilo, taking a few detours along the old highway and a short stop at Kolekole Beach Park.

We then stopped for fresh fruit smoothies at Just Shakin (for sale by the way if you have a spare $3.4 million US). I had the Papaya Paradise - island fresh papaya, bananas, coconut and pineapple juice while Gayle the Groovy Guava, with of course guava, banana, strawberry and apple juice.

From there it was on to the Hawaii Tropical Botanical Garden, a garden with a collection of tropical plants international in scope.

"There are apparently over 2,000 species, representing more than 125 families and 750 genera in this one-of-a-kind garden. The 40-acre valley is a natural greenhouse, protected from buffeting trade winds and blessed with fertile volcanic soil. Throughout this garden valley nature trails meander through a true tropical rain forest, crossing bubbling streams, passing several beautiful waterfalls and the exciting ocean vistas along the rugged Pacific coast."

The stroll was about an hour and a half. Gayle says she has been to better gardens from a plant perspective but we agreed it was a wonderful walk through bamboo forests, orchids and other tropical plants down to the ocean.

From Hilo we decided to take the inland (or Saddle Road) drive between the island's two large volcanoes, Mauna Loa and Mauna Kea, both rising over 13,600 above sea level. For the most part a pretty barren drive that had us ending up in Waimea, a ranching community where we 1) saw more crosswalk flags, and 2) stopped for a light dinner. From Waimea it is approx. 45 minutes back to Waipio Rim.

All in all another quiet, relaxing day as we expect most will be up at this end of the island.


A beautifully displayed pineapple to start out day.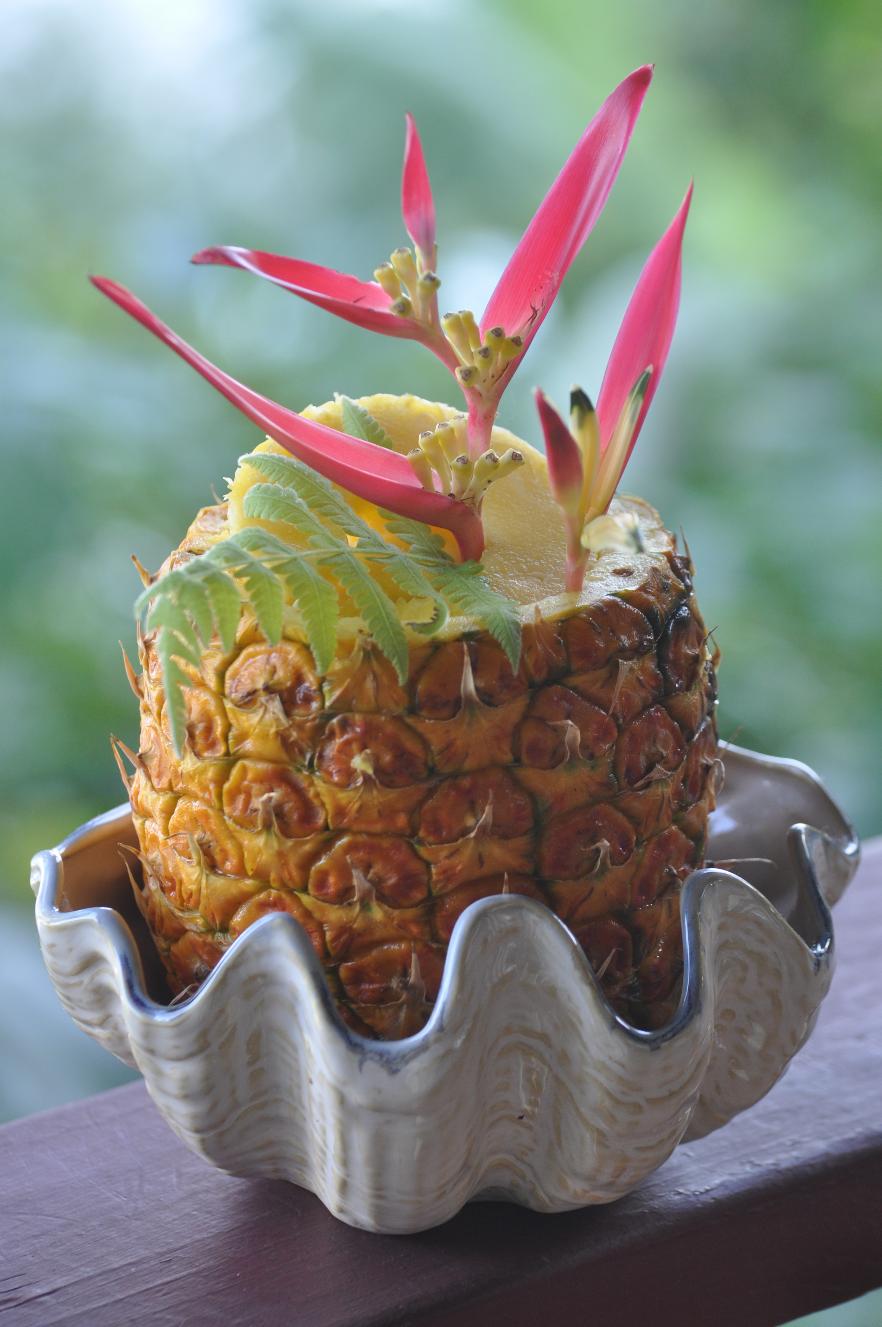 Coconut pancakes with honey and coconut sauce.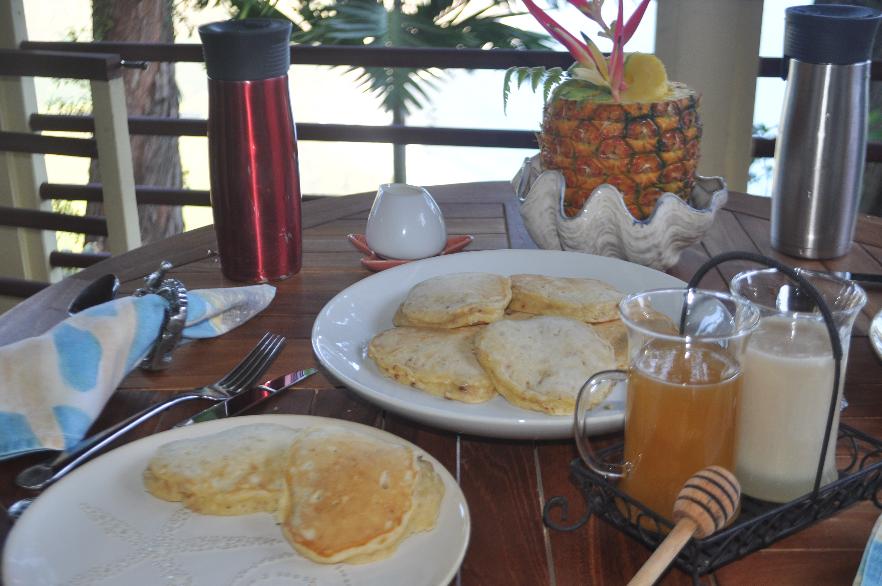 So Gayle yells out "Come quick there's a. big turtle in the shower". Funny.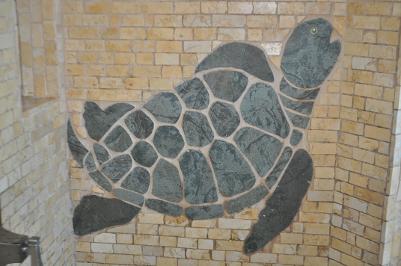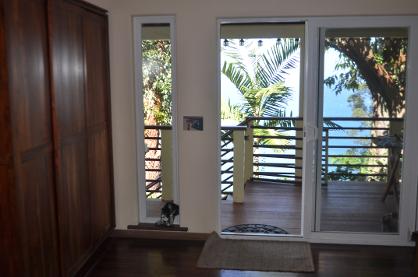 Beach, beach and more beach.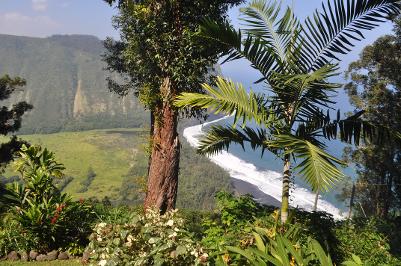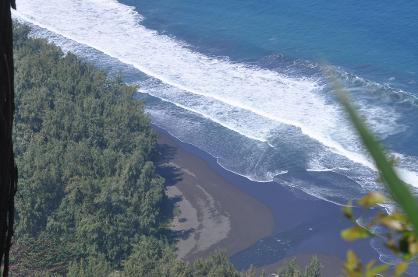 The red flowered plant is a species of ginger, but it is the view to the ocean/surf/beach that is beyond attractive.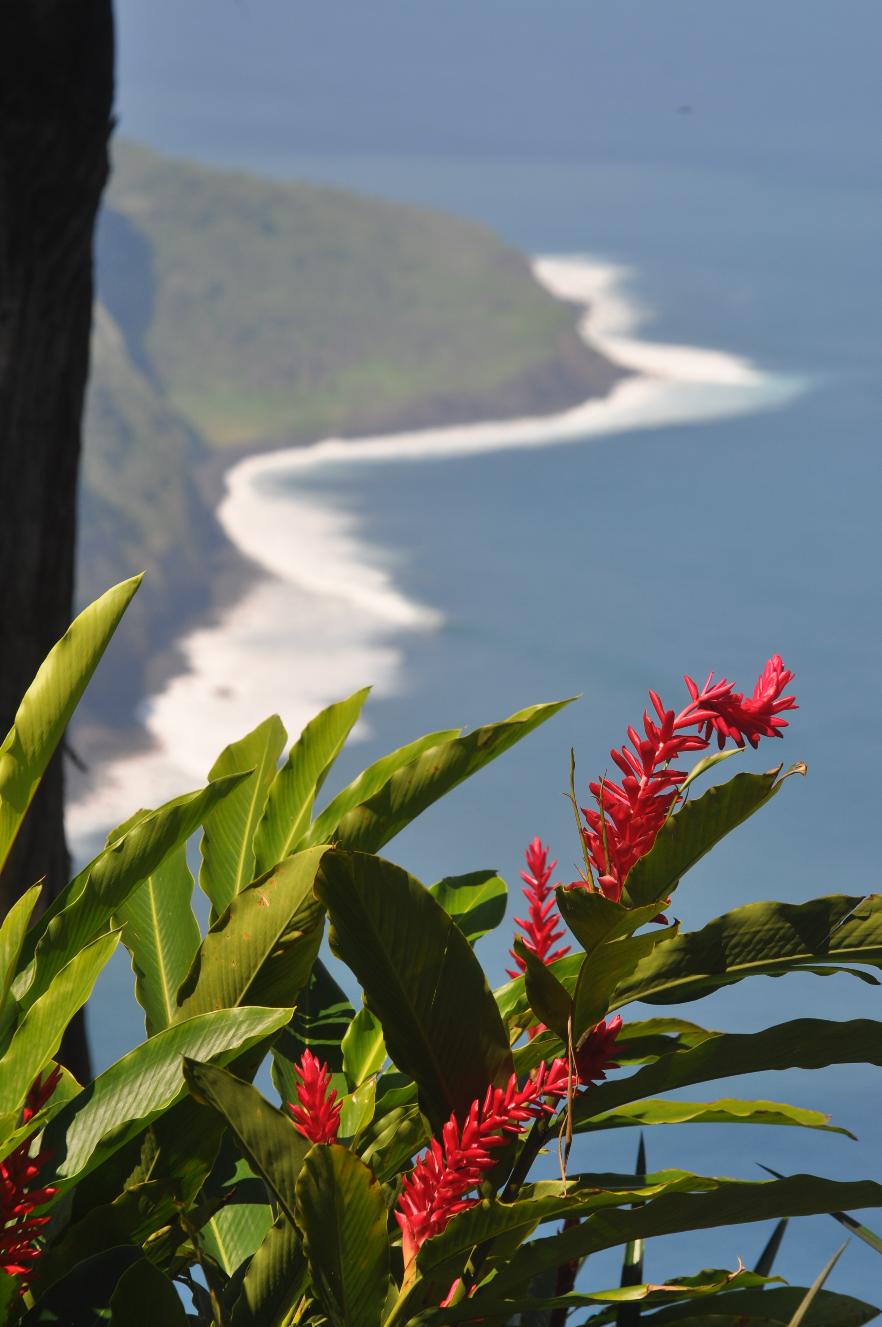 At one of the many seaside State Parks here on the Big Island.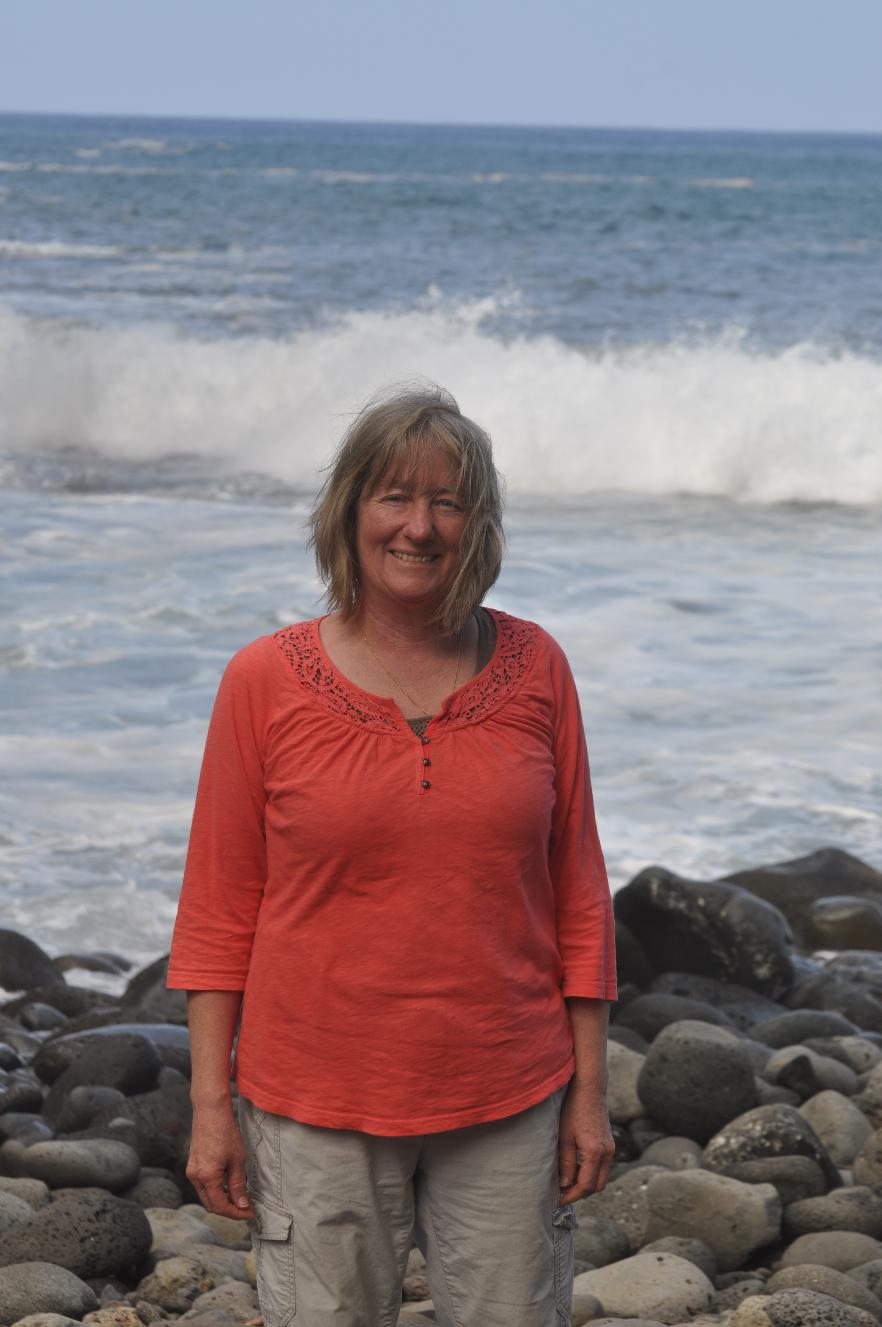 Rambutan and tangerines - colourful fruit everywhere.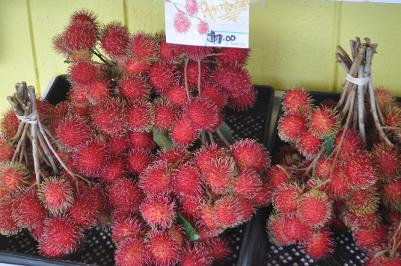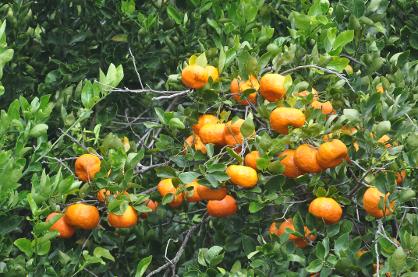 We stopped for some fresh fruit smoothies at Just Shakin.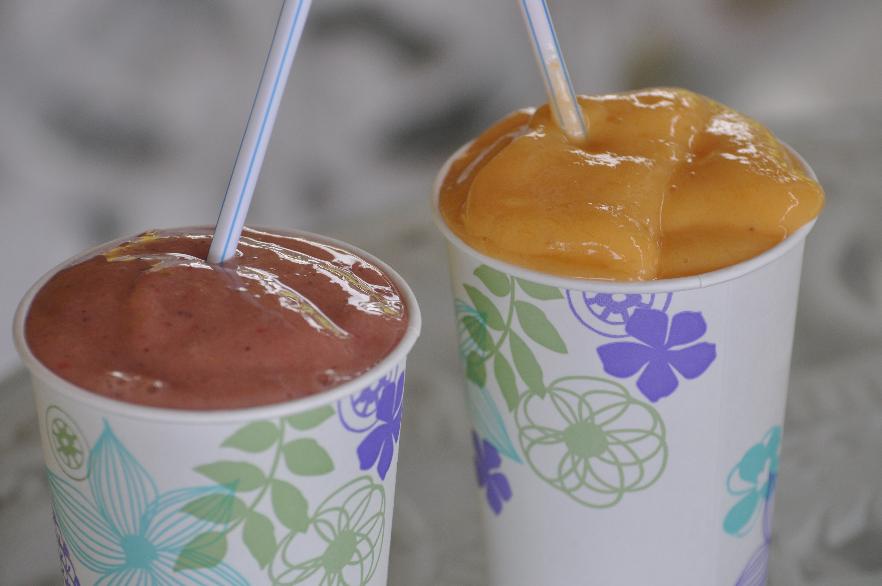 Colourful flowers and a jack fruit.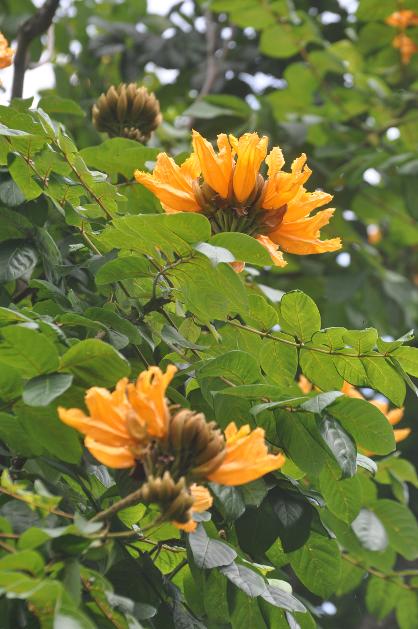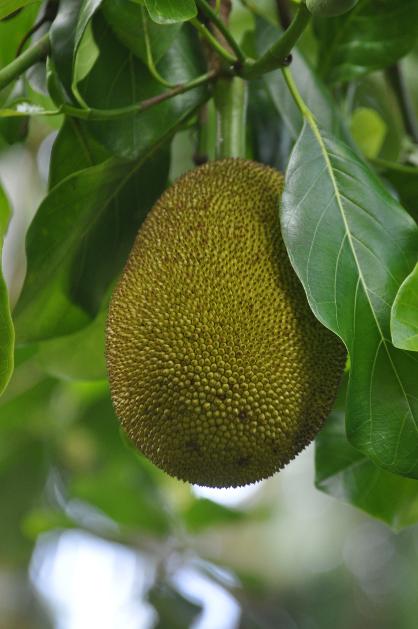 A series of waterfalls descended down the valley within the Botanical Garden.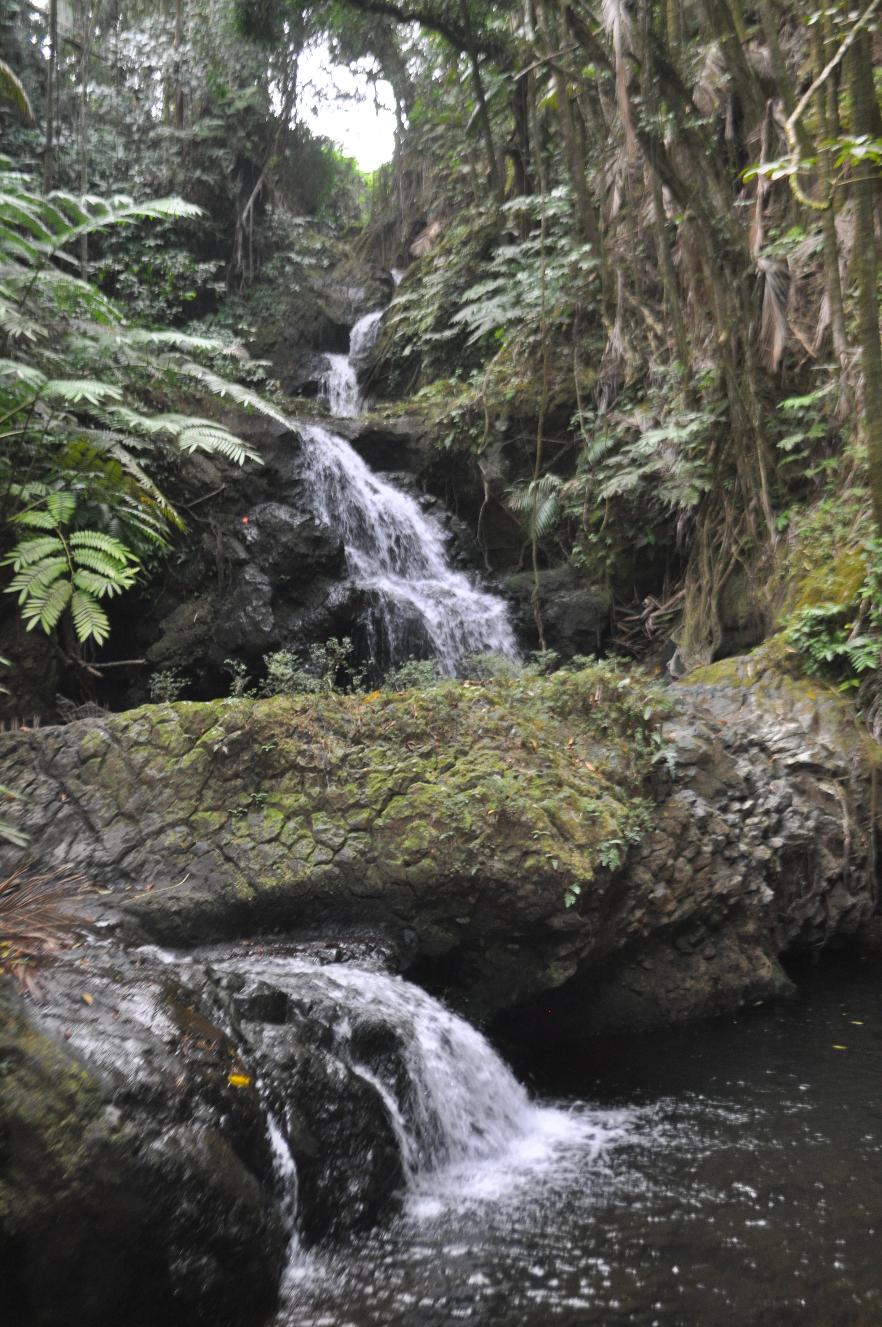 Of course the gardens had a whole section of orchids - these being just two of many.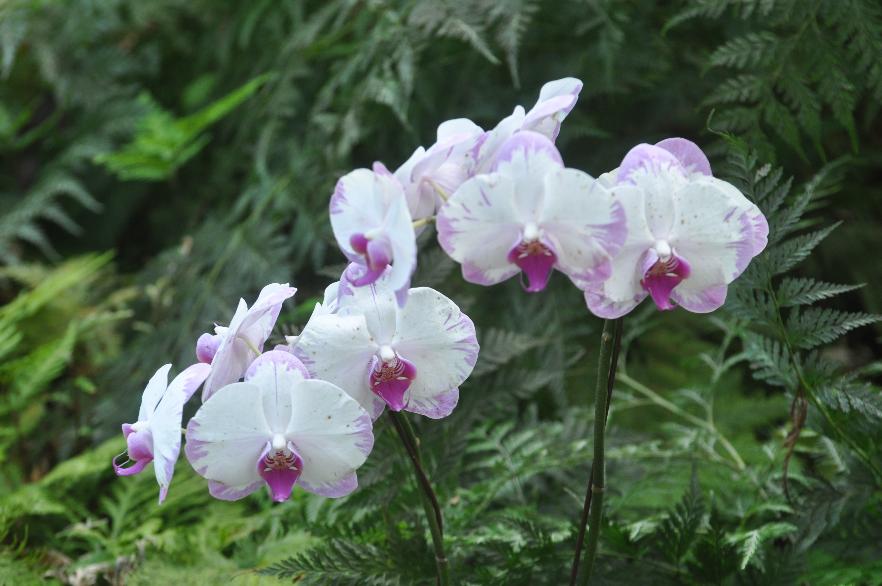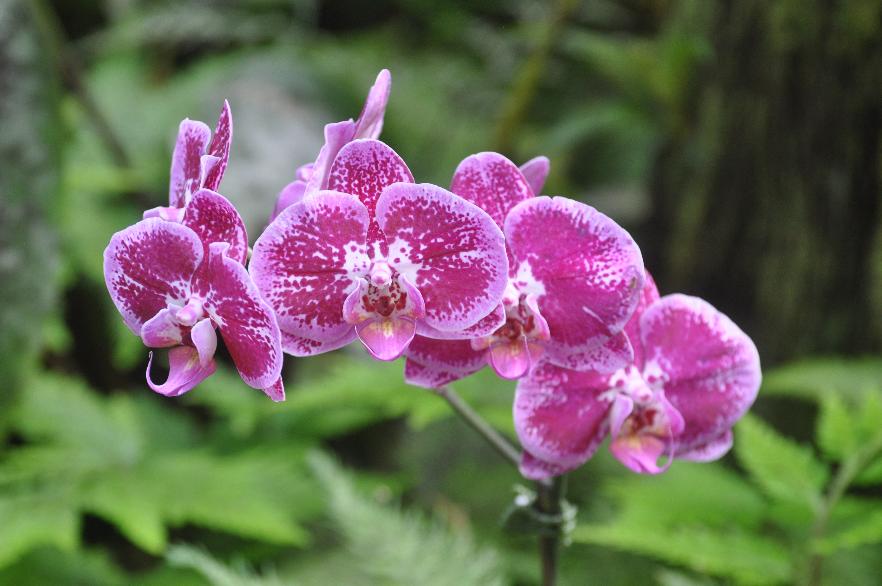 Bamboo grows well in this wet climate.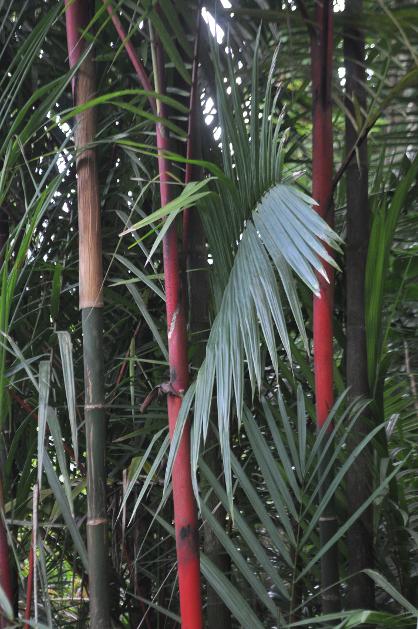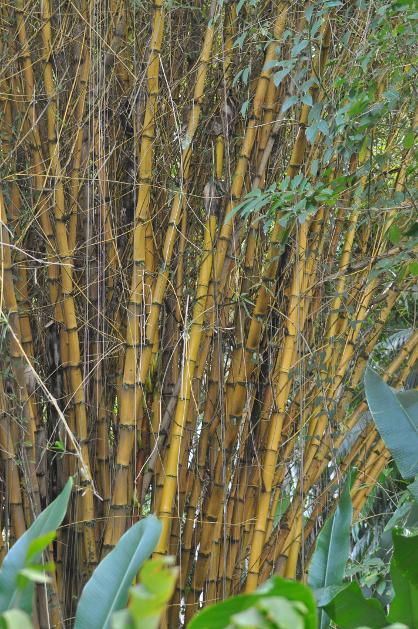 Enjoying a sunny day in Hawai'i.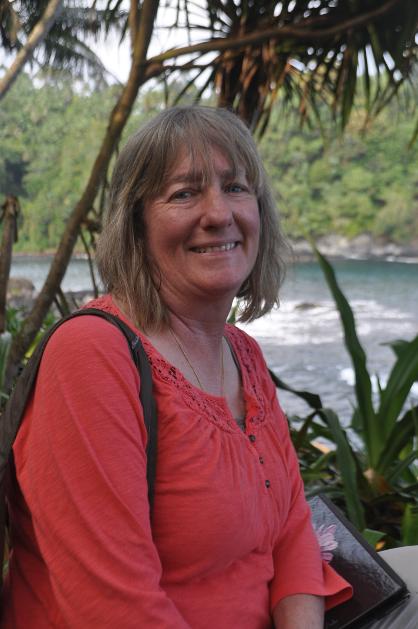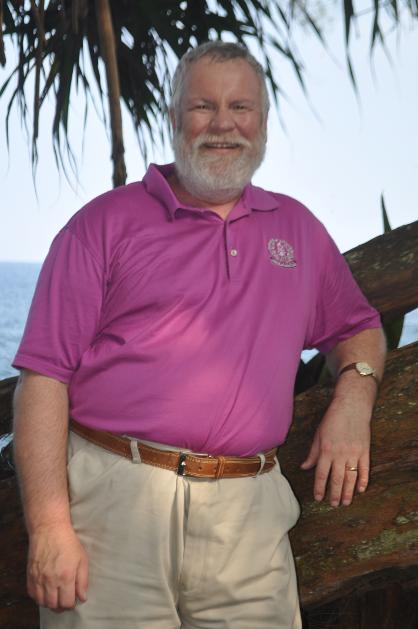 Just a really neat (and really big) tree.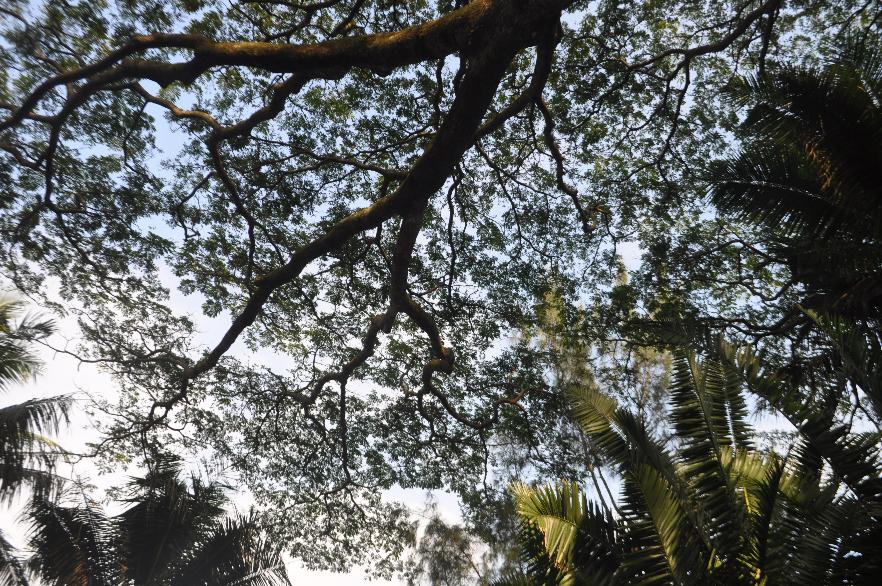 Waves pounding the shore where the Botanical Garden descends to the ocean.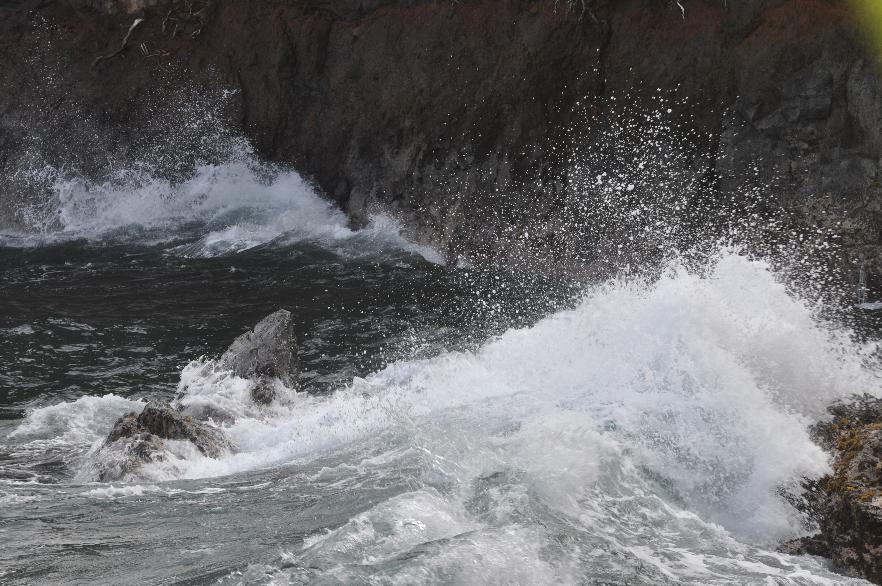 Lilikoie cheesecake - delish.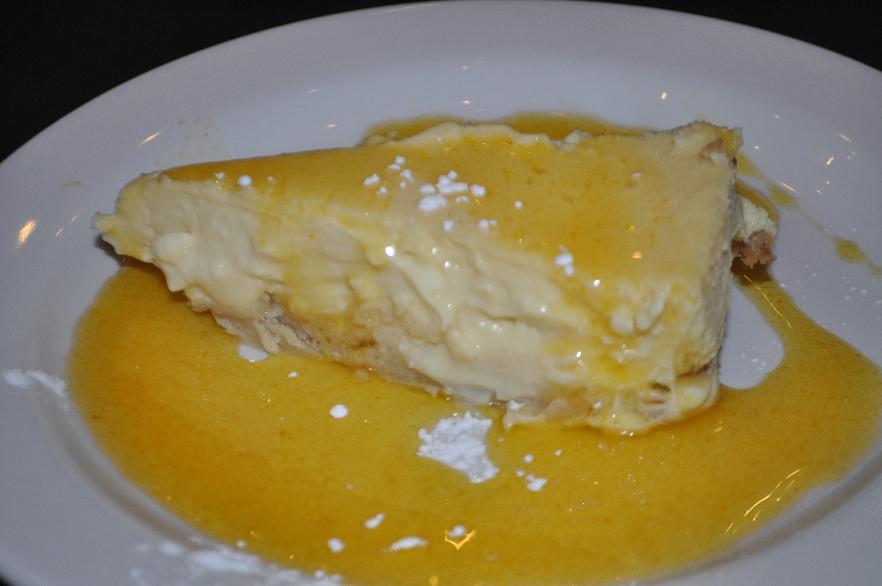 February 9, 2016 - Waipi'o Rim B&B with a trip to nearby Honoka'a

It is difficult to describe this B&B. Photos simply do not do it justice as they can't truly capture the vistas of the valley and ocean, nor the sounds of the surf crashing on the shore particularly on a sunny day such as this. Beyond the sound of the surf there are numerous birds constantly singing. Fruit is abundant with bananas, grapefruit, tangerines, kumquats, avocado, pineapple, mango, guava, passion fruit, dragon fruit, lemon, and papaya along with coffee and cacao all existing on the property.

Early in the morning Steve arrives with a pot of coffee (and/or tea) and then when he sees life delivers breakfast for us to enjoy on our own on our balcony overlooking the valley and the bay. This morning breakfast was a number of crepes to be filled with strawberries, cream cheese and a home-made lemon spread. It was delicious.

Today is Gayle's 60th birthday and no doubt was the most do-nothing day all her birthdays. We spent most of the day just being, enjoying the property and relaxing. Late in the afternoon we drove the nine miles to Honoka'a. Honokaa's economy was based primarily on the sugar production of The Hāmākua Sugar Company from 1873 to 1994. With the closing of the Honokaa production the local economy has been in decline. The Hāmākua Coast was the classic plantation community in the early 20th century, but since the closing of The Big Island's sugar industry, the district has had to diversify its economy. Presently, much of the district is still zoned for agriculture, with crops including pineapples, coffee, papaya, macadamia nuts, and tea.

We stopped in a few craft shops, bought a few supplies at the local grocery store and ordered a pizza and a calzone to bring back to eat at our B&B with the bottle of wine we received upon our arrival.

An uneventful but just the same enjoyable day.


We awoke to this view of the beach from our balcony, the sound of the surf and a classy presentation of breakfast as evidenced by these beautiful seahorse napkin rings.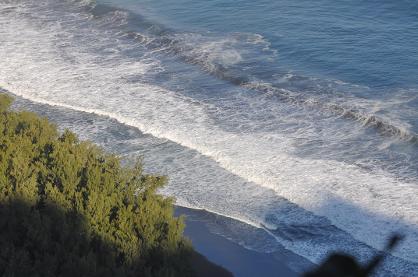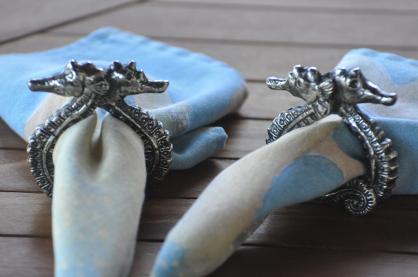 Our first breakfast - a huge bowl of fresh strawberries, cream cheese and home-made lemon sauce to fill the crepes - delicious.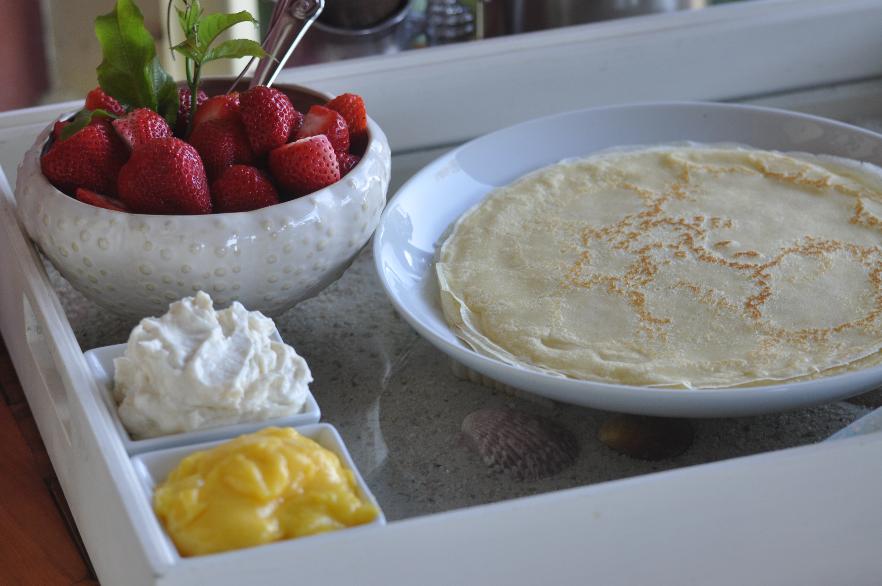 Views of the beach from the balcony of our B&B.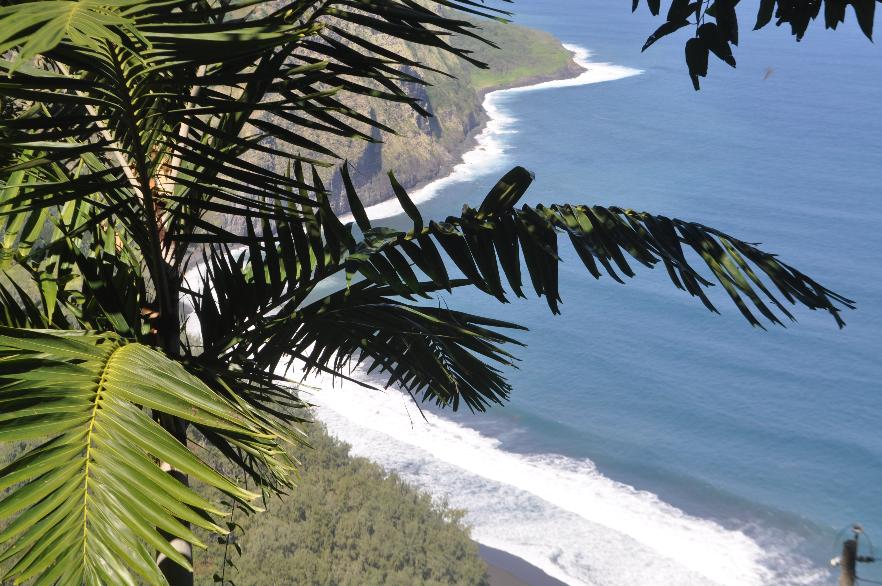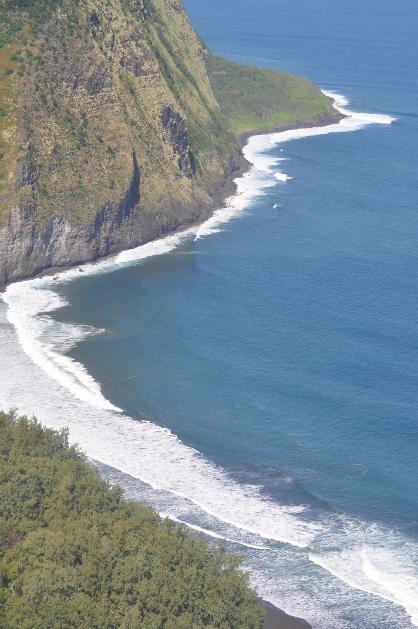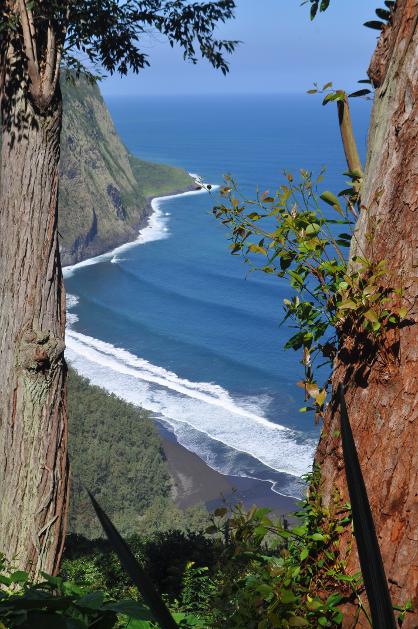 Bananas growing just off our balcony.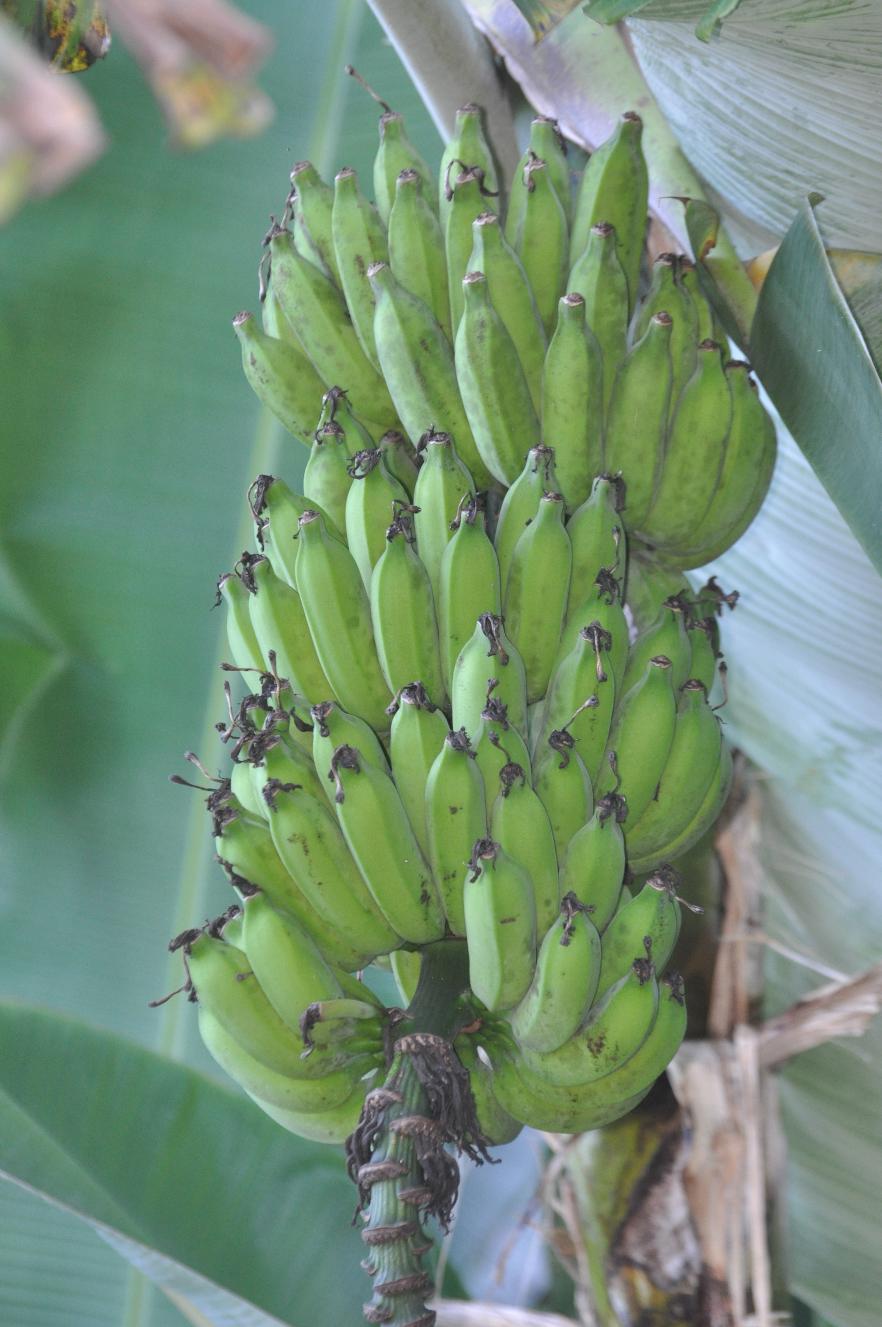 Colourful flowers here in the beautifully landscaped Waipi'o Rim B&B.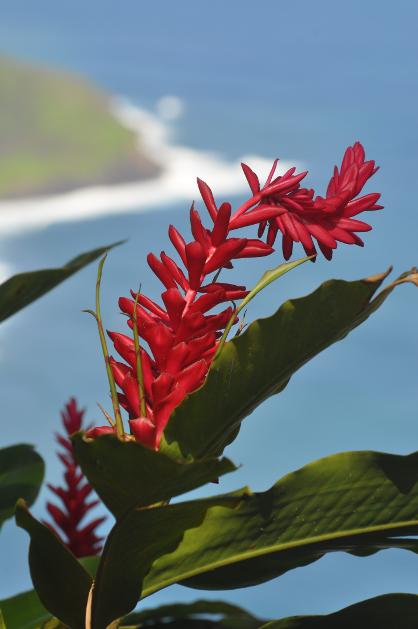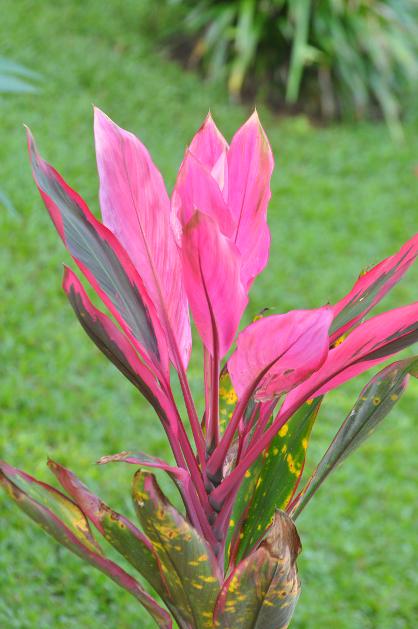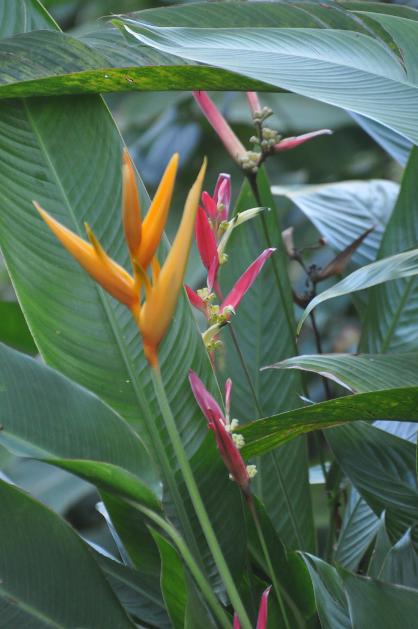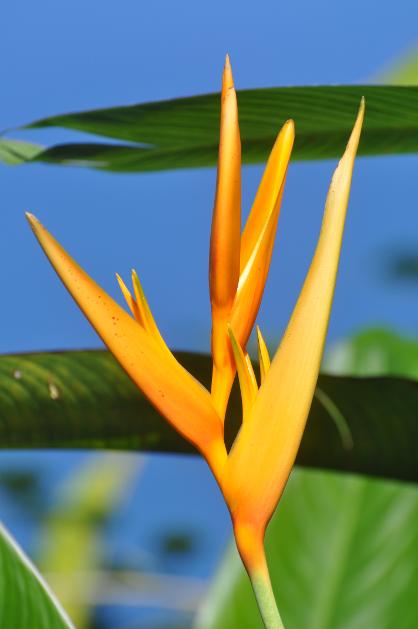 Waipi'o Valley 1,000 feet below and the cliff on the opposite side.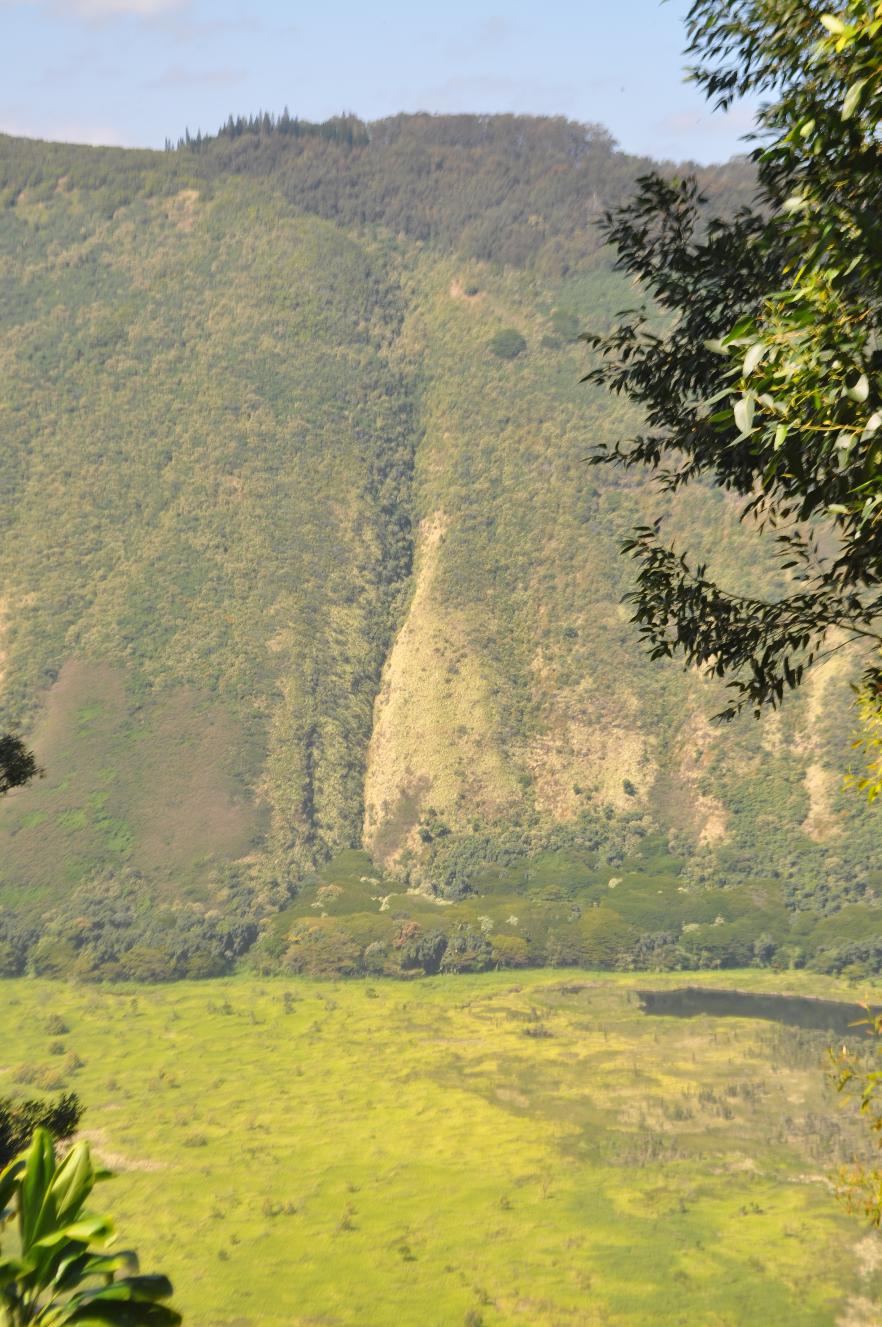 Waipi'o beach in the evening after the sun has set but before dark.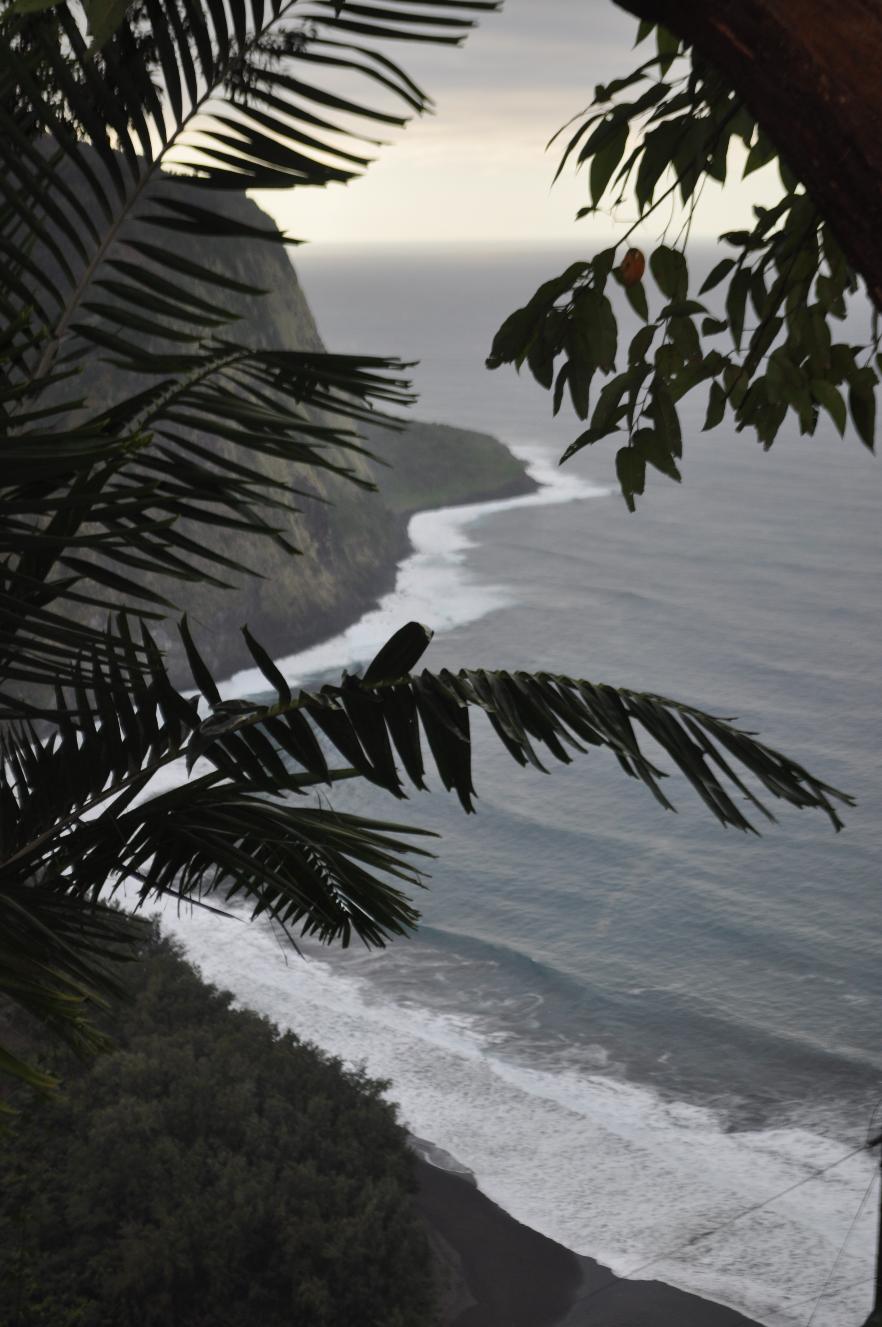 Tulip vines growing wild in the gulches of the Big Island.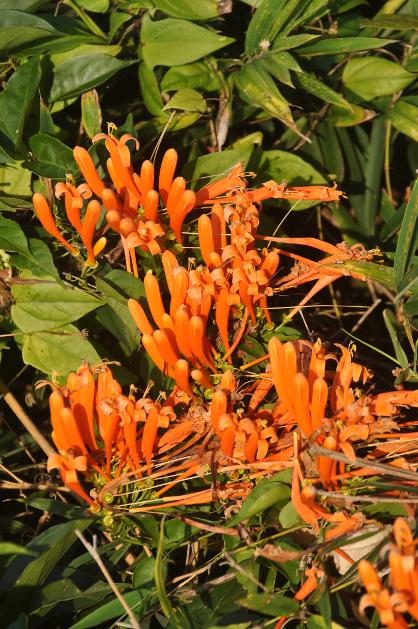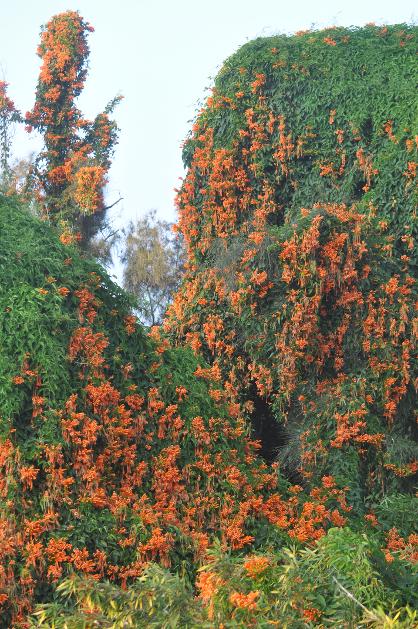 February 8, 2016 - Volcano to Hilo and then on to Waipi'o Valley

After chats with Jim and Barry about the history of the cottage and the invasive slime mold we left Volcano driving east across the southern portion of the island to Hilo. This is the wet side of the island and it shows, with lush tropical growth everywhere. Hilo receives on average 127 inches of rain a year - that's 1/3 of an inch each and every day, with some rain more or less 275 days of the year.

"Hilo is a mix of old and new Hawai'i. Once a thriving town bolstered by limitless sugar revenues, the demise of the sugar industry has kept Hilo in a time warp. And that's the charm. Though a full-fledged city things move slower here, and community is tight. They've been through a lot. Lashed by tsunamis, threatened by lava flows, racked by a changing economy, Hilo has withstood it all."

We stopped for lunch at Hilo Bay Cafe, on the edge of a large waterfront park area, with great views of the bay. From there we drove ralong the Hamakua Coast. There is a short 4 mile scenic drive along the old highway that is spectacular as one weaves in and out of lush tropical vegetation. This is as much a rain forest as one will find anywhere. We continued further on to Honoka'a, a small town that appears frozen in time, and then on to Waipi'o Valley and the Waipi'o Rim B&B where we will be staying the next five nights. The B&B is at the top of the cliff that leads into the valley. The slope down is a very steep 25%. We saw photos of the views of the beach from the website but one really has to sit here on the balcony (from where I am writing this) and simply be amazed at the massive valley, and the waves breaking along the beach below. True there is little to do here but if ever one wanted a spectacular place to rest and relax this is it.

We were welcomed with a bottle of wine and a pupu - an avocado stuffed with cream cheese and a hot lilikoi pepper jelly. Our room is large with beautiful Hawaiian wood floors and very tasteful decorations including turtles, seahorses, shells, and fish. The only sounds are the breaking waves on the shore below, and the birds and frogs, and occasionally the chickens and wild pigs. This is a place we know we are going to enjoy.



Ok so perhaps they are not real but Barry and Jim have a side business of Hawaiian crafts, including these stuffed nenes, and of course drivers need to be aware of nene populations and alert for them while driving.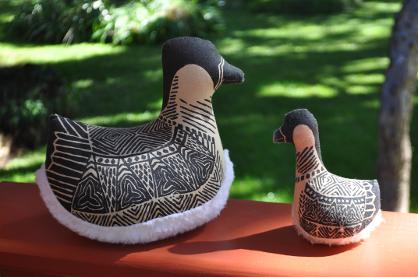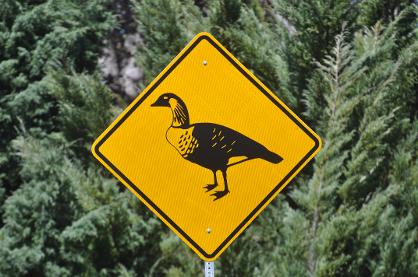 There was a short nature walk behind the Mauna Loa (Macadamia Nut shop) where we saw this pineapple.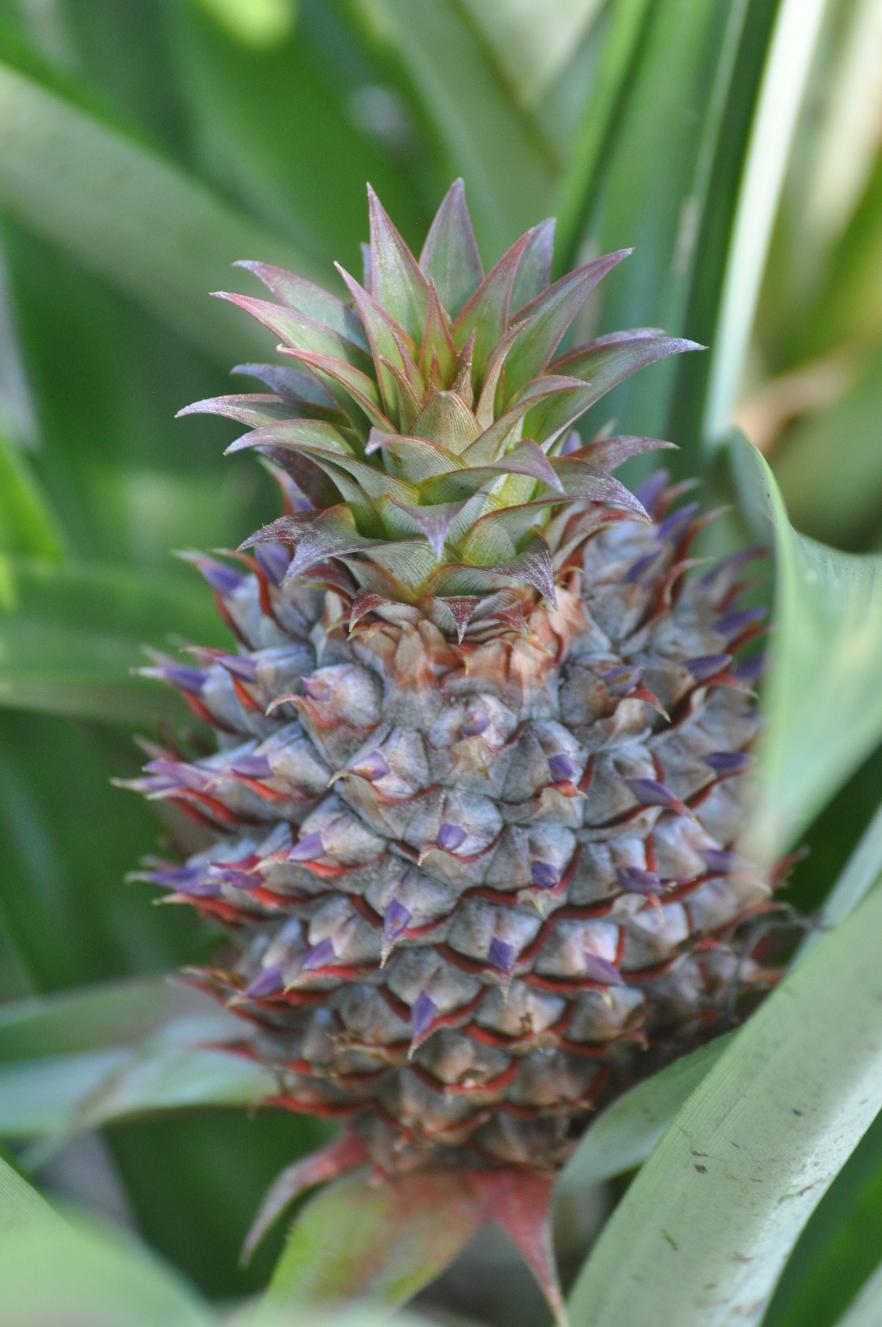 Hawai'i is know for its macadamia nuts. Along the highway was this farm that we stopped at, did a self guided tour (really nothing more than looking through the windows of the processing plant) and of course sampled and bought some nuts.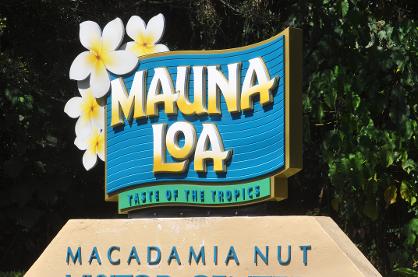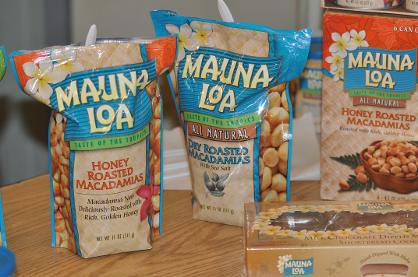 The view over Hilo Bay from the terrace of the Hilo Bay Cafe, where we had lunch.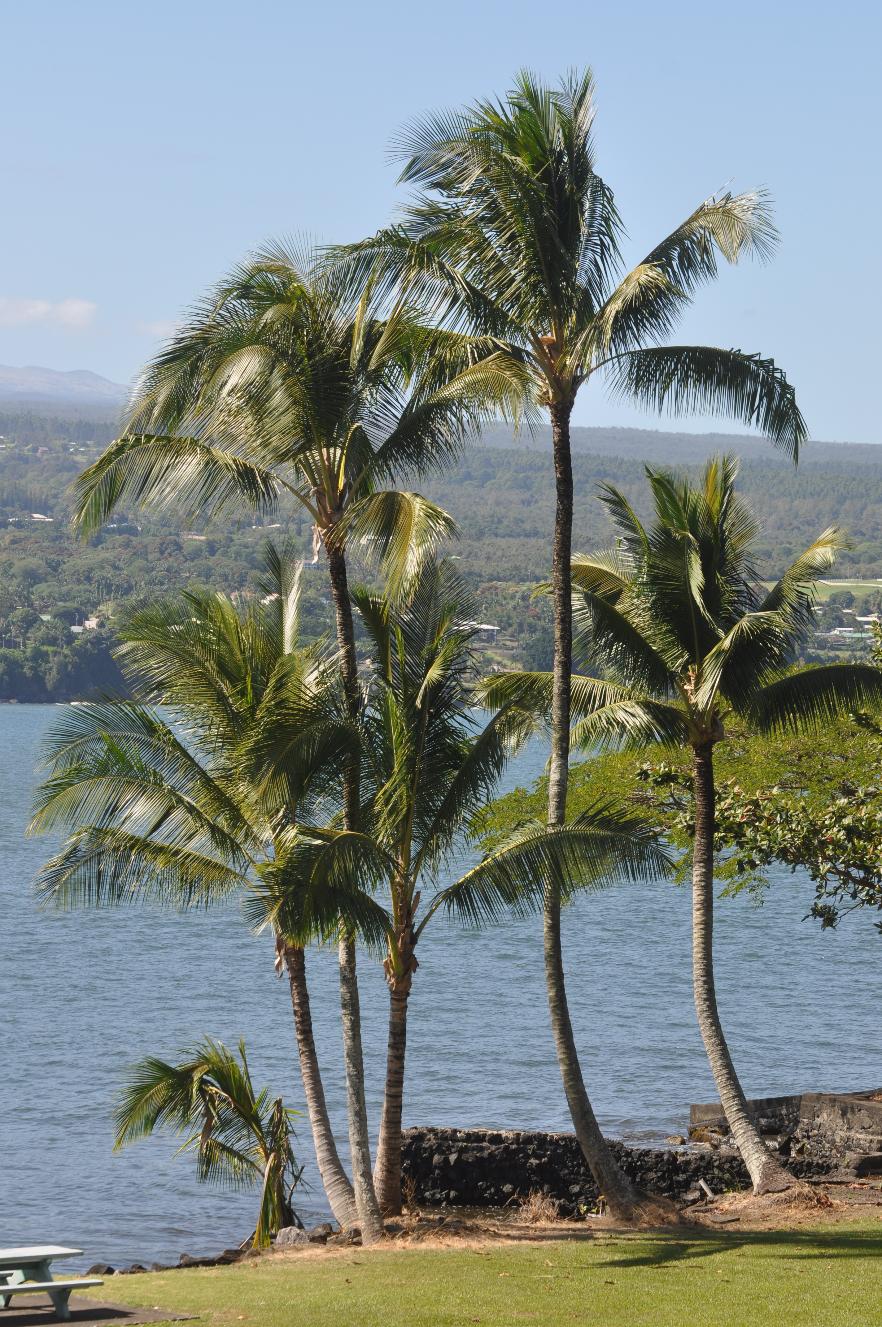 The coastline along the scenic drive north of Hilo.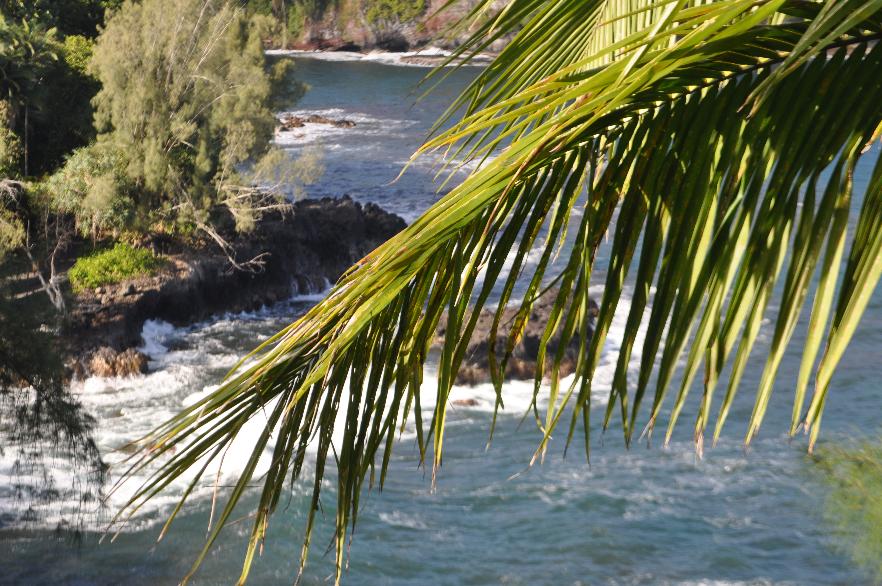 We arrived to a nice pupu - an avocado stuffed with cream cheese and hot lilikoi jelly.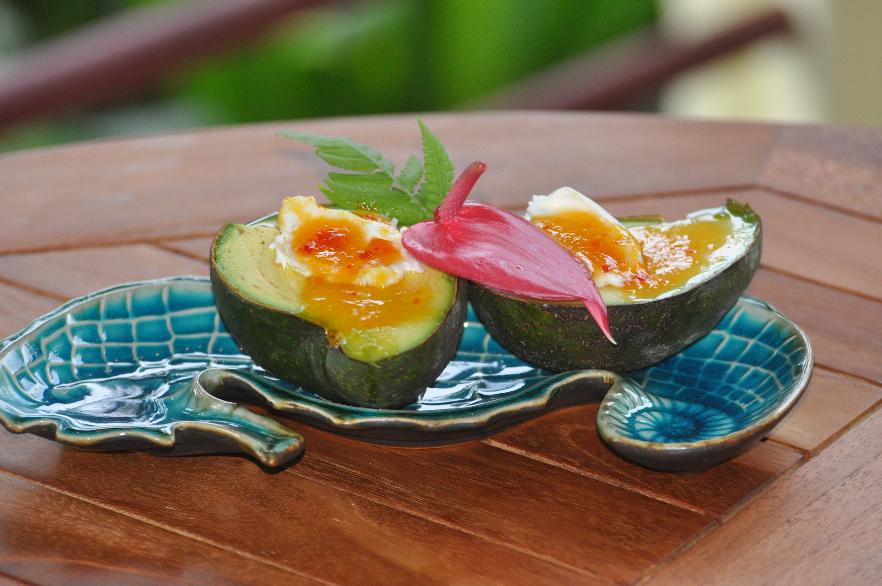 Our first views of the black sand beach in Waipi'o Valley from Waiipi'o Rim B&B high above.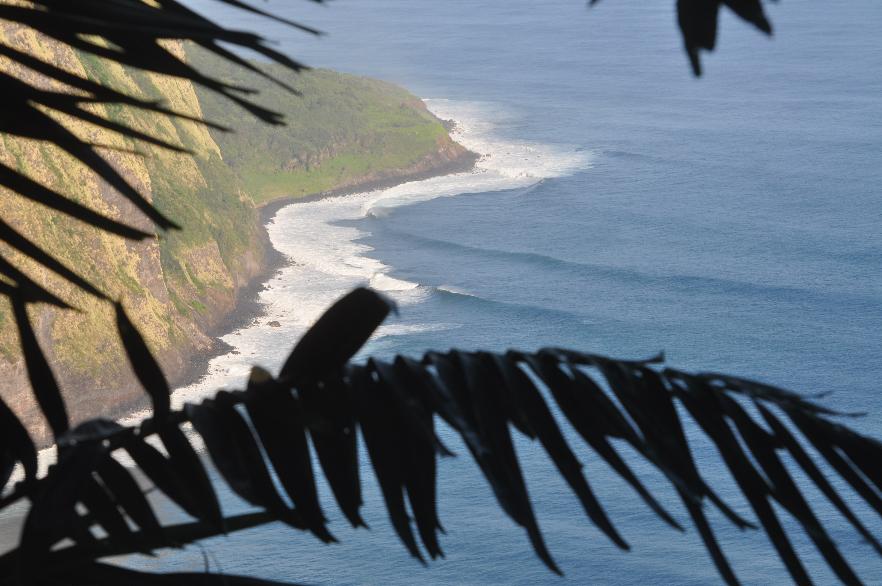 Our beautiful room themed with fish, turtles, shells and seahorses. Very attractive and comfortable.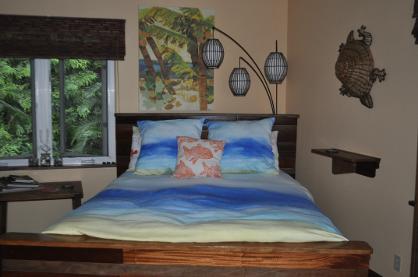 The grounds and our room and balcony (upstairs) at Waipi'o Rim B&B.



February 7, 2016 - Volcano

Today was a dark day in a couple of ways. For the most part the day was dreary with a consistent drizzle of rain in Volcano, and while the rain subsided as we drove down to the ocean along the 19 mile Chain of Craters Road, as one descends there is not much to see other than vast areas of dark lava. The road actually ends abruptly where the current lava flow has cut it off. On the way down one passes numerous craters along the rift zone before veering off to the shore. The road was rerouted after Madame Pele, the Hawaiian goddess of volcanoes repaved 12 miles of the road with lava during the 1969-74 Mauna Ulu flow. There are apparently some interesting petroglyphs over an old pahoehoe lava flow, the largest in the state but the wind was so strong we choose to pass. Where the road ends there is the Holei Sea Arch, where the ocean has undercut the rock, leaving an impressive gap in the shoreline.

A few interesting volcano/lave facts - the total lava erupted since 1983 is 4,600,000,000 cubic yards, enough to fill over 500 million dump trucks. The average temperature of flowing lava is 2,000 degrees. The length of public highway now covered by lava is 8.5 miles. The amount of new land created is 500 acres. And the number of structures destroyed totals 214 as the town of Kalapana was erased from the map in 1990. The famous black sand beach of Kaimu is gone, now under 50-75 feet of lava.

As we returned to Volcano the rain returned as well. We spent the late afternoon in our cabin before returning to Kilauea Lodge again for dinner. Gayle enjoyed a very nice coconut covered baked brie while I, perhaps somewhat surprisingly had a German sausage plate. The menu is quite extensive with of course fish and beef but also rabbit, antelope and a what turned out to be a tasty and filling German plate of sausages, sauerkraut and fried potatoes.

On the way back we returned to Halema'uma'a Crater but it was completely obscured by the poor weather. We were very glad we hadn't put off seeing the crater at night as it was extremely disappointing, essentially non-existent in the misty evening.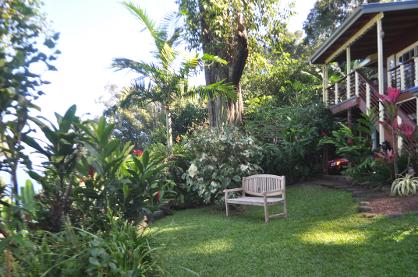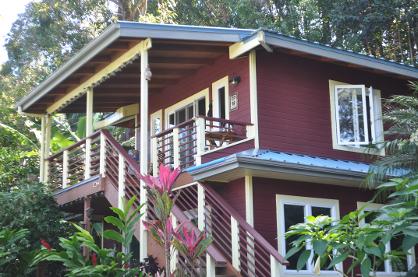 Lava tubes resulting from eruptions.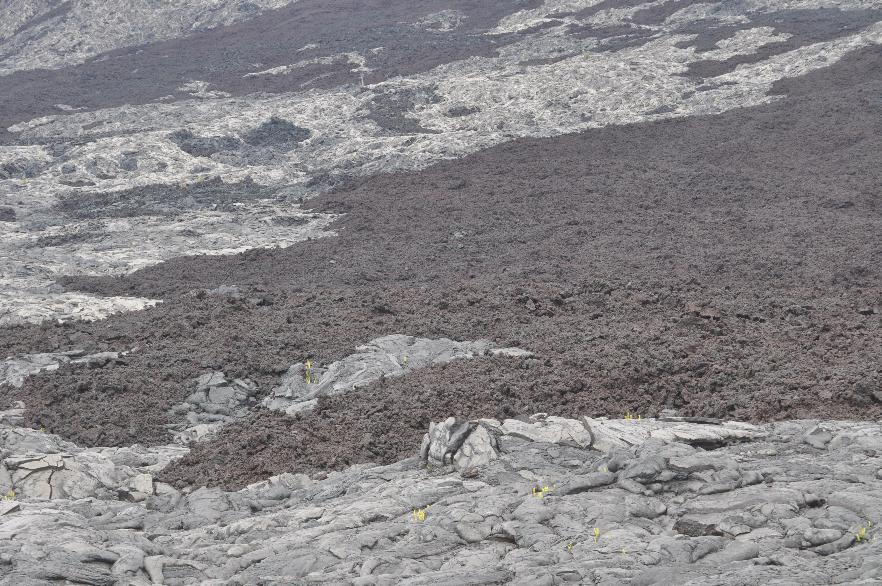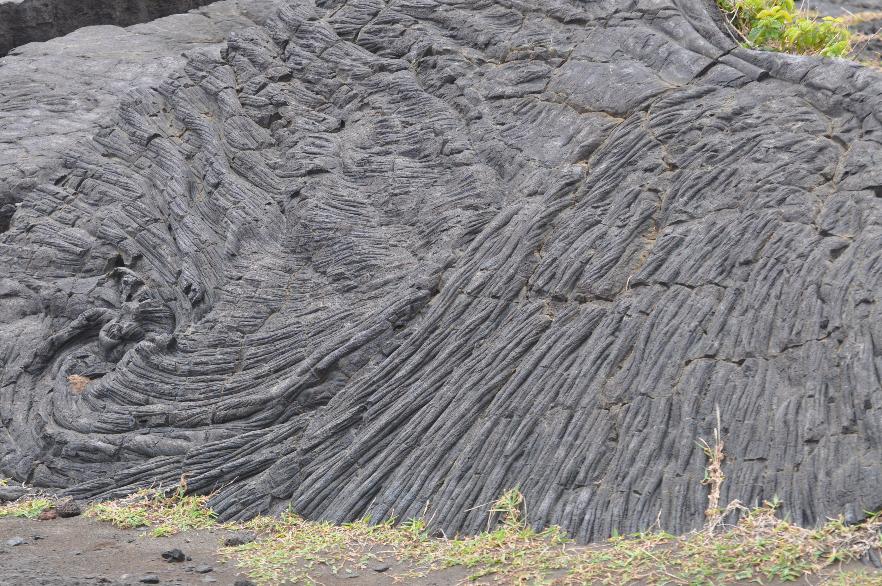 Interesting results of he cooling lava.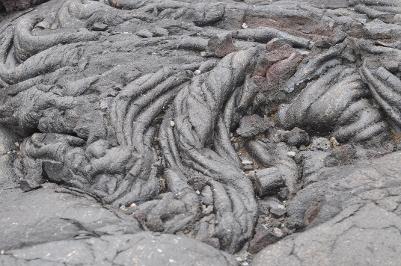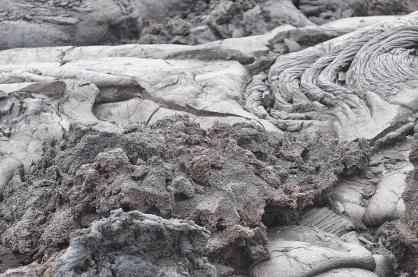 Lava covering vast areas down to the Pacific ocean.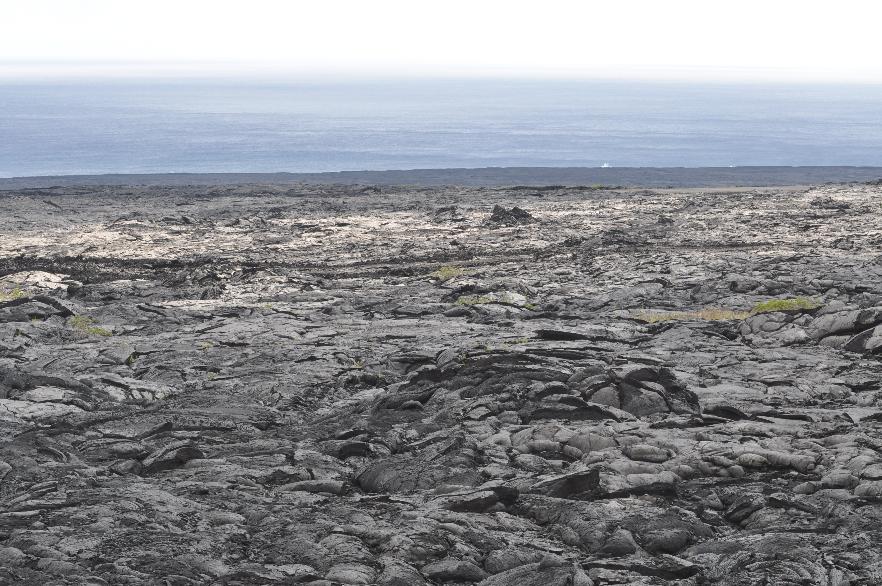 A sea arch as the lava reached the ocean.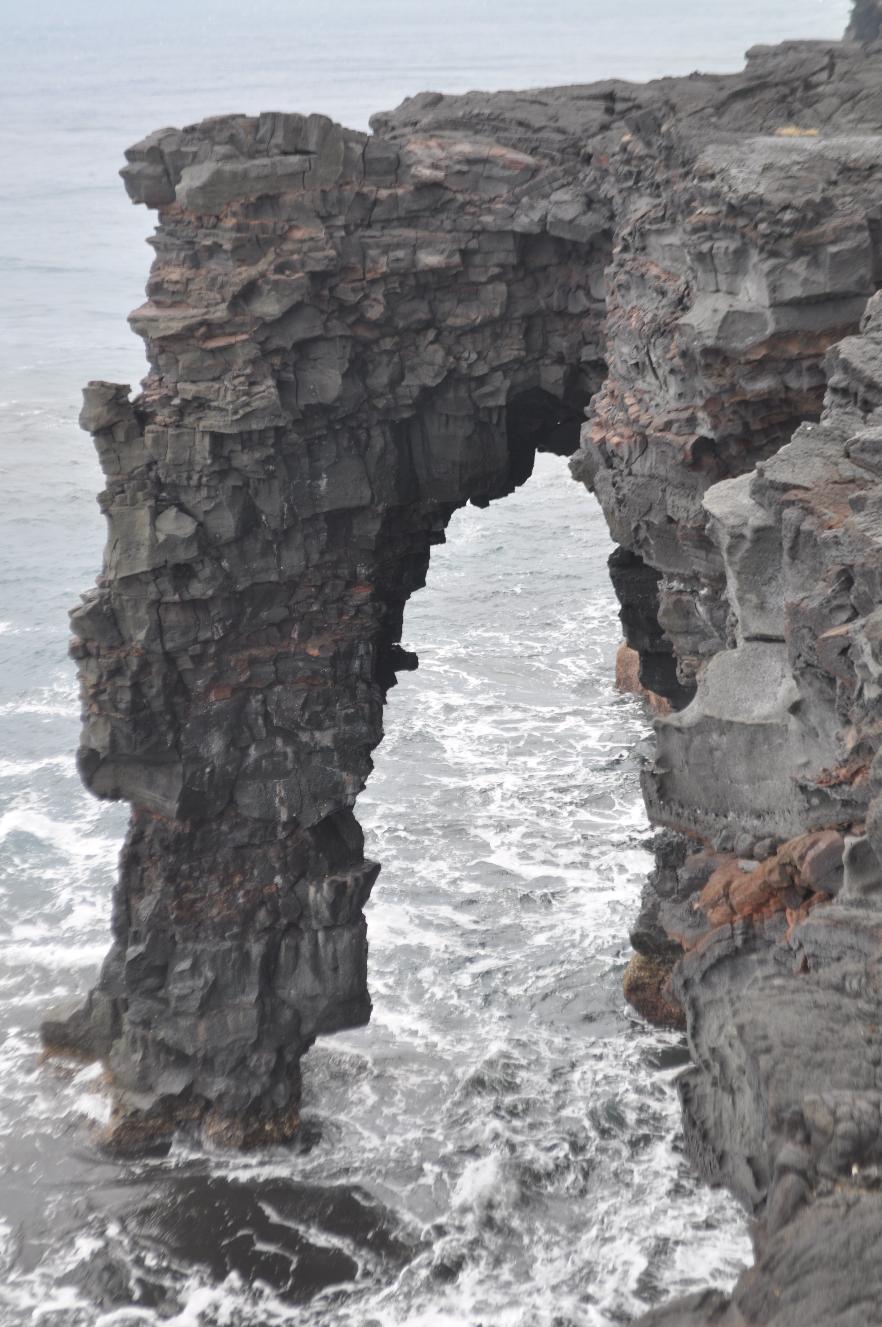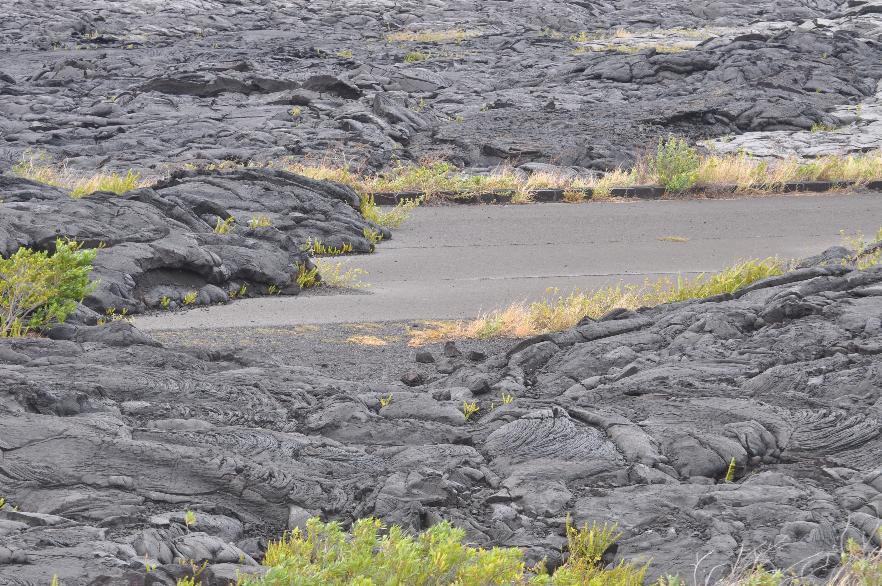 Lava tubes flowing over the mountainside, which may look not so large but is a couple of thousand feet in height.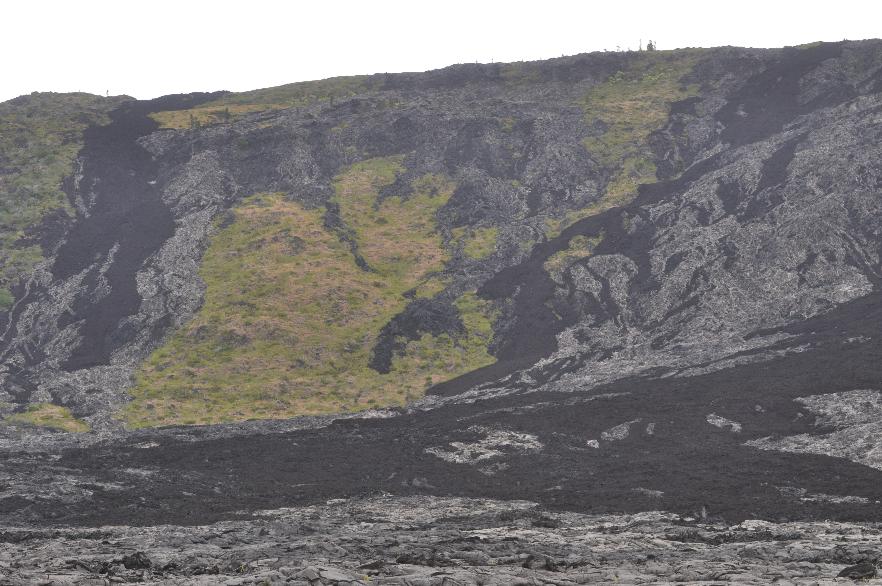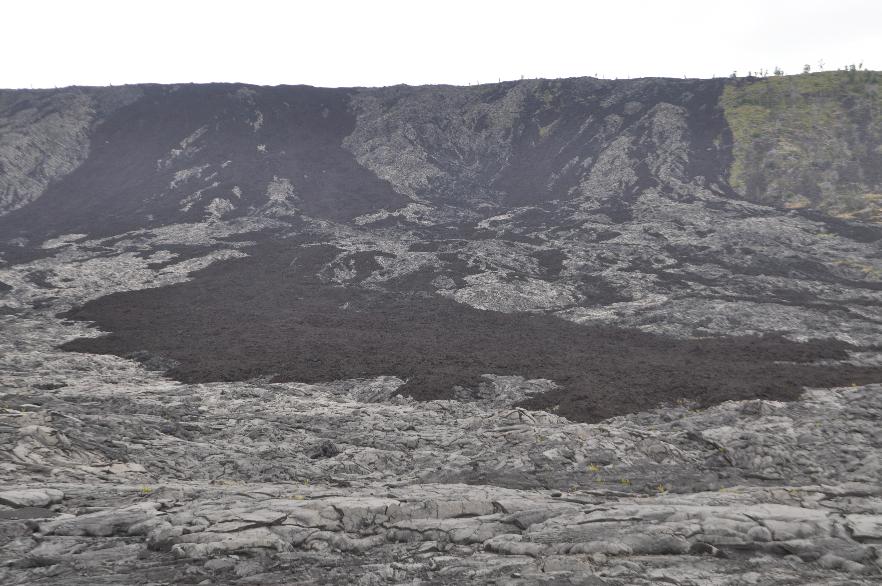 Driftwood provides some contrast to the lava.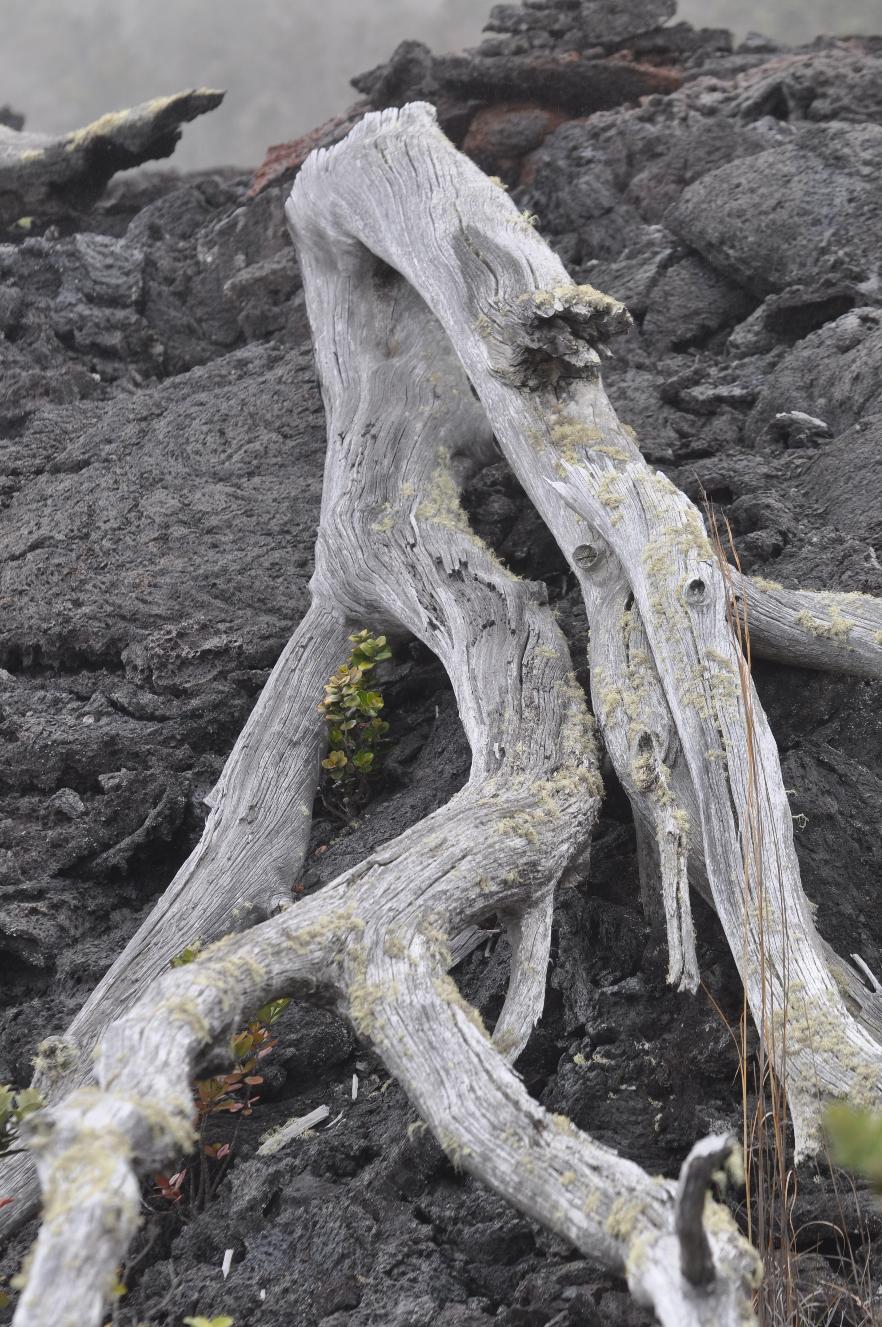 Coconut coated brie with papaya and apples and the German plate of sausage, sauerkraut, pickles and fried potatoes.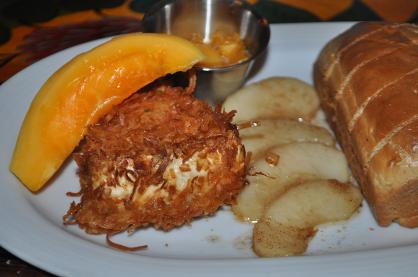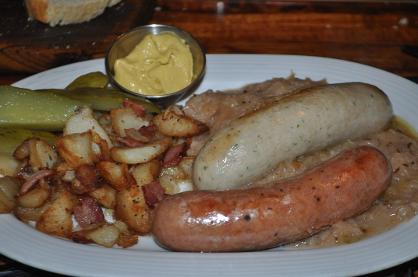 February 6, 2016 - Volcano

Our cabin, built in 1949 sits on the edge of a crater that leads into the national park. The cabin is large, a slice of old Hawaii. Jim and Barry have done a superb job at landscaping the grounds around the cabin and their adjacent home. Although breakfast is not served we were provided eggs, toast, cereal, milk, coffee, cream etc. to make our own. Often in places with small kitchenettes, e.g. Greece the necessary cooking components are often missing. Not here as we were supplied with butter, oil, salt, pepper, spices etc. and a full size stove on which to cook.

The only downside was that the cabin was quite cool in spite of a warming electric blanket that kept the bed toasty and a small gas stove that unfortunately did not throw out enough heat to eliminate the chill that exists up here at an elevation of > 4,000 feet. Gayle was thankful she brought her down jacket and I, well four layers later started to warm up.

The purpose and highlight of visiting Volcano is to spend time in Volcano National Park where one can overlook Kilauea Caldera and the smaller Halema'uma'a Crater with its active steam venting, illuminated at night by the lava lake below. We started our visit in the Information Centre where we saw a number of films on the eruptions and lava flows. Eruptions are reasonably frequent and ongoing. It has been 33 years since the Pu`u `O`o eruption on the east rift zone of Kilauea Volcano. There continue to be on-going eruptions of many different phases and types of activity over it's long life and continues to amaze with its persistence. The volcano has produced a broad field of lava flows that have buried over 120 sq km of the volcano's south flank and poured into the Pacific Ocean, adding more than 230 hectares of new land to the island. In 2014 Kilauea sent lava far to the north-east, a first for the eruption, extending some 20 km to the outskirts of the town of Pahoa. We were able to experience the steam vents and see the huge caldera and smaller Halema'uma'a Crater, also with steam spewing out of the earth's crust. Further details of the eruption history can be found here http://www.soest.hawaii.edu/GG/HCV/puuoo-episodes.html. Quite fascinating.

We had dinner at the recommended Kilauea Lodge and were not disappointed. Although my beet soup / borscht was not the best I've had the duck breast was superb. Gayle had a huge plate of Eggplant Marinara with grilled eggplant, red and green bell peppers, onions, mushrooms, fresh basil, sauteed and blended with marinara topped with melted cheddar and Swiss cheese served on a rice pilaf, enjoyed with a lilikoi daiquiri. We finished our enjoyable meal with more lilikoi, or yellow passion fruit - a lilikoi coconut cake. We enjoyed the atmosphere and food so much that we booked again for tomorrow night.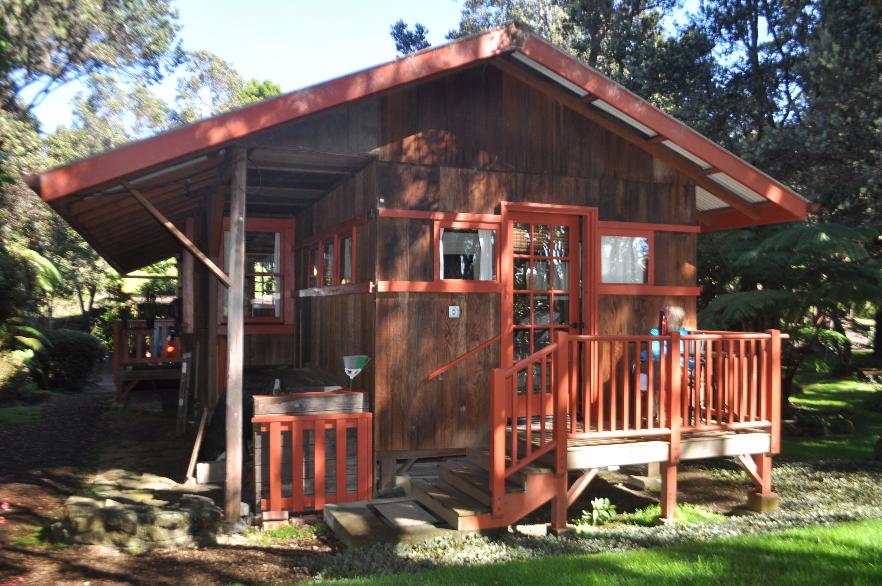 Some of the well landscaped grounds outside our Crater Rim Cabin.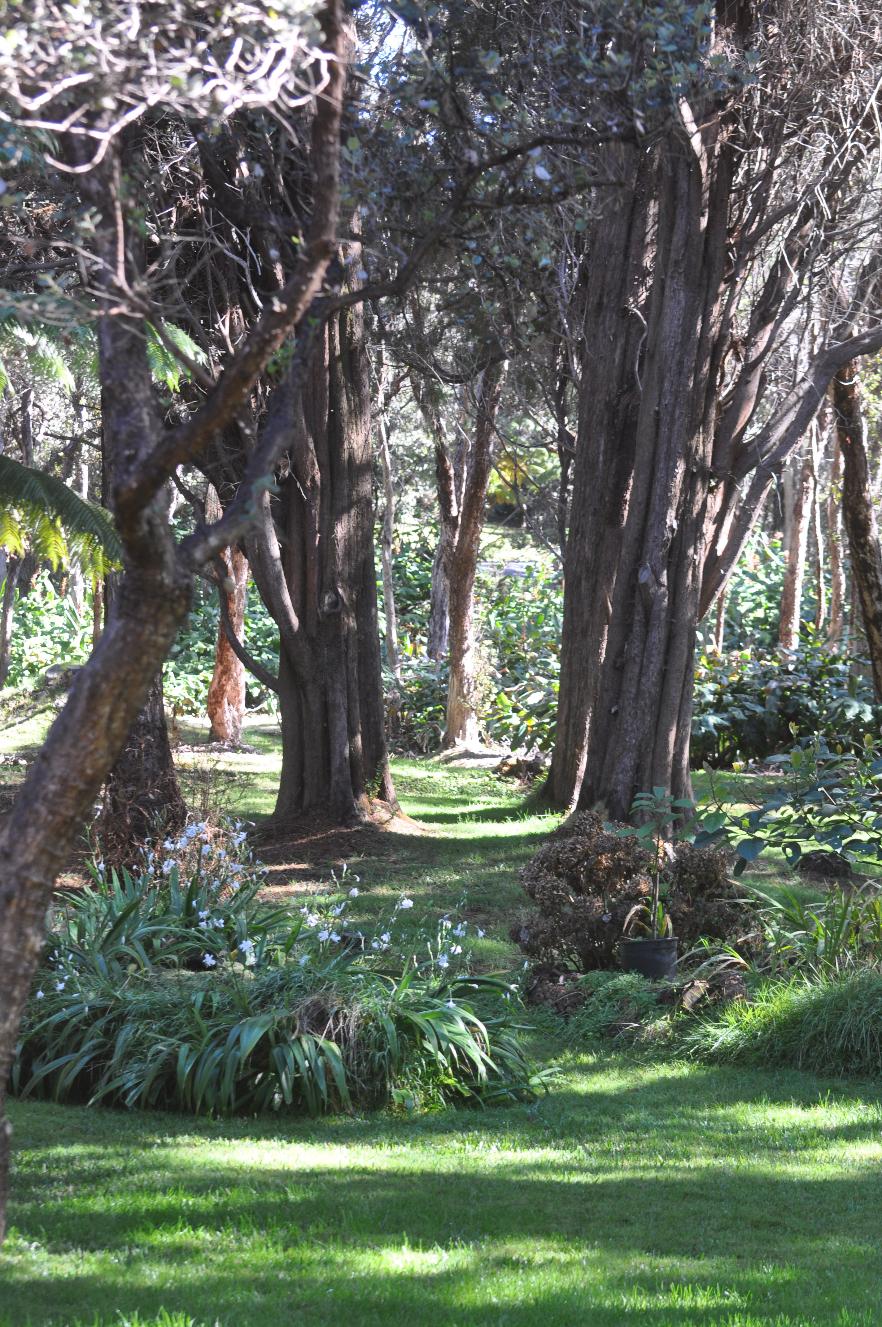 The nēnē or Hawaiian goose is a species of goose endemic to the Hawaiian Islands. It is the official bird of the state of Hawaiʻi, exclusively found in the wild on the islands of Oahu, Maui, Kauaʻi and Hawaiʻi. Here is one off the first fairway of the Volcano golf course.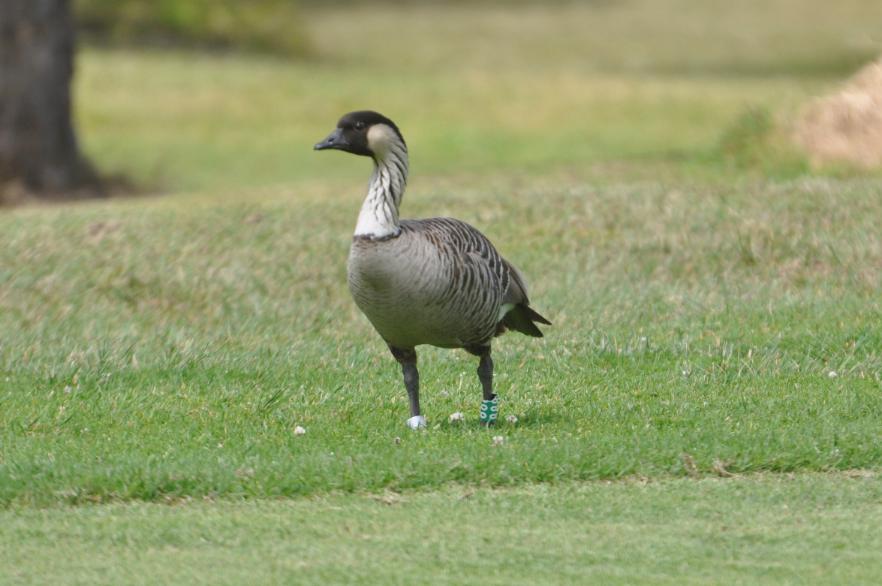 Really cool (actually the steam was quite warm) steam vents on the edge of the crater.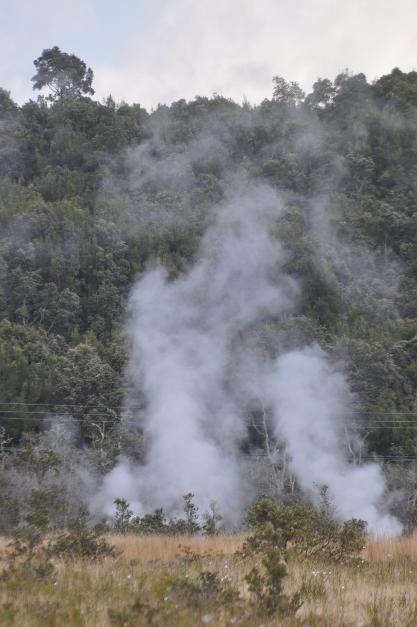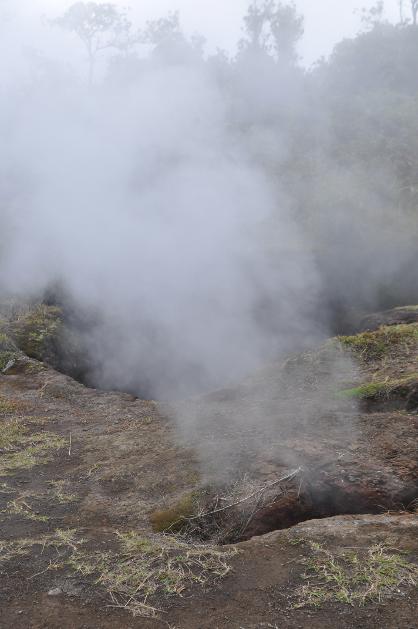 Steam vents at Volcano National Park.



An orchid and another wild flower in the Park.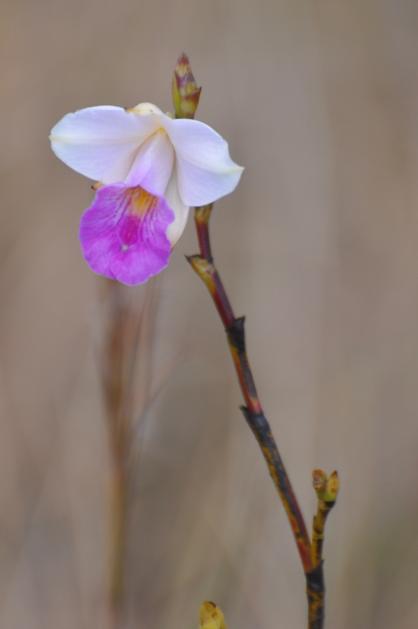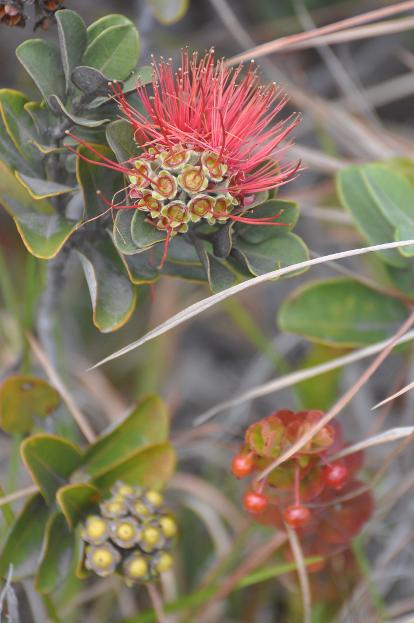 The two types of lava - Pahoehoe (left) with its smooth rope-like appearance and A'a (right) tumbles in the form of small rocks with very jagged, sharp edges.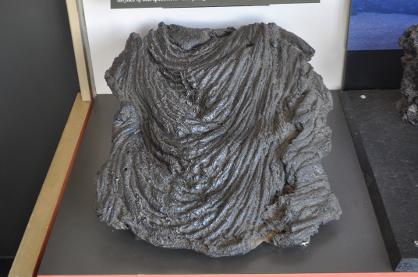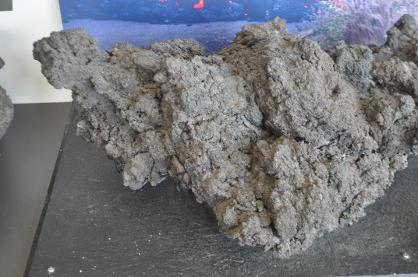 In Volcano National Park with the Halema'uma'u Crater about a mile in the distance.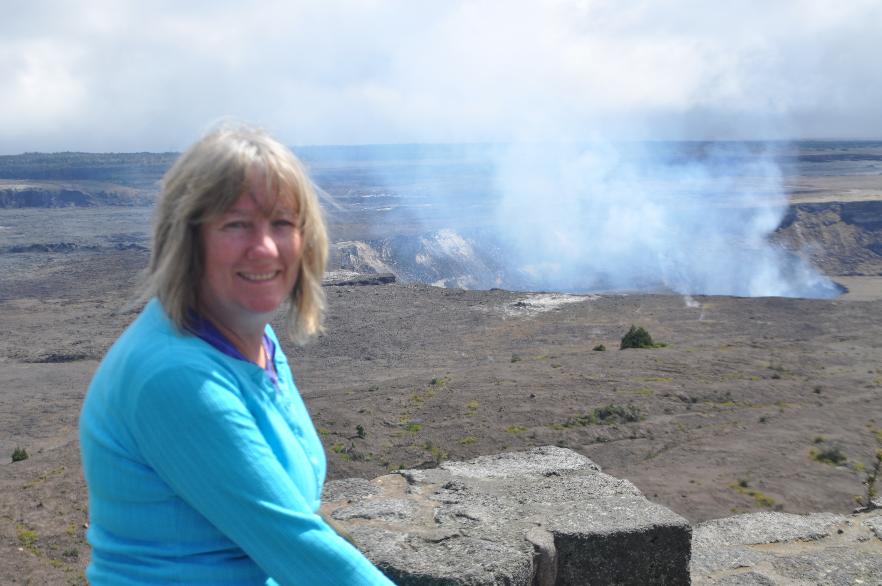 Halema'uma'u Crater during the day with steam venting from the lava lake below.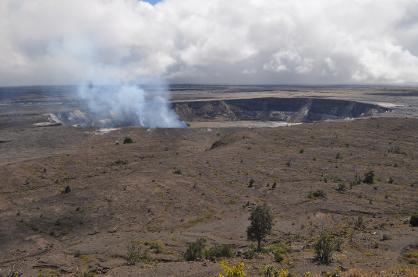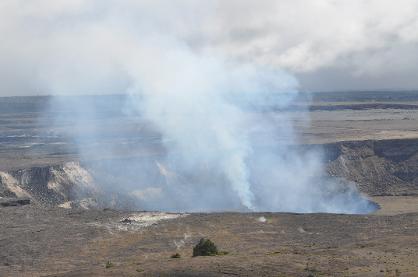 Lilikoi (or yellow passion fruite) was the flavour of the meal - a lilikoi daquiri and a lilikoi and coconut cake for dessert.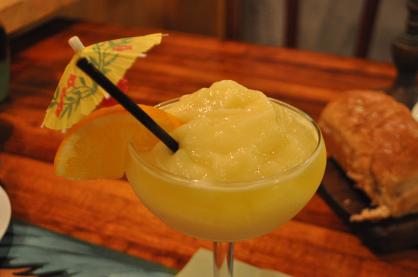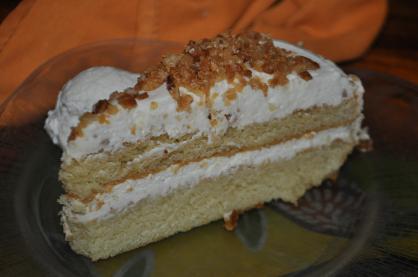 A wonderful dinner of duck breast, with apricot mustard glaze and caramelized orange rind.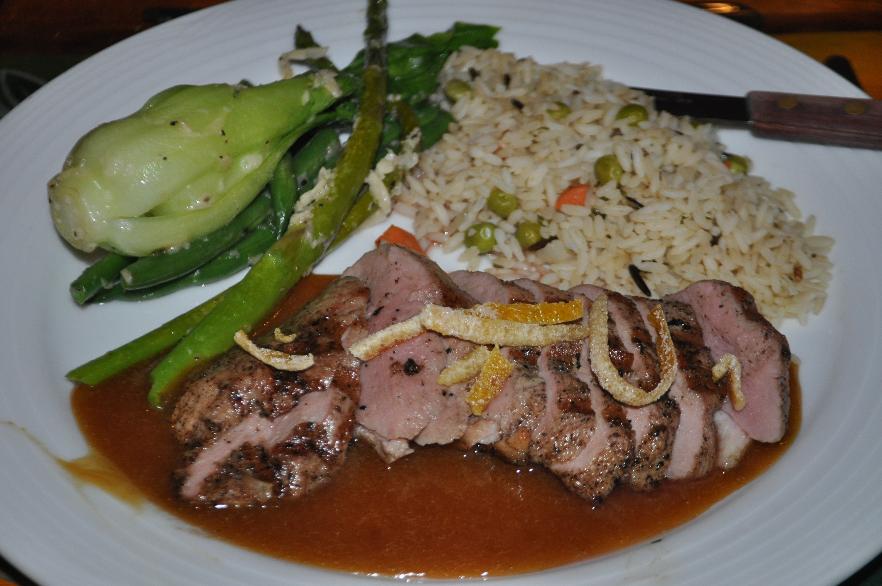 After dinner we returned to the Halema'uma'u Crater where the lava lake lit up the escaping gases in an impressive display of colour.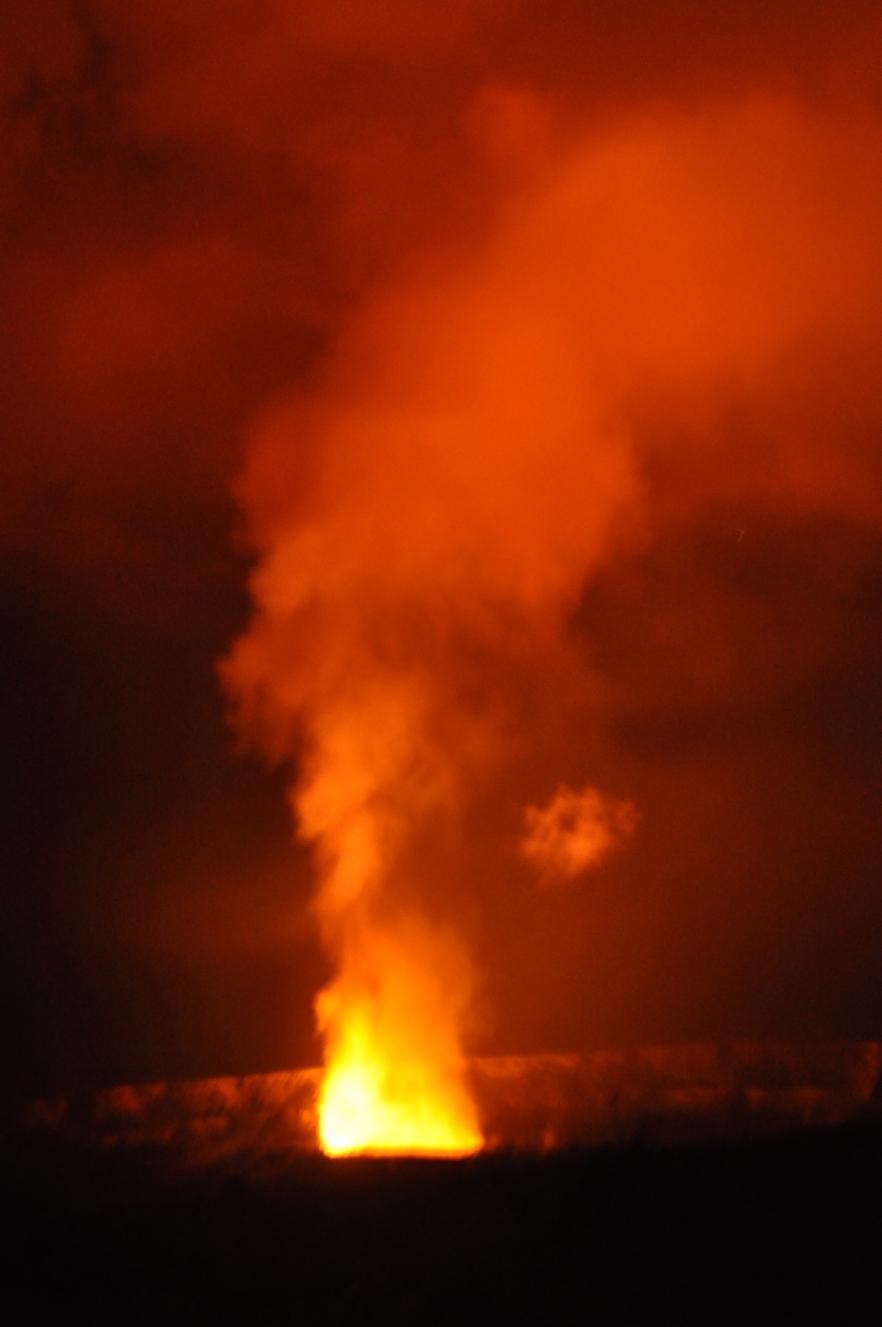 February 5, 2016 - Kailua-Kona to Volcano

After a reer a relaxing morning, another filling breakfast and Dave's cheat sheet of places to stop along the way to Volcano we left Honu Kai B&B, but not before we were invited to this Sunday's Super Bowl party and to drop in prior to our late night flight if we wanted a place to relax on our final day.

We drove south from Kailua-Kona with only two things of note. First were the crosswalk flags we encountered in the town of Kainaliu - both yellow and orange in colour and at eight (8) successive crosswalks. In fact one crosswalk had large fluorescent signs, crosswalk flags and an in-road pylon. We knew crosswalk flags exist in Waimea at the north end of the island but were pleased to see them here as well, including being used by one pedestrian crossing. The second was the Coffee Shack, a small cafe with incredible views of Kealakekua Bay. A nice stop we enjoyed coffee and a piece of pie each - Kona Lime and Macadamia Nut, both delicious.

Otherwise the drive to Volcano, our next stop was somewhat non descript - through a few lava tubes and otherwise scrubby countryside. Often we found ourselves too far inland to see much of the ocean. We had no problem finding our cabin. It is located on the edge of the crater, appropriately named Crater Rim Cabin. Our home for the next three nights it is not a B&B but provides cooking facilities and supplies (eggs, bread, milk, butter, cream, cereal, fruit etc) to make our own. After settling in to our large cabin we went out to the Thai restaurant in town. It was alright but not as good as Talay Thai back home.

Back to the cabin to catch up on emails, a little reading and then to sleep.


Part of the lush grounds at Honu Kai B&B.ai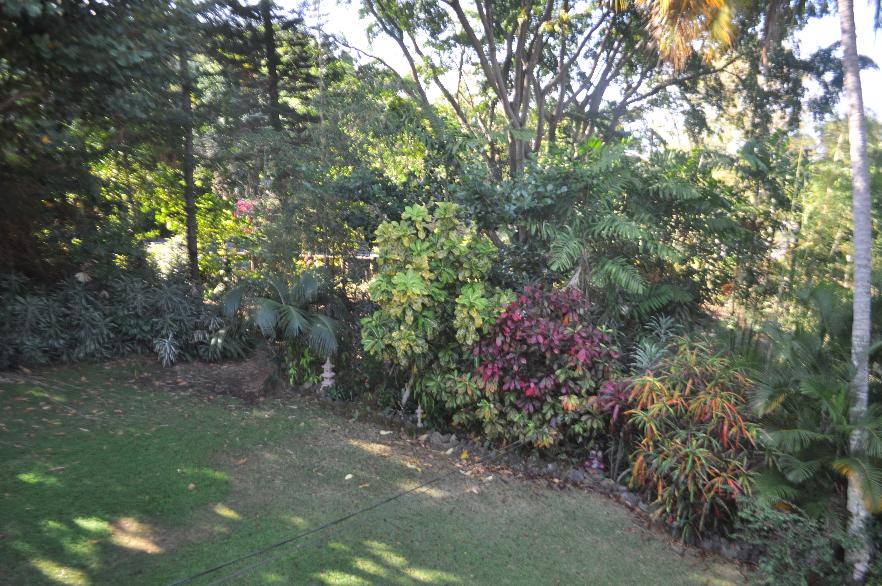 Now that is getting along - the cat drinking from the fish bowl - and yes there is a fish in there.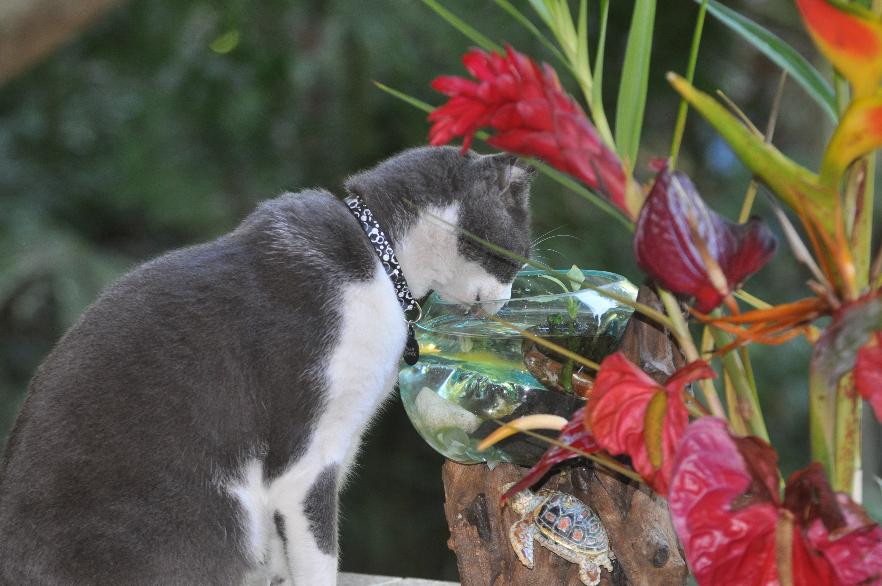 A delicious bowl of yoghurt with fruit, nuts and berries.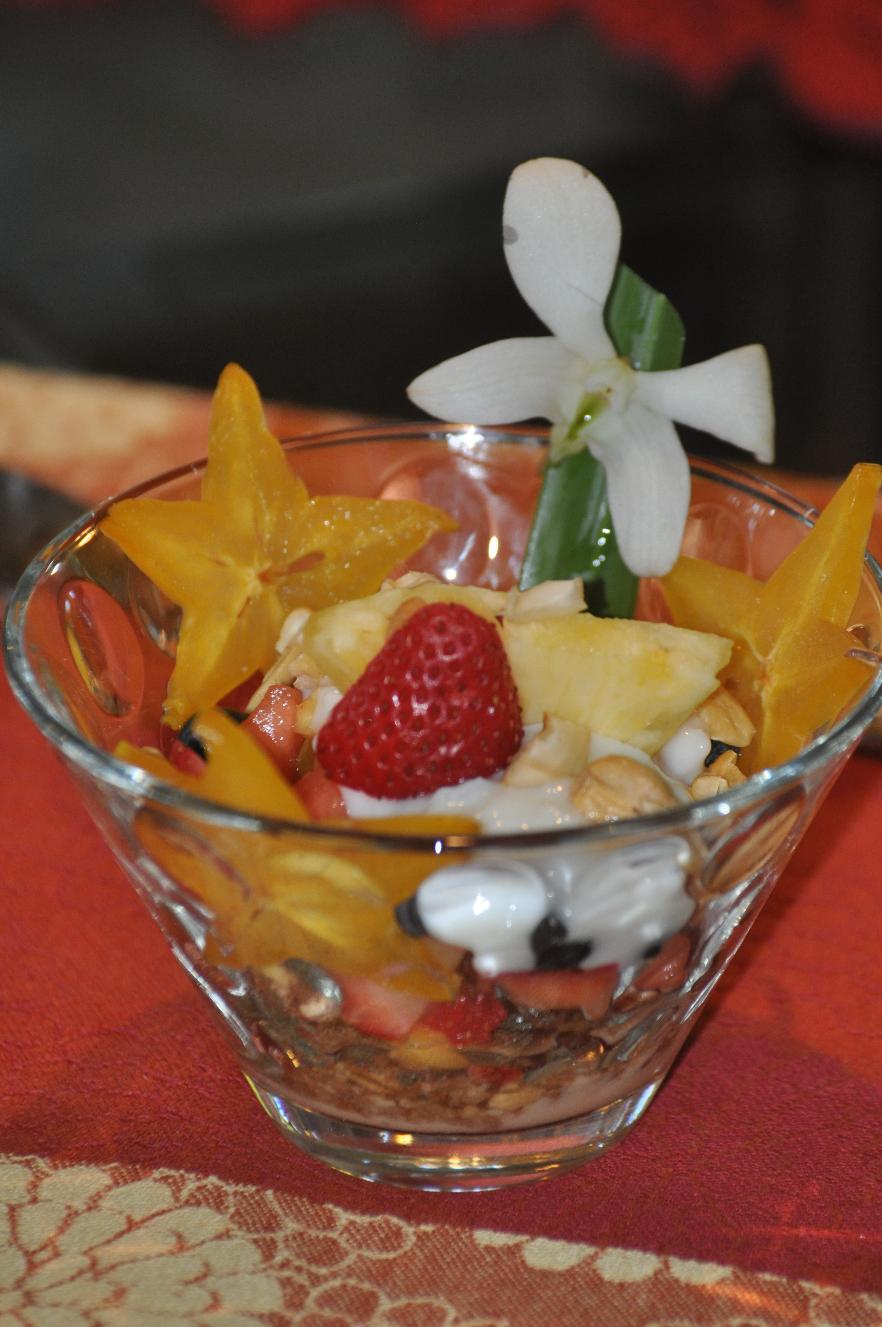 Wendi and Kona Dava (with Kevin Costner). At Honu Kai you arrive as a guest and leave as a friend.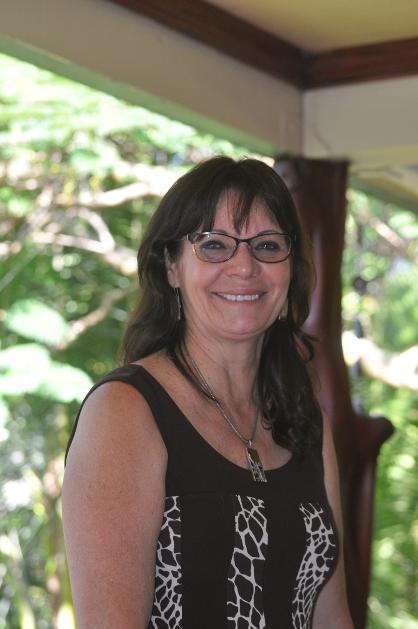 Crosswalk flags in Kainaliu, Hawaii.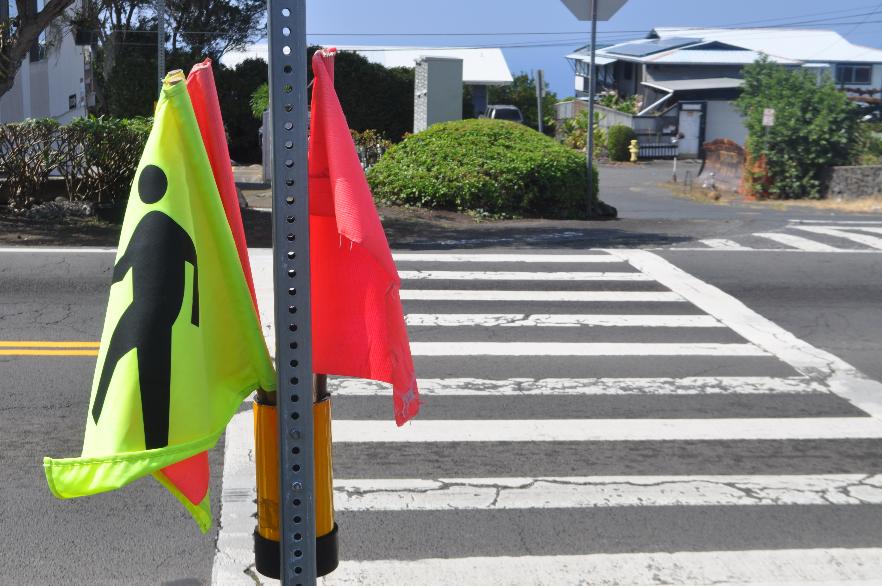 My Macadamia Nut and Gayle's Kona Key Lime pie.

And yes Gayle couldn't wait 30 seconds for me to take a photo before sampling!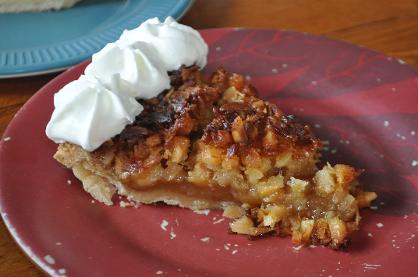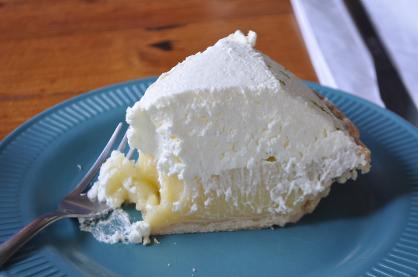 Some of the tropical fruits here in Hawaii - rambutan on the left and jack fruit on the right.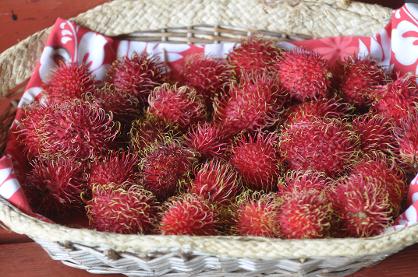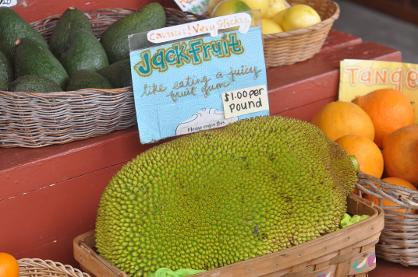 Feb 4, 2016 - a beach afternoon at Mauna Lani Resort

We awoke to a nice morning where I caught up a bit on this travel blog with a coffee sitting beside a cozy fire pit. Dave does a spectacular job setting the breakfast table where we all enjoyed a great start to the day with a full breakfast that began with a wonderful fruit tray followed by ham, cheese and egg croissants. One of the other couples have stayed at Honu Kai eight times now while another were returning for their second. Each provided a number of very useful suggestions for sites to see on the Island - one of the benefits of staying at a B&B.
Dave and Wendy own a second property 40 minutes (without traffic; an hour and a quarter for us) north along the Kohala Coast at the Mauna Lani Resort. Not only do they rent out their condo but provide guests access to the beach, which we took advantage of. They provided us towels, snorkel gear and a cooler for the day. The drive north through lava fields, with the ocean off to the side was picturesque. We had no difficulty finding the beach (instructions were extremely detailed and explicit) and spent a great few hours enjoying the sun and sand.
The water was nice and warm and the snorkeling quite good with a reasonable variety of colourful small fish. We enjoyed our drinks and a bag of Macadamia nuts for what was an enjoyable afternoon.
We returned and immediately went into town for dinner at the Kona Inn (recommended by Ron and Nancy). We had reserved a table adjacent to the lawn with an unobstructed view of the palm trees and bay for the sunset. The meal was just ok, and of course expensive, in part due to the location. Gayle's Big Island Onion & Vine Ripened Tomato salad was fine while my calamari strips, although nicely breaded were somewhat bland. I went big for my main course - a Macadamia nut crusted Mahi-Mahi - drizzled with a chive plum sauce served over sauteed bok choy. The bok choy didn't work for me and while the fish and sauce were good the Macadamia nut crust was barely noticeable. For $44.95 (US!) I expected spectacular and unfortunately this was a ways from there. However the sunset did not disappoint. It was colourful and enhanced by a number of canoeists in the bay. Although in retrospect I would have ordered something else the location and vistas from the restaurant, and in particular our table were special and memorable.



Guest are listed on the fridge - which is really helpful when you forget someone's name. This was Ron and Nancy's 8th time back and Steven and Linda's second.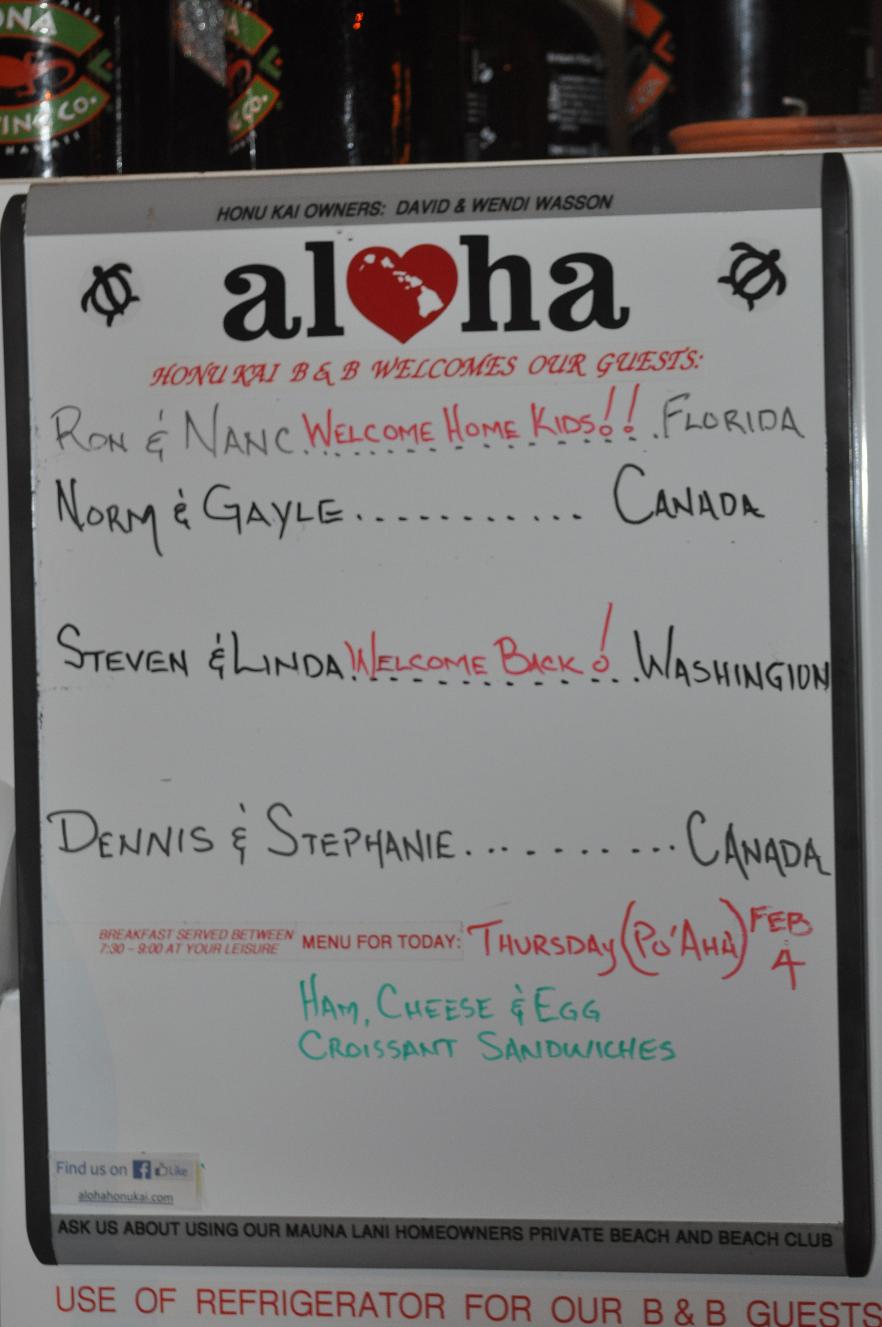 Starting the day with a coffee by the cozy fire pit.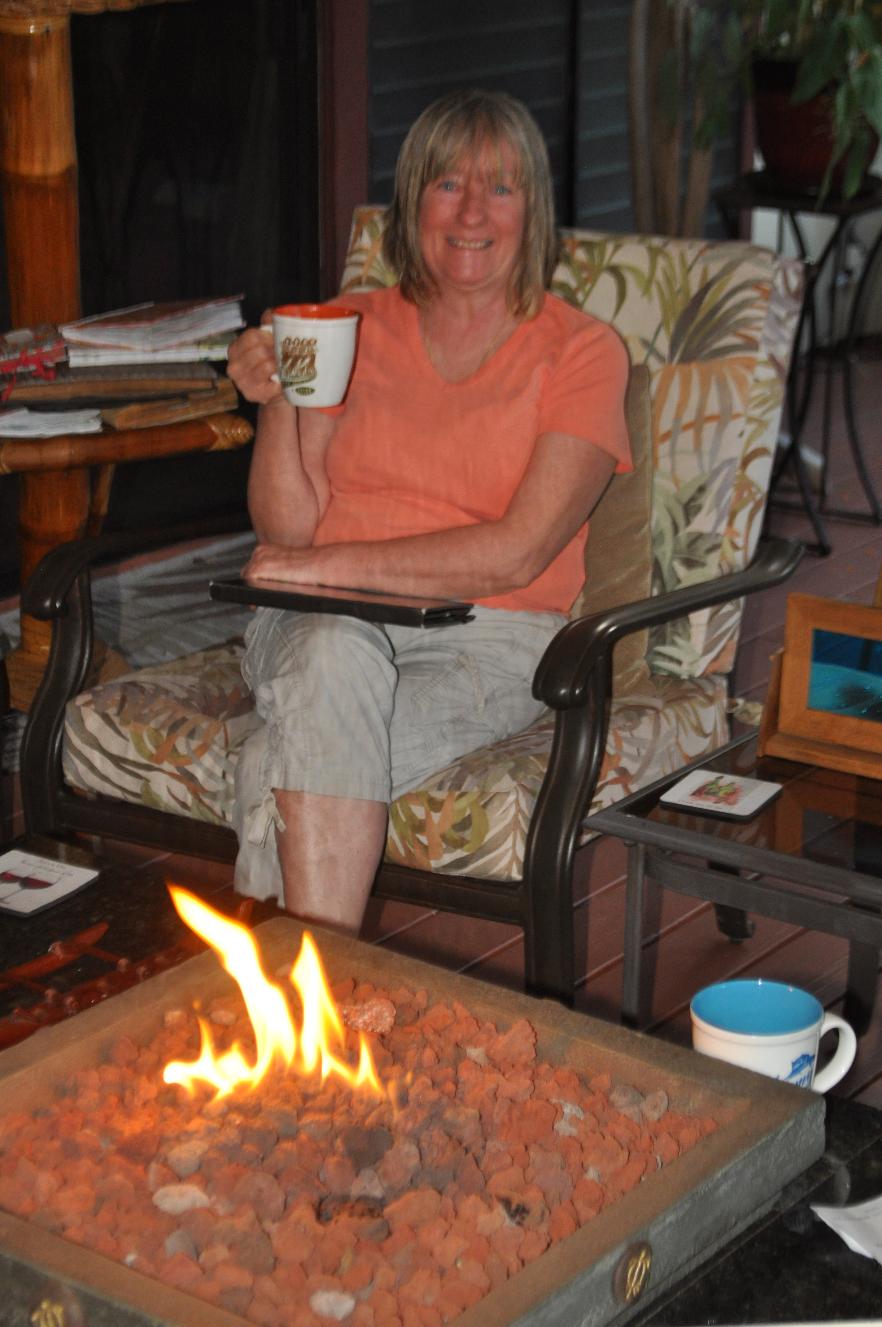 Breakfast here at Honu Kai starts with a variety of fruit.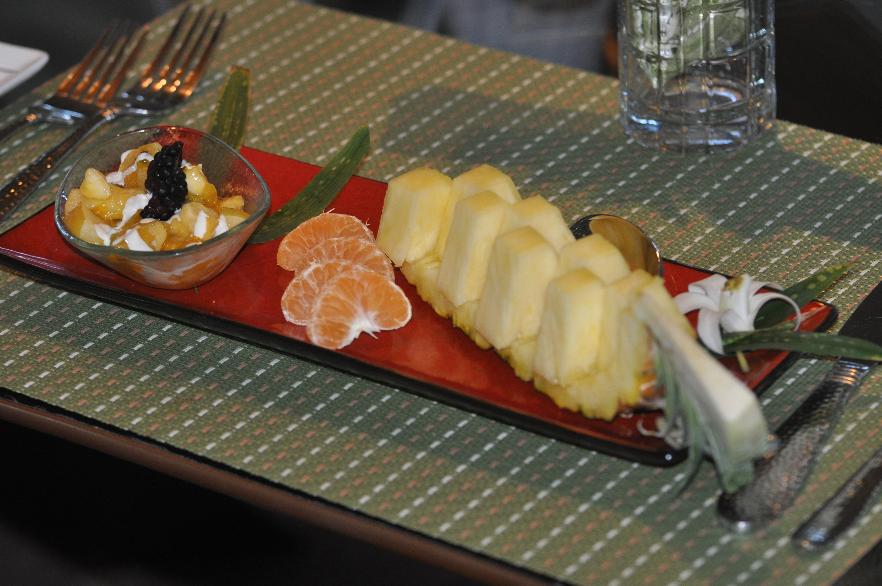 Lava along the drive up the Kohala Coast.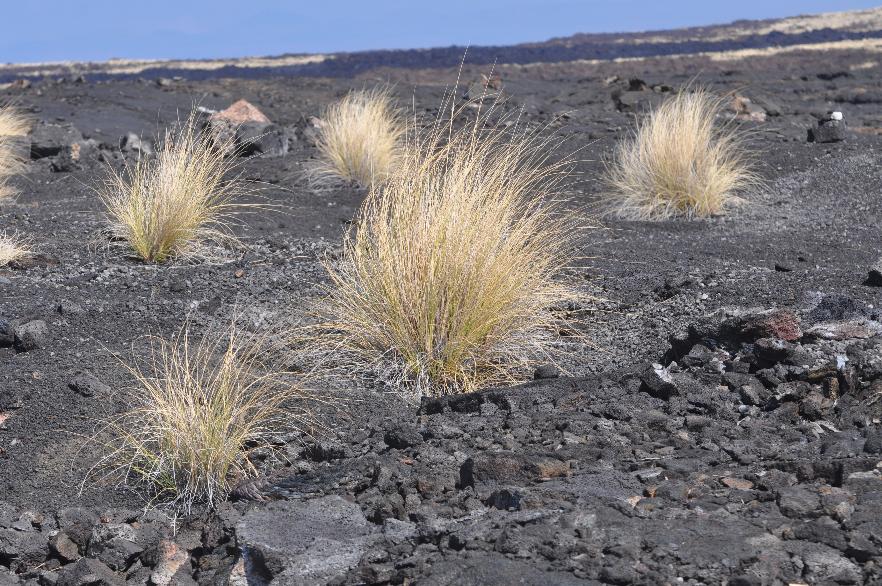 The beach at Mauna Lani resort.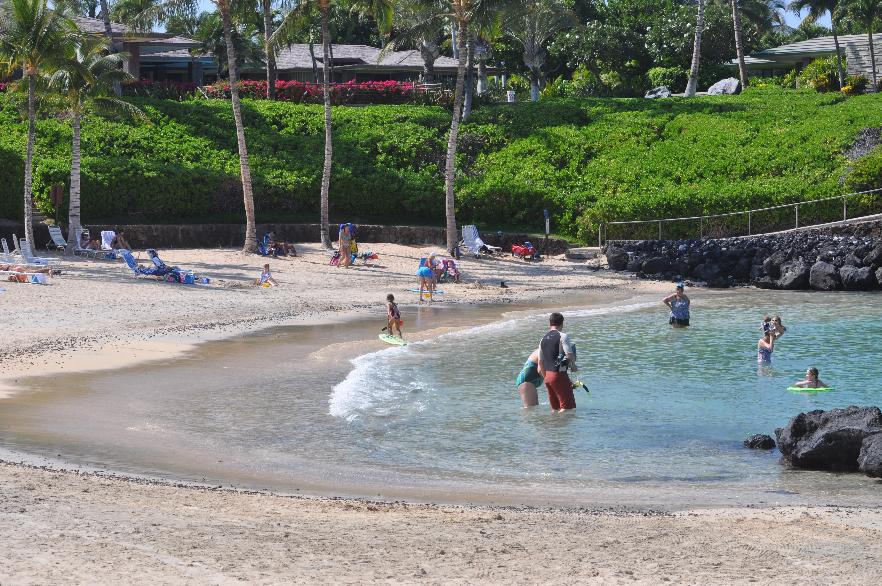 It was all fish for dinner - first calamari as an appetizer and then Macadamia nut crusted Mahi-Mahi.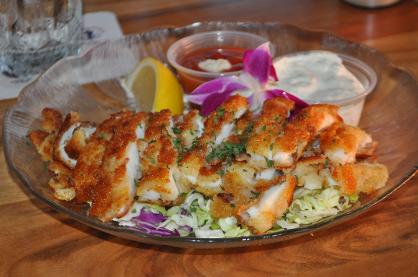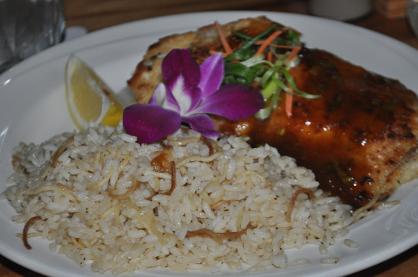 Canoeing in Kailua By to the backdrop of the sunset. Not a bad view from our restaurant table.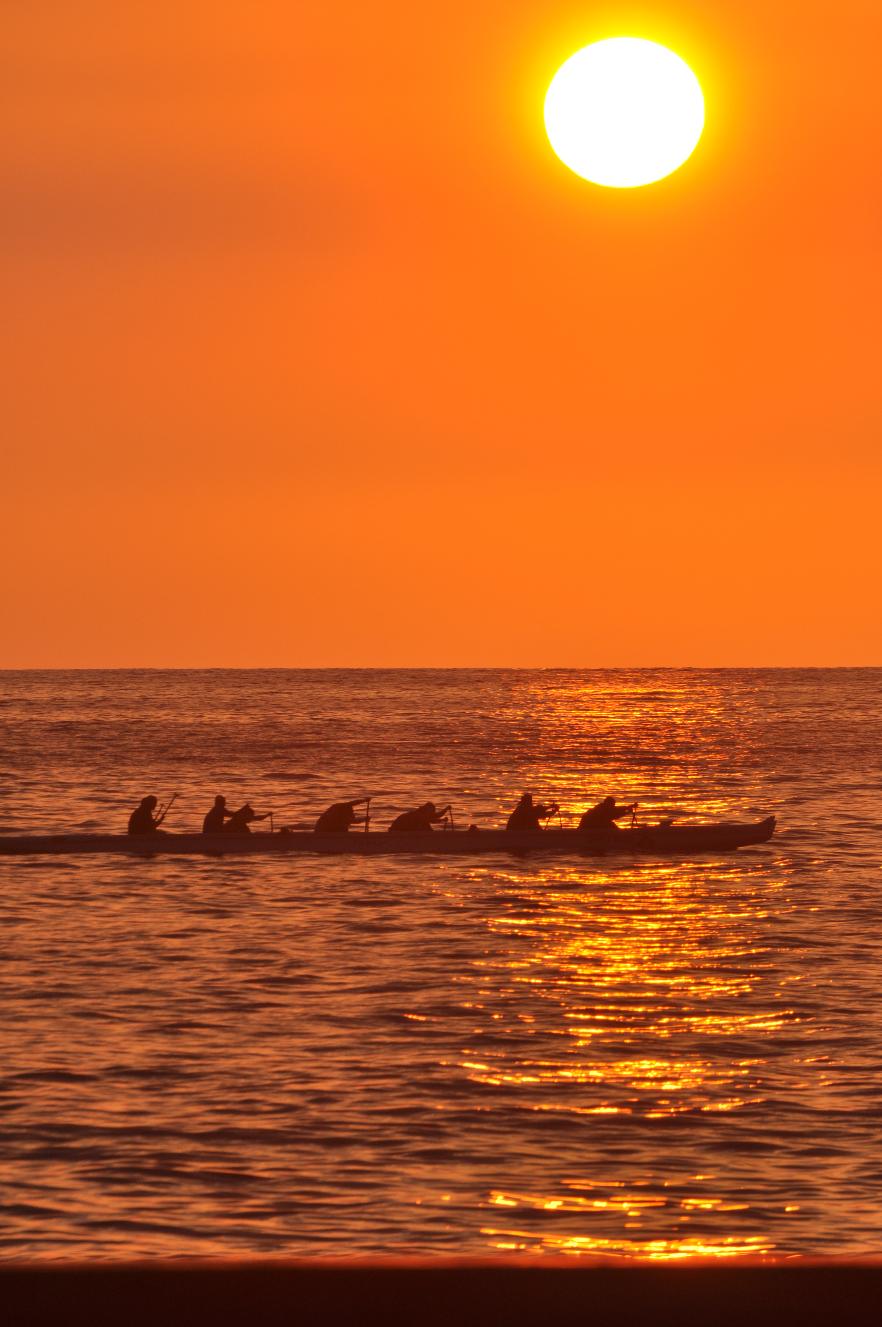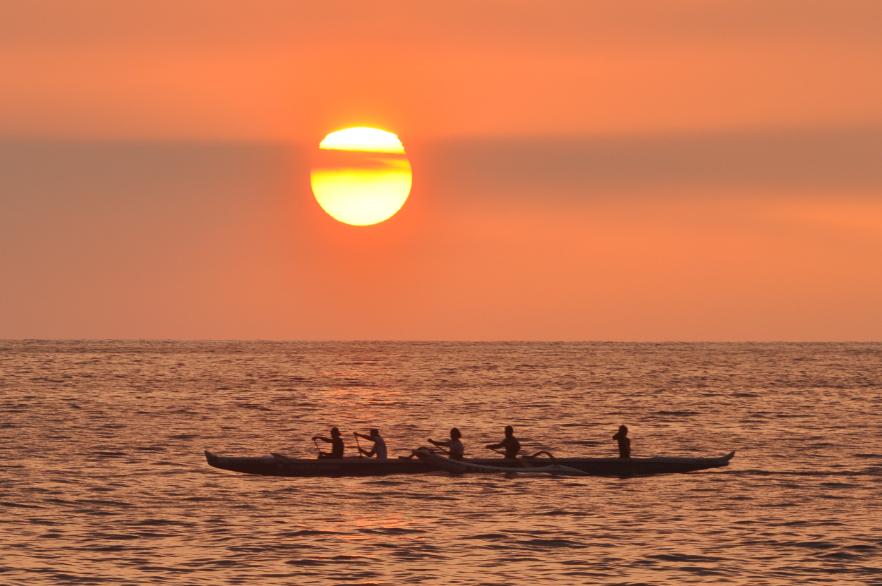 Sunset as seen enjoying dinner at the Kona Inn.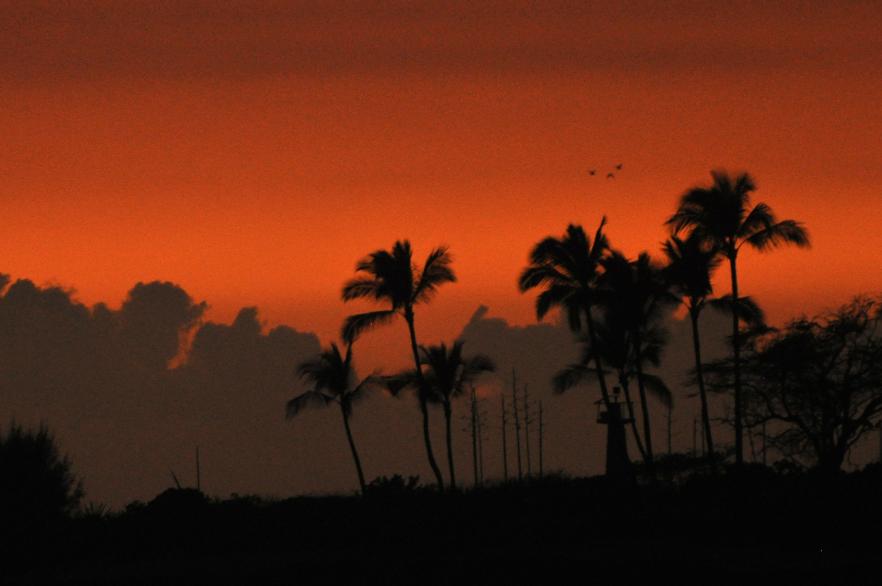 Feb 3, 2016 - Pescadero to San Francisco to Kona, The Big Island, Hawai'i

We were up and out early for the hour drive back to San Francisco airport. One missed turn but we recovered easily to arrive with plenty of time for our 4 1/2 hour flight directly to Kona.
Our B&B - Honu Kai is only 15 minutes from the airport. We were warmly welcomed by Wendi and Kona Dave, both with very interesting histories. Wendi was a Dallas Cowboy cheerleader back in 1980 while Dave was a pilot for Warner Brothers flying the likes of Kevin Costner, Clint Eastwood and Denzel Washington to film locations. Wendi was the executive flight attendant and the rest is history. They moved on about 10 years ago, settling down on the Big Island where they created their B&B, ranked #1 on TripAdvisor of all Hawaii's (not only the Big Island) B&Bs.

After settling in we went into Kona (approx. 4 miles down the mountainside) where we strolled through town, along the waterfront before stopping for dinner at Quinn's Almost-By-The-Sea for a casual meal in a lush garden setting. Gayle's grilled cheese deluxe (with avocado and tomato) was good enough (although not great) while my fish and shrimp were very good, especially the lightly battered mahi-mahi fish.

Having been up very early we returned to Honu Kai and turned in early.

Welcome (aloha) to The Big Island of Hawai'i.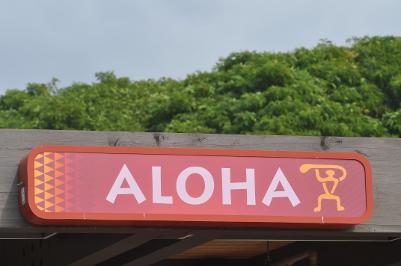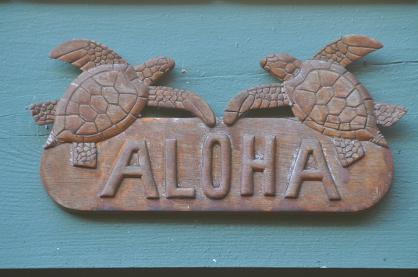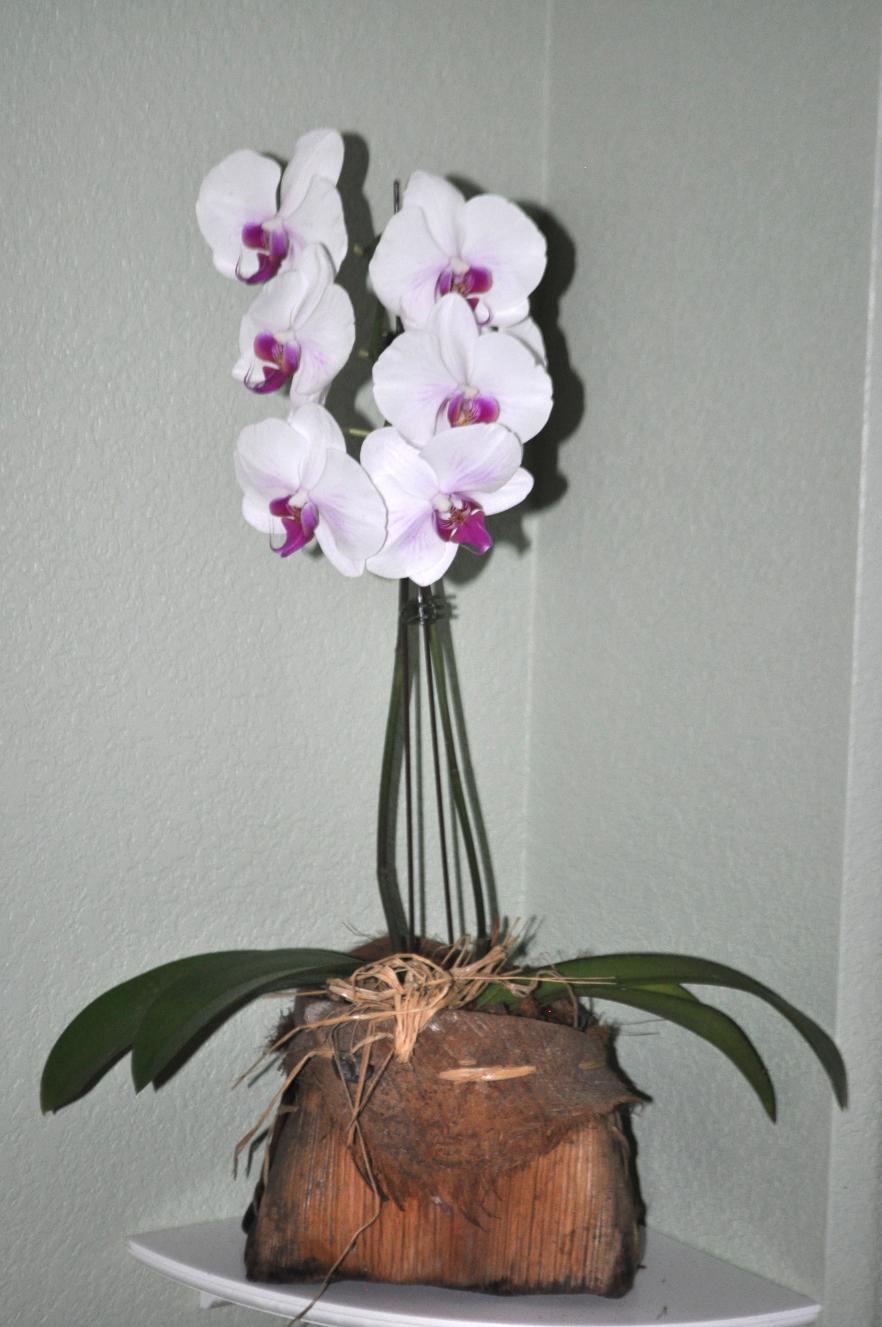 Our Mahani room at Honu Kai B&B - lots of light and interesting art, including these honu (turtles).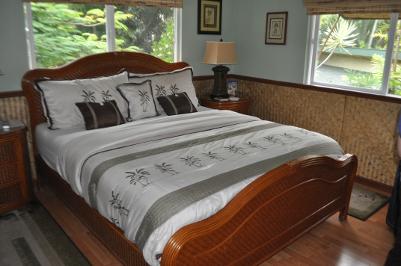 Hawai'i = beautiful sunsets.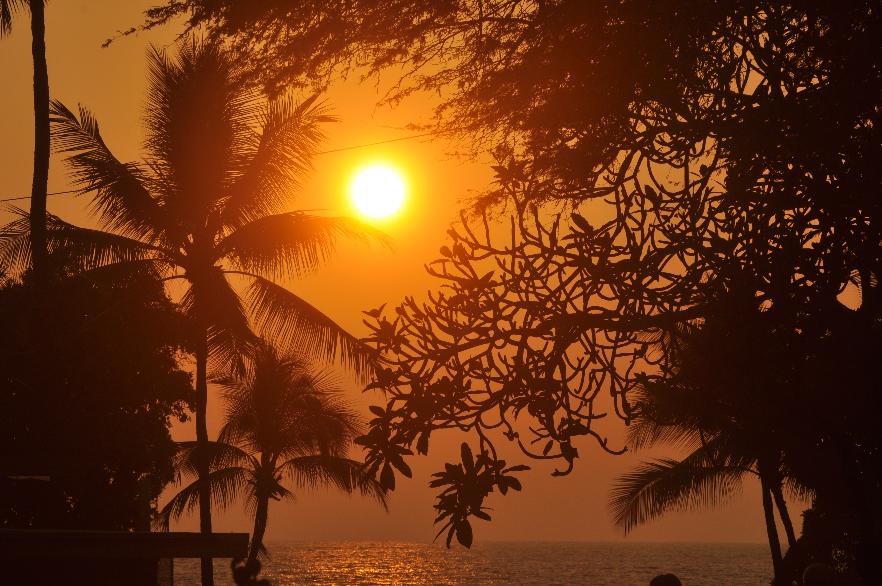 Enjoying a tropical drink at Quinn's Almost-By-The-Sea, a casual restaurant where the fish and chips lived up to their reputation as the best in Kona.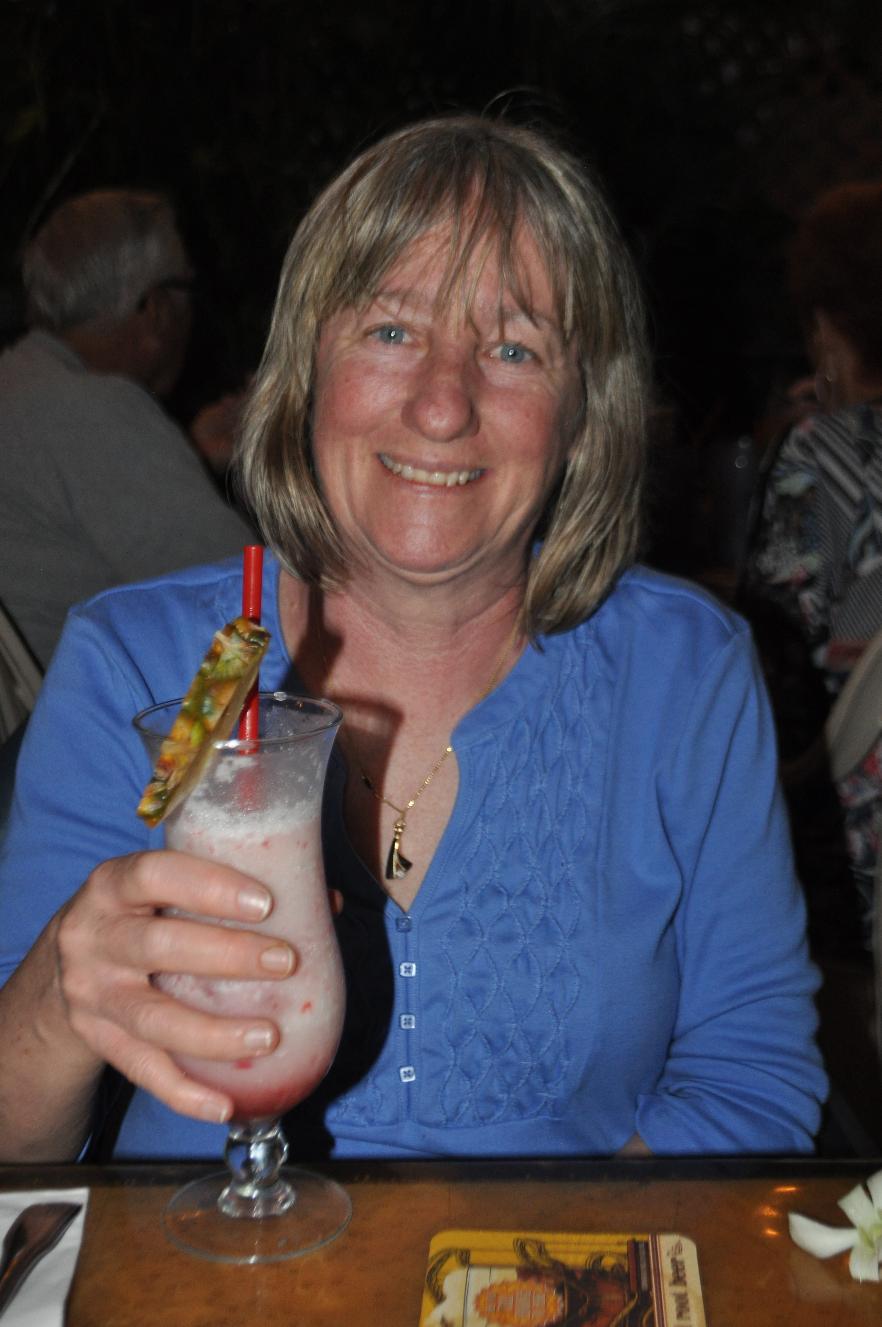 Feb 2, 2016 - Ano Nuevo State Park and through the redwood forests up the Santa Cruz Mountains

Just south of Pescadero is Ano Nuevo State Park, home to elephant seals. The seals are here year-round. In the spring and summer they return in order to molt. From Dec 15 to Mar 31 the beaches are closed to allow the pregnant females undisturbed access to give birth. Following the young pups nurse, gaining 10 lbs per day while the bulls, who weight between two and three tons battle in what can be a very unpredictable and violent process to determine dominance and breeding priority. The rangers and naturalists provide 2 1/2 hour, three mile walks out to the beach where the seals, thousands of them can be seen covering the beach.
Just off the shoreline is Ano Nuevo Island, originally a point but now separated by a channel. Home to a light house due to the dangerous coastline for shipping through 1948 the lighthouse was replaced by an automatic buoy and abandoned, taken over by seals and other wildlife.
The large colony of northern elephant seals that assemble here each winter is the attraction to visitors. Named for their large size and their large, pendulous nose, elephant seals were slaughtered wholesale in the 1800s for ther oil from their blubber. By 1892, fewer than 200 seals existed, living on the remote island of Guadalupe off the coast of Baja California. In 1922 the Mexican government gave protected status to the elephant seals, and the US followed a few year later when the seals began to appear off the southern California coast. Ano Nuevo Island's first elephant seals arrived in 1955; with the first pup born in 1961. Males hauled onto the mainland in 1965, and the first known mainland birth came ten years later. The number of elephant seals breeding and giving birth on the mainland continues to grow as evidenced by the huge numbers covering the beach. On Jan 26th a census had the count at 350+ males, 1,415 females, 1,019 pups and 46 weaners. Elephant seals spend most of their lives at sea, coming ashore only to molt, give birth and mate, spending the rest of their time as west as Hawaii and as far north as Alaska feeding.

The tour ended mid afternoon after which we drove through the Santa Cruz Mountains that rise up from the coast. Throughout the region are massive redwood forests - hug trees creating a dark environment. Awesome to see but not easy to photograph. We continued up the mountain to Skyline Ridge from where one can see the ocean to the west and San Francisco Bay to the East. We stopped at the suggested Alice's Restaurant for a bit to eat, before descending the mountain back to the coast just before the sun set.


The warning to stay back - although generally docile on their own the seals can lash out - and our first encounter with a wild elephant seal.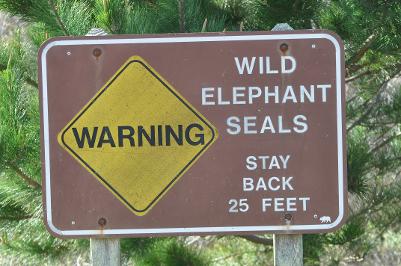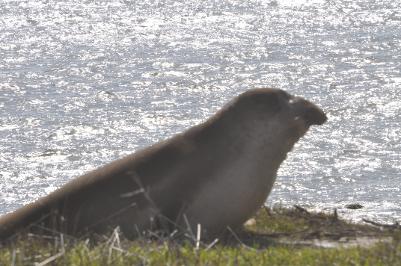 Nothing much to do for this guy then spend the afternoon asleep.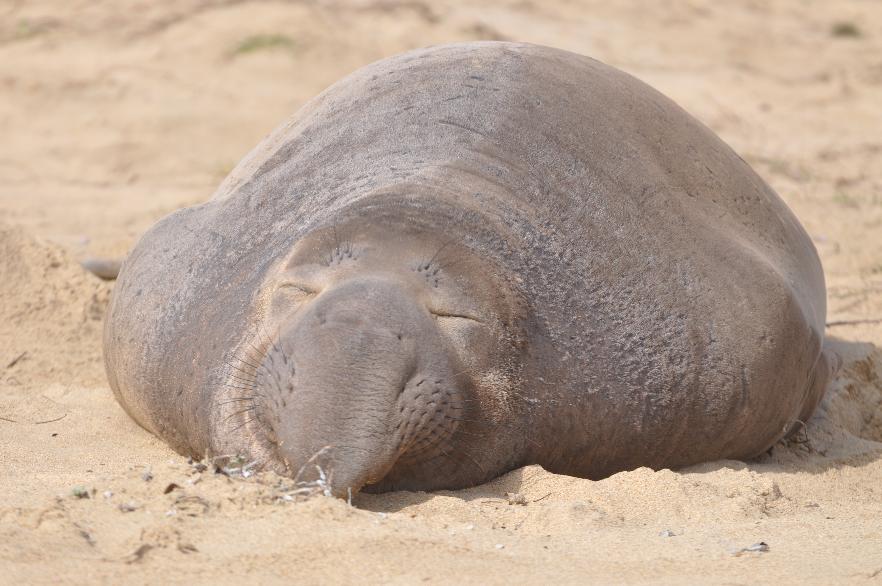 Seals, seals and more seals covering the beach.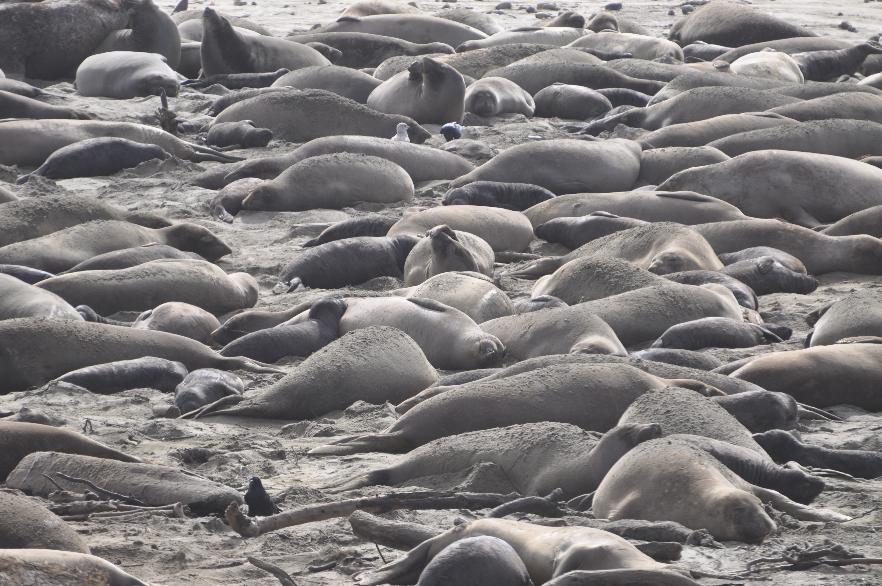 A 'weaner' - pups born at 75 lbs add 10 lbs a day for about a month until they stop nursing.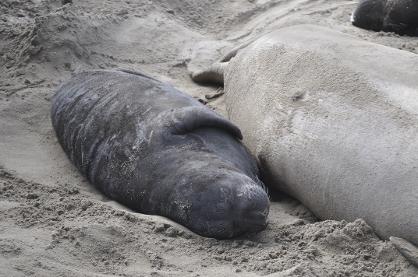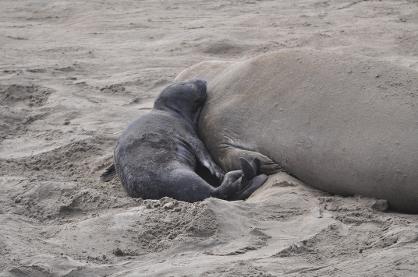 A mom and her pup, and one of the 'beta' males off on his own.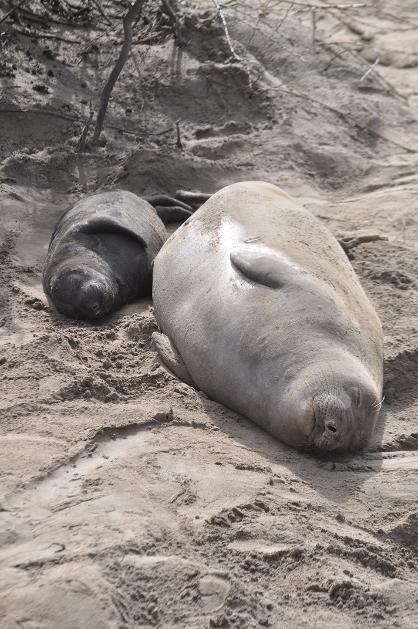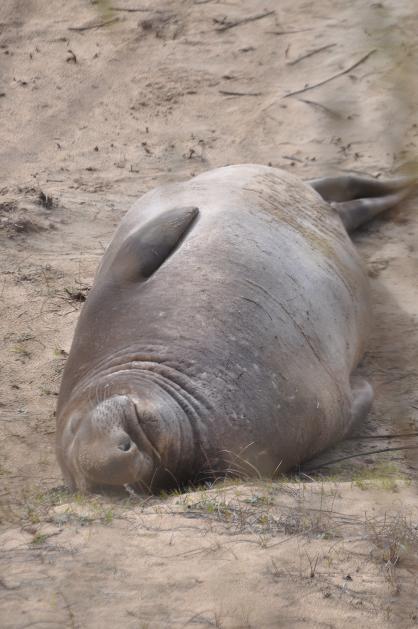 Lots of noise as the seals 'bark' away.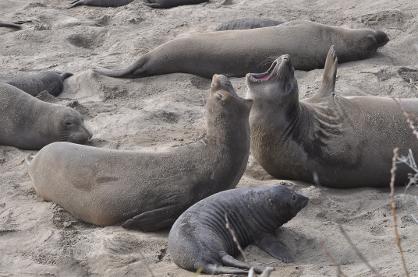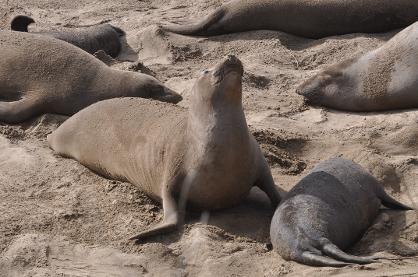 Elephant seals are so named because of the yes, elephant shaped growth of their snouts.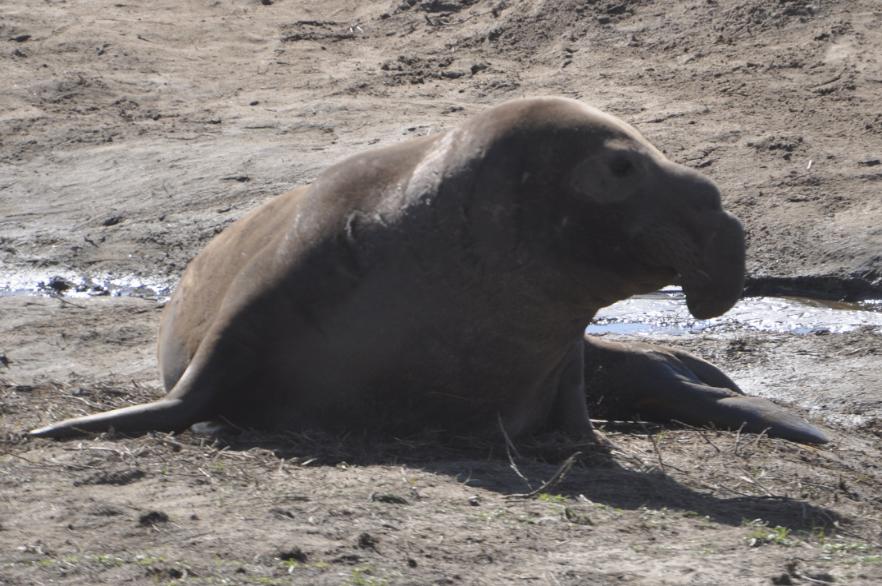 Alice's Restaurant - owned by 'Alice' and admittedly named after Arlo Gurhrie's song where I enjoyed a half-rack of very tasty ribs.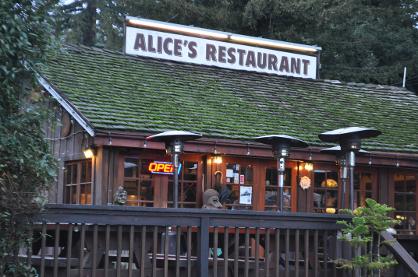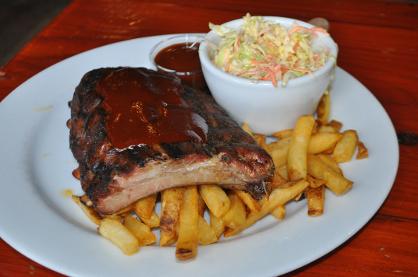 Along the ocean at San Gregorio State Park.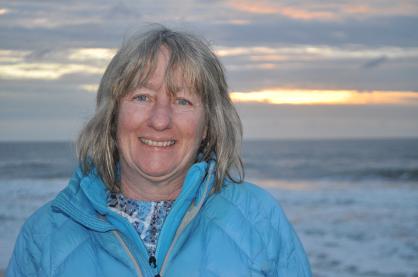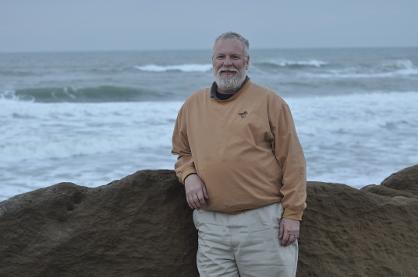 January 31, 2016 - Halifax to Montreal to Chicago to San Francisco to Pescadero

We were originally going to simply stop over at an airport hotel in San Francisco on our way to Kona and the Big Island of Hawaii rather than overnight in Honolulu. However after booking our flight we learned most hotels were sold out and others were in the high $200s - for a Holiday Inn / Comfort Inn / Days in etc. After a bit of research we learned it was Super Bowl week in San Francisco. Who knew? No doubt many, but not us. So we looked a bit further out and found the Pescadero Creek Inn about an hour south. Then realizing the Monterey Peninsula was actually closer to San Francisco than LA we decided to extend our stay to three nights. This also provided some safety if the weather was an issue which fortunately was not the case.
We arrived in San Francisco as scheduled and drove the hour or so south along some stunning coastline arriving in 'historic' Pescadero (population 643) late afternoon as planned. We easily found the Inn, dating from at least 1898 (the innkeeper Ken stopped searching for tax records at that point). Locally there is a well known Tavern in town - Duartes, established in 1894 and operated by the family ever since. An award winning restaurant it is simple, with a basic eating area, the traditional counter with swivel seats and a large tavern/bar. The signature ingredient is artichokes so Gayle had the traditional artichoke soup. Not cheap at $9.50 for a medium sized bowl but it was very tasty. I had the pork chops with fresh applesauce and quite tasty zucchini - not normally one of my favourite veggies. Mexican coleslaw (somewhat spicy), huge, fresh onion rings (for Gayle of course) and a piece of coconut cream pie (actually not all that great) left us full and ready to pack it in in spite of it being only 6:30 pm Pacific time. We slept well.

February 1, 2016 - Pescadero to Davenport to Monterey to Carmel-by-the-Sea towards Big Sur and back to Pescadero

With our plan being to drive south to Monterey the weather cooperated perfectly. It is somewhat cool - reaching a high of 15 C but the sun was out without a cloud visible. The coastline is something else - particularly because of the lack of development. Wide open spaces, lots of agriculture, the mountains to the east reminiscent of driving the coast of Croatia, the drive and the scenery were endless and breathtaking. We stopped at a small restaurant/bakery (Whale City) in the small town of Davenport where we sat on the patio outside enjoying a coffee and pumpkin muffin and an artichoke loaf.
We continued driving south past Santa Cruz, further down the coast to Monterey, whee we stopped to wonder along Cannery Row - home to a number of restaurants, shops and the Monterey Aquarium. After strolling through town we stopped for lunch at a Mexican restaurant right on the ocean's edge. The view was unbelievable and the food (and margaritas) quite excellent. On the way out of town we passed a beach with a number of harbour seals also enjoying the sun.
From there it was on to what is known as the 17 Mile Drive along and around the Peninsula though Spanish Bay, Cypress Point and Pebble Beach. Beautiful coastal scenery, especially on such a nice day with world known golf courses (at least to us golfers) on both sides of the drive. I stopped in at Pebble Beach (where greens fees are $475 US!). It was actually quite quiet other than the construction cress raising the spectator seating for next weeks AT&T Pebble Beach Pro-Am. I did get to see the 1st tee and the 18th green.
We continued to Carmel-by-the-Sea, which looked like another interesting place with some neat shops but the day was quickly coming to an end so we decided to continue the drive a bit further south rather than stop - another time. Again the drive towards Big Sur was stunning with a nice sunset. After turning around it was a full two hour drive back to Pescadero which made for a long but fulfilling day. Once again it was an early evening.



Pescadero is about an hour south of San Francisco, two miles inland from Coastal Highway #1. In the sunshine, as was the case today this is one of the most scenic drives we have experienced.



Pescadero, California - about an hour minutes south of San Francisco and the common area of the Pescadero Creek Inn.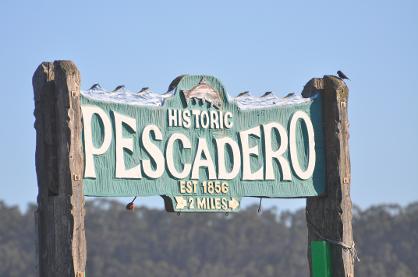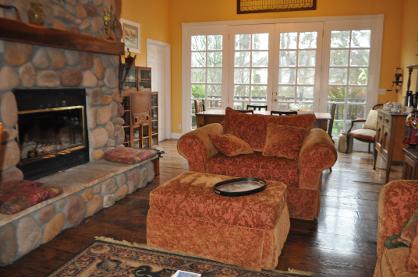 Coastline along Pescadero State Park.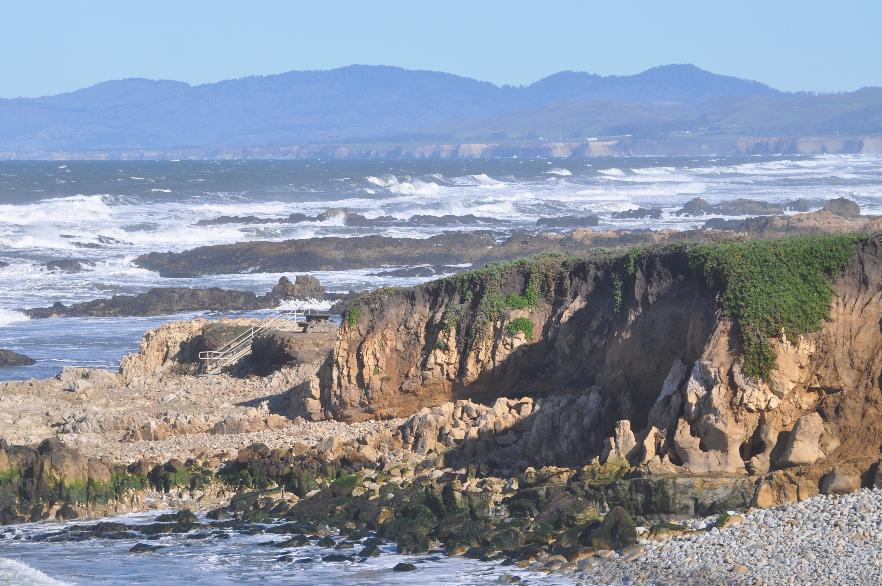 The sun shimmering off the surf along the coast of northern California. Spectacular.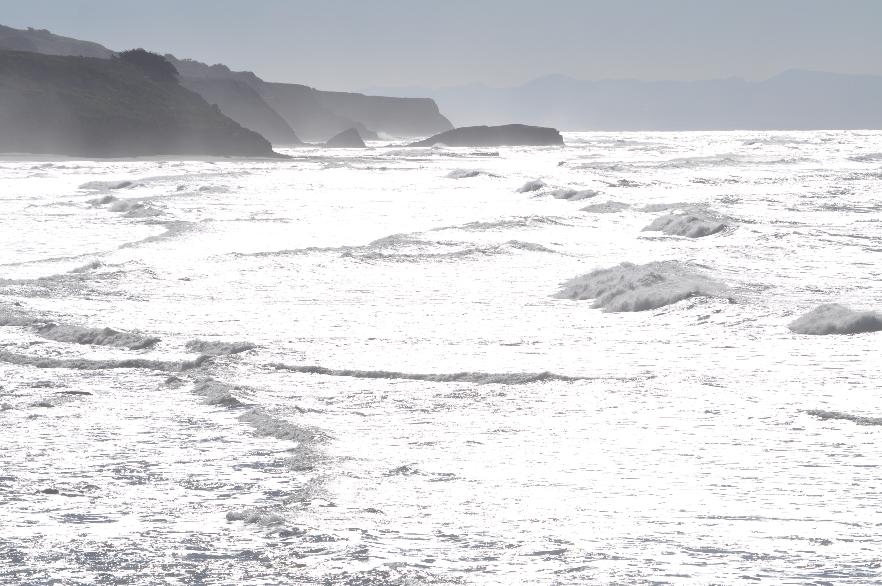 The small town of Davenport (population 408) does have a really great bakery - Whale City where we enjoyed a pumpkin muffin and a small artichoke loaf with coffees in the glorious sunshine.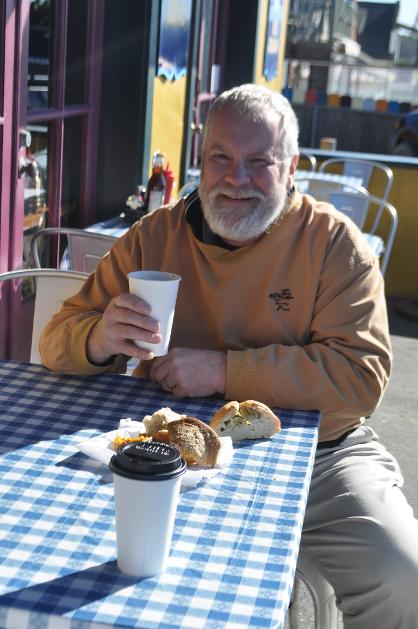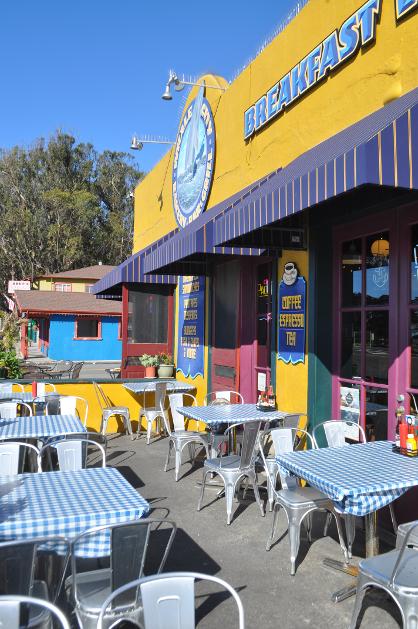 A squirrel like rodent - we figured if the little guy was going to let us take his (or her) photo the least we could do is post it.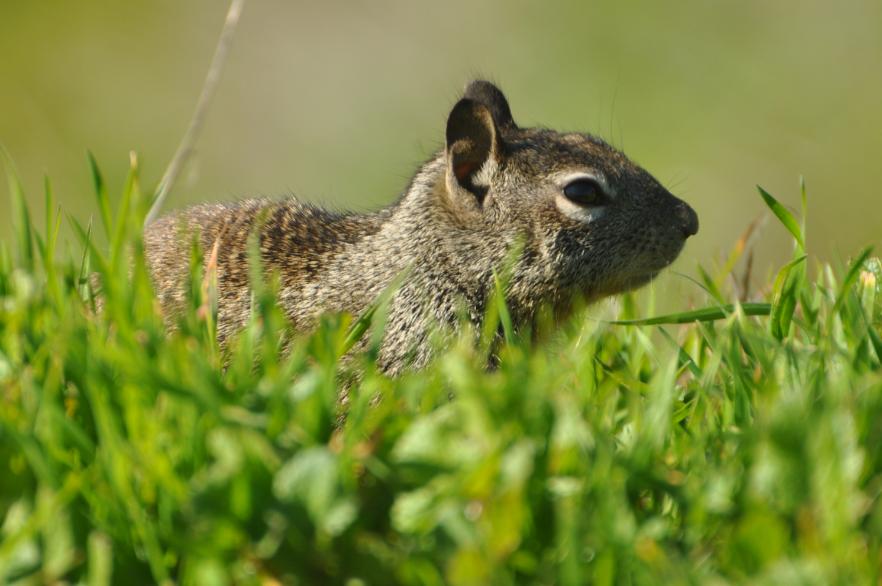 Cannery Row in Monterey, also the location of the Monterey Aquarium.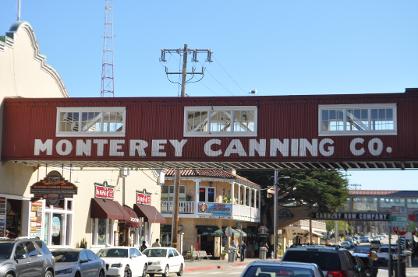 Harbour seals enjoying the sun on a beach near Monterey.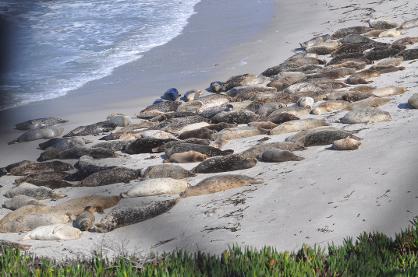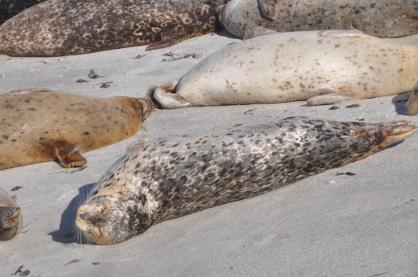 Lunch at El Torito, a Mexican restaurant in Monterey literally overlooking the ocean.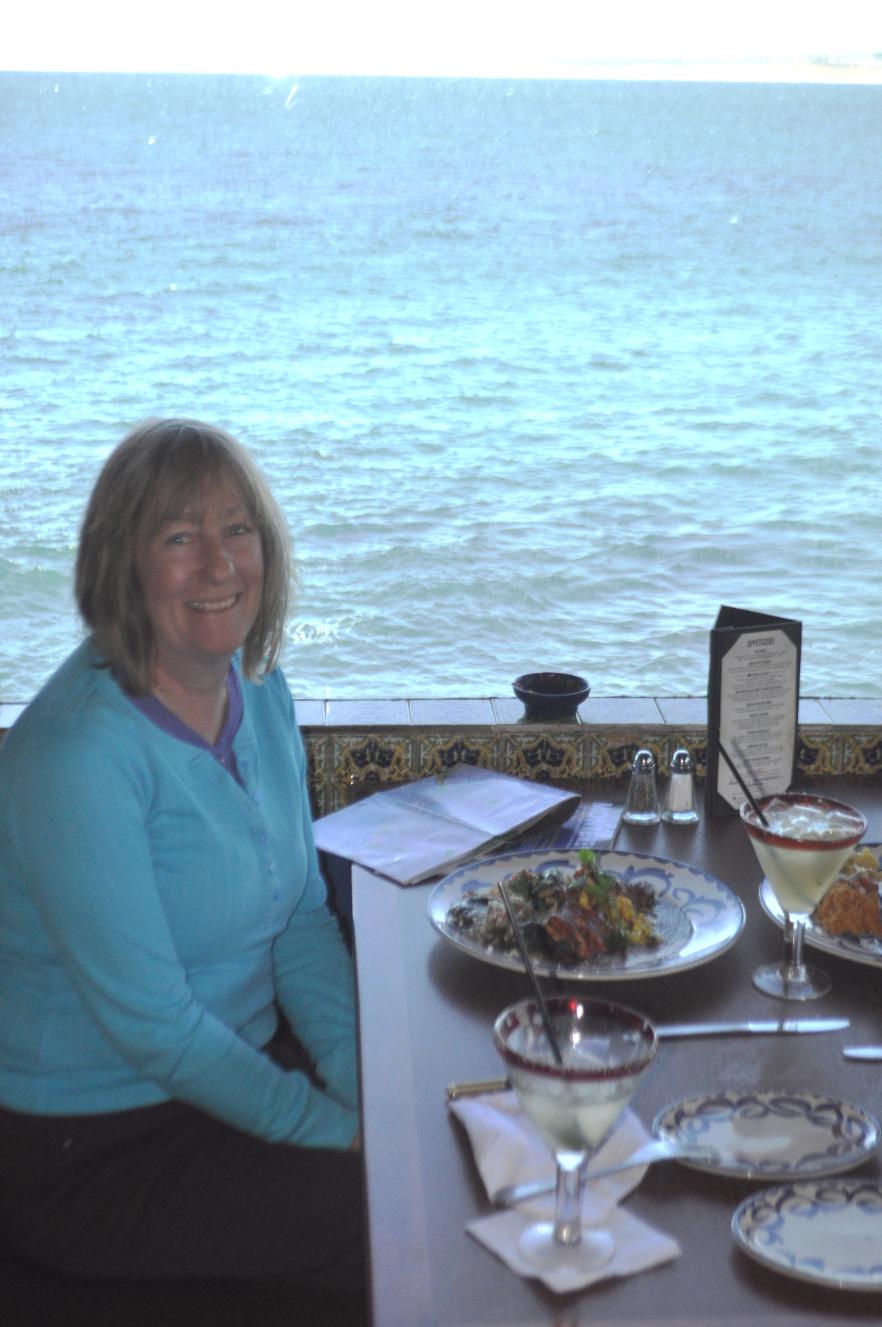 When we think of California one thing that comes to mind is chilies, and Mexican food.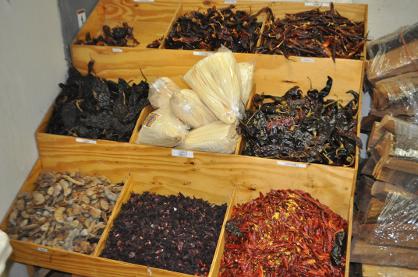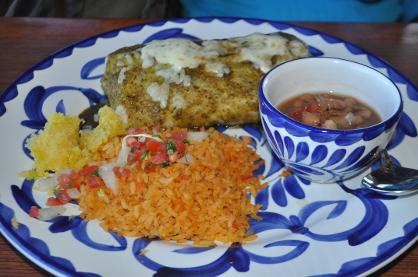 Vibrant red hot pokers along the shores of the Pacific just north of Monterey.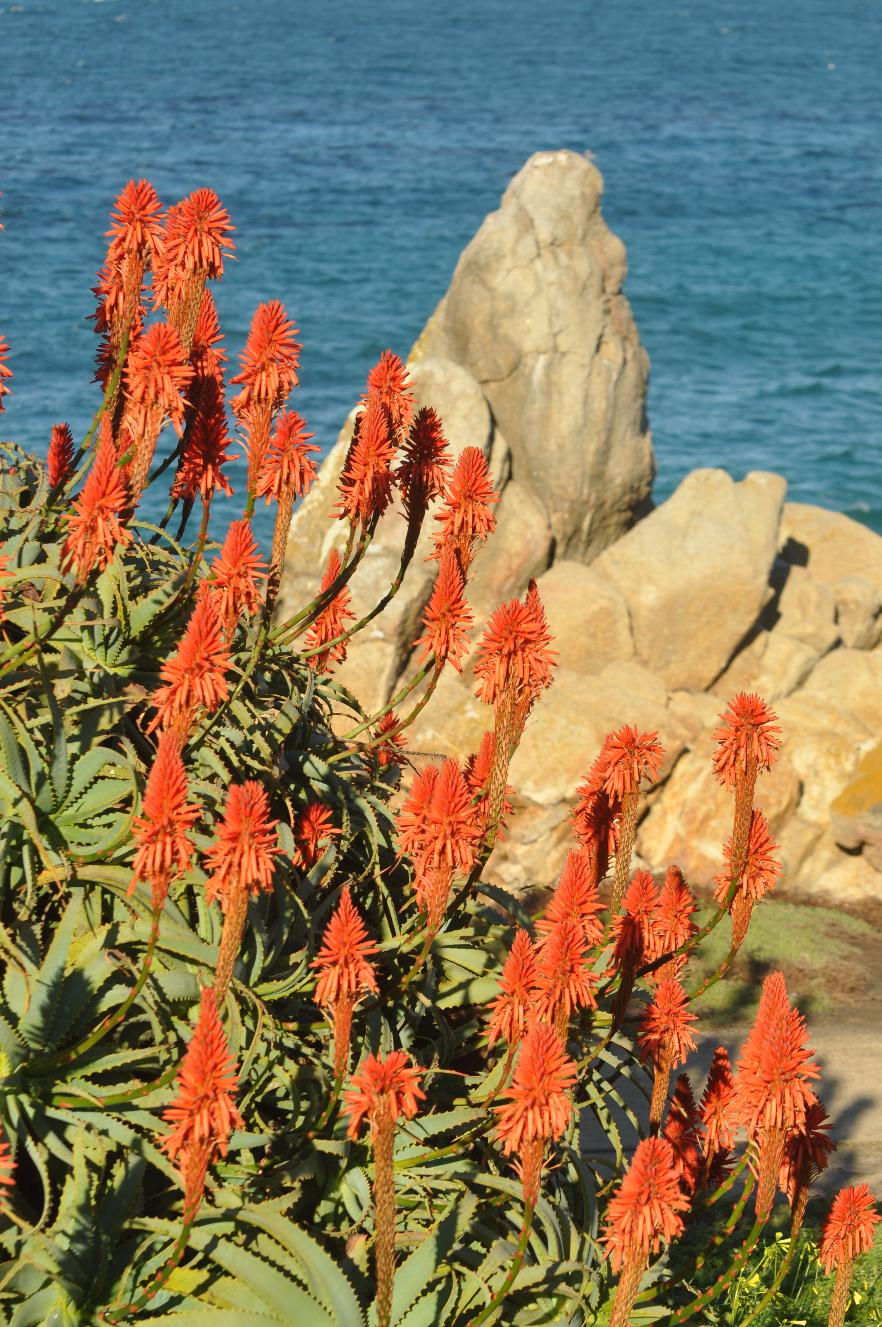 Ocean waves crashing against the rocks and a flock of seagulls.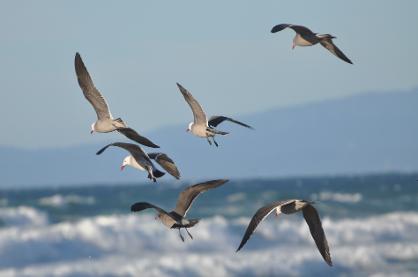 The powerful ocean just off Spanish Bay.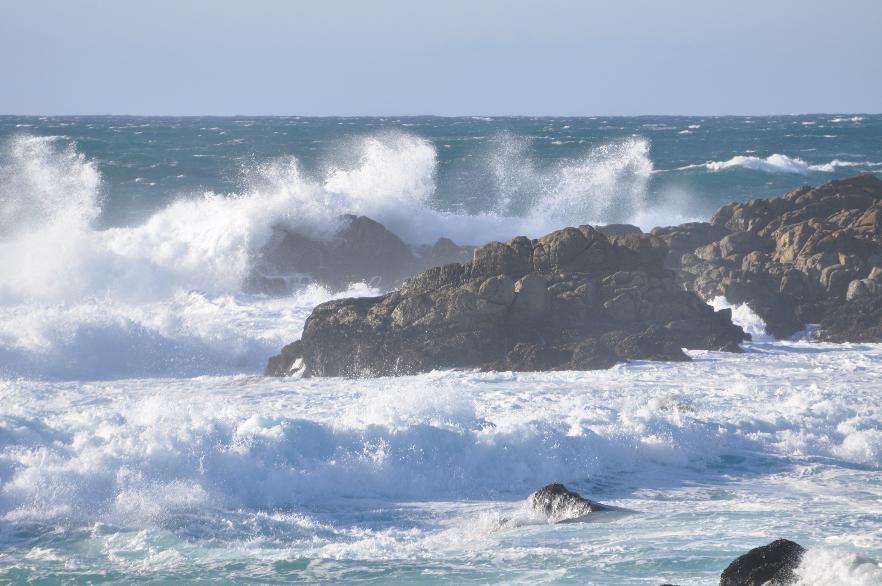 Next week is the AT&T Pebble Beach Pro-Am here on the Monterey Peninsula. Right is the first hole from the tee-box.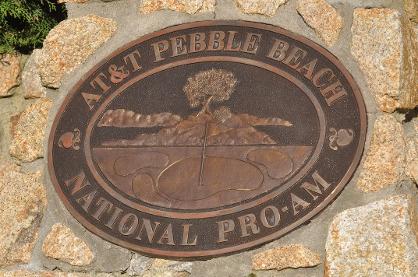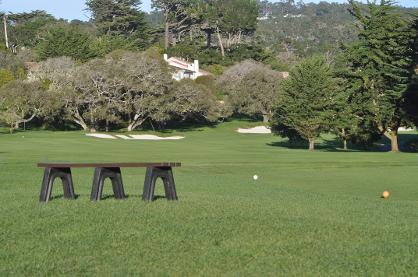 The 18th green at Pebble Beach.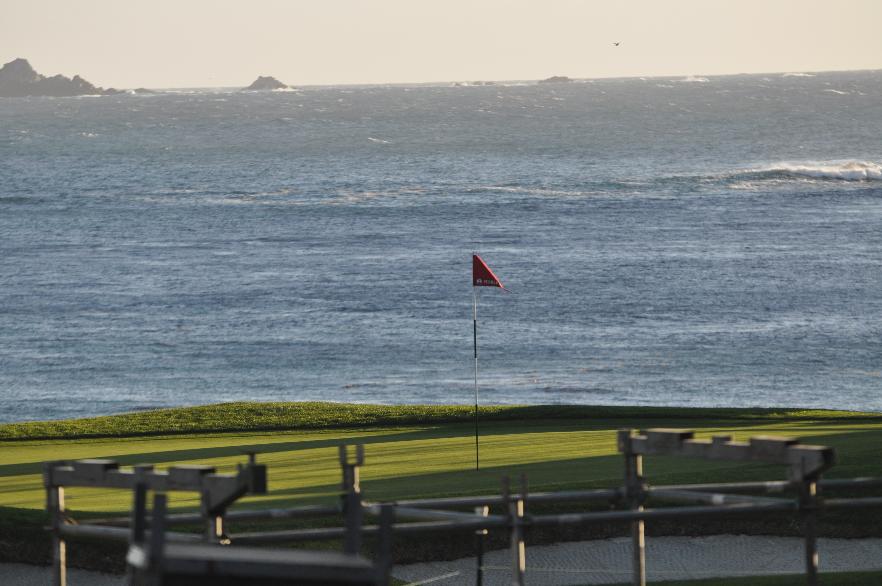 Sunset over the Pacific between Big Sur and Carmel.