June 13 to 22, 2014 - Impressions of Corsica


As we have done for a few other trips here is a summary of some of the most memorable impressions of our time in Corsica.
dramatic and wild geography set off by the proximity of the mountains and sea
dense forests of pine and chestnut

stone buildings … everywhere
the cheese, both chevre and brebis, including creamy Brocciu (fresh goat or ewe cheese)

the assiettes de charcuterie
twisting, torturous, narrow mountain roads that feel like they never end
friendly welcoming people

scenic mountain passes
french bread and pastries

flowers … everywhere; particularly against the stone buildings - the massive pink hydrangeas stand out

colourful turquoise water and beaches tucked away in small coves
free roaming animals – pigs; cows; goats; sheep; horses living the good life off chestnuts, acorns etc.

chestnut desserts
B&Bs in small quaint mountain villages
enjoying chocolate croissants and coffee each morning in Tizzano
Les Calanche de Piana
actually finding a traditional Corsican Santon doll

the ongoing feeling of a desire for independence

eating dinner on a couple of occasions with our B&B hosts
the town square and narrow alleyways twisting amongst stone buildings of Sartene
the scenic drive around Cap Corse
lunch at Jean-Paul Antoine's; and the presenting of the ham

Adjevi and the corse musique at Hotel U Castellu
Gayle not having any issues with food - from the wonderful salads, the cheese and the eggplant Bonifacio

Coriscan cheese served at virtually every meal with fig jam
lunch in the country at Pozzo di Marquis
One never knows when you choose an out of the way place to visit but Corsica, provided one is comfortable driving in the mountains, turned out to be an excellent choice. Of course we are not city people. We did not go to Calvi, Bastia or Ajjacio - the largest cities on the island. And Bonifacio which we did visit did not particularly impress us. But given what we did see and do Corsica was perfect for us.

June 21, 2014 - Vizzavona to Bastia airport



This was supposed to be an easy day with our flight from Bastia not leaving until 4:45. The 'direct' drive is more or less an hour and a half. Easy, in theory. But then after hanging out at the hotel until check out at 11:00 we saw the singer from last night and his girlfriend. I wanted to buy a CD - he was that good - but in spite of the urging of his girlfriend (Aurore from Belgium) he does not have one. But we got chatting about where Adjevi was from (family originally from Togo) now living in Cargese on the west coast of Corsica, travelling etc. and before we knew it it was noonish.

After making good time to Ponte Leccia we decided that rather than driving straight to the airport and arriving hours early we would take one last drive through the mountains. It didn't look that far. We climbed to the first village of Moroslagia where we found a nice looking Osteria. Still believing we had lots of time, and knowing we were not going to have dinner, we stopped for a last lunch in Corsica. Great views, great food, it was all good. We left, passing Stoppia Nova and La Porta - all was good, until we missed a turn and started heading south through the mountains rather than west. There aren't many signs up here but we both are convinced we never saw the turn we obviously missed. Heading in the wrong direction and not really knowing where we were (and for anyone who thinks GPS would have helped up here in the mountains forget it) we started to get quite nervous. We eventually stopped and asked a group if we were headed in the right direction and how long it was to the airport. We understood about 45 minutes although we suspected that was based on Corsican driving speeds. It was now 2:45 pm. And on top of that two of the fellows hopped in the back seat indicating they wanted to go 4 km down the road. What the hey. They kept giving us directions and telling us we had "beaucoup de temps". After letting them off at the next village we soon found the somewhat larger 506 and after approx 25 km of perhaps excessively fast (Gayle says white knuckle) driving, a stop to fill up with gas we made it to the airport at 3:40 pm, time to check in and get to our gate with 15 to 20 minutes to spare. But still much tighter than we planned - not an experience we would recommend.

The flight to Nice is only 45 minutes. I've decided to present the next stage of our travels on a separate page, dedicated just to Provence. We hope you will enjoy reading and seeing some of the photos of our experiences as we continue our trip through south-east France.


Adjevi (who can sing unbelievably well) and me (who for anyone who has ever hear me knows I can't at all).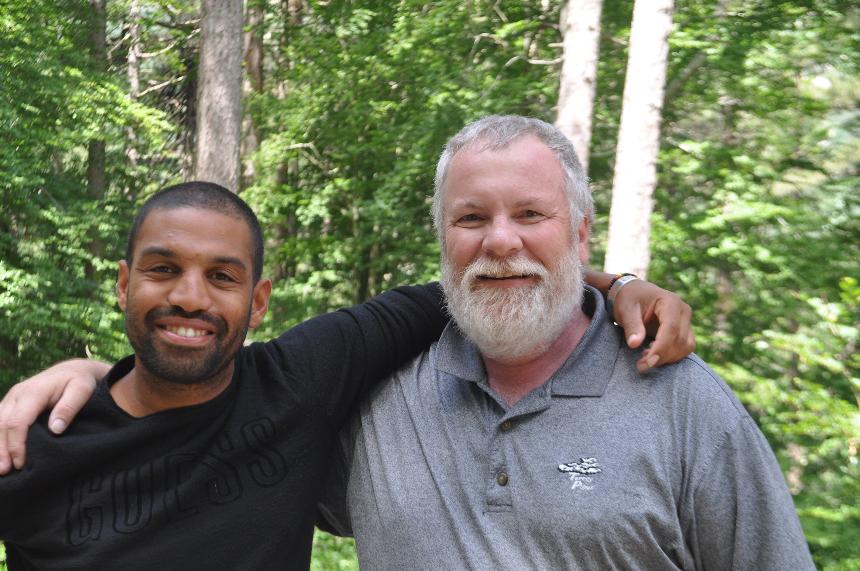 An old stone building and mountains still with snow in late June near Vizzavona.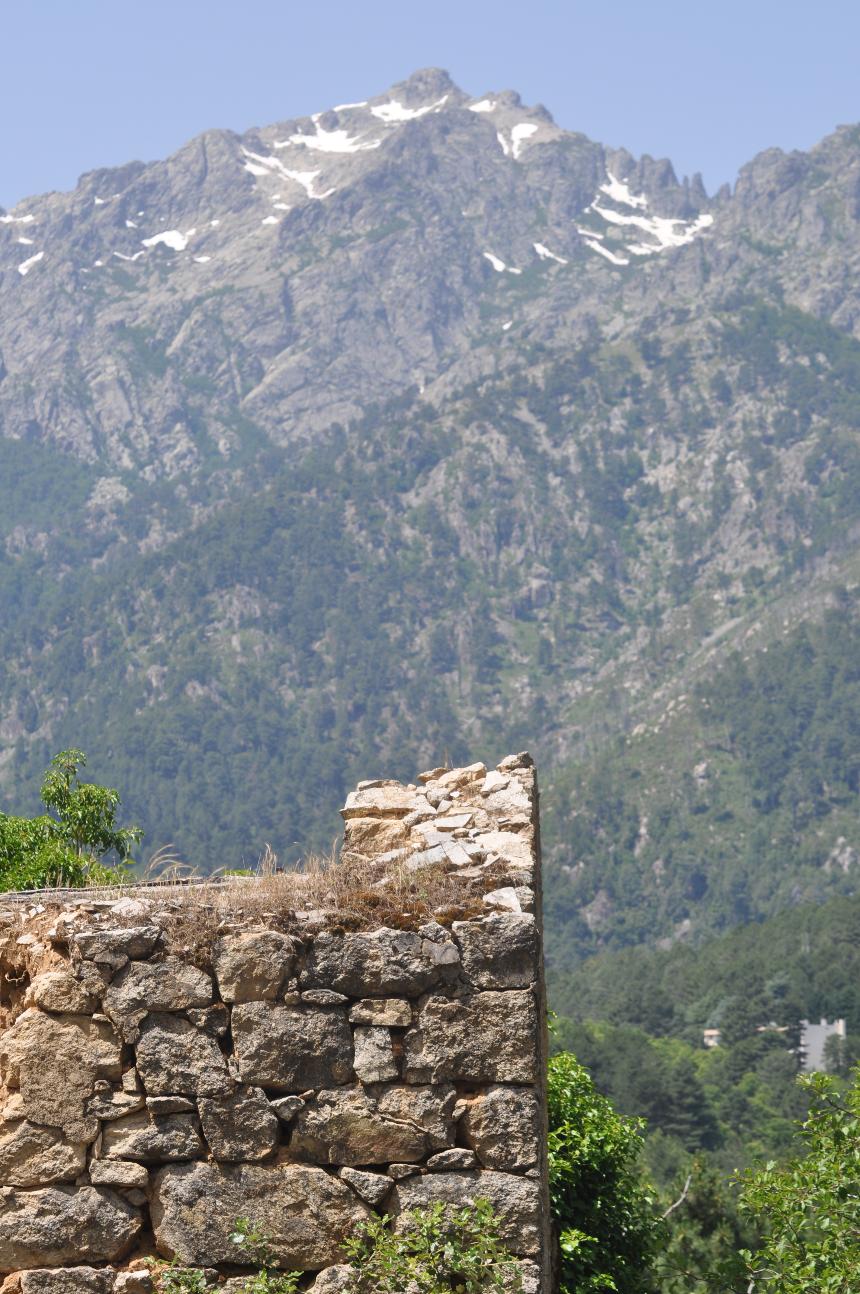 Another example of the French spelling being 'revised', even for a school / ecole sign.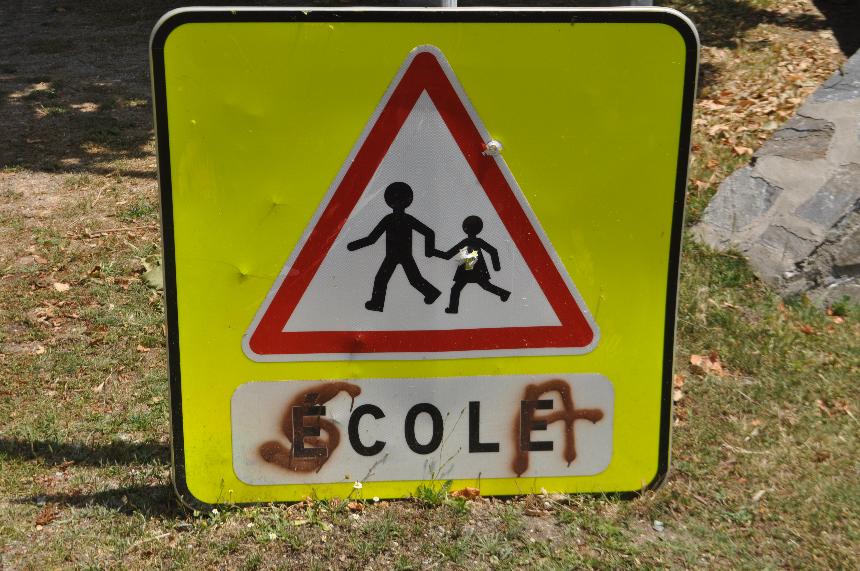 Driving through the village of Moroslagia, having just passed a number of trees bearing ripe cherries we came upon a small Osteria with this view from its terrace. Lunch awaits.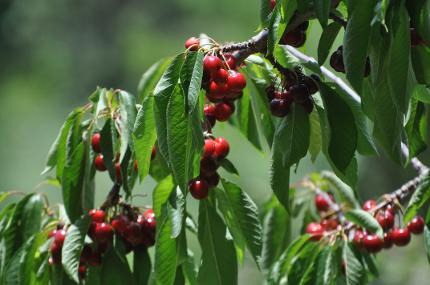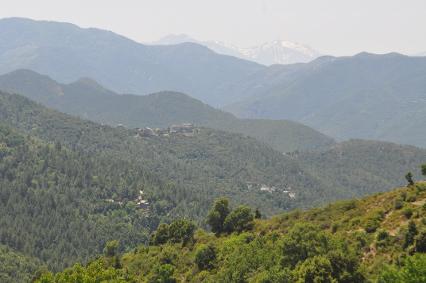 You must be thinking do these people eat anything other than salads (Gayle) and charcuterie plates (Norm)? I guess the answer is for the most part no. For our last meal/lunch here in Corsica we stuck with the standards. Why change something you really enjoy?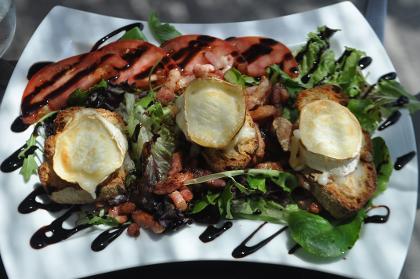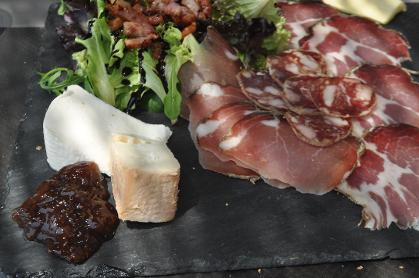 Yet another impressive stone building perched on a hilltop in Moroslagia.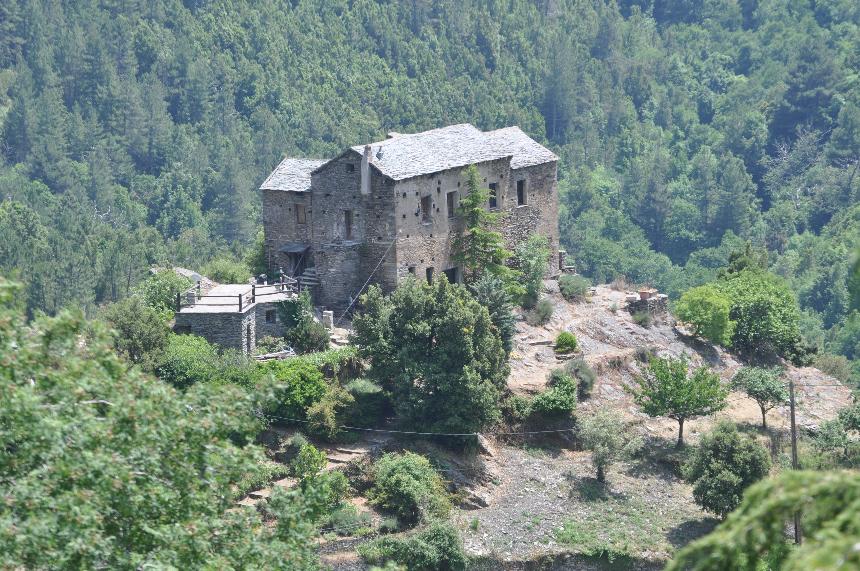 June 21, 2014 - Quenza through the Mountains to Hotel U Castellu, Vizzavona


After another great sleep - something about the fresh mountain air - only interrupted by the early morning chirping of the multitude of birds we enjoyed another nice French breakfast and had an interesting chat with Nathalie before leaving for another day of driving through the mountains of interior Corsica.

Very isolated but beautiful country we passed through two mountain passes - ascending and then descending, gave way to a multitude of cows, pigs and other wildlife, and passed by a number of small but attractive mountain villages, most all buildings of stone.

Gayle read of a restaurant well into the hills well known for its charcuterie so off we went, eventually finding Jean-Paul Antoine's small establishment. Nothing fancy with its plastic chairs but right beside a babbling brook and with the sun shining we stopped for lunch. What an experience. First the food - Gayle enjoyed one of the nicest salads ever - the freshest ripest best tasting tomatoes, fresh mozzarella, eggs, drizzled with balsamic vinegar. I of course had the assiette de charcouterie - excellent as advertised. Virtually every meal includes Corsican cheese but this was the best we have had - not that the others were not good; just this was better than good. Some chestnut and clementine ice-cream finished the meal. But then Jean-Paul, who kept calling us the Quebecois - Corsican's knowledge of Canada often does not extend beyond Quebec - opened up his charcuterie storage room for us to see his prized meats. I mentioned Gayle was a vegetarian and may be put off by the smell. Well that just set JP up to have some fun with Gayle as you will see in the photos below. To Gayle's credit, as you can see she was an excellent sport about it all.

After a dramatic drive through yet another mountain pass we arrived to the Hotel U Castellu where we booked due to the local music they present every Saturday night. Two guitarists, one of whom was an excellent singer they played for three hours, through dinner and beyond. Based on the reaction of the other dinner guests there were a number of popular Corsican folk songs along with other emotional - you could hear a pin drop - songs. When one plans a stop around something like this one is never sure how good (or bad) it may be. This evening of traditional Corsican music turned out to be wonderful - an excellent decision.



The view to the mountains from the Moroccan room. What a great sight to wake up to.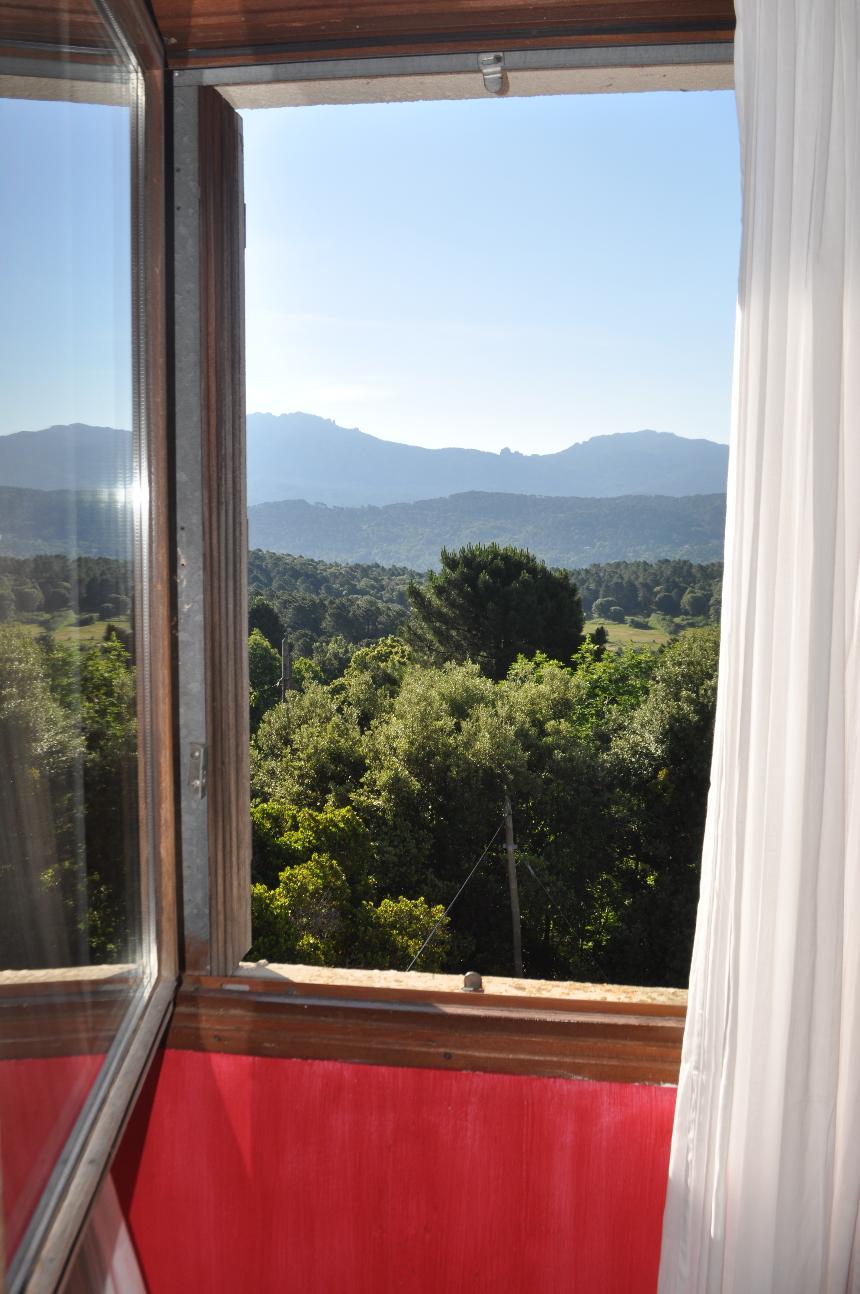 Nathalie has done and excellent job decorating Corse Odyssey with bright colours and interesting objects and art. Left are old postcards that have been blown up to show Corsican life of years ago, and right the attractive dining room.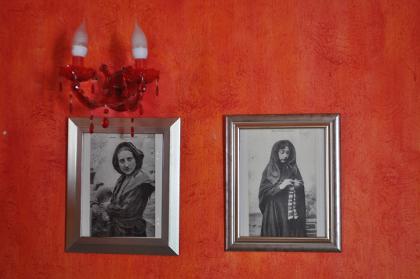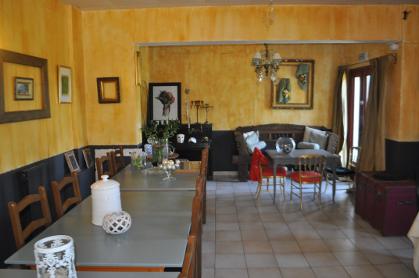 In North America 'Share the road' normally means with cyclists but in Corsica it means something quite different. One must be aware of and share the road with horses and donkeys ... and pigs that are common where ever there are chestnut trees.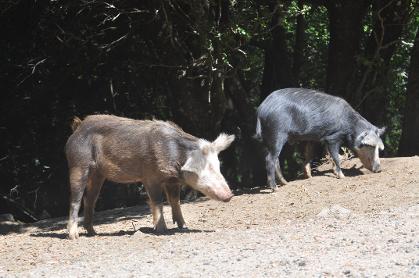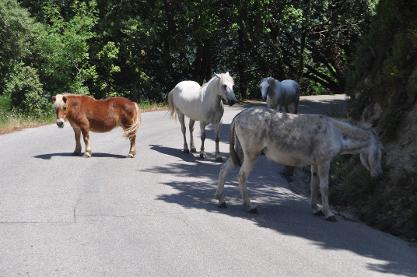 ... and there were sheep ... and goats ... and of course cows. Many many cows.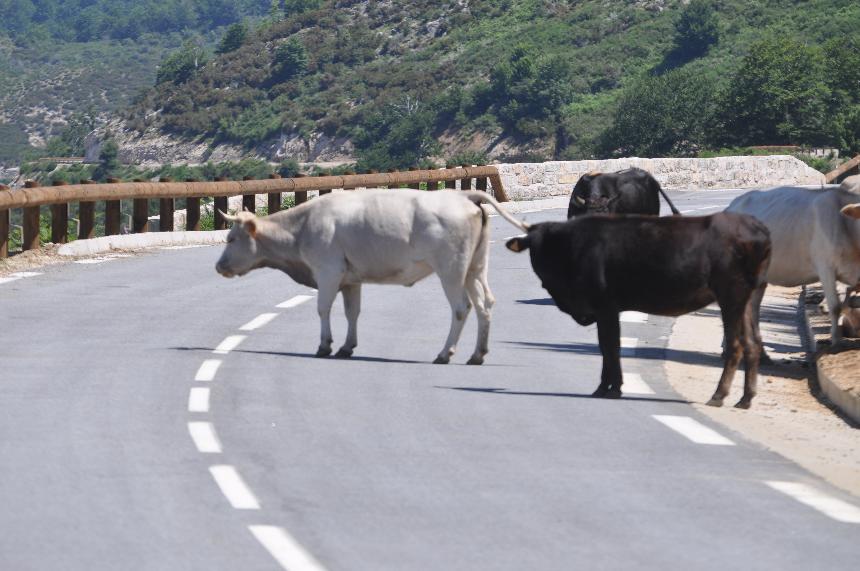 One of the best salads ever. The fresh mozzarella and the tomatoes were remarkably tasty as was the balsamic vinegar. The eggs were a nice addition.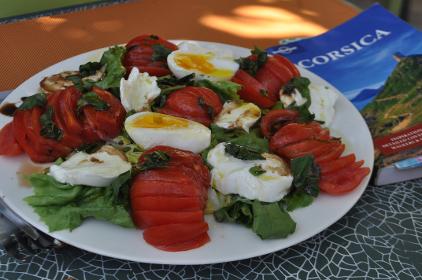 ... and where Jean-Paul is known for his meats there was little choice other than to have the charcuterie plate? And it lived up to its reputation.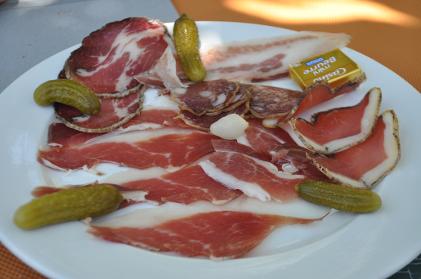 After lunch Jean-Paul showed us his meat storage facilities. I may have mentioned to him Gayle is a vegetarian and may be put off by the smell. He chose to have some fun with this information, attempting to present her the ham. What a great sport.
,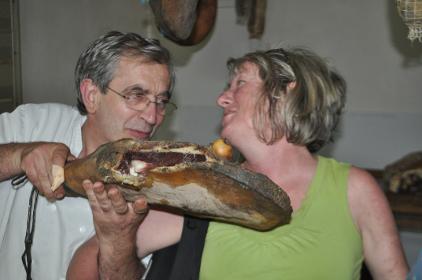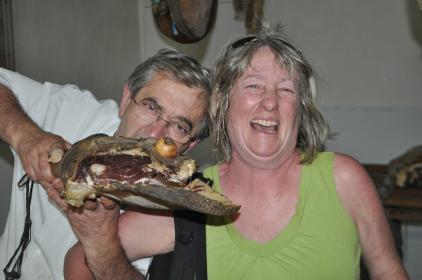 Road signs in Corsica are in both French and Corsican - similar but slightly different - but often the French version is covered (or filled with holes as target practice) leaving only the Corsican language.



Saturday night is music night at Hotel U Castellu - the reason we chose this particular hotel.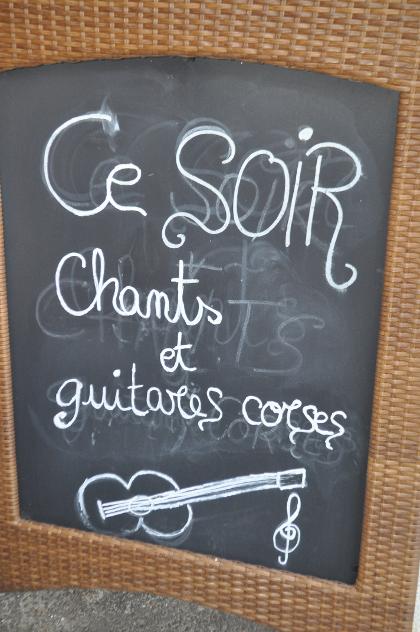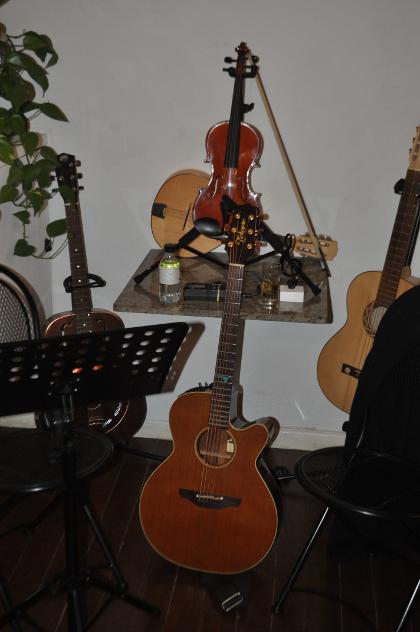 Being in the mountains it seemed like trout almandine was a good choice for dinner ... and it was.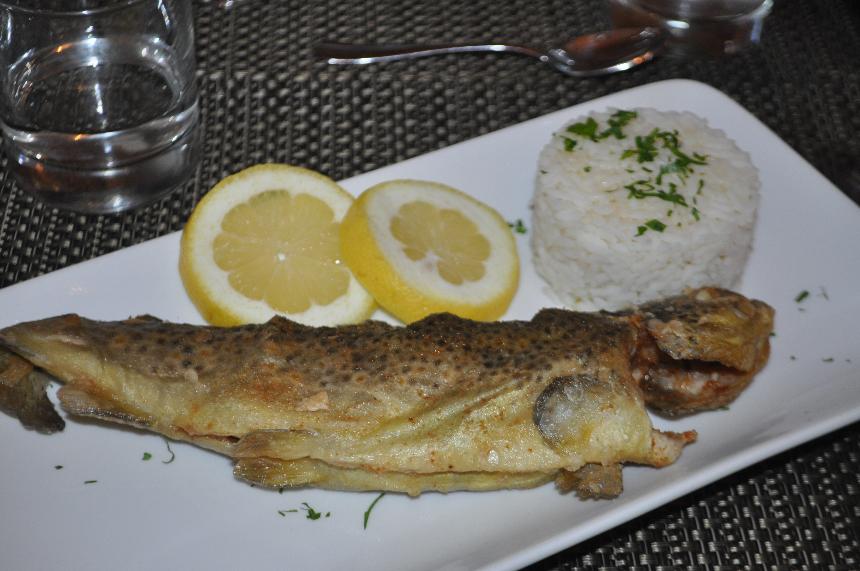 The two musicians who entertained us through dinner and beyond at U Castellu.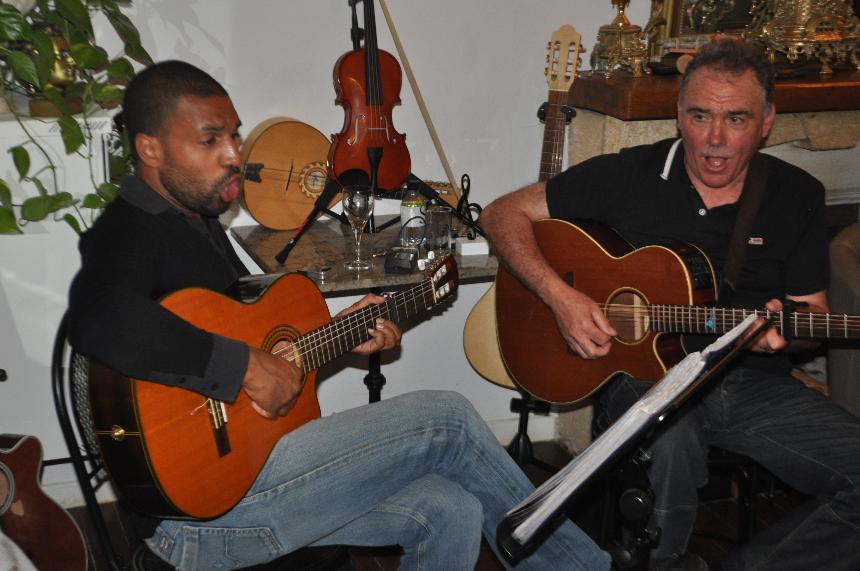 Adjevi - what a beautiful voice - emotional and at times haunting.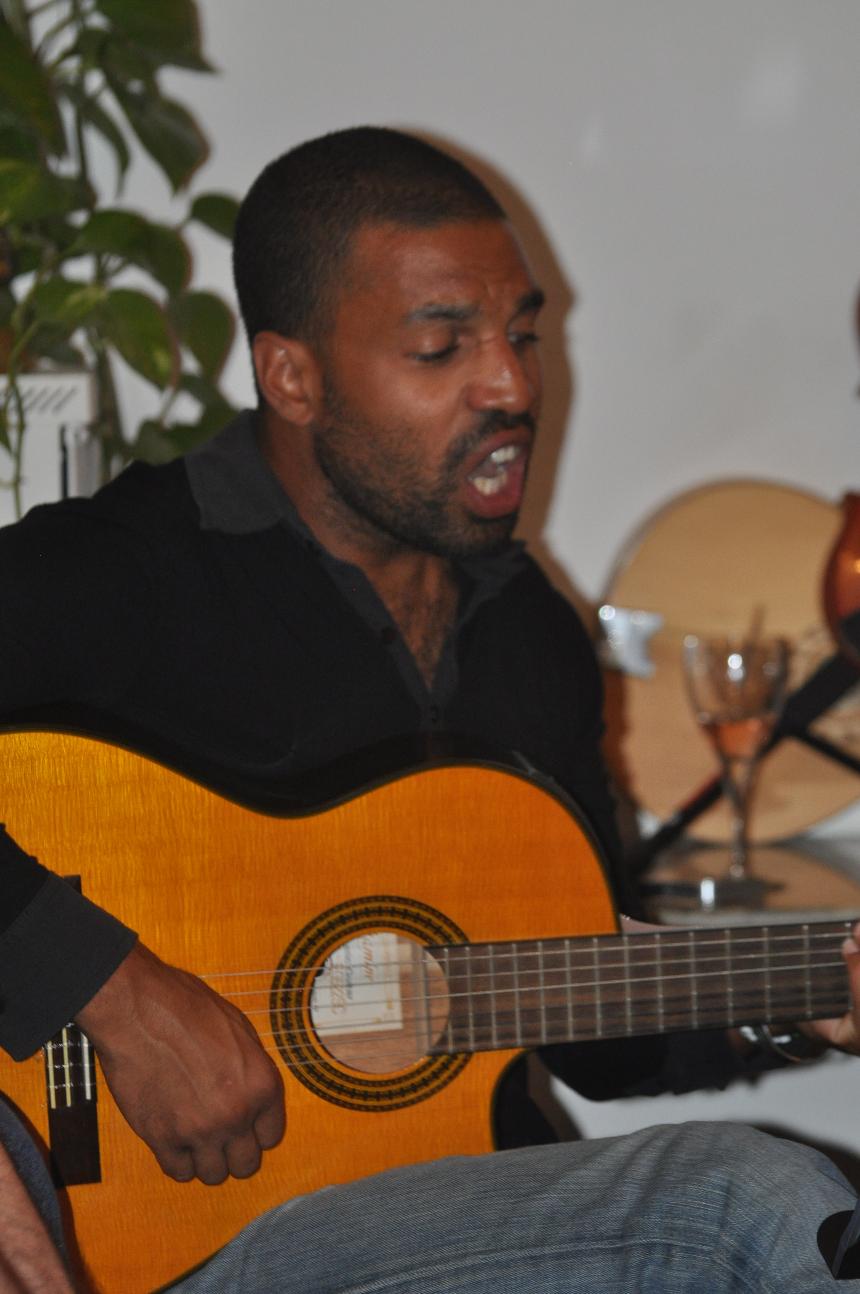 June 20, 2014 - Tizzano to Sartene to Corse Odyssey, Quenza
We again awoke to glorious sunshine and the blue waters of the Mediterranean and took what was now our routine (although final) walk down the road to buy chocolate croissants and then go over to the bar of the restaurant for a cafe au lait.
Before leaving Tizzano I suggested we drive around the other side of the harbour to see the remnants of the fort. Traveling along a one lane dirt road we must have gone right rather than left as we never did find the fort but we did come upon a small beach. So again it was into the bathing suits for a short swim before we left the coast and headed up into the mountains. The water was actually warmer than expected for June and the small cover very picturesque.
You may remember we planned on stopping in Sartene on our way out. There was a poterie shop we found (and where I bought another espresso cup) and then we wandered though the narrow alleyways just below the town square. There are a number of quaint little restaurants squeezed into these alleyways, and being just after noon we decided to sit down and have a light meal that included a dessert crepe ... which we both enjoyed.
We left Sartene heading north up in to the L'Alta Rocca an area of dramatic scenery. The area is not much more than wilderness, with dense forests and granite villages strung over rocky ledges. Tight twisting roads every once in a while open up to a small mountain village. One has to wonder what ever possessed people to settle up here, let alone build on some very steep terrain. We stopped in Ste-Lucie de Tellano, a village whose web of streets are described as "higgledy-piggledy". The area has many olive trees with a shop selling olive oil, a bottle of which we of course bought. Winding up the mountains we then passed Levie where Gayle spotted Santon dolls in a window of an (unfortunately closed) shop. But nearing 4:00 we decided to sit and have a drink in the hopes of the shop opening. While waiting I was able to get a couple of photos of some interesting older locals which was a bonus. The wait was worth it as in the back there were dolls in the traditional Corsican dress (black velour pants with a red sash), now an addition to our collection.
After passing through Zonza we reach Quenza where we were staying at Corse Odyssey, a small B&B up on a hill with a panoramic view of the countryside and mountains. Our host Nathalie (and her husband) were wonderful, with Nathalie's English another nice bonus. Our room was done in a Moroccan theme, with bright reds, pillows and a killer view out the window. Another plus of Corse Odyssey is that they serve dinner. We enjoyed another Corsican meal with among other dishes another aubergine - and again very good - a leg of duck - not so great as it was very difficult to get at the very little bit of meat - and then a wonderful chestnut flan for dessert. With chestnut trees common on our drive it was not surprising to have a chestnut dessert - very nice.

All in all another great day - a little bit of beach time; a visit to a very nice town - Sartene; a dramatic drive through the L'Alta Rocca and another nice B&B.

We just can't get enough of this early morning scenery during our daily walks to get our croissants and coffees.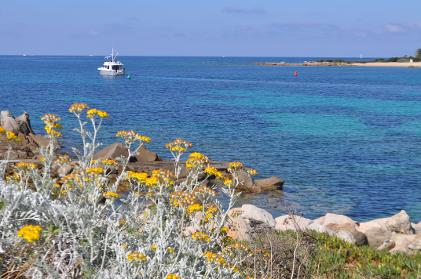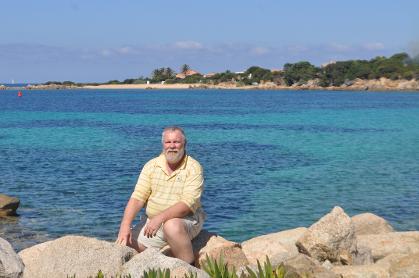 Not only is the walk great but so our the chocolate croissants that await us in the little epicerie at the end of the road.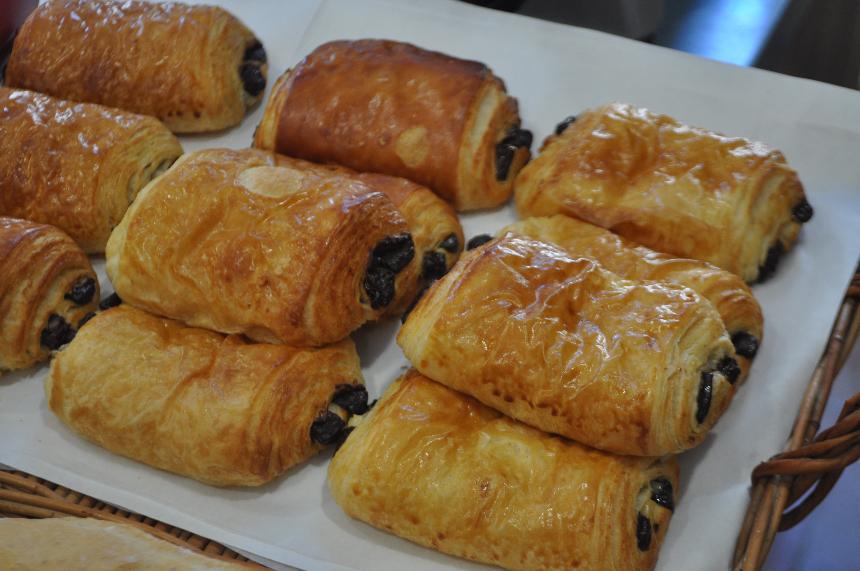 Gayle says there aren't enough photos of me so here I am enjoying my coffee and chocolate croissant.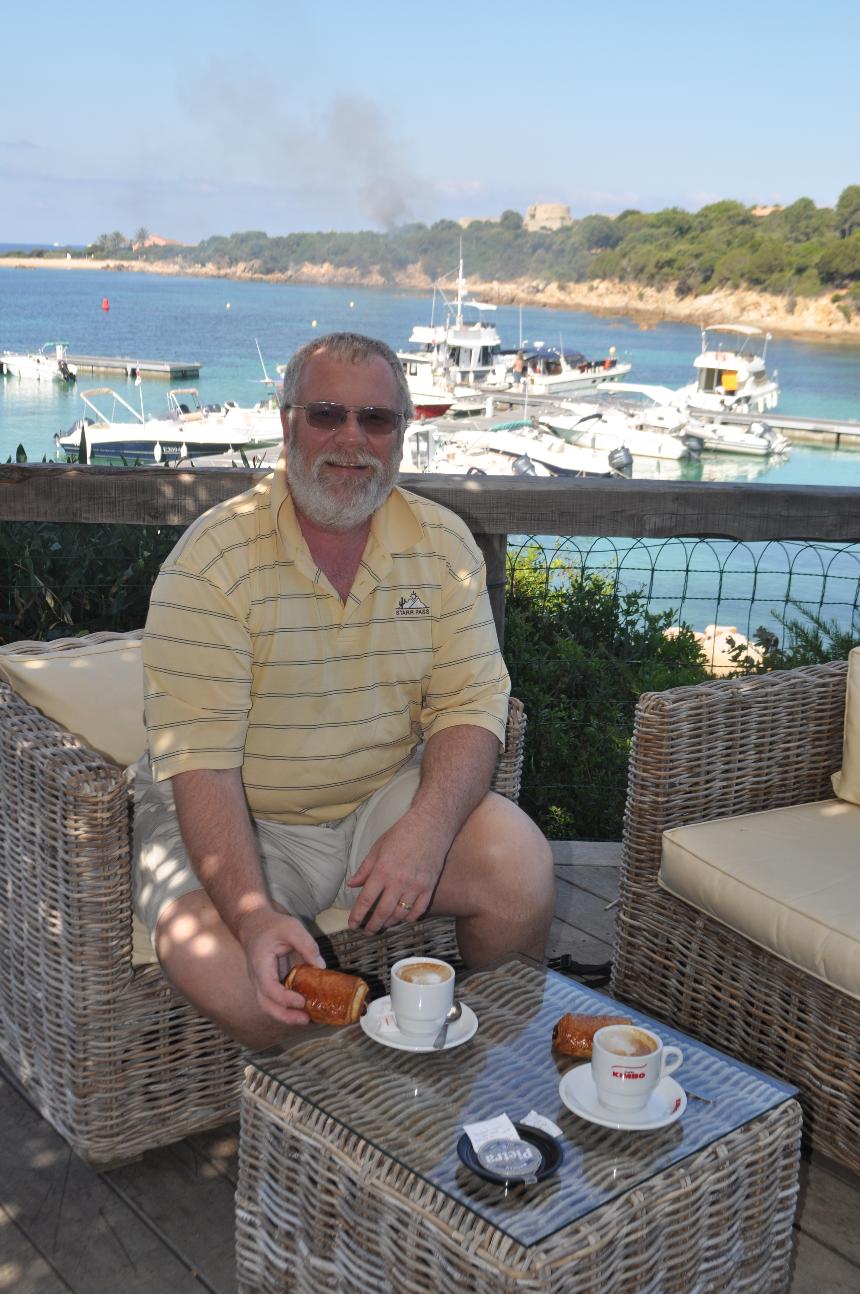 The beautiful small beach we happened upon by just gambling on taking a small dirt road along the coast.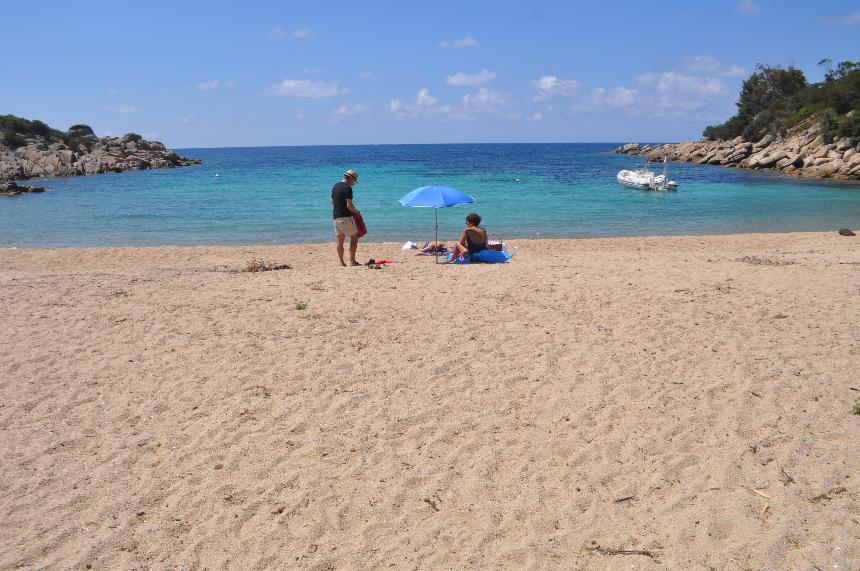 Enjoying the sun, sand and water.



Both of us enjoying a swim in the Mediterranean.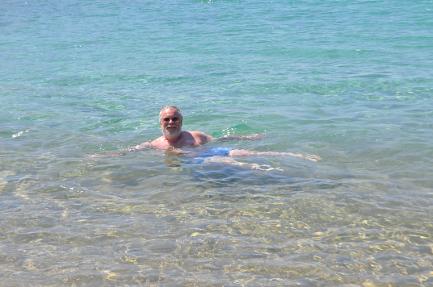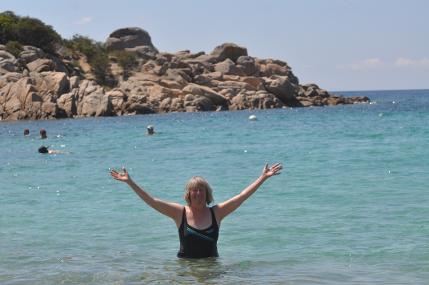 The stone buildings and narrow alleyways of Sartene.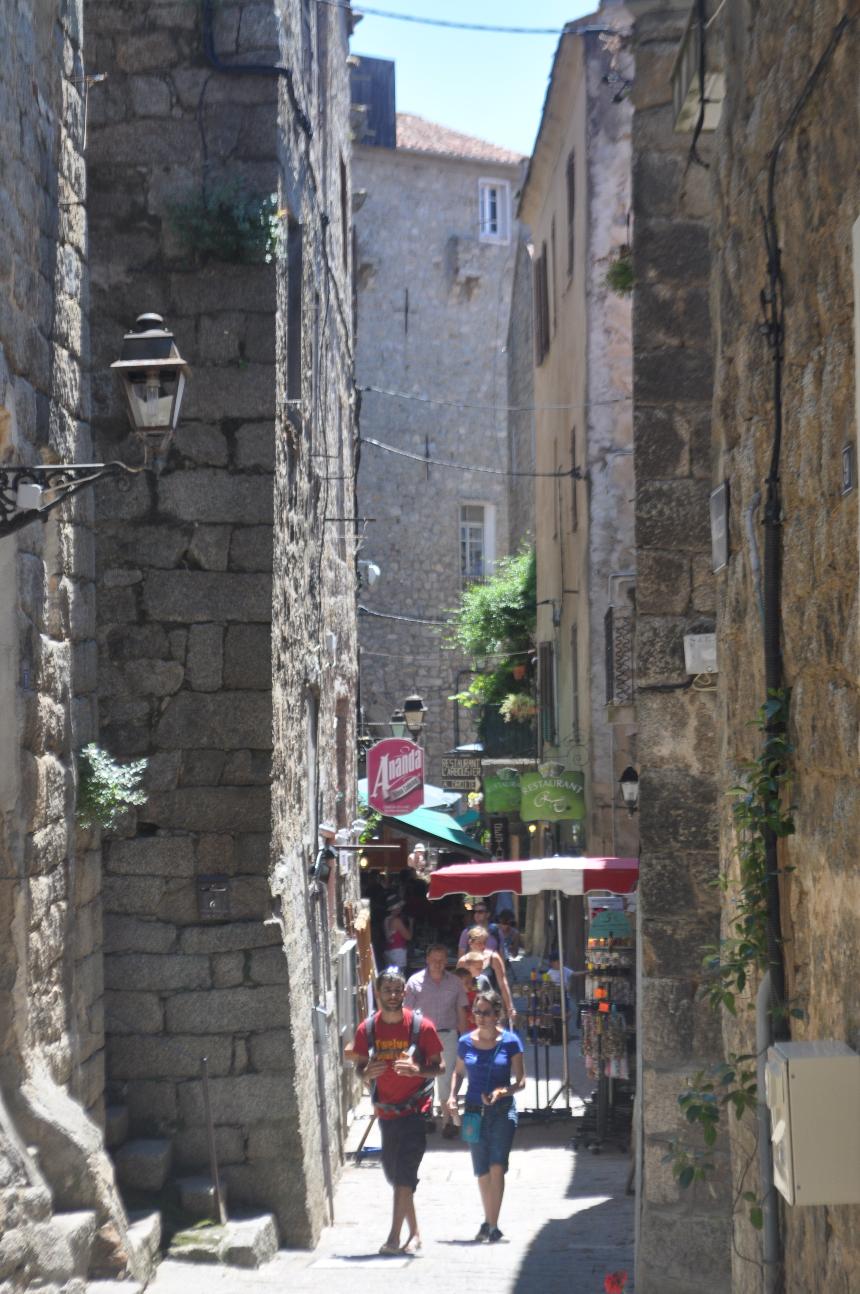 Being at a creperie, although there were other choices we shared a crepe - Le Cerisier with confiture de cerises, noix de coco and a boule de glace vanille.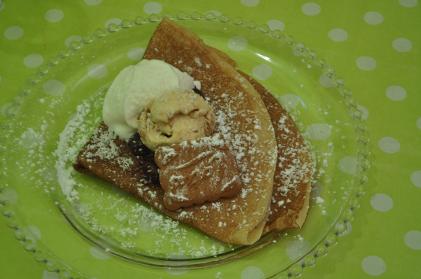 Yet another village set on the hillside in the central Corsican mountains.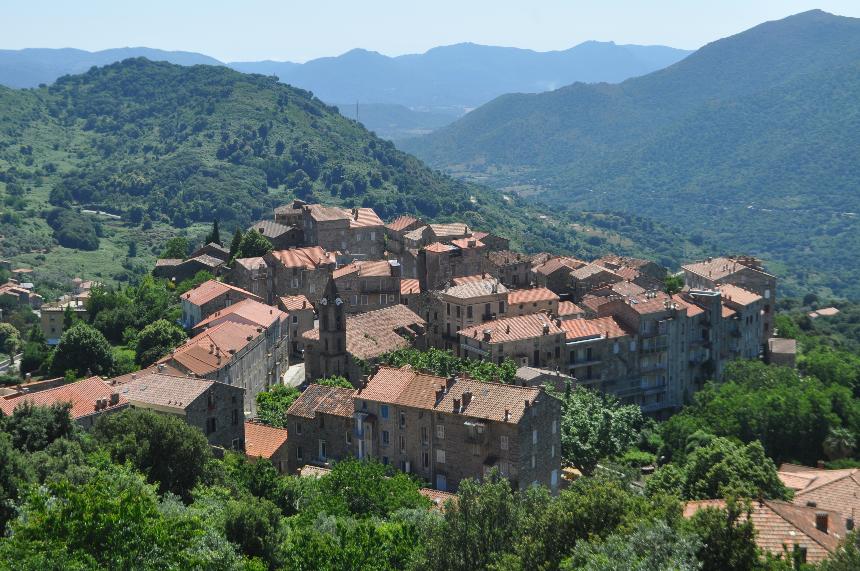 Every village has its town square with a restaurant, or at least a bar. Here is the one in Ste-Lucie de Tallano, another pretty mountain village in an area that produces olive oil - where we bought a bottle at the local shop.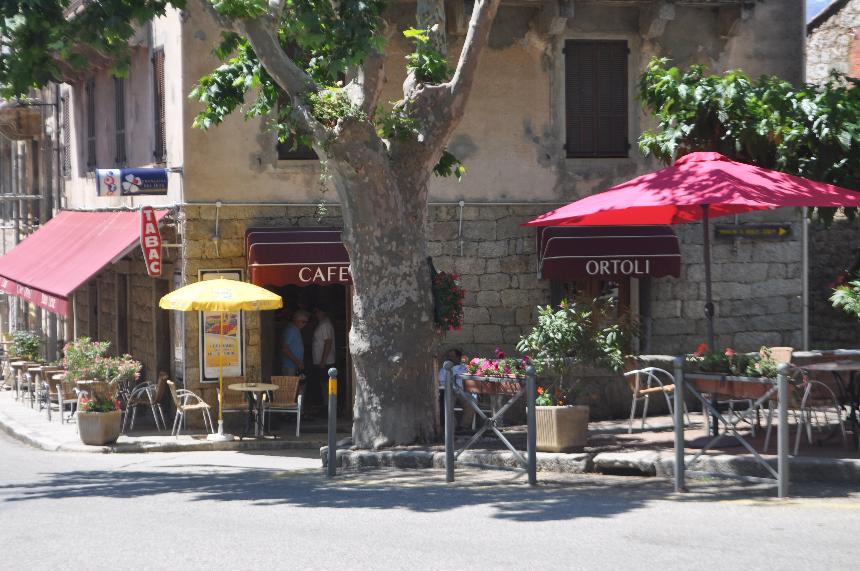 Watching the traffic go by in a Corsican mountain village.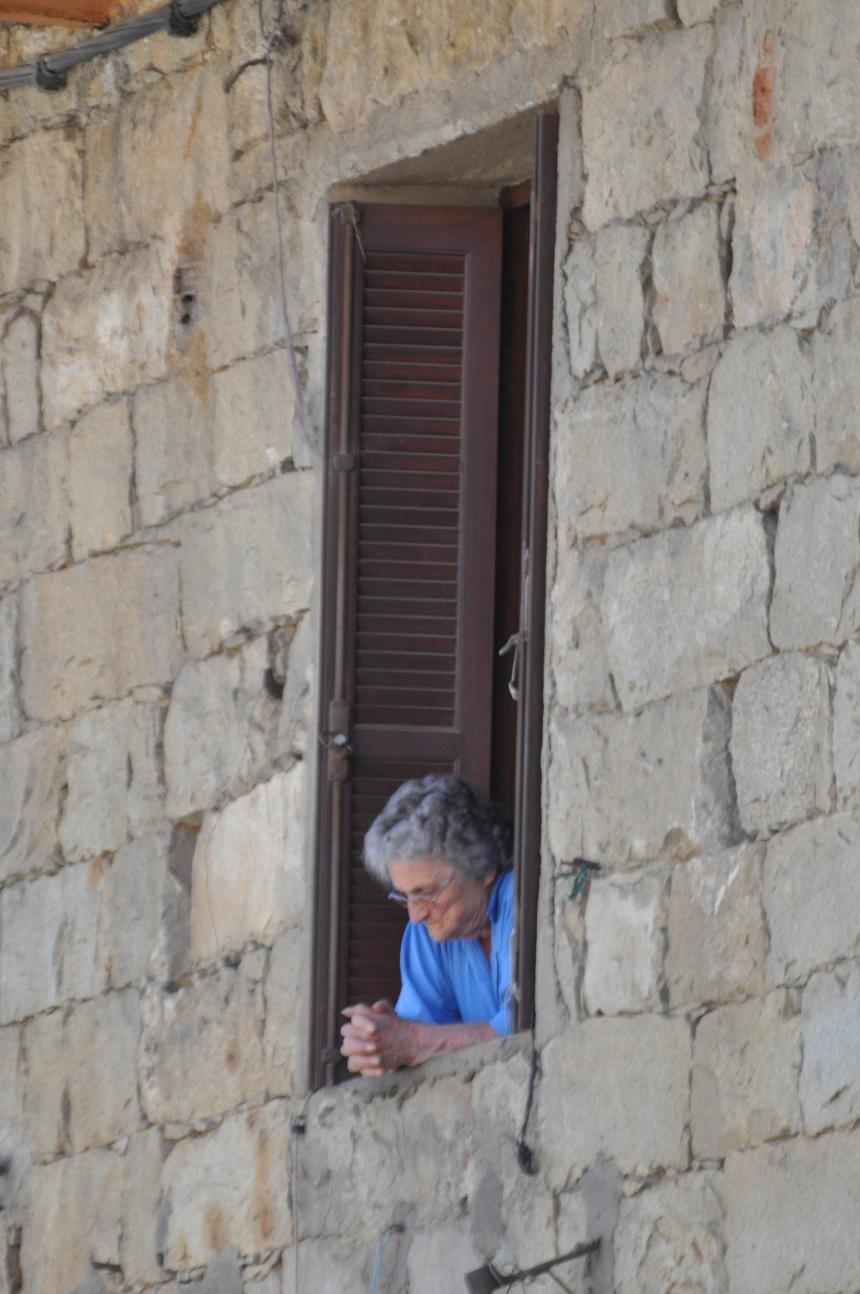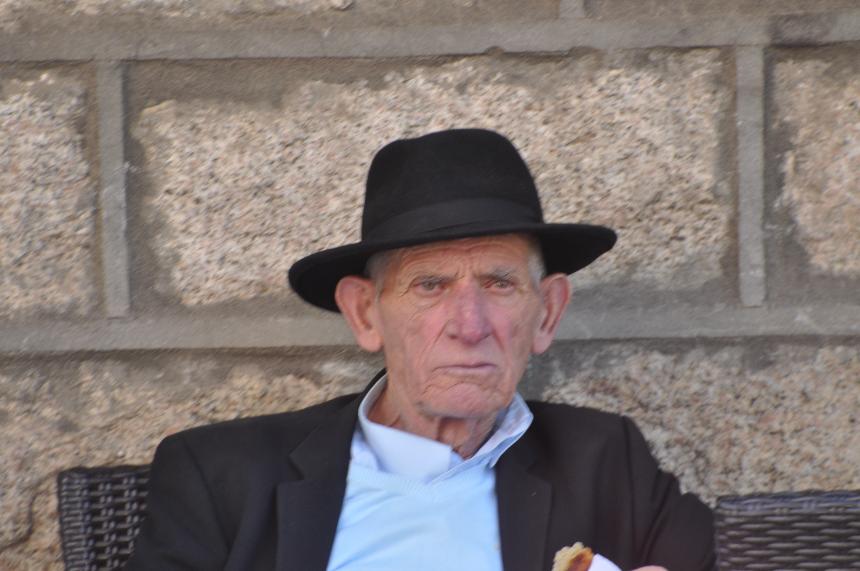 June 19, 2014 - Figara, Plage de Rondinara, and Bonifacio, returning to Tizzano



Our plan today was to go to Bonifacio, the largest town in the south-west of Corsica. "With its stunning setting (and it is), breathtaking layout and distinctly Italian flavour (one can see Sardinia from the city)" Bonificia is supposedly the south's star attraction, with its haut villle - a "compact mesh of twisting streets hemmed in by ancient buildings dramatically perched on a thin peninsula".


The drive, at times slow was very scenic, particularly with the sun shining. A couple of beaches tucked into coves were particularly attractive. While driving Gayle noted a restaurant in our guide book that read as interesting. Only a few kms off the road we detoured to check it out ... and it did look very nice leading to a change of plans. Rather than going directly to and eating in Bonifacio we decided to drive up the coast to the Plage de Rondinara, spent a short time (which turned out to only be 30 minutes) on the beach, return to Pozzo di Mastri for lunch and then go to Bonifacio.

In so many ways it turned out to be a great decision. Not only did we enjoy some beach time but also enjoyed a nice lunch out in the country - which is for us perfect. The meal started with a peach aperitif, and then a small charcuterie plate for me and a tasty quiche for Gayle. Then, a large plate of lamb with a sweet fruit sauce for my entree and for Gayle an eggplant Bonifacio. These eggplant dishes are very common in this area of Corsica, and really really tasty. We then had some cheese - with fig jam of course - followed by a peach-almond tart. Wine, coffee and an after dinner myrte digestive completed an excellent meal. The outdoor terrace overlooked the fields and mountains. Although we ate alone the service was wonderful, the food wonderful and the location wonderful. We left full and happy.

And good thing that as Bonifacio was a huge disappointment. This is a town with considerable history and great potential but came across as run down and junky. Sure, there were some spectacular views of the pretty harbour on one side, set within a gorge and the the blue blue sea contrasting the white limestone cliffs on the other but the buildings within the old historical section were for the most part dirty and nothing to be proud of. The shops were junky - I was hoping to buy a Santon doll of a traditional Corsican with black velour pants and a red sash but there was absolutely nothing - and the restaurants came across more as bars with eating than real restaurants. We were so very happy we had chosen to eat out in the country.

Returning along the same rout to Tizzano was every bit as enjoyable. We spent the evening on our balcony, again enjoying the colour and the sounds of the sea, along with another memorable sunset.



The pretty Tizzano harbour from the terrace where we enjoye our morning coffee and croissants.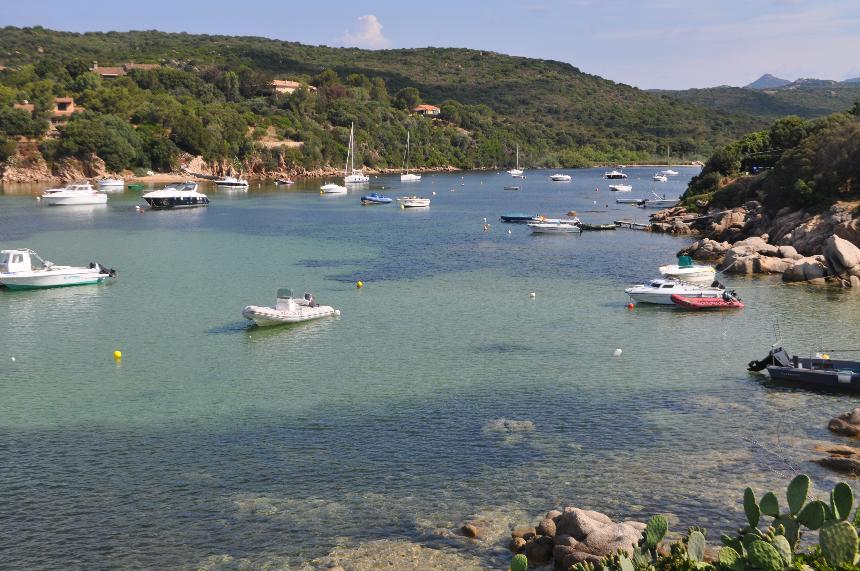 A stop at a roadside shop with wine (all Corsican of course) jams, breads, and a selection of cheeses and charcuterie.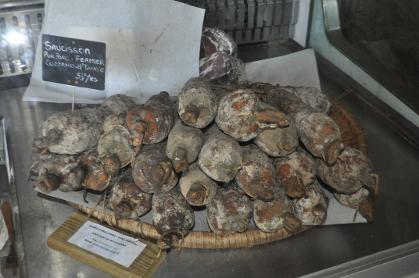 An example of what one sees driving along the coast road from Sartene to Bonifacio.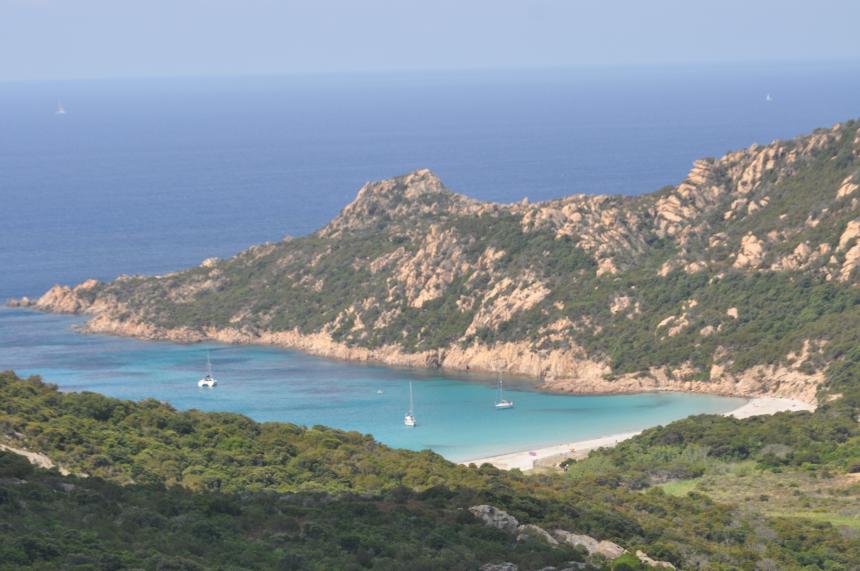 More stone buildings = more vibrant colourful flowers.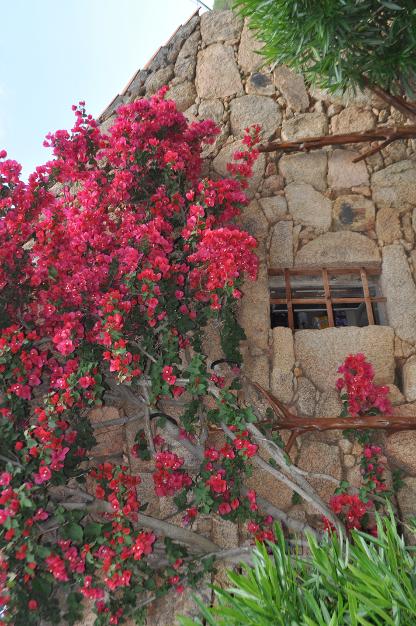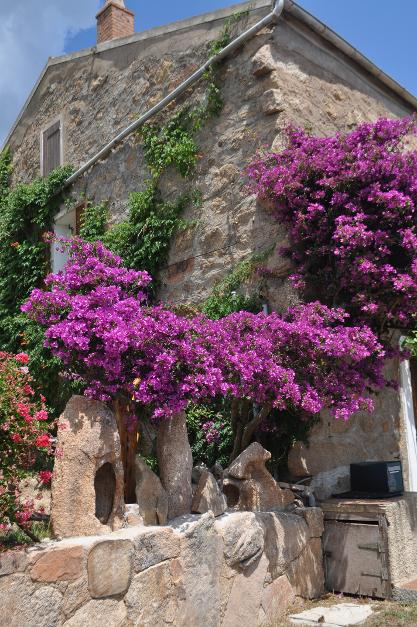 The protected bay of Rondinara where the water was calm, perfect for swimming. The beach extends quite a distance and was actually very busy - perhaps somewhat surprising for midday Thursday but it is obviously very popular.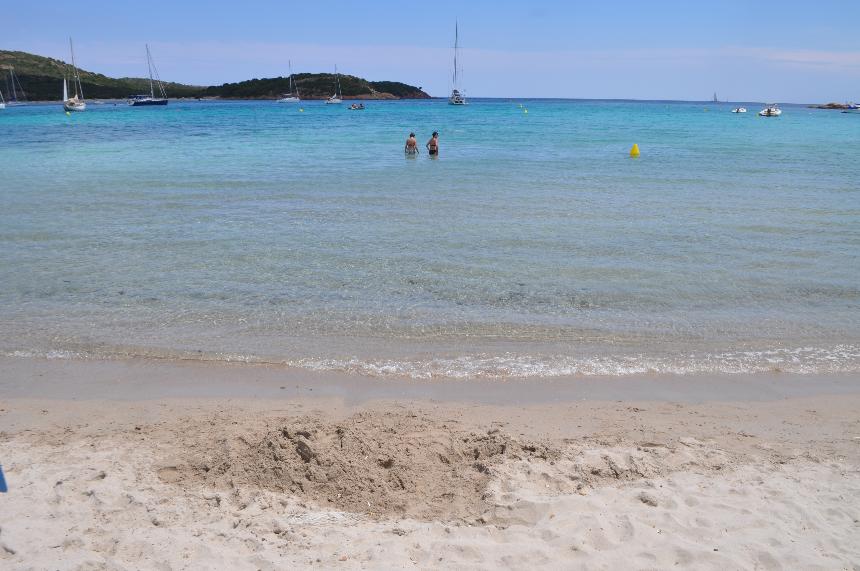 A brief swim in the Tyrhenian Sea.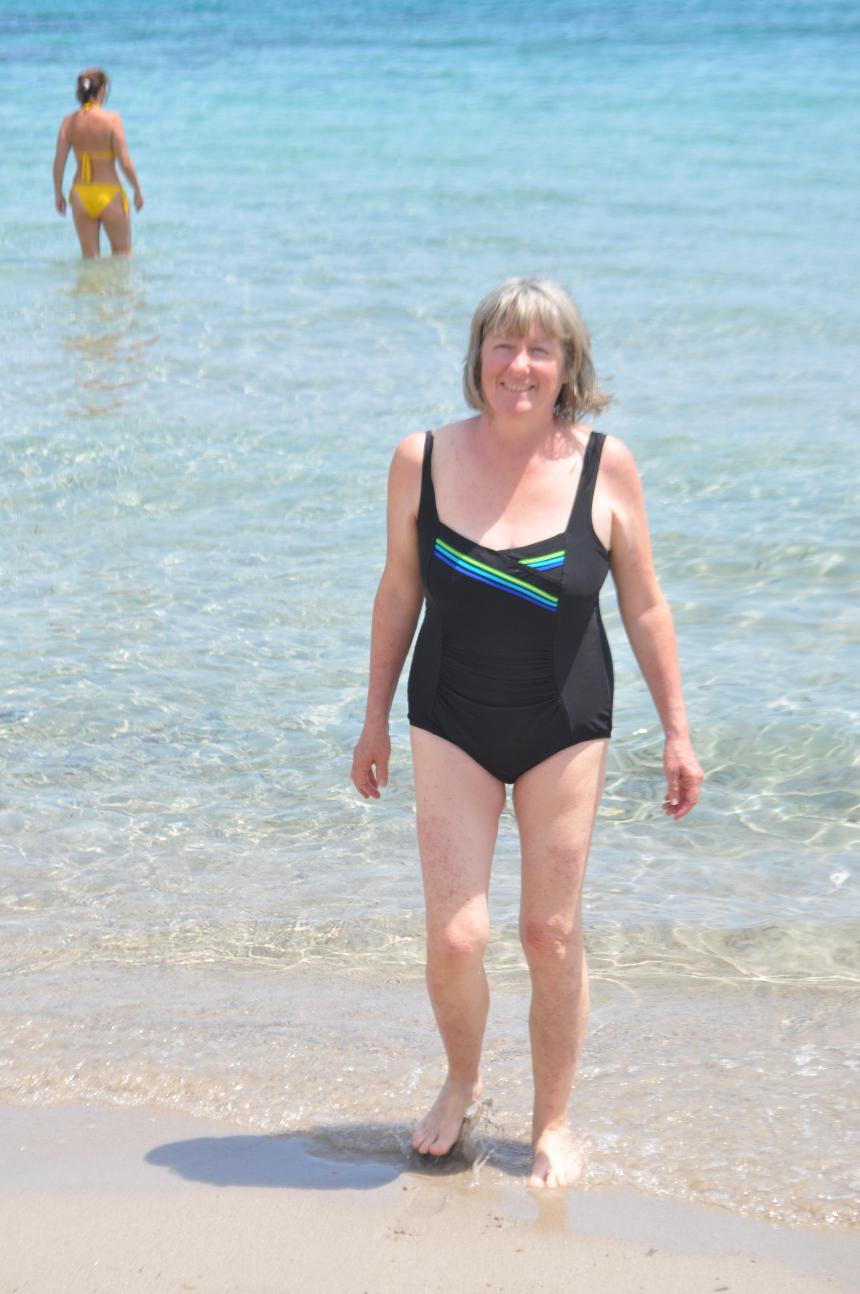 The beautiful Pozzo di Mastri, built of stone in the style of traditional Corsican building, looking out across the open fields and sheep to the distant mountains.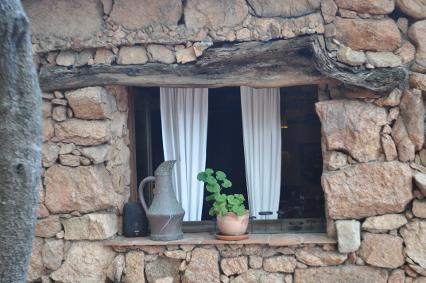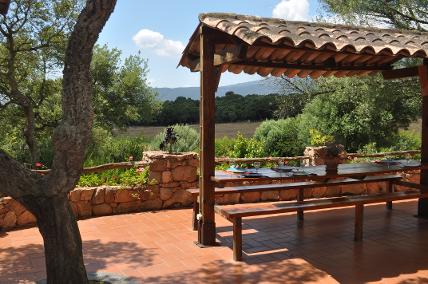 Our wonderful meal at Pozzo di Mastri - a quiche and charcuterie, lamb, polenta and an aubergine Bonifacia, cheese with fig jam and a peach-almande tart. A peach aperitif, wine, water, coffee and a myrte digestif completed the meal.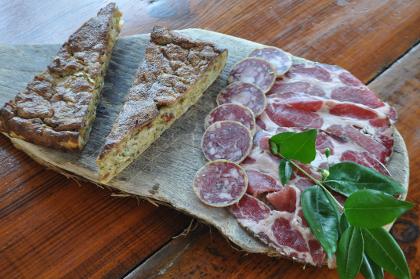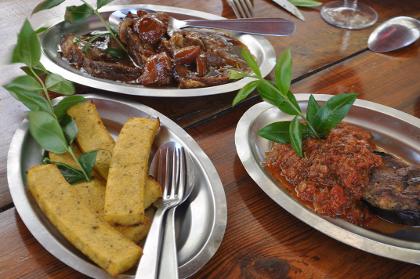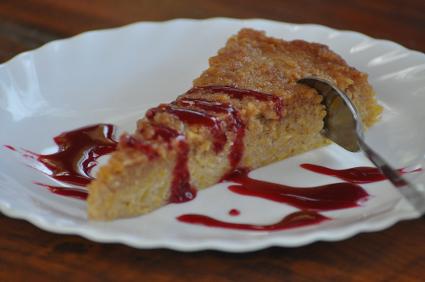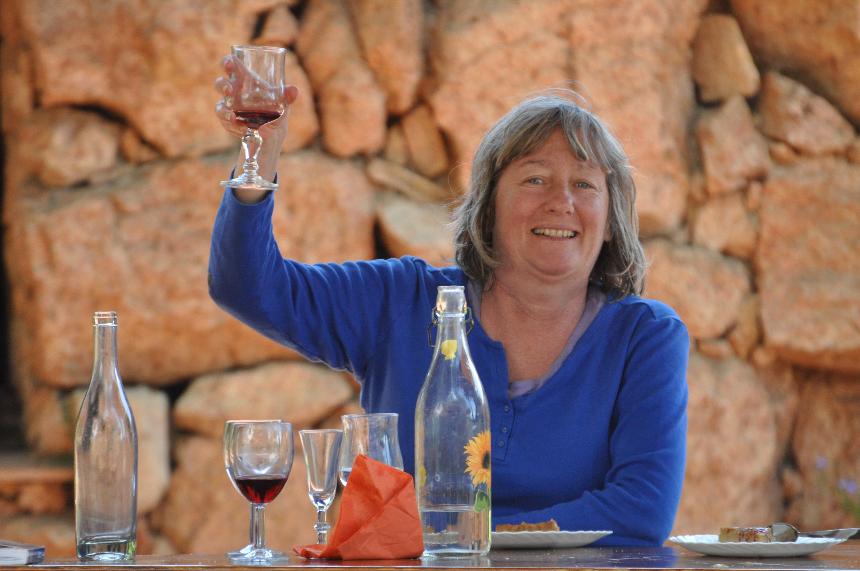 The beautiful limestone cliffs contrasting the (on a nice sunny day) the blue Mediterranean.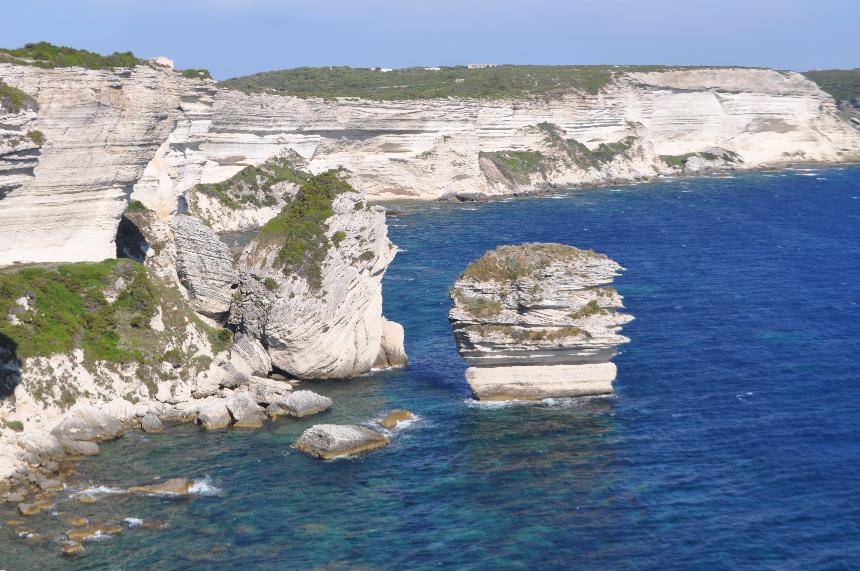 We returned to Tizzano, in no need of dinner, to enjoy our last evening watching the sun set as we appreciated the views from our room/balcony.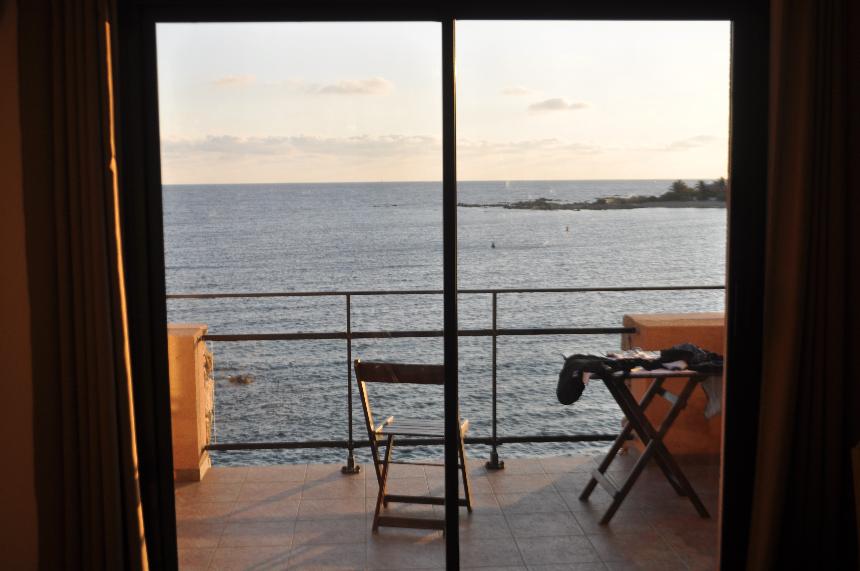 June 18, 2014 - Tizzano and only Tizzano


Today was a do nothing day. We left our room to eat, enjoyed the balcony, had an afternoon nap and just wound down from a number of days of strenuous driving. We didn't turn the car on all day.

Being at a hotel rather than a B&B breakfast is included. Although the hotel provides a buffet petit-dejeuner we choose to return to a small epicerie across from the restaurant we ate at last night, buy a couple of chocolate croissants and then head over to the restaurant's bar and have a coffee (or in the case of Gayle two cafes au lait). The view from the comfy cushions across the harbour is very nice.
Below you will see the Corsica independence flag - this one near the harbour of Tizzano. This flag is way more common throughout Corsica than is the French flag which we have rarely seen. There has existed an independence movement since the 1960s, at times resulting in bloodshed and death. For those interested you can read more of the history here http://en.wikipedia.org/wiki/Corsican_nationalism.

We spent most of the day on our balcony or catching up on the blog and other correspondence. We had a light lunch of bread, a cheese pastry, a pear and some meat along with a (not so good) bottle of wine followed by a nap. It was actually really great to do virtually nothing. We needed it.
We ate at the other of the two restaurants - Chez Antoine. Not a big meal but it was good. The bottle of local white wine was excellent as was Gayle's tomato, mozzarella and eggplant dish, my linguine with king prawns and a light tarte citron-amande with a thick layer of meringue. A very nice meal at another restaurant with an outstanding sunset and views over the water.
,


The remnants of a fort across the harbour as seen from our balcony.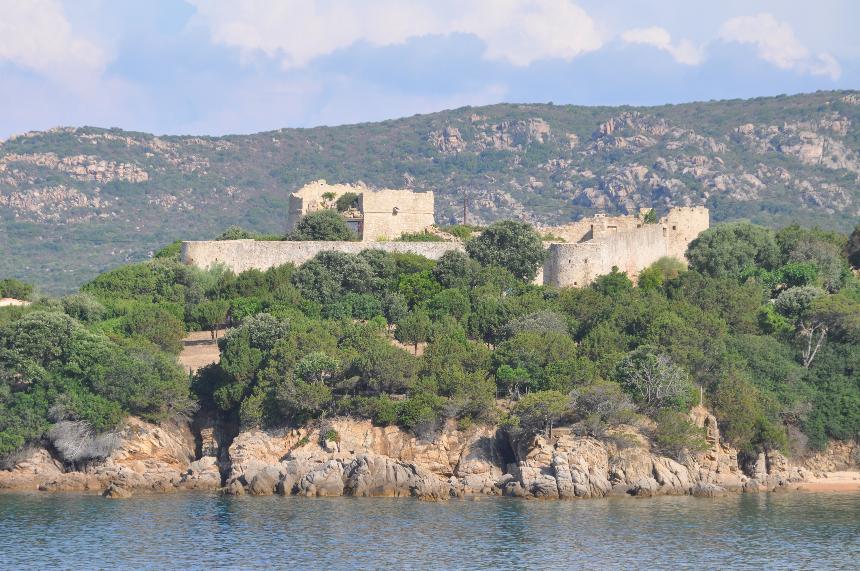 The rocks and sea just beneath our balcony.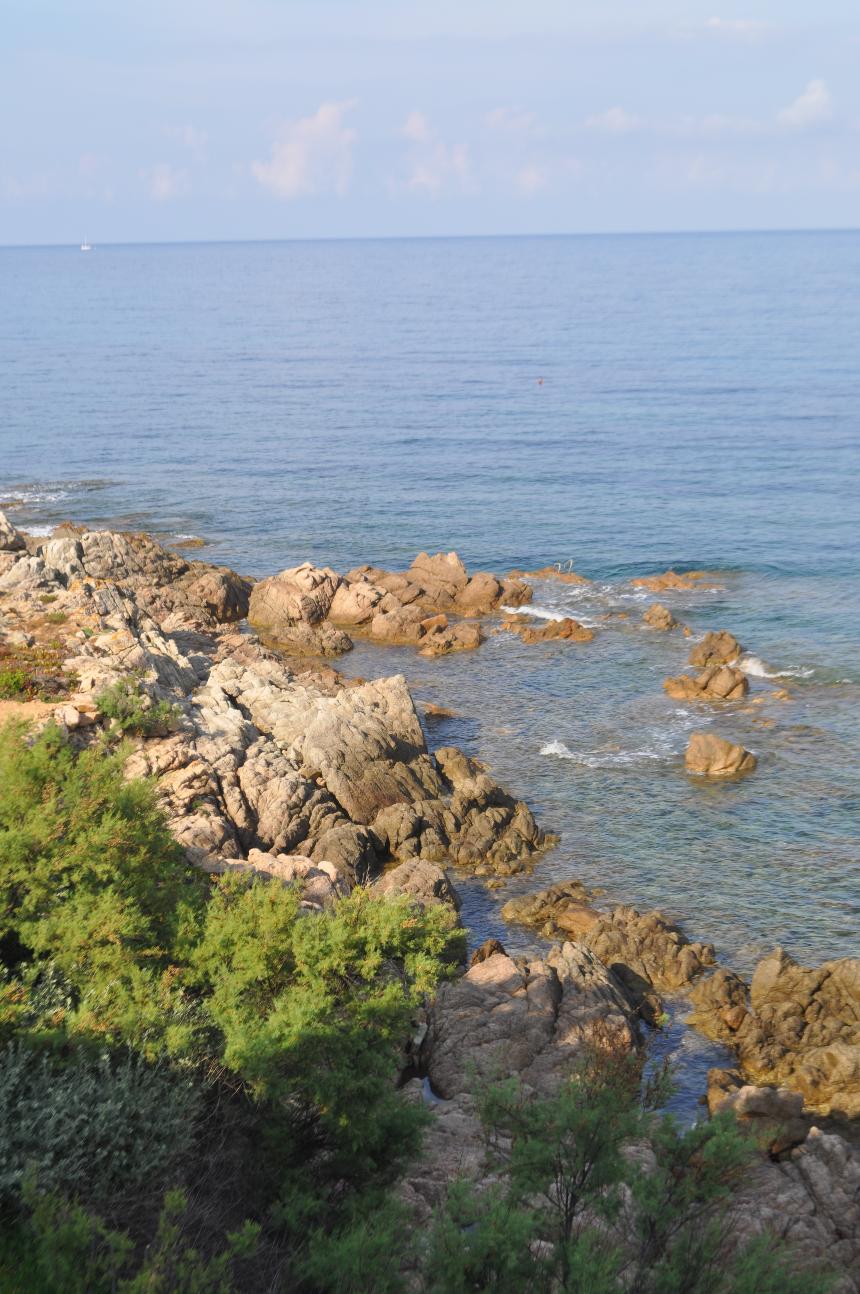 Some of the Mediterranean colours - the flowers and the sea; the plants, including cactus we enjoy on our stroll down to get our croissants and coffee each morning.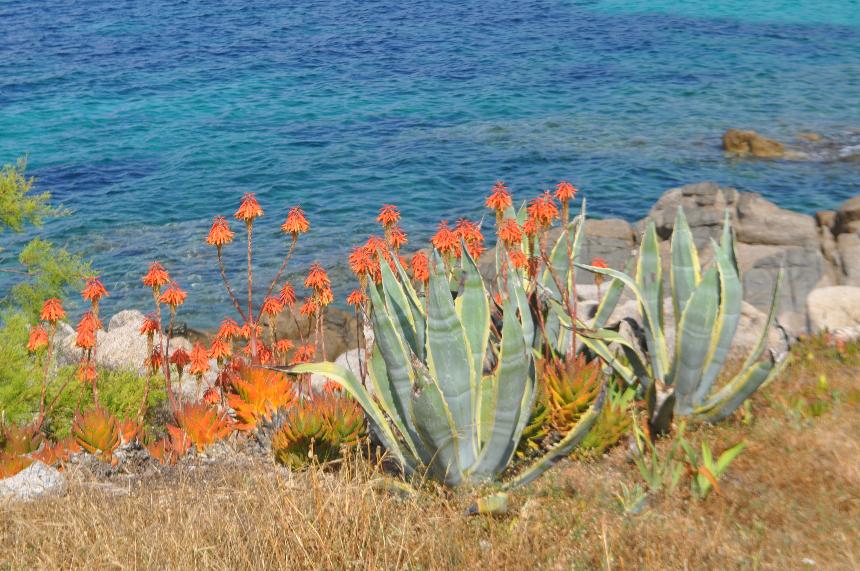 Gayle definitely loves her coffee, or here cafe au lait.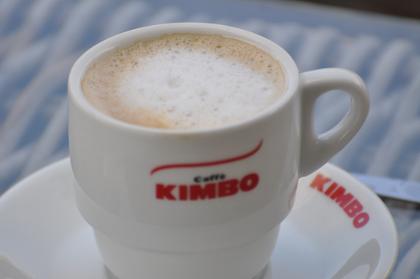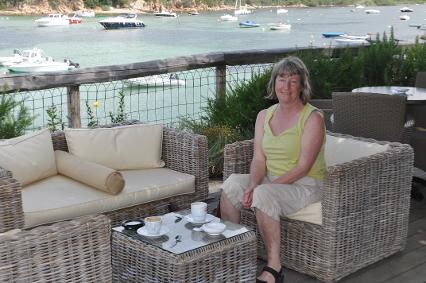 As you know I like to take photos of old people. I'm not sure whete all the old people are n Corsica but they certainly are not out and about, like in Spain, Greece etc. We have been hear a week now and this is the only fellow I've been able to take a picture of.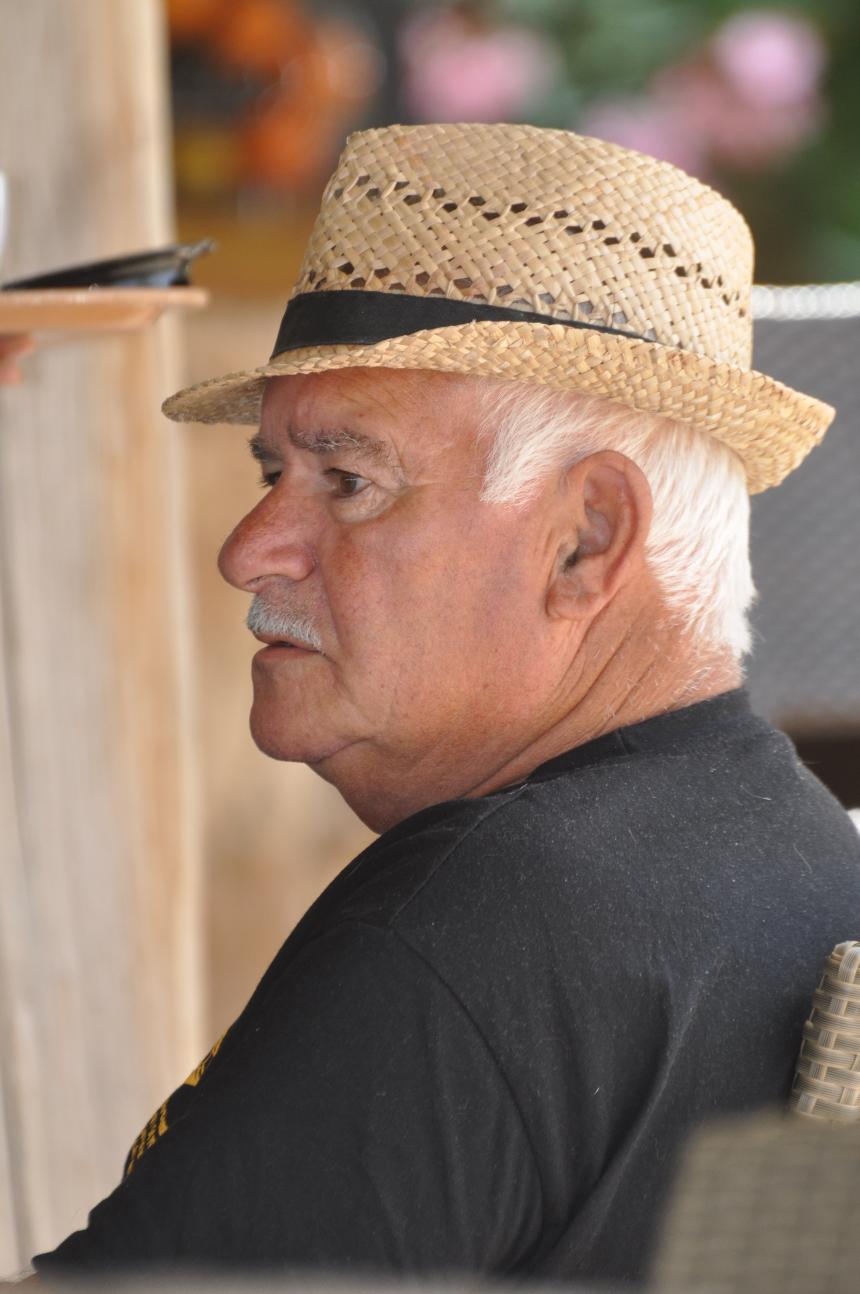 The Corsican independence flag. While we have only seen two french flags we have seen perhaps a 100 of these independence flags. Corsican nationalism has been active since the 1960s with this being the movement's flag.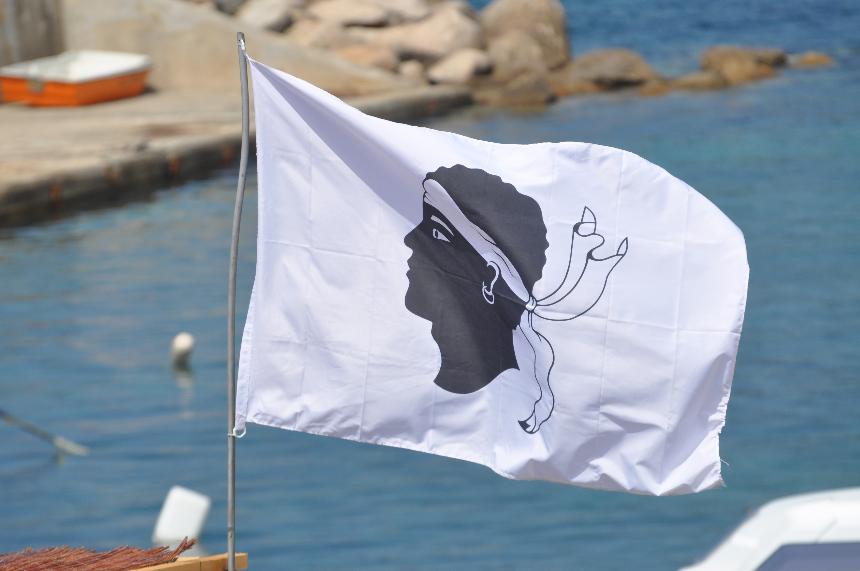 Mille feuilles de tomates mozzarella et aubergines - eggplant is very popular here in the south of Corsica.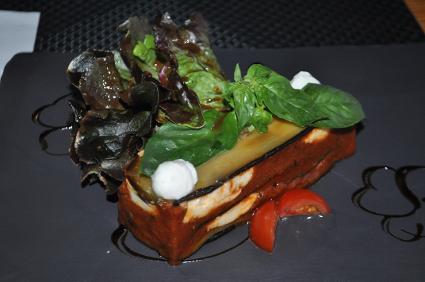 Linguine aux gambas - there is a 3rd king prawn in behind.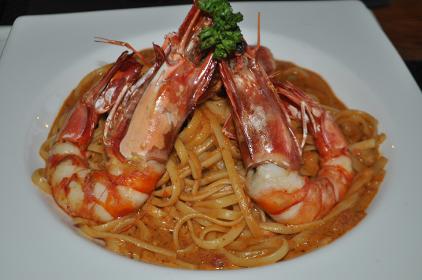 Dessert was much better tonight - a light tarte citron-amande meringuee, garnished with mint - very nice.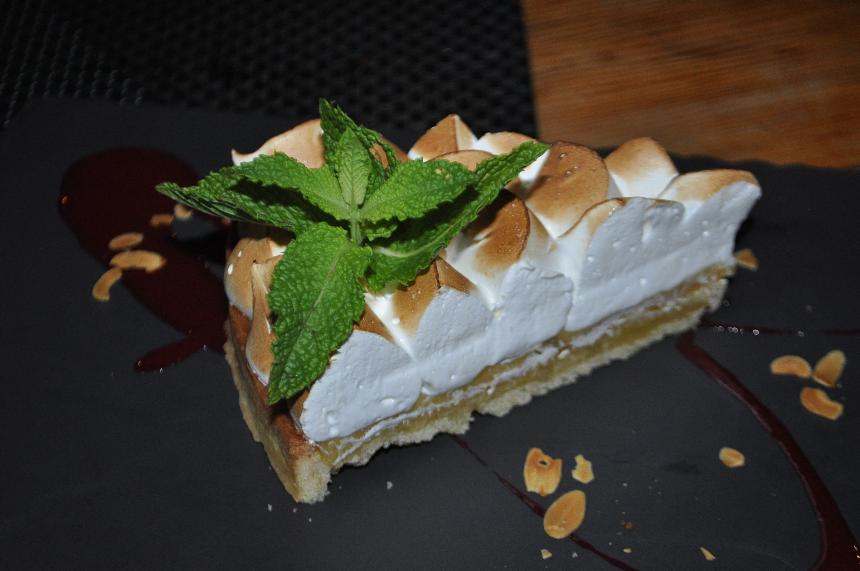 June 17, 2014 - Carbuccia along the west coast south to Tizzano


As Fred needed to take Cathy to the hospital we left relatively early. It would have been very easy for Fred and Cathy to cancel our reservation and find us alternative accommodations but it certainly says something about them that through these very difficult times they found a way to host us.
Today was another day of sea and mountains as we drove along the coast south from Ajaccio. We stopped briefly in Serra di Ferro where a small Corse Produit shop had something we have always wanted - a chalkboard to post menus when we have guests over for dinner. Perhaps a bit on the small side it has a very nicely painted wood frame. We were happy to have stumbled upon it. There is also a nice restaurant in Serra di Ferro but food was not high on our list so we pushed on. We passed Propriano and then Sartene (where we will reurn on Friday) and continued out the 13 km road that takes one to Tizzano, a small town on the water. Our hotel, the Hotel du Golfe is exactly as we imagined - bare walls, virtually no art work, bland colours; a room that while large is certainly not memorable until one goes out on the large balcony with its magnificent views of the sea and the sun and the sunsets. It is hard to visit an island in the Mediterranean and not spend some time in a place on the sea. This is that place on this trip.

There are three restaurants in town, two of them side by side. We tried one, L'Escala with its spectacular views of the harbour and the yachts. Our dinner was so so. Gayle had a decent salad and liked the pizza although I chose poorly with a fish soup - no actual fish, just the broth and I didn't particularly like the pizza. Oh well every meal can't be great. Gayle had wanted Creme Brulee since we arrived and finally ordered one for dessert. Again ok but certainly not what she was hoping for.
We enjoyed a nice walk back to our hotel where we fell asleep listening to the sea lap against the rocks.

The church in Carbuccia, with the mountains as a backdrop - very picturesque.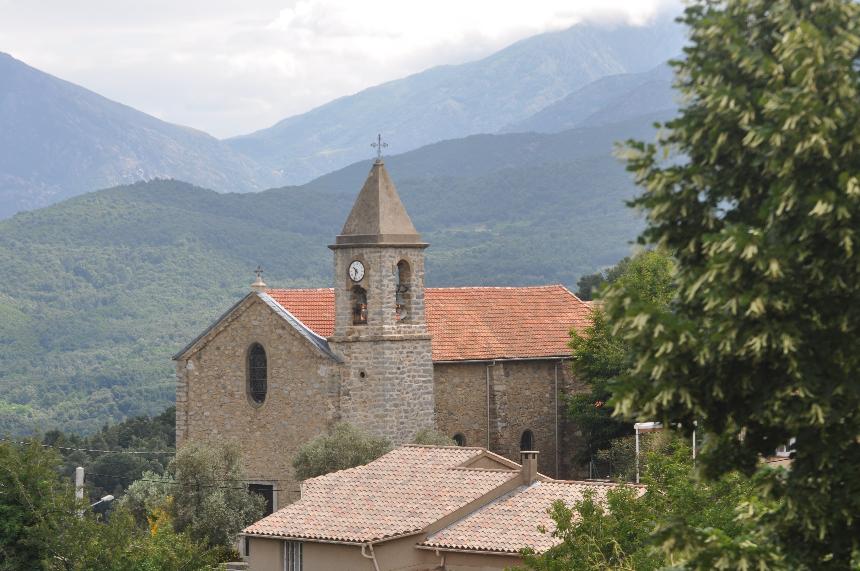 Rush hour traffic in Sartene includes not only traditional vehicles but a significant number of cows who happened to wander through town - no farmer; just a bunch of cows jaywalking where ever they darn well pleased. Drivers need be alert as these guys are apparently not up to speed on motor vehicle regulations and the formalities of crosswalks.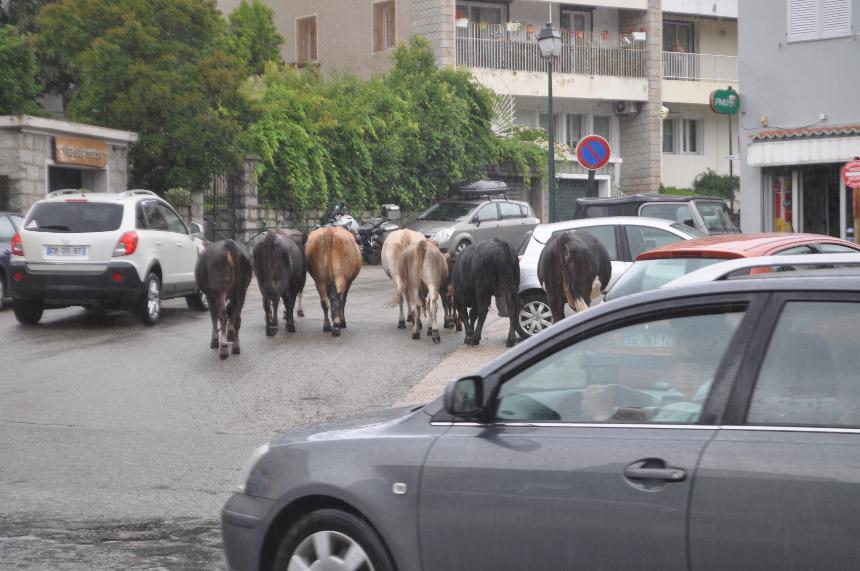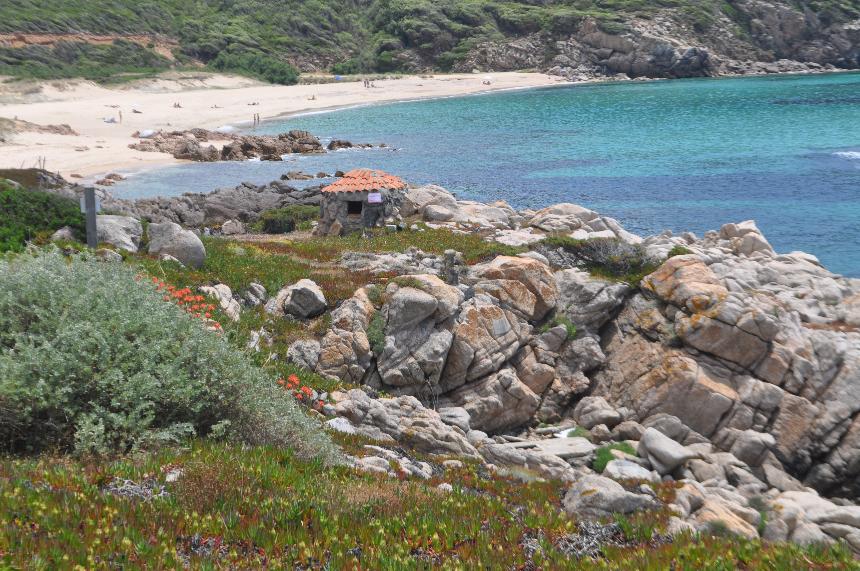 The view from out balcony at the Hotel du Golfe, Tizzano, Corsica.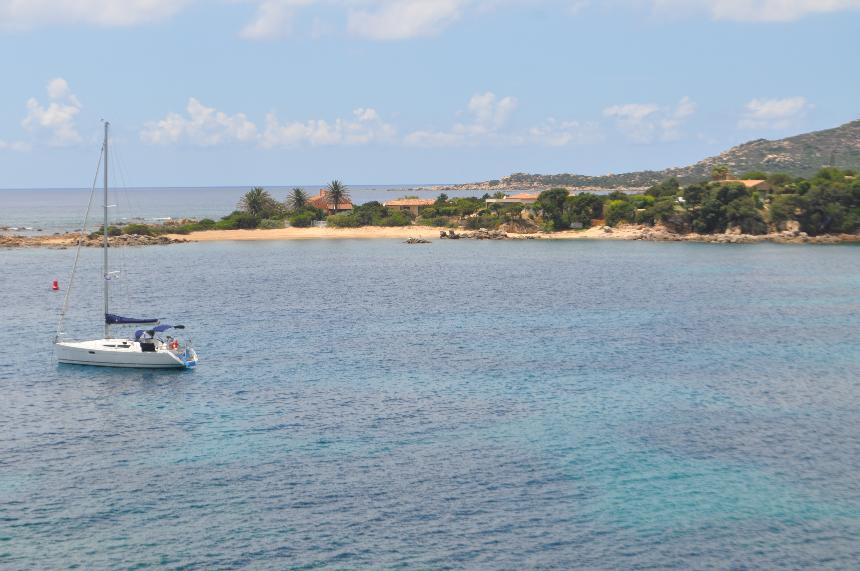 L'Escale, a nice restaurant here in Tizzano overlooking the golfe. This fellow said the largest lobster - the one in his right hand - was 3 kilos, certainly the largest lobster I have ever seen.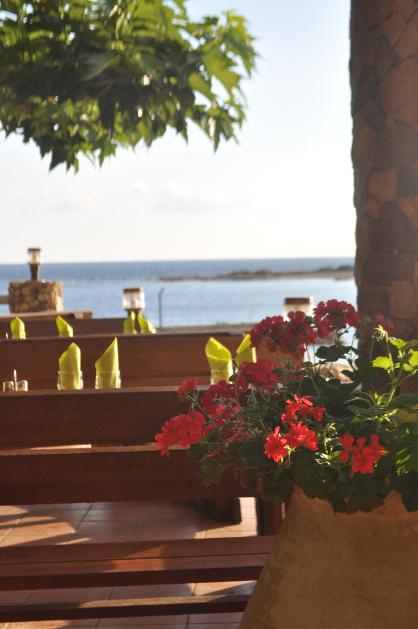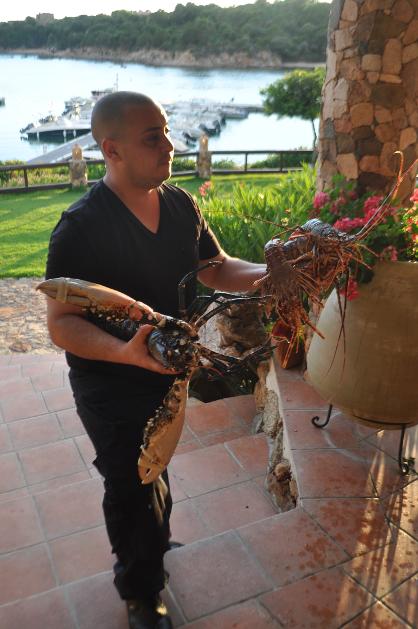 June 16, 2014 - Carbuccia through La Cinarca to Porto, Piana, Sagone and back to Carbuccia

We enjoyed a nice chat with Fred, learning that Casa Funtana dates from 1626, serving as a blacksmith shop for much of its history. The village of Carbuccia, were Fred was born has 300 inhabitants and no services (well a baker). Such is living in the mountains of Corsica. Cathy and Fred have a Coton de Tulear, the same dog as friends of ours and found out Cathy is a well known world breeder of Cotons, and that our friends dog can likely trace her lineage back to one of Cathy's dogs.

After a relaxing breakfast we left for Peri, the village just past where we ate last night. A pretty little mountain village with a nice church this was the start of two strenuous hours of mountain driving. We circled back across the Gravona Valley and then back up and over another col (mountain pass).

After descending we came across a restaurant with a nice terrace and decided to stop for a break. The food was ok but not what we were hoping for - and expensive for what it was, particularly Gayle's omelette and a bottle of water, albeit large, but still at 5.50 euros a real rip-off.

We continued across yet another pass through some very dramatic mountain scenery, with the narrow road hugging the cliff side, sheer drops on the other. After passing the ghost village of Muna and the picturesque mountain village of Vico we then drove through Evisa, the chestnut capital of Corsica. The road then took us down the Gorges de Spelunca, a dramatic drive made all the more interesting by a heavy rain burst, followed by a nice rainbow. We detoured into the port town of Porto, described as a setting that is "simply superb" it was nice but not as special as we were let to believe. We did buy a couple of pastries, including a chestnut cake that turned out to be very good.

From Porto one drives a series of switchbacks through and around Les Calanches de Piana, rock formations of teetering columns, towers and irregularly shaped boulders of pink, ocher and ginger rising 400 m high out of the sea. We stopped in Piana, a very attractive town with wonderful views to the sea (especially since the sun had come out) where we picked up some wine and cheese to eat back at our place and a coffee in the bar on the town square. From there it was a very scenic drive south to Ajaccio, along the coast with vistas of the sea on the right and mountains on the left around every corner ... and finally a nice well paved wide road.

Returning to Carbuccia just before dark, around 9:20 pm, we enjoyed our wine, bread, cheese, apple tart, and chestnut cake.



The view out our bedroom window at Casa Funtana.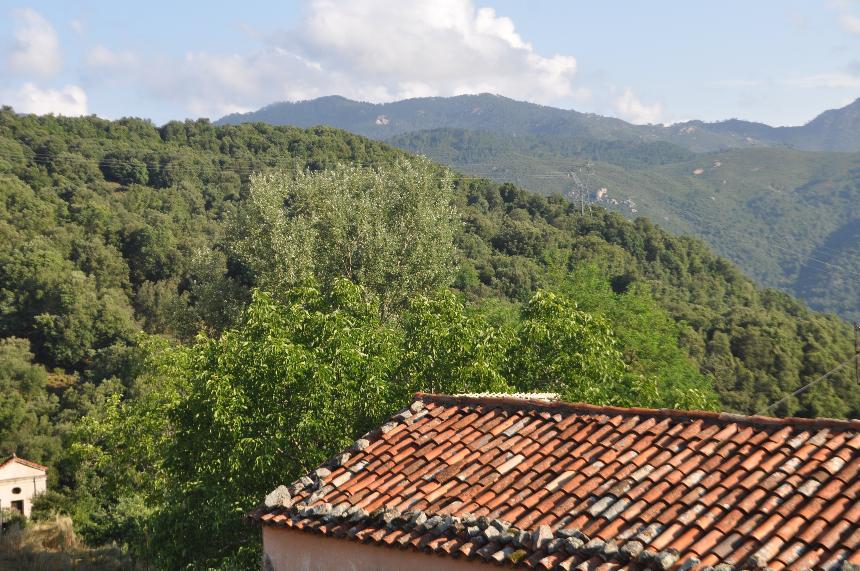 This is Danette a Coton de Tulear. Cathy Armani, our B&B host, is one of the world's most well known breeders of Cotons, and knows the breeder in Nova Scotia. Fred, her husband, expects that our friend who has a Coton from this Nova Scotian breeder can trace her lineage back to one of Cathy's dogs. Danette was cute as can be, and very friendly.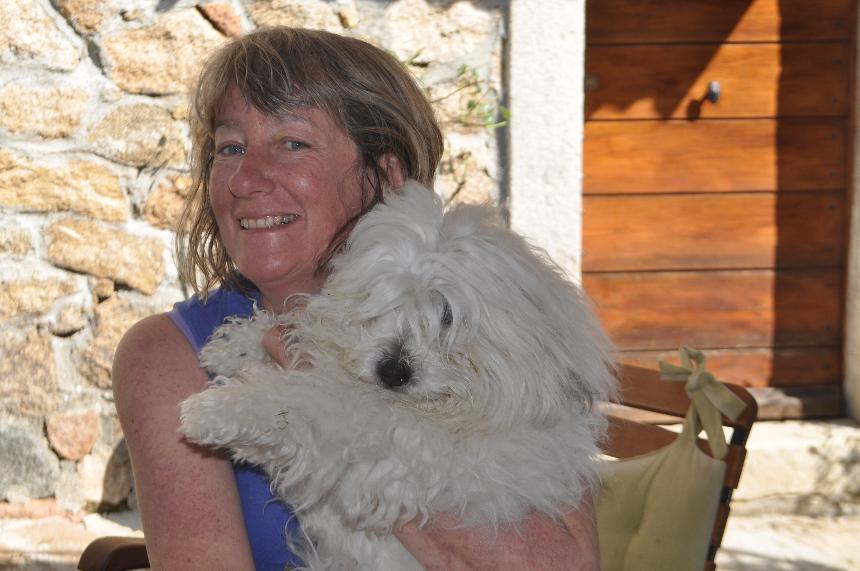 The church in Peri, a small mountain village.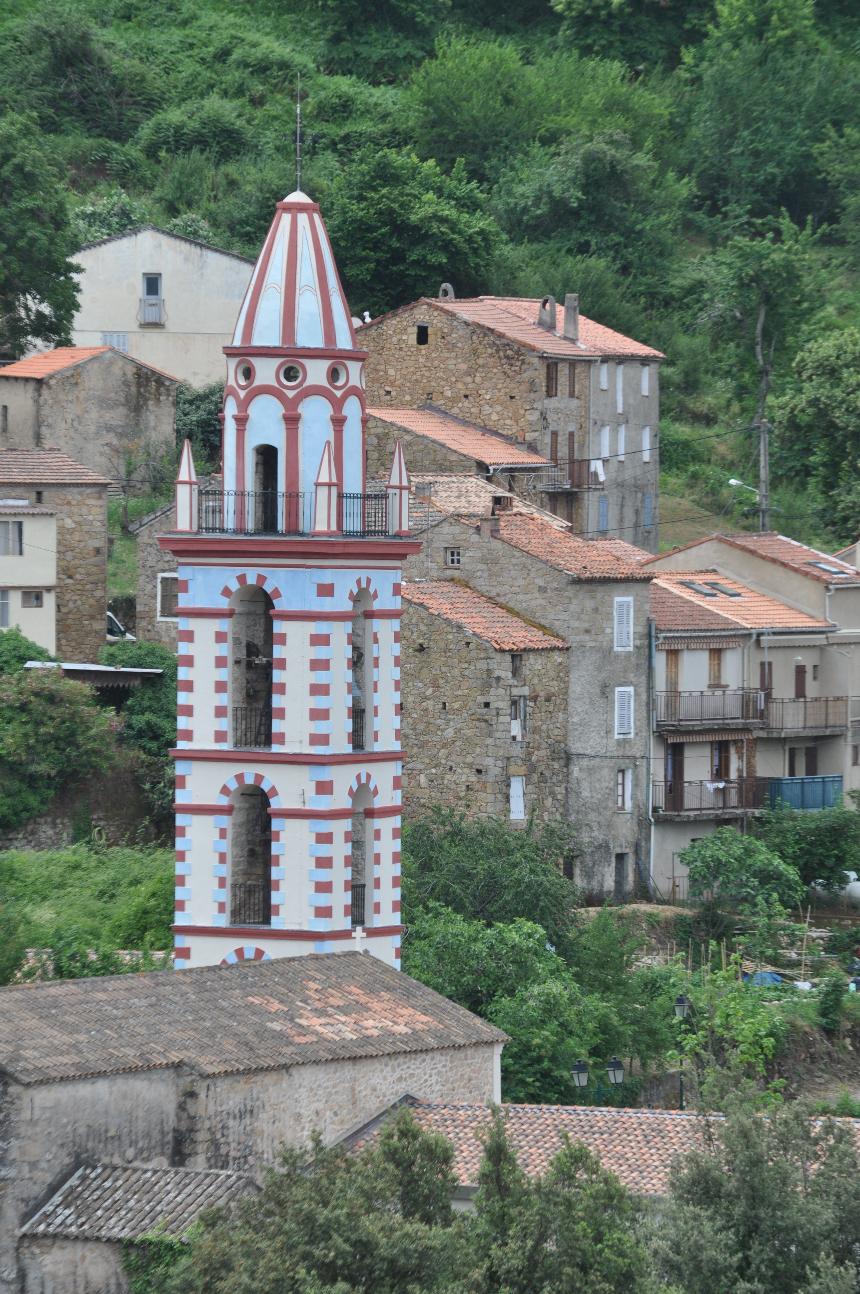 Stone buildings + flowers = photo stops.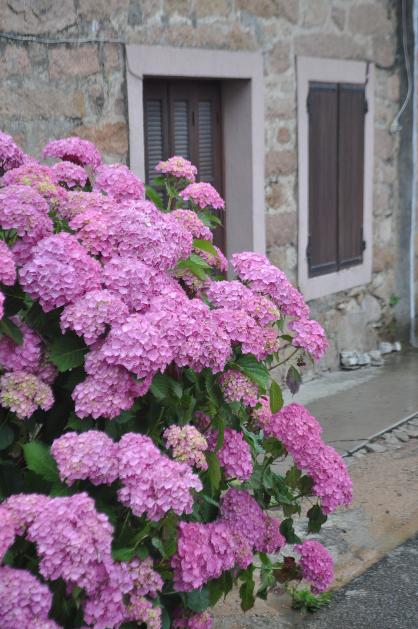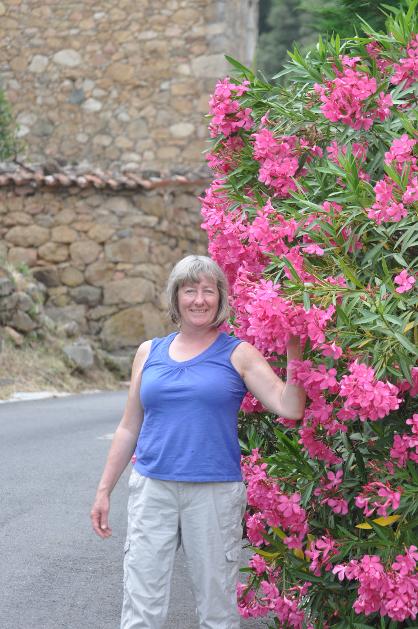 After crossing a mountain pass we came upon a restaurant with a beautiful terrace of flowers and grape vines. Lunch was ok, including this sanglier (wild boar) stew but quite overpriced for what we got, especially the 5.50 euros for a bottle of water, plus the waiter - a young fellow clearly wanted to be elsewhere. But at least the rain held off.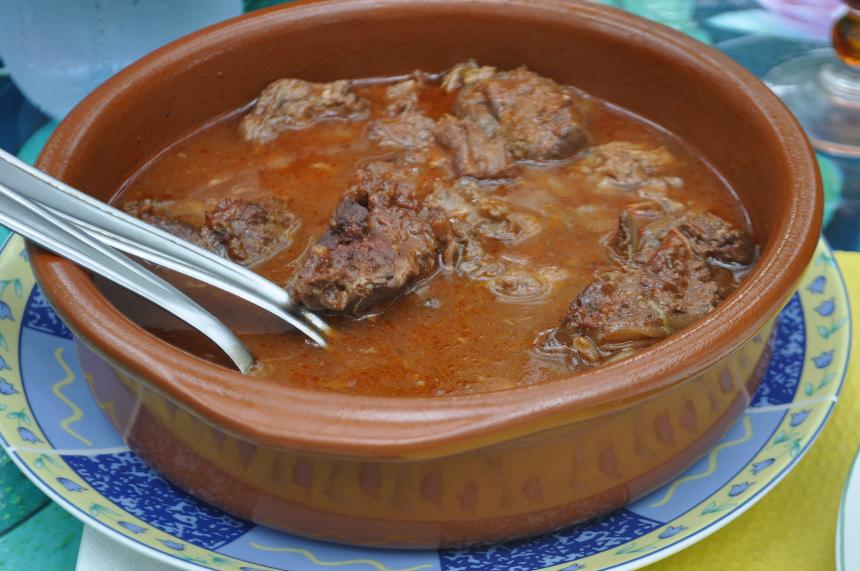 You only get to make one mistake driving these roads hugging the steep cliffs - you can just make out the road in the upper left of the photo on the right. Thank goodness there were very few other vehicles but it still made for a slow trip.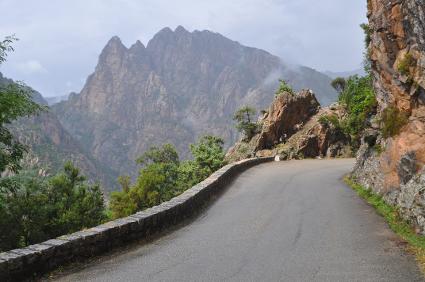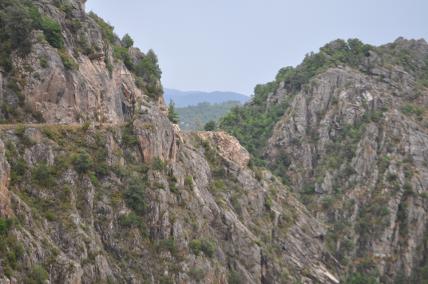 Vico, one of many villages tucked in the mountains of the interior of Corsica.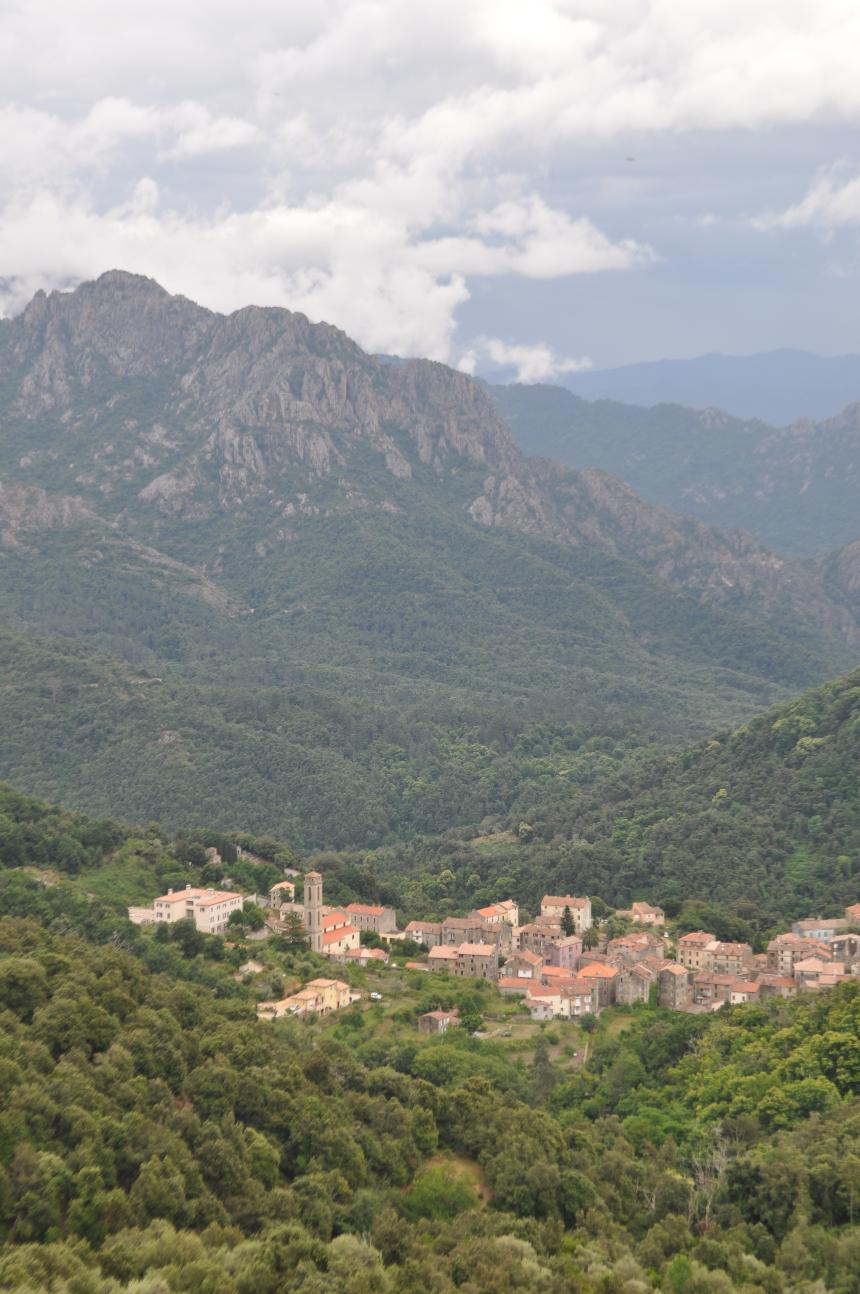 And if narrow roads aren't enough to keep one attentive there are other obstacles that one can come upon in an instant ... jaywalkers who are not considerate enough to go to the nearest crosswalk. And we're not sure which side has the greener grass with these going in opposite directions.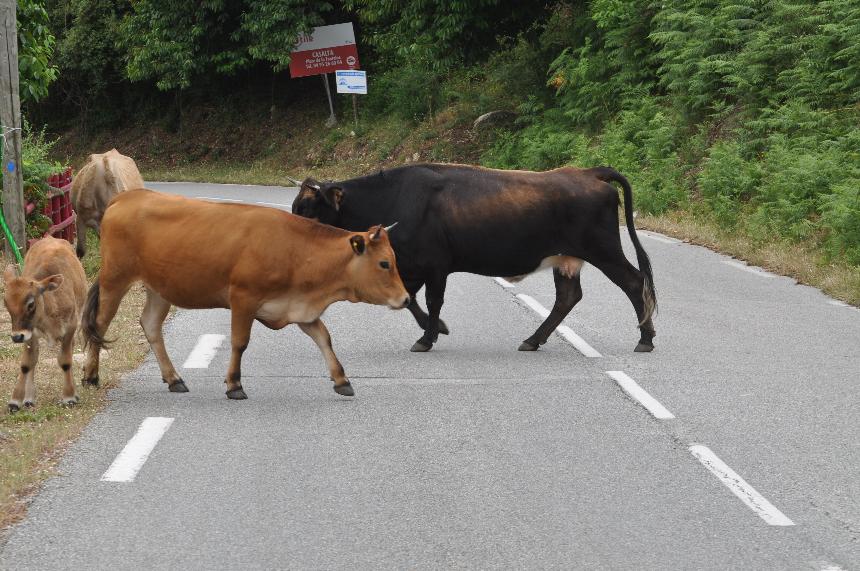 ... and in addition to the cows we also encountered goats and pigs - it is estimated there are 45,000 free-ranging pigs in Corsica.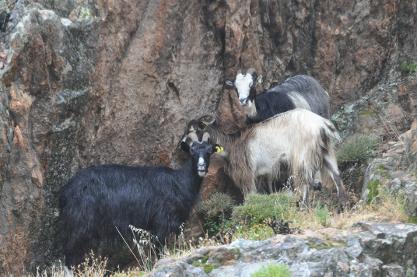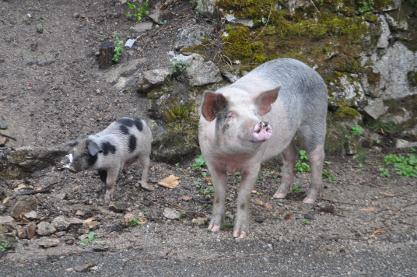 Some of the impressive rock formations near Les Calanches de Piana near the Golfe de Porto on the west coast of Corsica.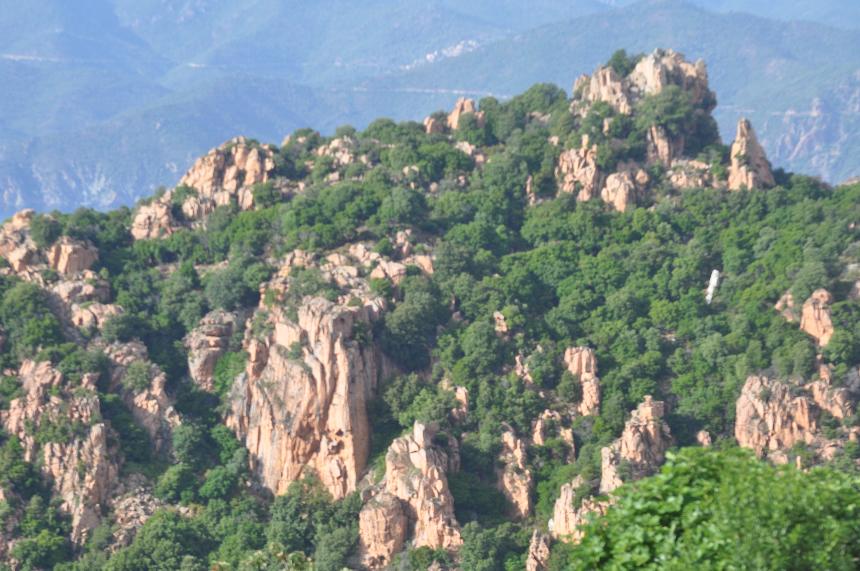 Some of the today's sights - an old stone building set against the mountains that has seen better days and a wind swept tree on a bluff overlooking the sea.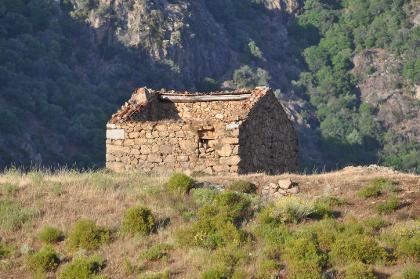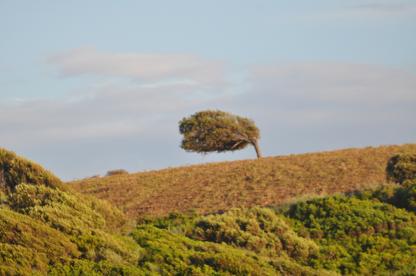 The narrow winding road through Les Calanche de Piana.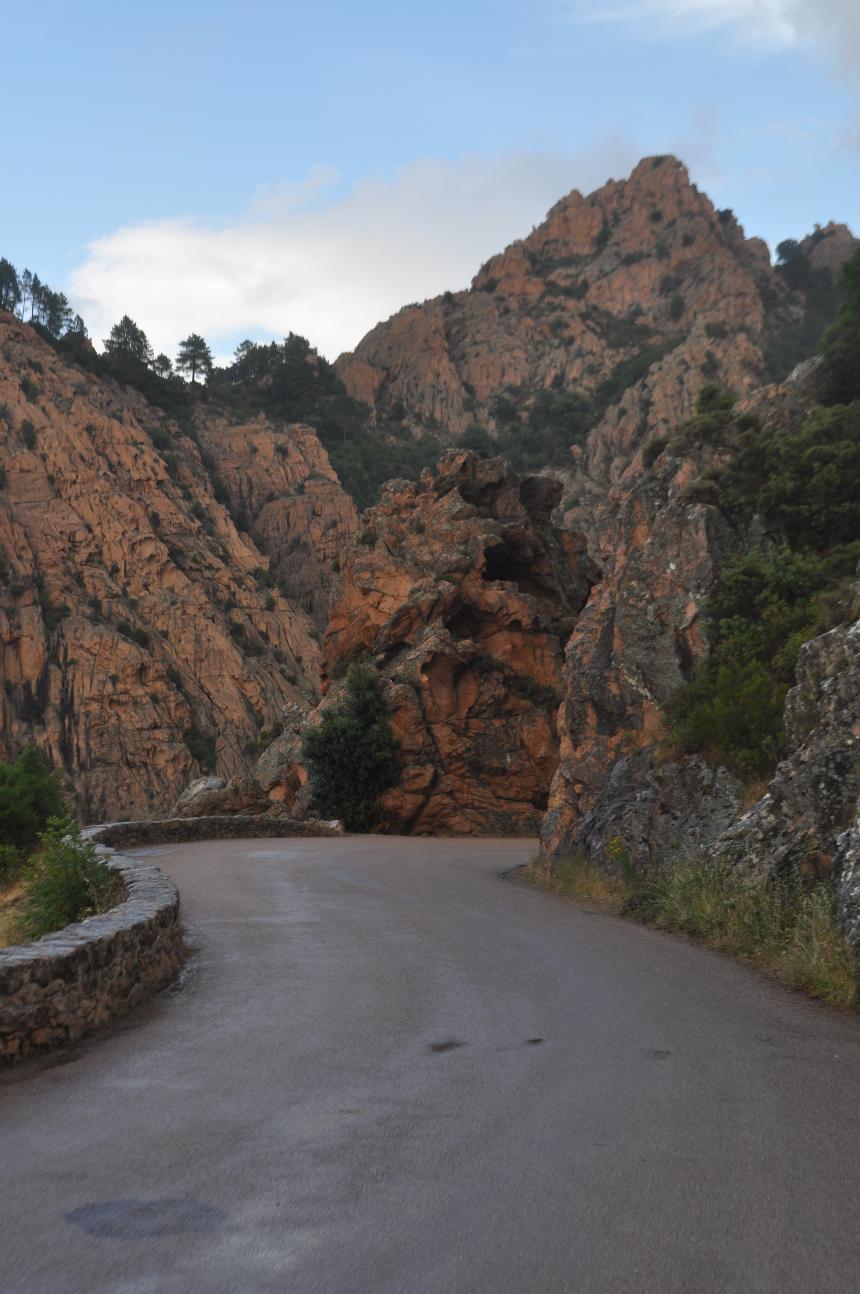 Some of the beautiful coastal scenery near the Golfe de Sagone. What is so impressive is the proximity of the mountains to the sea.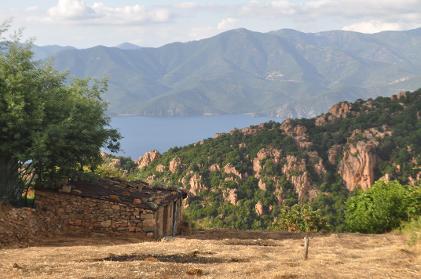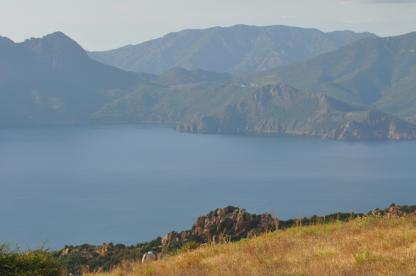 Rainbows and sunsets - lovely.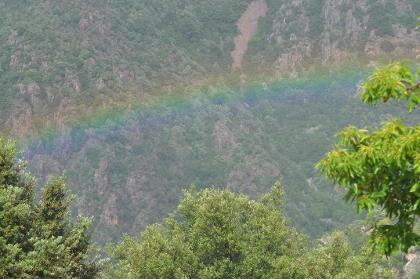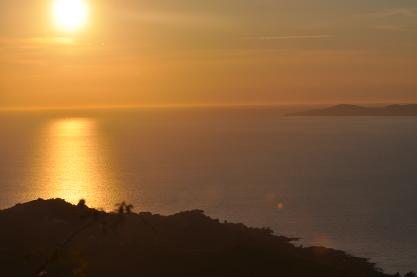 June 15, 2014 - from Vallecalle through the interior to Casa Funtana, Carbuccia

After leaving A Casella our first stop was the village of Murato, where (and I'll bet you don't know this) during Corsica's brief independence in the 18th century the village was the seat of the new state's mint. But the village is most known for the Eglise de San Michele de Murato, make of white blocks (chalk) from St. Florent on the coast and green (ophite) blocks quarried from the bed of the nearby Bevincu river, creating checkerboard patterning. The church dates from around 1140, and local legend has it that the structure was built in just one night by angels.

A slow, again one line mountain roads, drive through Le Nebbio took us north and west through some rugged terrain from where we headed south towards Corte through the central mountains. Along he way we took the side road 3 km to the "cutesy" hamlet of Lama, clinging to a rocky spur. The tour book says Lama is an impressive examplel fo how a village on the skids can redefine and revitalize itself. There are not only humble cottage but "fine bourgeois mansions and Italianate palazzi", with bright flowers everywhere. But like many of these small mountain villages (Vallecalle and Carbuccia where we are headed today) there are virtually no services. In Lama apparently a van provides a mobile grocery service, the baker calls by every day except Monday and the greengrocer and butcher drop in on Friday, more than most.

We continued the drive south past Corte, Vencao, Vivario - where the heavy rains started - through the forests near Vizzavona and down the Vallee de Prunelli towards Ajaccio. Before reaching Ajaccio we again left the main road for another mountain village - Carbuccia, population 300; services - only a baker, where after some assistance from a teenager on his motorbike who we followed as he led us along the narrow and steep 'road' to the door we found Casa Funtana. Normally our hosts provides dinner but unfortunately Cathy has had some medical issues resulting in it not being possible to do so. The nearest place to eat was a pizzeria seven kms further up the mountain along a sketchy road. But we found it and it was actually quite decent with a spectacular view up the mountain. We returned just before dark, a good thing given the roads, just in time to see a cow ambling along right in front of our B&B. Most certainly not the city.


Breakfast at A Casella - croissants, coffee, juice, cookies, yoghurt - it's all good.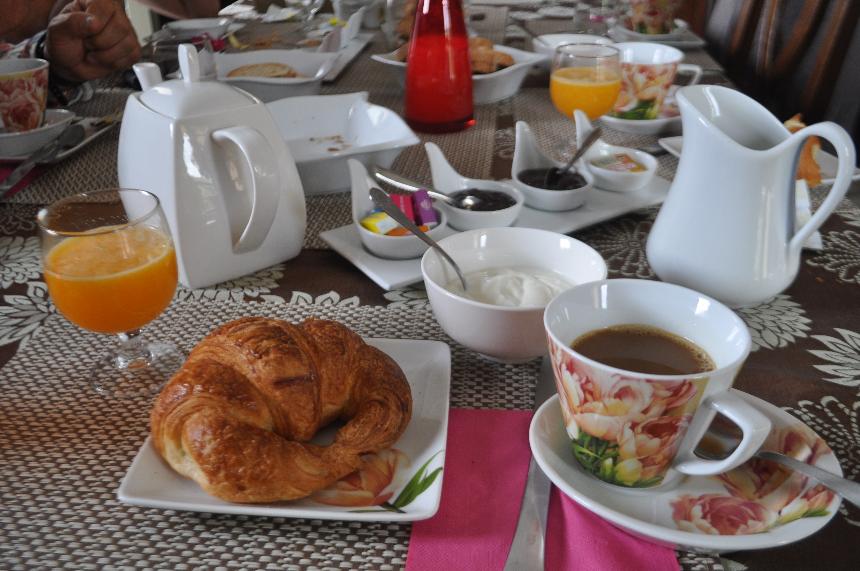 The Pisan Romanesque Eglise de San Michele de Murato with its distinctive green (although it looks grey when you get close up the stone is actually green) -and-white stripes and checkerboard patterning.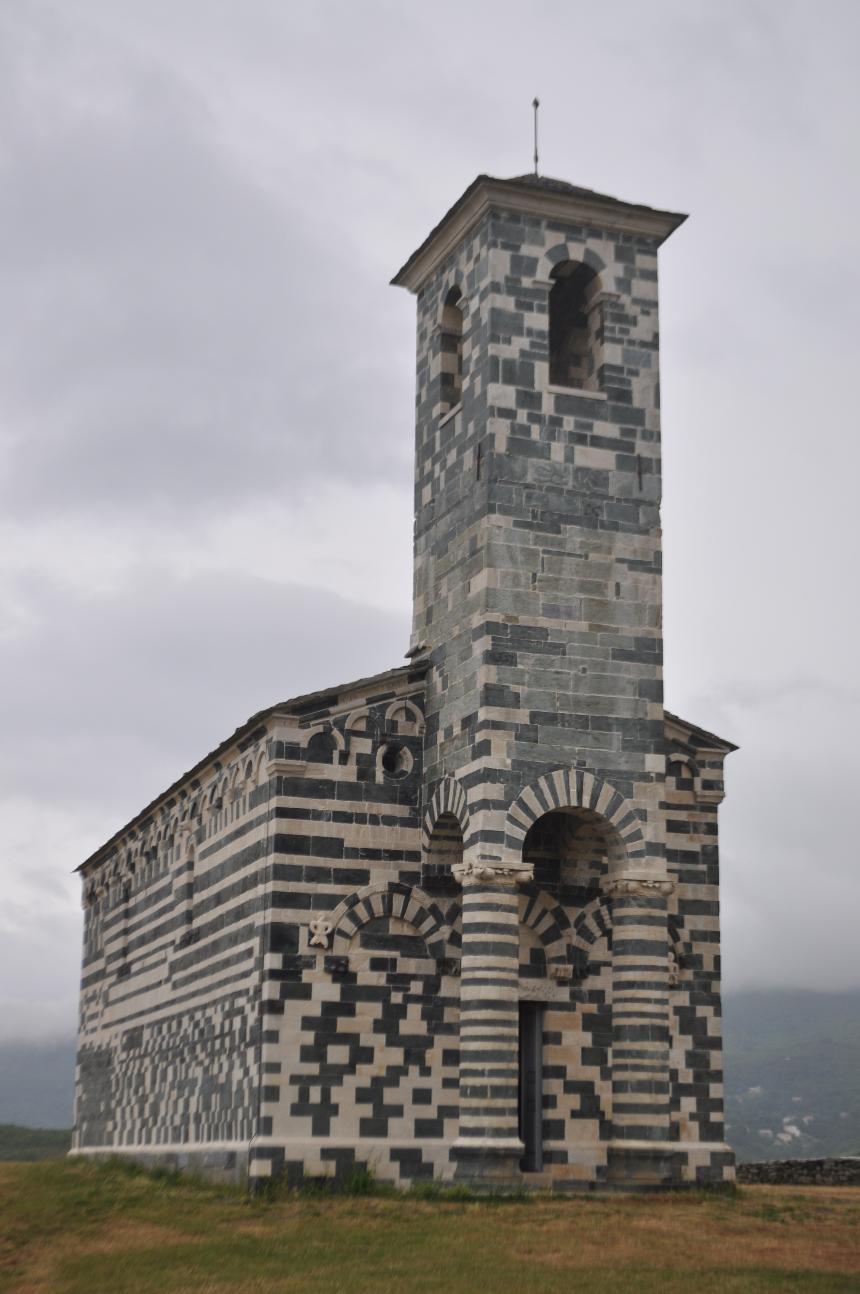 A remote mountain village shortly after we got on the road, as always with its dominant church, and the barren rocky landscape of the north of Corsica.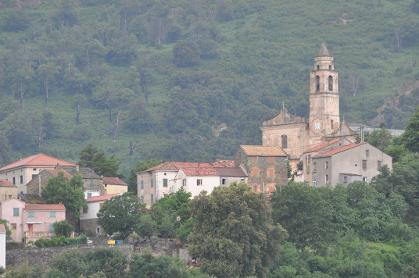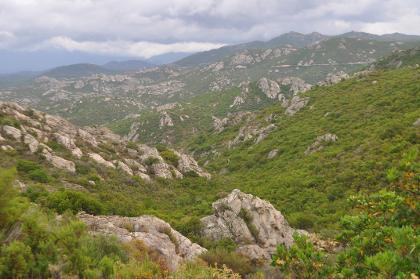 An old stone wheel against the side of building - not the old wood door.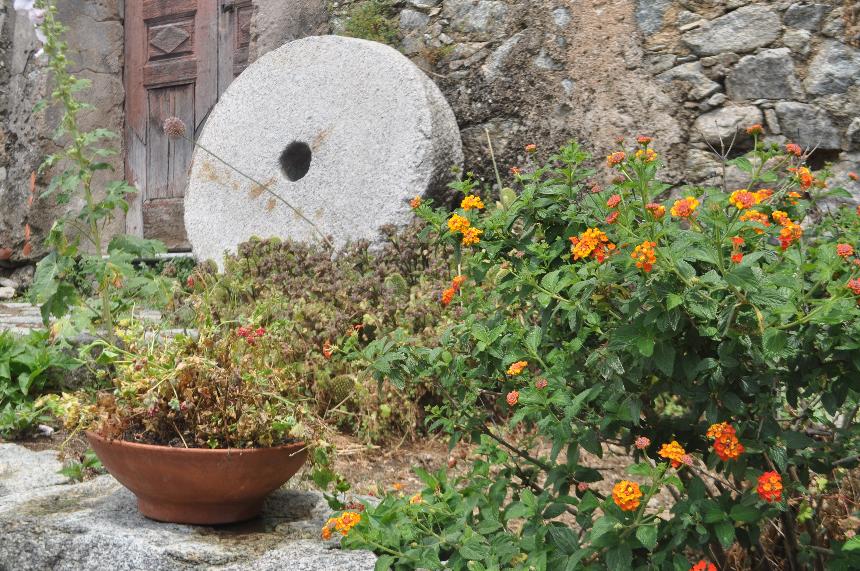 We detoured 3 km off the main road to the hillside village of Lama, a pretty little village with an old section of stone buildings, all adorned with beautiful flowers set against the stone.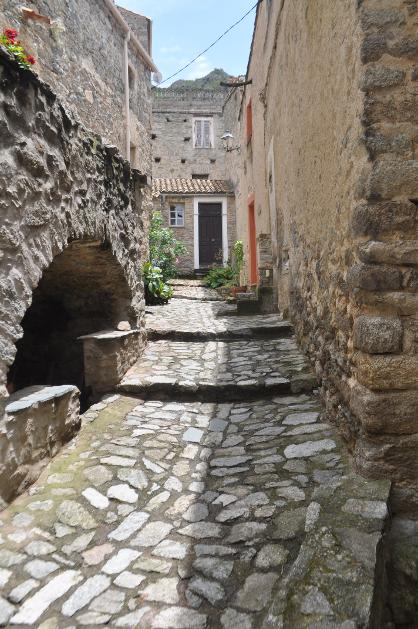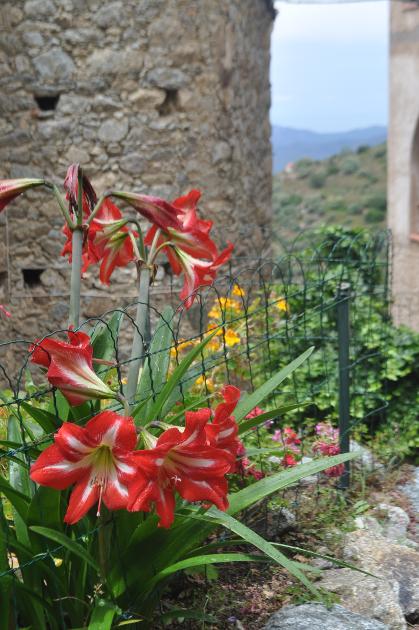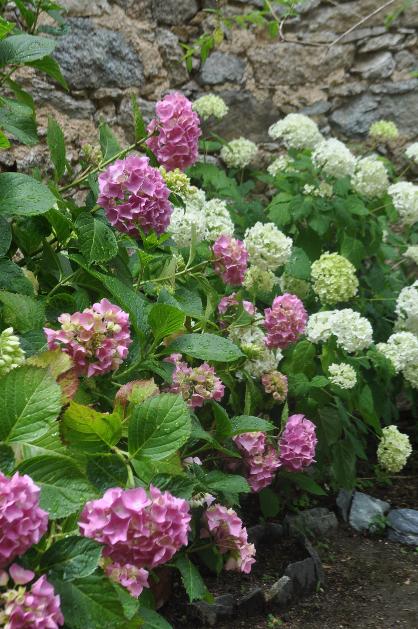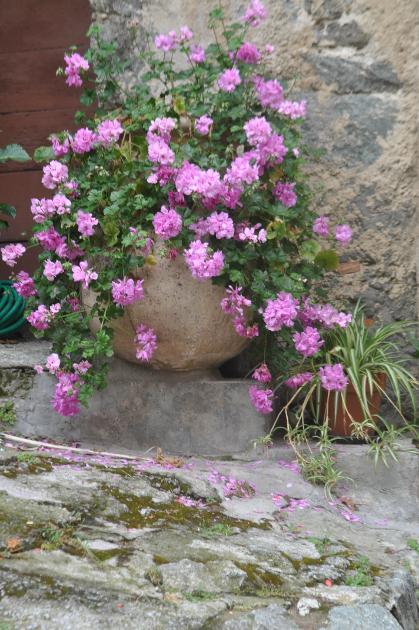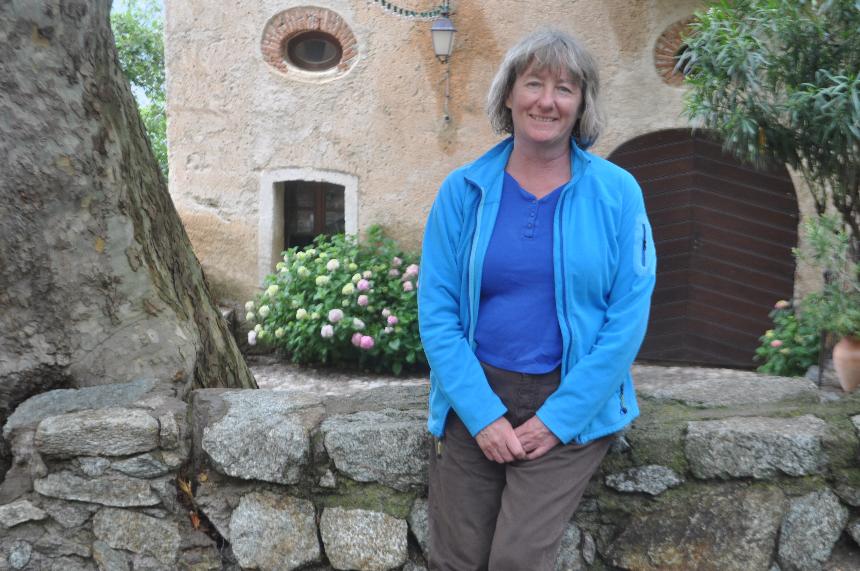 One would think they were in Italy with the popularity of pizza here in Corsica. Virtually every restaurant is also a Pizzeria. For dinner tonight we stopped at one of these pizzerias where Gayle had a pizza Reine while I had another Assiette de charcuterie - good but not like the previous night, but then again it was only12.50 euros.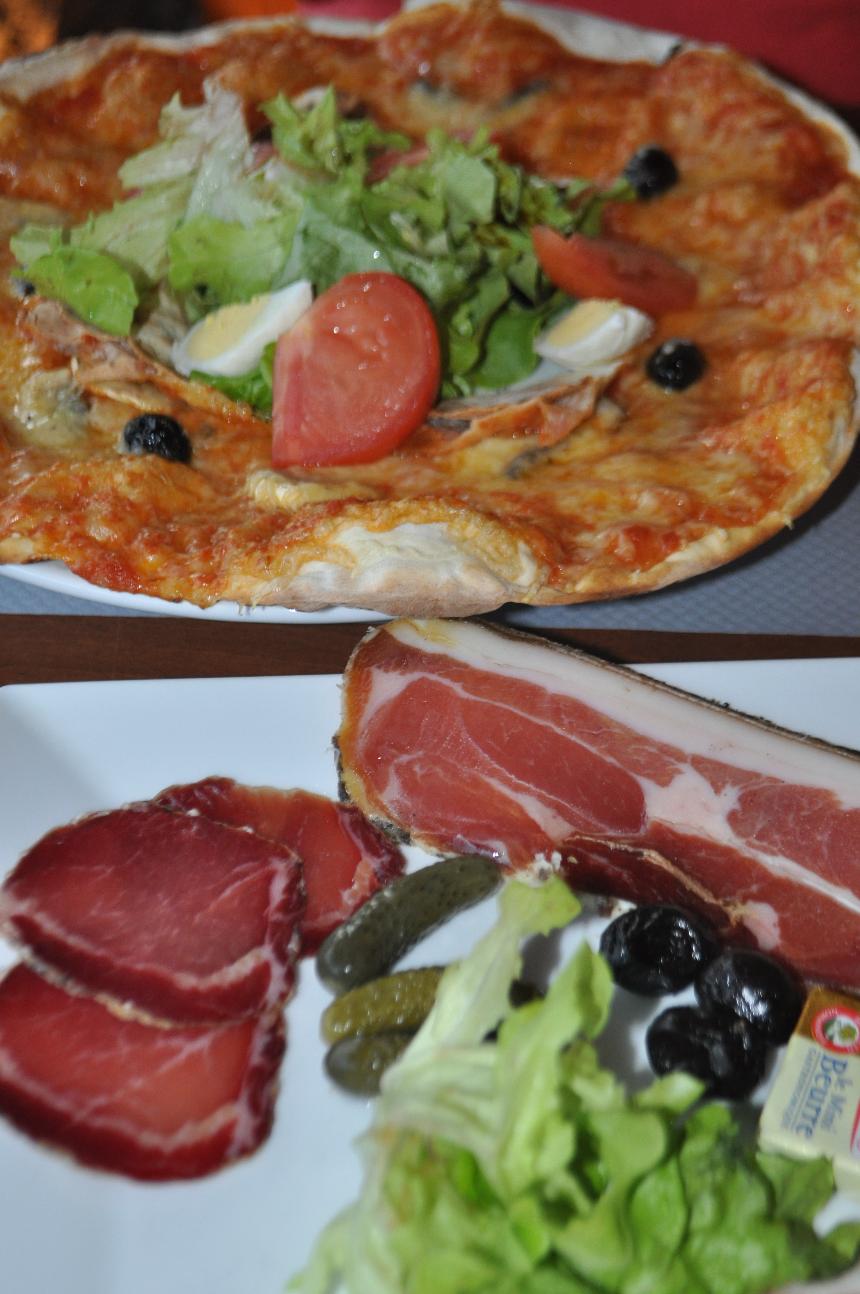 June 14, 2014 - drive through Bastia and around Cap Corse; returning to A Casella, Vallecalle

What was immediately obvious in the early morning were the sounds of nature, particularly the birds (although horses, chickens and dogs were nearby as well). So different than at home. Breakfast was enjoyable, but not overdone. Croissants and coffee of course, bread, jam, honey and biscuits, fresh juice and yoghurt - but no eggs or meat. A nice start to the day.

Today was a day to drive one off the highlights of Corsica, the Cap Corse peninsula, a drive that takes one along both the east and west coasts of this area. The first part of the drive, over a col and on to Bastia demonstrated what we were led to believe ... Corsica is covered with very narrow, twisty, some might call them roads, but at times they felt like little more than paved paths. As another vehicle approached I virtually had to come to a stop to very carefully allow the two vehicles to pass. And dread the time one gets behind a tardy driver for passing is simply not an option in the mountains. Progress is agonizingly slow but the vistas more than make up for it, often with views to the sea. Near the top of a pass we stopped at a small cheese shop where a lady was selling the local brocciu cheese. With the heat - it got up to 32 C - we decided best not to buy any.

We drove through Bastia without stopping, although the area approaching the port from where numerouas ferries were docked seemed pretty nice, and then north up the east coast of the Cap Corse. It was a scenic drive past a number of old Genovese towers, numerous although rocky beaches and scenic, although reasonably flat (at least compared to the west coast drive) coastline. We then crossed up and over to the west coast for the drive south, considerably more dramatic with mountains hugging the coastline, the narrow road winding through small villages and along the edges of the cliffs. We stopped for a small lunch, an interesting salad chevre, overlooking an old tower and the sea. The drive is again slow, with the narrow roads and a number of photo op stops.

We returned late afternoon where we relaxed before going to dinner in a nearby village at 8:00 pm. Corsicans certainly do eat late, with 8:00 the earliest anyone starts dinner. In fact we were the very first to arrive at the Casa Di Anghjulu, where we enjoyed a fantastic meal. Every menu has a Corsican meat plate - the Assiette de charcuterie corse. Although quite pricy (I have since had less expensive and there is a difference in the quality of the meats) at 22 euros there was no question this was what I was starting with my first meal out. And it was delicious. Beignets de fomage frais (cheese fritters), an omelette au Brocciu a la menthe (Brocciu cheese omelette with wild mint), Magret du canard (duck breast) and another Fiadone for dessert made for an excellent meal.

But as good as the meal was the lightening show may have been even better. Neither of us could recall seeing a more dramatic lightening storm - it went on and on for well over an hour. But fortunately the heavy rain stopped for the drive home - a good thing given the narrow, twisty mountain roads.



Apple tarts and other pastries in a patisserie down the road from A Casella.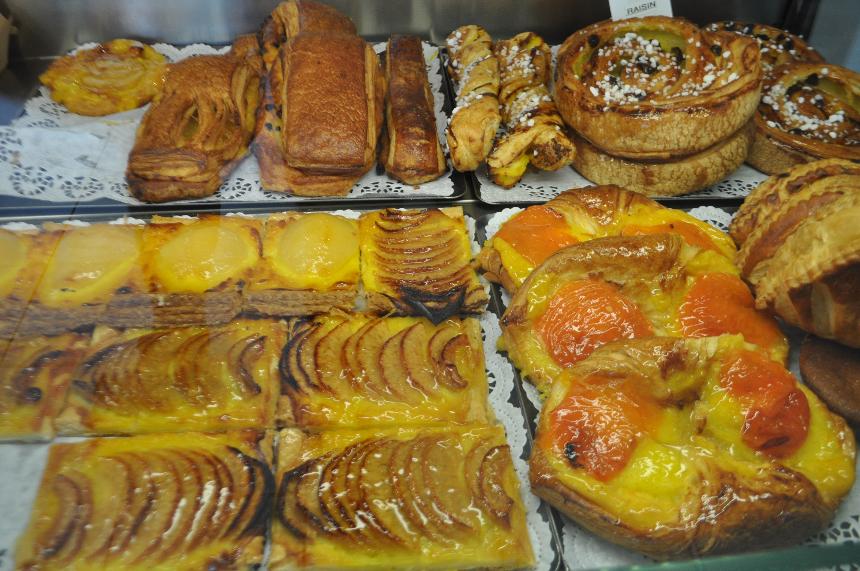 A Genovese tower and the coastline of the east side of Cap Corse.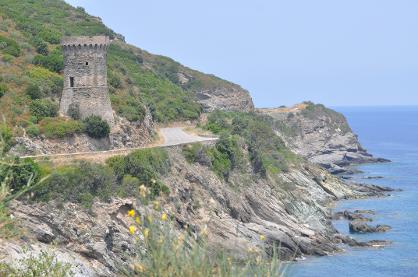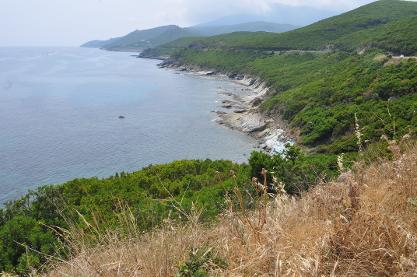 A church in a small Cap Corse village .. with a nearby tree of ripe oranges.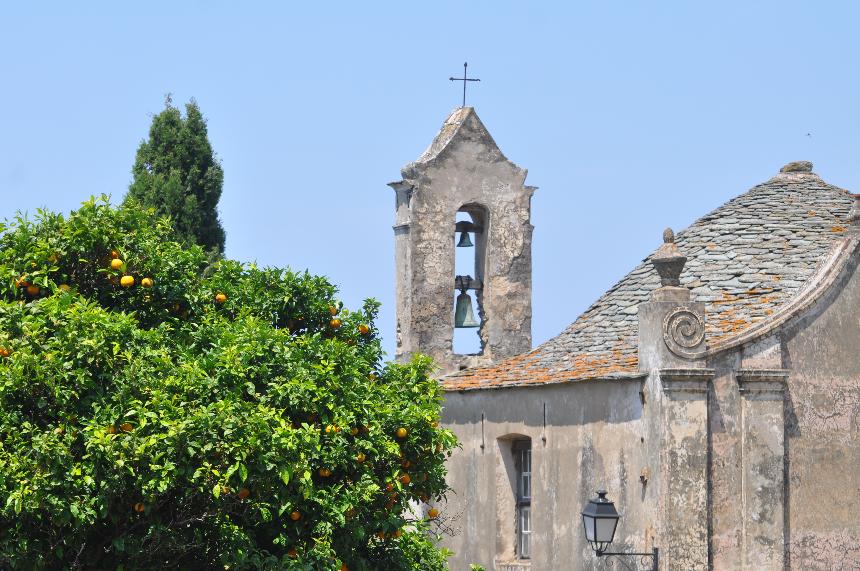 The coast road hugging the cliffs, barely wide enough for two vehicles to pass ... and this is much wider than those that wind their way through the small villages.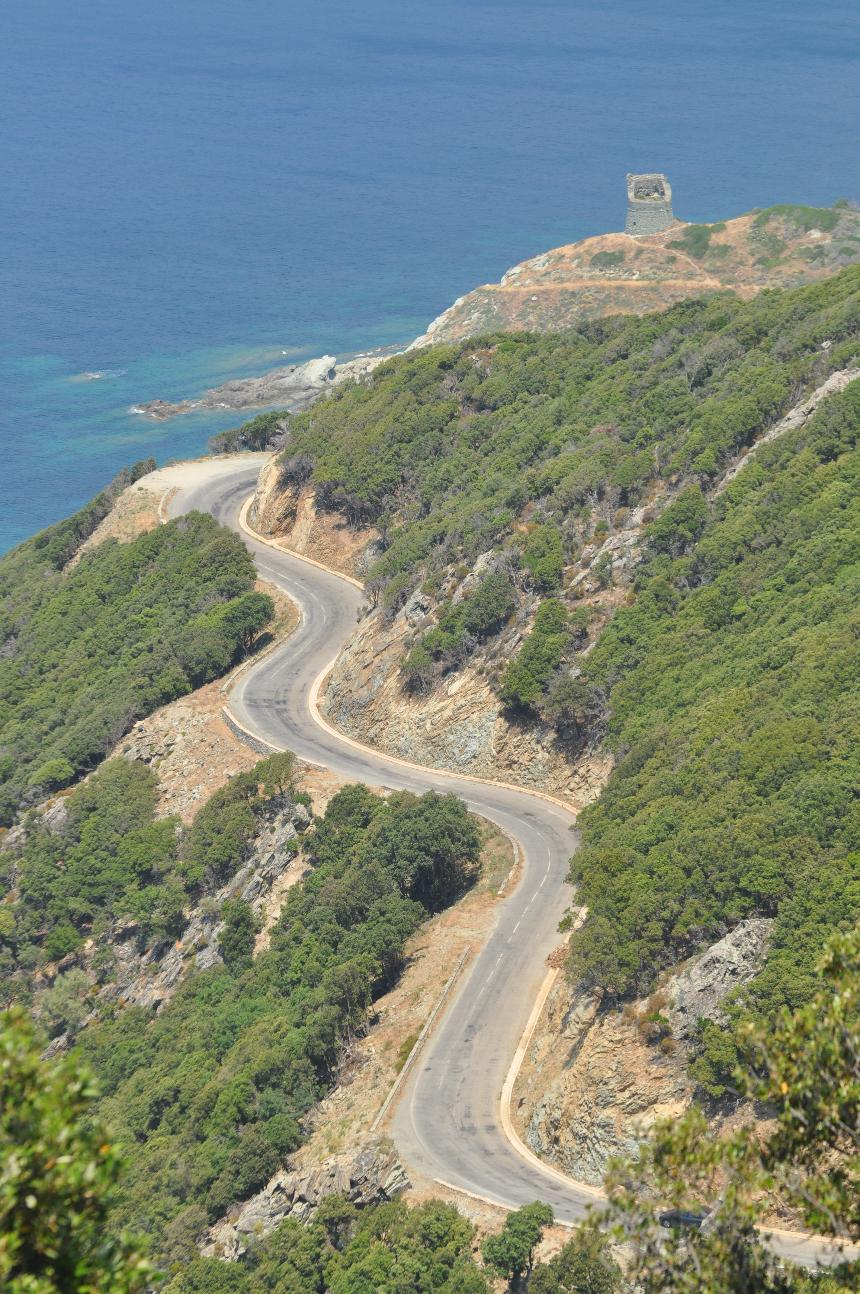 We stopped for a small lunch - a Salade Crousillant de Chevre - enjoying a panoramic view to the coast, another tower and the sea.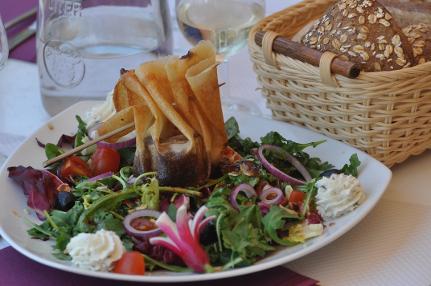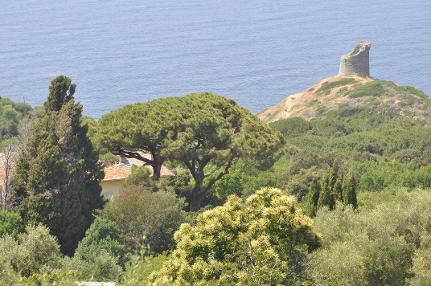 Enjoying a glass of wine before dinner.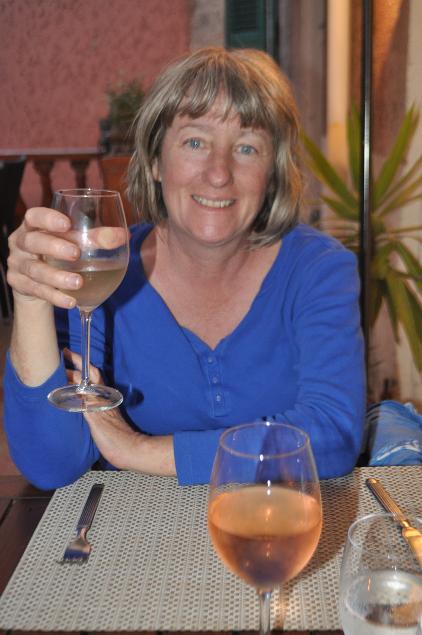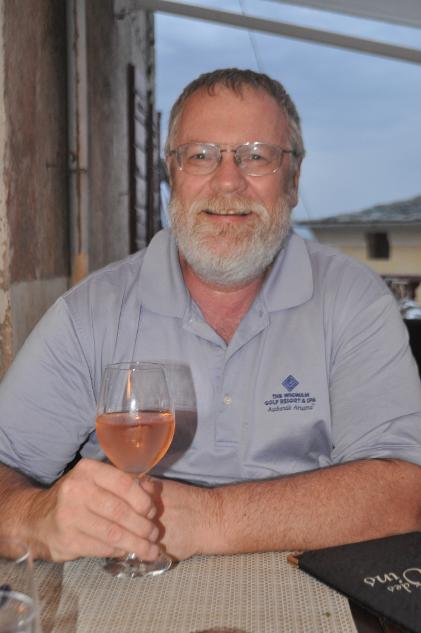 On the left is an appetizer just to get us going, i.e. provided gratuit of the brocciu pancakes topped with a scallop cream cheese. Then Gayle's first course of Beignets de fromage frais, or fresh cheese fritters. Her main was a Brocciu omelette with wild mint.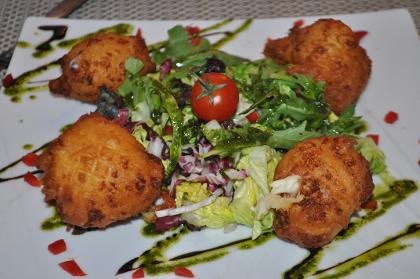 Corsica is a meat lovers paradise. Most everywhere serves an Assiette de charcuterie - a selection of meats accompanied by pickles, olives, bread and butter. Prices have ranged from 12 euros ($18 Cdn - tax and tip included) to this plate, the quality of which was superb t 22 euros. For my entree I had the Magret de canard au miel du maquis et au Cap Corse (duck breast with local honey and Cap corse - a local licquour).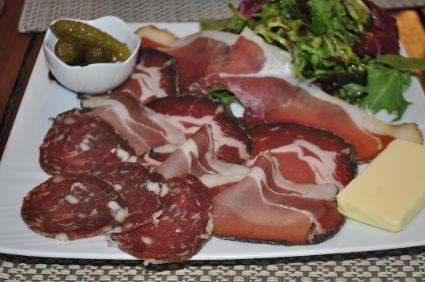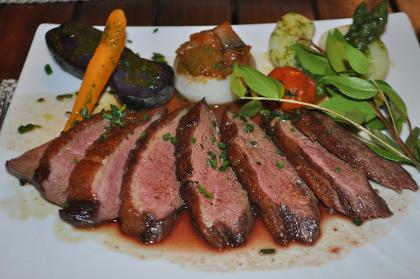 June 12 / 13, 2014 - Halifax to Montreal to Nice to Bastia, Corsica to A Casella, Vallecalle



Nous sommes ici! All our flights were on time, connections easy and the luggage arrived. Car pick-up was easy and we were soon on the road, in sunny but humid weather with a temperatures of 29 C. It was only a 20 km drive to our first stop - A Casella, in the small (and we are talking really small) village of Vallecalle. Guessing 20 or 30 buildings squeezed on the summit of a hill - with no services of any kind - no boulangerie, no epicerie, no nothing. A few locals and two bed and breakfasts. Our 'gites' was wonderful. Only three rooms we had the largest with a balcony looking up to the nearby mountains. Including a very nice french breakfast - croissants, coffee au lait, fresh juice, biscotti, great french bread, jams, honey the room was only 75 euros per night.- great value.

One really nice aspect and a further reason for choosing this particular place is that dinner is generally served to guests if they wish. Being our first night this was very appealing, eliminating the need to go out and find a restaurant. Although we were at a distinct language disadvantage (Cathy and Jean-Marc spoke virtually no English but fortunately a Swiss guest was reasonably conversant, keeping us informed and translating where need be. Dinner was superb, not only the experience of eating with the hosts and other guests but enjoying such great local food. After a champagne aperitif we were served a swiss chard/cheese torte, a meat pate, a salad and cheese filled pancake like thing, with wine of course. Gayle thought this was it but wait there was more - a stuffed aubergine that was so tasty it might get even me to try more eggplant and a local grilled Corsican sausage. But wait - there was more - a traditional local cheesecake for dessert, accompanied by cherries and finally an eau de vie liqueur to finish the meal. We slept well!


Our first sights of France - first the Cote d'Azur coastline from the plane and then, on the walk from Terminal 1 to Terminal 2 of the Nice airport a nice garden of lavender.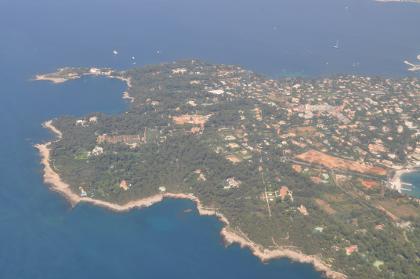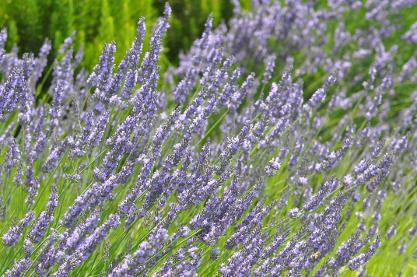 After a night of airline food and passing a boulangerie/pattiserie we just had to stop and grab a coffee and for Gayle a tomato pizza like bread and for me this olive topped, herb bread thing - all a very good start to our time in France.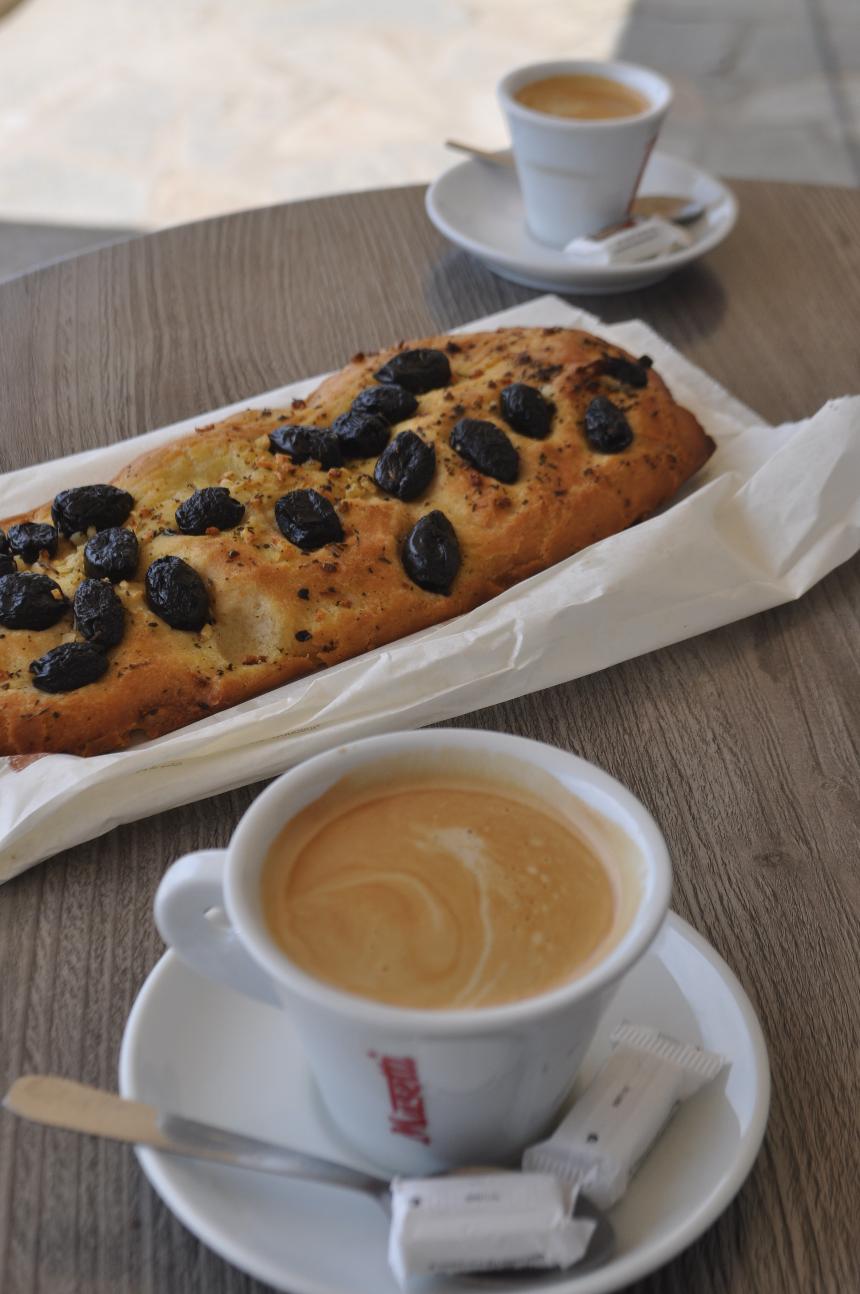 The view across the valley to the mountains from our balcony at A Casella, a great place to stay our first two nights.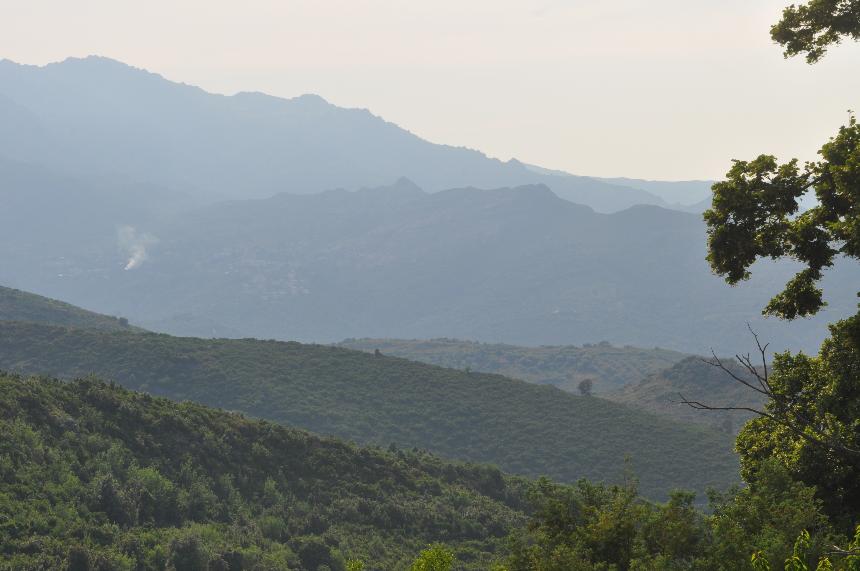 Intricately laid stone; old wood frames and doors - these buildings ooze history.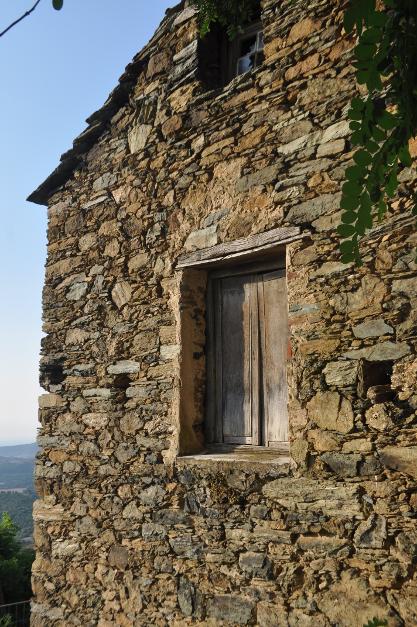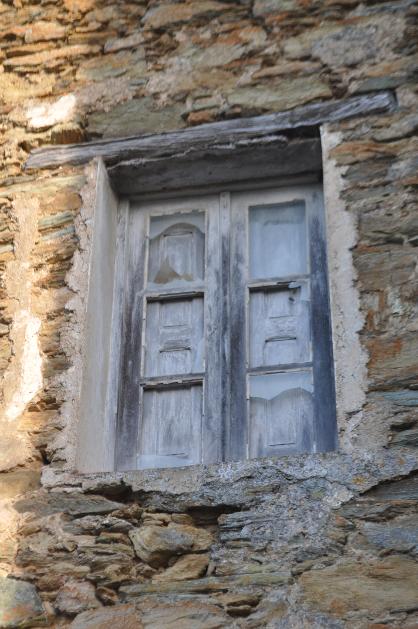 Old stone buildings covered with flowers are a common site in the tiny village of Vallecalle.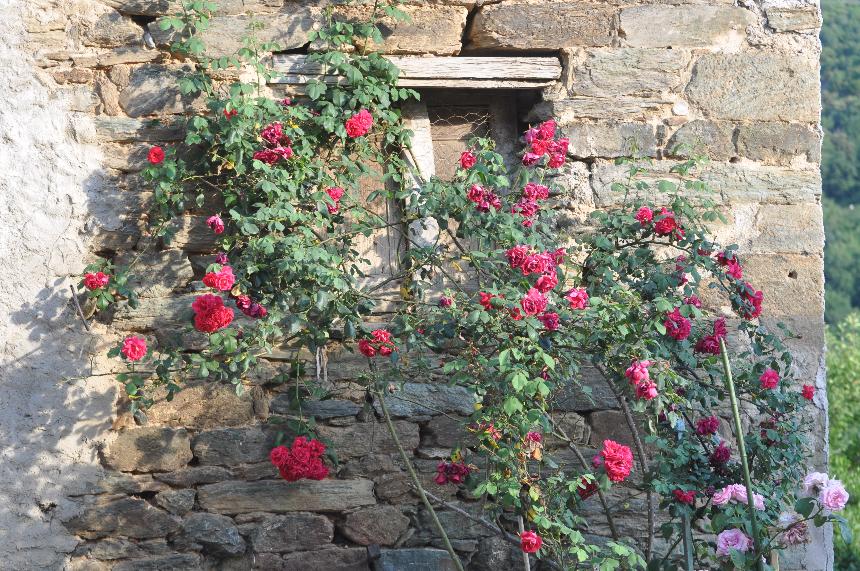 Cathy served dinner to the six guests including two from Switzerland and two from France. At left pouring the champagne as an apertif and right the group enjoying their first course (which was really four sub-courses).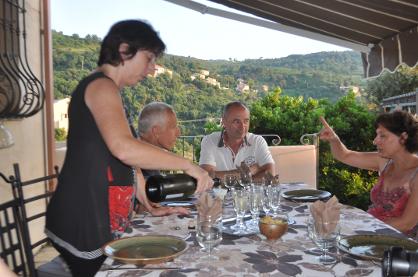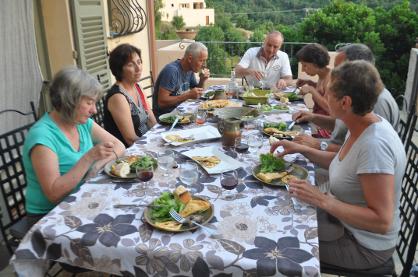 A pate of some (meat unknown) sort and a swiss chard and herb (dill or mint) torte with young goat cheese were only a couple of the 'appetizer' course. A fiadone (the local brocciu cheese) cheesecake with cherries completed a wonderful meal.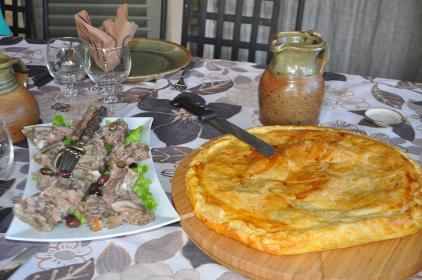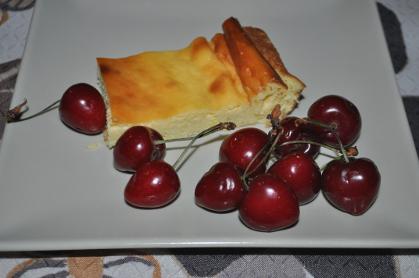 Our next journey is to the French island of Corsica for a week and a half and then through south-east France (Provence), again for a little over a week (June 12th through June 30th).
Air Canada now has a direct flight from Montreal to Nice. Then it is Air Corsica for a short 45 minute flight to Bastia, Corse. The logistics are of 'corse nice'.
It is our intent to try to keep the blog going and current, depending on internet availability.