Memories of Morocco
When planning the trip Gayle was particularly concerned with driving, given our desire to see some of the cities, the language barrier, reports of significant police presence, and lack of road signage. As a result we decided to go the way of a guided tour - private driver/guide for three weeks. This brought it's own concerns. It is fair to say we were a bit apprehensive as to how we would get along with a stranger for not a few days but three weeks.
In retrospect we had nothing to fear. Amar (Zola) was great. His sole goal was to 'Welcome us to Morocco', to make our trip informative but more important enjoyable. He took it upon himself to understand our travelling preferences and adapted the trip appropriately, e.g.
we are not ones to rise early, eat breakfast and get on the road to see more stuff. Even when we agreed to meet at 10:00 Amar knew we wouldn't be ready. He never rushed us but rather worked with our schedule

we don't particularly like staying in cities, preferring the rural areas. In two cases Amar switched our riads/hotels to others outside of town. In both cases we were very happy with the place Amar chose.
Having a guide provided a wealth of information – not only about the geography and history of Morocco and nearby countries but about Amar and his life, born a Berber nomad. Amar is a careful and cautious driver who knows the system. He saved us so much time and aggravation by knowing where to park, how much to pay, where the police were located etc., all things that would have been enormously frustrating. That said we met others who were driving themselves and did not indicate any major issues. But the amount of time they must have wasted and the places they would not have gotten to or experienced would have been many. Of course hiring a private driver comes at a cost. We estimate it cost an additional $4,000, which when you think of it is not unreasonable. Given the out of the way experiences, the personal knowledge and the convenience it was very well worth it.
And Amar made our trip. He was a wonderful guide and person. He made everything easy. We enjoyed a lot of laughs, especially the whole pink toilet paper routine. Realizing we will likely never see Amar again, after three enjoyable weeks of his company it was somewhat sad and emotional saying good-bye.
Nearly four weeks in Morocco. Here are our most vivid memories
the abundance of camels roaming like nomads

our camel ride to the overnight desert camp

the dramatic landscapes

the large sand dunes

the quirkiness of Dar Infiane with the short doors

dinners at Dar Seffarine

Berber pizza

the peace, tranquility and service of Riad Al Bushra

chatting with Ali and Mohamed at Riad Zyo

views of the desert and dunes from Riad Madu

being away from it all at Riad Nowhere, er Riad Nomad

the sweltering heat at Riad Nomad and the consequent experience of sleeping outside under the stars; Gayle seeing shooting stars and a meteorite (I of course was sound asleep)

the hospitality (and mountain tea) of Mohamed at Riad Tamdakhte

the shepherds and their sheep / goats / camels

the numerous mules still commonplace

Amar enjoying his mid-day grills, or as we called them Ber-B-Q

negotiating (not necessarily a fond memory)

fresh orange juice everywhere

mint tea

the spectacular coastline north of Agadir

goats in trees

people still living in caves

watching a well in the desert surrounded by camels be cleaned out

having Amar make tea near the painted rocks

being a pedestrian crossing the streets in Marrakech

the scooters and bikes in the Medina of Marrakech

the running gags related to the pink toilet paper

the mules and carts in the narrow winding covered maze of the dark Medina of Fes

the frustrations at not being able to take photos – either because Amar was driving and I generally couldn't control when we stopped but more so the often unwillingness of people to be photographed

the paranoia of most at having their photo taken

tagine … and more tagine … and more tagine

the artisans – from jewellers to tool makers to carpets and on and on

the sandcastle like Kasbahs

the abundance of seafood in Essaouira

the Gnauoa music

intricately carved plaster ceilings and walls

competing calls to prayer – especially very early in the morning

North African music Amar played in while on the road
As expected we struggled at times – both of us being sick. I encountered stomach issues and both of us had colds – coughing and sniffling. But as we review the photos and the travelogue we have many fond memories.
Is Morocco more difficult to travel than European countries? Yes. It is certainly more difficult to drive near the larger cities due to the volume of pedestrians and other traffic, most of which disregards the concept of lanes. The main roads are generally good but to really experience Morocco one needs to drive off-road (in the mountains and the south) where in places 'roads' don't even really exist and signage is sparse.
In some places English would be a problem – a little French is needed assuming one cannot speak Arabic. The consistent pestering by shop owners and the culture of handouts is frustrating and at times depressing. But the varied landscapes are impressive. The food is different / interesting (although the tagines can get repetitive). The accommodations/riads are often special – both from an architectural/craftsmanship perspective, and the hospitality of those operating them.
Of course having a private driver with a monster 4 x 4 - very necessary for the off-road places Amar took us - brought with it increased cost. Given the package it is a bit difficult to separate costs. However we can isolate our accommodations, The average cost (based on the euro at $1.48), was $130 Cdn, in all cases including breakfast. Given the quality of the places we stayed, a number of room upgrades and some of them, e.g. Fes and Marrakech being in major cities we felt this was excellent value. Given the significant breakfasts most days (except when Amar stopped for a grill) we would not eat lunch. The average daily cost for dinner, occasionally including a glass or half bottle of wine, was approximately $40 Cdn.
While travelling on one's own is rewarding it can at times be stressful. Driving in a foreign country, making decision after decision, e.g. where to eat, what to see/do, where to park has its challenges. We certainly enjoy the freedom and flexibility of travelling on our own - stopping when we want, taking a detour here or there, taking photos etc. we do acknowledge that, while at a cost, the benefit of having everything logistically looked after greatly reduces that stress, particularly in a culturally different country. Although not often, during other do-it-yourself trips at times I may have perhaps been a little bit frustrated or angry. But not this time. Here in Morocco I was, as you can see 'No mad Norm'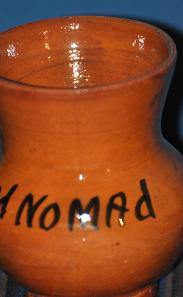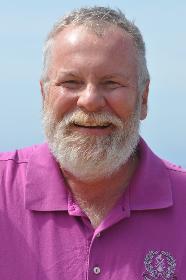 Will we race back to Morocco? Likely not. But are we glad we went and experience what Morocco has to offer, much of which was quite different from our other travels around the Mediterranean? Absolutely. It was a very rewarding and enriching trip, full of different experiences.
"Welcome to Faces of Morocco"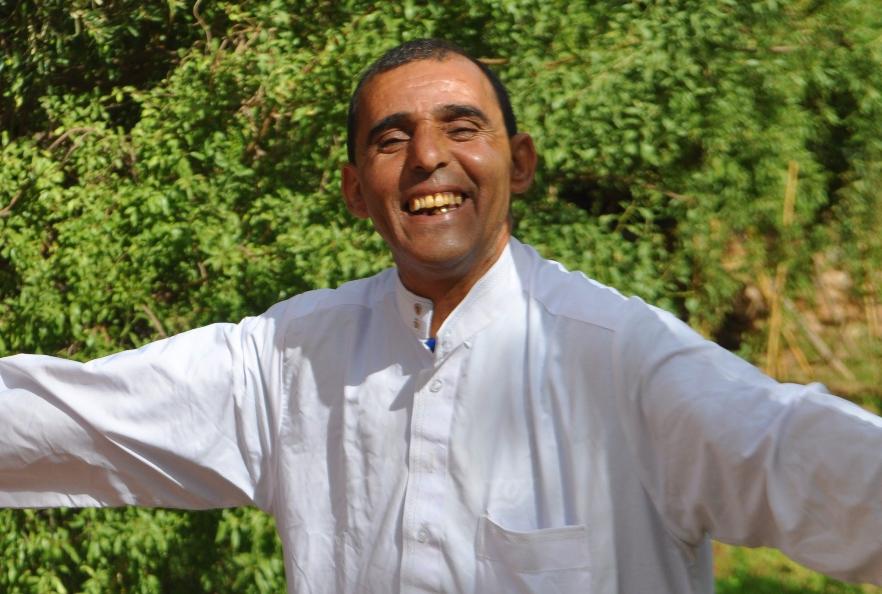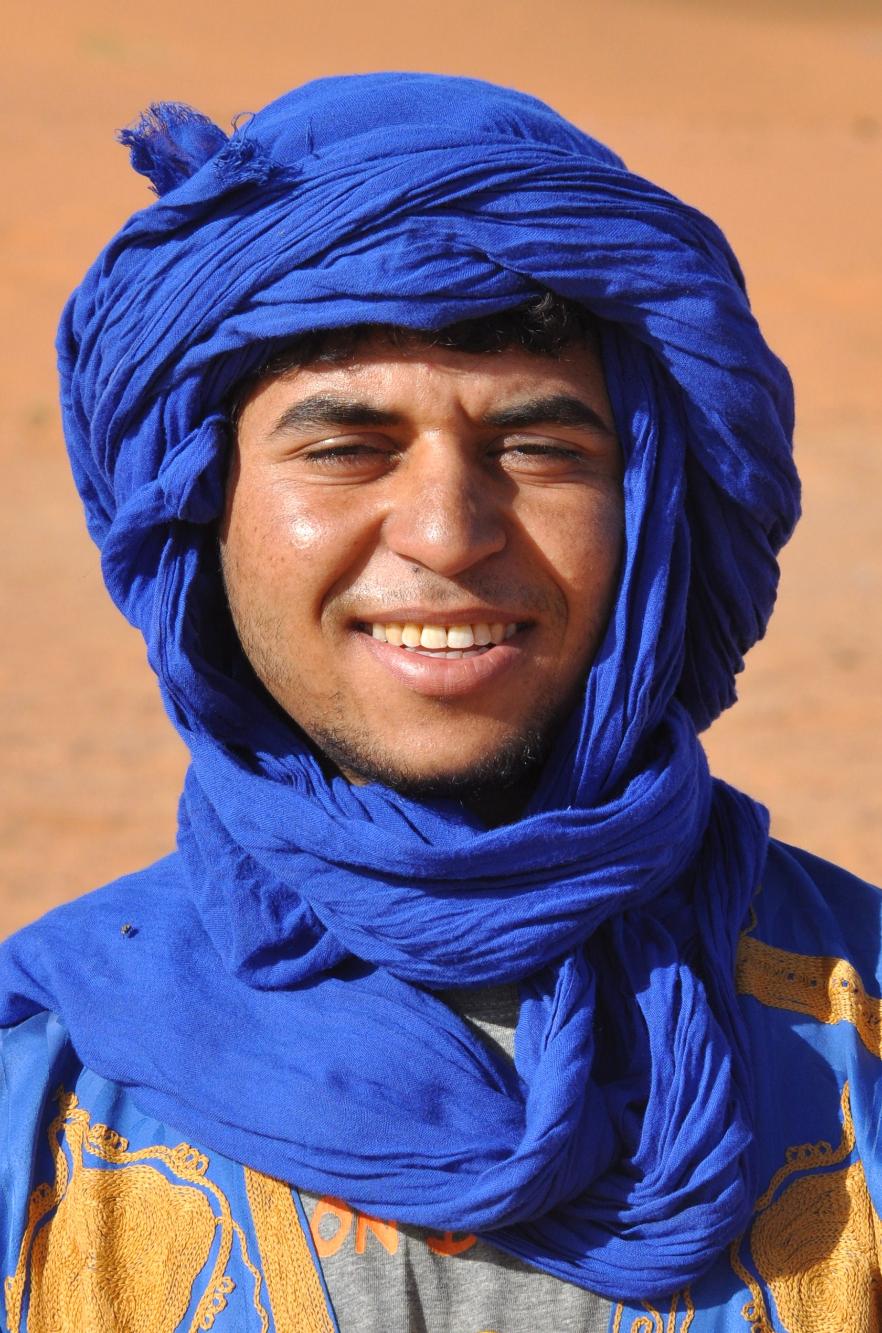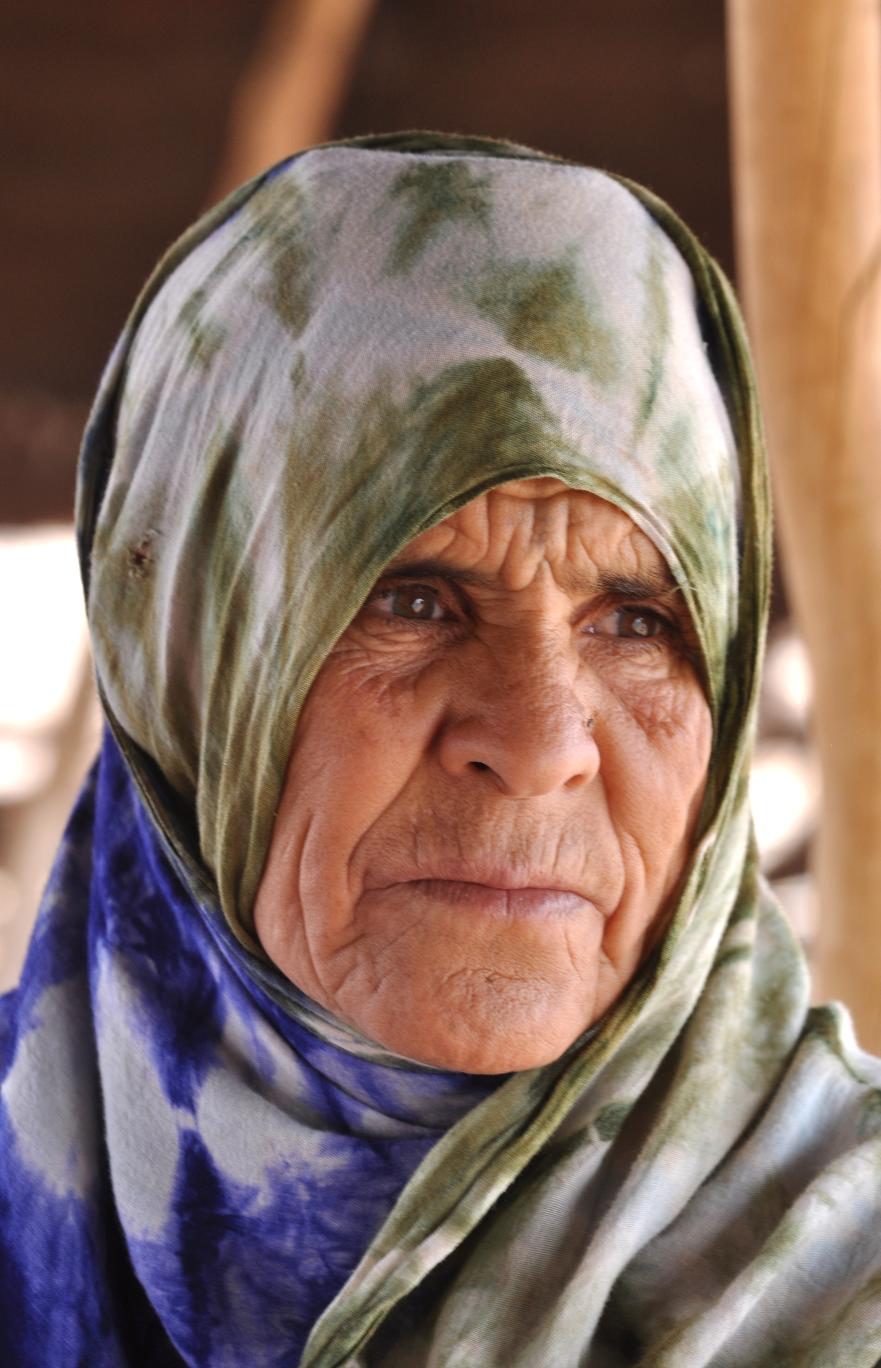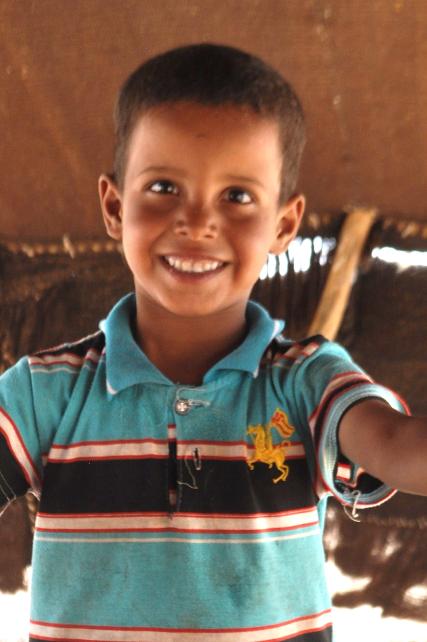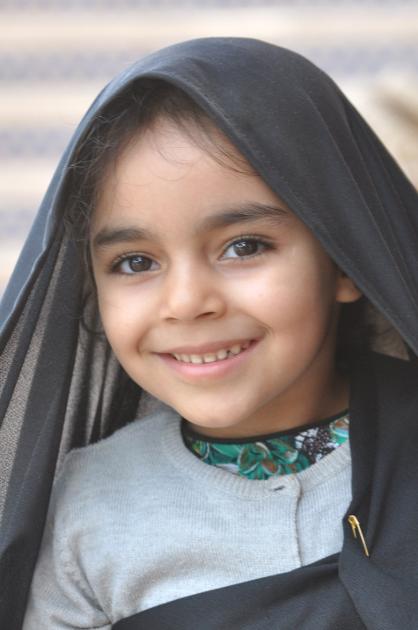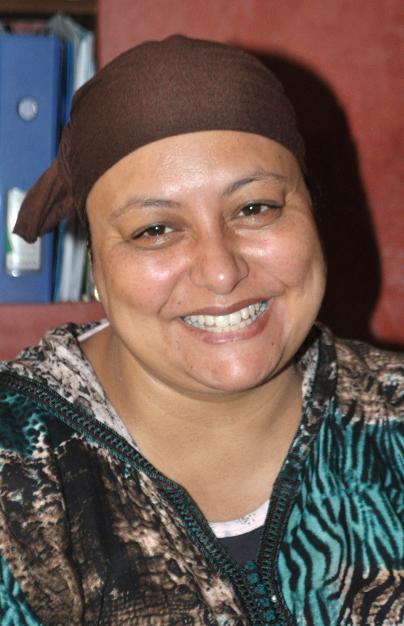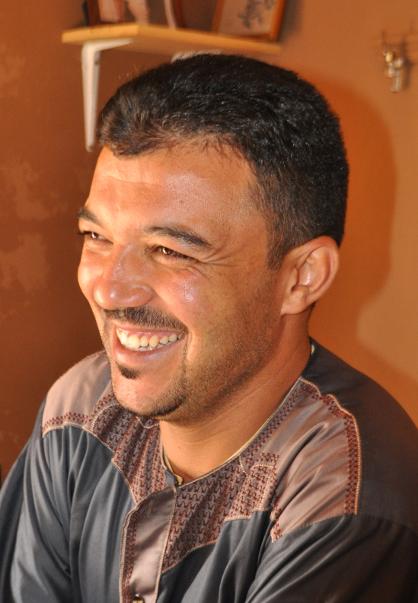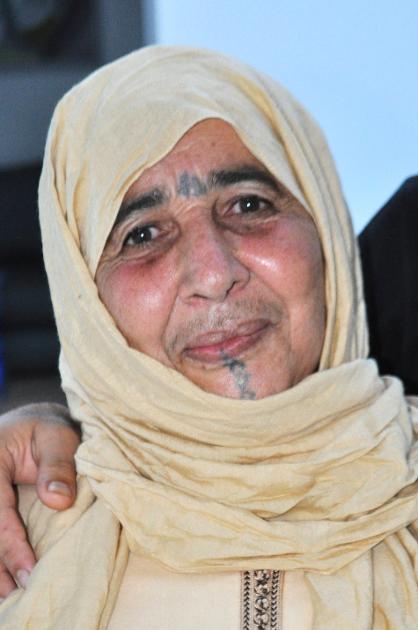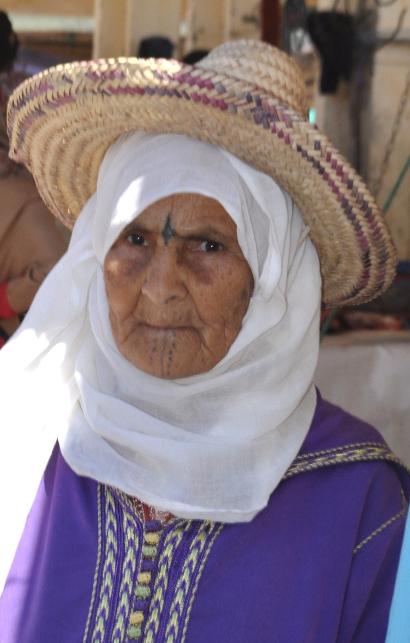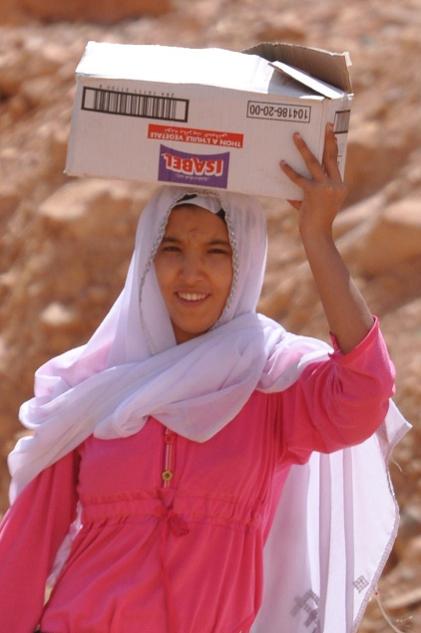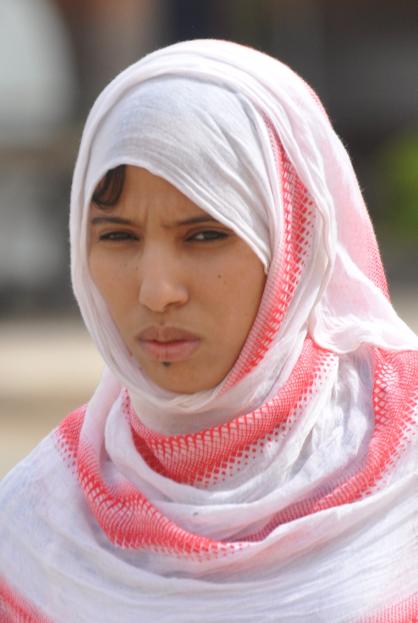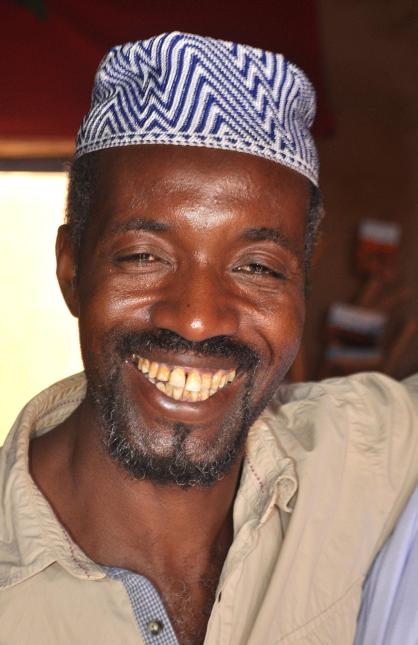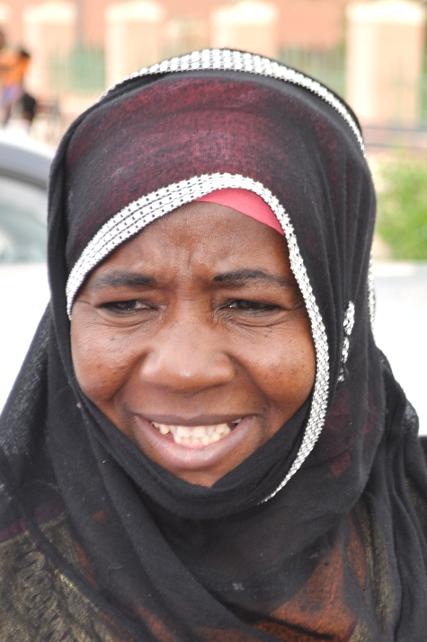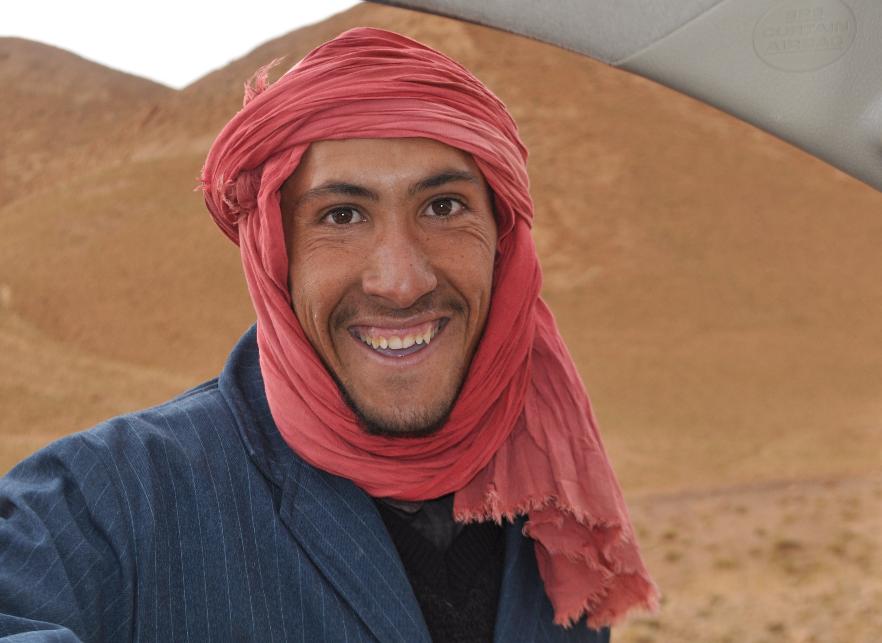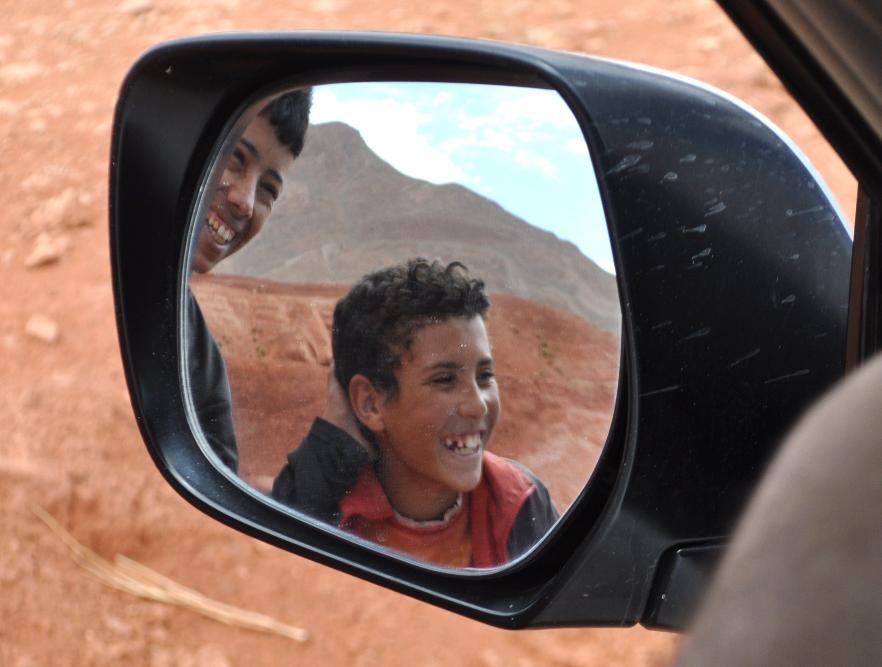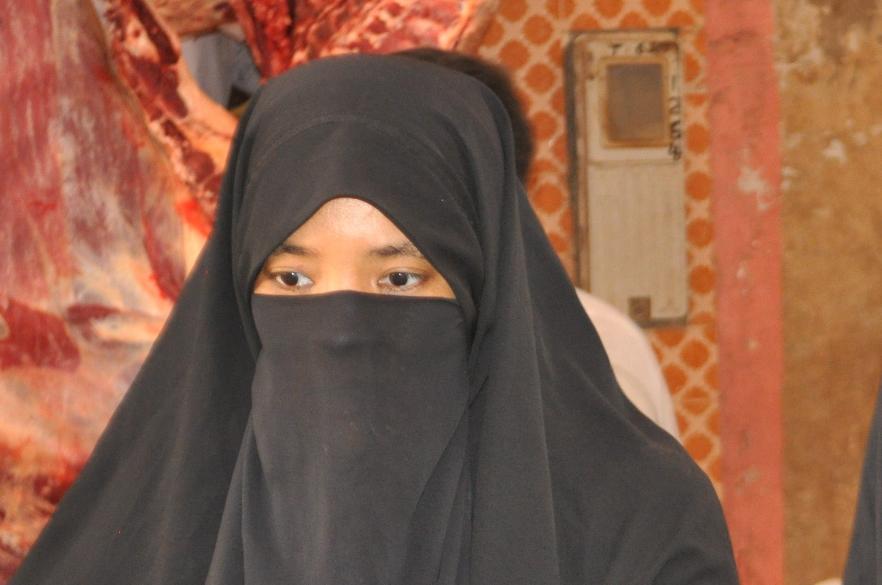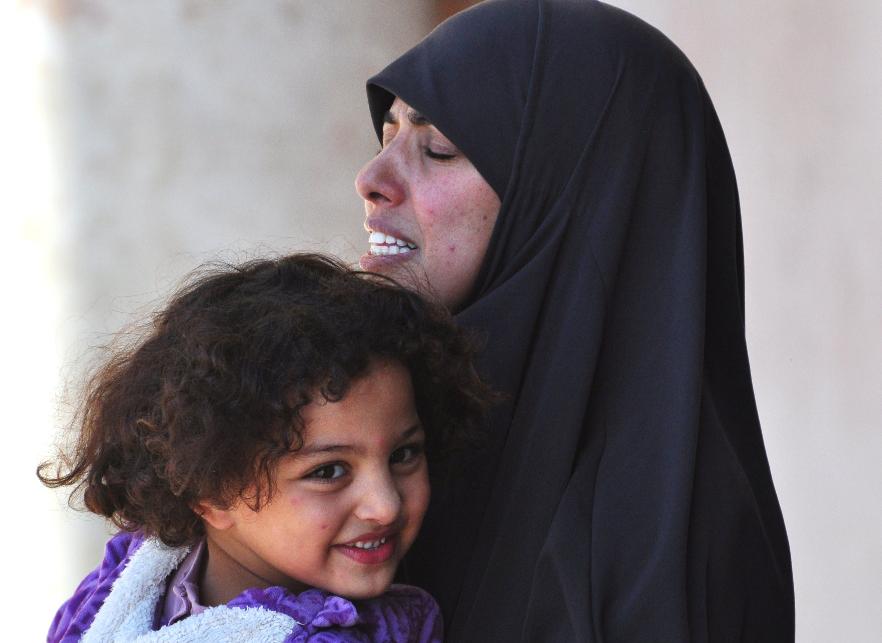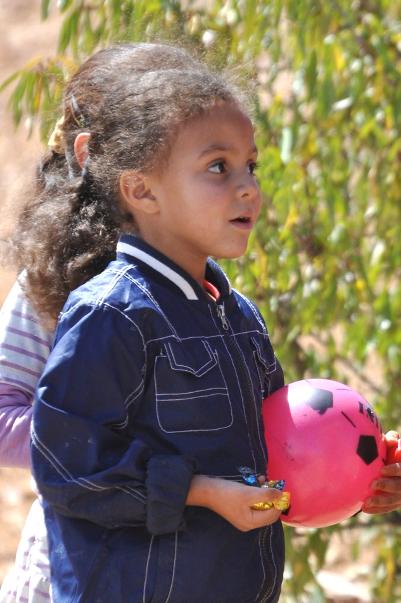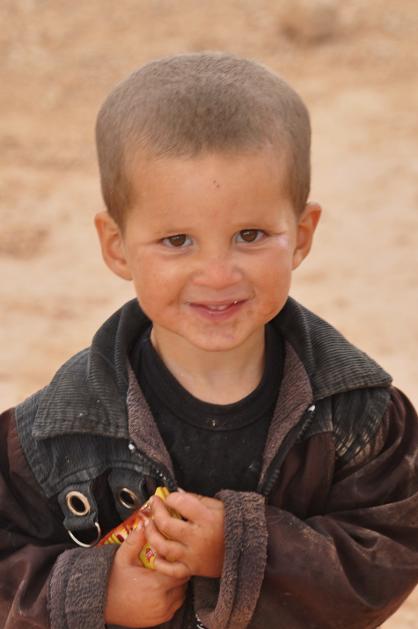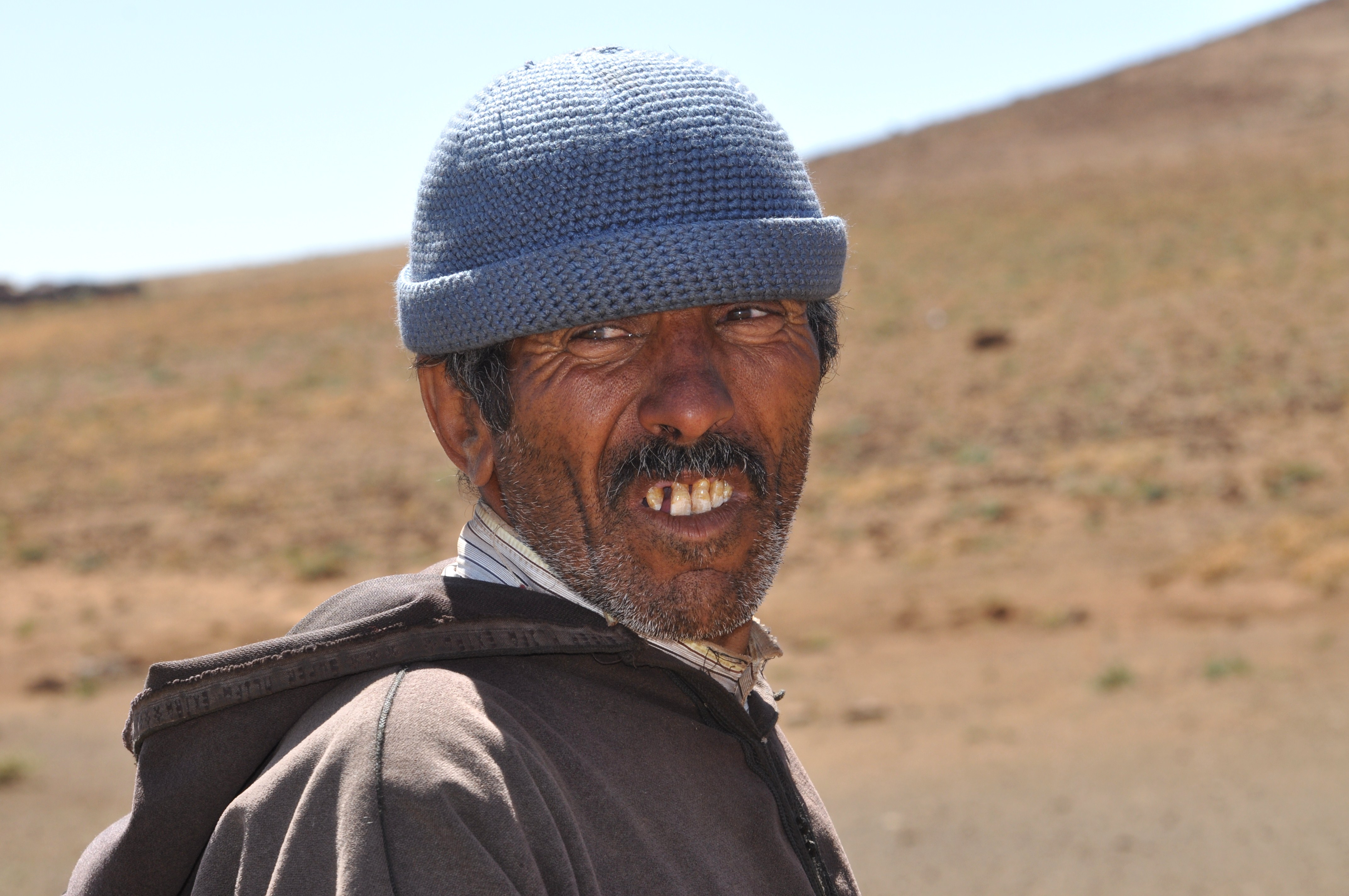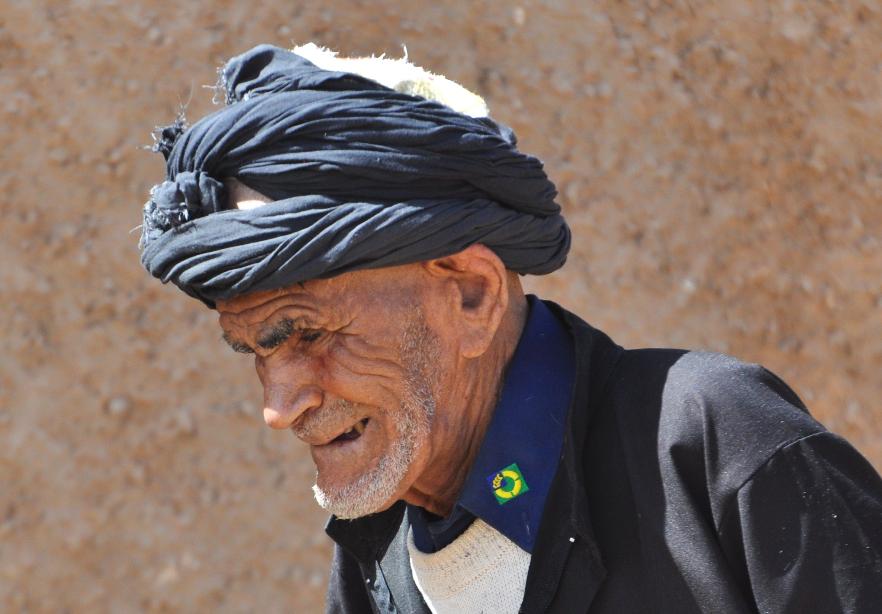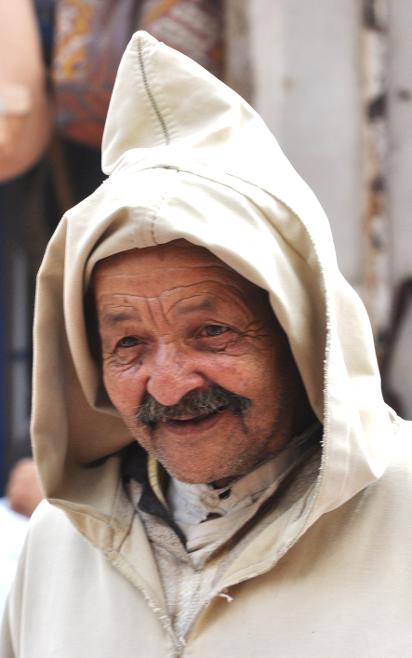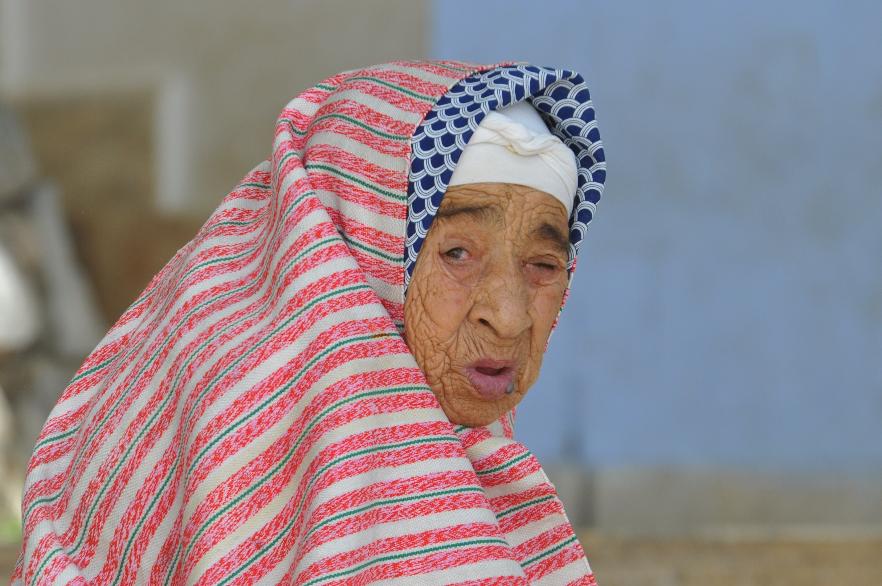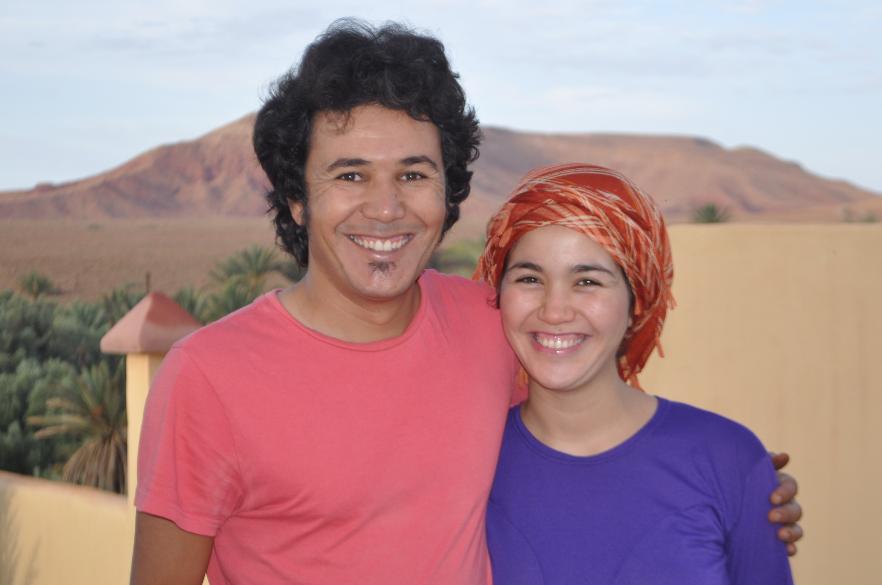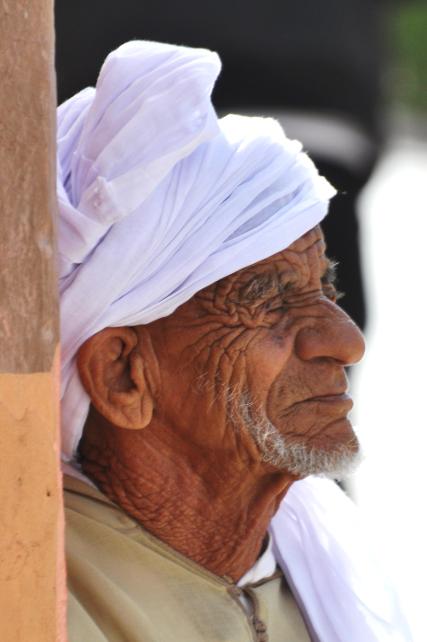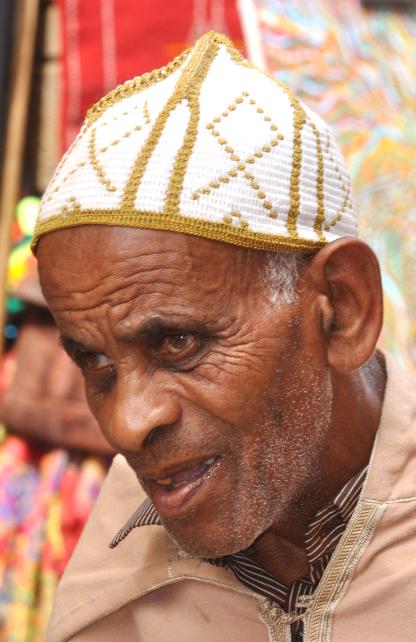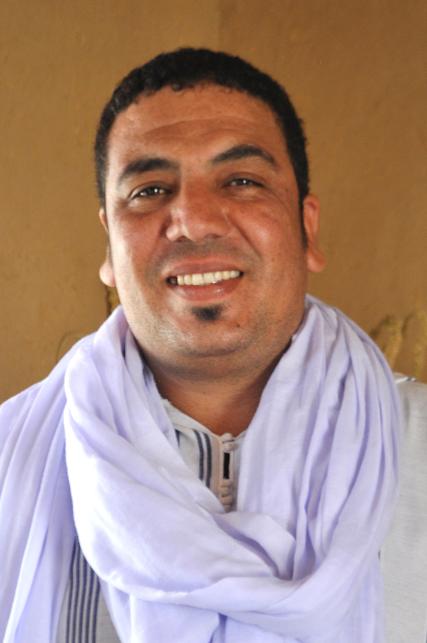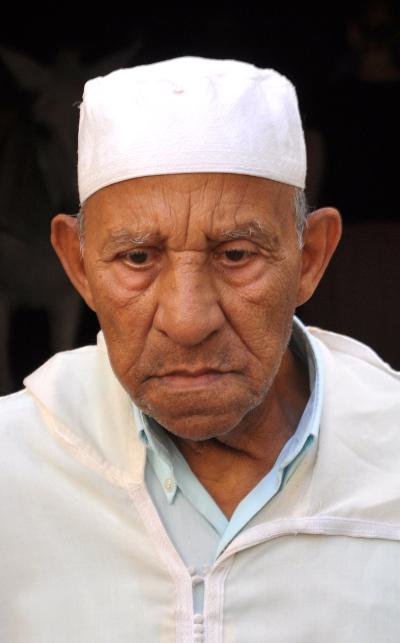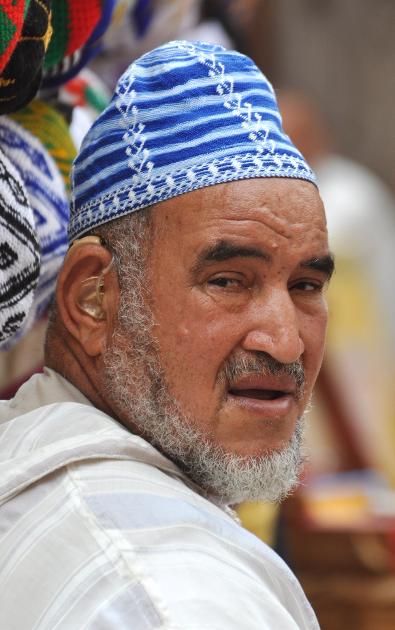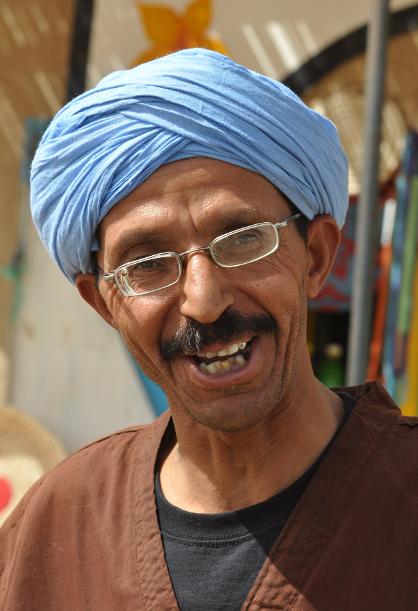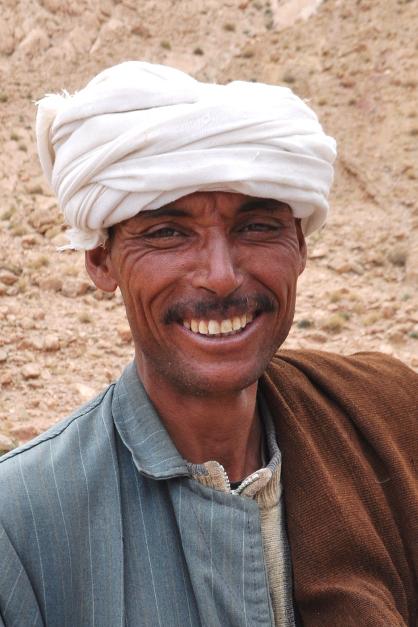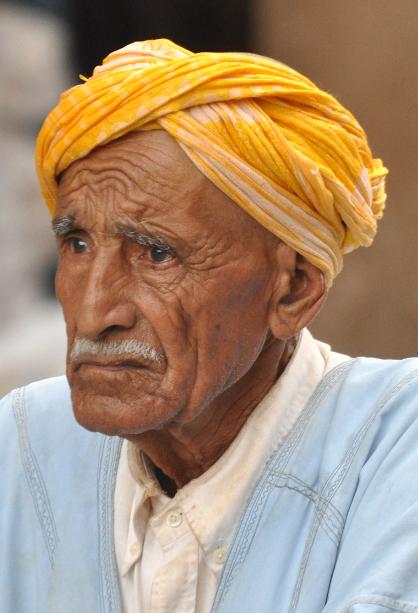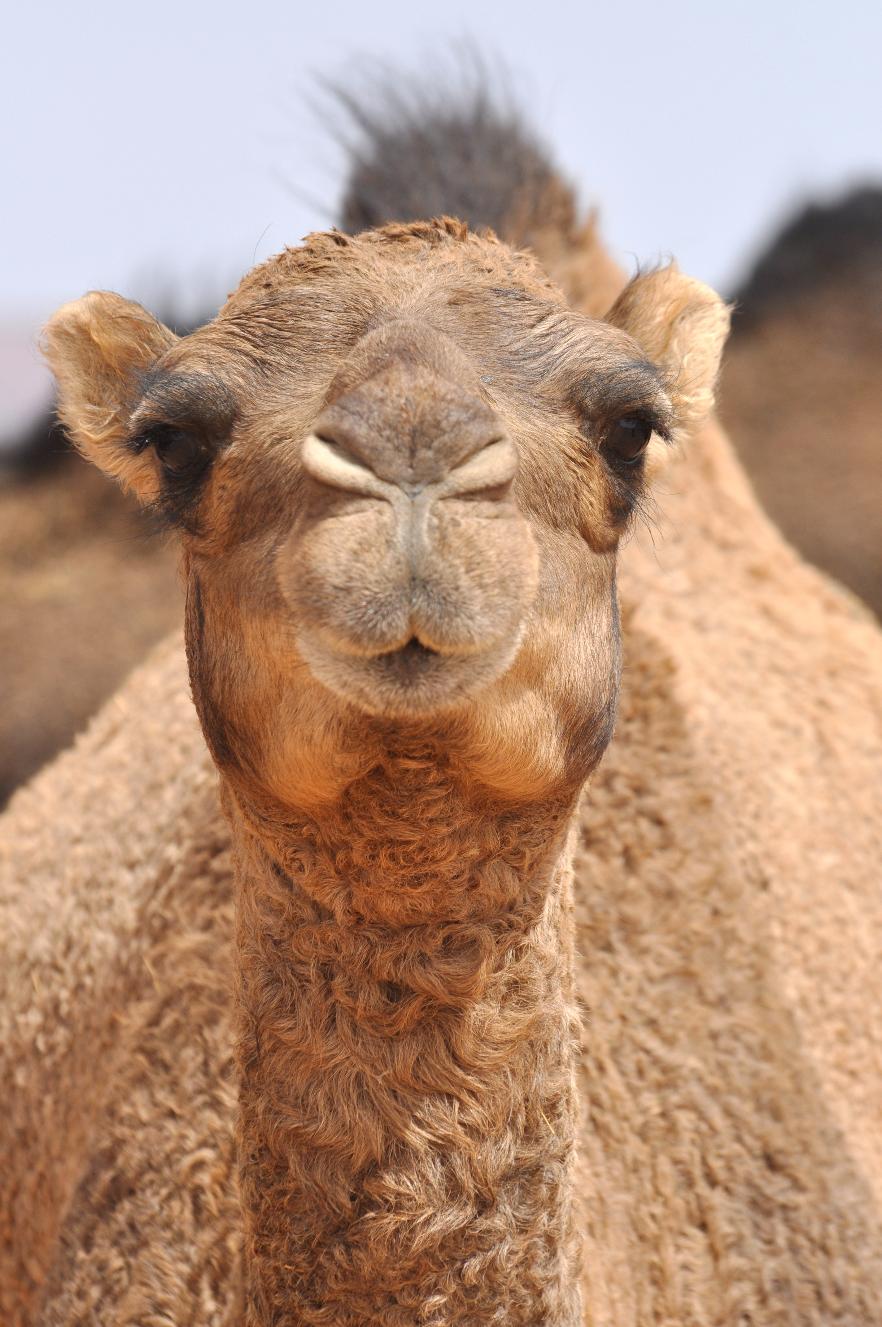 October 07, 2015 - Riad Al Bushra, Marrakech

Our last day in Morocco. Steve told us if there is one thing to see in Marrakech it is the Majorelle Gardens. Given Gayle's interest in gardening it was a no-brainer that we would at some time visit the gardens. It was about a 45 minute walk from our riad, the first half through the Medina – an interesting walk until outside the walls where one encounters larger roads, tons of traffic – both pedestrian and vehicular, apartments, businesses etc.
However immediately upon entering the Gardens one quickly understands why this is the number one tourist attraction in Marrakech – an oasis of peace and tranquility in an otherwise crazy environment. The garden is not particularly large which makes it easily doable. In spite of being crowded – it is popular – there are numerous benches along the paths bordered by bamboo, ponds and an extensive cactus garden. As well there is a superb Berber museum providing an excellent display of the Berber culture, including a well produced video of Berber villages and people.
Rather than walking back we decided to take a taxi in order to spend more time in our Riad rather than walking the same route. Back to negotiating. The first price was 50 dirhams. We were insistent on 20 dirhams. Progressively we were offered 40 dirhams so walked away, then 30 dirhams and therefore continued to walk and finally got our 20 dirham rate (which subsequently Steve told us was still excessive). But we got back quickly which was nice – worth every dirham.
For a large major city finding a decent restaurant at a decent price turned out to be quite difficult. There were a number of options but generally fixed menus at a cost of north of $150. Given I was still not feeling great and Gayle not that hungry we ruled these out quickly. We ended up at Restaurant Nomad, which seemed appropriate given our trip. I had some mediocre lamb kebabs while Gayle had a nice vegetable plate. We finished with a shared piece of orange cake for dessert after which we returned to the tiad to finish packing for our early morning departure.

Alleys in the Medina, often twisting and turning to create a maze.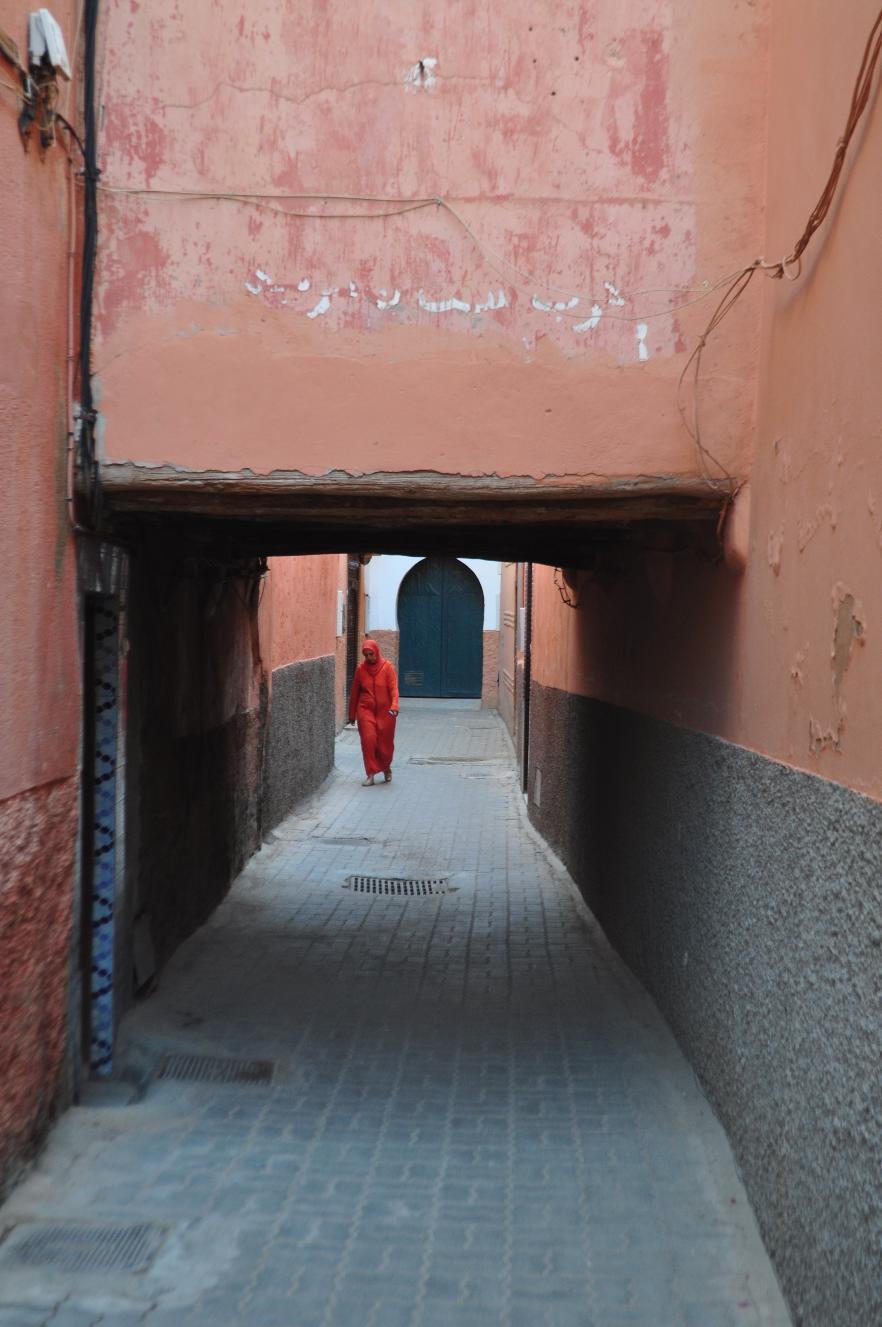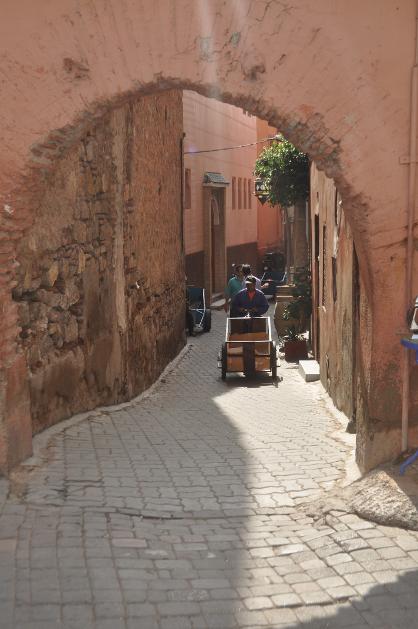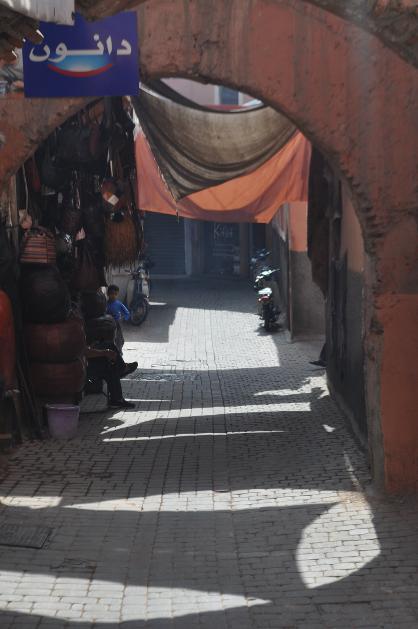 Bread, fruit and spices in the Medina.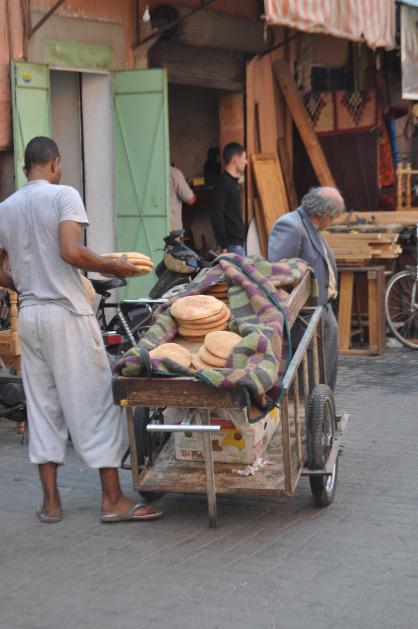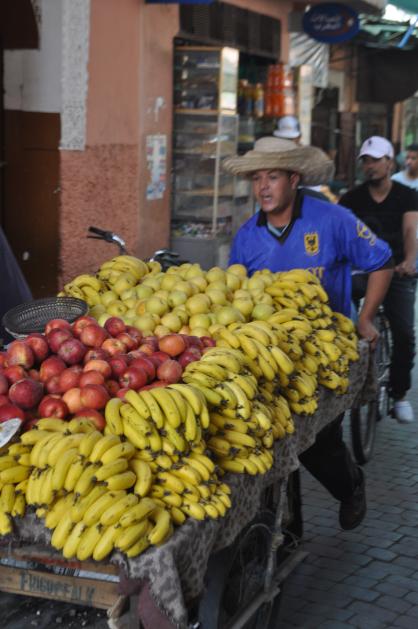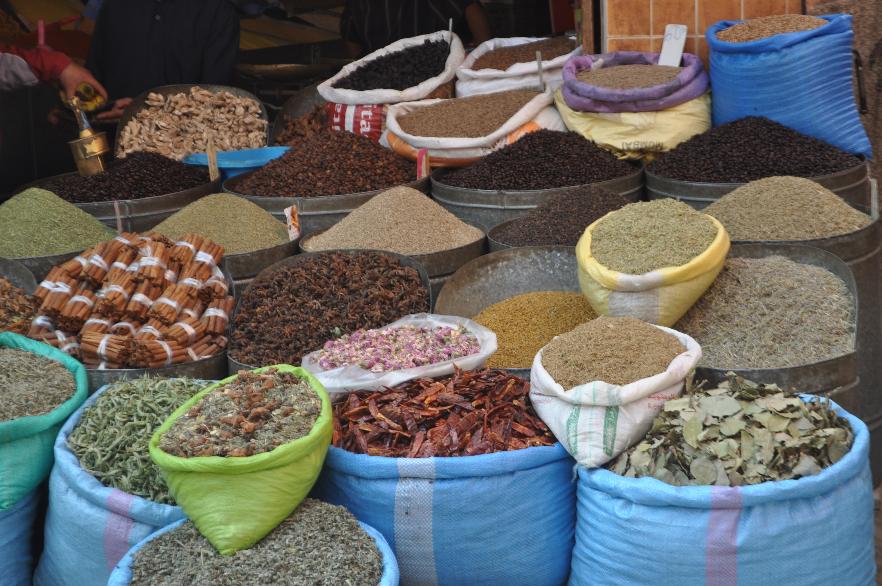 Bamboo 'forests' at the Majorelle Gardens.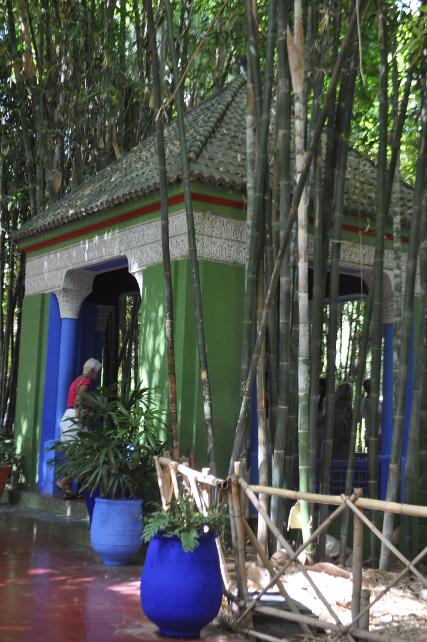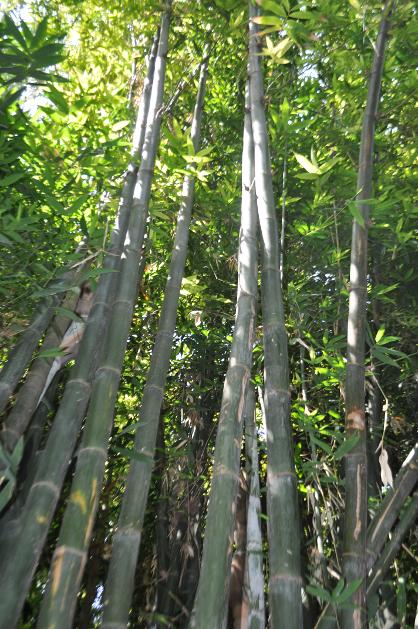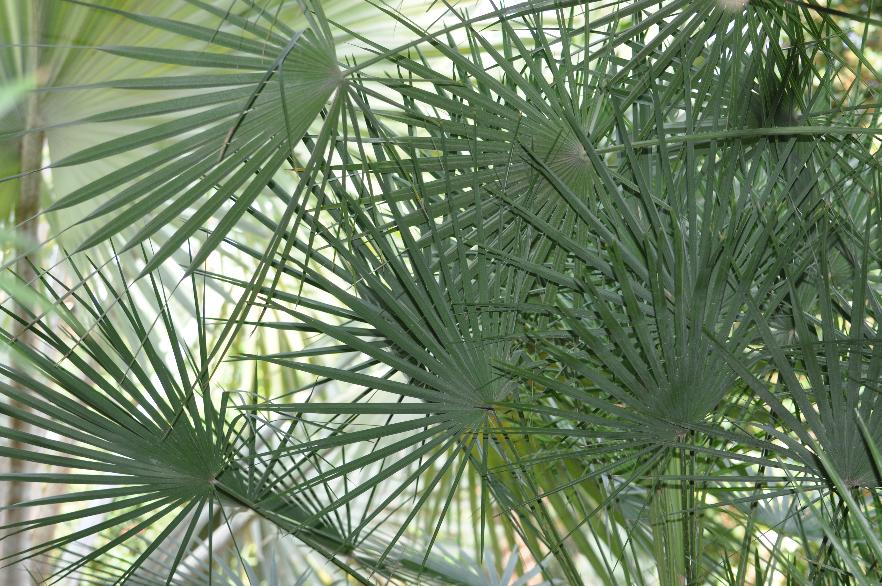 Cactus gardens at Marrakech's Majorelle Gardens.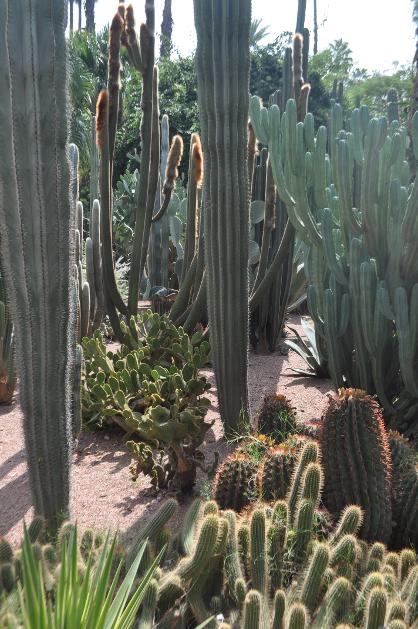 Intricate plaster work at the Gardens.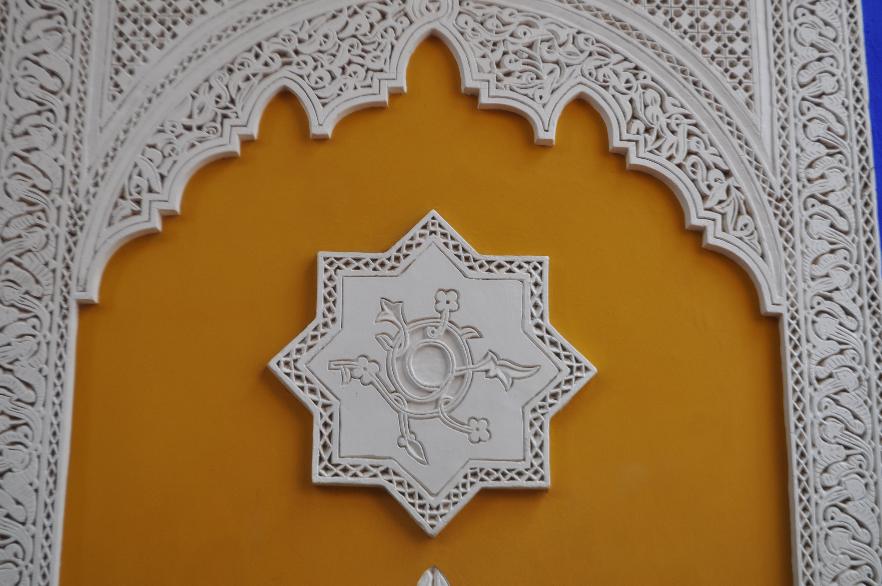 The hand of Fatima door knocker on the front door to he Riad Al Bushra.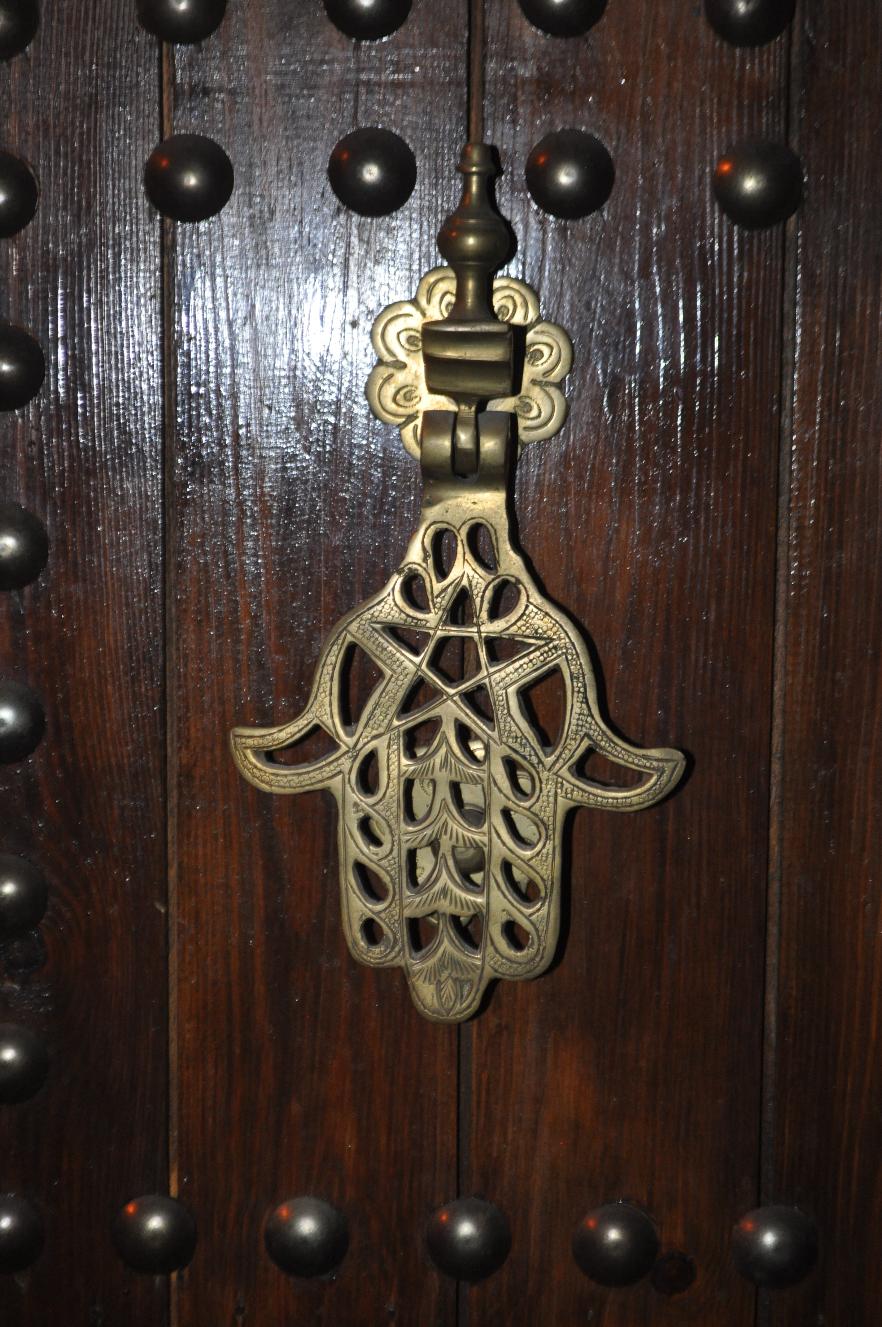 October 06, 2015 - Riad Al Bushra, Marrakech

So in theory we planned on one day to re-energize ourselves. In practice it took longer. Again most of the day was spent relaxing at the riad, which actually is a pretty good way to spend a day. A leisurely breakfast, enjoying the tranquility of the Al Bushra (meaning 'good omen'). With my cough persisting Steve made me a large pot of tea, served in a totally appropriate camel teapot.
Again it was late afternoon before we went out to explore the Medina and souks. Wandering through the souks is an interesting, and at time frustrating experience. On the one hand there are all kinds of items to purchase – leather, jewelry, wood products, lights, copper, ceramics, clothing, food, particularly dates, etc. On the other there is considerable pressure and hassling from the sellers at each of the stalls. If one shows any interest whatsoever the sales pitch begins, one that is often very difficult to extract oneself from. Of course one never wants to be rude, but in having to say 'no' a gazillion times, often to the same vendor it too often feels as if I was. You try to smile but at times it is difficult when you feel hassled and the vendor is over the top persistent.
This time we did get a bit twisted but eventually found our way to the Jemma el-Fnaa, Marrakech's main square. The square is full of people – everywhere. This is where the snake charmers do their thing. The 'show' is so tightly controlled it is virtually impossible to even take a photo without forking over some dirhams, which I was unprepared to do. So no photo – no big deal.
We left the crowded square walking another half hour to Café Clock, a restaurant that serves – yes, camel burgers. We found a new use for mint – as in mint lemonade, surprising tasty. In addition to the burger I had a carrot/orange soup while Gayle had the fig/blue cheese salad. We walked the 45 minutes back to the Riad, experiencing the streets of Marrakech at night. We always felt safe in part due to the considerable number of people on the streets (between 9:00 pm and 10:00 pm).

Our room - beautiful plastered ceiling, traditional light fixtures and a chiseled headboard.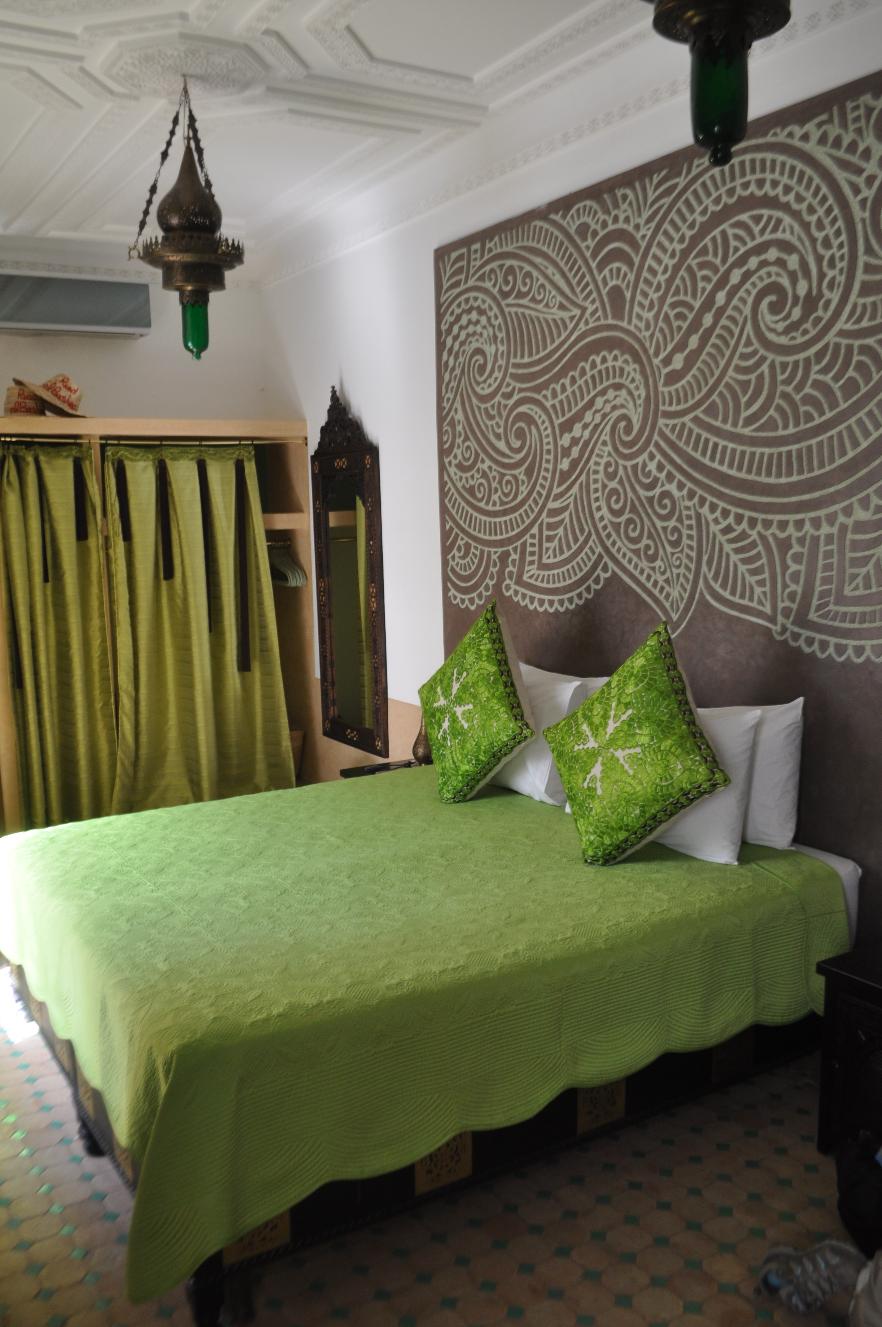 The courtyard of Riad Bushra.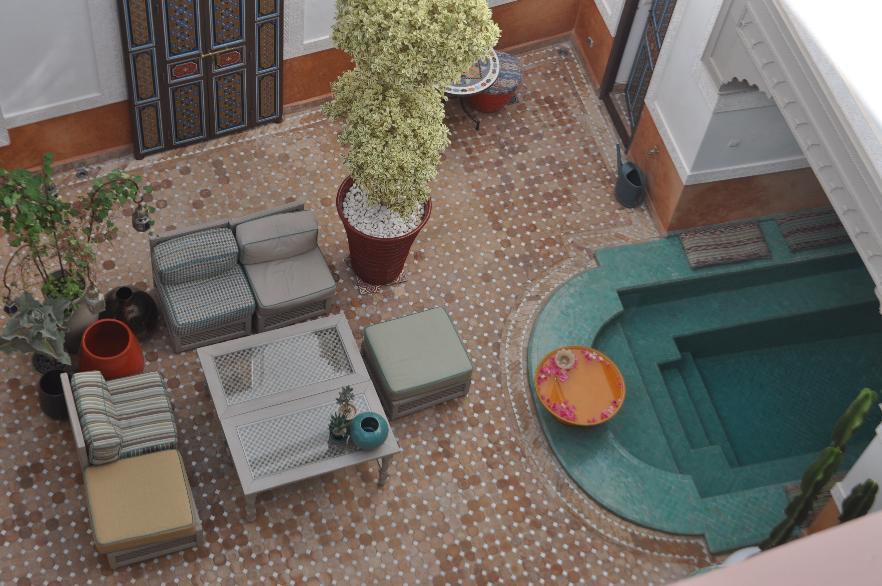 Afternoon tea - mint for Gayle and regular for me in a classic camel teapot.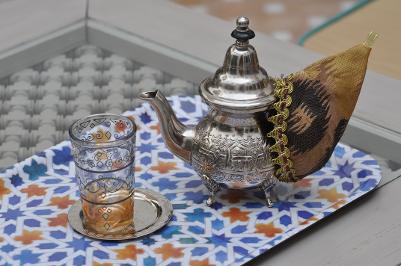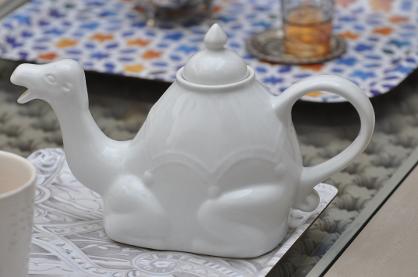 A mule in the Medina just outside of Riad Bushra.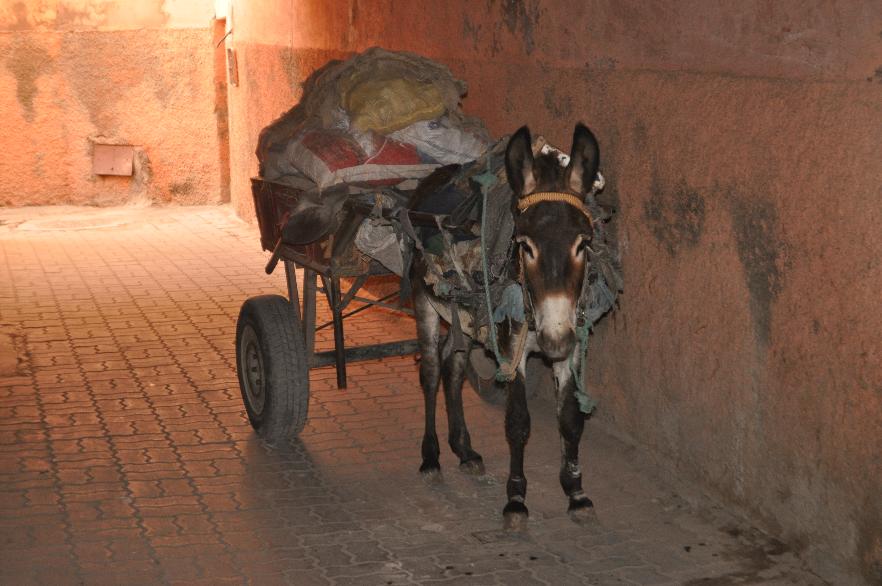 Fruit, nuts and dates in a market stall.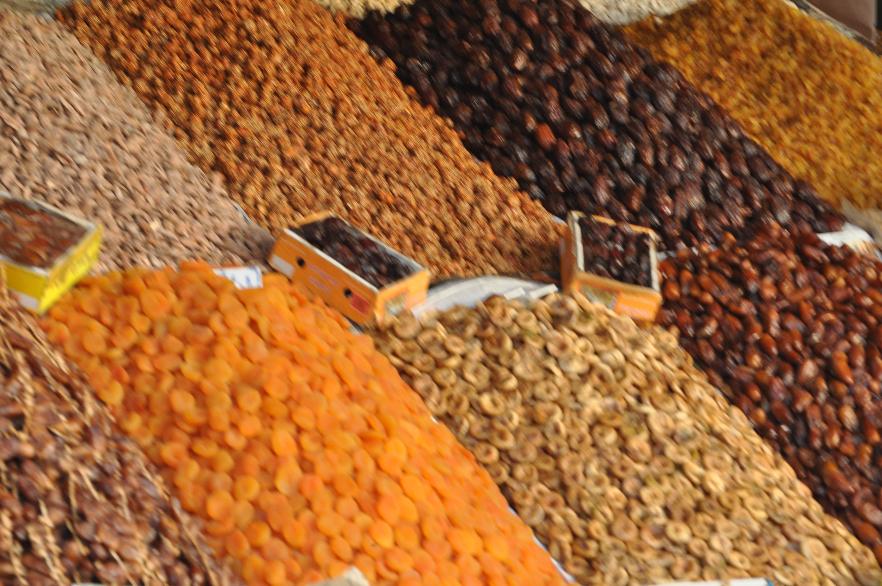 The 12th century tower in Marrakech.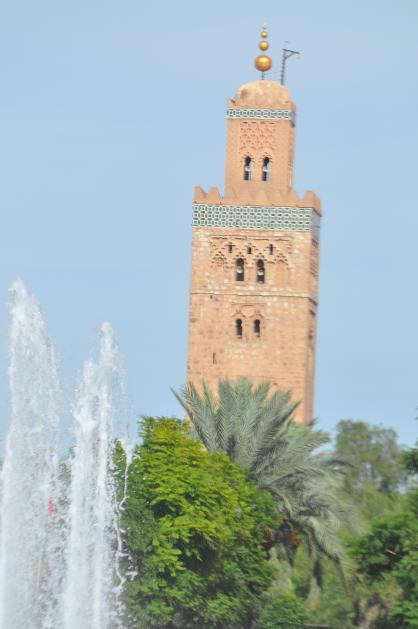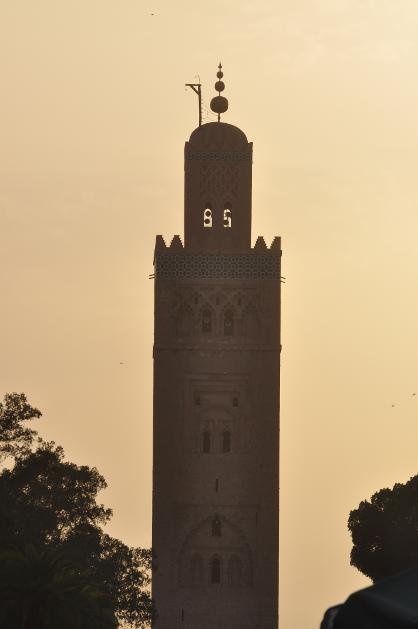 Mint lemonade (extremely refreshing and good) and orange juice (also extremely tasty and good).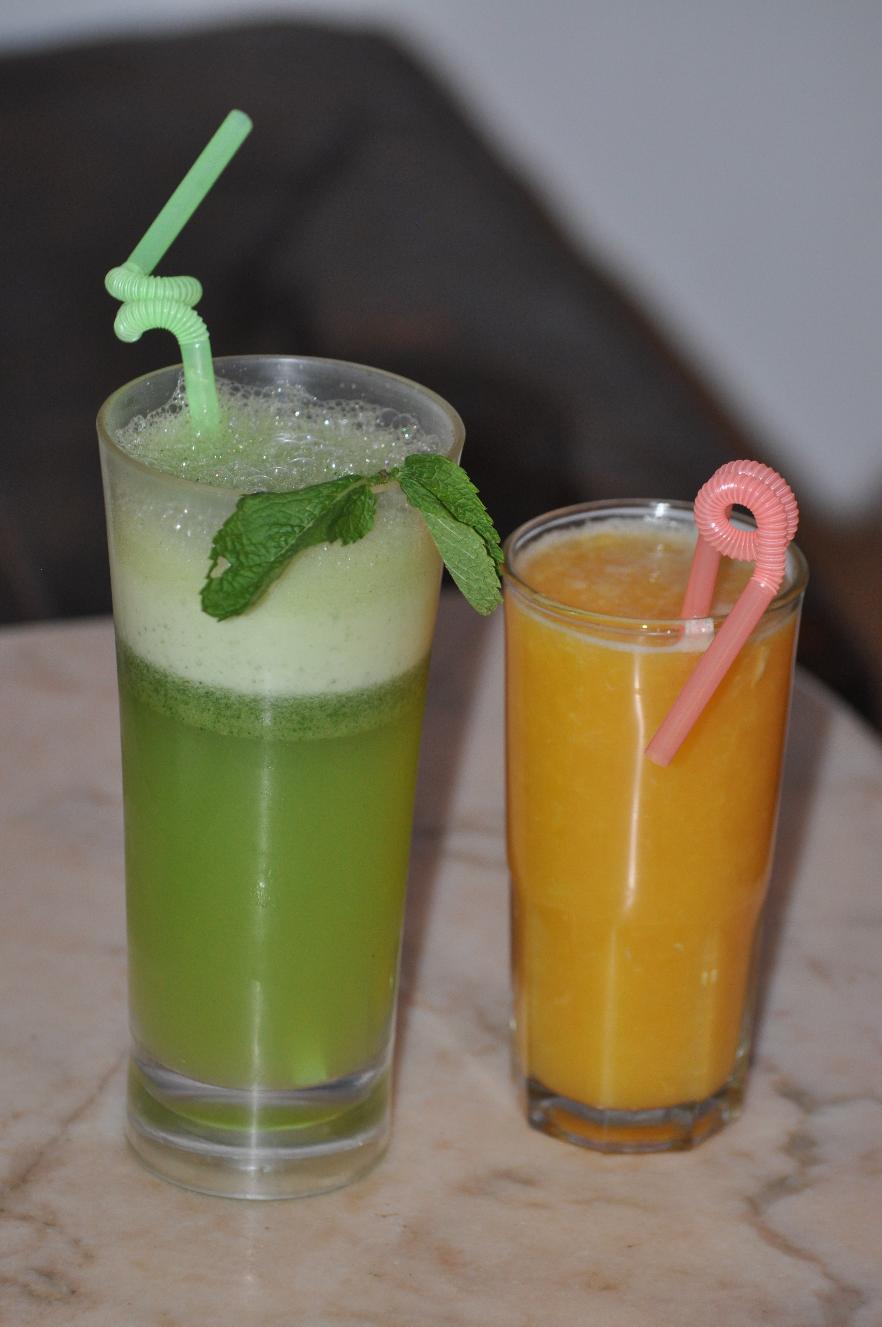 A camel burger - 7th item from the top.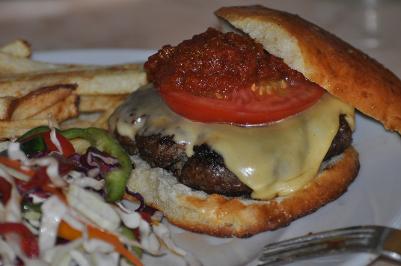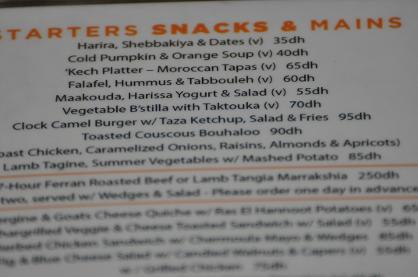 October 05, 2015 - Riad Al Bushra, Marrakech

We chose to spend four nights (three full days) in Marrakech expecting to be somewhat beat up from 21 days of touring. We expected to veg out our first day and held true to the plan, in part because I continue to feel less than great, sill coughing and sniffling. If not for the need to get some dinner we may have stayed at the riad all day.
We enjoyed a great breakfast that included a wide selection of croissants and breads, a large pitcher of fresh orange juice, coffee, tasty scrambled eggs and a large fresh fruit bowl, all served on the terrace.
The rest of the morning was spent working on the travelogue. Then a nap, a chat with Steve – one of the owners of the riad, a bit more work on the travelogue while cooling our feet in the plunge pool and before we knew it the afternoon was in the rear view mirror.
We did eventually make our way out early evening for a walk to an artisan complex just outside the Bab Laksur. Nice stuff but we were really just trying to get a sense of prices. We then re-entered the Medina, eventually ending up at a restaurant near where we ate last night. Although not very busy we found Kui Sin to be a very good choice. It did not try to be something fancy but rather served good food with great service (a pleasant change from last night). A couple of fellows playing some nice African music made dinner even more enjoyable. Gayle had spinach ravioli – a nice change from vegetable tagine, while I started with the briouat – a selection of small (meat and cheese) filled pastries. I then had a tasty lamb in orange sauce with couscous dish. We finished the meal splitting a tart lemon tart for dessert.
The day was exactly as anticipated – spent mostly in the riad with a low level of activity. The nice thing is that Riad Bushra is so quiet and peaceful, in spite of being in the centre of the Medina with excellent access to the souks and central square it makes for a great spot to relax and re-energize.

Absolutely beautiful ceiling in the salon.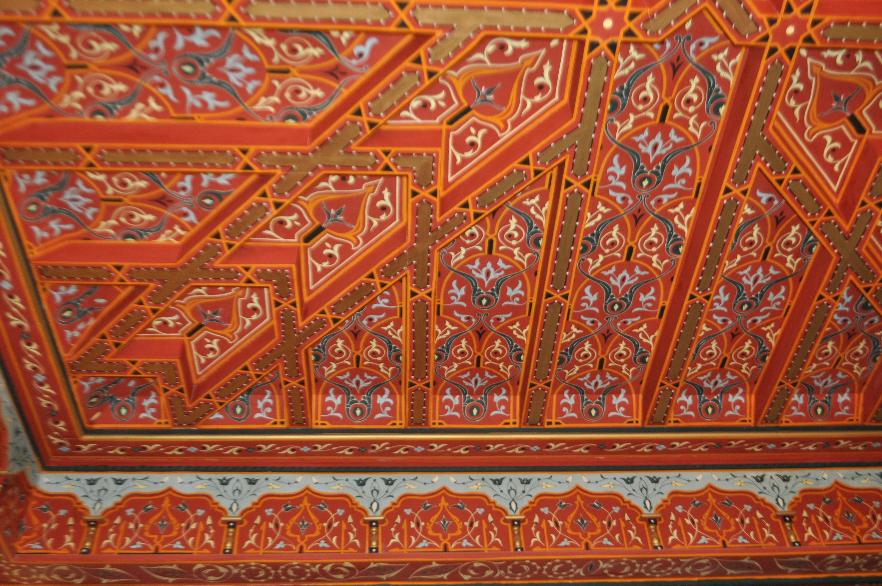 The nice seating area in our room.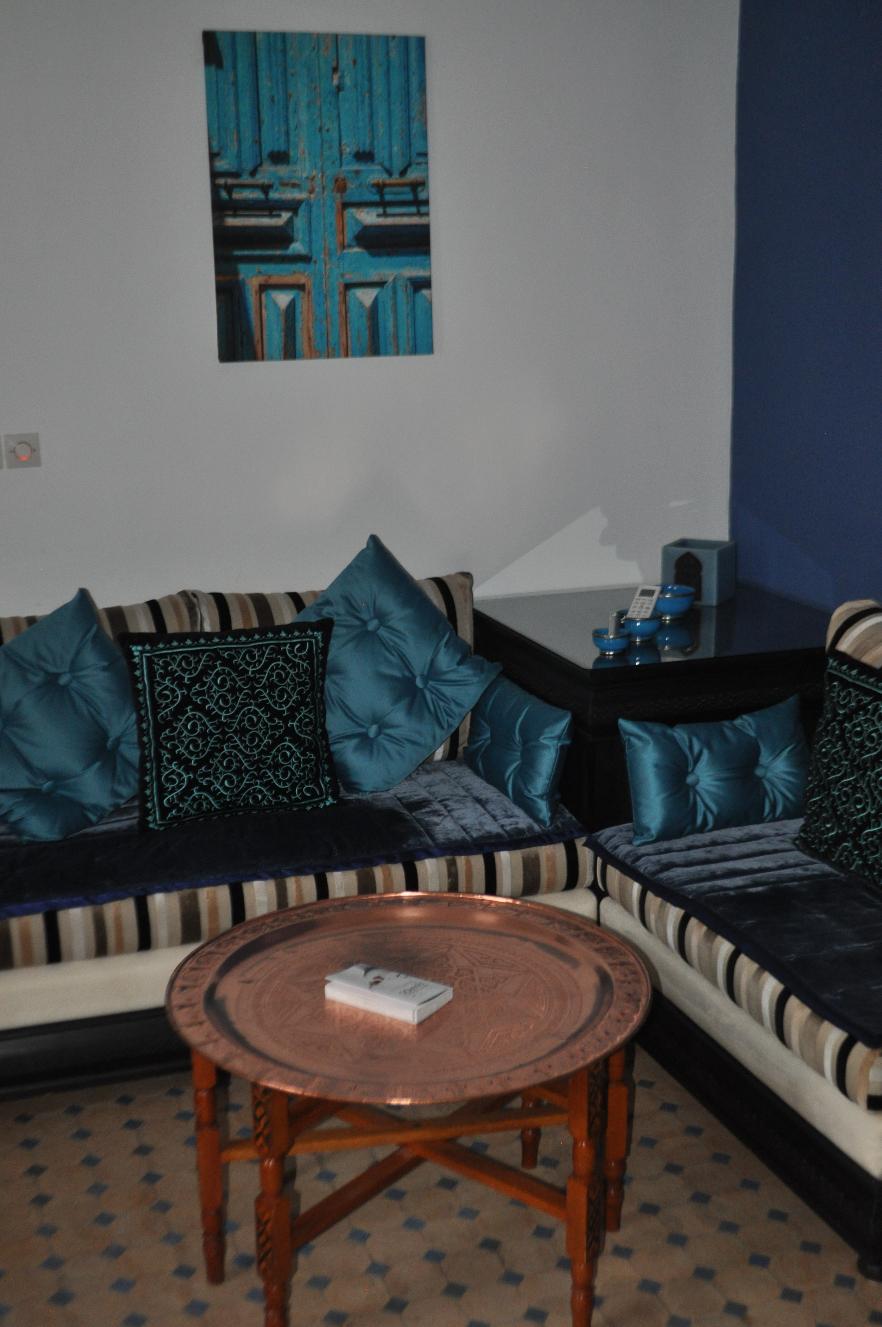 Beautiful doors and intricate plaster work.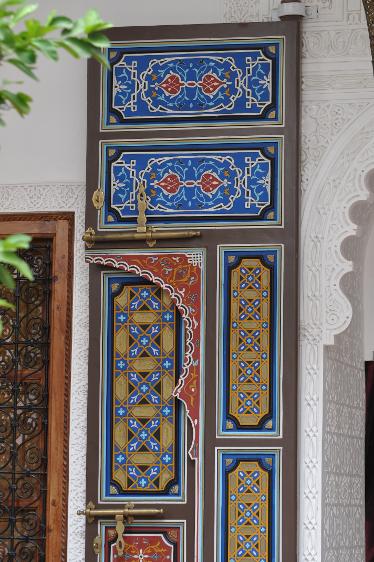 The courtyard from the second level.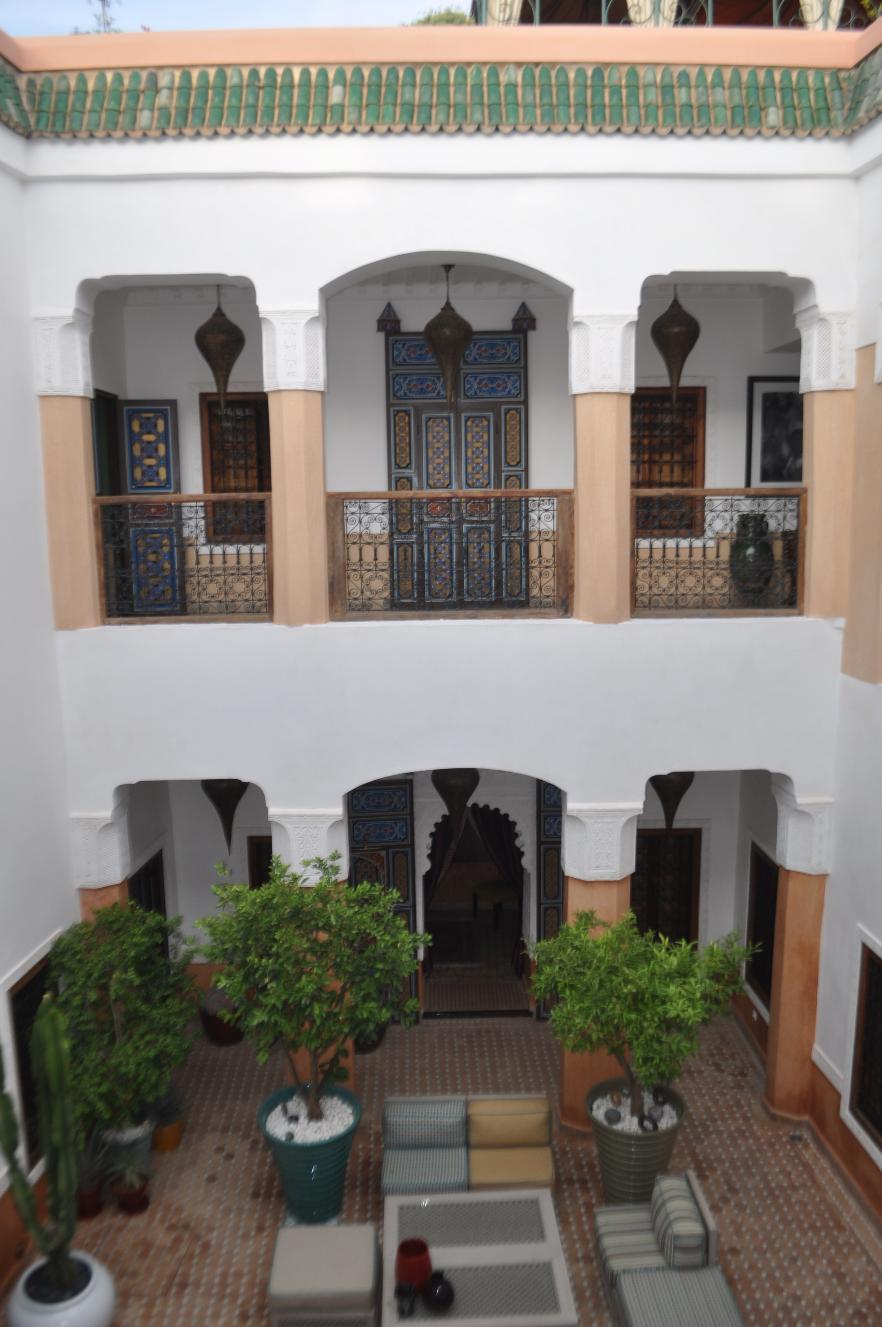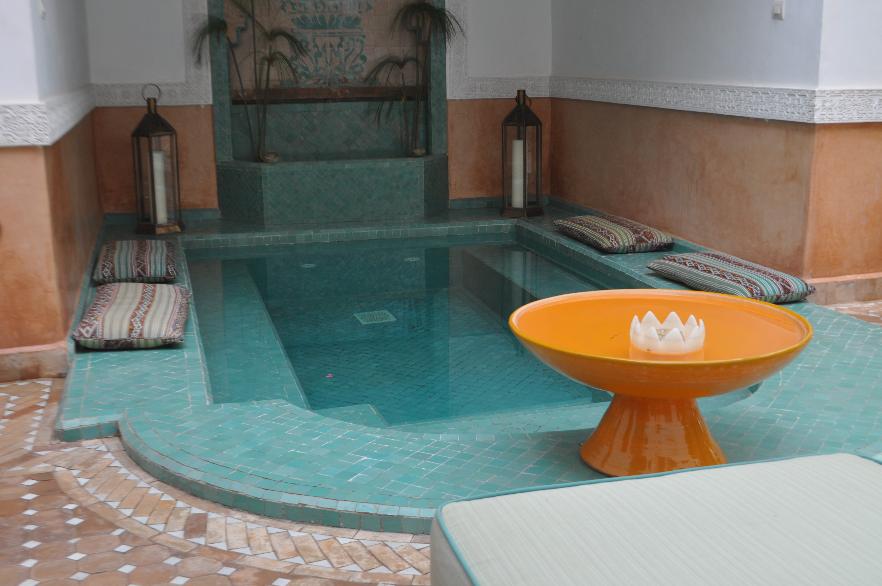 Not exactly a pool but refreshing to take the socks off and roll up the pants to cool off.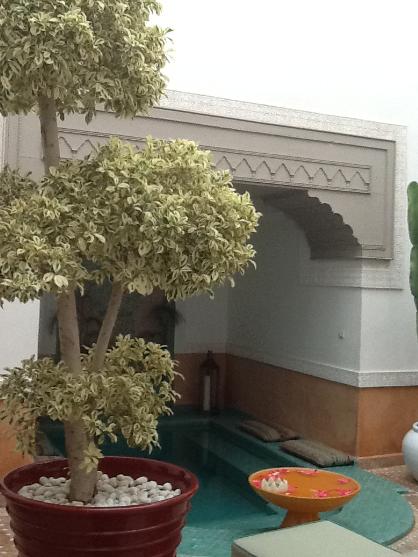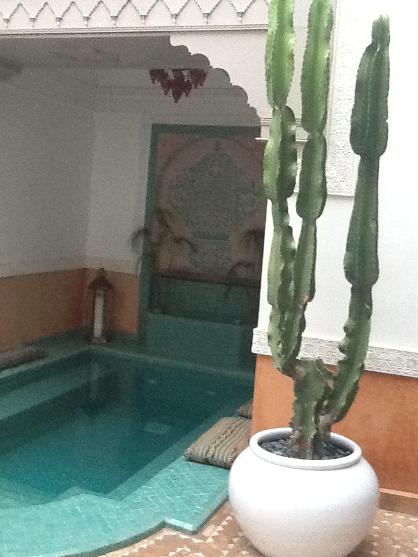 The beautiful lights around the courtyard of the Riad.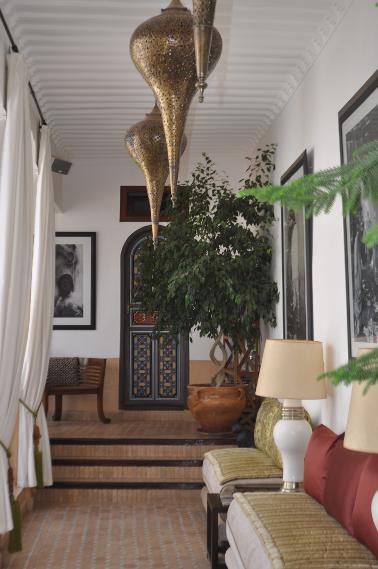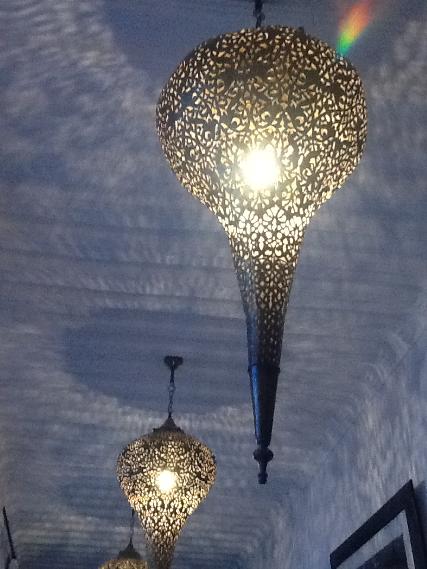 One of the musicians at Kui Sin.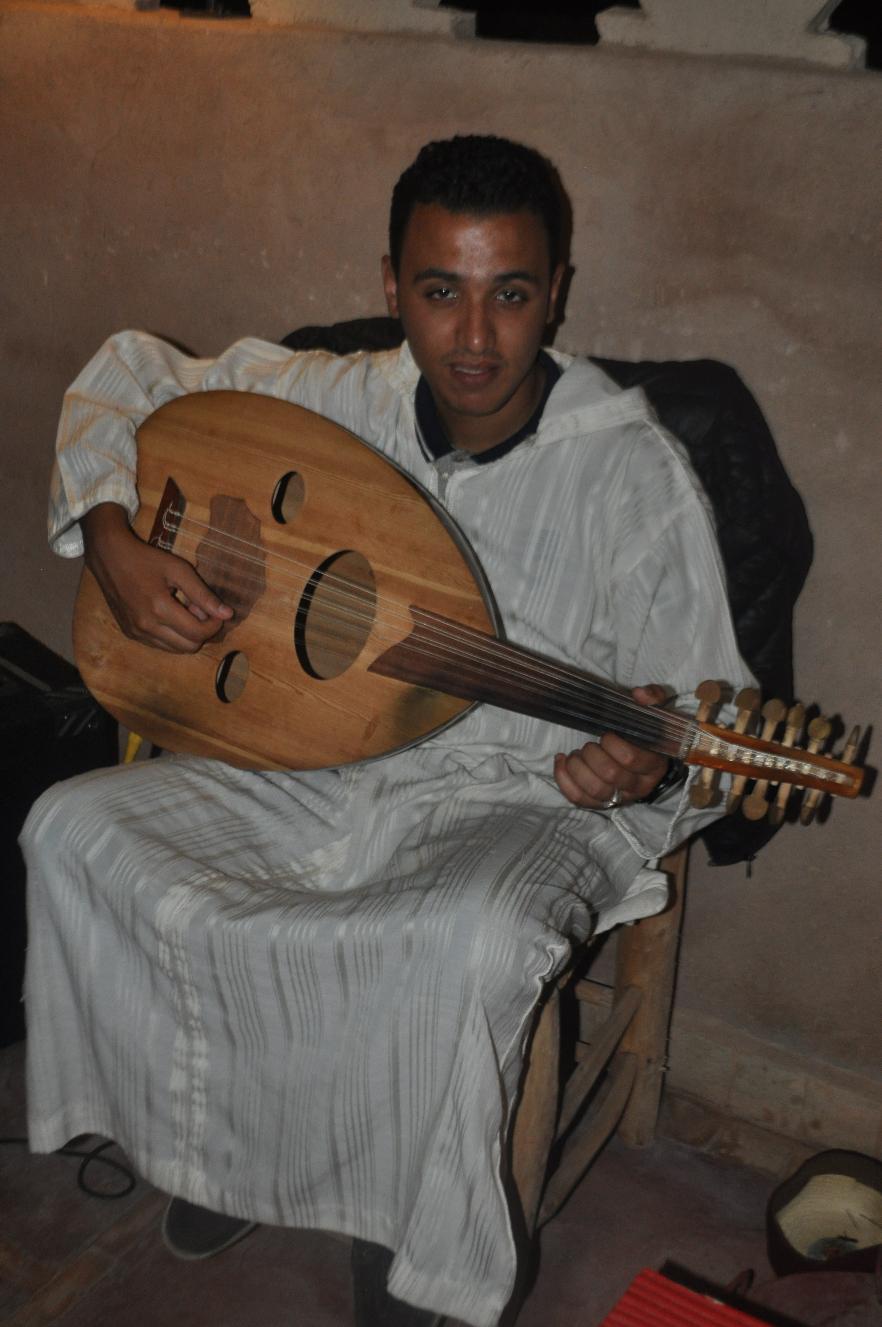 A nice lemon tart for dessert.


October 04, 2015 - Essaouira => Riad Al Bushra, Marrakech

Today was our last travel day with not a lot of photo opportunities. Amar gave us lots of time in the morning to pack and relax at the Riad. We left Essaouira for the two plus hour drive to our final destination – Marrakech.
We again passed many mules along the way. About half way Amar stopped in search of a bank and then of course went straight to a butcher for another grill. I wanted lamb but unfortunately the butcher had none so we again had chicken, a nice second choice. Driving through a region of vineyards we stopped along the roadside and purchased a couple of baskets of grapes, some for us and some for Amar's mother who was in Marrakech visiting. Amar is going to drive her back to Erfoud in the morning.
We arrived in Marrakech late afternoon, being dropped off at Bab Louksar, from where it was a five to 10 minute walk to Riad Bushra, conveniently located in the Medina. After parking Amar joined us at the Riad to review the trip and say our goodbyes. Of course the prospect of spending 21 days with a stranger, driving us around their country, in spite of the very positive (TripAdvisor) reviews of Around Morocco, brought with it some doubts. In retrospect there was no reason for any apprehension. From the moment Amar picked us up in Rabat to today we had a great experience. Amar was very personable, and informative, providing a perfect 'Welcome to Morocco'. Amar provided a wealth of information and made our travels easy. Although we met a few others who were travelling on their own with rented vehicles, each of whom indicated they were managing fine we saved considerable time and aggravation, particularly with respect to parking and being aware of police road stops, by having Amar as our driver. Furthermore without Amar and his large four-wheel drive vehicle and driving skills we (and presumably the others) would never have reached some of the isolated locations, e.g. Riad Nowhere in M'haresh we did. Of course having a private driver comes at a premium but it was well worth the cost. We enjoyed a great rapport with Amar, including a lot of laughs. As an example the Riad Elaissi (Taroudant) had among others a 'Rose' room. I expressed a preference for an alternatively coloured room – we were assigned the Pascha suite. But at the next stop (Tafrout) a total escape was not possible as the bathroom was supplied with – yes pink toilet paper. This led to a number of jokes and laughs, culminating in a pair of not so stylish matching pink turbans.
But Amar needed to be on his way to see his mother so eventually, and certainly with some sadness we said our goodbyes.
After settling in we went out into the Medina to look for a place for dinner, ending up at a restaurant that had potential with a large courtyard full of plants and romantic candle lighting. However the service was terrible and the music actually worse, destroying any sense of ambiance. And the food was mediocre at best. For me a disappointing experience although Gayle was somewhat more positive. The Medina can be reportedly tricky to navigate but with my internal GPS still working we managed to find our way back to the riad without any difficulty.

The route from Essaouira due east to Marrakech.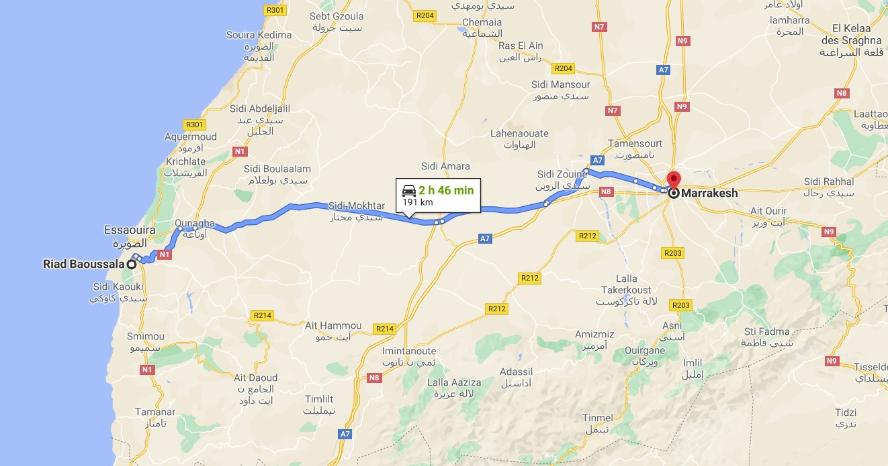 Another nice breakfast at Riad Baoussala.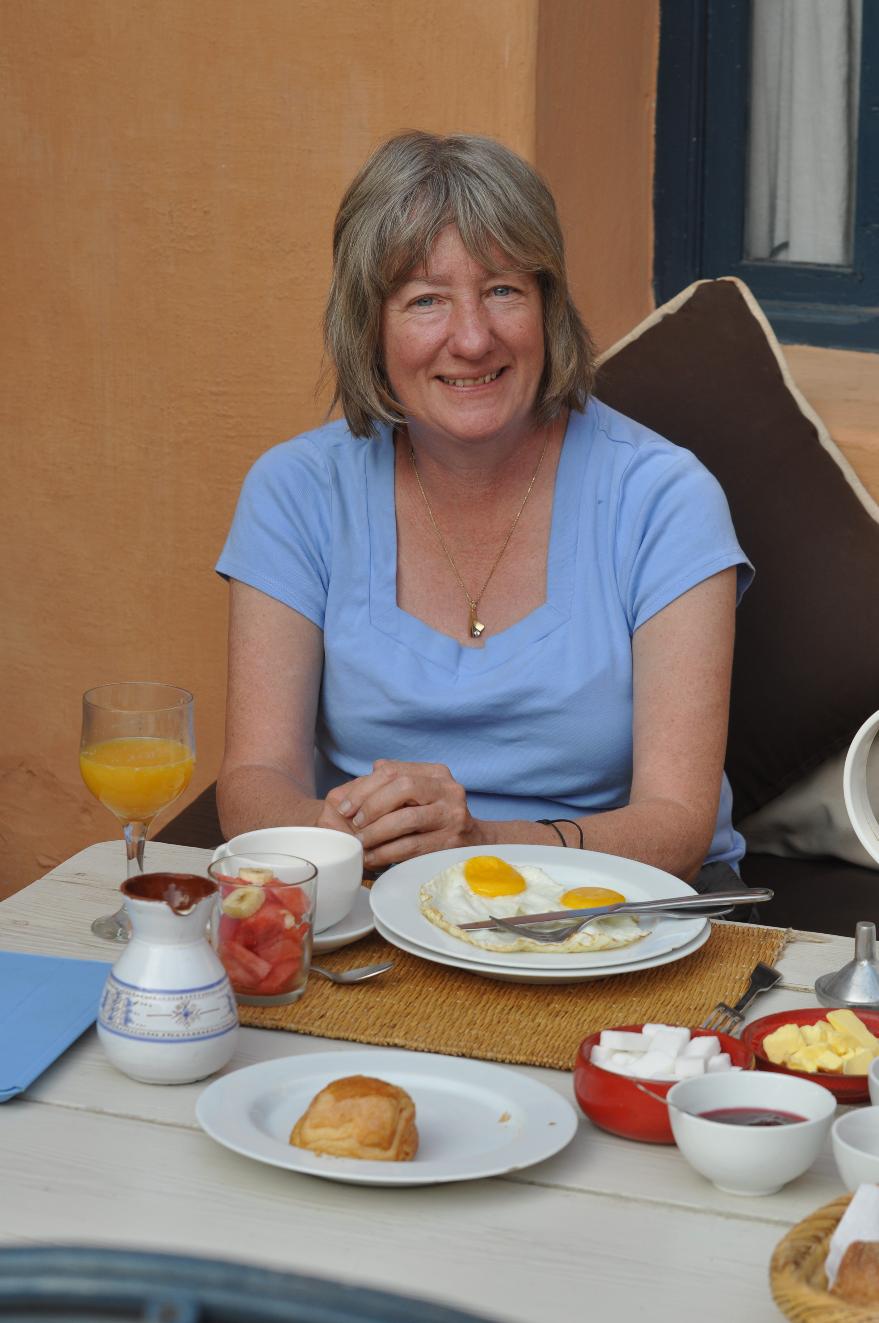 Sheep, mules and getting the days water from the local well.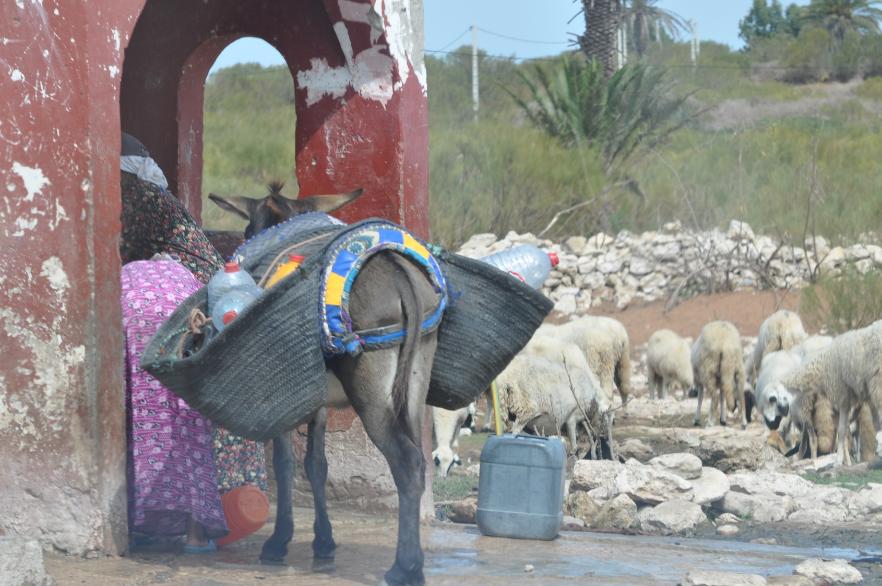 Mint tea is a stable here in Morocco.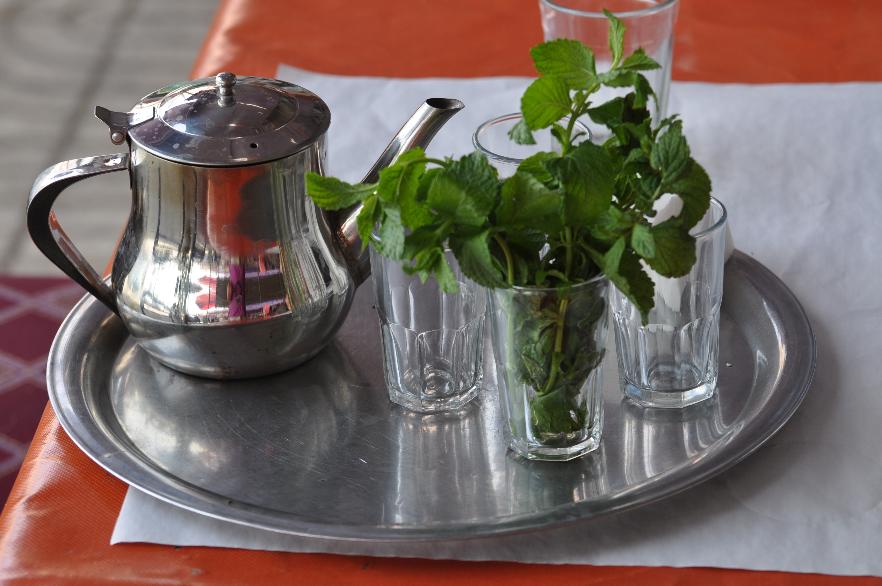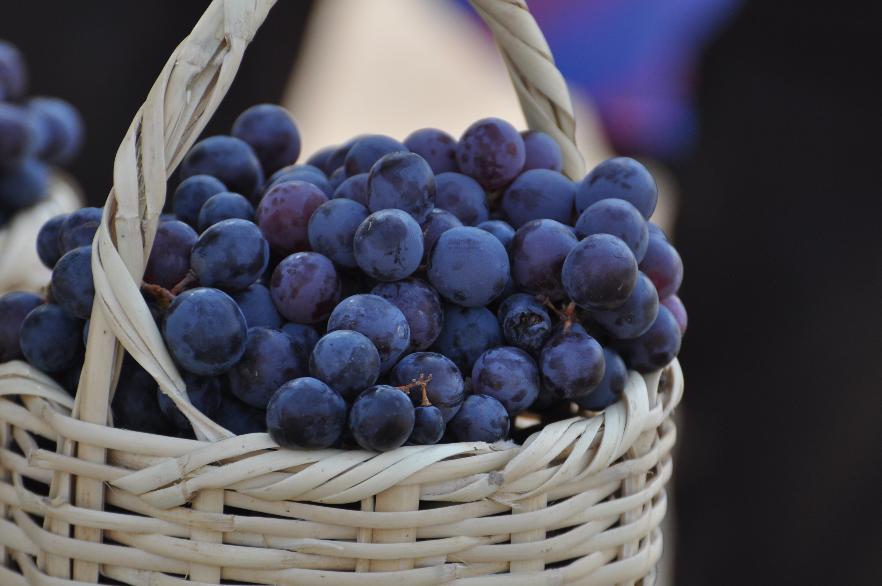 Marrakech's Bab (gate) Laksur entering the Medina.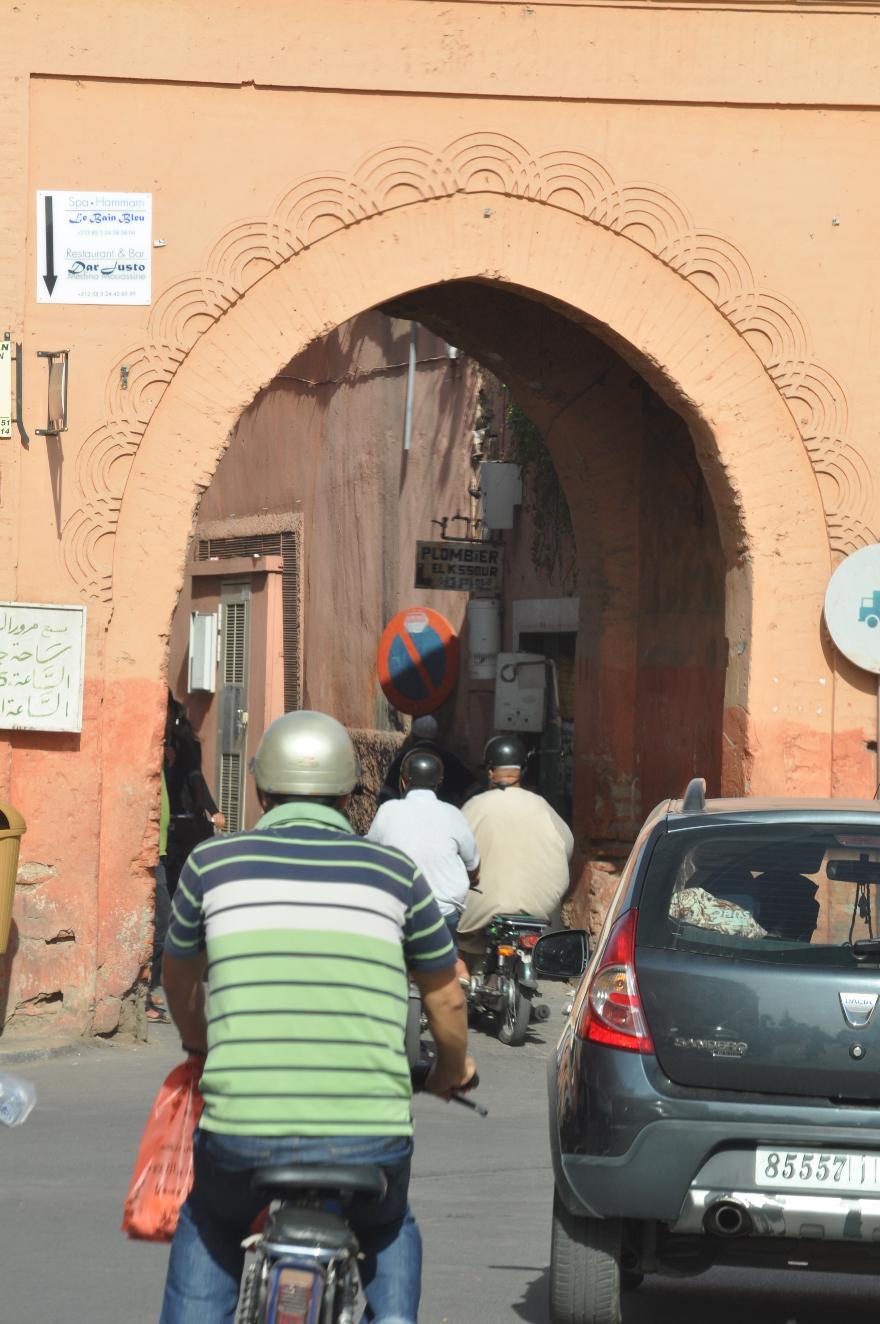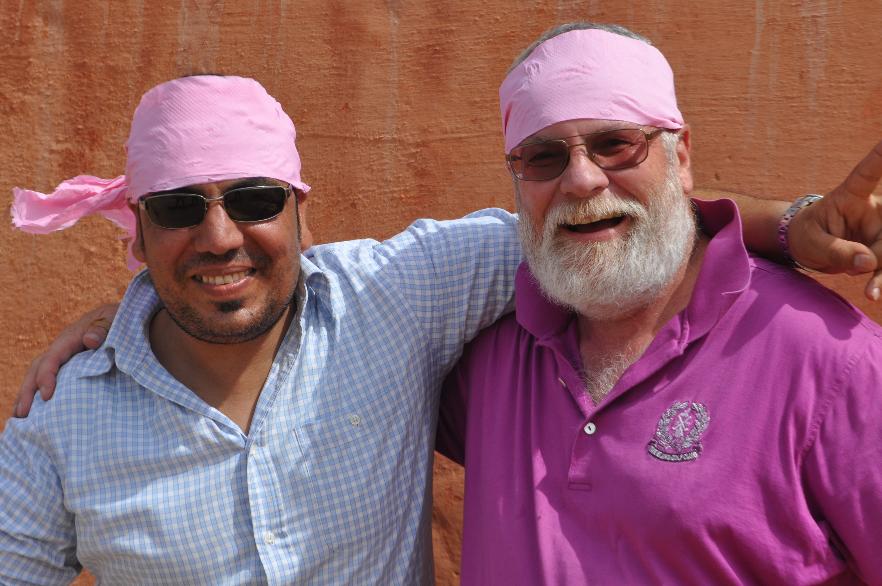 While the food was nothing special it did photograph well.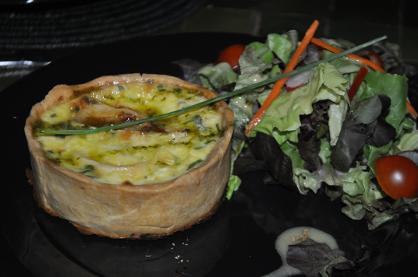 October 03, 2015 - Riad Baoussala, Essaouira

After again enjoying sleeping in (after all it is vacation) and a late breakfast Amar returned to pick us up and take us in to Essaouira. We spent a little over three hours wandering through the seaside town. This is a fishing port with fish ever present. The harbour is full of boats, generally all painted blue, stalls full of an extremely wide selection of fresh fish and tables set up to provide lunch/dinner – pick your fish, have it cooked and sit down and eat it. The harbour is full of boats, fishermen, fish, and as a result seagulls. More tourists here than pretty much the total during the rest of the trip.
We strolled the streets admiring the wide variety of items for sale – carpets, hats, ceramics, leather, lamps, jewelry etc.. Gayle did break down and purchased a pair of earrings she really liked. It was a bit foggy which made the views from the fortress walls somewhat limited. We eventually stopped for drinks (orange juice and coke) but unfortunately a lady trying to get to a table behind us knocked my ¾ glass of orange juice into my camera bag. Fortunately no juice on the camera but most everything else, including the camera bag itself was a soaking mess. However a good wash in the evening cleaned everything up.
We returned to the riad where we enjoyed a nice afternoon including a swim in the large pool. Very refreshing and enjoyable. Dinner was nice in that it was different than the standard tagine. The first course was a tasty zucchini salad with goat cheese while the main was a nice fish, a dorado. Unfortunately staff did not realize that Gayle does not eat fish so she was left with only rice. But a young cat certainly benefited as Gayle donated the majority of her fish to her new best friend.
The other guests at the Riad were a Czech Republic and Polish couple, now living in London. After dinner we went over to chat with them, spending a couple of hours talking about our respective travels.
All in all another nice day – a leisurely breakfast/morning, a few hours in an interesting small city, a relaxing afternoon and a nice outdoor candlelight dinner.
Riad Baoussala - covered with flowers.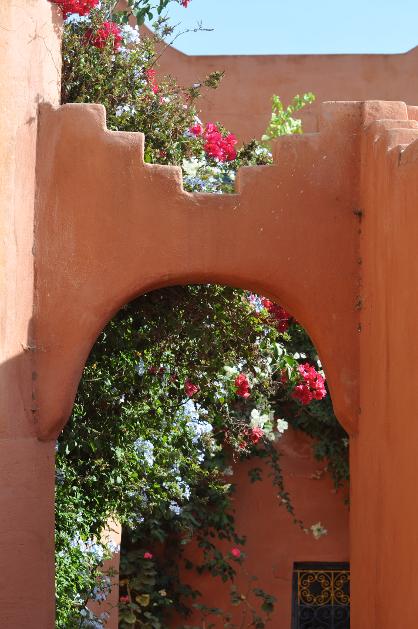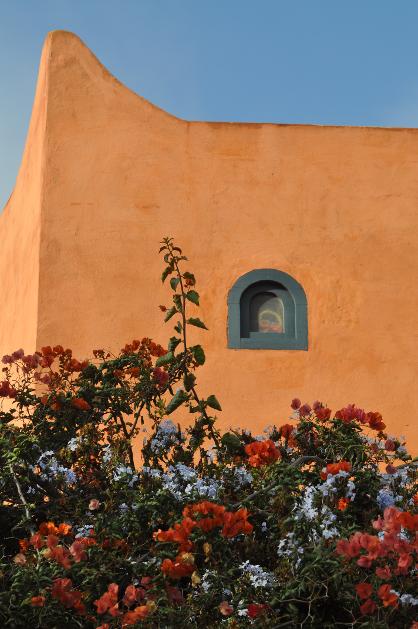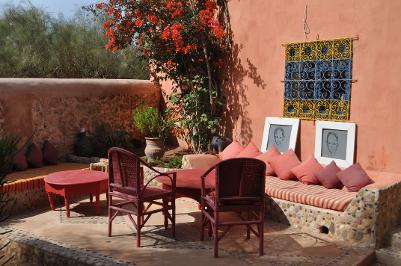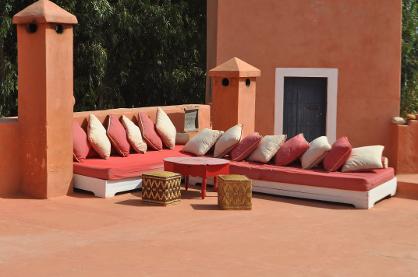 Riad Baoussala's red room.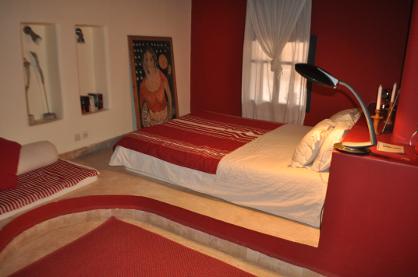 The traditional boats of Essaouira.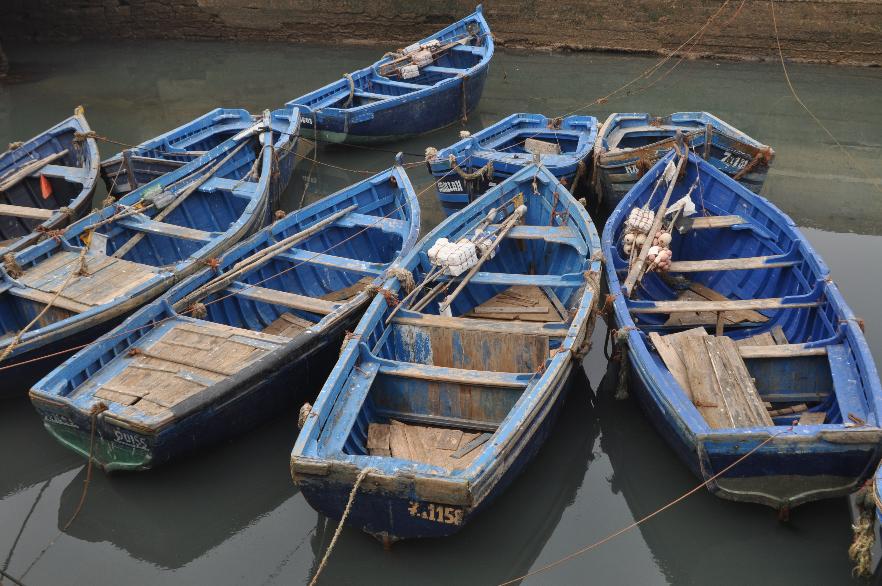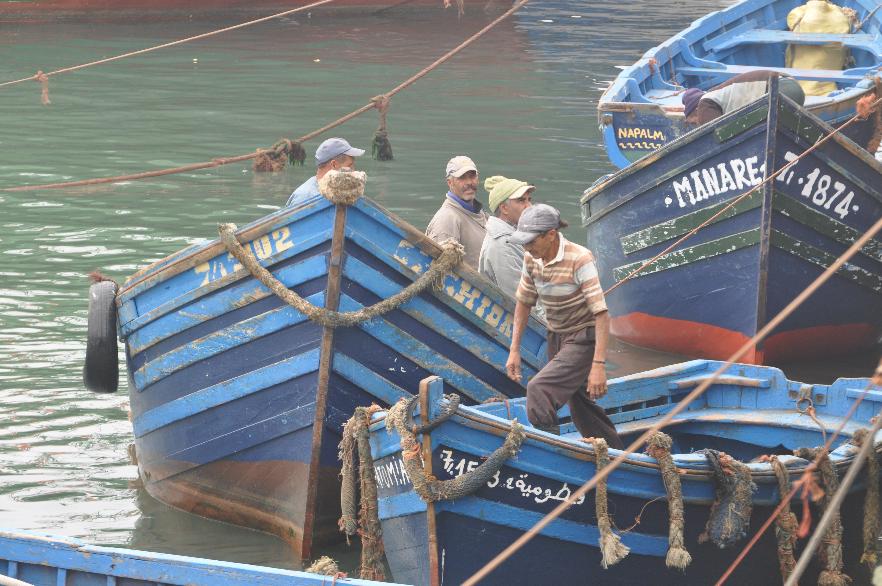 Fish for sale, including a baby shark and a moray eel.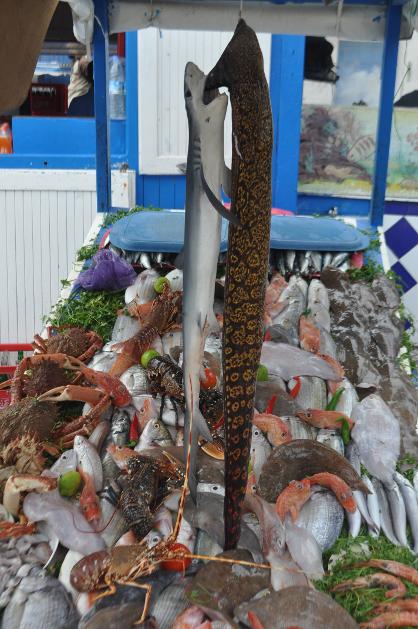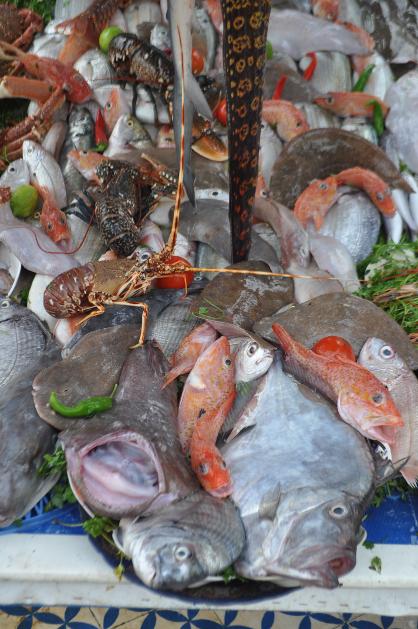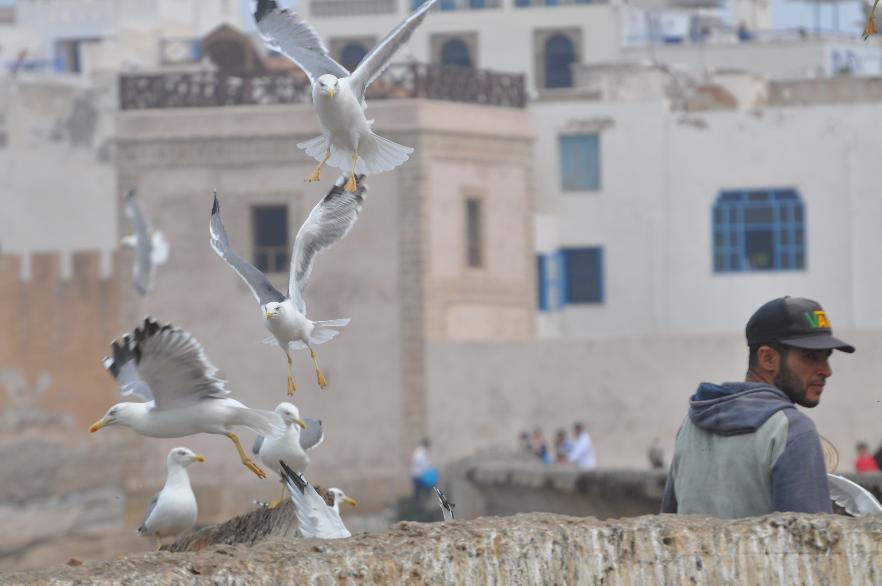 The streets of Essaouira - narow alleys lined with shops within the walls of the fortress.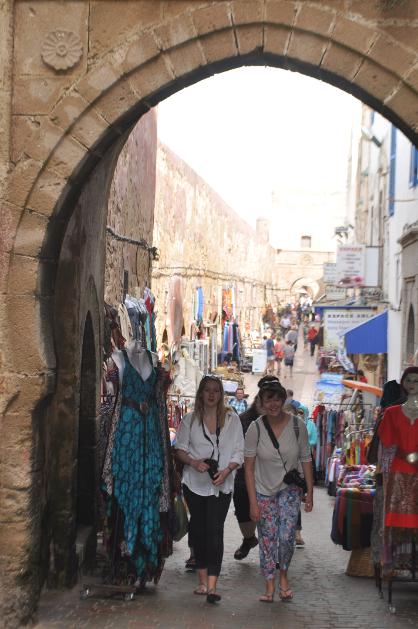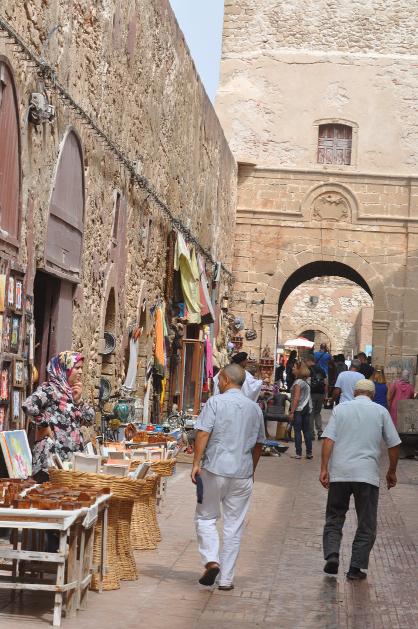 All kinds of interesting people on the streets of Essaouira.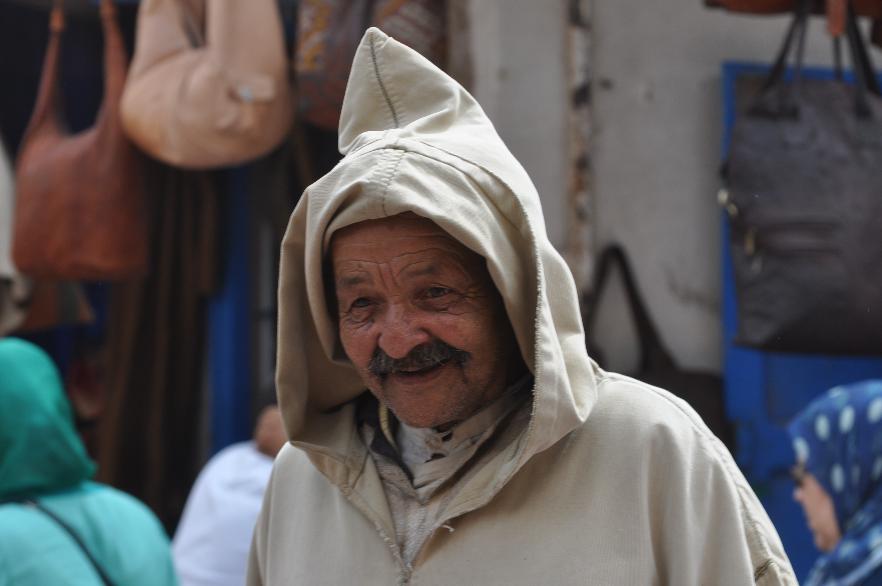 A wall of hats in the alleys.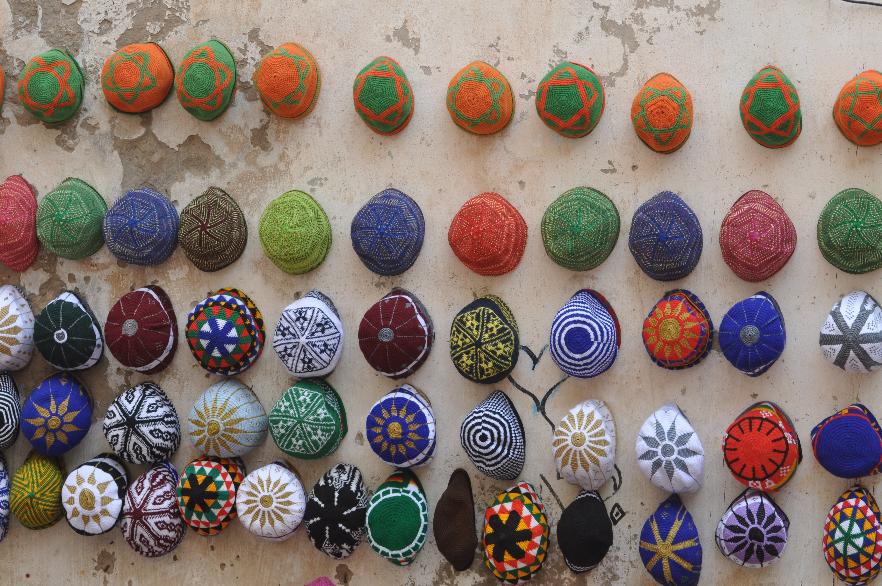 More carpets in Essaouira.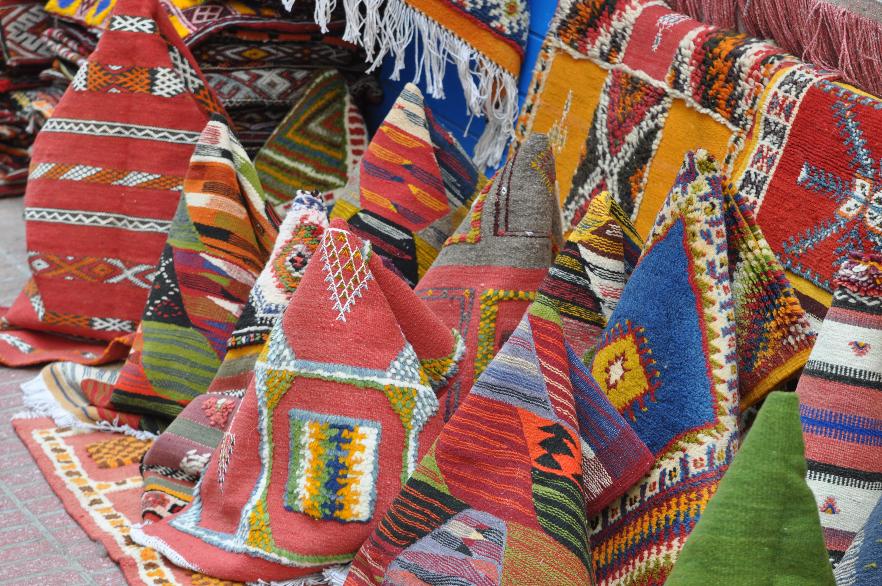 The beautiful pool at Riad Baousalla.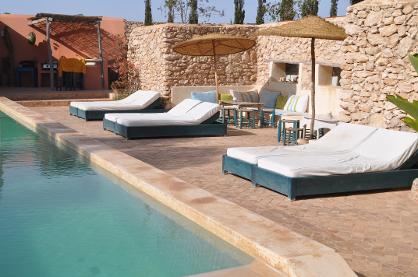 Zucchini salad with goat cheese and Dorado.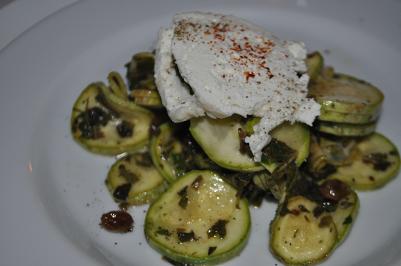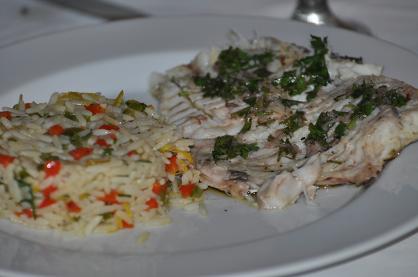 Our dinner companion, who enjoyed a nice feed of fish.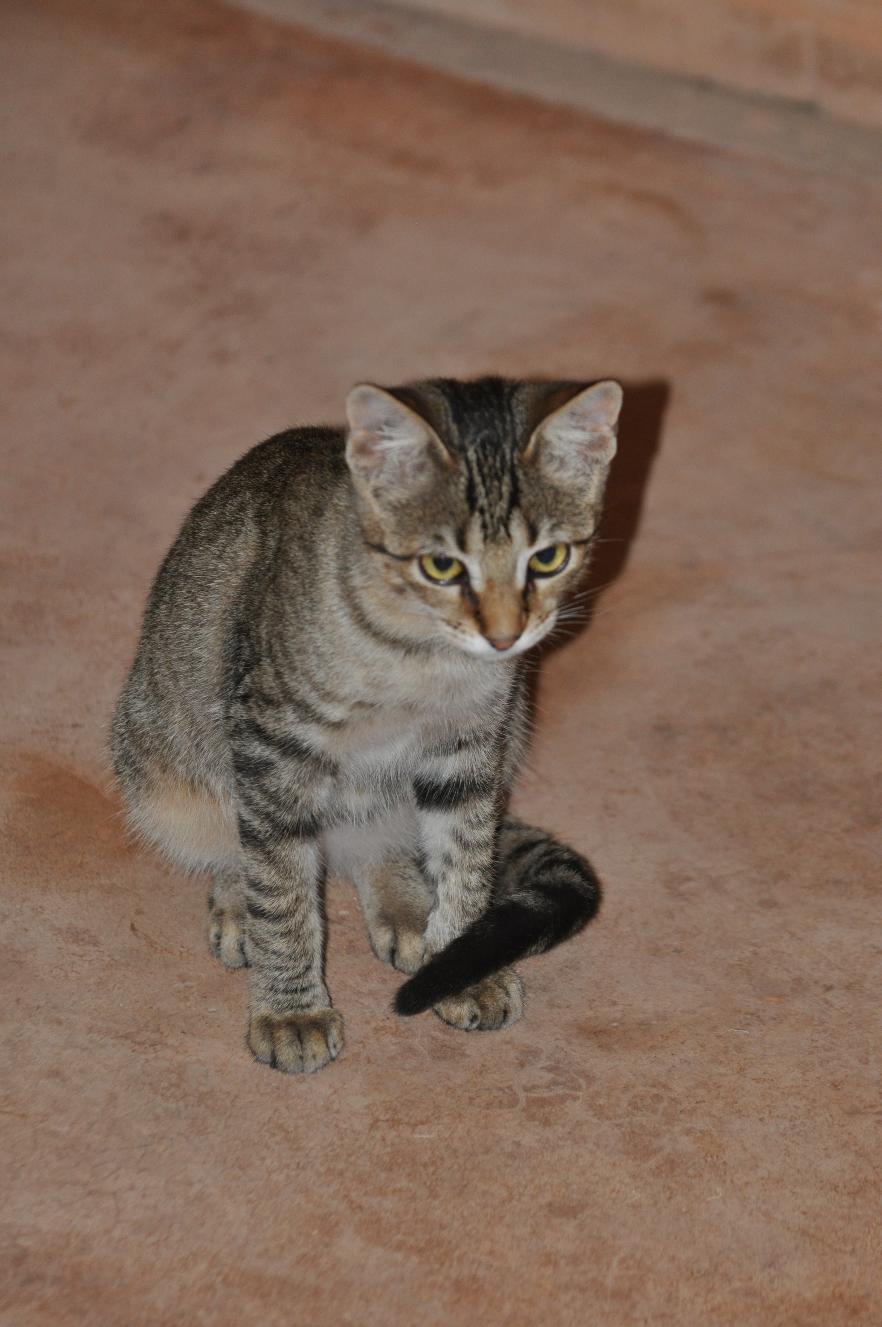 October 01, 2015 - Taroudant => Agadir => Riad Baoussala, Essaouira

We left Taroudant driving west to Agadir and the coast. Agadir is a relatively large seaside city, quite modern given the extensive rebuild after the massive 1960 earthquake that killed 84,000. Although the city has a large expansive beach we passed on walking the boardwalk – seeing if from the fortress above the city, surprisingly spared by the earthquake was sufficient. Although the opportunity presented itself we passed on the touristy camel rides – these fellows looked like they were much preferring their siestas.
We then drove north along some striking coastline with a stop at another long sandy beach, where we dipped our toes (and for me my knees and bottoms of my shorts) in the Atlantic. Again we passed on the touristy camel rides. We did however shortly thereafter see a large group of camels – we're guessing 50 to 100 drinking down at a river.
Amar has this habit of getting hungry in the early afternoon. So he first stopped for some locally grown bananas and then later on another grill. This one beef kebabs – quite tasty, and quite filling as Amar purchased a large quantity of meat. Gayle again had grilled tomatoes and onions.
As we approached Essaouira we saw an increasing number of donkeys/mules along the roadside, carrying all kinds of goods and people. One of the items carried are the local Argan nuts – we did see a few more goats in trees. We stopped at a local co-operative where women were cracking open the nuts and then grinding them on a traditional stone to extract the Argan oil. We didn't buy any but it was an interesting process to watch.
After a long drive we arrived at Riad Baoussala (meaning compass) about 10 km south of Essaouira. The riad is stunning, with a nice large pool, set amongst trees and gardens. Our room – the Red Room – was very tastefully designed and decorated. The main course of tagine was well prepared but of course a little repetitive. But our appetizer of cheese filled pastries and chocolate mouse for dessert were a refreshing change from the soups and/or salad and fruit.


The fortress walls of Taroudant.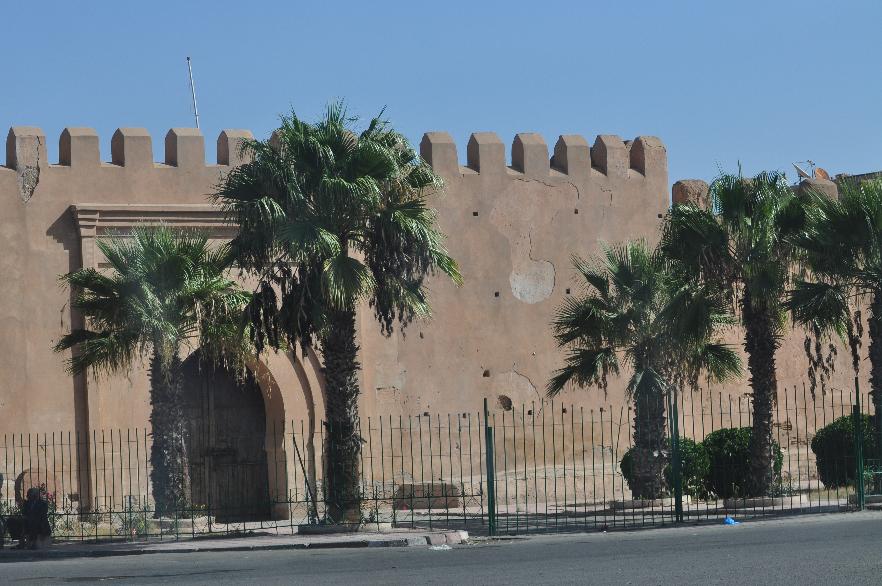 Even a camel needs a siesta.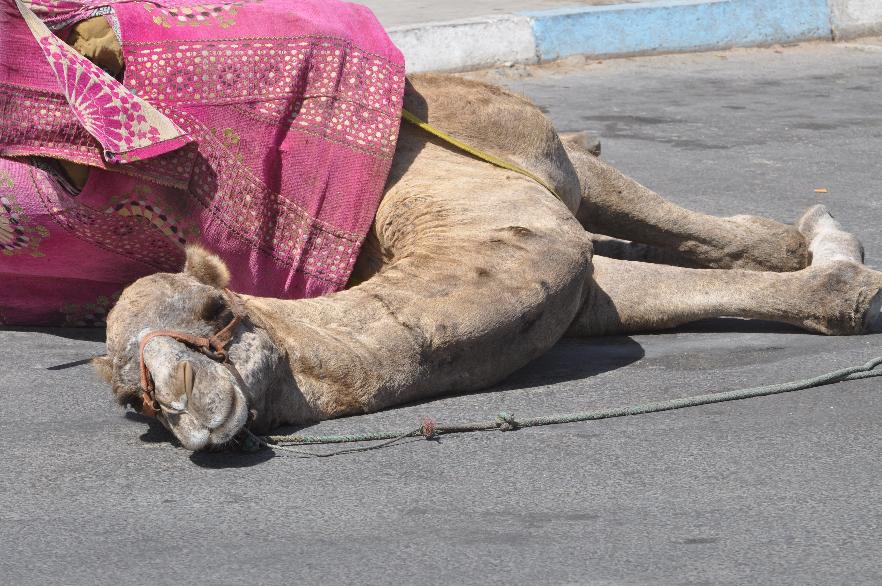 Soft sand and the warm Atlantic.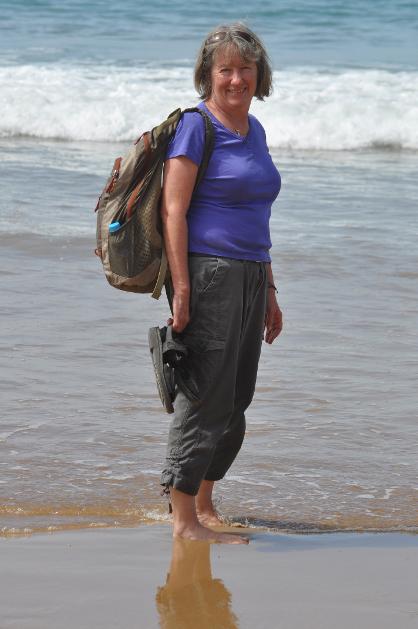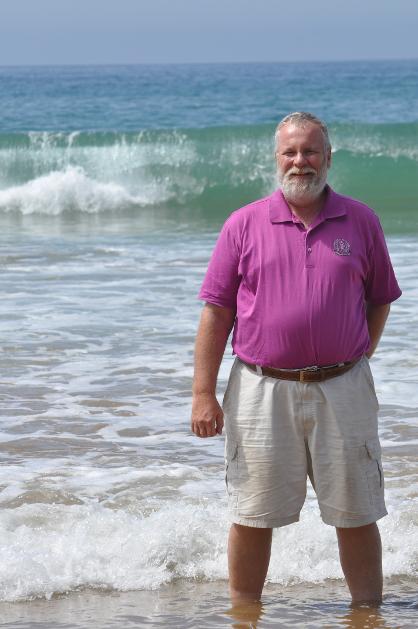 A large herd of camels stocking up on fluids.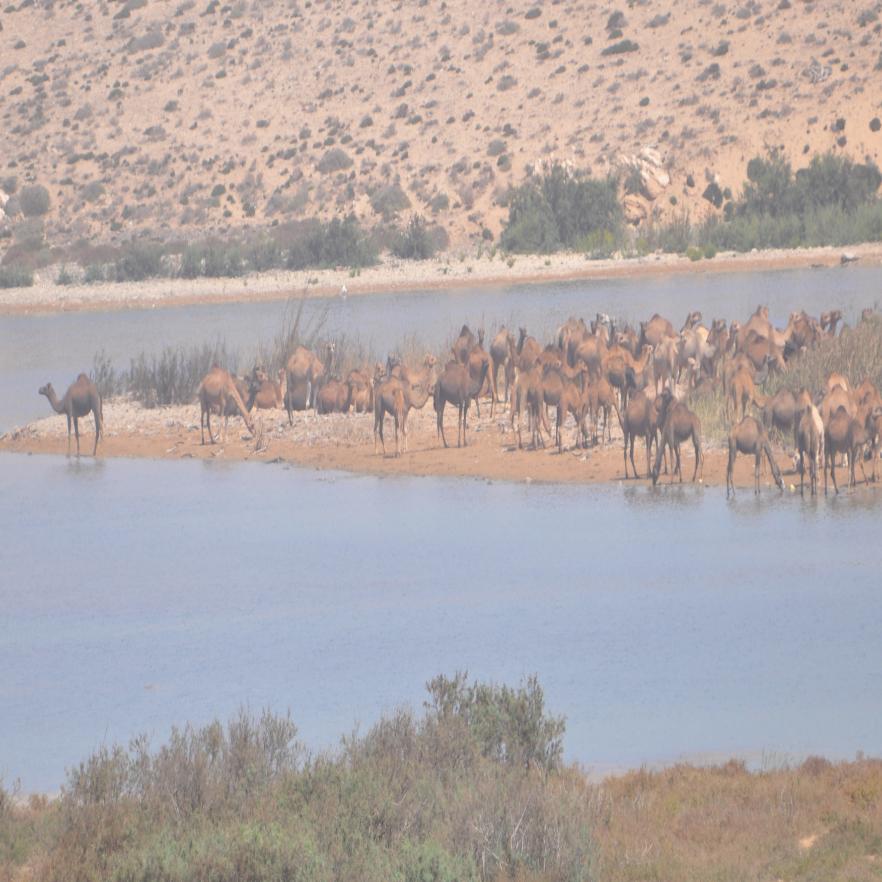 Beautiful coastline and beaches just north of Agadir.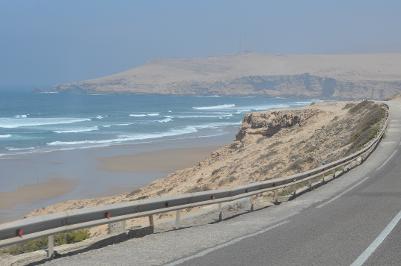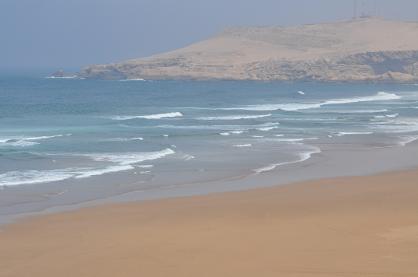 Dunes along the coast north of Agadir.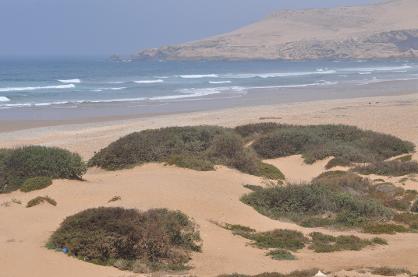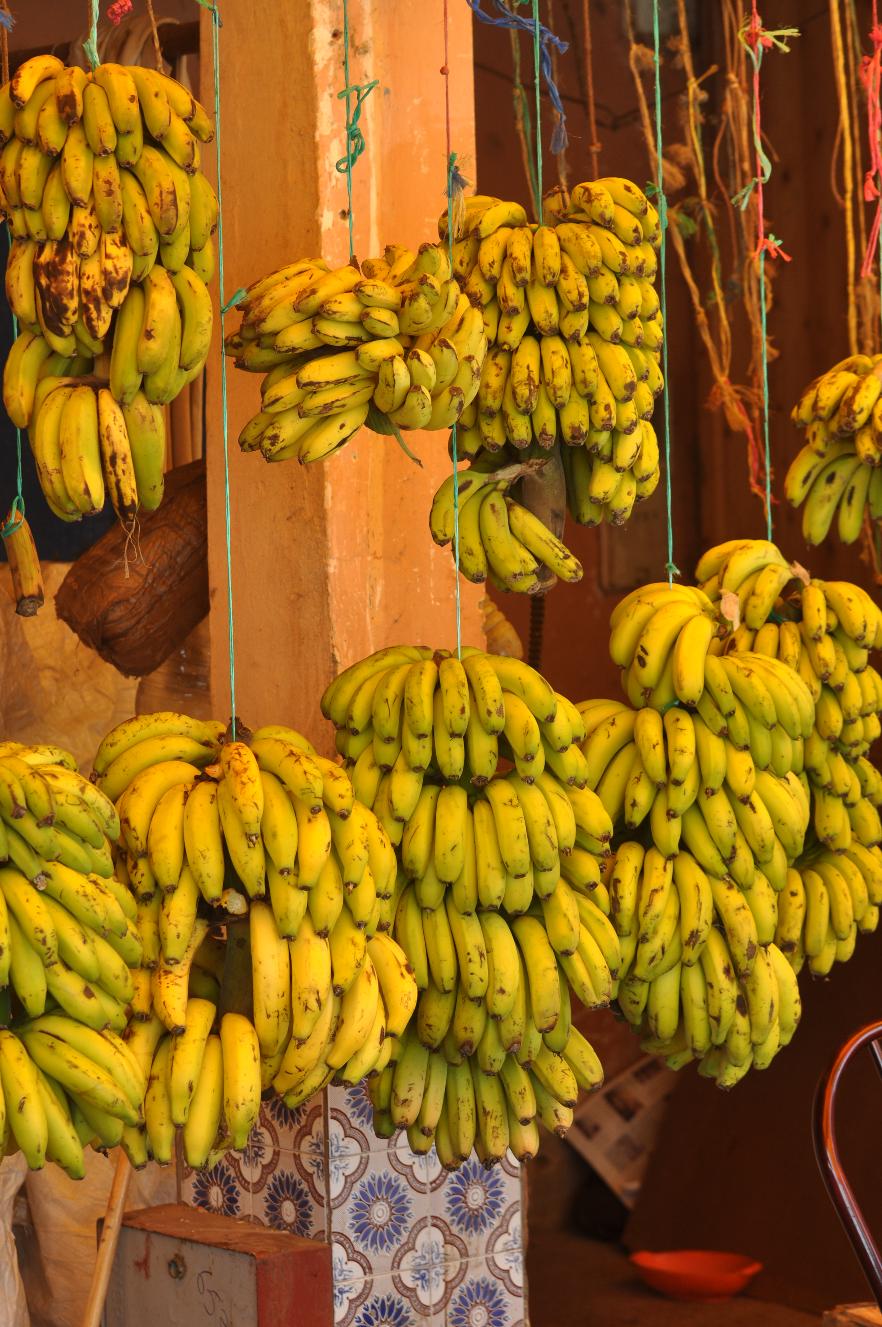 Oranges and absolutely huge watermelons - biggest I've ever seen.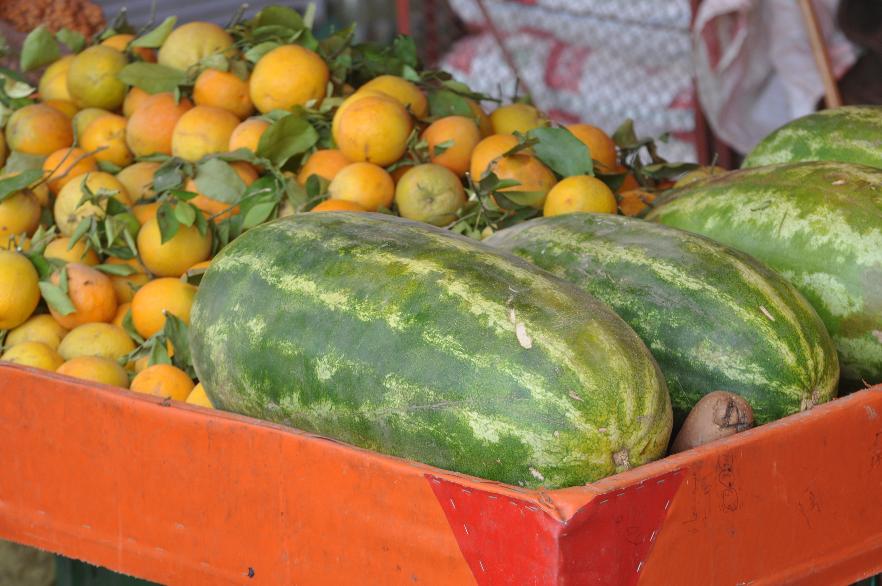 Locals cracking open the Argan nuts.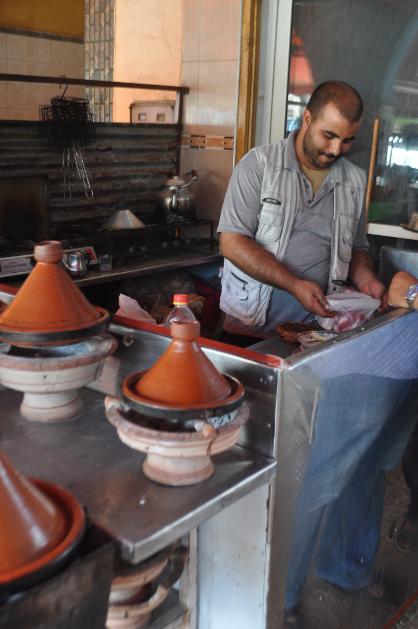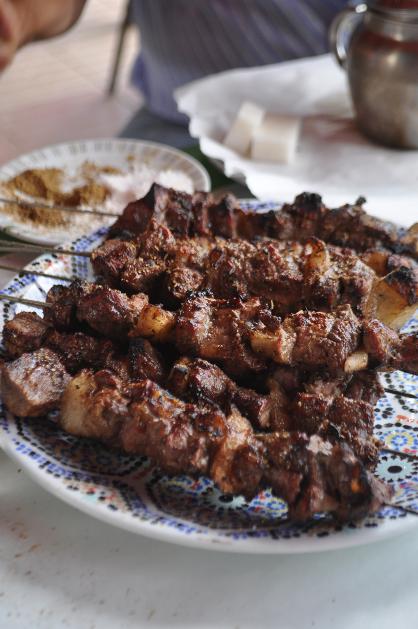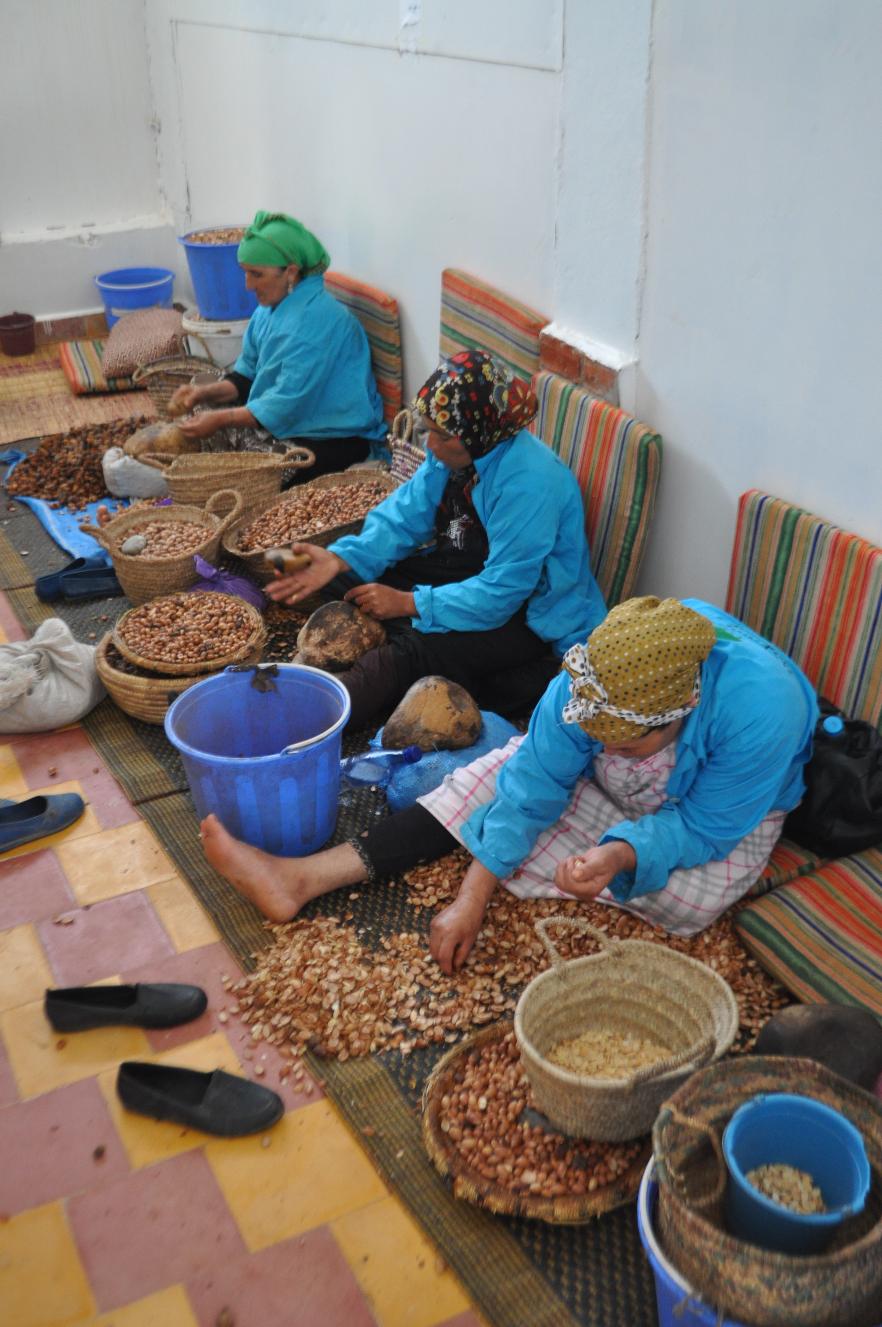 Grinding the Argan nuts into a paste, and eventually oil.



Donkeys are a common mode of transportation in this region - for both people and goods.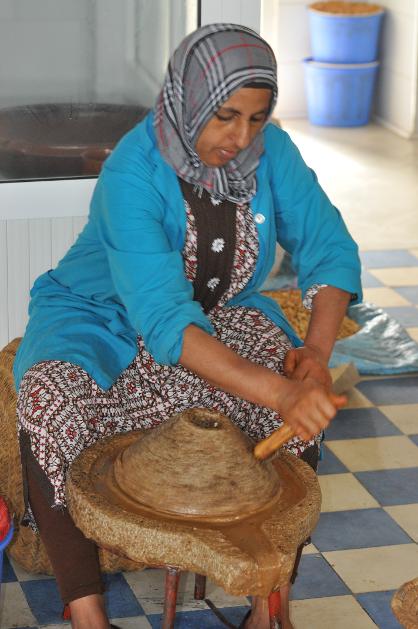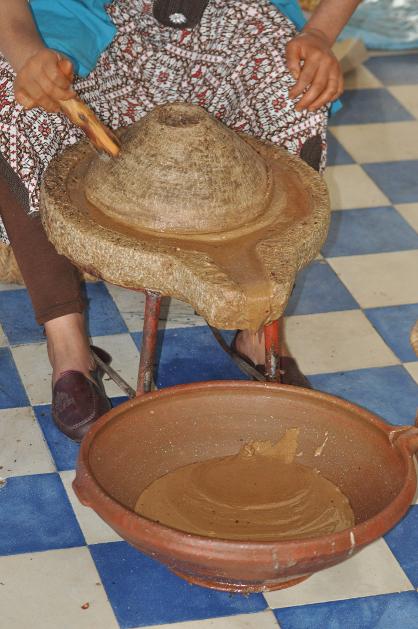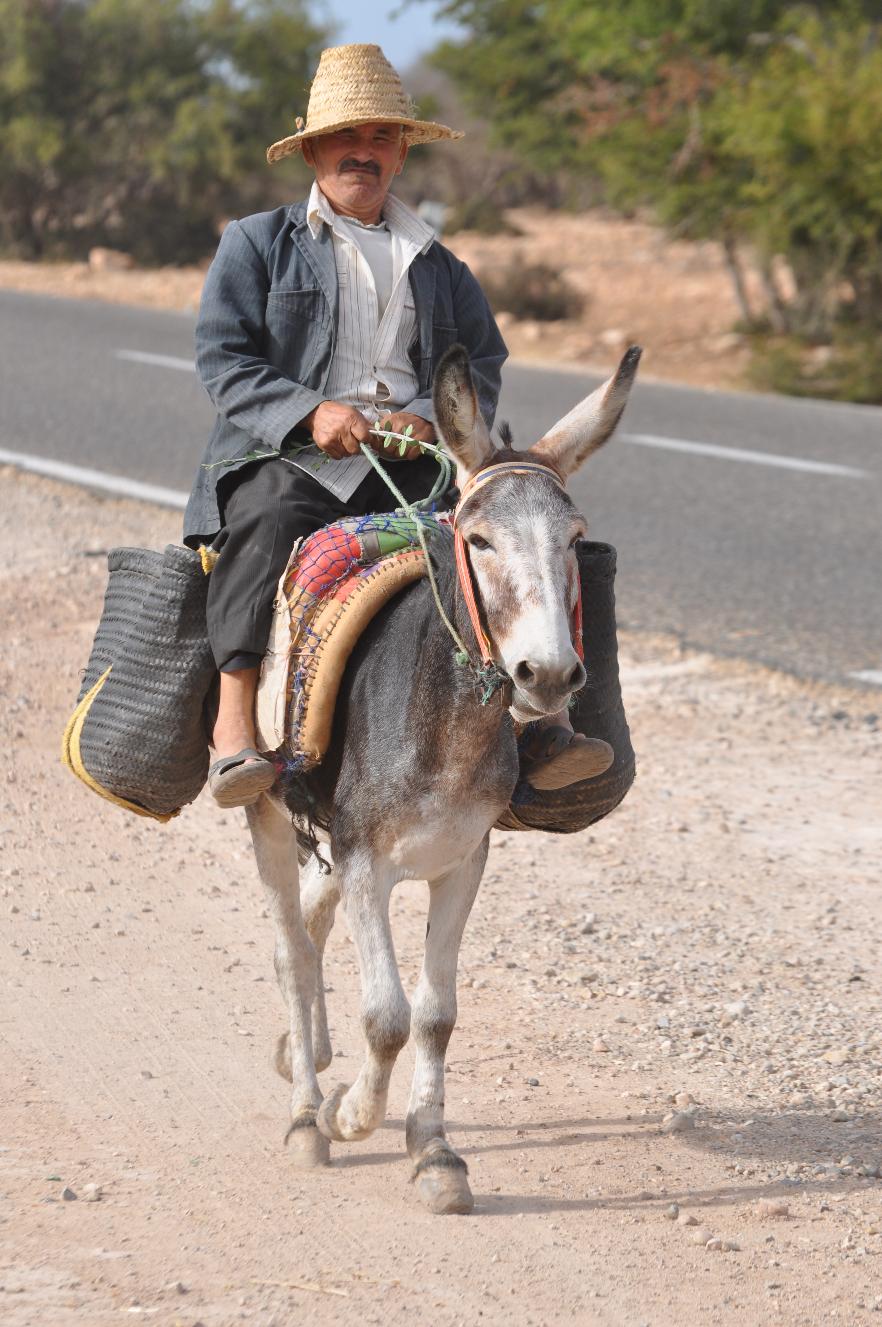 Cheese filled turnovers were a nice chnage, and then the traditional vegetable tagine.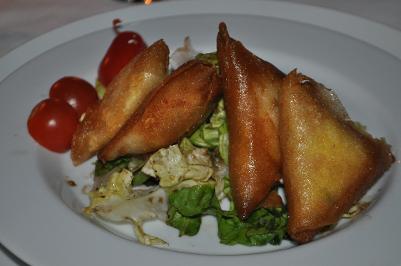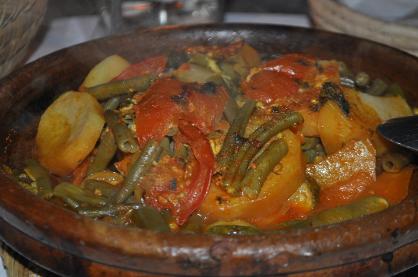 October 01, 2015 - Riad Elaissi, Taroudant

Today we enjoyed considerable time at the riad, including a swim in the afternoon. During breakfast – with fresh from the farm orange juice – we enjoyed views of the surrounding countryside and the High Atlas mountains to the north.
Late morning we drove the five or so km to the centre of Taroudant, into the medina to just wander around and perhaps do a bit of shopping. In particular we were looking for those traditional pointed Berber shoes. Shopping in Morocco is so frustrating. Everything is negotiated. Amar tells us never to pay more than 60% or 2/3 of the starting price. But this of course assumes some reasonability to the starting price, which of course who knows. A few examples. We started with the babouches/shoes and a camel belt. The shopkeeper started at 950 dirhams. We settled at 500 dirhams. Sounds like I did ok, right? But Amar (and another fellow) tell me we paid too much, perhaps 350 to 400 dirhams would have been more appropriate. But of course this all is a function of accepting the starting offer is in the ballpark. We then saw a leather camel carrying bag. Quite nice but ridiculous at 3,200 dirhams (or nearly $500 Cdn). We kept saying no, no until it was down to 800 dirhams. We now have a camel bag, at 25% of the opening offer. Both Amar and the other fellow said anything < 1,000 dirhams was good, so we did well. I guess on average we did ok. We then saw some copper, including a cup we wanted to get as a gift for Amar. Again the starting price was 950 dirhams for two pieces. Then 800, then 700. We said 400 and that was it. In this case we stood firm and actually walked out of the store. Lo and behold the shop keeper followed us and said sure 400 was ok – and we know he is not losing anything even at that price. So less than 50%, again of a starting number that has no context. Welcome to Morocco. Finally we stopped at a jewelry shop where the fellow was working making his jewelry. Gayle ultimately bought two pairs of earrings – one Berber and the other a Hand of Fatima, and a nice ebony, cedar wood and silver stone necklace.
We returned to Riad Elaissi for a relaxing afternoon, including that swim, before returning to the Medina for a short time before sunset. If we thought it was crowded in the morning this was something else. Just driving into the medina was a challenge, reminding us of trying to drive to our pousada through the medieval festival in Palmela, Portugal. But Amar, the expert he is managed with no problem. We just wandered around watching the throngs and throngs of people – bicycles, scooters, walking, talking – a buzz of activity.
We then returned to the riad for a dinner – nothing special – a beef tagine for me and a plate of vegetables for Gayle.


The olive trees lining the lane entering the Riad Elaissi.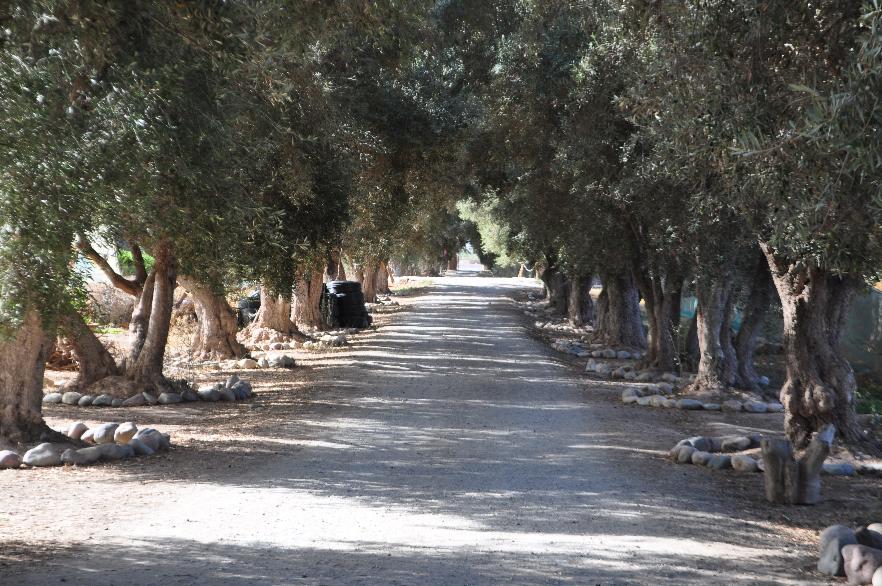 The entrance to the riad and the courtyard/gardens inside.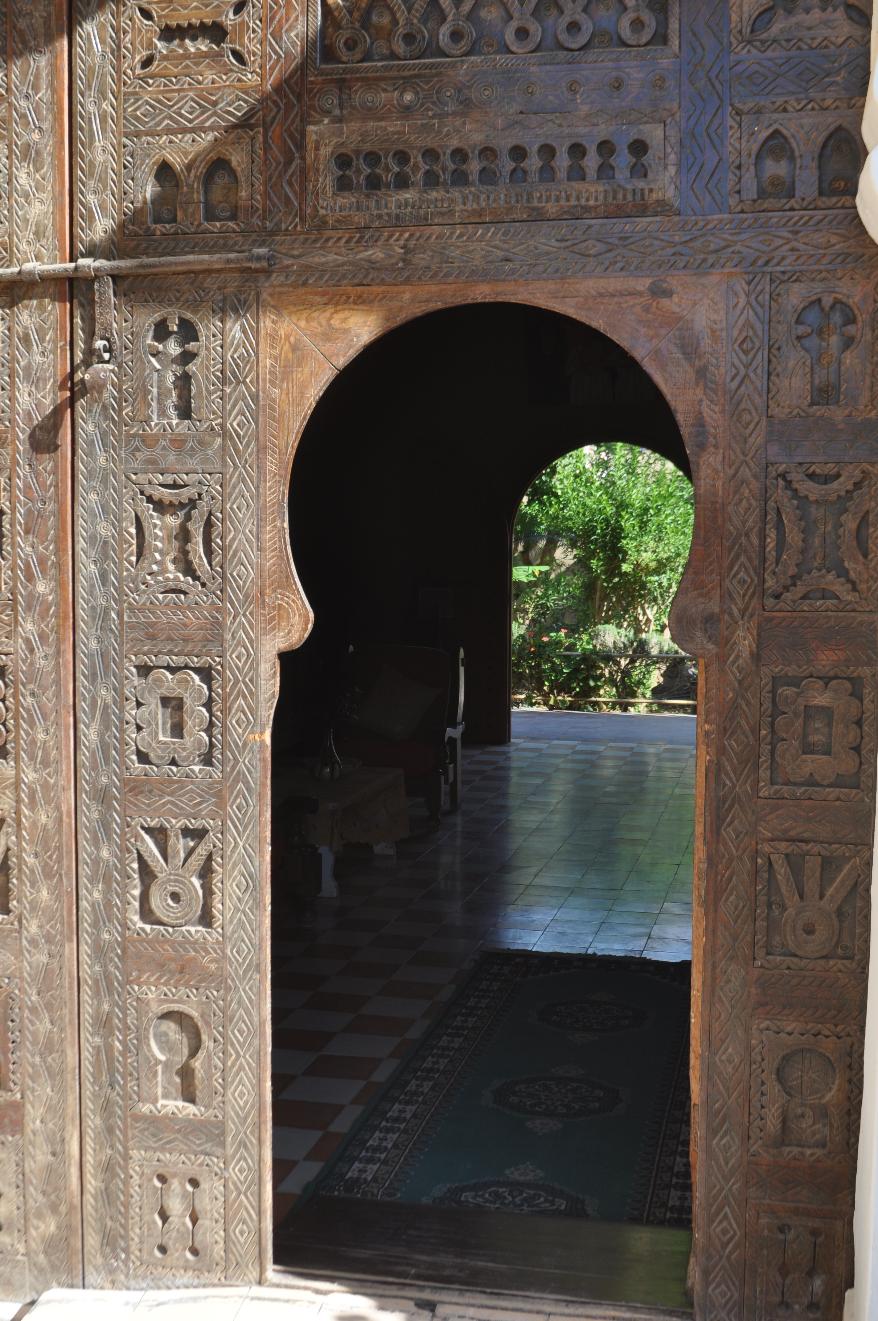 Our room - the Pascha Suite.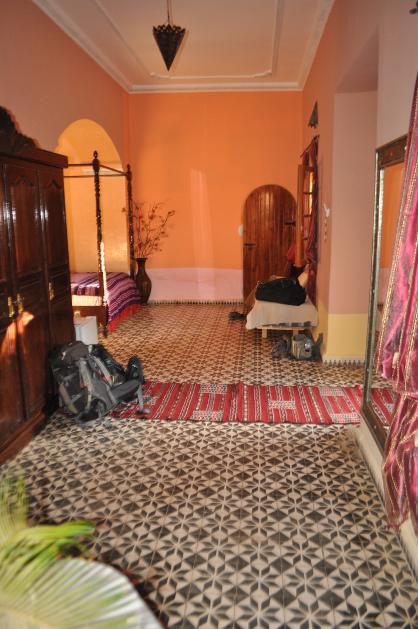 The terrace just outside our room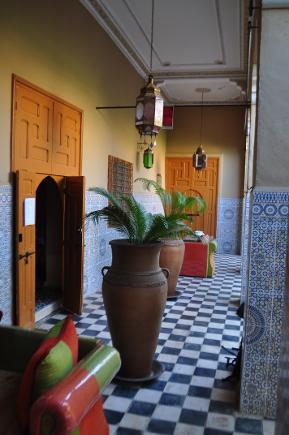 Oranges literly a few feet outside our door.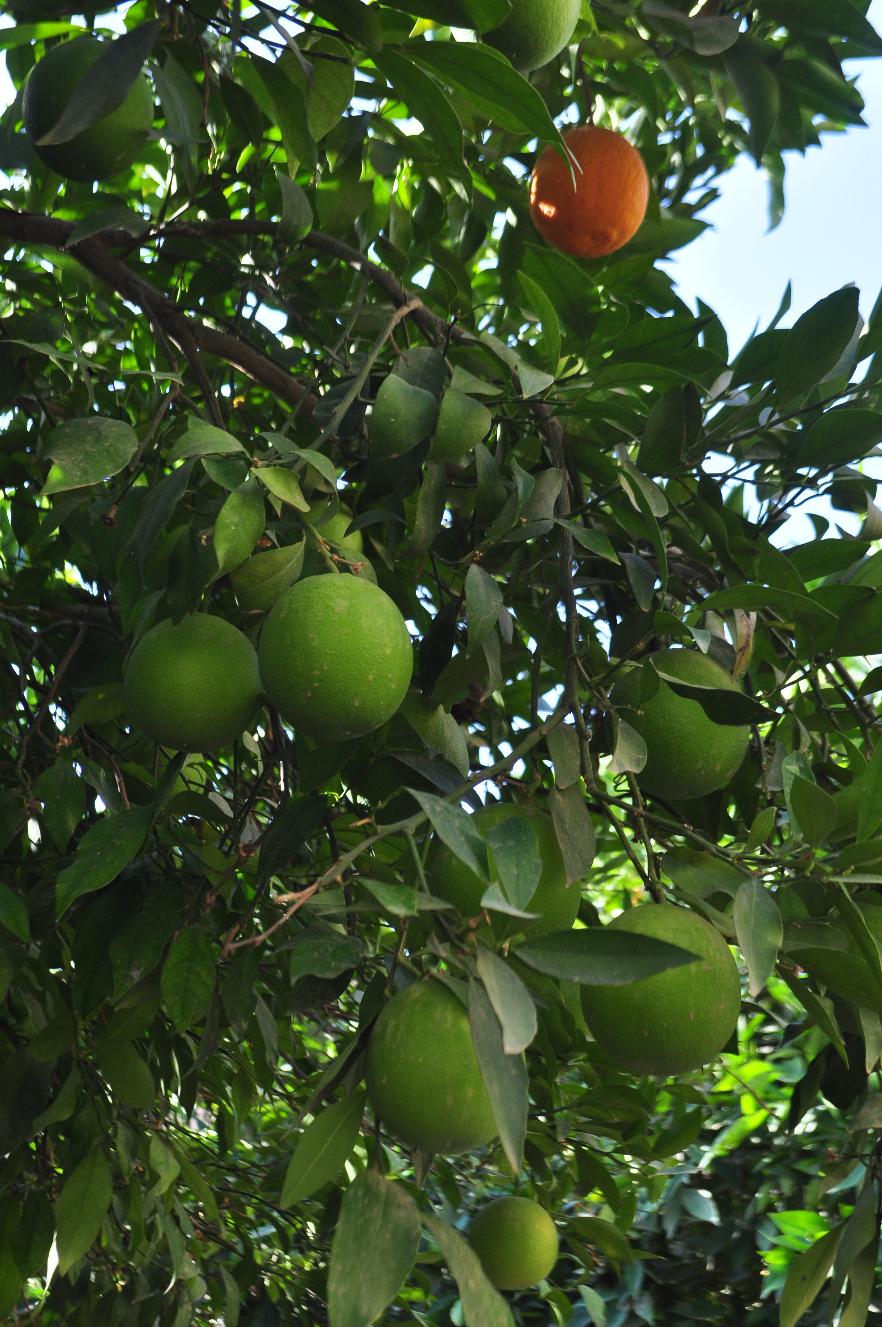 The fellow at the copper shop had this chameleon that attached him (or her) self to Gayle.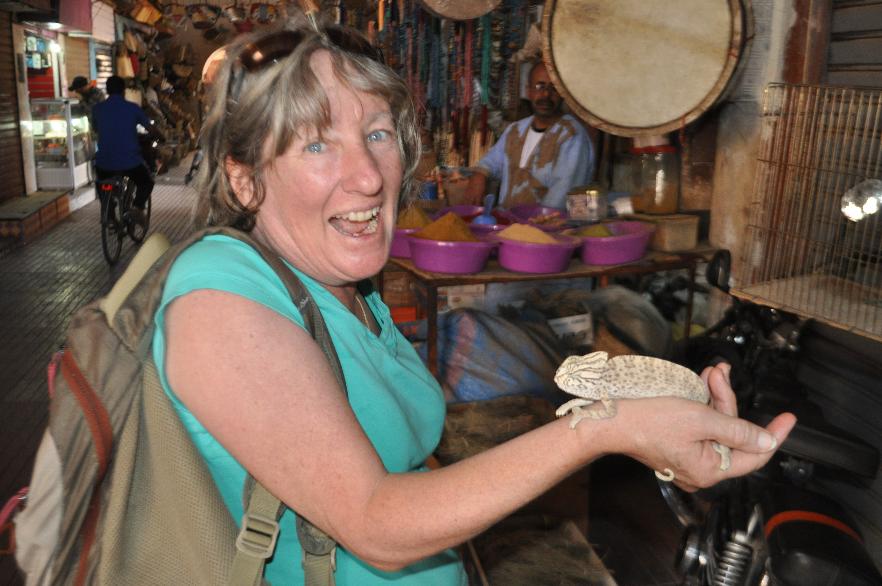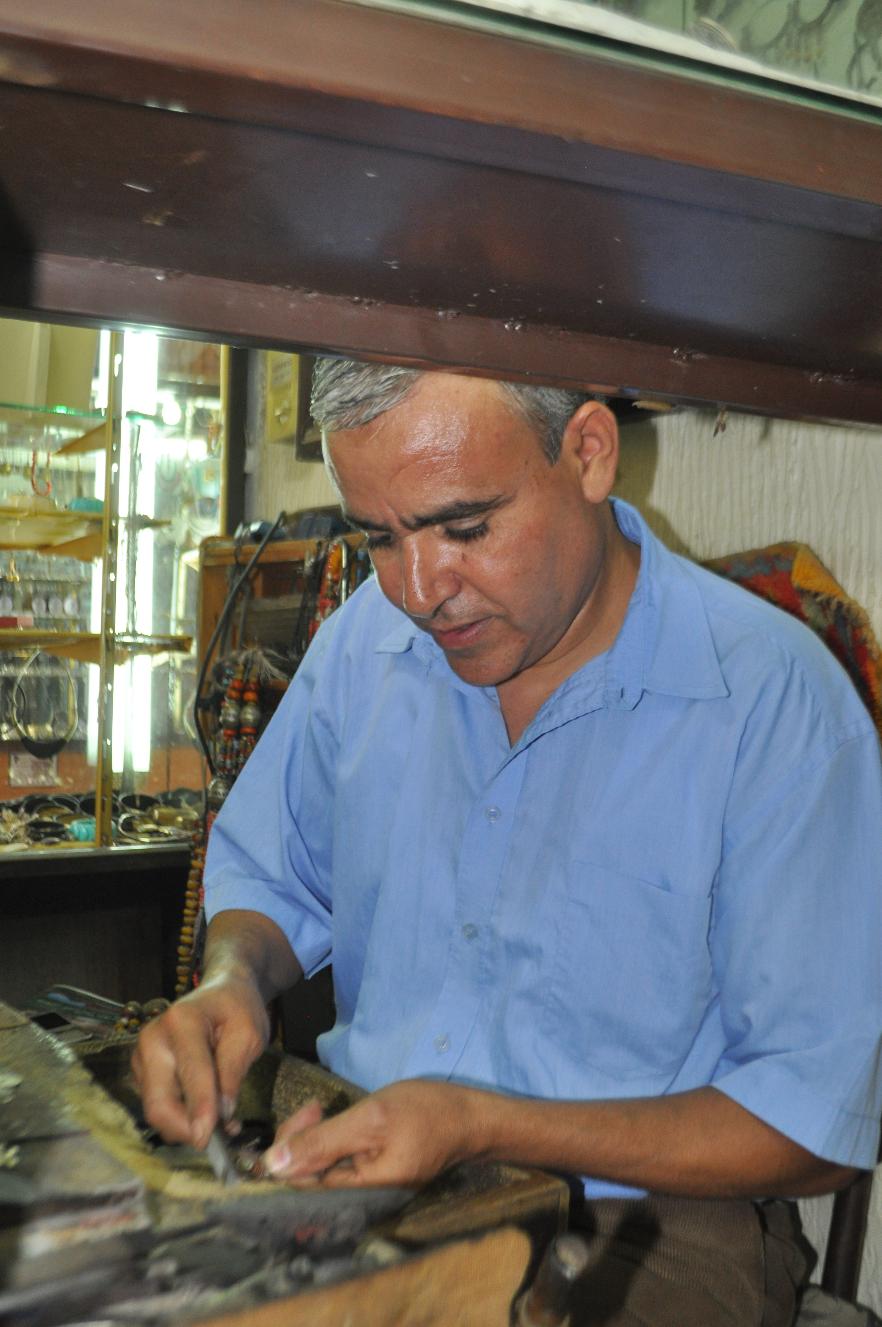 Moroccan women not in the traditional Taroudant dress.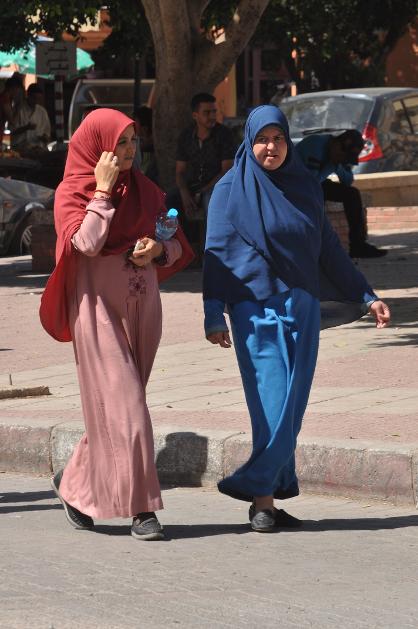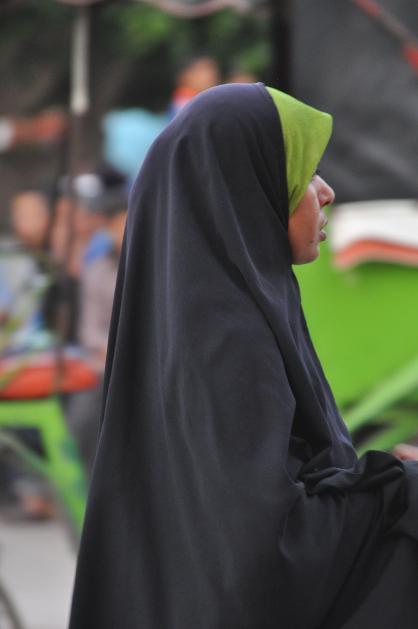 ... which is for women in Taroudant is pale blue.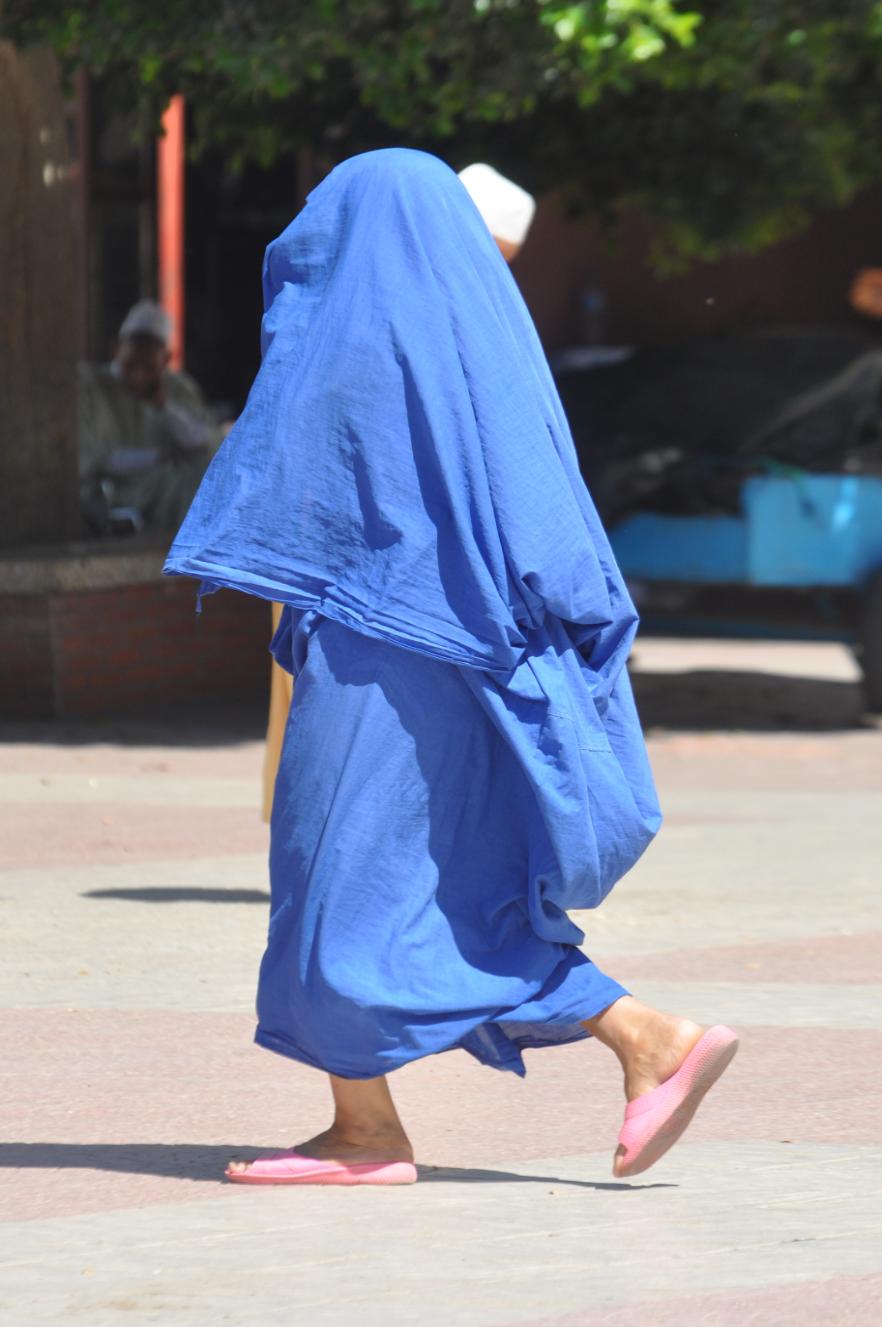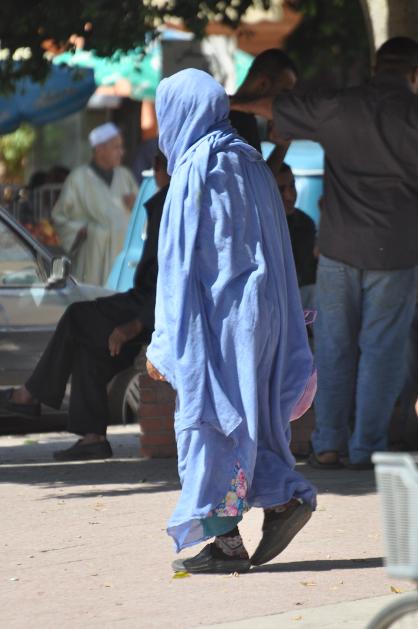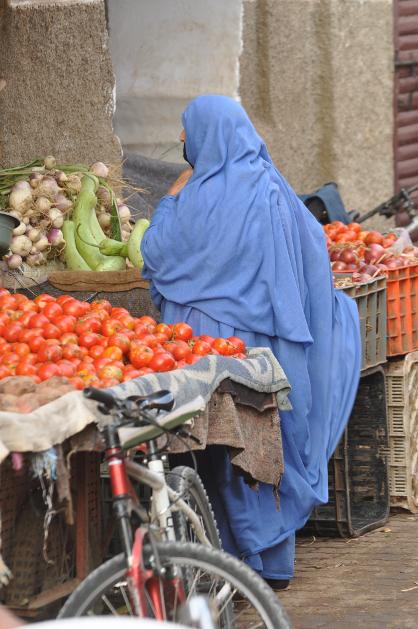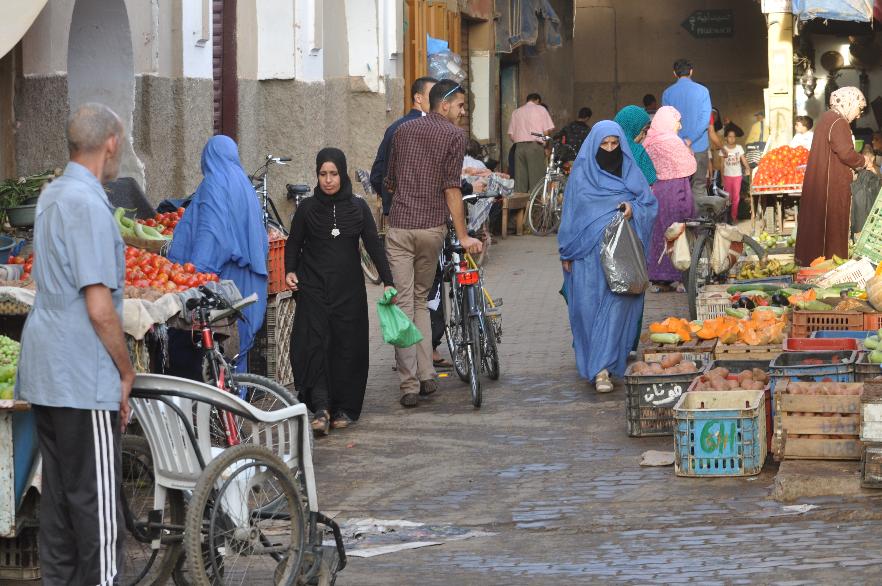 A bread stand in the Medina.



Fruit stalls are most often portable.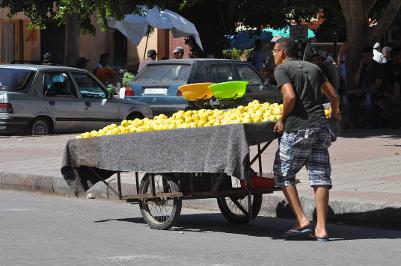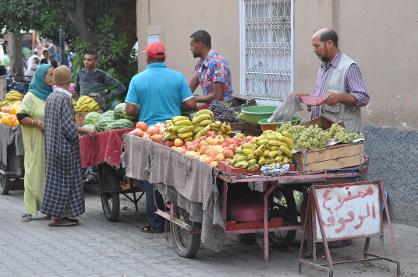 This is what faced Amar as he drove into the Medina.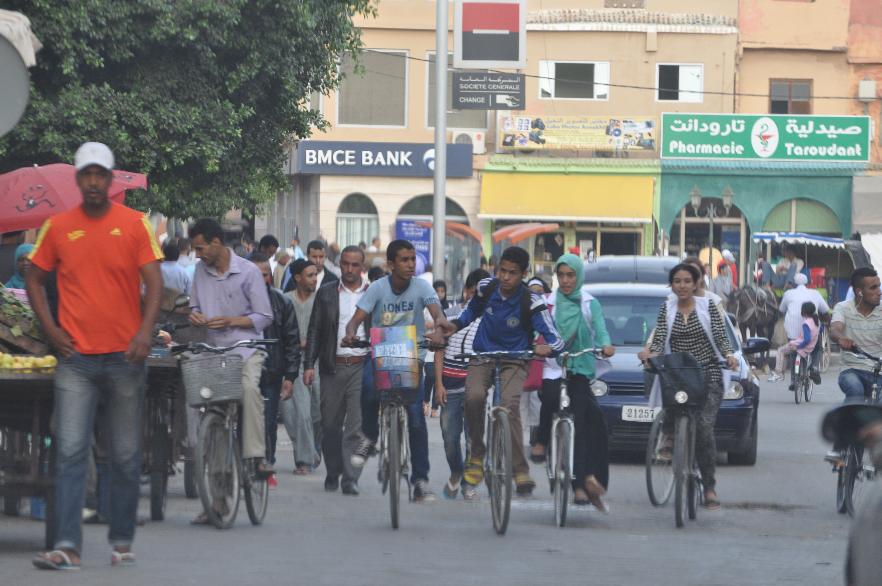 The Medina of Taroudant early in the evening - full of people - virtually all locals; only a few tourists.
.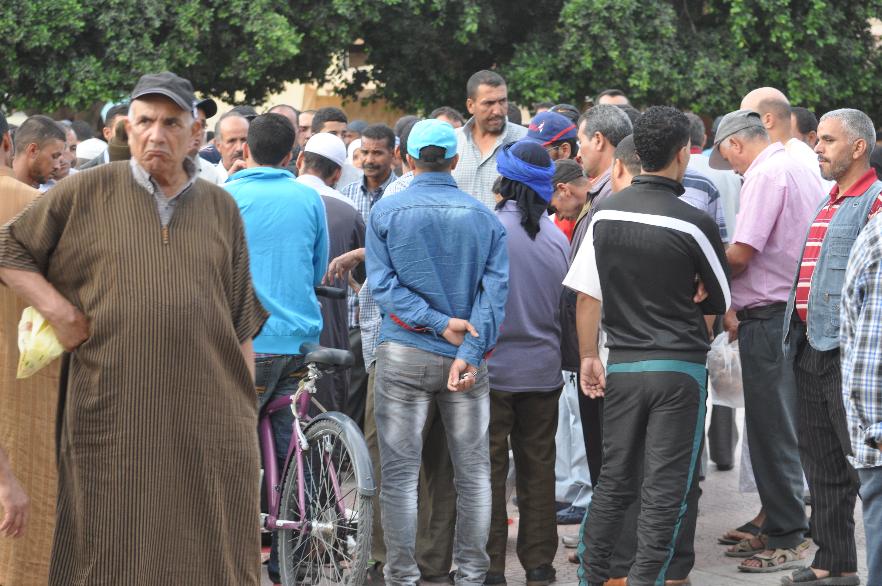 September 30, 2015 - Tafraout => Igherm => Riad Elaissi, Taroudant

We started the day by returning to Tafraout as Amar had to visit the bank.
This gave us a bit more time to watch and photograph locals as they made their way through town.
In particular I took a few photos of the local shoes, or babouches.
The women's are intricately designed, while the men's are plain yellow.
We then headed east through another beautiful valley with spectacular landscapes. Along the way we spotted a number of women filling their water jugs from a well. There were also a few children so we stopped to give them one of the balls we had purchased and some candy. Another nice encounter.
We reached the village of Igherm where we stopped to gas up and for Amar to have a bit of lunch. Igherm was a hopping little town, with market stalls, people absolutely everywhere buying or selling. We stopped at a copper vendor and eventually bought a small mug. Amar then started the process of the grill. It is a number of steps (no riddle this time). First one buys their meat from a butcher stall, in this case chicken. Step 2 is taking the meat to the griller, a different fellow who will cook your meat. Then Step 3 is finding a table in an insanely busy little café/restaurant where you get your bread, tea etc. and sit and eat. Amar had the fellow grill some tomato and onions for Gayle – a thoughtful gesture. While simple the grilled chicken was very tasty.
We then continued towards Taroudant. Along the way we saw the goats in trees. The trees are argan, whose nuts produce a sought-after oil. Apparently local goats feast on these argan nuts, and have adapted themselves to not only stand up and stretch to reach the nuts but actually climb the trees, to the very top where a number of them can be seen perched, eating the nuts.
Amar suggested we change the riad we had booked in Taroudant. Although he had not been inside he mentioned the one we booked was right on the highway and he had an option at an orange and banana farm in the country a few kilometers from town. We said go ahead and without knowing what our original riad may be like were very very happy with the farm Amar suggested. We had the large Pascha suite. As nice as the room was it was the courtyards, full of orange, lemon and banana trees that made the riad. You could step out of your room and pick fresh oranges right there. There was also a nice pool and a wonderful outdoor eating area, with birds chirping away, toads wandering around and a couple of dogs that made this a perfect stop for us.
For dinner I enjoyed a different dish – a pastille, which is something like a pie, in my case filled with spiced chicken. It was a nice change. Unfortunately Gayle had another vegetable tagine – quite good but same old. The fresh fruit salad for dessert was excellent.

Women on the streets of Tafraout.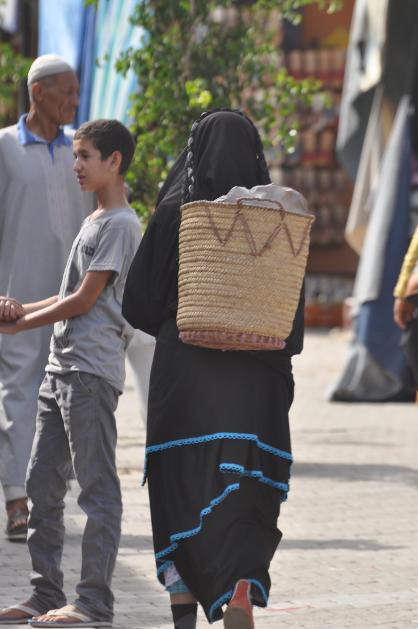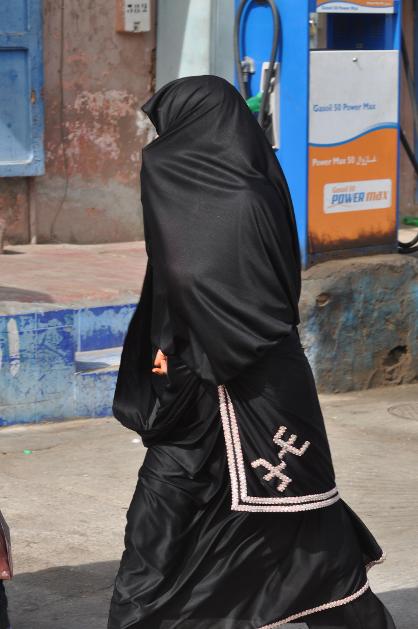 Traditional women and men's shoes in Tafraout.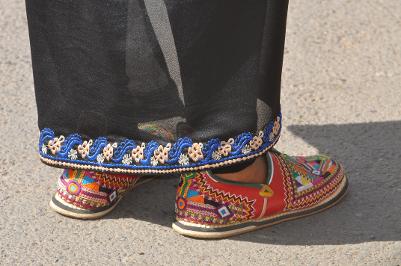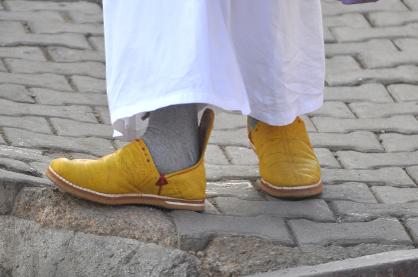 Some of the landscape as we left Tafraout.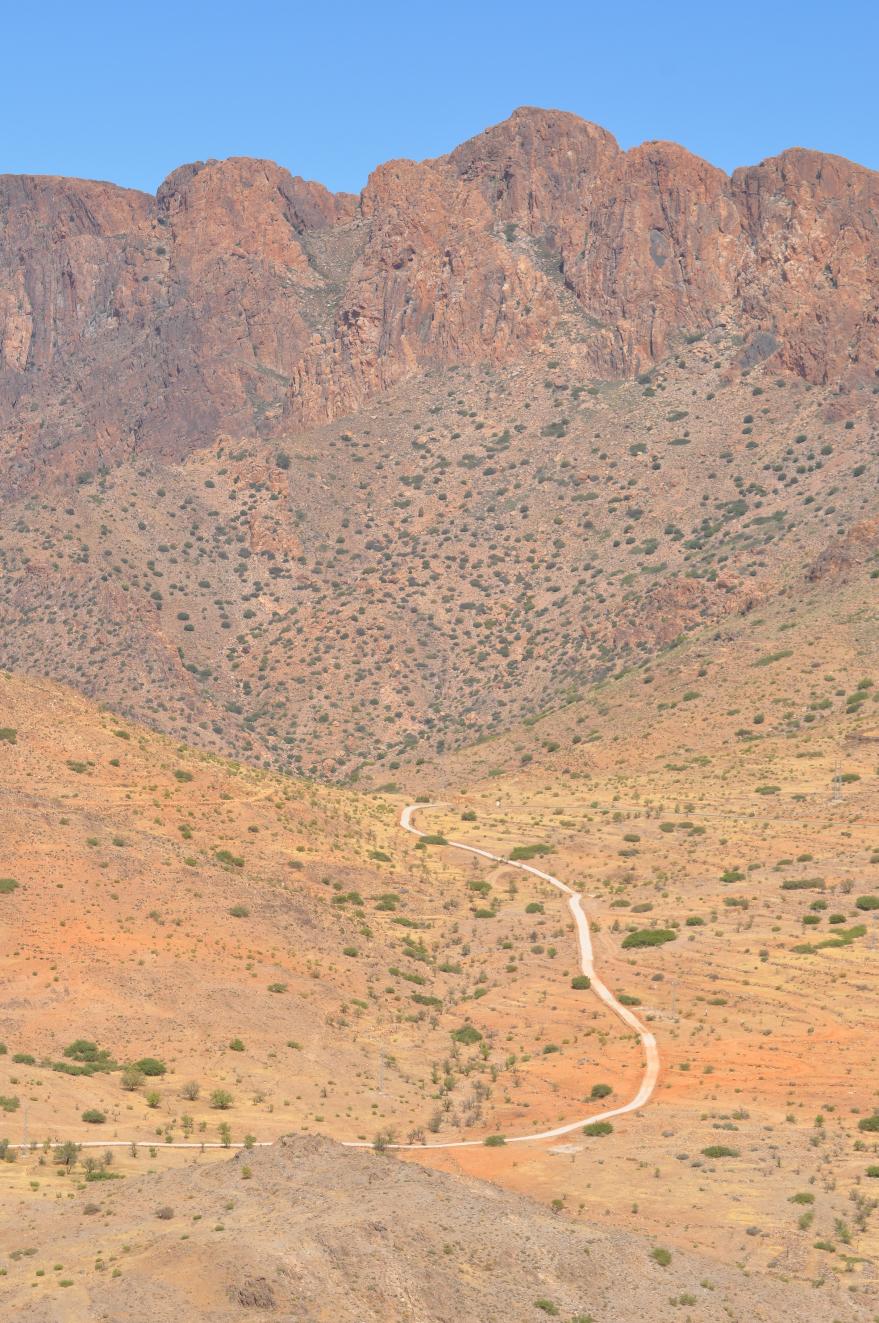 A reasonably common site in the country - women, their donkey and a load of water.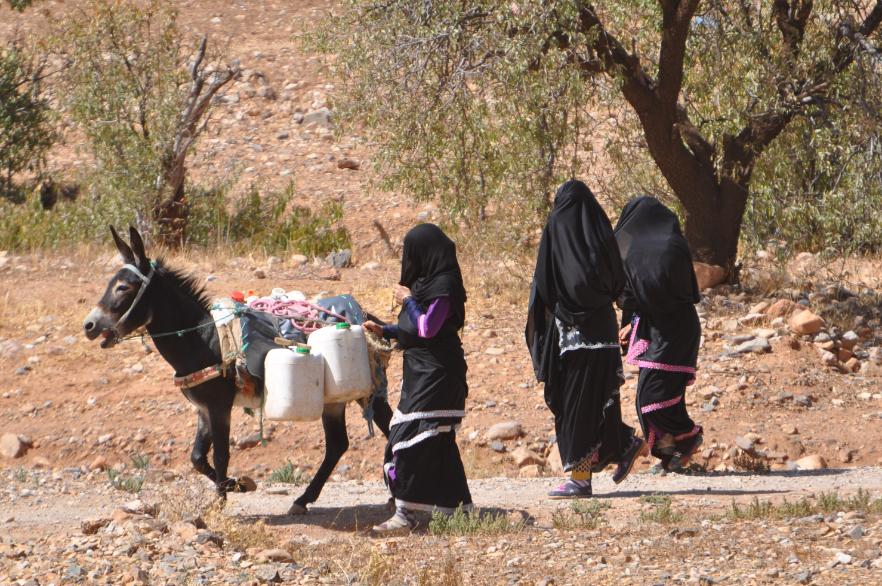 Women getting their water at a well.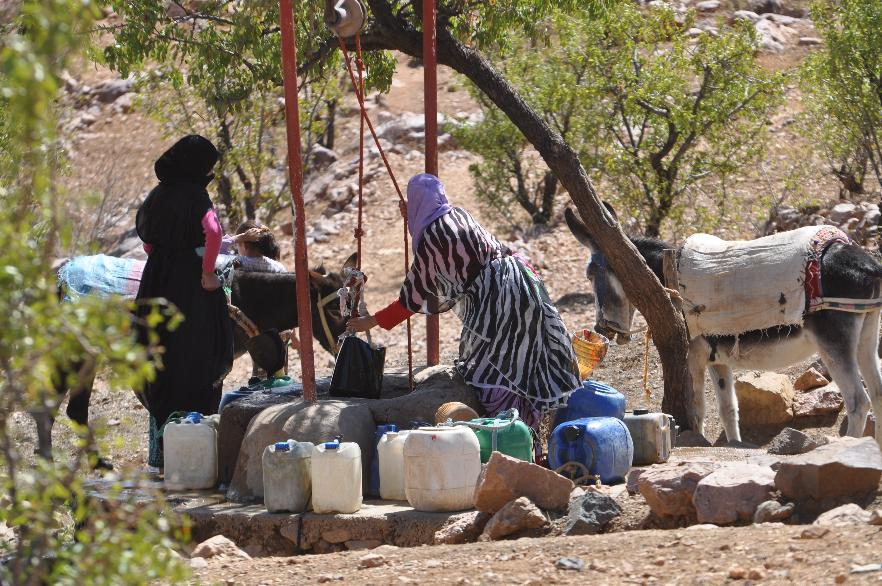 Leaving after giving the children a ball and candy.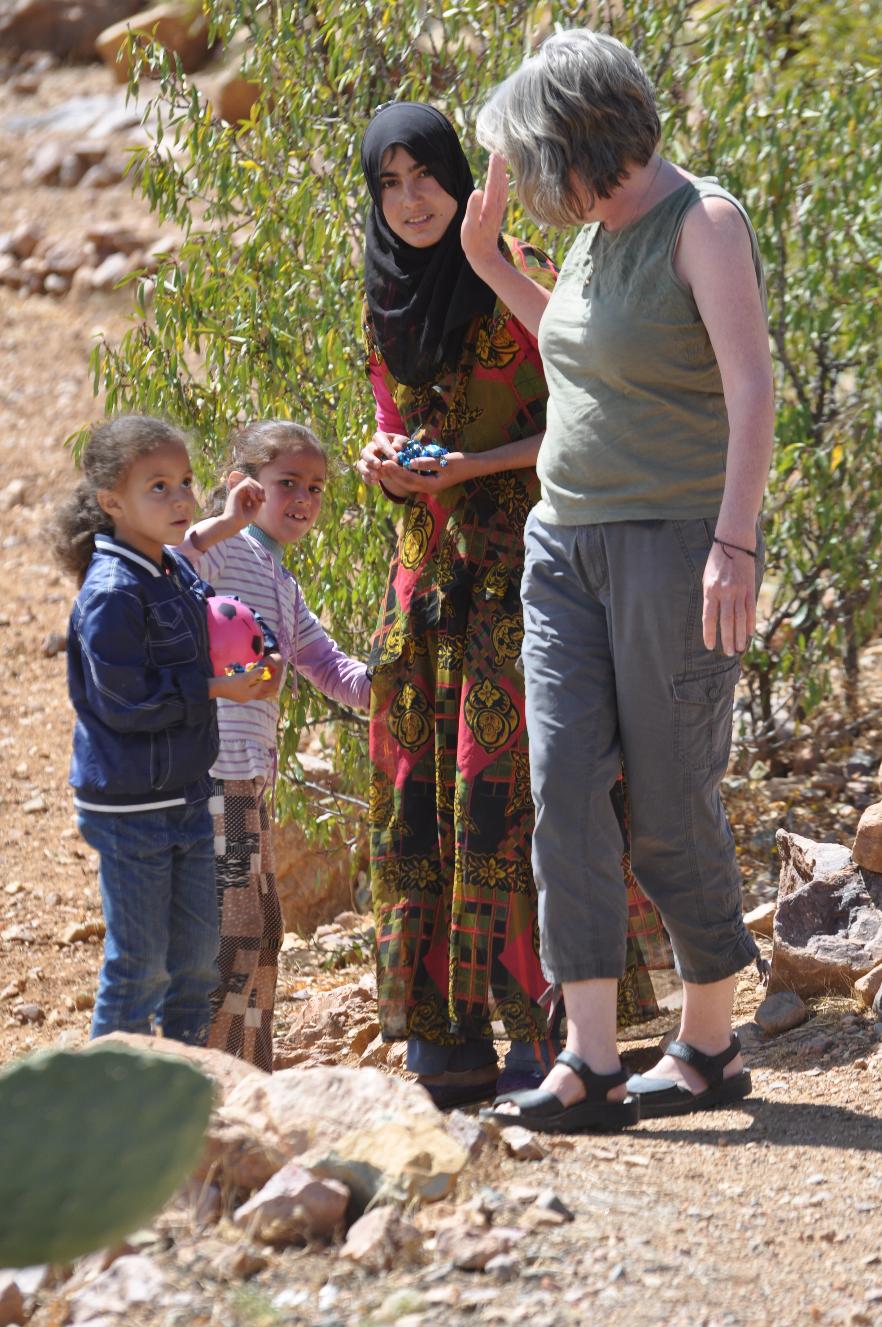 An artisan making hand tools.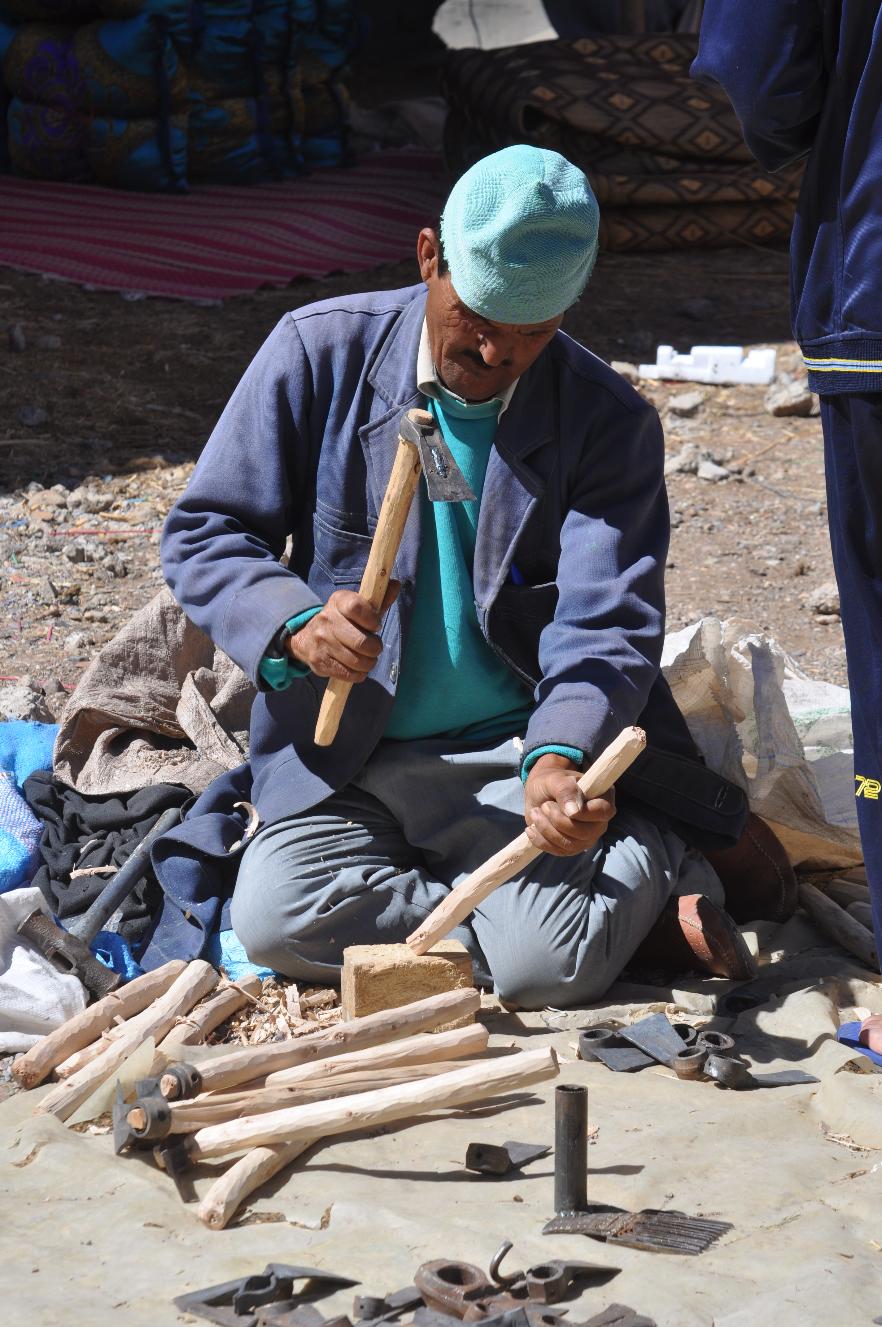 On the streets of Ighrem.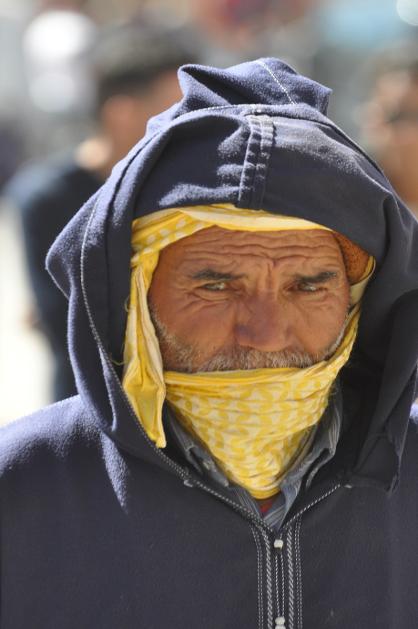 The fruit and veggie market in Ighrem.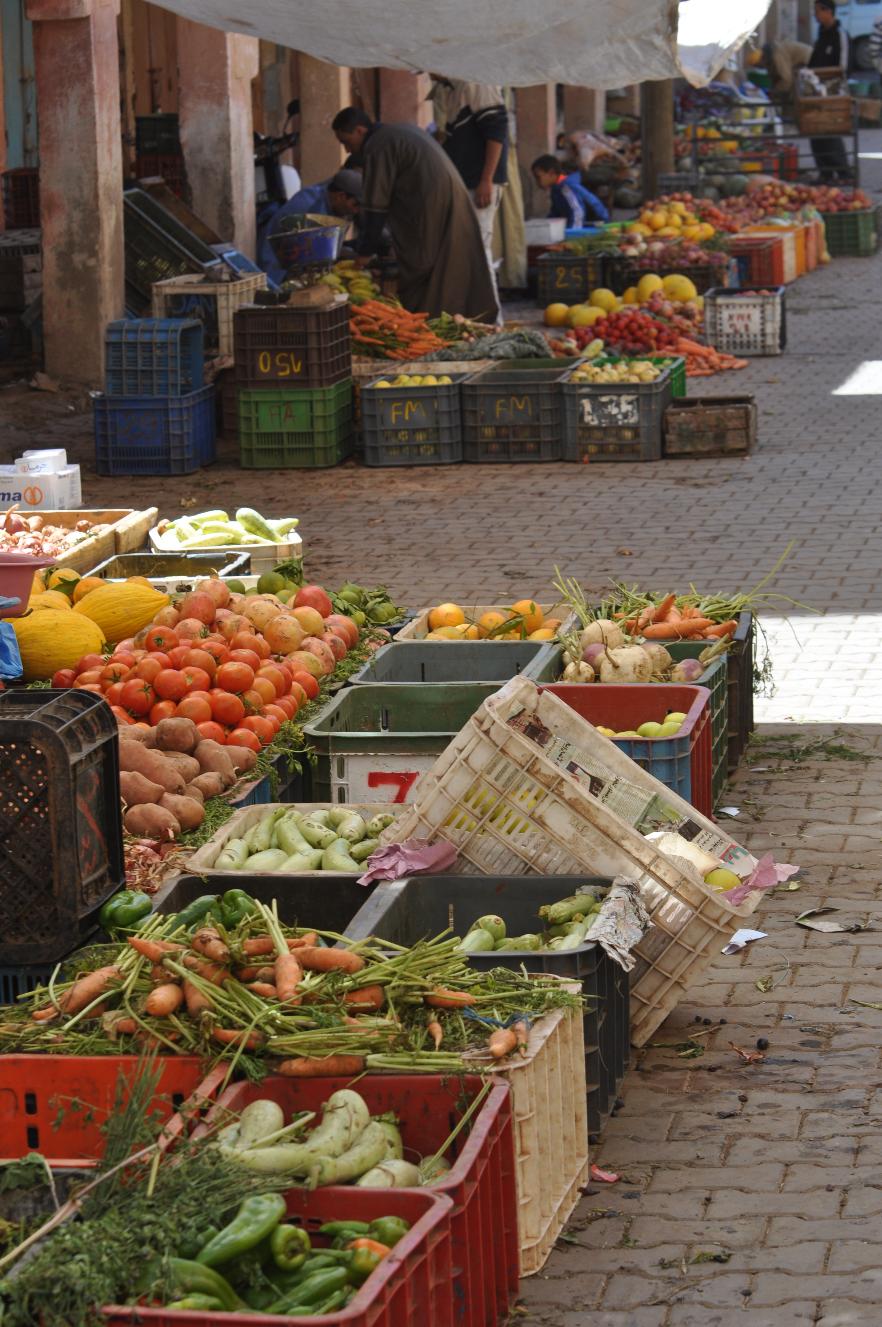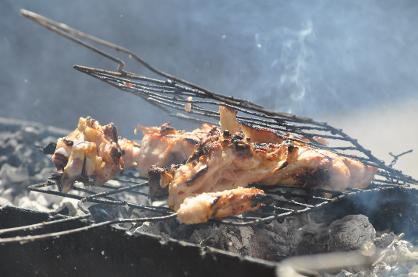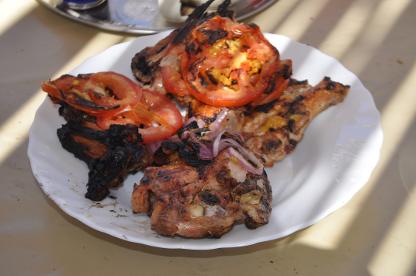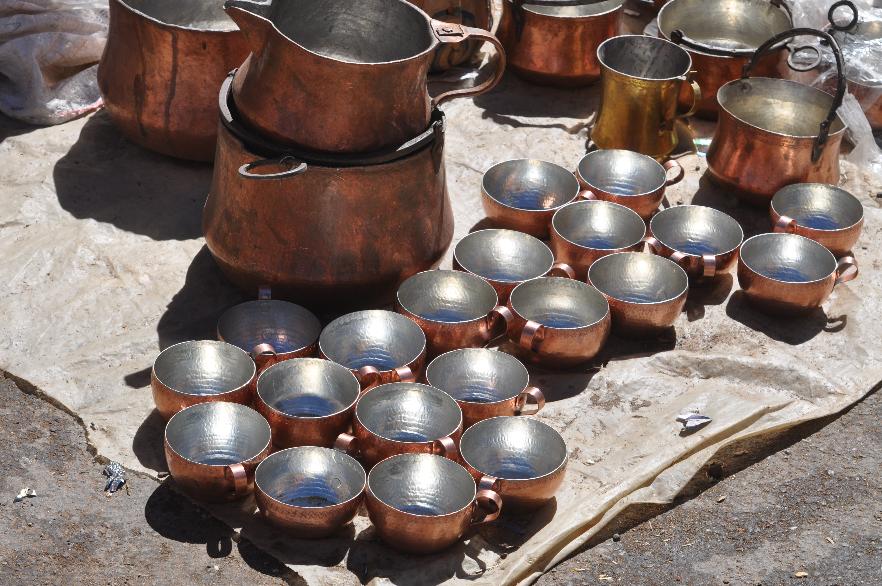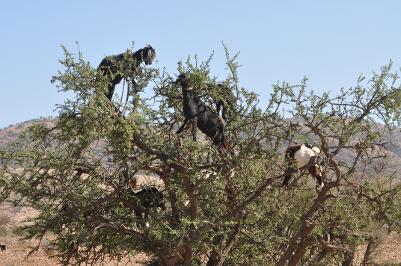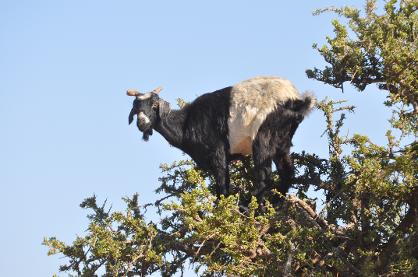 Amar wanted a photo with me and the goats to prove we really did see them in the trees.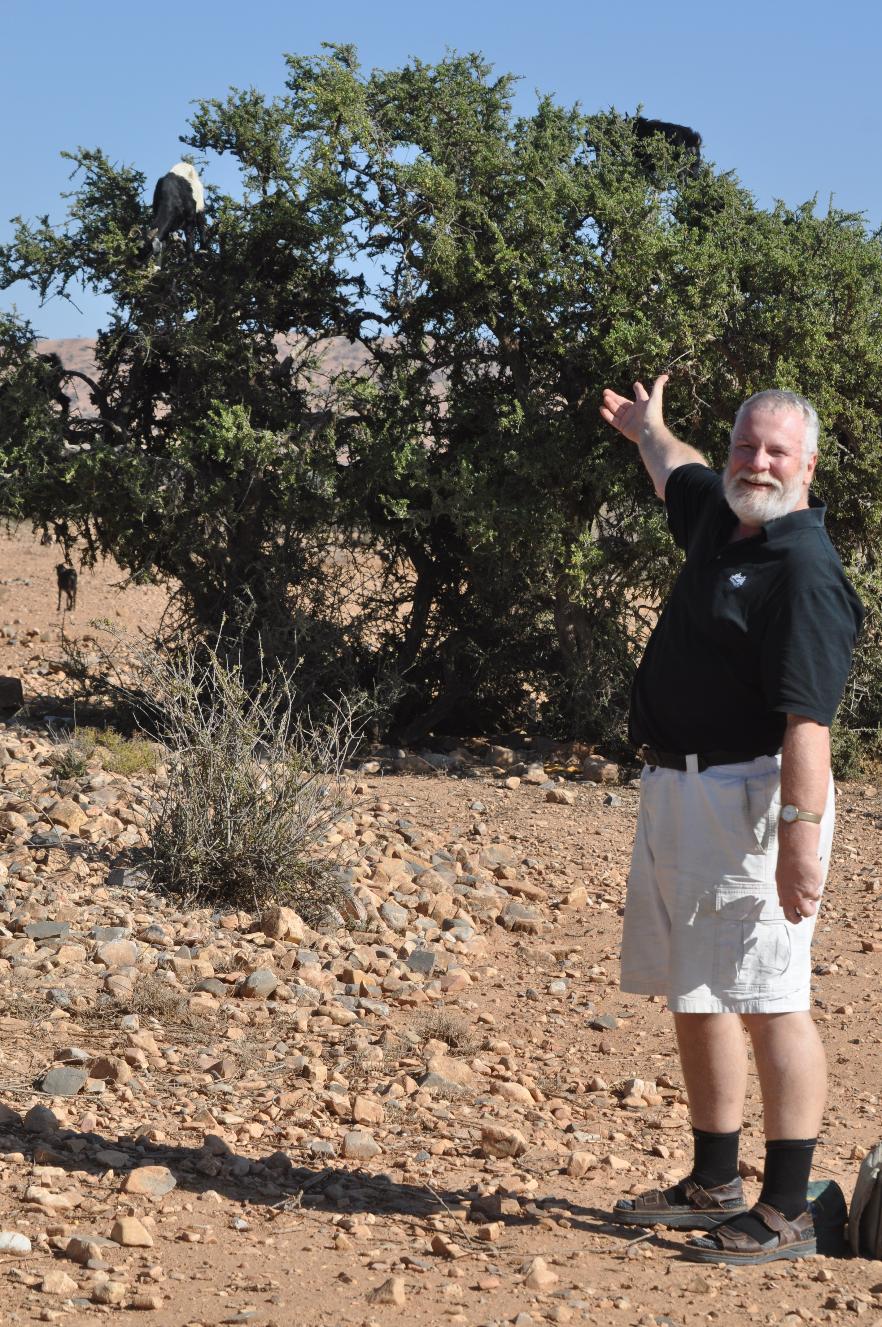 For me for dinner a chicken pastilla.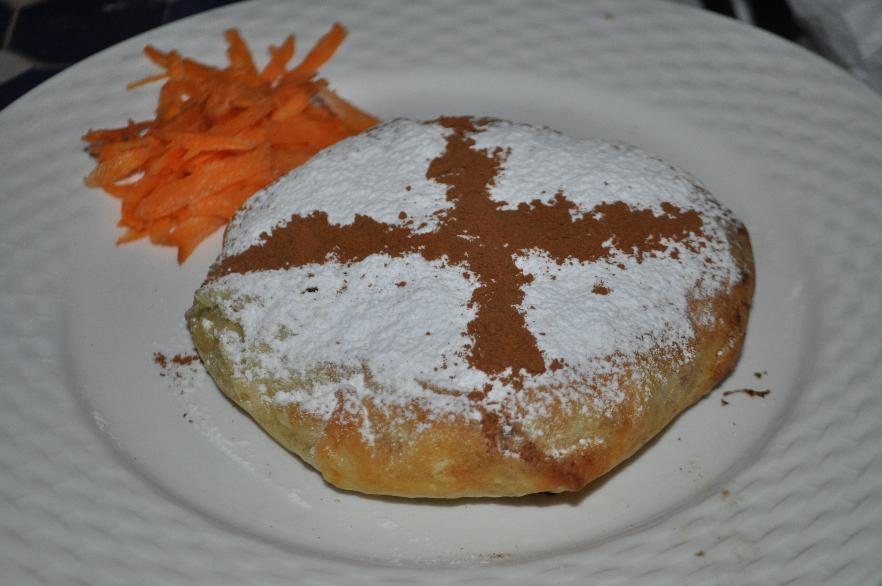 September 29, 2015 - Chez Amaliya, Tafraout

After breakfast pool-side, with a great view of the surrounding mountains, Amar took us to the 'painted rocks'. What are the 'painted rocks' you ask? A project of some Belgian back in the 1980s. While eye-catching it really is a shame as the natural beauty is far superior.
While walking through the rocks Amar started a small fire and heated water for a pot of tea. A very simple experience but really quite nice, being out in the country, nothing but quiet and a drink of tea – felt like we were camping. Again to Amar's credit rather than turning around and driving out the same way we came in he headed off-road, really create your own road. Along the way we saw a number of gazelle, too quick for a photo but we did experience them darting through the countryside. We spent some time searching for wild boar, also apparently known to roam this area, but without success. After a few river bed obstacles we did finally make our way out.
We then stopped in Tafraout for a while. We were looking for traditional Berber shoes as a gift but those made here were somewhat different than what we were looking for. They were regional but with a back and not pointed – so we passed and will try again in Taroudant. We wandered through the small souk and up and down the streets, finally stopping in a café for drinks where this sweet little girl was all smiles for us.
We then returned to Chez Amaliya for a leisurely afternoon and actually a pretty decent dinner with some quite nice Meknes wine. Gayle had a surprisingly good pizza while I the kefka (small meatballs). All in all a generally quiet/relaxing day.

The mountains surrounding Tafraout, reminiscent of Tucson.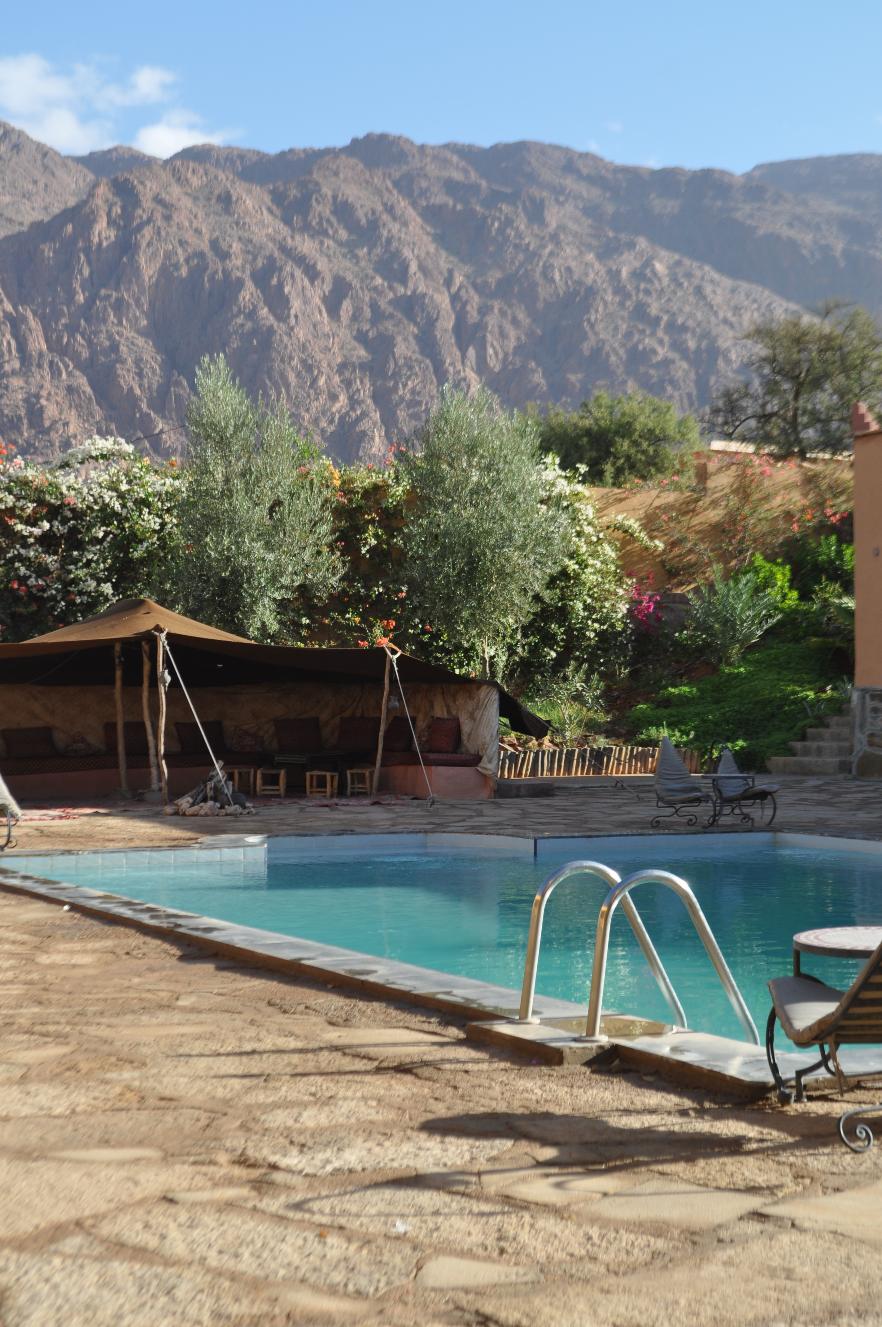 Beautiful mountains and natural landscapes.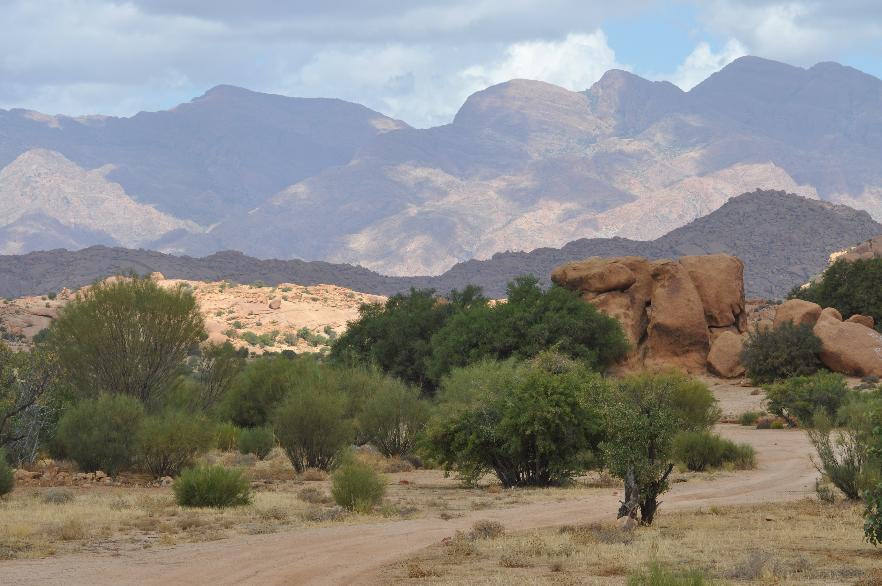 ... except for the blue and pink painted rocks.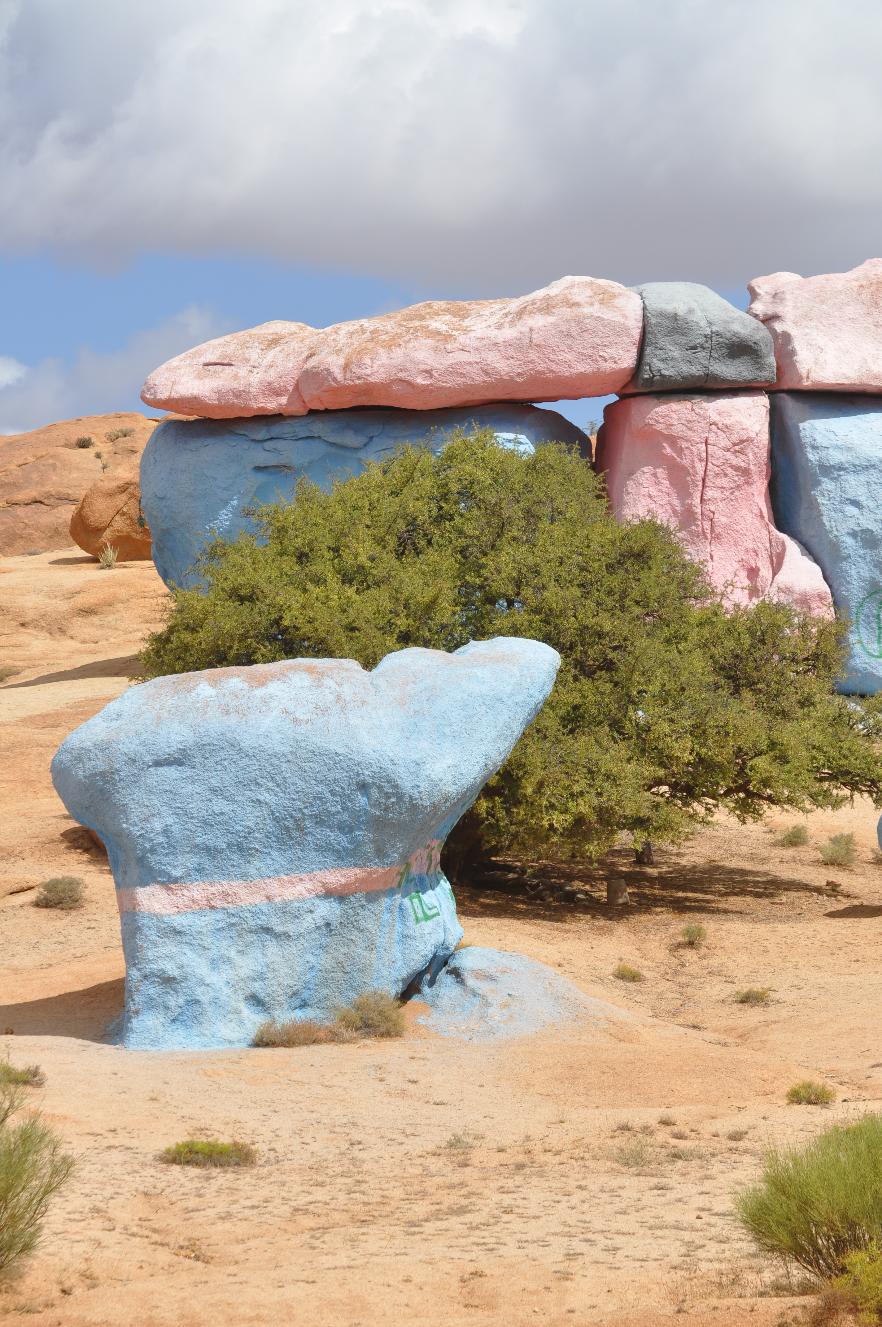 Amar's fire to boil the water...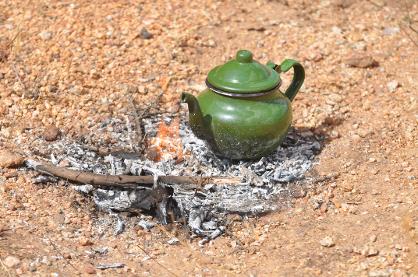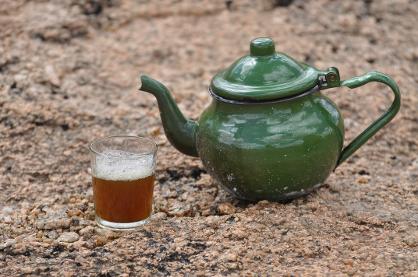 Enjoying the tea of Amar's labours.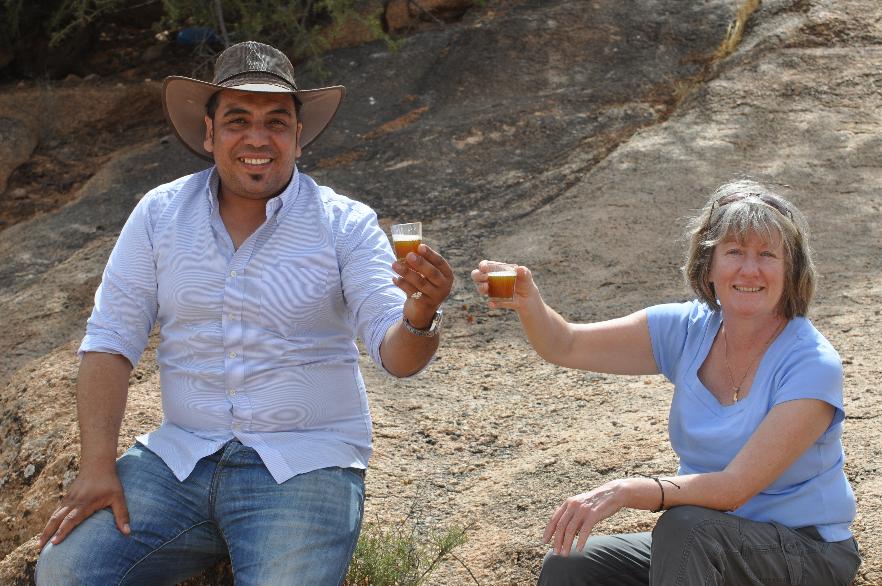 Some of the impressive rock formations around Tafraout.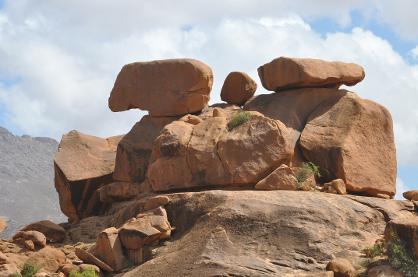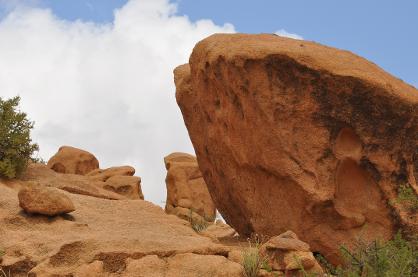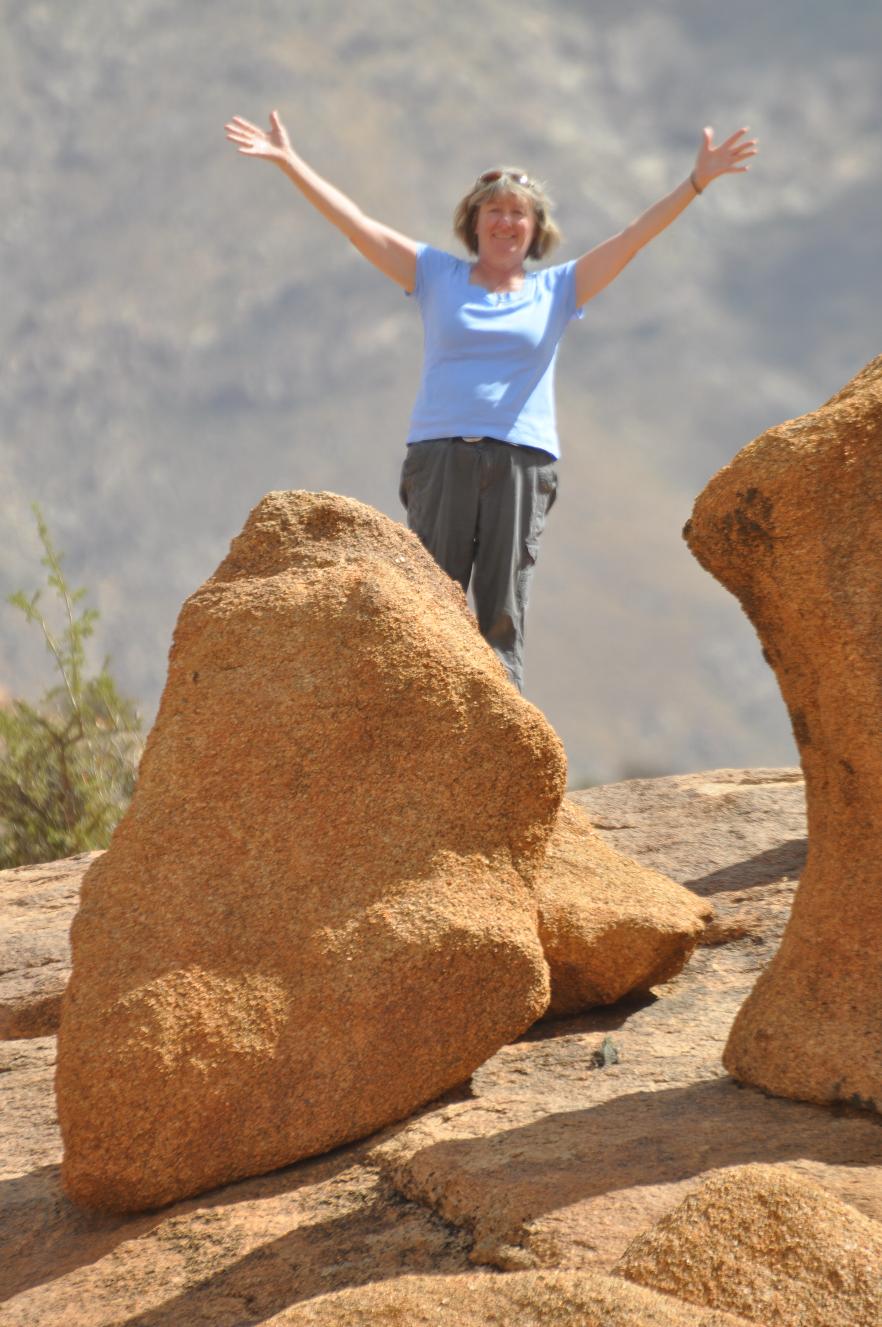 This streets of Tafraout were full of locals in traditional dress going about their daily business.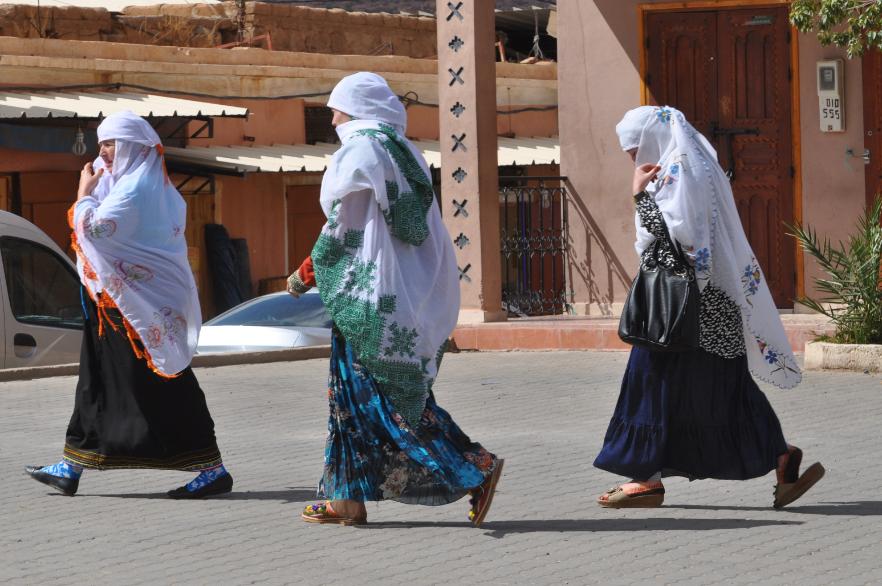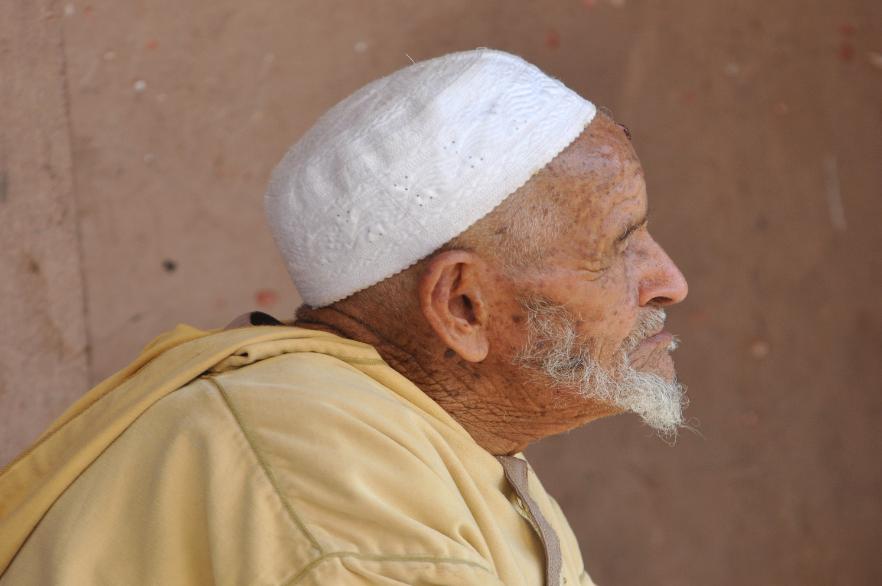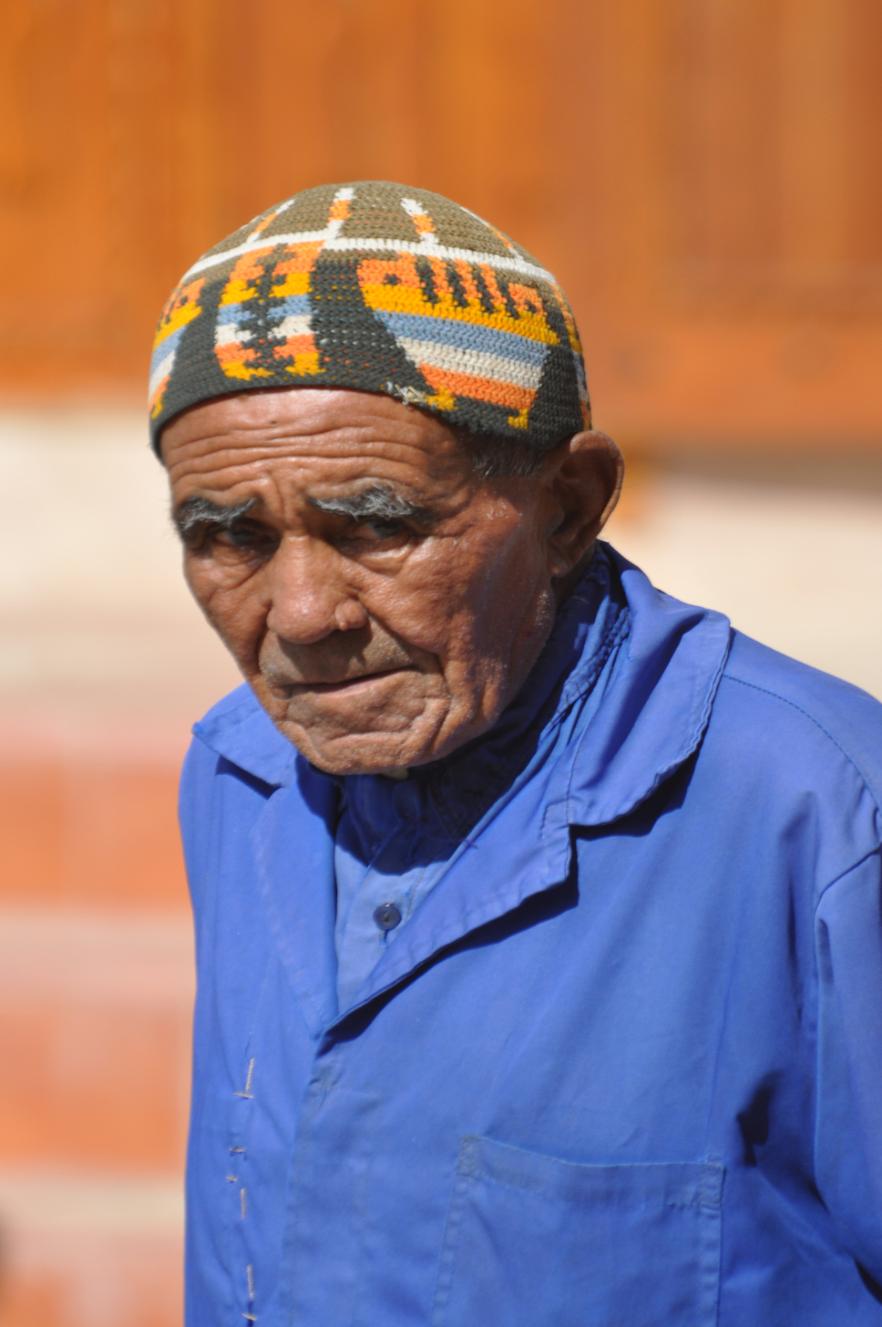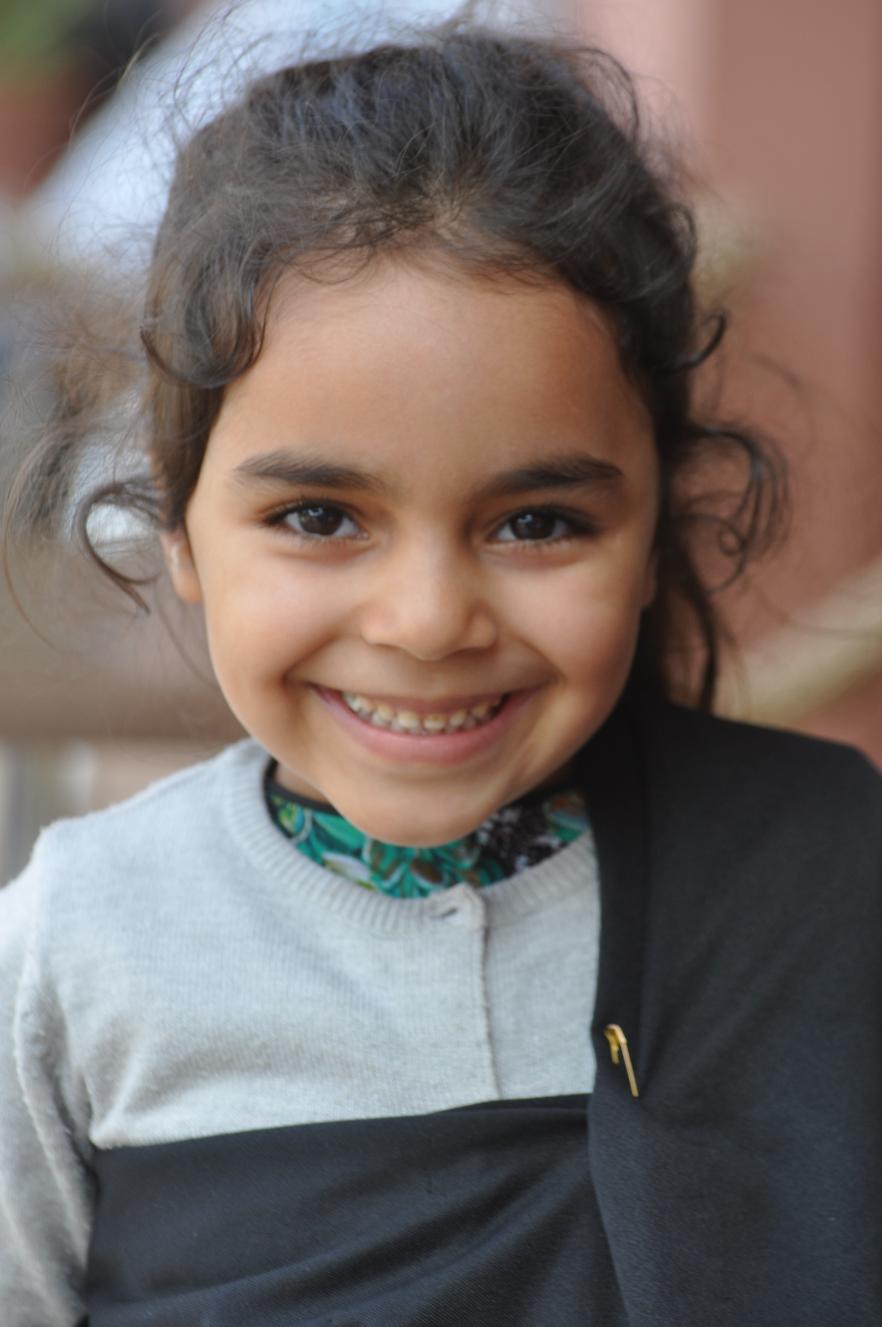 A wide variety of fruit and vegetables.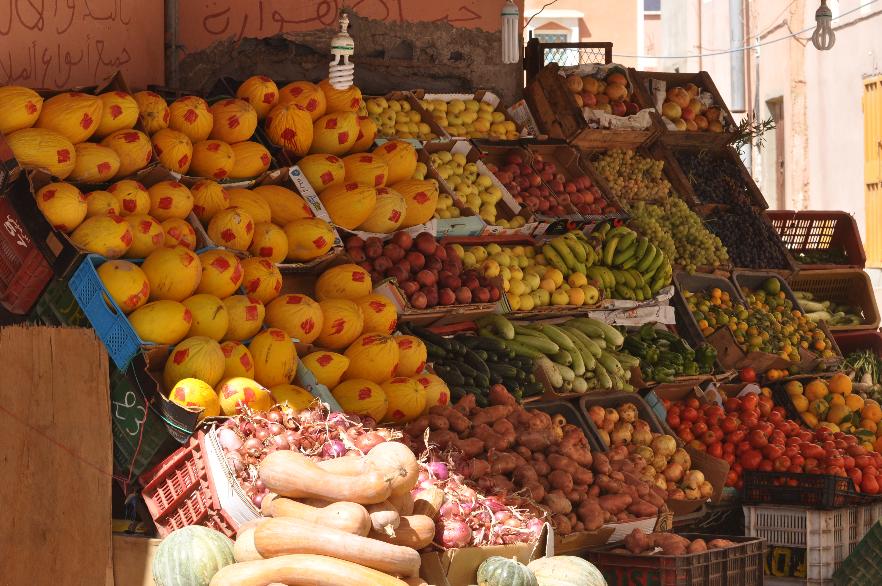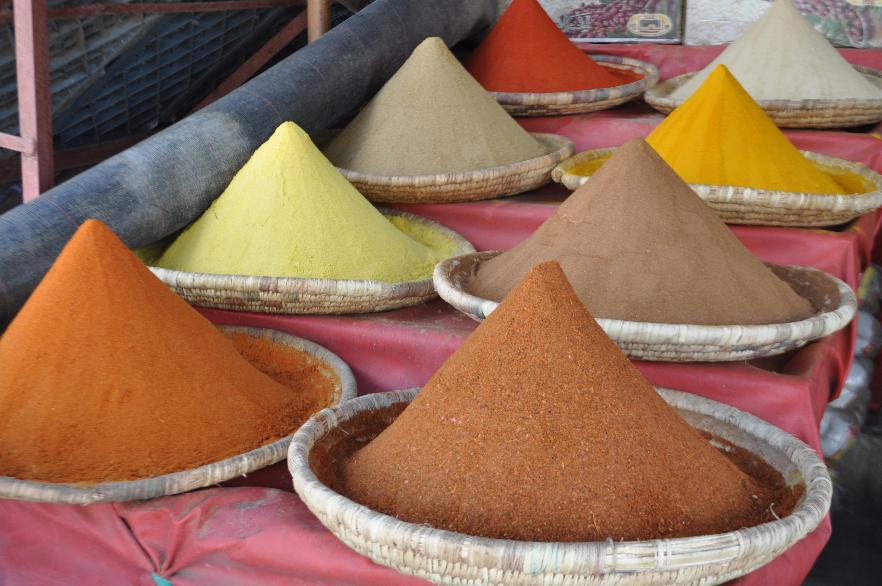 September 28, 2015 - Tata to Chez Amaliya, Tafraout
We left Tata, the southernmost destination of our adventure, and drove west where we stopped in the village of Akka. Amar had suggested an alternative place to stay in Tafraout, but needed to confirm. We agreed that something outside of town would likely be better so stopped for tea in a café and watched (and photographed) the locals carrying on their daily activities. It was really quite interesting watching people, often women very colourfully dressed, carry goods purchased or just stop to chat with each other. Men spent times in the cafes, either alone or with others most often drinking tea. Women (other than Gayle) did not partake in sitting in the cafes. Amar confirmed our booking but as we left we encountered a number of school children out from the morning and decided to buy them some treats. While Amar and Gayle visited a nearby store I stayed near the vehicle and smiled a lot. The children – perhaps 10 to 12, after waiting quietly, seemed very appreciative of the gifts. Gayle then gave a number of mothers, one of whom had a very interesting henna'd hand, candy for their children as well.
We continued on our way until a fork in the road. For you baseball fans it reminded me of Yogi Berra, the NY Yankee who passed away the other day. Yogi, in his typical way was quoted as saying "When you reach a fork in the road – take it". Anyway we took the route north that led to the Ait Mansour valley. The drive was quite something. We saw Bedouin nomad tents, colourful rock formations, a dramatic valley, goats in a basket on a bike, a scorpion and numerous panoramic vistas.
The drive into Tafraout reminded us in part of Arizona, minus the saguaro cactus and a little bit of Peggy's Cove with granite rocks perched on each other. It was a beautiful drive towards the village. As mentioned we are a few kilometers outside of town. While on the road, with some vehicle noise the Chez Amalyis, more a hotel than a riad or B&B was clean and functional. The views of the surrounding mountains were wonderful. We felt like we were in Tucson, and if so would have been very impressed with this small hotel.
We were treated to a vibrant rainbow and a really nice sunset. Our meal in the hotel restaurant was ok – Gayle had a cheese omelet and I a beef brochette – both a little different than tagine.

Now I'm not that tall. This is one small door, although standard here at Dar Infiane.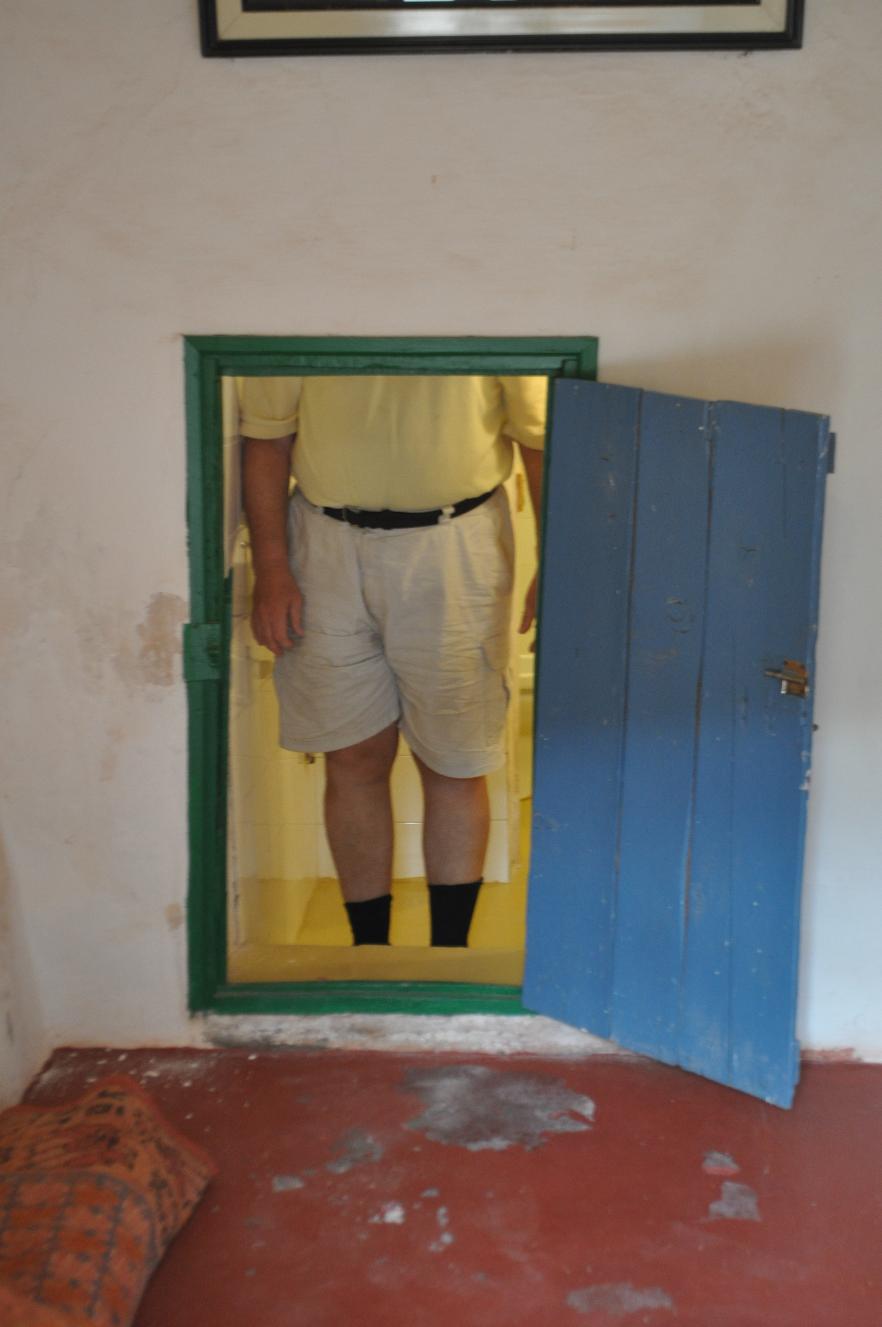 Precious cargo (a goat) being transported on a scooter.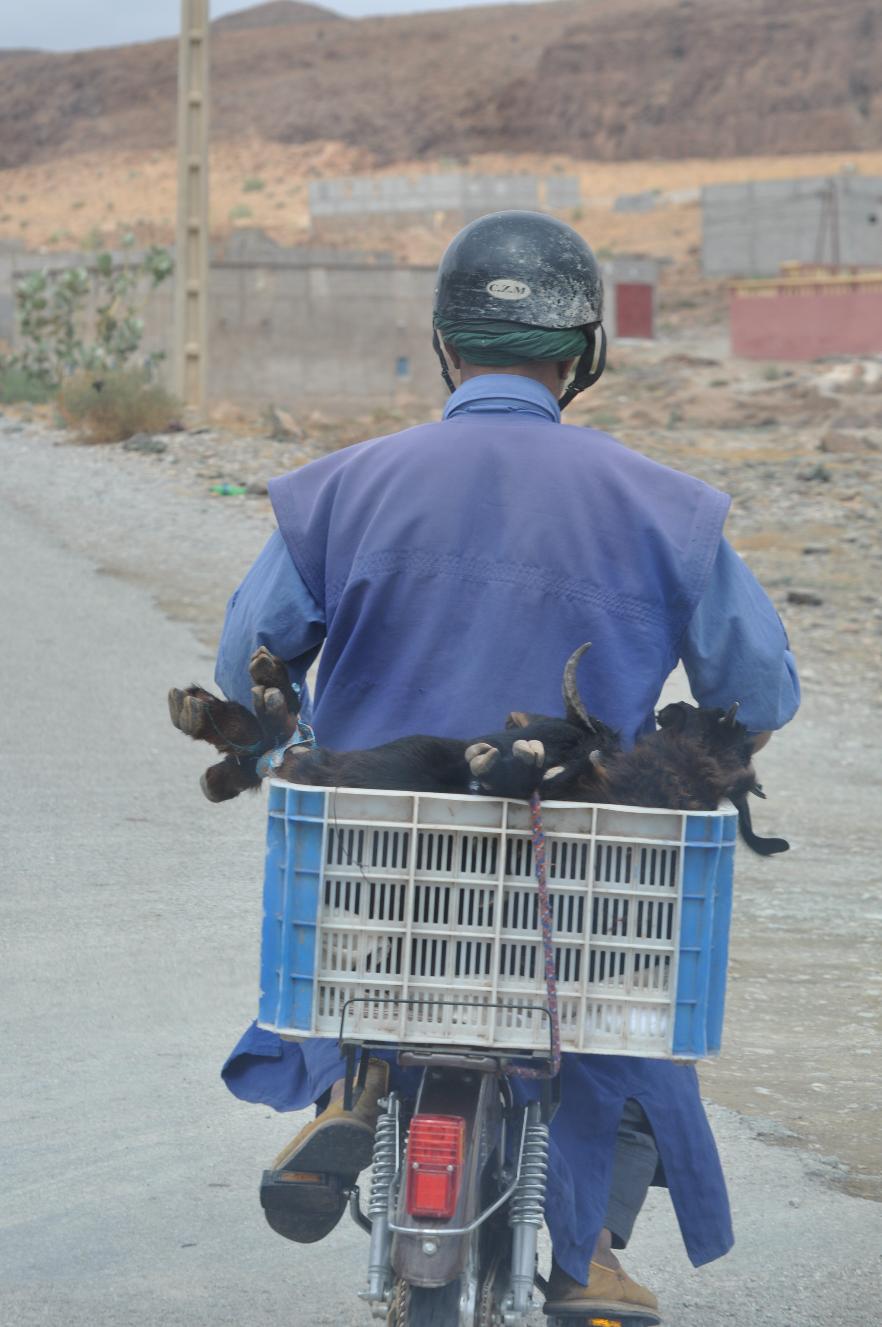 The traditional blue dress of the region.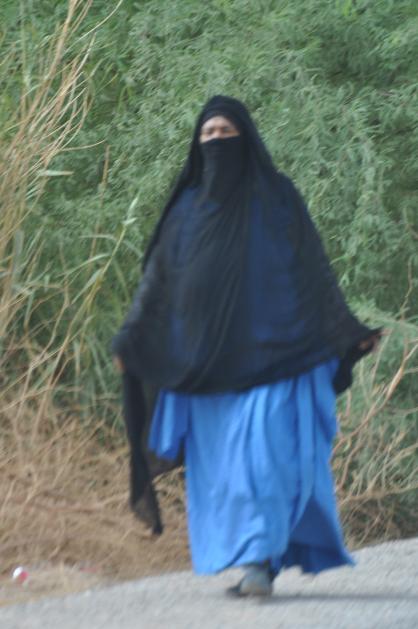 Families in colourful dress seen along the way.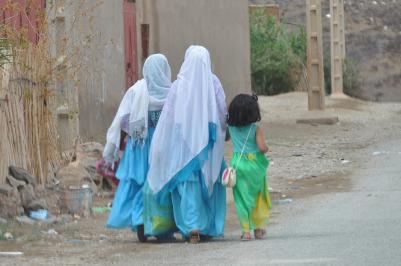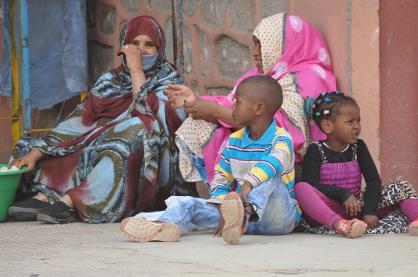 Giving candy to the children.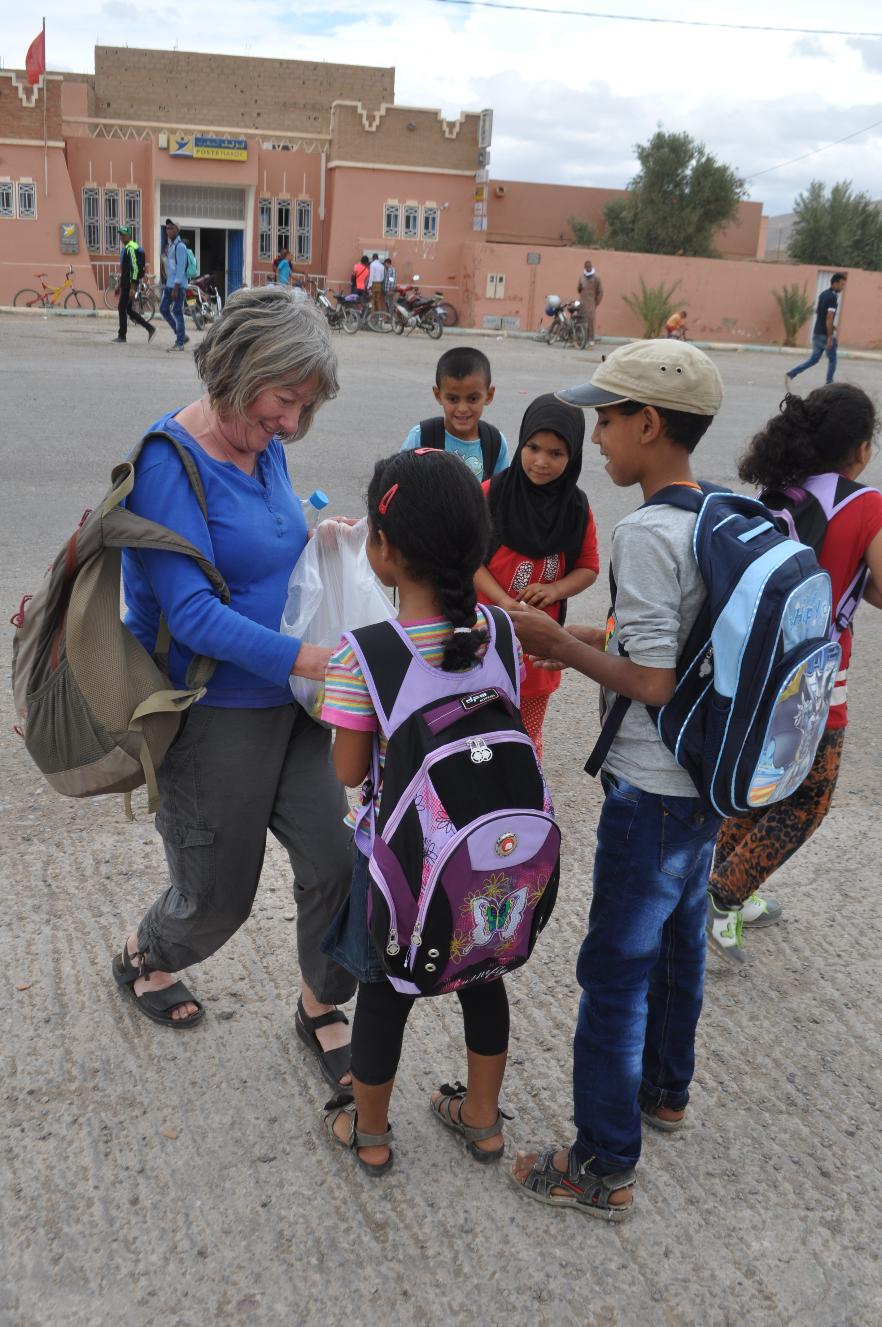 Women in Akka and the henna'd hand of the woman in orange.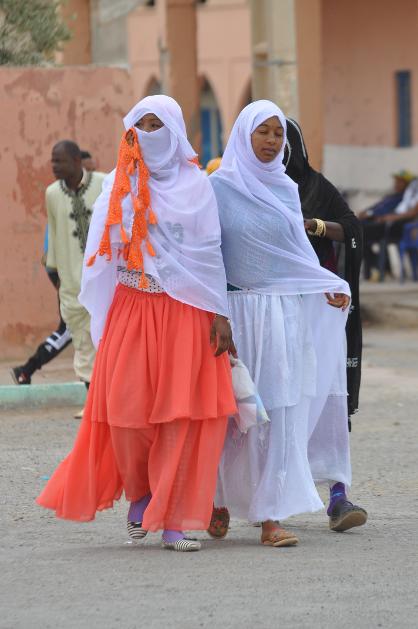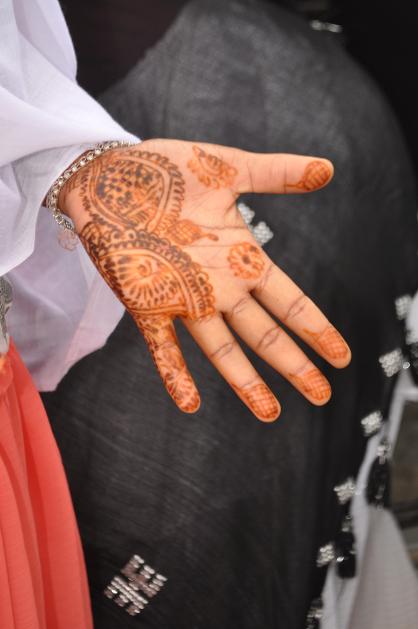 Entering town with gifts for a wedding.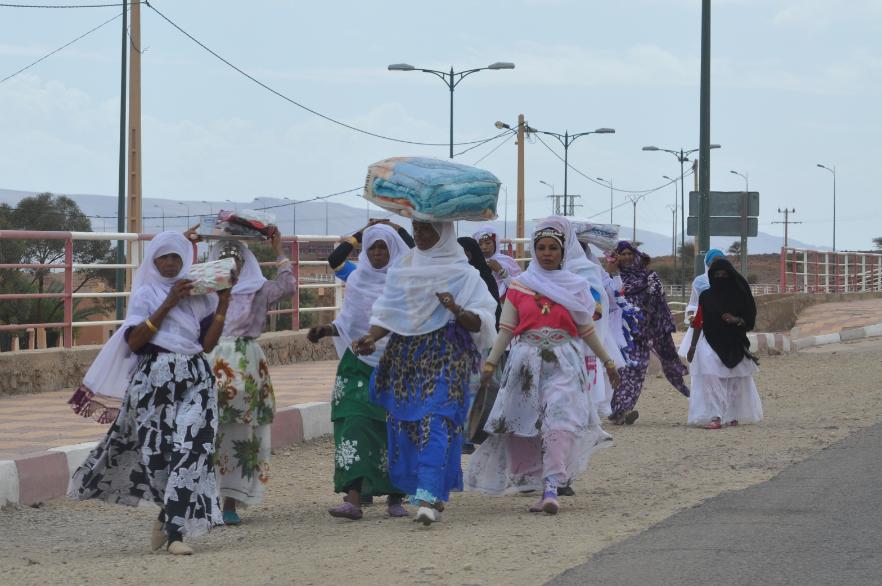 More wildlife crossing the road.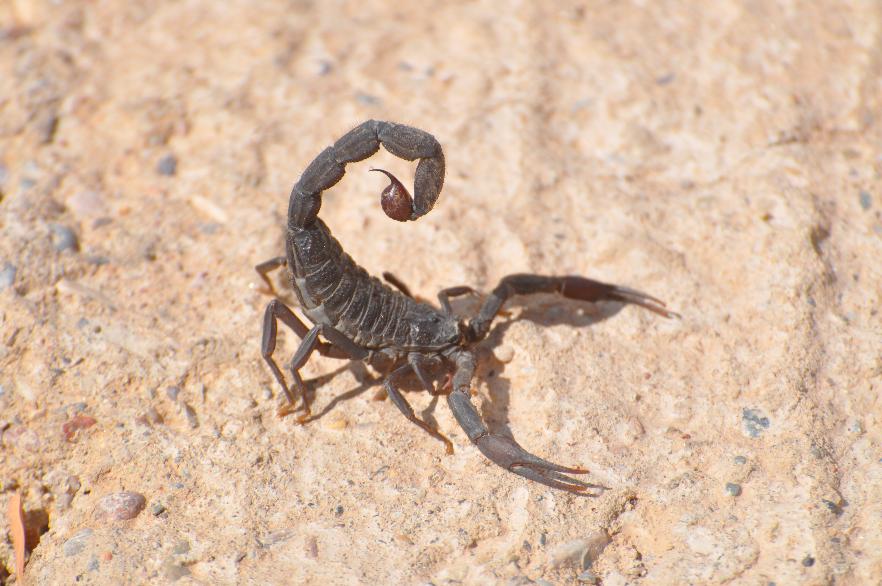 Colourful rock layering along the roadside.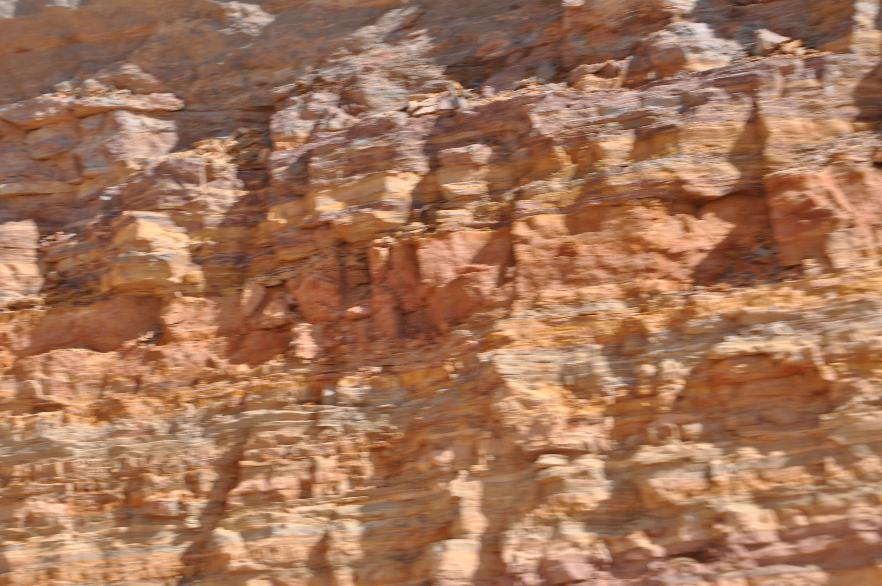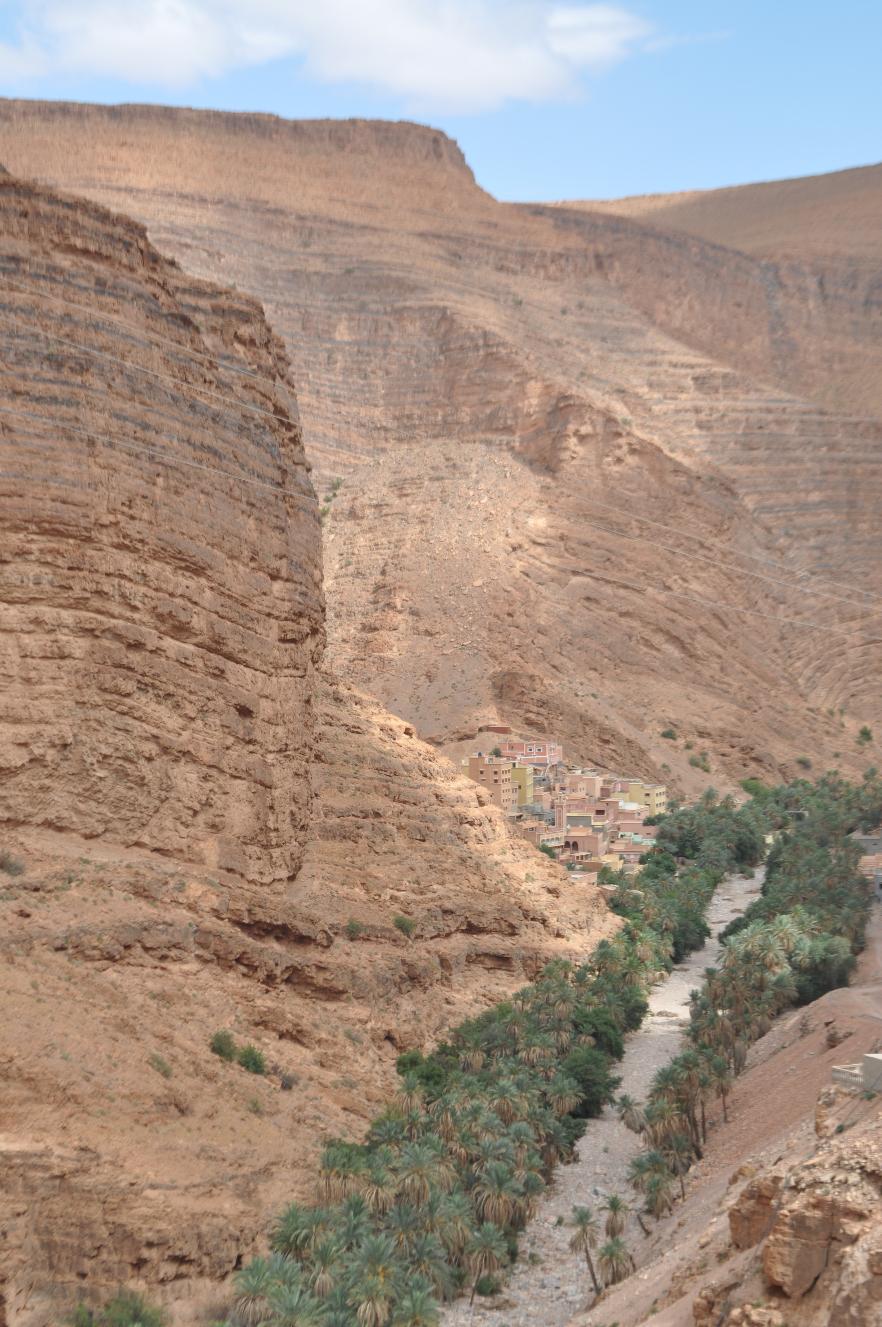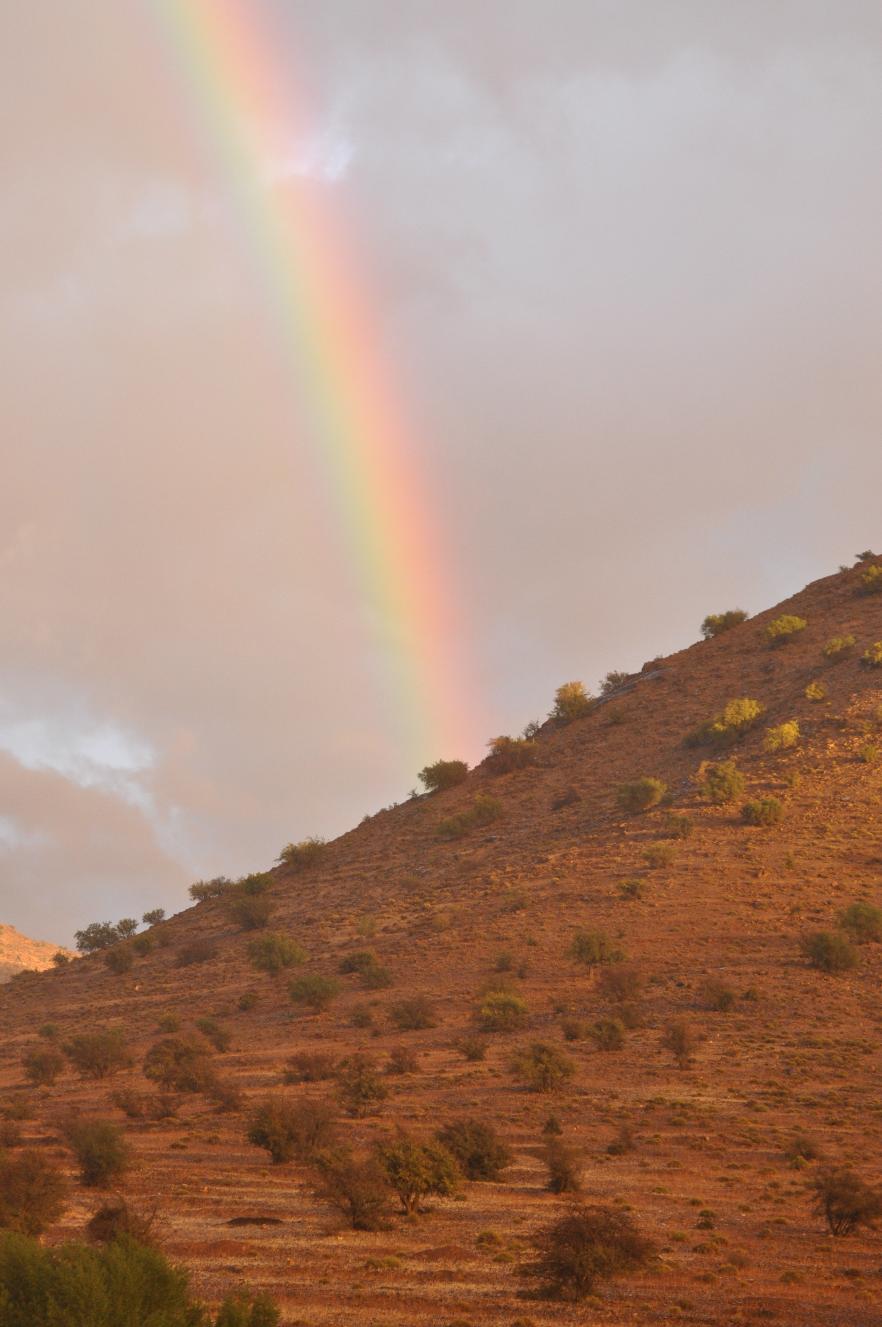 Sunset over the hills near Tafraout.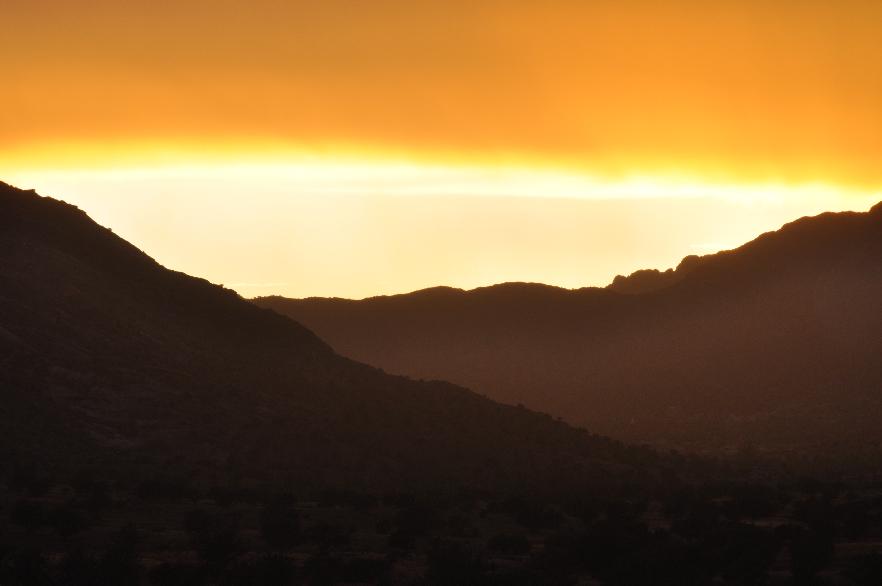 September 27, 2015 - Tamdakhte to Dar Infiane, Tata
So far no success with the Moroccan medicine options but I think we need to give it a bit more time. I had another large serving of wormwood tea this morning so here's hoping.
Today was primarily a driving day as we headed south back to the desert and the heat. Again the drive took us along mostly one lane roads – there may have been two lanes when the asphalt was originally put down but if so it has deteriorated on the edges such that only one lane exists now - and in some cases, e.g. where a load of dirt was mysteriously deposited in the middle of a river crossing bridge less than that. The road often went on for miles and miles with not much. Every once in a while there would be a small village, often with locals in traditional/colourful dress. We understand each colour and design has meaning.
During one lengthy stretch in the remote desert we came across a group of camels. Timing was great as they were crossing the road. In spite of the absence of a 'camel crossing' sign Amar wisely gave them the right of way.
Amar explained to us very few clients take the south Amazigh tour. Few ever come to or stay in Tata. I guess we are different (stop laughing). As we approached Dar Infiane, our home for the night there were a number of women outside the next building bringing in and taking out food. Nearby there was a large tent set up with carpets covering the ground. Amar explained this was for a wedding that was just starting – the first of four days.
When we travel our accommodations are very important to us. We search out places with character at which to stay. Dar Infiane checks this box and more. The restoration of the Kasbah retained all the original characteristics, including the four foot doors. Each room is unique in shape and design. The furniture is beautiful and the ceilings gorgeous with painted bamboo reeds creating colourful and interesting designs. The paintings of the doors are pieces of art. And the dining room was wonderful with Berber runners, beautiful carpets, high painted ceilings, copper buckets, old paintings etc. Very nice. The house itself is reported to be over 500 years old. Dinner was good, not outstanding but good. Gayle had lentils although we both thought they were bean sprouts – at least a change. I had the standard chicken tagine.
Mohamed, who took such great care of us at Riad Tamdakhte.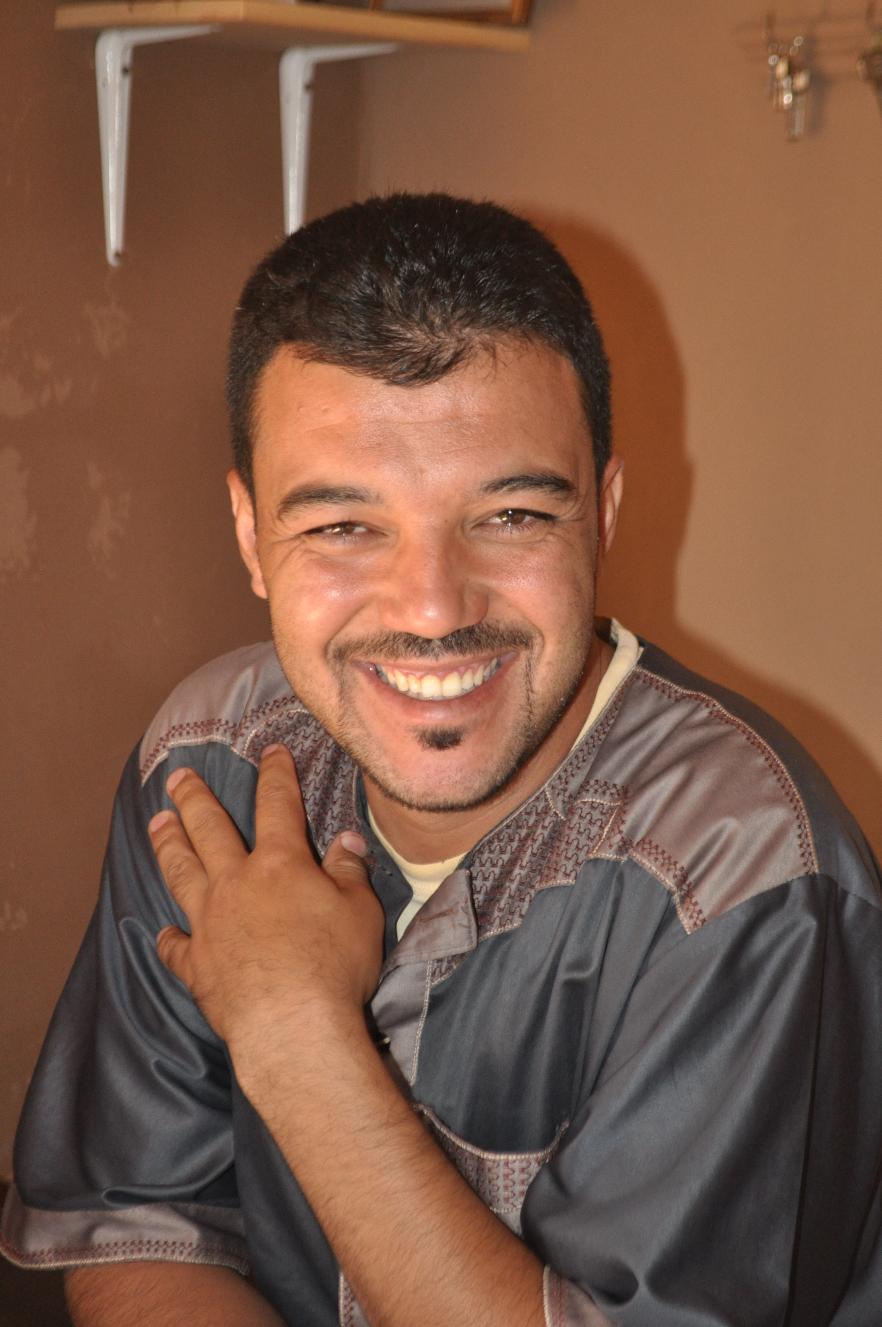 Another obstruction - thank goodness we had the 4 x 4.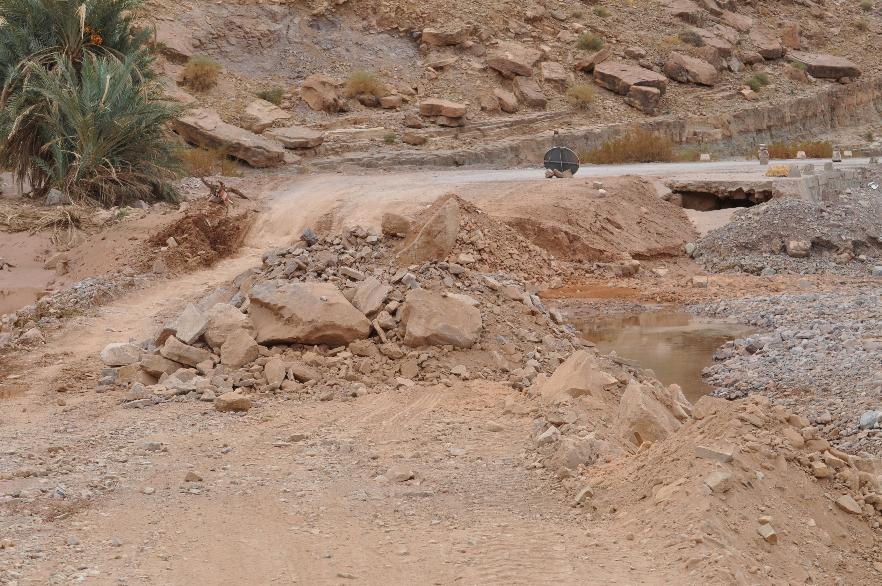 Endless miles of road, although the Anti-Atlas mountains created nice landscapes.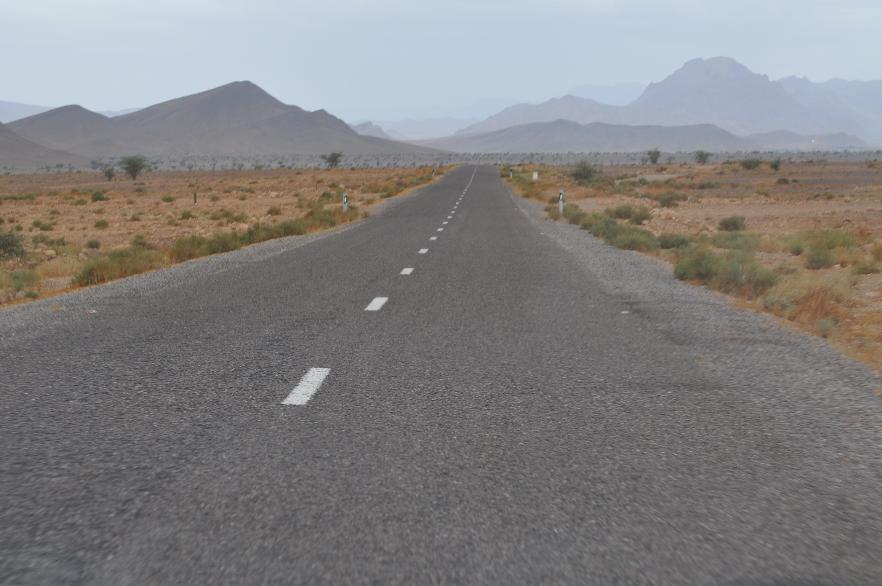 Forget pedestrians - out here camels have the right of way.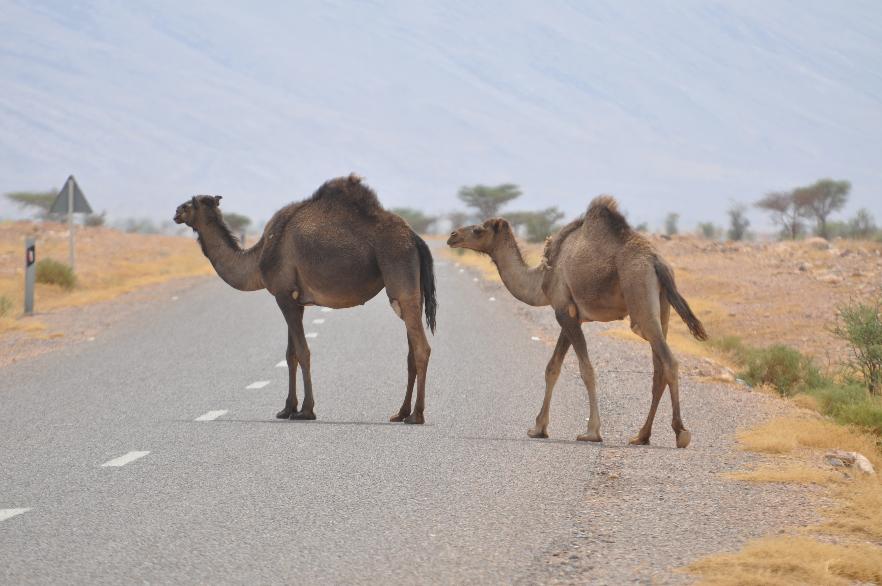 Locals seen during our drive today.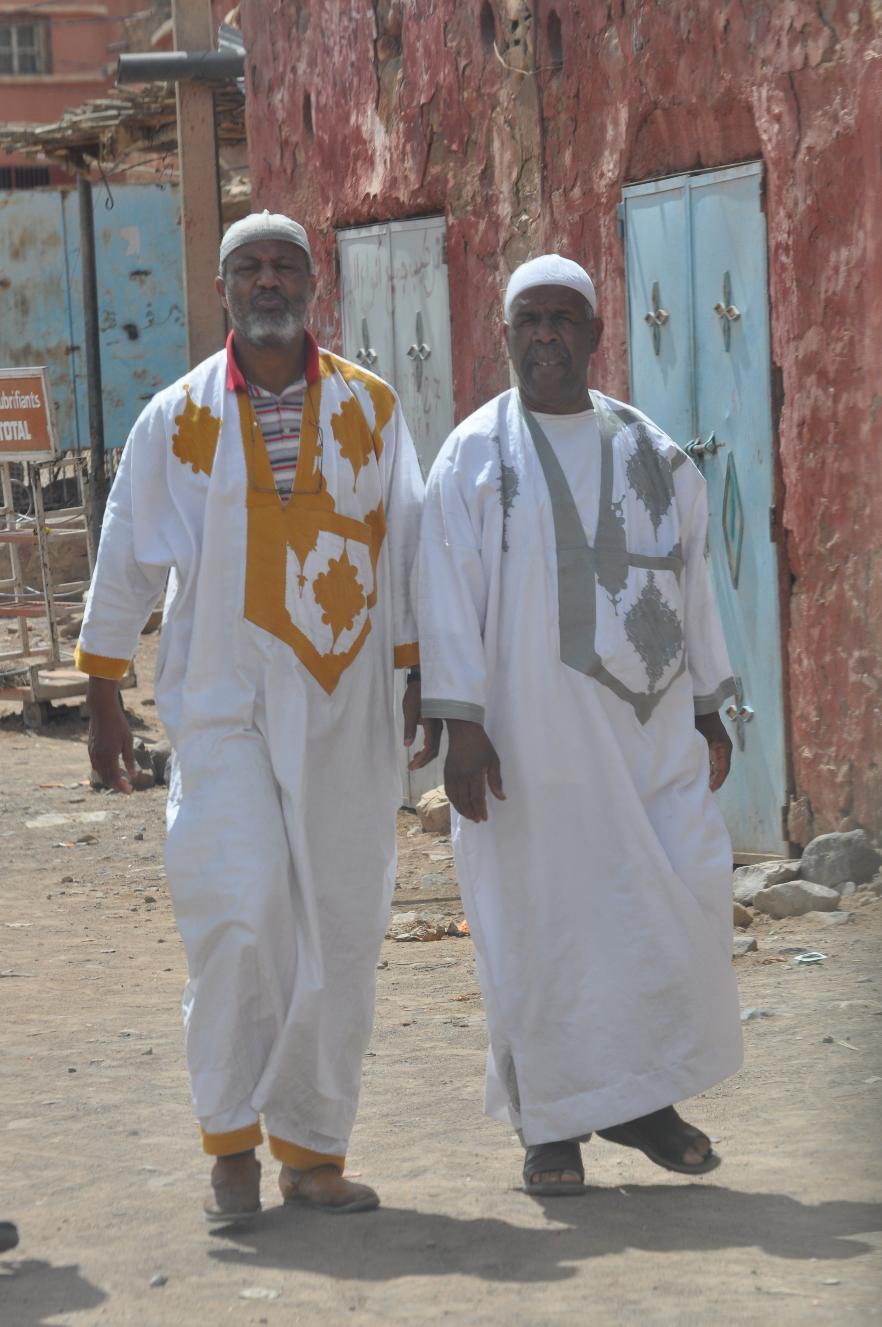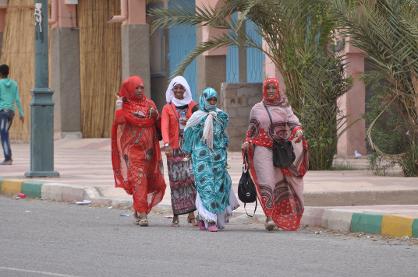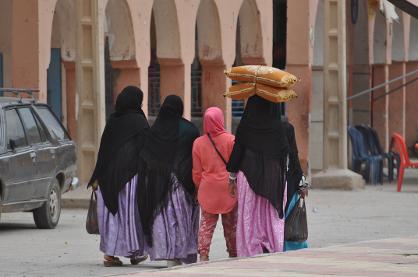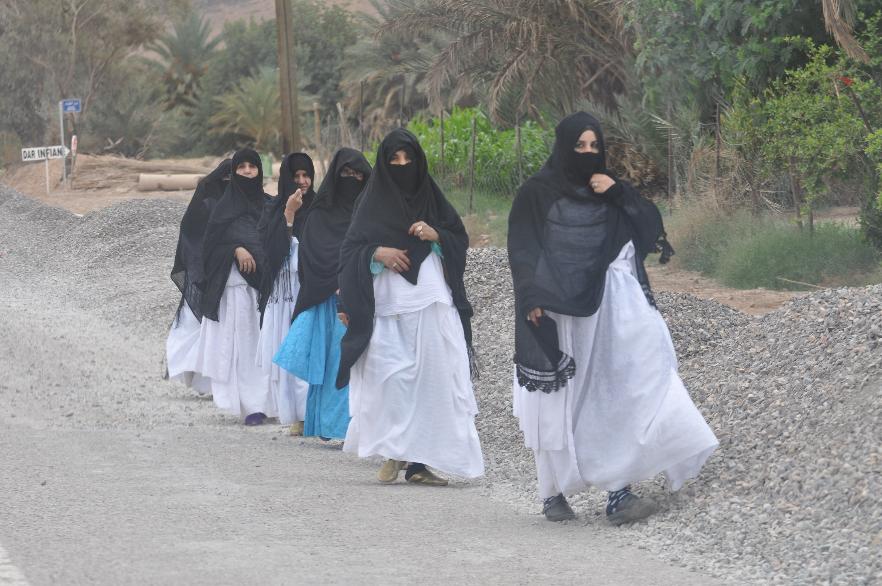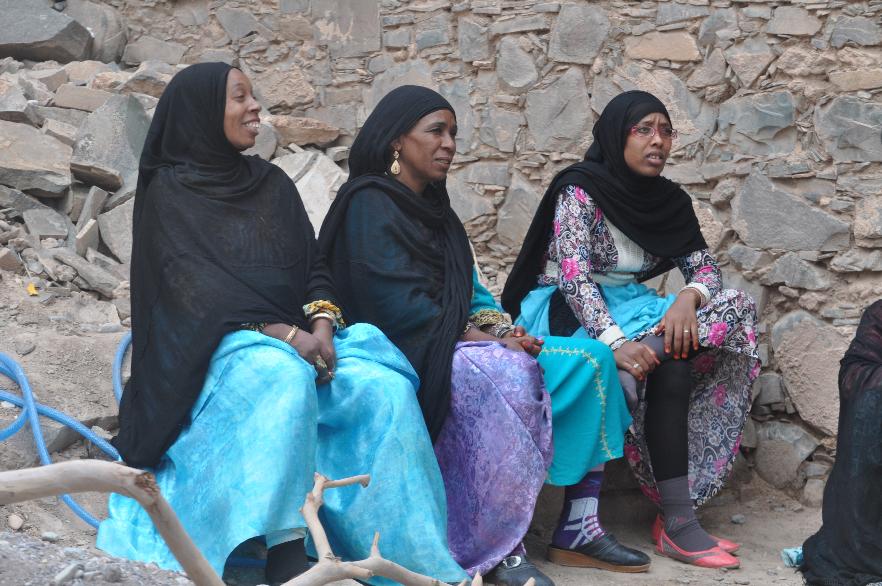 Women preparing and delivering food to the wedding fiesta.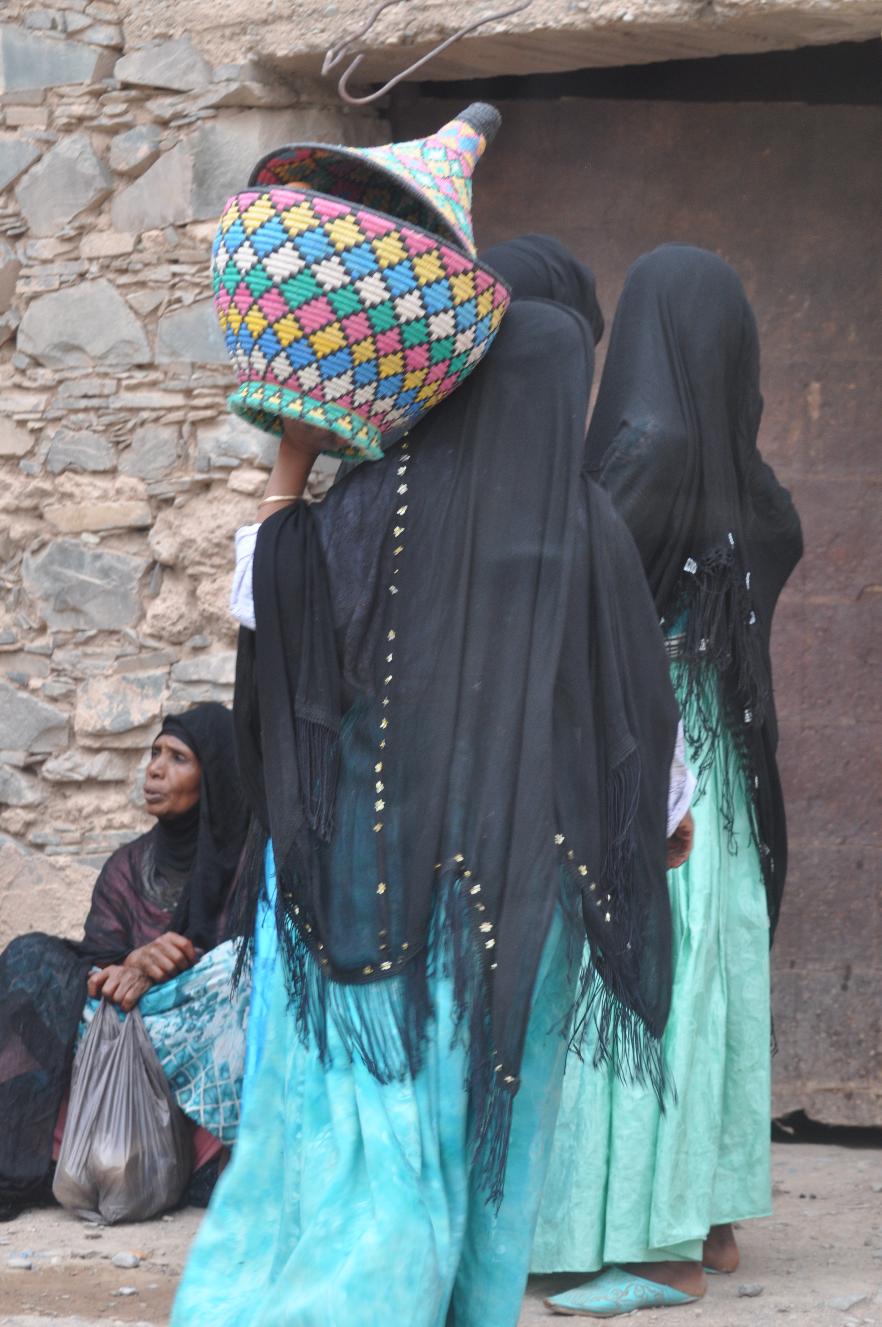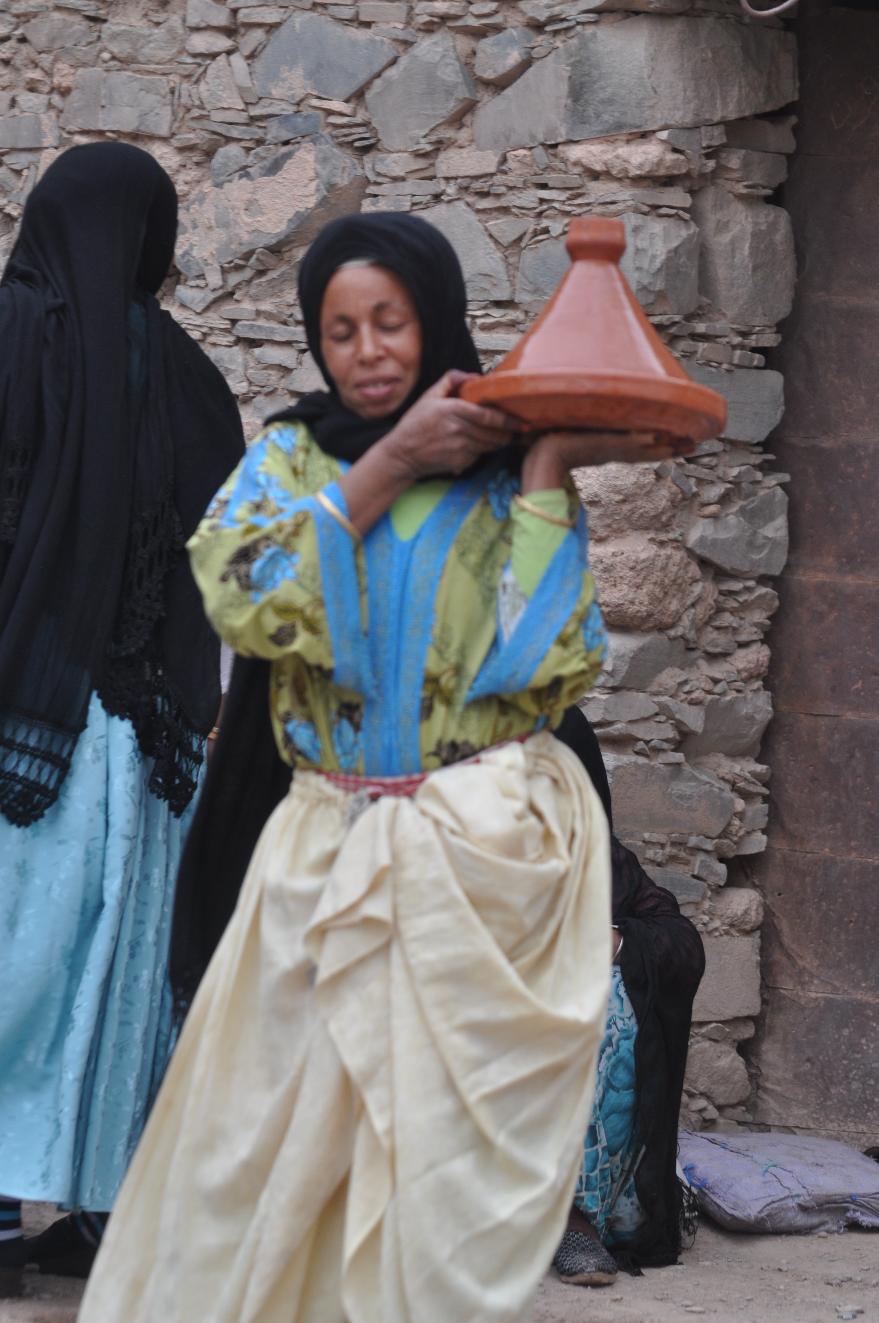 Gorgeous painted doors, the one on the left to our bathroom.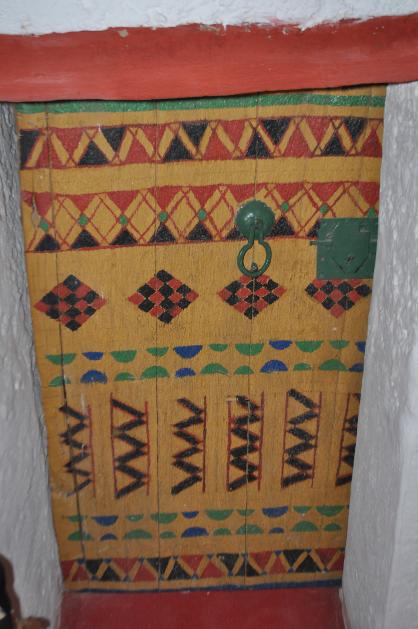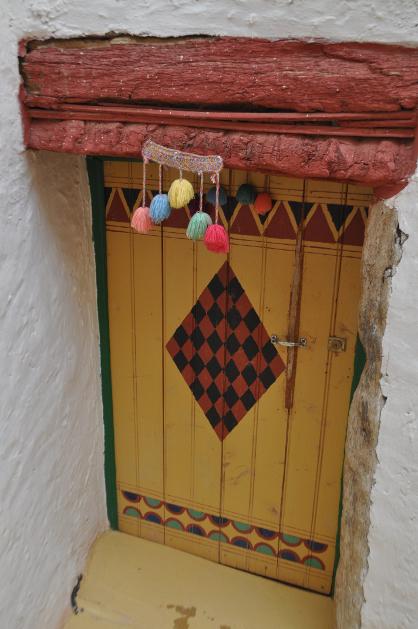 Colourful carpets and a beautiful bed in our unique room.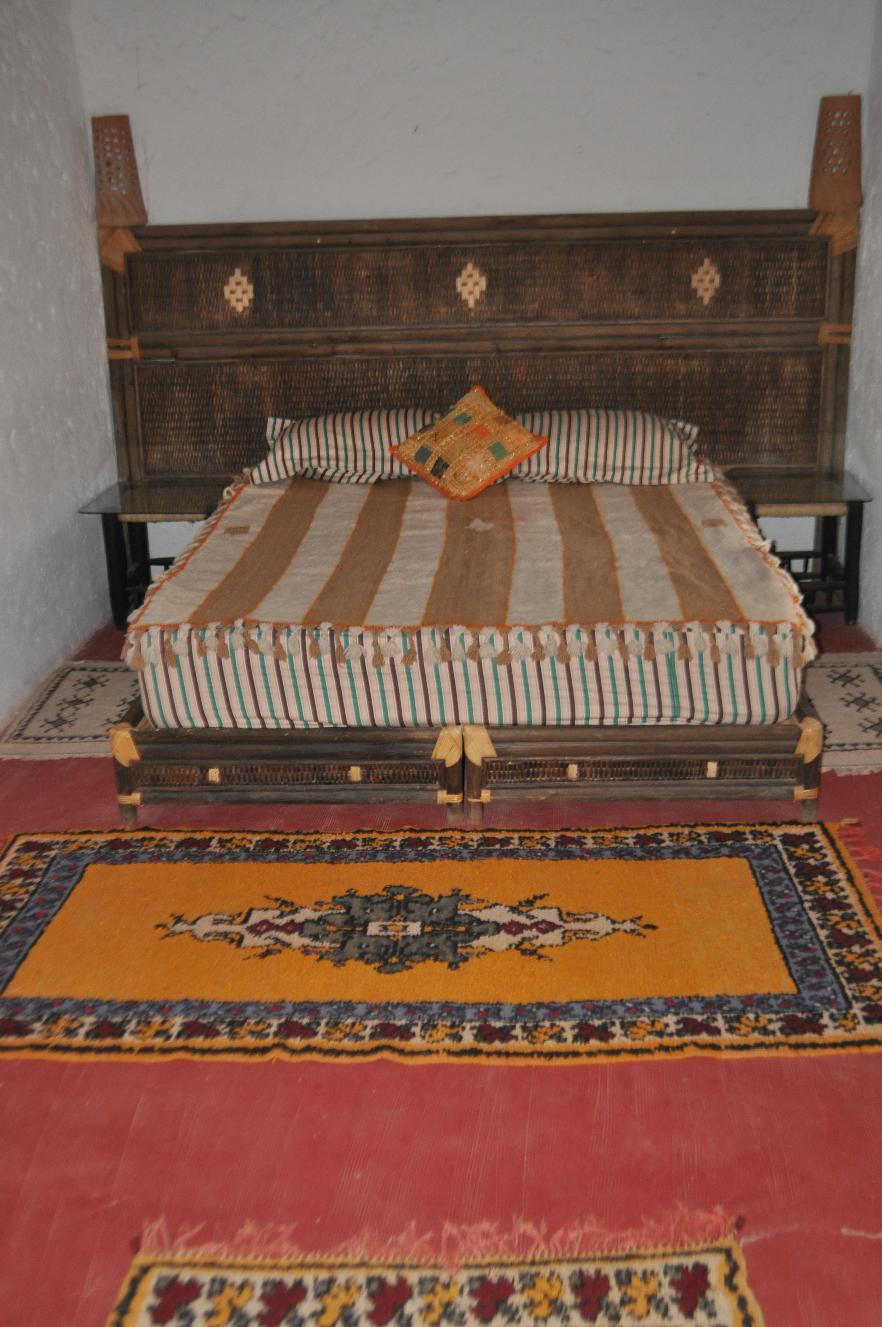 The view from out bed - an intricate roof of painted bamboo.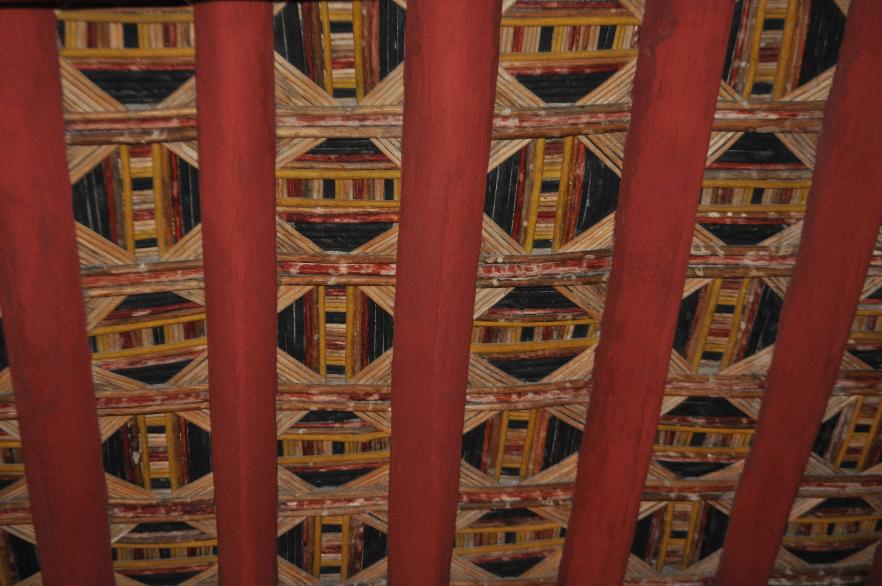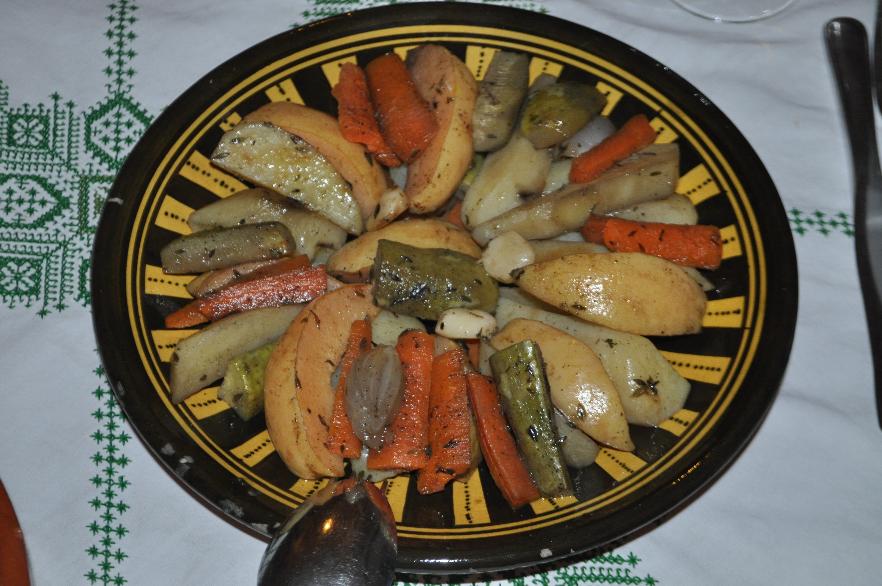 September 26, 2015 - Riad Tamdakhte / Kasbah Telouet
My turn not to feel well. While Amar and Gayle are on the mend I'm now having tummy issues. Traditional western medicine has not been working so I've accepted it is time to try Moroccan options – the first being a mixture of Coke and a condensed milk from the Netherlands, and the second wormwood tea – wormwood being a plant found in the nearby hills. I'm told goats don't have any digestive problems due to regularly eating this plant. Hopefully one of these remedies will work.
After a late start – in part due to the digestive problems and in part due to a leisurely breakfast in a nice second floor alcove overlooking the Kashab and river – we left on a day trip to the village and Kasbah of Telouet. Again a very scenic drive through the gorge carved out by the river. Although the rivers are dry this time of year they do provide for vegetation, primarily palm trees. Across the river we saw a number of caves and a few people who obviously still live in them.
Just outside Telouet Amar spotted the wormwood I needed. We picked a bunch that I would later drink as tea. Then in Telouet Amar found the milk he needed. Adding the milk to the Coke makes a white almost yoghurt like concoction. Not the most pleasant to drink but down it I did. We will see.
The Telouet Kasbah is along the former route of the caravans from the Sahara over the Atlas Mountains to Marrakech. It was the seat of the El Glaoui family's power. Work began in 2010 to restore the property. Kasbah Telouet has a rich history that is intertwined with the French. It is located in a fertile valley surrounded by palm, fig and olive trees. The Kasbah stands alone with its original zellij tile decorated with the Jewish Star of David, preserved silks and grand remnants of the El Pacha Glaoui family. The Kasbah's painted, wooden ceiling and low-level corridors in the interior of the Kasbah lead to two well preserved Andalusian-style reception rooms. These rooms are engraved with stuccowork and colorful zellij. Unlike the other Kasbahs in southern Morocco, Kasbah Telouet was occupied by the Glaoui family instead of being used for slaves or only as a fortress. While it appears in parts to be in ruins on the exterior, its interior is one of true splendor.
We then circled west through some beautiful landscapes to the main Marrakech-Ouarzazate road. Eventually we took an off-road short-cut for about 5 km to connect with the road to Tamdakhte. We returned in time to spend a few relaxing hours at the Riad before enjoying dinner of tajine (chicken and vegetable).
Looking down into the courtyard of the Riad Tamdakhte. The fountain was very soothing.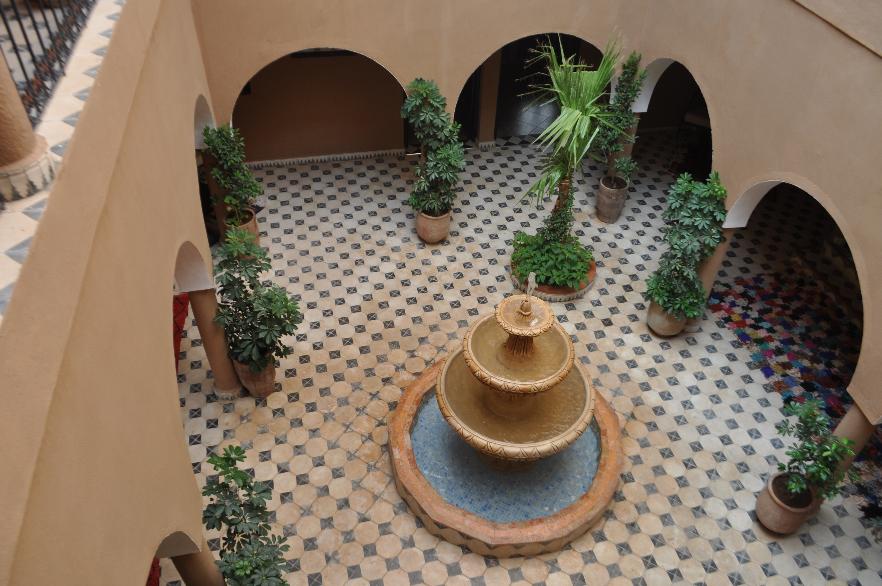 The gorge and valley as we drove from Tamdakhte to Telouet.

Caves that still serve as homes to some in these river valleys.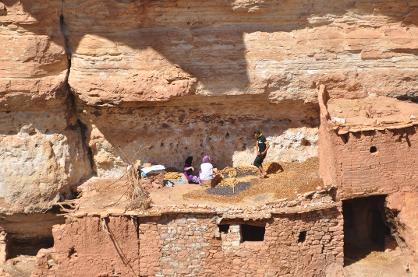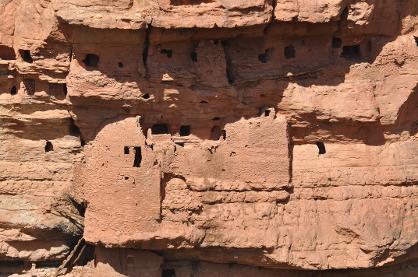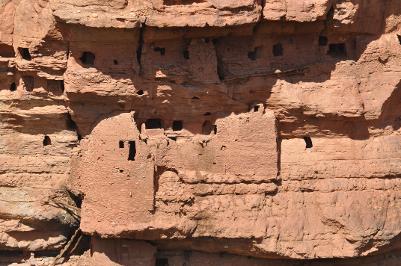 Around nearly every turn there is a Kasbah, blending in to the rock face behind.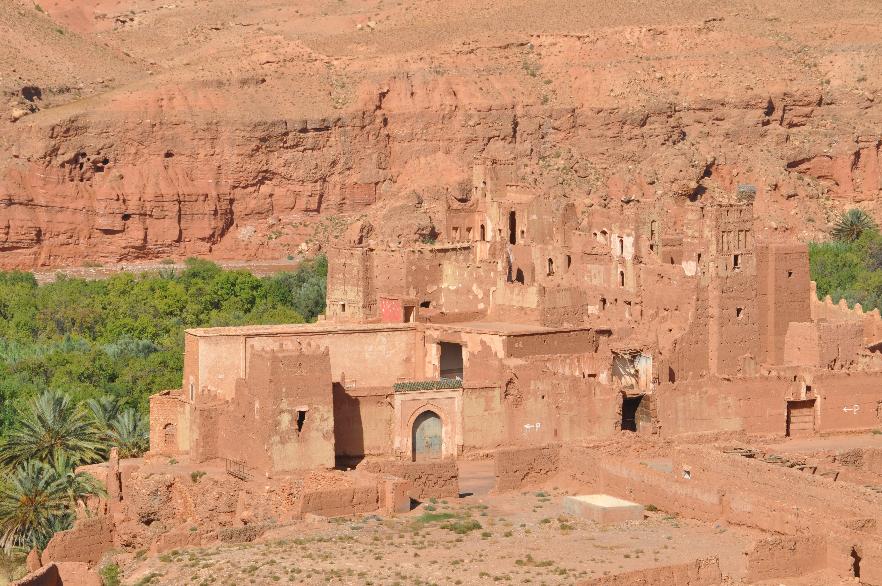 Some of the landscape on our drive to Telouet.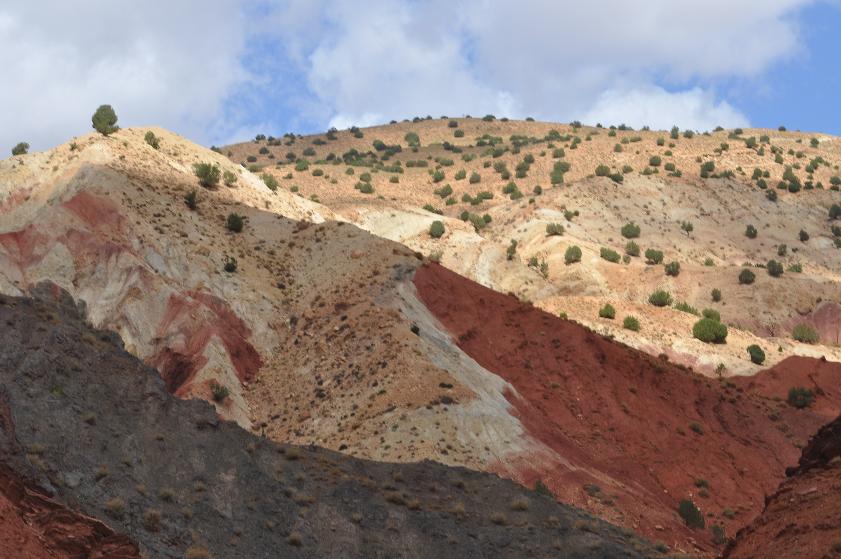 A couple of locals on the street in Telouet.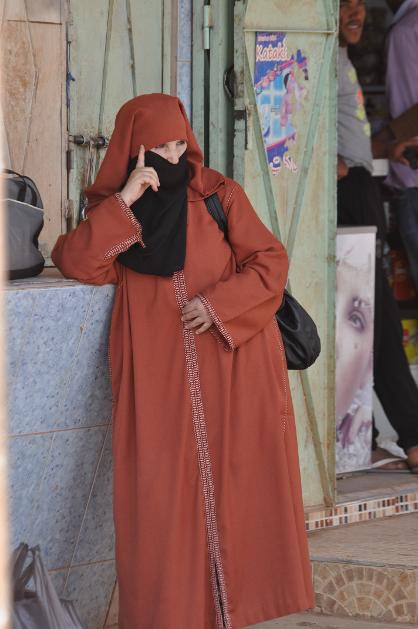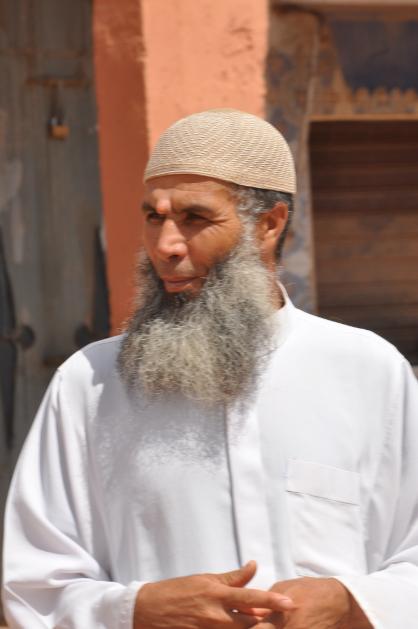 Trying to yank out the wormwood plant - actually much more difficult than you would think.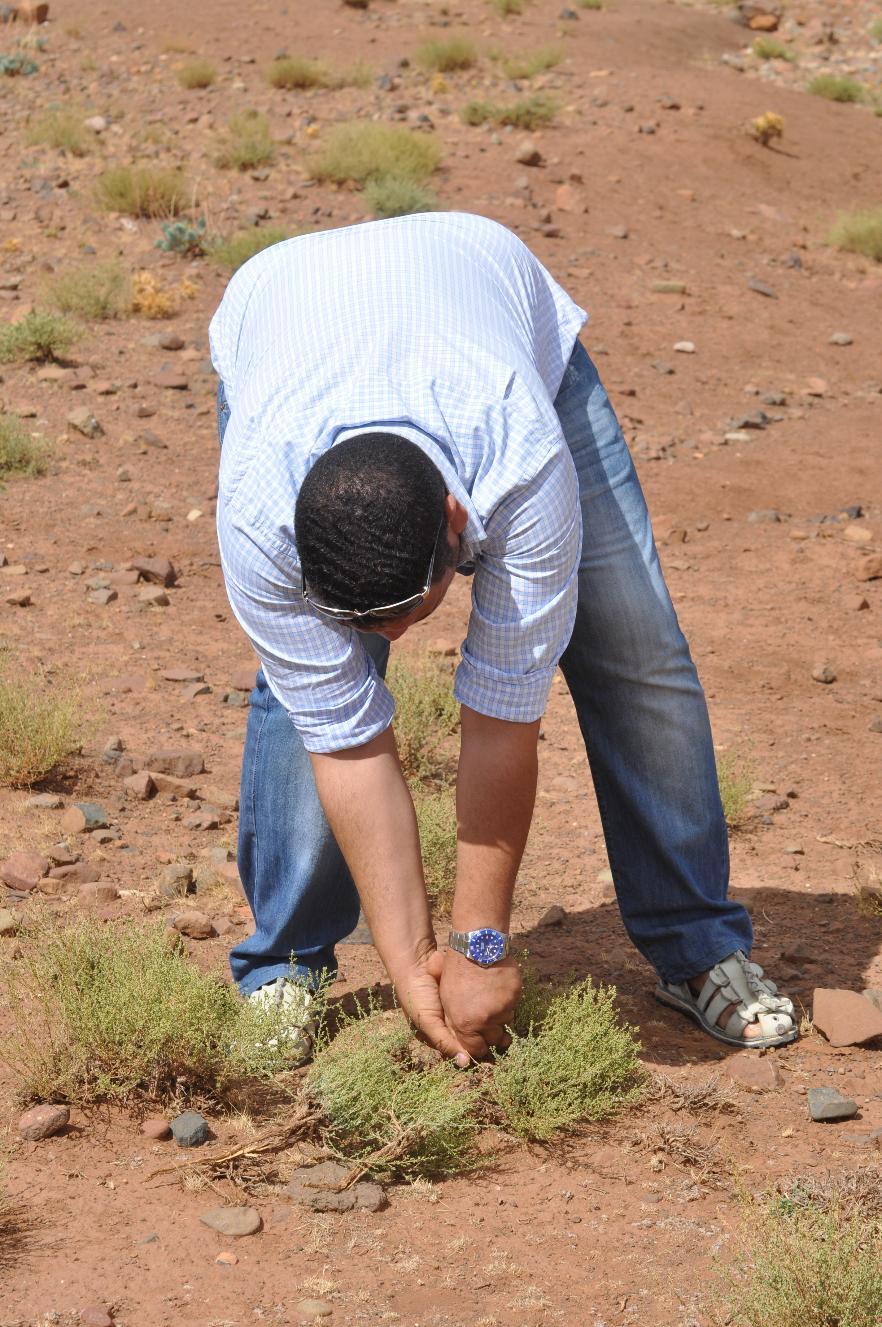 The wormwood plant - served as tea is in theory effective at addressing digestive issues.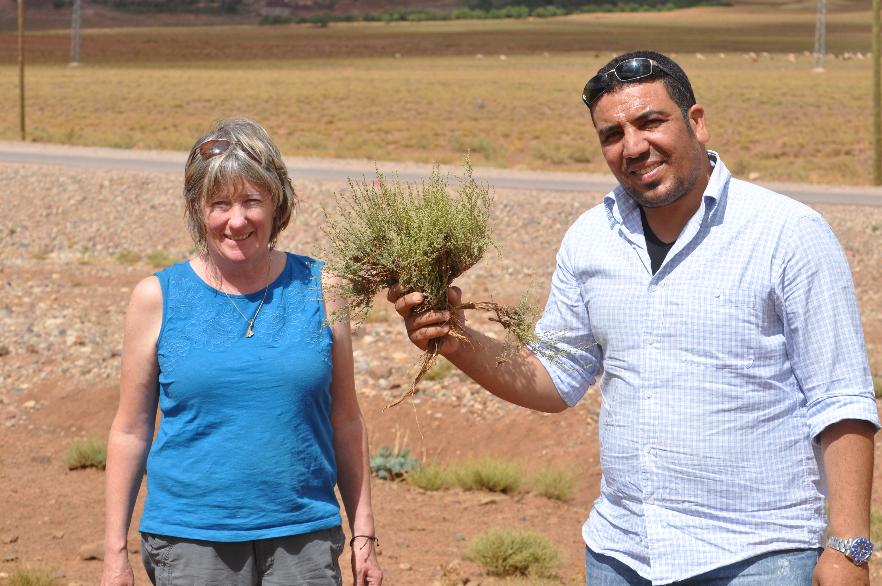 Preparing to take the Moroccan 'medicine'. Below you will note I don't look quite so pleasant after actually drinking the stuff.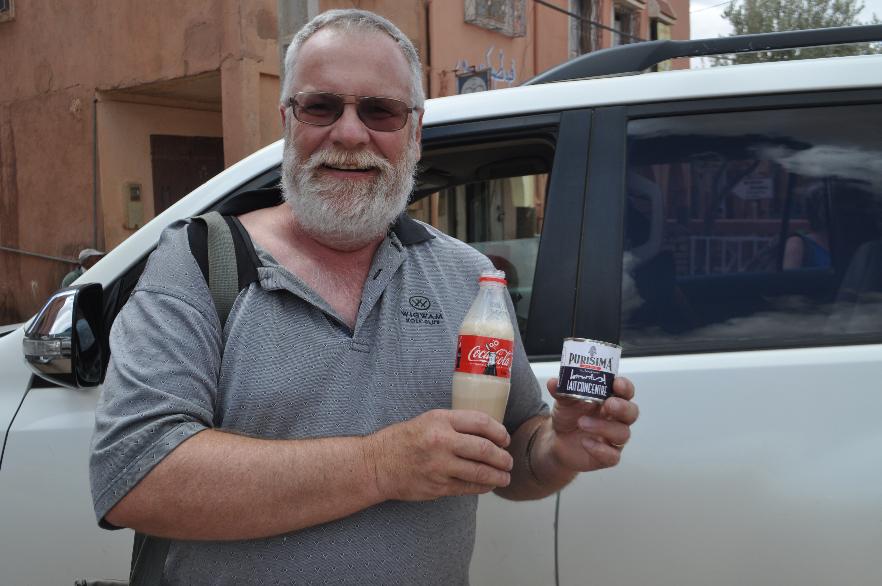 Here goes - down the hatch.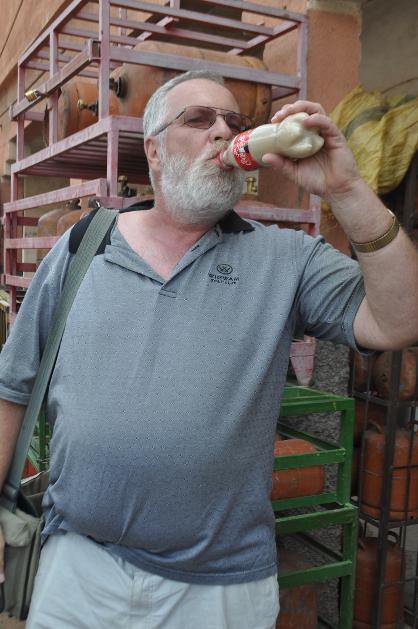 Oh that really did taste awful.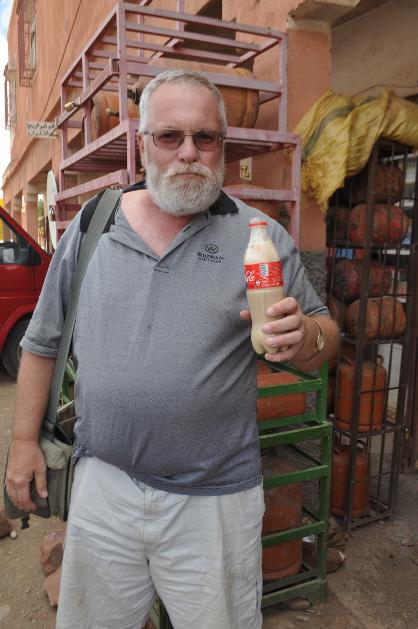 Beautiful floors, beautiful doors, beautiful walls and us.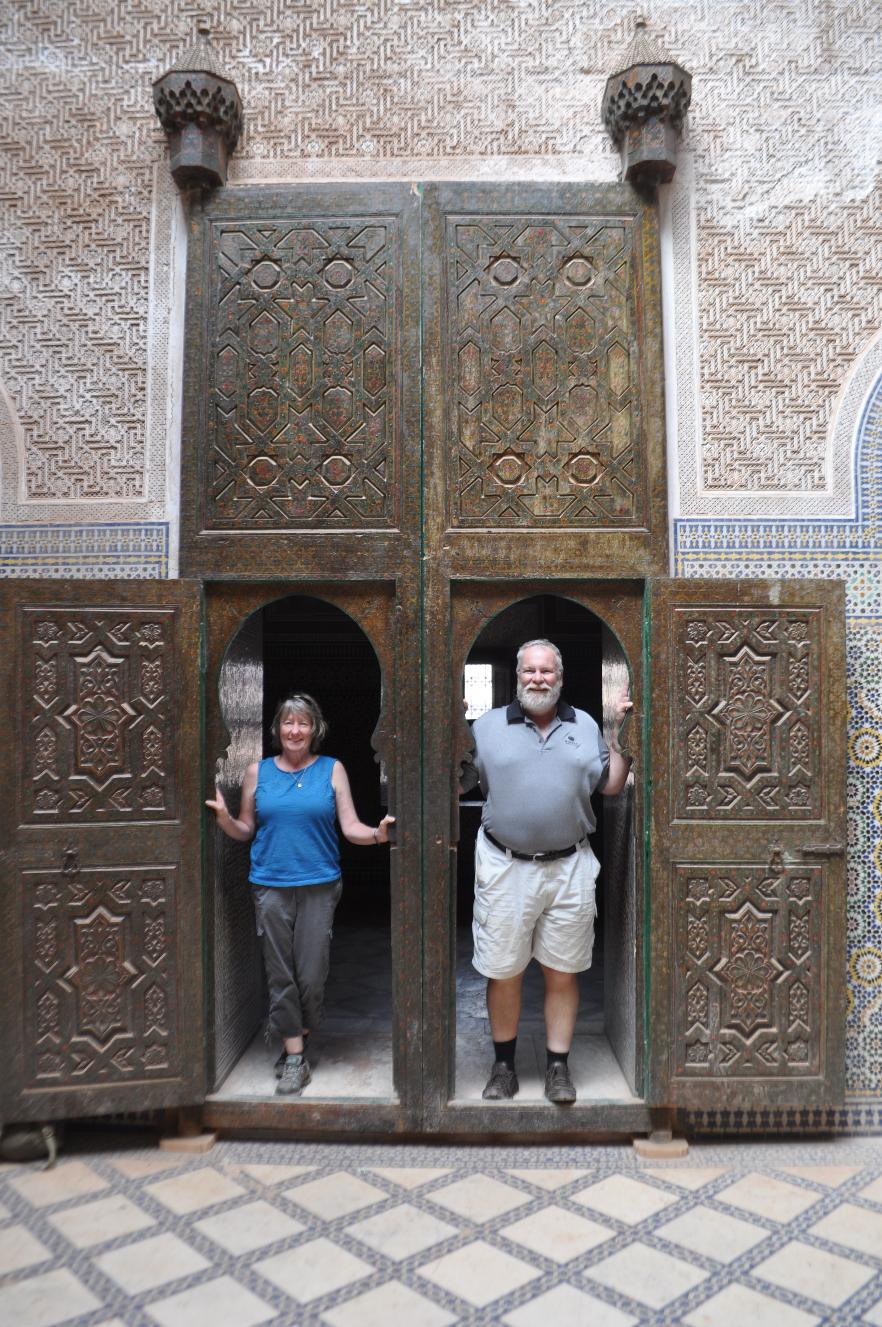 Intricate and colourful mosaic work within the Kasbah Telouet.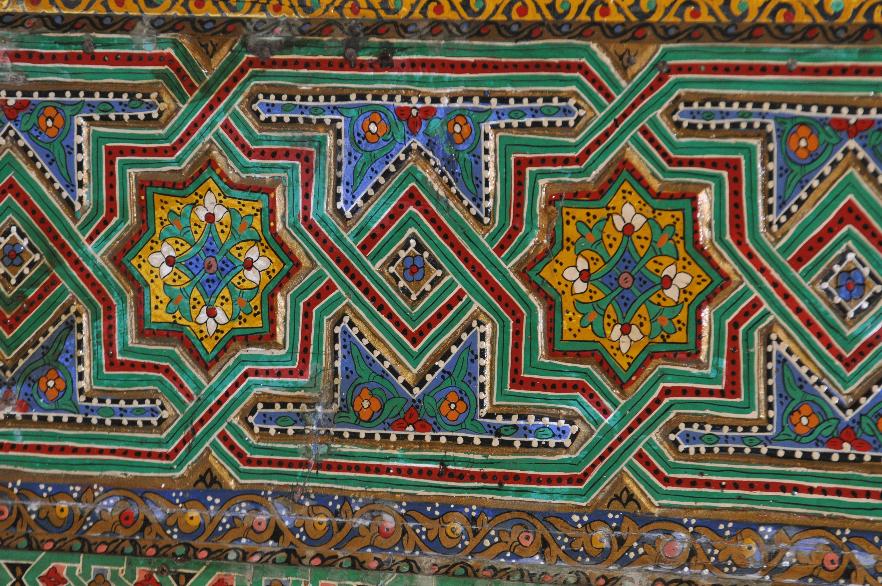 Tile work on the walls inside the Kasbah.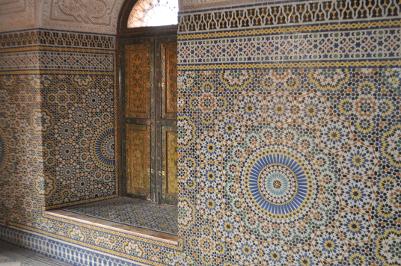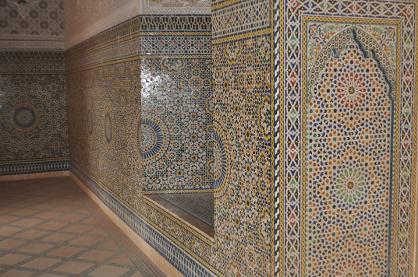 A nice view out one of the windows of the Kasbah to the village of Telouet.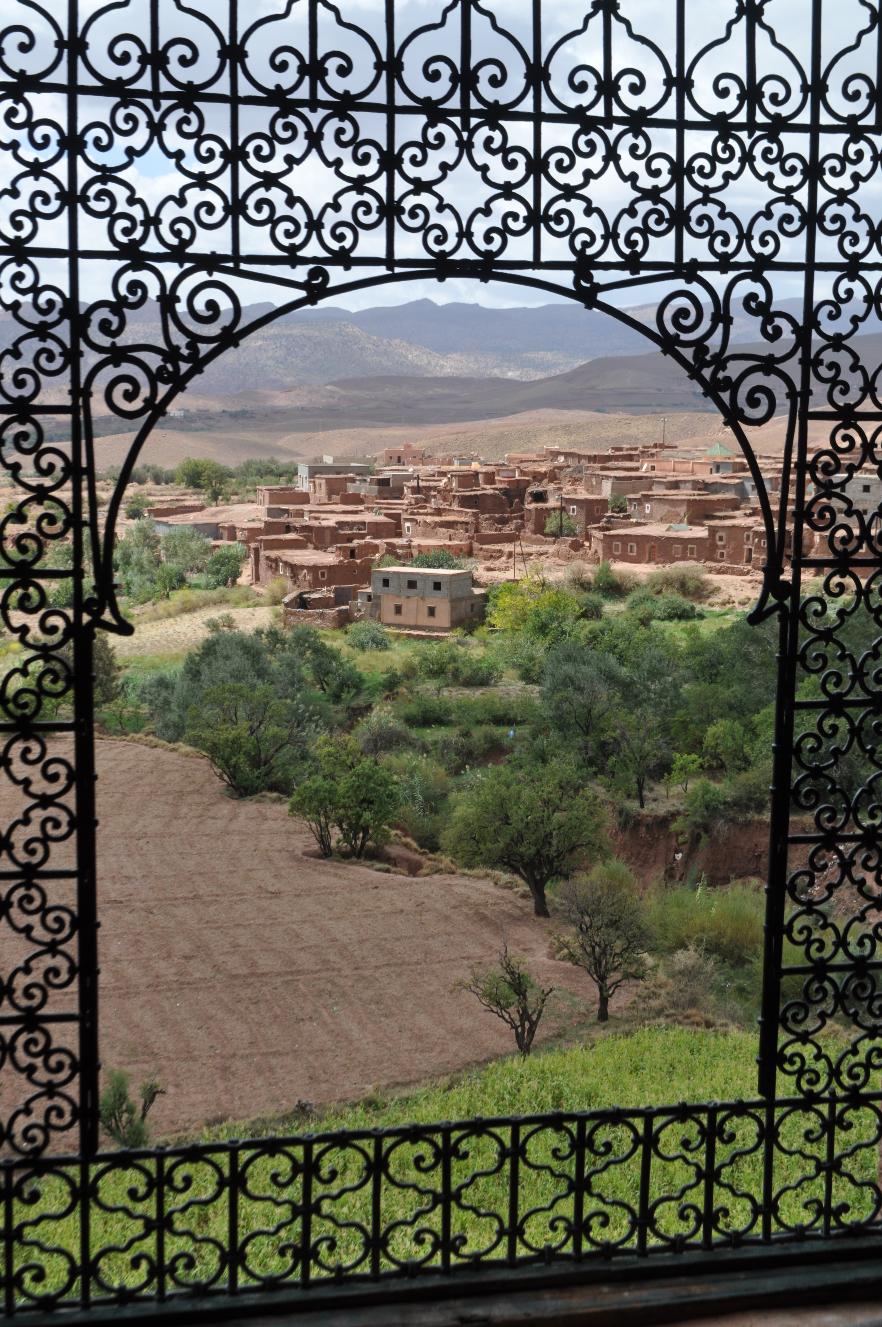 The donkey is still a common means of transporting goods in rural Morocco.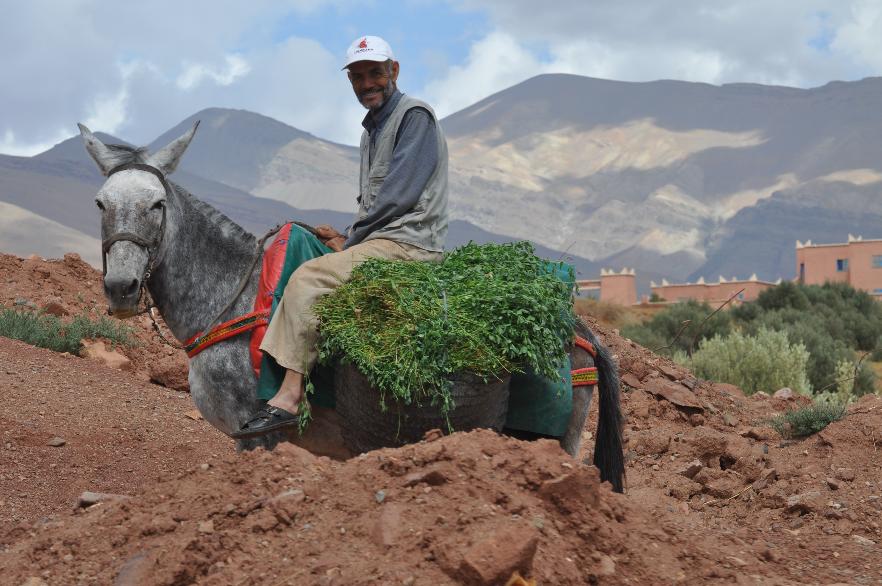 No automatic washers and dryers in these small villages. Scrub boards, a pail, a large pan and the sun to dry.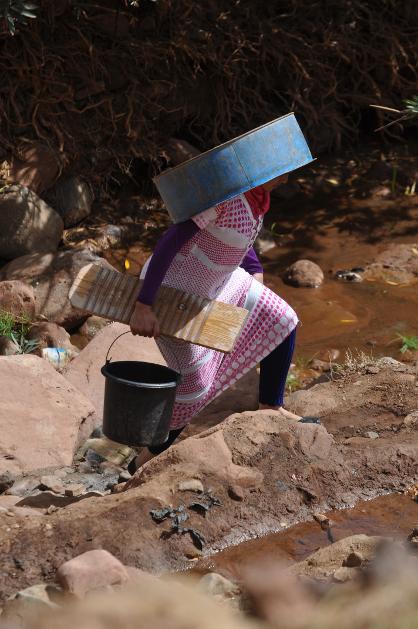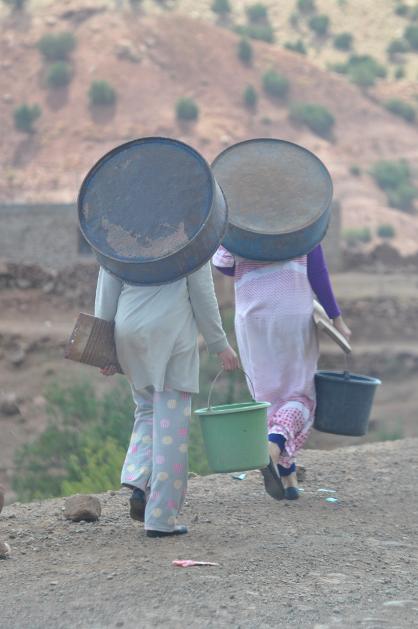 September 25, 2015 - Boumaine; nomad cave; Skoura oasis; Ouarzazate; Tamdakhte
After a mediocre breakfast – for such a nice place the food was a disappointment – we left Boumaine, going off-road to visit a nomad family still living in the caves in the hills. Before doing so we stopped to buy a soccer ball and some candy for the children we will see along the way.
After encountering a shepherd and his daughter with his sheep and goats we bumped our way through a gorge and into the hills beyond, eventually arriving at a small 'home' primarily in four adjacent caves. The family is 12 in total with six being present – the mom, three daughters – perhaps early 20s to mid teens – a teenage son and a young boy who we think is Abdul perhaps three or four. We were of course provided tea and welcomed to look into their home/caves and take whatever photos we wanted. All of them really appreciated the gum as did the Abdul with the soccer ball. Amar tells us the children would not go to school and would not be able to read or write.
The drive continued to be scenic through valleys and past Kasbahs, where among other things we would see meat drying - left over from the fiesta/sacrifice that due to the lack of refrigeration needs to be dried. We eventually returned to the main road in the direction of Ouarzazate. We took a short detour through the palmerie of Skoura where there are over 300 Kasbahs, many in ruins but many very attractively mostly renovated by Europeans.
On the way to Ouarzazate we encountered a massive hail storm. The road was at times barely visible with small lakes on the streets of Ouarzazate. The photos below should provide an indication of how bad the storm was.

In Ouarzazate Amar took us to a Berber store with rooms and rooms of beautiful items, from 'Aladdin's lamp' to wood trays to doors to jewelry to mirrors to masks to you name it. We went there to primarily buy a Berber pillow case cover, i.e. the one we saw at Riad Nomad. But of course we then started to look at carpets, both one for us and one for Katrina. Unfortunately carpets don't come with prices. The owner gives you a price and then the negotiating begins. The 'final' or 'final final', or "Give me your best offer" is never the final or best offer price. I hate the process but it is the culture here. A starting price of 7,800 dirhams for two carpets, the pillow case cover and a necklace eventually worked its way down to 5,000 dirhams ($750 Cdn.) Was it still too much – most likely but we do very much like what we purchased.
Although the original plan was to stay in Ouarzazate we subsequently decided to stay a bit north in the village of Tamdakhte. On the way we passed the Kasbah of Ait Ben Haddou. While stopping for views of the Kasbah we did not actually go in – the Kasbah is apparently nice but quite touristy. Rather we will go to a more isolated Kasbah tomorrow. We continued on to the small village of Tamdakhte where we will be staying the next two nights at Riad Tamdakhte. Turns out to be a really nice small riad operated by a Berber family. Mohamed is so nice, and can't do enough to make our stay enjoyable. Plus the views to the Kasbah and river are spectacular. Although we were not at all hungry dinner was excellent, with a nice soup followed by a tasty chicken with dates and apricots tagine and an angel hair seminola pasta. Desert was creative centered on a poached banana with honey and almonds.


Hammocks just outside our room and African art throughout La Perle du Dades.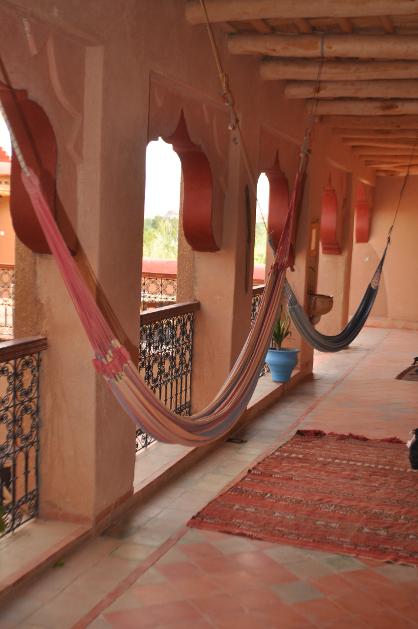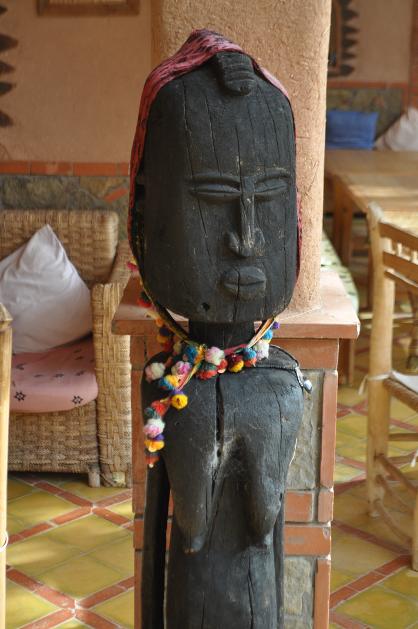 The pink rose just worked with the rose coloured Kasbah behind.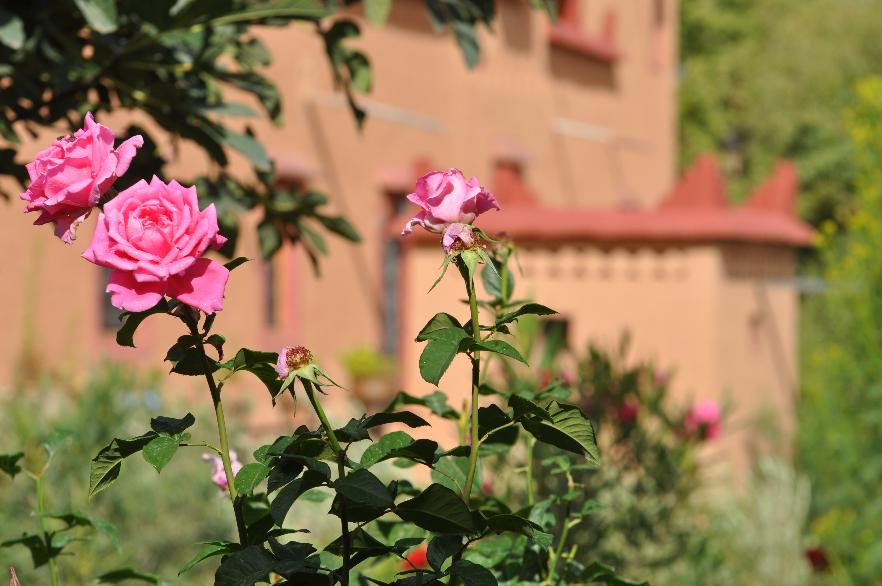 Life can still be very difficult as evidenced by this lady bringing her crops from the fields.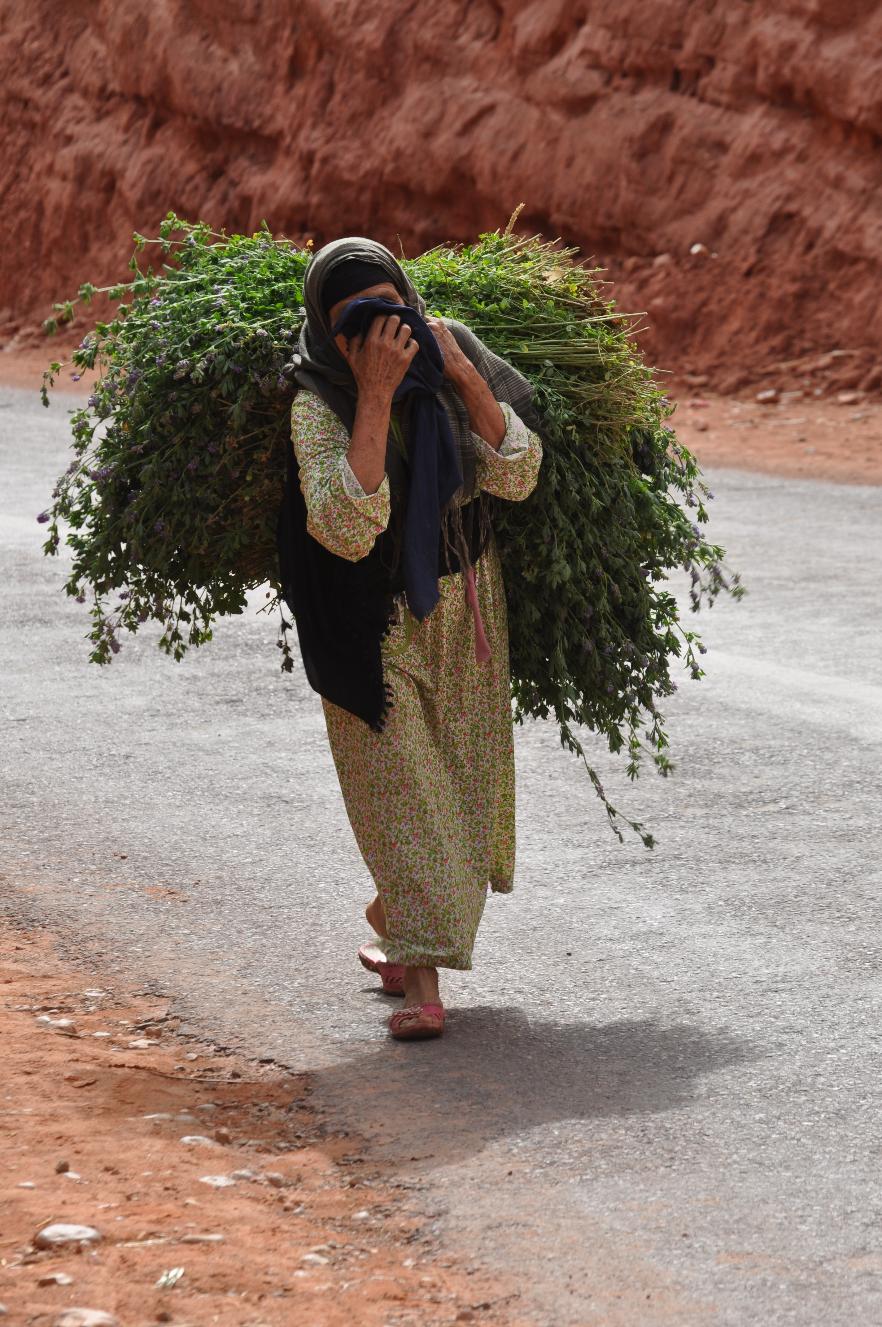 As we start our off-road travels to where the nomads live in caves, leaving the valley and it's Kashabs behind.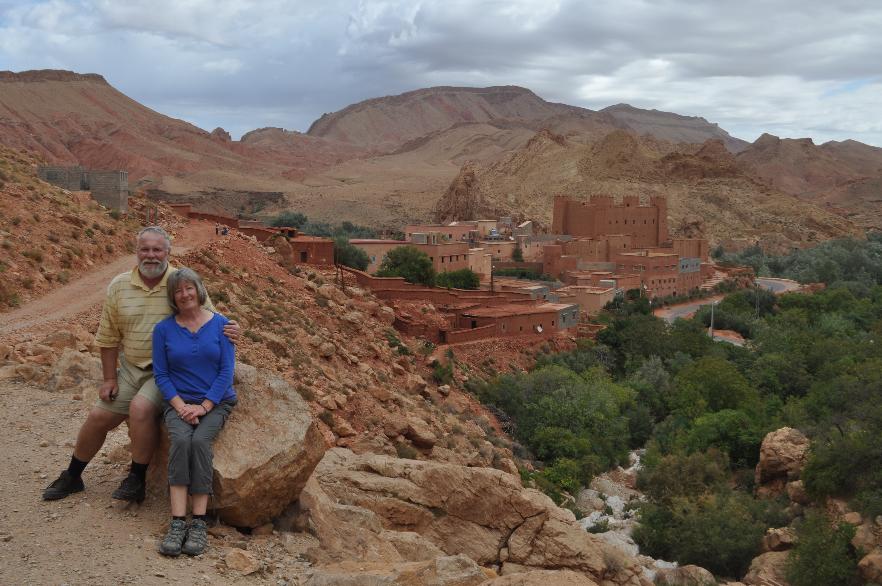 A shepherd (he had both sheep and goats) and his daughter.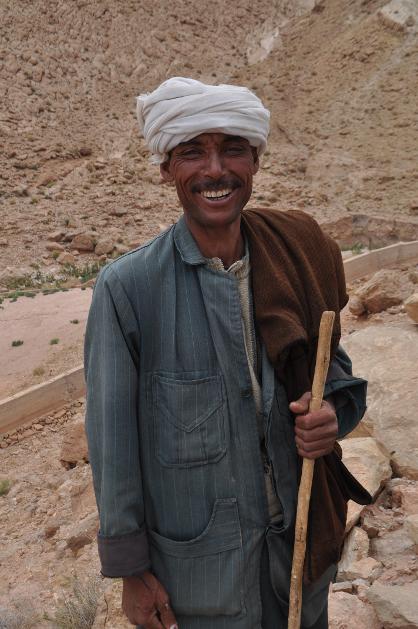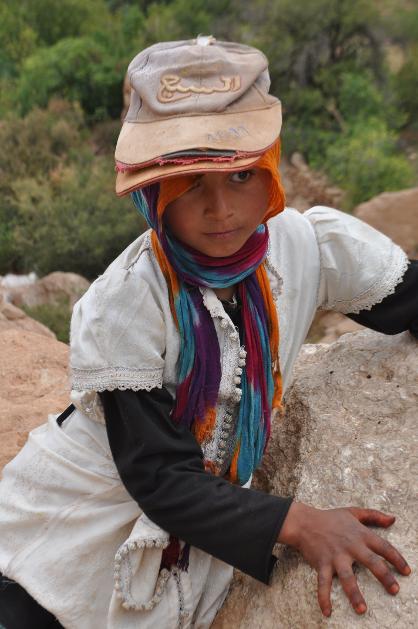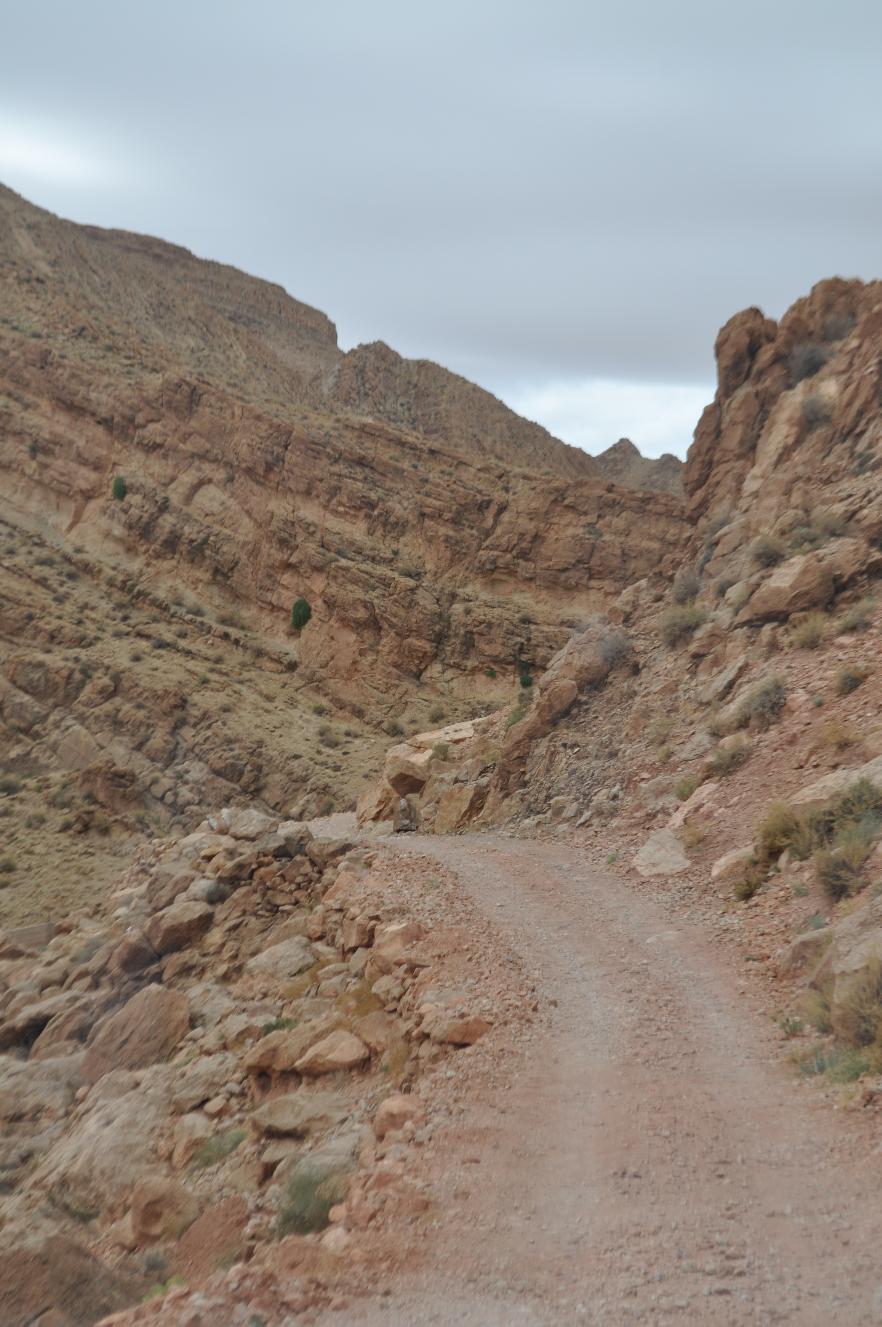 A fellow we met along the way.



This is home - living in the caves.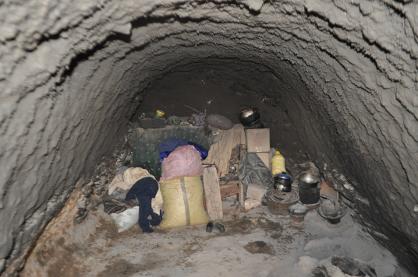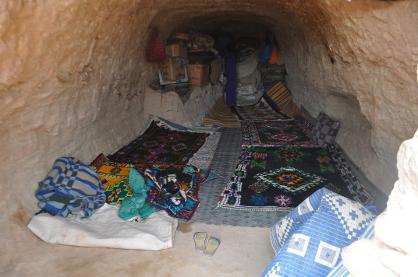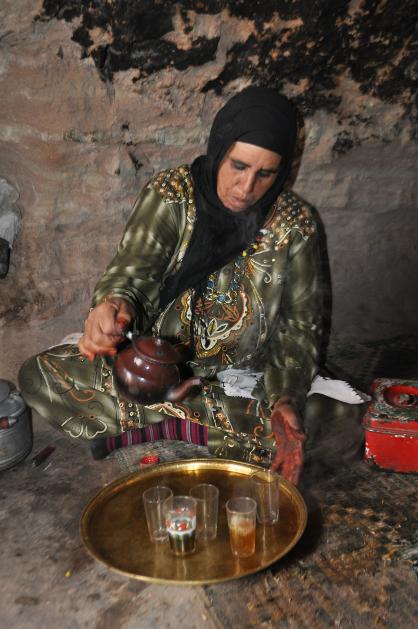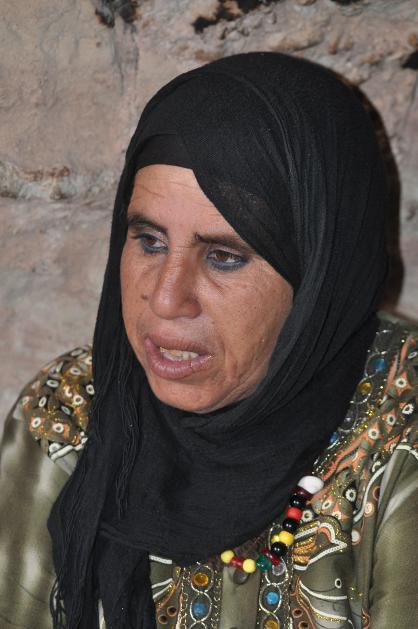 Abdul quite happy to have received a little candy.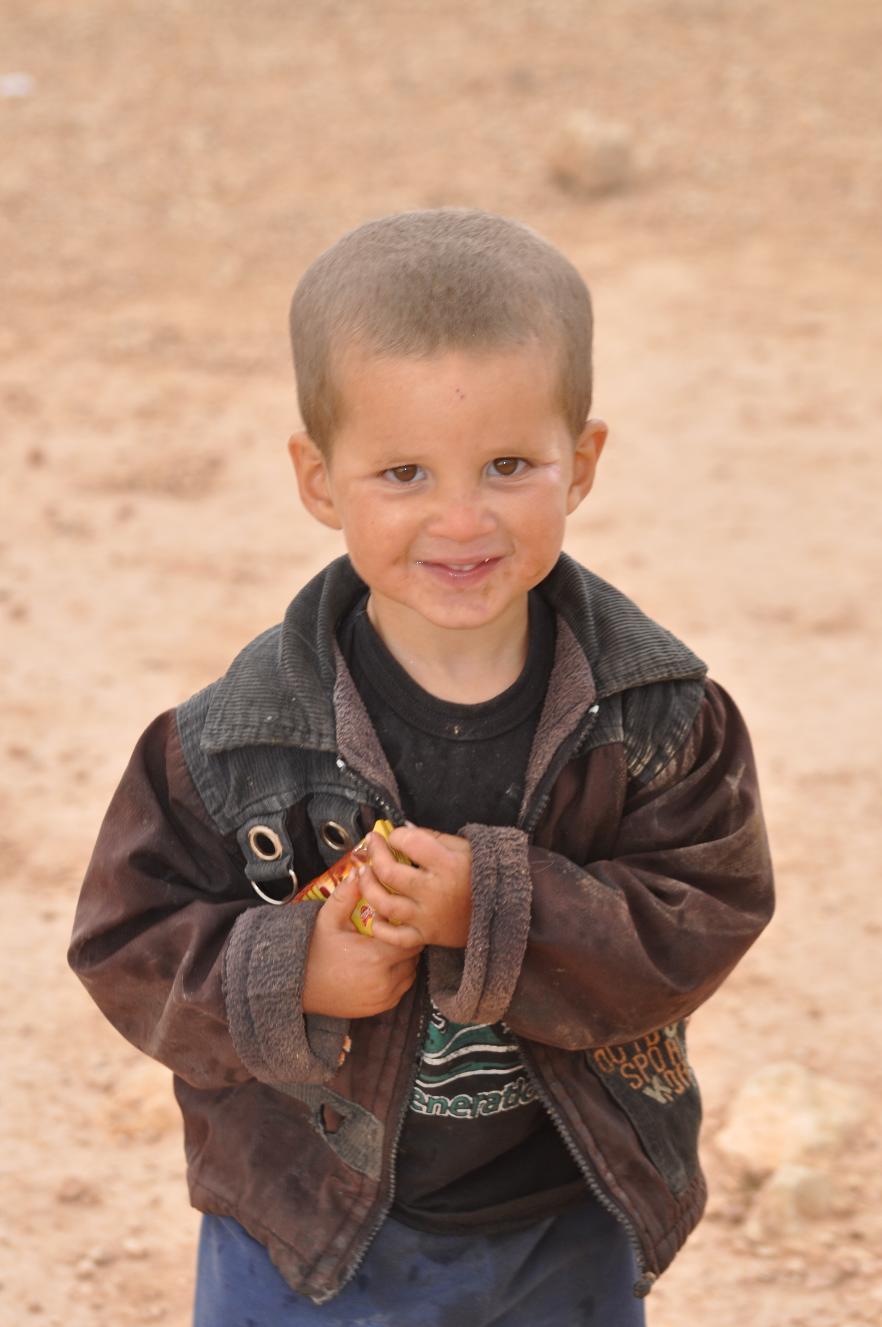 Abdul and one of his sisters.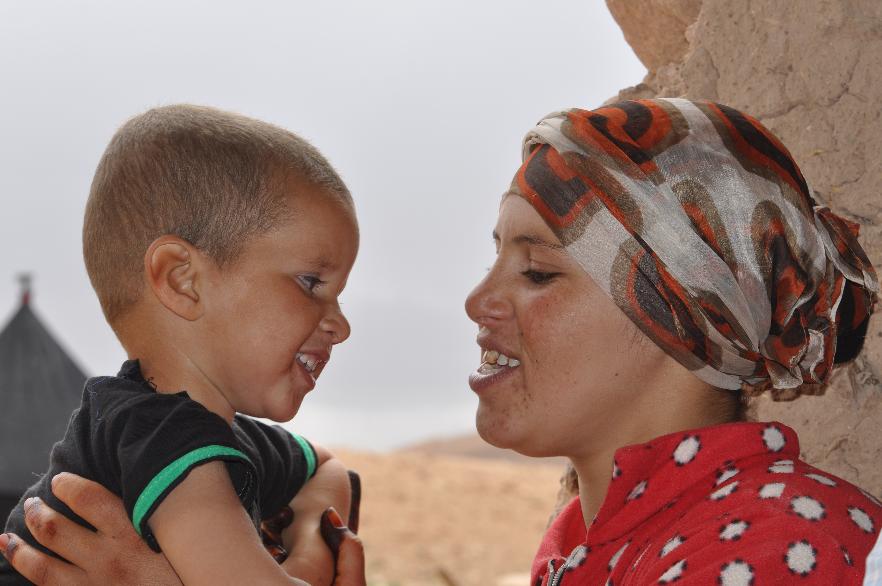 Amar, Abdul and Gayle playing soccer, oops football in the desert.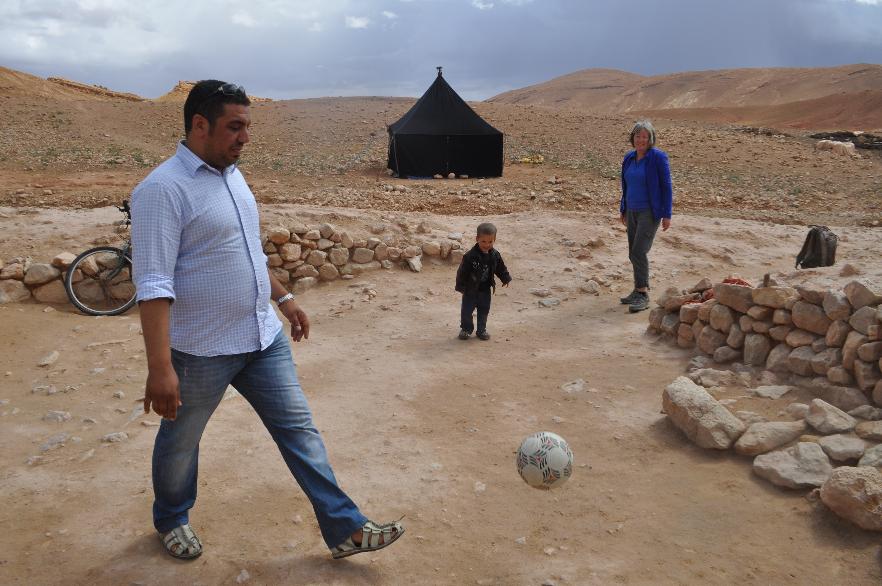 The Berber alphabet - bottom on the left and middle on the right has many similarities to Greek.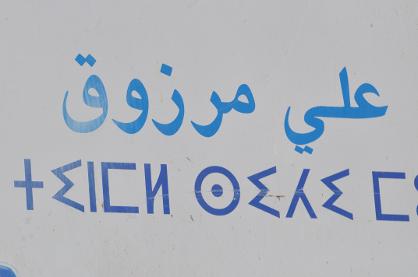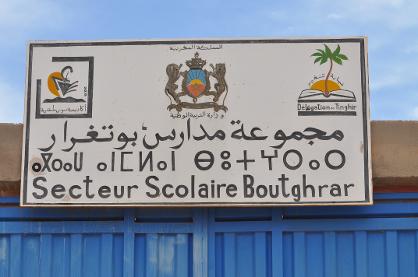 Meat drying after the day of sacrifice.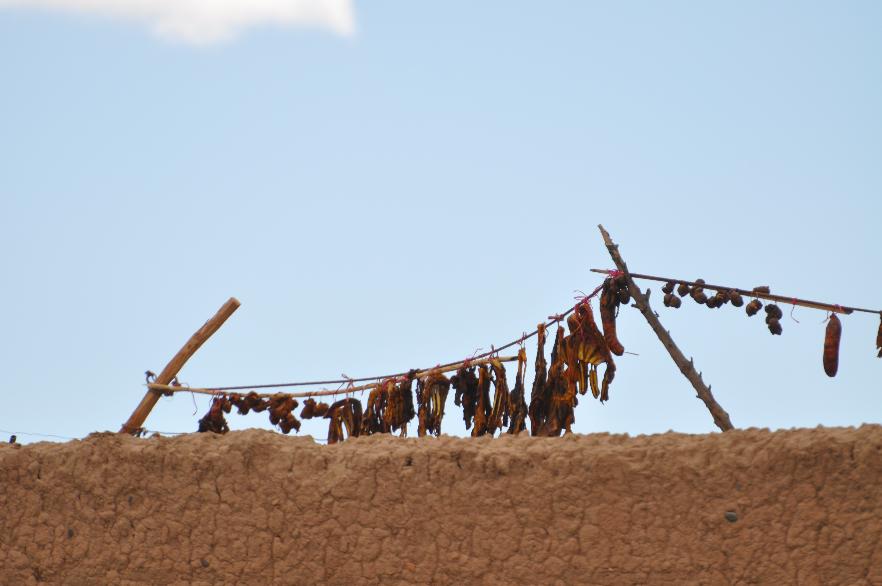 Two of the apparently 300 Kasbahs in Skoura.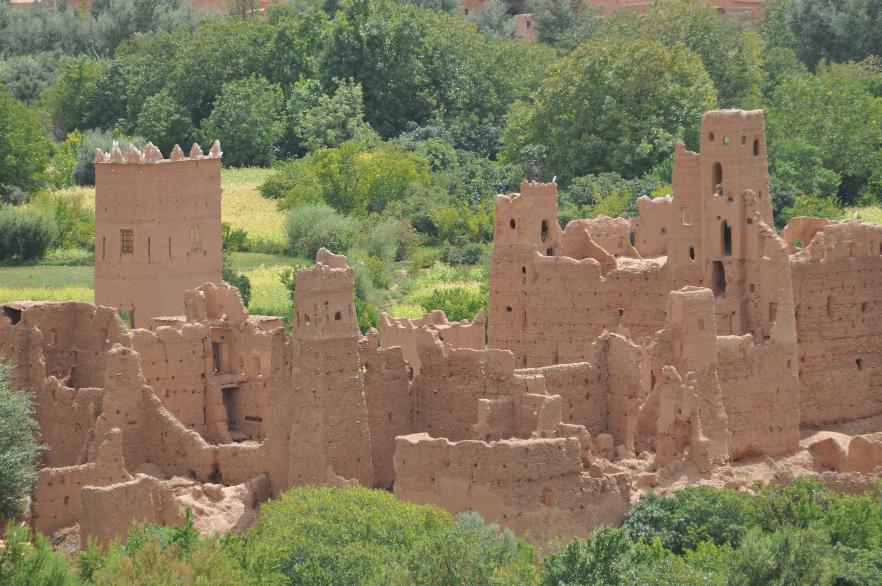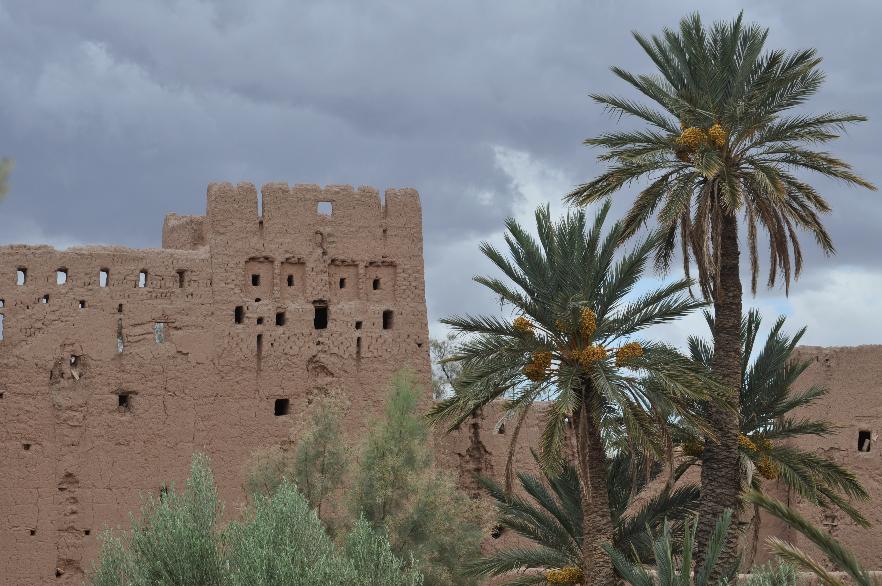 The very intense hail storm as we approached Ouarzazate.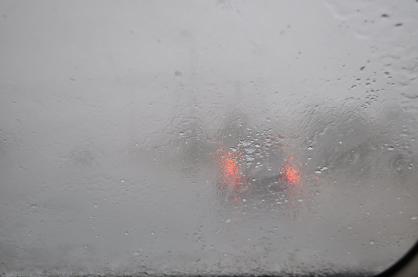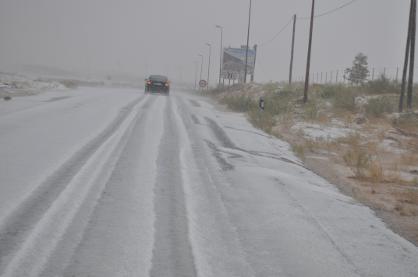 A beautiful wood bowl and 'Aladdin's' lamp at the Berber store in Ouarzazate.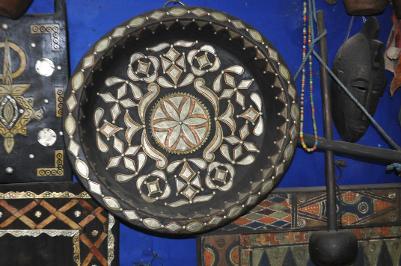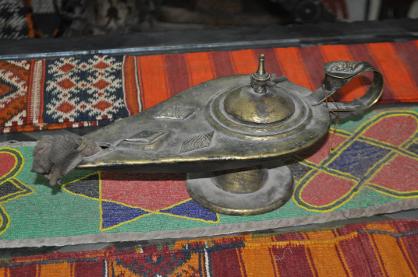 ,
Being served tea at the Berber store.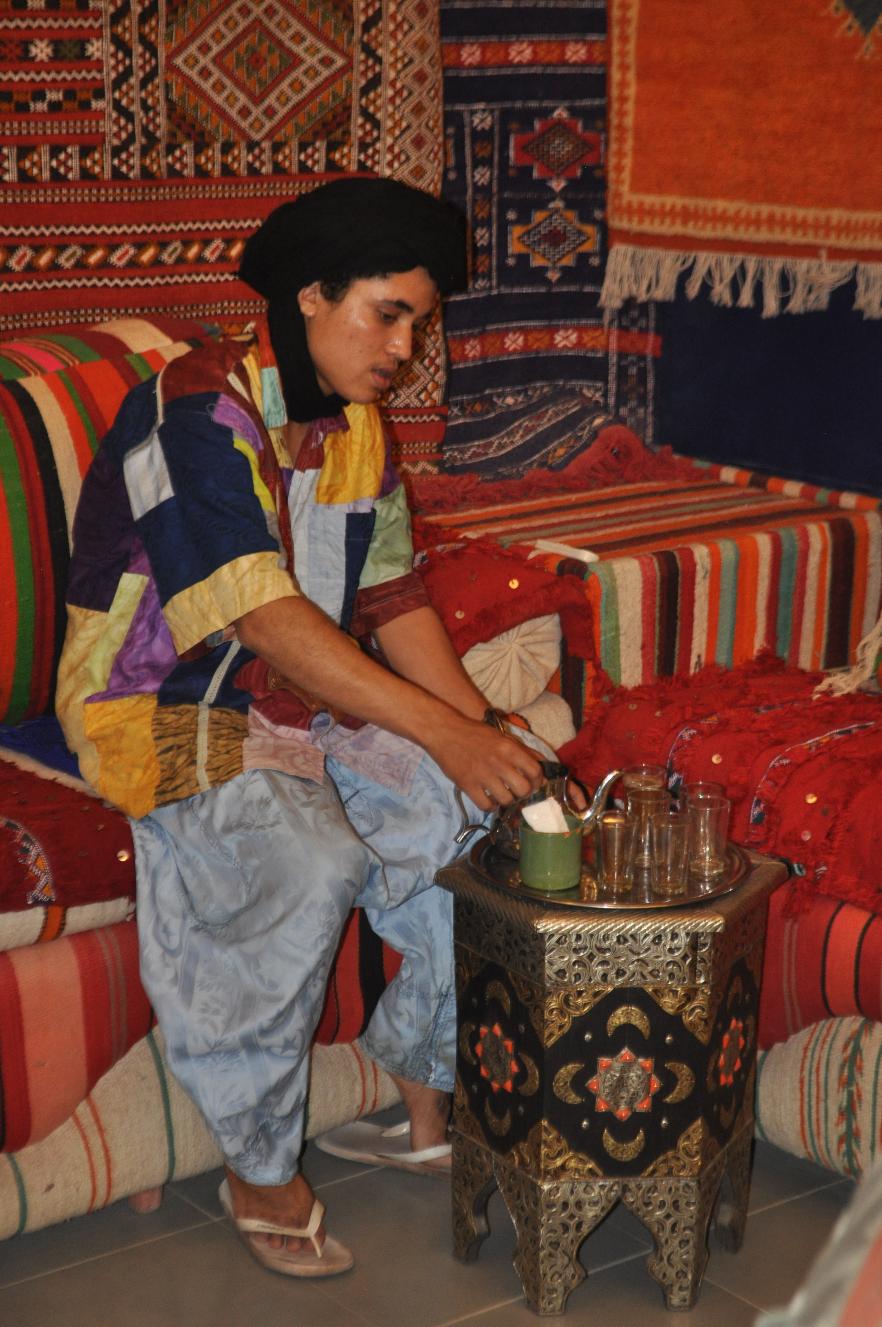 The Kasbah Ait Ben Haddou.



As good as the food was at Riad Tamdakhte (and it was excellent) we thought the plates were particularly attractive.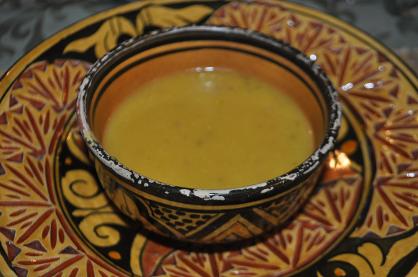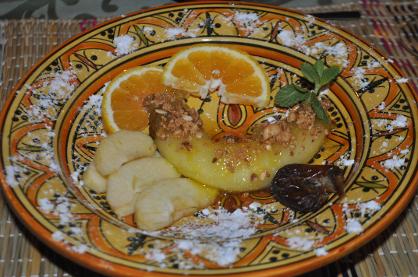 September 24, 2015 - Tinghir => Todra Palmerie and Gorge => Dades Valley

We started the day with a tour of the palmerie just south of the Todra Gorge. Amar left us with Hussein, born here and therefore with great insight into life in the valley and Kasbah. Hussein took us through the palmerie, showing us the many fruits and vegetables grown here. As he said on many occasions water is life, and the river, fed by springs in the gorge provides that life.
Today is Eid Al-Hada, or festival of sacrifice. It is the second of two religious holidays celebrated by Muslims worldwide each year. Today most families will sacrifice an animal, most often a sheep. The meat from the sacrificed animal is preferred to be divided into three parts. The family retains one third of the share; another third is given to relatives, friends and neighbors; and the remaining third is given to the poor and needy. While walking through the Kasbah late morning we saw a number of hanging sheep (and one goat), having been sacrificed for the holiday, some in the midst of still being cleaned. Out of consideration to Gayle (vegetarian) and others who may be squeamish I have not posted any photos. The festival is a significant event, with children receiving gifts, often new clothes. It is a day for greeting family and friends, with the streets being particularly busy/crowded.

Inside the Kasbah we were shown the carpet cooperative. Moroccan carpets are well known for their quality. Different regions and tribes (Berbers, Bedouin, Toureg) have their own styles and stories woven into the carpets. They are indeed beautiful but both generally large and therefore pricey. We looked at many but in the end, as was the case in Fes, walked away without purchasing anything.
After leaving the Kasbah we walked through the steepest part of Todra Gorge where we met Amar. After fresh orange juice all around we left the gorge and drove the hour or so to Boumaine in the Dades Valley. We then drove perhaps 30 to 40 km winding up the valley past Kasbah after Kasbah. Quite a scenic drive through the narrow valley with a panoramic view down the river after reaching the summit via a winding road of 's' bends.

Upon returning we approached our stop for the night from the west but were blocked by the rain earlier in the day that had swelled the river, preventing Amar form 'giving it a go'. Rather, we returned to Boumaine where we crossed on the main road then then drove the 6 m of off-road to La Perle due Dades, a beautiful African themed boutique hotel. Unfortunately our meal was at best average but the grounds/gardens and room were very nice, with interesting African art.

No sidewalks here - Moroccans wander up and down, and on the roads, yet drivers and pedestrians somehow understand each other. The women are most often very colourfully dressed.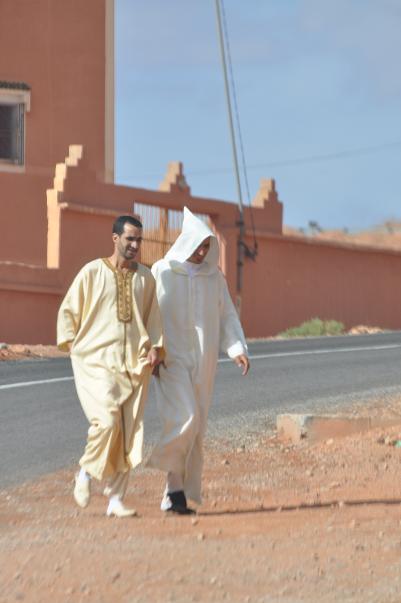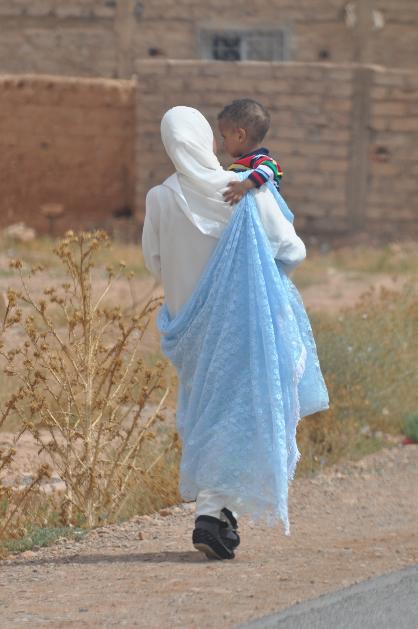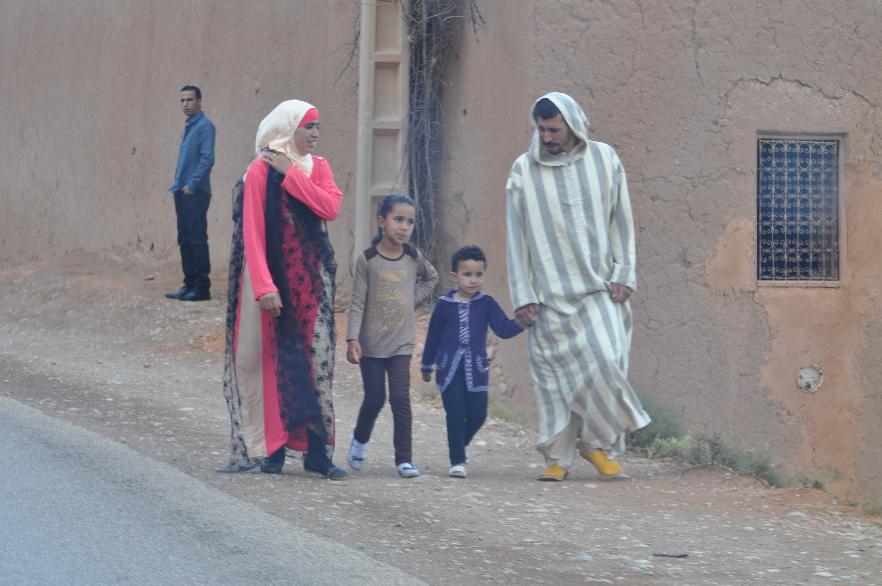 More sand castle Kasbahs, often seamlessly blending in with the surrounding rock. These have seen better days.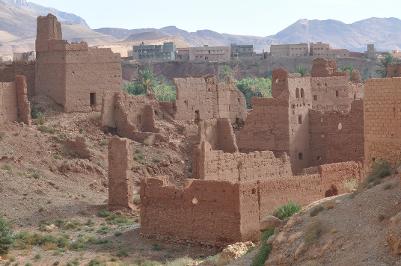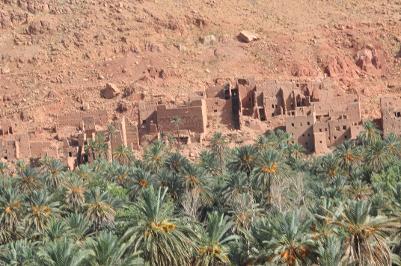 The river, palmerie and surrounding rock faces.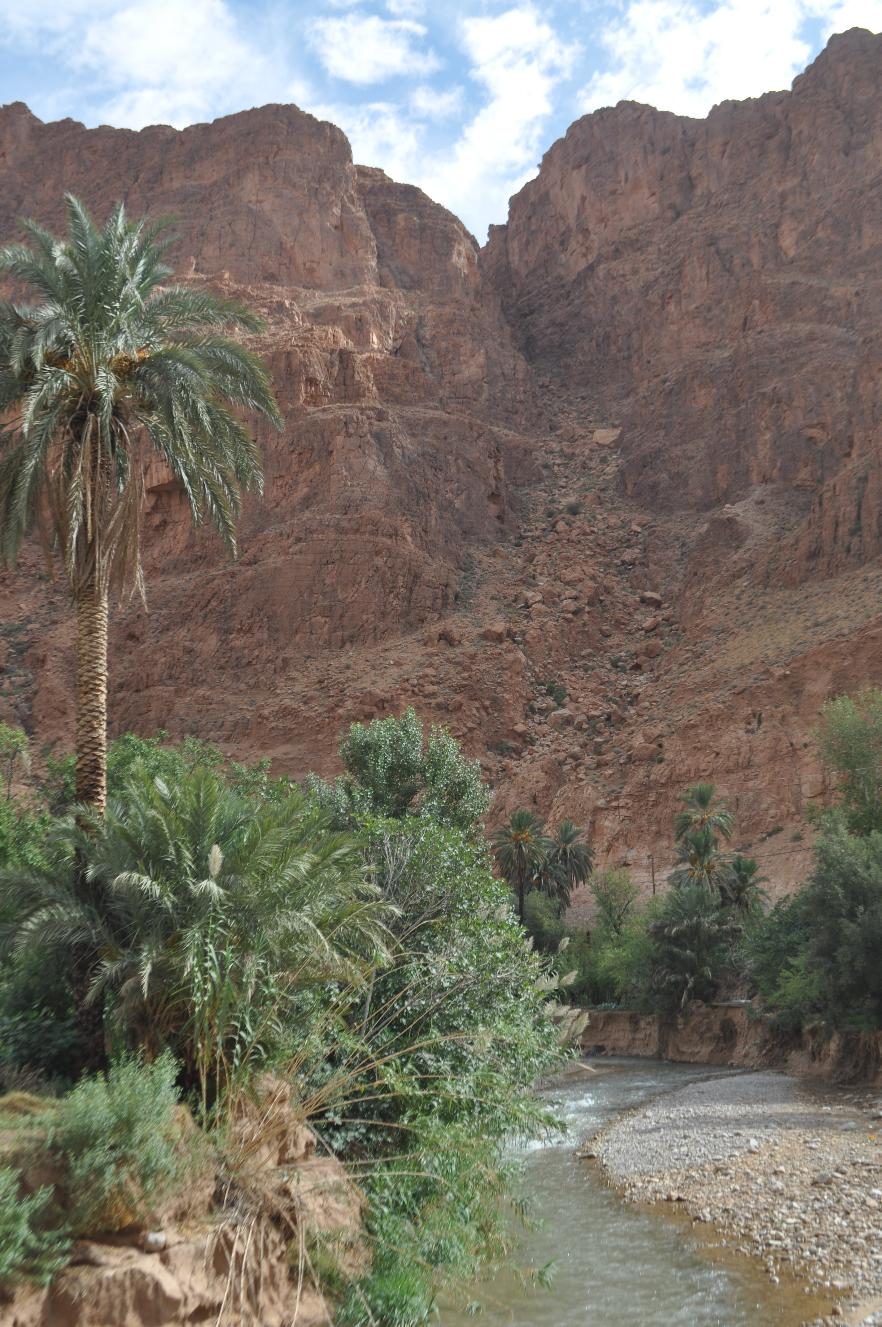 Gayle and Hussein, our guide, picking the pomegranates.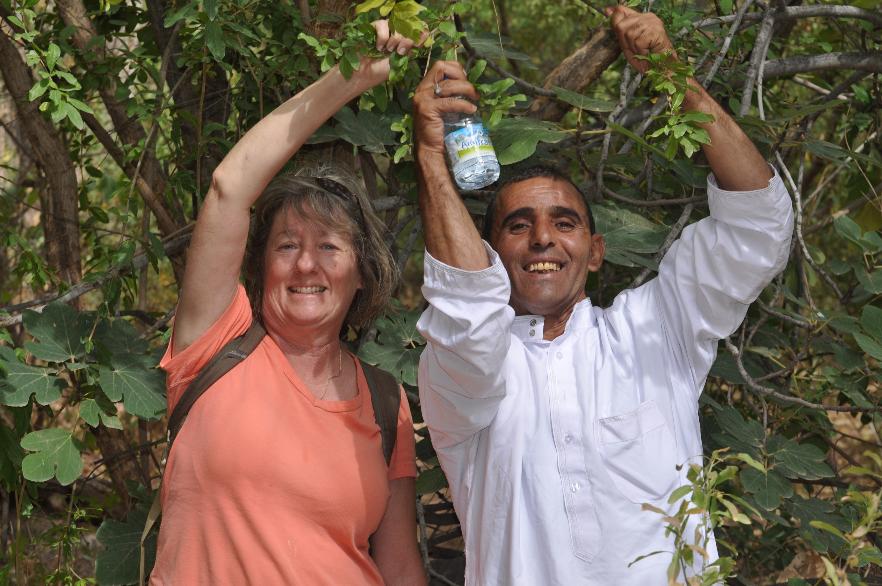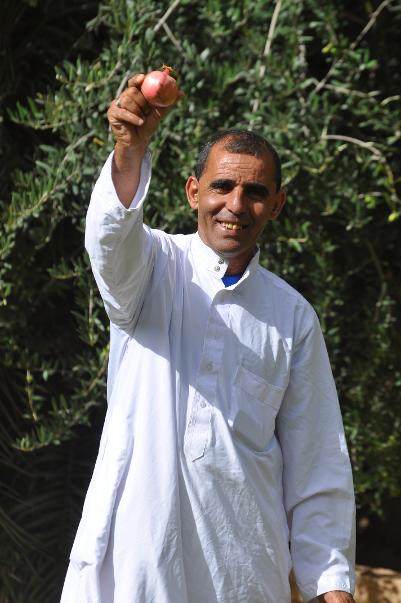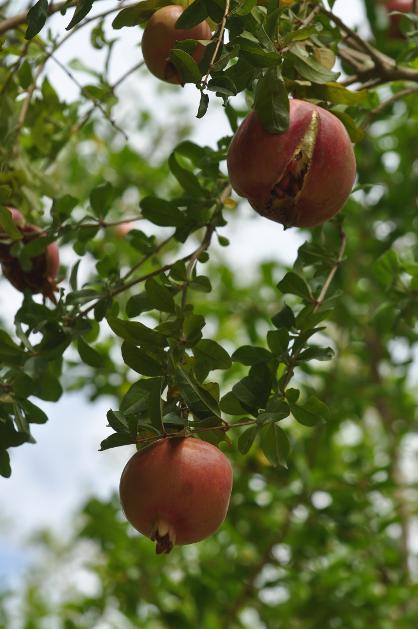 Washing the old fashioned way.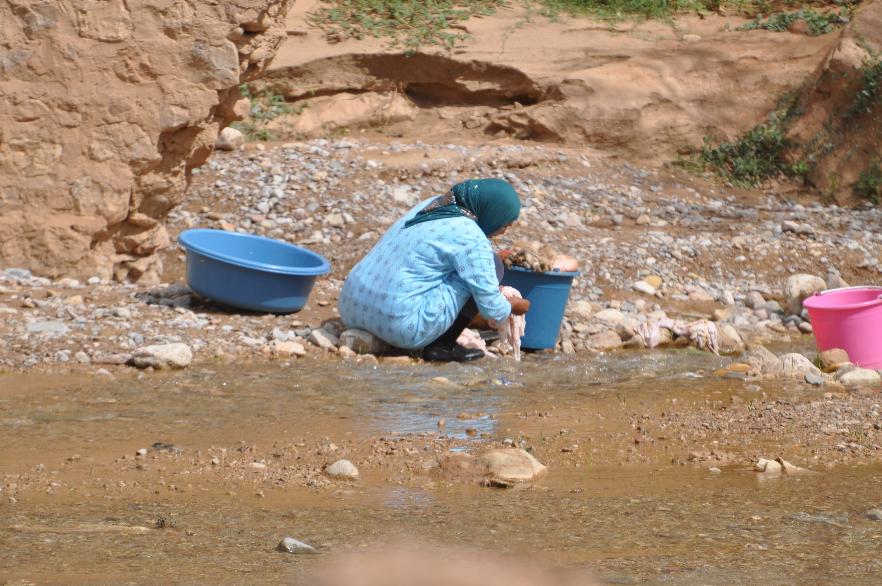 About to enter the Todra Kasbah - well when we get up from our rest.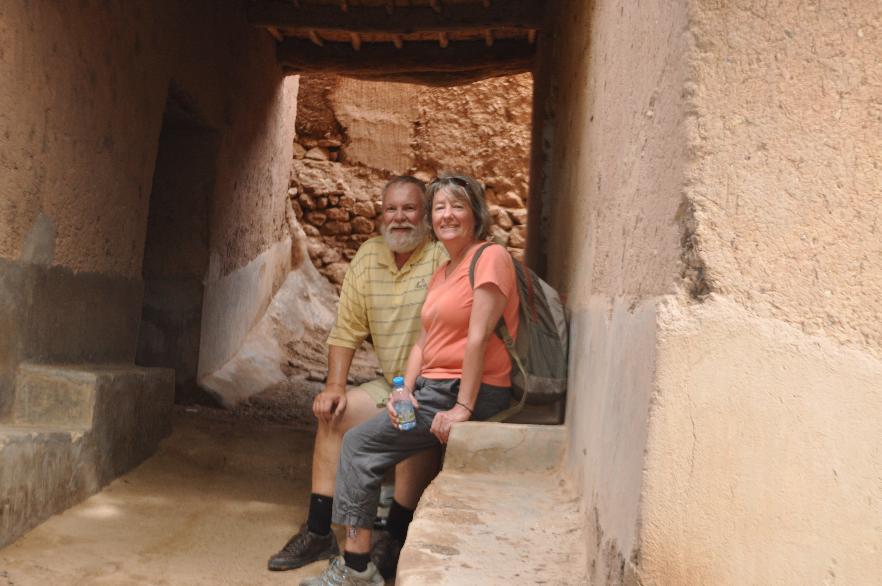 A (very) small section of the Todra Kasbah.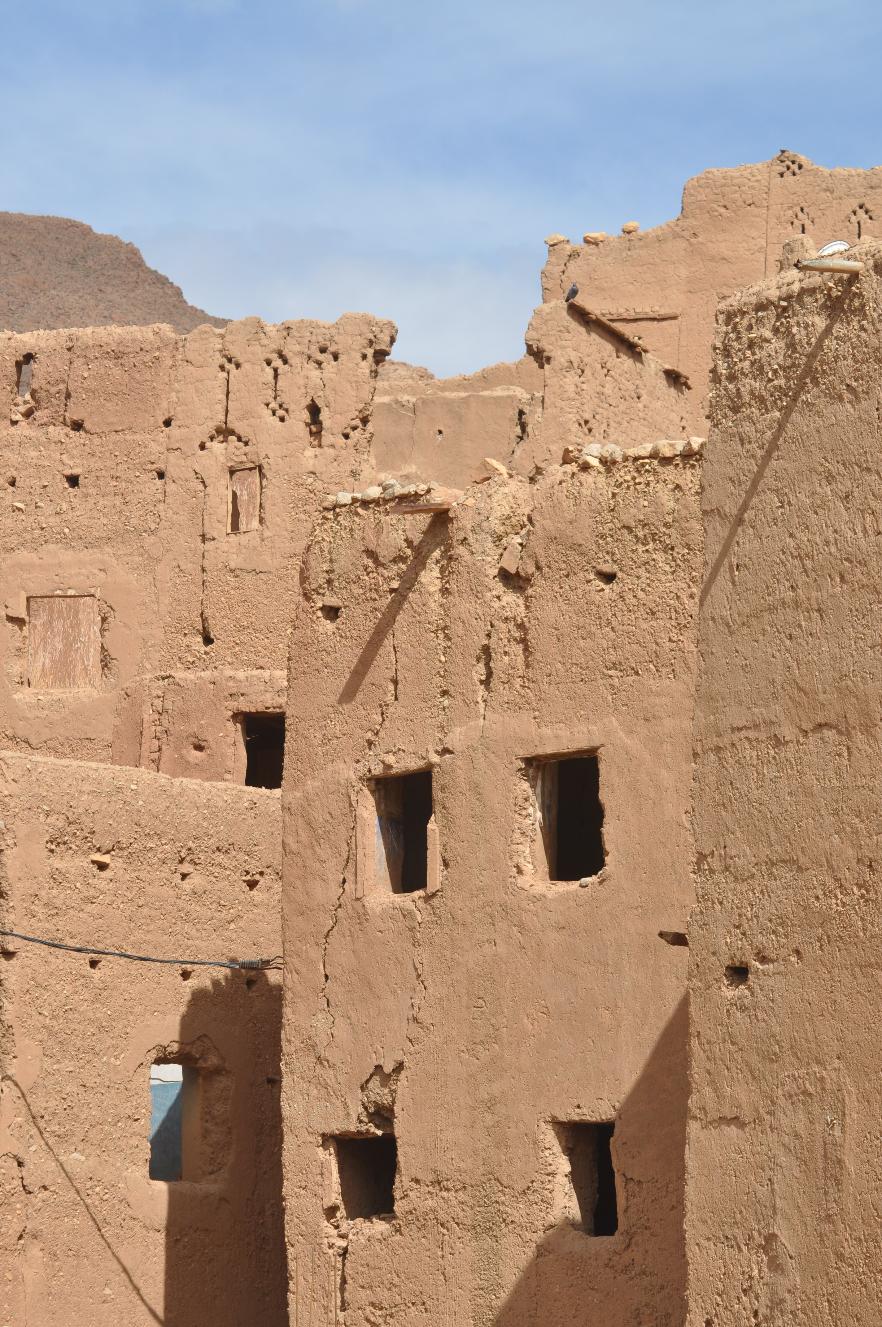 Carpet materials at the Todra cooperative.



Carpets, carpets and more carpets - apparently all perfect for our house.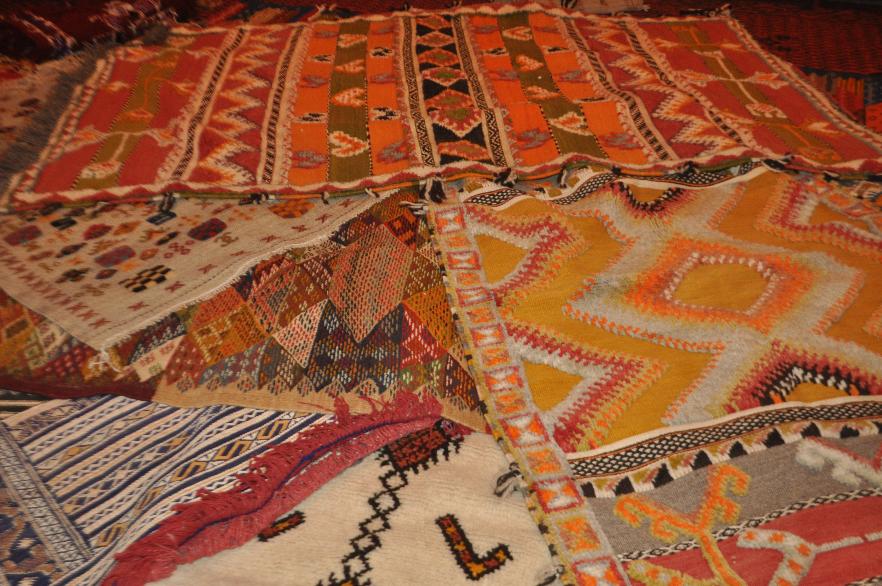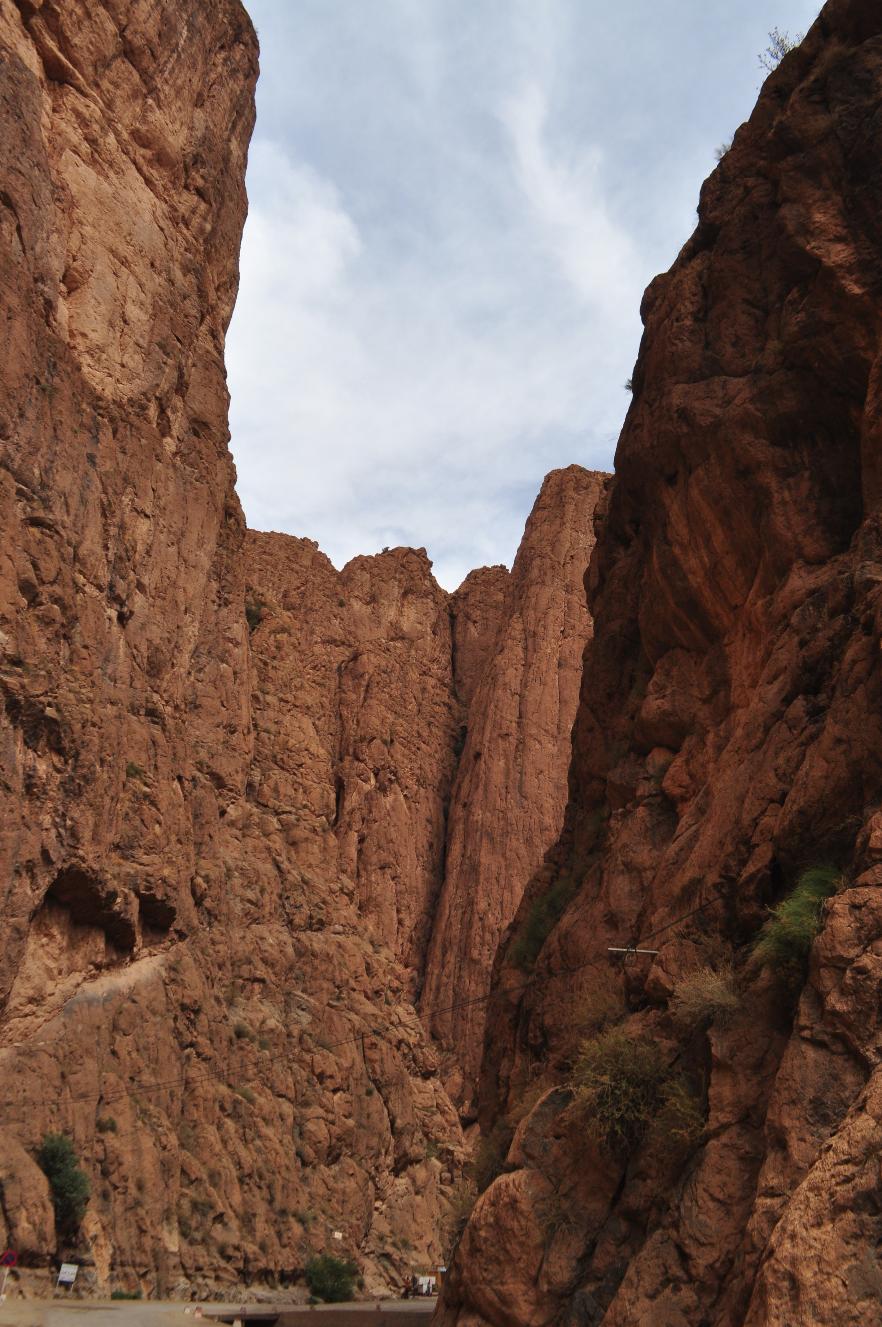 A couple of the many kasbahs we saw along the way.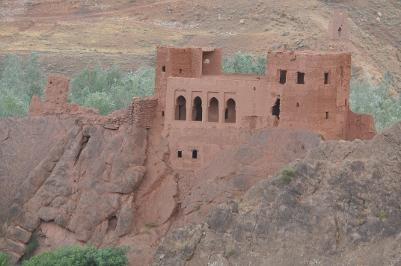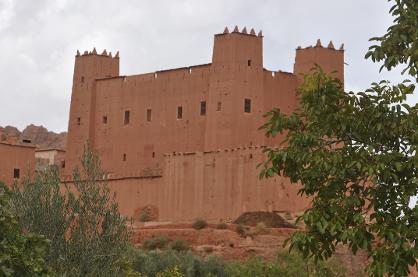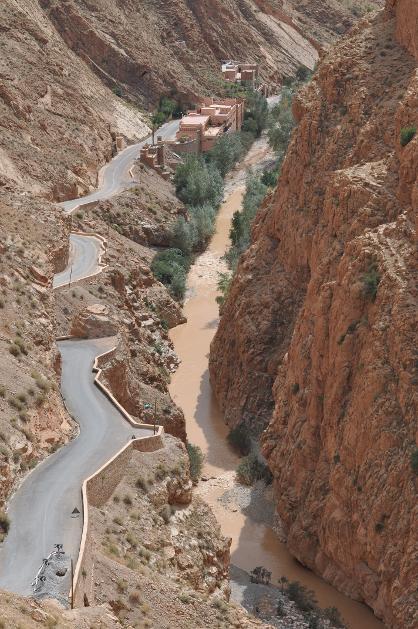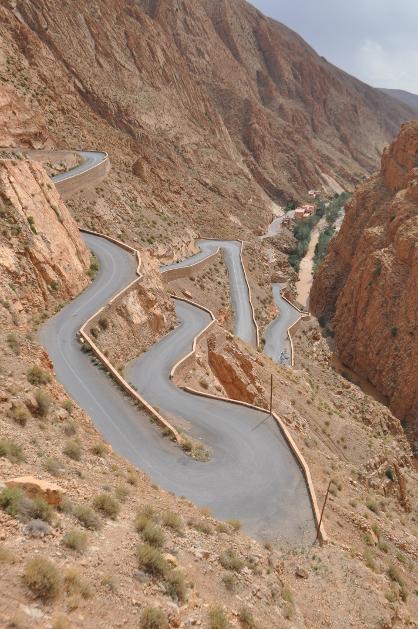 September 23, 2015 - Riad Nomad, M-harch to Riad le Petite Nomad, Tinghir

We left Riad Nomad, circling south, then west and then north through the black stony desert. We passed through the Berber village of Tafraouat, existing in large part due to the palmerie and the dates and other vegetables grown there. Amar was feeling particularly bad – we have Amar really under the weather, Gayle coughing but otherwise ok, and me with a tickly throat but the best of the group.
Today was really just a driving day with little to see other than the expansive landscapes and a number of small villages. Gayle had described to me how when she was here 40 years ago the wind could make a road disappear overnight. I naively suggested that that was 40 years ago and roads must be much better now. Well here we were driving when all of a sudden ahead of us was this sand dune. Amar had to leave the road and drive out into the desert to get around the obstacle (see photos looking north and south below). Once again Gayle was right. When am I going to ever learn?
After perhaps two hours and a whole lot of shaking we actually reached an asphalt road, turning west again on our way to Tingher. The rock formations along the drive were quite interesting but otherwise there was not much to see until we neared Tingher. There we crossed the large palmerie generated from the river originating in the Todra Gorge where among other crops corn was prominent. We then began to see the massive Kasbahs, sand castles in the desert, camouflaged against the similar coloured stone/sand.
Tonight we are staying at the Riad le Petit Nomad, a small run business by a young couple, Lahcen, originally from the nearby Todra Gorge and Mouna from Merzouga. When we heard Merzouga Gayle wondered if she was related to Amar. Turns out she is. Amar's grandmother and Mouna's grandmother were sisters. It's a small world here in the desert. Both were very kind with Lahcen making Gayle a lemon and honey tea to help her cough.
Congratulations - two correct answers to the riddle: Which animal did not attend the party and why?
First correct response from Stan Dunfield and Kari Lelacheur, followed by Bill and Linda Collins (who claim to have come to the answer independently).
And one point to Jeanne Sutherland for guessing the camel.
Answer: the camel – why? because he is still in the van.
Thanks for playing.

Sightings in the deep desert. Apparently white camels were originally native to Mali.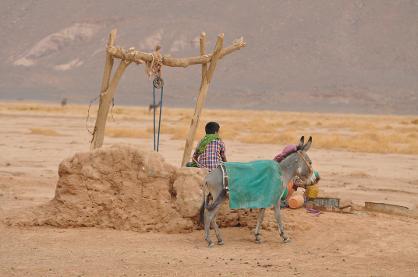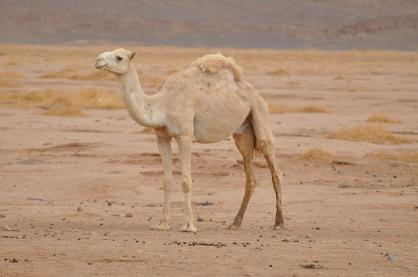 Alfalfa growing within the palmerie well within the desert.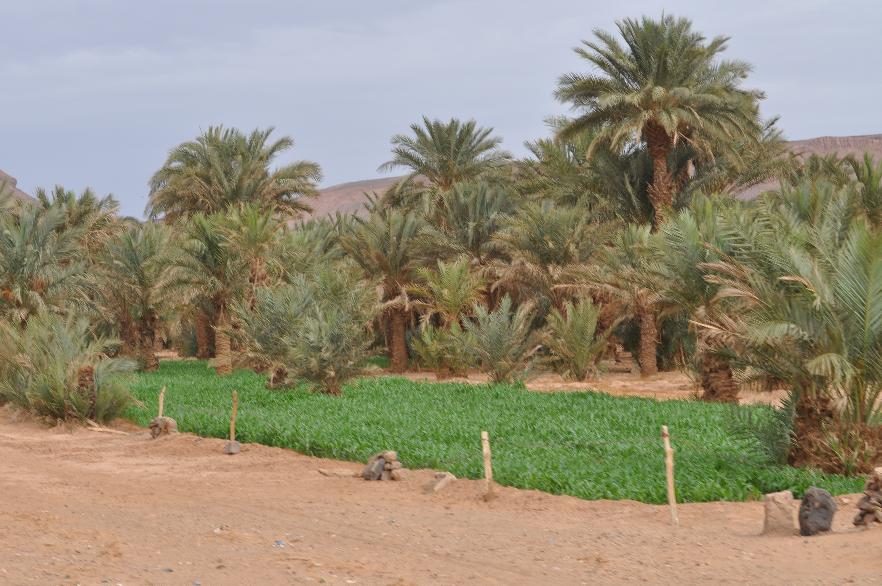 A couple of Berber women in the villages along the way.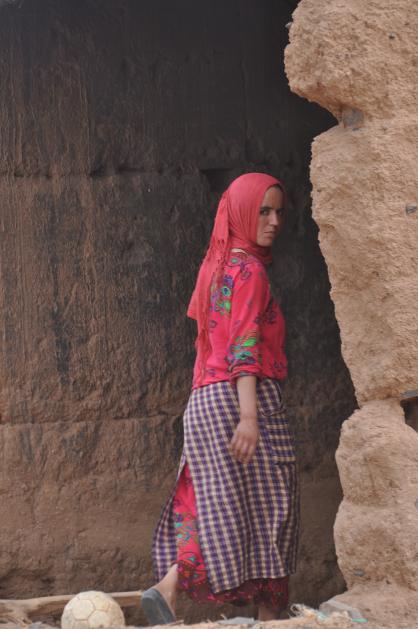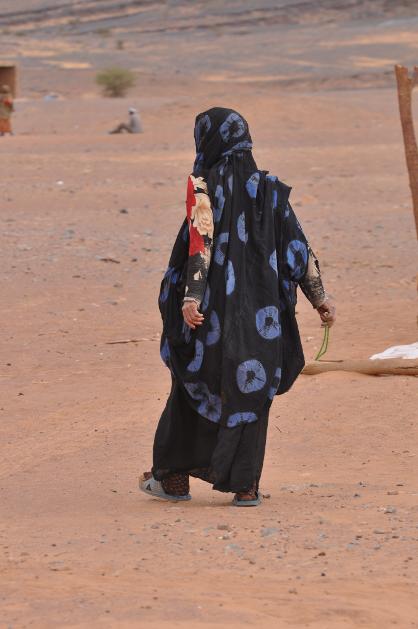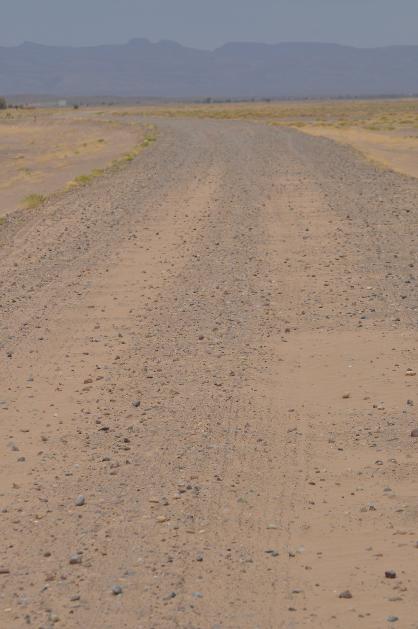 Turning 180 degrees and looking south - no road - sand covered, Thank goodness Amar could go into the desert and around the sand cover.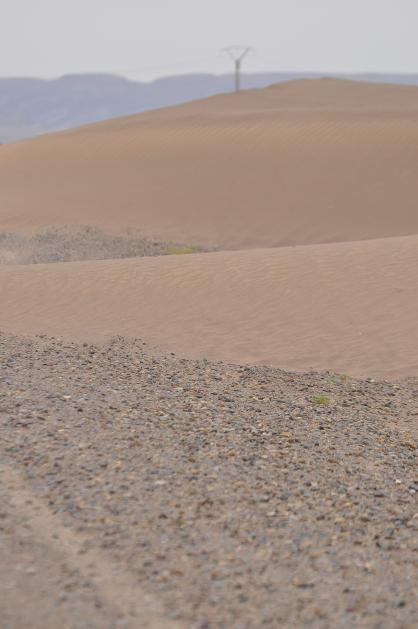 It is common to see men outside shops or along the roadside.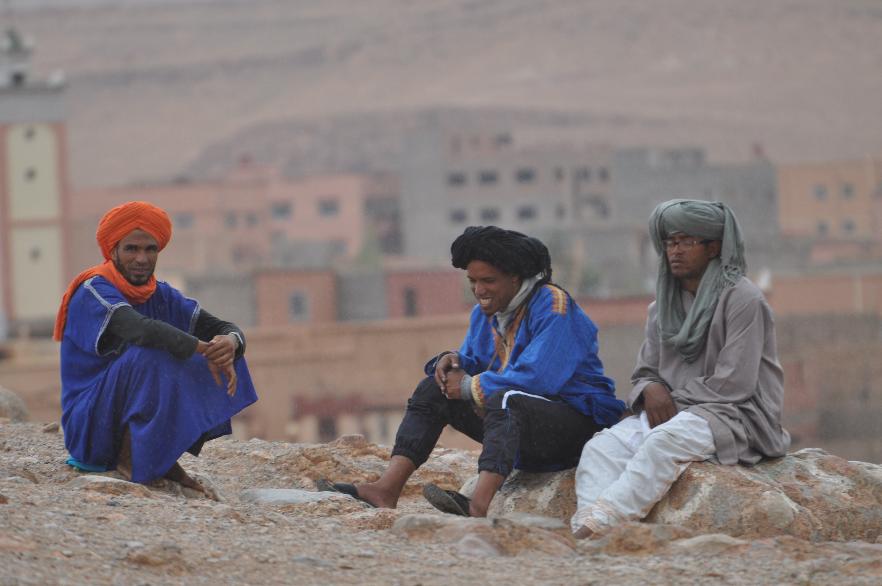 Along the way we came across a few oasis and green throughout the valleys. Corn is a popular crop in this area.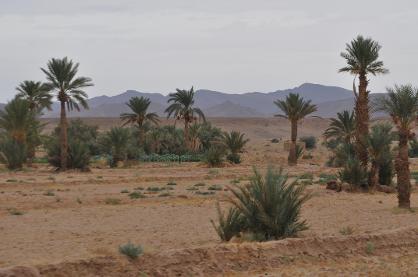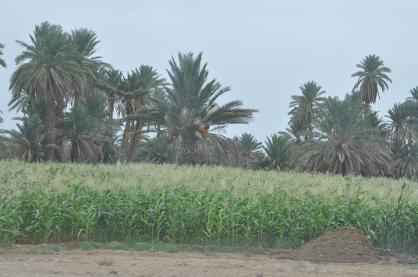 As we approached Tinghir we began seeing these massive old Kasbahs.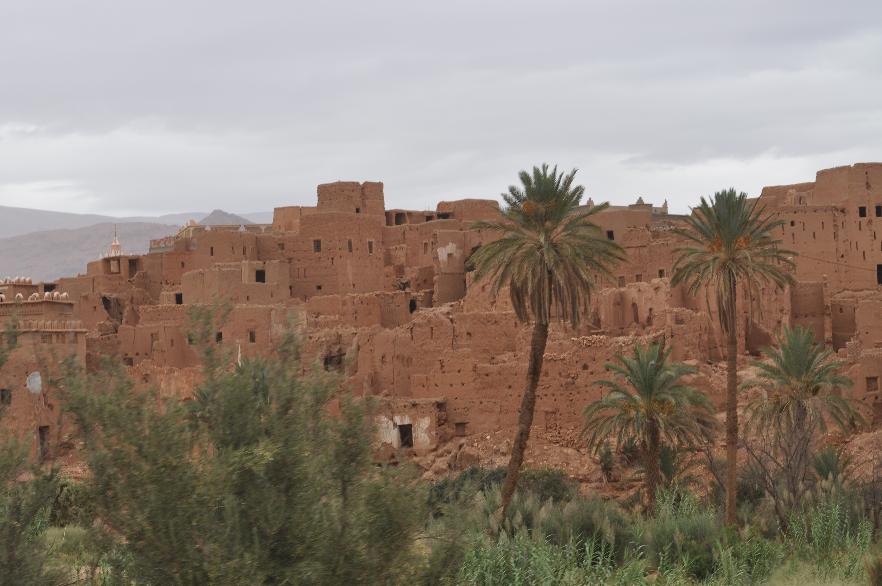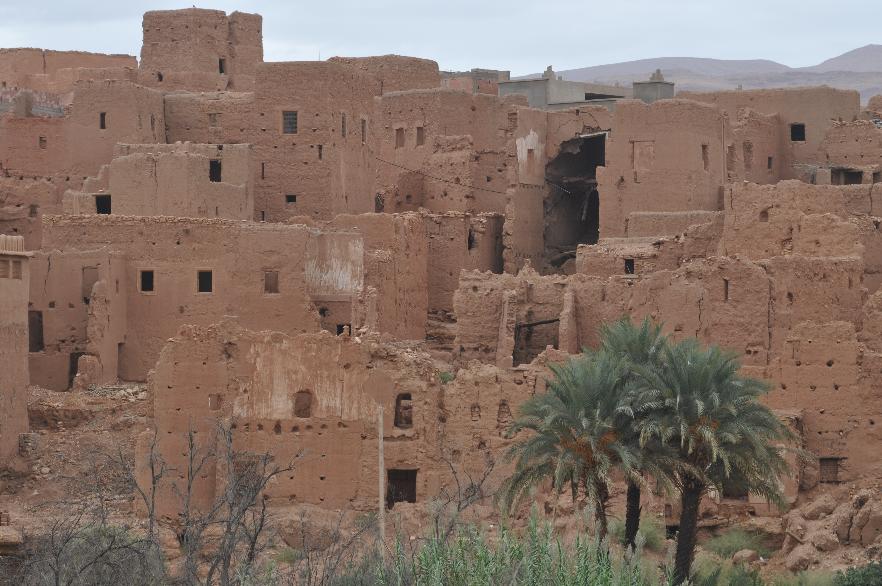 Lahcen and Mouna, the owners of the Riad Le Petite Nomad in Tinghir.


Carpets drying on the riad's wall with the palmerie and dunes making for great views.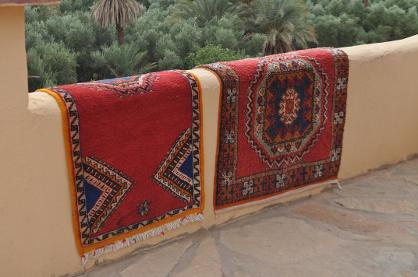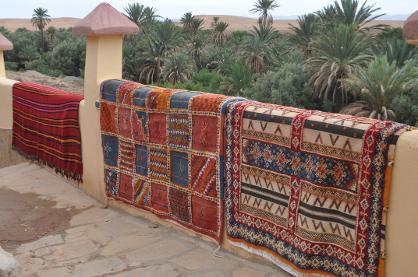 The tranquil and attractive inner courtyard of the Riad.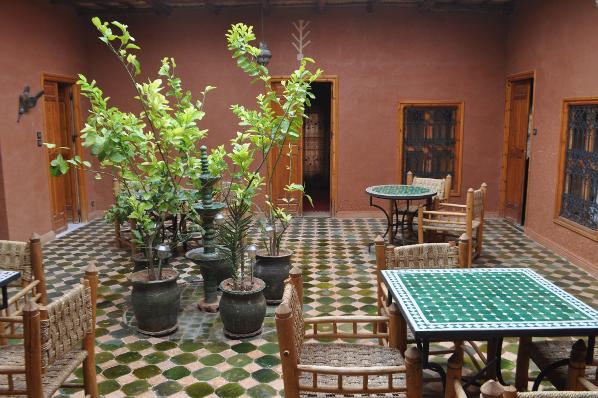 My dish of minced beef, potatoes and vegetables.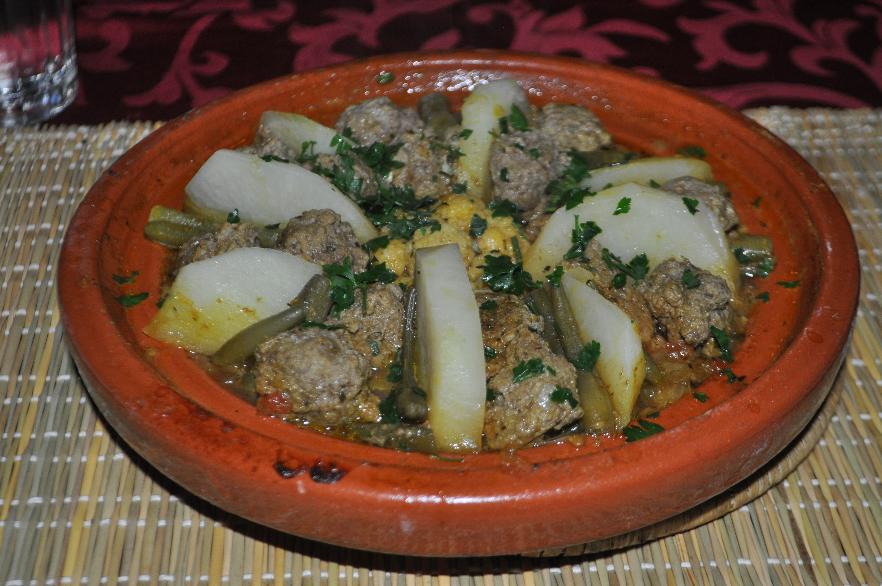 September 22, 2015 - virtually alone in the desert - Riad Nomad, M-harch
Well essentially alone. There was Amar, the one staff fellow, Gayle and me. Amar describes this as Riad Nowhere. There is literally nothing here, making it very perplexing as to why one would even build this riad. Amar theorized it was a rich family member who built the riad to provide employment to other family members.
There are two things here – heat and silence. Apparently in the summer temperatures reach 55 to 60 degrees Celsius. Today was only in the mid to high 30s. However, with the still air it was hot, particularly so in our room. Other than a bird or two in the morning, some flies at breakfast, and the occasional vehicle passing by – like perhaps half a dozen all day – the silence is ever present. With no internet – even Amar had to drive a ways out in the desert to get decent cell phone reception – we reviewed our photos, choosing those for the travelogue and wrote commentary that I will upload over the next few days when we have internet access.
We joked about sleeping out on the nearby sand dunes but compromised with a mattress on the terrace of the riad. Unfortunately something in the air was causing Gayle to cough quite violently so she spent most of the night inside – apparently it was hotter than the previous night due to the lack of wind. I on the other hand spent the entire night outside.

Before it moved behind the building the ¾ moon provided nice light. Later on we enjoyed seeing the sky filled with stars – very vibrant in the dark, with no lights whatsoever. Although I was asleep and missed it Gayle saw a meteorite streaking through the night sky, as Amar had seen previous night. Certainly my sleep outside was more comfortable than the previous night in the stifling heat. Gayle too wishes she could have enjoyed sleeping out throughout the night but she did enjoy the stars, shooting stars and a meteorite.
But this is the experience. It is what we wanted. No complaints.


The central area of the Riad was appropriate in its simplicity - nothing ornate out here and the single window in our room was actually very impressive/attractive, with a nice view out to the sand dunes and desert.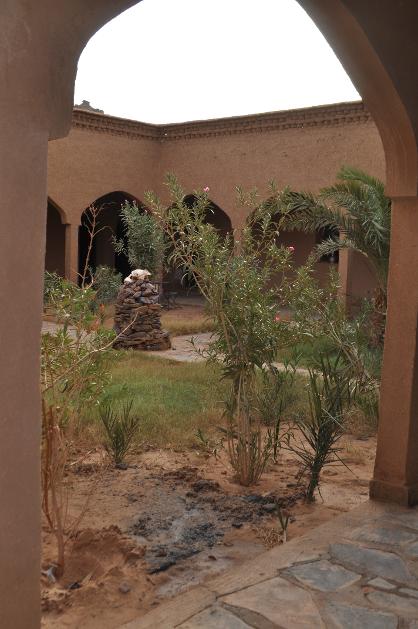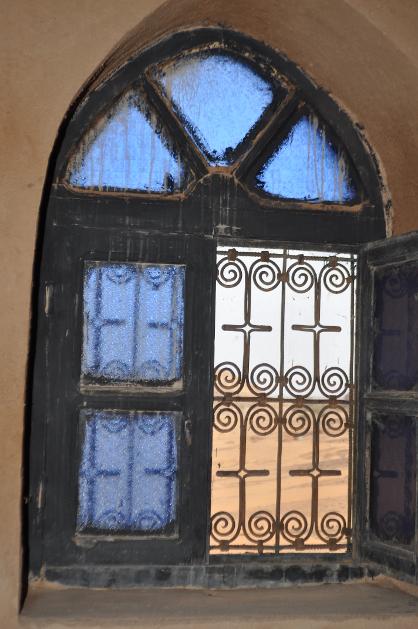 Of course we were regularly offered tea, provided by the lone staff member.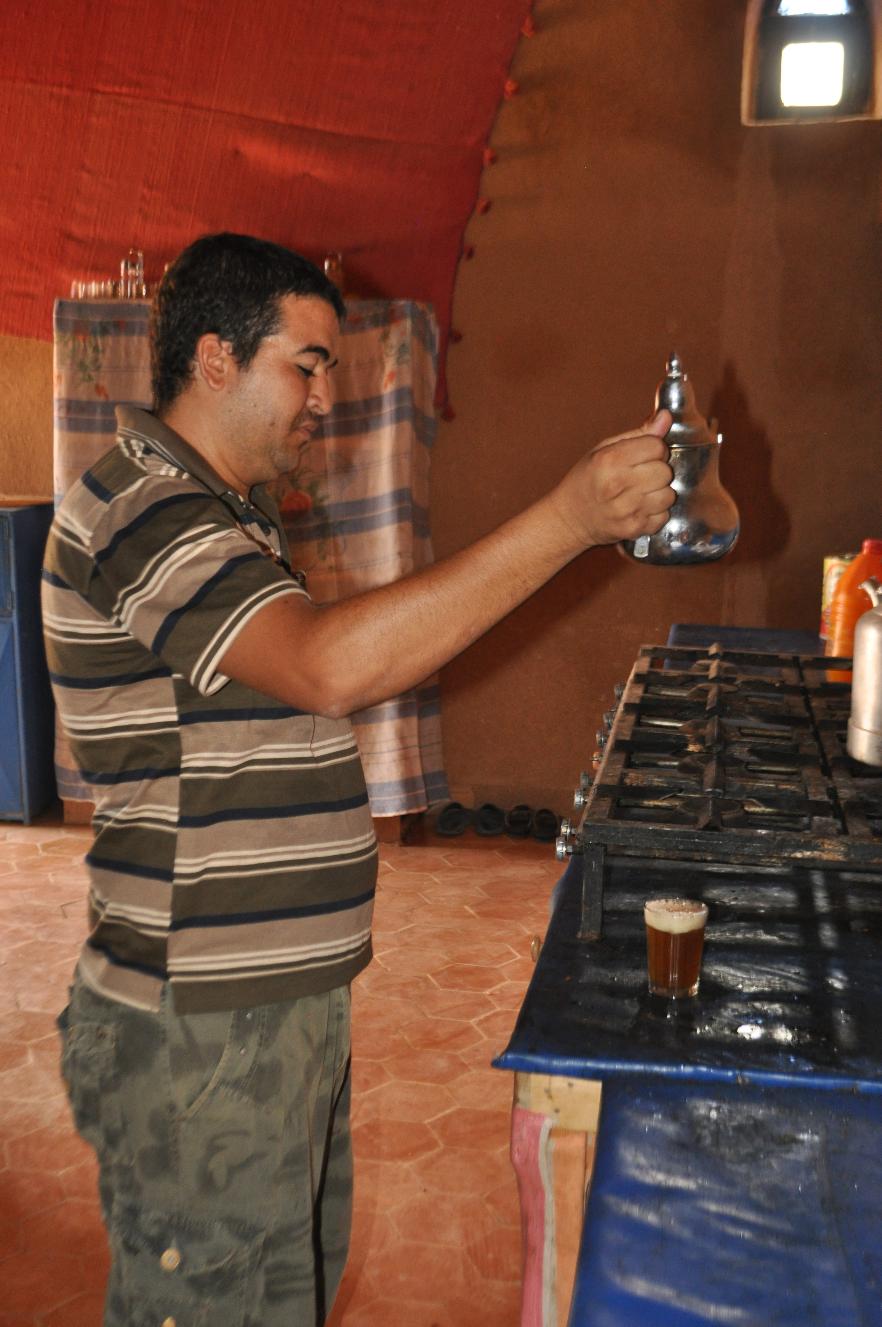 Some beautiful / colourful Berber pillows made sitting around quite comfortable.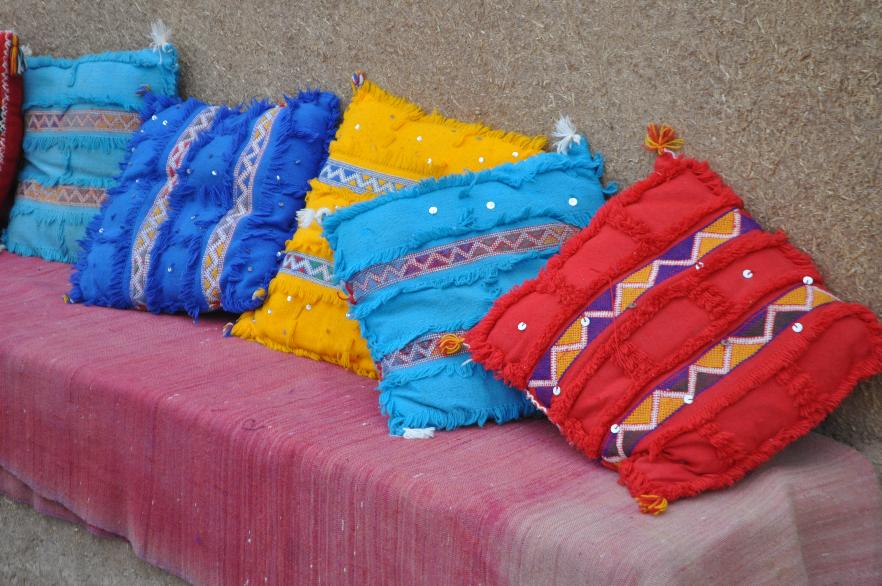 The front of the riad, and in retrospect this could have been a great setting for a Seinfeld episode re doing nothing - as there was little to do other than sit around (or go for a hike in the desert, but in the heat we quickly ruled that out - nothing was a nice option.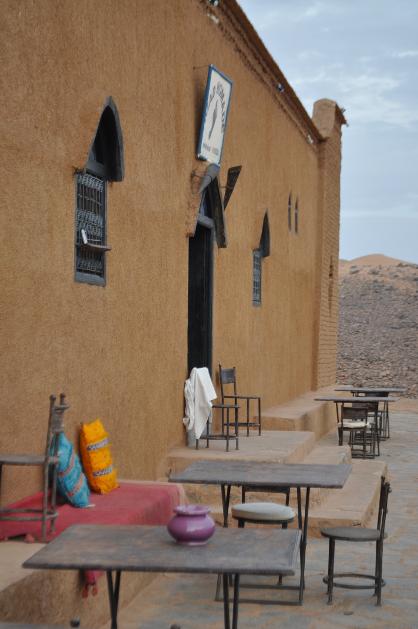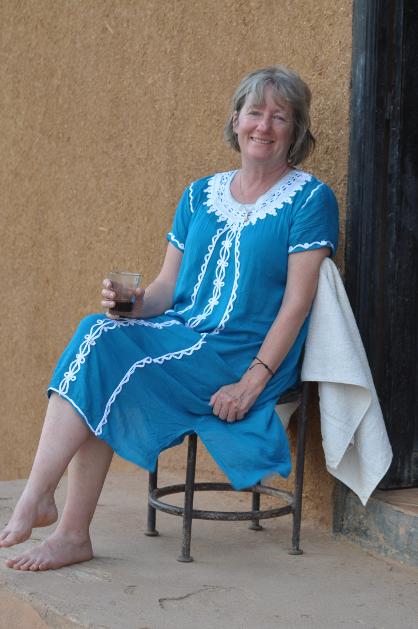 Our sink was interesting - a polished chunk of stone exposing a number of fossils.



The sand and straw 'bricks' used to build the Riad - extremely effective at retaining heat, and we were told a camel skull.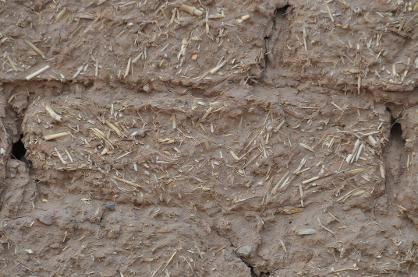 The sand dunes looking through the gorge near where Riad Nomad is located.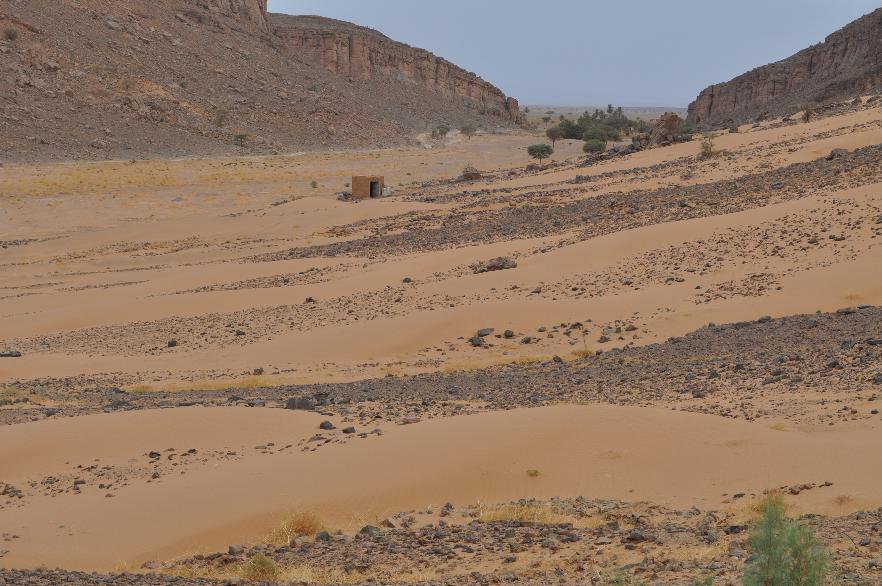 ... and the views from the front of the riad, with the passing camels providing our highlight of the day.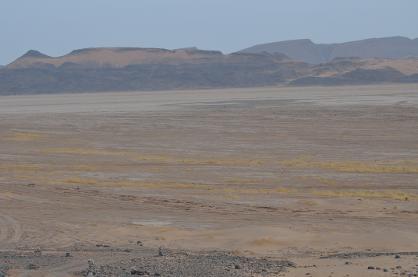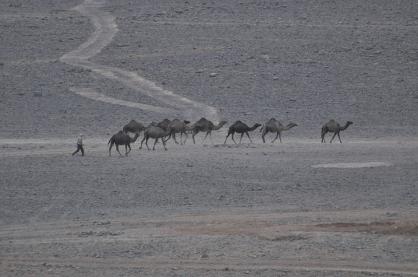 Set up to, and then sleeping under the stars, where it was a lot cooler than sleeping int he room.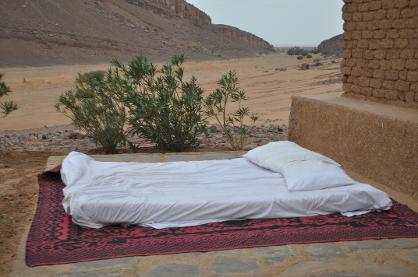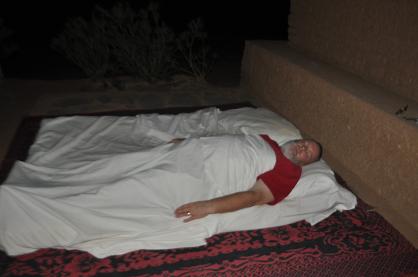 September 21, 2015 - camel desert camp back to Merzouga and then to M-harch
We awoke to the sunrise – actually not that spectacular as the sun rose over some distant mountains near the Algeria border rather than over the sand dunes. But still we are out in the desert – a neat experience. After breakfast we packed up our few things and wandered over to again meet Jimy and Bob, and this time Omar for the return trip. Omar is a nice young 20 year old who was considerably more talkative than Mbarek who took us to the camp the previous evening. During another reasonably comfortable ride we saw a herd of camels off in the dunes heading in to the desert.
We were then driven back to Riad Madu where we showered and caught up on emails/blog. Unfortunately Gayle has not been feeling well the past couple of days – a bit of a fever and the sniffles. I too was sniffling but it seems to have passed. And now Amar is also under the weather.
We left Merzouga shortly after noon, driving back to Rissani and then west before going off-road south and then back to the east. There are two routes out of Merzouga, one that goes south and then back north –even longer and a more direct route that requires one to cross the river bed. Amar explained that beyond being a slow drive it is quite risky, doable but with a significant chance of getting stuck in the sand and therefore not worth it.
The drive was about three hours in total, the first hour to Rissani and west and the remainder off-road. Our expectation of being in the middle of nowhere was not only met but surpassed. You drive to beyond, then back of beyond, and then to M-harch. There was not much to see along the way other than expansive black stone (reg) desert. We picked up a fellow walking along the piste ('road') and gave him a lift to the one small cluster of adobe buildings we saw about half way along the route.
Our arrival timing (3:00 pm) was perfect as there was a herd of camels passing the sign into Riad Nomad. The riad is nicely positioned on the side of a rock face with panoramic views over the dry river bed and surrounding mountains. But other than the views there is nothing here. And in the oppressive heat it was a struggle, both the afternoon after arriving and the sleep during the night. In order to allow some air/wind through we left the door open given there was only one window. We've never experienced a sweat lodge but imagine this is pretty much the same thing.

But what the Riad Nomad is is quiet. There was one other guest – a fellow from Argentina, us, Amar and two staff.

No correct answers yet ... send in your guesses.

Post 5: Riddle 3
A while later the lion decided to call a day of peace, inviting all the animals to attend a desert party where there was no risk of attack by another animal. A representative of every animal except one came from far and wide to enjoy this party.
Which animal did not attend, and why?
Please email your answers (one point for the animal; one point for the reason) to moosehead@accesswave.ca. I'll publish the correct answers, if any.

Our camel skin dessert tents.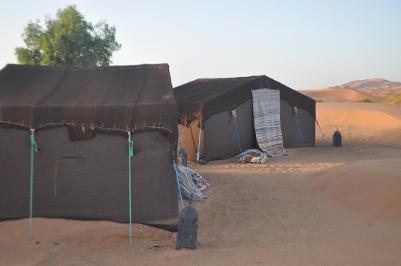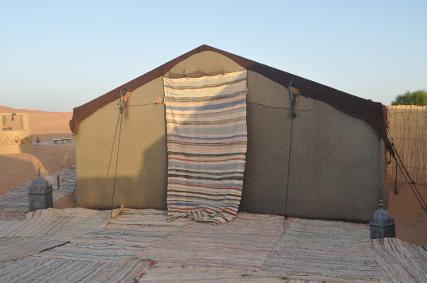 After an unusually quiet night Bob Marley (given Bob's reputation) was ready to go first thing in the morning.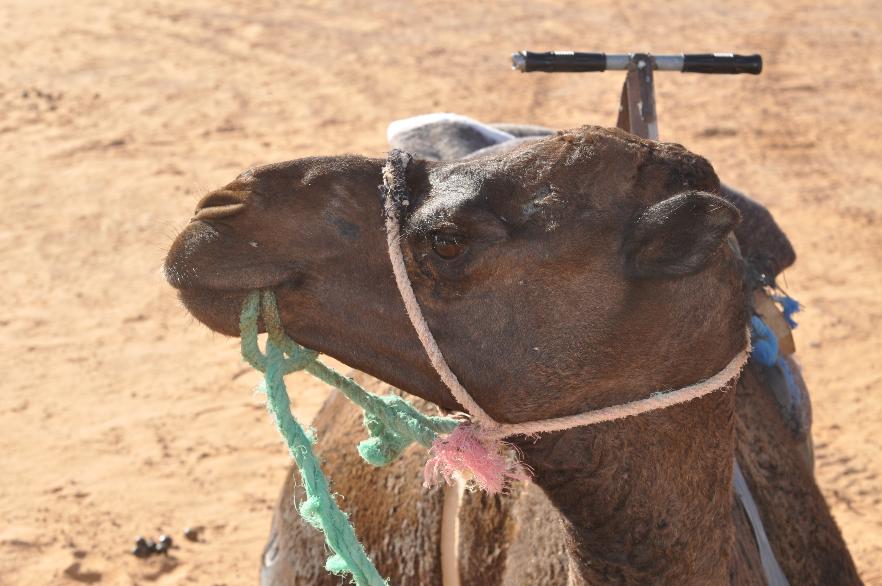 Omar, our morning camel guide.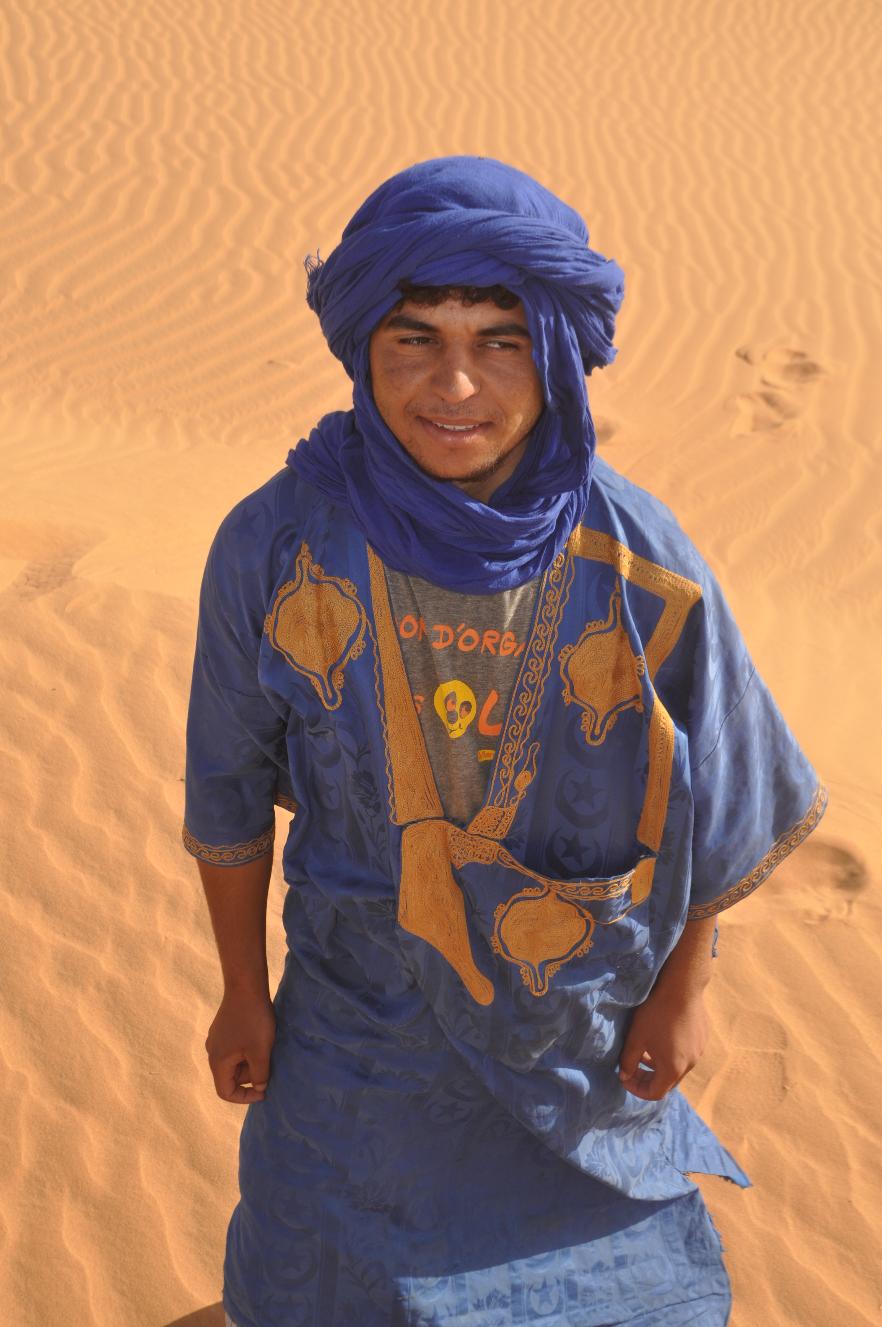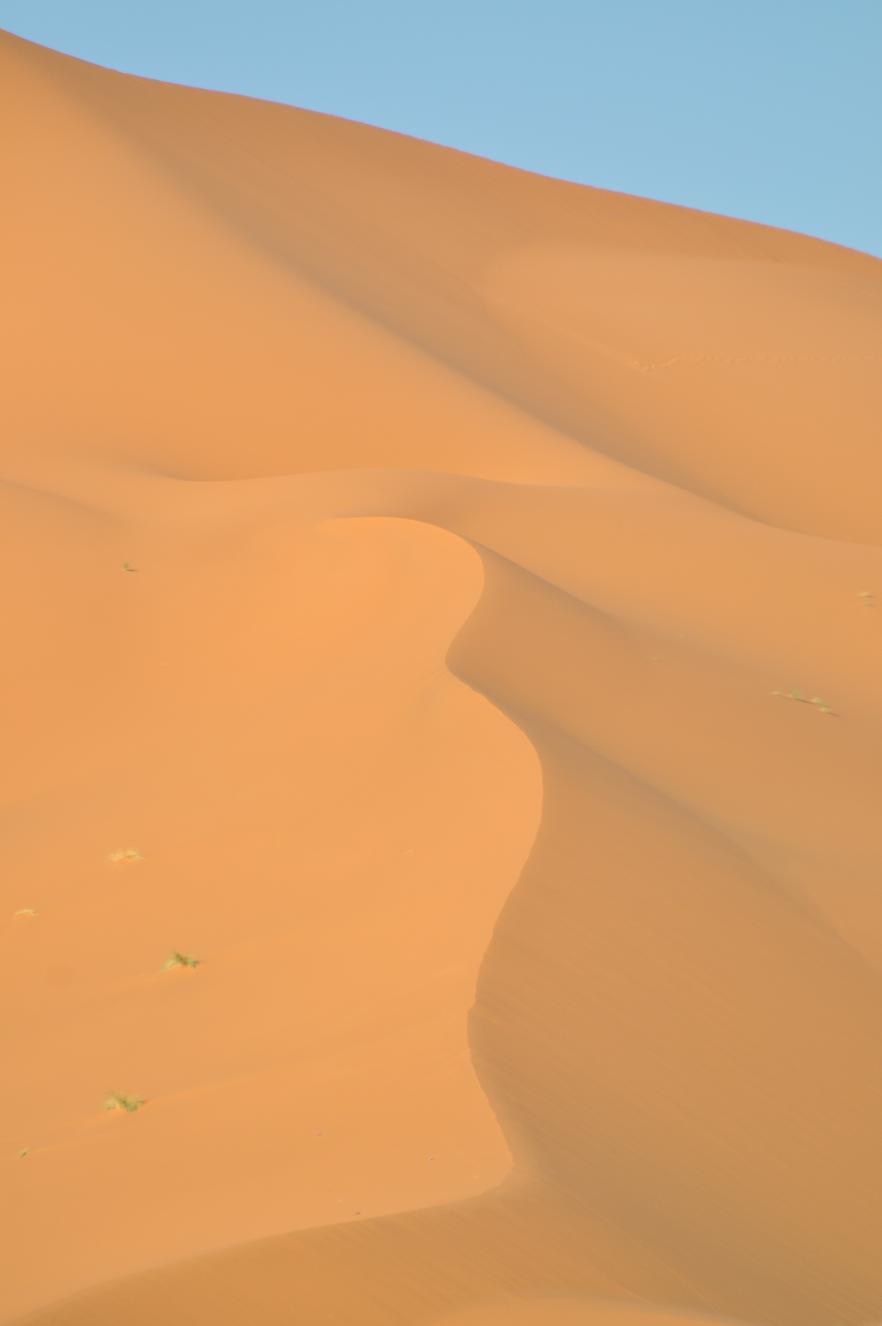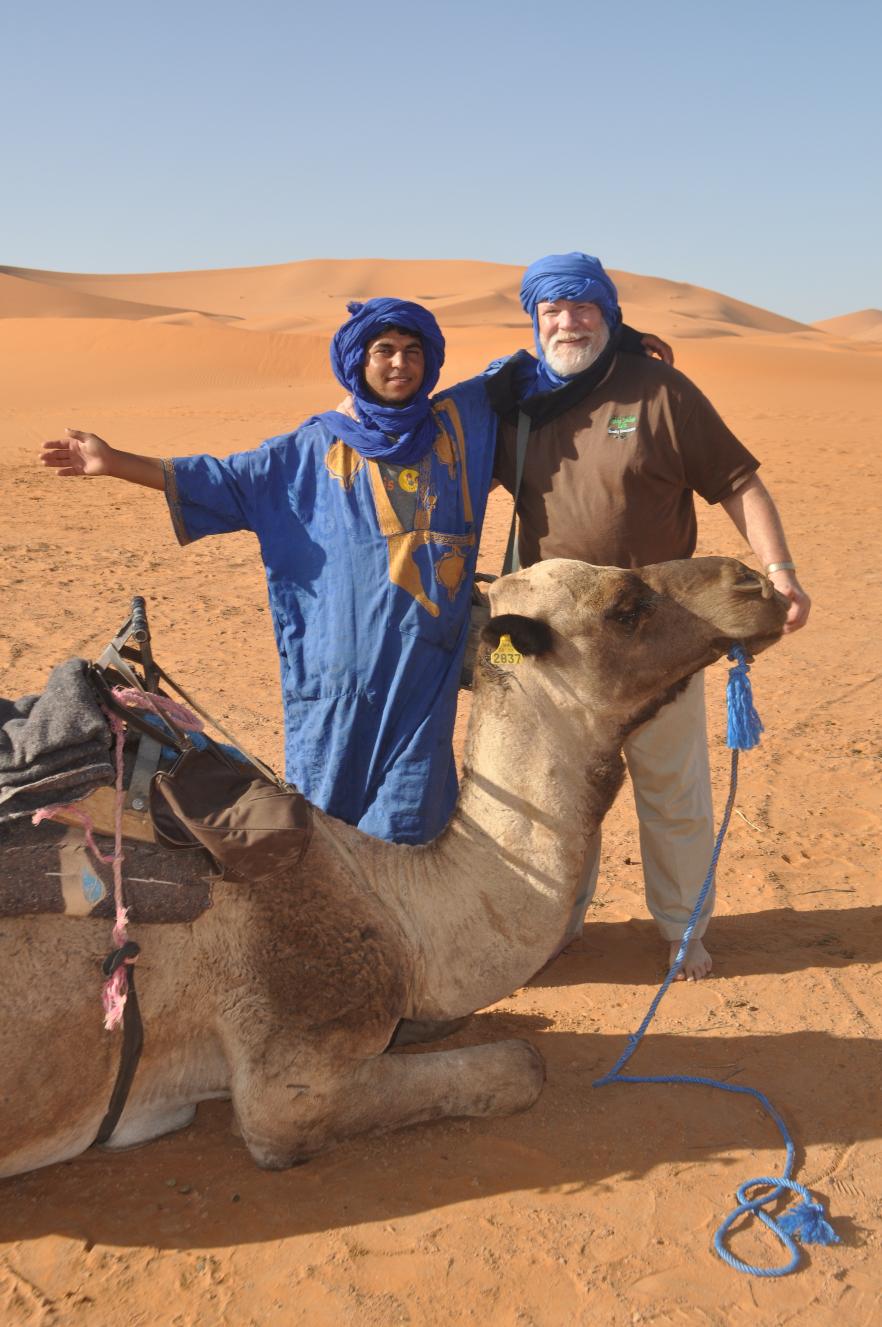 Sightings during the return camel trek.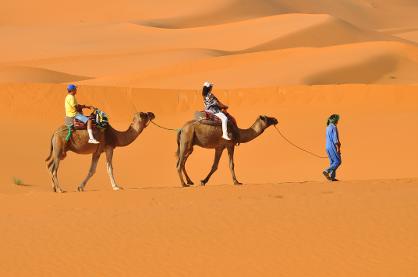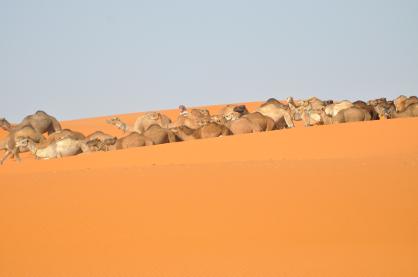 From the terrace of Riad Madu.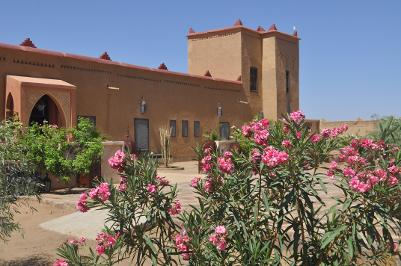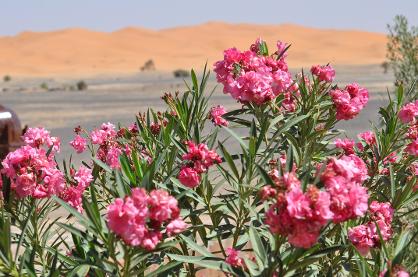 There is really not much out here. If one wants to get off the beaten track this is it.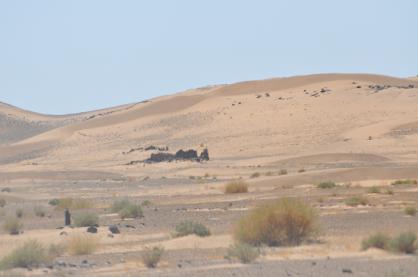 Our greeting party to the Riad Nomad.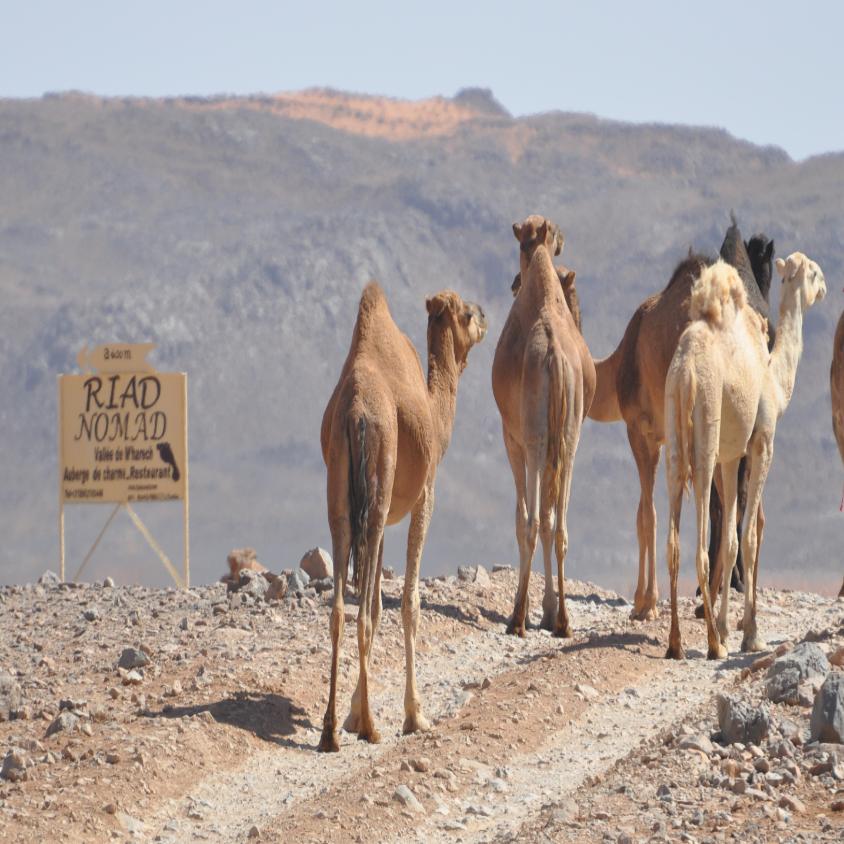 The inner courtyard of Riad Nomad with the sun setting.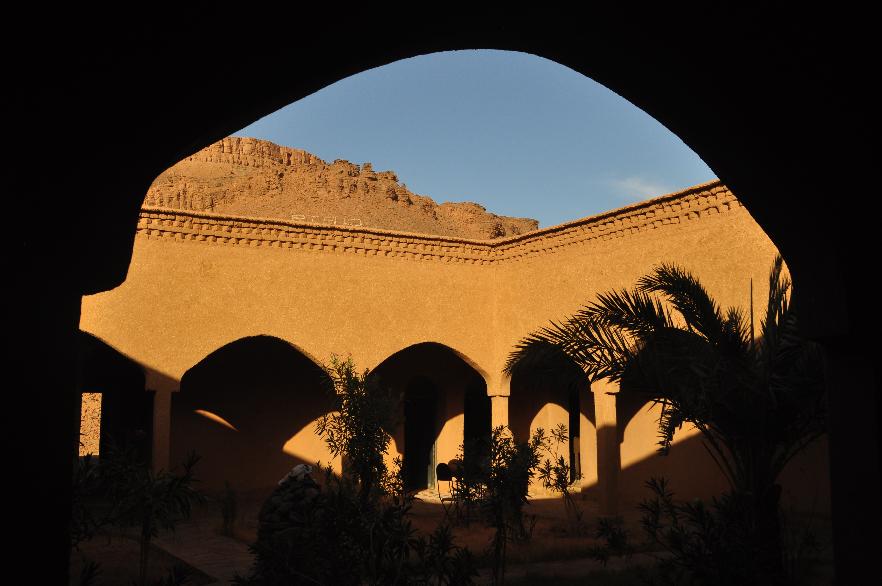 Dinner at Riad Nomad - a standard salad and a vegetarian tagine.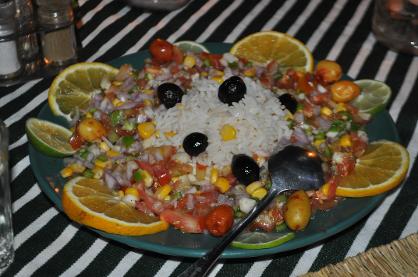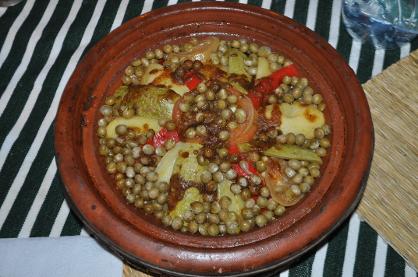 September 20, 2015 - souk/market of Rissani; camel trek to the desert camp
A relatively light agenda today. After spending the morning at the riad we made the 45 minute drive to Rissani where Amar took us through the souk, or market. There are markets in Rissani three days a week with those this week being particularly active due to the upcoming day of sacrifice on September 24th and the resultant need for families to acquire a sheep or goat, presents, special clothing etc..
For a relatively small town the market is massive with people and animals everywhere. Amar explained the means of identifying Bedouin women – their full faces are covered in black with only their eyes exposed from Berber women – either a black covering with some colourful embroidery or bright modern colours, in some cases without their faces uncovered, i.e. if unmarried or if married with their faces at least partly covered.
We saw it all in the market – a huge area where sheep and goats were being sold, apparently the largest donkey 'parking lot' in Morocco as most villagers bring and take their goods via donkey, vegetables, dates – there are apparently over 220 varieties of dates in Morocco – meat, including camel, spices, herbs, oils, baskets – we bought one – clothes, shoes, doors and other wood products, iron, fruit, coal to Barbeque the sheep and no doubt a gazillion other things I can't remember.
Again the craziness of the driving and knowing where to park endorses our decision to do this trip with a driver rather than attempting it ourselves.

We returned to the riad for a few hours before departing on our camel ride to our overnight camp in the desert. It was a 20 to 30 minute drive from the riad to where we boarded our camels – Jimi Hendrix and Bob Marley. Unlike their name-sakes they were not wild characters but rather very calm and gentle. We had read of the relative difficulty of riding elephants and camels without a clear conclusion. Perhaps it was because we rode elephants bareback while Jimy and Bob had nice comfy saddles but there is no comparison – camels are much easier to ride. Actually we believe it is because the elephant is much wider causing one to 'roll' much more and subsequently needing to work much harder to re-centre oneself.
The camel ride was about an hour in length – 2.5 to 3 kms - through the dunes – not the high dunes but the gentle edges. We arrived at our 'luxury' camp. This is not roughing it – no sleeping under the stars on the camel's blanket. We stayed in a Berber style camel skin tent although inside was another world. The camp was set up with romantic lanterns and numerous carpets between the tents. We had a bed – actually a very comfortable bed – flush toilet and shower. We ate dinner at the camp – the soup and salad somewhat similar to that served at the riad but then very tasty grilled chicken and beef. The funny thing was that the chicken was served with French fries, which seemed a bit out of place in the dessert (Amar did tell us fries are often served with grills).
After dinner we relaxed on the blankets/sand under the stars before retiring to our tent.

Post 5: Riddle 3
A while later the lion decided to call a day of peace, inviting all the animals to attend a desert party where there was no risk of attack by another animal. A representative of every animal except one came from far and wide to enjoy this party.
Which animal did not attend, and why?
Please email your answers (one point for the animal; one point for the reason) to moosehead@accesswave.ca. I'll publish the correct answers, if any.

A few women on the streets and market of Rissani.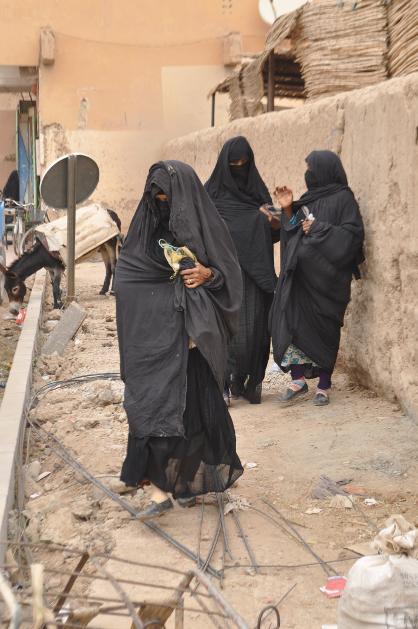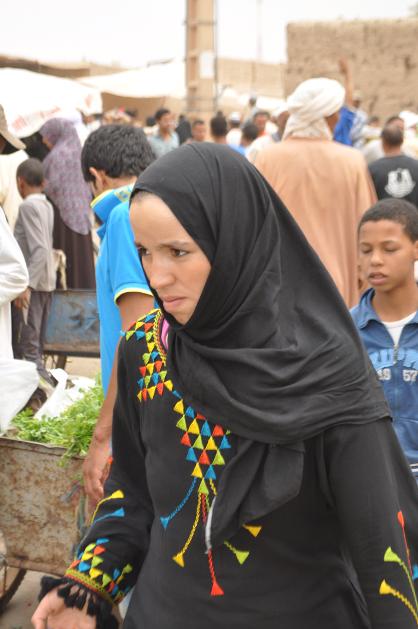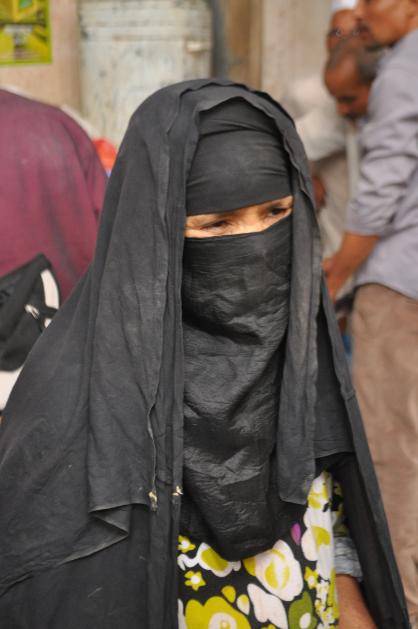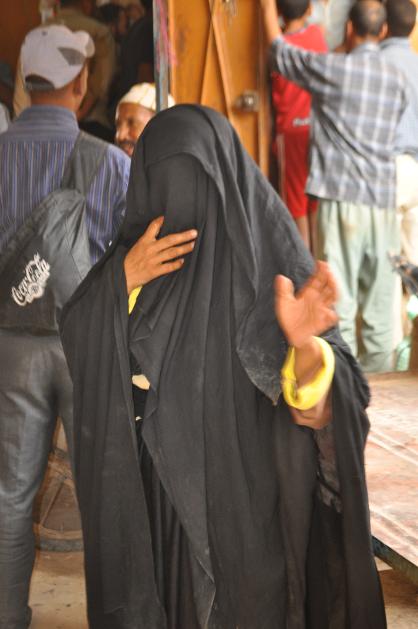 We're told this is the largest donkey 'parking lot' in Morocco.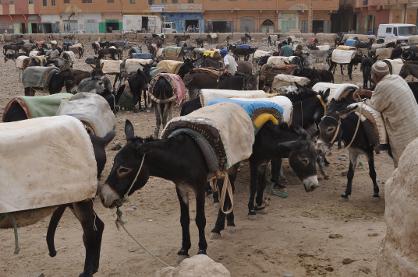 Masses of buyers examining the sheep for purchase for the upcoming day of Sacrifice.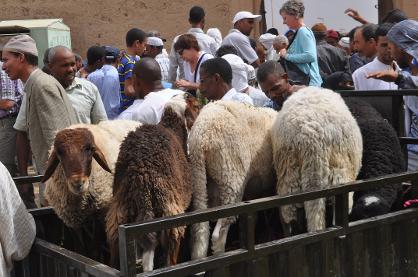 carting away the sheep for Thursday's day of sacrifice.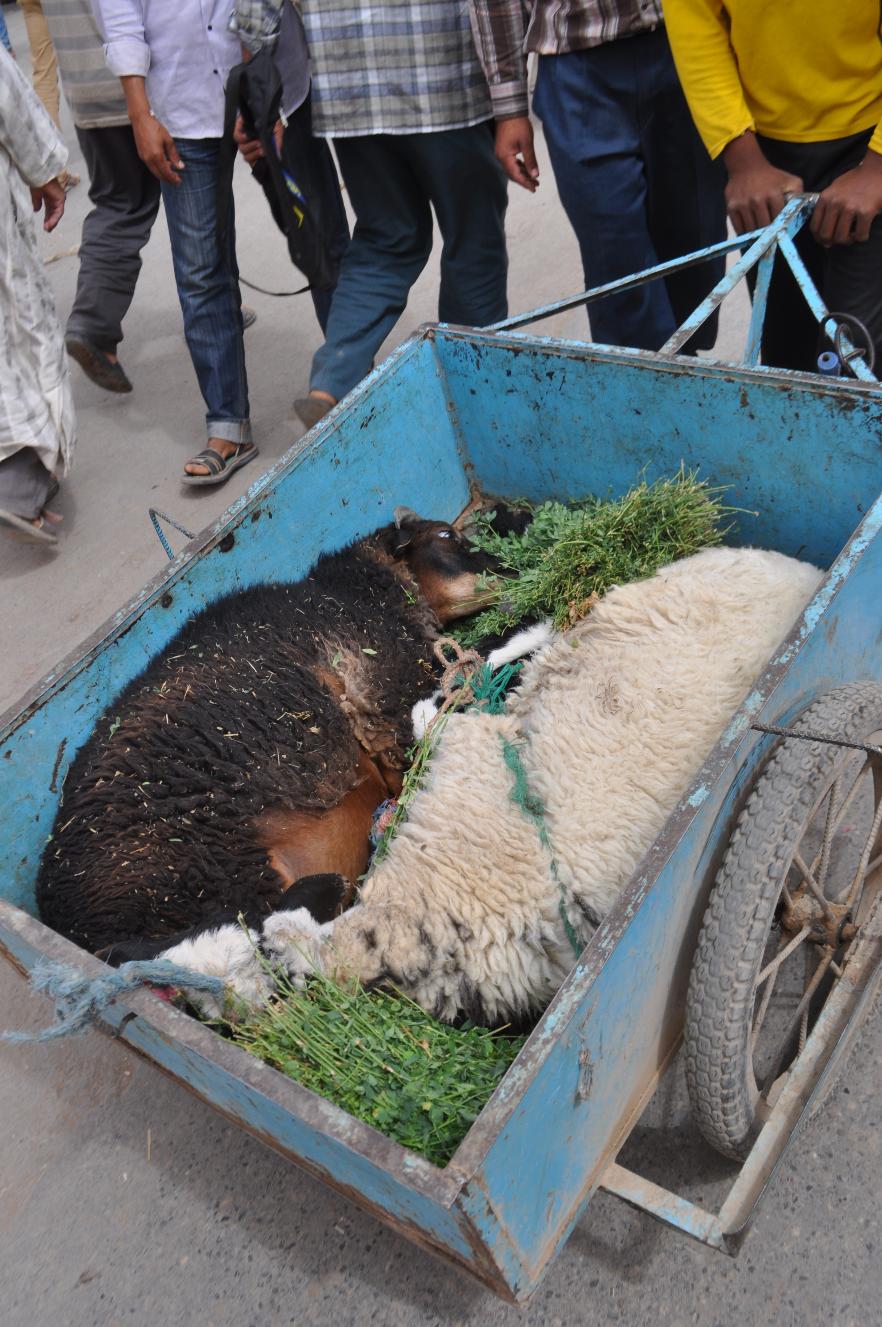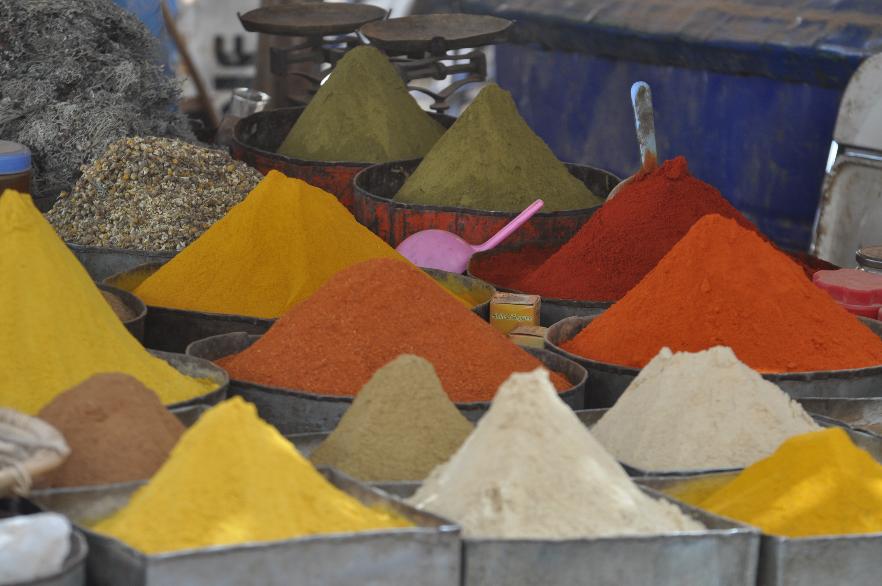 Quite the balancing acts.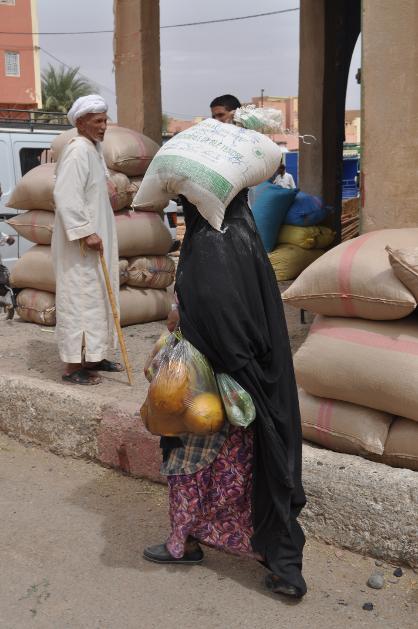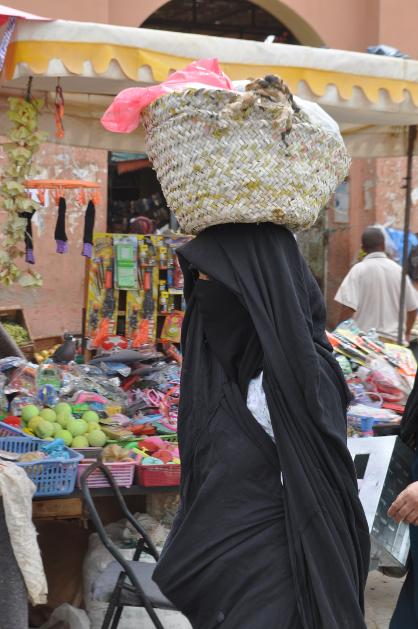 Who are those veiled travelers?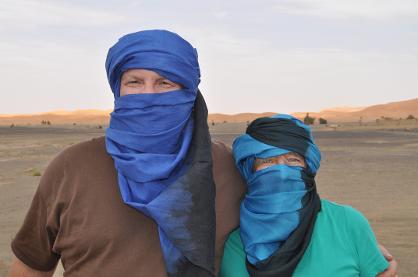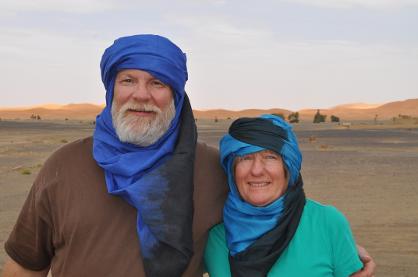 Sand dunes, more sand dunes and then more sand dunes.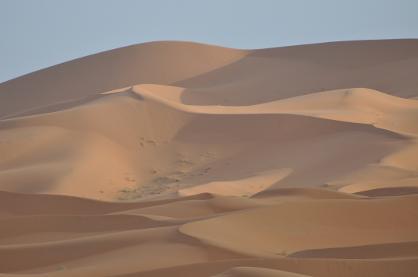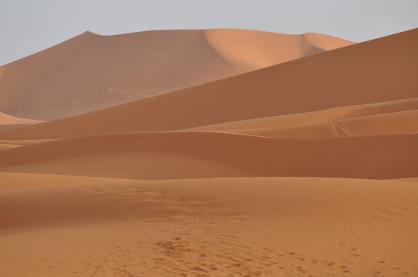 Here in Morocco camel safety surpasses pedestrian safety.



Our rides to the camp - on the left Bob Marley and in the lead Jimi Hendrix.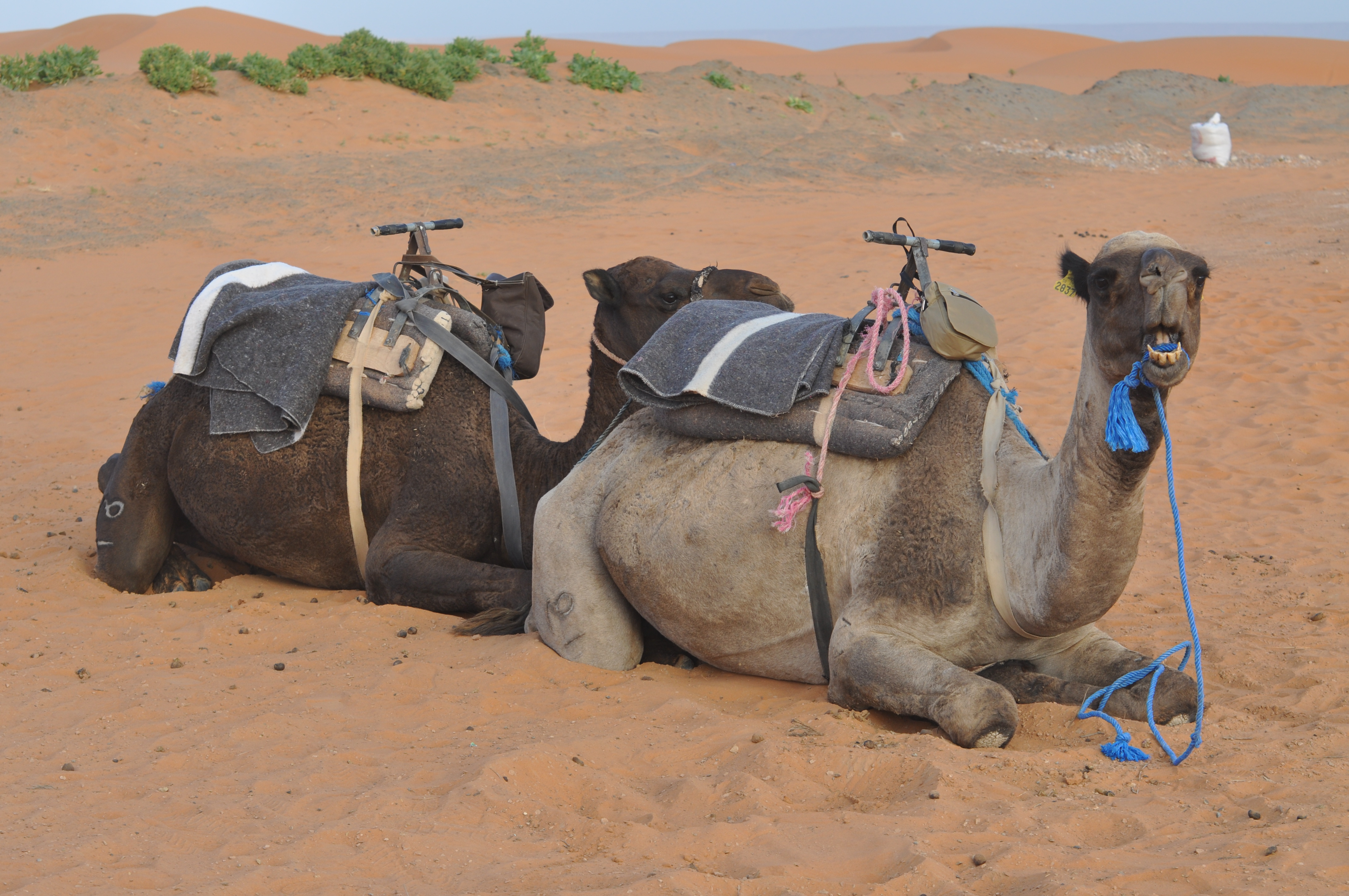 Gayle and Bob and me with Jimy.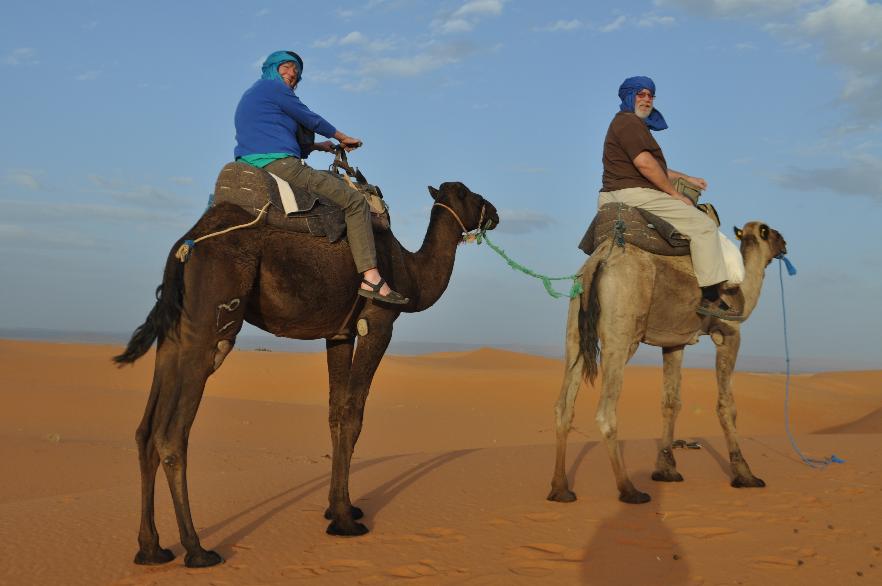 The classic camel riding desert shadow photo.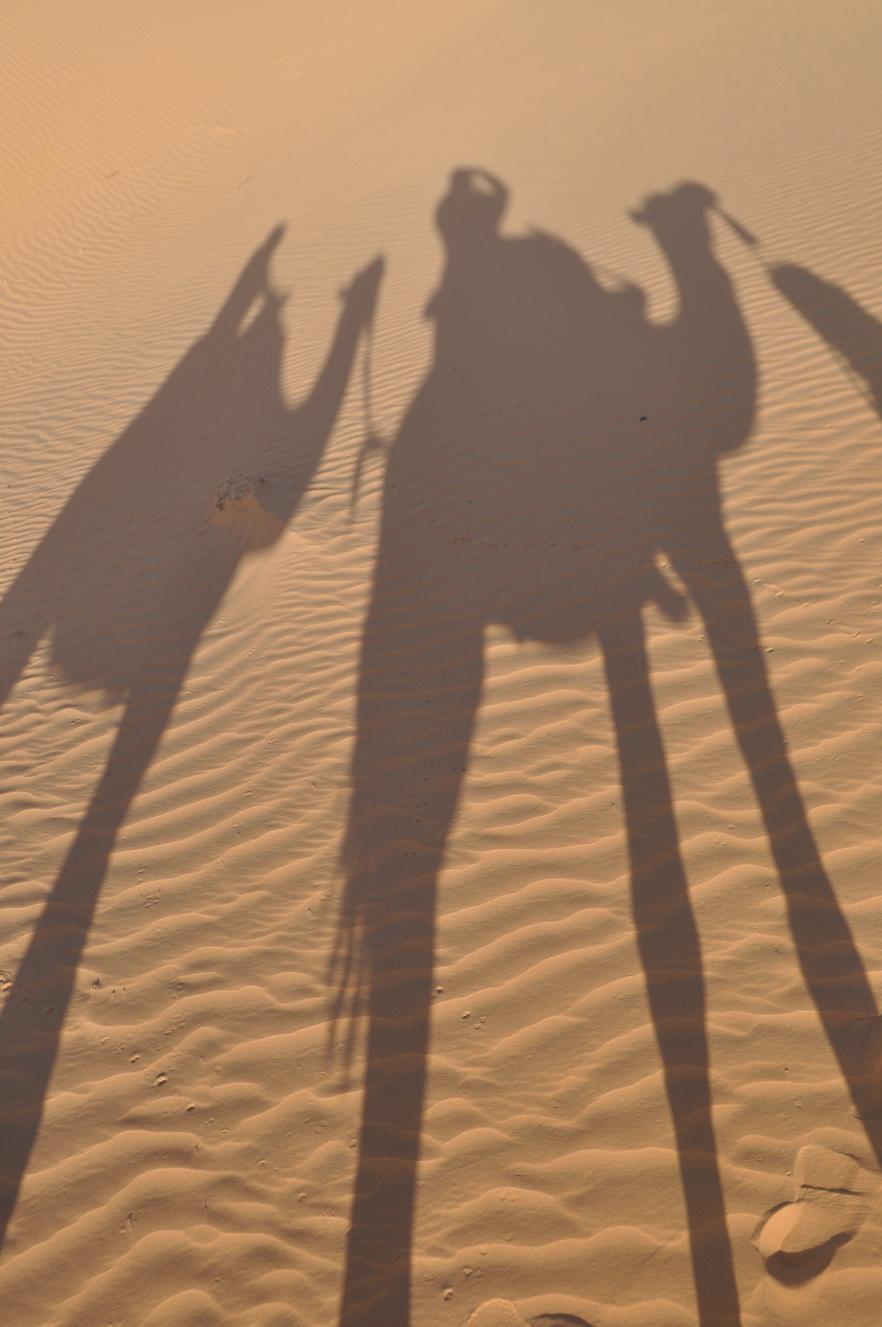 Our luxury camp bed and some great grilled chicken - but french fries; really?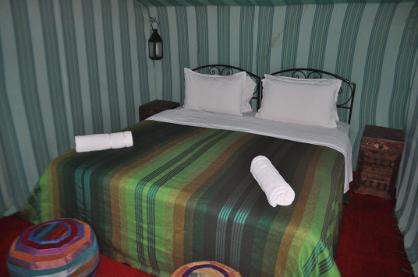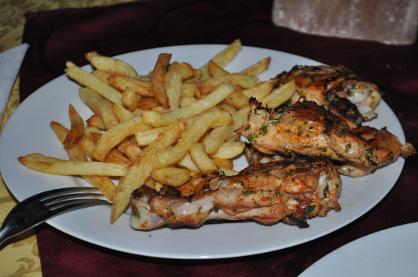 September 19, 2015 - Erg Chebbi dunes; nomad visit; Gnawa music and pizza
Today we explored the desert – deserted settlements, the dunes, camels, Berber nomads, and the Gnawa people. We started by circling behind to the backside of the Erg Chebbi dunes – the largest in Morocco. After a stop at a deserted (1920s or 30s Amar guessed) settlement we came upon a well where camels came for their water (more later).

We then visited a nomad family/tent/home. The adobe home – these were nomads with a base, i.e. they would travel with the weather but return each year to this 'home' - was just a hodge-podge of a few small rooms, one of which included an oven for bread and the tagine. We were served tea and bread (with olive oil) in the camel tent. Our host – Amar said she does not know how old she is – had a lengthy, and it appeared intense, discussion with Amar. He later said she was worried that her teenage son wanted to leave the nomadic home and go to the 'city', i.e. Merzouga. This concerned her greatly.
We then returned to the well were a large herd of camels had arrived with their herders. There was an issue with the sand in the water so one of the fellows descended into the well to remove the sand that had accumulated. Amar helped out, providing us considerable time to admire/photo the camels and the three young nomad boys. The camels, according to Amar are quite smart, and also quite gentle – yes you can pat them no problem – makain mochkil – and presented many interesting facial expressions.

We then visited the Gnawou people, originally slaves brought from Sudan to experience their music (take a look at the video) and lifestyle. We were entertained with a musical performance after which we visited Restaurant Nora where we had a Berber pizza. Unlike a traditional pizza this Berber pizza is stuffed with vegetables and meat in an enclosed pie. It was extremely good although very filling. Again we felt somewhat guilty for not being able to come close to eating it all. Dessert was simple, oranges with cinnamon and dates - very nice, demonstrating simple food can be very good.
Afterwards we returned to Riad Madu where we had some time to relax before dinner.
A nice day with interesting cultural experiences.
Post 4: Riddle 2 Answer
Riddle: In four (4) steps how do you get a camel in a van?
Answer:
Step 1: Open door
Step 2: Remove elephant
Step 3: Put camel in van
Step 4: Close door.

Berber women in the village of Merzouga - some in traditional embroidered black dress and others in colourful dress.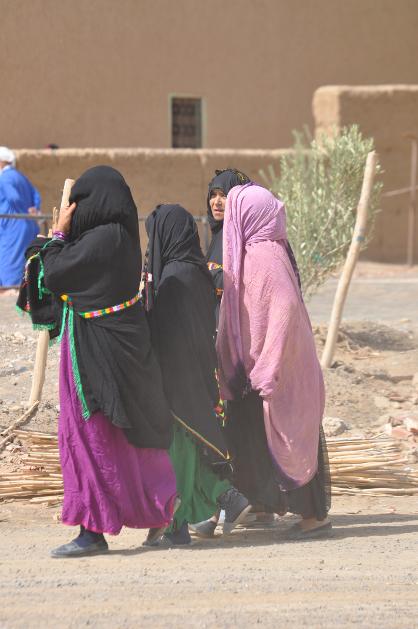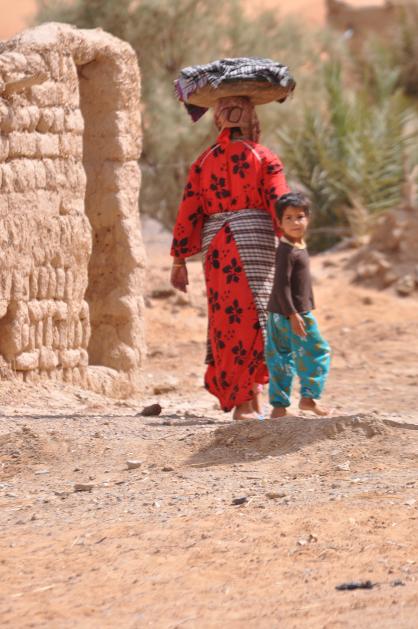 And since we're here I guess there needs to be a couple of desert photos.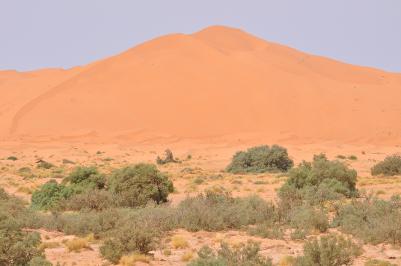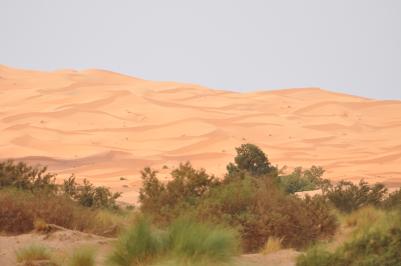 Leaving the well after giving his camel water.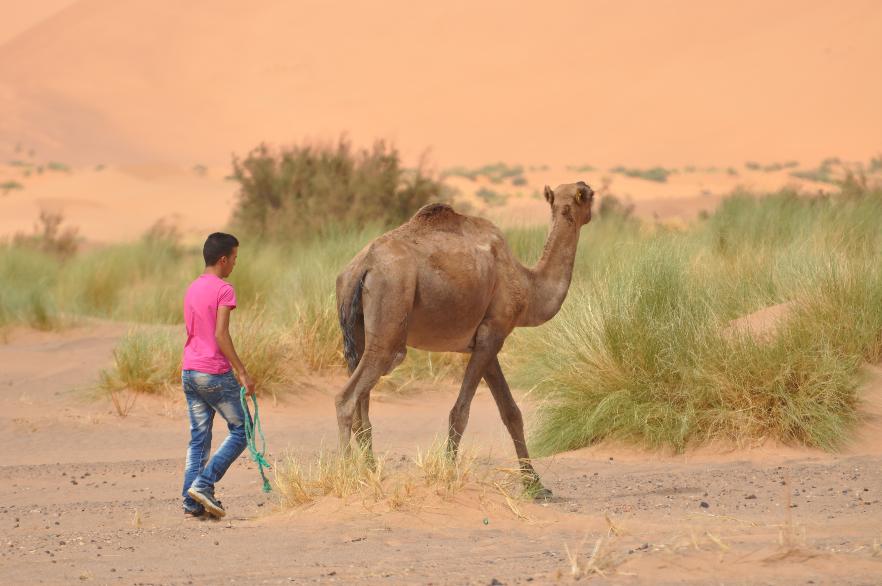 Continuing with the crazy hat theme - this one half a water jug.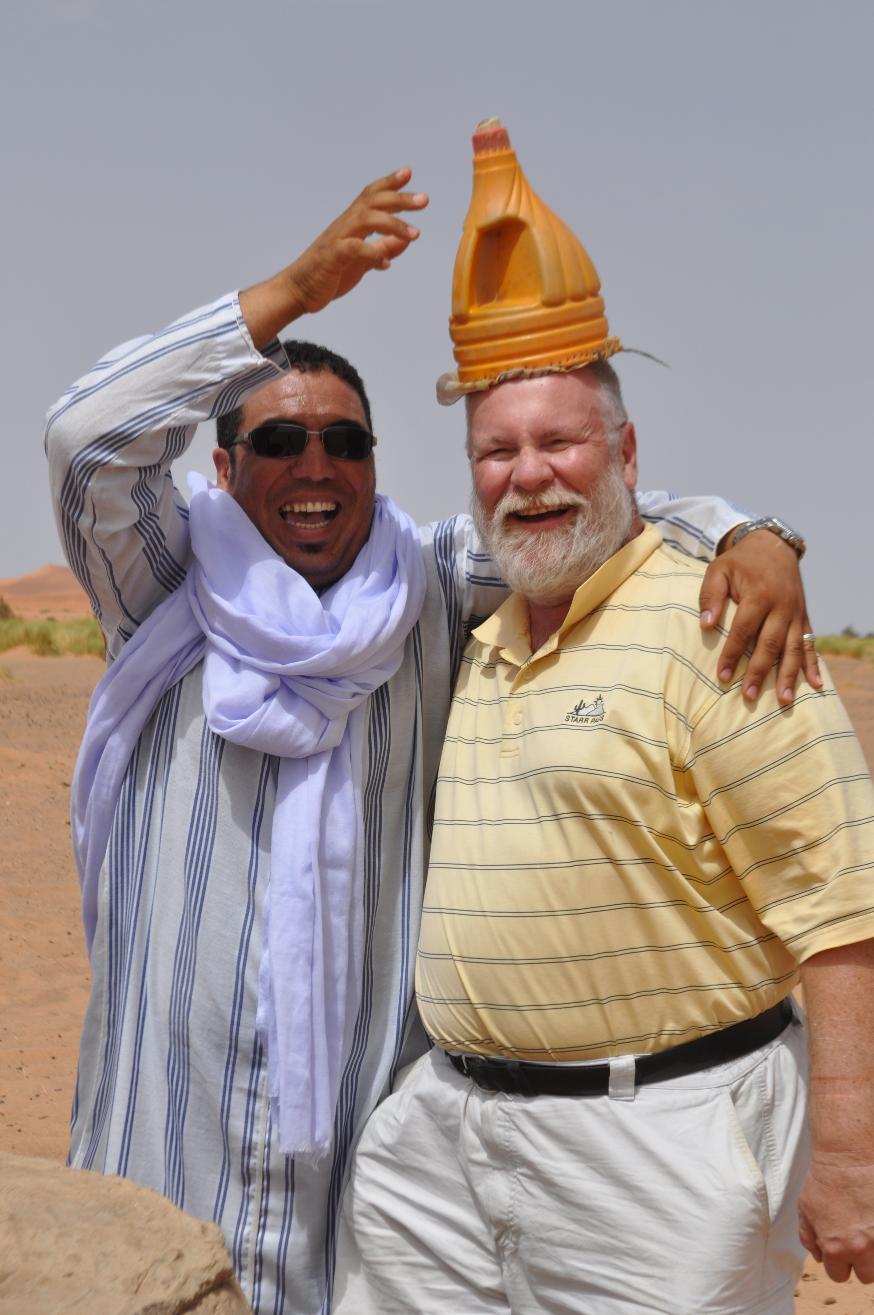 A camel skin Berber nomad tent.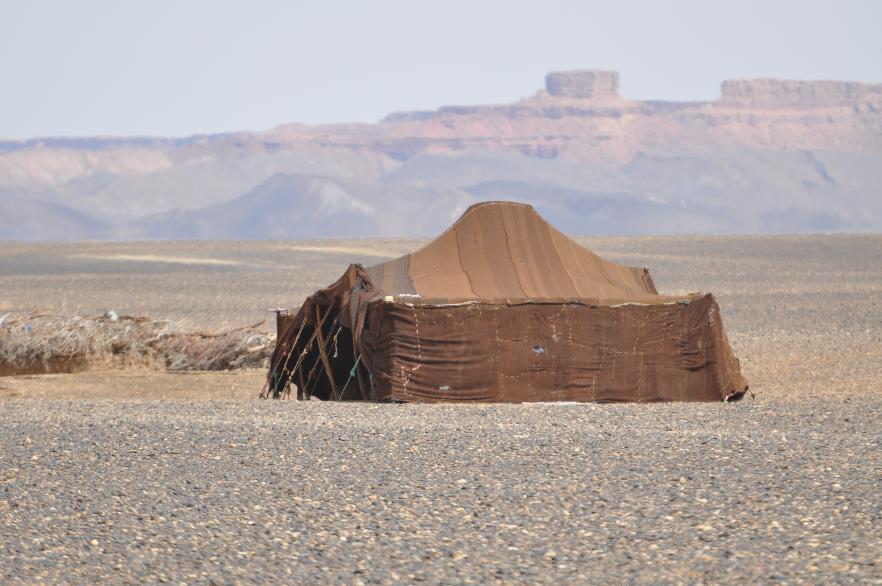 The ladies of the Berber nomad family we visited. Got to love the cell phone!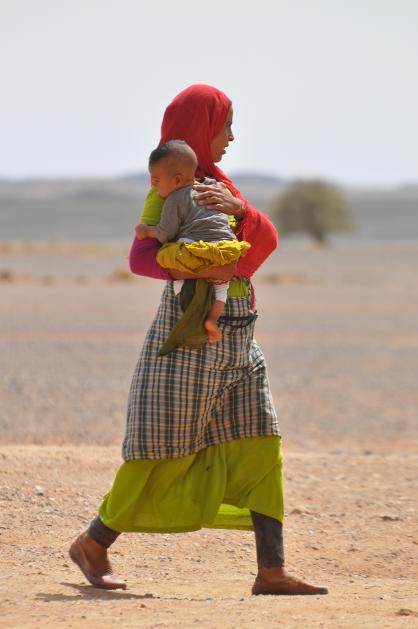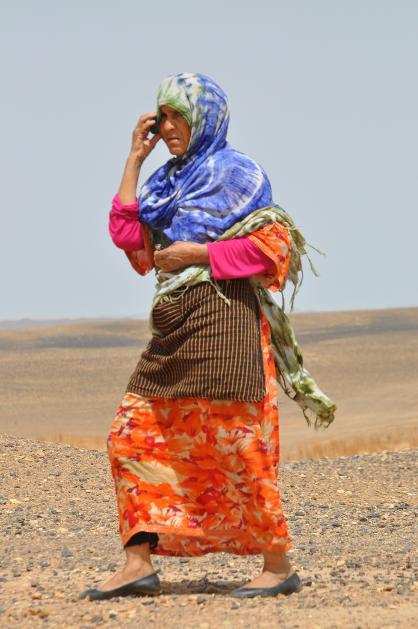 Amar and the Berber woman deep in discussion.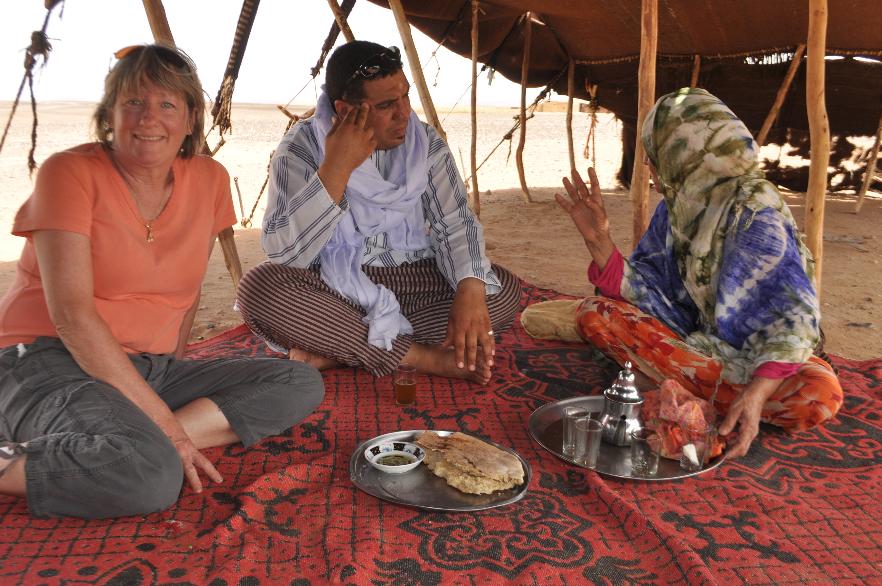 Being served tea by a Berber nomad
.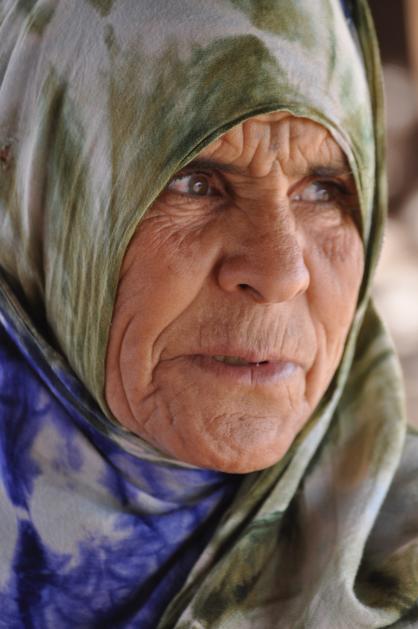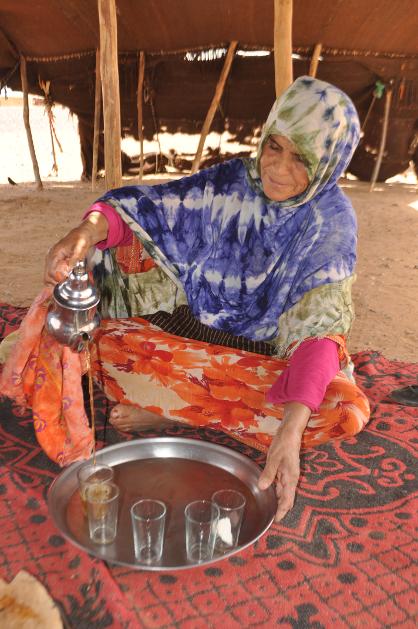 Amar having fun with a young Berber nomad boy.



Our first encounter with a herd of camels.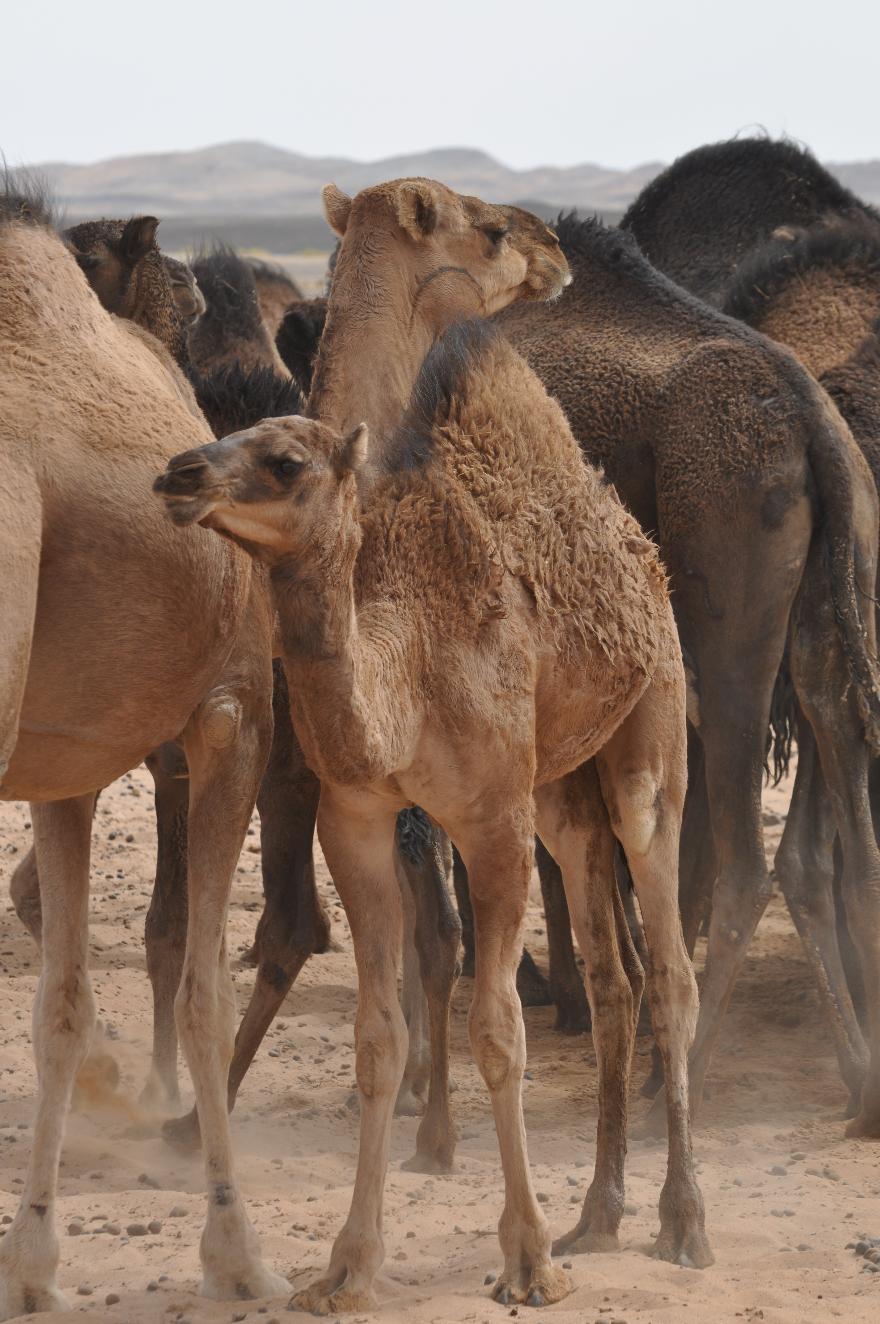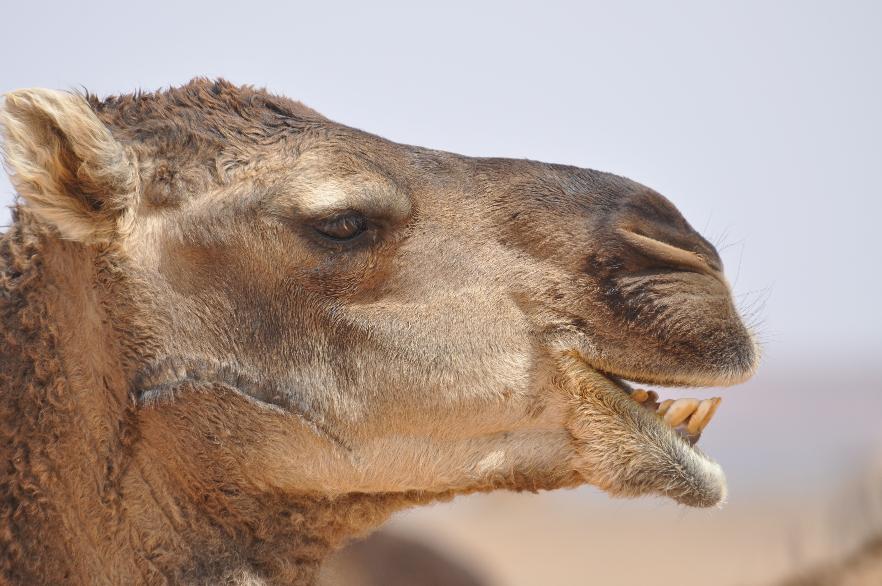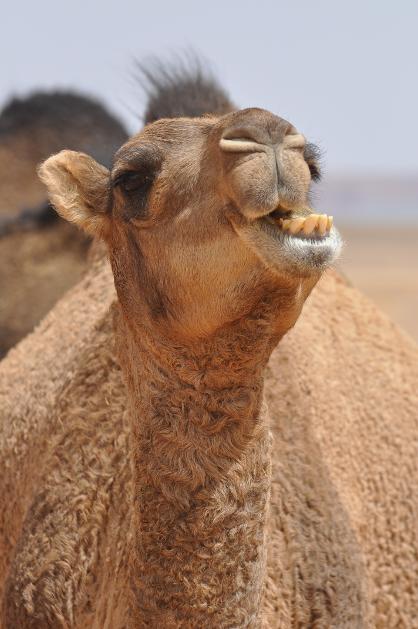 Cleaning sand out of the well.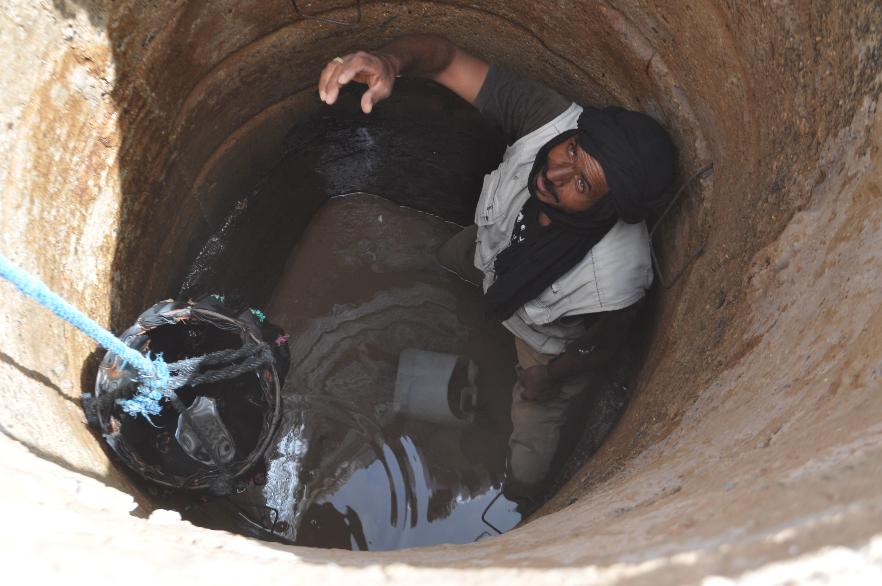 A lone camel and herder against a massive dune.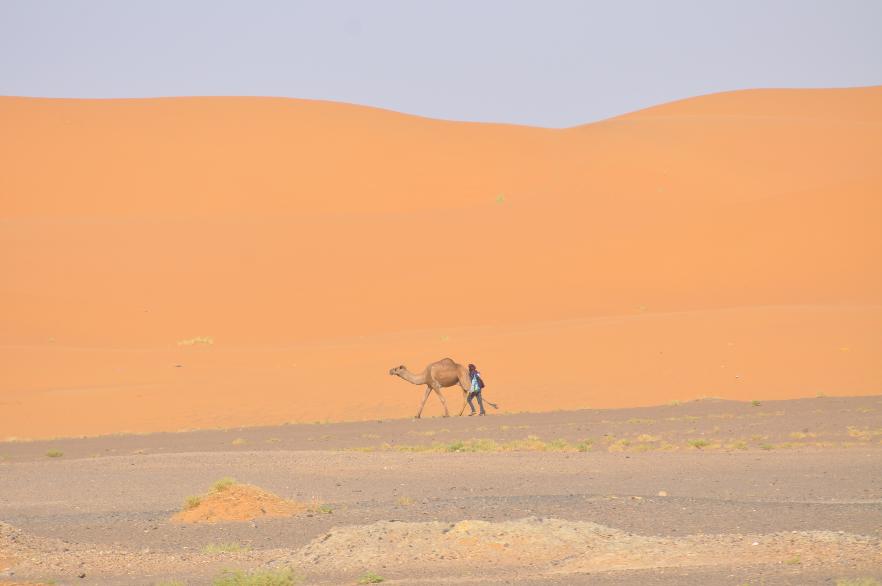 Gnawa musicians playing for us.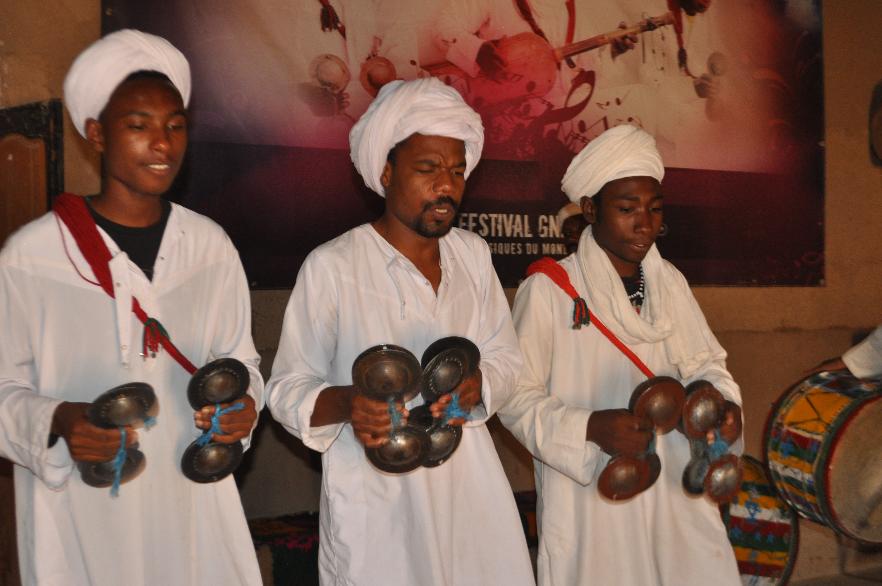 Colourful Gnawa embroidery.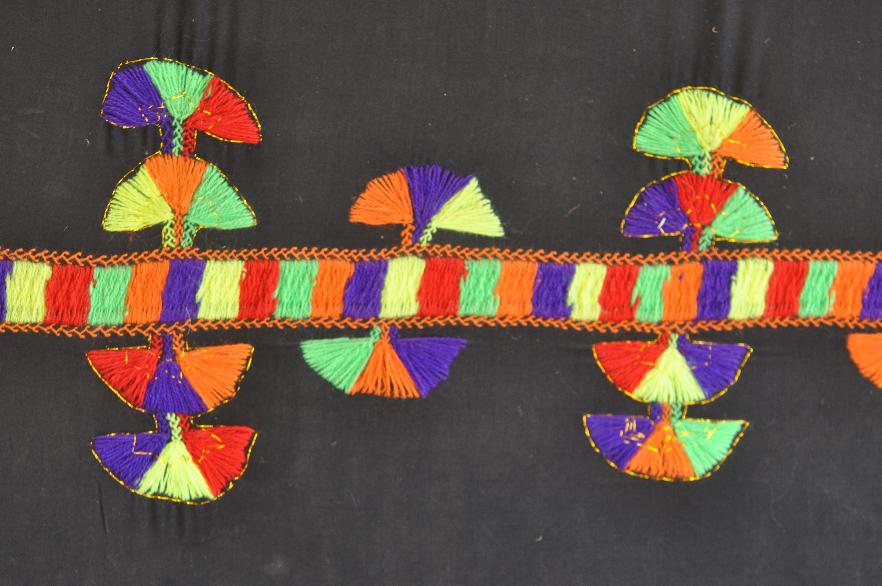 The Gnawa - serving us Berber pizza and just smiling.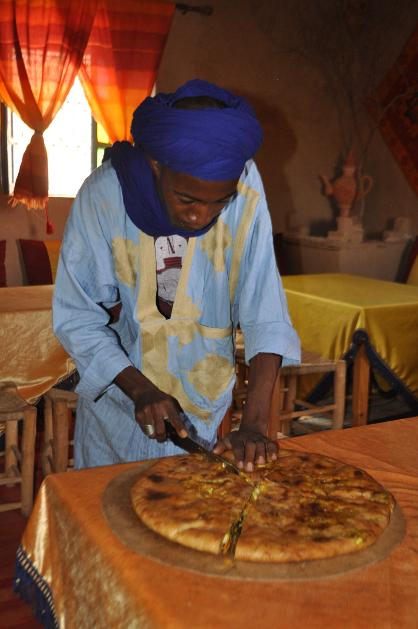 Berber pizza and a simple but nice dessert of oranges with cinnamon and dates.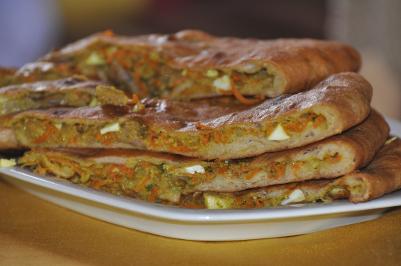 September 18, 2015 - Fes to Riad Madu, Merzouga
We left Dar Seffarine and Fes around 9:30 am for a long drive south all the way to Merzouga.
After departing Fes (a city of 1.2 million), passing through stands of pomegranates we encountered the mid Atlas mountains were we first stopped in Ifran, the 'Switzerland of Morocco'.
Not much here although the architecture (hotels, homes) are indeed similar to those of Switzerland.
There is a large stone carving of a lion in a small park entering town as apparently the last lion in Morocco was killed near here in the early 20
th
century.
We then approached the large cedar forests of the Middle Atlas where we drove through a national park with a stop to see the Barbarian apes. The apes were really quite entertaining, and friendly. Of course they enjoyed the peanuts we bought to feed them but the highlight was no doubt the bottle of water one of the apes quickly drank.
Some of the most memorable experiences are unplanned. Seeing sheep and goats drinking along the roadside I asked Amar to stop for a few photos. There were two shepherds who were actually ok to be photographed. Afterwards one of the shepherds surprisingly refused the tip I offered. Amar later explained that the shepherds were Berber and when they found out Amar was Berber would not take any dirhams for a few photos.
We stopped for a gas fill-up and lunch for Amar mid afternoon. There were three staff of the gas stop also taking a break to eat their lunch of couscous. They invited us to join them which was nice and generous. When Gayle asked Amar what the women were giggling about, he said they wanted to switch places with Gayle doing their work and they leave to travel with me. True or not? I'll never know but wee politely declined. It was fun to share lots of laughter.
We then drove through Midelt, the 'apple capital' of Morocco, stopping to buy some along the way. Our next stop was the panoramic views over the Ziz valley, where palm/date trees have taken root creating a green valley through the otherwise barren landscape. After reaching the desert Amar took us off road to see fossils along a mountain side. Actually more interesting than expected with numerous fossils strew along the hillside.
As mentioned this was a long drive, and as a result we did not arrive in Merzouga and the Riad Madu until after dark. The last half hour was an interesting drive as Amar blitzed through the black gravel desert (or 'erg'; the sand desert is known as 'erg') in the pitch black with his lights off. Good thing he knows the area like the back of his hand.
We arrived at Riad Madu, quite a beautiful riad on the very edge of town with wonderful views of the massive dunes. After checking into our equally beautiful room – large with lovely tiled floors and bathroom we enjoyed dinner under the stars in the courtyard of the riad.

Post 3: Riddle 2
In four (4) steps how do you get a camel in a van?
A very long drive today (over seven hours without stops) from Fes to Merzouga.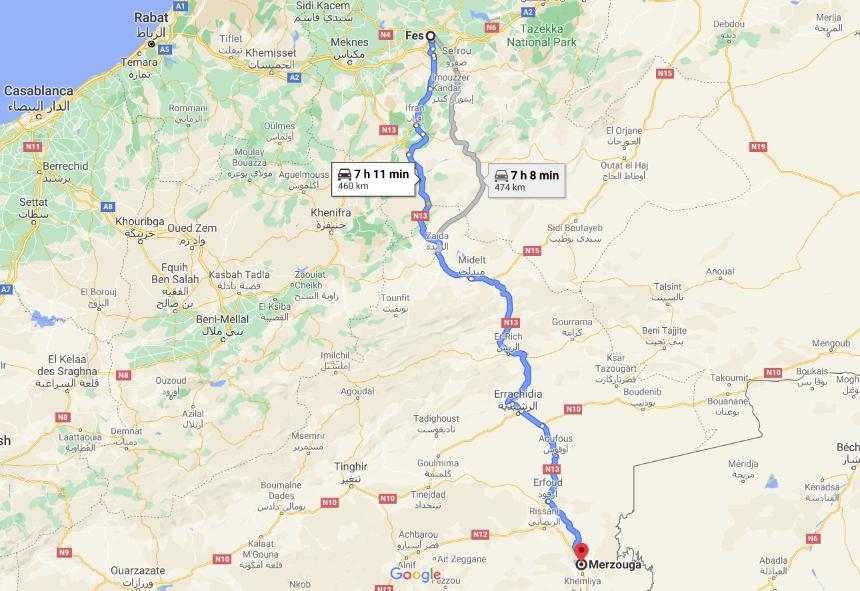 Beautiful tiled stairs at Dar Seffarine. Very impressive craftsmanship.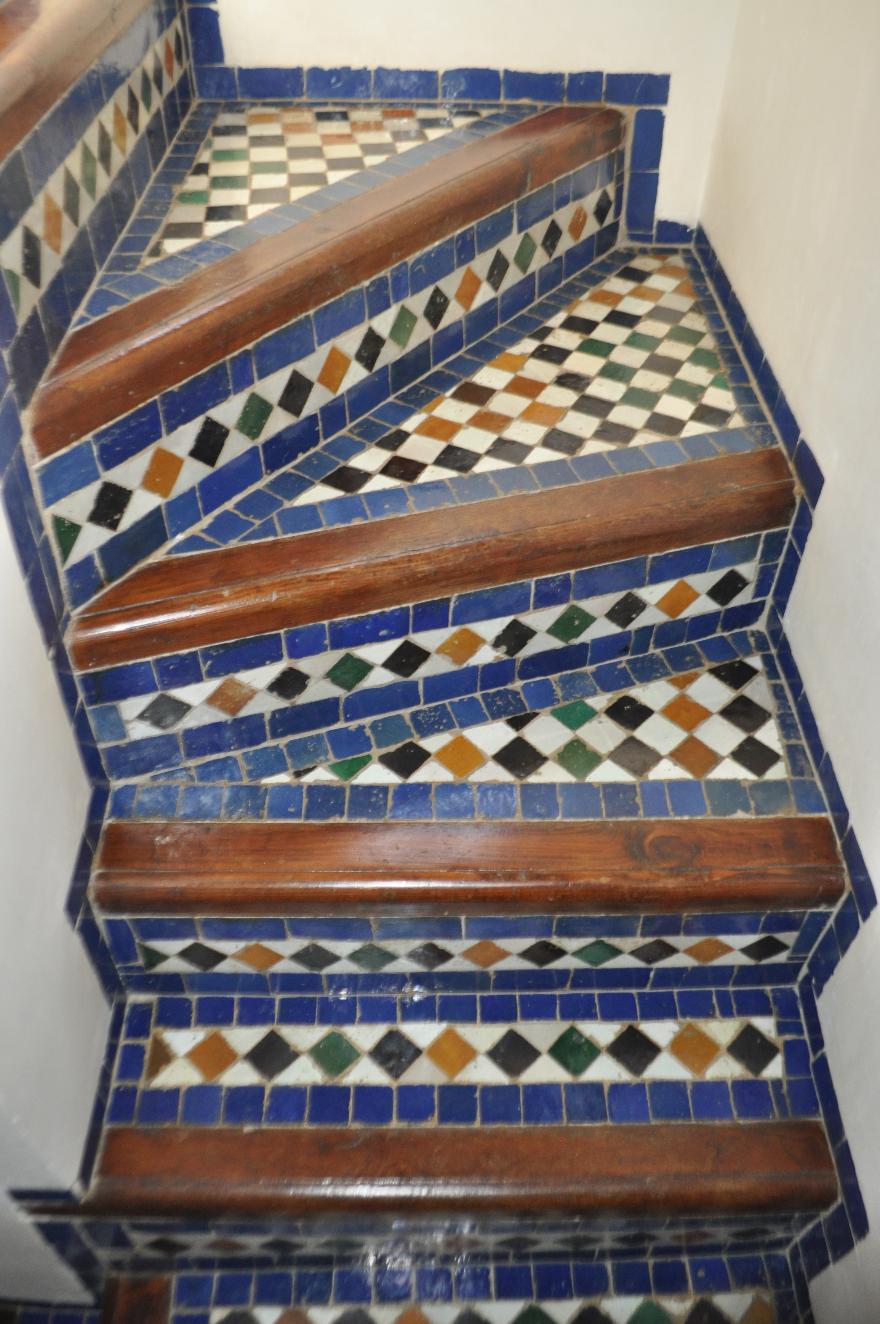 The view from our room down into the stunning inner courtyard of Dar Seffarine.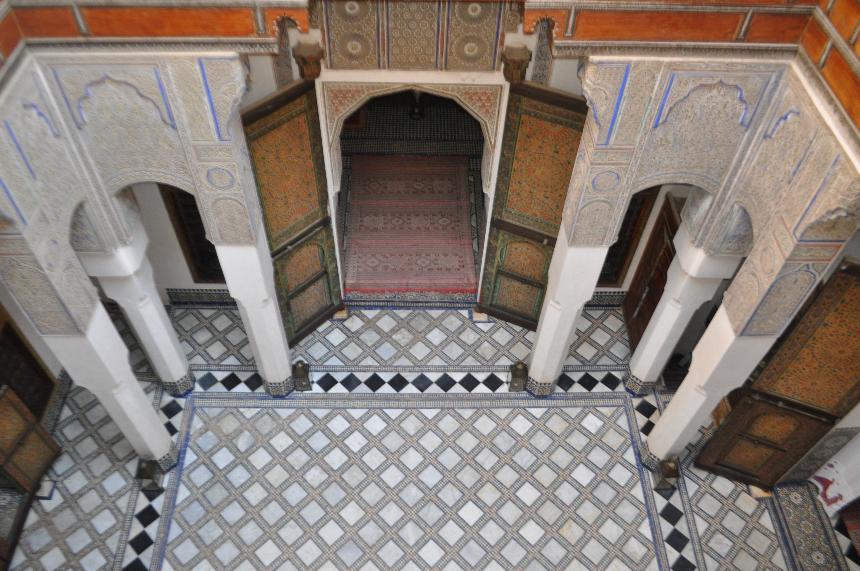 The last lion in Morocco.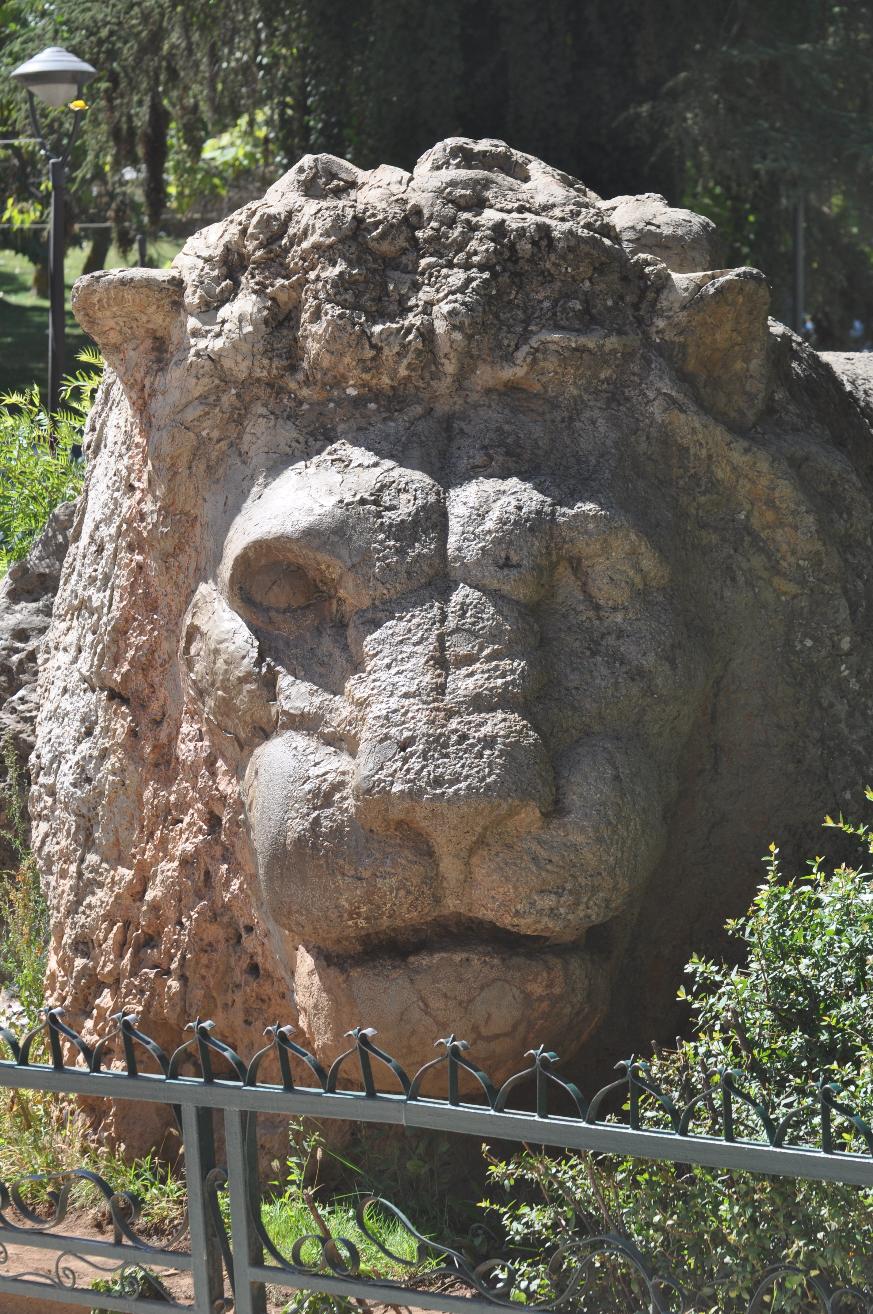 The Barbarian apes in the cedar forest where surprisingly non-aggressive, although we certainly knew they wanted the peanuts.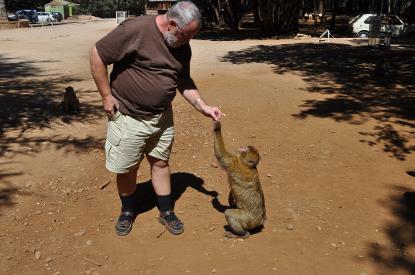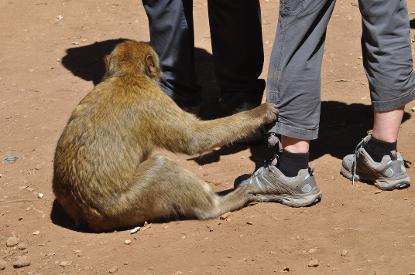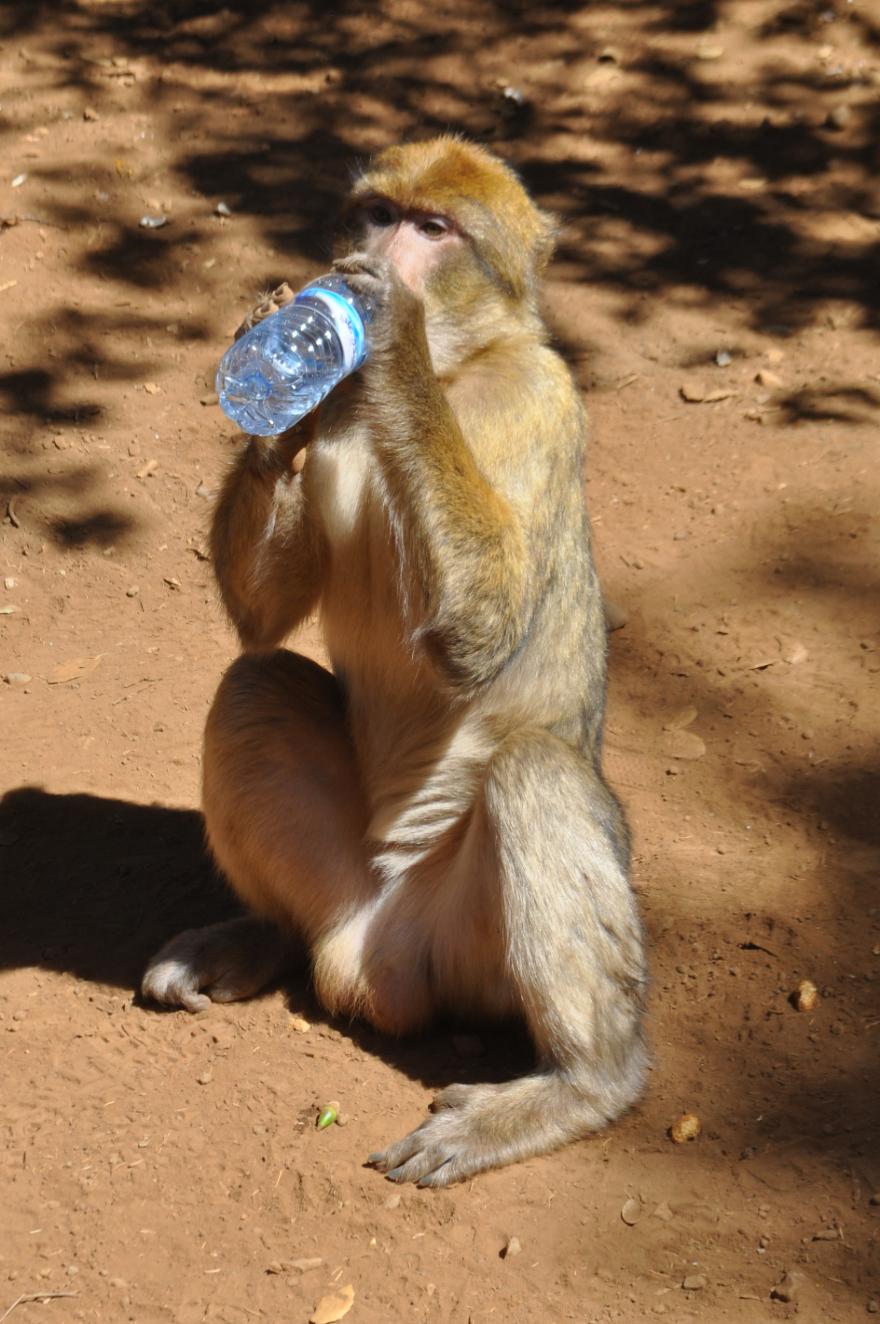 A shepherd and his flock.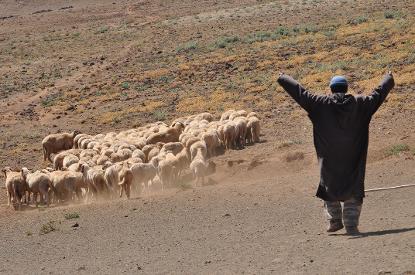 Sharing the couscous at the gas / restaurant stop.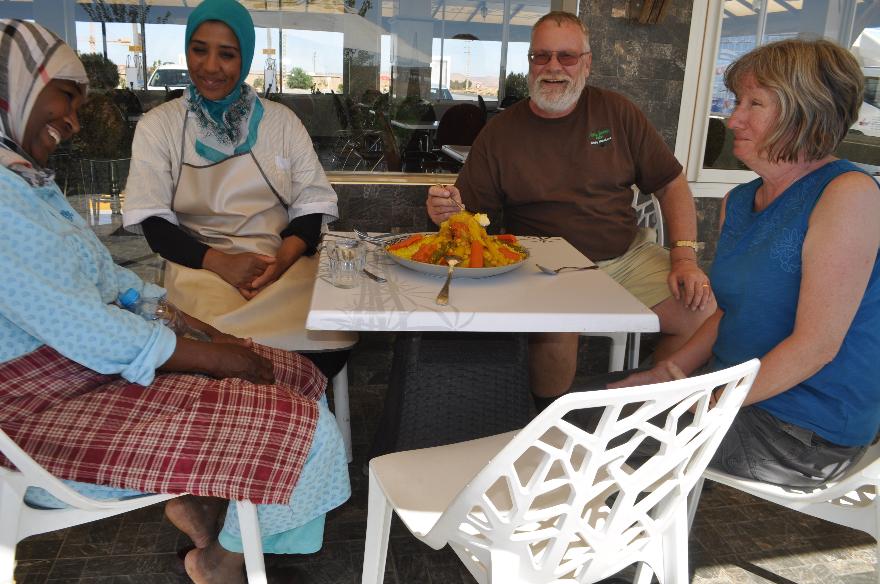 Our first nomad Berber tent - dark brown made of camel skin.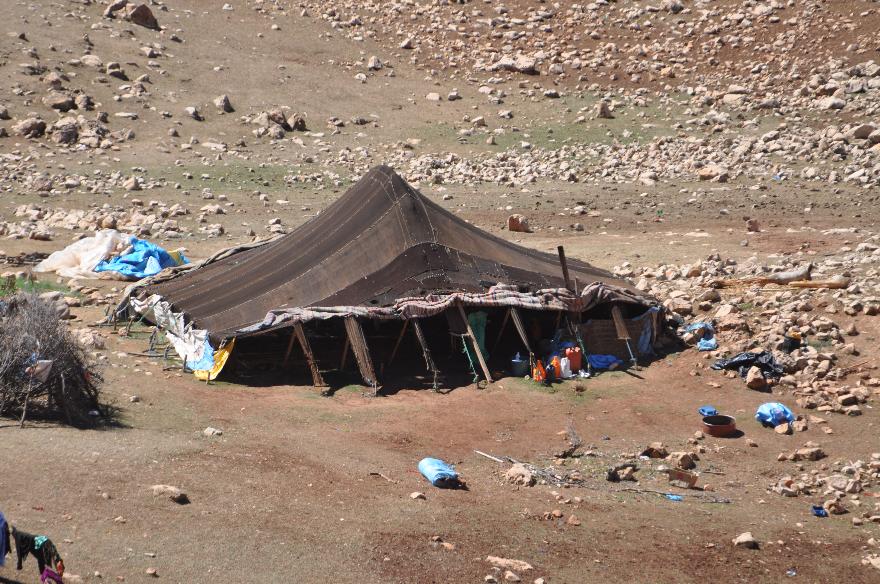 Common sights along the drive - a women with her donkeys and a Kasbah.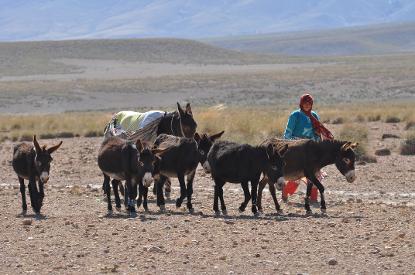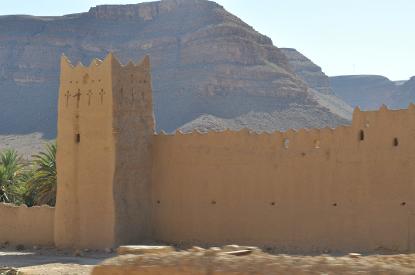 Amar and Gayle - just a nice photo.



The lush Ziz valley where palm trees have taken hold, providing a basis for an economy and settlements.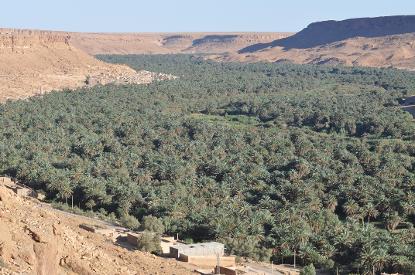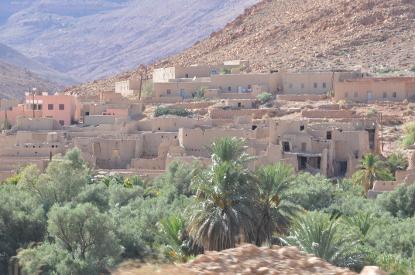 A man-made dam created a lake in the otherwise barren landscape.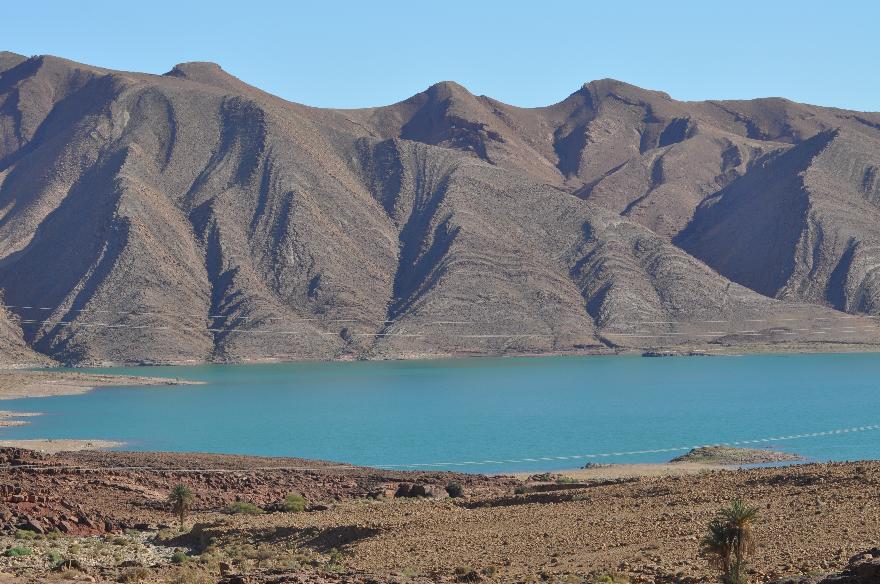 Carting a sheep home for the upcoming sacrifice (September 24th).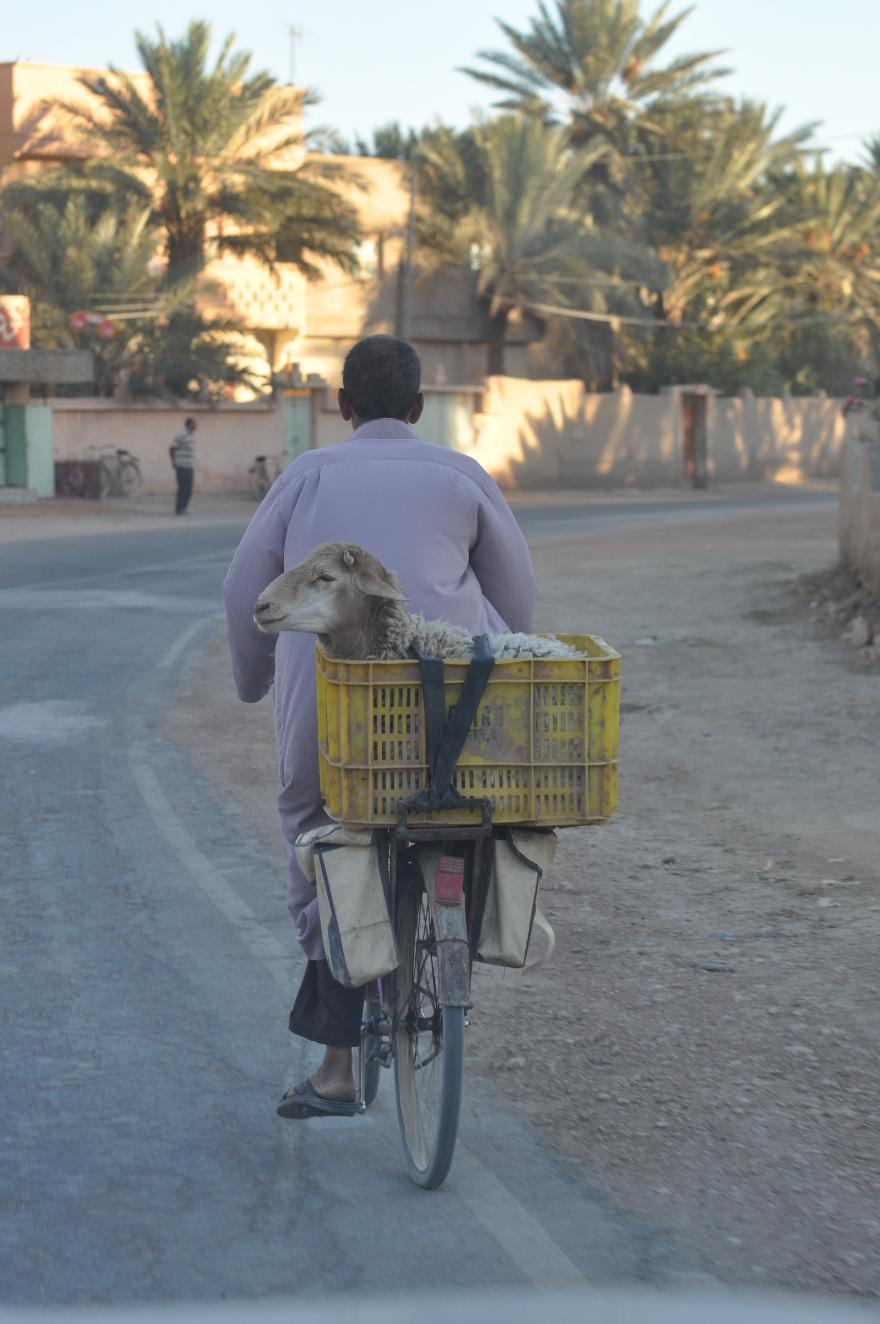 Another road that seemingly never ends.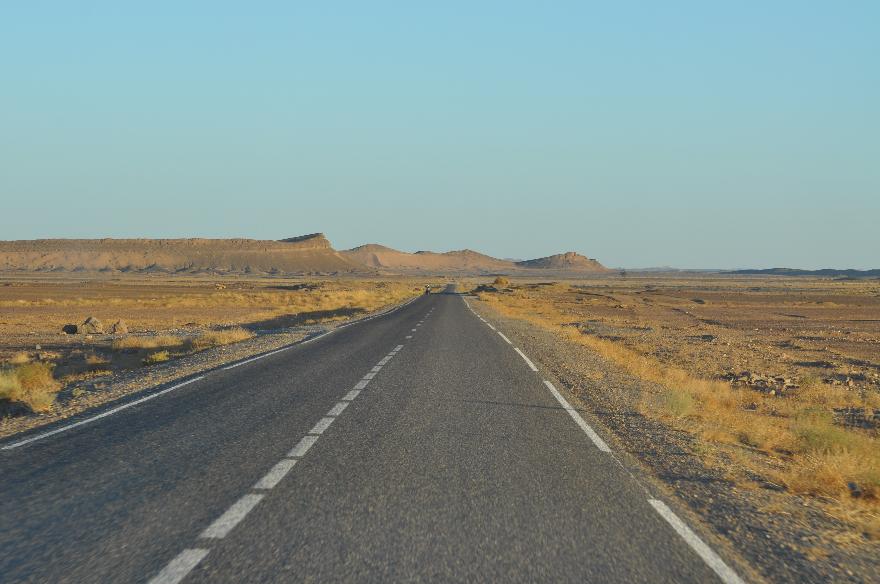 Gayle searching for that elusive fossil.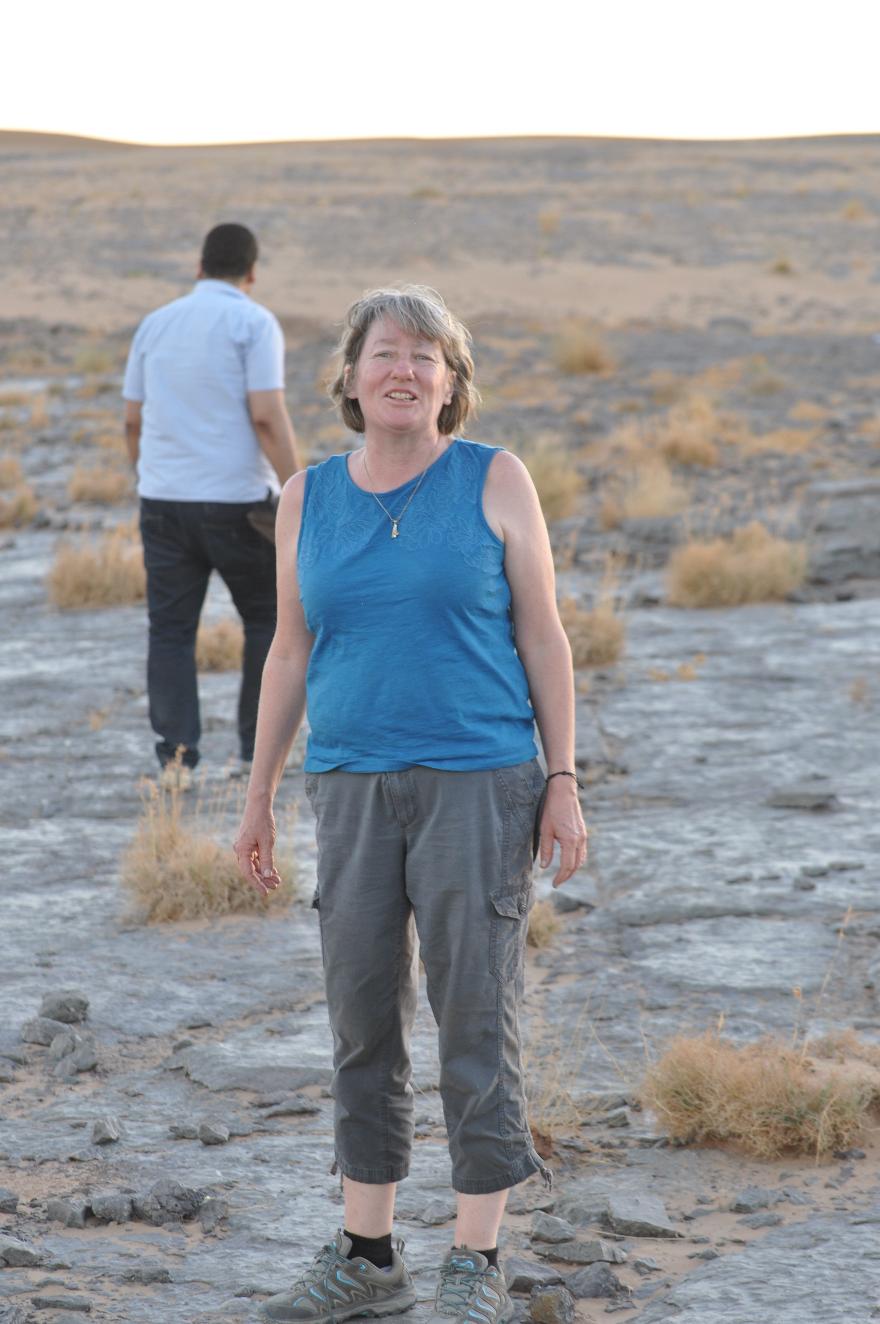 Fossils seen in the rock as we approached the desert.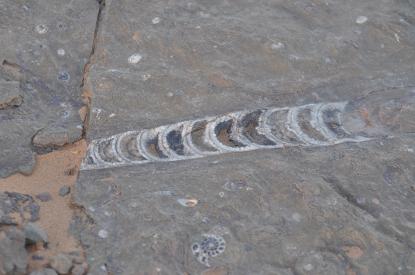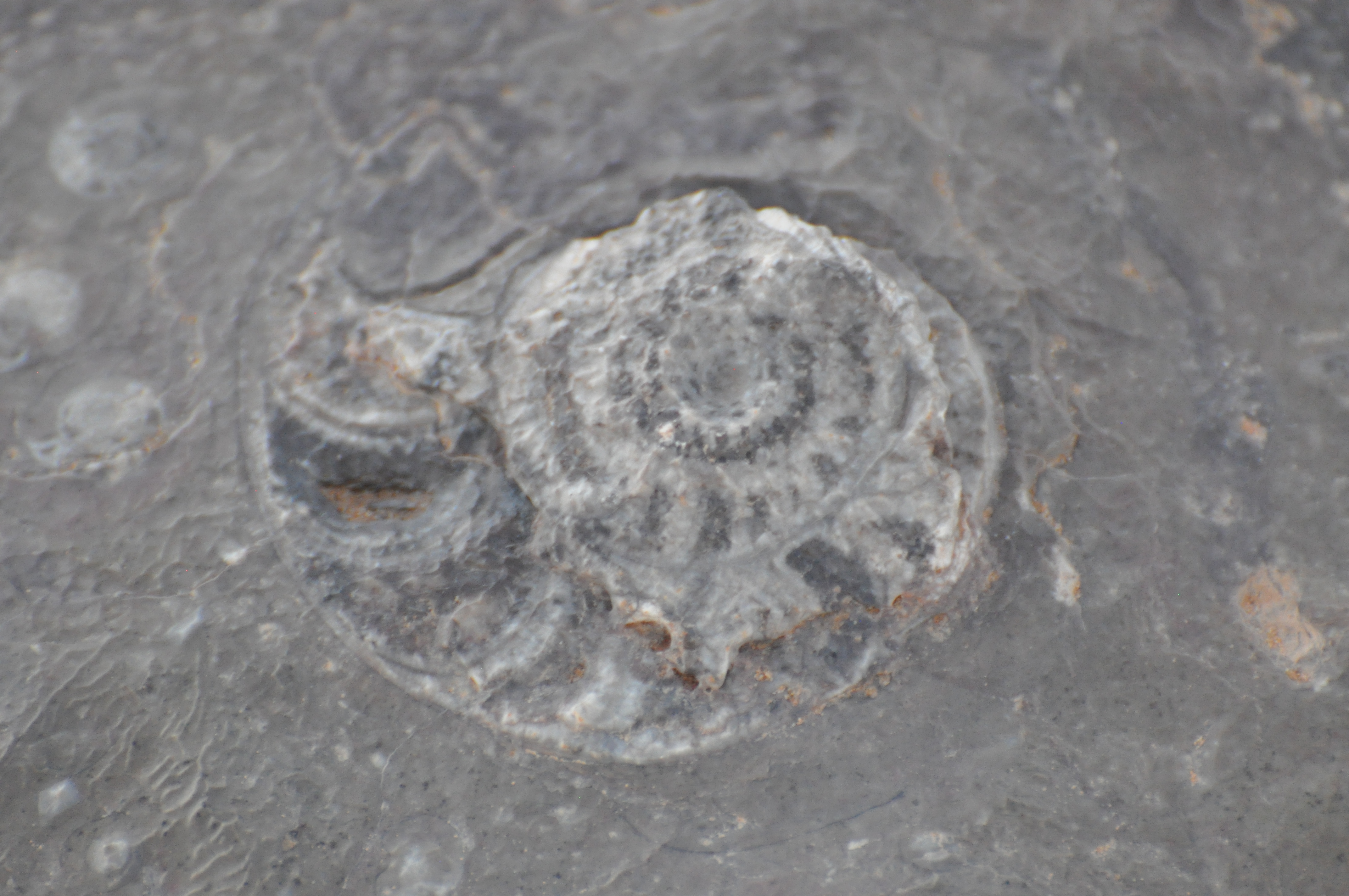 Sunset as we approached the desert.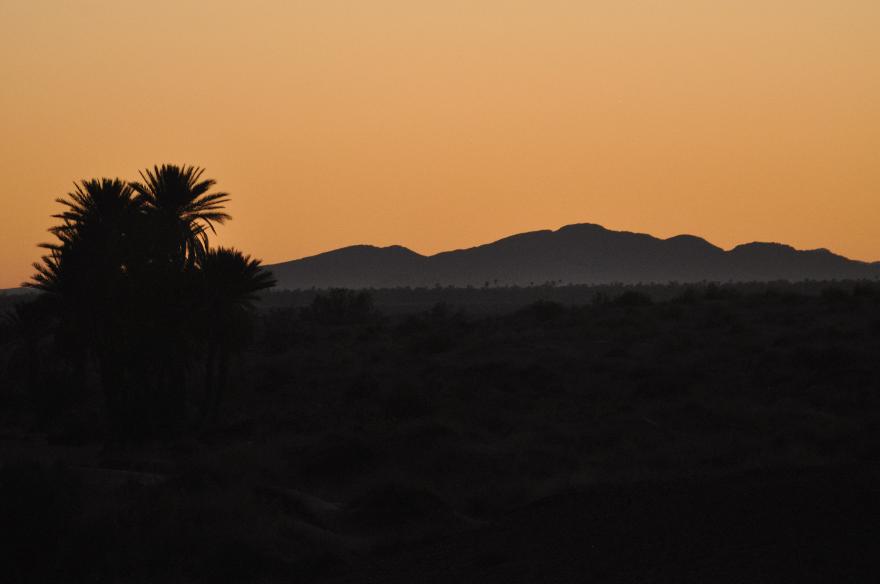 Yousef, Amar's younger brother serving us tagine at Riad Madu.

September 17, 2015 - Dar Seffarine, Fes
This morning was our first experience with the Islamic call to prayer or adhan. The adhan, meaning 'to listen, to hear, be informed about' is recited five times a day at prescribed times, the first of which was around 5:30 am. The call to Muslims to pray is called out by a muezzin from the mosque, traditionally from the minaret.which must have been nearby as it was quite loud. A second call, know as the
iqamah
then summons Muslims to line up for the beginning of the prayers. We became accustomed to hearing the calls throughout the day.
After breakfast we were met by our guide Abdisalam to explore Fes. Although the political capital of Moroccor moved to Rabat in 1925 Fes remains the cultural and spiritual capital of Morocco. Fes has the largest Medina in the world, apparently with over 9,500 alleys/lanes. The Medina dates primarily from the 13th/14th centuries.
We visited a number of cultural and historical sites including the Al Karaouine Mosque and University, the oldest university in the world, the Medras Bouanania (a school), the tanneries (although they were under refurbishment so not in full use), and the Nejjarine fountain. We also visited a clothing shop where Gayle bought a scarf, and a carpet cooperative where we were shown numerous beautiful carpets. We enjoyed a tea did not purchase anything.
The Medina is a hub-bub of activity, very very busy in places. One has to always be aware of carts being pushed or donkeys loaded with goods squeezed through the very narrow alleys. There are shops everywhere, some with touristy stuff but the vast majority of local artisans or sellers of crafts, fresh vegetables, meats etc. Abdisalam took us to a bakery near where he was born/lived to show us the baking of bread in a traditional oven.
We then met up with Amar to drive outside the Medina to see the Royal Palace gates - no tourists, or locals for that matter, are allowed inside any of the royal palaces. Finally we visited a pottery cooperative where Gayle was hands on in making a dish from clay. The tour was very interesting as we saw artisans chipping tile for mosaics and others painting the pottery. We bought a plate and a number of bowls all painted in the traditional Fes blue.
We then returned to Dar Seffarine for a bit of down time, after which we enjoyed another fantastic, and somewhat different, i.e. no tagine, meal with a well traveled couple from Boston. The food was absolutely delicious, enjoyed in an open air courtyard.
Fes is a much larger city than we would normally visit but its history and the uniqueness of its Medina make it a must stop on any trip to Morocco.

Answer to Post 1 Riddle 1

Post 1: In three steps how do you get an elephant in a van?

Answer:

Step 1: Open the door.
Step 2: Push elephant in the van.
Step 3: Close the door.

Next posting - Riddle 2.
Breakfast served on beautiful plates painted in the Fes blue.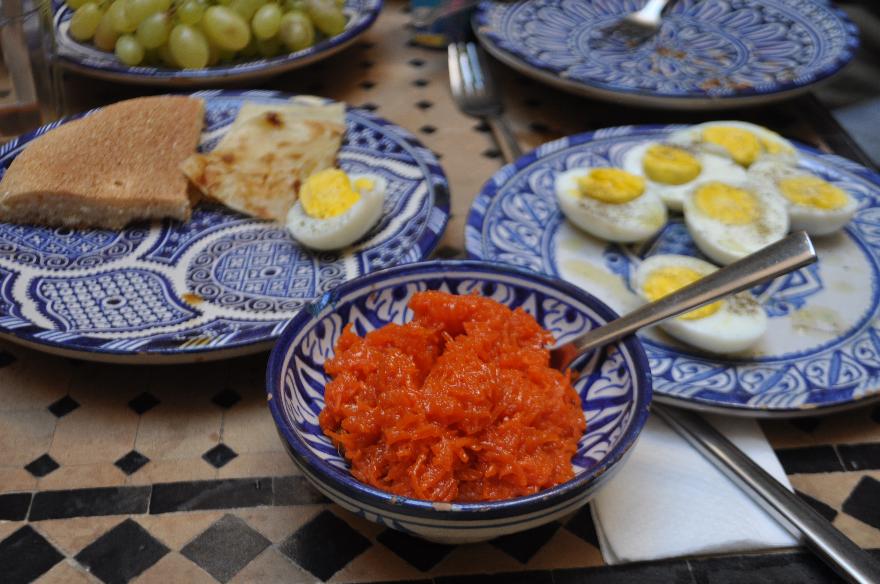 Our guide for the day Abdisalam.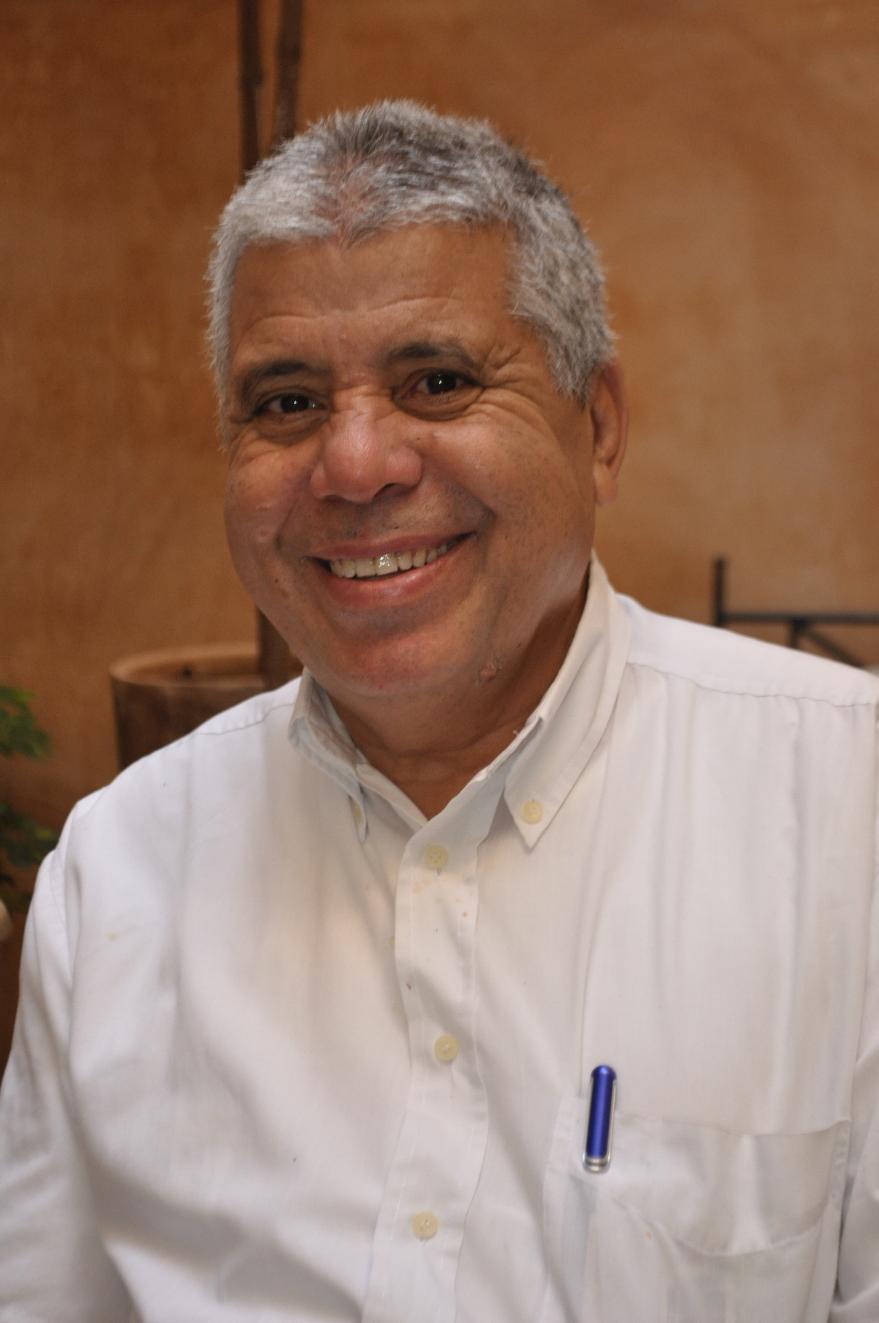 The Place Seffarine, just outside our Dar Seffarine is named for the copper craftsmen who work in this area.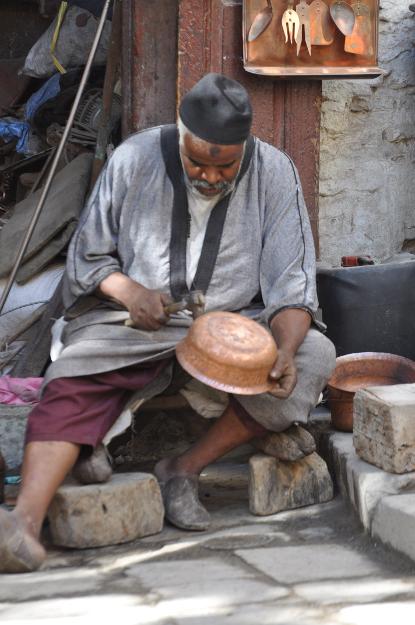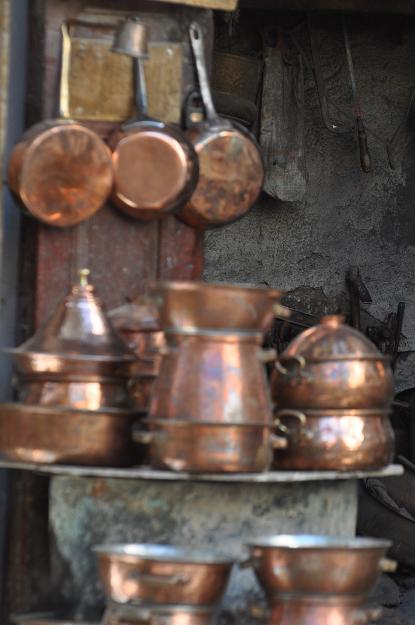 The Medina, being vehicle free relies on donkeys to transport goods in and out. Pedestrians beware.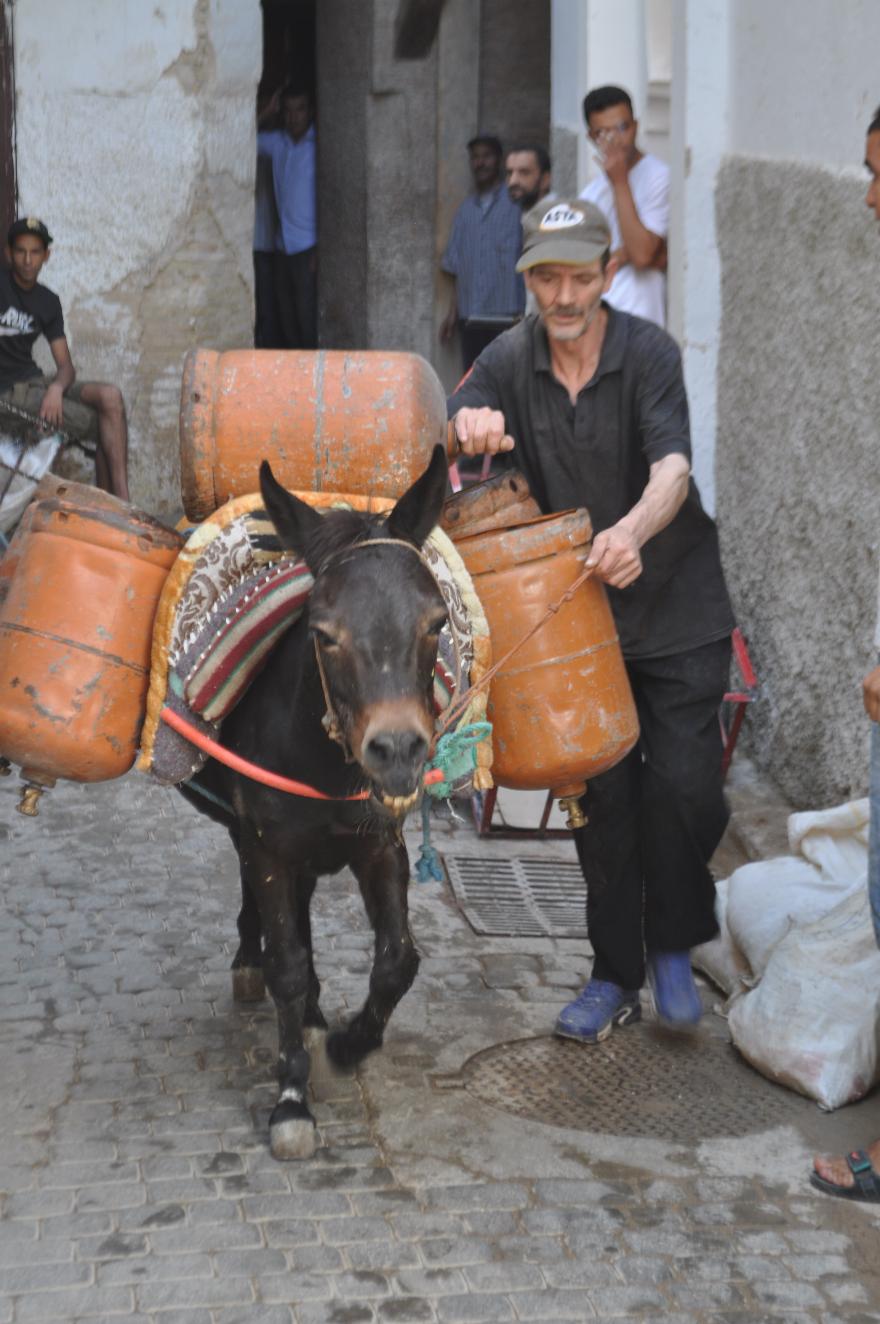 A stand selling olives in the Medina.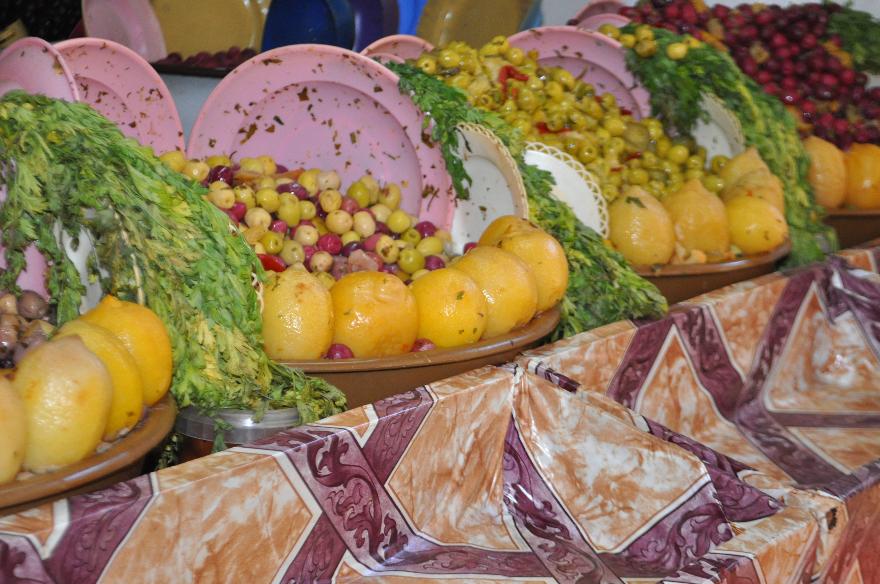 Intricate art, mosaic and tile work, this one dating from 1323.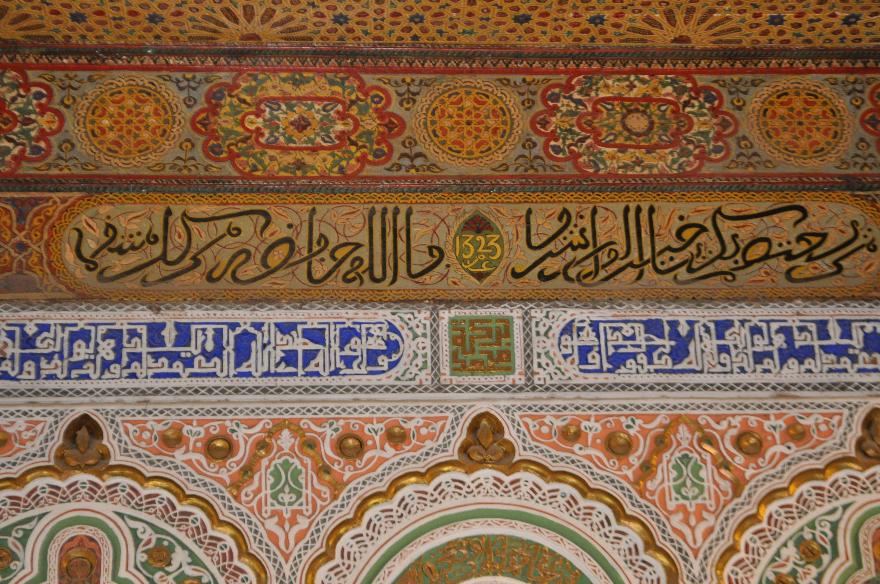 More colourful and intricate craftsmanship, including spectacular babs (doors).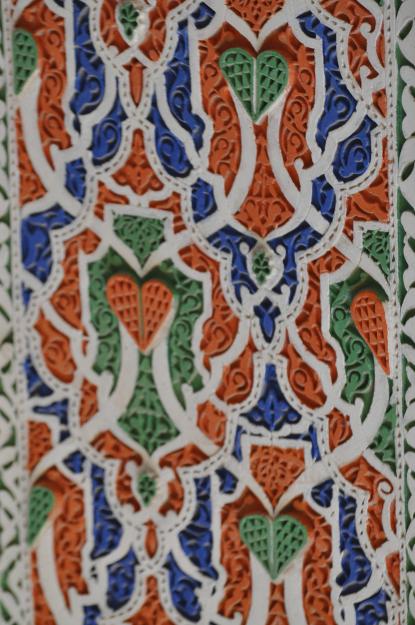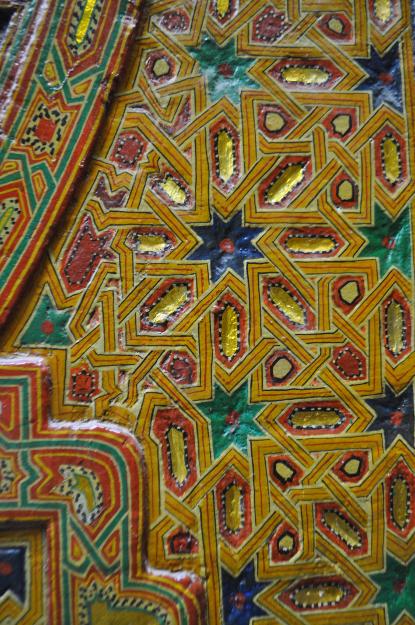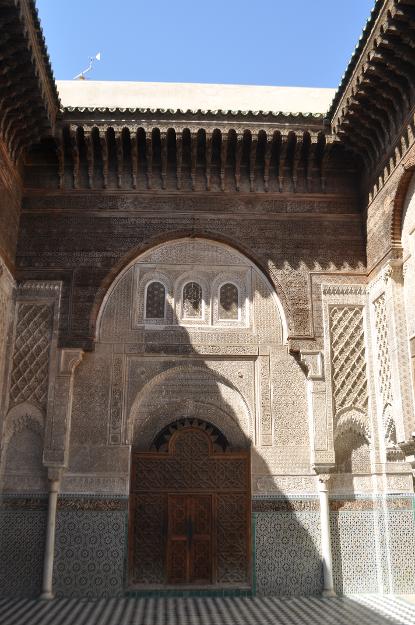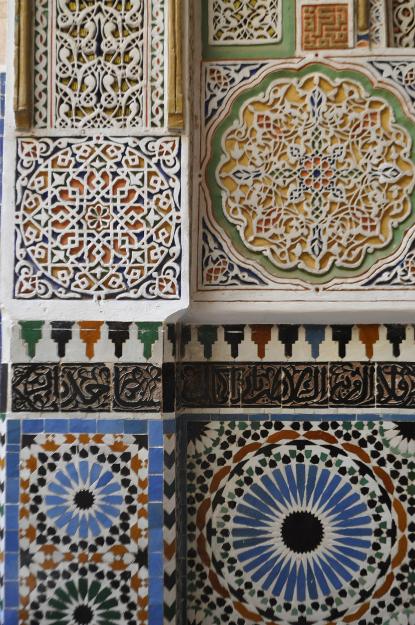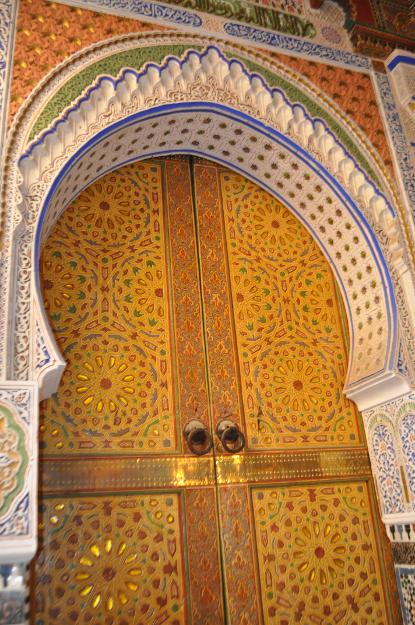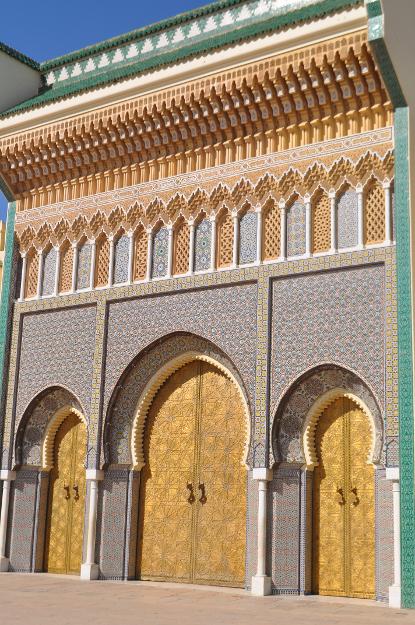 Moroccan carpets in the cooperative.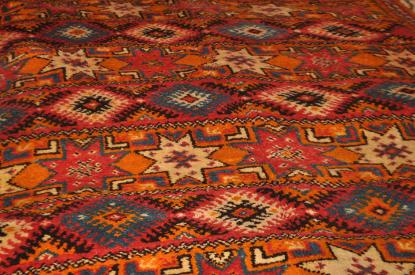 When in Morocco dress like Moroccans - stylish turbans => better than yesterday's hat.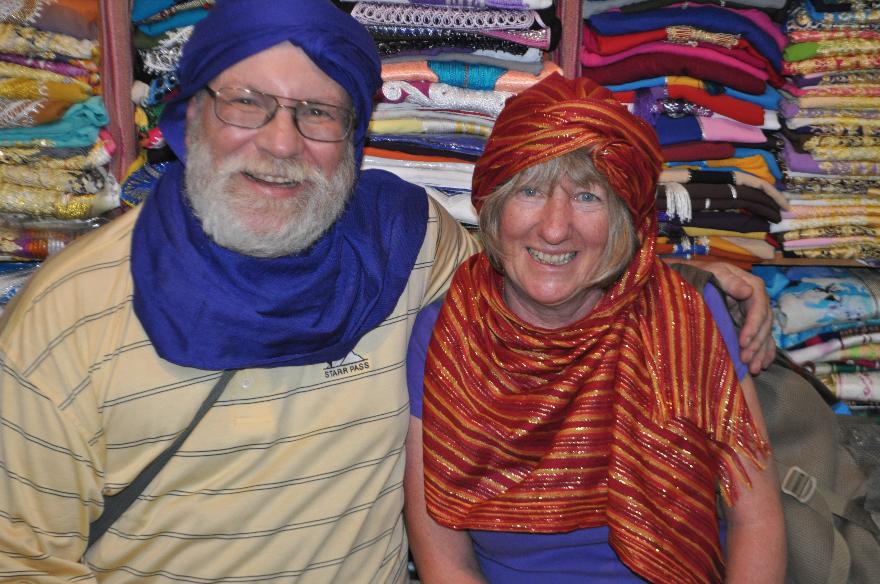 Cooking bread in the traditional way.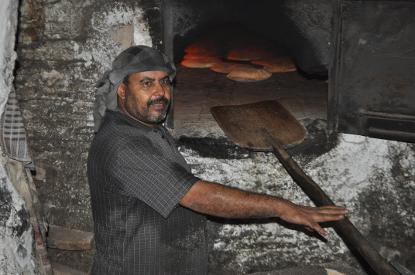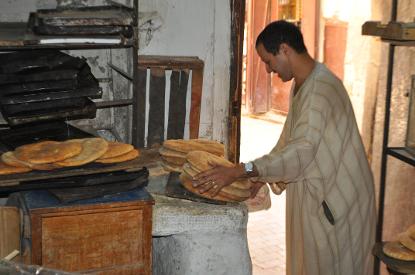 A new career! Potter Gayle.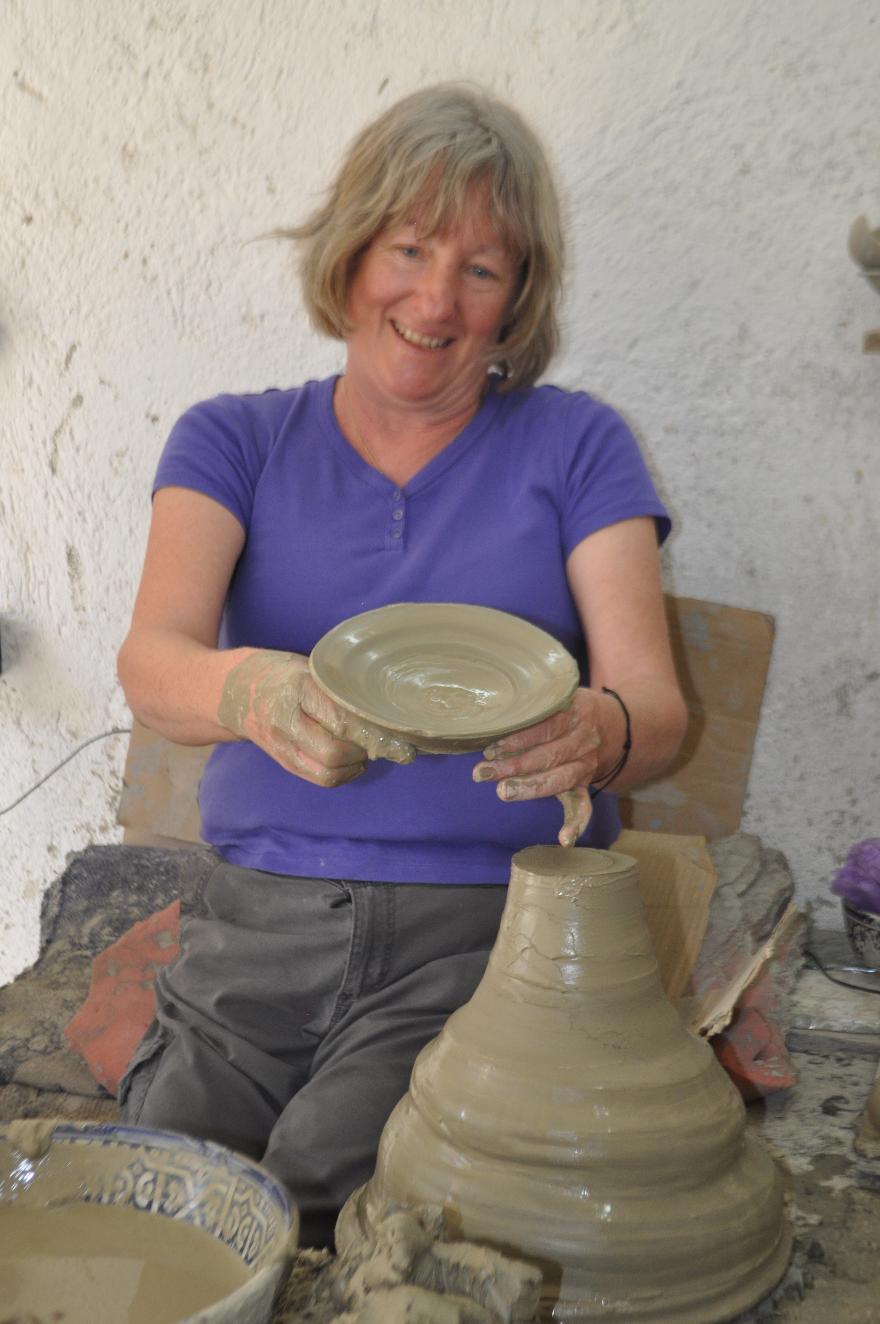 Artisans hand painting the pottery.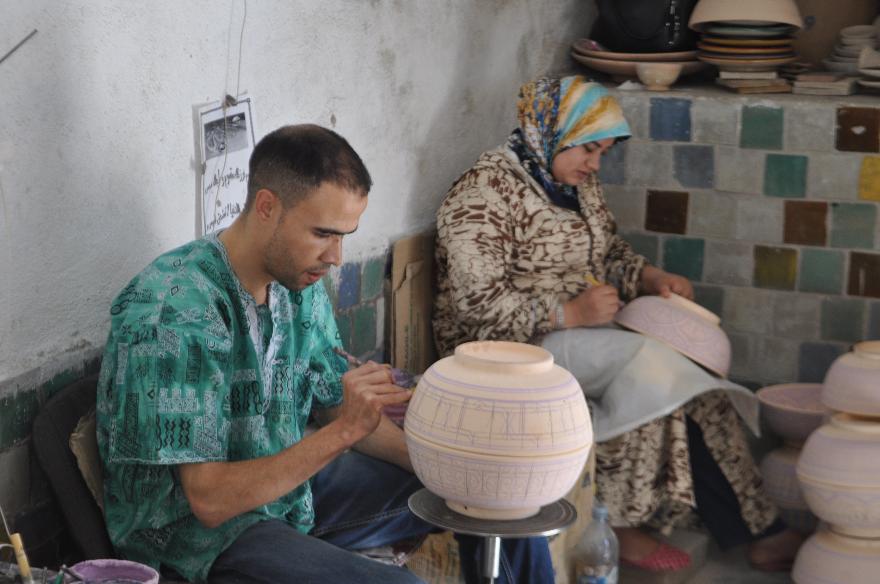 ... and our colourful and tasty dinner.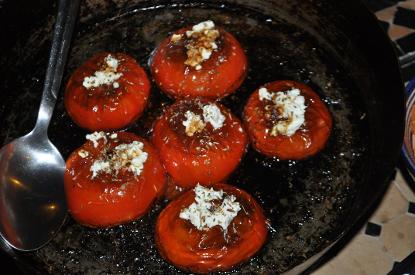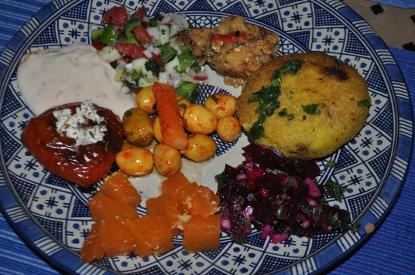 So along the drive Amar tested us with this set of riddles. I'm going to stretch it out over six postings.

Post 1: In three steps how do you get an elephant in a van?

The answer will be provided next posting.


September 16, 2015 - Chefchaouen to Fes via Volubilis and Meknes
We left Chefchaouen for the drive south to Fes. Amar stopped for a coffee at a gas station alongside which tagine was being prepared for the lunch crowd. Further down the road we stopped at a local market, where everything under the sun (and yes it was another sunny day here in Morocco) was being sold - vegetables, clothes, rice, flowers, trinkets, meat, fish, fruit AND sheep/goats. Next week on Thursday the 24th is Eid Al-Adha a huge day here in Morocco. During Eid al-Adha, Muslims perform certain services along with the Eid prayers, such as symbolically sacrificing a sheep, a cow, a goat or a camel, in the name of Allah. Though the sacrifice is not an obligatory practice in all Muslim groups, most families save enough money to buy a lamb or goat to celebrate the feast and show obedience to God. Amar was approached by many at the market trying to sell him a sheep for the day of sacrifice. Apparently millions of animals will be sacrificed next Thursday.
We continued to Volubilis, the most important Roman ruins in Morocco. There was a village on the site in the 3rd century BC although it was from 45 AD to 285 AD the Roman site flourished. An interesting stop there are a number of very well preserved mosaics. Although inland from ports the area on the slopes of the mountains is quite fertile providing crops, in particular olives. The Romans withdrew to the coast in the 3rd century leaving the site to be taken over by local tribes.
From Volubilis we drove to Meknes, one of Morocco's imperial cities with its beautiful Bab (gate) Mansour providing entrance to the fortress, the walls of which are 15 km in length. Meknes, named after a berber tribe was the capital of Morocco under the reign of Moulay Ismail
(1672–1727), before it was relocated to Marrakech. We also made a short stop at the Royal Stables and granary where Moulay Ismail kept over 16,000 horses he brought from Arabia.
We then drove east through vineyards and olive groves to Fes where we will be staying the next two nights. Fes, the second largest city in Morocco was the capital until 1925. The city has two old medinas, the larger of which is Fes el Bali. It is a UNESCO World Heritage Site, believed to be .one of the world's largest car-free urban areas. Al-Oarawiyyin, founded in AD 859, is the oldest continuously functioning madrasa, or educational institution in the world. After seeing the city from a panoramic hill-top Amar parked in what turned out to be a sketchy area - we chose a Dar, or house, that is not the normal place Around Morocco brings their clients. After some interesting back and forth we were able to park and were met by Zohir, who led us to Dar Safferine, an absolutely beautifully restored home in the Medina. We ate a wonderful dinner, served family style with the other guests -10 of us in total. The food was somewhat different from that we have had previously - starting with a borscht type soup, plates of vegetables with almond rice, some turkey and a very good plum dessert.
These drives, stops and days are quite interesting but also exhausting. After dinner it was straight to sleep.
Today we drove from Chefchaouen to Fes, via Meknes.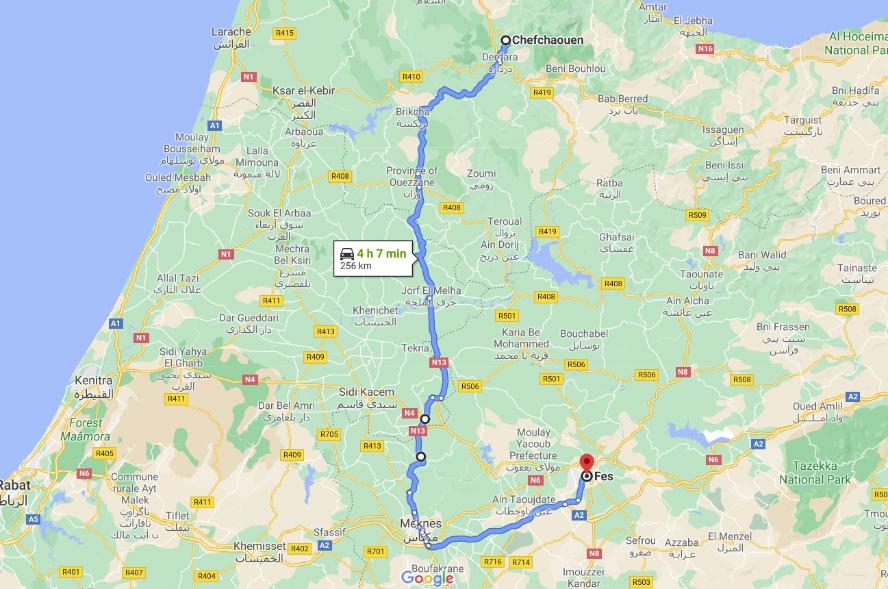 Gayle says we need at least one photo of at least one of us per day - obviously not much to choose from today.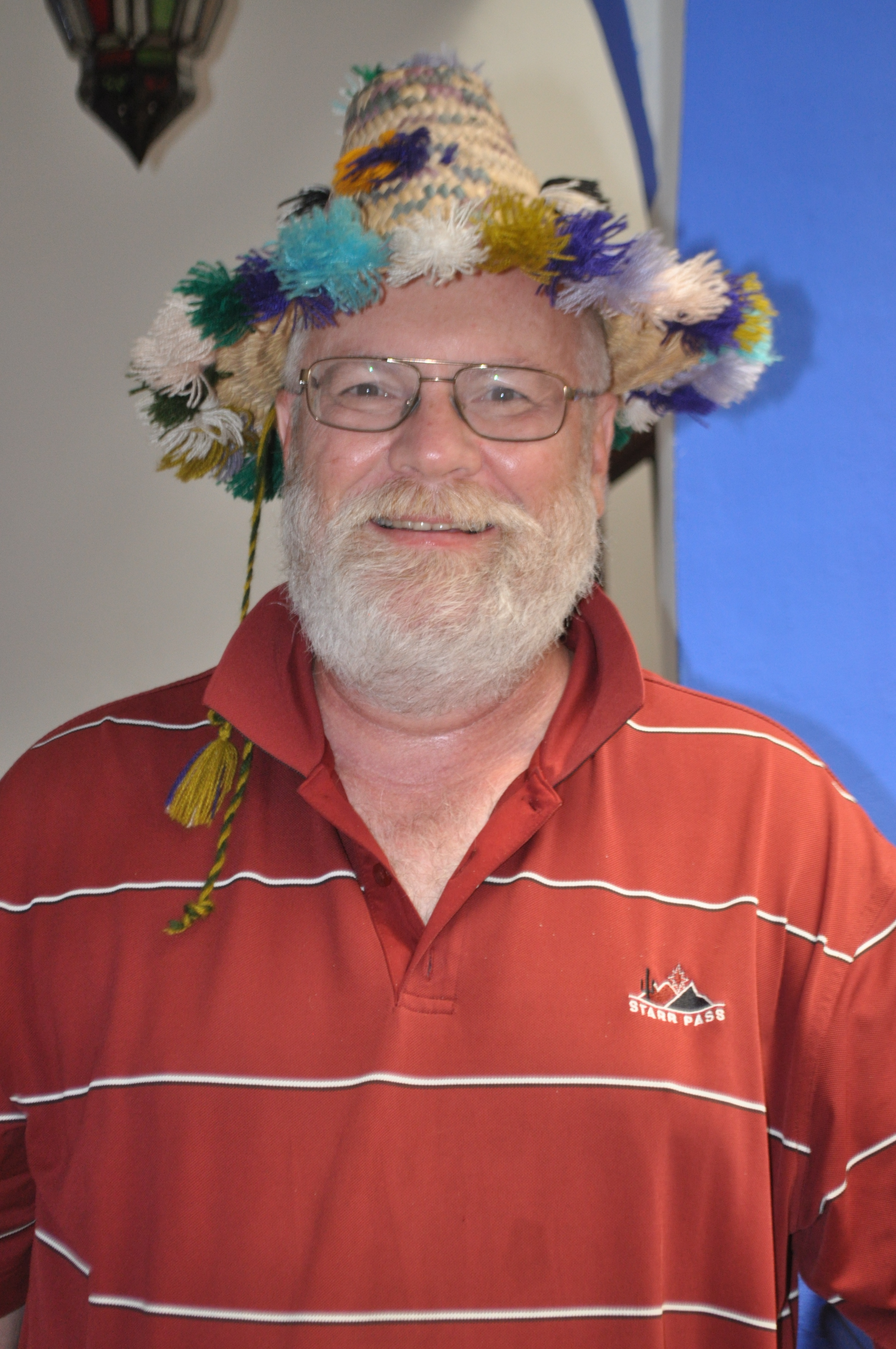 Men, women and donkeys along the roadside.



Tagine being cooked beside a gas stop along the way.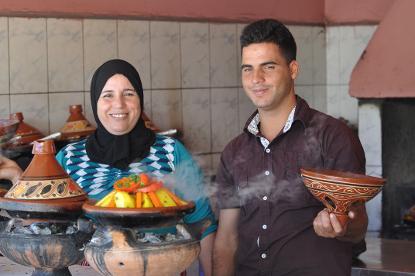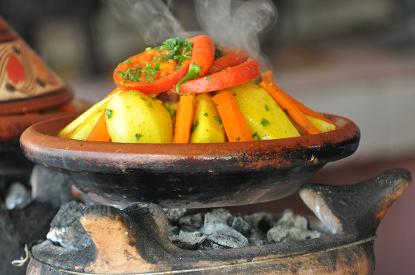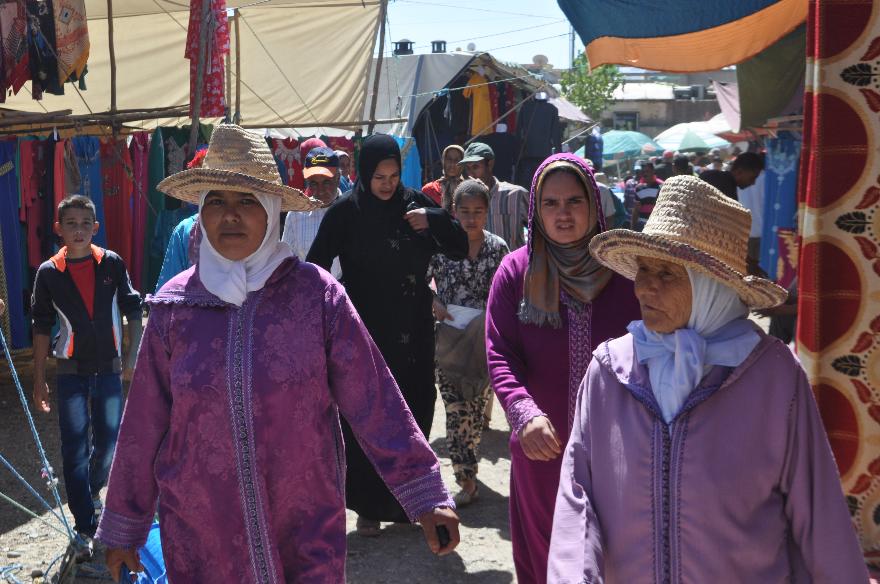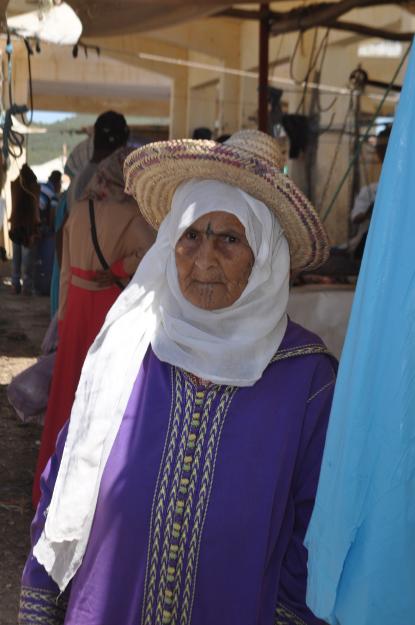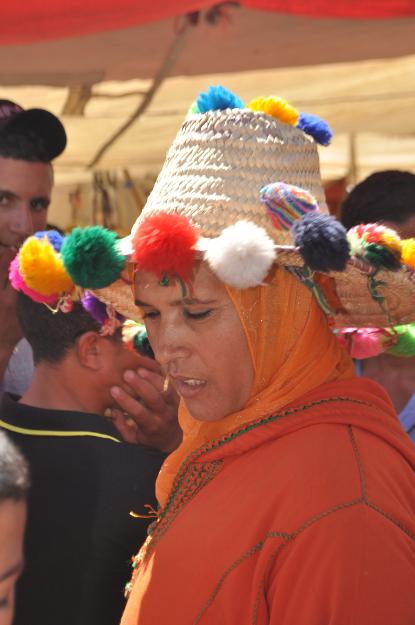 Everyone trying to sell a sheep.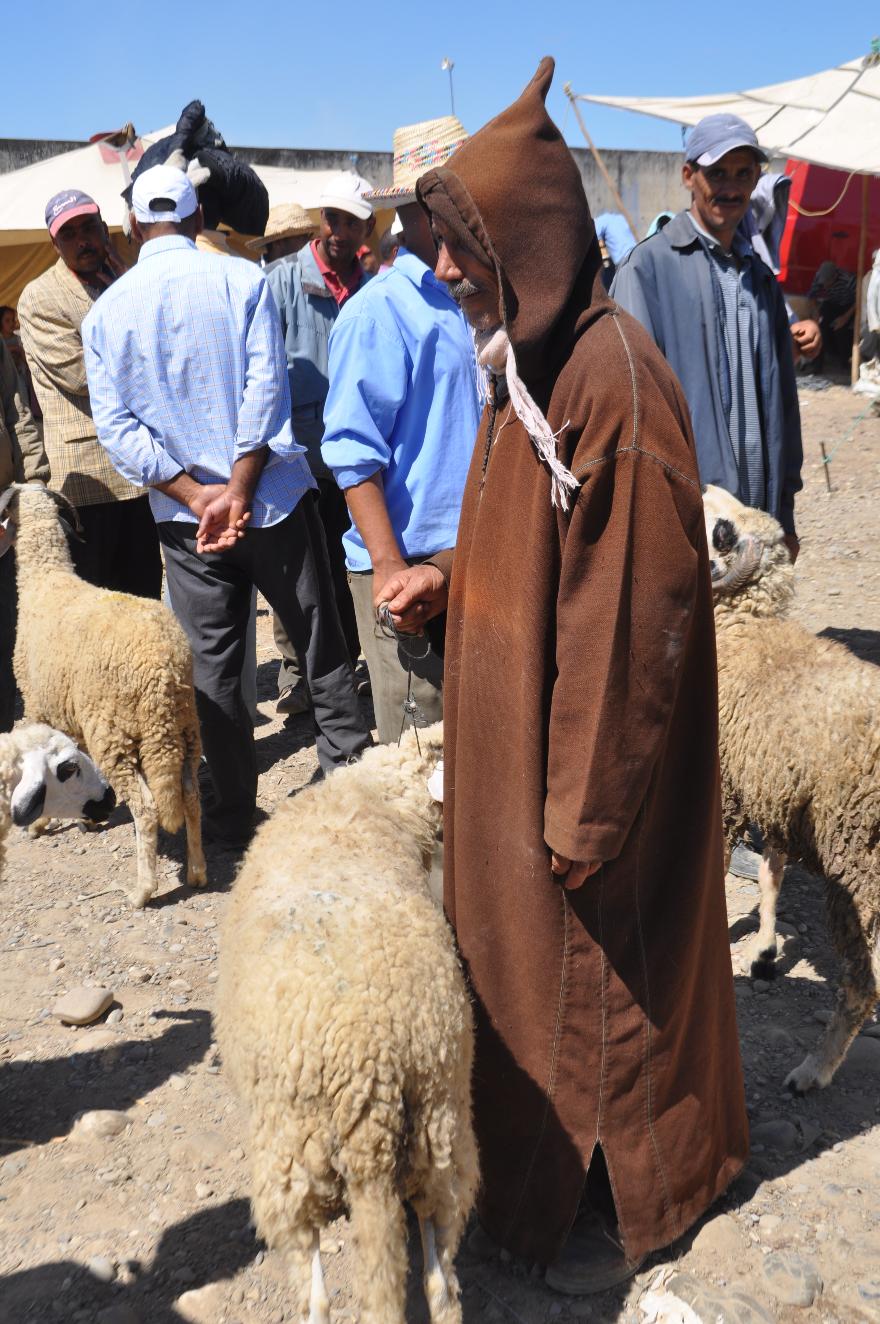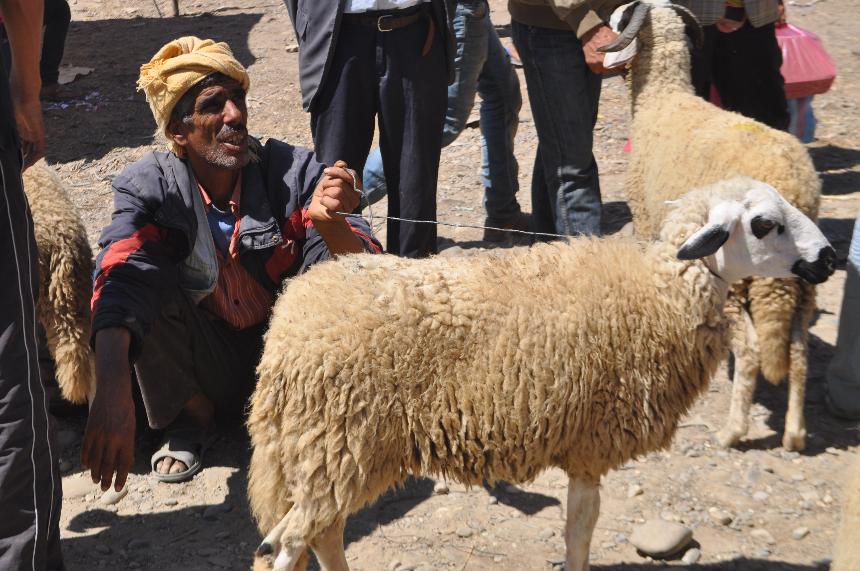 Two locals who bought sheep that don't appear all that happy for the upcoming festival.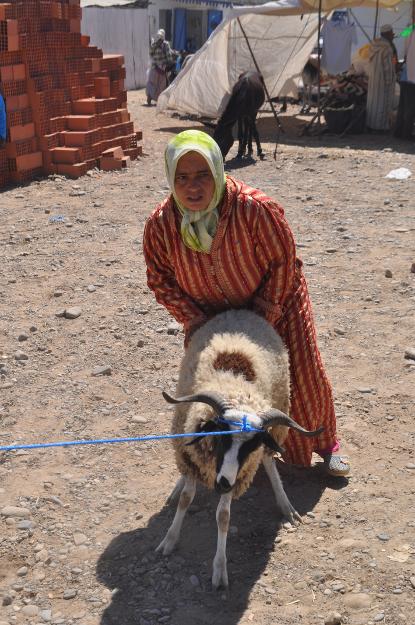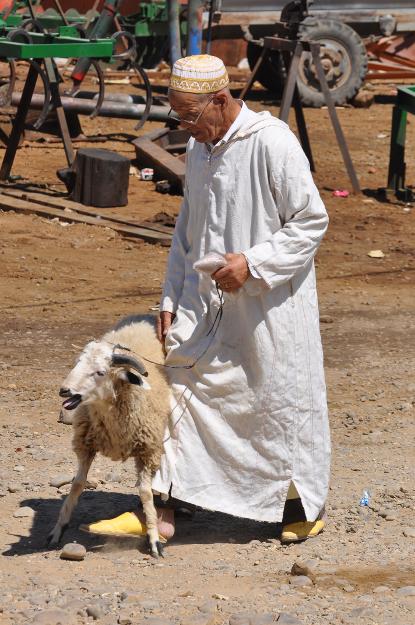 At times the vans on the road are quite full - we actually saw a goat being stuffed inside this one, along with men, woman and children, leaving only the back panel for these four guys.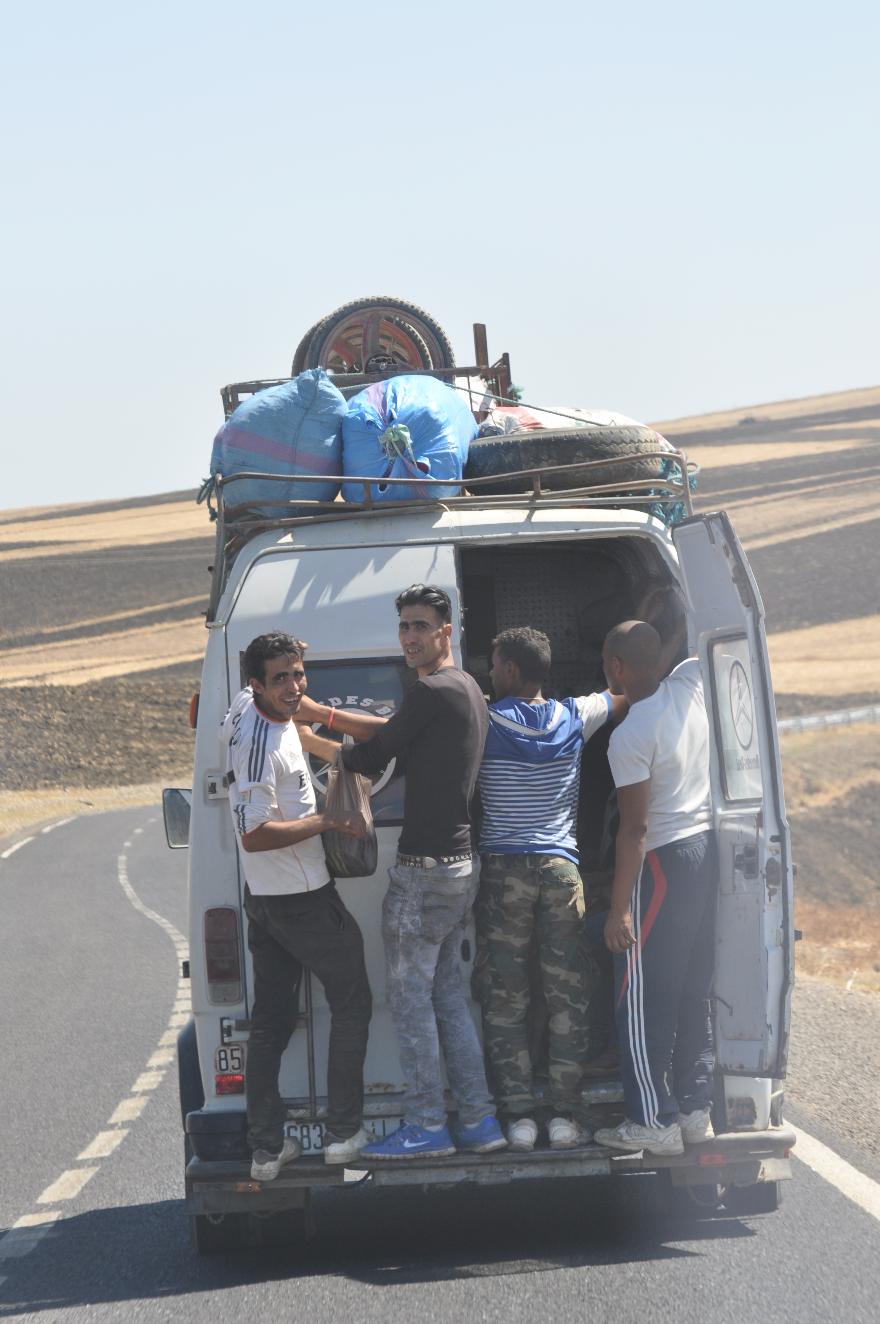 Some of the remaining structures at Volubilis.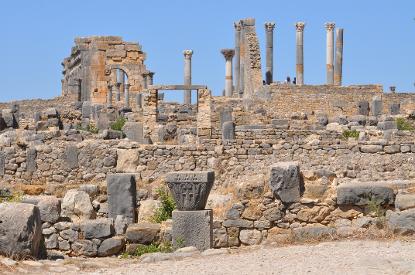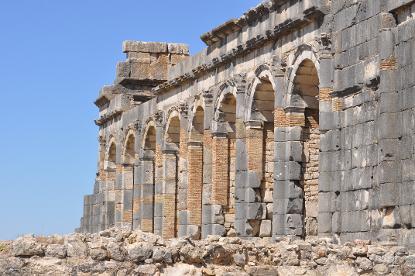 Some of the well preserved Roman mosaics at Volubilis.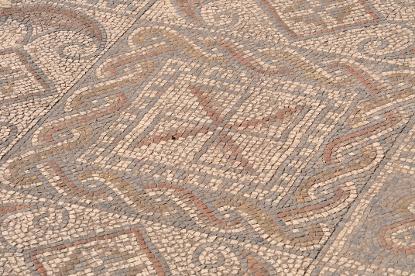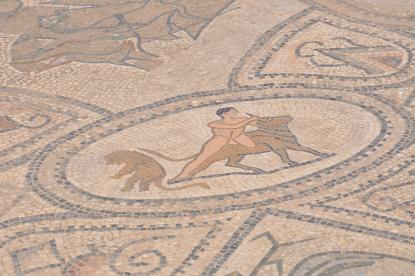 The main gate, Bab Mansour, of the imperial city of Meknes.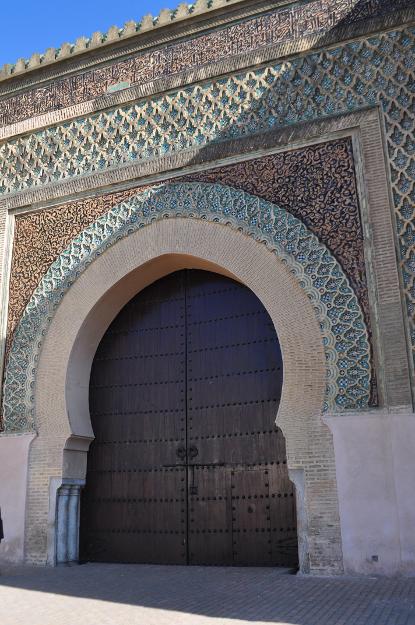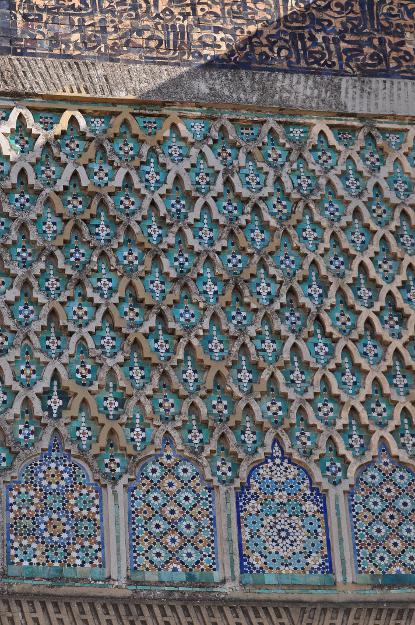 A women in front of the Meknes Bab.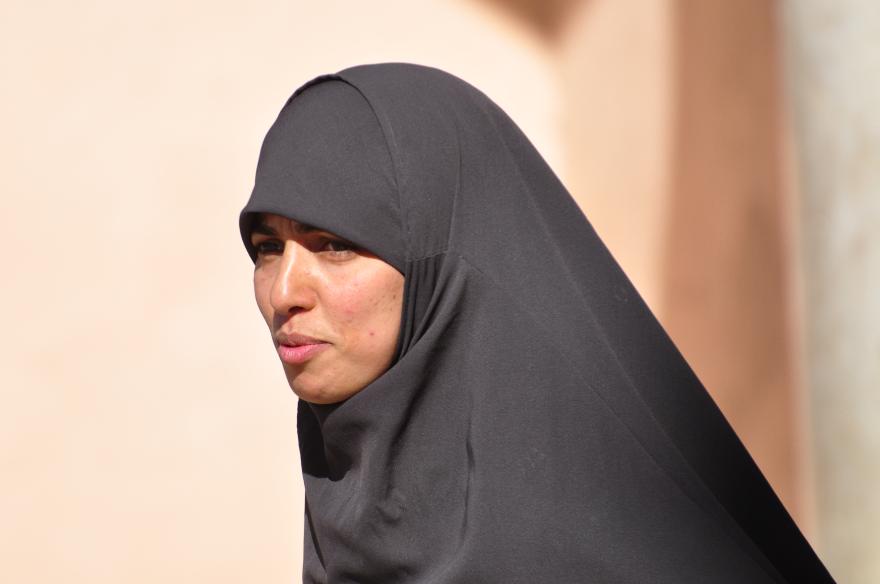 A portion, a very small portion, of the Royal Stables in Meknes where over 16,000 of the King's horses were housed.



A portion, yes again only a portion, of the Medina of Fes.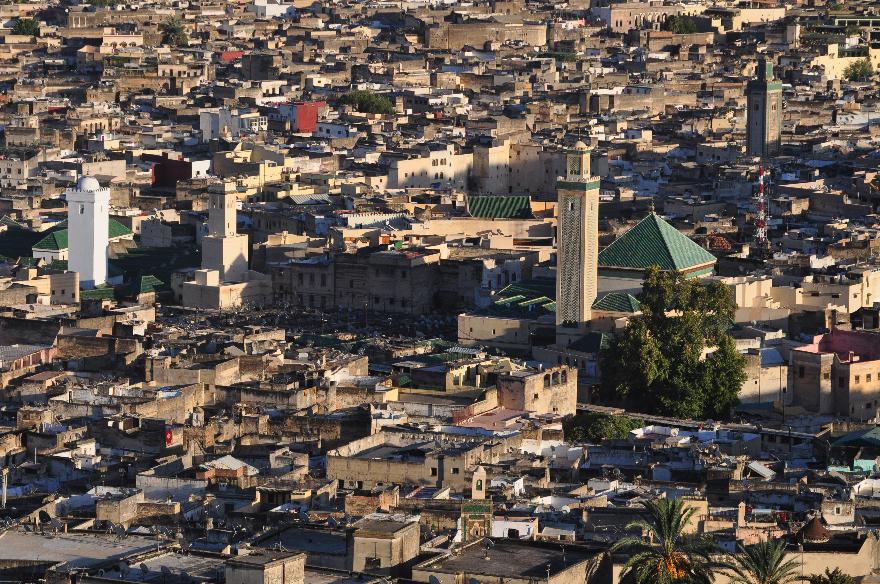 Borscht served on a beautiful Fes blue plate and an excellent dish of vegetables and turkey.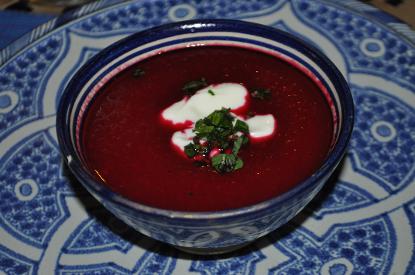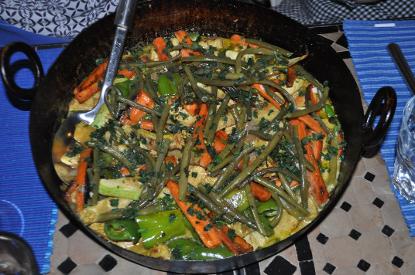 September 15, 2015 - Chefchaouen (Riad Assilah)
Today we are on our own in the city (although it feels more like a town) of Chefchaouen. We wandered through the alleys of the medina, attractively painted blue. It is in part the consistent colour of the painting of the city that makes it attractive, and along with the textiles and clothing made locally a tourist attraction. It is also not so large that one does not feel overwhelmed.

Set on a mountainside it is somewhat hilly. We first walked from our Riad near the main square down to the bottom gate and then up to the top where we went outside the gate to see women washing their carpets and clothes in the brook that descends from the mountains. A little further out towards a mosque on a hill we found a nice panoramic view of the town. We returned to the riad for a short while in the afternoon before going down to the main square where we found a table, had a couple of drinks (mint tea and fresh orange juice) and just watched the people wandering by. One thing that is very disappointing is the unwillingness of Moroccans to be photographed. From what we hear there is a real fear of the photos being sold or inappropriately showing up photo-shopped on the internet. A real shame for those of us who simply want to share the photos with our friends. As a result most of the photos are from a significant distance or quick shots while walking.
We then visited the fortress of Mulay Ali Ben Musa, the founder of Chefchaouen (1471) from which there are great views of the city. It was then off to dinner in a small cafe. The place was nothing fancy and the food, while good was nothing special. We did sit next to and had a nice chat with a young couple from Toronto. All in all a fairly quiet, relaxing but nice day.
More than the average number of pictures today as Chefchaouen was quite photogenic.


The town of Chefchaouen, set against the Rif mountains.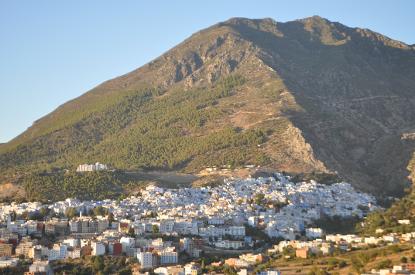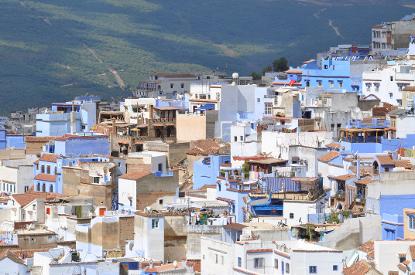 One of the attractive blue painted alleyways of the Chefchaouen medina.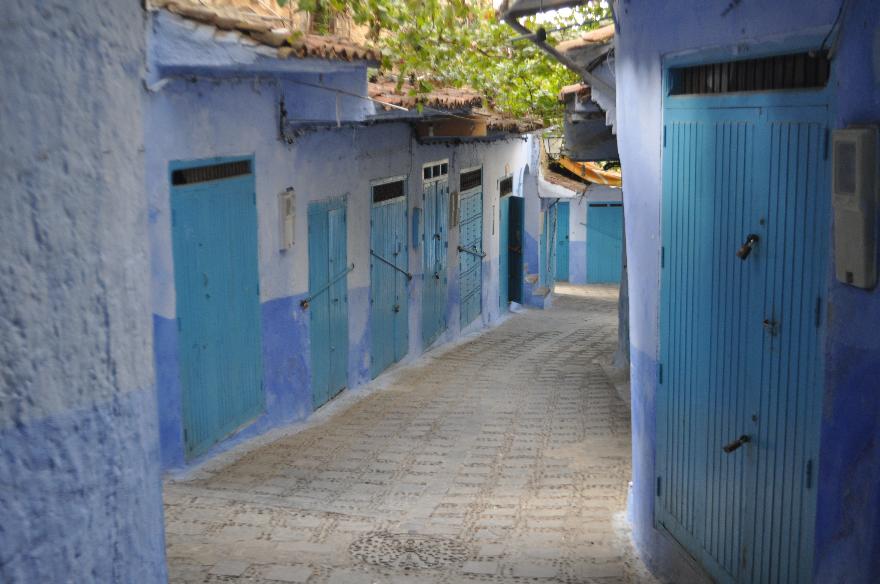 Women washing carpets and clothes.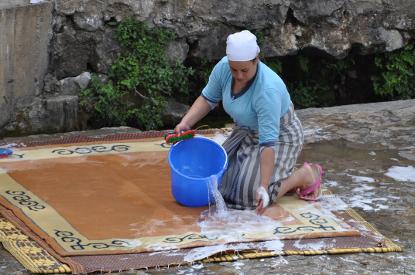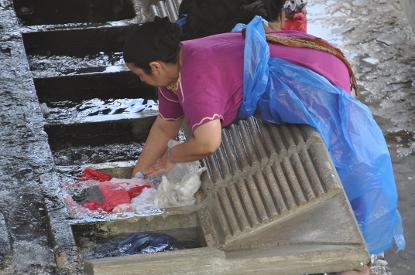 Textiles, including these with the local red striping for sale throughout the medina.



Some of the handwoven clothes.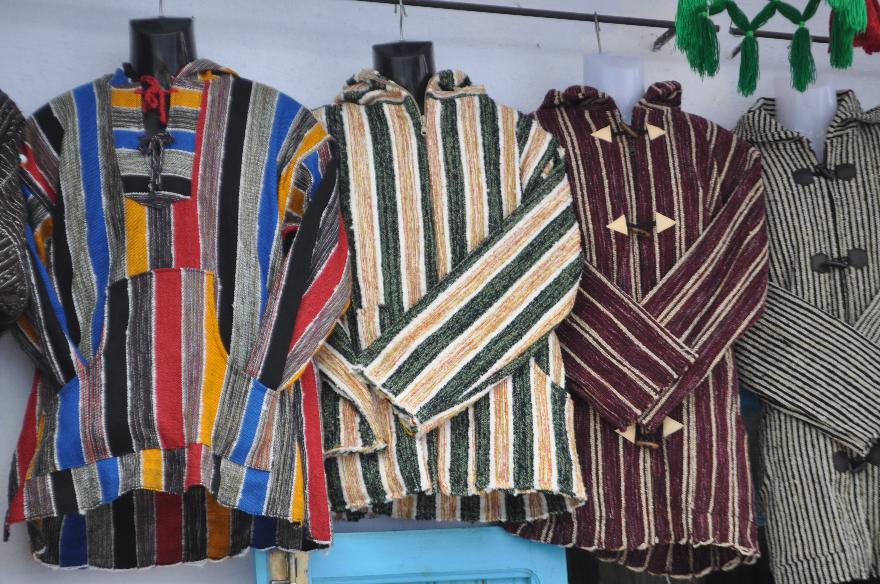 Colourful dyes, of course most being shades of blue.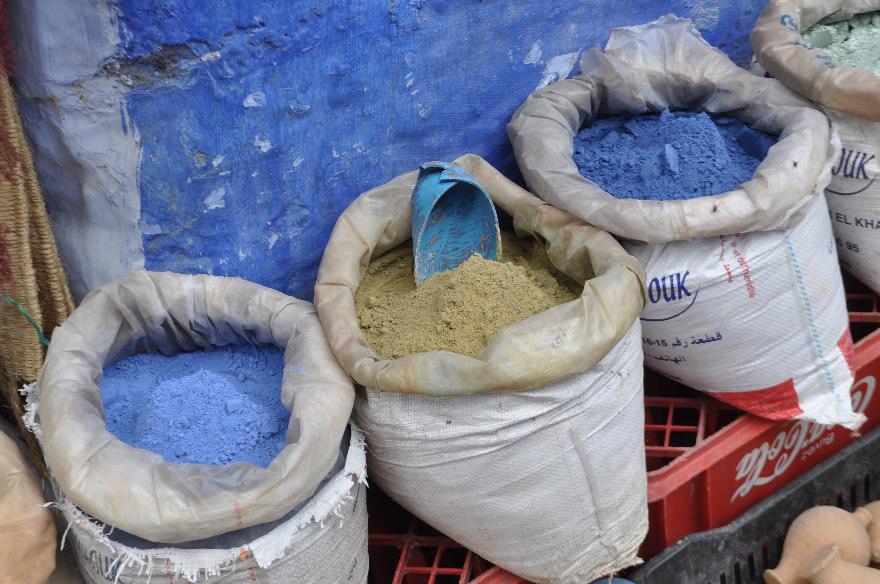 Another alleyway of Chefchaouen.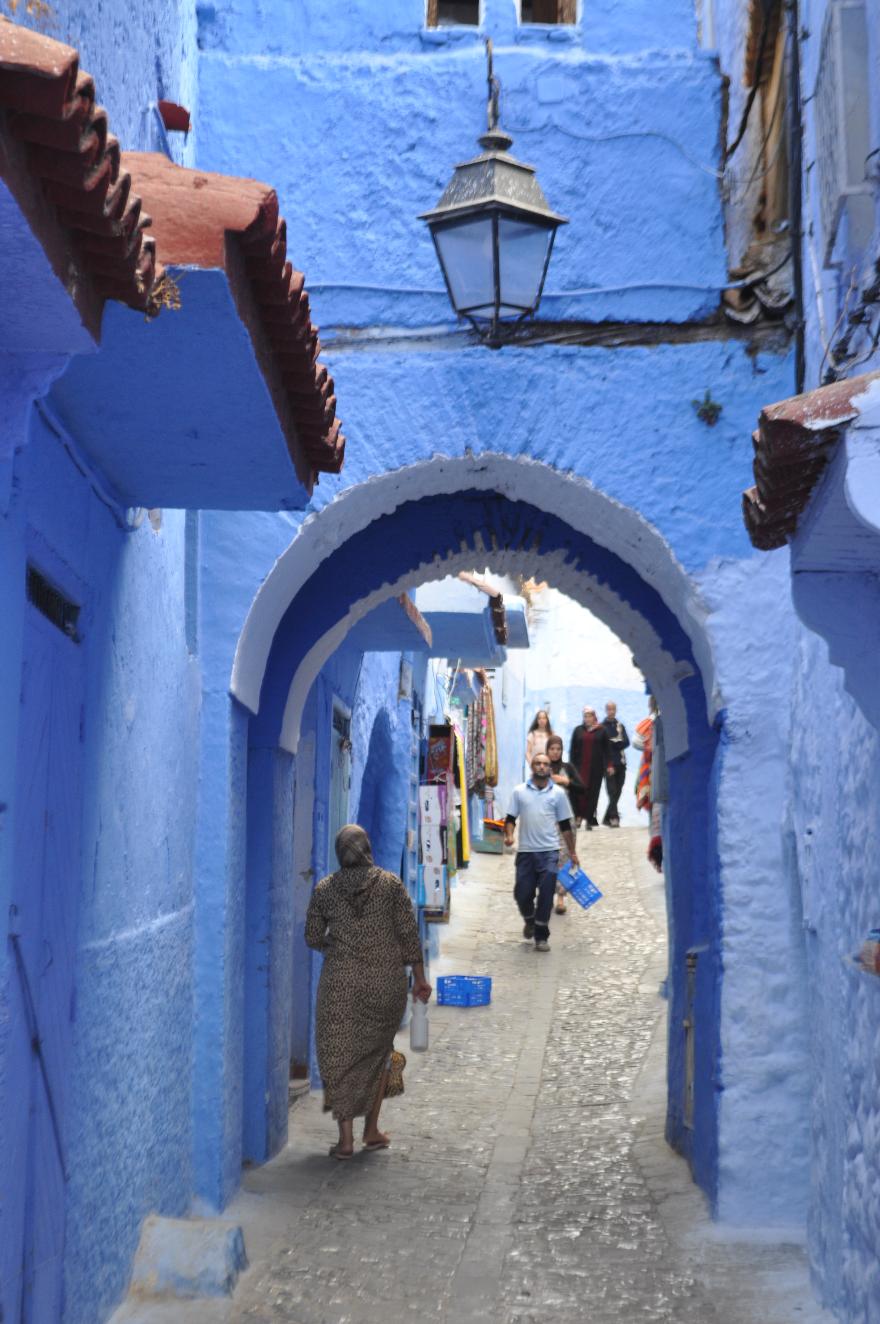 A gentleman enjoying the day.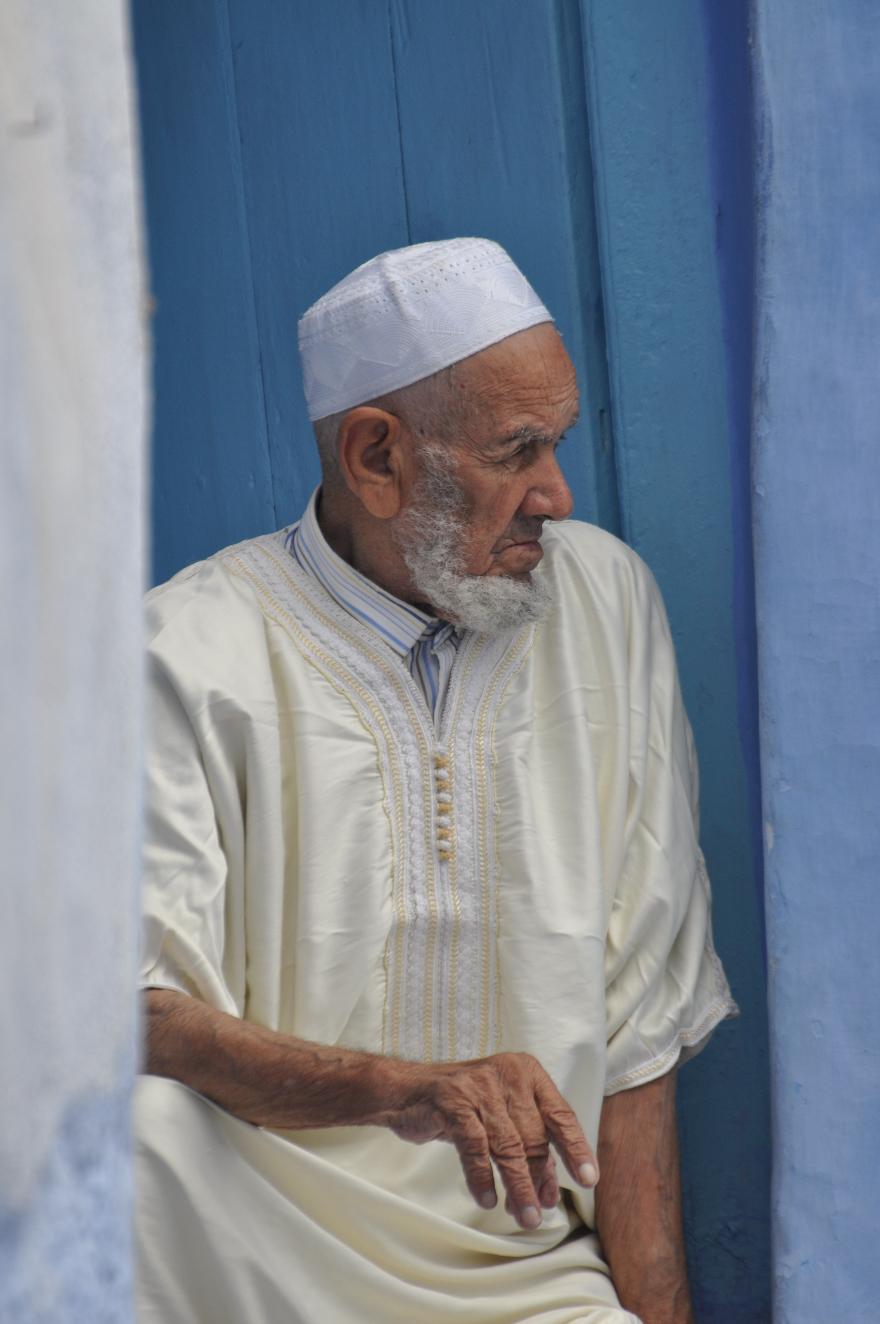 Two of the many attractive doors of Chefchaouen.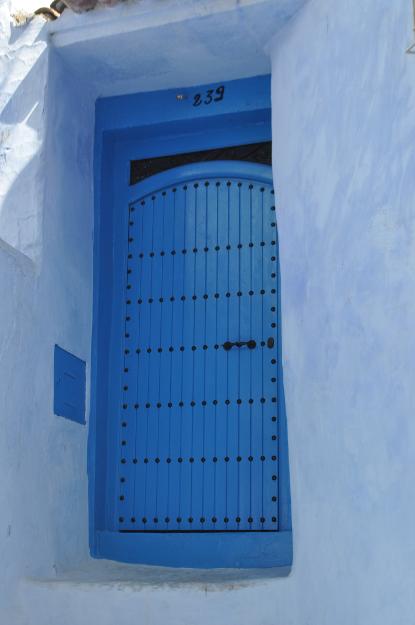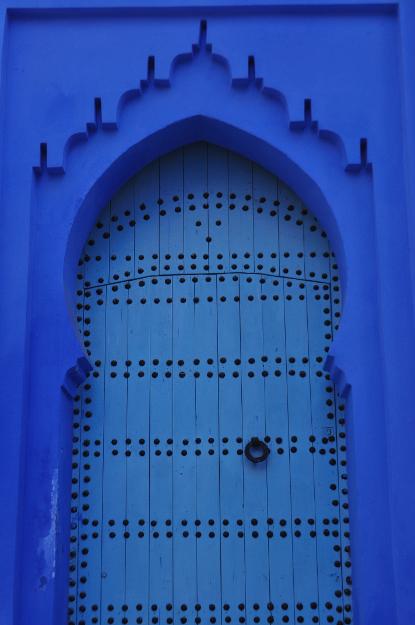 Most Moroccans do not want their picture taken.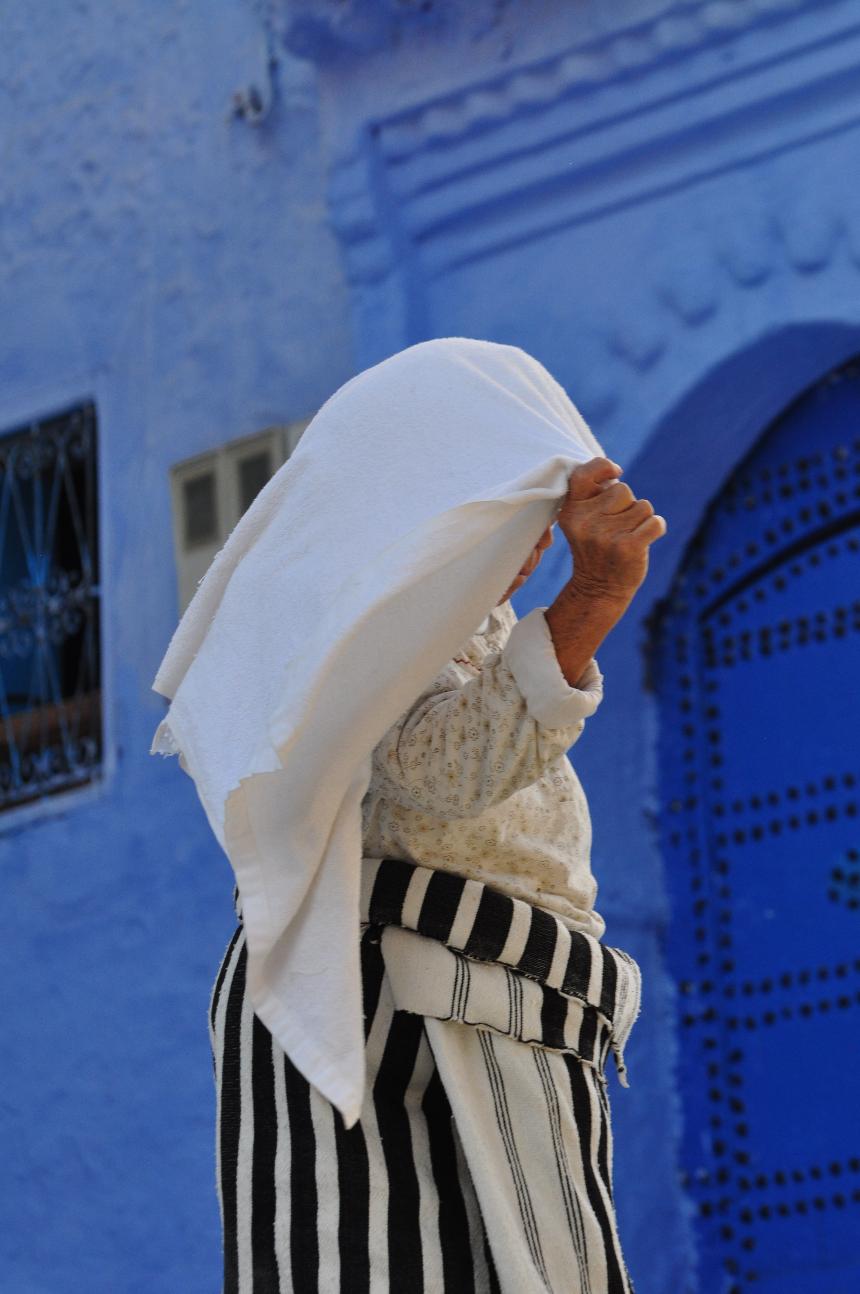 The traditional hats of the region and evidence they are actually worn.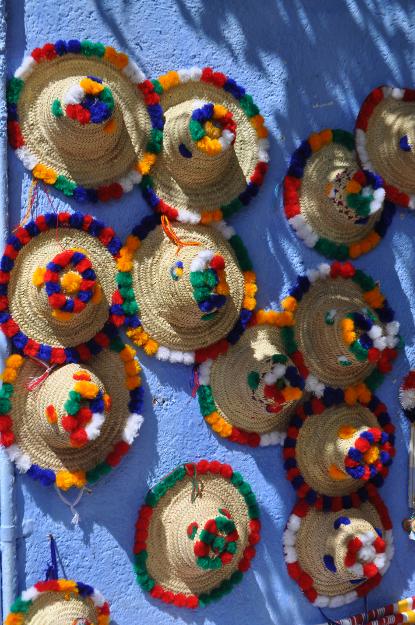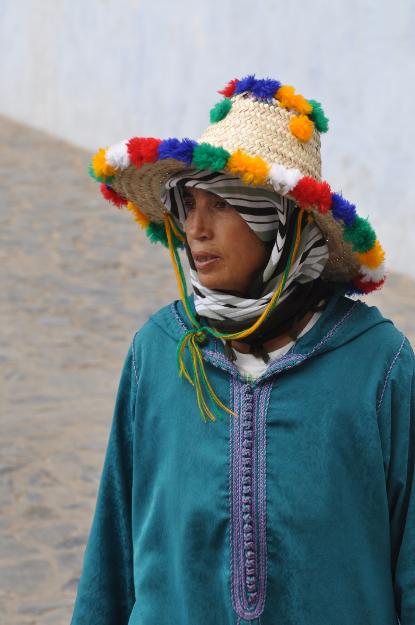 Discussing whatever and at work selling rice.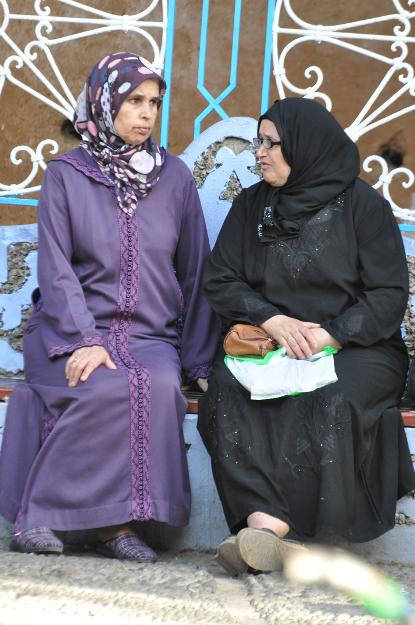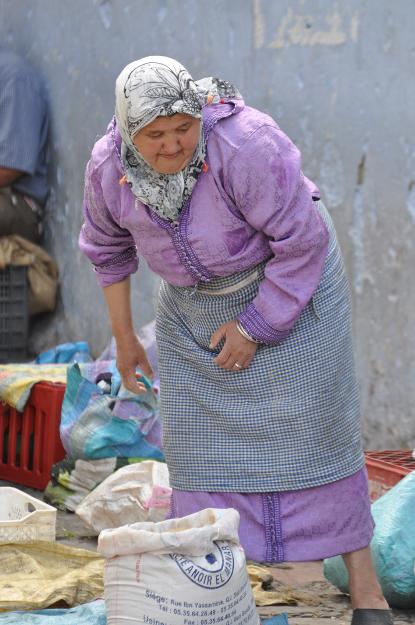 Moroccans as seen from our time sitting in a cafe in the main square.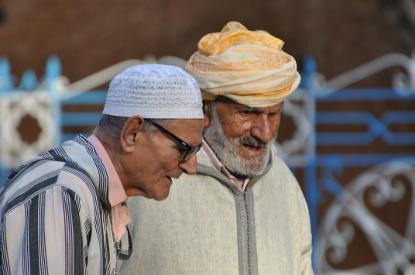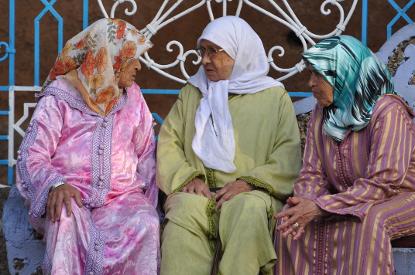 The fortress of Chefchaouen.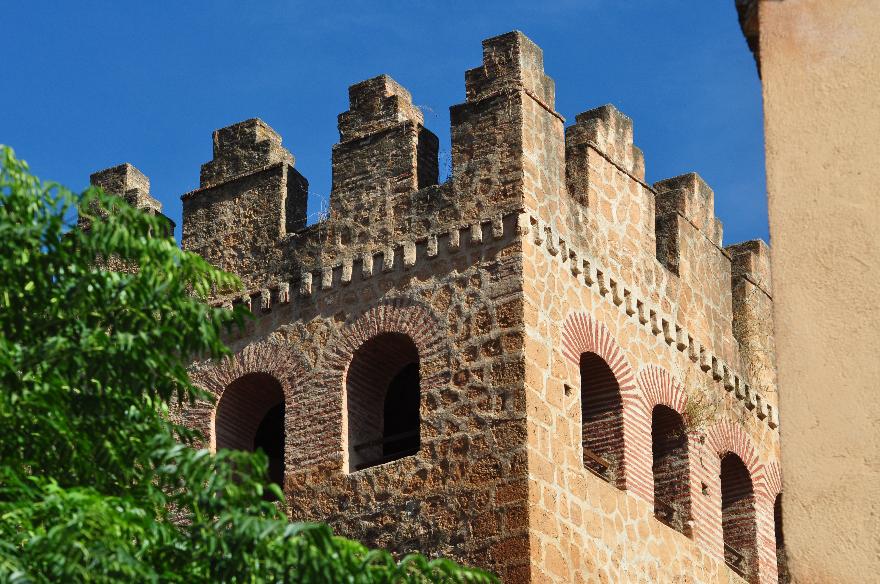 Proof that we did indeed climb the fortress tower.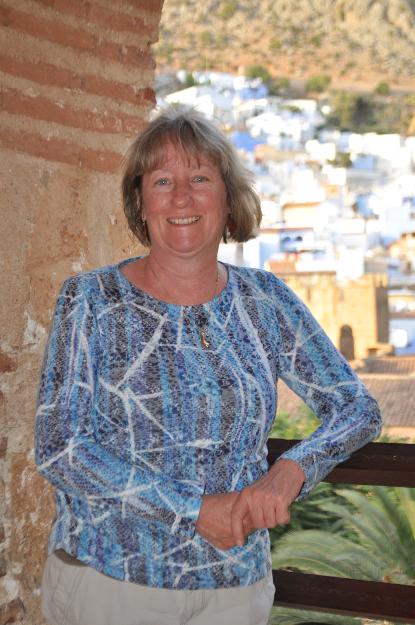 Chefchaouen from inside the fortress tower.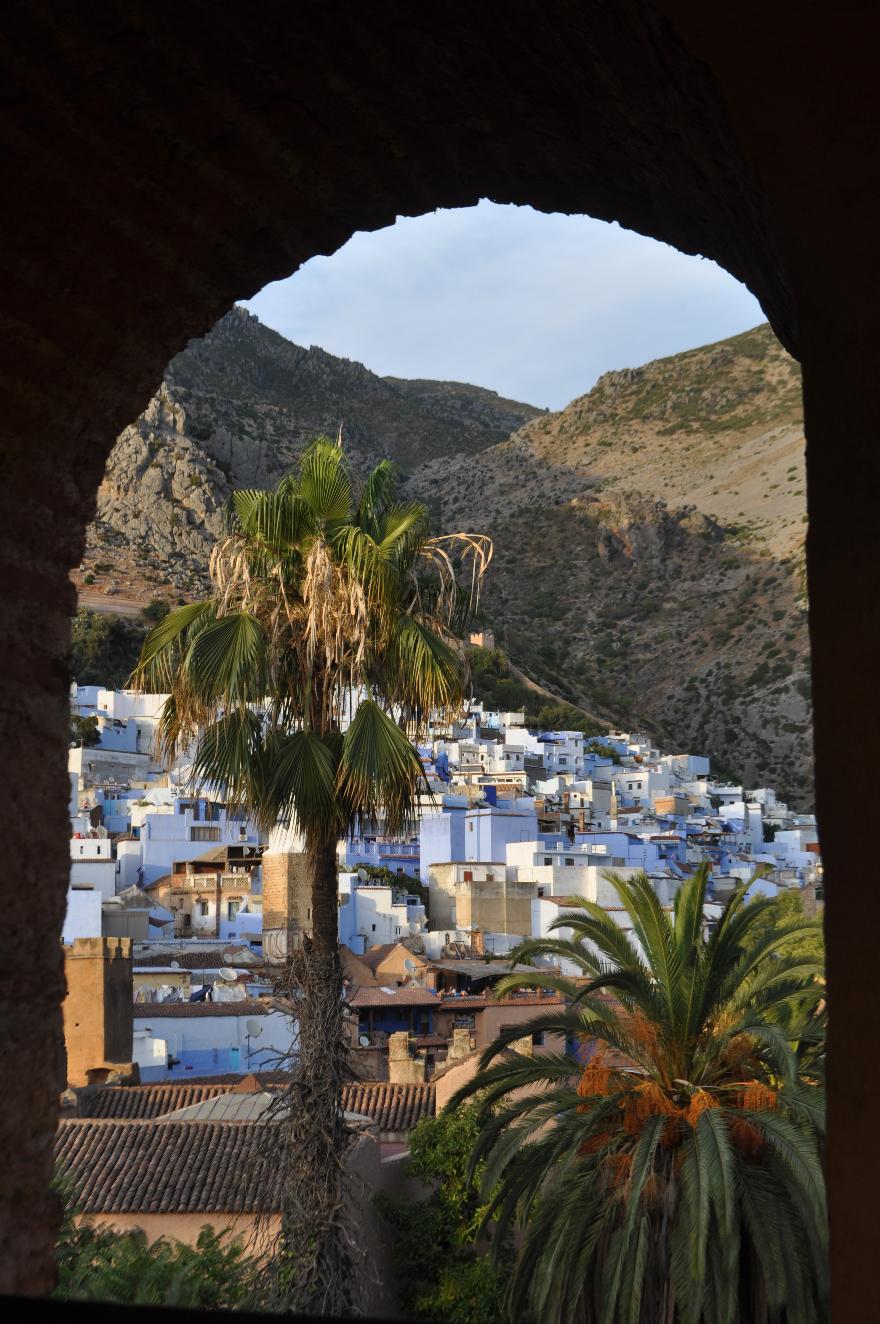 A cold gazpacho soup and a chicken couscous.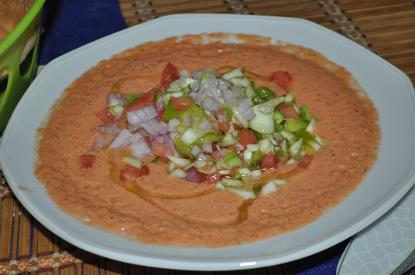 September 14, 2015 - Riad Zyo, Rabat to Asilah to Chefchaouen
After another interesting breakfast, including the 'judge's hair', a stringy dish shaped like the wigs worn by judges we were met by Amar, our driver and tour guide for the next 21 days from Around Morocco Tours (www.aroundmorocco.com). Right from the beginning Amar began sharing his vast knowledge of Morocco, his life and that of his family. We learned more this first day than most other trips in their entirety.
Our first stop was the Mausoleum Mohamed V the grandfather of the current king of Morocco, Mohamed VI, apparently well liked. The Mausoleum is of course very ornate, complete with guards - presumably ceremonial but still with rifles.
We then left Rabat, driving north a couple of hours to the former Portuguese sea-side town of Asilah. A pretty little town originally dating back to 1500 BC the Portuguese captured Asilah in 1471, then abandoning it a short while later in 1549. Each year this sea-side resort holds a music and arts festival with the best murals remaining throughout the following year. Many from Tangier and Spain have holiday apartments in Asilah. It was quite enjoyable to wander through the alleys of the medina. After a short stop for a drink (fresh orange juice) we continued north towards Tangier and then west through Tetouan, along the Mediterranean Sea and then through the Rif mountains to Chefchaouen, our destination for the next two nights.

The drive up the west / Atlantic coast was ok but nothing spectacular.
Flocks of sheep with shepherds, donkeys pulling carts, greenhouses of bananas and the groundwork of the tracks for the new TGV fast train from Rabat to Tangier were pretty much it.
Asilah is a pretty little town but it was the drive along the Mediterranean coast and through the mountains that was the highlight of the trip.
Locals - virtually all women working the fields, carrying produce, hay, etc., dressed in traditional red striped skirts with straw hats adorned with pom-poms unique to the region were commonplace as we drove through gorges and valleys carved through the mountains.
Chefchaouen, also founded in 1471, is named after the shape of the mountain tops above the town that look like the two horns (chaoua) of a goat. "Chef Chaouen" derives from the Berber word for horns, Ichawen.
The city of 43,000 is distinct due to its blue-rinsed houses and buildings. The blue is believed to have been introduced to the town by Jewish refugees in 1930 who considered blue to symbolize the sky and heaven.
Chefchaouen is a popular shopping destination offering many native handicrafts not available elsewhere in Morocco, including wool garments and woven blankets. The goat cheese native to the area is also popular.
We arrived at sunset, and checked into our riad – Riad Assilah just off the main square in the Medina. Somewhat surprisingly the riad is very quiet. After the welcoming mint tea, served by Amar, and a nice chat with an American couple and their daughter who is in the Peace Corps we found a nearby restaurant for dinner. Gayle only had a salad – with goat cheese of course – and I a tasty beef (although there was very little beef) tagine. Sleep came quickly.


We left Rabat traveling north to Asilah which is about 35 km south of Tangier, right on the Atlantic ocean. We then drove west through Tetouan (where King Mohamed VI was staying - flags and police everywhere), along the Mediterranian (Alboran) Sea and then south through the Rif mountains to Chefchaouen.



Breakfast, including the judge's hat at the bottom.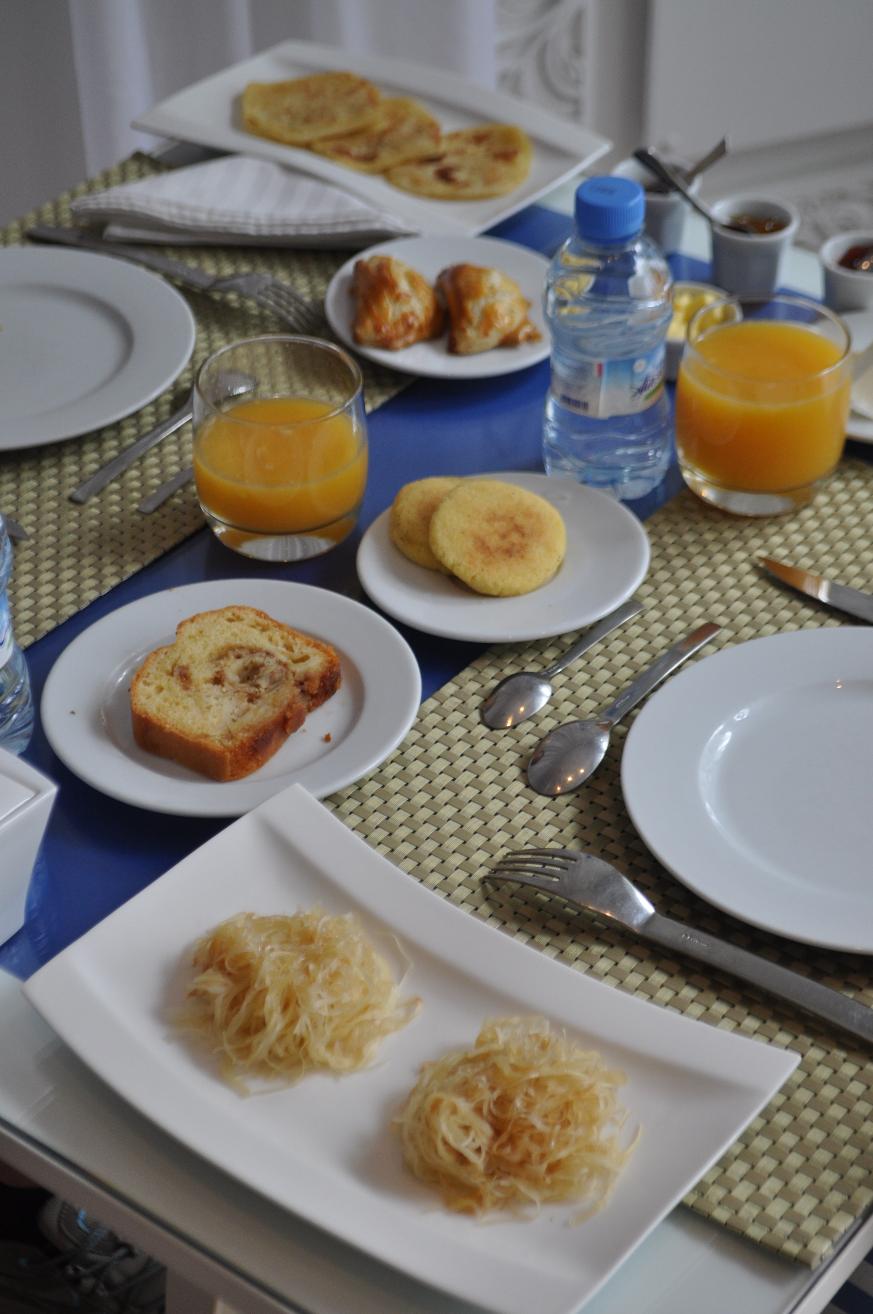 Inside the Mausoleum Mohamed V - one of the four guards at each corner and a portion of the stained glass roof.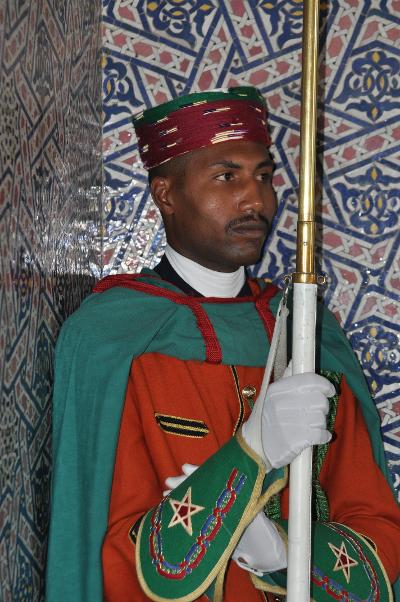 One of the guarded entrances to the Mausoleum.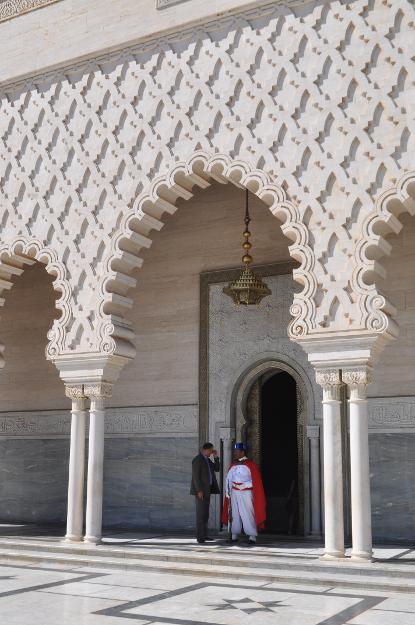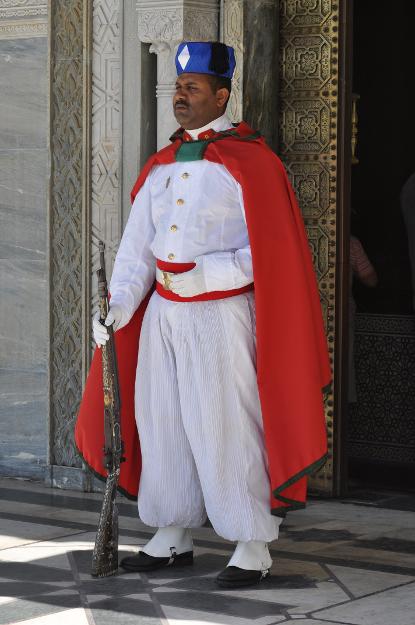 Outside the Mausoleum Mohamed V.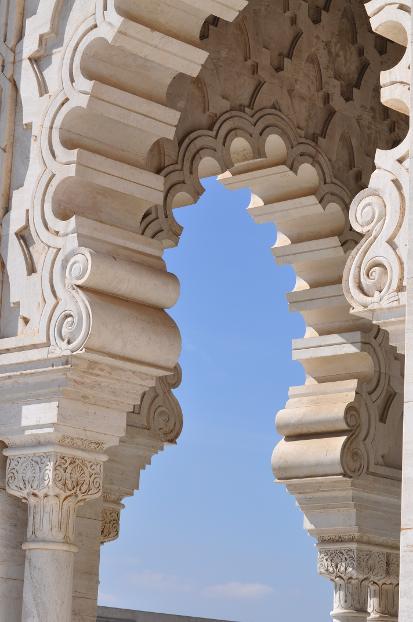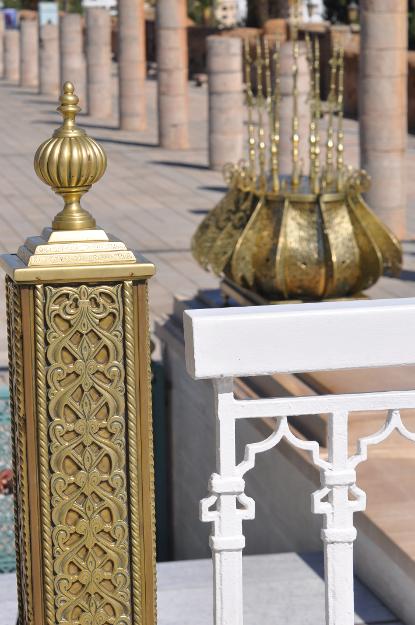 An interesting (at least to us) photo of walls of a building within the medina of Asilah.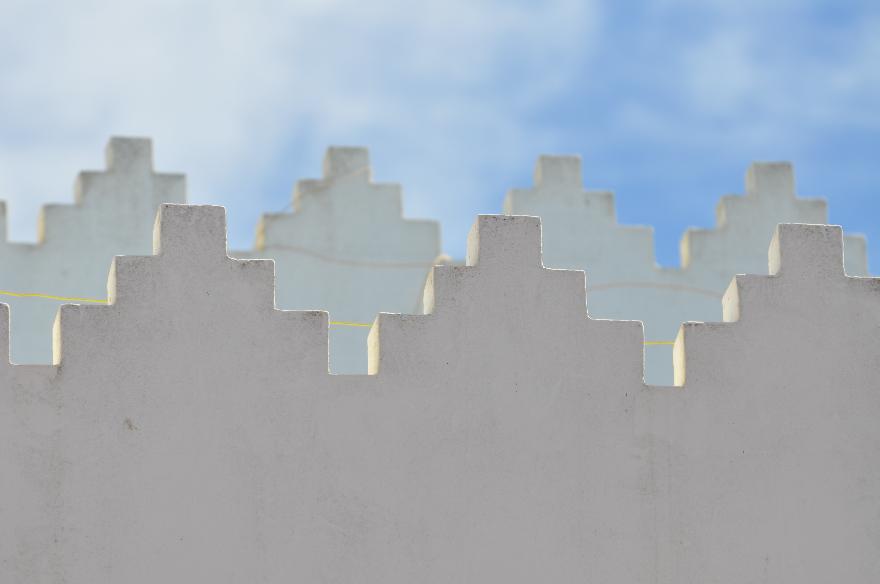 The medina of Asilah hugging the sea-side. A very attractive town.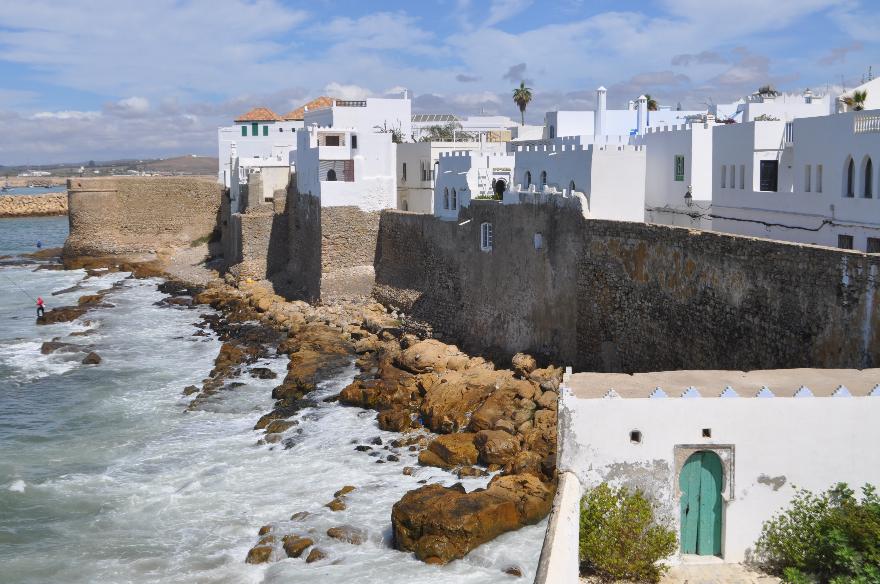 A gentleman on the street outside the Asilah medina.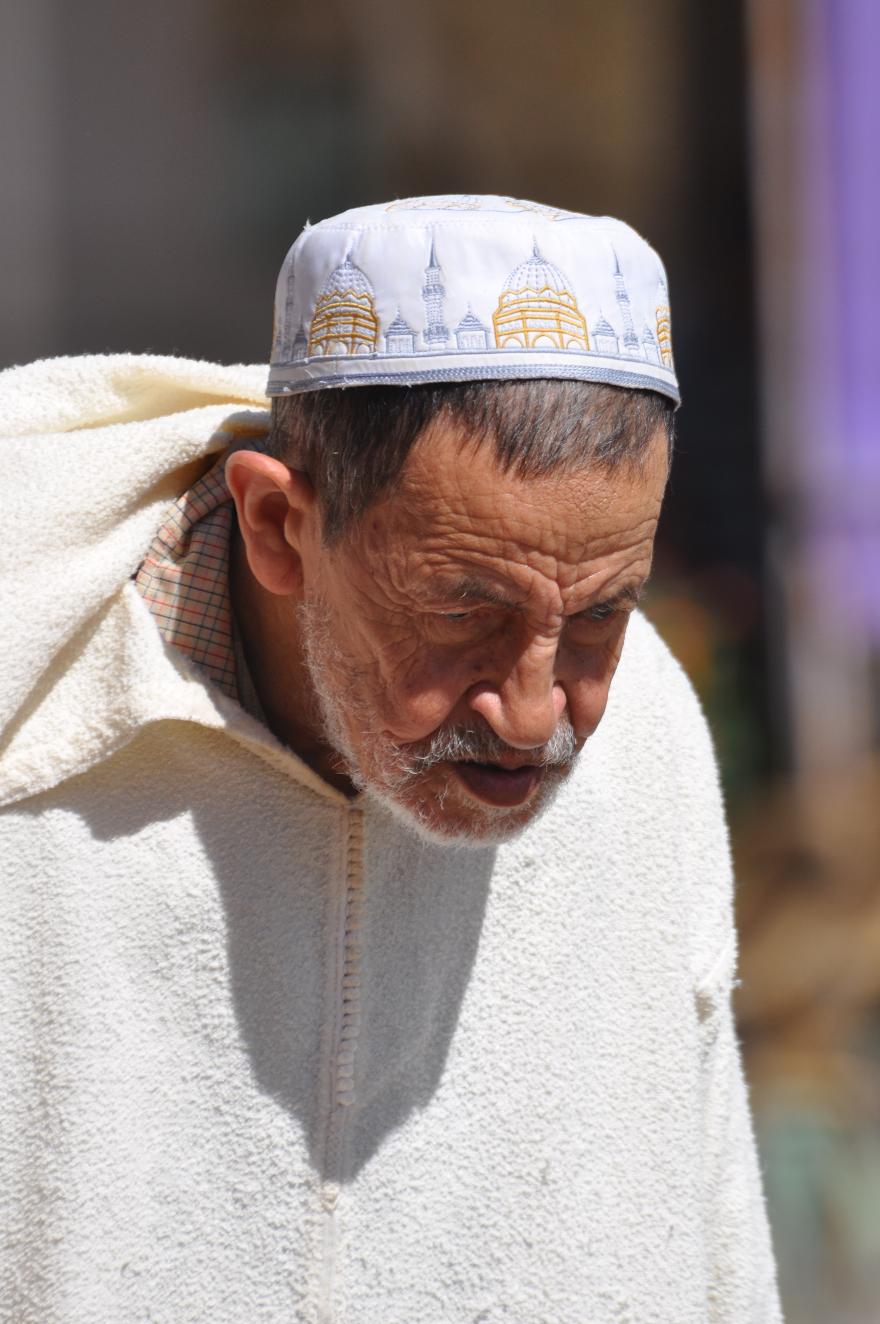 Ok, so we did not have to wait until the desert to see our first camels - here they were on the beach of Asilah.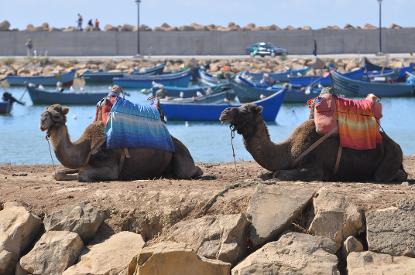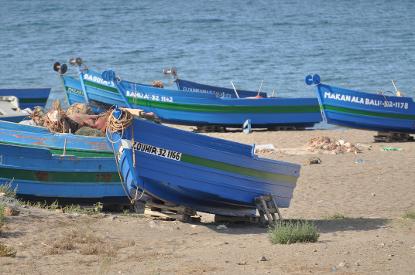 One of the beautiful beaches on the Mediterranean along the north coast of Morocco.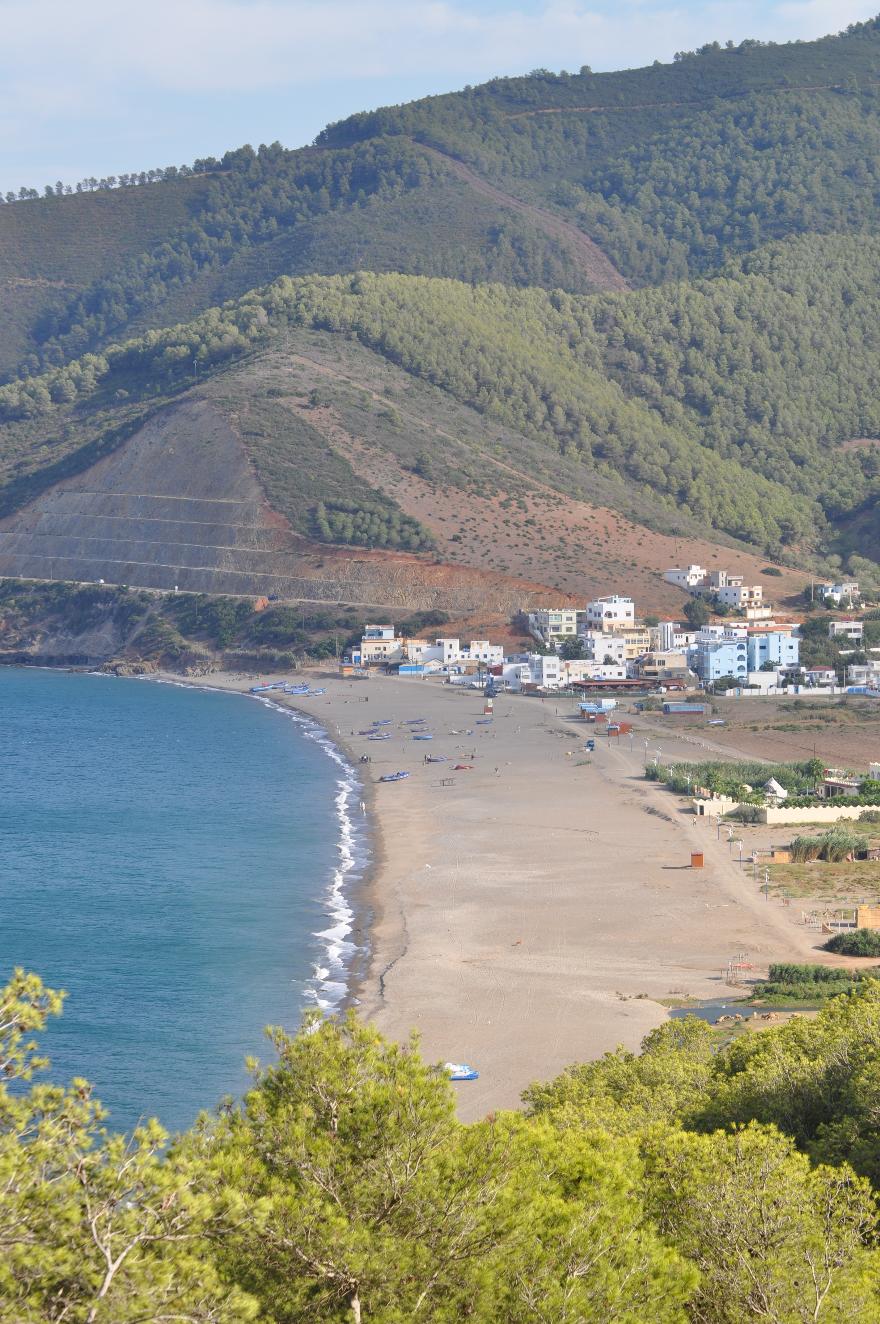 Women in their traditional red skirts and hats in the mountains north of Chefchaouen.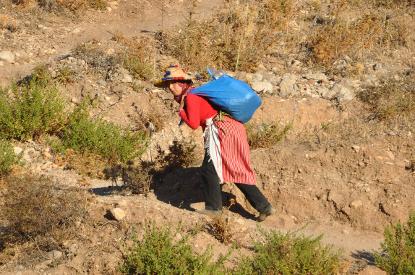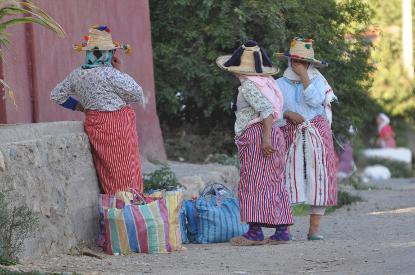 Amar - our driver, guide and teacher for the next three weeks And he knows how to pour the mint tea with a nice froth.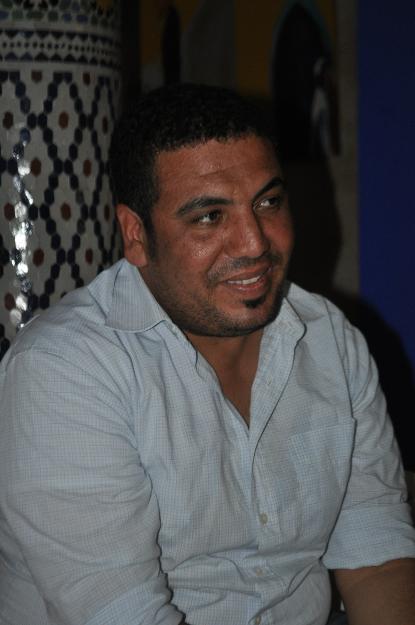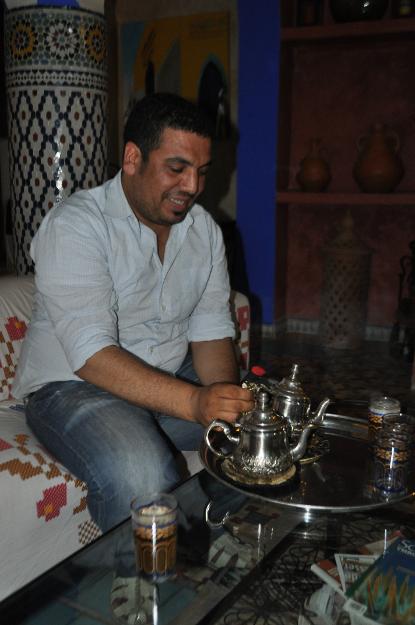 First lamb, then chicken, and now beef tagine - not much beef but very tasty.



September 13, 2015 - Riad Zyo, Rabat

A good part of the day is in the rear-view mirror when one does not get up until 10:30 am, but we clearly needed the sleep. We enjoyed our first Moroccan breakfast - very good coffee, orange juice, nice jams, coconut covered sweets, honey soaked light airy crepe known as a 'mille trou' for a good one is in theory to have more than a thousand hole, toast, and omelettes, either with cheese or smoked meat.

I then spent time completing the first day of this travel blog while at the same time chatting with Mohamed, one of the staff here at Riad Zyo. We talked about his family who lives in a rural area about 80 km north-east of Rabat, his time in the military, his life in comparison with that of his parents, his volunteering at a hospital etc. - a very interesting and informative chat.

Before we noticed it 2:00 pm had come and gone - so we finally left the riad to explore Rabat. Within 5 minutes of leaving we were approached by this fellow who offered to take us through the cemetery rather than directly to the Kasbah as was our plan. We will say we knew exactly what we were getting ourselves into - this fellow was a 'guide' who of course would expect to be paid. We decided to see how it would go for a few minutes. Rashid turned out to be polite and informative leading us through the most interesting cemetery, to and through the alleyways of the Kasbah. dating from 1337, and the nearby Andalucian Gardens. We then entered the medina for our first experience of the endless stalls selling this that and everything. It is somewhat overwhelming but being our first day we simply looked, rather than buy. As well, although Rashid struck as a decent guy one never knows who he has 'arrangements' with. He then zig-zagged us through the maze that is the medina somehow back to riad Zyo. Of course what we offered Rashid was not enough (we were later told by Mohamed we were very fair if not generous and 'guides' will always try to get more from tourists no matter how much is offered) but we more of less held our ground and parted ways.

After a short stop at our riad we again went out, walking the Avenue Mohamed V, a busy street market 'road' in the Medina, then expanding to a significant thoroughfare outside. With respect to being a pedestrian the good news is that yes Rabat has crosswalks, some very well marked. The not so good news is that there is not a driver who will yield for a pedestrian - the crosswalk are simply ignored. We had a lengthy walk with a museum as a destination. Unfortunately the Villa des Arts was not the 'Contemporary Museum' we had intended but oh well - we saw a more modern side of Rabat. What was very noticeable was how crowded and busy it was during the early evening, significantly more so than the afternoon.

We returned to Riad Zyo were we again had dinner - in part because we so much enjoyed our first meal, in part because Ali and staff have been so nice, and in part because the chef offered to prepare a vegetable tagine for Gayle. It is very rare that Gayle will eat as much as was provided but finish it she did. Another excellent meal with excellent service and conversation with Ali.

We were not expecting much from Rabat simply a stop to rest up before our tour. But it turned out considerably better - an interesting walk through the cemetery, Kasbah and Medina, a nice comfortable riad with excellent staff and interesting and excellent meals. An enjoyable experience and nice start to our trip.



The start to breakfast - jams and sweets (under the tagine like bowl).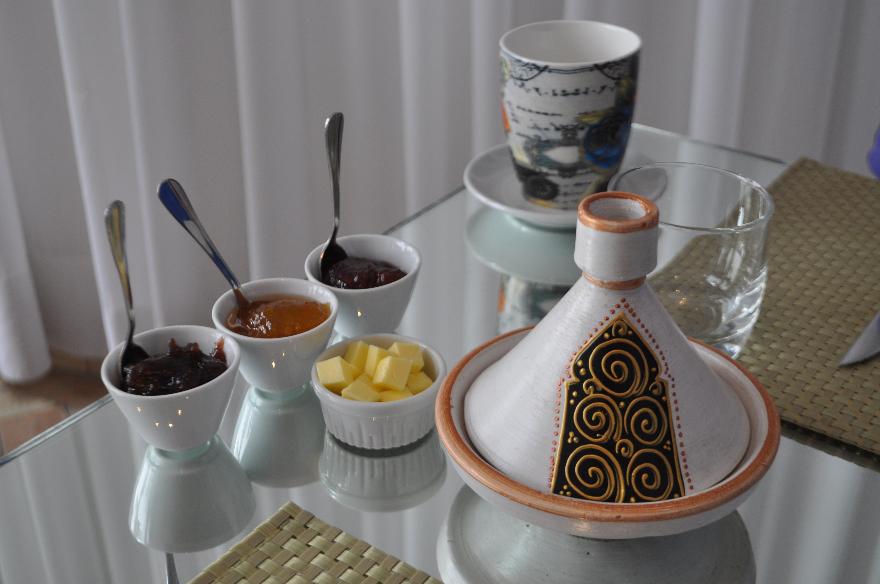 Only a portion of the Rabat cemetery.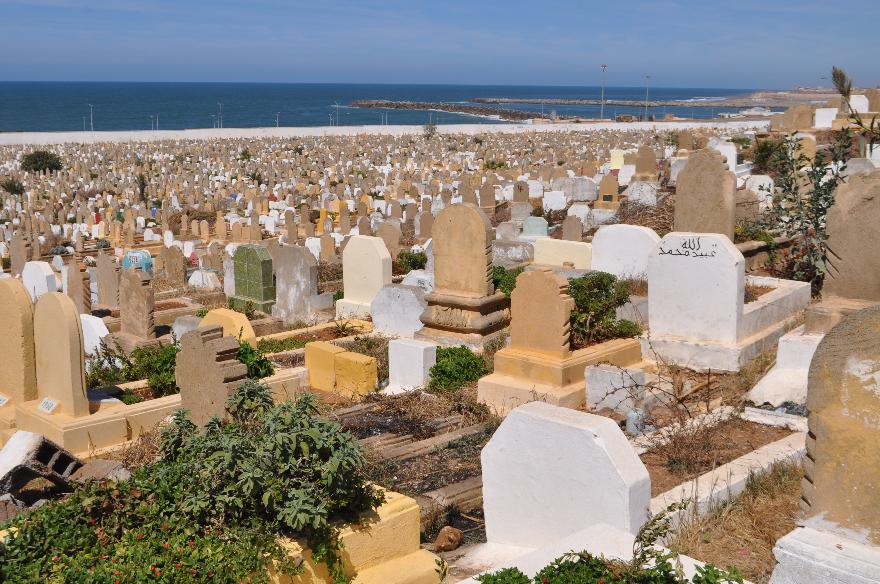 Leaving after a visit to the cemetery.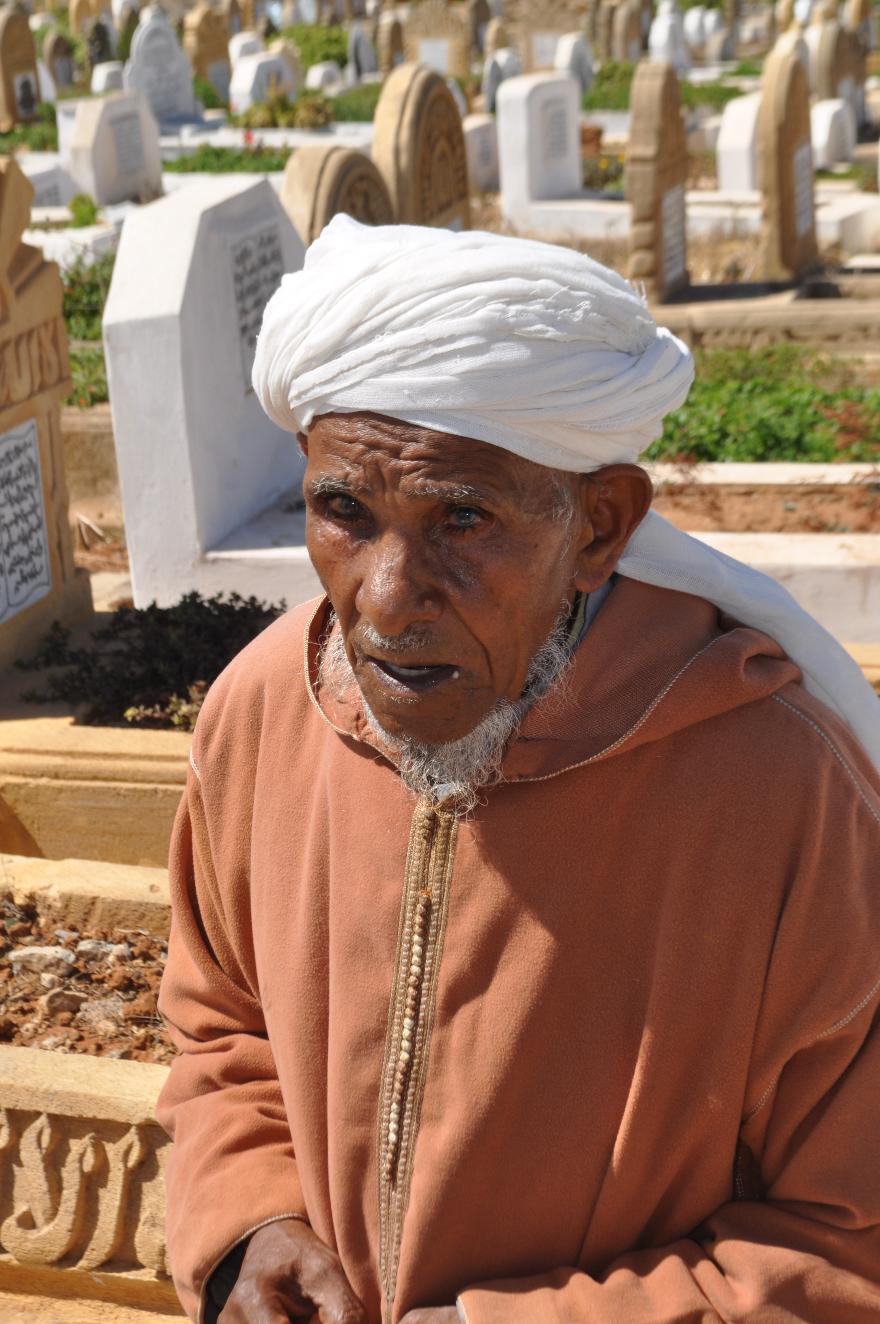 A couple of ornate doors seen on our walk.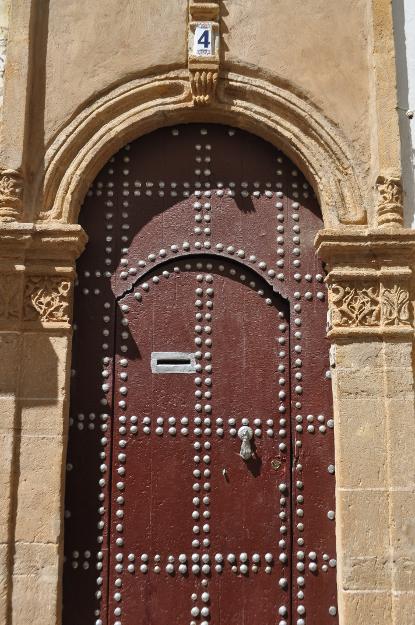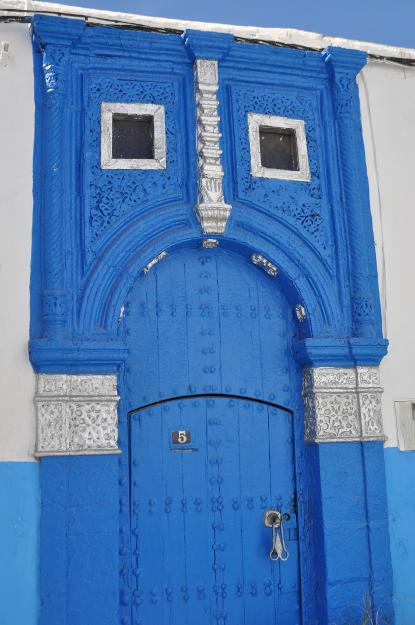 The walls of Rabat's Kasbah.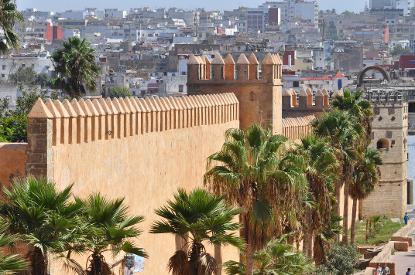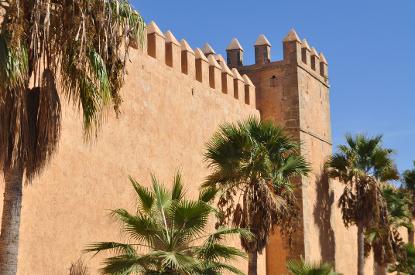 In the narrow alleyways of the Rabat Kasbah.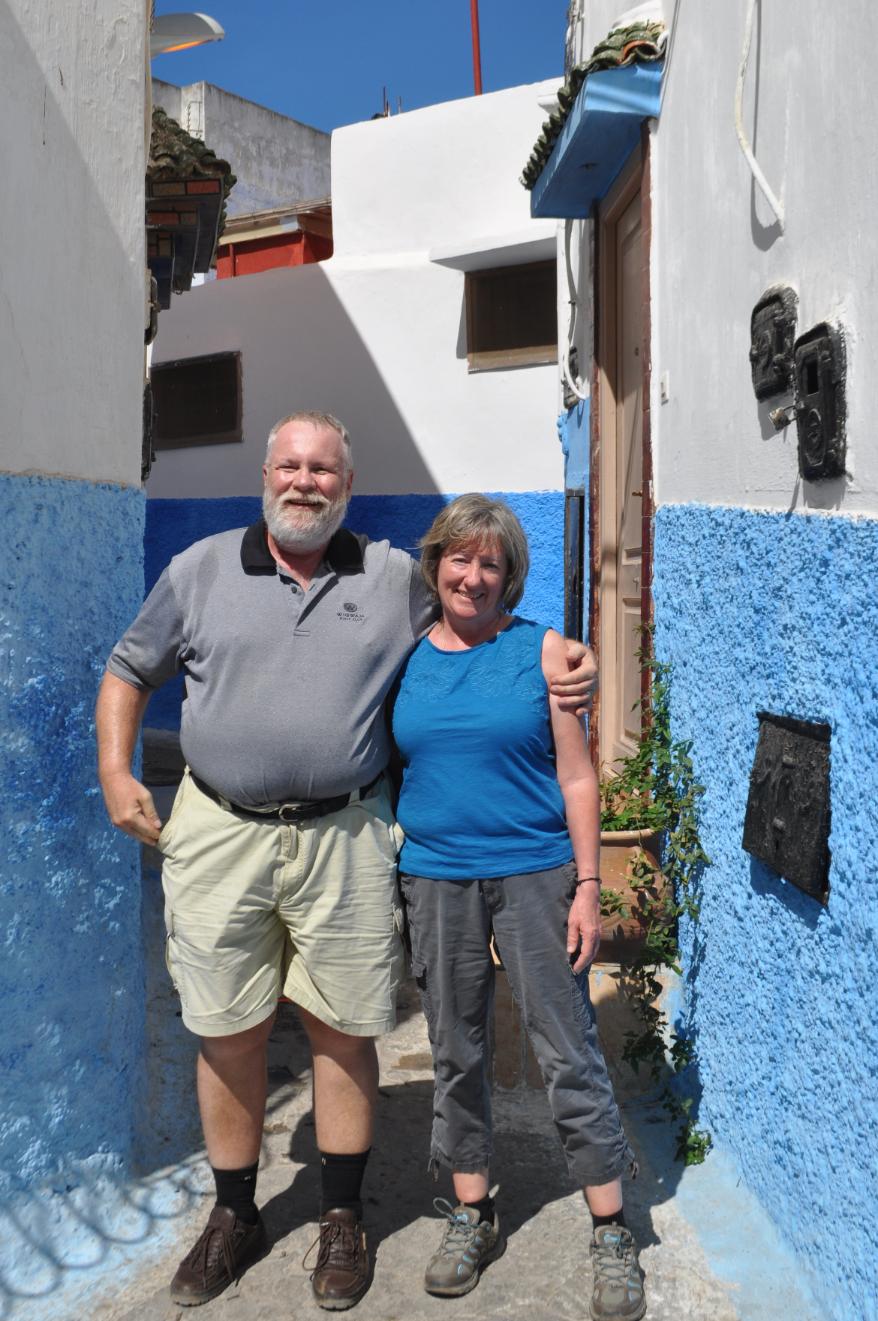 Gayle and our 'guide' Rashid.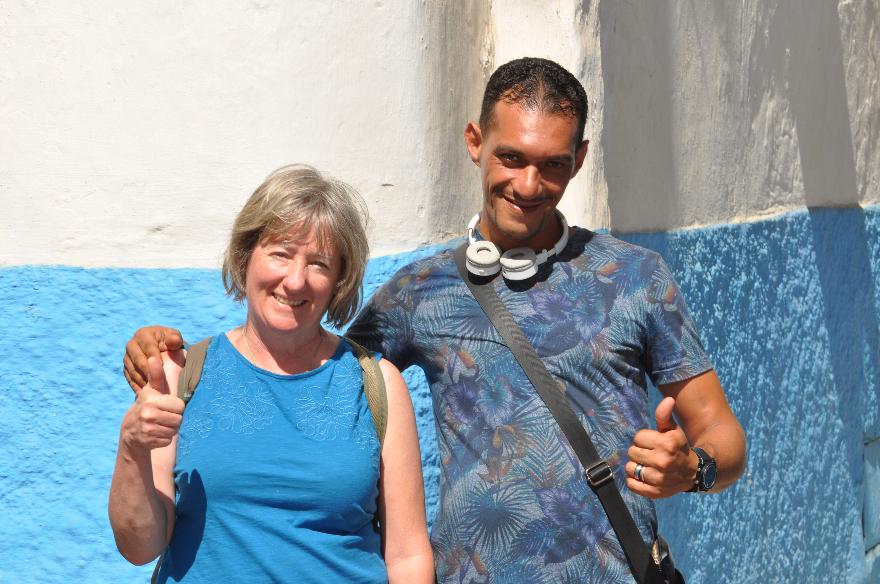 The (crowded) beach below the Kasbah and to the right the the city of Sale, just across the river from Rabat.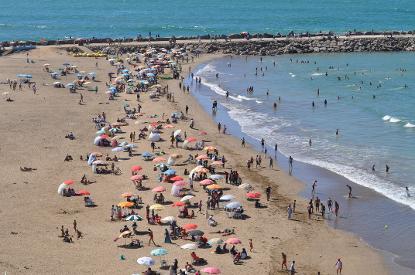 Some of the endless shopping in the medina - on the left pillow covers and the right a collection of shoes.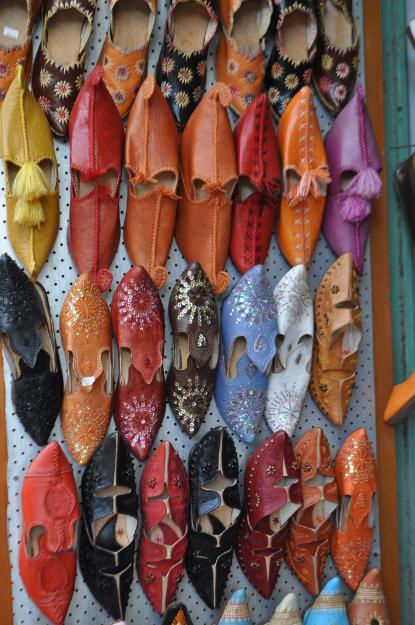 Avenue Mohamed V - one of the busiest and most important streets in Rabat.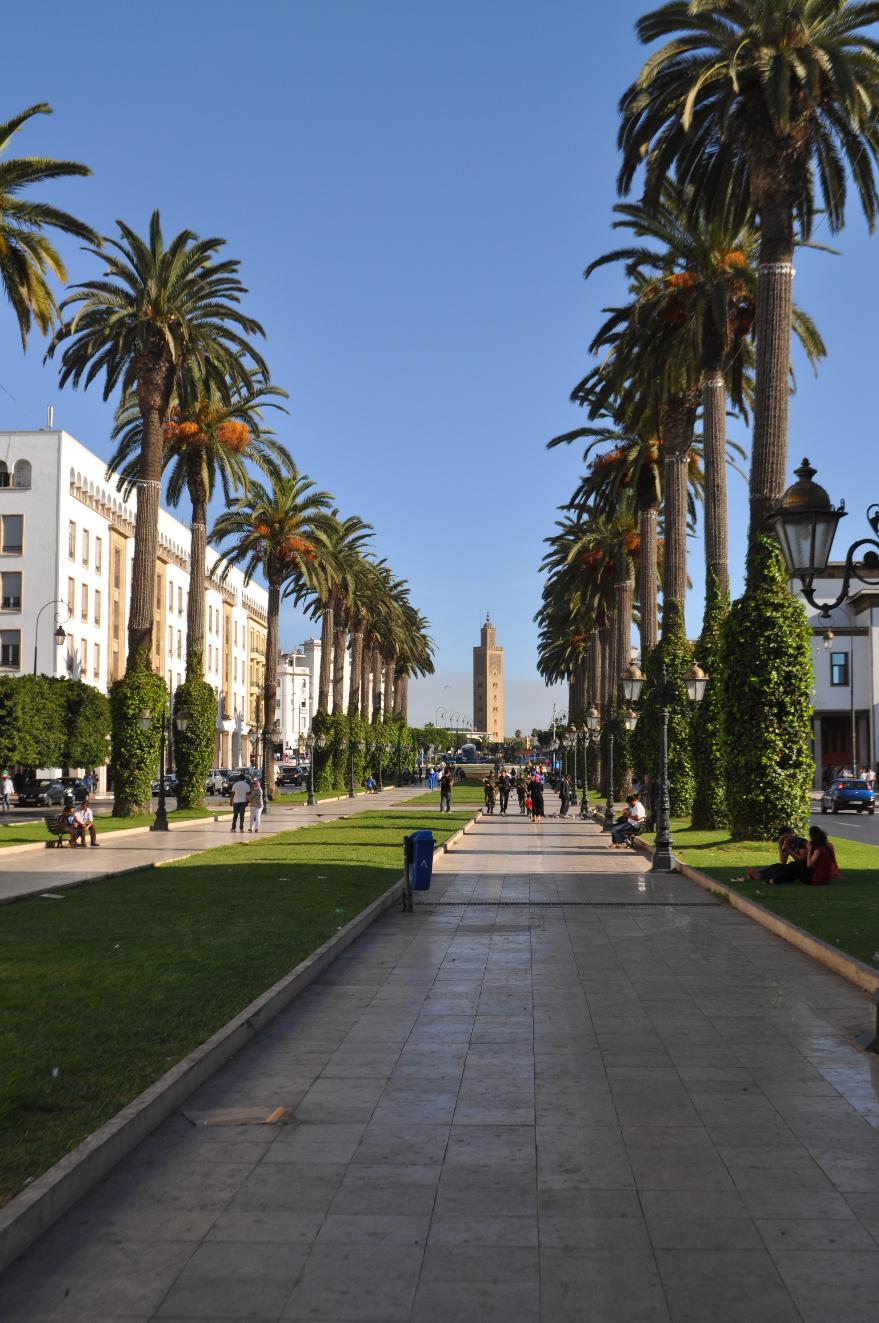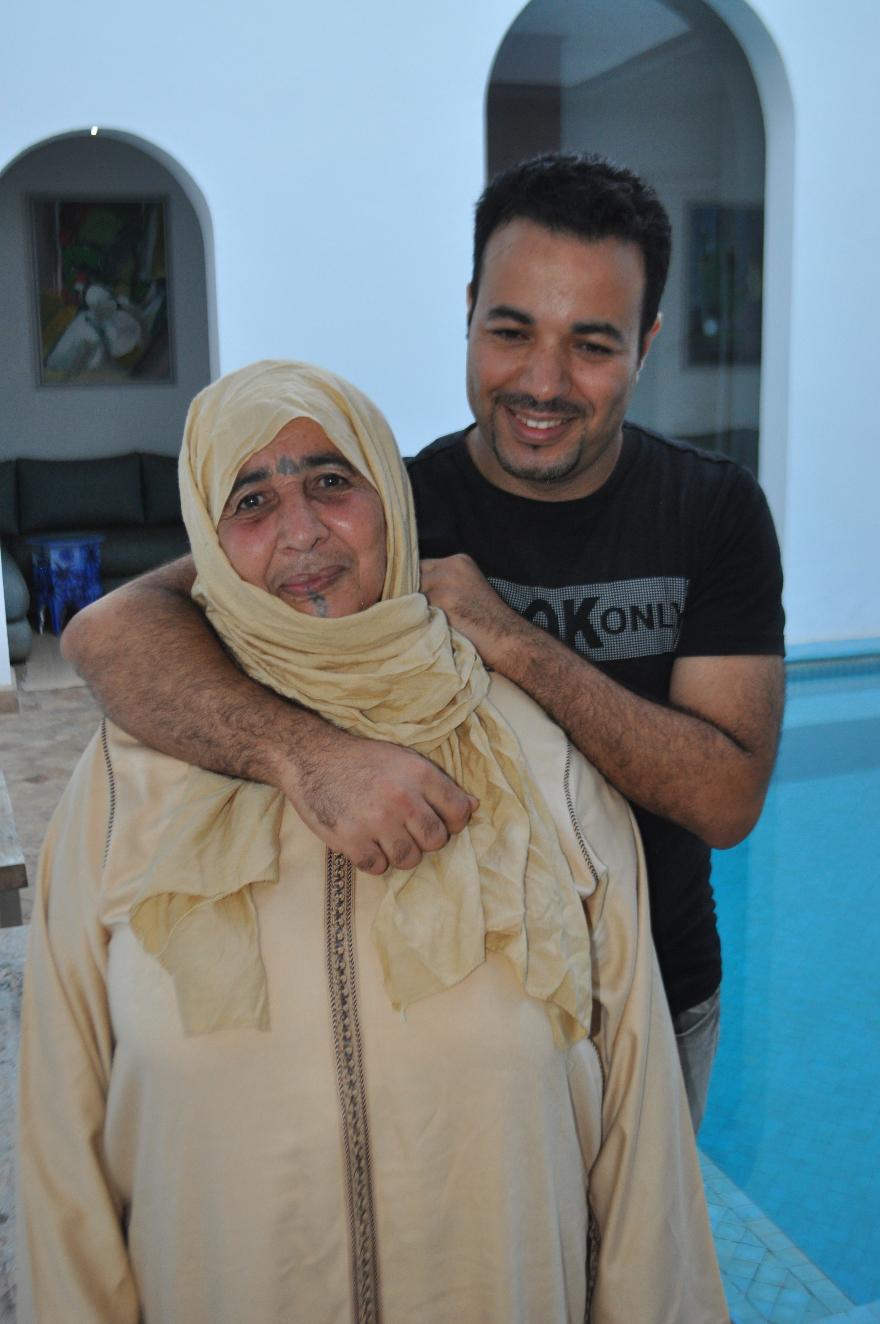 Enjoying the last of the evening sun on the roof-top terrace - real plants; real grass; real nice.



For an appetizer I had a collection of stuffed pastries (Briouat), with lamb, beef, cheese and spinach/fish, while as mentioned the chef made a special vegetable tagine for Gayle.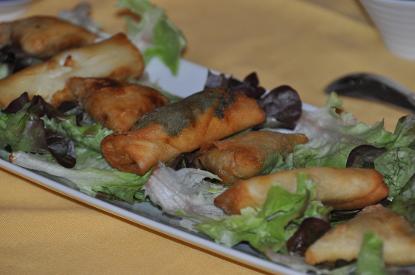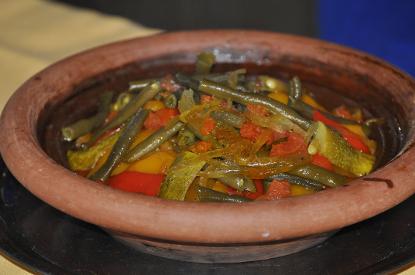 September 12, 2015 - Halifax to Toronto to Paris to Riad Zyo, Rabat
After three flights (Halifax to Toronto, Toronto to Paris and finally Paris to Rabat) we arrived at an oasis, the Riad Zyo, within the old Medina of Rabat. We were met by Mohamed who greeted us in the traditional manner with tea and cookies. Shortly after Ali, the owner of the riad joined us, spending a couple of hours chatting with us and providing us his wealth of knowledge about Rabat, his riad (which was originally a post office that he has renovated into this beautiful riad), Moroccan life, tourist sights, food, language etc.
Our rom, Kiad, is nice. Ali was generous enough to offer us the option of another larger (very nice) room overlooking the garden but stuck with our first choice with the interesting plaster 'plates' on the walls, a vibrant orange bedspread, an intricately carved wood chest and a nice large bathroom.
After a short nap (the few hours sleeping on the plane is never great, leaving us somewhat exhausted) we ate here in the riad, enjoying a wonderful meal. We both had salads, Gayle a Moroccan salad which is really four small salads, one each of carrot, zucchini, aubergine and peppers, and me a fresh salad of dry figs, fresh cheese (which was extremely good) and cashews. I then had a delicious lamb tagine with apricots and prunes along with couscous. With the meal we had a half bottle of Moroccan wine which was surprisingly much better than expected - really very good. For dessert we had a cinnamon ice cream along with an apple tart and praline sticks - a really nice way to finish an excellent meal.
And of course it did not take us long to fall fast asleep.

Mohamed pouring us tea both at dinner, and upon fist arriving.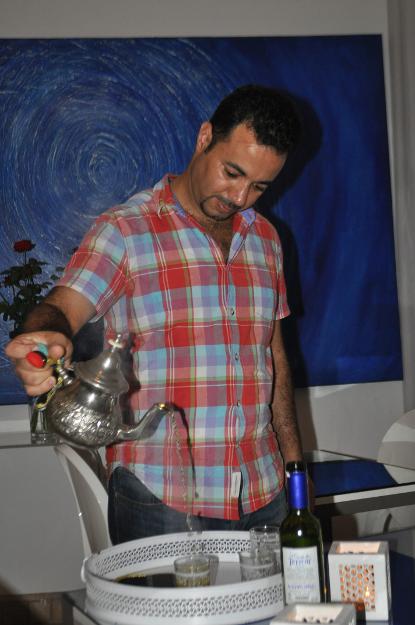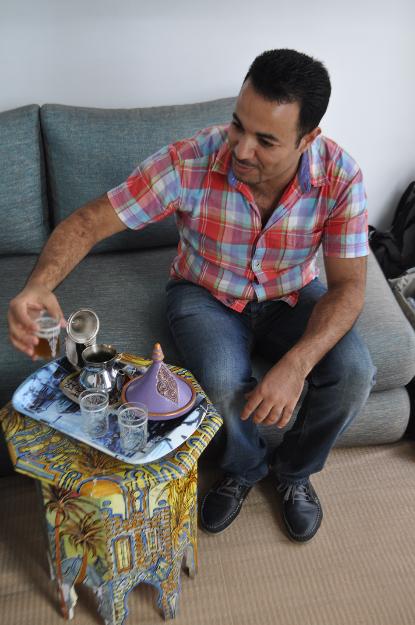 The interior of Riad Zyo - the pool along with the garden. The central area, unlike many riads is open making it very light / bright. As well there is a nice roof-top terrace.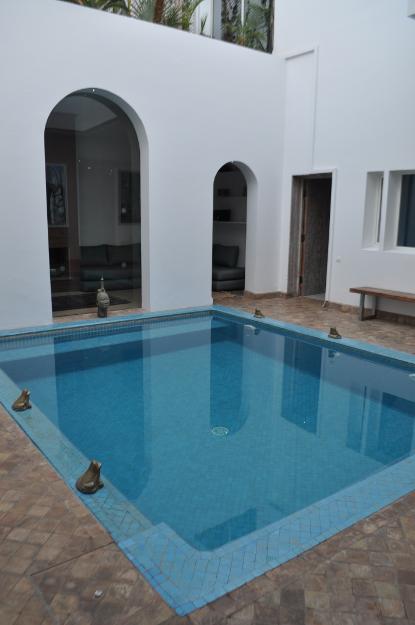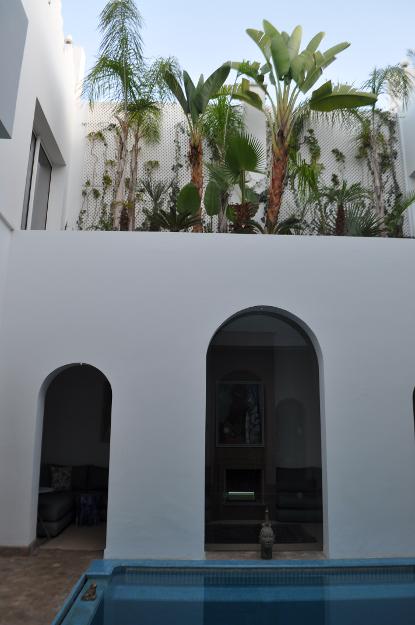 Our room - Kaid room with its vibrant orange bedspread, plaster wall 'plates', set off by a beautifully carved wood chest.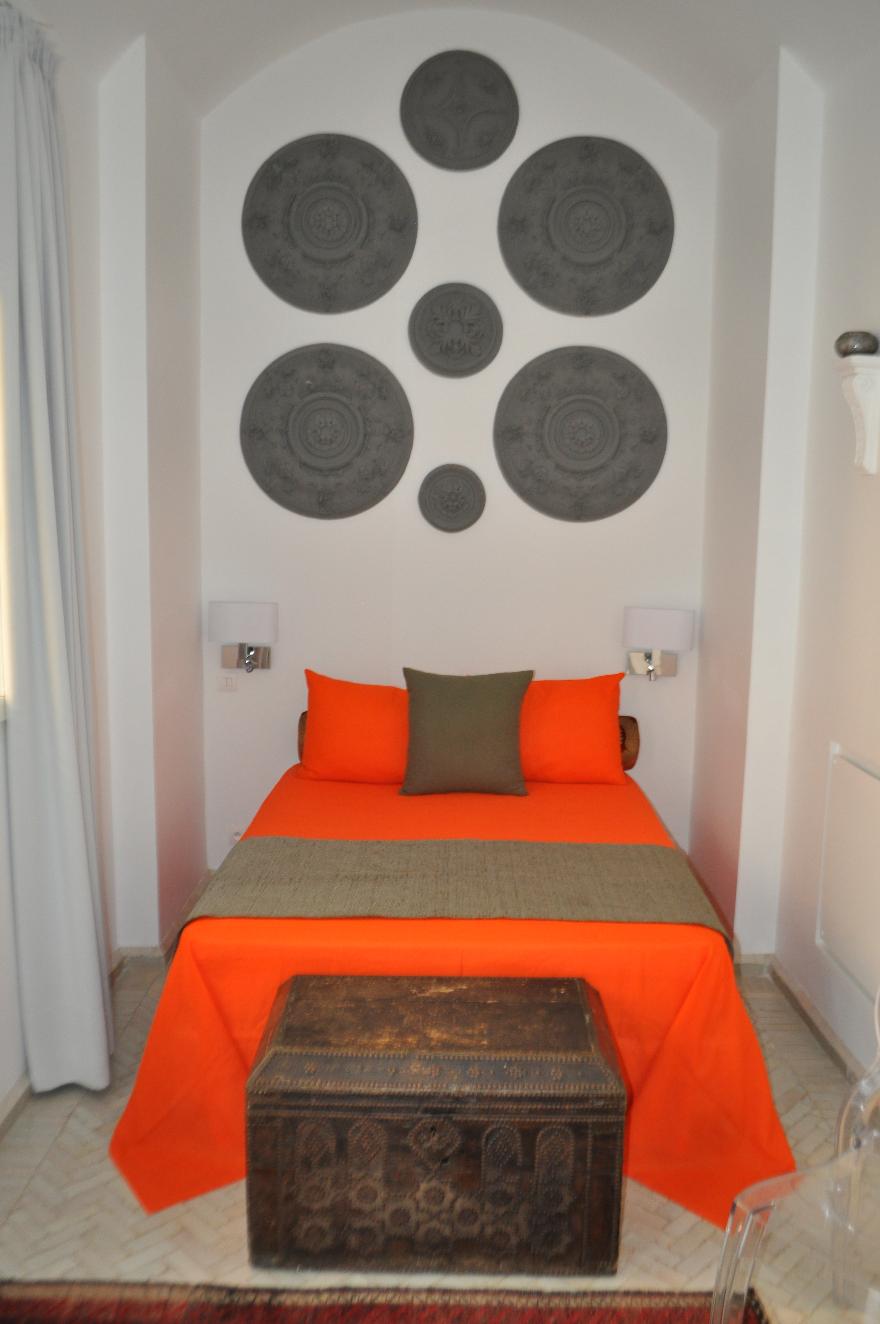 Gayle relaxing in our riad, checking in on the news back home.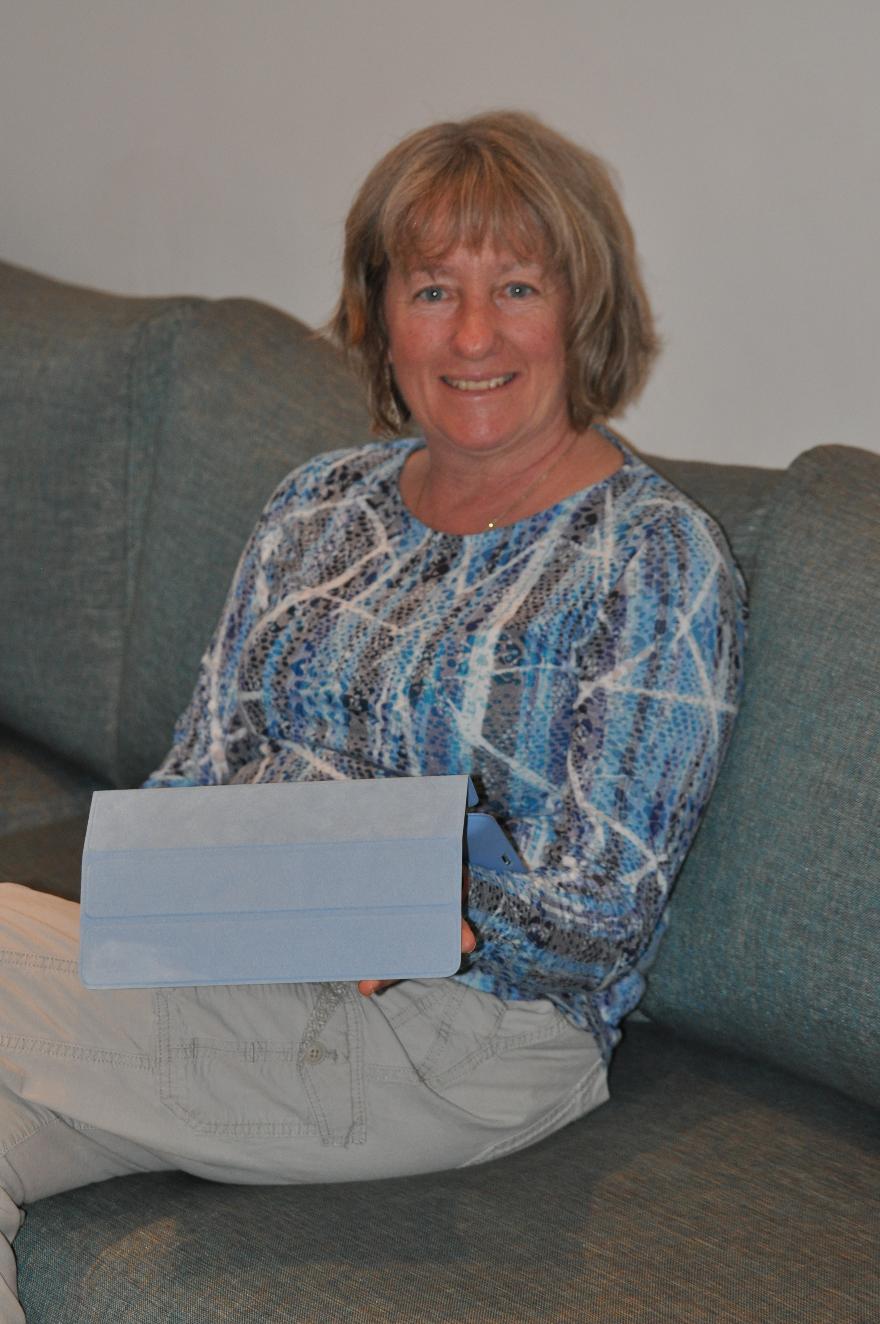 The walls of Riad Zyo spotlighted against the black night sky.
The Moroccan salad - really four small salads - carrot, aubergine, zucchini and peppers and the lamb tagine served in the traditional Moroccan clay tagine cooker.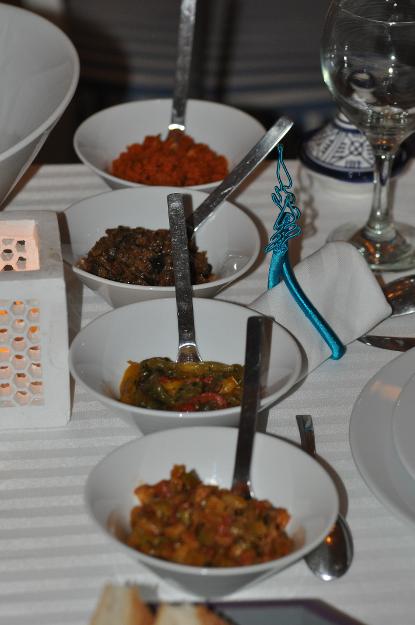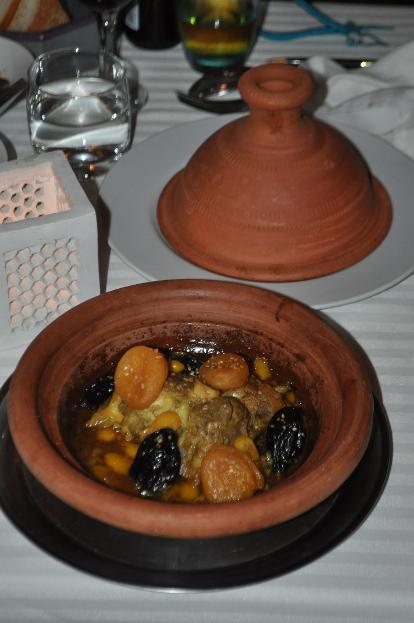 The lamb tagine with apricots and prunes.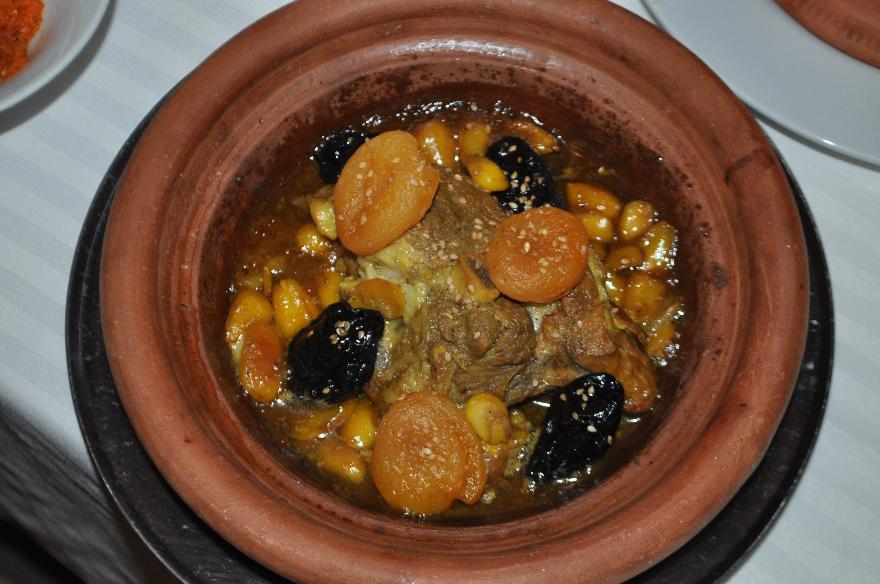 Dessert consisted of cinnamon ice cream, an apple pastry and praline sticks.


September 11, 2015
We're ready to go. We have our dirhams (currency of Morocco), euros and logistics hopefully all in place.
Today we fly Halifax to Toronto, overnight to Paris and then on to Rabat, the capital of Morocco. Our first two nights will be in Rabat from where we will be picked up for our 21 day private tour, ending in Marrakech where we will spend our last four days. The tour is with Around Morocco Tours (www.aroundmorocco.com)
We had read a number of opinions re self-driving in Morocco, from don't worry to don't. Advice such as
slow down even on green lights

police strictly enforce the speed limit, even going a mere 5 km over

consider the center line and traffic lanes as 'guidelines'

be aware of who has the right of way in roundabouts - some it is the vehicle in the roundabout, others it is the vehicle on the entry road

on auto routes watch out for 1) extremely fast cars 2) extremely slow cars and 3) pedestrians
learn to use gestures to say 'sorry' and 'thanks
Which is all to say Gayle (as yes me too) was somewhat worried about driving in a country with apparently questionable driving habits, Arabic signage - yes there will be English and French signs but out in the rural areas perhaps not - and some large cities we want to experience. So we researched alternatives and found a highly rated tour company that provides 'private' tours. It will be interesting - I'm not looking forward to being a passenger for 21 days and hopefully all will work out well with our driver. On the other hand the few times we have taken private tours (Thailand and Cuba) they were great experiences, very personal through which we saw and experienced aspects of the area we never would have, e.g. visiting the home of the parents of our driver in Cuba. So we're really looking forward to this different way of travelling and exploring Morocco.
We chose Around Morocco, combining their Morocco Grand Tour and some elements of the South and the Amazigh Culture tour, with a couple of additional stops not included in either. We were communicating with Lahcen, the owner of the operation to request in a few places alternative accommodations. All was good until we didn't hear back from Lahcen in response to an email in May. No biggie we thought, eventually following up in early August. Again not hearing back for over a week we contacted them again. In response we received an email advising that Lahcen had passed away - a stroke or heart attack apparently, very unexpected. Lahcen Boujouija who created Around Morocco Tours, was born in 1972 in the small Berber town of Merzouga, in south eastern Morocco. Raised in the Erg Chebbi of the Sahara Desert he lead a nomadic life with camels, developed sustainable tourism and was a cultural tour guide in Morocco for more than 10 years. Lahcen attended the University in Meknes, where he gained his degree in English Literature and mastered several languages. Because of his love for his country, he chose to be an ambassador for Morocco by sharing Moroccan Culture with his visitors. Lahcen left us early on 22nd May 2015, may he Rest in Peace. Insha Allah he is in Paradise. His family, friends and Around Morocco d can't say enough words about this man, how great he treated everyone - young, adults and seniors. He was one of those unique people who you might meet for the first time and feel he has touched your heart. As a testimonial the website notes "We learnt so much from this man, who has been a blessing for all who knew him. We learnt how to be humble, rich in heart and to treat all people equally. Lahcen taught us to share all we can of what we love about our culture, history and the roots of the Amazigh people."
Lahcen's passing was quite a shock but fortunately his sons/nephews are keeping the business going. We have been assured Amar will meet us Monday morning at our riad (a traditional house or palace in Morocco with an interior garden or courtyard). While we are not worried it will certainly be nice when Amar arrives and introduces himself.
The first week internet access should be pretty good so I'm hopeful I can keep the travelogue reasonably current. When we get to the Sahara we will have to see.