Memories of Spain / France / Menorca: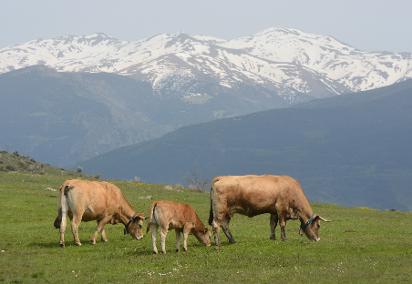 We knew this trip would take us to both the mountains and the sea, and as you can see from the these photos it certainly did. Here are our most vivid memories of the trip, in no particular order

the character, quality and value of all our chosen lodgings
returning to Casa de San Martin - it was every bit as beautiful as we remembered
returning to Casa Javier and the mushroom ice-cream
the abundance of wildflowers in the Pyrenees
the scenic beaches of Menorca, including the opportunity for a few short swims
the rural countryside of Menorca, including the flowers and animals (horses, donkeys, pigs, sheep etc.)
the horses freely galloping the fields of Menorca
sunsets at Ses Talaies
mesmerized by the I-Mow and the proliferation of mushrooms each morning
the sounds of the birds early each morning
the drive from Seix through Alos to Moulis
eating pinxtos (tapas) in Getaria
just walking leisurely through Barcelona, the interesting architecture; having a slice of pizza by the Arc de Triomf; sitting on a park bench by the jacaranda tree
our cancelled flight to Menorca, and the subsequent bus rides to/from Calalla
Ramon (Heredad Beragu); David and Andre and Crina (Casa de San Martin); Sole (El Acebo de Casa Muria); Kevin and Becks (L'Ancienne Bergerie); Eve and Antony (Domaine des Massols); Quim and Eduard (Chateau-Brangoly); Cristine and Maria (Ses Talaies); Andres and Anna and Marie and Maria (Binigaus Vell); and Daniele and Silvia (Binissfullet Vell)
walking up to the church and the crypt of the Gallipienzo church
the views from Enclave Soria, Itxas-Gain, Heredad Beragu, Casa de San Martin, El Acebo de Casa Muria, L'Ancienne Bergerie, Domaine des Massols, Chateua-Brangoly, Can Cuch, Ses Talaies and Binigaus Vell
driving the mountains of the Pyrenees
the mountain scenery (and enjoying a drink) at Hotel Hospital de Benasque
Gayle standing in the snow
the history of Casa de San Martin and the surrounding abandoned villages explained to us by David
driving a portion of an upcoming stage of the Tour de France
enjoying a fabulous meal at Chateau-Brangoly with Carol and Louie
enjoying a half bottle of Muga most days after arriving at our destination
the bottle of Muga cava at Hotel Can Cuch
literally being in the clouds one morning at Can Cuch
the 'conversation' with Ignacio the shepherd at Heredad Beragu
the rainbows at Casa de San Martin
the Spanish water dog and Australian Labradoodle encountered at a market
the superb quality of the meals whenever dinner was served at our lodging
the warming fire during dinner at Domaine des Massols
the stories of the restoration of Casa de San Martin and Domaine des Massols
the impromptu music performance at L'Ancienne Bergerie
breakfasts, including most days fresh orange juice
Expenses (based on average exchange rate 1 euro = $1.57 Cdn):
Here are the costs of our trip
$ 2,206 airfare - to/from Spain and to/from Menorca
$ 6,378 lodging (146 euros or $228 per night)
$ 2,595 food (60 euros or $93 per day - primarily dinner including wine)
$ 1,214 car rental ($689 or $27 per day), fuel ($435) and taxi ($90)
$ 105 miscellaneous
$12,498
Excluding the $1,868 of airfare to/from Spain the average cost per day (including airfare to/from Menorca, lodging, food, vehicle and miscellaneous) was $380.
Our goal re airfare to Europe is to try to stay < $1,000 each return. The cost into Madrid (via Toronto) and out of Barcelona (via Montreal) was $934 per person. Adding the return Barcelona to Menorca flights of $169 each brought the total return airfare for both of us to $2,206, taxes and fees included.
Food and wine, keeping in mind all breakfasts were included in the lodging cost, was a very reasonable 60 euros ($93) per day. Given the filling (generally buffet) breakfasts we rarely have lunch so this is pretty reflective of an average cost for dinner, including wine. Note all food costs include tax and tips. The average daily amount spent on food this trip was consistent with (just slightly less than) our 2017 trip to Spain of 63 euros and the 2014 trip to Portugal / Spain of 62 euros. As one can no doubt assess from the food photos we ate very well.
When considering the cost of the lodging one should separate the mainland excluding Barcelona, Barcelona on its own and Menorca, the latter two being somewhat more expensive. Lodging ranged from a low of 45 euros to a high of 256 euros a night, often reflecting upgrades to nicer rooms. For example, Binigaus Vell where we paid the most - 256 euros for a superior double has standard rooms for 206 euros. Here is a list of where we stayed, the amount we paid and the website.
45 euros Enclave Soria Herreros http://www.enclavesoria.es/en
109 euros Palacio de Casafuerte Zarraton http://www.palaciodecasafuerte.com
157 euros Hotel Itxas Gain Getaria http://www.hotelitxasgain.com
130 euros Heredad Beragu Hotel Gallipienzo http://www.heredadberaguhotel.com
185 euros Casa de San Martin San Martin de la Solano http://www.casadesanmartin.com
158 euros El Acebo de Casa Muria Renanue http://www.casamuria.com
75 euros L'Ancienne Bergerie Galey, France http://www.anciennebergerie.com
80 euros Domaine des Massols Marsa, France http://www.domainedesmassols.com
155 euros Le Chateau Brangoly Enveitg, France http://www.chateau-brangoly.com
155 euros Hotel Can Cuch Canoves http://www.hotelcancuch.com
188 euros We Boutique Hotel Barcelona http://www.weboutiquehotel.com
150 euros Ses Talaies Ciutadella, Menorca http://www.sestalaies.com
256 euros Binigaus Vell Es Migjorn Gran, Menorca http://www.binigausvell.com
132 euros Binissafullet Vell Sant Lluis, Menorca http://www.binissafullet.com
It is our practice not to using any booking agency, e.g. Booking.com but rather book online directly with each place we stay, after having contacted through email. In this way we save the establishment the booking commission and are familiar to the staff when we arrive.
The average lodging cost on the mainland, excl. Barcelona was 132 euros ($207) or 108 euros ($170) without upgrades. In our view this is exceptional value for the quality of lodging / breakfast we enjoyed. As expected in a major city such as Barcelona the cost was somewhat higher at 188 euros ($295). And finally in Menorca we averaged 171 euros ($268). Overall we spent an average of 146 euros ($229) on lodging, about 10% less than last year which was influenced by even higher costs on the island of Majorca.
The average cost of lodging of our European trips over the past number of years has been, on average
160 euros - 2017 Spain
146 euros - 2018 Spain
140 euros - 2012 trip to Slovenia and Croatia
139 euros - 2014 Portugal/Spain
136 euros - 2013 Spain
122 euros - 2013 Northern Italy
109 euros - 2014 Corsica/Provence
106 euros - 2016 Sicily
97 euros - 2017 Greece (Cyclades and Peleponnese), and
79 euros - 2015 Greece (Cyclades and Crete).
June 07, 2018 - Menorca to Barcelona to Montreal to Halifax
Up early (6:00 am), finished last minute packing and out by 7:00 am, before anyone else was awake, for the short 15 minute drive to the airport. Everything went perfect as per schedule. Although it was a long day all flights were on time. We were even fortunate enough to have an empty seat in our row on the Barcelona to Montreal flight providing some additional room. As always it is somewhat disappointing that the trip has come to an end and we need to leave but at the same time it is nice to return home.
June 06, 2018 - Binigaus Vell to Binissafullet Vell with a trip to Cala Pregonda
An even better day to end our trip (well other than travel day tomorrow). The sun is out, the temperatures in the mid 20s - great. After a final filling breakfast, including the flaky and light-as-air spiral pastry ensaimades and all you want personally squeezed fresh orange juice - we took a final wander around the property before saying adios to Andres and Maria (Marie was off today).
We drove to the south-east of the island, just past the airport to our final stop Binissafullet Vell, a small boutique hotel run by an Italian couple. We settled in and then left shortly thereafter again for a beach on the north coast. The wind continued to be out of the south meaning the north coast beaches will be much calmer. We chose Cala Pregonda, described as "... a breathtaking beach of earthy red sand and a collection of sea stacks rising out of the bay."
Cala Pregonda is considered one of the two most scenic beaches in Menorca (along with Turqueta) and the 'Toughest to get to but worth the effort', given the walk (at our speed) was nearly half an hour each way. But it is a beautiful walk with great vistas out to the sea, rewarded by an attractive sandy beach and calm cove protected by the sea stacks. Sure the water was cool - the fall is definite
ly better for swimming - but we both were brave and went in. Cala Pregonda deserves its praise for scenic beauty. It truly a beautiful spot.
We returned to Binissfullet Vell, after a photo shoot stop at a farm where sheep, cows and the cutest little pigs squeaked and squealed as they chased each other around their pen.
There were a number of other guests from England with whom we had a nice chat at dinner. As mentioned Daniele and Silvia are Italian, meaning meals were Italian rather than Spanish, starting with the pasta dishes - Gayle a huge helping of four cheese gnocchi and me a large plate of pasta puttanesca. Gayle then had a vegetarian dish of layers of eggplant 'lasagne' (lawyers of eggplant, tomatoes and cheese without the pasta, topped with a bechamel sauce as her main-course while I the gambas. What we had read about large servings of wholesome Italian food was spot on. We were both very full at the end of the meal.
It was then back to our room for the final packing as, even though the airport is a short 15 minute drive we needed to be out by 7:00 am.
__________________________________________________________________________________________________
Breakfast tortilla. Apple pastries and traditional ensaimades.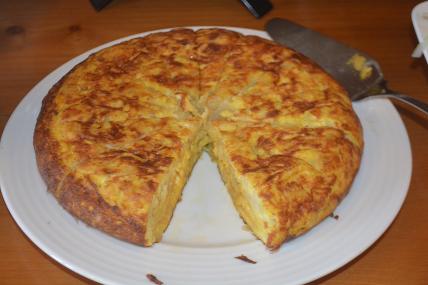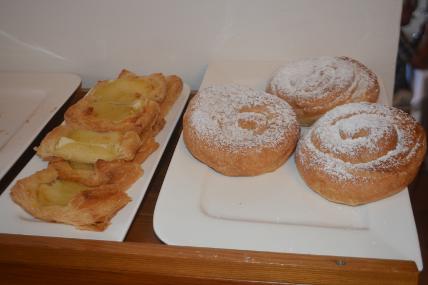 Binigaus Vell - an interesting welcome sign, attractive landscaping / flowers and a view across the countryside to the
sea.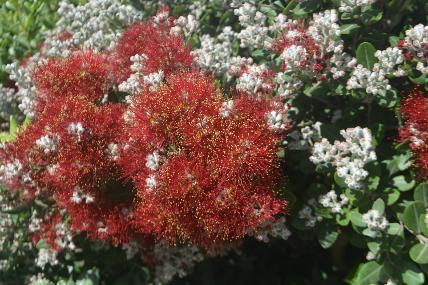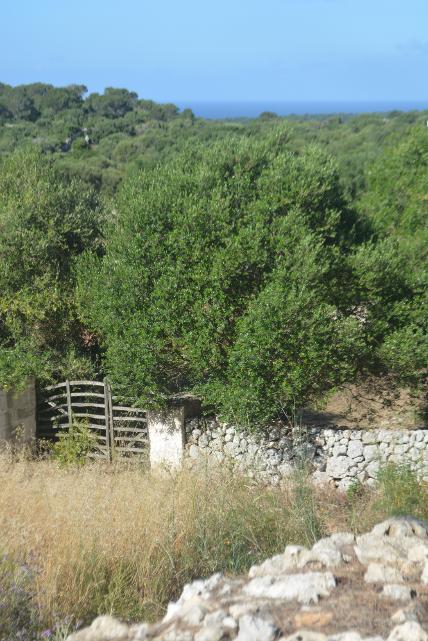 The outdoor eating area, looking out to the sea and the original house as seen from the pool.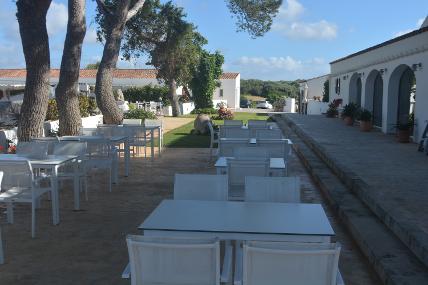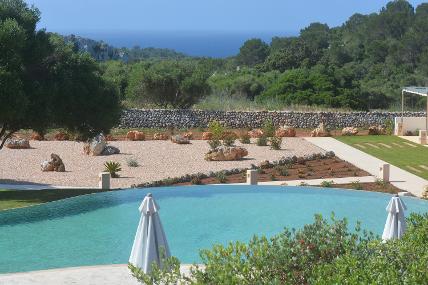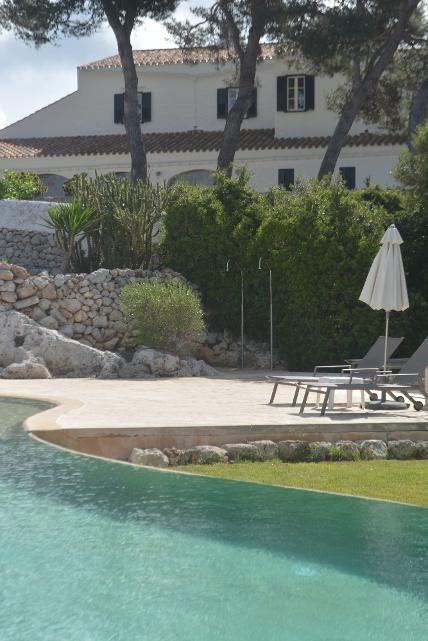 Our helpful hosts at Binigaus Vell:
Andres, Marie and Maria.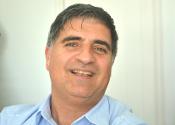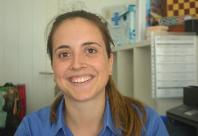 A traditional white Menorcan home with tile roof and colourful bougainvillea.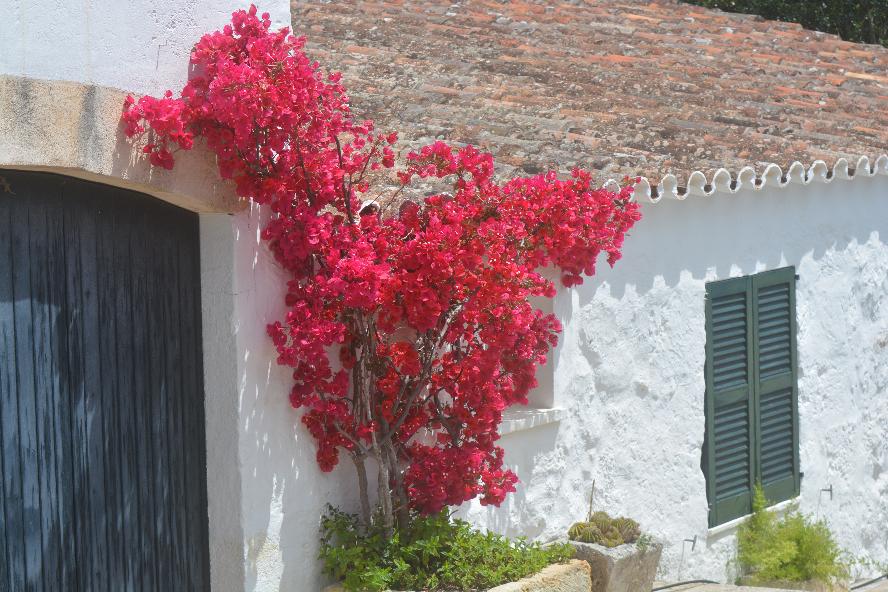 Traditional Menorcan curved wood gates are everywhere on the island.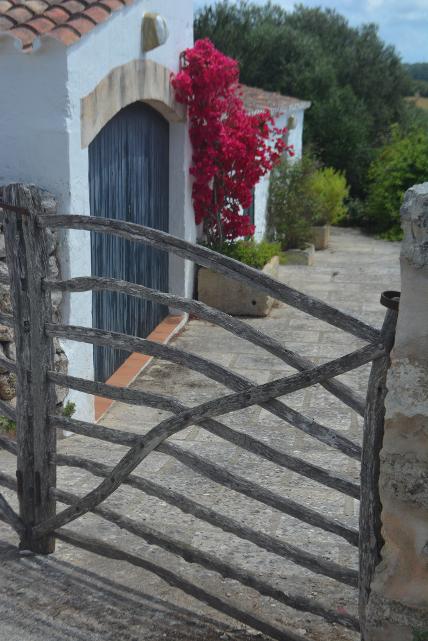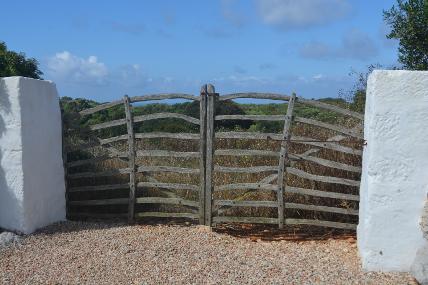 If you have a soft spot for animals there are a number of photo opportunities here in rural Menorca.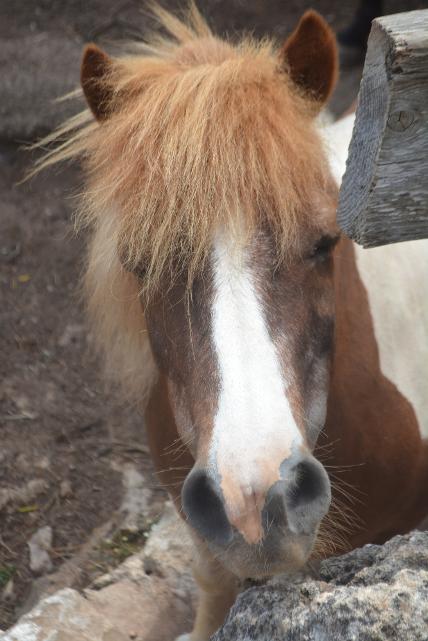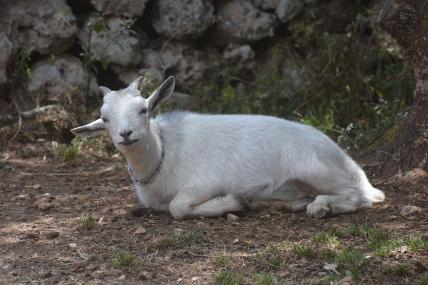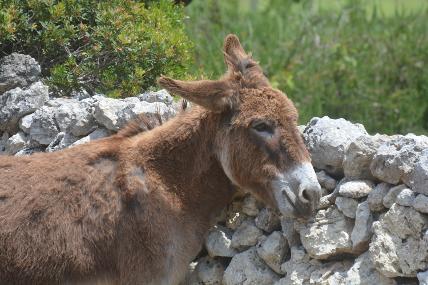 A resort town near Cala Tirant and the sand, water and rock strewn coast on the walk to Cala Pregonda.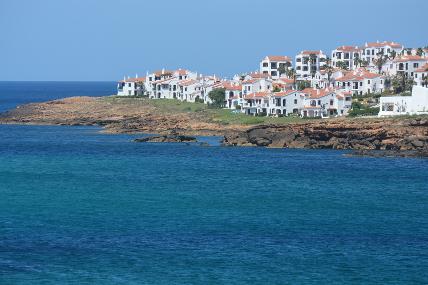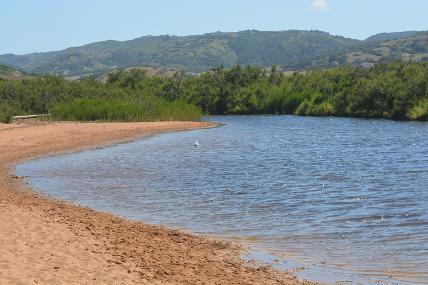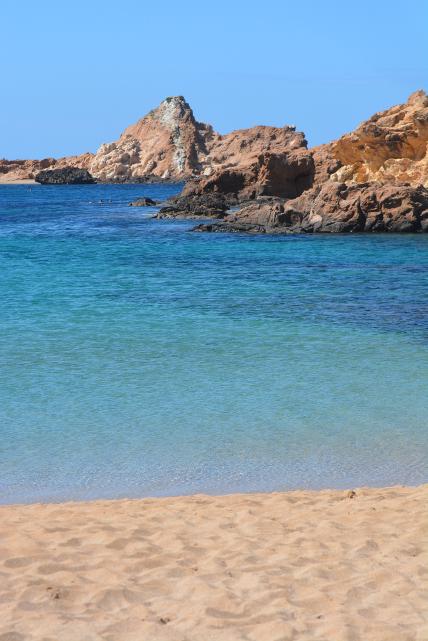 Impressive rock formations creating a calm cove.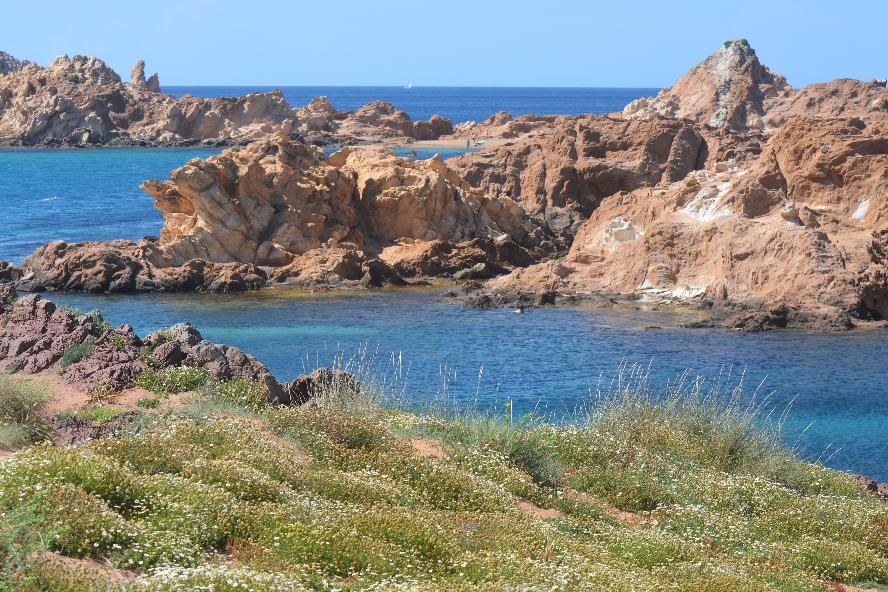 Yes it was a bit chilly, albeit still warm compared to home, but that didn't stop us from getting into the water here at Cala Pregonda.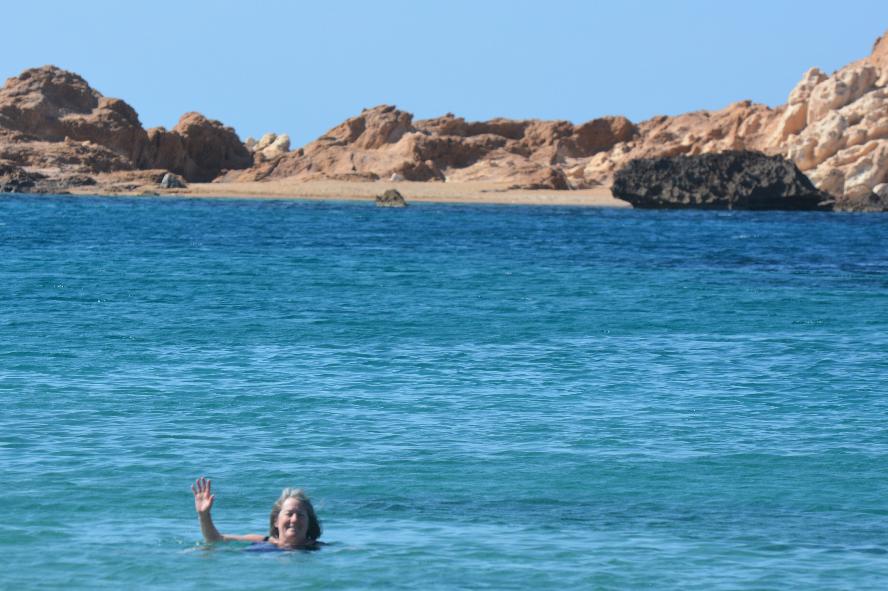 The great scenery on our hike to the beach.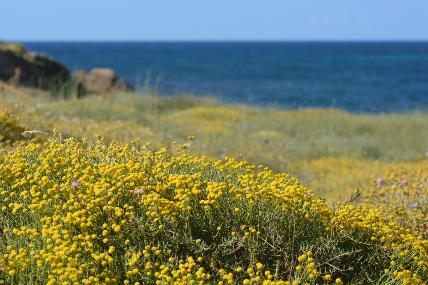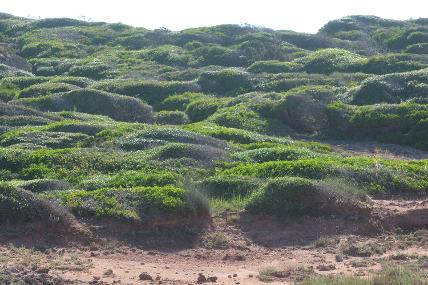 ... and yet more animals at a farm along the north coast.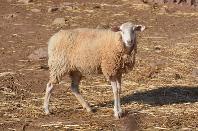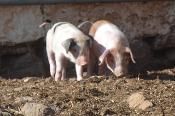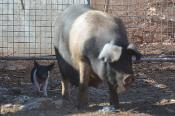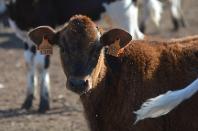 Binissafullet Vell - a very attractive small boutique hotel - a shame we didn't spend more time here. Next time.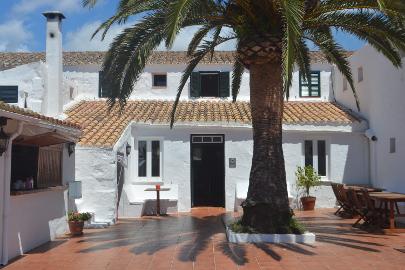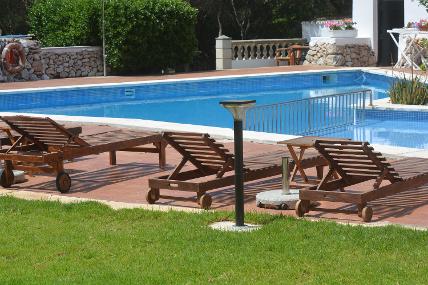 Pasta puttanesca ... ... and gambas with butter, oil and garlic.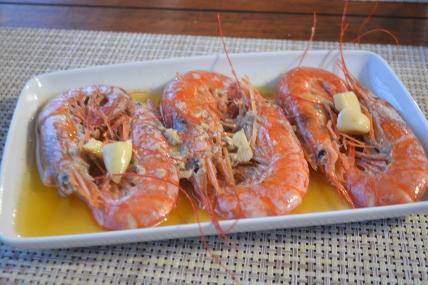 June 05, 2018 - Menorca (Binigaus Vell with a drive to the north coast)
A nice day - primarily blue sky and warm weather. Breakfast was again wonderful, with this fancy machine that allows one to squeeze their own fresh orange juice.
Early afternoon we headed across the island to the north coast (only half an hour) as the winds continued out of the south leaving the beaches nearby subject to more surf than expected on the north coast. We passed through Es Migjorn Gran and then Es Mercadal towards Cap de Cavalliera and the Platges de Cavalliera. The drive passed through typical Menorcan countryside, with the ever present rock walls, traditional Menorcan curved wood gates and lots of animals, especially donkeys and horses.
We were led to believe the walk to the beach would be somewhat longer but it was only a short 7 to 10 minutes. The beach is wide and sandy with as expected calm waters today. We spent an hour or so enjoying the water, the sandy beach and the sun. After leaving we drove to the tip of Cap de Cavalliera where the lighthouse stands 15 m high on the most northerly point of Menorca, being visible for 22 nautical miles. Before the lighthouse began to operate in 1857 there were over 700 shipwrecks near this part of the north coast. The lighthouse was kerosene fired until the 1980s, being the last lighthouse in the Balearic islands to use kerosene. The lighthouse is at the end of a three km headland, perched on the most significant cliffs of Menorca.
We then went to the town of Fornells, a tranquil, whitewashed fishing village on the shore of a sheltered inlet. The attractive harbour, lined by tall palm trees and restaurant terraces is full of sailboats and other pleasure craft. It is a popular summer destination, especially with gourmet diners who come to feast on one of the island's specialties, caldereta de llagosta, a rich and pricey lobster stew, that goes for 70 euros +/-, or over $100 per serving.
We returned to Binigaus Vell where we enjoyed a half bottle of Muga to the setting sun before dinner. After a tasty mise-bouche of chilled gazpacho we then had one dish each - Gayle had Millojas de verduras con queso D.O. Mahon Menorca, a Millefeuille of grilled vegetables with D.O. cheese, and me the Chipirones salteados con 'risotto' de setas; sauteed baby squid with mushroom risotto accompanied by a nice bottle of Albarino, one of our favourite white wines from Galicia (west coast) of Spain. We both very much enjoyed our meals.
_________________________________________________________________________________________________
An extensive choice of meats and cheese along with a tortilla ... and a wide variety of fresh fruit for breakfast.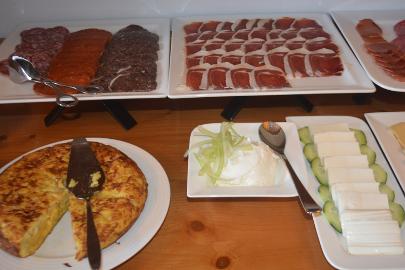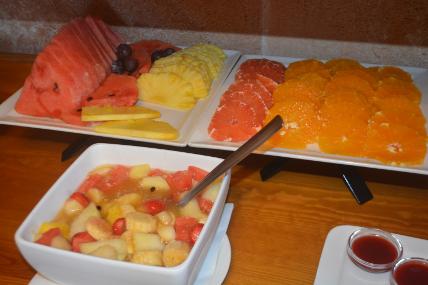 Enjoying a bit of sunshine on the terrace and a nice bowl of fruit at breakfast.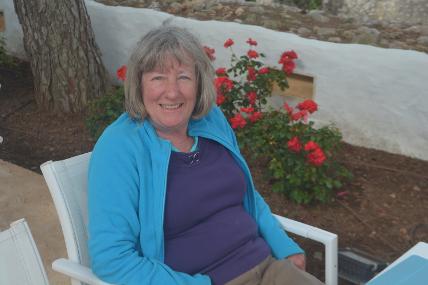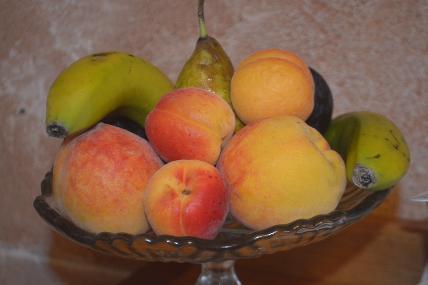 There are two things particularly typical in Menorca - these curved wood gates ...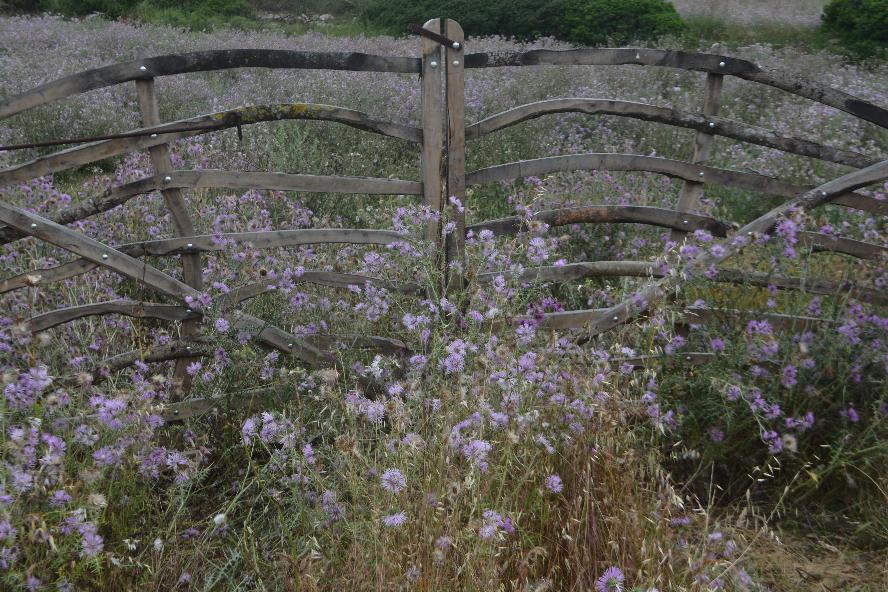 ... and these stone walls, that are everywhere.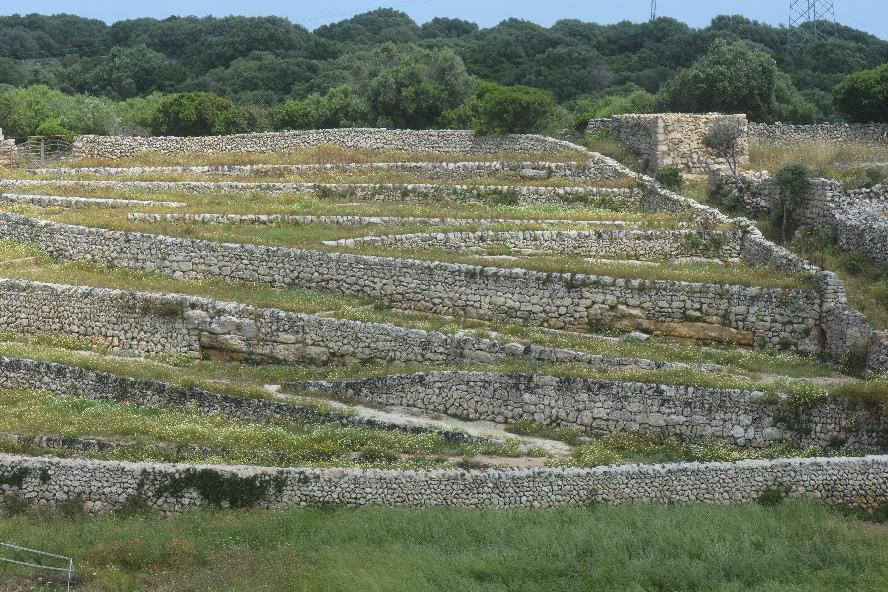 Donkeys and horses - common in rural Menorca.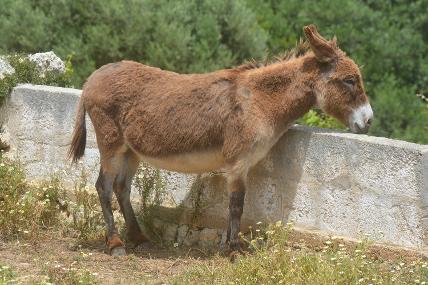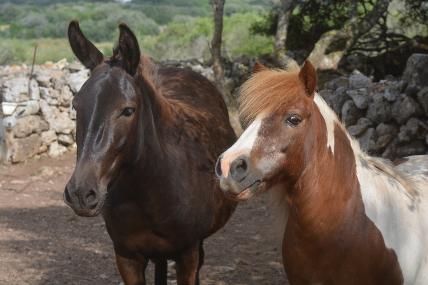 Platja de Cavalleria Gayle enjoying the water.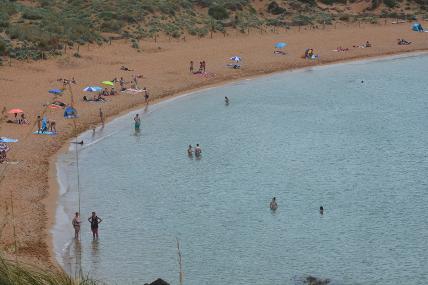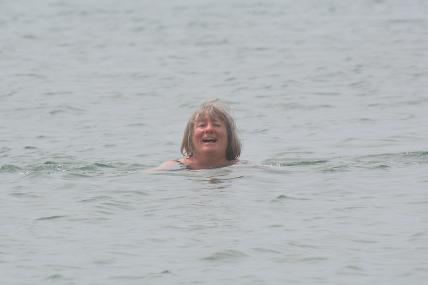 Traditional Menorcan fence overlooking Platja de Cavalleria and Gayle by traditional Menorcan fence ...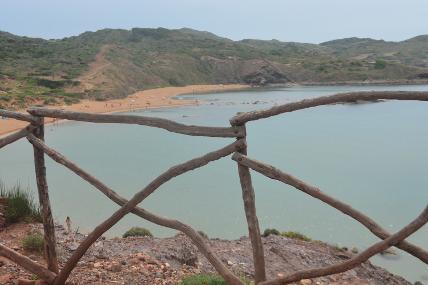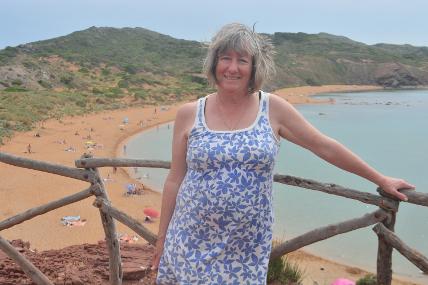 Flowers, rocks and the sea near Cap de Cavalleria.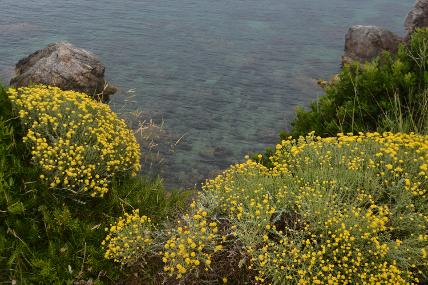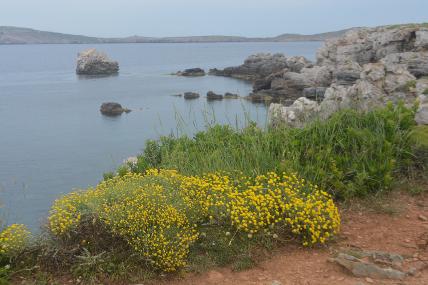 A community along the north coast of Platges de Fornells.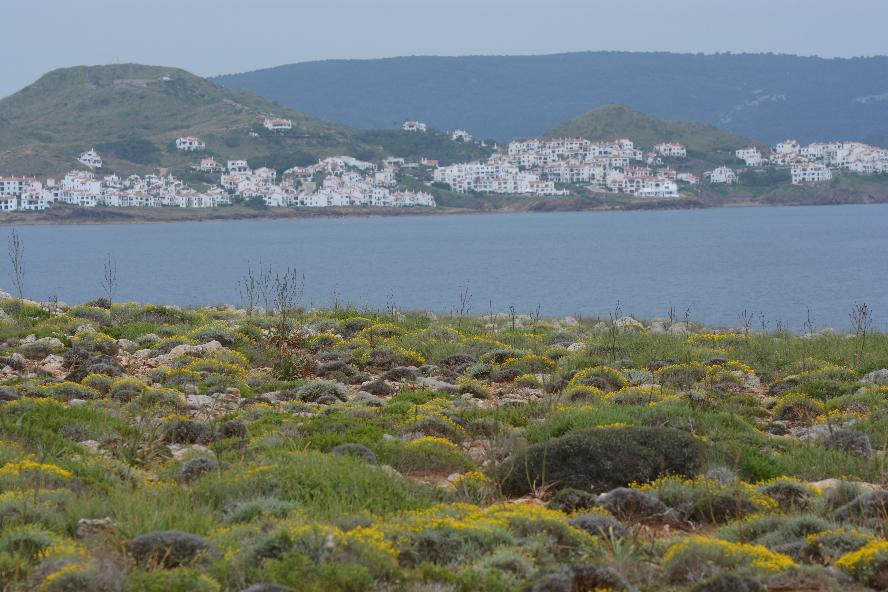 A church and community square (ok it was really a triangle) in Fornells.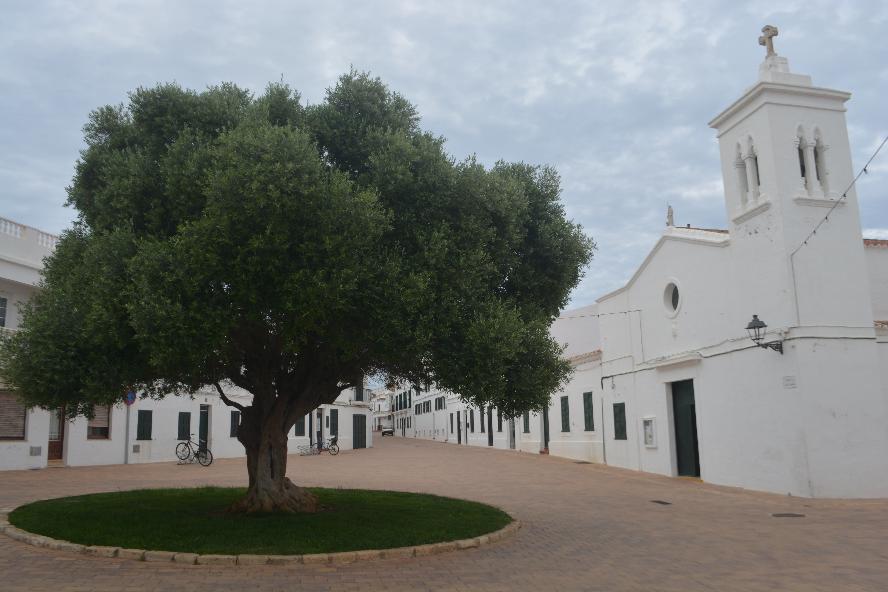 Sunset just before dinner. Traditional cold Spanish gazpacho.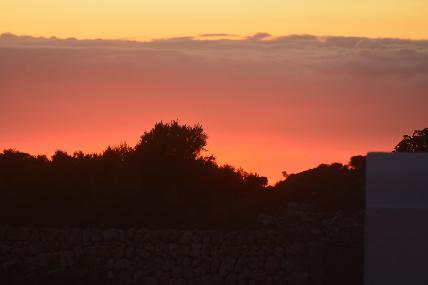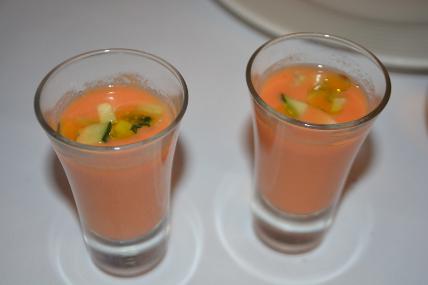 Gayle's Millefeuille of grilled vegetables with D.O. Menorcan cheese.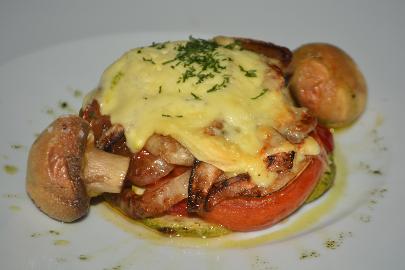 My sauteed baby squire with mushroom risotto (really - it is underneath).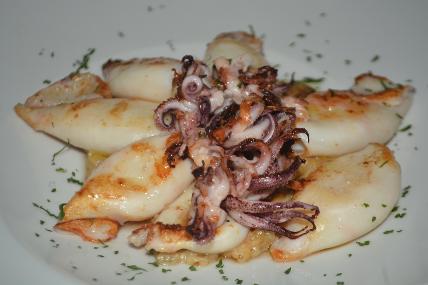 June 04, 2018 - Menorca (Ses Talaies to Binigaus Vell)
After a nice chat with Cristina, and Maria going out of her way to give us hugs we left Ses Talaies, we drove to the centre of the island and our next stop Binigaus Vell, just outside of Es Migjorn Gran. The hotel presents a Minorcan architectural tradition of a typical island agrarian farmhouse. Being outside of town it is beyond tranquil and quiet. Historically Binigaus Vell was a large farm producing cereals and milk used by local cheese-makers.
We were welcomed by Andres and Marie (French as opposed to Spanish), both very hospitable and helpful. Being shortly after noon we wandered around the beautifully landscaped property, with its flowers, rock gardens and infinity pool. Although a few kms from the coast the sea is visible from certain places on the property.
We then drove to nearby Sant Thomas and its long sandy beach. Sant Thomas is a resort town, with a number of condos and hotels. Even at this time of the year there were a considerable number of families on the beach. After dipping our feet in the sea we decided to go to another beach, driving back through Es Migjorn Gran to Ferreries and then again to the coast and Galdana. Rather than the town's beach (which looked nice) we took the 20 minute walk (each way) to Cala Mitjana. This beach is described by some as the emerald of Menorca, tucked away in a small cove, set within breathtaking scenery of pine trees and limestone cliffs that span the shores. In one ranking of the world's top beaches Cala Mitjana is described as

"...

a small and beautiful sandy beach hidden in a rocky cove. Absolutely breathtaking with clear waters enclosed by plush sands and bounteous pines swaying cooly in the breeze. It is a natural wonder which enraptures your senses and surrounds you with a feeling of luxury.

"

We spent an hour on the beach. Although the emerald coloured water this time of the year is certainly cooler than in the fall we both did get in.
We returned to Binigaus Vell where we had dinner. We (well I since it was meat) started with a mise-bouche of sobrassada with honey - a nice intro. I then had the Arroz meloso con 'cuixot' alcachofas y setas; a supposedly creamy rice with 'cuixot' - a local pork meat product - artichokes and mushrooms. The rice was not that creamy and the cuixot not that plentiful but it was nicely presented and reasonably flavourful. Gayle then had the 'Oliaigu diferent' Binigaus Vell, a sopa menorquina de tomate y otras hortializas; a Menorcan tomato and vegetable soup. Although interestingly served it was just ok. The highlight of the meal was my Paletilla de cordero lechal y sus patatas asadas. Not having as much lamb as expected on the trip I jumped at the opportunity of suckling lamb shoulder with roast potatoes - an excellent choice; thoroughly enjoyed.
__________________________________________________________________________________________________
Gayle drinking freshly squeezed orange juice ... ... and Maria proving the OJ is indeed freshly squeezed.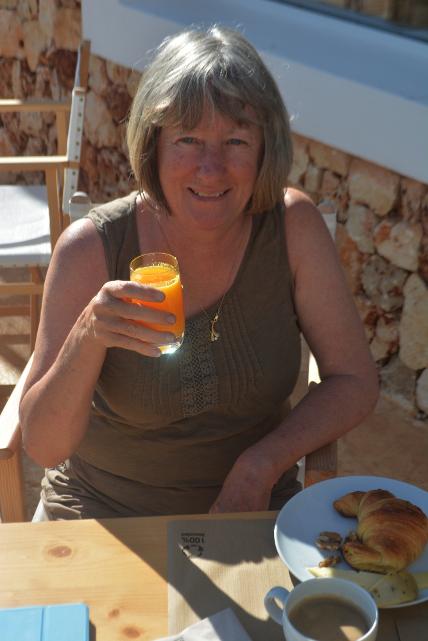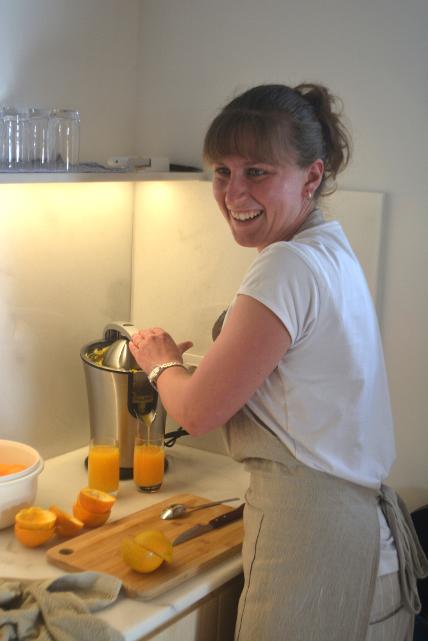 Cristina, the onsite manager ... and a decorative ladder in our room, simple but elegant.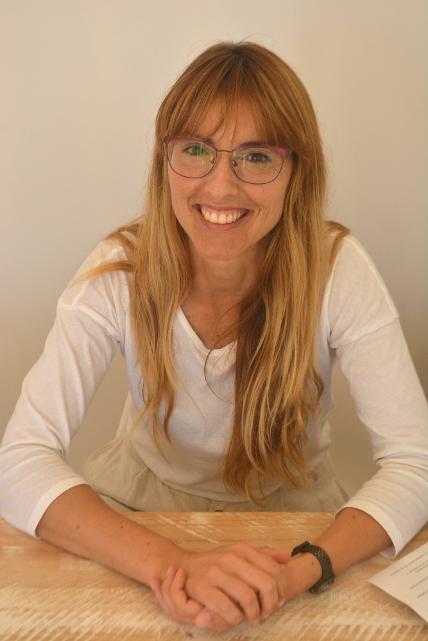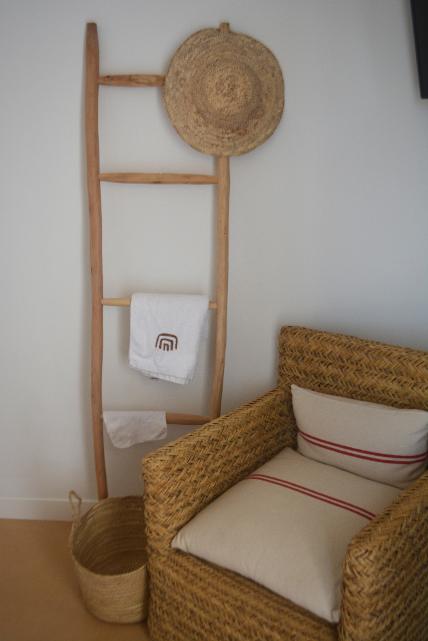 The chuuch in Ferreries and colourful nasturtium along the roadside.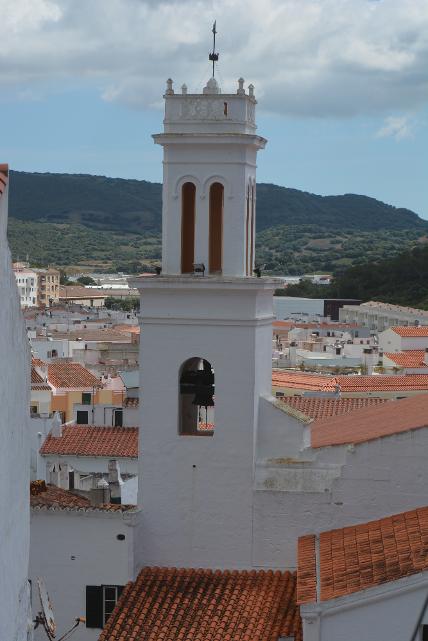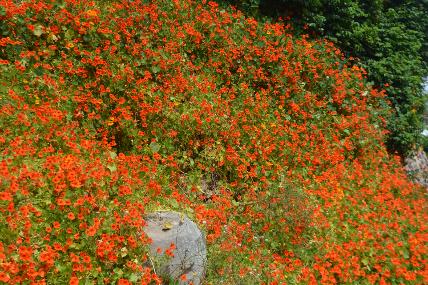 Flowers on our walk to Cala Mitjana.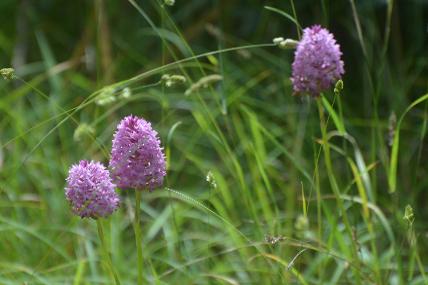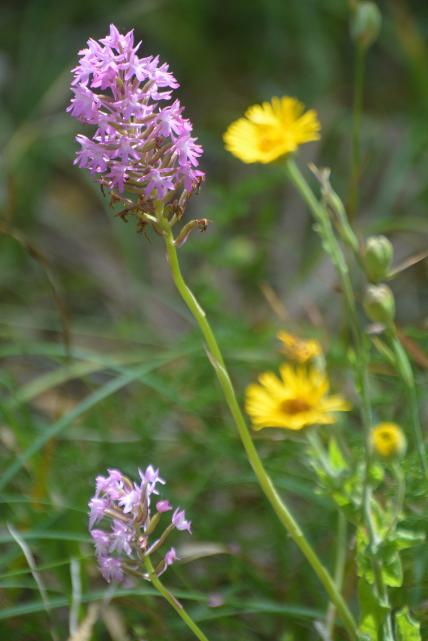 Inside the main house of Binigaus Vell.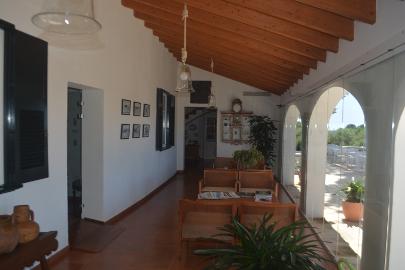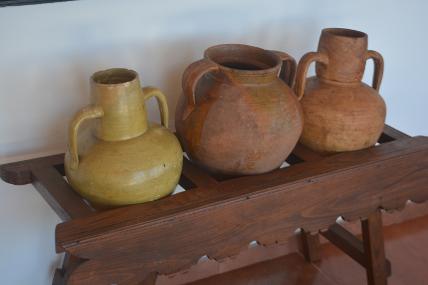 The exterior of the once farmhouse.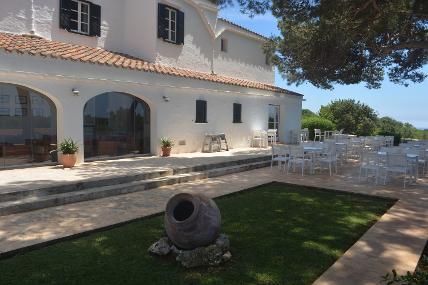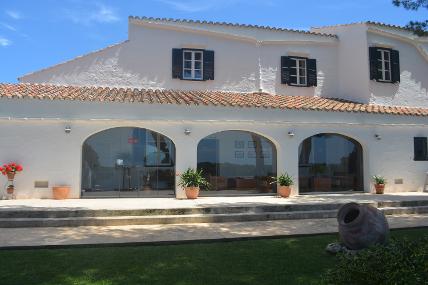 The landscaping / flowers here at Binigaus Vell is impressive.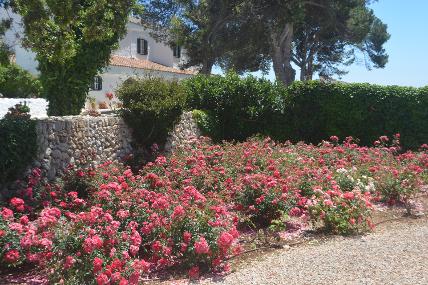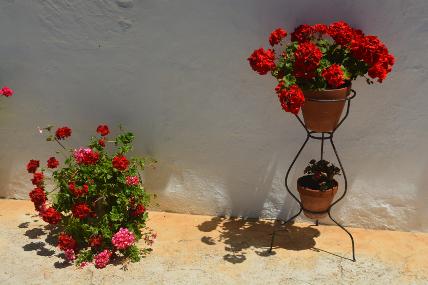 Being on the south coast the water had a few waves but still ok to get in, and a beautiful emerald colour.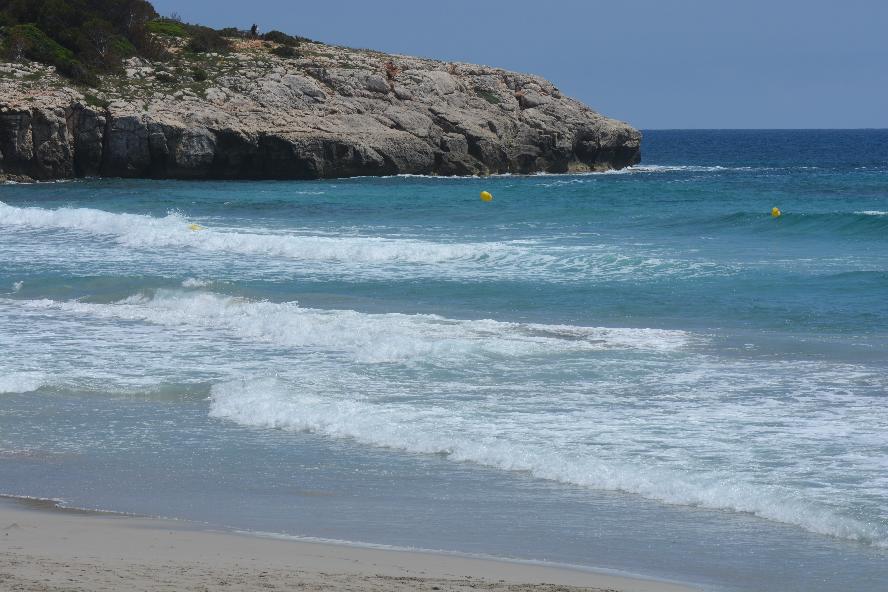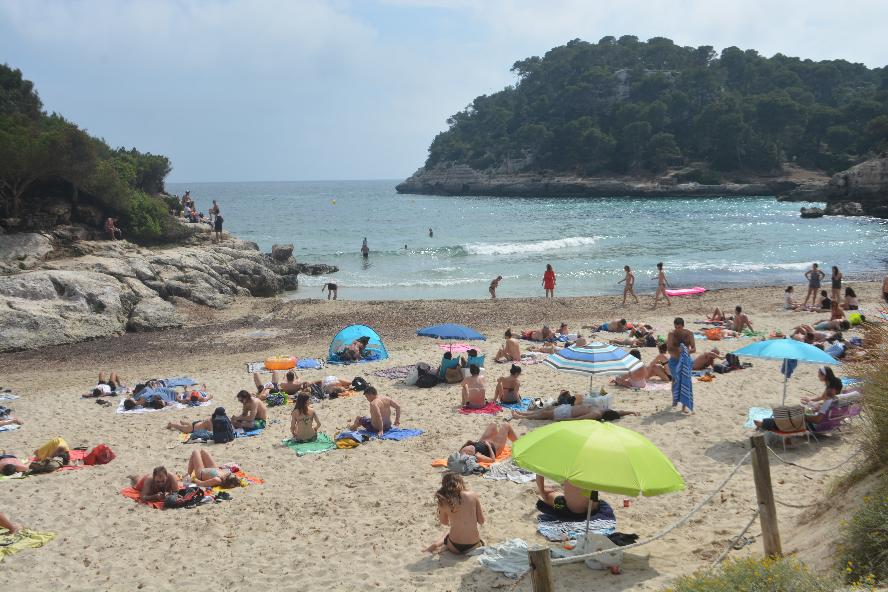 Gayle had a Menorcan tomato and vegetable soup.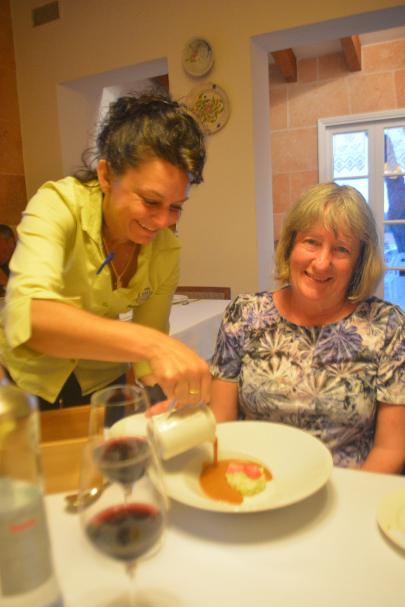 I started with a 'creamy' rice with cuixot (a local pork product), artichoke and mushrooms.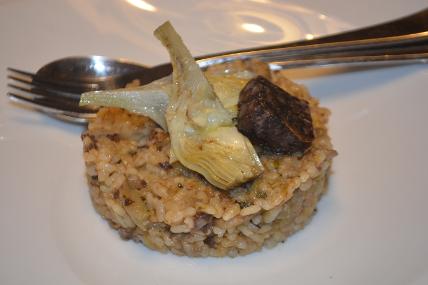 Suckling lamb shoulder with roasted potatoes.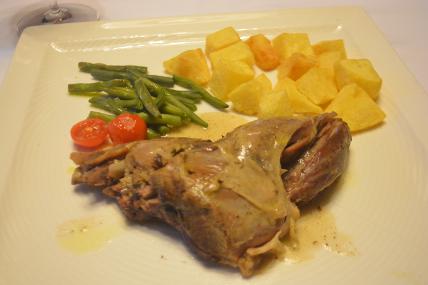 June 03, 2018 - Menorca (Ses Talaies) / Platage D'Algaiarens / Cala en Bosch
After breakfast we experienced an hour or so of rain after which it cleared up quite nicely allowing us to go to the nearby north coast beach of Platage D'Algaiarens where we walked up to our knees but didn't actually go swimming.
The landscape on the north coast, with it's sand dunes and long sweeping beaches, is quite different than some of the south coast where coves, white limestone cliffs and forests of pine trees are more common. One appealing aspect of the beach was that it was only a five minute walk from the parking lot. Shortly after leaving we encountered a tribe of goats who made for some nice photo ops. Shortly thereafter we passed a flock of sheep, including two adorable lambs and a team of horses, roaming freely inside a large area within the ever-present rock walls. Horses are very common here in Menorca with many equestrian groups and extensive rides that even circumnavigate the entire island.
We then drove the half hour or so to the south coast - Menorca is a relatively small island (696 square km; compared to say PEI which is 8 x as large) and therefore very doable. We went to the town of Cala en Bosch, another resort town with a nice harbour accommodating what seemed like a flotilla of pleasure boats. We strolled around town looking for a restaurant - there are many along the harbour front, each with their staff striving to have us choose their establishment. We finally settled on El Pato, primarily because they did not require their paella be prepared for two. It was very busy, even at this time of the year, with many families and young children. Gayle had a filling Taula combinada vegetal - the vegetable combined board with stuffed aubergines, Cuban rice, carrots, sweet corn, tomatoes, lettuce and chips while I had the Paella menorquina / Menorcan paella with cuttlefish, clams and sobrasada the traditional Menorcan raw, cured sausage made from ground pork, paprika and other spices. The meat is common throughout the island, being included in every breakfast. As well Menorca produces its own cheese although it was inconsistent - some delicious while others were overly salty.
There was great light while driving back as the sun began to set. The fields with cows and other animals glistened in the setting sun. We returned, worked on the travel blog a bit and then called it a night.
__________________________________________________________________________________________________
Today's breakfast included local cheese, Sobrasada (on the left) and cherries.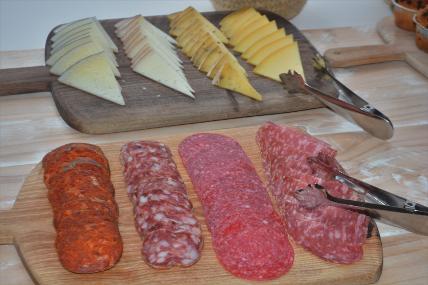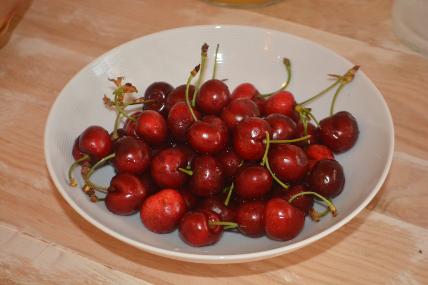 Driving along a rural country road and there just over the rock wall were a number of horses roaming and galloping pretty much free.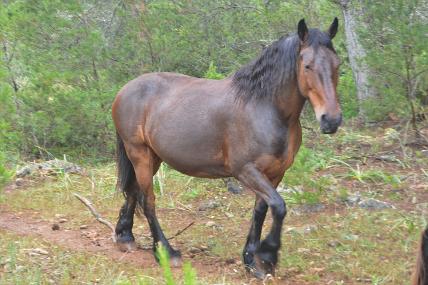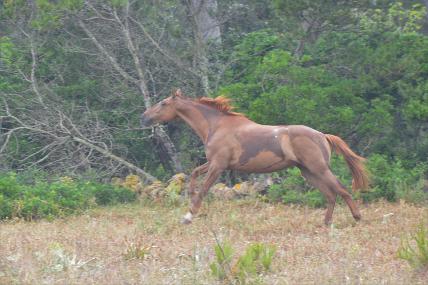 The cove and sandy beach at Platages d'Algaiarens.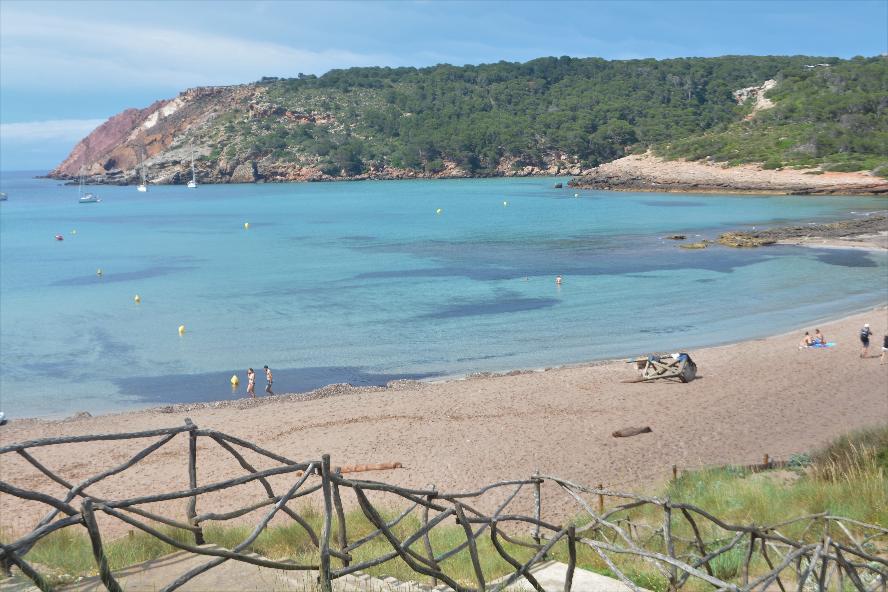 The sand dunes behind Platges d'Algaiarens.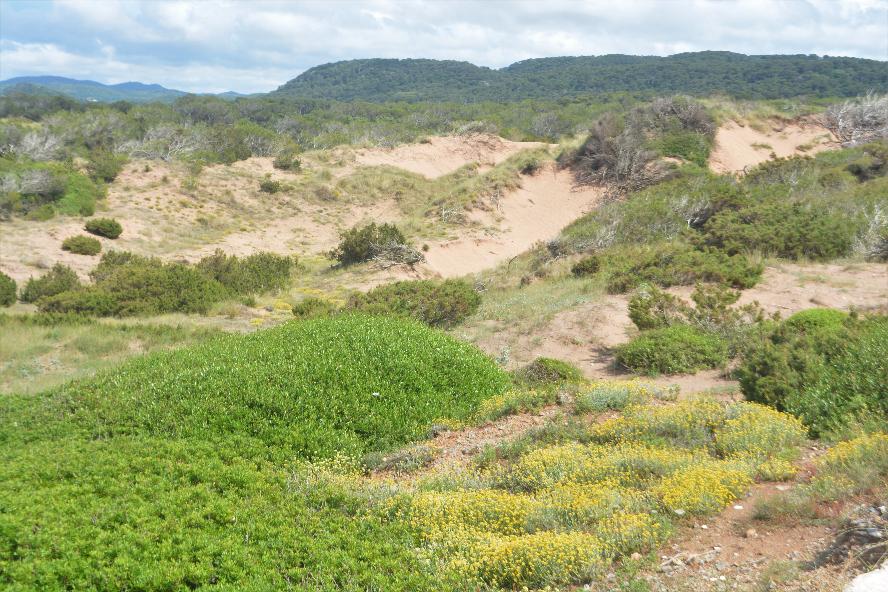 First a couple of young lambs and then a tribe of goats.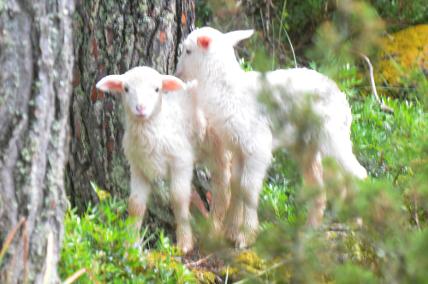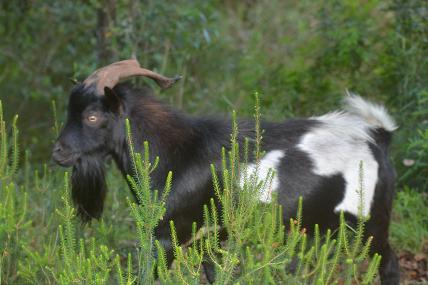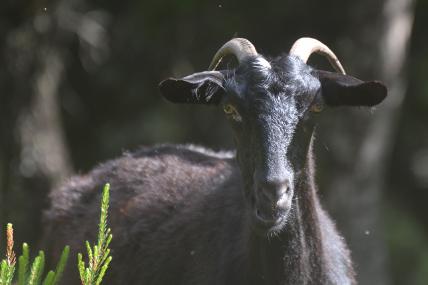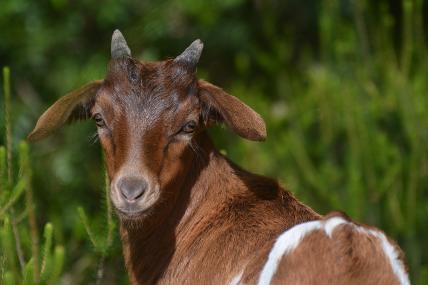 We stopped to take a photo of these flowers when this fellow on his horse galloped by.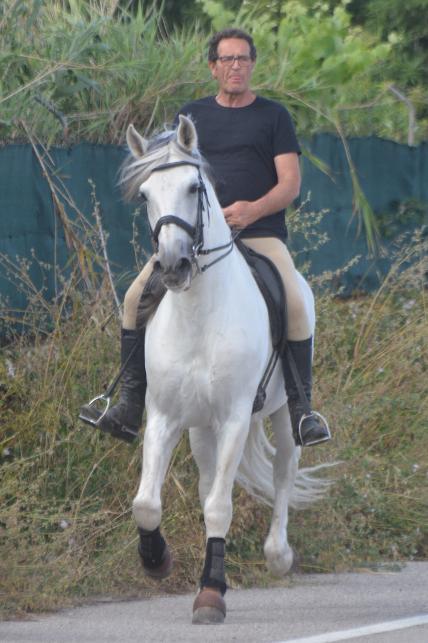 The south coast of Menorca at Cala en Bosch.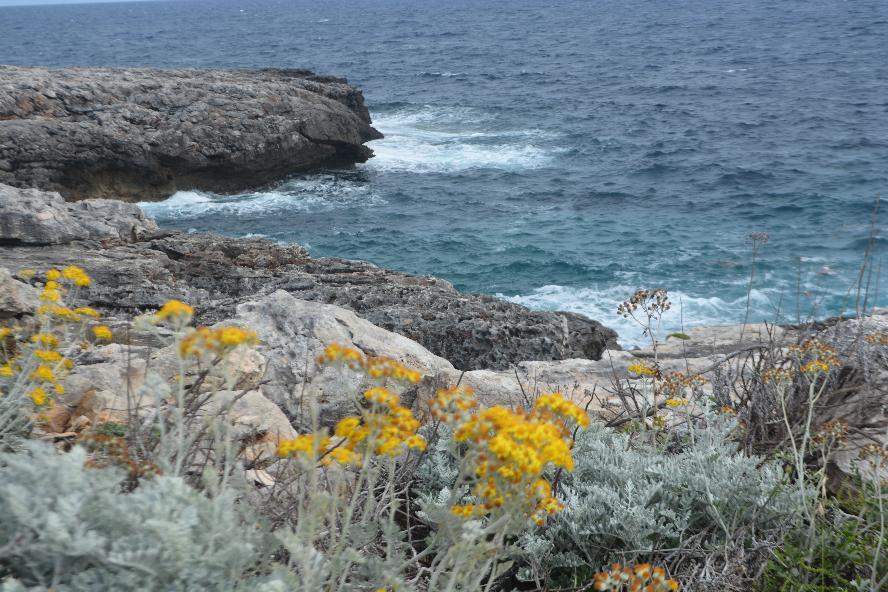 Pizzeria Restaurante el Pato on the Cala en Bosch harbourfront where I had Paella menorquina with cuttlefish, sobrasada and clams.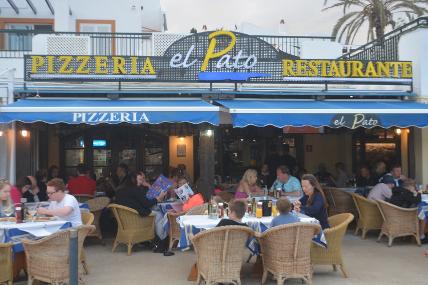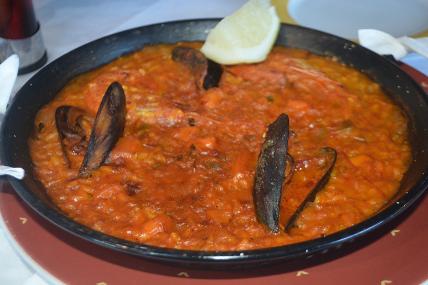 Beautiful evening lighting on a pasture of cows who were weirdly interested in what I was doing on the roadside. Perhaps they thought I was filming a 'moo'vie.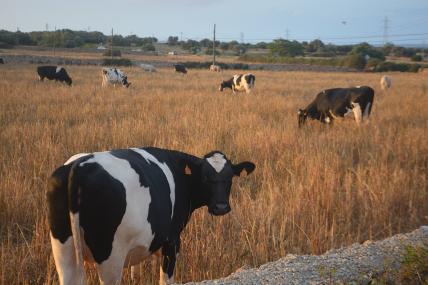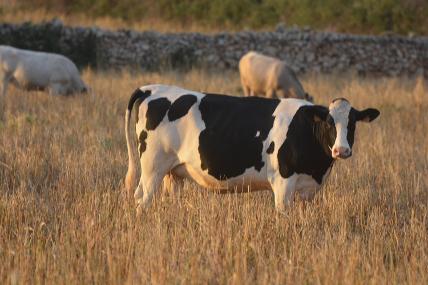 June 02, 2018 - Ciutadella, Menorca (Ses Talaies)
Not the best day weather wise but also not the worst. After another complete and filling Spanish breakfast (with excellent croissants and fresh orange juice) we took a short driver to Cala Morrell on the north coast, essentially a small resort village with a small beach. With overcast so so weather we took a quick look and then returned in search of a nearby rock quarry labyrinth / garden. Although we were unsuccessful we did find ourselves on a narrow country lane with plenty of wildflowers and farms with pigs and donkeys. At times it can be very rewarding to simply take a random road and see where it takes one, and what there is to see along the way.
We then went into the historic city of Ciutadella for the afternoon. The city used to be the capital of culture and commerce in Menorca, and although no longer so it is still an attractive city with wonderful heritage. Nicknamed Vella I Bella, which translates to the Old and Beautiful, in 1558 the city was invaded by 15,000 Turkish troops, being defended by just a handful of men. The city fell and was devastated. It later served as the island's capital until 1708 when the British arrived. Ciutadella is a very attractive city with a charming port and old quarter. There are several good examples of Baroque and Gothic churches. The port serves both fishing and leisure with an abundance of restaurants lining the quay. The nearby Placa d'es Born, emerging from a labyrinth of narrow streets/alleys is one of the most picturesque squares in Ciutadella, on what used to be a former Arab marching ground. The middle of the square has the Born obelisk; a monument dated from the 19th century commemorating the resistance and final defeat of the city at the hands of the Turks in 1558. The part of the square facing the port is the location of the Town Hall. The building used to be an old castle built on top of a Muslim castle.
We decided to eat late afternoon in the nearby Placa de Esplanada at the Italy Restaurante / Pizzeria. After an issue with the avocado salad having tuna in it (in spite of the waitress saying "no fish") Gayle started with a nice Ensalata Italy, an interesting combination that included carrots, avocado, pine nuts, pineapple and mango - very colourful and enjoybable. I had a grilled octopus leg - delicious, and then we of course had a pizza, the Fresca with tomato, mozzarella, arugula, jamon serrano / prosciutto, cheese shavings and cherry tomatoes. You can never go wrong with pizza!.
We then strolled through the centre of the city before returning to Ses Talaies for a relaxing evening, including another sunset.
__________________________________________________________________________________________________
The full buffet breakfast, well at least a portion of it, along with fresh strawberries.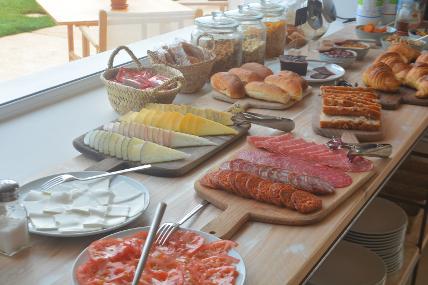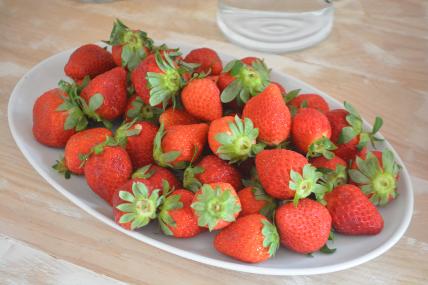 The pool here at Ses Talaies.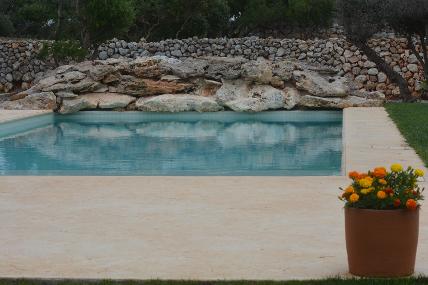 Looking out to sea in Cala Morrell.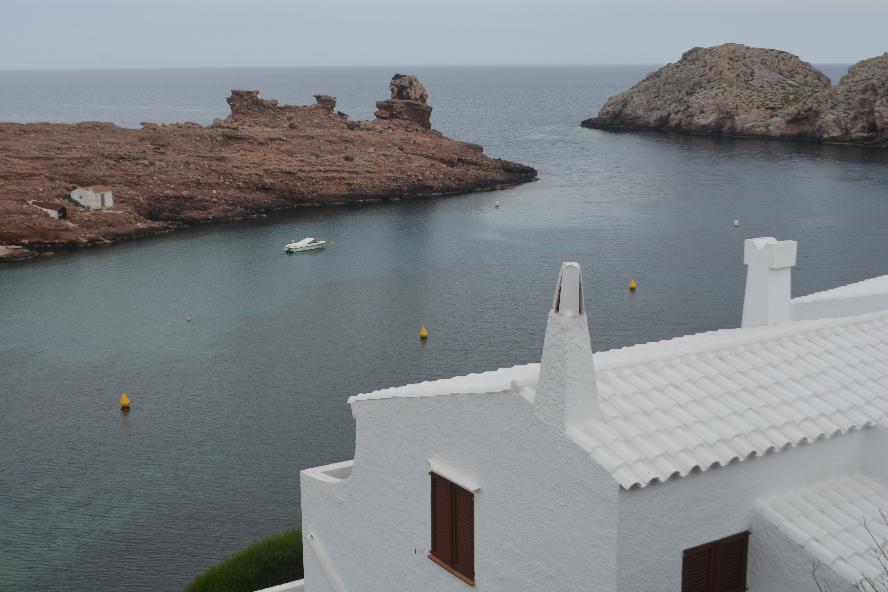 The narrow country roads / lanes are abundant with colourful flowers during the spring.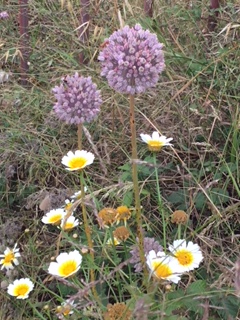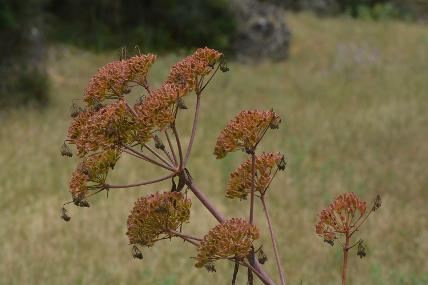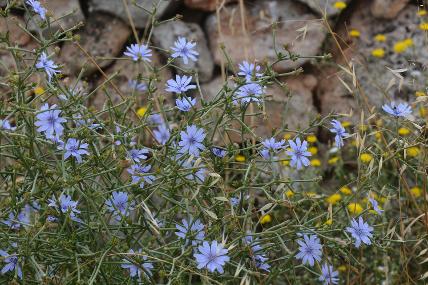 ... and yet more flowers - hey it's springtime.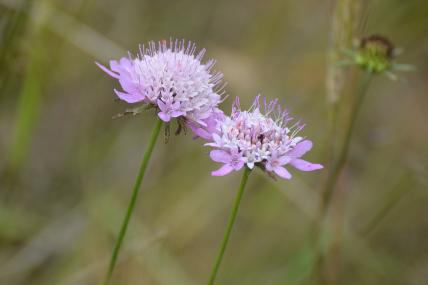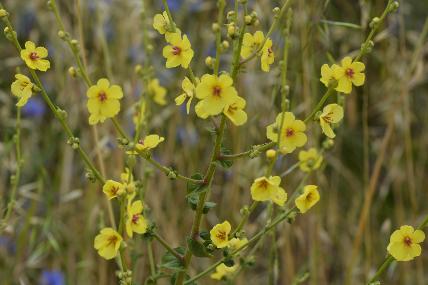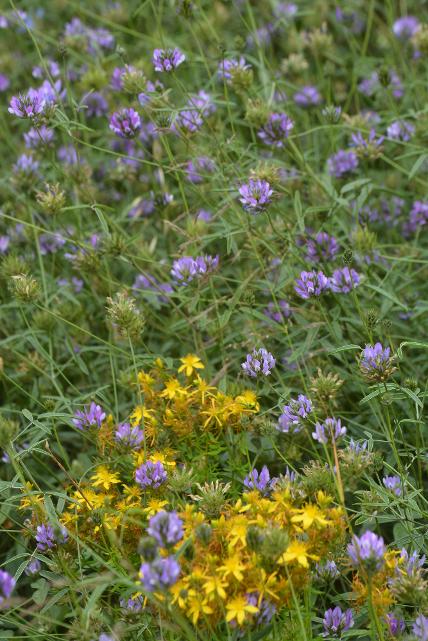 Some of the animals seen during our drives through the country - note the ever present rock walls.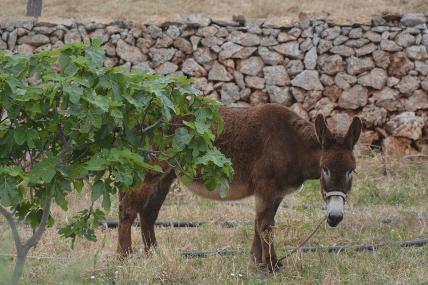 One of the many narrow alleys that wind and twist their way through Ciutadella.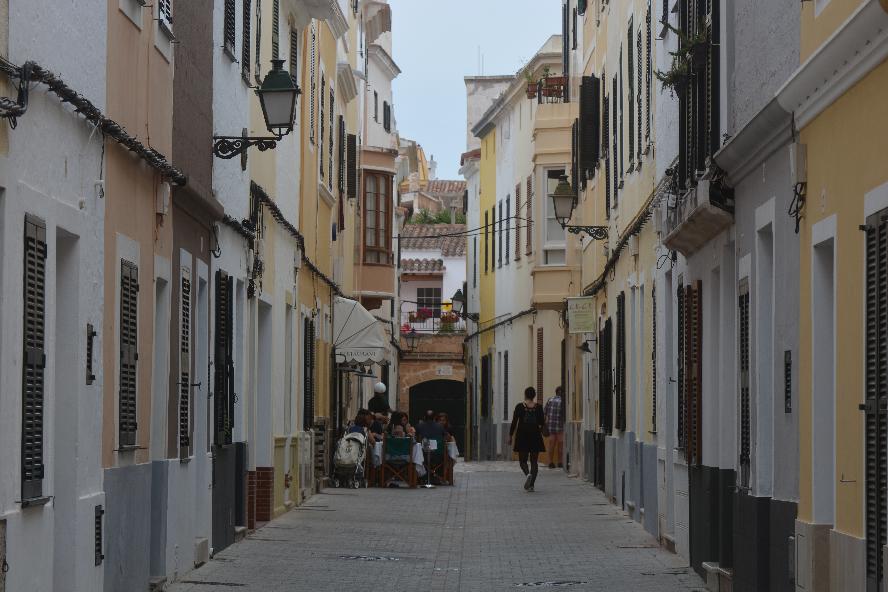 The lengthy port packed with boats and the town hall, formerly a castle in the Placa des Born.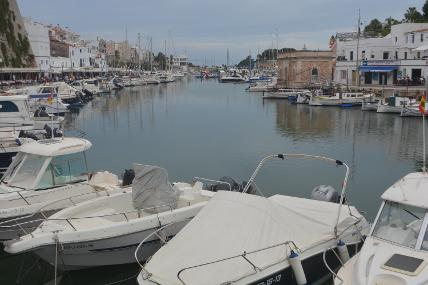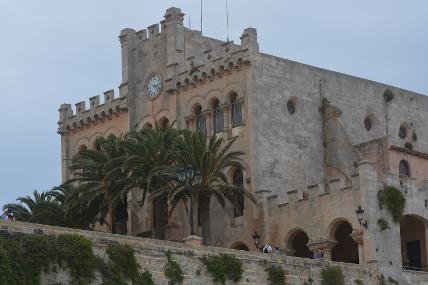 A creative Ensalata Italy with lettuce, cherry tomatoes, avocado, carrots, raisins, pine nuts, pineapple and mango - an interesting, colourful and tasty combination.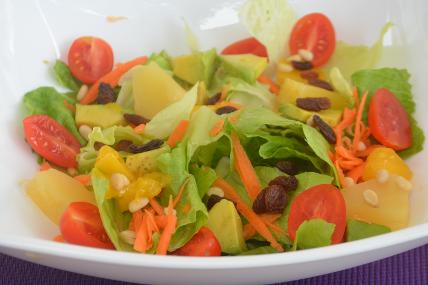 Pulpo a la brasa - grilled octopus, just the way I like it served.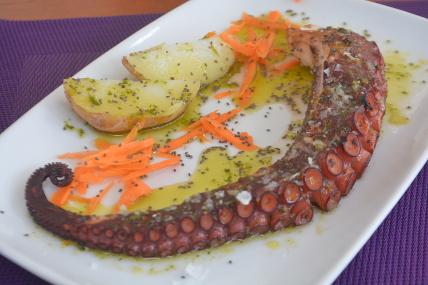 Our Fresca pizza with tomato, mozzarella, arugula, proscuitto, cheese shavings and cherry tomatoes.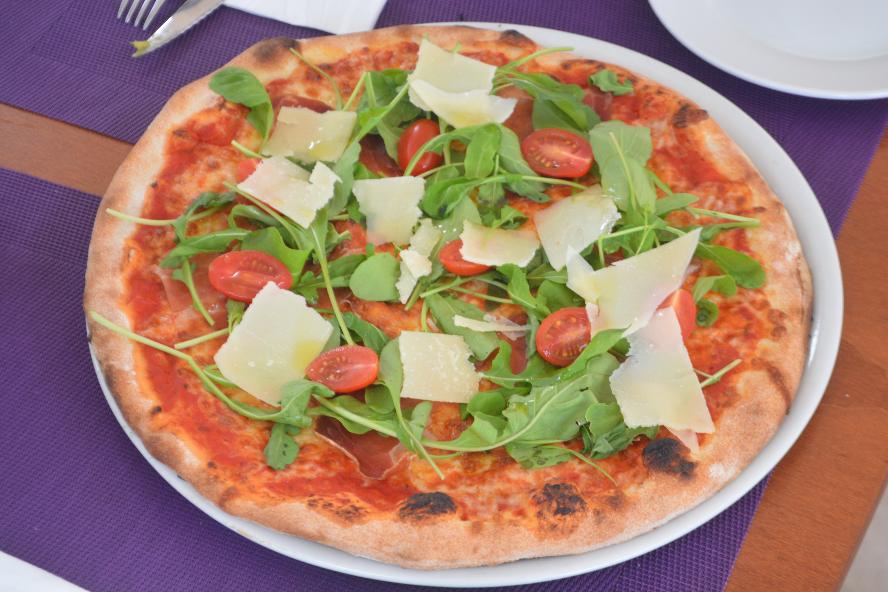 Narrow alleys, and well maintained stone buildings in the centre of Ciutadella.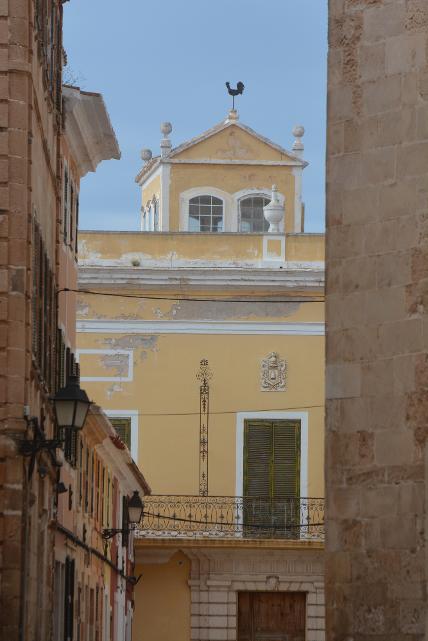 More of the colourful buildings in Ciuteadella.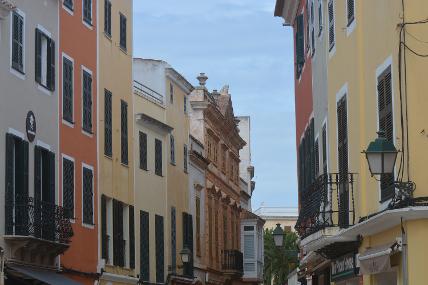 June 01, 2018 - Calella to Menorca (Ses Talaies)
We arrived at Barcelona's airport at 5:00 am after an hour (much quicker at this hour with no traffic) trip from the Mar Blau. Unfortunately this meant nearly a five hour wait as our flight did not leave until 9:40 am. We arrived in Menorca to sunshine, picked up our rental car and decided to drop in at Binissafullet Vell (only 15 minutes from the airport) to introduce ourselves and say hi to Daniele. It was a shame we missed dinner the previous night - we were looking forward to the Italian meal we had arranged - and the joy of waking up to the sounds of the birds, but such is life.
We then drove to the west end of the island near Ciutadella where we will be staying for three nights. Ses Talaies is a new place, having only opened in 2017. It turned out to be just what we were looking for - close to the small city yet still out in the country with beautifully landscaped grounds and a nice pool. Although it was still a bit cool I did use the pool once. After checking in we immediately had a siesta - recall we have been up since 2:45 am. Afterwards we went to a nearby grocery store and picked up some things for dinner. Actually we were quite looking forward to a less rich meal - a salad, some cheese, meat and bread, and of course one of our small bottles of Muga. The sun was shining as we enjoyed our 'meal' on our terrace. Shortly after we were treated to a beautiful sunset, and not unexpectedly turned in quite early.

___________________________________________________________________________________________________
Birds of Paradise just outside the Menorca airport terminal.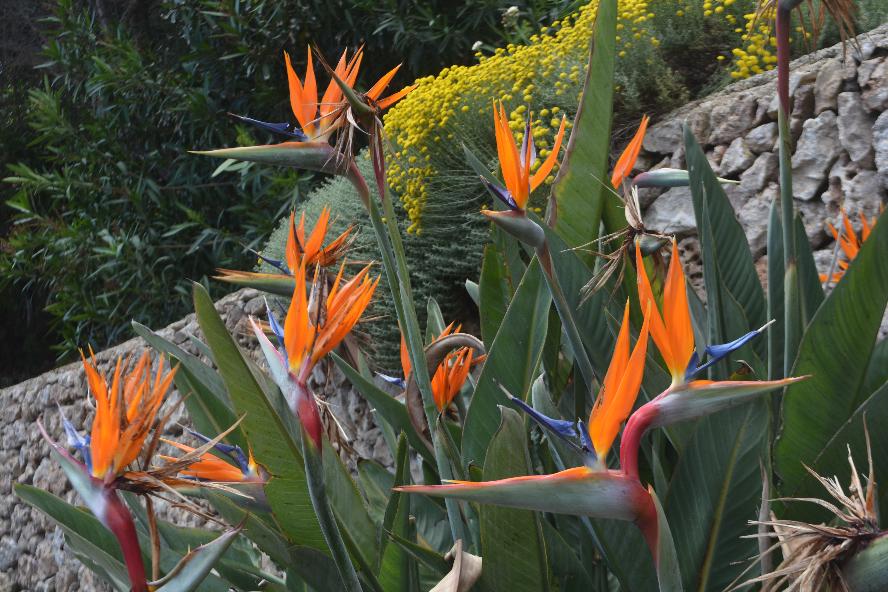 A traditional Menorcan gate - they're everywhere.
Only minutes from the airport we were in a nature reserve where I saw something on the road that appeared to move a bit. Turns out it was not a magical rock but rather a turtle.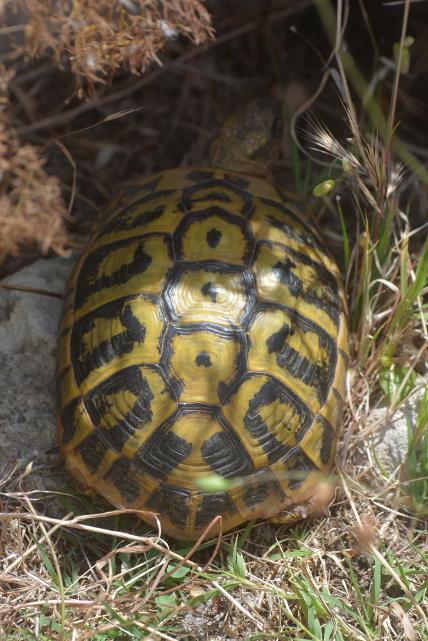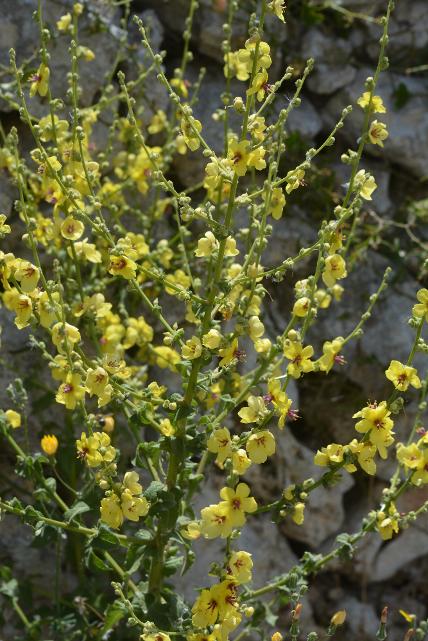 Our first siting of the shoreline at Binisafua.
Interesting flowers and a comfortable quiet relax area at Ses Talaies.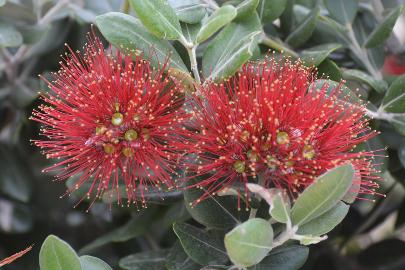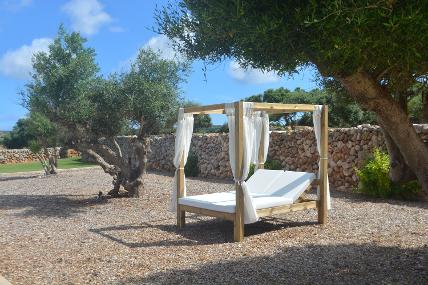 The lodging at Ses Talaies - the breakfast area and the rooms facing the pool and countryside.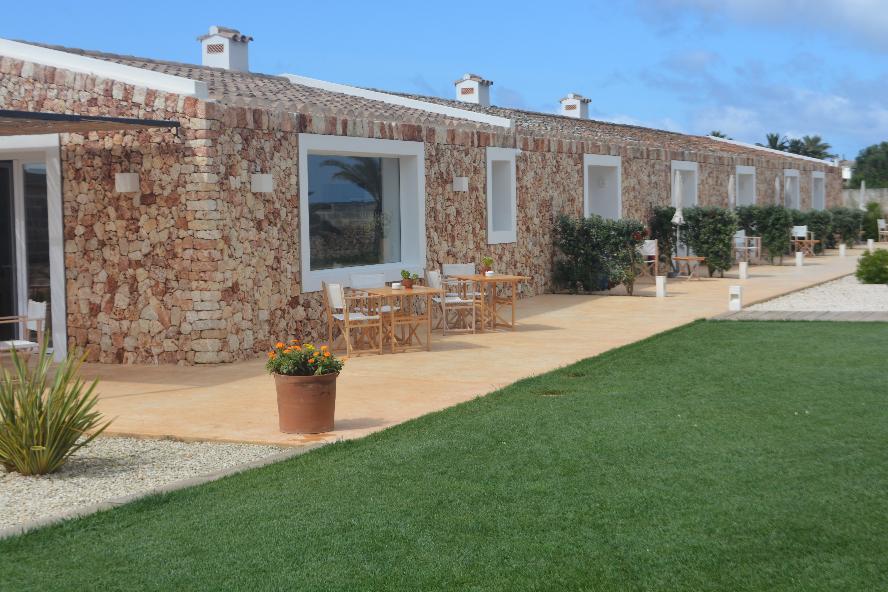 A large pool and lots of well manicured grass, thanks to I-MOW, the 24/7 lawnmower.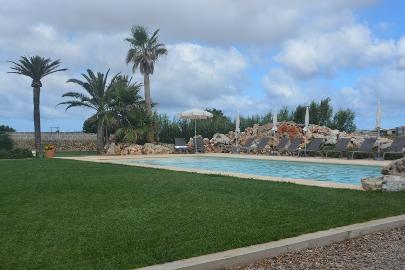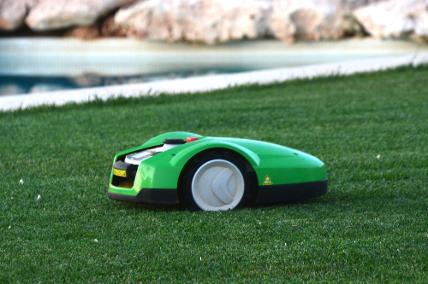 Water is a bit cool but I did get into the pool.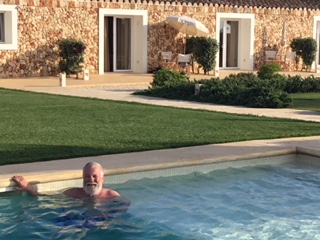 Dinner on our terrace outside our room.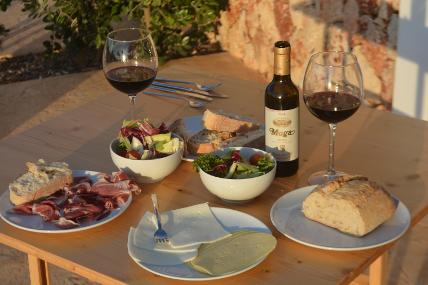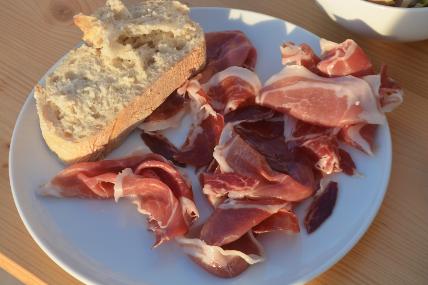 ... and a sunset to end the day.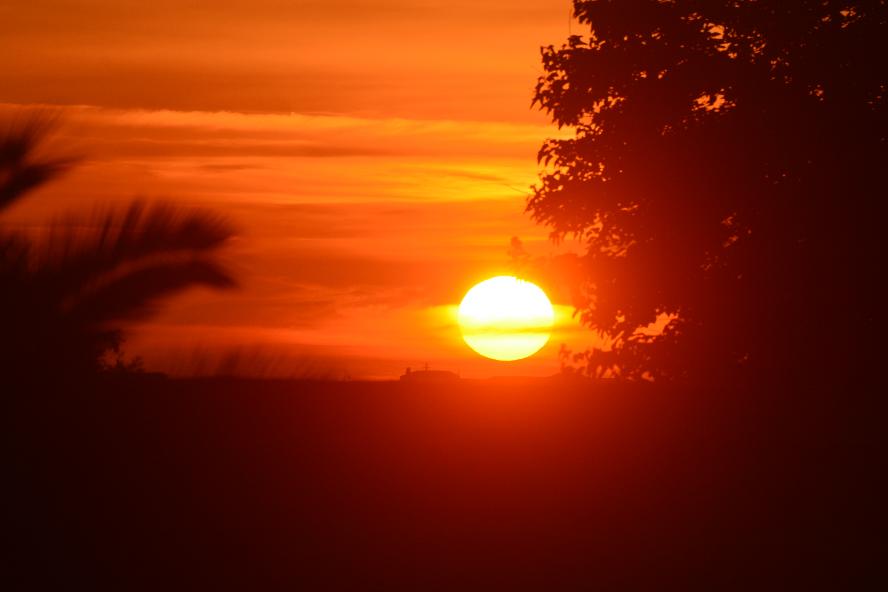 May 31, 2018 - Barcelona to the airport to Calella, i.e. not Menorca


Our day started much better than it ended. With a scheduled 5:15 pm flight we did not need to leave for the airport until mid-afternoon. Therefore in the morning we wandered around a bit more, crossing over Via Laietana and working our way to the Catedral in the Gothic Quarter - the centre of the old city. The area stretches from Via Laietana to La Rambla, and from the Mediterranean seafront to the Ronda de Sant Pere.
While strolling about we stopped in a Pintxos bar (although we did not have any) and then a
Pastelería where we did have a hot chocolate with churros. We circled back through the Placa Catalunya and then enjoyed some time under a Jacaranda tree in full bloom in the Placa D'Urquinaona. We returned to We Boutique to pick up our luggage and headed to the airport.
We must say that generally we have not encountered too many issues when traveling, but when it does happen to you it can be very inconvenient and frustrating. Upon arriving at the Barcelona airport we immediately noticed our flight was cancelled. Of course that meant a lengthy line - an hour and a half - to be able to speak to an agent. By that time both of the later flights that day were full necessitating us being booked on a flight the next morning. This meant contacting the place we were going to stay and the car rental company, both of which we did.
We were of course put up in a hotel but here's the thing - the hotel they chose for us, and the 200 +/- other passengers on cancelled flights (ours was not the only cancellation) was well north of Barcelona. Unfortunately there is no by-pass around Barcelona - you pretty much have to go straight through the city, a trip that took us 1 hr 45 minutes to cover the 70 kms to the Hotel Mar Blau in Calella, due to the heavy traffic. Why the airline did not have an option south of the airport, in order to avoid driving through Barcelona is beyond us.
We arrived shortly before 8:00 pm to an extensive cafeteria style buffet - decent food but not photo worthy. At that time we were told to check at 11:00 pm for bus departure times. At 11:00 pm we were told they did not yet have a schedule, and they would call our room. To their credit they did - at 2:45 am! We were then told the first two buses were leaving at 4:00 am with no schedule yet for the final two. Now awake we stayed up and got on the first bus, which 'only' took one hour to get back to the airport ... there is not much traffic between 4:00 am and 5:00 am. It did not escape us that absent the flight cancellation we would have been asleep in Menorca, waiting for the birds and roosters to wake us. That said we also realize not many are going to shed a tear for us. Just one of the outcomes of traveling that one encounters from time to time.
___________________________________________________________________________________________________
One of the highlights of We Boutique are the beautiful tiled floors. Virtually all of the hotel's floors are covered with Catalan mosaic floor tiles. Apparently a fellow from Valencia did a few buildings in Barcelona. In fact when renovating a box of unused tiles was found behind a wall.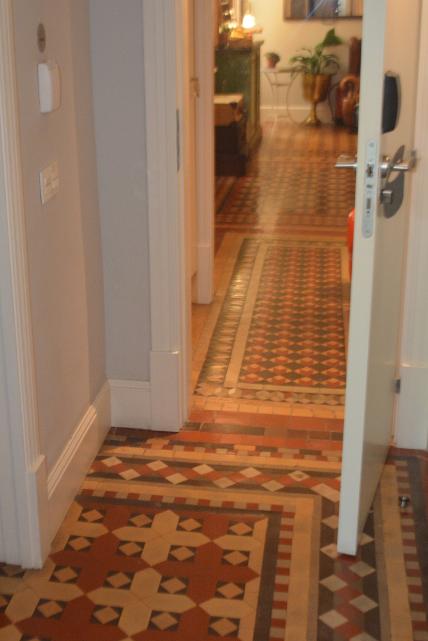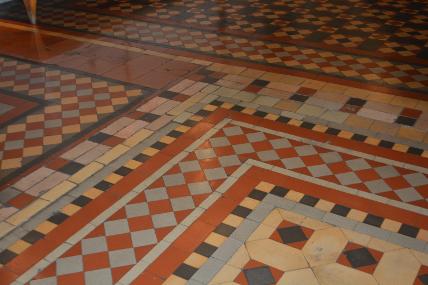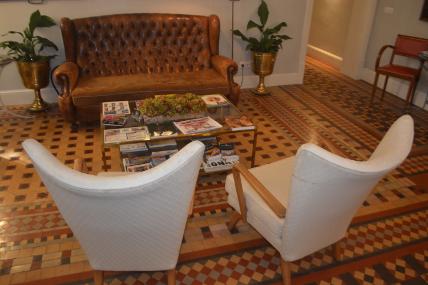 The Barcelona Catedral and surrounding buildings. The Palau de Musica.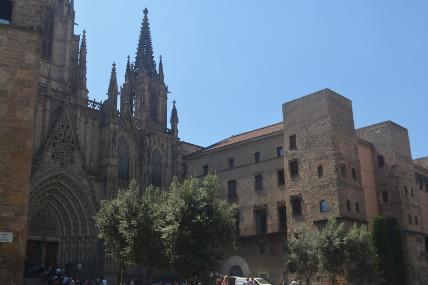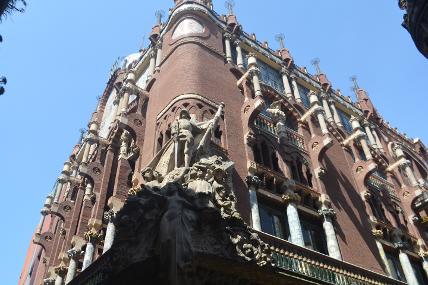 Some impressive stone work ... ... and again the Catedral.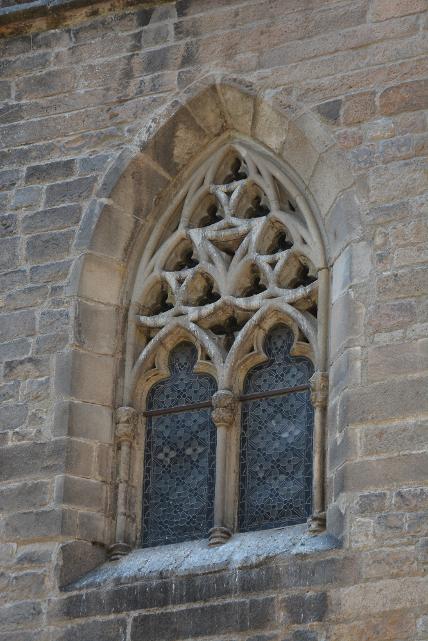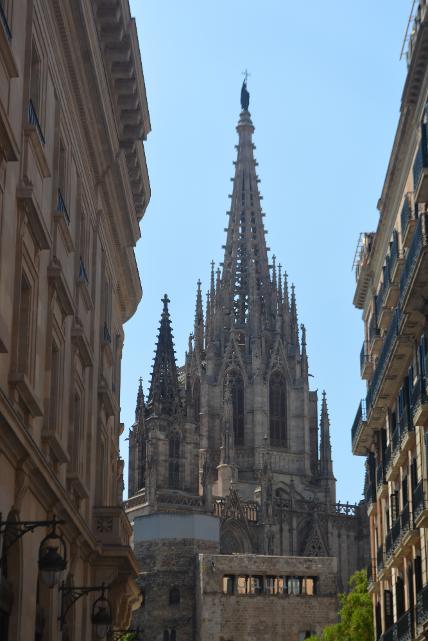 You may recall that in the Basque region pintxos are very popular. Barcelona also has a number of Pintxos bars providing a wide selection of bite size snack foods / tapas.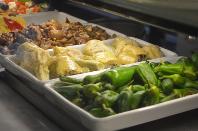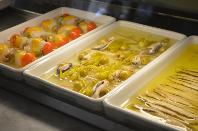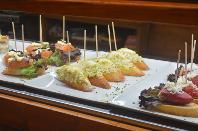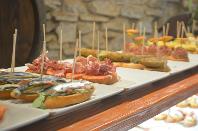 Each pintxos was from 2 to 3 euros ($3 to $4.50 Cdn at current exchange rates.). We particularly liked the eating (for tourist) instructions.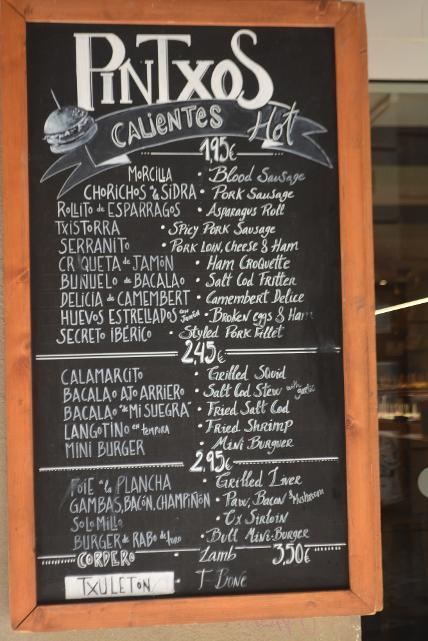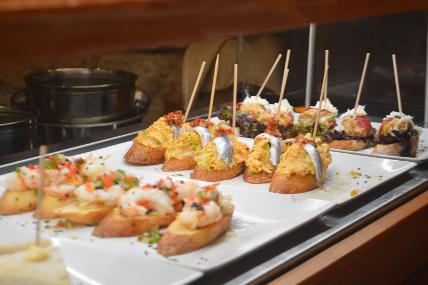 One of the sinful pleasures of Spain is churros and chocolate. Passing a Pastelería we couldn't resist ... and indulged.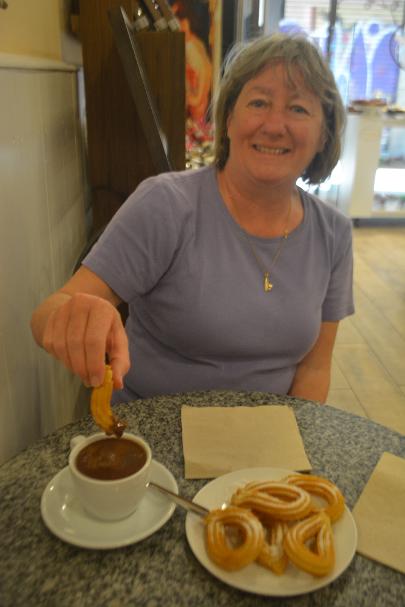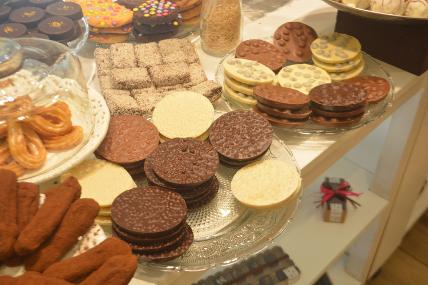 Cakes, churros and chocolate - now this is vacation.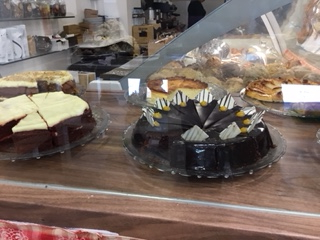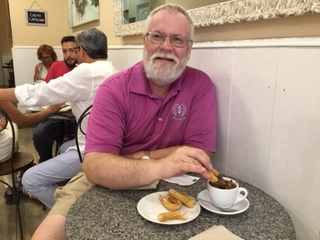 Barcelona is an extremely pedestrian friendly city, in large part due to the hordes of pedestrians. Pedestrian only boulevards and lengthy crosswalk cycles are but two of the means in which pedestrians are facilitated.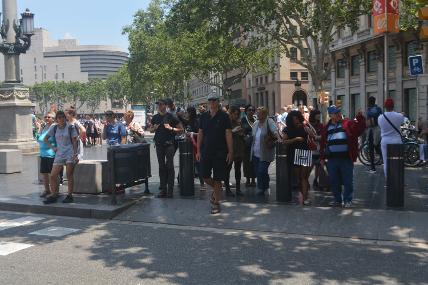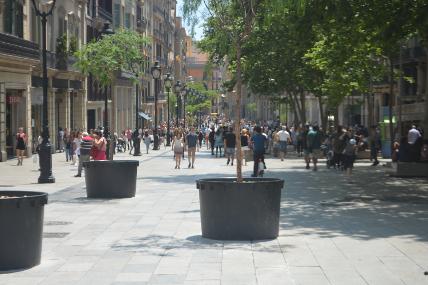 A singular jacaranda tree in full bloom in the Placa D'Urquinaona near our hotel.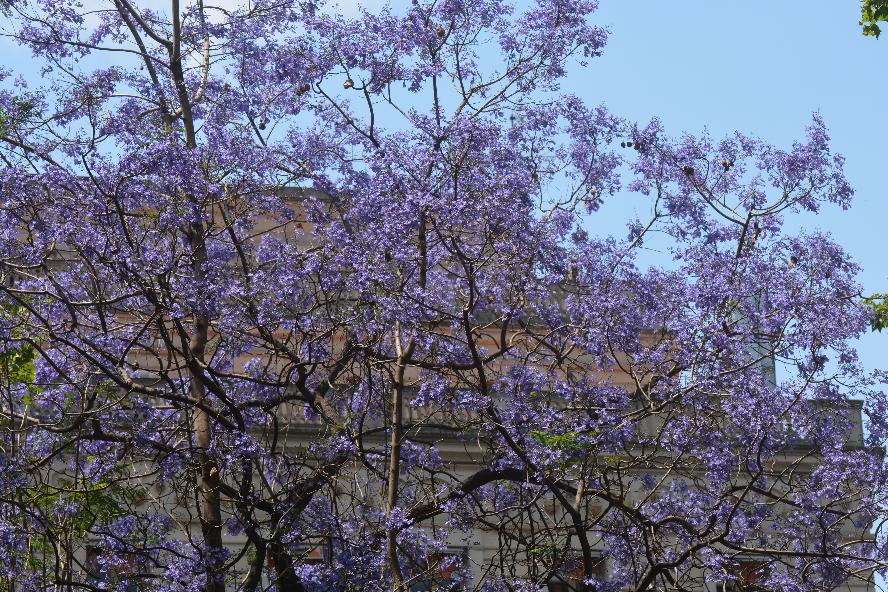 The Hotel Mar Blau in Calella, not exactly what we had planned.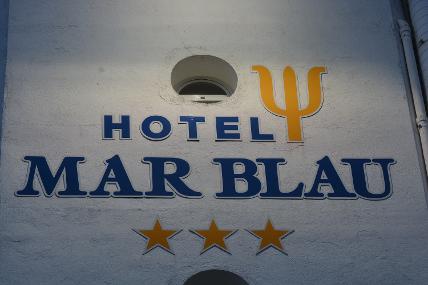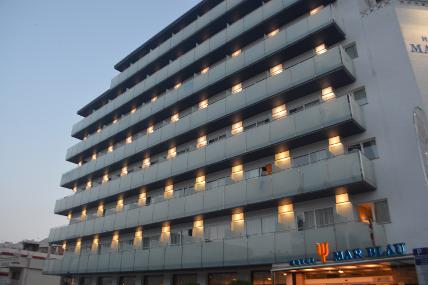 May 30, 2018 - in Barcelona


During our stop in Barcelona last year we spent our full day visiting Park Guell and La Segrada Familia, i.e. being tourists. Both were interesting and worthwhile to visit but including the walk between each and then back to our hotel it took most of our day, leaving little time to simply wander about, admiring the architecture of the buildings of Barcelona and 'people watch'.
Our morning walk took us from La Ribera, where we were located into the El Born district with its many very narrow alleys. We started by searching out flamenco shops (two were closed but we did find one open) just to have a look at the colourful dresses and see if we could find a Christmas flamenco CD (we were not successful). We then worked our way to the Santa Caterina market. On our way back we picked up a couple of pieces of pizza (quite large and only two euros each) and an arancini (an Italian rice ball) which we ate on a park bench near the Arc de Triumf. The Arc de Tiomf or Arco de Tiumfo in Spanish, is a triumphal arch built by architect Josep Vilaseca i Casanovas as the main access gate for the 1888 Barcelona World Fair.
We returned to our hotel for a short siesta before leaving again, this time heading to La Dreta de L'Eixample district and the Passeig de Gracia, one of the major avenues of the city and one of its most important shopping and business areas, containing several of the city's most celebrated pieces of architecture. The Passeig stretches north from the Placa Catalunya. We made it as far as the Casa Batllo, a renowned building being one of Antoni Gaudi's masterpieces. A remodel of a previously built house it was redesigned in 1904 by Gaudi and has been refurbished several times since then. During our walk we took some time to just sit on one of the many benches available for pedestrians in this city before making our way to the Placa Catalunya with its impressive fountain.
Another short stop at our hotel before a glass of sangria and dinner at La Cuina de Laietana. We searched for a place serving paella and ended up at this nearby restaurant. Unfortunately paella is generally only prepared for two, with Gayle making the sacrifice in order that I could order the Fondo de verduras asa das con virutas de jamon iberico (grilled vegetables with Iberian ham shavings) paella. Fortunately the 'ham shavings' were more 'ham pieces' which Gayle could easily pick out.
It turned out to be a very pleasant day. With nice weather (low 20s) and generally sunny it was enjoyable to stroll through such a pedestrian friendly city - very vibrant even in the month of May.
__________________________________________________________________________________________________
During the morning we walked through the La Ribera and El Born districts of Barcelona, around and just south of where we were staying at We Boutique.
We admired the detailed work on the balconies of many of the buildings and the narrow alleys winding their way through these districts.
Last year we were more tourists - visiting Park Guell and La Segrada Familia but this year we wanted to, and did, just wander through a number of the interesting areas of central Barcelona.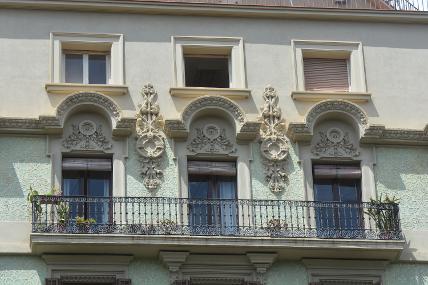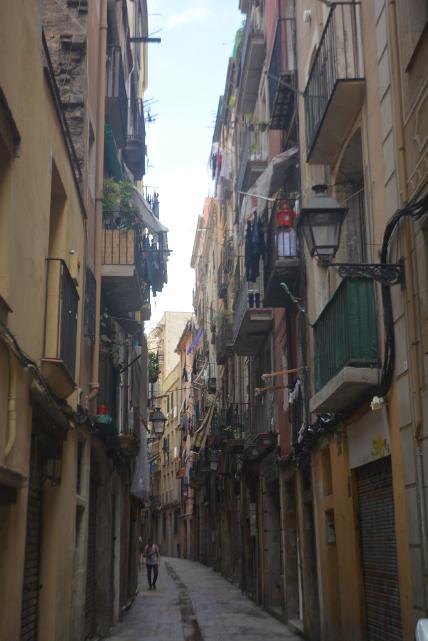 We stumbled upon the market of Santa Caterina, full of vegetable, cheese, meat and fish stalls.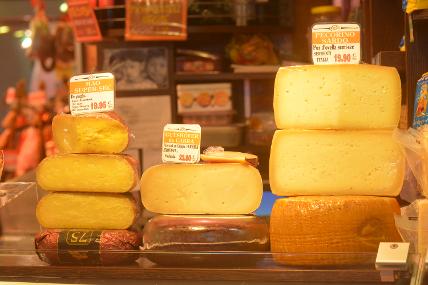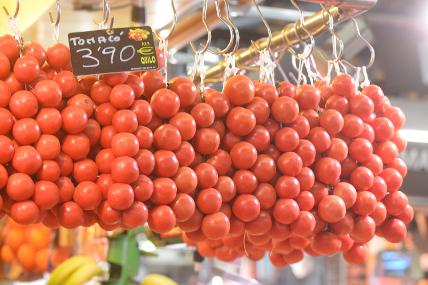 Eating pizza by the Arc de Tiumf.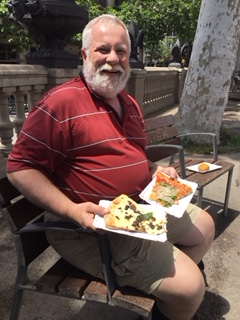 When one thinks of the Arc de Triumphe one normally thinks of Paris, but there is an impressive Arc de Triumf in Barcelona as well.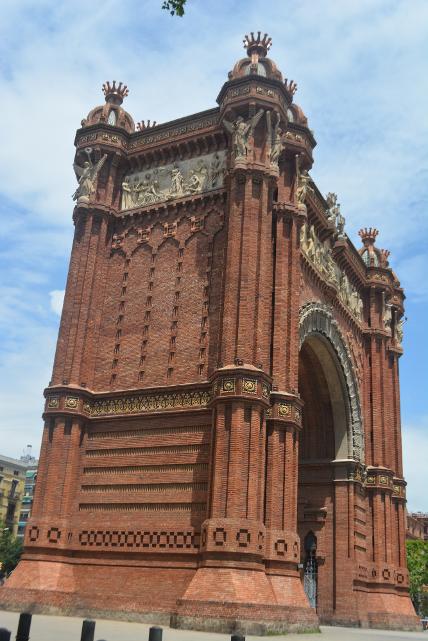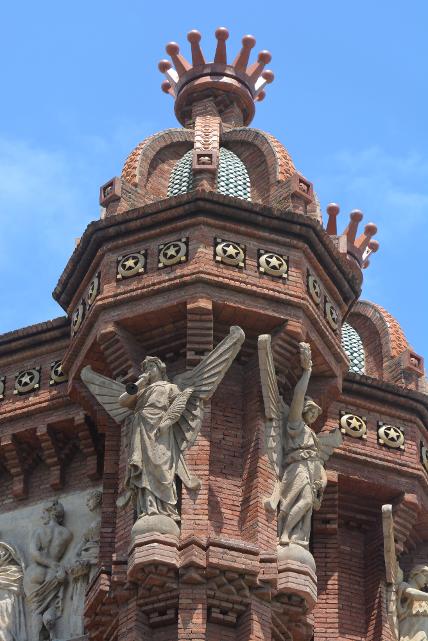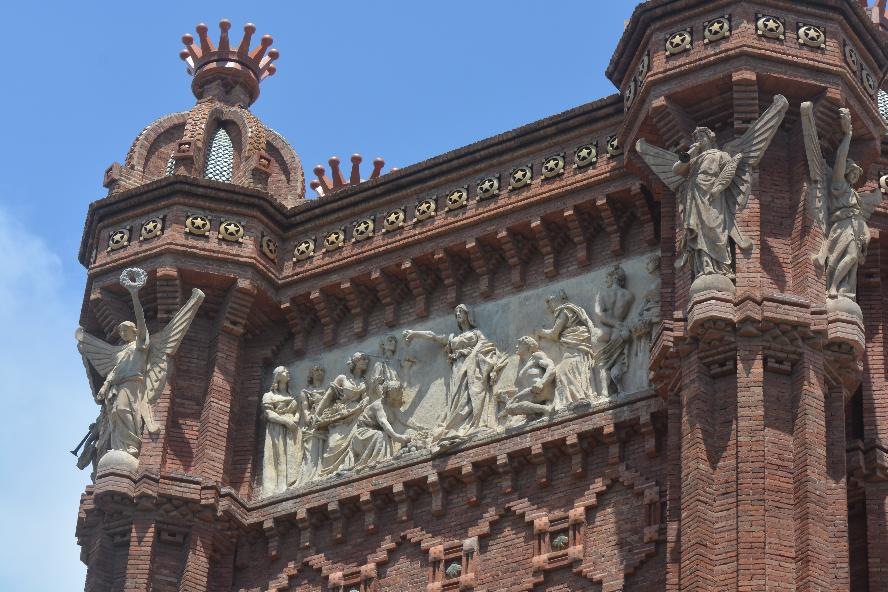 Ornate wall sculptures and balconies.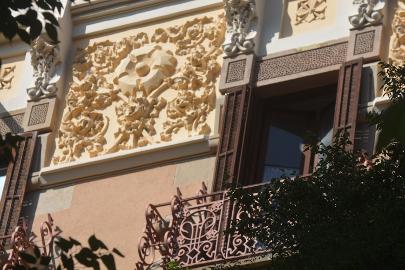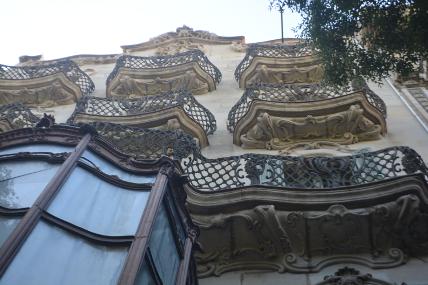 A couple of beautiful enclosed balconies seen along the streets of Barcelona.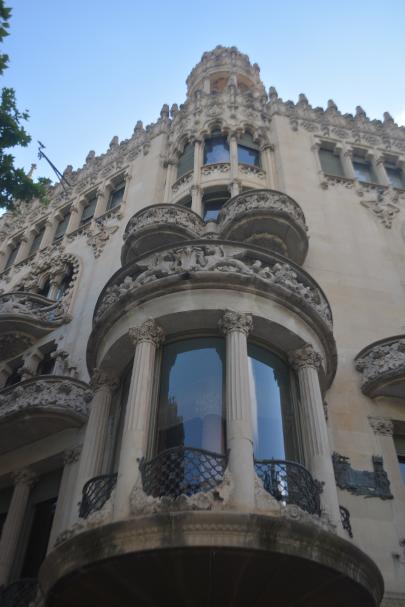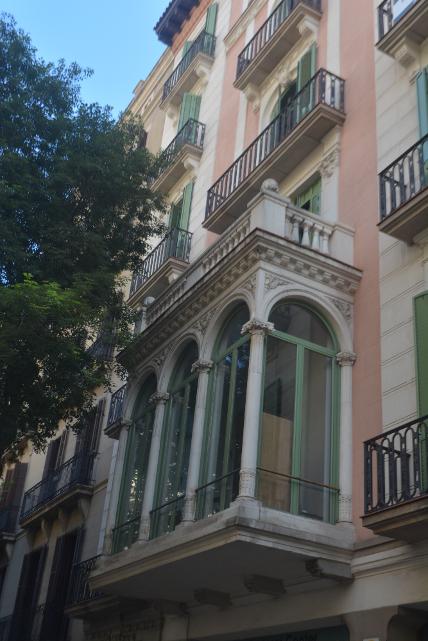 Gaudi's work at Casa Batllo - a landmark in Barcelona.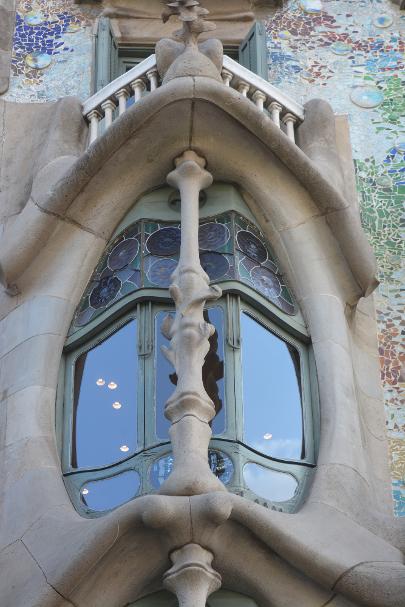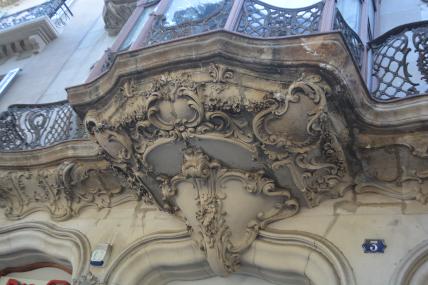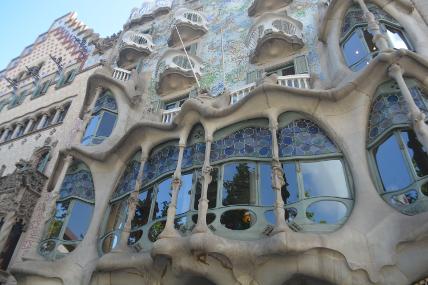 Some of the 'art' on the exterior of the building of Gaudi's Casa Batllo.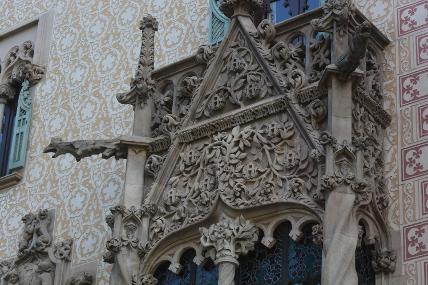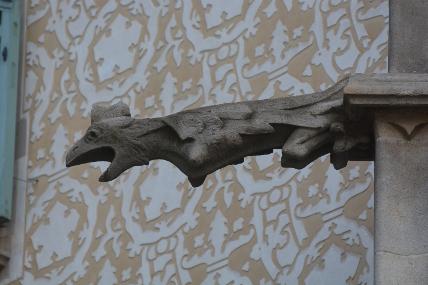 Placa Catalunya - the primary square in central Barcelona, complete with statues and fountains.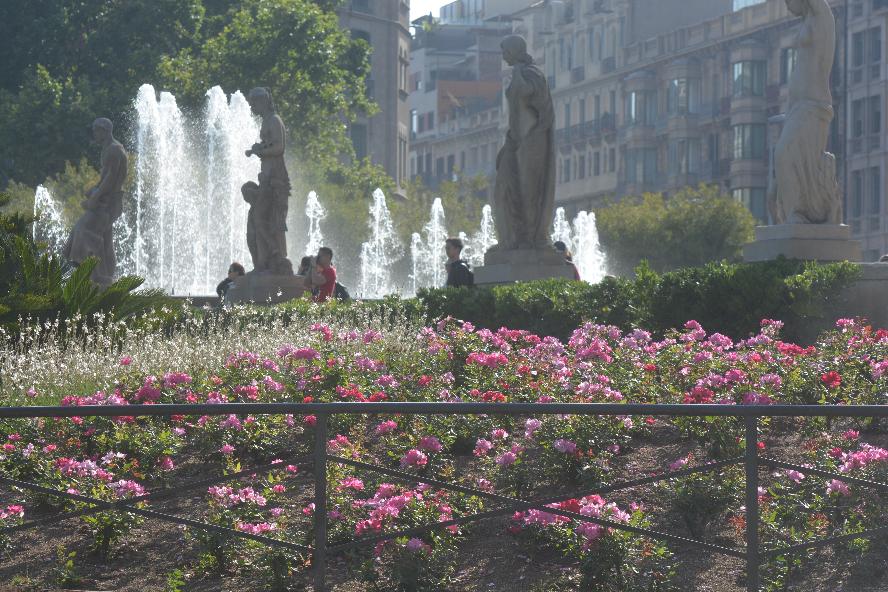 There is nothing more Spanish than a flamenco dress and enjoying some sangria.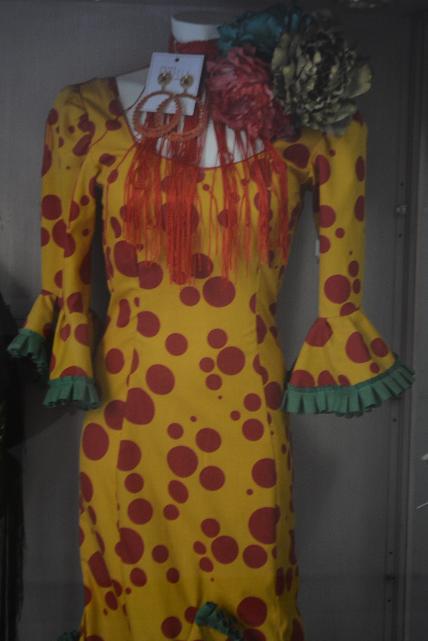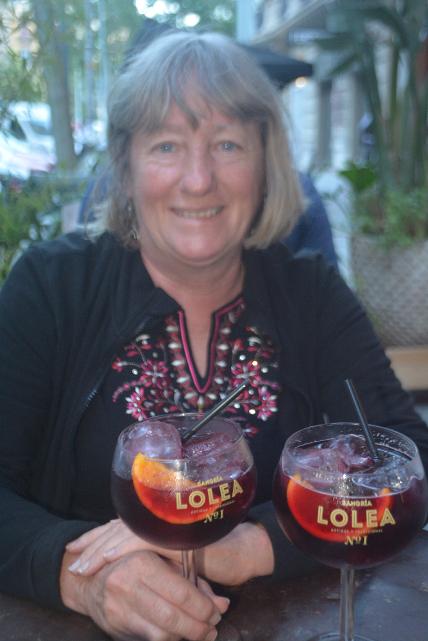 For dinner I started with traditional chistoria, or Spanish red sausage. We then had the Paella Iberica, with grilled vegetables and Iberian ham.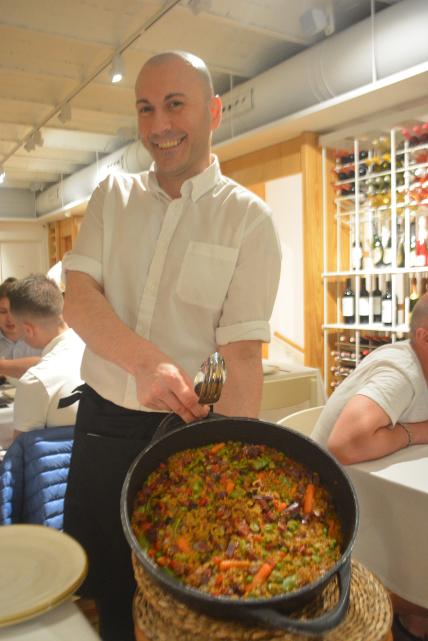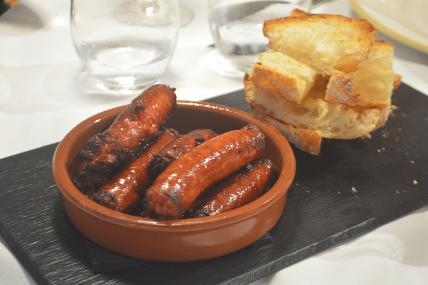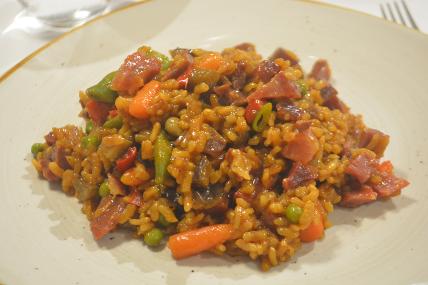 May 29, 2018 - Hotel Can Cuch to We Boutique, Barcelona


Today we left Hotel Can Cuch, driving to the coast and then along a slower (with a number of lights) coastal road rather than the highway. It got a bit tricky as we entered Barcelona as we were pretty much forced on to the highway and then through the tunnels that run along the east/sea side of the city. Exit signage was not great resulting in us getting off a few exits beyond ideal, leaving us in the city and its busy roundabouts. Eventually we found our way (thanks to me not accepting Gayle pointing me to a road that would have continued further south rather than back to the car rental office). Once we got out of the city centre traffic was not that bad with us finding the car rental return without too much further difficulty. Unfortunately it was closed until 4:00 pm leaving us to have to wait for nearly an hour.
We then took a taxi to We Boutique, the same hotel we stayed at this time last year. We were welcomed with smiles and a small bottle of cava as a returning guest. Our room was a tad smaller but on the front of the building with a small balcony on which was squeezed a small table and a couple of chairs.

When in Barcelona last year we enjoyed a dinner at nearby Casa Lolea, and made a reservation (good thing as it would not have been possible to get a table otherwise) to eat dinner there again. After a walk down Via Laeitana we had to wait a bit for a table in the front of the small restaurant but were eventually seated. Casa Lolea produces a respectable sangria which we of course had a bottle of with our dinner. We had a couple of small tapas - Gayle a Queso brie, manzana asada, tomate confitade y emulsion de albahaca (brie cheese with roasted apple, confit of tomatoe and basil) and me the Cecina de Leon con queso de cabra y chutney de pimientos (Leon's cecina with goat cheese and red roasted pepper chutney). The for our 'larger' dishes I had the octopus ceviche and Gayle Burrata (
a fresh Italian buffalo milk cheese made from mozzarella and cream. The outer shell is solid mozzarella, while the inside containing stracciatella and cream, giving it an unusual, soft texture) with rocket, pesto and tapenade and we shared a Tortilla de patatas hecho al momento (potato 'tortillo' freshly made with tomato bread). Of course for dessert with had the creama catalana. Every bit as good as we remembered.
We returned to We Boutique and called it a night.
_________________________________________________________________________________________________
Hotel Can Cuch along with some vibrant roses in full bloom.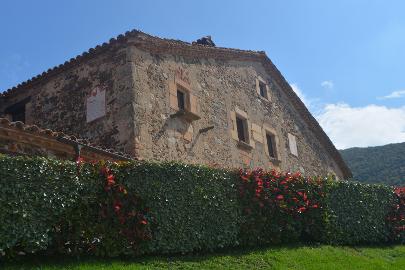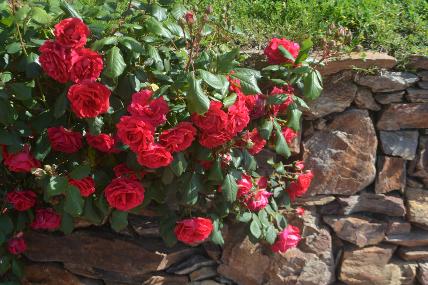 More wildflowers seen on our drive down the narrow 'road' from Hotel Can Cuch to Canoves.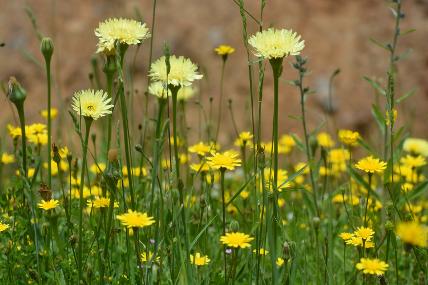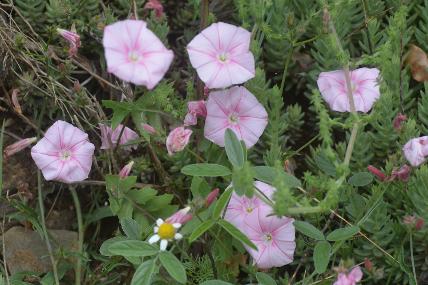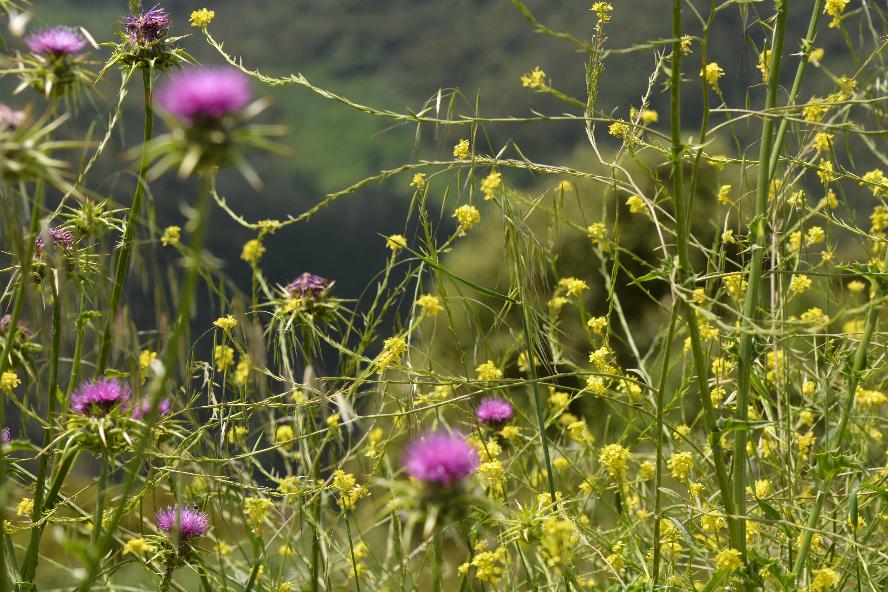 Our small balcony with table and chairs overlooking Ronda Sant Pere and Gayle making use of the balcony enjoying some wine and tapas.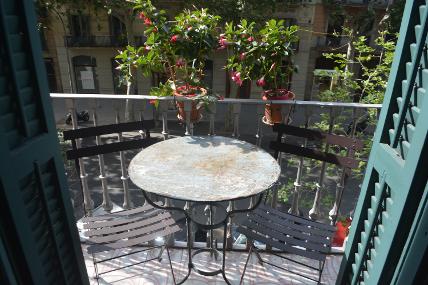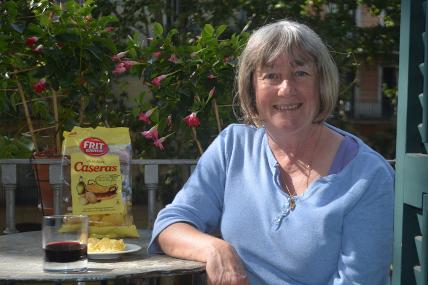 A narrow ally in the El Born district and views down Via Laeitana.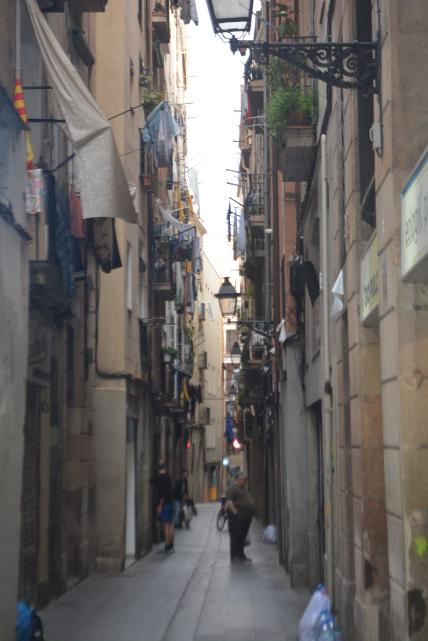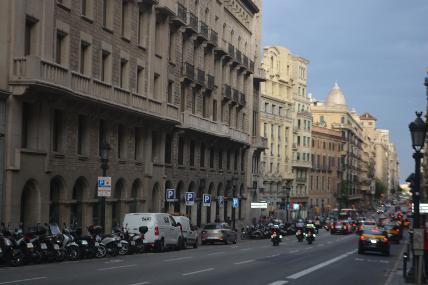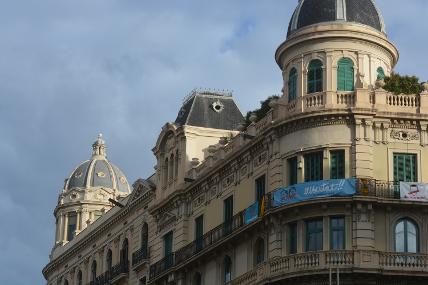 Our reservation, and the daily menu.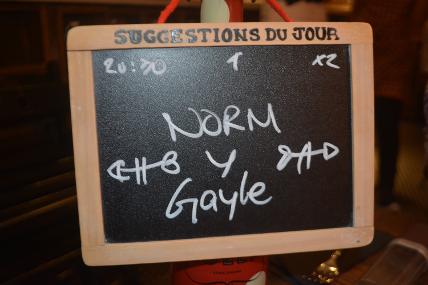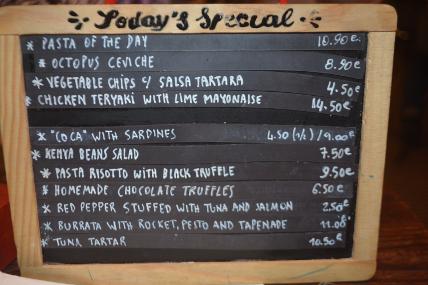 Enjoying our meal at Casa Lolea.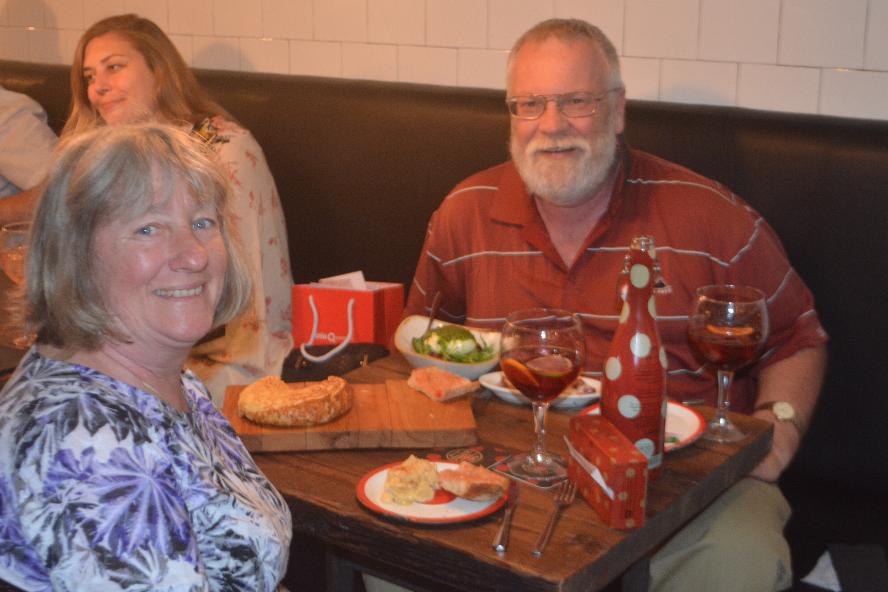 Casa Lolea makes a decent sangria, actually available at Heredad Beragu earlier in the trip.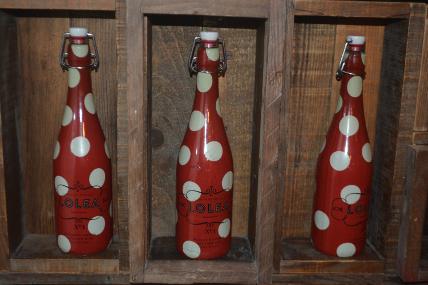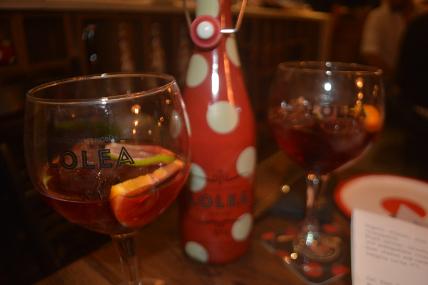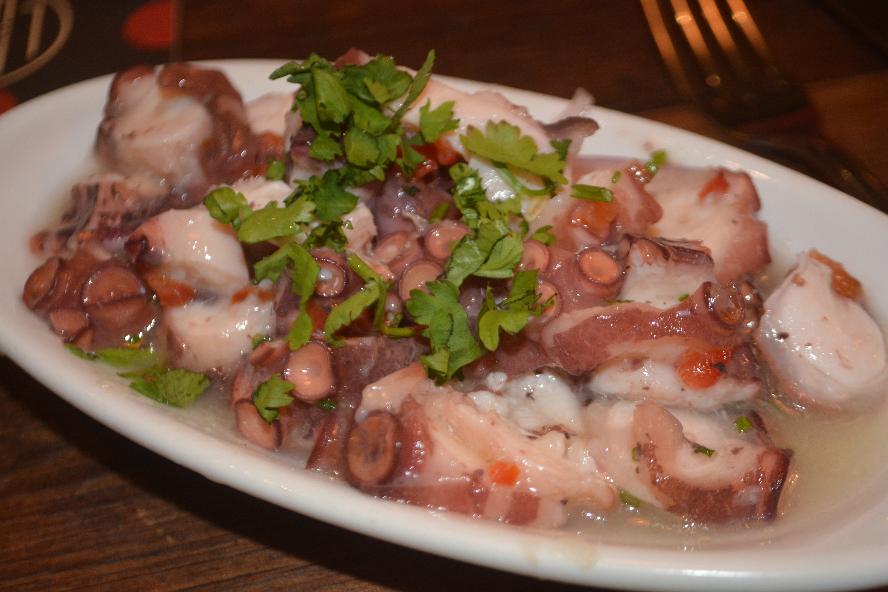 Tomatoes, red peppers and garlic hanging on the restaurant's wall.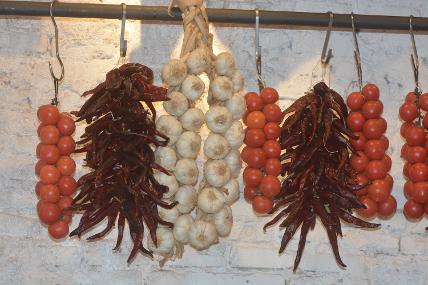 Leon's cecina with goat cheese and red roasted pepper
chutney.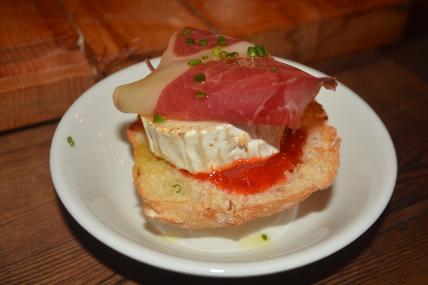 Brie cheese, roasted apple, confit tomato and basil Burrata with rocket, pesto and tepenade.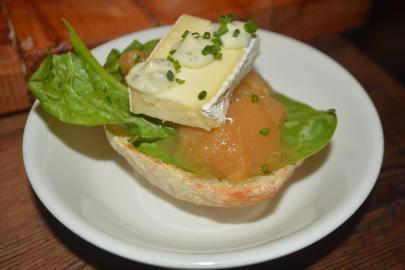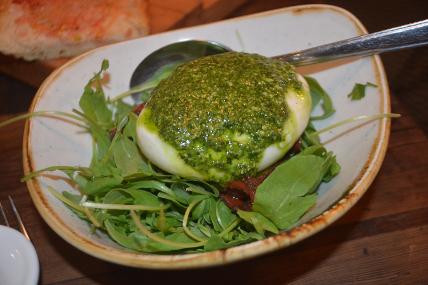 Potato 'tortillo' with tomato bread Crema catalana.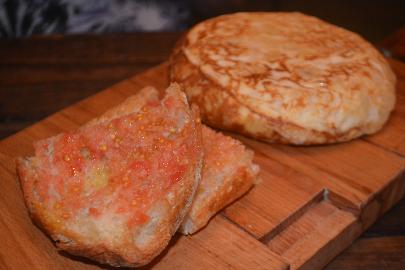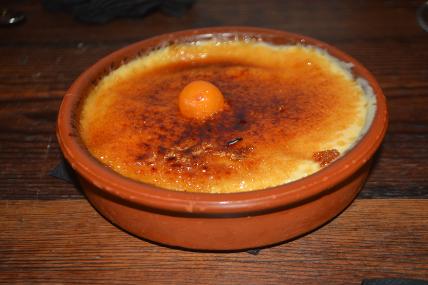 May 28, 2018 - Hotel Can Cuch


Not much to say about today. We woke up in a cloud - in a literal cloud. It was not only cloudy but we were in the cloud - couldn't see a thing out our window. And then it rained.
Standard (at least what is now standard) Spanish breakfast with lots of fruit, meat, cheese, croissants and everything else you would expect.
It wasn't until early afternoon when the weather began to clear and given the drive up here to Hotel Can Cuch we decided to just stay put for the day. We had bought a bottle of Cava while at the Muga winery and as the sun came out and we had a beautiful grassy sitting area just off of our room we decided this was the time to enjoy it.
Speaking of our room documents from the 18th century refer to La Pallissa as a refuge for travelers and fugitives. During the 1980s it was the home of a charcoal burner called 'el nen' (the kid). The room has a fireplace and the bathroom walls retain nests left in view as part of the renovation.
Can Cuch itself dates back to the 10th century when a few small buildings surrounding the threshing floor were used to shelter people, animals and food. Over the centuries the main building expanded until it became a large farmhouse with two threshing floors and a watering pond, now converted into the swimming pool. At the beginning of the 20th century the Cuch family moved to Canoves, with the house let to sharecroppers. Restoration of the property began in 2007 with the hotel opening in 2011.
We of course again ate at the hotel's restaurant. Don't recall exactly what the mise-bouche was but mine did have a sliver of salmon. We again ordered the toasted 'Coca' bread with tomato and then Gayle had a surprisingly good Huevo frito con parmeutier de patata (fried egg with potato parmeutier) accompanied by some roasted cherry tomatoes. I had the Arroz caldosa de codorniz con alioli de manzana, i.e a rice broth of quail with apple alioli. Jesus, our waiter chatted extensively, particularly in responding to our questions about the yellow ribbons we had seen here in Catalonia.
All in all a very quiet, calm, relaxing day.
__________________________________________________________________________________________________
A good selection of fruit for breakfast ... ... and a nice selection of lots of stuff for breakfast.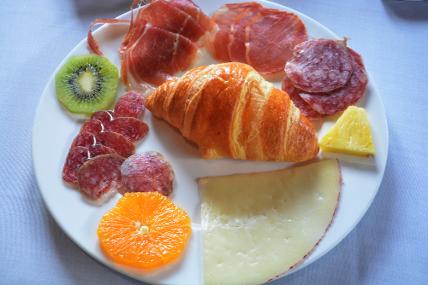 Hotel Can Cuch's pool - still too cold to use this time of year. The view out our window when in a cloud.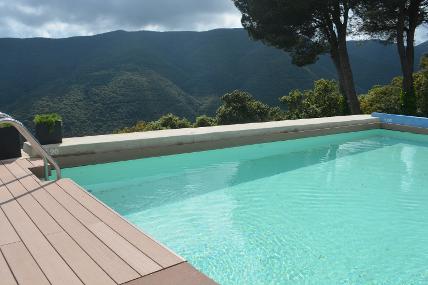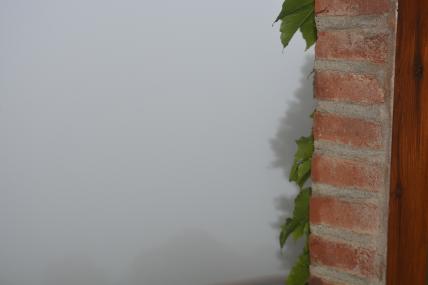 The nearby church - in the sun (yesterday) and in the cloud (this morning).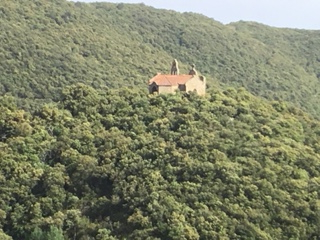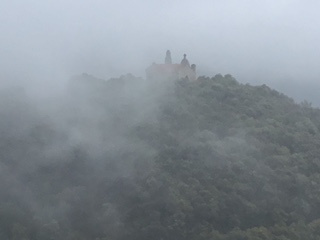 Our sitting area .... ... and from our sitting area our room La Pallissa.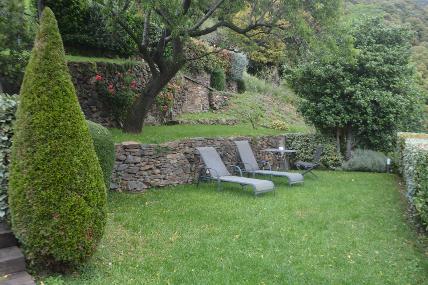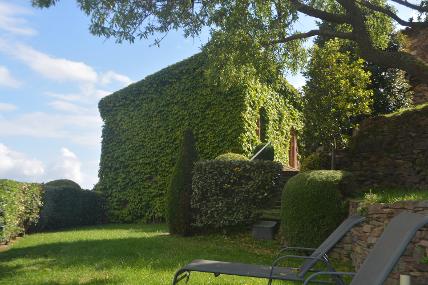 Our bottle of Cava enjoyed late in the day when the sun finally broke through the cloud cover.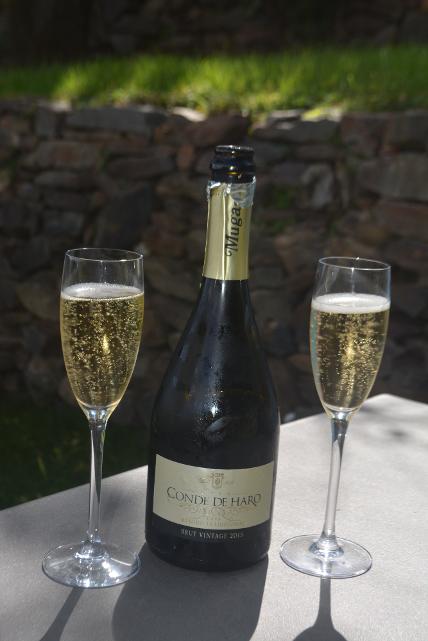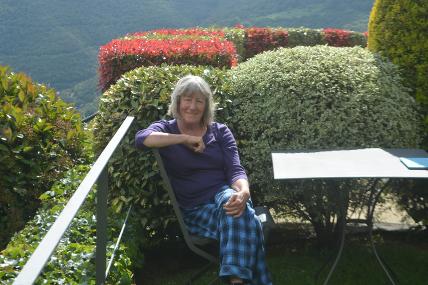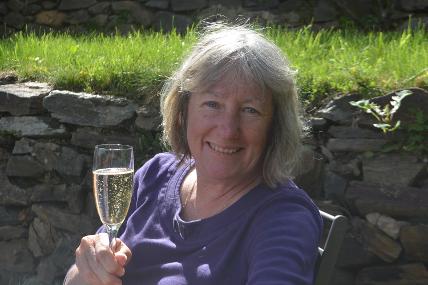 Our mise-bouche (don't recall what the green was) with a slice of salmon (for me) and again the toasted 'Coca' bread with tomato.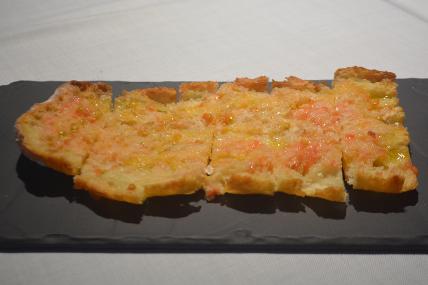 Jesus serving my Arroz caldosa de codorniz con alioli de manzana / rice broth of quail with apple alioli.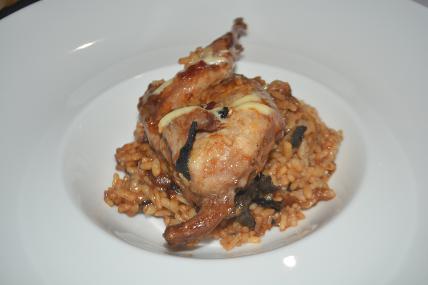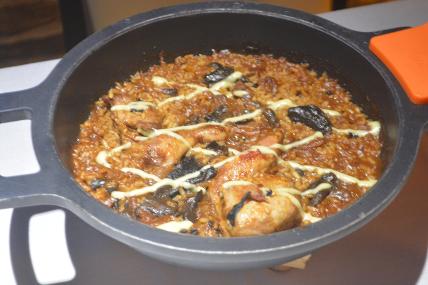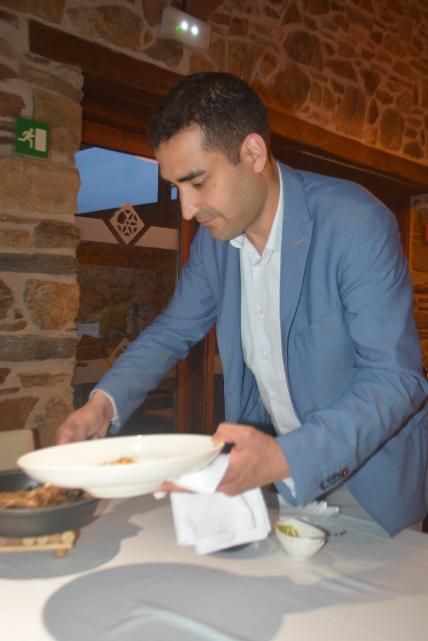 A fried egg with potato parmeutier and cherry tomatoes, a dish Gayle found to be surprisingly delicious.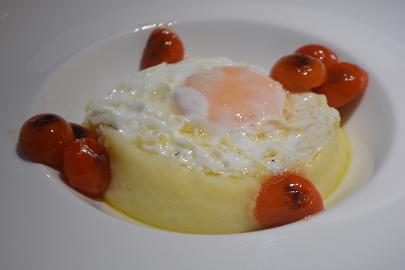 For dessert a Savarin d'Amartetto amb gelat de vanilla Bourbon - nicely presented.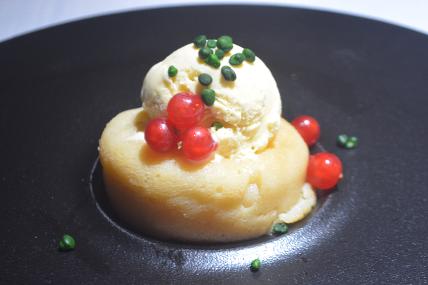 May 27, 2018 - Chateau Brangoly to Hotel Can Cuch (back to Spain)


Another wonderful and sumptuous breakfast with Louie and Carol, one that included a number of laughs, most at my expense - why does my attention to detail seem strange to some? On the way back yesterday I dropped Gayle off so she could walk the last 1.1 kms to Chateau Brangoly - not 1 km, but 1.1! Nice to have met Carol and Louie, and very appreciative of their travel advice.
Today's drive turned out to be quite lengthy and difficult, through winding mountain passes along narrow, twisty roads. It was back to Puigcerda and then east along the N-260 through a barren mountainous pass to Ribes de Freser and south adjacent to a river to Ripoli. We then continued further south to Vic where we saw the most impressive field of poppies, so much so that we took the next exit and backtracked just to get some photos. At Tona we again turned east to drive throught the National Forest Montseny, another beautiful albeit difficult drive with wildflowers galore and great opportunities for hiking.

During the drive, first near Ribes de Freser we started to notice many yellow ribbons. It turns out that in Catalonia yellow ribbons began to be used in late October 2017 by the Catalan independence movement as a symbol of solidarity with the leaders of two secessionist organizations. Spain's state prosecutor is seeking to punish the two leaders for encouraging civil disobedience prior to the 'referendum' held on 1 October 2017. On 2 November 2017, also other senior Catalan separatist politicians were placed in 'preventive custody' with charges of sedition and rebellion.

We continued through the towns of Cardedue and Canoves before ascending the five kms up the mountainside to the isolated Hotel Can Cuch, a beautifully restored hotel with extensive immaculate landscaping. Our very largeroom was in a separate ivy covered building complete with fireplace and a huge tub in the middle of the bathroom area.

Dinner began with a small avocado mise-bouche followed by 'Coca' bread toasted with tomatoes and Nuestras bravas con salsa chipolte (Can Cuch's 'Bravas' potates with chipolte sauce). For our main courses Gayle had Burrata con tomate cherry divino, albahaca y balsimico (Burrata cheese with divine cherry tomatoes with basil vinagrette) and I the Cordero de lechal deshuesada con pure de berenjena y macadamia (boneless lamb with eggplant puree and macadamia nuts). We enjoyed both.
__________________________________________________________________________________________________

Melon, croissant, quiche, tortilla and chocolate cake - and that's only the first plate.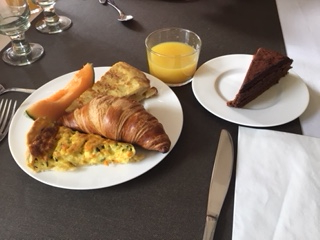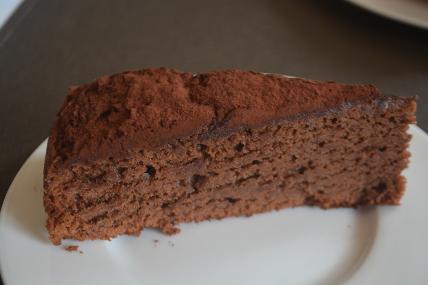 Gayle calls those on the left 'fried egg' flowers.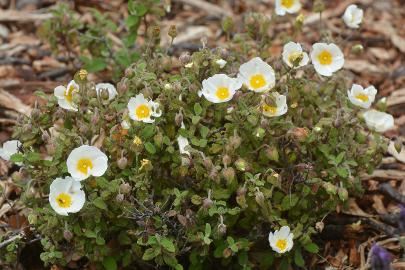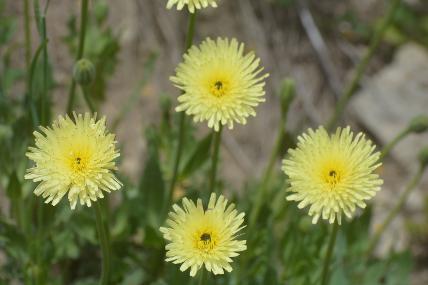 The Catalan flag ... ... and the Catalan Independence flag.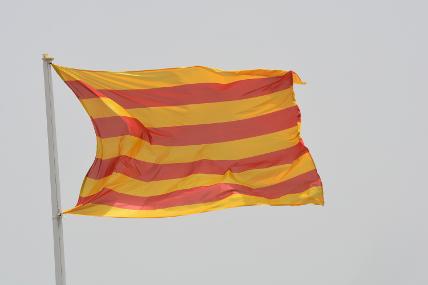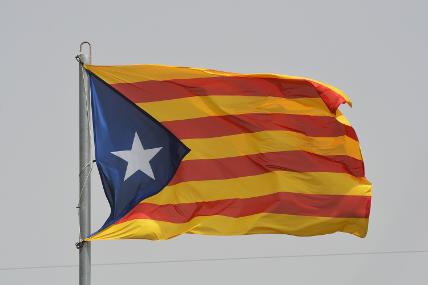 Yellow ribbons are common throughout Catalonia as a symbol of solidarity with the leaders of the independence movement.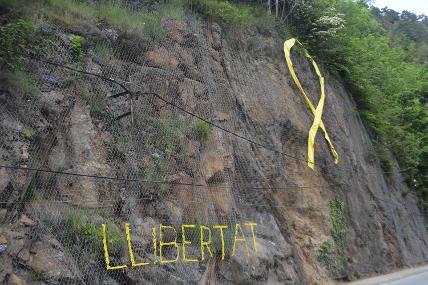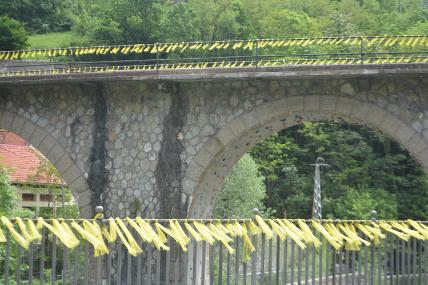 Just off the main highway near Vic we see this jaw-dropping field of poppies. So impressive we left the highway at the next exit and turned around to get a few photos (as impessive as the photo is it does not come close to presenting the actual vibrancy of the fields).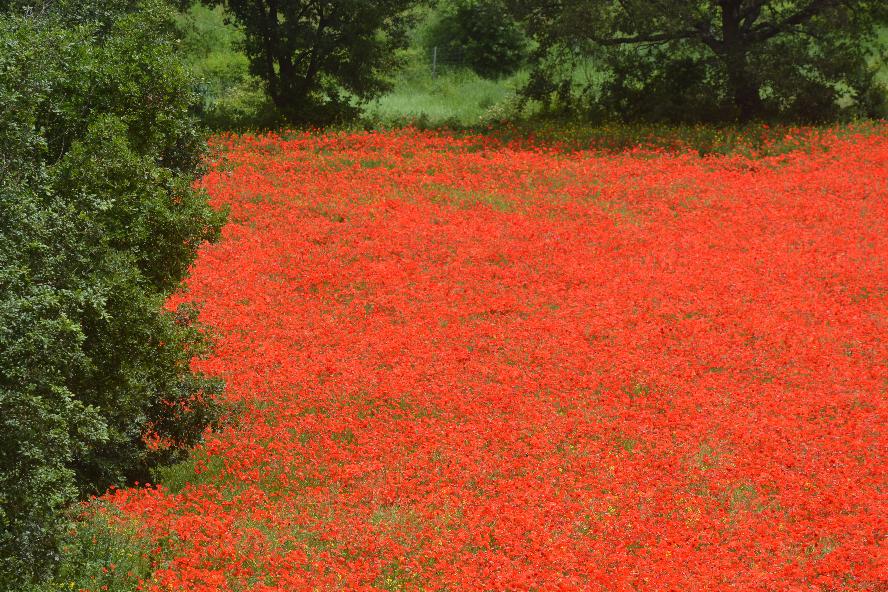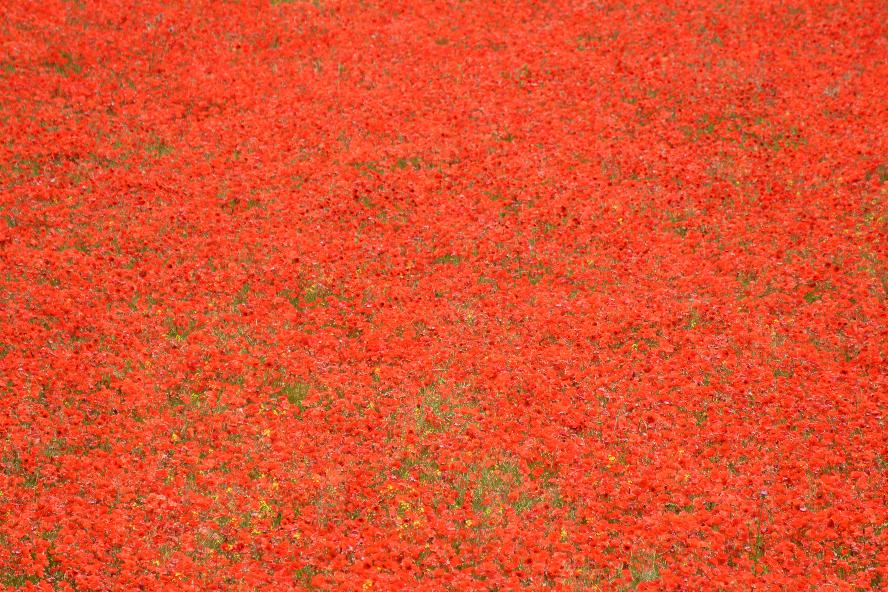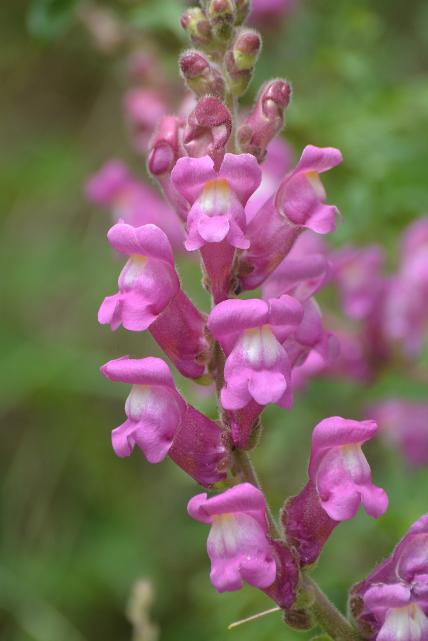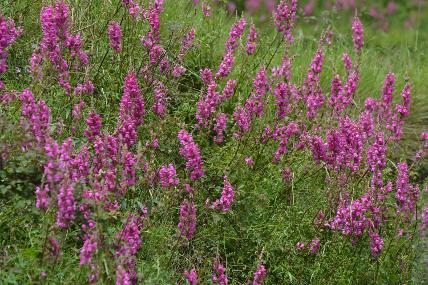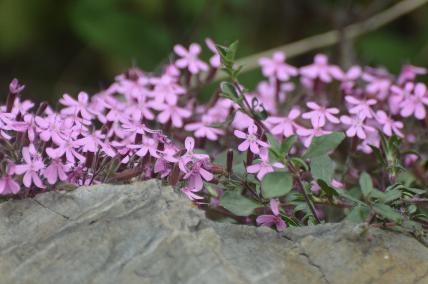 And now 'purple' group of ditch flowers including thistles in full bloom.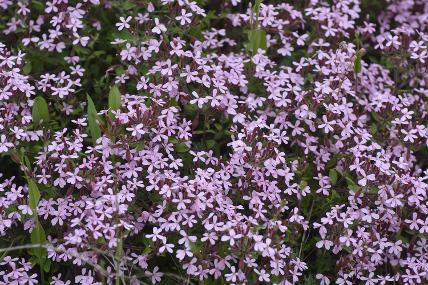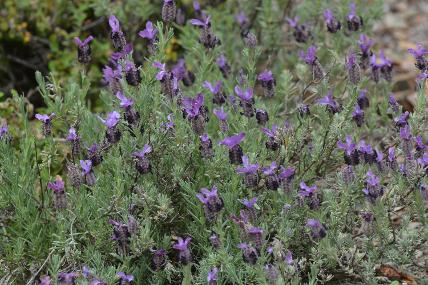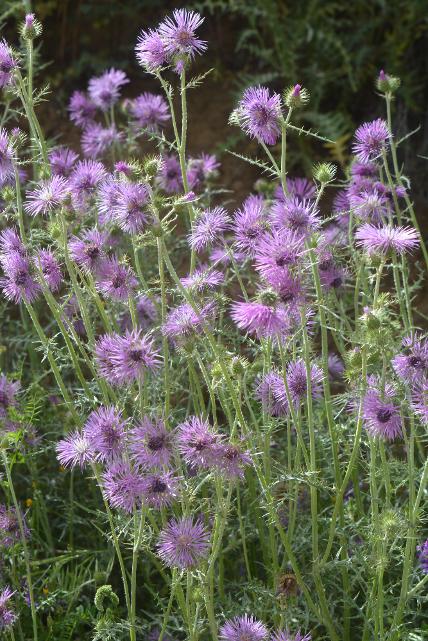 The 5 km drive (mostly) up to Can Cuch provides great views to a nearby church and back down to Canoves and the coast.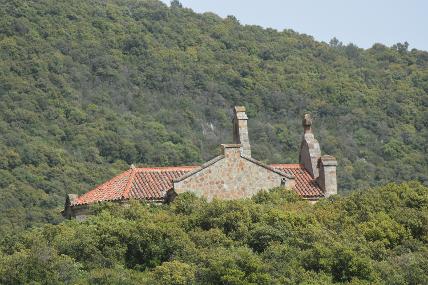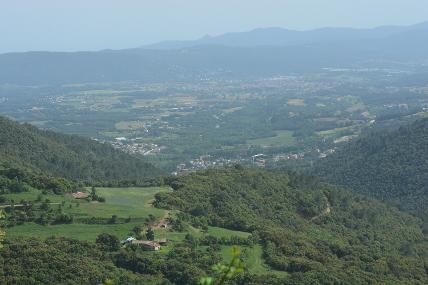 Our room La Pallissa is covered in ivy and separate from the main building, with a huge tub.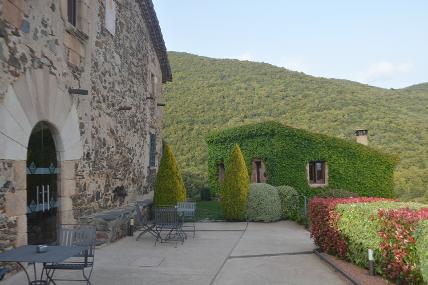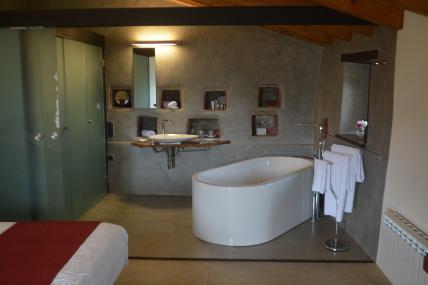 Beautiful multi-coloured hedges at Can Cuch.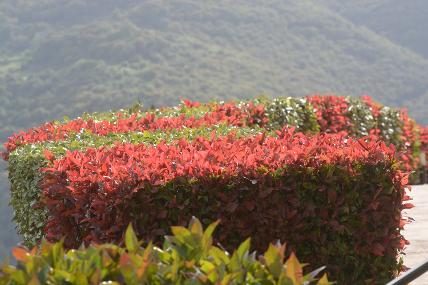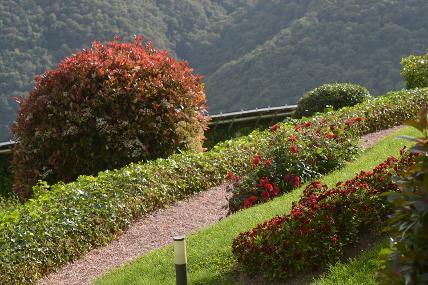 Patatas bravas, a mise-bouche of avocado and 'coca' bread toasted with tomatoes.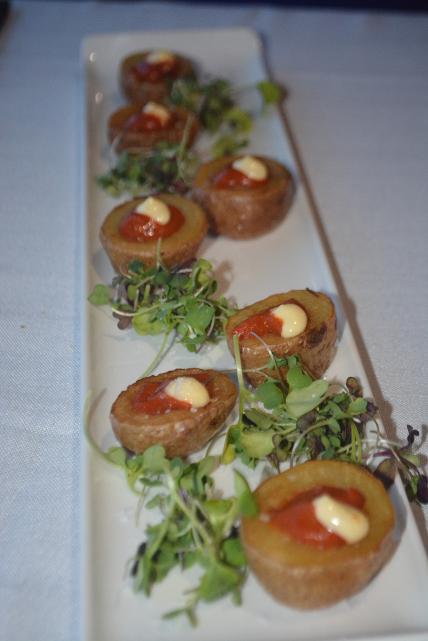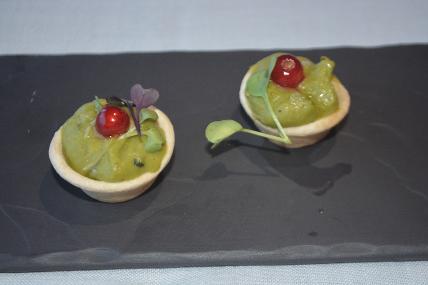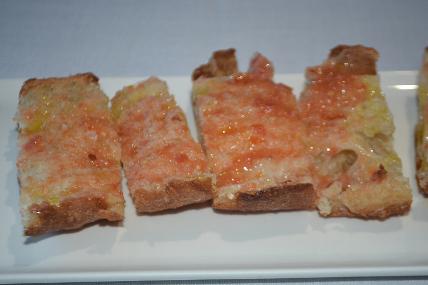 Burrata cheese with cherry tomatoes and basil vinagrette.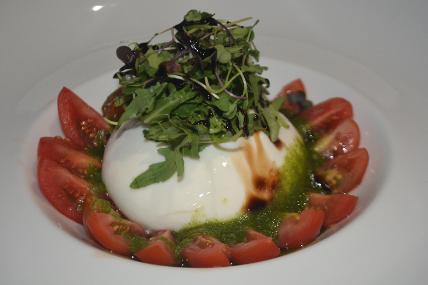 My boneless lamb with eggplant puree and macadamia nuts.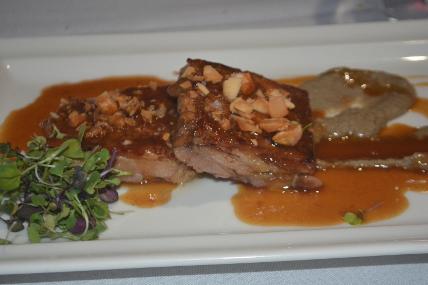 May 26, 2018 - Chateau Brangoly with a drive nearby


How can we say the most extensive breakfast ever (well maybe the second after Villa Astra?). All our breakfasts have been excellent but this one is exceptional. Eduard certainly puts out quite the spread to start one's day. Beyond all the standard fare there was a lovely Quiche Lorraine (without the bacon in consideration of Gayle), a great selection of four French cheeses, meats, and not one, not two but three cakes - carrot, chocolate and apple. Sitting at the next table was an American couple - Carol and Louie from just south of San Francisco with whom we had a nice chat.

During the afternoon we went for a drive, first to Puigcerda (in to Spain to fill up with gas - which is noticeably cheaper than in France) and then back to France for a drive east through Sallagouse and on to Sant-Pierre-dels-Forcats from where we turned up to the mountains, driving through a number of ski villages. While driving through Llivia we noticed a small market - well I noticed the small market; Gayle noticed two Toledo look-a-like dogs. One actually turned out to be an Australian Labradoodle and the other a Spanish water dog. We bought some cheese and cherries for an afternoon snack.
Back at Chateau Brangoly we were on the outdoor terrace, enjoying our cheese, cherries wine when we were joined by Carol and Louie. We enjoyed a wonderful chat and some good laughs. Unlike us who have everything pre-booked Carol and Louie, after having booked places in the cities they visited in the early part their six week trip, were now flying by the seat of their pants - booking lodgings as they explored rural rural Spain / France. As well they are extremely well-traveled, particularly to the far east, providing lots of advice on places like Vietnam, Thailand, Bali etc. Very nice people.
Dinner was again first class starting with a huge cannelloni stuffed with scallops and shrimp (and for Gayle vegetables). Then Gayle enjoyed a plate of large white asparagus with cherry tomatoes and cheese while I had roasted duck with creamed green peas with mint and a caramelized pear. Dessert was a combination of three textures of chocolate with creme anglaise, red fruits and a caramel crisp. We need to stop eating like this but how can we when it is so so good.
__________________________________________________________________________________________________

The carrot cake (one of three - chocolate and apple as well) and a quiche.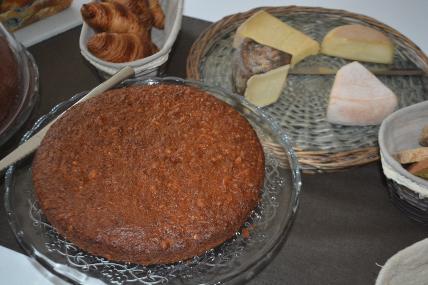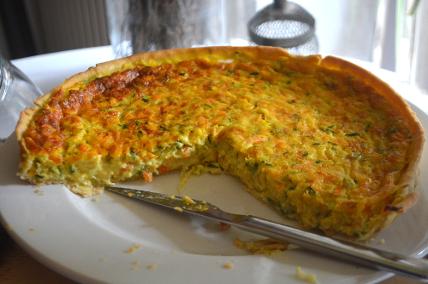 Being France of course there is a nice selection of cheeses for breakfast but how civilized is this - chocolate too!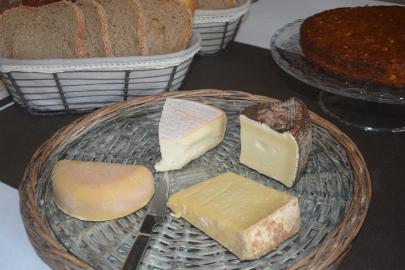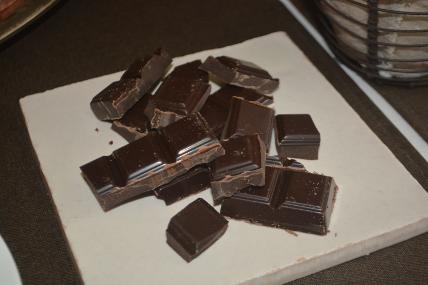 Gayle is not sure what this flower is but we saw this field (and only this one field) covered with them.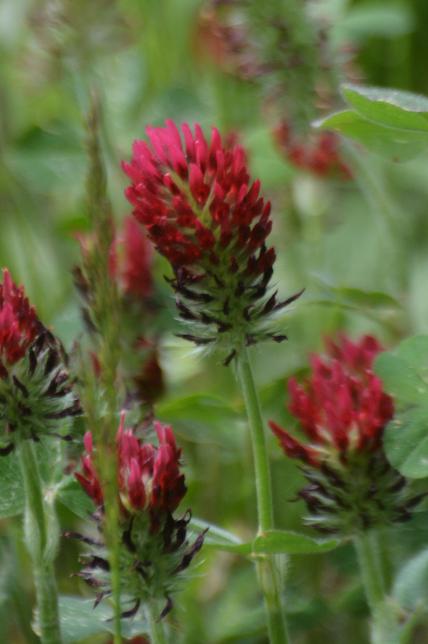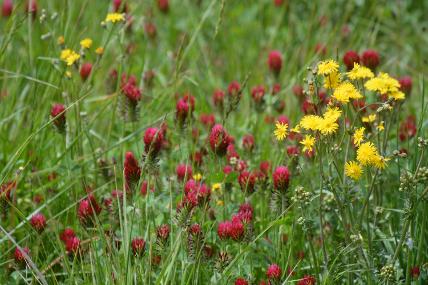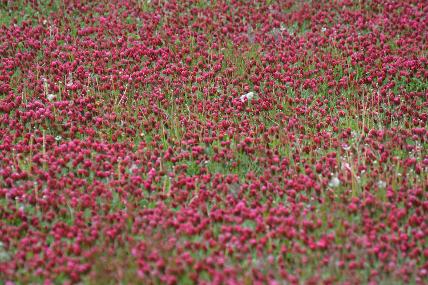 This is a ski resort area with numerous hotels and ski lodges providing easy access to the mountains.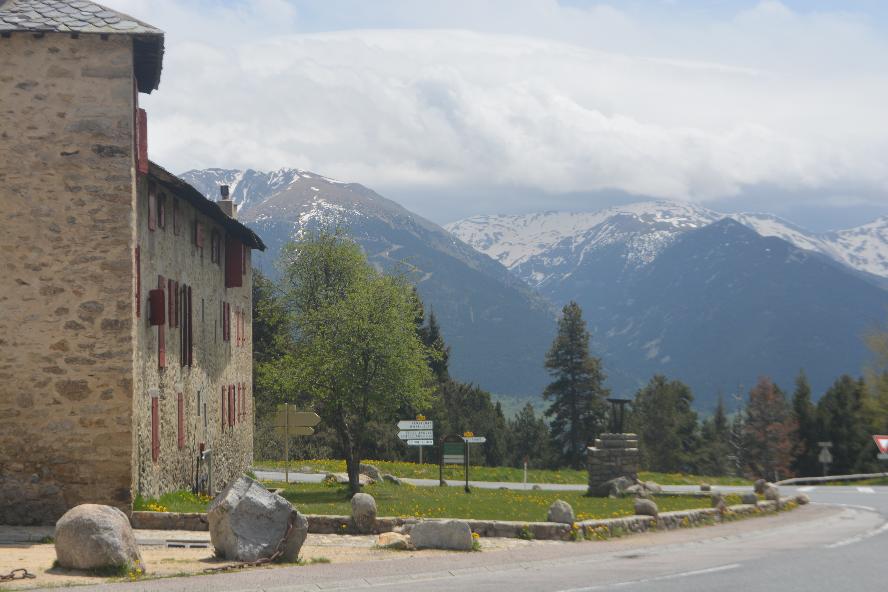 I saw a market. Gayle saw two dogs. We stopped. One of the dogs was an Australian Labradoodle and the other a Spanish water dog.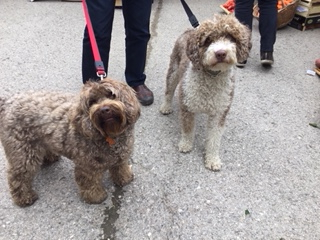 Lots of cured hams and sausages up here in the mountains.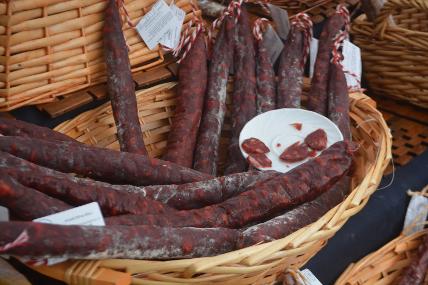 Cherries ... and tomatoes ... but not cherry tomatoes.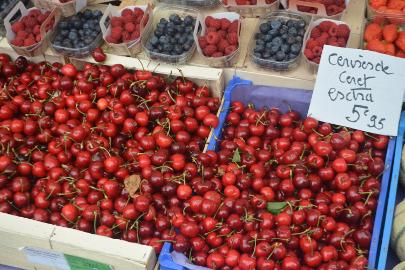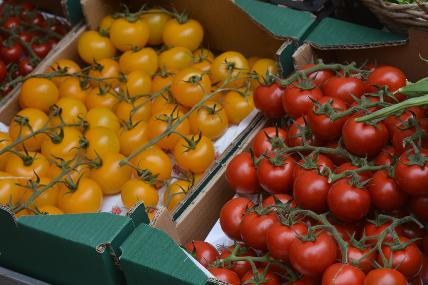 A wide selection of fresh fruits and vegetables.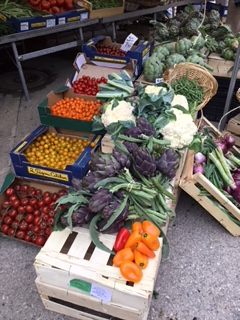 What is a french market without a table of cheese?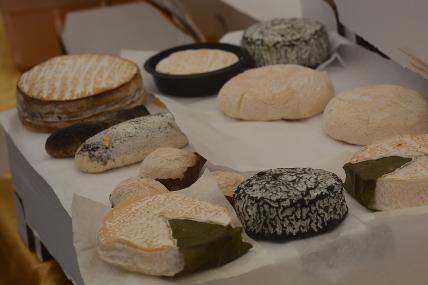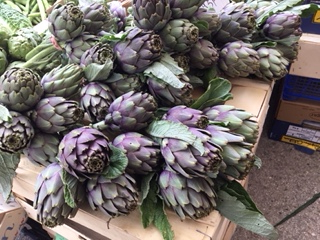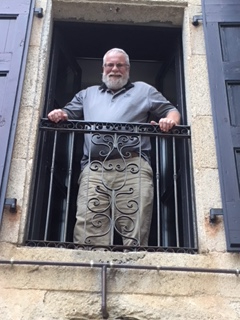 Eduard with the Brangoly cat Potato.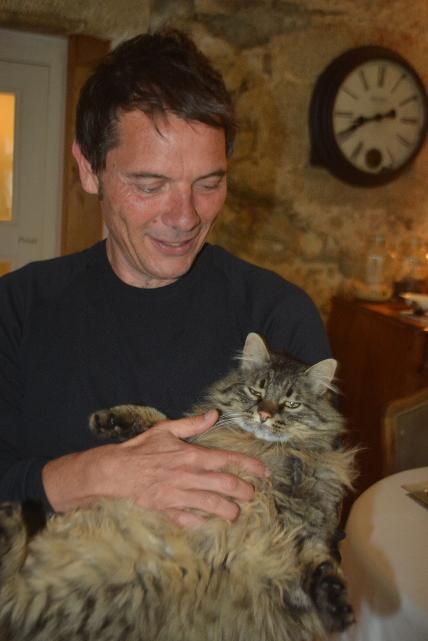 Quim pointing out something or other. Quim and Eduard - our wonderful hosts.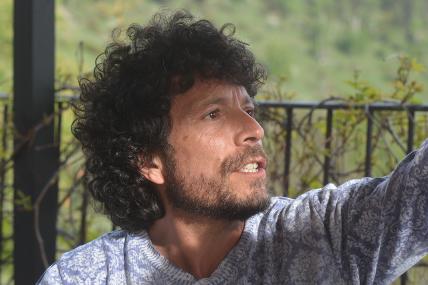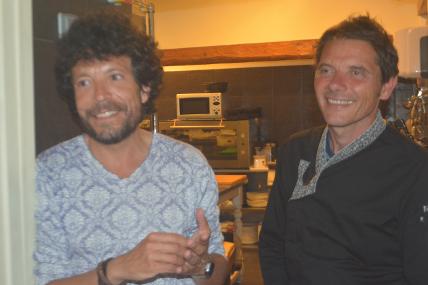 Candles in the restaurant and Louis and Carol whom we joined for dinner.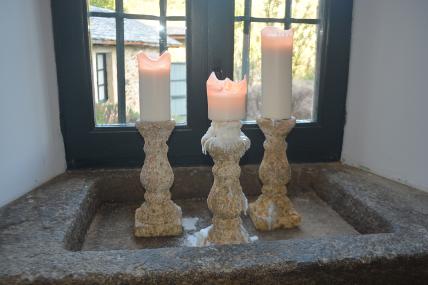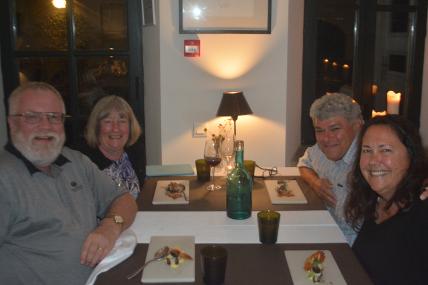 Cannelloni (with scallops and shrimp or for Gayle vegetables.)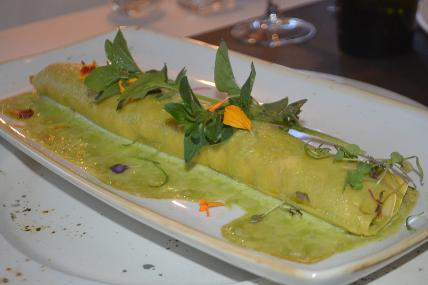 Gayle's white asparagus with cherry tomatoes, cheese and basil.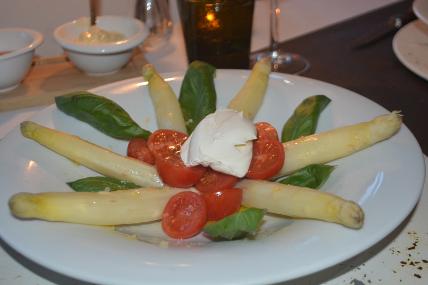 Roasted canard (duck) with creamed green peas with mint and a caramelized pear.
Three textures of chocolate and creme anglaise, red fruits and caramel crisp.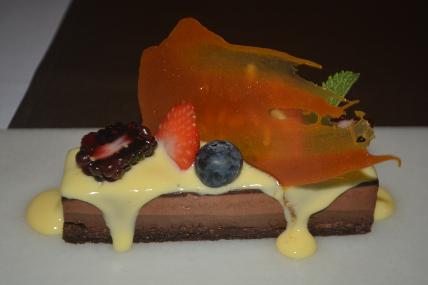 May 25, 2018 - Domaine des Massols to Chateau Brangoly


After saying au-revoir to Eve, Antony, Plume, Kayna and Pirate we headed west past Joucou and on to Belcaire through some pretty gorges and rolling valleys - flowers, the rushing river, donkeys and horses - this is the country/rural drives we really enjoy. We continued west through a beautiful valley, eventually descending in to Ax-les-Thermes from where we turned south towards Andorra.
The geography quickly became quite barren as we ascended up the mountains, past flower laden meadows with waterfalls and mountain streams water from the melting snow being common place. Snow capped mountains were visible in pretty much every direction. We eventually took the diversion to the entrance to Andorra - El Pas de la Casa. Gayle got to add a country to her list (I was in Andorra 44 years ago in 1974 during my first trip to Europe) but otherwise the border town was not at all impressive. Large modern buildings with pretty much nothing but shopping it was anything but quaint. We were subsequently told the rest of Andorra is not much better making us happy to have not driven to Andorra-la-Vella, the main city, as we had contemplated.
We then returned down the valley (actually having to go through a border crossing as Andorra, while using the Euro and in many ways being an EU country is not actually part of the EU and therefore maintains border controls, although it was really the French who had the presence, presumably being concerned with goods entering France from Andorra) to Porte-Puymorins and then down another very picturesque valley (and along the train tracks I would have taken back in the day) eventually to the small town of Enveitg from where we drove another very narrow country lane for five kms to the hamlet of Brangoly and the Chateau Brangoly.

We were greeted by Eduard and Quim, two very welcoming and hospitable hosts. We enjoyed a large, beautiful room and were spoiled with fantastic food prepared by Eduard. The fixed price table d'hote were a tad more than we had been spending (35 euros each) but the presentation and quality of the food was worth every euro and then some. The detail in both the spring salad and the tartelette we had for dessert was something else. Everything was superb, from quantity of serving to taste to presentation. It was quite the experience to enjoy a meal of this quality, one obviously prepared with such care and pride.
__________________________________________________________________________________________________

Eve and Antony, our wonderful hosts at Domaine des Massols.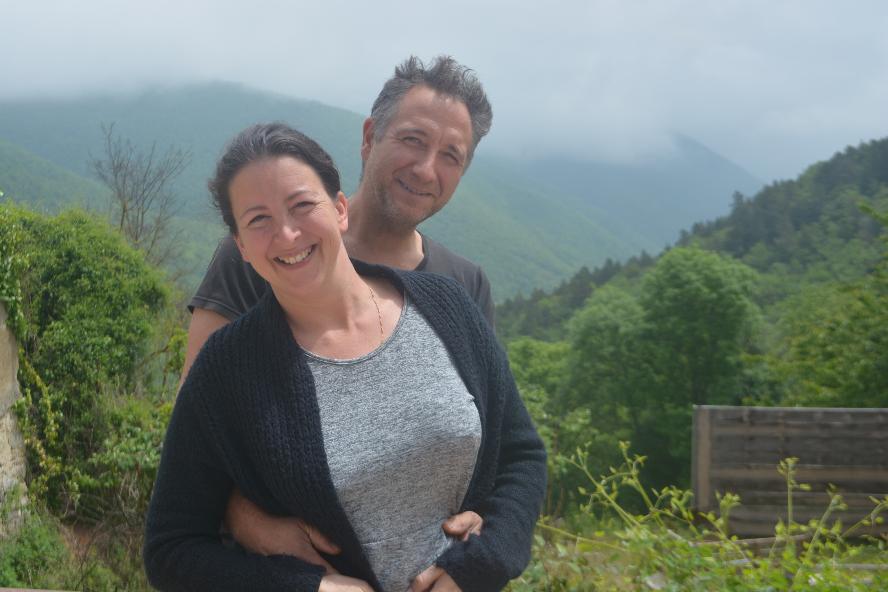 Yes, here is the start of our daily dose of ditch flowers.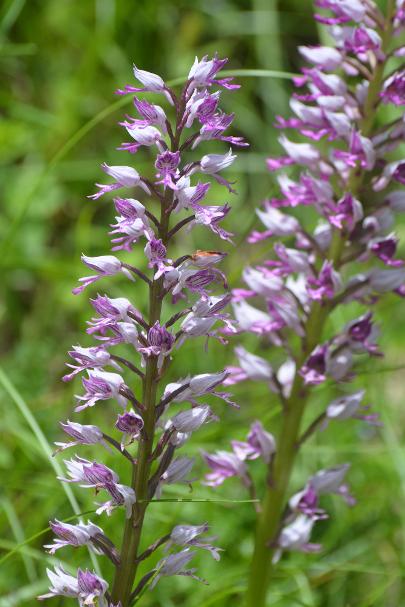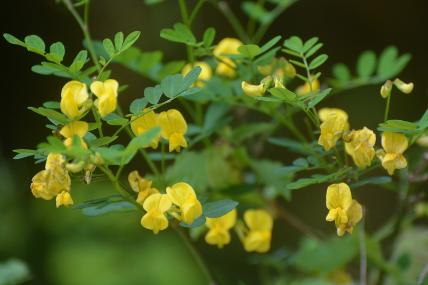 A donkey in Belcaire - still being used to transport goods in rural areas such as here.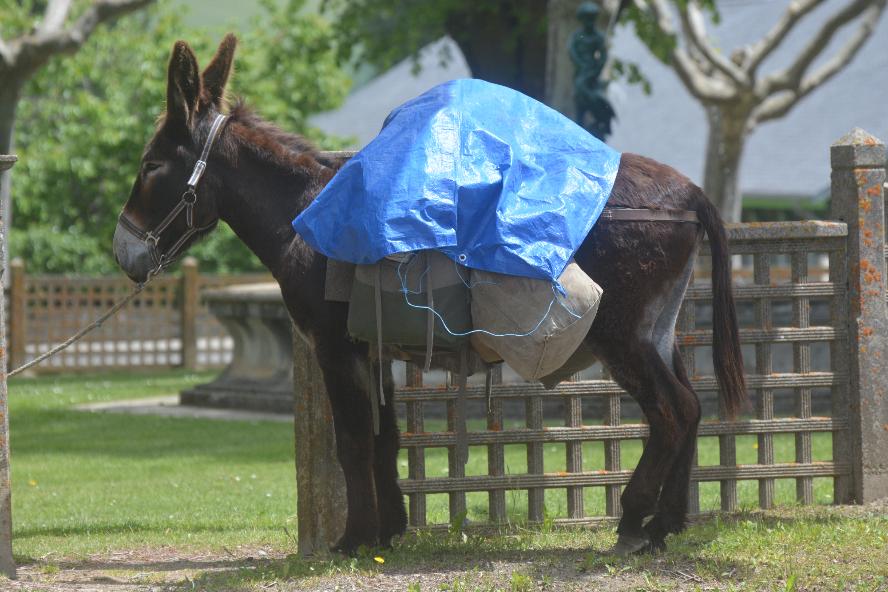 White lilacs on the left and white snow in summer on the right.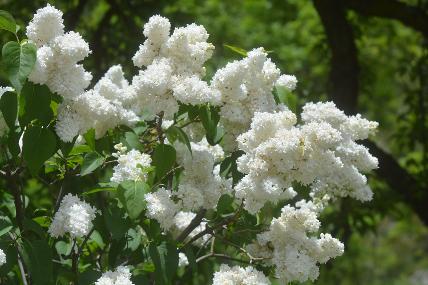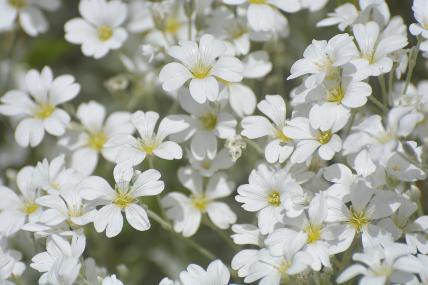 A beautiful waterfall on the roadside as we left Ax-les-Thermes.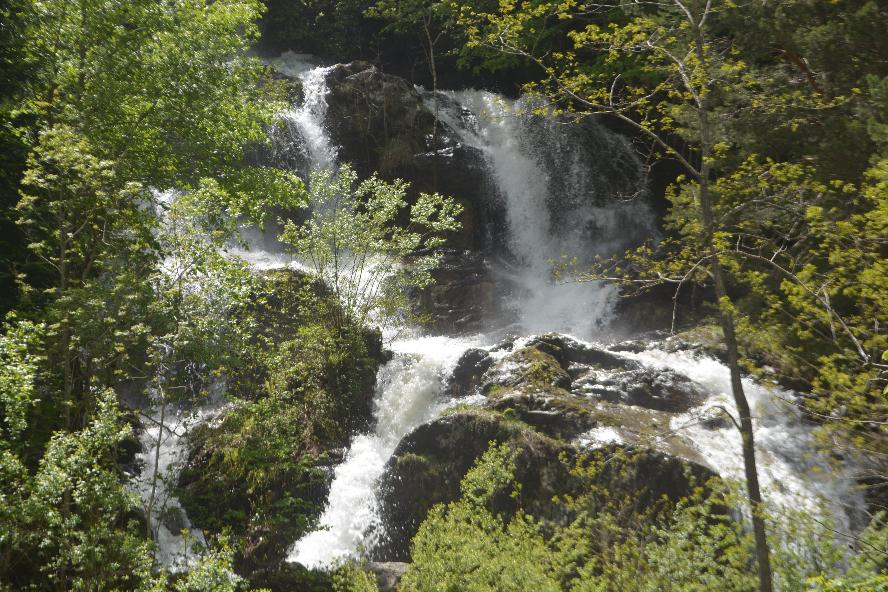 Snow capped mountains as we headed towards Andorra.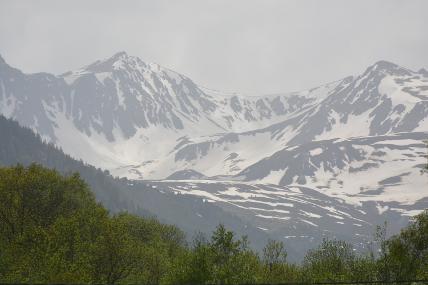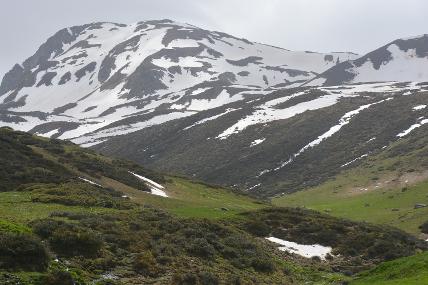 More wildflowers along the mountain road as we wound our way up to Andorra.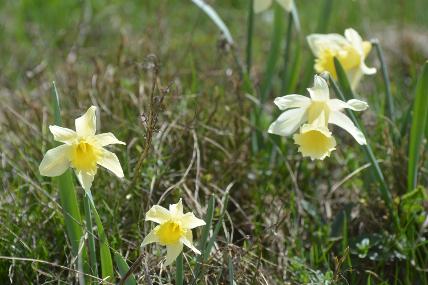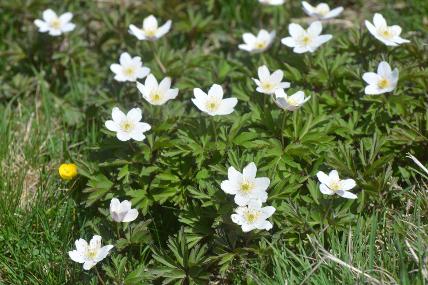 Gayle gets to add Andorra to her list of countries visited.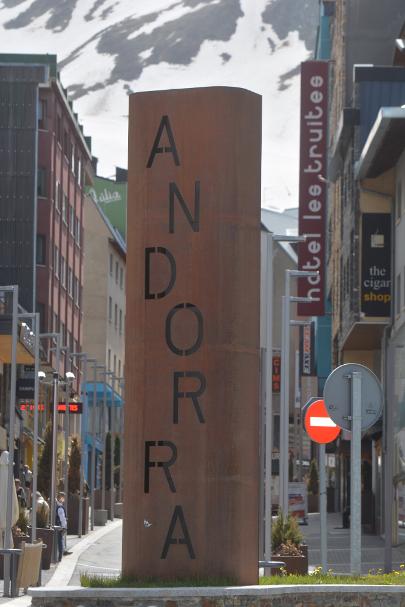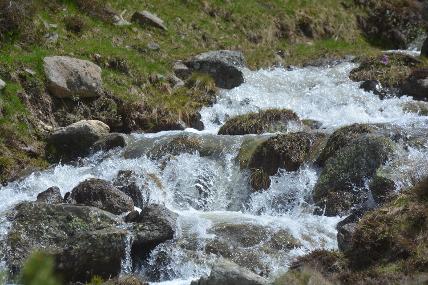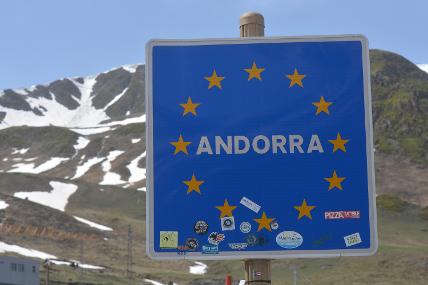 On the drive up the mountainside to Chateau Brangoly.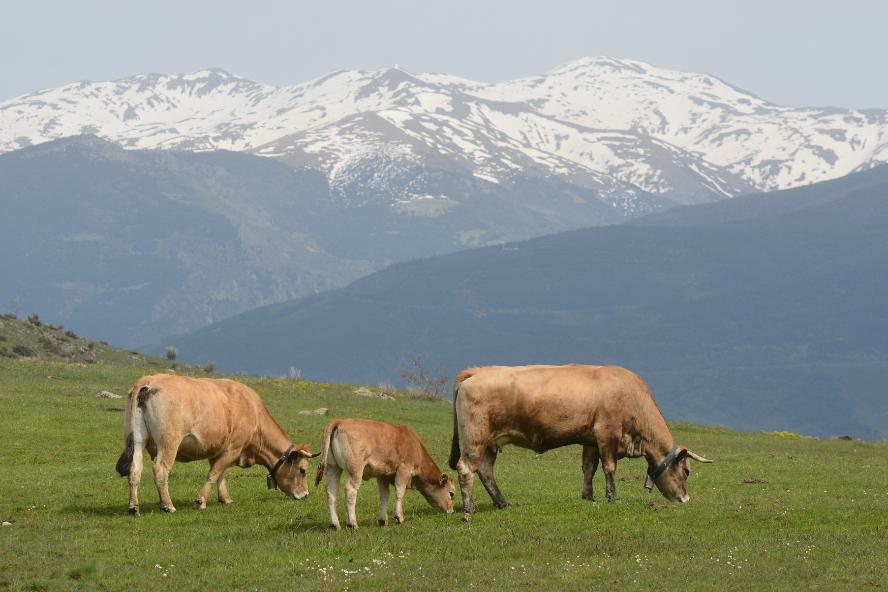 Nicely shuttered windows and our room at Chateau Brangoly.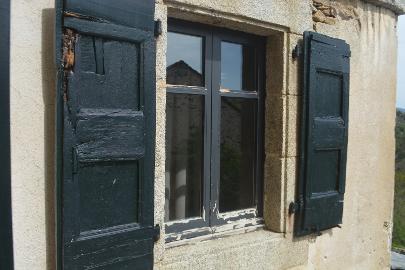 Spring salad with tabbouleh, organic/eco tomatoes guacamole, roasted peppers and smoke cod with dill vinaigrette (or for Gayle cheese).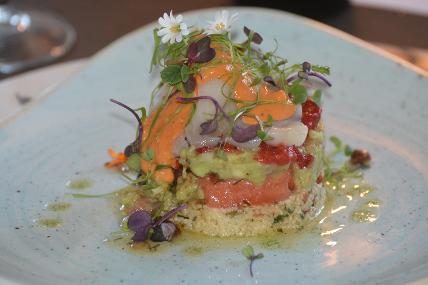 Veal shank with mountain rice.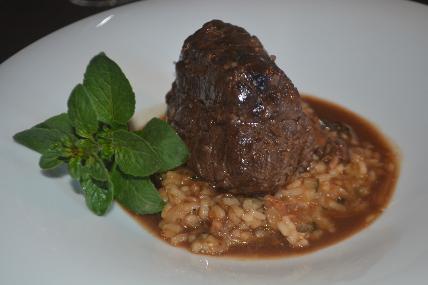 Mountain rice with artichokes and a duck's egg.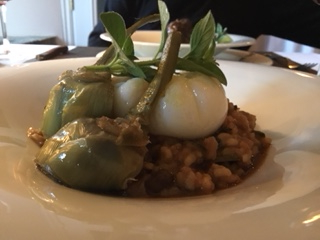 A tartelette with sable (almond and eggs) crust, chantilly creme, strawberries and edible flowers.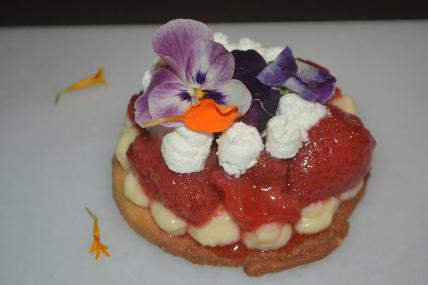 May 24, 2018 - Domaine des Massols, with a drive in the nearby countryside


After a relaxing morning - first enjoying breakfast - again wonderful bread and juice and jams from the Domaine - with a great view from the restaurant down the valley and then working on the travel blog we decided to take a drive around the nearby area.
After descending the 1.8 kms to the main road we drove through the valley, along the river with a stop in the village of Marsa, Pretty small but a nice mountain village with the river running through. On to the end of the road where we turned south towards Axat but before getting to the town we headed east to Lapredelle. Shortly thereafter we circled back to the north first through a gorge and then some scenic rolling countryside loaded with numerous varieties of wildflowers and a few animals, including a bunch of donkeys. The wildflowers though were prolific - it seemed we were stopping around virtually every turn to take yet another photo. We eventually worked our way to Renne-le-Chateau, a small hilltop village - population 91 - known internationally due to various conspiracy theories about an alleged buried treasure discovered by its 19th-century priest, the precise nature of which is disputed by those who believe in its existence. Being late in the afternoon we decided not to go through the church / chateau, but rather head back to Domaine Massols, first descending to Coiza and then completing the loop through Esperaza and Quillan. The drive north from Quillan to Axat is dramatic, winding through a narrow gorge. We were going to stop for a drink at a cute little restaurant we passed earlier on the turnoff to Marsa but unfortunately it was closed.
Dinner was again enjoyable in front of the fire - it does cool off here in the mountains in the evening. We had the kir flavoured with saffron this evening - not as prevalent as the violet; more subtle flavour and then a mise-bouche of dried tomatoes with white peas Gayle had the white asparagus cream soup and two orders of the melting pucks with cow tome of Laprade for her tapas while I the soup also, one melting pot and the mountain ham from the Saloisons Belcairoises. For her main course Gayle had a vegetable/tofu ragu while I the Aiguilettes de canard fermier - long strips of farm duck accompanied by roasted potatoes, grilled eggplant and a stew of leeks. A chocolate coulant with pistacchio ice cream completed the meal. No question we have certainly been fed very very well.
___________________________________________________________________________________________________
A nice breakfast spread and a table with an unobstructed view down the valley to enjoy it.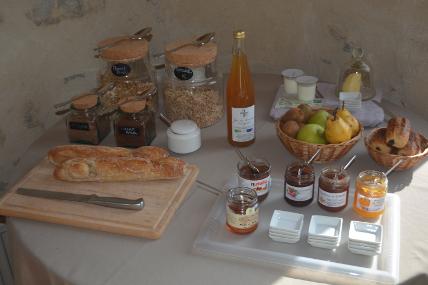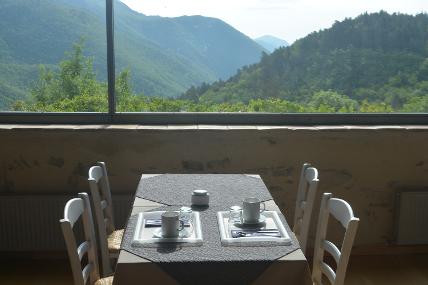 Another of the many old churches in this part of France, and although still May, in some places the roses were in full bloom.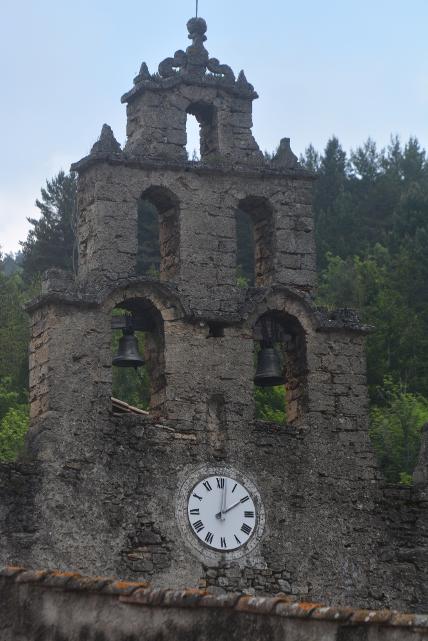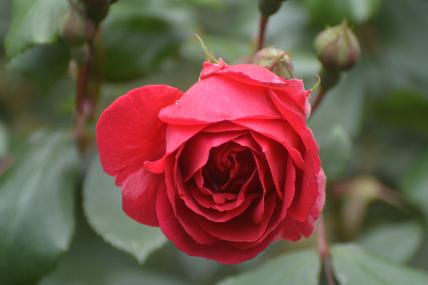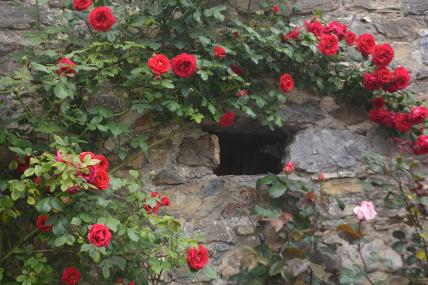 Flowers, flowers everywhere.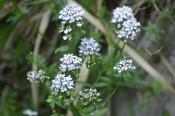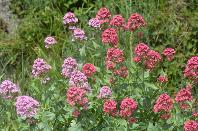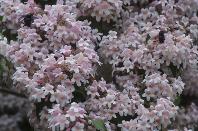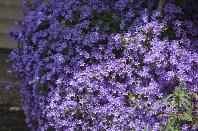 ... and yet more colourful flowers along our way - either in the ditch or in towns.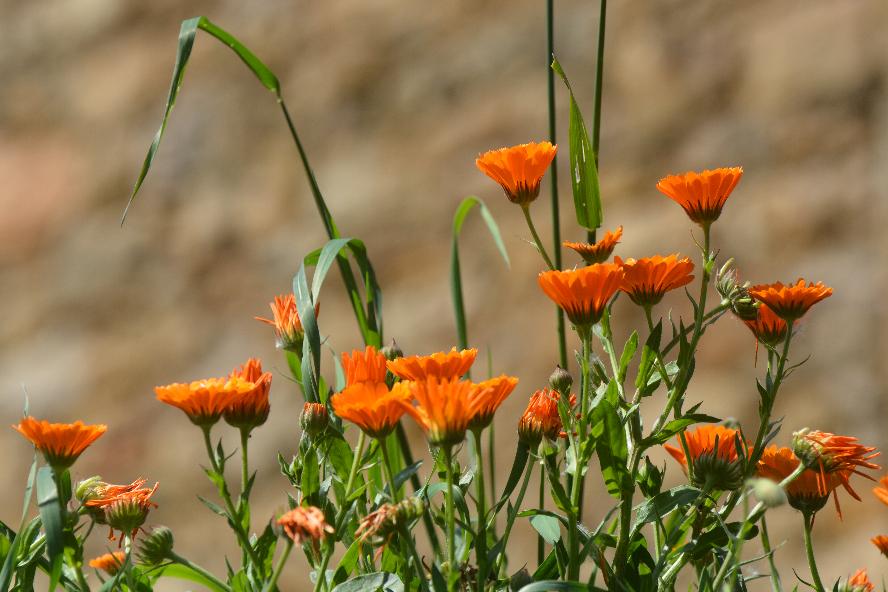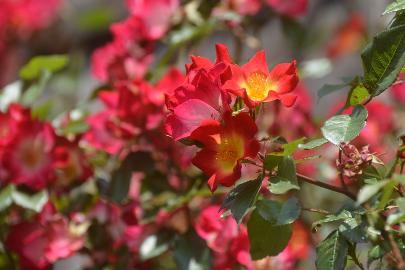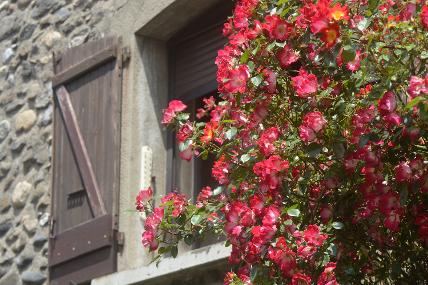 Todays's animal of the day - the donkey.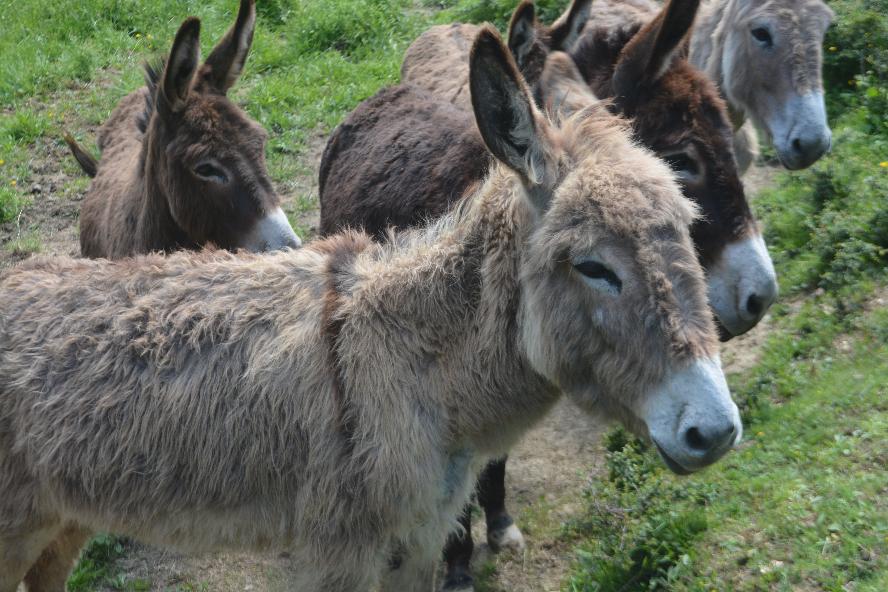 The Pyrenees have over 60 varieties of orchids.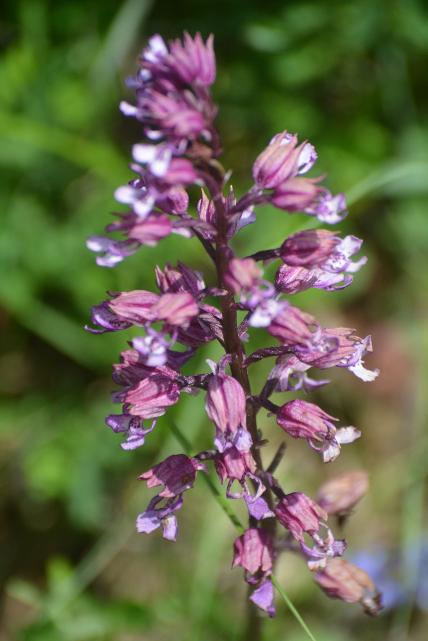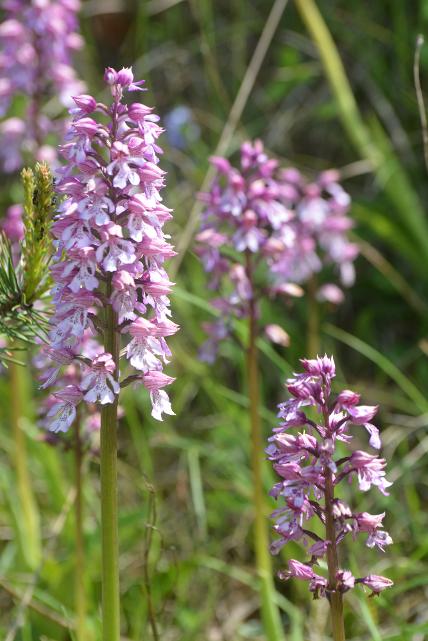 Just after turning north past Lapradelle we drove up and through this dramatic pass.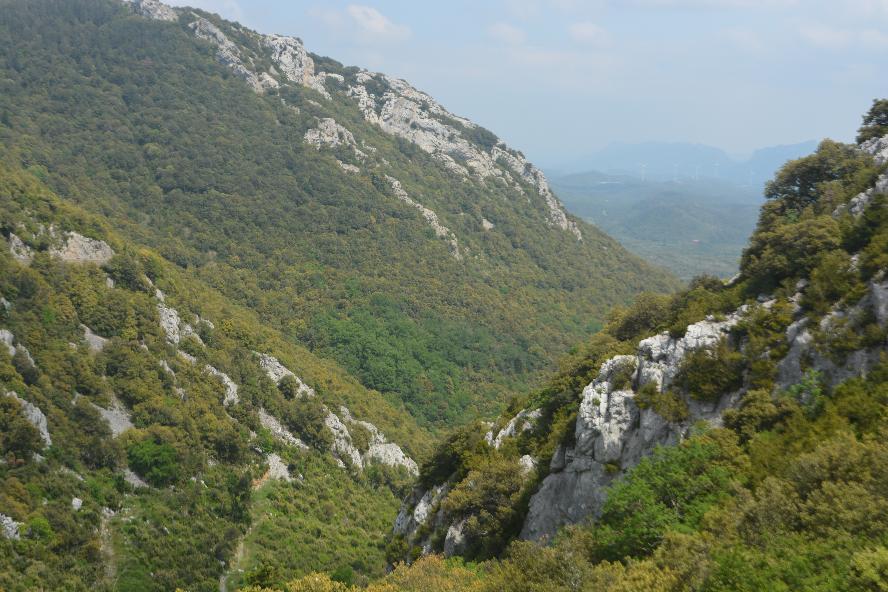 There were many varieties and colours of roadside or 'ditch' flowers along our drive today.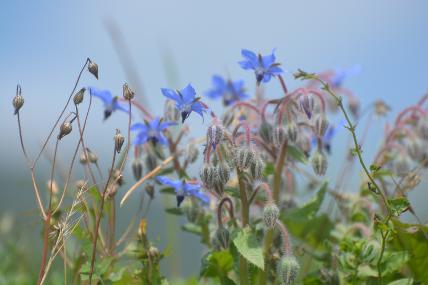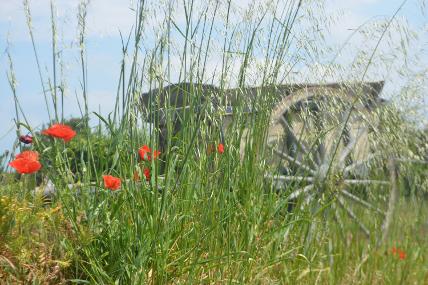 .... and yet more wildflowers.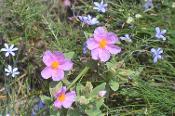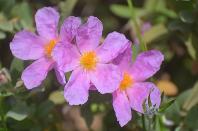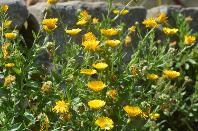 We were welcomed 'home' by the three dogs - Pirate, on the left, Plume (feather) on the top right and Kayna bottom right.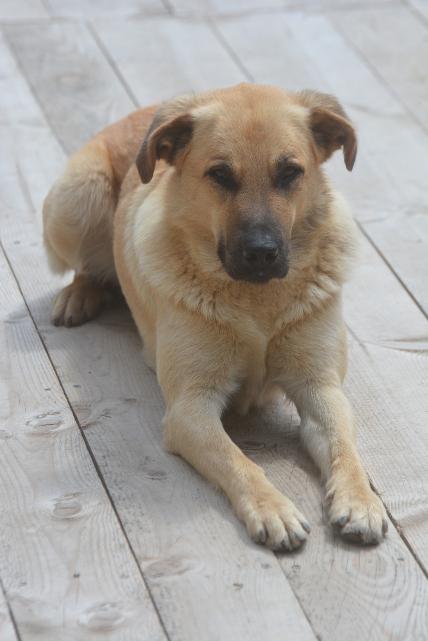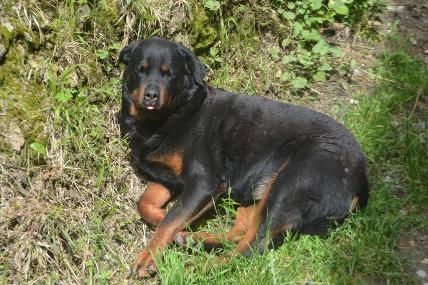 About to settle in for another meal by the fire.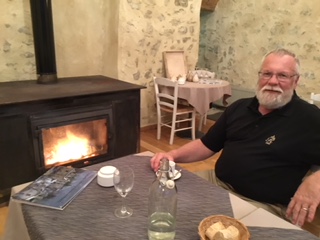 Another kir in front of the fire and tonight's mise-en-bouche of dried tomatoes and white peas on toasties.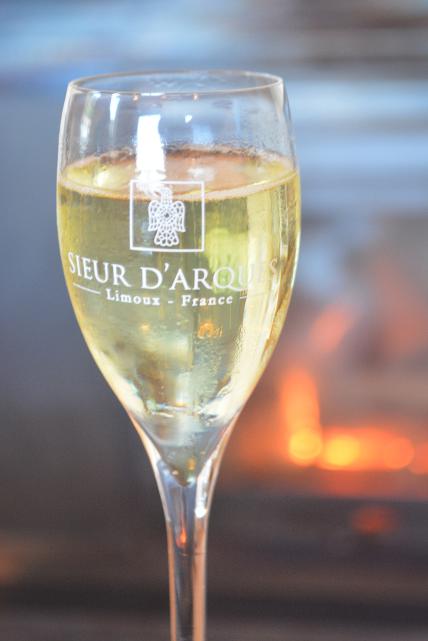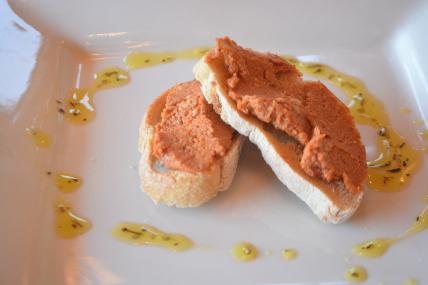 My tapas selection this evening.
Canard with a mushroom sauce, roasted potatoes, with some grilled eggplant and stewed leeks.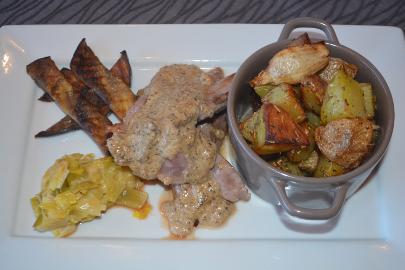 For dessert a chocolate coulant and pistacchio ice cream.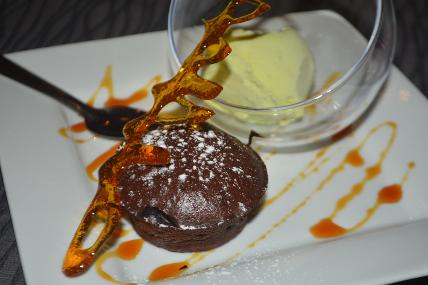 May 23, 2018 - L'Ancienne Bergerie to Domaine des Massols, Pyrenees Auydoises

While trying to leave L'Ancienne Bergerie we were held up by a number of horses slowly ambling along our country road - an experience one must be prepared for here in rural France (and Spain).
The drive east was nice if not spectacular. Most through a long relatively flat valley past Saint-Girons, Foix and Lavelanet. We then continued on past Puivert before turning up a mountain to Coudons, and through to Joucou where we followed the le Rebenty river towards Marsa. It was easy to find the Domaine des Massols sign/entryway but then a bit less so to climb the narrow (very narrow) switchback lane 1.8 km up the mountainside. But the outcome was worth it as we arrived at a beautifully renovated domaine, greeted by the three dogs Plume, Kayna and Pirate, as well as our hostess Eve. We were the only guests (both nights) so had the place to ourselves. The benefit of ascending the mountainside is the views down the valley - wonderful.
Dinner is an interesting concept, particularly the tapas. We started with a glass of kir, either plain or flavoured with violet or saffron and then a mise-bouche (a little starter) - tonight some marinated peppers with lemon. Then it was a choice of three tapas from a menu of eight.
Gayle chose
- Palets fondants a la tome de vache de Laprade (melting pucks with cow tome of Laprade)
- Dip de haricots rouges et blanc de Castelnaudary aux epices, triangles au mais (dip of red and white beans from Caselnaudary with spices, and corn triangles), and

- Veloute d'asperges blances de Pays (asparagus cream soup - served cold)
Norm chose
- Tartine a l'Ail des frais du Rebenty (toast with fresh wild garlic from the banks of the Rebenty)
- Jambon de montagne des Salaisons Belcairoises (mountain ham from the Salaisons Belcairoises), and
- Saucisson des Salaisons Belcairoises (sausage from the Salaison Belcairoises)
What a wonderful way to allow choice of and present a variety of tapas. For our main dishes Gayle had a Feuillete de legumes poeles et mesclun (stewed vegetables in feuillete and mesclin) and I Le Boeuf d'ici aux saveurs exotice (local (Gascon) beef with exotic flavours) - very tender and enjoyable. Dessert was a pannecotte with a berry sauce along withe a scoop of strawberry sorbet. A glass of wine each and coffee/tea all for 30 euros. We sure are being fed well due to the culinary talnts of Antony.
__________________________________________________________________________________________________

First a cow, then a flock of sheep and now a fellow with his horses - at times travel on small country roads can have some obstacles.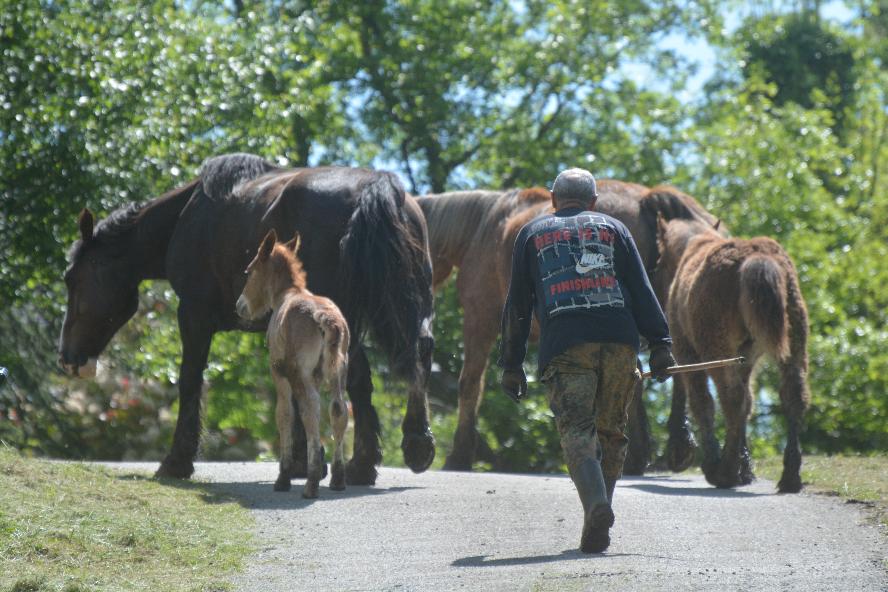 The 12th century Roman eglise in Luzenac.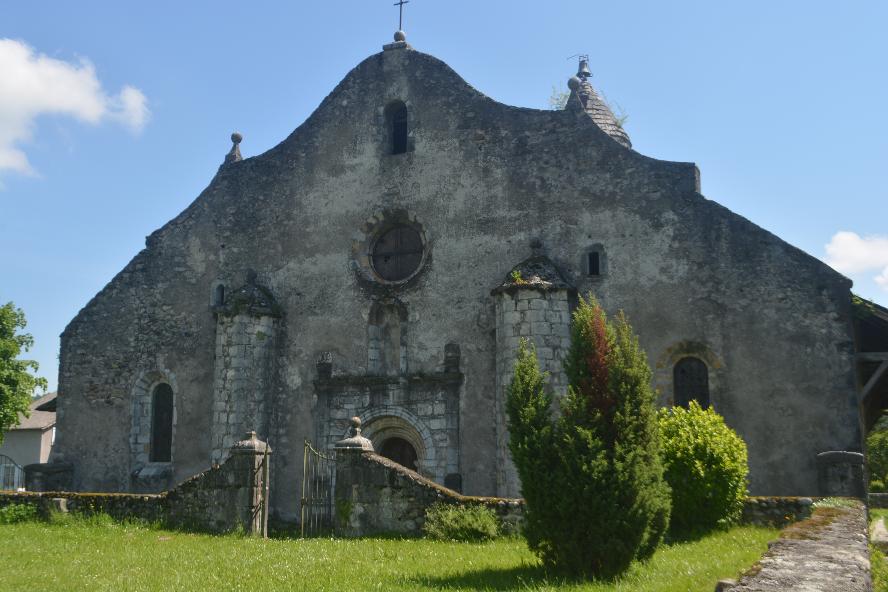 A wealth of roses in full bloom (yes in May) and a typical French building, both here in the town of Moulis.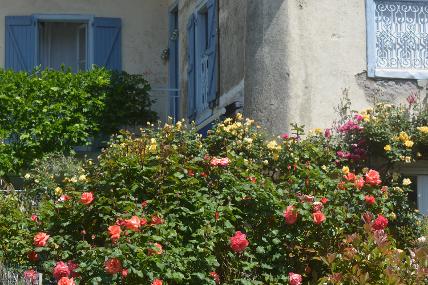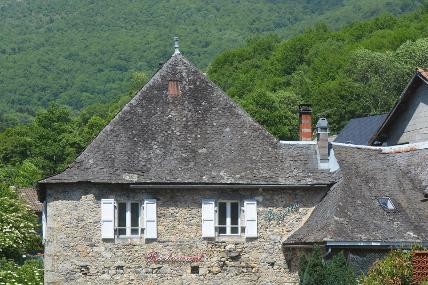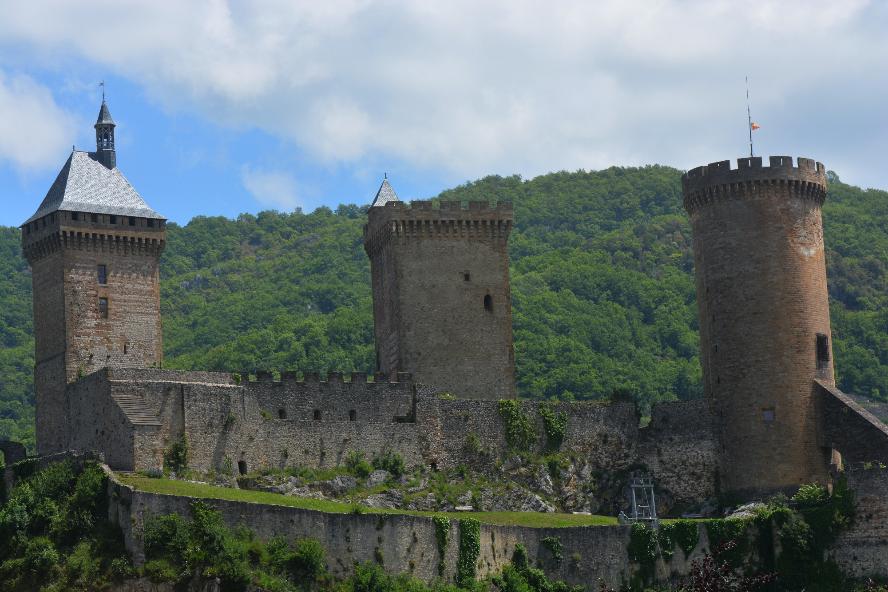 Driving can be most interesting as we drive under a rock face and then through a crude tunnel carved in to

the rock along le Rebenty river just west of Joucou.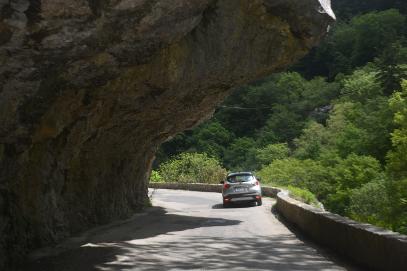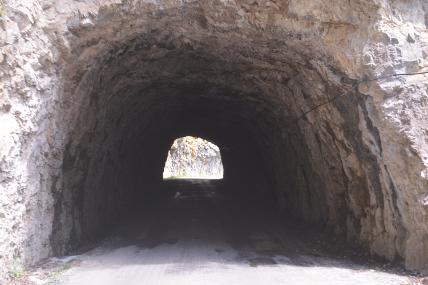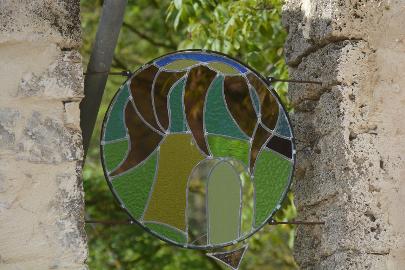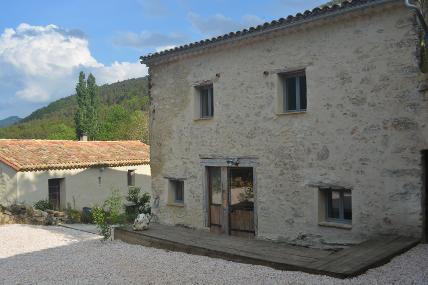 Looking out over the deck to the valley beyond Domaine des Massols - very nice.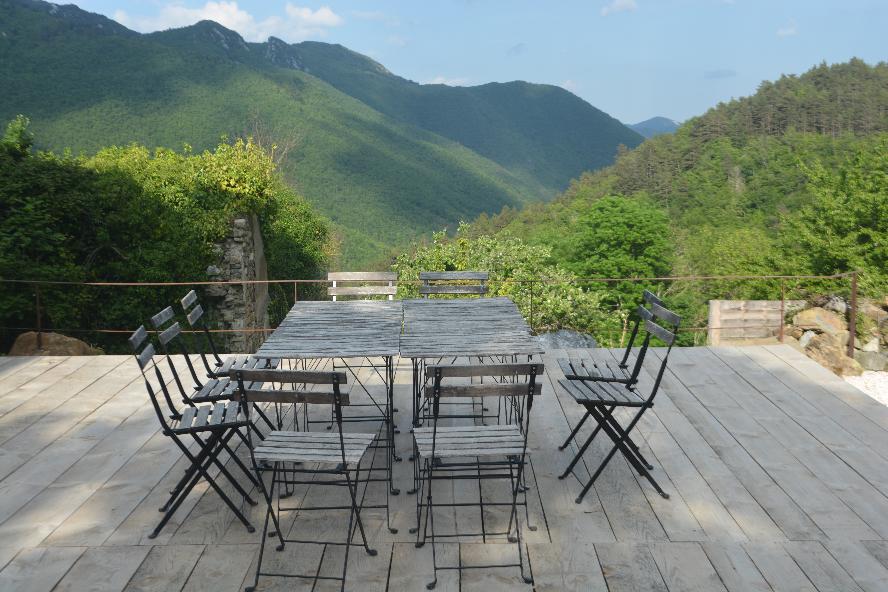 Dinner, by a warming fire started with a glass of Kir, Gayle's flavoured with violet.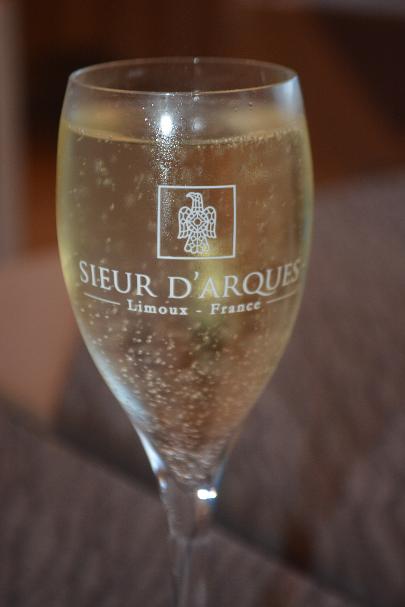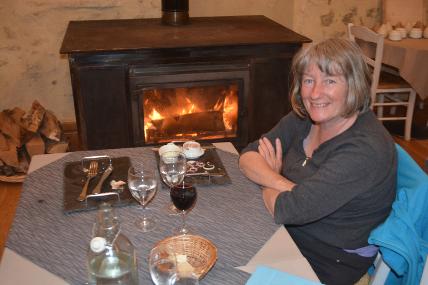 Our mise-bouche of red pepper and lemon.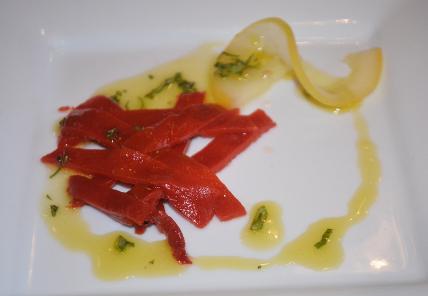 We each had a choice of three of the eight tapas for our first course - a nice concept and excellent presentation on the slate.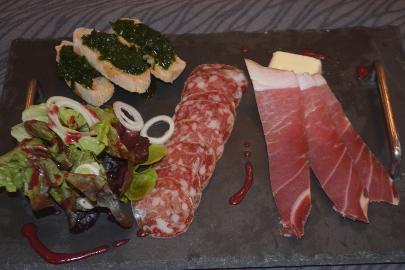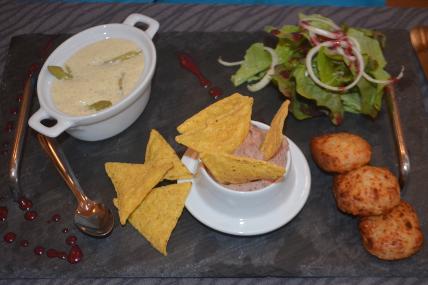 My main course of local (Gascon) beef and dessert of strawberry sorbet and pannecotte with a berry sauce.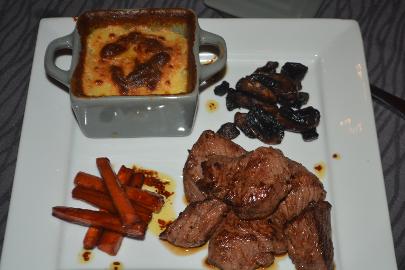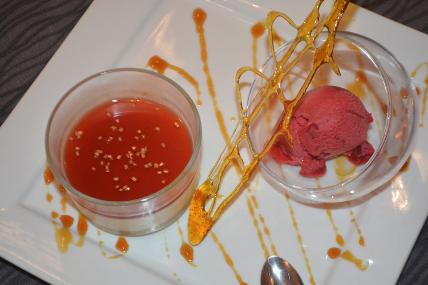 May 22, 2018 - L'Ancienne Bergerie with a drive into the Pyrenees mountains

A very mixed day weather wise - a lot of cloud, a bit of sun, and some rain. After our first French breakfast - perhaps not as extensive as those in Spain where there is a selection of meats but more than enough for any normal person - cereal, yoghurt, fruit, delicious bread and croissants, home made jams and today some nice scrambled eggs - all fresh and very tasty.
After lunch we decided to take a drive into the mountains. We drove east to Castillon-en-Couserans from where we headed south up the Bethmale valley. We stopped for a short (fortunately) walk to a small mountain lake - Lac Bethmale, but just as we got there it started to rain, and soon it was raining quite significantly. Thank goodness Gayle insisted I bring my good rain jacket. We then continued on, over the Col La Core (not much up here other than some very pretty and vibrant mountain flowers and the odd cyclist) and then down to the village of Seix.

From there we took a road - well more like a farm lane - that Becks said was a really nice drive. For Gayle it was as I generally could not take my eyes off the narrow, twisty lane. But the few times I did it indeed was a spectacular drive through a beautiful valley dotted with farm houses. We eventually made our way through Alos to Moulis and then back to L'Ancienne Bergerie where we met Serge and Lydia from the north of France, tonight's other guests. Neither could speak much English - Lydia a word or two and Serge virtually none - which provided us an opportunity to use our very limited French. No doubt we butchered our efforts - four French words; then fill in with English; three more French words, then back to English. But we somehow managed to avoid awkward silences through dinner.

Speaking of dinner again, we were treated to at least what we imagine as a typical French meal. We of course started with the fresh from the oven baked bread, then enjoyed a two cheese souffle. Gayle followed with a plate of lentils and carrots although her highlight was the accompanying onion tart (for those who know me no I did not even give it a try - onions => non!). I enjoyed a very well prepared lapin (rabbit), again with fresh vegetables from the garden. Two cheeses bridged to the dessert of rhubarb creme brule. All again enjoyed with unlimited wine. Becks and Kevin really do need to increase the price of their meals - four courses including wine of this quality for only 25 euros all in - what value.
__________________________________________________________________________________________________

The beautifully restored stone L'Ancienne Bergerie perched on a hillside overlooking the French Pyrenees.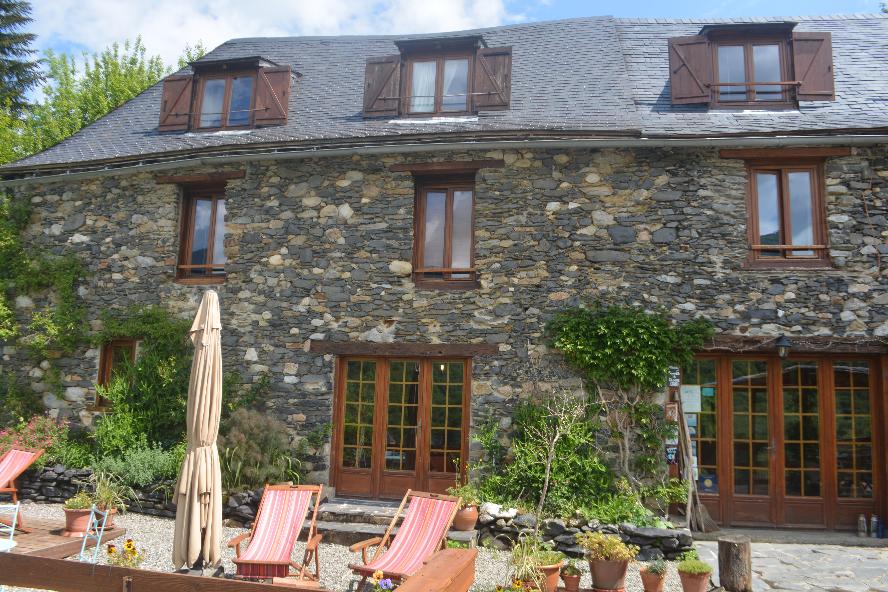 Some of the items making L'Ancienne Bergerie an interesting place to stay.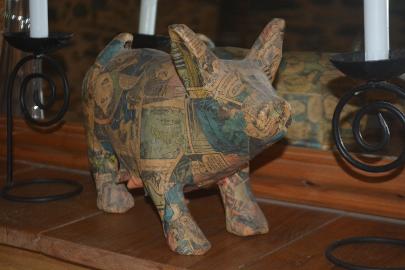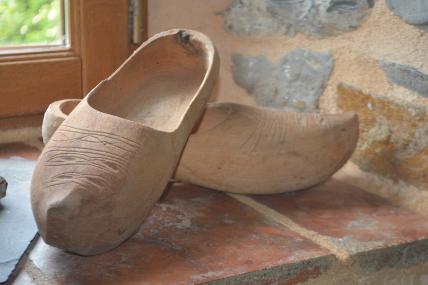 Views of the mountains to the south across the terrace and from our room.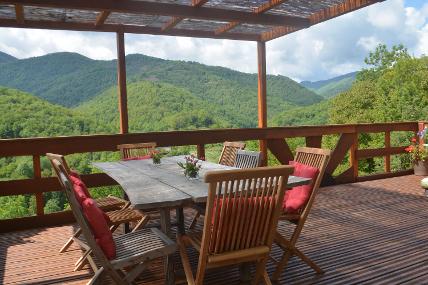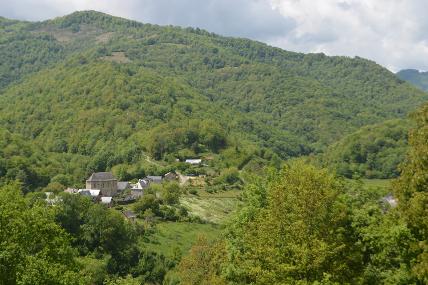 Good use of the rain jacket up at Lac Bethmale.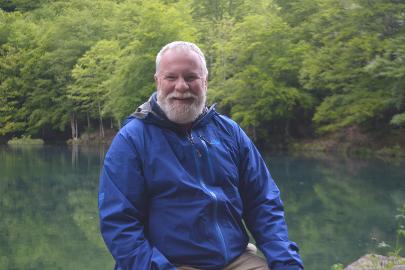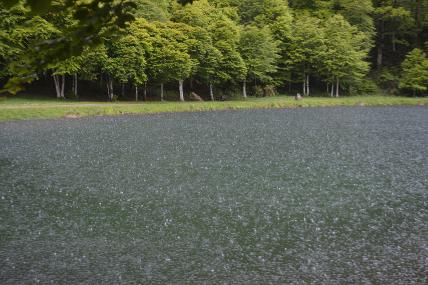 Lush green valleys and snow capped mountains - the Pyrenees in May.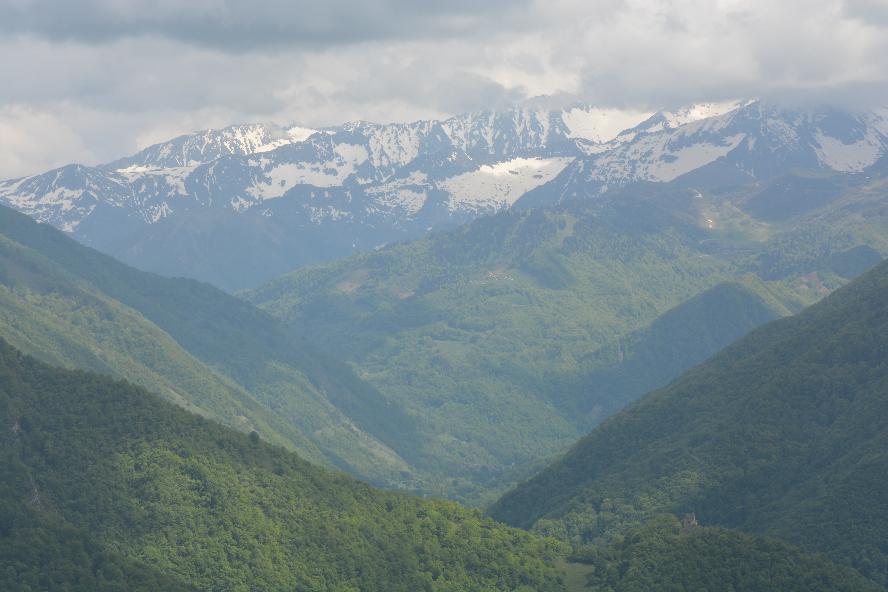 A small chateau in the valley connecting Seix and Moulis, near the village of Alos.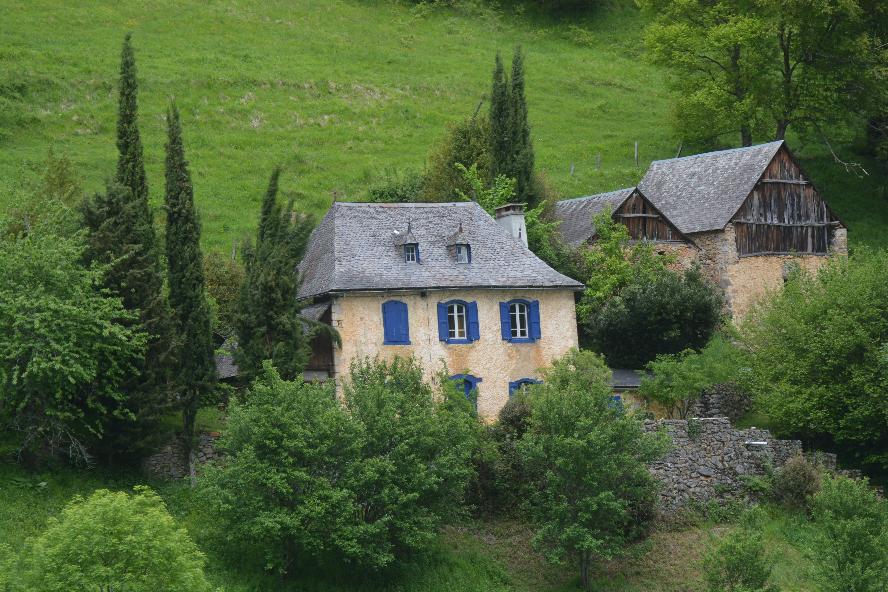 It's springtime in the French Pyrenees mountains - of course you should expect lots of flower photos.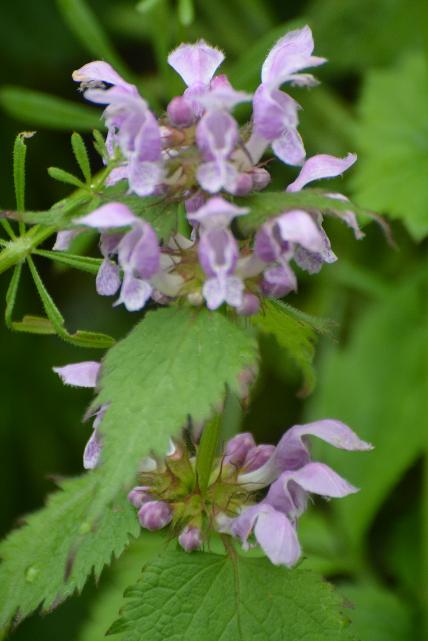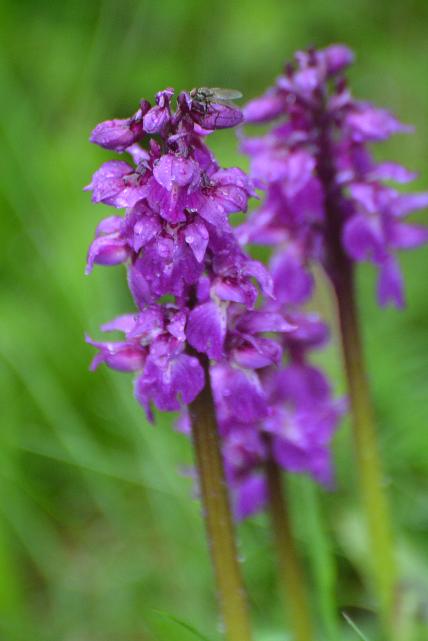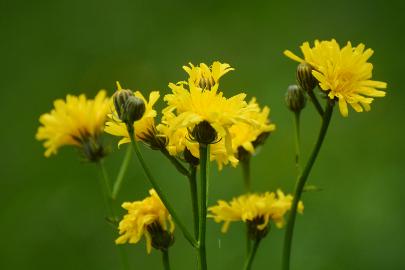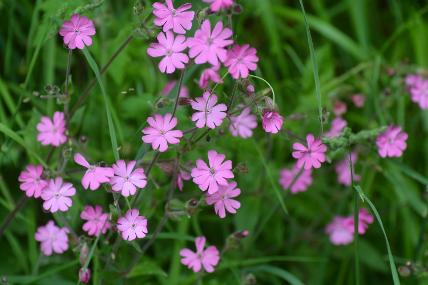 Becks, smiling as she enjoys her time cooking, and Kevin, also smiling as he enjoys his time in the garden.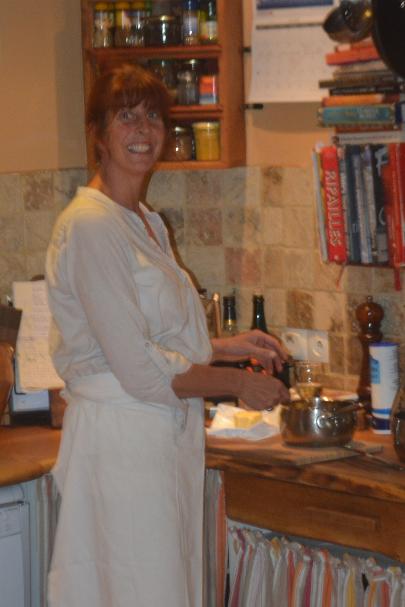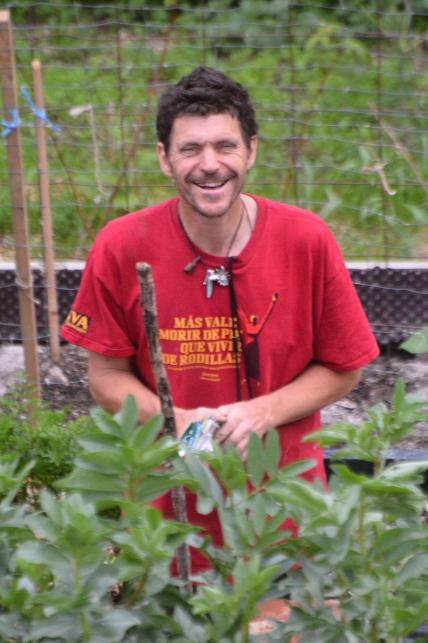 Tonight's dinner menu and the souffle with both cow and sheep cheese from the valley.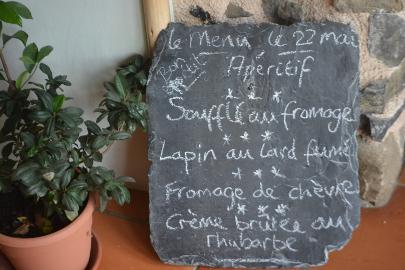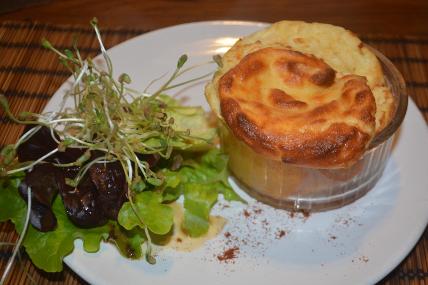 Gayle's onion tart ... ... and my lapin (rabbit) with carrots, lentils and swiss chard.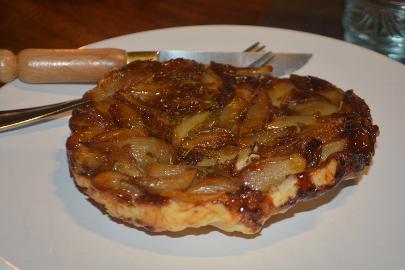 A couple of local cheeses (the round one is a Bouchon (goat) and the square one a form of cottage cheese), and for dessert a rhubarb creme brule.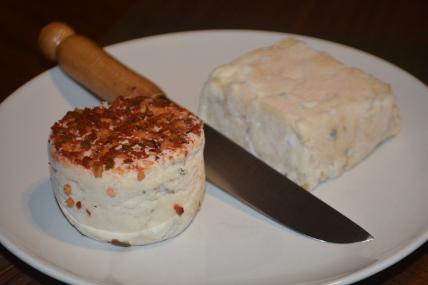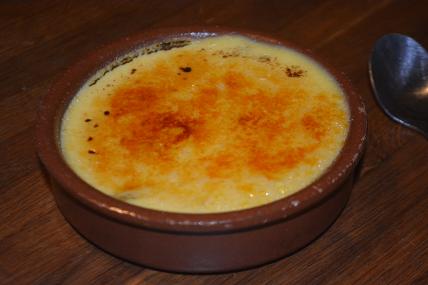 May 21, 2018 - El Acebo de Casa Muria to L'Ancienne Bergerie, Galey, France

After yet another delicious and filling Spanish breakfast we enjoyed a nice chat with Mireia, one of the guests and Sole. Sole did such a wonderful job taking care of us - very friendly, someone who truly enjoys their time welcoming and providing for guests. We then spent a short time in the property's gardens before heading out on a day where we were to leave Spain. We first drove east through some scenic countryside before heading north up another Pyrenees valley, eventually reaching a 5 km tunnel that cuts through the mountains to Viehla. From there it was through another valley, along a rushing river, until we reached France. The borders here between EU countries are nothing more than a couple of signs - that's it.
Not surprisingly we encountered both cows and sheep immediately upon entering France - so cute. To get to L'Ancienne Bergerie, our next stop, we first had to drive up and through the Col de Mente. In addition to seeing a few cyclists there was also considerable new paving, particularly on the hairpin turns. I guessed the Tour de France might be coming this way this year and indeed it is - exactly along the roads we were and will be driving. It will be especially interesting to watch Stage 16 on July 24th. We turned east at Boutx, then up and over the Col de Mente followed by the Col de Portet-d'Aspet and then along the valley floor to Saint Lary and eventually Orgibet. From there we took a one lane road up the hill to L'Ancienne Bergerie, a small (four room) lodging owned by a British couple, Becks and Kevin. Our nice room provided spectacular views to a small village and the mountains to the south.

Becks prepares and serves wonderful meals based on fresh garden vegetables and herbs grown by Kevin in a huge garden on a steep slope just below the building. The meals were simply delicious, very attractively presented with a number of special touches, such as the edible flowers. We were treated to a wonderful surprise as the two other guests this evening - Rob and Lesley - were celebrating their 24th wedding anniversary with a night out. Being friends Becks and Kevin arranged to have two local musicians - Alain from Orgibet and Bruno from nearby Galey play some of their music. A very thoughtful gift for Rob and Lesley that we were able to enjoy - being in the right place at the right time.
Dinner started with a loaf of fresh out of the oven bread. To start I had a creamed cod dish (Gayle had goat's cheese) with a salad from the garden. Then it was canard (duck) for me while Gayle enjoyed a plate of various vegetables, again from the garden focused on green asparagus. Then there was a serving of cheese - a tomme de brebis followed by a strawberry sorbet wtih Espellet (a Pyrenees pepper) and small meringues. Wine was included along with coffee/tea. A great value for only 25 euros each.

__________________________________________________________________________________________________
Enjoying yet another great Spanish breakfast.
The breakfast area, one of a number of buddahs and Sole, the wonderful manager of El Acebo.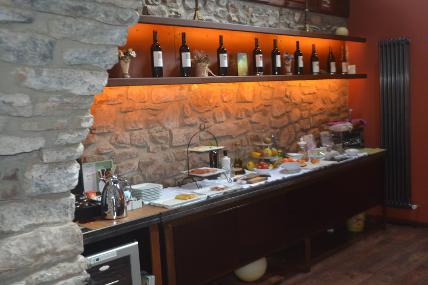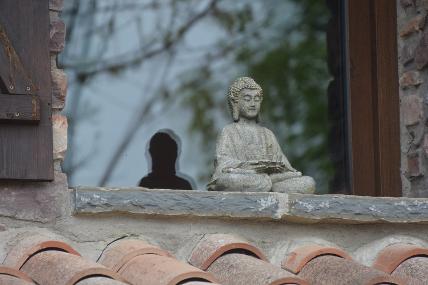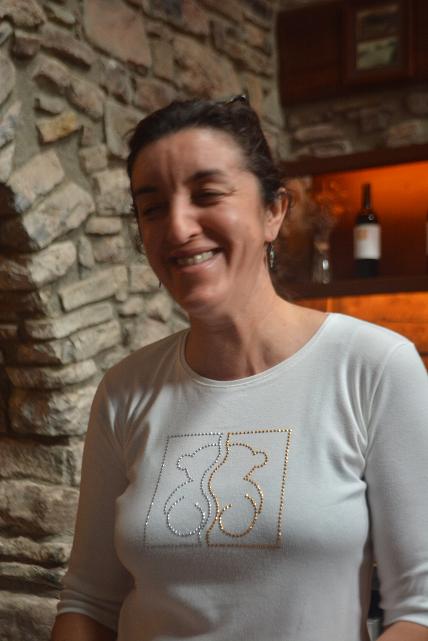 Continuing with the zen theme there were these unusual posts with granite rocks throughout the gardens at El Acebo de Casa Muria.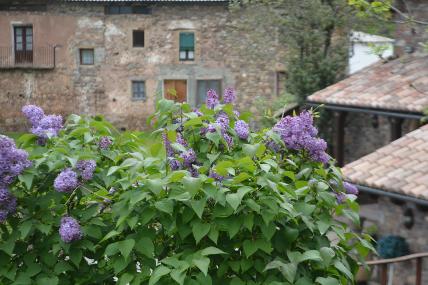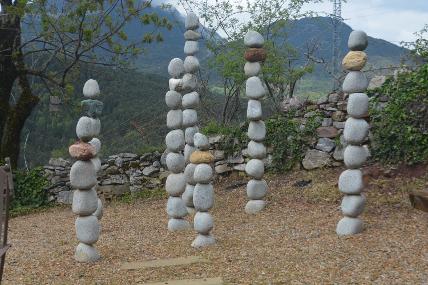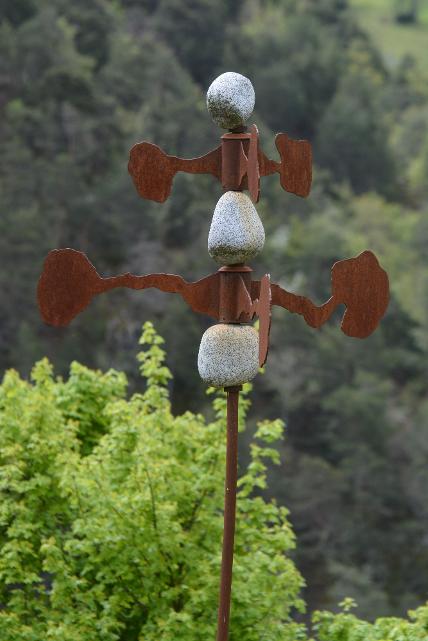 A photo of thistles may seem strange but on a previous trip here to Spain Gayle had 'cardoons', i.e. thistles as a meal.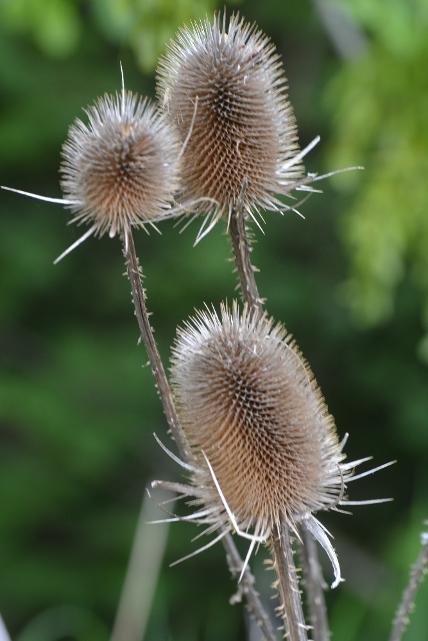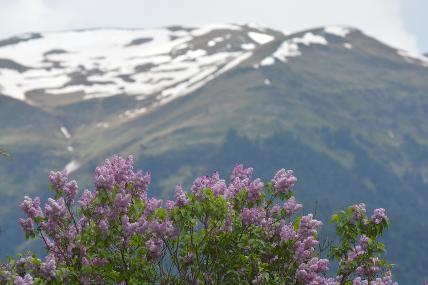 Some mountain scenery here in the Spanish Pyrenees.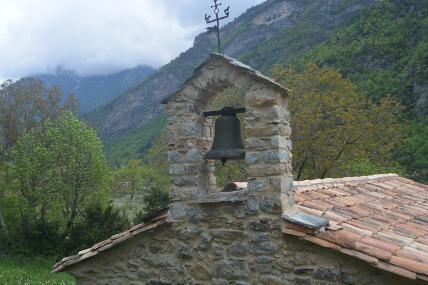 The Tunnel of Vielha is over 5 km long.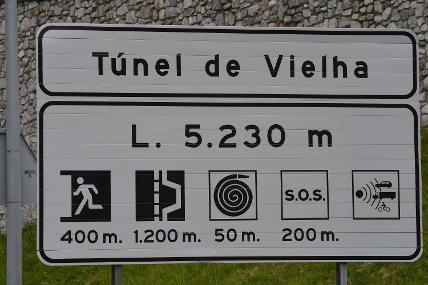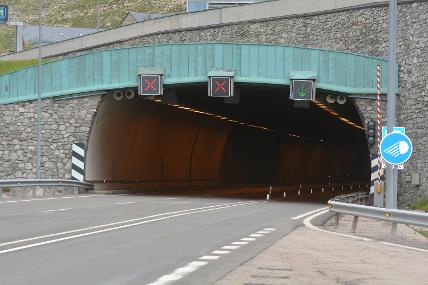 Out of Spain and into France - as simple a border crossing as one can experience.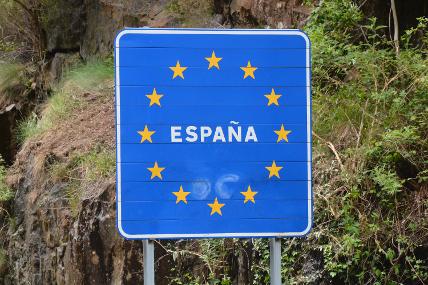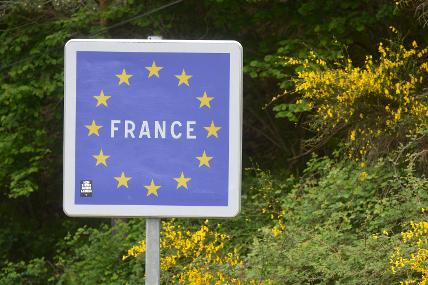 Our first glimpse of French cows and French sheep.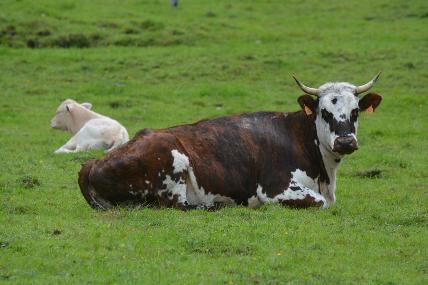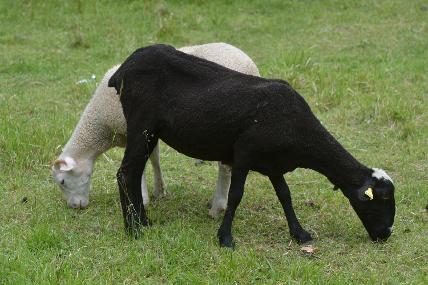 So many sheep the roads include sheep warnings.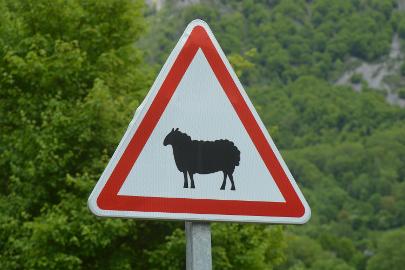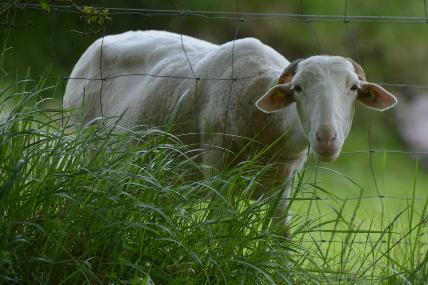 We continue to be in the mountains with many colourful mountain flowers.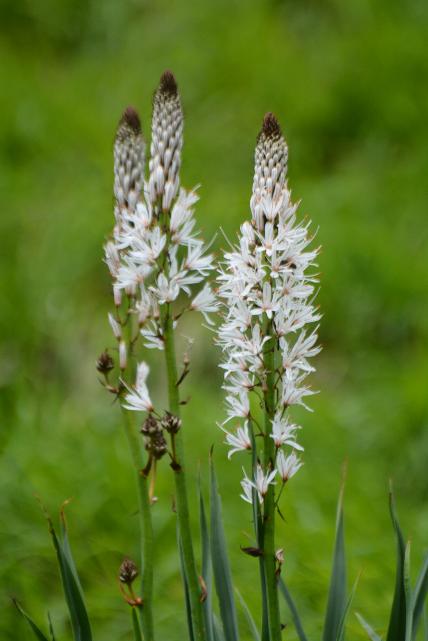 A cyclist training near the Col de Mente. Note the newly paved hairpin turns. We expected this may be for the Tour de France, and indeed it is as these roads will be cycled during Stage 16 on July 24th.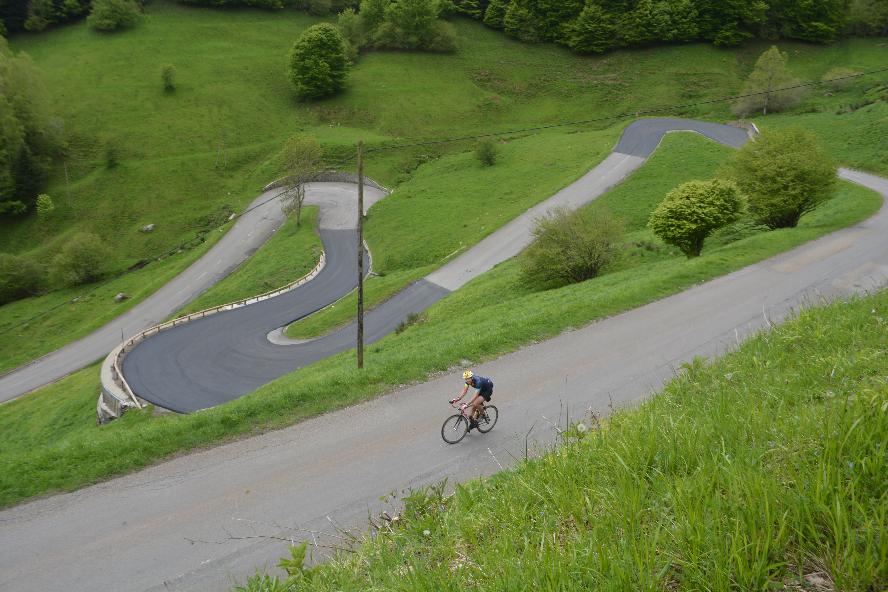 One of the many beautiful Pyrenees valleys near the Col de Portet-d'Aspet.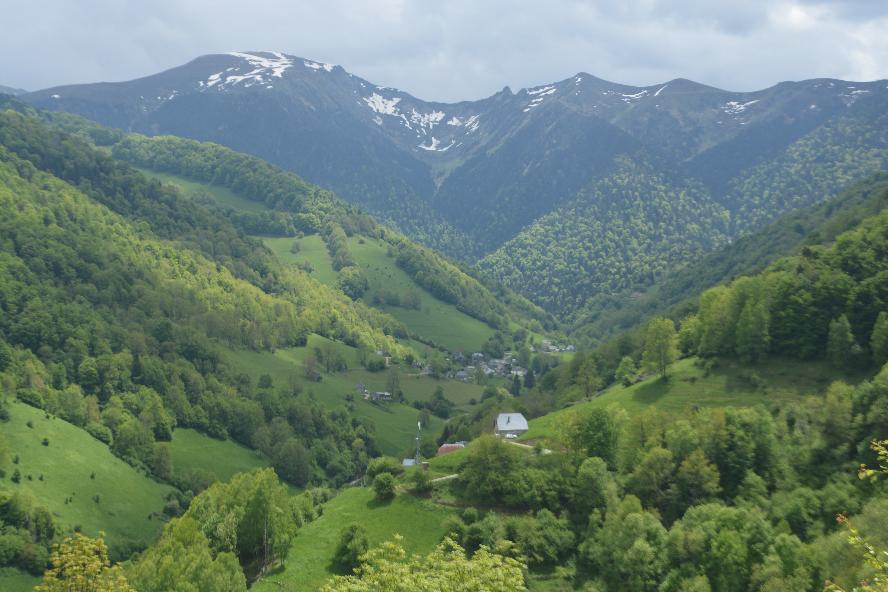 Bruno and Alain playing for Lesley, Becks, Rob and Kevin (and of course Gayle and me).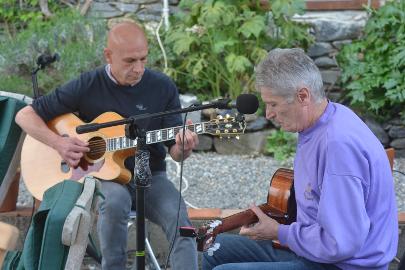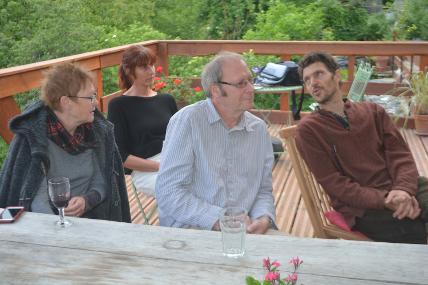 Our meal began with a loaf of the very best freshly baked still warm bread.
Each day the menu is presented on a piece of slate. To start we had a salad with greens from the garden and a cheese mousse for Gayle and a similar cod mousse for me. Gayle's second course was green asparagus and a variety of other vegetables, again from Kevin's garden.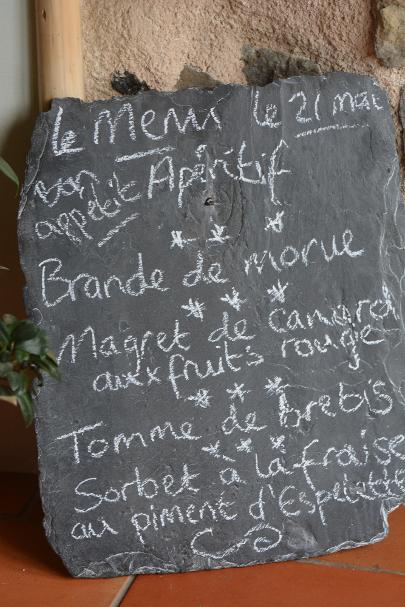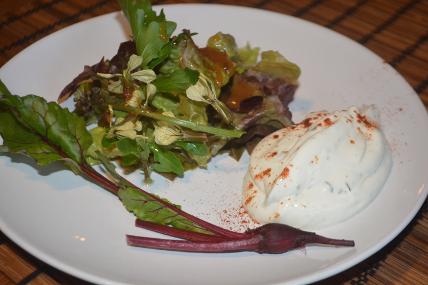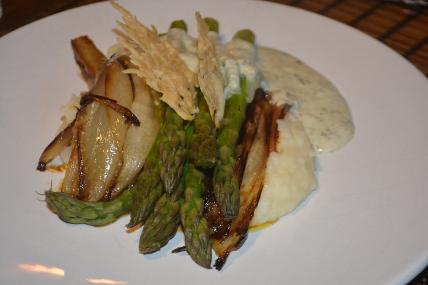 Canard (duck) is very common here in the south of France and for dessert strawberry sorbet with pigment of the Espelette pepper cultivted here in the French Pyrenees, along with fresh strawberries and small meringues.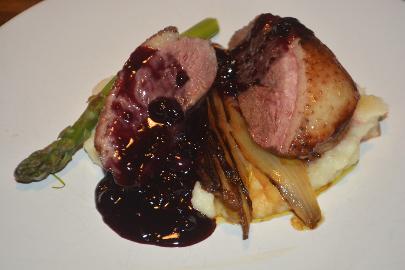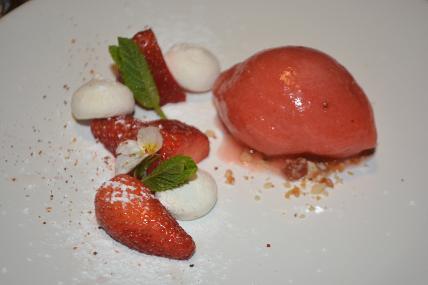 May 20, 2018 - El Acebo de Casa Muria and nearby area

Our second full day in the area started by enjoying another relaxing breakfast after which I worked on the travel blog. In the afternoon we went out for a short drive (70 kms total) up into the nearby hills above Castejon do Sos to the villages of Urmella (where it rained during our short walk through the tiny village), Arasan, Liri and Ramastue. Vistas of the surrounding countryside were wonderful from high on the mountainside. Animals abound, with the highlight being a large flock of sheep we encountered. Then just before returning through Castejon de Sos we went up the other side to the village of Chia, another pretty mountain hamlet of stone buildings and narrow streets.
We decided to return to Casa Javier for dinner again tonight (pork jowls at El Acebo were certainly different and no doubt very good but I had my mind on the entrecot). We were the only ones eating (which can't be great for business) but we certainly once again enjoyed our meal. Gayle started with the Carpaccio de tomate rosa, queso de cabra y pesto (carpaccio of pink tomato, goat cheese and pesto) while I knew I was going to have the Risotto con arroz ecologico, boletus edulis, trompeta negra y queso Pirineos (risotto with ecological rice, edulis murshoorms and Pirineos' cheese). Mushrooms which in 2011 Javier showed us where he picked them on the hills just behind his house are a staple of Javier's cooking. For her main course Gayle had Huevos trufados con esparragos trigueros (truffled eggs with wild green asparagus) while I stuck with the plan having the Entrecto of nearby Ribagorza beef. Tonight we both had the mushroom ice cream - for me there only was one choice. I have to say this certainly ranks up there with the best desserts I have every had - the taste of the mushroom along with the accompanying nuts, cranberries and dried fruit - superb. A small glass of the cherry liqueur finished the meal. Gracias Javier.

We then drove the 5 kms back to El Acebo Casa Muria where we turned in for the night.
__________________________________________________________________________________________________
My breakfast plate of cheese, tomato, tortilla and meats. The lounge of El Acebo de Casa Muria.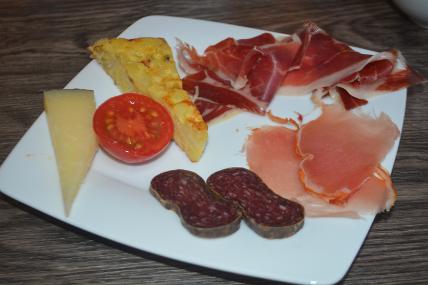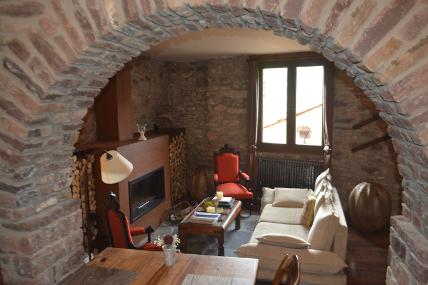 An interesting collection of doors on the wall.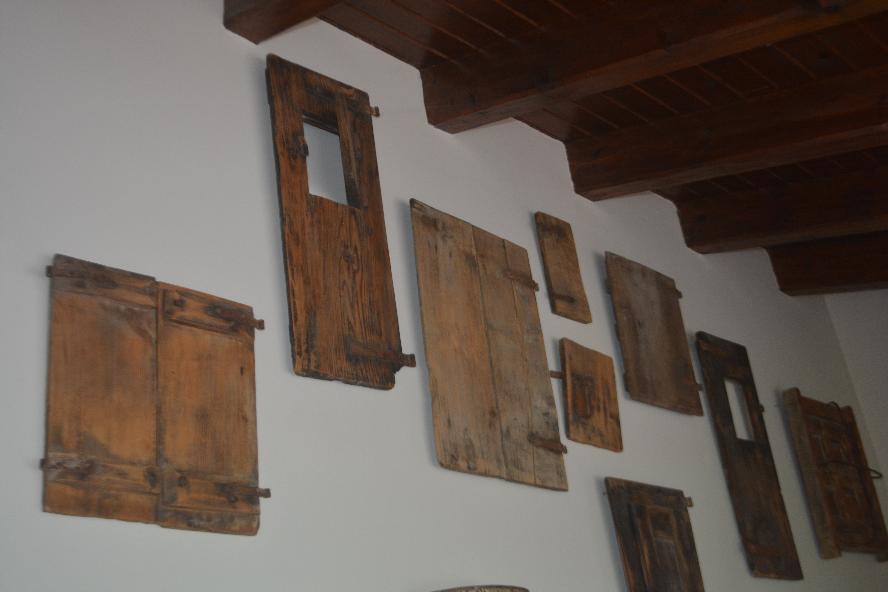 El Acebo de Casa Muria and the surrounding countryside.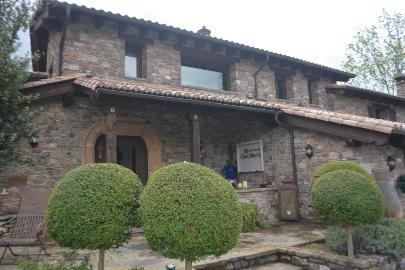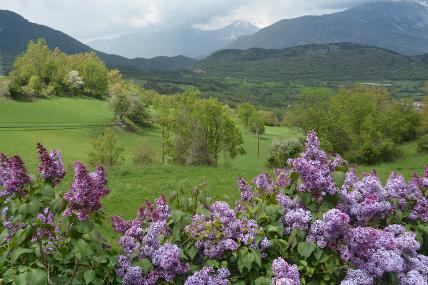 A few more flowers to brighten up the day.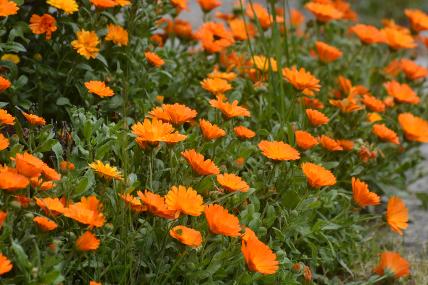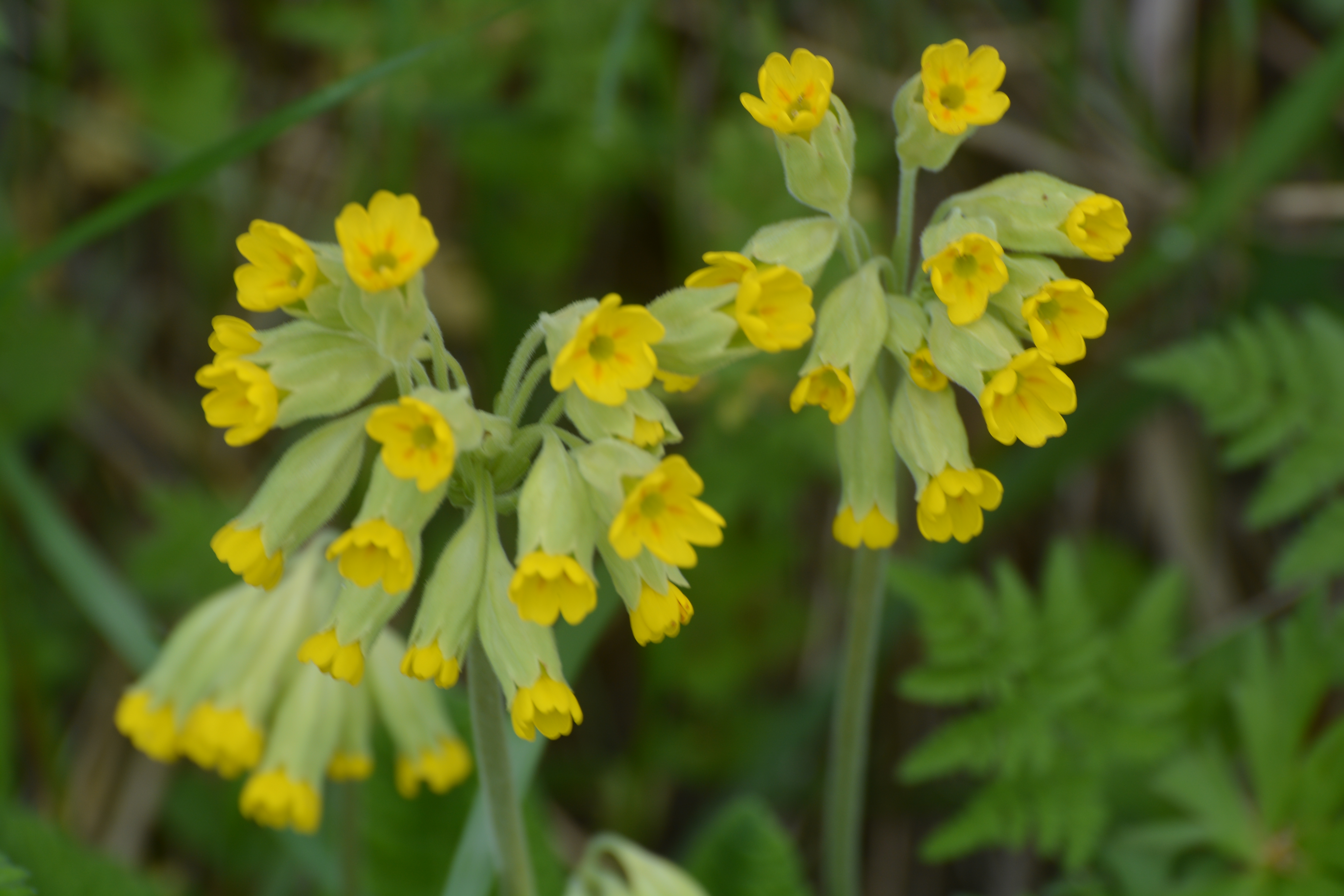 Here in Spain one needs to be alert at all times. Coming around a corner we were confronted with a large flock of sheep on and near the roadside.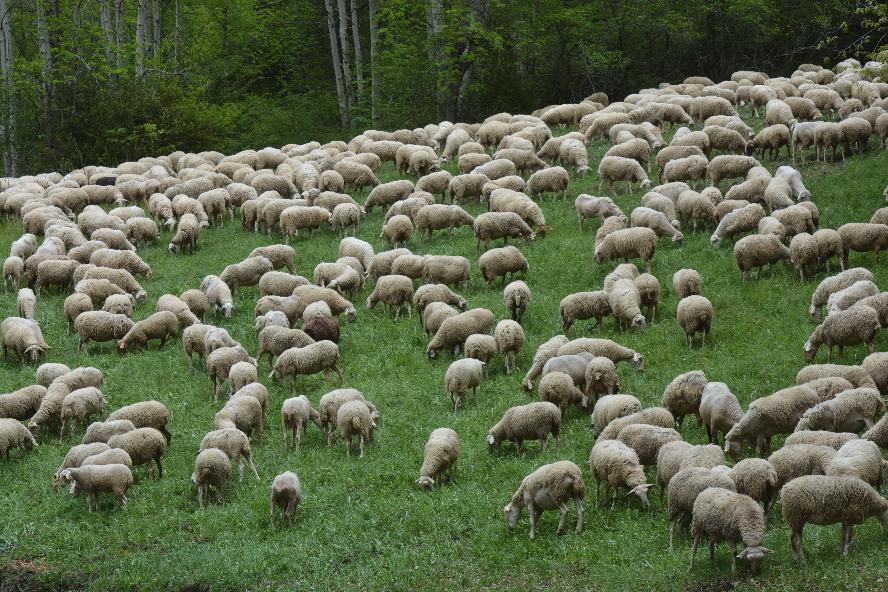 Now aren't those the coolest sunglasses you have every seen on a shepherd?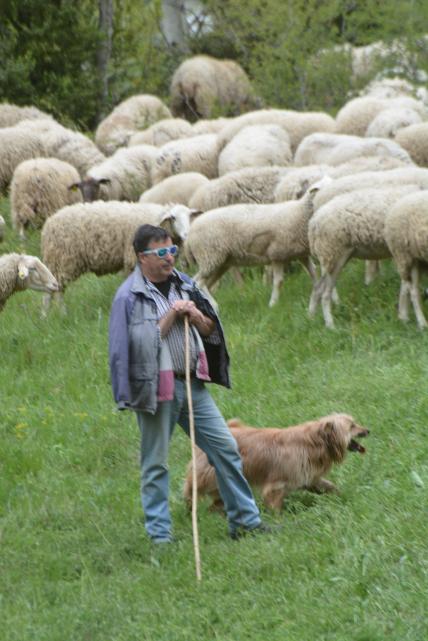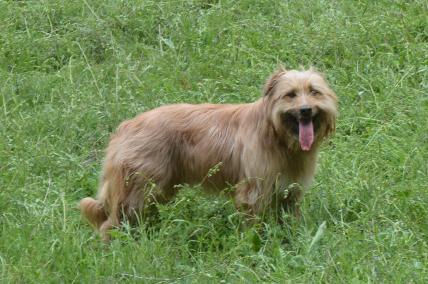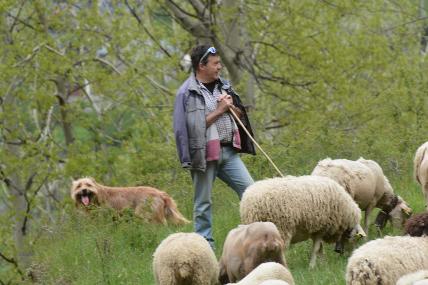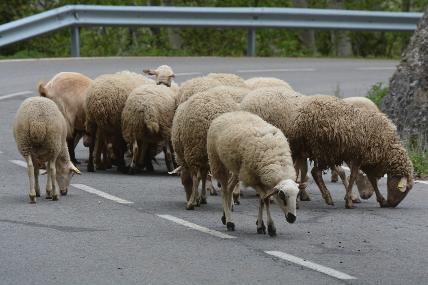 Now some have suggested that being in the middle of the road I am 'jaywalking' but in Nova Scotia at least I am not in that I am not interfering with traffic. There was only one vehicle that passed while we were stopped and I stepped off the road quickly when it approached. The sheep on the other hand took their sweet time to clear the road, so if there is any issue of laws being broken - speak to the sheep, they're the one's being baaaaad.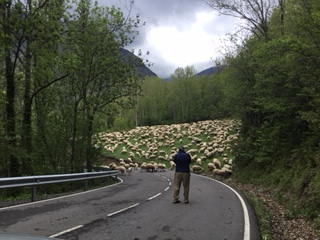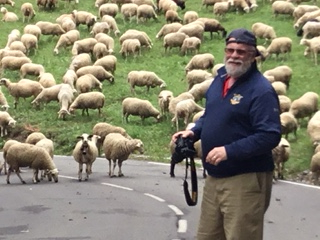 The church bell in the hamlet of Casa Javier.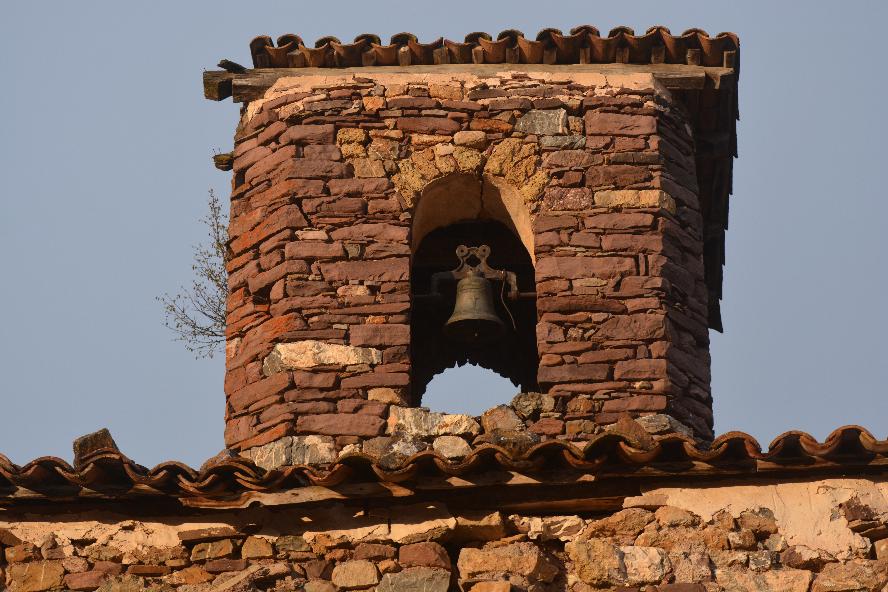 Risotto with ecological rice, edulis mushrooms and Pinineos cheese.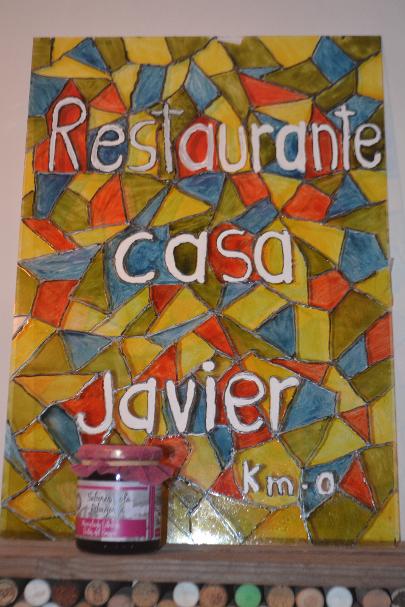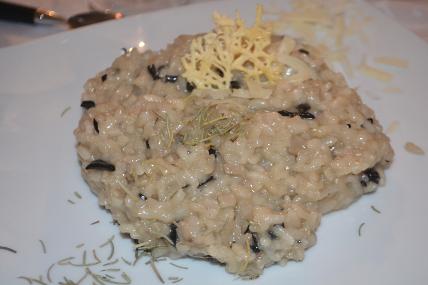 Carpaccio of pink tomato, goat cheese and pesto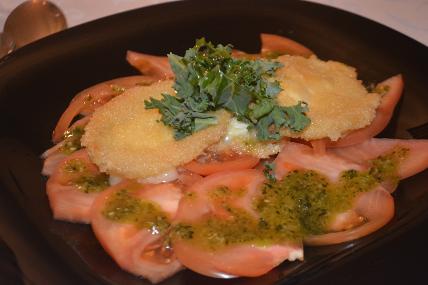 Truffled eggs with wild green asparagus for Gayle. And Entrecot (Ribagorza beef) for Norm.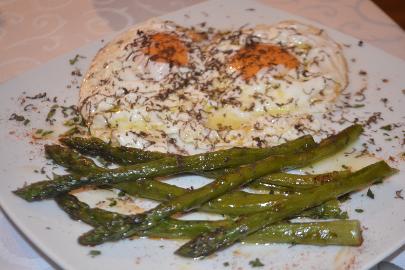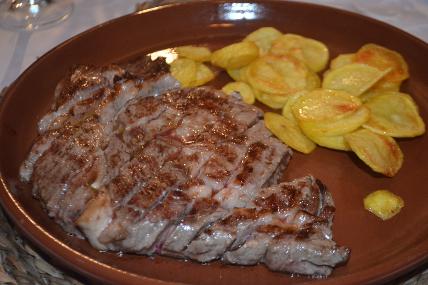 Tonight we both had the mushroom ice cream for dessert - delicious.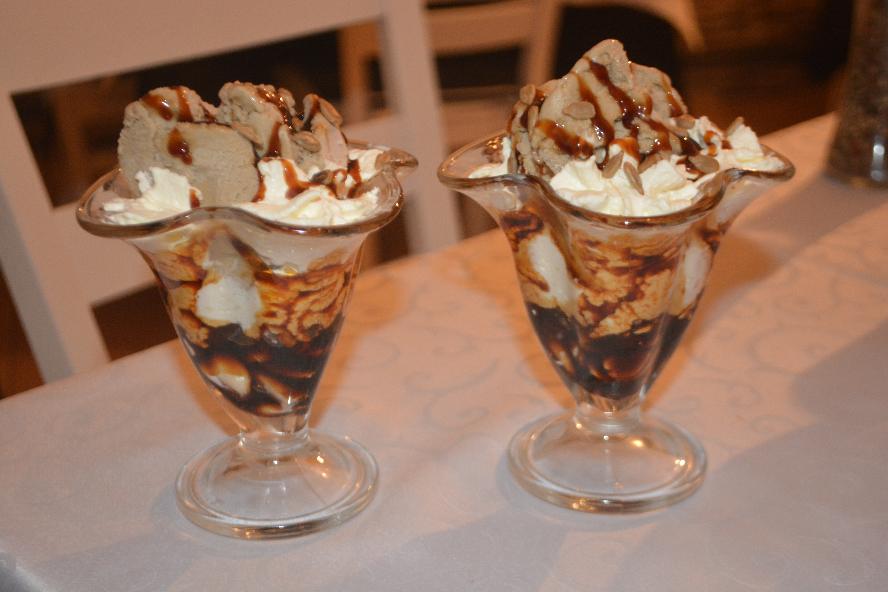 May 19, 2018 - El Acebo de Casa Muria and the Park Naturel Posets-Maladeta

Another day, another delicious and filling breakfast during which we had a bit of a chat with a Spanish couple from Barcelona. We are three nights here at El Acebo de Casa Muria during which we planned a couple of short day trips. Sole suggested we go through Benasque and then up the valley to the Park Naturel Posets-Maladeta with a stop at the Hotel Hospital de Benasque, which we did.

It was a scenic drive up the valley with numerous waterfalls and snow still covering the mountains. We did indeed stop to enjoy a coffee / beer with jamon while watching all the hikers and a surprising number of skiers. The weather was beautiful - sunny and 23 degrees. We then returned down the valley (there is no other choice) and went to the small, but well renovated, village of Anciles just south of Benasque for a walkabout.
Back in 2011 while driving through this area we stopped for lunch at a small restaurant - Casa Javier, only 5 kms from where we are now staying. In fact I was the first to give them a TripAdvisor review, having been so impressed with the quality of cooking, and the unique and especially tasteful mushroom ice cream for dessert. There was no doubt we would return.
Javier actually sort of remembered us when I mentioned we had been there and had done that first review. We enjoyed another excellent, and inexpensive meal given it included all the wine we wanted - not that I had that much given I had to drive the narrow twisty roads back to Casa Muria after the meal. Gayle's first dish was an Ensalada tibia de queso de cabra con aciete de romero y trufa (warm salad with goat cheese, rosemary oil and truffle) - superb while I tried the local Patatas a la pastora del Alta Aragon con azafran de Jiloca (potatoes cooked in a traditional style from Alto Aragon with Jiloca saffron) - decent. Then Gayle had the Canelones de setas con crema de queso Benabarrres (mushroom cannelloni with Benabarres cheese) - delicious, and I the Conejo a la cazuela con seta (stewed rabbit with mushrooms) - also a tasty and wonderful dish. For dessert (also included) Gayle enjoyed a chocolate coulant with ice cream while I of course had the ice cream made of special mushroom boletus edulis with nuts, dried fruit and cream, and then a cherry mountain liqueur - every bit as great as I remembered it. All for only 20 euros each. We were very glad we returned.
__________________________________________________________________________________________________

Breakfast here at El Acebo de Casa Muria.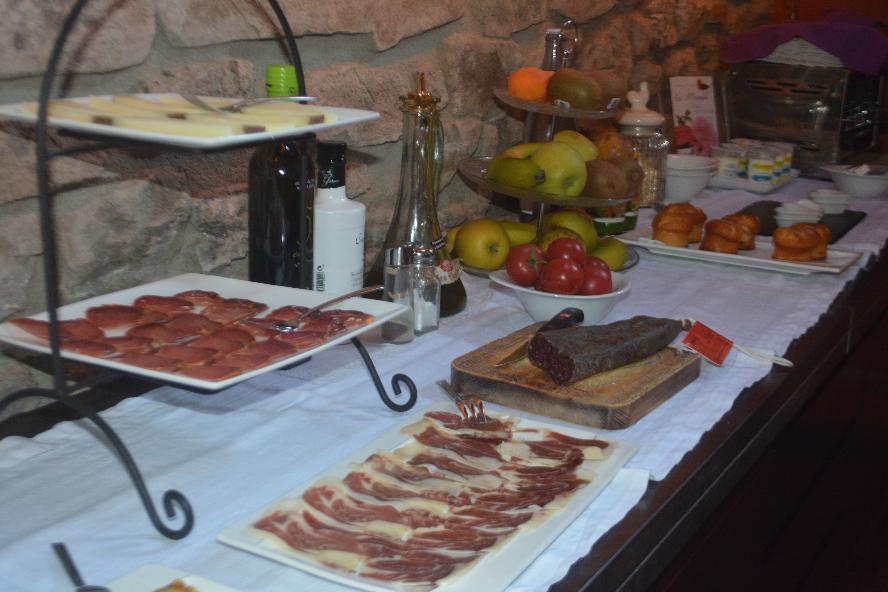 Views of the Pyrenees from El Acebo de Casa Muria - worth waking up to - the one on the left from our room.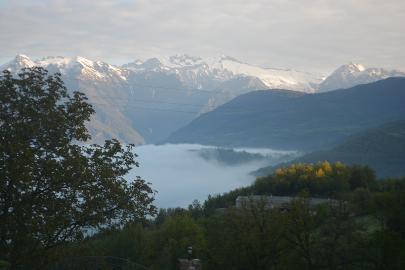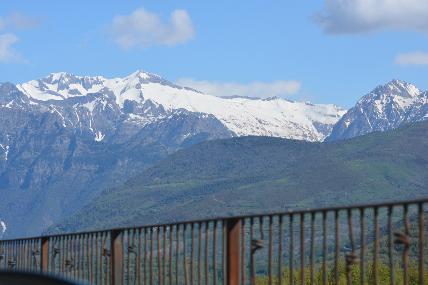 Can't have a day without wildflowers and animals now can we?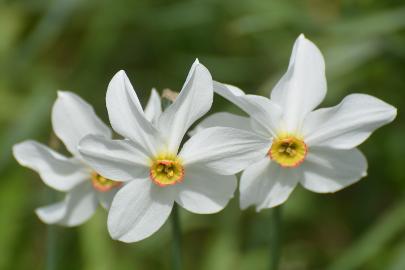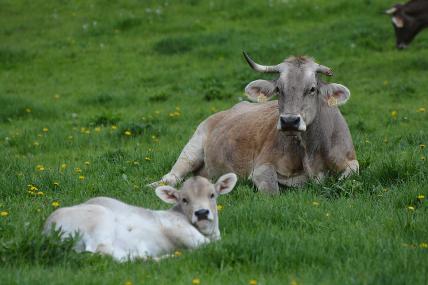 The mountains here in the Spanish Pyrenees still have a reasonable amount of snow.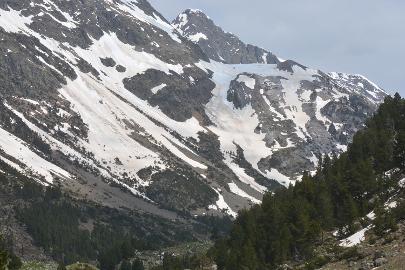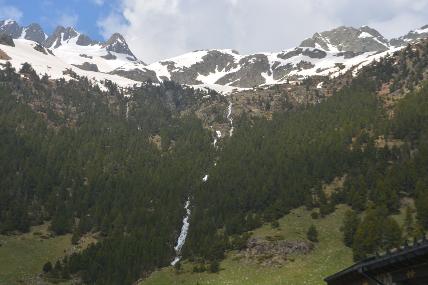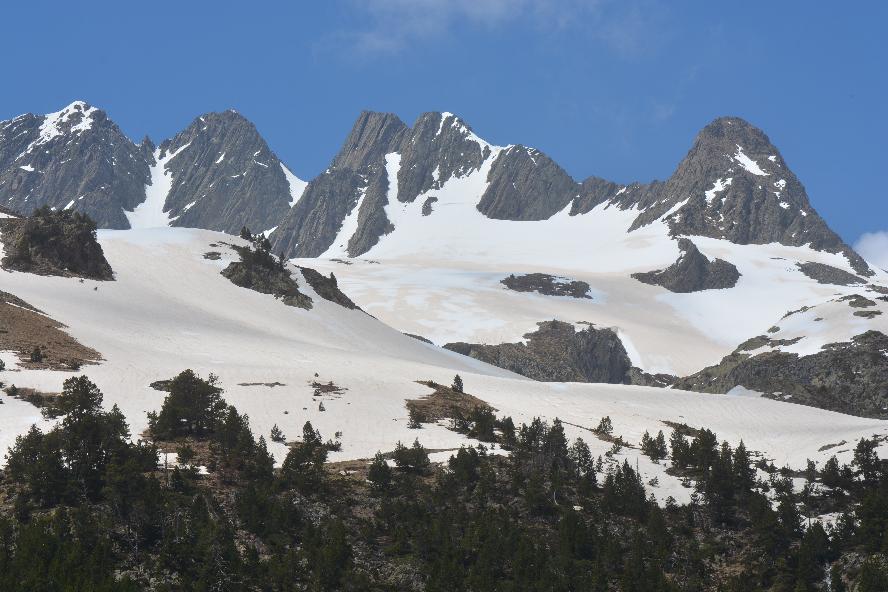 Not freshly fallen and a bit dirty but we did make it to the snow line.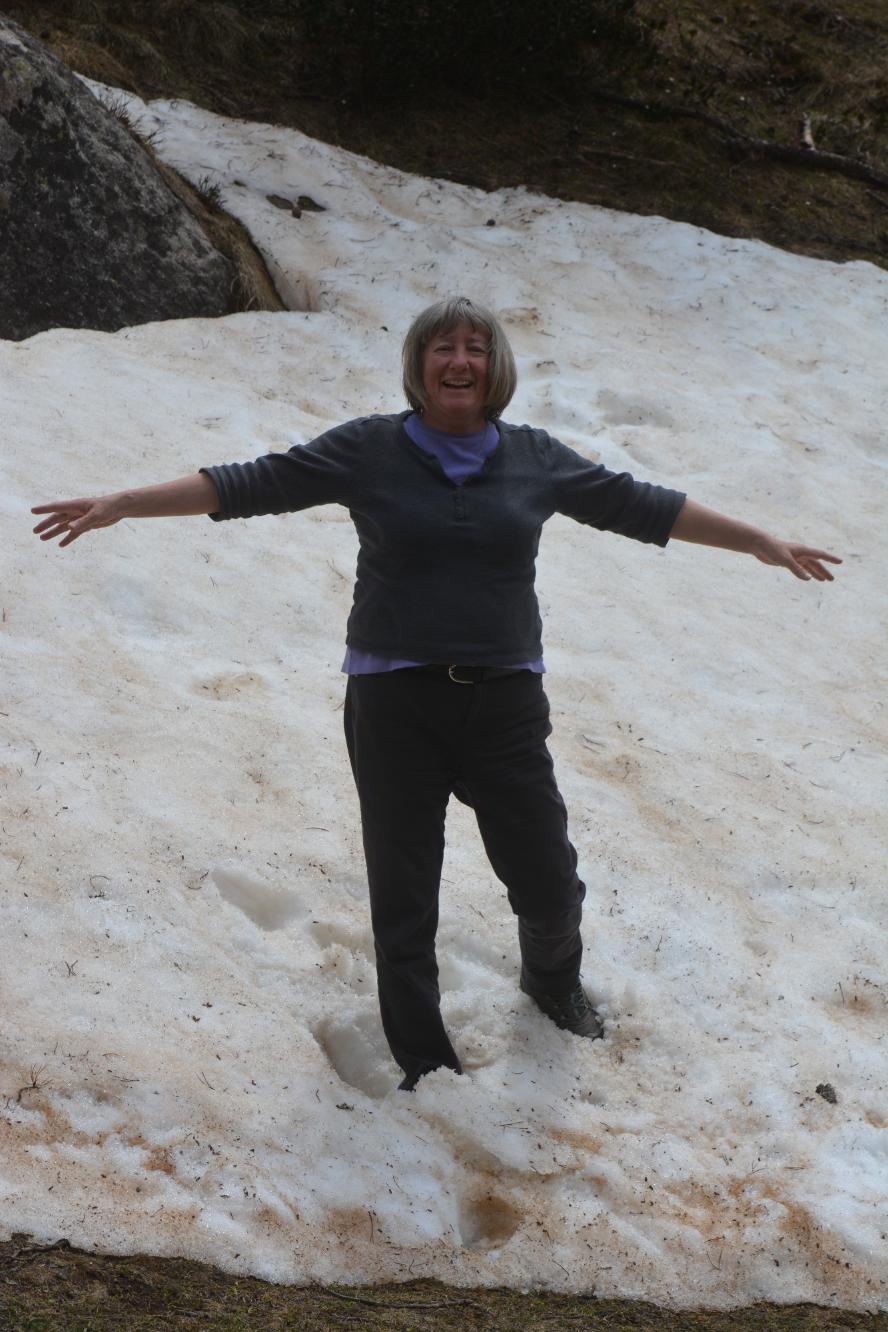 Lots and lots of waterfalls here in the Park Naturel Posets-Maladeta.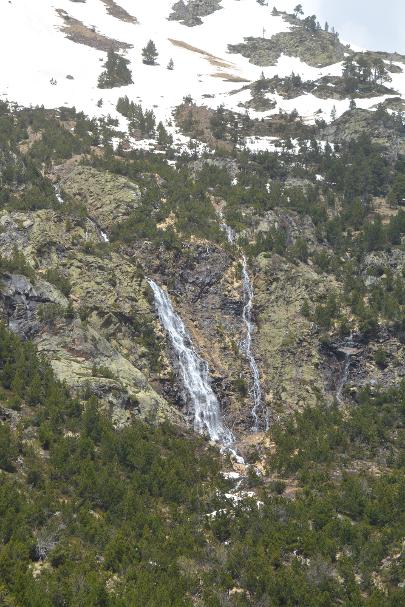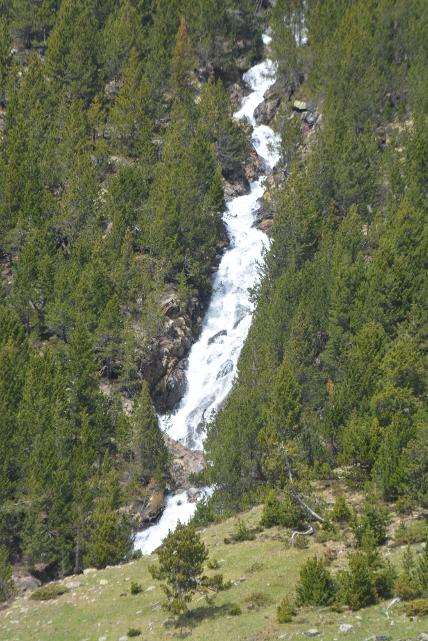 Many skiers and a stop for a coffee / beer and jamon here at Hotel Hospital de Benasque.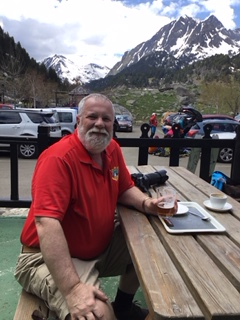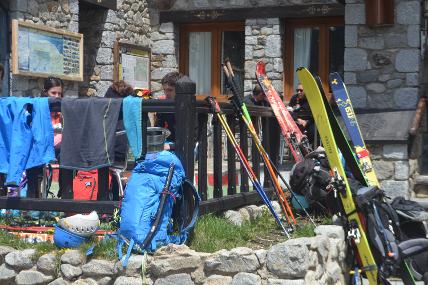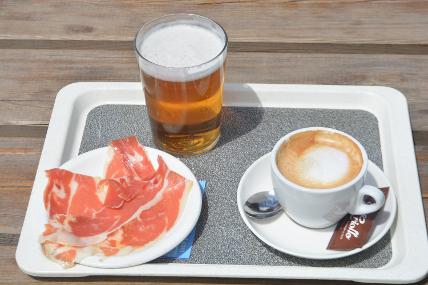 A few photos around the viallage of Anciles, about a km south of Benasque.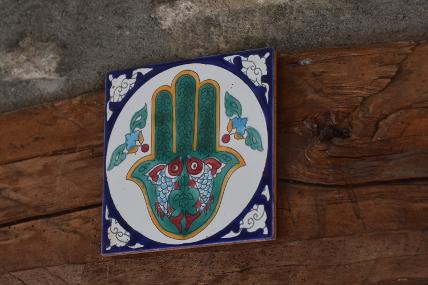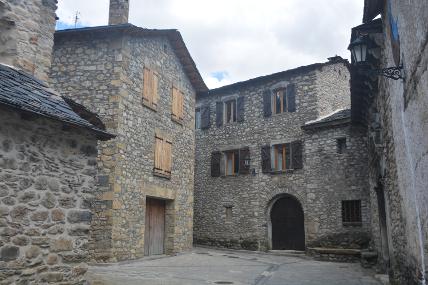 Restaurante Casa Javier and Javier himself.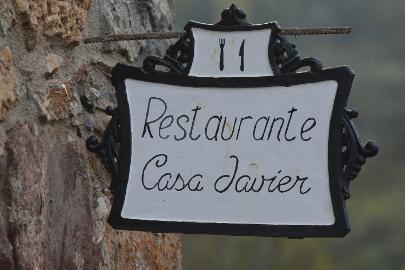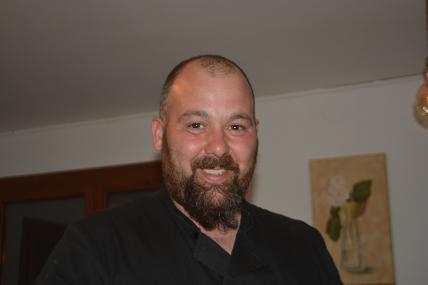 For Gayle a warm salad with goat cheese, rosemary oil and truffle and mushroom cannelloni with Benabarres cheese.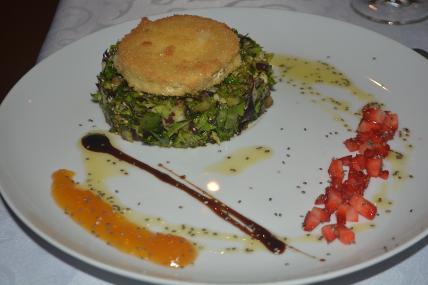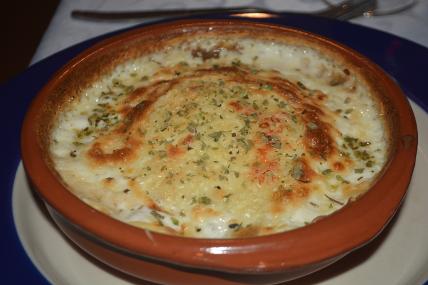 And for Norm potatoes cooked in a traditional style from Alto Aragon with Jiloca saffron and stewed rabbit with mushrooms.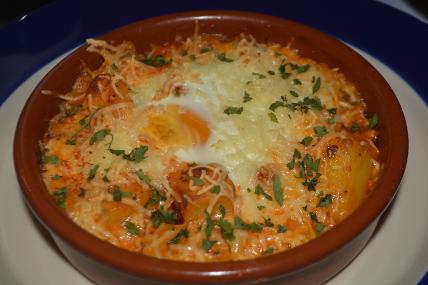 Enjoying mushroom ice cream with nuts, dried fruit and cream.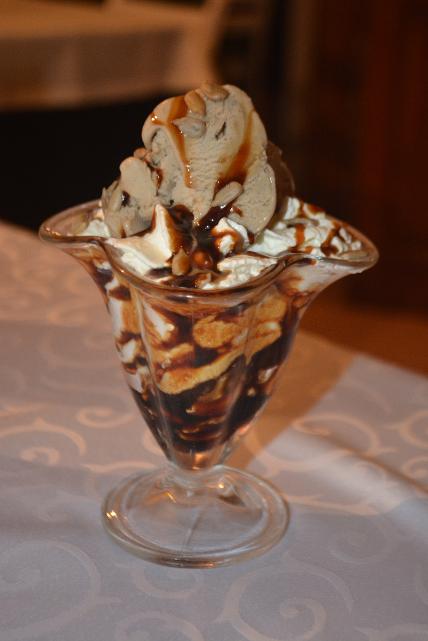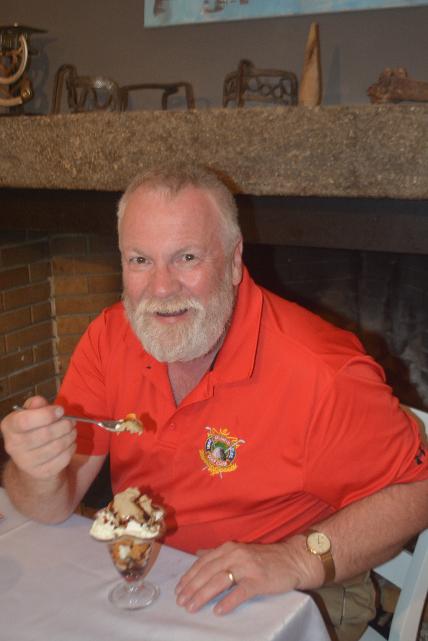 May 18, 2018 - Casa de San Martin de Solana to El Acebo de Casa Muria, Renanue

After breakfast we sat with David in the old chapel and listened to him tell us about the history of Casa de San Martin de Solana and the ill-fated dam project in the valley below.
There are references to the property dating back to 1,000 (the stone in the chapel dates back to this time) when it was owned by the Abbot of San Victorian, the oldest Monastery in Spain. It served as a central property to provide food to locals, essentially a community centre, having a school room, bread oven and chapel. The construction of the current stone building began at the end of the 18th Century. Then in 1835 the ownership was transferred from the church to the inhabitants, one of whom was Jose Duaso Y Latra - the Duaso family crest remains on the side of the chapel. Jose became the chaplain to Ferdinand VII, King of Spain. His portrait was painted by Francisco de Goya in 1824, the original of which is in Seville. David does have a photo of the painting applied to canvas hanging in the entrance (see below)
During the second half of the twentieth century the property witnessed a deterioration due to expropriation of the surrounding valley for a hydro-electric project that was never to be. Fourteen villages were expropriated for the dam but nature would have none of it - destroying initial work / footings with floods in the valley. In 1960 San Martin de la Solana became, and still is, a village in its own right when 14 residents deciding to stay. In the village of Jonovas, lower down in the valley, residents returned at various stages of the halted plans to build the dam. Finally in 1985 the last residents were forcibly removed and the homes destroyed.

David and his then partner purchased the property in early 1996. After numerous hurdles they opened to guests in December 2000. There are 10 rooms, a beautiful outside terrace for those who don't have a balcony and a wonderful intimate restaurant.
David is extremely fortunate to have Andre and Crina on staff. Both from Brazil, Andre is a fantastic self-taught chef while Crina has a ton of class serving guests. They are a lovely couple.

We reluctantly left with a stop at Jonavas. Although there is evidence of some restoration the former village remains for the most part abandoned.
Our next stop was Ainsa, the main town, although with only a population of 2,173, in the Ainsa-Sobrarbe municipal area of Aragon. The focal point is the 12th-century Iglesia parroquial de Sanda Maria and the 11th- century castle. The medieval part of town is very quaint and scenic with narrow streets of cobble stones.
From Ainsa we continued along the N-260 to Castejon de Sos and then some 10 km east to the small hamlet of Renanue to arrive at El Acebo (holly) de Casa Muria where we were greeted by Sole who manages the property. There are six rooms with a wonderful garden, a number of sitting areas, great views of the mountains and a nice dinner. Again we were very happy with our choice of lodging.
It is not always sunny, especially early in the morning when the valley can be covered by clouds.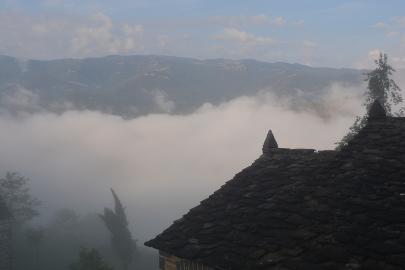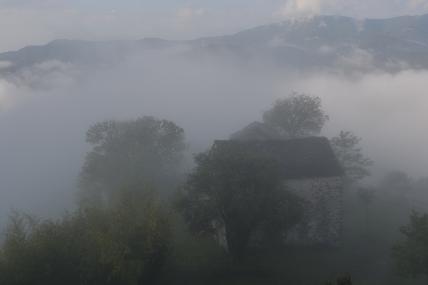 The photo of the painting of Jose Duaso Y Latre

... and a photo of David, or perhaps that is his brother the gardener David - it was hard to tell them apart?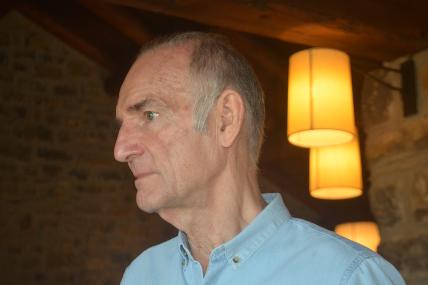 The old chapel is now a lounge.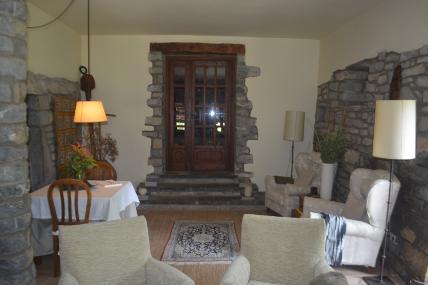 Doors salvaged from the sacristy and confessional are an important link to the history of the chapel.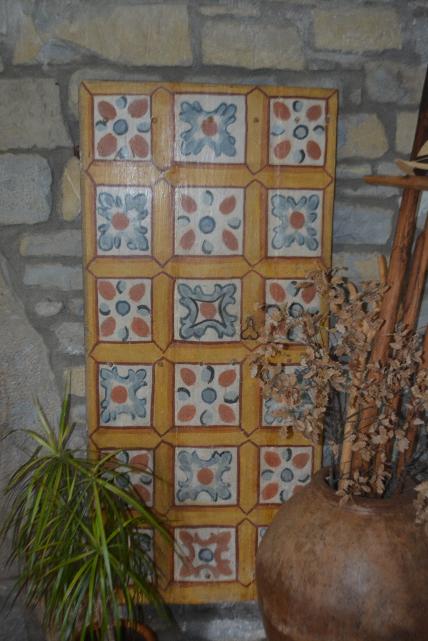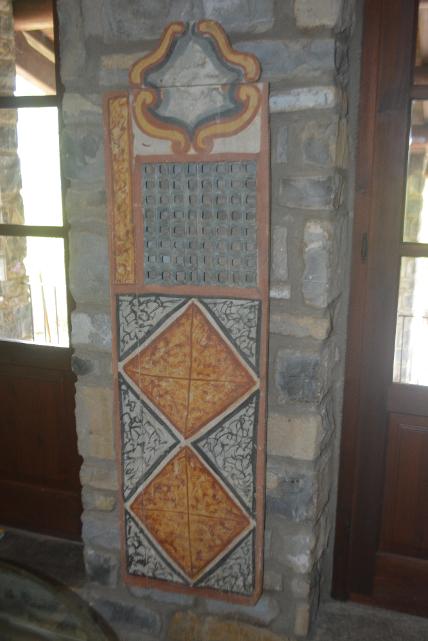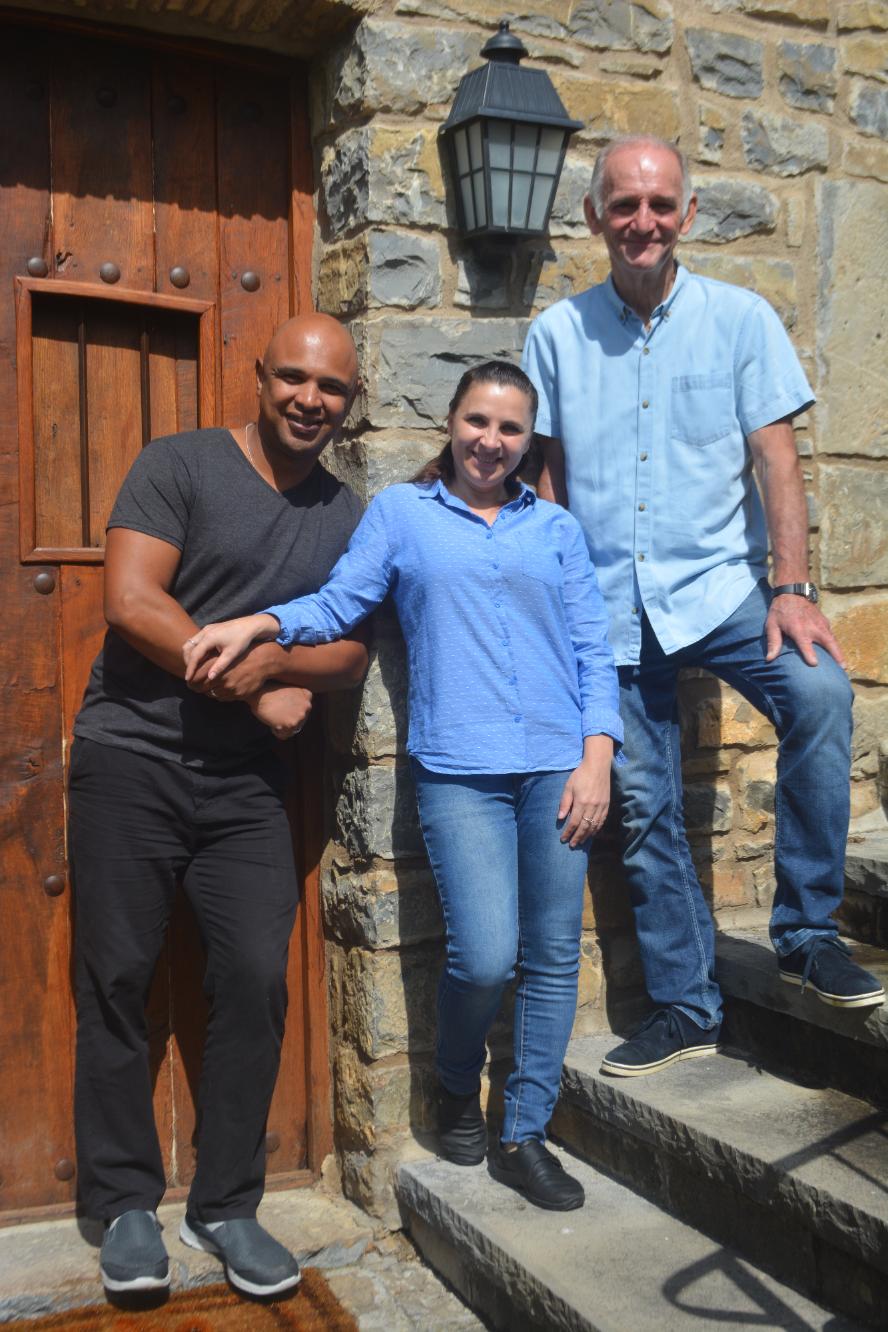 Our departing view of Casa de San Martin de Solana.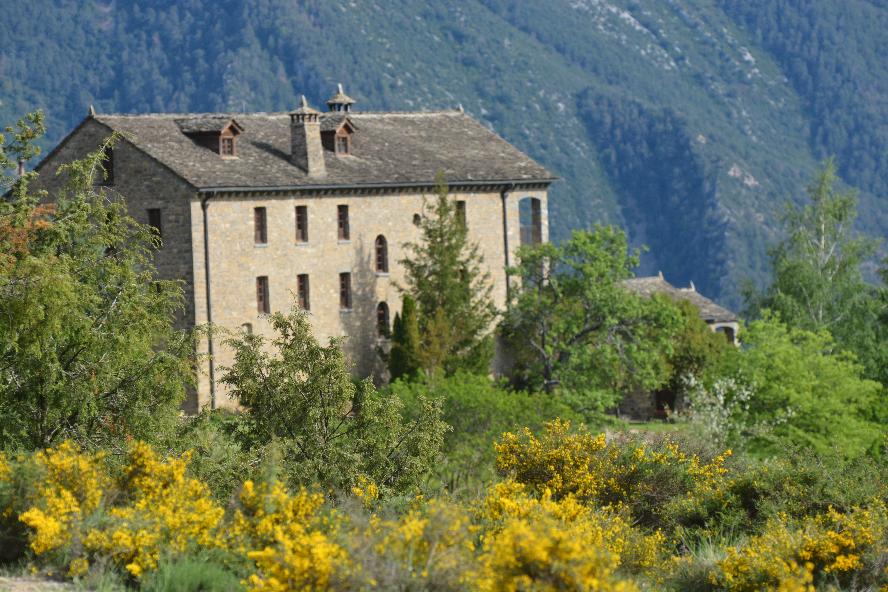 The abandoned village of Janovas.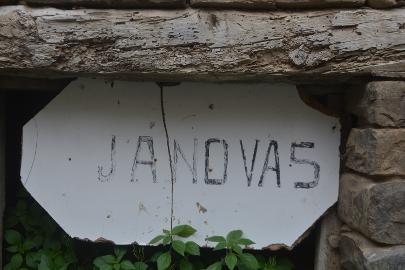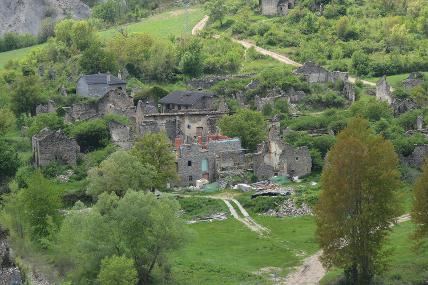 The river Ara next to Janovas and the suspension bridge crossing the river.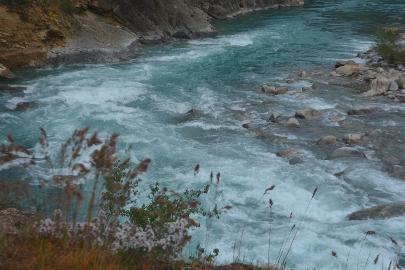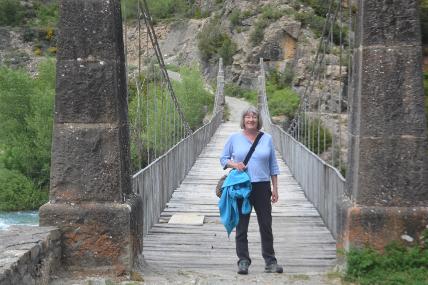 A few of the abandoned buildings.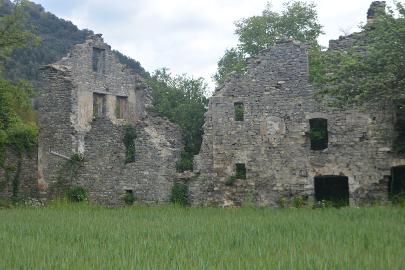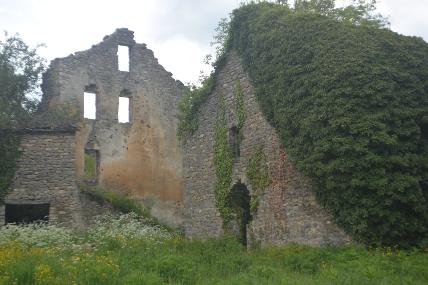 A few photos of the medieval town of Ainsa.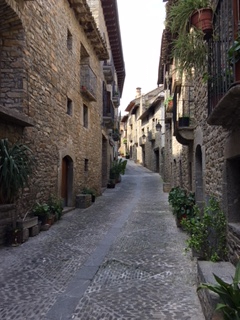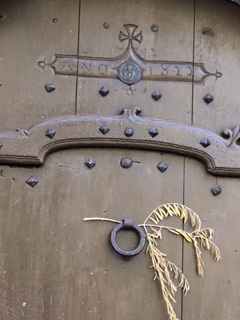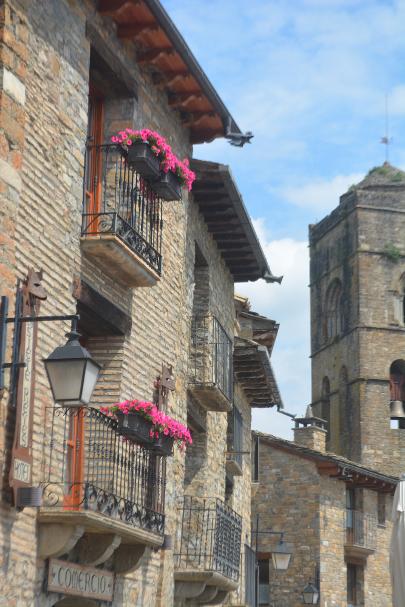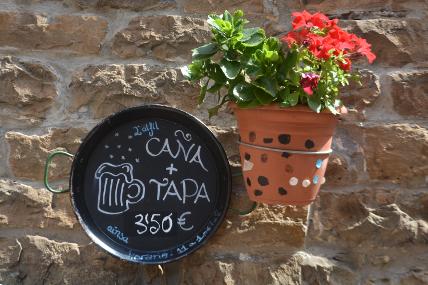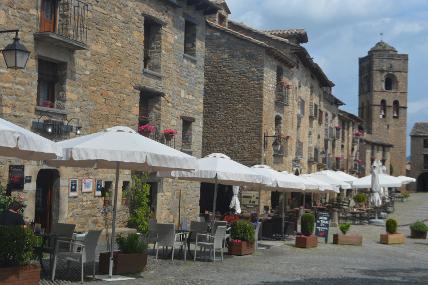 Pre dinner 'snacks' of olives and mountain sausage ... ... and a nice salad with tomato and goat cheese.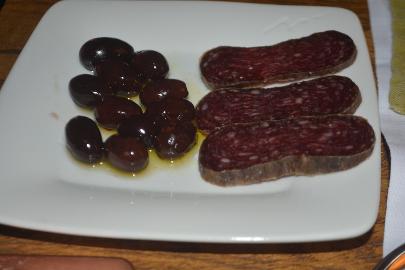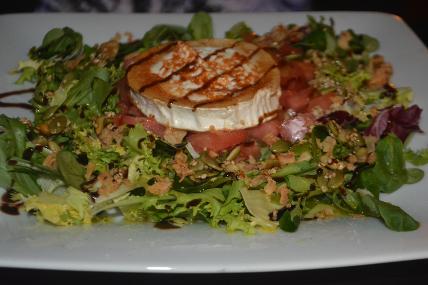 Beef carpaccio with parmesan cheese and a traditional dessert from Huesca - creamy custard in light wafer.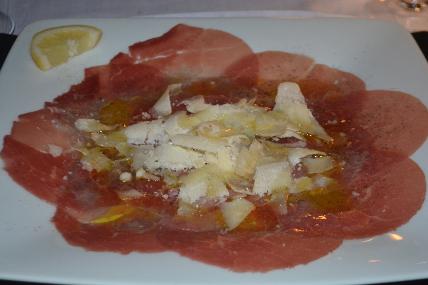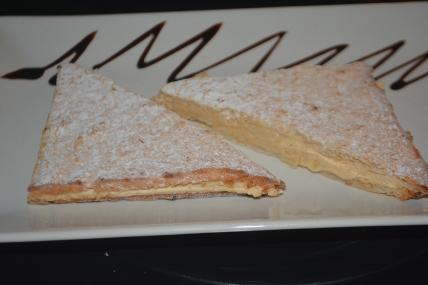 May 17, 2018 - Casa de San Martin de Solana

Today was a stay put day. We briefly considered going to see the abandoned village of Janovas and the town of Ainsa but the weather was inconsistent and we figured that given tomorrow is a relatively short drive and we will be going that way anyway we do them then, and stick around Casa de San Martin today.
We took a short walk along the 'road' but otherwise just enjoyed the property, sitting on some of the many benches throughout, playing with the dogs, sipping wine on our balcony, working on the travel blog and generally just relaxing.
Breakfast was of course huge and filling leaving absolutely no need for lunch. If you thought last night's wine selection was a limited production tonight's recommendation was one of only 237 bottles (not cases but bottles) produced of this particular wine, a unique Granacha Gris, that presented a beautiful copper / honey colour. It turned out to be another excellent choice for my main course - cod presented in a Brazilian style. We asked David to open the bottle an hour before dinner in order that we could enjoy a glass on our balcony.
Dinner began with a concoction of eggplant, olives, onions, red pepper and tomatoes but was then soon interrupted when Gayle saw a vibrant rainbow. We all grabbed our cameras, snapping photos of not one but two rainbows. It was fortuitious the first course was served cold! We then enjoyed a colourful and creative salad that included lentils, tomato, corn, onion (and no doubt other stuff) covered with a balsamic vinaigrette. Then the main courses - for Gayle a Thai curry spiced with kaffir lime along with rice noodles and for me a Brazilian style cod with shrimp and peppers cooked in coconut milk. Both excellent. Gayle choose the chocolate mousse with a glass of Cointreau and I the banana flambe with a Spanish brandy. Another superb meal to end the day.
The dining room ... ... and breakfast
.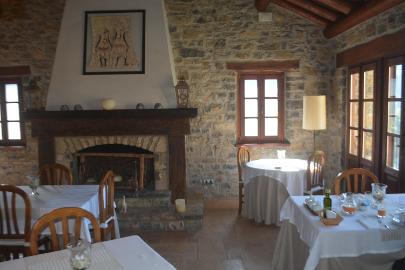 Casa de San Martin's large comfortable terrace.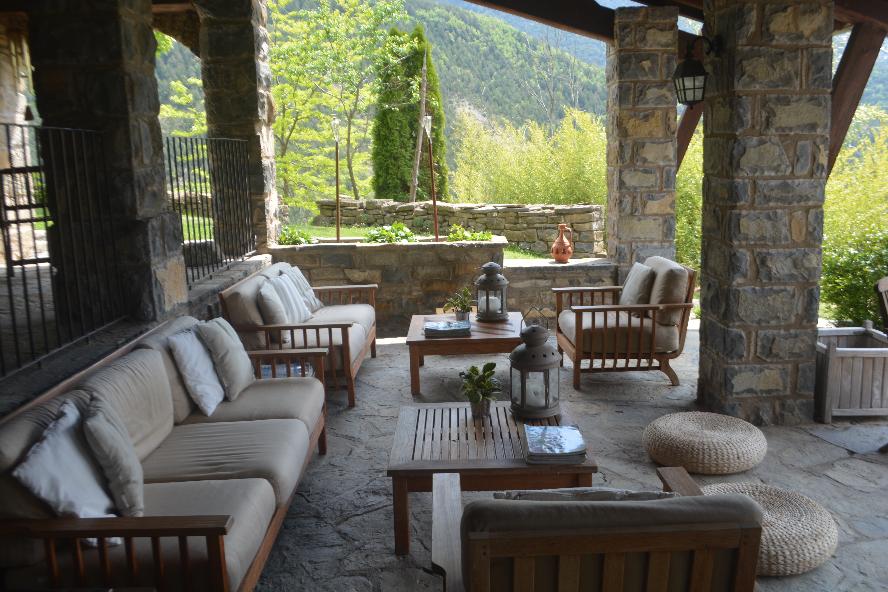 Enjoying some sun on the balcony.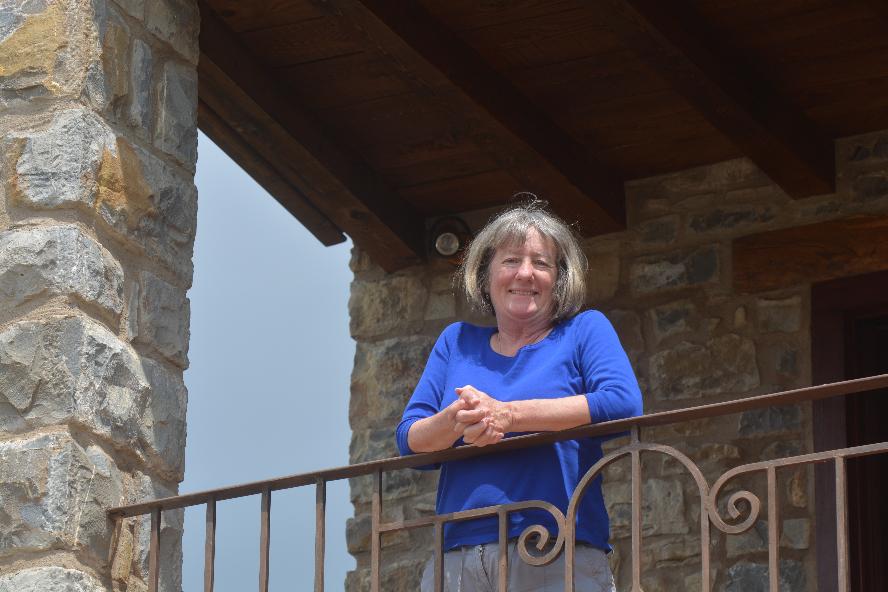 The dining room from the outside and nearby countryside.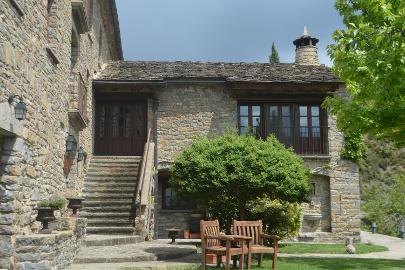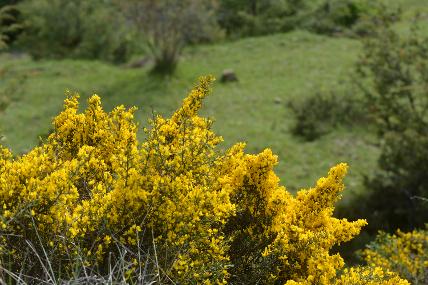 According to David the caps / hats on the chimneys were to keep the witches out.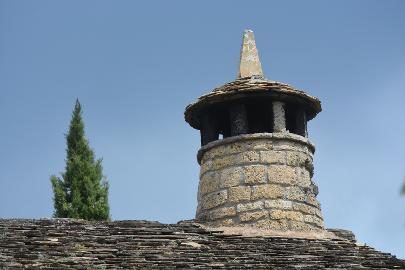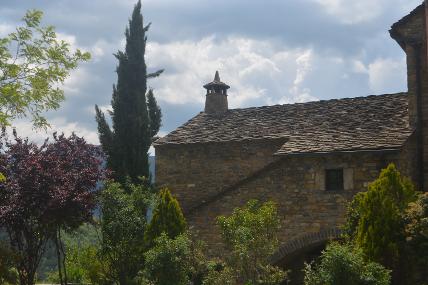 Not only is the building beautiful but the expansive grounds are well manicured with lots of seating areas.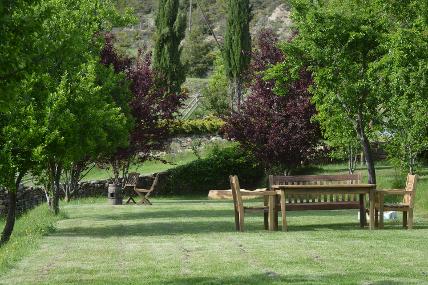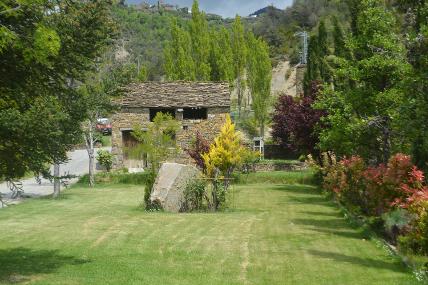 Wildflowers along the road leading to Casa de San Martin and wisteria by the building itself.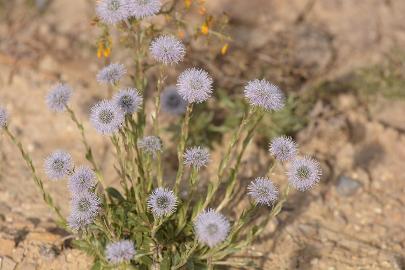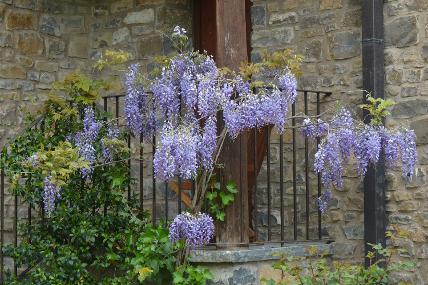 The cows look more like a painting than a photo. Troia and Rona, the Casa de San Martin dogs.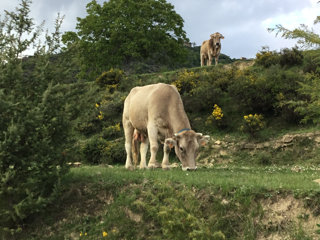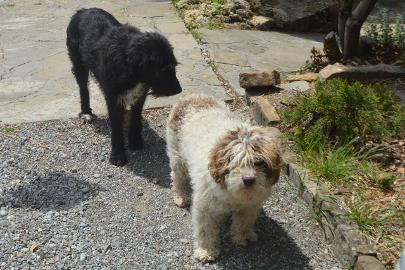 Rona, one of the Spanish water dogs, certainly took to me.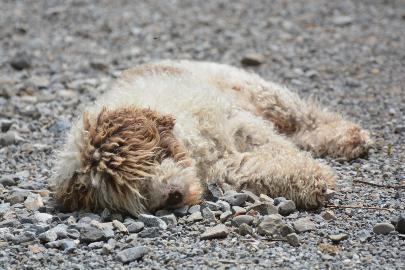 The honey copper colour of this unique Granacha Gris, a very very limited production, only 237 bottles.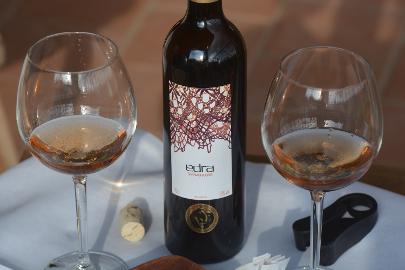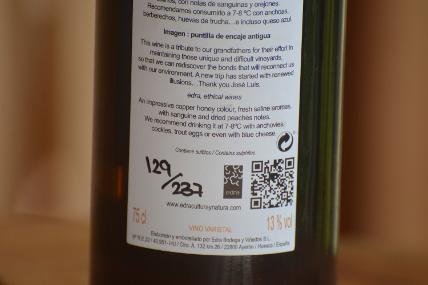 The first two courses were very thoughtfully prepared with Gayle in mind.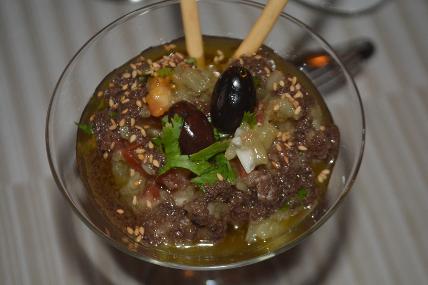 The first course was primarily an eggplant dish with the second being a creative / colourful salad with lentils, tomato, corn, onion and balsamic vinaigrette.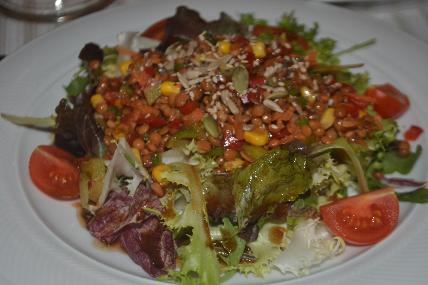 Just after we were served our first course Gayle notices this brilliant rainbow - well actually two rainbows. We all grabbed our cameras and raced for the window / outdoors - good thing the first course was served cold.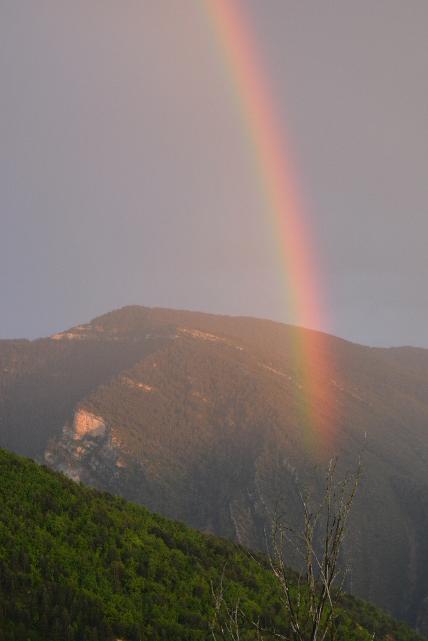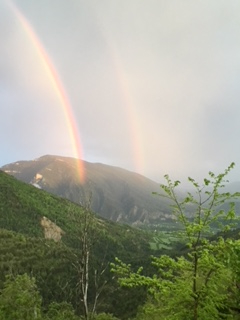 Cod served with a Brazilian flair ... and vegetable curry with rice noodles.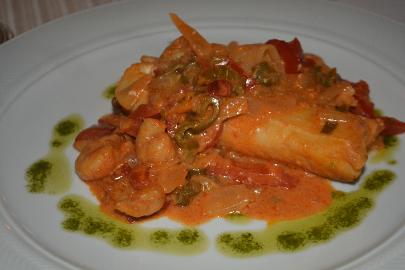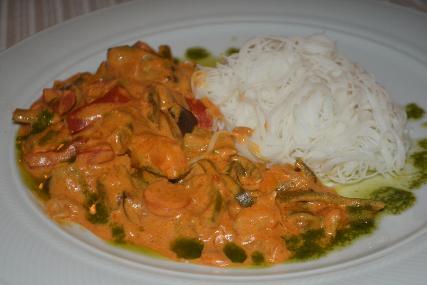 Dessert for me was banana flambe, ... and for Gayle chocolate mousse.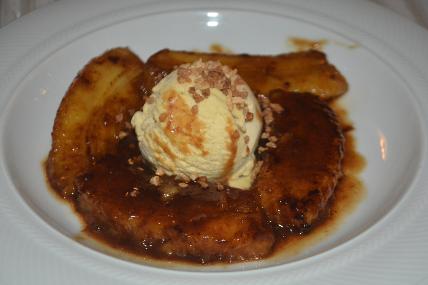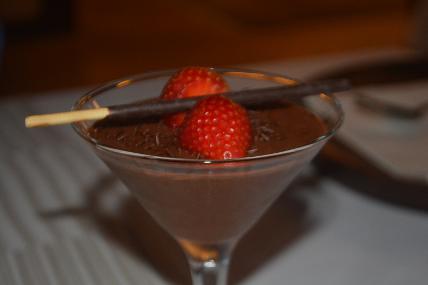 May 16, 2018 - Gallipienzo, Navarra to Casa de San Martin de Solana

After another great breakfast we left Gallipienzo for what was a nice traveling day with blue skies and temperatures in the low 20s. We first headed towards Sos del Rey Catolico where we turned north-east through some very scenic gentle rolling countryside dotted with small villages, each with either a church or a tower or both. Again an abundance of wildflowers brought the fields to life.

We continued north to the N-240 then driving east past Jaca and Sabinanigo. It was then on to Fiscal and along the Rio Ara to the turn off to Casa de San Martin de Solana. From there it is a five km drive up a mostly gravel, although well leveled 'road' to the property where we were met by David's 'brother' (inside joke - it really was David) the gardener, and Andre and Crina, the very capable staff.
We stayed at Casa de San Martin back in 2011 during our previous travels through the Pyrenees. We returned due to the beautiful historical property, fantastic food and service.

We settled in to Adelpha, our double superior room with a huge balcony looking south down the valley, enjoying the afternoon sun (at least when it was not obscured by clouds). There were no other guests this evening (or tomorrow) as it often quite quiet mid week still early in the season. As a result we enjoyed a private dining room and the full attention of David.
Given we were somewhat captive here in the hills (few would really want to have dinner in Ainsa and then drive back) the value of our meals is beyond description. Four courses of some of the best cooking one will experience for only 25 euros each. Honestly we felt somewhat guilty. In fact we spent more on our wine (26 euros) than one meal, albeit we saw the same wine in Ainsa for 18 euros, i.e. David's markup is <50%, extremely well priced.

David recommended a limited production (we had bottle 309 of 13,150) Cuevas de Arom - As Ladieras, a 100% Granacha Viejas by Fernando Mora M.W. A wonderful selection that went very well with my entrecote, along with the rest of our wonderful meal. We started with white asparagus with tomatoes, then had a sublime wild mushroom soup. Gayle had Dauphine potatoes with goat cheese and walnuts, while I, as mentioned the entrecote, with the Dauphine potatoes. Gayle enjoyed a lemon sorbet for dessert while I had mandarin sorbet, but with a bowl of varied fruits. A fabulous dinner accompanied by an excellent wine.

Impressive vistas from the terrace at Heredad Beragu Hotel.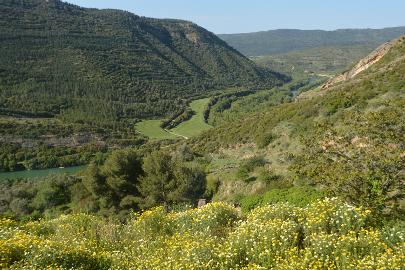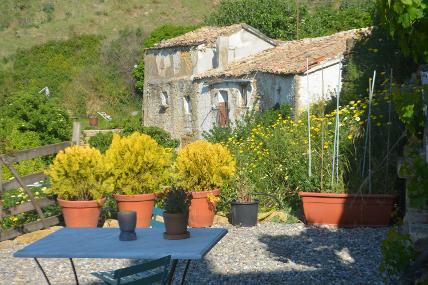 Isn't it something how Gayle dressed to match her coffee mug?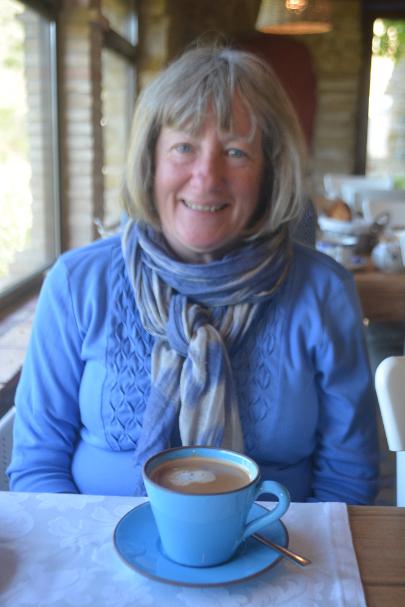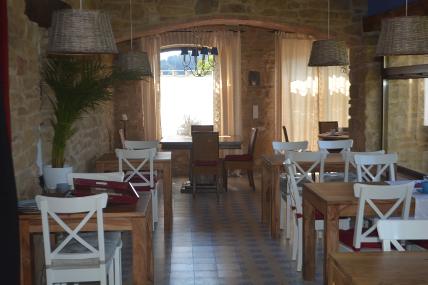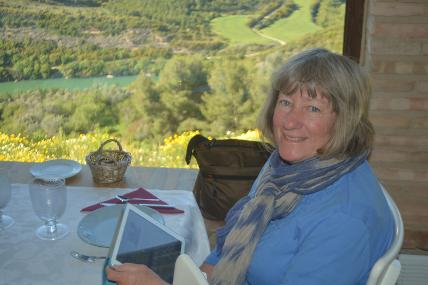 The view to the north from Gallipienzo and almost every town and village in this region, no matter how small, has a church or (a) tower(s), or both.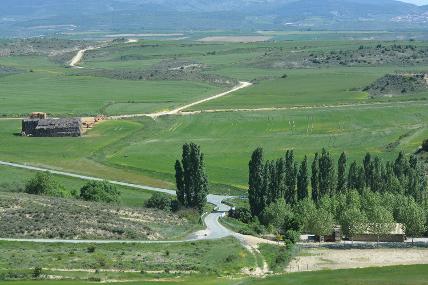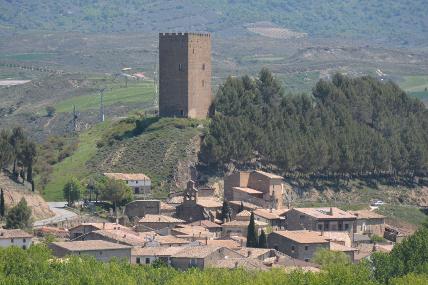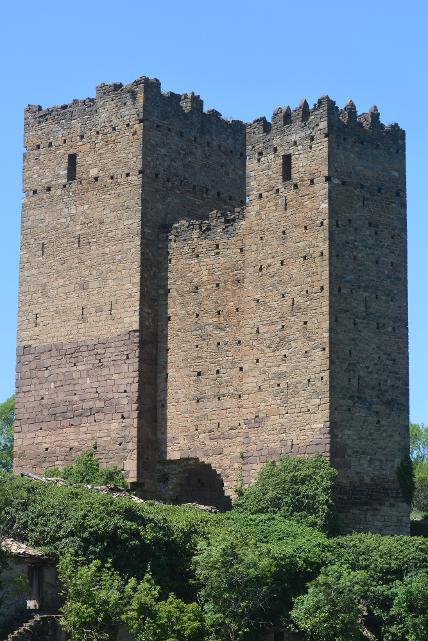 Again, a significant number and variety of wildflowers on our drive today.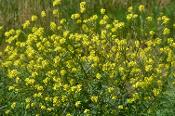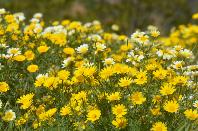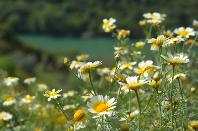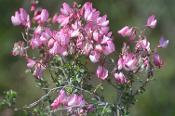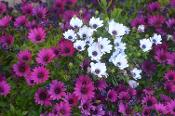 Can't have a travel day without either sheep or cows. "Hay, why you lookin' at me?"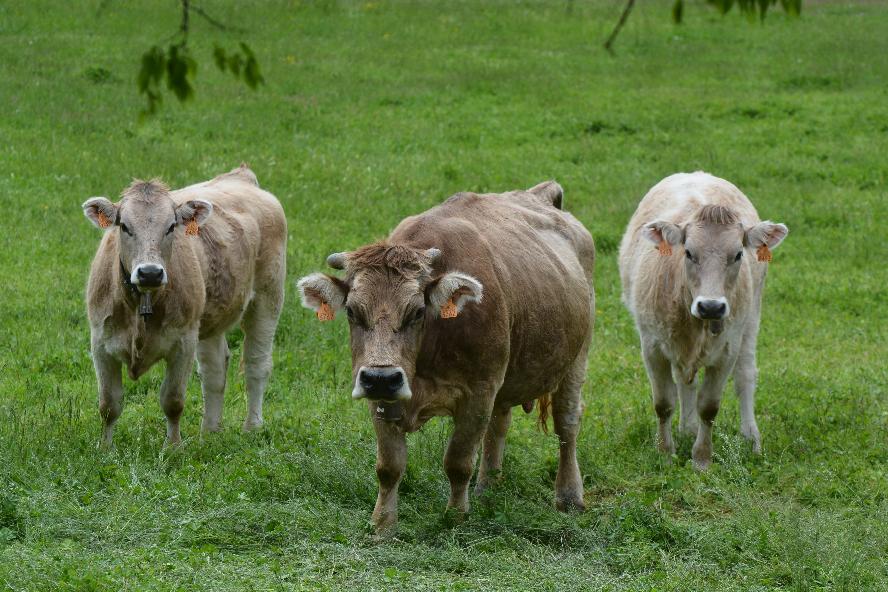 Approaching Casa de San Martin de Solana - just the way we remember it.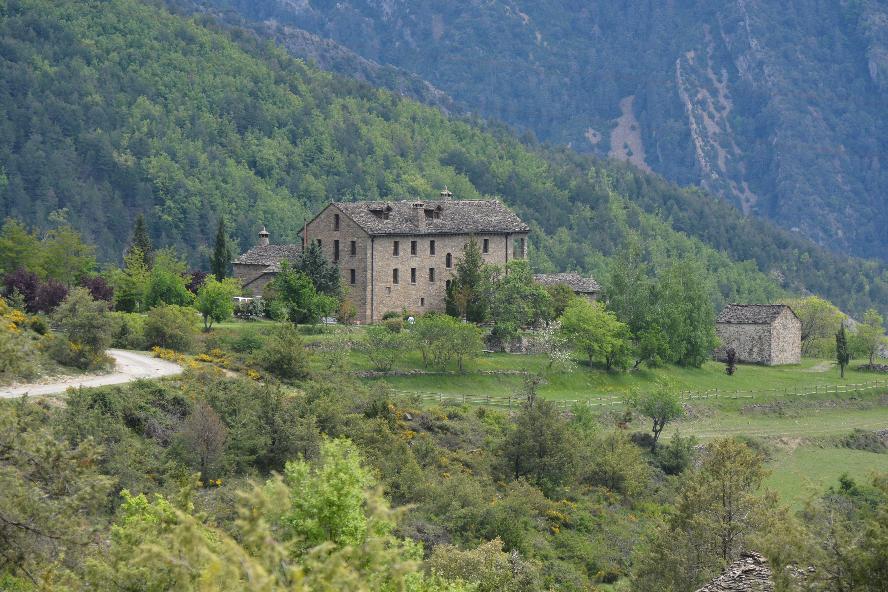 Casa de San Martin nestled in the mountains and as we pulled in closer.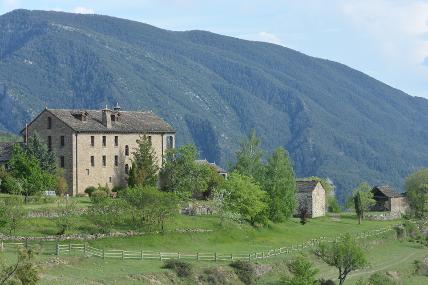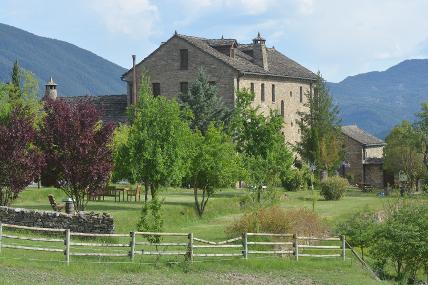 Only half of our huge balcony and the adjacent stone roof.
Enjoying a glass of wine on our sunny balcony shortly after arriving at San Martin.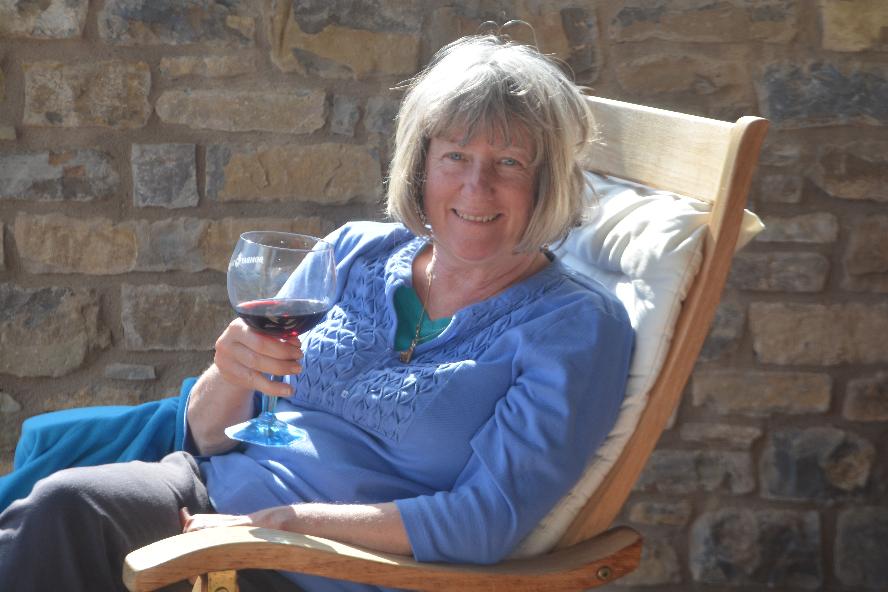 Our wine this evening was Cuevas de Arom, a 100% Granacha. Excellent recommendation by David.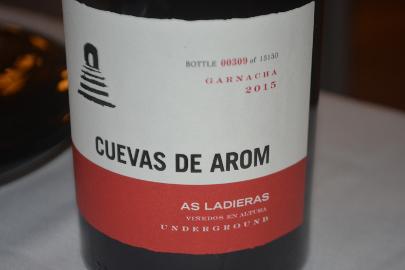 Fascinating colours in the wine decanter. First course - white asparagus with tomato.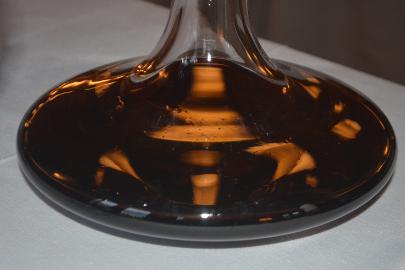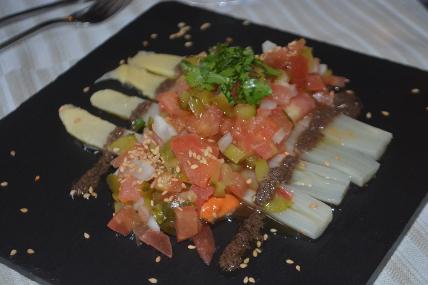 Second course - wild mushroom soup. Dauphine potatoes with goat cheese and walnuts.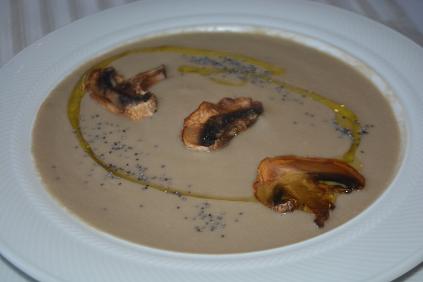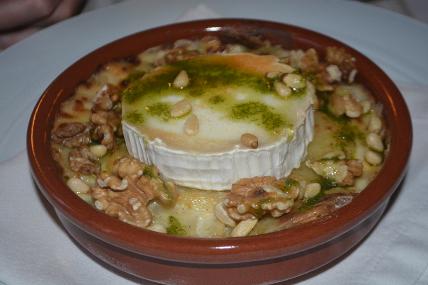 My entrecote with dauphine potatoes ... ... and for dessert fresh fruit with mandarin ice cream.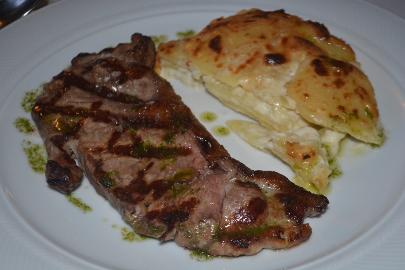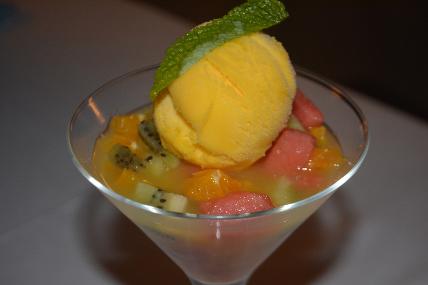 May 15, 2018 - Gallipienzo, Navarra

A fairly quiet day other than the excitement of 1,100 sheep passing by our hotel and getting to chat with the shepherd, and climbing high above the village to visit the 11th Century Inglesias San Salvador.
The day started with another excellent and filling breakfast. It included all the components we have become accustomed to - juice, fruit, yoghurt, bread, jams, a plate of meat and cheese, and coffee, in this case served rather than buffet style. We were then relaxing in our room when we were startled by the clanging of bells, lots and lots of bells. Out to our balcony where we saw the fields were full, and we mean full, of sheep passing by our hotel, below the watchful eye of a shepherd and his dog.
Ramon encouraged us to walk to the top of Gallipienzo and visit the church of San Salvador, loaning us the key to enter both the church and the crypt. By virtue of an inscription, the church of San Salvador is documented in 1021 due to the patronate of a Diego Perez, and soon after consecrated by Bishop Adaganeo I. The church appears to have been built in the 12th-century. The temple is mentioned in 1625 documents and in the 18th century it was a parish church. The church was declared an Artistic Historical Monument in 1931. During the Spanish civil war the church was burned, and then reconstructed in its prior form in 1950.
It was quite a climb to the church, during which we saw only one cat. Not unexpected given there are only 30 inhabitants of a village that once had over 1,000 people before being abandoned in the 1960s. Afterwards we took a short drive covering 40 km before returning to Heredad Beragu Hotel. Upon arriving none other than the shepherd (and his dog) were watching their sheep from the hotel's parking lot. Of course I went over to take his photo and we ended up chatting ... well more smiling as his English and my Spanish rarely overlapped. I did gather his name is Ignacio and his dog is Chiquita. They look after a flock of 1,100 (more or less) sheep.

We enjoyed another nice dinner overlooking the Foz Verde del Río Aragón and the Kaparreta Nature Reserve. We split a garlic soup after which Gayle had vegetables in puff pastry (or at least what the Spanish consider puff pastry) and I confit of duck, accompanied by a local white wine. For dessert we shared a Coulant of chocolate. Another rich but enjoyable meal.

The comfortable lounge at Heredad Beragu Hotel Our breakfast meats, cheeses, walnuts and apricots.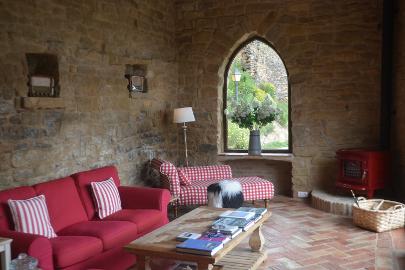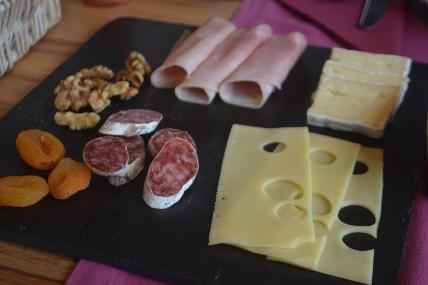 Just before noon we hear this orchestra of clanging bells and see this from our balcony - a shepherd and his 1,100 sheep passing by to graze down by the river below.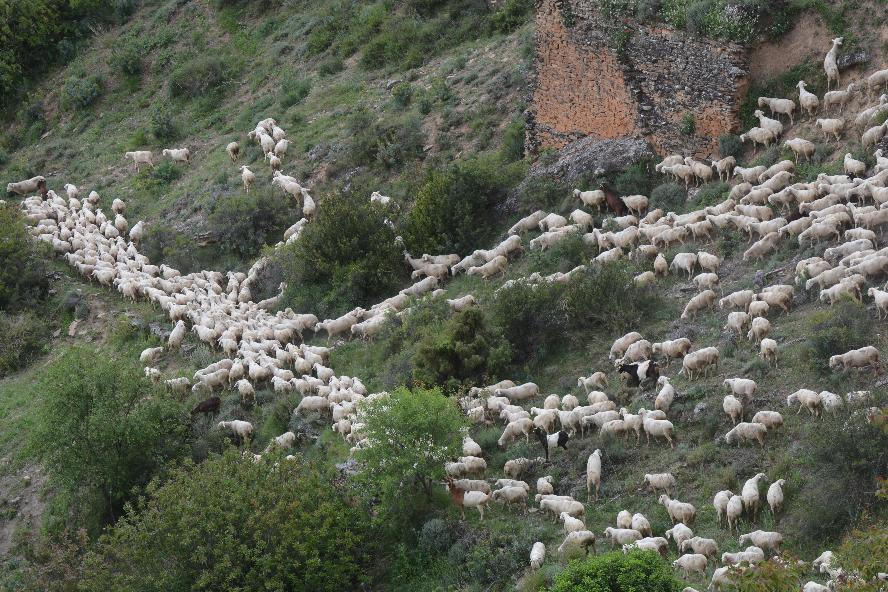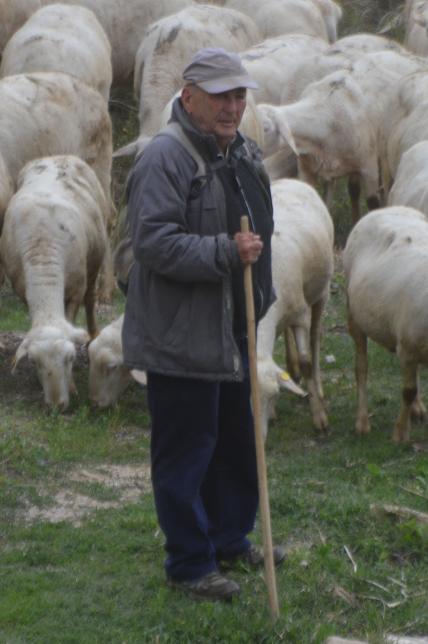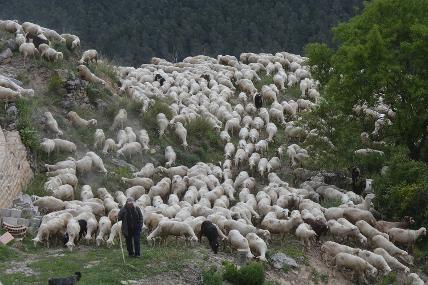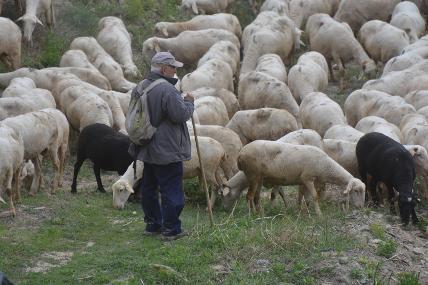 A video (shot from our balcony) of sheep passing by beneath our balcony.
Our hotel, and an effort to be artistic with a photo through one of the hotel's 'windows' of the River Aragon in the distance.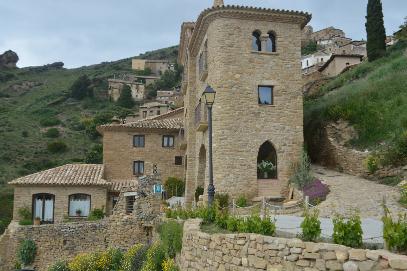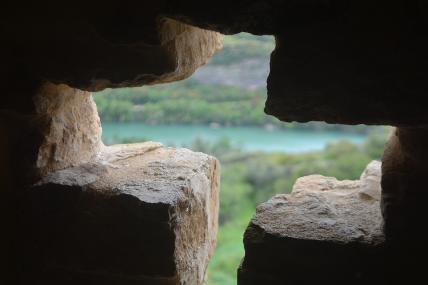 Heredad Beragu Hotel, Gallipienzo.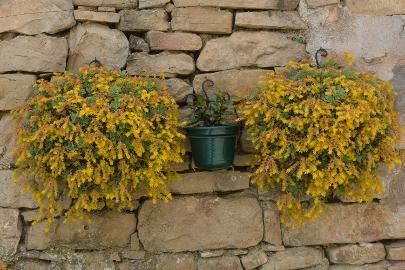 A door knocker ... ... and the 'new' church, dating from the 16th Century.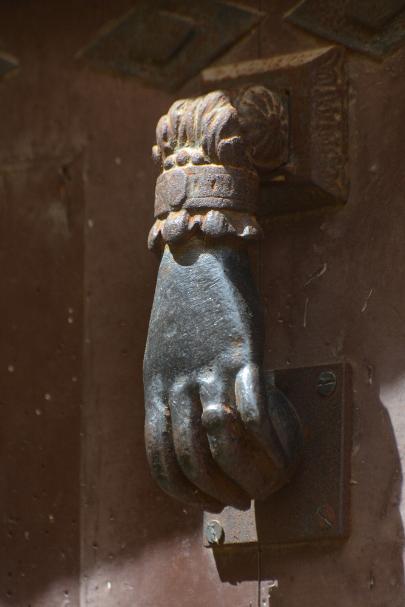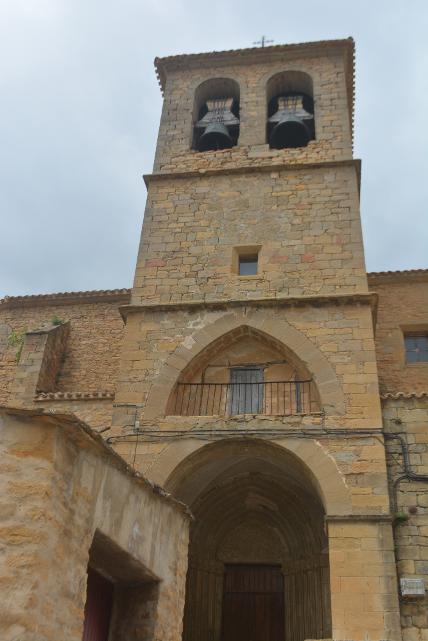 Who would have ever thought there would be barrel cactus here in Gallipienzo, let alone northern Spain.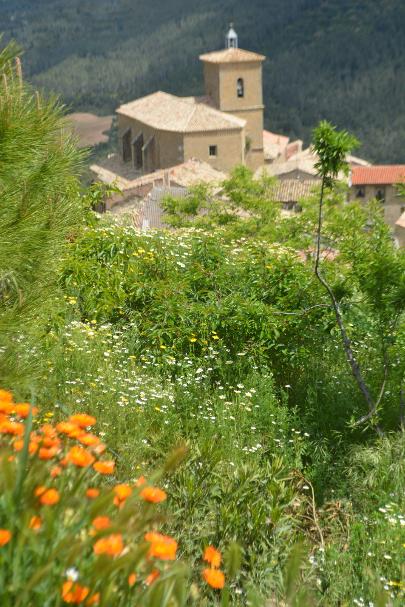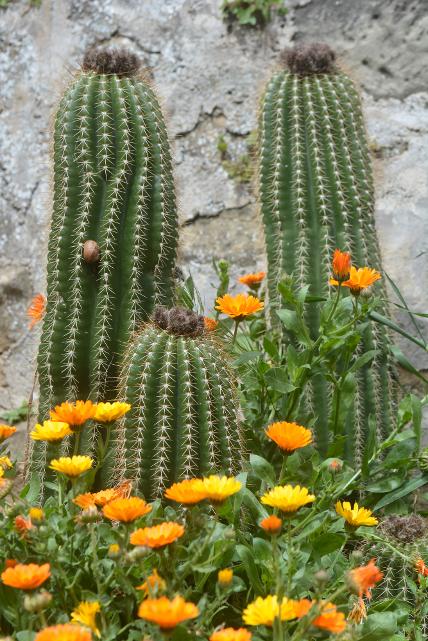 Views of the old village of Gallipienzo, those on the right from high above at the Church of San Salvador.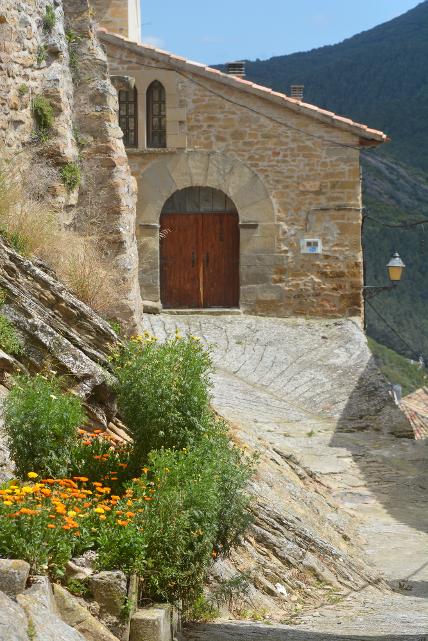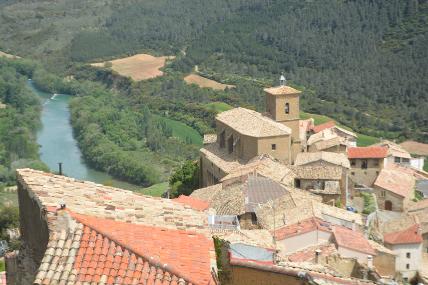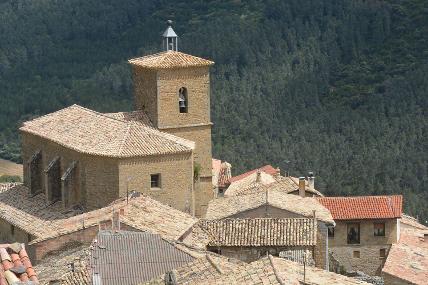 Dating from the 11th Century, the Iglesias San Salvador with it's one stained glass window.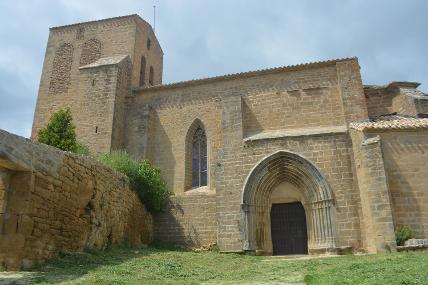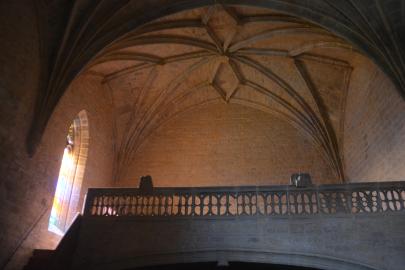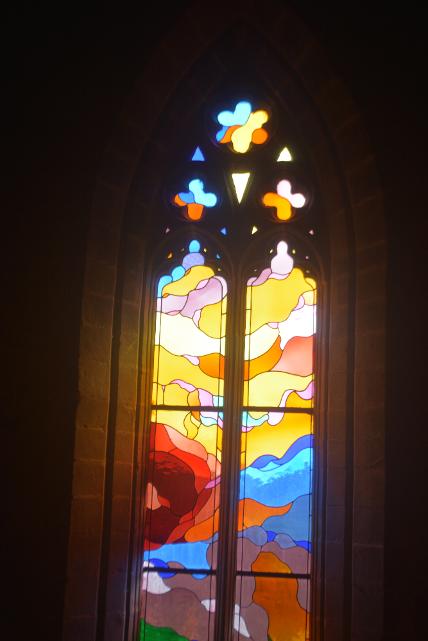 The crypt beneath San Salvador, including a few bones.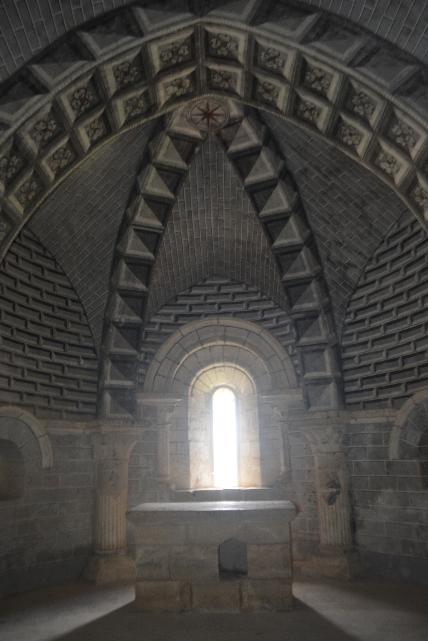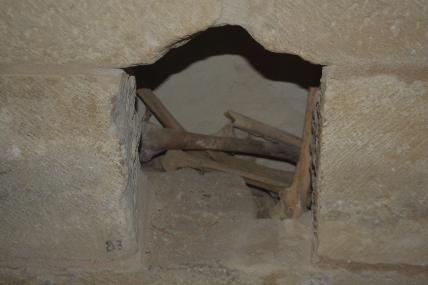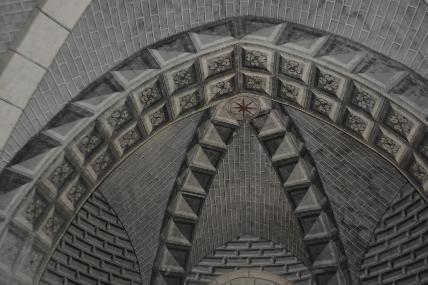 When we returned from our drive the sheep were returning from their afternoon of grazing. We met the shepherd Ignacio and his sheep dog Chiquita.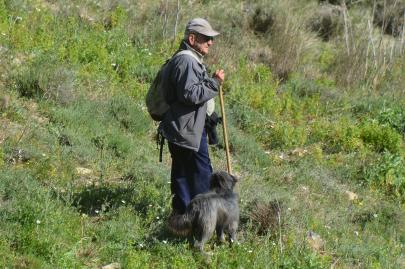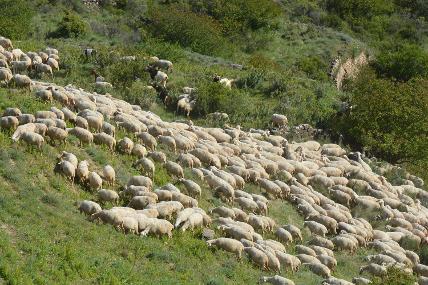 Chiquita .... ... and Ignacio.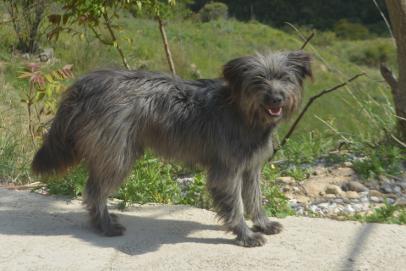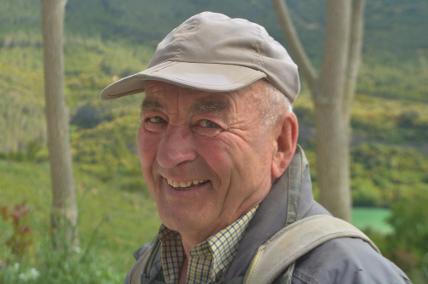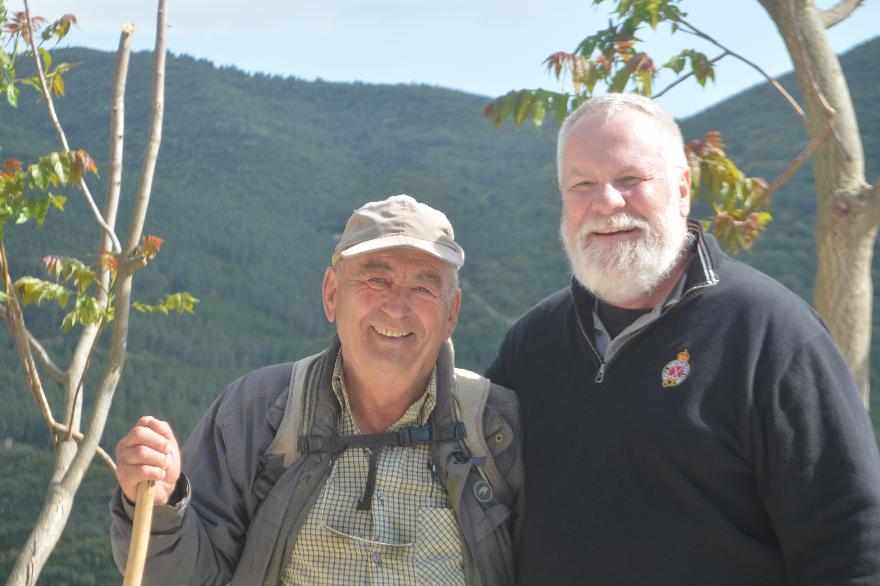 "So the first thing you need to know about being a shepherd is ..."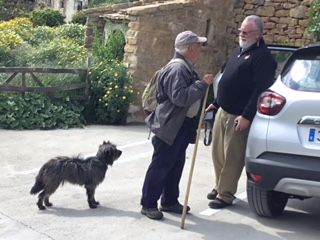 Garlic soup, with an egg yolk of course ... and vegetables in 'puff pastry'.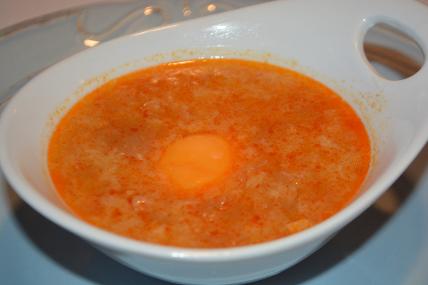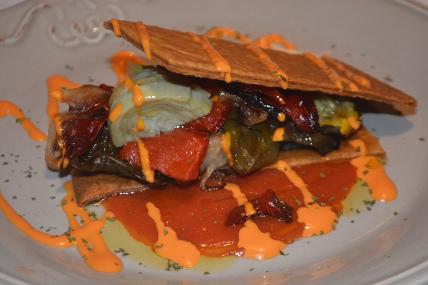 Duck thigh with apple ... and a Coulant de chocolat for dessert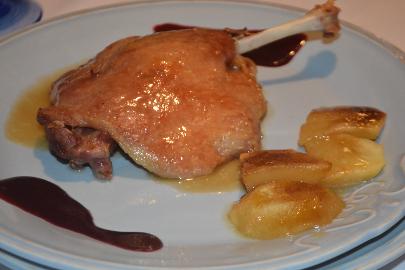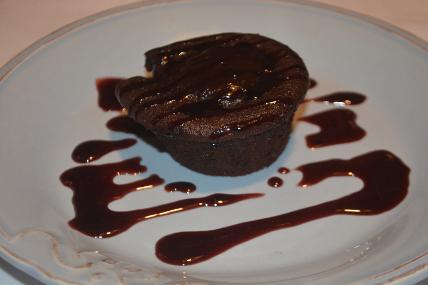 May 14, 2018 - Getaria, Basque Country to Gallipienzo, Navarra

Much sunnier this morning but still quite cold. After another great breakfast - essentially the same although the fruit was different and there was chocolate cake - we headed out. Rather than down the coast to San Sebastien and larger / faster highways we took the longer scenic route, initially into the mountains behind Getaria where the hills are covered with vines that produce the regional Txakoli white wine. The first part of the drive was along quite narrow one and a half lane roads past rolling hills and fields spotted with sheep, cows, horses, a few donkeys and goats and even some guinea fowl.

One of the benefits of traveling in the spring is the wealth of wildflowers. The ditches were ablaze with all types (see a sample below) of colourful wildflowers. We worked our way south through Azpeitia and over the Urbasa pass further south to Estella. Beyond Estalla the land flattened out as we entered and continued south-east to Tafalla. From there it was a short drive to Gallipienzo Antiquo (not Nuevo) dating back to the 9th Century where we ascended to the now mostly deserted village and easily found our hotel Heredad Beragu.

The hotel is fabulous, with unbelievable views to the Aragon river and the valley below. It is beautifully designed, built against a rock outcropping that was the location of a home dating back to the 16th C. Our room on the top floor with two small balconies enjoyed the same fantastic views.
The restaurant, that also provided the vistas of the river and valley, was excellent. Gayle started with the soup of the day - zucchini while I enjoyed baked camembert. Gayle then had the Bergaru salad of tomato, feta, avocado and onion while I had a very tasty lamb shoulder. An apple dessert with ice cream finished off a fine meal accompanied by a local Navarra red wine.
Another great day.
The main intersection of Getaria (too bad the Basque flag is hanging limp).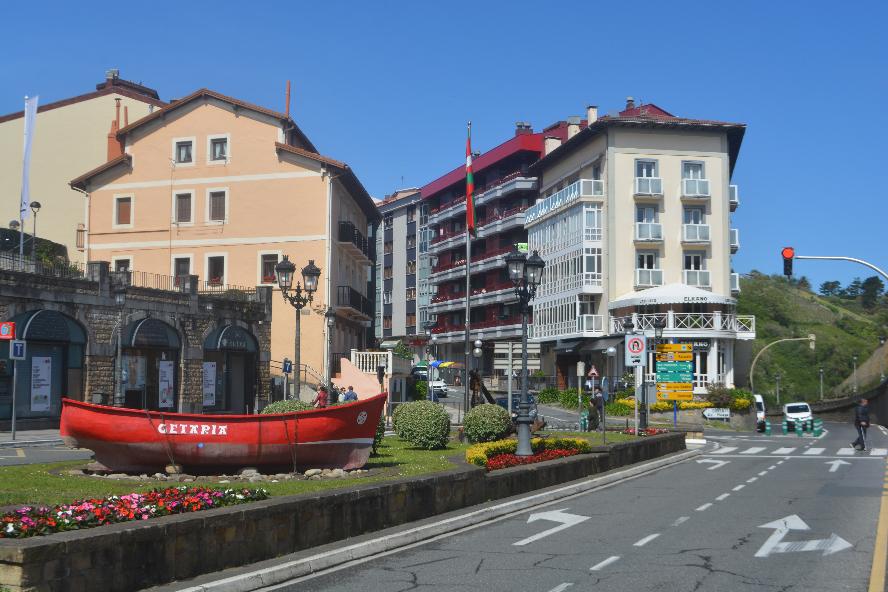 Getaria with its rock outcropping ... and the Atlantic coastline just east of Getaria.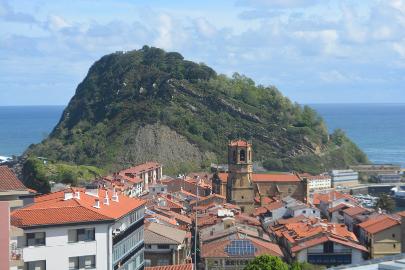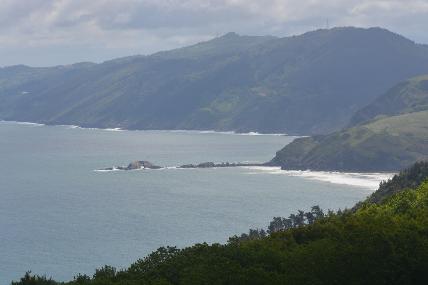 Looking back to the Atlantic ocean as we climb the hills.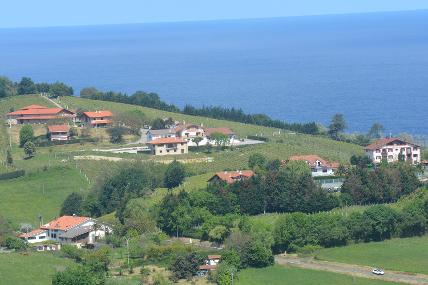 Vineyards and a fellow who was passing by as I was taking the photo of the vineyards.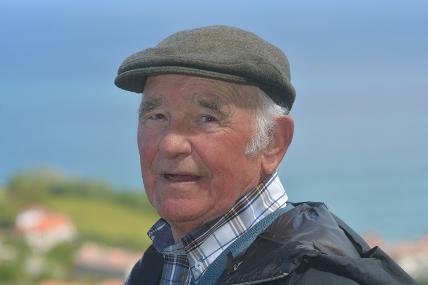 Lush green Basque rolling hills / countryside.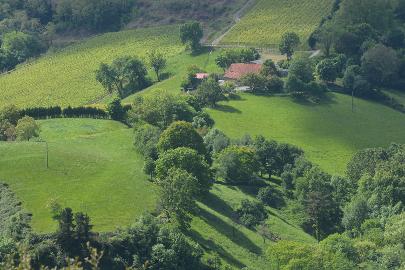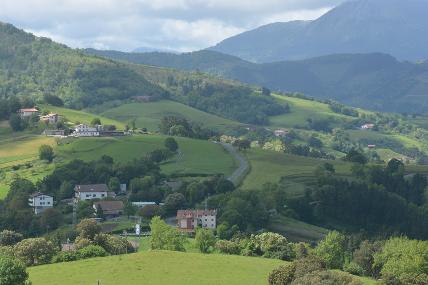 One of the benefits of traveling in the spring is the abundance of wildflowers in the roadside ditches. Colour in many places. Following are a number of flowers spotted during our drive today.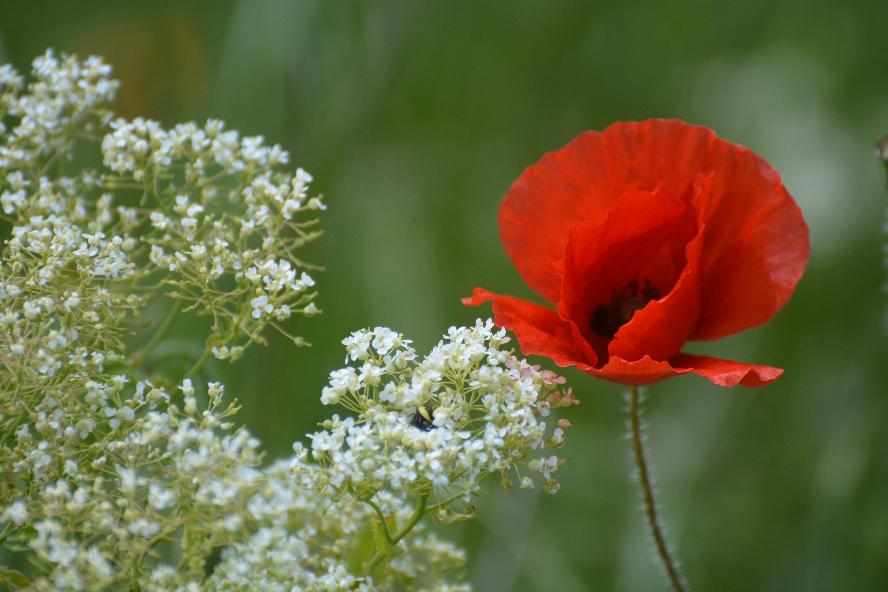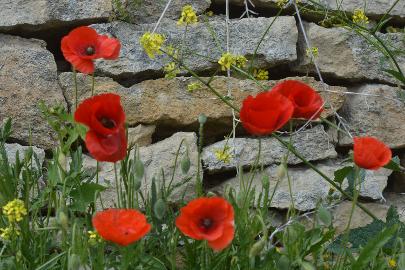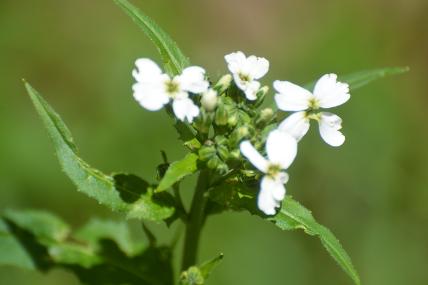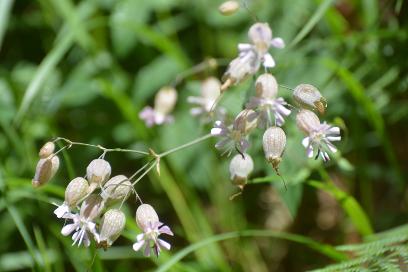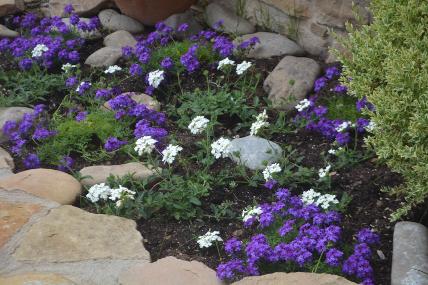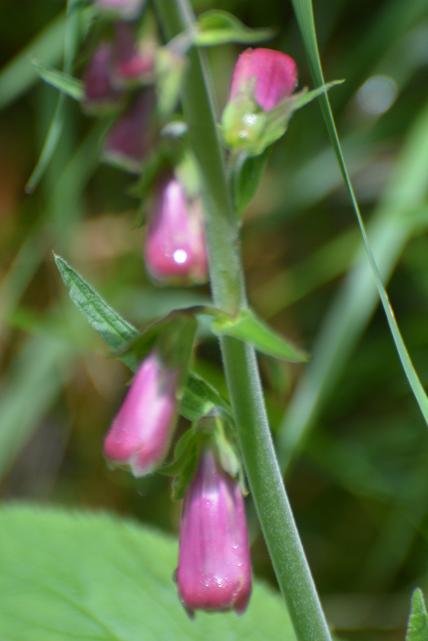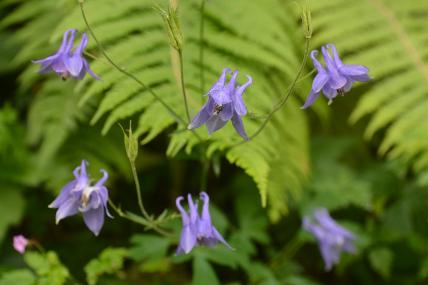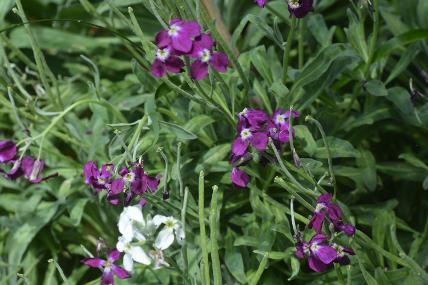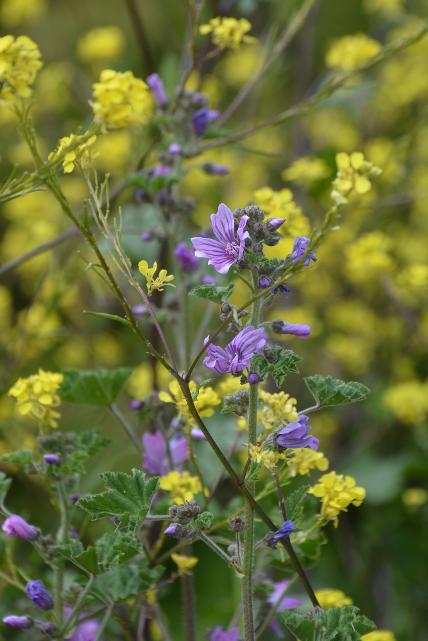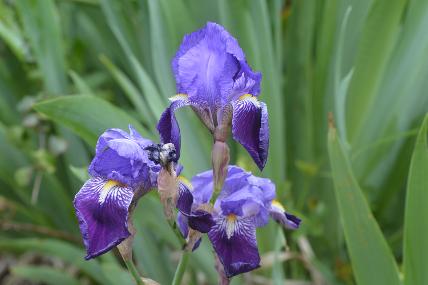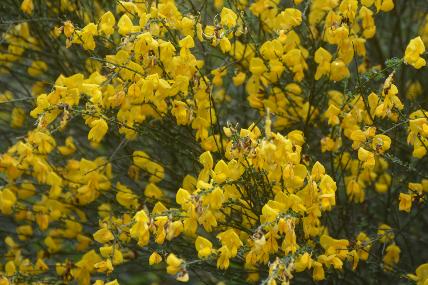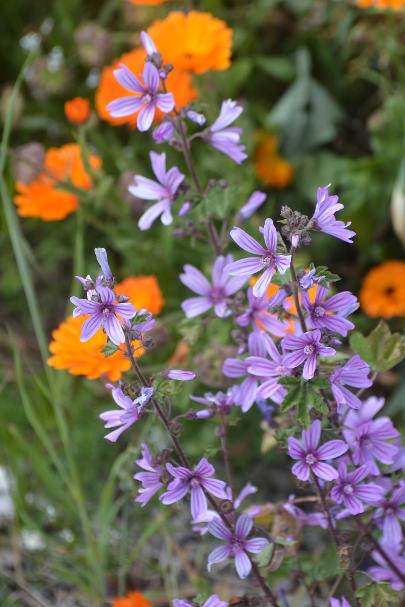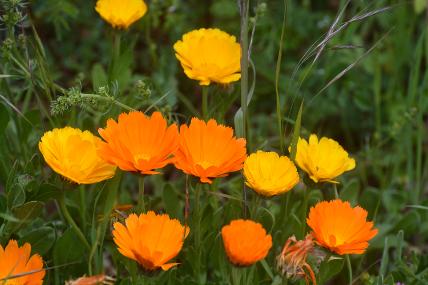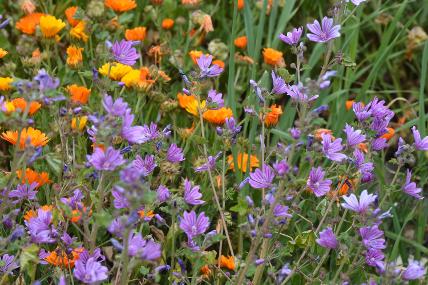 Not exactly a multi-lane expressway.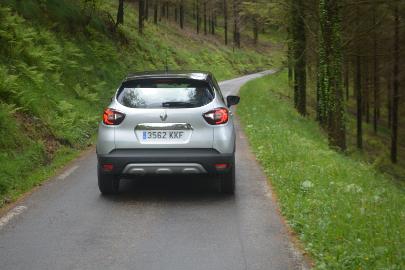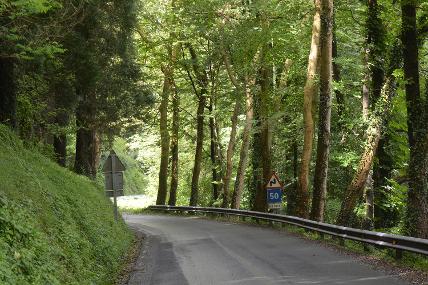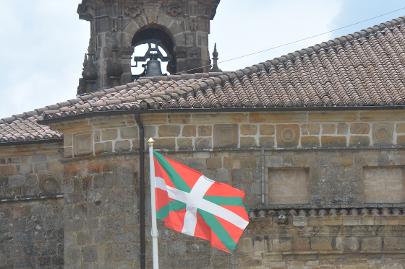 The Basque countryside is a veritable barnyard with donkeys and horses ...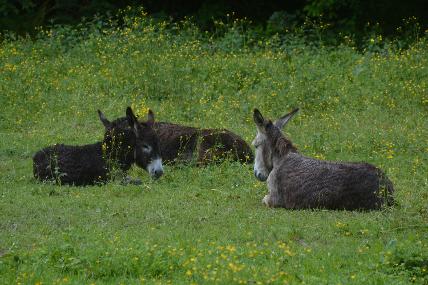 ... and cows of all sorts ...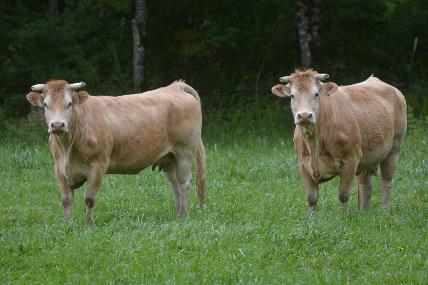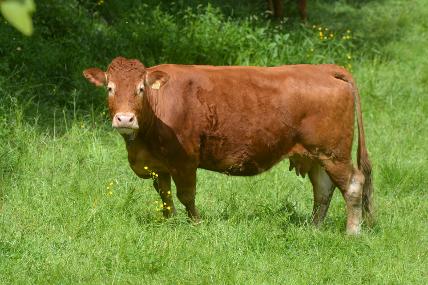 ... goats ... and lost and lots of sheep.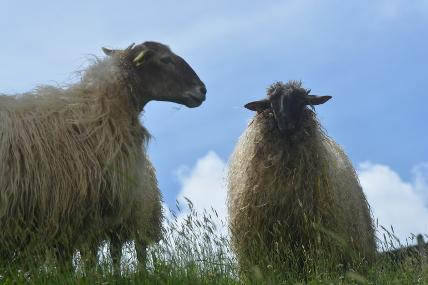 ... and geese and chickens ... and even guinea fowl.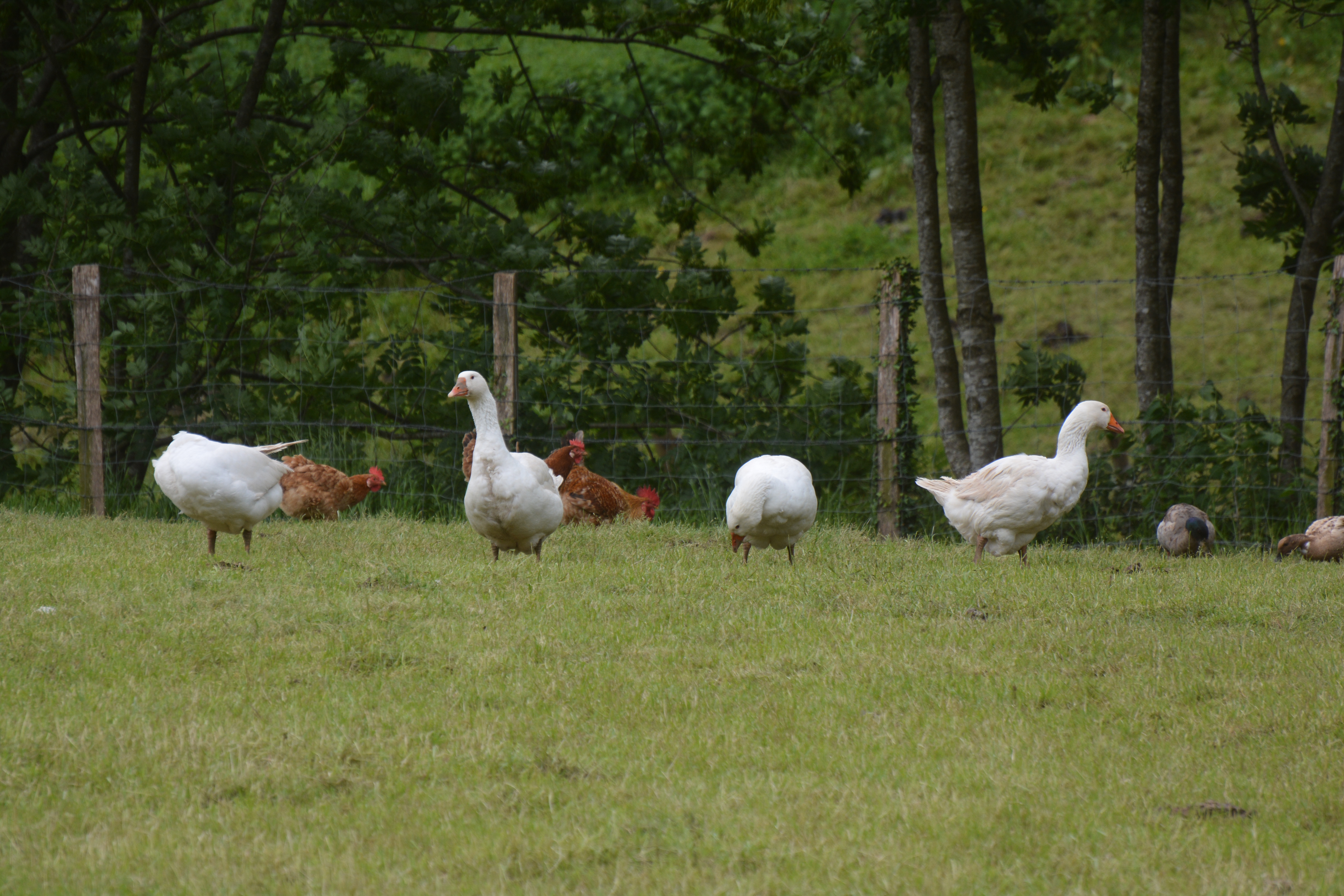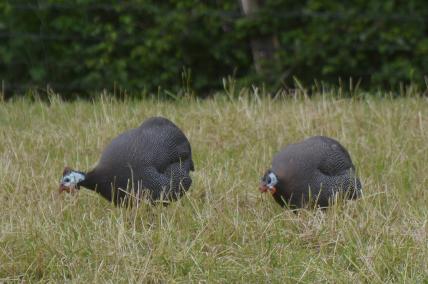 A couple of typical stone buildings in a small Basque village.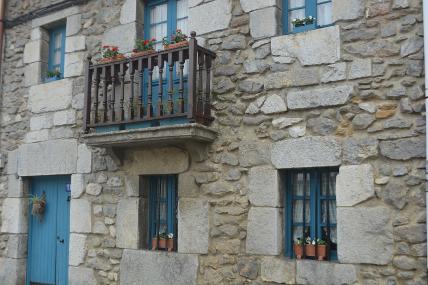 The Heredad Beragu Hotel.
Our bedroom looking out over the Aragon River and the attractive ceiling.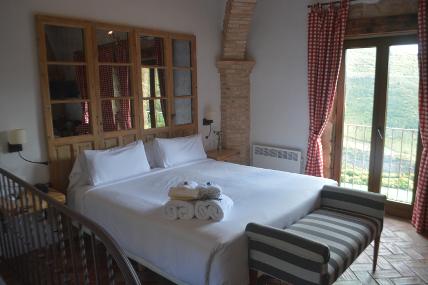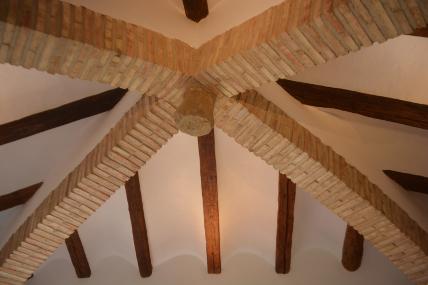 The view from both our room / balcony and the dining room.
What a spot to enjoy dinner and breakfast.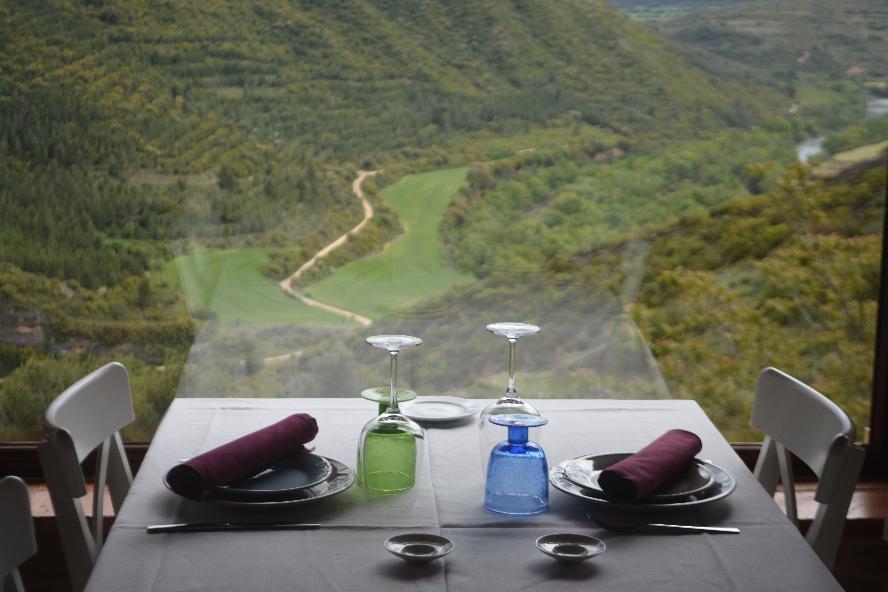 Our pre-dinner chorizo sausage and cheese with olive tapenade, and an appetizer of baked camembert cheese.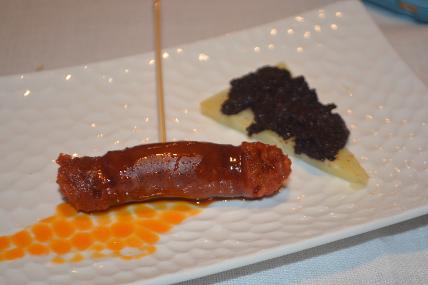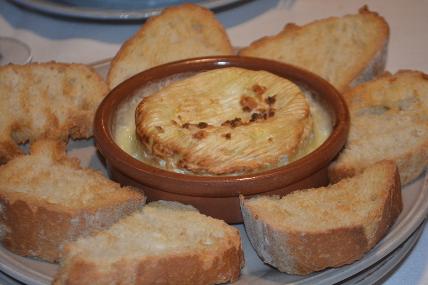 The Beragu salad - tomato, feta avocado and onion. Lamb shoulder with potatoes (and some of Gayle's salad).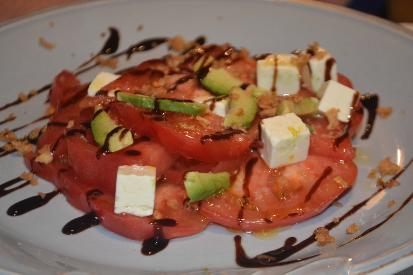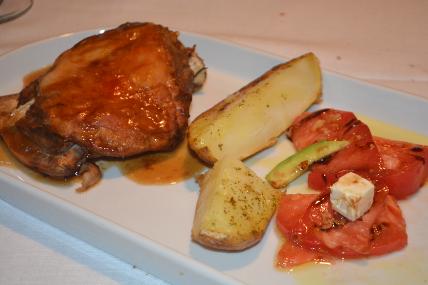 May 13, 2018 - Getaria, Basque Country

The plan today was to drive down the coast to a couple of small fishing villages, or inland up into the mountains behind the coastline, or both, but the weather had other plans. Although there were periodic sunny periods for the most part it was cold with rain, not conducive to much more than relaxing in our room, which was not so bad given the nice view of the ocean we have.
Breakfast here at our hotel Itxas Gain Getaria is extra but at only 6 euros is unbelievable value. A huge glass of fresh orange juice, fruit, yoghurt, ham, cheese, bread, jams, an omelette, cakes (today lemon or apple) and cafe con leche. Tasty and filling.
After two one-night stops we needed a relax day so did not mind spending most of it indoors. We did go for a walk through town mid-day but where it was Sunday not much was happening other than the restaurants being full. With many enjoying their big family meal Sunday afternoon a number of restaurants were closed Sunday evening. We had considered returning to Giroa, the restaurant / pinxtos bar where we had a few pinxtos yesterday. It was again busy but we found a table and ordered a couple of things from the menu - Gayle a salad bocadilla and me a basket of squid - as well as a number of pinxtos, including a sea urchin. All washed down with the local white Basque wine Txakoli, made in the hills right behind Getaria. We really enjoyed the experience - certainly far from fancy, but feeling like the locals, eating and drinking in a local spot.

And that was it - a slow, quiet relaxing day.

Just some of our excellent and great value at 6 euros per person breakfast at Itxas Gain Getaria Hotel.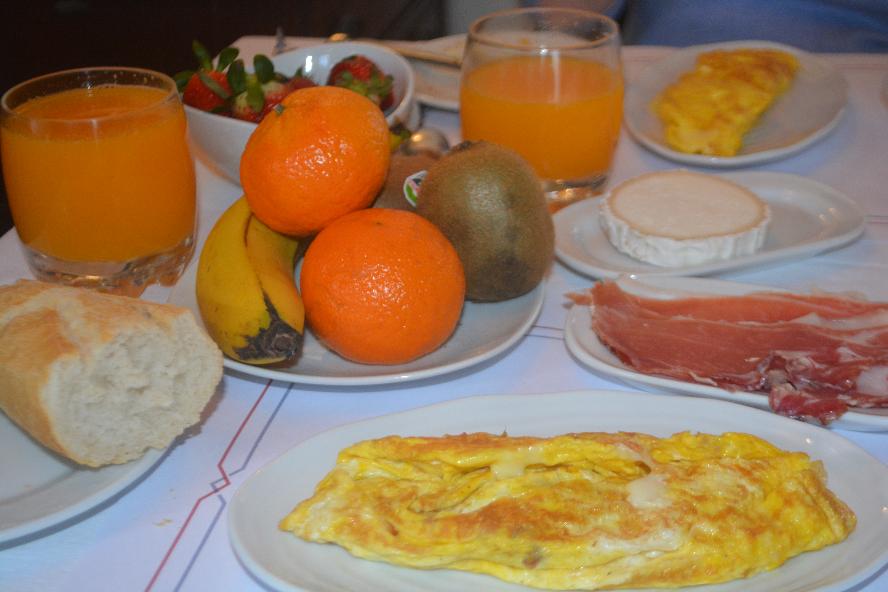 Views of the ocean and the coastline from the Itxas Gain Getaria's terrace ... during one of the few sunny breaks.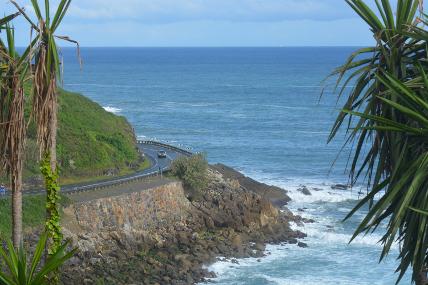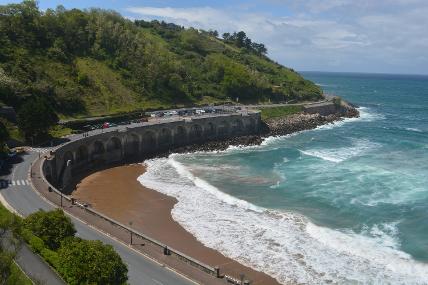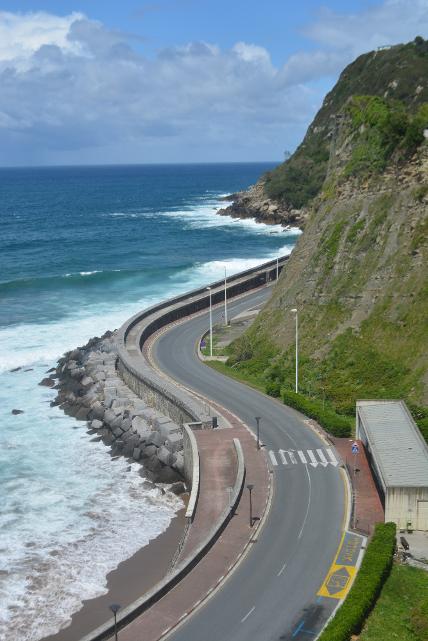 Itxas Gain Getaria Hotel ... and the adjacent cobblestone street.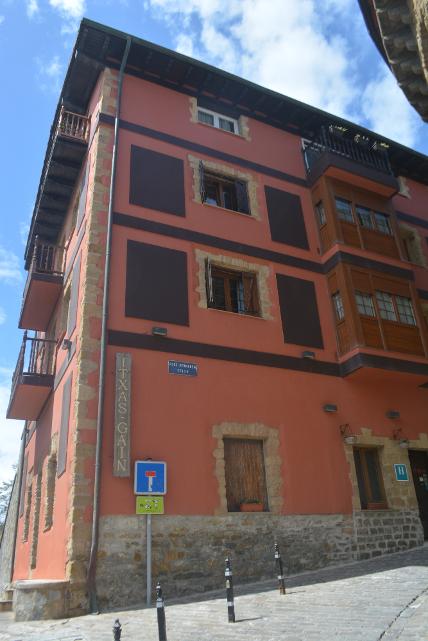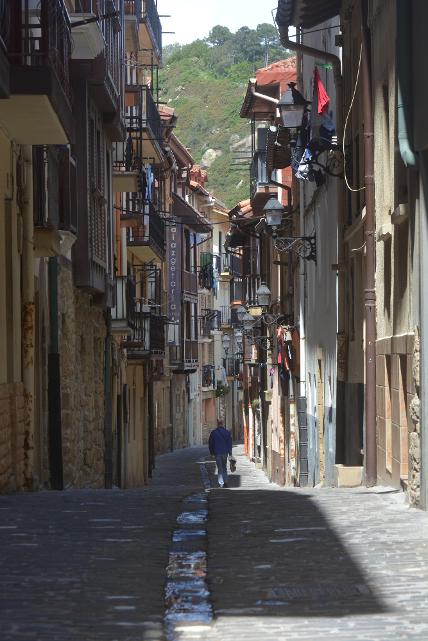 Sunday was much quieter than Saturday when the main street of Getaria was crowded with happy locals.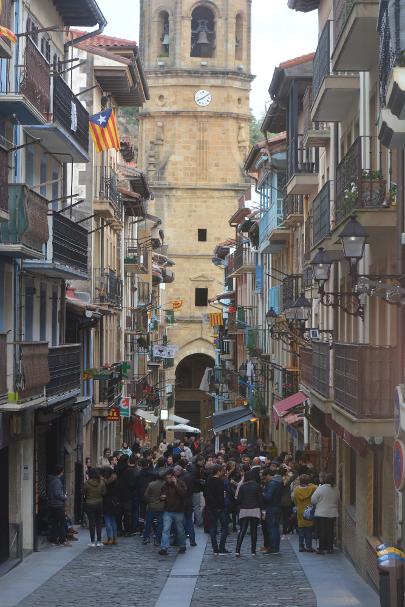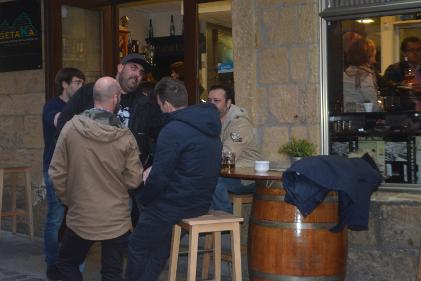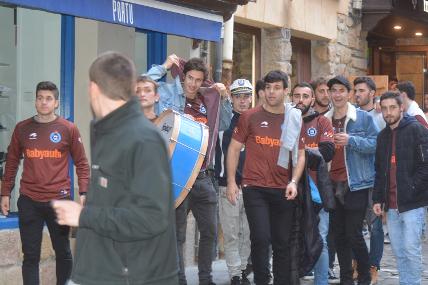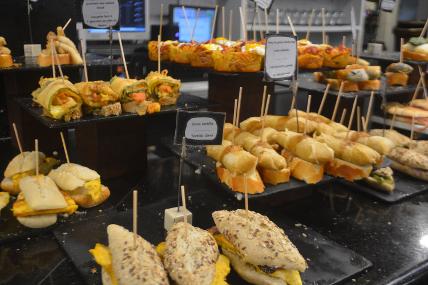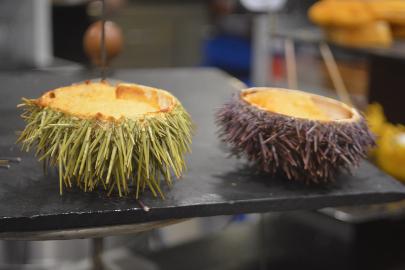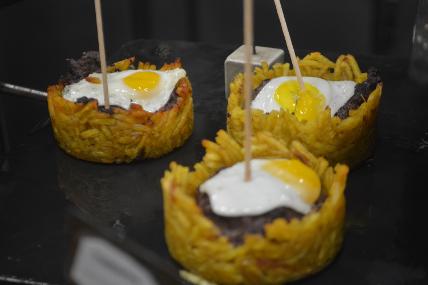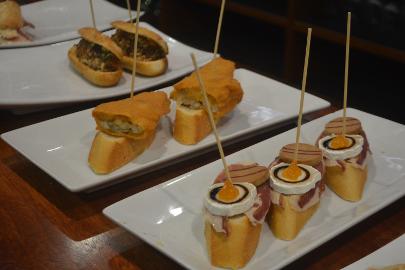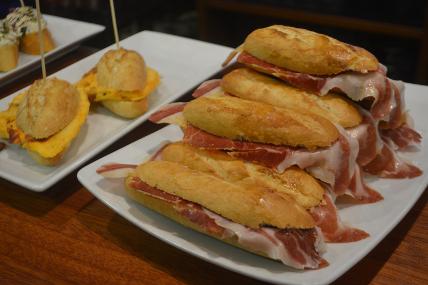 Our pinxtos tonight - clockwise from the top
- a chorizo sausage in a bun
- tomato with goat's cheese
- a sea urchin, and
- a potato nest with chorizo sausage and a quail's egg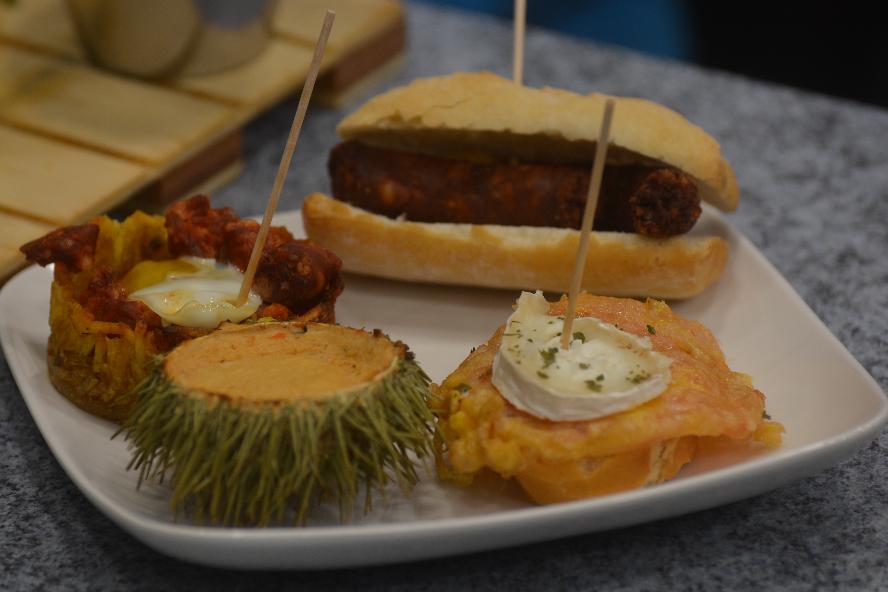 Gayle's bocadilla (sandwich) ... ... and my basket of squid.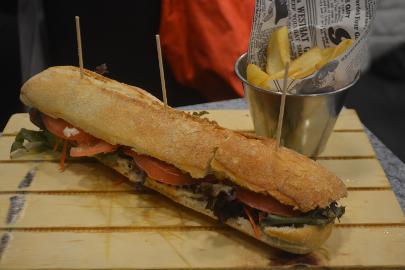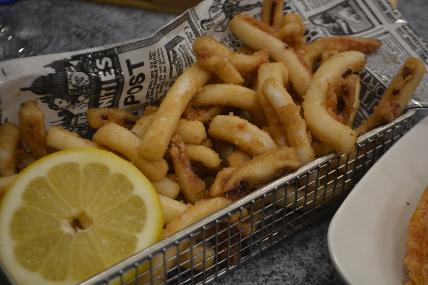 How to eat a sea urchin, and pretend you are enjoying it ...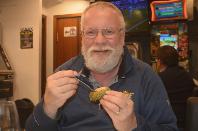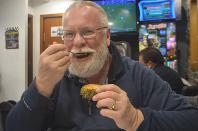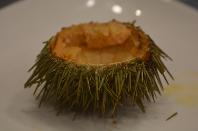 May 12, 2018 - Zarraton, Rioja to Getaria, Basque Country

After another delicious and complete (love the unlimited fresh orange juice) breakfast in a nice room, separate from the dining room we ventured out. Unfortunately the weather took a turn for the worse with the temperature only 10 C and on and off showers.

We first drove to the nearby (5 kms) town of Haro where we were going to purchase some of our favourite wine at the Bodegas just the other side of town. Unfortunately we got twisted around, missing the bridge on our first effort but relying on instinct (no GPS for this guy) found our way across the river and to the Muga Bodegas, one of many here in Haro in the heart of the Rioja wine region. Muga is without a doubt our favourite wine so we bought a dozen half bottles to enjoy as we arrive at our destinations each evening.
We once again crossed the Camino de Santiago, the 780 km pilgrimage from just inside France, across the Pyrenees and then west through northern Spain to the Cathedral in Santiago de Compostela. We then continued north past Vitoria-Gasteiz and then along a scenic drive to Durango. Sheep, cows, vibrant green rolling hills - exactly our image of the Basque countryside. As we then made our way to the coast it became surprisingly more industrial in the towns wedged in the valleys. Numerous apartments did not make this the most attractive part of the day. But once we reached the coast/Atlantic the drive was again very scenic. Unfortunately it was somewhat overcast and as a result not as impressive as we know it would be if it was sunny - but nice just the same.
We had no problem finding our hotel in Getaria - after all it was right on the main road. We had a nice room on the top floor with a really good view of the ocean. As we went out to dinner there was boisterous activity throughout this small seaside town. It appears the football team had a successful day based on the drum beating and general rowdiness (photo tomorrow). We first stopped at a pinxtos bar to sample the tradition of small but unique and different finger foods. We enjoyed a few (details below with the photo) with a glass of wine (Gayle) and sidra - the traditional Basque cider (Norm). We then wandered along looking for a restaurant, settling on one that was busier than the others. Unfortunately I again had a disappointing meal - the fish soup was just not to my liking and the octopus vinaigrette, while plentiful was just so so. On the other hand Gayle enjoyed a wonderful mixed salad and our half bottle of our favourite Spanish white wine - Albarino was very nice.
Weather wise not the best day but after two one-nighter we were looking forward to staying two nights here in Getaria.

The breakfast room and just some of the breakfast spread - meats, cheese and cake (there were actually four different cakes). Of course juice, coffee, yoghurt, bread, croissants, cereal, and fruit as well.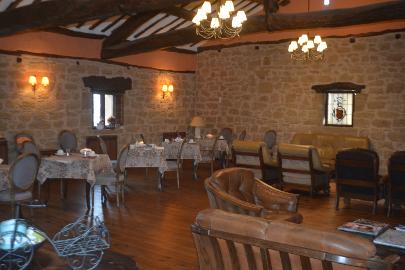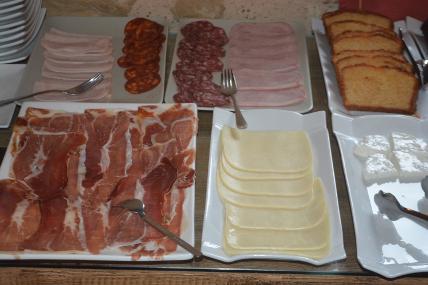 More of the attractive tiling throughout the palace.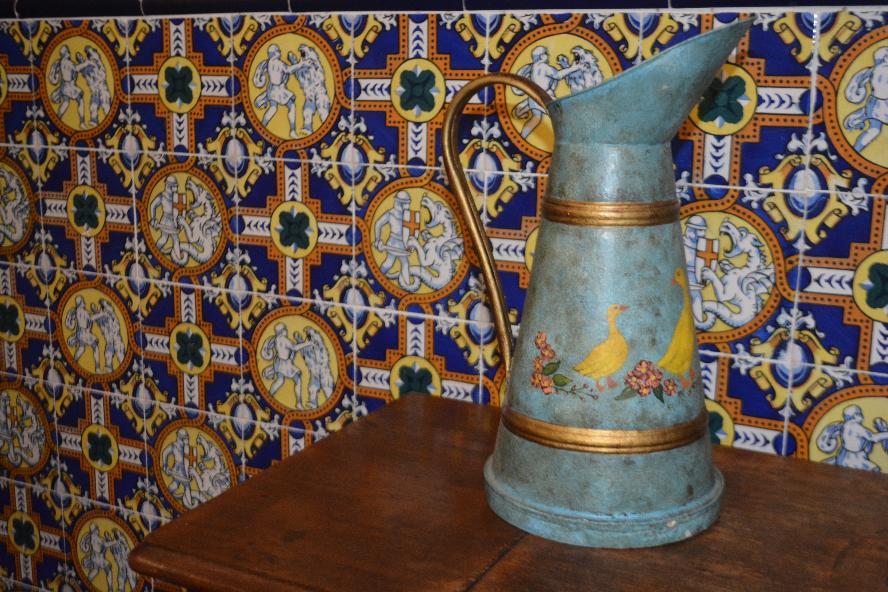 The area on the second floor around the staircase with the prominent restored 19th C painting.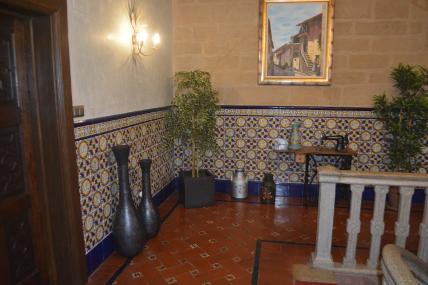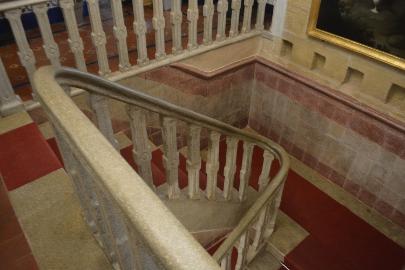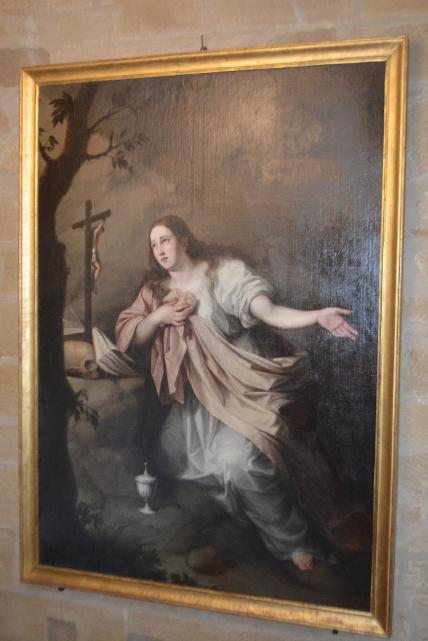 Some of the beautiful floor and wall tiles.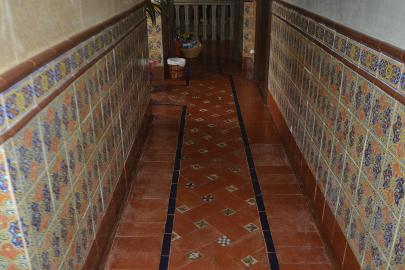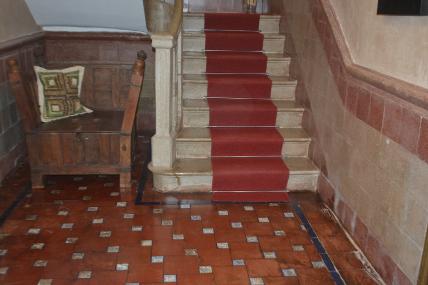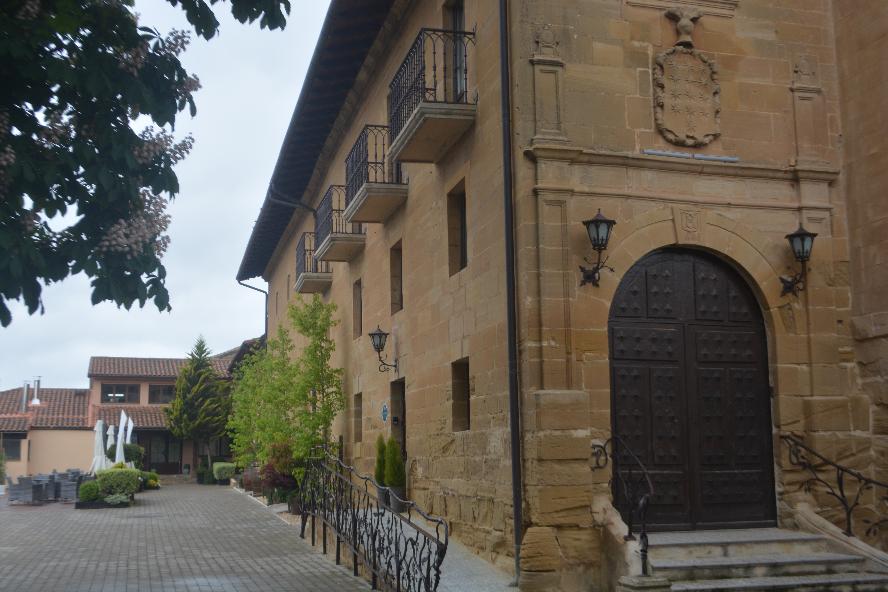 The Muga Bodegas on the outskirts of Haro, Rioja.
Happy to be at the winery of our favourite wine.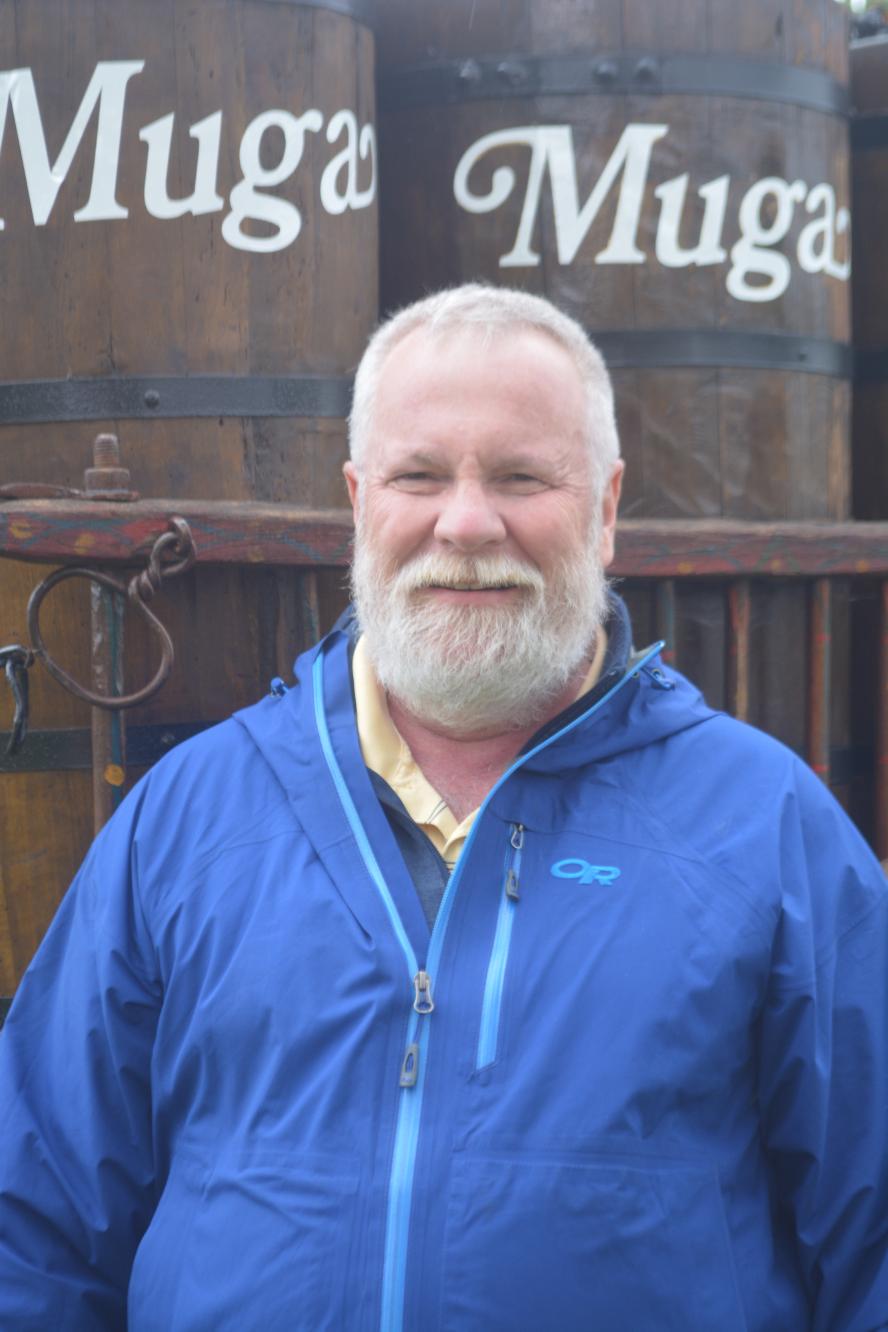 Muga on display in the shop and nearby vineyards.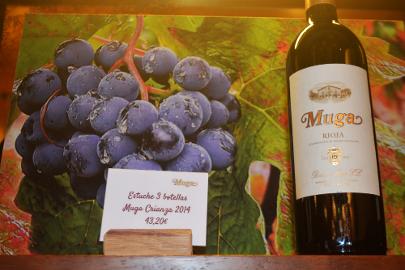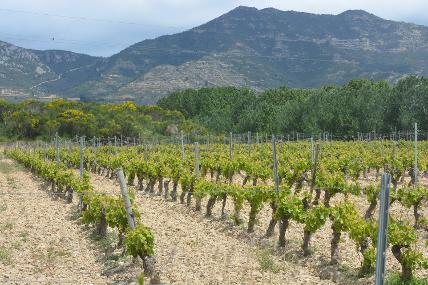 The Camino de Santiago - the 780 km trek from St. Jean-Pied-du-Port, France to Santiago de Compostela passes here just outside of Haro.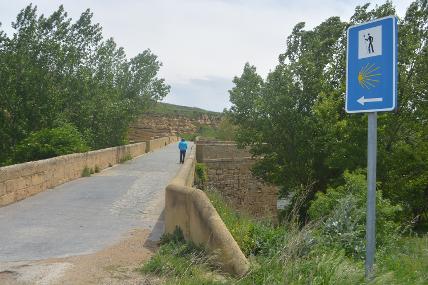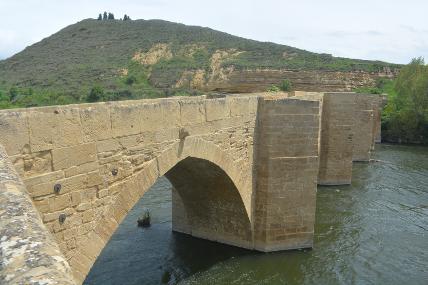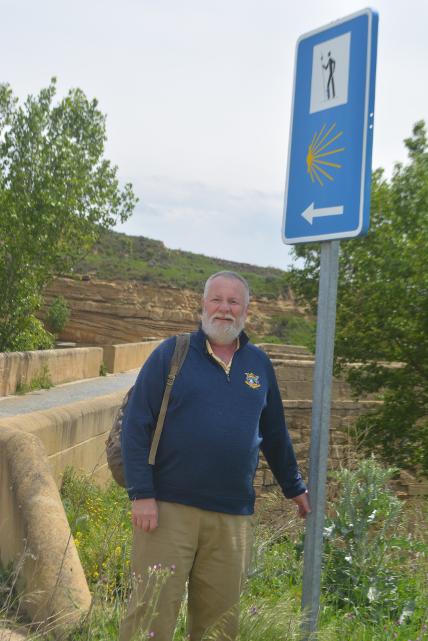 One can't drive through the hills and pastures of the Basque region without a daily dose of grazing sheep.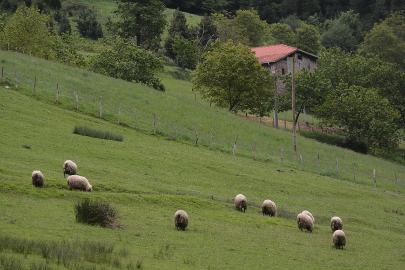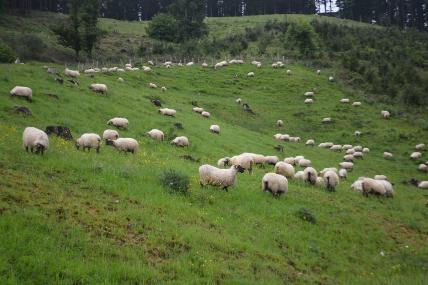 Some of the Atlantic / Basque coastline just west of Getaria.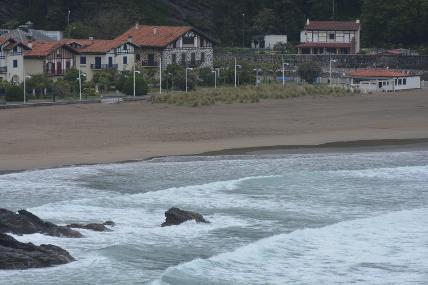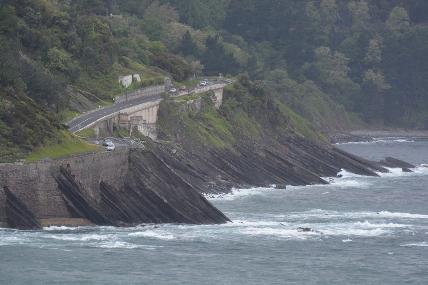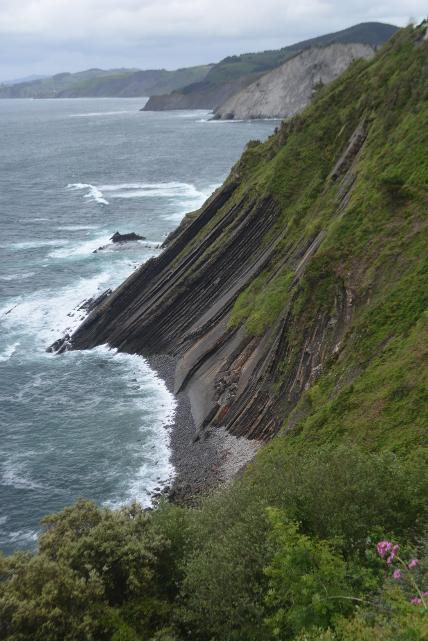 A small portion of the selection of pinxtos available here at Restaurant Giroa.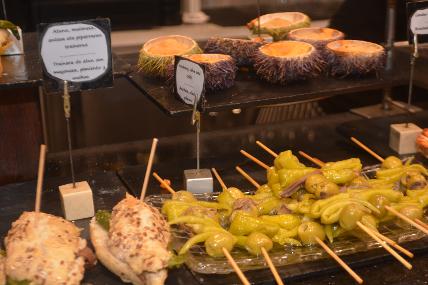 The pinxtos we chose, clockwise from the top
- pork loin with red pepper and cheese
- scallops
- leek and jamon (ham), and
- torta d'esspagne (Spanish potato omelette)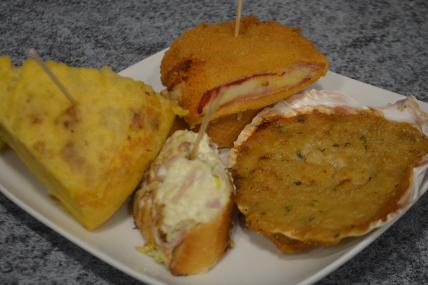 Virtually every restaurant here in Getaria grills fish on a charcoal pit just outside their front door.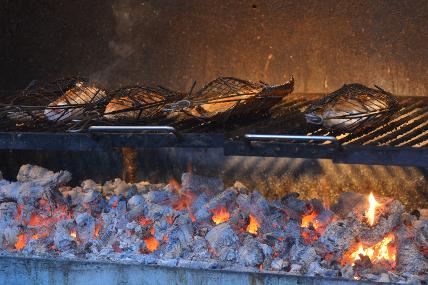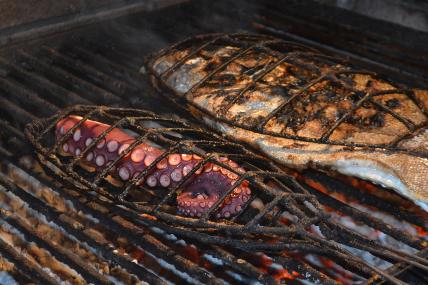 Gayle had (in Basque) Entsalada nahasia, (in Spanish) Ensalada mixta, or (in English) Mixed salad.

[note we didn't realize the salad came with tuna - Norm carefully removed - and ate - it all]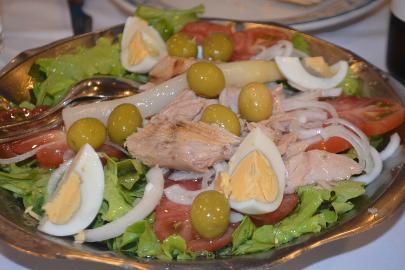 Norm had (in Basque) Olarroa oliotan, (in Spanish) Pulpo a la vinagreta or (in English) Octopus vinaigrette.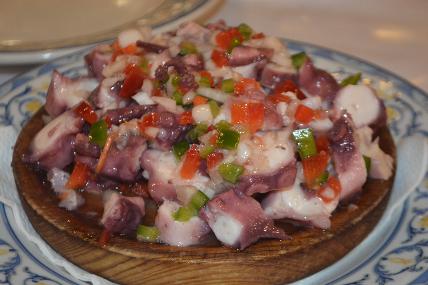 May 11, 2018 - Herreros to Zarraton, Rioja

At only 45 euros, we did not expect much of a breakfast, but we were very impressed with what we enjoyed. Fresh orange juice, excellent coffee, fruit (strawberries and kiwi), omelettes and ham - all excellent. Enclave Soria may be the best value lodging of not only this trip but pretty much all of our trips. A decent room with a huge bathroom, excellent breakfast and on-site restaurant - superb value for only 45 euros.
We departed Herreros late morning first heading north-west towards Burgos before turning north to the Sierra de la Demanda. The road through the Sierra was closed (rock-slide) so we turned east along the southern slopes for wha was a scenic drive, first through some isolated barren mountain lands dotted with small villages where the sheep and cows roamed freely, including on the roads themselves. The latter part of the drive past Anguiano along the Rio Najerilla and a its narrow gorge was impressive. As the hills disappeared and the land flattened out vineyards became prevalent as we found ourselves in the Rioja wine region. We again turned west towards Santo Domingo de la Calzada, a town on the Camino de Santiago in which we stayed twice on previous trips, each time at one of the Paradores. From Santo Domingo it was north to the small village of Zarraton where we stayed at the Palacio Casafuerte.
The palace's original construction began in the XIth Century when these lands belonged to the Kingdom of Navarre. |It was expanded in the XVIth Century and recently restored to serve as a hotel / restaurant. The former residence of the Count of Casafuerte, Joseph Montoya, this is a splendid building of ashlar stone dating from the fifteenth century. Some time later, the Palace building became part of the Marquess of Mortara. In the eighteenth century, King Fernando VI granted the Palace, in recognition of services rendered, to D. José de Montoya and Orbaneja, Corregidor and viceroy of Lima. This founded the County Casafuerte that today still exists. Besides the historical value much of the original ceramics remain including the floors and tiling on the walls, handmade in Talavera de la Reina, one of the most important centers of pottery of the time. The main staircase is presided over by a painting by Antonio María Esquivel, court painter of Fernando VII, depicting Mary Magdalene.
Being a nice day with temperatures in the low 20s after arriving we enjoyed some time on the outdoor terrace with glasses of Riojan wine, a wonderful way to spend the early evening.

Tonight's meal was superb, accompanied by our favourite wine - the local Muga, very reasonably priced at only 21.5 euros ($34 Cdn) tax and tip included. Gayle started with a beautiful plate of white asparagus (a huge serving) accompanied with two dressings while I had the ham, chorizo and mushroom croquettes. Gayle then again had the Risotto de Hongos "Boletas Edulis" con Crujiente de Queso (with crispy cheese) while I had the Conchinillo Deshuesdado en su jugo con pure de Manzana (Rabo de Toro, i.e. oxtail, with sauteed apples and pine nuts) - an excellent choice. I had only had oxtail once before, at Cortijo el Guarda but definitely would order again - very nice. Still trying to get used to not going to dinner until 9:30 pm (the restaurant did not open until 9:00 pm) and finishing well after 11:00 pm but this is the custom here in Spain.
The view from our room, across the Embalse de la Cuerda del Poso to the still snow-capped Sierra de la Demanda mountains.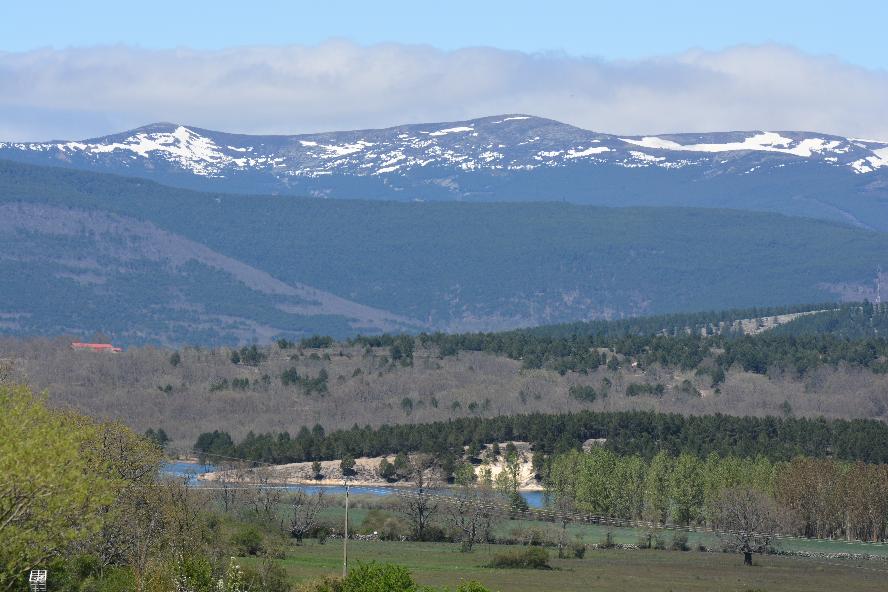 Enclave Soria's restaurant with huge fireplace and the start to our breakfast with impressive designs on the coffee.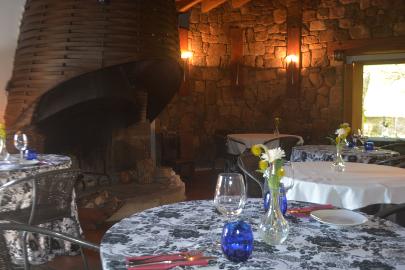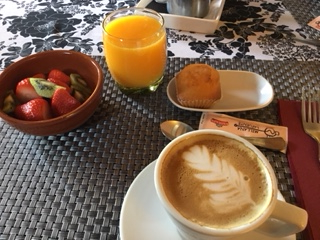 An old window on a derelict building. Enclave Soria.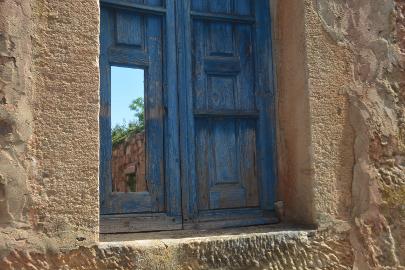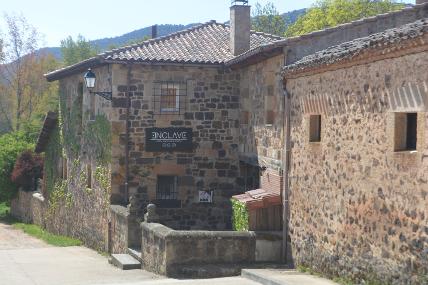 A mom and her lambs - how cute are they?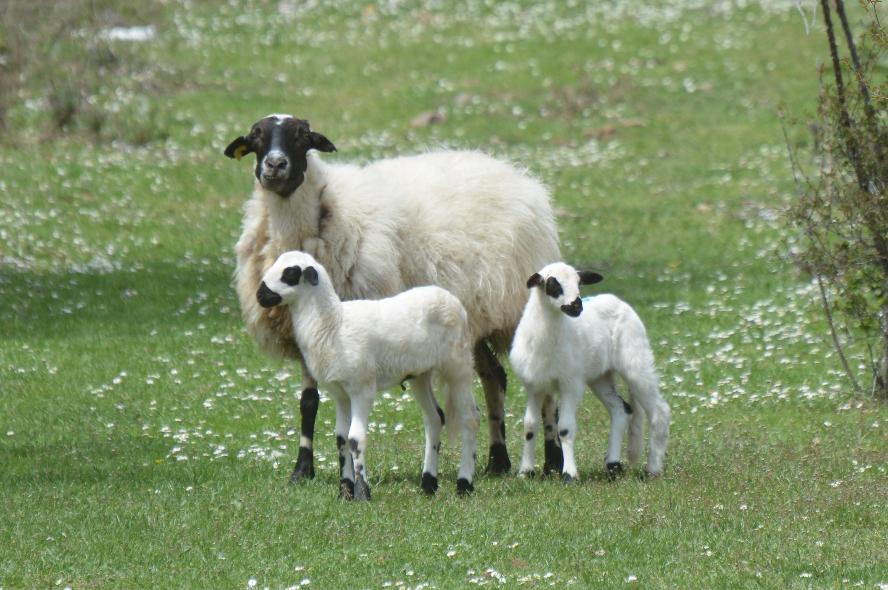 A Spanish lawnmower ... An approach to traffic calming on the roads in Spain.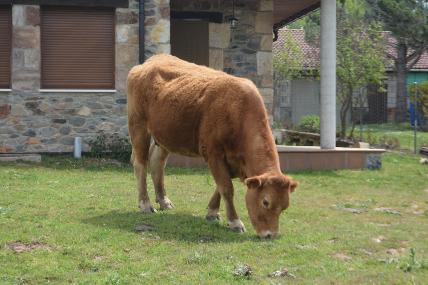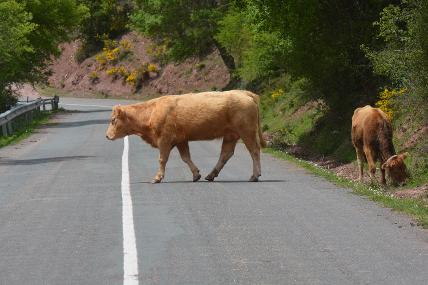 Being springtime there are many colourful 'ditch' flowers, including poppies, irises and many others.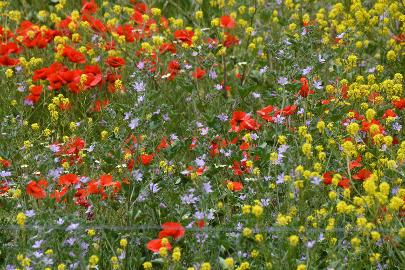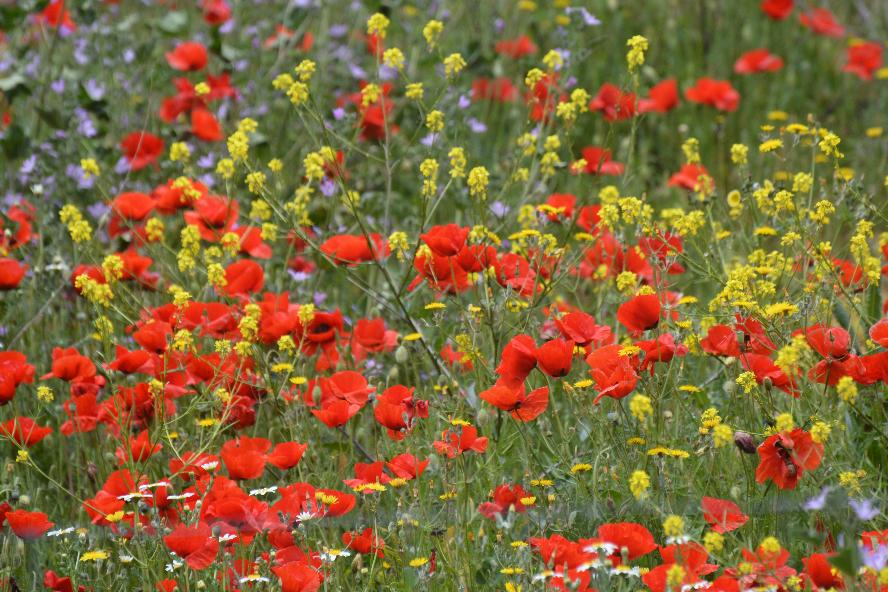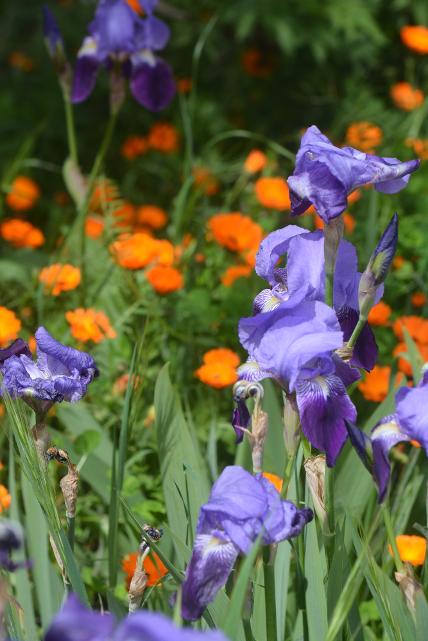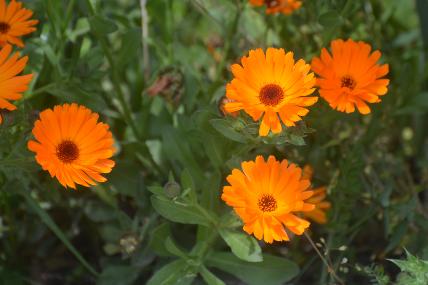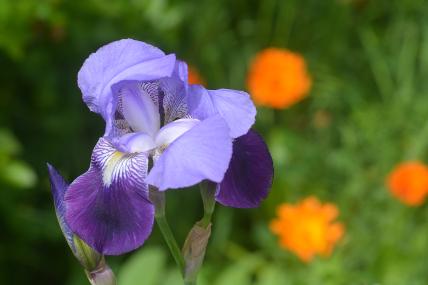 The Inglesia De La Santa Cruz in Banares, dating from the XII century.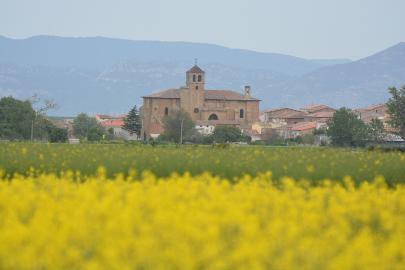 This is the Rioja region of Spain, known for its excellent wines.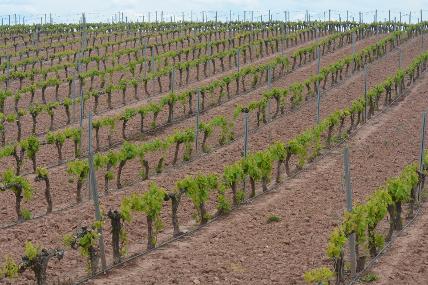 Some of the beautiful tile work throughout Palacio Casafuerte.
Enjoying the sunshine on the terrace in front of the palacio (photo taken from our room).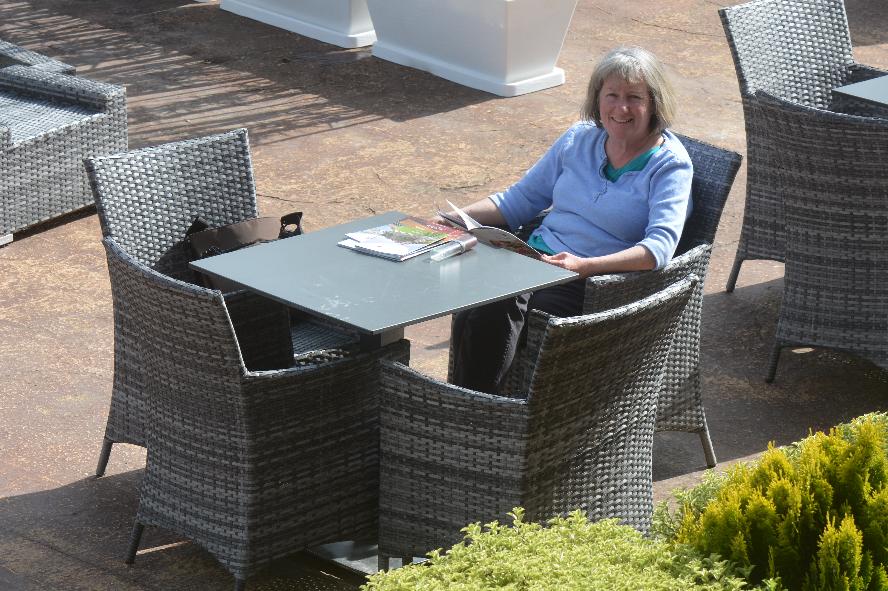 The restaurant here at Palacio Casafuerte. Our favourite wine - Muga, is from the (Rioja) area.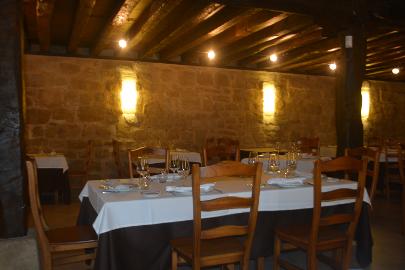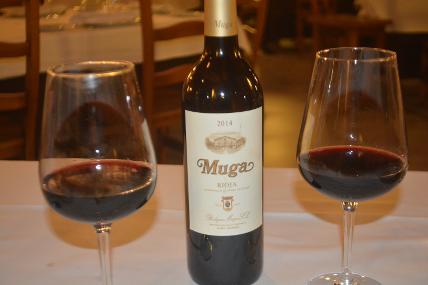 Gayle's plate of white asparagus ... and my Rabo de Toro (oxtail)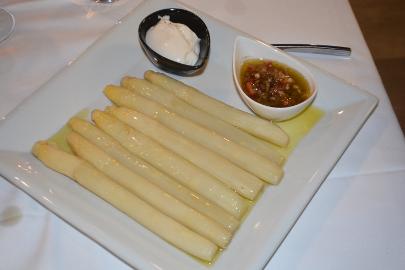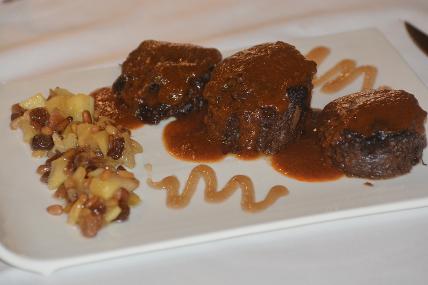 May 09 / 10, 2018 - Halifax to Toronto to Madrid to Herreros
It is always a great start to a trip when connections are made and all flights are on time. In fact we landed in Madrid nearly a half hour early after a somewhat rough overseas flight. It is not uncommon to experience turbulence when flying but the seat belt light was on we would guess 80% of the time, with the plane jostling back and forth throughout the night.
After our early 7:20 am arrival we picked up our rental car and headed north on the A1 from Madrid towards Burgos. We expected to drive pretty much straight to our first stop. After an hour or so we left the highway and drove east towards Soria. Deciding a need for a coffee we went into the town of Riaza. After parking near the church we ended up in the town square - well actually it was a circle, with a open area covered in sand. No doubt the area is used for performances and other events. We found a panaderia (bread shop) that also doubled as a small cafe were we got a couple of cafe con leches (coffee with milk) and croissants - Gayle's plain and mine with some ham and cheese.
The town is known for its special "Plaza Mayor" with the old town having been declared Property of Cultural Interest. The square is noteworthy because of it's form of an ellipse, with stone steps joined by cast iron rails, numerous porticoes, continuous balconies, the irregular height of the buildings. The nearby Church of Nuestra Señora del Manto is an imposing figure because of, among other things, its 33 meter high bell tower.

We continued on when Gayle saw this interesting wall / building from the road. Being early and knowing we could not check in we went to take a look, stumbling upon the remains of the convent of San Francisco, founded by Saint Francis of Assisi in 1214. In 1601 the convent suffered a significant fire, after which it underwent a major rebuild. Between 1802 and 1813 the friars had to disperse, having been harassed by the French troops who had invaded the peninsula. In 1845 the state took over the complex until it eventually ended up being privately owned.
We then drove through the nearby village of Ayllon where we took a stroll into the centre and its Plaza Mayor where we were greeted by the weekly market. Lots of activity as there is with any market. It was another nice opportunity to see a smaller Spanish village that no doubt does not see many Canadian tourists.
After pulling over for a 20 minute power nap we continued on our way, eventually reaching Herreros and Enclave Soria, our lodging for the night. We chose Enclave Soria based on the nice photos, good reviews and on site restaurant. But at only 45 euros ($70 Cdn) , including breakfast we were not expecting much. However we were impressed. We had a nice room with views to mountains that still had some snow. Unfortunately I didn't enjoy my dinner all that much. We shared a mushroom risotto that was good. Gayle then had a traditional Pisto Manchego, a stir fry of red and green pepper with fried eggs while I the roasted baby lamb loin with green pepper and potatoes. Gayle was pleased with her dish but me not so much. Oh well, sometimes with meals one doesn't choose well and this was one of those times. But it certainly was nice to be in a Spanish restaurant again eating Spanish food accompanied by Spanish wine.
Being our first day I didn't expect to have many photo opportunities but as you will see that was not the case, in part because of our early arrival and detours into the small villages. As we were driving out of Ayllon Gayle noticed a flock of sheep and a shepherd. I pulled over and grabbed my camera, chasing down the shepherd, snapping photos of his sheep and dogs. The shepherd actually stopped and we chatted - well sort of given his limited English and my very limited Spanish. A nice experience though.
All in all a great first day to the trip.

The bell tower of the Church of Nuestra Senora del Manto.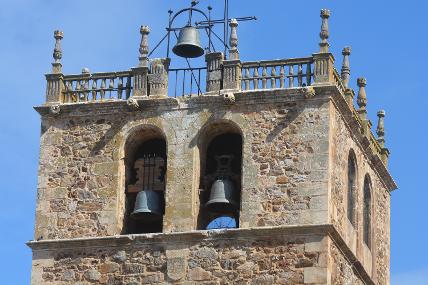 Our breakfast of coffee, croissants (mine with ham and cheese) and a local cake (sort of a carrot cake).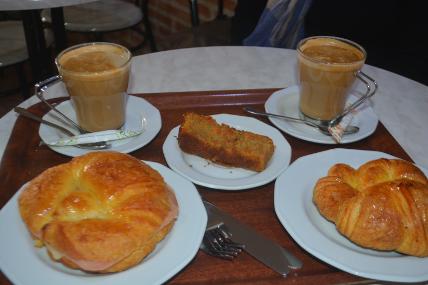 Riaza's municipal building on the town 'square', ok in the form of an elongated circle.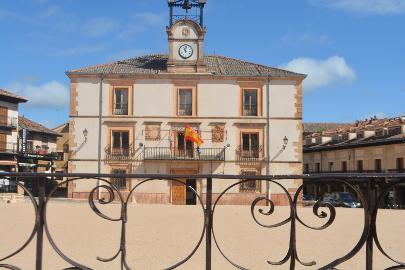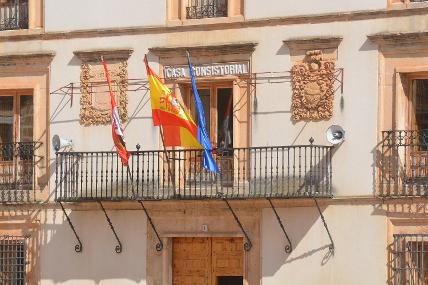 Some of Riaza's covered porticoes.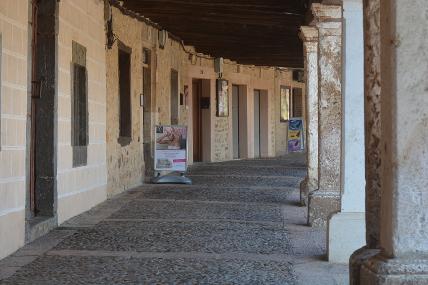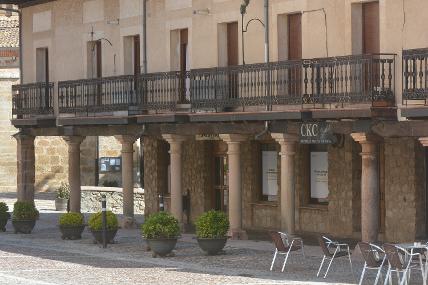 The sanded elliptical Plaza Mayor. Although on a much much much smaller scale this did have the feeling of Sienna, Italy.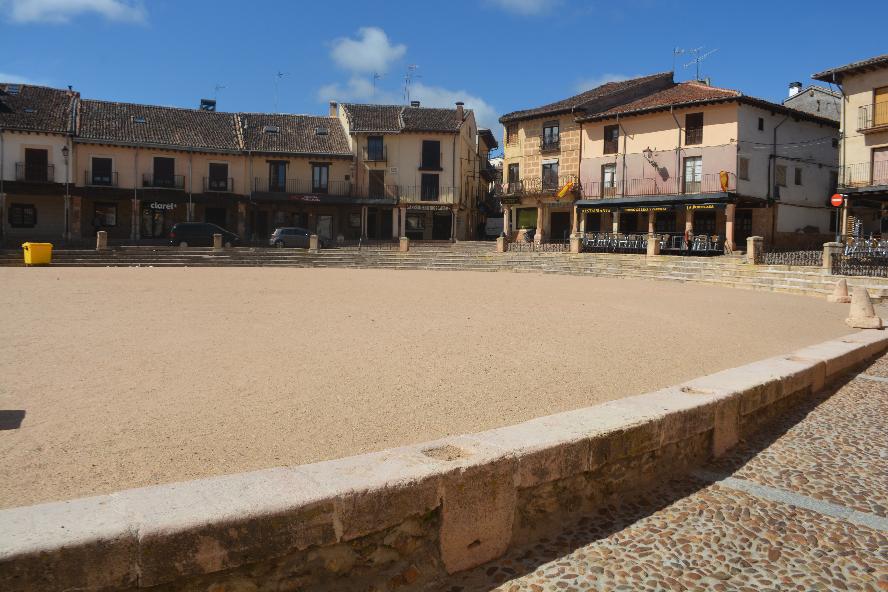 A mustard field ... ... and mountains with snow still covering the tops.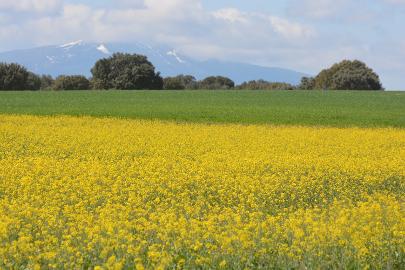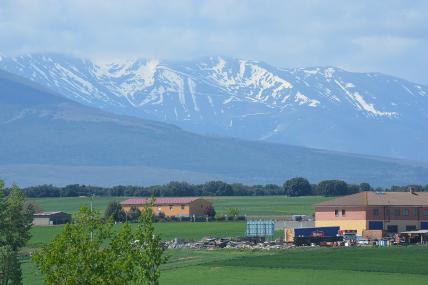 The Convent de San Francisco, just outside Ayllon.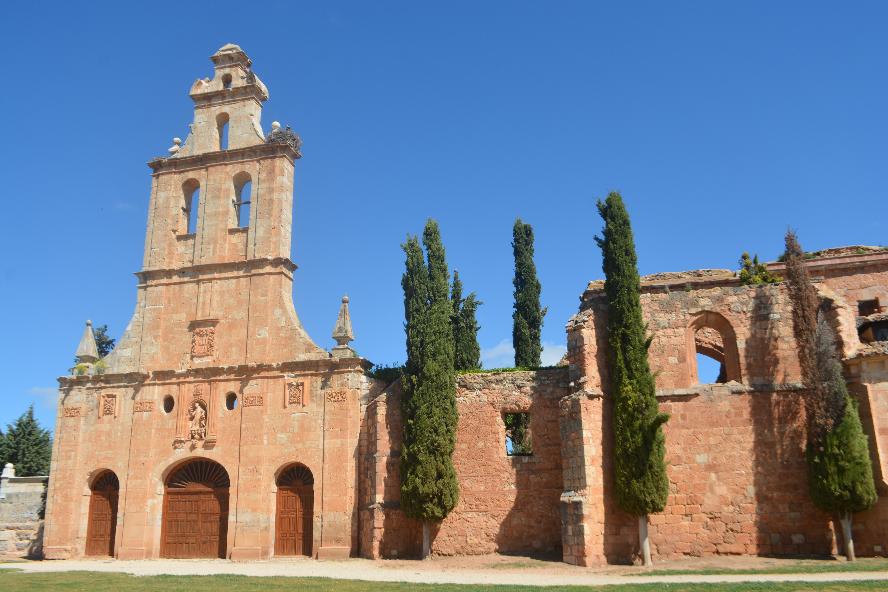 It is certainly stork nesting season.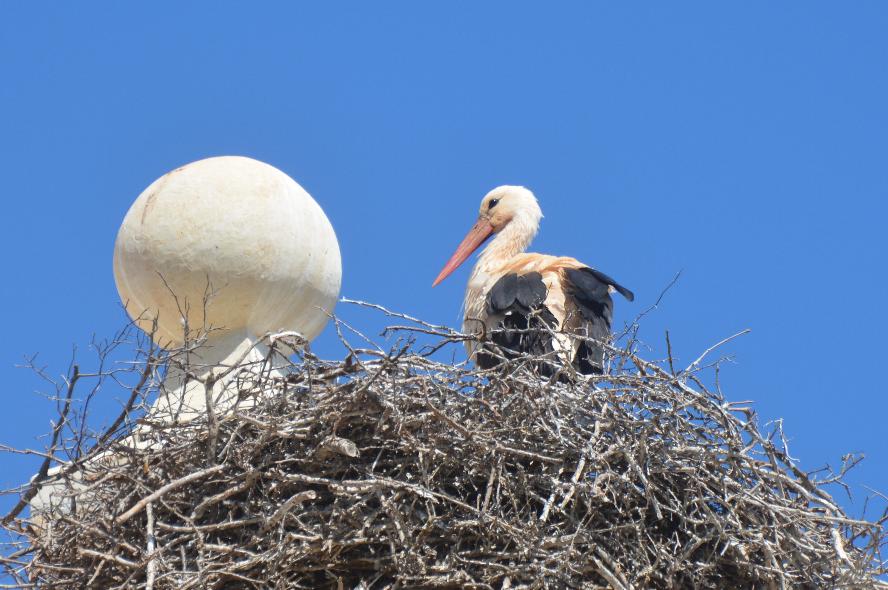 Ayllon's town clock and a stork posing for the photographer.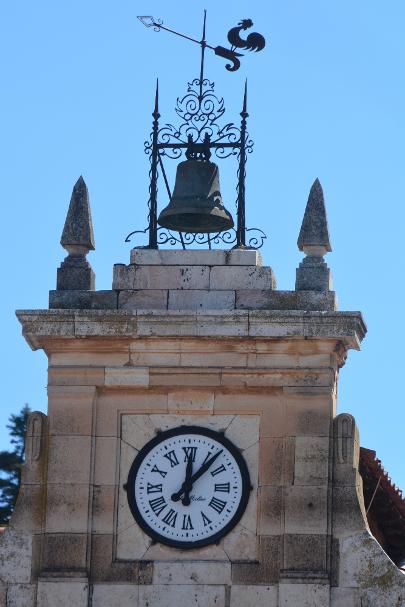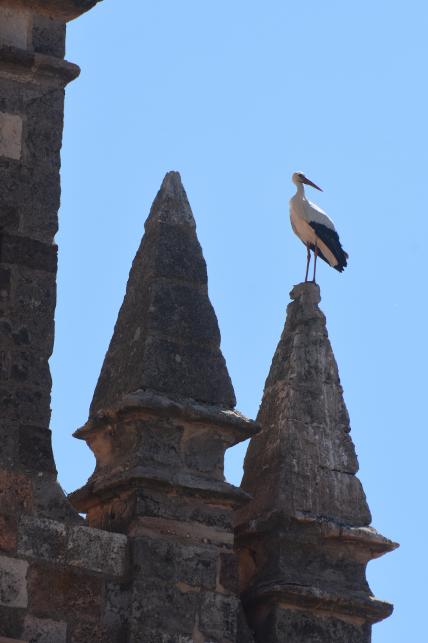 Unfortunately the churreria was closed or we would have had one, ideally smothered in chocolate and one of the narrow twisting streets of these old towns.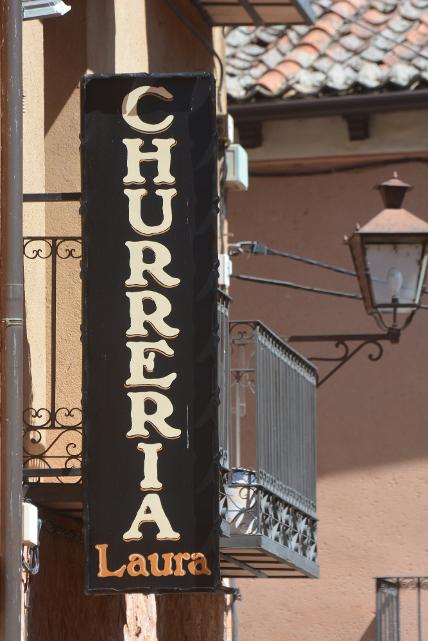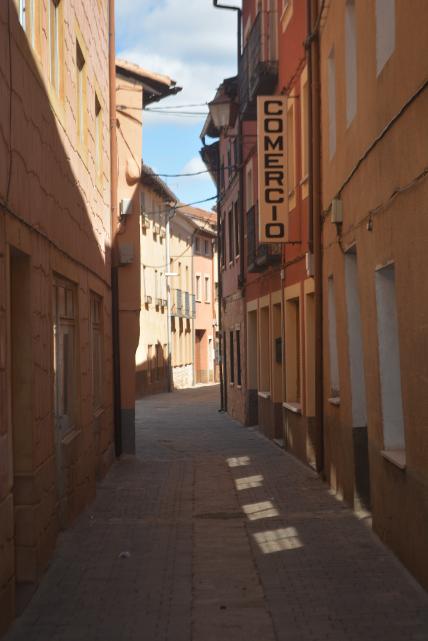 Some interesting and artistic architectural supports.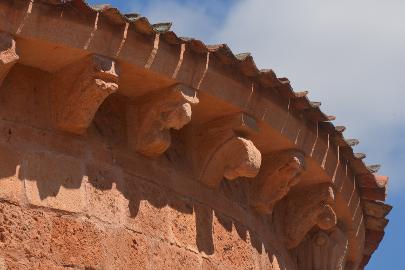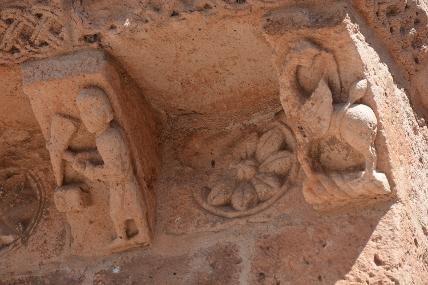 The market in the Plaza Mayor of Ayllon.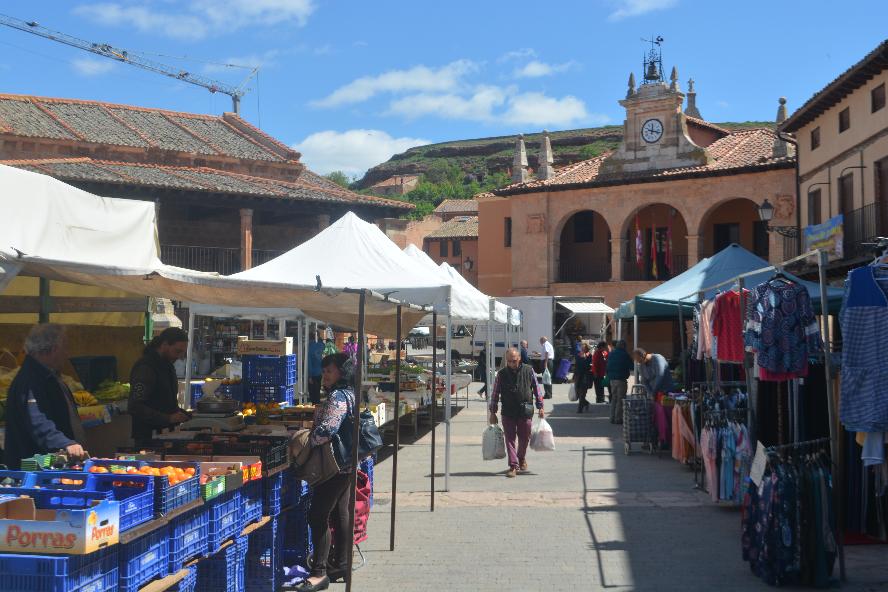 Fresh veggies at the market including onions, eggplant, artichokes and white asparagus.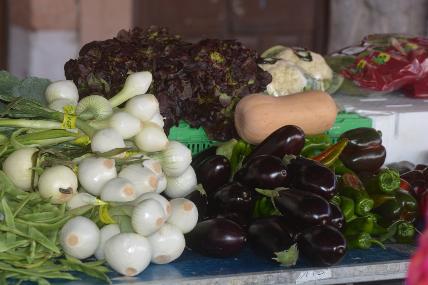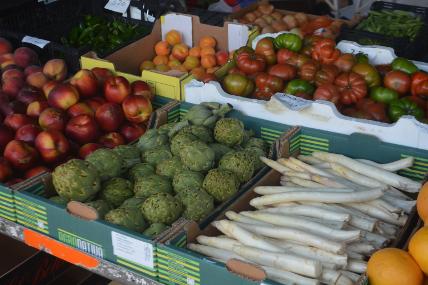 Elderly Spanish men doing what elderly Spanish men do - sit around and chat with their friends.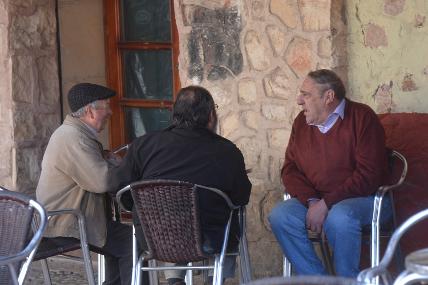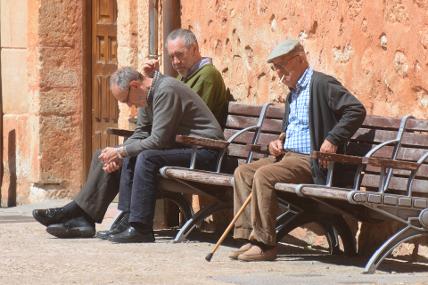 After a morning of grazing this flock is headed back home for their afternoon siesta - the shepherd told me they sleep three to four hours each afternoon, and then back out early evening to graze again.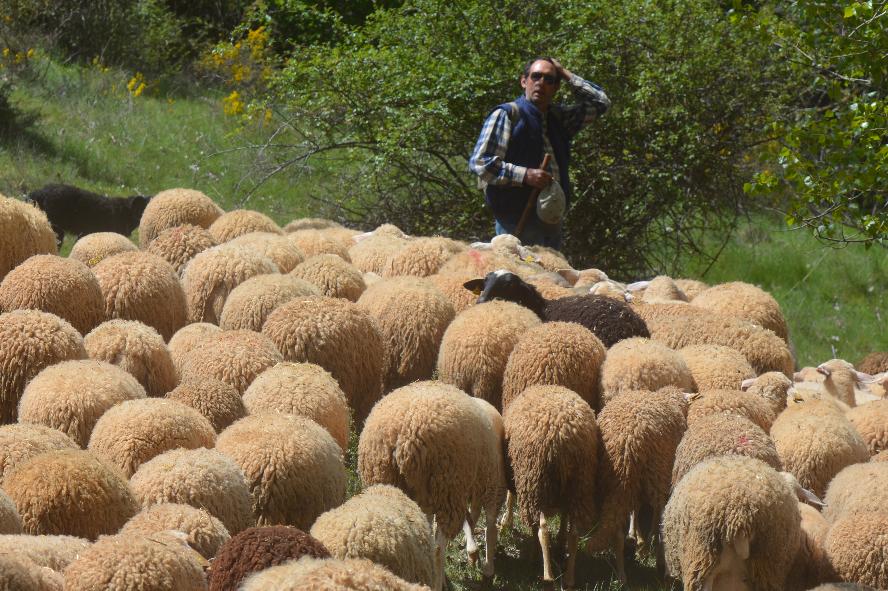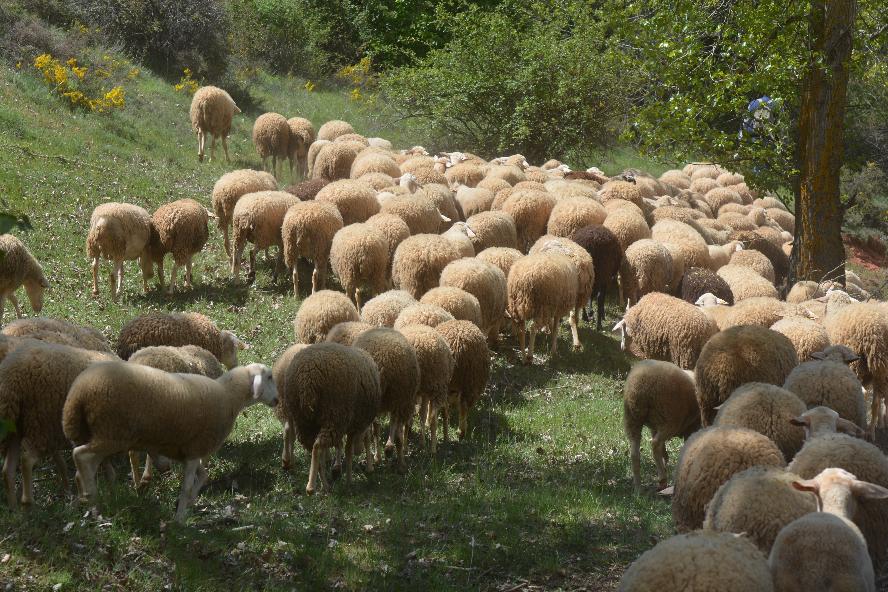 These guys (or gals) certainly don't have a problem having their photo taken.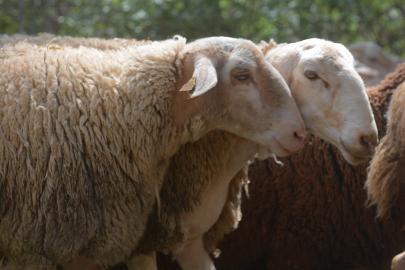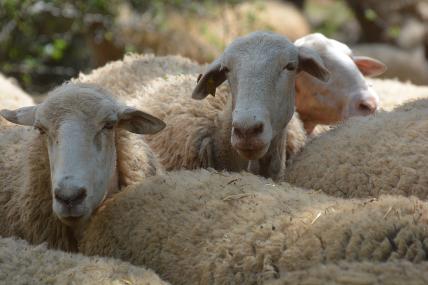 The shepherd with his dogs (the young white one is Pietro) and his sheep.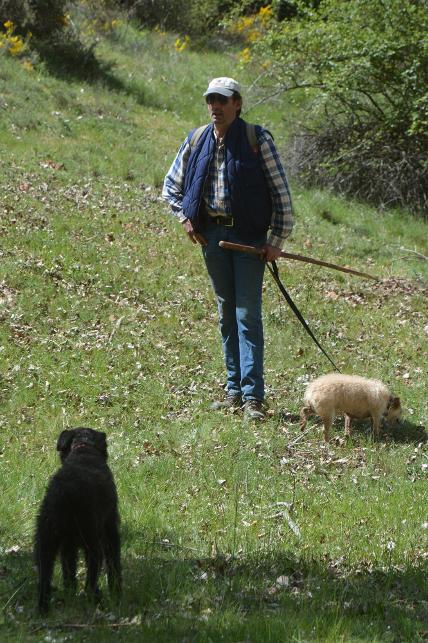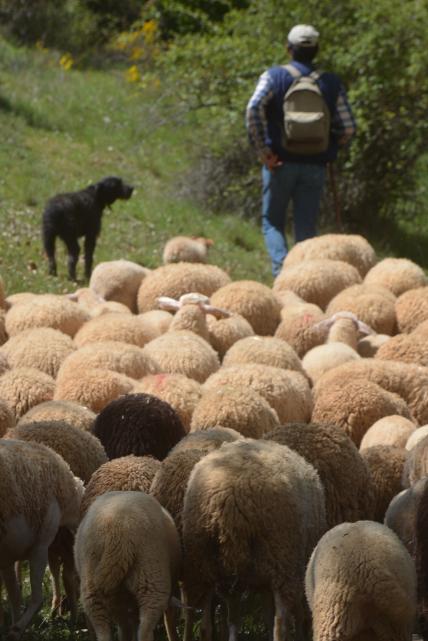 Happy to be back in Spain and ready for her first dinner.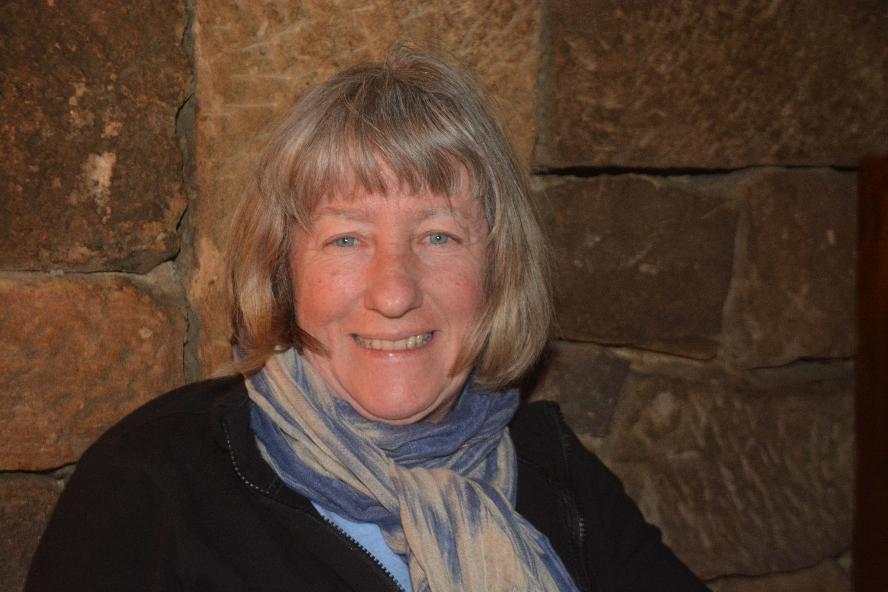 Pre-dinner fried mushroom rolls and Gayle's Pisto Manchego con huevo frito.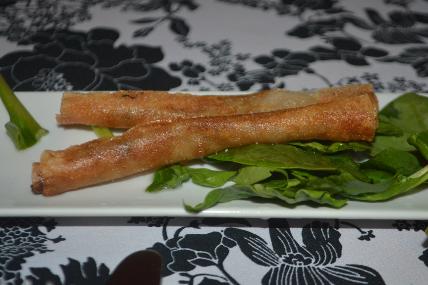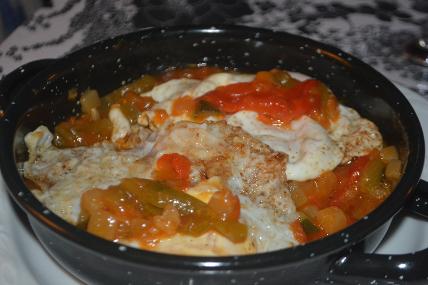 Hola! We are off for four weeks (May 09 to June 07) in yes, Spain again. This trip will be somewhat similar to 2011. We land in Madrid from where we immediately head north, eventually to the Basque area. It is then across the Pyrenees, primarily in Spain but crossing over into France for six nights. Then back to Spain and a return to Barcelona for a couple of nights before finishing on the island of Menorca for a week. Not sure if the weather will be as good as in the past but we are looking forward to the food and lodgings we have chosen. As in the past we will attempt to update daily, subject to WiFi connections in the mountains.