Memories of Greece (and Bruges):
Two days in Bruges followed by 18 in Greece. Here are our most vivid memories, in no particular order

the canals, buildings, alleys cobbles stones and squares of Bruges
the hot chocolate experience along with the waffles
our nice B&B right on one of the canals
the great service (love the golf cart) of John and George at Zacosta in old Rhodes town
Symi's harbour, including the colourful (pastels) Italian villa style of architecture
Panos (Thea Apartments) - again great customer focus
our around Symi boat trip, including the swims and extensive top shelf BBQ
fresh orange juice - yes Wendy lots and lots of fresh orange juice
Greek salads, Greek sausages, moussaka (especially mine in old Rhodes town and Gayle's vegetarian in Olympos), retsina, and on and on
Maria's (Marina rooms - Tilos) breakfasts, loved that orange cake, and like others her great service - wash; extended stay due to afternoon ferry; replacing converter
Tilos feeling more like a Cyclades island (cube homes; blue colours; quiet and peaceful etc.)
the mountain drives in Tilos
'woo-who'
the sherpa guy - Gayle experienced some back issues during the trip leaving me to carry both backpacks and at times all but one small other bag. Normally just multiple trips but on/off ferries and to the airport it was 'sherpa Norm' to duty.
the amazingly warm water, especially just across the road in Tilos bay right outside Marina Rooms
Villa Praxithea, especially the upper floor unit
the harbour with numerous cafe/restaurants shaded by large trees
the full moon and sunrises over Chalki bay
the quiet of Chalki at 5:00 am in the morning catching an early ferry (to Karpathos)
Kyra Panagia and other beaches
the Karpathos goats
the dramatic drive along the cliffs to Olympos (and the return in the dark), triggering memories of our drive many years ago along the north coast of Madiera
the spectacular drive along the west coast of Karpathos
the 'Medicane' (Mediterranean Hurricane) with winds of over 100 kph rattling our roof tiles
the breakfasts at Althea Boutique Hotel
Eri showing us her traditional home in Menetes
daily swims in the Aegean
the many shades of the Aegean - turquoise; 'green'; baby blue; deep royal blue ...
and the cats of Greece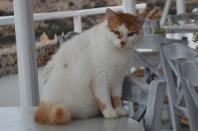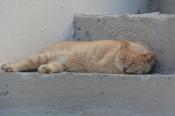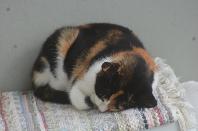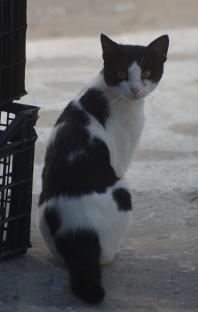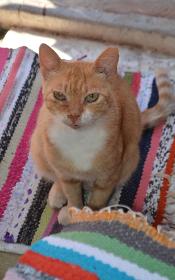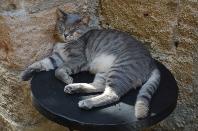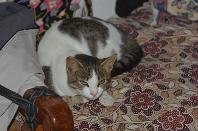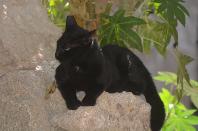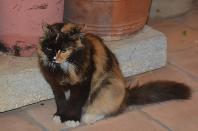 Expenses (based on average exchange rate 1 euro = $1.55 Cdn):
Here are the costs of the Greece portion of the trip
$ 369 airfare - internal flights only
$ 244 ferries
$ 2,950 lodging (106 euros or $164 per night)
$ 1,256 food (45 euros or $70 per day - primarily dinner including wine)
$ 572 car rental ($427 or $43 per day), fuel ($107) and taxi ($37)
$ 141 miscellaneous
$ 5,532 for 18 days
Reflecting only internal airfare within Greece (Athens to Rhodes and Karpathos to Athen) the average cost per day (flights to/from Athens, ferries, lodging, food, vehicle and miscellaneous) was $307.
The airfare re this trip is difficult to compare to others in that we took
a one-way flight from Halifax to Brussels (through Rejykvik) for only $881 for the both of us,
a separate flight from Brussels to Rhodes (via Athens) - $336 total,
then another from Karpathos to Rome (again via Athens) - $402 total,
and finally Aeroplan (only $195 plus points for two Business class seats) home from Rome to Halifax (via Montreal).
Food and wine, keeping in mind about half the breakfasts were included in the lodging cost, was virtually identical to 2017 - 45 euros ($70) per day versus 46 euros in 2017. This represents a few supplies for a few breakfasts, including of course oranges for juice and the cost of dinners, generally including a glass of house wine / retsina each. Note all food costs include tax and tips. As one can no doubt assess from the food photos we ate very well.
Lodging ranged from a low of 55 euros to a high of 140 euros a night. Here is a list of where we stayed, the amount we paid and the website.
135 euros Zacosta Villa Hotel Rhodes www.zacosta.com
135 euros Thea Apartments Symi www.symi-thea.gr
110 euros Asymi Residences Symi www.asymi.gr
55 euros Marina Rooms Tilos www.marinarooms.com
140 euros Villa Praxithea Chalki www.villapraxithea.com
90 euros Villa Stamatina Karpathos www.villastamatina.com
90 euros Althea Boutique Hotel Karpathos www.altheakarpathos.gr
It is our practice not to using any booking agency, e.g. Booking.com but rather book online directly with each place we stay, after having contacted them through email. In this way we save the establishment the booking commission and are familiar to the staff when we arrive.
The average lodging cost was again at the low end of elsewhere in Europe, at 106 euros ($164). As previous trips this is exceptional value for the quality of lodging / breakfast we enjoyed.
The average cost of lodging of our Greece trips continue to be at the bottom end of those of other European countries:
160 euros - 2017 Spain
146 euros - 2018 Spain
140 euros - 2012 trip to Slovenia and Croatia
139 euros - 2014 Portugal/Spain
136 euros - 2013 Spain
122 euros - 2013 Northern Italy
109 euros - 2014 Corsica/Provence
106 euros - 2016 Sicily
106 euros - 2018 Greece (Dodecanese)
97 euros - 2017 Greece (Cyclades and Peloponnese), and
79 euros - 2015 Greece (Cyclades and Crete).
September 28, 2018 - Karpathos; with a drive to the west coast of the island

The unusual weather continued throughout the day. After another filling and excellent breakfast (optional at an additional 12 euro cost per person - well worth it) that included Maria's traditional 'tiganities' pancakes, sprinkled with some nuts and honey, it began to rain - the first rain in a month and only the second since the spring. The rain was relatively persistent and at times heavy continuing throughout the late morning. As a result we got chatting with a couple of Germans - Daniela and Carsten who were hiking on Karpathos. Daniela has been to a number of places in Canada and is a big hockey fan.
Although it was still dark and overcast, being our last day we decided to stick with the plan and return to the west side of the island and then drive further north. We crossed again through Menetes, seeing what felt like more small churches than actual homes. But then as we approached the west coast the skies cleared and we were in complete sunshine. We connected with the coast again at Arkasa, passed by Finiki and then drove some very scenic coastline north to Kato Lefkos. On the way we stopped at a rocky (rather than sandy) beach with calm, wonderfully coloured water. We enjoyed our last time in the water, one of our primary reasons for returning to the smaller islands of Greece. Unlike large islands like Sicily or we imagine Sardinia, all very nice but one is not constantly in proximity to the water, so easily accessible here on an island like Karpathos.
As we crossed back to the east just south of Spoa the skies quickly darkened, turning a deep black. We decided to detour to Apella beach, a few km drive down the steep mountainside (on a one lane asphalt road). Being late in a not so great day there were only a couple of others on the beach. We walked down but with the higher waves on the east side decided not to go in. It was sad to leave for the final time.
As we continued our drive the skies blackened even more, and at one spot the sun setting in the west,
where the skies were clear cast a gorgeous spotlight
on a church otherwise covered with blackness. Sometimes you are fortunate to be in the right
place at just the right time - it was a great photo op.
We returned to Pigadia where we bought a
few things to eat and checked out a few shops.
We have few places to put new purchases but did
decide to buy this small plate, with a traditional Karpathian design.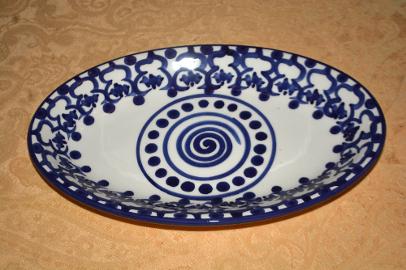 We then returned to Althea where we packed while eating our spinach and sausage pies, baklava and walnut cake, accompanied for me by a final bottle of retsina. Early to bed as we need to be up around 4:00 am in order to get to the airport for our early morning flight tomorrow.
__________________________________________________________________________________________________
Greek honey, a cat and a painted gourd. Tiganities, the traditional Karpathian pancake.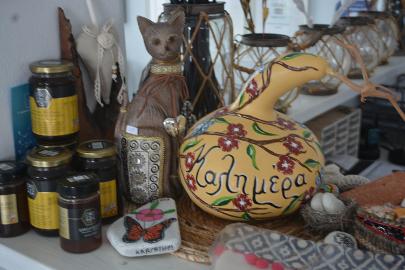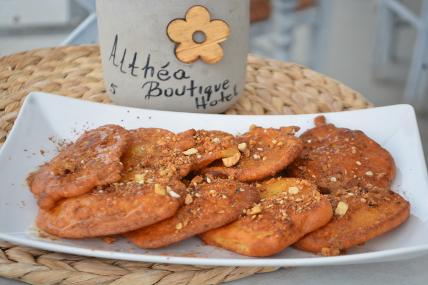 Maria and one of her cats. Carsten and Daniela.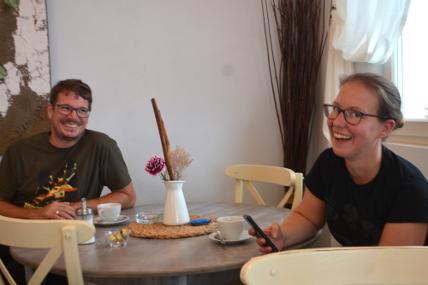 Menetes perched on the cliff side.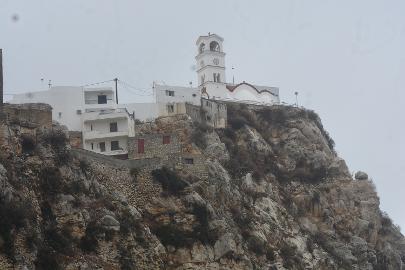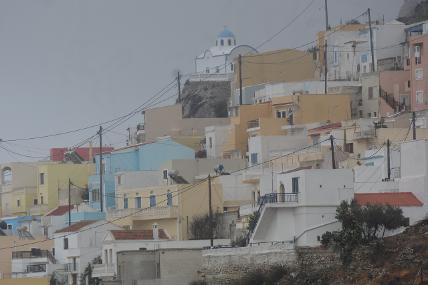 A couple of small churches (they're everywhere) just west of Menetes.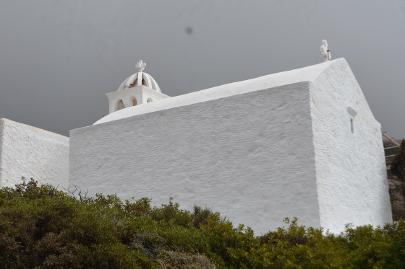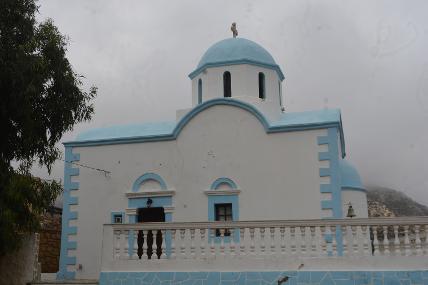 The colour of the Aegean Sea sure is spectacular on a sunny day.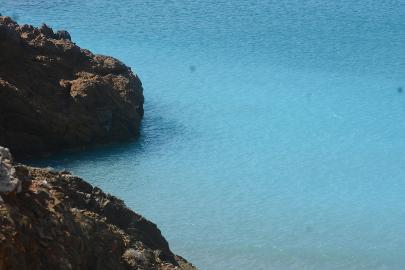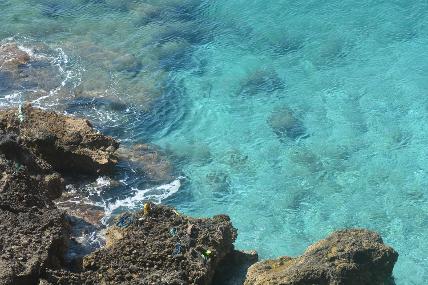 The church and seaside village of Finiki.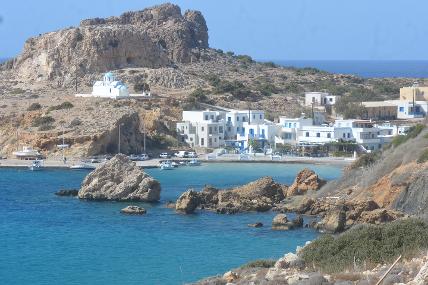 On a beach on the west coast of Karpathos. I just can't compete with the 'woo-hoo' girl.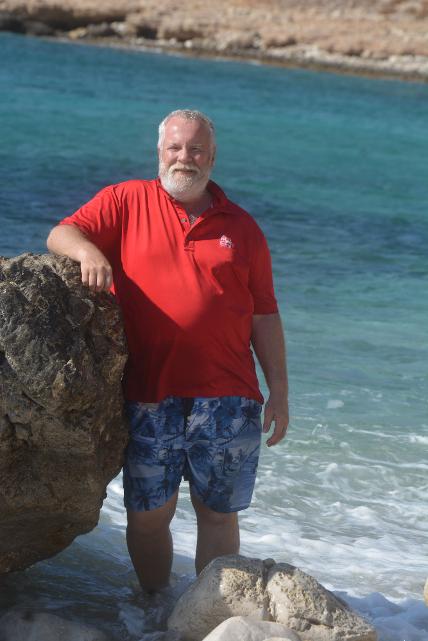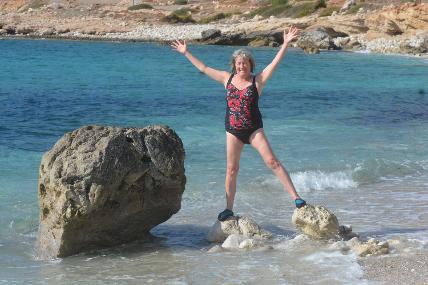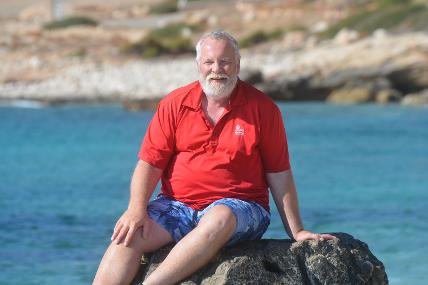 The west coast of Karpathos including on the right the town of Kato Lefkos.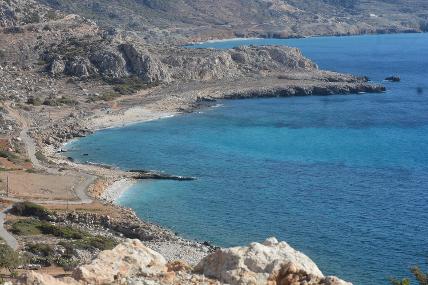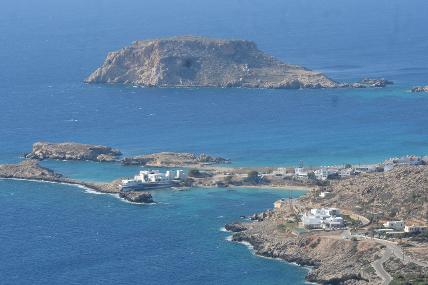 A church near Aperi spotlighted by the setting sun while directly above are ominous black clouds.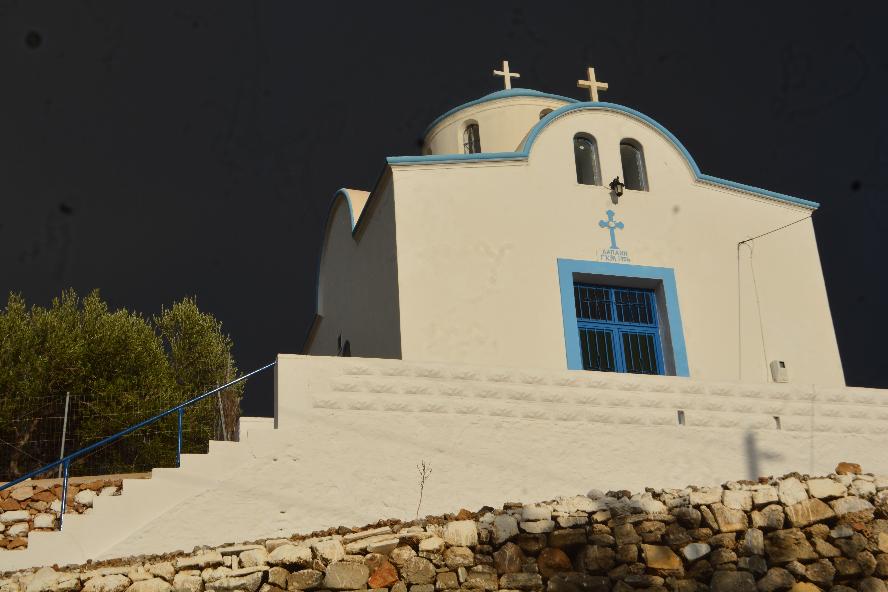 September 27, 2018 - Karpathos; south-west of the island; dinner in Finiki

By morning the winds had subsided and we awoke to a beautiful sunrise.
Breakfast, not included but optional which worked out great for us the last morning when we had to leave early for the airport, was great. All the standard fare plus waffles covered with honey and fresh fruit and a very delicious omelette.
We chatted with this English fellow Gerard, here for the wind surfing, and his Czech girlfriend Radka. When Radka mentioned she was Czech I of course told her of our trip to the Czech Republic after my mom had passed on, and specifically our destination of Uhersky Brod. Not only was she familiar with the town, having been born and grown up in nearby Zlin (only 28 kms away) she had actually been to Uhersky Brod. What a small world.
After breakfast we went down to the bay for some time in the water. Soft sand and a very gentle slope made access to the water very easy. Afterwards we did a 'dry run' to the airport. Given we needed to be there no later than 5:30 am on Saturday morning we figured we should see how long it would really take (15 to 20 minutes was the answer). After figuring out where we were to park the rental car we continued around the south end of the island, then part way up the west coast, past Arkasa to Finiki, a very small village on the sea.

Being late afternoon we decided to stop for dinner, which was ok. Gayle started with a plate of fried onions which she thoroughly enjoyed (not my thing) followed by peppers stuffed with local cheese. I had some zucchini flowers stuffed with rice, decent but the flowers themselves were somewhat soggy. Then the old reliable moussaka with which one can't go wrong. We finished with an orange 'pie' which was quite good.
We then returned to Ammoopi through the interior again passing through Menetes after which we had a relaxing evening. The only down-side of Althea was that the Wifi, which has not been reliable in our room was not even connecting in the lounge. Perhaps the winds but it was somewhat frustrating. Oh well, what can you do? Off to sleep early.

__________________________________________________________________________________________________

Sunrise over the hills near Ammoopi bay. Our swimming cove.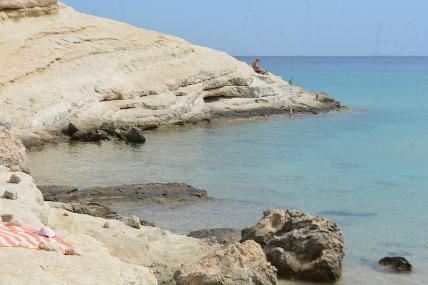 Just a small portion of the wonderful breakfast at Althea Villas.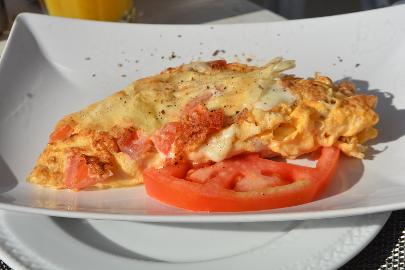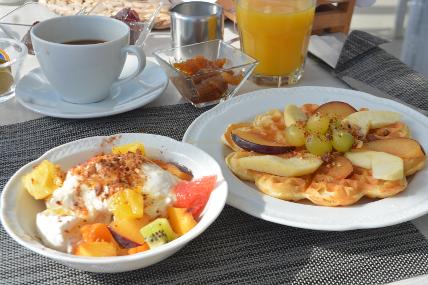 Althea Boutique Hotel. Gerard and Radka.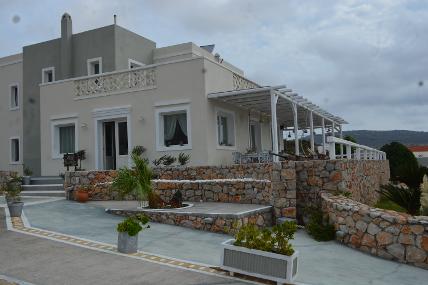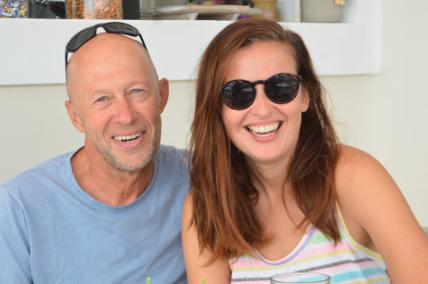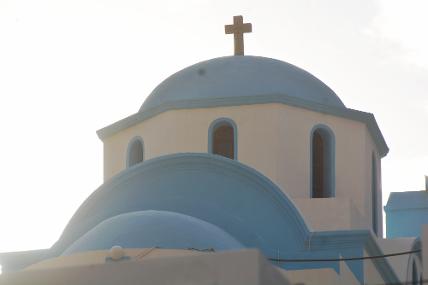 Awful nice for the village to paint the top of the cement block to perfectly match Gayle's shirt.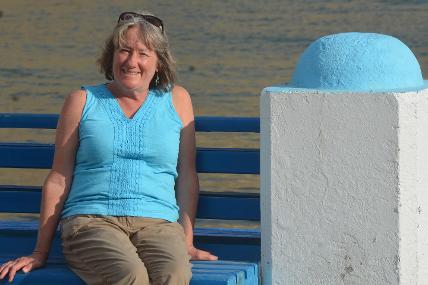 You expect the fish are fresh when you see them being walked right by you.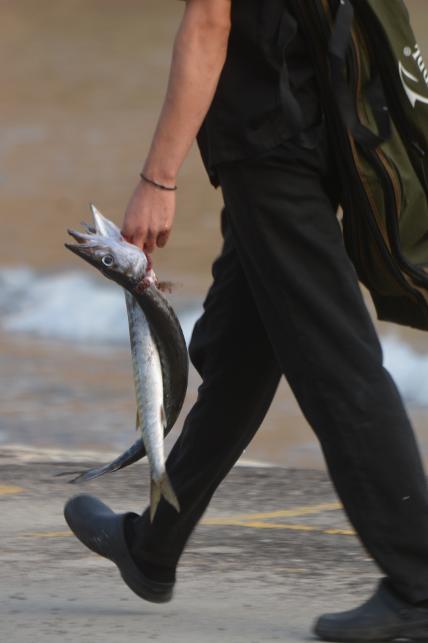 Zucchini flowers stuffed with rice ... ... and Peppers Delfini stuffed with local cheese.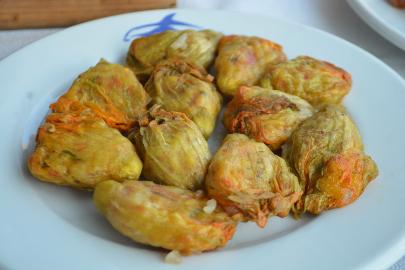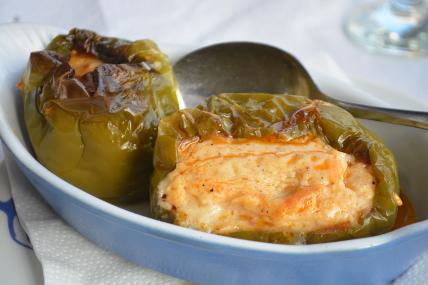 The ever reliable moussaka. Orange 'pie' for dessert.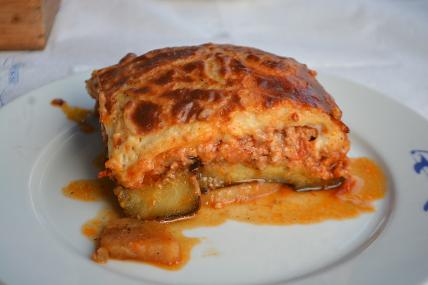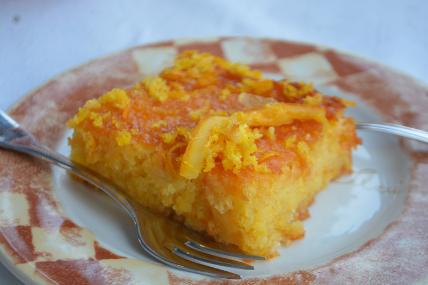 September 26, 2018 - Karpathos (Kyra Panagia to Ammoopi); dinner in Menetes

Quite the day. We awoke to the sound of a very strong wind (more later). We had our last do-it-yourself breakfast (yes Wendy more fresh orange juice). While we took a stroll down to the beach there was no way we, or anyone else was venturing into the water. The whitecaps were significant.
We packed up and headed towards the south end of the island, at least a bit past Pigadia to the beach community of Ammoopi where we easily found Althea Boutique Hotel, our 'home' for the next three nights. Althea is a beautiful place overlooking the turquoise bay. Our room is large and well designed.
As the day progressed the strength of the wind increased. Here I copied a recording of gusts to 98 km/h although Gayle saw reports of > 100 km/h - not quite Category 1 hurricane (being 119 km/hr) but getting close.

The winds were so significant all ferries were cancelled. No swimming today. On the way to and from dinner Gayle held her earrings and me my glasses for fear of them blowing off.

We enjoyed an interesting dinner, deciding to go to another small traditional Karpathian village - Menetes - in the hills above Ammoopi at Dionysos Fiesta. We were met by Eri and led up the outside circular steps (in the wind) to the second floor. Being the only ones in the restaurant we received very personal service from Eri. We started with saganaki after which Gayle had briam and I the Karpathian goat stew. Too many onions for my liking but otherwise nice tender goat without many bones as is often the case. Being the only ones we got chatting and learned that Eri was born in Brooklyn but returned to Karpathos when she was only two. Afterwards she invited us downstairs to her actual house, virtually identical to those we saw in Olympos. The original room, which would have housed an entire family - parents and many children has been converted to essentially a shrine with photographs, embroidery, plates, dolls, copper, candles etc. wall to wall, floor to ceiling. Eri changed from her 'taverna' clothes to her 'photo' clothes for a few pictures, including one with her mother Sophia.
After fighting the winds we returned to Althea where we tried to sleep listening to the roof tiles clank throughout the night as they were buffeted by the strong winds.
___________________________________________________________________________________________________

Our last do it yourself breakfast. And a nearby goat who seemed somewhat interested in us.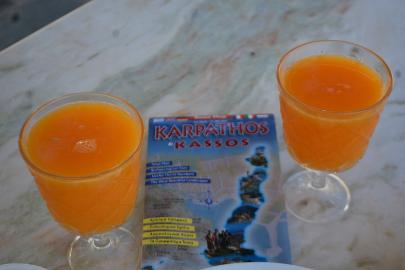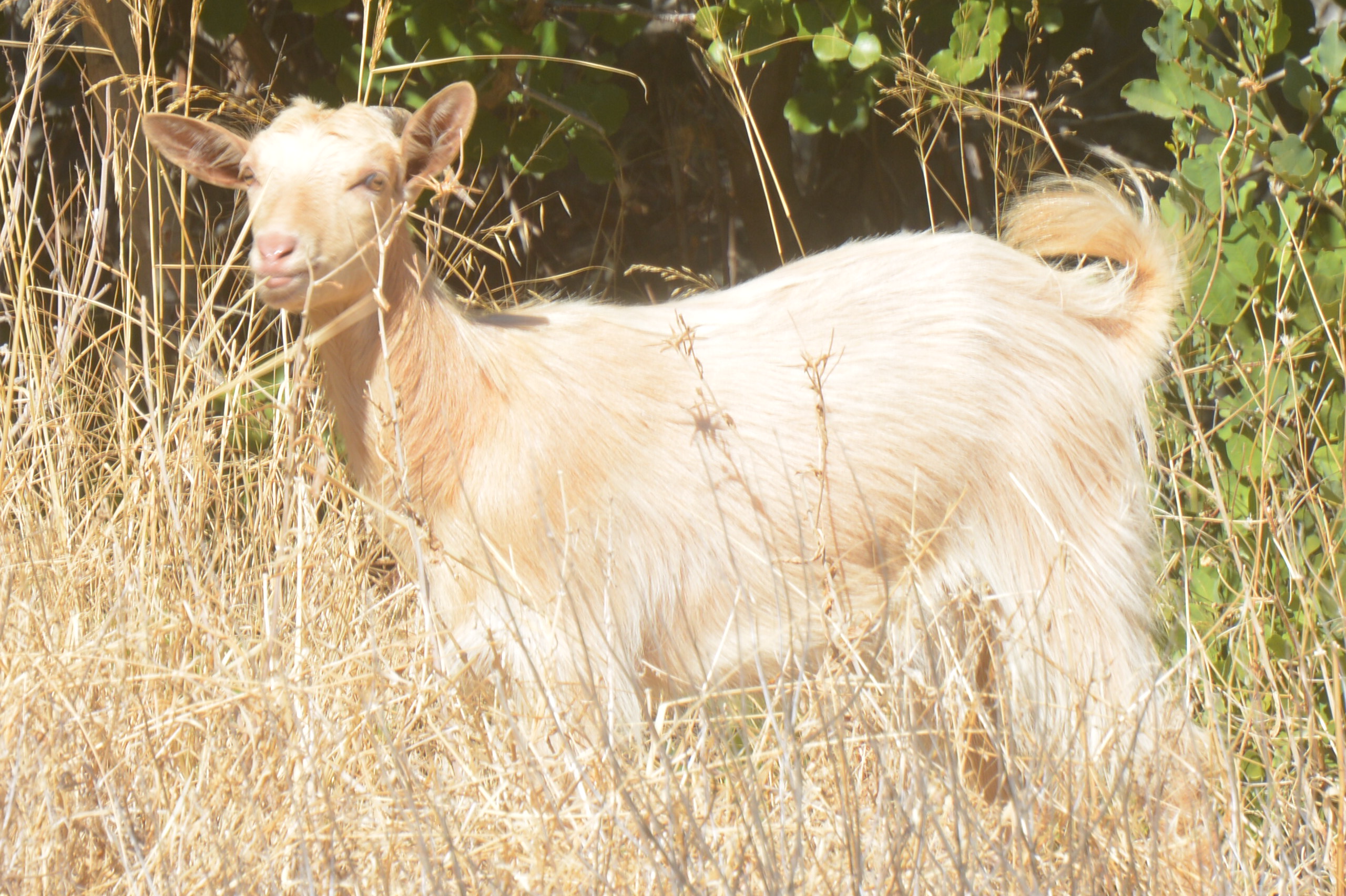 The winds begin to whip up the white caps.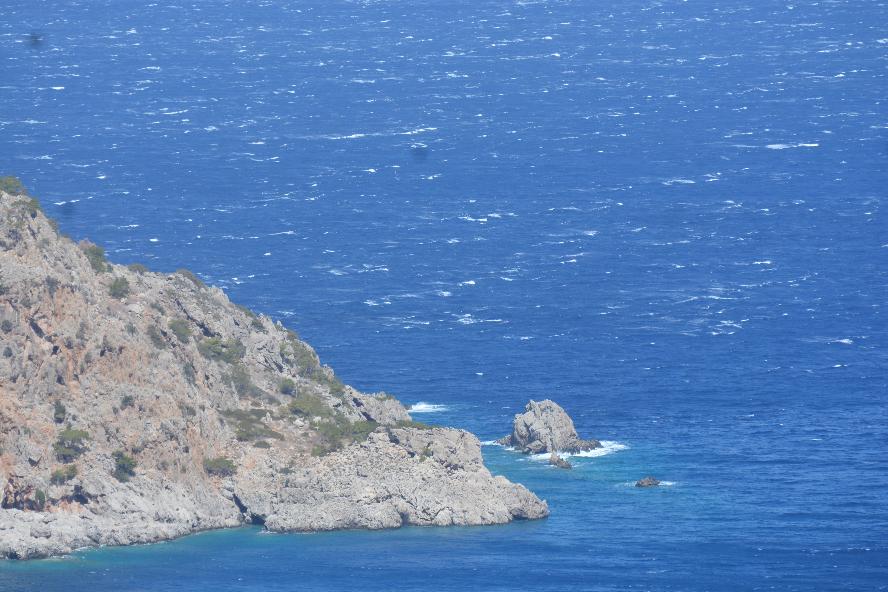 Our beautiful room at Althea Boutique Hotel.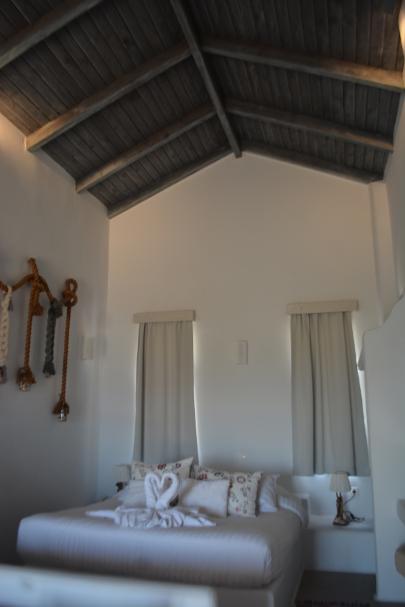 The church (with more whitecaps on the sea) and coastline at Ammoopi.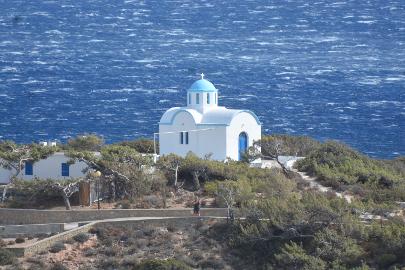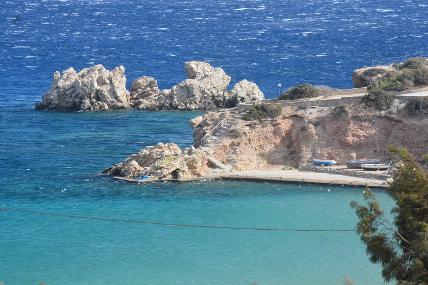 Wine often served in copper, or copper like mugs. Our host Eri.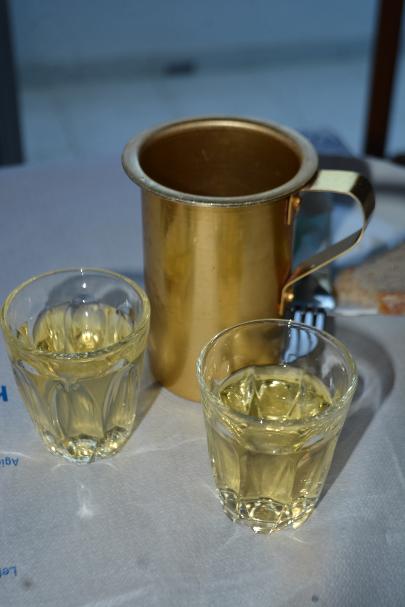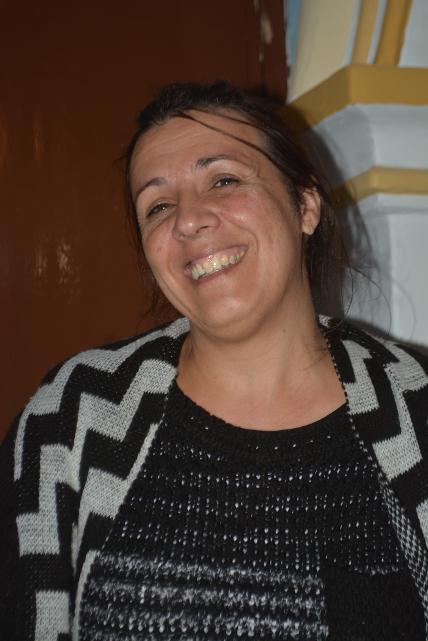 Saganaki to start ... .... and then for me goat stifado.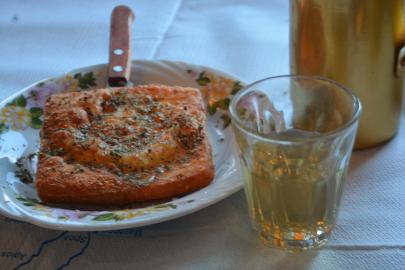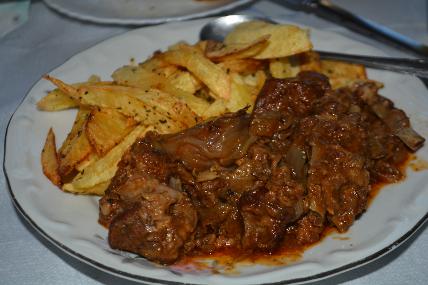 Photos, plates, copper, embroidery - the room is full of family memorabilia.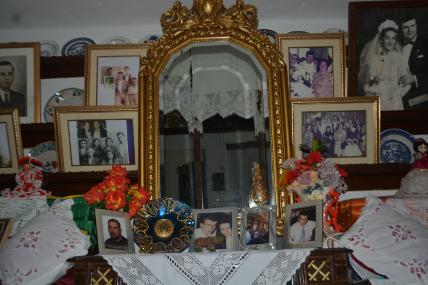 Photos everywhere - essentially a shrine to the family.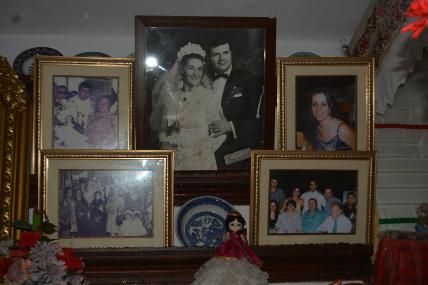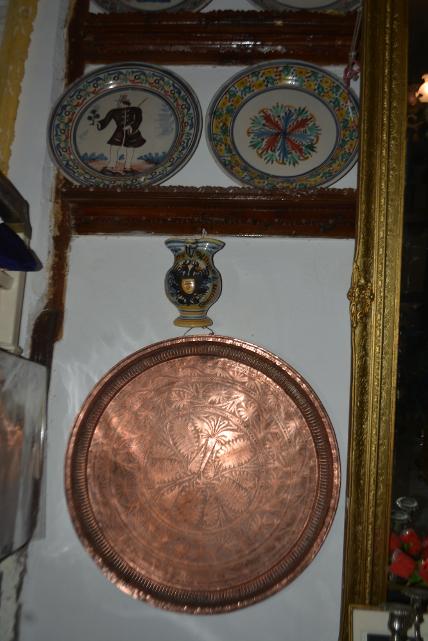 The beautiful, albeit busy, inside of Eri's traditional Karpathian home.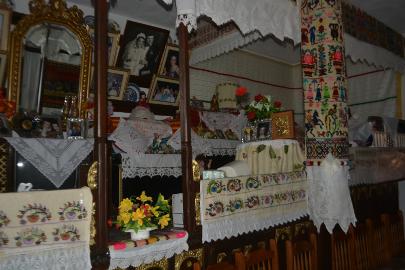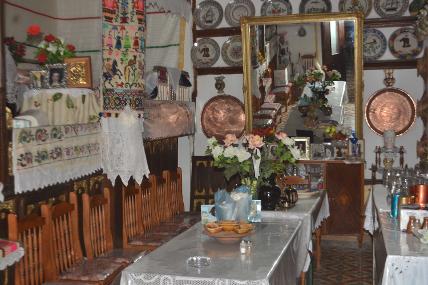 Beautiful embroidery - the one on the left by Eri and the other two not sure.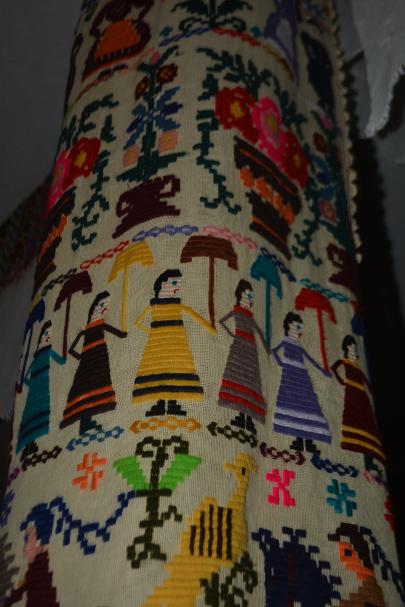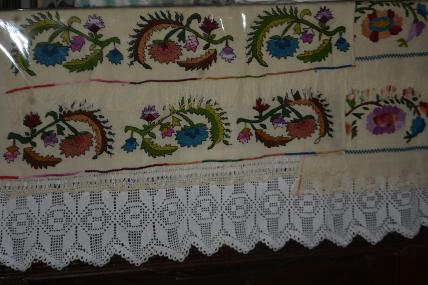 Eri, Gayle and Sophia (Eri's mom).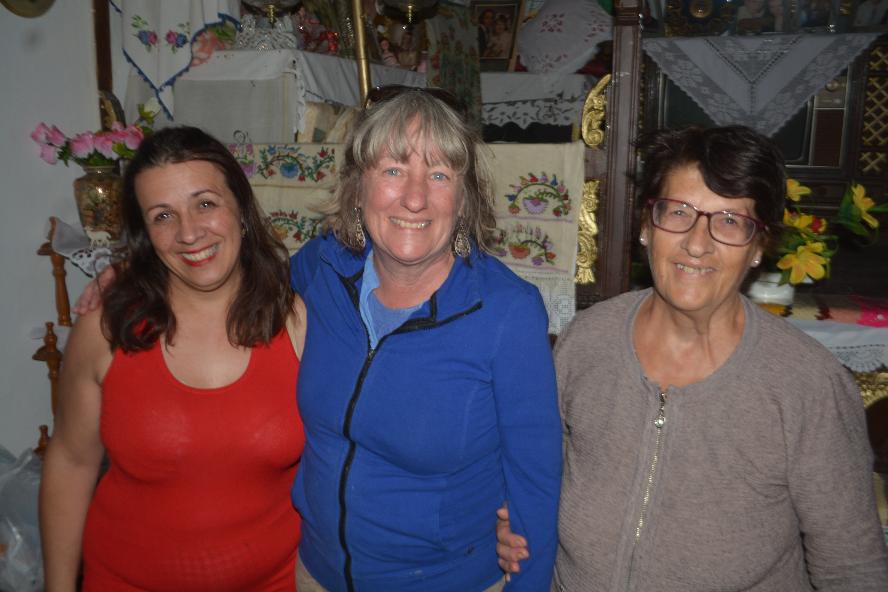 September 25, 2018 - Karpathos (Kyra Panagia) with a drive to Olympos

With not many photos the past couple of days we've made up for it today. Again the standard morning - breakfast as the previous day, except with fried rather than boiled eggs, followed by a walk down to the beach and some time floating in the water.
Early in the afternoon we drove to Olympos. Although only 37 km it is a little over an hour's drive, without stops, due to the treacherous roads and the photo opportunities. It was suggested we go later in the afternoon to avoid the tourists and see the sunset, although that meant driving back in the dark. The drive is spectacular. I have often said driving the north coast (west side) of Madeira is the most dramatic drive I have done but now I'm not so sure - narrow roads some times reducing to one lane hugging the mountain, often with no guardrails. Regrettably, or perhaps not, I didn't get to enjoy a lot of the scenery as my eyes were focused on the road.

Olympos is a traditional village, formerly its own municipal unit until 2011 when it became part of the island of Karpathos. The population in 2011 was 556. Olympos is named after the mountain on which it is built, originally a refuge for residents from pirates in the 7th or 8th centuries. The name Elympos is often used by local villagers. Due to its isolation the villagers have kept the local dialect and traditional costumes. As a result the village attracts a number of tourists, like us, particularly since the recent completion of the asphalt road.

We wandered through the attractive village where a number of women were dressed in traditional costume encouraging us into their shops. Without fail the first words spoke where "Where are you from?". This greeting is the result of many from Olympos having emigrated to and then returned from the US.
We eventually found a roof-top restaurant with a great sunset view and a very accommodating owner. In fact so accommodating that he told Gayle he would make her a vegetarian moussaka right there and then. We started with cheese balls, filled with local mountain cheese - much better than saganaki Nikos assured us (and while we love saganaki the cheese balls were a nice change). Then came the moussakas - with zucchini rather than aubergine/eggplant but that didn't matter to Gayle (or me) as she was ecstatic to finally have moussaka. I equally enjoyed my version with ground meat. A huge plate of loukoumades for dessert half drizzled with chocolate and half with honey. And the sunset did not disappoint!
We were told the drive home was actually easier as there is no reason to look anywhere other than the road and the lights of approaching vehicles give one opportunities to slow down. We actually had only six vehicles pass us in the opposite direction over the hour and the observation was accurate - it probably was easier driving back. Just the same it was exhausting meaning straight to bed after we returned.
All in all a very interesting and good day.

__________________________________________________________________________________________________

The eastern coast of Karpathos including Apella beach.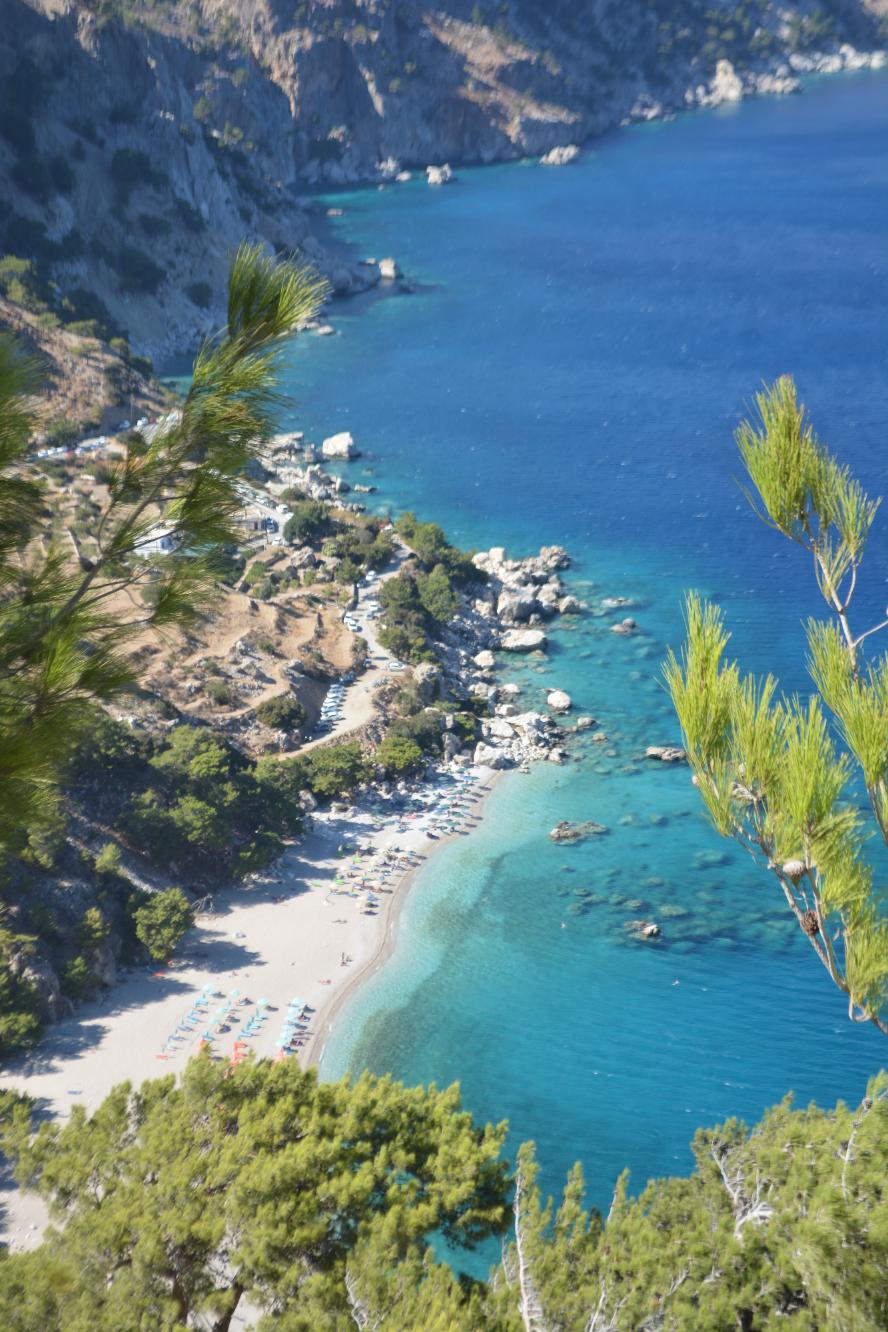 More coastal scenery on the drive to Olympos.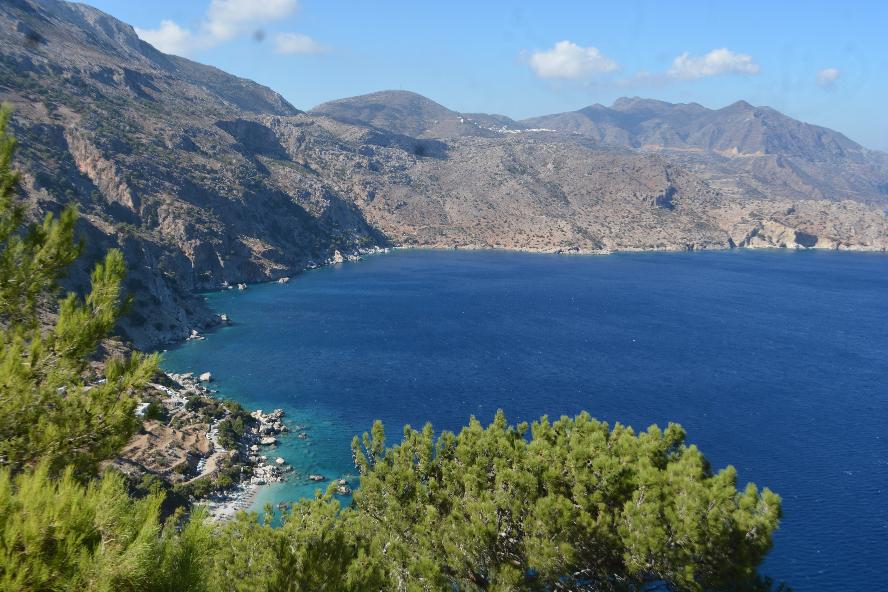 The caution went without saying given the roads hanging on the cliff sides often without guard rails.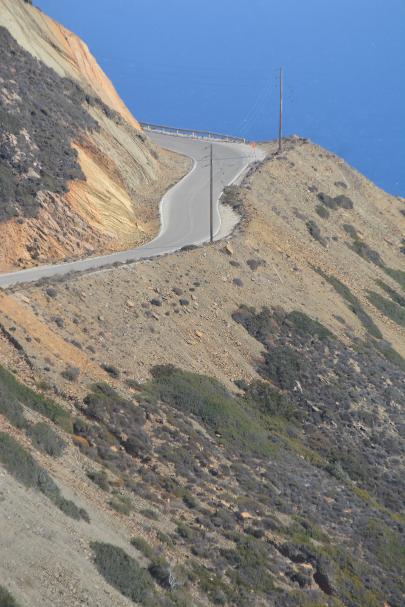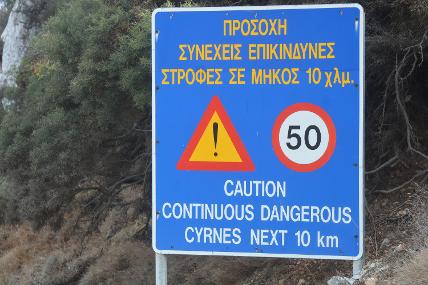 Then there are the friendly, aka hungry goats.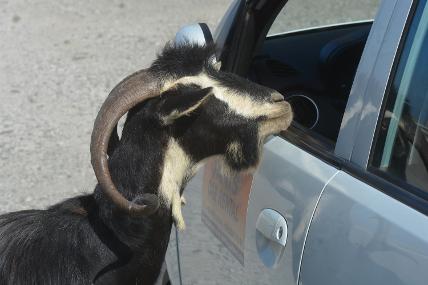 The further north we went the more mountainous the terrain.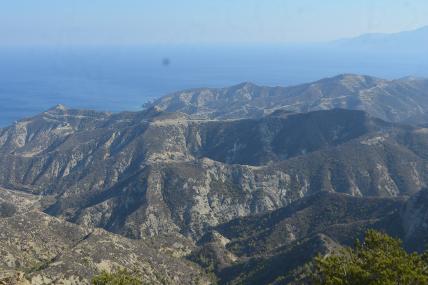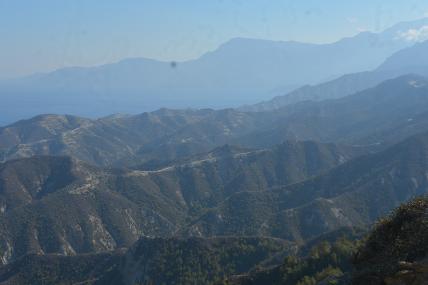 The mountain village of Olympos.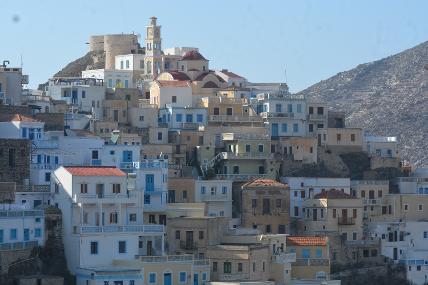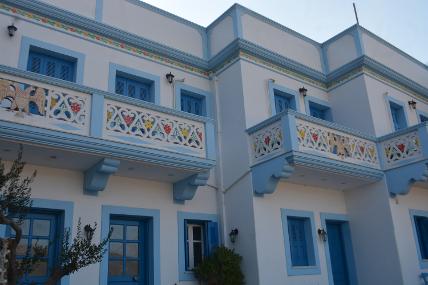 One of the women in traditional dress, along with a large doll similarly adorned.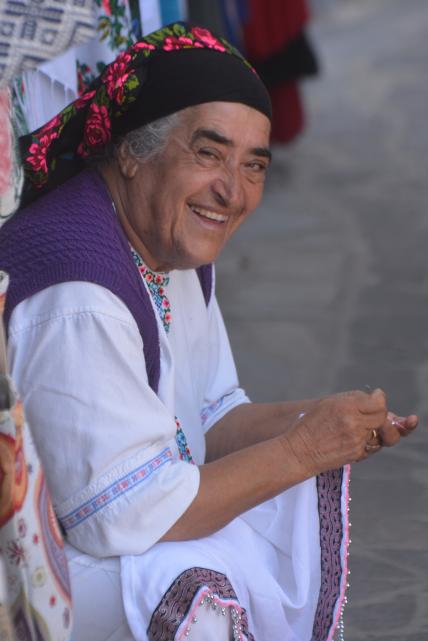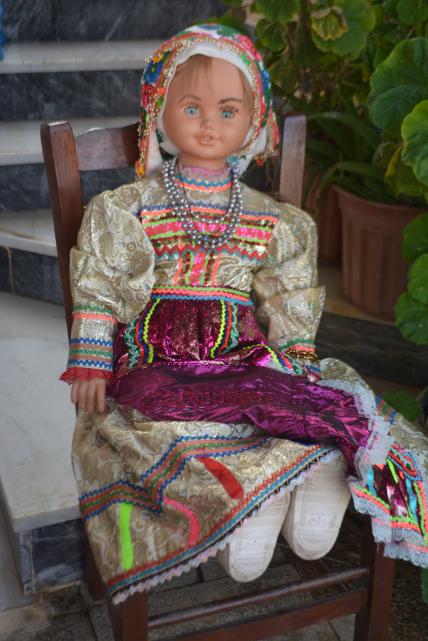 Another of the traditionally dressed women of Olympos.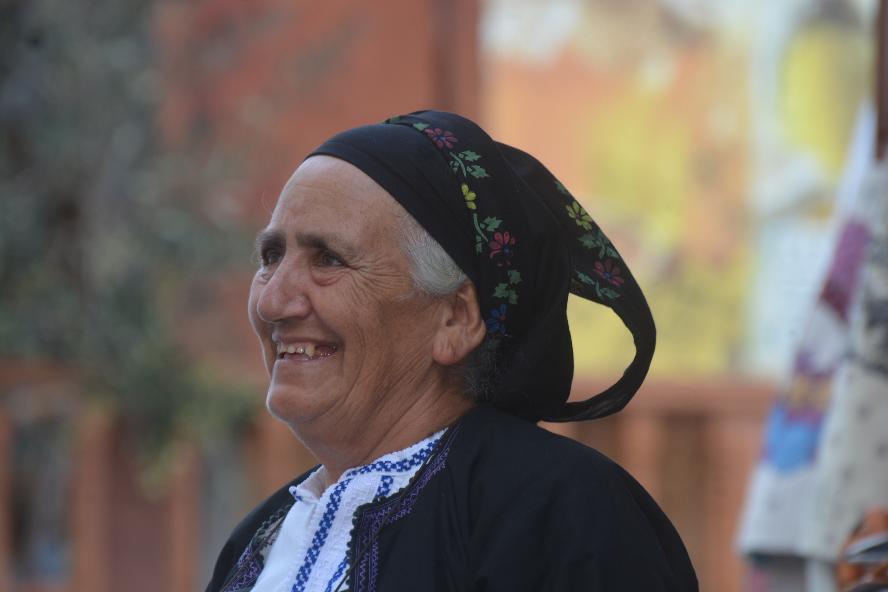 A lovely back lit display of honey.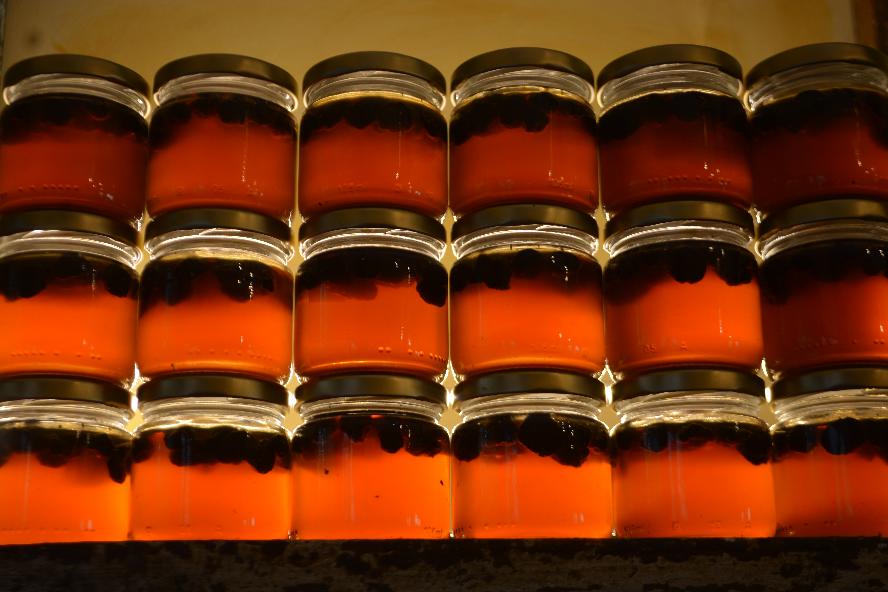 In chatting we discovered this lady is Sopia's mother as in Sophia's taverna right next to us in Kyra Panagia.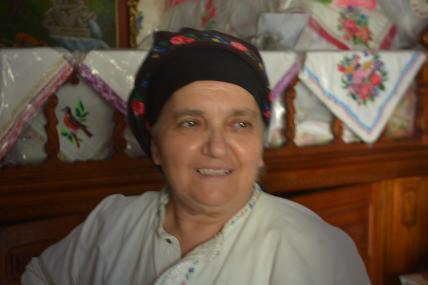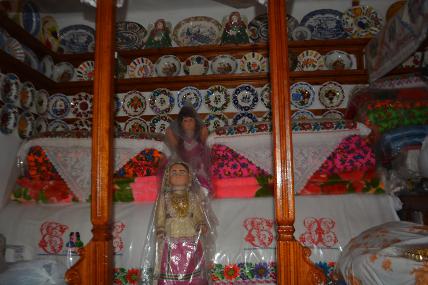 Plates everywhere on the walls of a traditional Olympos home.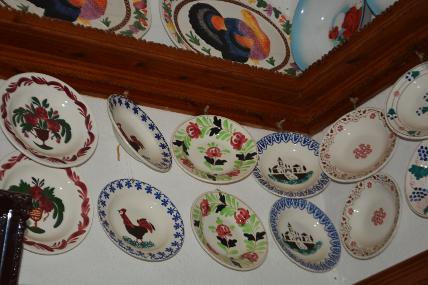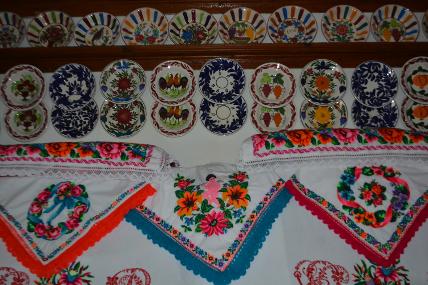 An alleyway and church, with the eagle emblems seen everywhere in Olympos.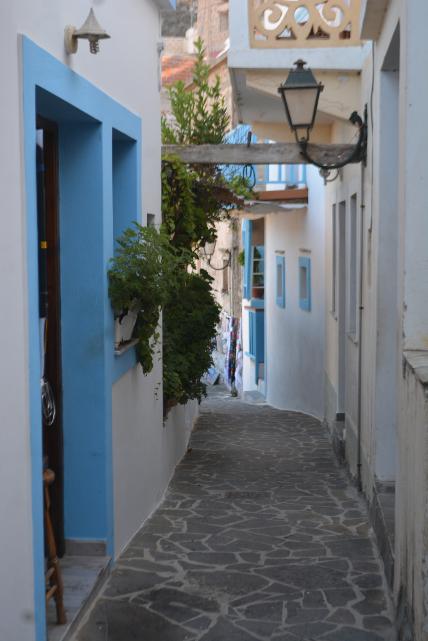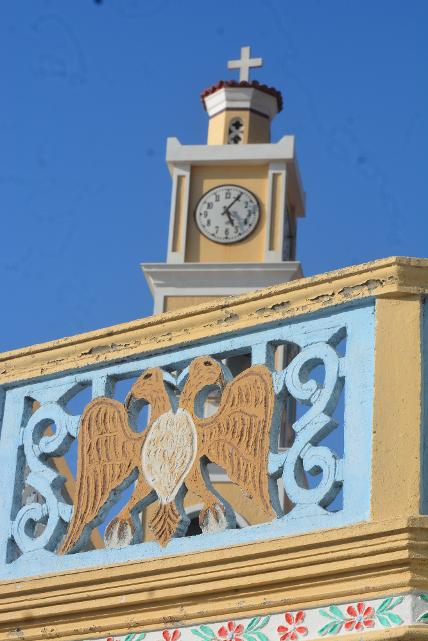 The remnants of a windmill. One of the many churches.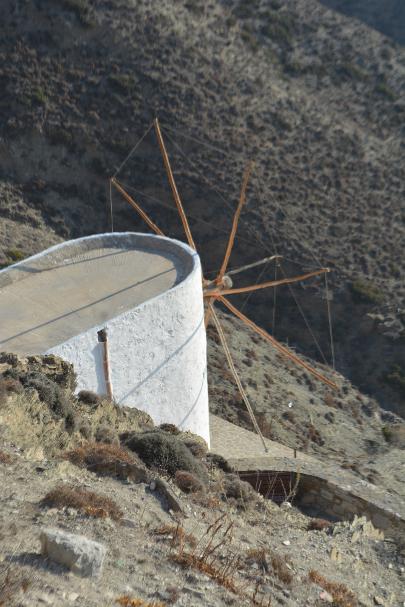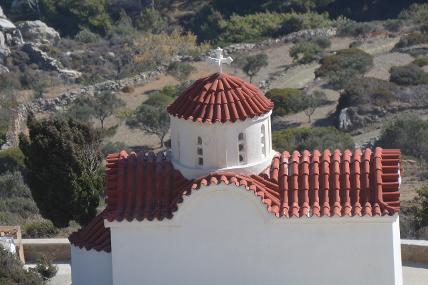 Homes on the cliff looking out along the coast.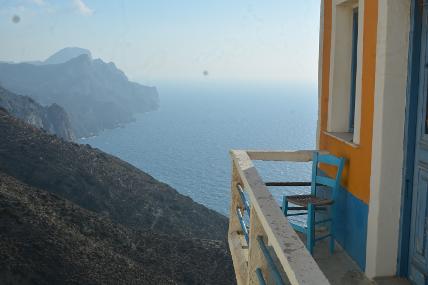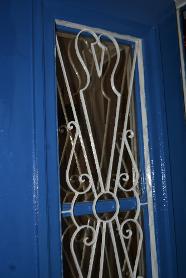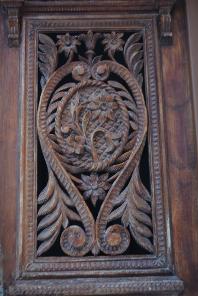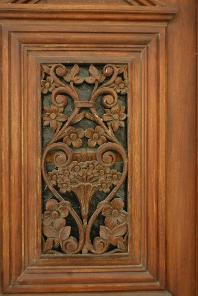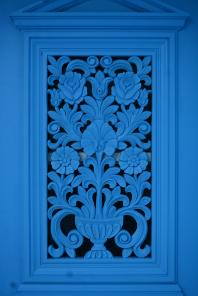 Note the flag - it was quite windy up high on the mountainside.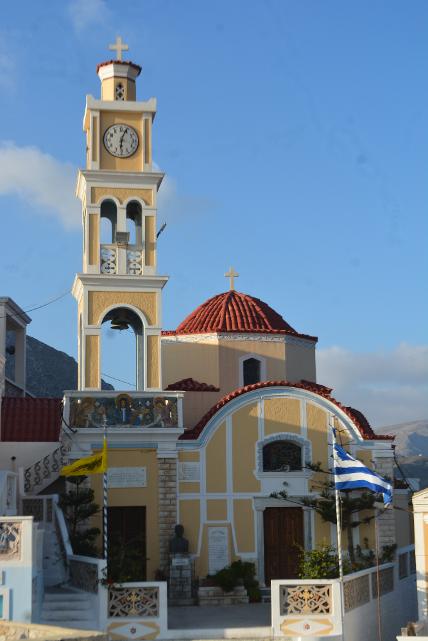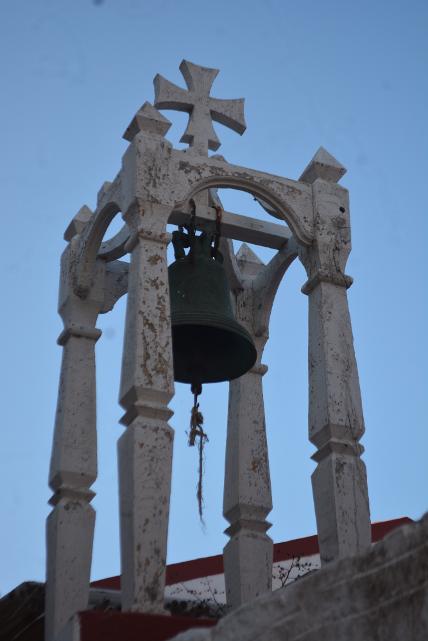 A portion of the village (that faces the sea). A number of old windmills above the village.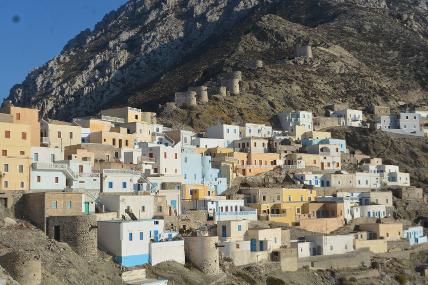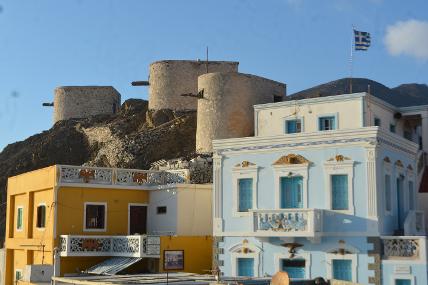 The sun setting over Olympos, and the Blue Garden restaurant, and Gayle.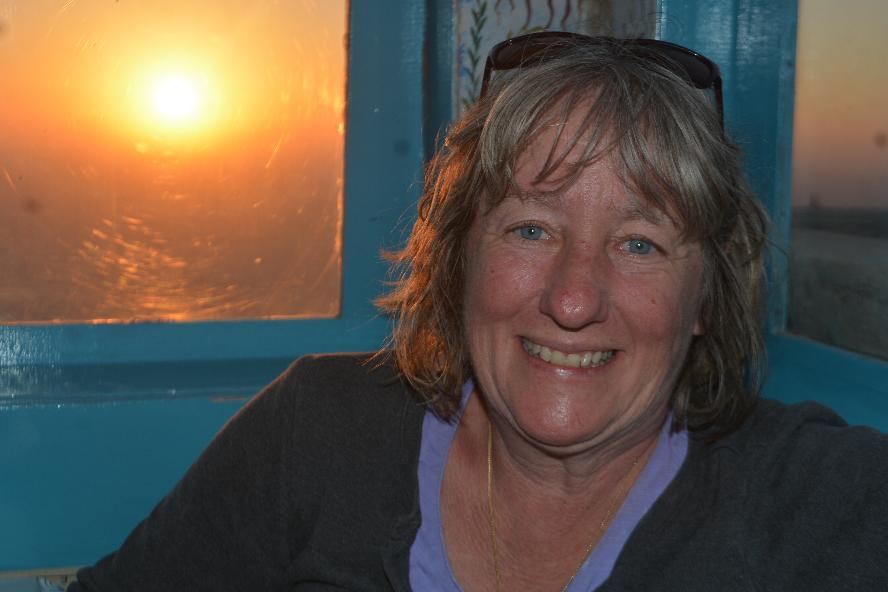 Nikos, our friendly restaurant owner and the local cheese stuffed balls.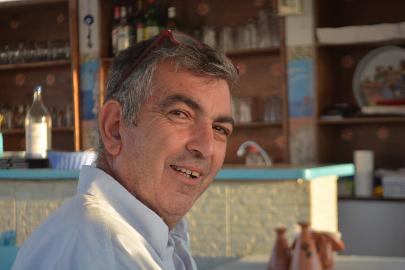 Gayle's vegetable moussaka. She was happy, happy, happy.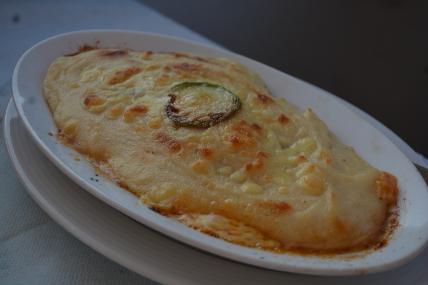 Chocolate and honey covered loukoumades.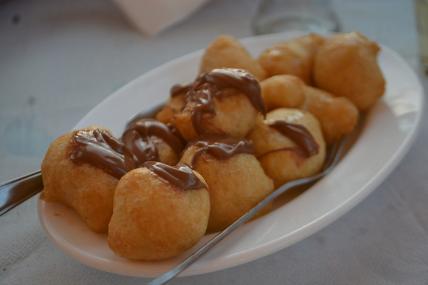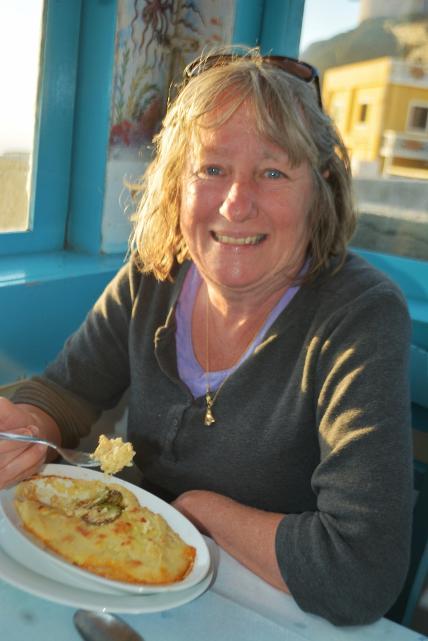 September 24, 2018 - Karpathos (Kyra Panagia)

As there is not much to say about today here is a bit about the island of Karpathos.
Karpathos, located about 47 kms southwest of Rhodes, is the second largest (after Rhodes) of the Dodecanese islands. Because of its remote location Karpathos has preserved many peculiarities of dress, customs and dialect, the last resembling those of Crete and Cyprus. Karpathos' highest point is Mt. Lastos at nearly 4,000 ft. The island is comprised of 10 villages with Pigadia being the capital and main port. The island is 325 km2 with a population of 6,181 (2011).
From 1304 Karpathos was controlled by the Genoese until 1538 when it passed into the possession of the Ottoman Turks. During the Greek War of Independence (1821/22) the island attempted to rebel but continued to be ruled by the Ottomans until May 1912 when the Italians occupied the island. In 1923 Karpathos joined the other islands of the Dodecanese under Italian possession until ceded to Greece in 1947.
In the late 1940s and 1950s, due to the economic problems after World War II, a number of Karpathians emigrated to the U.S. eastern seaboard cities. Karpathos today has a significant Greek-American constituency who have returned to their island and invested heavily.
The population more than doubles in the summer months as many Karpathian expatriates come to the island for their vacation with their families. Also, taking into consideration the number of tourists that visit, there can be up to 20,000 people on the island during the summer months. The population density is greatest during the 15th of August due to the Panagias festival, considered the most important festival on the island. Individuals travel from around the world to attend and view the many traditions that still remain on the island.

The beaches can be divided into four large groups: the beaches on the east coast are smaller and gravelly but without wind; those of the southern part of the island, near the airport, area made of fine white sand; the sandy beaches on the west coast are the most exposed and are only available in low wind conditions; with the beaches of the north being somewhat inaccessible (generally only by sea and partly by jeep).

We did not leave Kyra Panagia all day - didn't turn the car on. We had breakfast - easy stuff that didn't really require cooking beyond boiling an egg; went to the beach for some time in the water; returned for a rest; back down to the beach for more time in the water; and then off to dinner. We enjoyed great service from Yanni who started us off with ouzo and had us finish the meal with the same (at least for Gayle - I had a coffee with kahlua). My meal was not that memorable (local sausage with too many peppers and onions and just ok stifado. For dessert we had some tasty loukoumades - a fried doughy ball covered with honey - made by Yanni, who through his friendliness made for an enjoyable time. And that's it. A relaxing way to spend a day.
__________________________________________________________________________________________________

A do it yourself breakfast of a boiled egg; yoghurt with walnuts and honey, bread, walnut cake, watermelon, coffee and of course Norm's (again) freshly squeezed orange juice.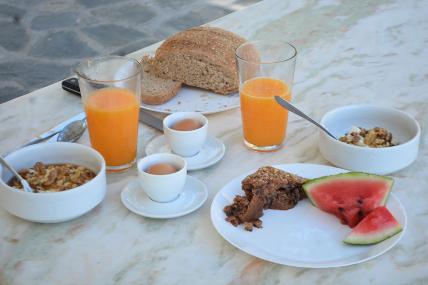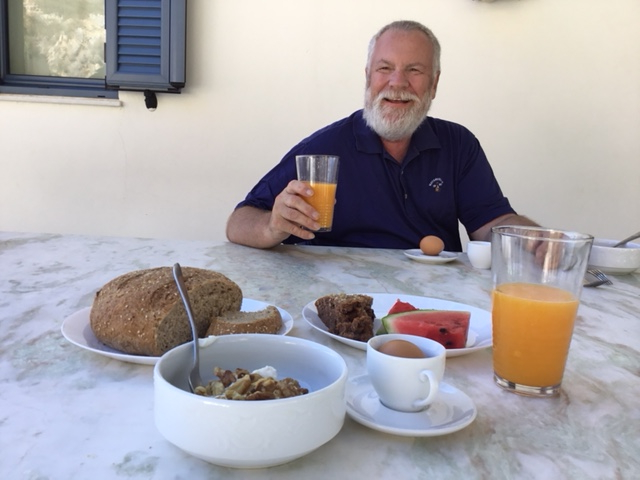 Enjoying the sun and the water.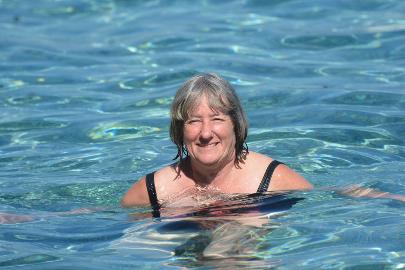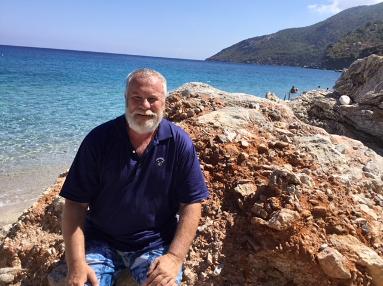 The nice sandy beach of Kyra Panagia.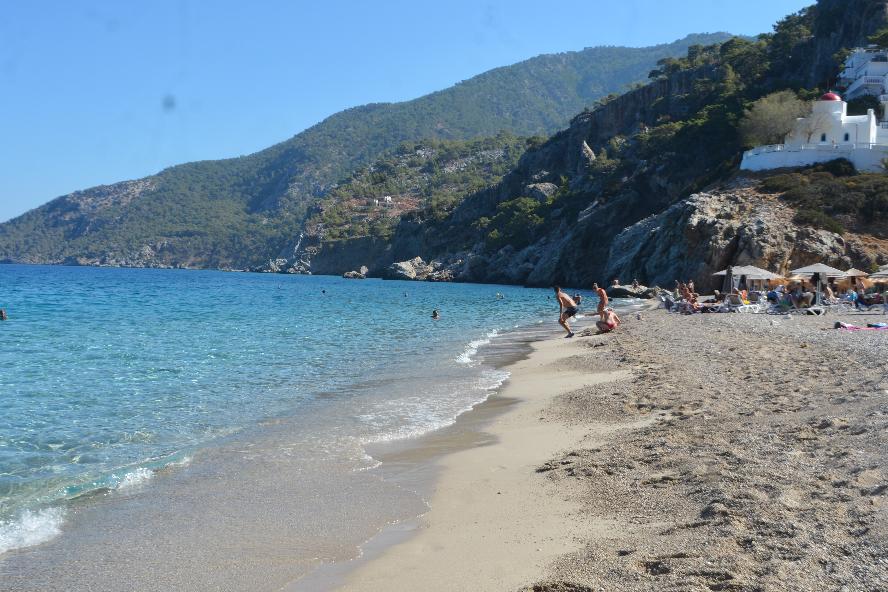 Yes the tavernas had their sunbeds and umbrellas / thatched units but there was plenty of public space at the far end, that happened to have some shade.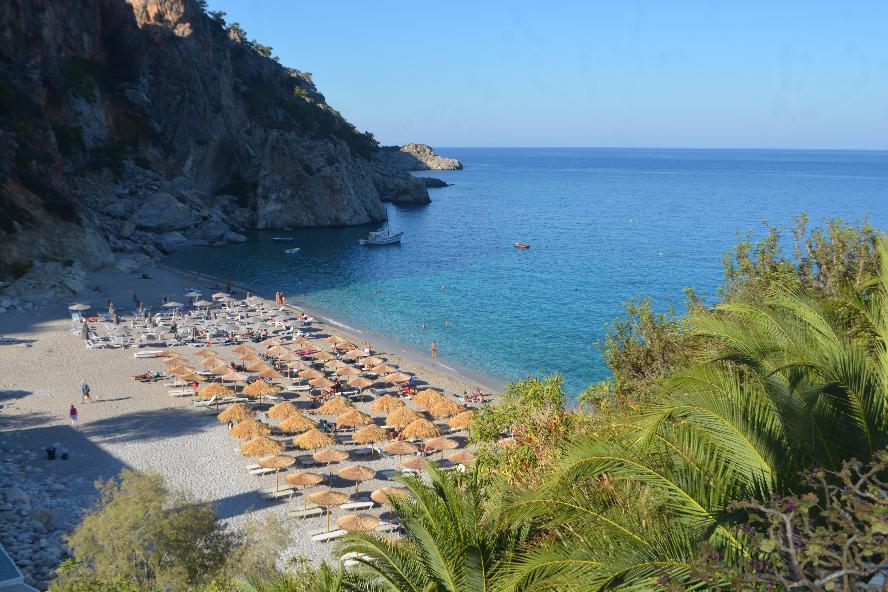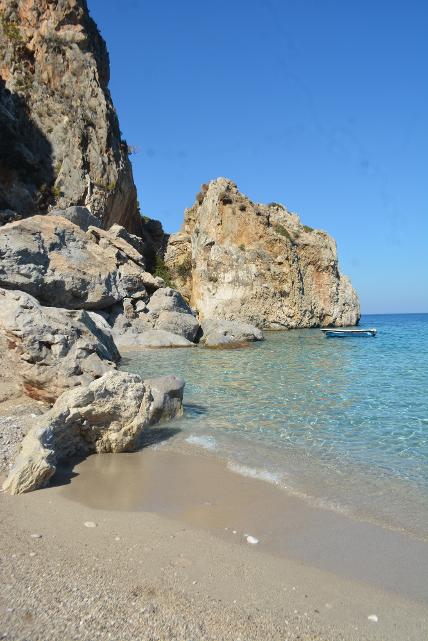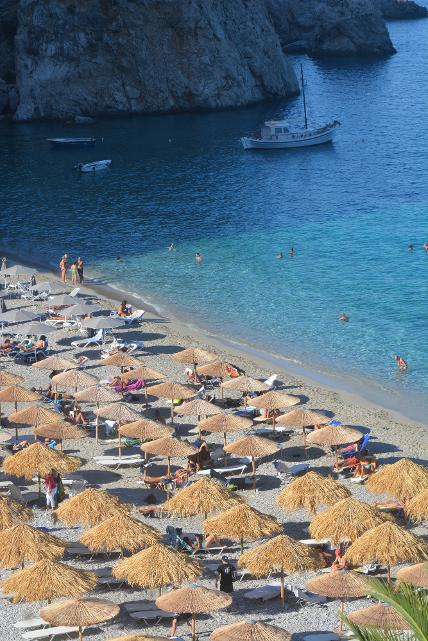 The church of Kyra Panagia with its noticeable red dome.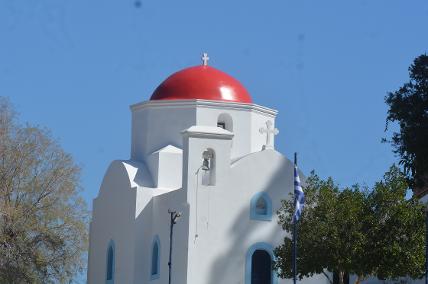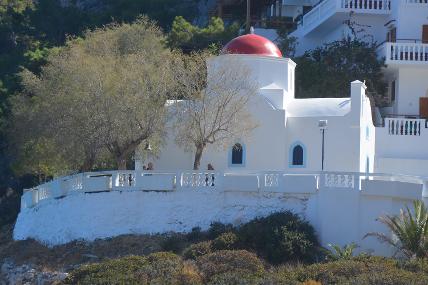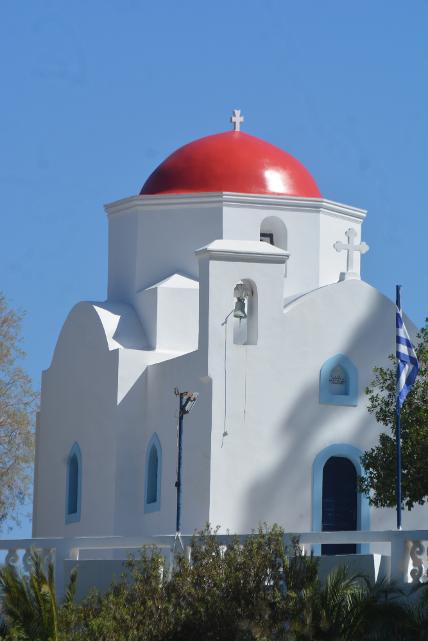 The bell hanging on a tree outside the church.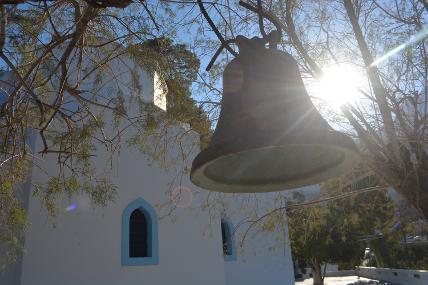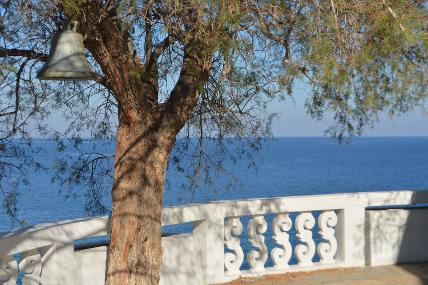 Yes another Greek salad for Gayle, but when you love something why not?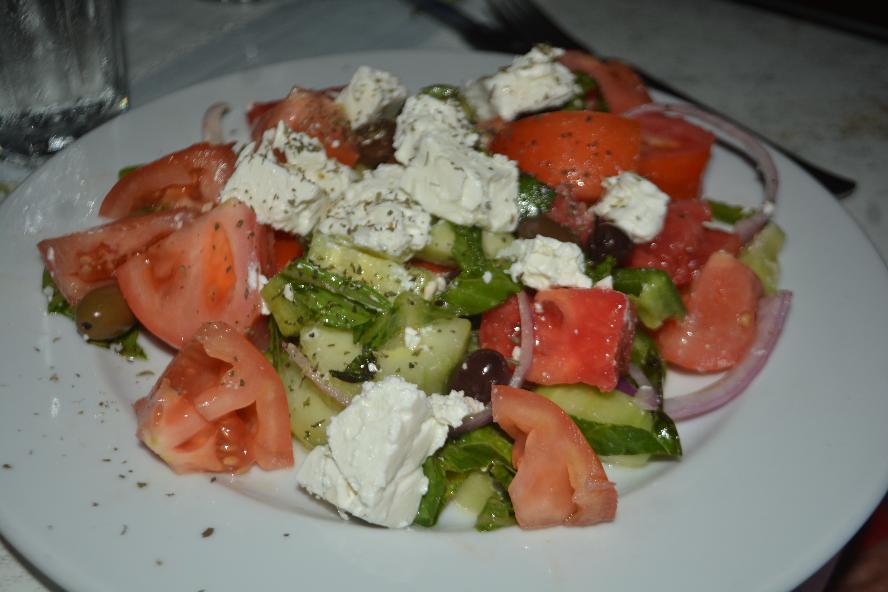 Our server Yanni and the loukoumades he made and insisted we have.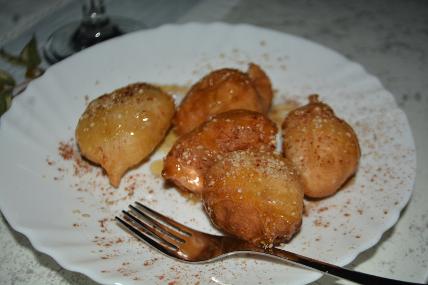 ... and the ouzo and coffee with Kahlua.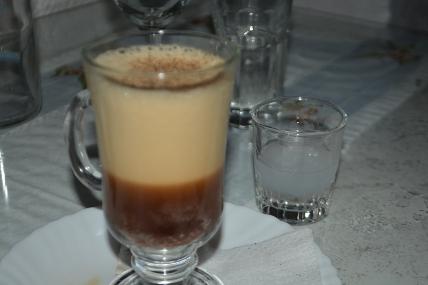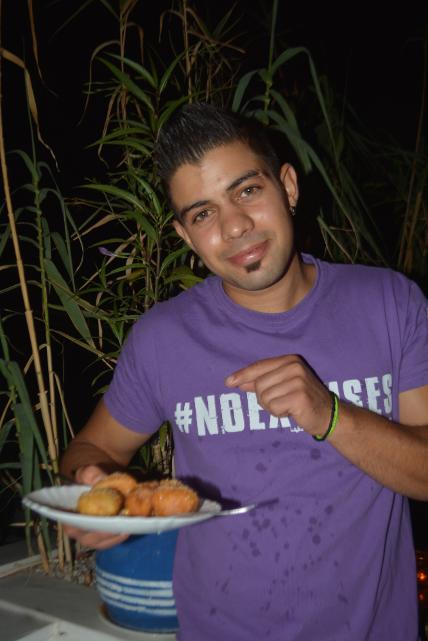 September 23, 2018 - Chalki to Karpathos (Kyra Panagia)

If we thought this island was quiet during the day when one gets up at 4:00 am to finish packing and lug our backpacks + down to the dock to catch our 5:20 am ferry to Karpathos one really understands quiet. There might have been 10 to 15 other passengers, if that. The trip was 2 1/4 hours, arriving in Pigadia, Karpathos' main port shortly after 8:30 am.
We were met at the port by Takis with our car. After completing the paperwork we took a short stroll through town, stopping at a restaurant for a couple of coffees and a delicious yoghurt with honey and walnuts throughout.
We then drove north past a long beach just outside Pigadia, through the village of Aperi and on to Kyra Panagia, reached by an 8 km winding, twisting, 1 1/2 lane road down the mountainside to a village at the head of a cove where one finds a beautiful beach. Being still early - just after noon - and well before we could check in we went in for our first swim in the clear waters. Approx. two-thirds of the beach has sun-beds and umbrellas owned by the two tavernas but there is a respectably large section that is open sand for those who did not want the amenities. We found a spot with some shade - the sun was otherwise direct and the temperatures high - and enjoyed some time in the water.

We then met Tina who checked us in to our unit just up from the beach across from the mini-mart. A nice typical room with a small kitchenette, large fridge and huge terrace with BBQ. Unfortunately the restaurant just below blocks most of the views of the water.

After another afternoon swim we ate dinner at Sophia's just next to our place. Good garlic bread, tapenade, cheese balls and a decent Greek Salad but the grilled octopus, while looking nice was really pretty awful - fatty and not meaty as other octopus have been. Oh well, when you eat out this much some meals will be less than great.
We returned to our room, worked on the blog and then had a great sleep on perhaps the most comfortable beds of our trip.
____________________________________________________________________________________________________________________________________________________

When you need to be up at 4:00 am in order to be at the port to catch a 5:20 am ferry you get to see things like a nearly full moon that you otherwise might not get to see.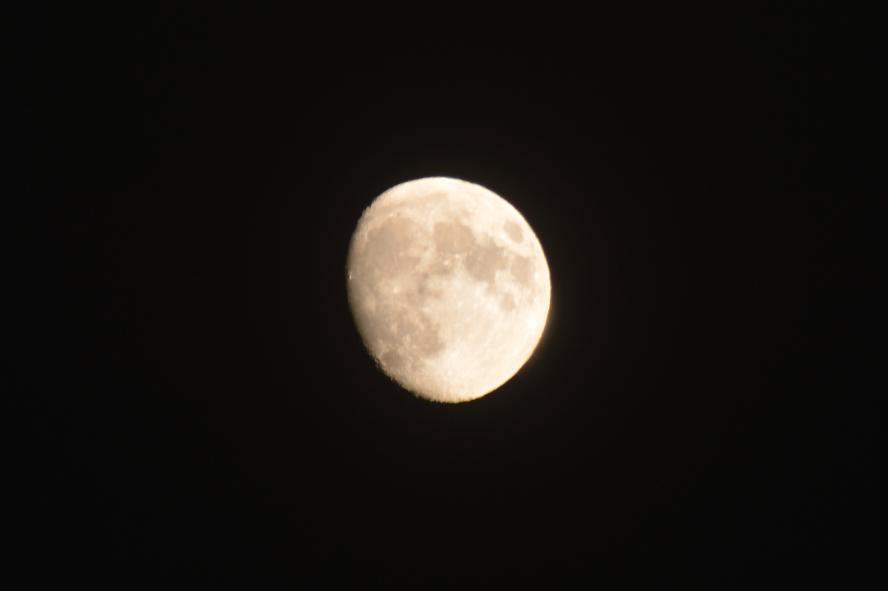 Breakfast in Pigadia after our (very) early morning ferry. The port of Pigadia, Karpathos.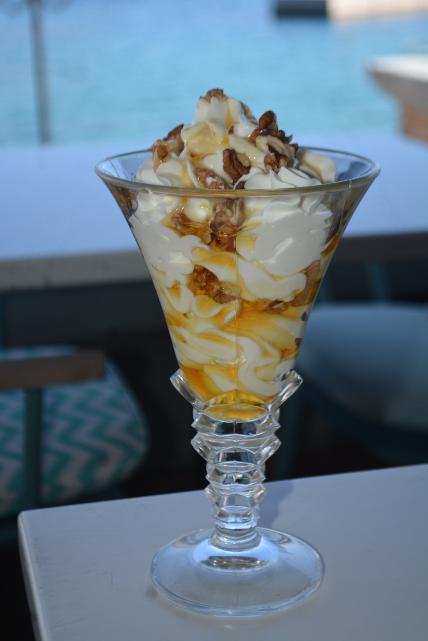 Traditional blue restaurant chairs.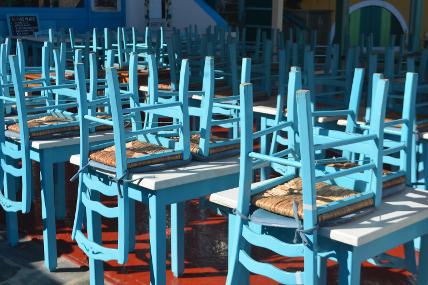 Greece has churches pretty much everywhere. Here are two we saw on our way to Kyra Panagia. Note the blue sky behind the one on the left. There will be a photo in a few days that will be dramatically different.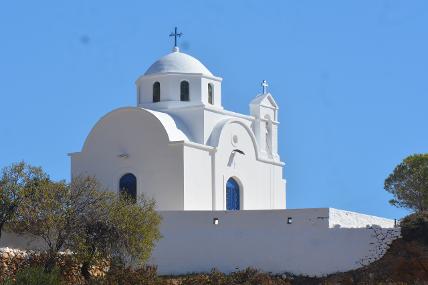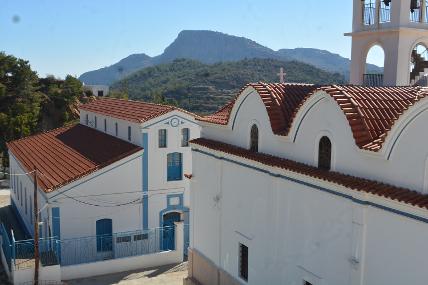 Our first view of Kyra Panagia as we descended the mountain.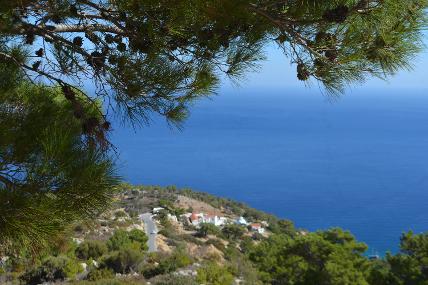 The view from our Kyra Panagia apartment back up to the mountains.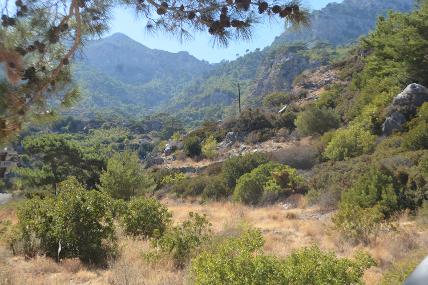 Kyra Panagia's beach - at least the section without the umbrellas.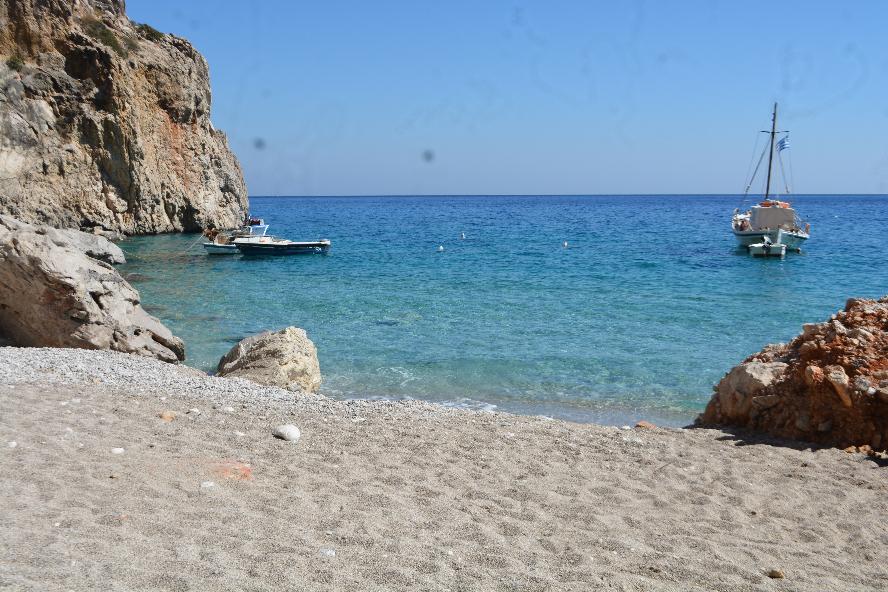 Sophia's taverna, next door to Villa Stamatina.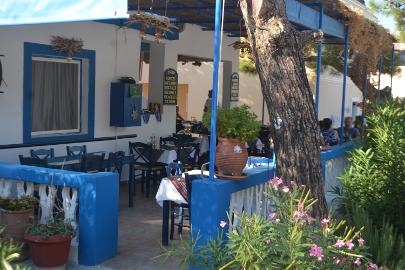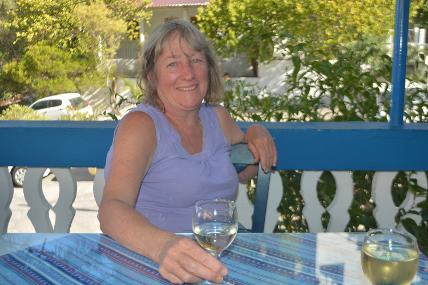 Pretty good cheese balls ....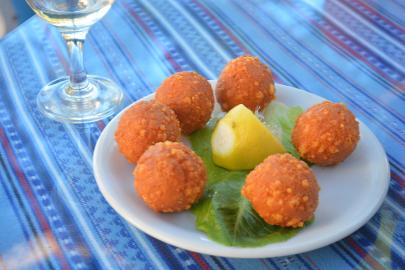 ... but in spite of the worst octopus I had on the trip we still love Karpathos.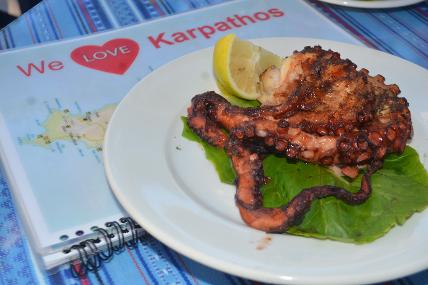 September 22, 2018 - Chalki (Villas Praxithea)

Not much to comment on today. Essentially a repeat of yesterday
- awoke early to an amazing sunrise

- enjoyed fresh orange juice and a croissant and baklava purchased last night
- ate breakfast again at Skippers - 3 eggs omelette with cooked vegetables of zucchini, peppers, mushrooms and onion and feta cheese, of course with a cappuchino doppio (double) for Gayle and the Greek breakfast of (more) freshly squeezed orange juice, bread, butter, honey, yoghurt and seasonal fruits with filtered coffee for me

- had a swim
- strolled through town

- worked on the blog
- napped
- went for another short swim
- ate dinner at Taverna Maria where Gayle had another Greek salad, this time with local horta (herbs/greens) and I a tasty lamb stew.
Given we had to be up and down to the port for the 5:20 am ferry to Karpathos we turned in quite early.
_________________________________________________________________________________________________

Sunrise illuminating the bay leading into Chalki.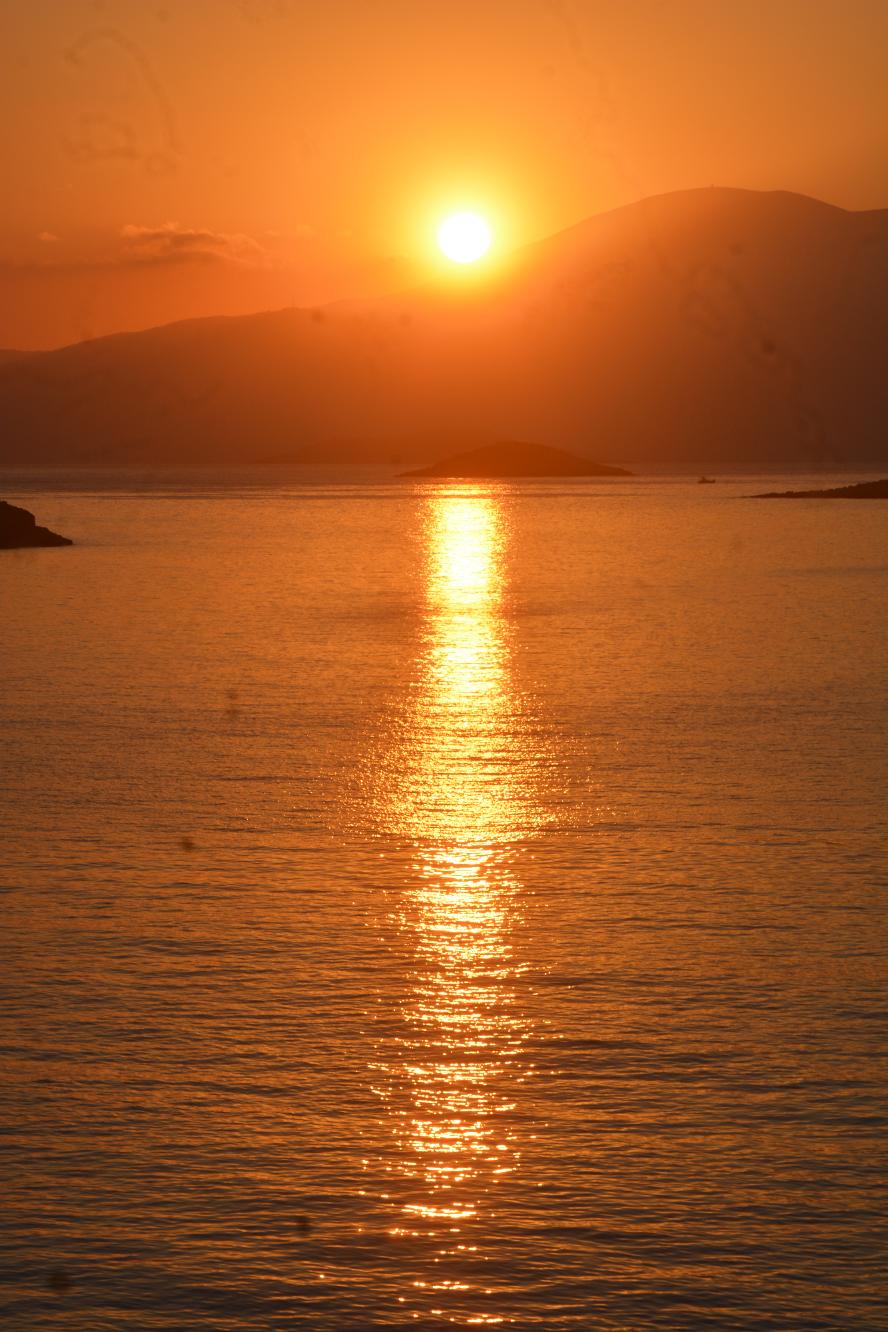 Notice how clear the water is. OJ and baklava - what a way to start the day!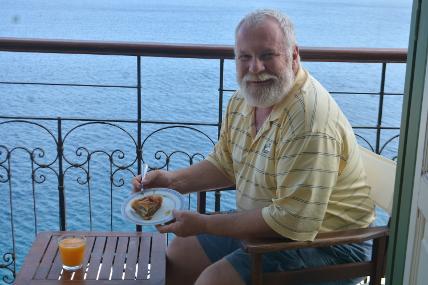 No beach but easy access to the sea from directly in front of Villas Praxithea.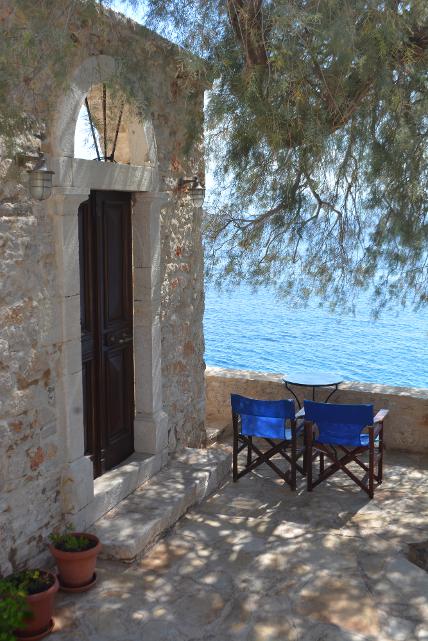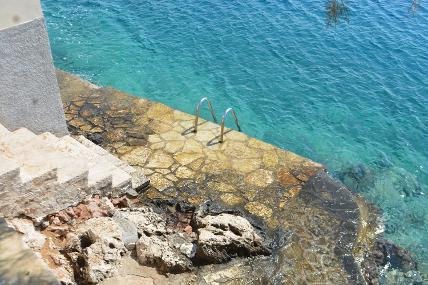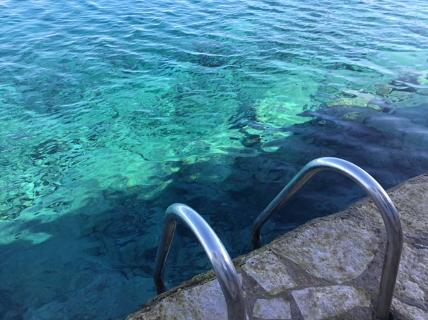 Our little terrace - perfect for an early morning coffee and croissant.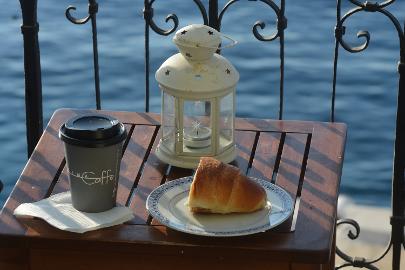 Working away on the blog. Our breakfast.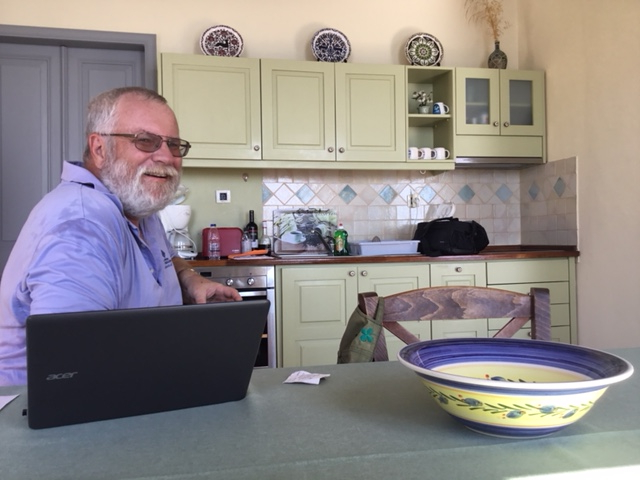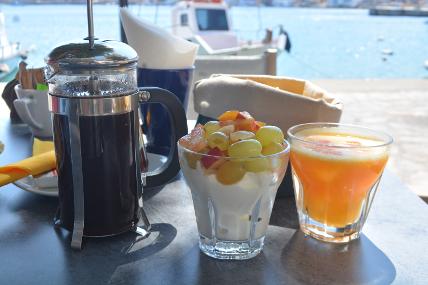 The church and the priest.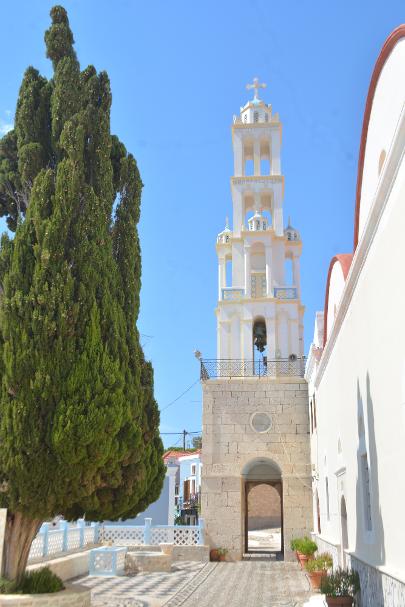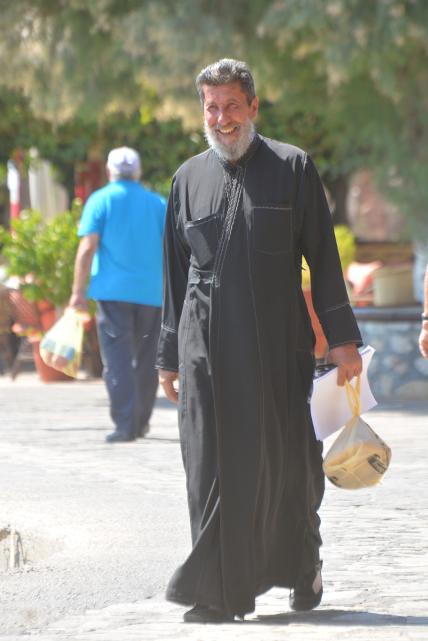 Beautiful stone work around the church.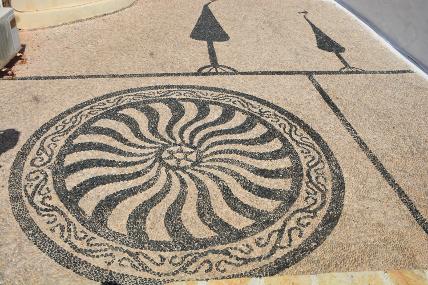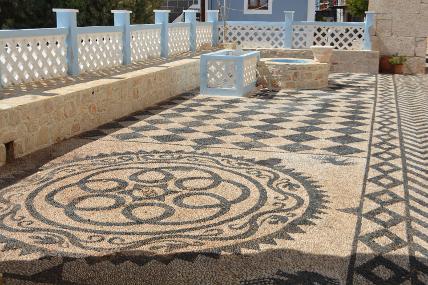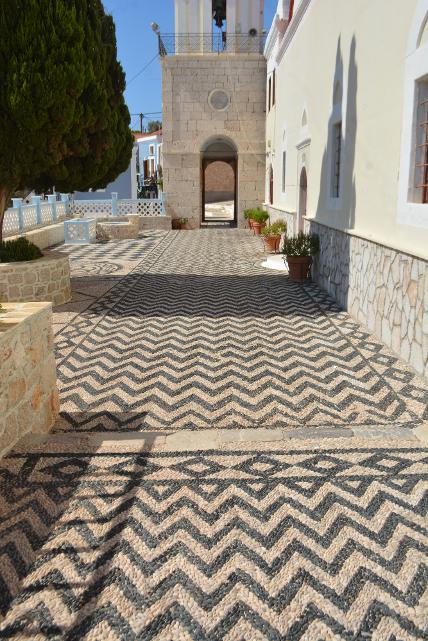 Villas Praxithea - with the green shutters (on the very right of the left photo).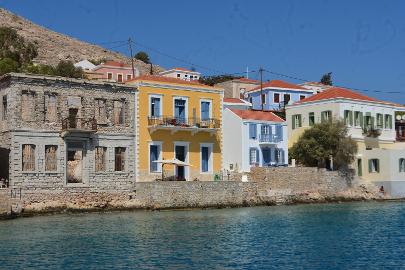 A Greek Salad with horta Lamb stew.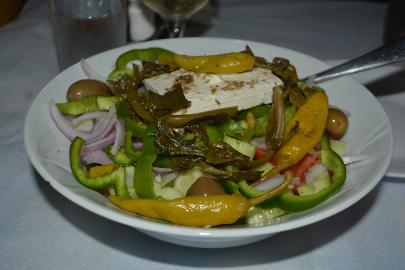 September 21, 2018 - Chalki (Villas Praxithea)

Today is the first of two days in the port town of Emborio, really the only town of the small island of Chalki (aka Halki) located approx. 6 km west of Rhodes. With an area of only 28 square kms Chalki is the smallest inhabited island of the Dodecanese. It's permanent population is only 330, increasing considerably in the summer months due to additional staff needed to service the visitors. Most everyone is concentrated in the only real village - Emborio at the port. The island supported a much larger population but following emigration in the mid-20th century Chalki was almost completely abandoned. A sizable group of the residents moved to Tarpon Springs, Florida, establishing the Greek-American community that continues to this day. There is a ruined medieval castle overlooking the old town but not much else. The island's primary industry is tourism, although fishing continues to be substantial. There is virtually no natural water supply on the island meaning rainfall is collected in large cisterns Drinking water is brought in from Rhodes.
Where we had a juicer in our apartment and I saw some oranges in a mini-mart last night, in spite of Gayle's questioning why, we bought some and made fresh orange juice in the morning. Great decision - very enjoyable.
Being an apartment without breakfast we went out to a cafe where we each had a cappuchino and shared a yoghurt with honey and walnuts. Then back to our apartment for a swim in the sea right off the front of the building.

In the afternoon we purchased our ferry ticket to Karpathos and wandered about through town. 30 minutes later (ok it is a pretty small town) we were back at our apartment for a relaxing afternoon and another swim. For dinner we went to Remezzo where we shared a saganaki and then a Greca pizza - olives, green pepper and tomato with sausage on one half and onions (for Gayle) on the other.

__________________________________________________________________________________________________

There is nothing like starting the day with a large glass of Norm's fresh squeezed orange juice.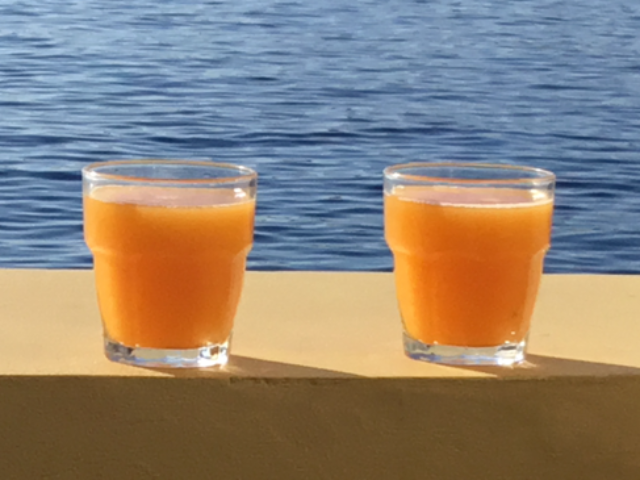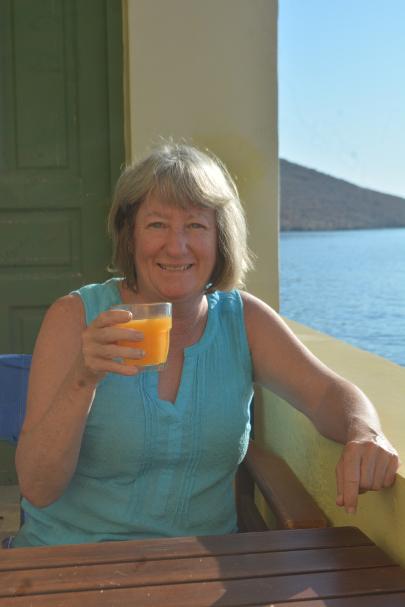 Our 'living' room area of our apartment with lots of light through the many windows.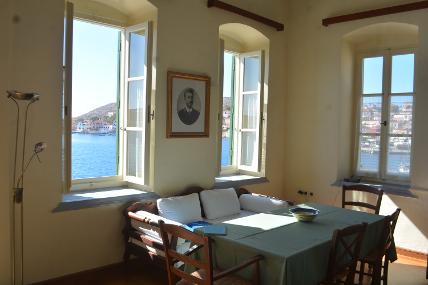 The view to the harbour from one of our side windows.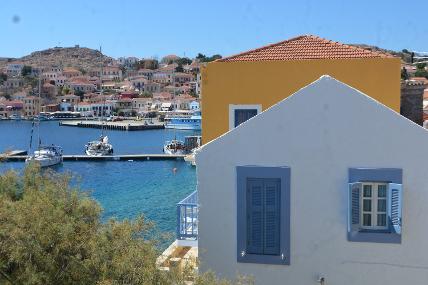 We loved our nice terrace overlooking the water, the harbour and the town.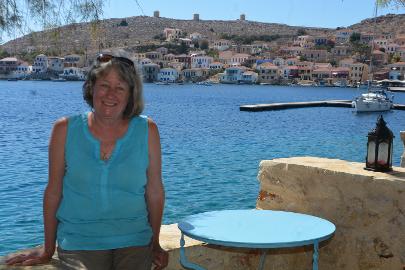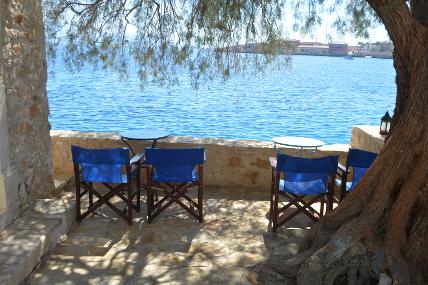 The views our our windows - on the left out to the sea and on the right towards Emborio.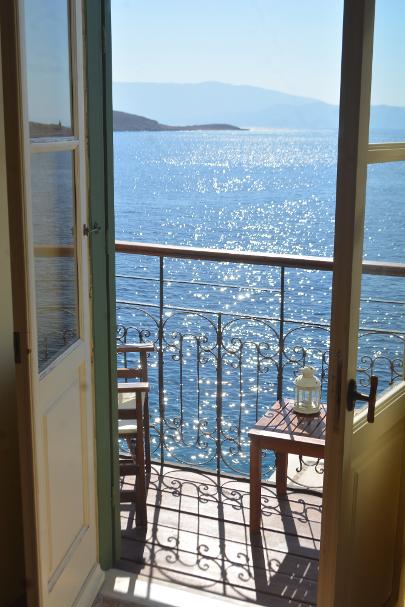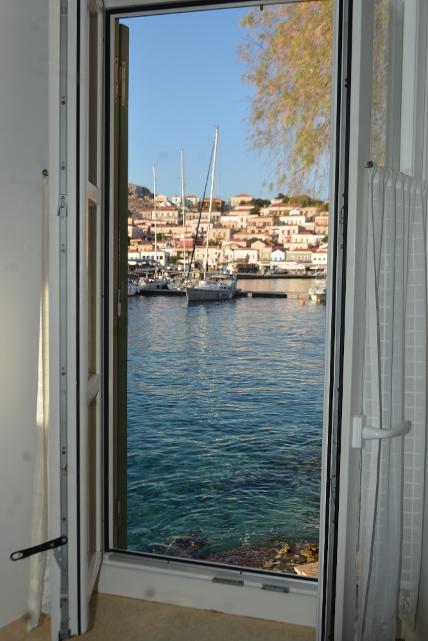 The Chalki harbour filled with boats - fishing, tour and ferry - moving in and out day and night.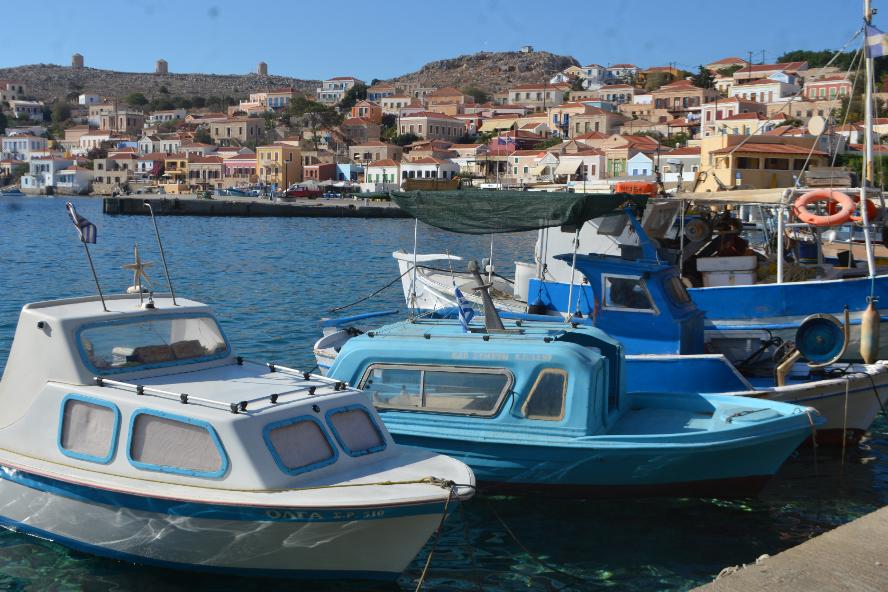 The harbour and Emborio, the town of Chalki, with ancient windmills on the ridge top.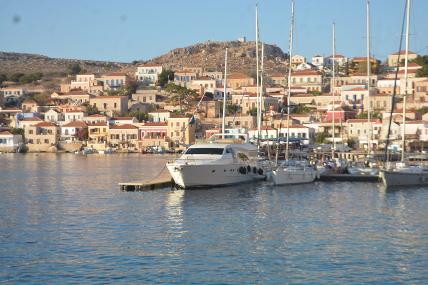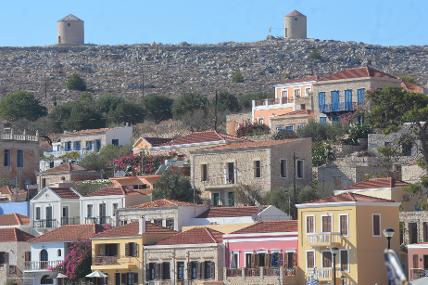 Chalki's largest church. When you know your fries are not frozen from a package.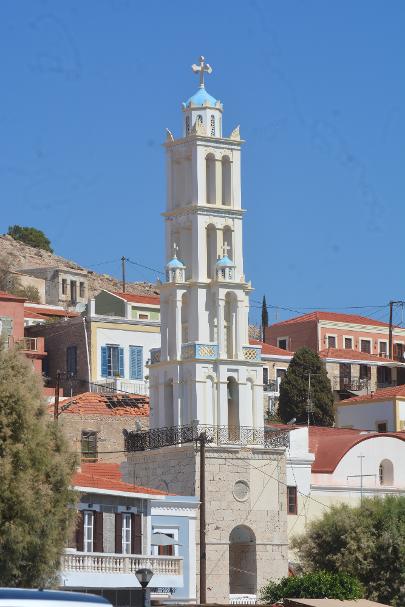 Harbour activity - fixing the fishing nets.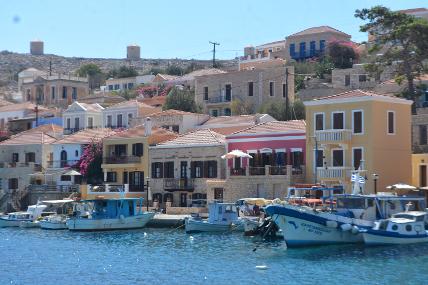 And for those whose fishing days are behind them, well there is always backgammon.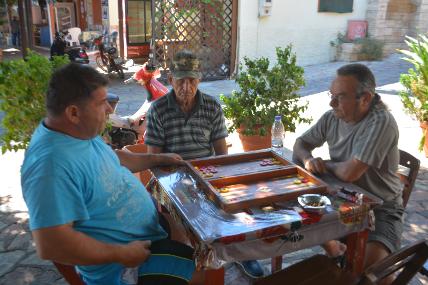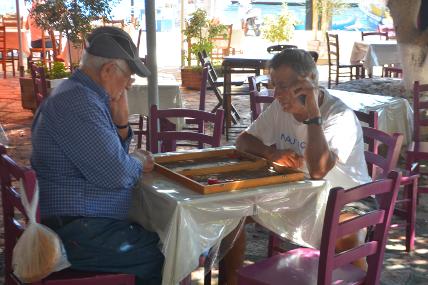 For dinner tonight a sort of break from Greek food with a large pizza albeit still a Greca, with sausage on one half; onions on the other.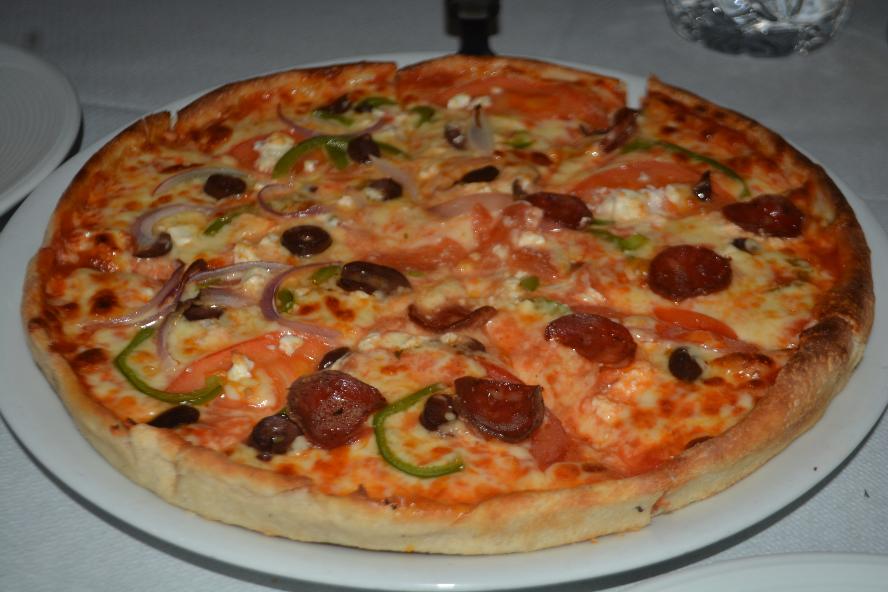 September 20, 2018 - Tilos to Chalki (Villas Praxithea)

Today was extremely quiet. We awoke to more blue sky and nice warm temperatures. We lingered over breakfast, including more tasty orange cake and then hung around until our late afternoon ferry. With the room vacant Maria generously allowed us to stay and use the room until our 4:00 pm departure for the ferry.

Of course we enjoyed a nice swim at the little beach near Maria's place, floating in the very warm waters of Tilos bay. Otherwise we worked on the blog and packed for our ferry. We said good-bye to Imik, Maria's puppy dog after which she delivered us to the port and the ferry.

The direct ferry to Chalki (the boat then goes on to Rhodes) was quite smooth, ,taking about 1 1/4 hours. We arrived to an attractive port with buildings that were more reminiscent of Symi, being again of pastel colours. A short walk, although it felt longer with sherpa Norm carrying both backpacks due to Gayle's sore back, and we found Villas Praxithea. Our first night we had the bottom unit - a huge (153 sq m) four bedroom apartment that can accommodate up to seven people. There is a beautiful huge full kitchen, inner courtyard, access to the sea and a nice sitting area right on the edge of the water. Way too big for us but the upper room was booked so it worked well for Manolis to give us this apartment (which he generously did at the lower price of the upper floor) for our first night.
After settling in we wandered to the harbour, lined with boats, ferries, restaurants / tavernas and small mini-marts. We chose one of the many restaurants where we had a 'light' meal. No doubt with appetizers and main dishes we have been eating too much, although it is hard not to order Greek dishes. But tonight we passed on the appetizers and had only main dishes - Gayle had a delicious pepper and tomato, both stuffed with rice accompanied by lemon roasted potatoes and me lamb chops , also with the potatoes. The chops were somewhat thin but very tasty. A short walk back to Praxithea and off to sleep.
__________________________________________________________________________________________________

Our little beach in front of Marina Rooms... ... and another 'Woo-hoo!' (aka I Love Greece)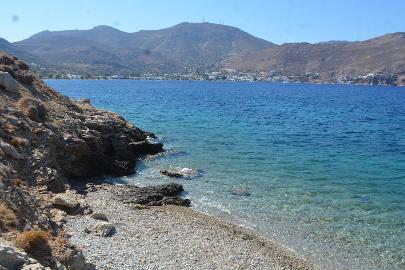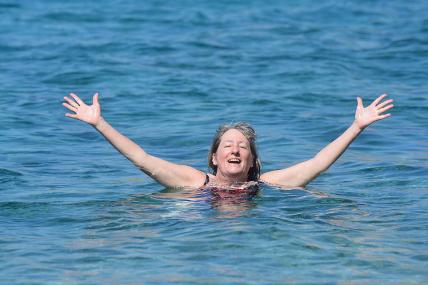 Maria's dog Imik. Maria and Gayle.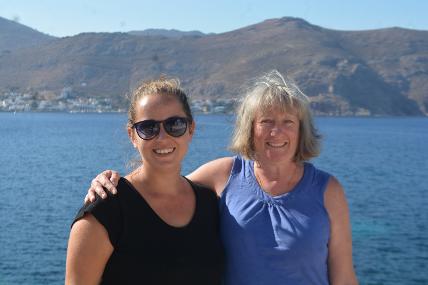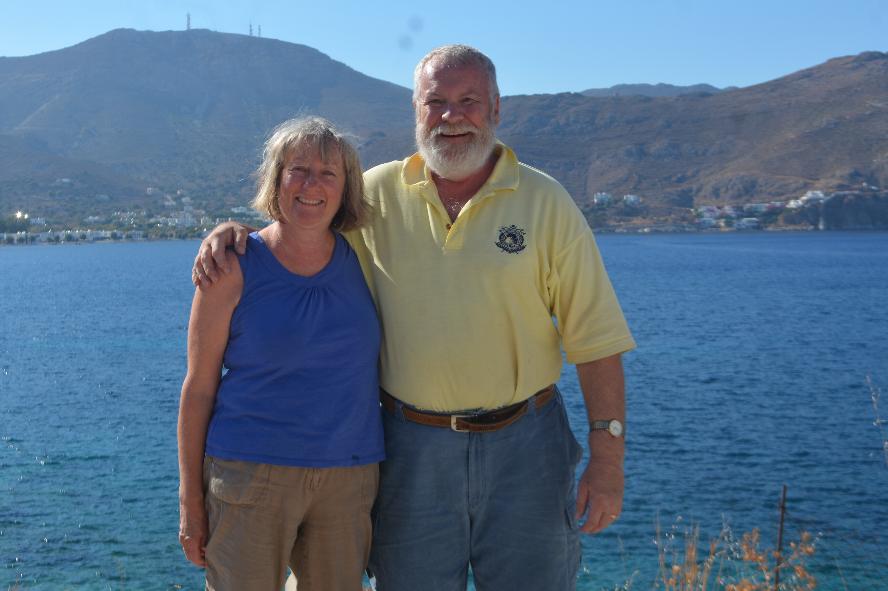 In addition to four bedrooms the bottom floor of Villa Praxithea has this huge full kitchen / dining area with windows looking right on the water.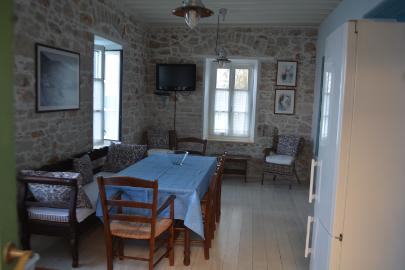 Just outside the kitchen is this nice sitting area, again right on the water's edge.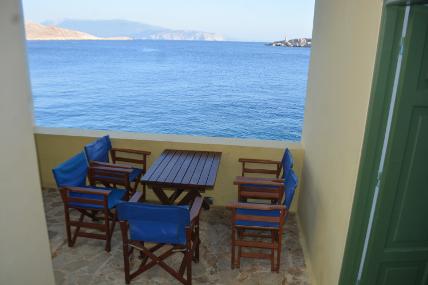 There are many restaurants/tavernas lining the harbour. We ate at Magefseis where I had lamb chops and Gayle stuffed vegetables with rice.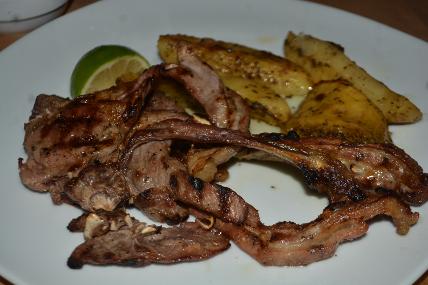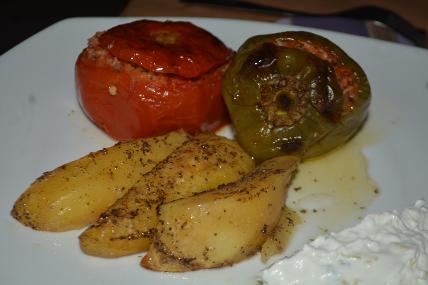 September 19, 2018 - Tilos

Pretty much a repeat of yesterday. Woke up to another cloudless day of nothing but blue sky. We then enjoyed another leisurely breakfast, this time with Maria's delicious (secret recipe) orange cake.
Late morning we walked along the promenade into Livadhia to purchase our ferry tickets, pay for our car rental and check out the town. Nice stroll. On the way back we stopped in a cafe for a glass of fresh juice. Gayle had orange while I had a pomegranate/orange mix as we had tried in Istanbul last year. We returned to Marina Rooms and a swim at the small, pebbly beach < 100 meters down the road. No doubt the warmest water we have experienced so far.
After the swim we went to Faros restaurant to book a seaside table for the evening followed by a drive along the road to the south-west of the island. The dramatic road, often without guard rails, rises up and around the steep mountains eventually (about 8 kms) out near the end of a spit of land kind of at the end of nowhere. There was a gated compound - presumably something government - at which we turned around and returned the same way.

We again ate at Faros (as we did the first night). Tzatziki and saganaki to start, a large dish of aubergine, fried zucchini and peppers for Gayle and fried kalamari for me. Perhaps not the most memorable meal - the kalamari were pretty greasy - but a nice setting and a short walk back to our lodging.
________________________________________________________________________________________________

Maria's breakfast area ... ... and delicious orange cake.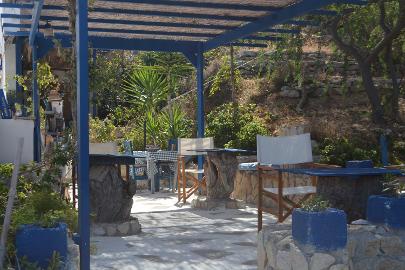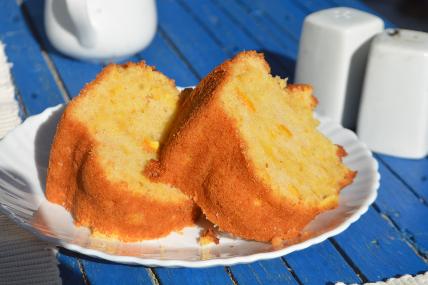 The multi-colours of the Aegean sea ... ... and Marina Rooms isolated on the other side of the bay.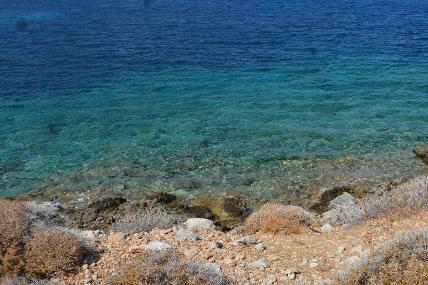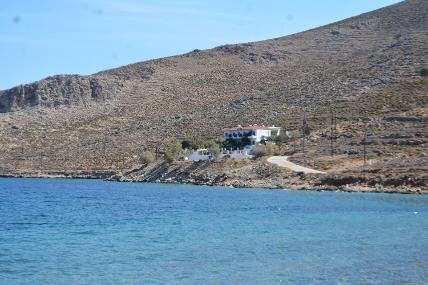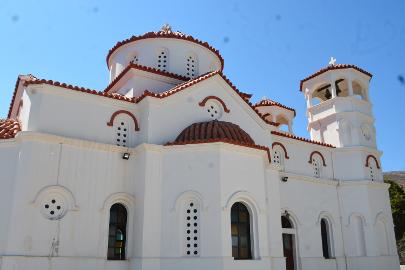 A small hotel along the promenade with traditional blue shutters and colourful bougainvillea.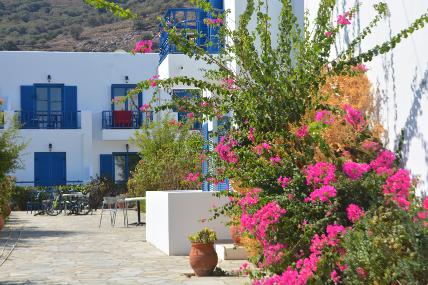 Enjoying a couple of fresh juices (one orange and one 50% orange/50% pomegranate) on the promenade in Livadhia.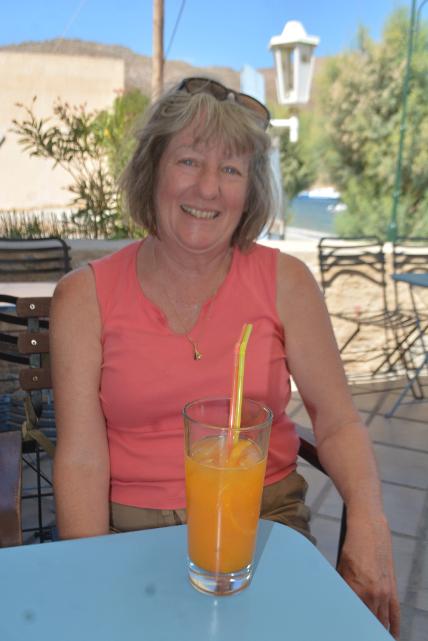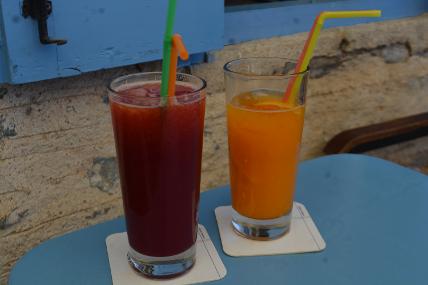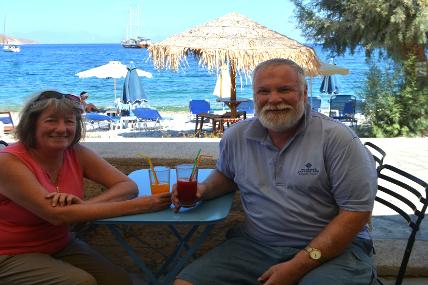 We stopped in at Faros Taverna, just up the road from Marina Rooms to reserve a table in the front.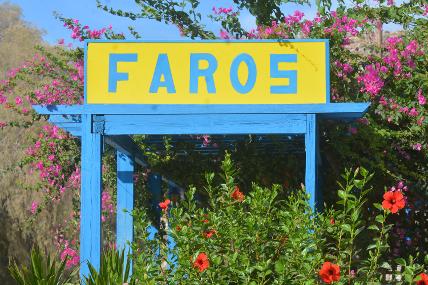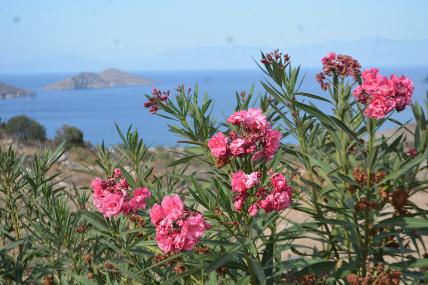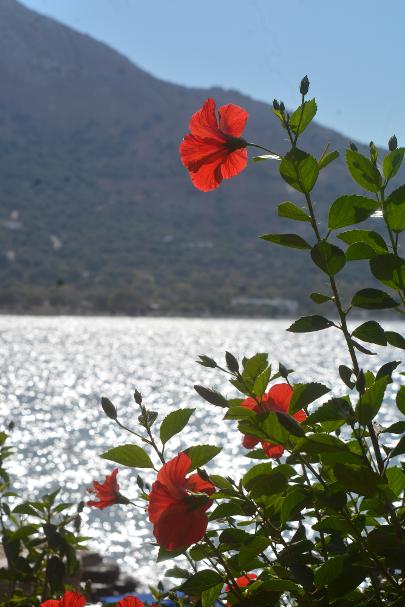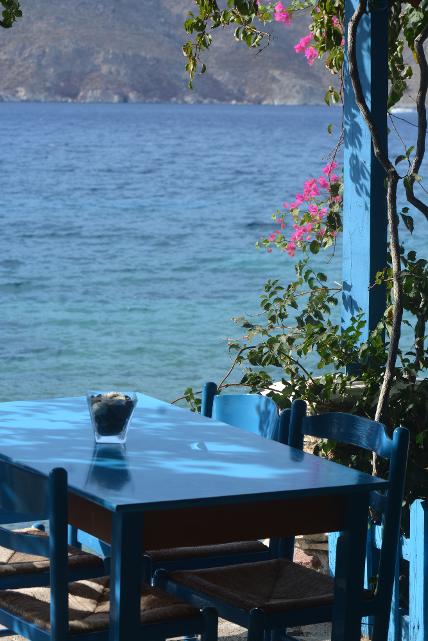 A very small remote isolated church in the mountains. The main (and really only) town of Livadhia.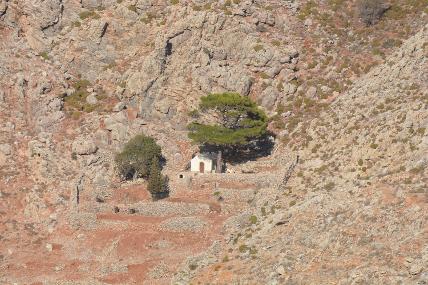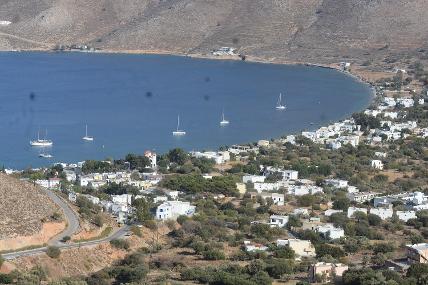 In the mountains above the bay "Woo - hoo!" she says, clearly a HIT (Happy In Tilos).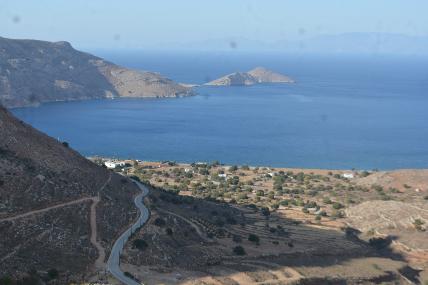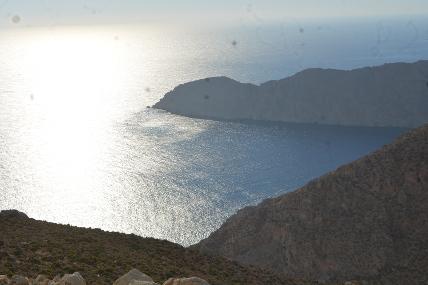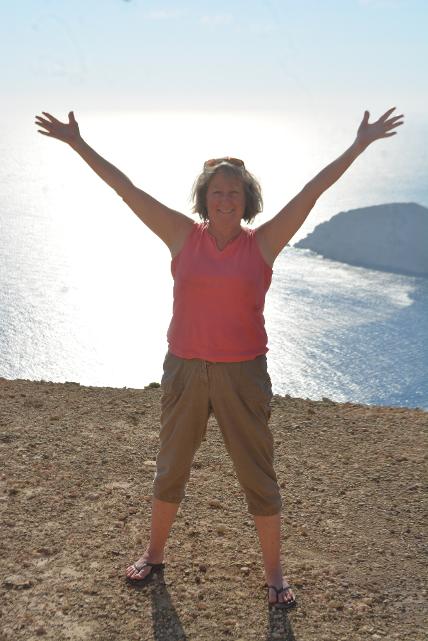 Everywhere one drives on Tilos you are assured of encountering goats.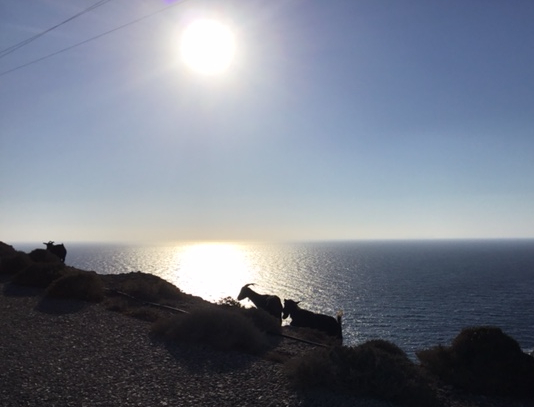 Another dramatic drive with awesome coastal vistas, today to the south-west of Tilos, a very barren area. Notice the absence of guard rails on the road!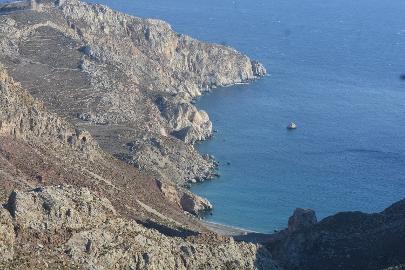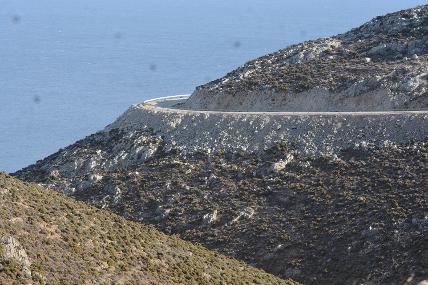 Gayle in her perfect Greek blue blouse. Our starters of saganaki and tzatziki.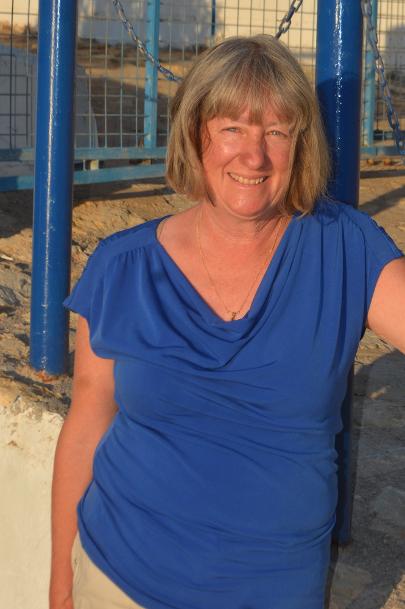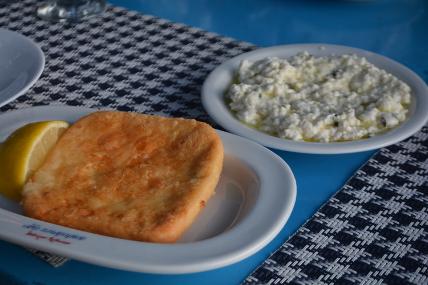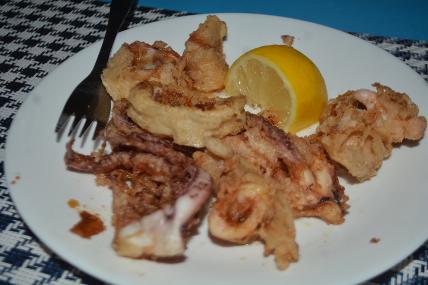 September 18, 2018 - Tilos

We started the day with breakfast looking out to the bay of Tilos, and its main town of Livadhia. Large bowls of tasty yogurt with honey, toast with homemade marmalade and plum jam, an egg with tomato, pepper and feta cheese, and of course lots of coffee. During breakfast we met Imik, Maria's friendly dog and then had a nice chat about the island and what to see and where to go.
Tilos is a relatively small, and quite quiet island, a great place simply to rest on a beach, or hike the craggy hinterland. The island is comprised of limestone mountains and volcanic lowlands. With ample groundwater and rich soil the islanders made Tilos the 'breadbasket' of the Dodecanese, not having to rely only on the sea for its livelihood.

During the afternoon we drove to the north-west corner of the island, stopping along the way for a swim at the expansive Eristos Beach, considered one of the island's finest. After reaching Ayios Andonios we continued along some very dramatic coast, being attentive to avoid the many free-ranging goats. The road ends at the Ayiou Pandelimona monastery founded in the 15th century due to its miraculous spring - apparently still the best water on the island. We returned to Ayios Andonios where we ate at a small taverna, Elpida. Being late afternoon we were the only ones there but this fellow, who spoke virtually no English while smiling a lot, fired up the grill for my octopus. A large piece of tasty saganaki, and giant white beans and fried potatoes for Gayle rounded out our meal, enjoyed overlooking the bay.
We returned to Livadhia - perhaps a 20 minute drive followed by the 5 minute circuitous route to Marina Rooms. Until 10 years ago the road went right along the water until the town converted most of it to a pedestrian/cyclist only promenade. We spent the evening sitting on our balcony simply enjoying the view before turning in early.
_________________________________________________________________________________________________

Livadhia, on the other side of the bay from where we are staying, and Gayle thinking this place is a HIT (Happy In Tilos).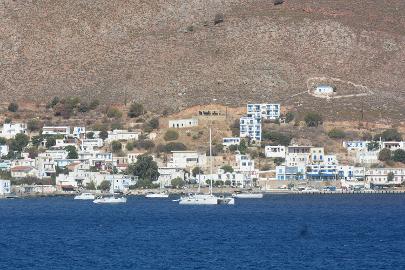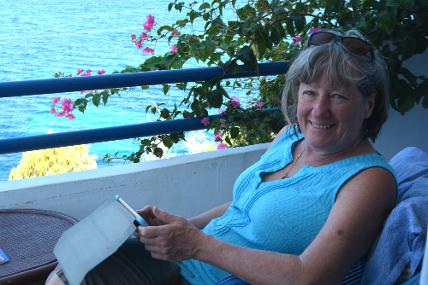 The view from the breakfast area of Marina Rooms.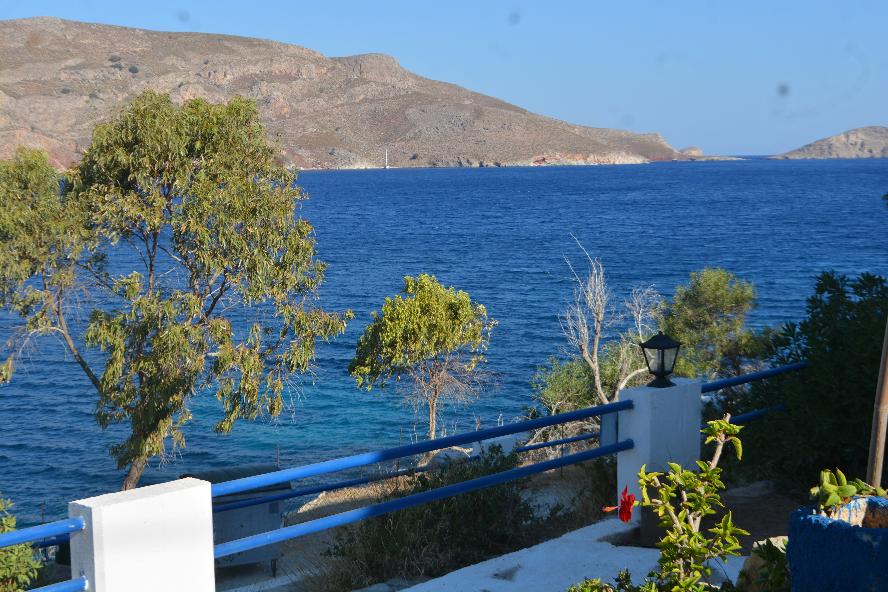 Breakfast of coffee, bread with homemade marmalade and jam, yogurt with honey and an egg with feta cheese, tomato and peppers.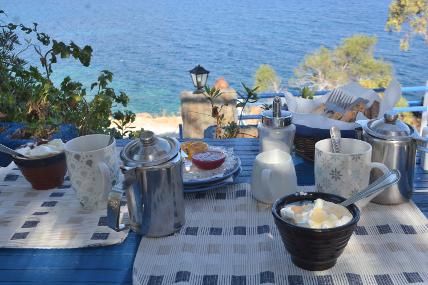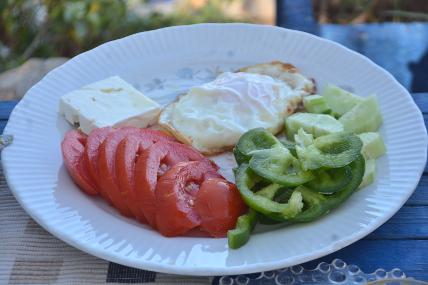 Views from our balcony of a small beach just below Marina rooms, and the varying shades of the colour of the sea.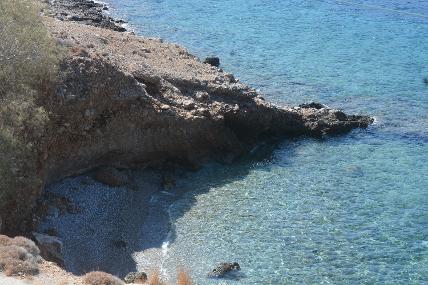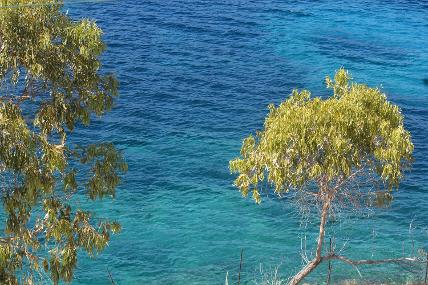 Pebbly Eristos Beach were we enjoyed a swim in the calm waters.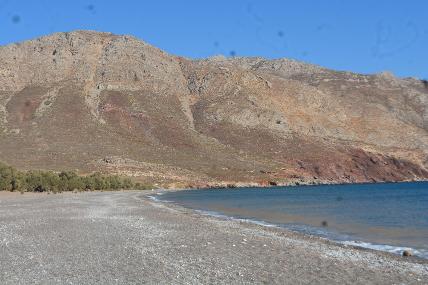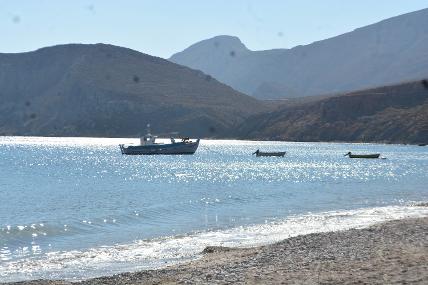 Lots of free roaming goats and deep gullies running down to the sea on the drive to the isolated Monastiri Agios Panteleimonis.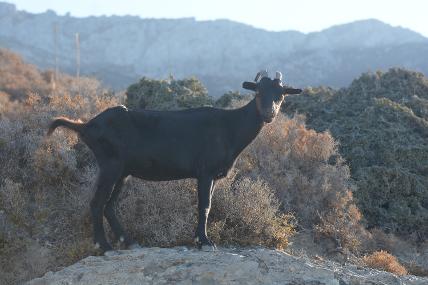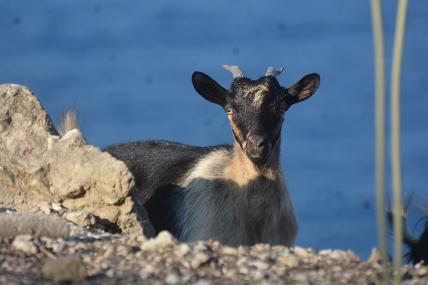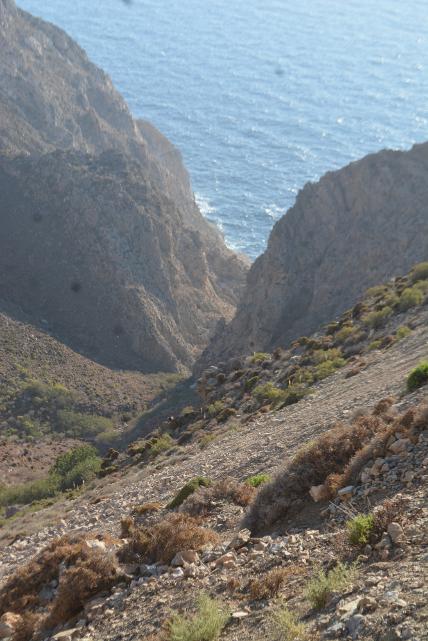 Dramatic coastal scenery driving the the north-west corner of Tilos.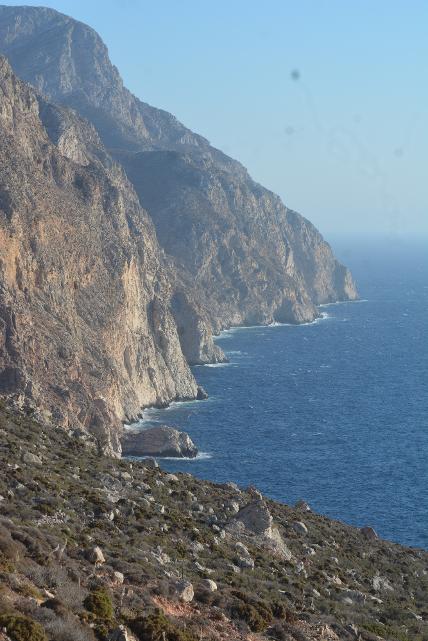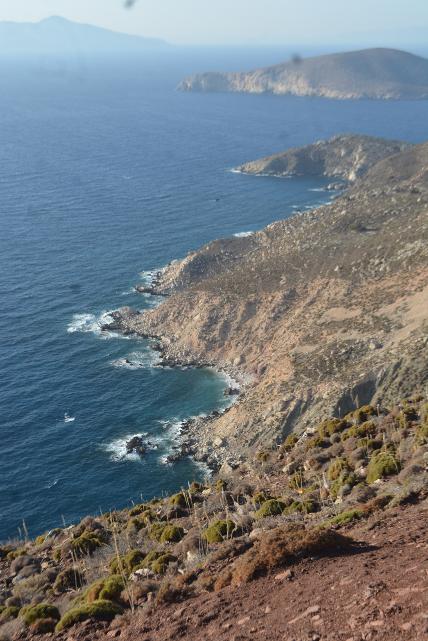 Elpida, at Agia Antonios at the end of the road of Tilos, a great place to have dinner adjacent to the water at a small taverna.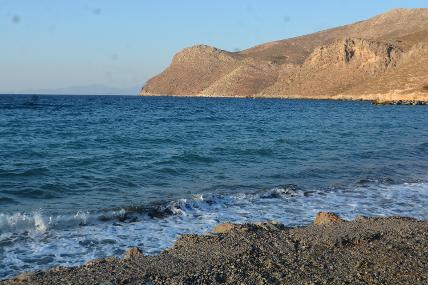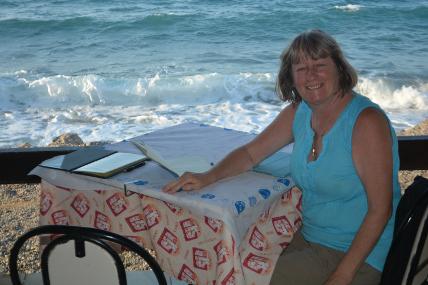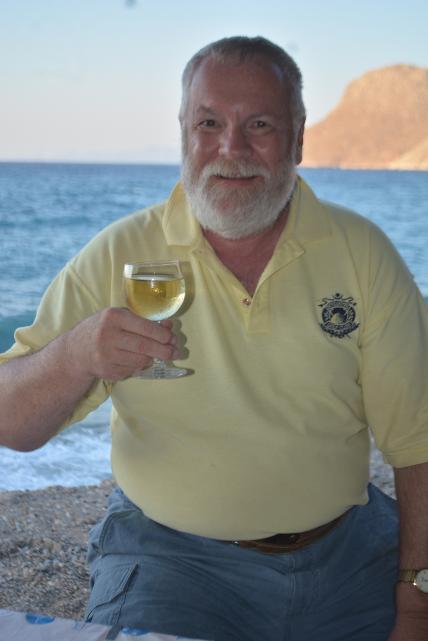 A true ma and pa taverna with pa doing the grilling, in this case my octopus.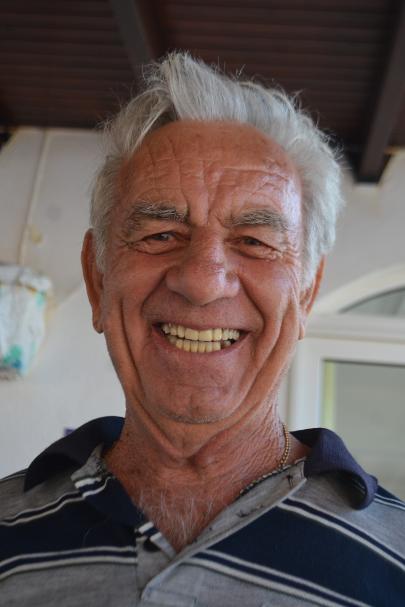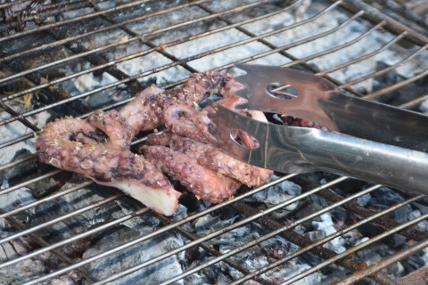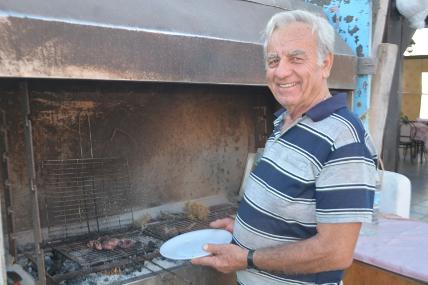 Grilled octopus, saganaki and giant white beans for dinner.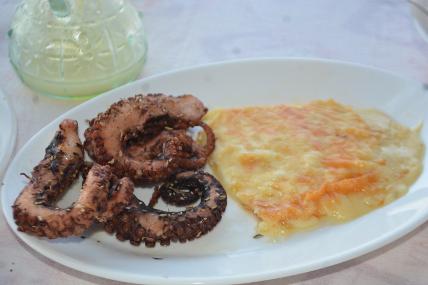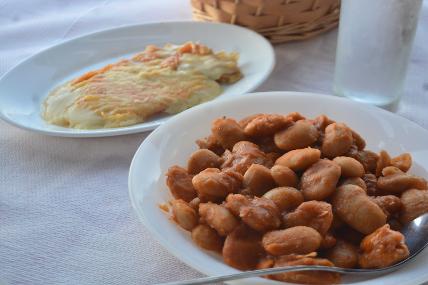 September 17, 2018 - Rhodes to Tilos

Another late afternoon travel day - this time a two plus hour ferry from Rhodes to the island of Tilos.
We spent the morning relaxing and enjoying the nice filling breakfast provided by John at Zacosta. Afterwards we went out for a bit of a walk through the old town. Lots and lots of stuff to consider buying but really there is not much else we want and we're pretty maxed out re space in our backpacks. We did however see a nice carry-on bag to replace the one we purchased in Morocco, one that was stolen from Paul's car this summer when he was in Ontario. We hummed and hawed given the size and weight but eventually broke down and bought it.
Back to Zacosta to pack up once again after which John delivered us to our ferry. The shuttle service to/from ferries and taxis is extremely beneficial as it would have taken us forever to walk. We are so appreciative. We boarded the ferry and off to Tilos where we were met at the port by Maria and delivered to the other side of the bay and her Marina Rooms. The room itself will not be one of our most memorable although the balcony with a couple of very comfortable chairs will be. Just sitting in the comfortable chairs. most often in the shade, looking out across the water was so peaceful and relaxing. As soon as we landed we knew this was going to be a very quiet, relaxing visit.
Shortly after settling in we decided to go a nearby restaurant / taverna - Faros, a 10 minute walk beyond Marina Rooms. We were fortunate enough to get the last table on the waterfront. We had lots of very traditional Greek food including a fava (bean) dip, saganaki (fried cheese), briam (a stewed vegetable dish) and mousaka accompanied by some pretty decent white wine and retsina (after all we were walking back). The food was good, the service excellent with Demos explaining every dish in great detail and the ambiance perfect.
A short 10 minute walk back to our room brought the day to an end.
_________________________________________________________________________________________________

Just two of the seemingly endless interesting and attractive alleyways throughout Rhodes old town.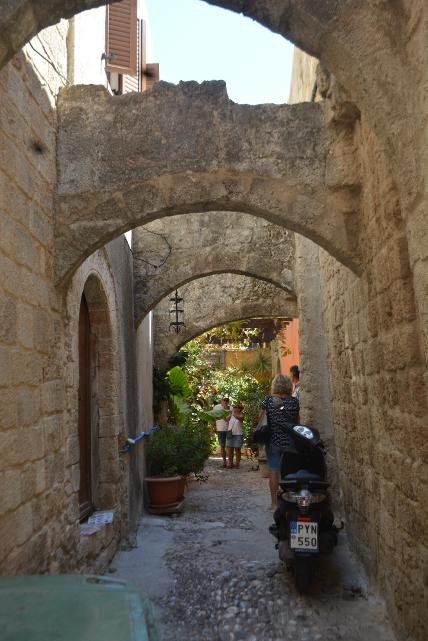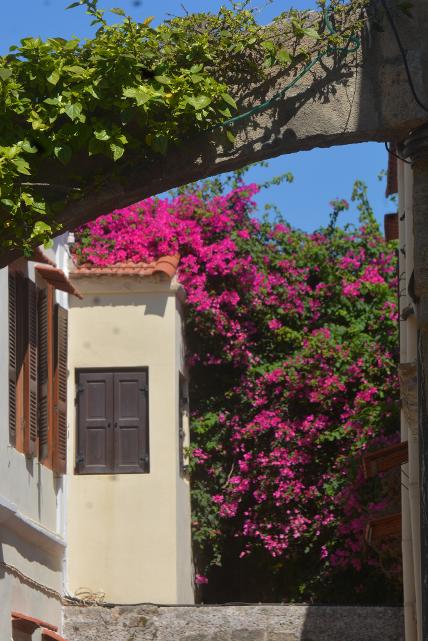 Throughout the old walled city of Rhodes there are many historical buildings, castles and vacant lots with remnants of buildings from years past.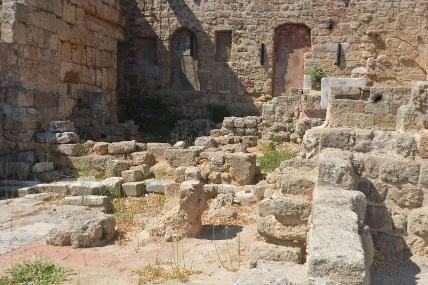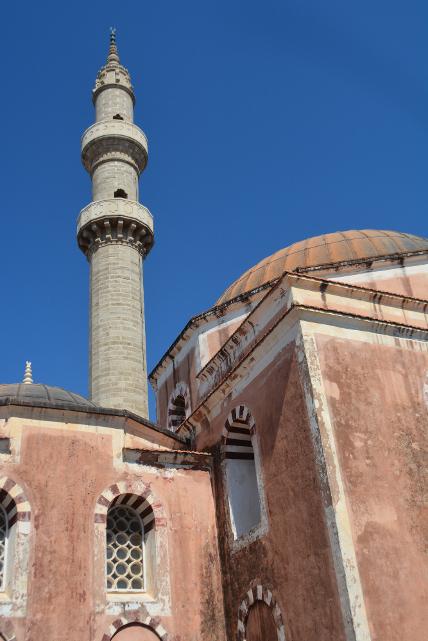 The Suleymaniye Mosque or the Mosque of Suleiman (Turkish) was originally build after the Ottoman conquest of Rhodes in 1522. It was then reconstructed in 1808 and named by the Sultan Suleiman to commemorate his conquest of Rhodes.
The mosque was the first in the town of Rhodes, unique due to its rose-pink plaster.
.
These colourful wreaths were seen now and then in Rhodes. A wall of Greek slippers.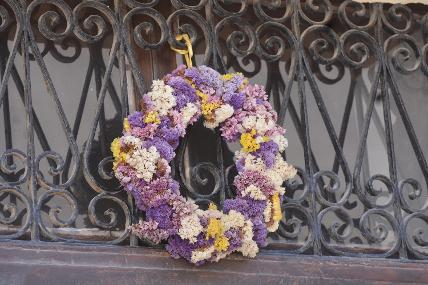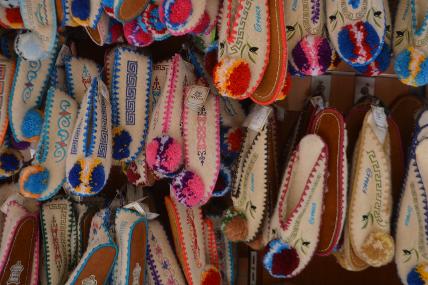 Our beautiful balcony, with really comfy chairs overlooking the bay of Tilos.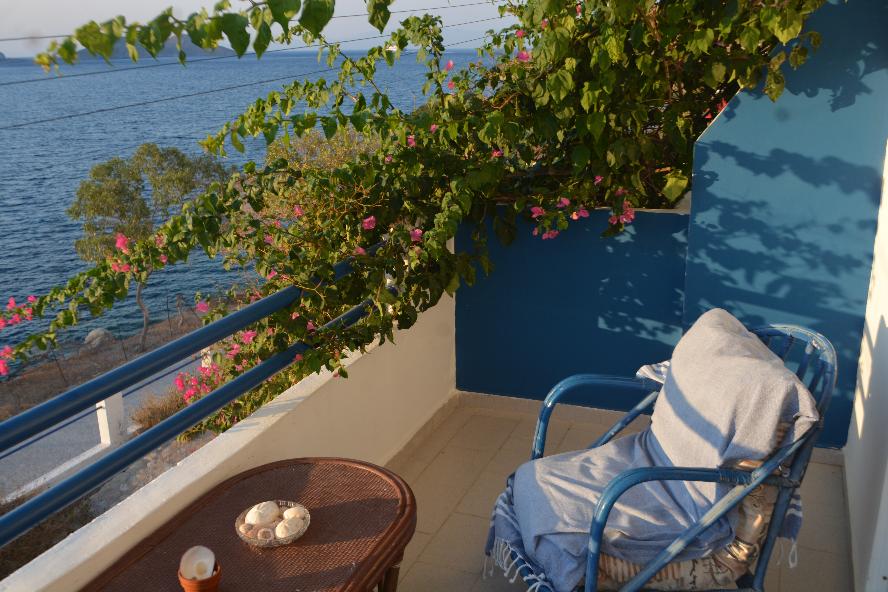 Although we didn't order anything grilled, others did. Gayle's fava dip and my saganaki (fried cheese).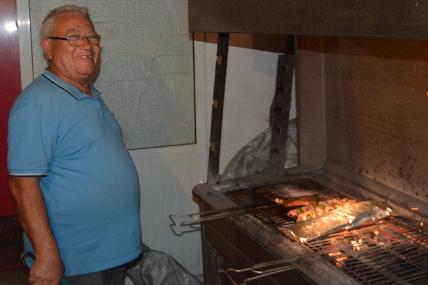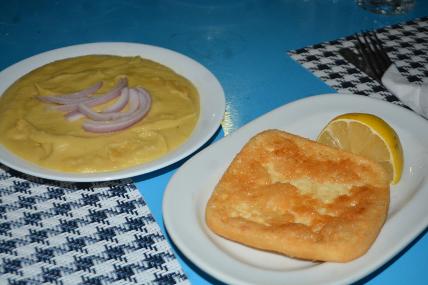 My main dish was mousaka (always good) and Gayle's a briam (Greek mixed vegetables in a light tomato sauce) which she thoroughly enjoyed.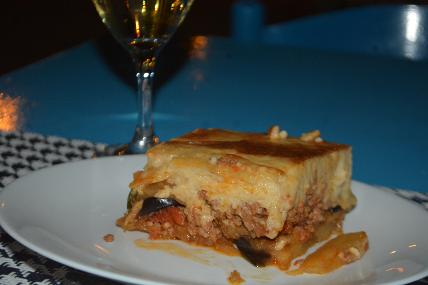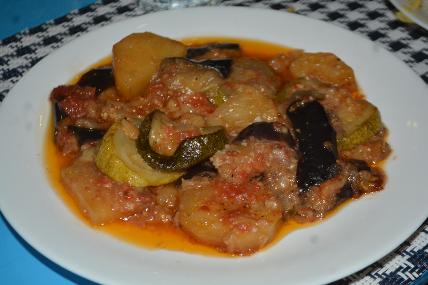 September 16, 2018 - Symi to Rhodes

This is getting a bit boring and so predictable. Wake up; look outside; see nothing but blue skies!
We spent the morning relaxing at Thea Apartments before checking out at noon. Panos was kind enough to store our backpacks for the afternoon until our ferry departs. We walked around the harbour past the clock tower then around the next coastal indent until we got to Nos beach, a small beach nearest the harbour. Small rocks like most beaches here in the Docecanese - the water shoes have come in very handy - but once in the warm water everything is great.
On the way back we stopped at Tholos Taverna, right on the waters edge where we had a mid-day meal of tzatziki, lemon potatoes in the oven, a Greek salad with Symian brown bread in small pieces and the local fish specialty Symi shrimp. A very nice meal looking out to the sea to finish our stay in Symi.
After our meal we walked back to the other side where we met Panos and retrieved our backpacks. It was then on to the ferry for the 1 1/2 hour ride back to Rhodes town where we need to overnight due to the ferry schedules toTilos. We again stayed at Zacosta Villa Hotel with John picking us up at the port in his golf cart. Although we had booked another room John gave us the Gran Maestro Suite as it was available. Very nice of him, consistent with his wonderful service.
Having had a large mid-day meal neither of us were hungry so we skipped dinner. We did go out to try to book our ferry tickets to Tilos, but the travel agency was closed, it being Sunday evening. We'll need to get out tickets tomorrow morning. We did wander along what is a shopping boulevard where pretty much everything is for sale.
Lots of looking; no buying.
We returned to Zacosta and called it a night.
________________________________________________________________________________________________

Yet another cloudless day with the sun shining on the pastel homes across the harbour.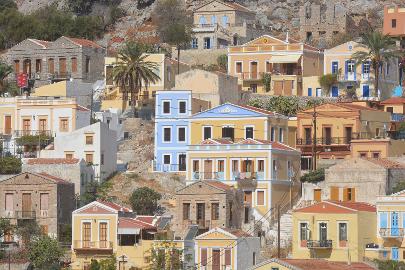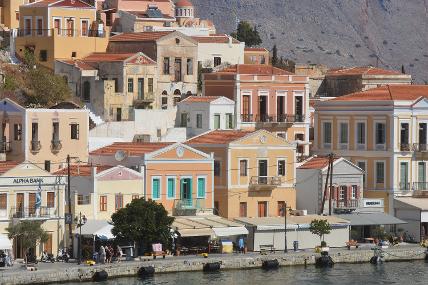 Our host at Thea apartments, the ever helpful Panos.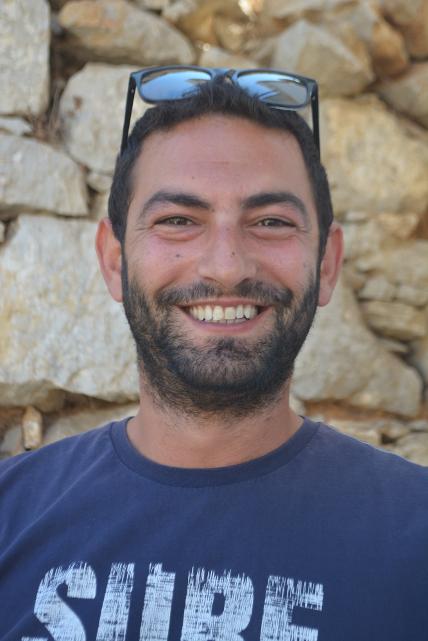 ... and the 'it never gets old' early morning view across the harbour.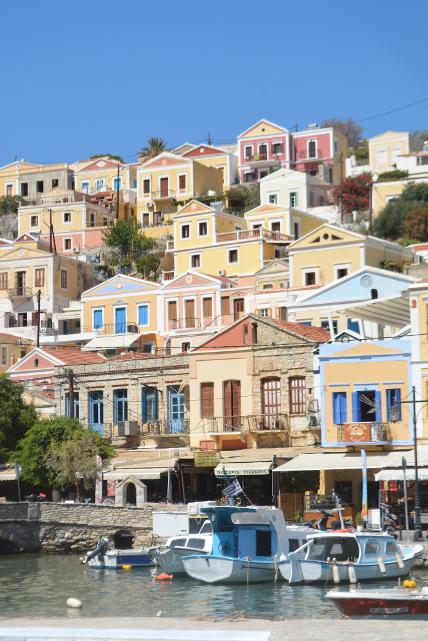 Bright flowers brighten up our stroll along the quay.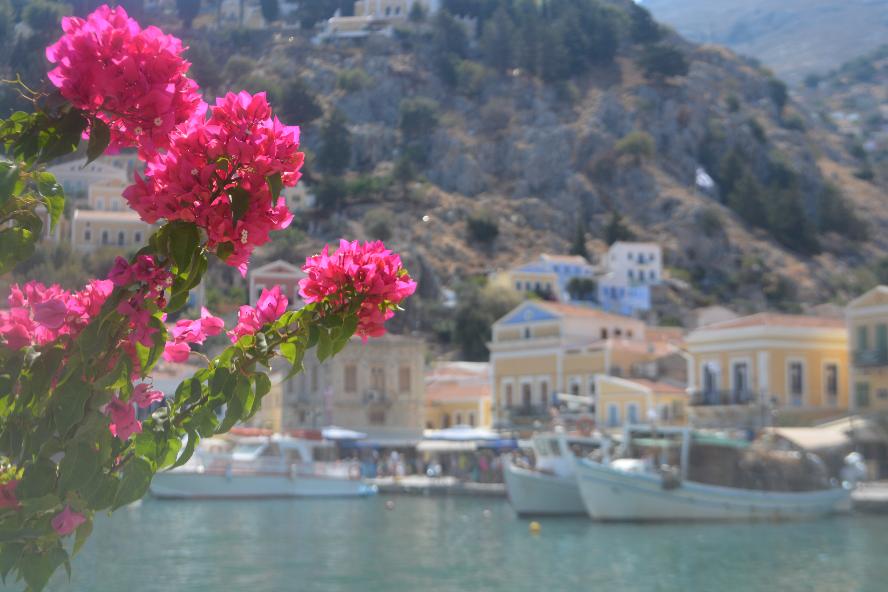 A fisherman repairing his nets, and sponges - the economic base of the island a century ago.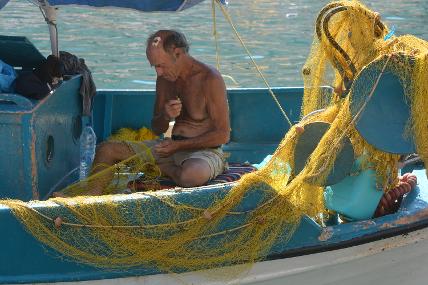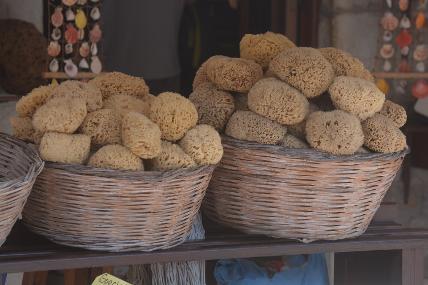 Churches and more colourful homes on are walk to Nos beach.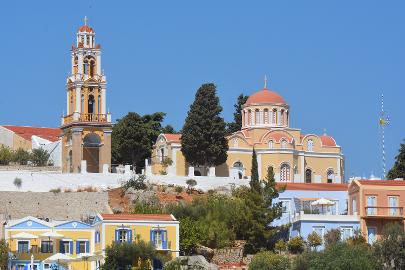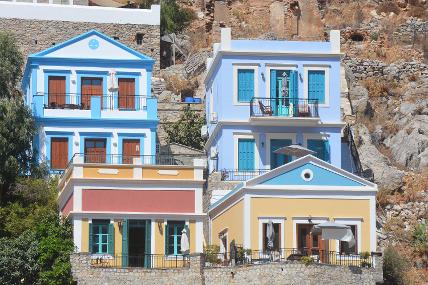 Nos beach, an easy walk just around the corner from the harbour.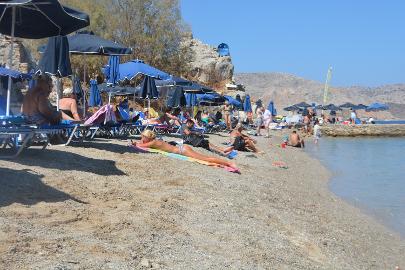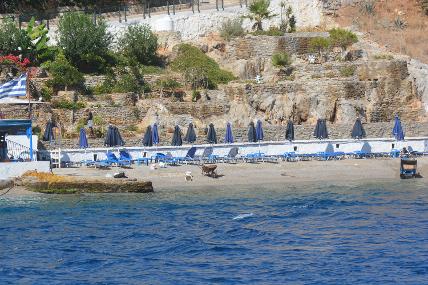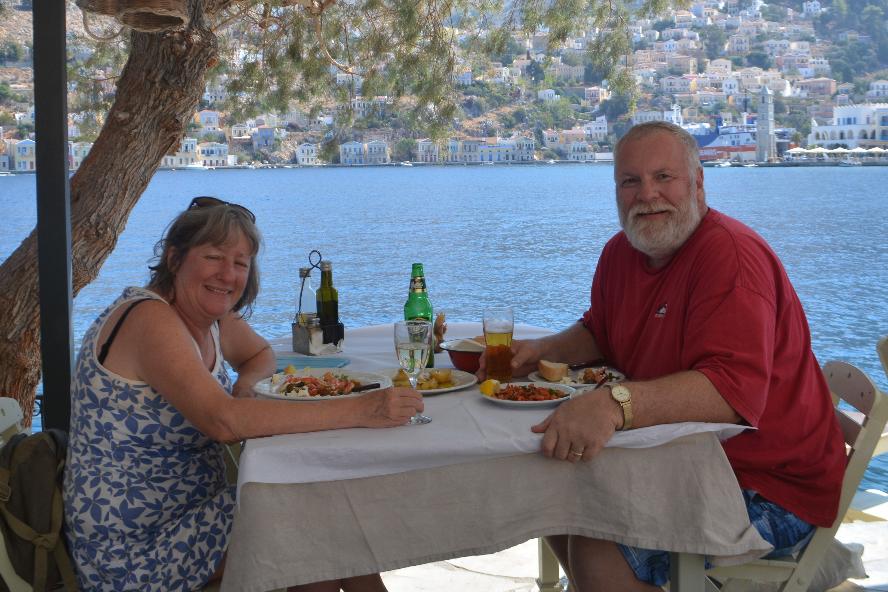 A Greek salad with Symian brown bread Small Symian shrip.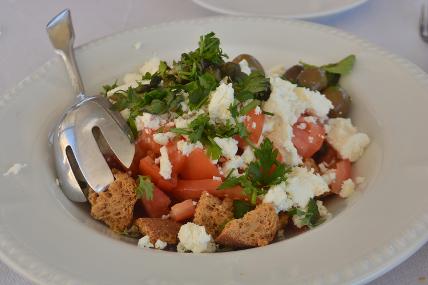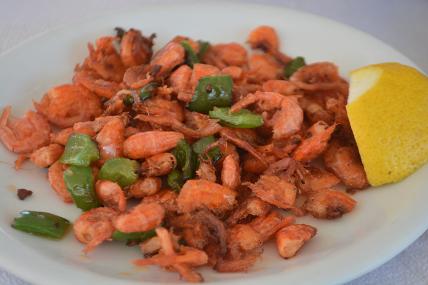 Old Rhodes town at night - the stone lined alleyway leading to Zacosta Villa Hotel.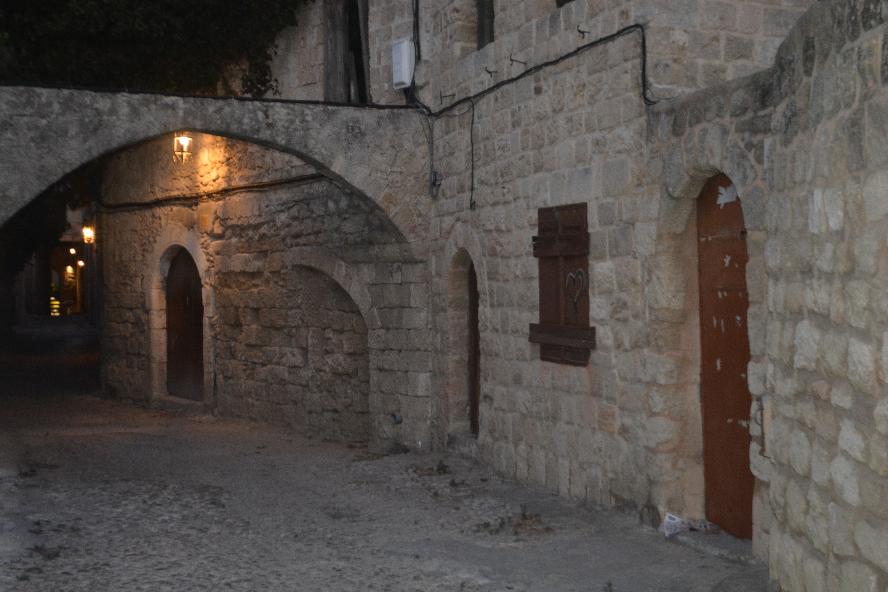 September 15, 2018 - Symi - Gialos and an around the island boat tour

We again awoke to blue skies and bright sunshine - this is getting a bit repetitious, but in a really good way.

An earlier breakfast this morning as we had to leave Asymi Residences to return the car at 9:30 am and then make our way to the end of the harbour where our around the island 'cruise' boat departs. We decided to do the around the island trip with a number of swimming stops and a BBQ lunch.
We boarded the boat for a 10:30 departure, heading counter-clockwise. After an hour or so we dropped anchor near a small rocky outcrop on which was this small church, far far from any form of civilization. We wondered shy anyone would build a church here but here it is. The captain opened the church for us to take a look. Afterwards it was into the beautiful warm water for our first swim of the trip.

We continued on until we stopped for a second swim, and then around the small island of Sesklio just beyond Marathounda and Panormitis. It is a fertile island with figs, vineyards and other fruit, and lots of water. But we saw no evidence of settlement. Although it is a bit pebbly there is a long crescent-shaped beach where we docked. The crew immediately took a battery off the boat to power the grill where they roasted chicken legs. Then came the salads - lots of salads and veggie dishes; Greek and potato salads, beets, green beans, white broad beans in tomato sauce, rice, spaghetti, and tzatziki plus of course the BBQ'd chicken legs. The meal was accompanied by your choice of red or white wine or retsina - first time I've seen retsina served from a box. The reviews that raved about the BBQ/lunch were right on, as there was a huge variety of tasty food. No-one left hungry. The stop was 2 1/2 hours during which we enjoyed a swim, our picnic lunch, and then another short swim.
We returned around the west side of the island where we stopped for one final swim at St. George's beach, a beach surrounded by high cliffs of rock face from which only the goats could access without a boat. Throughout the 'cruise' we sat next to a nice British couple - Dinah and Ted, who are regular returnees to Symi and actually returnees to the boat tour, a great endorsement. For 40 euros each it was a wonderful way to spend the day, particularly given how much the meal itself would have cost if we were at a restaurant. Highly recommended.
After returning at 5:00 pm we made our way to Thea Apartments where we met Panos and checked in. Having eaten so much mid-day there was no need for dinner. We stayed in, simply enjoying the views of the Gialos harbour from out balcony.
________________________________________________________________________________________________
After Marathouda and before Panormitis on the left there is Seskli Island, the ancient Teftlousa. It's a fertile island with figs and vineyards and other fruit-bearing trees, lots of water and is ideal for hunting. On the island there are a lot of partridges, as well as on the entire Symi, something that is famous for since antiquity. There is also the chapel of St. Paul, who is said to have rested on the island during his journey from Kos to Rhodes. - Copyright © wondergreece.gr
After Marathouda and before Panormitis on the left there is Seskli Island, the ancient Teftlousa. It's a fertile island with figs and vineyards and other fruit-bearing trees, lots of water and is ideal for hunting. On the island there are a lot of partridges, as well as on the entire Symi, something that is famous for since antiquity. There is also the chapel of St. Paul, who is said to have rested on the island during his journey from Kos to Rhodes. - Copyright © wondergreece.gr
Breakfast cheese pies. Asymi Resdiences.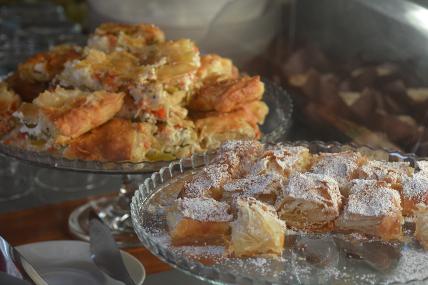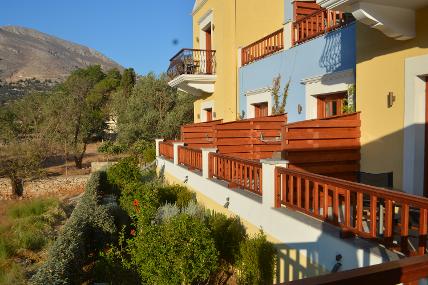 The Poseidon, our around the island cruise boat.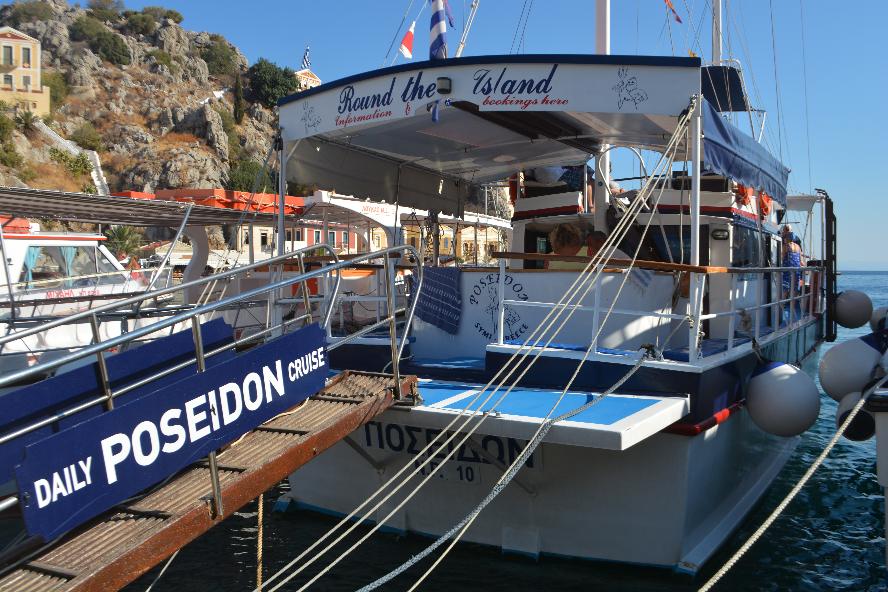 Pastel painted homes as we were leaving the harbour.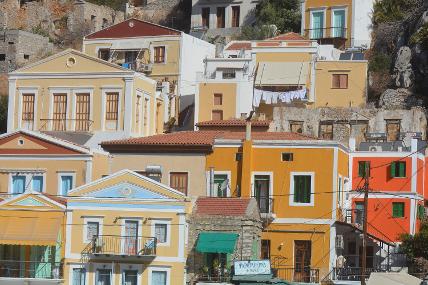 Thea Apartments - our room iss on the yellow (second floor) level.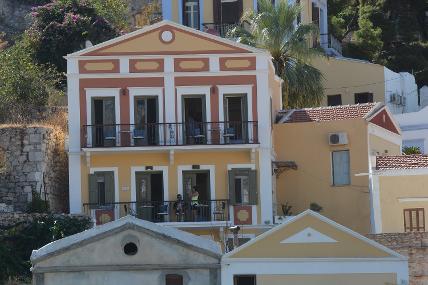 More attractive buildings and churches as we leave the habour on our 'cruise'.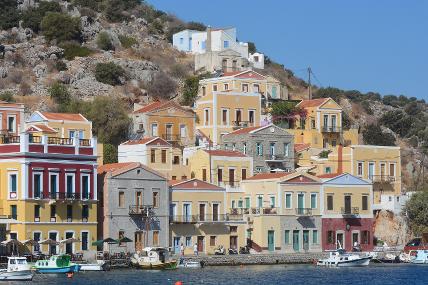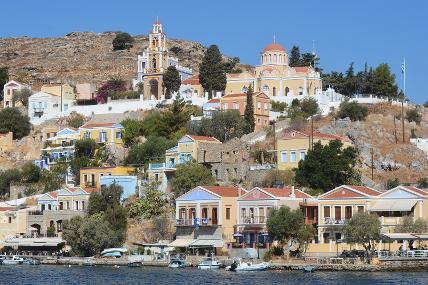 Docking at our first spot for a visit to a small church on a small remote rock outcrop and our first of four swims.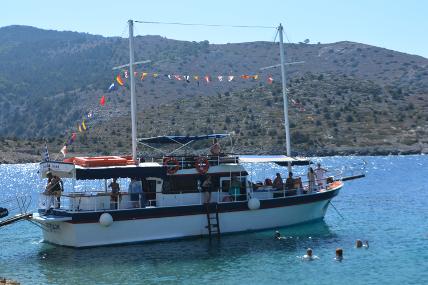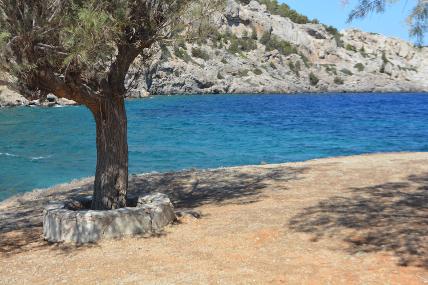 Not really sure why one would build a church here but it is well maintained and interesting to step inside.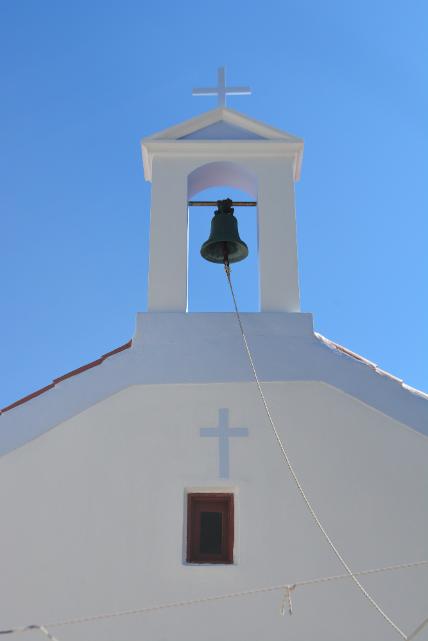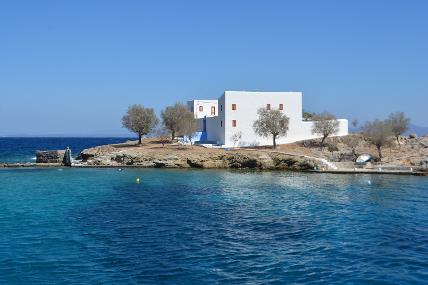 Even on this small isolated rock the church was somewhat elaborate.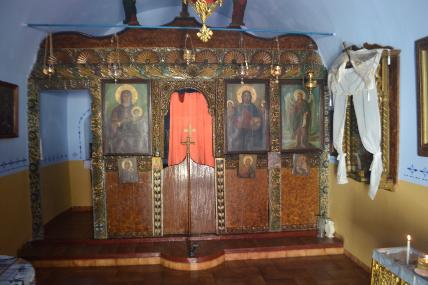 I certainly won't claim to be an elegant swimmer but the colour of the water sure is nice.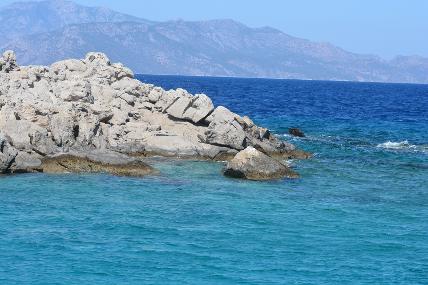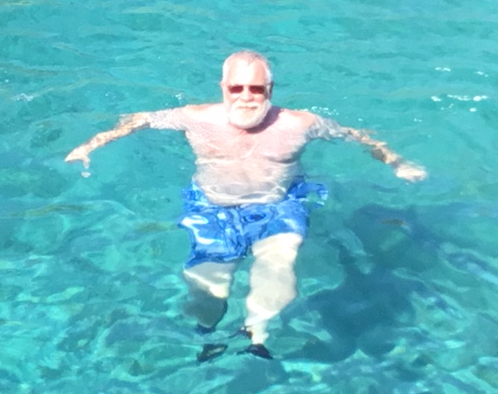 The beach on the small uninhabited island of Sesklio north of Symi where we stopped for our BBQ lunch.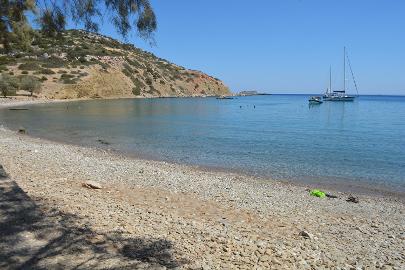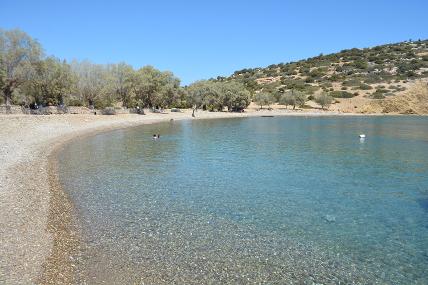 Grilling the chicken, using a battery taken off the boat.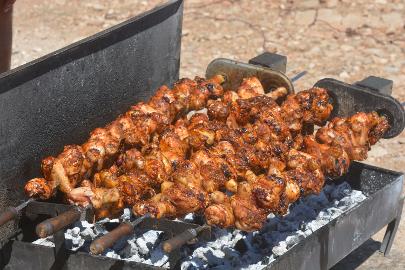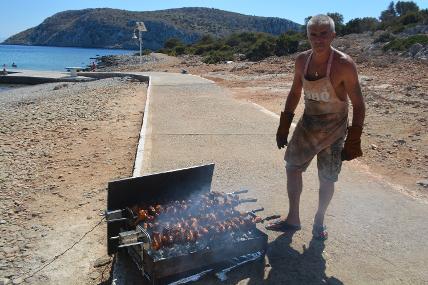 Spaghetti and broad white beans in tomato sauce ... ... and green beans, potato salad and Greek salad.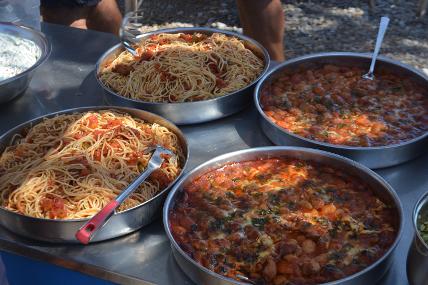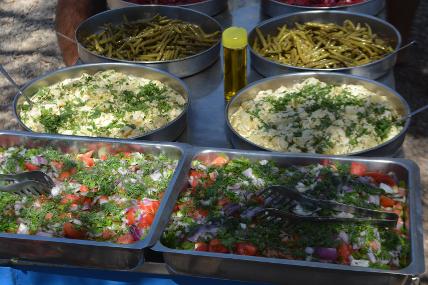 Chicken and tzatziki ... ... the broad beans, rice and beets.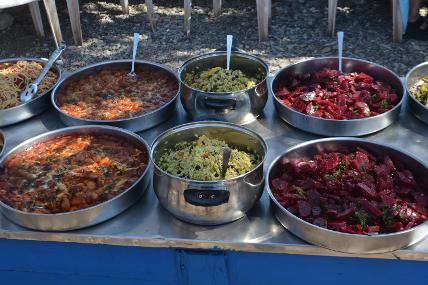 Gayle, enjoying her meal. My first plate (I only had two).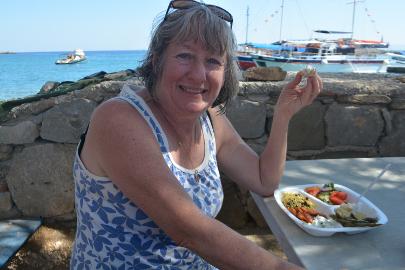 St. George's Beach - only accessible from the water (except for the goats).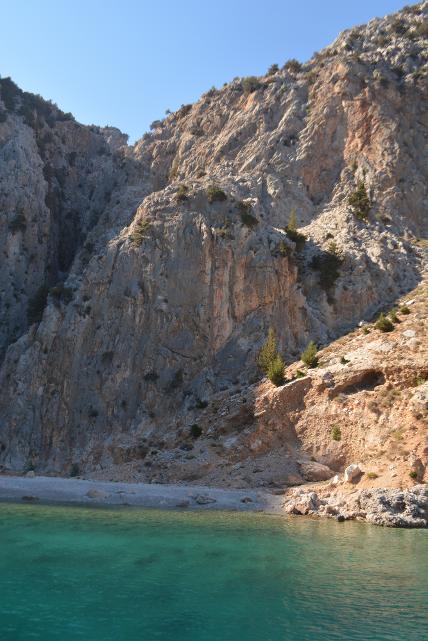 Dinah and Ted, the English couple we sat beside and chatted with throughout the day.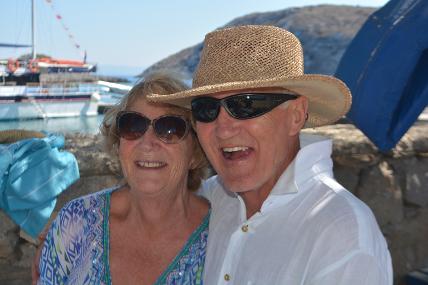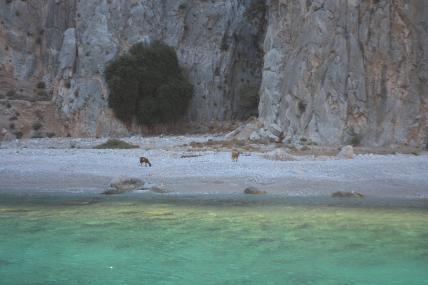 Buildings lit at night as seen from our balcony.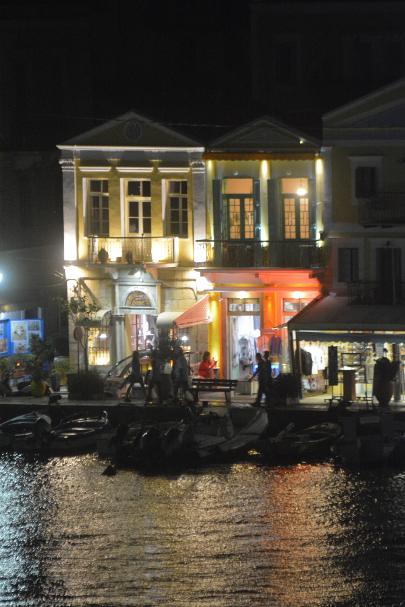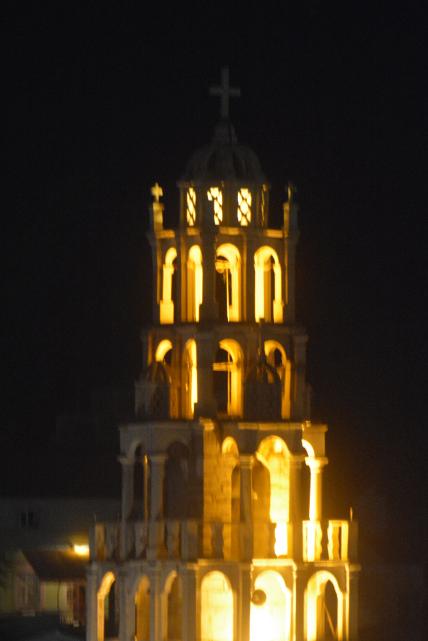 September 14, 2018 - Symi (Pedi harbour and Chorio)

After a nice breakfast and a relaxing morning we went up to the village of Chorio, the upper part of Symi some 400 steps from the port side, considerably fewer from the back side from where we entered. There are a number of alleyways and narrow steps worth exploring. At the top is an ancient acropolis on top of which is a fortress along with a watch-tower from which signals were sent to the island of Rhodes in the day. Of course there are many churches and superb views over Gialos, the island and the Aegean Sea. We wandered through the alleyways, eventually stopping for a drink and treat at the Olive Tree cafe. Very interesting drinks, served with pasta rather than plastic straws, and delicious cakes (I had a lemon poppy seed while Gayle a plum cake). A nice place to stop with its views down to the sea. In spite of sun and high temperatures it was actually quite pleasant walking through Chorio with the many shaded alleyways and breeze.

We returned to Pedi from where we took a water taxi to Marina beach in the next cove. This was no doubt a nice beach here at some time in the past but it has been built up with an upscale restaurant and bar and sun beds one after the other on multiple levels leaving very little open area to access the beach. We found a spot from where we entered for a swim. The water was again wonderful - very warm; so while the 'beach' was disappointing the swimming was certainly not.
For dinner we drove back to the port side and up a narrow 'road' to Haritomeni Greek Taverna, a nicely situated taverna up the hillside with spectacular views back down to the port and the beautifully coloured homes. It was a challenge to find a parking spot on the road but we finally prevailed a bit below the taverna. Our server, from Greek heritage but having been born and grown up in Australia was a wealth of knowledge ... a real talker. We enjoyed some tzatziki, a standard starter with home made bread, after which Gayle had roasted potatoes and a huge serving of baked aubergine, chick peas and tomatoes. My meal was meat based, first with the village sausage and then traditional Greek meat balls, all accompanied by large glasses of white wine and retsina. A careful drive back to Pedi along the narrow roads in the dark after which we called it a day.
__________________________________________________________________________________________________

The very creative interior wall with a 'door' and 'window' separating the sleeping area from the seating and rest of our room.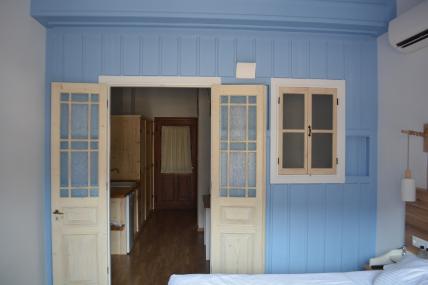 The view from our balcony out to Pedi harbour.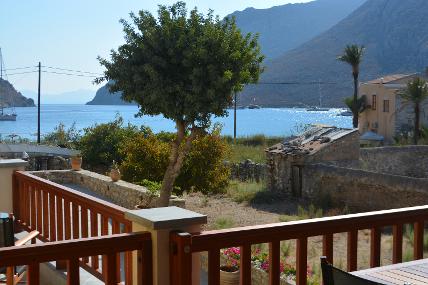 Brightly painted buildings throughout Chorio, the old town.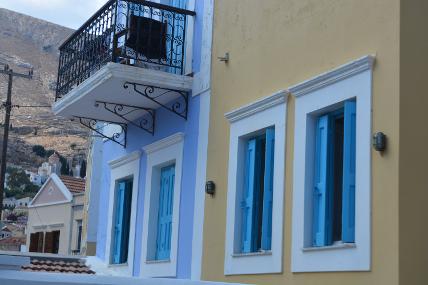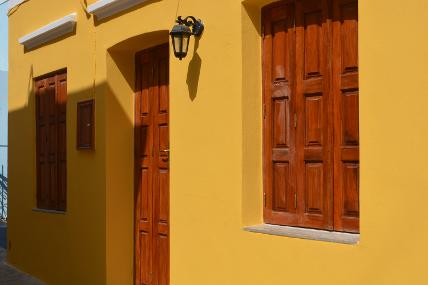 A few older gentleman passing their time in Chorio.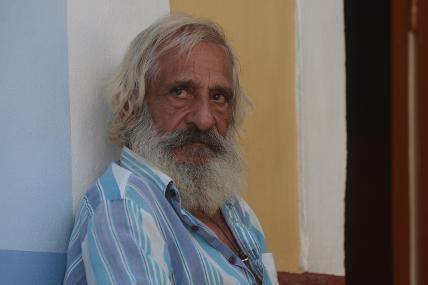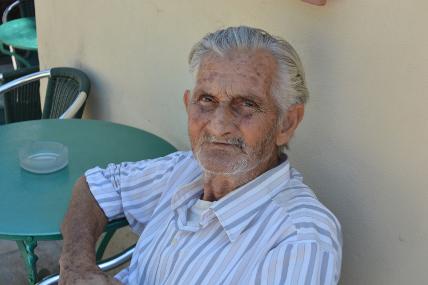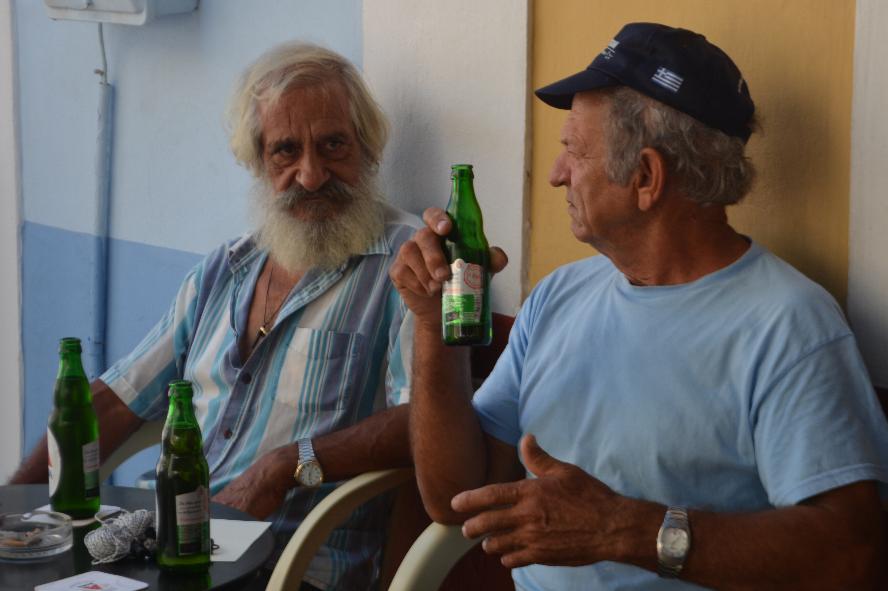 Traditional Greek blue everywhere - the doors, the trim on the buildings, the sign, the sea, and even the sky.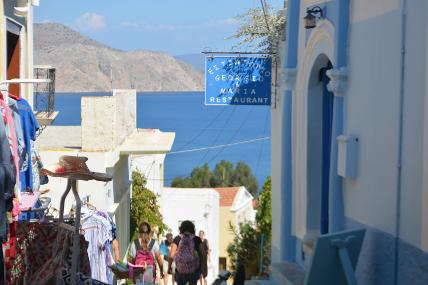 A door knocker that caught my eye and one of many blue painted doors framed by a pomegranate tree.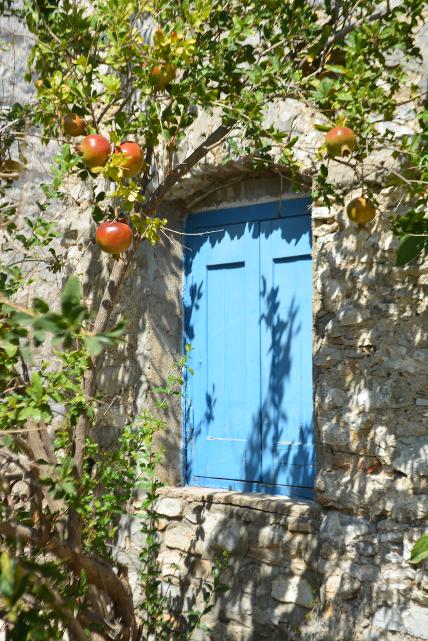 More doors, and steps and bougainvillea and flower pots and Gayle taking a photo in Chorio.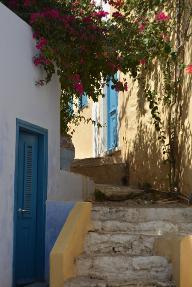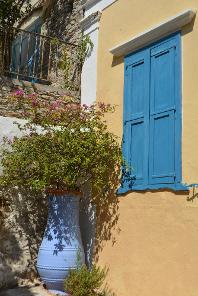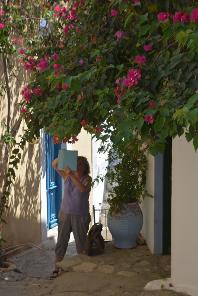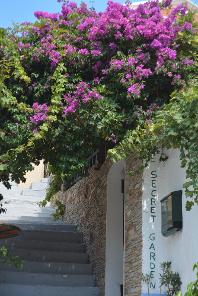 Our cafe stop at the Olive Tree with my orange, carrot, lime and ginger drink with the pasta straw, Gayle's cafe latte, a plum cake and a piece of lemon poppy seed cake with a nice view of the sea below.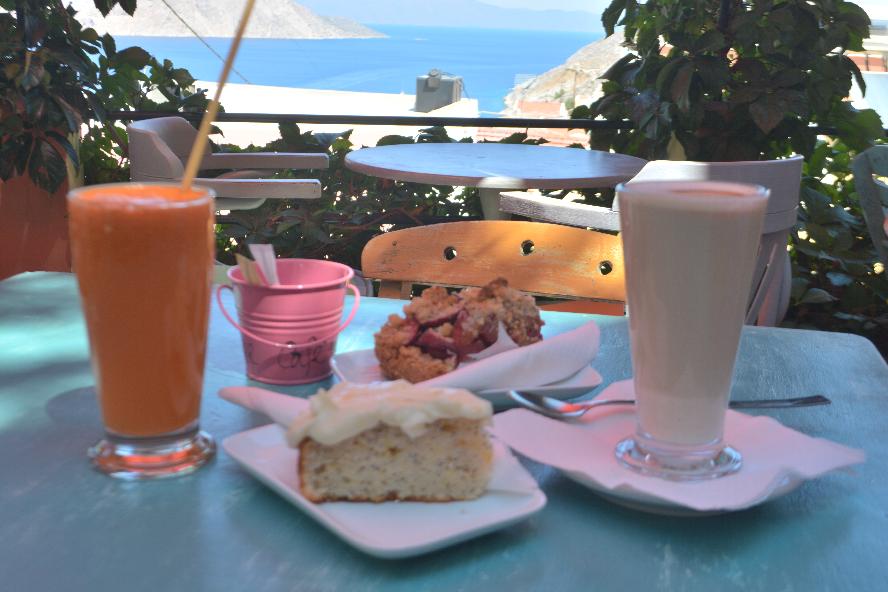 A few of the homes around Pedi harbour as we took our water taxi to Marina beach.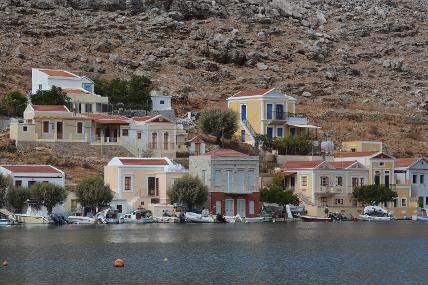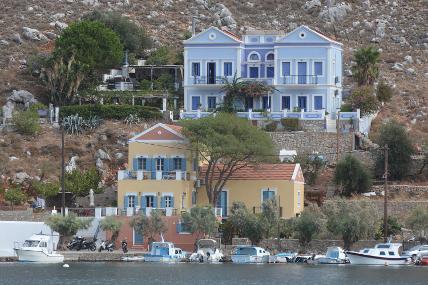 We began our meal with tzatziki after which Gayle had roast potatoes (not fries) and this dish of baked aubergine with chick peas and tomatoes.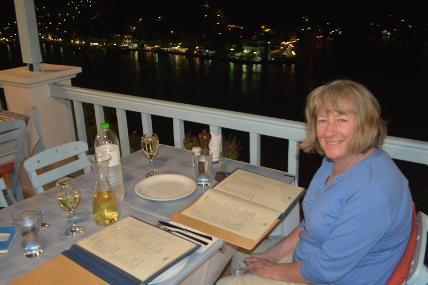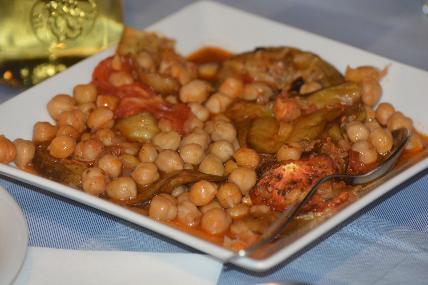 A meat based meal for me tonight -Village sausages and Greek meatballs.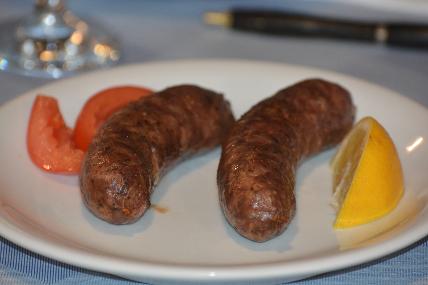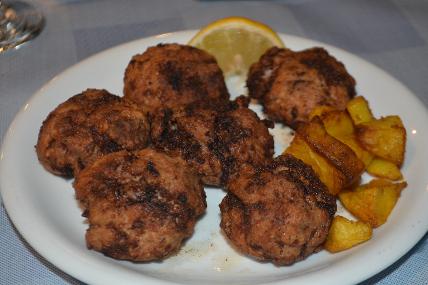 September 13, 2018 - Symi

We spent the morning at Thea Apartments mostly enjoying the views across the harbour to the multi pastel-coloured homes from our balcony. Perhaps there are too many photos below but the port is so attractive I couldn't stop taking picture after picture.
At noon Panos arrived and delivered us to our car rental where we had arranged for a vehicle for the next two days. We drove up and over a ridge and then back to down to the harbour of Pedi where we will be staying the next two nights - at Asymi Residences. Thea apartments had a room for us on the 12th and 15th but being full on the 13th and 14th we needed to find an alternative. It actually worked out quite well as we experienced a quieter village.

In the afternoon we drove to the other end of the island and Marathounta beach. The twisting turning drive took us all the way to the top of the mountains from where the views back to Gialos and Chorio and the surrounding sea were very impressive. Going to a beach one knows that after ascending steeply at some point you must descend, again steeply here on the island. We made our way to the pebbly beach where free chairs were available. We enjoyed another swim as well as watching the goats wander up and down the beach checking out the backpacks for 'treats'. Not sure of the definition of a goat treat as we saw one nibbling on the corner of a person's book.
There is a taverna on the beach where we had a meal. Gayle had a Greek salad (of course) and french fries while I had grilled feta cheese and then goat meat in tomato sauce (to the best of my knowledge not one of those on the beach earlier). We then enjoyed the scenic drive back to Pedi and our lodging, Asymi Residences.
__________________________________________________________________________________________________

The attractive pastel coloured homes of Symi.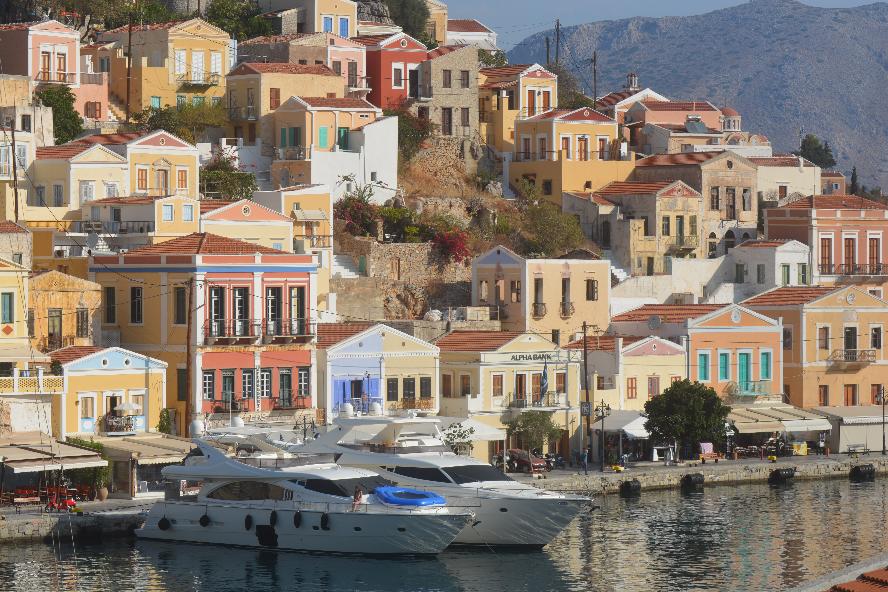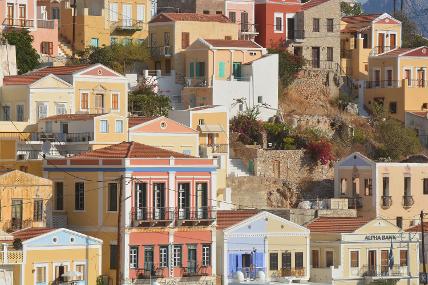 The harbour with its clock tower at the entrance.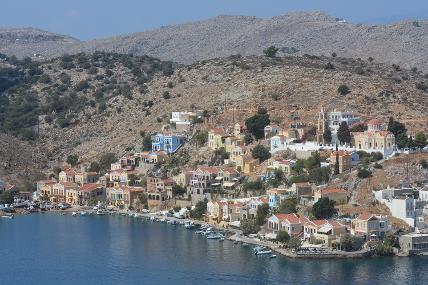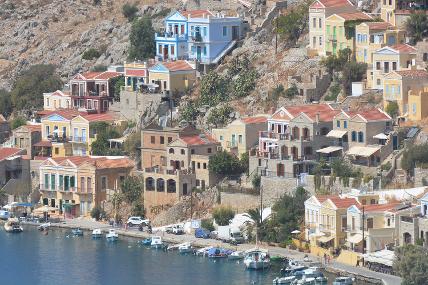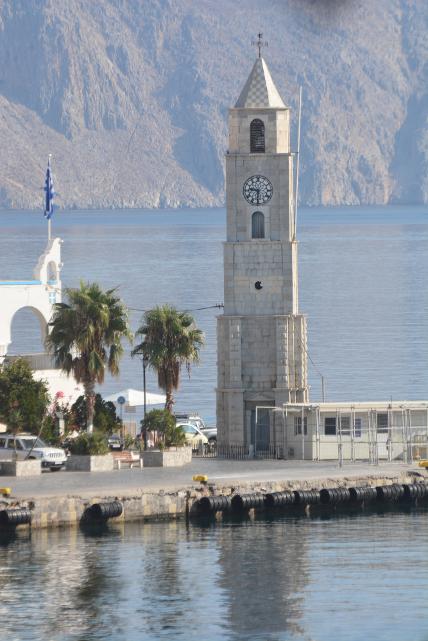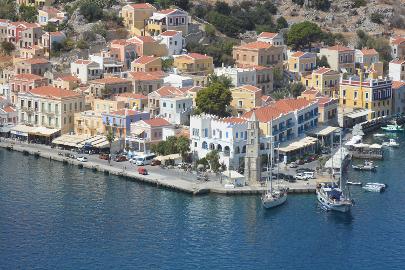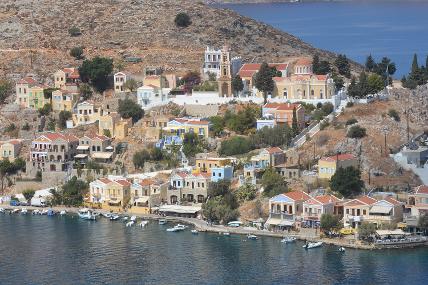 A wall of the multi-coloured pastel homes of Chorio, Symi.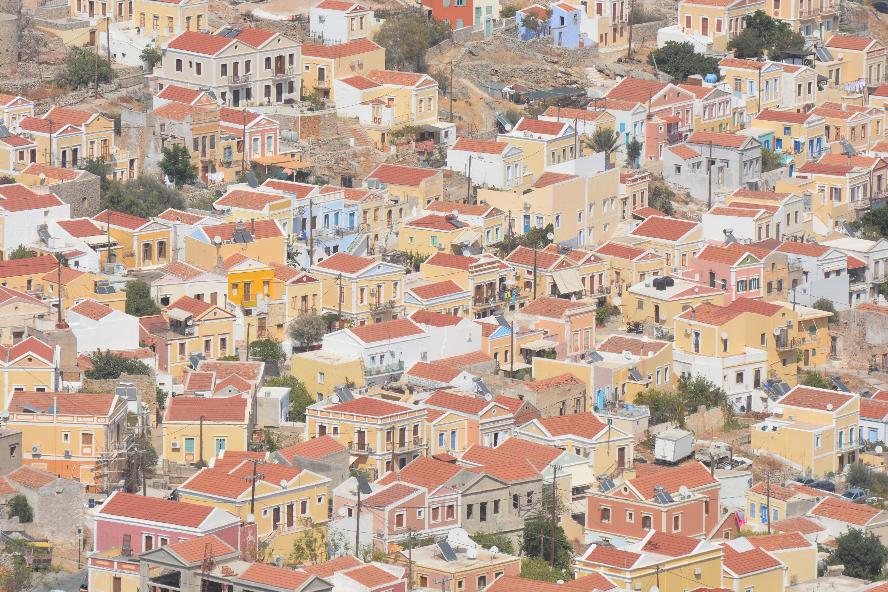 The port of Gialos with its many boats... ... and one of a number of churches.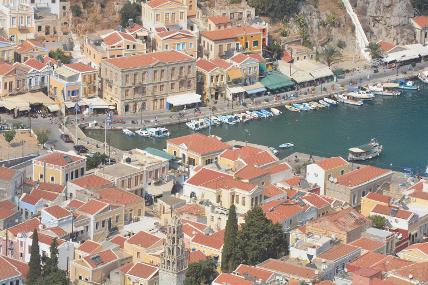 A view from the mountains across Chorio to the sea.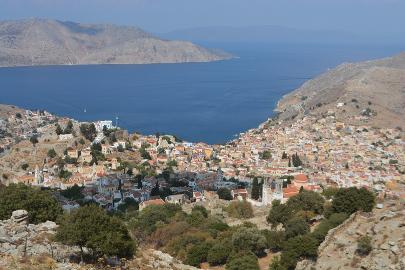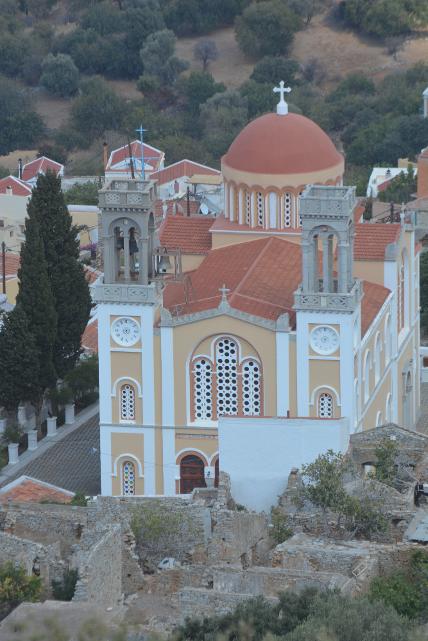 One always needs to be alert driving on these small islands as you never know what one might come across - in this case a number of horses marching up the road.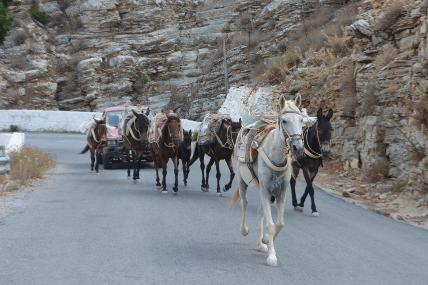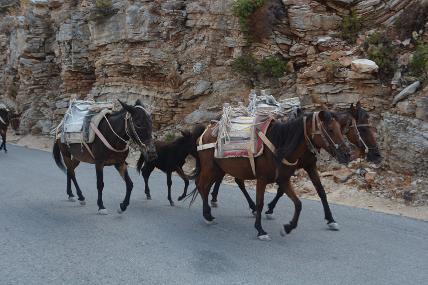 Marathounta bay and beach as seen from high above on the drive through the mountains.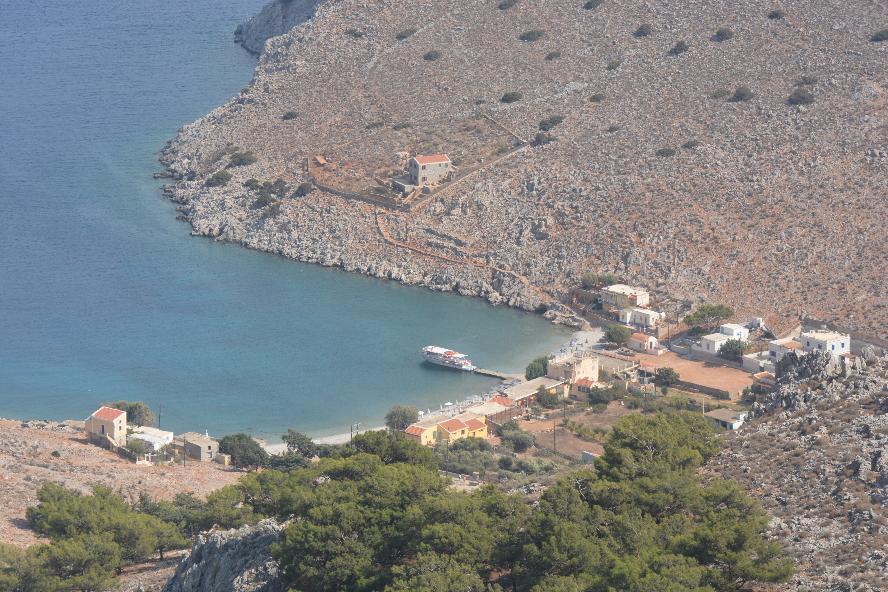 There were a few goats strolling nearby and along the beach, goats that did not hesitate to check to see whether there was any food left around the sun-beds, one even going so far as to nibble a book.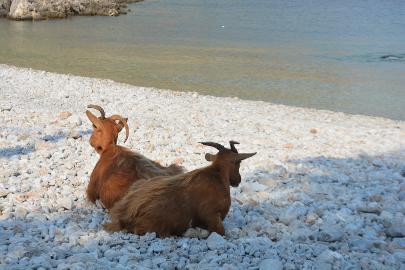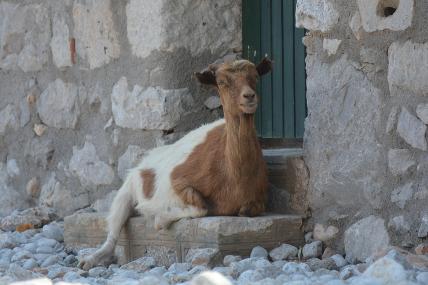 Chilling in the water of Marathounta bay The view out the bay from Taverna Marathounta.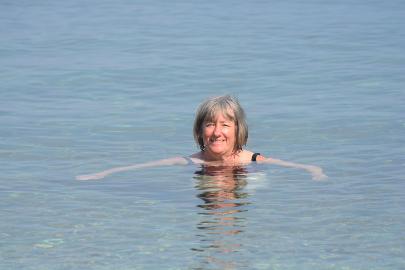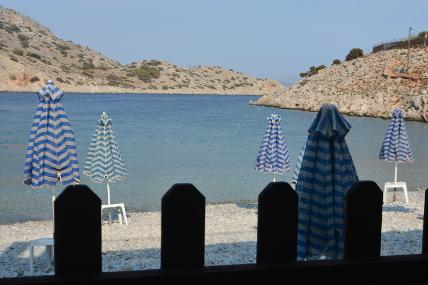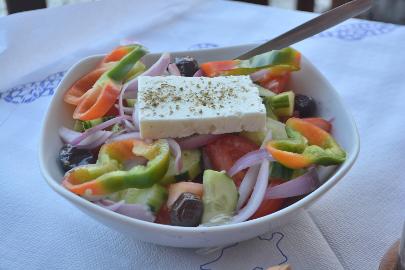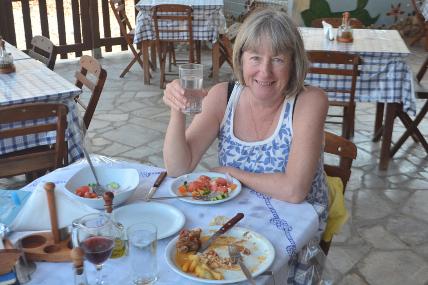 Goat meat with tomato sauce - 'A Greek Specialty' ...and some watermelon (with seeds!) to finish our meal.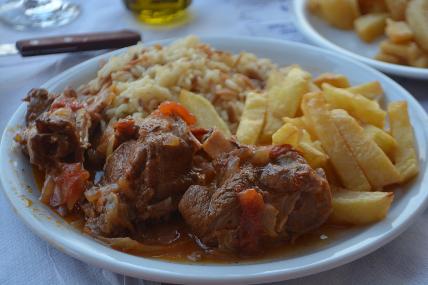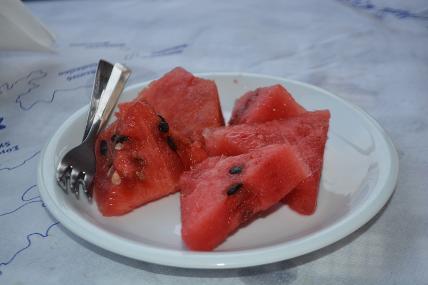 September 12, 2018 - Rhodes to Symi

After a long travel day and a late dinner we certainly were not early to rise. But we eventually made our way down to breakfast, albeit we were the last ones. With our ferry not until 1:00 pm and the great flexibility of John and his staff it was no problem. Another delicious, filling breakfast of yoghurt, cereal, some meat and cheese, cheese and spinach pies, an egg, lots of fruit along with coffee and fresh squeezed orange juice (yes Wendy more freshly squeezed orange juice!)
Over a leisurely breakfast we had a great chat with George, a university student studying hotel management who was working at Zacosta's for the summer. George provided top-notch service and was even receptive to a few tips for taking photos. After separating our stuff in order to leave a couple of bags - since we are returning here in a few days due to the ferry schedules - George delivered us to the port in the golf cart. We felt a bit on display to the many tourists strolling through the cobble stoned streets of Rhodes but the convenience of being delivered to/from the port was wonderful. A really appreciated extra that reinforces the fact we made the right decision returning to Zacosta.
The ferry to the island of Symi was only 50 minutes. Upon arrival we were met by Panos who manages Thea Apartments, where we were staying our first night. We settled in, spending most of the afternoon just admiring the view across the harbour from our terrace, catching up on emails, working on the blog, and ok perhaps having a nap.

Early evening we went for a stroll looking for a restaurant / taverna, ending up at To Spitiko where we had a nice meal including both tzatziki and an aubergine salad dip, an avocado salad with walnuts and apple and grilled octopus. Did we say how happy we are to be back in Greece?
_________________________________________________________________________________________________
Gayle about to start breakfast.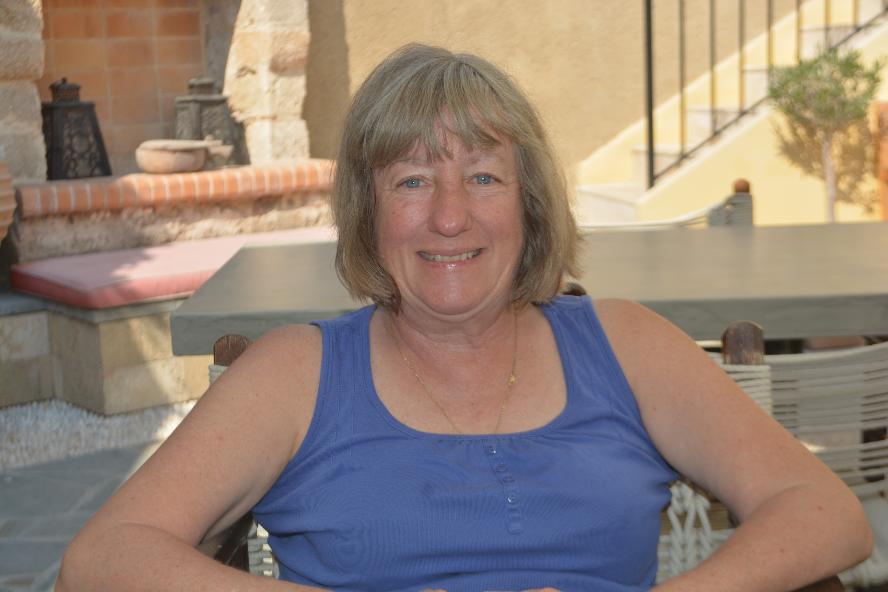 Cheese and spinach pies ... and fruit and freshly squeezed orange juice.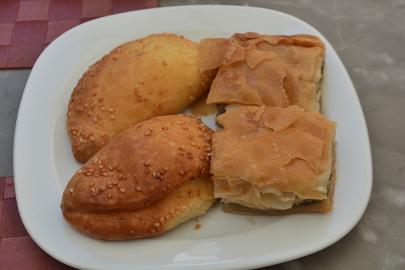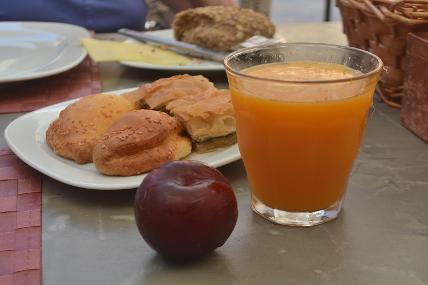 Smiling and happy to be back in Greece with the sky solid blue and the sun shining.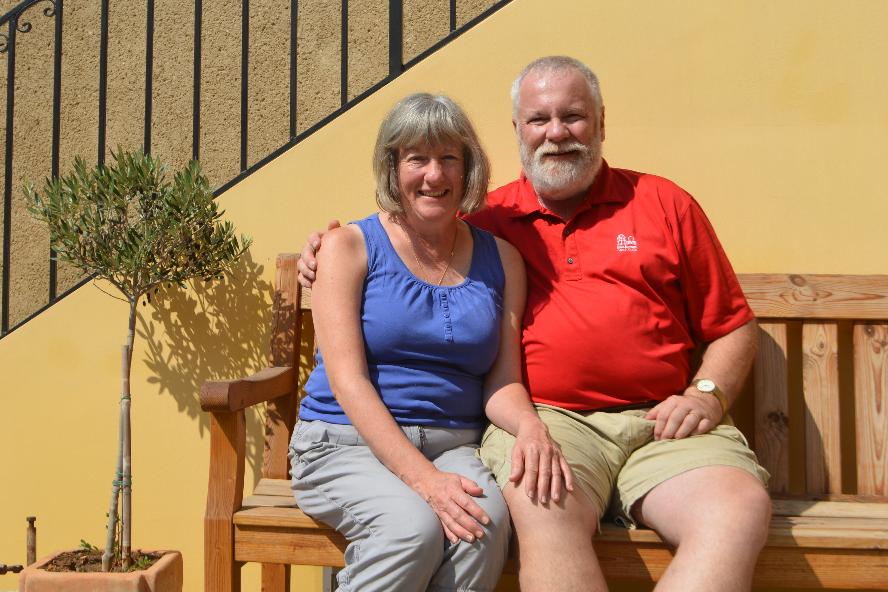 Either Gorge has great service instincts, or John has taught him well, or both.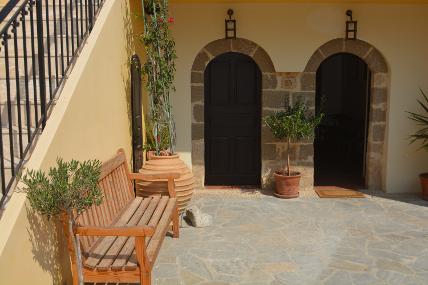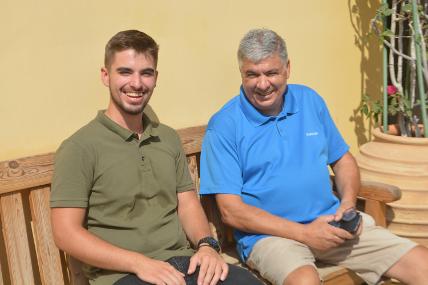 A couple of shots of old Rhodes, with the narrow cobble-stone 'roads' and stone buildings throughout.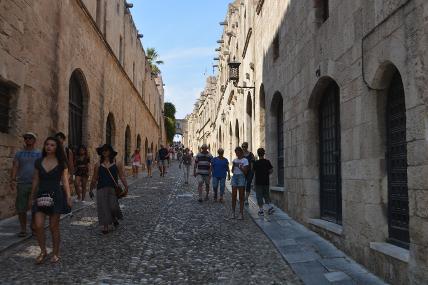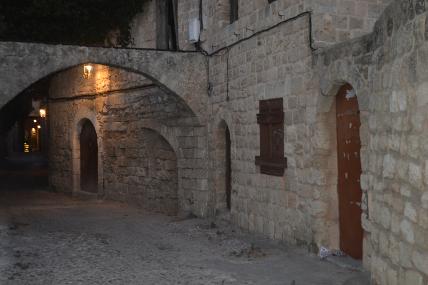 Our first glimpse of the attractive buildings as we entered Gialos, Symi's main harbour.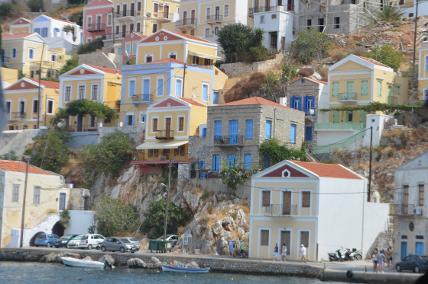 One of he many large yachts in the harbour.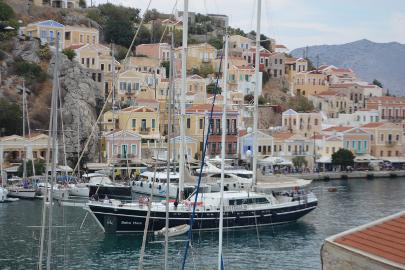 The fabulous view of the harbour from our terrace.
Dinner at To Spitiko started with aubergine dip and tzatziki.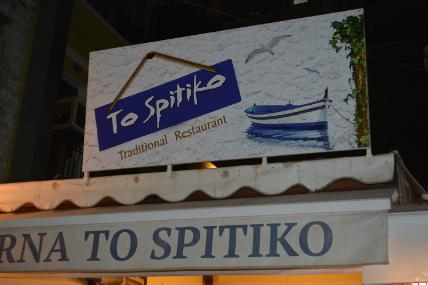 ... and then continued with an avocado, apple and walnut salad which Gayle very much enjoyed and a delicious (no fat; all meat) grilled octopus which I thoroughly loved.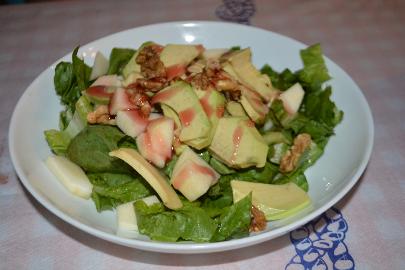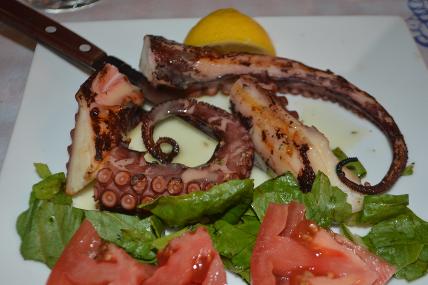 September 11, 2018 - Brugge to Brussels to Athens to Rhodes

Another long travel day. We woke at 6:00 am and were on the road by 6:50 am for the two plus hour drive to Brussels airport. There were a few spots where we were slowed done (construction and approaching Brussels) but had plenty of time to return our vehicle and check in for our Aegean flight to Athens. We had a 3 1/2 hour layover in Athens before boarding the 50 minute flight to Rhodes.
We took a taxi to one of the gates of the old city where we had arranged to meet John from Zacosta Villa Hotels. John had a golf cart to transport us and our luggage to the hotel. Not having much food all day, after checking in we found a restaurant/taverna for our first Greek meal. So nice to be back in Greece!
________________________________________________________________________________________________

John recommended nearby Ouzokafenes where we enjoyed a nice meal in a wonderful setting .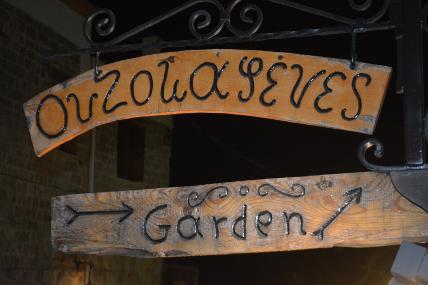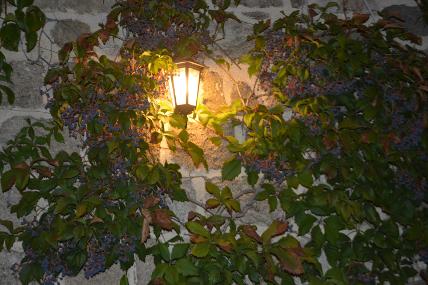 Of course Gayle's first dish was a Greek salad. The huge serving of cheese was much appreciated. I started with a traditional sausage and a bottle of Retsina, a
Greek white resinated wine made for at least 2,000 years. Its unique flavor is said to have originated from the practice of sealing wine vessels with Aleppo Pine resin in ancient times.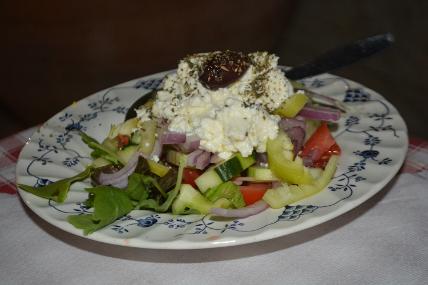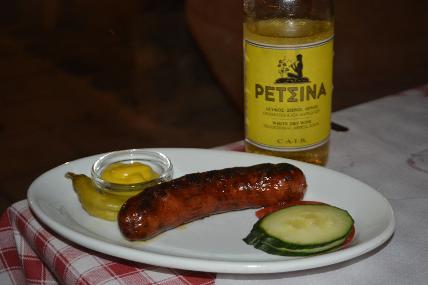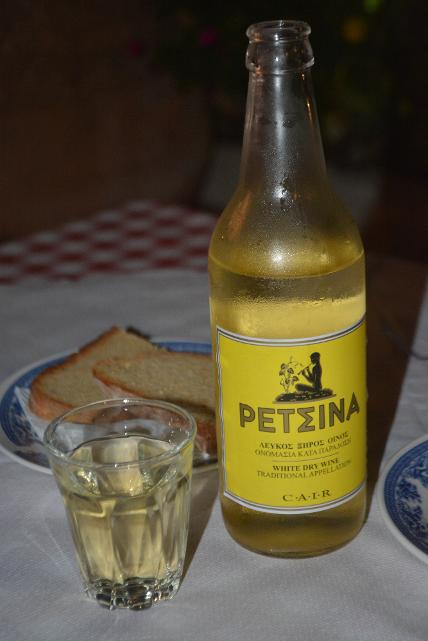 Then for our second courses Gayle had Ouzokalenes Auburgines, which she thoroughly enjoyed and I what I believe was the best Mousakas (served in a ceramic bowl) I have ever had.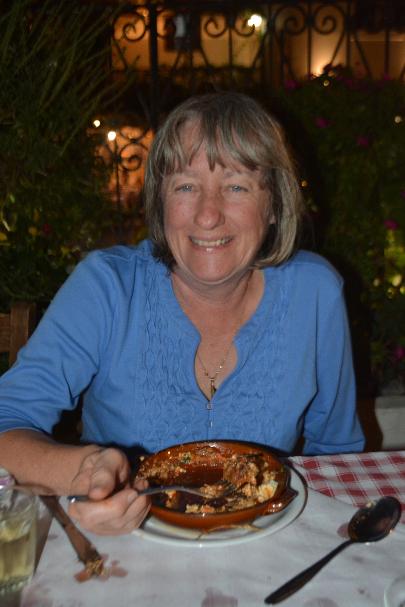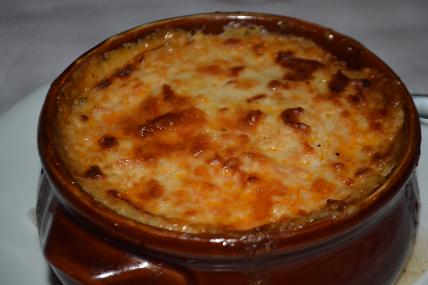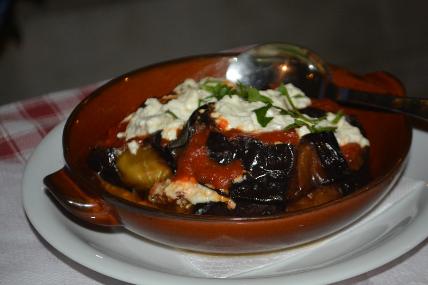 September 10, 2018 - Brugge, Belgium

We enjoyed a good long sleep - much needed - not making it out to breakfast until nearly 10:00. The bread, pastries, fruit selection, chocolates (yes chocolates for breakfast) and fresh orange juice were all great, as was the waffles covered in cream and blueberries. The owner Tine, and her Pyrenees Sheepdog Pickles dropped in for a nice chat. She shared with us some of the history of the building, i.e. in the 12th century the house was at the very edge of the city with the bottom unit used to store ice from the canal in order to keep the fish that were unloaded at this point fresh. Later, in the 15th and 16th centuries the building became a brewery with the breakfast area being the spot where the kegs of beer were stored.

The plan was just to walk about, admiring the attractive buildings covering various architectural periods and styles. . We walked over more cobble stones than I believe we had in the entirety of our lives, crowded with pedestrians and cyclists. In fact one needs to be particularly aware of the cyclists who are much more prominent than vehicles. We saw a number of unique building facades, many dating from the 17th and 18th centuries. Brick was the predominant construction material with most every building being of brick. There were statues and gargoyles to be seen along the way. We passed, but did not climb the Belfry in Markt square, and then the City Hall in nearby Burg square, a square that was inhabited as far back as the 2nd century AD. In the 9th century it became the base of operations of the Count of Flanders. The Palace of the Liberty of Bruges was the place from which the surrounding countryside was governed from the Late Middle Ages until 1795. Then the buildings were occupied by law courts for nearly 200 years. To the left of the 14th-century city hall is the old Court of Justice, a rare example of Renaissance architecture in Bruges.
Canal Deluxe provided us with a coupon for a two hour city walking tour. We decided to take the tour although we bailed about three-quarters of the way through as the group started to head back to City Hall, from where we departed. Our guide provided considerable history of the buildings and people of Flanders. One of the interesting opportunities was to be taken through the basement of a hotel just off one of the corners of Burg Square where the stone footings of the cathedral, destroyed by the French in 1799, have been uncovered and restored.

On our way back we decided to stop for a hot chocolate. We almost went to one place but thankfully went on as we found The Old Chocolate House where we got a table outside. You know this must be a decent place if the fellow doing a tour on a horse carriage mentions it to his clients on the way by. A really memorable approach - you order the type (white, milk or dark based on the percentage) and quality of chocolate. They then bring you a cup (made of chocolate of course) filled with the nibs of your choice. You then dump the nibs and/or the cup depending on whether you want to eat it on its own, stir it around and there you have your hot chocolate. Of course that was not going to be a sufficient indulgence for our last afternoon in this chocolate / waffle heaven so one order of a Belgian waffle with fresh strawberries and plenty of whipped cream. Three days later Gayle is still talking about it. And we didn't even make it up the the second floor Chocolate Bar - get it they have a chocolate 'bar' upstairs.
We returned to our B&B around 6:00 ish and then found out the restaurant we were considering was closed. Being tired and sore - half a day of walking on cobble stoned streets is tough for those of us with less than perfect knees - and not that hungry from the waffle and hot chocolate we ended up staying in. But there was one last surprise as I purchased an 'I Love Brugge' chocolate bar when I went in to pay that I left on Gayle's pillow. She was indeed surprised and pleased. And no doubt a fill of chocolate is one of the best ways to end one's day.
__________________________________________________________________________________________________
Breakfast included fresh orange juice, a wide selection of fruits, breads, delicious small puff pastry quiche like things, cereal, yoghurt, and of course waffles, these with blueberries and cream all served in an attractive breakfast area that still has the pillars from the brewery housed here back in the 17th /18th centuries.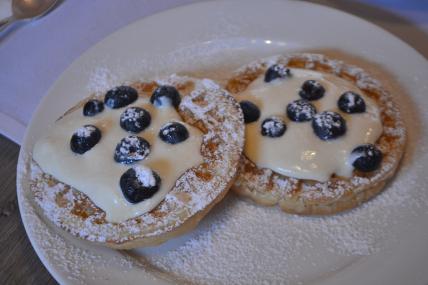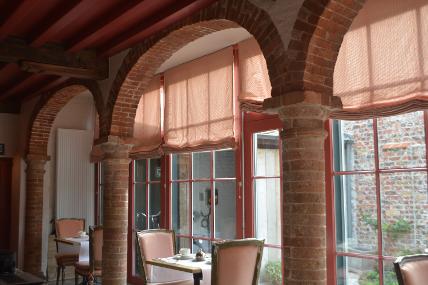 One can barely walk half a block without coming across either another waffle shop or chocolate shop, or more times than not both.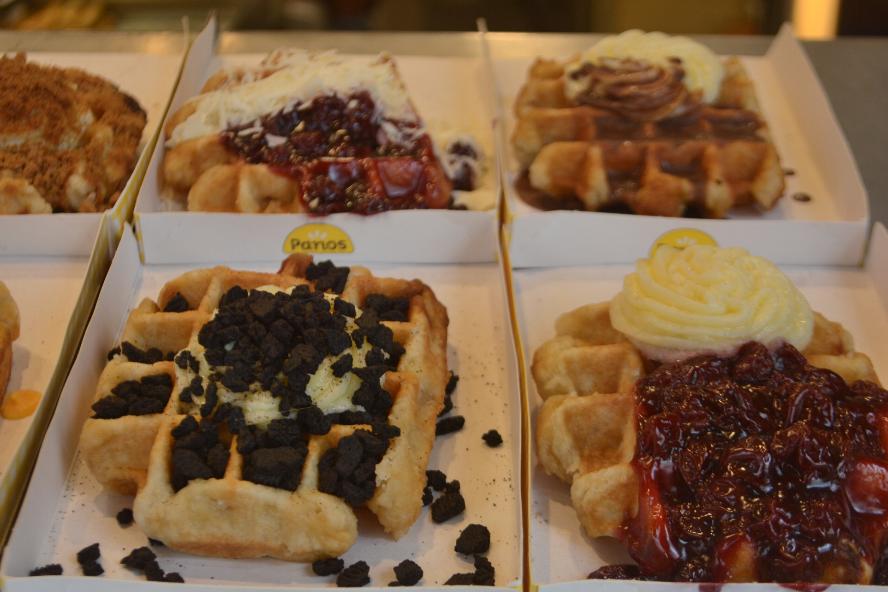 A tower and gold statue in front of the Duke's Palace hotel, and a random gargoyle on the top of another building.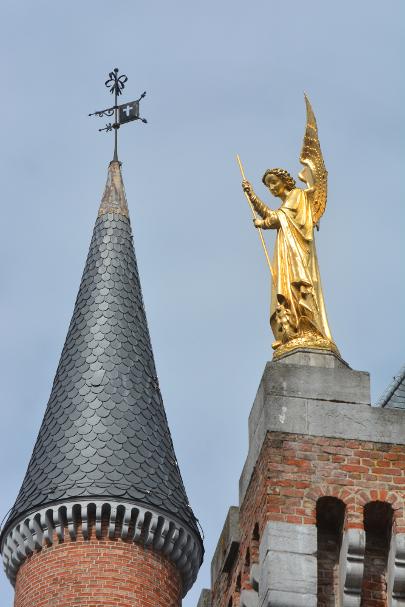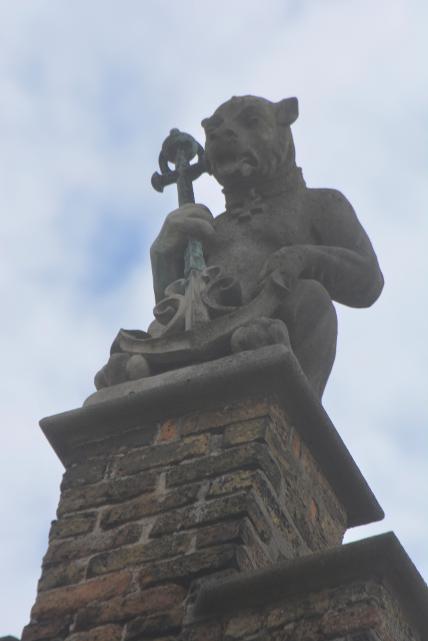 Attractive buildings, most often of brick with flowers and other interesting designs and info, e.g. year built as part of the front wall.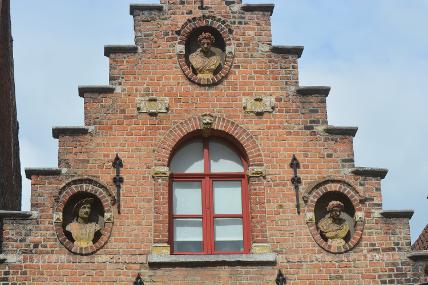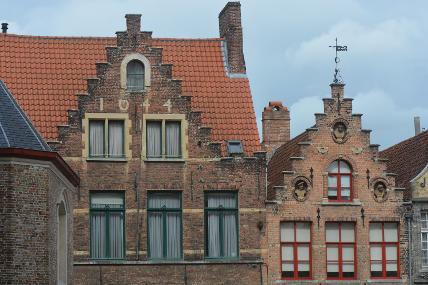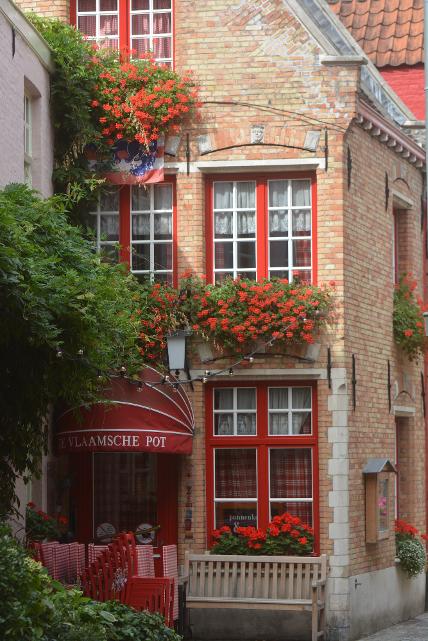 Interesting cobble stone streets predominantly used by pedestrians and cyclists. Vehicles were few and far between.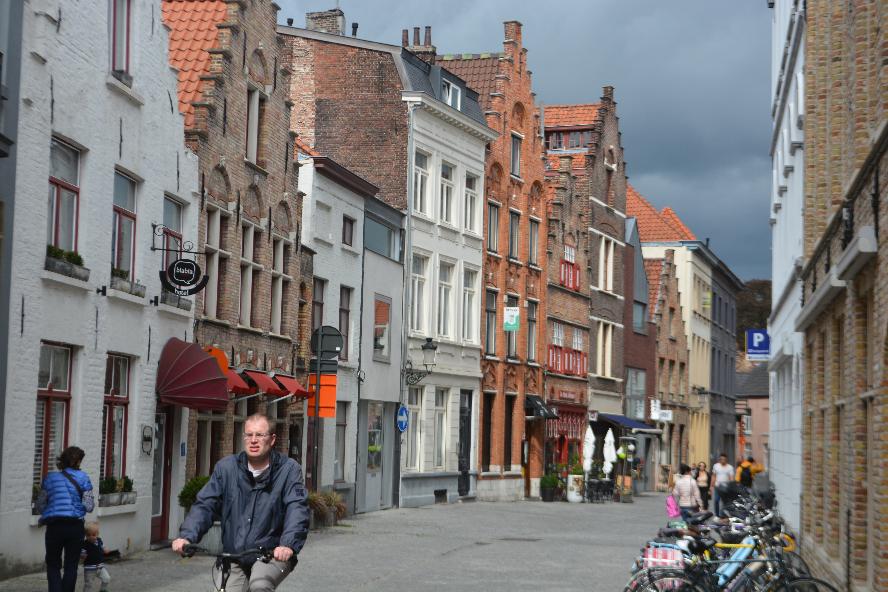 More of the interesting architecture on the facades of many/most of the buildings in central Brugge.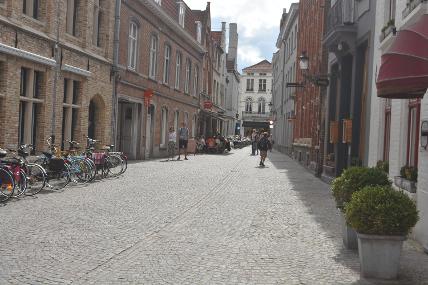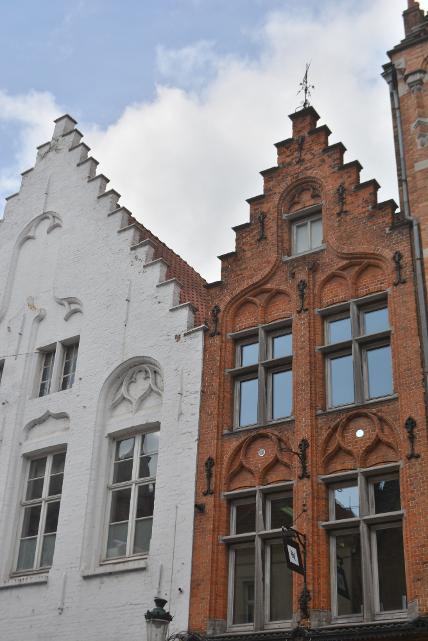 A couple of the dominant / interesting buildings bordering Burg Square, with the Brugge city hall on the right.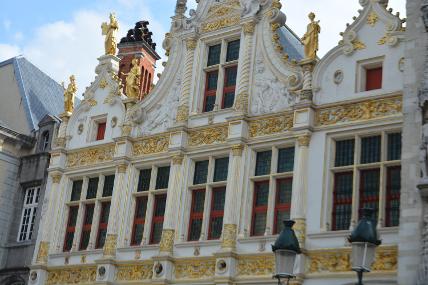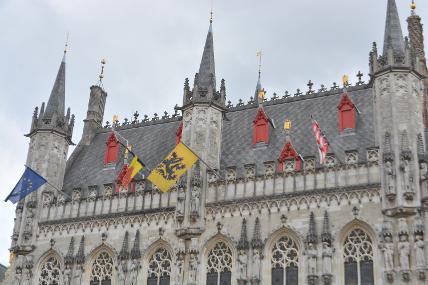 Canals with buildings built right to the edge.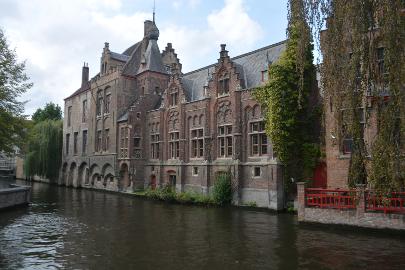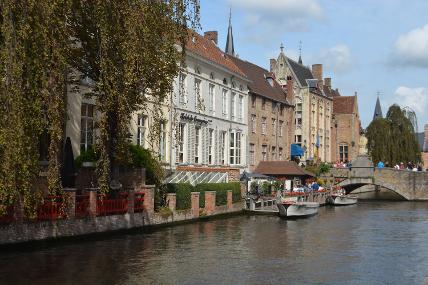 Chocolates, waffles with chocolate and of course the Chocolate Kiss.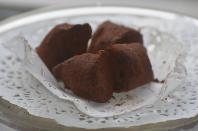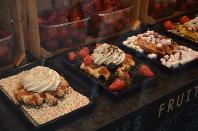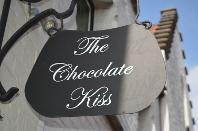 The smallest window in Brugge used by officers to identify boats entering the city in order to collect taxes.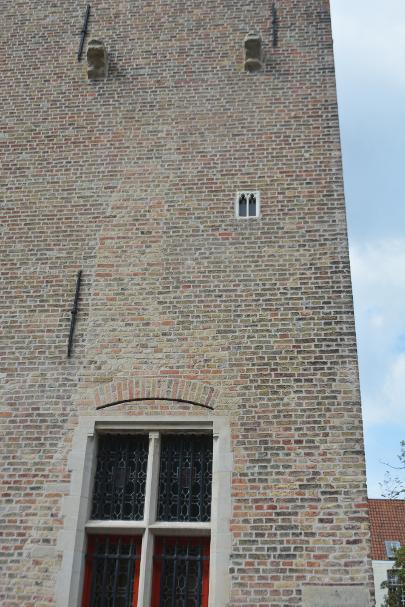 Another of the many churches here in Brugge.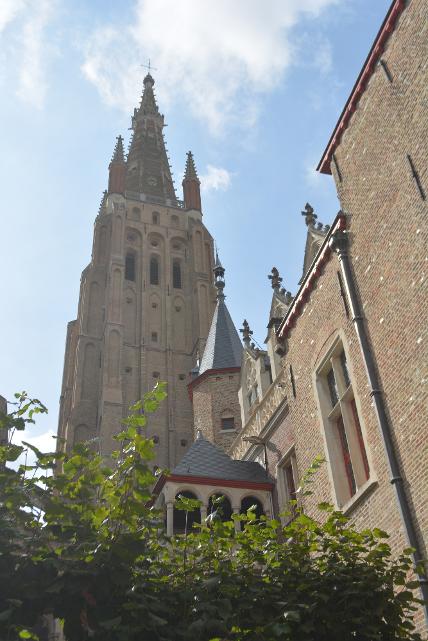 On our way back to our B&B we stopped at The Old Chocolate House for a hot chocolate .. and a waffle. We chose extremely well, thoroughly enjoying the 'make it yourself' hot chocolate.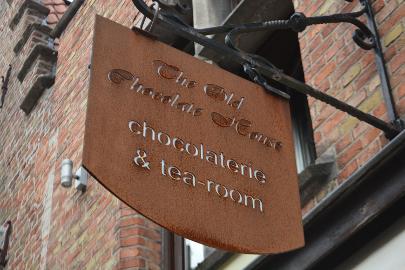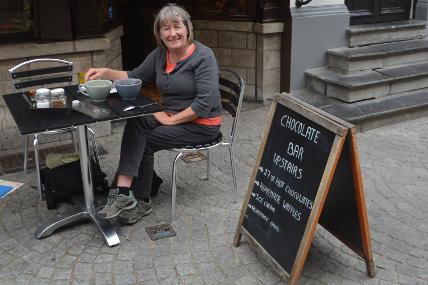 Of course one can't stop at a cafe/chocolate shop without also indulging in a Belgian waffle with fresh fruit and a pile of freshly whipped cream.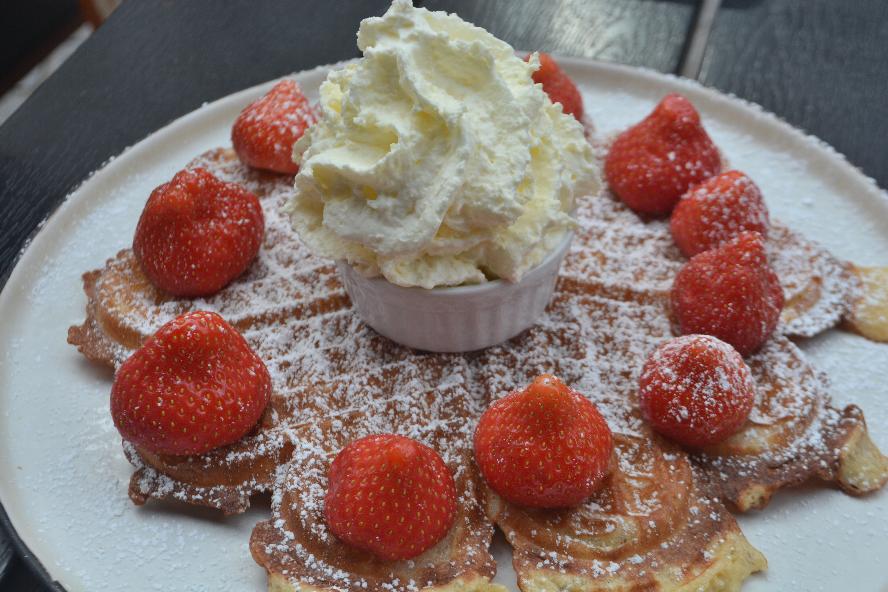 What a unique process - after choosing the quality and concentration (white, milk or dark) you take the chocolate nibs in these chocolate cups on the left and you drop them in the hot milk. The chocolate sinks quite quickly after which one stirs it and voila ... hot chocolate.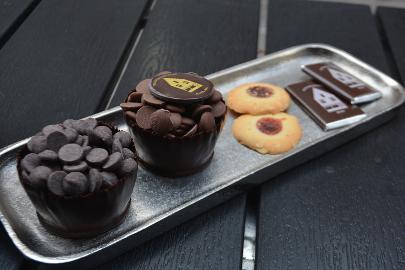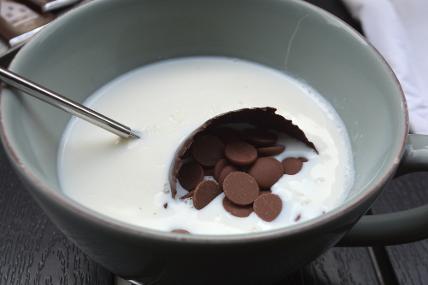 About to enjoy my hot chocolate.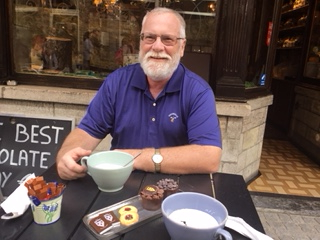 What better way to end the day other than with a 'surprise' I Love Brugge chocolate bar on one's pillow.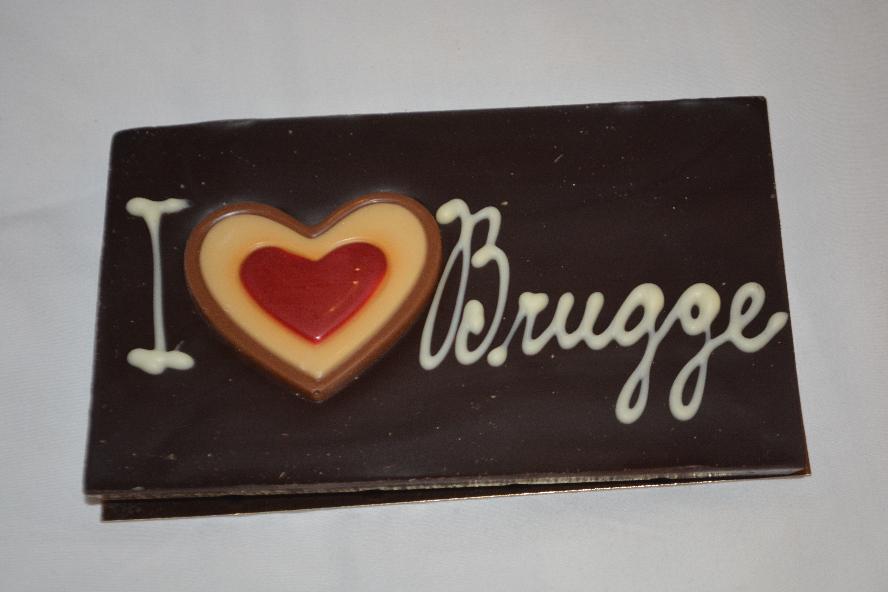 September 08/09, 2018 - Halifax to Iceland to Brussels to Brugge
Because we are flying home on Aeroplan points we needed to find a one way ticket to Europe. The best we could do had pros and cons. We found a great fare with Icelandair - $404 without luggage and $479 with (we checked in one bag) meaning we did not have to backtrack to Toronto or Montreal but rather flew east from Halifax. However it did mean a three plus hour stop in Keflavik, the airport outside Rejykavik before continuing on to Brussels. As well we could not make the connection on to Athens the same day, whether through Brussels, Amsterdam, Munich or any other European destination of Icelandair. Rather than spending a night near an airport we decided to take the opportunity to visit the city of Brugge in Belgium. We had heard great things of this UNESCO world heritage city, characterized by cobblestone streets and canals much of which was built between the 12th and 15th centuries. As a result the city of approx. 120,000 has a feel of being in a medieval fairy-tale.
We were a bit late, landing in Brussels at 1:40 pm after which we picked up a rental car and headed the 1 1/2 plus hours north. The drive is really not all that scenic - primarily flat with a few fields of corn. Once off the main highway we immediately noticed how cycling friendly the area was with bike lanes adjacent to virtually every road.
Being noticeably hungry we stopped a few kms outside of Brugge at a cafe. Gayle could not resist a Belgian waffle with fresh strawberries while I had Belgian fries with traditional mayonnaise. We then entered the city and quite easily - it probably helped that it was Sunday - found our lodging the Canal Deluxe B&B where we were met by Anna. The Canal Deluxe is located, you guessed it, right on one of the canals of Brugge. We were very impressed with our room - Gustaphe - with its view of the canal on the one side and a nice garden on the other. The building dates from the 1100s when it was an unloading point for ice and fish. Later in the 15th/16th century it served as was a brewery.
Although exhausted to the point where we could have easily napped we knew if we did we would no doubt be out for the night, so we pushed ourselves to wander the city and find a restaurant. First impressions were very positive as we walked the cobblestone street to the main Markt square where located is the 13th century Belfry with its 47 bell carillon and 83 metre Tower providing views across the entire city. We eventually found a place to eat where I had a dark Belgian beer with a Flemish stew while Gayle had a veggie quiche. It was nice that it was warm enough to sit outside for dinner.
We returned past lit buildings and a multitude of chocolate and waffle shops to our B&B where we immediately crashed.
Of course with the opportunity to enjoy a Belgian waffle -
a variety of waffle with a lighter batter, larger squares, and deeper pockets than ordinary American waffles originally leavened with yeast as opposed to baking powder that is now often used - with fresh strawberries and a large bowl of whipping cream (not shown).
While Gayle enjoyed her waffle I had a small bucket of Belgian fries with the traditional mayonnaise.
And of course we might have sampled each others..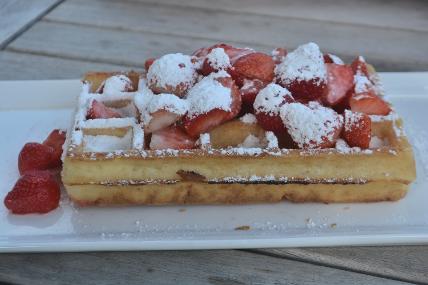 Part of the pretty garden outside our room where we enjoyed our welcoming drink - a glass of wine for Gayle and a a local Belgian beer, a Brugge Zot, for me.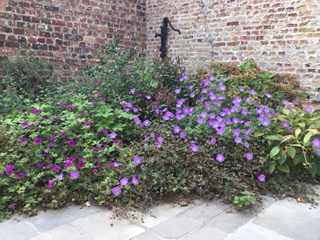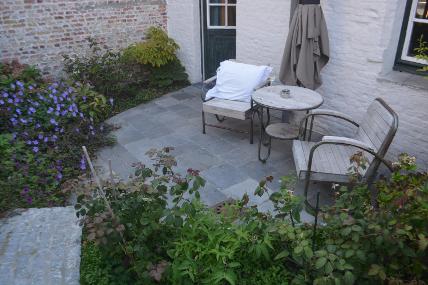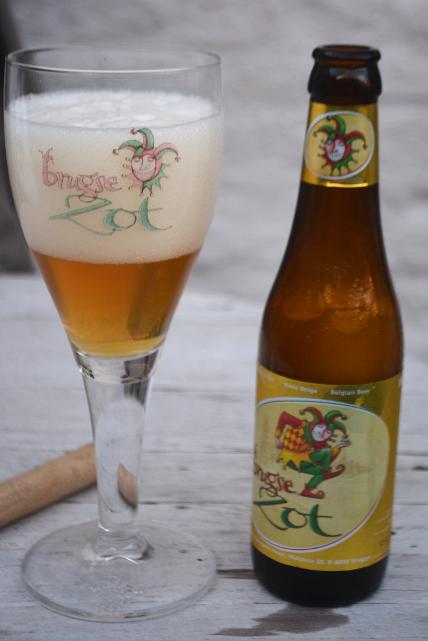 The views (left and right) out our window to the canal - note the canoe docked nearby.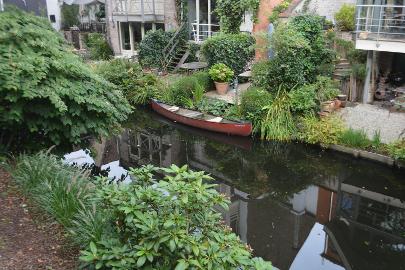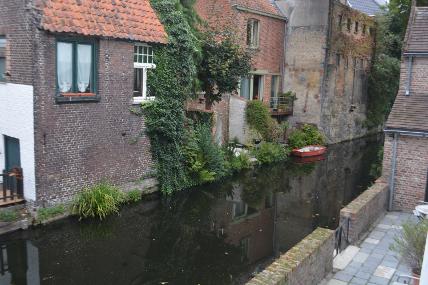 Our room, Gustaphe, had unique and interesting light fixtures near the bed and the most beautiful chandelier near the fireplace and comfy formal chairs. With the high beamed ceilings the space was very open.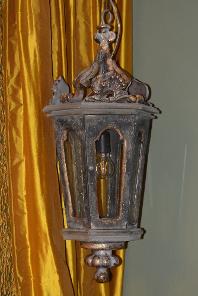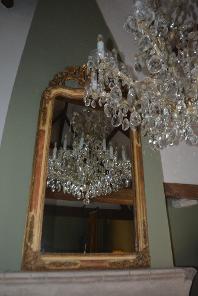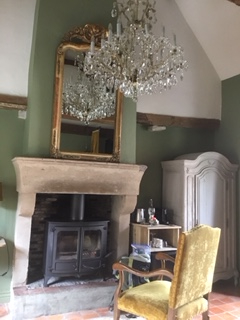 A number of the very traditional buildings lining the streets of Brugge.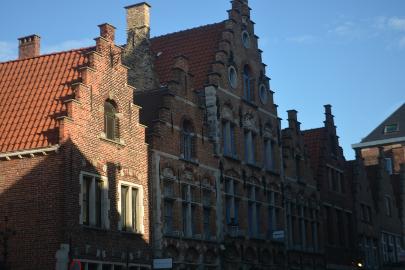 Belgium in general and the city of Brugge are known for their chocolate. There are shops everywhere with all shapes and sizes of chocolates.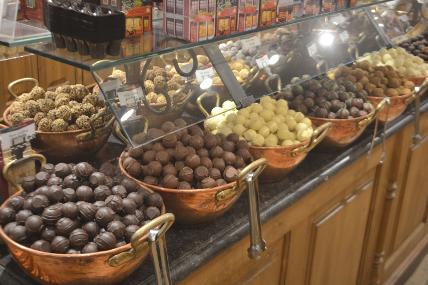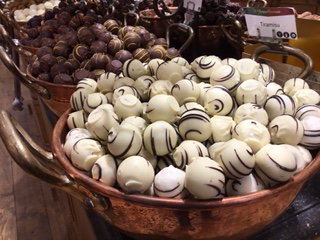 Some of the buildings on the city centre's Burg square.
The dominant Belfry, having burnt and been rebuilt numerous times.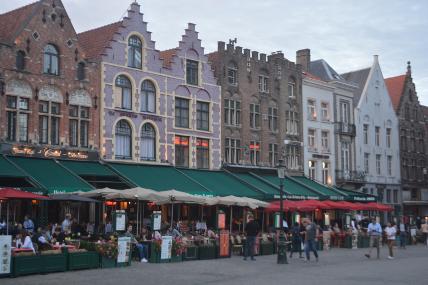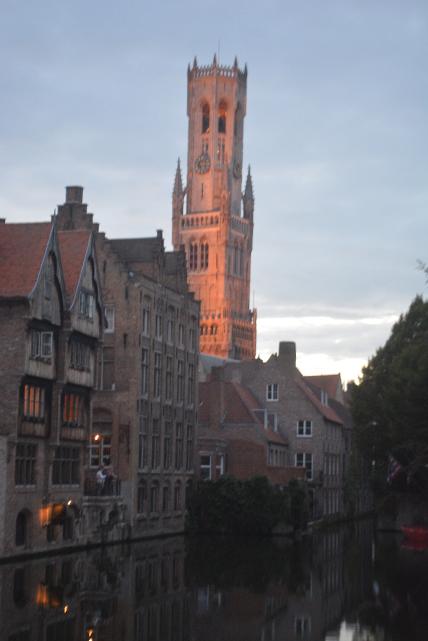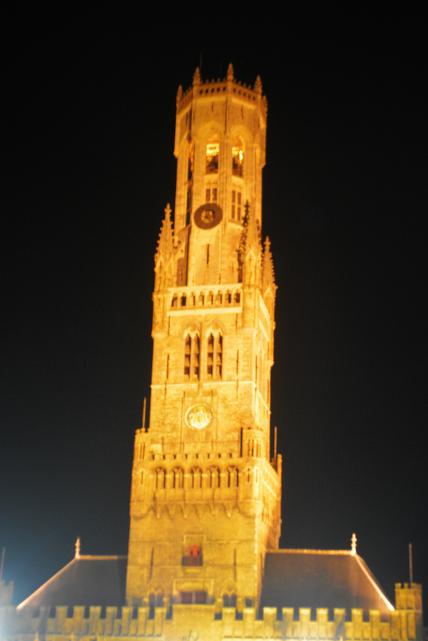 A glass of wine, a dark Belgium beer and my Flemish stew. Unlike french beef stews made with wine a Flemish stew relies on the deep, dark flavour of Belgian abbey-style beer.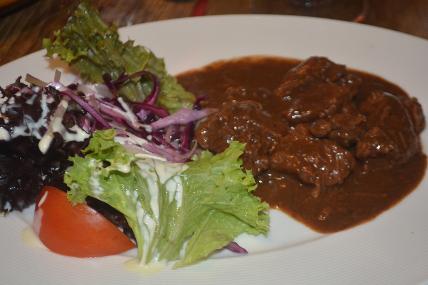 Our next adventure, after a couple of nights in Bruges, Belgium (Sept 9 and 10) will take us back to the Dodecanese Islands of Greece, where we spent six nights on the island of Rodos in 2010.
We will again be flying in to Rodos, but only staying the night due to ferry scheduling. We will be returning to Zacosta Villa Hotel, within the old walls, arriving on the late flight from Athens. Early the next afternoon we are off to Symi (north of Rodos) for four nights. We then need to return to Rodos for a night as there is no direct ferry to Tilos that coincided with our itinerary. Then it is off to Tilos (north-west of Rodos) for three nights, after which we are on to the island of Chalki (Krevatia on the map) for three more nights and then south-west to Karpathos for the last six nights of our time in Greece.
From Karpathos we then fly, through Athens, to Rome for the second part of our trip - in central Italy.