May 28, 2023 - Hotel Selba D'Ansils, Benasque with a
drive up Valle de Benasque to LLanos de Hospital
With the weather calling for rain starting at noon immediately after breakfast we decided on a morning drive further up the valley to the end - at least with respect to driving - to Llanos de Hospital. Hikers of course can and do continue further.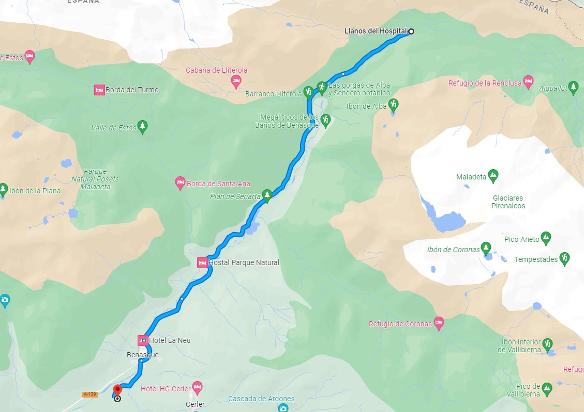 It was a beautiful 14 km drive through the valley framed by mountains, past a number of waterfalls roadside wildflowers and colourful meadows. Snow could be seen at the higher elevations. Quite different than when last here in 2018, when only a week earlier there was still some snow by the roadside, the Llanos de Hospital was open with many cross country skiers using it as a base for a day's ski. But not this year. There was no snow, no skiers and no place to enjoy a drink and some food. In fact the parking lot was closed with a gate. The effects of changing weather patterns.
We returned to Benasque shortly after noon to the sound of thunder and the skies opening. Rain continued throughout the rest of the day. The afternoon and evening were spent indoors, blogging and napping.
We again ate dinner at the hotel's restaurant where we enjoyed a superb meal of:
- a small starter plate of sausage and olives
- Espinacas con Pasas Pinones - spinach with raisons and pine nuts
- Raviolis de Alcachofa Manzana y Jamon (ravioli of artichoke with apple and ham). I had the raviolis as a first course while Gayle had the same, without the ham, as her second course. We both loved the dish
- Parrillada de Cordero y Longaniza - grilled lamb (my favourite) and a mountain sausage, and
- Catalan (similar to the Basque style) cheesecake
accompanied by a bottle of local red wine.
A perfect day for us - a nice short drive, a restful afternoon / evening and a great dinner.
The Hotel Selba D'Anisls adorned with a wall of roses.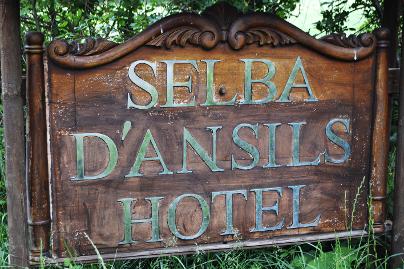 The mountains as seen from the grounds of Selba D'Ansils.
The entrance to the hotel.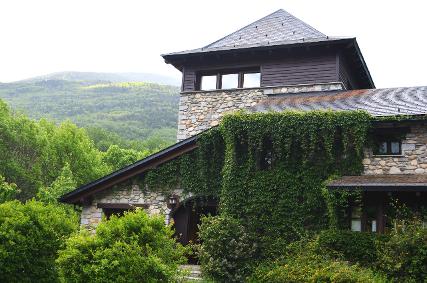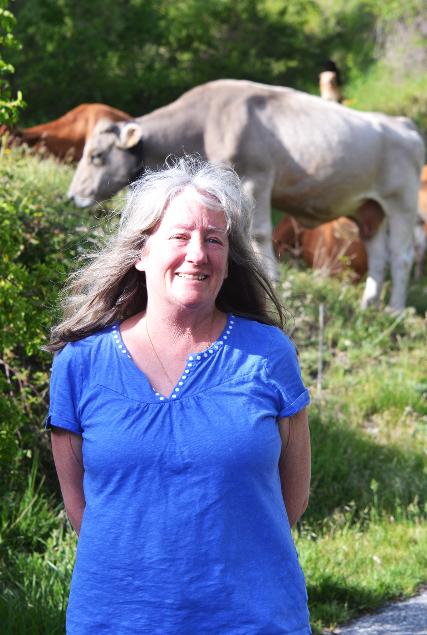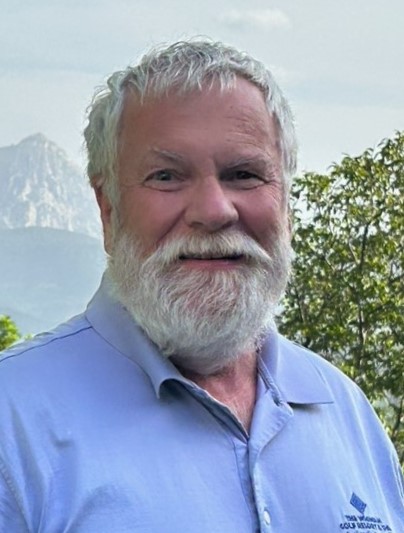 Mountains framing the Valle de Benasque.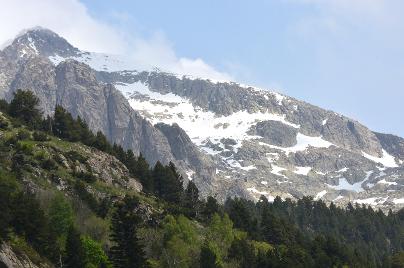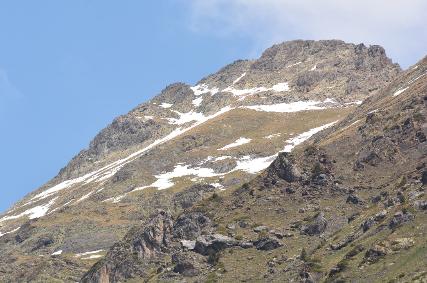 A couple of the many waterfalls along the way.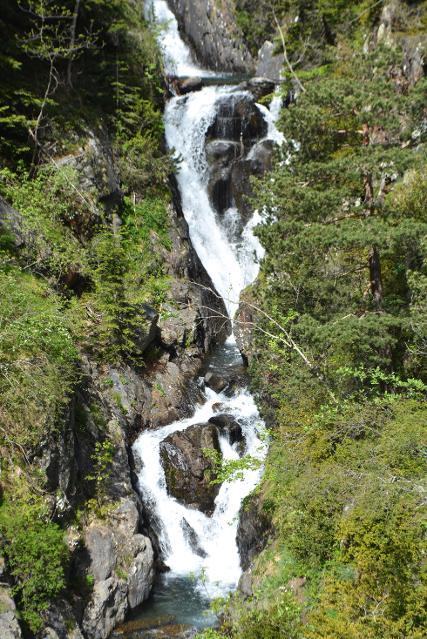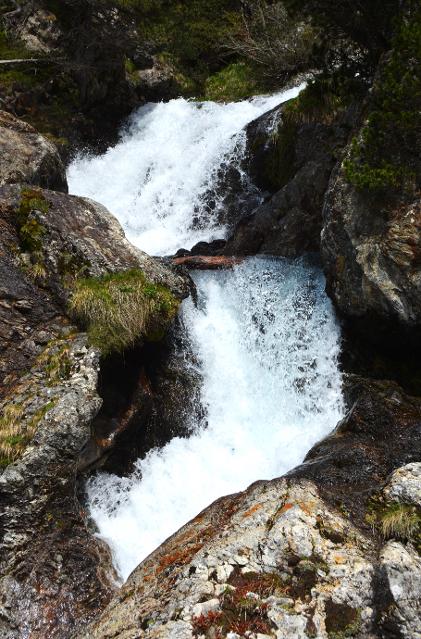 Enjoying the fresh mountain air while balancing on a rock. White beard => white snow.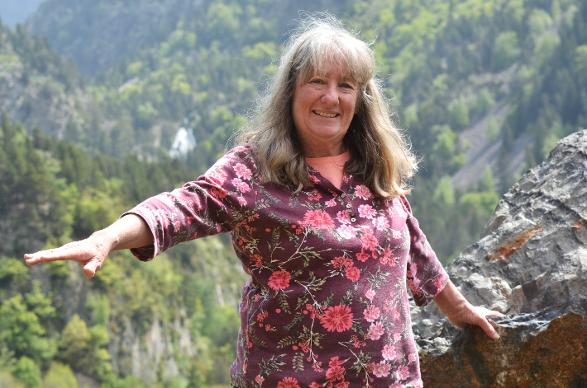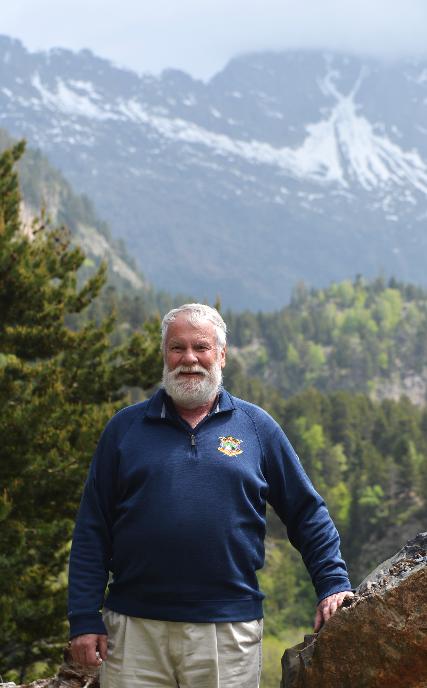 A lake above an embalsa (dam) created along the Rio Esera.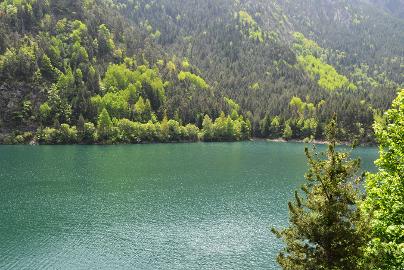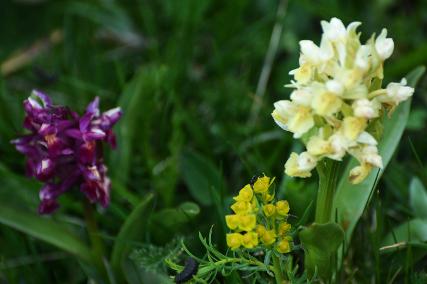 Many more mountain wildflowers - Alyssum montanum, Lotus alpinus, Rock soapwort and Wild thyme.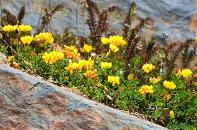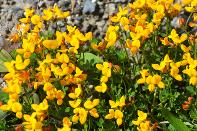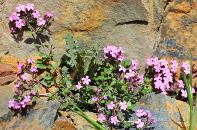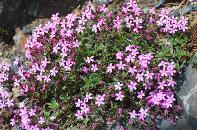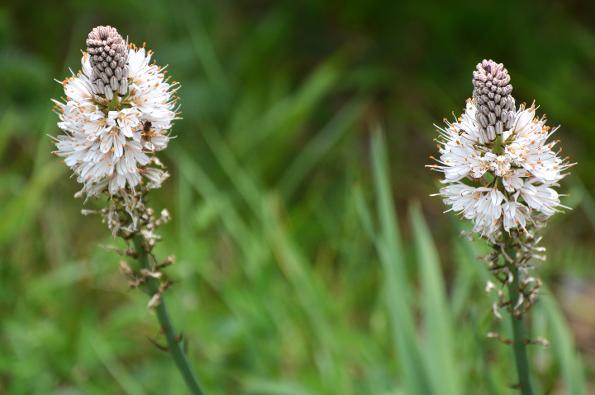 A meadow of colourful wildflowers.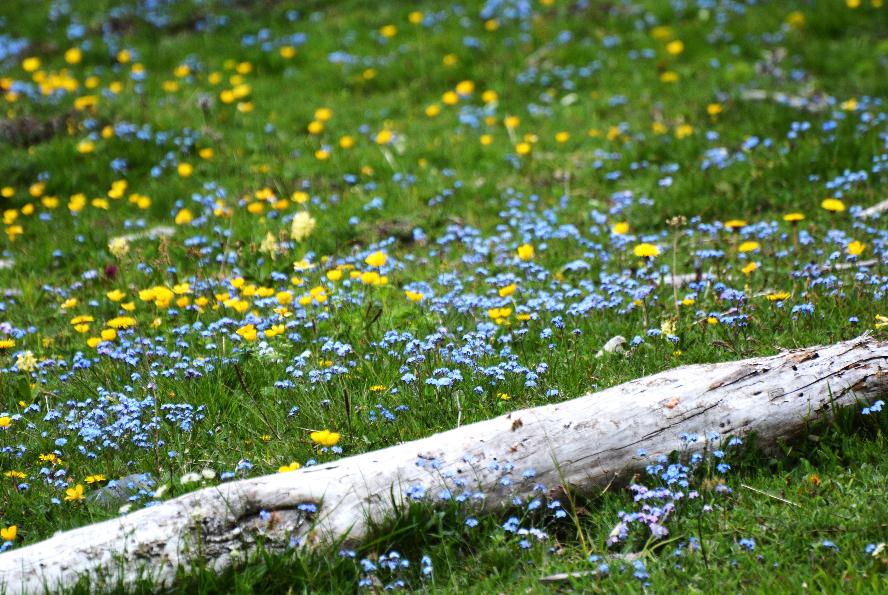 ... and more wildflowers including Forget-Me-Nots, the Spring gentian, Alpine columbine and Milkworts.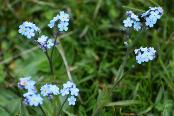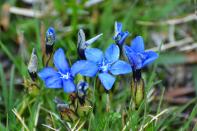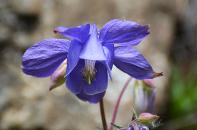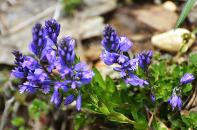 A bee doing what bees do.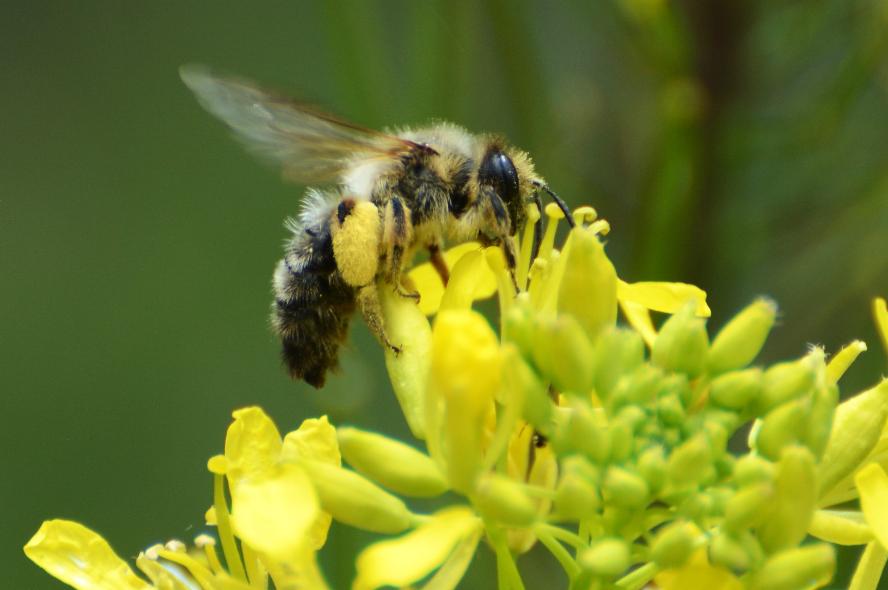 More colourful wild flowers - mountain orchids, Bulbine and a variety of Vetch.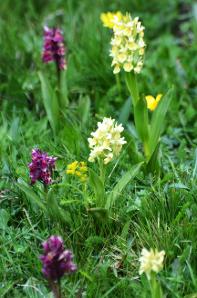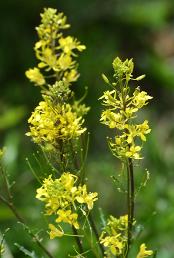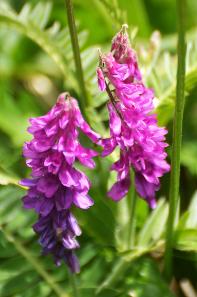 Espinacas con Pasas Pinones. Raviolis de Alcachofa (artichokes) y Manzana (apple).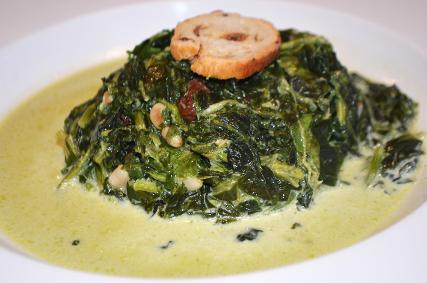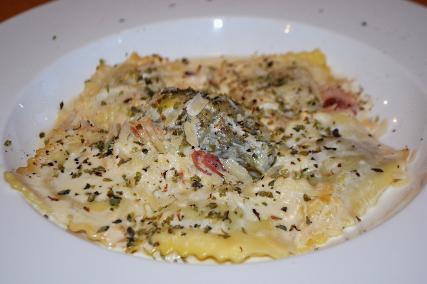 Parillada de Cordero y Longaniza (lamb chops and sausage).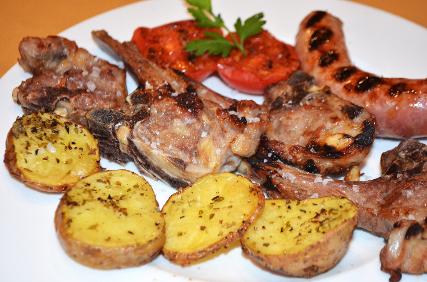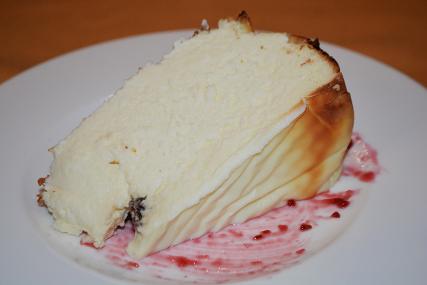 May 27, 2023 - Hotel Selba D'Ansils, Benasque /
Lunch at Casa Javier
We are three nights here at Hotel Selba d'Ansils. There really are only two directions to go being near the end of a valley - further up the valley where the road ends in 14 kms, or back to Castejon de Sos and into the mountains if one wishes.
After a relaxing mid-day we decided to drive the half hour - along the main road being the blue route - or so back down the valley and then east to Casa Javier, a restaurant we happened upon in 2011, and had returned to in 2018. We were so impressed with the food we were the first to give Casa Javier a TripAdvisor review. Another great decision. Javier certainly appeared to remember us. Whether he would recognize us had we not mentioned we were the Canadians who had visited twice before is hard to say but we were greeted with a smile and a welcome.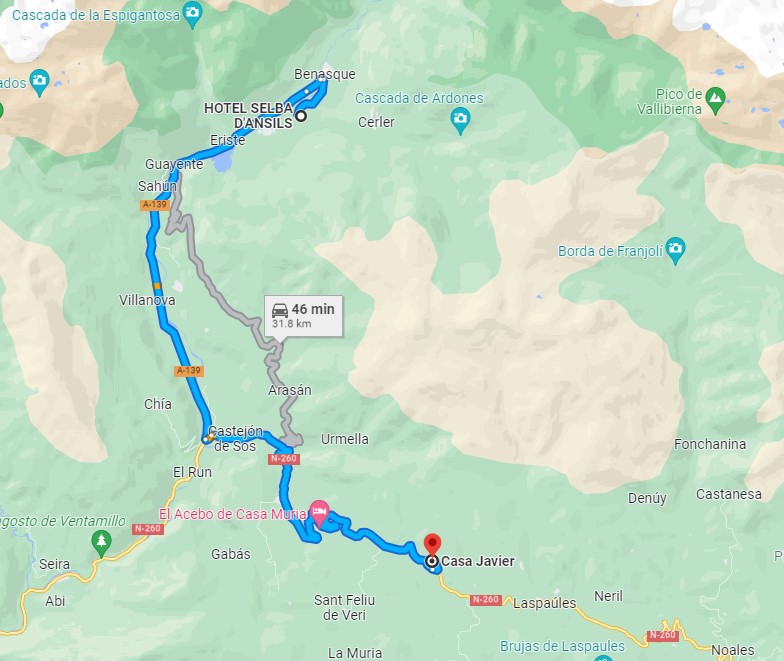 We enjoyed another fantastic, very reasonably priced meal - 23 euros for three courses each. Gayle started with the Carpaccio de tomate rosa burrata y pesto - she was in heaven while Norm had the Risotto con arroz boletus edulis, trompeta negra y queso Pirineos. For our secondos Gayle had the Arroz integral con pisto (red peppers) y thempe de soja (with soyabeans), and for Norm the Conjelo (rabbit) a la cazuela con setas (in a casserole of mushrooms). We both repeated the same dessert we each had on our two previous visits - the Helado de boletus edulis con frutos y nata (mushroom ice cream with fruits and nuts, drizzled with chocolate), every bit as unique and tasty as we remembered.
We returned to Benasque along the grey road through Arasan and then Liri. While narrow the road climbed up the mountain providing a number of wonderful vistas along the way. There were stopes for photos of wildflowers and a number of cows being herded by a couple and their dogs, dogs who did a great job when one of the cows tried to 'sneak' up the hill. They were having none of it.
We returned sixish and simply relaxed for the rest of the evening, making use of the jacuzzi in our room.
Hotel Selba D'Ansils after a late afternoon rain - a beautiful photo taken by Gayle.
The view out our room. Hotel Selba D'Ansils adorned with roses.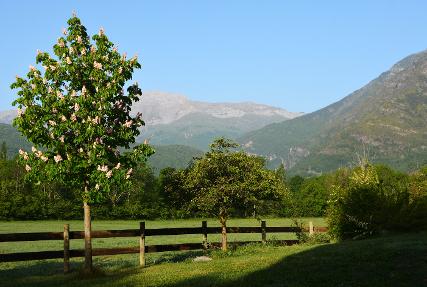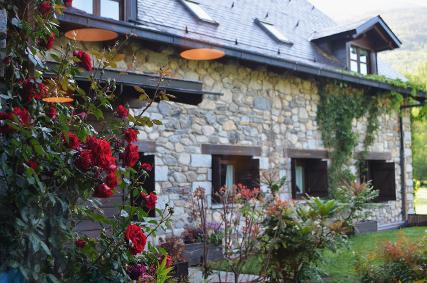 Cheese and fruit for breakfast.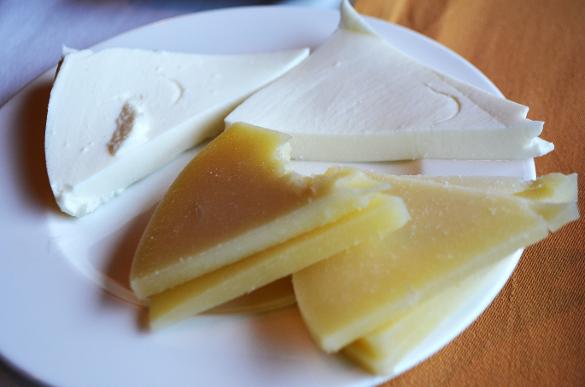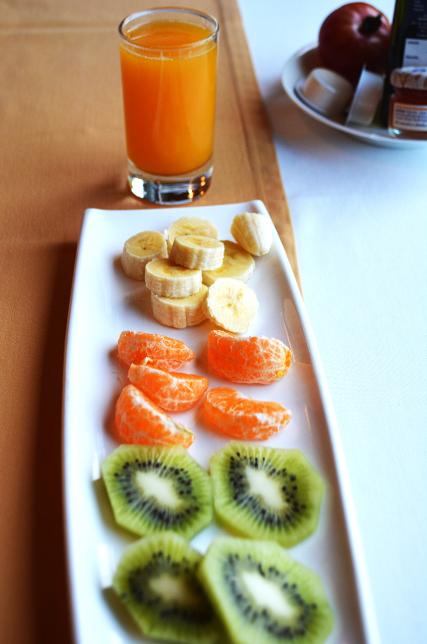 Eggs and ham. A nice selection of breads and croissants.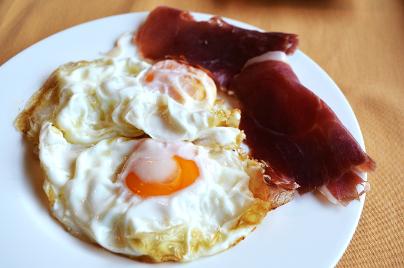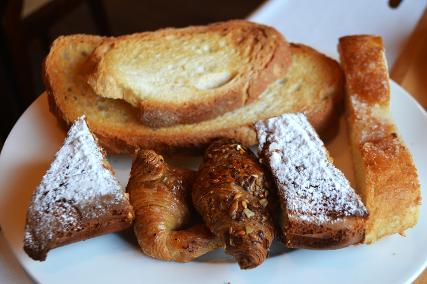 Orchids certainly seem to be a thing here in the mountains - we even have some in our room.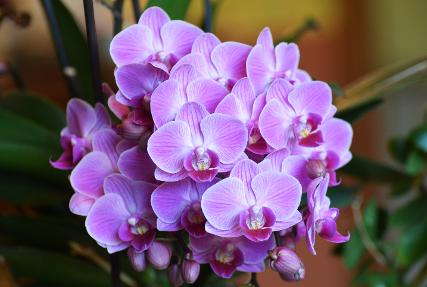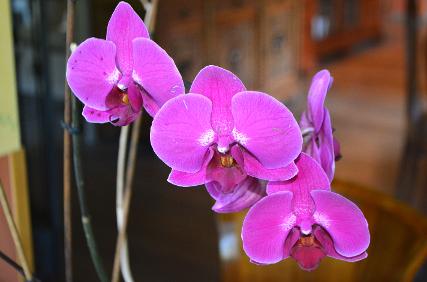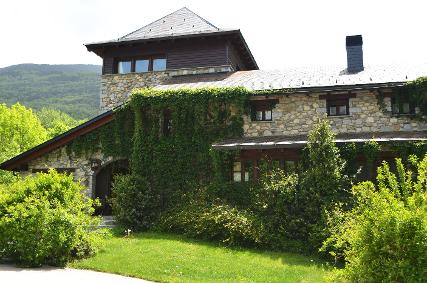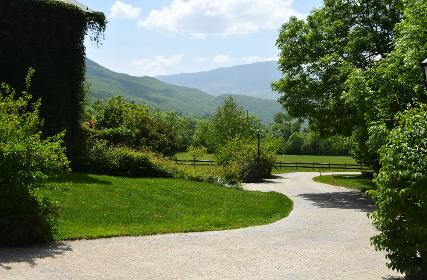 Carpaccio of tomato with burrata and pesto. Mushroom risotto.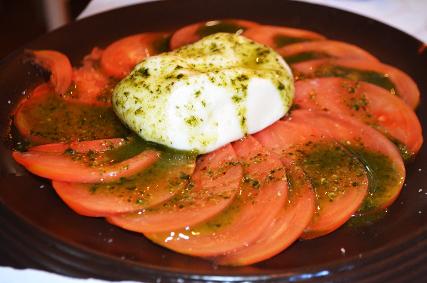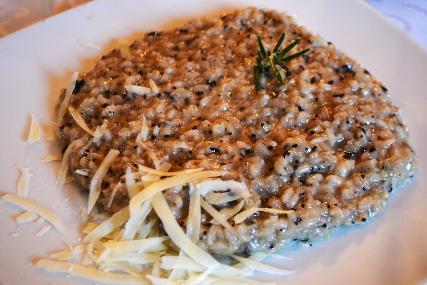 Rice with red peppers and soyabeans. Rabbit in a casserole of mushrooms.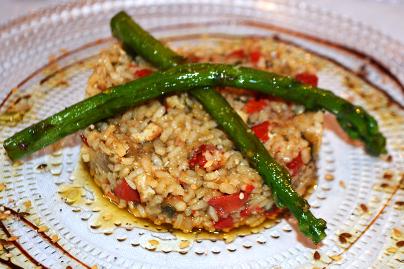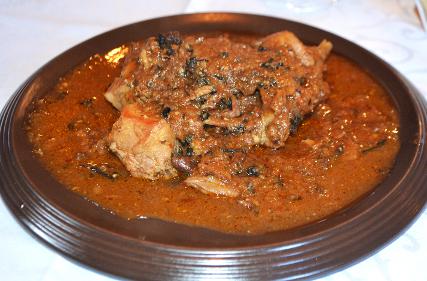 Mushroom ice cream. Restaurante Casa Javier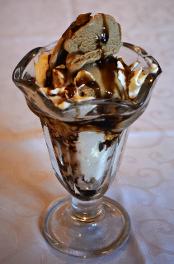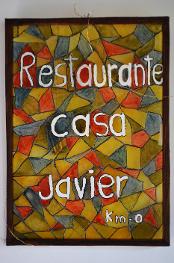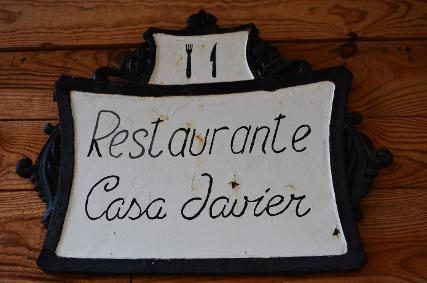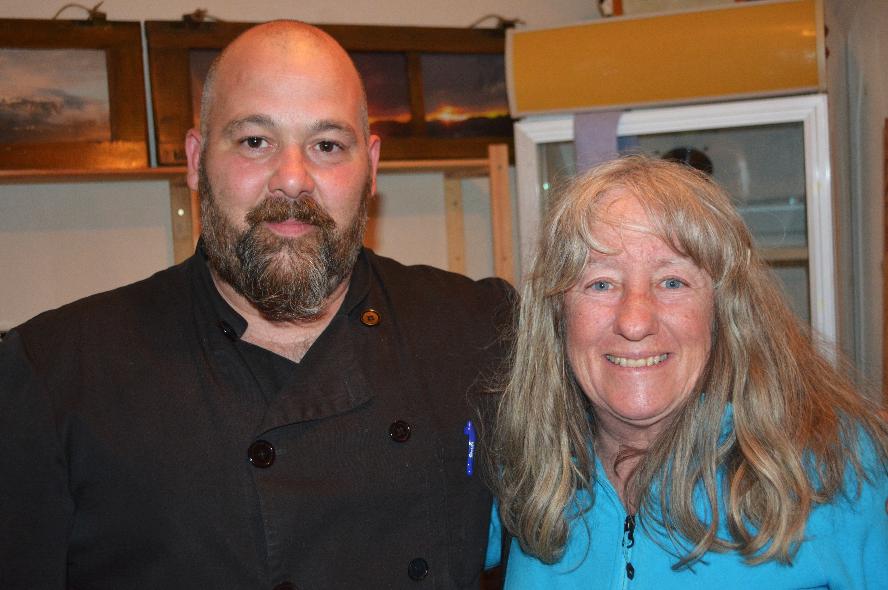 Looking after the cows, even at a somewhat elderly age.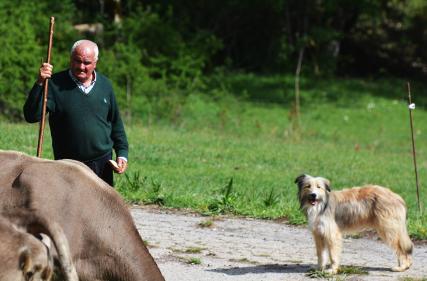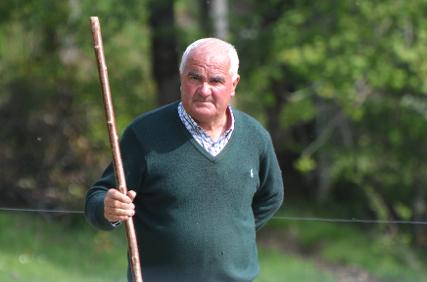 Stone buildings in the country near Liri.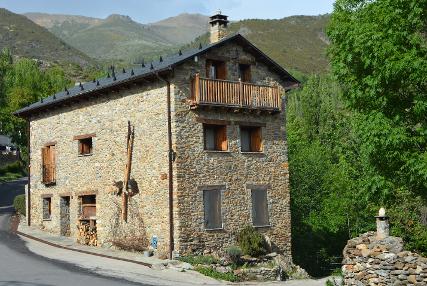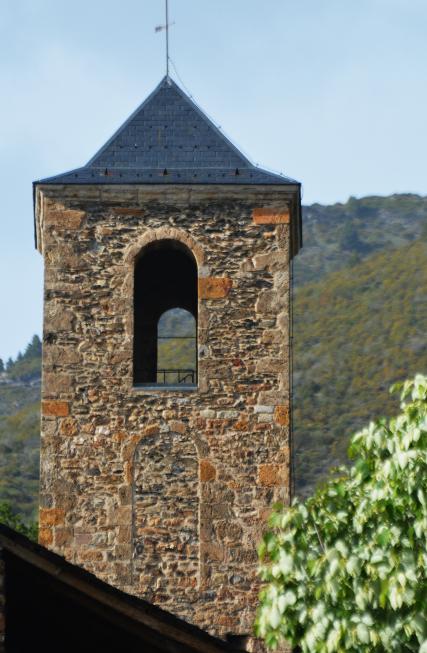 The countryside and mountains around Castejon de Sos.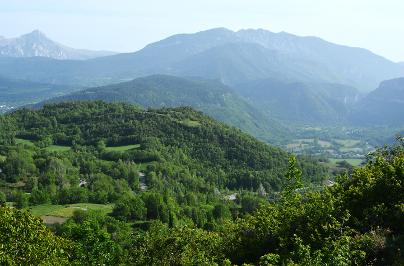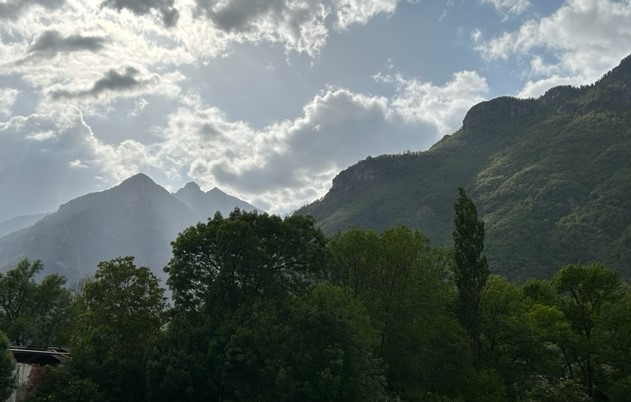 Herding dogs guarding the escape route.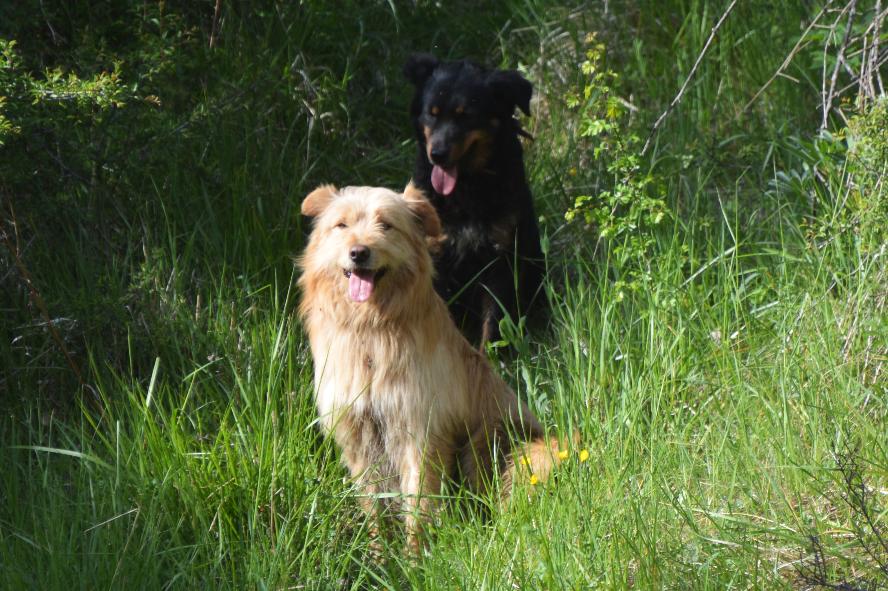 Those who tend to sheep are 'shepherds'. Those who tend to goats are 'goatherds'. Those who tend to cows must be afraid as they are known as 'cowherds'.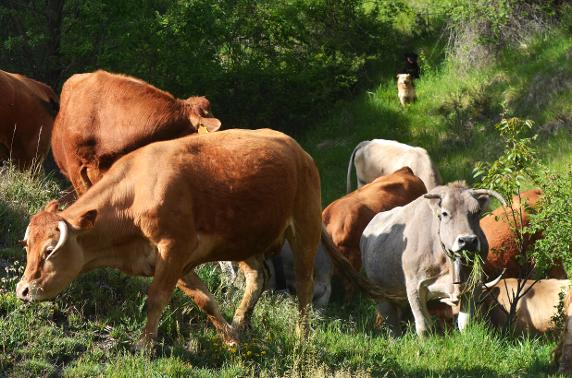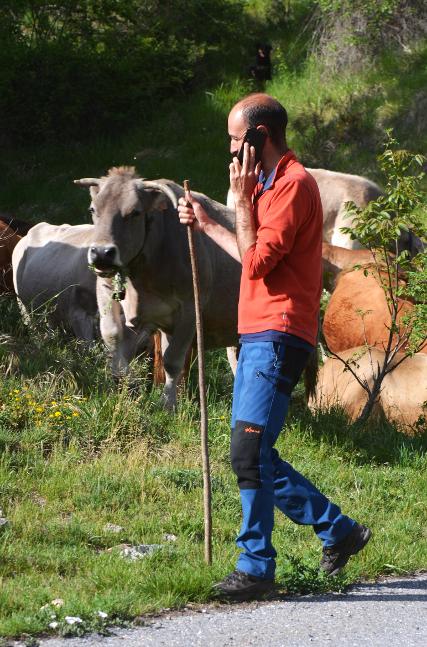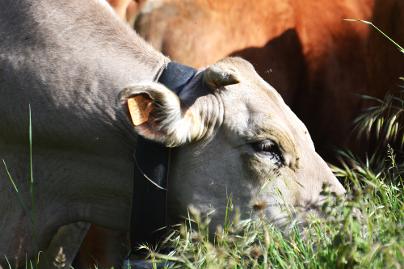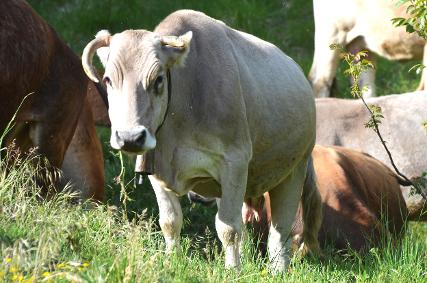 Spring time in the Pyrenees means more wild flowers - Dianthus and meadow sage.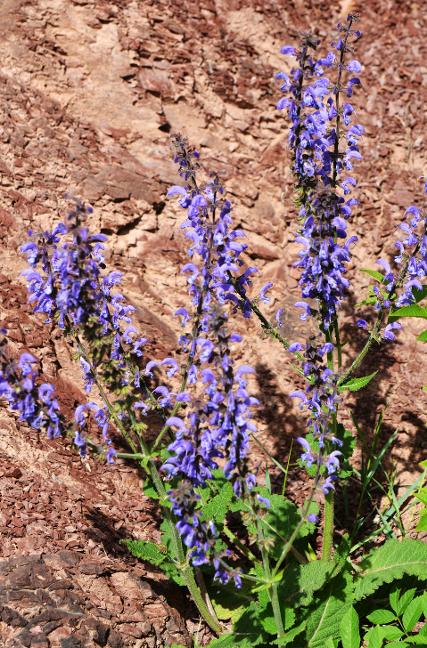 Marigold. Lady's Bedstraw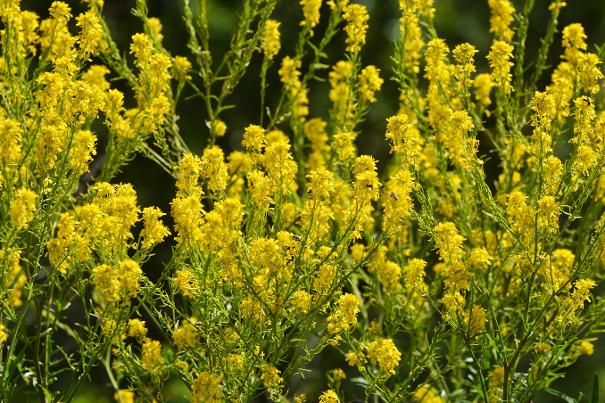 May 26, 2023 - Casa Rural Les Flors, Grammos to
Hotel Selba D'Ansils, Benasque
We awoke to the clouds rolling past our balcony, literally just outside our room. Breakfast was again very nice, with a selection of meats and cheese served on a piece of slate, cereal, croissants, bread, juice, yoghurt, a tomato with olive oil, and fruit, and course coffee. Before leaving Casa Rural Les Flors we enjoyed some time in the beautiful outdoor space, adorned with many colourful flowers. We were joined by Mask and Gris the two very friendly dogs. In fact Mask accompanied Gayle on her walk about the property.
By the time we left it was a bit after noon. Our drive took us west and north, through some very scenic mountains and valleys. The route was simple, staying on the N260 through Sort, La Pobla de Segur, El Pont de Suert, and then on to Castejon de Sos where we turned due north to Benasque.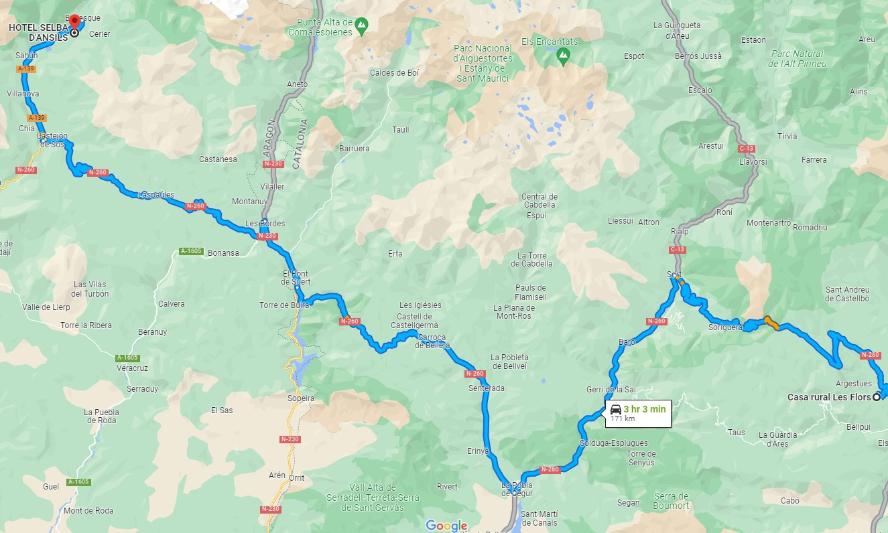 We easily found our next 'home away from home' the Hotel Selba D'Ansils just outside the mountain ski village of Benasque. Although only built 16 years ago the hotel has a feel of a much older place, respecting the traditional style of stately homes of the Benasque valley being built with stone, wood and slate. Selba D'Ansils with its 13 rooms has a family mountain feel being located outside of town adjacent to a meadow, forest and small pond. Perhaps most noticeable are the cow bells of the nearby herd in the next field over - throughout both day and night, essentially 24/7.
Our dinner decision was easy when we saw fondue on the menu. More on the simple side with only bread and potato to dip but quite tasty. A salad would have been a nice addition but the fondue itself, as was the accompanying bottle of local white wine was quite good, bringing a close to another day in the mountains.
Some might say my head is often in the clouds but this morning it was quite true as we awoke to the clouds rolling past just outside our balcony.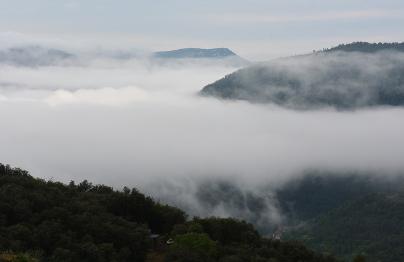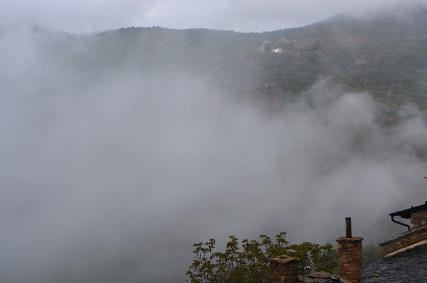 Breakfast included mountain meats and cheese, croissants and bread, and all the other breakfast standards - juice, yoghurt, fruit, a tomato, cereal and good strong coffee.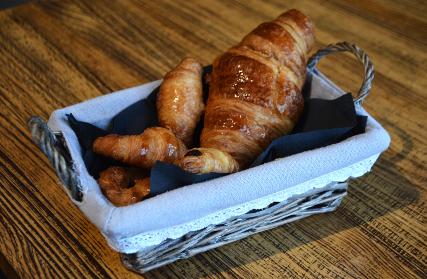 Unlike the tile rooves further south slate rooves are virtually everywhere in the Pyrenees, some with a cat.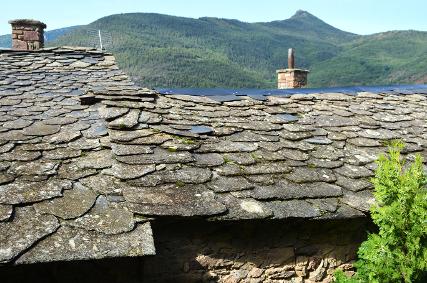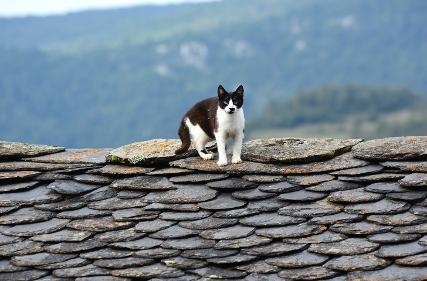 The Casa comes with two very friendly dogs - Gris, and Mask the momma.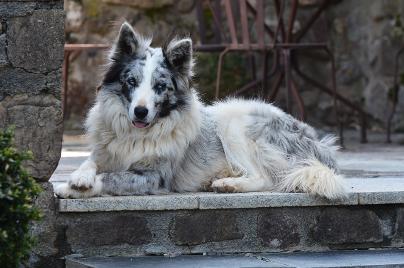 Casa Rural Les Flors. With its cherry tree.
Manel maintains absolutely beautiful gardens exploding with many colours.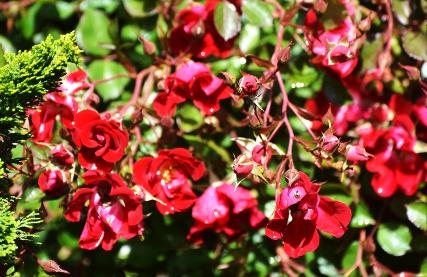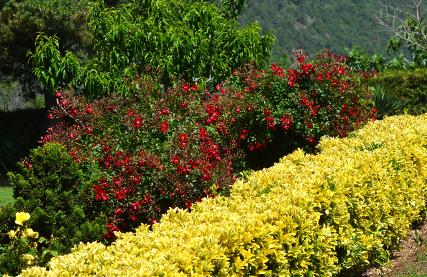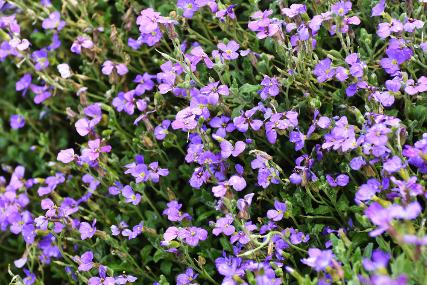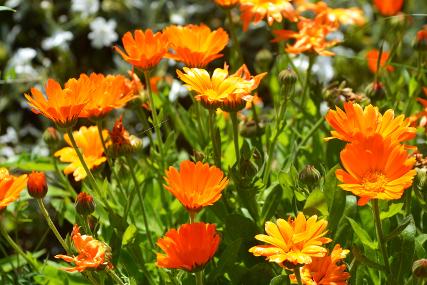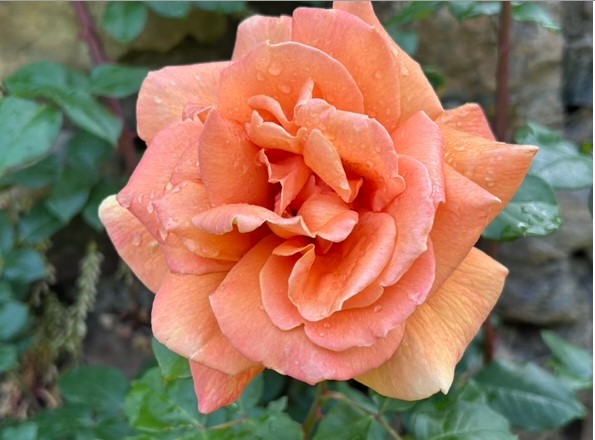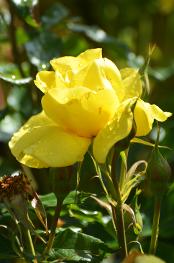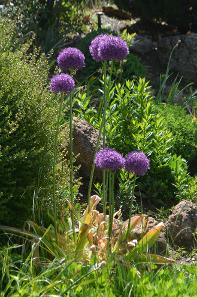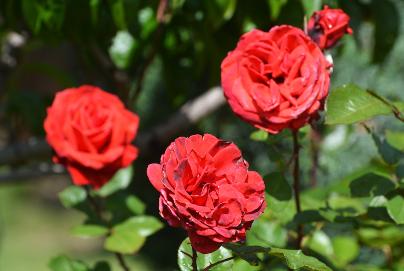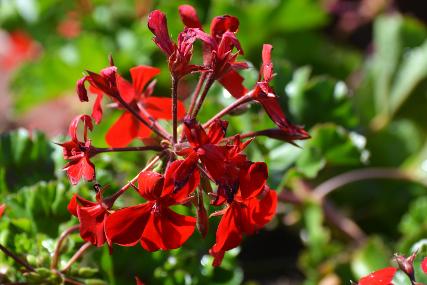 Imma and Manel, owners of Casa Rural Les Flors.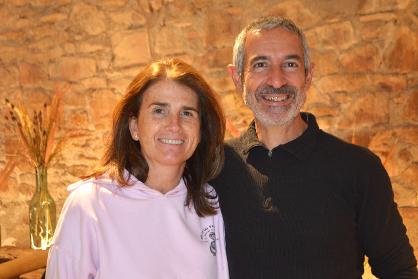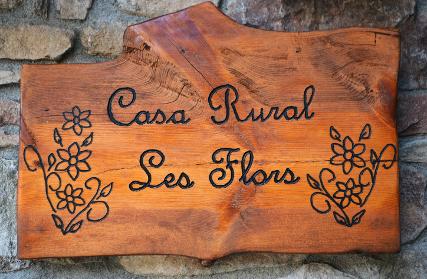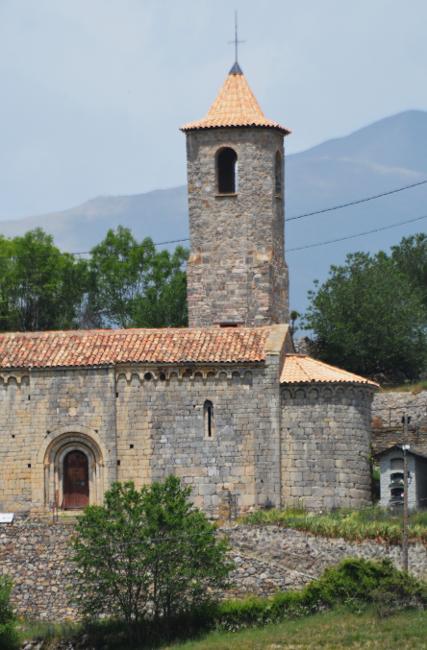 Many attractive stone churches and towers throughout the Pyrenees mountains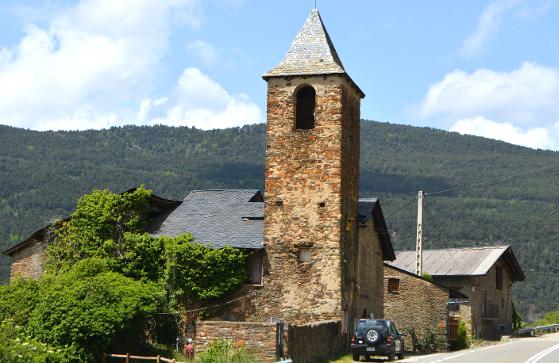 Still lots of snow higher up the mountains.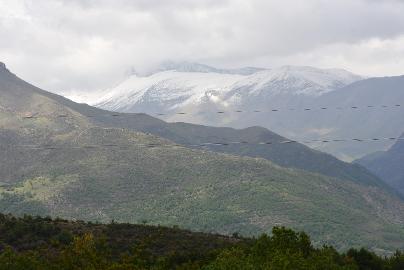 The snow poles along the road - not sure why one side is red and the other yellow.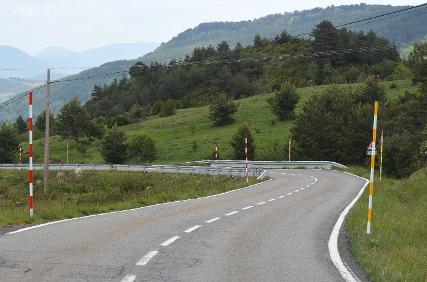 Looking forward to dinner - a cheese fondue.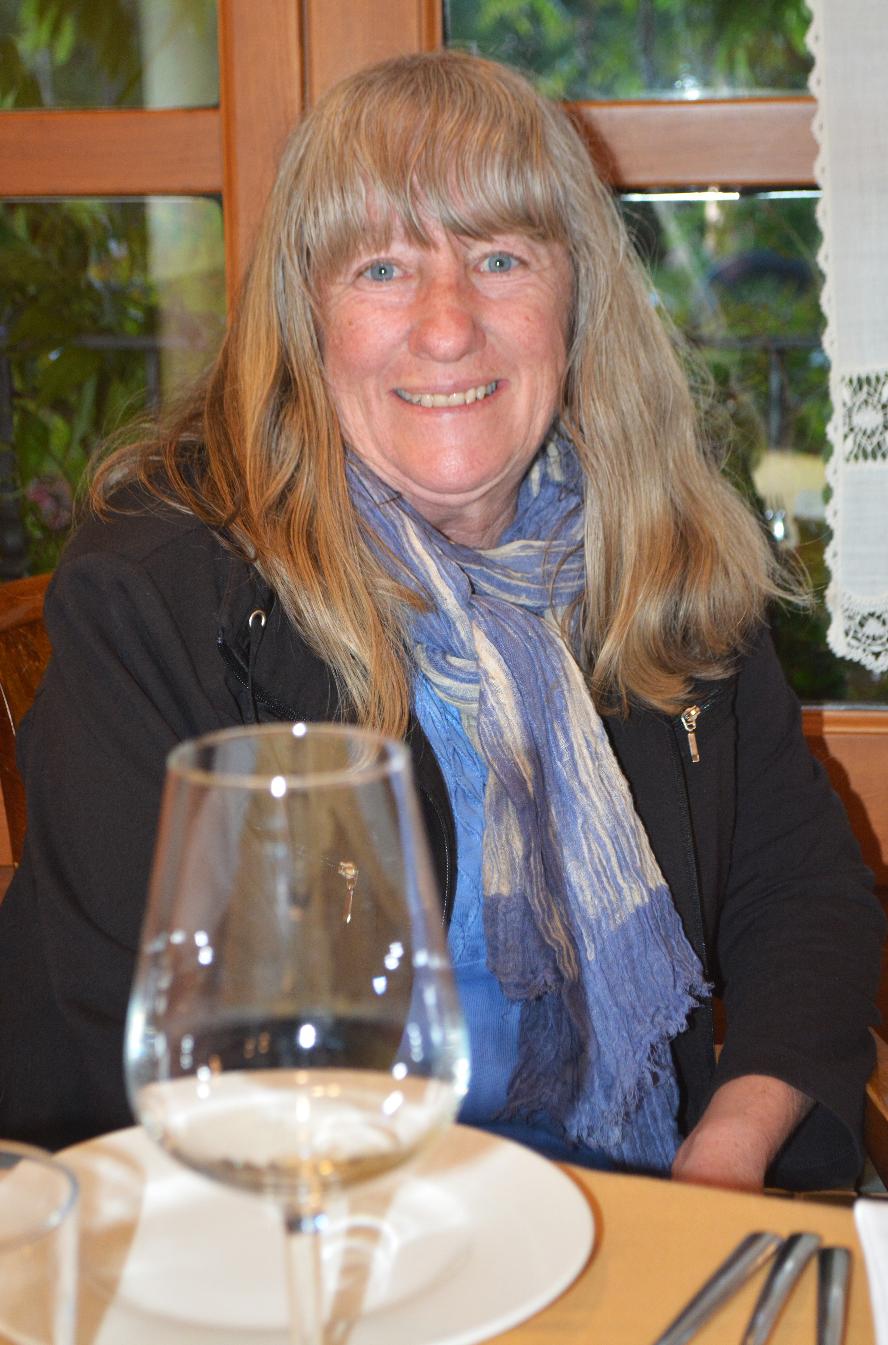 The cheese fondue was very simple with only bread and potato - no veggies as we would have included.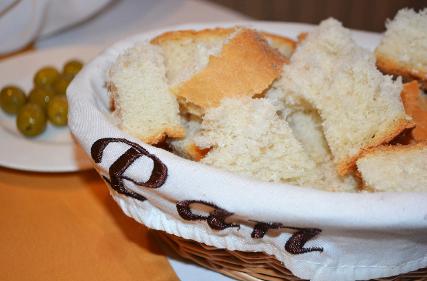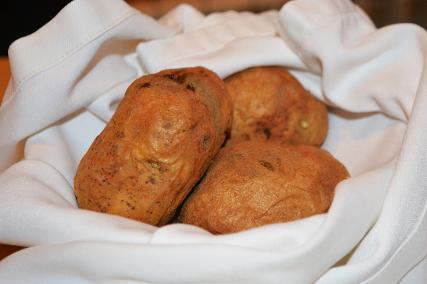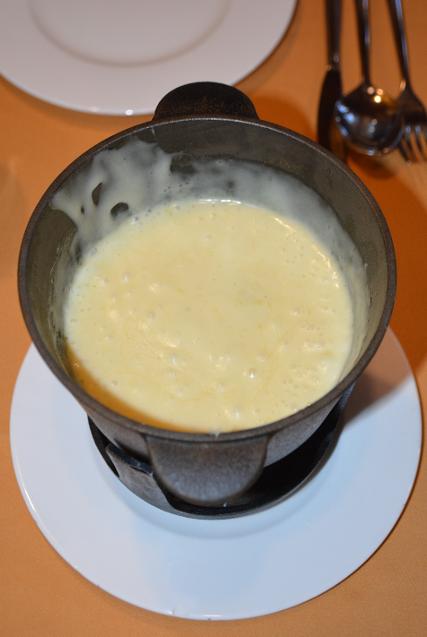 May 25, 2023 - La Vella Farga (Lladurs) to
Casa Rural Les Flors, Grammos
This morning breakfast was served as a buffet with a couple of additions - a tasty Tortilla Espagna and a bottle of Cava - what a way to start the day.
After our leisurely breakfast we chatted with Adrianna for a bit while checking out, packed up and were on our way. It was suggested we visit Sant Lorenc du Morunys but the skies opened up just as we were approaching. As a result we skipped the visit and continued along a scenic drive through the mountains and numerous tunnels. Along the way we encountered a very curious herd of cows - they all came running towards us as we exited the car - and numerous spring wildflowers.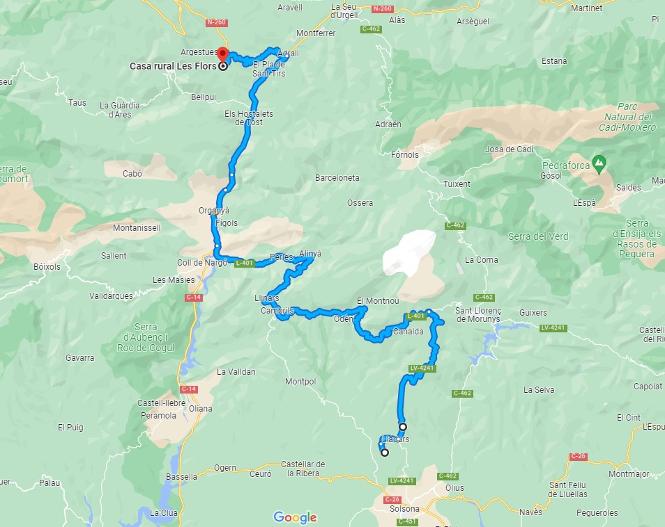 After reaching Coll de Nargo the drive took us north towards La Seu d'Urgell and Andorra.
We didn't quite make it that far as we turned west about 20 km south.
It was no problem to find Casa Rural Les Flors, 2.8 km down a dirt road to the edge of a valley, our stop for the night. A lovely converted farmhouse with beautiful gardens and two very friendly dogs.
We had booked the half board ra
te that included dinner, for an additional 20 euros each. An unbelievable meal for t
he price. We started with some hummus and vegetables and then a complex salad of dried cranberries, apples, walnuts, a variety of greens and a soft cheese encased in a crispy crepe like wrapper. Then Gayle had a mushroom cannelloni smothered in cheese while I had ribs covered in a honey glaze, along with a piece of grilled corn. Dessert was a bowl of ice cream garnished with berries. We accompanied the meal with a very reasonably priced (20 euros) bottle of our favourite white Spanish wine - Albarino, and enjoyed an after dinner liqueur (blackberry) offered to us by Manel. A 10+ dinner.
Freshly squeezed orange juice, glasses of Cava and a selection of fruit.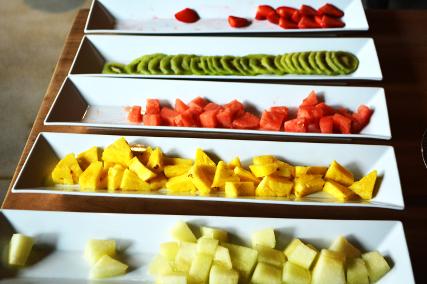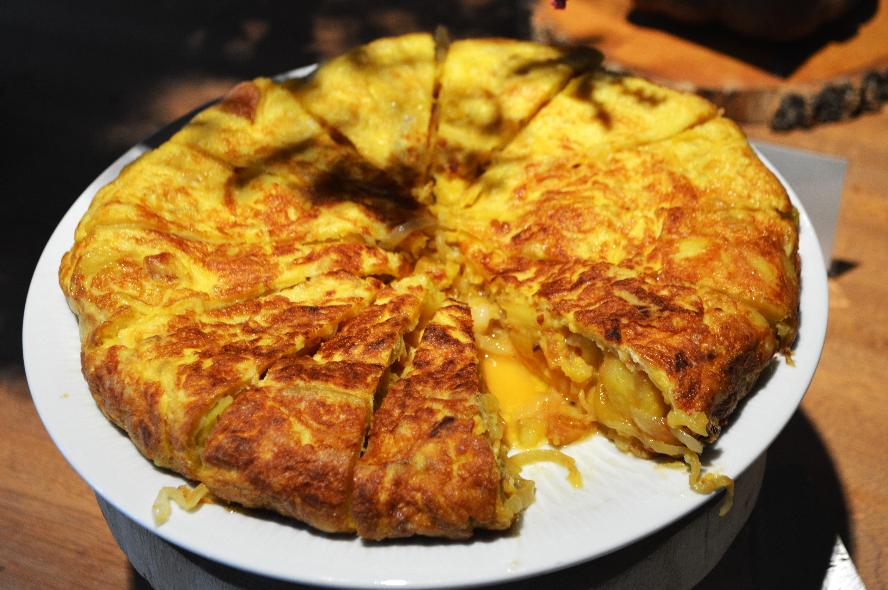 A local goat cheese. . Breakfast.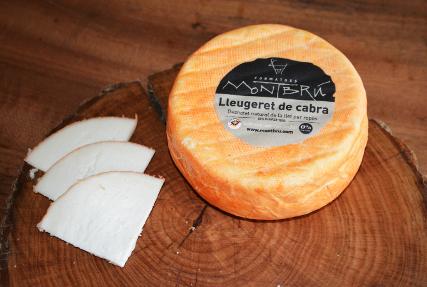 Cava and freshly squeezed orange juice - what a great way to start the day.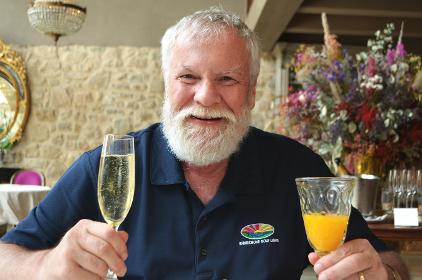 La Vella Farga's receptionists - Jackie and Adrianna.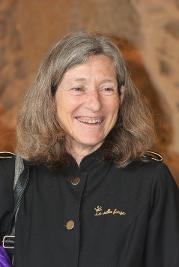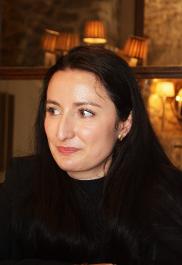 Sad to leave our room (Oncle) with its nice outdoor space surrounded by olive trees.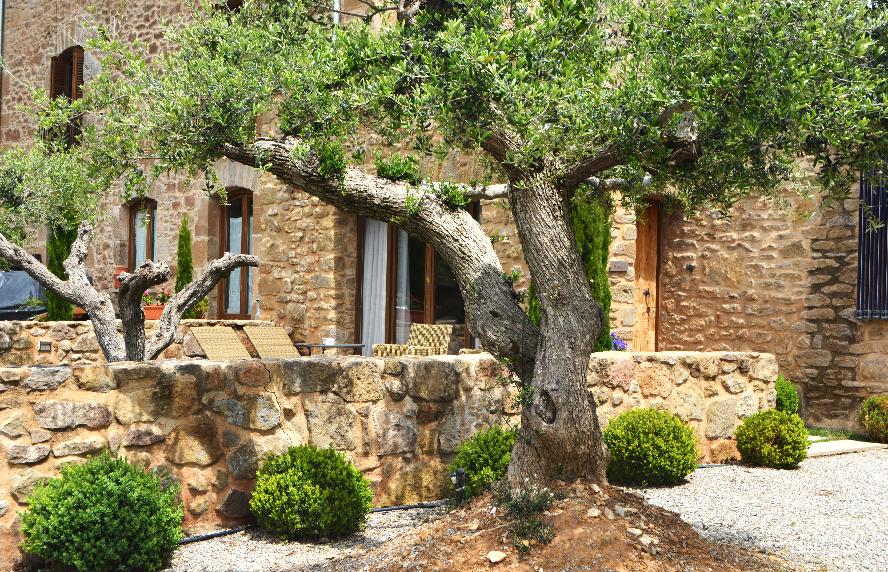 We encountered a large herd of cows along the way.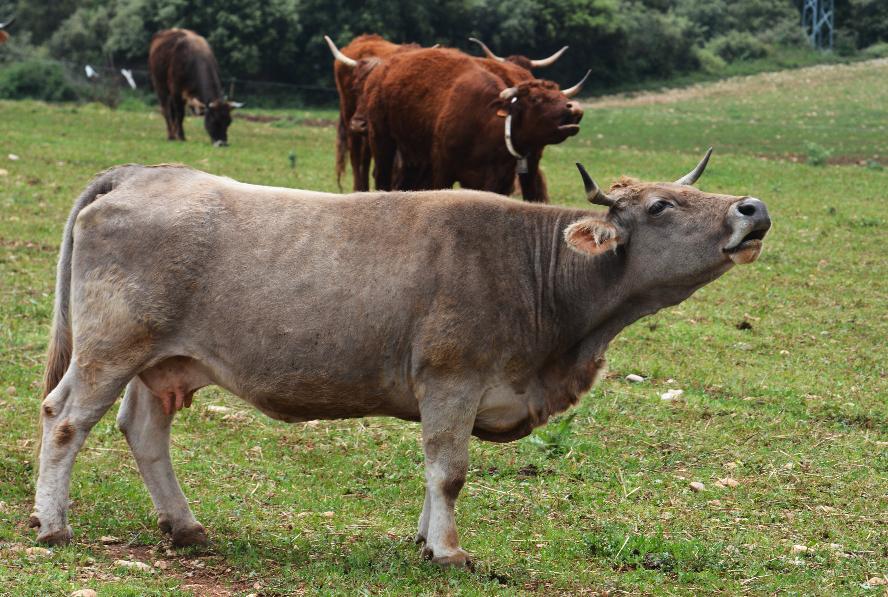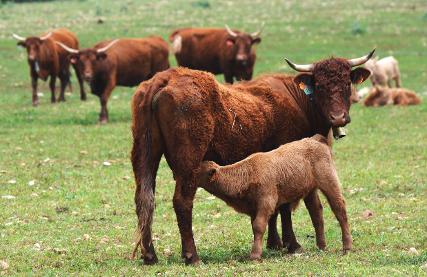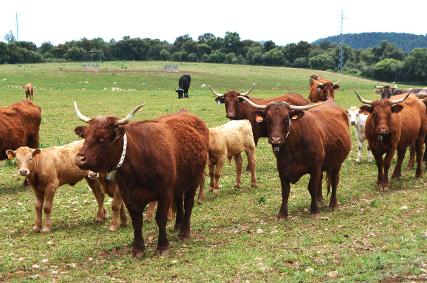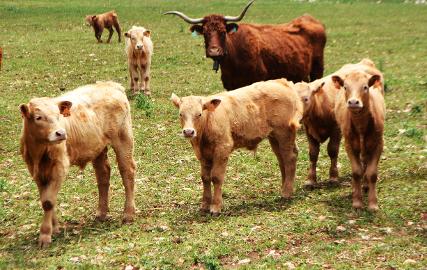 Ditch (wild) flowers of the Pyrenees.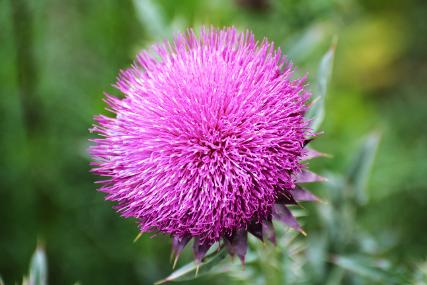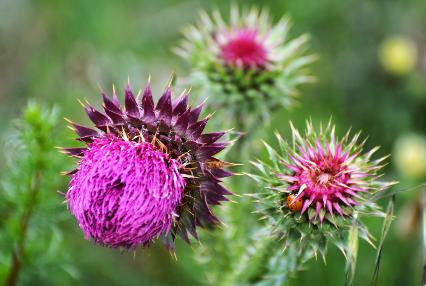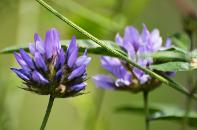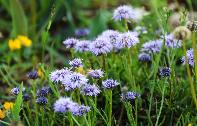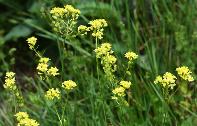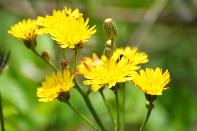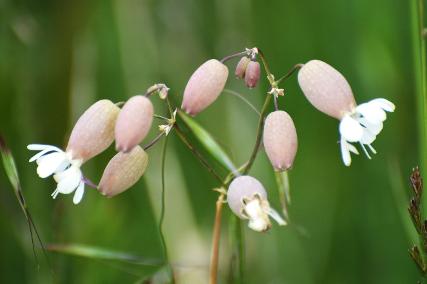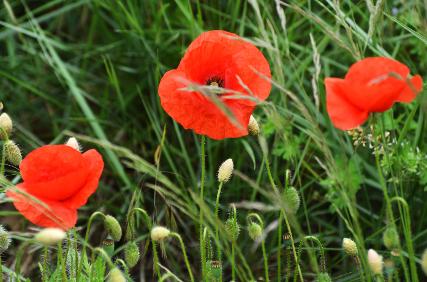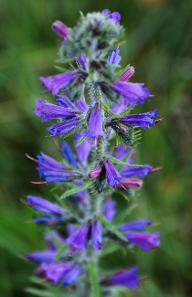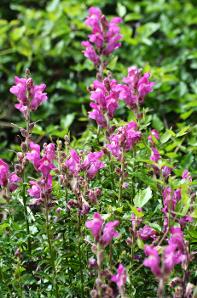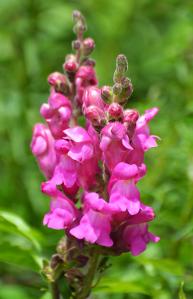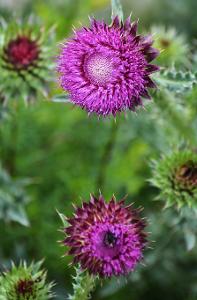 A country tiled roof. One of the many tunnels we passed through.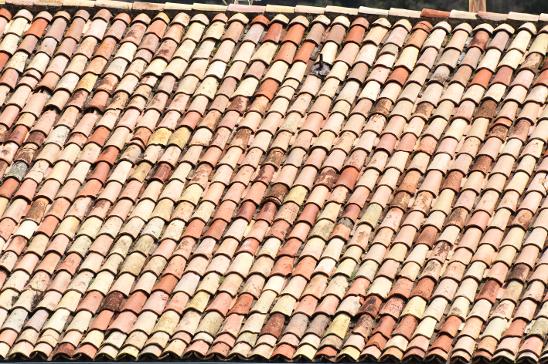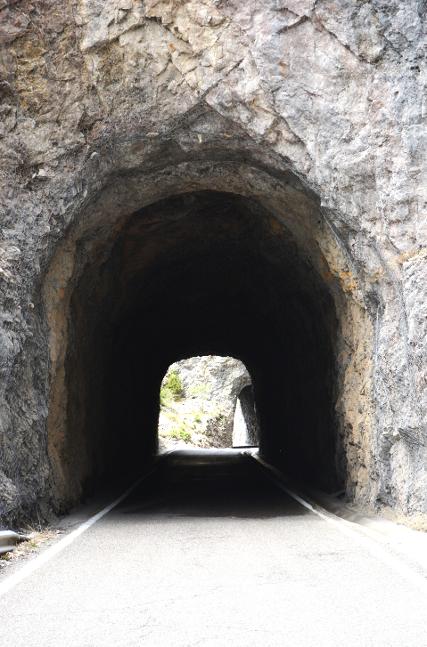 Arrival at Casa Rural Les Flors with its beautiful outdoor space.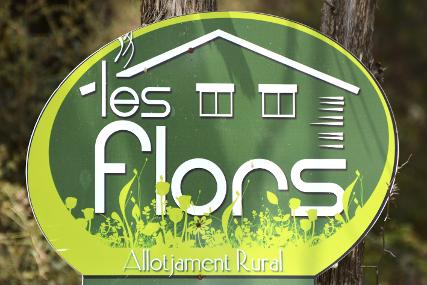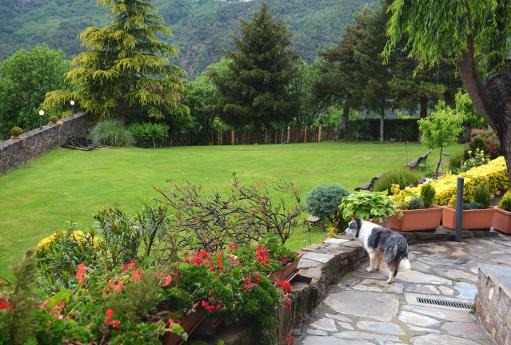 Being near the top of the valley the clouds were at, or below us.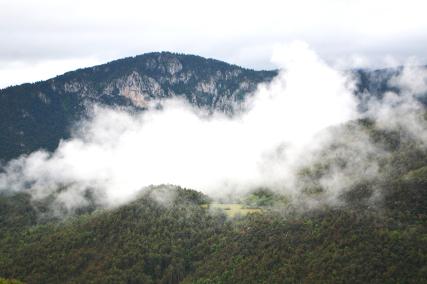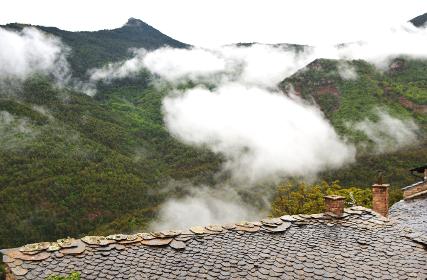 Lots of farm implements added to the ambiance of the restaurant.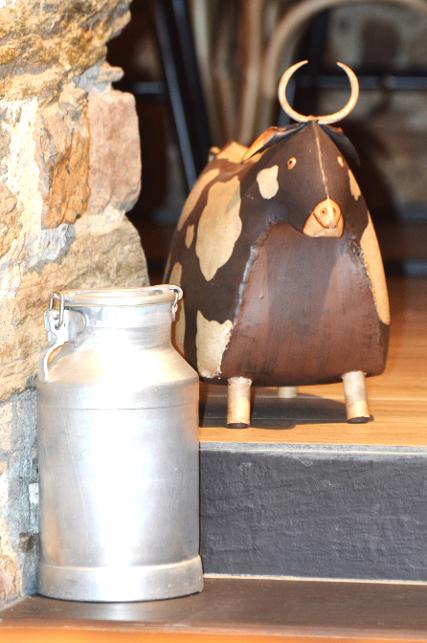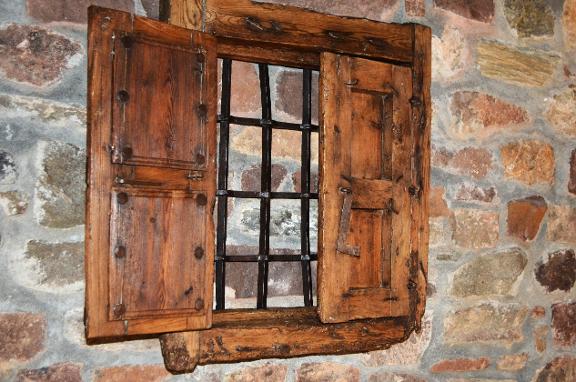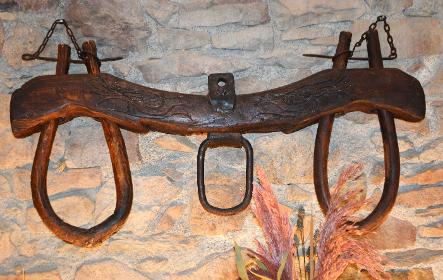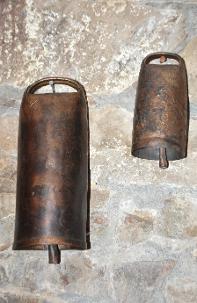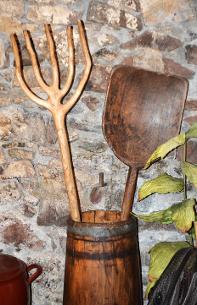 Hummus with veggies to start.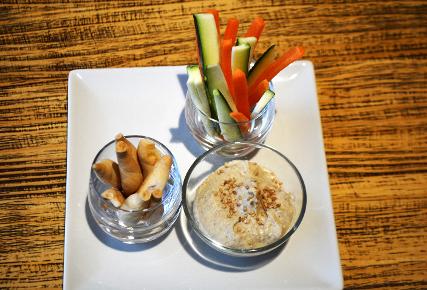 And perhaps one of the best / most interesting salads we have ever had.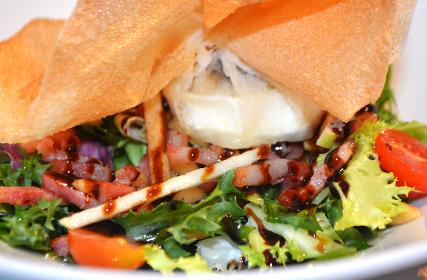 Mushroom cannelloni for Gayle. Pork ribs with a honey glaze for Norm.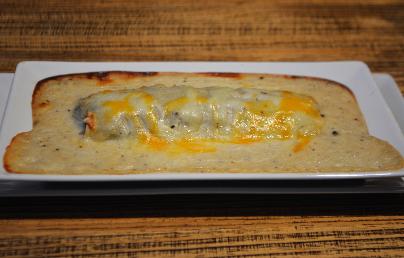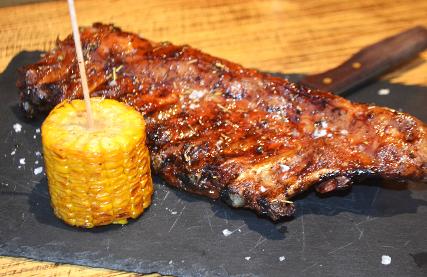 Ice cream with berries for dessert. Followed by a blackberry liquer and/or Limoncello.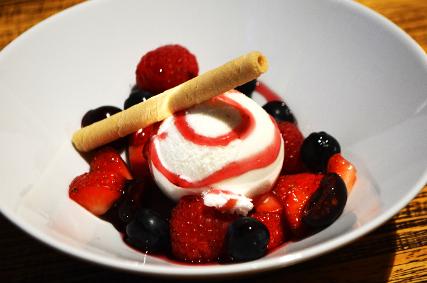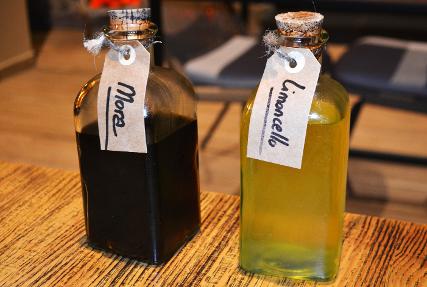 May 24, 2023 - La Vella Farga (Lladurs) and Solsona
After breakfast (same charcuterie meat and cheese, fruit, juice, breads etc. as yesterday, with a mushroom omelette for Gayle and a ham and cheese crepe for Norm) we took the short drive to Solsona - only 9 km / 10 minutes away to wander around the old town.
Solsona is a municipality and capita of the comarca of the Solsones in the province of Lleida, Catalonia, with a population of 9,014 (2018).
A walk into the old Town (Nucli antic) with its narrow streets and charm reveals the secrets of this historic city. The narrow streets, interesting architecture and fascinating carved wooden beams that have decorated the eves of building for over 500 years are certainly worth the visit
.
But then there is the Solsona Legend of the Donkey.
"One of the historic beams has become the centre of a legend making Solsona famous throughout the region. According to legend many years ago the townspeople decided to hoist a hungry donkey to the top of the bell tower so it could enjoy the fresh grass growing there. Unfortunately for all involved, the method they employed was tying a rope around the donkey's neck and hoisting it up. When the donkey almost reached the top, it let go of its bladder - a sign which was initially taken by the townspeople of the donkey's joy at seeing the rare greens. Unfortunately, that was not the case. The donkey never got to savour the tasty grass." At least so the legend goes.
In commemoration, the townspeople hold a festival each year where they hoist a paper mache donkey up the tower from which a large dose of water is intermittently dispensed on passer-by via a hose. The spectacle was televised one year and brought a number of animal activists to the area to protect the livestock from this abominable sport. They were assured that
no live donkey was actually hurt during the ritual (at least not recently.) Any excuse for a party!
While wandering around Solsona a young fellow stopped to ask us if we needed directions when he saw us looking around. We mentioned we were just looking at the wooden carvings under the eves. After a short chat he pointed us to the next street over where he said the most and best ones were. co
At times when travelling people try to be so helpful. I saw this sausage wrapped around a cone (see photo below) in a meat shop. So I opened the door and took a photo. The shop owner came over, and seeing that the cons was not covered in sausage all the way to the top asked if I wanted her to add more sausage. I chuckled and politely said it was all good.
On the way out we stopped in a patisserie where we were intrigued by a pastry, which turned out to be a chocolate coca, a local pastry made and consumed in Catalonia. Coca is almost any kind of bread-based product whose size can vary from 5 cm to 1 metre. There are various presentations - open or covered, sweet or savory. We bought a piece with chocolate filling and another with sweeter pumpkin. Cocas are strongly linked with the area's traditions. It is a common dish of the rich and poor, a basic part of the Catalan cuisine.
We returned to La Vella Farga only to sit in our car for half an hour as the skies opened up. Lightning, thunder and buckets of rain, much needed given the very dry spring here. Eventually it let up allowing us to reach our room where we relaxed for the rest of the afternoon into the evening.
We went to a lounge a bit before dinner where we enjoyed a glass of Cava, and ended up chatting with Jackie, the other receptionist for more or less half an hour.
Dinner started with a zucchini cream gazpacho and king prawns for the amuse bouche. Gayle had a very nice plate of sauteed seasonal vegetable with burrata and pesto sauce while Norm had the oxtail terrine with duck liver and roast sauce - unique and also very good. For dessert we had the apple pie with cream and vanilla ice cream. Taking 20 minutes to prepare we were not sure what to expect. As the photo below shows it was an unusual presentation of an apple pie - a nice choice.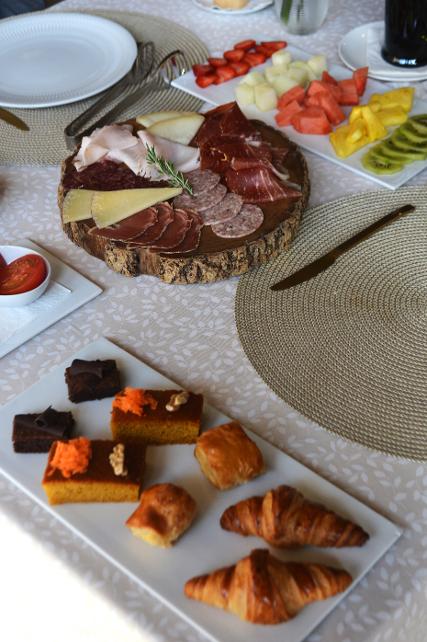 Breakfast, including a tray of cakes.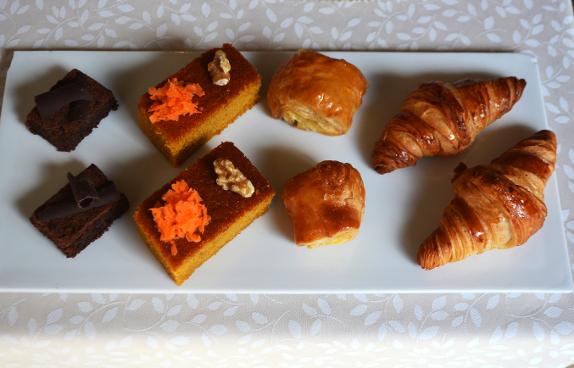 View of the fields just outside our room. Enjoying the morning sunshine.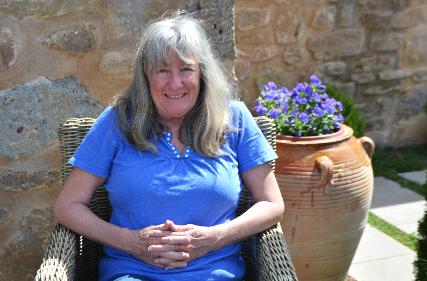 Some of the La Vella Farga property.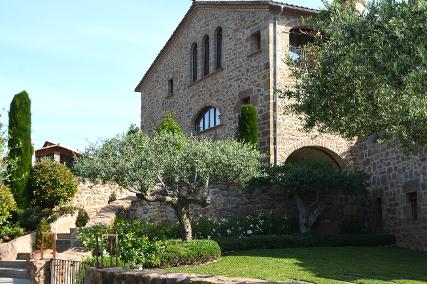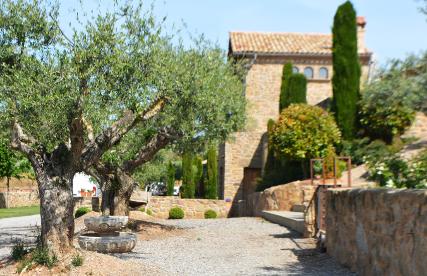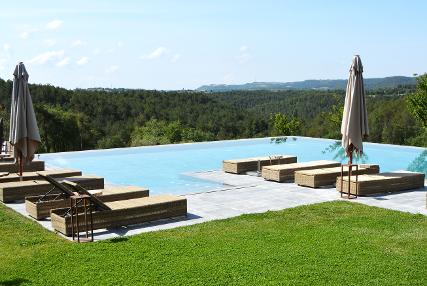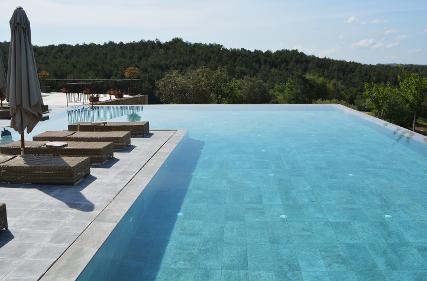 Common in the region is ironwork featuring dragons.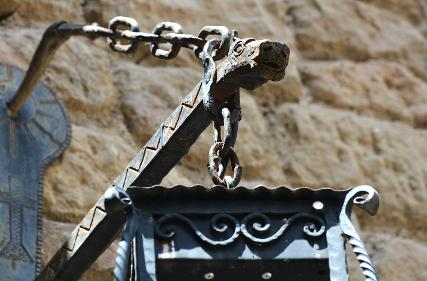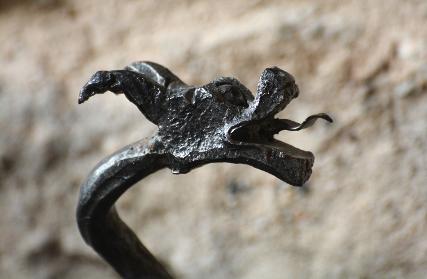 The Municipality of Solsona.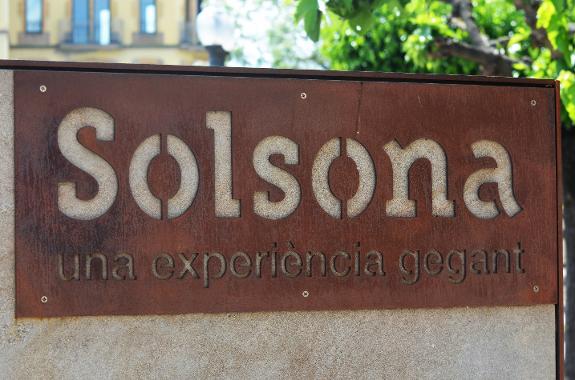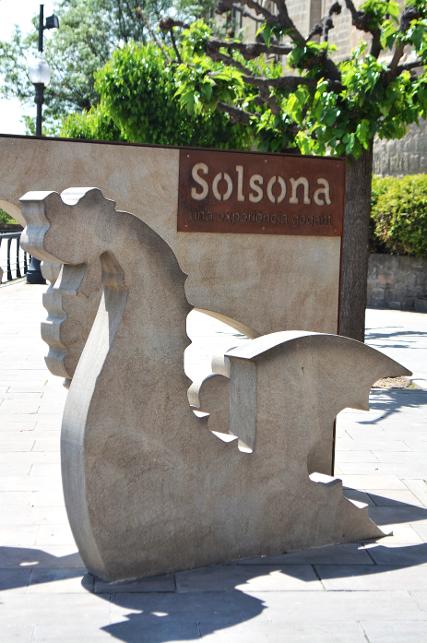 The entrance to the old part of the town. The cathedral of Solsona.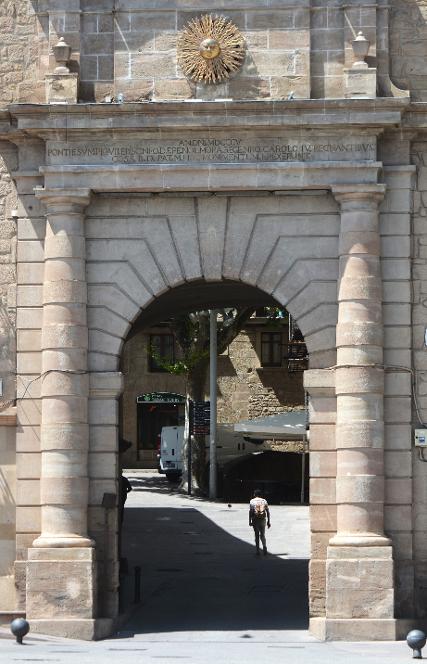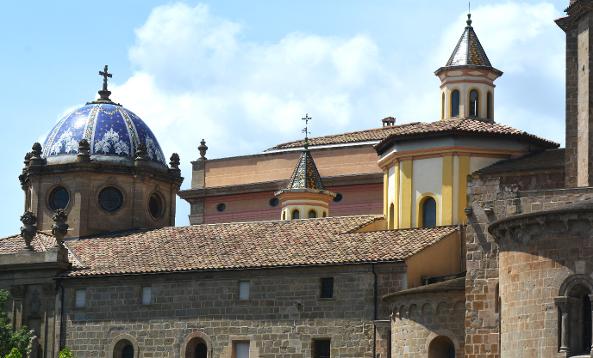 Solsona's cathedral's cupola, with its painted lilies.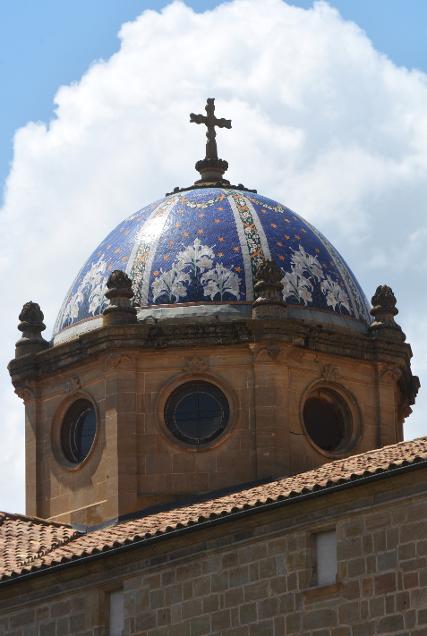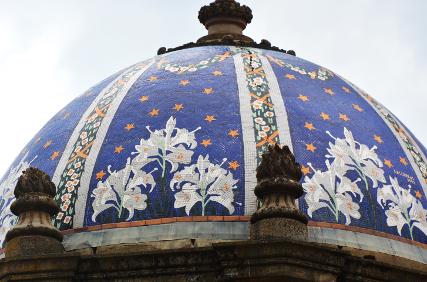 The Catalan flag. Rolled sausage.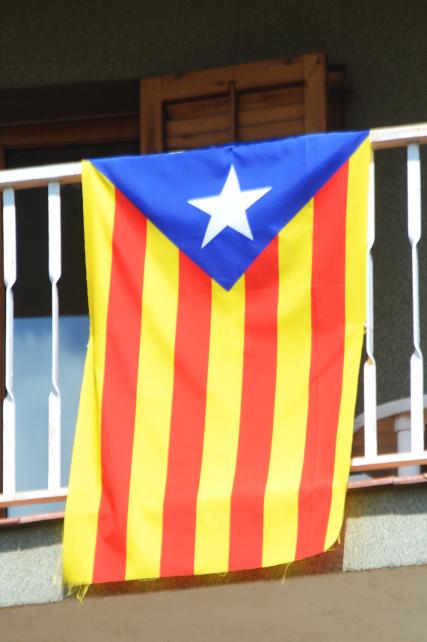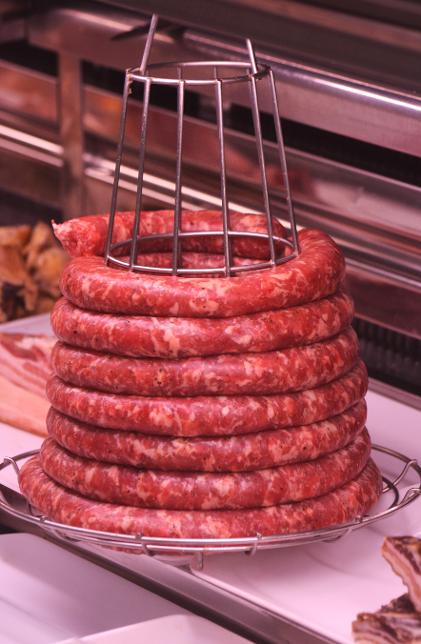 A few of the many gargoyles and wooden carvings throughout old Solsona.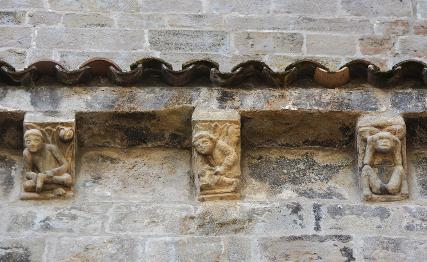 A building dating to 1746.
Windows that caught my eye.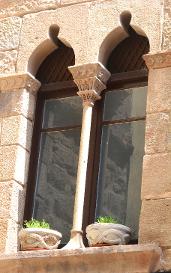 A small selection of the kinda freaky Solsona dolls.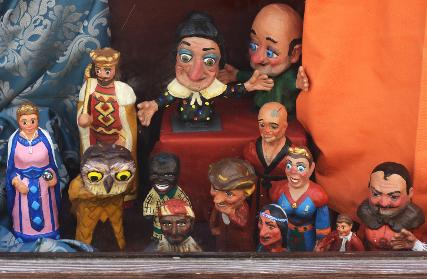 Andreo who chatted with us, giving directions to the best wood carvings.
Carved wooden beams peaking out from the rafters, some dating back over 500 years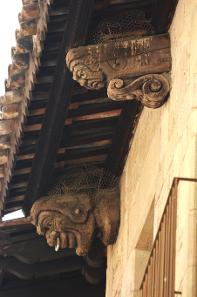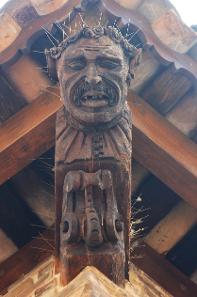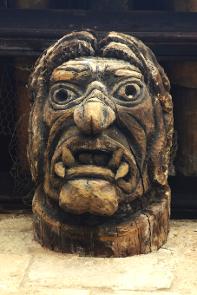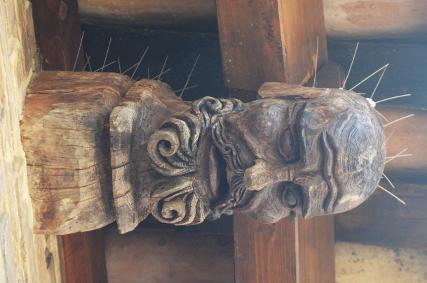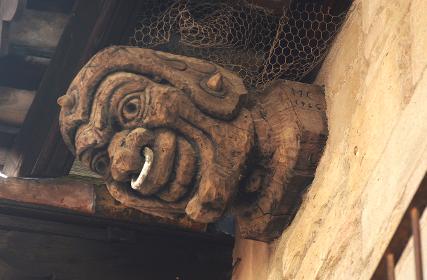 A somewhat elaborate park fountain. An intricate stone railing.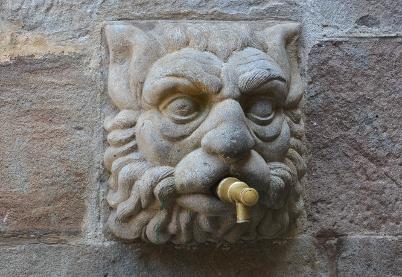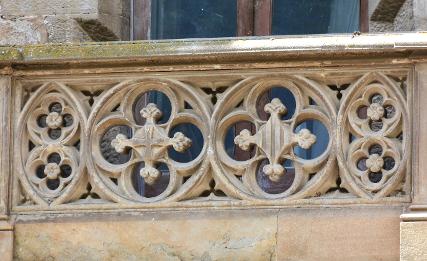 A couple of the attractive narrow streets of old Solsona.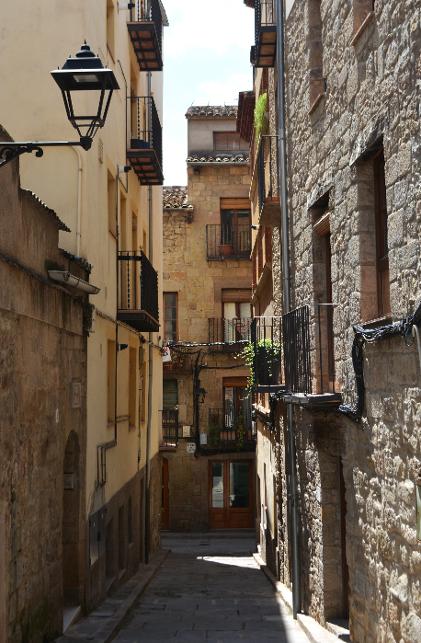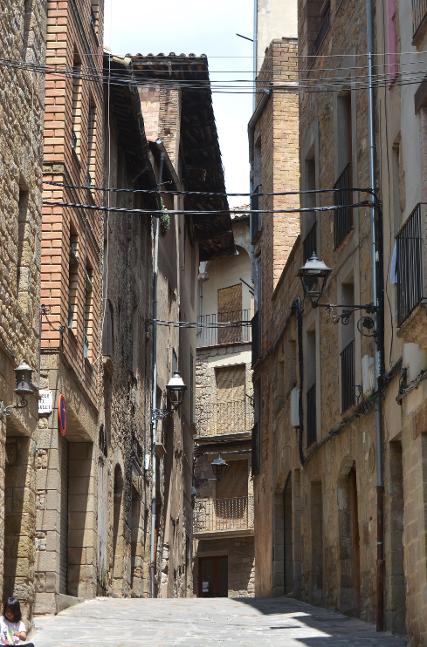 Coca - a Catalan sweet - on the left with chocolate and on the right with pumpkin.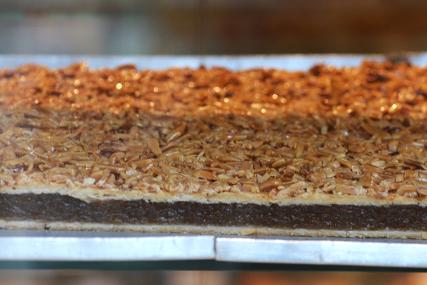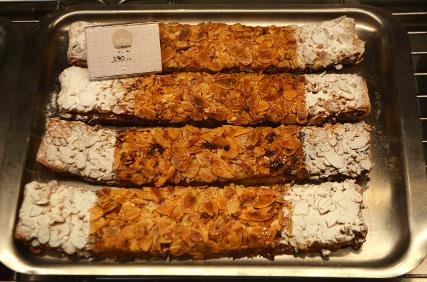 The beautiful ceilings of Patisserie Massana.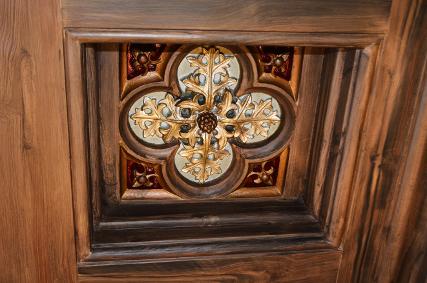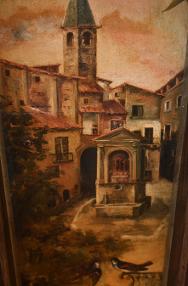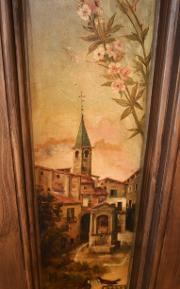 There are beautiful orchids throughout La Vella Farga.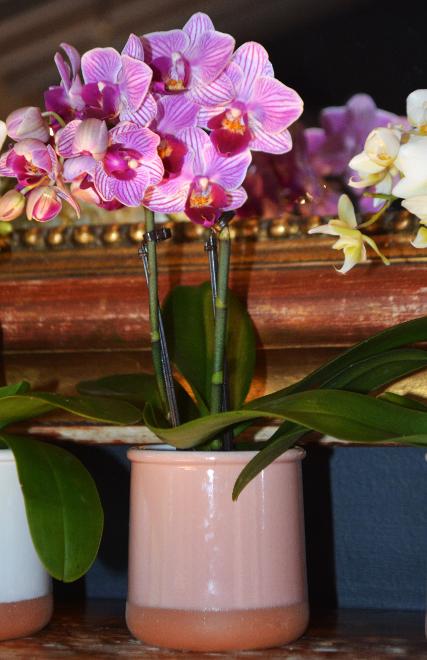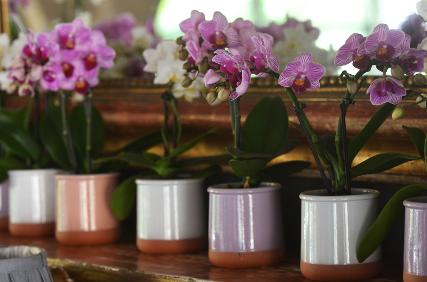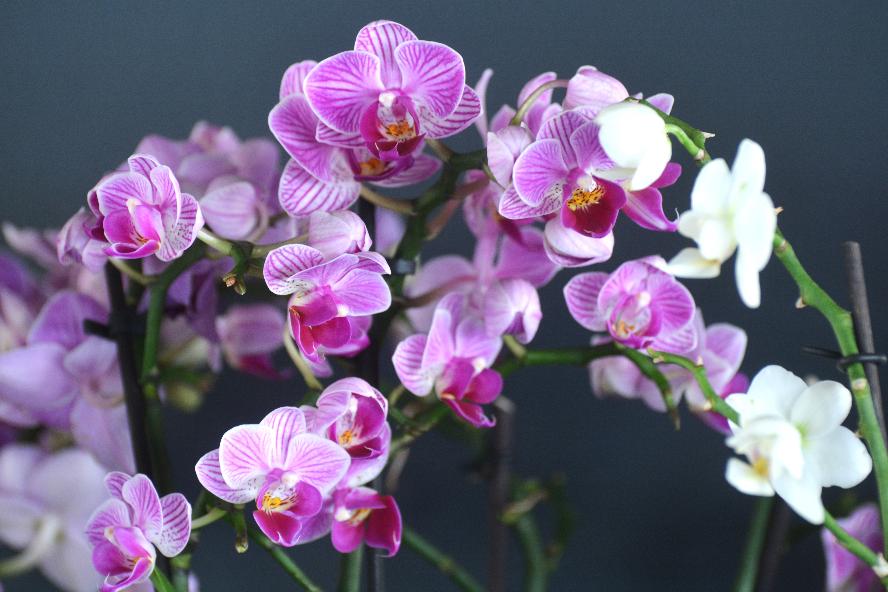 Gayle in her Spanish dress.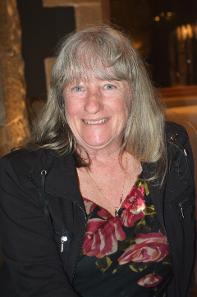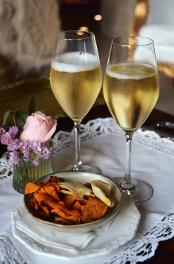 Our favourite wine - Muga.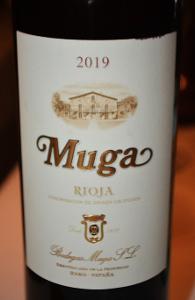 King prawns and gazpacho.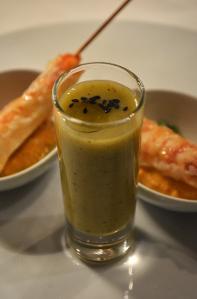 Sauteed seasonal vegetables with burrata and pesto sauce.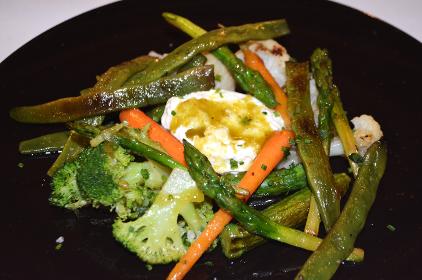 Oxtail terrine with duck liver and roast sauce.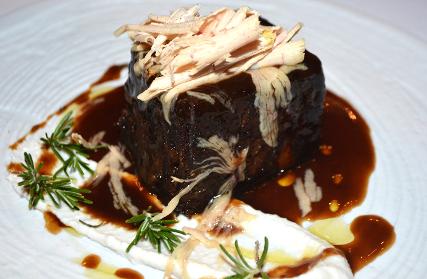 A unique presentation of 'apple pie' for dessert.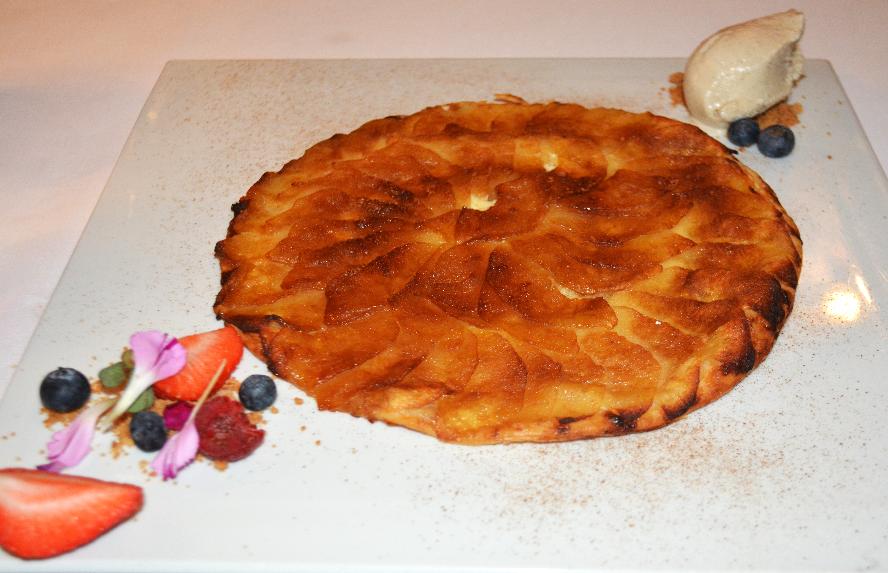 May 23, 2023 - La Vella Farga (Lladurs)
A bit of history and background re La Vella Farga
"One spring afternoon, while walking near our rural house Cirera D'Avall, we discovered an old farmhouse, almost in ruins, which stood out for some architectural elements that caught our attention. On a fantastic and bright day, a unique silence, lush vegetation and a house that, though dilapidated, gave off a special charm. We were fascinated by the farmhouse, and in a flash Marti saw his dream already in operation ... a small rural hotel.
The Hotel La Vella Farga, located in a Catalan farmhouse with a lot of history, as we find the first references already in the year 1036. It is an isolated farmhouse that alone forms a complete unit, accompanied by another small building that used to give shelter to the workers who helped in the domestic tasks and the task of the field. It overlooks the four winds, with several buttresses that support its thick walls. There is a wide variety of rooms, halls, stables and cellars.
In the farmhouse, dryland products were grown, mainly cereals, there was an orchard, the forest was exploited and cattle were raised. In the past, and in the farmhouse you can see some remains and details that have been preserved, raw materials were transformed by making wine, pressing oil and iron was also worked to make small utensils and instruments to help with field work and shoeing animals From this trade comes its name 'Vella Farga', in the house there was an area on the ground floor where iron and wrought iron parts were made.
Now, after a careful refurbishment, preserving old elements and structures combined with a touch of modernity and comfort at the same time, the farmhouse has become a small charming hotel surrounded by nature, where silence, calm and comfort prevail."
After a very extensive breakfast - fruit tray, charcuterie board of meats and cheese, breads, tomatoes, fresh orange juice, a hot dish - Benedict eggs for Gayle and a fried egg with sobrasada sausage for Norm, and a tray of cakes - we wandered the property with camera in hand.
What is immediately noticed are the many beautiful floral arrangements and the gorgeous orchids throughout.
Mid-day we drove the 2 km to the nearby hamlet (too small to even be a village - a couple of hotels, a school / community centre, a church and a cemetery - that's it) of Lladurs. The area of Lladurs actually covers 128 sq kms with the 224 (2008 census) inhabitants all living on rural farms. "The area is focused on farming within the mosaic landscape, imposing forests interspersed with fields, pastures and meadows, gorged valleys, rivers and haughty peaks."
A map of the small hamlet =>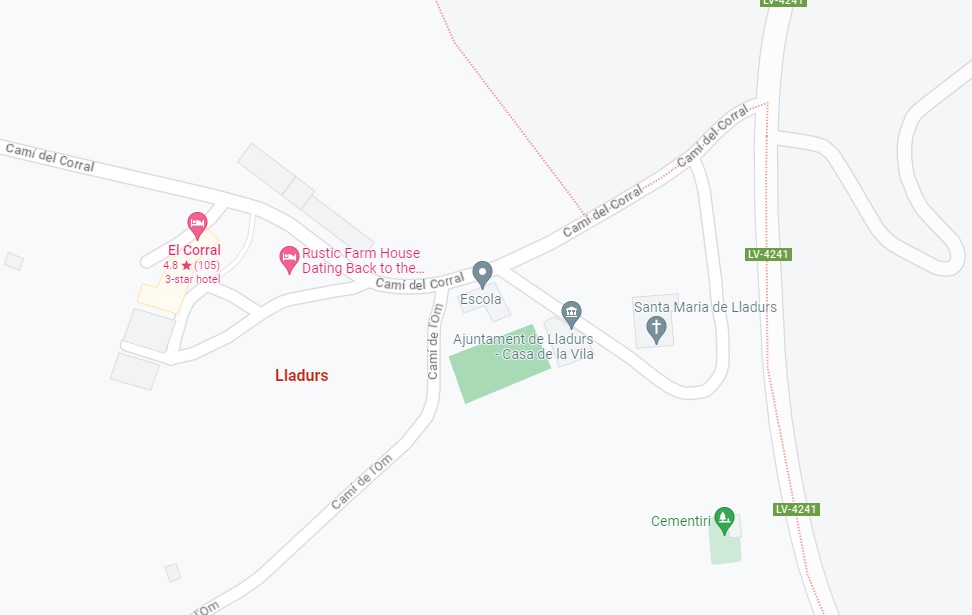 The afternoon was spent relaxing on the Vella Farga property, including of course the compulsory nap. We had an 'early' dinner tonight, arriving shortly after 9:00 pm. The amuse bouche repeated the delicious mango strawberry gazpacho but then presented crispy grilled vegetables for Gayle and sobrasada for Norm. Gayle enjoyed a fresh pasta with seasonal wild mushrooms while Norm was disappointed he could not get the cordero (lamb) but was very pleased with a Beef tenderloin with sweet potato gratin and roast sauce replacement. The only disappointing part of the meal was dessert, a chocolat and hazelnut mi cuit - ok but not nearly as good as the chocolate mousse last night.
All in all a very quiet / relaxing first full day here in Catalonia.
A very impressive breakfast charcuterie board, presented on beautiful olive wood.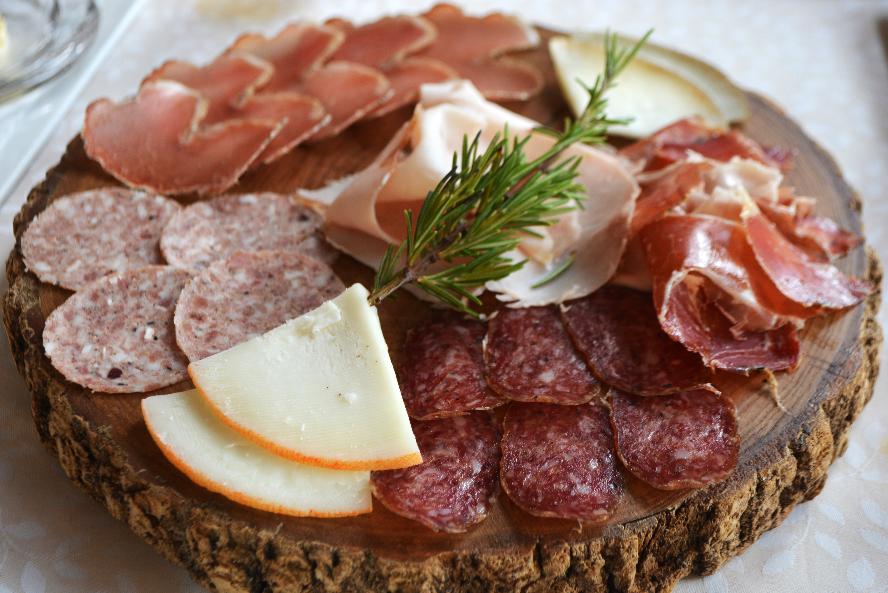 The fruit tray. The assortment of breakfast pastries and cakes.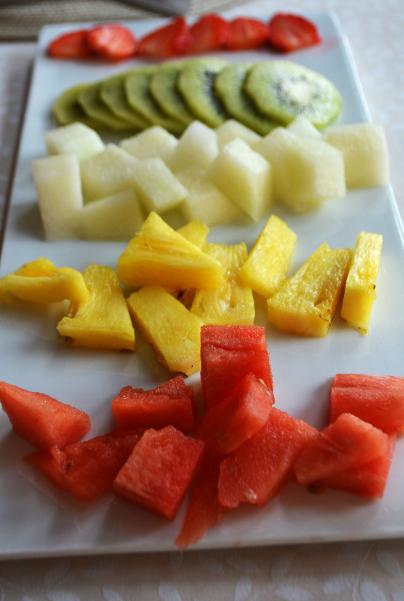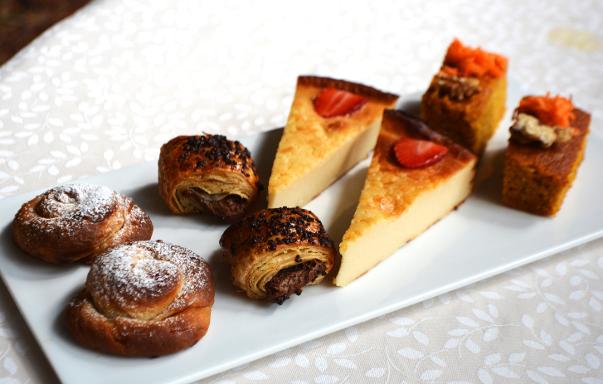 The impressive reception entrance with its massive door and gorgeous floral arrangement.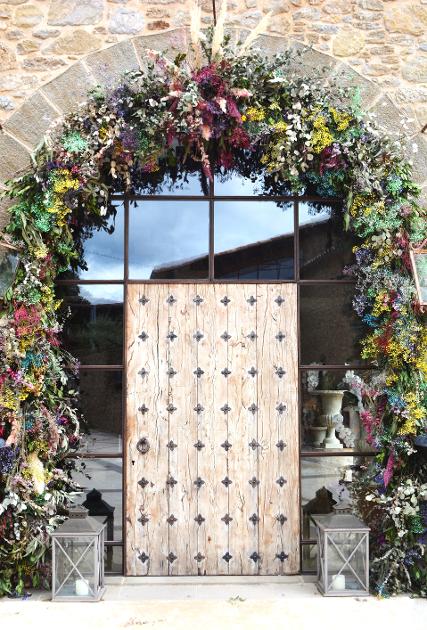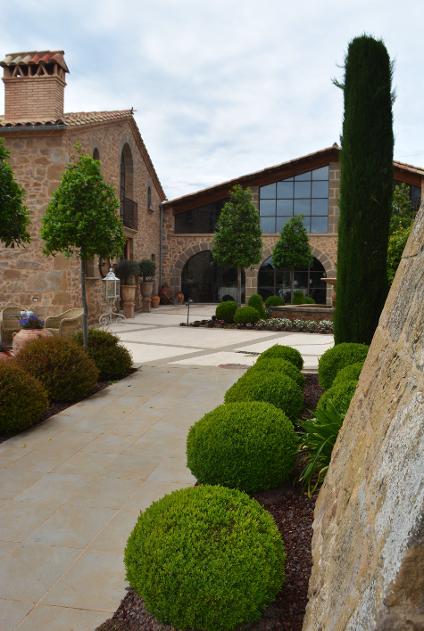 One of the many outdoor seating areas. A fountain in the coutryard.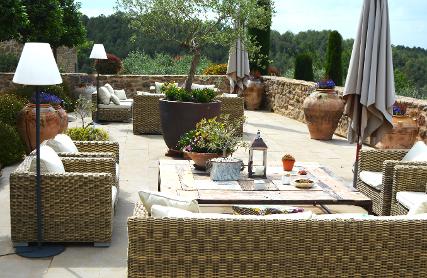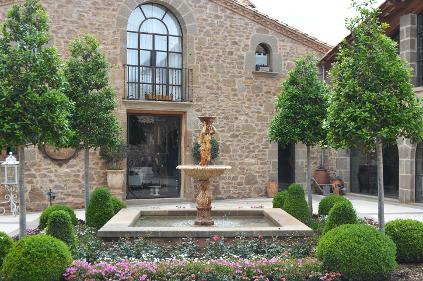 Relaxing in a comfy chair. The stone arched lounge.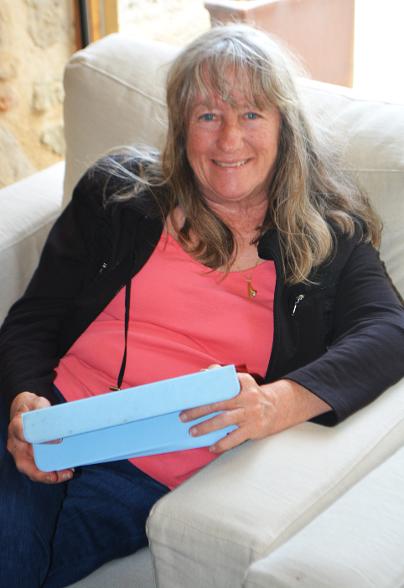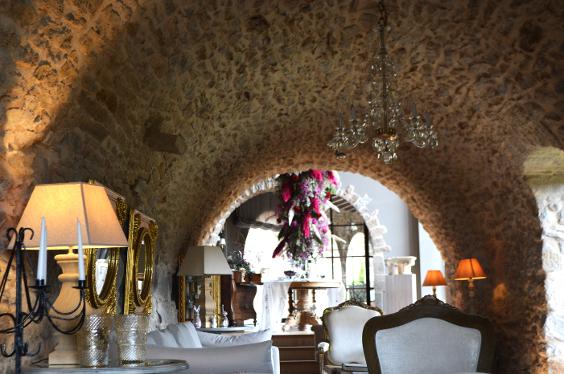 One of the many seating areas. Flowers brightening up the lounges.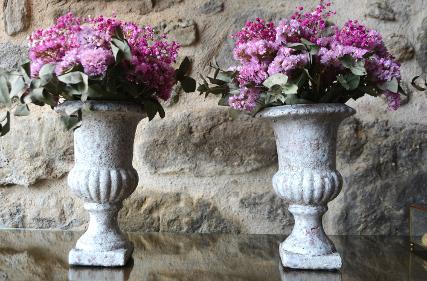 Wood beams, mirrors, floral arrangements, a gorgeous table and accompanying chairs - throughout the buildings.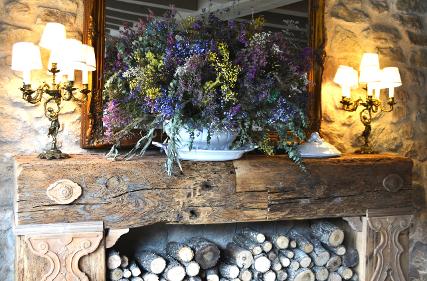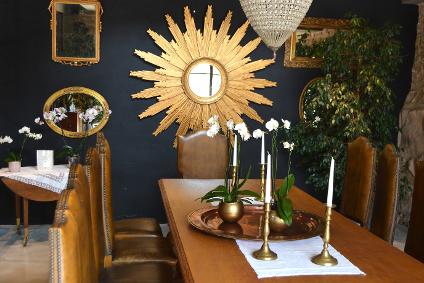 The specially designed iron railings throughout La Vella Farga.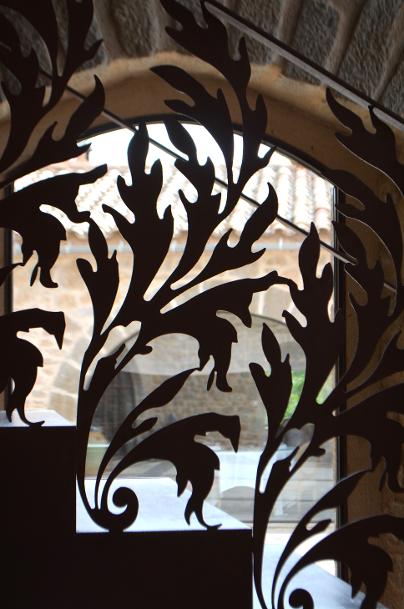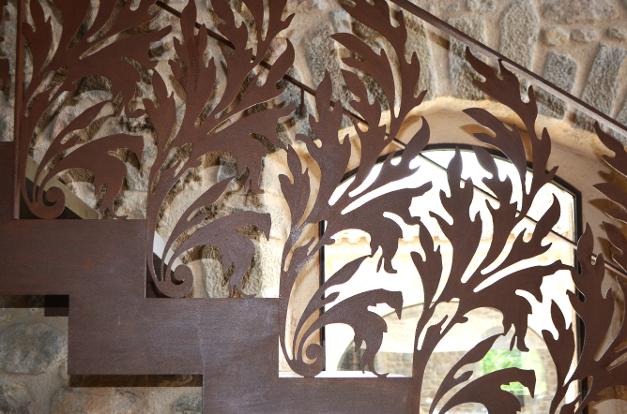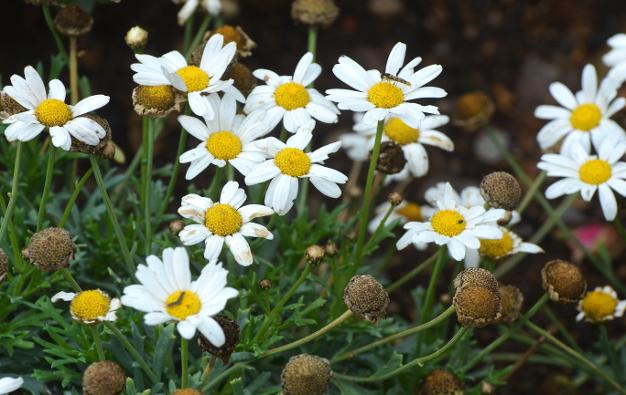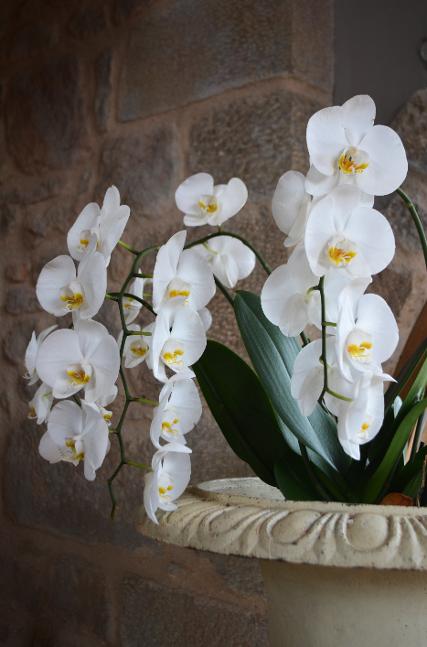 Beautiful huge orchids throughout the reception area.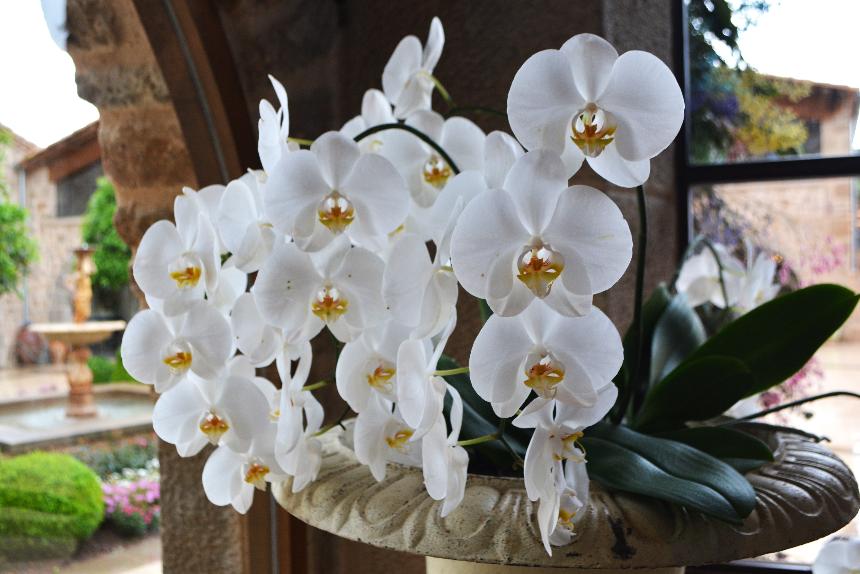 There were a number of colourful wild flowers in the ditches near Llardurs, including this one with a visiting bee.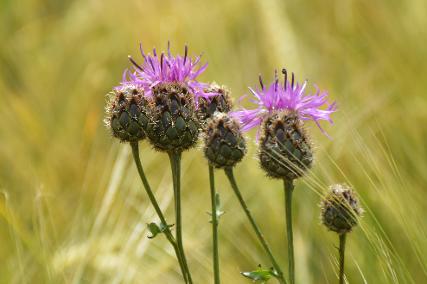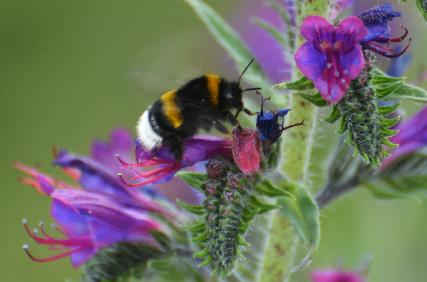 More wild flowers along the roadside.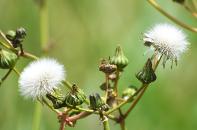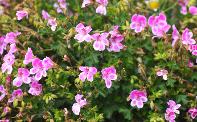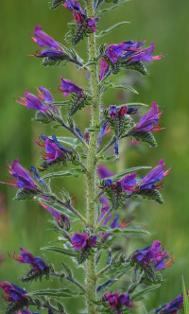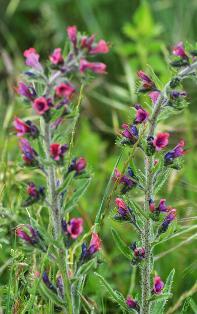 Springtime in Spain means poppies.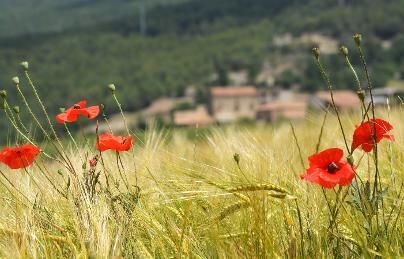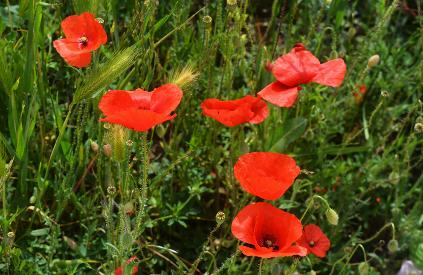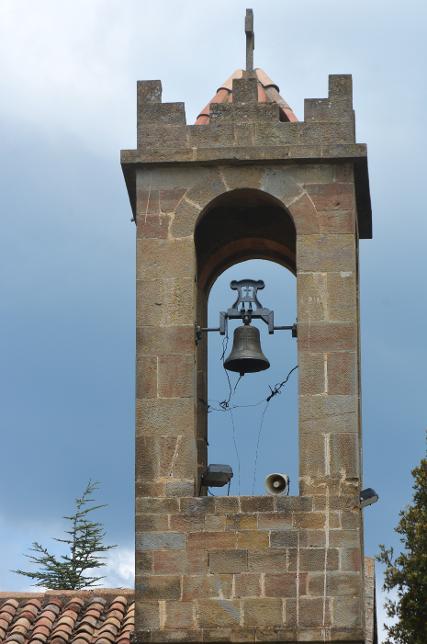 A spectacular floral arrangement (of fresh and dried flowers) in the lobby.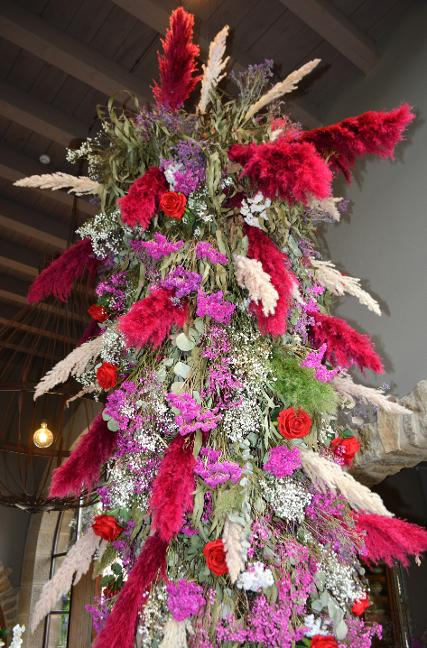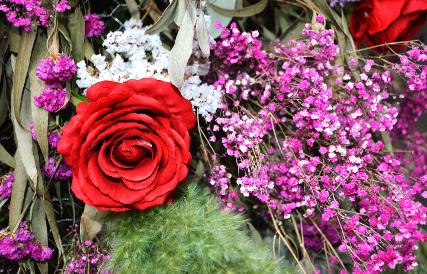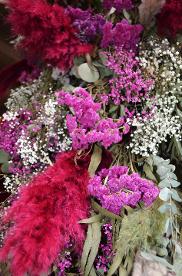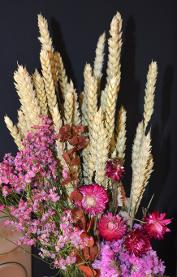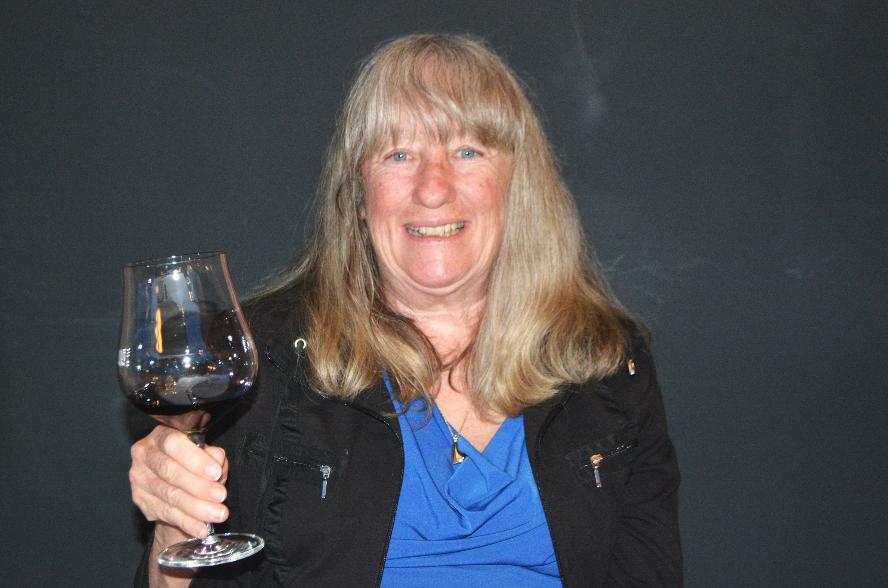 Amuse bouche croquettes - vegetables for Gayle and Sobrasada for Norm, along with a mango strawberry gazpacho.
b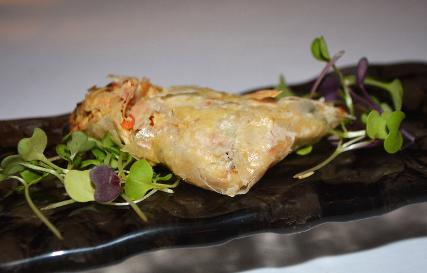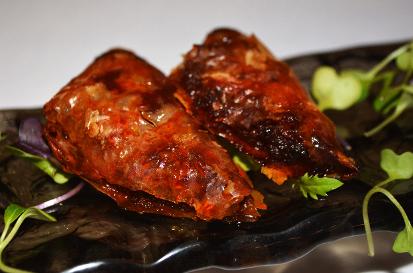 Fresh pasta with seasonal wild mushrooms. Beef tenderloin with sweet potato gratin.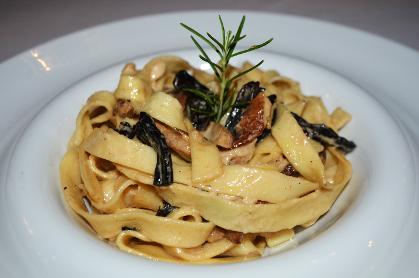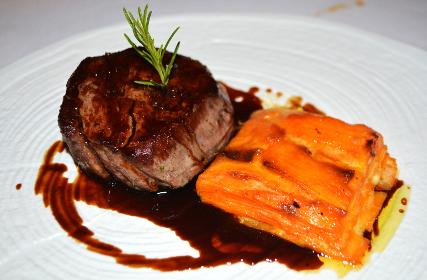 May 21 and 22, 2023 - Halifax to Toronto to Barcelona to Lladurs (La Vella Farga)
Our spring trip takes us to Spain - the north-east region of Catalonia and the Pyrenees. We have been here before (2011 and 2018) but wanted to return to the wonderful boutique hotel Casa de San Martin one more time (David, the owner is selling). We flew first from Halifax to Toronto where we had a lengthy wait, enjoyed in the Maple Leaf Lounge, before connecting to our flight to Barcelona.
The flight landed on time but then a few frustrations. First the line to pass through immigration was quite long. In spite of all booths being open it took us 40 minutes to get through. Then the car rental - one would think that when one reserves an 'Economy' one would get an 'Economy' vehicle. But no we were 'upgraded at no cost'. I actually like a smaller vehicle when driving the narrower roads of some small European villages so asked for what I reserved. We were then given a smaller vehicle that only had two doors, rather than four. Let's try again. Now the size was good but it was an automatic - I like driving a manual and vacations are the only opportunities. Finally we got what we wanted / originally reserved. Given they actually had the vehicle we're still perplexed why we didn't get it in the first place. But after wasting an hour we were on the road. Only to soon see the oil light on. We stopped at a gas station where we saw the oil was at the bottom of its range. We bought and added some oil, the warning light went off, and we were on the road again. Ugh.
The drive is essentially due north from Barcelona's airport. Past Montserrat, Cardona and finally Solsona, first on highways, then past some not so exciting suburbs and then into prettier the country-side. We passed the town of Cardona with its historic castle that has been converted into a Parador at which we had stayed a couple of nights back in 2011. We got twisted around a bit in Solsona but found our way out on the correct road where we easily found La Vella Farga 10 km outside of town.
We came across La Vella Farga when planning our 2020 40th anniversary trip - the one that never happened due to Covid 19. This Relais & Chateaux is somewhat more than we would normally spend (at 246 euros for the least expensive class of room it is 60 euros more than the next most expensive place we will stay on this trip) but we decided to treat ourselves. While yes La Vella Farga is expensive (by our standards) one can quickly see why. The place is stunning with artwork, flowers (oh those orchids) and class all around (photos tomorrow).
We arrived around 3:30 pm to be welcomed by Adrianna and a large glass of wonderful Cava, along with some cookies. After being taken to our room - Oncle - with a very nice outdoor area, something that is important to us - we had a lengthy chat with Adrianna, who checked us in. Then, recovering from our overnight flight / lack of sleep a nap was on the agenda.
Fortunately here in Spain dinner is quite late, not starting until 8:30 pm. We arrived in the restaurant closer to 9:30 pm for a 'light' dinner. After amuse bouche of both skewered shrimp and mango gazpacho with a cream cheese puff Gayle had a Cream of pumpkin soup with carrot gnocchi, cheese mousse and vanilla oil while Norm had the Mountain rice with sausage, mushroom and Iberian pork ribs - delicious. For dessert we enjoyed the excellent Chocolate mousse with Guinness sponge cake, sorbet and red berries. All accompanied by our favourite wine - Muga. When I saw Muga on the wine list there was clearly only one choice.
We returned to our room where immediately it was lights out and straight to sleep.
The drive from Barcelona's airport to La Vella Farga is 127 km / 1 hr 40 min direct non-stop. Of course it took us somewhat longer with a need to add oil to our rental vehicle and the odd photo stop.
The castle / Parador of Cardona, where we stayed on a previous trip. "
Smile, he's taking our photo
"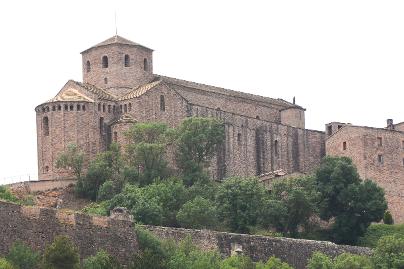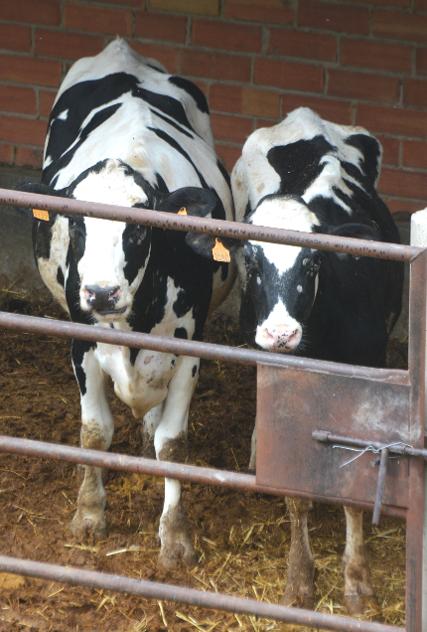 Looking north from Llardurs. The welcome signage to La vella farga.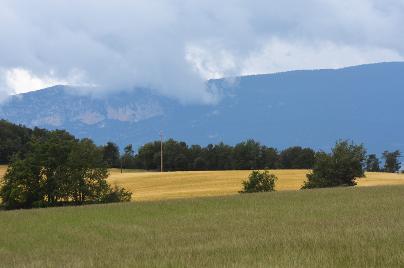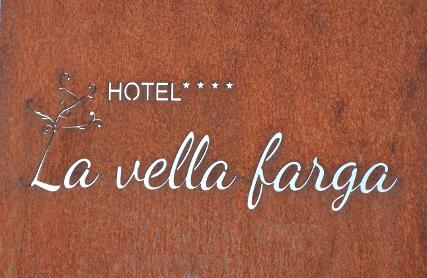 Our first glimpse of La Vella Farga.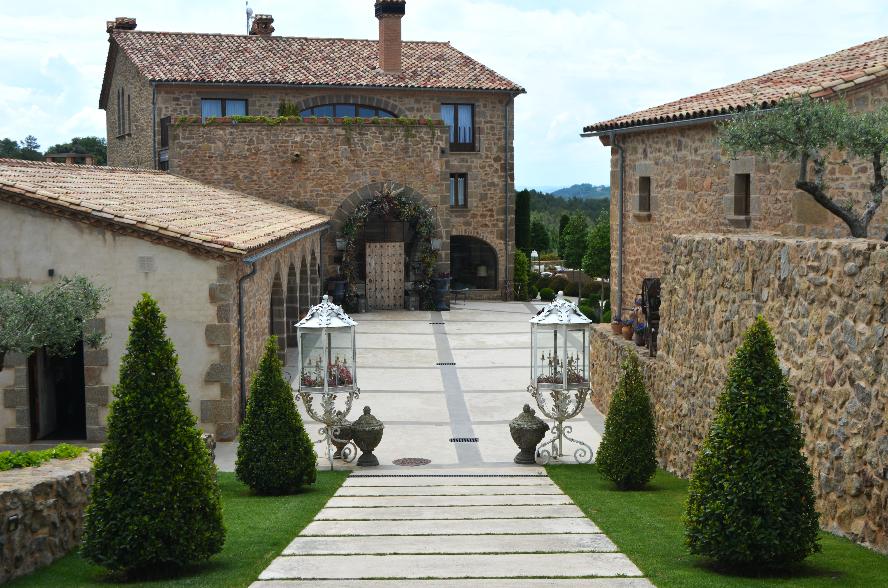 Welcoming Cava and cookies. Even when tired there is time for Cava.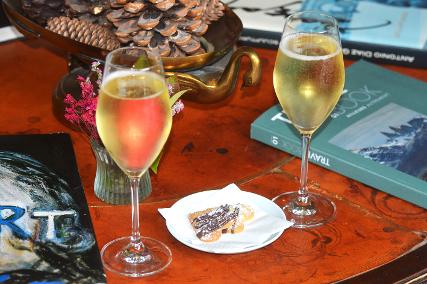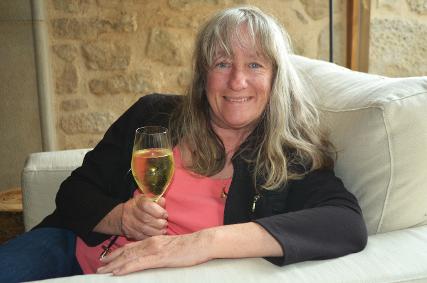 Our outdoor space accompanying our room Oncle.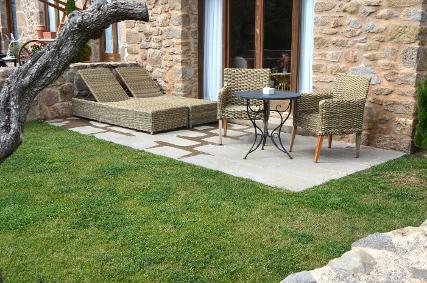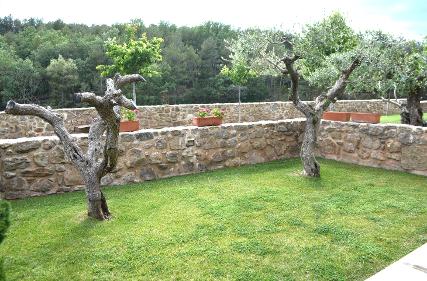 Even the towels are embroidered. Our large clawfoot tub.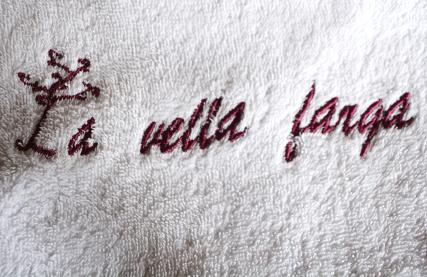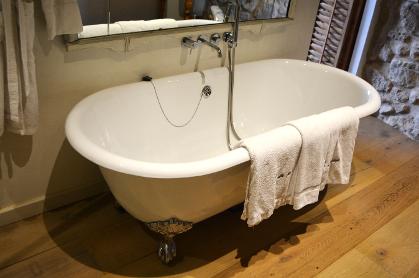 Two amuse bouche - the first being a shrimp skewer...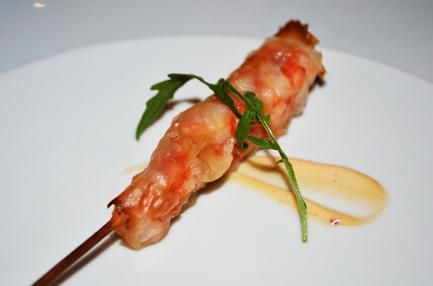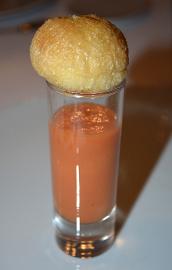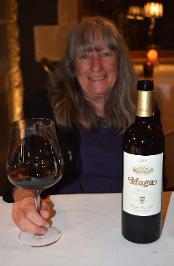 Cream of pumpkin soup with carrot gnocchi, cheese mousse and vanilla oil.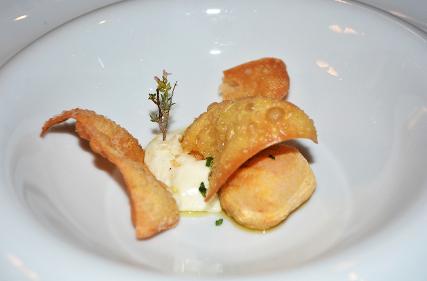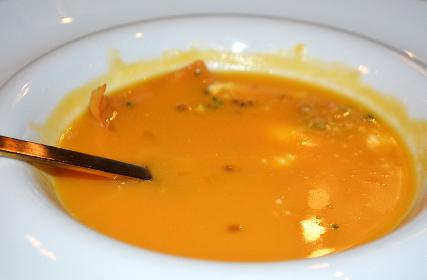 Mountain rice with sausage, mushroom and Iberian pork ribs.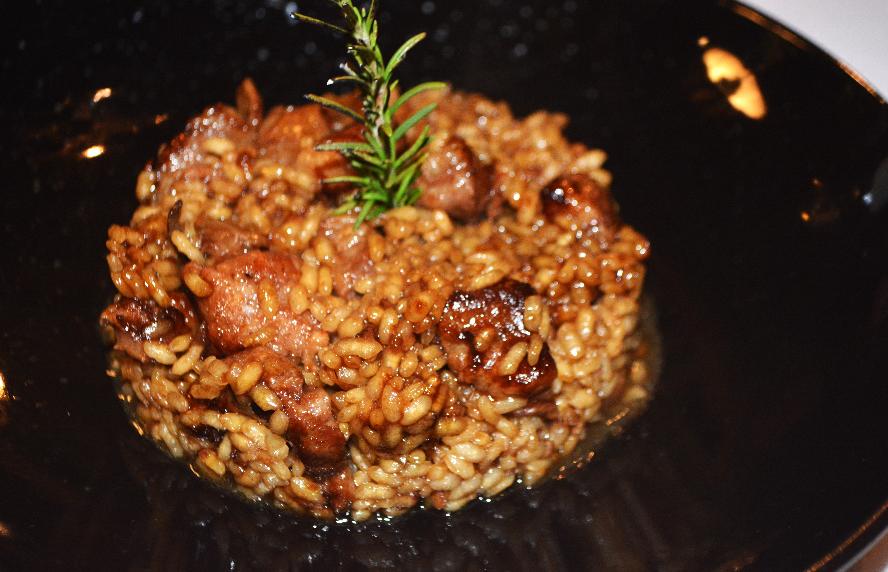 And for dessert a Chocolate mousse with Guinness sponge cake and red sorbet and berries.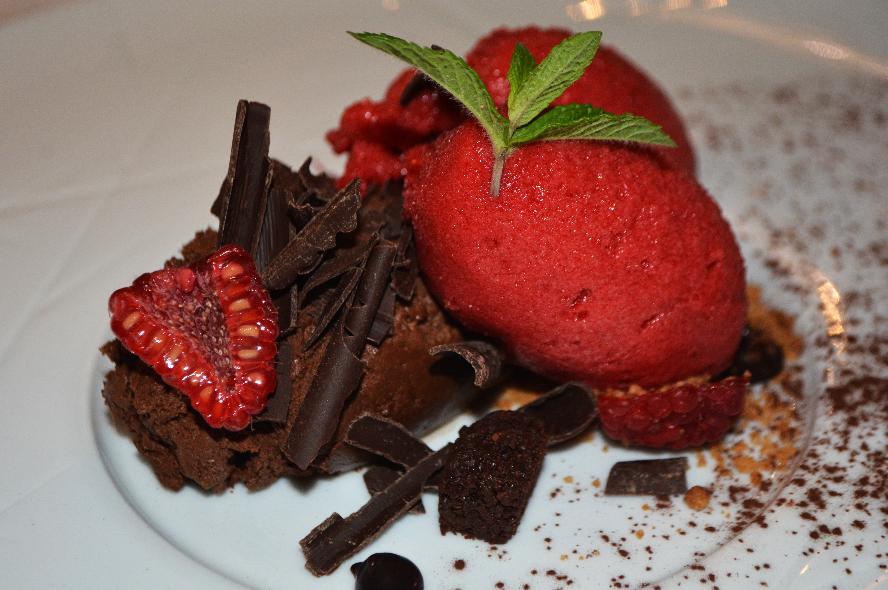 Back to the Pyrenees, Spain - May 21, 2023 to June 06, 2023
Our spring trip will return us to the Pyrenees where we last visited in 2018. Shortened a bit due to our son's wedding mid June but still two and half weeks will be nice.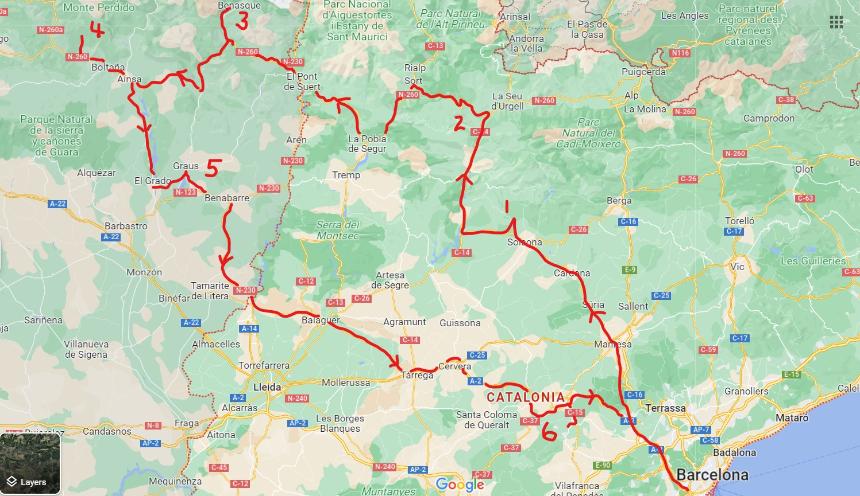 The highlight will be returning to Casa de San Martin, an isolated boutique hotel where we have stayed twice before (2011 and 2018). The wonderful host David is looking to sell the Casa which spurred us on to visit one last time.
Again we will be staying exclusively at small (4 to 15 rooms) boutique hotels (number in red matches location on map above).
Check back May 23rd or so if interested in following along.