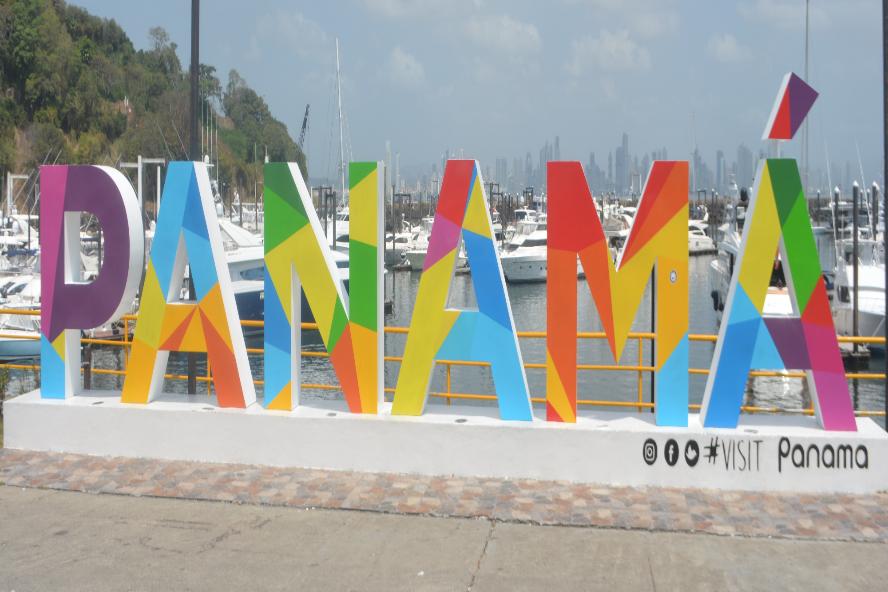 Costa Rica and Panama in Review
Another great cloud forest, beach, rain forest, jungle experience. Some of our most vivid memories are:
of course the sloths, particularly those nearly within reach during the hike at La Loma
many great meals starting with the gallo pinto and the fresh trout at Hotel Quelitales
our lodgings, both open air (Banana Azul and La Loma) and cabins on the water (Finca Vela and Casa Cayuco)
Panama City's Casco Viejo

Milton - our Panama City tour guide

the sounds of the insects and birds, and occasionally the monkeys

the lush vegetation, the result of more rain then we have been accustomed to

our tour of Tree of Life rescue facility - interesting botanical gardens and rehabilitating animals

our tour with Dave of the Salt Creek Ngobe-Bugle indigenous village
Tobias, Alex, Monica, Lucia, Kevin and Nadia
our hike through the jungle with Miluska and Elisa
the numerous connections to Peru (and Portland)
the hospitality of Jose (Quelitales), Ronald and Roberto (Banana Azul), Ines (Finca Vela), Henry and Maggie (La Loma), Dave and Suzanne (Casa Cayuco) and Rich (Casa Sucre)
Gayle successfully paddle-boarding, and me not
137 steps up and down at Finca Vela; 153 steps up and down at La Loma; and 0 steps up and down at Casa Cayuco.
the fresh, creative and delicious meals throughout the trip
three days, and nights, of pounding surf at Casa Cayuco
walking across the bridge between Costa Rica and Panama
Gayle's birthday dinner at La Pecora Nera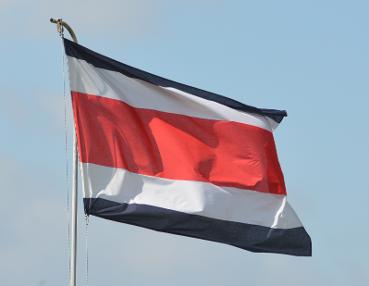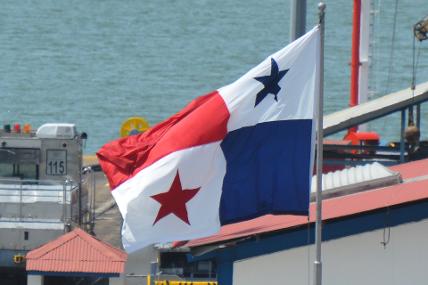 Expenses:
The trip was not particularly cheap, certainly relative to Europe, measured on a Cdn $ per day basis. The average cost* was $429 per day (more or less the same in both Costa Rica and Panama), somewhat more than the $383 per day last year in Costa Rica. This is considerably more than the $301 average spent in Greece/Turkey last fall.
* excluding airfare to/from Halifax and souvenirs
There were three components to airfare this trip
1. $ 623 Halifax to San Jose (one way)
2. $ 284 Bocas del Toro to Panama City, and
3. $ 348 Panama City to Halifax (Aeroplan business class)
$ 1,255 Total
Food and drink (keeping in mind breakfast was included all days), for the 11 non all-inclusive days averaged $70 US per day ($90 Cdn. based on an average exchange rate of $1.30 +/-). Note all food costs include tax and tips.
Excluding the last night near the airport lodging, other than the all-inclusive's, ranged from a low of $218 (again US converted to Cdn $ at 1.30), somewhat surprisingly in Panama City at Casa Sucre which we were extremely pleased with to $260 at Banana Azul. Admittedly we often had a superior/larger room. The eco-lodges that included all meals and tours (La Loma and Casa Cayuco) were $354 and $493 respectively.
At the time of the trip the exchange rate was more or less 1 US$ = $1.30 Cdn. on average.
Hotel Quelitales (Cachi Cartago) $228 http://www.hotelquelitales.com
Hotel Banana Azul (Porto Viejo) $260 http://www.bananaazul.com
Finca Vela Lodge (Isla Pastores, Bocas del Toro) $243 http://www.fincavela.com
La Loma Jungle Lodge (Bahia Honda, Bocas del Toro) $354 http://www.thejunglelodge.com
Casa Cayuco (Is|a Bastimentos, Bocas del Toro) $493 http://www.casacayuco.com
Casa Sucre (Panama City) $218 http://www.casasucreboutiquehotel.com
Riande Aeropuerto (Panama City) $180 http://www.riandehoteles.com

Overall, including airfare, car rental, fuel, tolls, lodging, food, entrances, and other small miscellaneous expenses but excluding souvenirs the total cost of the 16 days was $7,836 (or $1,715 per person per week), 1/3 more than the $1,300 per person per week in Greece last fall.
February 21, 2018 - Panama City (Riande Aeropuerto) to Halifax

It was up early for the 5:30 am shuttle to the airport (five minutes) in order to catch our 7:40 am COPA flight from Panama City to Cancun, where we changed to an Air Canada direct flight back to Halifax. For some unknown reason COPA could not check our backpacks all the way through to Halifax necessitating us retrieving them in Cancun and lugging them to another terminal where we had to re-check them and ourselves in. A real inconvenience but fortunately we had sufficient time to make the connection.
We treated ourselves to Aeroplan Business Class - not as luxurious as the trip back from Istanbul but still nice and comfortable with good food and lots of drink and snacks. We arrived in Halifax a few minutes early to bring an end to another enjoyable trip.
February 20, 2018 - Panama City (Riande Aeropuerto)
Realizing it was going to cost us $35 US to taxi to the airport anyway and wanting to see a bit more of Panama City we had Rich arrange for a driver for us for a number of hours. Milton's English was not as fluent as ideal – he had some difficulty understanding some of our questions – but he was a great guy who was very attentive to us, particularly in the Panama Canal museum.
We first drove the Cinta Costera, the highway over the water that essentially circles Casco Viejo, with the skyline of Panama City to the east. From there it was over the Bridge of the Americas (built in 1962) to the western edge where there is a pagoda with lion statues called the Chinese Monument celebrating the long history of the Chinese in Panama. From the monument there are clear views of the bridge and the port, in which today there was a tall ship from Mexico. We then went out to an area known as Amador, and Panama Bay with marinas, beaches, the Biomuseo, restaurants etc. – no doubt a hopping place on weekends. Built in 1913 the causeway, using rocks from the excavation of the Culebra Cut during the construction of the Panama Canal connects the mainland with four islands. At one time the site was part of a US military complex established to protect the Pacific entrance to the Panama Canal.
We then drove to the Miraflores locks of the Panama Canal and the museum and viewing galleries there. The Panama Canal is the result of a saga of human ingenuity that goes back to the early 16th Century when the Spaniards arrived on the isthmus. The first firm effort to build an all-water route through Panama began with the French in 1880, but financial troubles and disease resulted in failure. After its independence in 1903, Panama negotiated an agreement with the US for the construction of the Canal. The work was finished August 15, 1914 after which it was managed by the US through 1999. On December 31, 1999 Panama took over full operation, administration and maintenance of the canal 22 years after the negotiation of a treaty. In September 2007 an expansion was initiated in order to double the waterway's capacity, allowing much larger post Panamax ships to pass through a larger set of locks. Entrance includes an informative 12 minute movie on the history of the locks, a museum with artifacts and a simulated 'bridge' in order to manoeuvre a ship through the locks and of course a viewing area where one can see boats of all sizes pass through – from a relatively small sail boat to a container ship to a natural gas tanker to a large cruise ship. The process is both interesting and somewhat boring as the ships inch their way into and then along the channel, to then await the water level to drop (27 feet in the first lock) to then move along to the next lock to do it all again. The average time for a ship to pass through the 80 kilometre canal is 8 to 10 hours. Passage is costly ($450,000 in 2014 for a ship), a cost that was reportedly tripled over the previous five years. Milton suggested it now costs upwards of $1 million per crossing for the larger ships, expensive but still considerably less in terms of cost and risk of traveling around South America's Cape of Good Horn.
After more than a couple of hours (Milton was very patient with us) we left for the 30 km drive through the city to the airport hotel at which we stayed our last night. Certainly Panama City has more skyscraper towers than we have ever seen, dominating the skyline. We said good-bye to Milton, very appreciative of his pleasant nature and patience.
The Riande Aeroporto was exactly what we expected – a nice low rise hotel with a well designed pool and excellent landscaping including many orchids. The restaurant was reasonable with each of us enjoying a pizza after I had a traditional Panamanian soup with chicken. It was early to bed for our 4:00 am wake-up.

Milton pointing out the monuments to the Chinese in a small park overlooking Panama City's port.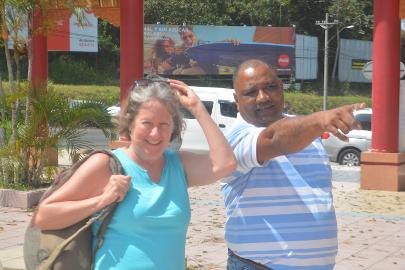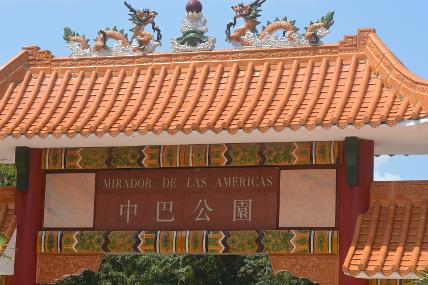 A tall ship from Mexico in the port, and the Bridge of the Americas.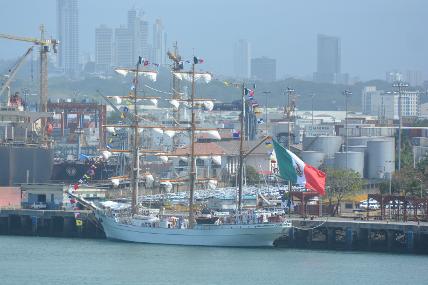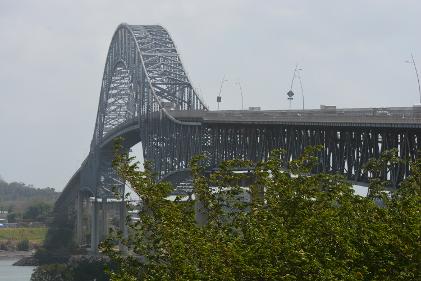 Milton and Gayle waiting while I stepped out to take a few photos and Milton with his taxi.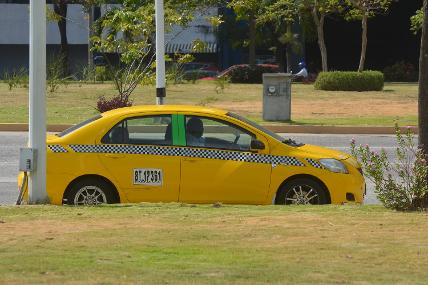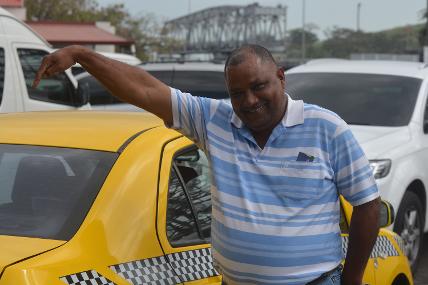 Our final stop was the Panama Canal Miraflores Locks where Gayle 'drove' the ship through the canal/locks ... well sort of.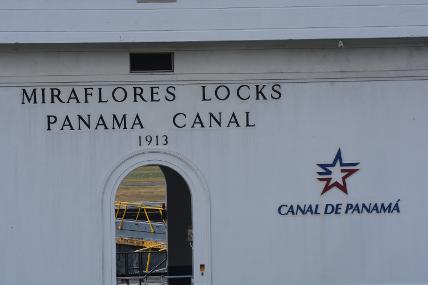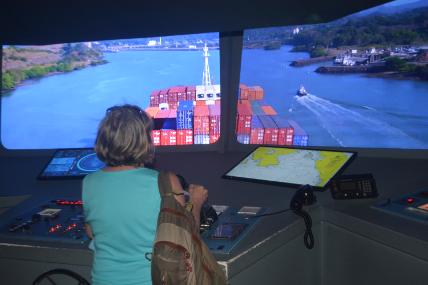 One of the specialty machines used to guide the ships through the locks.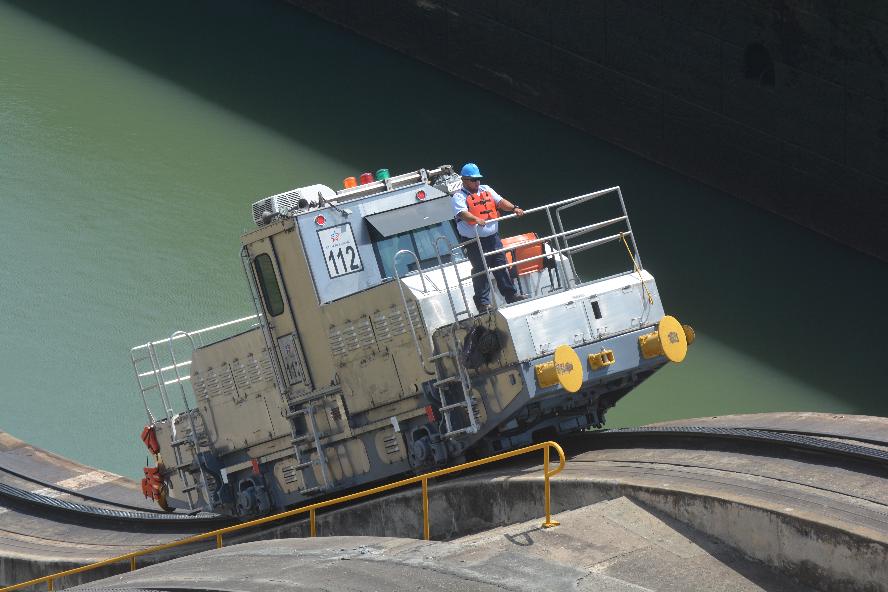 A container ship working its way into the lock.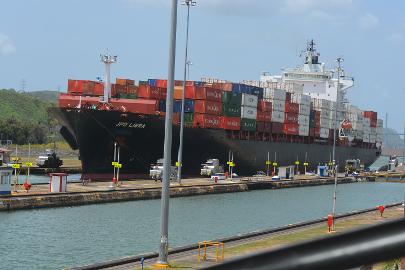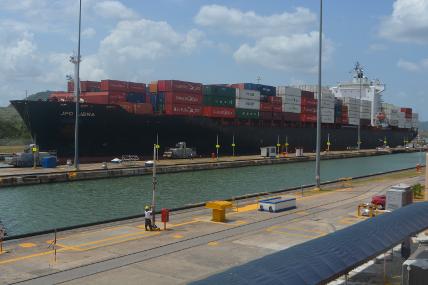 The complete package - a small sailboat and a natural gas tanker, both waiting to go through the west lock of the old/original channel, and in the background a super post Panamax container working its way through the larger, new locks.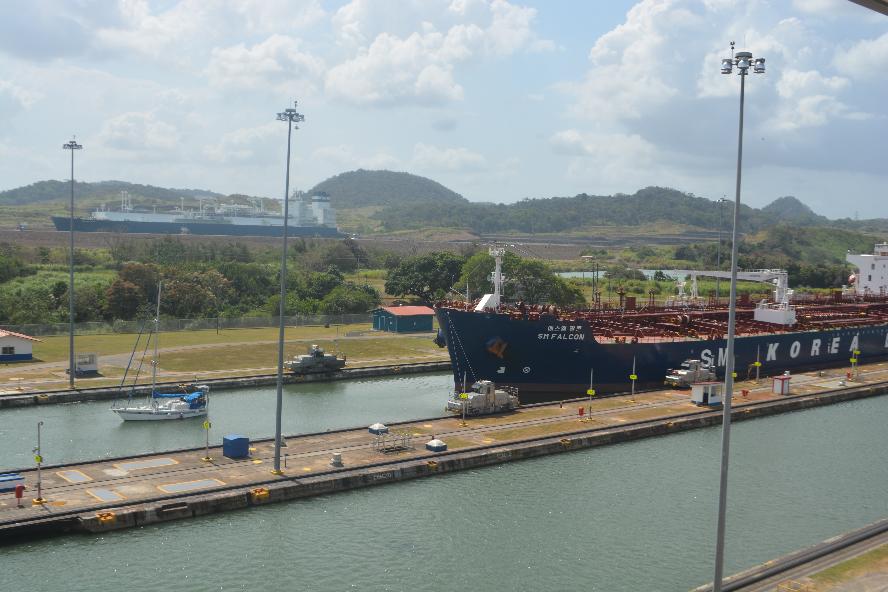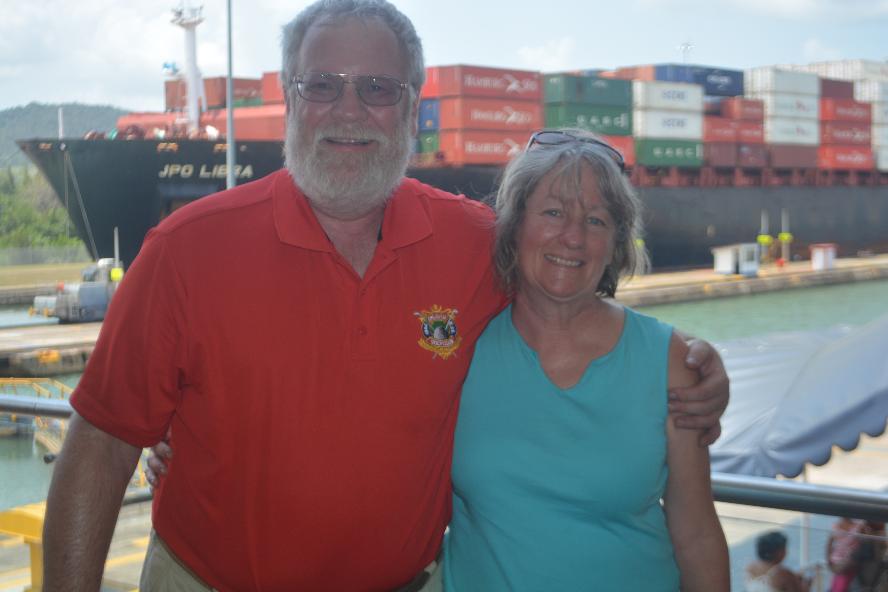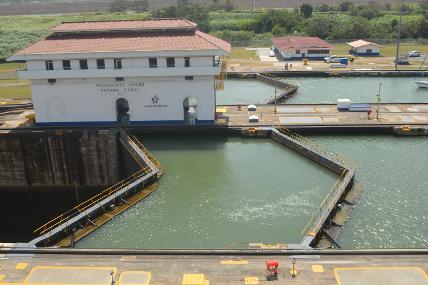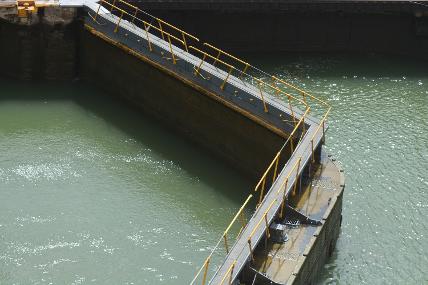 The sailboat slowly 'disappears' as the water is removed from the lock.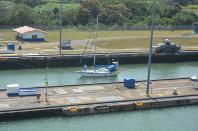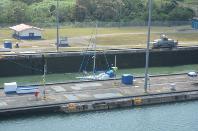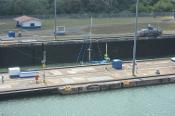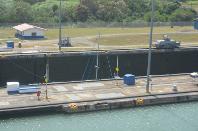 After which it continues on its way having dropped
27 feet.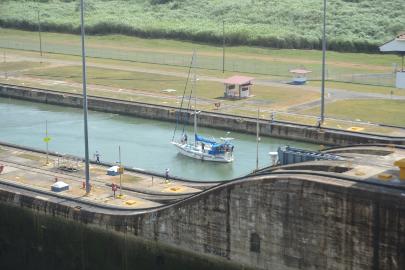 A natural gas tanker and a cruise ship entering and approaching the locks.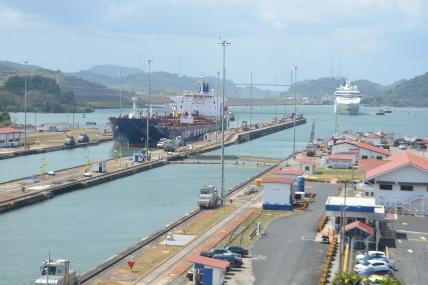 The Norwegian Star very snug to the sides.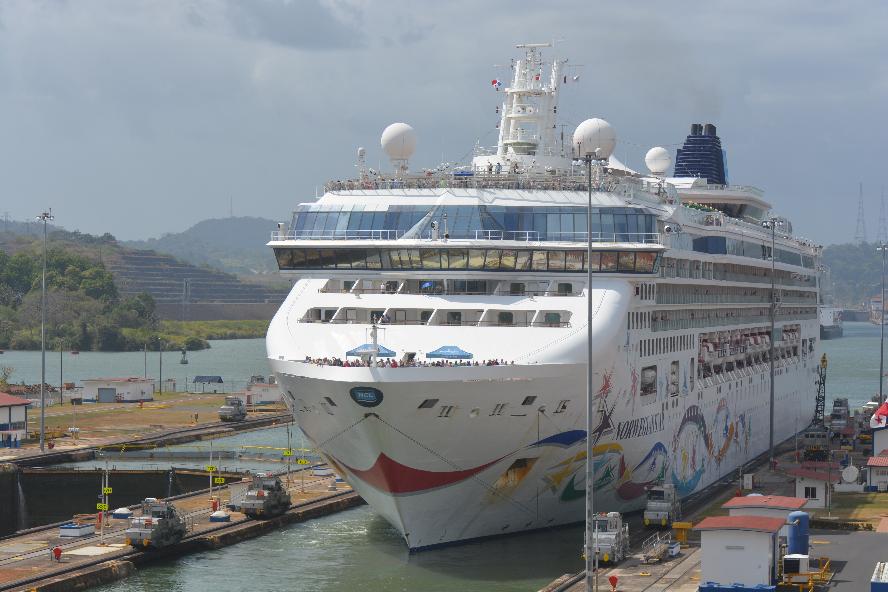 The Panama City skyline - clearly there are $s here.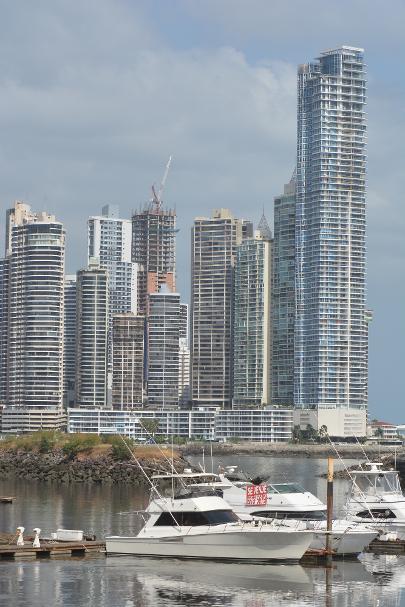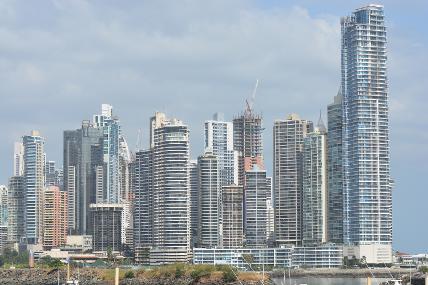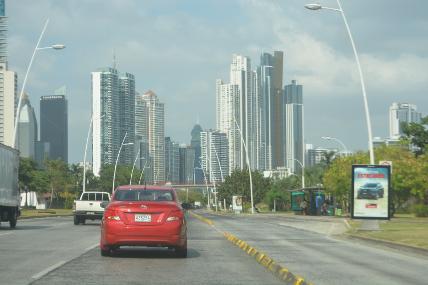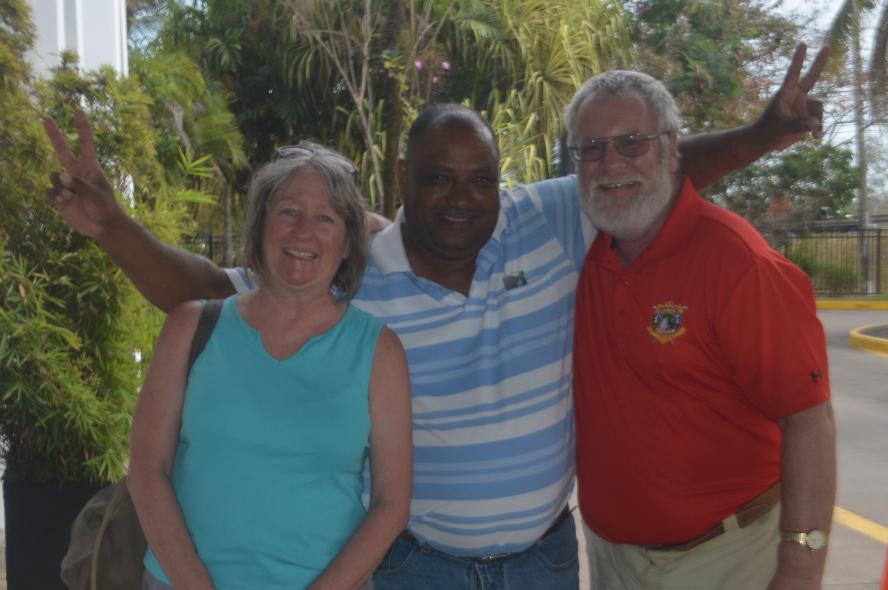 February 19, 2018 - Panama City (Casa Sucre)

This was our day in the historic old district of Panama City, known as Casco Viejo.
After a comfortable, and quiet, sleep we had breakfast in the Casa Sucre café where room included a breakfast item and coffee. I had a typical tamale while Gayle had an egg bagel.
We then wandered through most of Casco Viejo (Spanish for 'old quarter'), a comfortable walk, past a range of buildings in various states of repair. There were some beautifully restored churches, museums and palaces with a few nice plazas for relaxing. At the same time there were many old, dilapidated and vacant buildings, in desperate need of renovation.
Panama City was founded in 1519. After a century and a half in 1671 it was set on fire before the attack and looting of the pirate Henry Morgan. In 1672 a 'new' city was constructed on a peninsula completely isolated by the sea and a defensive system of walls. This location is today the community of Casco Viejo. The area was designated a World Heritage Site in 1997.
While sitting on a bench in Plaza Simon Bolivar who do we see but none other than Monica and Lucia. As we noted earlier on the trip it can be a small world. Certainly Casco Viejo proudly presents the art and handicrafts of it's indigenous peoples from places such as San Blas, Darien and Embera. There were a number of shops that sold masks, bowls, plates, dolls etc., some of which we did purchase. In some cases women would be seen in their traditional attire.
Returning home we stopped in the Casa Sucre Café where we enjoyed a refreshing drink – me a local craft beer and Gayle a large smoothie. We struggled to find a place for dinner. Although it was a nice restaurant we didn't really want to go back to the same Peruvian place. There was a well rated nearby spot but we thought it a bit too chic, too hipster. We did find a nice alternative but the downstairs was booked leaving only the upstairs which was essentially a bar. We passed. In the end we ate at a quiet (only one other table occupied) place – Rene Café, which was interesting in that we were served essentially a preset daily menu of tapas sized servings. There is a 'lunch' version, that Gayle had – fewer dishes and a more extensive 'dinner' version, that I had. The food was ok but nothing outstanding. The room was nice and we certainly enjoyed the Margaritas.
While we tend not to visit larger cities this older part of Panama City seemed world's away from the skyscrapers we could see across the bay. It was essentially a small easy to visit 'town'. We both agreed the decision to spend a day here was a good one.

A corn tamale with chicken, cooked in banana leaves was my breakfast choice this morning at Casa Sucre cafe.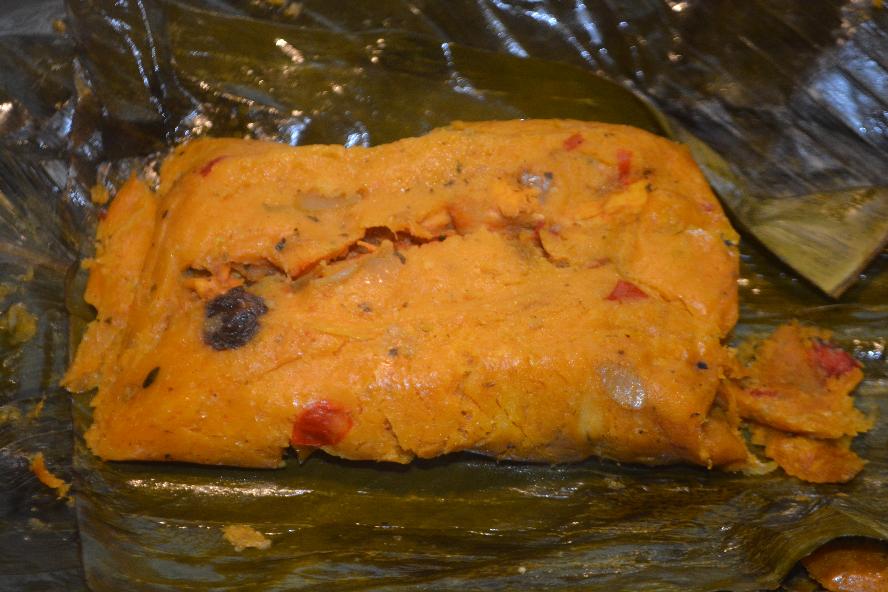 A few street scenes in Casco Viejo.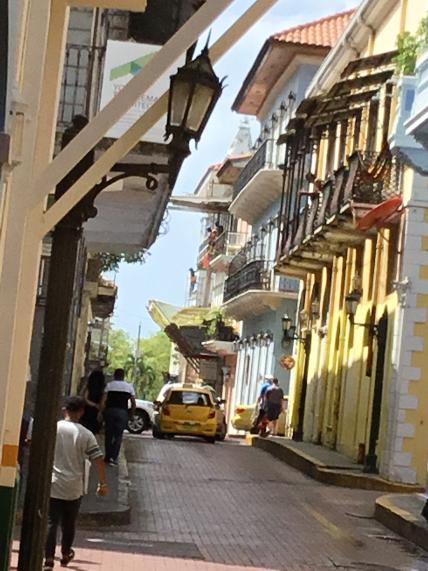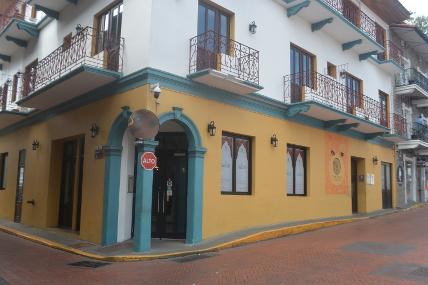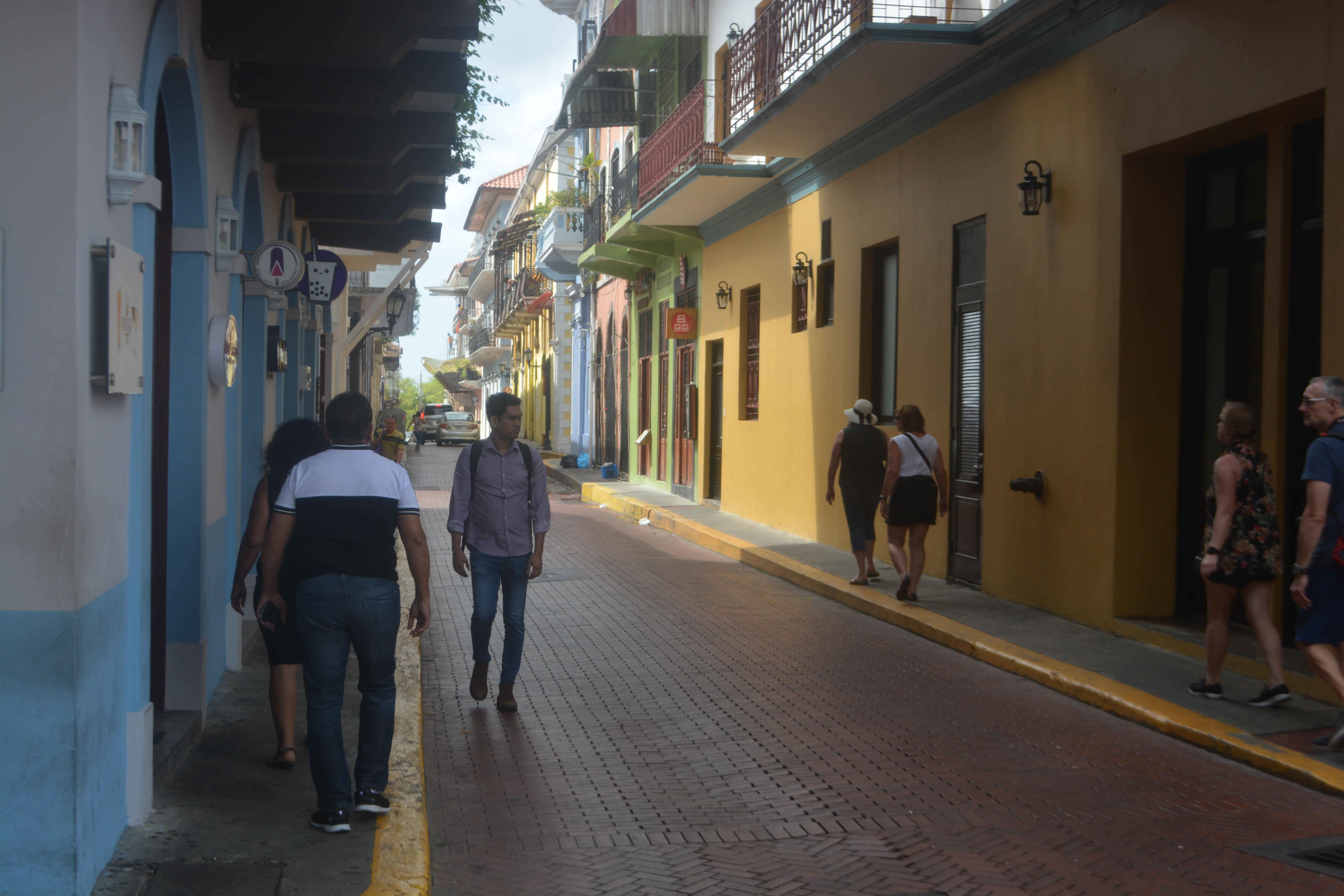 A colourfully dressed indigenous person walking the streets of Panama City.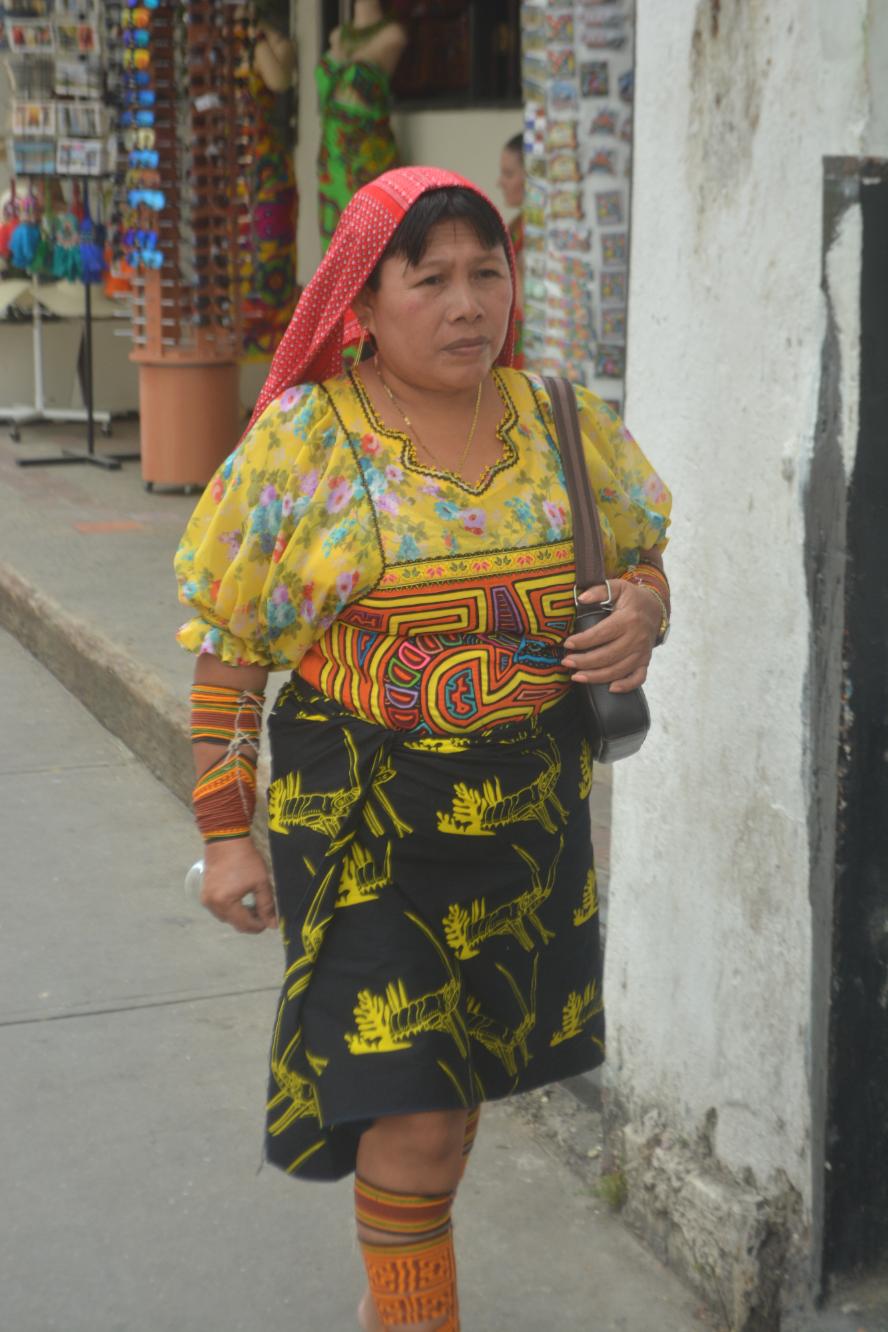 A few shops had a very nice selection of indigenous handicrafts, including masks and colourful woven bowls and plates.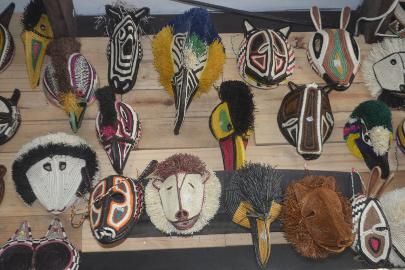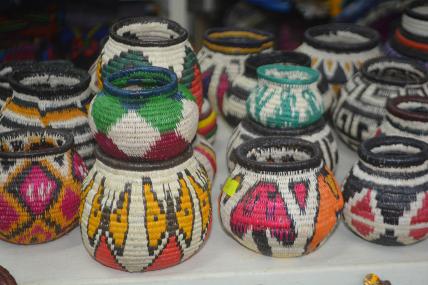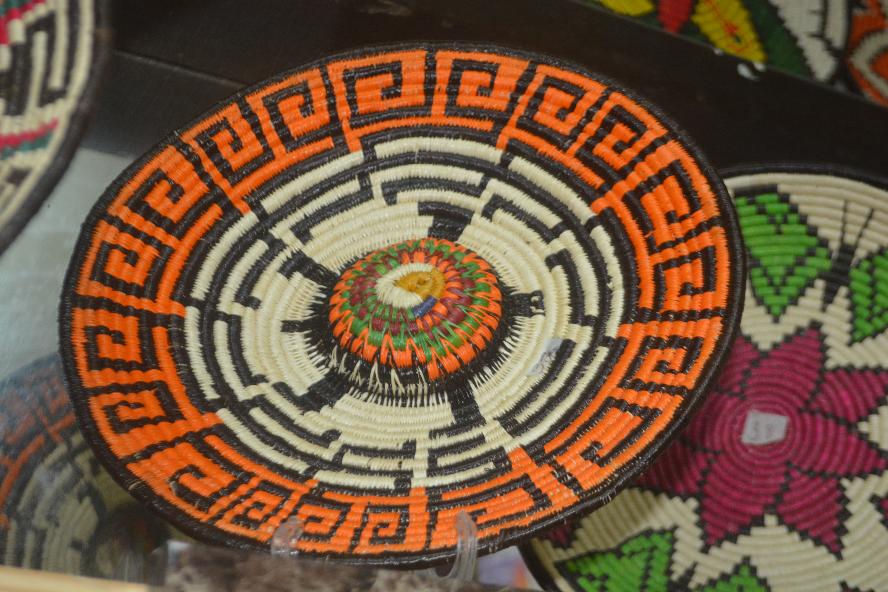 There remain a considerable number of dilapidated, abandoned buildings in Casca Viejo.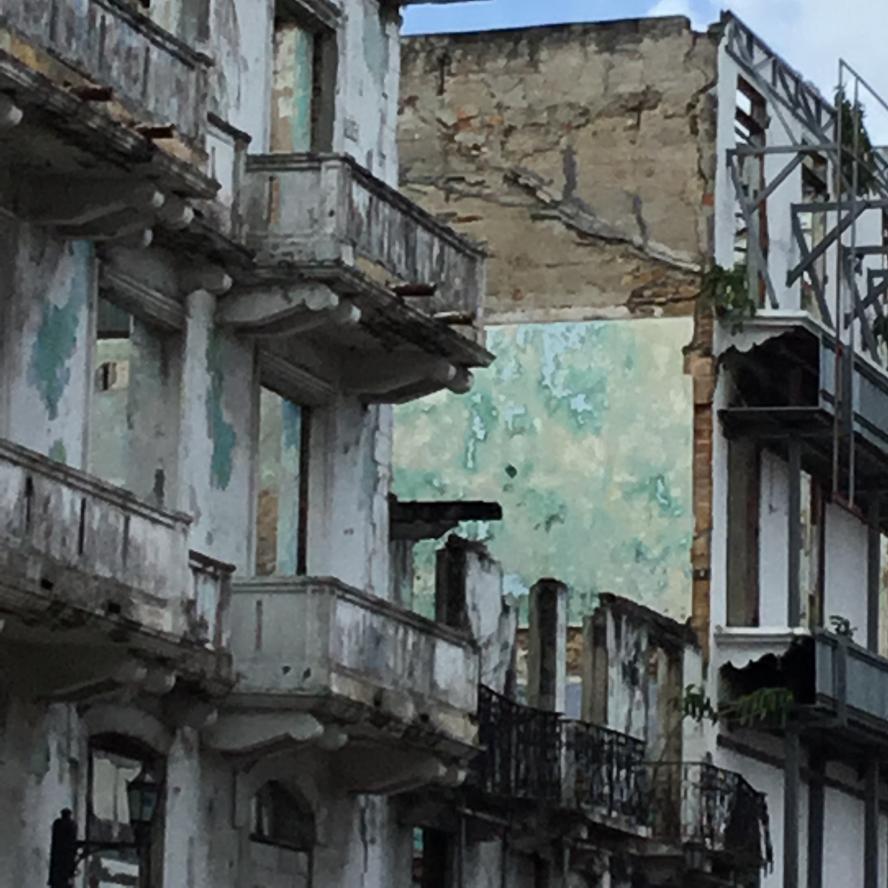 Yet at the same time a number of nicely renovated buildings, with others being worked on.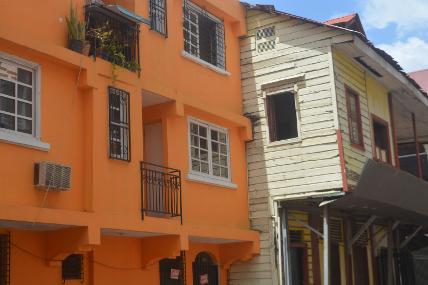 The impressive exterior of Iglesia San Francisco De Asis.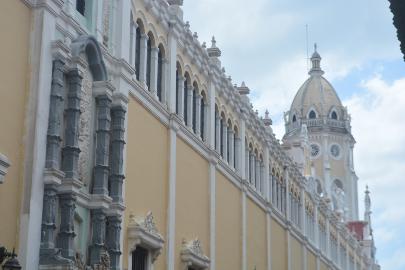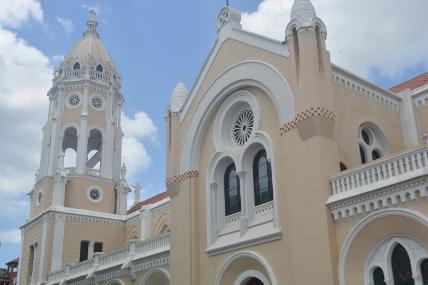 From the historic Casco Viejo one can see a whole other side of Panama City.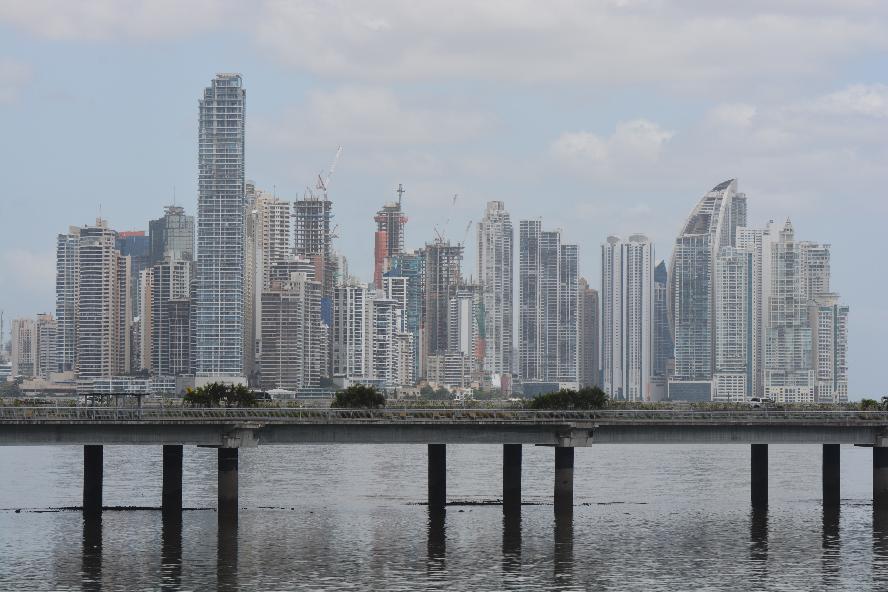 Enjoying a little sun on a park bench in Plaza Simon Bolivar.



Lots of interesting balconies here in Casco Viejo, reminiscent of New Orleans.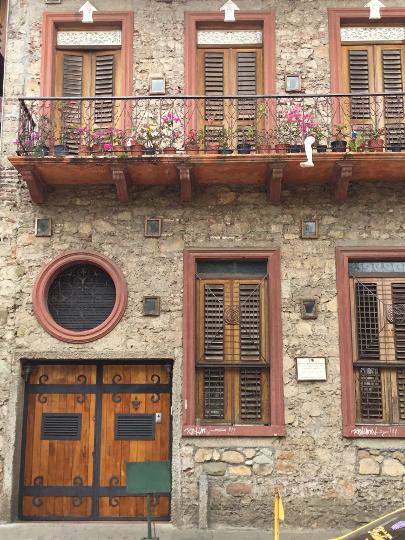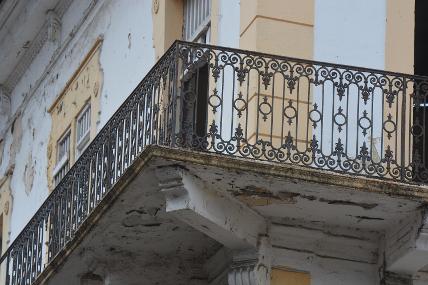 Clara, from the San Blas indigenous people and 'Carita', one of the traditional dolls she makes, who has been added to our collection.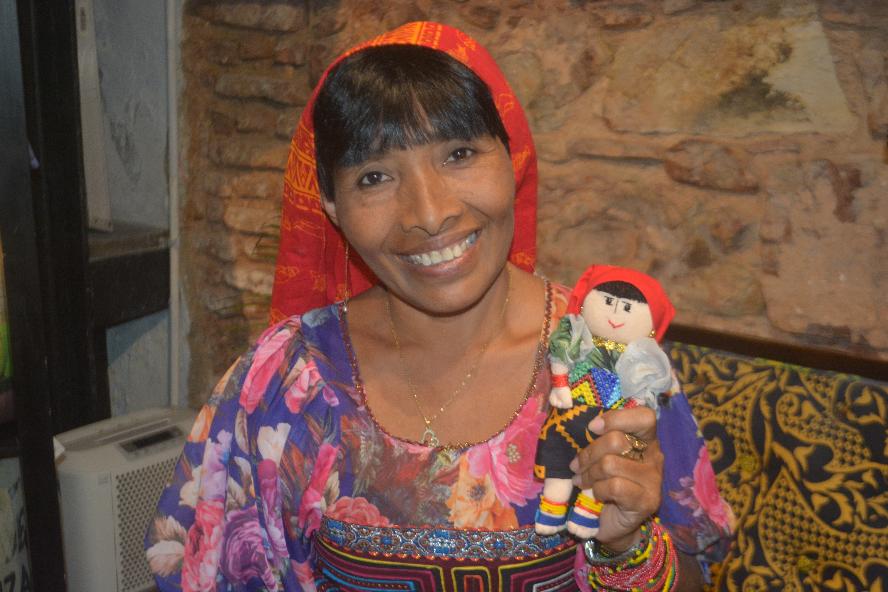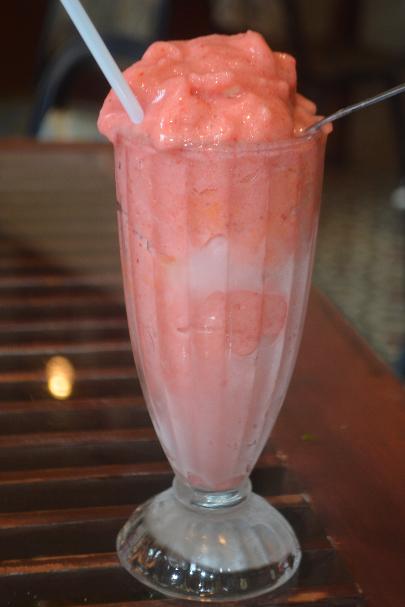 After a few hour of strolling through Casco Viejo we returned to Casa Sucre where we each had a beverage - Gayle a large strawberry smoothie and me a craft beer, La Rana Dorada made here in Panama City.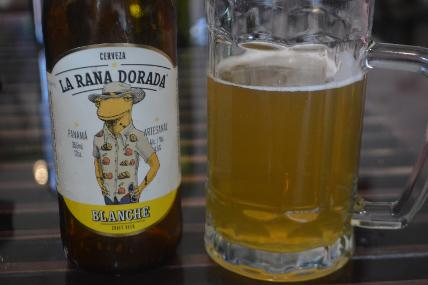 Casco Vieja is a interesting mix of abandoned building, historic remnants of buildings (below right the Arch Chato) and beautifully renovated buildings.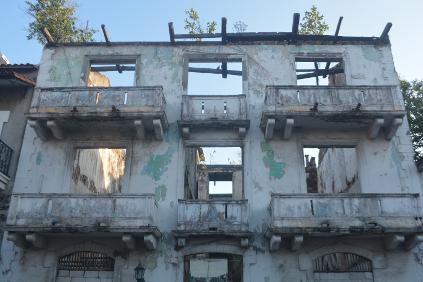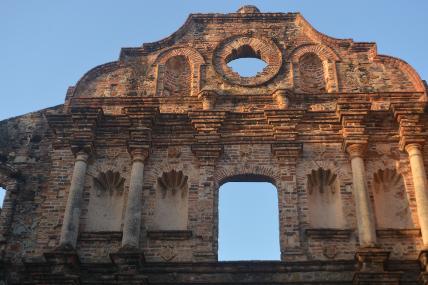 Although the meal ws just so-so the Margaritas were very good.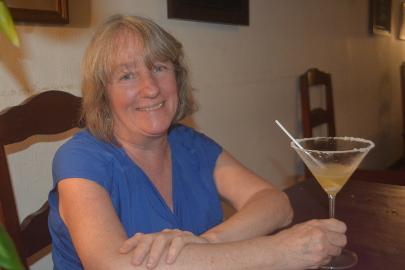 The shrimp brochette was both tasty and photo worthy.



February 18, 2018 - Isla Bastimentos (Casa Cayuco) to Panama City (Casa Sucre)

Dave offered to take anyone interested to the nearby Salt Creek (Quebrada Sal) village, belonging to the Ngabe indigenous people.

Surprisingly we were the only ones who took him up on his offer, and very glad we did.

It was an interesting couple of hours.
The Ngobe community of Quebarda Sal (Salt Creek) is located among the mangrove and coral reefs, surrounded by the rain forest of Isla Bastimentos.
The village consists of several houses of wooden walls with palm leaf roofs, typical Ngobe architecture. There are a number of new school rooms, both primary and now secondary.
The primary economic activity of the Ngobe is fishing, with some agriculture and farming. Tourism is becoming a growth industry for a number of the the families of the village.
Dave, Suzanne and Casa Cayuco are very passionate and committed to the village and its people. Beyond Suzanne and Dave all those working at Casa Cayuco are from the village - and nicely recognized with photos and a short write-up on the Casa Cayuco website. Some of what we are paying to stay at Casa Cayuco is provided to the community to support its efforts whether providing medical servicies, building another classroom or whatever else is needed. Plus Dave puts in a considerable amount of personal time.
Dave explained the origins and history of the Ngobe-Bugle, and life in the village - the school system and how for the first time students have now graduated high school, the recruitment of teachers, health care, agriculture and religion. It is easy to tell this is something he really enjoys doing.
Being a Sunday morning we saw a number of villagers going to church and some of the service itself. Interesting was the fact all the men sat on one side and all the women on the other.
Of course we couldn't leave without the skies opening for a final downpour drenching us as we walked out of the village back to the boat. But by the time we were out in the bay the rain had stopped. Upon returning we had a final lunch, packed our bags and were boated to Bocas town. Alex and Tobia went one direction to their next stay while Monica, Lucia and we boarded an Air Panama plane for the short one hour flight to Panama City. Fromthe downtown Albrook airport we took a taxi to the historic Casco Viejo area of the city and Casa Sucre Boutique Hotel. Casa Sucre is a a renovated 1873 five bedroom three apartment guest house, with an adjacent cafe. We were in the Crema Apartment, a large apartment with (although we didn't use them) full cooking facilities. On the ground floor facing an inner courtyard it was really quite quiet.
Rich suggested a nearby Peruvian restaurant for dinner. Given all the Peruvian connections during the trip (Jose (studied as a chef in Peru) at Hotel Quelitales, Henry (born in Peru) at La Loma; Miluska and Eliza (from Peru) who we met on our jungle walk at La Loma and Monica (also born in Peru) at Casa Cayuco) it seemed destiny was calling out to us to eat Peruvian. Unfortunately there was little on the menu for Gayle. While we are sure they would have made a dish for her she was not that hungry and just had the Huancaina Potatoes. She would have had the passion fruit pie for dessert by unfortunately they were out. I had a fish soup that while it may not have visually looked that appealing was simply delicious. The garlic octopus on the other hand, while ok was a little fatty, not the meaty pulpo I am accustomed to in the Mediterranean. A half bottle of Spanish wine completed the meal. It was then only a half block back to Casa Sucre where we called it a night.


The shoreline west of Casa Cayuco as we headed to Salt Creek.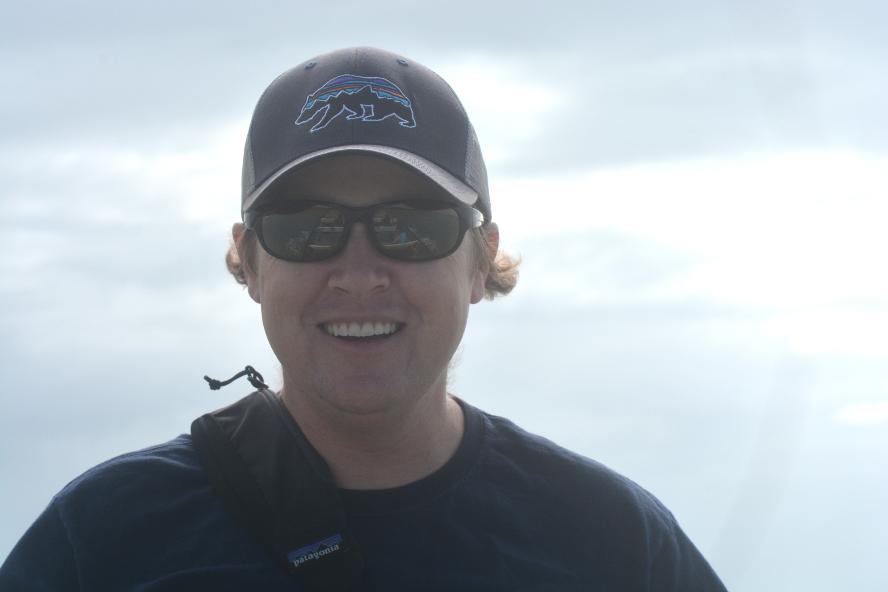 To enter the Salt Creek village one needs to boat up an estuary through dense mangroves after which one arrives at a small dock.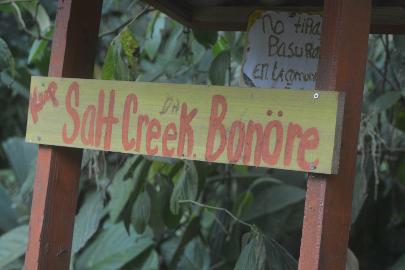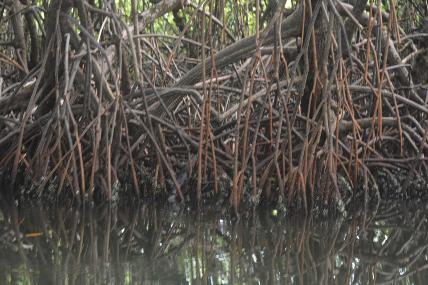 Not sure how long it will take clothes to dry in this humidity but they're trying, and to the right the future medical clinic.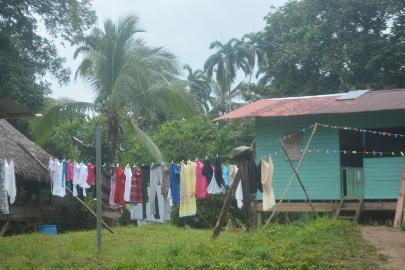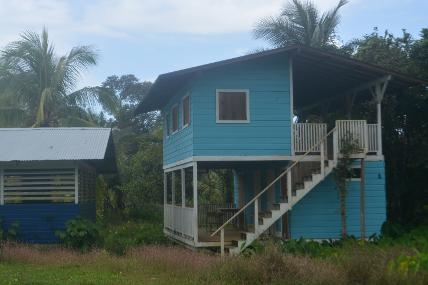 One of the six classrooms in the village.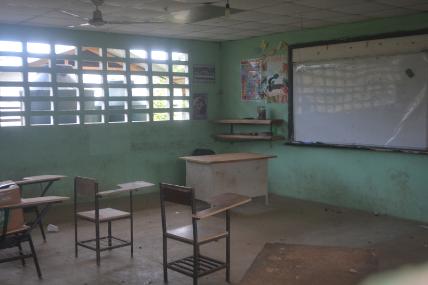 One of the village churches - Iglesia La Luz del Mundo - full this Sunday morning for service.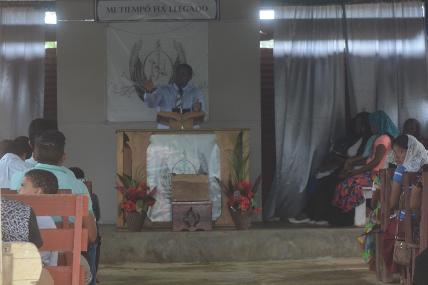 The men sit on the left ... and the women on the right.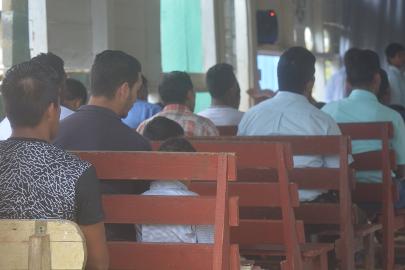 A few of the children and villagers of the Ngobe-Bugle indigenous peoples.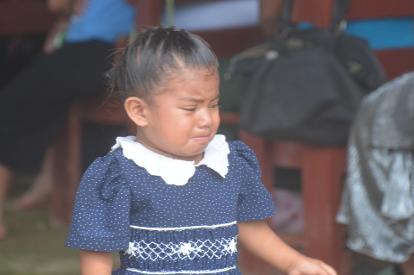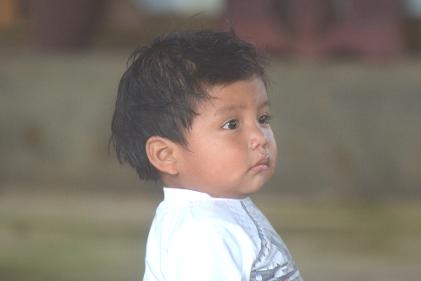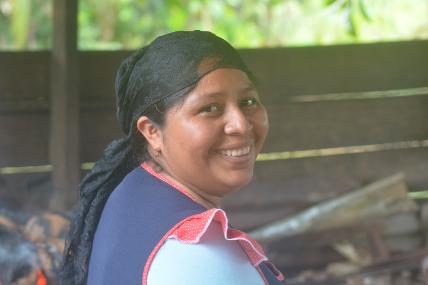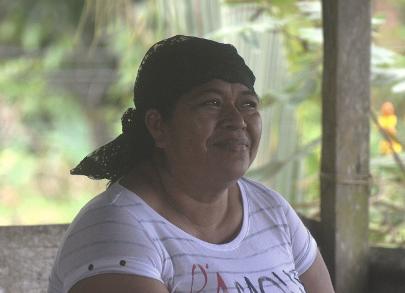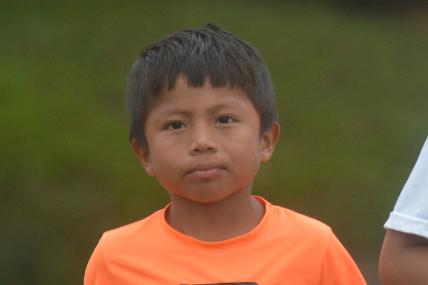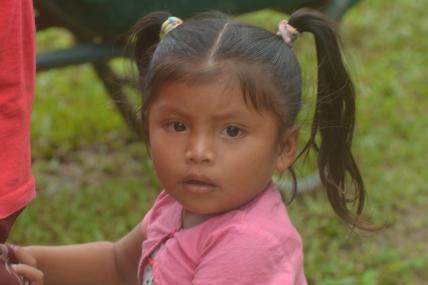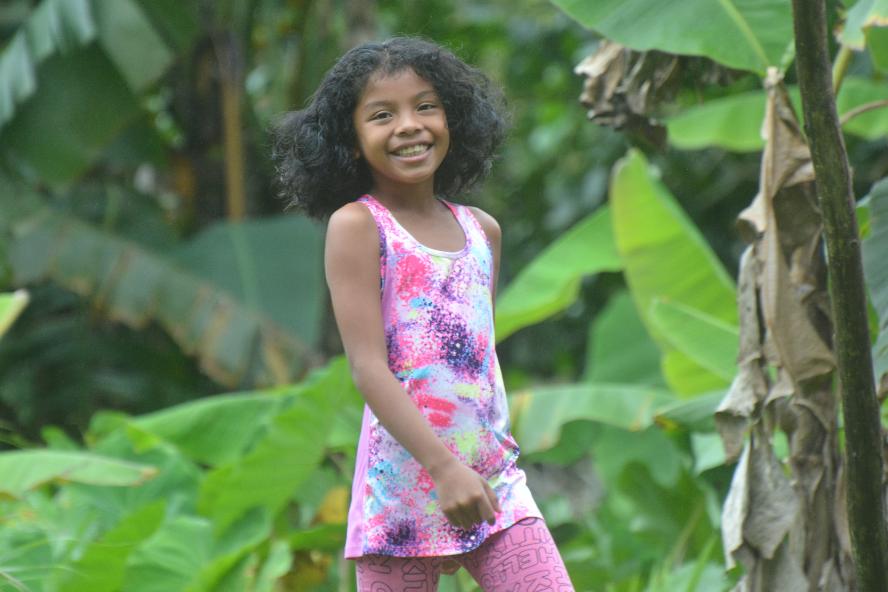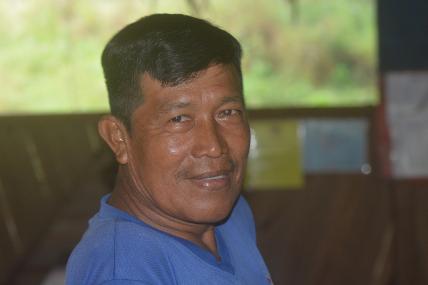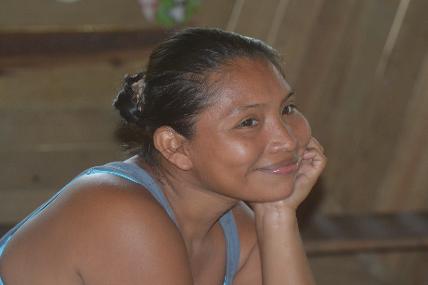 Our last lunch here at Casa Caayuco.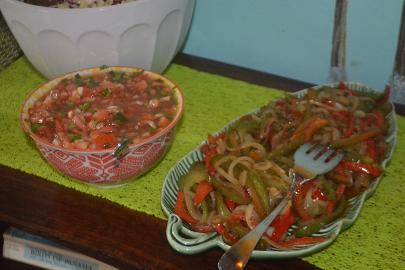 The seemingly perpetually wet boardwalk.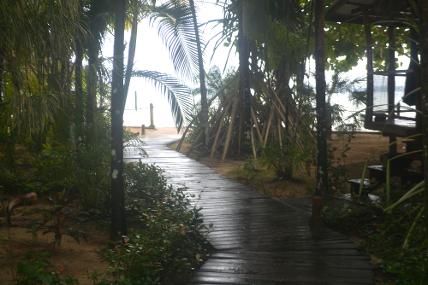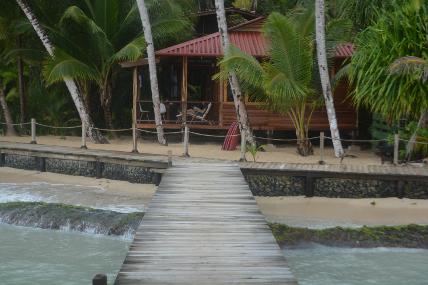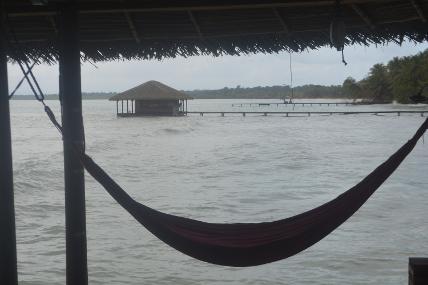 About to leave, with the essential rain jacket, and a final few minutes of relaxation swinging on the dock on the sea's edge.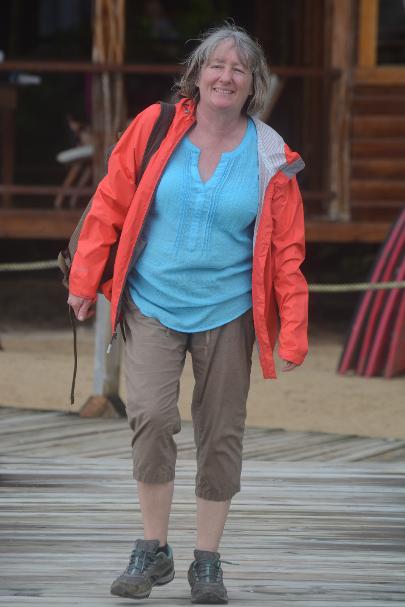 Our apartment, rented from Rich, who also owns and operates the adjacent Casa Sucre coffee house.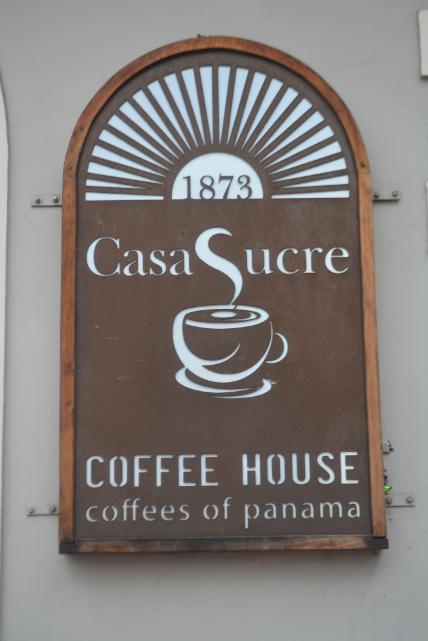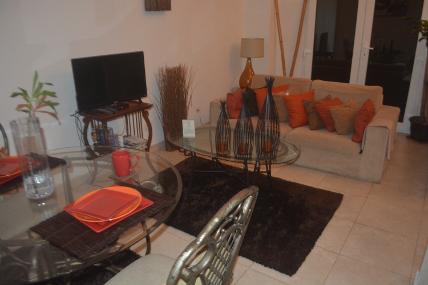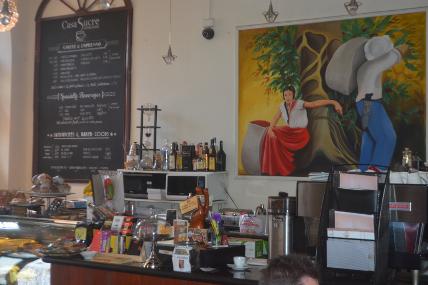 Enjoying dinner at the Peruvian Nasca 21.


To the right Gayle's Huancain Potatoes - boiled potatoes in a cheese sauce with yellow chilli and crackers, prepared Huancayo style (served chilled).


Below an absolutely delicious Aquadito Especial Seafood - soup made with cilantro, rice, lemon and a variety of seafood and below right Octopus in garlic sauce, olive oil and white wine - ok but not as meaty as Mediterranean pulpo.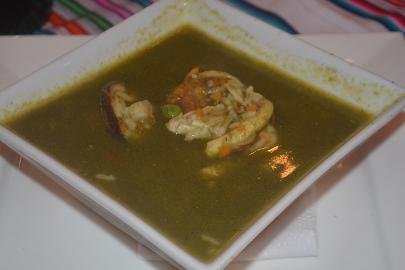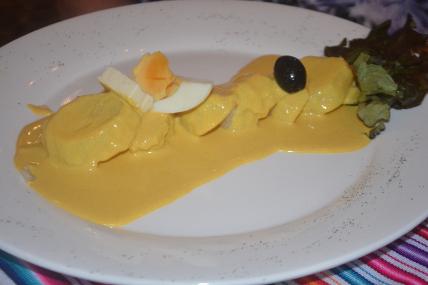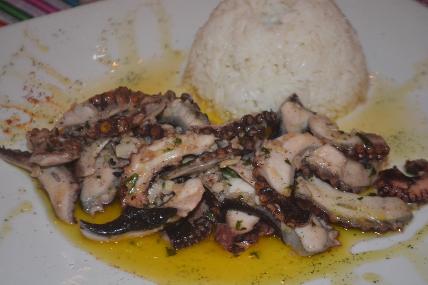 February 17, 2018 - Isla Bastimentos (Casa Cayuco)

A day more or less similar to yesterday. Another buffet breakfast followed by another relaxing morning. The weather again was for the most part uncooperative. The surf continues to be unusually high precluding comfortable swimming and the periodic downpours were somewhat of an inconvenience. Surprisingly, although WiFi here at Casa Cayuco is actually quite good for some reason I'm unable to upload photos to the travel blog so there is limited progress on that front. But sudokos are good for passing the time.
After lunch we joined Alex, Tobias, Monica, Kristen and Scott, and two staff/guides for a walk through the jungle, first directly through the rainforest, then out to the shore and back. Gayle made a sensible decision to wear her flip flops rather than her sneakers. Finding and staying on the boards necessary to cross the accumulation of water was somewhat tricky. The rains made the first part of the hike a bit of a challenge – lots of water and mud, so much so that Gayle actually lost her flip flop when she sunk in the mud nearly up to her knee. Thank goodness for the skilled guide who was able to find and extract the flip flop. Unfortunately I didn't see much wildlife. The rest of the group saw a sloth while I was lingering behind. We all saw a poisonous Panamanian red frog a guide found, a coastal crab and the outline of a iguana high in a tree. Normally there are monkeys but not today.
The walk was considerably easier once we reached the shore. Nice sandy beaches and lots of palm trees, typical Caribbean seaside scenery. Half way back we stopped for some fresh coconut water. Our guides gathered up some coconuts and used their machetes to quickly open them up for our enjoyment.
While on our hike two other families arrived – both from Brooklyn, each with two young children. Dinner was again focused on fish, tonight tuna. After the meal Tobias and I ended up in a lengthy chat covering a wide range of topics. And then it was back to the cabin to again listen to the surf as we spent our last night here in rain forest on the Bocas del Toro islands.


The boardwalk and beach to the left (that's Casa Cayuco's dock) and to the right of our cabin.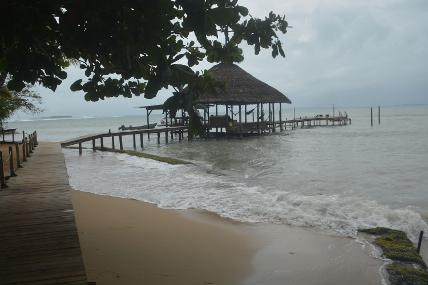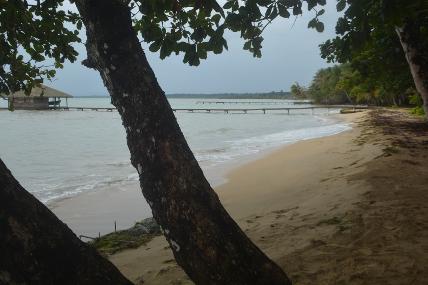 Our thatched roof cabin Pelicano (actually much larger than this wide angle shot appears) and Gayle strolling on the seaside boardwalk.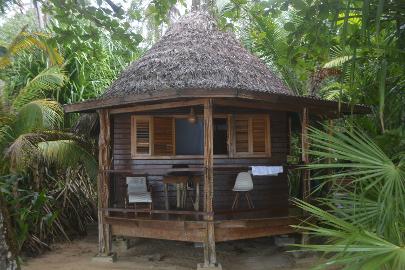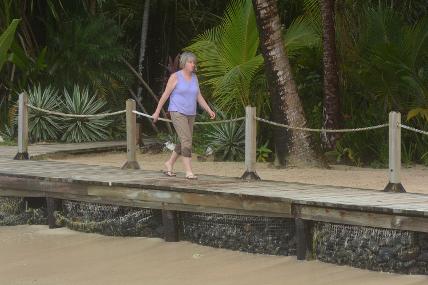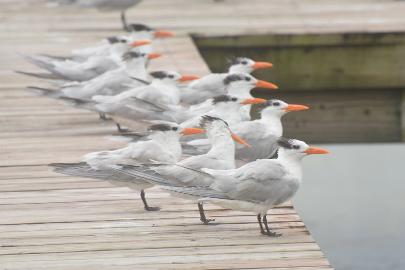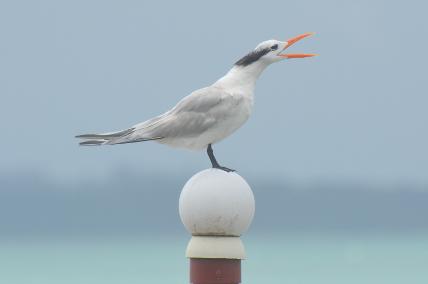 A bright mask, presumably from the local Ngobe indigenous tribe, in the lodge.
An interesting lunch today with a mid-east theme - falafel, a tabouli type salad, a green salad with mint-yoghurt dressing and a different bread.
Staff did a great job accommodating two vegans (Monica and Lucia) and a vegetrarian (Gayle) during our stay.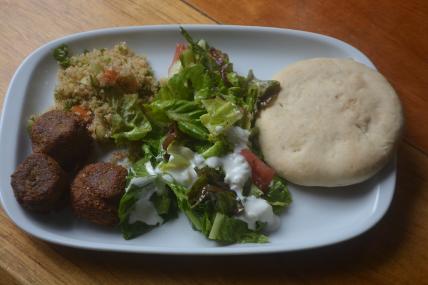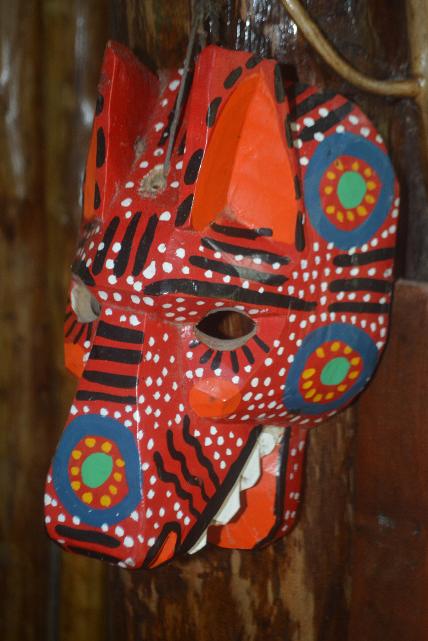 Hoping not to encounter any caiman as we embark on our trek through the water-logged jungle.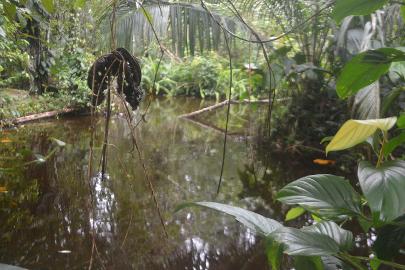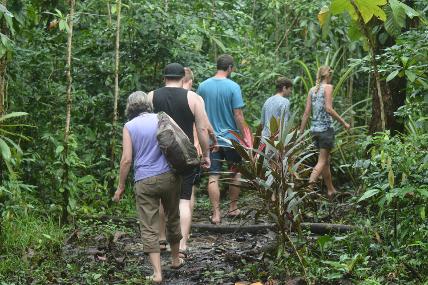 Struggling to get through the mud and accumulated water.



A poisonous Panamanian red frog, native to Isla Bastimentos, as seen on our hike.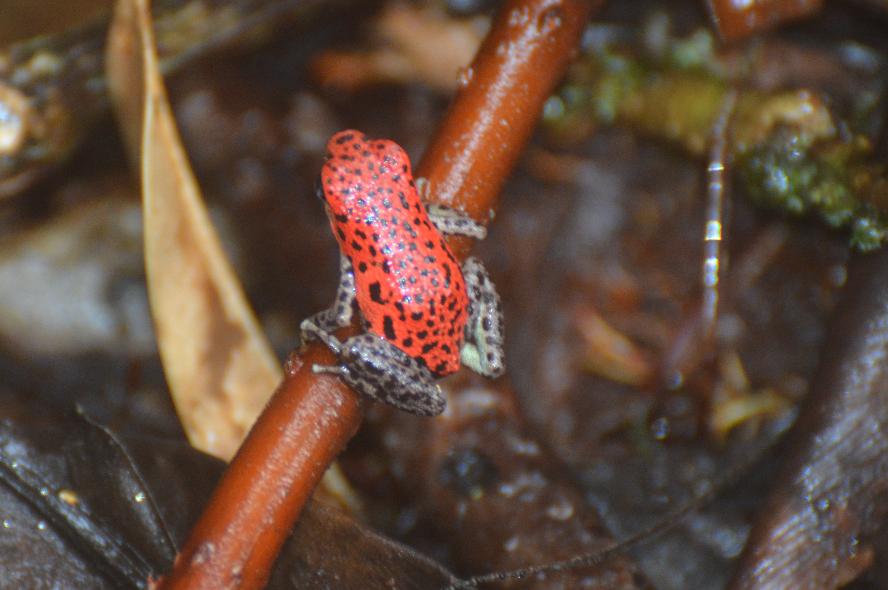 Palm trees and sandy beaches on the east shores of Isla Bastimentos.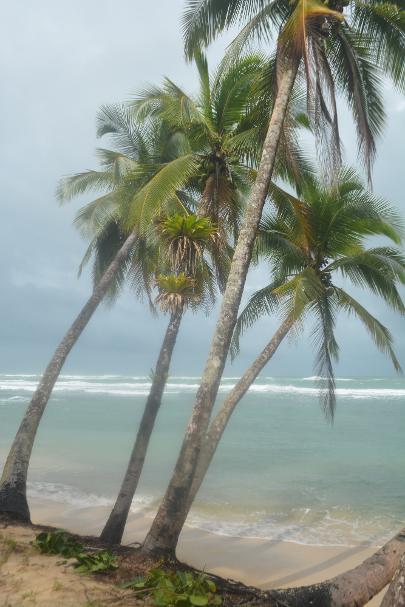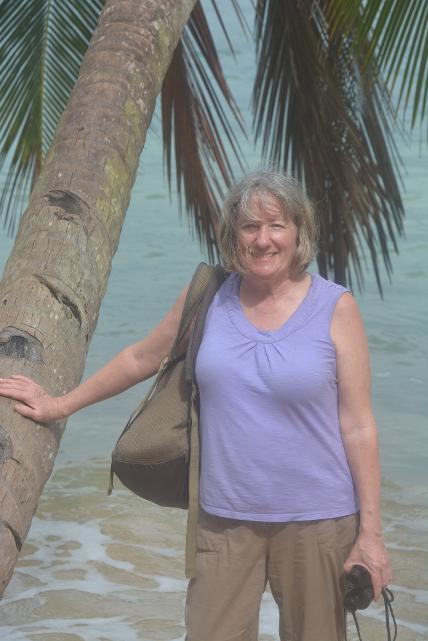 Fresh coconut water and huge (apparently unusually high for this time of the year) swells in the Caribbean.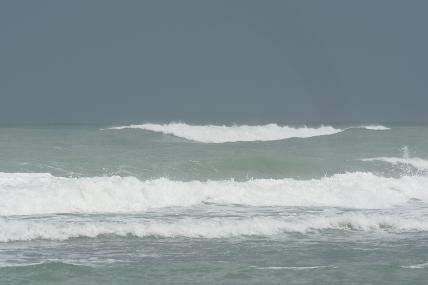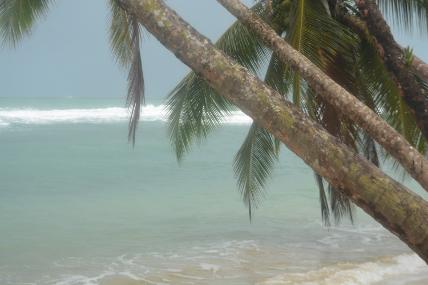 Camouflaged against the sand this crab was mesmorized by all those taking his (or her) photo.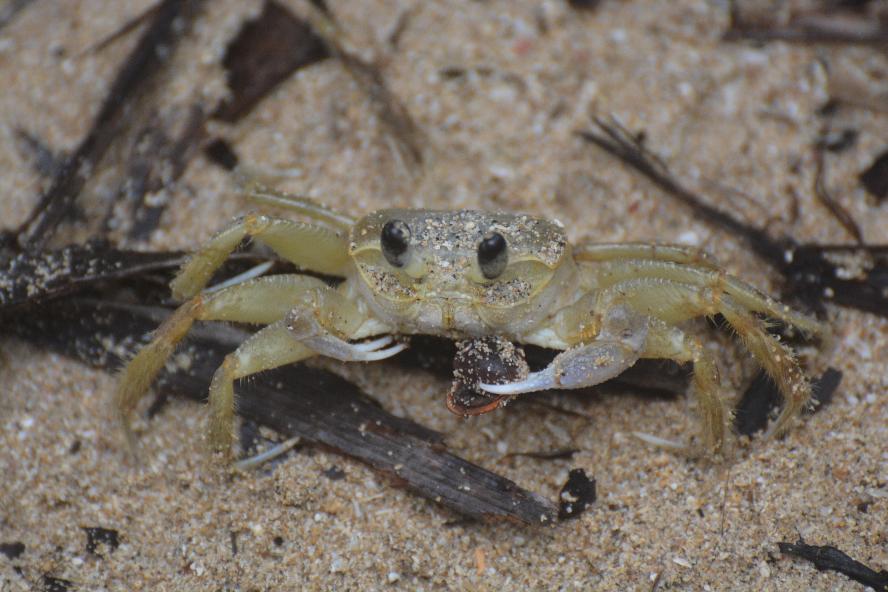 Clearly the conch shell call to meal is not pre-recorded as demonstrated here by Suzanne.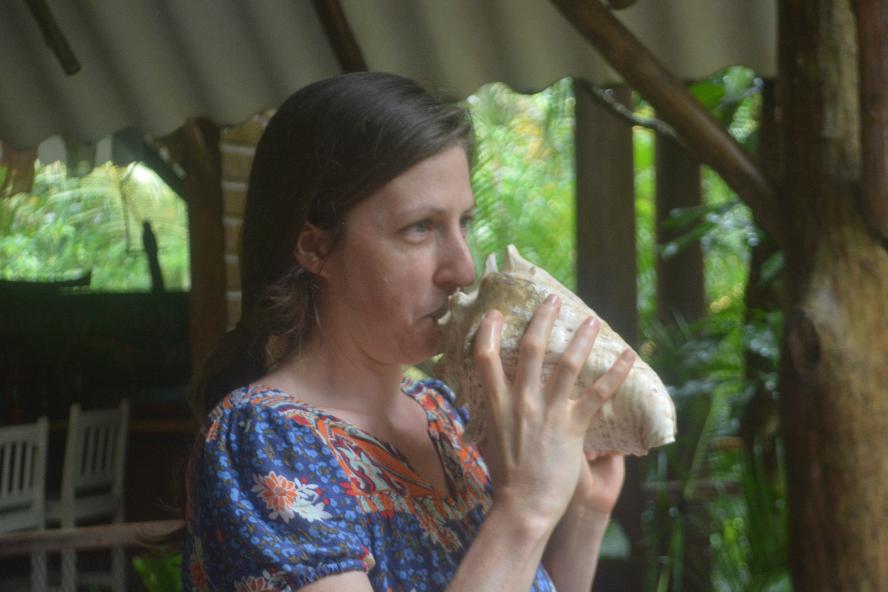 Mini muffins were the snack of the day.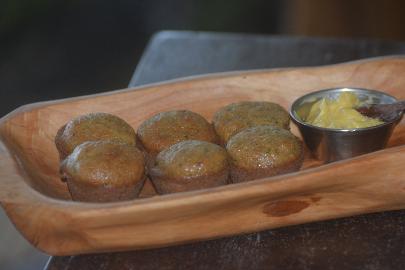 And for dinner a large thick piece of tuna.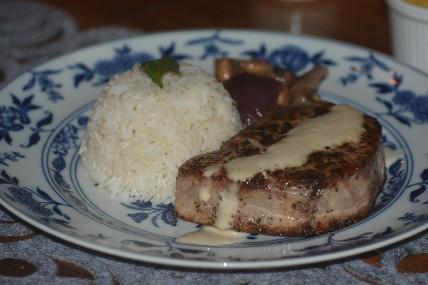 February 16, 2018 - Isla Bastimentos (Casa Cayuco)

While others did their activities, either going on a tour to a nearby bat cave or kayaking we did what we are accustomed to doing – hanging around our deck enjoying the sun when it poked between the clouds or listening to the rain pounding on the roof, a too often experience during our stay.
Staying at Casa Cayuco the same three nights as we did were a mother and daughter, from Memphis, but now living in Dresden, Germany. Monica, originally from Peru, is a doctor, primarily in cancer research who travels the world speaking at conferences. Her daughter Lucia, either 13 or 14 has learned German during their time abroad, enjoys ballet and took a liking to the ukulele in the lodge. After spending three days together at Casa Cayuco we were on the same flight to Panama City, and then after saying our good-byes there we were sitting on a bench the next day in Casco Viejo when who did we spot but none other than Monica and Lucia. It is a small world.
And then we have Tobias and Alexander, two brothers also from Germany. Tobias was in the midst of moving from Dublin to Berlin (a promotion) so took this opportunity to spend a couple of weeks with his brother here in the warmer weather of Panama. Being relatively young (28 and 32 respectively) they were also very active, often kayaking in spite of the significant swells. We had a number of good chats, not only about travel but also finances, retirement planning, debt, family etc. One of the benefits of traveling is the periodic connecting with other travelers. Tobias and Alex were two of these. While encouraged to visit Berlin we were honest about the low likelihood of us ever traveling in Germany, but if we do we for sure have these guys to look up.
We were joined today by Kristen and Scott, two Americans who work for Floating Doctors, an organization whose mission is "… to reduce the present and future burden of disease in the developing world, and to promote improvements in health care delivery worldwide." The Floating Doctors have been involved in efforts in Haiti, then Honduras, back to Haiti and on to Panama where the goal was to build the first permanent rural health care and community development service. Located on nearby Isla Cristobal Kristen and Scott are part of a team who along with many volunteers are making this happen, providing health care services to those who live in Bocas del Toro province, including the many indigenous people. Extremely well respected by people like Dave. the owner of Cayo Cayuco it is impressive what these workers and volunteers do for others.
Again we enjoyed a healthy local meal, with of course fish as my main course, in this case a filet of red snapper. Afterwards it was back to our cabin to listen to the sounds of another downpour and the never-ending surf.

Breakfast was buffet style, with of course fresh fruit, coconut bread, eggs, bacon or sausage and the coconut filled Boca del Toro granola.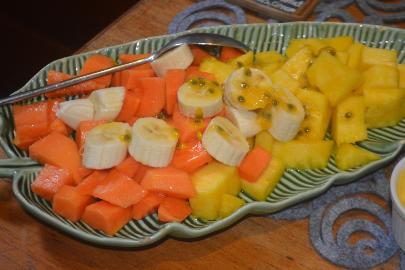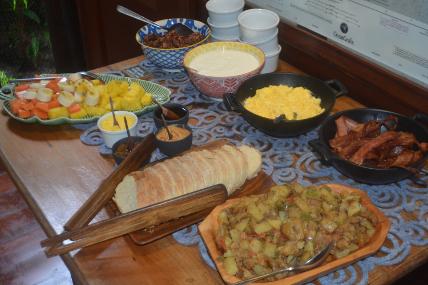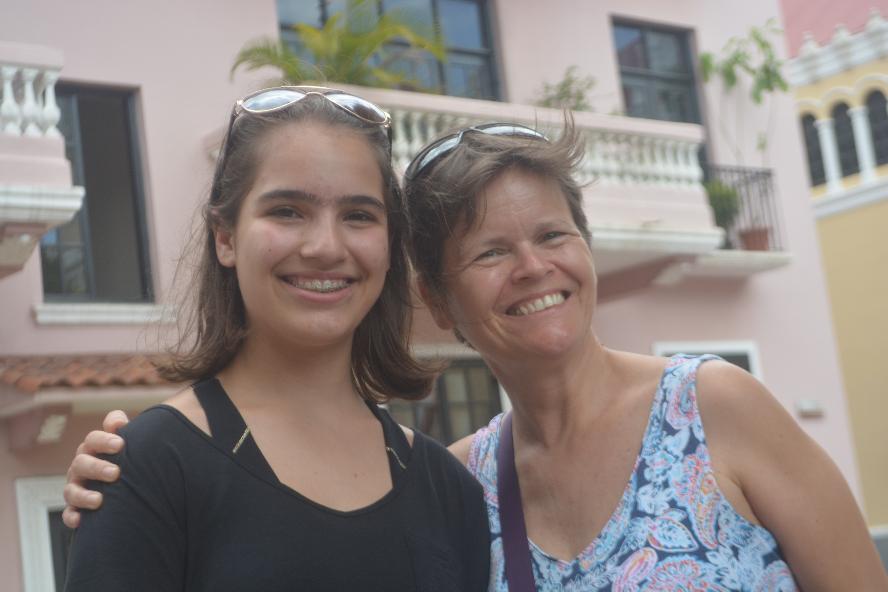 The boardwalks at Casa Cayugo, perpetually wet and slippery due to the intermittent but heavy rains.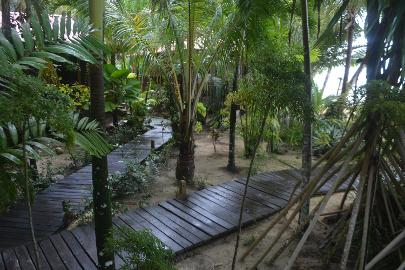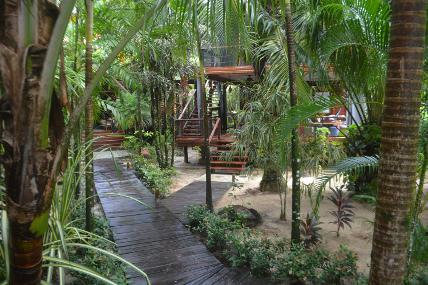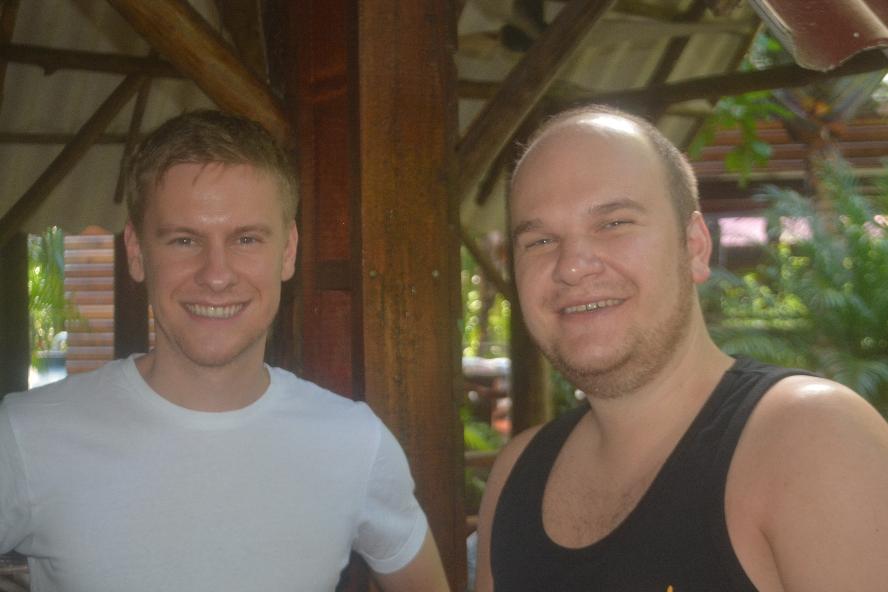 Pelicano, our cabin most adjacent to the water, with the sound of the apparently unusual heavy surf constantly pounding the shore.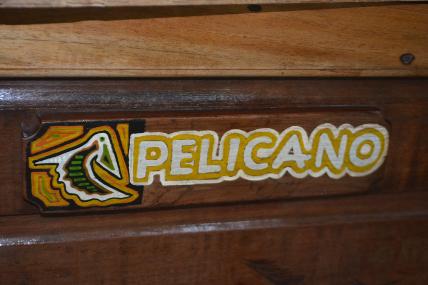 Each afternoon we were provided a snack - day one it was popcorn and on day two these nachos and salsa.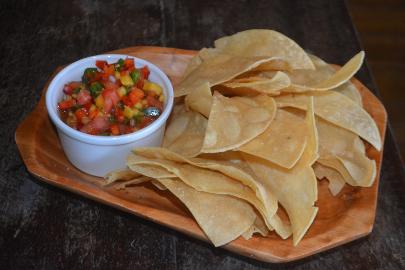 Red snapper was the fish today.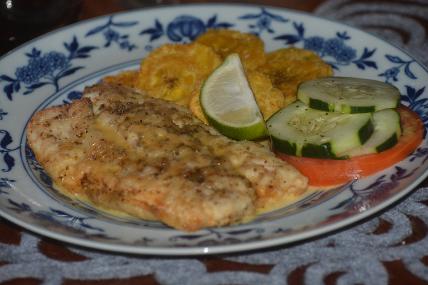 February 15, 2018 - Isla Bastimentos (La Loma Jungle Lodge to Casa Cayuco)

Our last day at La Loma again started with a nice breakfast. Afterwards we took the guided jungle / cacao tour with two Peruvian lades, Miluska and her mom Elisa. Due to Elisa's enthusiasm and her minimal English the tour was longer than normal (2 1/2 hours in total) as the guide patiently gave the tour in both English and Spanish. It was so long that Maggie was somewhat worried when we finally returned to the lodge for a late lunch.
Interestingly the first language of most of the older indigenous people is English. When the United Fruit Company, who first entered Panama in 1897, imported workers from places such as Jamaica and Trinidad, being an American company they insisted the workers learn and speak English. As a result many of those that worked the banana plantations had as a first language English.
A very interesting tour where we were shown a number of trees, e.g. the 'walking' palm, fruits such as the jackfruit and others, of course cacao trees and the pods in which the seeds that produce chocolate are contained, and the farm's chickens. We were very fortunate to encounter a mama sloth and her baby in a low tree just a few feet above our heads. Some mud and slippery portions but all in all not an overly difficult walk. At the end we were provided a demonstration of the grinding of the cacao seeds into pure chocolate.
We only stayed two nights at La Loma. In order to focus on development of their farm, work with the local community and the cacao harvest La Loma only accepts guests from Tuesday through Friday nights, for either two or four night stays. La Loma is loc­ated in the com­munity of Bahia Honda, home to 30 indi­gen­ous Ngobe fam­il­ies with a total estim­ated pop­u­la­tion of close to 200. The Ngobe fam­ily homesteads of Bahia Honda are scattered around the deep man­grove bay on the lee­ward side of the island of Bastimentos. At the heart of the com­munity is a small primary school with 50 or so students.
The recent inflow of tour­ism has to some extent provided employ­ment for the local pop­u­la­tion, but has also con­trib­uted to a dra­matic rise in the cost of liv­ing and posed many other chal­lenges to the Ngobe people's way of life. There has been little improve­ment in basic san­it­a­tion, access to clean water, qual­ity edu­ca­tion and med­ical care.
La Loma is deeply com­mit­ted to work­ing with the Bahia Honda com­munity to improve the lives of all who live here. In addi­tion to oper­at­ing a socially respons­ible busi­ness, they have worked col­lab­or­at­ively with res­id­ents to estab­lish a num­ber of com­munity devel­op­ment pro­jects. Through edu­ca­tion, envir­on­mental aware­ness, health, cul­tural pride and income gen­er­a­tion pro­grammes they hope to help empower people to over­come the many obstacles they face.
Rather than having to go back to Bocas town Henry and Dave (our host at our next stop – Casa Cayuco) arranged for Dave to pick us up at La Loma (thank you!). We joined four others (Monica, Lucia, Tobias and Alexander) for the 20 minute trip around and to the other side of the island. Unfortunately we encountered some rain on the way, a common experience over the next few days.
After settling in to our again 'Pelican' cabin directly on the water, we joined the others for dinner under the thatched roof on the dock. Being a small group and again eating at a communal table we had the opportunity to get to know each other. We enjoyed coconut bread, a raw zucchini salad and a coconut milk curry, with mine having a large piece of freshly caught king mackerel, otherwise known as kingfish – a fish our son Paul very much enjoyed in St. Lucia. Dessert was a banana, peanut butter and coconut spring roll with chocolate and almonds. We returned to our cabin where we slept to the sounds of the pounding surf and the periodic downpours throughout the night.

Our morning coffee and muffins.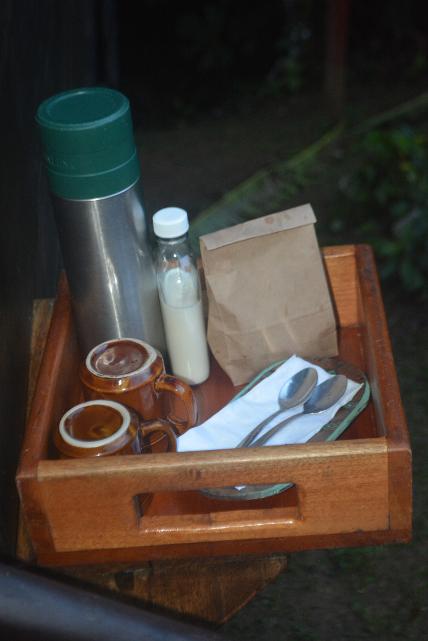 ... and a friendly (and very polite) farm dog that welcomed himself into our Rancho.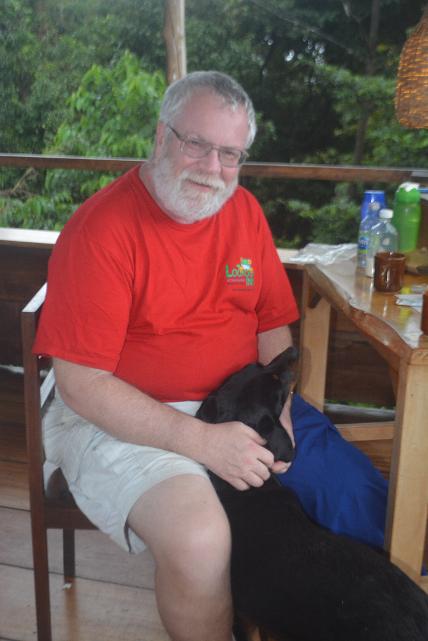 Views of the jungle from our Rancho.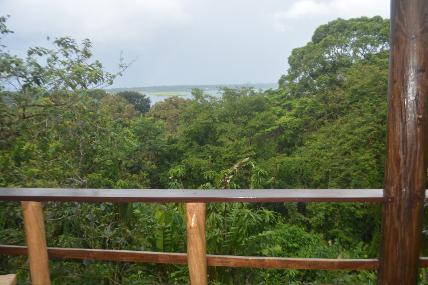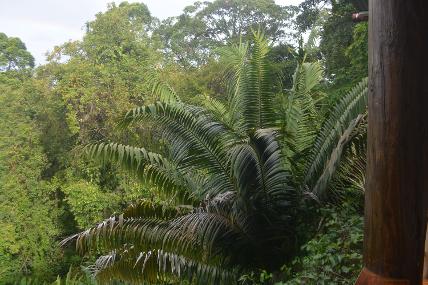 A rainbow over Bahia Honda.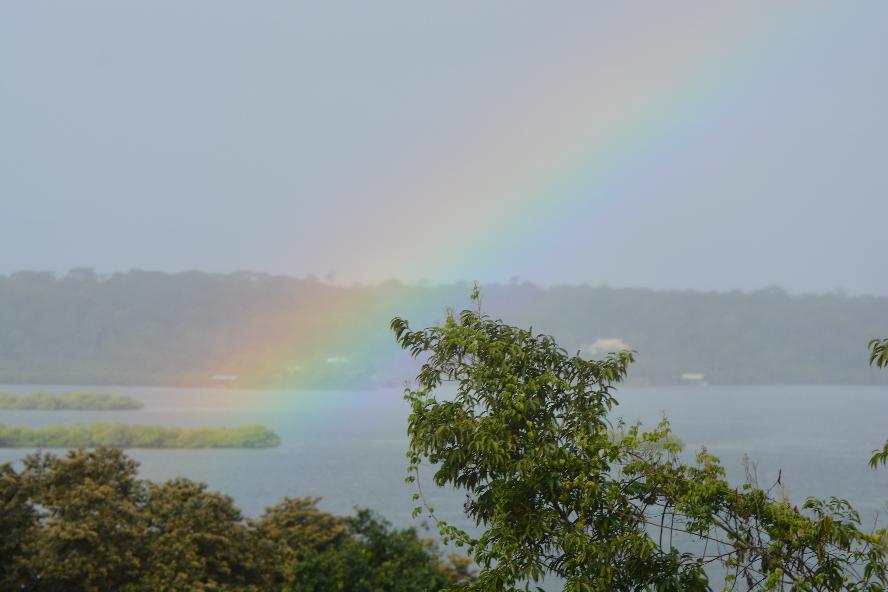 The "eggstravaganza" - scrambled eggs with vegetables, black beans served with Panamanian corn tortilla.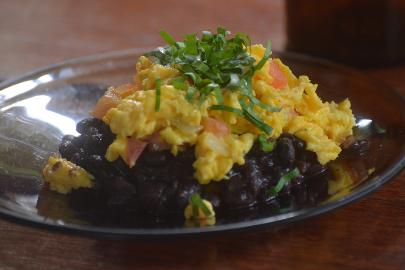 One of the La Loma farm workers.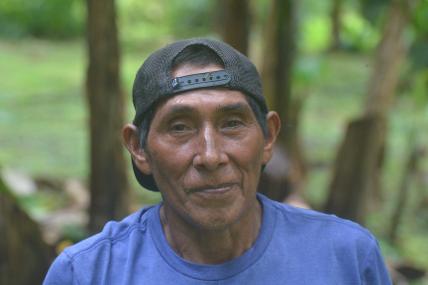 The ladies making the Johnny Cakes for lunch.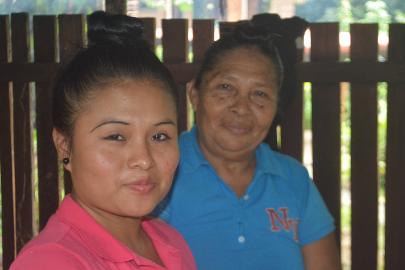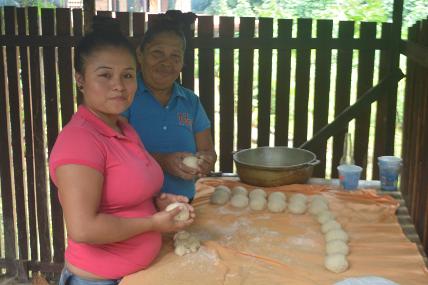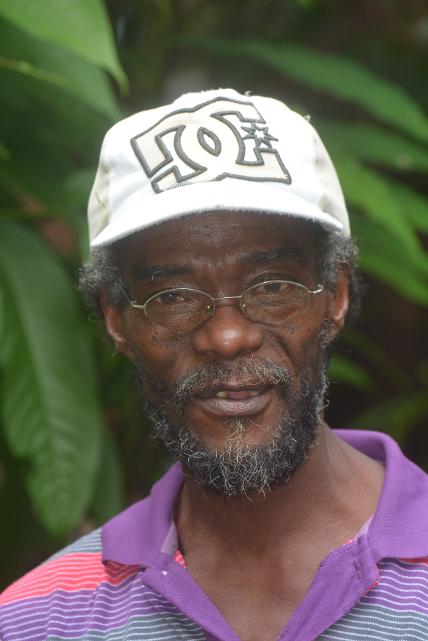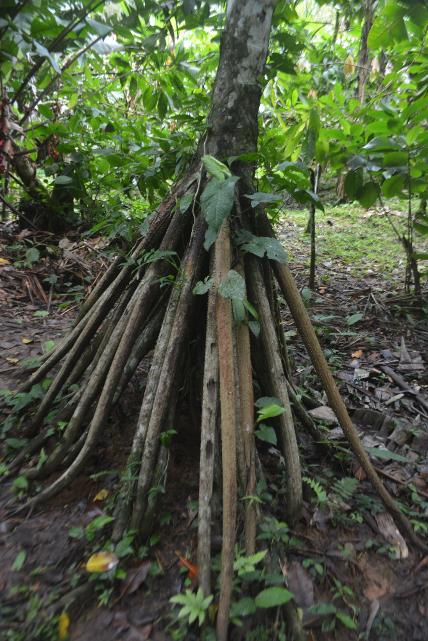 The answer as to where all those fresh eggs come from.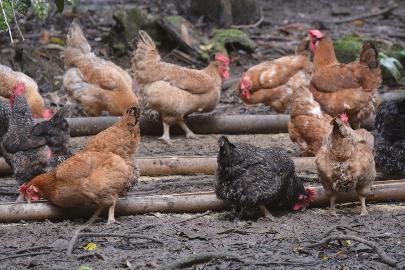 Being shown the fruits of the jungle - a cacao pod, opened to show the slimy membrane covering the cacao seeds and a huge jackfruit.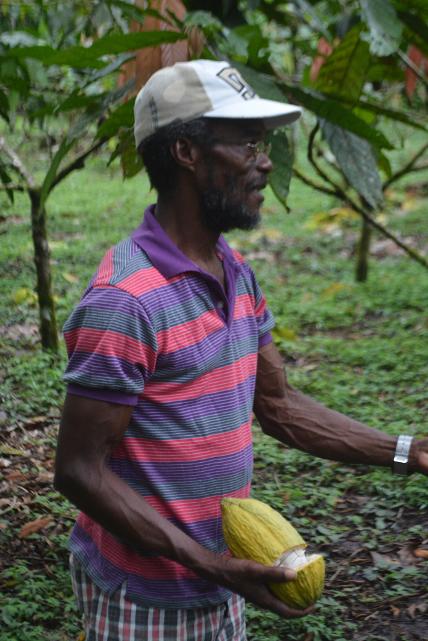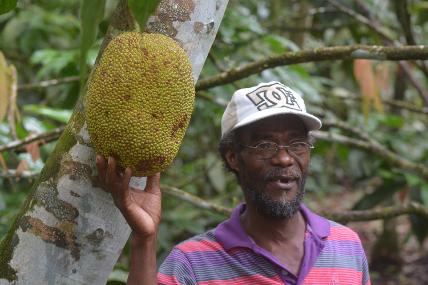 A mama sloth and her baby. - only a few feet above us in a low tree. Note the green moss on her fur.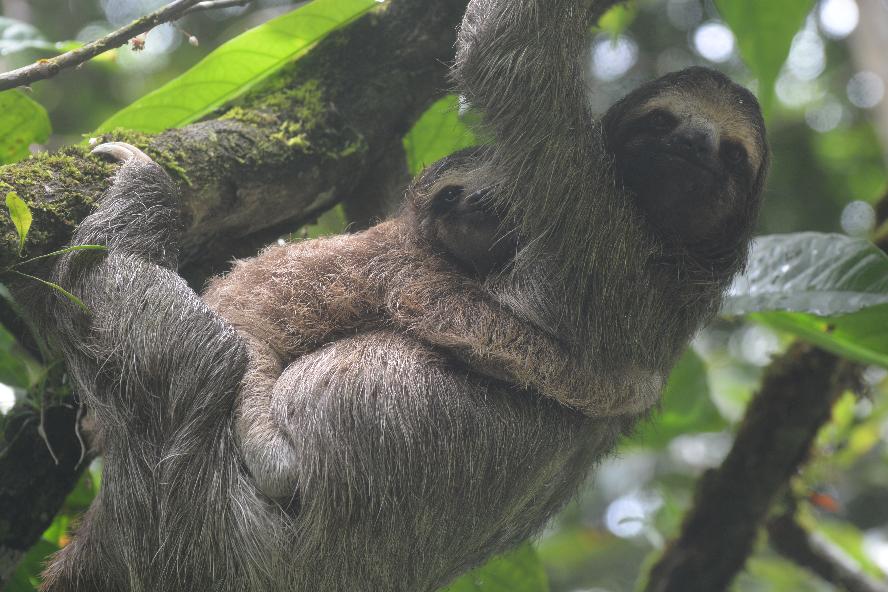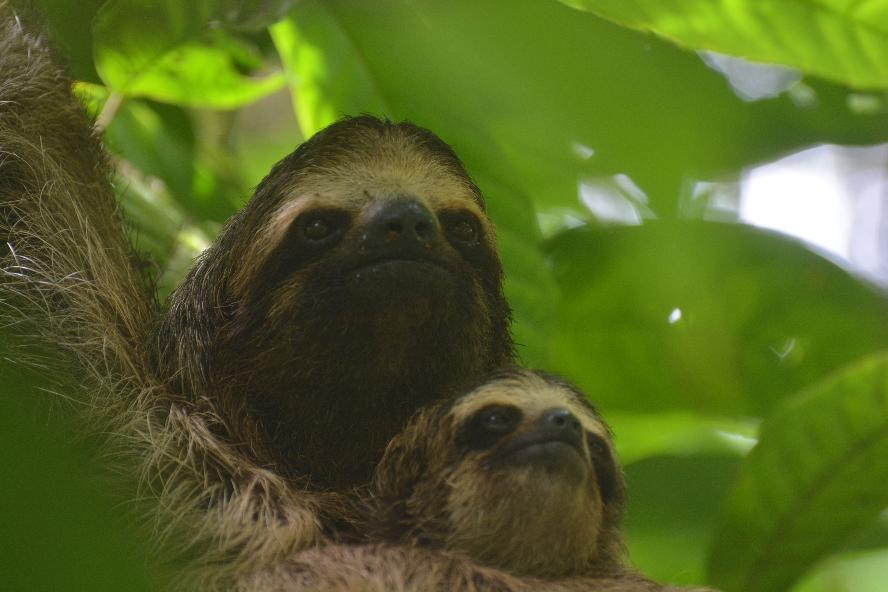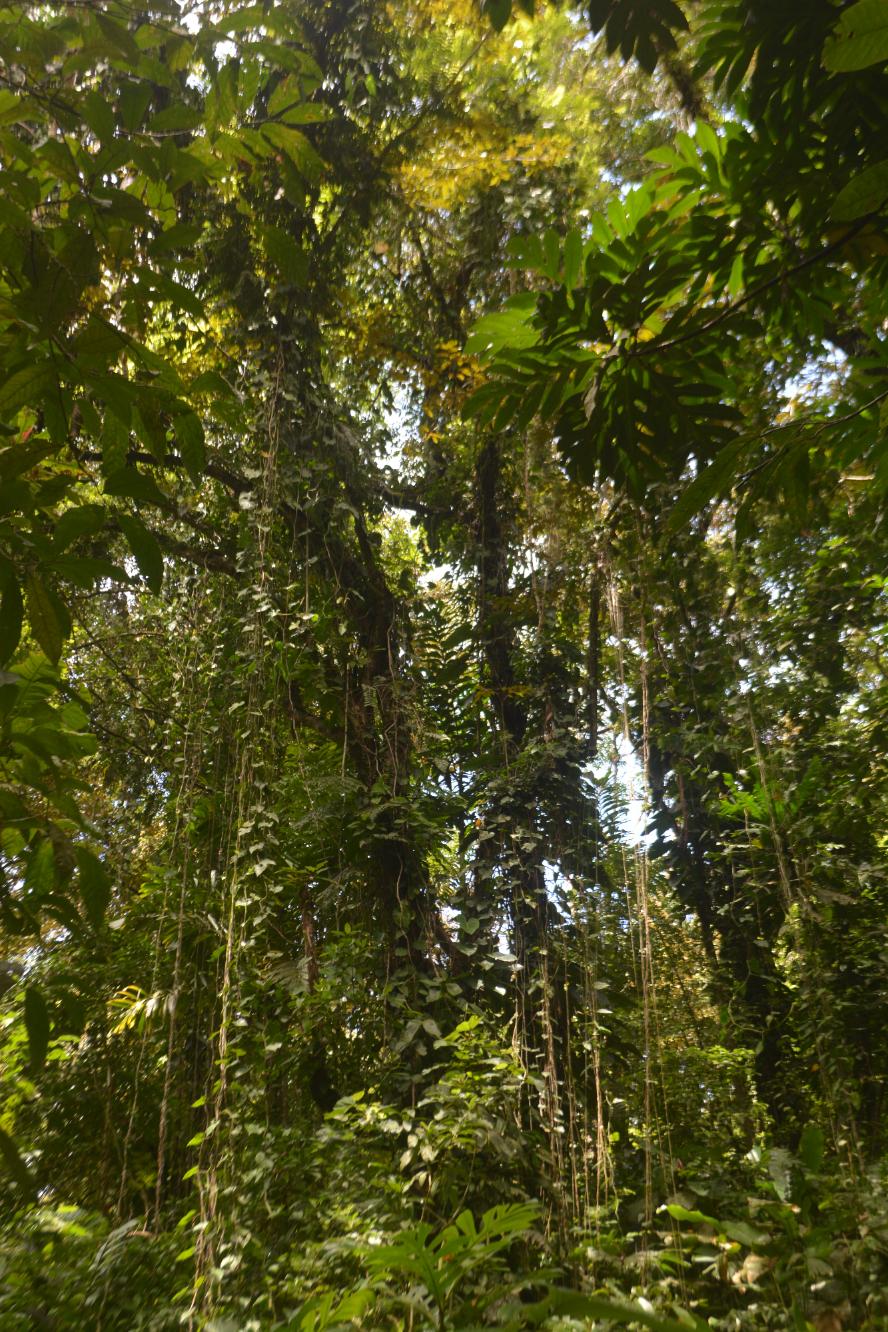 Cacao seeds and then ground into pure chocolate.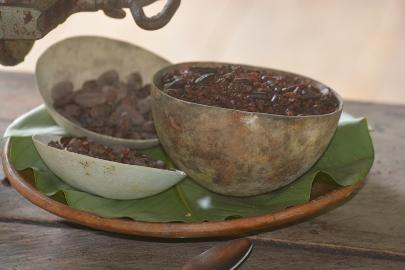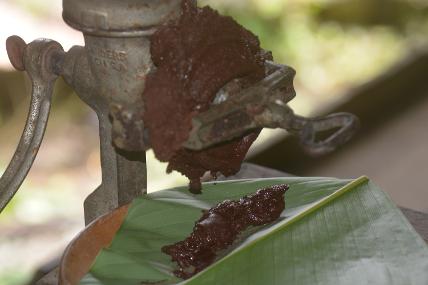 The jungle tour group - from left our guide, Elisa, Miluska, Michael (Maggie's dad), Gayle and me.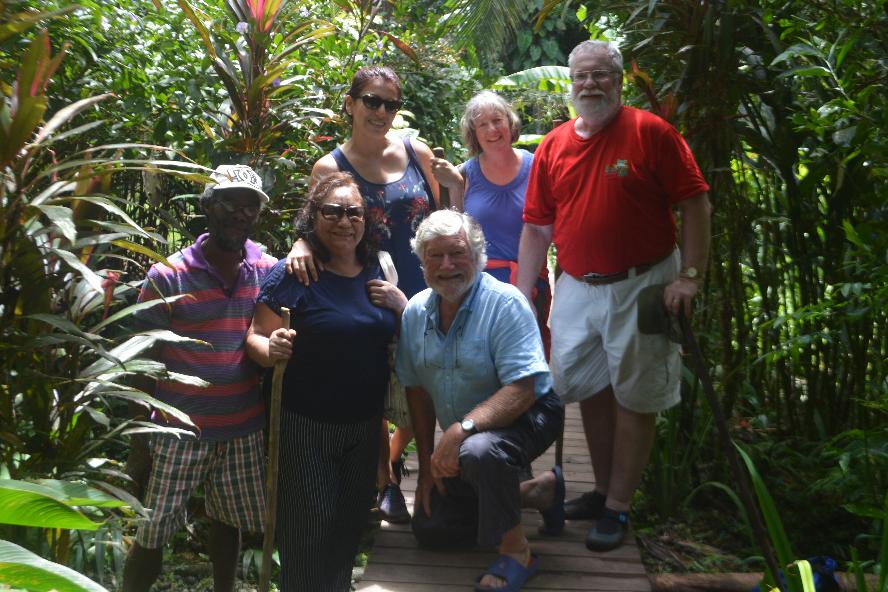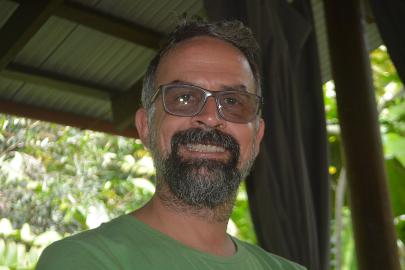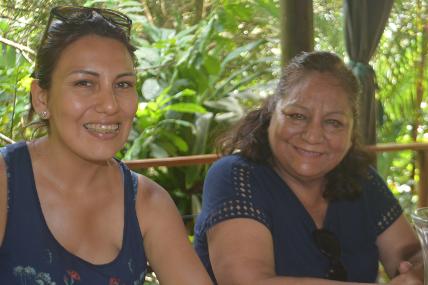 Two children hanging our in the lodge, we assume children of staff.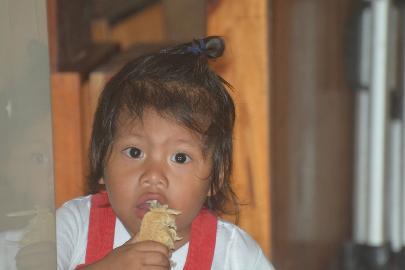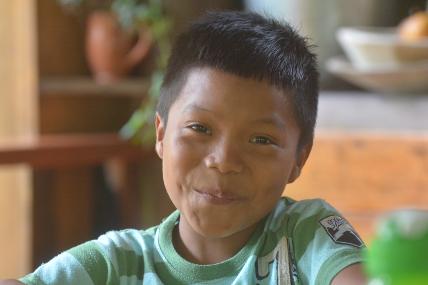 Locally made queso fresco - cow's milk white cheese, lentil salad, La Loma green salad served with Mantovana bread rolls.
Guayabilla jam thumbprint cookies.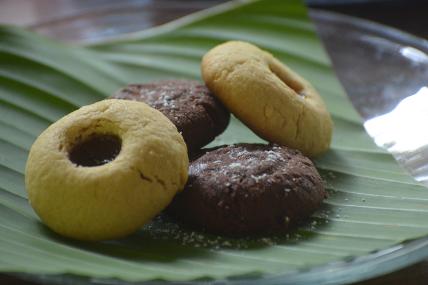 Our first meal at Casa Cayuco had as its main dish a large piece of locally caught king mackerel, or simply known as kingfish, with rice, carrots and a tasty curry sauce.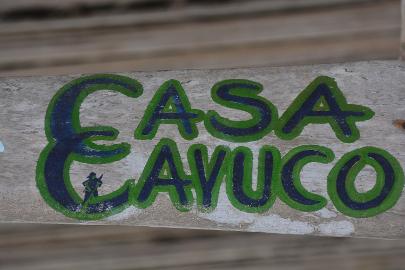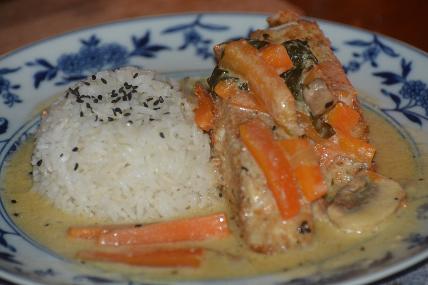 February 14, 2018 - Isla Bastimentos (La Loma Jungle Lodge)

While the others went to the bat caves or the beach or on jungle walks we did what we do best – nothing. We arrived at breakfast relatively late (some were on their way out to their activities), where we enjoyed a wonderful meal of traditional La Loma granola with cocao nibs, Panamanian fry bread with a couple of interesting jams, fresh pineapple, juices from the farm and our choice of eggs.
Afterwards we took a short walk to the dock where there were a number of traditional cayuca dugout canoes among the mangroves. We certainly were deep in the rainforest/jungle. It was then back up to our Rancho for a few hours before it was time to return for lunch. Quite honesty we had little interest in lunch but the food last night and this morning was so fresh, local and interesting we couldn't miss out. And as it turned out we were right as we enjoyed excellent homemade tamales – chicken for me and vegetarian for Gayle with accompanying salad and chocolate cookies made from the farm's cacoa.
After lunch we returned back up the hill where we spent a relaxing afternoon – Gayle on the hammock (of course) and me enjoying a nap to the sounds of the insects and birds. Keeping with the yo-yo experience – up to the Rancho; down to the lodge; up to the Rancho; down to the lodge – we headed down to dinner to hear the day's experiences of the others.
After a green papaya salad we were treated to a Trinidadian curry, mine with fish; Gayle's without, made with coconut milk, turmeric, ginger and curry leaf. Being Valentine's Day on a farm that produces chocolate form its own cacao trees we were all betting on having something chocolate for dessert - and as anticipated we had an Aztec inspired chocolate pudding with a spicy brittle. Another great, fresh meal after which, well you know - back up the 153 steps for another sleep in the fresh air of our open-walled Rancho.

Breakfast started with home made granola made with toasted coconut and dried pineapple, sweetened with raspadura yogurt and cacao nibs. Then a choice of eggs (we both had scrambled) with hojaldre (Panamanian fry bread) served with fresh pineapple, papaya juice, pineapple ginger jam and guayabilla jam.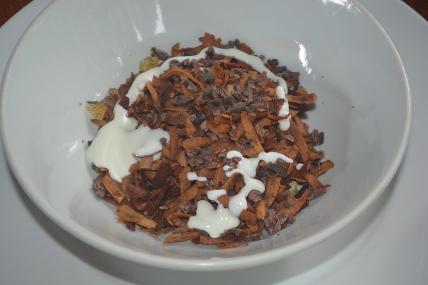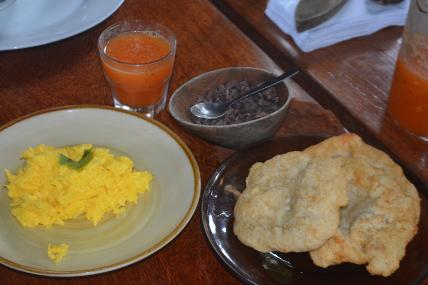 Just some of the many fruits found here on the La Loma farm / jungle, including:
jackfruit
pineapple
biriba, or sweet sop
limes
naranjillas, and
Panamanian cherries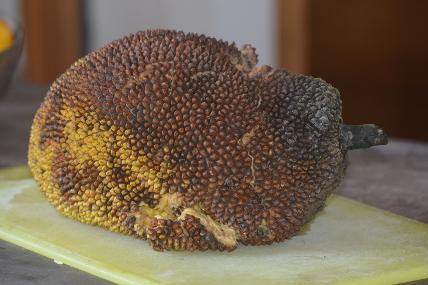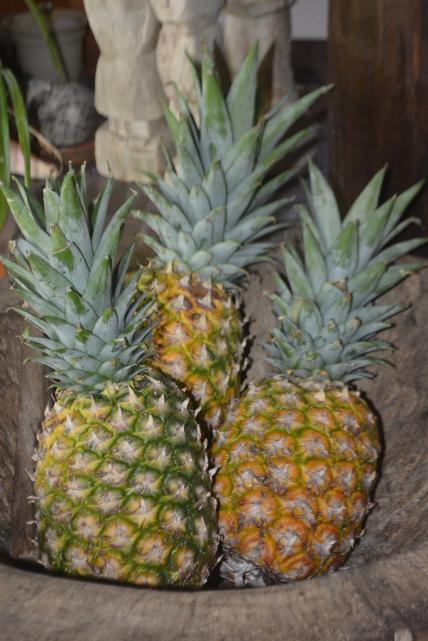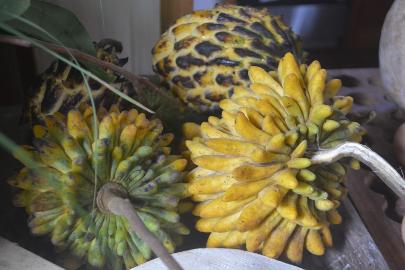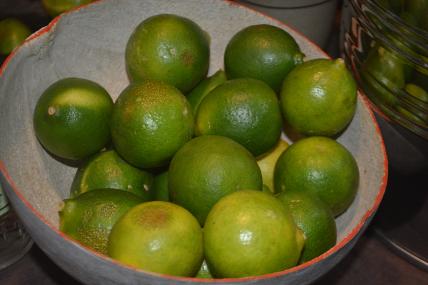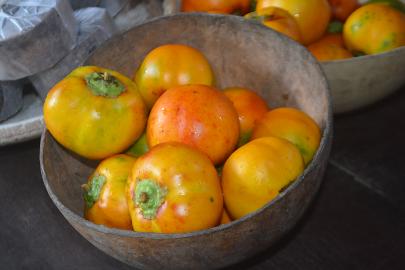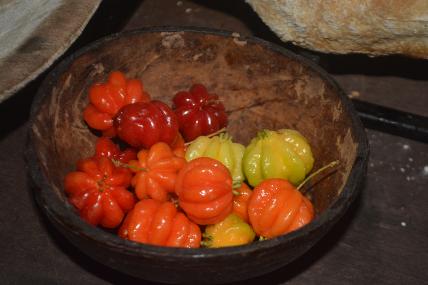 During our stroll to the dock we came across a number of dugout cayucas and lots of mangroves.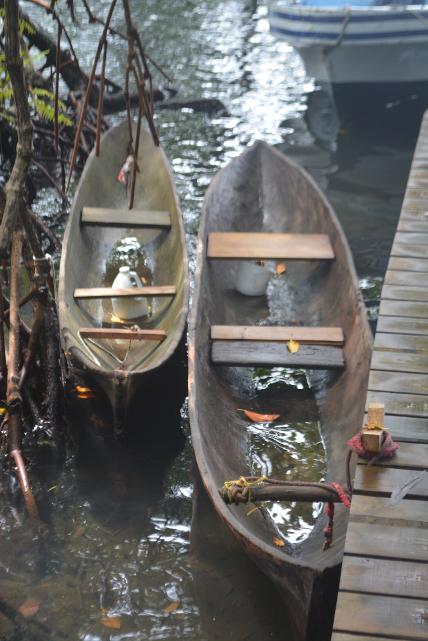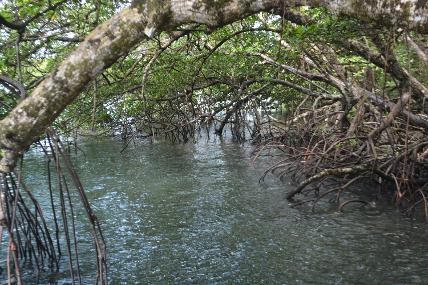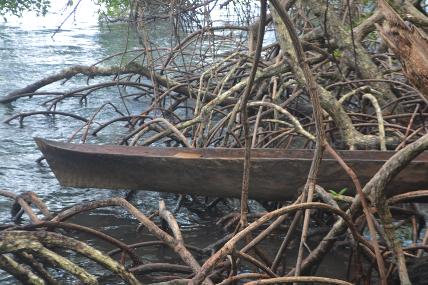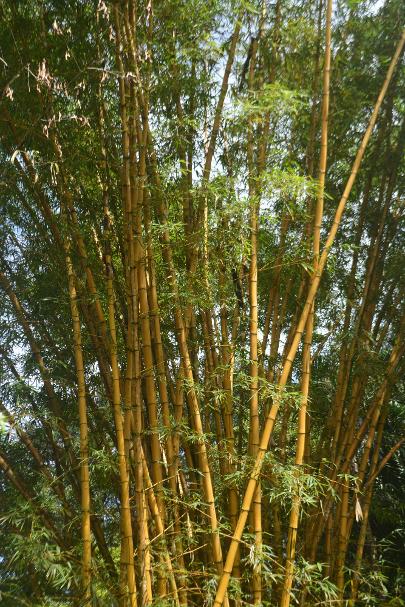 A lizard seen on the way up to our Rancho.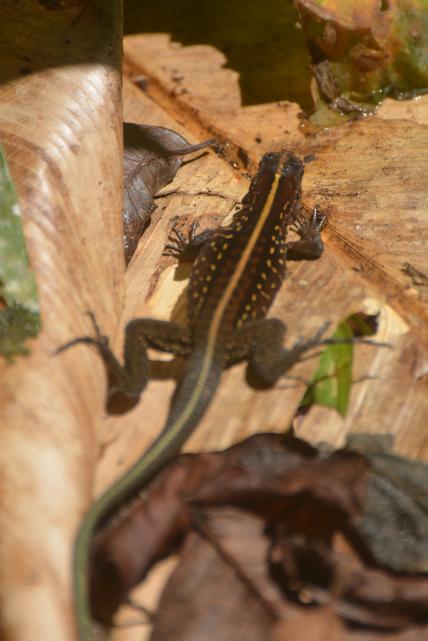 What was it I said about Gayle and hammocks?



Our Rancho, the boardwalk near the lodge and just a few of the 153 steps.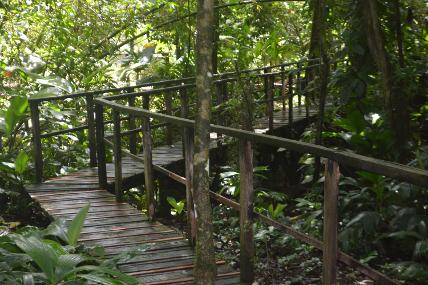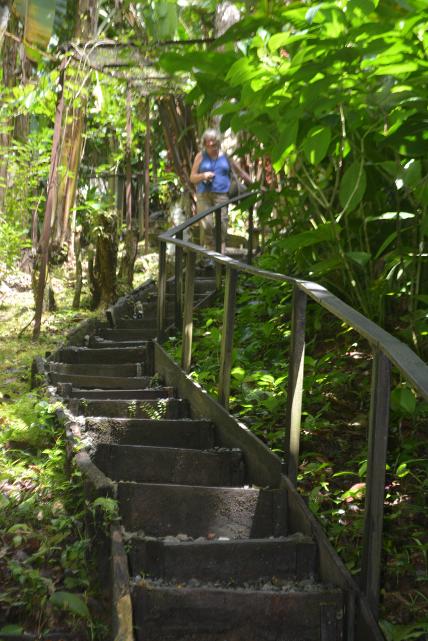 Homemade chicken and veggie tamales with tomato salad with a tamarind dressing plus La Loma green salad containing katuk, sissoo (Brazilian spinach) and water apple blossoms.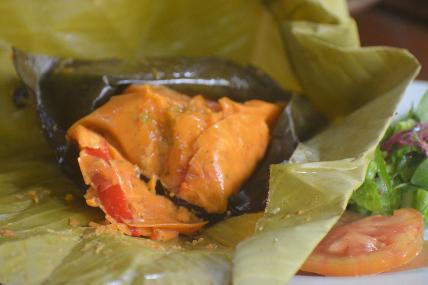 Fresh fruit including biriba, or sweet sop and a type of Panamanian cherry.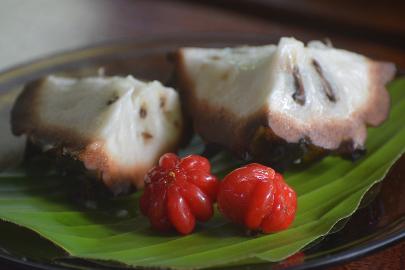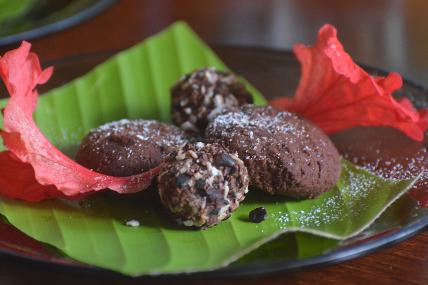 And now for our daily dose of sloths.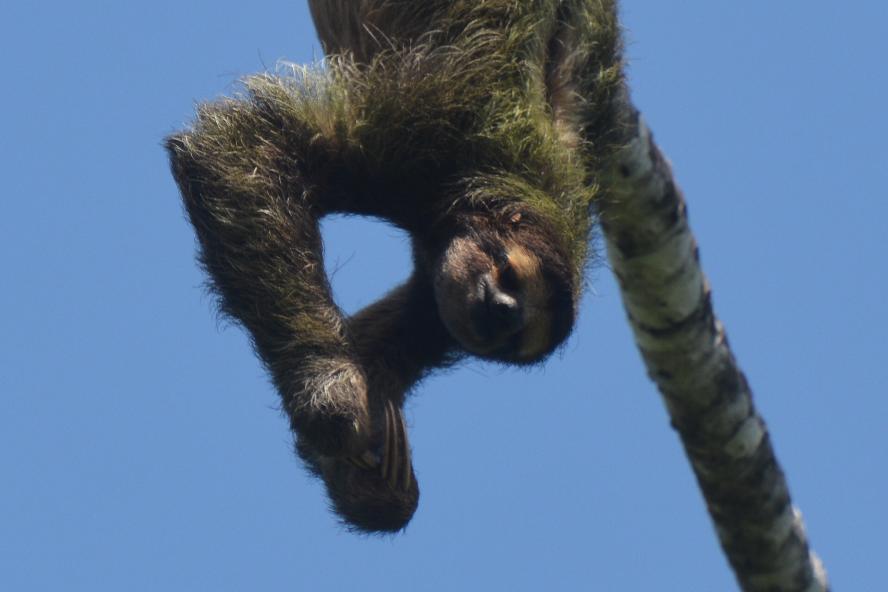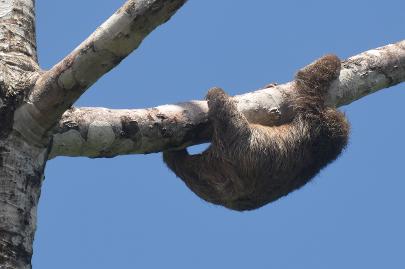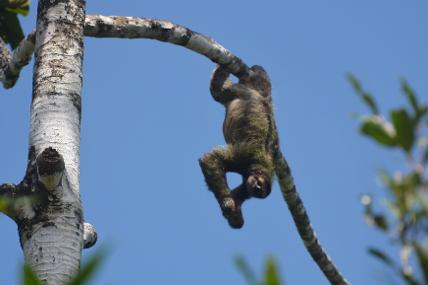 We were told Maggie thinks she is not photogenic. Clearly she is wrong.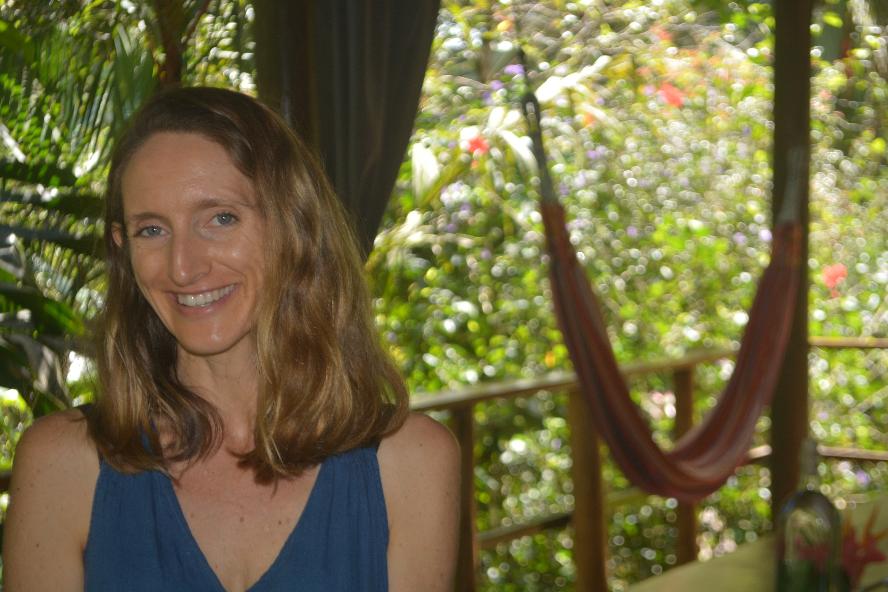 Henry serving as bartender, making his drink of the night - rum with mango, lime and rose water.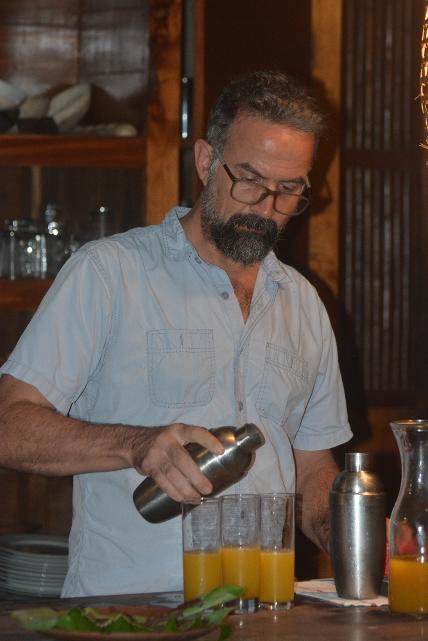 Green papaya salad served with patacones (fried green plantains).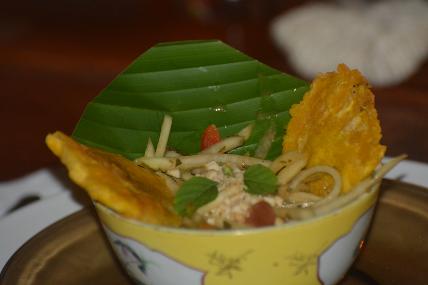 Trinidadian fish curry, made with tamarindo, coconut milk, turmeric, ginger, curry leaf, chaya served with fresh coconut and katuk chutney and turmeric rice.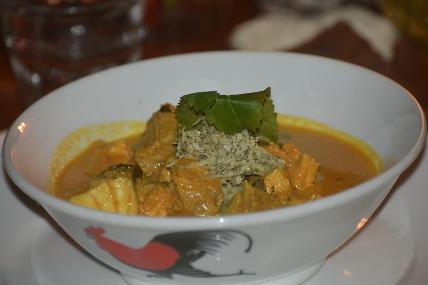 A pretty local flower decorating the table.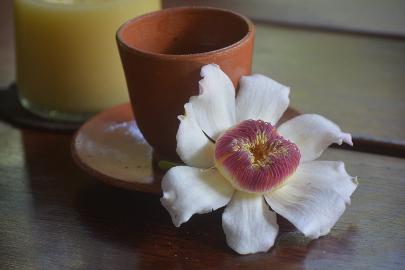 Aztec inspired chocolate pudding with a spicy brittle.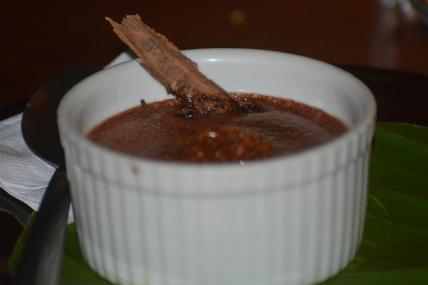 Feb 13, 2018 - Isla Pastores (Finca Vela) to Isla Bastimentos (La Loma Jungle Lodge)

We awoke again to the sounds of birds and another nice day, at least for an hour or so until the skies opened. But as was been the case yesterday the rain, although heavy did not last long and the sun reappeared. We climbed the 137 steps one last time for breakfast, once again served by the ever smiling Ines.
Afterwards we spent our final few hours at our cottage before being taken back to Almirante by Herve. Upon returning again to Restaurant Tropical Happy Herve then drove us across town to where the water taxis to Bocas del Toro town depart for the half hour trip across the bay. We were the only two non-locals on the small taxi. a crossing that was meant to be quick rather than scenic. After arriving we put on our backpacks and walked the one km or so to the Bocas Surf School were we to meet our third 'cruise' of the day, a 20 minute boat ride to La Loma Jungle Lodge. While waiting we met another Canadian couple, Nadia and Kevin, two musicians living in Toronto. When Kevin mentioned playing house concerts I mentioned the Patchwork house concerts in Bedford only to find out he had played there last year. What a small world.
Upon arrival we were greeted by Henry and Margaret who have run the Lodge for 15 years. One of the first things we saw were two sloths in the tall tree right next to the lodge. Cool. After an explanation of the property, activities and walks we were led up to tour Rancho. One is located relatively close to the lodge with the other three well up the hill. Ours, the first of the top three was 153 steps up, and 153 steps down, surpassing Finca La Vela. Our Rancho was beautiful, an open concept with canvas curtains to protect against the rain but otherwise wide open to the exterior – the jungle with a spectacular view to the bay below. The sunset was wonderful. Although we never saw any sloths or monkeys up near our Rancho birds were common, especially parrots.
We went down to a wonderful dinner. The food here at La Loma was not only extremely good but local and fresh, made from ingredients sourced from the farm. Of course each dinner was focused on fish, with appetizers and dessert from local produce. We began with a roasted pumpkin soup with fried yucca followed by freshly caught Mahi-Mahi accompanied by coconut rice. Dessert was a delicious La Loma chocolate cake with chocolate from the farm. Unlike Finca Vela where couples ate on their own (which was nice and fit the ambience of the Finca) here at La Loma everyone ate together at one large communal table. In addition to Kevin and Nadia there was a couple from Boston and four women from Portland. After a great meal and some good conversation we climbed the 153 steps back up to our Rancho.


It's pretty sweet to be able to stay on a property in the jungle covered with colourful flowers and fruit, with nice landscaping and coconut trees right next to the water (and our cabin).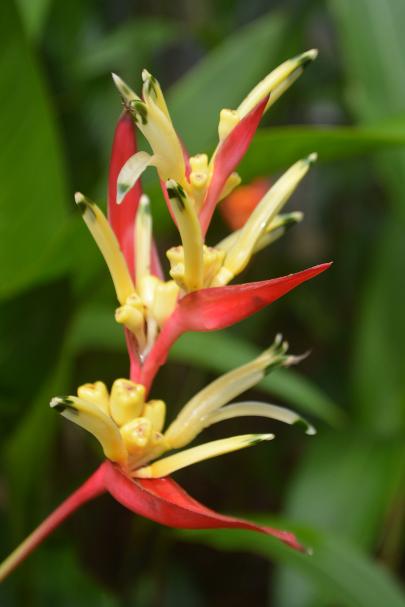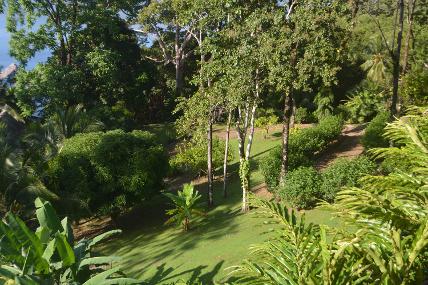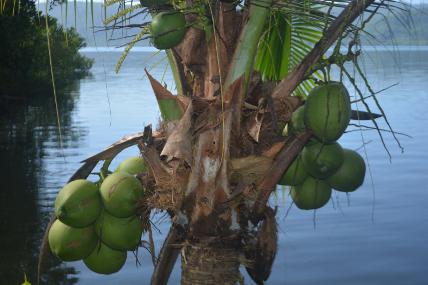 Our last breakfast at Finca Vela, again served by a smiling Ines.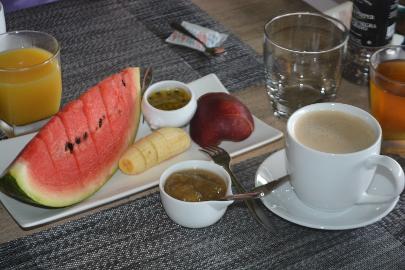 Traditional dugout cayuco canoes, available for use by guests.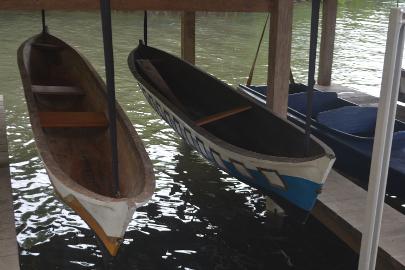 Put a hammock on a dock (or pretty much anywhere) and Gayle will find it, and enjoy it.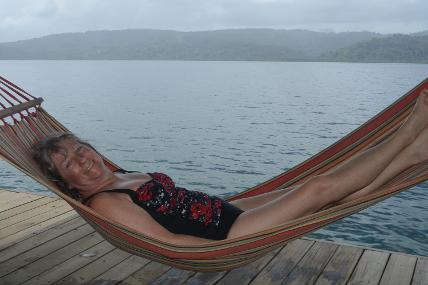 One minute there can be a heavy downpour.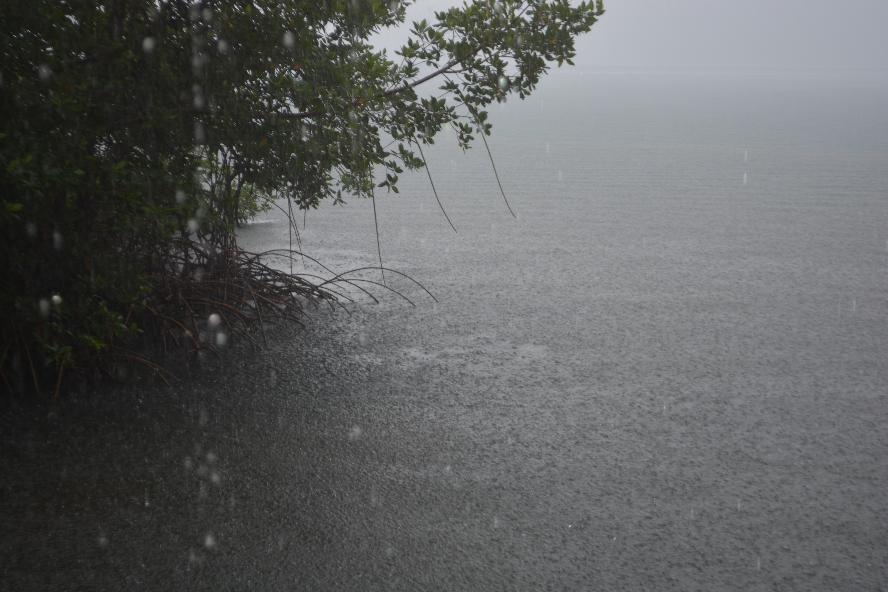 And the next minute (or a few minutes later) the sun is back out for a relaxing final few minutes at Finca Vela, before we headed to Amirante.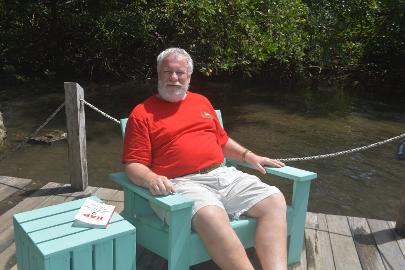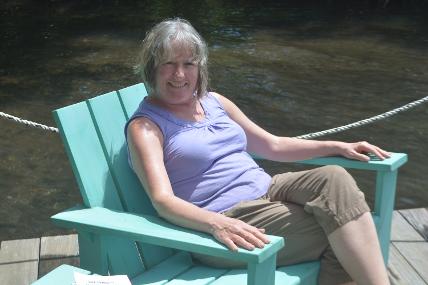 To get from Amirante to Bocas del Toro town one needs to take a water taxi - $6 each for the 30 minute one-way trip. Here is our boat driver and another water taxi headed back to Amirante.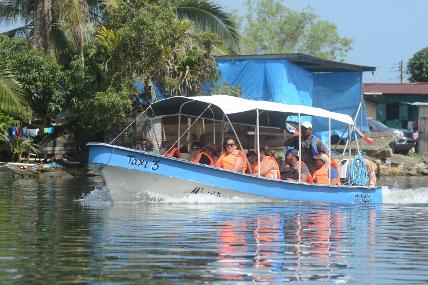 A couple of local homes along the channel out of Amirante.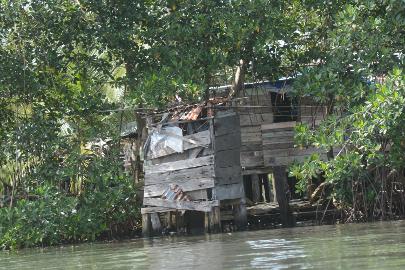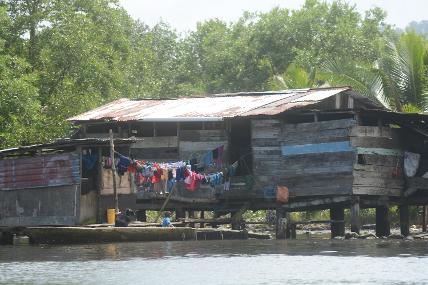 A few buildings / hotels in Bocas del Toro town.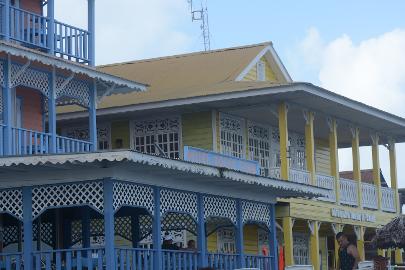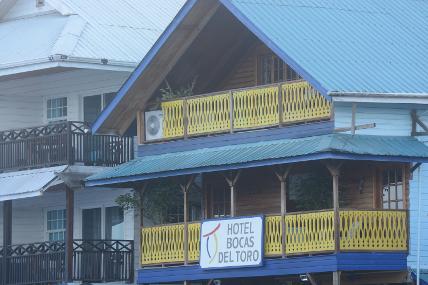 Our 'cruise boat captain' who delivered us to La Loma.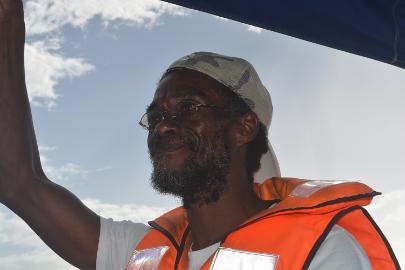 Approaching the La Loma dock and immediately upon arriving a sloth in the tree right next to the lodge / restaurant.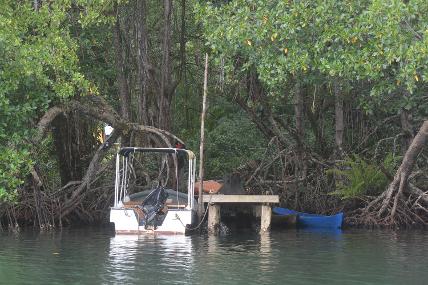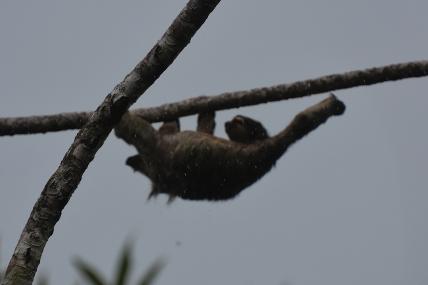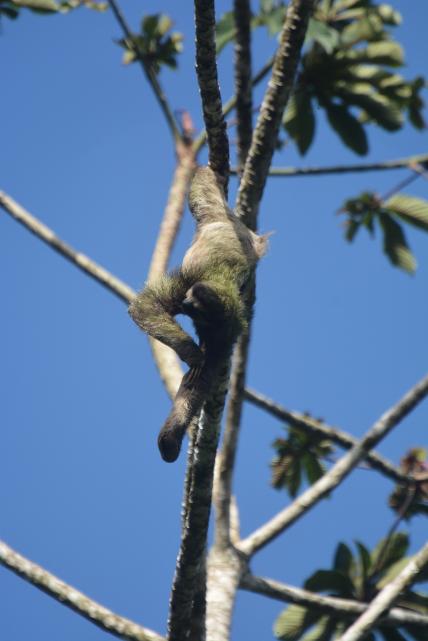 Not one but two hammocks in our Rancho.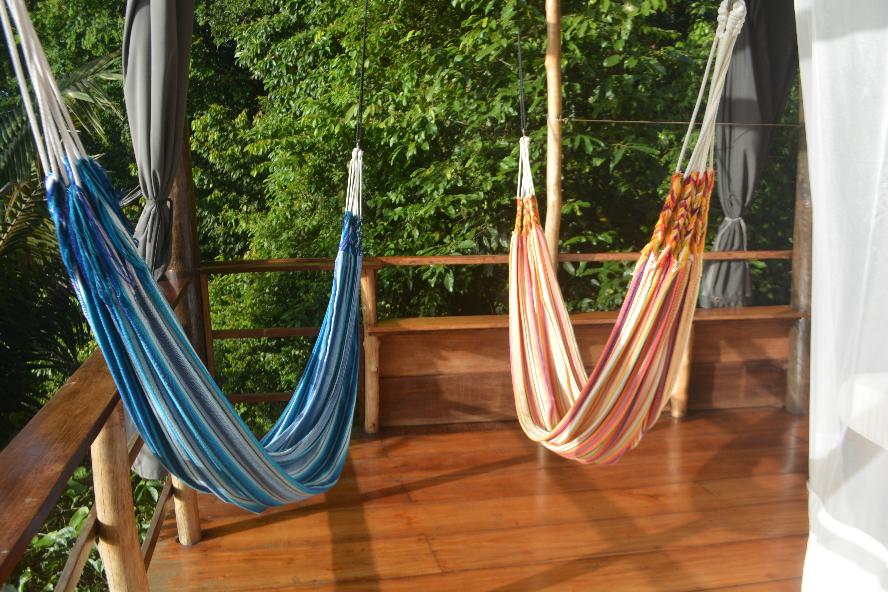 The sunset view of the bay from our Rancho.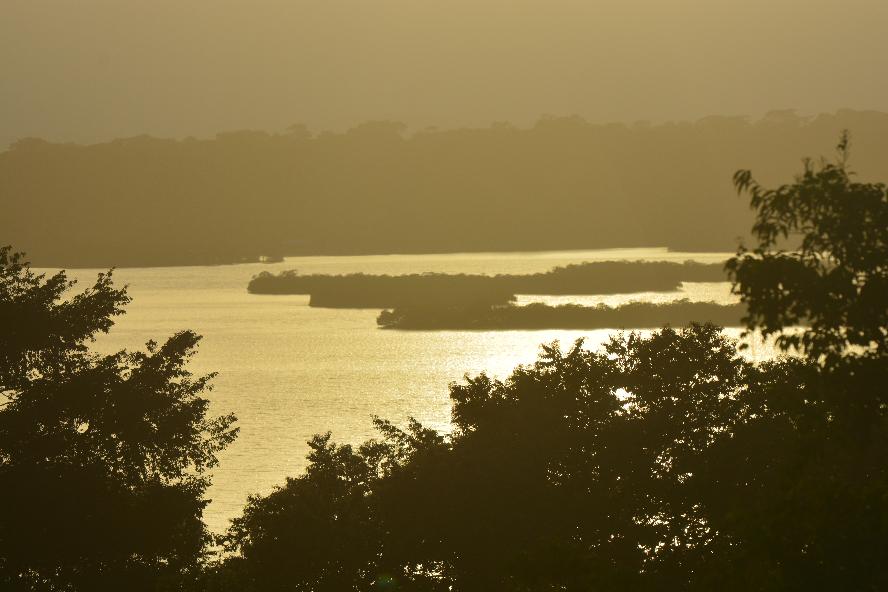 The La Loma communal dining table, complete with adjacent hammock.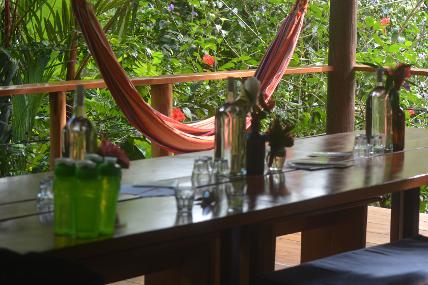 Roasted pumpkin soup, with pumpkin from the farm served with a yogurt and mint sauce and palitos de yuca (fried yuca sticks).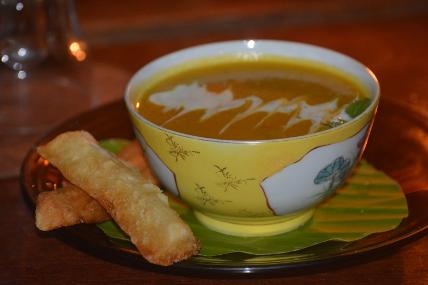 Fresh caught Mahi-Mahi (or Dorado in Spanish) served with a naranjilla pico de gallo, krispy katuk and coconut rice.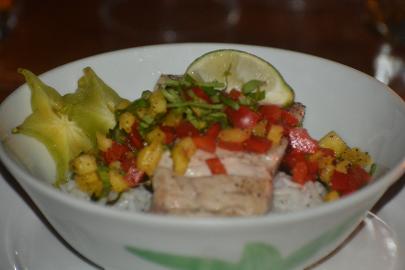 La Loma chocolate cake made with grated coconut served with almond praline and rum dulce de leche sauce.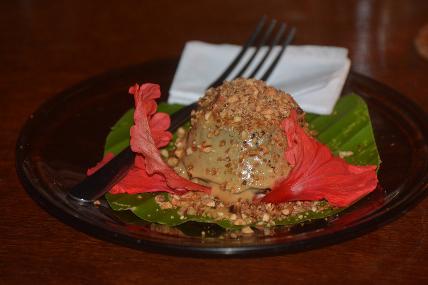 February 12, 2018 - Isla Pastores (Finca Vela Lodge)

A surprising number of photos given we essentially again did very little today. Our one activity was a tour of the Finca with Herve, who identified and told us about the many plants and flowers and the work being done to clean out the jungle and plant in particular cacao. During the hour plus walk through the top of the farm, including a trail cut out in the jungle, up and down some significant hills we came across a green and black frog and a few butterflies, including a large blue morpho. Isla Pastores actually does not have many animals present – a few sloths at the eastern end but otherwise not much.
After the tour Herve asked one his staff to get us a fresh coconut from which we enjoyed the coconut water.
Again we spent the afternoon pretty much just hanging out at our cabin other than our attempts to stand up paddleboard (SUP). Given the calm waters of the cove we thought it the ideal opportunity to give it a try. Gayle, as you will see was actually quite skilled, being able to first stand up and stay standing up and second actually manoeuvre and turn the board. I'm attributing it at least in part to the dancing she did in her younger days. We expect the kids to be pretty proud of their mom's achievement. Now I on the other hand am another story. Perhaps it is the excess weight, the weak knees or I'm just not a cut out for SUP but I was unable to even get up on the board. Now I gave up pretty quickly after awkwardly falling into the water but hey I at least tried, if unsuccessfully. In my case we expect the kids (and no doubt some if not all other readers) to have a good laugh.
In addition to the regular fish there were flying fish – at times 'flying' a distance of six plus feet (perhaps half a foot above the water) with multiple jumps along with a number of sting rays just off our dock. Very cool.
Dinner was again enjoyable with a unique beet root puree that was surprisingly much better then expected. The main dish was lightly saffroned rice with vegetables interspersed and for me chicken. Very nice. Dessert was ice cream with a caramel drizzle.
Some work on the travel blog (the internet is actually quite good here as they have installed a tower to receive a decent signal) to the sounds of the insects and birds brought an end to another quiet and relaxing day.

Herve and Raphael, one of the workers.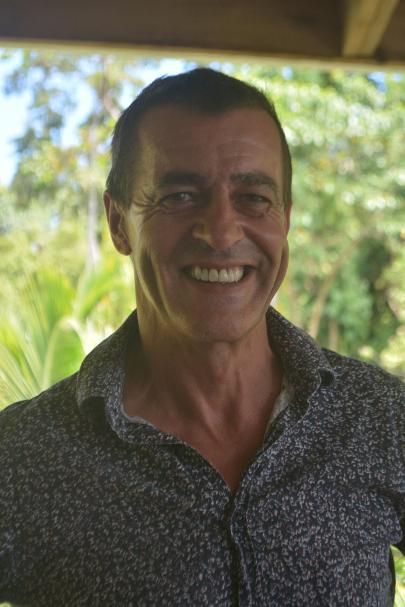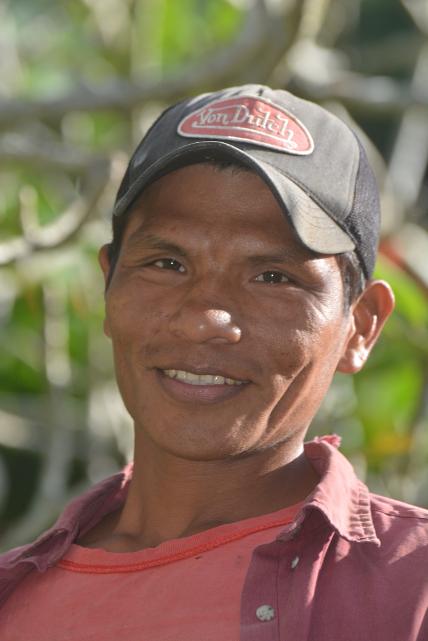 Cacao pods - the right one on the left photo actually being infected by a fungus, hence the brown colour.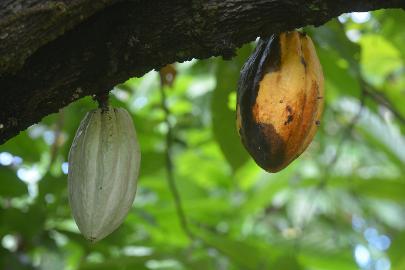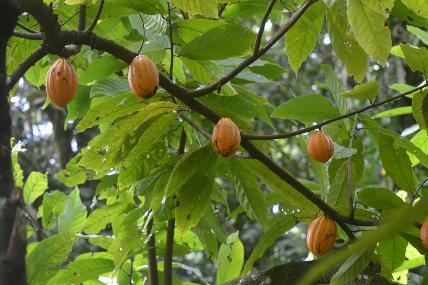 A ripening cacao pod with new flowers adjacent.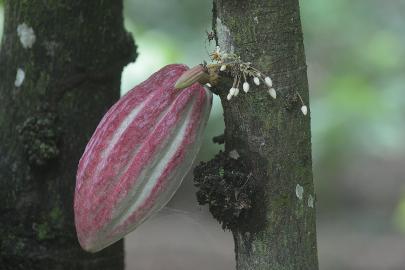 The inside of a pod - a pulpy membrane covering the cacao seed that ultimately is ground into chocolate.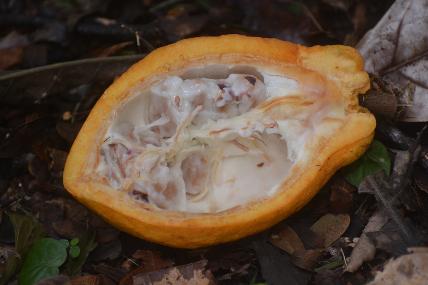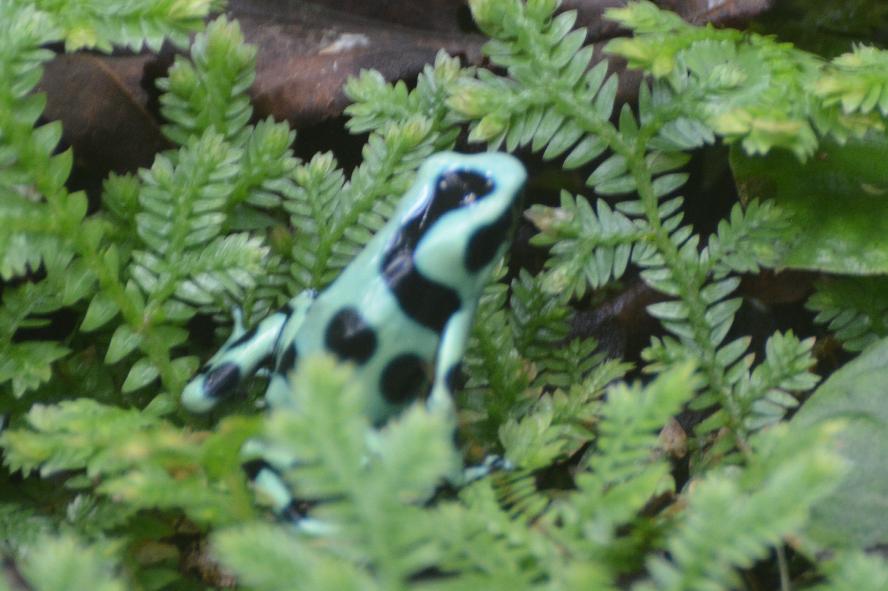 A coconut tree sprouting from a coconut ... and a huge jackfruit.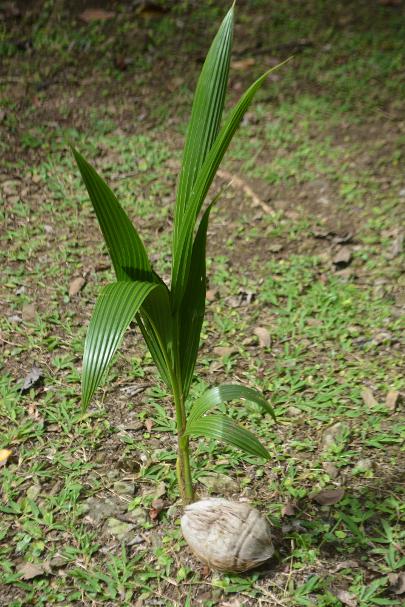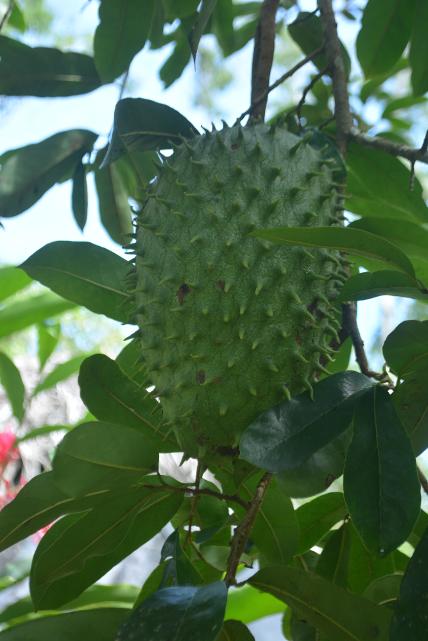 Below is a Heliconia, otherwise known as lobster claw.

To the right is a Bird of Paradise.

Unfortunately we don't know what the other two on the right are, other than they were colourful.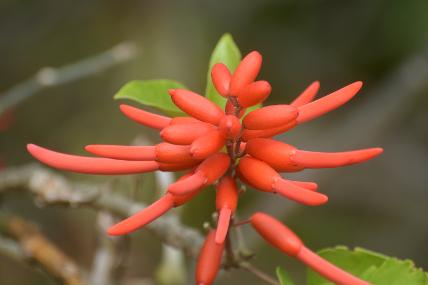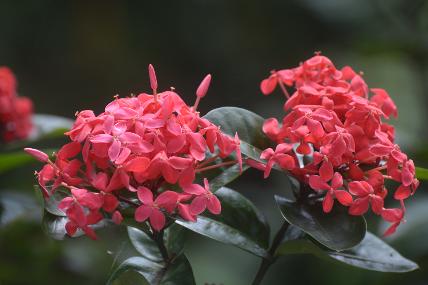 No clue what this one below is ... but on the right ... a pineapple.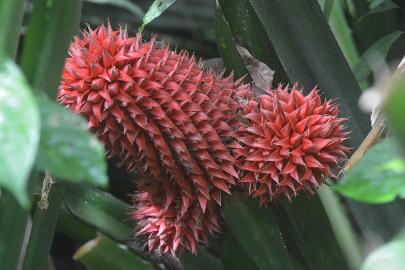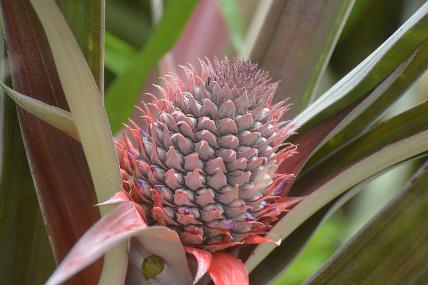 Star fruit, ready to eat off the tree ... and some form of lemon.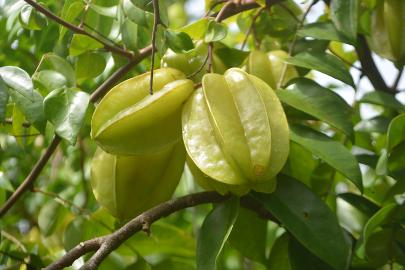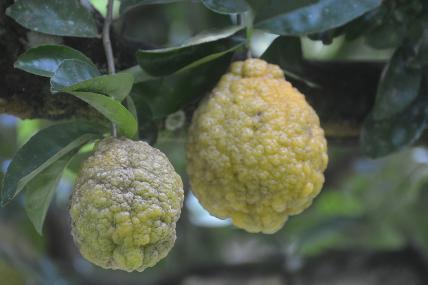 After our tour we were treated to some fresh coconut water.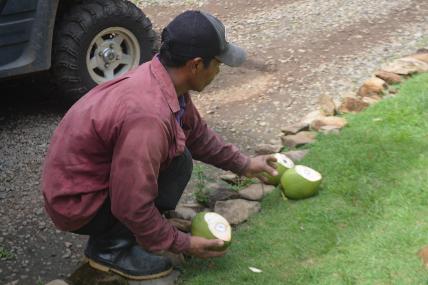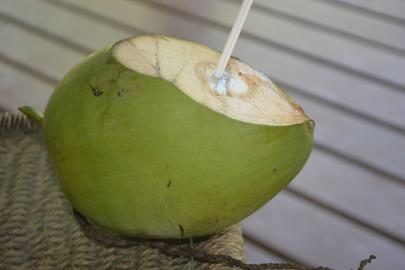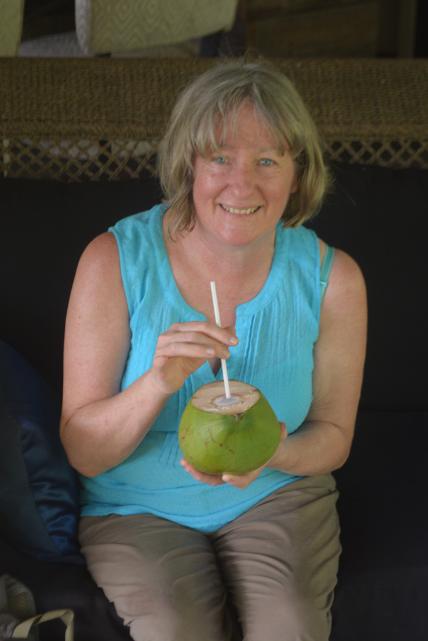 Although somewhat distorted by the water there were many starfish at the end of the dock and a few sting rays right off our deck.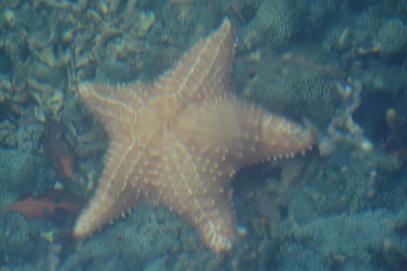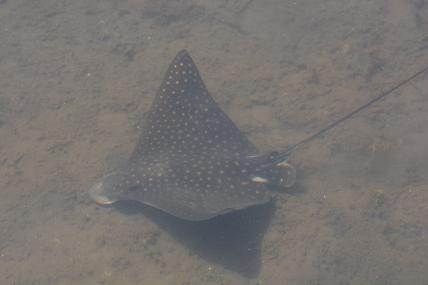 At this point I wasn't sure she was going to figure out how to turn and come back ...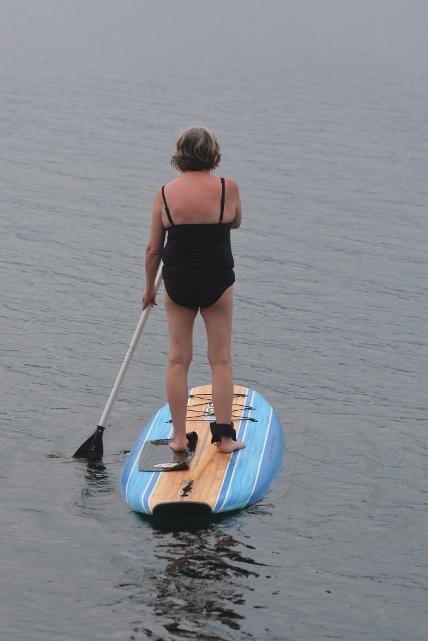 ...but she did - very impressive for a first timer.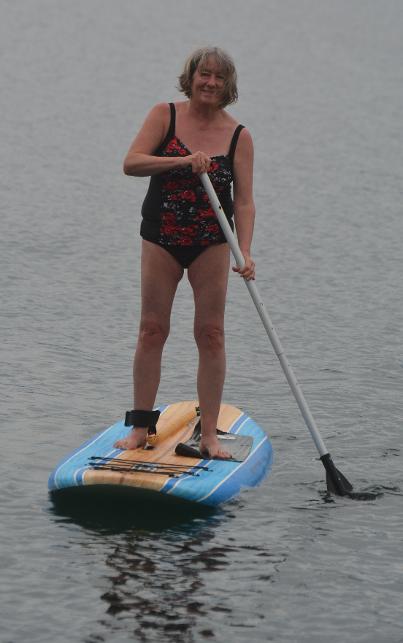 ... and a not so elegant effort at stand-up paddling ... actually I'm thankful there was no one else on the dock to witness my embarrassing effort.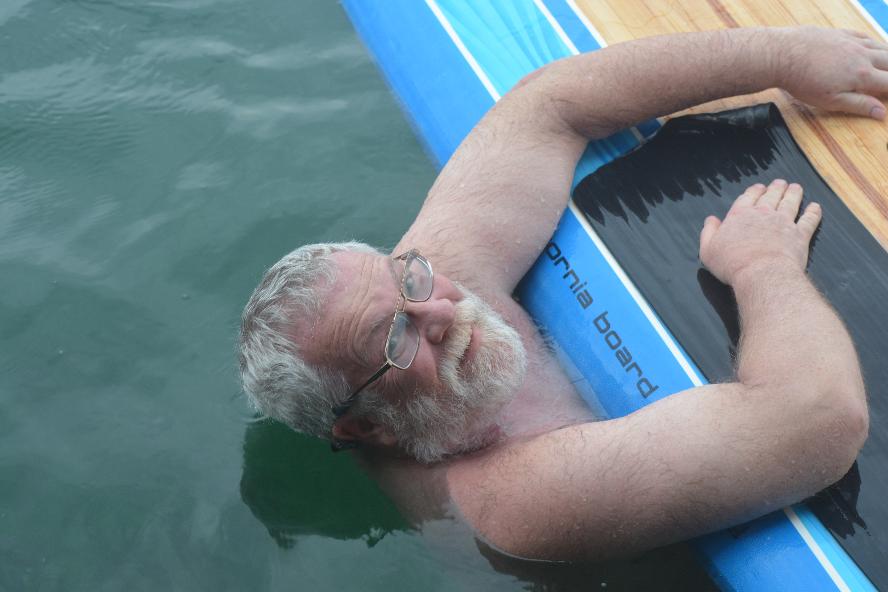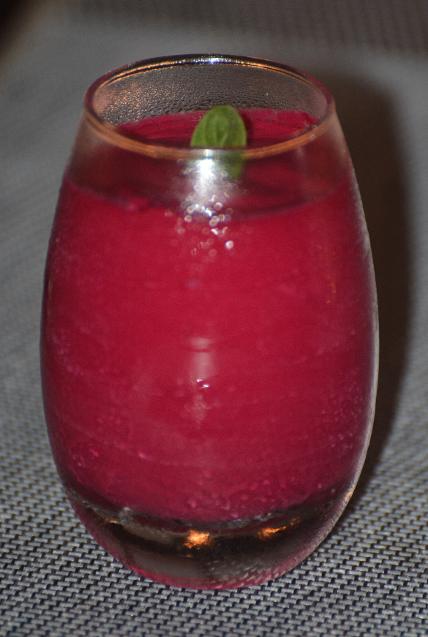 Continuing with the unique appetizers we were served a creamy beet root puree in a glass. It was surprisingly much better than expected.

For the main course we had a rice dish, mine with chicken and Gayle's without - again very tasty and filling.

Dessert was ice cream with caramel sauce.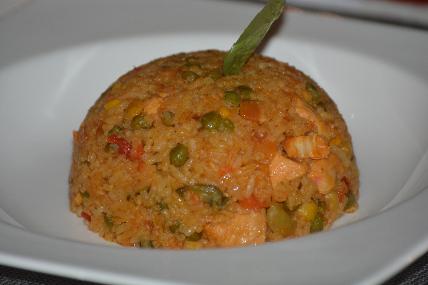 February 11, 2018 - Isla Pastores (Finca Vela Lodge)

When at an isolated lodge such as Finca Vela for the most part there is little to do other than relax. Internet access was good which allowed some work on the travel blog. The weather was generally good with a few isolated showers. We were able to swim off the end of the dock and although we didn't use them there were traditional wooden cayucas (canoes) and kayaks available. The only downside were the chiggers and chitras, or no see ums, very small biting insects that were present, particularly in the morning and early evening. Insect repellent and smoke coils helped but still a nuisance.
In order to eat we got our exercise – 137 steps up and 137 steps down, for breakfast, lunch and dinner. Ines, Herve's daughter was the face of the lodge, as her English was the strongest. As well as serving all meals and drinks she shared the journey that brought the family to Isla Pastores and answered any questions one might have.

After breakfast we took a short stroll around the lodge, seeing some different fruits such as the ackee, a fruit of a mixed blessing. Unripe ackee contains a poison called hypoglycin, so preparers must be careful to wait until the protective pods turn red and open naturally. Once open, the only edible portion is the yellow arilli, which surround always-toxic black seeds. Luckily they were not served. As well as there were clementines (or calamondin) trees, similar to oranges in appearance but a cross between a sour mandarin and a kumquat, producing a very tart fruit, so much so they make biting into a lemon seem like nothing at all.
Gayle tried stand up paddle board with success. Her dancing skills must have contributed to her being able to balance as I was considerably less skilled (photos in tomorrow's post).
We had lunch although in retrospect did not need any more food. The main dish for dinner was lasagne, again very well prepared with a most flavourful lemon pie for dessert. Afterwards we fell asleep to the sounds of the insects.

The end of the dock where it is easy to swim among the fish, the rays and the starfish, kayak, paddle board etc.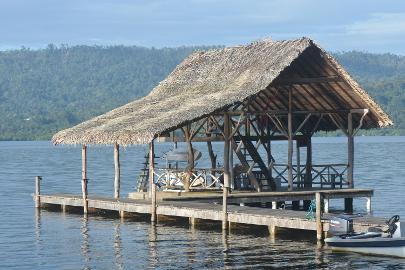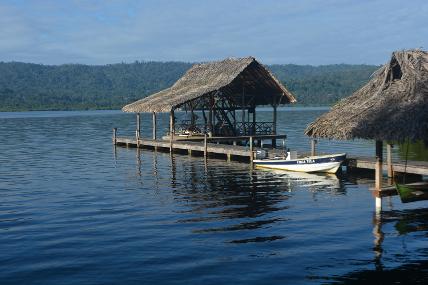 Unlike many other resorts or lodges in the area Finca Vela has a pool, great for those in the upper cottages who might not want to descend, and then re-climb the hill in order to swim in the sea.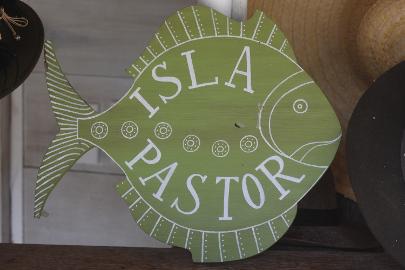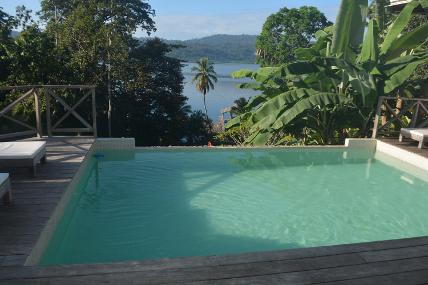 Fresh fruit, including passion fruit in the bowl and a standard breakfast with tostones - twice fried plantains.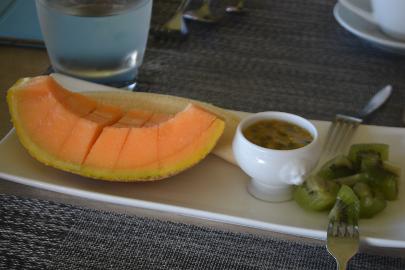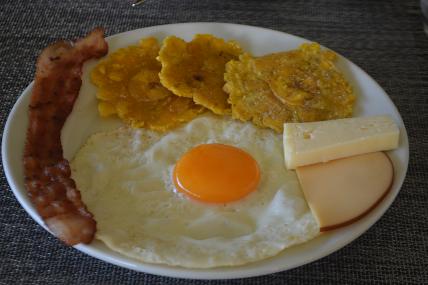 Ines, the face of Finca Vela Lodge.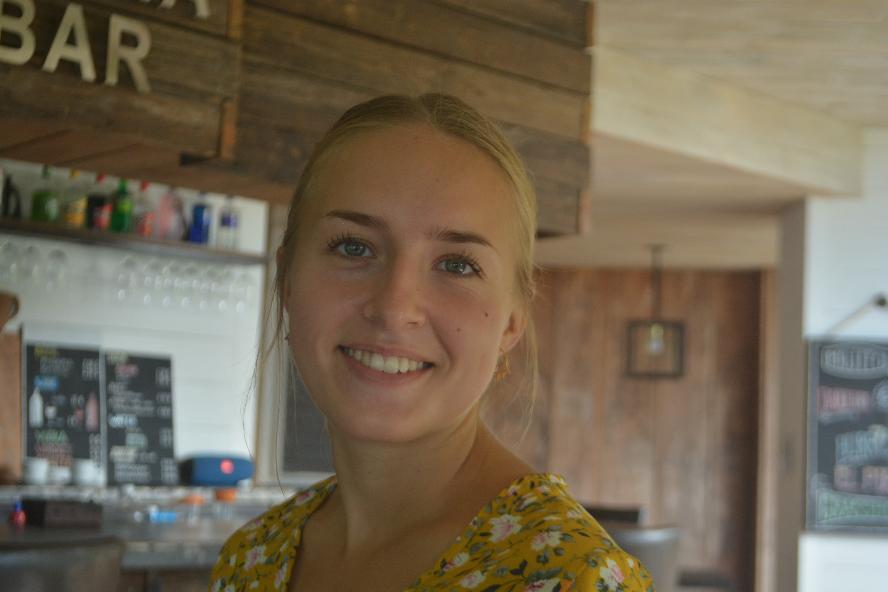 The unforgettable view from the lodge.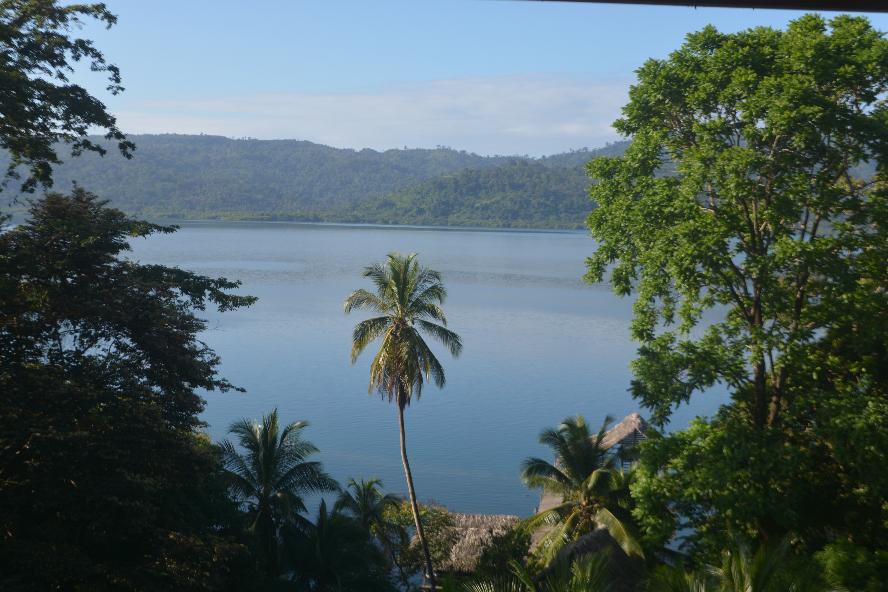 What a setting for breakfast, lunch and dinner.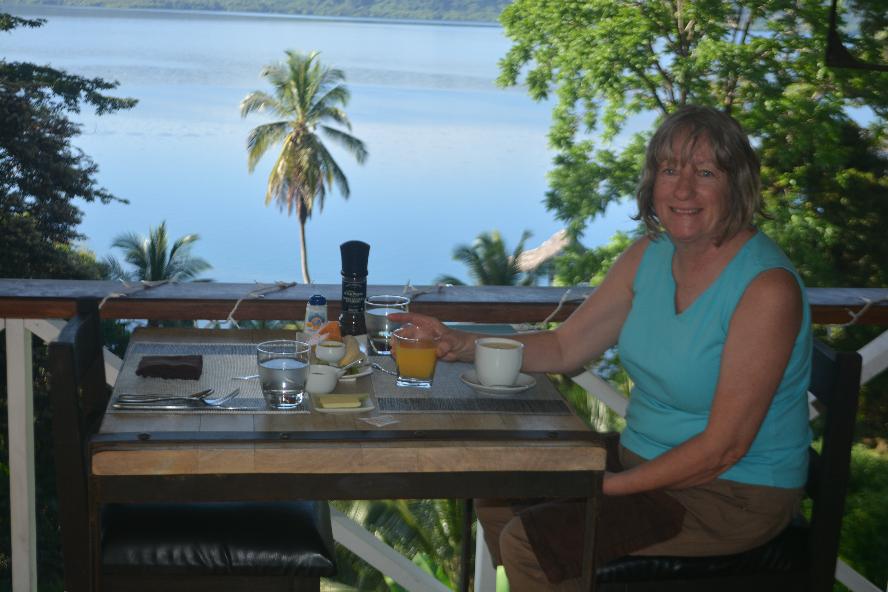 The toxic ackee fruit and the extremely tart looks like an orange but isn't clementines.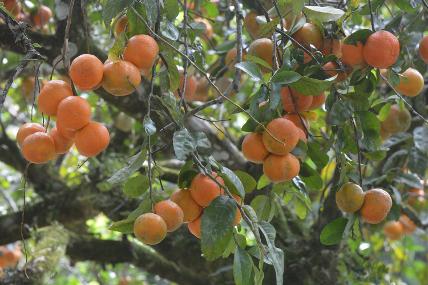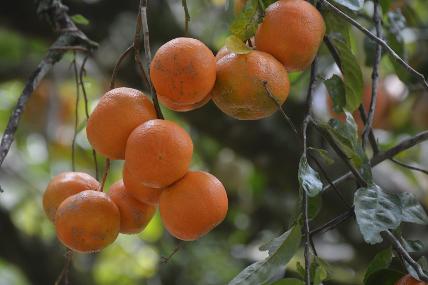 The coastal shores are full of mangrove.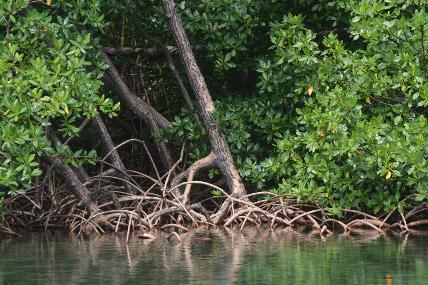 Just a wonderful cottage set amongst the palms right on the water's edge.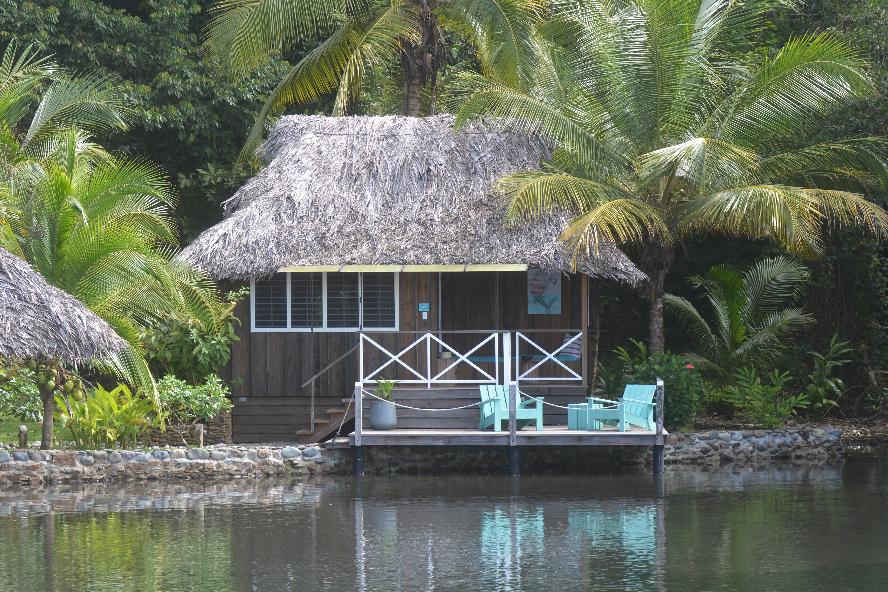 A couple of further views of the Pelican cottage.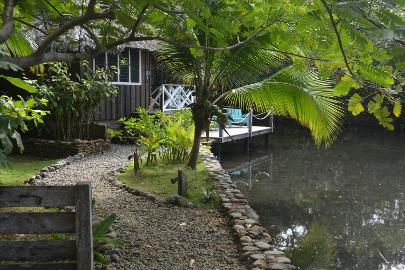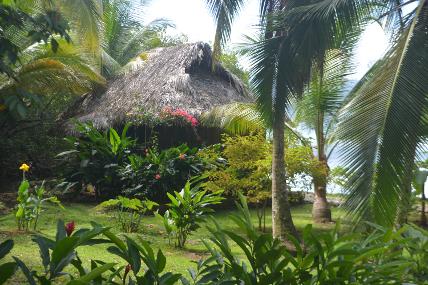 Beautiful flowers at dinner, a banana smoothie and a pina colada.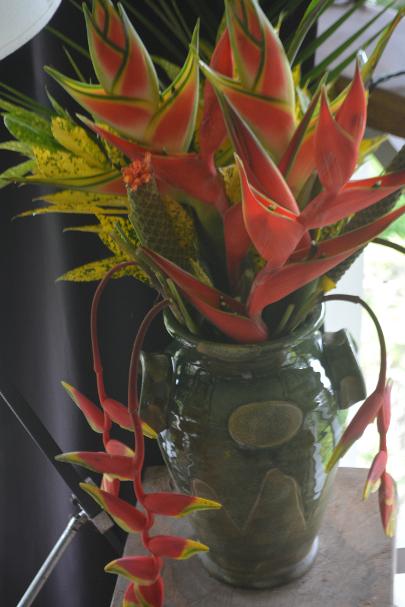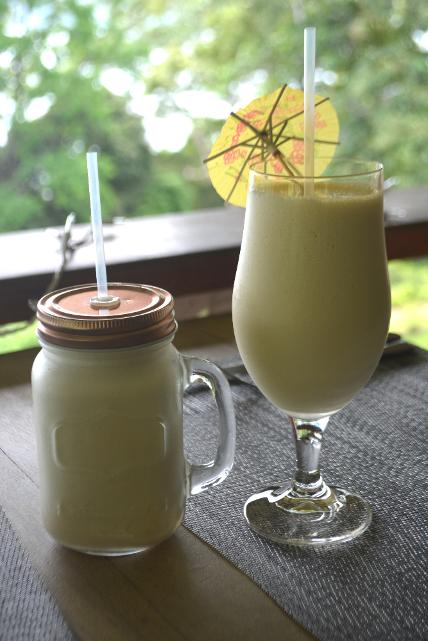 Delicious little muffins as our dinner appetizer ... and the best lemon meringue pie for dessert.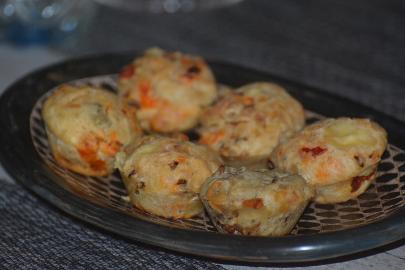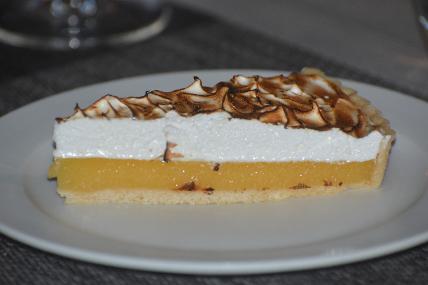 Feb 10, 2018 - Puerto Viejo (Hotel Banana Azul) to Isla Pastores (Finca Vela Lodge)

We decided to take the shuttle from Puerto Viejo to Almirante (Panama) only to find out all three (noon; 8:00 am and 6:00 am) were fully booked due to Carnivale in Bocas del Toro the next four days so we ended up taking the local bus with numerous stops along the way. Nice enough bus with locals along with their children and babies being the primary travelers. It took us about an hour and a half to reach Saixola at the border where we had to pay an $8 each Costa Rican exit fee before crossing a bridge on foot to enter Panama. After immigration we got a shuttle ($10 each) for the one hour drive to Amirante where we were dropped off at the Restaurant Tropical Happy where we had a drink (served by a truly happy fellow) while waiting to be picked up by Herve from Finca Vela Lodge. Right on time we took a smooth 10 to 15 minute boat ride to Isla Pastores where we were met by Ines and shown to our cottage – Pelican – right on the water. Almost if on cue shortly after arriving a pelican actually swooped by to do a little 'fishing'. Interesting it was the only one we saw for the rest of our stay.
After settling in we ascended the 137 steps to the lodge/restaurant where we were served an excellent meal, prepared by Ines' mom Karine and boyfriend Allan. They continued to demonstrate throughout our stay what excellent cooks they are. After Gayle enjoyed a strawberry daiquiri and I a passion fruit smoothie we started our meal with a pea soup followed by a pork dish in a rich mushroom sauce (no pork for Gayle). Dessert was a delicious banana crumble.
The best way to describe the lodge, and the entire Finca is 'elegant'. Beautiful lighting, nice dinner music – certainly not rustic eco-lodge living.
137 steps back down to our cottage and we called it a night.


Ronald, our always smiling server at Banana Azul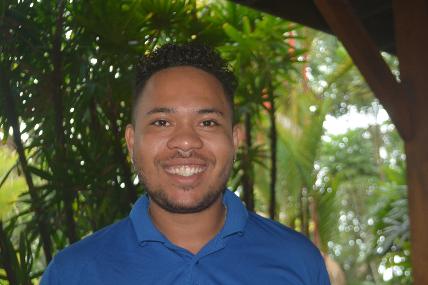 Roberto who was very helpful as we tried to book a shuttle to the border.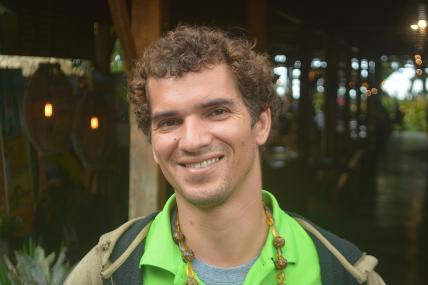 Selling bananas on on the streets of Puerto Viejo. About to cross the bridge over the river in to Panama.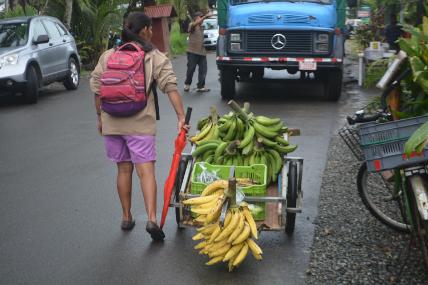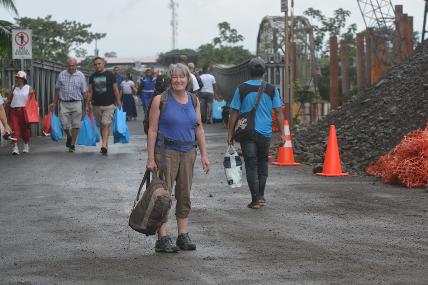 A local crossing in to Costa Rica with her son. ... and a tourist about to cross in to Panama.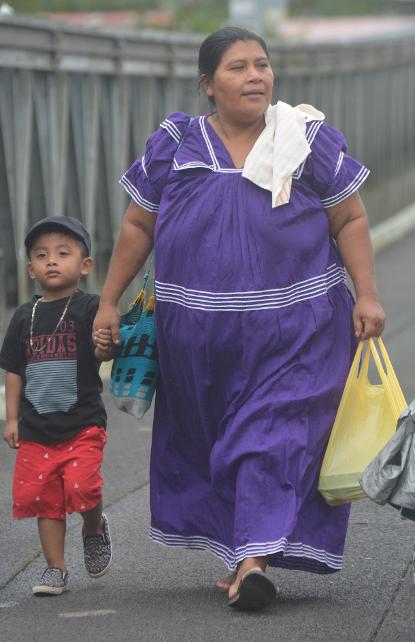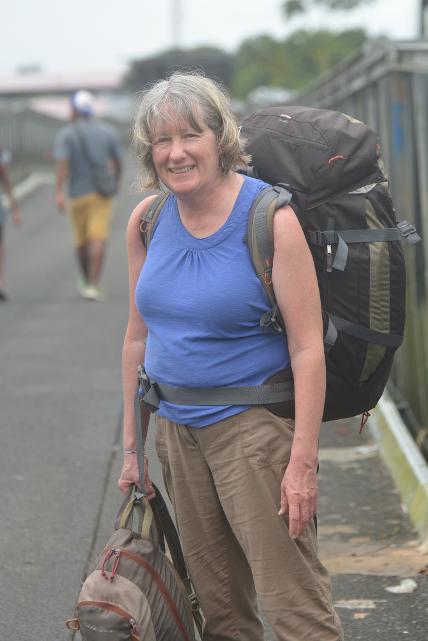 Restaurant Tropical Happy, where we were met by Herve to take us to Finca Vela Lodge.



Finca Vela Lodge - Isla Pastores.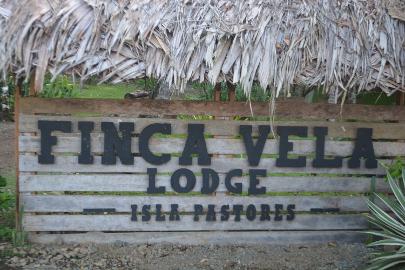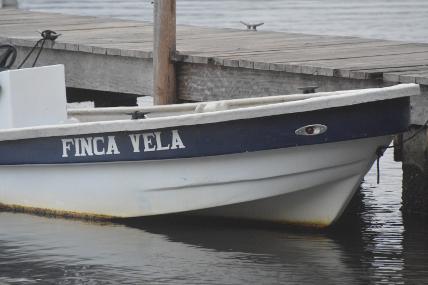 Our first look at the lodge after a 10 - 15 minute boat ride from Almirante.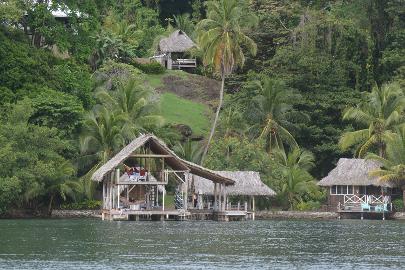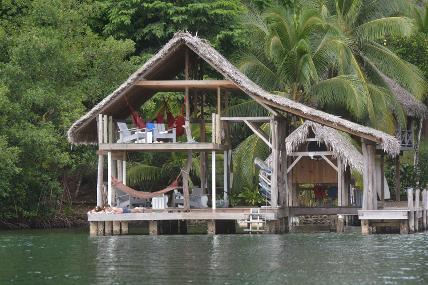 ... and then our first look at our cottage for the next three nights, right on the water.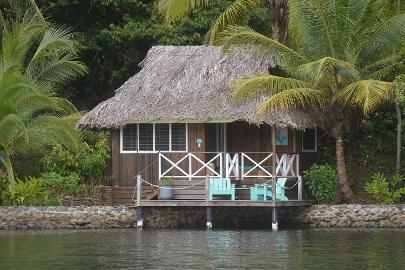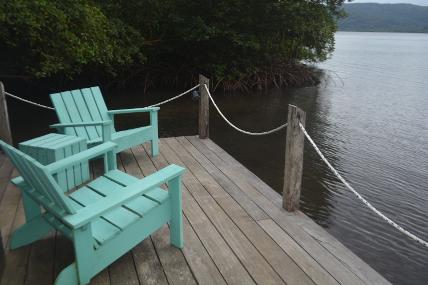 Our cottage is named 'Pelican' for good reason. Not long after arriving one landed in the water nearby. In the evening there was this other bird. Interestingly we did not see them again during the rest of our stay.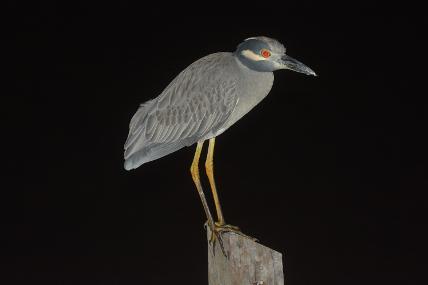 A pre-dinner strawberry daiquiri followed by a delicious and filling meal of
pea soup
pork in a rich mushroom sauce, and
a banana crumble

An excellent music in a wonderful elegant setting accompanied by nice dinner music.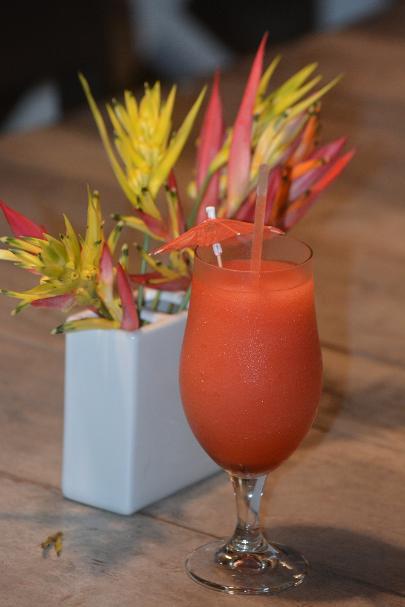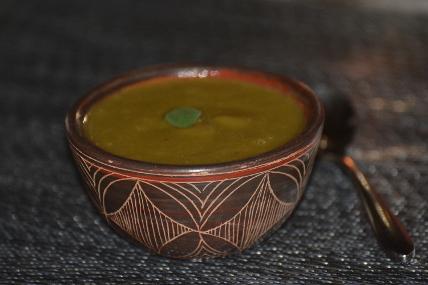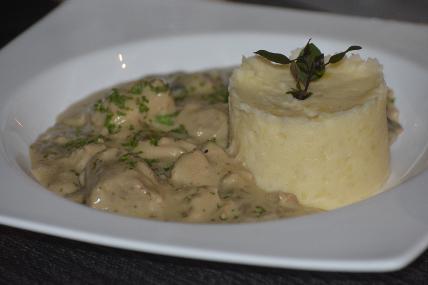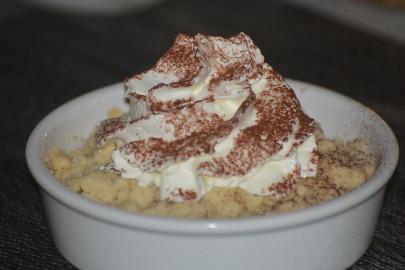 Feb 9, 2018 - Puerto Viejo (Hotel Banana Azul)
This is becoming a habit – spending Gayle's birthday in some hot destination.
After another night of heavy rain we got up a bit earlier to spend some time having our first coffees on the beach, watching the waves and as it turned out a couple of surfers. After breakfast we drove about 20 km north, just past Cahuita National Park to the Tree of Life Wildlife Rescue Centre where we wanted to see some sloths if even not in the wild. Unlike reports of some other sloth sanctuaries the animals here are rescued from abandonment, or from those who tired of having inappropriate animals as pets. In some cases they are injured and will never leave the facility but in many others they are being rehabilitated to be re-introduced into their natural habitat. As well as the animals and birds this is also a botanical garden with plants, flowers and fruit trees. This was a perfect combination for Gayle. The 1 ½ hour tour by Janil was very informative and interesting. While the parrots, and peccaries and coatis and jacarundi and monkeys and turtles were all interesting the highlight for us was of course the sloths. We saw four, the first two in the wild, one who just hangs out at the refuge and another who after being released decided to stay close by. Then in a contained area were Snowball and Woolly, two sloths who came to the facility a year and a half ago at the age of four months when their mother was killed. It is expected they will be released back into the nearby jungle in another four months or so. It was an enjoyable, very worthwhile tour and an effort we were happy to support.
We returned to Banana Azul where we spent the late afternoon at the beach, snacking on a plate of nachos accompanied by a couple of Coco Loco tropical drinks.
We then headed out to confirm the bus schedule for our trip to the border tomorrow morning and wander a bit through Puerto Viejo. The latter was curtailed by a flat tire (for which three locals helped us change it) but we were able to make it to our dinner reservation at La Pecora Nera on time. We enjoyed a wonderful meal starting with the traditional glass of Prosecco for Gayle for her birthday. We shared a huge bruschetta, half with prosciutto and half without. Gayle then had a delicious (and large) bowl of gnocchi with tomato sauce and basil. I went with the Plato Minto de Pescado (mixed fish plate) figuring that being on the coast the fish would be pretty good. It was a superb dish with wonderful spices, thoroughly enjoyable. It was hard to believe but we were each so full we passed on dessert – no tiramisu for Gayle on her birthday – shocking.

Nothing like starting your birthday with a coffee on the beach watching and listening to the pounding waves.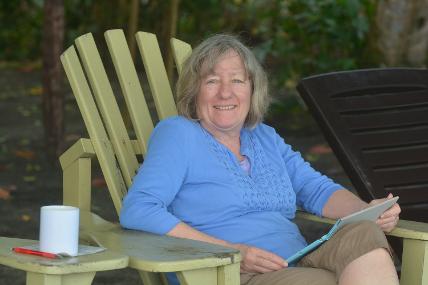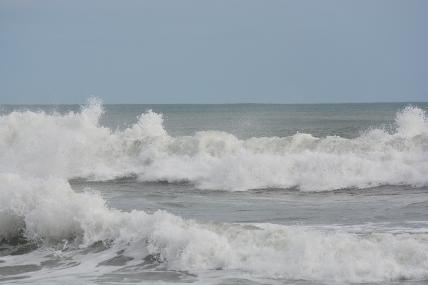 ... and watching the surfers ride the waves.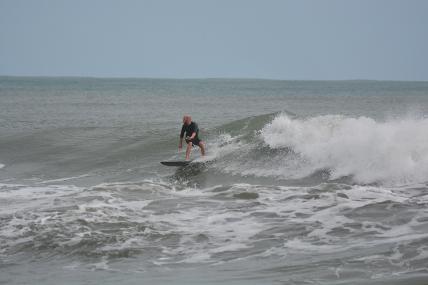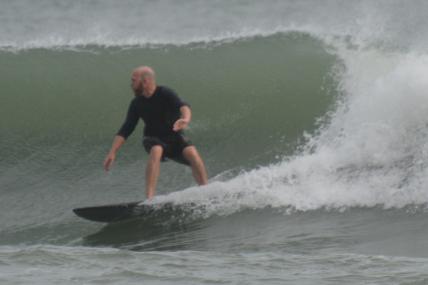 The Tree of Life (www.treeoflifecostarica.com) botanical gardens and wildlife rescue centre - an ideal activity for Gayle's birthday.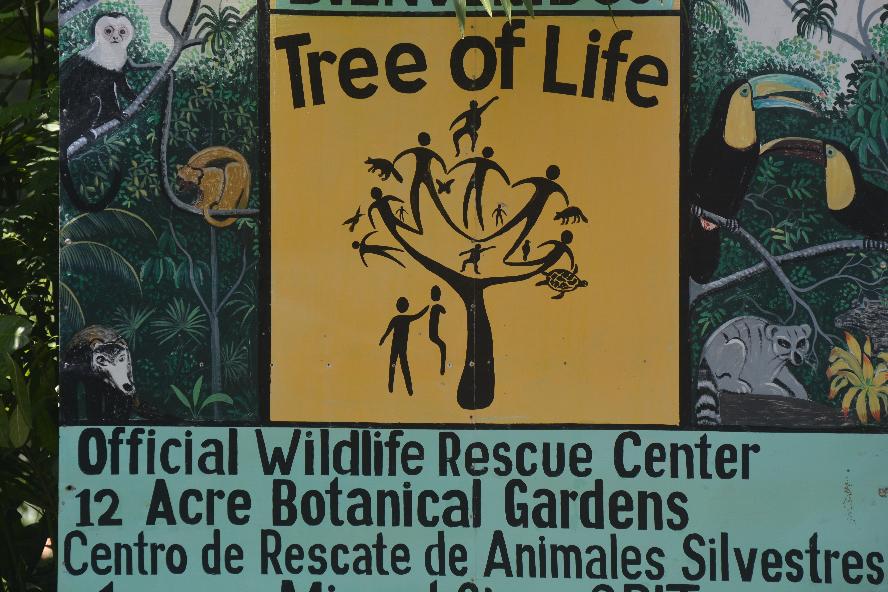 These are Noni, from a tree in the coffee family. Those on the left are on a tree at Banana Azul while those on the right were part of Tree of Life tour. The fruit, is also known as cheese fruit because of its strong aroma of off cheese. The fruit, including its stems, leaves, bark and roots is used for medicinal purposes.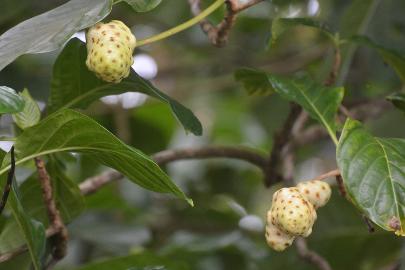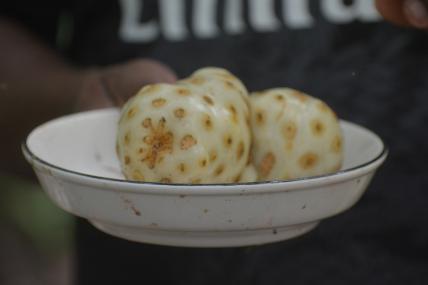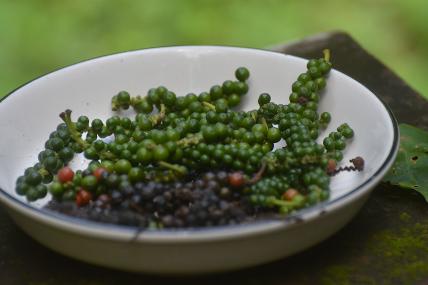 Achiote, or lipstick fruit, a spice and used as body paint.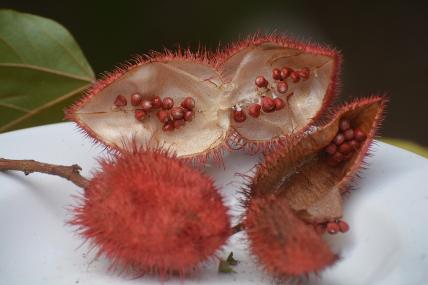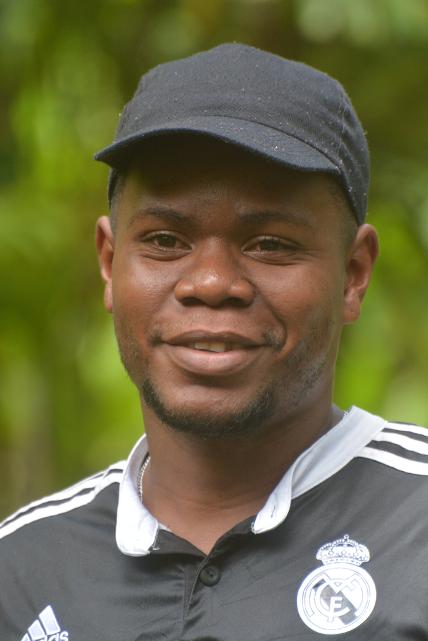 A couple of parrots and a sloth that was released but remains in the area - just hanging out.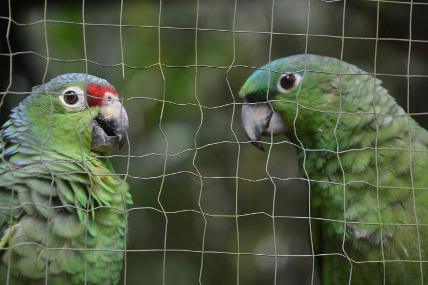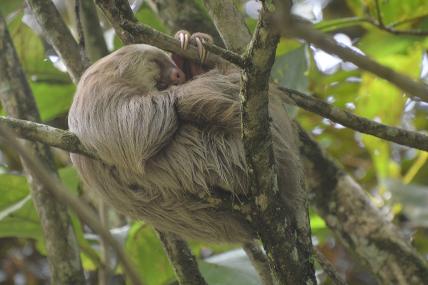 Snowball (trivia fact - Snowball was the name of my (Norm's) cat when I was a child) and Woolly.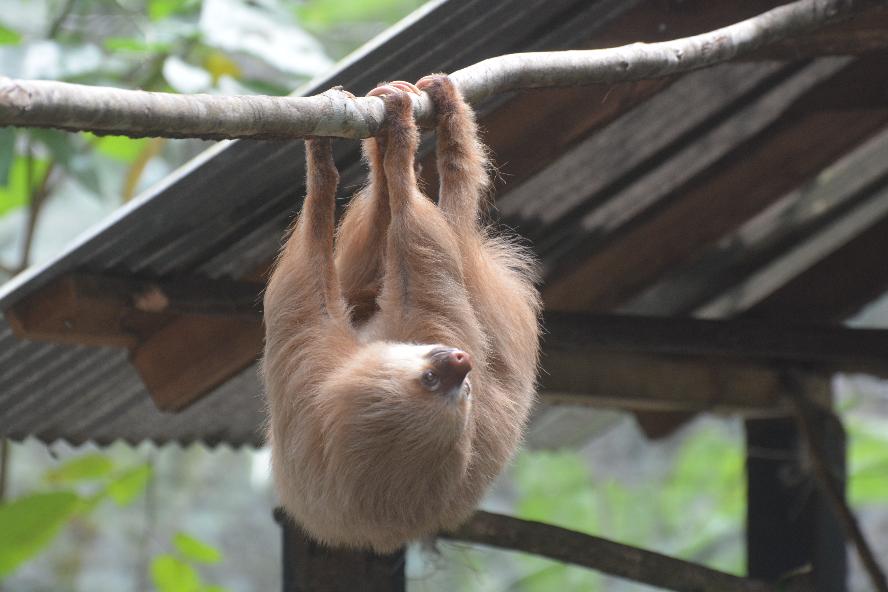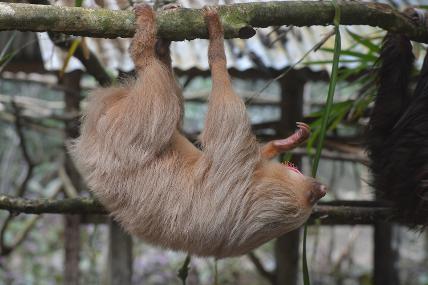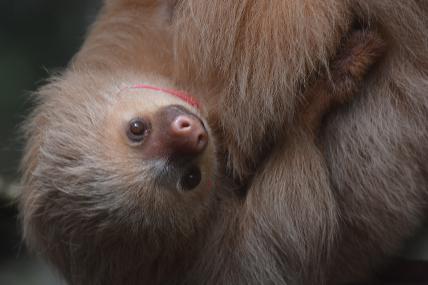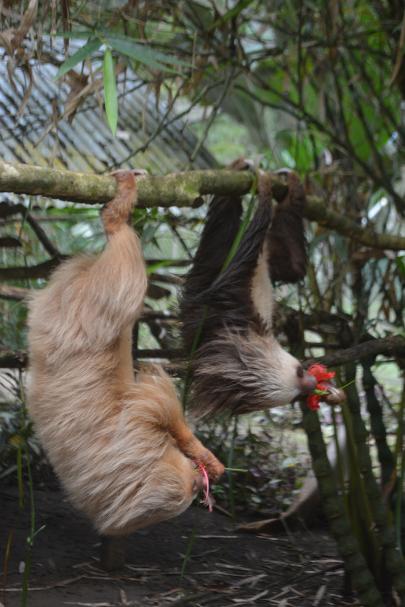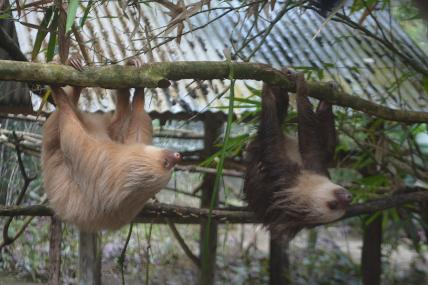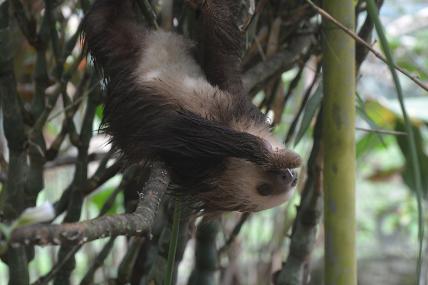 A botanical gardens; a wildlife rescue centre and a few sloths - the perfect birthday experience.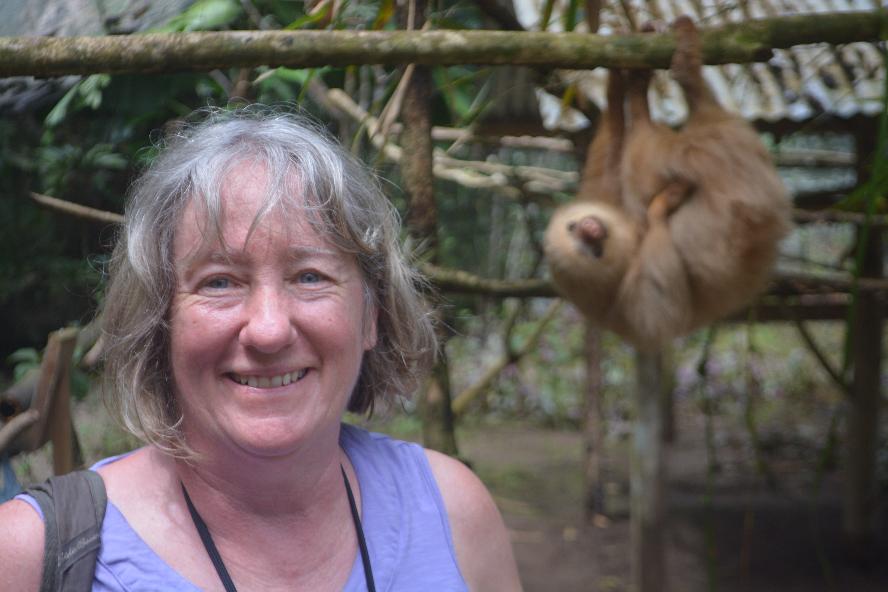 A rescued spider monkey (there were also capuchins) and Gumba the peccary who grew up as a pet in a house near Limon.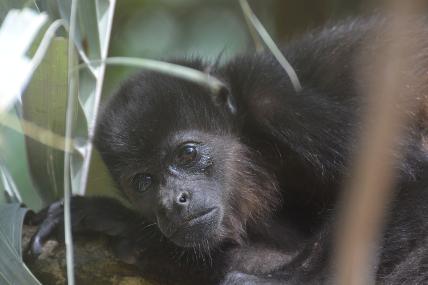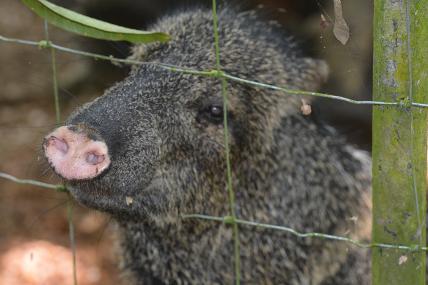 ... and then a number of turtles.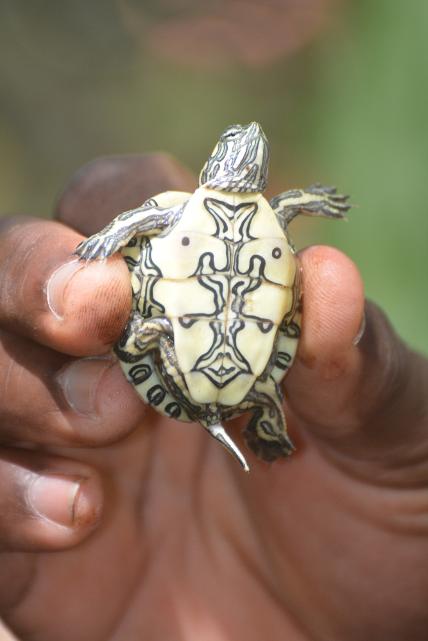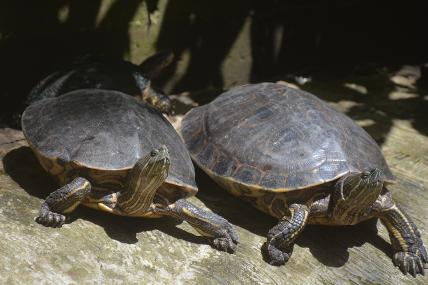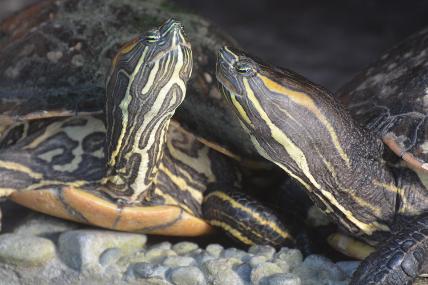 After the tour we returned to Banana Azul where we enjoyed a plate of nachos and a couple of coconut drinks (Loco Coco) while watching the waves.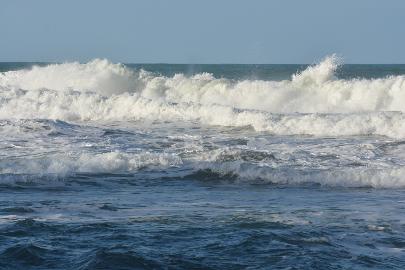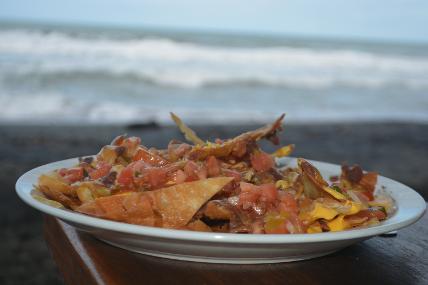 Gayle enjoying a glass of birthday Prosecco and the impressive bruschetta we shared.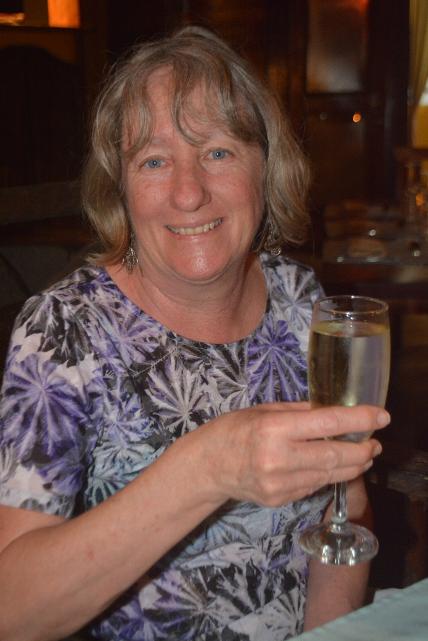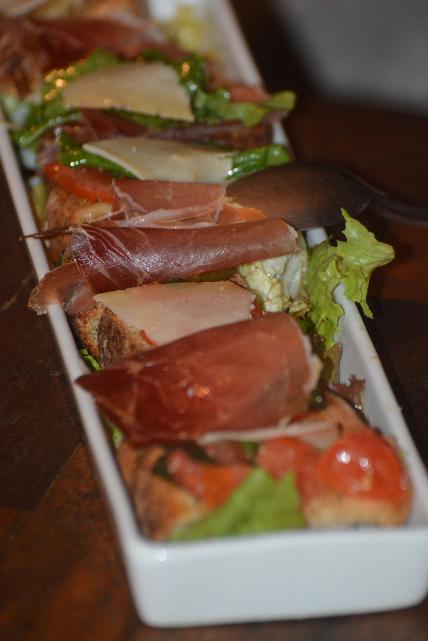 Some pre-meal bread and wine with candle light.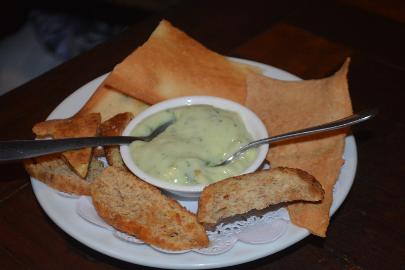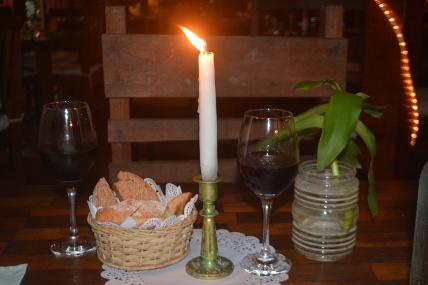 Gnocci con Salsa de tomate y albarhara (gnocchi with tomato sauce and basil).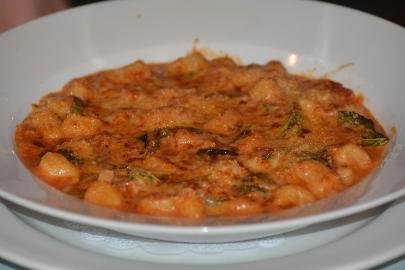 Plato Mixto de Pescado (fish mixed plate).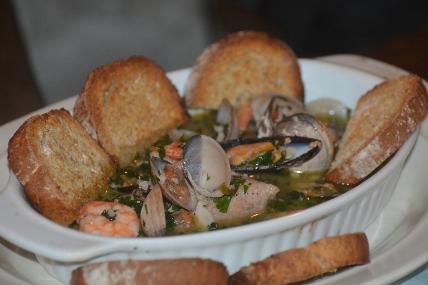 Feb 8, 2018 - Puerto Viejo (Hotel Banana Azul)
Did it ever rain last night!
Just pounding off the roof of our cabin for hours.
We figured there could be no more but turned our to be wrong.
After a little time on the beach simply watching the surf we had breakfast – sour sop juice and fresh fruit (watermelon, papaya and pineapple) along with a choice of one of four items. Gayle had the breakfast tipico and I the pancake special.
Afterwards we went back to our room to relax, and work of the travel blog. Just as we were about ready to leave to go into Puerto Viejo to just wander around the skies opened again, raining for most of the afternoon. Eventually we did take a short drive to find a highly rated restaurant where we made a reservation for the next night. We returned … slowly … as Puerto Viejo is full of pedestrians and bicyclists, most walking and riding on the road. With cars parked haphazardly one has to be very alert, and drive slow to weave one's way between the obstacles. We returned and ate again at Banana Azul enjoying a nice meal – the soup was a spicy tomato; Gayle had a tasty basil penne pasta and I a beef tenderloin with a South American chimichurri sauce.
All in all a pretty quiet do nothing day.

Some of the beautifully landscaped grounds at Banana Azul.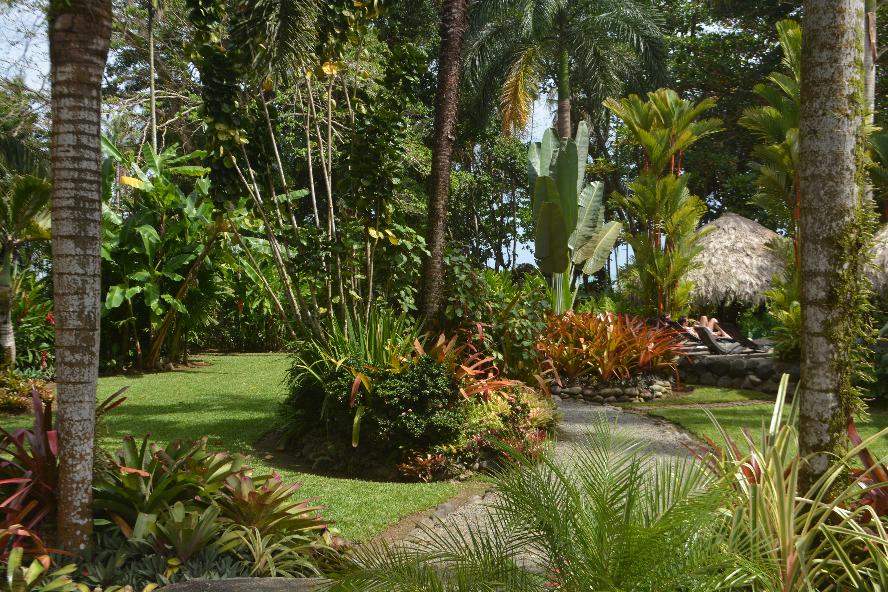 Like Quelitales there were a number of birds around the property, attracted by the fruit provided.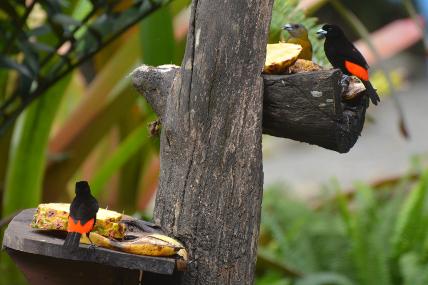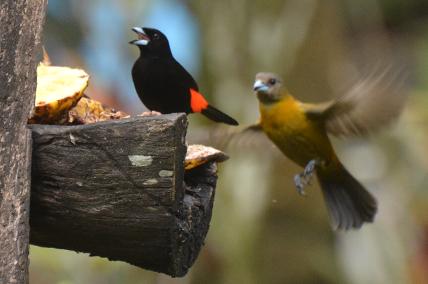 Items 1, 2 and 3 were fixed with a rotating 4th breakfast item - today pancakes, then a burrito and our last morning a tortilla. And it is never too early to start your morning with a drink, although for us it was only coffee :-).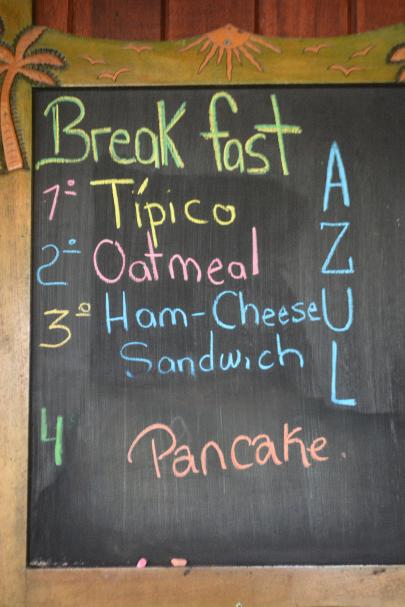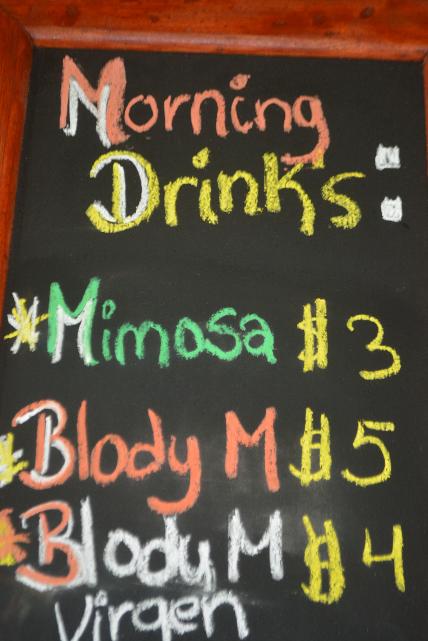 We were in the 'Tree-house' which wasn't exactly a tree-house but a large open upstairs apartment with two bedrooms, a light bathroom, a small but complete kitchen and a large open 'living' area with a hammock.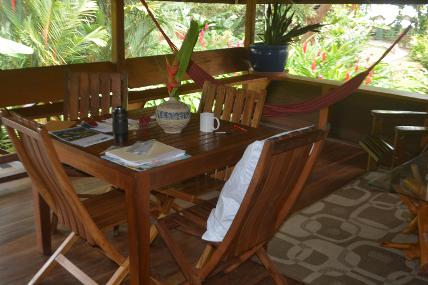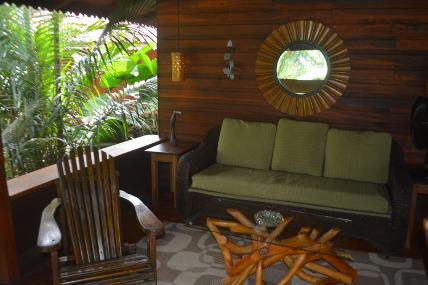 And of course we know who was going to enjoy lots of hammock time.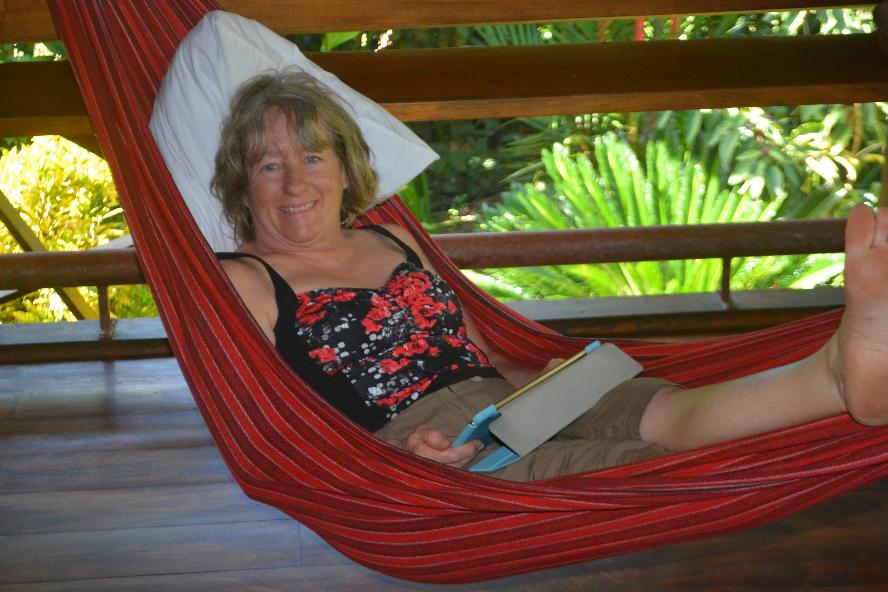 Most of the other rooms were above the eating area.



Red bamboo just outside our room and a colourful (unknown) flower.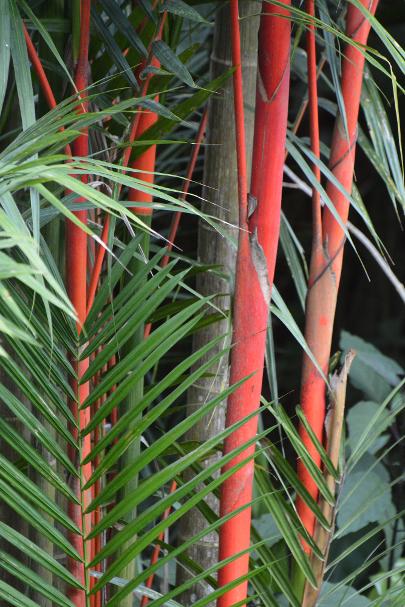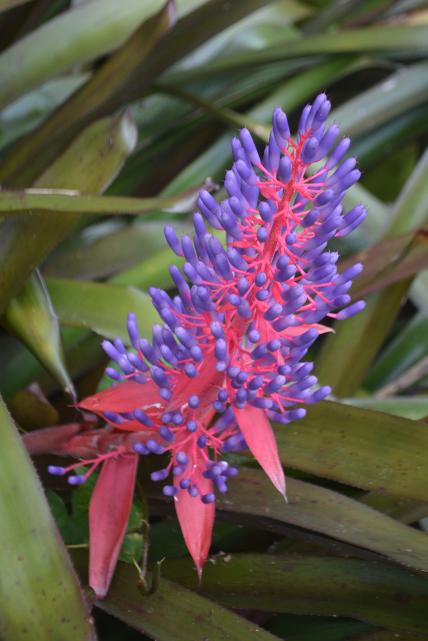 During the afternoon the gardener showed up to make us a new flower arrangement.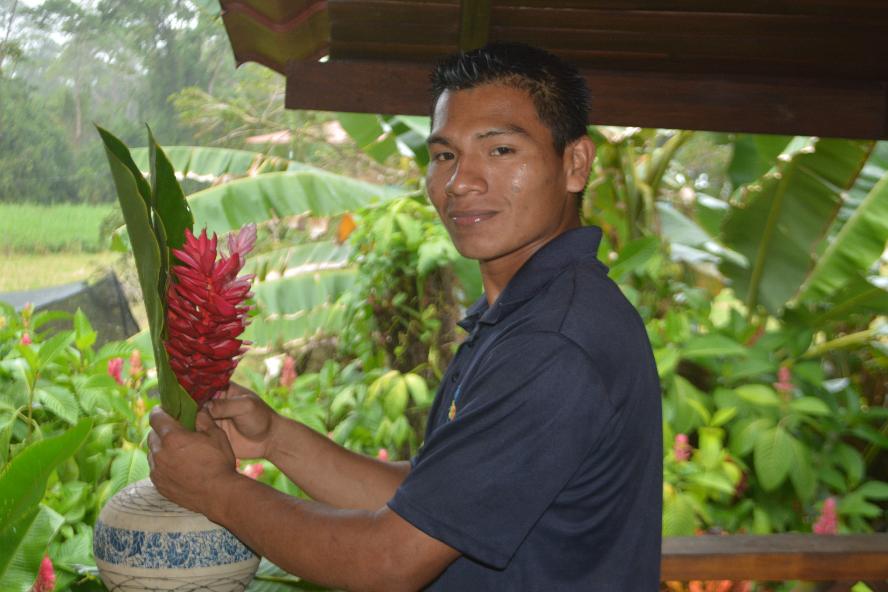 On the left the arrangement in our room made above and on the right one in the restaurant - stunning.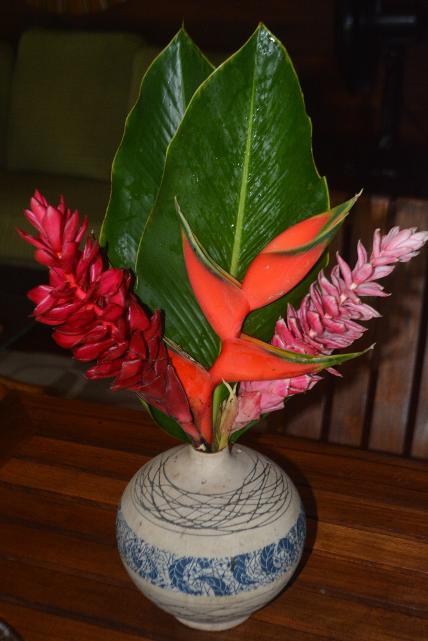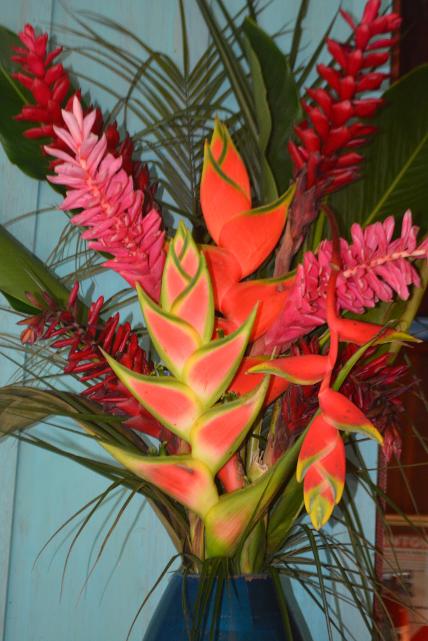 More of the grounds and the pool.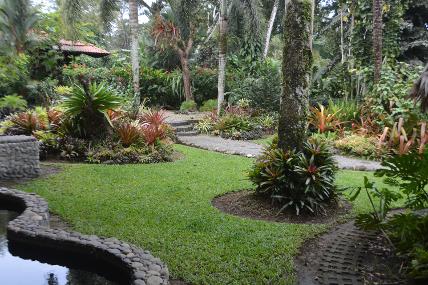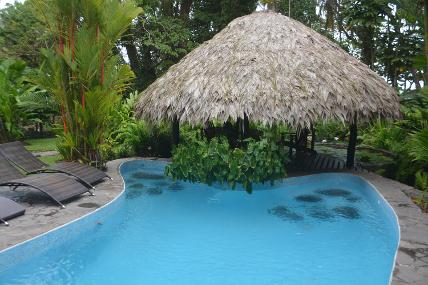 ... and in the pond there were a number of turtles.



My main course was a beef tenderloin with a South American chimichurri sauce.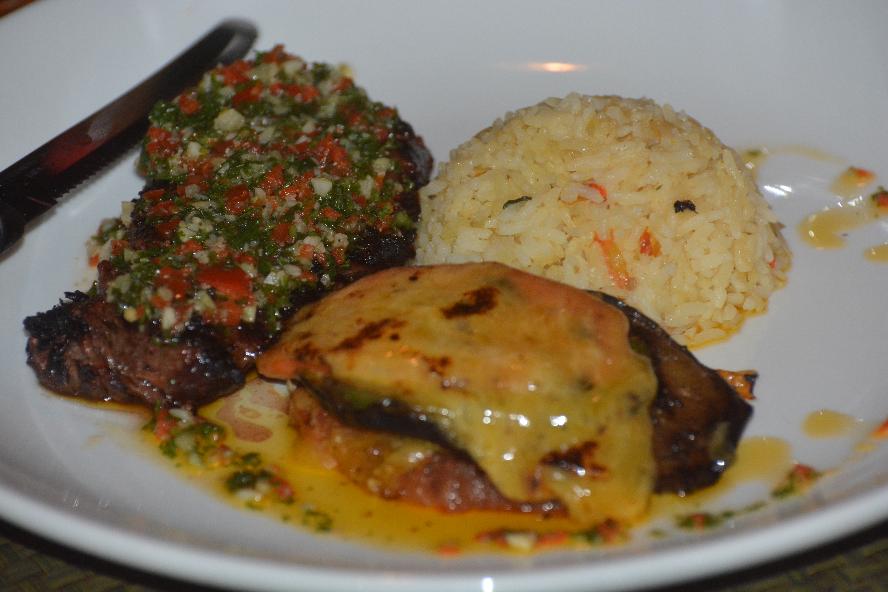 Feb 7, 2018 - Cachi (Hotel Quelitales) to Puerto Viejo (Hotel Banana Azul)
A bit warmer this morning as we wandered down to breakfast served by Didier (sorry we didn't take a photo of you Didier to include on the travel blog.) Another tasty breakfast, more birds outside our window and a demonstration by Xenia of her towel art – the alligator, a monkey, a frog – she can do it all. We then had a nice chat with Jose about his interests in cooking and our collective travels - in fact Jose has posted this travel blog on his Facebook page and we are now 'friends'.
Although the distance to Puerto Viejo is not all that great we left for what was apparently a four to five hour drive … and it was all of that. The problem is the roads are only two lanes, twisting and turning and winding up and down hills and valleys. All nice and fine until one gets behind a farm tractor or an 18 wheeler or is held up for nearly 30 minutes for road paving. In the end it did take the full five hours. The first few hours was a pretty drive, past Turrialba and on to Siquirex with vistas of valleys and mountains and fields of coffee. Shortly thereafter the land flattened out as we passed large banana and pineapple operations. Approaching the Port of Limon the number of trucks and containers was unbelievable, stacked everywhere along the road.
At Limon we turned south, heading down the coast to Puerto Viejo, with the Caribbean sea and its consistent waves on our left. We stopped along the way at a roadside stand to purchase a couple of bananas – given the location and the small size they seemed expensive but we were a bit hungry so nice to have. We arrived in Puerto Viejo late afternoon, easily finding Hotel Banana Azul. A small 14 room hotel set in a lush environment with gorgeous landscaping and gardens. The beach is only 50 or so metres from the lodge and while nice and sandy the surf is consistently significant – and yes there were some surfers out riding the waves. Between the surf and the signs warning of riptides swimming is not in the cards although the hotel has a small pool.
Dinner was good although not of Casa Jose Restaurant quality. With dinner there is a salad bar and soup (tonight was a nice pumpkin). I had chicken in a coconut and coriander sauce – very nice while Gayle was less enthused with her 3 mushroom and spinach vegetarian lasagne.

Some of the lush vegetation just outside our cabin.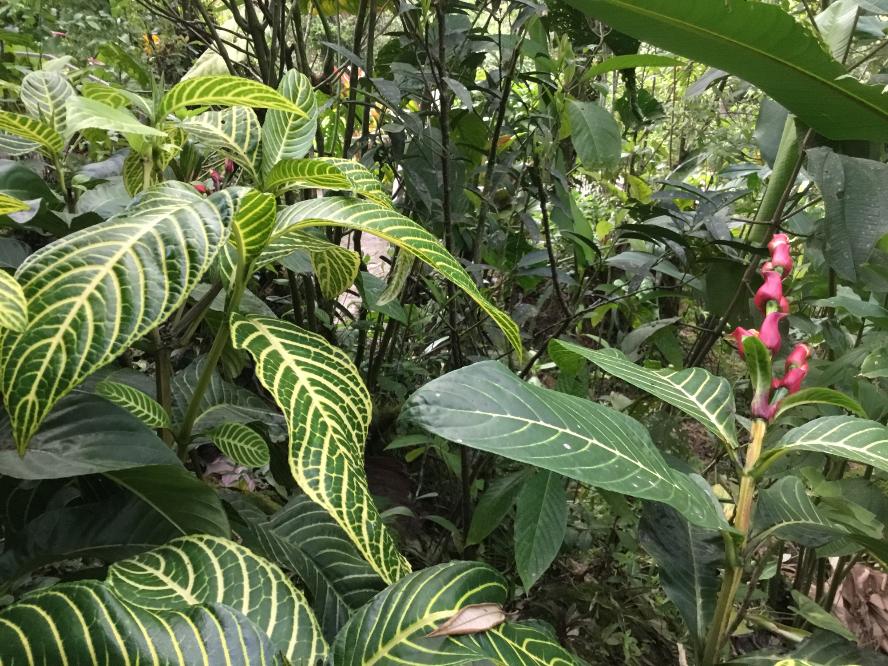 Another bird of sorts - a bird of paradise.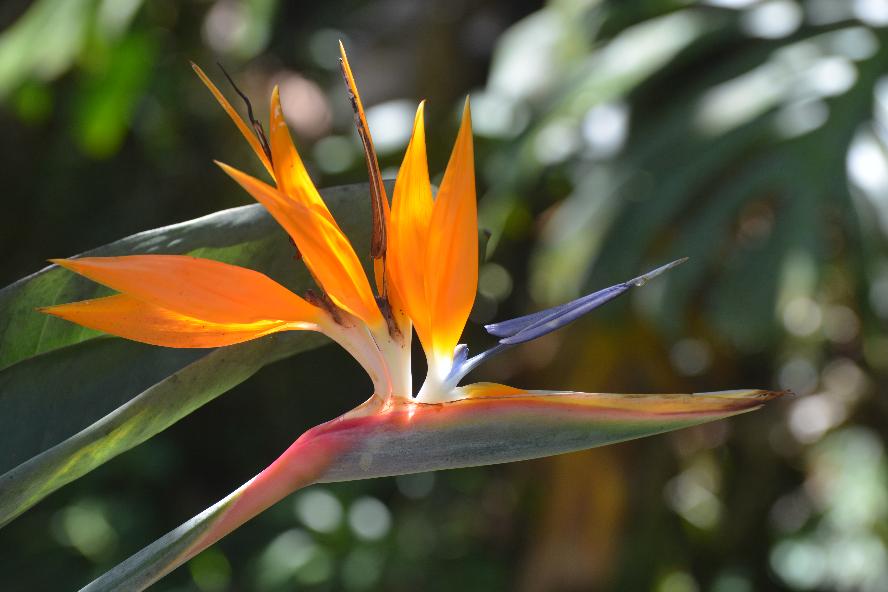 ... and a couple more 'real' birds outside our breakfast window.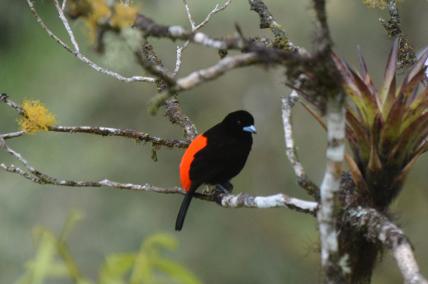 Eggs as you like them - for me another omelette and for Gayle a pair of fried, with a 'cat's face'.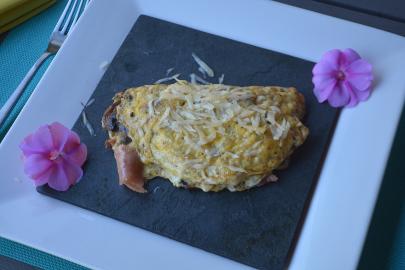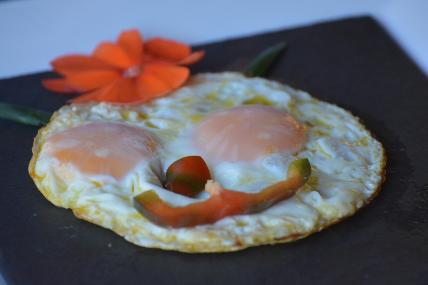 Jose having a laugh with NAGTA and Xenia with one of her amazing towel animals.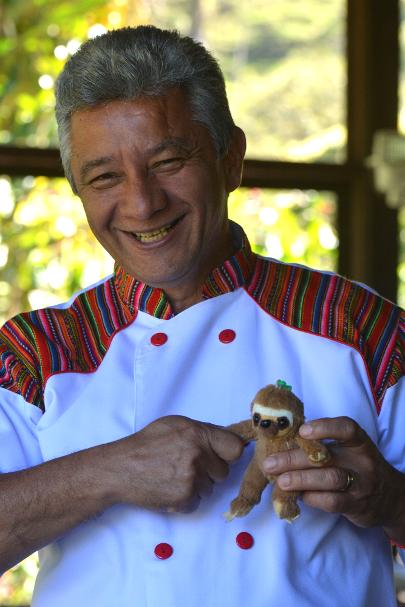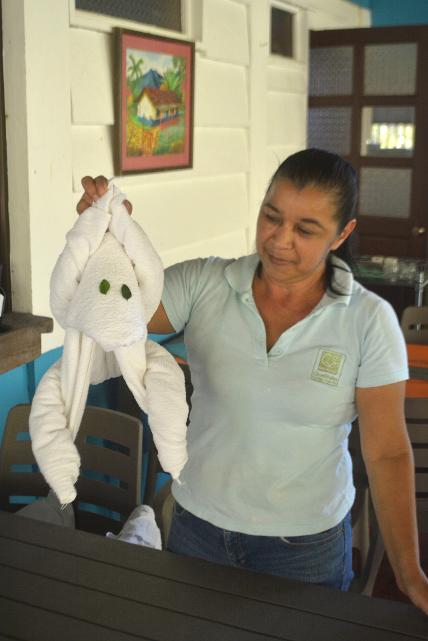 Gayle and Xenia, and Jose in his spiffy Peruvian chef's jacket.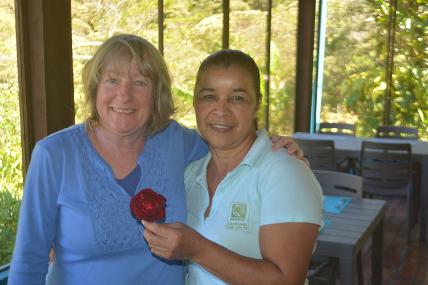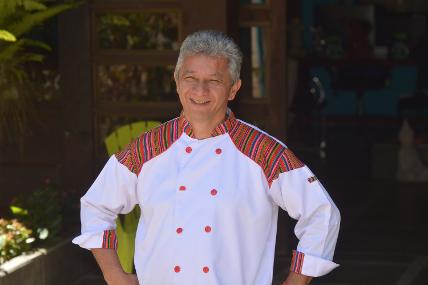 Our new friend Jose (thank you Didier for the photo).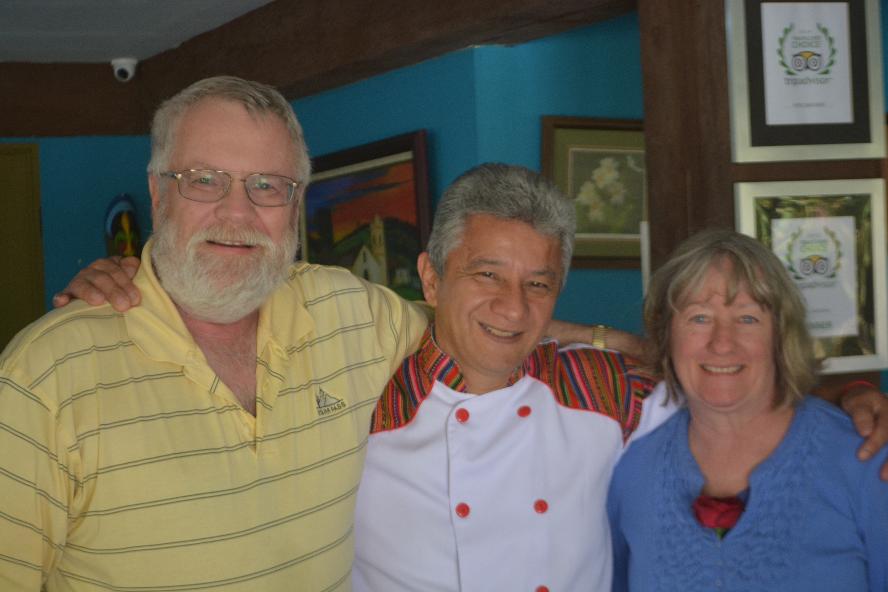 Looking up the valley from Cachi, the town at the bottom- right to Hotel Quelitales virtually at the top of the valley running diagonally to the left.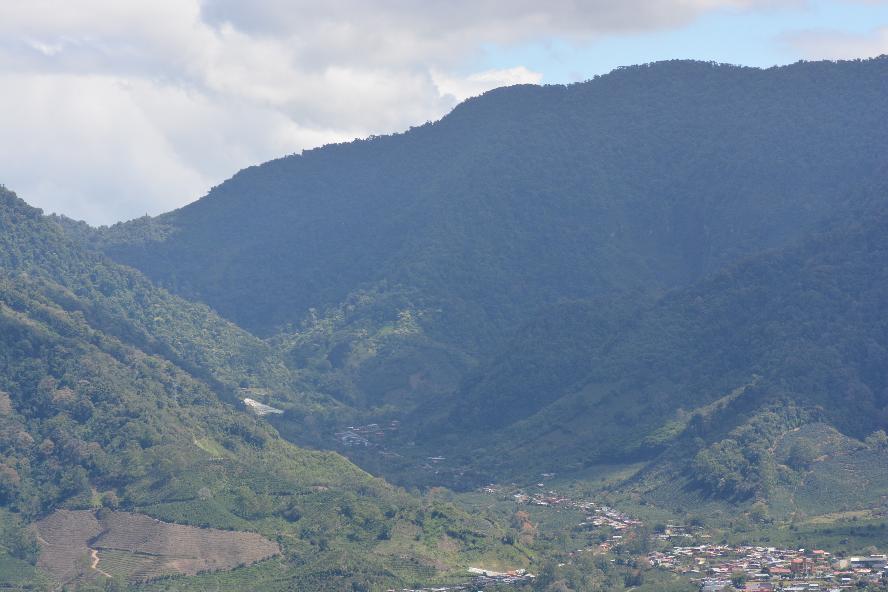 South of Limon our first view of the Caribbean Sea, with its significant waves and surf.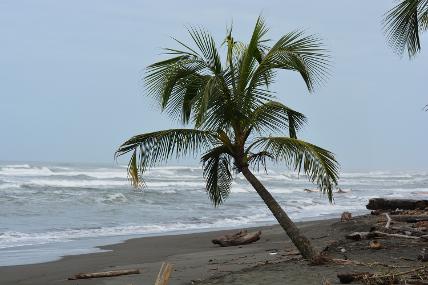 Being a bit hungry we stopped at this road-side stand and bought a couple of (small) bananas.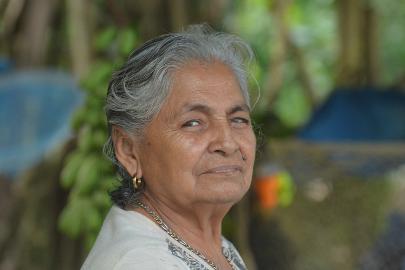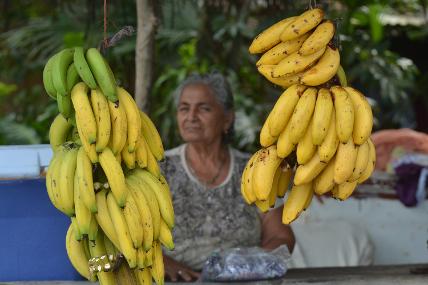 Welcome to our home for the next three nights - the Hotel Banana Azul in Puerto Viejo.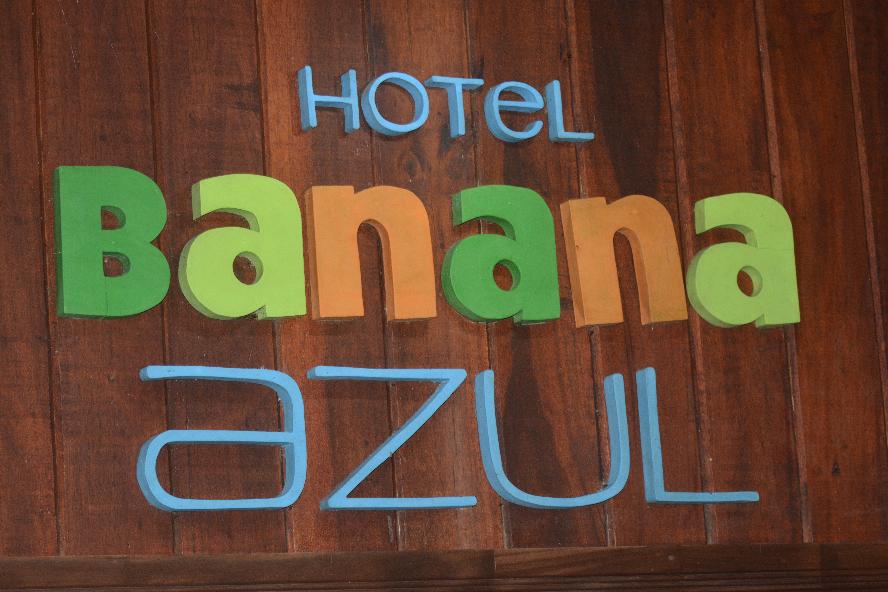 Just what the doctor ordered - my very own stress free zone!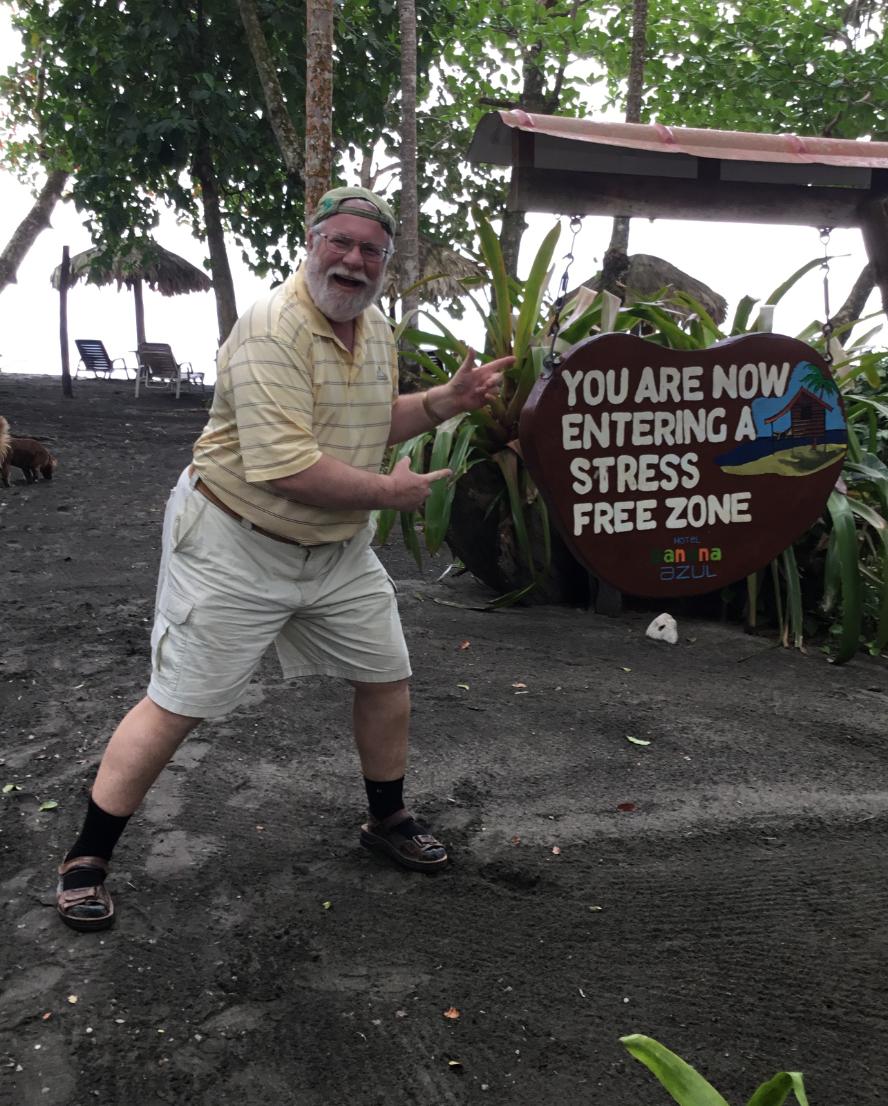 A Pina Colada to start the beach phase of our trip, and then dinner of soup (pumpkin) and salad. Gayle then had the three mushroom and spinach vegetarian lasagna (not great) and I the chicken in a coconut and coriander sauce (which was quite good).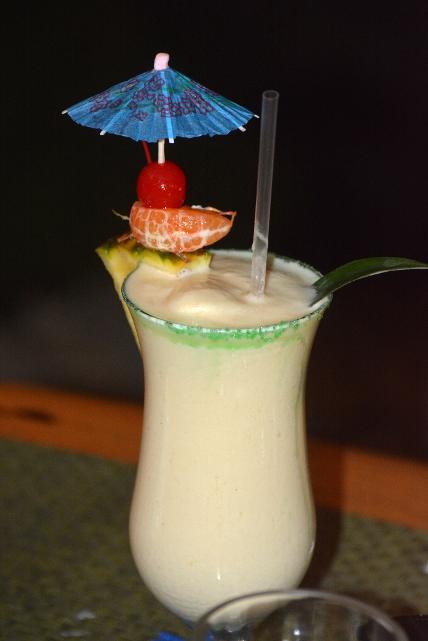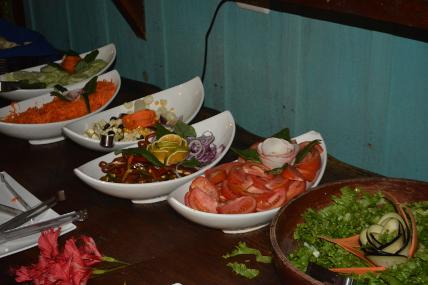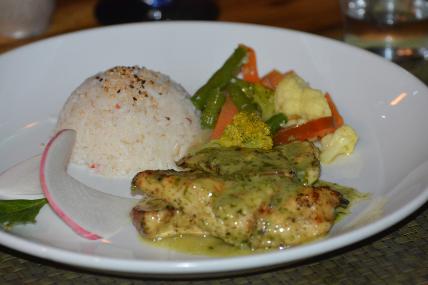 Feb 6, 2018 - Hotel Quelitales in the cloud forest above Cachi
There is no question it is cool up here in the cloud forest such that the hot water bottles provided by Jose were quite welcome, as you will see in a photo below. Now let us tell you about NAGTA, who you will see bundled up in his down sleeping back (ok the arm of my jacket), peacefully sleeping on one of the hot water bottles. NAGTA you say? Yes our friends Bill and Linda have this little elf guy they call SKID (Spending Kids Inheritance Dollars). After mentioning we consider ourselves 'sloths on vacation' – slow moving without trying to do every activity under the sun they bought us this toy sloth that we have named NAGTA (Norm And Gayle Traveling Abroad). We plan to have some fun seeing what situations little NAGTA can get himself into, the first being hogging our hot water bottle.
An interesting component of our Colibries cabin is the outdoor shower. In retrospect we regret not taking the photo with the water running but you get the idea.
Breakfast was both tasty and filling, starting with a fruit plate (watermelon, pineapple, papaya and banana) followed by your choice of eggs – we both had a mushroom and cheese omelette, me with bacon and a large bowl of gallo pinto. Gallo pinto is the typical Costa Rican rice and bean breakfast dish. We had fond memories of starting the day with gallo pinto and Jose did not disappoint with a delicious version.
Here at Quelitales there are a variety of birds, including the colourful oropendola that make these somewhat strange hanging nests. As well there are ducks, geese and chickens wandering around the property.
After a very short (< 5 minute) walk to the 72 metre waterfall we just lazed around our cabin until later in the afternoon when we decided to take a drive through Cachi and around the lake back to Paraiso and then completing the circle back to Quelitales. All driving here takes considerably longer than it appears from a map – this trip 1 ½ hours. But we did see the oropendola nests and took a photo of a fellow just hanging out on the roadside with his two dogs.
We returned for another delicious dinner. I again had the Caldo de Pollo con Quelites (yes it was that tasty) and then the Trucha Casa Jose (Envuelta en hoja de banano rellano de camarones y tomate) – trout stuffed with shrimp and tomato cooked in banana leaves. Unique, the trout was excellently prepared and a great choice. For Gayle Jose made a 'Chef's Special', a Thai themed spring roll with mushrooms and tomato – as Jose said "Made from the heart". Dessert was a very impressive Bananos flambeados con brandy – ice cream with a dash of chocolate and almonds covered with bananas flambéed in brandy. Jose's meals here at Hotel Quelitales are reason enough to visit.
Back to our room where I completed the first day of the travel blog and then to sleep.

NAGTA all toasty and warm in his 'sleeping bag' enjoying the heat of his (our) hot water bottle.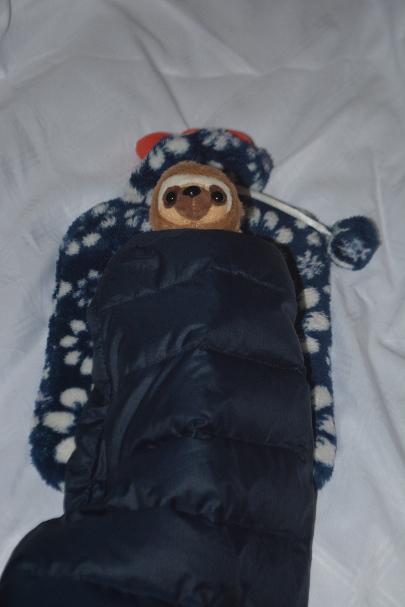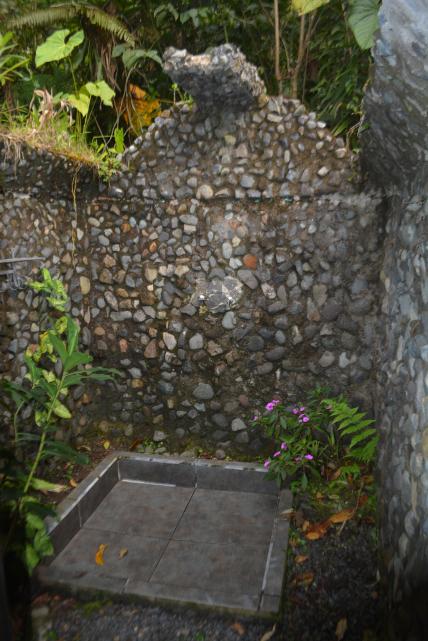 A traditionally painted Costa Rican cart at Hotel Quilitales.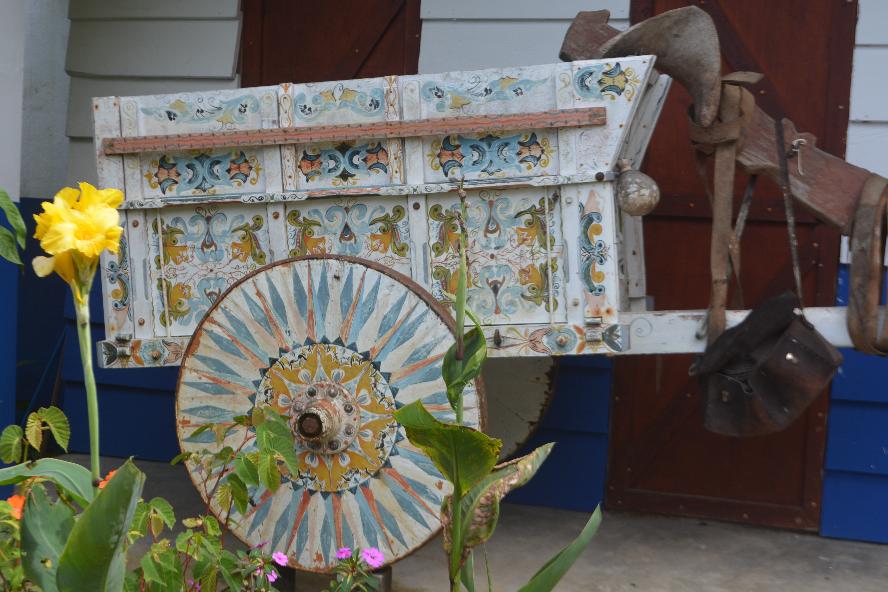 A mushroom and cheese omelette with bacon and edible flowers.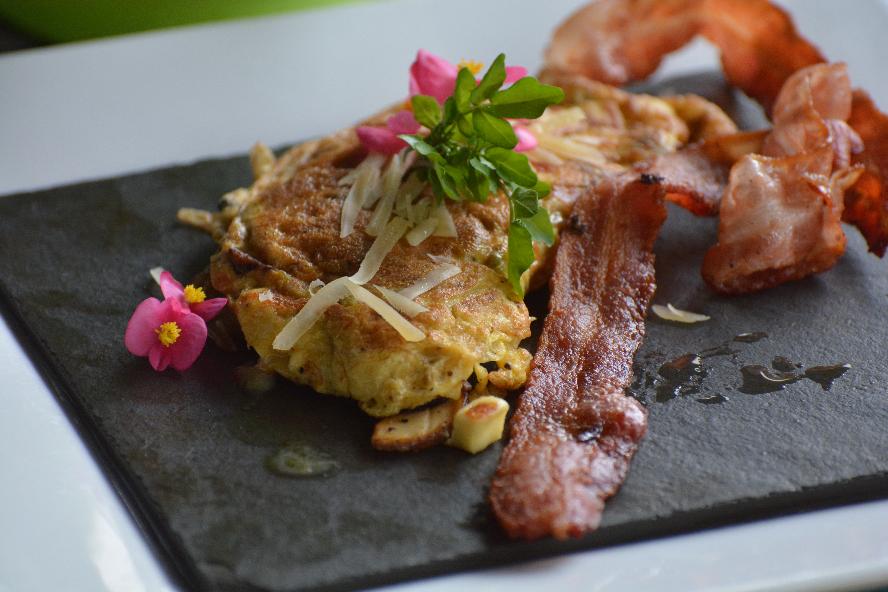 Gallo pinto - perfect for breakfast.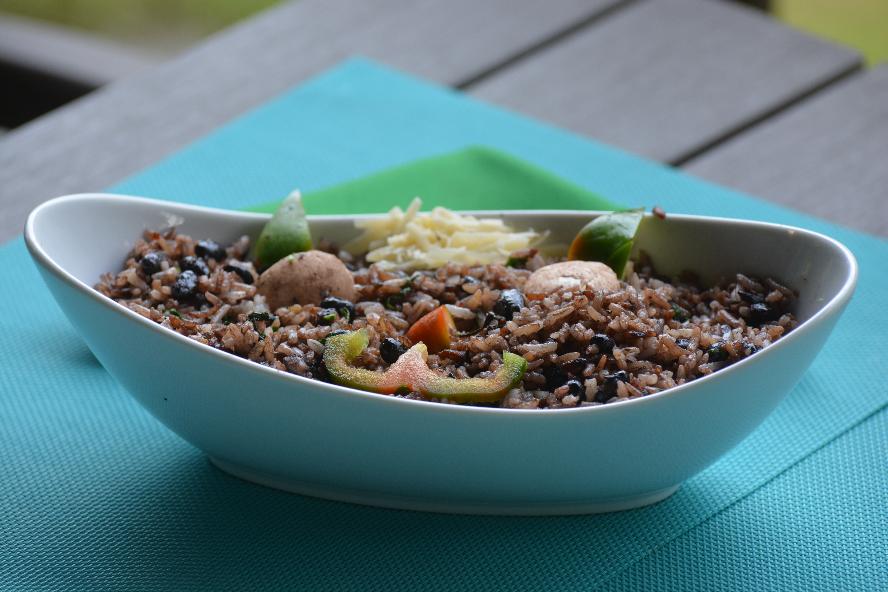 From our breakfast table a variety of birds frequented the trees (and bananas) nearby.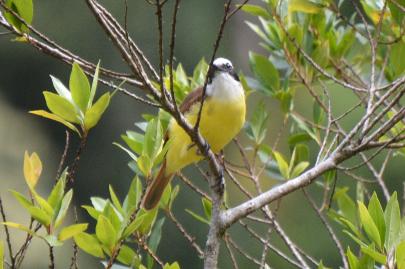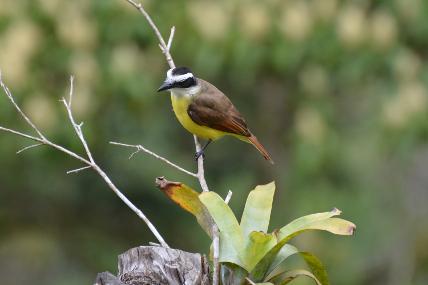 The Costa Rican oropendola and their unique elongated nests.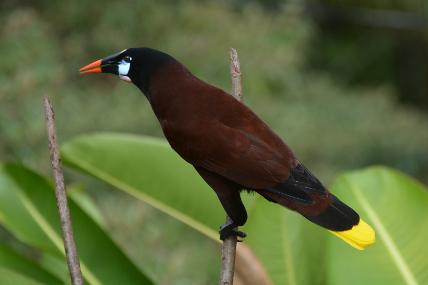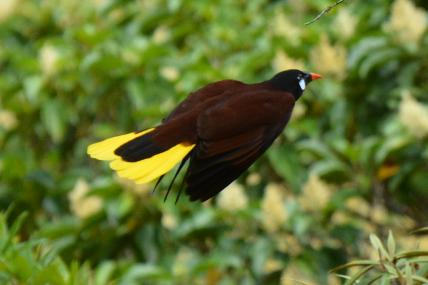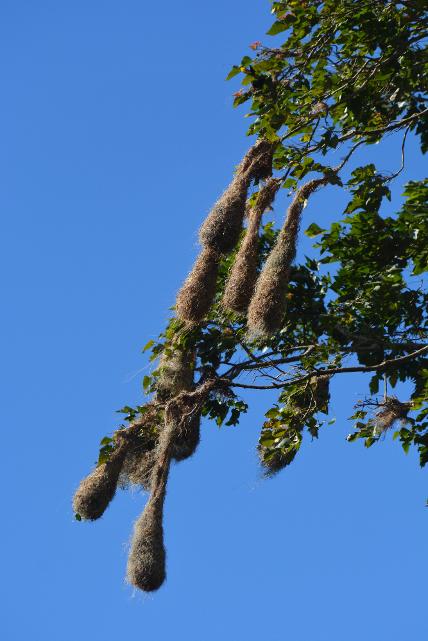 ... and the ducks and chickens.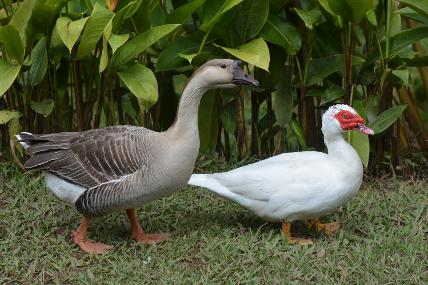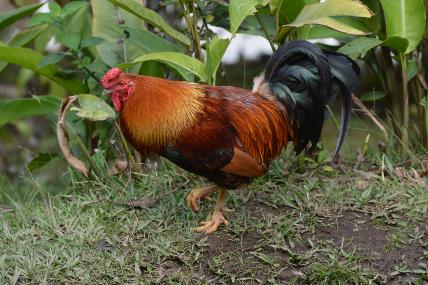 Looking down the valley from Hotel Quelitales.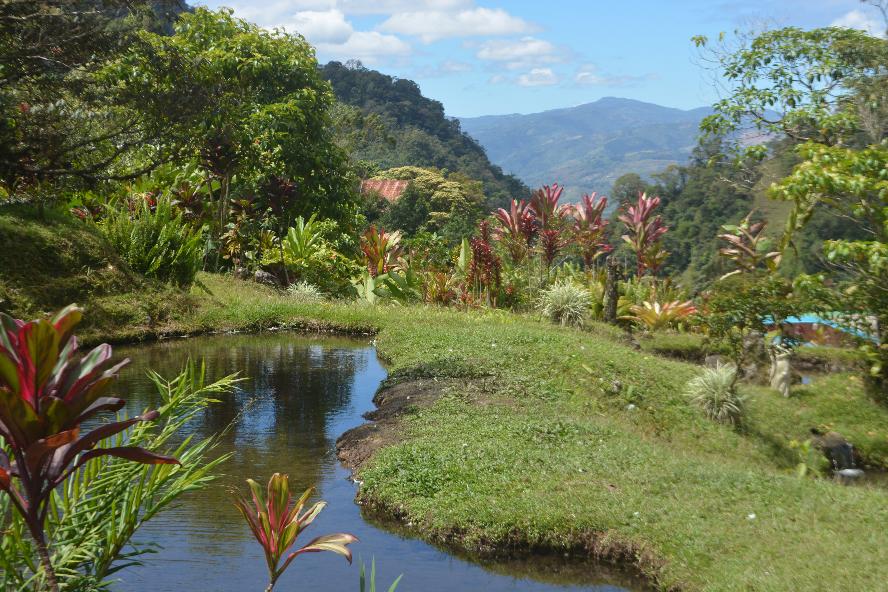 A fellow we saw on our drive - he was happy to have his photo taken when asked.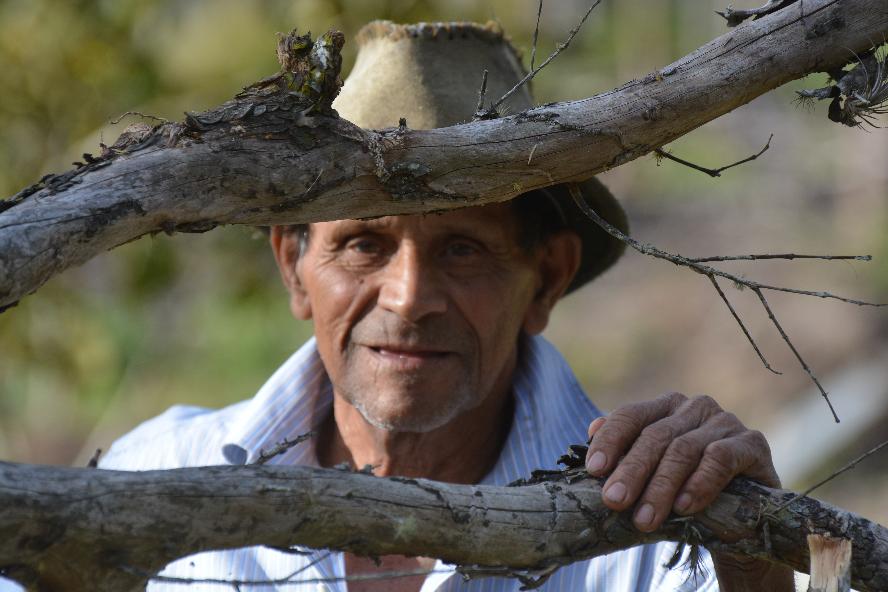 Jose's creation "from the heart" for Gayle - Thai inspired with mushrooms and tomatoes.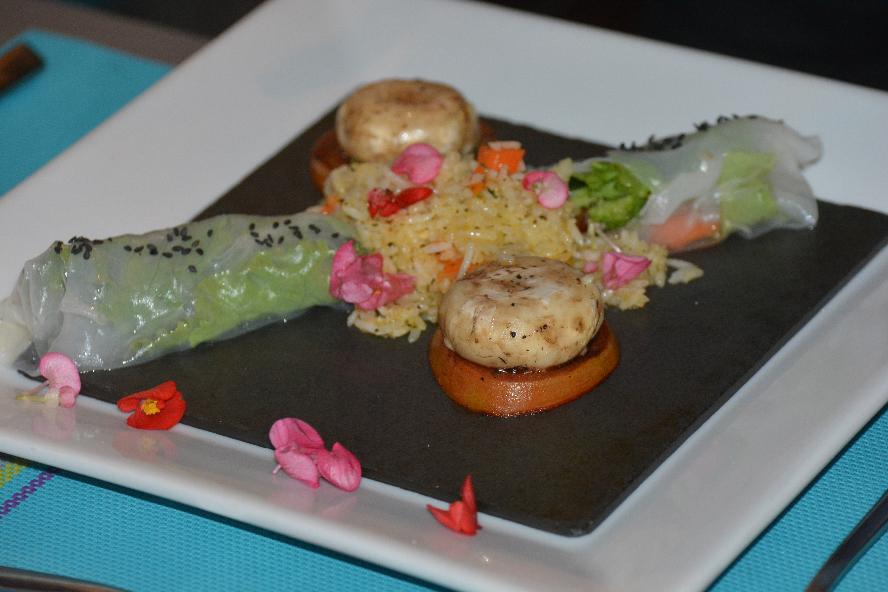 Jose serves trucha (trout) caught fresh in his pond in one of four ways. I went with the Trucha Casa Jose and while no doubt the others are also excellent I chose well - trout with shrimp and tomatoes cooked in banana leaves.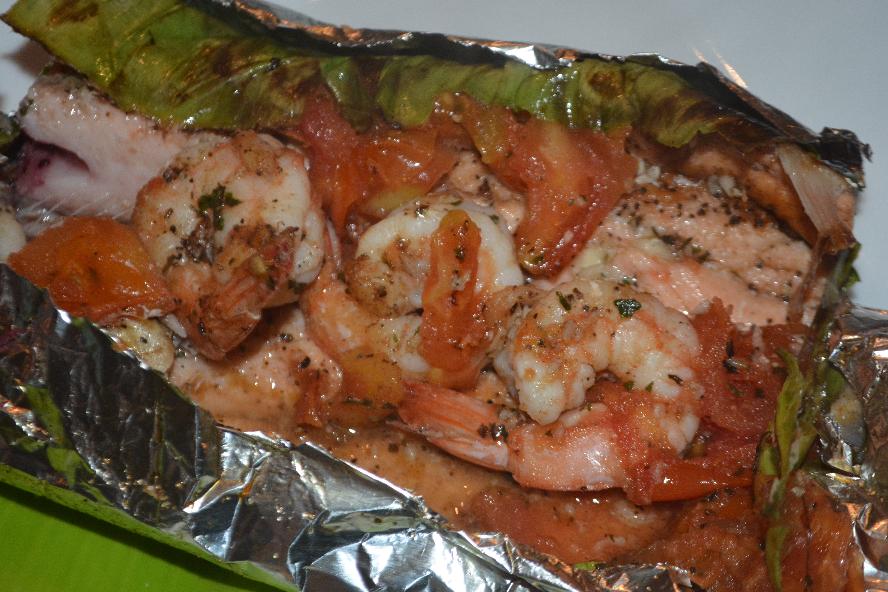 First there is the ice cream with some chocolate and almonds, then Jose flambéed the brandy with the sauce and bananas to create Bananos flambeados con brandy - absolutely delicious and a wonderful way to end another superb meal.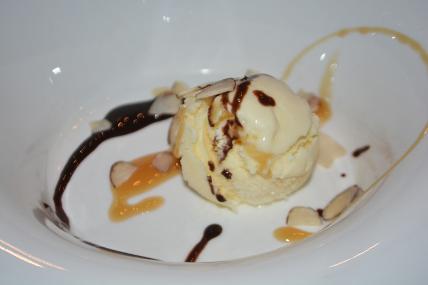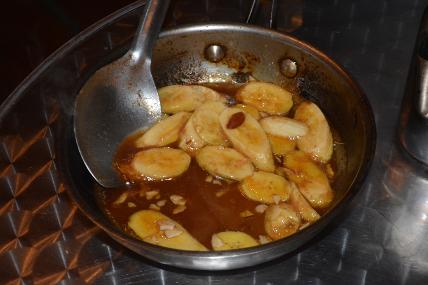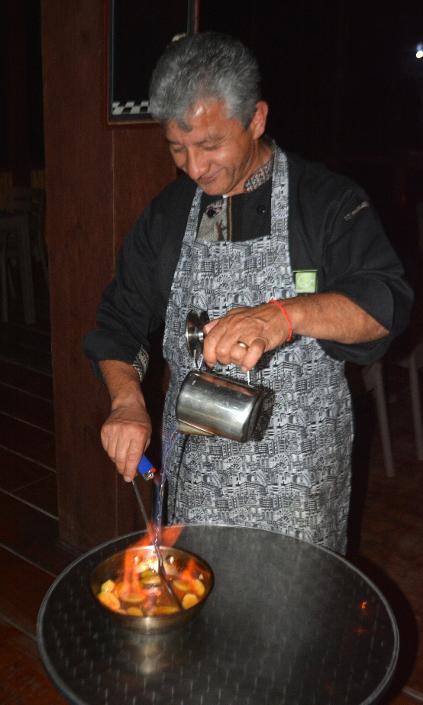 Feb 5, 2018 - Hfx to Montreal to San Jose, Costa Rica to Cachi (Hotel Quelitales)
Today was a long travel day. A 5:50 am flight to Montreal necessitated us getting up at 3:00 am. Although there was heavy rain it was quite warm so no issue with departing on time. We made our connection in Montreal where after deicing we left on the 5 ½ hour flight to San Jose. After a slow process getting through immigration we had no problems finding the shuttle to our vehicle rental – a 4x4 which is pretty much necessary if getting off the main roads here in Costa Rica.
The drive from the airport through San Jose and then on to Cartago and Paraiso and up into the mountains was only 64 km but took 2 hrs and 10 minutes. One missed turn but instinctive navigational sense quickly got us back on the right road. When we arrived (at 4:40 pm) Jose told us we actually made good time.
Hotel Quelitales, near Tapanti National Park is at a relatively high elevation, over 1,350 metres (4,000 ft.), and as a result somewhat cool with temperatures in the mid to high teens – certainly not shorts weather. This is not the hot coast of Costa Rica (that will come in a couple of days) but up in the mountains, in the cloud forest where the slopes are covered with lush rain forest and waterfalls abound, including a 72 metre one within view of our cabin. Our cabin, Colibries, is isolated providing plenty of privacy. The rain forest encircles the cabin, with the moist lush vegetation growing right up to the wrap around deck. The cabin itself is large with lovely wood floor and colourful prints on the walls. There are numerous huge picture windows providing lots of light and views of the rain forest. The bathroom opens to an outdoor shower, reminiscent of those in Hawaii. We love it.
Being quite exhausted from the early morning and somewhat stressful drive after a quick unpack we headed down to the lodge for dinner. The food was remarkably good, prepared by Jose at his aptly named Casa Jose Restaurant. We each enjoyed a soup - Gayle a local squash and me a flavourful chicken broth over eggs mixed with the green flower of the quelites, or local squash. The menu doesn't have any explicit vegetarian dishes but Jose made Gayle a nice penne pasta with cheese, hongos (mushrooms) and tomato sauce. I thoroughly enjoyed my Parilla, a large cut of beef served with potatoes and bananas and side sauces of tomato and butter/garlic. Delicious. We accompanied the meal with a nice Carmenere wine from Chile and finished with Crepe de Baileys - a crepe with ice cream and bananas covered by Baileys with almond sauce. If only all our meals here in Costa Rica and Panama will be any where near this good.

As we were leaving after our meal Jose asked us to wait a minute or so after which he provided us with a couple of hot water bottles. With the cabins not being heated and it getting a bit cool up here high in the hills it was a very thoughtful gesture, as was the flashlight he provided. Of course it did not take us long to turn in and fall fast asleep.


After driving through/around the hectic city of San Jose and then the busy towns of Cartago and Paraiso we left the populated areas and were soon in our element - narrow rural roads with its own traffic obstacles. It is certainly not only pedestrians one needs to be alert to here in Costa Rica.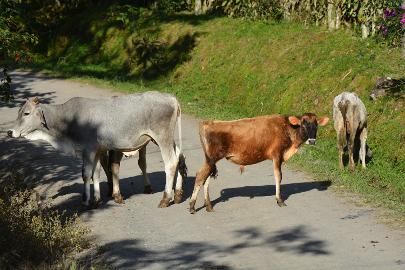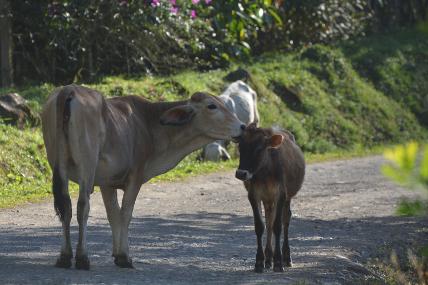 Although hot at the airport and during our drive, as we left San Jose to the east we began to ascend the mountains, eventually reaching Cachi and Hotel Quelitales located at 1,350 metres (over 4,000 feet). There was no doubt we were in the cloud forest.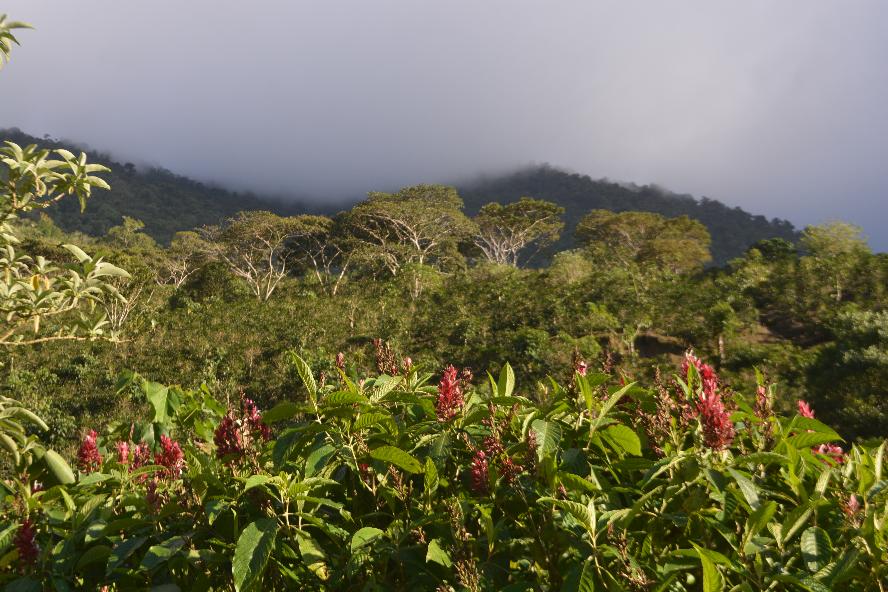 Hotel Quelitales is located at the end/top of a valley that descends from a ridge over which this waterfall emerges. Yes the telephoto lens helps but indeed we can see, and constantly hear this waterfall from our deck.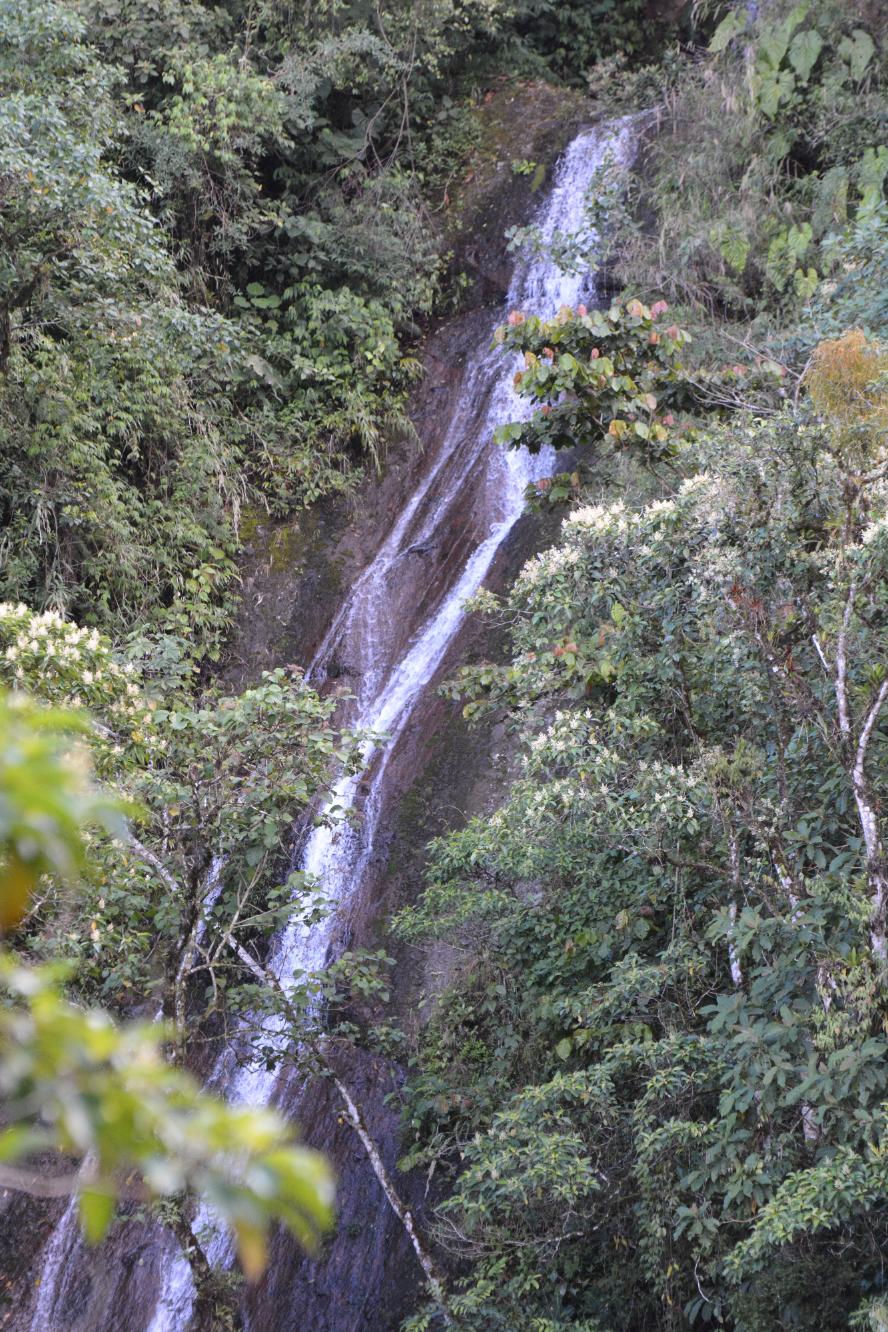 While most of what we see from our deck are the lush green foliage of the rain forest every so often there is a splash of colour provided by flowers such as these.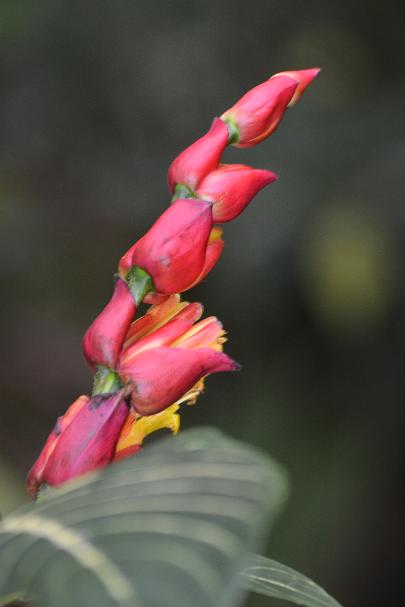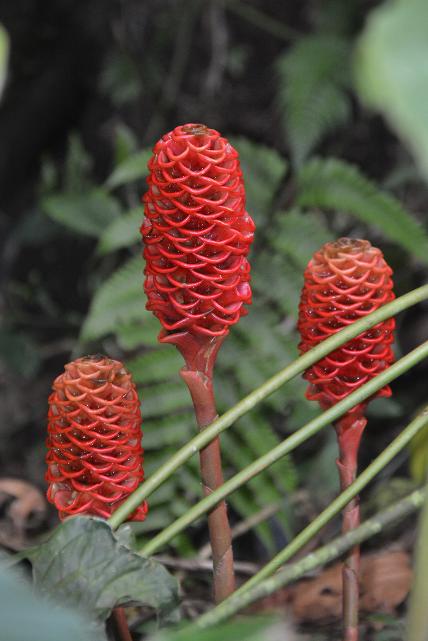 Our cabin Colibries, is extremely private with a wrap around deck, beautiful wood floors, lots of windows (and light) and an outdoor natural shower. All very impressive, not to mention the view of the waterfall.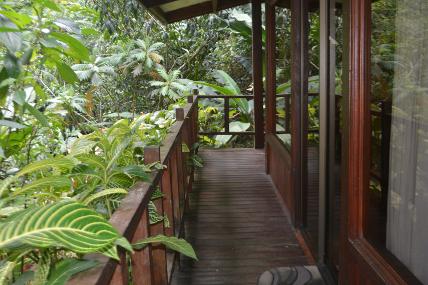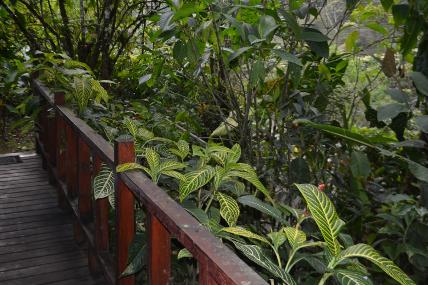 A large bed with nice artwork and a huge window to the lush vegetation just outside.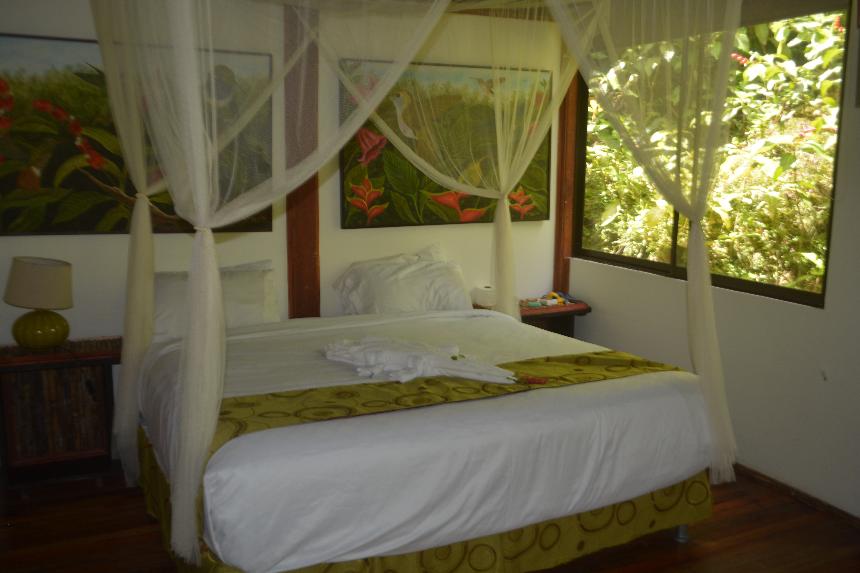 Very impressive towel creations (and yes the elephant has fresh flowers on her head).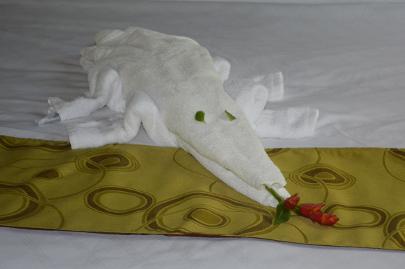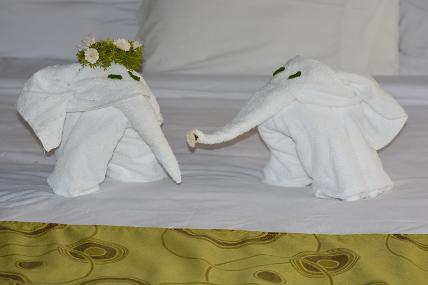 The inside of our cabin, with nice comfy chairs and looking outside to our deck on the edge of the rain forest.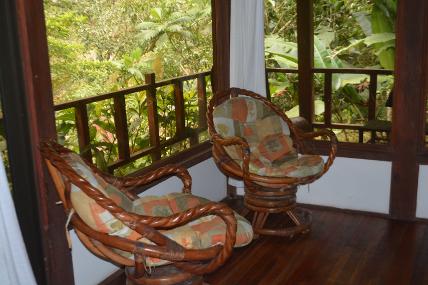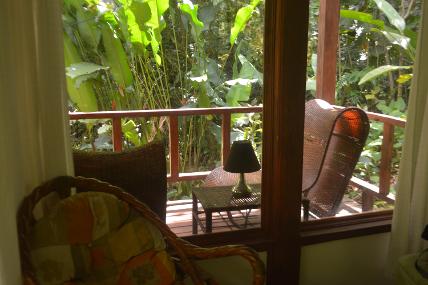 My bowl of Caldo de Pollo con Quelites (a soup of rich chicken broth with the flower of green squash in egg) and below for Gayle a vegetarian penne with hongos (mushrooms), tomato sauce and cheese, all served by Eli.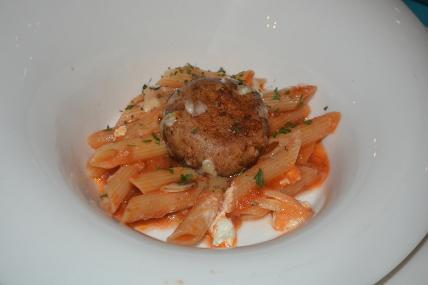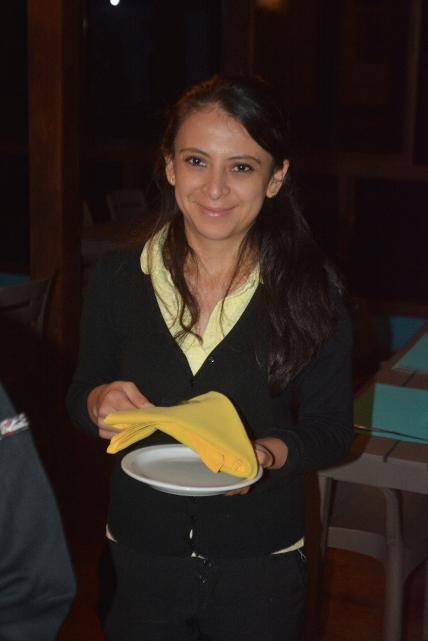 Jose pouring the broth over the egg/squash to create my Caldo de Pollo con Quelites.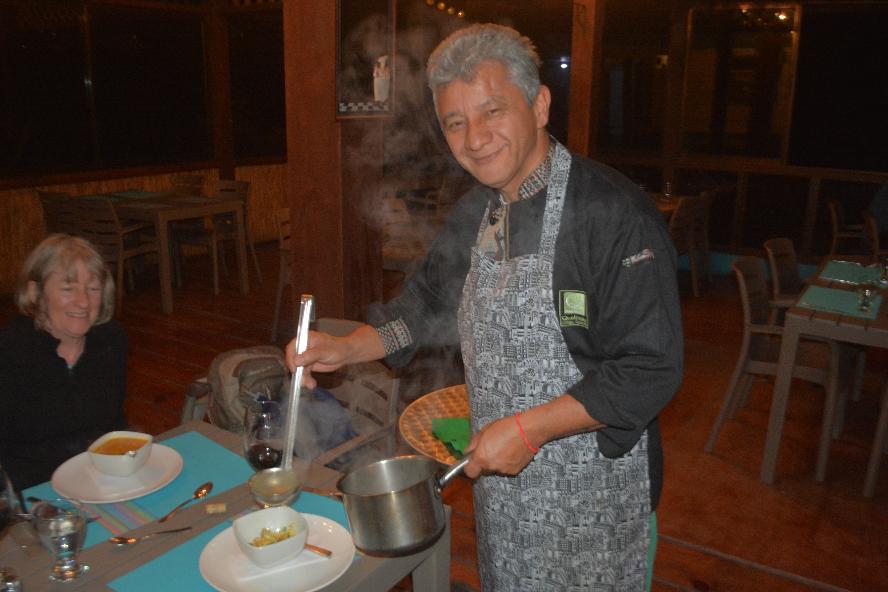 Parilla - Montado sobre carne de papas salteadas y banano maduro, acompanado con chimol y chimichurri.



Crepa de Baileys - Rellenas de halado y banadas en salsa calente de Baileys con almendras.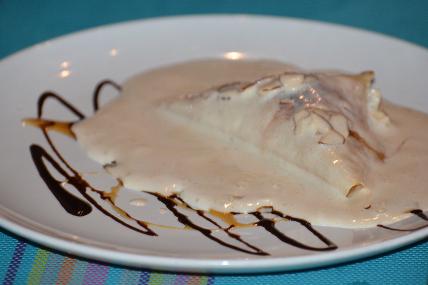 Having enjoyed the south (Pacific side) of Costa Rica so much last year, especially the wealth of wildlife we have decided to return again this year. This time we will be visiting the Caribbean side for five nights in Costa Rica and then crossing the border into Panama and the islands of Bocas del Toro for eight nights prior to spending our last three nights in Panama City.
Last year internet service either did not exist or was so slow it was not possible to maintain the travel blog. We completed it after we returned home. We expect it will be the same this trip but will see. If interested here are the places we will be staying.
Hotel Quelitales Cachi Cartago www.hotelquelitales.com
Hotel Banana Azul Porto Viejo www.bananaazul.com
Finca Vela Lodge Isla Pastores, Bocas del Toro www.fincavela.com
La Loma Jungle Lodge Bahia Honda, Bocas del Toro www.thejunglelodge.com
Casa Cayuco I|sa Bastimentos, Bocas del Toro www.casacayuco.com
Casa Sucre Panama City www.casasucreboutiquehotel.com
Riande Aeropuerto Panama City www.riandehoteles.com