Memories of Greece (Astypalea, Amorgos, Koufonissi, Mykonos, Ikaria, Samos and Chios):
Over four weeks in Greece. Here are our most vivid memories, in no particular order
the sunsets (and sunrises), particularly in Ikaria and Chios -
every night seemed more colourful than the previous; arguably consistently the nicest we have enjoyed
traveling with Bill and Linda, sharing experiences, laughs, and sometimes food

the dramatic west coast and beaches of Chios
surprisingly how much we enjoyed Chios
Prygi - the etched buildings; and the elderly
the military 'training' on Chios (and military presence on Samos)
returning to southwest Samos where we camped on a beach 39 years ago
fresh orange juice
Mary Mary - our go to restaurant in Ikaria
Ikaria wines - the best house (Mary Mary), the worst house (Karkinagri) and a nice wine tour (Afianes)
Scam Cat (and Scam Cat Too too)
the dramatic west coast of Ikaria
our lodgings (Kalderimi, Pano Gitonia, Pambelos Lodge, Toxotis Villas, Armonia Bay Hotel and Volissos Holiday Homes) - we chose well
a number of memorable restaurants -
Akti in Astypalea
Mary Mary and Anna's, Ikaria, and
Barouzo, Chios
lots of windmills (Astypalea, Amorgos, Koufonissi, Mykonos, and Chios)
the experience of being invited into the kitchen at Anna's Taverna in Nas, just like the old days
being 'stuck' in Amorgos for a couple of extra days due to the winds cancelling ferry crossings; our 'sleep over'
returning to Pano Gitonia
the village of Lefkada (Amorgos)
Alex
the beaches of Koufonissi (in particular Pori and Finikas)
the views of the sea from our rooms -
Pano Gitonia (Amorgos)
Keros Island from Pambelos Lodge (Koufonissi)
Armonia Bay Hotel (Samos), and
Volissos Holiday Homes (Chios)
swimming nearly every day in beautiful turquoise waters
returning to Pambelos Lodge
picturesque Chora in Astypalea
Anna and the rest of the staff at Kalderimi

the many travelers and lodging staff we met along the way, including among others
Georg and Nicole (at Toxotis Villas, Ikaria)
Molly (at Toxotis Villas, Ikaria)
Stefanie and Gaetano (at Pambelos Lodge, Koufonissi)
Barbara (at Pambelos Lodge, Koufonissi)
Agnes and Florian (at Anna's Restaurant, Ikaria)
Chara (at Toxotis Villas, Ikaria)
Donna and Tonia (at Toxotis Villas, Ikaria)
Anna (at Volissos Holiday Homes, Chios)
Theo (at Pano Gitonia, Amorgos), and
George, Lola and Renata (at Pambelos Lodge, Koufonissi
great breakfasts
the mushroom risotto at Armira in Koufonissi
wonderful Greek food - the Greek salads, moussaka, aubergines and village sausages
did we mention the sunsets?
We did not buy much in terms of souvenirs - these two Christmas ornaments (Chios) and this Chios doll to add to our collection.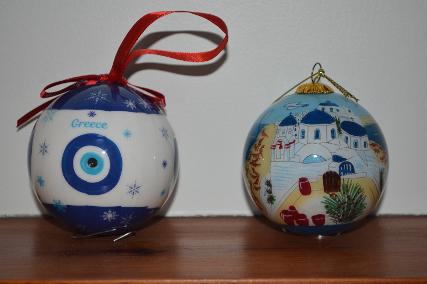 And a plate (the pottery is from Sifnos) in Amorgos.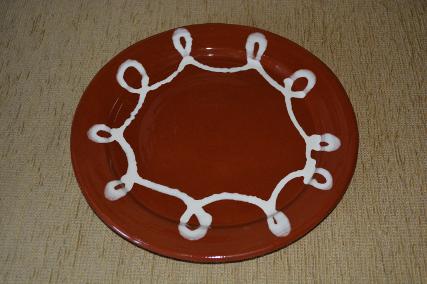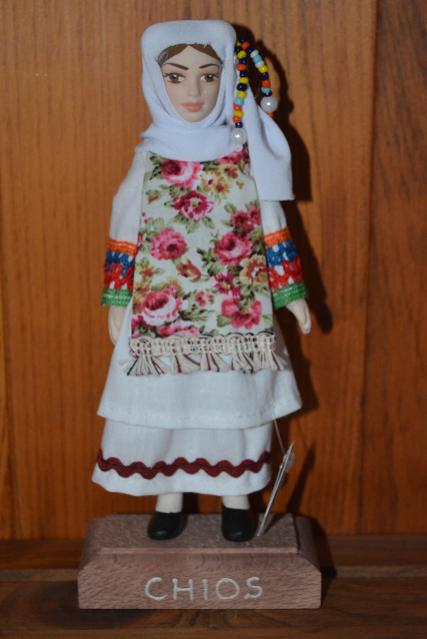 Expenses (based on average exchange rate 1 euro = $1.52 Cdn):
Here are the costs of the Greece portion of the trip
$ 641 airfare - internal flights only (Athens to Astypalea and Samos to Chios)
$ 360 ferries
$ 4,443 lodging (100 euros or $152 per night)
$ 1,759 food (38 euros or $59 per day - primarily dinner including wine)
$ 1,075 car rental ($894 or $36 per day for the 25 days we had a vehicle) and fuel ($181)
$ 269 miscellaneous ($232) and entrance ($37)
$ 8,547 for 30 days
Reflecting only internal airfare within Greece (Athens to Astypalea and Samos to Chios) the average cost per day (internal Greek flights, ferries, lodging, food, entrances, vehicle and miscellaneous) was $285, our least expensive trip in a long while.
The airfare re this trip is difficult to compare to others in that we took
a one-way flight from Halifax to Athens (via Montreal) for $1,284 (somewhat expensive) for the both of us,
a separate flight from Athens to Astypalea - $373 total,
then another from Samos to Chios - $267 total,
and finally Aeroplan ($638 plus 115,000 Aeroplan points for two Business class seats) home from Izmir to Halifax (via Istanbul, Vienna and Montreal).
Food and wine, keeping in mind most breakfasts were included in the lodging cost, was less than previous trips to Greece - only 38 euros ($59) per day. This represents a few supplies for a few breakfasts, e.g. coffee, yoghurt, oranges for juice etc. and the cost of dinners, generally including a glass of house wine / retsina each. Note all food costs include tax and tips. As one can no doubt assess from the food photos we ate very well.
Lodging ranged from a low of 75 euros to a high of 155 euros a night. All except Pano Gitonia included breakfast. Here is a list of where we stayed, the amount we paid and the website.
113 euros Kalderimi Villas Astypalea www.kalderimi.gr
75 euros Pano Gitonia Amorgos www.amorgos-panogitonia.gr
80 euros Pambelo Lodge Koufonissi www.pambeloslodge.gr
113 euros Aeolos Hotel Mykonos www.aeolos-hotel.com
104* euros Toxotis Villas Ikaria www.toxotis-ikaria.gr
157 euros Armonia Bay Hotel Samos www.armoniahotels.com
81 euros Volissos Holiday Homes Chios www.volissosholidayhomes.gr
* 10% discount for staying seven nights
It is our practice not to using any booking agency, e.g. Booking.com but rather book online directly with each place we stay, after having contacted them through email. In this way we save the establishment the booking commission and are familiar to the staff when we arrive.
The average lodging cost was again at the low end of elsewhere in Europe, at 100 euros ($152). As previous trips this is exceptional value for the quality of lodging / breakfast we enjoyed.
160 euros - 2017 Spain (Andalucia, Sierra Nevadas and Majorca)
146 euros - 2018 Spain (Pyrenees, Catalonia and Menorca)
146 euros - 2019 Spain (Seville and Andalucia)
140 euros - 2012 Slovenia and Croatia
139 euros - 2014 Portugal/Spain
136 euros - 2013 Spain
129 euros - 2018 Italy (Tuscany and Umbria)
122 euros - 2013 Northern Italy
109 euros - 2014 Corsica/Provence
106 euros - 2016 Sicily
106 euros - 2018 Greece (Dodecanese)
100 euros - 2019 Greece (Cyclades and Dodecanese)
97 euros - 2017 Greece (Cyclades and Peloponnese), and
79 euros - 2015 Greece (Cyclades and Crete).
October 03, 2019 - Chios (Volissos) to Chios port and on to Cesme, Turkey
Another nice breakfast. Anna, who looked after us during our stay was somewhat reluctant to have her photo taken but agreed when Gayle suggested they get their photo together. It was nice being able to chat with Anna, to learn something of her move to Chios from Albania some 20+ years ago and how much she enjoys being here in Volissos.
Then just as we were about to leave the shelling, which last night was considerably louder than the previous nights, started again, the first time we heard it in the morning. Even Anna seemed somewhat startled saying it was 'amazing' and agreeing it was 'more than normal' and a 'lot'. And while she did say we would be ok still ....
We left the west coast and again drove over the top of the island to Chios port. A nice easy drive. We passed a set of windmills (obviously renovated) near Chios castle as we approached the port. Having been to the port a few days earlier when we first arrived in Chios we had no trouble finding the car rental office. With time to spare, we enjoyed a mason jar of - yes, fresh orange juice in a restaurant / taverna / bar on the edge of the port.
We found our ferry with no difficulty and boarded what looked more like a small oil tanker than a ferry but it got the job done.
It was sad to be saying good-bye to Greece but not the end of the world knowing we plan to be back next year for our 40th anniversary.
Our breakfast sweet - chocolate roll along with the spinach pies, and then Gayle and Anna.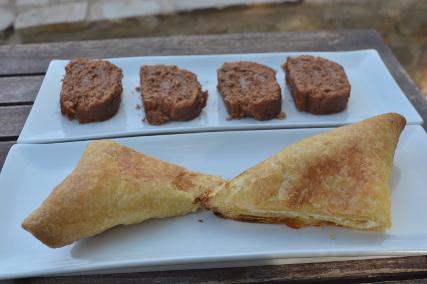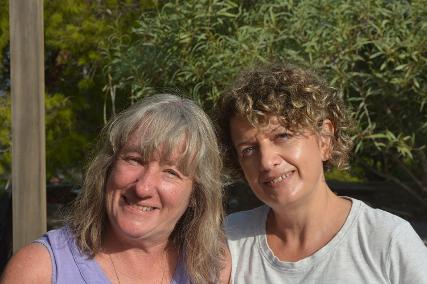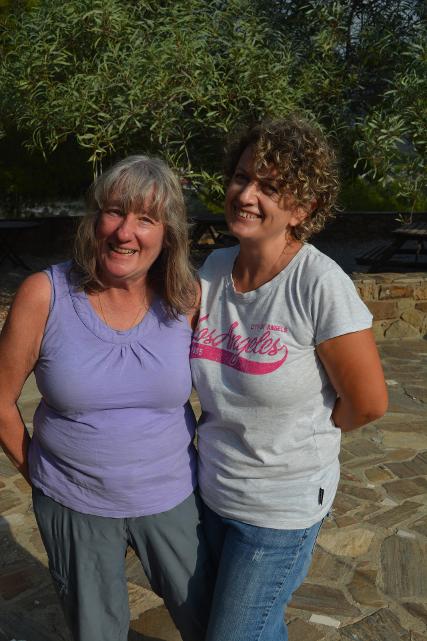 Did we mention we had a pretty decent view to the sea from our unit at Volissos Holiday Homes?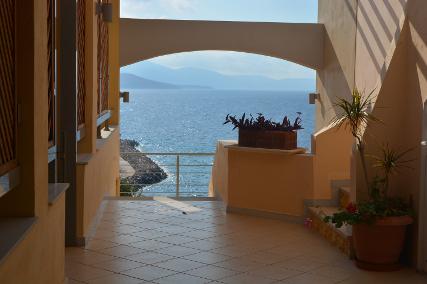 The barren rock strewn interior of Chios.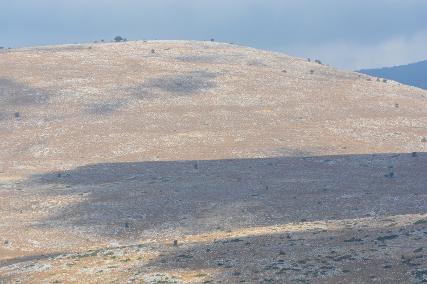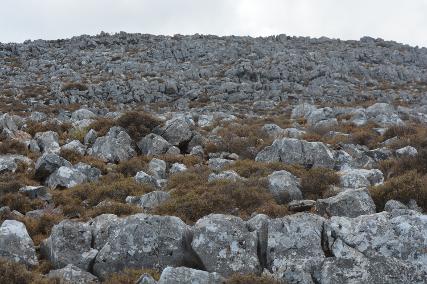 Windmills just north of Chios port.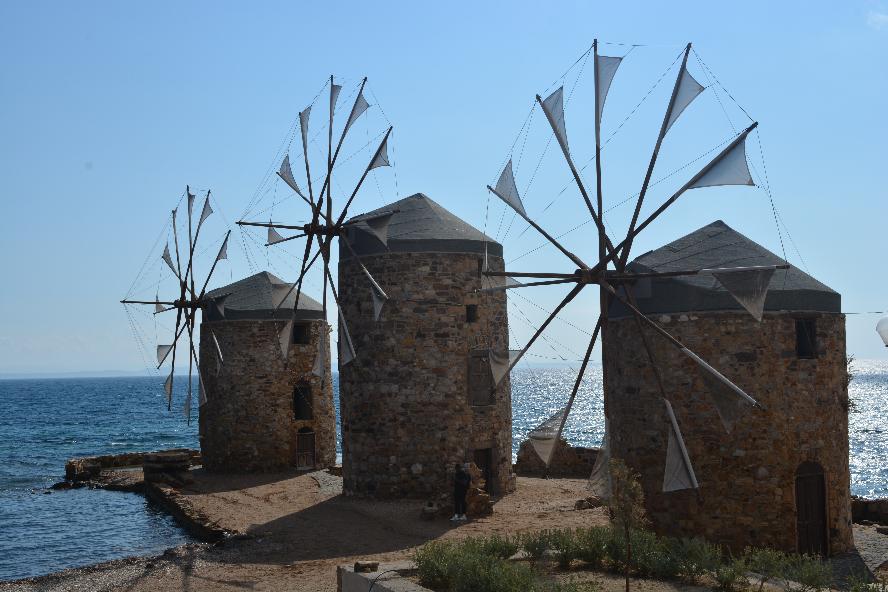 One last fresh Greek orange juice. Chios port as seen from our ferry.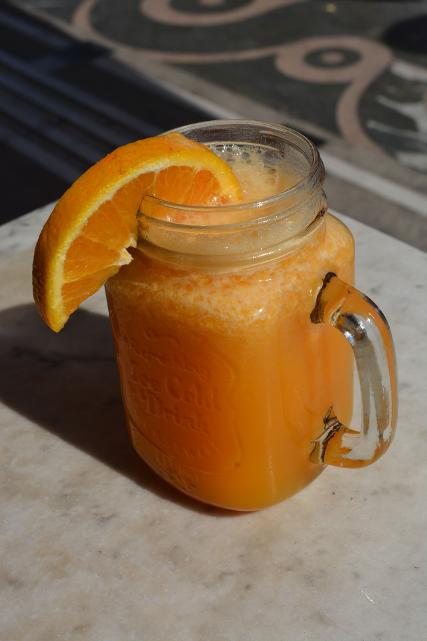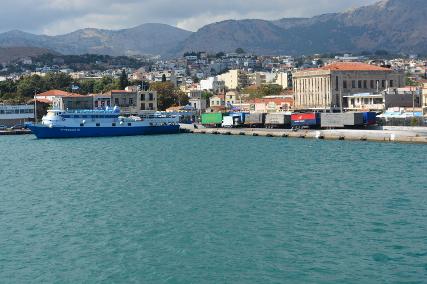 Our ferry the Turyol Chios.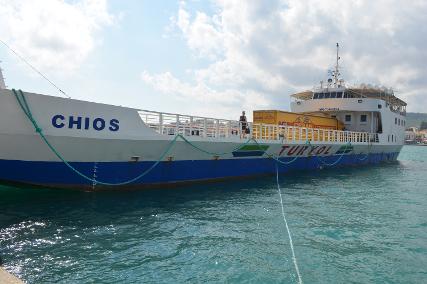 October 02, 2019 - Chios (Volissos) and the mastic villages (Pyrgi, Olymbio and Mesta)
If yesterday was a do-nothing day today was anything but. After another nice breakfast and chat with Anna we set off on a day trip to the southwest of Chios and the mastic villages.
The drive south along the west coast of Chios is spectacular, reminding us of the drive along the coast of Croatia. A mixture of barren rocks and pine forests every turn exposed another beautiful vista of colourful turqoise seas and long isolated beaches. Along the way we saw a number of watchtowers, medieval cylindrical towers built on the island's capes and shores to monitor the sea of enemy attacks. A number of these towers are Byzantine in origin, but the majority date from the Genovese occupation of the 14th and 15th centuries. The watchtowers continued to operate until the mid 18th century when the pirate problem began to settle. They were located short distances apart, in full view of one another creating a coastal observation and message transmission network. T
hirty of these towers have been located on the island, with a handful (near Lithi, Sidirounta beach and Mesta now having been restored.).
It was hard to make much progress as the photo opportunities were continuous.
We passed through the villages of Lithi and Vessa on our way to the three best known mastikahoria, the famous mastic villages of Pyrgi, Olymbio and Mesta. These are a series of fortified villages built inland, out of site of the sea, in the 14th century during the Genovese rule (1346 - 1566). Inside the castle walls was a central tower with no door at street level but rather was entered by ladders using bridges from the rooftops and then pulled up. The streets were also designed for defensive purposes, narrow and dark with blind alleys to confuse invaders and enable villagers to attack them from above using walkways and arches that connected the buildings. The houses themselves were small individual fortresses, an essential part of the whole castle and defensive system. The ground floor, where the animals lived, had one entrance and no windows. The main characteristic of the house is the
pounti
, a sort of patio on the first floor . The
pounti
had a ladder that went to the roof. In case of an invasion the ladder could be pulled up and the villagers could walk to the central tower for protection. The roofs of the village were also used for drying almonds or for sleeping out on hot summer nights.
Pyrgi is the largest of the mastic villages, interesting for the decorative designs scratched in to the exterior walls of the houses, know as Xista. Mostly geometric forms, xista has gone through several periods, possibly originating in Genoa or Constantinople. The process is still practiced today, even on modern buildings. The entire village is covered in these designs, including some of the churches and the local bank. Another feature of the village is the tomatoes which hang drying beneath many of the balconies, adding a splash of colour to the black and white designs on the houses. The other note to fame is that Prygi is believed to be the ancestral home of Christopher Columbus.
The second of the three towns is Olymboi. The outer wall of the village is still intact while the central tower, while still standing is in ruins. There is a beautiful little square, including the church of Agia Paraskevis. We stopped at one of the small cafes where we enjoyed a mid-afternoon drink.
Between Olymboi and Mesta, the last of the major mastic villages we detoured to the coast and Avlonia beach were we enjoyed our last swim of the trip. Again a pretty isolated beach, overlooked by another watchtower, with only a few others enjoying the sunny afternoon.
Mesta is a completely intact fortress town of 300 people, the best preserved of the mastic villages, a living history and cultural museum where life goes on the way it has for hundreds of years. In the Turkish genocide of 1822 many of the inhabitants were captured as slaves. But because mastic was so important a product, those who knew how to grow and process it were freed and sent back to the village. In 1858 the defensive tower, considered no longer necessary, was demolished to build the 'new' Church of the Taxiarchis, still the largest church in Chios.
The villages had an economy based on the cultivation of mastic, a gum like sap from the mastic trees unique to the island. The Genovese b
uilt fortresses to protect them. Mastic was so valued that when the Turks invaded and massacred tens of thousands of inhabitants of Chios, the mastic villages were spared. So what is mastic, also called Arabic gum? It is a resin obtained from the mastic tree. Here in Chios it is known as 'tears of Chios', due to being produced in 'tears' or droplets. Originally a sap, mastic is sun-dried into pieces of brittle, translucent resin. When chewed the resin softens and becomes a bright white and opaque gum. The flavor its bitter at first, but after some chewing releases a refreshing flavour similar to pine and cedar.
Producing mastic resin is a full-year process. The harvest takes place in the summer and early fall with the area around the trees cleared and sprinkled with inert calcium carbonate. Then, every 4-5 days incisions are made in the bark to release the resin. The drops hang from the tree, sparkling like teardrops resulting in them being known as 'tears of Chios' They take 15-20 days to harden and fall to the ground. Farmers then collect the pieces of dry mastic, wash them in natural spring water and spend the winter cleaning and separating the tears from the sand. The cleaning process is performed by hand, regulated by the Mastic Growers' Association.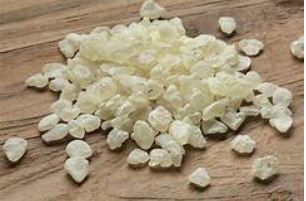 Mastic is used in a number of ways. In the Eastern Mediterranean it is considered a spice for food, used in baking and cooking, adding its aroma to brioches, ice-creams and other desserts. Mastic is used in a number of other dishes including
vegetable preserves, jams, soups, chicken, duck, and rabbit (Egypt),

smoked foods (Morocco),

desserts such as Turkish delight, puddings, soft drinks and Turkish coffee on the Aegean coast (Turkey), and

liqueurs, beverages, chewing gum, sweets, desserts, breads and cheese (Greece)
In addition mastic has been used for religious and medicinal purposes. Research is ongoing to see if the mastic resin might be useful in developing drug treatments for cancer or if it might be used to make surgical adhesives. It is also used in some varnishes, to protect and preserve photographic negatives. As well mastic is used in perfumes, cosmetics, soap, body oils and body lotion. In ancient Egypt it was used in embalming and when hardened can be used to produce incense. As you can tell an important and very well valued product.
Leaving Mesta and continuing clockwise we returned to the coast at Limenas, again enjoying a very scenic drive past a number of beaches before heading inland.
While passing though the village of Vessa earlier we saw what looked like a nice traditional restaurant in the town square. As the road took us back through Vessa we decided to stop their for dinner. This was our first experience where language was an issue. Our server, a nice Greek lady, knew no English. She tried to explain what they had as at this time of the year not everything is available. It was a bit of a struggle but in the end we shared a Greek salad, after which I had the moussaka and Gayle Imam Bayildi, actually a Turkish / Ottoman dish consisting of whole eggplant stuffed with onion, garlic and tomatoes simmered in olive oil. A very traditional last dinner in Greece.
The drive back was every bit as breath taking as the drive along the coast earlier, this time with the dimming light and setting sun, again generating all kinds of colour in the sky. A great end to a great day.
Again during the early evening we were startled by even louder and more persistent explosions, significant enough to shake our building.
The village of Volissos below the castle.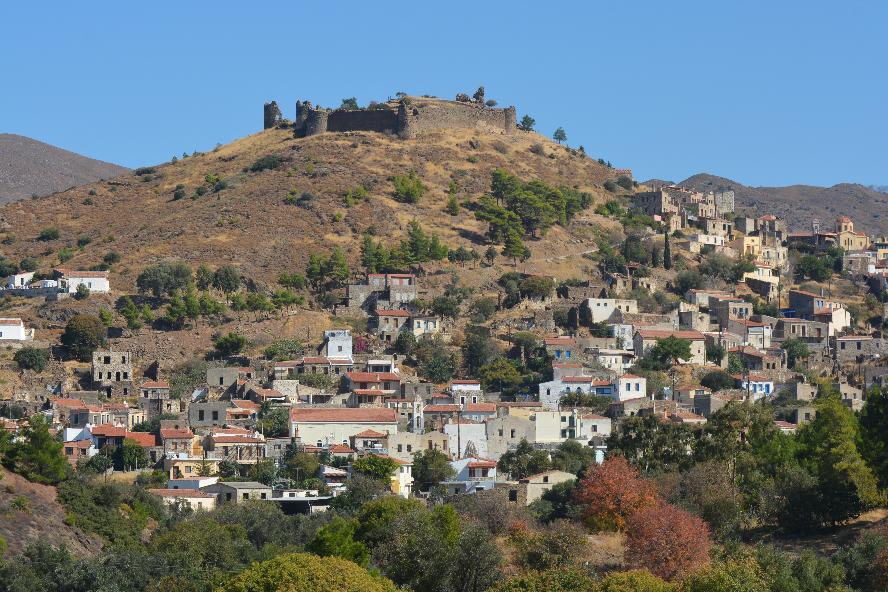 One of Chios' watchtowers. An unusual olive grove on the generally barren Chios coast.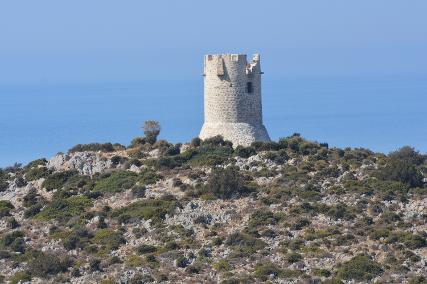 Another gorgeous, long, isolated and vacant beach - just one of many.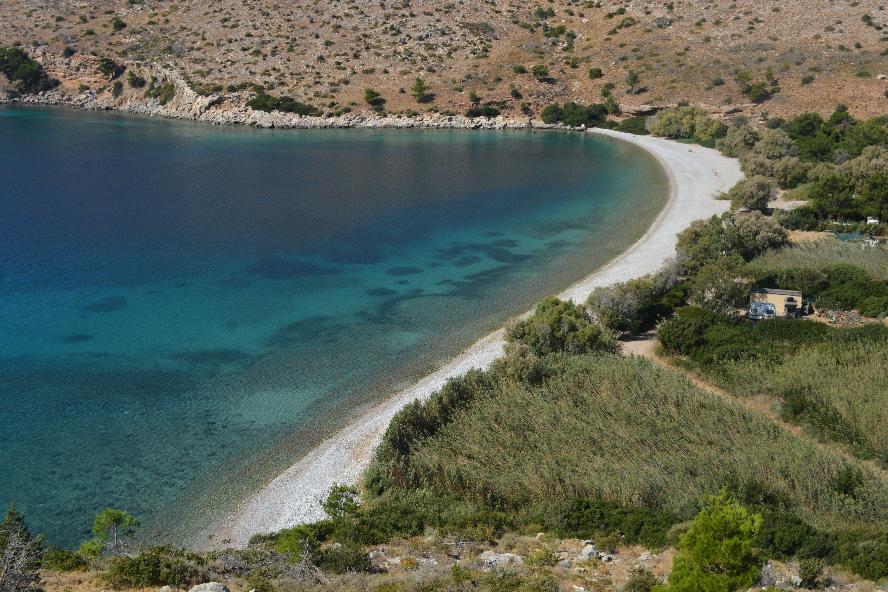 The drive along the west coast of Chios passed bays and beaches around nearly every corner - beautiful.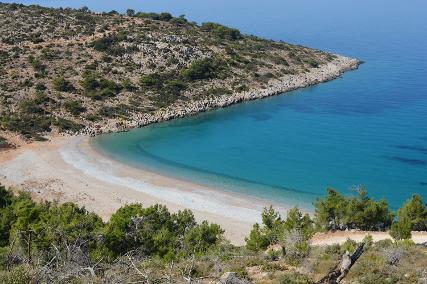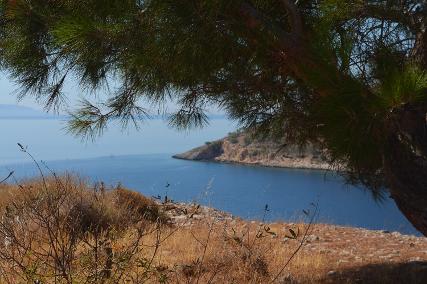 Absolutely vibrant turquoise coloured water.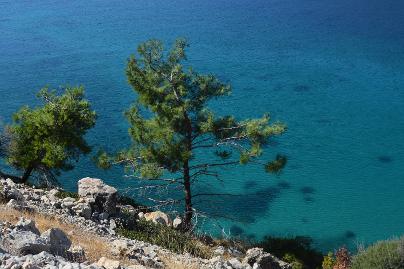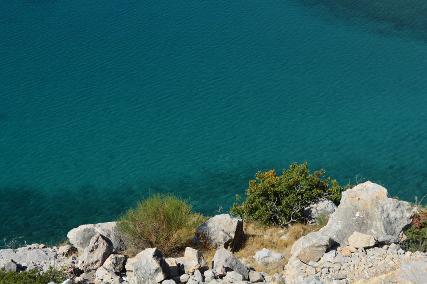 An old windmill near Volissos and a couple of more elaborate shrines to those who lost their lives along the roads.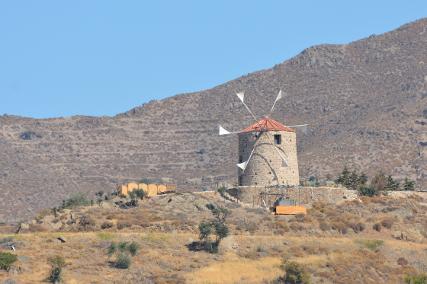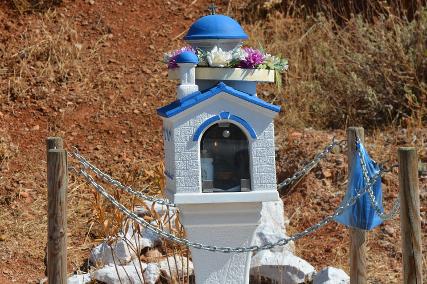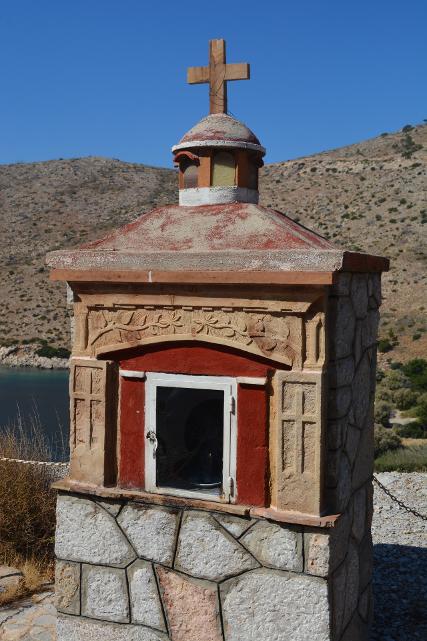 Some of the elderly women seen in Pyrgi, many of whom were wearing these white head scarfs.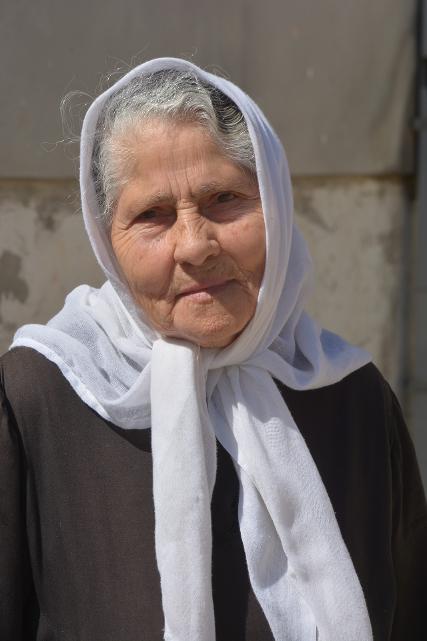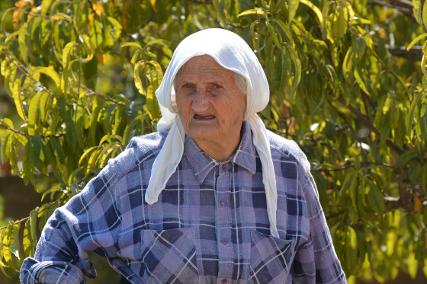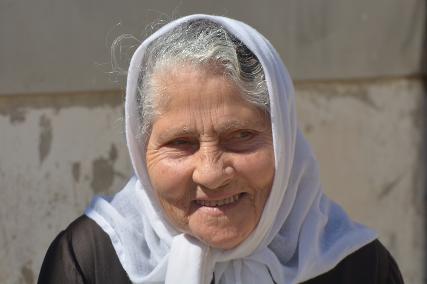 Pyrgi is famous for its black and white painted buildings - primarily of decorative motifs called
Xistà.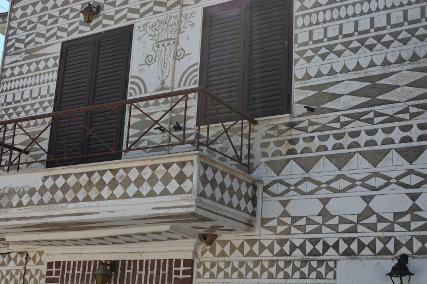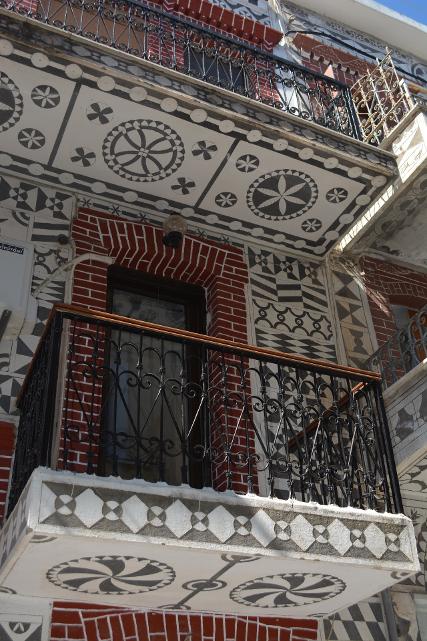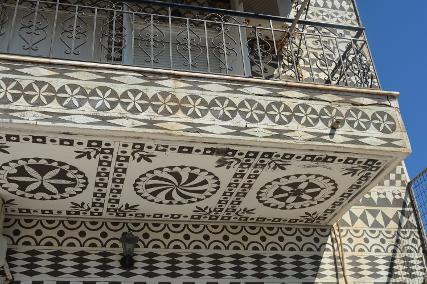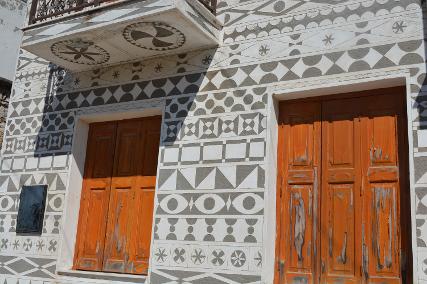 More locals enjoying a sunny day in Pyrgi.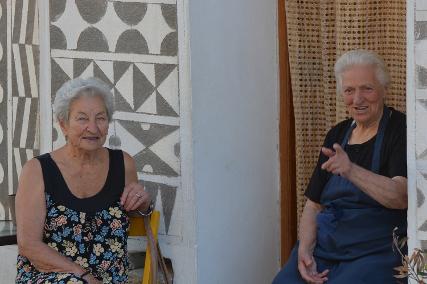 The manual (and regulated) process of separating and cleaning the mastic tears.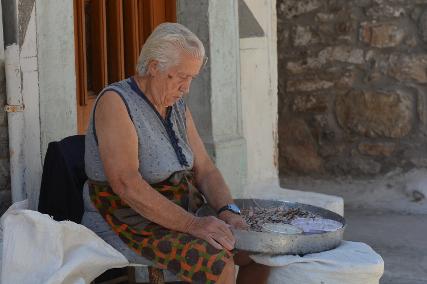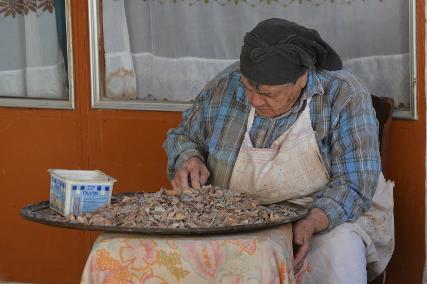 Pyrgi is also known for its tomatoes - it was common to see tomatoes hanging on the walls to dry.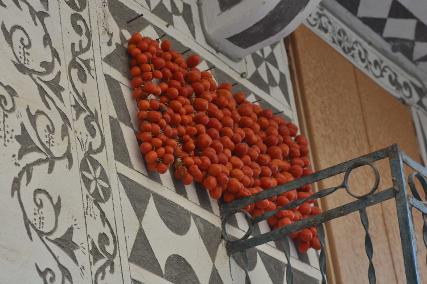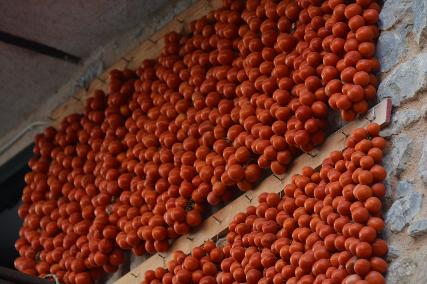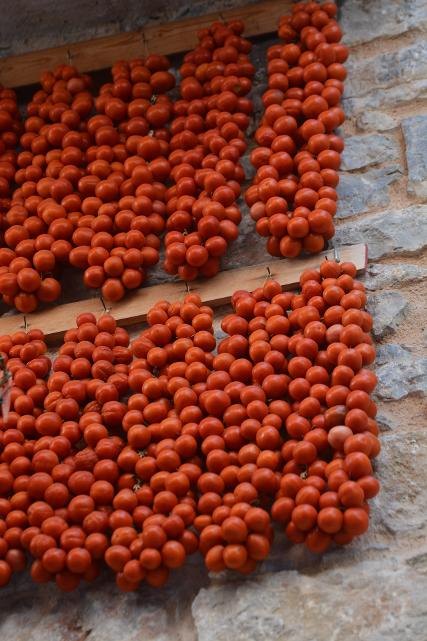 We stopped in Olymboi for a drink - fresh orange juice for Gayle and a local 'fresh' Chios beer for me.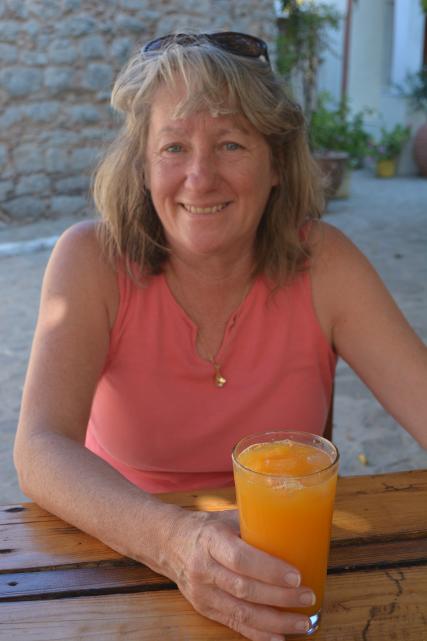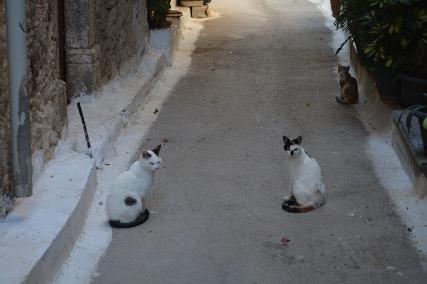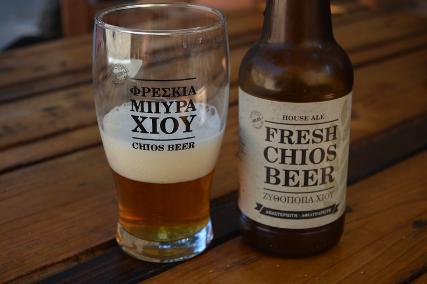 A narrow alley in Olymboi and part of the church dating from 1742.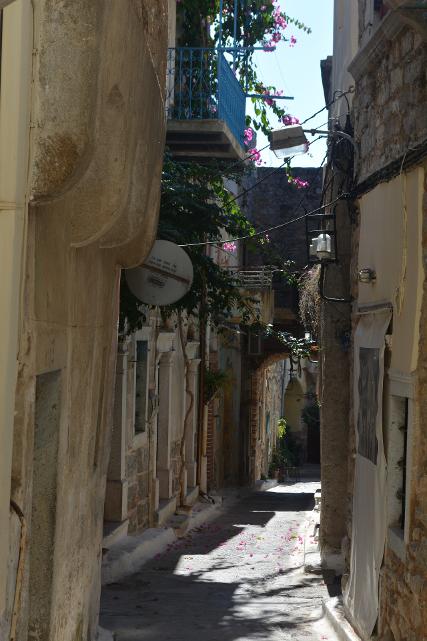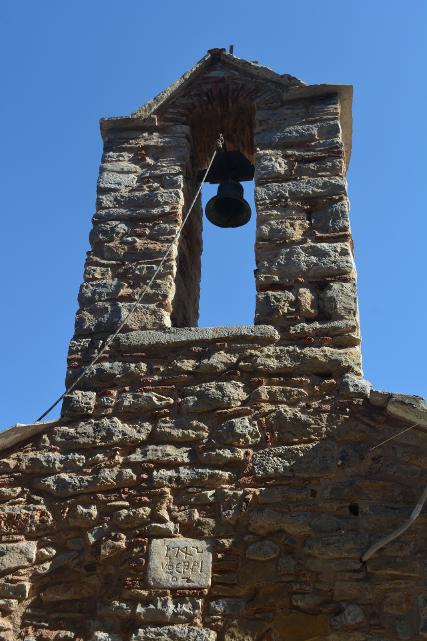 Our last swim at Avolonia beach on the southwest coast of Chios, 6 kms south of Mesta.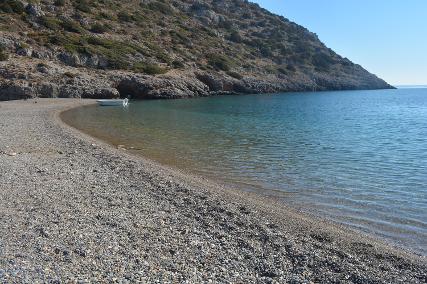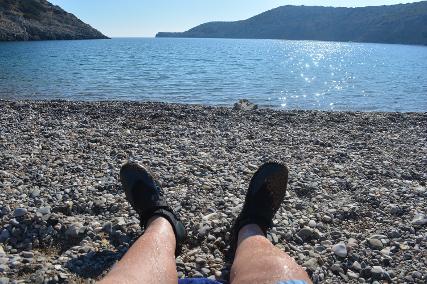 Mastic trees sprinkled with calcium carbonate before harvesting.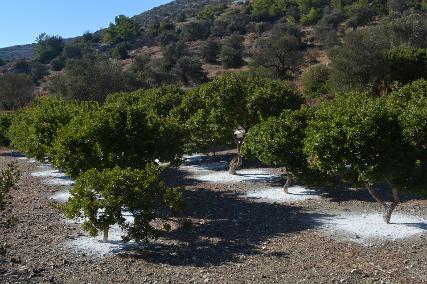 A pomegranate tree with ripe pomegranates.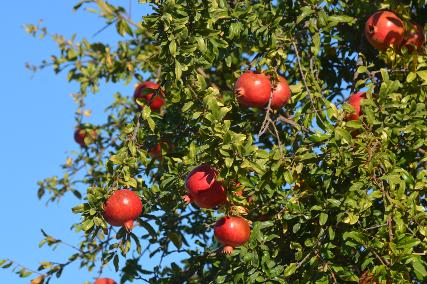 In the village of Mesta one sees many locals socializing just passing their time.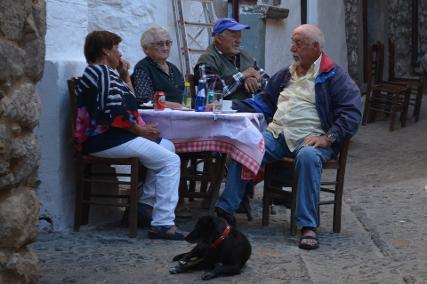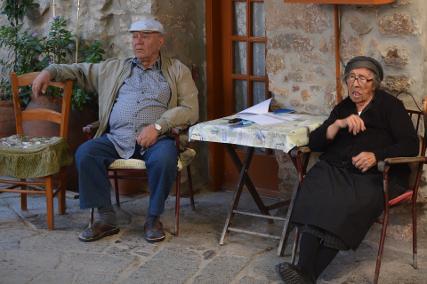 The Portugese like stonework surrounding the new church of Taxiarchis.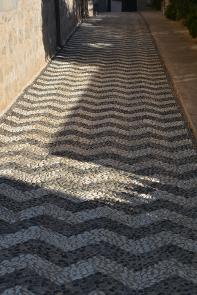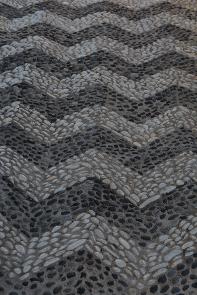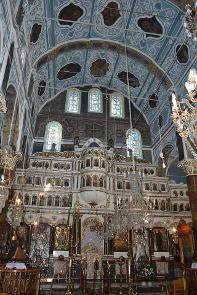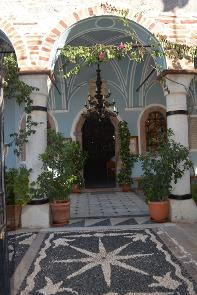 And yet more locals socializing.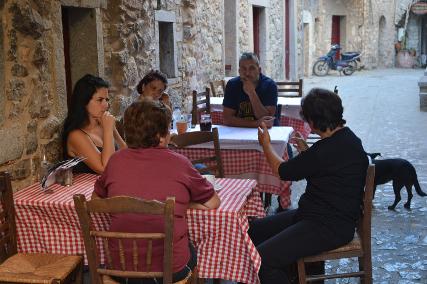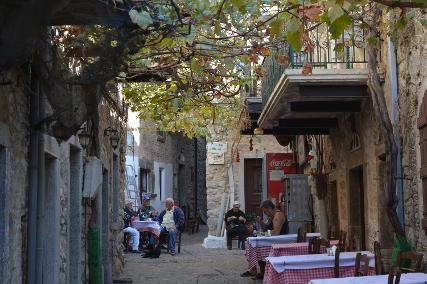 A typical Greek restaurant in the village of Vessa's town square - men playing backgammon and a cat just hanging out.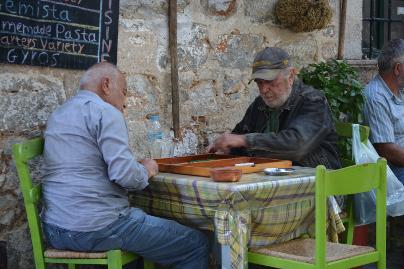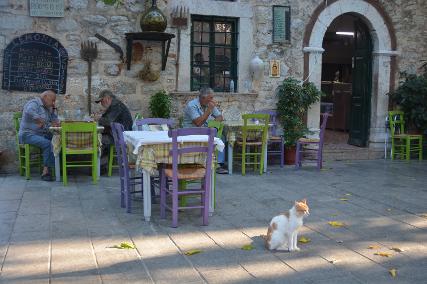 The menu on the wall of Lemonia Taverna. Starting with another Greek salad.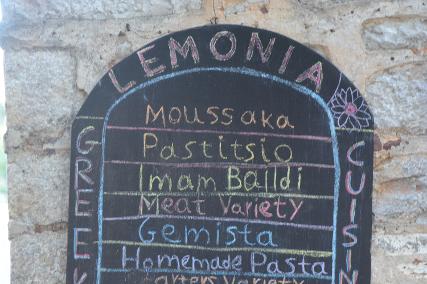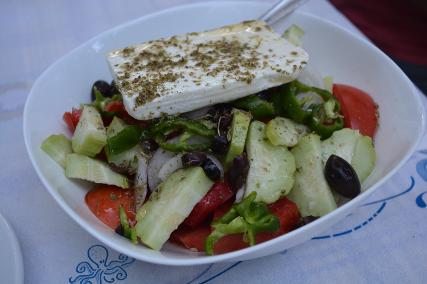 Mousakka ... ... and Imam Baildi - stuffed aubergine.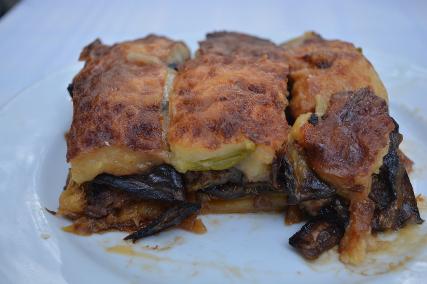 And then on the drive back to Volissos once again we were treated to another colourful sunset.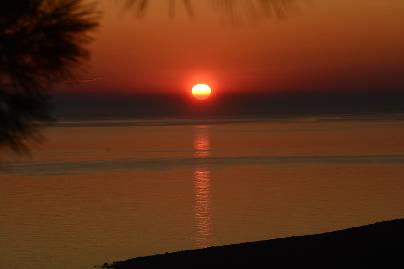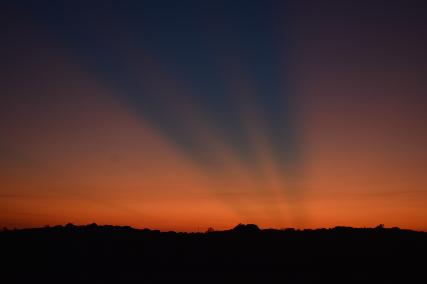 October 01, 2019 - Chios (Volissos)
A do-nothing day. We continue to not feel great and with a comfortable place with great vistas over the sea ended up mostly just hanging around our place. We started the day with breakfast (the spinach pastries were particularly delicious) overlooking Lefkathia Bay and beach. This is a perfect setting for a long leisurely breakfast. We chatted with Anna, originally from Albania, about the area and her family as she served us.
We considered a drive around the northwest of the island but given the circular drive is nearly two hours (without stops) we decided against doing so. Although in some ways we regret not going, especially given the spectacular drive south the next day, we were just not up to it. Rather we went to nearby Lefkathia beach for a swim, certainly a nice way to spend some time. At this time of the year the beach is pretty empty, with only perhaps a half dozen others enjoying the great weather.
Being impressed with the location, food and service we returned to Barouzo, on the dock adjacent to the port, for dinner. Again we were welcomed by cats, ducks and the ever-present port goose. Maria again provided friendly service. We shared a grilled 'Mastelo' cheese, the traditional cheese of Chios after which Gayle had white bean soup in a dutch oven and I Tigania - pan fried pork with Armoni wine sauce - an excellent choice. A glass of white wine (only 2 euros) and a 500 ml bottle of retsina accompanied our meal. Our 'gift' of the day was a large serving of very thick Greek yoghurt drizzled with sour cherry sauce. Another nice meal.
We ate dinner a bit early in order that we could return to Volissos for the sun set. We were not disappointed. The colours were again amazing. The only disappointment was the bottle of Chios white wine we had purchased. The good news is it only cost 5.80 euros (< $9 Cdn) but on the other hand it was terrible - not as bad as that house wine in Ikaria but pretty close. We did not visit the bottle.
Shortly after returning to our room we heard what sounded like small rocket fire, which went on for perhaps half an hour. You would hear the sound of something being fired and a number of seconds later another 'bang' as it presumably struck its target. Very noticeable, i.e. it seemed quite close and certainly somewhat troubling. The next day Gayle came upon an article that reported Greece had sent dozens of Navy and Coast Guard vessels to the eastern Aegean in an effort to stem the flow of migrants and asylum seekers who continue to cross over from the Turkish coast. Apparently 21 new vessels along with 125 new Coast Guard officers and 30 members of the Special Forces were deployed to boost the existing fleet of 40 vessels monitoring the region. The Greek government is also planning to purchase a state-of-the-art maritime border surveillance system that can detect a vessel as small as only two metres over a distance of 50 nautical miles, transmitting real-time images to assist in search and rescue operations when a migrant boat is spotted. It was announced the number of migrants arriving by sea from Turkey to Greece, consisting mostly of Afghan and Syrian families, increased to 10,258 in September 2019, the highest monthly total since 2016 when the EU reached an accord with Turkey intended to stem the flow of illegal migrants, refugees and asylum seekers. Fortunately the shelling, if that is what it was, ended after a short time.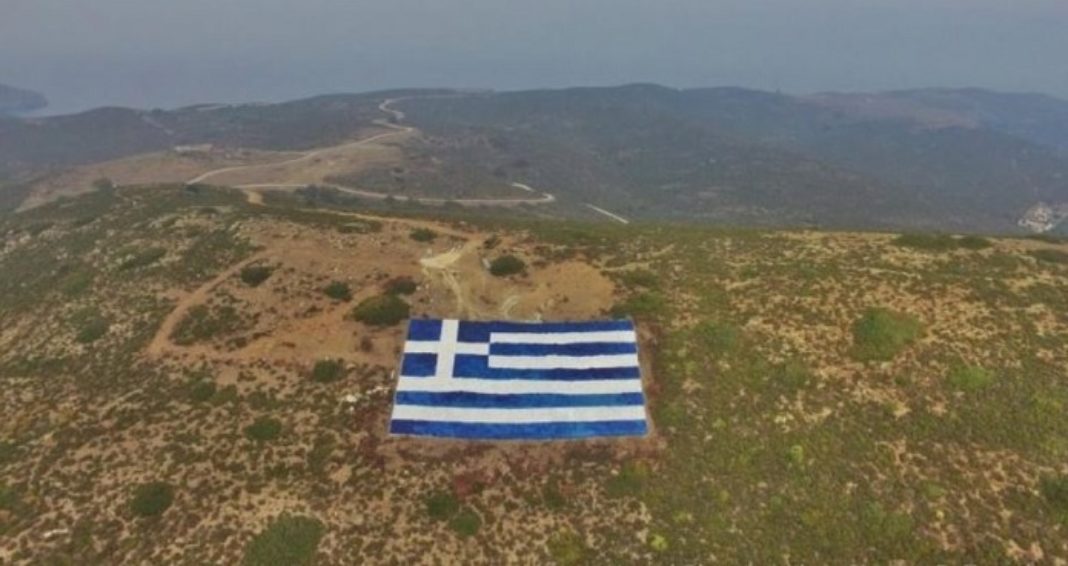 Oinousses is off the northeast coast of Chios, just off the Turkish coast.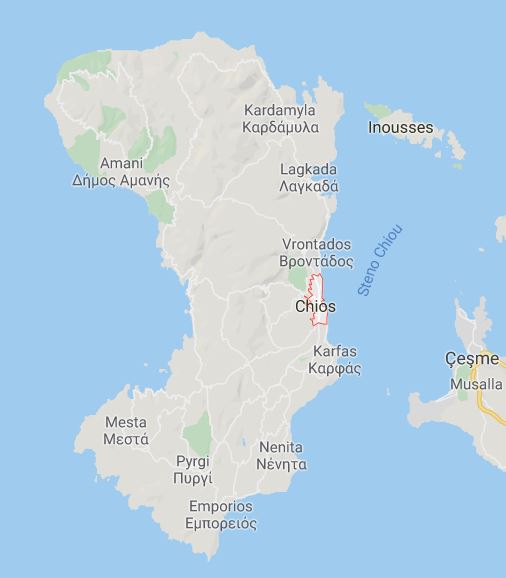 Greek Islanders Construct Huge Flag in Defiance of Turkish Overflights
A gigantic Greek flag was installed recently (reported October 17, 2019) on the slopes o a hill overlooking the island of Oinousses in the eastern Aegean, just a stone's throw from the Turkish coast as a sing of defiance against continued provocations by Ankara.
Two Turkish F-16 jets flew over the barren Greek island recently, being intercepted and chased off by Greece's National Defense. Illegal Turkish overflights are almost a daily routine for the few hundred permanent residents of the small Greek island.
It took almost two months of manual labour moving stones to a hill above the island's main town, to lay out the parameters of a giant flag and then to paint the stones in the blue and white colours of the Greek flag.
The large flag, situated on 0.4 acres, can be clearly seen from Chios and the air.
The views from our terrace of Volissos Holiday Homes. Our breakfast spread.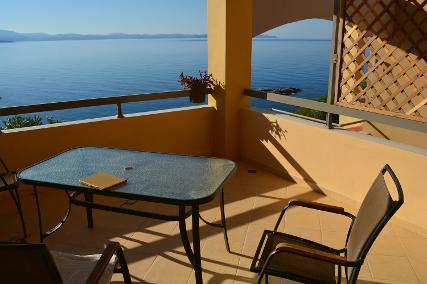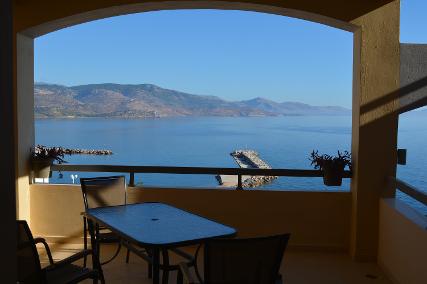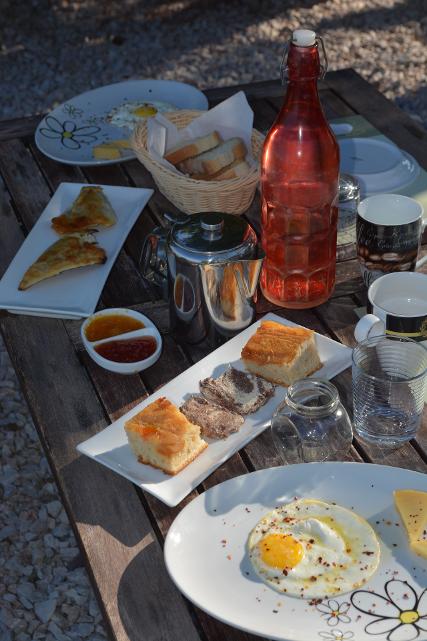 Looking to the sea and beach from our breakfast table - how great is this?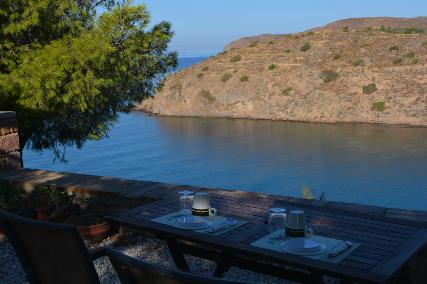 Enjoying some afternoon beach time (Volissos Holiday Homes is actually on the bluff above the beach).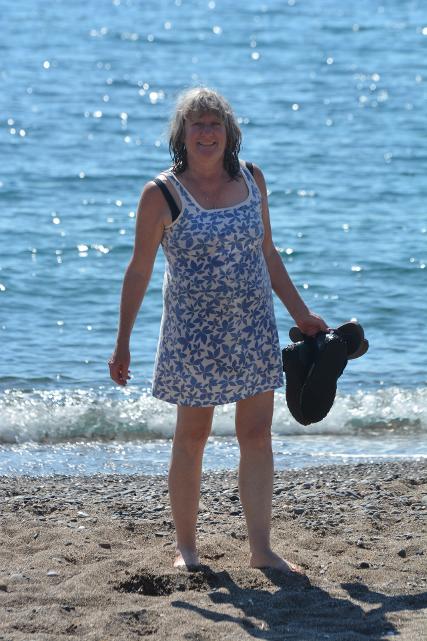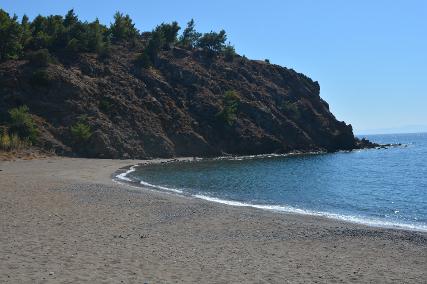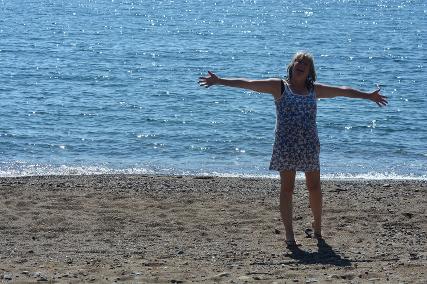 Traditionally painted blue and white restaurant chairs lined up along the harbour.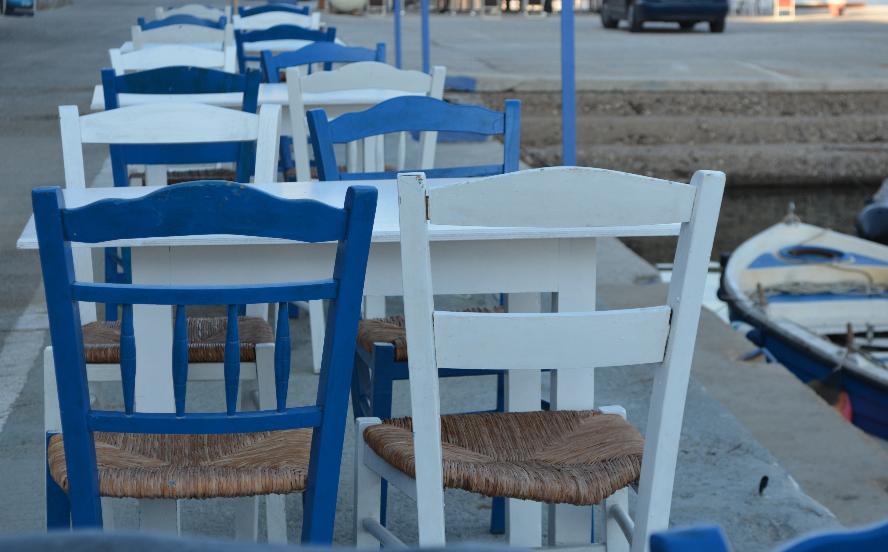 Local fishermen - well one man and a woman. Another fishing boat in Limnia harbour.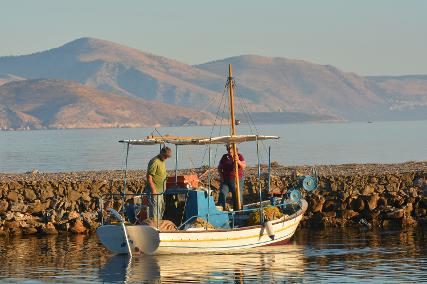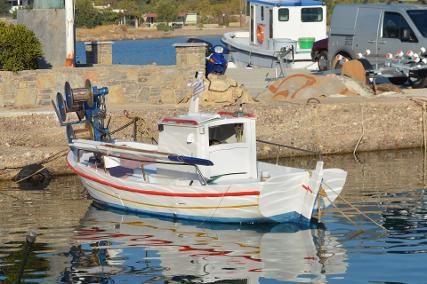 Ducks in the harbour. The goose on shore.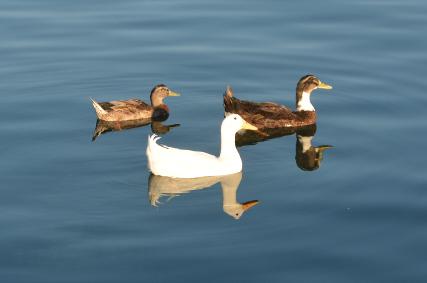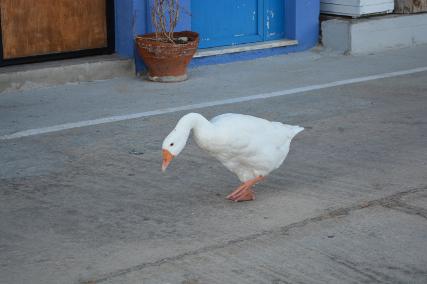 Maria. Grilled 'Mastelo' cheese.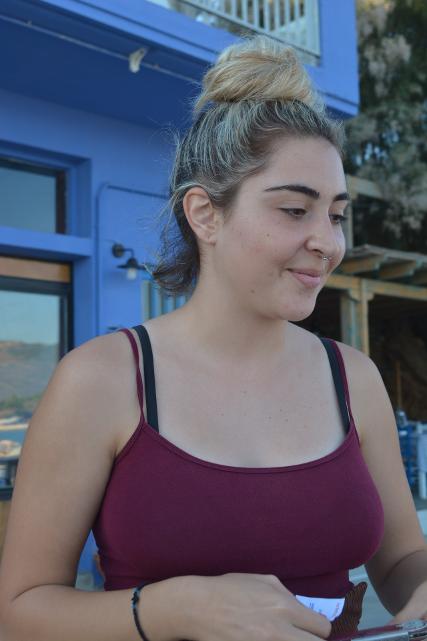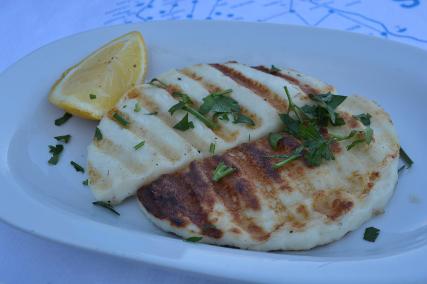 White bean soup - with lots of onions.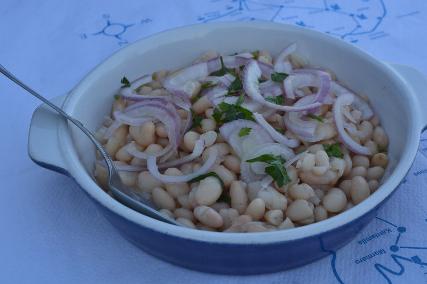 Tigiania - pan fried pork Greek yoghurt with sour cherry sauce.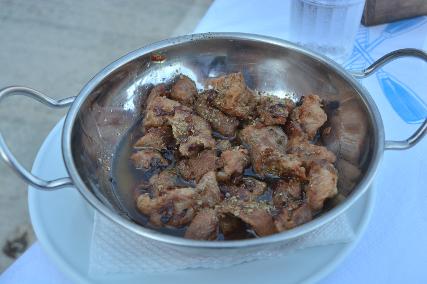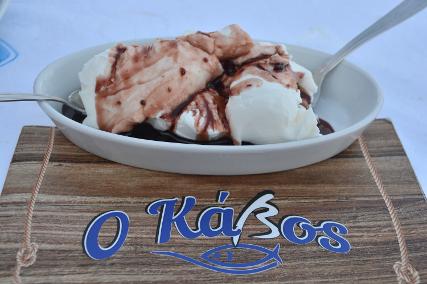 Wine and the sun set. A small fishing boat and the sun set.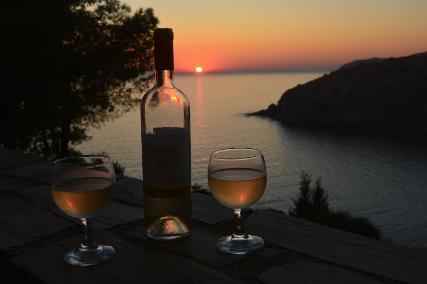 The sun setting below the horizon.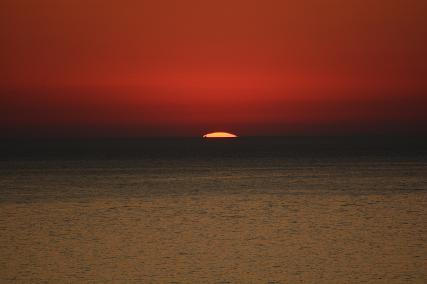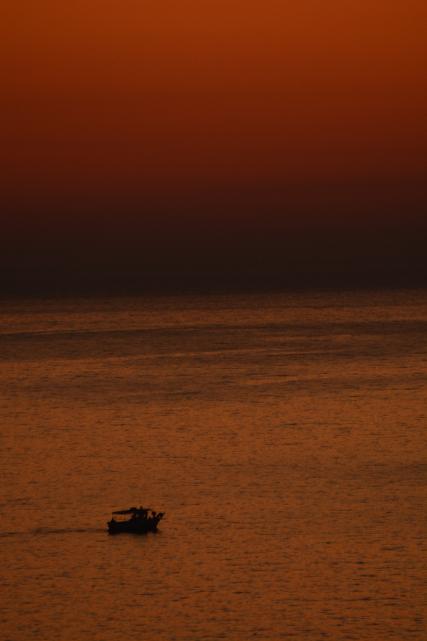 And the consequent colourful sky.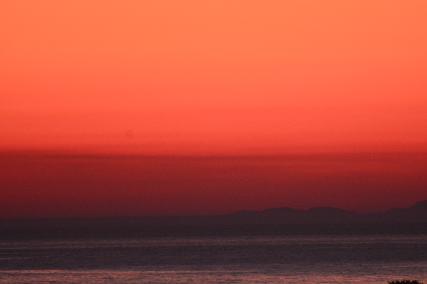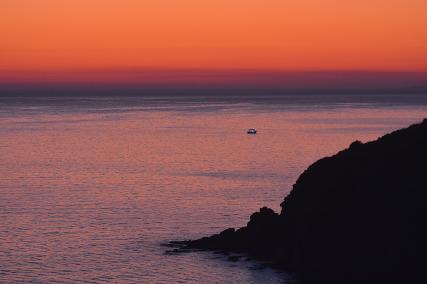 September 30, 2019 - Samos to Chios (Volissos)
Today is proof spectacular sun rises and sun sets are not limited to Ikaria. We awoke to a colourful sun rise over Armonia Bay in Samos and ended the day gasping at a beautiful sun set off the west coast of Chios.
After breakfast we drove through Pythagorion - didn't stopped but looked like a nice town - to the airport for our short (25 minutes in the air) flight to Chios. The flight, which continues on to the islands of Lesvos and Lemnos had eight passengers, of which three, Gayle and me being two of the three, disembarked in Chios. Our car was waiting for us at the airport which is only a few kms south of the port. After an efficient completion of the paperwork we were on our way to the port in order to look into purchasing ferry tickets to Cesme. We had attempted to do so on-line but one company only had an early morning departure and another one no departure on October 3rd. We were eventually directed to a third ferry company (that we previously were unaware of) who had a 1:00 pm sailing - perfect for us. We purchased our tickets and were on our way across the island to Volissos - a drive of a bit over an hour.
The first part of the drive is through the narrow streets, which at times felt more like alleys, north to Vrontados. From there the road winds back and forth up the mountain side (lots of switchbacks) and then across the barren interior to the west coast. We should note the road, once one ascends the mountain is new and modern, wide and easy to drive.
After making one wrong turn (towards the village of Volissos rather than to the port) we found Volissos Holiday Homes. Anna was there waiting for us. As it turned out we were the only guests these 3 nights - during the week it is generally a slow time of the year with guests from Chios town often coming over for the weekend.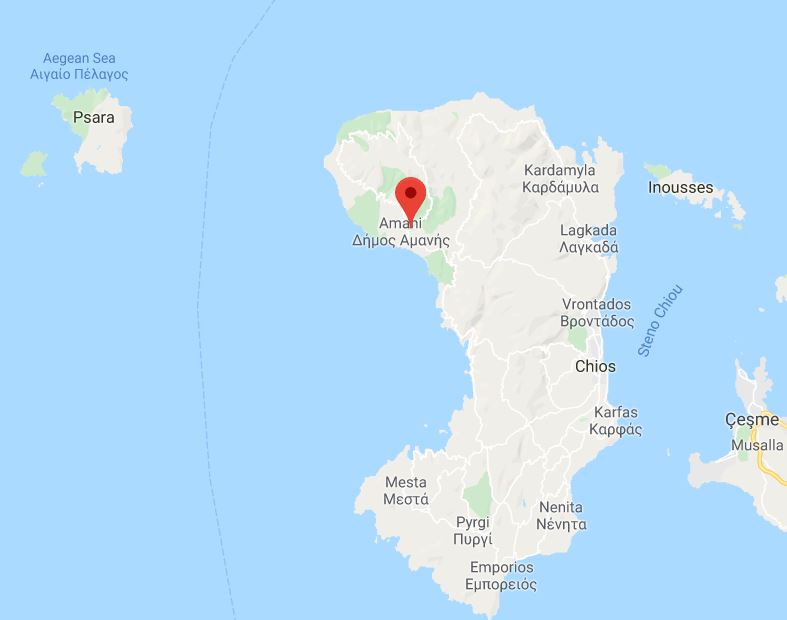 The units are spacious with a living room with fireplace and kitchenette separate from the bedroom, along with a large terrace providing great views to the sea. Being the only ones
Anna gave us our choice of a couple of rooms.
We then drove into the village of Volissos, the largest village in the northwest part of Chios but still pretty small with only 313 residents. The port, called 'Limia' (where we are staying), connects to the island of Psara to the northwest. The village itself is built in amphitheatrical style on a hill on top of which is a Byzantine castle, of trapezoid shape with six circular towers, built in medieval times. Volissos is famed as the birthplace of Saint Markell of Chios and possibly Homer.
We picked up some coffee and milk (we get breakfast but an earlier coffee is always nice), wine and retsina, and snacks. On the way back we stopped in the port where there a few restaurants on the dock. We chose Bourozo. When Maria, our serve, came to ask us for our order I asked if the octopus was fresh. She took me back into the kitchen and proceeded to bring out this very fresh slippery slimy octopus. Question answered. So I of course ordered the grilled octopus - not the whole thing but just one tasty tentacle while Gayle had the 'go to' Greek salad. During the meal we were entertained by the numerous animals on the dock - a number of generally polite cats, a stray dog Maria was feeding, a number of ducks swimming in the harbour and this large goose. We enjoyed our meal right by the water while watching the colours on the opposite hills from the setting sun.
One thing we did notice while eating was the presence of the military. Actually we noticed a considerable military presence in Samos, at various locations while we were driving inland and certainly at the airport. While eating we noted a number of military boats leaving the harbour. We theorized they may be patrols to monitor for the many refugees that cross from Turkey, there being over 10,000 in the month of September alone.
We then returned to Volissos Holiday Homes in time to see the sun set over the west coast of Chios. Again very pretty and colourful.
An early riser gets to enjoy the sun rise.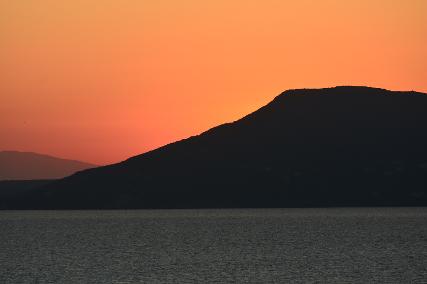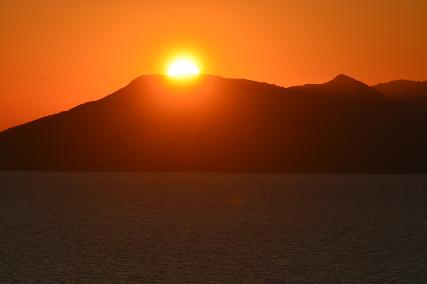 Colourful flowers adorn our hotel. Pretty close match - Gayle's shirt and the pool water.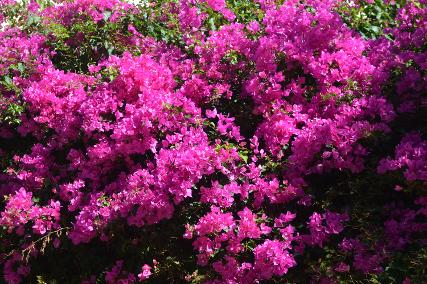 Juice, coffee, meat, cheese, tomato, feta and a variety of breads for breakfast.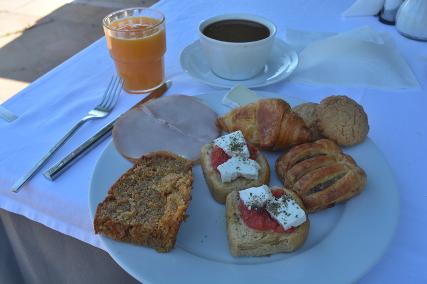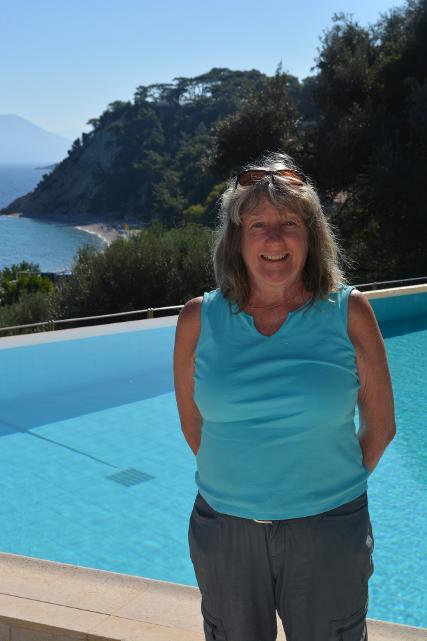 The shoreline of Armonia Bay. Our small Sky Express plane about to leave Samos.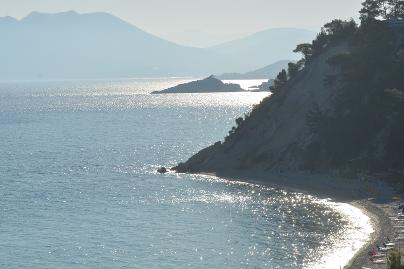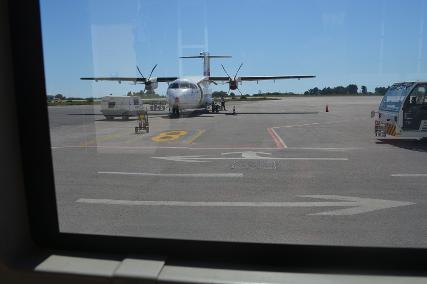 A couple of artistically painted doors in Volissos.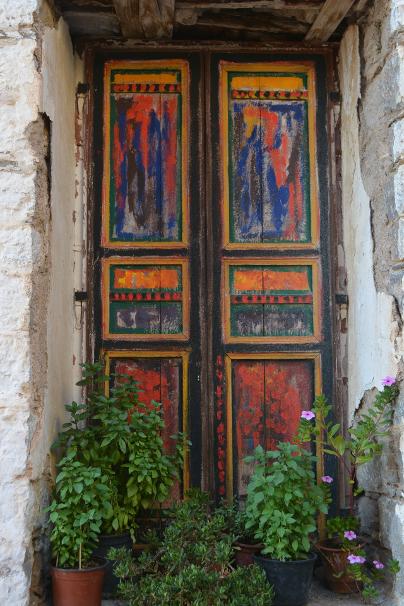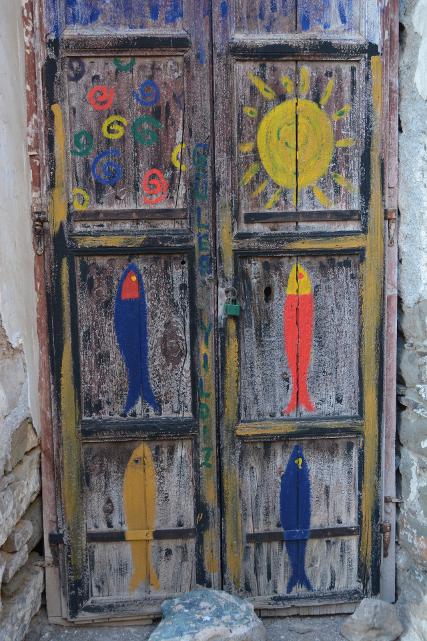 The castle overlooking Volissos.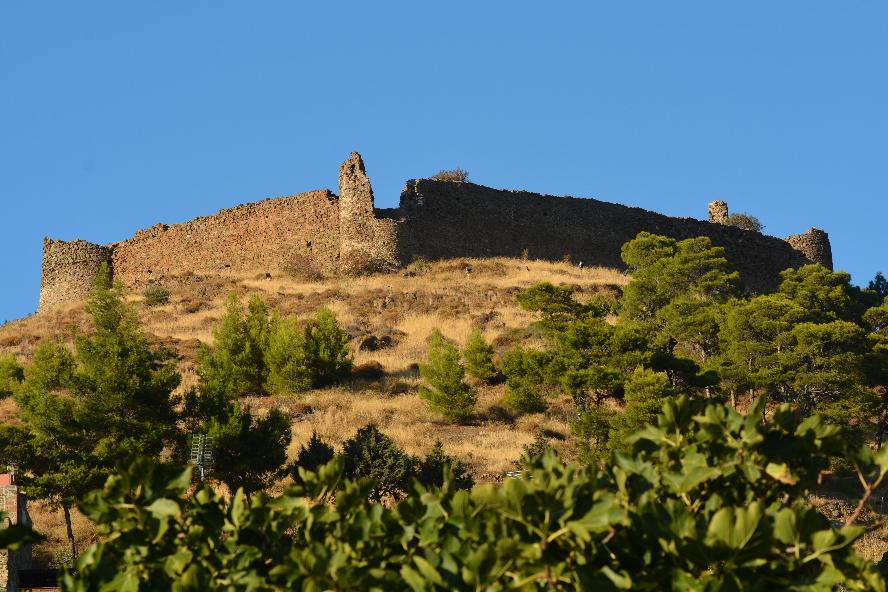 Military boats headed out of back into Limnia harbour.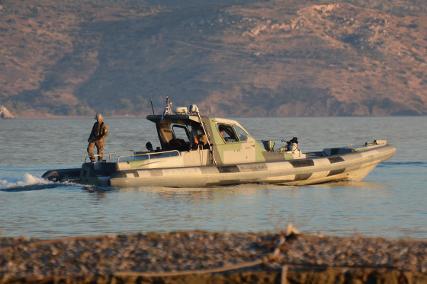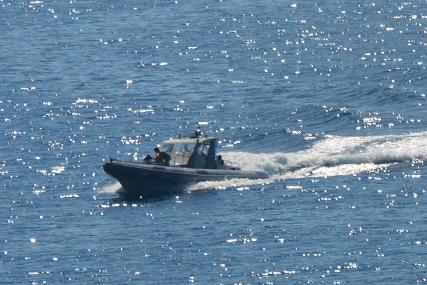 Lots of animals on the dock and in the water - cats (did Scam Cat follow us to Chios?), a dog, ducks and this goose.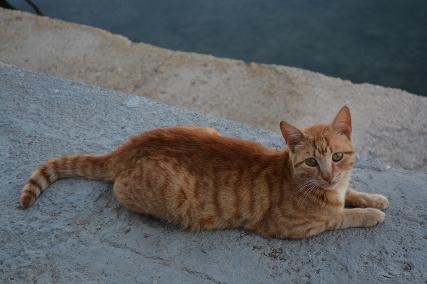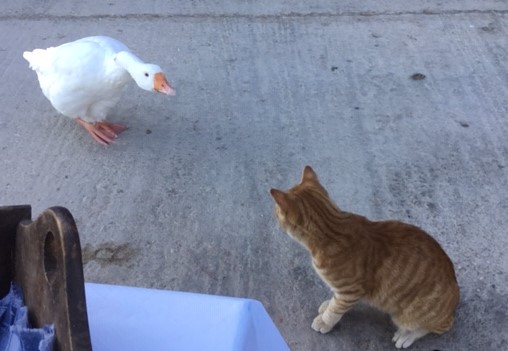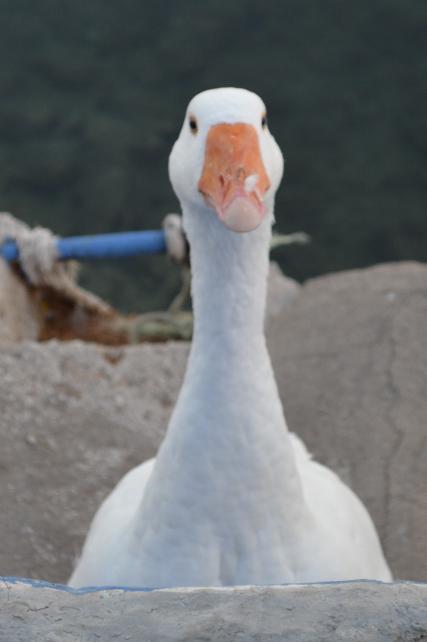 Certainly the octopus was fresh.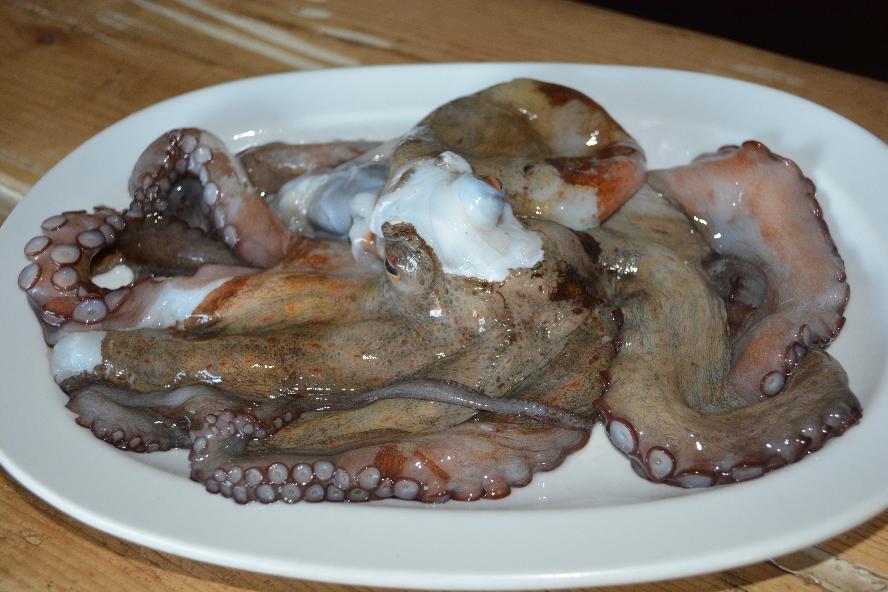 And then grilled. Gayle enjoying a glass of wine on the edge of Limnia harbour.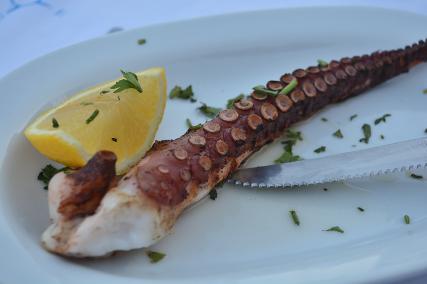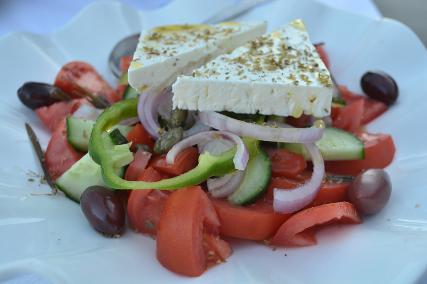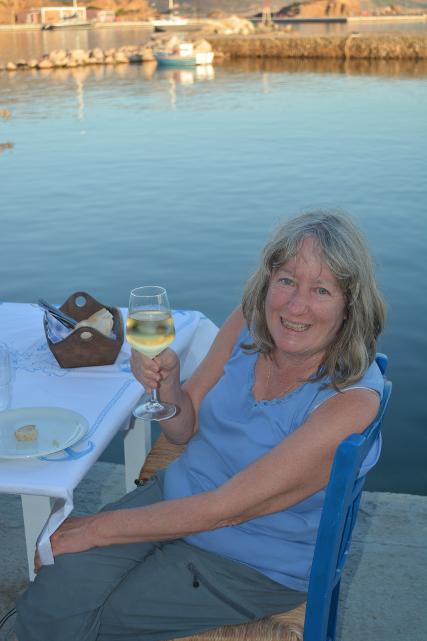 Sun set from the breakfast area of Volissos Holiday Homes.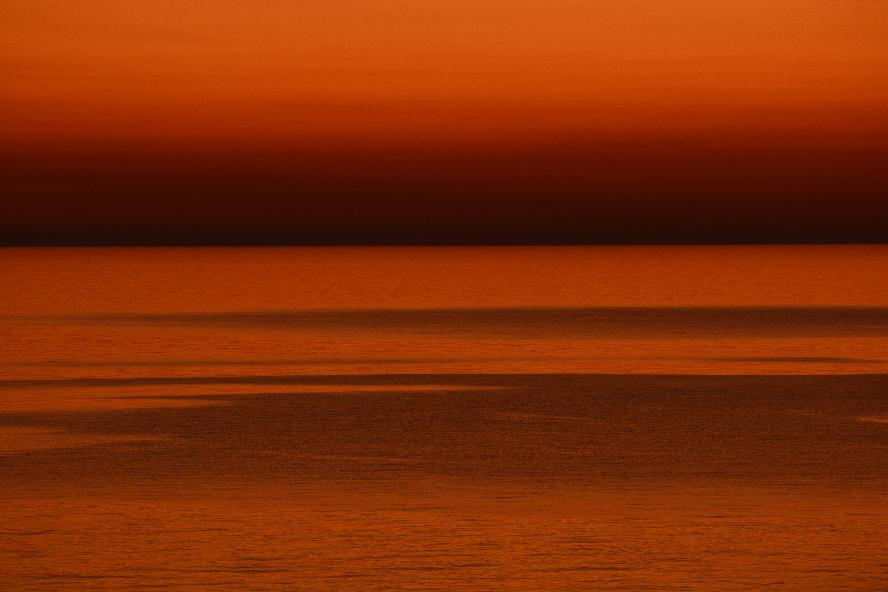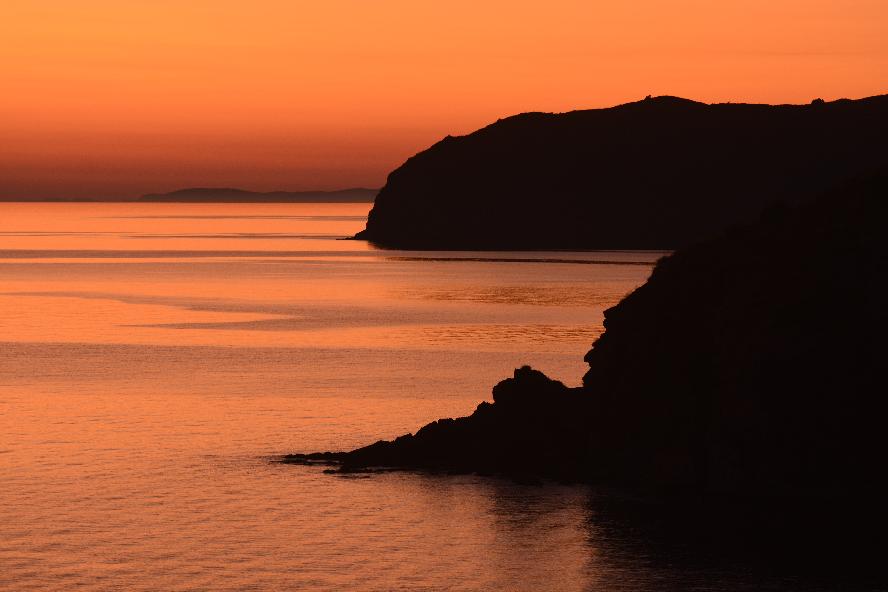 September 29, 2019 - a drive around the island of Samos
Our terrace provides a perfect vantage point for sun rise. Perhaps tomorrow I will try to get up a bit earlier in order to actually see the sun peaking out of the horizon. After a nice breakfast that included a squeeze it yourself orange juice station (which of course means one can have all they want) we decided to drive around the island, a drive that is more or less 2 1/2 hours without stops. Of course it took us considerably longer.
This is not our first time on Samos. We were here for four nights - Sept 23 - Sep 26, 1980 on our honeymoon. The first two nights were in Samos town, followed by a night on Plaz Votsalakia - yes we slept on the beach - followed by one night in Pythagorion.
Samos is located near Turkey, actually only 1.6 kms off the coast. The island is 43 km long and 13 km wide. While largely mountainous Samos has several relatively large and fertile plains. The island's population of 33,814 makes Samos the 9th most populous Greek island. There are two significant mountain ranges - both a continuation of the Turkish Anatolian mainland, the highest at over 4,700 feet dominating the west of the island and a larger (in terms of area) range through the center of the island. The Samian climate is typically Mediterranean, with mild rainy winters and warm rain-less summers. The name Samos apparently originates from Phoenician meaning 'rise by the shore'.
A great portion of the island is covered with vineyards from which muscat wine is made.
In ancient times Samos was especially rich and powerful in part due to its vineyards and wine production. There are some interesting archaeological sites, particularly the Eupalinian aqueduct near Pythagorion (birthplace of the Greek philosopher and mathematician Pythagoras).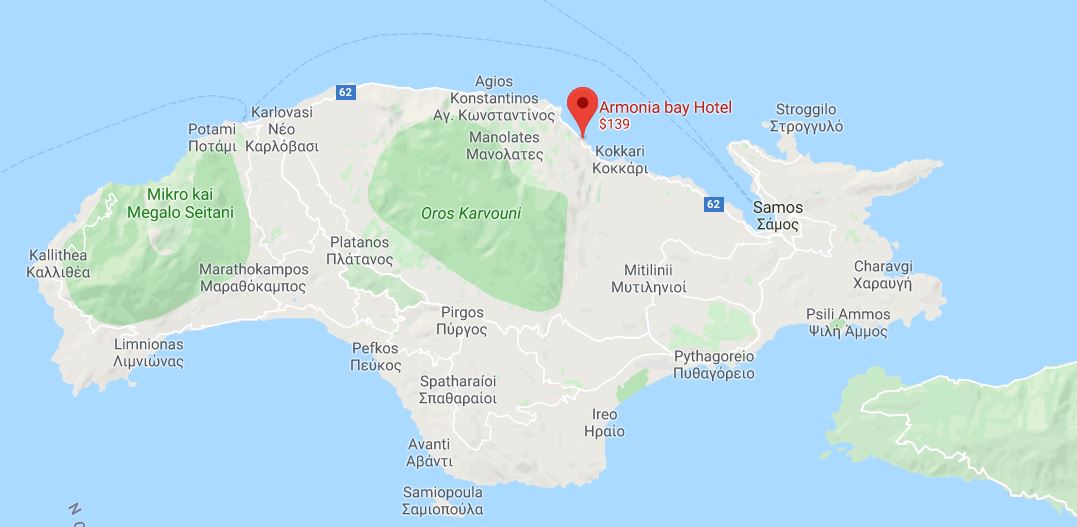 We drove clockwise, first passing Samos, the largest town on the island and nearby Vathi (the capital). We then went inland through the mountains to Mitilinii and Pirgos before descending on a narrow dirt road towards the sea. Along our way we encountered a father and his son out on a Sunday afternoon picking olives for their personal use. While taking a few photos I had a short chat with the dad, who is a teacher in Pythagorion. We continued west through some scenic countryside dominated by olive groves until reaching Kampos a 'resort' town on the coast with tavernas, restaurants, bars and shops lining a long beach. We continued along the coast past Votalakia Beach where we camped many years ago. We had hiked through the olive grove to a beautiful beach with crystal clear turquoise water. We decided to camp out on the beach with nothing more than a thin, not so warm sleeping bag. Hey we were young! We recall it got particularly cold during the night but it was an experience we certainly remember. We didn't walk down this time but the beach appeared much more developed than in 1980 when it was just us and one other guy camping nearby.
Rather we continued a ways to Limnionas Beach where one can drive down and easily park adjacent to the beach. Although the sun was starting to recede we did go in the water for a short swim. This stretch of coast brought back many fond memories. We then ascended the mountains for the drive across to Karlovassi and then again along the coast to our hotel. Although not that common these days we did encounter a goatherd with his tribe and goat dog. As we crossed over the top of the mountains and descended to Karlovassi the land was dominated by vineyards.
Upon returning we decided to go into the nearby village of Kokkari for dinner. Most of the restaurants are on the beach side, with tables that would provide wonderful views during the day. Unfortunately it was night / dark so there was nothing to see at the restaurant we chose - Samia . This was no doubt the most unhealthy meal of the trip - fried onion rings, fried small spinach pie, fried cheese balls and fried french fries with my lamb souvlaki. So good but so wrong. Not exactly a Michelin * meal. We returned the 3 km to Armonia Bay Hotel and called it a night.
Not a bad sun rise to wake up to - ok perhaps I was a tad late. We'll try for earlier tomorrow.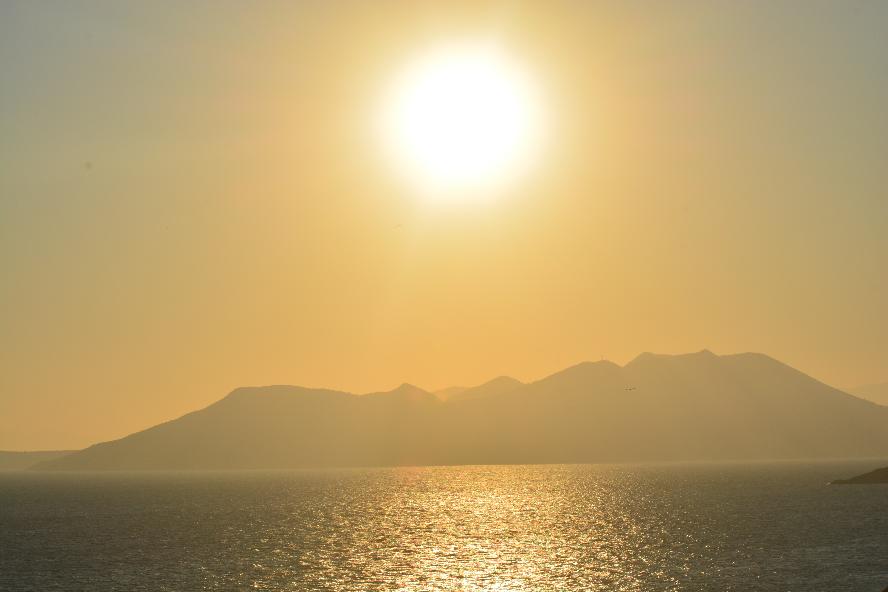 The breakfast terrace of Armonia Bay. Squeeze your own orange juice - how great is that?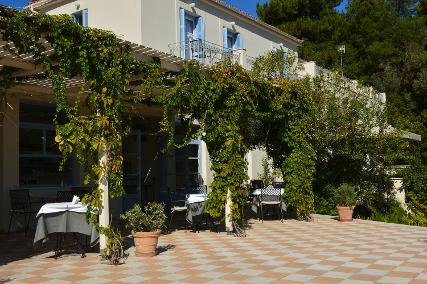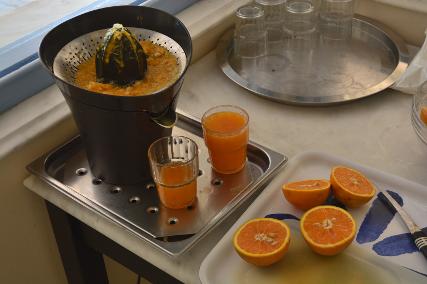 After stopping to take a photo of the olive trees we came upon Stamatis and his son Thanassas, out on a Sunday afternoon picking olives.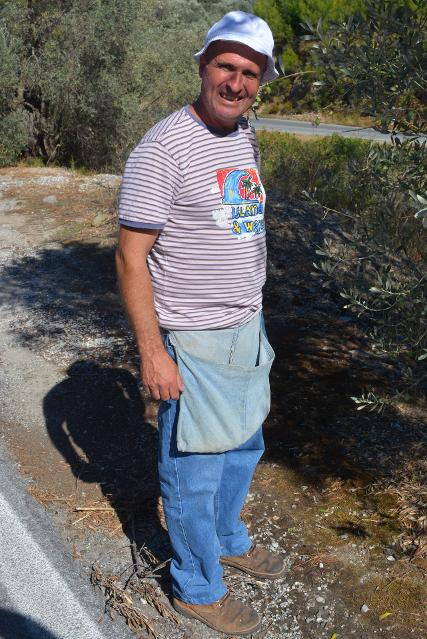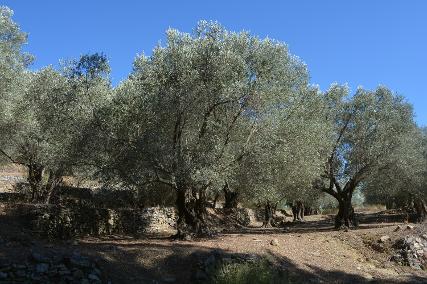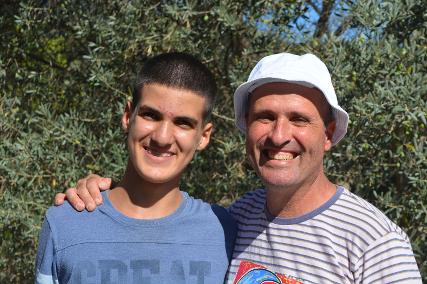 Amorgos, Ikaria, Samos, Chios and no doubt virtually every other Greek island produces its own honey, thanks to the bees and the honey boxes.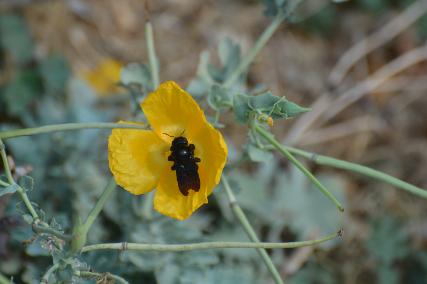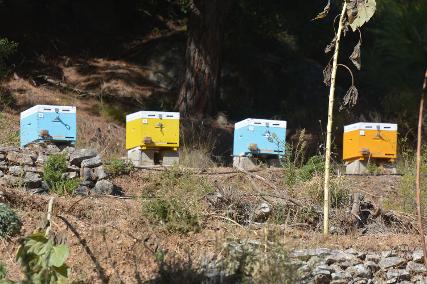 The coastline just east of Kampos.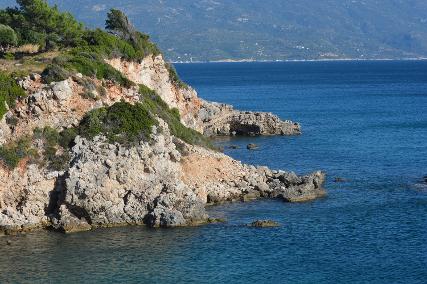 The mountain village of Koumasradei, dominated by its church.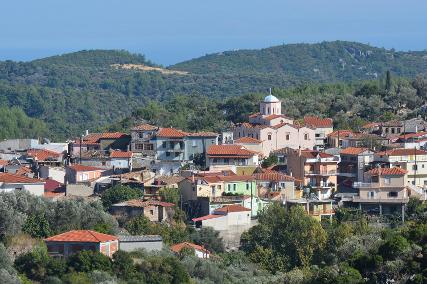 Driving through the interior of any remote Greek island one may come upon goats (or sheep) on the road.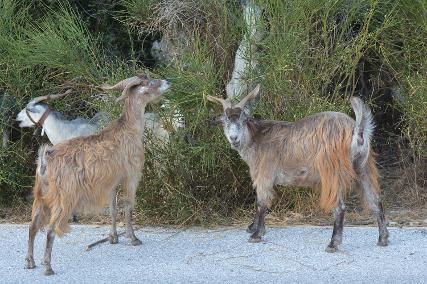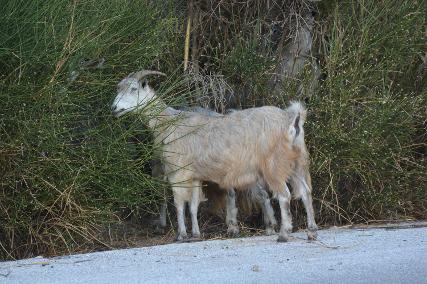 It is not that common to see a goatherd (or shepherd) these days but we did encounter this fellow on our drive through Samos.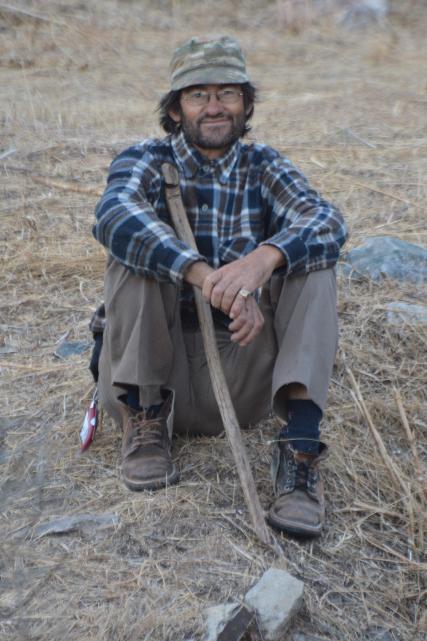 The goatherd's ever attentive dog.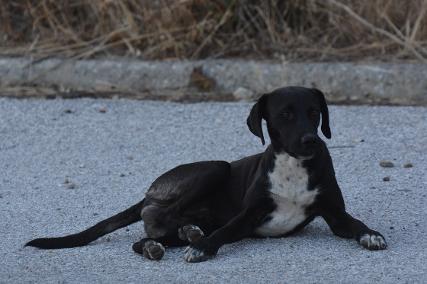 Near Limnionas beach - looking north inland to the rocky interior and south across the olive grove to the water.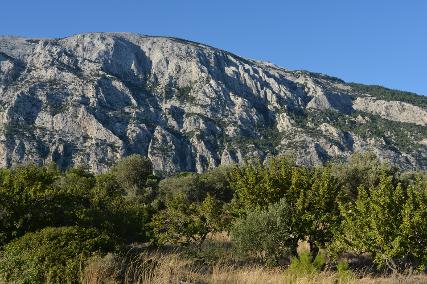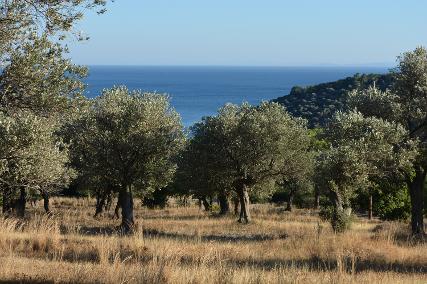 The beach at Limnionas. The south-west coast of Samos.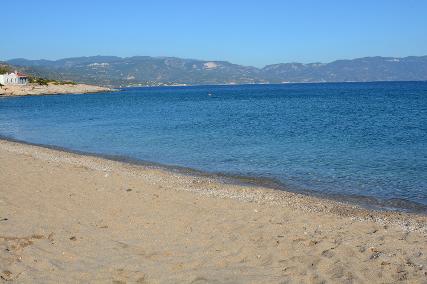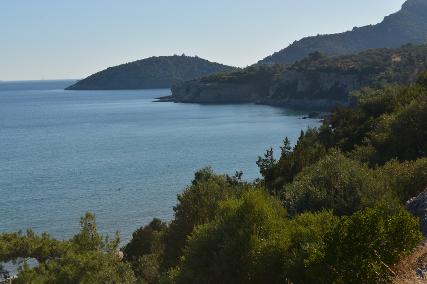 Onion rings. Lamb souvlaki.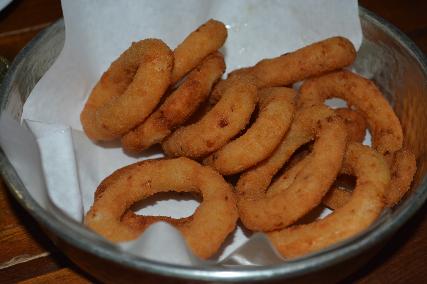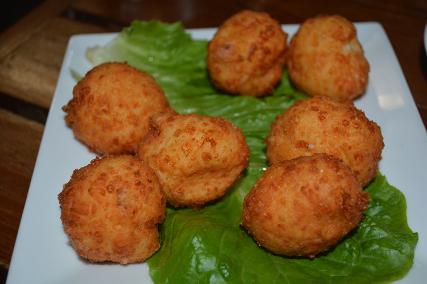 September 28, 2019 - Ikaria (Toxotis Villas) to Samos (Armonia Bay Hotel)
After a full week in Ikaria today we move on. Unfortunately we have been feeling under the weather and as a result may not have done all we could have, but that simply gives us a reason to come back. We enjoyed Ikaria. We certainly enjoyed staying at Toxotis Villas. We enjoyed the dramatic coastline and the mountainous interior. Although we did not swim once there were a number of beaches where we could have had a dip had we been feeling better and the weather just a bit warmer - while it was sunny every day it was a touch cooler than earlier in the trip (in the low rather than mid to high 20s). We enjoyed our meals, especially at Mary Mary. We certainly enjoyed the sun sets at Nas - some of the most colourful we have ever experienced. We enjoyed the people we met - Molly, Georg and Nicole and the numerous others at Toxotis and Agnes and Florian at Anna's. We enjoyed the friendly and helpful staff at both Toxotis and Anna's. And we adored our adopted guests - Scam Cat and Scam Cat Too, two very polite cats who befriended us.
Our original plan was to head to Chios for five days after leaving Ikaria. However the ferry schedules changed between when we first began planning the trip and when we actually booked. During the fall of 2019 there is only one ferry from Ikaria to Chios, on a Wednesday, meaning cutting our stay on Ikaria short and inconveniently leaving at 2:45 am. Not an attractive option. The only other ferry option was to go all the way back to Piraeus and then ferry to Chios - also not appealing. As a result we decided to cut Chios short and ferry to Samos (a 1:50 pm departure -much more civil) for two nights and then fly (there is a direct 40 minute Sky Express flight leaving 1:25 pm - again very civil) to Chios. Yes it cost more but the timing and convenience were worth it.
The map below covers our subsequent itinerary. From Chios we will ferry to Cesme, pick up another rental car and drive to Alacati for three nights. Then it is down to a small farming village between Kusadasi and Selcuk for another three nights after which it is up to Izmir to fly to Istanbul and onward, returning home.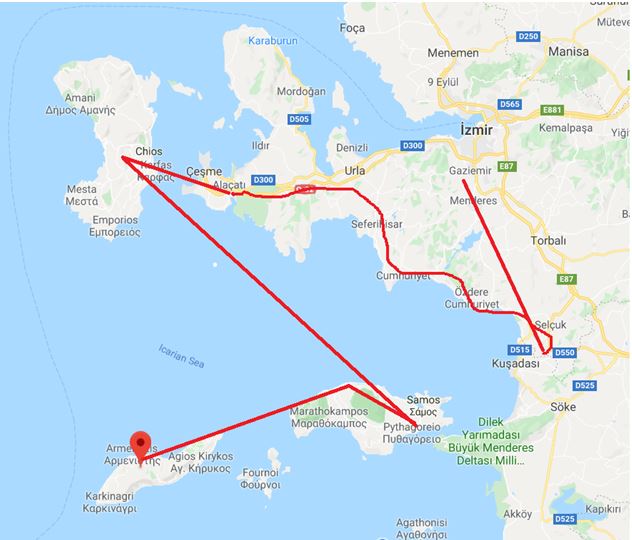 We said our goodbyes to Donna and Tonia, the two wonderful cleaning ladies and Chara, the equally helpful and pleasant on-site manager and drove the 20 minutes to Evdilos port where we caught our ferry for the 1 1/4 hour smooth sailing to Samos. We arrived in Karlovassi where we were met with our car rental. It was an easy, scenic half hour drive east along the coast to Armonia Bay where we will be staying the next two nights (at the Armonia Bay Hotel). At 155 euros for a sea view room this was the most expensive lodging of the trip. The room was somewhat non-descript except for the marble, on all floors including the large terrace as well as all bathroom walls. As well the spacious terrace, overlooking a grove of olive trees providing views to the sea and north-east Samos, was certainly superior to a garden view.
We chose to eat at the hotel's restaurant in part because it was convenient and in part because we were still not feeling great. Gayle enjoyed a really nice Greek salad with tomatoes, cucumbers, green peppers, feta cheese, carob rusks, capers and olives while I had the mushroom risotto of carnaroli rice, dry Chardonnay minced portobello mushrooms, porcini trifolata and sweet mavrodaphne wine reduction. Not as good as the mushroom risotto in Koufonissi but decent, particularly at a reasonable 11 euro price. Gayle had a glass of Samos wine with her meal while I had a glass of sweet Samos dessert wine after.
Before saying good-bye Scam Cat devoured one last feed of the left over squid. We'll miss Scam Cat (and Scam Cat Too)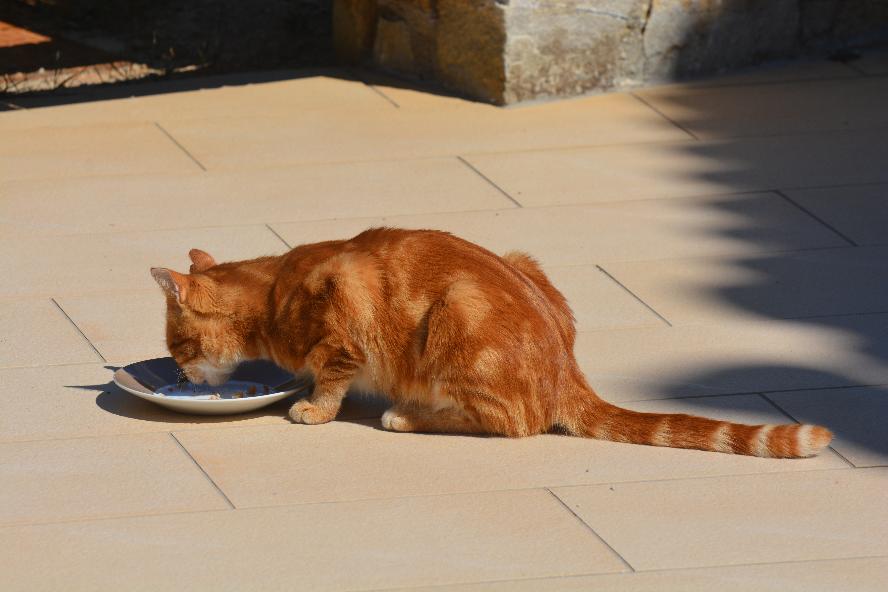 Through the 'tickle' plants to the sea as we leave Toxotis.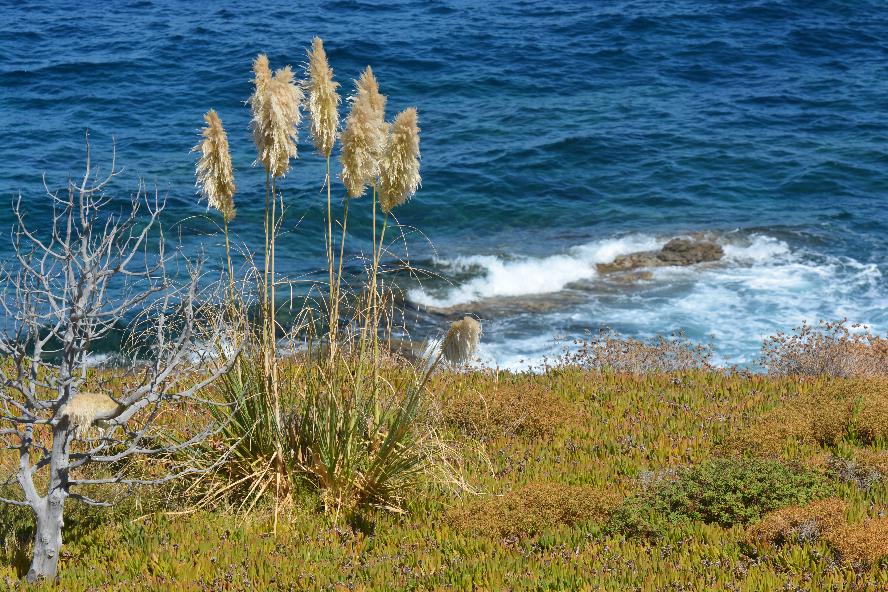 A couple of final shots of the Toxotis buildings and grounds.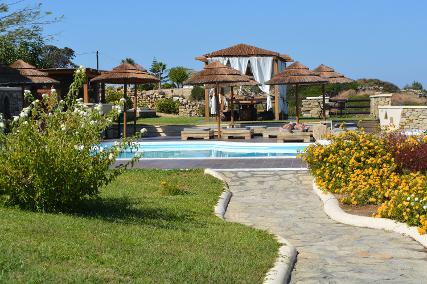 Even after the hot dry summer there is still colour on the grounds of Toxotis.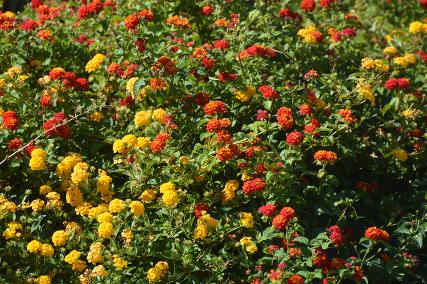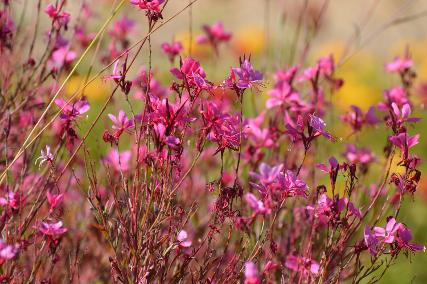 Me and Gayle just before we left Toxotis. Chara, the very personable on-site manager.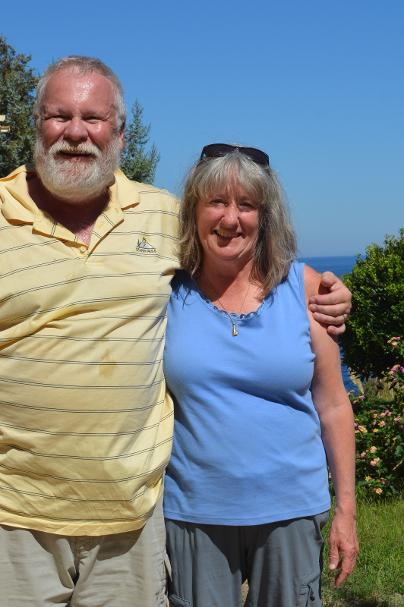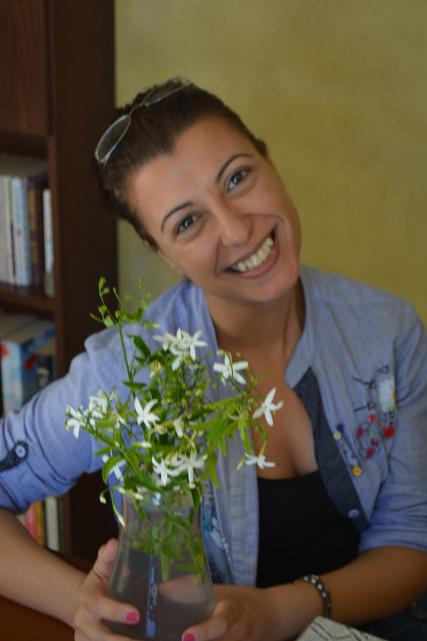 The staff at Toxotis - Donna in the grey, Tonia in the green and Chara in the black / blue.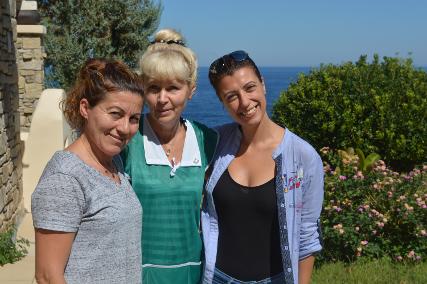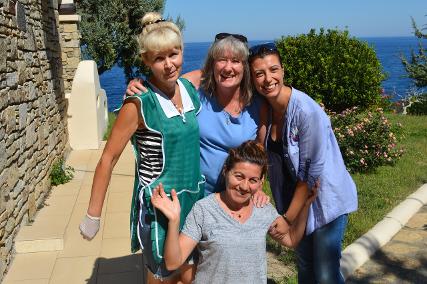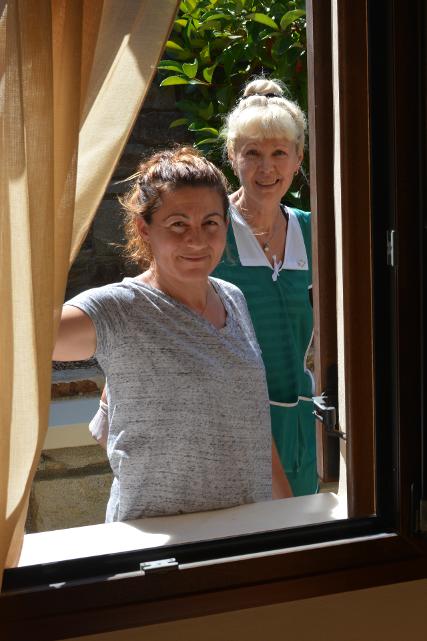 Erofili beach just east of Armenistis. Evdilos harbour.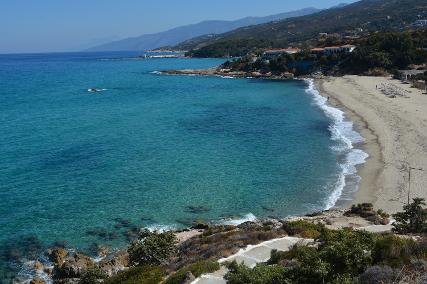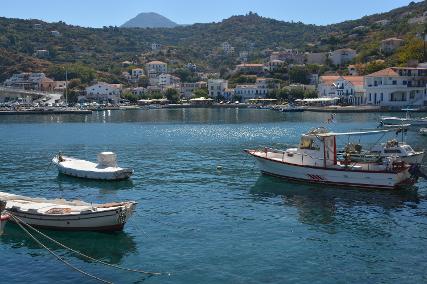 Armonia Bay Hotel's pool overlooking Armonia bay. The view across the olive trees from our terrace.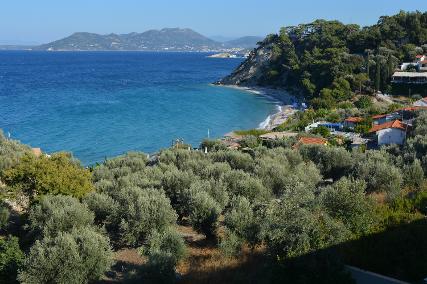 Greek salad. Mushroom risotto with minced portobello mushrooms.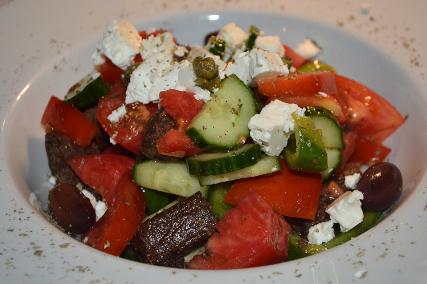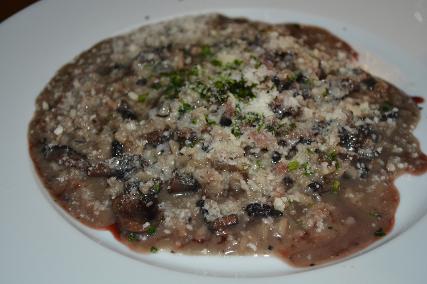 September 27, 2019 - Ikaria (Toxotis Villas)
There had been a mix-up in our reservation resulting in us having to move to another unit for the last day/night. We had been in Laini with a move now to Seriniko. A bit of an inconvenience to pack up but Donna helped us move our stuff to our new unit. Seriniko is below Laini, one of the two larger front units with unobstructed views of the sea. It is a two-storey villa (55 sq metres) with a bedroom and small bathroom on the upper floor and a large living area / lounge with a fireplace and a kitchen / dining area and a full bathroom on the main floor. There is then a huge veranda (65 sq metres) with great views to the coastline and sea. While it had two loungers along with chairs the love seat and chairs at Laini were a bit more comfortable.
We considered driving to the capital of Agios Kirikos on the south-east side of the island but given I was still not feeling well and Gayle was beginning to suffer what I had, and the beautiful unit we were now in we decided to stay put and simply relax and enjoy the comforts of Seriniko. While Scam Cat strolled in to keep us company we also welcomed Scam Cat Too, a second cat looking for adoption. Friendly and polite we did not mind having them around as they added to our enjoyment. A little retsina and some baklava made for a nice afternoon snack (for me; not for our scam cats).
For dinner we repeated a couple of nights ago - the short drive to Nas, lots of photos of the sun set and dinner at Anna's. We again ordered the gemista with Gayle having the stuffed pepper and me the stuffed tomato. That's because Gayle also ordered the baked aubergine, which she knew would fill her. Where the stuffed squid looked very appealing in the kitchen and given we were on the sea I decided to order one. Served in a fishy broth (really not my thing) with potatoes it just didn't work for me. But I'm glad I tried it. During dinner we chatted with an English couple (married 53 years), again sharing travel stories. We enjoyed another 'gift' dessert and drove the short distance back to Toxotis (with some left over squid for the Scam cats of course).
Fresh orange juice - without ice or a straw. A chewy (like gum) honeycomb thing.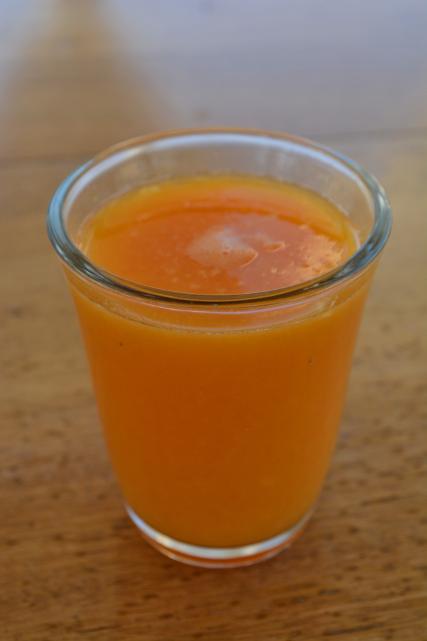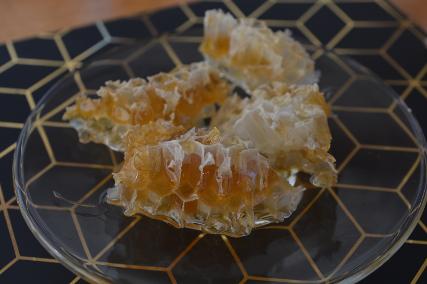 Each morning a nice basket of bread, rolls and pastries.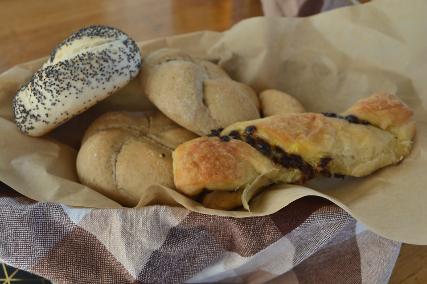 The Blue Star Nissos Mykonos, docked in Evdilos and sailing past Toxotis Villas.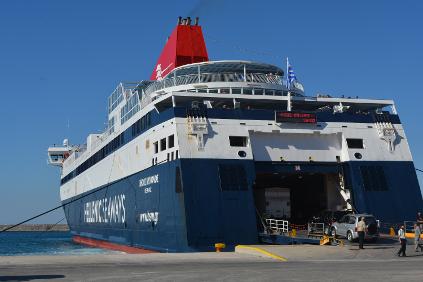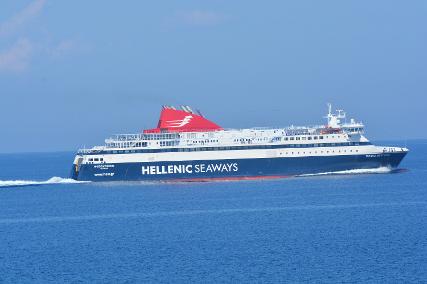 Our new guest - Scam Cat Too.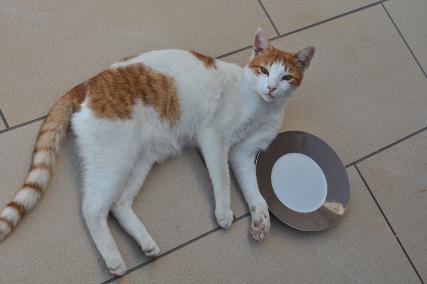 Retsina and baklava made for a nice afternoon snack.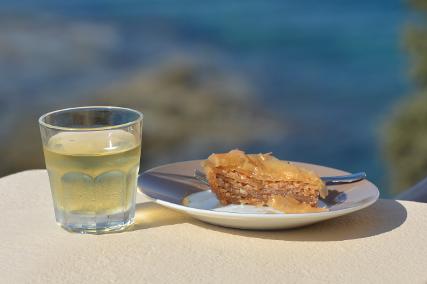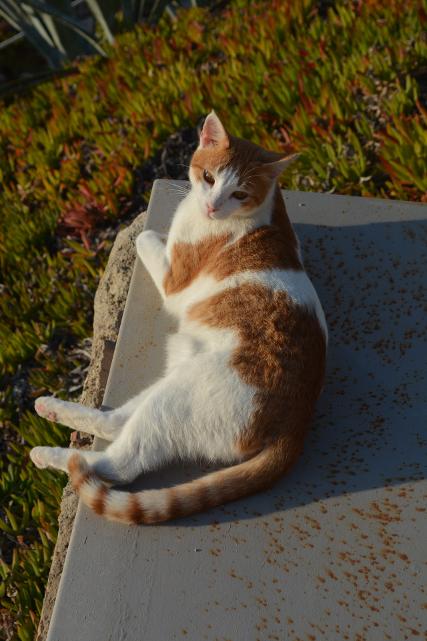 The sun sets at Nas never get old.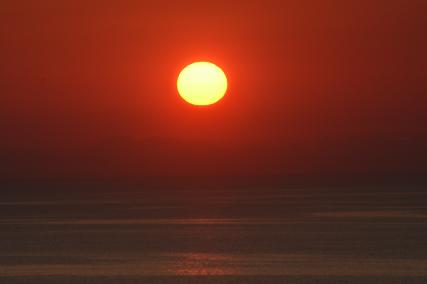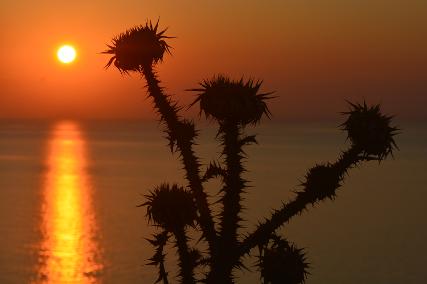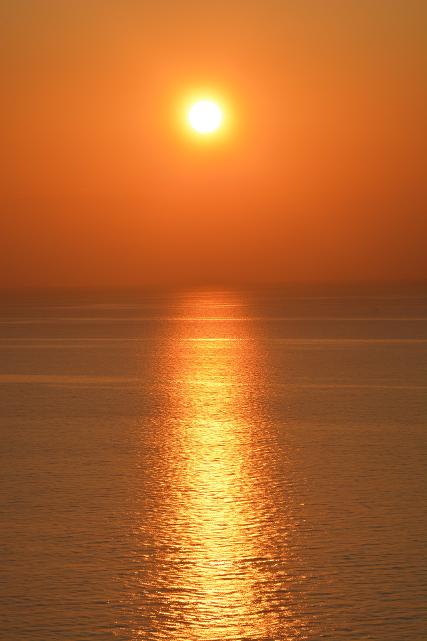 As on our previous visit we were invited into the kitchen to see the offerings of the evening, including stuffed squid, baked aubergine and meatballs in tomato sauce.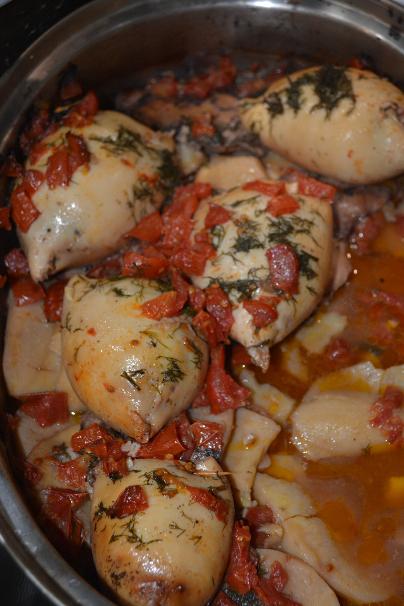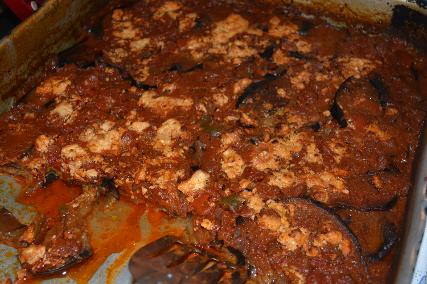 Stuffed tomato. Baked aubergine.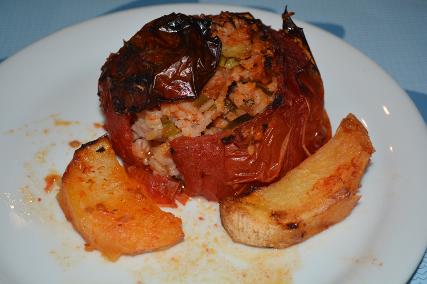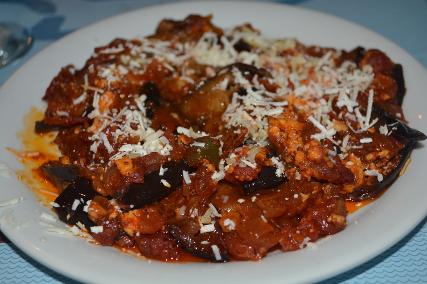 Stuffed squid. And yet another 'gift' for dessert.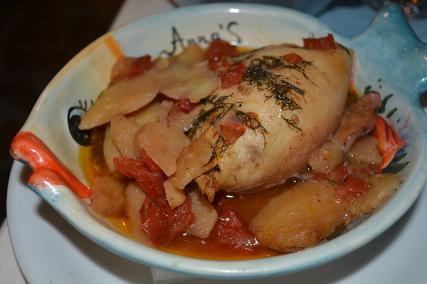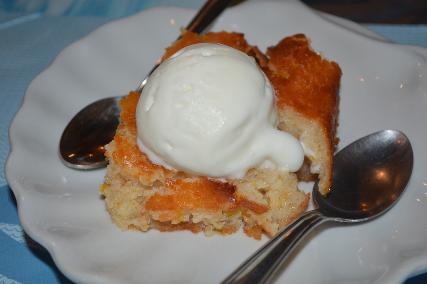 September 26, 2019 - Ikaria (Toxotis Villas) - Evdilos and across Ikaria to Magginitis
This morning we said good-bye to Georg and Nicole, two Germans whom we met and chatted with each day at breakfast. At some point we ended up chatting about climate change which had us ordering our fresh orange juice sans ice and sans straw, which became a standing chuckle as even our servers knew how to deliver our orange juice without asking. Our small contribution to a green Ikaria.
This afternoon we went into Evdilos to pick up our ferry tickets to Samos. We again passed Gialiskari, a seaside village only a couple of kms east of Armenistis, a stretch that includes a number of long , sandy beaches. Gialiskari is most noted for its small chapel of Analipsis, set on a rock outcropping stretching out into the sea.
Evdilos, the harbour where the Blue Star ferry from Mykonos docks and then sails on to Samos was the capital of Ikaria during the second Turkish Occupation of 1834 - 1912 (since then the capital is Agios Kirikos on the south coast). The picturesque small port is surrounded by old mansions and narrow (in some cases really narrow) roads. Evdilos may be the most traditional settlement of Ikaria architecturally. Built on a small hill there are various styles of homes, from old, neoclassical to modern traditional. The port area is particularly attractive.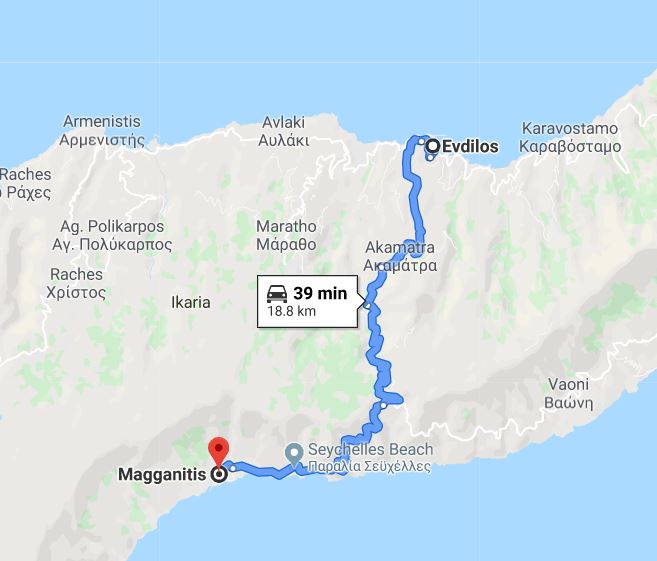 Leaving Evdilos we drove the road south, across the island ultimately to Magganitis.
The first half ascends through significant mountains with an 'Italian' feel, in part due to the cyprus trees.
The road is narrow passing through a number of small villages. Of note is how green the interior is as compared to many other Greek islands. As one reaches the summit there is all of a sudden a new, wide road that descends through barren rocks. The road splits east to Agios Kirikos and west to Magganitis. The panoramic views are quite something, particularly with the sun glistening off the sea. A long descent, including a drive through a tunnel cut into the gigantic granite bluffs, eventually brings one back to sea level and Magganitis.
Magganitis, with its 150 or so inhabitants, is dominated by a large stone church. The village is a beautiful oasis surrounded by huge cliffs and lush green mountain slopes. In addition to the cobbled paths that are lined with fig and fruit trees there is a traditional oil press, a couple of watermills and a number of small beaches. The quaint port is a refuge for the small boats of the local seafaring community. Although it was too late to swim (and the beach was shaded by the mountains as the sun dropped) there were still a few people on the beach, known as 'Firodi' after a queen who is buried there according to local tradition. At this time of year the village was extremely quiet - a few people here and there but otherwise virtually no activity and no vehicles. It was certainly a very scenic drive but perhaps a bit anti-climatic as one reaches this sleepy (at least in late September) village.
We then returned to Armenistis where we again had dinner at our 'go-to' restaurant Mary Mary. We stated with the cheese saganaki in a cast iron pan, finished with brandy and fresh lemon juice. Quite the display as the pan was delivered with the brandy flaming, resulting in a very tasty slab of cheese. Gayle had both the fried zucchini 'maridaki', essentially zucchini fries, which she quite liked and delicious and unique tzatziki with black garlic. I went with the lamb in tomato sauce with couscous and cheese - very tender lamb on a bed of couscous.
Georg and Nicole. The often photographed church at Gialiskari.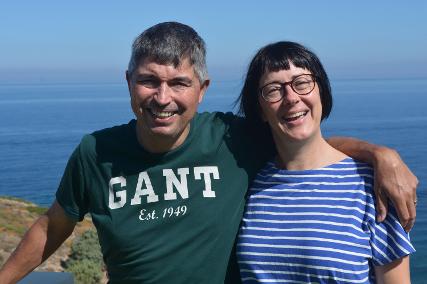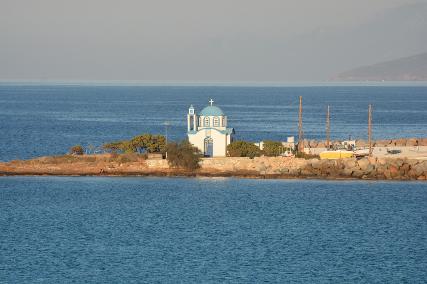 Scam cat having his afternoon nap (a cat after my own heart and habits) and enjoying a little snack.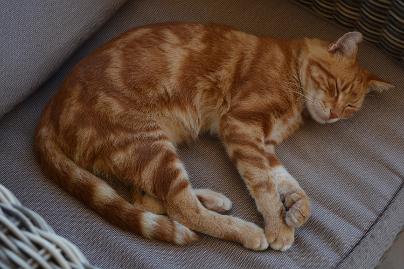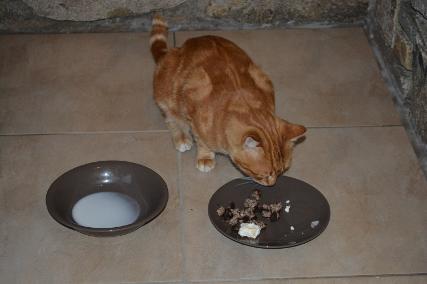 The pretty port of Evdilos, the port where the ferry from Mykonos docks and then sails on to Samos.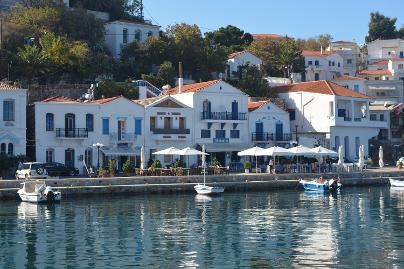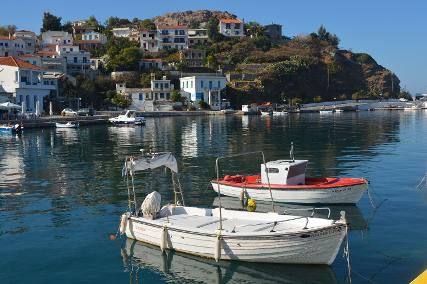 The mountainous interior of Ikaria looking south as one leaves Evdilos. Sort of an Italian feel with the green vegetation, including a number of tall cyprus trees.
We encountered numerous goats along the way, including one waiting to get into this traditional stone church.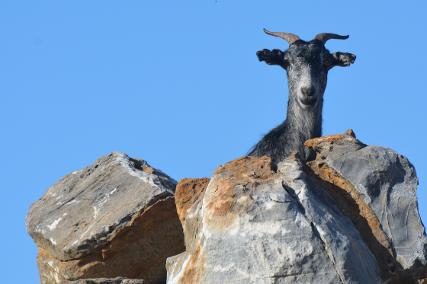 A tribe (or herd or trip) of goats along the drive.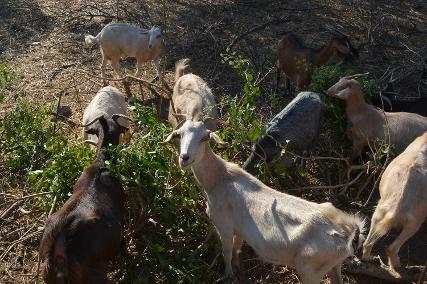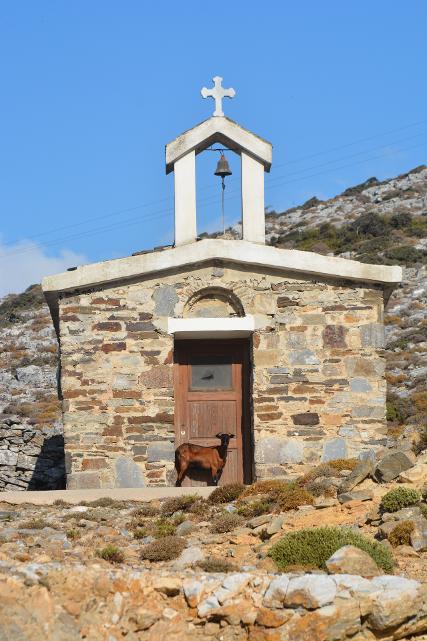 Note the road far but directly below - yes lots of switchbacks, along with the view looking west along the southern coastline. It is hard to truly appreciate the steep slope of the mountainside without actually being there.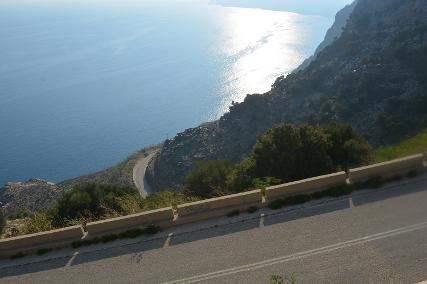 The large dominant stone church of Magganitis.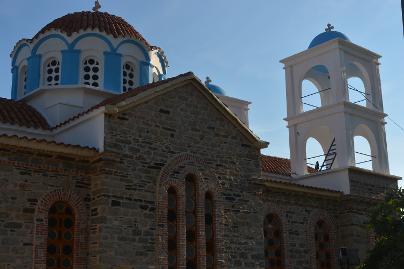 The small beach and nearby rocks at Magganitis.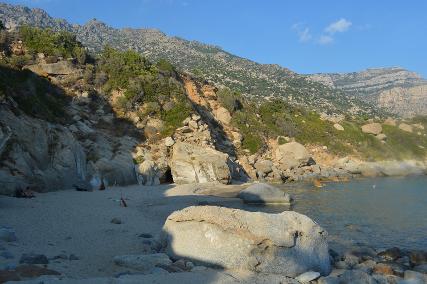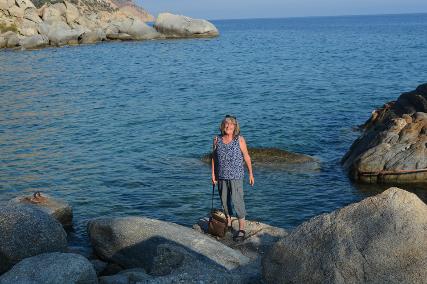 Flaming brandy on cheese saganaki. The finished product.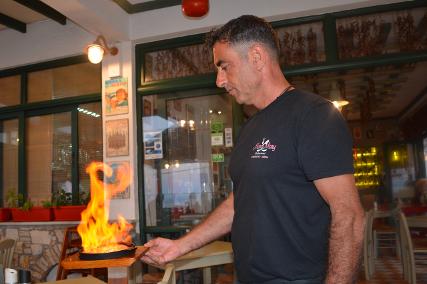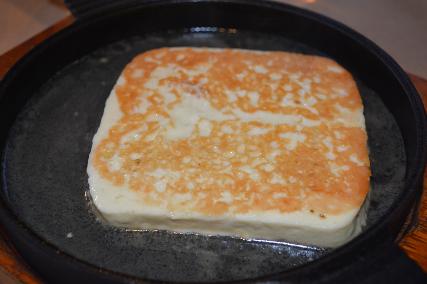 Fried zucchini 'maridaki', or zucchini fries. Lamb in tomato sauce with couscous and cheese.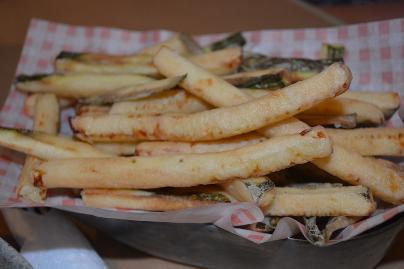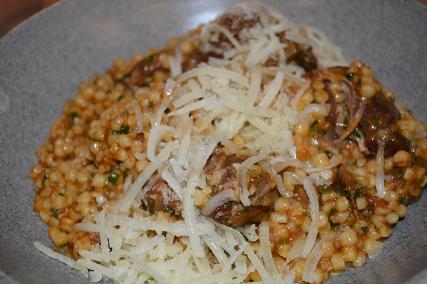 September 25, 2019 - Ikaria (Toxotis Villas) - sunset at Nas
And so it begins. I woke up today not feeling that well. Constant sniffling and generally lethargic with no energy to head out and explore more of the island. Virtually the entire day was spent resting, aka napping, at our unit. Our 'adopted' Scam cat (he knows where the milk is) was around throughout what turned out to be a pretty boring day for me. Gayle on the other was happy for the rest and break.
As the sun was starting to set to Gayle's credit she encouraged me to get up and head to Nas and Anna's Tavern (recommended by a number of other guests) for the sunset and some traditional Greek food. No disappointment on either account. Although the colour of the sky was not as strikingly orange after the sun set over the horizon as the first night the actual sunset was quite something, with some wonderful colours through the clouds.
At Anna's one is welcome into the kitchen to take a peak at the dishes - pans of grilled lamb chops, moussaka, gemista (stuffed tomatoes and peppers), stuffed potatoes, fava, grilled vegetables, fresh fish and many other options. Ultimately we shared potatoes stuffed with feta (not that exciting) after which Gayle ordered the gemista (which she very much liked) and me the moussaka (which was better than average but not the best I've had). A 1/4 litre of white wine and a 1/4 litre of retsina (only 2 euros) accompanied our meal.
We ended up having a lengthy chat with a young couple the next table over - Florian from Germany and Agnes, from Texas (although without any revealing accent). This is what we enjoy about traveling to these lesser known places - the interesting people we meet who also have the interest to visit less popular locations.
_____________________
As this was a quiet day a bit of info on the 'Blue Zone' designation of the Ikaria. There are five 'blue zone' regions in the world, identified for the high rate of centenarians, the low incidence of disease resulting in residents who enjoy more years of good health. The regions are:
1. Sardinia, Italy, particularly in mountain villages such as Seulo,
2. Okinawa, Japan,
3. Loma Linda, California (a group of Seventh-day Adventists),
4. Nicoya Peninsula, Costa Rica, and
5. Ikaria, Greece - which has the highest percentage of 90-year-olds (1 in 3 make it to their 90s) on the planet.
Furthermore Ikarians have about 20 percent lower rates of cancer, 50% lower rates of heart disease and almost no dementia.
The tiny island's long history has been as rocky as its topography, being the target of invasions by Persians, Romans and Turks, forcing residents inland form the coasts. The result: an isolated culture rich in tradition, family values ... and longevity. It is believed a combination of factors explain the low disease and longevity, including geography, culture, diet, lifestyle and outlook. Residents enjoy strong red wine, late-night domino games and a relaxed pace of life that ignores clocks. Clear air, warm breezes and rugged terrain draw them outdoors into an active lifestyle.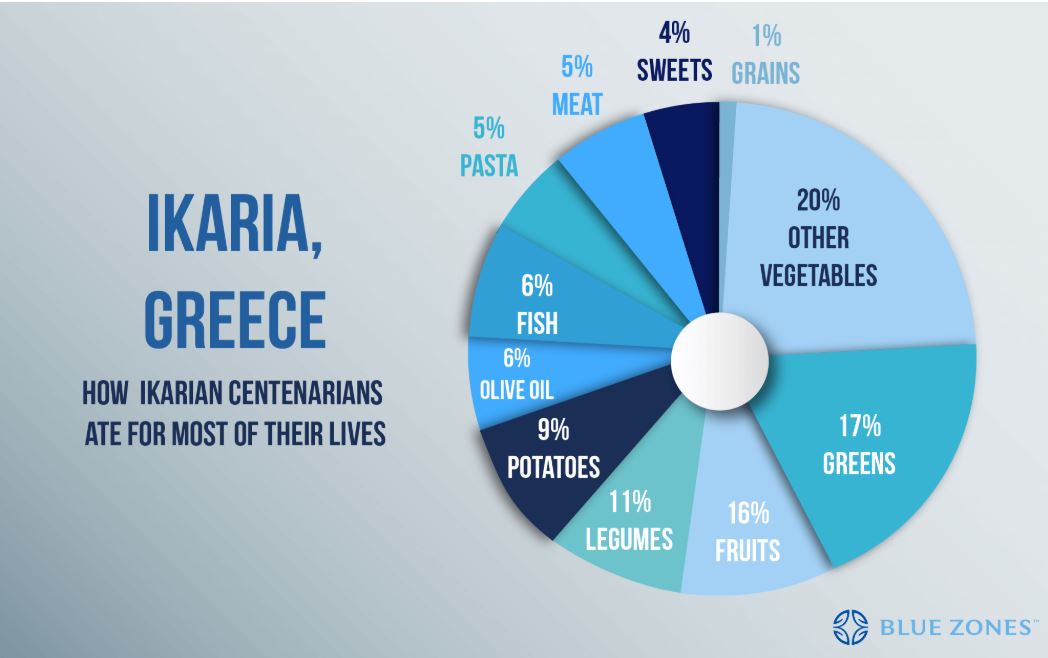 It is believed diet has a significant impact on the health of Ikarians. Nearly 60% of what the centenarians ate were either greens, legumes, potatoes or other vegetables.
Lots of fruit and plenty of olive oil also are prominent in their diets.
On the other hand relatively little meat, pasta and fish were consumed.
Following are the common practices Ikarians have woven into their culture and lifestyle (source:
https://www.bluezones.com/exploration/ikaria-greece/
).
1. Mimic mountain living - the longest-lived Ikarians tend to be poor people living in the island's highlands. They exercised mindlessly by gardening, walling to their neighbour's homes or doing their own yard work
2. Eat a Mediterranean-style diet - Ikarians eat a variation of the Mediterranean diet, with lots of fruits and vegetables, whole grains, beans, potatoes and olive oil.
3. Stock up on herbal - people in Ikaria enjoy drinking herbal teas. Wild rosemary, sage and oregano each act as a diuretic, keeping blood pressure in check by ridding the body of excess sodium and water.
4. Nap - take a mid-afternoon break. People who nap regularly have up to 35 percent lower chance of dying from heart disease, as napping may lower stress hormones or rests the heart.
[I'm not making this one up - it's in the article. I particularly ascribe to this technique for a long life]
5. Fast occasionally -Ikarians have traditionally been fierce Greek Orthodox Christians. Their religious calendar called for fasting almost half the year with caloric restriction cutting about 30 percent of calories out of the normal diet, thereby slowing the aging process.
6. Make family and friends a priority - Ikarians foster social connections which have been showm to benefit overall health and longevity.
7. Choose goat's milk over cow's milk - instead of cow's milk Ikarians use grass-fed goat's milk that provides potassium and the stress-relieving hormone tryptophan.
I said I was not feeling well. Here's the proof.
We spent considerable time today at our unit, with numerous visits from our adopted Scam cat.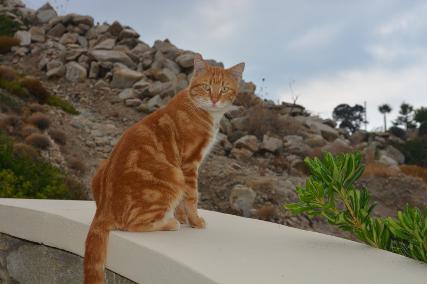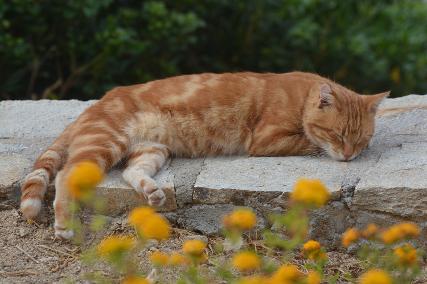 "Do you have a problem with me?"
says Scam cat.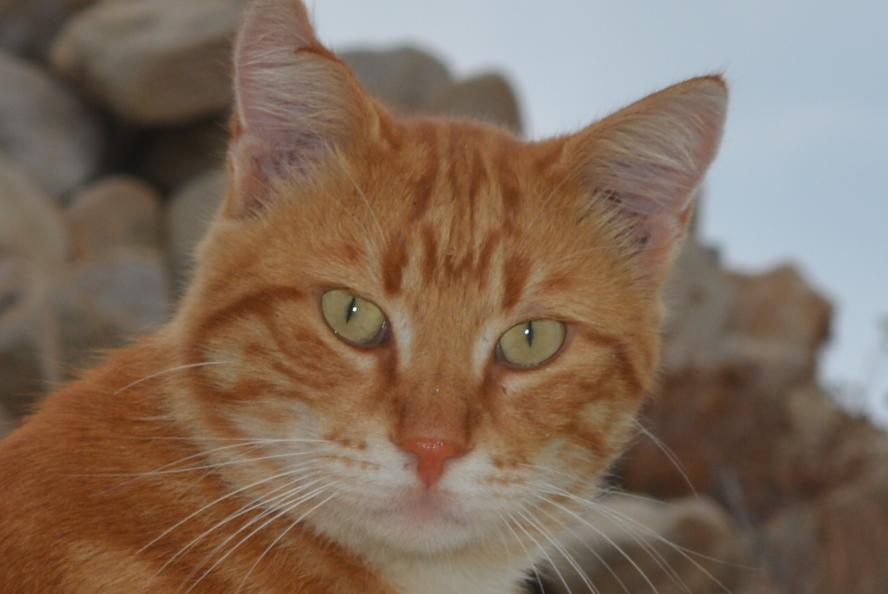 A lot of time lazing around our place / terrace today.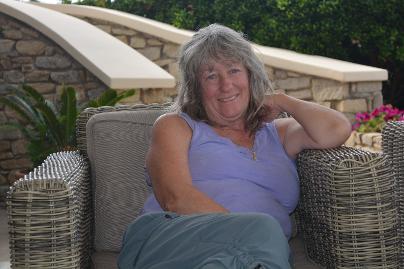 Sunset from Nas, Ikaria - what colours.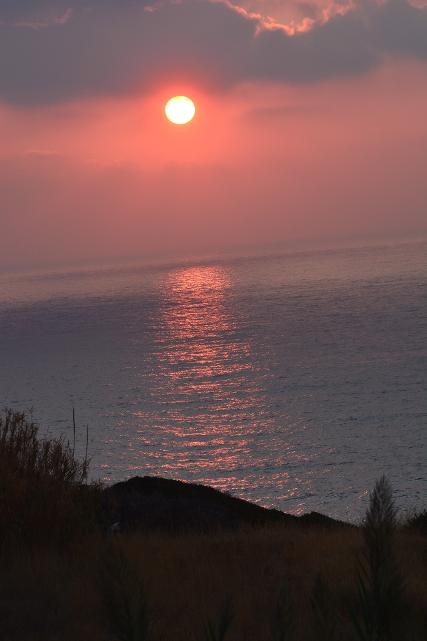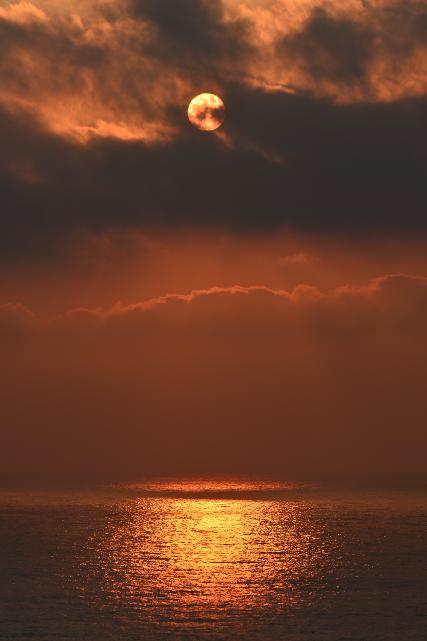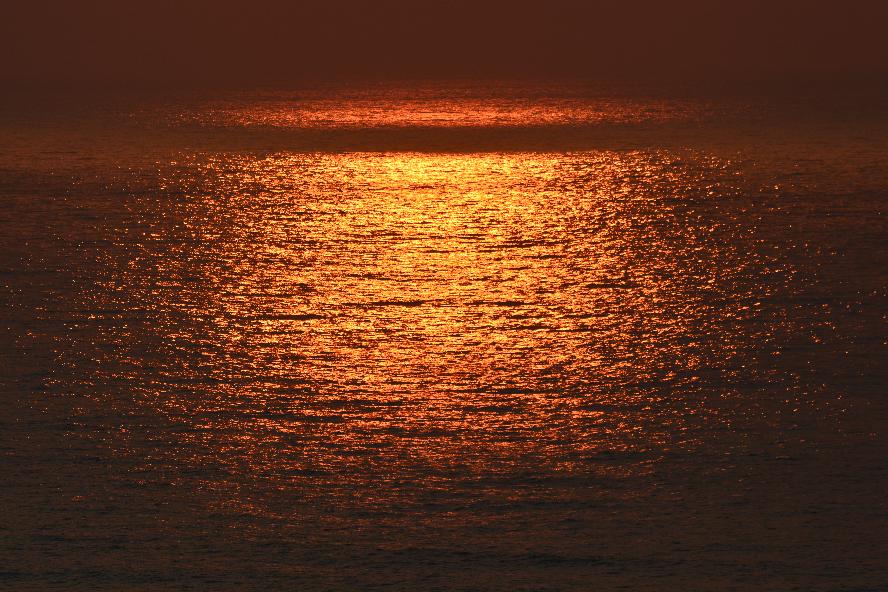 Tables and traditionally Greek blue chairs at Anna's Tavern.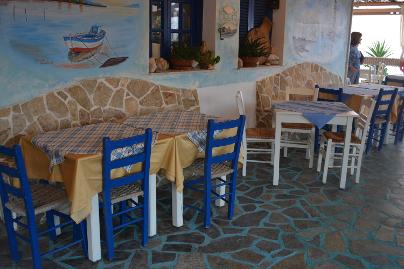 We were invited into the kitchen to take a look at everything that was available. Here is a small sampling.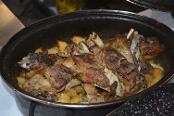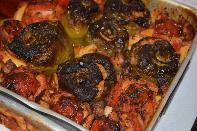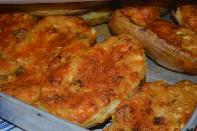 Gayle chose the stuffed tomato and pepper. While I had the moussaka.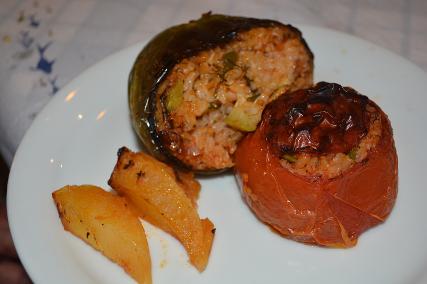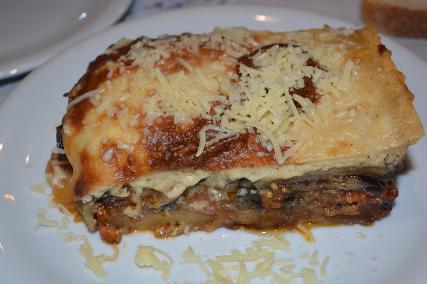 September 24, 2019 - Ikaria (Toxotis Villas) - Christos Raches and Afianes winery
Today's afternoon outing took us up into the mountains south of Armenistis through the small village of Agios Dimitris and on to Christos Raches. Christos Raches is a small village of 350 permanent residents. Perhaps regrettably we didn't stop to wander through the centre of the village as we spent considerably more time at the Afianes winery than originally planned. Apparently the centre of the village retains its traditional flavour and colour with characteristic houses including beautiful old balconies. The square and surrounding pedestrianized roads are covered with Ikarian slate.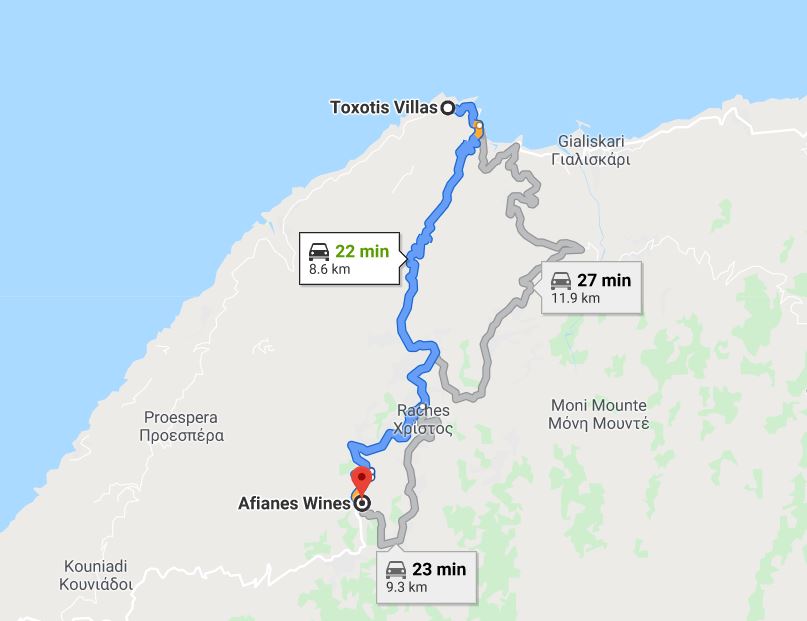 There are a number of small villages on a drive that takes one through dense woods of pine and towering oaks, surrounded by fruit trees and vineyards, to Christos Raches. We passed around Christos planning to stop on the way back.
Beyond the town we came upon the Afianes winery where we stopped to take a look. Being a nice afternoon we decided to take a wine tasting tour, supposedly 50 minutes (there are longer tours) with a tasking of three wines with bread rusks.
Afianes winery is known for its production of bio-organic wines. The 'Fresh Wine Tasting Tour' begins with an informative video of the traditional process of producing the wines. Then one visits the 'Pithostasi' where the wine is fermented and aged in clay jars buried underground. The traditional vinification method of the ancient Ikarians, still employed here at Afianes was explained by our guide Stavroula. We where showed the 'patitiri' where grapes are still stomped by foot. Unfortunately the harvest was over and the stomping done for the year. There is a significant ampitheatre on the property with breathtaking views of the hillsides of the Chalari canyon. There is an interesting museum of wine making artifacts demonstrating the wine making tradition. The tasting was advertised a being 50 minutes but lasted over an hour and a half. After the tour we tasted three wines - two dry whites (Litani (which we both liked the most) and Pithari - made from the Begleri grape and the dry red Pithari from the Fokiano grape. Included in the tasting are Ikarian rusks baked in a traditional wood-fired oven - they really were quite good. A very enjoyable and worthwhile tour, even if its length meant not having the time to wander through Christos Raches.
We asked Stavroula for a restaurant recommendation in the area. She suggested Sto Kambi in Agios Dimitrios, a small hamlet we passed on the way up the mountain that seemed to have a quaint traditional square. Indeed it looked nice so we stopped. Gayle started with the smoked eggplant salad followed by Soufiko - a vegetable stew of eggplants, potatoes, onions, garlic, pepper, zucchini, tomato, oregano and olive oil ... lots of olive oil. Ikaria is one of the world's 'blue zones' where longevity is noticeable. The Ikarian secret is apparently fresh vegetables and olive oil ... lots of olive oil. Now if only the servings were a tad smaller. I had two cured beef pies which were quite good and meatballs with mint. The mint was just right - very noticeable without being excessive. A 1/4 of white wine and a glass of red wine completed the meal. Well completed except for the 'gift' of dessert, in this cases apple slices sprinkled with cinnamon. Quite a bit for only 30.50 euros. Although we were alone eating at this early hour the service, food and ambiance were all very good.
After our meal we descended the short distance back to Armenistis and Toxotis Villas.
Again the Toxotis pool. And the communal breakfast table.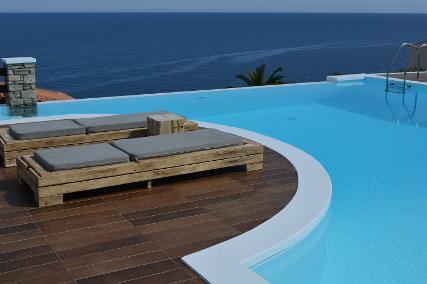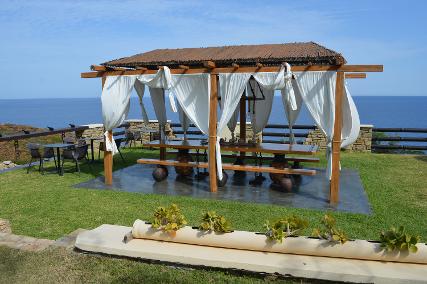 A butterfly enjoying the flowers around the grounds of Toxotis.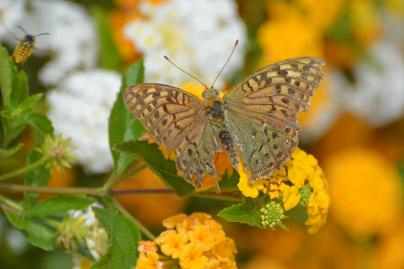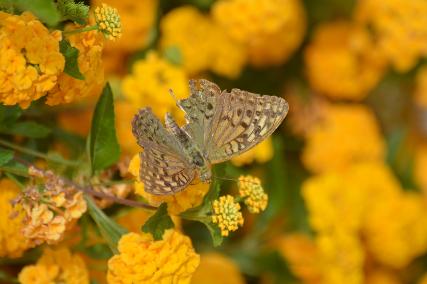 The underground clay jars in which the wine ages. A wine press.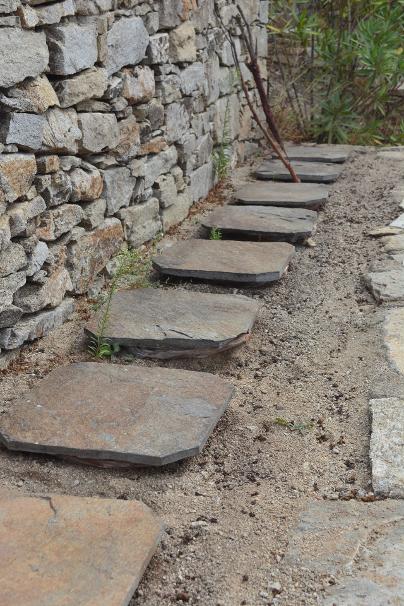 Stavroula, our wine tour guide and Gayle.
Stavroula and Gayle by the patitiri.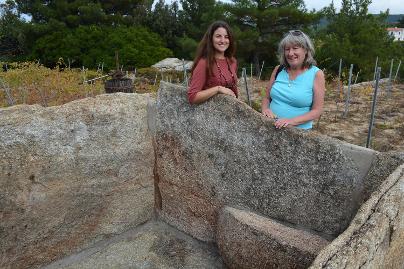 Being shown the traditional process of siphoning the wine from a barrel with the neck of a gourd.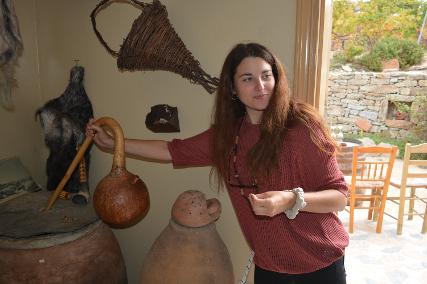 Stavroula opening a bottle for tasting. A bottle of Pithari Dry Red.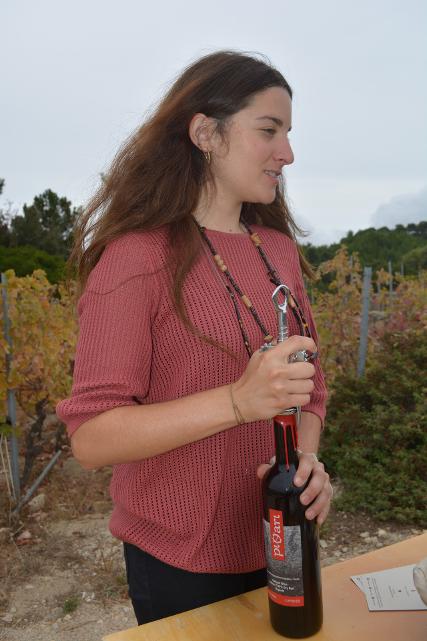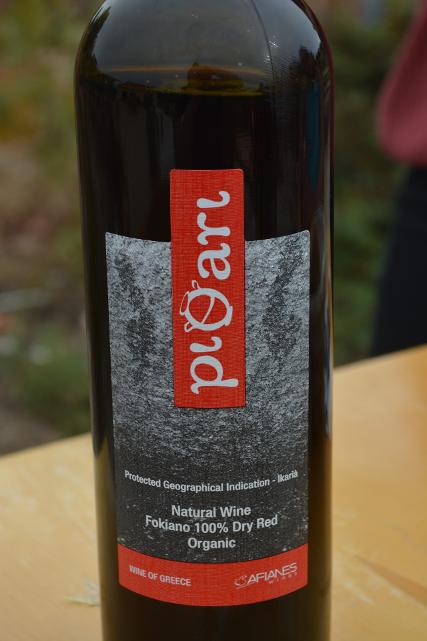 The cute outdoor eating area at Sto Kambi. Smoked eggplant salad.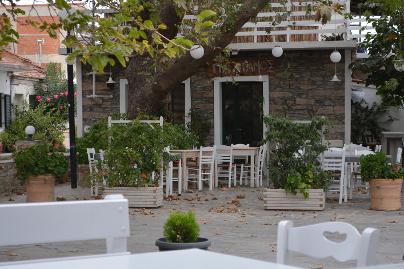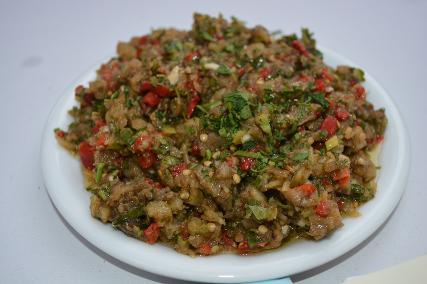 Soufiko (a stew with kathira cheese). Meatballs with mint.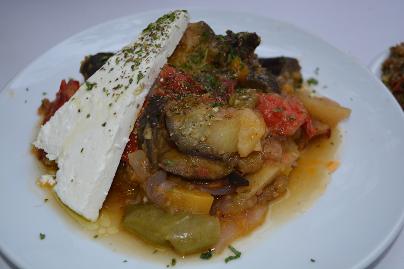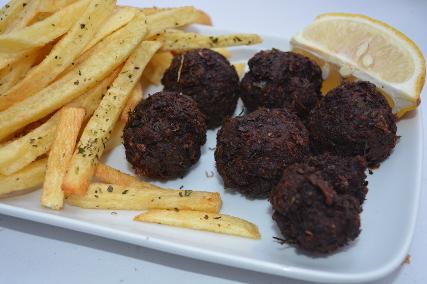 Cured beef pies. Our after meal 'gift' - apple slices with cinnamon.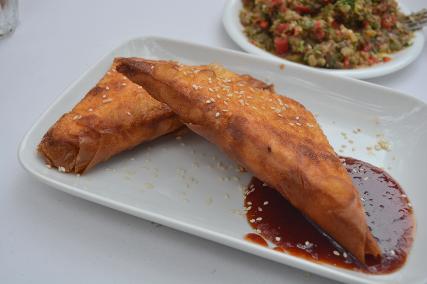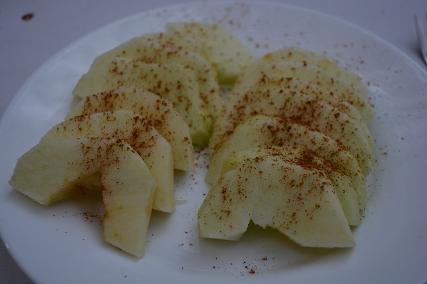 Clearly guard casts, although not looking that vicious. A women filling her water jug from the village source.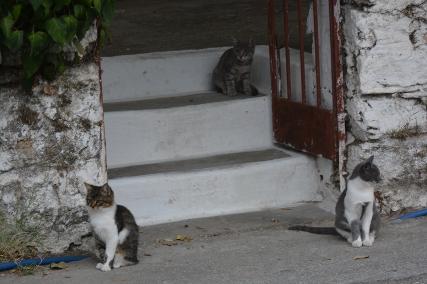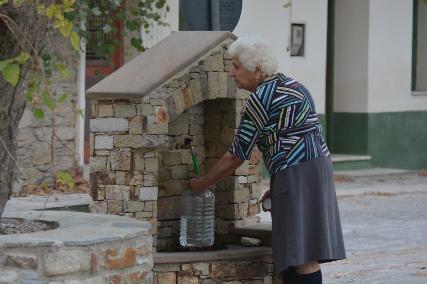 September 23, 2019 - Ikaria (Toxotis Villas) with a drive around the west coast
During breakfast we again chatted with a Polish couple (who generously loaned us their detailed maps of the island they found in Agios Kirikos, the capital) and Georg and Nicole, a couple from Germany we got to know during our stay.
After the standard late breakfast and then back to our room to chill out we went for an afternoon drive the 35 kms around the west end of the island, past Nas and a few other small villages to Karkinagri and then on to Trapalou. The drive was very picturesque, with a new wide road winding in and out of valleys / gorges along the coast line, with numerous photo opportunities.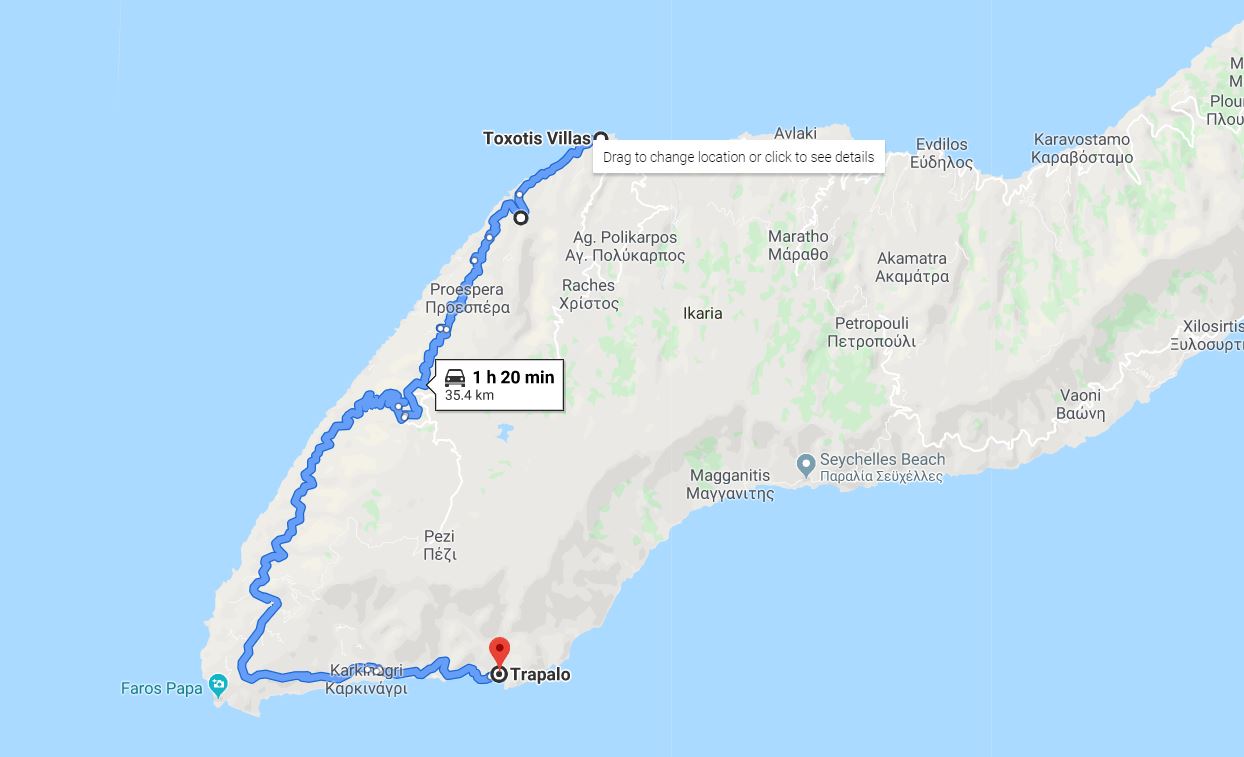 After driving past mountains of tree-less boulders and turning the southwestern tip a few kms on is Karkinagri, a small picturesque fishing village sloping down a mountain side. With only 300 permanent inhabitants the village numbers do increase considerably in the summer due to the attraction of the crystal clear sea and local beaches. We drove into the village to the small marina with its boats, tavernas, cafes and pensions/ rooms to rent. The mountains apparently provide opportunities for hang-gliding and hiking is popular. We stopped at a small taverna right on the sea side. We were two for four. The 'mountain' bread was nice but the tzatziki was way over garlicy. I enjoyed a tasty piece of watermelon (with black seeds of course) but the wine, although served in a traditional copper coloured cup was without question the worst we had the entire trip. Check out the colour in the photo below - enough said.
Next was the small village, actually a hamlet, of Trapalou another 4 kms along a dirt road. How difficult could 4 kms be? Well the dirt road was at best one lane - thank goodness we did not encounter any other vehicle in either direction. The 'road' hugged the mountainous coast line, with stunning views, particularly with the bright sun shimmering on the sea. Slow was the order of the day as one error would be one's last. Again there were endless opportunities to stop and take photos of the coast line. Trapalou itself was somewhat of a disappointment - just a handful of homes and a rocky beach. Apparently there is a taverna but having stopped in Karkinagri we did not search it out. Trapalou is a destination for those who truly want tranquility and unspoiled nature, peace and quiet. Apparently the dirt road continues another 11 km to Magganitis but we had had enough and turned around, returning the way we came.
Unfortunately I was beginning to not feel that well - sniffling and without appetite. After returning to Toxotis we again walked into town to Mary Mary where we had a very light dinner - Gayle the Greek salad 'Horiatiki' with tomatoes, cucumber, peppers, capers, onions, oregano, feta, cheese and extra virgin olive oil while I had a simple plate of surprisingly good wild rice. We again walked back to Toxotis where we called it a night.
A scenic cove near Mavriannos on the west coast of Ikaria.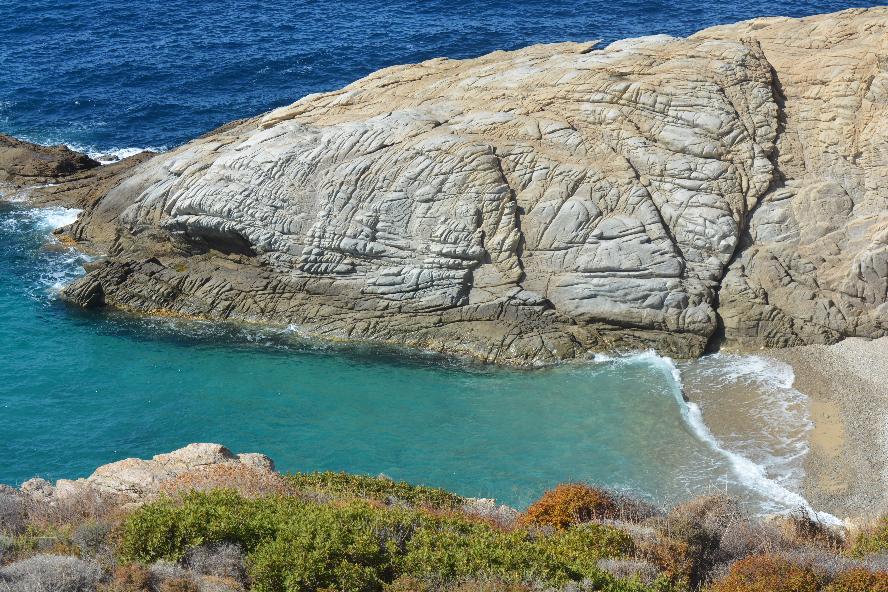 A traditional Ikarian stone shelter.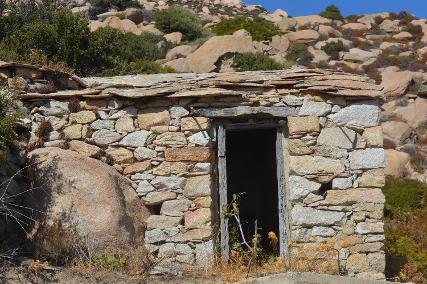 We stopped to take a photo and encountered this Greek fellow who took our photo.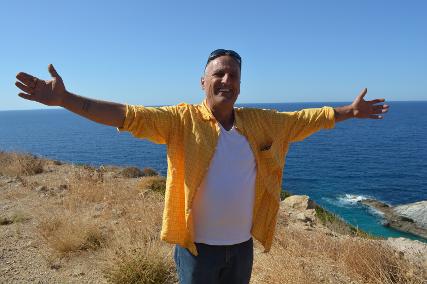 Ok, so let's agree the pink and red is not the best colour co-ordination.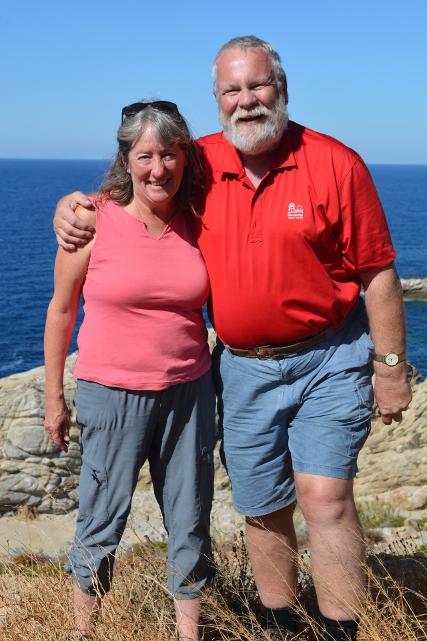 The west coast line of Ikaria - with a tanker in the distance.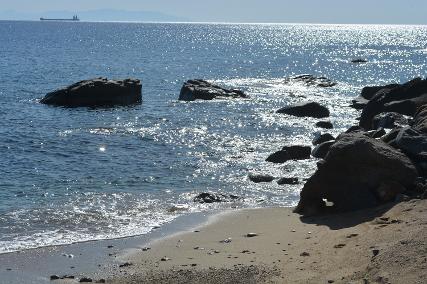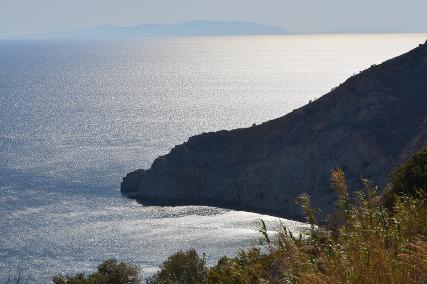 The taverna at which we stopped in Karkinagri has a wonderful location right on the seaside.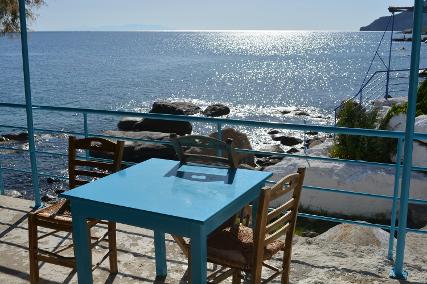 Tasty watermelon, with seeds!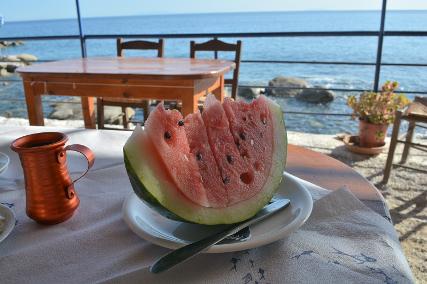 Good bread, so-so tzatziki (too much garlic) and the worst white wine made by man kind.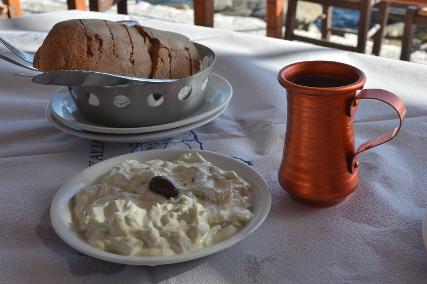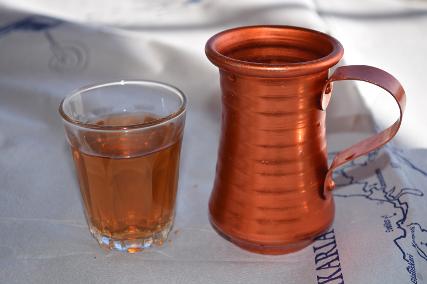 The drive from Karkinagri to Trapalou is 4 km along a one lane dirt road hugging the cliff side - no guard rails - just a long drop to the sea.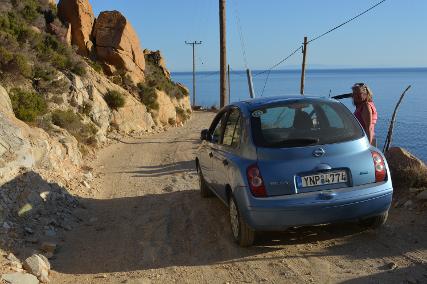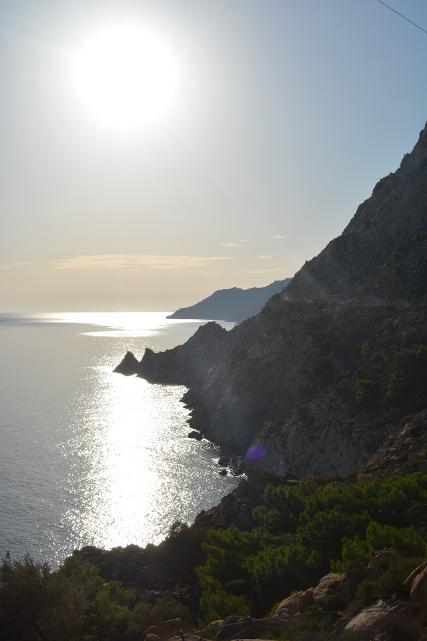 Trapalou - scenic on the coast but not much more than a few houses and a rocky beach.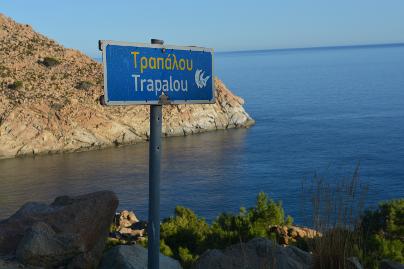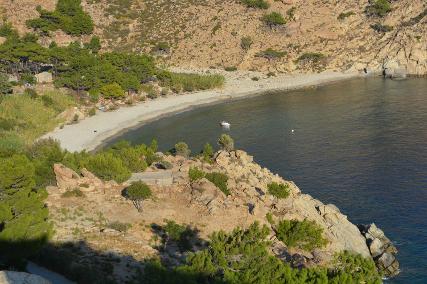 The coast line driven into the setting sun returning from Trapalou.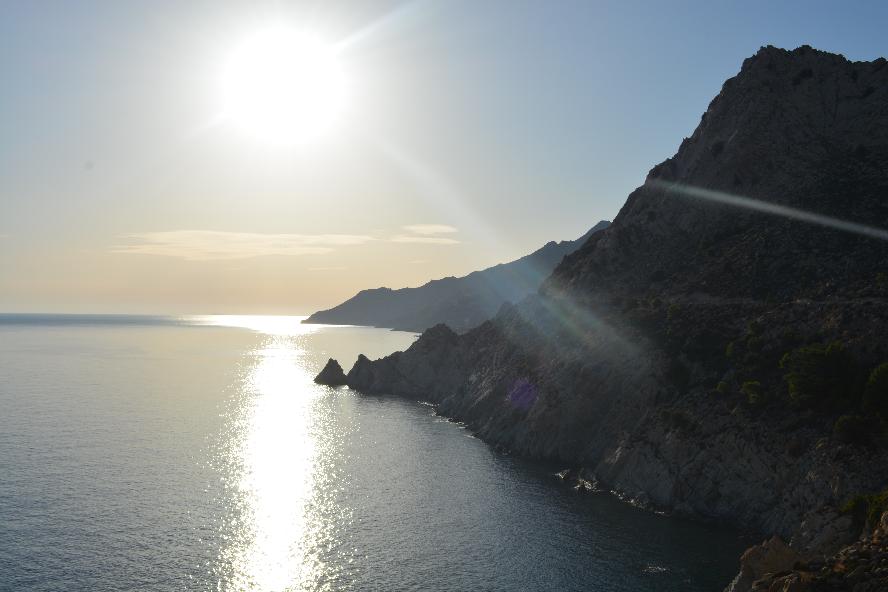 Back to Mary Mary for a Greek salad, and where I was not feeling well a plate of wild rice.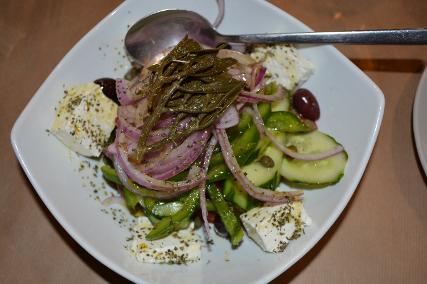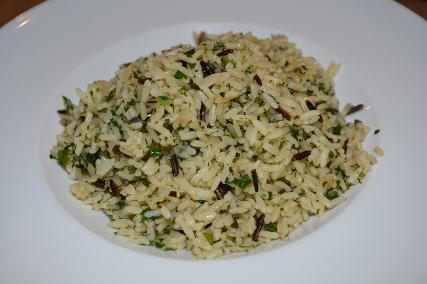 September 22, 2019 - Ikaria (Toxotis Villas)
With a full week in Ikaria we had no reason to race out our first day to see the island - plenty of time for that. Our day started with a great breakfast - including fresh orange juice with ice and a straw, along of course with a selection of breads, eggs as one wants them, sausage (although Viennese rather than Greek which seemed strange), yoghurt with lots of fruit, honey and walnuts, jams, with an option of a Greek plate of tomatoes, cucumbers, olives, cheese and tasty bread sticks. Breakfast is served at a long communal table where one naturally and easily chats with other guests. Today, among others, at breakfast we met Molly - a confident 18 year old Australian traveling with her mother and two aunts.
We spent the afternoon lounging around on our terrace, with perhaps a nap thrown in for good measure. During this time we encountered a cat we affectionately named 'Scam' cat. Scam cat was obviously well fed, no doubt through befriending guests. We were his next mark, and appreciating polite, friendly cats we could not resist his advances. Having way too much milk for our morning coffee we were happy to share some with Scam cat.
The only negative about Toxotis - ok the only other negative after the steep slope it is located on - is that it is not well positioned for the spectacular Ikaria sunsets. For those one has to go a few kms up the road to the village of Nas, a small village of approx. 50 residents. The name Nas comes from either the work 'Naos' (= temple) or Ma, called the goddess Artemis in Asia Minor, which was worshiped in Ikaria during the Minoan times. A temple was built dedicated to the goddess Artemis Tavrovolos, long since vanished as the inhabitants used the marble to build Christian churches in the 19th century. The village has a number of lodgings and restaurants overlooking the beautiful sandy beach, all ideal to enjoy the colours of the sun sets.
We stopped at one of the tavernas where we had a glass of wine (Gayle), glass of retsina (me) and some tzatziki. The reports of spectacular, colourful sun sets did not disappoint. Well worth the short trip to Nas.
Having a kitchenette and left overs from the previous night tonight is the one evening on the trip we did not go out to a restaurant. Not that I'm complaining but one thing I find on these extended trips is that every evening we are out eating rich meals, most often accompanied by wine. An important part of our trips is experiencing the local cuisine but after night after night it can get a bit overwhelming, and heavy on the stomach. Taking a night off is not such a bad thing.
A selection of breads and jam. Yoghurt with fruit and honey.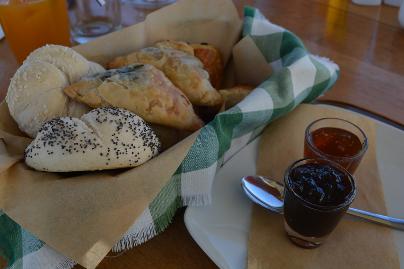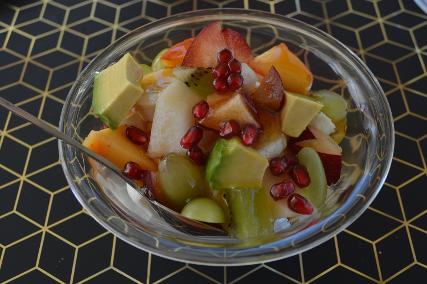 The 'Greek' breakfast plate.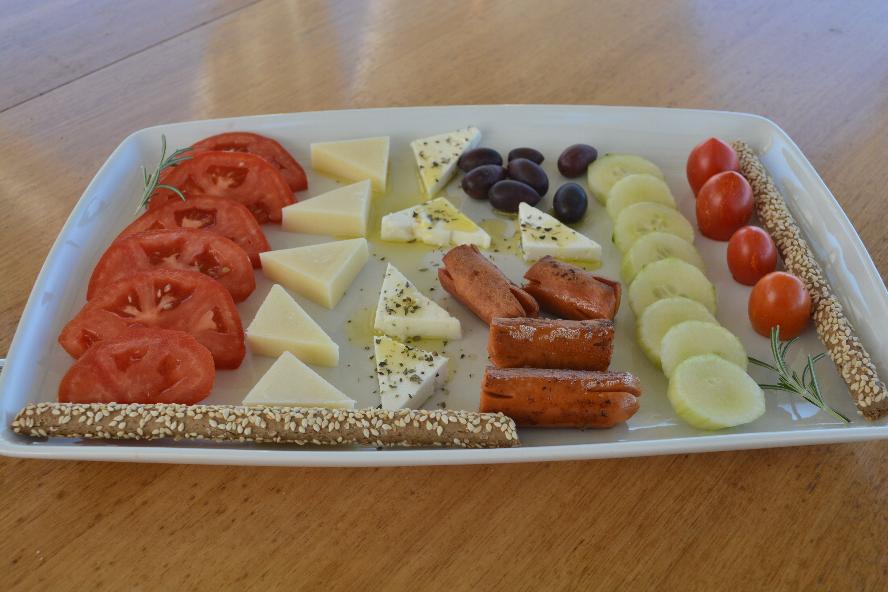 Toxotis Villas - from the breakfast area.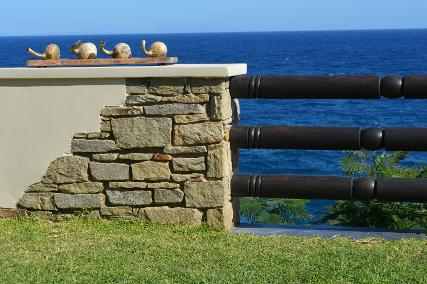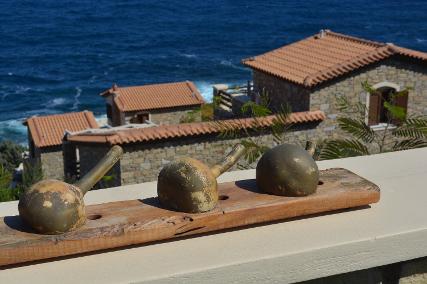 Our unit is below and behind the one on left - with great views to the sea.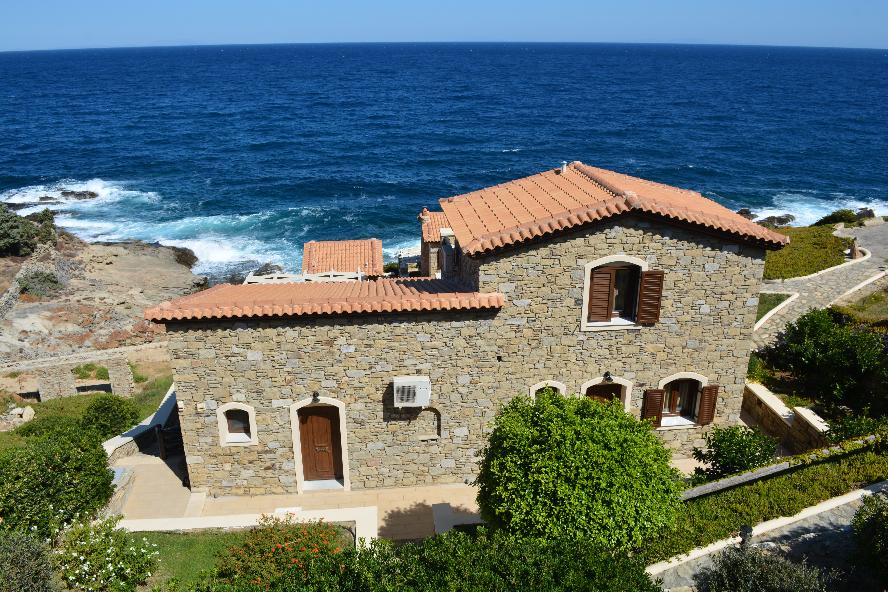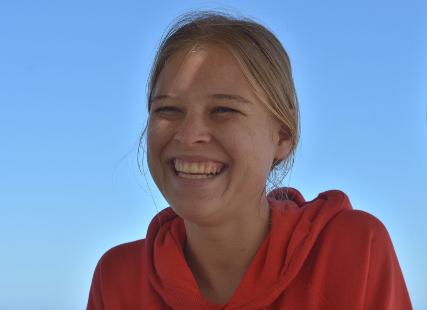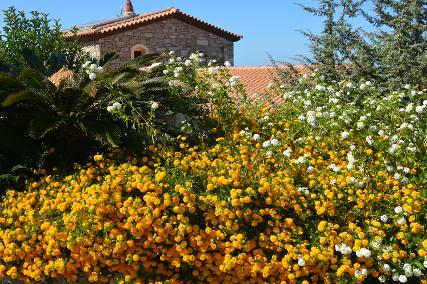 Toxotis Villas - entrance to our boutique hotel home for the next week.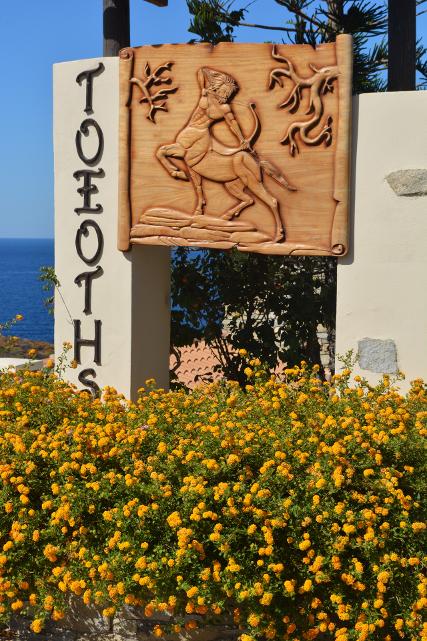 The first glimpse of 'Scam' cat, having made claim to our love seat - more later.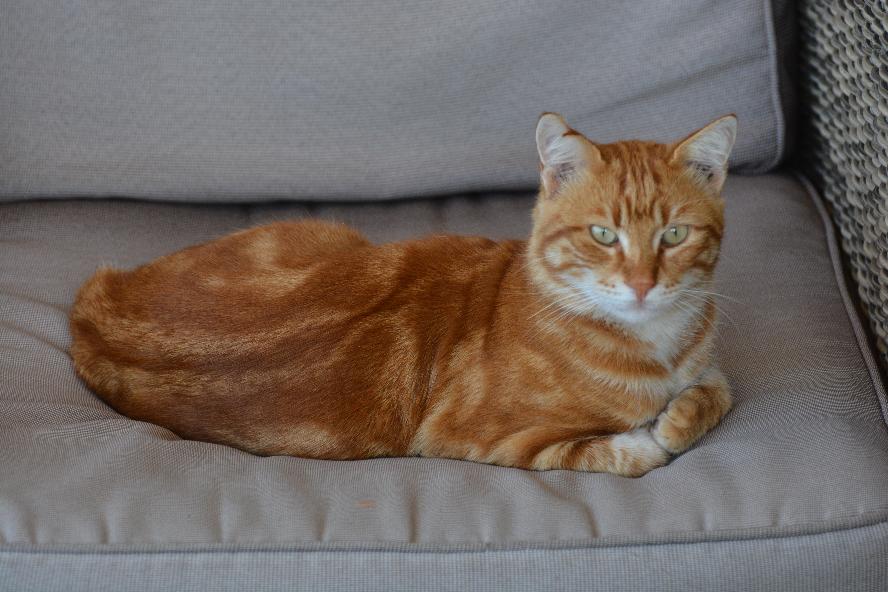 Some of the nicest sunsets of the trip were seen from Nas, on the north coast of Ikaria.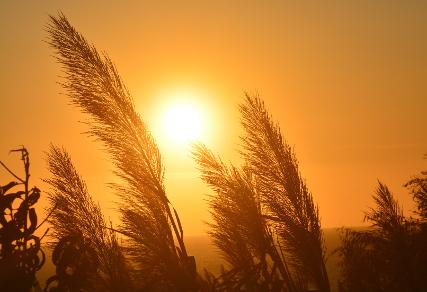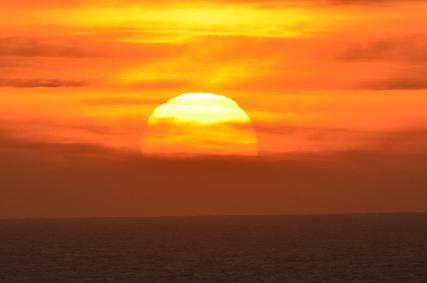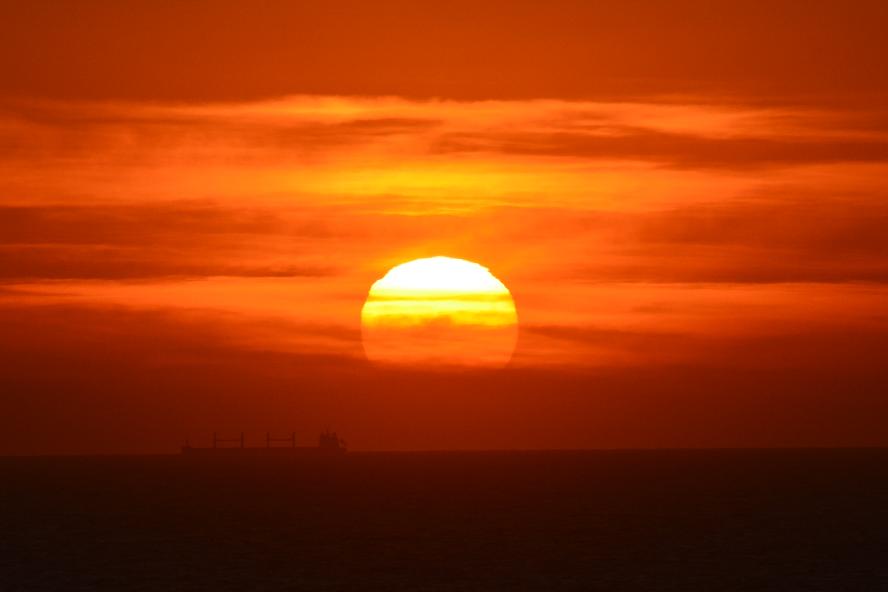 September 21, 2019 - Mykonos to Ikaria (Toxotis Villas)
We may have thought we were in close proximity to Mykonos town but the 4:00 am roosters let us know we were also adjacent to a field with chickens and roosters. With an 11:45 am ferry we were not rushed, able to enjoy breakfast - decent although nothing particularly memorable other than the hands on service of the owner Panos. Nice to see an owner on site helping staff clear tables etc. Costas delivered us to the port where we waited for our Blue Star Nissos Mykonos boat. A busier port than others with ferries and cruise ships the ferry eventually arrived - perhaps 20 minutes late - and quickly turned around for the two hour trip to the port of Evdilos, on the north coast of Ikaria.
After a little confusion we found our car rental guy and headed back west along a stunning coastline, on a narrow twisting road for 12 km past the village of Stemnista. Two first impressions:
1. there is going to bone a lot of steep ascending and descending from our room to the pool / breakfast area and car parking, and
2. this is a beautiful place with great vistas of the sea, including at the moment the crashing waves.
We have a large two room unit, including a kitchenette and a huge terrace with two chairs and a love seat and great views past two other units to the sea.
Of the few restaurants suggested we choose to go to Mary Mary, in the village. It was a 15 minute walk, more or less. The sun had set as we left providing a sky of wonderful colour. Mary Mary turned out to be a great choice (we returned twice more over the week). Service and food were consistently good, with interesting choices. Neither of us were that hungry so we ordered only one dish each - Gayle the 'Kritharoto', the local kritharaki pasta with grilled vegetables sauce and kefalograviera cheese and me linguine with chicken, mushrooms, tarragon and fresh cream. We each only could eat half, taking the rest home, along with a baklava we bought at the bakery next door
A stop at the market to buy some coffee and milk followed by the walk back to Toxotis and off to bed.
The inner courtyard and rooms of Aeolos Hotel. Right next door there were chickens and roosters.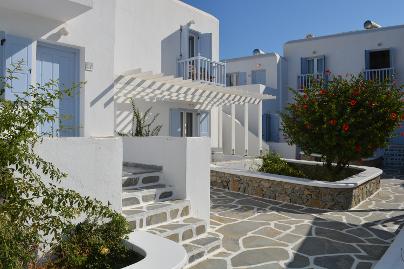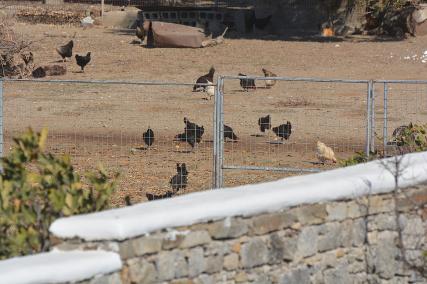 Some of our first glimpses of the coast after leaving the port of Evdolis.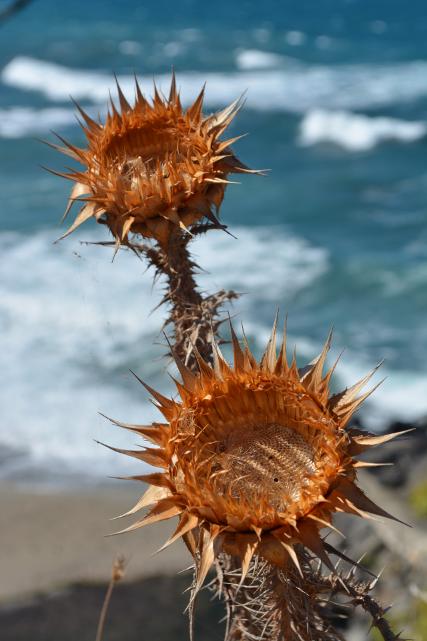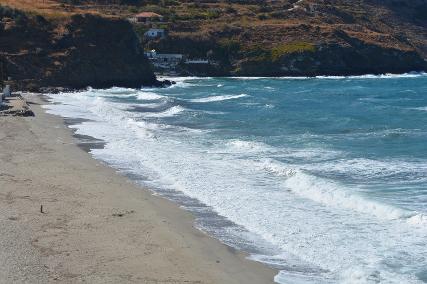 One of many stone buildings.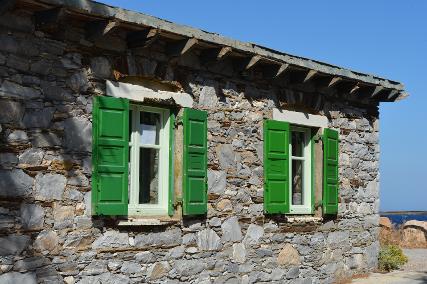 The coastline of the north coast of Ikaria.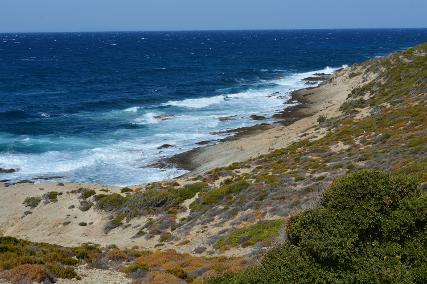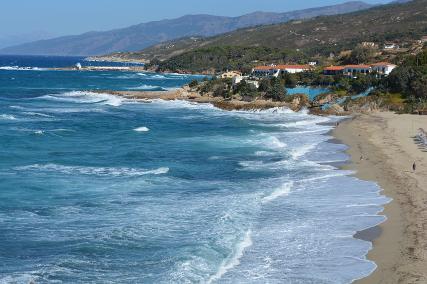 Our first view of the Toxotis Villas pool looking out to sea.
The view to the sea from our terrace. Three very comfortable chairs on our large shaded terrace.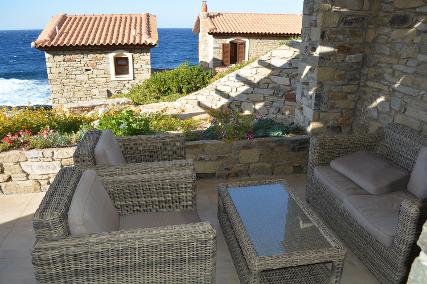 As we walked the 15 minutes to dinner we were treated to this colourful sky after sun set.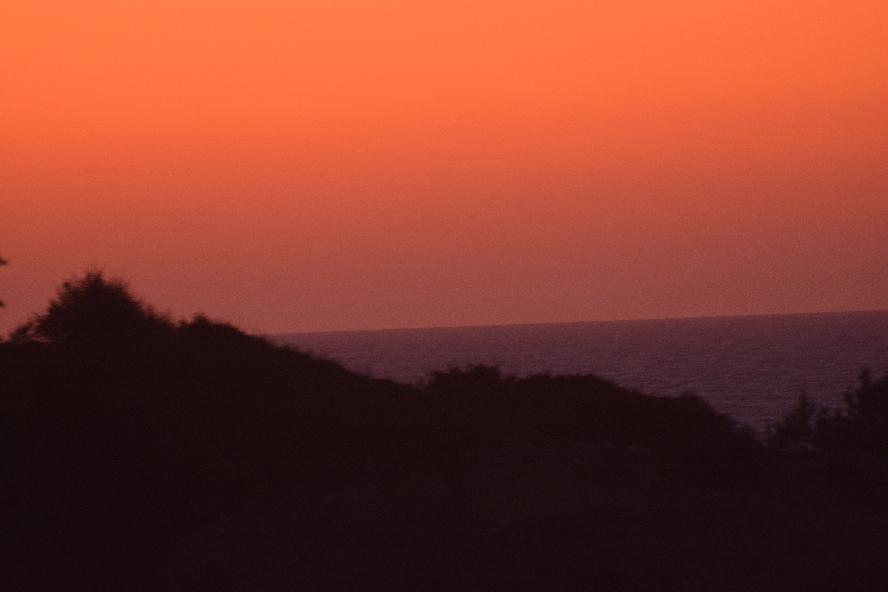 'Kritharoto' pasta with grilled vegetables. Linguine with chicken and mushrooms.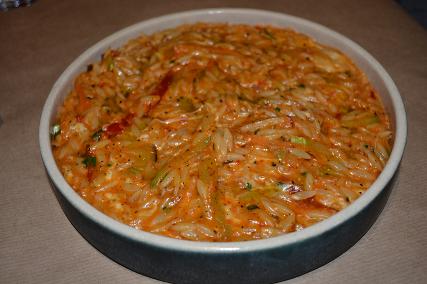 September 20, 2019 - Koufonissi to Mykonos (Aeolos Hotel)
Today we leave Koufonissi - at a reasonable time of 1:50 pm, i.e. no early morning ferry. After one final filling breakfast we said our good-byes not only to Lola, Renata and George but Bill and Linda as well. After traveling together for two and a half weeks they are off to Folegandros, Naxos and Hydra before we will meet up again at the Istanbul airport for our flights home.
While George was driving us to the port I realized we had not paid him … and he had not asked. We laughed when I suggested we pay him next year when we return. He smiled in that unforgettable George way and said that is ok. Not sure about his business model but we sure love staying at Pambelos Lodge. And we did pay.
We were on a relatively fast SeaJets ferry that after a stop in Naxos delivered us to Mykonos where we had to over-night as there was no same day connection to Ikaria. We were met at the port by Costas who was wonderful throughout our short stay, including giving us a drive down to the port. Aeolos Hotel, while clean and functional was not particularly memorable nor did we expect it to be. The room was pretty small, although with a terrace. Breakfast was so-so but what stood out was the care and interest of the owner Panos and as mentioned Costas. It served our purpose.
We went down to the port to get a quick feel of Mykonos town. Pedestrian oriented - while scooters and motor bikes are present, vehicles are not allowed along the port. The town is a maze of narrow alleys with lots of shops, many of which were quite upscale. Stefanie had recommended a restaurant - Avra - which we searched out. It had a really nice garden area that unfortunately was full. Our table looking out to the garden was fine. The food was for the most part good although very expensive. Gayle had a mushroom risotto which at twice the price of the mushroom risotto he had in Koufonissi was not nearly as good. On the other hand my roasted lamb was excellent, albeit again quite expensive at 25 euros ($37 Cdn). We shared a chocolate mouse for dessert which was also extremely creamy and very nice. The house wine (13 euros or $20 for a half litre), while expensive compared to what we have become accustomed to here in Greece was the best we have had thus far on the trip.
After dinner we wandered through more alleys and outside the port area where we found a taxi to take us back to the hotel.
Good-bye Lola; good-bye George; good-bye Pambelos Lodge - until we return, which likely will be next year.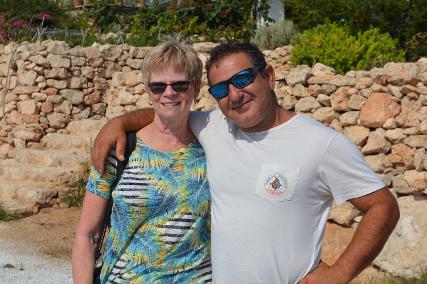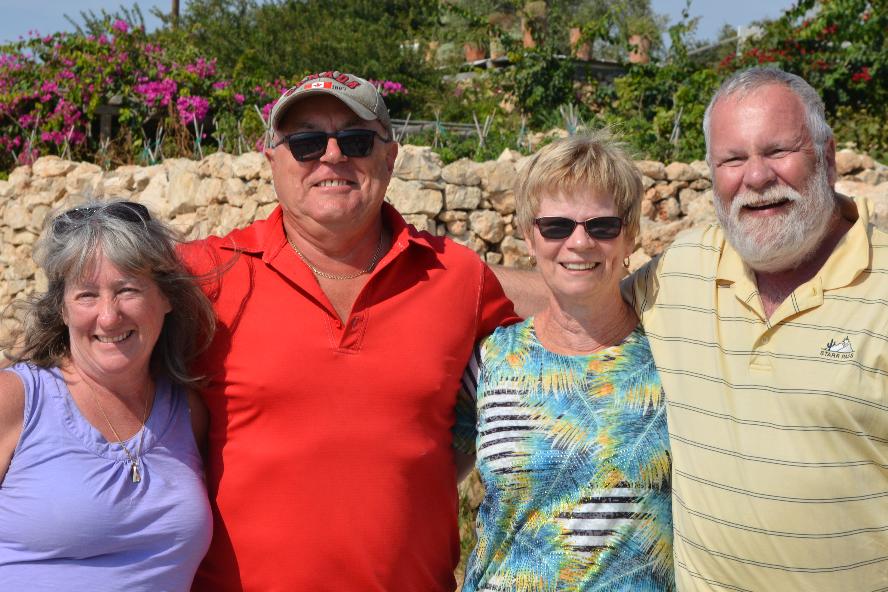 A couple of final views of Koufonissi harbour / port.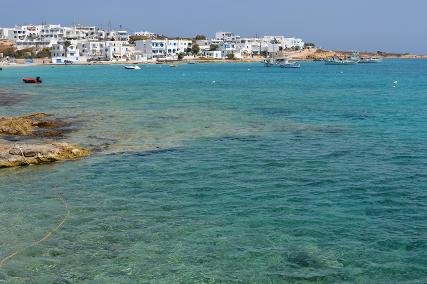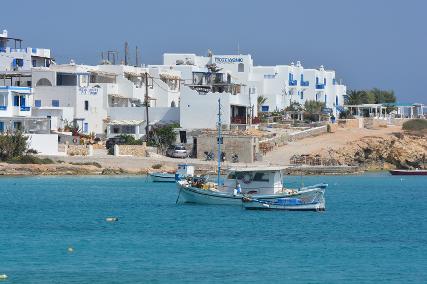 Young at heart travellers. From one island to another on a Greek ferry.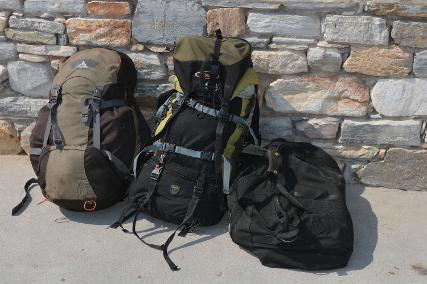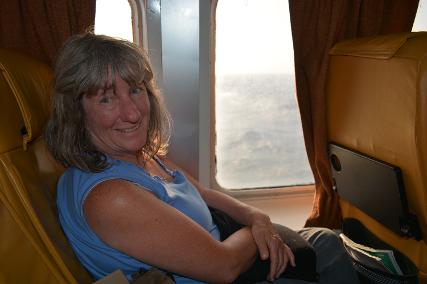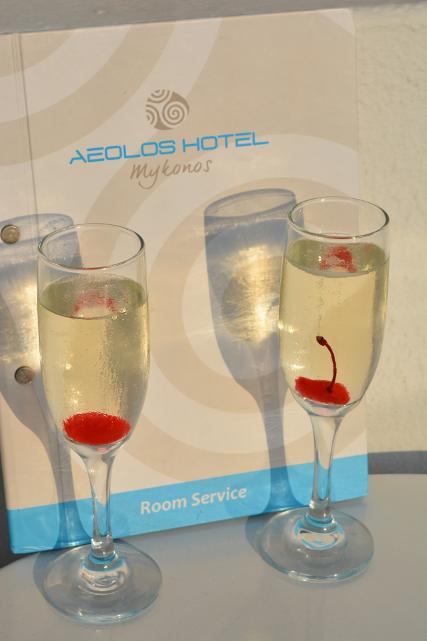 The SeaJets ferry from Koufonissi to Mykonos, with a stop in Naxos was more or less on time. We were met at the port by Costas from Aeolos Hotel. The hotel is a bit above the port on a not so exciting road. The room itself was nothing memorable nor was the breakfast, but the service was excellent - from Panos the owner to Costas who also gave us a drive down to the port.
Very pedestrian oriented the port of Mykonos was actually nicer than we expected, with numerous narrow alleys with shops (lots of shops) and restaurants. We searched out Avra, a restuarant recommended by Stefanie in Koufonissi, where we enjoyed a good, albeit expensive dinner.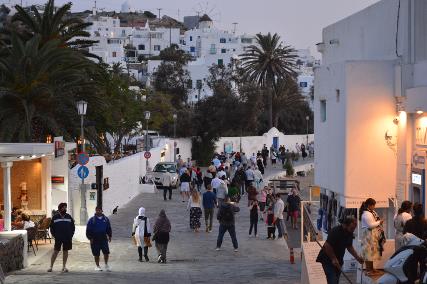 Some of the steep steps and narrow alleyways of old Mykonos town.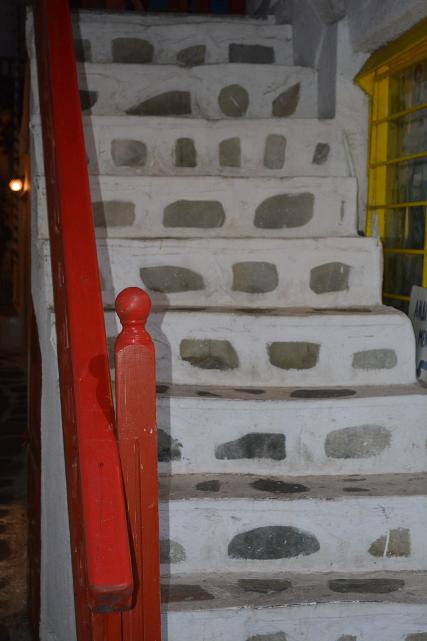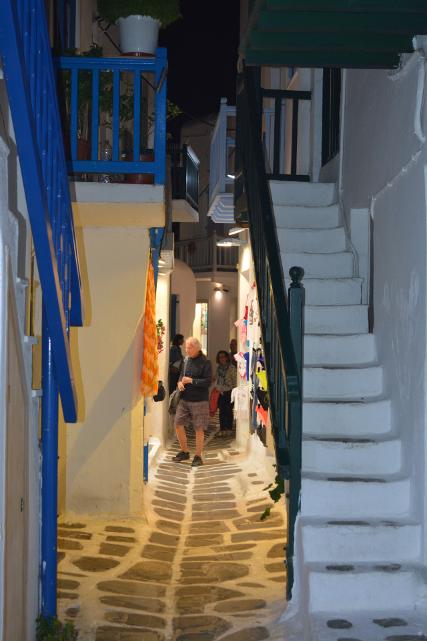 Right - mushroom risotto with garlic cream, white wine and flavoured with truffle oil.
Below - roast lamb in a rosemary and garlic sauce with pureed potato and grilled vegetables.
Below right - chocolate mouse.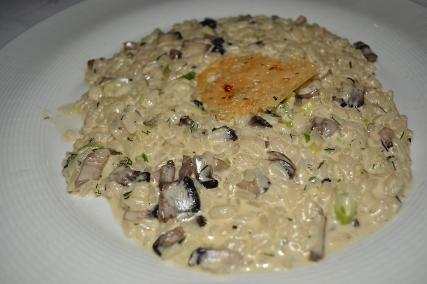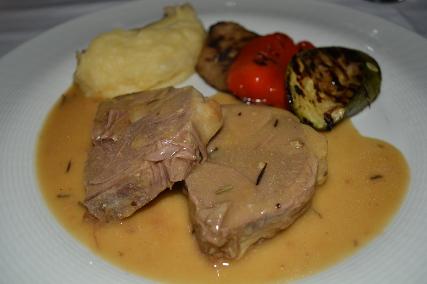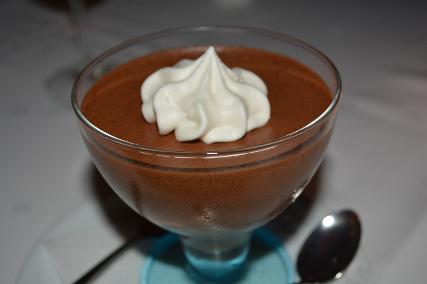 September 19, 2019 - Koufonissi (Pambelos Lodge) - Finikas Beach (again)
This is getting a bit routine - in a good way. Rise, make a Nespresso coffee (or two), sit on the terrace admiring the view across the channel to Keros Island, eventually stroll down for a long breakfast, chatting with out peeps
and other guests. Today it was Barbara, an Italian from Milano whose family is from southern Italy (Cantabria) where we will be traveling nest spring. We exchanged contact info so we can ask about places to go when we are there.
At some point we are off to a beach for our daily swim. Today we returned to Finikas because it is both the closest and as nice as any other. The turquoise waters, sandy beach and vistas of Keros Island provide incentive to continue to return. We love it.
Tonight we chose Aneplora , a restaurant on the west side of the island next to a picturesque small harbour. In spite of being 3 km (two into town and one to Aneplora) where we had yet to walk into town we decided to do so. Yes my knees are sore but I was able to manage ok. It is a very pretty, relatively flat walk with lots of interesting things to see along the way. When we reached town we stopped at the bakery where we bought a traditional honey drizzled pastry. We then walked through the village to the far side and then along the coast another km to a pretty little harbour with lots of small fishing boats and Aneplora fish restaurant. Bill and Linda were already there when we arrived.
We started with a mixture of tomato and zucchini croquettes after which Gayle had the Aneplora salad, a
mix of vegetables, pomegranate. figs, filleted oranges, cherry tomatoes, vinaigrette honey and balsamic. My dish was much simpler - grilled octopus - three large tentacles. Lots of laughs and lots of fun. Given we walked over and with my knees and Bill's hip we again took a taxi back - only 5 euros for all of us - a great deal.
A very fine last day on Koufonissi.
Simply beautiful - reminding us of why we return to Koufonissi.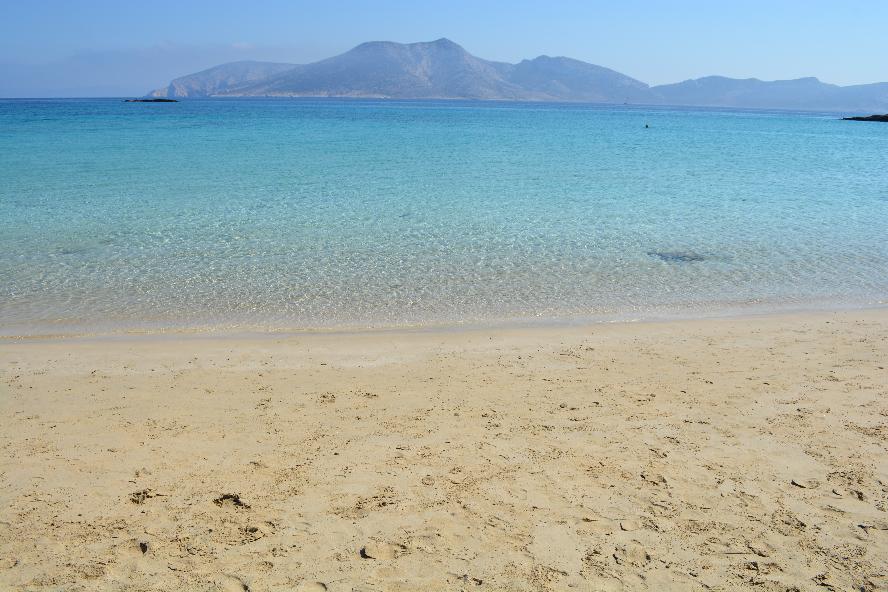 Finikas beach (again) and Gayle enjoying her swim of the day.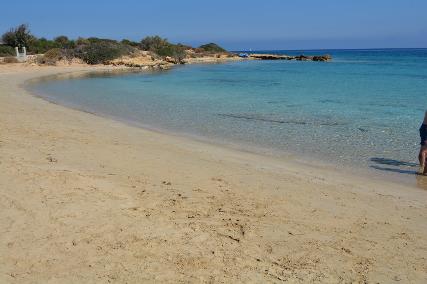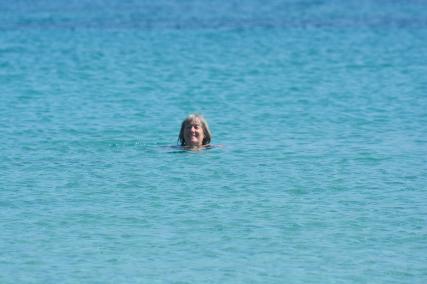 More coastline and turquoise coloured water.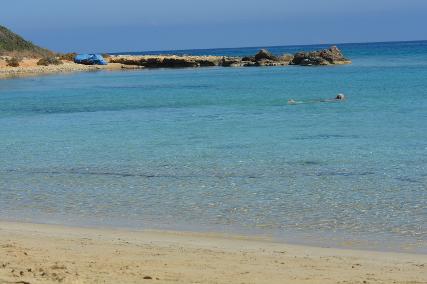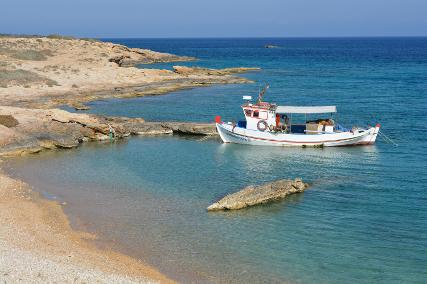 I call this my white collection - a church, a strange set of steps on the side of a house, and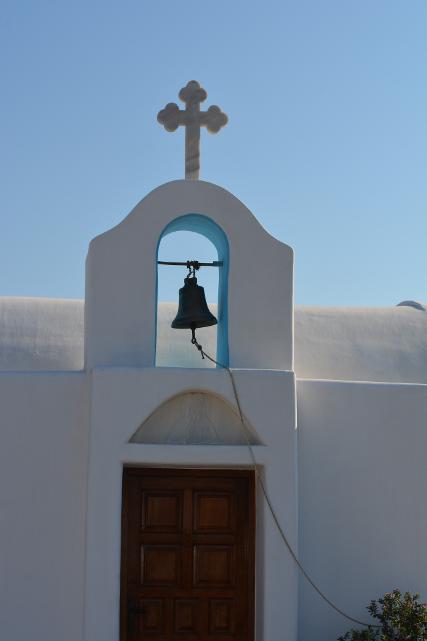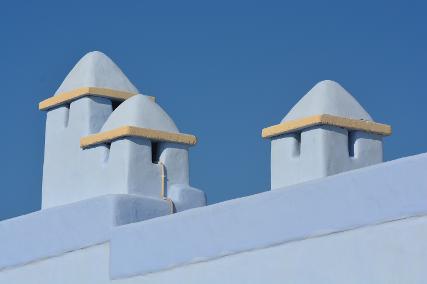 We stopped into the bakery where we bought a small traditional pastry.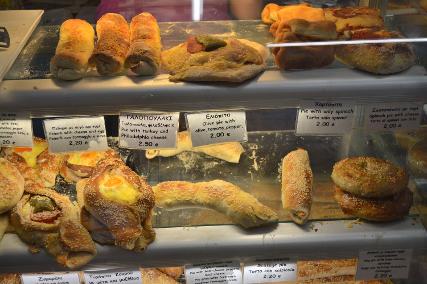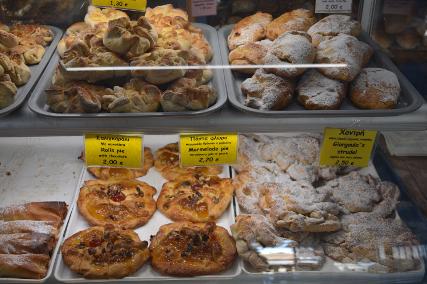 Some sights along the main alley of Chora.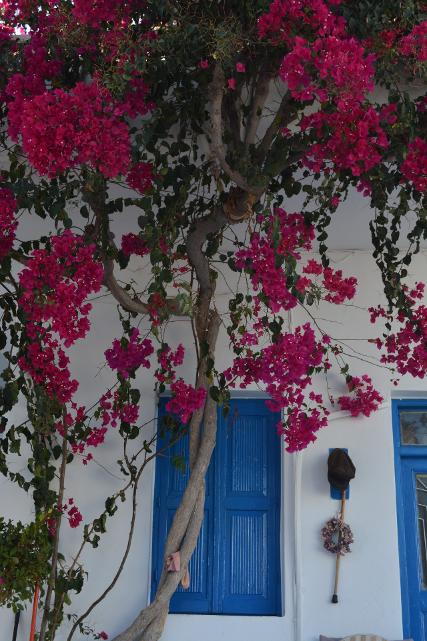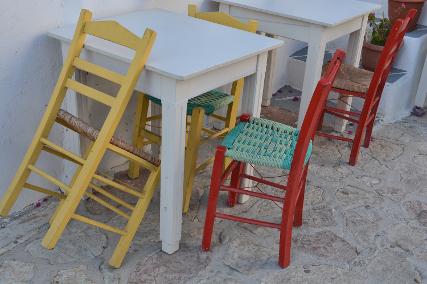 The coastline looking out to Kato Koufonissi. Looking back to town as we walk to Aneplora for dinner.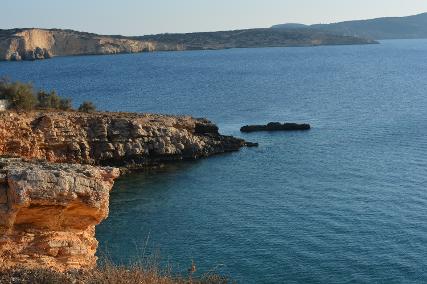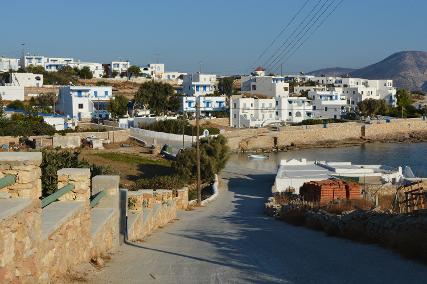 The glistening sea. The pretty little harbour.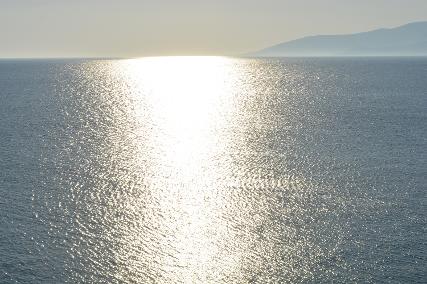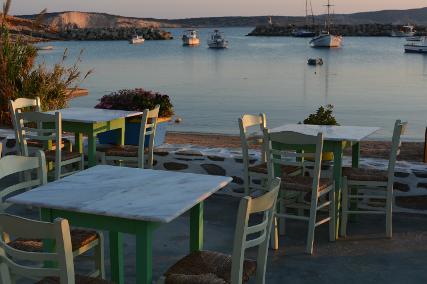 The picturesque harbour directly in front of Aneplora.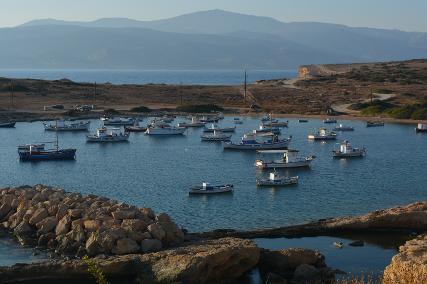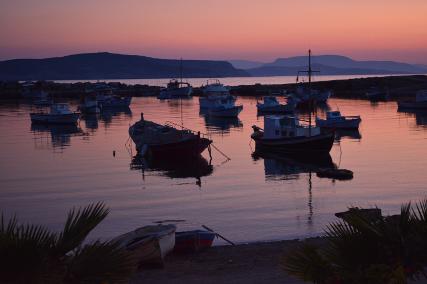 Sunset over the harbour near Aneplora restaurant.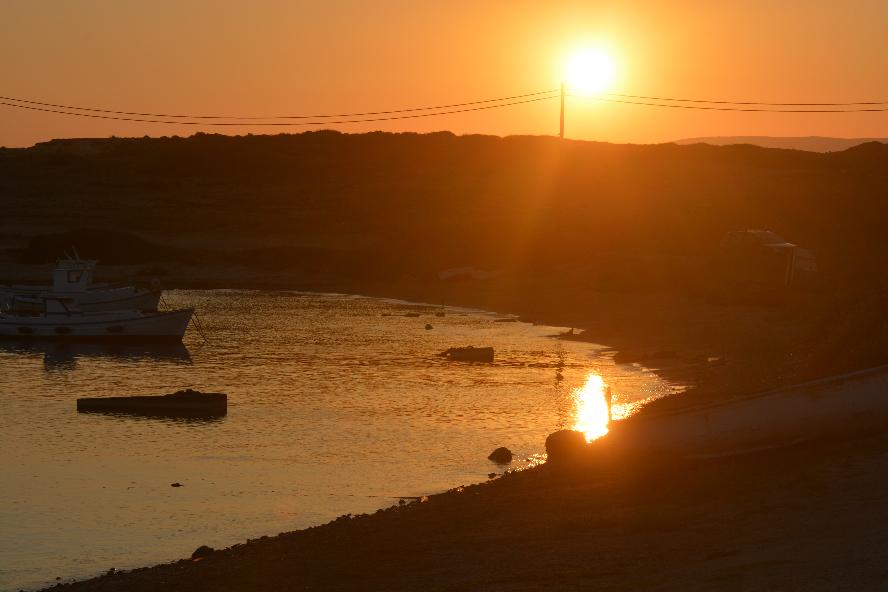 Tomato and zucchini croquettes. The Aneplora salad.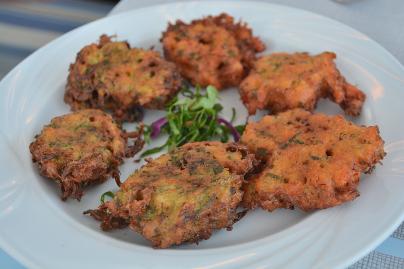 A large serving of grilled octopus. Another 'gift' - a lemon dessert and liqueres.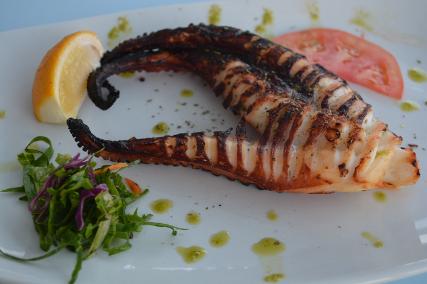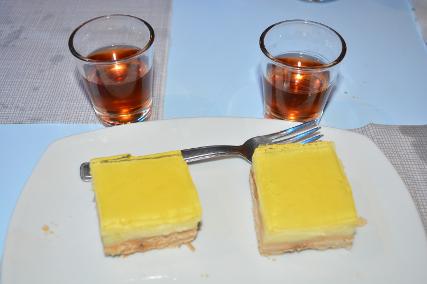 September 18, 2019 - Koufonissi (Pambelos Lodge) - Finikas Beach

Yesterday was Pori Beach; today is Finikas Beach, including a return to the same restaurant.
Today was another sunny, relatively calm day. We met a nice German couple at breakfast - Stefanie and Gaetano who have also been to Pambelos a number of times.
This afternoon we went to the nearest beach - Finikas. The beach is nothing but sand with a gentle slope into the water. What more could one want? Perhaps a nearby Taverna, which there is - Finikas of course. A family run business where one is welcome to take a table and stay as long as you want - all aftenoon if you wish. But then what more could one want? Perhaps decent Wifi - and Finikas checks that box as well, so much so that I stayed late into the afternoon working on the travel blog.
Bill picked the restaurant tonight - Mikres Cyclades. A vegetarian focused menu and good reviews made it appear to be a good choice but very shortly after arriving the power went out (a bad omen although it actually went out across the entire island), the prices were high and Bill and Linda were just not 'feeling it' so we decided to move on. ending up back at Armira where we enjoyed another great meal. We each ordered the Diliako - a selection of five dips - for us tzatziki x 2 (we passed on the fish roe), spicy cheese 'tyrokafteri', eggplant salad and spicy tomato paste. In retrospect one order for the four of us would have been more than enough. Gayle then had a fantastic Makares - eggplant bureks with local mizithra cheese, fresh herbs and Florina pepper sauce. Her best dish of the trip, she just had to share it. I had the Loubardari or grilled squid stuffed with feta cheese, cherry tomatoes, and peppers on a bed of couscous. It looked wonderful but just didn't quite work as well as it looked. I splurged (14 euros) on a bottle of retsina - a nice accompaniment with the squid. Gayle had a glass of pretty good house white wine. We finished with the usual 'on the house' dessert after which we took a taxi back to Pambelos.
The early morning Blue Star arriving from Amorgos .. before sun rise. And shortly thereafter … sun rise.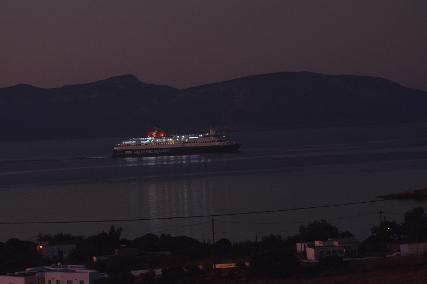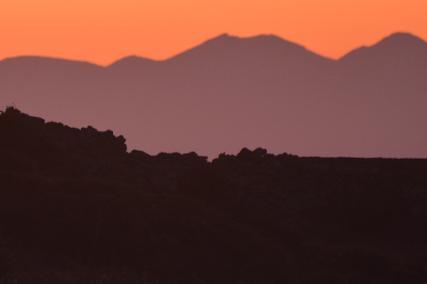 Our terrace (#6 - Asplounda) at Pambelos, covered with vines and bougainvillea.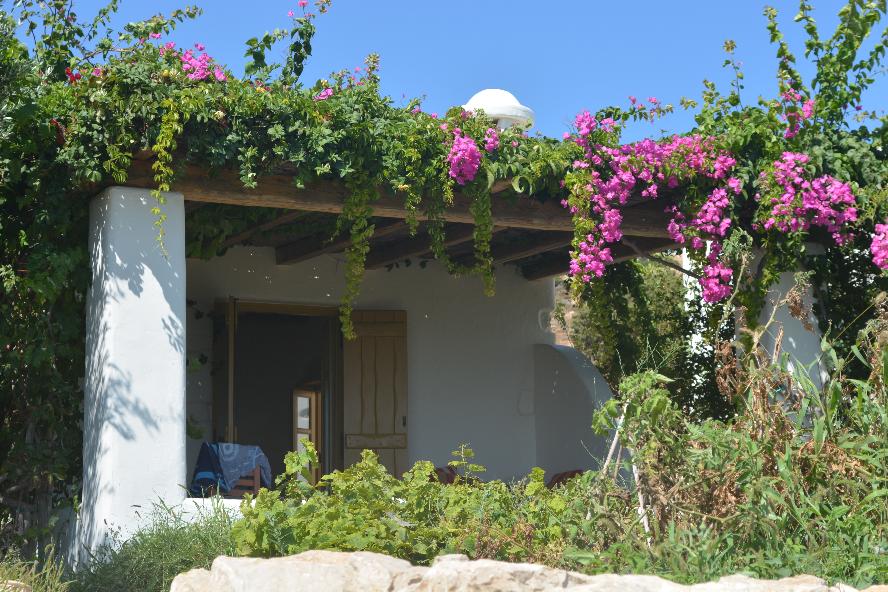 Finikas beach later in the afternoon. The taverna at Finikas where the Wifi was reasonably good.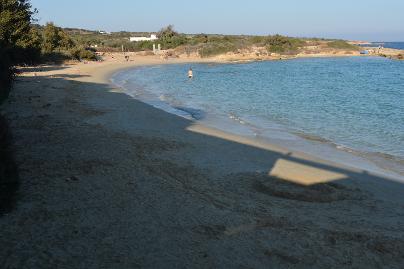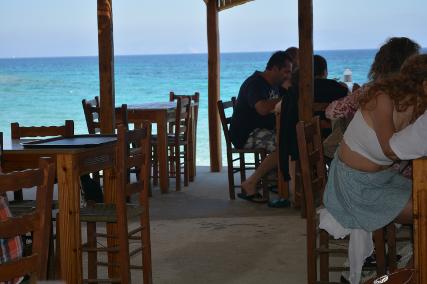 The water taxi approaching the Finikas dock.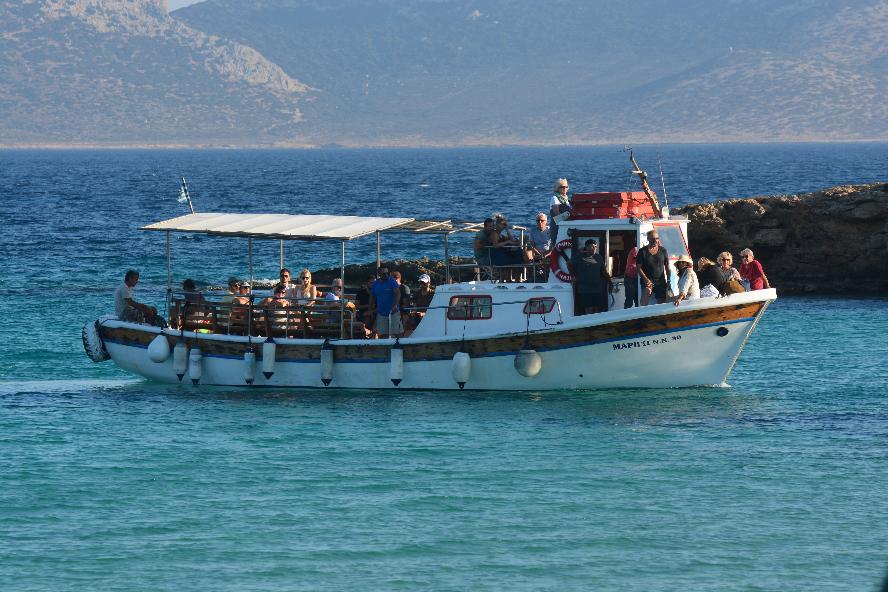 With Lola and Renate. Stefanie and Gaetano, from Bavaria.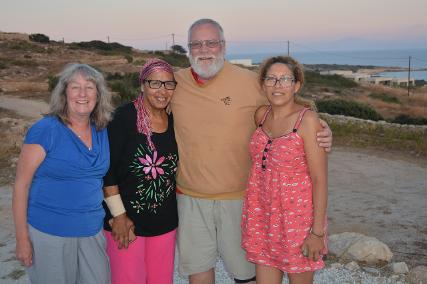 Colourful pots and plants in Chora.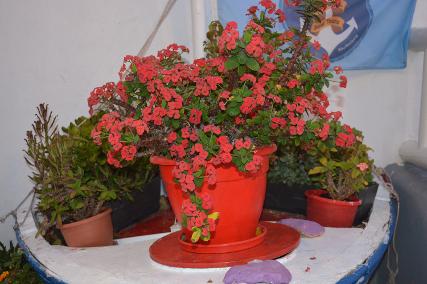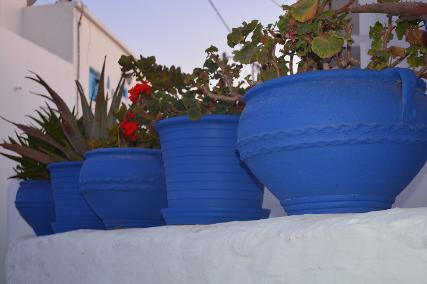 Another couple of elderly residents of Chora.
The interior of Armira is done up like an old community store - somehow it worked really well.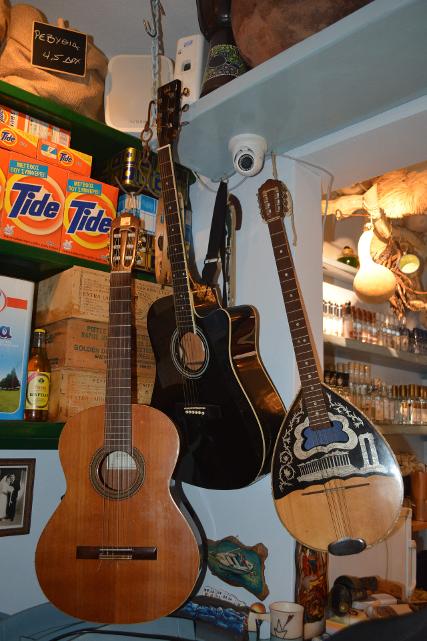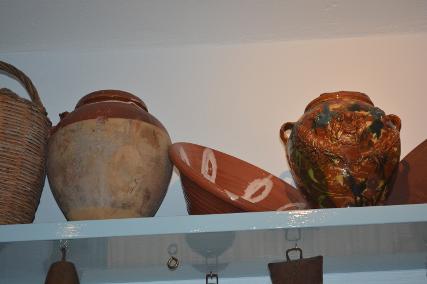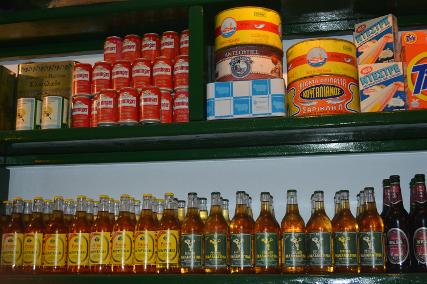 Diliako - an assortment of dips. Makares - eggplant bureks.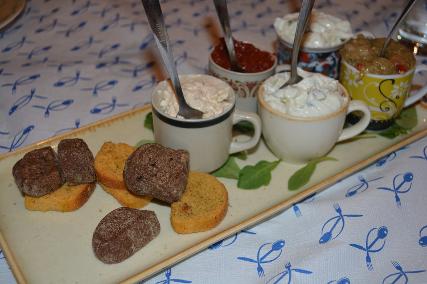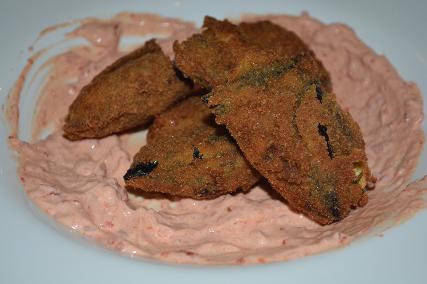 Loubardari - grilled stuffed squid. The 'house' dessert.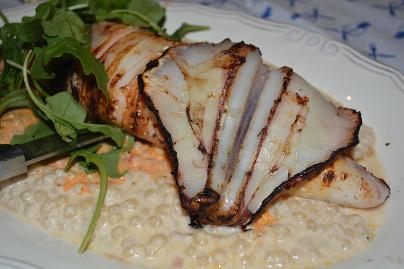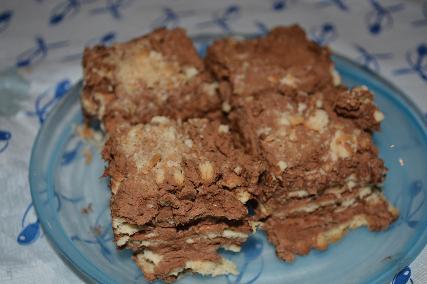 September 17, 2019 - Koufonissi (Pambelos Lodge) - Pori beach

Our routine for the four days here at Pambelos turned out to be pretty similar each day. After a good sleep (very comfortable bed) we wandered down to breakfast 9:30 ish. A long leisurely breakfast served to us by Renata, from the Dominican Republic who unfortunately unlike Thania in 2017 does not speak any English. But she was bubbly and energetic, and with Bill's translation app we managed to communicate. Coffee, orange or lemon (unfortunately not fresh) juice, yoghurt with fruit and / or honey, spinach or cheese pies, and eggs - fried or an omelette provided lots of choice. For us it was back to our room for some relax time while Bill and Linda would generally head off into town or a beach for a morning swim.
Today we went to Pori beach, a long crescent shaped very sandy beach on the north-east corner of the island. Rather than walk around the coast as we had the previous times we took the shortcut (yes a real shortcut!) from Pambelos across to the road that cuts diagonally across the island from Chora to Pori Beach. It was actually a nice walk - perhaps 45 minutes - with a breeze to reduce the heat. Reaching the higher points of the island there were wonderful vistas across the interior to the sea. We encountered goats, roosters, sheep and cows. The view of Pori bay and its beach as one crests the hill is spectacular.
We spent a couple of hours on the beach, being joined by Bill and Linda who took the water taxi from town. In spite of the photos below the beach was actually quite crowded. The sand and the gentle slope into the water were wonderful. Unfortunately the restaurant we ate at previously had closed for the season (no "tweet tweet living in the trees" music) so we took the water taxi (only 5 euros for both Gayle and me) back to Chora to eat at Armira, a restaurant recommended by George. As it turns out it is owned and run by one of George's brothers. It was excellent! A welcoming drink started us off. An interesting option was a selection of mezes - small tapas type plates - meat, fish, vegetarian or mixed. Only thing was that one could not choose - they were chef's selection. We were interested but passed. Then a delicious, albeit complicated salad of an assortment of green vegetables, seasonal fruits, caramelized walnuts and cashews, croutons with local herbs and a dressing of plums, Kitro of Naxos (citron liqueur) and sour cherries sprinkled with xinotyro cheese. Bill and Linda also enjoyed a wonderful salad primarily of cherry tomatoes from Naxos. For mains I had traditional Greek Moussaka - the only slightly disappointing dish - and Gayle the Daskalio, a mushroom risotto with herbs and arseniko cheese from Naxos, which was out of this world, no doubt one of the best mushroom risottos we have ever had. An 'on the house' (a regular thing here in Greece) dessert to share ended a great meal.
With Bill and I hobbling we took a taxi back to Pambelos - only 5 euros for the four of us. Albeit it was a bit of a wild ride at speed over some of the narrow rough roads. A good day!

Another sunny Greek day .. another great Greek breakfast.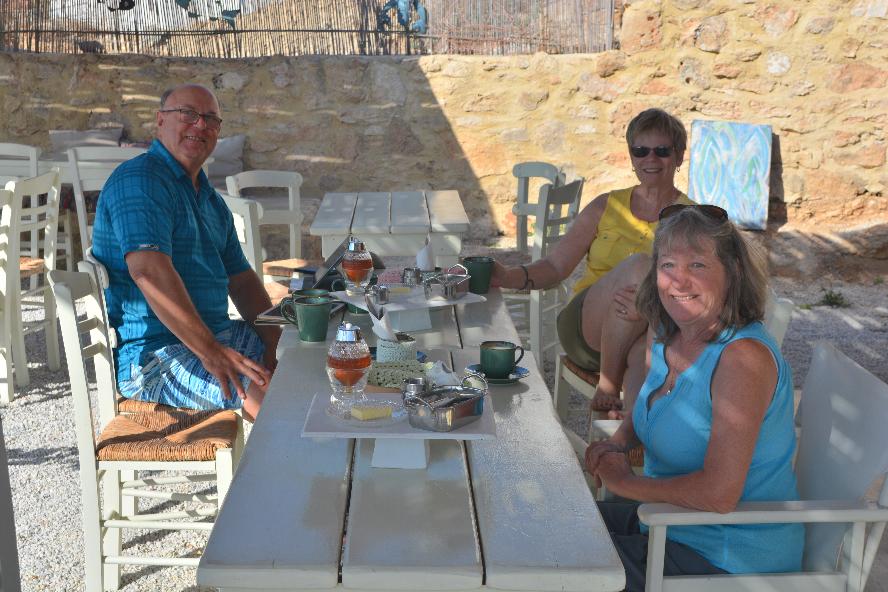 The breakfast / bar area at Pambelos Lodge. Bacon and eggs and a few veggies.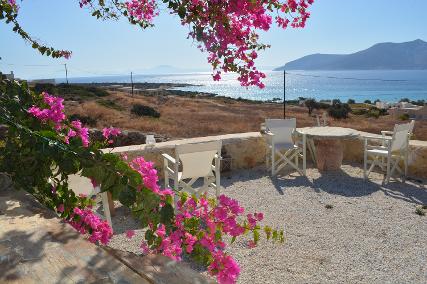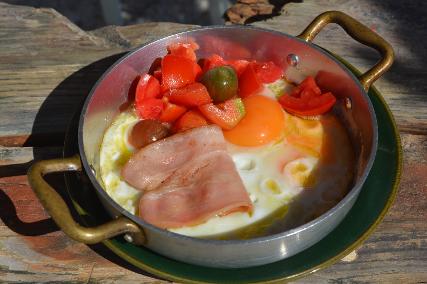 Who's the cool dude in the shades? A sailboat with Keros Island as a backdrop.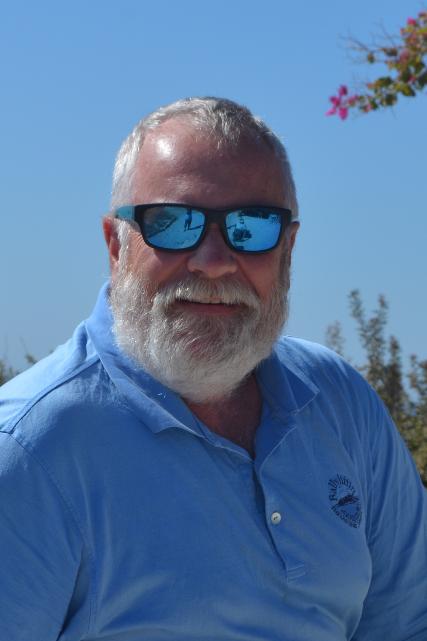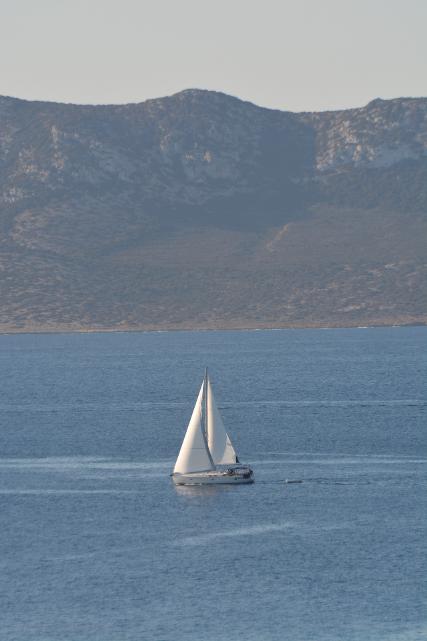 The 'interior' landscape of Koufonissi.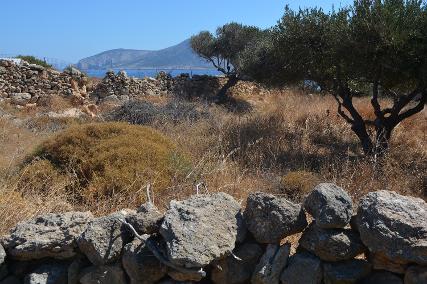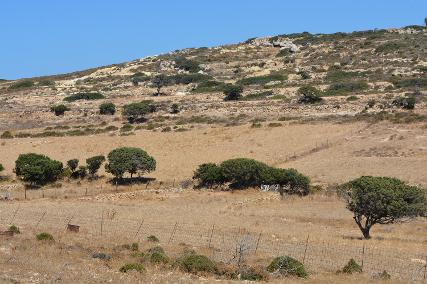 We saw these goats and chickens and sheep, along with cows as we crossed over the interior of Koufonissi.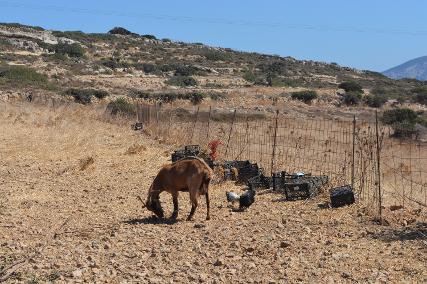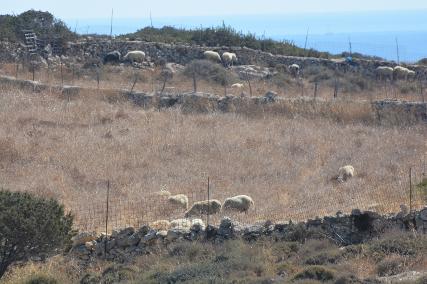 Beautiful Pori bay with its turquoise waters.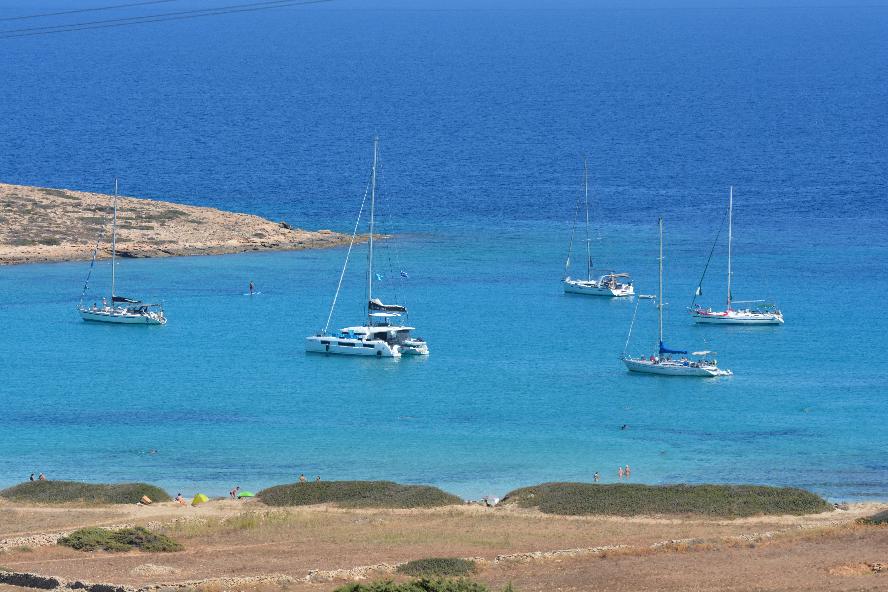 Pori beach - actually there were quite a few people on the beach in spite of these photos.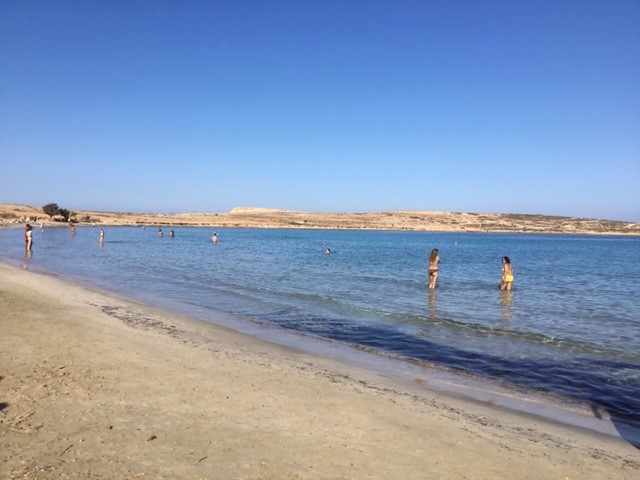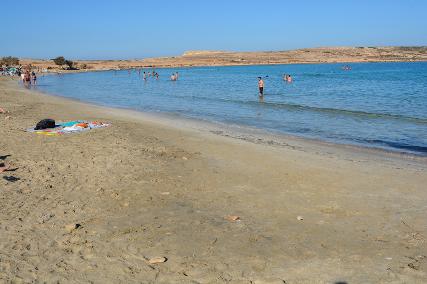 Some of the coastline around the south east corner of the island.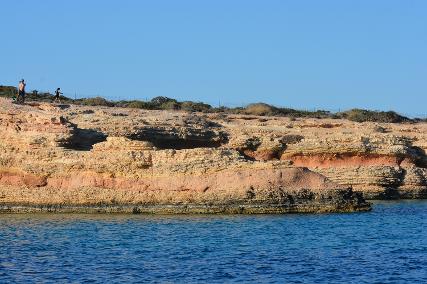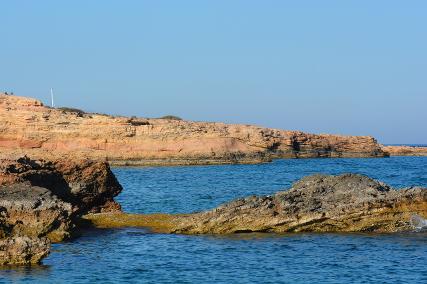 Koufonissi harbour as we approached the port on the water taxi.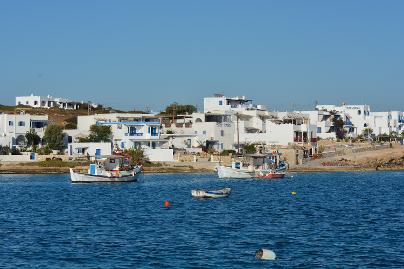 Some of the sights in Chora town.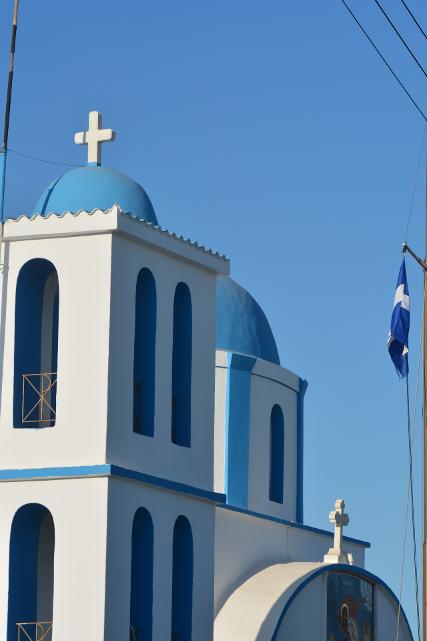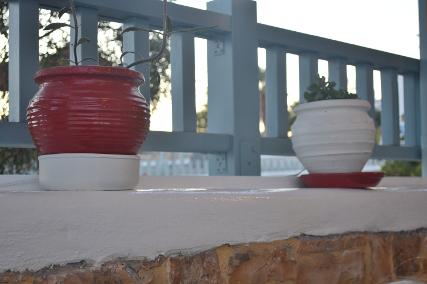 A wonderful Kofonissi women sitting on her step on the main alley of Chora. Very happy to have me take her photo when I asked as can be seen by the sweet smile below.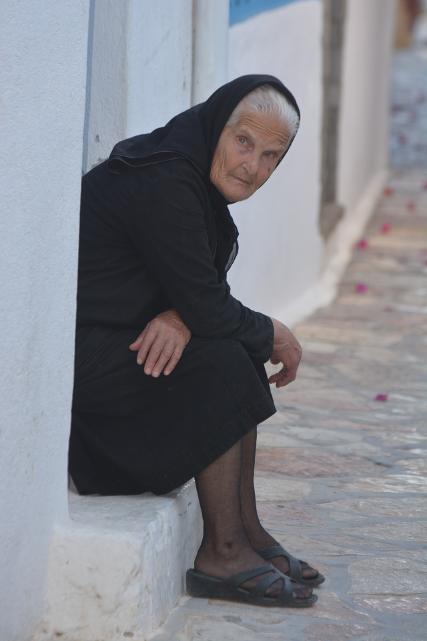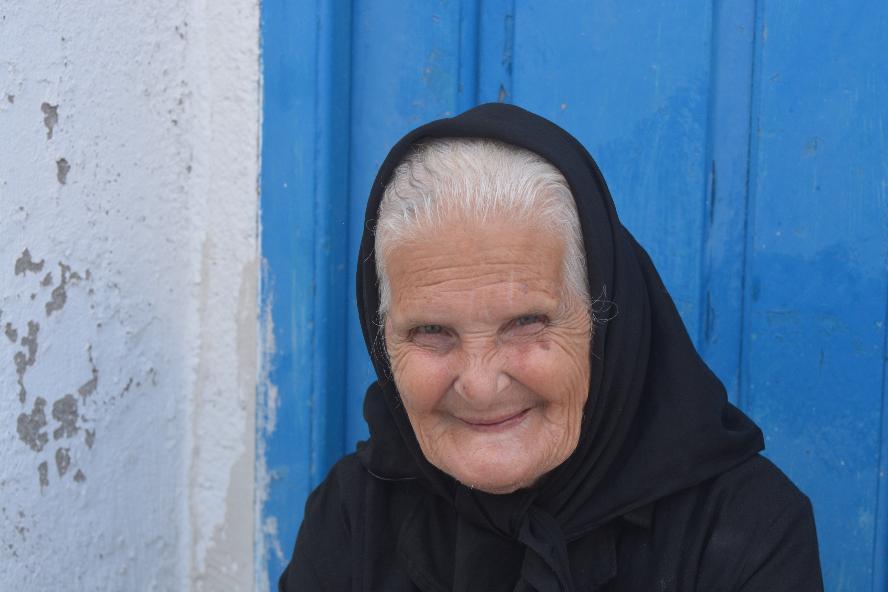 Who did we see at Armira - none other than George. Not surprising given his brother owns and operates the restaurant which perhaps had something to do with his recommendations.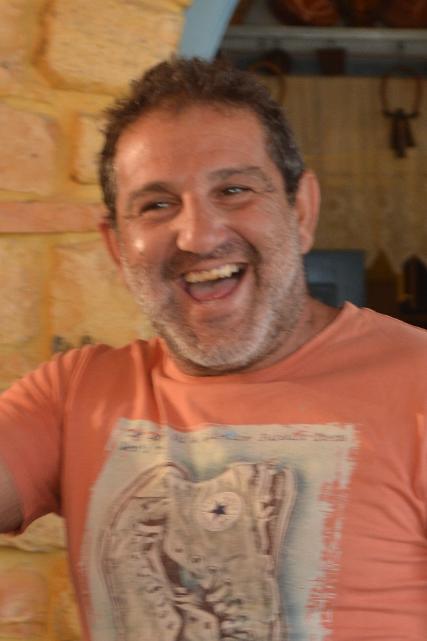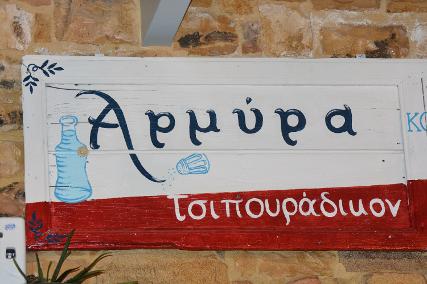 Our welcome drink - a version of grappa.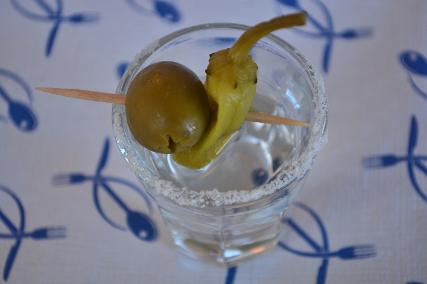 Beautiful salads - ours on the left a Skrini, and Linda and Bill a salad based on cherry tomatoes from Naxos.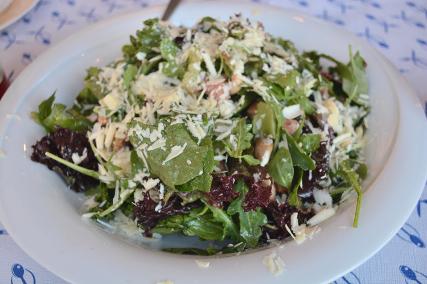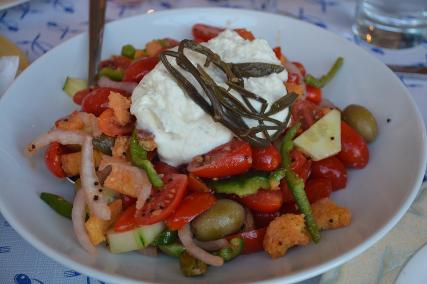 Moussaka for me … … and mushroom risotto for Gayle.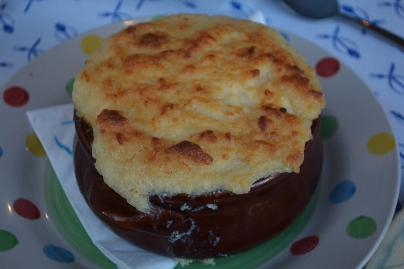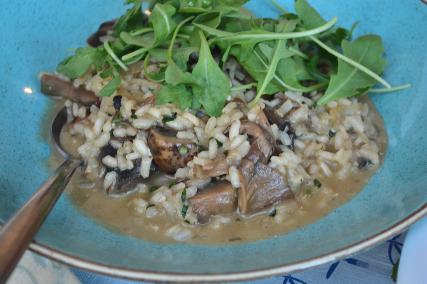 September 16, 2019 - Amorgos to Koufonissi (Pambelos Lodge)

Our alarm went off at 4:15 am in order that we were out by 4:50 am for the 30 minute drive to Katapola where we dropped off the rental car (key under the mat at this hour) and boarded the Blue Star ferry for a 6:00 am departure. The sailing to Koufonissi is short - only 41 minutes. We were somewhat concerned in that our emails to Vassiliki / George re the ferry cancellations had not been answered. We were unsure whether George would be at the port to pick us up and we had reason to be concerned - he was no where to be seen. I did see the rickety Finiskas bus so asked whether Pambelos was still in operation (we were concerned about even that as there have not been any TripAdvisor reviews in 2019). Not much English but a few smiles and we were on the bus to Finiskas, with a stop along the way for sun-rise. Someone at Finikas called George as we were taking photos of the rising sun. Perhaps 15 or 20 minutes later George rolled up, all smiles as usual, loaded our luggage and drove us the rest of the way up the hill to Pambelos Lodge.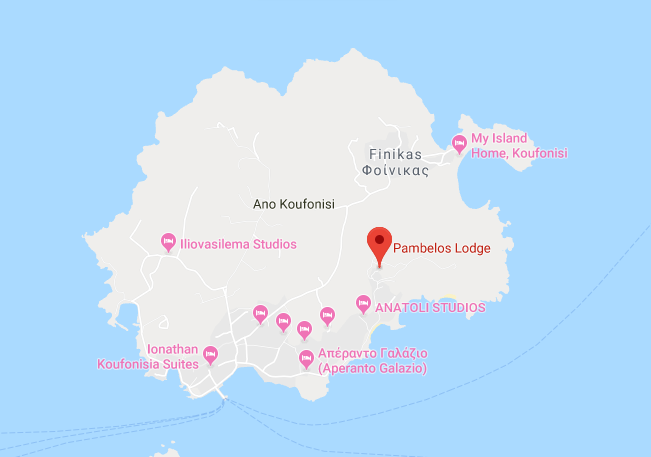 After dropping our back-packs off in our rooms it was down to breakfast - lots of choice as in 2017. It was then back to our room for - you guessed it - a nap. Upon awakening we encountered Lola, the cleaning lady who remembered us from 2017. Lots of hugs and smiles. It is wonderful to be back at Pambelos where the vistas from our terrace to Keros Island never get old.
In the afternoon we ventured down to Fanos beach, a beautiful sandy beach with turquoise water. A bit cooler than we remember it but still nice for swimming. It was then back up the hill (perhaps a 7 to 10 minute walk) for some more relax time before heading off to dinners
Linda picked the restaurant - Mixalios - a very nice place that we had somehow overlooked on previous trips. Not quite to town it was a 30 minutes walk plus some for the short-cut that was regreettably a dead-end ... oops. But no harm done we eventually made it to the restaurant where we enjoyed a nice meal. Servings, particularly of the Greek salad were huge. We started with today's pie of the day - a Tomato pie with three kinds of local cheese, both fresh and sundried tomatoes. Decent albeit not fantastic. Gayle then had Melitzanotin in a clay pot - eggplant, green pepper, pesto and again three kinds of cheese. Soimething just didn't work as she was not crazy about her choice. I had a large (1/2 kg) plate of tasty lamb chops. Nice atmosphere - except for the smokers - and music - a good choice for dinner.
We walked back to Pambelos, guided by our flashlights and immediately went to bed.

The villages of Amorgos, particularly Lagada and Potomos are attractive in part because of the whitewashed buildings, narrow alleys, mules and their brightly painted, colourful doors - of which this is a sample.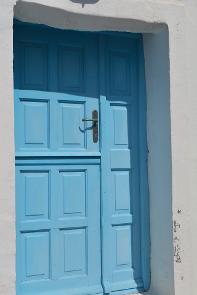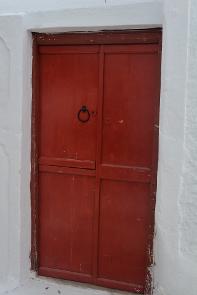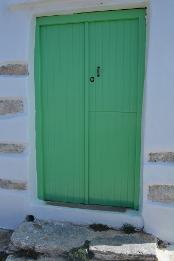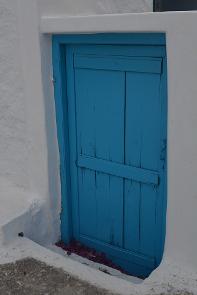 Theo, in his Canada t-shirt (not sure where he got it). A priest on the ferry - nice beard.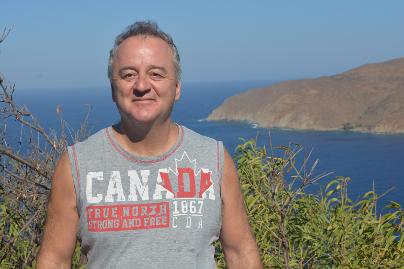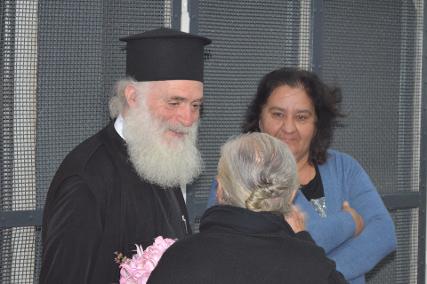 This time sun rise - from Finikas beach and taverna.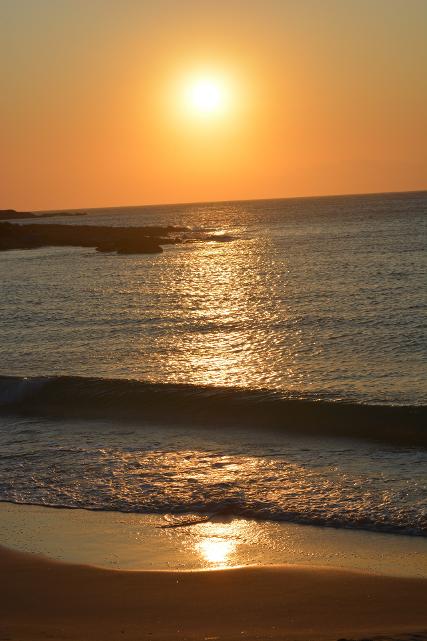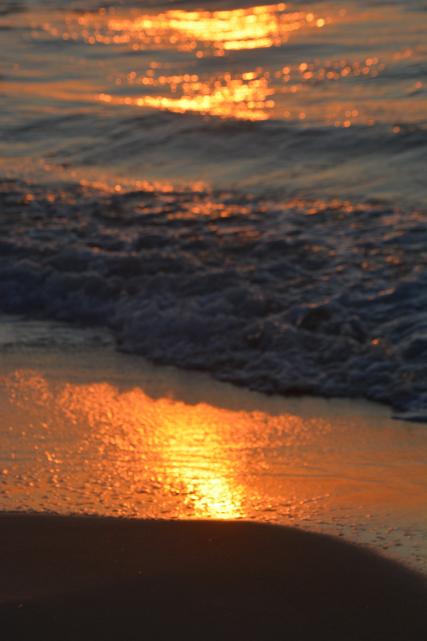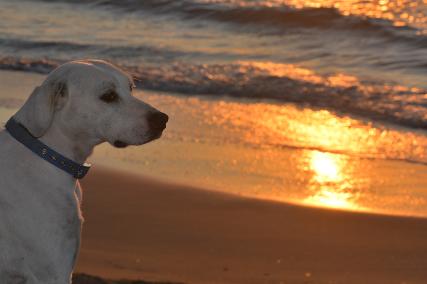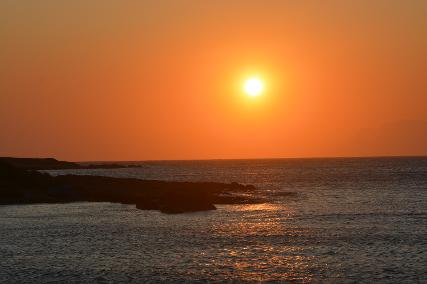 Colourful bougainvillea at Pambelos Lodge.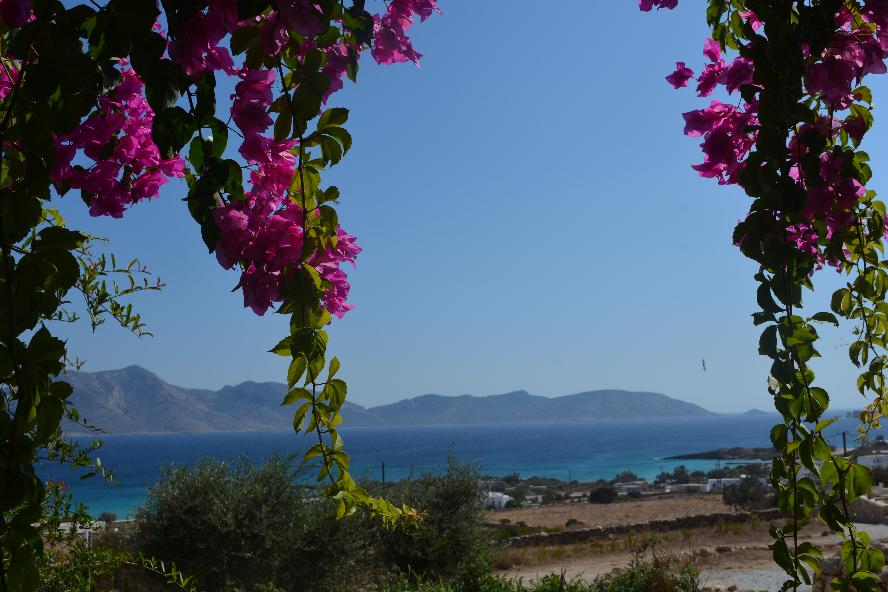 Lola, who was at Pambelos in 2017, remembered us with warm huggy greetings.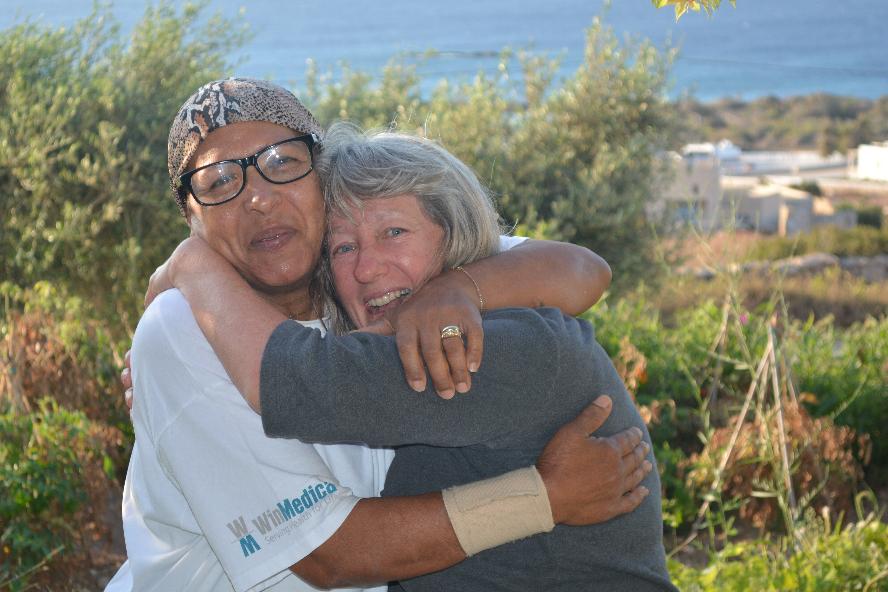 Our small kitchenette (with Nespresso coffee!). And our covered, shady terrace.
Two of the units at Pambelos Lodge.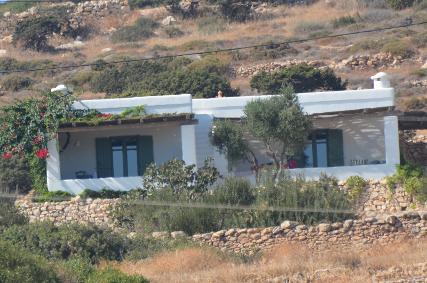 The view from the terrace of our unit (Asplounda #6) at Pambelos Lodge continues to impress.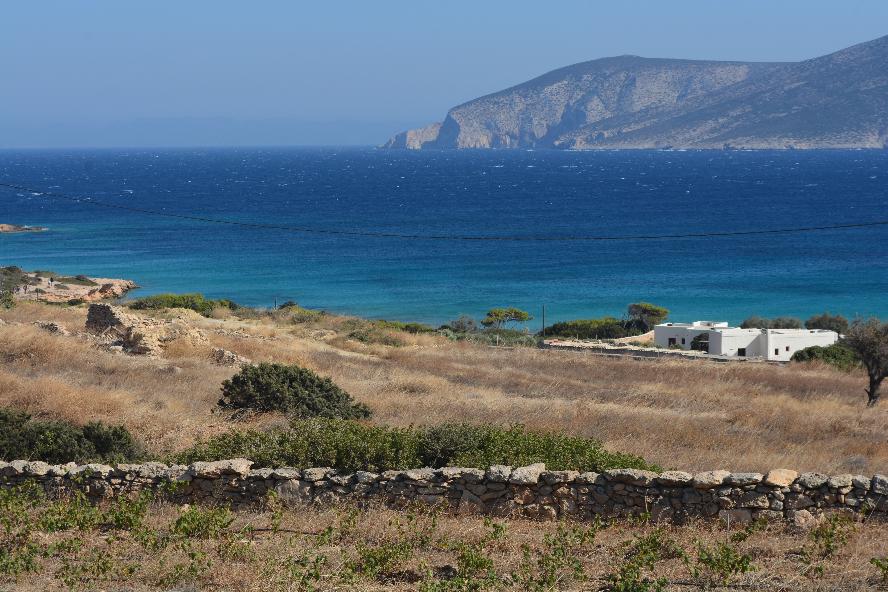 The channel off the south coast of Koufonissi with uninhabited (except for sheep and goats) island of Keros beyond.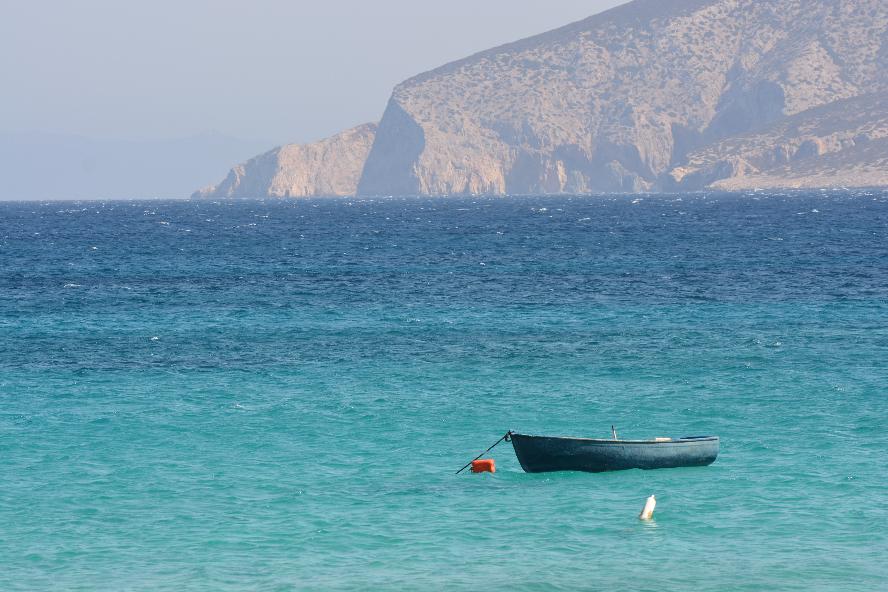 Faros, one of Koufonissi's beautifull sandy beaches.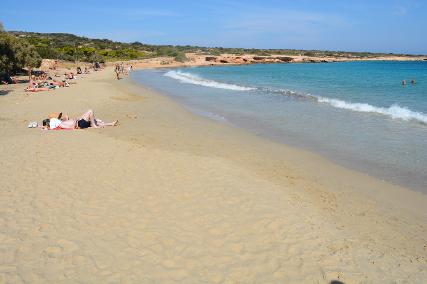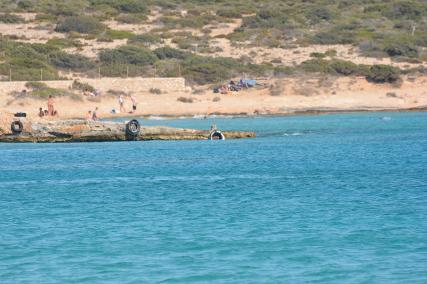 A Greek salad (Linda and Bill's) but with local (not feta) cheese and for us a tomato pie, today's 'pie of the day'.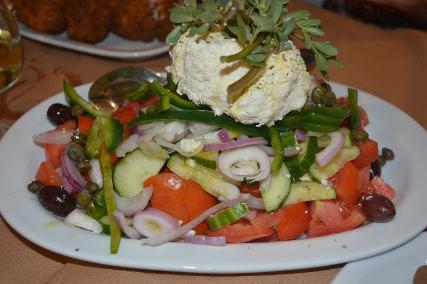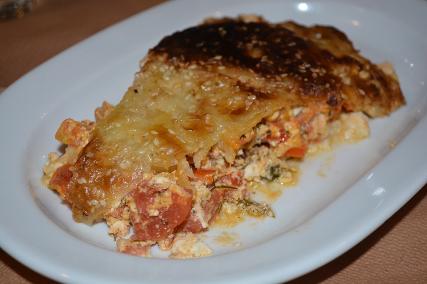 Tomato balls (again Linda and Bill's but of course they shared), and 1/2 kg of lamb chops for my main course.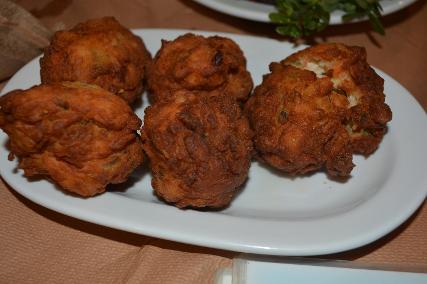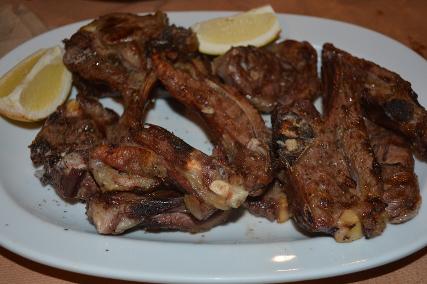 September 15, 2019 - Amorgos (Aegiali / Pano Gitonia)

With confirmation the Blue Star ferry was sailing (albeit leaving Katapola at 6:00 am) and the Sea Jets uncertain we decided to cut our losses and change tickets to the Blue Star. Having spent two additional days on Amorgos we didn't want to cut in to Koufonissi any more. Theo had a room available - Panorama, and while Linda and Bill graciously offered that we could stay with them we choose to move down to Panorama, which might be the nicest of the rooms we have stayed in.
Early in the afternoon we went down to the ticket office to exchange our ferry tickets - an easy process. Right next door Linda and Bill were having a bite to eat so we joined them at Katina's for a light lunch. Gayle had a lentil soup - very good but not photo worthy while I had a spinach - cheese pie.
We then went for a short swim on the Aegiali beach after which we bought another apple for our 'friend' Alex. Sure enough when we went up to find him he was right there nearby. He seemed to enjoy his apple and our company - or so we will believe. We look forward to seeing Alex again on our next visit.
For dinner we returned to Langada - our go to place for dinner - but this time to a different restaurant - Loudaros. Very family oriented with lots of locals hanging out. It appeared this old-timer was celebrating a birthday or something as there were lots of hugs and kisses being shared. The terrace is very colourful with lots of pink bougainvillea cascading from the trellises. The food was just so-so - a Greek salad but with the feta replaced by Amorgian cheese for Gayle and village sausage for me - but the family environment with elderly and children present made for an enjoyable experience.
We returned to Pano Gitonia where we immediately went to bed with the alarms set for 4:15 am.
Outside Katina's restaurant.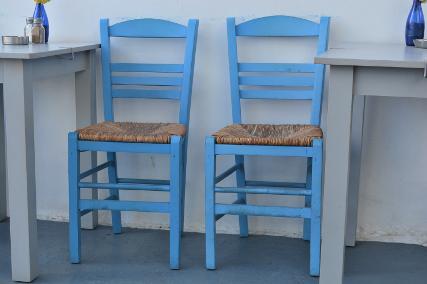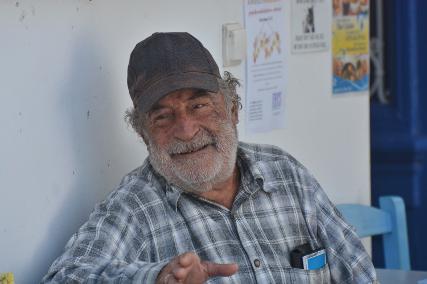 Running into Linda and Bill and joining them for lunch.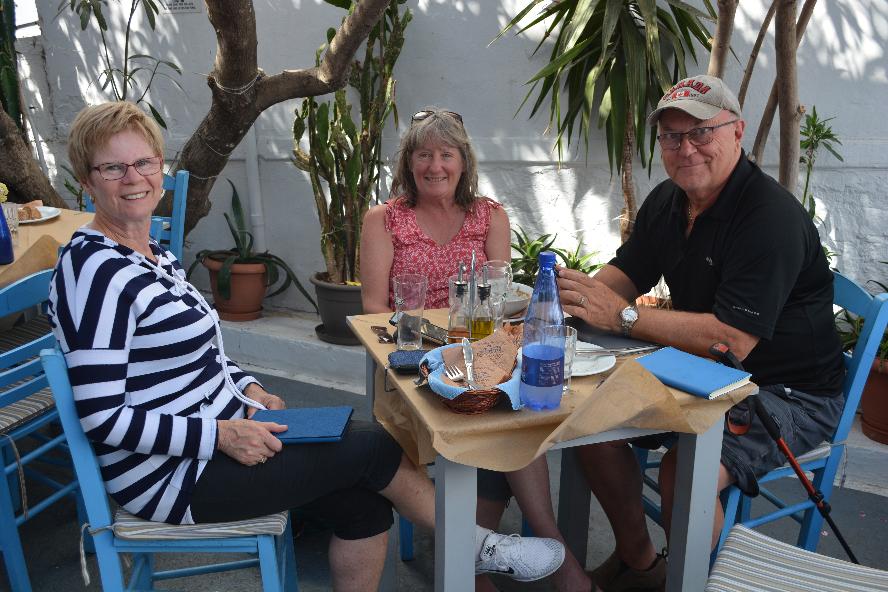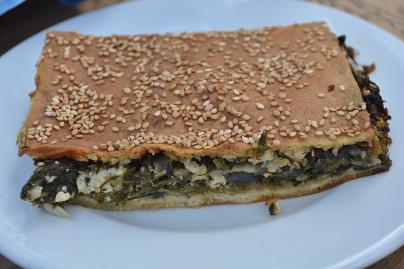 The after meal 'gift' of the house - there were four cakes and drinks but Bill snatched his before I could take the photo.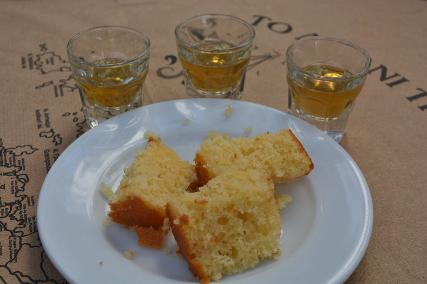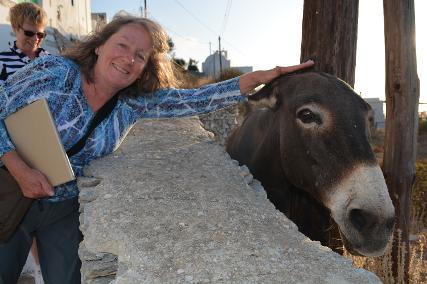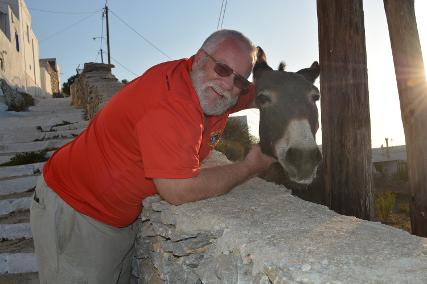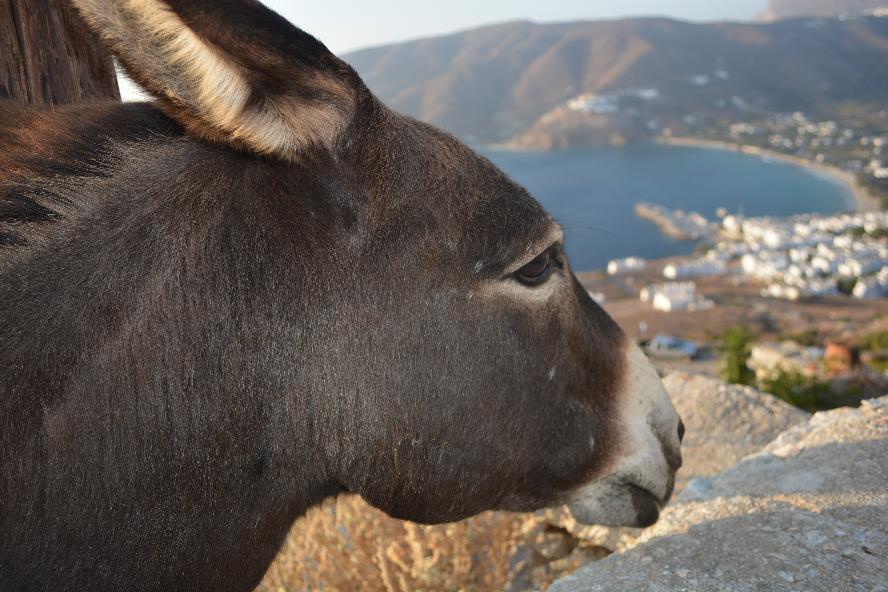 It's Amorgos - where one regularly sees a man and his mule, and another sunset.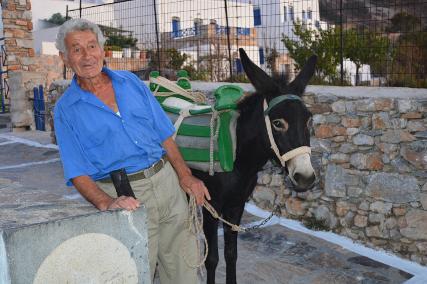 Pink bougainvillea overhanging the restaurant.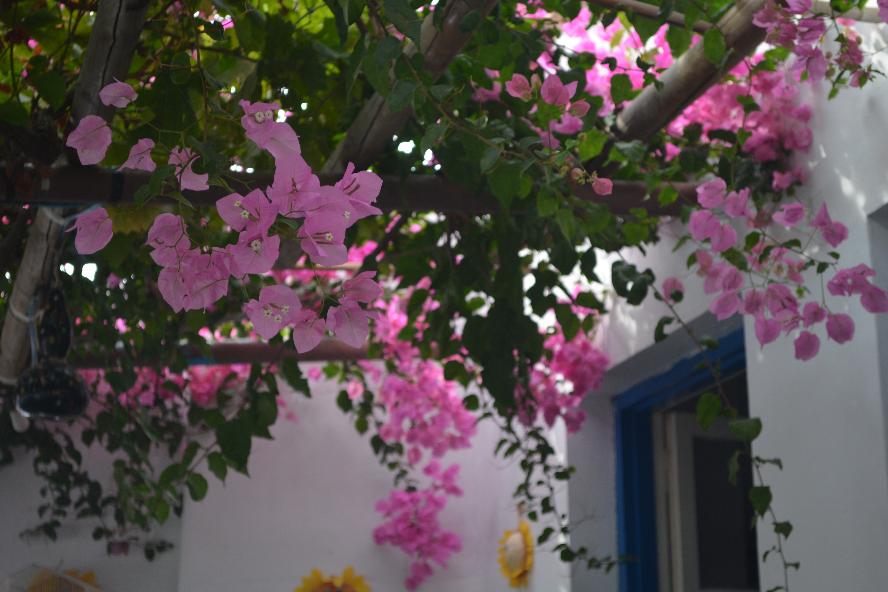 About to have dinner at Loudaros.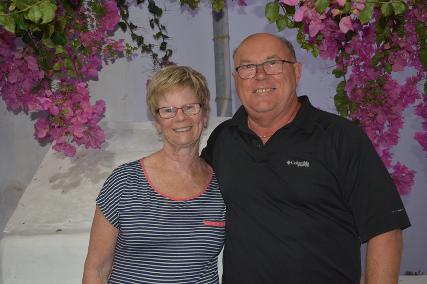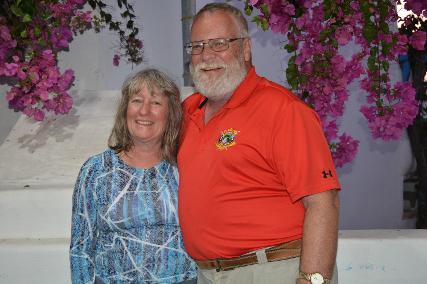 Another Amorgan salad … … and the Village Sausages with fries.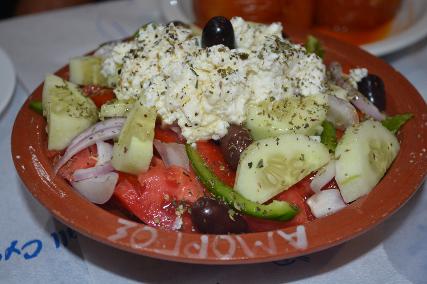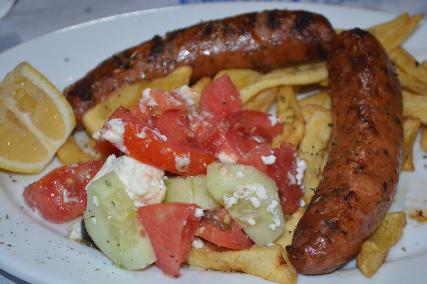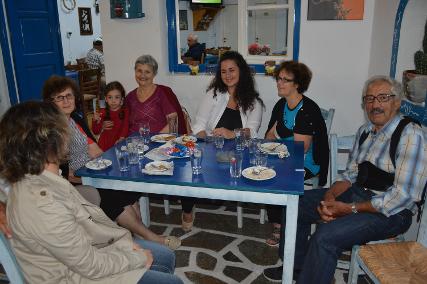 We think it was this fellow's birthday - everyone was greeting him and giving him hugs.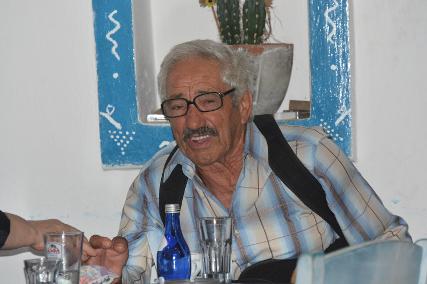 Another local who spent his evening at the taverna - happy to have his photo taken.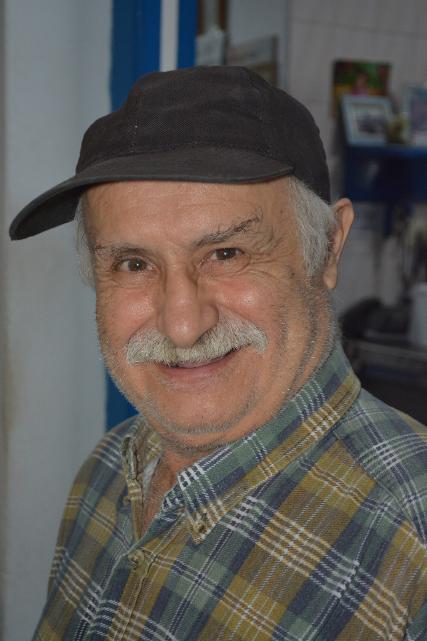 September 14, 2019 - Amorgos (Aegiali / Pano Gitonia)

Theo confirmed all ferries were cancelled today. While Bill and Linda could stay in Room with a View, Aloni was committed to others who might (?) still arrive in the middle of the night. So it was offered for us to move in with Bill and Linda. The apartments are well designed in that two single beds could be made up in the main area. So while we did not have a bedroom we did have beds. The option was far better than having to move to somewhere else so up the stairs we went, and moved in. It all worked out.
Again the weather was cool and certainly windy so another day without a swim. Just a quiet day, mostly hanging out at Pano Gitonia. We did stand in line at the ferry ticket office to find out the 6:00 am Blue Star ferry was 'likely' to sail tomorrow morning with our afternoon Sea Jets less likely but not cancelled for sure. We all agreed getting up at 4:00 am was not appealing so rolled the dice that the Sea Jets would indeed sail as scheduled.
In the afternoon we went in search of Alex, our 'adopted' mule who lives in the fields above Pano Gitonia. We first encountered Alex in 2015 and then again in 2017. A very friendly mule we kind of have a connection. Alex was very happy to enjoy the apple we bought for him. There remain many mules / donkeys on the island of Amorgos. One often sees them carrying locals and supplies through the paths and alleys of the island.
For dinner Bill chose to return to Melilitos in Langada, as we all enjoyed our meals the previous night. We started with an eggplant salad with garlic, black olives and walnuts - Gayle enjoyed it; me not so much. Gayle again had the chickpea casserole (did she not say it was a winner?) as did Bill. I had a risotto with shrimp which was tasty. No music tonight but another good meal.
Greek yoghurt with fruit and honey and a large glass of fresh orange juice - what a great way to start the day.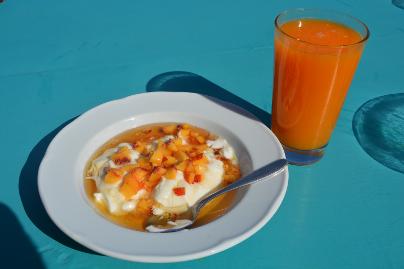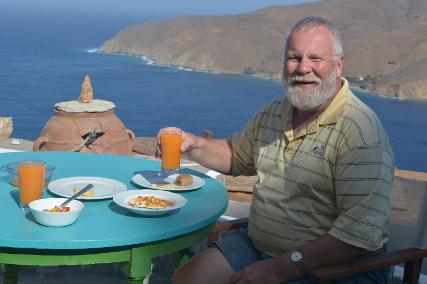 The Amorgos coastline from our terrace at Pano Gitonia.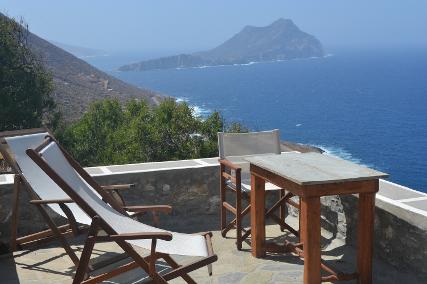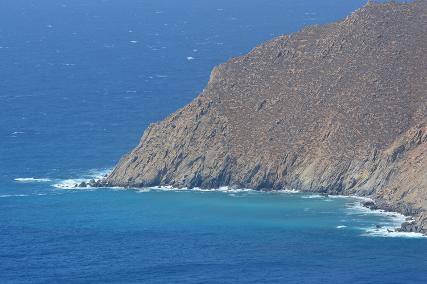 Even in late summer there some colour. Enjoying a piece of tasty orange cake.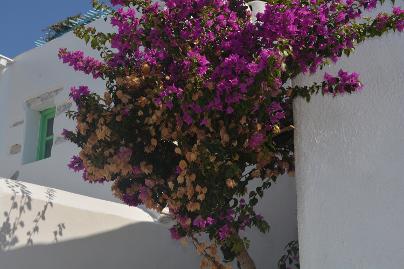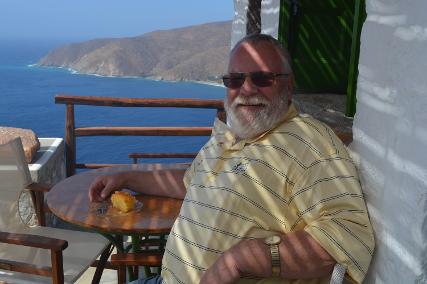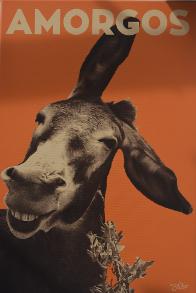 Amorgos has many mules and donkeys. It is not uncommon to see Greeks riding them through the paths and alleys.
Near Pano Gitonia lives 'Alex' - at least that's what we have named him.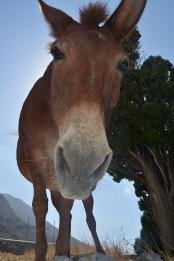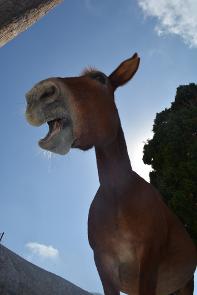 We first met Alex in 2015, reconnected again in 2017 and here he is now. He certainly enjoyed the apple we bought for him.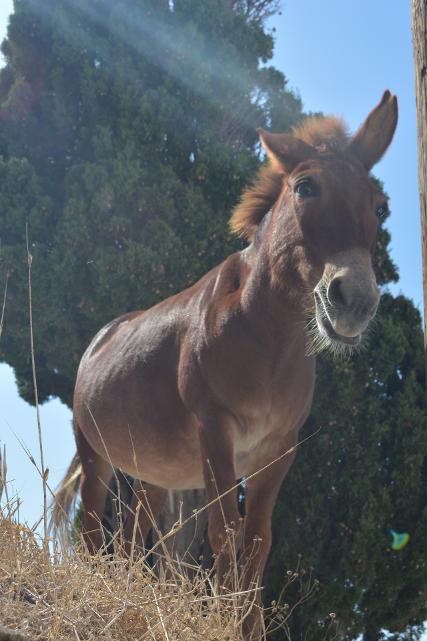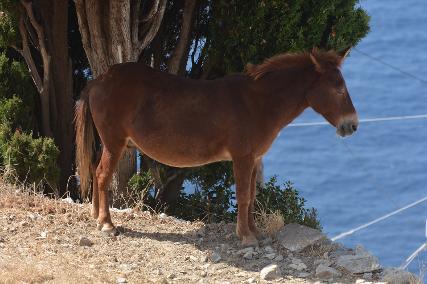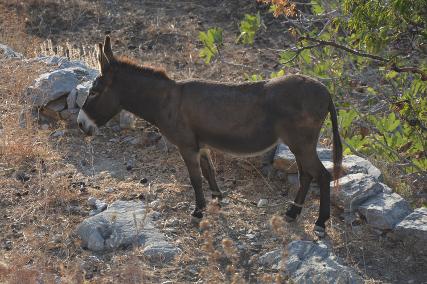 Sunset as seen from our room at Pano Gitonia.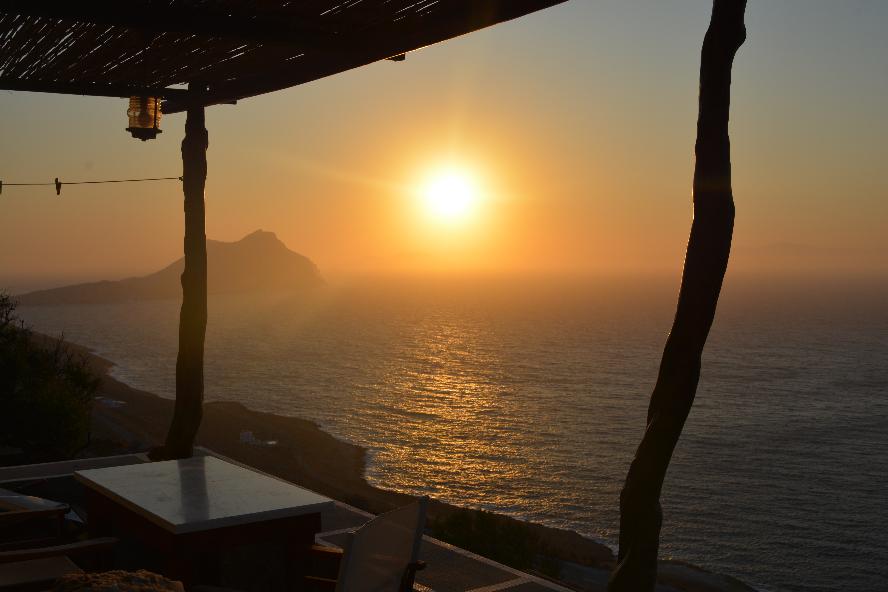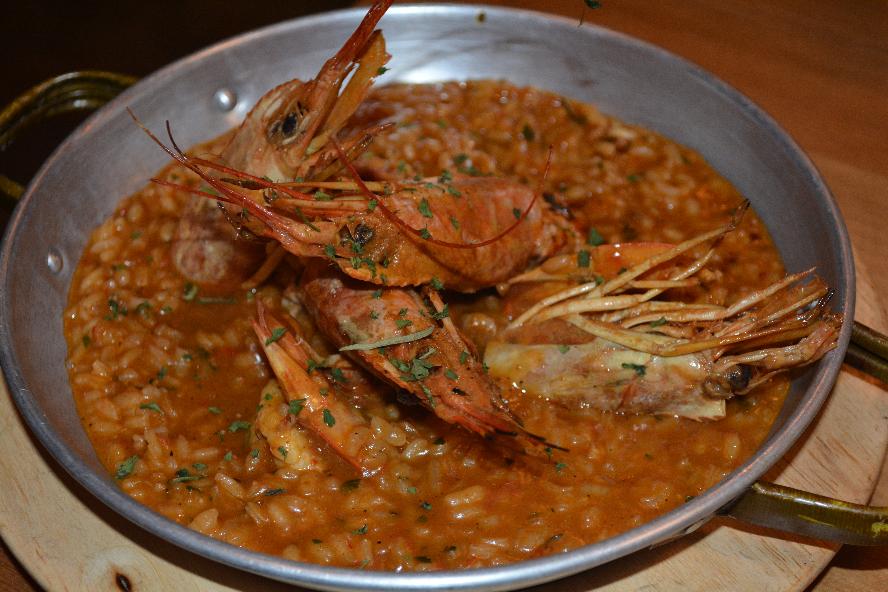 While we didn't have our own bedroom the 'benches' made into beds in the living area were very comfortable, and we did not have to move.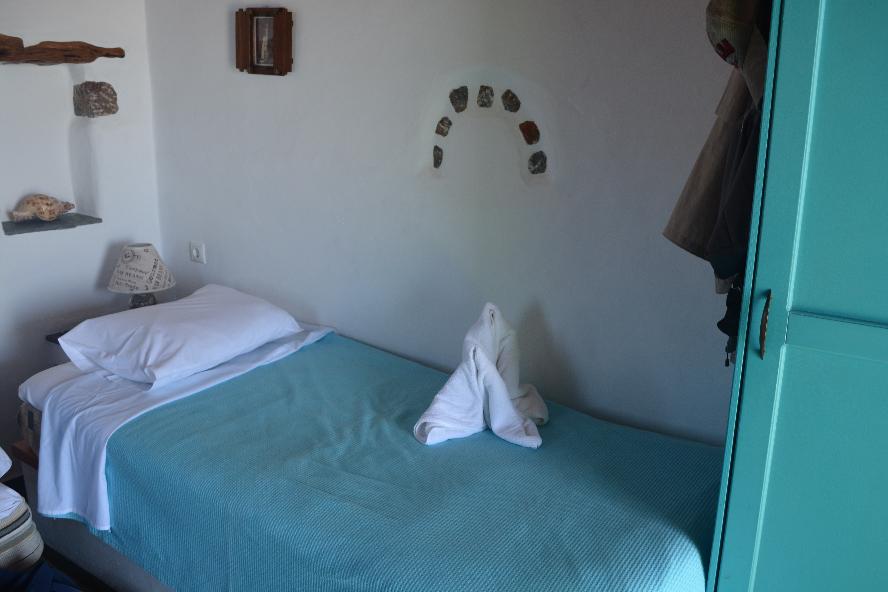 September 13, 2019 - Amorgos (Aegiali / Pano Gitonia) - Tholaria and Langada
This morning we started to hear rumours being passed on by Theo of ferries being cancelled by the high winds we were experiencing. If so it meant having to stay on Amorgos for another day plus, extension of the car rental and cancellation of Pambelos Lodge in Koufonissi. Some logistical issues but given how much we all enjoy Amorgos, and we were scheduled for six nights in Koufonissi, not the end of the world.
While Bill and Linda went their own way we returned to Tholaria and Seladi Café for breakfast. After wandering through the village we settled in to the nice café for a couple of omelettes (an Amorgan with xinomizithra - a local cheese - tomato and capers for Gayle and the Special with ham, bacon, feta cheese, tomato, pepper and mushroom for me), a cappuccino and fresh orange juice.
We then stood in line at the ferry ticket office to be told the larger early morning Blue Star ferry from Kotopala to Koufonissi had been cancelled - it had not sailed out of Piraeus, and our afternoon Sea Jets ferry was very likely to be cancelled. With that we inquired with Theo whether he had rooms for us - Bill and Linda's was available but he had to hold ours as someone was scheduled to arrive during the night. Fortunately the rooms are well designed to sleep four, with two couches that can be converted to beds. We agreed to move up to Bill and Linda's Room with a View - a tad crowded but workable.
During the afternoon we returned to the village of Langada to explore a bit more. It is a very quaint village with a number of narrow, twisting alleys, generally with designs painted on the stones, winding their way through town. Most everything is white-washed with colourful doors and shutters, mostly blue but the odd alternative colour. A very pretty village.
We returned to Langada in the evening for one of our better meals, at Melilotos. Service was excellent, all dishes very good, the Greek dinner music was nice and then better yet we were treated to some impromptu live Greek music (watch the video below) at the end of our meal. Additionally the restaurant was well protected from the wind that continued to howl / blow. We started by sharing a plate of fresh-cut fried potatoes form Naxos island with dried 'anthortiro' cheese from Amorgos. Gayle then chose a real winner with her chickpeas casserole with fresh tomato, eggplant and rosemary. I also enjoyed a unique and tasty dish of slow cooked beef with orzo in a casserole with fresh orange juice, sumac and graviera cheese from Naxos. As we were enjoying our sharable spoon 'on the house' yoghurt with tart cherries dessert these two fellows set up to play some music. Of course we stayed for a while, thoroughly enjoying the authentic atmosphere of being entertained by a couple of local fellows as a cap to our meal.

The coastline as seen from Pano Gitonia. A table with a few painted chairs at Cafe Seladi.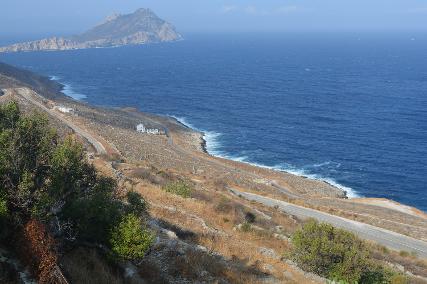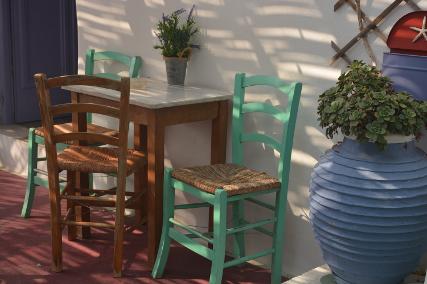 Breakfast at Seladi cafe, Tholaria.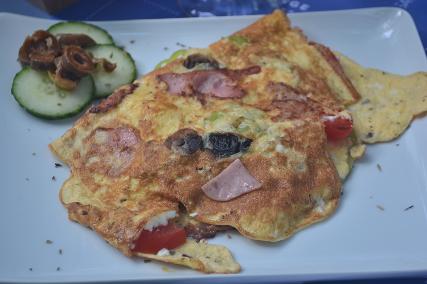 Some of the many cats in Amorgos - top right catching a nap on a pile of fishing nets next to the harbour, and the others at Seladi café.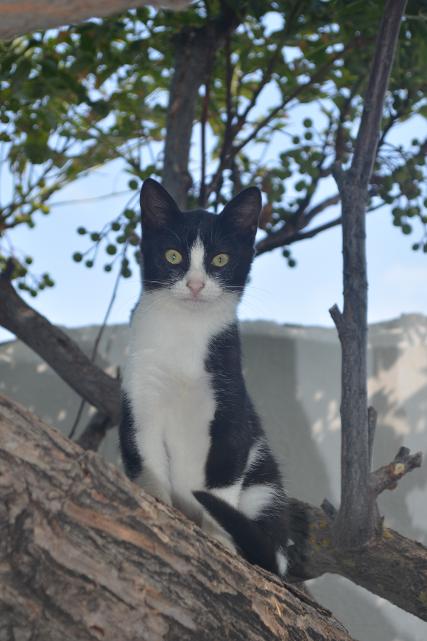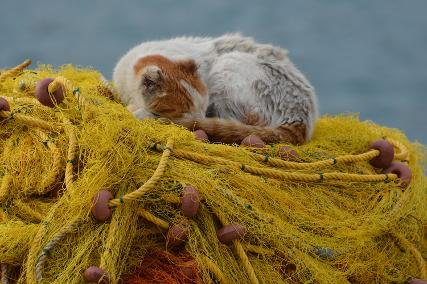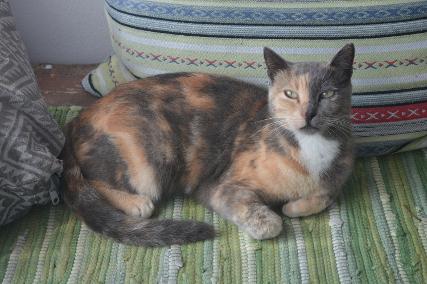 Views from Tholaria back to Aegiali, and in the right photo to Potomos furthest up the hill.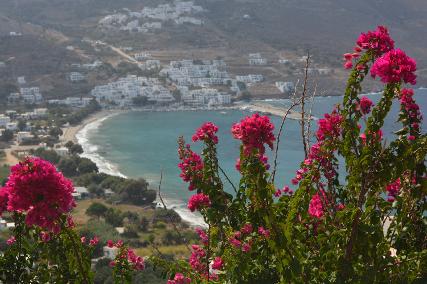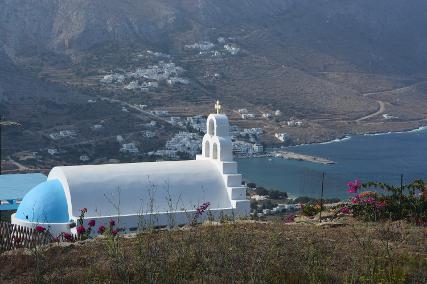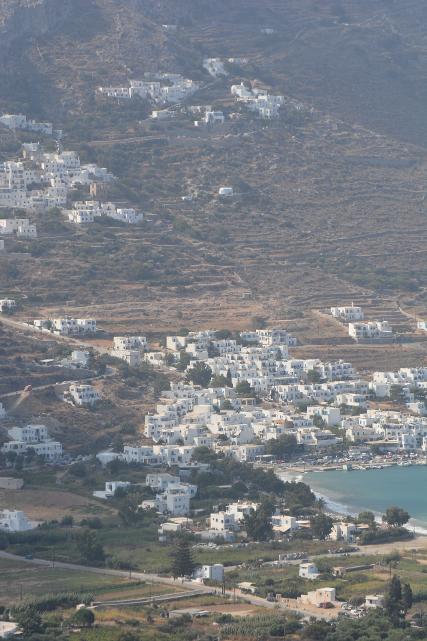 The priest and the bread delivery guy in Tholaria.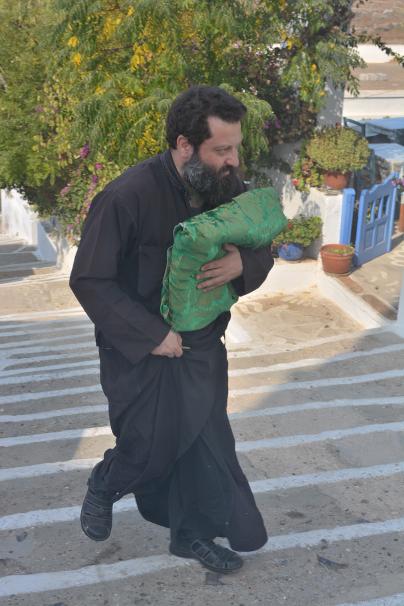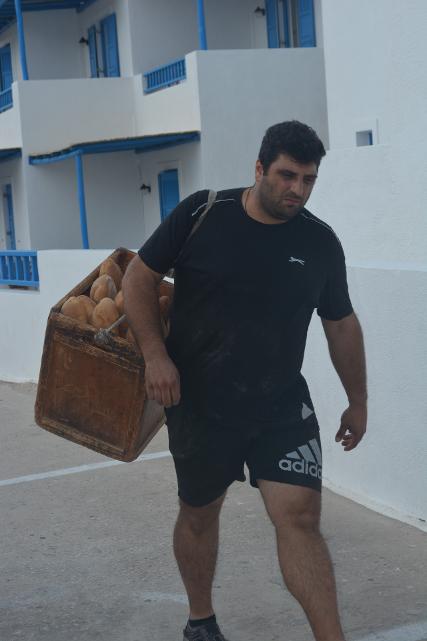 Just a few of the winding, twisting alleys in Tholaria and Lagada.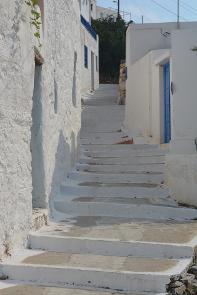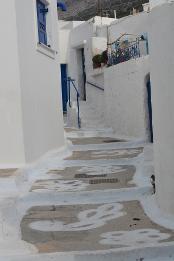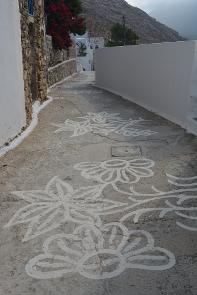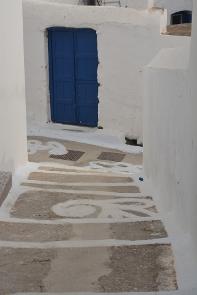 A couple of common sites on Amorgos - eggplants and mules.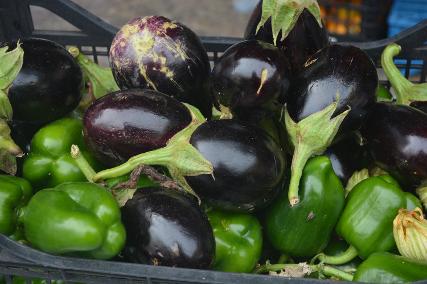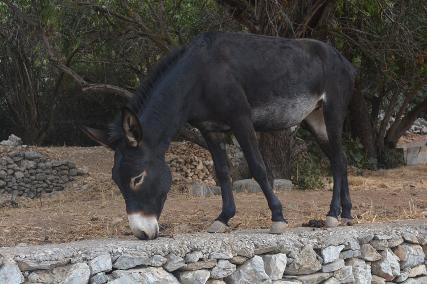 Sunset over Aegiali harbour.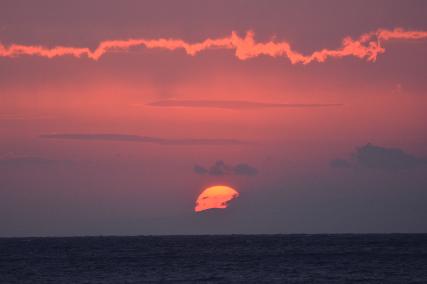 Actually a salad Bill and Linda ordered, with lots of local cheese.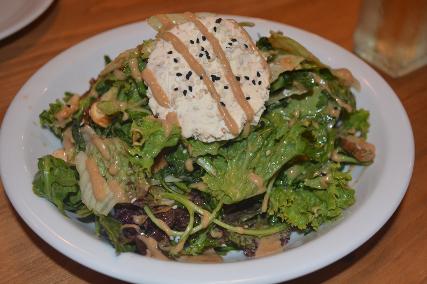 Fried potatoes covered with local cheese - very nice.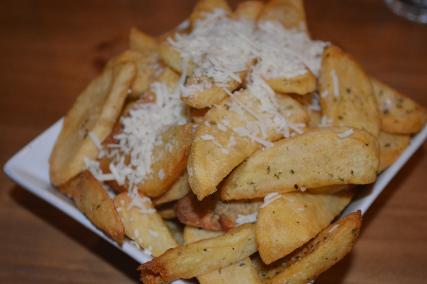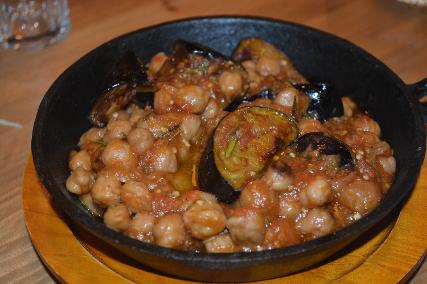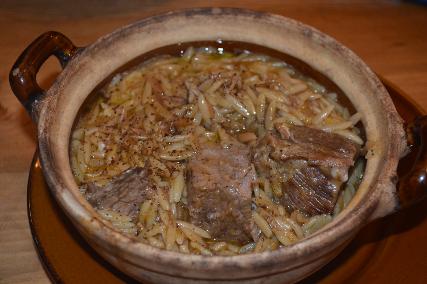 Gayle's main dish (left) was a chickpea casserole with fresh tomato, eggplant and rosemary. A definite winner.
I had slow cooked beef with orzo pasta casserole with fresh orange juice, sumac and graviera cheese from Naxos (below left), another exceellent choice.
After the meal we were provided a 'gift' of yoghurt with cherries (below).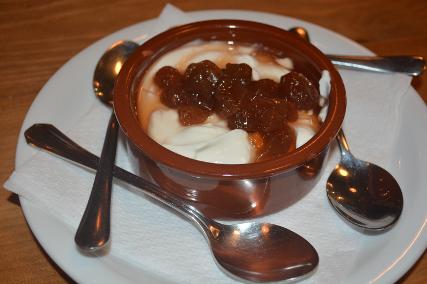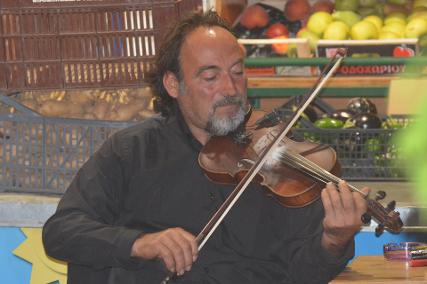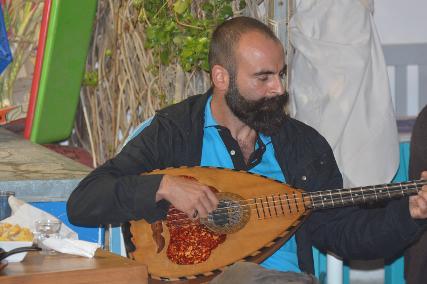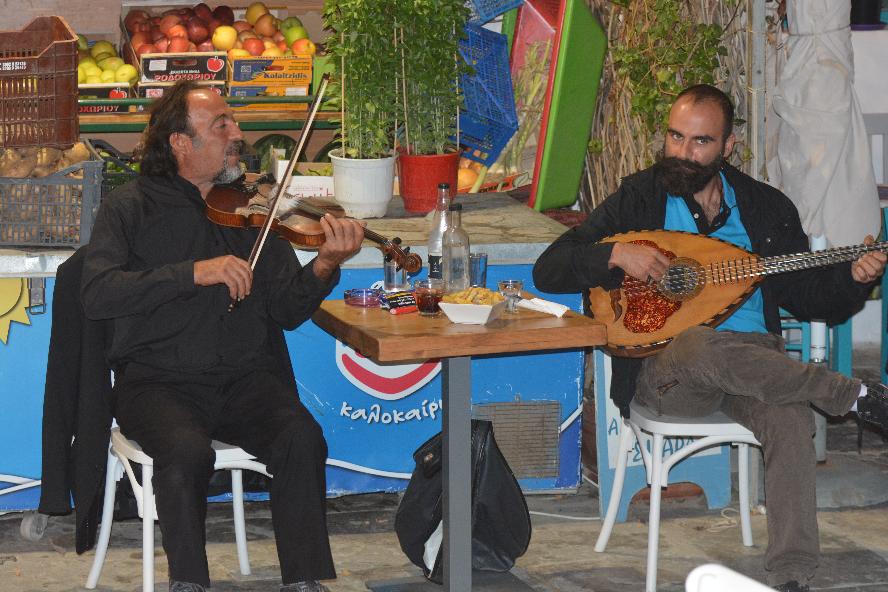 Here's a 1 minute video of the fellows playing.
September 12, 2019 - Amorgos (Aegiali / Pano Gitonia) - Mouros beach
Pretty much a carbon copy of yesterday with some left over olives from last night's dinner and glasses of freshly (I know I did the squeezing) orange juice (we noticed we had a juice squeezer in our apartment) being added to breakfast. Another mostly sunny day but again very windy.
After our usual late morning / early afternoon lounging around we drove to Mouros beach, another 13 kms beyond Chora. We arrived to meet Linda and Bill who had driven down earlier (as is their custom - out earlier than us). Bill couldn't get down to the beach with his bad hip but Linda had, saying it was worth the trek down. We jointed them for a drink before they left after which we headed down to the beach. It was quite something how windy it was in the taverna and parking lot yet as one descended the cliff-side the wind all but disappeared. The walk down was actually a bit easier than Agia Anna with some graded declines rather than all steps. The beach itself is rocky - thank goodness for the water shoes - but the water, like elsewhere, beautiful to swim in.
After ascending we decided to have dinner at the tavern. We started with a plate of quite good French fries after which Gayle had a large Amorgan salad and I moussaka - much better than the moussaka a couple of nights ago. The taverna's setting is spectacular, overlooking the sea and the rugged cliffs hugging the coast.
We drove back with the setting sun behind us. Another relaxing do little day, just how we like it.
Our breakfast - yoghurt with honey, cheese, olives and pastry, and of course orange juice.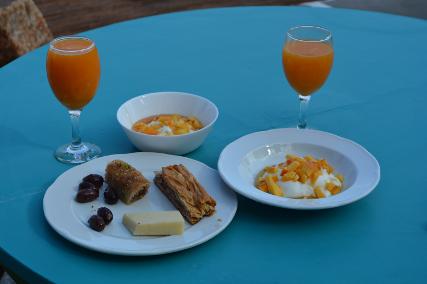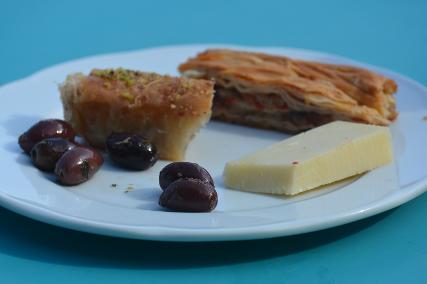 Freshly, and personally, squeezed orange juice.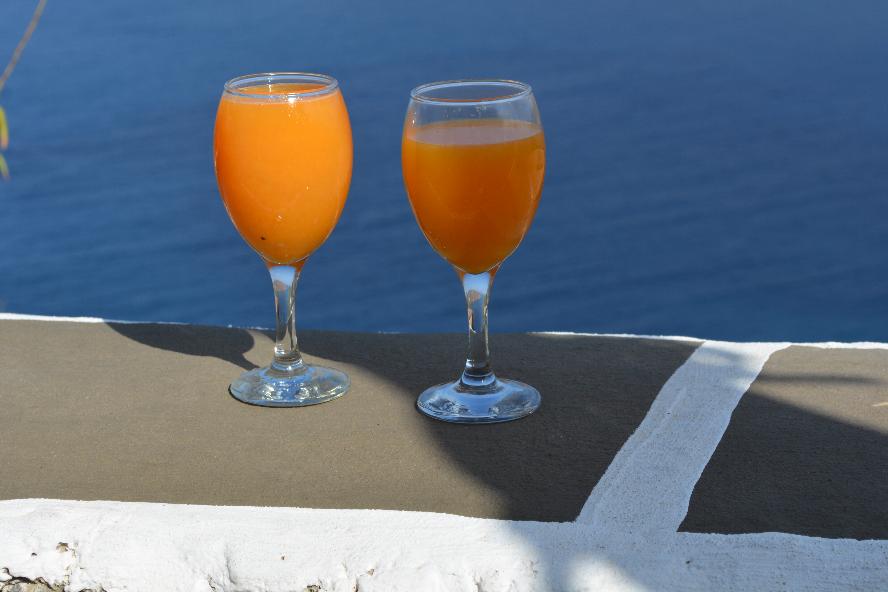 Coastline of the east side of Amorgos near Mouros beach.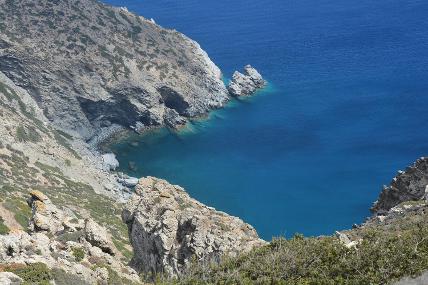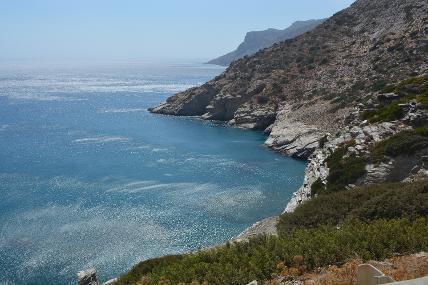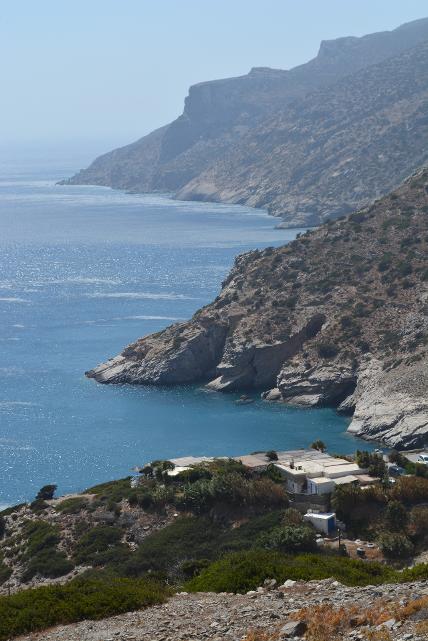 We met up with Bill and Linda who were just finishing a light lunch when we arrived.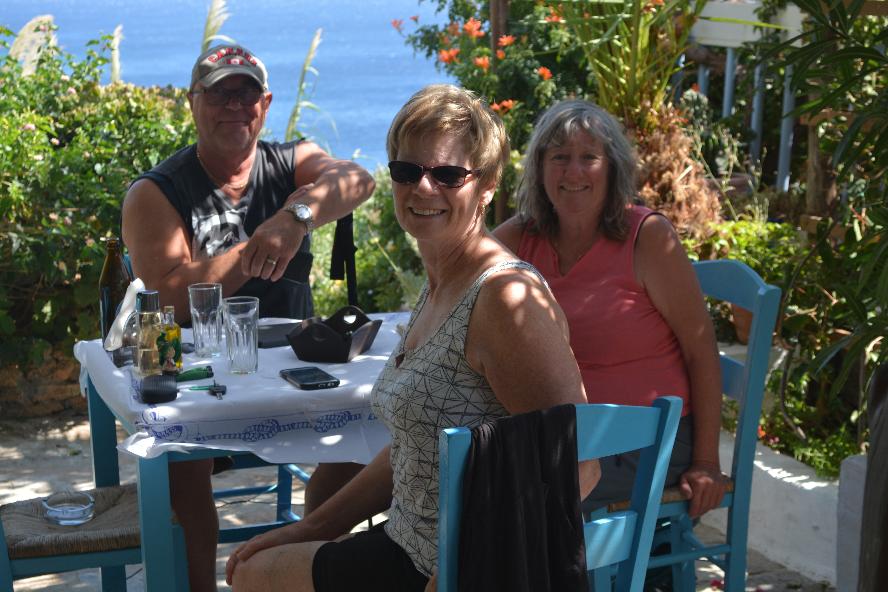 The view out to sea and the coastline from Mouros Tavern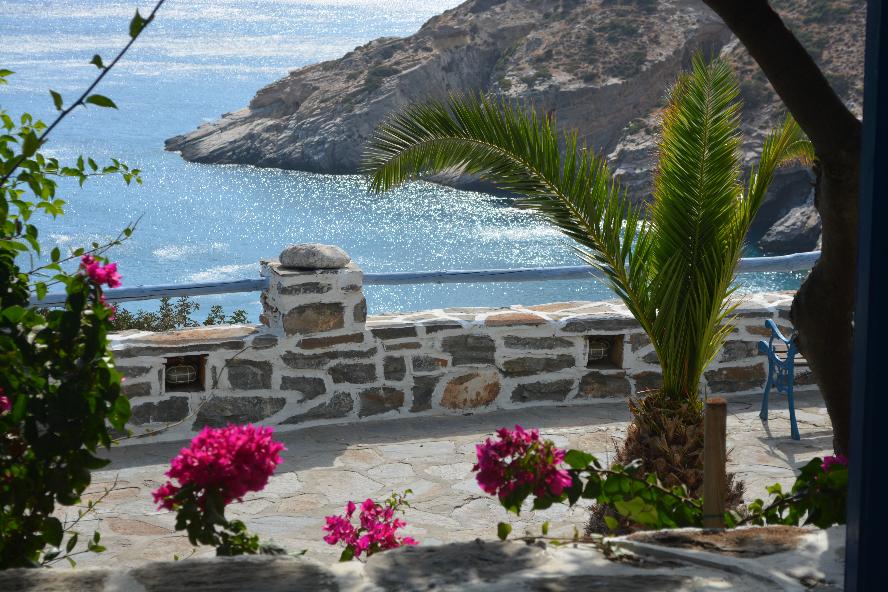 We took the trail down to the beach, where the strong winds in the parking lot virtually were non-existent. Although the beach itself was quite pebbly the water was calm and enjoyable,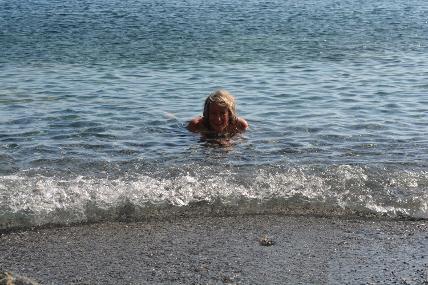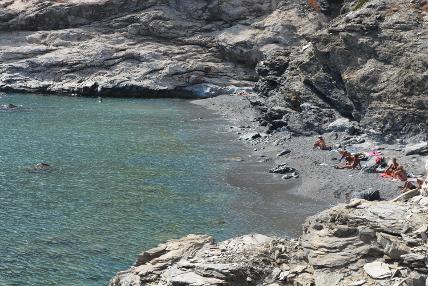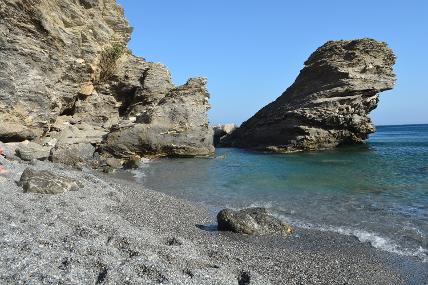 The setting sun glistening on the water in front of Mouros beach.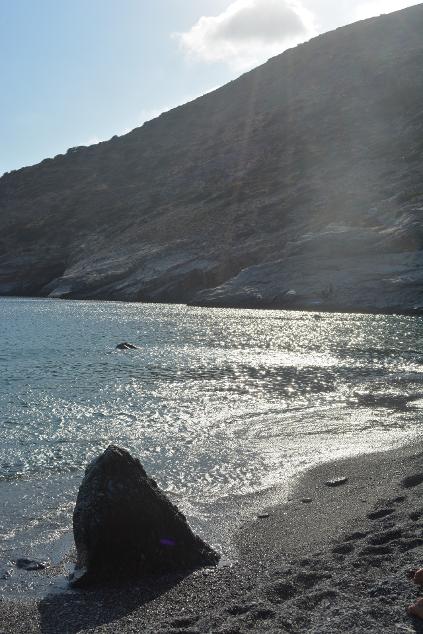 What a great backdrop for dinner.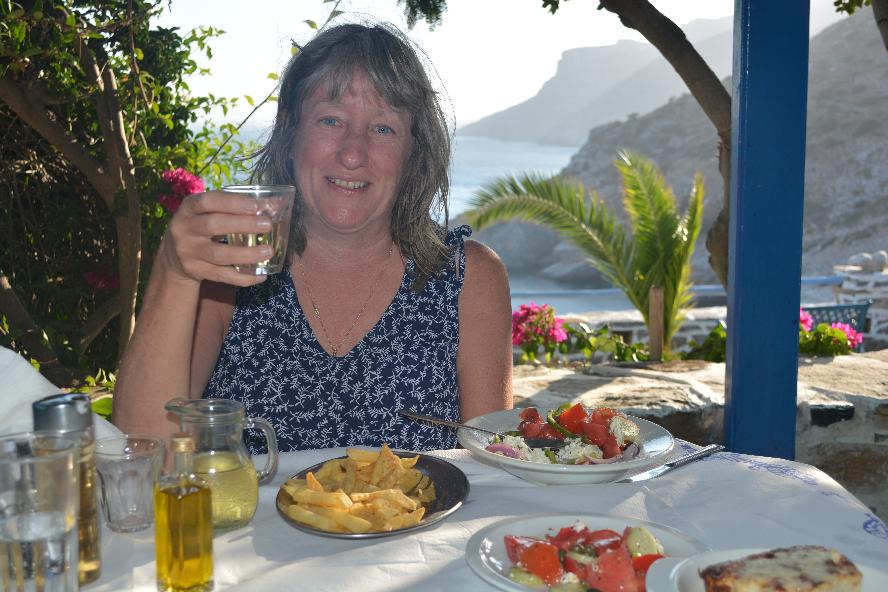 For dinner at Mouros Tavern Gayle had a huge reAmorgan salad and I a delicious moussaka.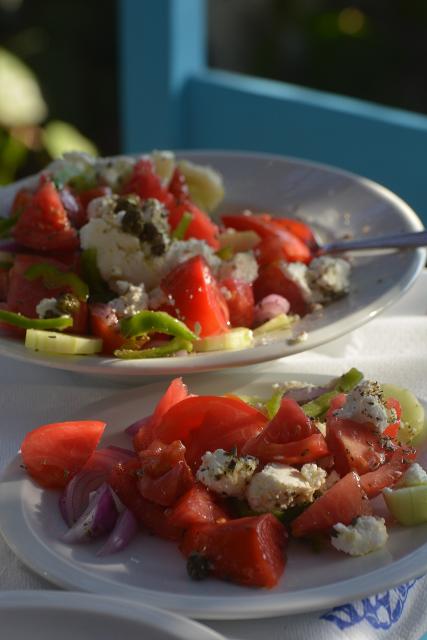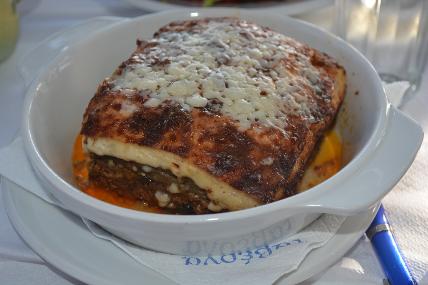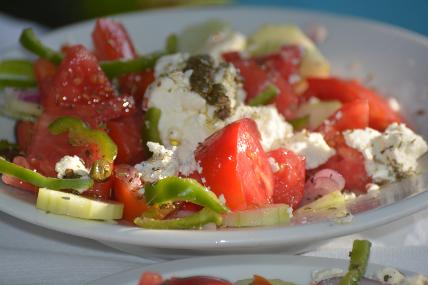 On the driver back the setting sun highlighted this church and small flock of sheep.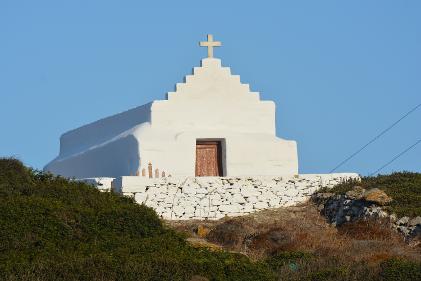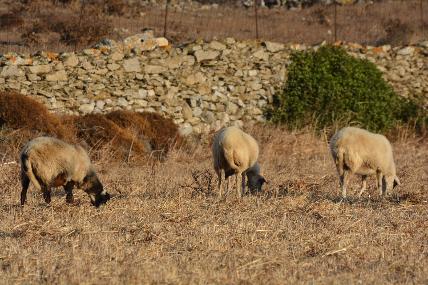 September 11, 2019 - Amorgos (Aegiali / Pano Gitonia) - Agia Anna beach
We started the day by making breakfast which we enjoyed looking out to sea. The weather was less than ideal, with considerable cloud cover and strong winds. We had coffee, of course, yoghurt with fruit and honey, a mushroom pie and a piece of cheese. Subsequent days we also had a large glass of freshly squeezed (I know I did the squeezing) orange juice. Just as we remembered from 2015 and 2017. Our room, Aloni, is nice with the bedroom and bathroom up half a flight of stairs. The unit itself may not be quite as nice as Stable 3 but the large terrace, with its hammock is great.
Amorgos is a long thin island, angled from north-east to south-west. It is 126 sq. kms with a population of 1,933 (2011). The main towns are all on the west coast as that is where bays and natural ports provided proper positioning for seaside town protection. Aigiali is on the north-east side close to the locations of the mountain villages of Tholaria and Langada. In the centre of the island is Chora, or Kastri, below which is the port of Katapola, Excavations and findings, especially burial tombs, prove the presence of Amorgos during the prehistoric years, particularly during the first period of the Cycladic civilization, i.e. 3200 to 2000 BC.
We are staying in the small village of Potamos, just above Aegiali.

In the afternoon we drove to Chora (approx. 30 minutes) and beyond, encountering a large number of goats - we counted 105 - along the way. We continued past Chora to the east side of the island and Agia Anna beach and the nearby (very) small Agia Anna Chapel, built on a rock by the sea. The chapel is very traditional with its location attracting many couples for a romantic wedding.
The beach requires one to descend 92 steps and is quite pebbly. But once one enters the crystal blue waters it all seems worth the effort. Plus the winds in the parking area above are totally gone by the time one reaches sea-level. The only other down side is the 92 steps back up.
Afterwards we drove the short distance to view the monastery of Panagia Hozoviotissa. Having ascended the 300+ steps in 2015 we saw no need to repeat the climb. But the monastery is very impressive, perched on the cliff side. The monastery was built in the second millennium in order to protect a religious icon, that is on display on site, from intruders. Visitors must be dressed in a specific way - men with long trousers and women in a skirt with a wrap around shift down to the knee, i.e. not trousers. As of July 2012 the monastery is active, housing three practising monks. It is certainly very impressive built into the cliff.
On the way back we stopped in to Chora to check out a store that had carried Sifnos pottery. They still do and had a plate that we purchased.
We then returned to Pano Gitonia - again passing goats, goats and more goats. For dinner we went to the mountain village of Langada, nestled below the highest mountains on the island. Langada is a genuine Greek village with narrow alleys, traditional whitewashed houses, colourful doors and small churches. We ate dinner at Minori where we started with a selection of appetizers - tzatziki, olives and saganaki. Gayle then had a pumpkin (which here in Greece is really zucchini) soup and I Greek meatballs with yoghurt on a round bread. The meatballs were somewhat bland but otherwise the food was really good.

Breakfast of yoghurt, cheese, pies and coffee. A view from Pano Gitonia (Panorama's terrace) to the sea.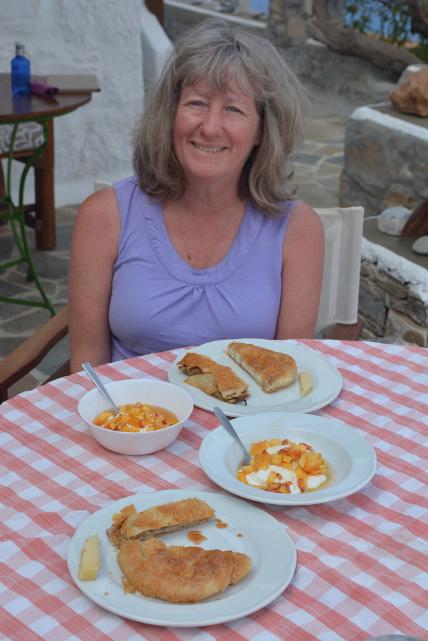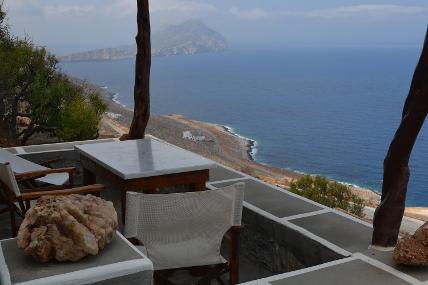 The port of Aegiali as seen from Pano Gitonia.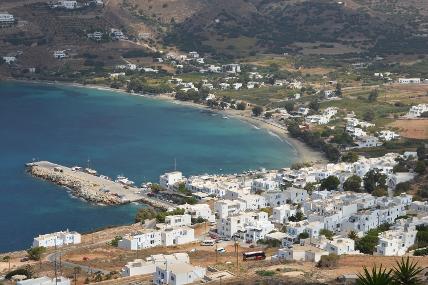 One encounters numerous goats (we counted 105) on the drive from Patamos to Chora.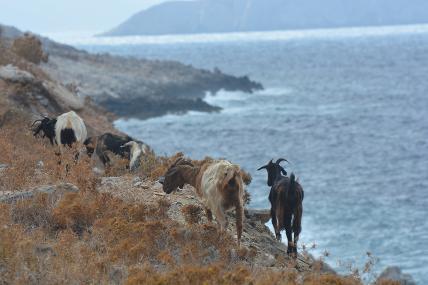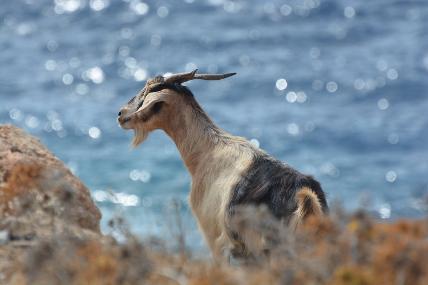 The dramatic east coastline of Amorgos. The small chapel of Agia Anna.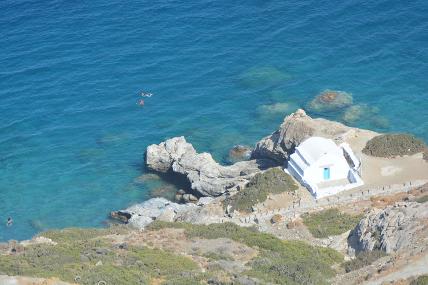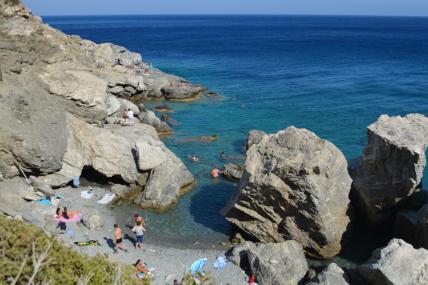 Enjoying a swim at Agia Anna beach.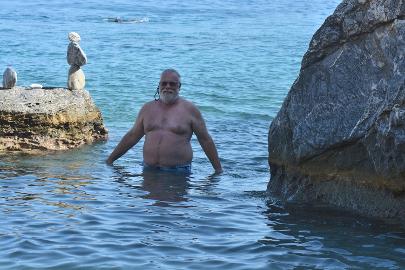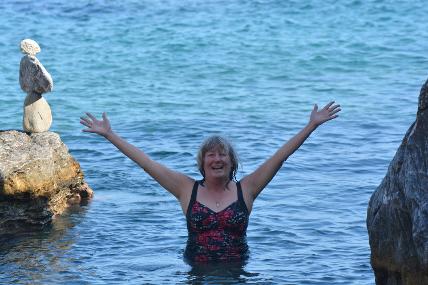 The Chozoviotisa monastery and the road leading to it.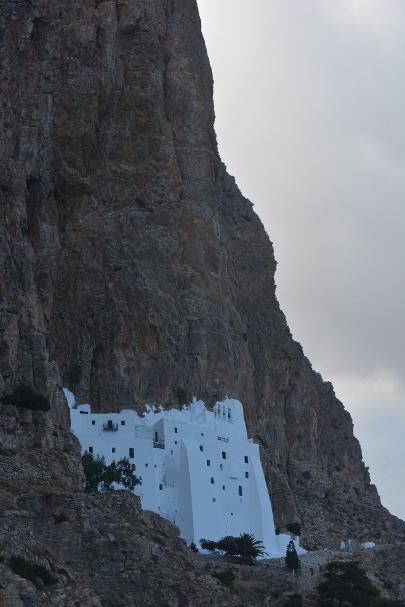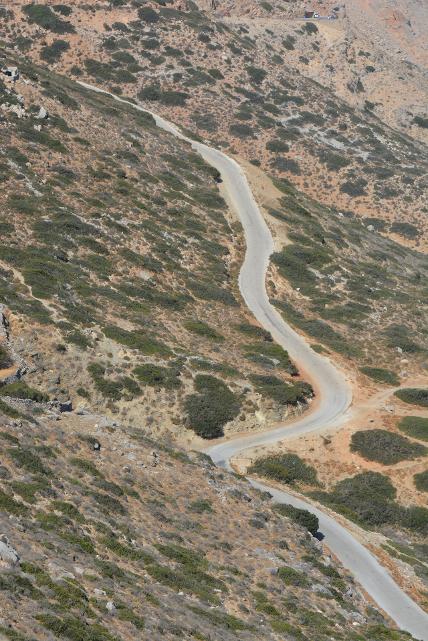 More goats on the drive back.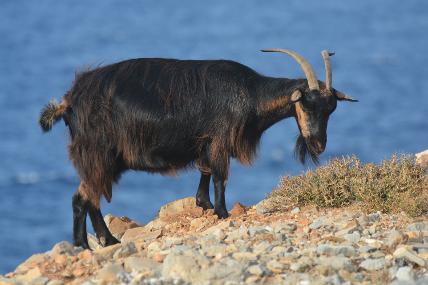 A trio of traditional greek appetizers:
- a plate of olives
-tzatziki - a yoghurt and cucumber dip, and
- saganaki - grilled cheese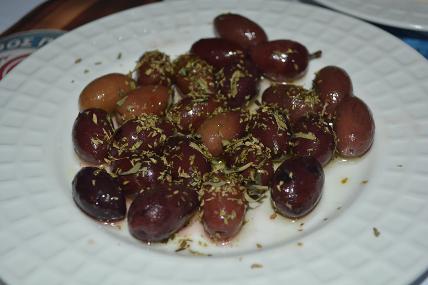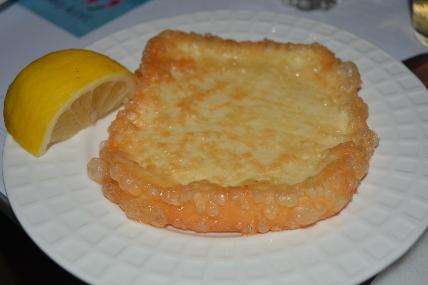 Gayle had a pumpkin (really zucchini) soup. While I had Greek meatballs with yoghurt.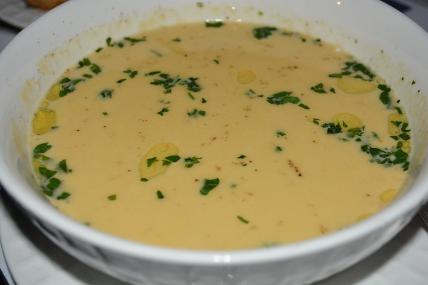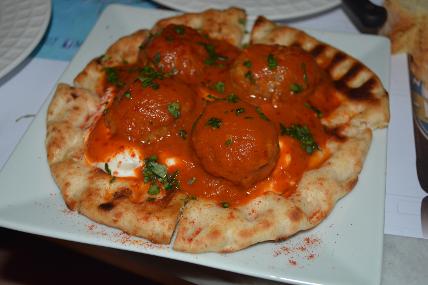 September 10, 2019 - Astypalea to Amorgos (Aegiali / Pano Gitonia)
There was one awkward ferry time during the trip - today. The scheduling changed yesterday such that the only ferry from Astypalea to Amorgos leaves at 5:15 am. This meant alarm clocks off at 3:45 am, finish packing and everything in the car no later than 4:30 am in order to arrive at the port by 4:45 am. Fortunately everything went as per plan with the ferry leaving precisely at 5:15 am. The sailing is scheduled for 1 hr 25 min but was approx. 15 minutes late arriving. So what to do at this early hour?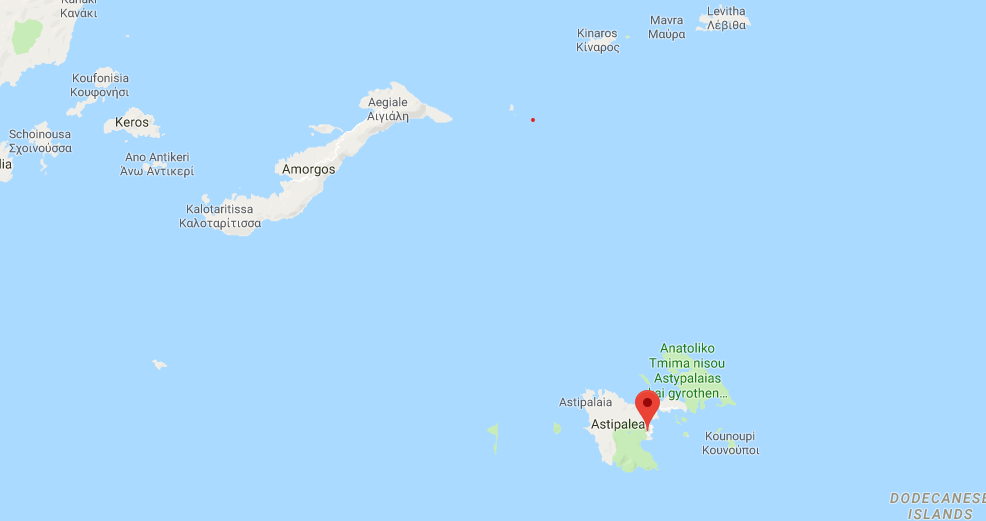 We first stopped in a bakery where we got coffees and some pastries - a spinach pie (a bit salty Gayle said) and a delicious mushroom pie. As we left we bought an orange cake (fabulous), a karidopita (walnut) pie and a honey dessert all to be enjoyed later. Now being 8:30 am we picked up our rental car - easy. After adding some gas we drove up to Tholaria, a nearby mountain village where there was a café we planned to eat in. Unfortunately it was not scheduled to open until 10:00 am but having nothing else to do decided to wait. Unfortunately 10:00 came and went and still not open,. We finally decided to leave only to see the café was open as we drove by. after walking to our cars. We were fortunate to enjoy some beautiful vistas down to Aegiali harbour and a couple of donkeys that passed us by.
We decided to head up to our lodging - Pano Gitonia in Patamos, a few kms outside of Aegiali to see if our room might be ready in spite of it being only 11:30 am. To our pleasure they were just finishing up and we were able to settle in shortly thereafter. We stayed at Pano Gitonia both previous visits to Amorgos, being very impressed with the quaint traditional rooms with their bright blue and green doors and trim and the spectacular views from high on the hillside.
After a nap (did you expect anything less?) we went into Aegiali to buy some breakfast items as Pano Gitonia does not serve breakfast - another mushroom pie, yoghurt, a peach and honey for the yoghurt, coffee, milk, cheese and a bottle of wine and retsina (ok perhpas the wine and restinsa were not for breakfast). We then headed down to Aegiali beach - very sandy at the end nearest town where we enjoyed a swim. While on the beach we ran into Bill and Linda (surprise). They had had a small bite to eat and a drink at a restuarant they suggewsted for dinner - right on the water. So Mama's it was - a beautiful location where we enjoyed a vibrant sunset. Unfortunately, in my opinion the food did not match the setting as my moussaka was dry with very little bechemal. But the others enjoyed their meals so all was good. Back to Pano Gitonia and off to bed.
Up at 3:45 am; leave Kalderimi at 4:30 am; arrive at port at 4:45 am; board ferry at 5:00 am; set sail at 5:15 am; sound asleep at 5:30 am!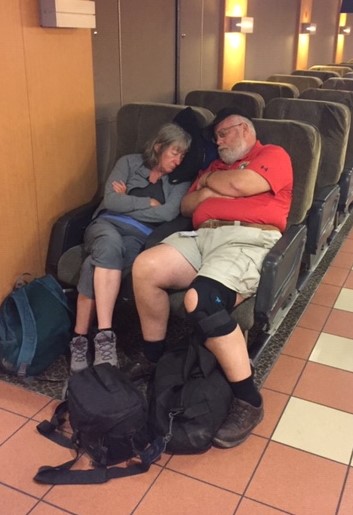 From above Tholaria views to Aegiali harbour.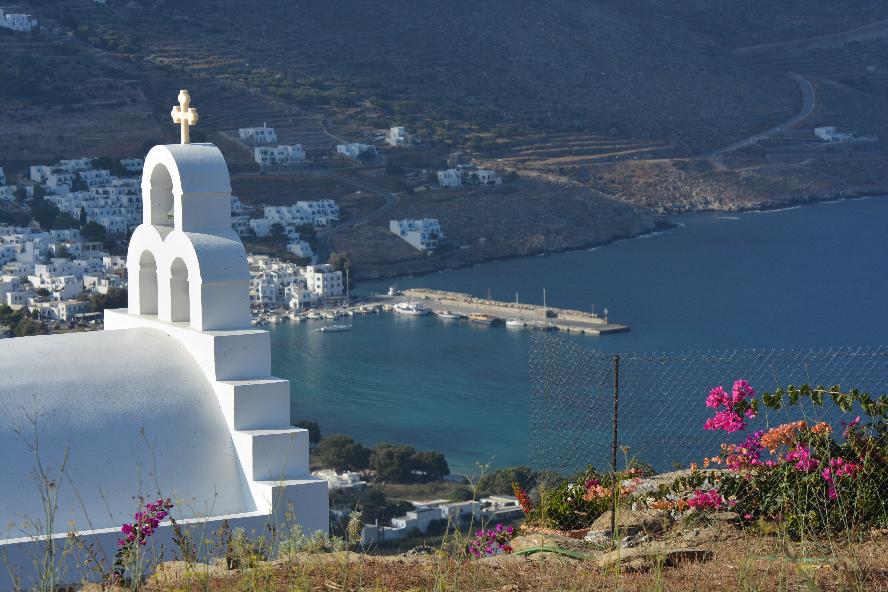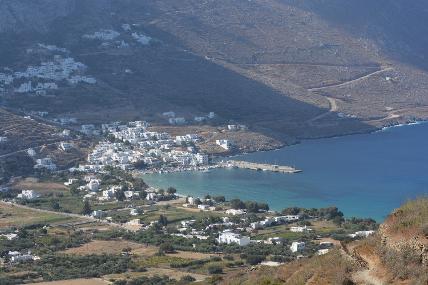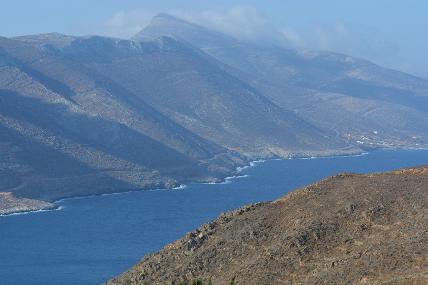 Trying to crack the wifi password while waiting for Seladi to open.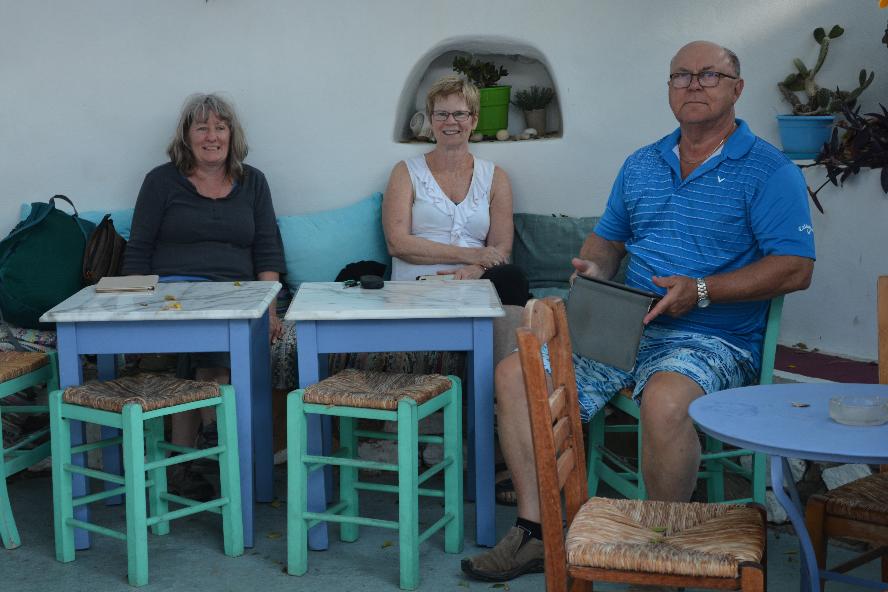 Welcome to Amorgos with tables and flowers in front of Seladi cafe, blue shutters and lace curtains in Tholaria and the view from Aloni, our lodging at Pano Gitonia.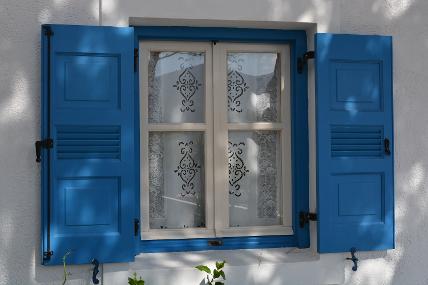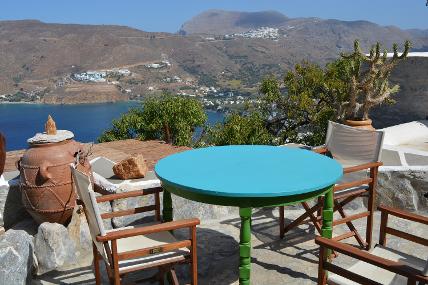 As we parked at Seladi we immediately saw this donkey. Later it was being ridden by a Greek lady with her dog.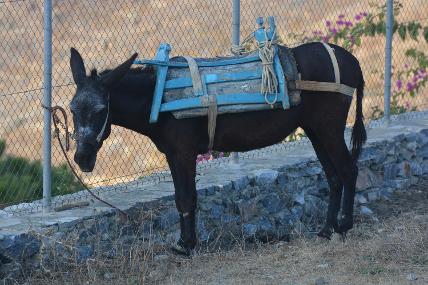 Then while waiting for the café to open in Tholaria this fellow passed by on his donkey.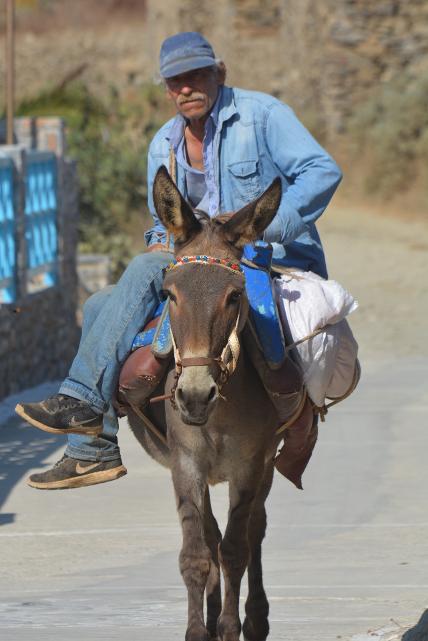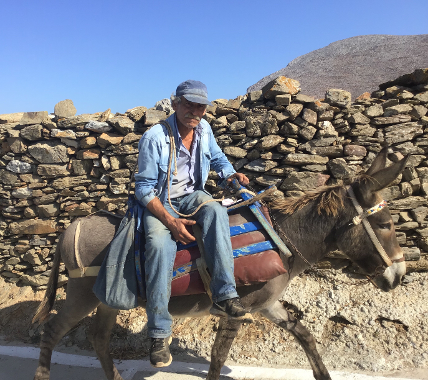 Welcomed to Pano Gitonia by none other than Alex.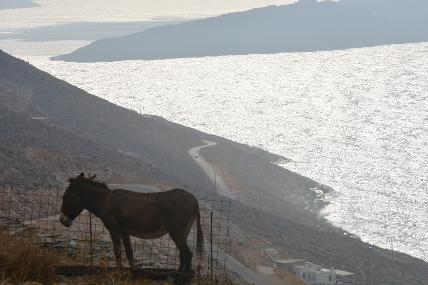 A colourful Amorgan sunset.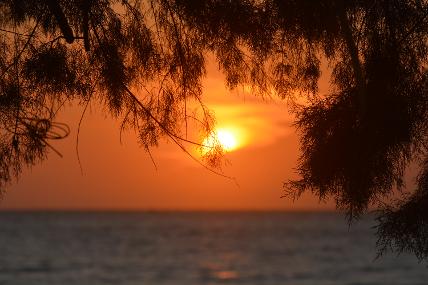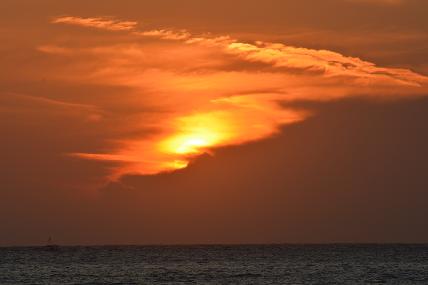 Stuffed pepper and tomato with roasted potatoes - quite good.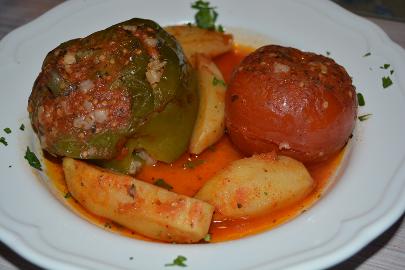 Moussaka - dry and in my view not very good.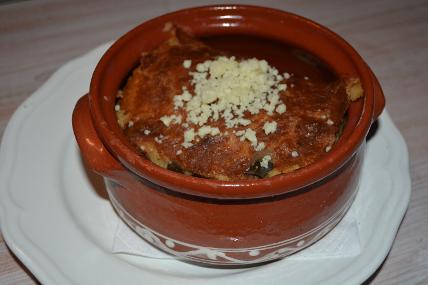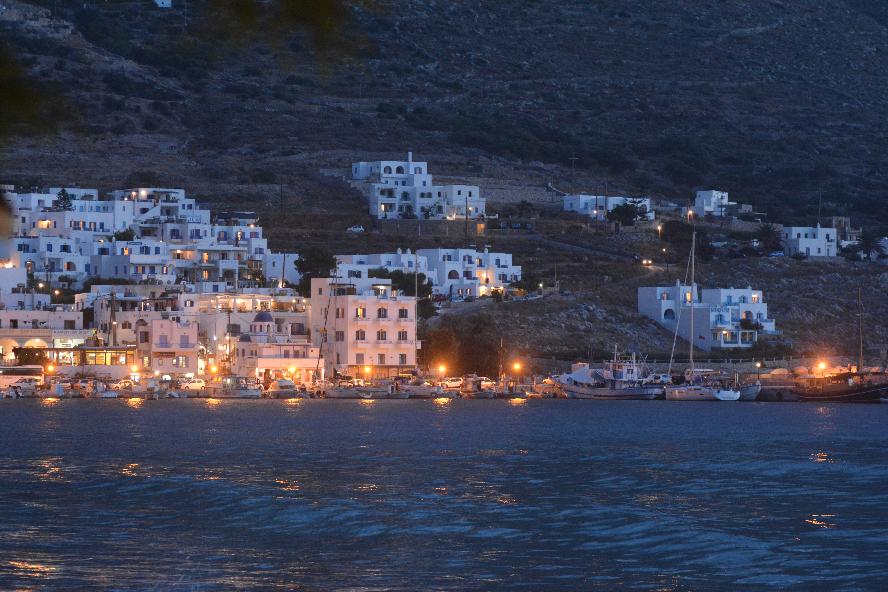 September 9, 2019 - Astypalea (Kalderimi Traditional Houses)
Being our last day a little bit about Astypalea or Astypalaia in Greek - it is an island of 1,334 residents (2011 census) belonging to the Dodecanese group of islands. The island is 18 kms long by 13 kms wide at the most,with an area of 114 square kms. The capital and main harbour is Chora. The coasts are rocky with many small pebble-strewn beaches. A small band of land of roughly 125 meters almost separates the island in to two sections at Steno, The resultant 'wings' result in Astypalea being referred to as the 'butterfly' island.
Astypalea is believed to be named after an ancient Grteek mythological figure. In Italian the island is known as Stampaia, and in Ottoman Turkish as Istanbulya.
There is now a 'new' port (since 2004) on the north side of the island in addition to the old port below Chora. There is also an airport providing flight connections to Athens.
In Greek mythology, Astypalaia was a woman abducted by Poseidon in the form of a winged fish-tailed leopard. It is recorded that Rome accorded Astypalaia the status of a free state. During the Middle Ages the island belonged to the Btyzantines until 1207 when it came under the control of a noble Venetian family until 1522. The Querini built a castle that is still in place. Astypalaia was conquered by the Ottoman Empire in 1522 and remained under Ottoman control, except for two short periods until 1912. On April 12, 1912, during the Italo-Turkish War Astypalaia became the first island of the Dodecanese to be occupied by Italy. From there the Italians, on the night between the 3rd and 4 May, landed on Rhodes. The island remained under Italian governance until World War II. In a September 1943 naval battle near Astypalea, the Greek destroyer Vasilissa Olga together with two British destroyers sank a German convoy. In 1947 through the Treaty of Paris Astypalaia became part of Greece along with the rest of the Dodecanese island group.
_________________
The day, like the previous six included sunny skies, heat, a relaxing breakfast, relaxation and a trip to a beach, this time back to Analipsi where we again ran into Bill and Linda, a regular event on this small island. After a swim we stopped for a drink and snack at Almyra, a small taverna looking out over the harbour near the dock. We shared a Choropita - described as pie crust, chlori cheese and Astapalean saffron. It was unique and quite tasty.
We returned to start the process of packing and then down to the old port to have our car checked over as we will be leaving it at the new port at 4:45 am tomorrow morning. We then had dinner at Aioles, a highly rated pizzeria. Gayle had a Greek pizza (medium) with tomato sauce, feta olives, pepper, gouda and onions while I tried Flavours from Astypalea - handmade pasta stuffed with local cheese and saffron form the mountains of Astypalea. Quite tasty - a good choice. Aiolos also gets a thumbs up from me for being the first restaurant we ate at on the island to serve retsina!
We then returned to finish packing and set the alarms for 3:45 am in order to be out before 4:30 am in order to get to the port by 4:45 am for our 5:15 am ferry to Aegiali, Amorgos.

One more view from Kalderimi to Livadi. Common on the island is the use of baskets as light shades.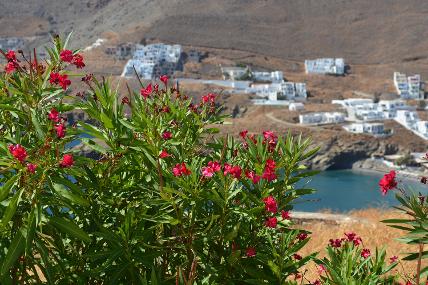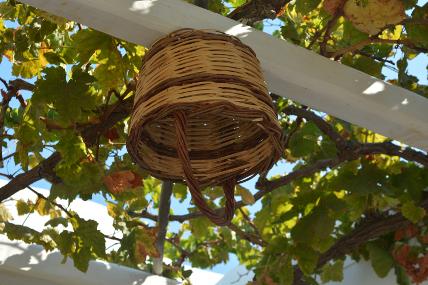 Mother and daughter - Katerina and Anna. Morning toasties with tomato, peppers and cheese.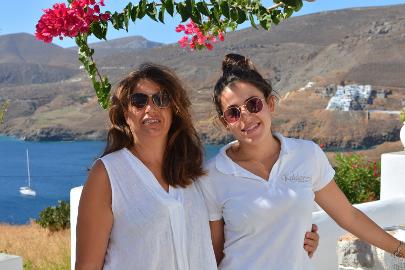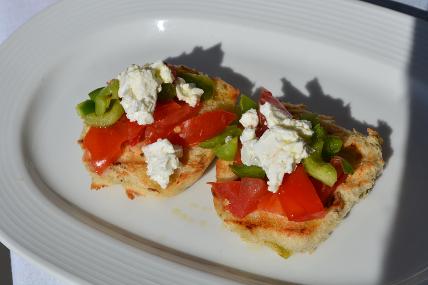 Gayle waiting for breakfast.
After they had breakfast at their new hotel it was nice that Bill and Linda came over to join us each day.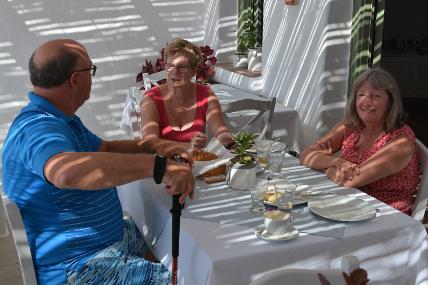 Araina - the maid from Bulgaria. Maria, the breakfast cook.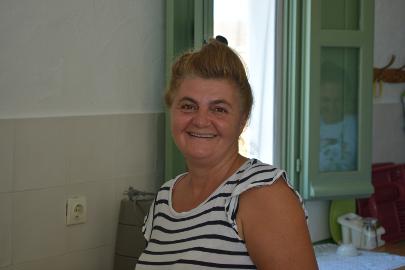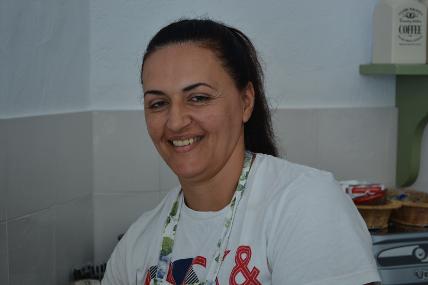 Analipsi beach. Sure its a small island but we constantly ran into Linda and Bill.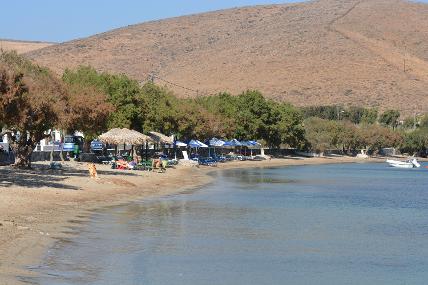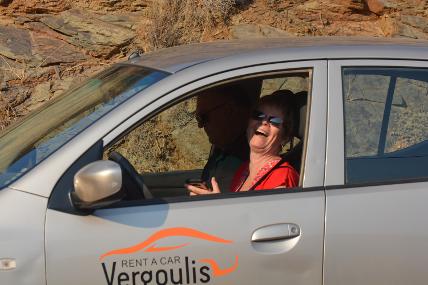 A fisherman and a few small boats in the 'harbour' of Analipsi.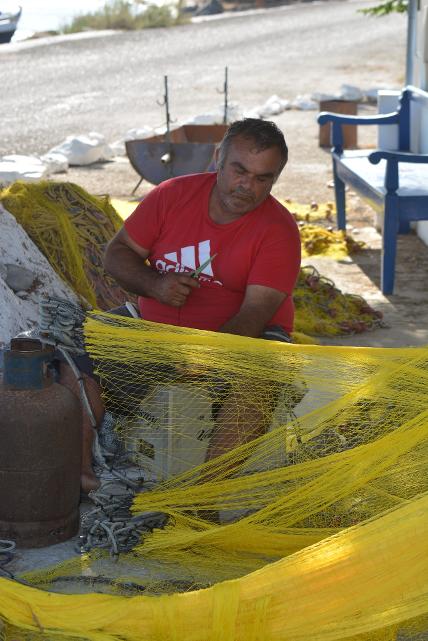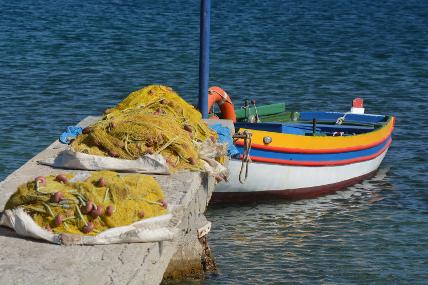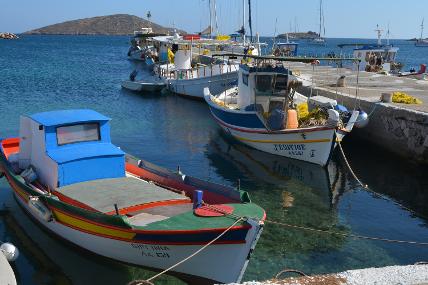 We joined our peeps for a snack at Almyra where we had a a local Chloropital.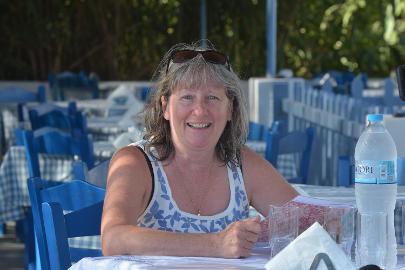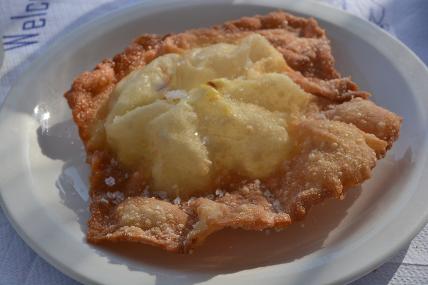 Chora and its windmills - very photographic.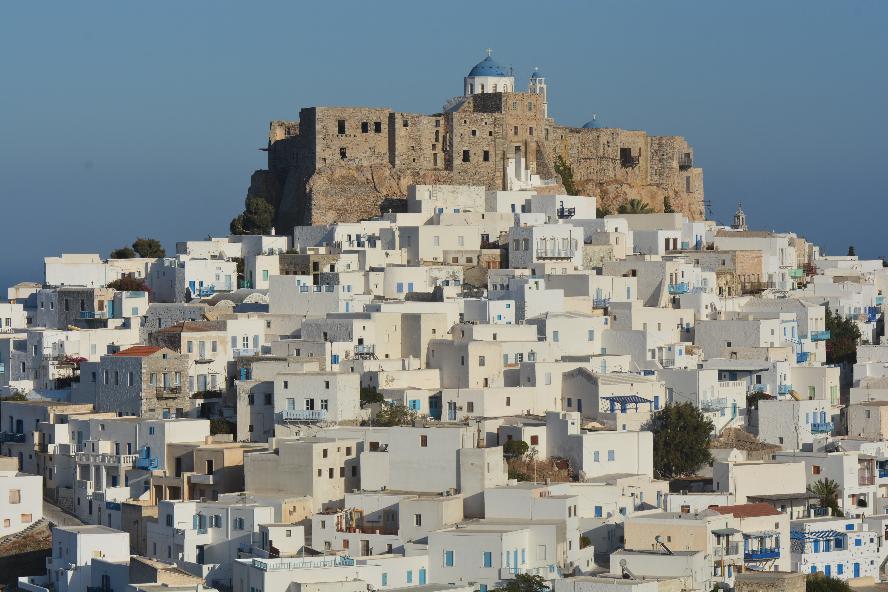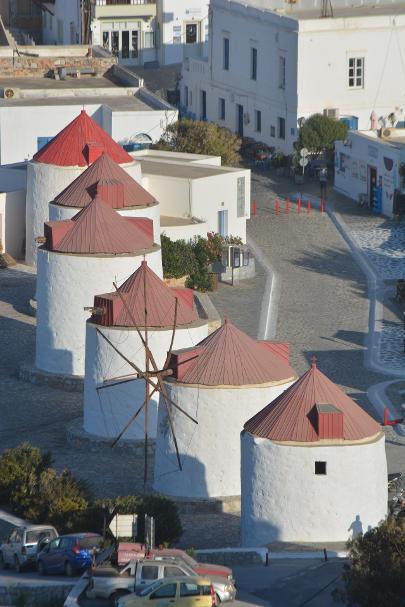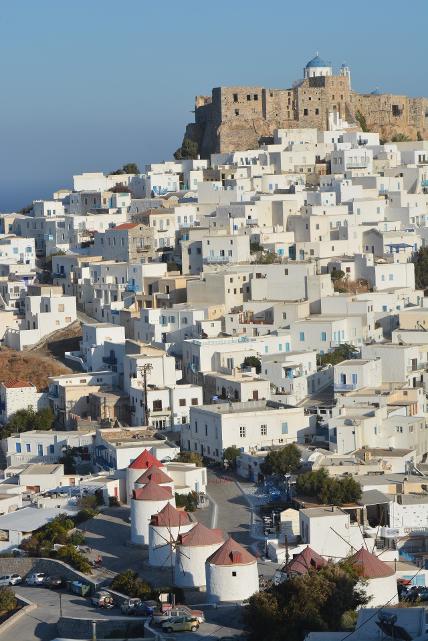 Cute little Boo Boo. Gayle and Anna.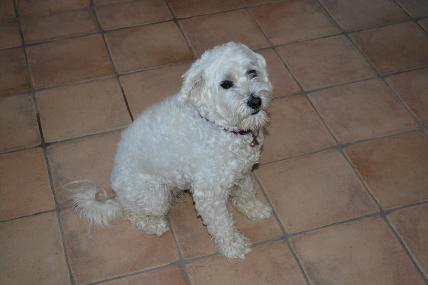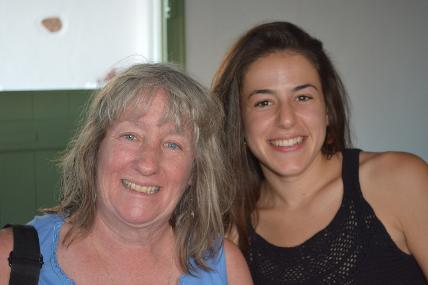 A lady knitting. Bill (beer), Gayle (wine), Norm (retsina) and Linda (beer).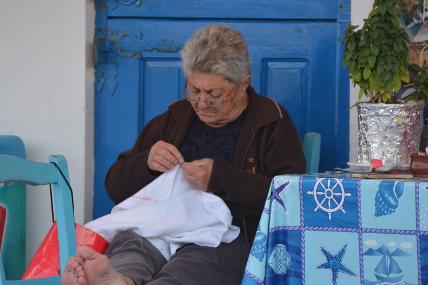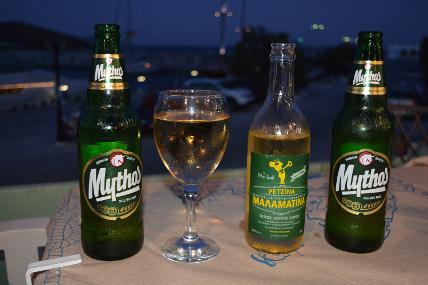 Thanks Linda for taking this nice photo of us at Aiolos.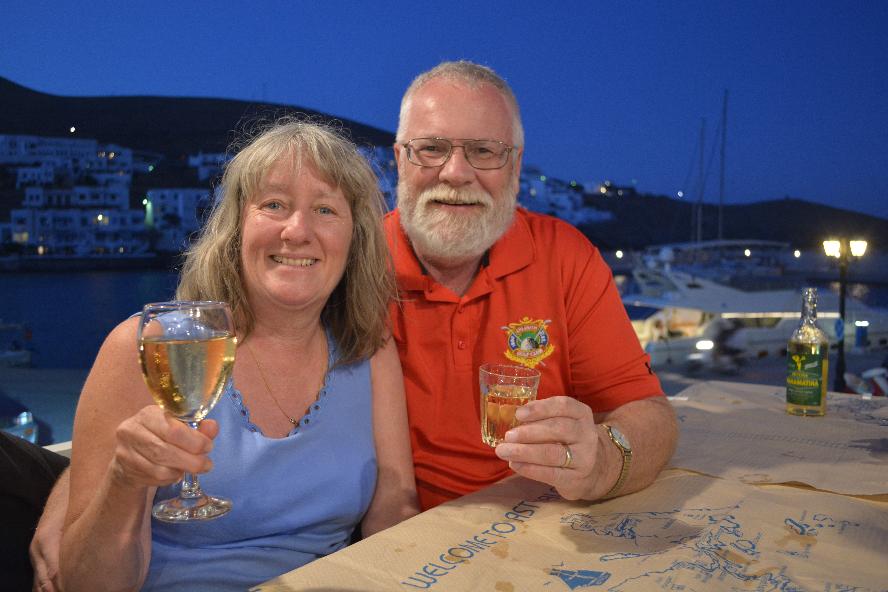 Finally retsina in a restaurant.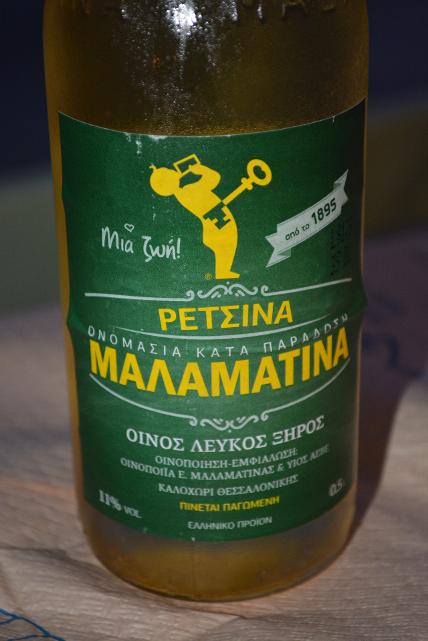 A local stuffed (with local cheese and saffron) pasta.
A Greek pizza, with feta, olives and peppers but onions only on half.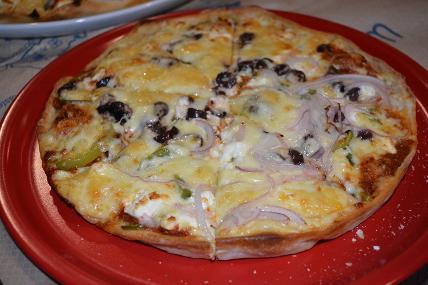 September 8, 2019 - Astypalea (Kalderimi Traditional Houses)
Pretty much more of the same today. We enjoyed another breakfast, with Bill and Linda wandering over from Tholaria (a nearby boutique hotel to which they moved yesterday for the benefit of the jacuzzi for Bill's hip) to join us. Then the standard late morning / early afternoon time in our room after which we were off to the beach - this time Steno near the narrowest part of the island connecting the east and west 'wings' of the 'butterfly'.
Steno is a nice sandy beach with a very gradual slope into the water - a nice place to swim. Perhaps not surprising given the small island but we again passed Linda and Bill while driving the roads. We stopped for a short second swim at Analipsi beach near Schoinontas for a short dip. We returned to Kalderimi before heading over to Linda and Bill's for drinks and traditional tapas - some meat, olives and cheese. While their room is somewhat small they have a nice balcony area with the jacuzzi and a great view out to the water and land beyond.
We then all headed into Chora where we walked through the alleys to the top, passing a group of men socializing in a taverna, a group of cats just hanging out, the church at the top of Chora and a walk around the castle. On the way we passed Barbarossa, a restaurant on Bill's list, where we stopped for dinner. A decent choice with Gayle having a large leafy salad with nuts, cheese and cherry tomatoes and I pork stuffed with plums on a bed of rice. A fine, although not spectacular meal. We returned to Kalderimi where I enjoyed a glass of retsina before turning in.
With Anna, Bill and Linda at Kalderimi Traditional Houses.
Today's delicious breakfast cakes. Anna and Angela.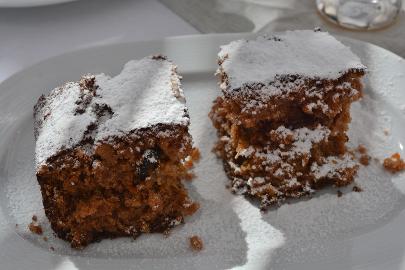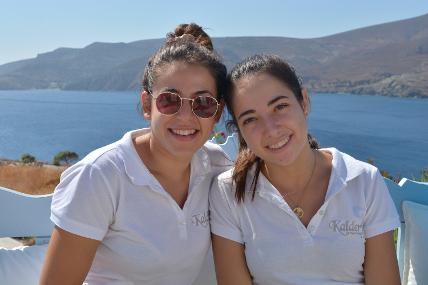 With Anna and Anggeliki (the Greek name for Angela).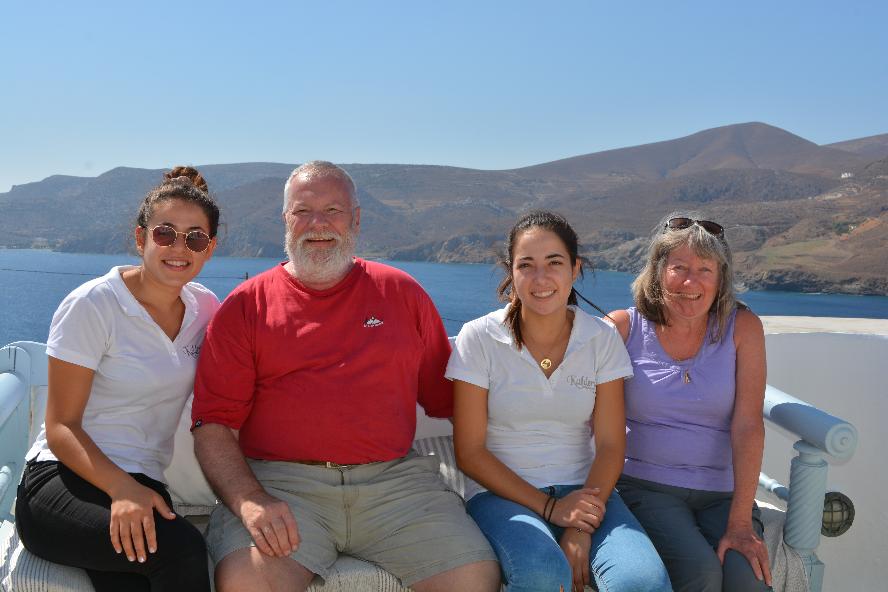 Steno beach from the road above. Some of the Astypalean coastline subject to the north winds.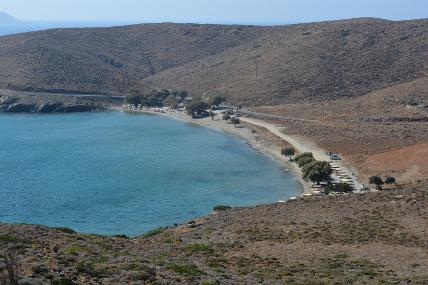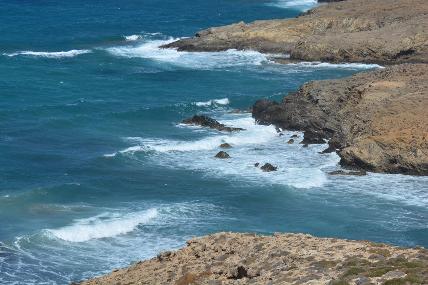 More beach time - todays swim was at Steno - with a gradual drop-off and predominately sand.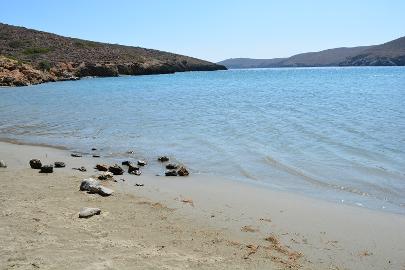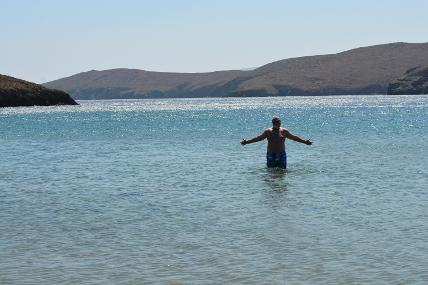 Greek locals - a group of men at a taverna and a small sampling of the Chora cats.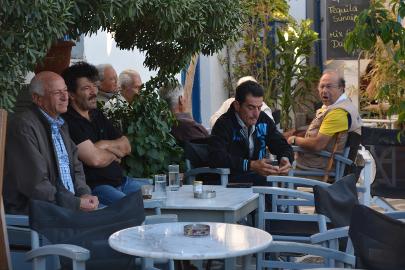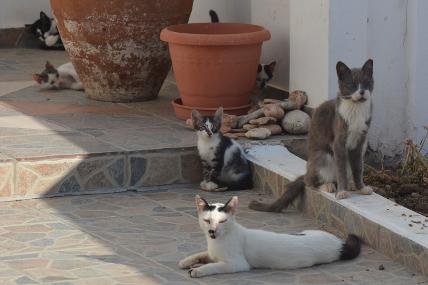 One of the small alleys ascending to the top of Chora. Some of the colourful windows and doors of Chora.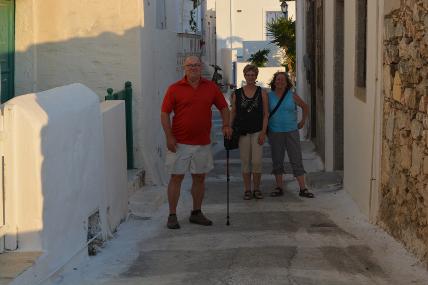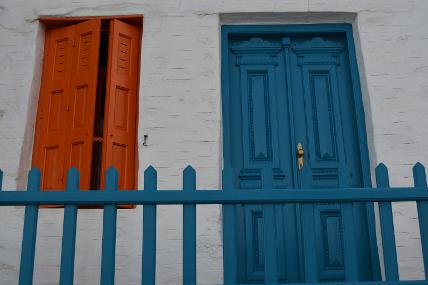 Another traditionally blue painted window and door.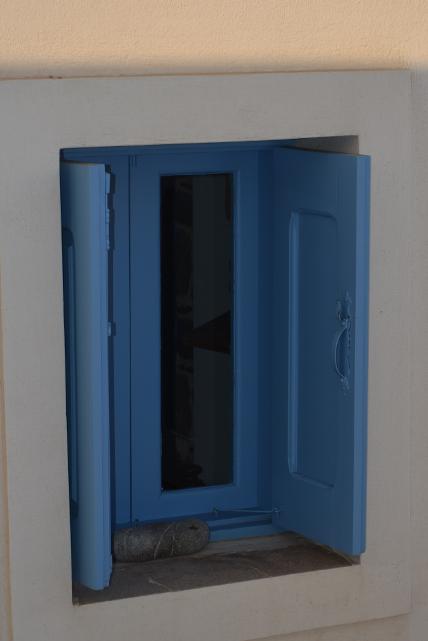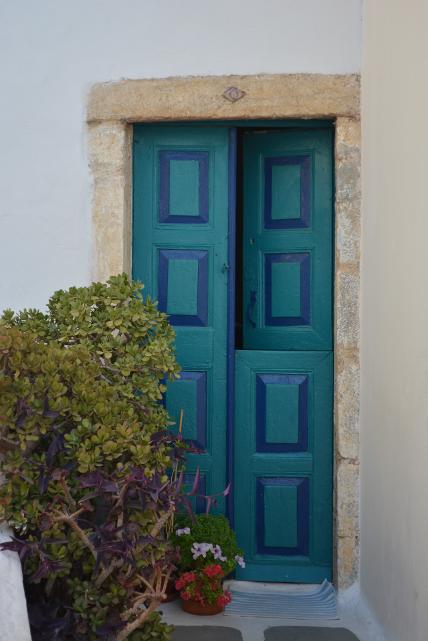 A traditional building with exposed stone and blue shutters and another church on our stroll through 'old' Chora.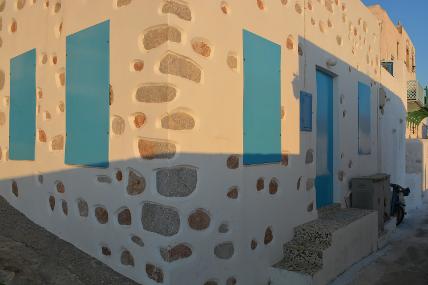 Inside the church at the summit of Chora.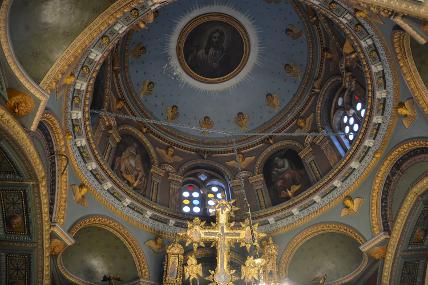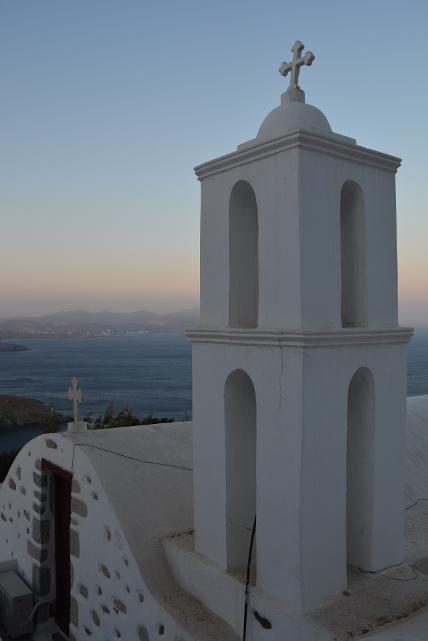 A mermaid door-knocker. Perhaps not perfect but a pretty darn good colour match.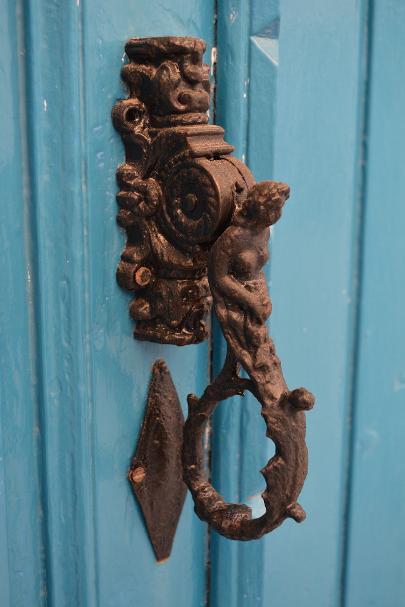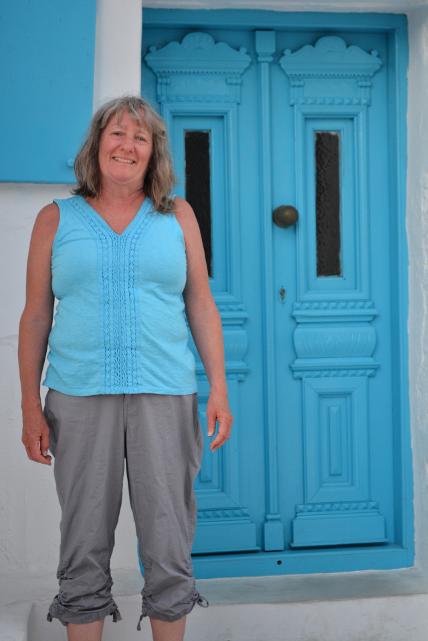 A green salad with cherry tomatoes and local soft cheese. A Pork roll stuffed with cheeses and plums.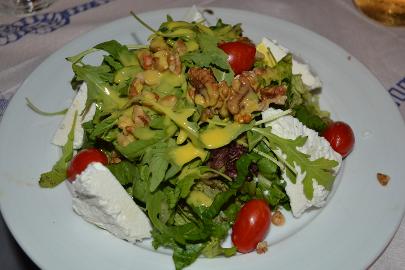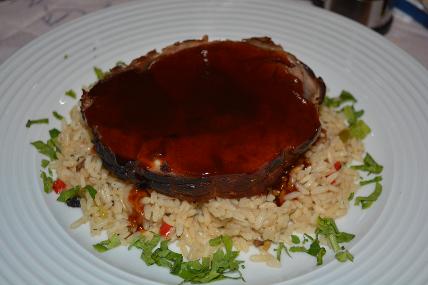 September 7, 2019 - Astypalea (Kalderimi Traditional Houses)
We are now in to a routine - wake up to blue skies without a cloud to be seen; eventually wander up for breakfast; back to the room to relax / work on the travel blog; out for an afternoon drive / swim; back for an hour or two and then off to dinner. As routines go it is pretty nice.
Today's drive / swim was to the south-west side of the island over the hills and then down a canyon on a reasonably decent, but one still needed to be careful, 3.5 km dirt road. At the end one is rewarded with a picturesque albeit pebble beach. As with pretty much all the beaches here on Astypalea there is a taverna with beach chairs and umbrellas (to rent) at one end and open beach at the other. As is normally the case we spent 20 to 30 minutes in the water and then an equivalent amount of time on the beach - generally with me napping.
On the way back we stopped at Livadi for a second swim. While there Gayle walked down to the end of the beach where she did meet up with Linda and Bill. After our afternoon swim we returned to Kalderimi for an hour or so before driving to Akti, on the other side of the old port harbour for a dinner at a restaurant Anna recommended, in large part due to the situation of the tables on the cliff side. The restaurant certainly did not dissapoint, with its magical location - a number of the tables are in these little alcoves, right on the cliff side over the water. We were early enough to get a prime table.
The food was quite good as well. We started with a grilled piece of local goat cheese with a pomegranate marmalade (6 euros) after which Gayle had fresh spaghetti with sauteed eggplant, sun dried tomato pesto, grated tomato and garlic (11.50 euro) while I had an excellent seafood risotto with local Astypalean saffron (16 euros). The meal was a bit more expensive than others (43.90 euros = $67.61 Cdn with two glasses of wine, water and bread) but still very inexpensive for the food and location, including a great view of Chora and its lit castle.
How hard is it wander up each morning to a breakfast area that has this view?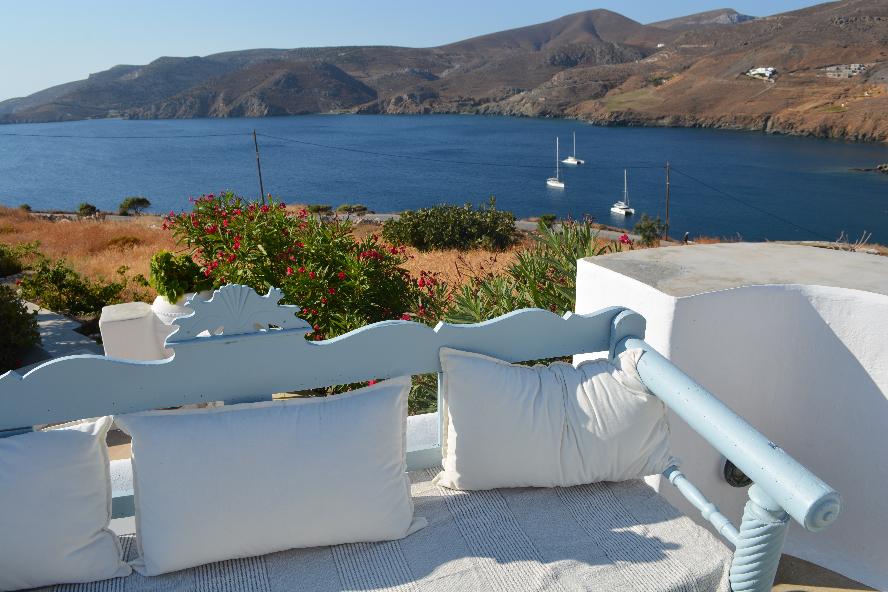 Breakfast pies ready to be served. Aggeliki (Angela), our breakfast server.
Next to Hans the best scrambled eggs we've had.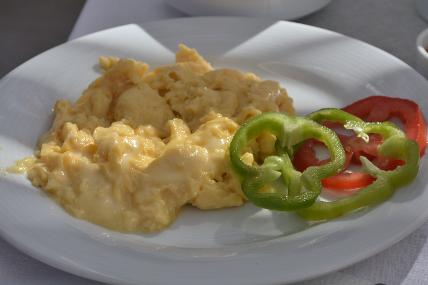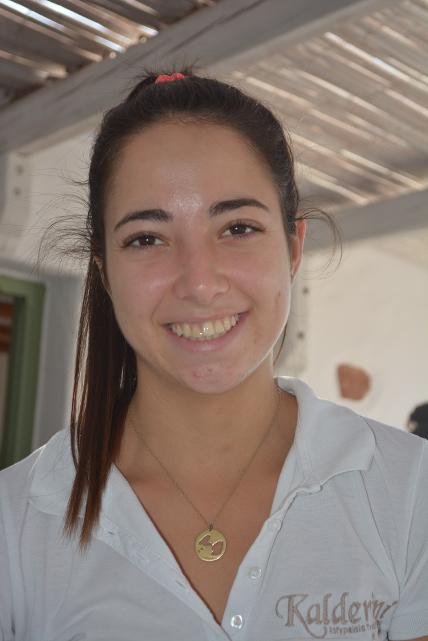 The dirt road as one leaves Vatses to drive through the canyon and an isolated church on a barren hillside.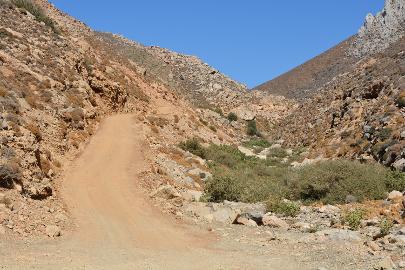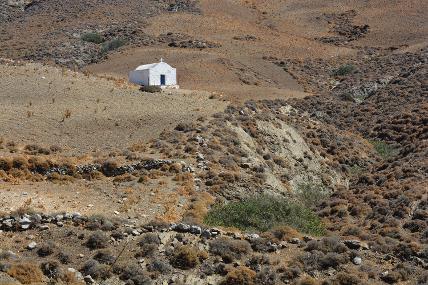 Vatses beach and looking out from the beach to the sea.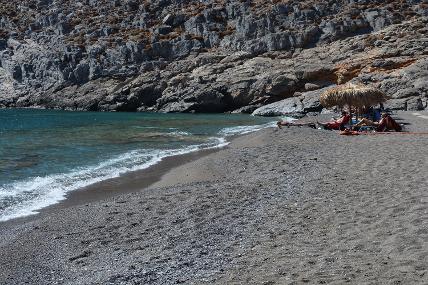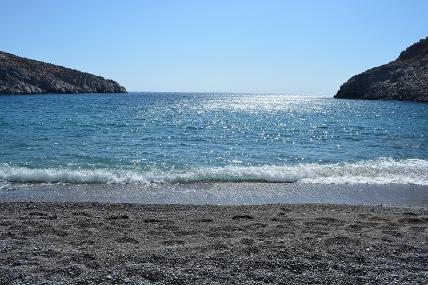 Kalderimi as seen from Livadi beach. The bay and Livadi beach.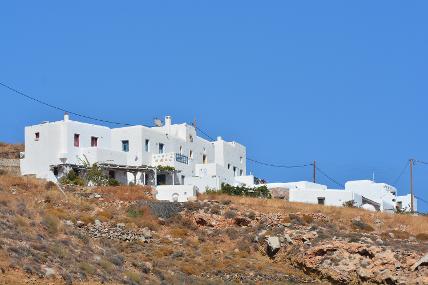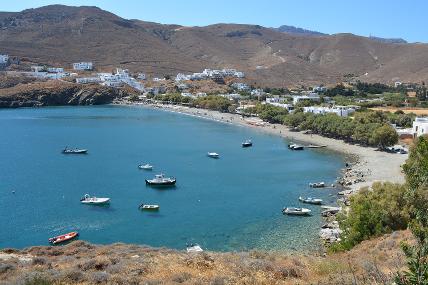 Our table at Atki - right on the water. Atki is in the front left as seen from across the harbour.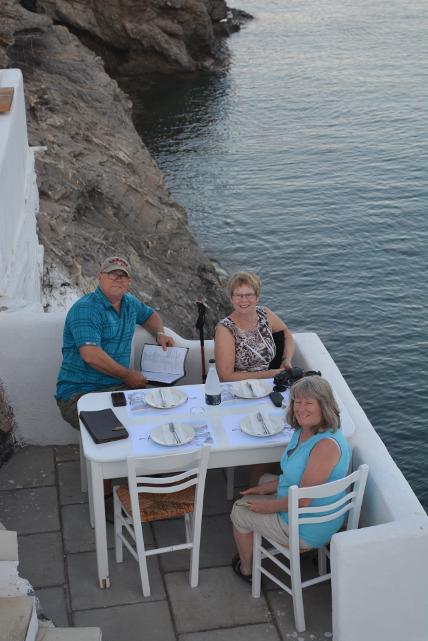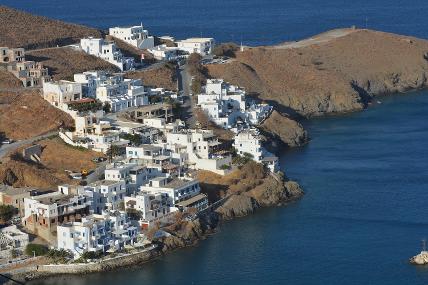 Gazing into each others eyes - how romantic.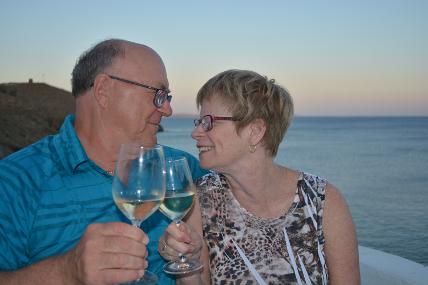 About to enjoy dinner at Akti.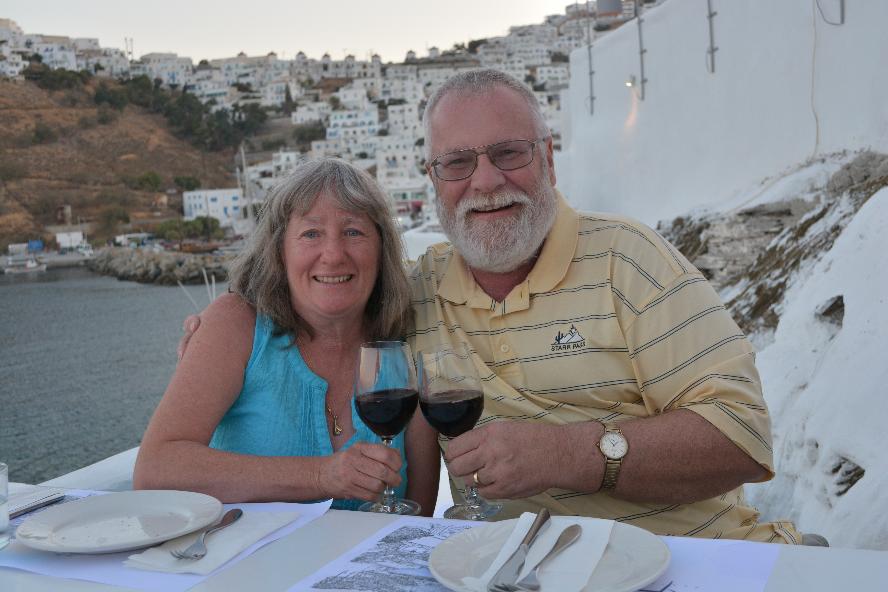 For dinner we started with a local goat cheese (ladotiri) on the grill with pomegranate marmalade (right).
Then Gayle had fresh spaghetti with sauted eggplant, sun dried tomato pesto, grated tomato and garlic (below).
And finally I had a juicy seafood risotto with local saffron (below right).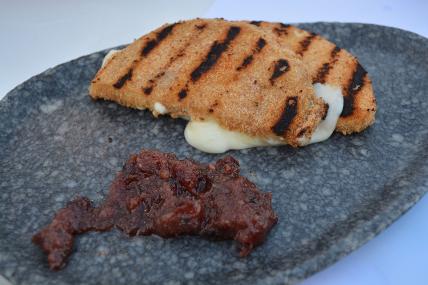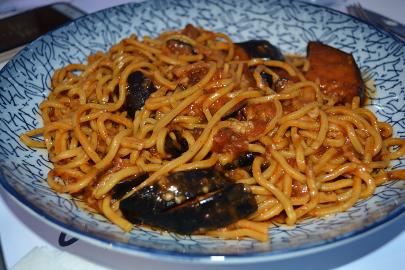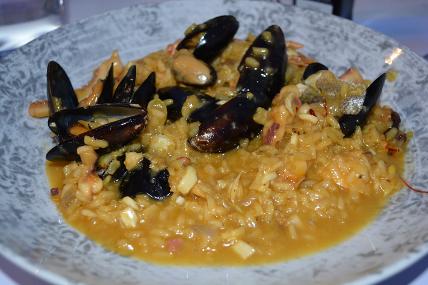 The castle of Chora at night.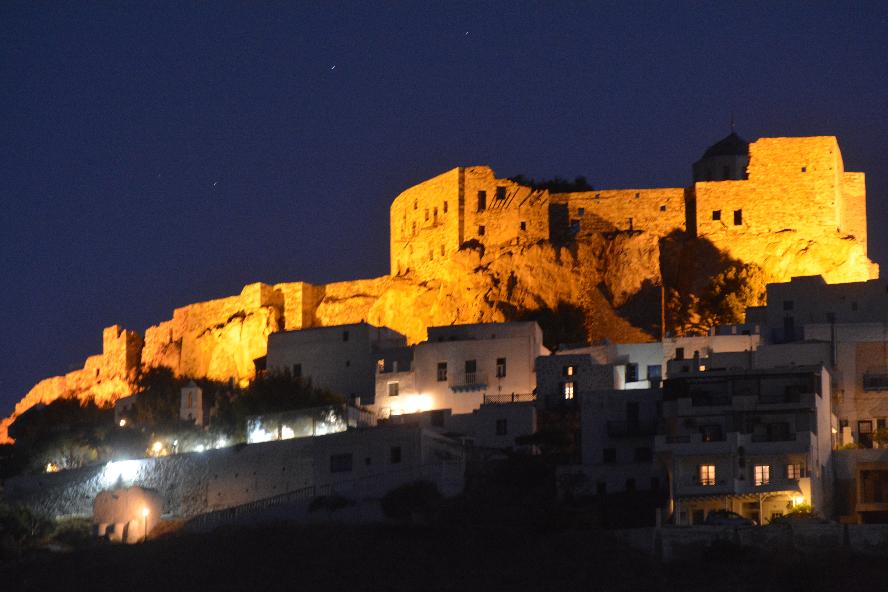 September 6, 2019 - Astypalea (Kalderimi Traditional Houses)
The highlight of breakfast was Linda eating all four of the bruschetta like toasties, thinking they were her ham and cheese sandwich. Surprise! When a ham and cheese sandwich arrived we realized what she had done. Of course Angela brought out more toasties for the rest of us to enjoy.
Today we drove to the top end of the east portion of the island - not much other than a few small communities along the water, but otherwise pretty bleak landscape. The one thing the drive does have, at least for most of the way, is a nice new wide paved road. It is perplexing as to why it is such a nice road - the best on the island - as there was nothing along it other than a few goats, a gravel pit and some beautiful views out to the sea. The last few kms were back to a dirt road until one reaches Vathi, a very small hamlet of a few homes, a taverna and a dock. The colour of the water, particularly as we returned with the sun behind us was an intense rich blue.

We stopped at a relatively sandy beach near Schionontas for a swim on the way back, before continuing with stops for photos of Chora, particularly attractive in the late afternoon sun. We again walked into town with Linda and Bill where we returned to Agoni Grami, the restaurant we ate at the first night,. We shared zucchini balls with fresh yoghurt and Gayle again had the home-made pasta in tomato sauce with ouzo and garlic. Unfortunately my meal was not as memorable as the first visit - while they were well made I preferred the cheese balls with chutney over the zucchini balls, and my grilled lamb was fine, but no rival for the lamb shank in sauce. Nice wine and a complimentary dessert enhanced the meal.
We walked back to Kalderimi where I had a glass of retsina before retiring for the night.
Breakfast sweets and toasties.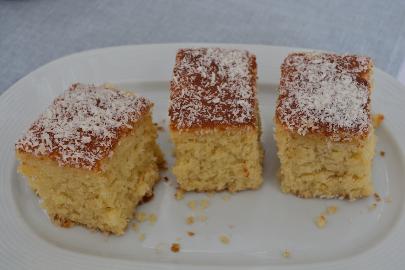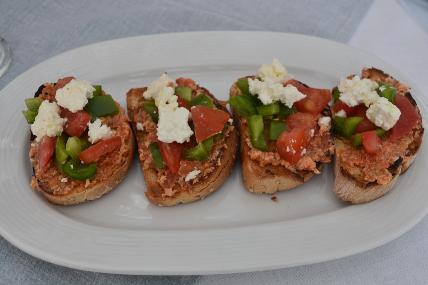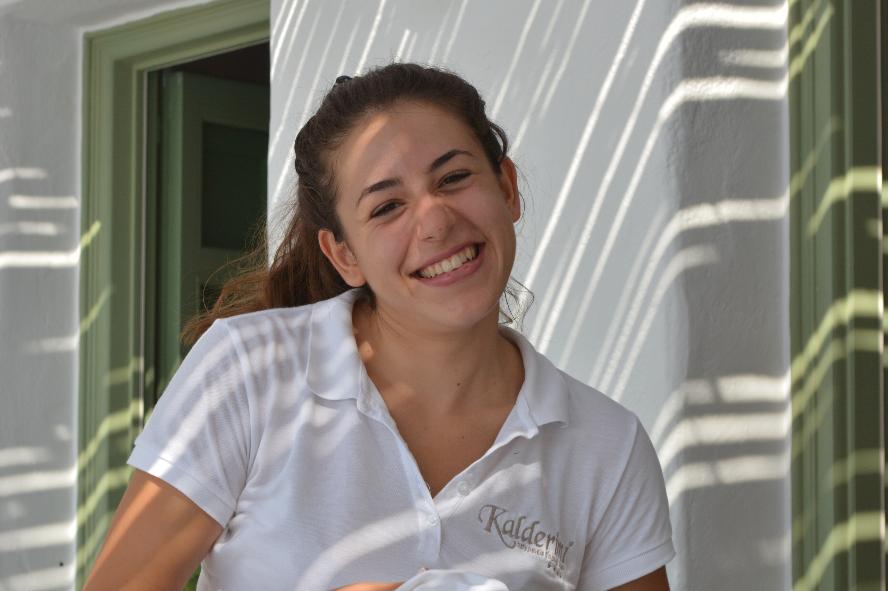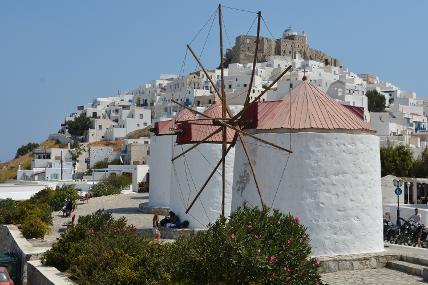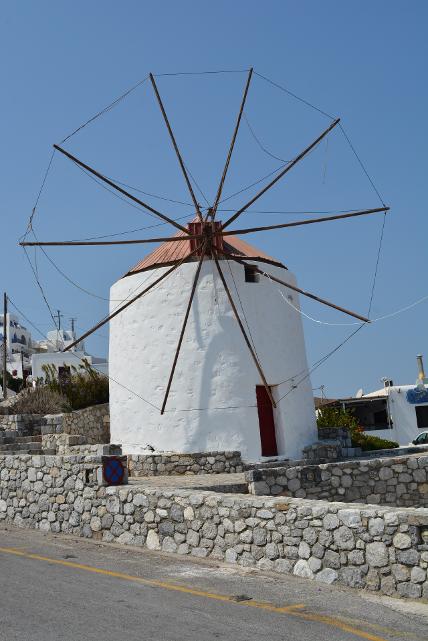 Some of the sea but otherwide bleak landscape of the east side of Astypalea.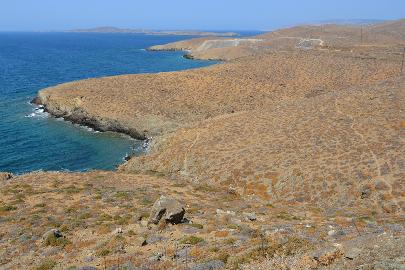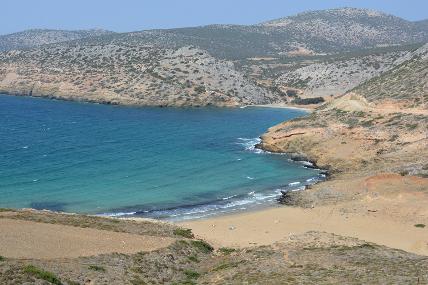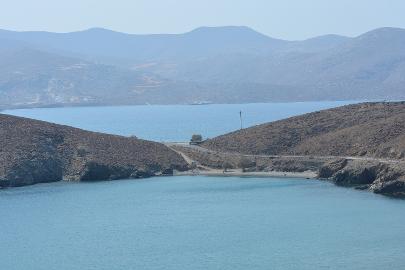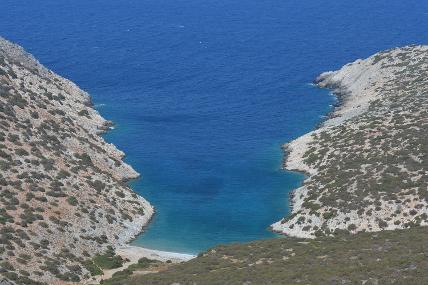 There's not much out this way other than a few goats.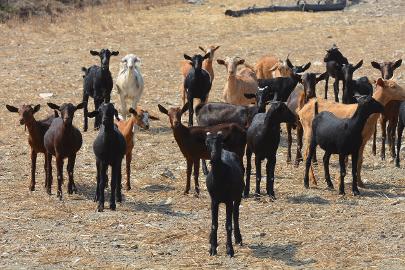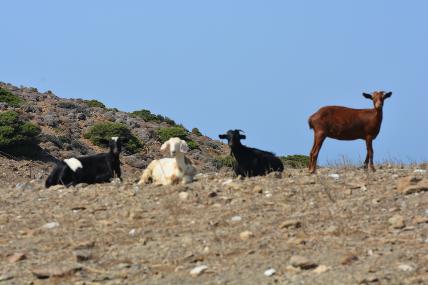 A boat and fishing nets at the end of the road. Traffic calming Greek style - avg. speed = 25 km / hr.
The dirt road along the bay to Vathi.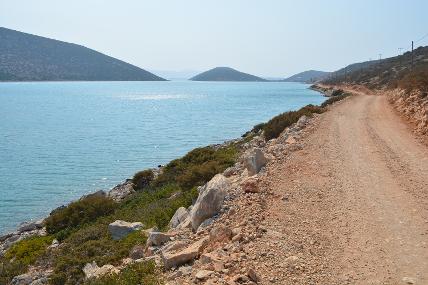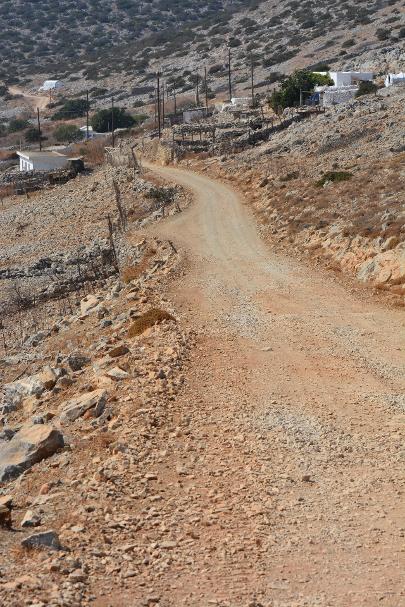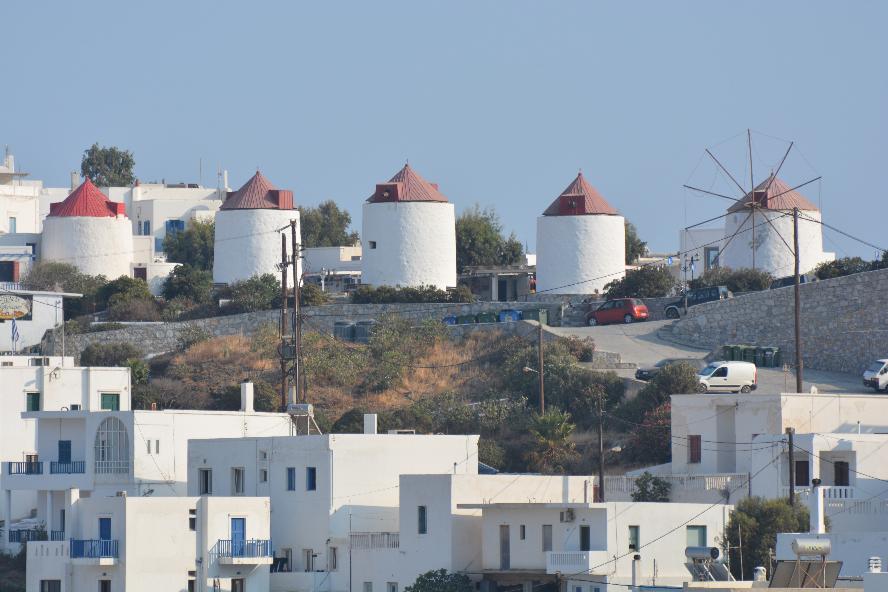 The castle at the summit of Chora.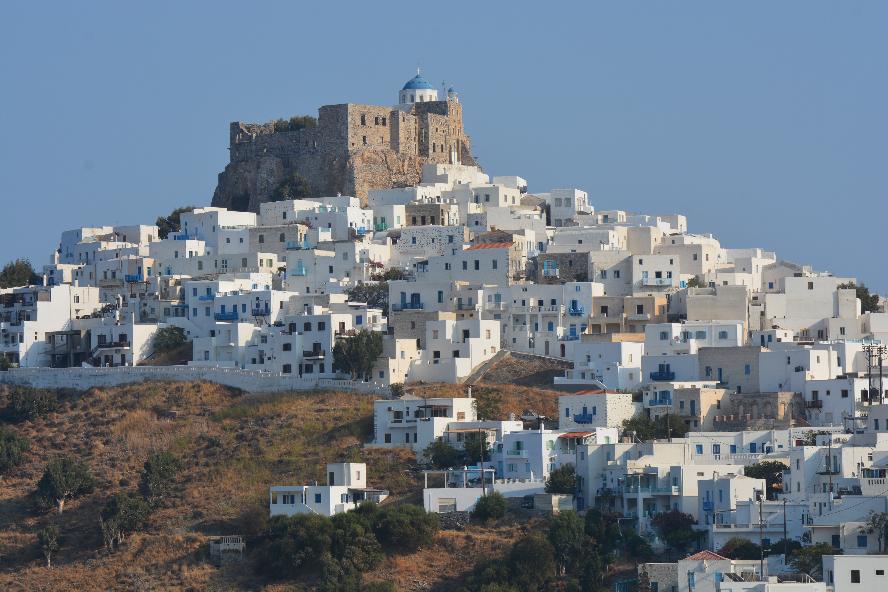 Linda and Bill and their 'Traditional' Astypalean salad with a large slice of soft local goat cheese.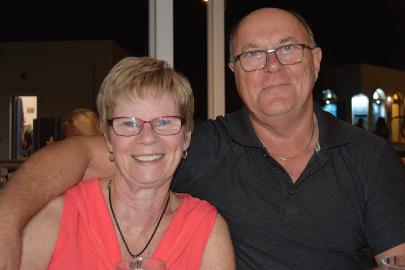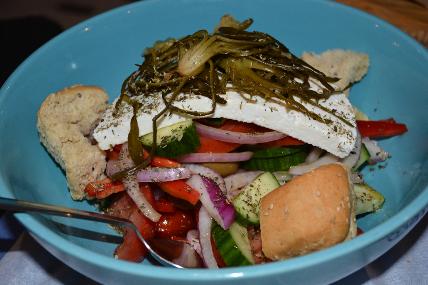 Zucchini balls with fresh yoghurt. Lamb chops.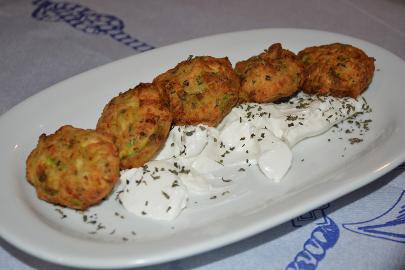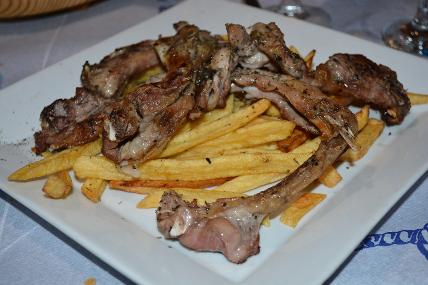 September 5, 2019 - Astypalea (Kalderimi Traditional Houses)
While the beach and restaurant will change otherwise we expect each day to be similar to the previous. Wake up whenever to another perfect sunny and hot day; up for an hour and a half breakfast; back to the room (by late morning it is getting pretty hot on the terrace) where I worked on the blog (or napped) and Gayle spent time on her iPad (or napped).
In the afternoon we went out to a beach - today Ag. Konstatinos, on the west 'wing' of this butterfly shaped island. The road was paved most of the way with the last few kms dirt, but certainly passable. A nice beach with a taverna and bar, and a reasonable amount of shade. The beach itself was mostly sandy with a few rocks as one entered the water, The view to Chora and its castle is a nice backdrop across the blue sea.
We returned for a couple of 'down' hours late in the afternoon / early evening before heading off to dinner - tonight Astropolos (recommended by Anna) on the Livadi beach. The servings were not huge but prices good and the food excellent. We started with a simple, but tasty fried cheese followed by eggplant cooked in the oven in tomato sauce with feta and basil for Gayle (Linda had the same), the zucchini pie for Bill and a very meaty Astypalean grilled octopus with oil, lemon and tyme dressing - if you like octopus, which I do - delicious, for me.
Back to Kalderimi and off to bed.

Delicious cinnamon rolls for breakfast. A view out the reception window.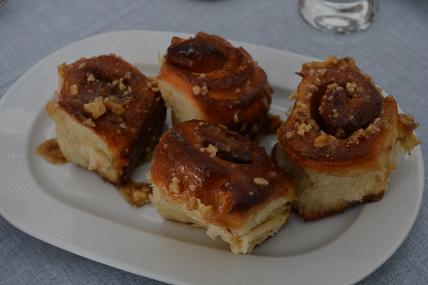 Checking something our at breakfast.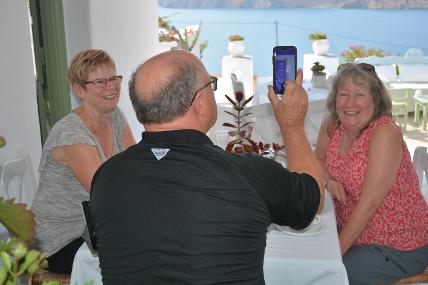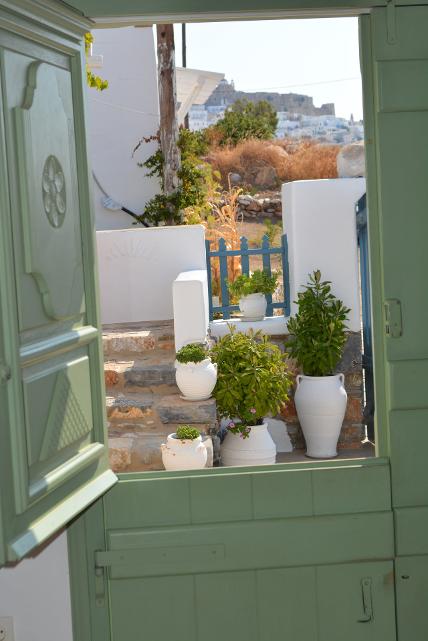 Typical Greek architecture, colours and flowers.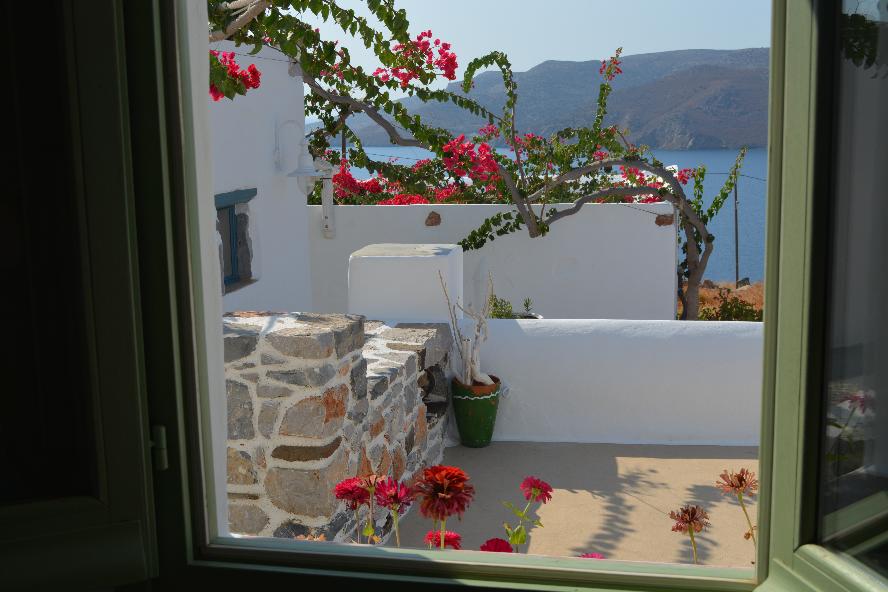 Views of Chora on our drive to Ag. Konstantinos beach.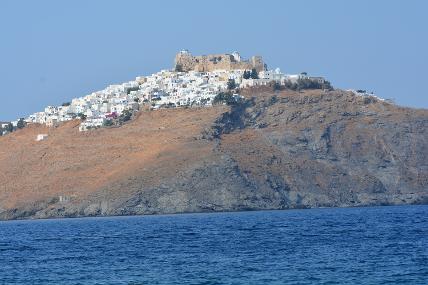 A goat on a hill. Enjoying a swim with Chora in the distance.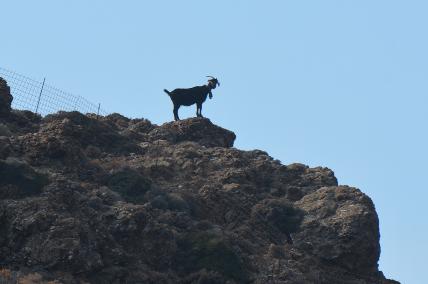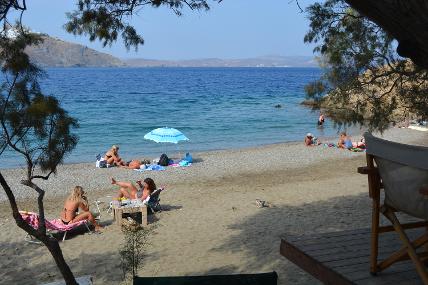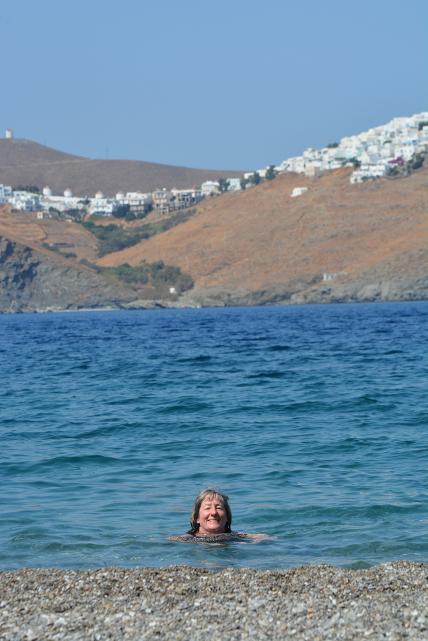 A glasss of wine before dinner.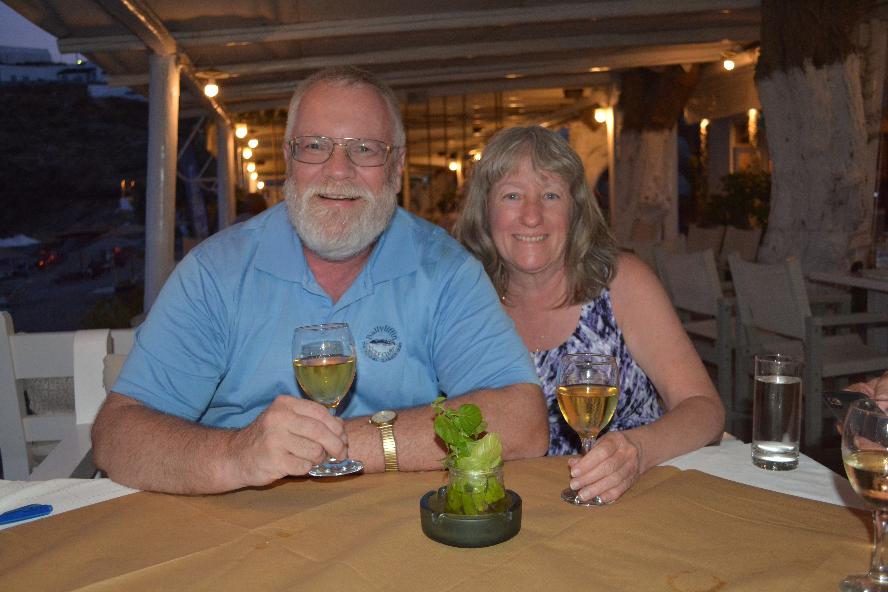 The view through Astropolos Restaurant to the sea. Fried cheese.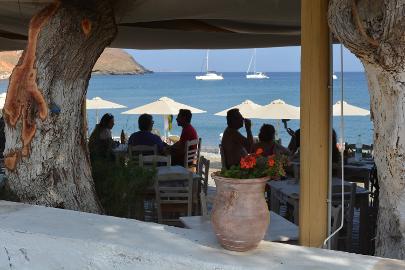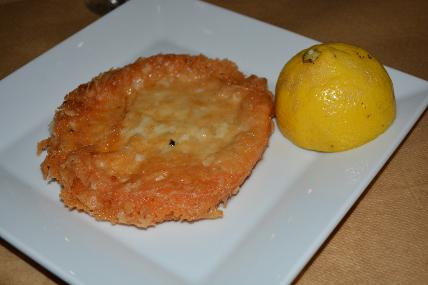 Eggplant in tomato sauce with feta and basil. Grilled Astypalean octopus with oil, lemon and tyme.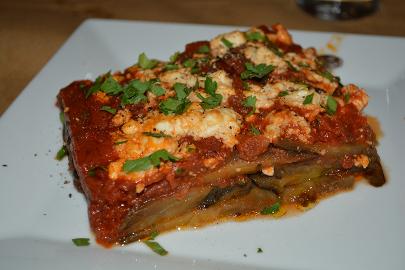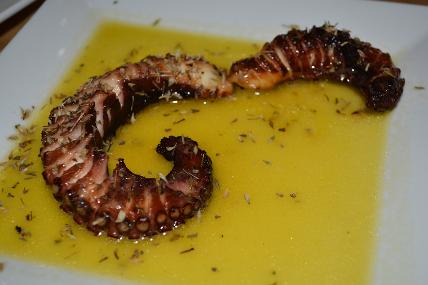 September 4, 2019 - Astypalea (Kalderimi Traditional Houses)
After a sound sleep we enjoyed a very nice breakfast including bread and marmalade, pastries, yoghurt with fruit, nuts and honey, an omelette with ham and cheese, fresh orange juice and coffee.
After our rental car was delivered we then spent a quiet few hours working on the travel blog and simply relaxing, before driving down to the nearby Livadia beach where we enjoyed our first swim. It being another beautiful sunny hot day it was refreshing to get into the water. Our goal is to have a swim every day while in Greece.
We then drove to the 'new' port on the other side of the island (still only 15 minutes) where we were to welcome Linda and Bill, who are joining us for the first two + weeks of the trip (islands of Astypalea, Amorgos and Koufonissia). The ferry was an hour late but in amongst the many people disembarking were Linda and Bill. We returned to Kalderimi where they checked in. After Katerina's welcome yoghurt and pastry we welcomed them with beers and tapas, aka potato chips.
After they settled in we walked in to Chora where we ate at Ageri. Given how busy it was - we had to wait for a table - we had high expectations. But we were very disappointed. The food was decent - how can one go wrong with a Greek salad and my village sausages were tasty, but the wine was atrocious and the service not very attentive or welcoming. At least the prices were low!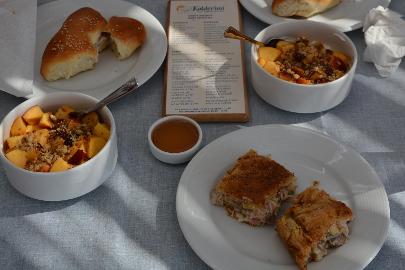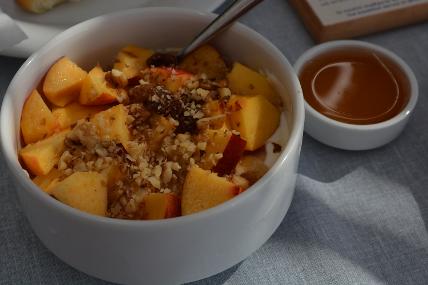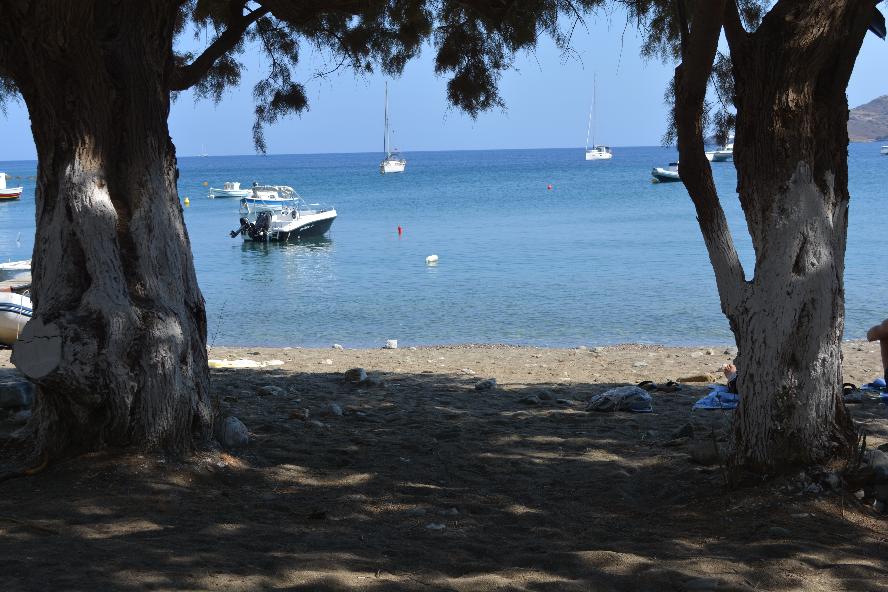 Kalderimi Traditional Houses.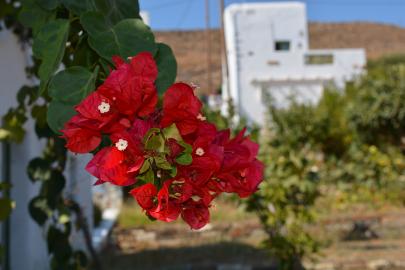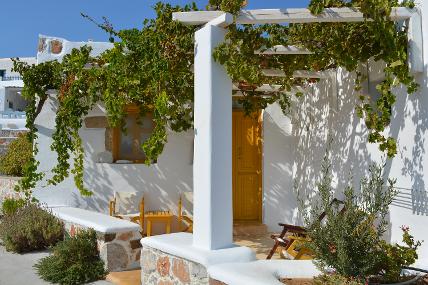 Bill and Linda arriving in Astypalea by ferry, met by their personal greeting party complete with a not so fancy sign.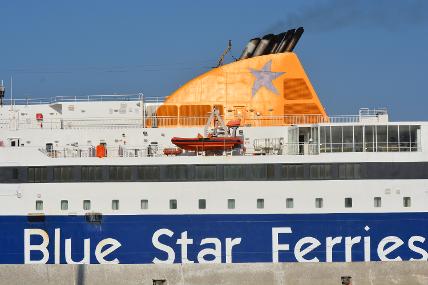 Linda and Bill amongst the crowd disembarking.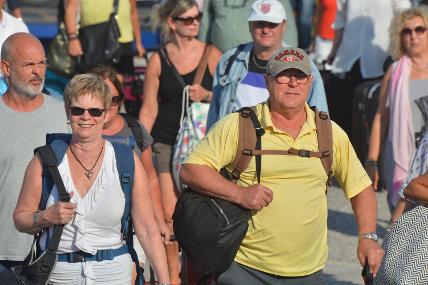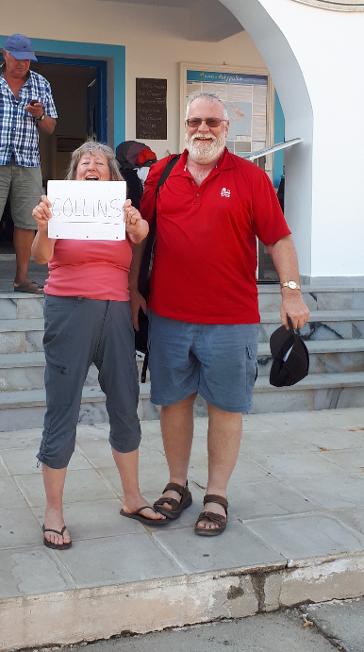 Views from Bill and Linda's next door terrace.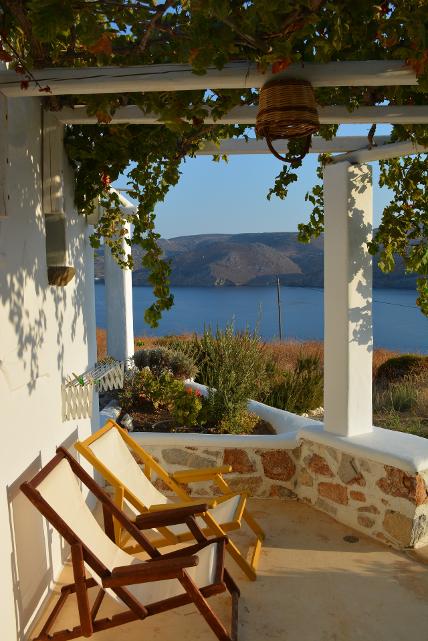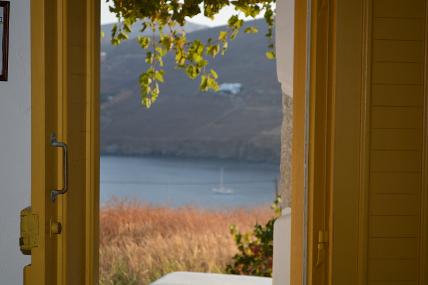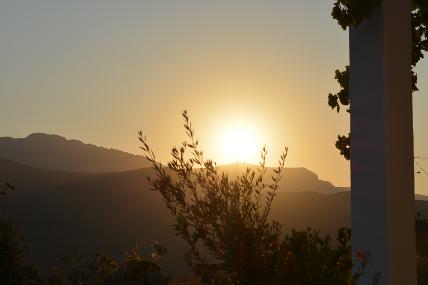 Welcoming Linda and Bill to Astypalea with Mythos and 'tapas'.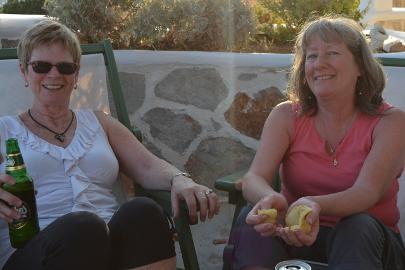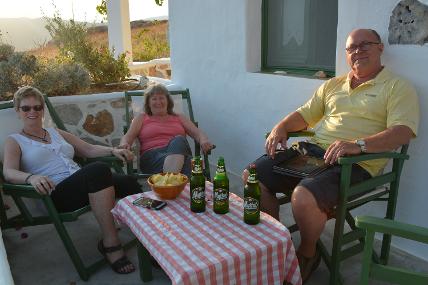 The Greek salad with a huge piece of feta cheese.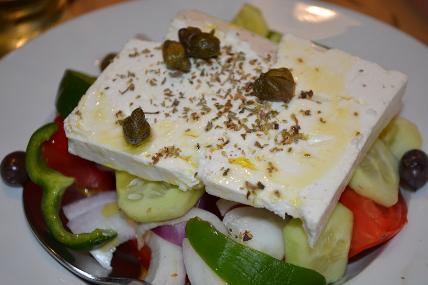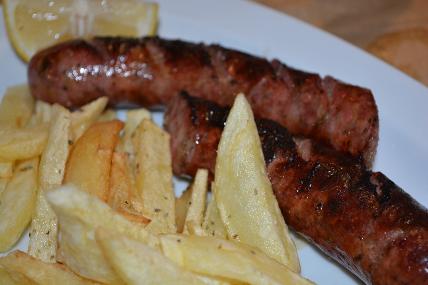 Seriously, some one is auditing this bill way too seriously.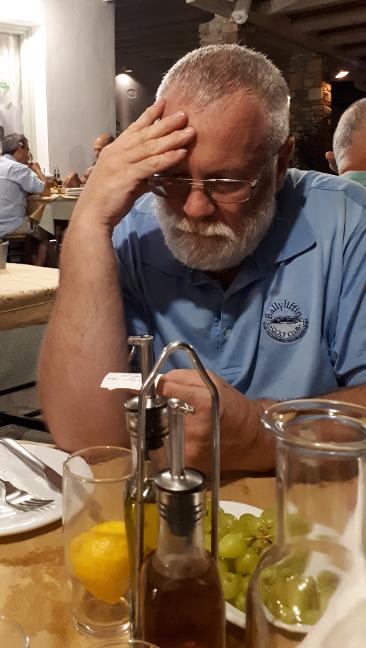 The windmills lit up at night.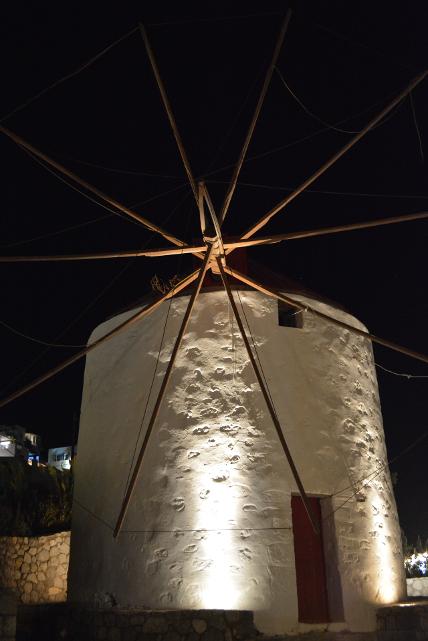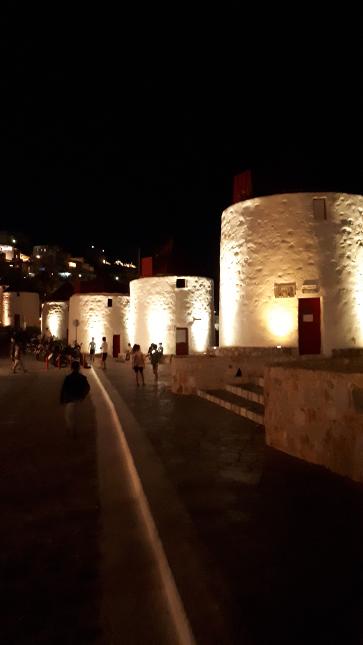 September 2 / 3, 2019 - Halifax to Montreal to Athens to Astypalea
We're off for our longest trip yet - 5+ weeks to Greece and Turkey. We flew from Halifax to Montreal and then nine hours to Athens from where we took a small Greek airline - Sky Express on a 45 minute flight to the island of Astypalea, our first stop.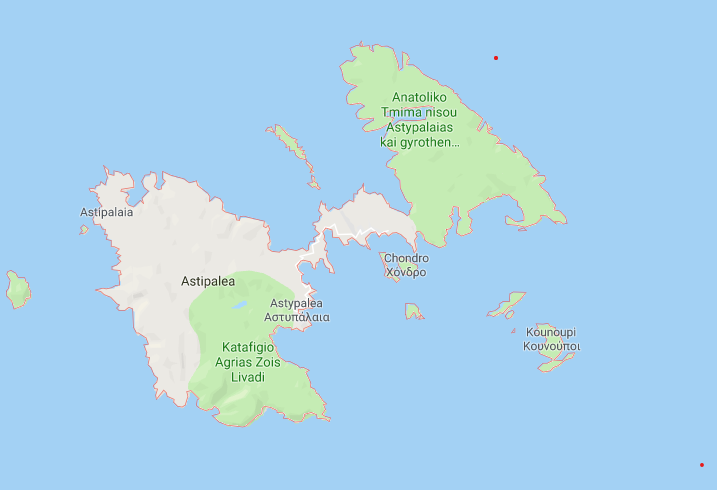 We were met at the airport and driven (20 minutes) to Kalderimi Traditional Houses, our home for the next seven days. We were greeted by Katerina, the friendly owner who welcomed us with yoghurt with grapes and a tasty zucchini cake.
After unpacking the first activity was a nap - a couple of hours that was needed after the overnight flight. Sleeping in an airplane seat is not that great, Afterwards we walked into the main (and really only) town on the island - Chora, dominated by an impressive castle at its summit. Pretty much all the activity, including most of the restaurants is along a small stretch that includes seven restored windmills. The area was vibrant with children playing and lots of people just wandering about.
We ended up at Agoni Grami where we enjoyed a superb meal, served to us by Takis (aka Pete) who surprisingly is from the island of Skyros, the first island we visited on our honeymoon 39 years ago. He was interested in our travels and just a top-notch server. We were first provided the most delicious bread, a hearty mountain type bread, with three dips - tzatziki, fava and spicy cream cheese. For an appetizer we enjoyed tasty cheese balls with tomato chutney. Then Gayle had home made pasta - somewhere between spaghetti and pici, with fresh tomato sauce, ouzo and lots of garlic. She loved it. I was equally pleased, and impressed with a delicious lamb shank covered in a sauce of red wine, figs, walnuts and honey. Spectacular. Afterwards we were provided with a complimentary dessert and a glass each of ouzo - welcome to Greece!
We wandered back - approx. a 15 minute walk - to Kalderimi where we called it a night. We slept well.
We are staying at Kalderimi Traditional House, in the beautiful Girouli 'house'.
The view out our door. Our terrace.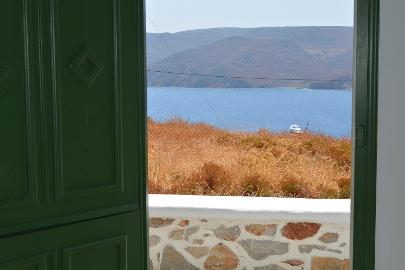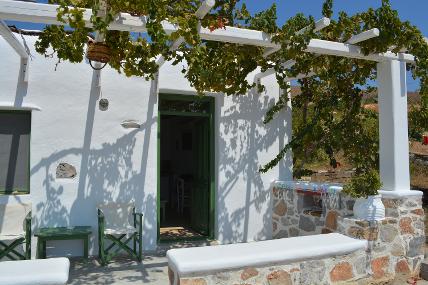 Looking out to the bay from the breakfast area.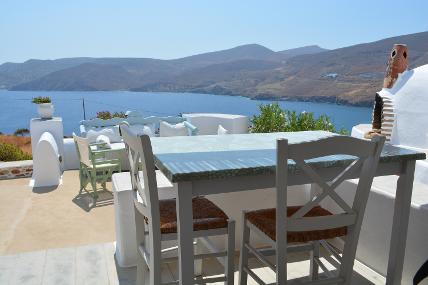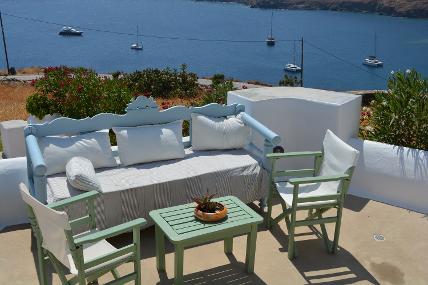 A traditional oven. The wonderful helpful owner Katerina.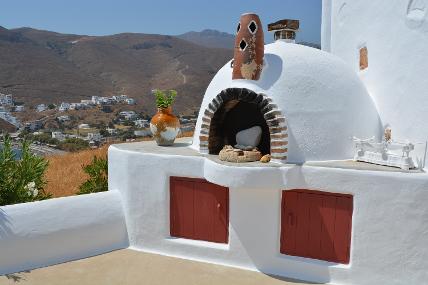 Welcoming yoghurt and cakes.