Ireland Golf 2019 - June 01 - June 10, 2019
Our 6th golf trip to Ireland. It all started in 1993 when my long (real long) time friend Roger with whom I golfed as a teenager suggested we go to Ireland for a golf trip the following year as we were turning 40. We did, and now this is the 6th such trip. I have been on all six trips (after all I organize them), while Mike has been on five (1994, 2004, 2009, 2016 and 2019), as has Byron (2004, 2009, 2012, 2016 and 2019); st two (2012 and 2016), while Guy has now been on three (2009, 2016 and 2019).
Early on we invited Bernie to join us. Through completing a retirement assessment for Bernie and his wife Norm had come to be aware of the special linkage Bernie has to golf on the West coast of Ireland. Bernie's grandfather Bob Wallace was the head pro at both Galway Golf Club and Adare Manor Golf Club. The great Christy O'Connor Senior wrote affectionately in his Foreward to the Christy O'Connor's Junior Golf Book about Bob Wallace, his "... great golfing wisdom ..." and his contribution to Christy's career when starting out as his assistant in 1946. While in Dublin for a few days prior to the trip Bernie discovered his great grandfather had been the head caddie master at Royal County Down in 1911. That's where his four sons were born (Newcastle) and started as caddies - with three of the boys becoming Irish golf professionals. Quite the rich family history associated with golf.
This made six with my childhood friend Roger, whose idea it was 26 years ago to embark on these golf trips. Unfortunately as time passed it became apparent Roger might have a court date during the time we would be away and regretfully decided he could not join us. This left us with five, doable but an awkward number for golf. Guy then mentioned Gilles, the common-law husband of his cousin, was interested and voila (Guy and Gilles - that's all the French you're going to get in this blog), we were back to six.
When first came to Ireland 25 years ago we agreed we were going to restrict ourselves to 'links' golf. There are other great golf courses in Ireland, e.g. the K Club, but if not links then they were not included in our itinerary. We held true to that commitment once again.
Some have questioned why we don't go to Scotland. As great as the golf no doubt is in Scotland it is hard to imagine it being much better than in Ireland. And there is something nice about replaying a links a second (or third) time after ten or 25 years.
Previous trips have taken us to Northern Ireland, and gems such as
Royal County Down (currently ranked #1 in the World by Golf Digest) and the site of the 2015 Irish Open
Royal Portrush (site of the 2012 Irish Open and now the 2019 Open),
Portstewart (site of the 2017 Irish Open),
Castlerock, and
Ardglass.
We have extensively toured the north of Ireland, Donegal and Connemara, as well as the West coast where we have played
Ballyliffin (site of the 2018 Irish Open),
Portsalon,
Rosapenna (both Sandy Hills and Old Tom Morris),
Narin and Portnoo
Cruit Island
Castlegregory
the Dingle
Donegal,
County Sligo / Rosses Point,
Enniscrone,
Carne/Belmullet
Lahinch (site of the 2019 Irish Open)
Ballybunion (both Old and Cashen) - the Old being the site of the 2000 Irish Open
Tralee, and
Waterville
We made one 'detour' to the south to play
And have played a number of links around Dublin, specifically
Portmarnock (Championship Course) - the site of 19 Irish Opens albeit the last was in 2003,
The Island,
County Louth (site of the 2004 and 2009 Irish Opens)
Seapoint
Royal Dublin (the site of 6 Irish Opens albeit the last was in 1985), and
The European Club
Needless to say we have played a number of outstanding links. In fact th
ere is a wonderful book The Legendary Golf Links of Ireland that covers 16 of the top links in Ireland. Mike and I have played them all and Byron all by Potrmarnock. Rob, on only two trips has played 11 of these legendary links and Guy, now on three trips has also played 11 of the links.
This trip took us first to Northern Ireland for one round and then the north-west of Ireland where we played
Castlerock (including the 9 hole Bann course),
Ballyliffin (ranked #9 in Ireland),
Portsalon (#22),
Sandy Hills (Rosapenna) (#11),
County Sligo (#7),
Enniscrone - twice (#14), and
and Carne / Belmullet (#12)
Challenging links each and every one.
Following is the cost, length of links, par, low and high scores, best ball and average,
Links

Cost

(euros*)

Yards**

Par

Scores

Low

High

Best

Average

Castlerock – Bann

20

2,446

34

46

68

39

53.7

Castlerock - Musseden

100

6,306

73

90

140

81

113.3

Ballyliffin

200

6,327

72

103

123

84

111.5

Portsalon

95

6,643

72

96

115

82

106.2

Sandy Hills***

55

6,312

72

99

128

90

118.4

County Sligo

130

6,554

71

97

122

82

109.0

Enniscrone

125

6,386

73

92

123

83

105.4

Carne / Belmullet

110

6,370

72

94

122

80

105.0

Enniscrone****

55

6,386

73

94

119

84

110.0




* Castlerock greens fee in pounds rather than euros
** yards adjusted to par 72 by adding / subtracting 175 yards per par variance

*** early bird rate

**** second round discount
Expenses
The trip itself came in a tad under-budget in part due to the break we got on the Castlerock green fee and spending a bit less on food then budgeted. For this do-it-yourself golf tour of some great links of Ireland (5 of the 7 links we played (Ballyliffin; County Sligo; Enniscrone and Carne) are included in the book Legendary Golf Links of Ireland, which details 16 of the top links in Ireland) the costs in Canadian dollars based on an average exchange rate of $1.5525 Canadian $ per euro and $1.7607 Canadian $ per pound were:
| | |
| --- | --- |
| Expense | Cost |
| | |
| Greens fees | $1,371 |
| Lodging | 733 |
| Food | 596 |
| Transportation | 248 |
| | |
| Total | $2,948 |
To these costs one needs to add
airfare, which brings the cost to around $3,750 prior to any additional expenditures on
trolley and buggy fees, for those who didn't carry their clubs and
personal purchases / souvenirs such as clothing, caps, club covers etc.
We generally did not spare any expense on green fees, paying on average $165 per round, including a high of $316 at Ballyliffin, the result of hosting the Irish Open in 2018 (note in 2012 the greens fees were only 90 euros!). We did benefit from a 55 euro early bird (normally 130 euros) at Sandy Hills and a 55 euro second round (first round being 125 euros) at Enniscrone.
Lodging was a split between small hotels (six nights) and bed and breakfasts (three nights) ranging from a low of 40 euros to a high of 63 euros with an average cost per person per night of approximately 53 euros (approx. $82 Cdn).
Transportation includes car rental - we had two vehicles (SUVs) - fuel, tolls and a ferry.
The cost of breakfast is included in the lodging (all places were B&B) with the food essentially being dinner and often a pint or two in the clubhouse after the round. The food in Ireland was really quite excellent and we ate well, on occasion having wine with dinner when at nicer restaurants.
Lodging
In terms of lodging following are the B&Bs and hotels were we stayed. We were pleased with our lodgings - a mix of personal B&Bs and more traditional small hotels. All in all good accommodations at reasonable prices - the overall average price per person Cdn $ was $81.65.
Ireland 2019 Lodging

Town

Lodging

Average price

Castlerock

Hegarty's Corner B&B

41.67 pounds

Culdaff

McGrory's Hotel

49.00 euros

Downings (3 nights)

Beach Hotel

50.00 euros

Rosses Point

Iorras B&B

46.00 euros

Enniscrone

Waterfront Hotel

59.50 euros

Mullingar

Malinstown Court

56.00 euros

May 31, 2019 - June 01, 2019 - Toronto to Dublin to Castlerock, Northern Ireland
Both Bernie and Gilles traveled independently to Dublin a few days prior to Mike, Guy, Byron and I meeting in Toronto to fly Aer Lingus overnight, arriving in Dublin very early - at 5:30 am. They met us as we exited Arrivals. We picked up our two rental vehicles - Guy (driver), Gilles and Mike in one and Byron (driver), Norm and Bernie in the other. It was a relatively easy three hour drive from Dublin Airport to Castlerock, Northern Ireland and Hegarty's Corner B&B. Each group stopped along the way (independently) for breakfast.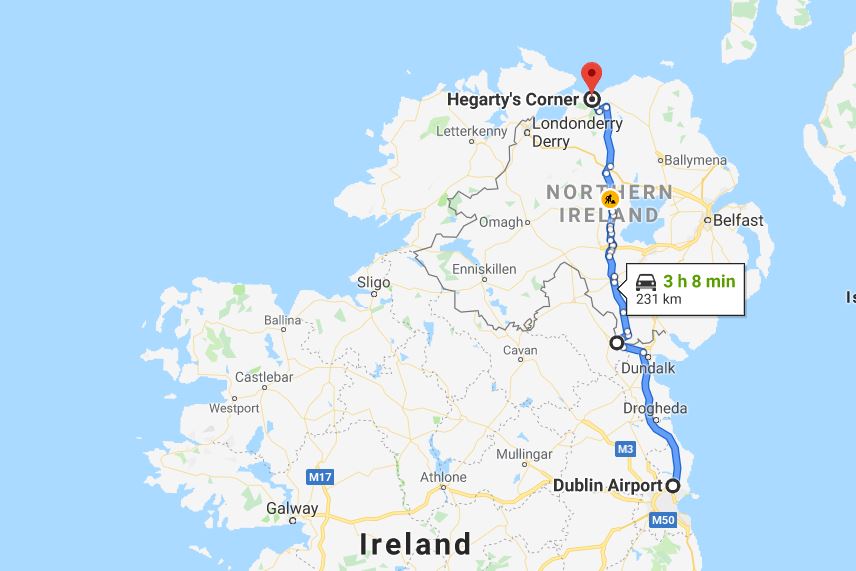 We arrived just before noon to the welcome of Phil and Nova. Our rooms were available and ready which was nice. As planned we all went to the course to play the 9-hole Bann links as a 'warm-up'. The par 34 links (three par 3s but only one par 5 was very scenic and challenging with great views of the estuary. The good news is we all had at least one par. Guy who had the lowest score also had the most penalty strokes (which implies some great golf if not for the periodic spray).
After the nine and drinks in the clubhouse we took Phil's suggestion and drove the 20 minutes to the Point Bar in Magilligan Point (from where one catches the ferry to Greencastle in Ireland). We enjoyed a nice meal of primarily fish - we are on the coast after all - good, reasonably priced food. It was back to Phil and Nova's where all crashed quite quickly.
| | | | | |
| --- | --- | --- | --- | --- |
| Castlerock - Bann | Score | Putts | Pars | Penalties |
| | | | | |
| Guy | 46 | 18 | 3 | 9 |
| Byron | 49 | na | 2 | 2 |
| Gilles | 50 | 17 | 1 | 3 |
| Norm | 53 | 15 | 1 | 6 |
| Bernie | 56 | 17 | 2 | 8 |
| Mike | 68 | na | 1 | na |
Hegarty's Corner - out B&B for the night. And directly across the road pastoral fields of sheep.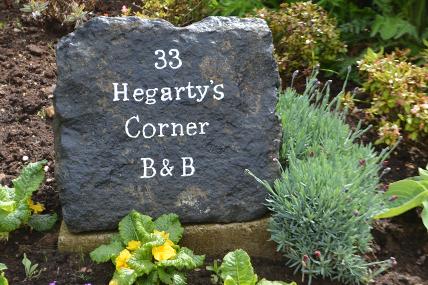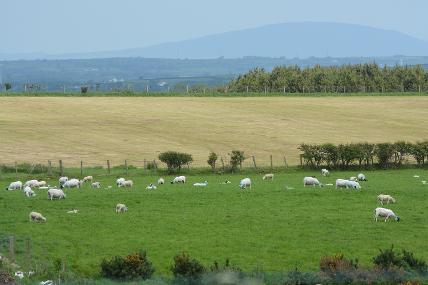 Welcome to Castlerock. Not all clubs had nice customized pin flags - Castlerock did.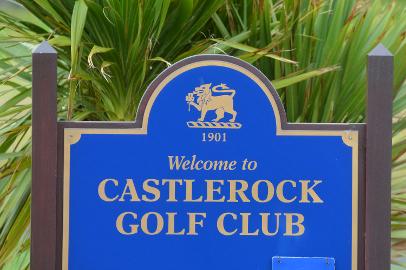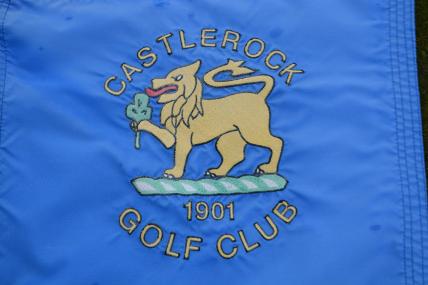 The first tee and we're off on Castlerock's Bann Course.
Me not much of a start as I pulled my first tee shot and lost my first ball in the thick fescue. Weather was not great - cloudy / overcast and somewhat cool.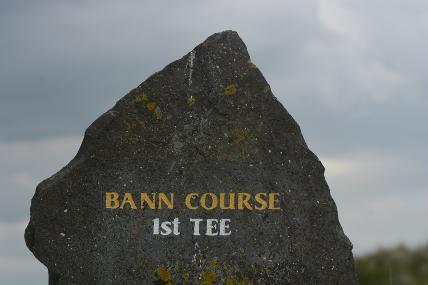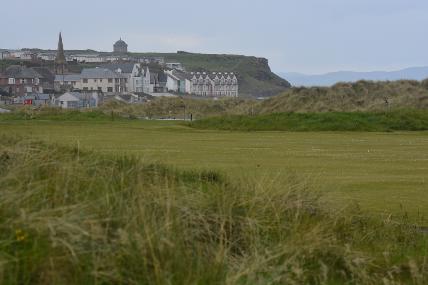 Bernie experiencing the thick Irish rough.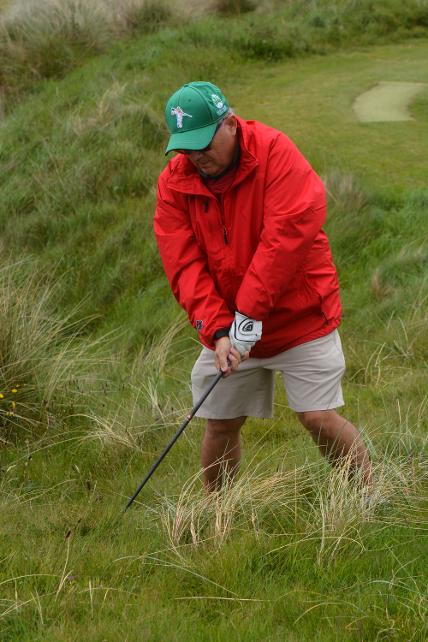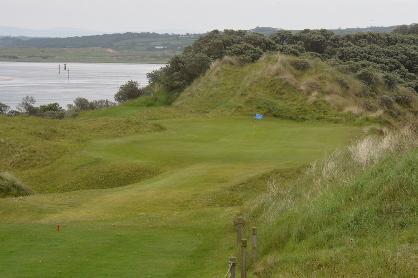 Above - Kane's Hollow - a par 3 and below looking back across the links to the town of Castlerock.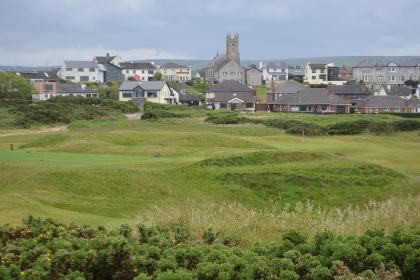 The Point Bar, Magilligan Point.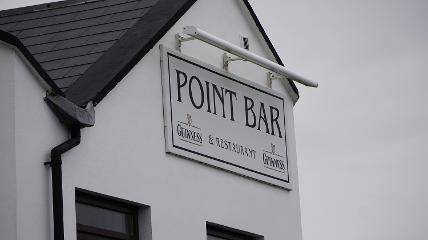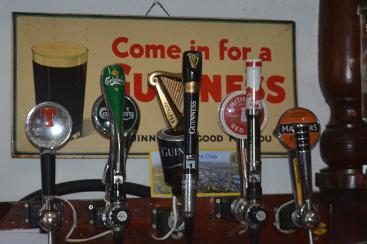 Not surprisingly fish was the most common and popular dish.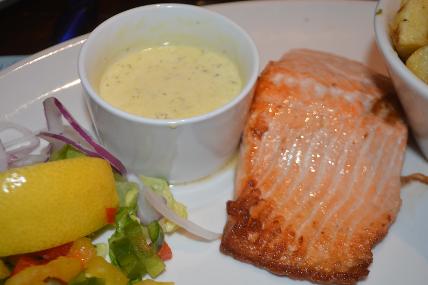 June 02, 2019 - Castlerock, Northern Ireland to Culdaff, Ireland
Played Castelrock Golf Club (founded in 1901)
We had the full Irish experience today. Guy and Gilles rose early to drive over to Royal Portrush, the site of this year's Open, only the second time it has been held in Northern Ireland (the first being 1951). They were able to take a few photos and get a sense for the links, a links Mike, Byron and Norm played in 2004, with Byron and Norm again playing in 2012 (in some terrible conditions)
Guy and Gilles returned by 9:00 am for our first Irish breakfast. Most had the 'full' Irish - eggs, ham and sausage, grilled tomato and mushrooms and black pudding. Coffee, juice, cereal, yoghurt and toast served to get our day off to a good start. We very much appreciated Phil and Nova's hospitality. Hegarty's Corner B&B was a great choice. If ever back in the area there is no question I would return.
It was an all over the place day - cloudy at times; blue skies at others; rain at times and always windy (check out the bend on the flag and the video below). Furthermore it was cold - only in the low teens. Byron enjoyed a great round with a 90, which turned out to be the lowest score of the trip, due to solid putting and no penalty strokes. For the rest of us the putting was not so good and the penalty strokes just continued to accumulate and accumulate (second most of any day). Typical Irish links golf with large greens, numerous bunkers, dunes and fescue and a steady supply of wind.
After the round (and a pint) we left Northern Ireland for Culdaff and McGrory's Hotel where we were to stay the night. Guy et al drove south around the estuary while Byron et al returned to Mulligan Point and took the 20 minute ferry crossing to Greencastle and Ireland. Byron, Mike and I stayed at McGrory's back in 2004 on our second golf trip. We recalled it being a nice hotel / pub in a small village so re-booked. It did not disappoint. Nice rooms, decent price, good food and a bonus - entertainment. Claragh, from Derry, sang solo for an hour and a half or so. Not traditional Irish music but rather covers of others works (she has started to write her own but not performing anything yet). We all enjoyed Claragh's singing and her wonderful voice.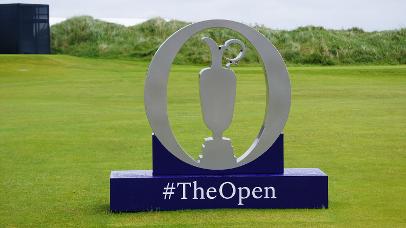 With Royal Portrush, the site of the 2019 Open is only 25 minutes from Hegarty's Corner Guy and Gilles decided to get up early and drive over to check it out (Byron, Mike and Norm have played Royal Portrush on previous trips). Here are a few photos of their visit.
No doubt they will be watching, as will we all, when the Open is played in a month's time.
A misty morning at Royal Portrush.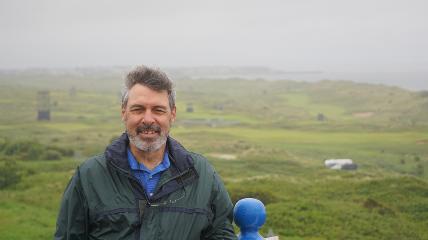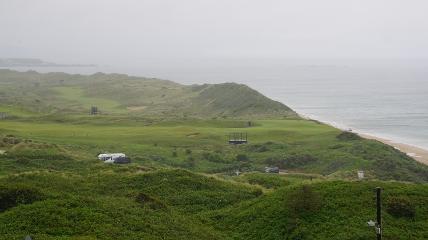 Phil, our host ... ... and Guy catching a few more minutes of shut eye before breakfast.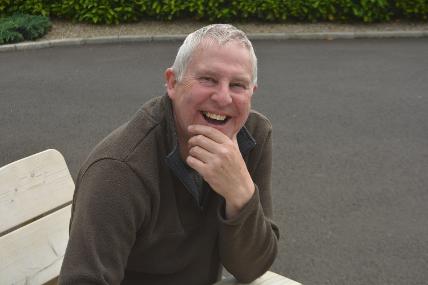 Byron and Mike catching up on communications.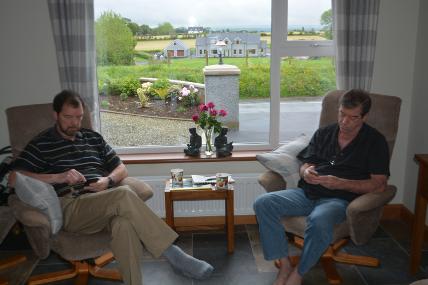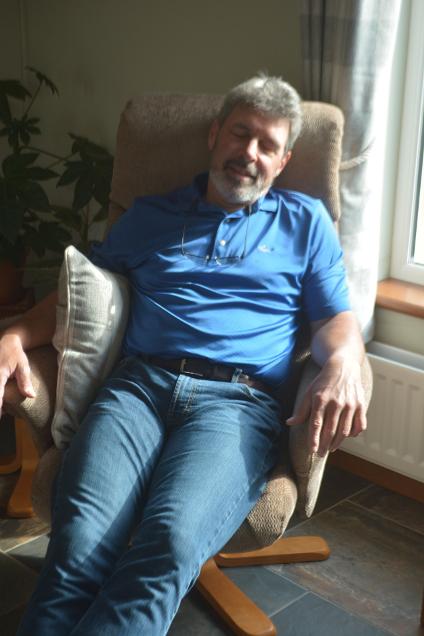 Phil and Nova doing their thing - preparing and serving us breakfast.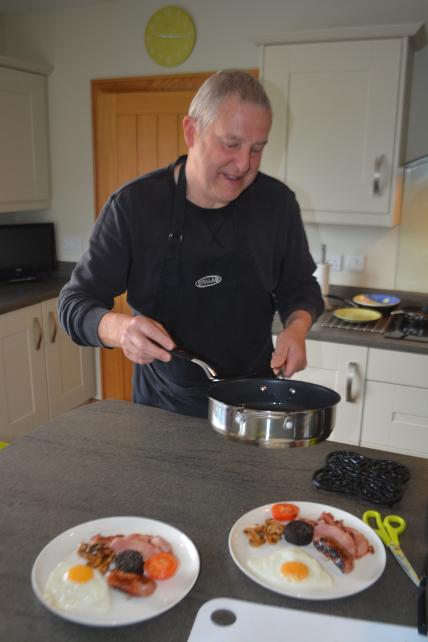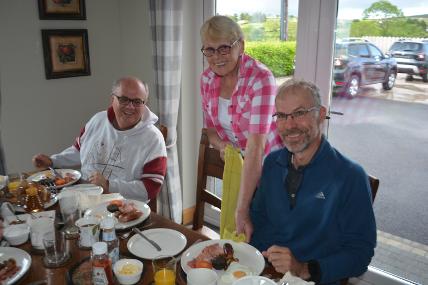 The full Irish breakfast.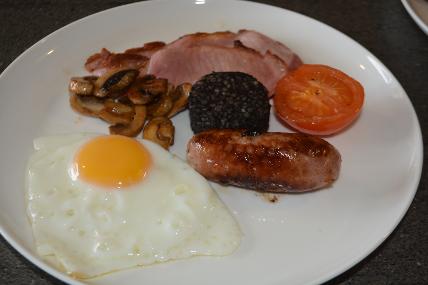 Six hungry golfers being well nourished.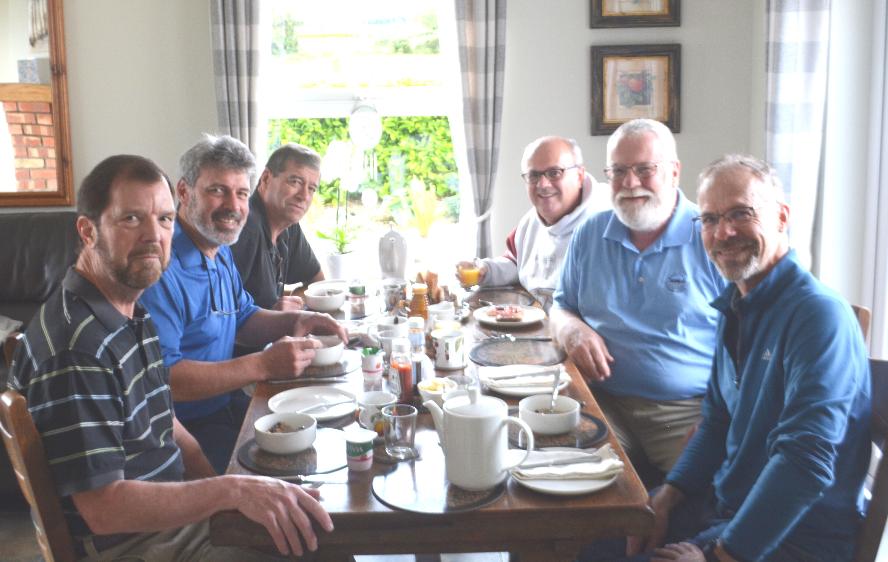 Here we go - on the 1st tee of Castlerock's Mussenden links.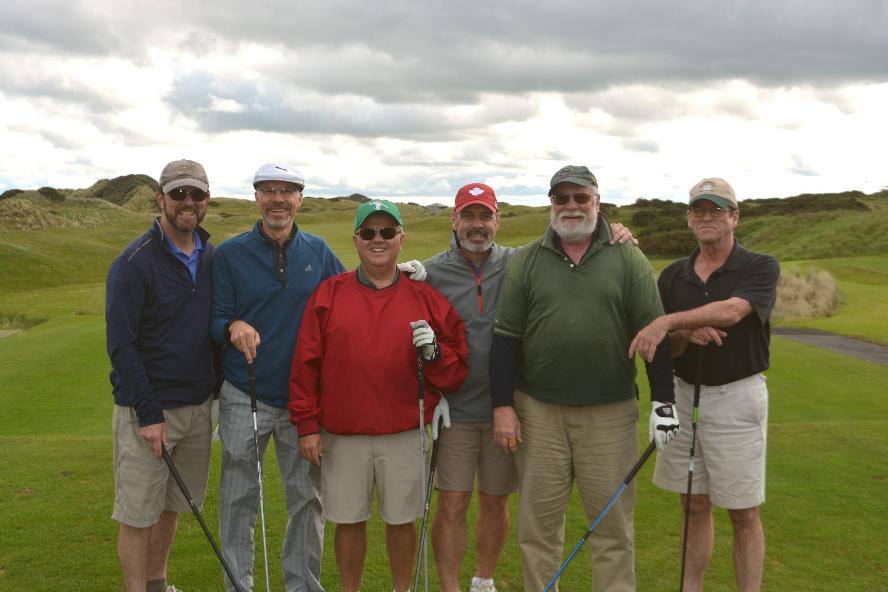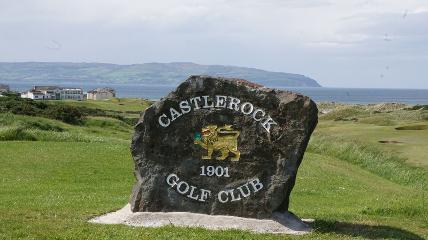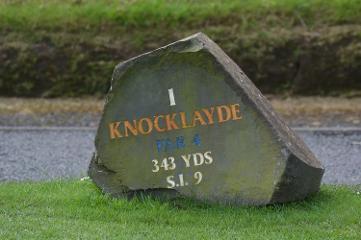 The lion logo of Castlerock was ever present, including this weather vane and tee marker.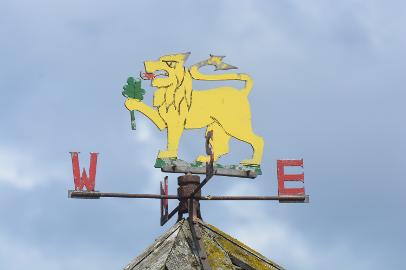 Nice form as Gilles sets to hit another drive. And simply enjoying the experience.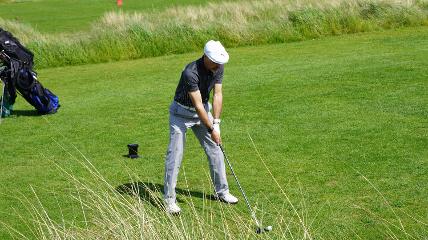 Gilles taking an opportunity to record the beautiful links landscape ....
... and Guy taking a second to record Gilles recording the beautiful links landscape.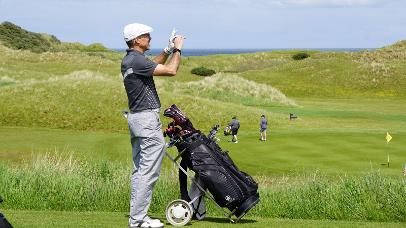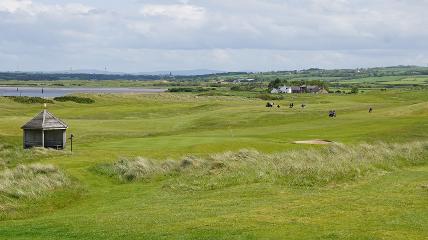 A strategically placed shot between the bunkers with a great angle to the flag.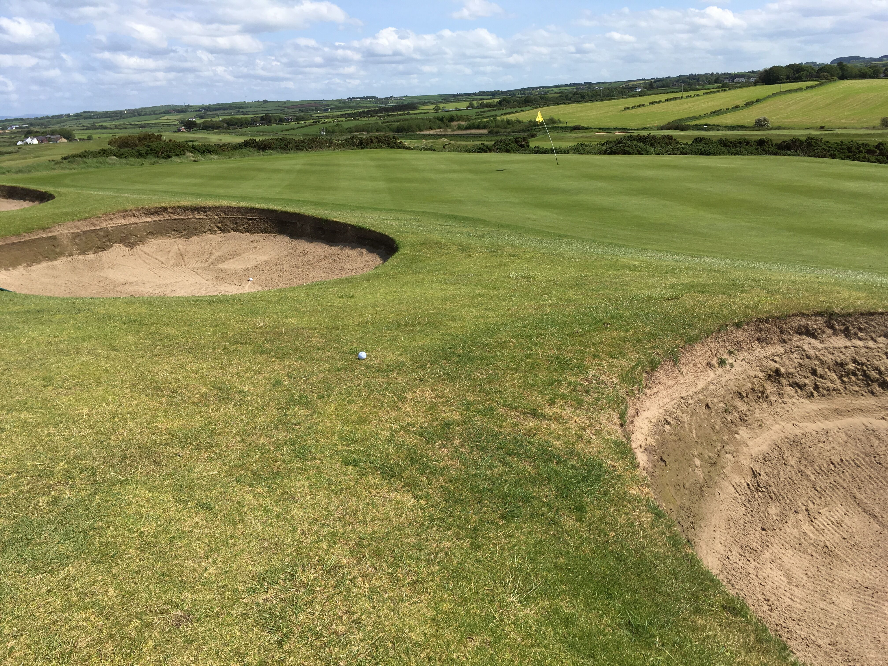 Views across the Mussenden links.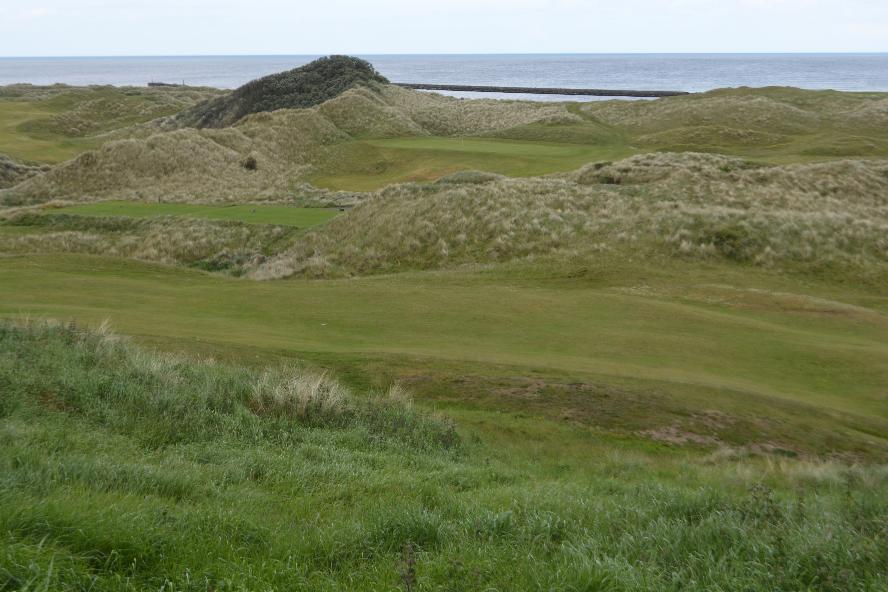 The burn in front of the 4th and 6th holes. A rain hut built into one of the dunes.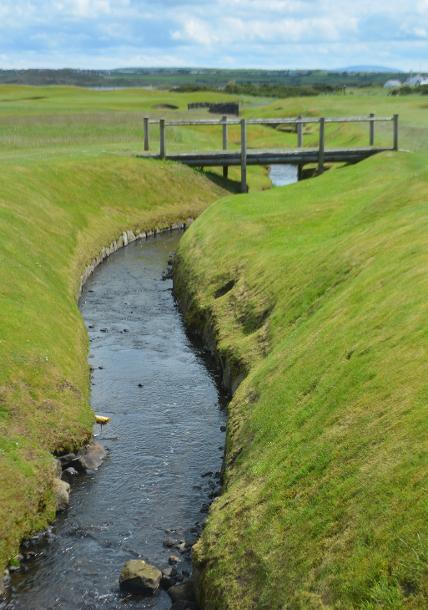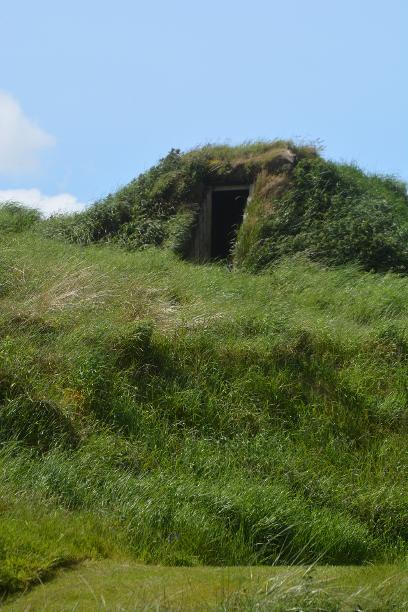 A panorama of the Mussenden links. Byron ready to bomb another one.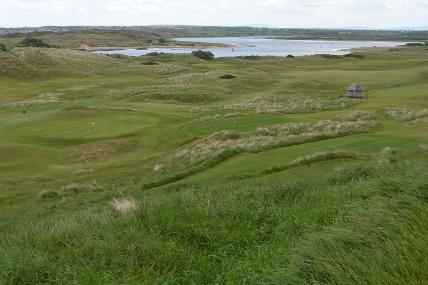 Bernie and Byron on the bridge near the 6th green.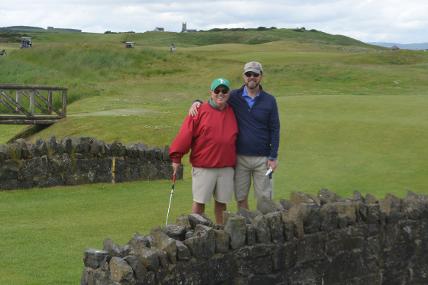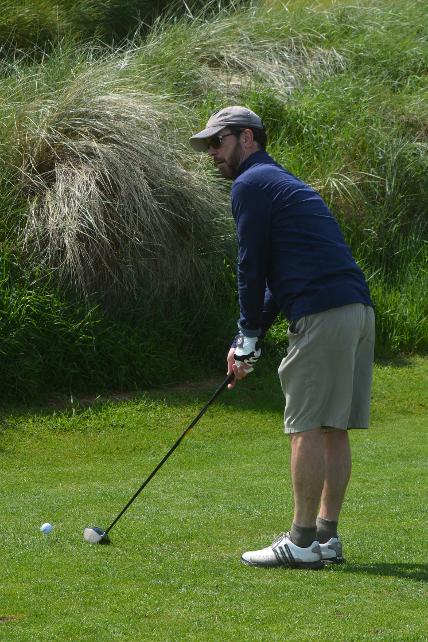 Our best weather day ... at least for part of it.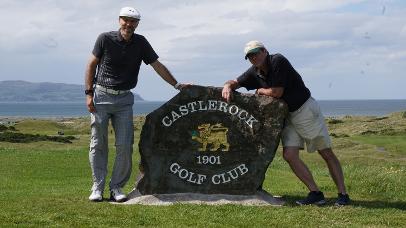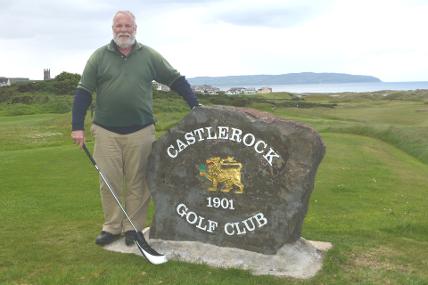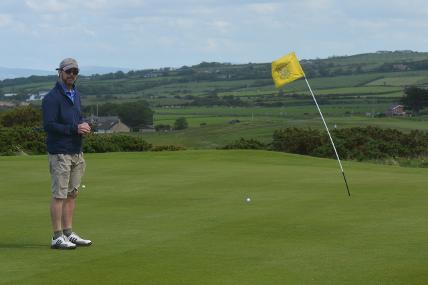 But there was still rain and an unusual low flat rainbow over the North Atlantic Ocean (thanks for the great photo Gilles).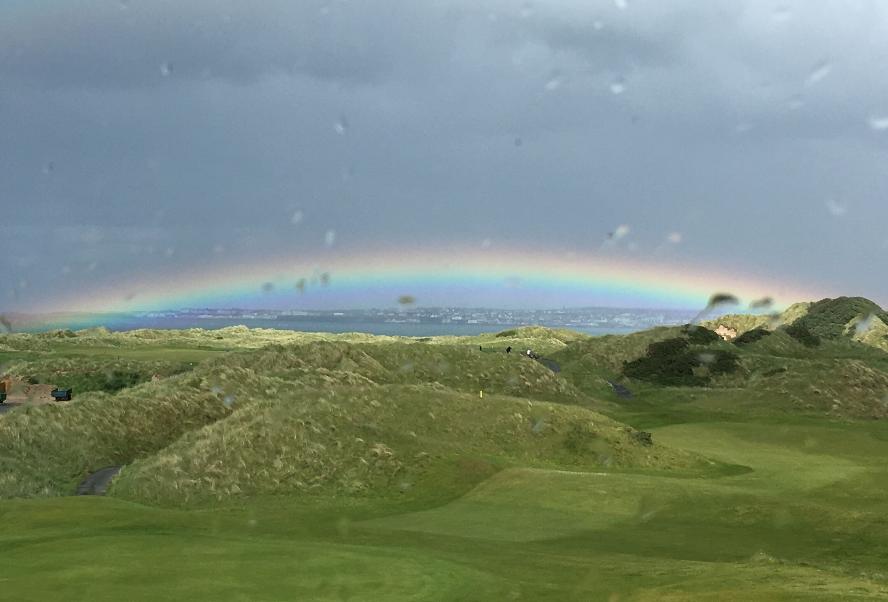 | | | | | |
| --- | --- | --- | --- | --- |
| Castlerock - Mussenden | Score | Putts | Pars | Penalties |
| | | | | |
| Byron | 90 | 30 | 8 | 0 |
| Guy | 107 | 35 | 4 | 15 |
| Gilles | 108 | 37 | 0 | 4 |
| Norm | 117 | 36 | 1 | 8 |
| Bernie | 118 | 37 | 1 | 10 |
| Mike | 140 | 40 | 0 | 18 |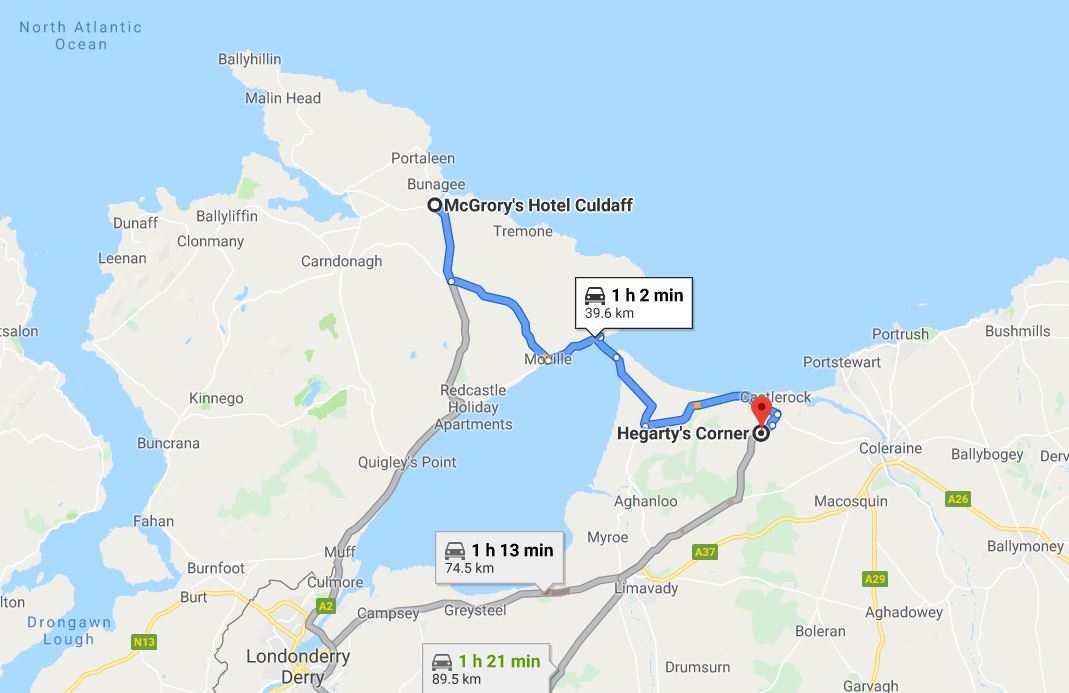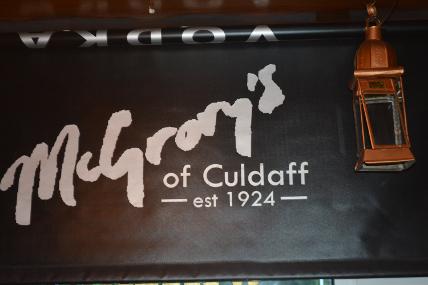 We ate at McGrory's pub - fish (cod) and chips were popular as was the steak.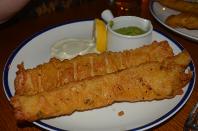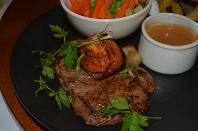 McGrory's had some entertainment the night we were there - a singer Claragh from Derry. Most enjoyable way to spend a couple of hours.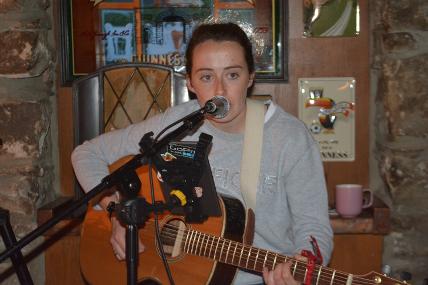 June 03, 2019 - Culdaff, Ireland to Downings, Donegal
Played Ballyliffin Golf Club (Glashedy Links) (opened in 1995)
After breakfast at McGrory's (quite good) we left in a light drizzle for the 20 minute drive to the Ballyliffin Golf Club, site of the 2019 Dubai Duty Free Irish Open. No doubt hosting the open had a factor on the greens fees, now at 200 euros ($310 Cdn). Perhaps it was the greens fees or perhaps the weather but the links was not busy.
Today was a miserable day, both from a weather and a golf perspective. The course, while challenging was not unfair. Compared to the 55 penalty strokes at Castlerock we had only 25 here at Ballyliffin (the fewest on average of any links), with Bernie not incurring any. But the wind, cold and rain no doubt had a significant impact. No one broke 100. The front nine was not too bad (only cold - 10 to 12 C - and windy) but the rain came on the back nine making things that much more challenging. Only Bernie improved his score from front to back and that by a remarkable 11 strokes, finishing very strong with no worse than a bogey on five of the last six holes.
We left immediately after the round for a 1 hr 45 minutes drive south to Letterkenny and then back north to Downings (Rosapenna) and the Beach Hotel, our 'home' for the next three nights. We ate in the hotel (we were tired and it was easy) - another decent meal; not outstanding but decent. After a tiring, miserable day we all crashed pretty early.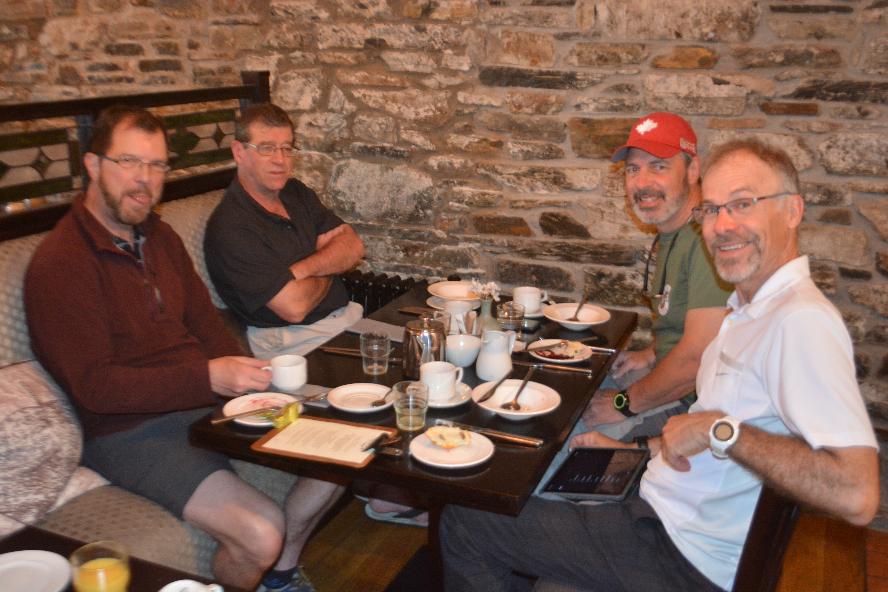 An egg and cheese frittata thing and more traditional salmon on Guinness brown bread with scrambled egg.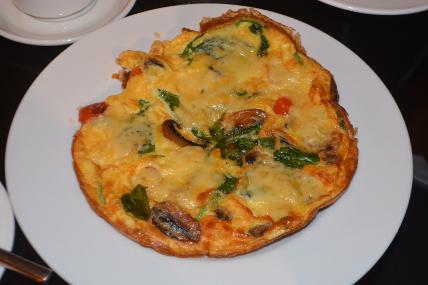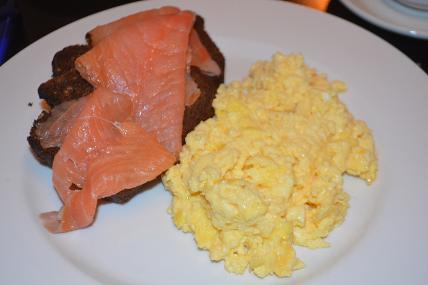 Ballyliffin Golf Club - Glashedy Links - site of the 2018 Dubai Duty Free Irish Open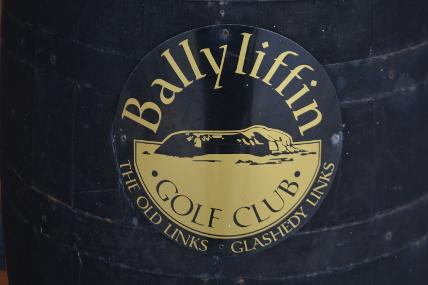 "It's so far down there I can't see it"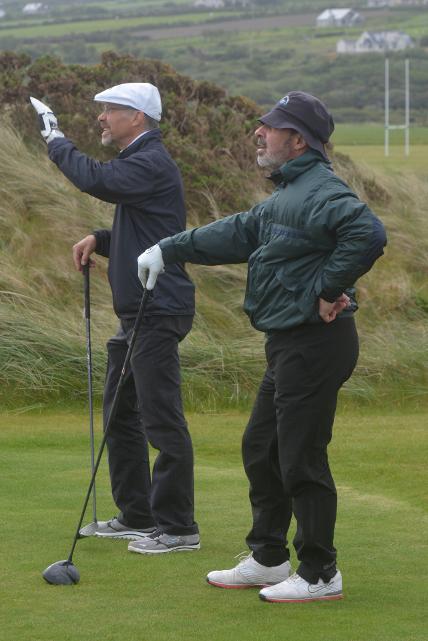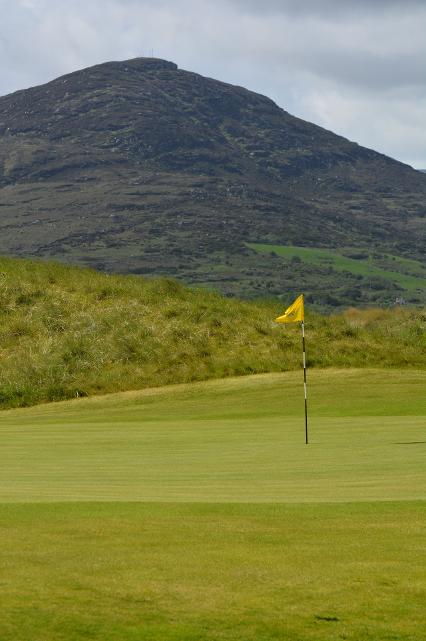 Bundled up for a challenging day at Ballyliffin.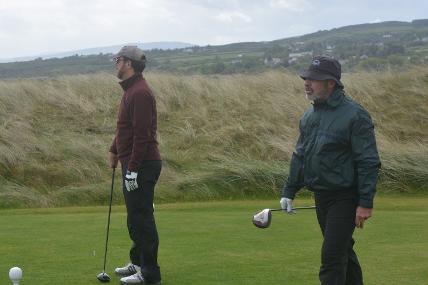 Sheep grazing just over the fence by the 5th (ClochanBeag) green.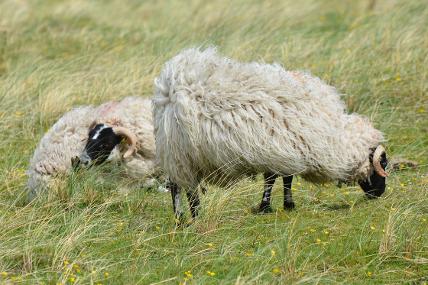 Bernie in the challenging fescue - at least he found his ball.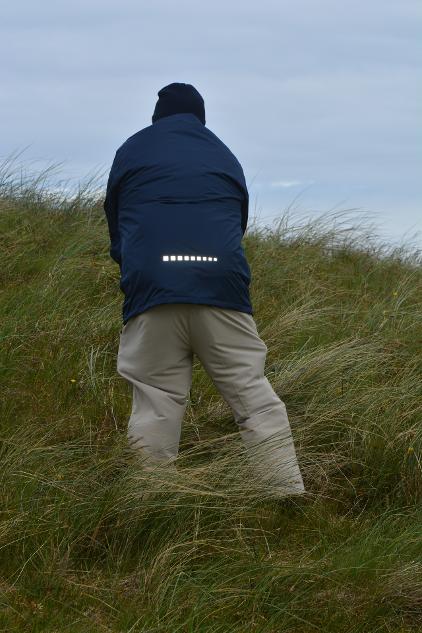 Note the flag, evidence the wind was again blowing with some strength.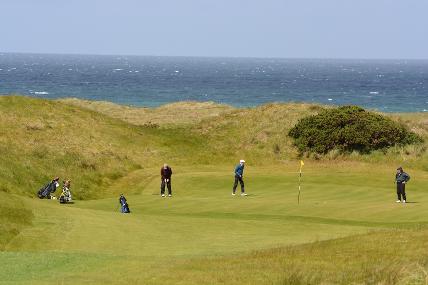 The 4th (Glas Eide) fairway from the tee box.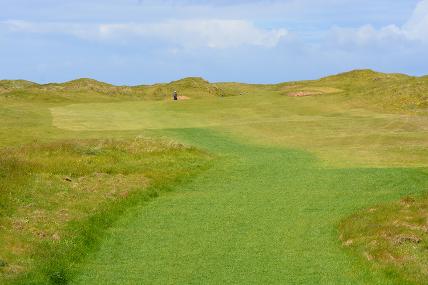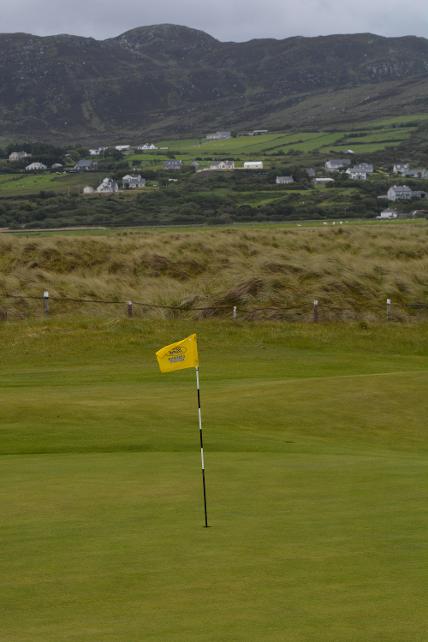 Looking across the links to the coast, and Mike experiencing the challenges of links bunkers.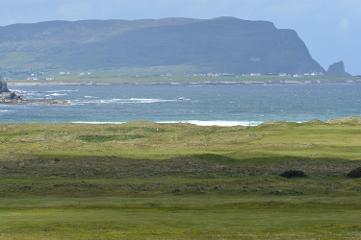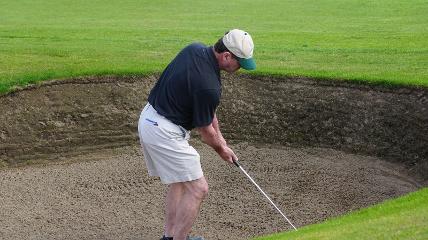 The picturesque dramatically downhill par 3 7th hole.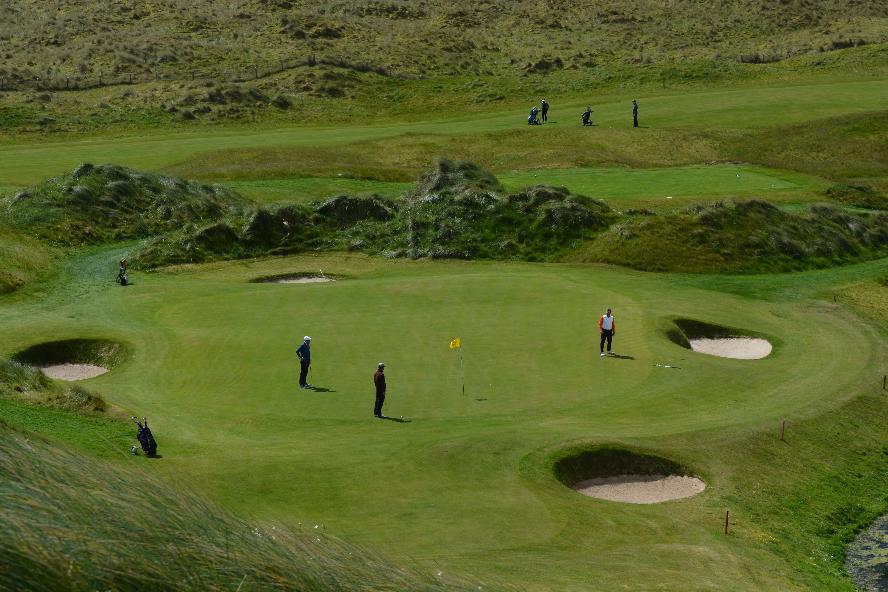 Finally, the 18th. After a wet, windy and cold day it was actually quite nice to come to the home hole.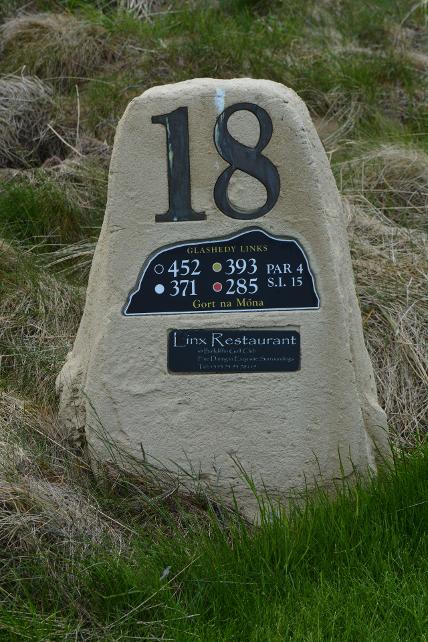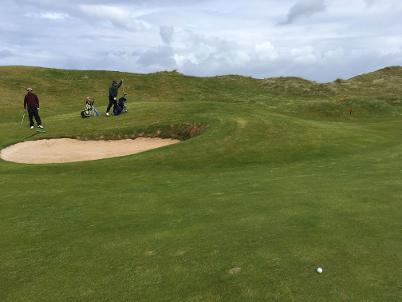 Mike & Bernie, cold, wet and bundled but still similing!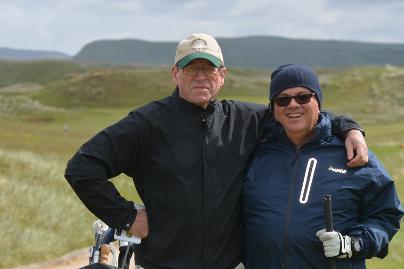 | | | | | |
| --- | --- | --- | --- | --- |
| Ballyliffin - Glashedy | Score | Putts | Pars | Penalties |
| | | | | |
| Byron | 103 | 33 | 1 | 6 |
| Guy | 103 | 35 | 3 | 4 |
| Gilles | 108 | 37 | 1 | 2 |
| Bernie | 113 | 36 | 3 | 0 |
| Mike | 119 | 38 | 1 | 9 |
| Norm | 123 | 36 | 0 | 4 |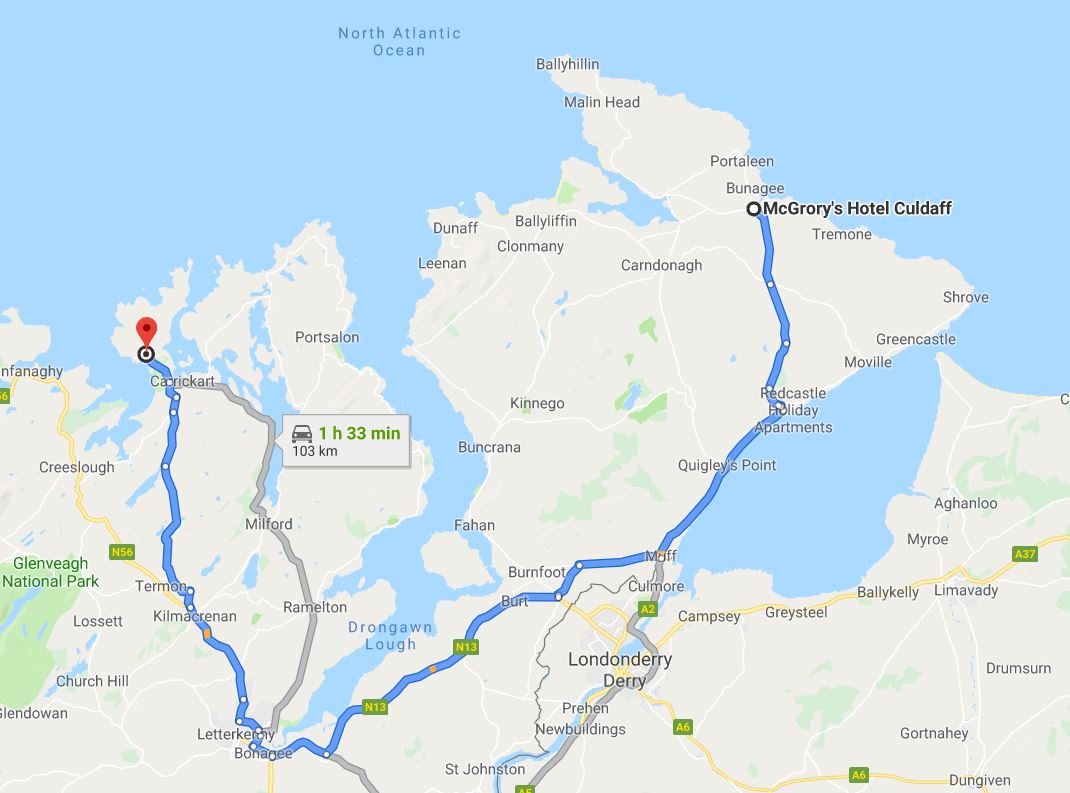 A fish cake to start the meal (along with a number of other appetizers) and an apple tart with ice cream for dessert.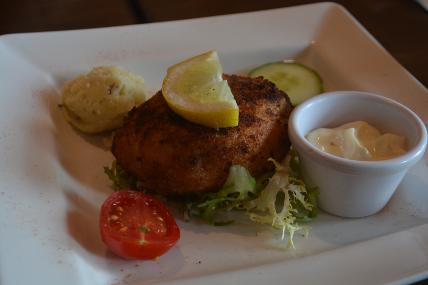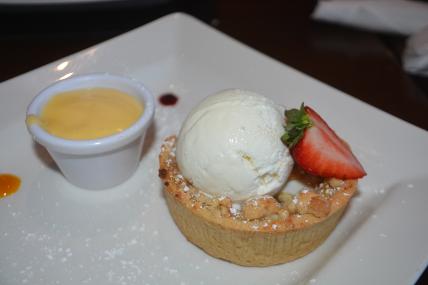 Gilles and Guy enjoying dinner. One of us (yes me) had the duck.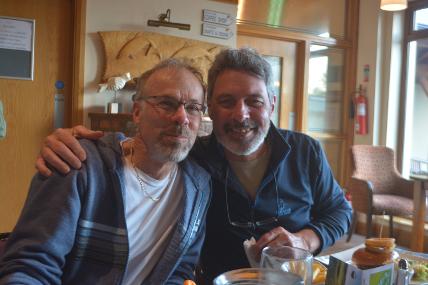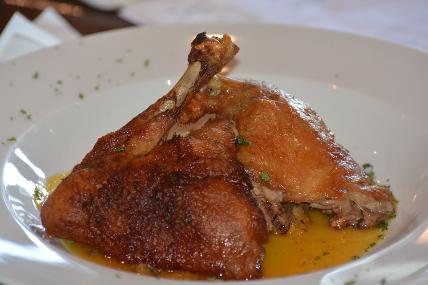 June 04, 2019 - Downings, Donegal, with a side-trip to Portsalon
Played Portsalon Golf Club (founded in 1891)
Today was a day trip - to the village of Portsalon, about a half hour drive through some very pretty countryside although along some very narrow 'roads'. A very fair course Byron, Mike and I played here in 2004 and Byron and me again in 2012. Unfortunately Byron has been under the weather (the cold and rain no doubt do not help), bad enough that he stared his antibiotics and decided not to play. He drove us over and spent the time reading a book. The day was similar to yesterday - ominous clouds, although it did not rain much, wind and cold. Getting to be a common occurrence. The golf was a bit better, again with relatively few penalty strokes and Bernie improving considerably from his first two rounds, continuing his strong play of the previous day's back nine to be the only one to break 100, with a nice 96. Although the back nine does not feel very 'linksy' (the front does) I believe it is fair to say we all enjoyed playing Portsalon, I certainly did. The views out across the beach to the village and the Atlantic Ocean are stunning.
Bernie almost did not join us on the trip. A few days before leaving his mom was admitted to hospital with diverticulitis and an infection. It was quite serious but Bernie's mom, wife and brother all insisted he join us. They knew how much Bernie was looking forward to the experience. Unfortunately upon returning from Portsalon Bernie had a message that his wife was calling. Bernie told us to head off to dinner without him and he would catch up if he could. He never did. Upon returning Bernie had left me a note that his mom had taken a turn for the worse. Bernie had packed, taken a taxi from Downings to Letterkenny where with only minutes to spare he made the bus to Dublin, which conveniently stops at the airport. Fortunately Westjet was flying direct to Halifax the next morning with Bernie able to change his ticket. He made the flight, arriving late morning, and driving to Kentville where he was able to spend a few hours with his mom before she passed early evening. All very sad, and very unfortunate for Bernie on so many levels. We of course were saddened to have Bernie leave during this difficult time. We wish him well.
We decided to try another restaurant in the village - well the other side of the village. A light rain fell on our walk up the hill. After a drink in the bar we ate in the lounge as there was no seating in the restaurant per se. Being on the ocean the menu was predominately fish. In fact we all had some form of fish for both our appetizers and main course. Another good meal. We ended up chatting with a local couple who offered a suggestion for our last night - The Singing Pub - just outside of town. Unfortunately the rain had somewhat intensified for the walk (down the hill) back to our hotel.
A magnificent view of the 2nd hole from the 2nd tee, a long dogleg par 4 with water and the beach on the left and in front of the green.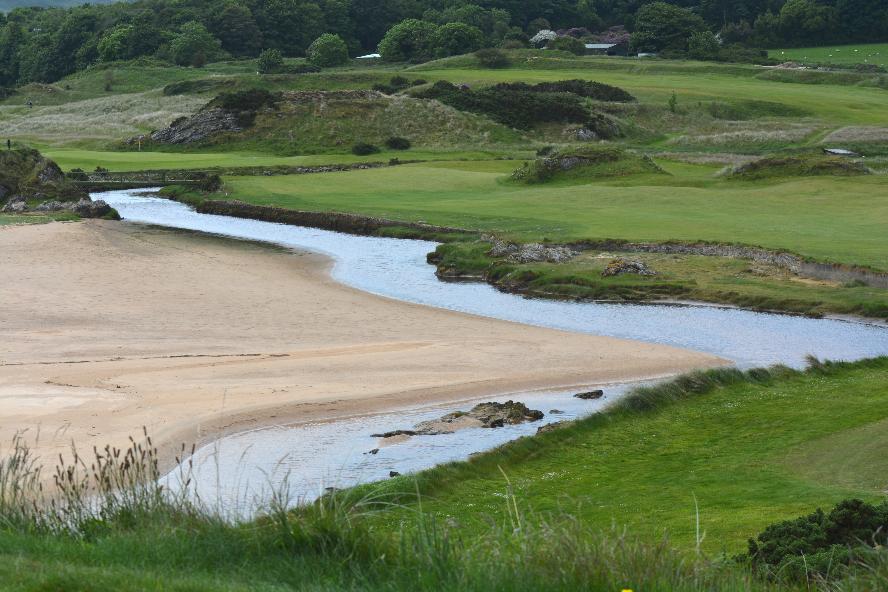 The North Atlantic certainly does have some beautiful expansive sandy beaches, here with Portsalon in the background and gazing out to the ocean.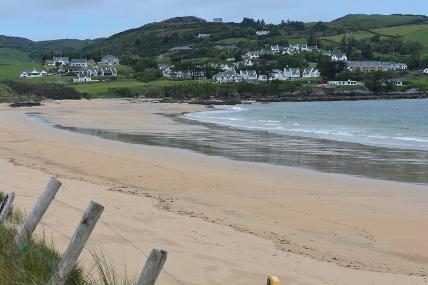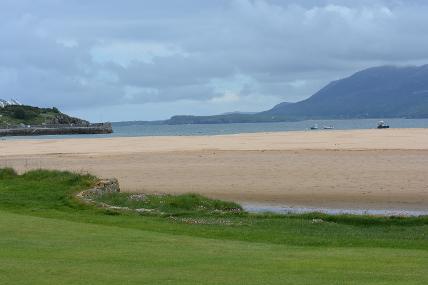 Dark ominous clouds. Even Guy was not in shorts today!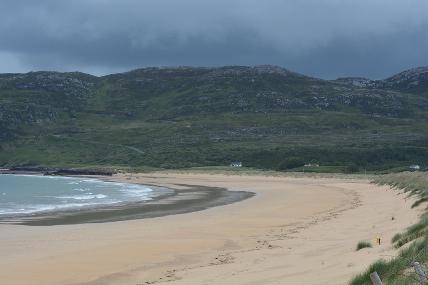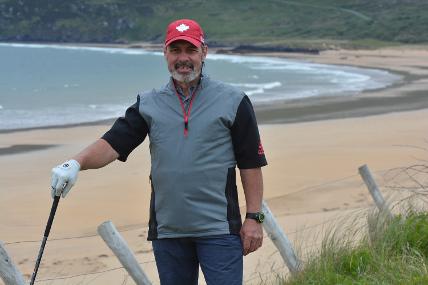 A view across the links to the hills beyond. One of the huge double greens at Portsalon.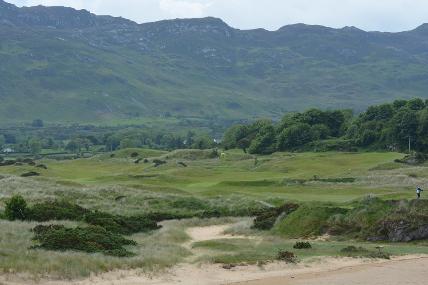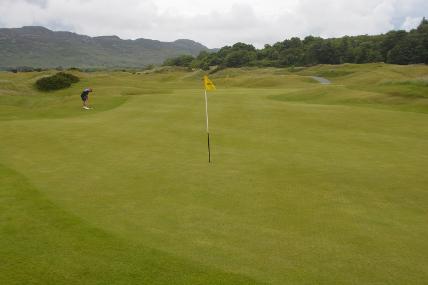 Using the trusty (ok at times perhaps not so trusty) fairway wood from just off the green.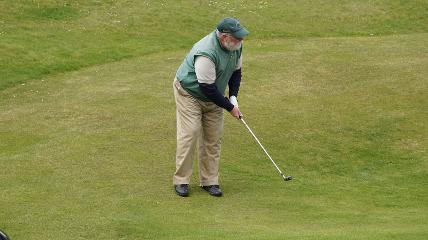 Fairways woven between the dunes; the village of Portsalon beyond.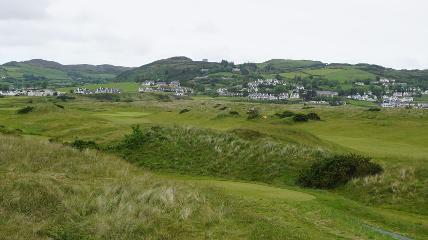 How it's done out of the bunker.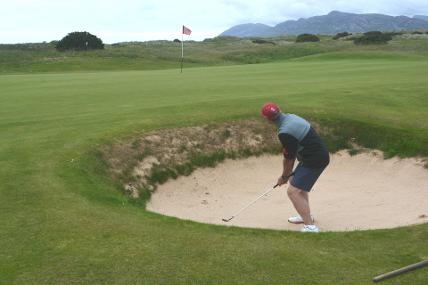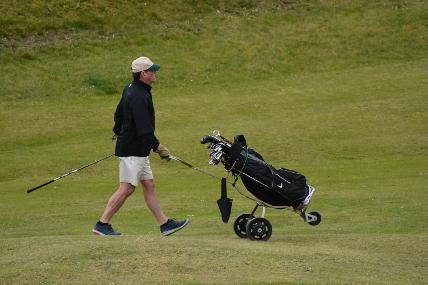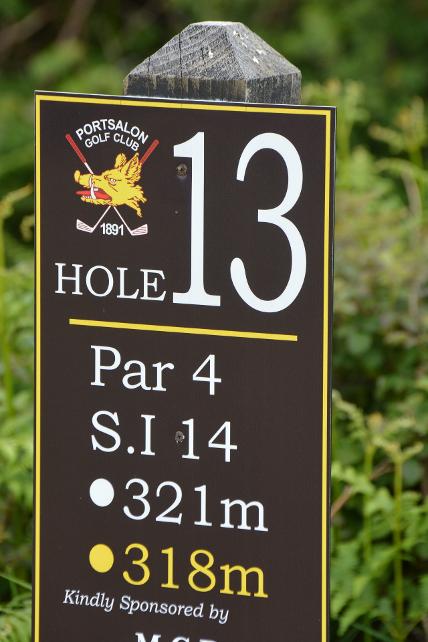 Once again plenty of wind.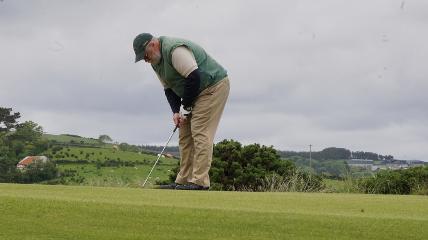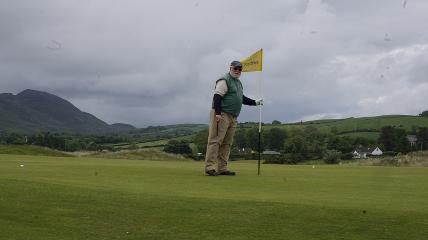 Today's 'Round of the Day' goes to Bernie who broke the 100 threshhold thanks to solid putting and no penalty strokes. Guy again was hampered by penalty strokes. When he is good he is good but at times is prone to spraying the occasional shot. Norm continues to uncharacteristically struggle with his putting.
Portsalon

Score

Putts

Pars

Penalties

Bernie

96

33

3

0

Guy

101

34

1

9

Gilles

105

33

3

6

Norm

114

38

0

2

Mike

115

36

2

9

Byron

did not play

After returning from Portsalon we decided to try Fisk - another restaurant tonight for dinner.
Fisk was a 400 metre (not 100 yards Guy!) walk, partially uphill, in a light shower. On the way back the good news is that it is downhill; the bad news it was raining harder. A pint in the Harbour Bar and then, not being able to get in the restaurant itself we ate in the adjoining lounge. Fabulous view (on a sunny evening which this was not) of the harbour. It was essentially all fish. For our apps we had a fishcake, two smoked haddock soup (fantastic) and two squid (mediocre). Dinner was then fish 'n chips, fish tacos and a couple of (fish specials). Another good, if not great meal.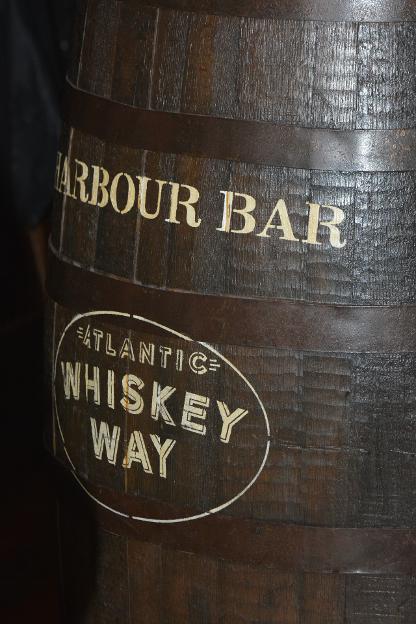 June 05, 2019 - Downings, Donegal
Played Rosapenna's Sandy Hills Links (Rosapenna's original Old Tom Morris links was founded in 1893 with Sandy Hills added in 2003)
We awoke to significant rain. We had early (8:30 am and 8:40 am tee times - which got us a significantly discounted early bird rate) but given the steady rain no-one wanted to head out. We went over to the course where without any issues we were re-booked for early afternoon - they totally understood.
With the morning free Mike, Guy, Gilles and Byron decided to take a drive across the Fanad peninsula to Fanad head and a very picturesque lighthouse. Although the weather was not great the lighting and ominous clouds provided a great backdrop for some nice photos. I stayed back to catch up on some financial stuff and emails. On the way back the boys stopped in to the Singing Pub, a few kms outside of town - recommended by a couple of locals the previous night. They were favourably impressed so we had a spot for dinner.
While the rain stopped - for the most part, there were showers on and off, it was still a miserable afternoon to play golf. But this is what Irish golf is rumoured to be. I guess we were spoiled during previous trips, particularly with the temperatures which were significantly warmer than this time around. Rain, wind and cold - a perfect combination for struggles. And struggle we did. Byron, with only one par, some good putting and control of his shots (only 3 penalty strokes) was the only one to break 100, and just with a 99. The next best score was 115 with three in the 120s. Norm took 14 penalty stroke while both Mike and Guy had 18 each, including on six and five consecutive holes respectively. The fairways are generally wide and generous but don't stray. Even a few inches off the fairway and one is often taking another ball out of the bag. The fescue is thick and unforgiving. For our skill levels this was an extremely challenging course. The links is certainly very scenic - no doubt it would be that much more so on a nice day - winding its way through the dunes, each hole feeling isolated from any other, with vistas of Sheephaven Bay ever present but the challenge did wear us down. We were thankful to reach the 18th green (nice par Guy) and call it a day.
In my opinion we enjoyed the best meal of the trip to date at the Singing Pub. We sat at a table next to a warming peat fire - after all the temperature was in the near 10 C. The beer was good, the appetizers were great and the main courses excellent. Large servings of very good food. Again fish was dominant although Byron had a steak and Guinness pie with Gilles and Norm having Mickey's Signature Surf and Turf, served on a hot lava stone. The pub had a great atmosphere and fortunately no we did not have to sing in order to be served. An excellent choice for dinner.
It is always good to start the day with a good
breakfast such as Eggs Benedict in the Donegal way - on salmon rather than ham.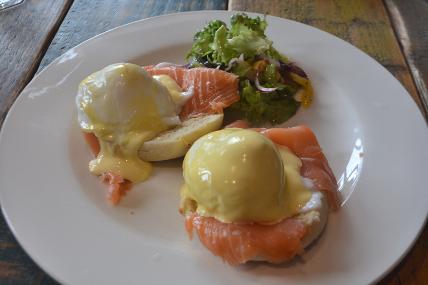 After deciding to defer golf until the afternoon, Mike, Guy, Gilles and Byron all took a drive across the Fanad peninsula to the tip where the beautiful Fanad lighthouse is located. The less than best of weather provided for a striking photo.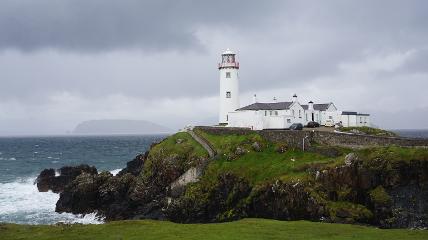 There are two links at Rosapenna - the Old Tom Morris and Sandy Hills.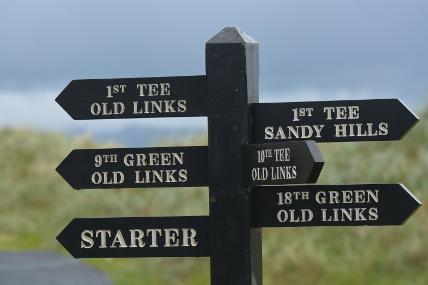 Note the rain drops on the front of the golf cart.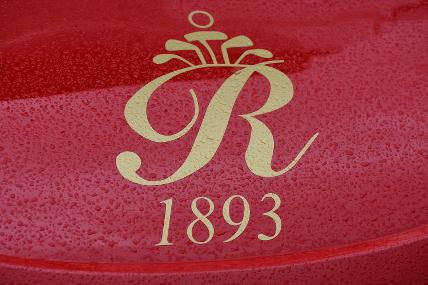 The links borders on Sheephaven Bay - not quite so attractive under heavy cloud cover / rain.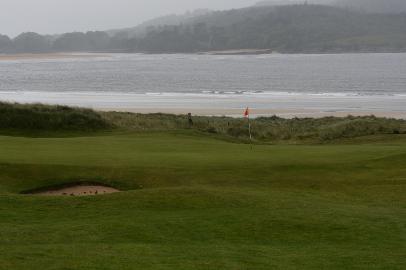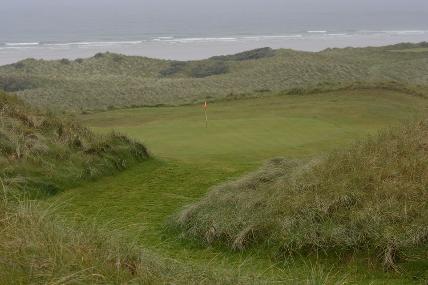 Fairways and greens tucked in among massive, thick fescue covered dunes - simply brutal.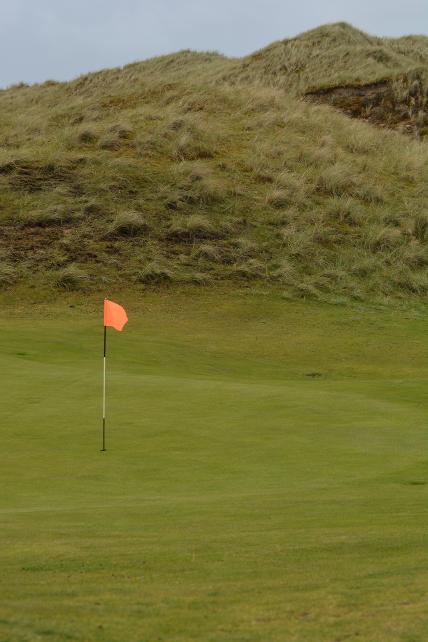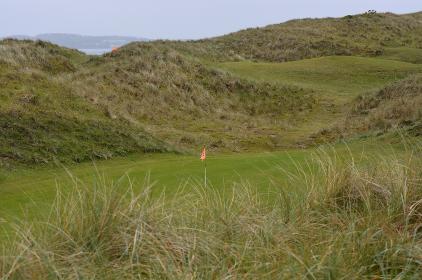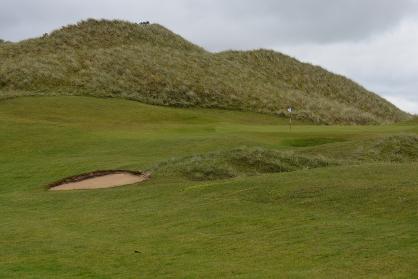 The narrow alleyway off the tee that is the 13th fairway.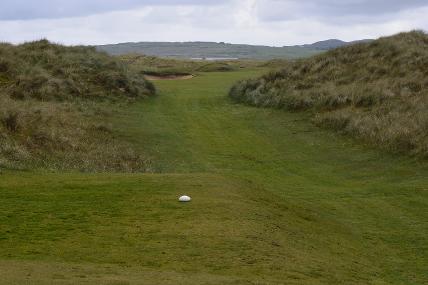 After a brutal day finally approaching home along the 18th fairway.
A wonderful approach by Guy leading to a tap in par on finishing 18.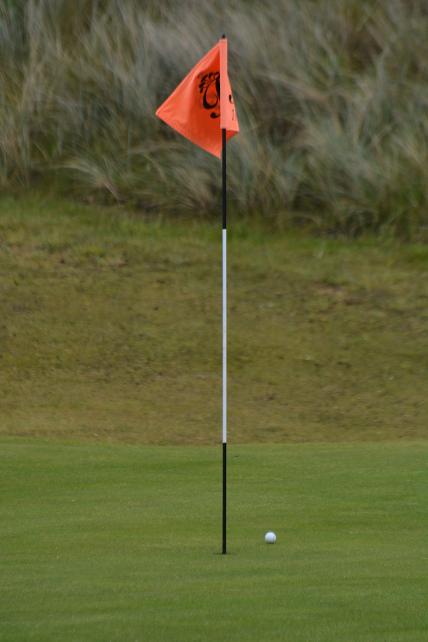 At least three feet off the club head it looks like it is going straight.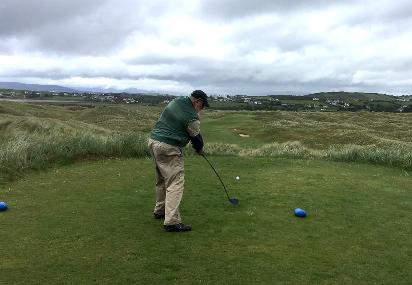 Nice setup Gilles - 16th hole.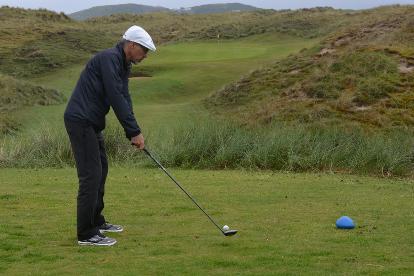 Come on, I know you are down there somewhere. Darn fescue.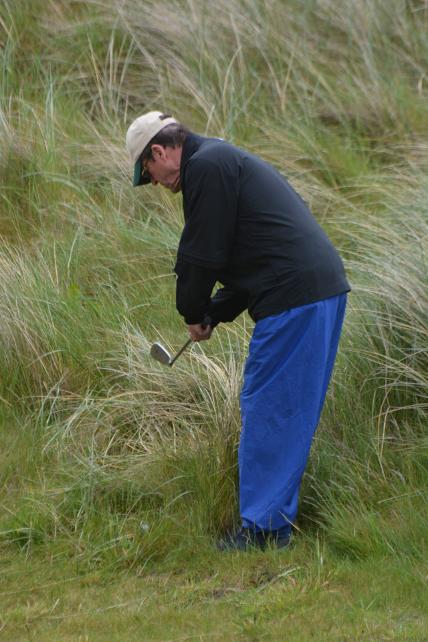 Byron in yet another bunker but as if virtually always the case a wonderful out (he does seem happy with the shot doesn't he?)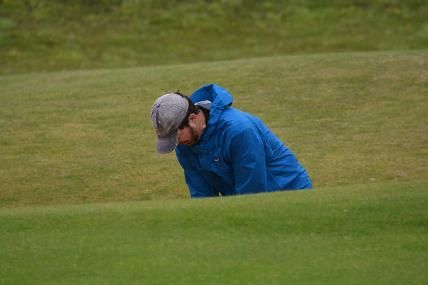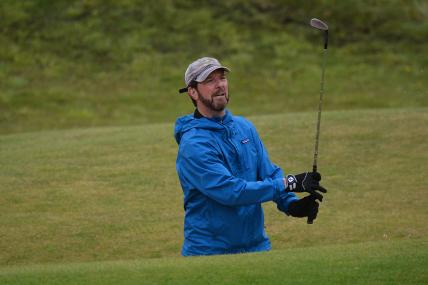 Lining up (hopefully) the last putt of the day (ok with gimmes it was going to be the last putt whether it went in or not).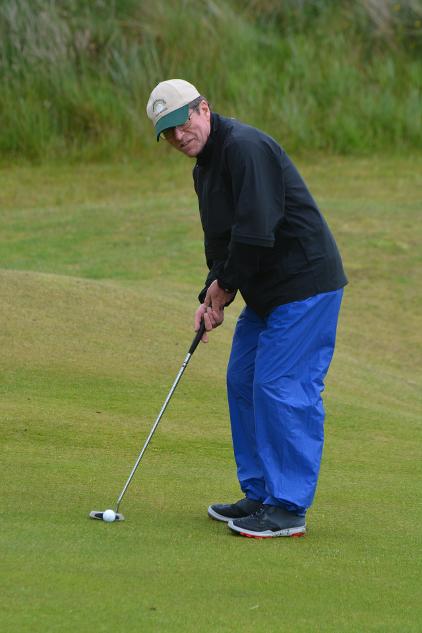 Guy, ever the sportsman consoles Mike as he tries that 'last' put a second time after a very tough day.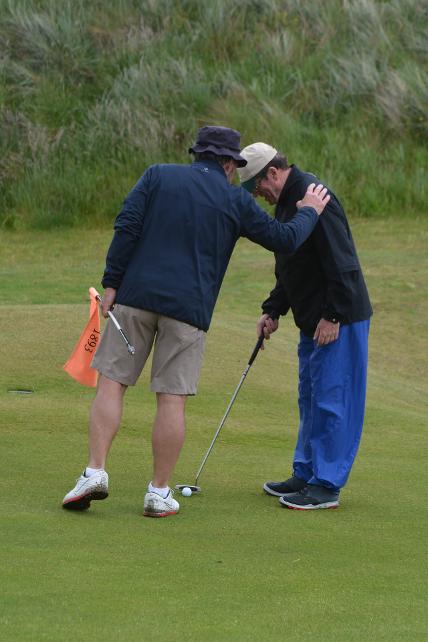 Today was brutal. The highest average score - by over 5 strokes - of any links played and the most penalty strokes with an average of over 12 per person, which is startling considering Byron had only three. 10%, or nine of the 90 holes played had scores in the double digits. No one had more than one par! Yes the weather was bad, no doubt contributing to the result but the course was so so tough. Miss the fairway and you might as well just throw down another ball - the fescue was that thick and punishing. It can only get better from here. To demonstrate how difficult it was on four holes our best ball was a double-bogey.
| | | | | |
| --- | --- | --- | --- | --- |
| Sandy Hills | Score | Putts | Pars | Penalties |
| | | | | |
| Byron | 99 | 31 | 1 | 3 |
| Gilles | 115 | 31 | 1 | 8 |
| Guy | 123 | 34 | 1 | 18 |
| Norm | 127 | 37 | 1 | 14 |
| Mike | 128 | 42 | 0 | 18 |
Gilles, Byron and Mike outside the Singing Pub.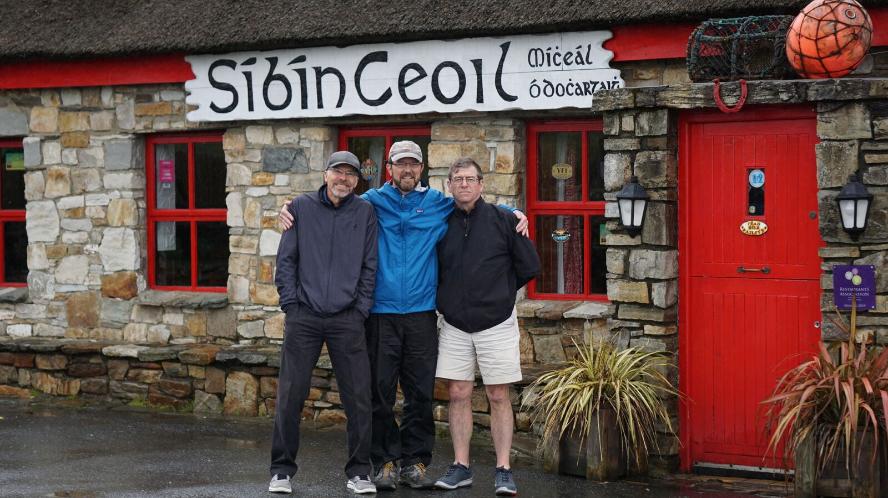 The thatched roof Singing Pub and its brightly painted entrance.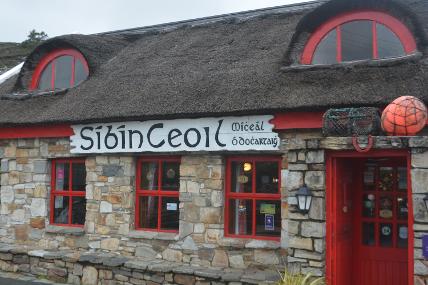 We were welcomed by a warm peat fire.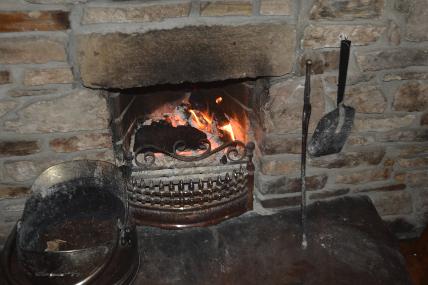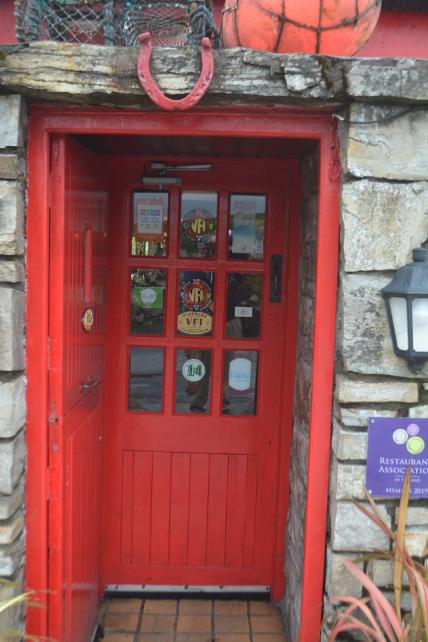 The first stop was the bar where a number of Guinness' were ordered.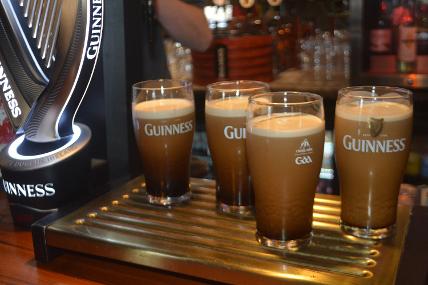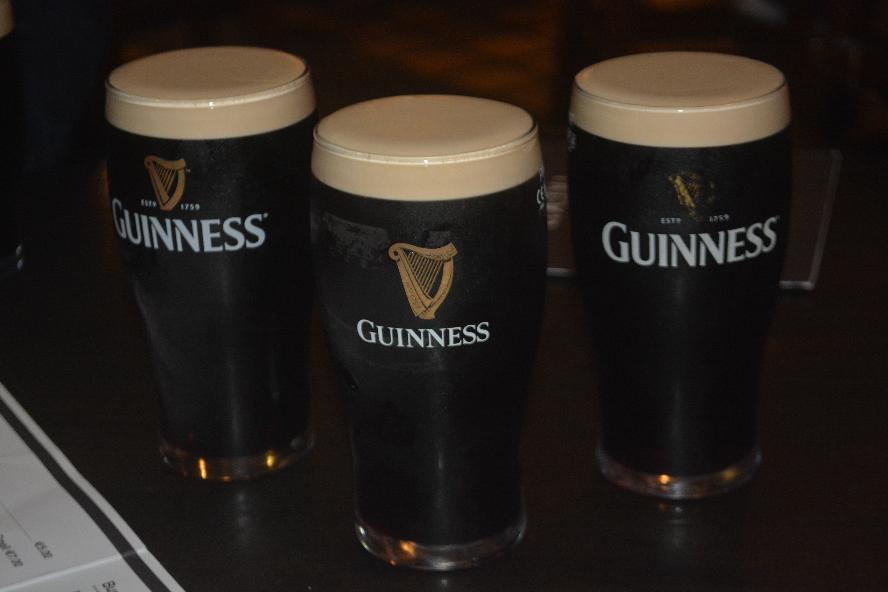 Battered squid and a hearty fish soup were two of the appetizers.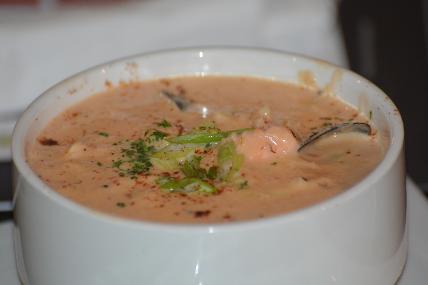 Mike had the fish special while Gilles and Norm enjoyed the surf (scallops) and turf served on a heated lava stone.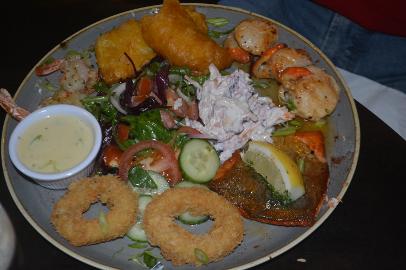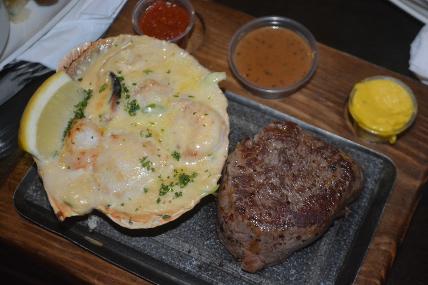 Byron's steak and Guinness pie and I guess Mike was too hungry to wait for the photographer to do his thing.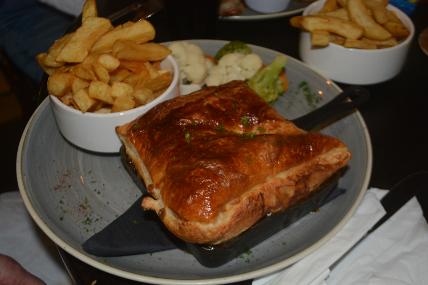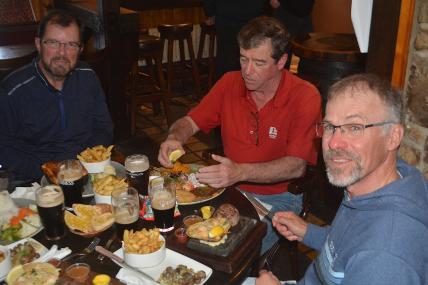 June 06, 2019 - Downings, Donegal to Sligo (Rosses Point)
Played County Sligo at Rosses Point (club founded in 1894)
After breakfast we left Downings for a two and a half hour drive to Sligo, where we played County Sligo Golf Club in the afternoon. Before doing so we checked in with Ita at Iorras B&B, our lodging for the night.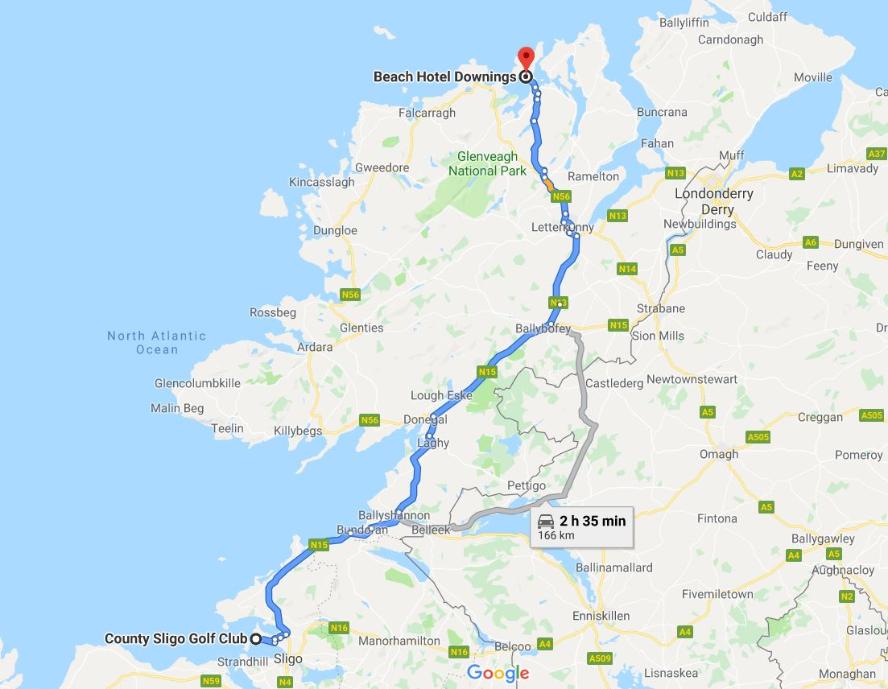 County Sligo Golf Club (also known as Rosses Point), founded in 1894 was originally nine holes until expanding in 1907 to 18 holes. The links has hosted the West of Ireland Amateur Open Championship since 1923 (Rory McIlroy being the youngest champion in 2005 at the age of 15). The course was redesigned in 1928/29, being set on sand dune and on cliffs overlooking two large beaches. The constantly changing winds, elevated tees and two streams that meander through the course, coming into play on a number of holes contribute to the challenge. The course is further protected by subtle undulations and punishing rough. There have been a number of modifications over the years, with lengthening of holes, new greens at the third and twelfth and new bunkers being added throughout. Bernard Langer once said
"Rosses Point was the first links course that I ever saw as a young professional starting out on the Tour circuit. I went to play one round and stayed two weeks
"
.
The weather today, while still cool (Mike brought out his hand warmers) was better than the past few days with intermittent blue sky and while not benign, less wind then we had experienced recently. The links played long with a par-adjusted length of 6,554 yards. Scores were generally better although Norm and Mike still struggled. Norm found himself attracted to the water finding the burns on the 6th, 8th and 14th holes. Guy enjoyed an excellent front nine with four pars contributing to a 43. After another par on 10 due to a nice sand save, unfortunately a tough 11th with a lost ball and then a disastrous par three 16th (four penalty strokes contributing to a 9) ruined the back nine. Still a 97 with six pars. Byron also had a 97 with a somewhat more consistent round .
Having teed off mid afternoon it was into the evening when we finished. We went directly to the nearby Driftwood restaurant suggested by Ita where we enjoyed another nice meal, again predominantly fish.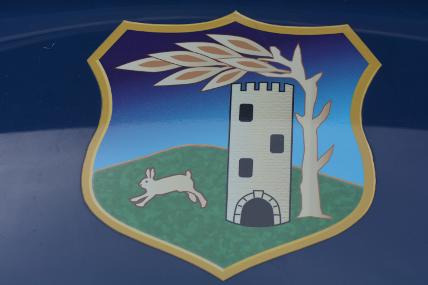 Today Byron and Gilles played together (with Guy, Mike and Norm being the second group). As a result there are no photos of Byron and Gilles beyond this one of them heading down the first (Greenlands) fairway.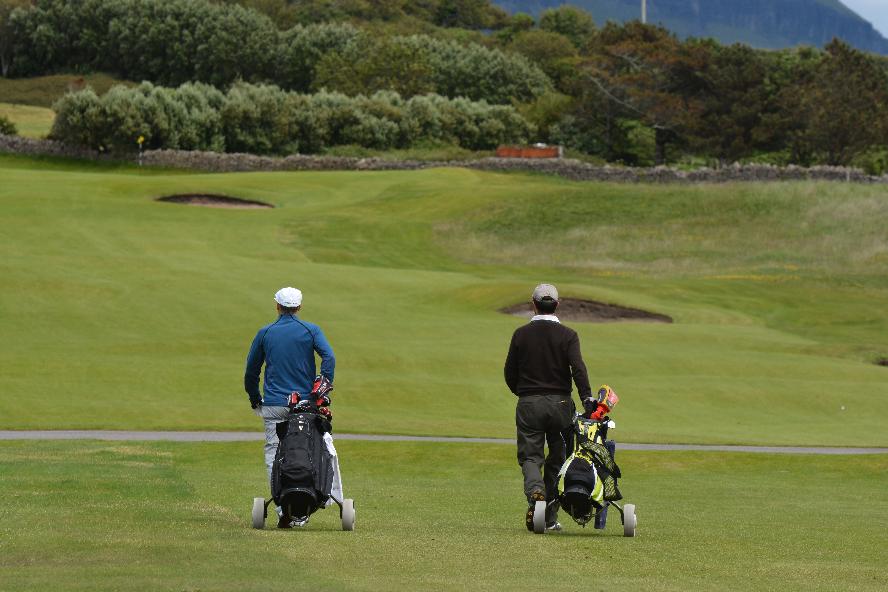 Limbering up on the 1st tee box.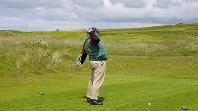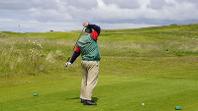 Set up for a couple of drives.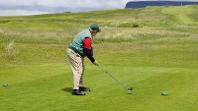 It was a strange day - at times the skies mostly cleared with only a few clouds, at times it sprinkled and at times it was so cold Mike brought out his hand warmers.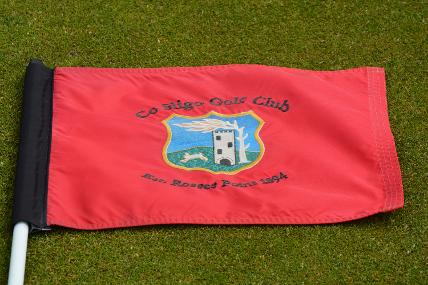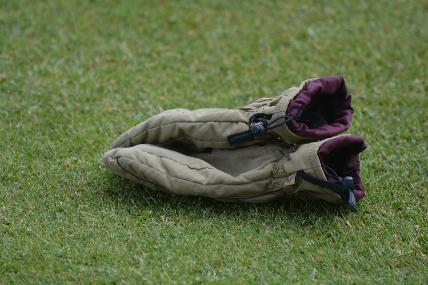 Some of the undulating terrain that is County Sligo.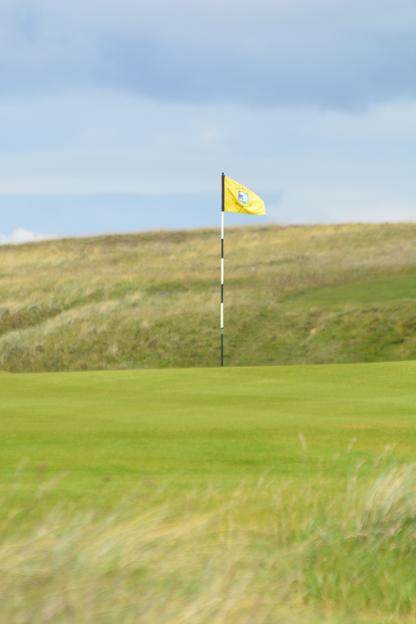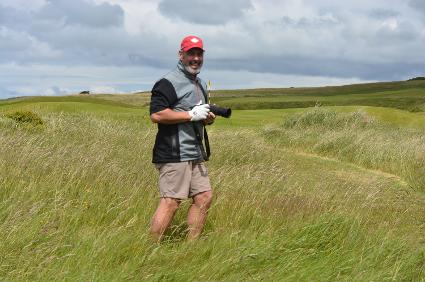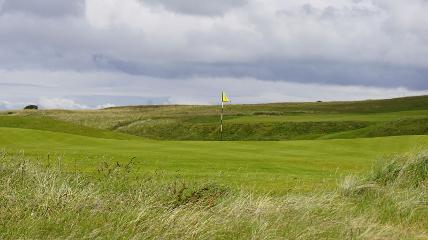 Mike and Guy teeing off from the elevated tee - providing spectacular views of the surrounding waters - of the 5th hold (The Jump) a straight away par 5.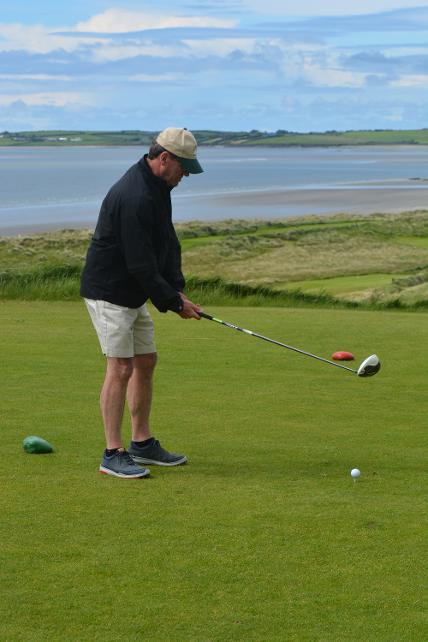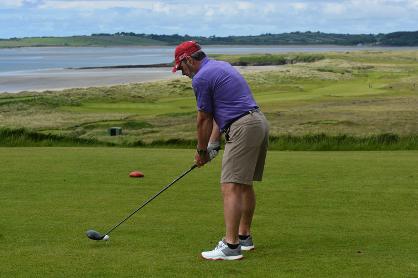 Typical Irish golf - putting from well off the green - provided one is confident with their putting.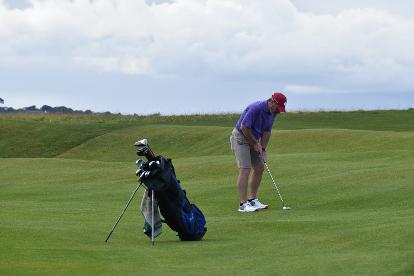 At times shorts; at times rain pants.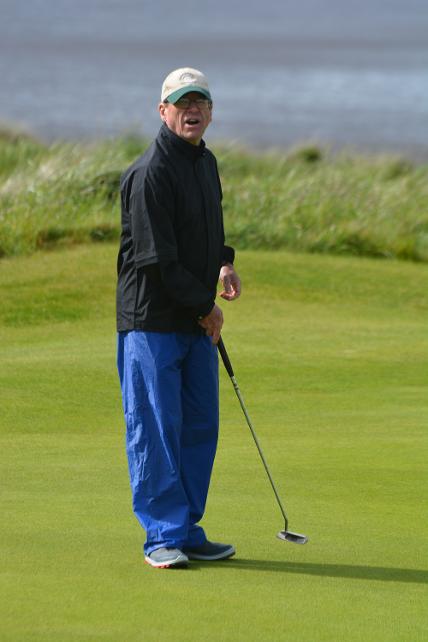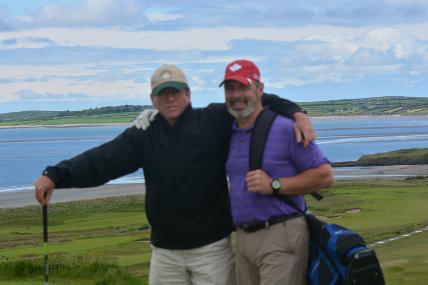 Mike teeing off on the 9th, a par 3 known as 'Cast A Cold Eye.'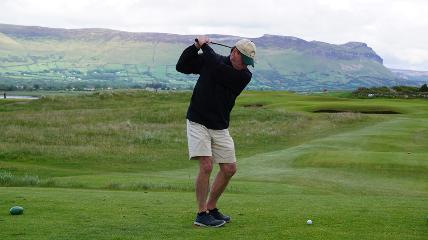 The 10th green after heading down the fairway towards Benbulben.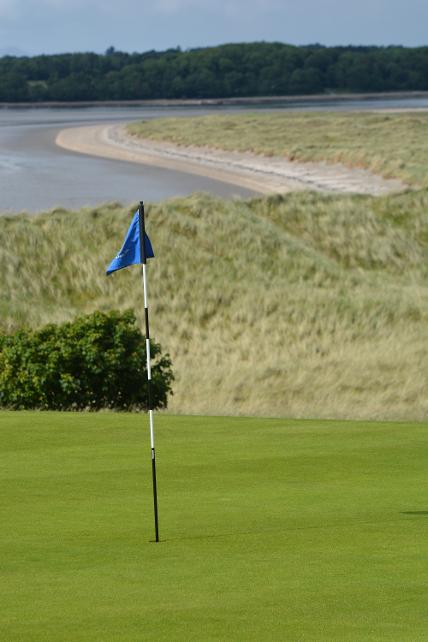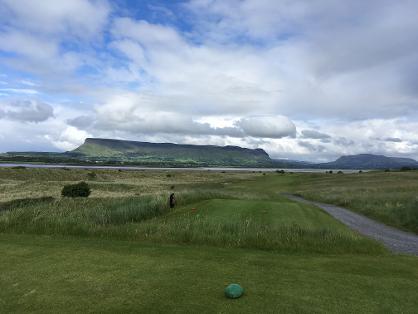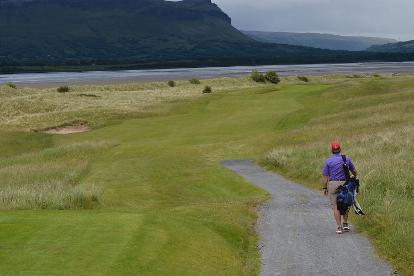 The approach to and the 11th green (Lissadell), a long uphill par 4.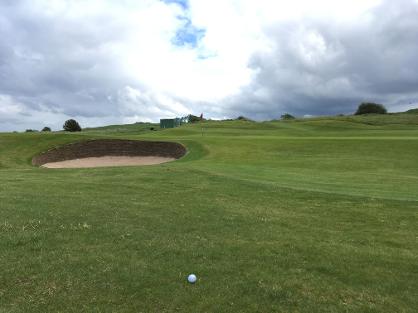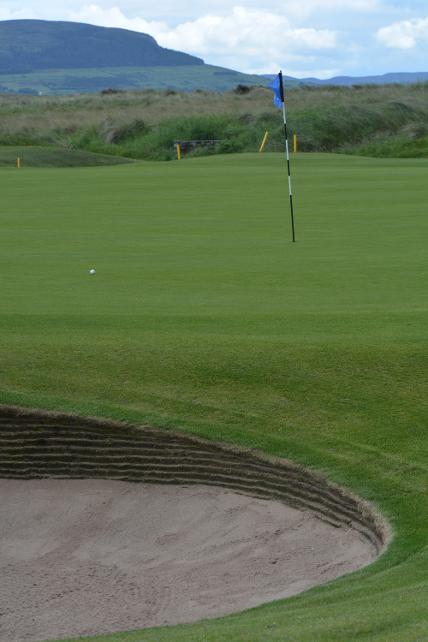 Admittedly a pretty difficult lie against the wall of the bunker here on the 10th (Benbulben).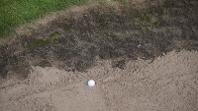 "
You only live once so let's give it a go
" he says taking his position with intense focus.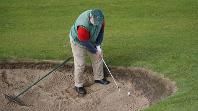 Good form, head is down, good contact with both the sand and ball being propelled.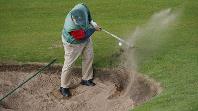 But alas not such a good result as the ball hits the bank and returns to his feet. Try again.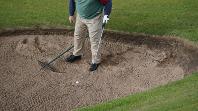 And now how it is supposed to be done ... a sand save as Guy dropped his putt for par after this nice shot out of the bunker.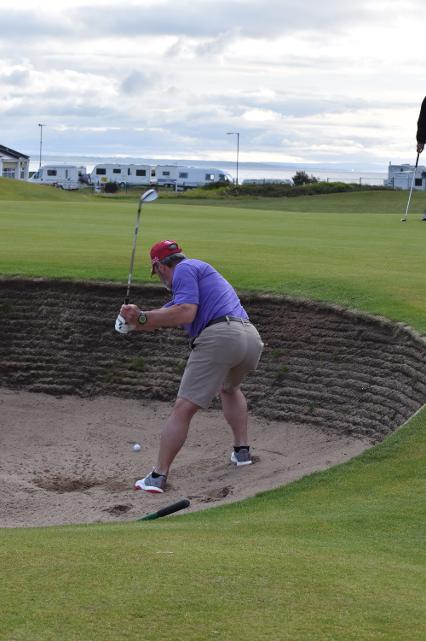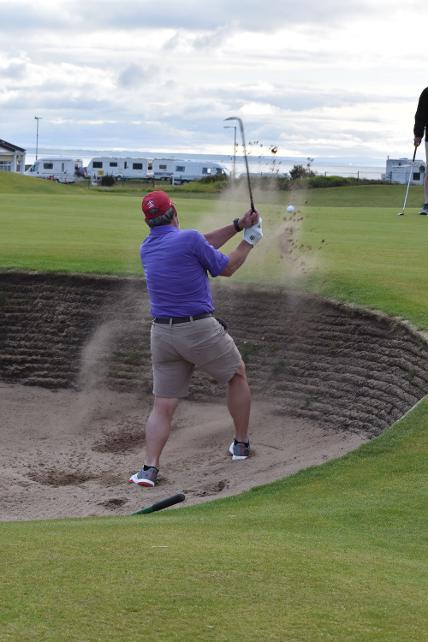 Norm's trials and tribulations on the 14th (Mahon's Burn). Finding himself just in front of the burn with a stake in his perceived line he removed the stake (as allowed). He then carefully took his stance and proceeded to somehow hit another stake considerably off line, with the ball ricocheting into the burn. Of course Guy just happened to be nearby to capture it all. What a cruel game!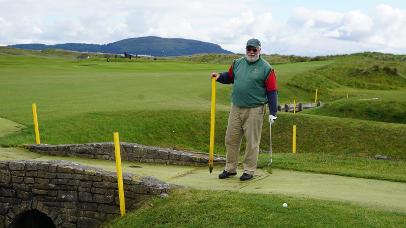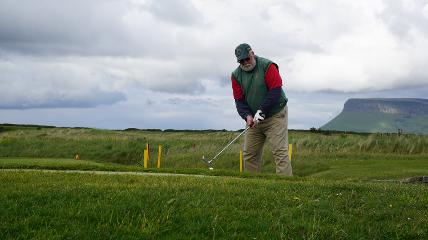 And then there were Guy's struggles on the 16th - a par 3 known as Knocknarea. Sorry Guy but I have the evidence here and just can't bury it. He went from the heavy stuff to who knows where - well actually more heavy stuff; took four penalty strokes and a nine, yet still shot 97 after a superb front nine of 43 that included four pars.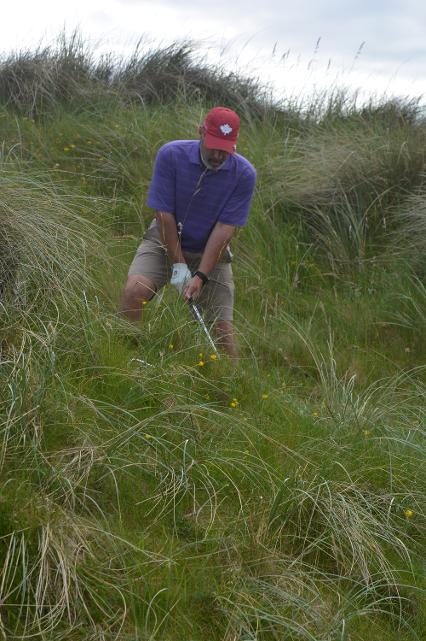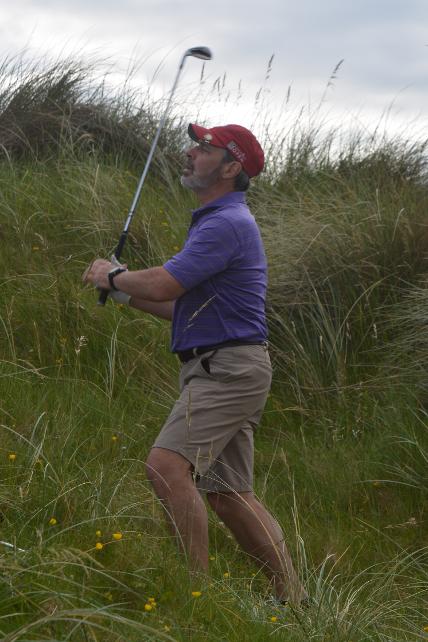 A little more respectable today, particularly with the reduced number of penalty strokes. Guy's six pars was impressive while Norm and Mike continue to struggle with their putting.
| | | | | |
| --- | --- | --- | --- | --- |
| County Sligo | Score | Putts | Pars | Penalties |
| | | | | |
| Guy | 97 | 33 | 6 | 6 |
| Byron | 97 | 35 | 1 | 3 |
| Gilles | 112 | 32 | 2 | 4 |
| Norm | 117 | 39 | 2 | 8 |
| Mike | 122 | 44 | 0 | 6 |
A local IPA beer (no I had a Guinness), a glass of wine and an Irish whiskey - enough to take the edge off after another challenging day on the links.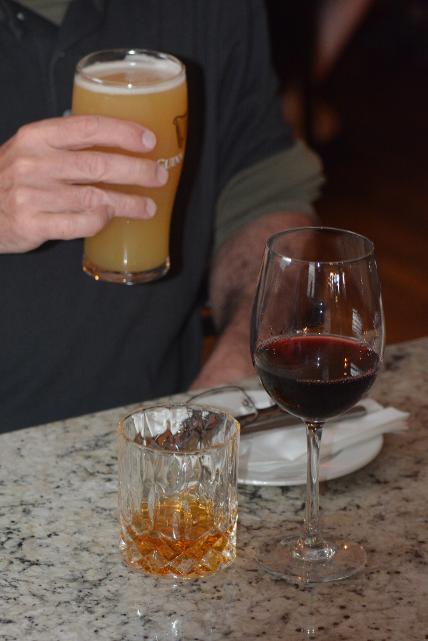 After the round we ate at Driftwood, a restaurant near the links. Again we mostly had fish - fish and chips; salmon, etc.. Another really good meal.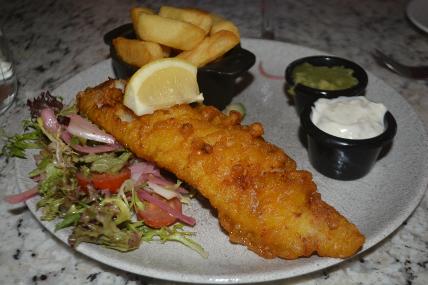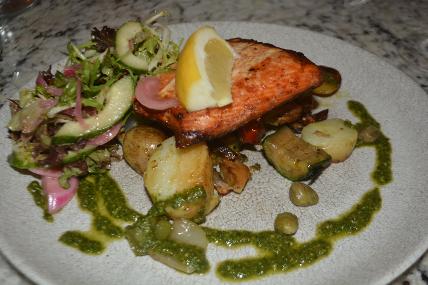 June 07, 2019 - Sligo (Rosses Point) to Enniscrone
Played Enniscrone Golf Links (club founded in 1918)
Ita, our host who was nice enough to do a couple of loads of wash for us while we were playing County Sligo, provided another wonderful breakfast to start our day. Another very good choice of a place to stay - convenient and friendly with an excellent breakfast.
We were then off for the 1 1/2 hour drive further south to Enniscrone (Inishcrone) to play the links.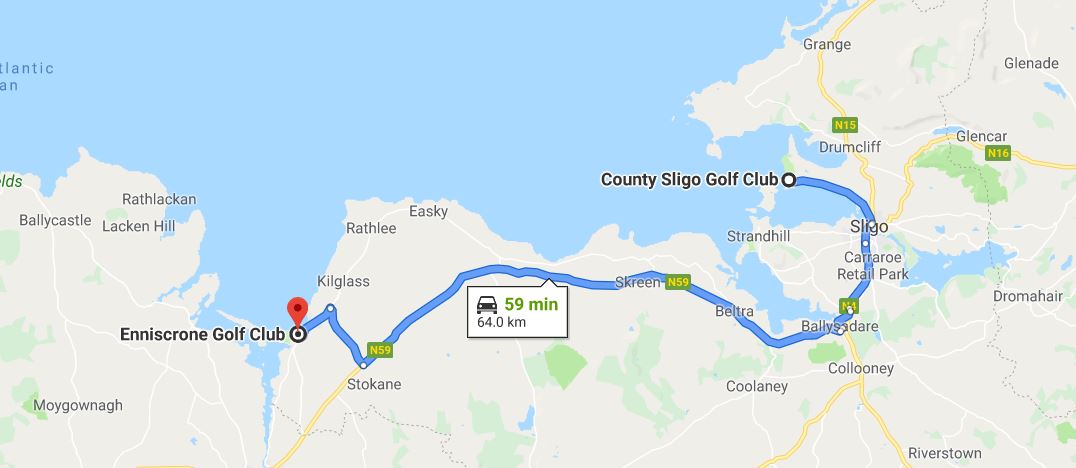 The Enniscrone golf club was formally founded in 1918 although it was not until 1930 when nine holes were laid out on the flat land at Bartra and the course formally opened. The membership fee that year was one pound. During the 1980s a new clubhouse was built and then in 1999 a plan was put in place to reroute the golf course directly into the dunes. Six new dune holes were added along with three on the flat land to complete two courses - the Dunes Links and the Scurmore 9-hole course, a more gentler offering for those who did not want the challenge of the championship links. The links is very challenging but fair with generous fairways. Of all the links courses we have played on these trips to Ireland, and the list is now up to 27, Enniscrone (along with Lahnich) would be my favourites. Admittedly the 5th through 8th holes are somewhat less interesting (although still challenging) being on the 'flat land', but the rest are wonderful links holes weaving their way through the massive dunes.
Although again cold - temperatures have been in the 11 to 13 C range the past number of day - and again windy it was dry today with while often cloudy there were a number of patches of blue sky. Generally we scored better today with Norm having his best round of the trip, a 101 in spite of a 10 on the 2nd (Kilcummin) hole while both Byron and Guy broke 100 (92 and 99 respectively). Byron in particular was very consistent with six pars and only one hole worse than a double bogey. It was a good day.
After the round we returned to town where we checked in to the Beachfront Hotel, our lodging for the next two nights. We were directed to Gilroy's Pub just down the road in the hopes that one of the TVs would golf (the Canadian Open is this weekend) in addition to the more common traditional sports watched here in Ireland being football (soccer), rugby, hurling or gaelic football. Indeed we were able to enjoy the golf with a pint of beer. Below Gilroy's is the Ait Eile restaurant. Mike arranged for a table and off we were for a spectacular meal. We enjoyed wonderful service and excellent food. After excellent appetizers (a couple of soups, a couple of goat cheese salads and a gravlax like salmon) most of us ordered the seafood linguine with Guy having the duck. We were all extremely pleased with our choices. During dinner those of us on the right side of the table were able to enjoy a spectacular very colourful sunset over the bay, so impressive that I went outside (yes it was cold) to snap a few photos.
One would think a leisurely breakfast, a relatively short drive, a round of golf and a relaxing dinner would make for an easy day. Perhaps age is catching up with us (or at least me) but I believe we were all happy (at least I was) to get back to the hotel and call it a night.
Lots of fresh fruit, on its own or to smother one's cereal, and all the standard choices - an omelette, the full Irish or salmon and scrambled eggs.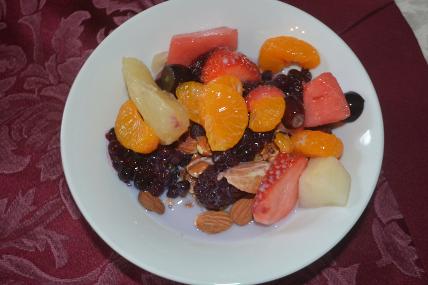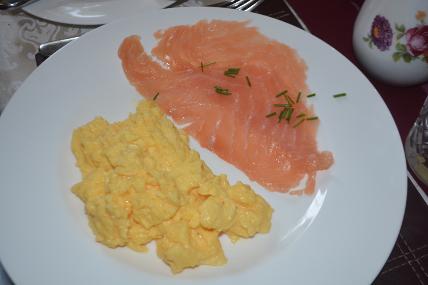 The boys enjoying breakfast.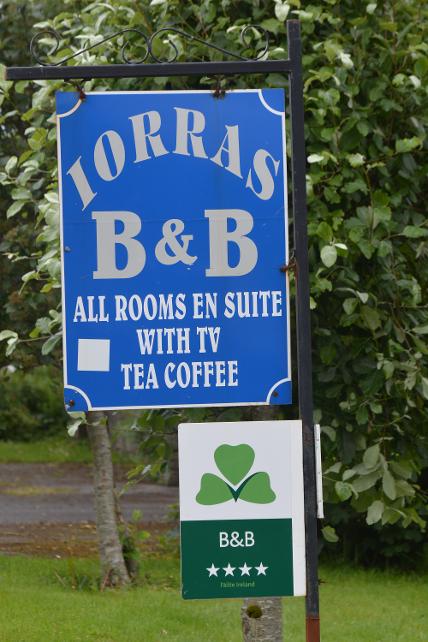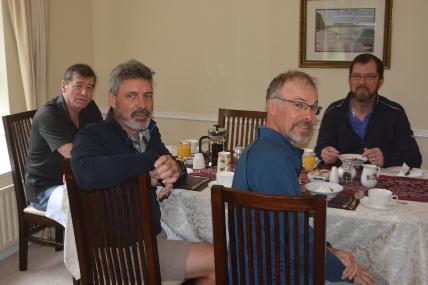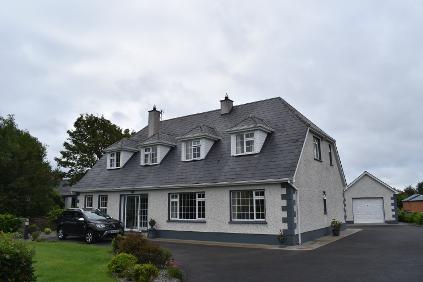 An international greeting to Enniscrone - and yes it is going to be another windy day.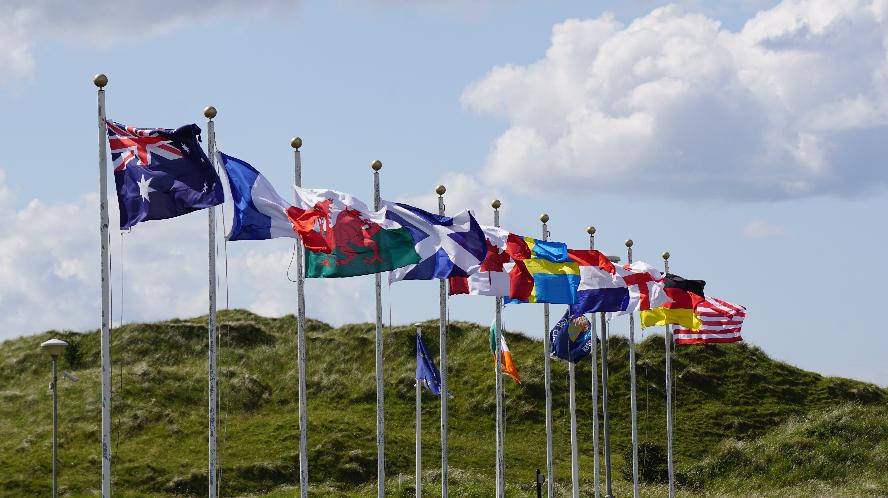 About to tackle another of Ireland's great links.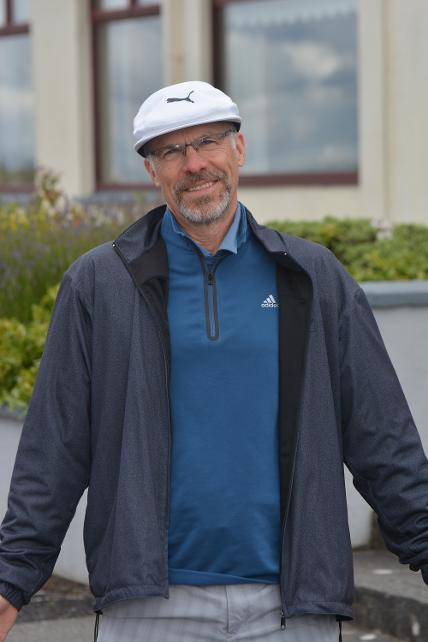 Byron and Mike on their way down the 1st (Barta).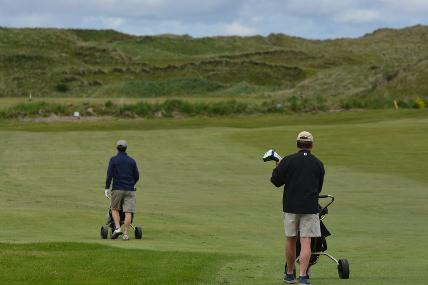 What better way to spend a day?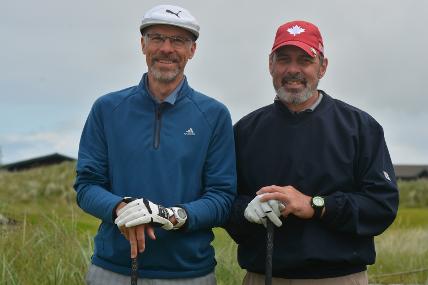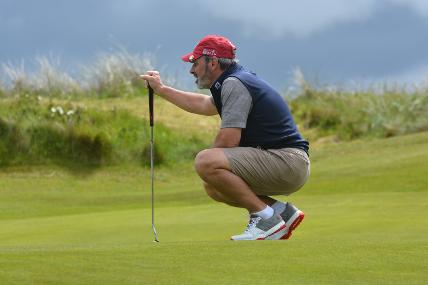 Gilles playing either the 9th (Cookie Strand) or 10th (Moy), each of them running along the estuary.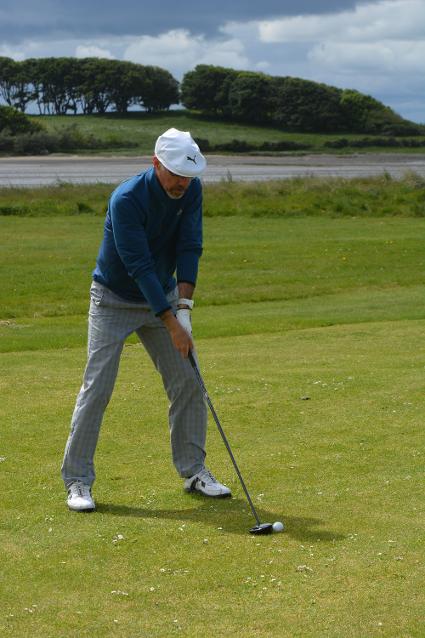 Another of Enniscrone's fairways weaving its way below a massive dune.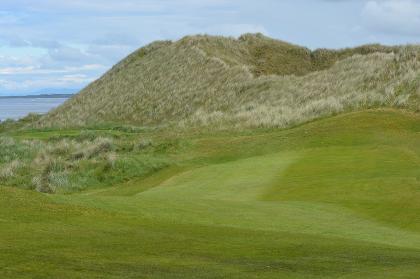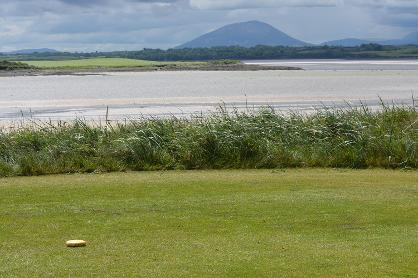 So we tee off on the 11th (The Bar) an uphill par 3. All three of us actually hit the green in regulation - although all three of us three putted for bogeys. There is a path around the dunes for those with buggies. While driving around who do I encounter but a skulk (who knew a group of fox are a 'skulk' but when I looked it up there it is - a 'skulk' or a 'leash'.) There were three - a mom and two younger ones. Not exactly the friendliest greeting .. and while this photo was with a telephoto lens they really were quite close. We saw them again on the 12th as they followed us along the fairway.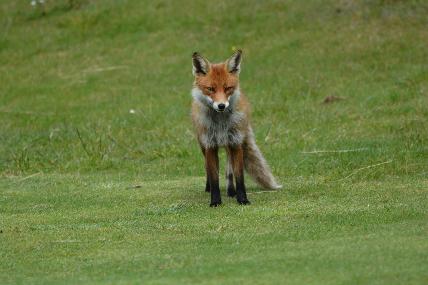 Up to the 12th (Croc na gCorp) and down to the 13th (The Burrows).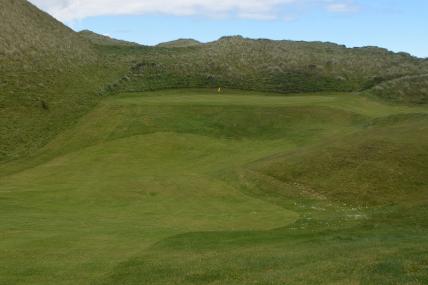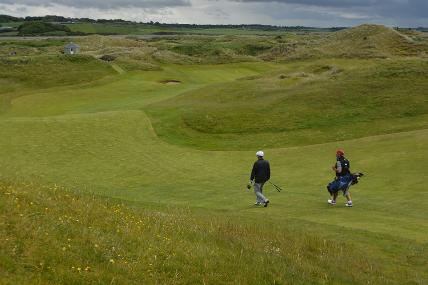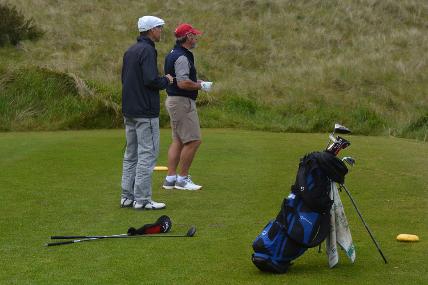 We can't say we never had blue skies, although things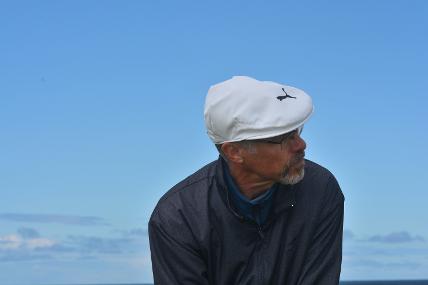 The massive dune bordering the 14th fairway (Valley of Diamonds) and the severely undulating (and huge) green.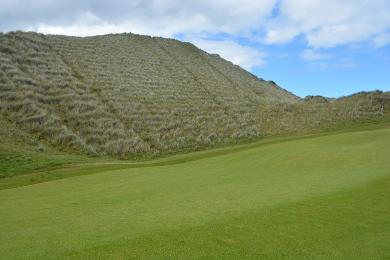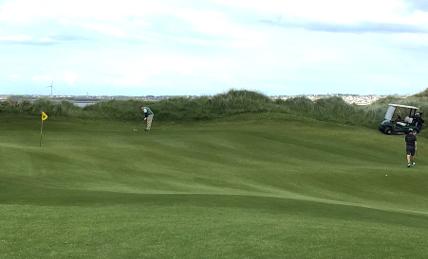 A message on the bench at the 15th tee, and Gilles doing precisely what is suggested.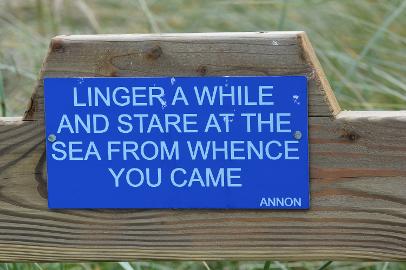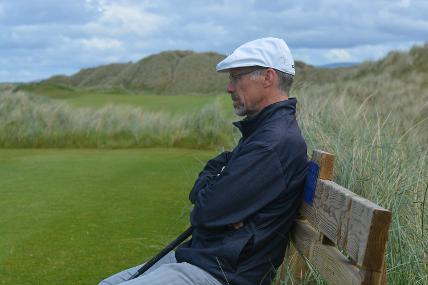 Behind the 15th tee (The Strand) with views out to the bay off of Enniscrone.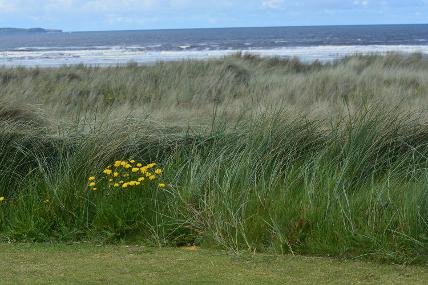 Ok perhaps staged but the fact is I did have my down jacket with me on the course, and I did wear the toque.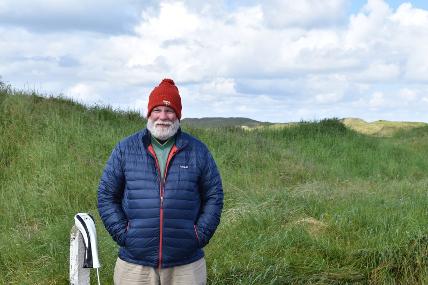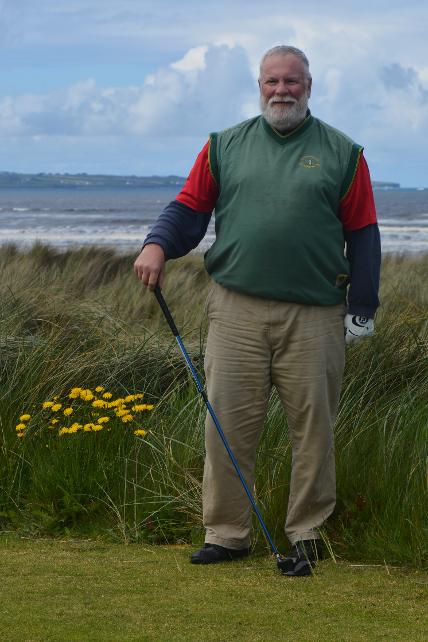 Someone appears pretty happy to be golfing in Ireland, and/or he just hit a great drive (I recall he did here on 16).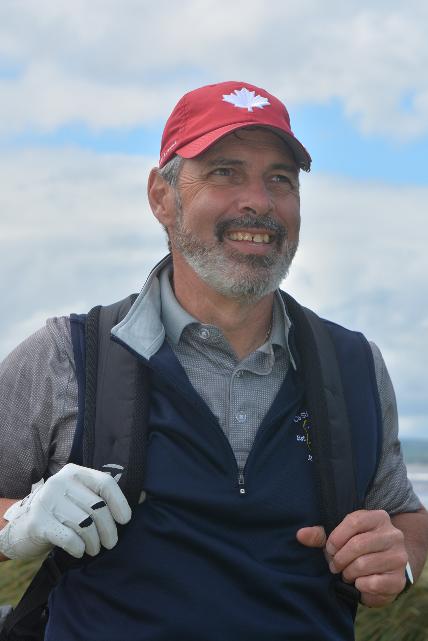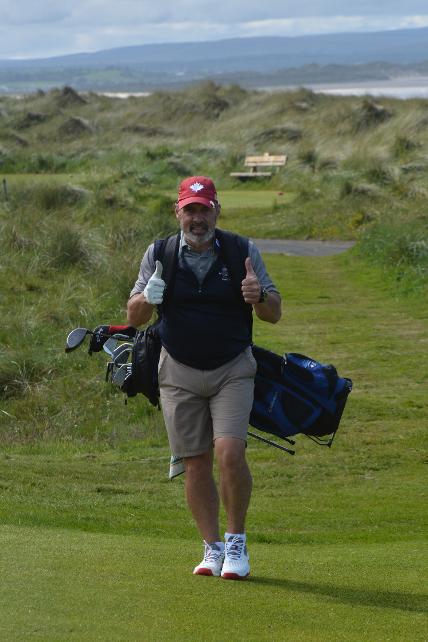 Second shot on the 16th - par 5 (The Long Bank) and approaching the green. Note Mike and Byron high on the dune about to tee off on the 17th.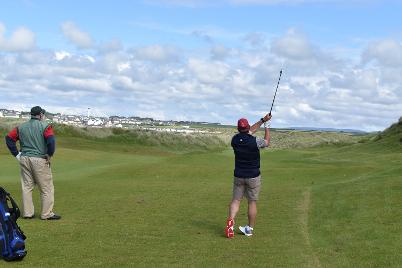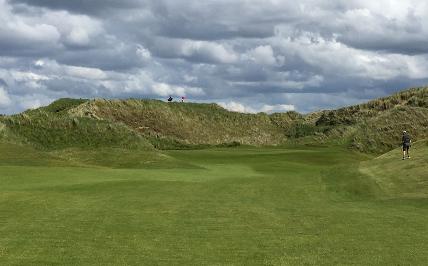 Better scoring today (nice round Byron) although most of us continued to be putting challenged by the large undulating greens.
| | | | | |
| --- | --- | --- | --- | --- |
| Enniscrone Links | Score | Putts | Pars | Penalties |
| | | | | |
| Byron | 92 | 33 | 6 | 0 |
| Guy | 99 | 37 | 4 | 7 |
| Norm | 101 | 35 | 2 | 2 |
| Gilles | 112 | 35 | 1 | 5 |
| Mike | 123 | 40 | 1 | 12 |
Views across the bay from the Waterfront Hotel.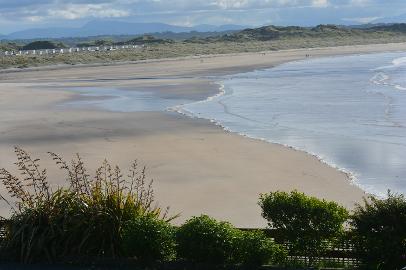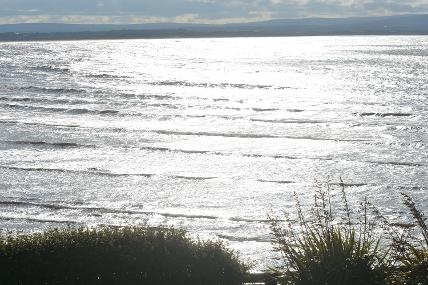 Mike very much enjoyed his gravlax (salmon) while the carrot and cumin soup received two thumbs up.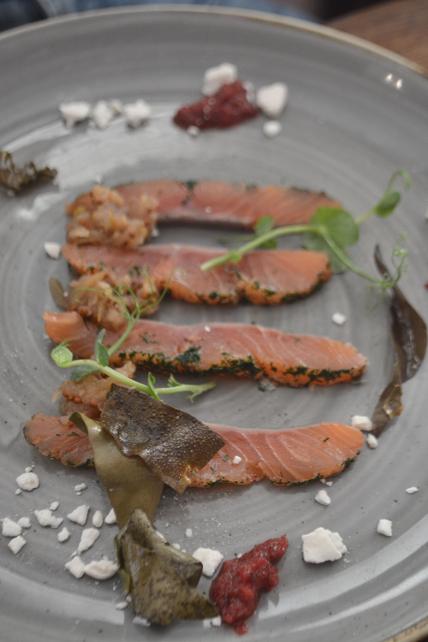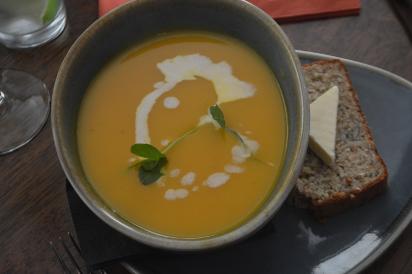 A delicious goat cheese salad.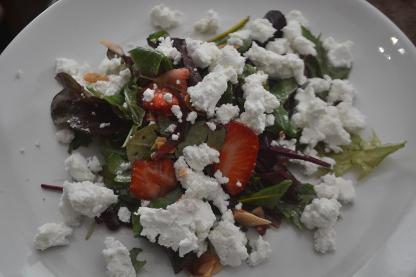 Guy raved about his duck, while a number of us had the signature seafood linguine.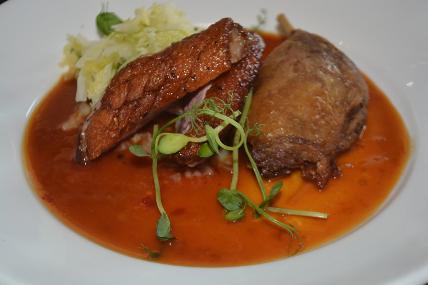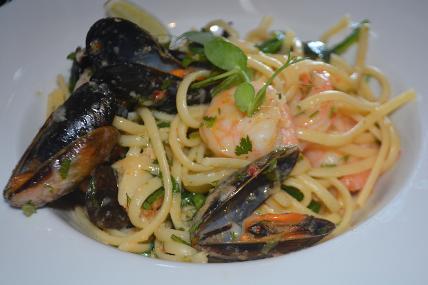 And tonight a very vibrant and colourful sunset, in part due to the ominous clouds.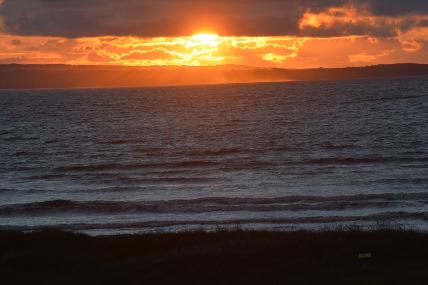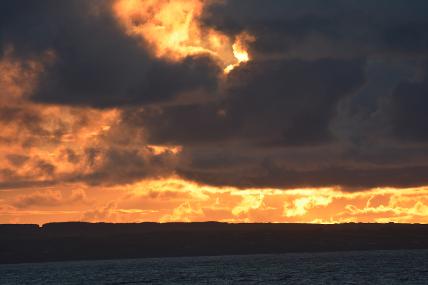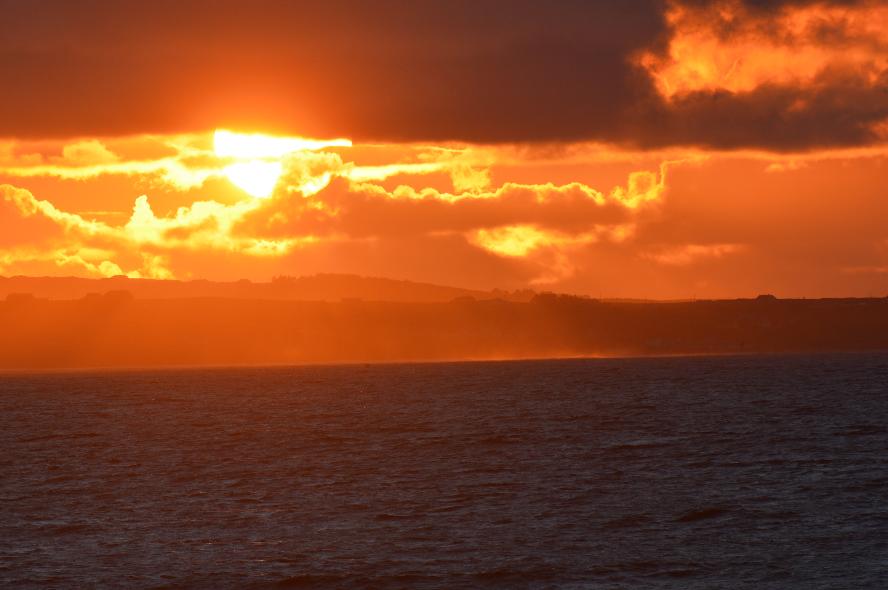 June 08, 2019 - Enniscrone to Belmullet and back to Enniscrone
Played Carne Golf Links (course opened in 1983) at the Belmullet Golf Club (founded in 1925)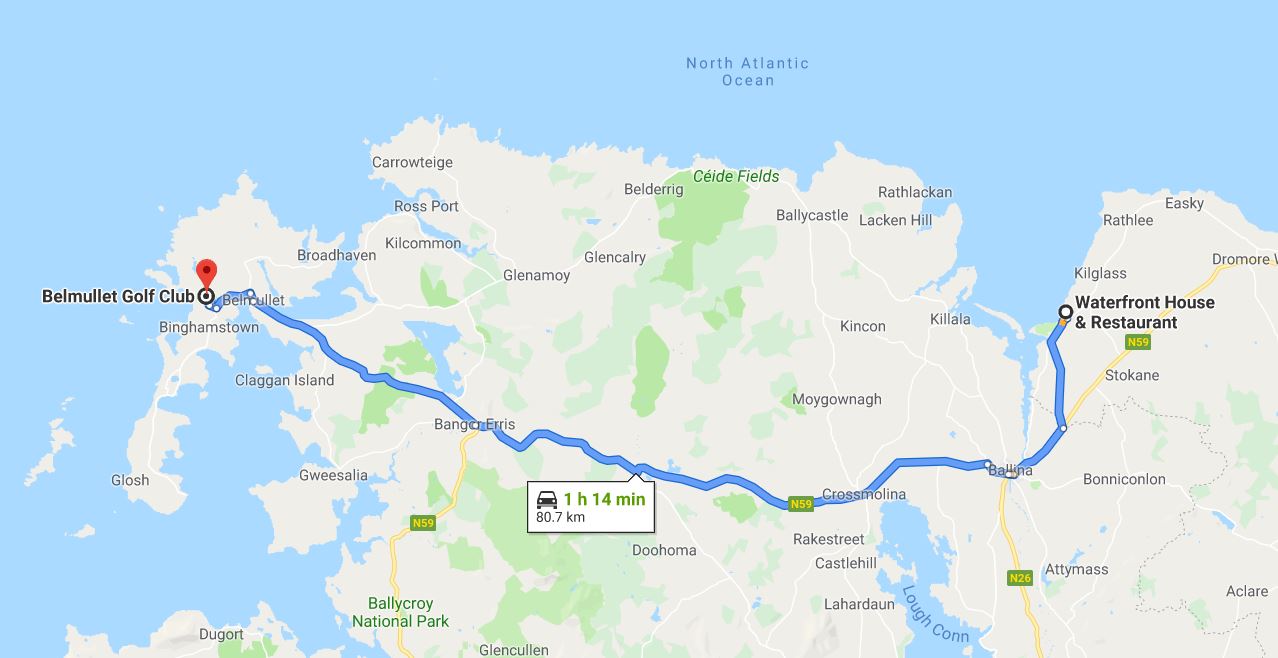 The Belmullet Golf Club was founded in 1925 with the club being a nine hole course a few kms down the road near Binghamstown. Carne Golf Links was the last links course to be designed by the well known Irish golf links designer Eddie Hackett. The first nine was opened in 1992 with the second nine coming on stream a year later. The links lies in magnificent unspoiled sand dunes overlooking Blacksod Bay. The front nine is somewhat more open and less dramatic than the back which is dominated by some massive dunes as can be seen on this video.
In 2013 an additional 9 holes (The Kilmore 9) were designed, weaving their way through the existing Hackett course. Recently opened we were welcome to play them at no charge. Bryon, Guy and Norm did while Mike and Gilles enjoyed a pint and a bite to eat. The holes are truly spectacular, each unto itself. Very similar to the Hackett back nine if ever they become better conditioned - they were still a bit rough (no pun intended) around the edges - they may replace the front nine to become a spectacular 18 holes, all within the dunes. Playing these holes provides not only golfing challenge but some breathtaking views over the Atlantic ocean and the islands of Inis Gloire and Inis Geidhe.
Immediately after the round we drove (the 1 1/4 hours) back to Enniscrone and shortly thereafter returned to Gilroy's for some more of the Canadian Open and then on to again eat at Ait Eile. We had the same server, Amie, who again was pleasurable and did a great job. The food was every bit as good as last night as we again enjoyed a wonderful meal.
Another hearty Irish breakfast and we were off for the 1 1/4 hour drive across the barren peat covered bogs of north-west Ireland to Belmullet and the Carne Golf Links.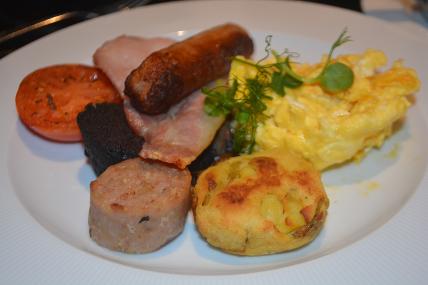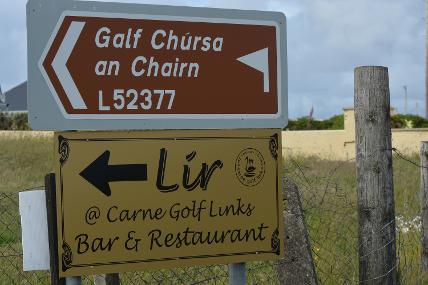 Smiles all round in spite of the cold overcast weather.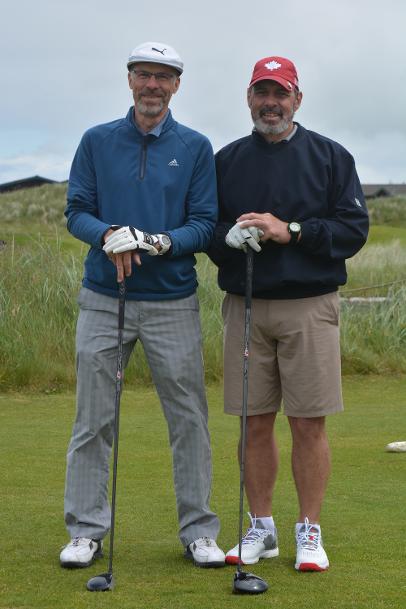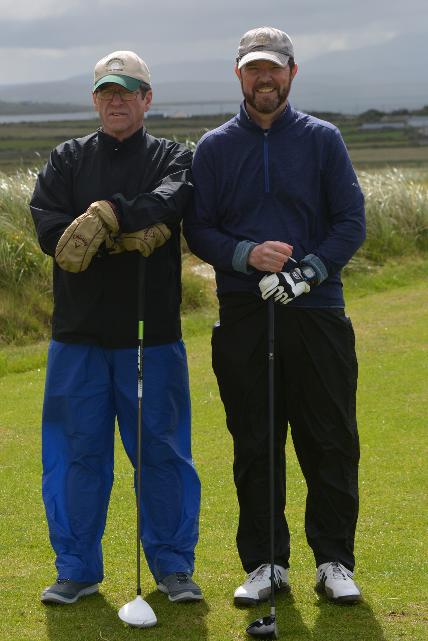 Leaving the 16th green on their way to #17.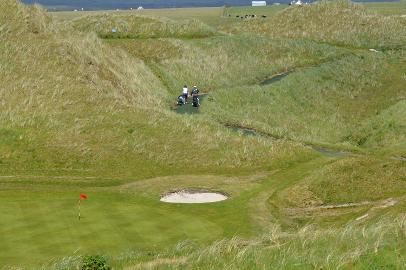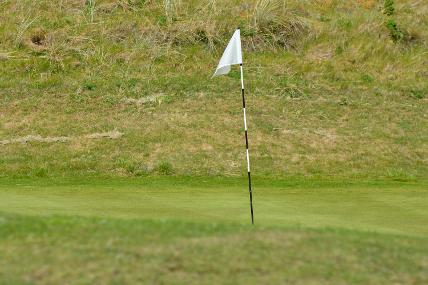 Mike in a place he rather would not be.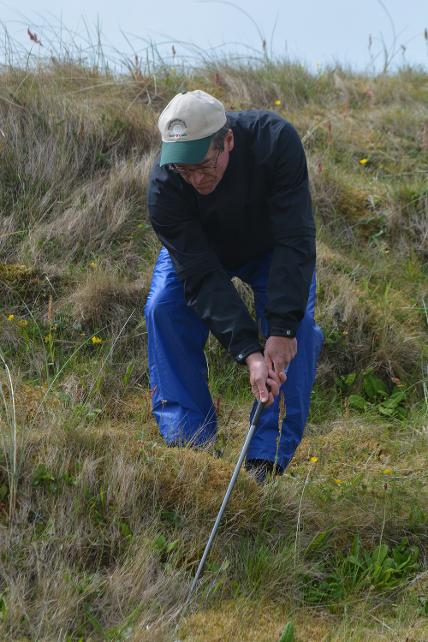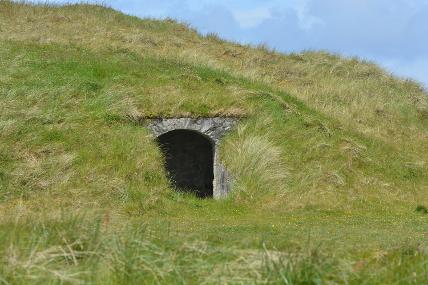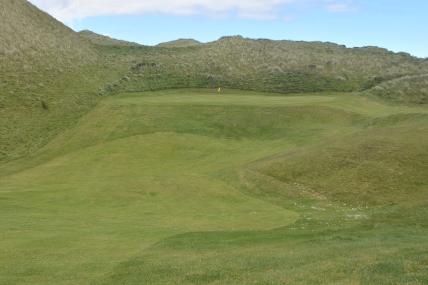 Teeing off on the short significantly down-hill sharp dogleg to the right par 4 11th hole.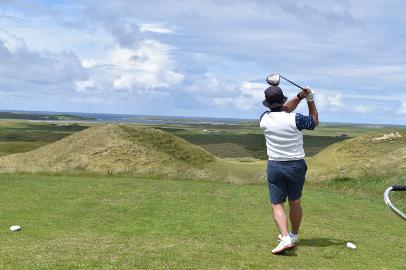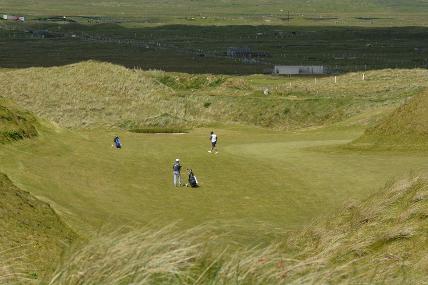 The par 5 13th to the right of which is Out of Bounds (I know) and a herd of cows.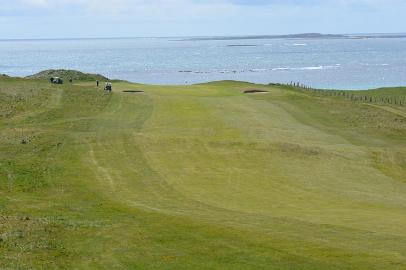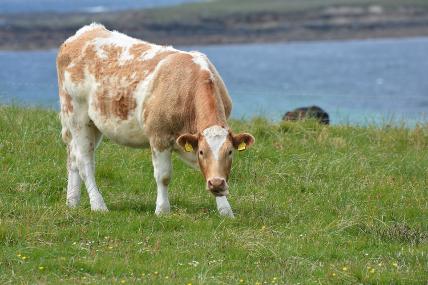 The 12th flag and the 14th tee - barren land in remote north-west Ireland - land not much more useful than for grazing animals and golf courses.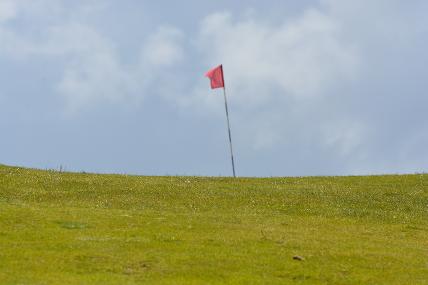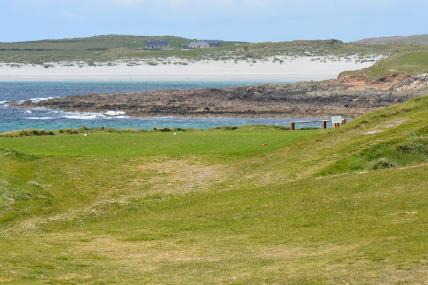 I'm not really sure where Byron and Mike think they are aiming but they no doubt know what they are doing.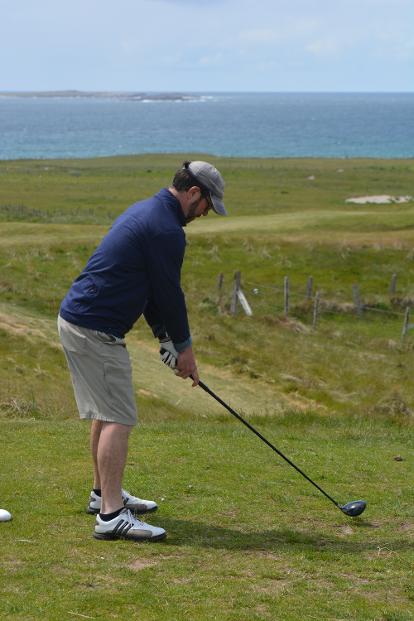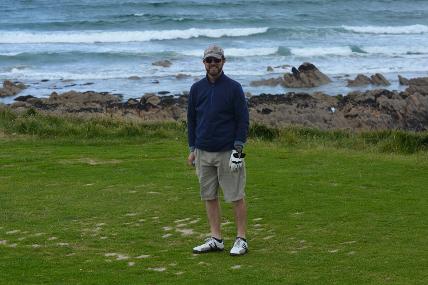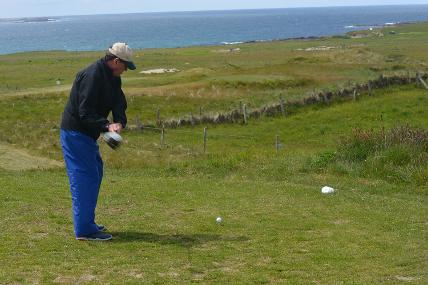 Gilles on the Hackett Course at Belmullet Golf Club, Carne Golf Links.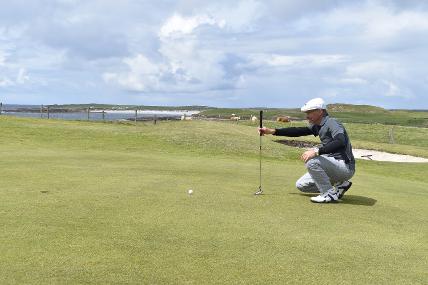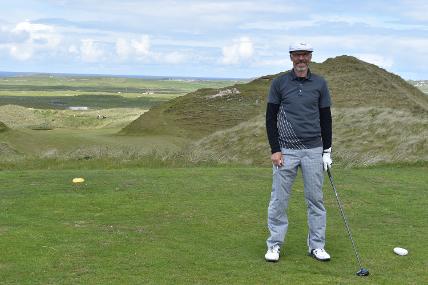 Teeing off high upon a dune well above the par 3 16th.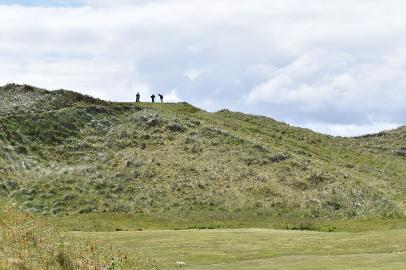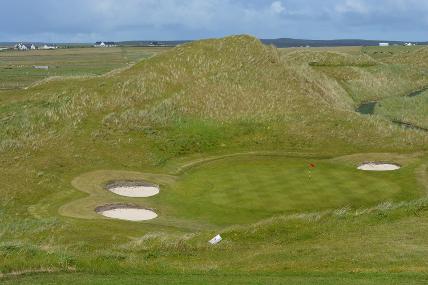 At times it was a cold blustery day as evidenced by the toques and Mike's hand warmers.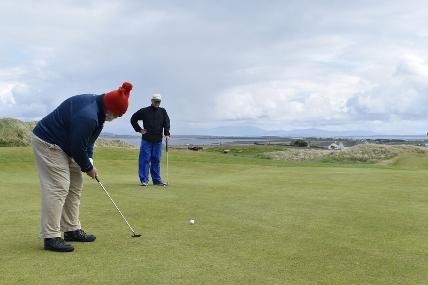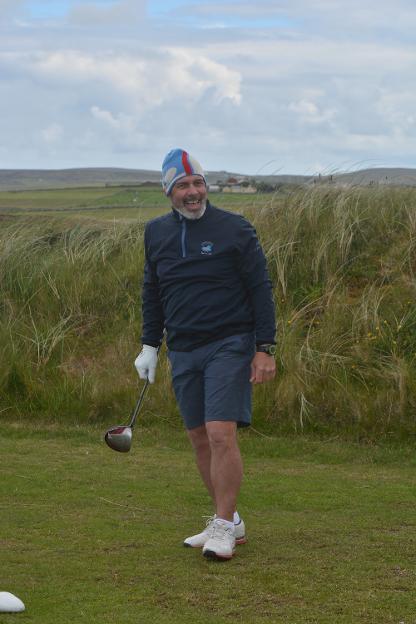 We were offered the opportunity to play the new Kilmore nine hole links, woven amongst the dunes of Belmullet for no cost. Mike and Gilles passed but Byron, Guy and Norm gave it a go. While still 'new' and therefore a bit rough in spots, like the Hackett Course it is beautifully designed with considerable elevation changes and stand alone holes that weave their way among the massive dunes. This will one day be a stand out links if properly developed. Below the beautiful par 5 5th hole winding through the dunes - a fair wide fairway but not one to be missed. Of note was that Guy parred every hole for which he kept score - all three of them!
... and yet again not where when wants to be.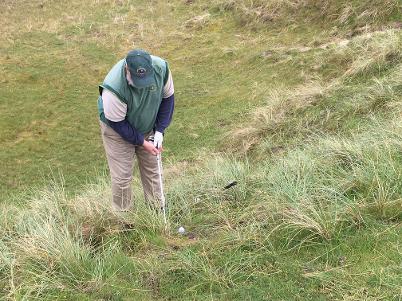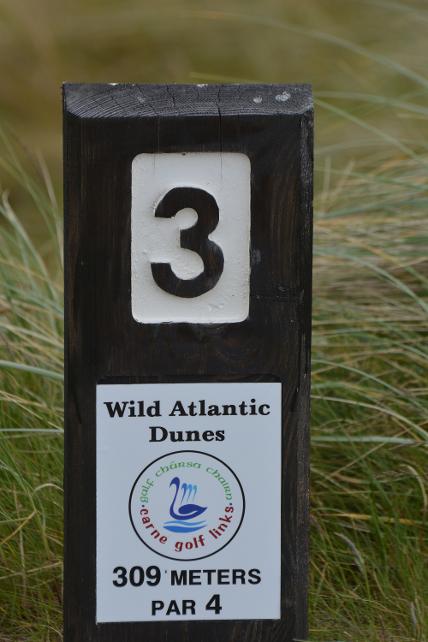 Today was our best scoring (based on average score) day of the trip, 0.4 strokes less than yesterday at Enniscrone.
Byron enjoyed a very steady round - only two pars but 11 bogeys. If not for his 40 putts he might have broken 90. Guy on the other hand was hot or cold. Five pars led the day but so did 11 penalty strokes. If only Guy could keep the ball out of the fescue, but I guess that's the consequence of hitting it so far. For them Gilles, Norm and Mike each had respectable rounds. Guy parred #6 and Norm dropped a 13' putt to par #15 to complete the goal of a par on every numbered hole. Unfortunately there were again no birdies today - leaving only one day to break the birdie less streak. Of note though was Gilles' 33 ft putt on #11 to save bogey.
| | | | | |
| --- | --- | --- | --- | --- |
| Belmullet / Carne | Score | Putts | Pars | Penalties |
| | | | | |
| Byron | 94 | 40 | 2 | 0 |
| Guy | 97 | 37 | 5 | 11 |
| Gilles | 105 | 36 | 0 | 3 |
| Norm | 107 | 35 | 2 | 4 |
| Mike | 122 | 34 | 2 | 9 |
"What's goin' on up the road. Jersey seems to be having some kind of priority on the road issue."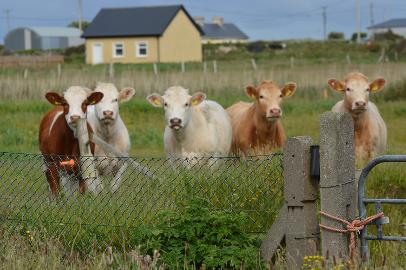 "Darn vehicles, don't they know we have somewhere to be?"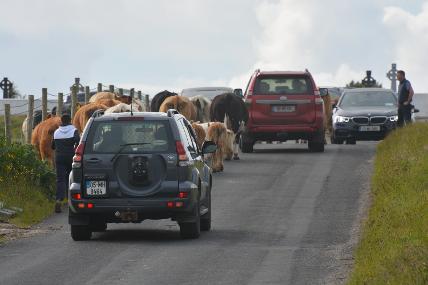 "'Moo've over. We have a late afternoon grazing time. Don't these people know we are needed to keep the fairways in such great shape?"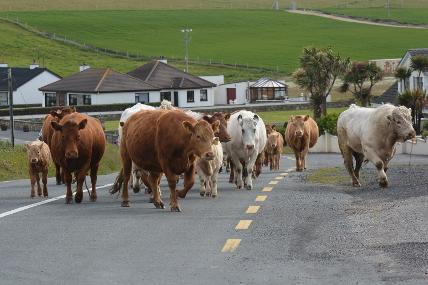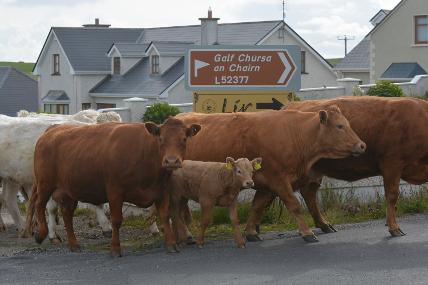 Last night it was a sunset; tonight the sun breaking through the clouds to spotlight the bay.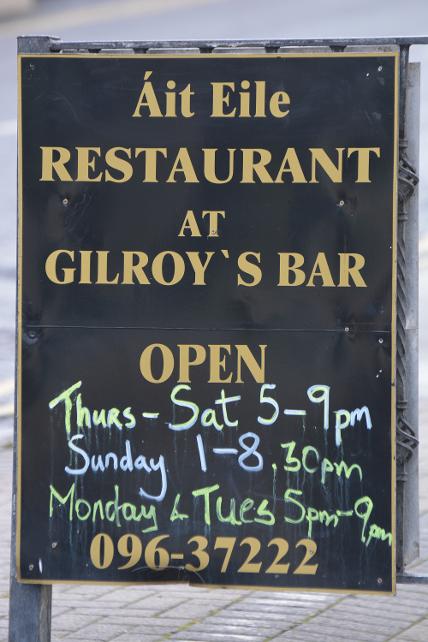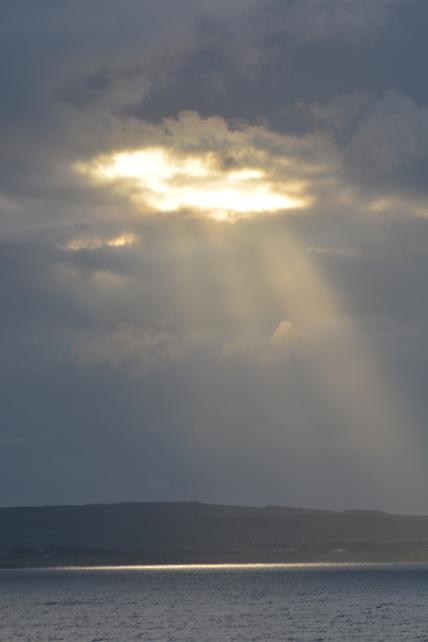 The soup last night was such a winner that it was re-ordered tonight and the side of veggies included potatoes, peas and a ratatouille.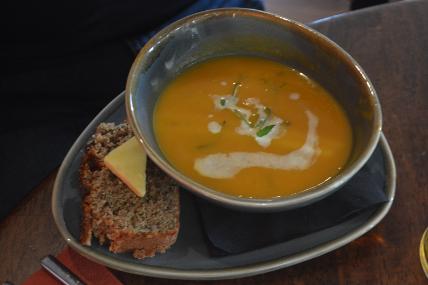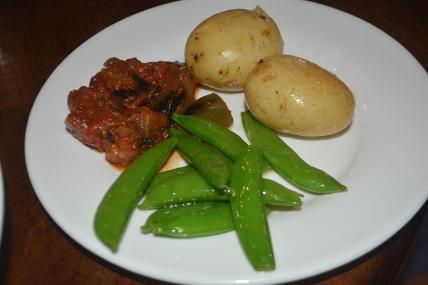 Tonight I ordered the duck and Guy was right - it was fantastic.
Some of the others enjoyed the scallops and shrimp.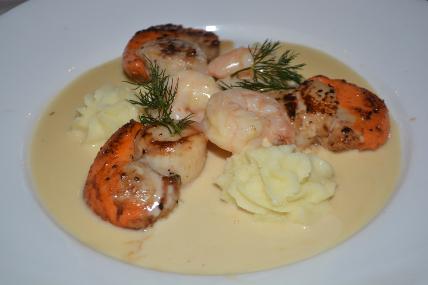 A chocolate brownie for dessert along with a cheesecake and for Mike a coffee with whiskey concoction.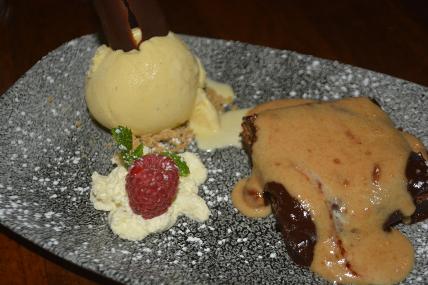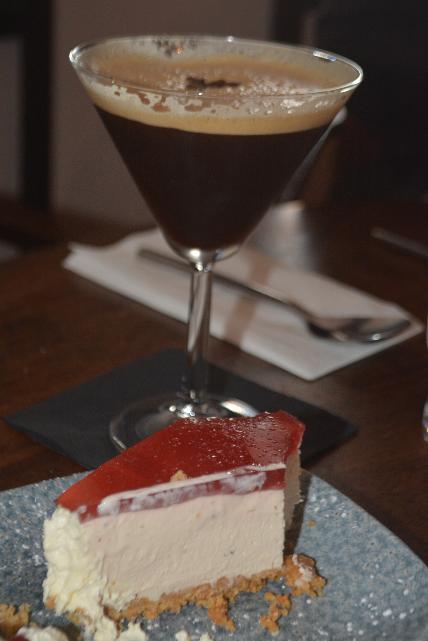 Gilles, our wonderful server Amie and Mike after another wonderful meal at Ait Eile.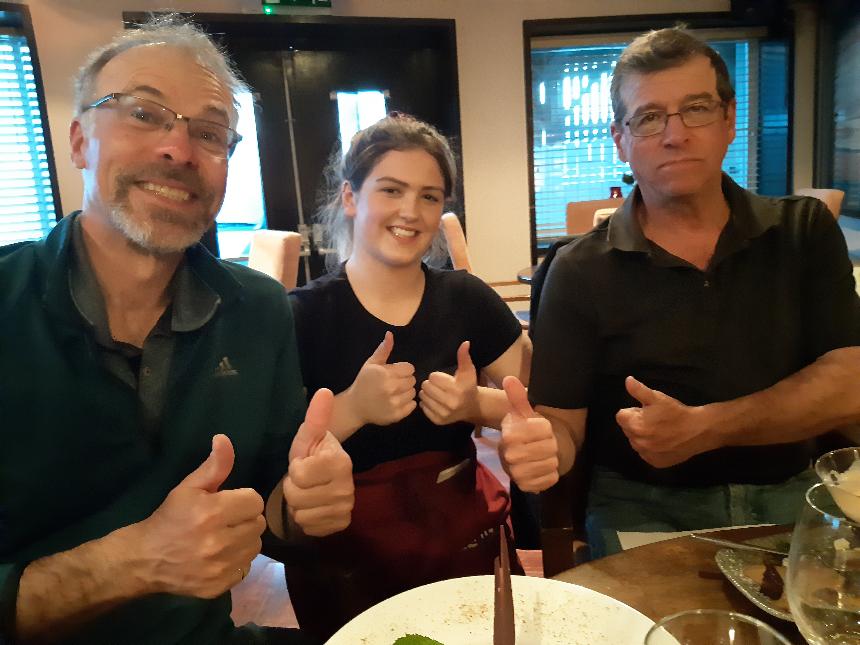 June 09, 2019 - Enniscrone to Mullingar
Again played Enniscrone Golf Links (club founded in 1918)
On the left the view from my room when I woke up. Then 1 hr 15 min later. Fortunately the weather cleared, returning more to the former, rather than the latter photo.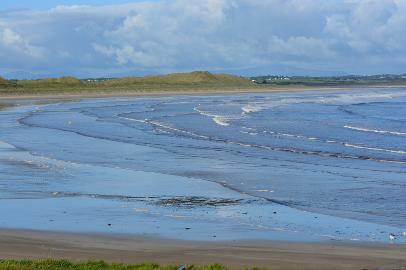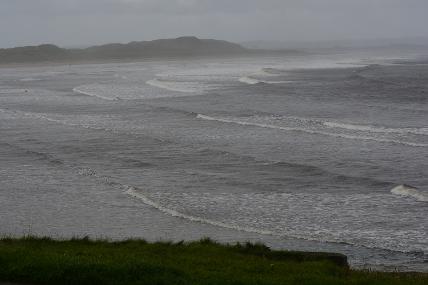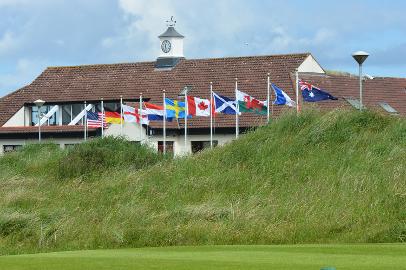 Byron teeing off on #9. Guy, well just posing.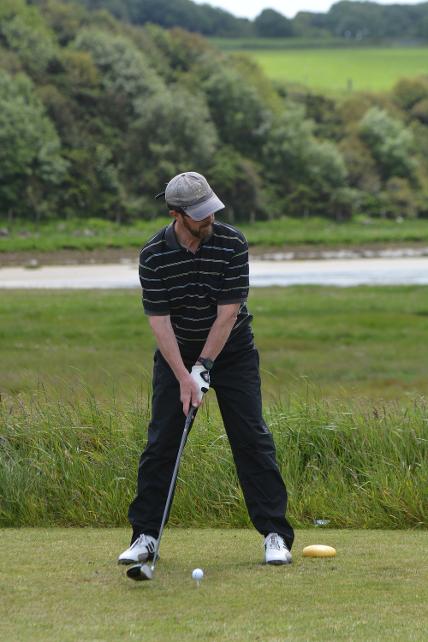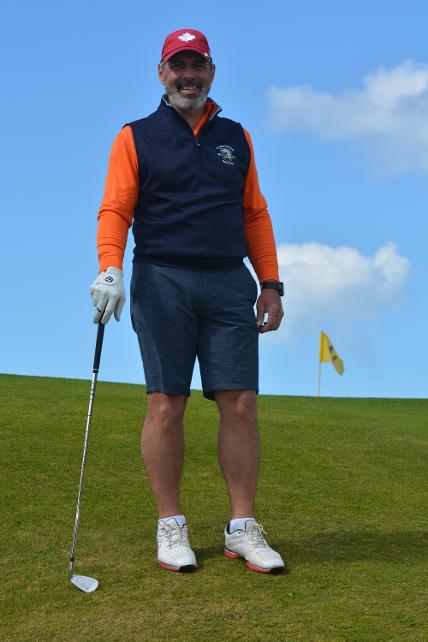 A fairway among the fescue and dunes.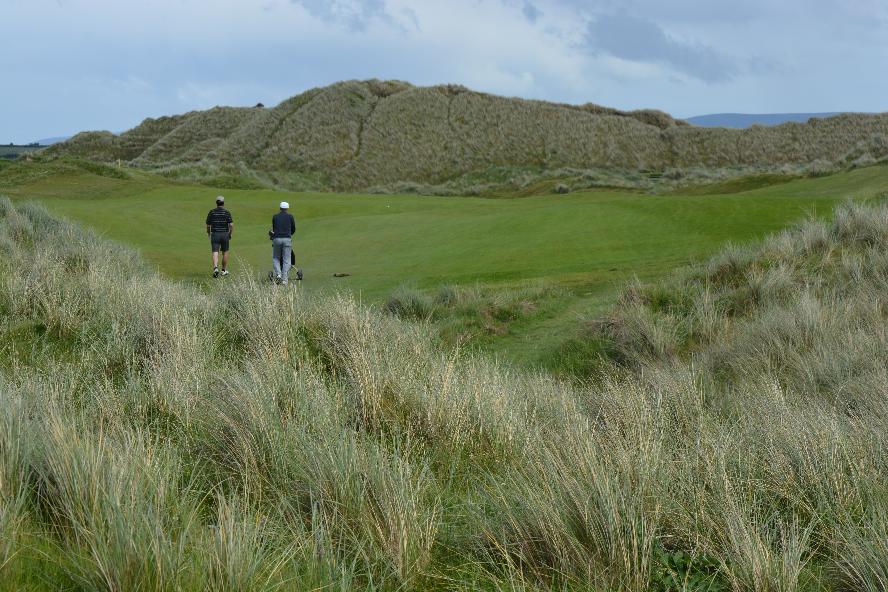 Gilles Gilles again. And yet again. And one more time.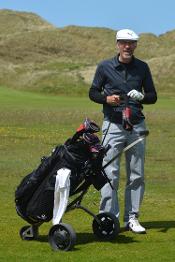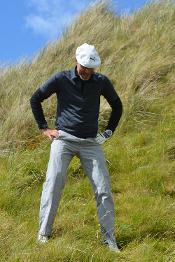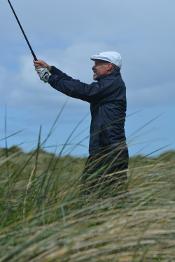 One of my favourite photos of the trip (thanks Gilles) - looking across the 16th green and down the fairway from high on a dune being the 17th tee box.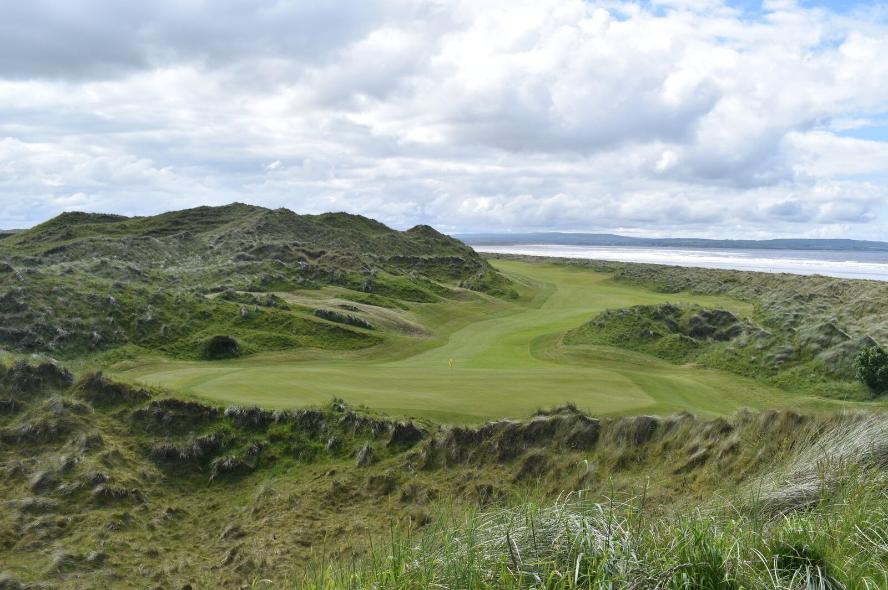 Norm trying to get up the steep bank of the 17th - he did but unfortunately rolled off and down the steep bank on the other side (insert sad face here).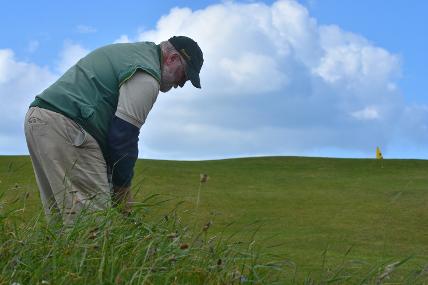 Guy and Mike teeing off on the 17th from high on a dune as seen from the approach to the 16th green.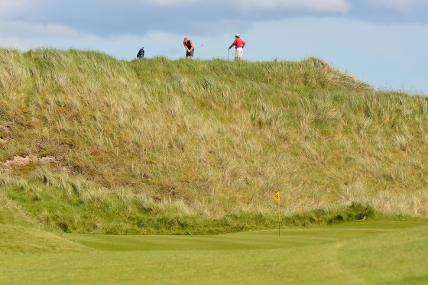 One would have thought playing Enniscrone a second time, in somewhat better weather and with course knowledge, we would have scored better then the other day. But no that was not the case. Guy and Mike did improve but Byron, Gilles and Norm - regrettably not.
Mike was propelled by his birdie on the 7th hole - Hacketts - a 533 yard par 5. Finally, on the last day someone had a birdie. Congratulations Mike! Also of note were Guy's three consecutive pars on the 11th, 12th and 13th, contributing to his six during the round.
| | | | | |
| --- | --- | --- | --- | --- |
| Enniscrone | Score | Putts | Pars | Penalties |
| | | | | |
| Guy | 94 | 34 | 6 | 2 |
| Byron | 105 | 37 | 1 | 9 |
| Mike | 115 | 35 | 2 + 1 birdie | 13 |
| Norm | 117 | 36 | 0 | 8 |
| Gilles | 119 | 34 | 1 | 12 |
.
After the round we had a quick bit to eat in the Enniscrone clubhouse. A darne of salmon for Norm and fish & chips for a couple of others.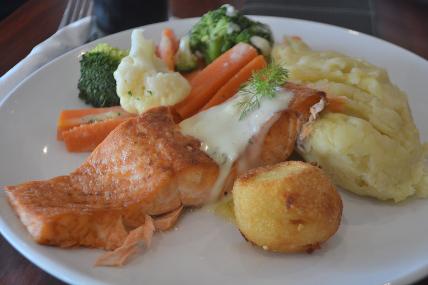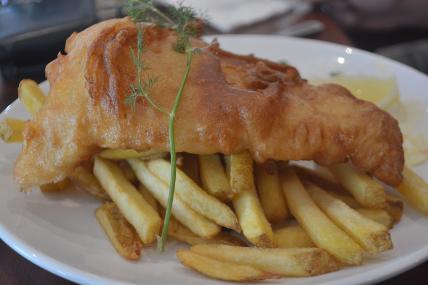 We then headed off for a two plus hour drive to Mullingar where we had booked a B&B, Malinstown Court for the night.
The plan was to get more or less two-thirds of the way to Dublin to allow time for breakfast and a shorter drive in the morning. The drive was straight forward and easy.
After checking in we went to a nearby hotel for one last round of drinks.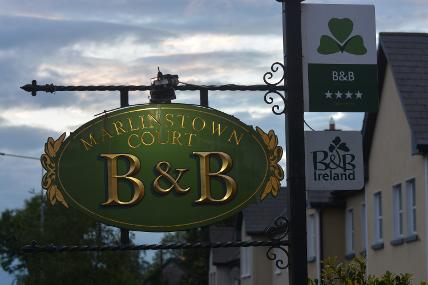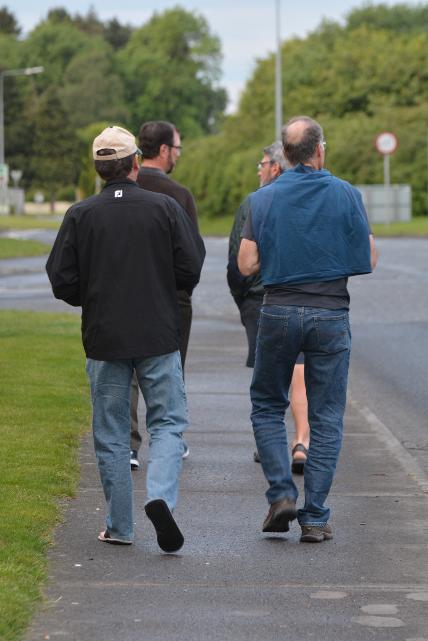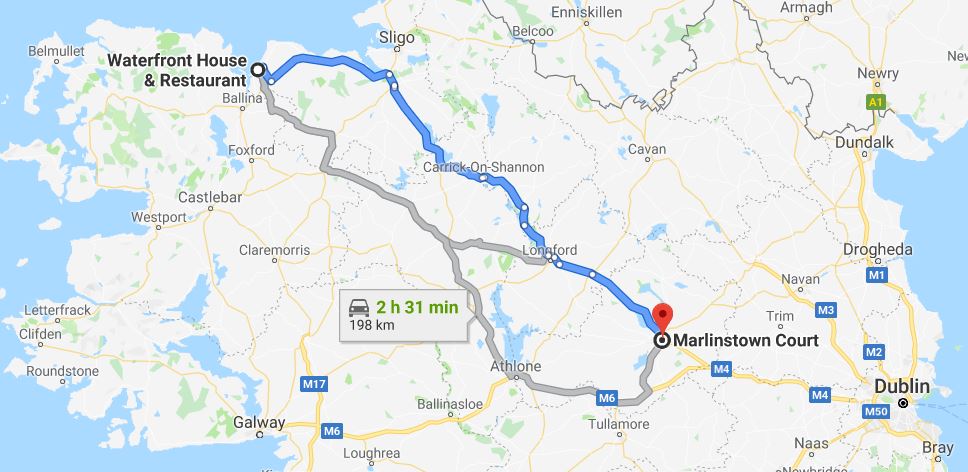 June 10, 2019 - Mullingar to Dublin Airport to Toronto to Home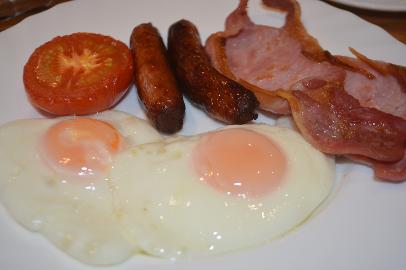 A last full Irish breakfast and we were off to Dublin's airport. Guy, Mike and Gilles left a bit before Byron and Norm as Gilles was on a different flight than the other four. No problems filling up with fuel and finding the airport. After returning the vehicles it was a shuttle to the terminal, check-in, board (our on time) flights and we were on our way home.
Castlerock's championship Mussenden links The 9 hole Castlerock Bann Course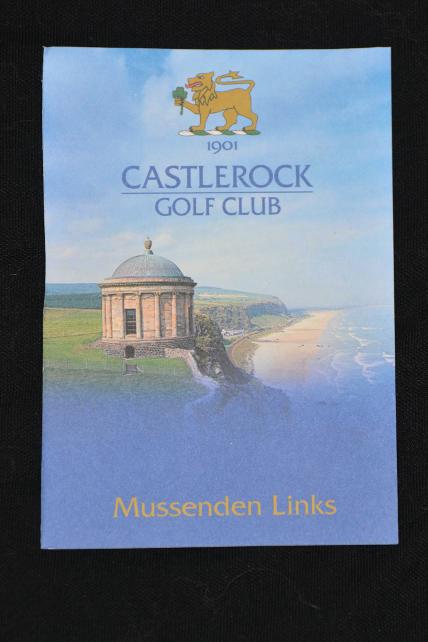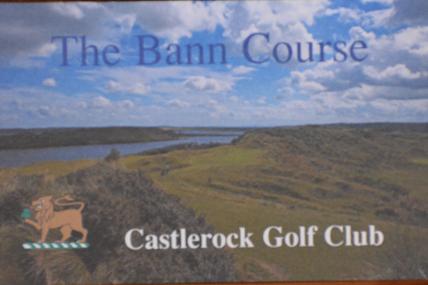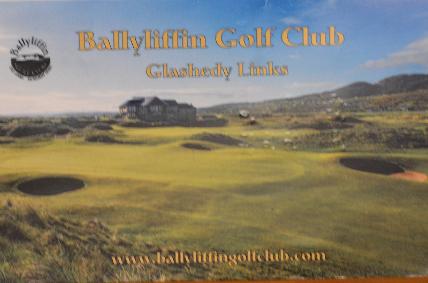 Portsalon Rosapenna's Sandy Hills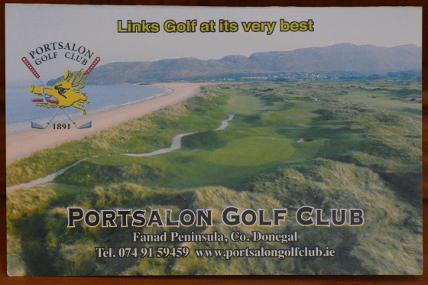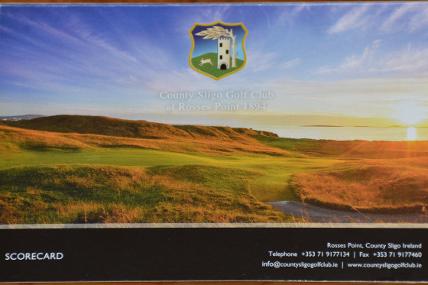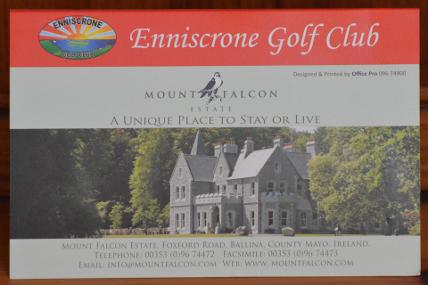 The Carne Golf Links at the Belmullet Golf Club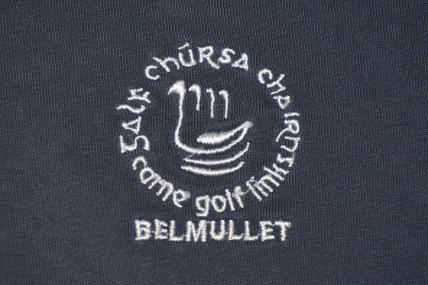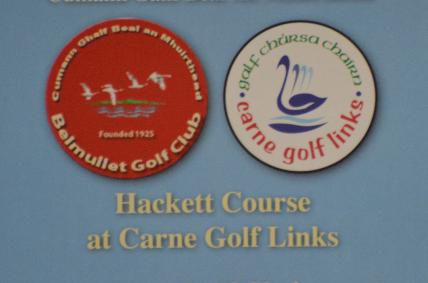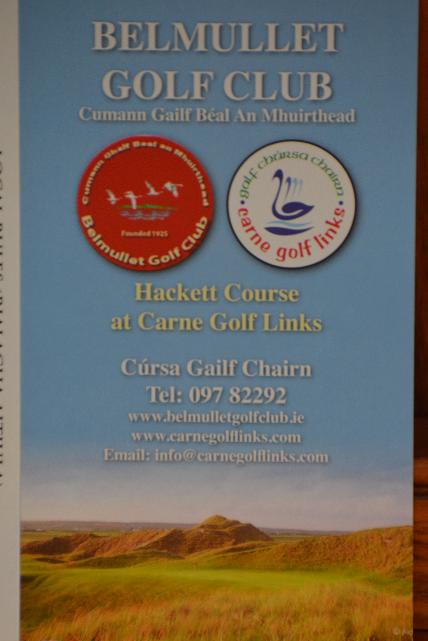 Before we get to the trivia quizzes first, similar to 2016 here are:
A bunch of possibly interesting but useless facts
based on all 46.00 rounds for which scores were recorded
Norm (9.00); Guy (8.67); Mike (8.50); Gilles (8.50); Byron (7.83) and Bernie (3.50)
Guy only recorded 3 holes on Carne's Kilmore 9 (perhaps not surprisingly all pars) and Byron only 6 holes
2016 provided for comparative purposes
2019 2016
Number of strokes 5,043 6,180
Yards played 290,674 371,909
Rounds played 46.00 59.28
Average score per hole 6.1 5.8
Average length of hole (yards) 351 348
Best ball 63 56
Worst ball 189 199
Birdies
Par 3s 0 1
Par 4s 0 4
Par 5s 1 2 + 1 eagle
Pars (with birdies = 2 x par)
Guy - 36 Byron - 26 Bernie - 9 Gilles - 9 Mike - 8 Norm - 8
Most consecutive pars / birdies / eagles
Guy - 3 - Enniscrone (June 9th) holes 11 through 13
Total amount spent on green fees (at an average exchange of $1.55 euro)
2019 $ 7,506.07 an average of $163.18 per round
2016 $11,844.38 an average of $199.80 per round
Average score (excluding Bann and Kilmore) with 2016 for comparison
Bryon - 97.1 Guy - 102.6 Bernie - 109.0 Gilles - 110.5 Norm - 115.5 Mike - 123.0
Byron - 96.7 Guy - 99.4 Norm - 107.6 Mike - 115.1
Average recorded (given the 'gimme') putts with 2016 for comparison
Byron - 34.0 Gilles - 34.8 Guy - 34.9 Bernie - 35.3 Norm - 36.5 Mike - 38.5
Byron - 34.2 Guy - 34.6 Norm - 34.2 Mike - 38.0
Penalty strokes (average per round) with 2016 for comparison
Byron - 3.1 Bernie - 3.3 Gilles - 5.4 Norm - 6.3 Guy - 9.0 Mike - 11.8
Bryon - 3.1 Norm - 3.9 Guy - 7.6 Mike - 8.3
Over the years I have purchased quite a number of golf shirts at the links. Here are their logos.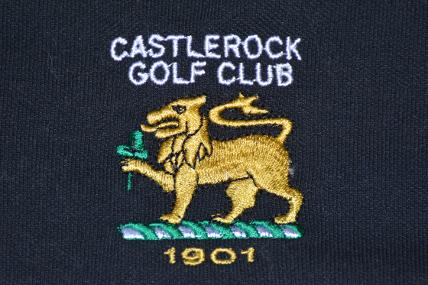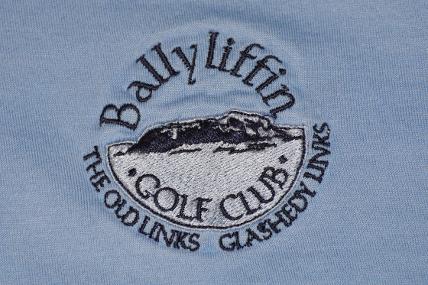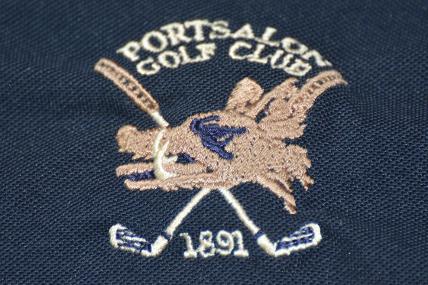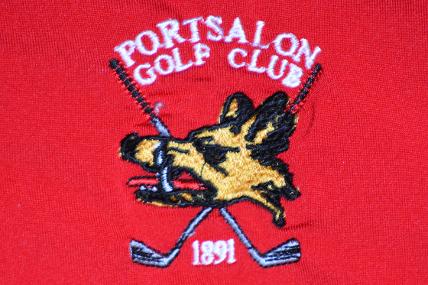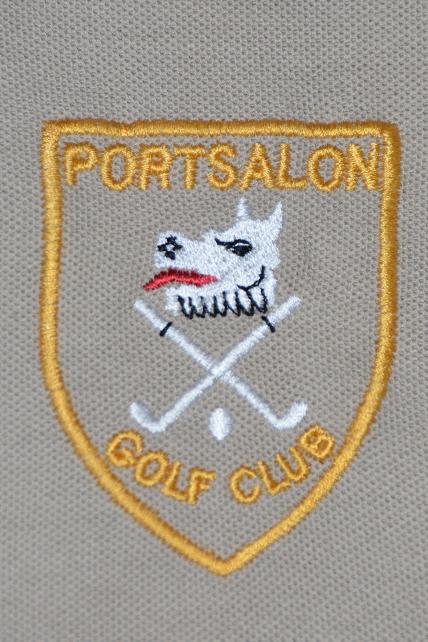 True or False?
1. Unlike the nine (9) four putts last trip (2016) there were no recorded four putts this trip.
2. The longest stretch of consecutive par 4s was five - holes 8 through 12 at Ballyliffin.
3. At every links played, including Bann and Kilmore hole #6 was always a par 4.
4. The longest par 4 was longer than the shortest par 5? Hint - the answer is the same was in 2012 and 2016.
5. 22.5% or more than 1 in 5 the par 4s played were 400 yards or longer.
6. In no case did a par 3 open or close the round, i.e. holes 1 and 18 were never par 3s.
7. We only played from the blue tees once - at Rosapenna Sandy Hills.
8. Excl Bann and Kilmore the closing hole #18 had the greatest total yardage (3,156 yards).
9. Guy had the most consecutive holes with at least 1 penalty stroke - 5 at Sandy Hills from the 4th through 8th.
10. Byron (three times) and Guy (twice) were the only ones to have rounds with no recorded three putts.
11. Excl. Bann and Kilmore the longest par 5 was > 100 yards longer than the shortest par 5.
12. Excl. Bann and Kilmore both the shortest and longest par 3s were the 13th hole on their respective links.
13. We had more pars on the front nine (40) than the back nine (38).
14. There were three recorded zero putts.
15. Both Guy and Mike had at least one penalty stroke on every hole.
16. The hole with the most penalty strokes was #16 with 31 while both holes #5 and #14 had the fewest with 4
17. Mike was the only one to hit a green in regulation at Rosapenna Sandy Hills.
18. There were four pars on one hole.
19. The average score per hole was 6.09, comprised of 3.75 strokes, 1.94 putts and 0.40 penalty strokes.
20. We had twice as many quadruple bogeys during Round 2 at Enniscrone versus Round 1.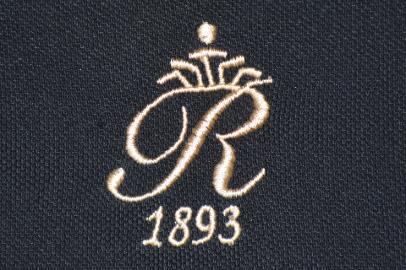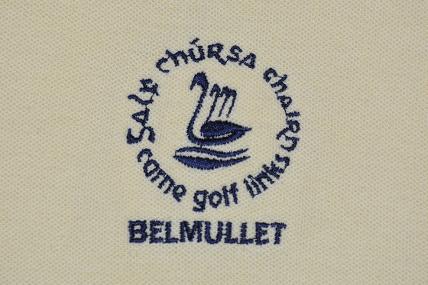 Multiple choice (and without reviewing any of the above to research)
Questions excluded Castlerock Bann and Carne Kilmore links
1. An easy one to start - how many of the clubs did we play were founded in the 1800s?
a) 2
b) 3
c) 4
d) 5
2. Excluding Bernie the players with the most and least Greens in Regulation were
a) Byron and Norm
b) Guy and Gilles
c) Guy and Mike
d) Byron and Mike
3. It should not surprise anyone the most penalty strokes (average for those playing) was Sandy Hills (12.2). What links was second at 9.2?
a) Castlerock
b) Ballyliffin
c) Portsalon
d) Carne
4. What was the longest and shortest par 4s
a) 17th at Carne and 13th at Enniscrone
b) 2nd at Portsalon and 12th at Sandy Hills
c) 7th at County Sligo and 2nd at Castlerock
d) 9th at Portsalon and 2nd at County Sligo
5. The easiest (and yes these were the four easiest) hole based on our total score to par was
a) the 303 yard par 4 13th hole at Enniscrone (round 1)
b) the 303 yard par 4 13th hole at Enniscrone (round 2)
c) the 164 yard par 3 3rd hole at Enniscrone (round 1)
d) the 152 yard par 3 13th hole at County Sligo
6. The most difficult (and yes these were the four most difficult) hole was
a) the 379 yard par 4 13th hole at Castlerock
b) the 415 yard par 4 15th at Ballyliffin
c) the 475 yard par 5 8th at Sandy Hills
d) the 400 yard par 4 9th at Sandy Hills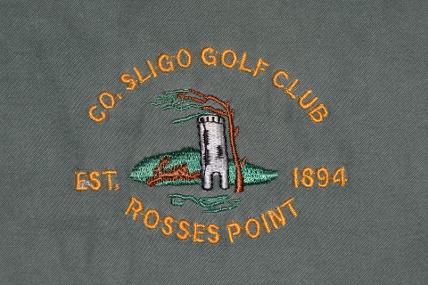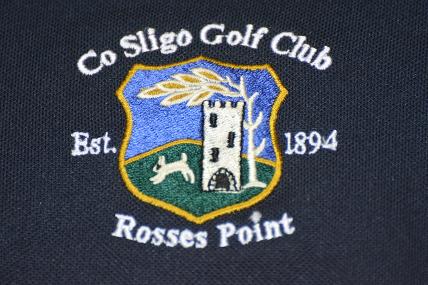 Multiple choice (continued)
7. Of course you would expect the most quadruple (or worse) bogeys to have been at Sandy Hills and you would be correct - we had 21. Excluding Bernie the second most was 17 at
a) Castlerock
b) Ballyliffin
c) County Sligo
d) Enniscrone (Round 2)
8. Excluding 'recorded' putts and penalty strokes, how many shots did we collectively take?
a) 2,512
b) 3,105
c) 5,043
d) too many
9. The cost per ball struck (including putts (incl. gimmees as a ball struck) but excluding penalty strokes) was
a) $1.49
b) $1.59
c) $2.01
d) $2.42
10. Our best best ball (80) and our worst worst ball (160) were at:
a) Carne and Castlerock
b) Enniscrone (round 1) and Sandy Hills
c) Portsalon and Sandy Hills
d) County Sligo and Ballyliffin
11. Norm dropped how many feet of putts (keeping in mind 56 of his 162 holes were recorded as 0 ft, i.e. < 6 inch tap ins)?
a) 248
b) 297
c) 375
d) not enough
12. We know the 6th and 15th holes had the fewest pars with only one each. Which hole had the most? And a bonus point if you know how many.
a) 2nd
b) 3rd
c) 12th
d) 13th
Answers available only through emailing moosehead@accesswave.ca