Memories of Costa Rica:
Another wonderful trip to Costa Rica with a number of wonderful memories, including:
the abundance of wildlife, including sloths, monkeys and many colourful birds
the monkeys in the trees and jumping on the building roofs at Jardin de Los Monos
Gayle getting up and out before sunrise on a regular basis to hear the howler monkeys and birds
breathtaking sunsets
the boa constrictor in the tree just outside our cabin at Casa Horizontes
the wonderful travelers we met along the way
Filip (Las Nubes) and Kathleen's (Casa Botania) meals
our open air Cabina experience at Las Nubes
the meals (steaks and pizzas) at El Express del Pacifico
the stunning views from our platform / terraces at Las Nubes, Casa Horizontes, Casa Botania and Villas Alturas
the Alturas Wildlife Sanctury, in particular the sloths and capuchin monkeys
seeing the sloth stretch and move in the coconut palm at Jardin de Los Monos
our wonderful hosts, especially Filip, Fabiola, Rosie, Reinaldo, Kathleen, Pepe and Lettika
Playa Matapola (and other) beaches
the hippie vibe of Dominical (and the Envision Festival)
the flat tire on the drive out from Drake Bay
donating beanie babies to the Drake Bay school and Casas de la Alegria in San Vito
our tour of the Drake Bay elementary school
the heat (normally 33 C / 34 C but as high as 38 C) and humidity and the pools to cool off
hot beach sand, so much so it scorched our feet
hammocks (for Gayle)
the lush vegetation
chatting with Jasmin at Rancho Alto Cielo
the nice meals at restaurants in Ojochal
hiking through the jungle to Playa Tortugo from Villas en el Bosque, seeing monkeys on the way
ocean side dinner at Por, Que No
Gallo Pinto for breakfast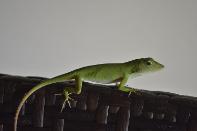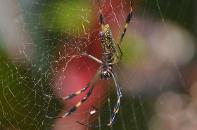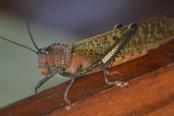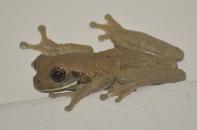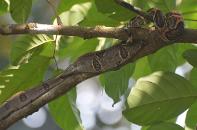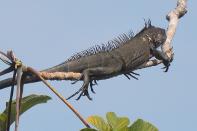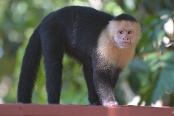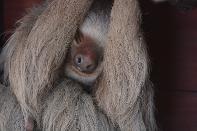 A butterfly and a variety of birds.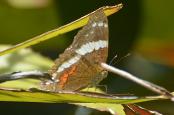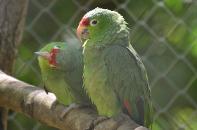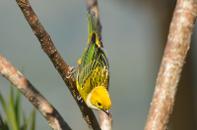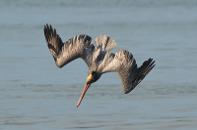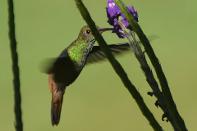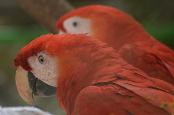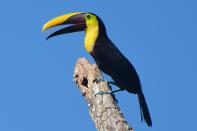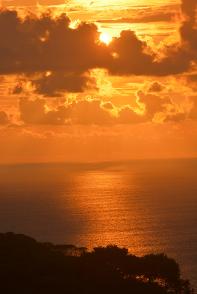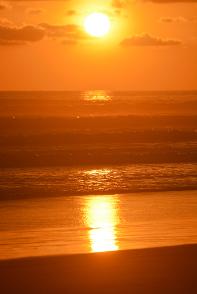 Being on the west coast we were treated to a number of spectacular sunsets over the Pacific Ocean.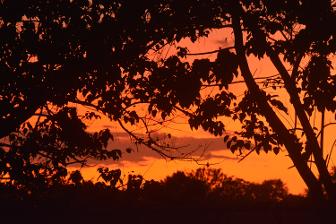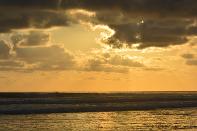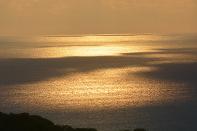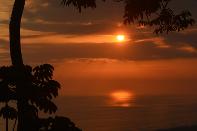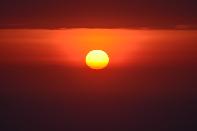 Expenses (based on average exchange rate 1 US$ = $1.35 Cdn):
Here are the costs of our trip:
$ 1,466 airfare
$ 4,861 lodging ($203 Cdn $ per night)
$ 1,759 food ($73 per day - dinner etc. including wine as breakfasts are included in lodging)
$ 1,412 vehicle ($1,283 or $53 per day for the vehicle plus fuel of $129)
$ 46 souvenirs
$ 247 miscellaneous ($171 - mainly tips) and entrance ($76 - Alturas Wildlife Sanctuary)
$ 9,791 for 24 days
The average cost per day excluding airfare and souvenirs (lodging, food, entrances, vehicle and miscellaneous) was $345, comparable to last year's trip.
$383 in 2017 (17 days)
$410 in 2018 (5 days)
$325 in 2019 (19 days)
One observation is the relatively expensive food in Costa Rica. One might expect in a Central American country food to be cheaper than here in Canada. While there is the option to eat at less expensive local 'sodas', prices in restaurants and even supermarkets are generally comparable to Canadian prices.
Lodging ranged from a low of $77 US$ to a high of $215 US$. Both included breakfast. Here is a list of where we stayed, the amount we paid and a link to their website.
$ 153 Hampton Inn Alajuela
$ 77 Eden Atenas Atenas www.edenatenas.com
$ 215 Las Nubes Matapalo www.lasnubescr.org
$ 141 Villas el en Bosque Playa Tortuga www.villaselenbosque.com
$ 154 Casa Horizontes Drake Bay www.casahorizontescorcovado.com
$ 85 Casa Botania San Vito www.casabotania.com
$ 130 Jardins de Los Monos Playa Matapalo www.jardindelosmonos.com
$ 195 Villas Alturas between Dominical and Uvita www.villasalturas.com
$ 77 Eden Atenas Atenas www.edenatenas.com
As is our practice we communicate and book directly with each place, and in doing save the establishment the booking commission and are known to the staff when we arrive.
Two final observations if visiting Costa Rica:
rent a 4 x 4 SUV, and
never arrive at a place at night - ok to return from a restaurant but don't drive an unfamiliar road at night
And as they say throughout Costa Rica ... Pura Vida! (the Pure Life)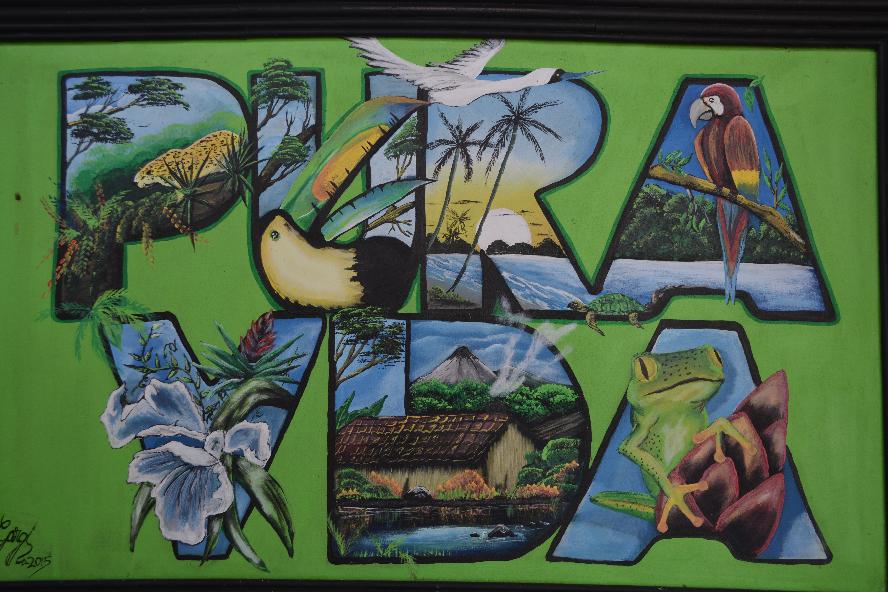 February 28, 2020 - Villas Alturas to Eden Atenas
February 29, 2020 - Eden Atenas to San Jose airport to Halifax
Unusually, I was up early enough to catch the sunrise - not as impressive as the sunsets but nice just the same. We then had our last breakfast at Villas Alturas, sharing a Gallo Pinto and a burrito - both of which we enjoy.
The drive to Atenas was more or less three hours - a bit longer with a couple of short stops including one at Playa Hermosa to stretch our legs. The black sand beach was extremely hot as the temperature rose (at least as measured in our vehicle) to 37 C.
Rather than go out for dinner we decided to pick up some bread, tomatoes, cheese, a small watermelon and some drinks to make a couple of sandwiches to eat at our B&B. It was easy and stress-free. Our last stop was Eden Atenas, where we stayed three weeks ago. It is ideal in being in a rural setting, inexpensive while only 45 minutes from the airport. We enjoyed another nice breakfast after which we were off. The drive was easy as was returning our rental vehicle. We were shuttled to the airport where we found our flight (through Newark with a connection to Halifax) was delayed. In fact it departed over an hour late, arriving in Newark with less than an hour to make our connection. United did a great job asking others to remain seated while those with tight connections deplaned first. Even with that we had to go through immigration, retrieve our luggage, then through customs, back through security and finally find our gate - which of course was at very end of the terminal. Some tense moments but we made it - with a few minutes to spare, as boarding had begun. Then we sat at the gate for half an hour before pushing back but in the end made it to Halifax more or less on schedule.
Even I was up early enough for sunrise this morning.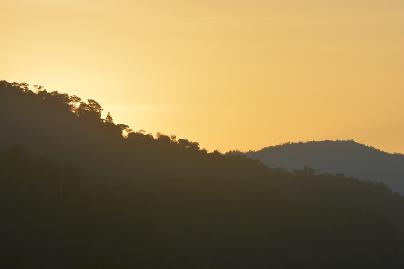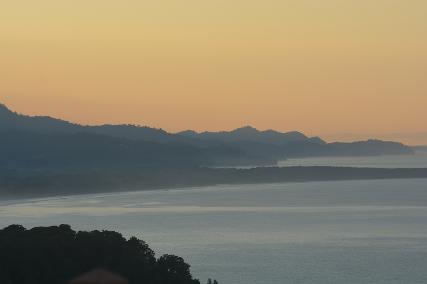 Our last Gallo Pinto breakfast. And no this fellow (or gal) was not a breakfast option.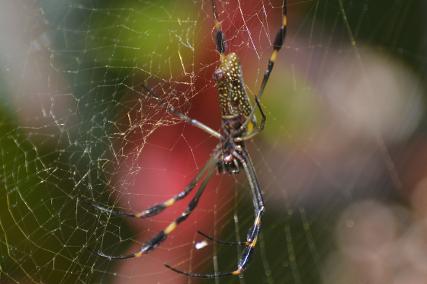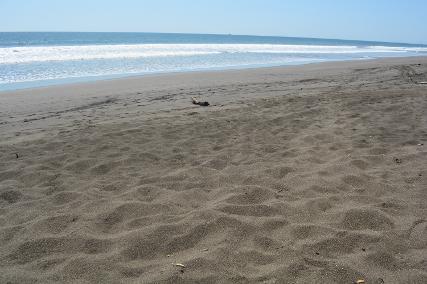 Looking north along the coast line.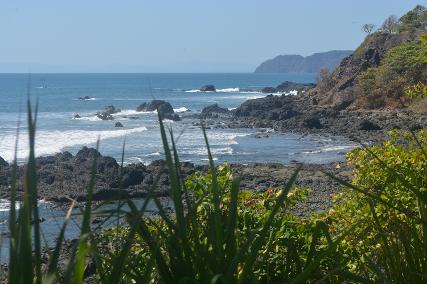 Coconuts. A young fellow (Dilan) at a fruit stand we stopped at.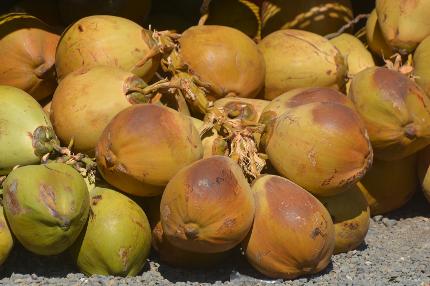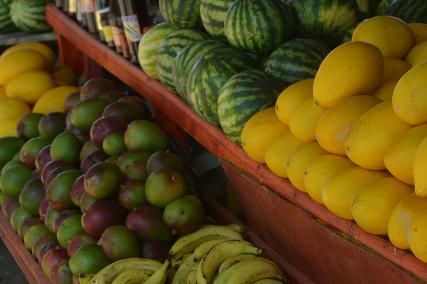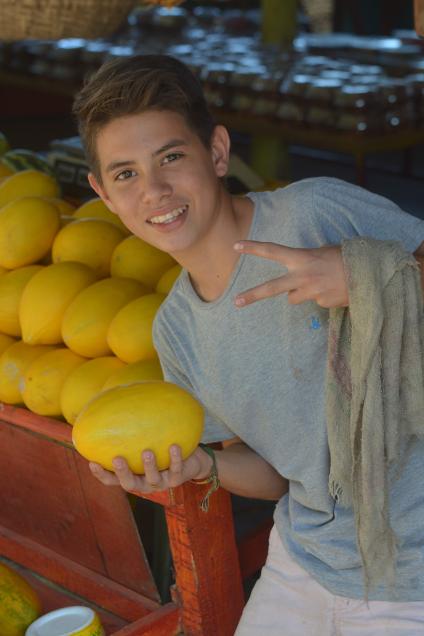 Eden Atenas' pool and one of their friendly dogs. Just a rockin'.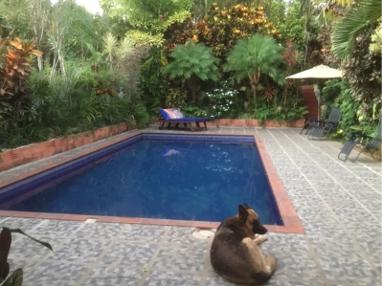 Dinner - a beer and tomato and cheese sandwich.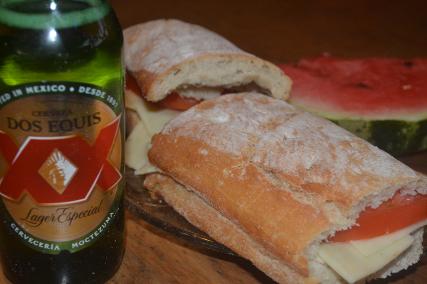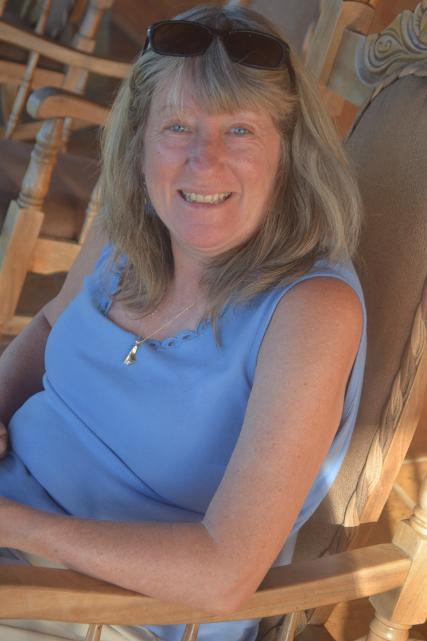 A delicious fruit bowl to start, plants and flowers at Eden Atenas and Eggs Benedict.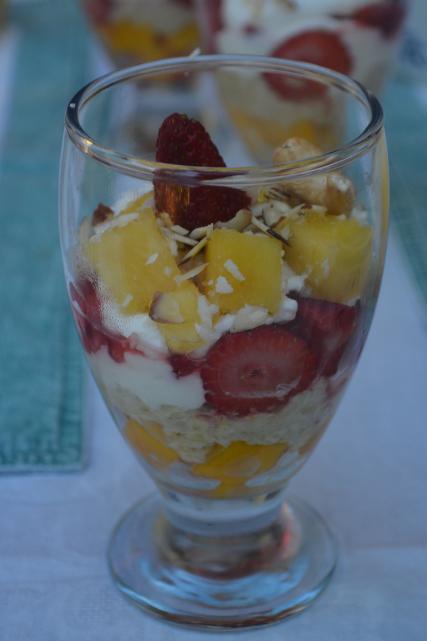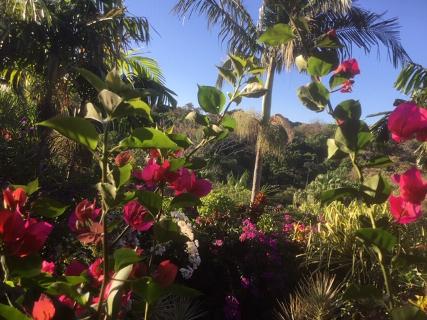 February 27, 2020 - Villas Alturas, with a visit to Dominical
Another early morning for Gayle, another nice breakfast with fresh watermelon and strawberry juice, another day spent primarily on our terrace and in the pool - ah vacation.
After having dinner there last night we returned to check out Domincal and its beach. We will say Domincial has a certain hippie / surfer vibe to it, in part due to it being only a couple of days after the nearby
Envision Festival
,
a gathering of reportedly over 8,000 attendees for a week of - well our sense was just about everything. The seven 'pillars' of the festival are sustainability, music, spirituality, movement, health, art and education. Those attending, and hanging around afterwards, are an interesting group. We certainly were out of place - no doubt twice the average age. Without tattoos, a pony tail or a man-bun, let alone a man-skirt we did stick out. But it was very interesting to see the relaxed environment, including many camping on the beach. We were first struck by the seemingly wall to wall tents among the trees just off the beach. The beach road was lined with those selling their goods, from towels to t-shirts to stuffed toys to clothes to trinkets to just about anything someone might buy.
The beach itself was more stones than sand with some nice driftwood and a few surfers in the substantial waves. Further up the beach were a number of fishermen (or women) working for the day's catch. Although we didn't stay that long it was an interesting stroll among the seemingly care-free people calling this 'home' for a while.
For dinner we made reservations at Por, Que No?, an ocean side restaurant part of the Costa Paraiso resort. We started with a Classic Margarita each and the Chips and Guacamole - avocado, cilantro, lime, onions, tomato, salsa and corn chips - excellent, while watching the waves crash and the sun set over the ocean. I then had the Fish & Shrimp Ceviche - shrimp, red snapper, onion, lime, sweet pepper and cilantro, while Gayle had another margarita. For our main courses Gayle enjoyed a pizza - the Cherry Mozza pizza comprised of fresh mozzarella, cherry tomatoes, and fresh basil pesto - two thumbs up; while I had the Pineapple pork ribs - wood fired slow braised pork ribs with pineapple, BBQ sauce, mashed potatoes, broccoli and carrots. The ribs were a bit too fatty to be considered excellent but the sauce and veggies were extremely tasty. I accompanied the meal with a Congo black lager artesanal beer from Jungle Brew - "a Costa Rica full flavour, bold, slightly bitter beauty". In addition to liking dark lager beer I admit to ordering it in part because I liked the monkey on the label.
The meal was extremely enjoyable - excellent service in a superb setting. No room for dessert so we returned to Villas Alturas very happy indeed.
A couple of house guests.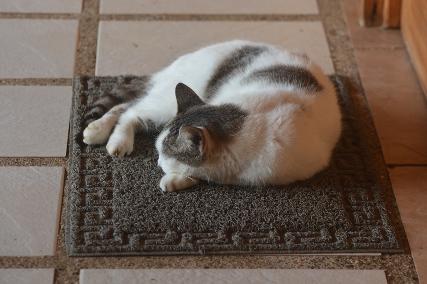 Our morning toucan. The morning coffee.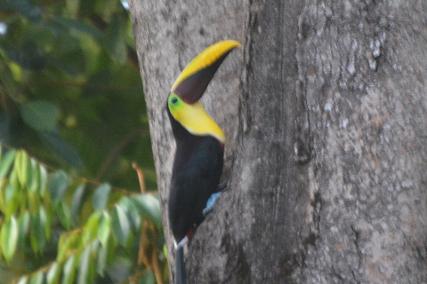 Enjoying breakfast overlooking the coast and ocean.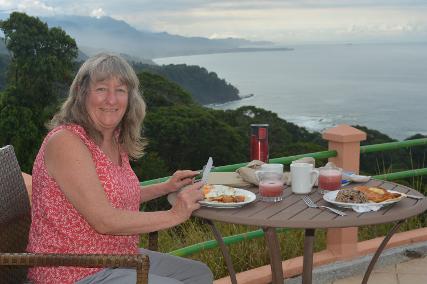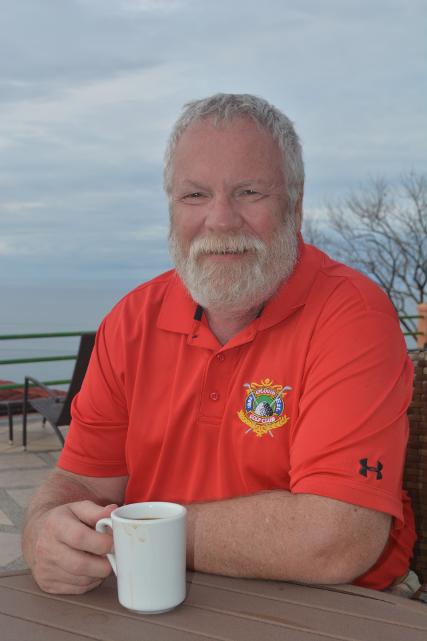 The panoramic view of the coastline. A refreshing Pina Colada.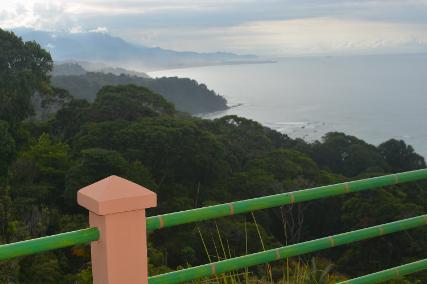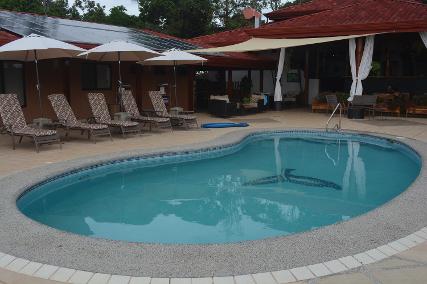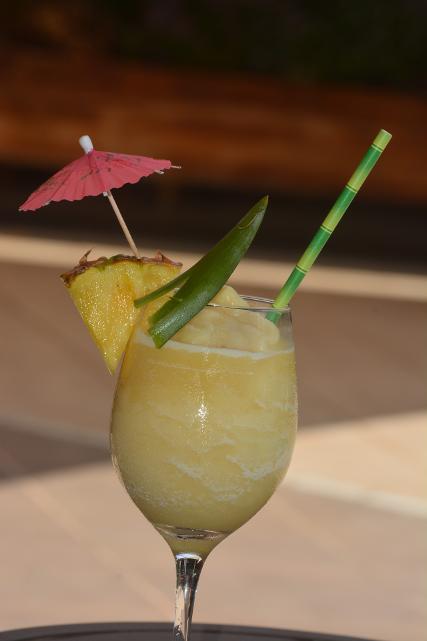 Approaching Alturas lodge / restaurant / pool. One of the numerous statues on the grounds.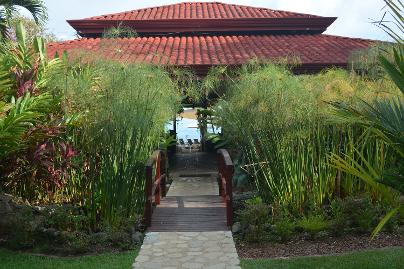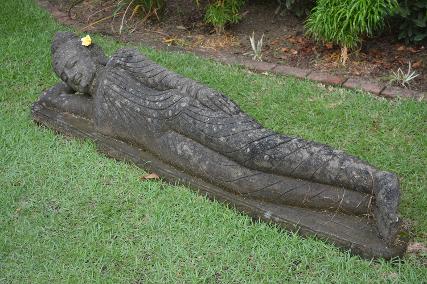 Just a small sampling of the tents that dominate the Dominical beach.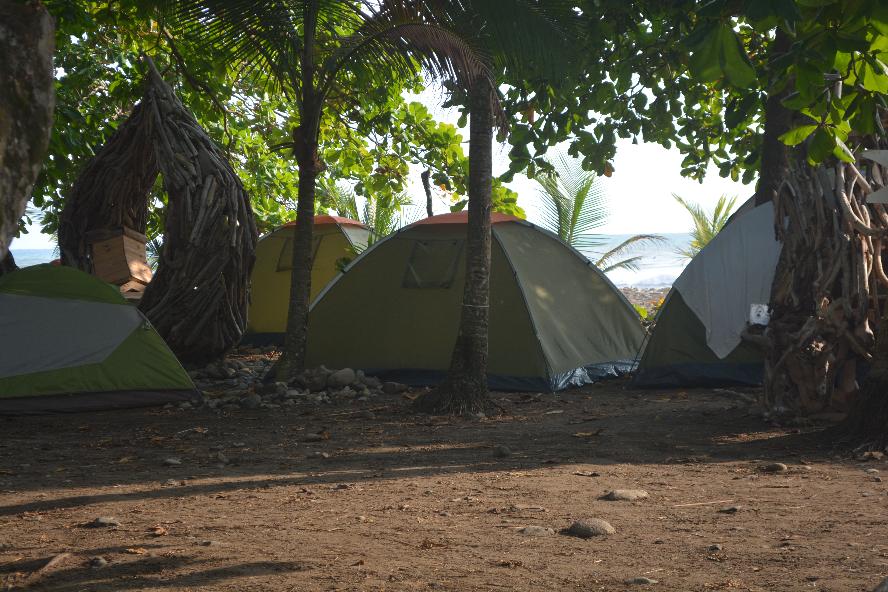 Some of the many items for sale along the Dominical beach road.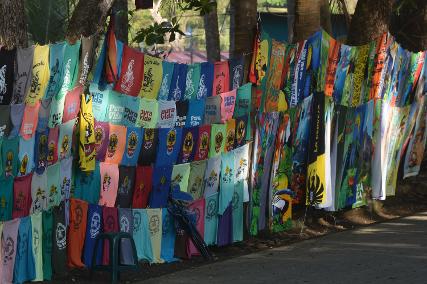 Driftwood on Dominical beach.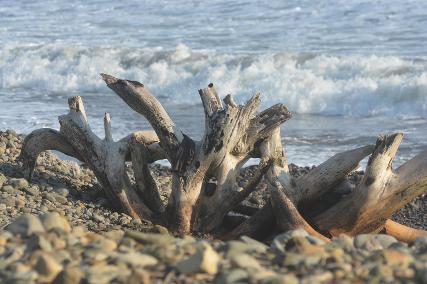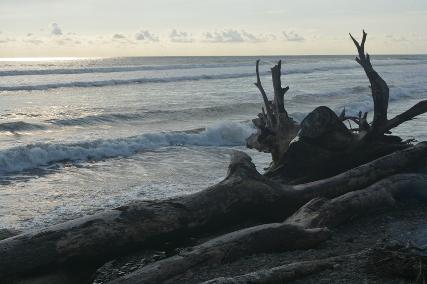 No that is not me and Gayle.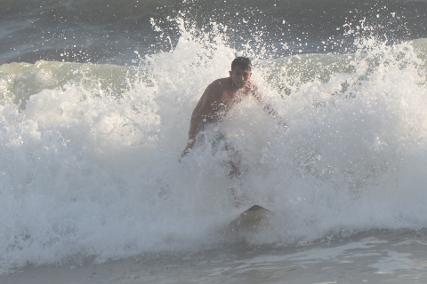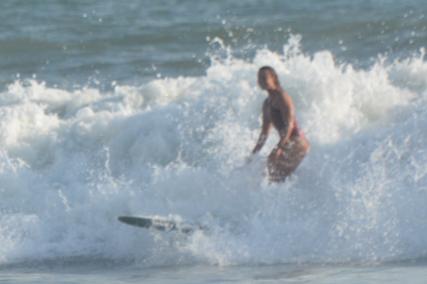 Dinner tonight was to Por, Que No? which had lovely manicured grounds to the ocean and of course a sunset.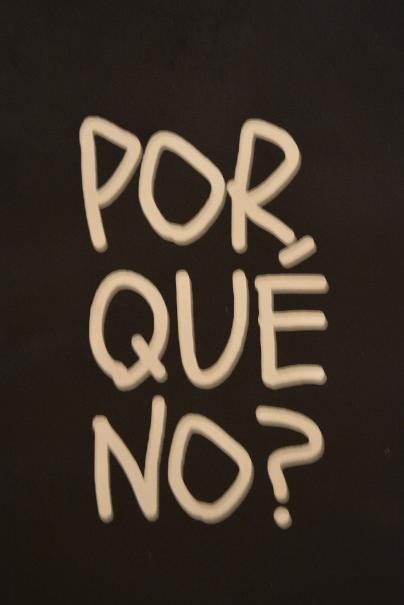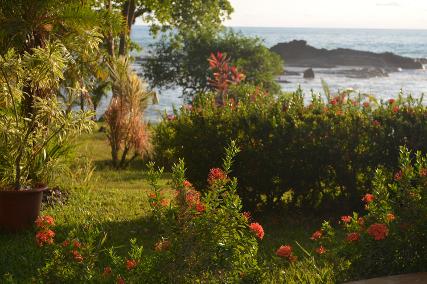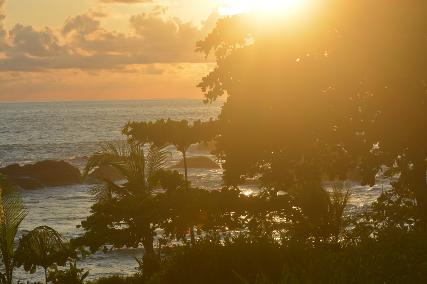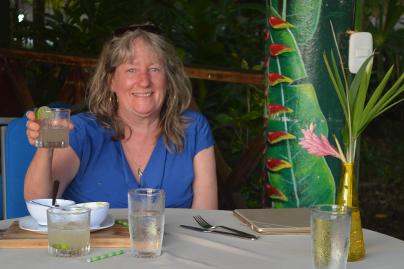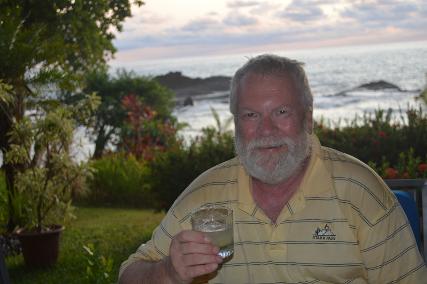 Looking forward to dinner. Just can't escape those monkeys.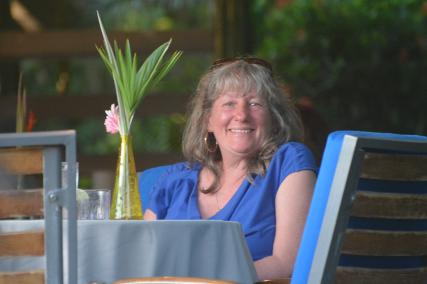 Margaritas - in real glasses rather than paper cups.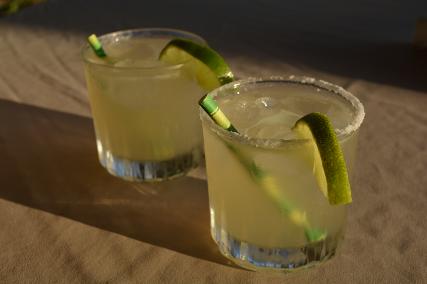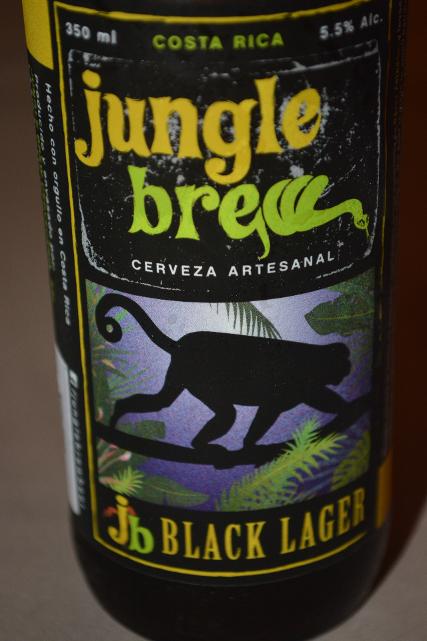 The sun setting during dinner.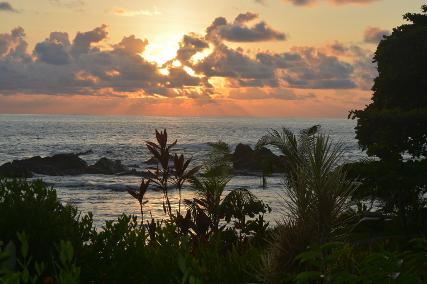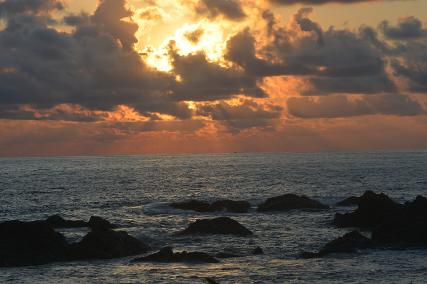 Chips and guacamole. Fish and shrimp ceviche.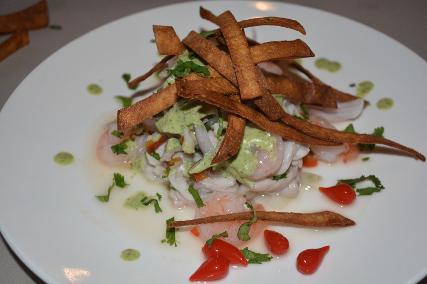 Cherry Mozza pizza. Pineapple pork ribs.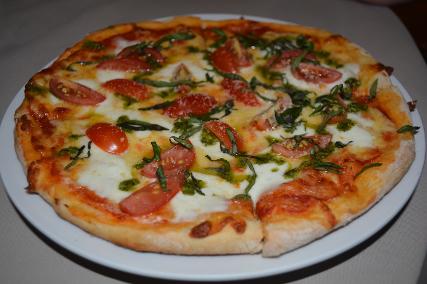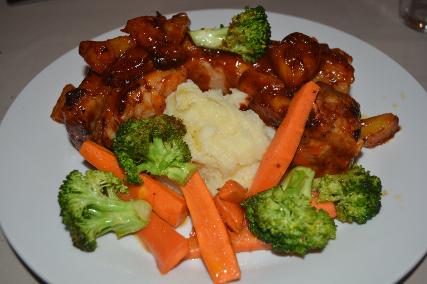 February 26, 2020 - Villas Alturas, with a visit to the Alturas Wildlife Sanctuary
For breakfast Gayle enjoyed the Gallo Pinto (very good) while I had the French Toast (just so so) along with a tasty pineapple and ginger fresh juice.
Afterwards we took the tour of the Alturas Wildlife Sanctuary. The sanctuary is a non-profit organization dedicated to the rescue, rehabilitation and release of injured, sick and orphaned native wildlife. The sanctuary receives injured (it operates a 24-hours emergency response service), abused or otherwise at risk wildlife, providing veterinary treatment with the goal to recover and release the animals. The sanctuary includes a quarantine area, a nursery for the very young and isolated pre-release enclosures for soon to be released wildlife. Also provided, being the area we saw, is a lifetime of accommodation and care to animals that cannot be released, often due to being kept in poor conditions as pets, resulting in the development of behavioural disorders preventing their release to the wild. Others have become too used to people and do not know how to forage for food or avoid natural predators. Some have permanent physical disabilities due to collisions with vehicles, buildings or electricity cables. Another objective of the sanctuary is to provide education for visitors, community groups and schools, thereby creating awareness of animal injuries, scientific research and the implementation of mitigation strategies.
Florian was our very informative tour guide. During the 1 1/2 hour tour we saw capucchin, owl (not native to Costa Rica - this one was smuggled in from Panama), and howler monkeys; a crocodile, a peccary, ducks, parrots, toucans and scarlet macaws, and of course a couple of sloths, who we were told were particularly active today after just having been fed. One of the sloths cannot be released due to a spine injury while interestingly the other will not eat foliage, the mainstay of a sloth's diet. Rather staff have determined he (or she) will eat carrots, sweet potato and pumpkin (the three orange vegetables) and spinach, green beans and broccoli (the three green) which they boil and provide. It was a very informative, worthwhile tour. The entrance fee was $25 US each, a contribution to the operation of the sanctuary.
After another afternoon of swimming and relaxation - we were inspired by the sloths - we enjoyed yet another colourful sunset from the nearby platform. It was then 9 kms into Dominical where we decided to eat Mexican at Tortilla Flats. We figured out pretty quick, when our margaritas came in Pepsi paper cups and our request for water was ignored that this might not have been the best choice. The fresh salsa, with tomato, onion, bell peppers and cilantro marinated in lemon juice served with crisp tortilla chips was quite good but the burrito stuffed with black beans and veggies topped with cheese, and the Chifrio, a traditional Cost Rican dish of cubaces beans cooked with pork and mixed spices, served with rice, fresh salsa, avocado, pork rinds and tortilla chips not so much. While finishing our meal we were surprised by the only downpour of our trip - heavy rains.
We 'sprinted' (or at least our effort at sprinting) through the rain to our vehicle and drove back to Villas Alturas, by which time the rain had stopped.
The Gallo Pinto breakfast. French toast.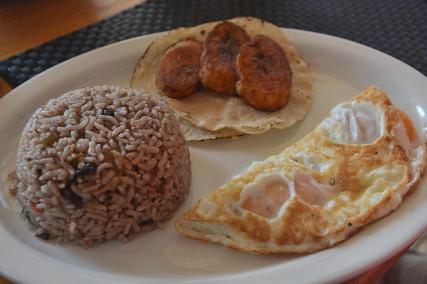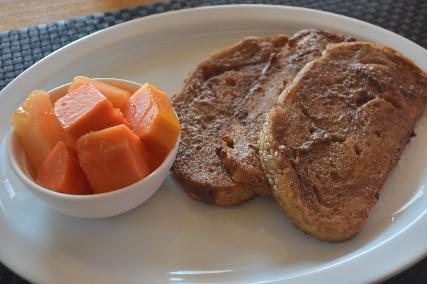 Florian, our informative tour guide.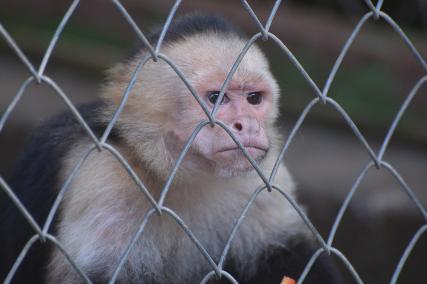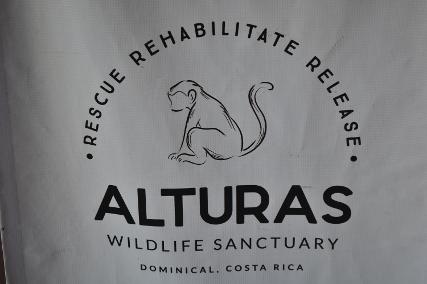 Ok the sloth video and perhaps too many sloth photos may be a bit overboard but we are emotionally attached to the life of the sloth so here you have it.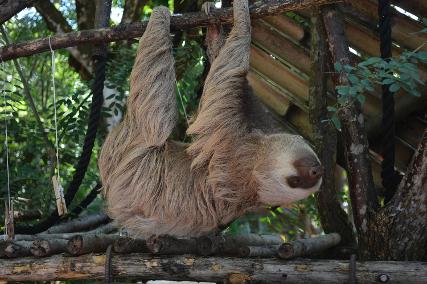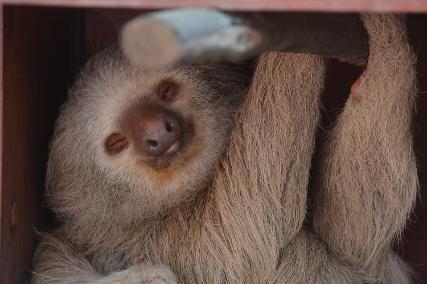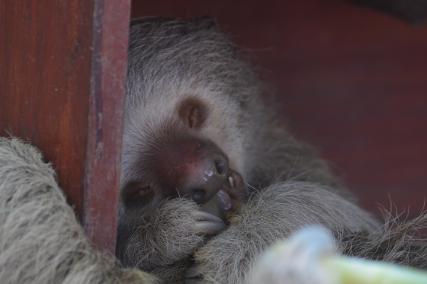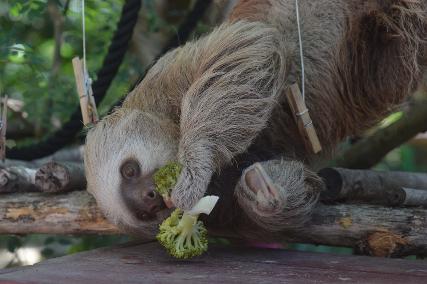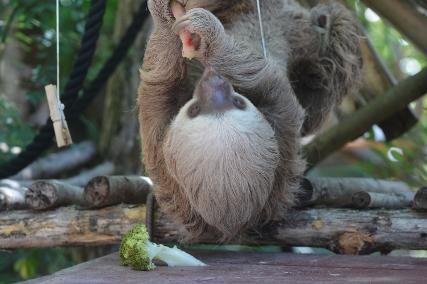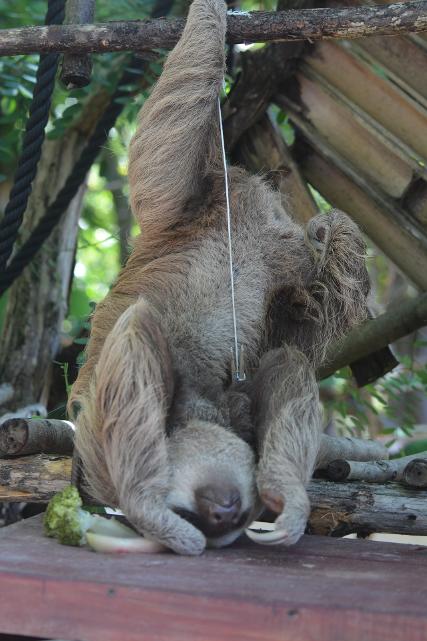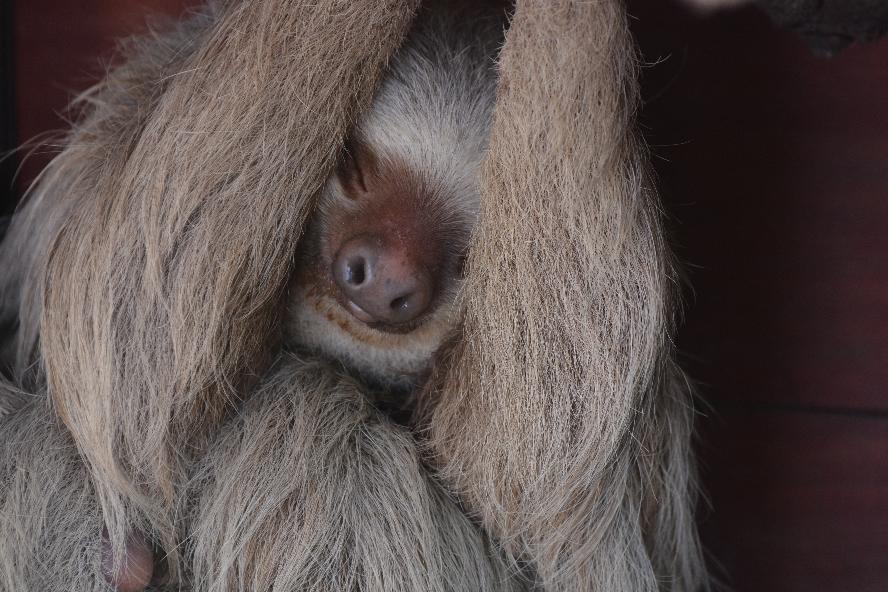 The peccary. The owl monkey (smuggled in from Panama).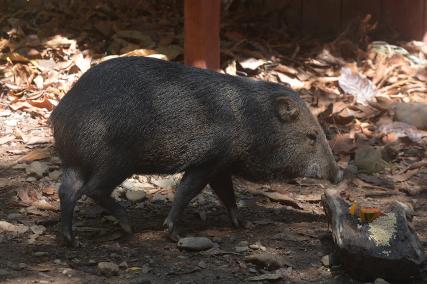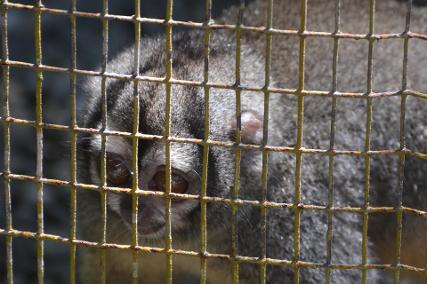 The capucchin monkey. The howler monkey.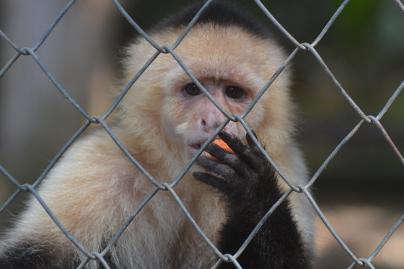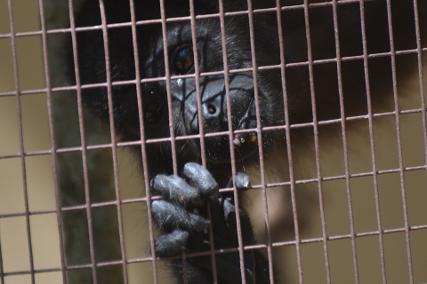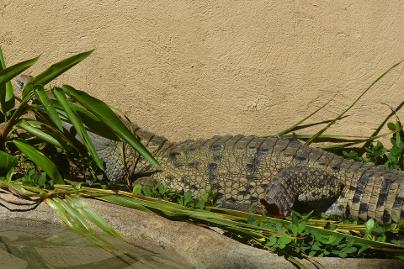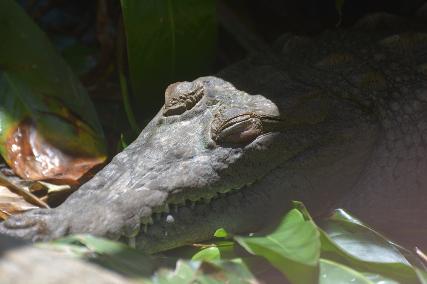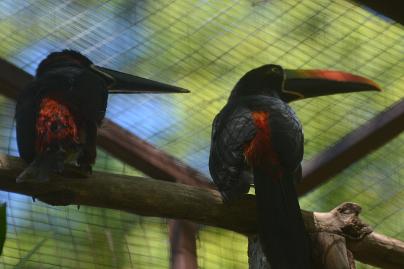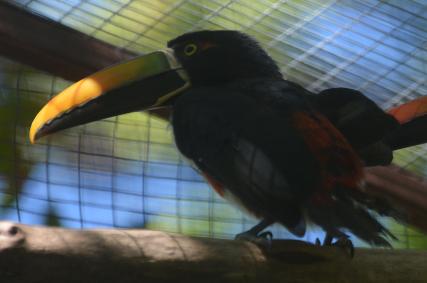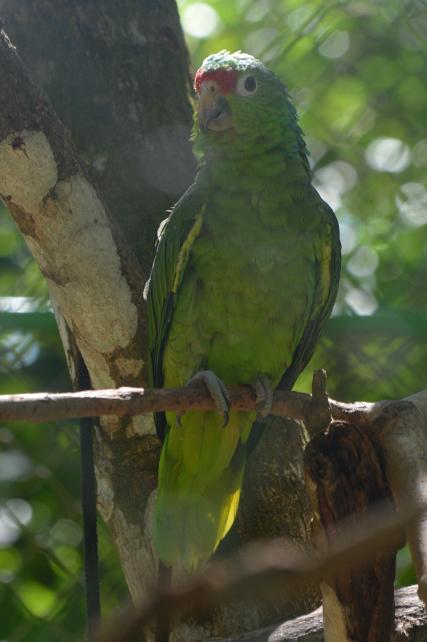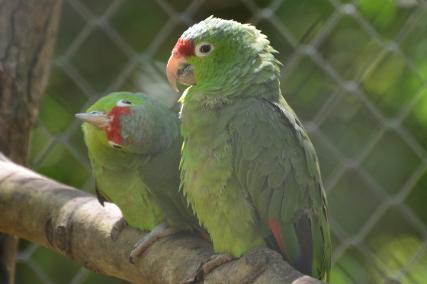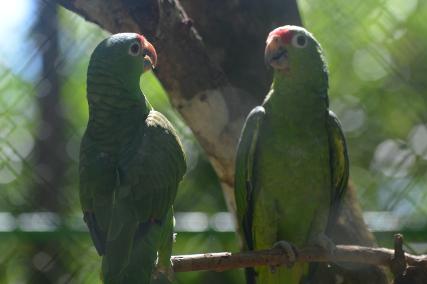 And once again we were treated to a spectacular colourful sunset.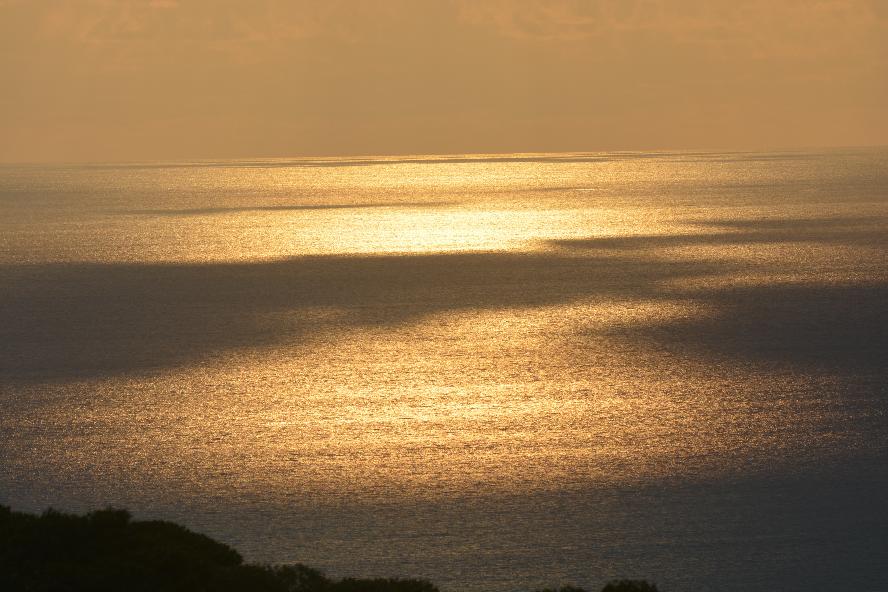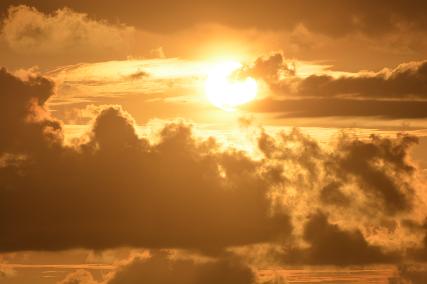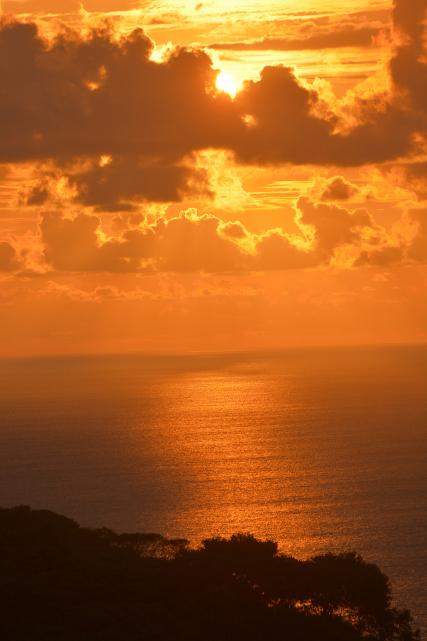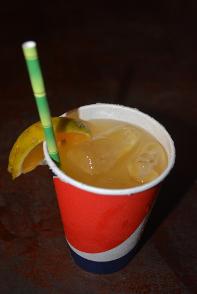 We kind of knew this might not be our best meal when our margaritas came in Pepsi cups.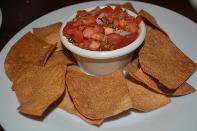 On the other hand the fresh salsa and chips was very good but the burrito and traditional chifrio not so much.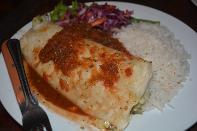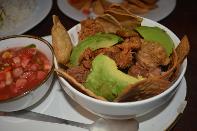 February 25, 2020 - Villas Alturas, between Dominical and Uvita
With the large fan and air conditioning we enjoyed a very comfortable sleep. Gayle was up really early again, scouting out birds and bugs. No monkeys or sloths but she did encounter the night watchman, catching him off-guard, along with a toucan and other birds.
After a somewhat disappointing dinner last night breakfast was really good, with a large choice of options. Each morning we enjoyed fresh juice (watermelon today), tasty Costa Rican coffee, and a meal option. Today both of us had the burrito, a tortilla stuffed with Gallo Pinto, scrambled eggs, mozzarella cheese, ripe plantains and sour cream. Very good.
With the resorts nice pool and our large terrace, both with spectacular views we spent most of the day either enjoying a dip or slothing (if that's not a word it is now) on the rocking chairs / hammock. The pool is refreshing in the morning but during the day warms up with the heat of the sun. Still very nice.
We decided to try a nearby restaurant we found online - Rancho Cielo Alto, apparently with great food enjoyed in a great location with a great sunset. Although Facebook indicated the restaurant was open upon driving the 4 kms or so up a rough dirt road (this is why you need a 4 x 4 SUV) we discovered they were closed for renovations. Although disappointed we spent nearly half an hour chatting with the owner Jasmin, hearing her story and connection to natural herbs and medicines. Feeling somewhat bad about us driving up and not being able to eat she generously provided us a bottle of home-made seasoning comprised of moringa and tumeric (Ortiga or stinging nettle), three types of hibiscus, garlic vine, guanabana (soursop), maranon (cashew), pimienta (black pepper), poro poro, oregano, catuck and pink Himalaya salt - quite the combination. It was obvious how proud Jasmin was of her vegan / medicinal cooking.
As the sun had set and it was getting dark we carefully descended from Rancho Cielo Alto and continued on to Uvita where we decided to eat at Pizza Time, a well advertised, well regarded pizzeria. It was packed, so much so that they were out of small pizza dough. As such we had a large - half vegetariana and half meat lovers. It was quite expensive at > $30 Cdn, but very good.
After dinner, although it was late, Gayle had the opportunity to do a little surfing, an opportunity she didn't pass up!
Breakfast was quite good with fresh juice, lots of choice, including these burritos and good Costa Rican coffee.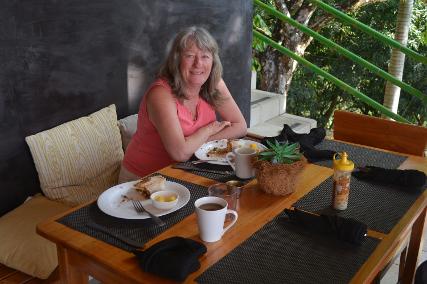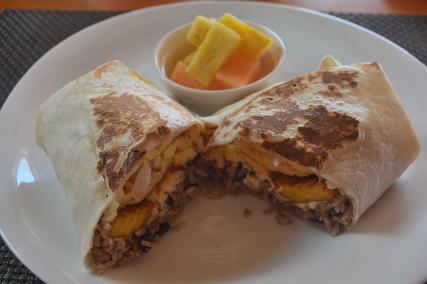 The Villas Alturas pool overlooking the ocean.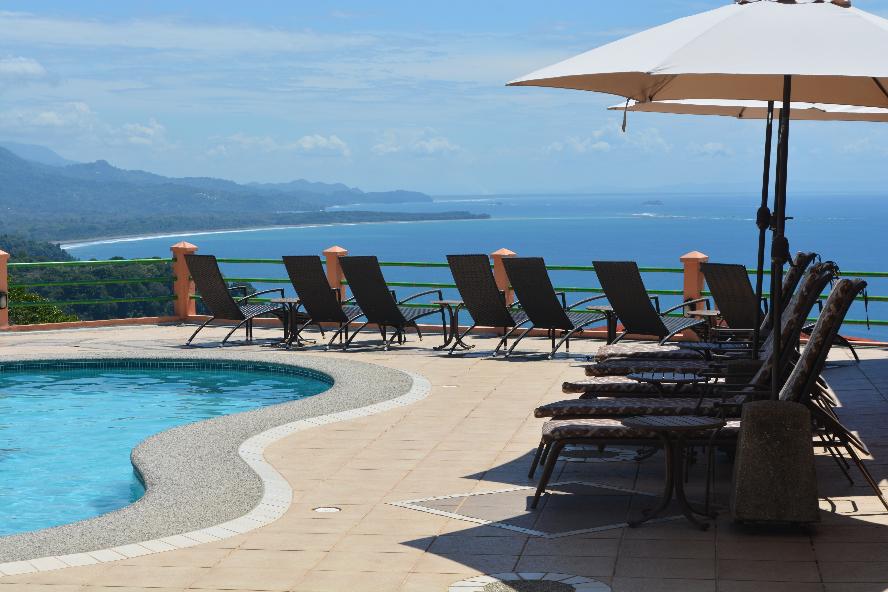 We can sit in our rocking chairs (or Gayle in her hammock) and just stare out at this most of the day.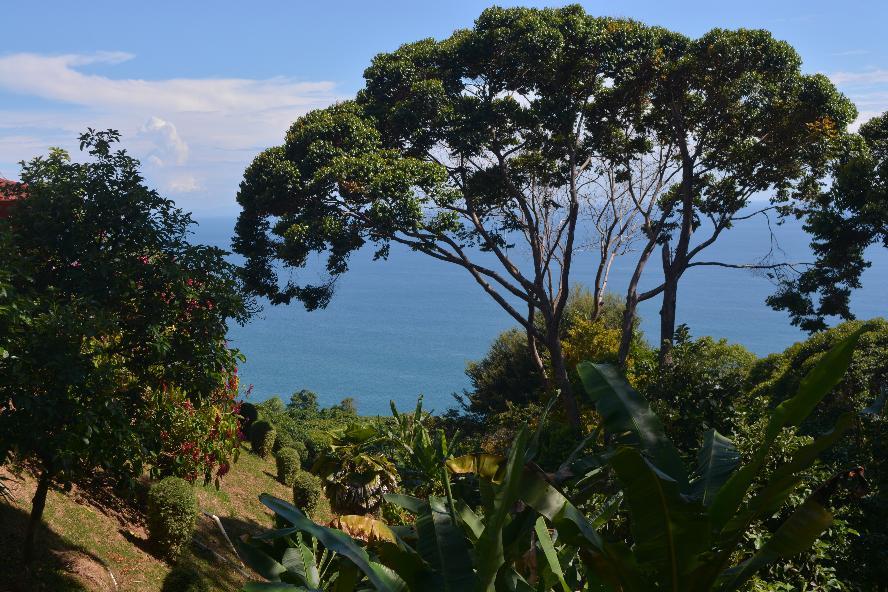 More ocean views - first from the pool area, and then from our terrace.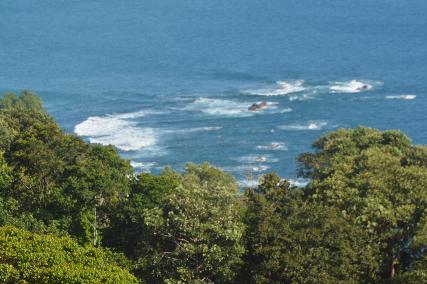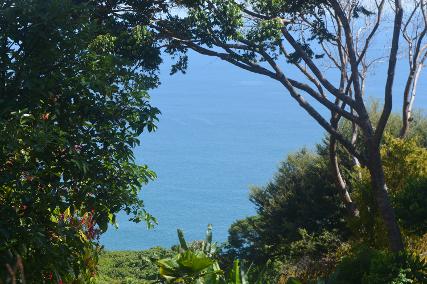 When one has a beautiful large terrace with rocking chairs and a hammock they need to be put to use.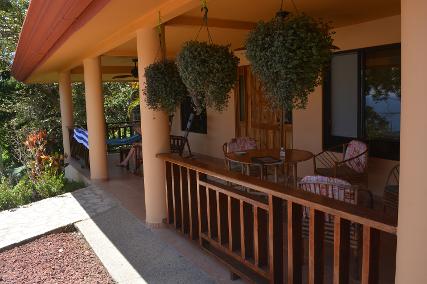 What better than to relax.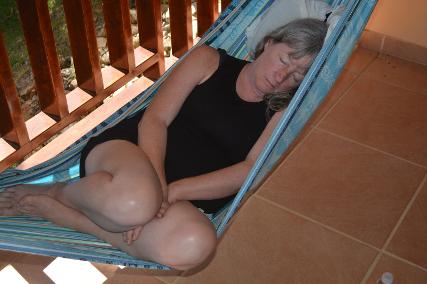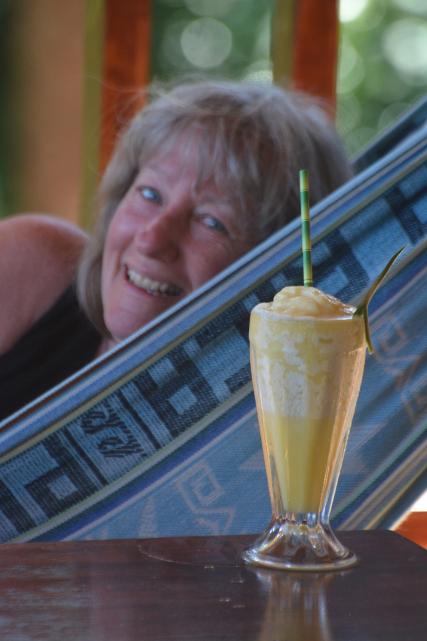 Approaching the lodge there is a small bridge under which there is a pond with fish and turtles.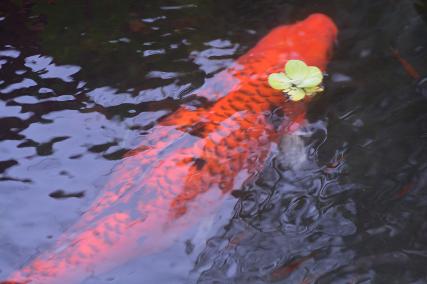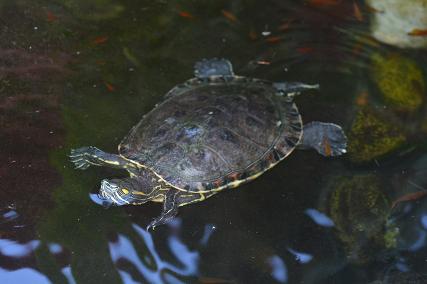 Sunset from Rancho Cielo Alto.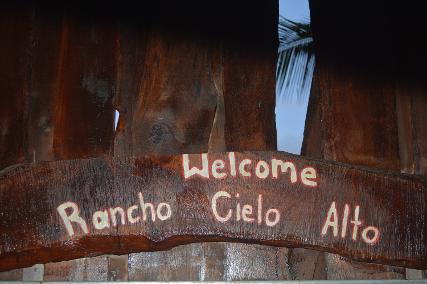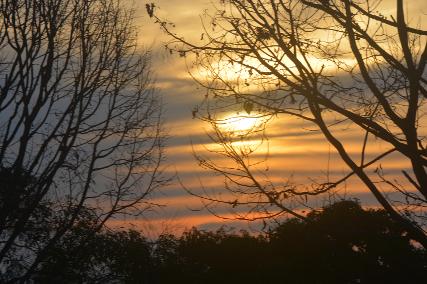 Jasmin and Gayle chatting. Gayle with the seasoning Jasmin generously gave us.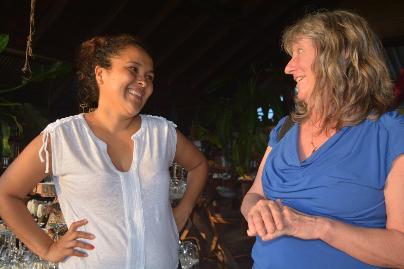 Half meat; half veggie pizza.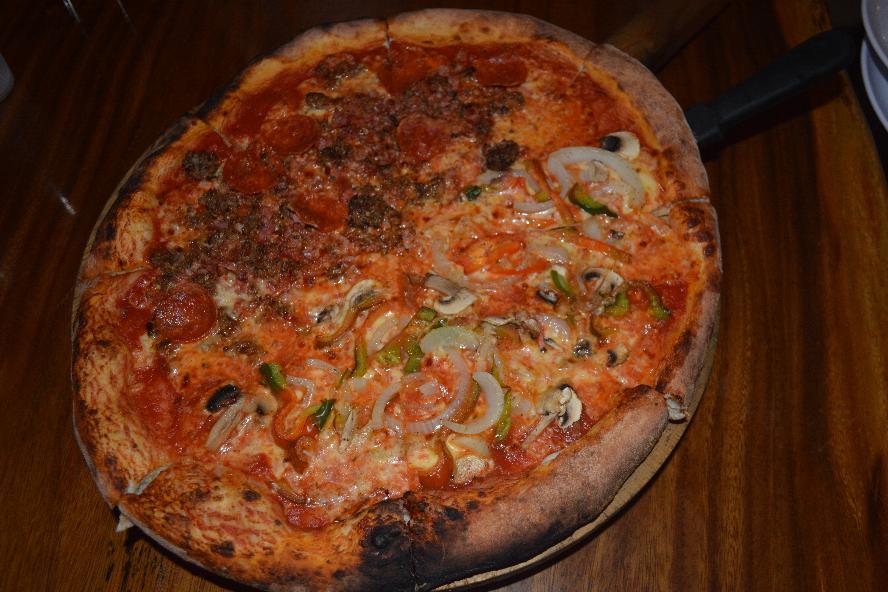 In an unusual move after dinner Gayle decided to try surfing.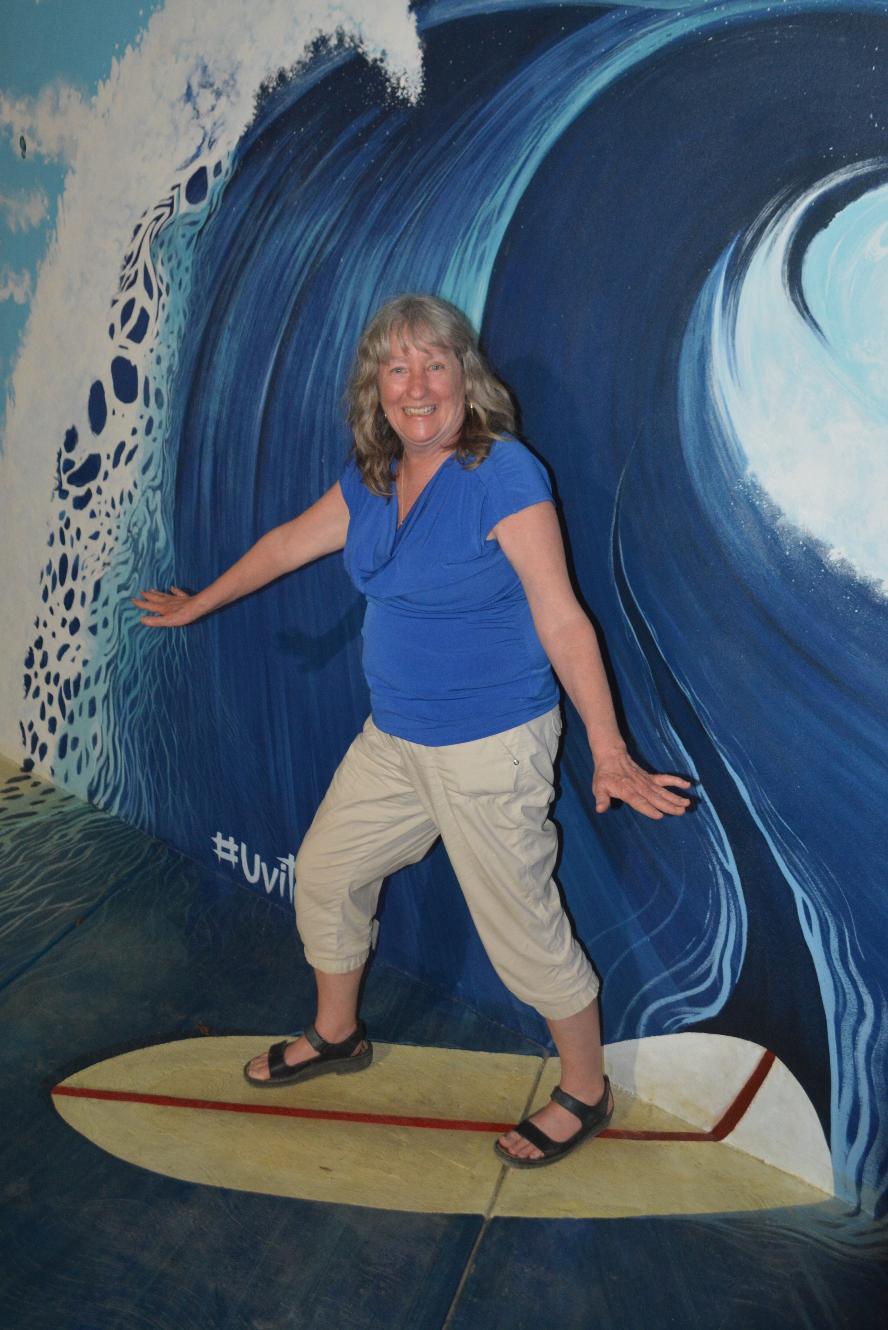 February 24, 2020 - Jardin de los Monos, Matapalo to Villas Alturas, Dominical / Uvita
Although Gayle was up early again it was for naught as there were no monkeys this morning, at least none crossing over our roof. However at breakfast Lettika again pointed out a sloth hidden in the coconuts of a nearby tree to the breakfast area. While we were eating he (or she) actually moved from one tree to another. Regrettably we missed it but while taking photos in the second tree there was some movement that I was fortunate enough to capture on video. It is precious.
While we had to check out at 11:00 am it is only a half hour drive to our next lodging. As we cannot check in until 3:00 pm we asked Lettika if we could stay and use the pool. No problem at all. We enjoyed a couple of hours alone in the pool before departing.
The drive south on the 34 was short and easy. We knew exactly where we were going as we had passed signs for Villas Alturas earlier in the trip. We passed Domincal where we stopped at a small market to pick up some supplies and then continued on to our next lodging. It was indeed a short and easy drive.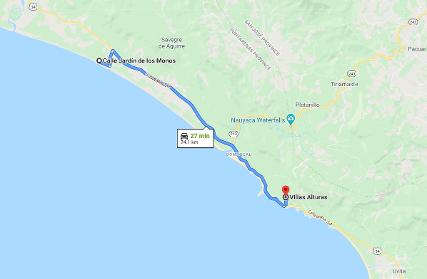 Villas Alturas is nearly a km up the hillside (in spite of the sign that indicated 500 metres). As such it has a spectacular panoramic view of the coastline. We were greeted with complimentary coconut water (a nice touch) while we waited for our room to be ready. The pool area is well designed with nice lounge chairs. If only it was an infinity pool with an uninterrupted view to the coastline.
We were in Unit 6, a one bedroom cottage. Relatively pricey at $195 (US) per night it was a spacious unit with air conditioning, a huge bathroom, a complete kitchen and a wide deck with rocking chairs, a hammock and a fabulous view out to the ocean. This will be a very comfortable, enjoyable spot for the next four days.
We ate at the resort and honestly were disappointed. My serving of Moroccan chicken was small (for the price). The chicken, cooked in fresh lime juice, soy sauce, peanut butter and green curry, served with vegetables (that were quite good) and rice was saturated in lime juice - way over the top. Gayle was more pleased with her Pineapple peanut fried rice but at > $20 Cdn it was just rice and a few veggies. All in all we expect we will eat elsewhere future nights.
We returned to our cottage where for awhile we enjoyed the jungle noise while rocking on our terrace before calling it a night.
Morning juice, smoothie, fruit and coffee. Isn't he (or she) adorable?
Even when Lettika pointed them out it was quite difficult to spot the sloths tucked up in a ball in the trees, particularly when in among the coconuts.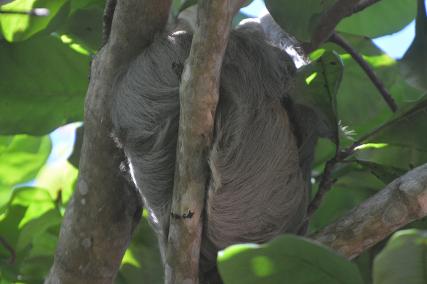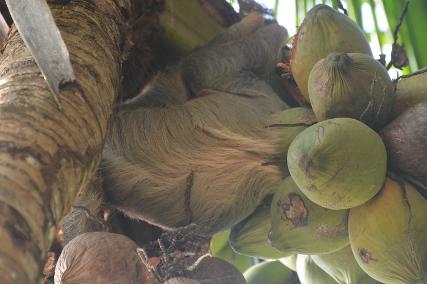 We spent a considerable amount of time in the refreshing Los Monos pool.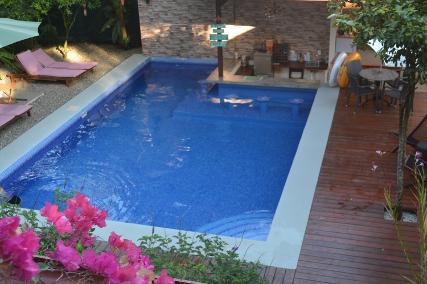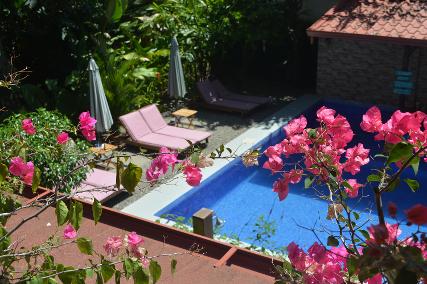 Our upstairs 'suite' was the only room without a hammock - Gayle was so disappointed she had to spend even more time in the pool due to her hammock envy.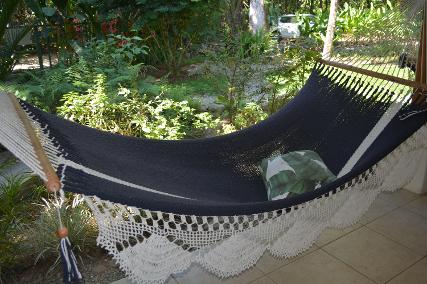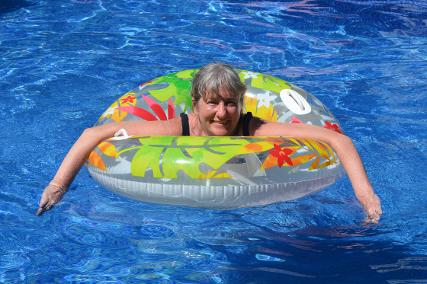 The Pacific coastline looking south to Uvita from the pool of Villas Alturas.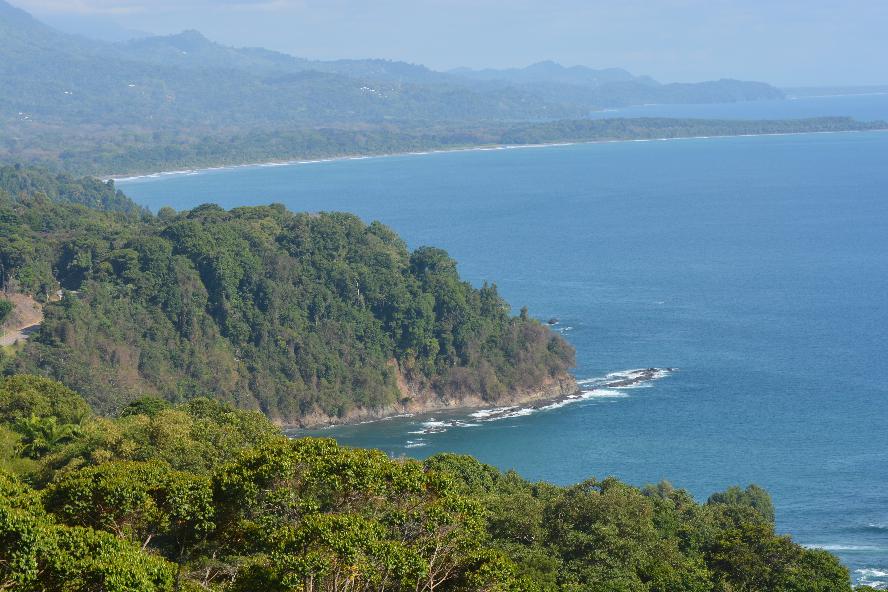 Enjoying our welcoming coconut water.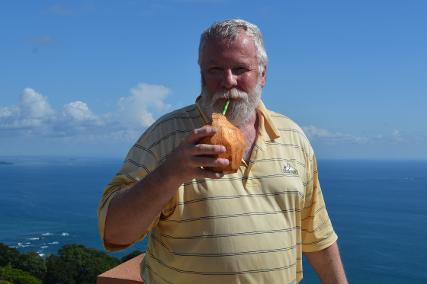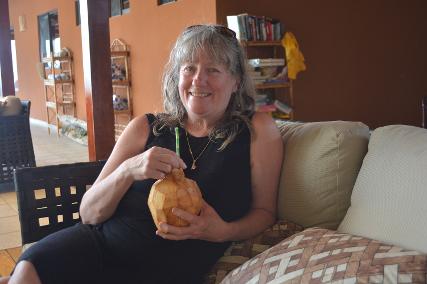 The Villas Alturas pool - if only it were an infinity pool overlooking the coastline.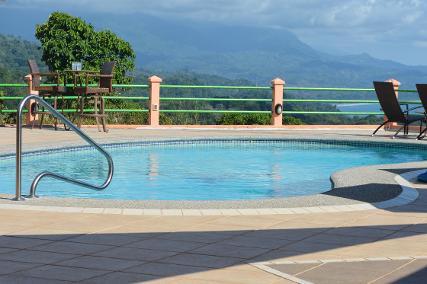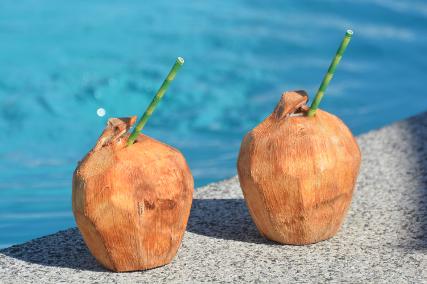 The full kitchen. The seating area of our bedroom.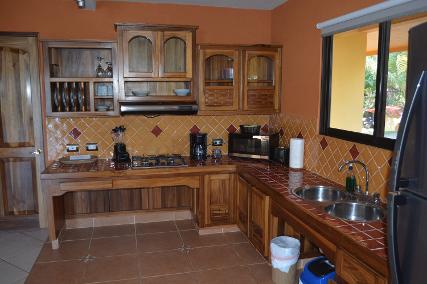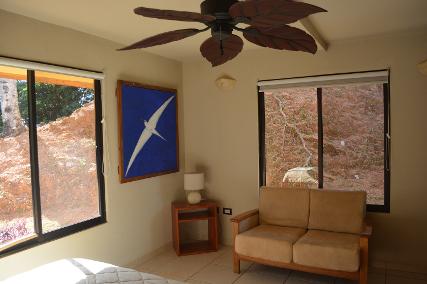 The breathtaking view from our terrace. Our comfortable terrace with rocking chairs and hammock.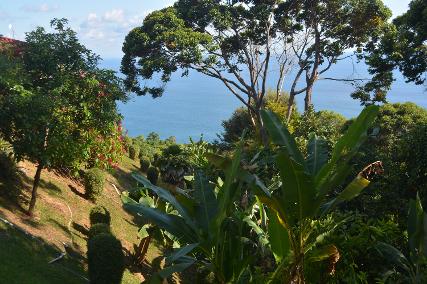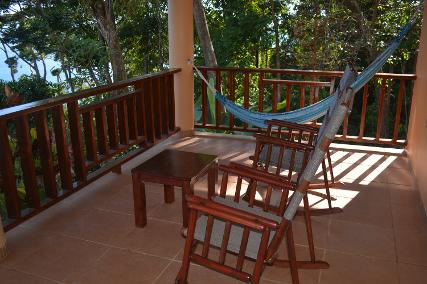 Moroccan chicken. Pineapple Peanut fried rice.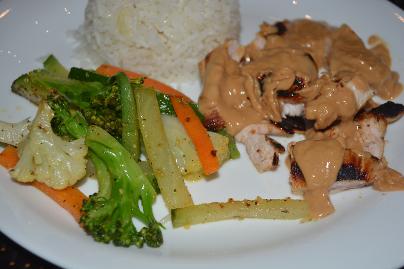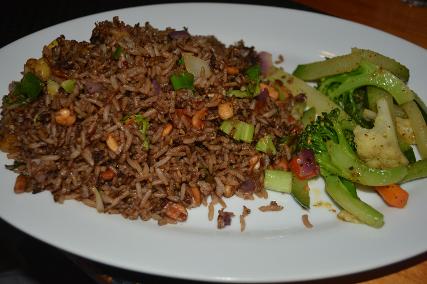 February 23, 2020 - Jardin de los Monos, Matapalo
Really we could simply cut and paste yesterday's comments to today and be done.
The only real difference is that I was able to get a few photos of the nearby monkeys on the trees on the other side of the property - yesterday they scampered across our roof too quick for photos. But otherwise it was breakfast, take a look at the sloth snuggled in a tree, swim in the pool, work on the travel blog, swim in the pool some more, nap, work on the travel blog, and head down to the beach for another spectacular sunset.
We then went to dinner once again at El Express del Pacifico where Gayle went back to the pizza and I asked if I could have a 'surf and turf' combo - BBQ shrimp as well as another (smaller although it didn't seem smaller) steak. We enjoyed a nice chat with Daniel (the German owner and chef) after our meal. It was interesting how he had actually sold land to Filip and Rosie of Las Nubes. We returned to see a couple of little creatures on the walls and then called it a night.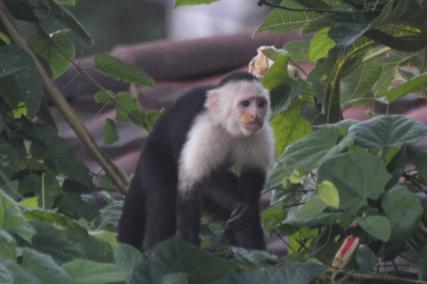 Lettika had said if we were up early we would experience the capuchin or white-faced monkeys (monos) romping over our roof, usually before 6:00 am. Indeed the fist morning that was the case but the they were absent (or much earlier) the second morning. Our last morning they were not so much on our roof as on the trees and fence on the other side of the property - quite active and entertaining.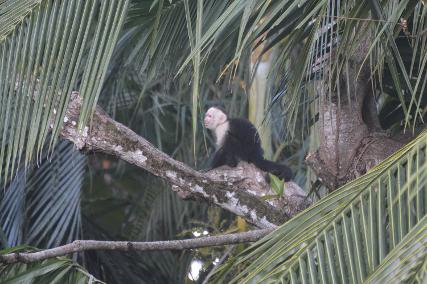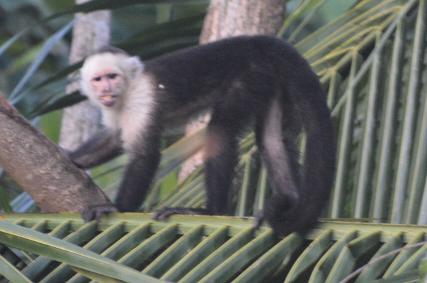 The breakfast area of Jardins de los Monos and the jungle vegetation just off the deck.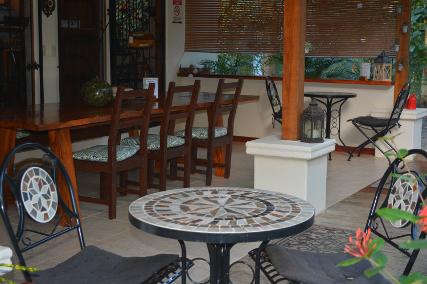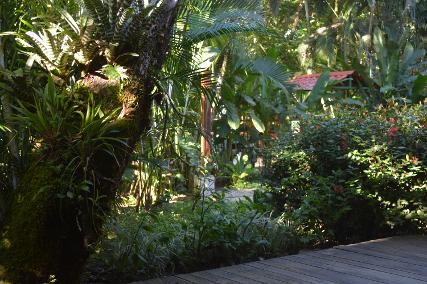 Playa Matapalo. Brown pelicans over the waves.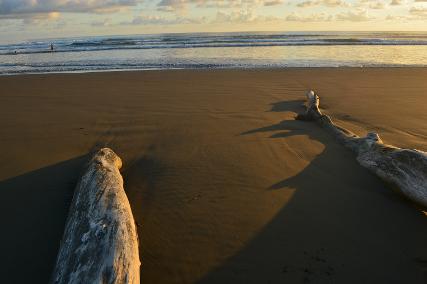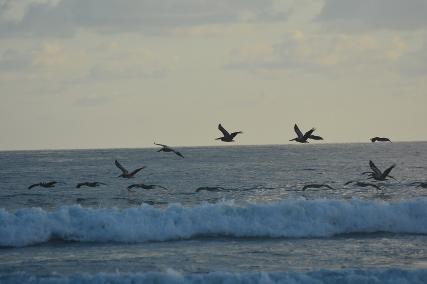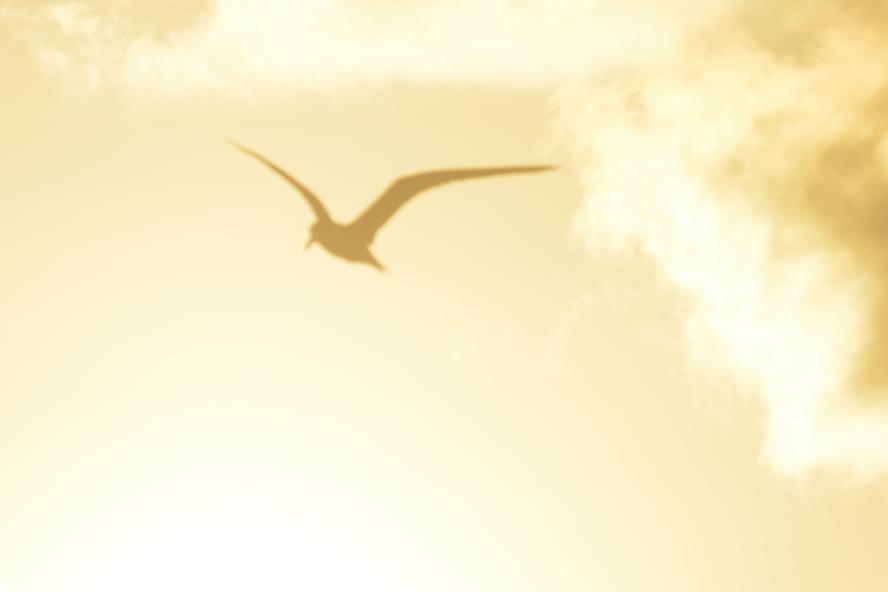 Pelicans - sarcastically known as the Costa Rican air force [Costa Rica is one of the few countries that does not have a military].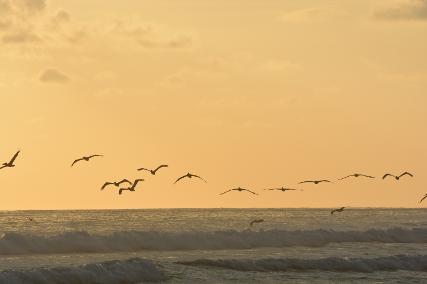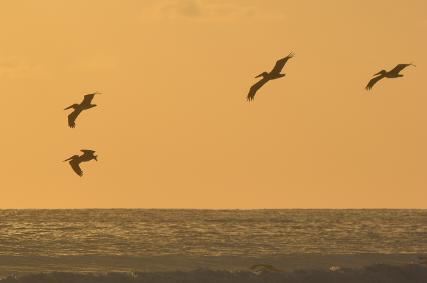 Ya ya there are perhaps an over abundance of sunset photos but which ones would you delete?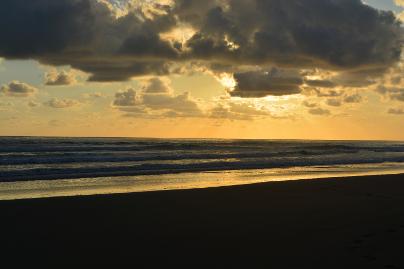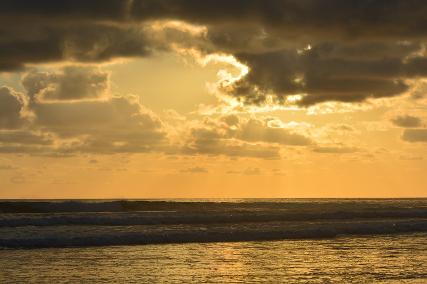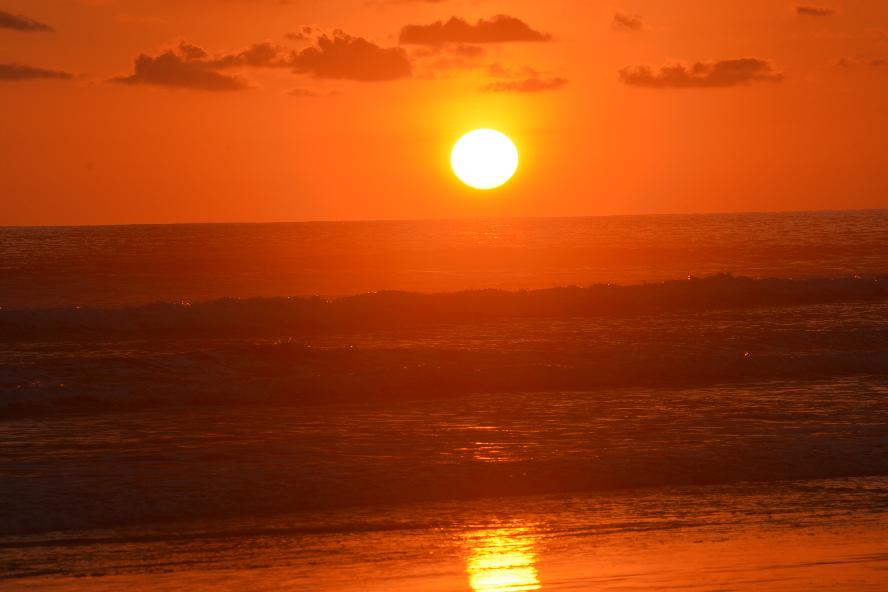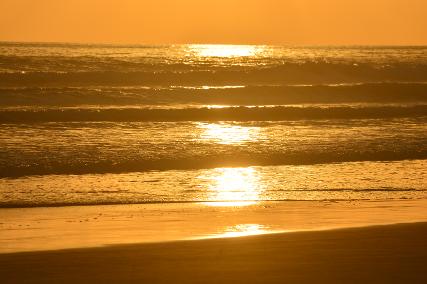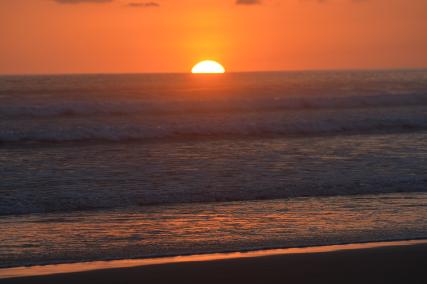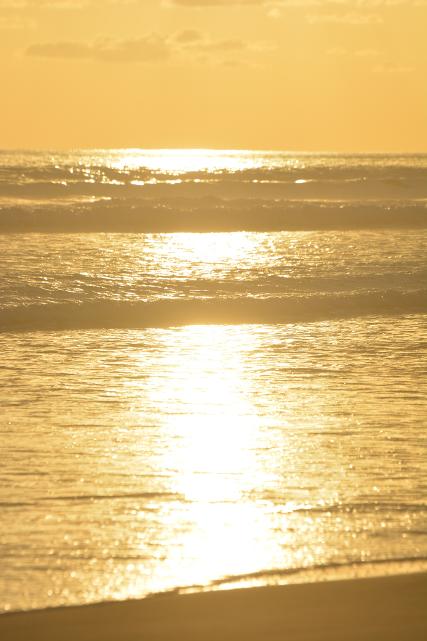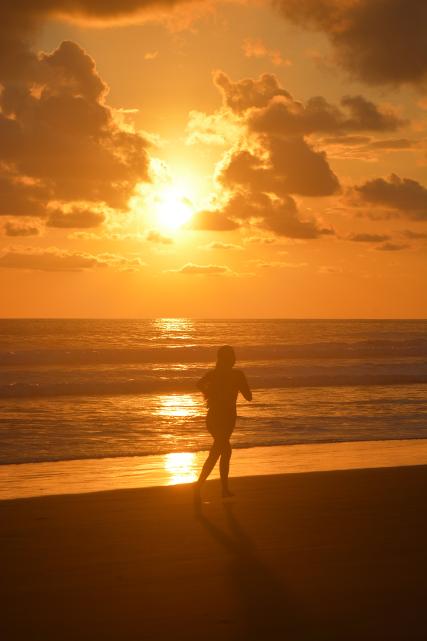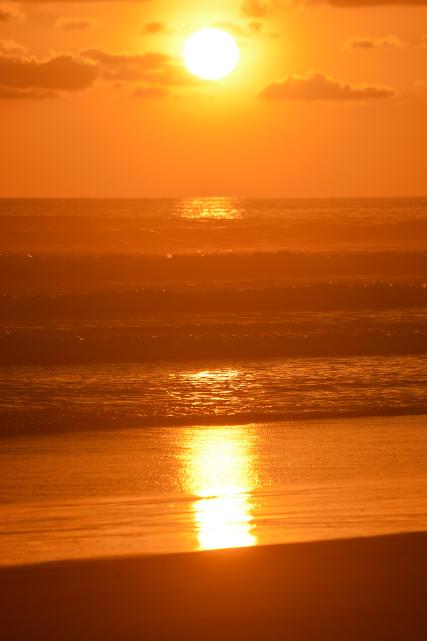 Our dinner guest - hey it's Costa Rica - one needs to expect insects.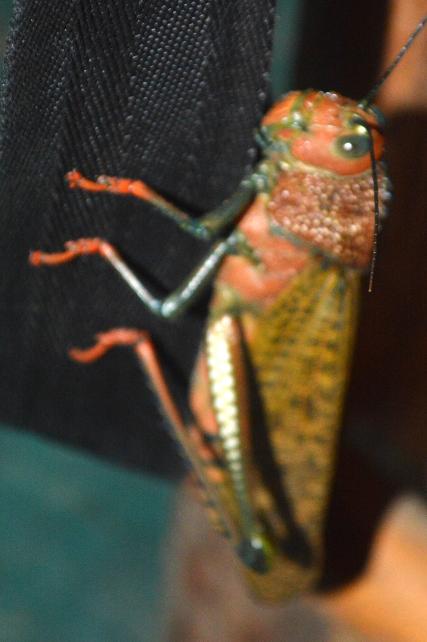 To start a mango soursop smoothie and a glass of wine.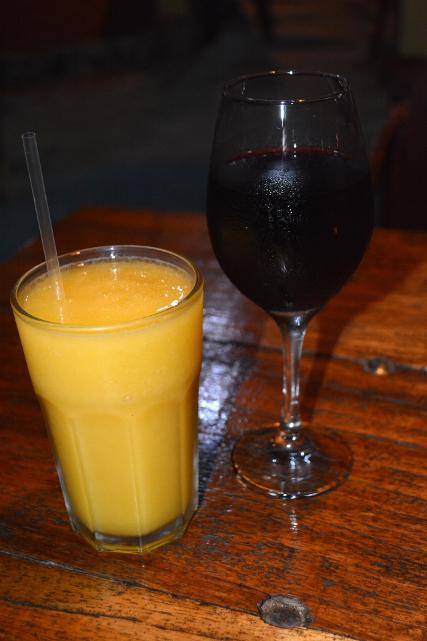 Gayle went back to the pizza while I went off menu, asking for surf and turf - BBQ'd shrimp and another tenderloin.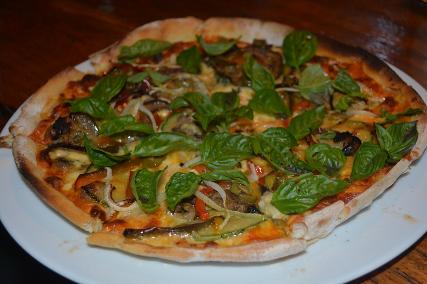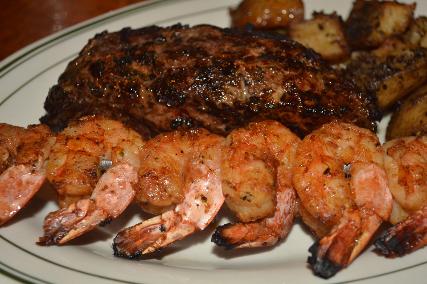 Some of the wildlife crawling on the walls when we returned from dinner.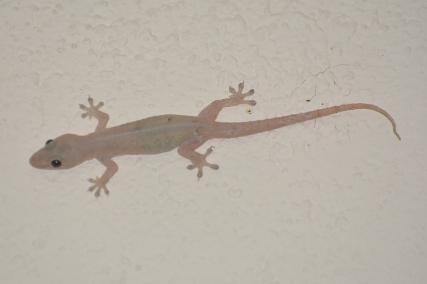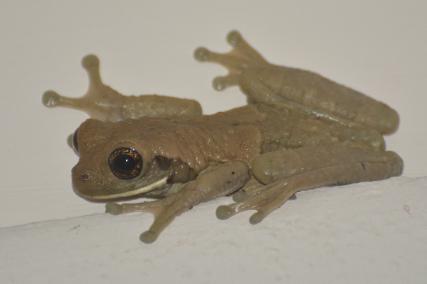 February 22, 2020 - Jardin de los Monos, Matapalo
Today was another relaxing day, spent mostly at Jardin de los Monos with a bit of time on the nearby beach, Playa Matapalo, part of a 22 km stretch of uninterrupted beach. There was a nice selection of choices for breakfast, including these Dutch pancakes with a monkey design. Fruit smoothies were a nice option. Lettika is an expert at knowing where the sloths hang out (do you like that 'hang out') showing us one in a nearby tree. We spent the rest of the morning in the pool and passing our time on our balcony.
In the afternoon we headed to the beach. Although people were in the water there were signs for riptides which Gayle had experienced in her youth. With the relatively significant waves we chose only to step in to our calves. The water was amazingly warm. Even on a Saturday the beach was quite deserted. We very much liked the 'vibe' of Playa Matapalo. Although there were a number of small hotels with accompanying surf schools it was all very 'chilled out' with lush vegetation and a beautiful expansive beach, to which we returned later for sunset. So quiet, calm and peaceful.
For dinner we checked out the other nearby restaurant Lettika suggested, and for which other guests enjoyed, but I was just not feeling it, and given the meals we had last night decided to return to El Express Del Pacifico where again we enjoyed a great dinner. Tonight I had the filet mignon, with the same roasted potatoes. Fantastic. Gayle had pasta with an oil and pesto sauce which she very much enjoyed although she did regret not ordering the version with fresh tomatoes. Also at the restaurant were Lettika and Gijs, evidence that this is more than a suggestion, but one of their go-to places to eat. We were so pleased with the ambiance, service and quality of food we expect we will be back. We didn't argue when Darlenny, Daniel's spouse said as we departed "See you tomorrow".
Wildlife at breakfast - a monkey on the Dutch pancake and a sloth in a nearby tree.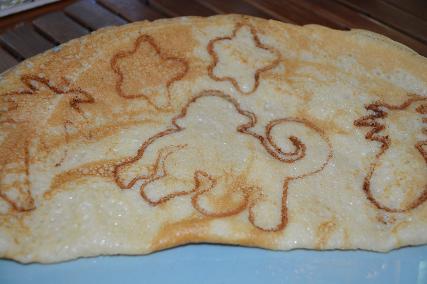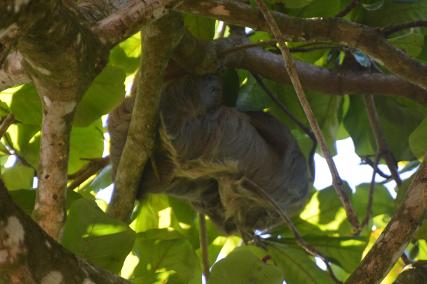 Approaching Playa Matapalo. Looking back to the palms lining the beach.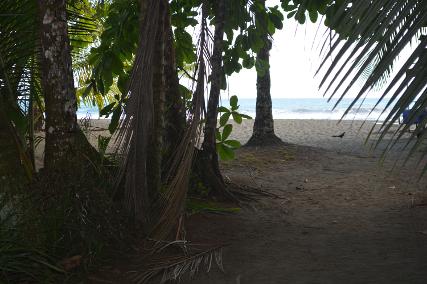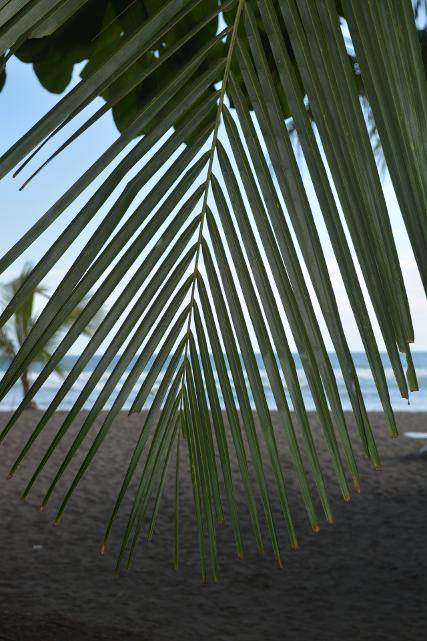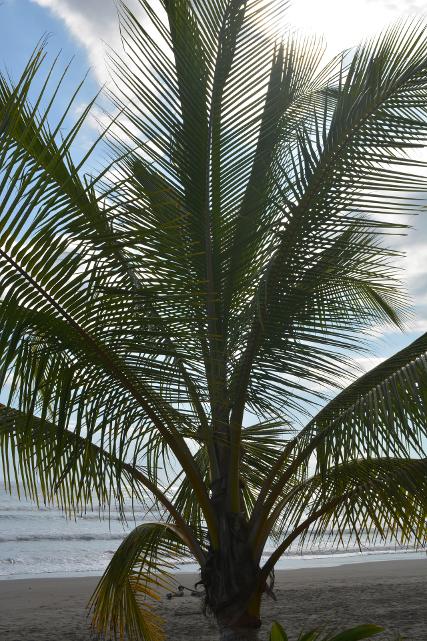 Playa Matapalo and the Pacific Ocean.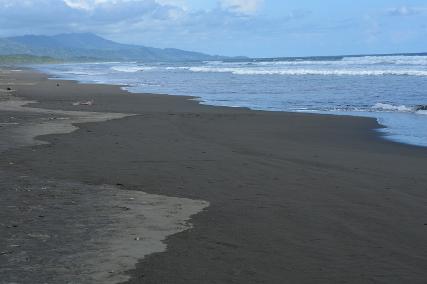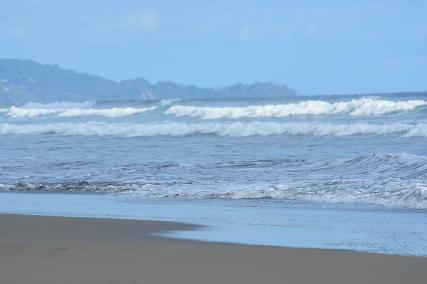 These waves are why we enjoyed the sounds and sights but did not actually go into the Pacific to swim.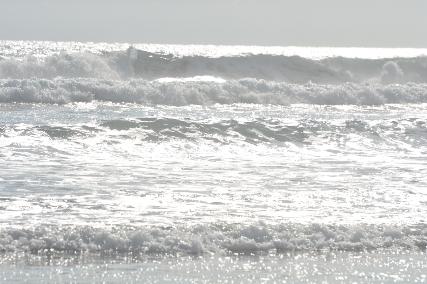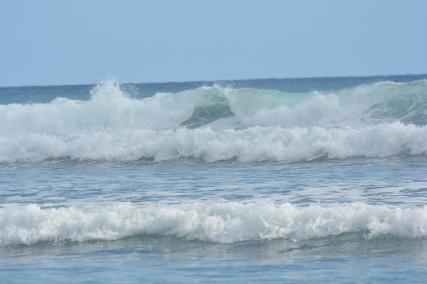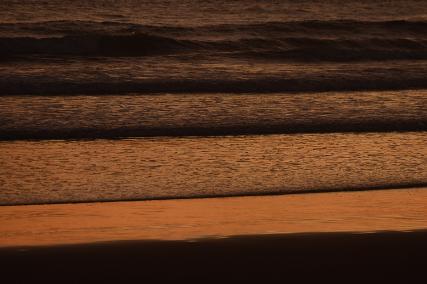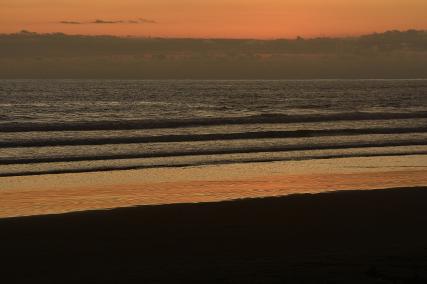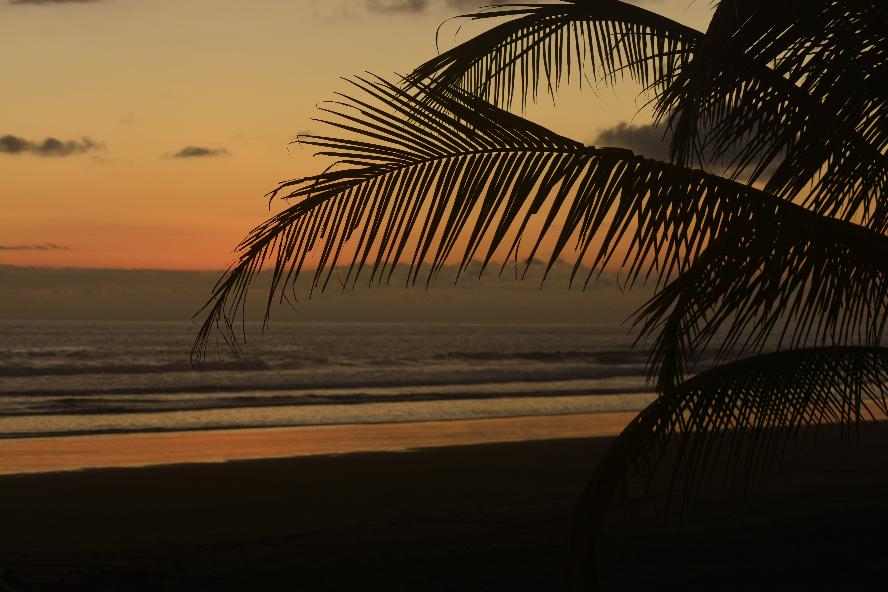 The owner and chef Daniel. Lettika and Gijs.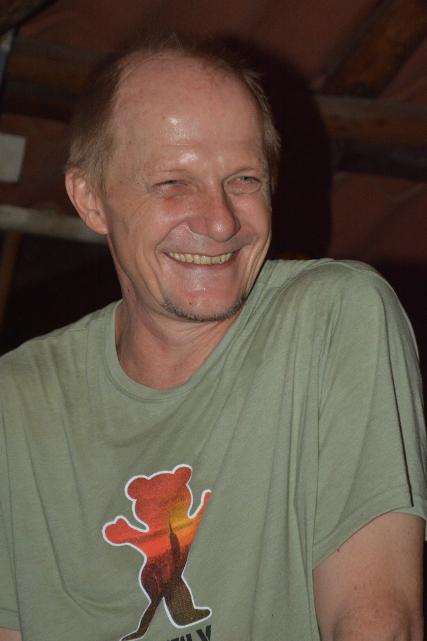 A nice healthy salad. And my filet mignon on the outdoor grill.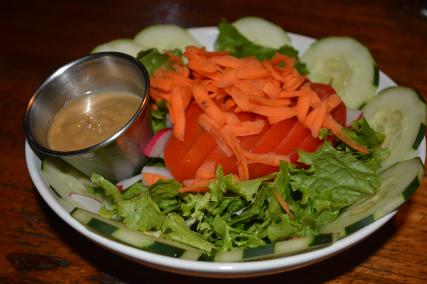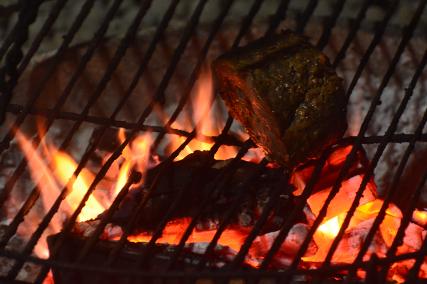 February 21, 2020 - Casa Botania, San Vito to Jardin de los Monos, Matapalo
Today was moving day. After breakfast and goodbyes to Janice, Randy, Chris, Tom, Christel and Josse we packed up and wandered the beautifully landscaped grounds one more time taking more photos of the flowers, bromeliads and birds. Unfortunately Kathleen had stepped out so we thanked Pepe and were on our way.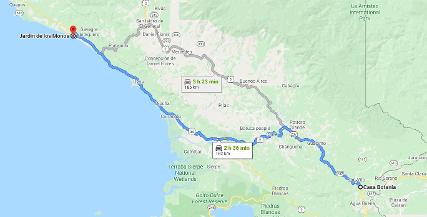 Our drive was lengthy, over three hours. We first drove north past San Vito and along a ridge through some beautiful countryside to Potrero Grande where we turned west, driving to the coast through the Boruca people's land. Temperatures soared through mid-day during this part of the drive, reaching a high of 38C. At Palmar Norte we returned to the 34 and drove north past Ojochal, Uvita and Domincal on to Playa Matapalo, our next stop.
Our next three nights will be at Jardin de Los Monos (Garden of the Monkeys), run by a Dutch couple, Lettika and Gijs, originally from The Netherlands. Lettika and Gijs moved to Costa Rica in 2014 after backpacking through Latin America in search of a place to settle down, which turned out to be Playa Matapalo, close to nature and wildlife. Playa Matapolo provided the perfect location - Lettika's dream of monkeys in the garden, hence the name Jardin de los Monos and Gijs' love of the beach and the sea.
After settling in, including time in the pool, we took Lettika's dinner suggestion of nearby El Express del Pacifico. On the way we saw this amazing orange sky through the trees - had to stop for a photo. The restaurant, if one can call it that is the ultimate in informal with a few tables and an outdoor BBQ. The owner / chef Daniel shows up at one's table explaining there is no menu as everything is fresh as is available and then proceeds to rhyme off a rather lengthy list of options. I started with smoked (50 hours he said) ham with garnishes. Gayle had a delicious vegetarian pizza while I had a superb, perfectly cooked tenderloin steak with a tasty peppercorn sauce and a nice large side salad. The wine was also very good. One of the other unknowns was the price - we had no idea what the cuenta (bill) was going to be but were very surprised when the entire meal came in < $70 Cdn. Great value for what we were provided. We expect we will be back.
One of Casa Botania's cabins nicely tucked in among the landscaped grounds.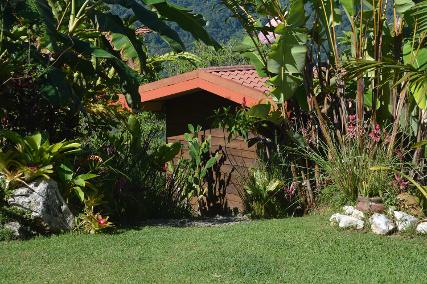 Janice and Randy from the Yukon / Belize.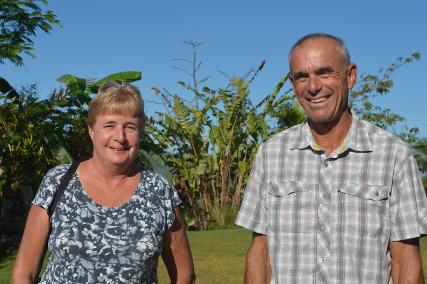 Chris and Tom from San Francisco. Christel and Josse from Belgium.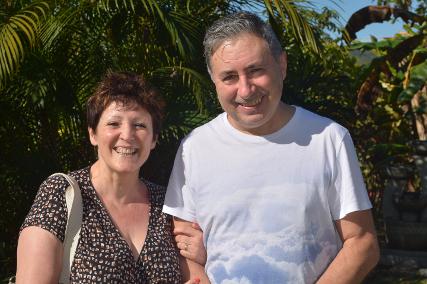 Views of the valley and the rain forest from the balcony of our cabin.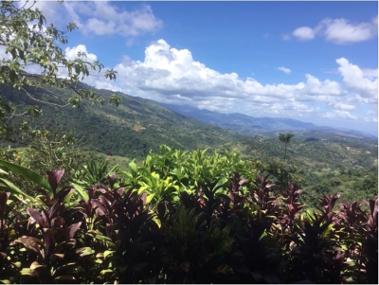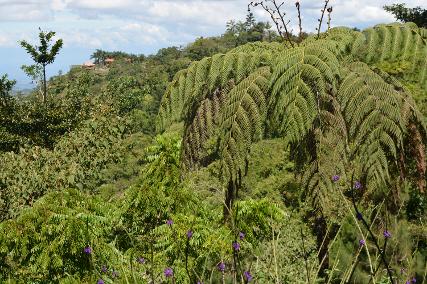 Bromeliads and flowers throughout the Casa Botania property.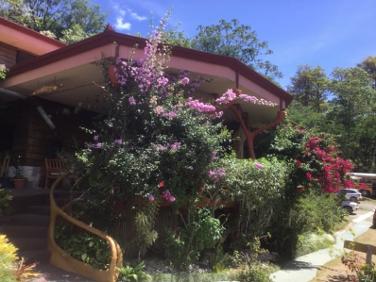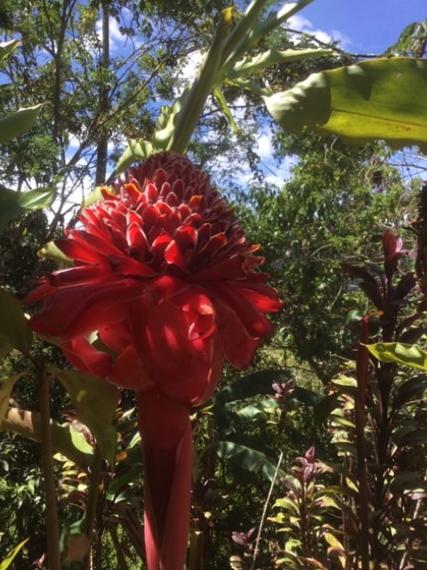 Pepe showed Gayle this really really tiny orchid - much smaller than this cropped photo presents.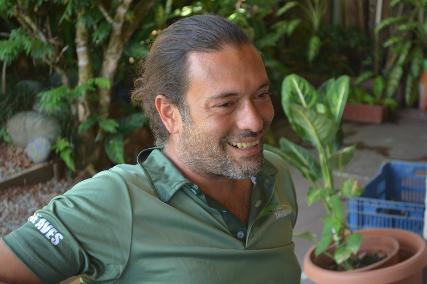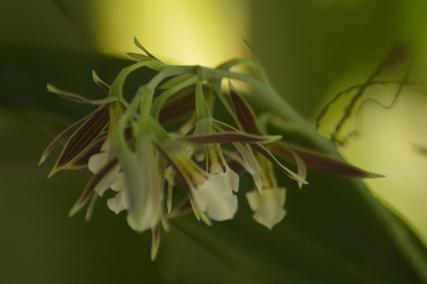 A tub in the middle of our large room at Jardin de los Monos.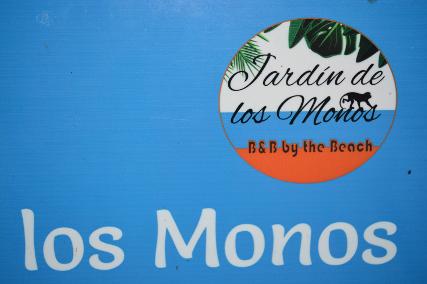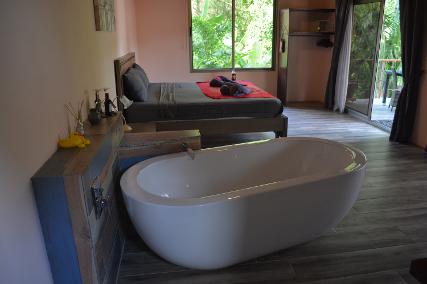 We had the upstairs suite with a view of the pool from our balcony.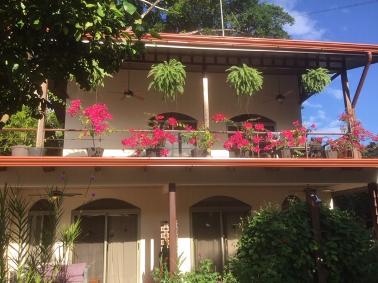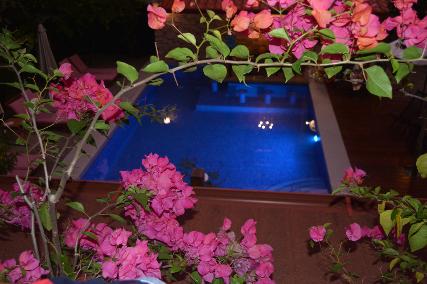 We just had to stop as we saw the sunset through the trees on the way to the restaurant.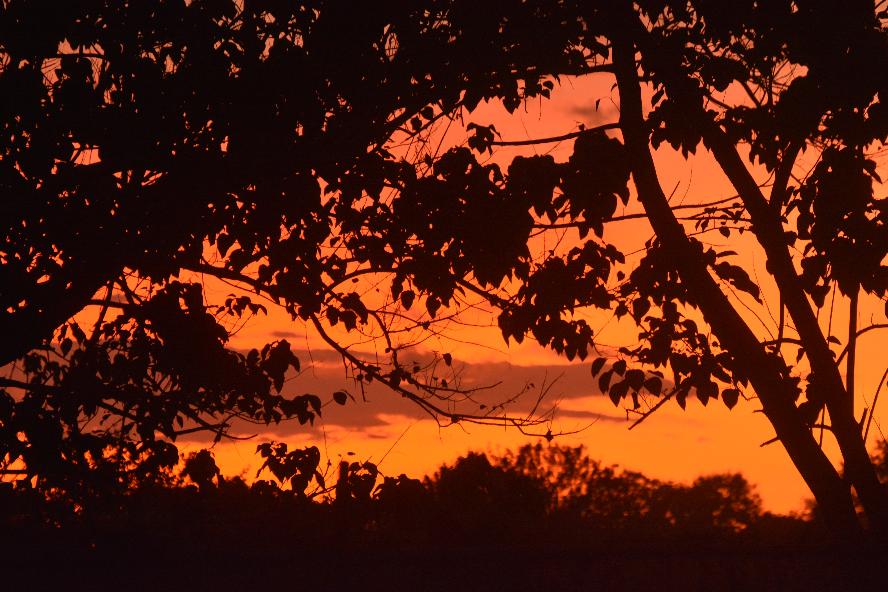 My appetizer of smoked ham. Gayle just loved her vegetarian pizza.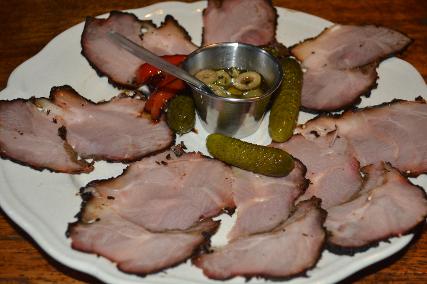 My tenderloin steak cooked to perfection on an outdoor BBQ, served with oven roasted rosemary potatoes, served with a generous salad and peppercorn sauce.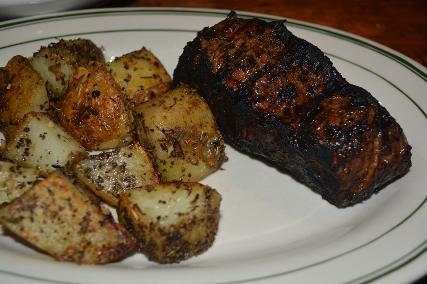 February 20, 2020 - Casa Botania, San Vito and Wilson Botanical Gardens
After breakfast we went to nearby Wilson Botanical Gardens, also known as Las Cruces Biological Station. The Gardens, along with Casa Botania were the reason Gayle wanted to come up this way. We thought about it in 2017 but it didn't fit into our itinerary so this year we made a point of going here. The garden originated in 1973 when the Organization for Tropical Studies purchased the property and incorporatated it into their biological station, of which there are three such studies in Costa Rica. The garden spans 30 acres along with an adjacent 657 acre forest, contained within La Amistad National Park. Wilson Botanical Gardens is particularly known for its collection of palms, representing the second-largest collection of palm species in the world.
The gardens offered a pleasant walk although being the dry season there were not that many flowers in bloom, In particular there were very few orchids. On the other hand there was the tallest stands of bamboo we have ever seen. Wilson is also known for the wide variety of rain forest birds of which we saw a number of very colourful species, particularly the Green Honeycreeper.
Perhaps it was visiting in the height of dry season but on the whole we (particularly Gayle) were disappointed with Wilson Botanical Gardens. She expected much more.
We enjoyed a relaxing afternoon at Casa Botania and then another fantastic dinner of bruschetta, ricotta and spinach lasagna with a garden salad and meatballs for the non-vegetarians. Dessert was a chocolate mousse followed by Pepe's deliciously smooth limoncello. Kathleen certainly knows how to cook and Pepe certainly knows how to make limoncello. We connected with three other couples over the past days - sharing travel experiences. There was Randy and Janice from the Yukon, Chris and Tom from San Francisco and Christel and Josse from Belgium. Each opened up about their lives, a special experience we have found only happens at these small boutique hotels/B&Bs were the opportunity to connect comes with the environment.
Again we enjoyed a wonderful sleep in the cooler mountain air (no air conditioning needed - the fan was more than sufficient).
Casa Boatnia's property was full of colourful plants and flowers.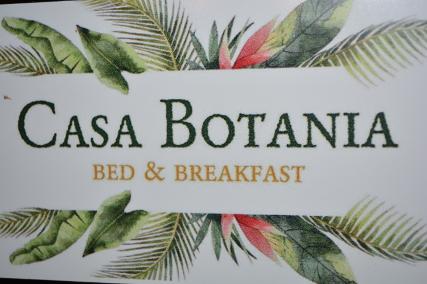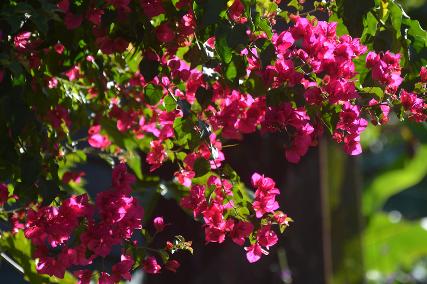 A fiddle head and a statue (monkey no see; monkey no do) on the grounds of Casa Botania.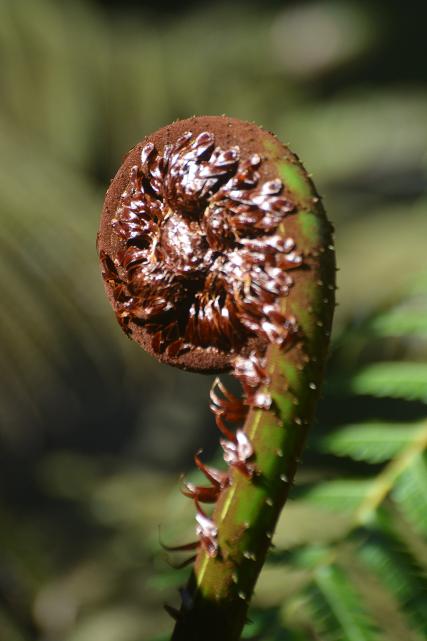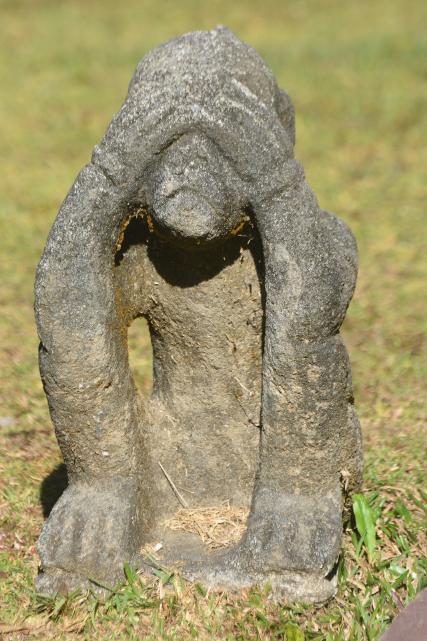 The Terraces des Amis (and dining area) of Casa Botania.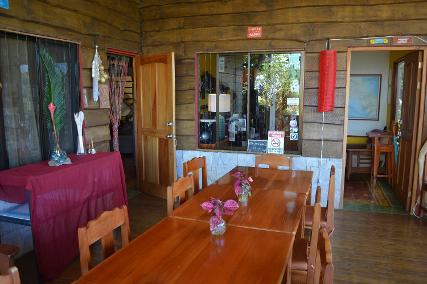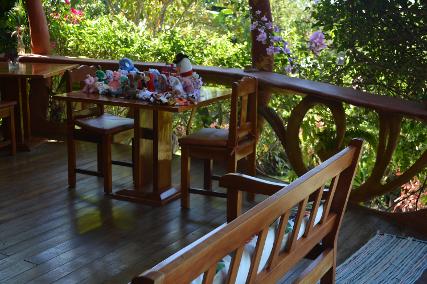 For breakfast choices included a delicious crepe. ... and eggs with Gallo Pinto.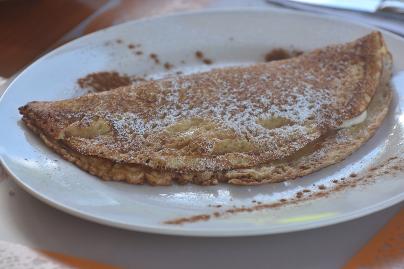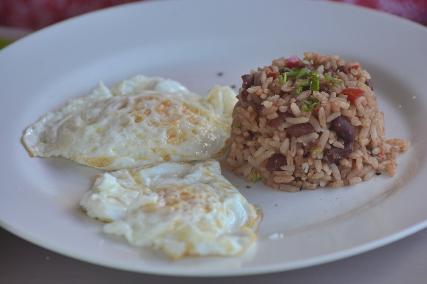 The 'jungle' of Wilson Botanical Gardens. Gayle on her stroll through the gardens.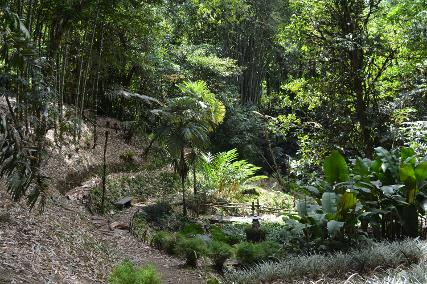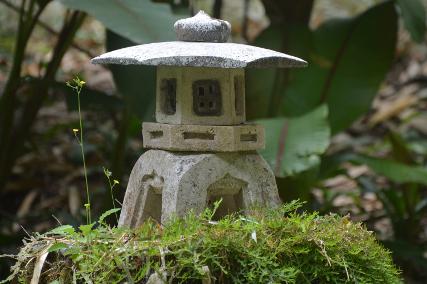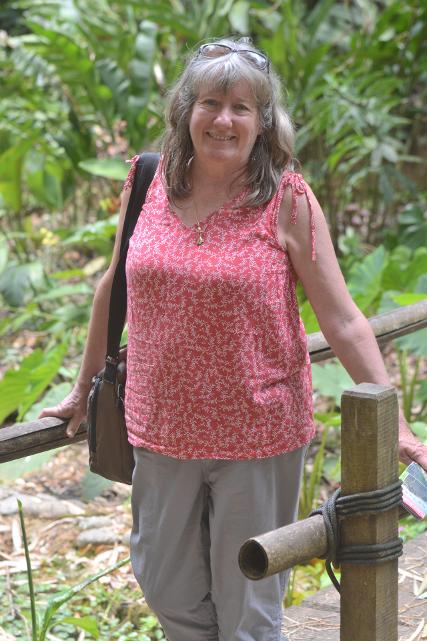 A butterfly. Unique protective spikes on a tree.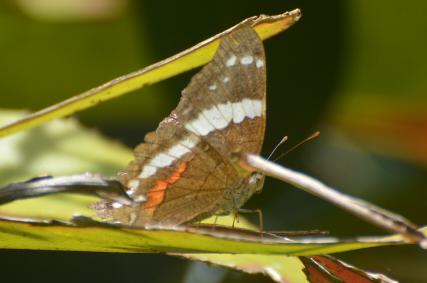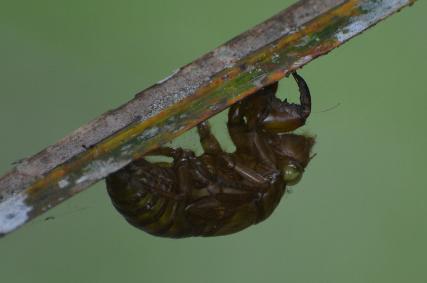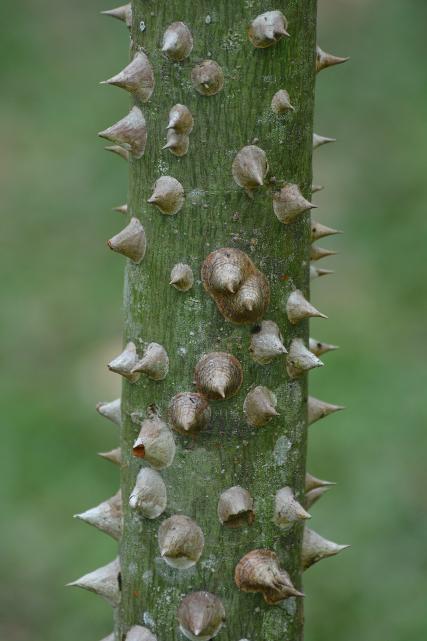 A bromeliad ... ... and Gayle believes an orchid.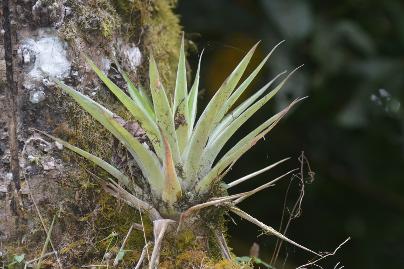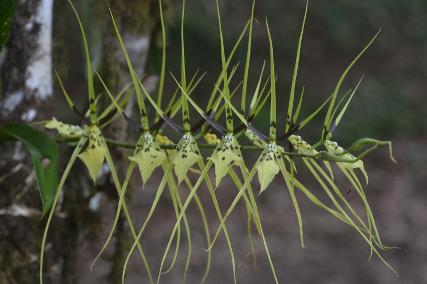 Flowers at the biological gardens.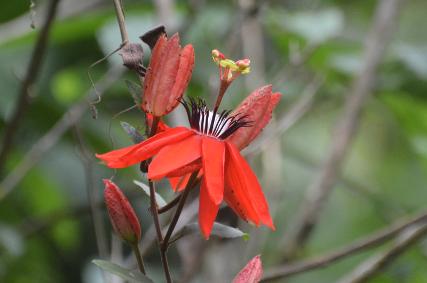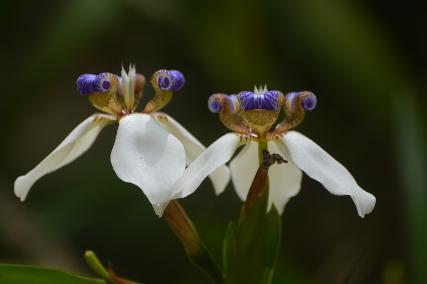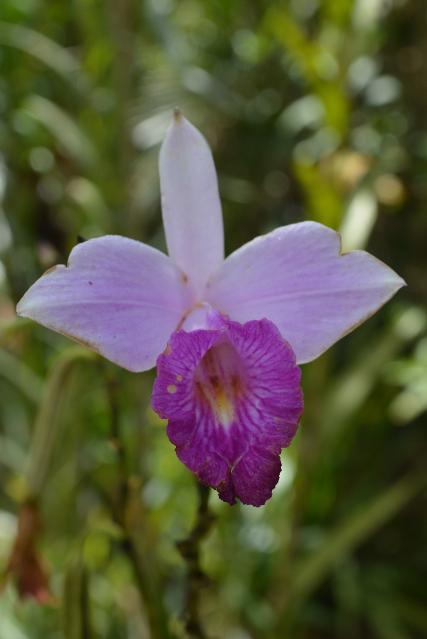 More shrubs and flowers from Wilson Botanical Gardens.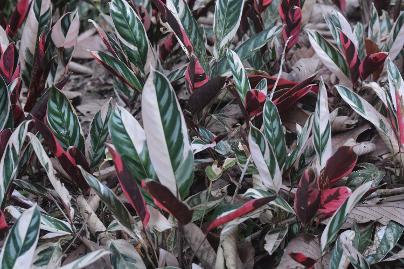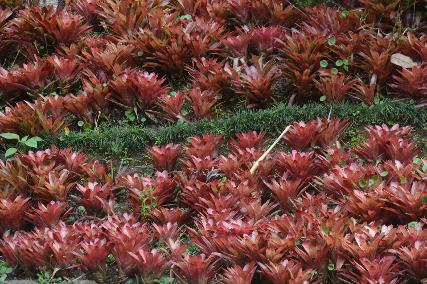 And colourful flowers/vegetation at Casa Botania.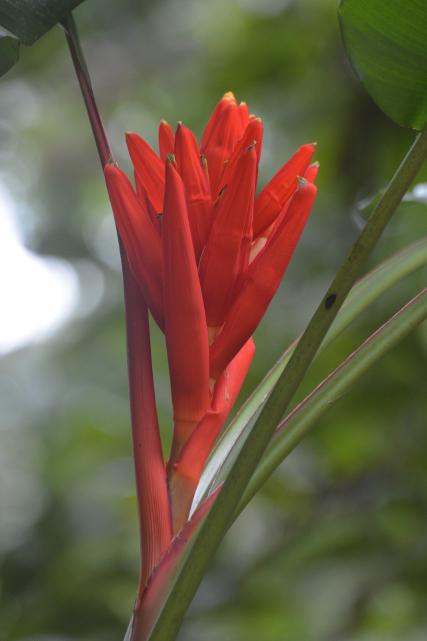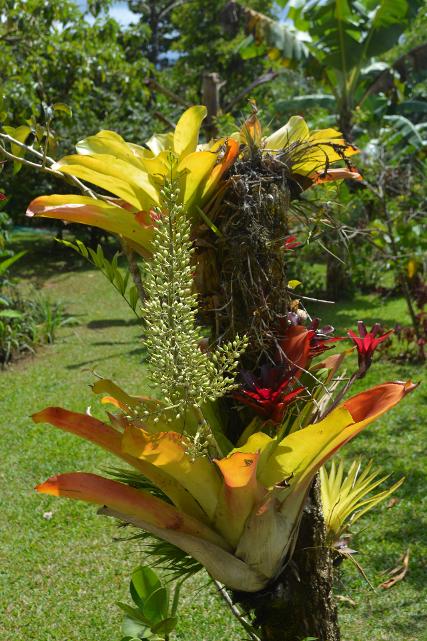 A few birds of Costa Rica - a Scarlet-rumped Tanager, a Silver-throated Tanager and a Green Honeycreeper.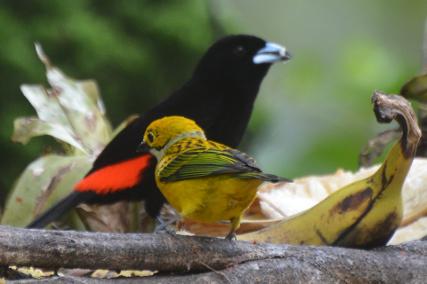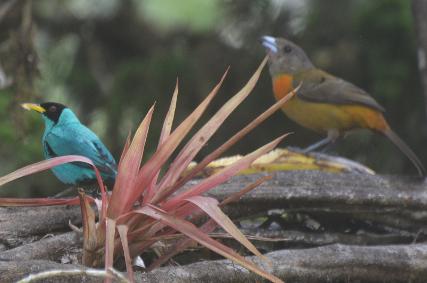 The Silver-throated Tanager. A Spangled Tanager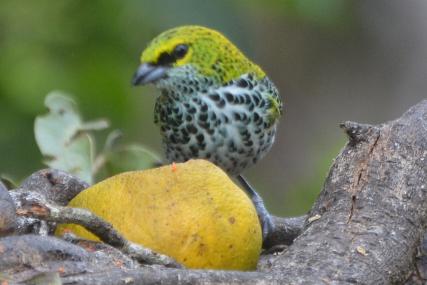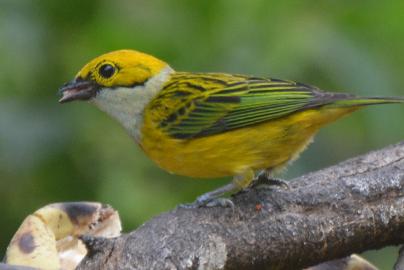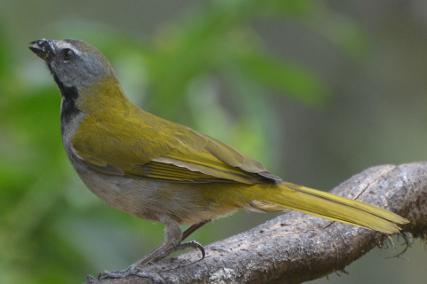 And another Green Honeycreeper.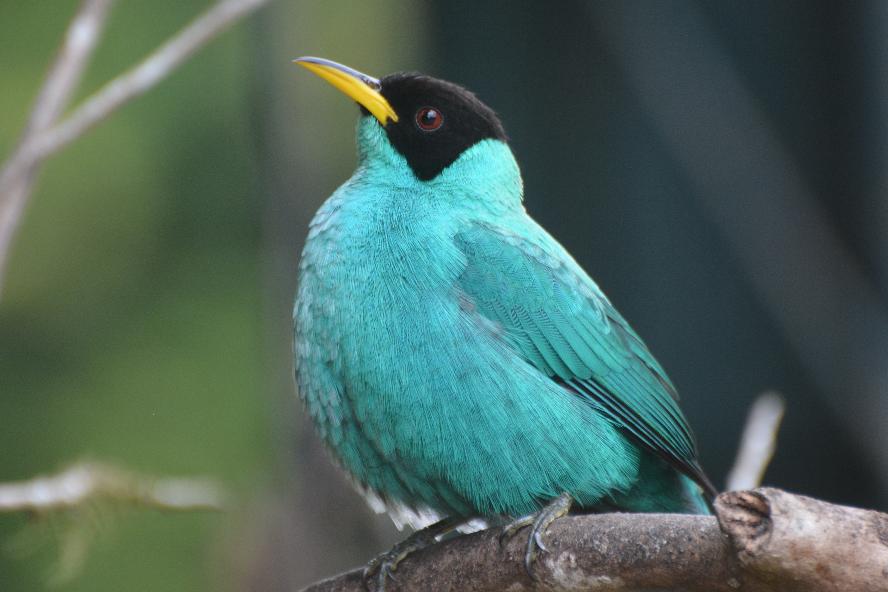 The evening's menu. Starting with bruschetta.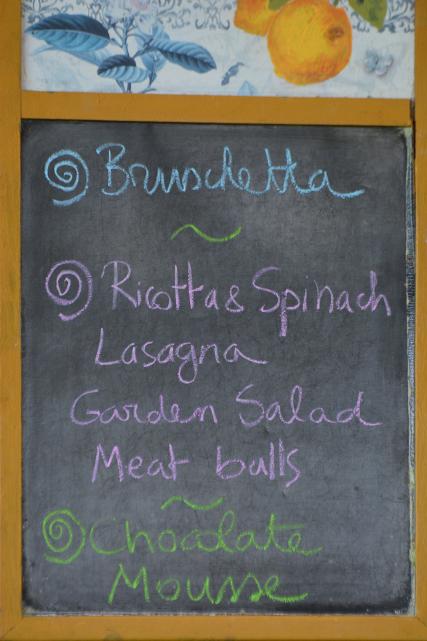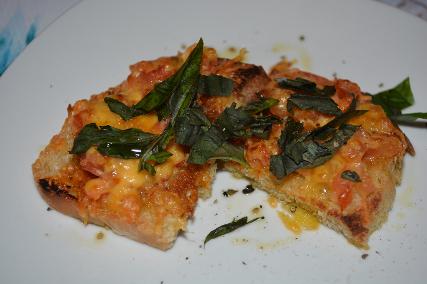 Vegetarian lasagne with a side of meatballs
Chocolate mousse and limoncello - a perfect end to the meal.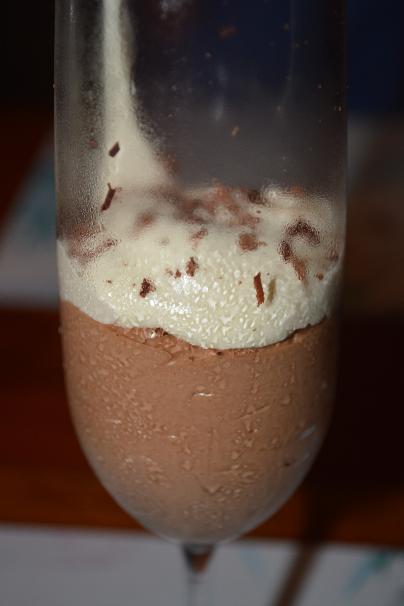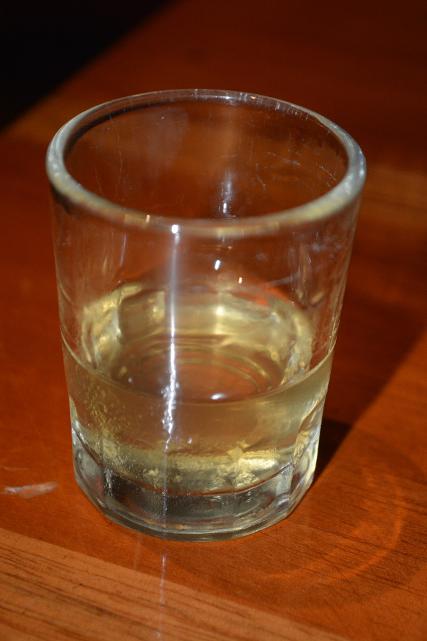 February 19, 2020 - Casa Botania, San Vito
Today was a 'sloth' day (ok Gayle says every day is a sloth day but this was a double sloth day) during which we never left the property. But we did enjoy the vistas from our terrace across the valley to the mountains beyond, including before sunrise; breakfast; chats with other guests; a nice chat with Pepe; donating a pile of beanie babies; a nice long nap and another wonderful dinner. Our sleep was quite comfortable with the cooler night air as compared to the humidity of Drake Bay.
During our visit to Costa Rica last year we had arranged through Pipa at Casa Tenoria in Bijagua to donate a supply of beanie babies to the town's elementary school. It was such a great experience we decided to do the same again this year. As you may have read we donated a bunch to the elementary school in Drake Bay and now more to children in San Vito. Kathleen suggested rather than the school they be given to the children of Casas de la Alegria, which we thought was a great idea.
The Casas de la Alegria-Jamigara ajudo iue are childcare centres for the children of coffee pickers, primarily Ngabe and Bugle Indians who move to the nearby coffee plantations during the harvest season of September through January. The Casas de la Alegria, of which there are now 17, have become a kind of nursery for children ages 0 through 12. The Casa de la Alegria have intervened in different ways with the coffee growers to improve the conditions of their workplace, including providing protection and care for minors with the intention of enforcing their rights and compliance with the best interest of the child, including ensuring the elimination of child labour. The centres provide adequate nutrition to the children along with informal education of their culture and traditions.
Of course we encouraged Pepe and Kathleen's son Elias to take one of the beanie babies - he choose a bat as well as other staff for their children.
Dinner was again delicious - a goat cheese with cumin toast to start, pesto ravioli for Gayle and coq-au-vin for me followed by a crepe with caramelized apples for dessert. The 'Terrace des amis' is set up such that meeting and conversing with other guests is common place. Joining us for dinner were Randy and Janice from the Yukon, Chris and Tom from San Francisco and Christel and Josse from Belgium.
The beanie babies laid out on the table - everyone was excited.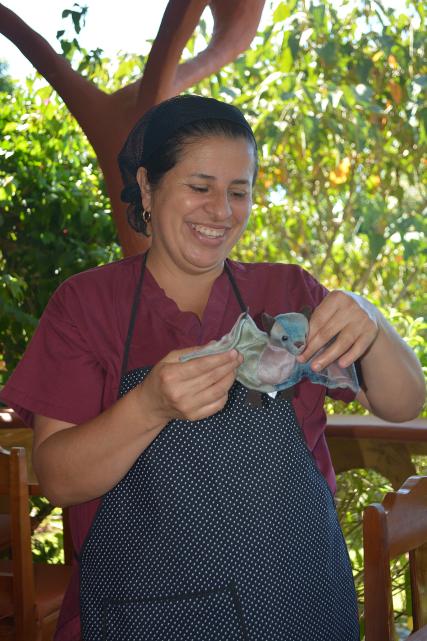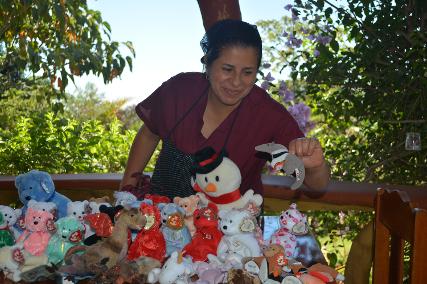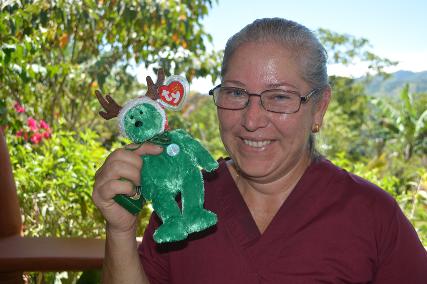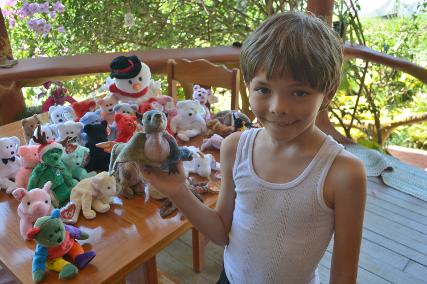 Clockwise from the upper left - Pepe; Kathleen, Lucy, Elias, and Lobo.
Kathleen, a group tour leader and Pepe, a nature guide met, fell in love and set up shop near San Vito to experience the 'pura vida' in the southern highlands where the warm/hot days are tempered by cool evening breezes. Kathleen, born in Belgium enjoyed 10 years of travelling, including joining small non-profit organizations and working as a manager in a yoga retreat in Crete before fulfilling her dream of her own small oasis of peace, good food and natural environment, being Casa Botania. Pepe, a Costa Rican is a passionate nature guide specializing in birds, sharing his Tico culture with guests. He is an excellent bird photographer, knowing all the hotspots in the southern area of Costa Rica. Both are very personable, excellent hosts for their guests.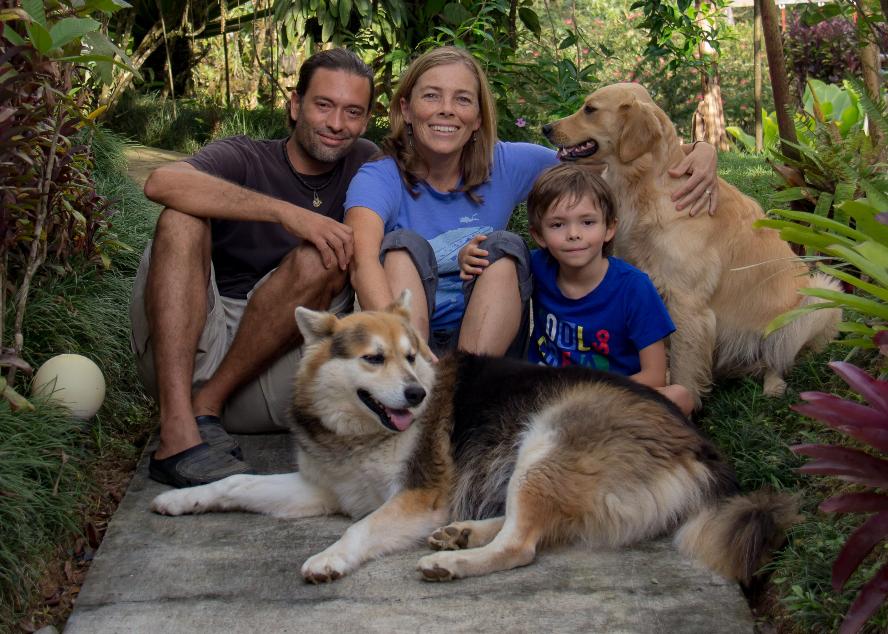 Pepe peeling potatoes for dinner. A butterfly in the garden,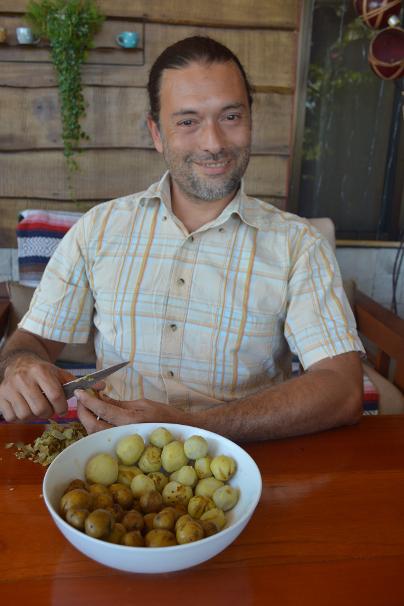 Gayle relaxing on our terrace.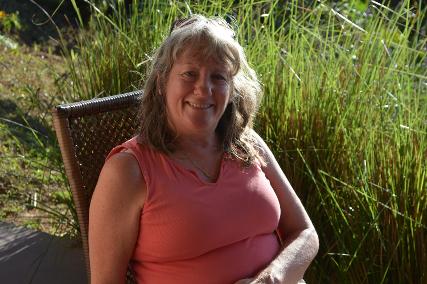 There are a number of colourful birds on the property.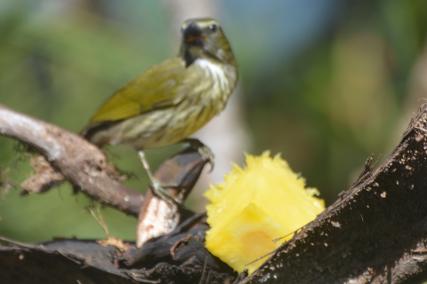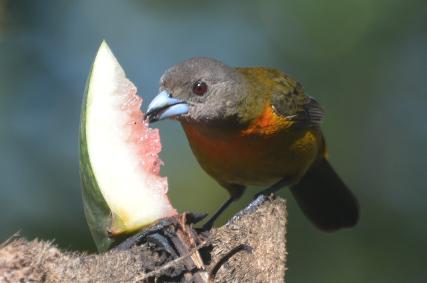 Trust me it is not easy to get an in-focus photo of a hummingbird - I got really lucky here.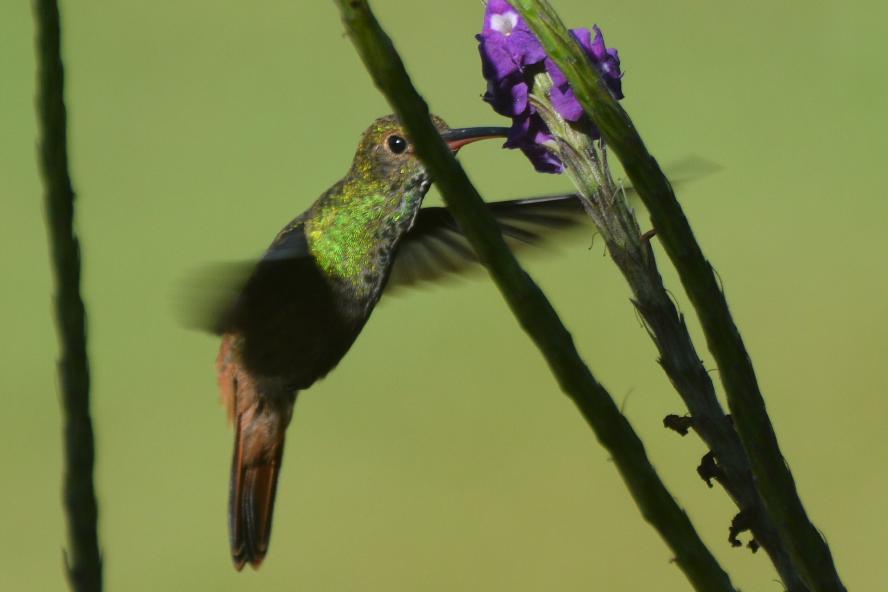 Tonight's menu ... ... starting with goat cheese and cumin toast.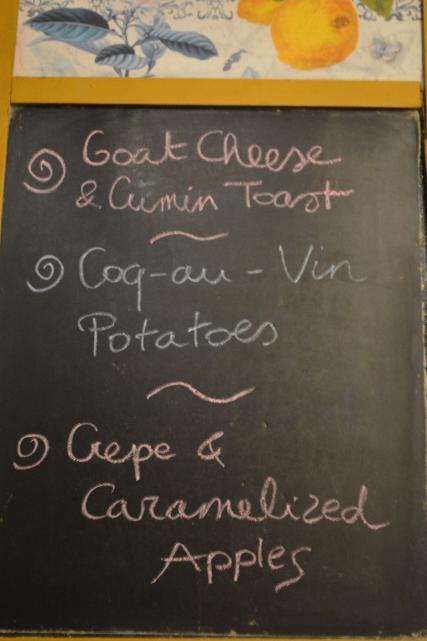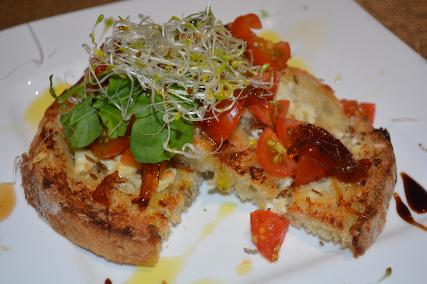 Homemade ravioli was Gayle's main course tonight.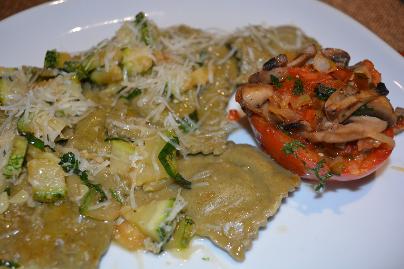 Belgian crepes with caramelized apples and ice cream for dessert.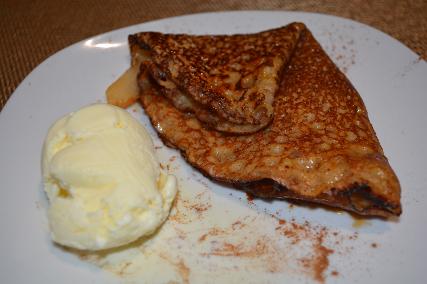 February 18, 2020 - Casa Horizontes, Drake Bay to Casa Botania, San Vito
We said our goodbyes to Reinaldo (what a funny guy), Jamy and Pedro and headed off to our next stop near San Vito, a bit up in the mountains where hopefully it will be a bit cooler. We were making good progress along the 30 km dirt road back to Rincon when about half way through there was this loud clank clank, and yes we had a flat tire.
Now on the one hand it could have been worse - we were on flat terrain which was fortuitous and I was able to loosen the lug nuts which was good. But on the other the jack raised the frame of the vehicle but not so much the axel with the wheel which created a problem with the inflated spare. So I had to chisel out this hole in the road to drop the tire in place. After considerable effort - the road, although dirt was extremely compacted - I finally managed to succeed, a fortunate outcome as there are reports of boas and other animals here in the jungle / rainforest.
It was then a very slow careful drive the remaining 15+ kms of dirt road and still slower than normal on the temporary spare once we made the paved road. But we did make it back to the 34 where we easily found a tire repair guy who took us in right away and 20 minutes later had us on our way for only 3,000 colones, or $7 Cdn. We felt we had received such a deal we tipped him 67% (2,000 colones) no doubt making his day.
We then drove south to Ciudad Nielly where we turned east on a narrow steep road that took us up the mountain, slowly at the best of times but really slowly when behind a bus or truck. Eventually we made it to Casa Botania, elevation 4,100 feet, where we were greeted by Pepe who showed us to our beautiful cabin (Mountain View) that had, surprise, wonderful mountain views, including those of the sunset.
Pepe's wife Kathleen prepares and provides dinners that we had read were very good. In fact they were beyond very good - they were excellent well presented and flavourful meals. Especially impressive were the creative vegetarian meals Kathleen prepared for Gayle. The accompanying house wine was really quite good and after the meal we were treated to a night-cap of home-made limoncello. Without question we will be eating here the rest of our stay, as all guests did.
Another bird near the Casa. A short video of our balcony and its view.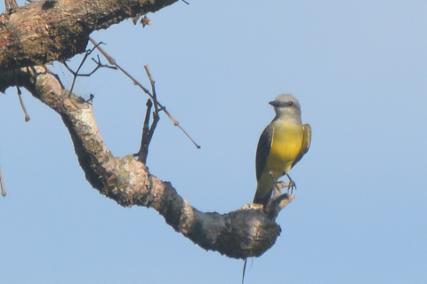 Reinaldo, who was always in long sleeves inspite of the hear, and both Gayle and me.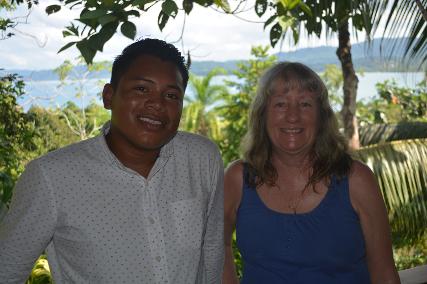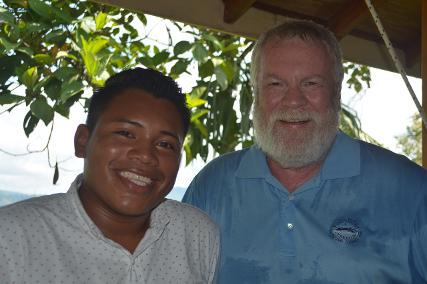 We never tired of the views from the eating area of the casa.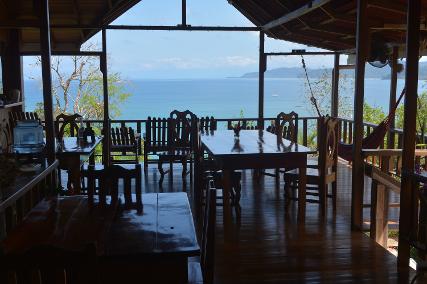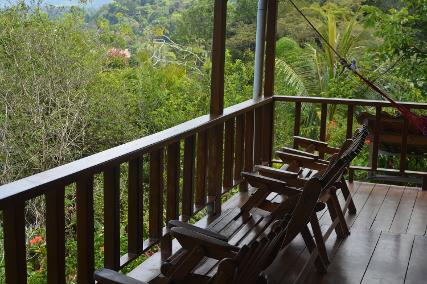 Jamy. Reinaldo, Jamy and Pedro.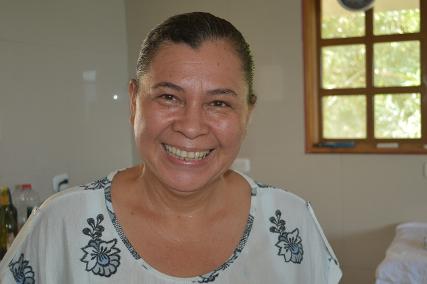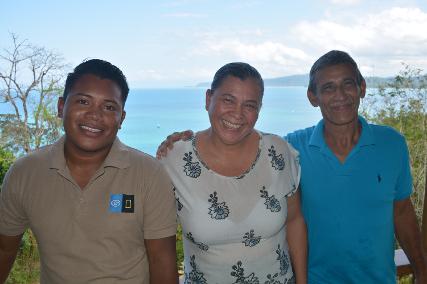 Driving out of Drake Bay the most traffic we encountered were these cows.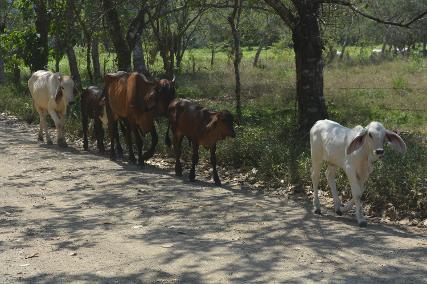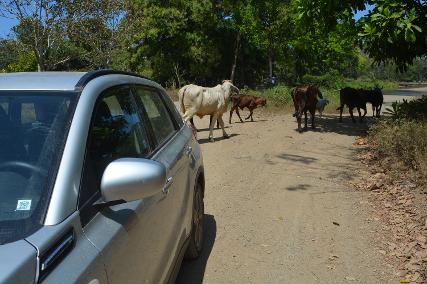 With real monkeys all around I got to be a 'grease monkey' by fixing our flat tire.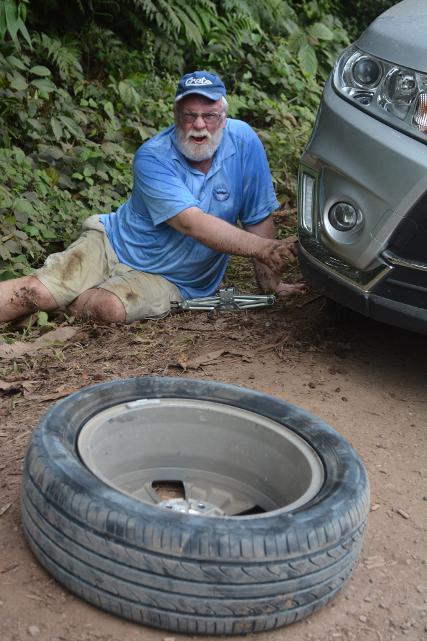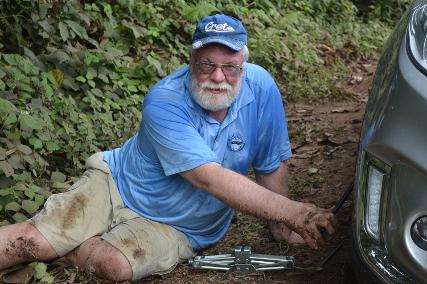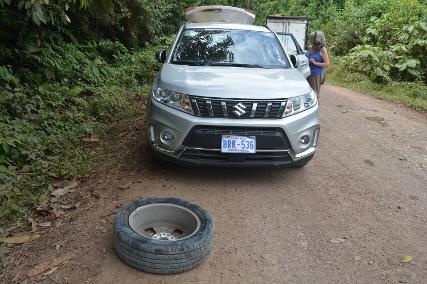 Palm kernels for the production of palm oil. Bananas at a roadside stand.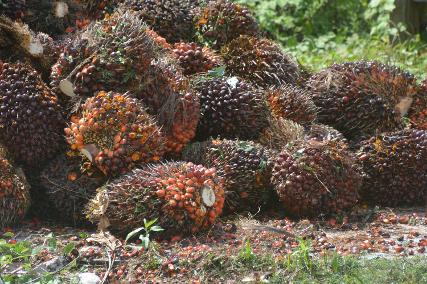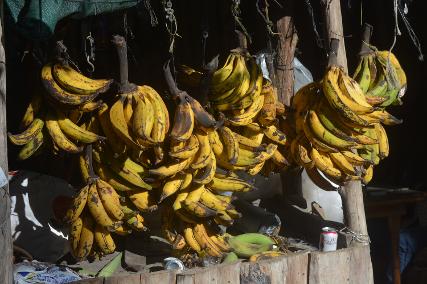 A corner of our room. View from our terrace across the valley.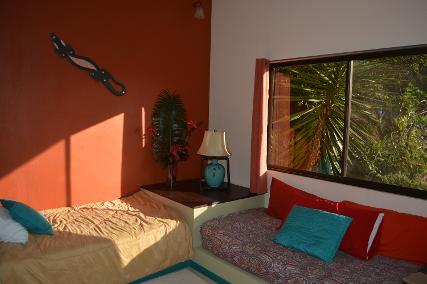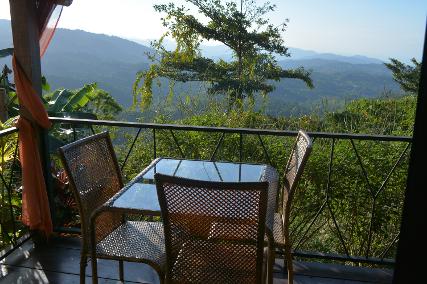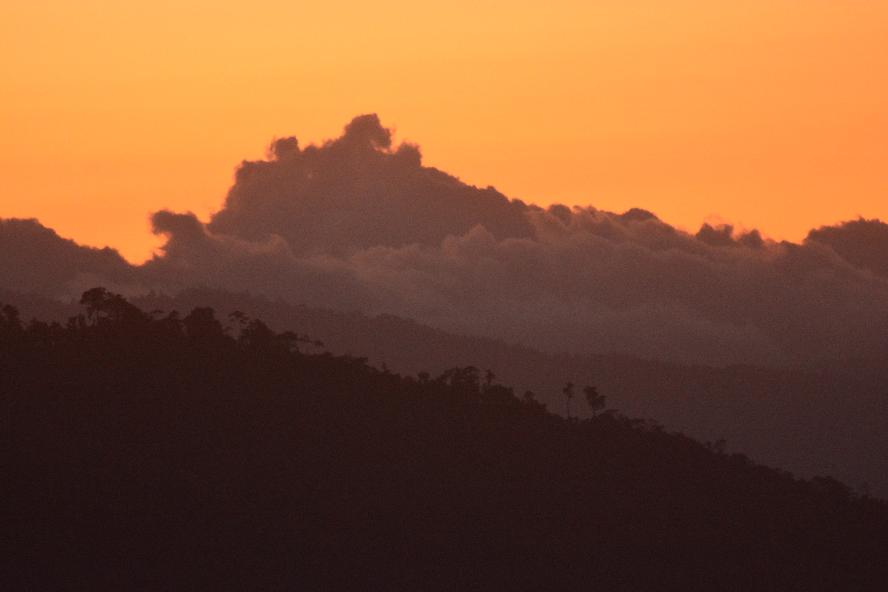 Tonight's menu. Gayle enjoying a glass of wine (most wine here is from Chile).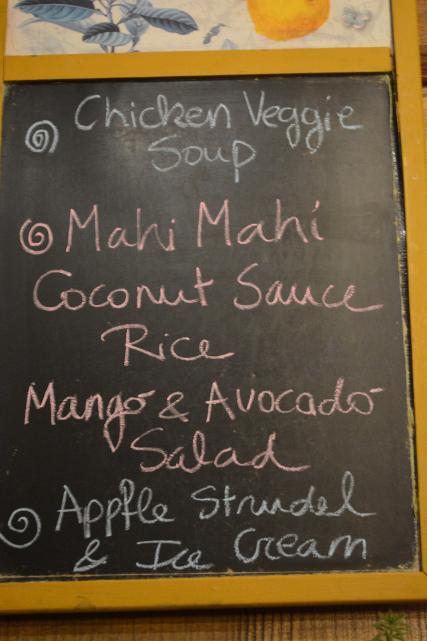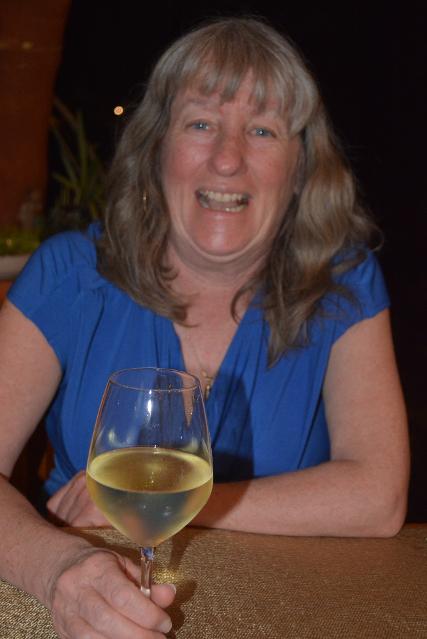 Gayle started with a beautifully plated salad. Followed by falafels.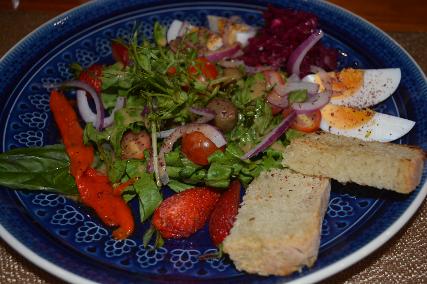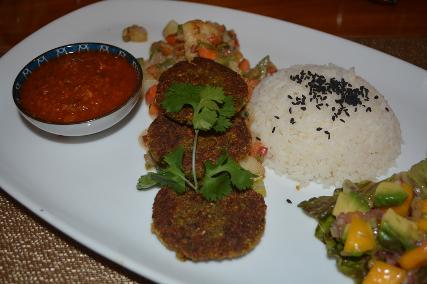 Mango and avocado salad. Mahi mahi with peanut sauce and jasmine rice.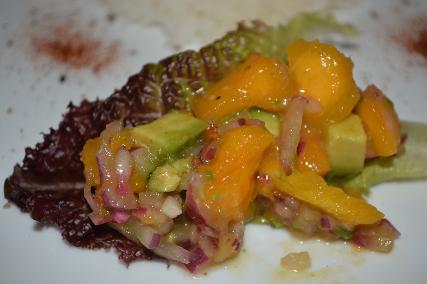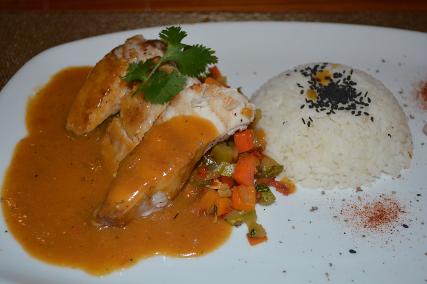 Apple strudel for dessert. And a nightcap of home-made limoncello.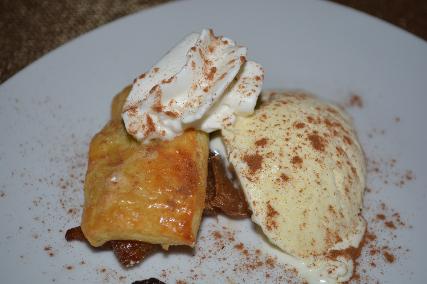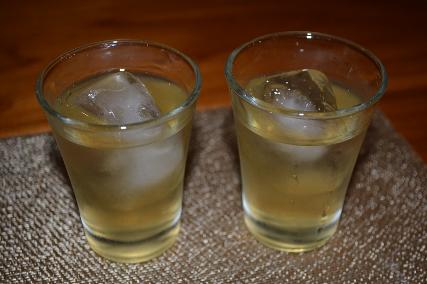 February 17, 2020 - Casa Horizontes, Drake Bay
The variance in today's agenda was a visit to the Drake Bay elementary school where we donated a number of beanie babies (some of you might remember I may have been somewhat into beanie babies back in the day).
During our trip to Costa Rica last year we arranged to donate beanie babies to the school in Bijagua, arranged through Pipa and Casa Tenorio. The experience was so rewarding we decided to do the same this year although nothing was pre-arranged. We simply showed up and introduced ourselves to Berny, the school's administrator. Berny then introduced us to the Director. Unfortunately the kindergartens were not present today but the older children were certainly excited to see these little stuffed animals. Regrettaably the Director said we could not take any photos of the children's faces (Costa Rican law) but we did arrange to take one of the student's backs holding the beanie babies high. Berny was very generous with his time giving us a tour throughout the entire (small) school. We left a little less than half of those we brought with us with the rest to be distributed at our next stop in San Vito.
Afterwards we enjoyed another swim in the bay along with watching the pelicans feeding on leftovers from the fishermen's catch of the day.
It was then back up the steep hill (and yes I stalled it once again) where we spent the afternoon on our balcony watching for animals and birds. Dinner was again similar although tonight I enjoyed some delicious shrimp. As one of the guests - Tony from Ottawa was celebrating his birthday today he was presented with a birthday cake that we all shared.
Views from our balcony and the deck of the casa.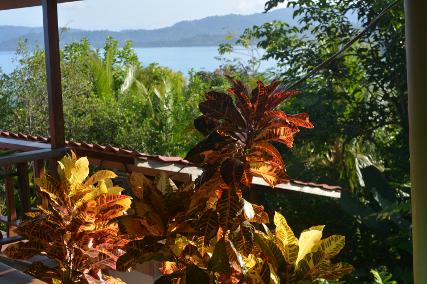 A pretty yellow breasted bird outside our room. Part of our room.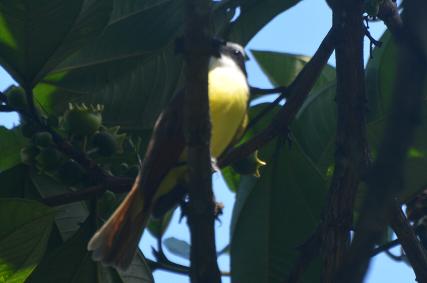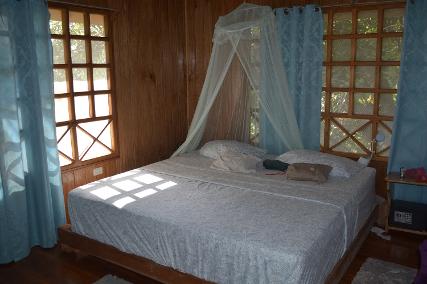 Another of our iguana guests - he (or she) really wasn't this close - telephoto lenses and photo cropping can do wonderful things.)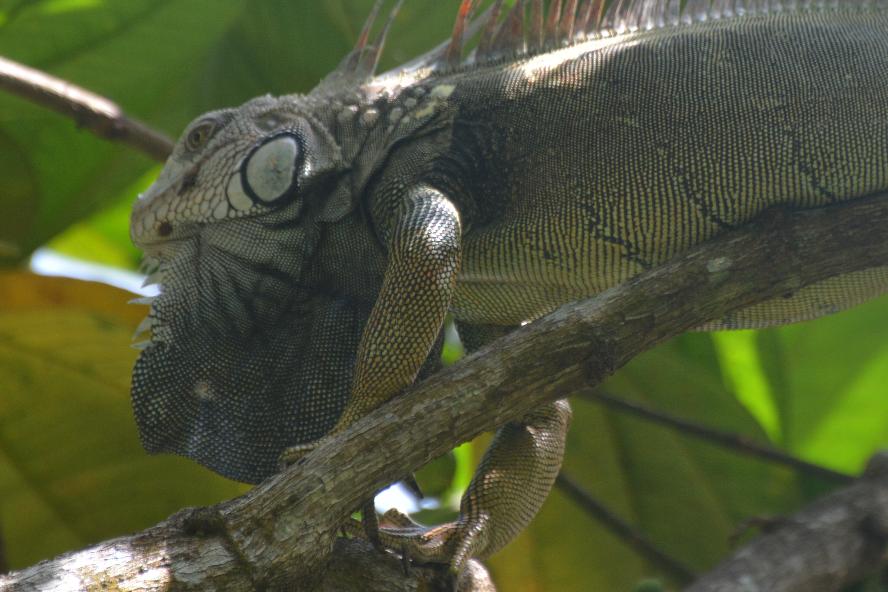 A motmot, spotted by Gayle in a tree just outside the door of our cabin.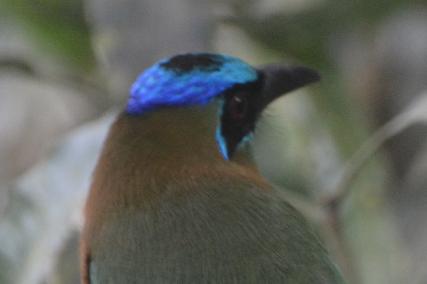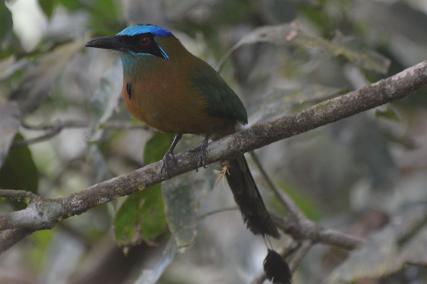 The Costa Rican Coat of arms, National anthem, flower (Guaria Morada) and bird (Clay-coloured Thrush), all painted on the wall of the school.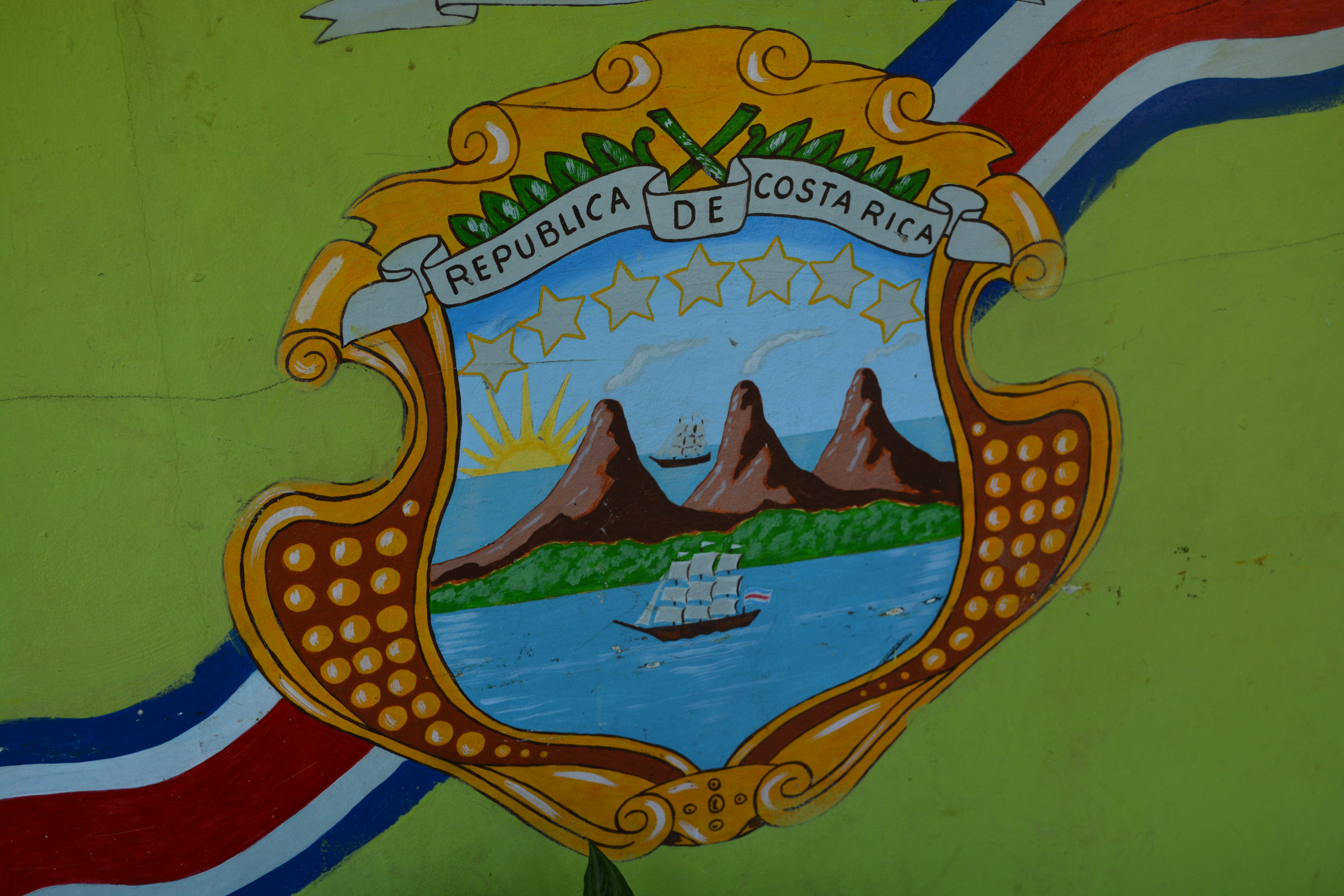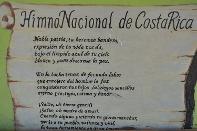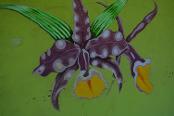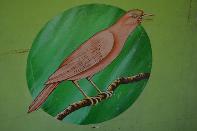 Beanie babies for the kindergarten class. Outside the Drake Bay elementary school.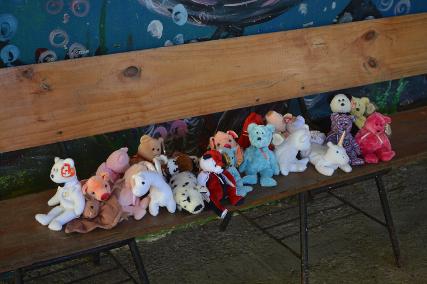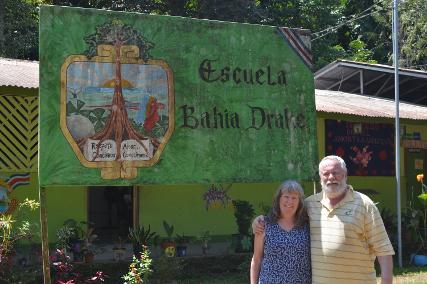 The library, or bibliotech. A collection of English books.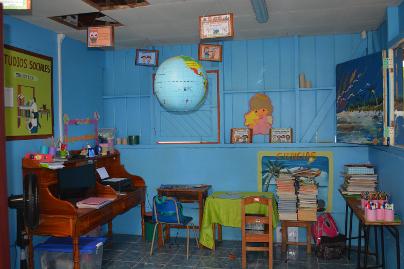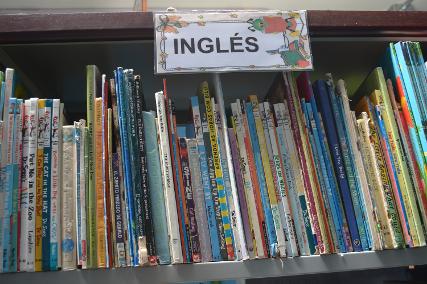 The interior courtyard of the school. The school's Director with us.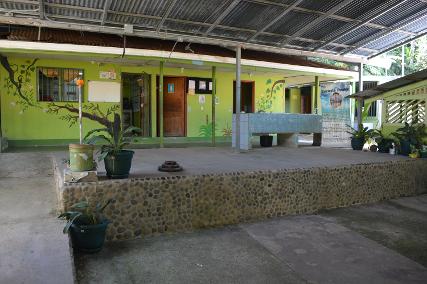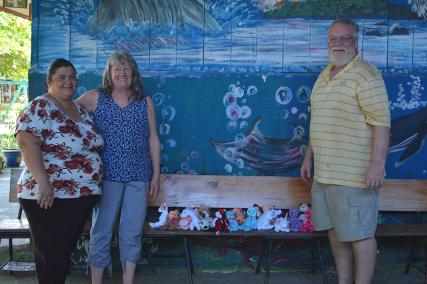 Berny, the school's administrator who showed us around.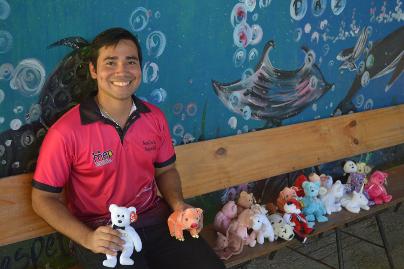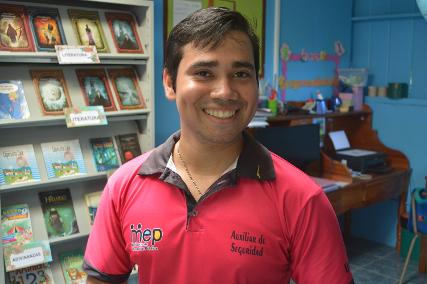 4th graders showing us the beanie babies that will be given to the younger children (we were not allowed to photograph the student's faces so took this shot from behind).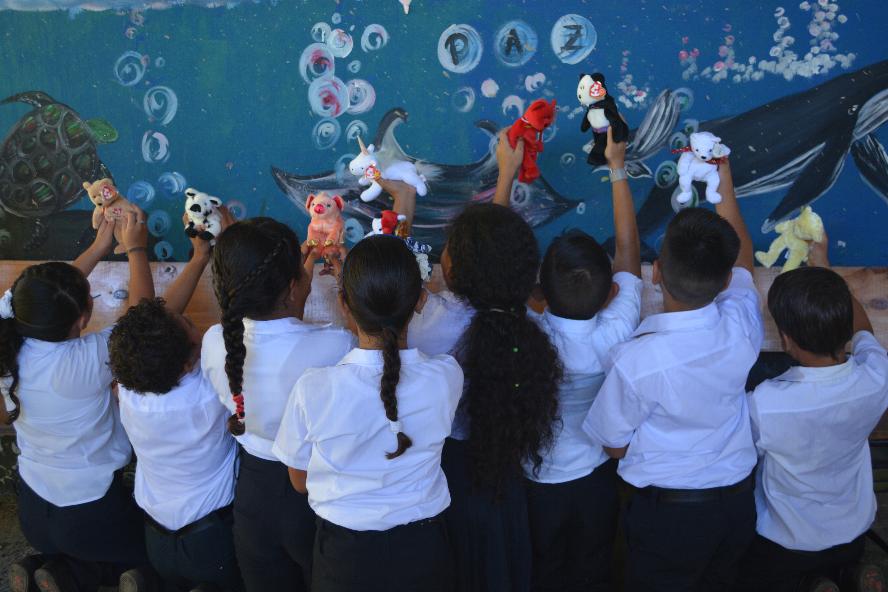 Another swim in Drake Bay. Pelicans awaiting their lunch.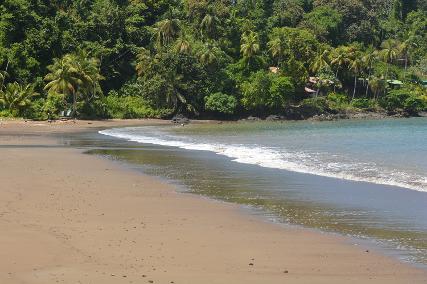 Not huge in size but the shrimp were delicious.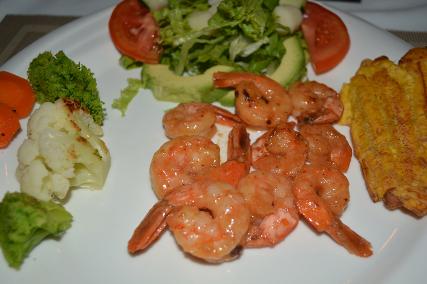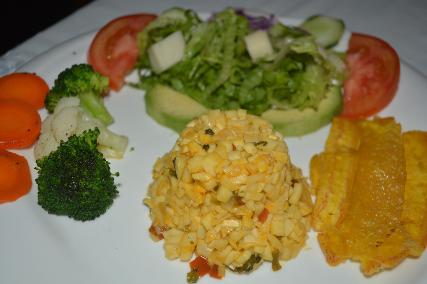 February 16, 2020 - Casa Horizontes, Drake Bay
For the most part a similar day to yesterday - up early to listen to and watch the birds, breakfast, and then the morning just sitting on our balcony enjoying the view over Drake Bay and the birds and animals (including our resident iguana) just outside our cabin.
Early afternoon we drove down the hill and to the end of the beach from where we took a short walk, first over a swinging bridge to a trail that apparently goes for 15 kms along the coast. We walked only a few hundred metres to a café - Kalaluna where we had a bite to eat - Gayle a guacamole stuffed avocado and me ceviche with shrimp accompanied by a margarita for me and a pina colada for Gayle. It was wonderful and tranquil just sitting in this perfect location, enjoying some good (although somewhat expensive) food and drink, looking across the bay.
We returned along the beach being entertained by a flock of pelicans nose-diving into the sea in search of their lunch. There was also a fellow throwing his net in the water capturing some very small fish, perhaps to be sold as bait. We then spent some time in the warm warm water, cooling off from the afternoon heat.
It was then back up the steep hill where this time I did stall once but even on the hill got it going and successfully made it back up to the lodge. The rest of the afternoon was spent just relaxing and then off to dinner were we met another Canadian couple from Ottawa (Tony and Angela). Then as is the standard it was back to the room and lights out.
A Cerise Tanager outside our cabin. Breakfast of pancakes, Gallo pinto, plantain and a fried egg.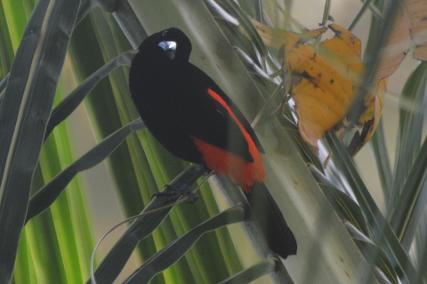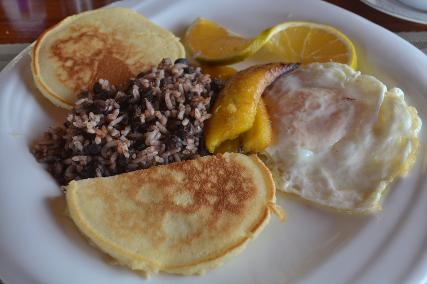 More iguanas - or perhaps it is the same guy (or gal) returning to a favourite sunning spot.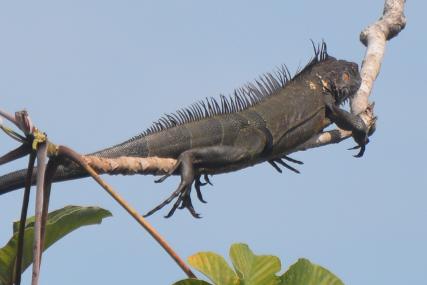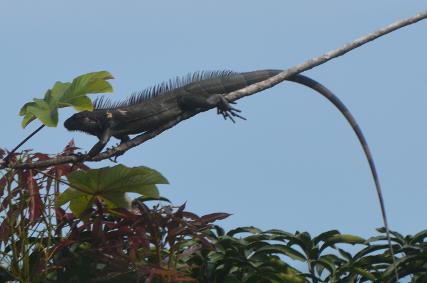 The swinging bridge across the estuary connecting to the coastal walking trail.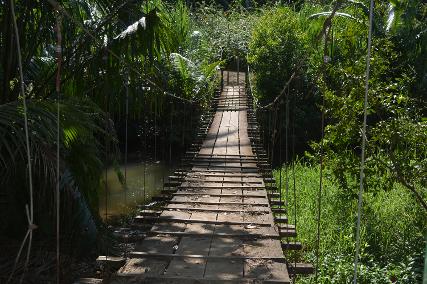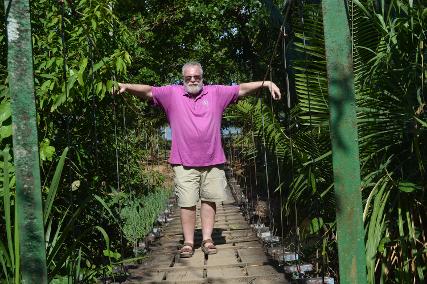 The view across the bay from Kalaluna Café.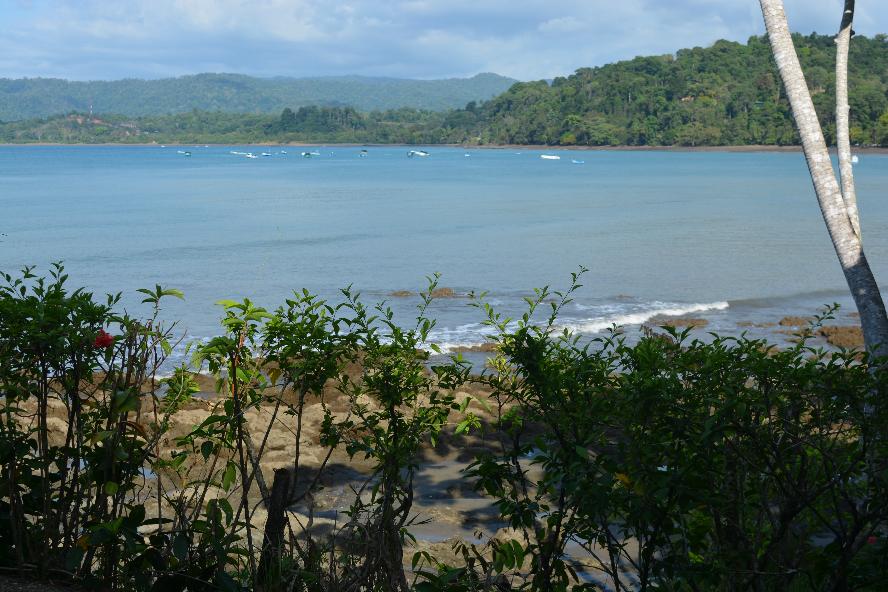 Unique pink bananas. A pina colada for Gayle.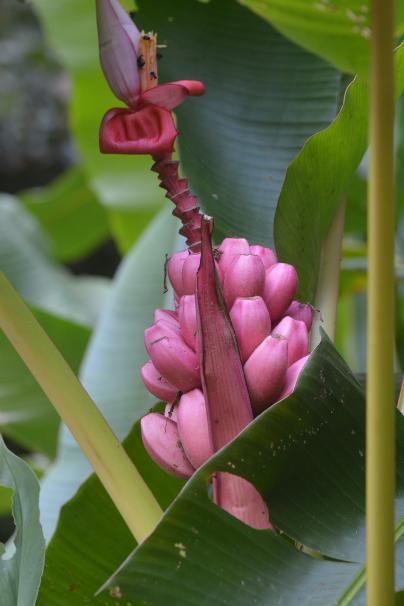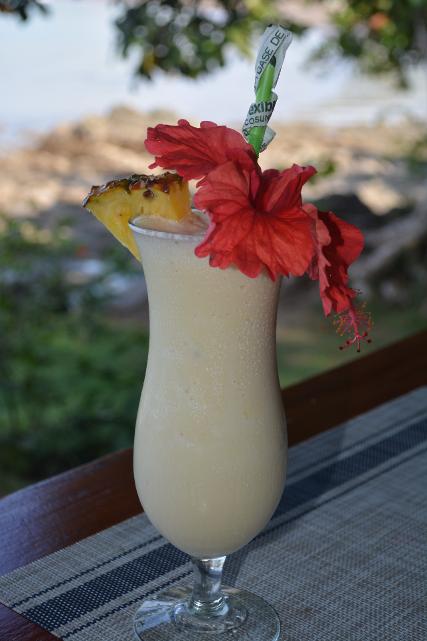 My margarita. Enjoying a drink at Kalaluna.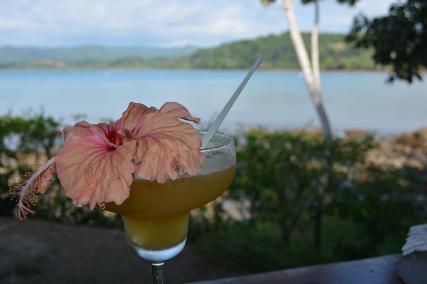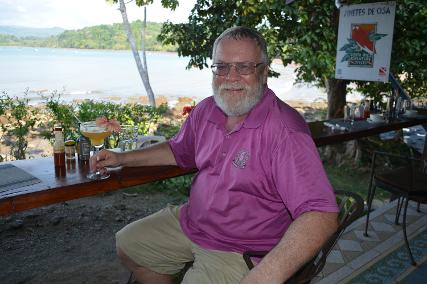 For Gayle a stuffed avocado with small breads. For me the ceviche mixta with shrimp and patacones.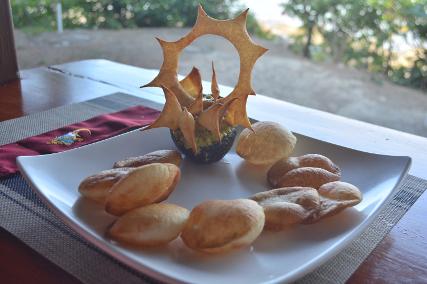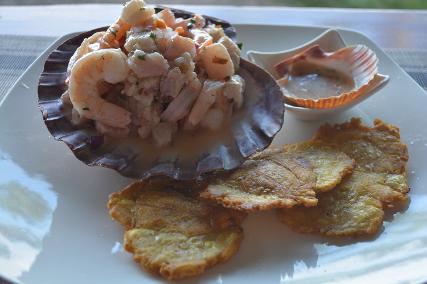 A couple of pelicans on the water and the beach.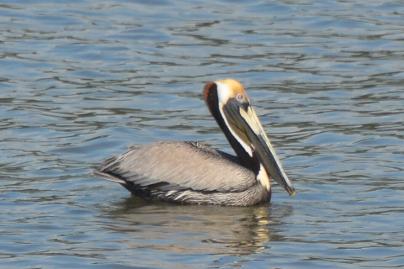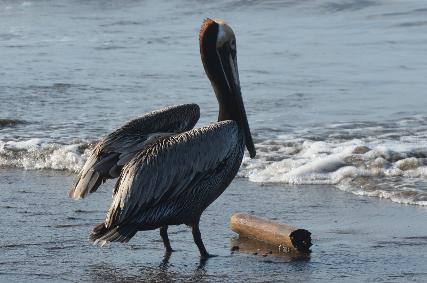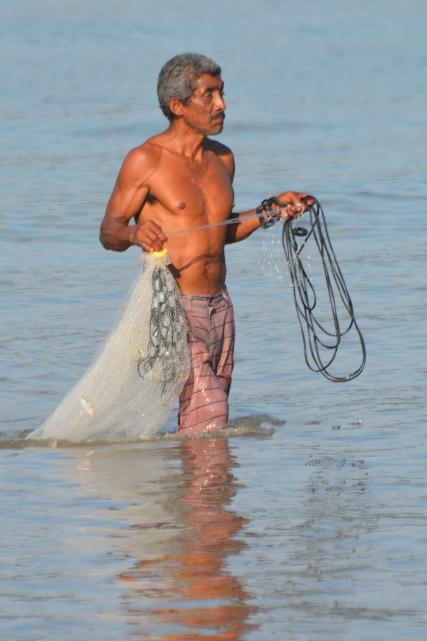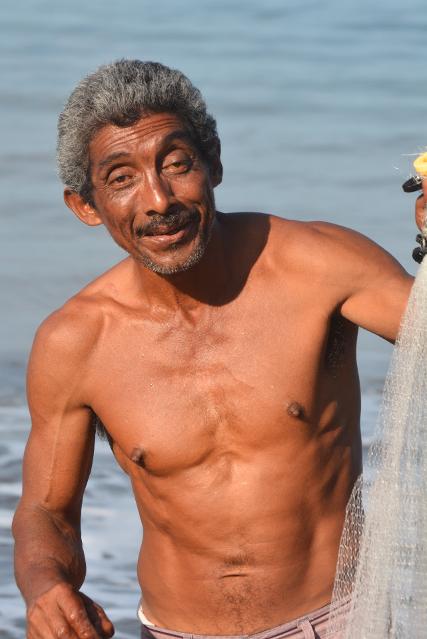 Soaring over the bay looking for fish.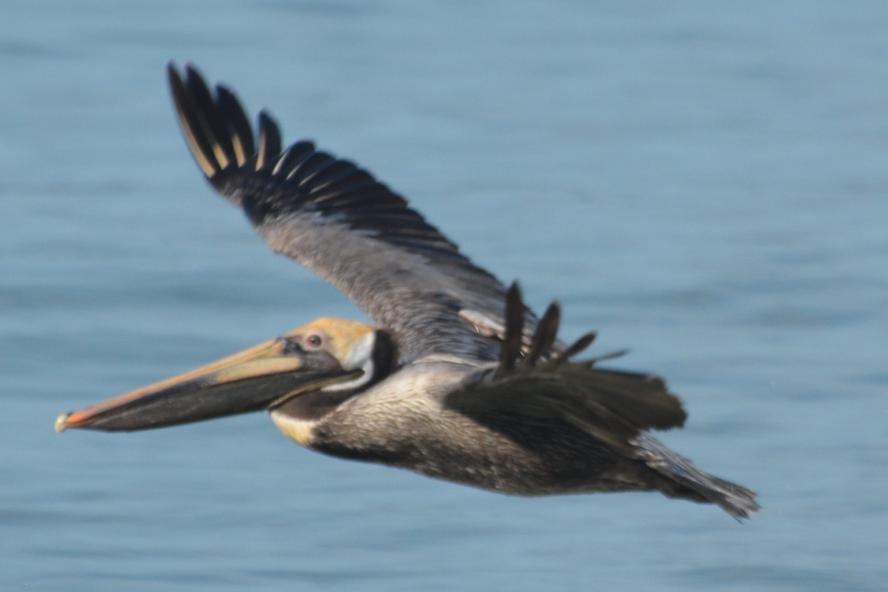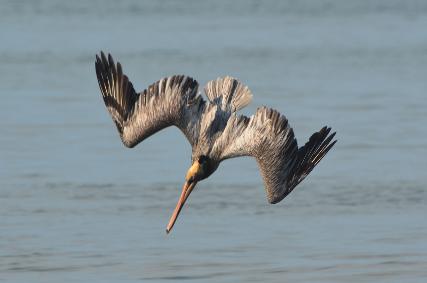 Red snapper again for me, another tomato but stuffed with mushrooms for Gayle, rice and beans and mango mousse.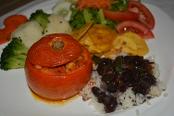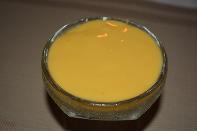 February 15, 2020 - Casa Horizontes, Drake Bay
While others were heading out on their eight hour hikes through Corcovado National Park we simply enjoyed the vistas of Drake Bay and beyond to the ocean. We had a nice breakfast comprised of a fruit tray, juice, coffee and either pancakes (really good fluffy pancakes) or the tipico Gallo Pinto breakfast of rice and beans with plantain and either fried or scrambled eggs.
The wifi is surprisingly really good here, allowing us to work on the travel blog with reasonably quick uploads of photos. But the heat did get the better of us so we walked down the hill to the beach where we enjoyed a very pleasant swim in the bath-water warm ocean, reminiscent of nearby Golfo Dulce a few years ago or the water in Thailand. After a short trip to the store for a few drinks and cinnamon rolls I decided that I could drive up the hill to the lodge. Walking up and down was doable but not pleasant. A few tense moments but I made it, quite impressed with myself.
The main guy here is Reinaldo - with an infectious smile and quick retorts to my kidding around. It was clear we were going to share a lot of laughs over the next few days.
In the afternoon Reinaldo knocked on our door mentioning there was a boa constrictor in the tree right outside our cabin. And when we say right outside we mean perhaps 10 feet at most. He (or she) was well disguised wrapped around a branch, extremely well camouflaged. It was a young fellow (or gal) of 3 to 4 feet - we were told they can grow to 15 feet here. Fascinating to see one so close.
Dinner, again at 6:00 pm, was similar to last night with chicken replacing my red snapper and rice with vegetables replacing Gayle's stuffed tomato. Dessert was rice pudding. We enjoyed chatting with Rand and Linda, a couple from New Mexico and Flora and Tommy from Washington and San Francisco respectively. As has become the custom here by 8:00 pm we were done for the night and turned in.
The west side of Drake Bay.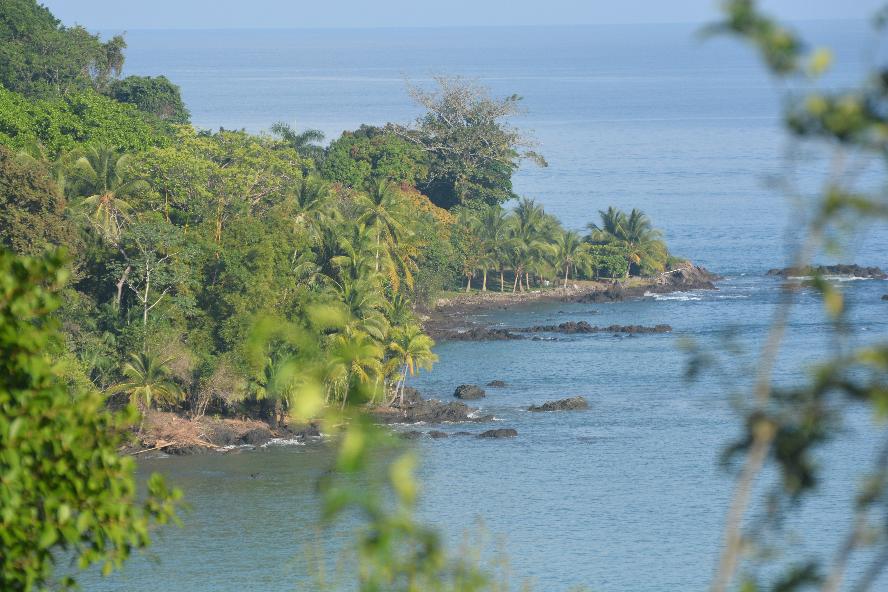 Breakfast was a fruit plate and either very nice fluffy pancakes or a tipico Gallo Pinto with eggs (fried or scrambled) and plantain.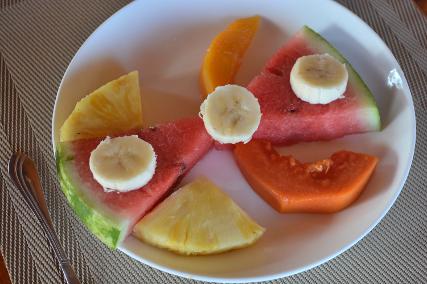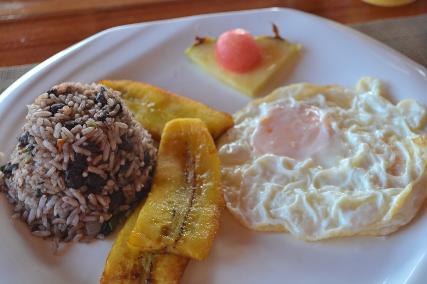 Views from the lodge deck. Reinaldo.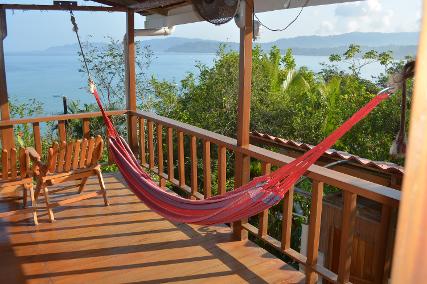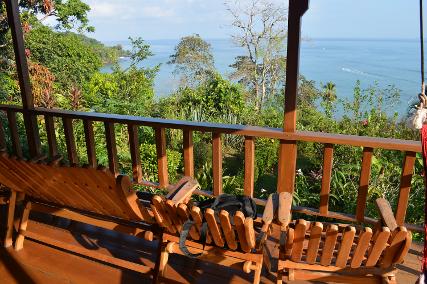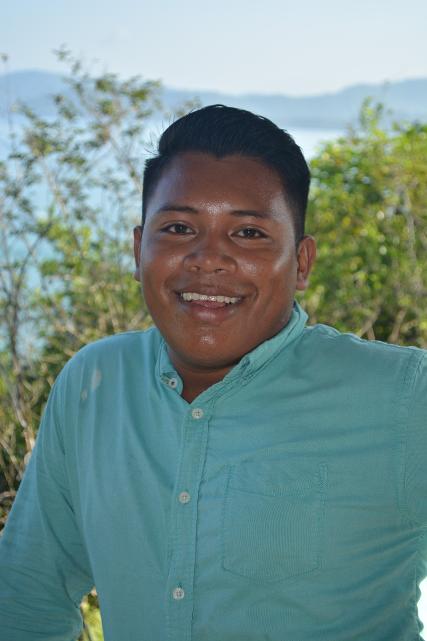 A couple of colourful indigenous masks in the lodge.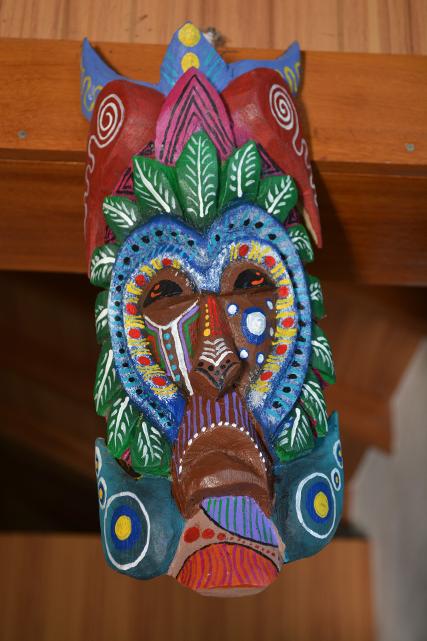 An iguana on a tree in front of our balcony and a bird enjoying palm seeds.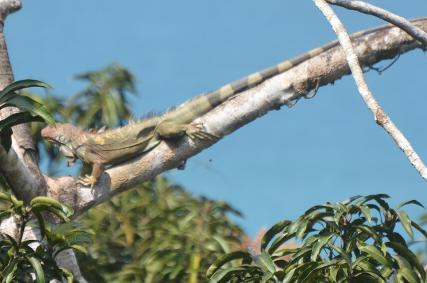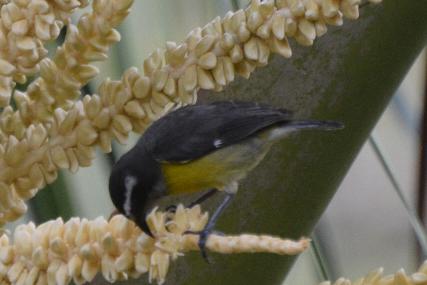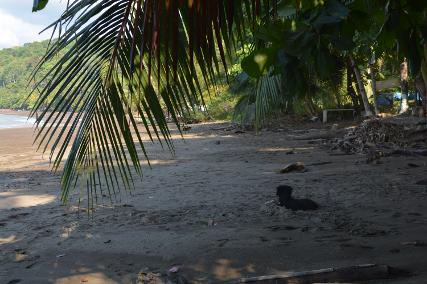 The boa constrictor wrapped around the tree branch.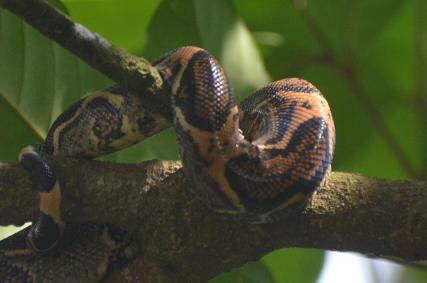 Dinner was pretty much the same as last night with chicken rather than snapper, rice rather than tomato and rice pudding.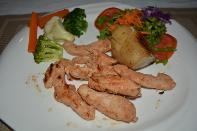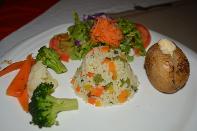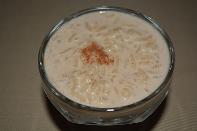 February 14, 2020 - Villas en el Bosque, Ojochal to Casa Horizontes, Drake Bay
Our last morning at Villas en el Bosque we again enjoyed a nice breakfast. Gayle could eat Gallo Pinto every day for the entire trip and never get tired of it. While packing Mauricio let us know of a troop of monkeys that were around the lodge. We raced down to see a number prancing around, some of the them snagging a banana or two. It was fun to watch them up so close.
We left for a three plus hour drive to Drake Bay, just on the edge of Corcovado National Park, the largest national park in Costa Rica comprising approximately 1/3 of the Osa Peninsula. It is widely considered the crown jewel in the extensive system of national parks and biological reserves spread across the country The ecological variety is such that National Geographic has called Corcovado "... the most biologically intense place on Earth in terms of biodiversity."
Our drive took us south through Palma Norte and on to Piedras Blancas where we turned west at a garage (this will become important later) into the Osa Peninsula. After 45 kms we then turned on to a dirt road that took us to Drake Bay. The 'road' was actually not as bad as we were led to believe. During the dry season it was no problem, including the three small streams we had to cross. That said one definitely needs a SUV for the clearance, and ideally a 4 x 4, which we had.
We found Casa Horizontes without too much difficulty and as directed hiked up the steep 'road' to the lodge where we were greeted by Renaildo who took us to our cabin. There are a number of small rooms in the lodge but we had a beautiful large cabin, the best aspect of which was the wonderful balcony with a great view down to the bay.
We booked the 'with dinner' option each night and glad we did. The meals were good solid home Costa Rican home-cooked meals, comprised of a salad, steamed vegetables, plantains and red snapper for me and a stuffed tomato for Gayle. One glass of wine and a dessert - tonight a fruit salad - were included. Good value for $16 US.
The Wifi here appears to be excellent but as has become our practice here in CR we were lights out by 8:30 pm.
After enjoying another wonderful breakfast of gallo pinto, eggs, cheese and plantain we returned to our room to pack.
However Mauricio knocked on our door to tell us there was a troop of monkeys around the lodge. To this point, while seeing monkeys on our hike to the beach we had not seen any around the lodge. We were treated to a considerable troop that provided excellent photo opportunities, particularly as they went after the hanging bananas. It was fun to watch them.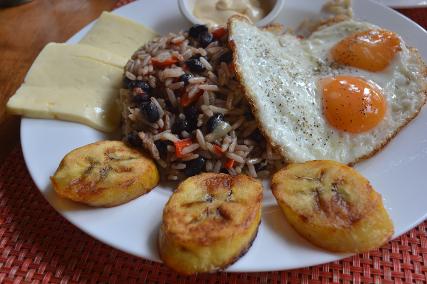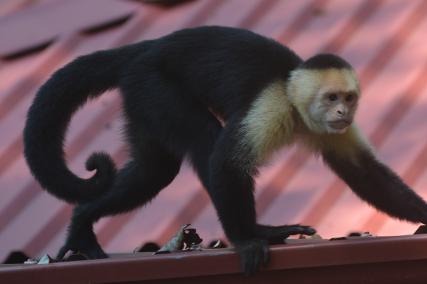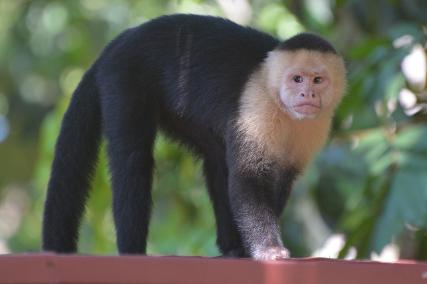 Mauricio, the gardener, maintenance guy and animal spotter, and more monkeys.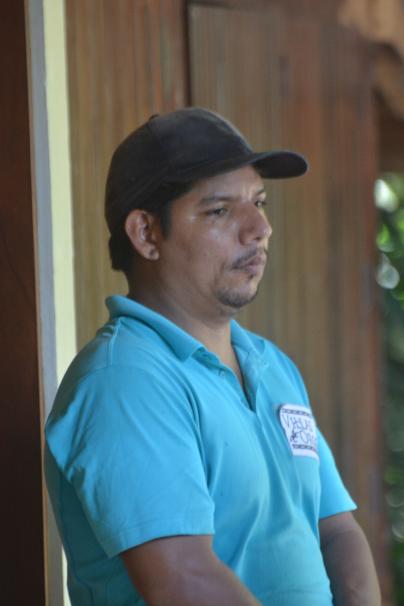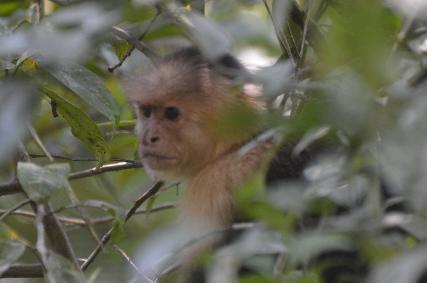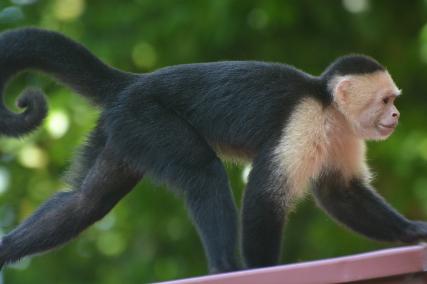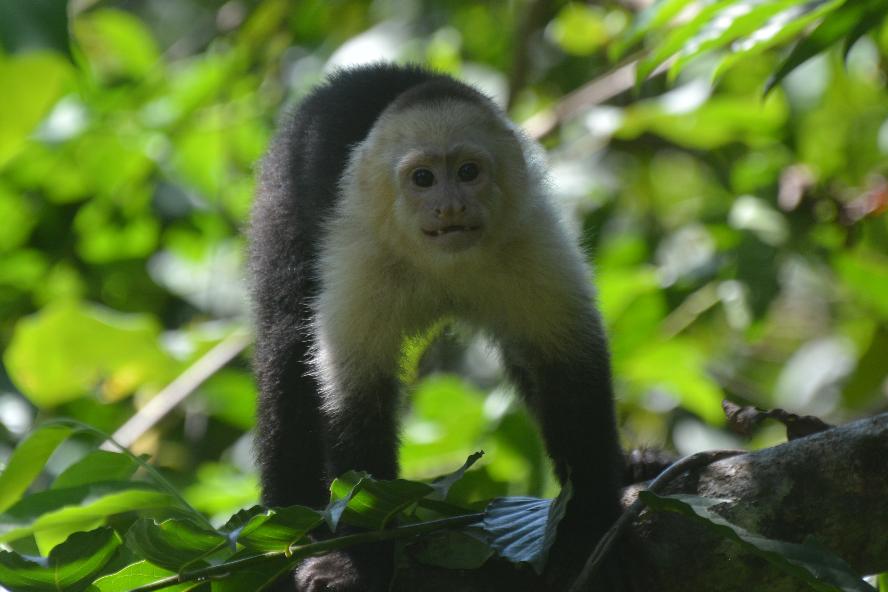 Ooh ooh, a supply of bananas.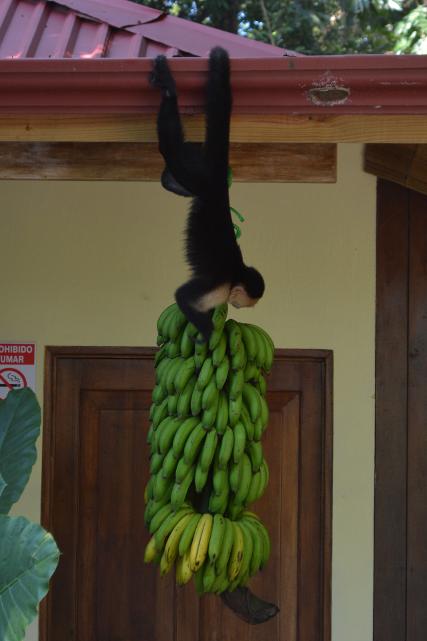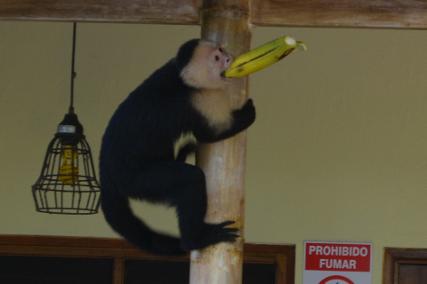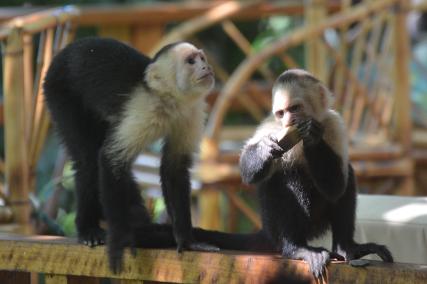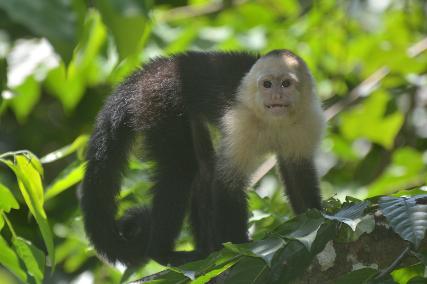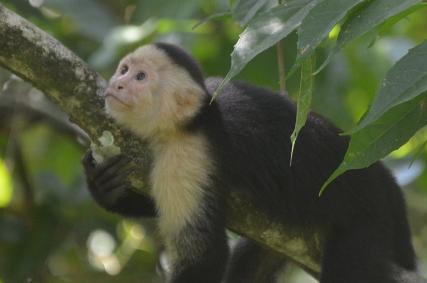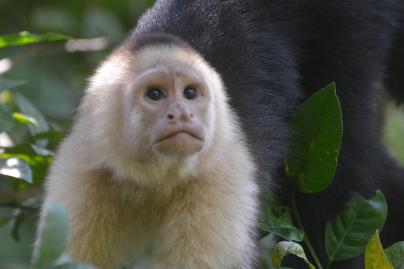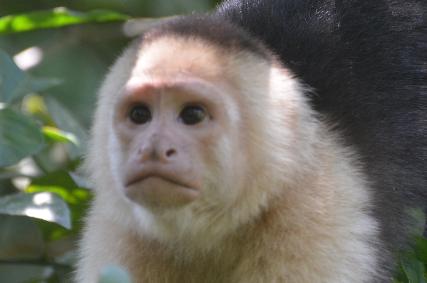 Our drive today took us from Ojochal south to Piedras Blancas, then west into the Osa Peninsula and the north on a 30 km dirt road to Drake Bay.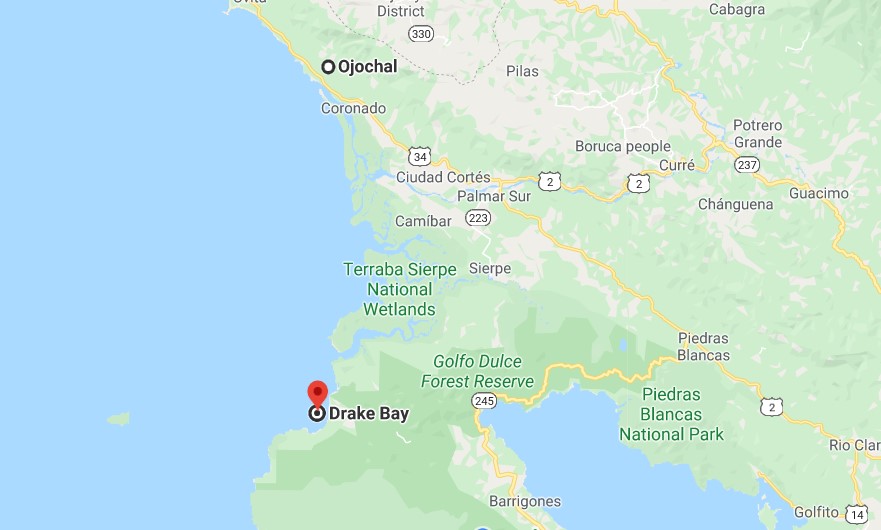 Waterfowl in one of the streams we had to cross.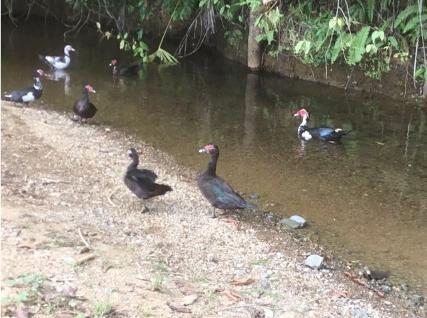 The first of three streams we needed to cross. The last stream where we took a short video.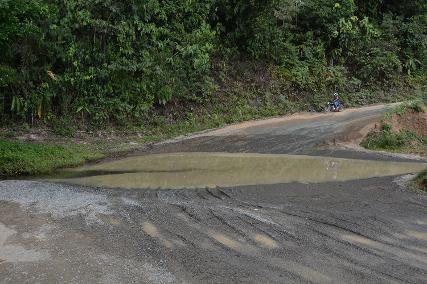 The view from our cabin to Drake Bay. Our balcony, complete with hammock.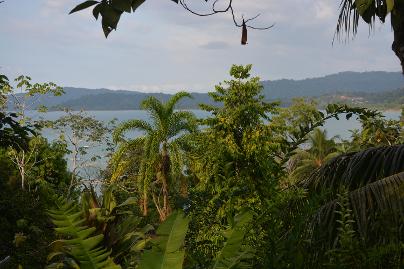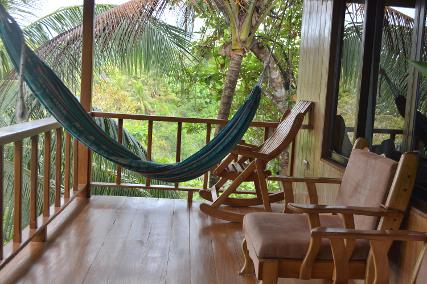 For me red snapper … … and for Gayle a stuffed tomato.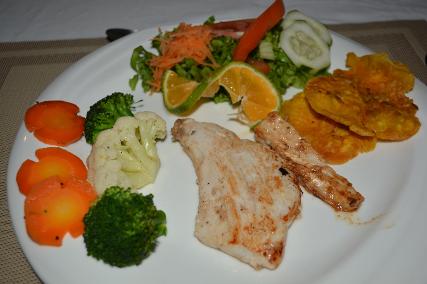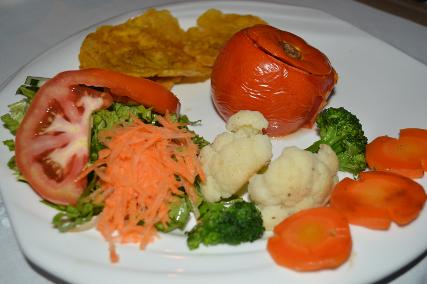 February 13, 2020 - Villas en el Bosque, Ojochal
Pretty much a repeat of yesterday with two exceptions - we took a hike through the rainforest to the beach and we ate at a different restaurant.
The hike was in theory 600 metres each way - '15 minutes' we were told. Perhaps as the pelican flies but not as we walked. Thankfully John suggested we take a walking stick, which both of us did, and very thankful for having done so. The walk starts with a steep descent from the lodge. Fortunately there are a set of crude steps that made the going somewhat easier. From there it was pretty flat to the ocean but the ground was uneven with a considerable number of roots and protruding growth.
About half way Gayle noticed movement in the trees. It was a troop of perhaps a couple of dozen white faced capuchin monkeys. We enjoyed watching and attempting to photograph them for 15 minutes or so. Photos are difficult as on automatic setting the focus is most often on a branch or leaves rather than the monkey, and if changed to manual the distance makes it difficult to get the setting / focus just right. So while not perfect I though some of the photos were decent.
We continued through the rainforest, along a river (where we saw a few birds) and eventually (after 45 minutes) reached the ocean, where we met a Swiss couple also staying at Villas en el Bosque. They actually were in the water but with the waves we chose not to go in (those Swiss are some tough). With a couple of shorter photo stops we returned in half an hour. The full hike was an hour and a half. The hot humid temperatures were a challenge as was the ascent returning to the lodge but we made it - the highlight being the monkeys. That said upon our reurn it took us only seconds to jump in the pool.
For dinner we went to Exotica, the third of the recommended restaurants in Ojochal. The outdoor setting was beautiful with nice background music. The presentation / plating of the food was something else, everything served with flowers, some of which were edible. Gayle started with an appetizer of Avocado with pineapple and citric mayonnaise while I had the Costa Rican ceviche (marinated fish in lime juice). Then it was Pasta Strogonoff - fresh vegetables, cream wine and vodka sauce for Gayle and The Thai Pot with seafood, coconut milk and curry for me. We couldn't resist a bananas flambe for dessert which we shared.
The drive back was a tad longer tonight - more like three minutes. Again, with the heat we were soon to bed.
Gayle spotted a troop of white face (Capuchin) monkeys that we watched swing from tree to tree.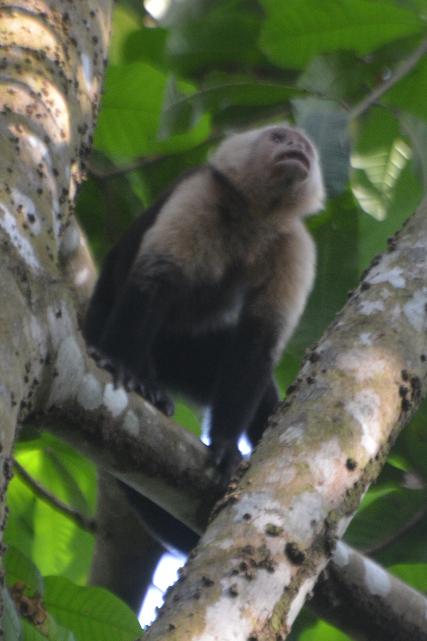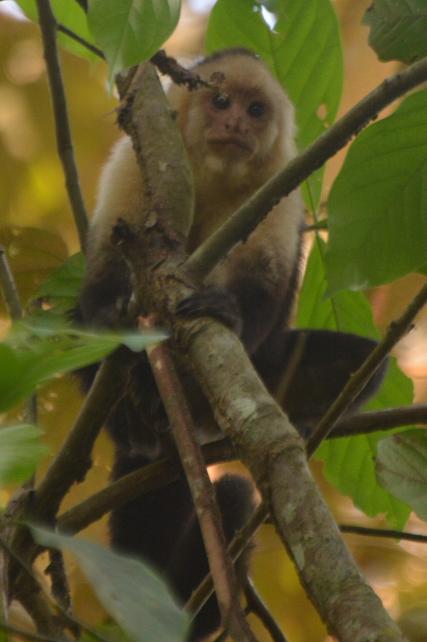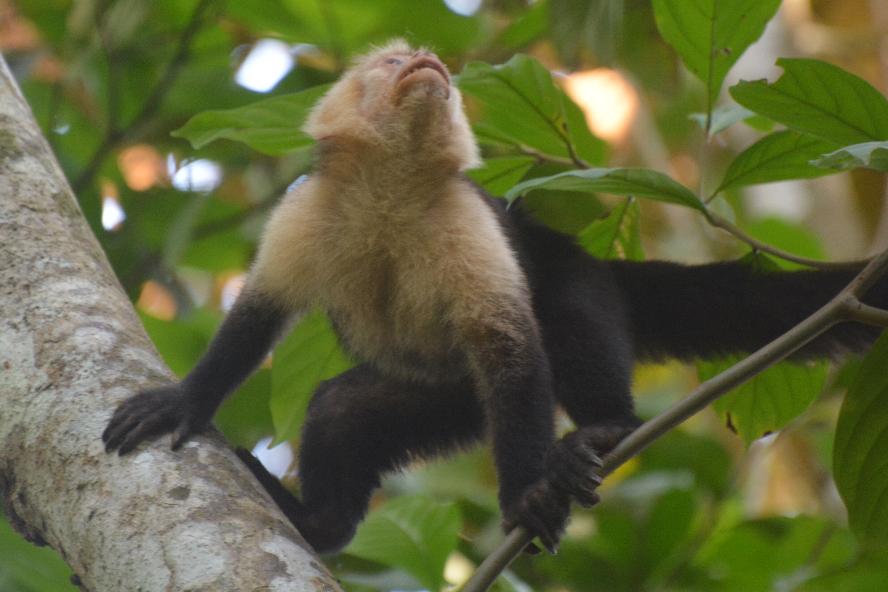 There were some massive trees in the jungle, some with fascinating root systems.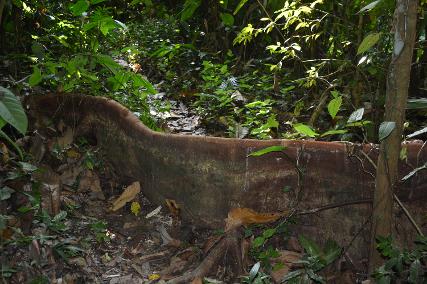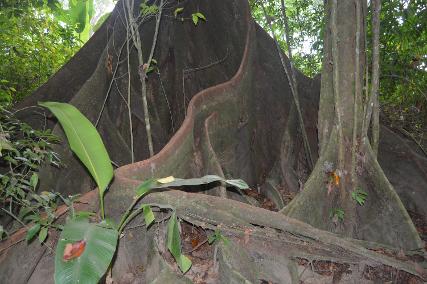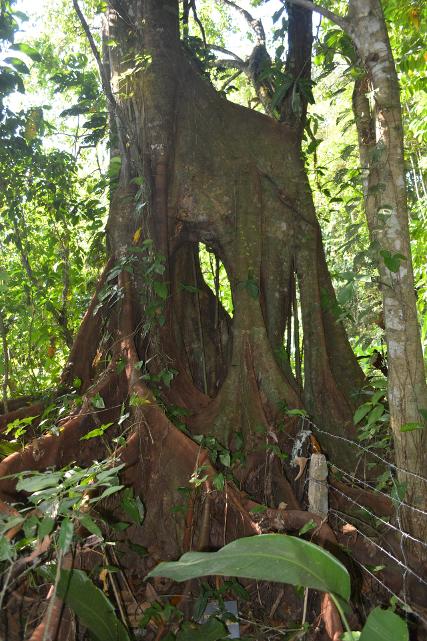 We made it - to the Pacific Ocean. To be greeted by a flock of pelican.s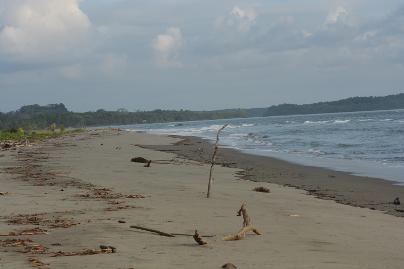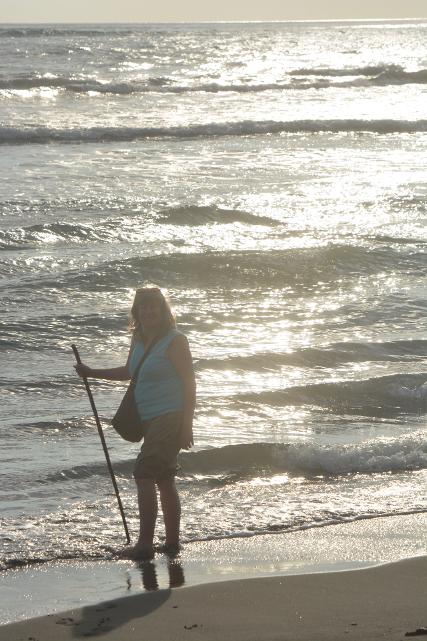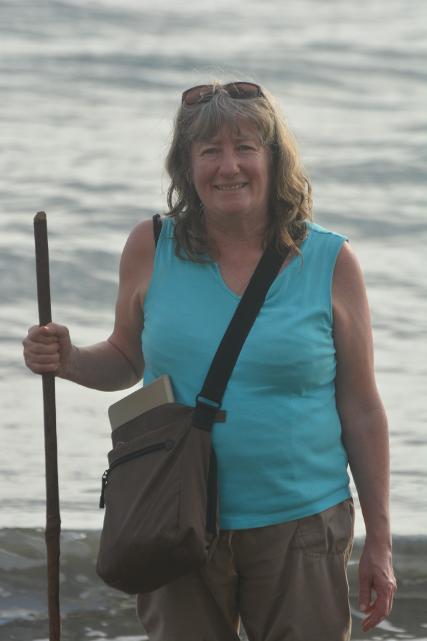 Some waterfowl seen on our hike.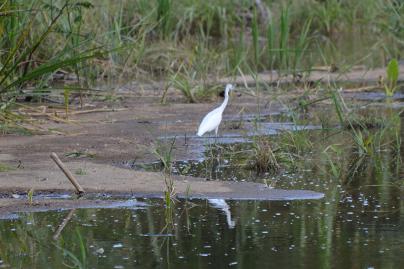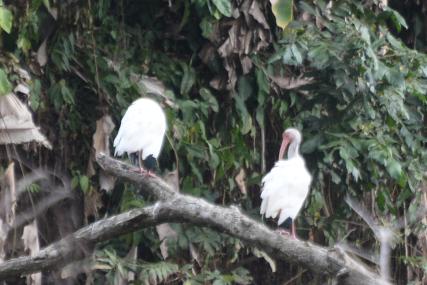 About to climb back up the steep steps to en el Bosque. Crossing the one 'bridge' on the hike.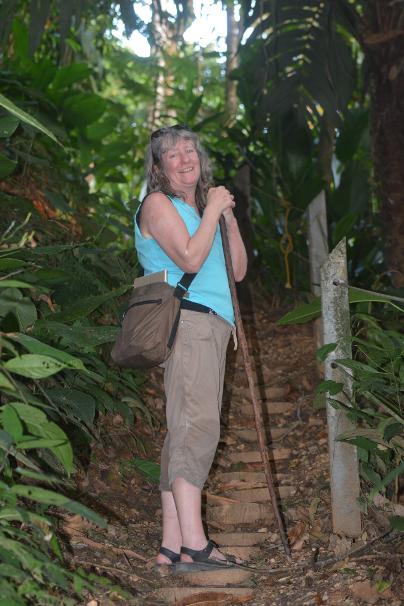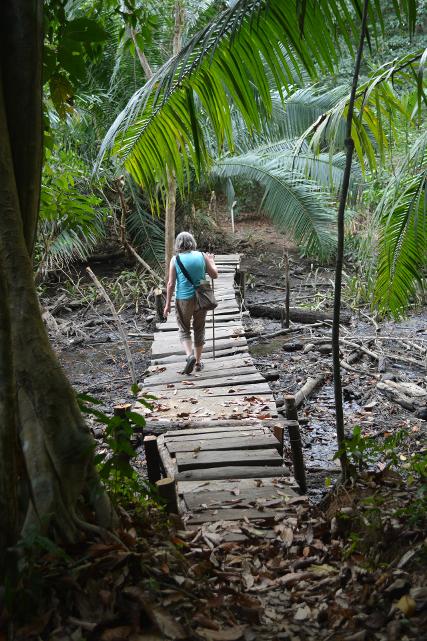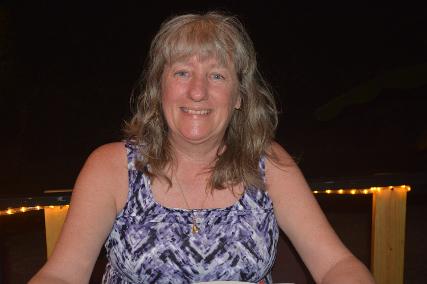 A strawberry Daiquiri for Gayle and an orange and pineapple smoothie for me.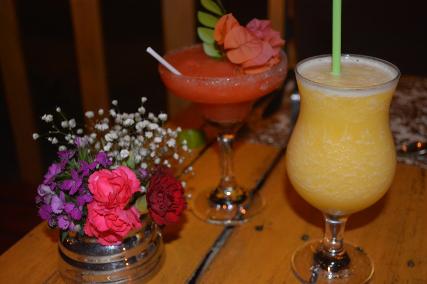 Avocado with pineapple and citrus mayonnaise. Pasta stroganoff.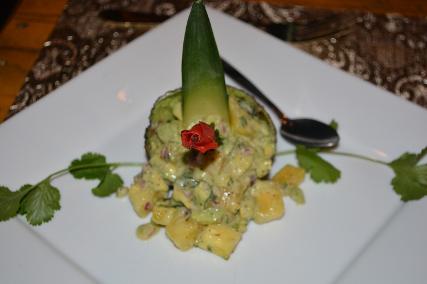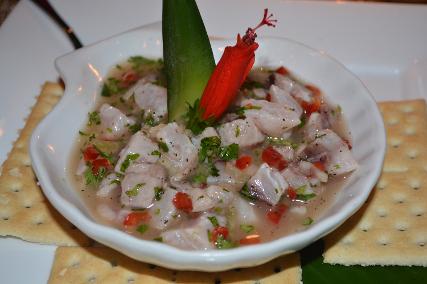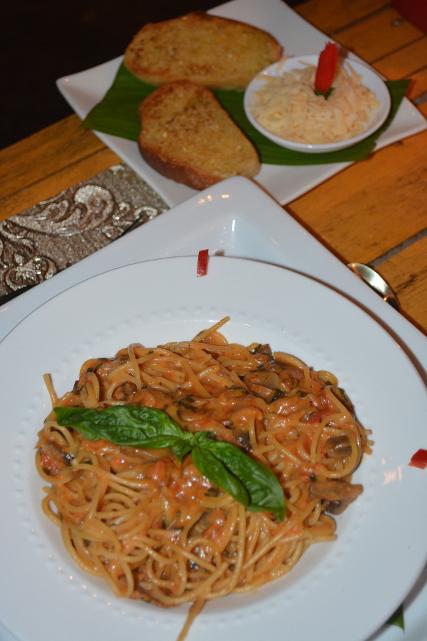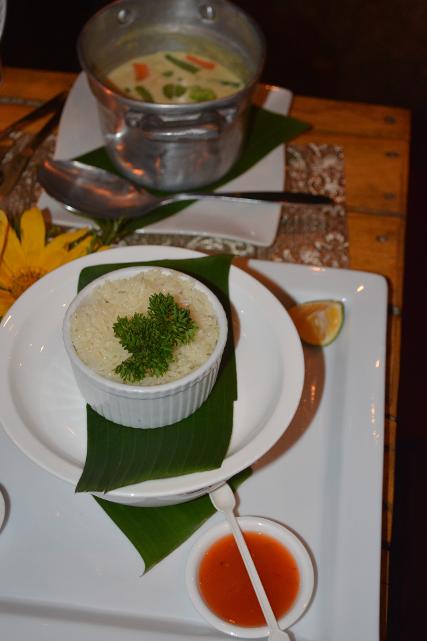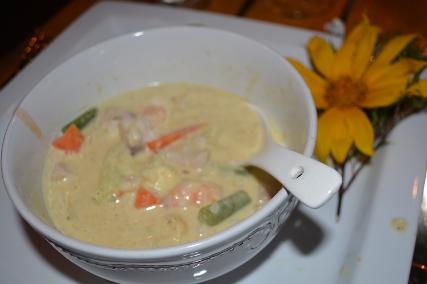 February 12, 2020 - Villas en el Bosque, Ojochal
Consistent with our slothful approach to vacationing we spent the day stationary - well we did go to the lodge for breakfast and we did have a couple of swims, but otherwise it was working on the travel blog or sitting on our balcony listening to the sounds of the insects and birds. Early in the morning we did hear the howls of howler monkeys but have yet to see any monkeys (or sloths) here.
Again, absent the annoying sounds of the traffic, the property is wonderful embedded in the jungle with a nice view out to the ocean. The landscaping is beautiful with shrubs throughout and a nicely designed pool. The lodge deck, recently expanded, hangs out over the jungle.
Dinner was at Citrus where there food was very good, although somewhat expensive. Gayle started with Le Chevre Chaud, a warm goat cheese salad with glazed apples, honey and mustard dressing. Excellent. I had a designer ceviche, the Salpicon de Pescado Citrus, fresh fish tartare with passion fruit, coconut milk, ginger and avocado. Both appetizers, were beautifully presented. Gayle then had the Spaguetti del Sol, spaghetti in a creamy sauce with white wine, sun dried tomatoes, Kalamata olives and fresh mushroom sauce while I the Pollo Curry Citrus, an Indian chicken curry in a coconut milk with dried plums and plantain, bananas with Jasmine rice. Again, both were excellent. We shared a Mousse Belga, a Belgian chocolate mousse with brandy - decent but not as good as the Belgian chocolate mouse Filip made at Las Nubes.
A short two minute drive had us back at Villas en el Bosque where, after a not so exhausting day, we turned in for the night.

A spider in a web over the pool. A cricket on the rail at the lodge.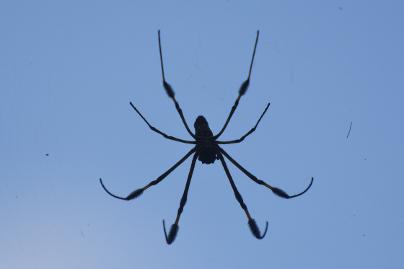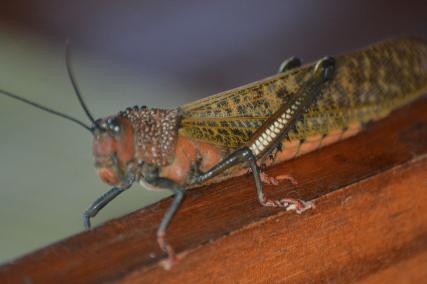 Banana pancakes for me. Gallo pinto for Gayle.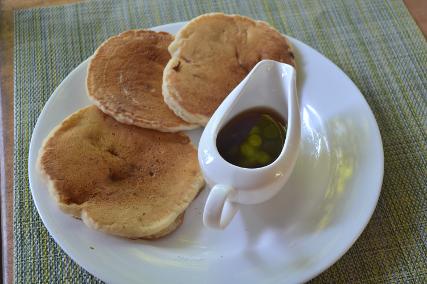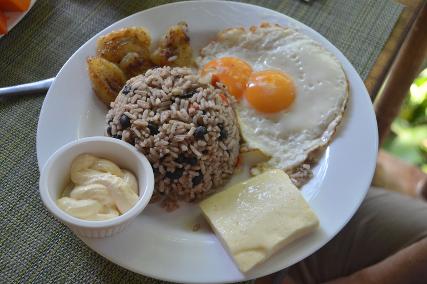 A wonderful plate of fruit - today pineapple, watermelon and papaya. Other days included banana and cantaloupe.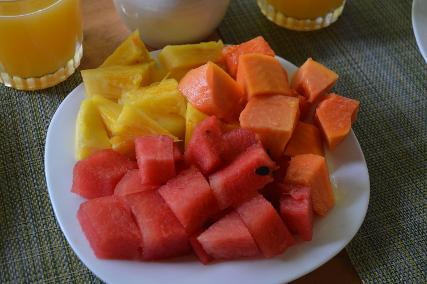 Gayle enjoying her favourite breakfast - gallo pinto.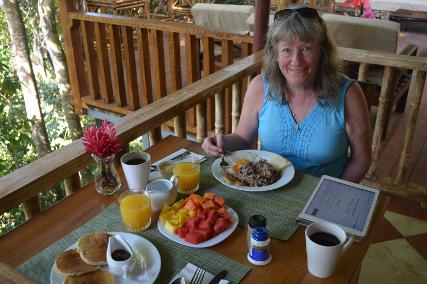 Coconuts and a new deck extension over the jungle.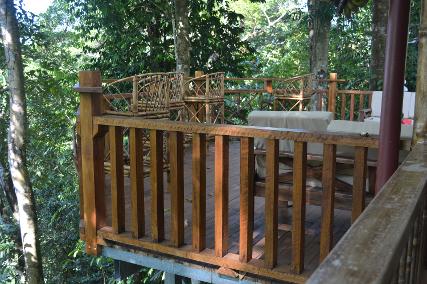 Lots of jungle, from our balcony and the lodge.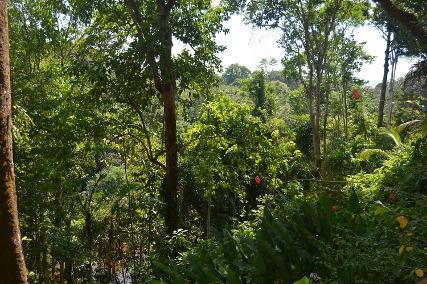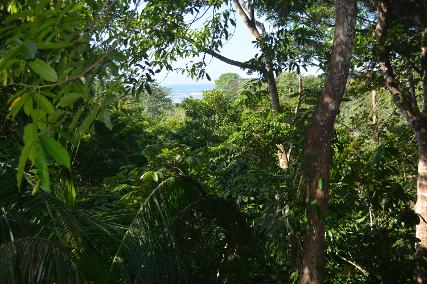 The view of the Pacific ocean from the deck of Villas en el Bosque.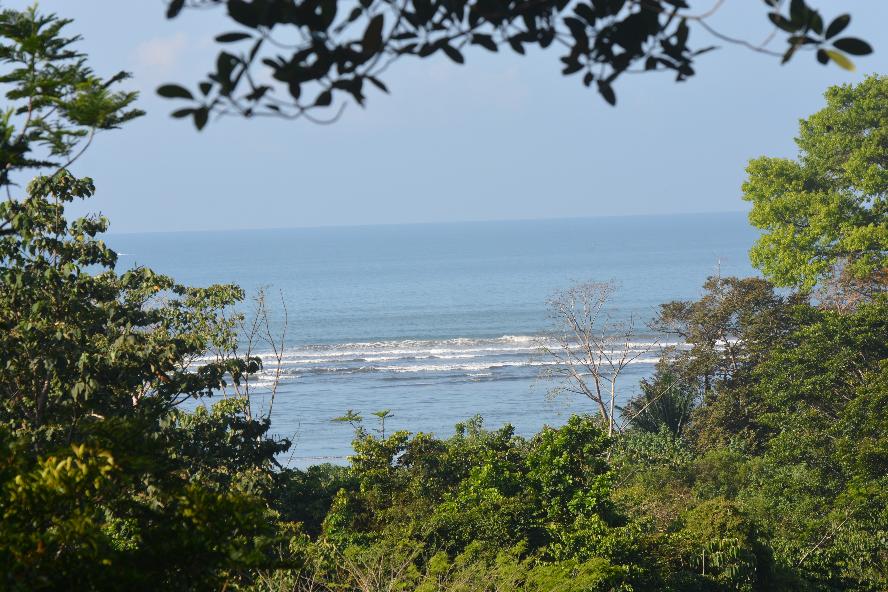 There are many colourful shrubs and flowers on the property.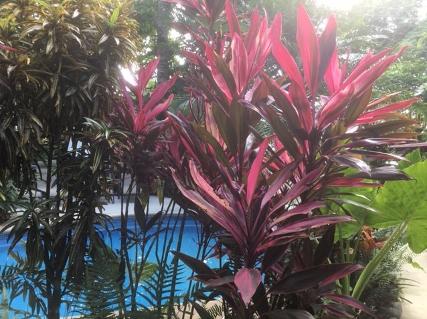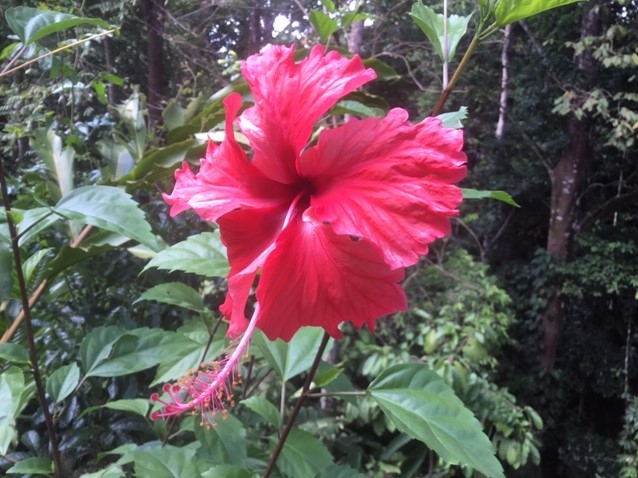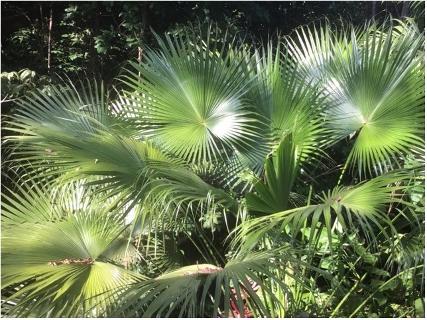 Villas en el Bosque's refreshing pool.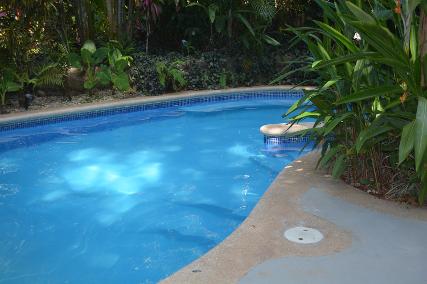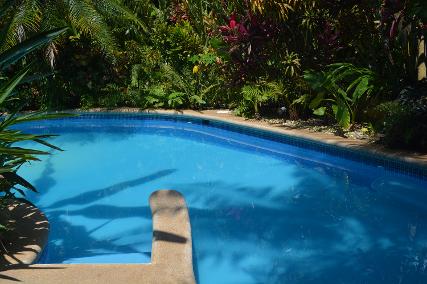 Tonight we ate at Citrus where Gayle started with an excellent Le Chevre Chaud salad.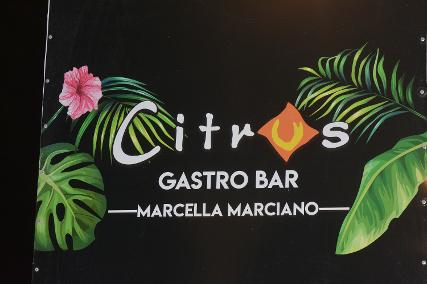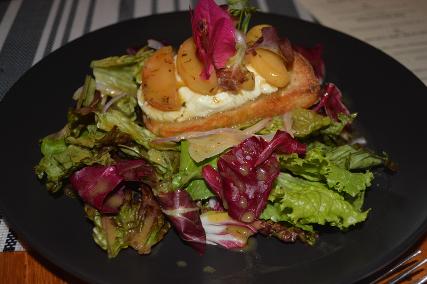 Salpicon de Pescado Citrus - the chef's ceviche. Spaguetti del Sol.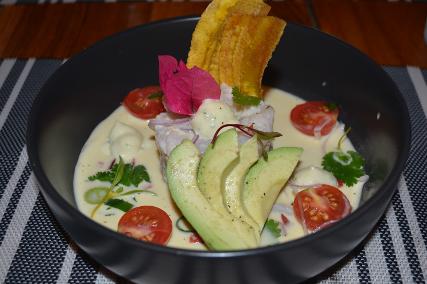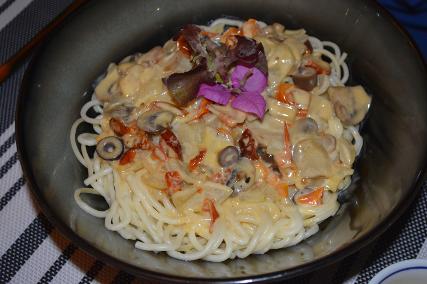 Pollo curry citrus - chicken curry in coconut milk. Mousse Belga - Belgian chocolate mousse.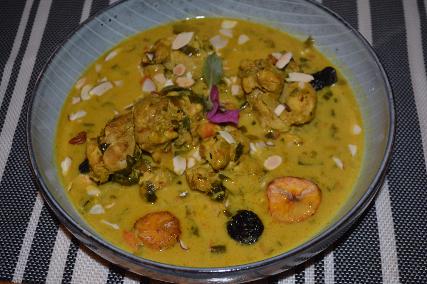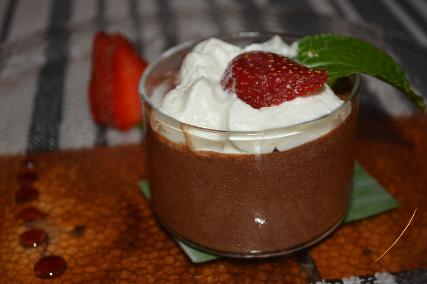 February 11, 2020 - Las Nubes to Villas en el Bosque, Ojochal
After four days of super relaxing doing nothing we left Las Nubes, having no trouble on the 25 minutes trip down the mountain. The only tricky part was a stream that did not appear very deep but had a couple of large rocks protruding in the middle requiring me to align the tires to drive over the rocks. Success.
We returned to the coast where we turned south for an easy one hour drive to Ojochal and our next stop - Villas en el Bosque (villas in the forest), a beautiful property with a nice view to the ocean. The landscaping here is extremely well done (gracias Mauricio). There is also a nice pool to refresh in, very welcome given the humidity. We were greeted by Kerry and John, both very welcoming and eager to assist in providing suggestions and making reservations. The only down side will be the excessive noise from the nearby highway, particularly the large trucks using their air brakes.
There are apparently a number of nice restaurants nearby. We chose Heliconia where Gayle had the Veggie sandwich of grilled vegetables (zucchini, eggplant an, sweet pepper) covered with creamy goat cheese and olives, capers and pesto on home-made bread. I had the Churrasco, a grilled cut of beef with green peppercorn sauce served with spicy potato wedges and vegetables. Service was somewhat slow but the food was very good,
Besides a cricket the only guest we had in our room was this lizard. He (or she) wasn't actually as big as this cropped photo appears.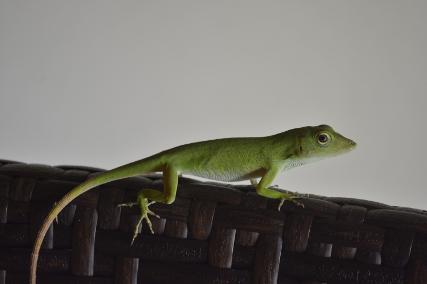 Our breakfast plate of freshly baked bread, meats and
cheese, along with juice and coffee.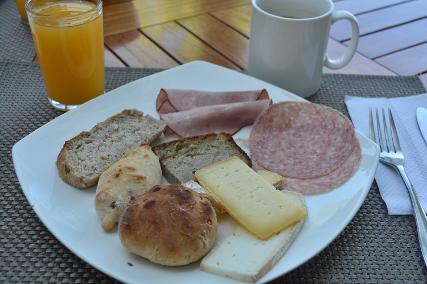 That's one big leaf! Red bamboo just outside our cabina.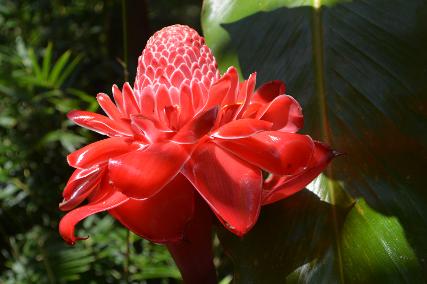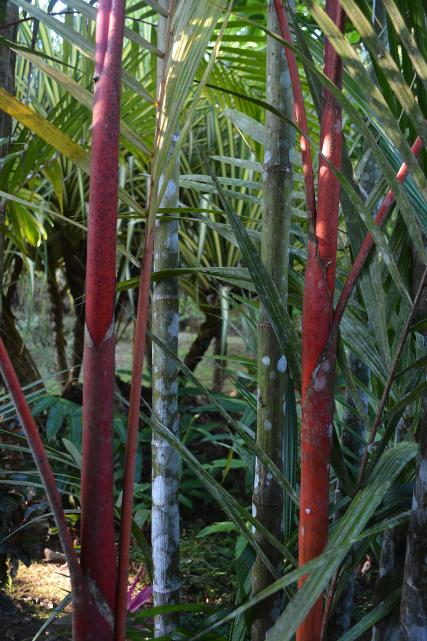 Some of the roads getting to and from Las Nubes.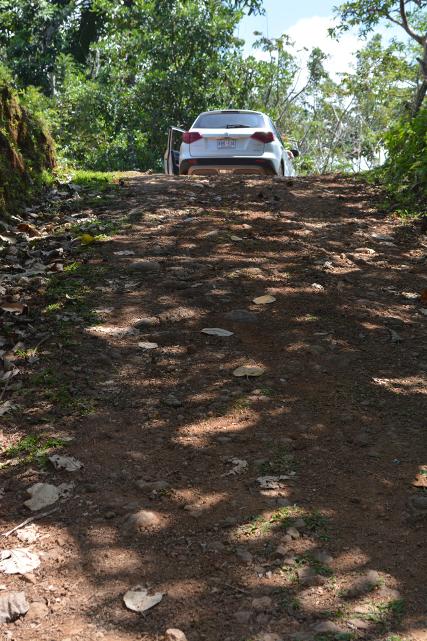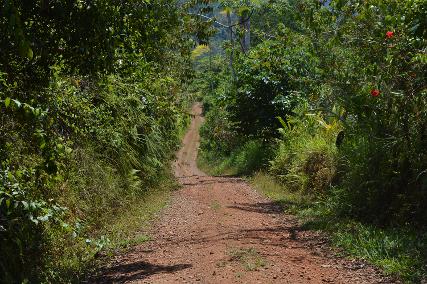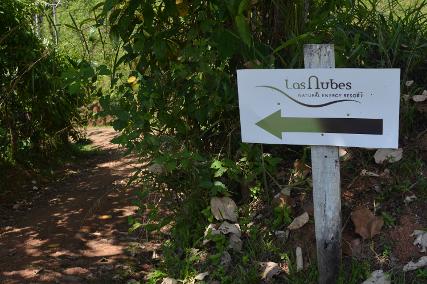 A bit tricky as I had to line the tires up with the rocks due to the amount they protruded from the stream.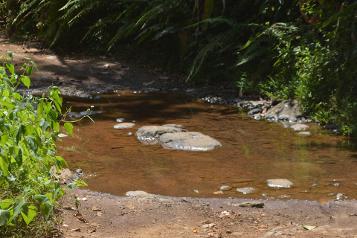 From Las Nubes down the mountain back to the coast and then south along the 34 to Ojochal.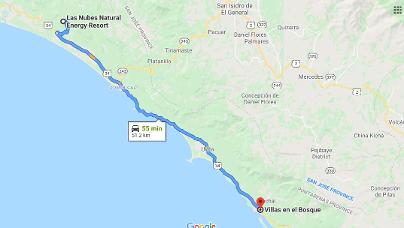 Our lodging for the next three nights - Villas en el Bosque (forest).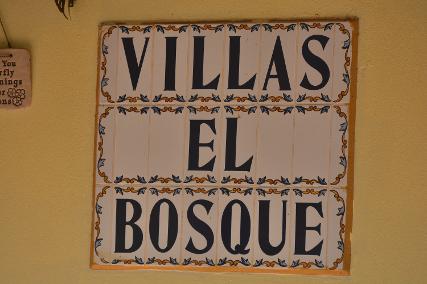 Our balcony looking directly into the jungle.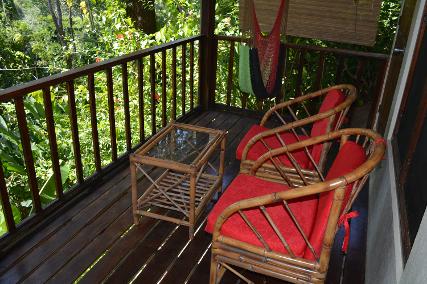 Not quite a Las Nubes sunset but still nice. We ate dinner at heliconia.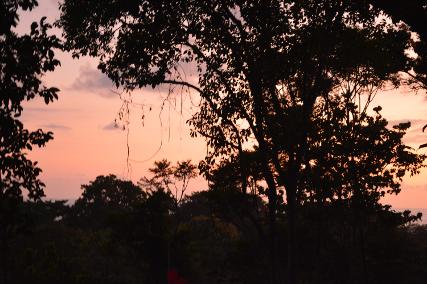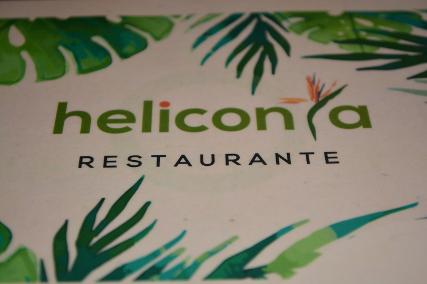 Gayle had a grilled vegetable sandwich while I the Churrasco - a grilled cut of beef with green peppercorn sauce.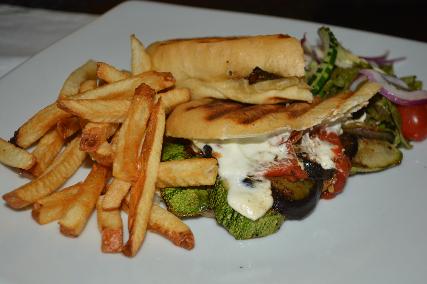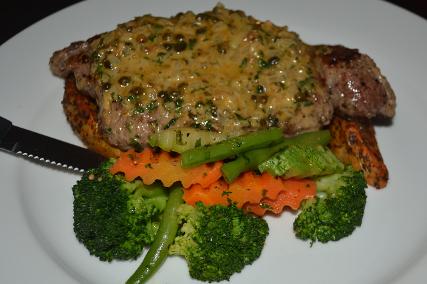 February 10, 2020 - Las Nubes Natural Energy Resort
After breakfast of tasty crepes Rosie (originally from Austria) took us on a garden tour pointing out various fruits such as guanabana (sour sop), grapefruits, pineapple and noni as well as pepper pods, which were particularly hot. It was so easy to tell what a passion Rosie has for nature and plants.
We were again treated to the toucans and constantly hear the sounds of the insects and birds but other than the toucans and a few small lizards, a number of blue morpho butterflies and a poison dart frog we did not see much wildlife. Only on the final morning did we hear howler monkeys. That said Fabiola and her friends saw a puma on their drive back to the lodge, a rare sighting.
Filip, a chef / event planner from Belgium moved to Costa Rica 15 to 20 years ago and purchased this property. He reinvented himself, while still being able to use his culinary talents for his guests, through building the resort. The property and ambiance is extremely soothing. When we read 'Natural Energy Resort' we mistakenly considered it may be a yoga retreat. Turns out that is not the case - rather it is simply a relaxing environment in which one can chill out while re-booting your energy. Filip's partner Fabiola is Costa Rican. She is a vet with a unique practice - essentially a vet making house calls with a mobile surgery facility. Her concern for animals and birds was evident when a hummingbird bumped into a window. Fabiola took the stunned little fellow (or gal) and released him (or her) in the jungle.
Pre dinner we had a delicious gazpacho, made with watermelon after which we enjoyed another colourful sunset. Dinner was vegetarian cannelloni for Gayle and Osa Buco with pesto pasta for the rest. A delicious Belgian chocolate mouse with mango slices for dessert followed by a homemade limoncello as two of the three couples (including us) were departing tomorrow. As was the case each night we also enjoyed a tea-like drink of infused herbs from the garden - lemon grass, peppermint and another herb we don't recall.
It was then down the hill to our cabina for another restful sleep to the sounds of the jungle.
Rosie and Gayle on the garden tour.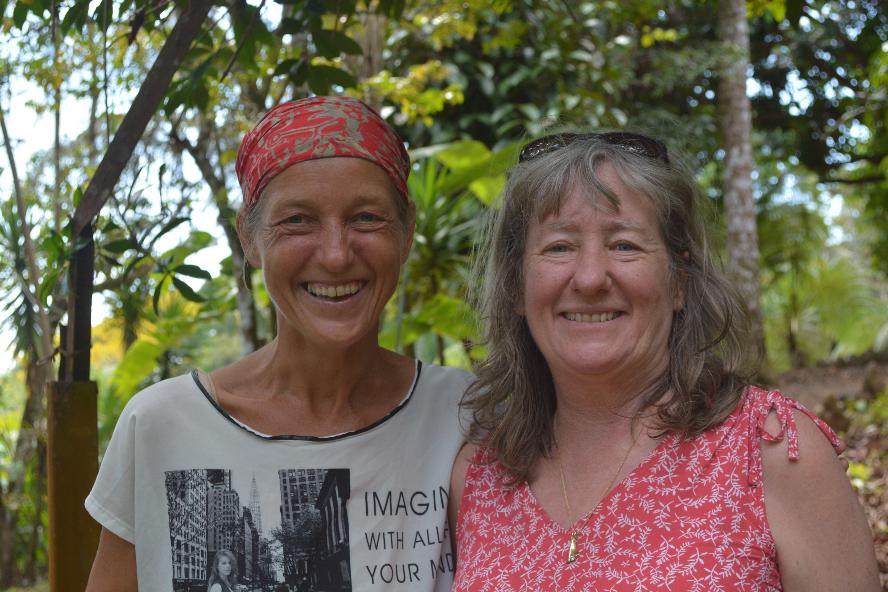 (Very hot) pepper pods and a sampling of the colourful flowers here at Las Nubes.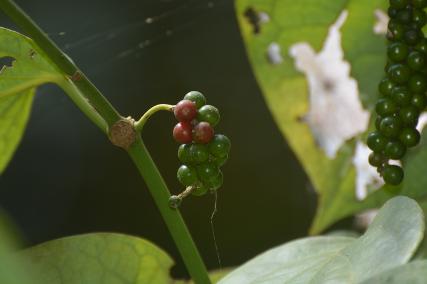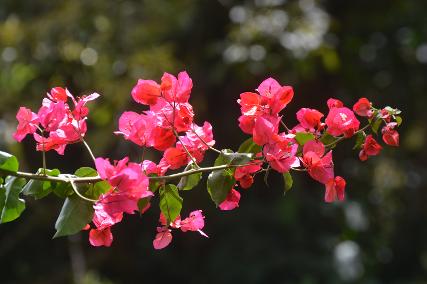 Fan palms and roots that created a very interesting pattern of shadows.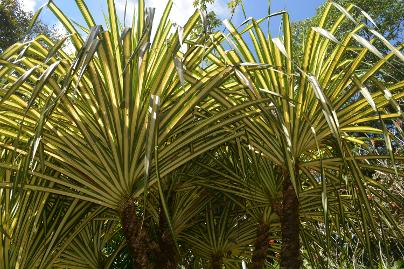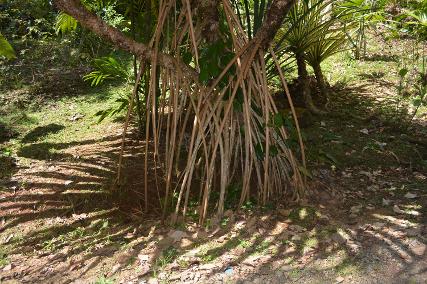 Grapefruits and a pineapple.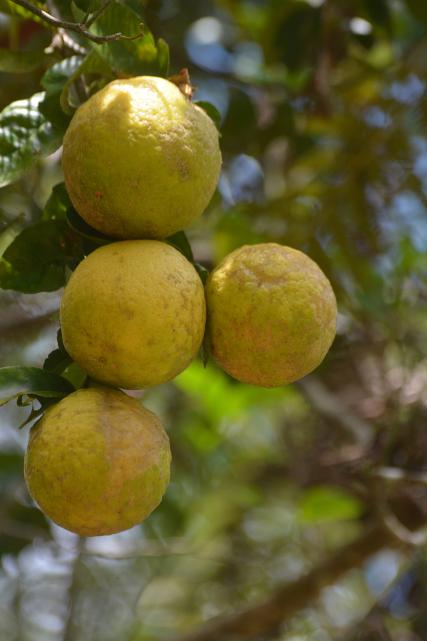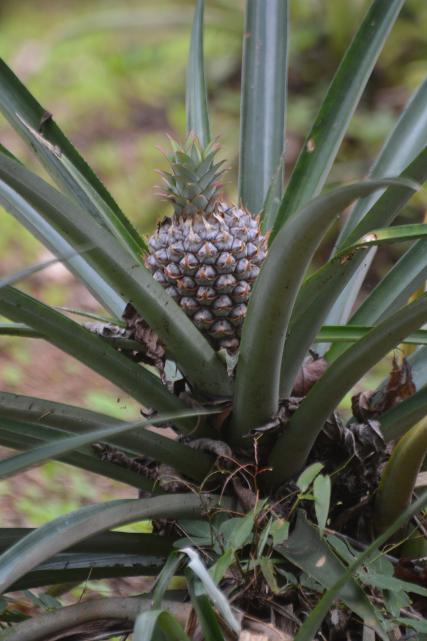 A guanabana, also known as sour sop. A (very stinky) noni fruit.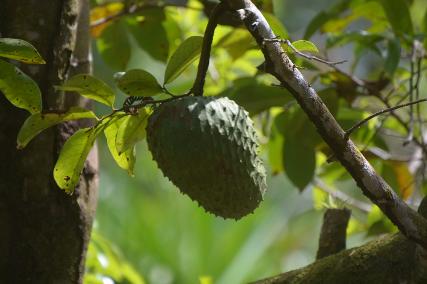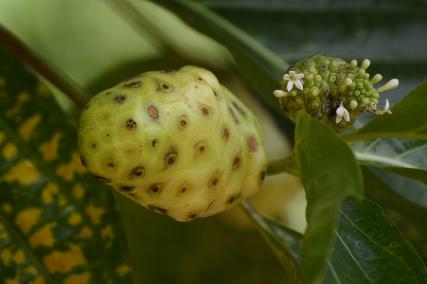 For breakfast today - crepes. Me munching on a piece of wild herb similar to coriander.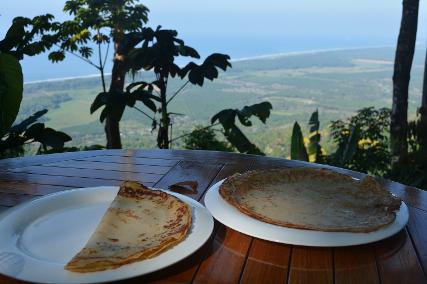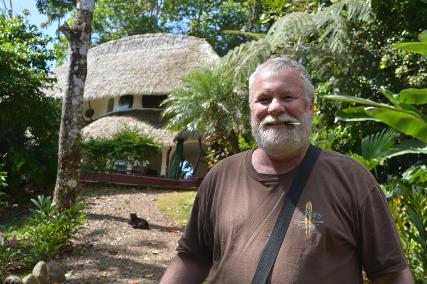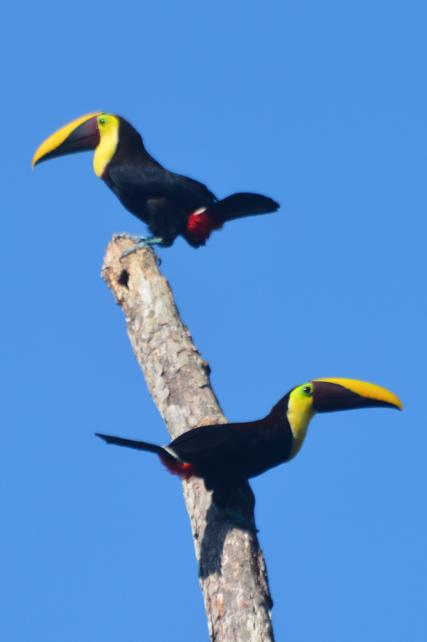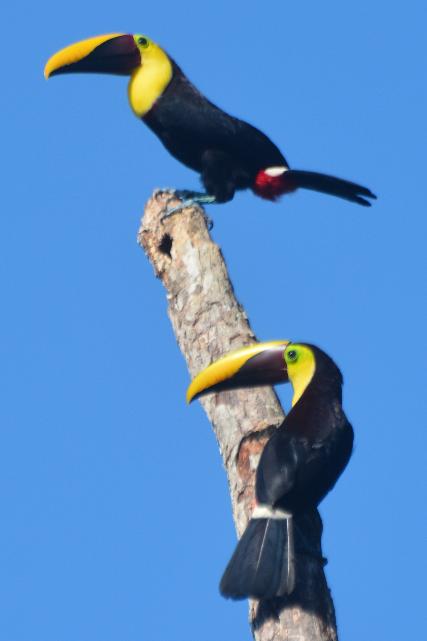 The path leading from our cabina up to the lodge and then a number of photos of Las Nubes lodge.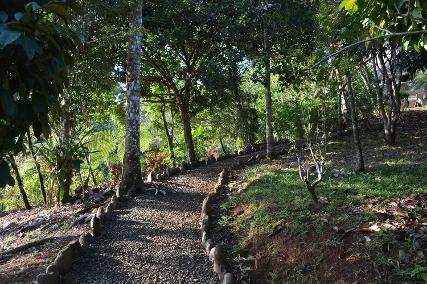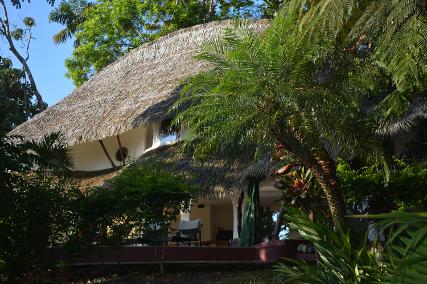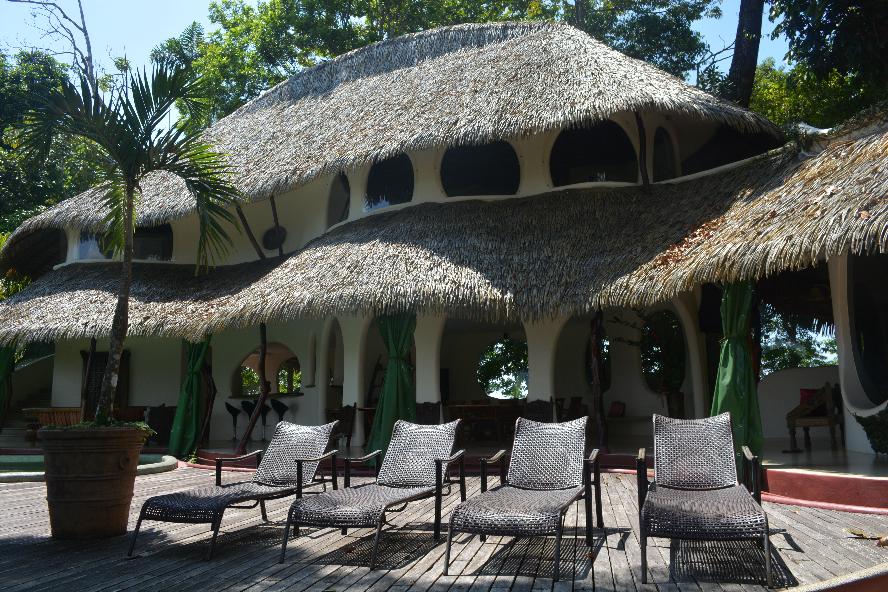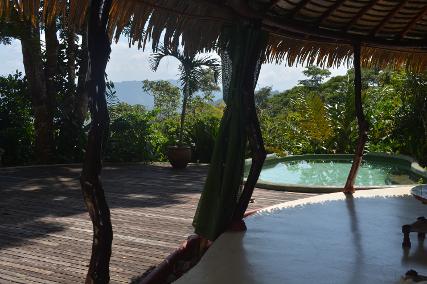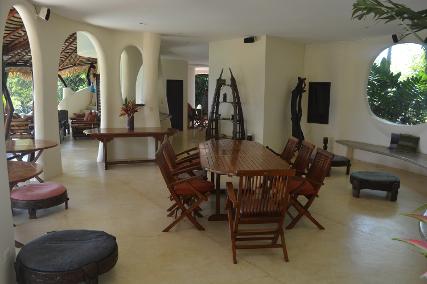 Filip and Fabiola, owners of Las Nubes, and friendly wonderful hosts to their guests.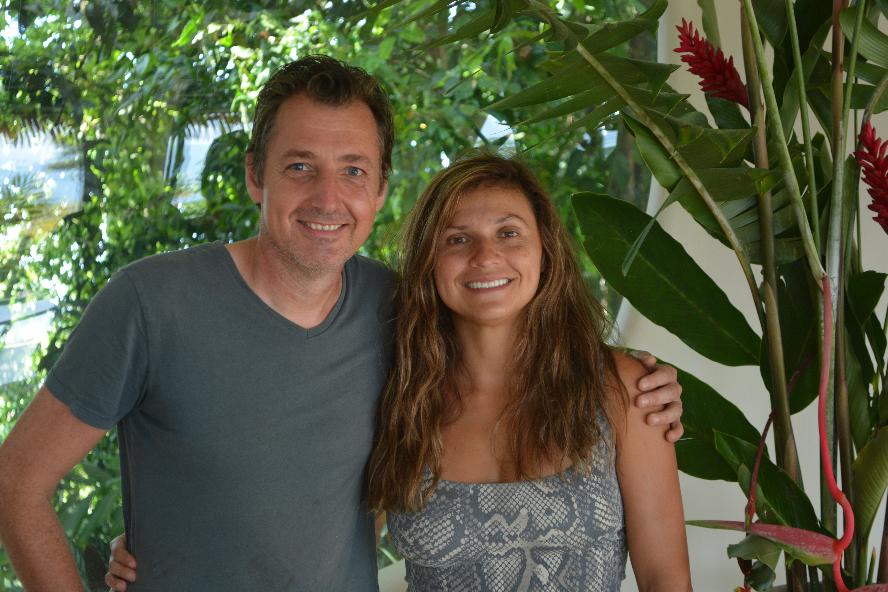 Another evening - another gorgeous sunset.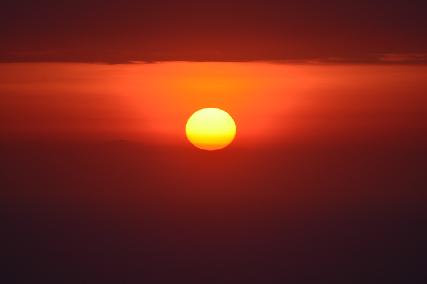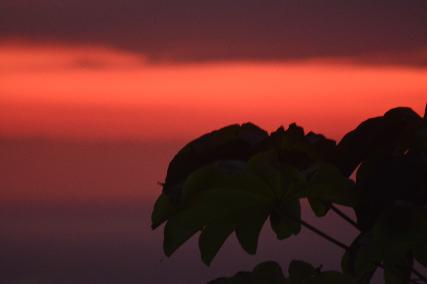 Gazpacho was our tapas tonight. For Gayle vegetable cannelloni.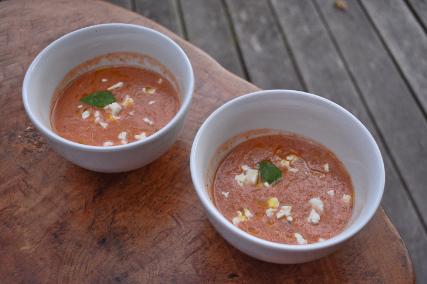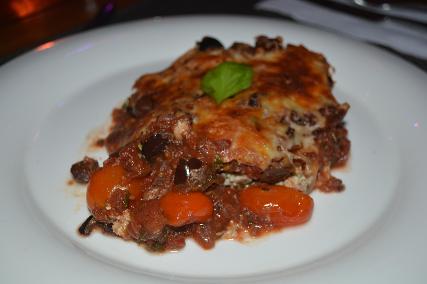 Osa buco and pesto fettucinni. Belgian chocolate mousse with mango.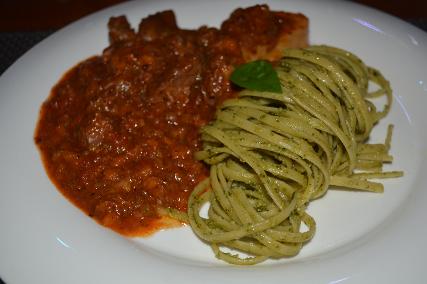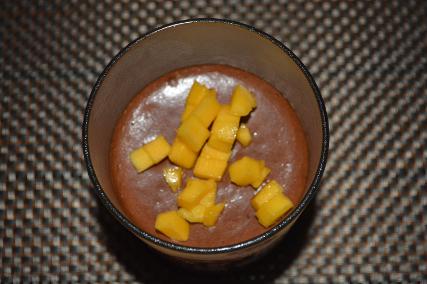 February 9, 2020 - Las Nubes Natural Energy Resort
As has been the case for the past three years, and now for a fourth Gayle has enjoyed her birthday in Costa Rica. Beyond that there is not too much different today to report. We began the day with breakfast on the platform overlooking the land below and ocean beyond. We continued a nice chat with Katrin and Carlos. After that it was a lot of relaxing with a dip in the pool. Gayle enjoyed a Margarita, generously provided by Filip 'on the house' in recognition of her birthday.
Included are a number of photos of our cabina. Some (including Katrin) expressed concern about the open aspect of the room. As Filip says animals have no particular desire to interact with humans - there is nothing to be worried about. We did have two visitors - one cicada and a teensy lizard. Hey it's the jungle. The bed had excellent netting meaning no worries at all while sleeping. The cabina itself was huge - circular in design with a high (we guessed 60 feet) conical ceiling. The deck also was huge, on the edge of the jungle. A very unique and private lodging.
We had purchased a bottle of Spanish cava that we had with Filip and Fabiola late afternoon with our black bean sauce, taco chips and olive tapas.
Dinner was risotto - mushroom for Gayle and seafood for the rest of us. Delicious, so much so that I had left-overs for lunch the next day. Dessert was a fruit Panna Cotta, capping off another excellent meal shared with a couple from Chicago who quite courageously drove up to Las Nubes in the dark. As they said a bit of a white knuckle drive but they did make it so all was well.
Gayle, being up early, got the prime spot to enjoy breakfast.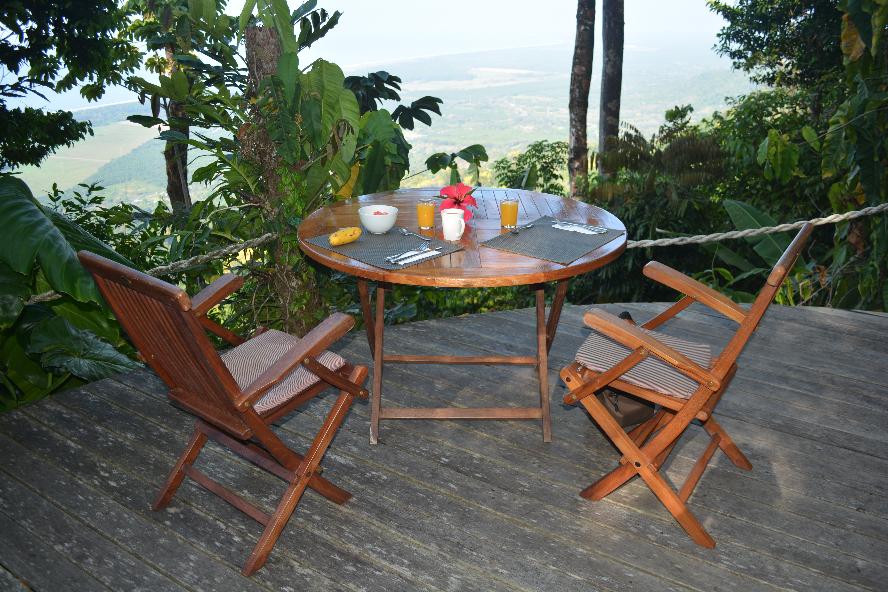 And here we are enjoying the breakfast AND the view.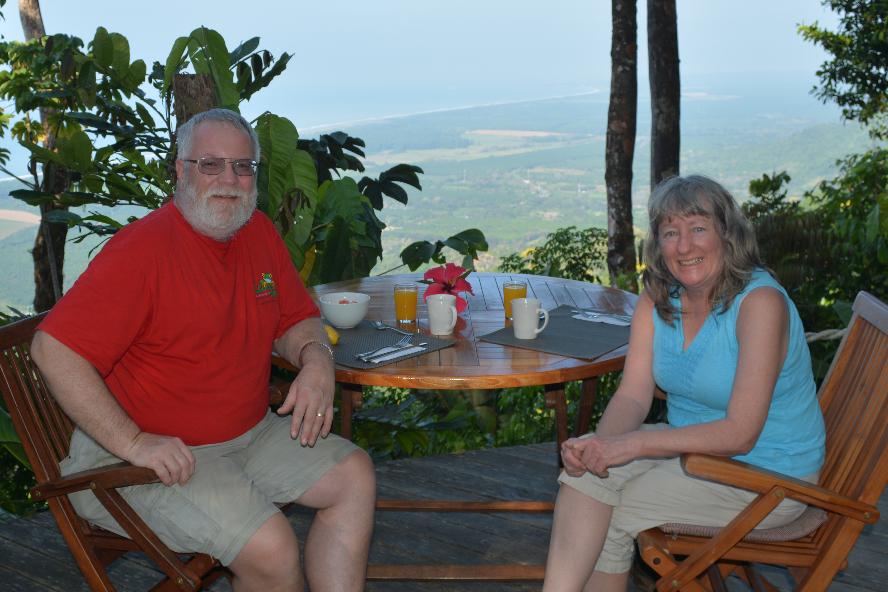 Katrin and Carlos. Meat, cheese, fresh bread incl. banana bread, juice and coffee.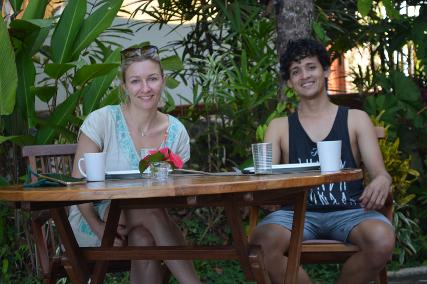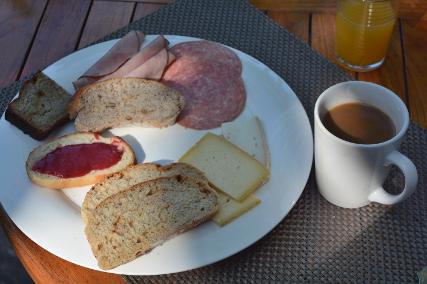 A toucan graced us with his (or her) presence (yes the photo is cropped - he (or she) was not really this close).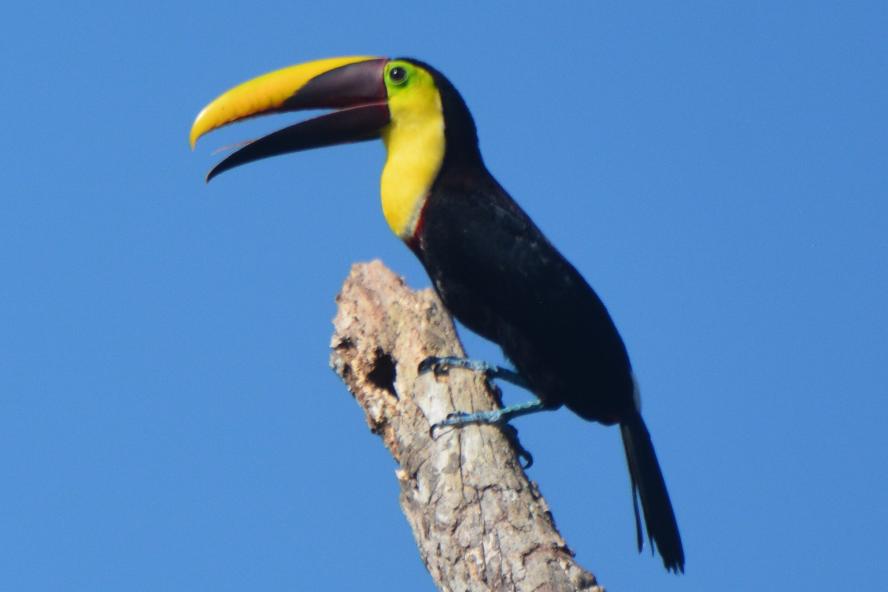 Some of the colourful flowers on the property.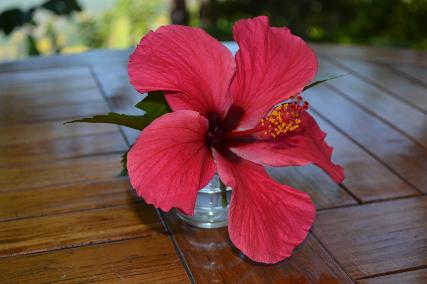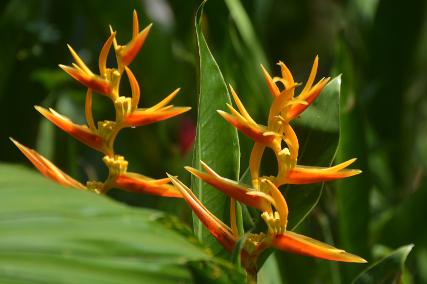 Enjoying a margarita. Fruit used in the preparation of drinks and meals.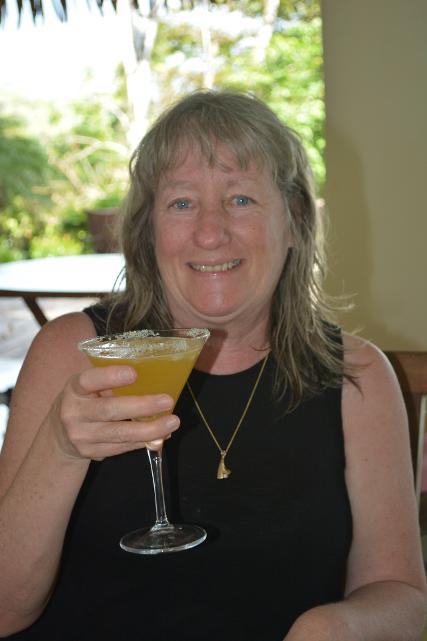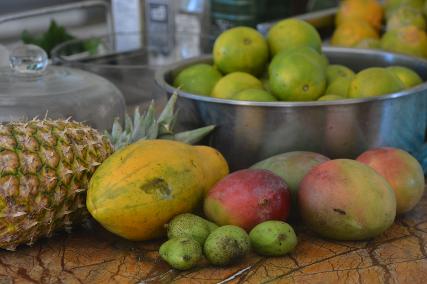 The pool overlooking the mountains.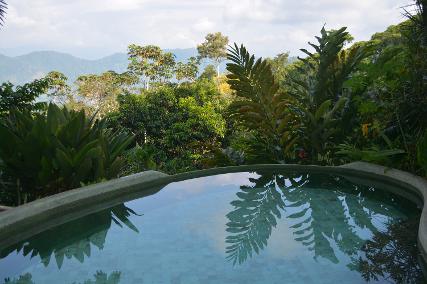 The entrance to our cabina. The conical roof (actually made of a plastic thatch).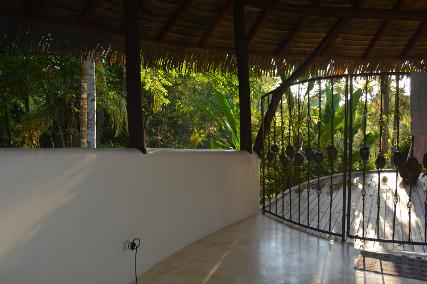 The expansive deck area with a comfy hammock.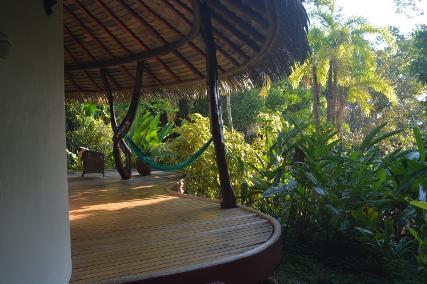 A partial wall leaving open viewing to the rain-forest. The view out another open air space.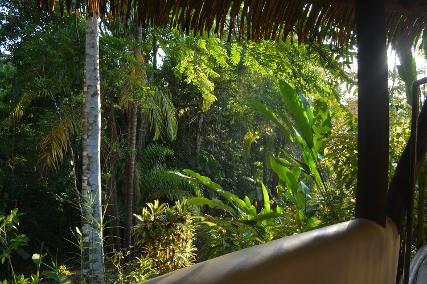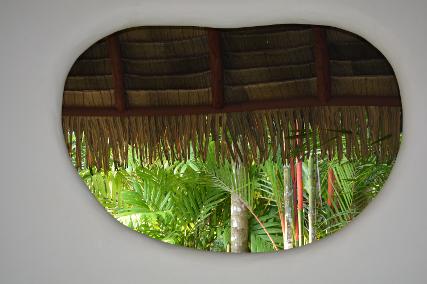 The conical roof of our cabina.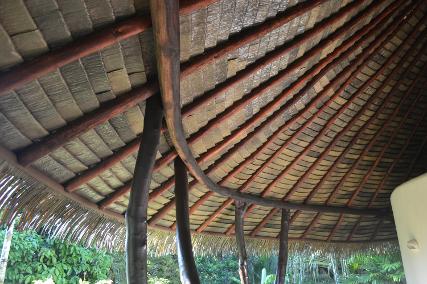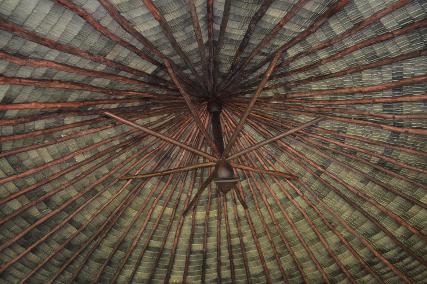 A hummingbird that was stunned after flying into a window … rescued by Fabiola.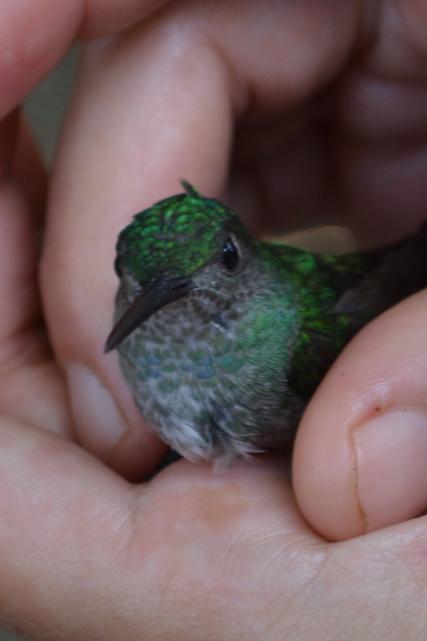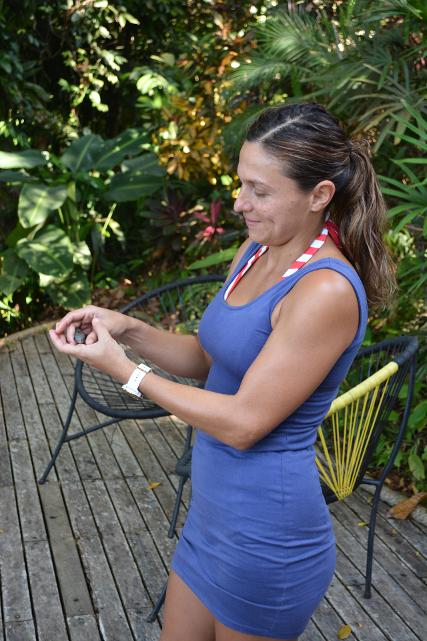 Constantly stirring the risotto. The finished product - a spectacular seafood risotto.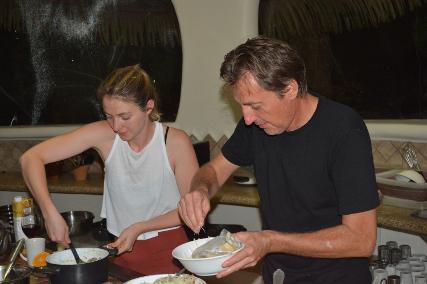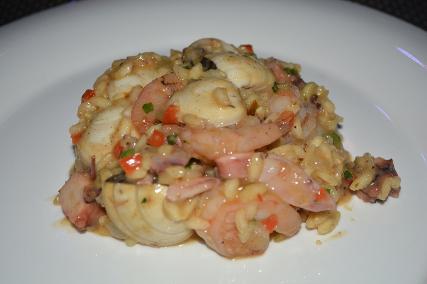 The mushroom risotto. A fruit and yoghurt panna cotta with roasted almonds.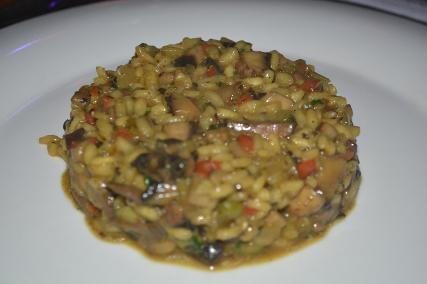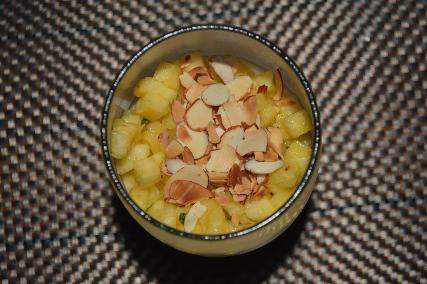 February 8, 2020 - Las Nubes Natural Energy Resort
As we have said our days of go go go are in the rear view mirror. We are here to simply relax, to hang around the pool and enjoy the isolation of Las Nubes. We have no plans to leave (it is a 30 minute drive down a narrow rock strewn 'road' with the need to then drive back up again). So why bother? Sit back and listen to the sounds of the jungle, have a dip in the small but refreshing pool, work on a Sudoku and the travel blog, and perhaps have a drink.
Due to the sounds of the birds (and the never ending noise of the insects) Gayle was up very early (5:30 ish) - me not so much. She enjoyed wandering up to the lodge where coffee was available shortly after 6:00 am to listen to the chatter of the birds while watching the sun rise over the mountains.
We enjoyed a very nice breakfast - not elaborate but very good and filling, delicious freshly squeezed orange juice, cereal, fruit including tasty bananas, yoghurt and today's main dish - huevos rancheros - eggs on a tortilla with a pepper salsa and avocado. Unlike dinner where we all eat together generally breakfast is on one's own although those down on the platform often will end up chatting.
The Wifi here is decent - actually perhaps somewhat better than expected. Fine for emails etc. and actually strong enough to allow the uploading of photos for the travel blog. Not super quick but better than some places which allowed some progress on the blog.
There are four resident cats - adorable and friendly but not intrusive. The two that were most present were Borgia, who certainly presented himself as the 'boss' and Buddah, who we think really was in charge.
Late afternoon Filip serves tapas on the platform - tonight roasted red pepper and hummus softened with baked eggplant, along with homemade bread. Usually I am not a big fan of hummus but this was absolutely delicious. Also staying tonight was a nice young couple - Katrin, originally from Germany and Carlos, a Costa Rican born in the Osa peninsula. Carlos was very knowledgeable about his country and familiar with many of the places we had stayed.
Tonight's dinner was tagine - vegetarian for Gayle and chicken for the rest of us, along with zucchini. Dessert was bananas flambe. Once again an excellently prepared meal that we very much enjoyed.
After a day in the heat, in spite of having done virtually nothing we hiked down the hill to our cabina were we turned in early, prepared to do pretty much the same tomorrow.
Gayle was up early (5:30 am to 6:00 am) every morning (me I like my sleep) to enjoy a coffee overlooking the mountains to the east and the sun-rise, before enjoying breakfast.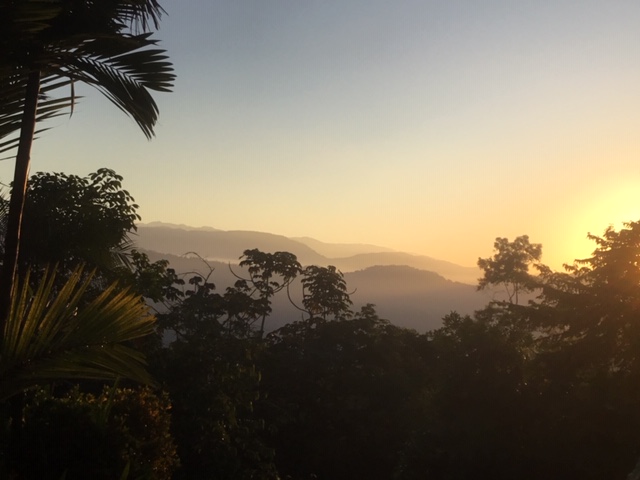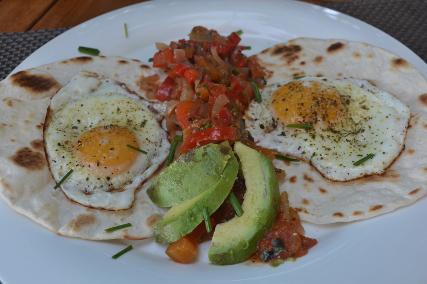 Borgia and Buddah, two of Las Nubes four cats.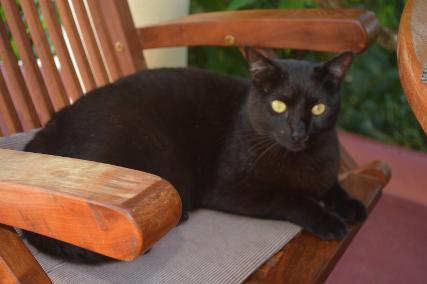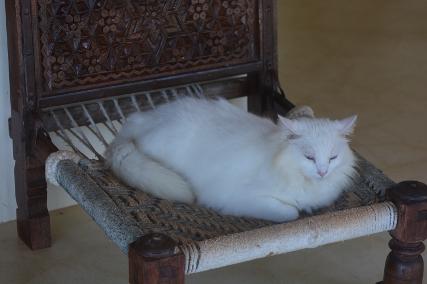 Vistas to the coast from the viewing / breakfast / tapas platform.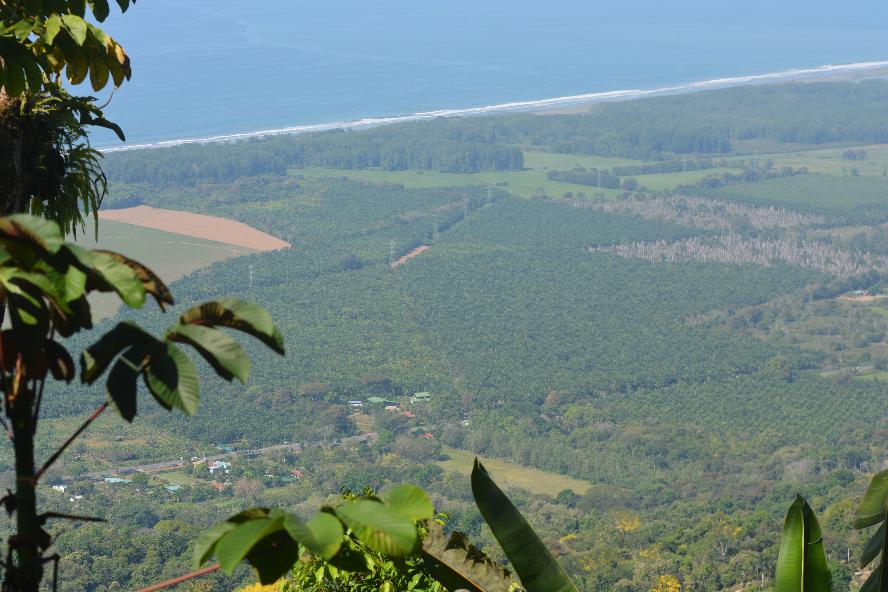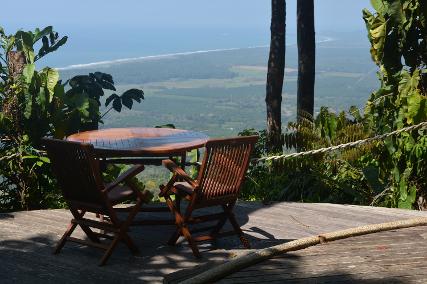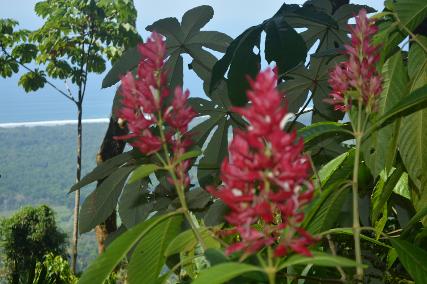 Tapas of roasted red peppers and hummus with a touch of eggplant added. Excellente!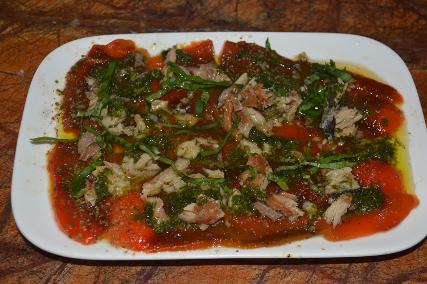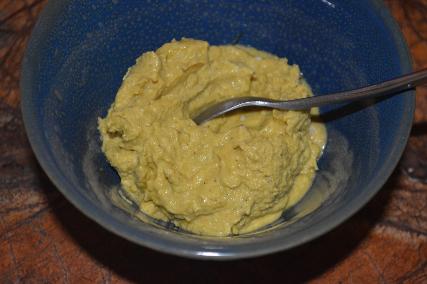 Sunsets over the Pacific Ocean as seen from Las Nubes.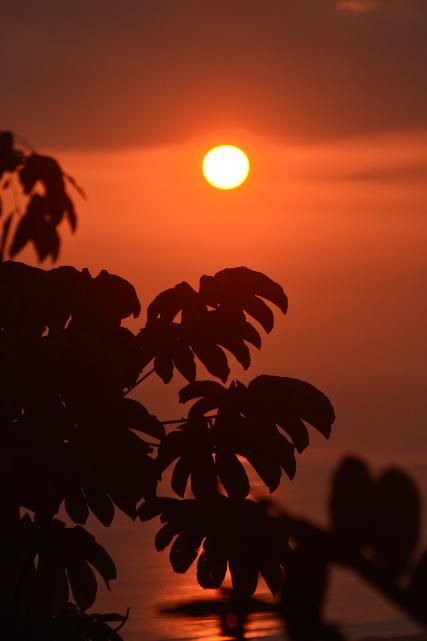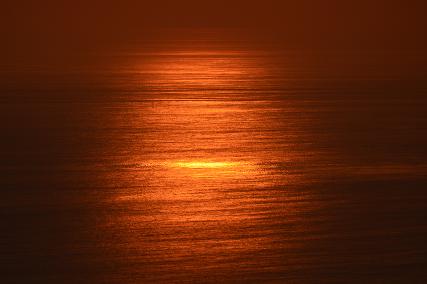 Dinner tonight was tagine - both vegetarian and chicken versions.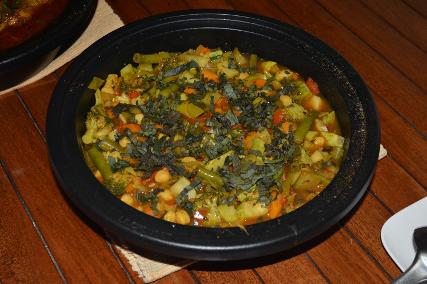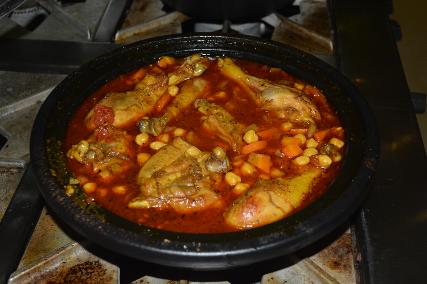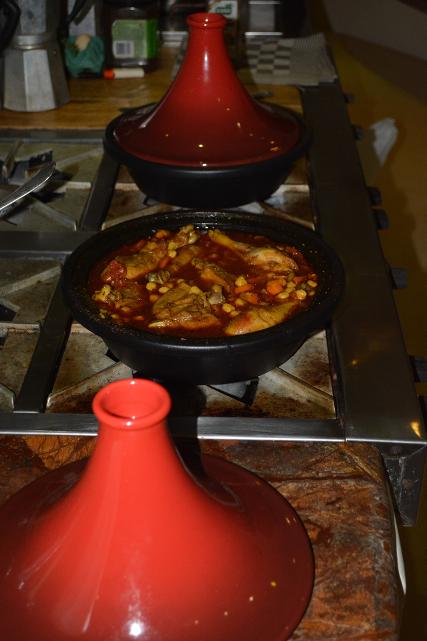 Grilled zucchini ... … and bananas flambee for dessert.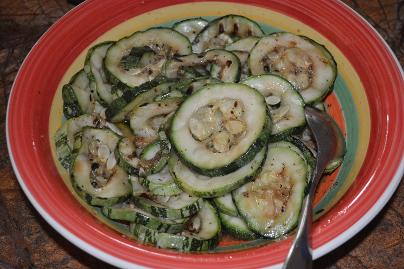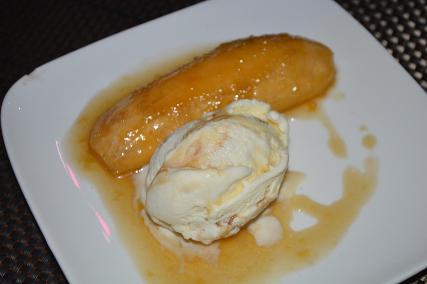 February 7, 2020 - Atenas to Las Nubes Natural Energy Resort
We were up early due to the sunrise, the chirping of numerous birds and the need to be at breakfast at 7:30 am sharp! One group sitting at 7:30 was somewhat unexpected but turned out to be perfectly fine. Having everyone eat together was also a good experience - an opportunity to meet and chat with other guests / travellers.
Not being in any particular hurry to leave we worked on the blog and just relaxed until late morning when we packed up and headed out on what was a reasonably long trip - nearly three hours without stops but more like five to six with a detour into Playa Herradura to exchange money at a Scotiabank. While there we enjoyed a gelati as it again reached 34 C and picked up a few provisions, including a bottle of Cava for Gayle's birthday in a couple of days.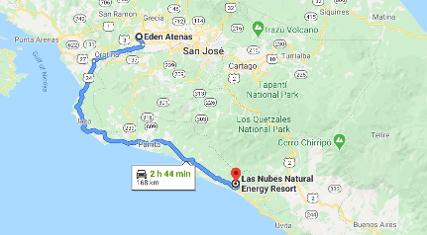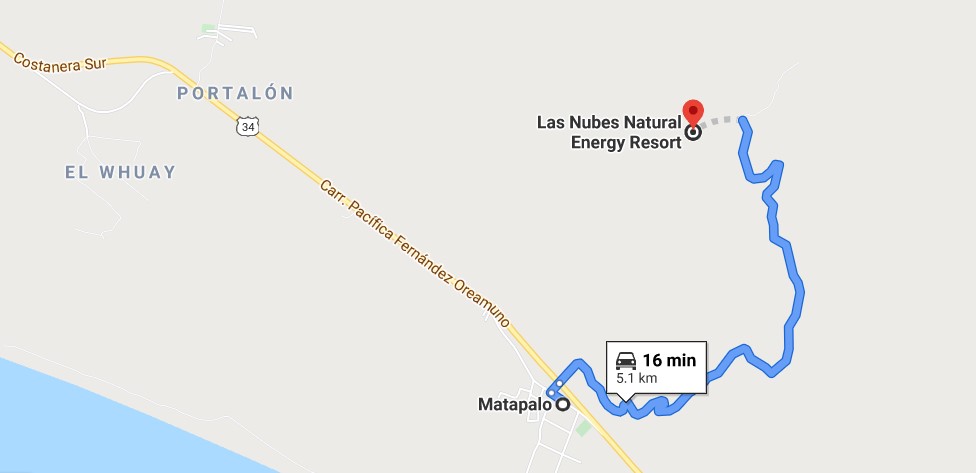 Along the way we also stopped at the Tarcoles river under which there are often a gathering of crocodiles, We walked out onto the bridge from where we were able to see three of them in the water below. Later on we came upon a number of palm oil workers returning with their water buffalo. After the banana blight of the 1940s the area reinvented itself with the production of palm oil. By the 1970s the African Palm oil industry was prospering in Quepos. The African Palm produces largs pods of palm oil kernals. The oil is used in many everyday products such as lipstick, cosmetics, candies, margarines, industrial lubricants and soaps. The pods are harvested when bright orange-red from trees that can live over 200 years.
Along the way, in addition to the crocodiles and water buffalo we saw a number of birds including scarlet macaws, toucans, vultures and pelicans. About 25 km south of Quepos we turned onto a one lane dirt 'road' that ascended the mountain for 7 kms to an elevation of 500 m and Las Nubes Natural Energy Resort. With many protruding rocks and one stream, and not a super powerful 4 x 4 (but an SUV 4 x4 which is absolutely necessary to get to these off road places) it was a challenging drive but one we made. Admittedly though the drive will reduce any incentive to leave over the next few days.
Felip greeted us with welcoming drinks on a platform that looks down the mountain side out to the ocean - very peaceful and relaxing. We were taken down to our open air cabina where we settled in before returning to the lodge for dinner, another communal seating. Felip, a chef in his former life prepares wonderful meals for his guests - tonight a tasty baked salmon for me and a coconut vegetable curry for Gayle. The food was exceptionally good - with a wonderful mixture of spices ... delicious.
What is particularly noteworthy here in the jungle is the never-ending sounds - the cicadas, other insects and birds constantly filling the air with noise.

Breakfast was served early - at 7:30 am with all guests eating together at a communal table. Food was served on large attractive platters. Coffee and juice of course, a large selection of fruit, eggs with rice, beans, cheese and avocado and delicious coconut sticky buns. Quite the international gathering with a couple from Michigan, another couple from BC, two ladies from Denmark and a young couple from Zagreb, Croatia enjoying their honeymoon, along with us. It was nice to meet and share experiences over a delicious breakfast.
To the right a plate of a wide variety of fresh fruit.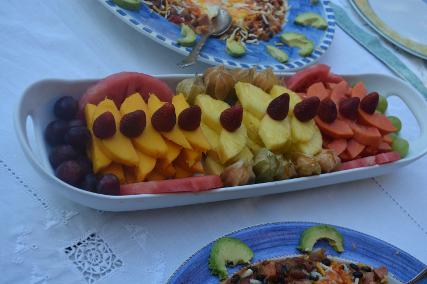 Eggs with beans and sausage and avocado The eggs, fruit plate and coconut sticky buns.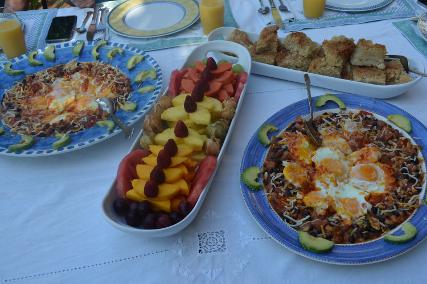 The breakfast table as seen from the terrace above. All guests enjoying breakfast together.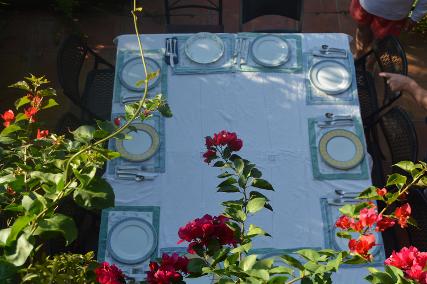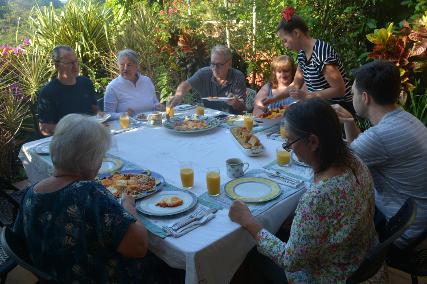 More colourful vegetation. Enjoying a gelati in Herradura.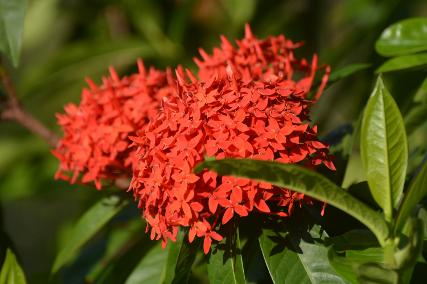 Relaxing in the hammock at Eden Atenas.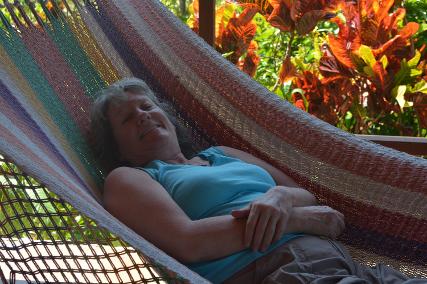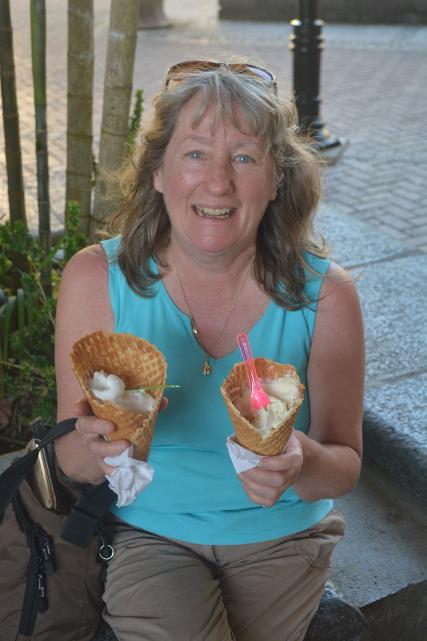 A crocodile in the Tarcoles river. Fresh fish being sold on the roadside near Jaco.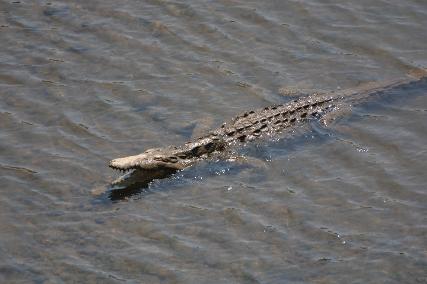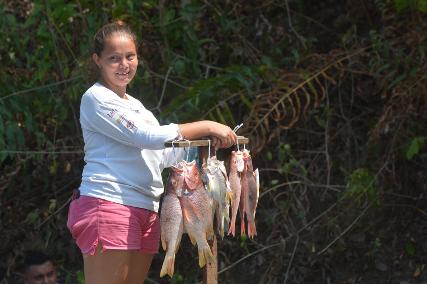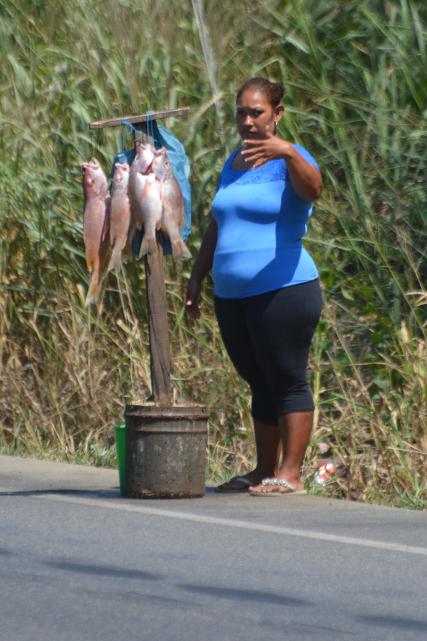 Some of the Costa Rican coastline. The beach at Playa Herradura.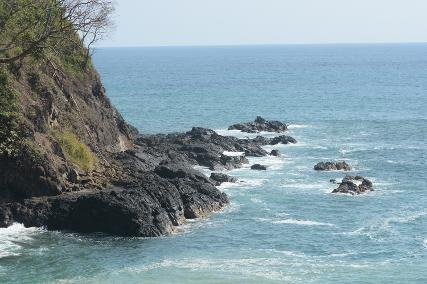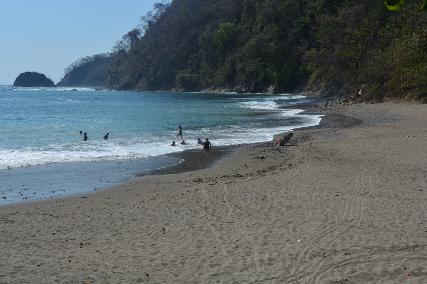 One of the long beautiful beaches along the Pacific coast although not conducive to swimming due to the waves and rip tides.
A toucan (not the best photo in part due to the grey sky - wait until tomorrow) and a pelican.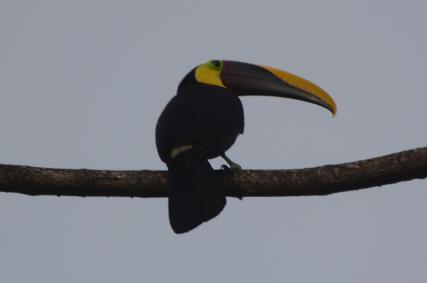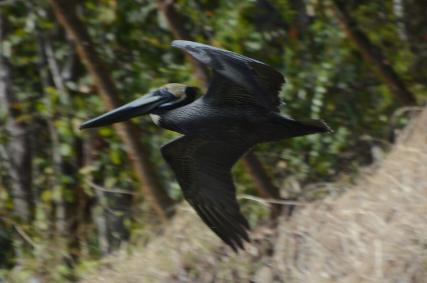 While stopped to take a photo of the beach (above) Gayle heard the distinctive cry of the scarlet macaw, of which there were many in the nearby trees.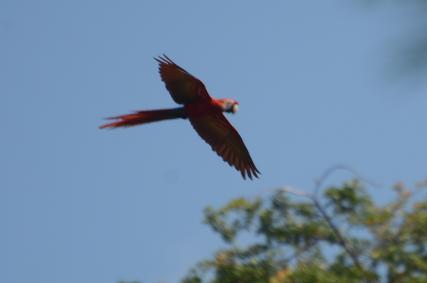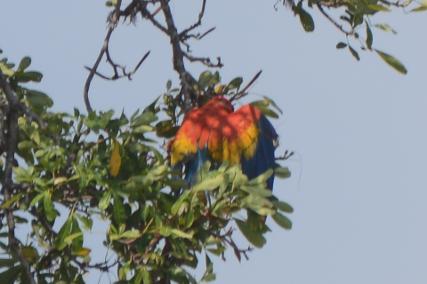 Water buffalo used to transport the pods of the African Palm used to produce palm oil.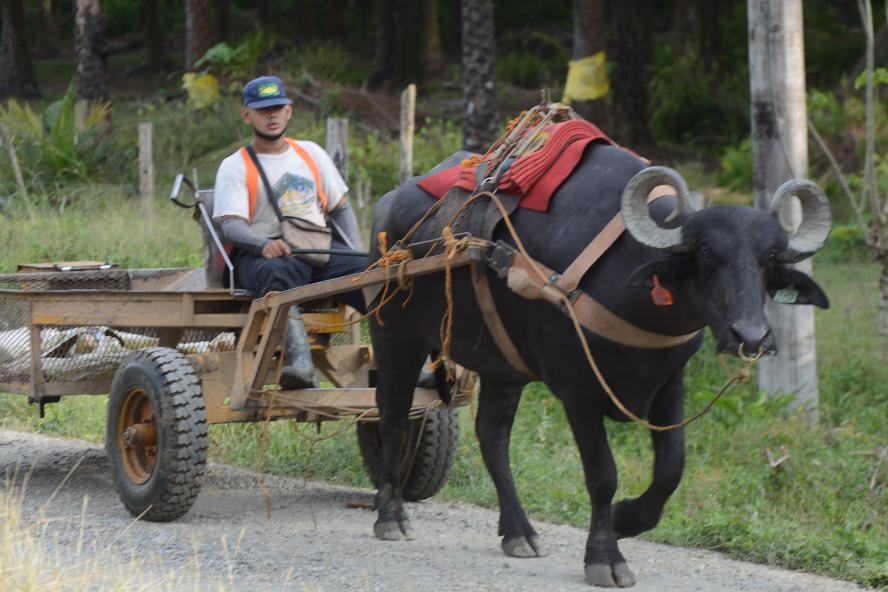 A couple of the sights seen on the trip up the mountain (Las Nubes is at 500 metres) including our first toucan sighting and one of the many cortez amarillo trees with its bright yellow flowers.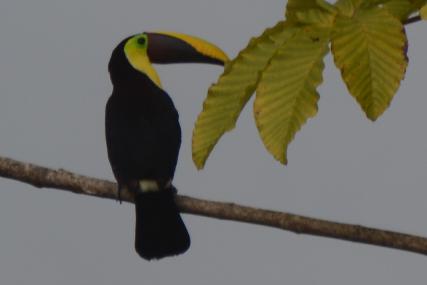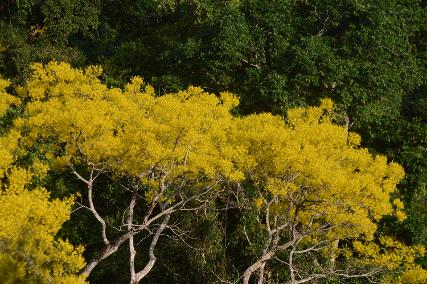 After 7 km of challenging driving on a one lane 'road' full of protruding rocks and one stream we arrived at Las Nubes to be welcomed by this message.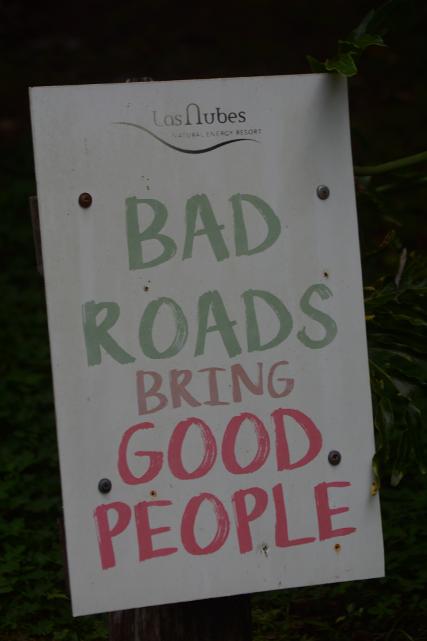 Day 2 and a moss covered monkey. Some very tall bamboo.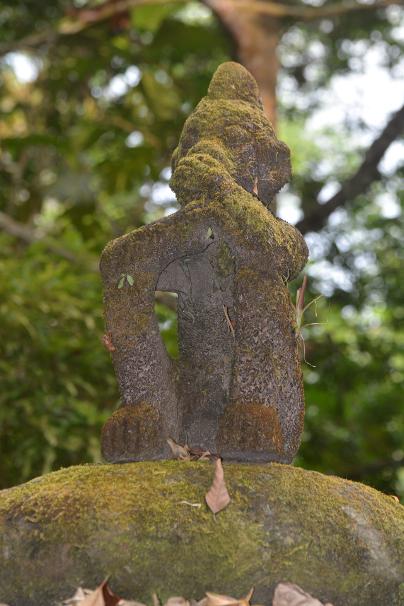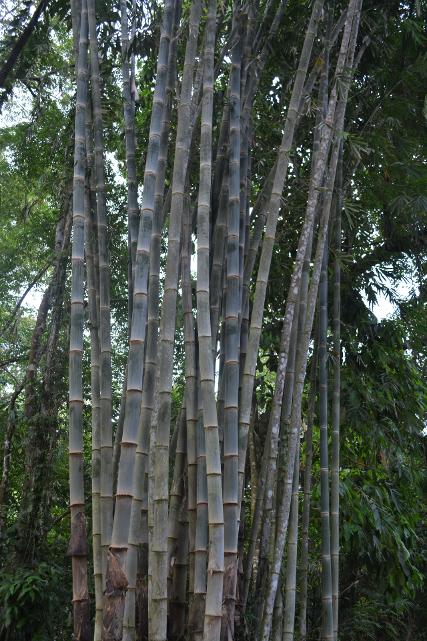 After a challenging drive up the mountain it was nice to enjoy a welcoming drink - a glass of wine for Gayle and a Belgian (Filip is from Belgium) beer for me.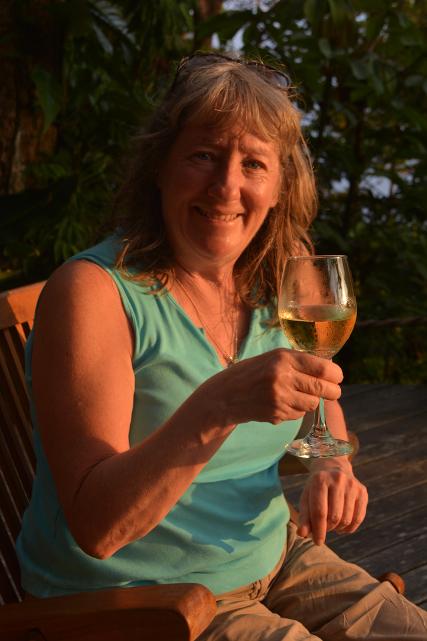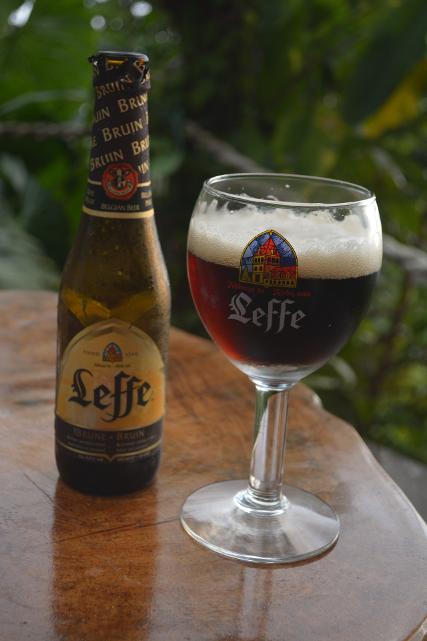 The first sunset of the trip - very colourful and impressive, as seen from the deck of Las Nubes.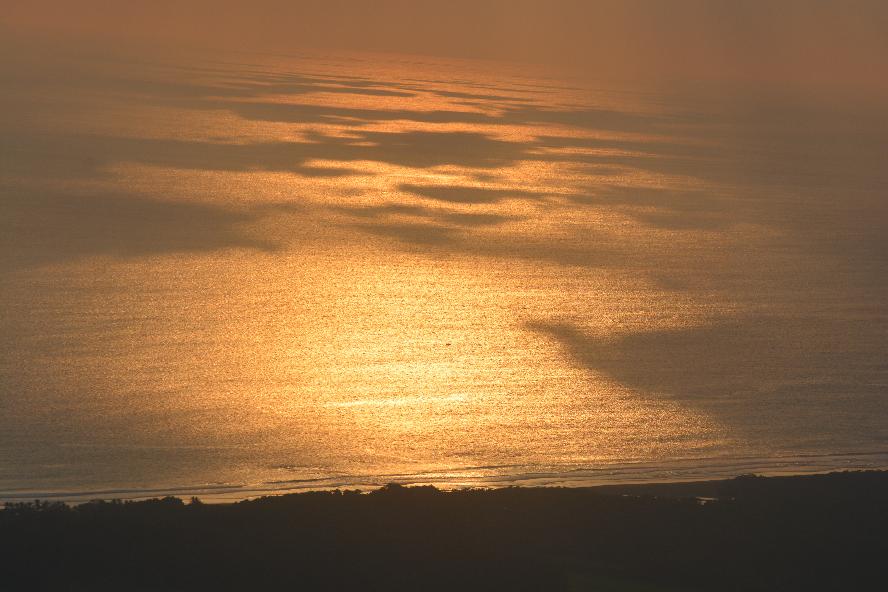 Dinner was a coconut vegetable curry for Gayle (and one other vegetarian) and salmon for the rest of us.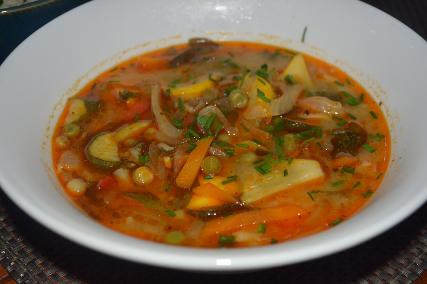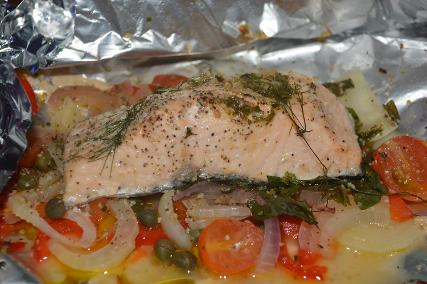 February 5 to 29, 2020 - Costa Rica
If you have followed our travel blog you will know we have been to Costa Rica the past three years. This will make it four in a row. We are returning to the Pacific coast, south to the province of Puntarenas, more or less the route travelled in 2017. Although we very much enjoyed the places we stayed on that trip we have chosen different lodgings this time - a bit of variety. Again generally three or four nights at each - seven lodgings in total.
February 5, 2020 - Halifax to Toronto to San Jose, Costa Rica
We left Halifax mid day on a flight to Toronto from where we connected to a flight to San Jose, scheduled to arrive at 9:40 pm. Being late in the evening we decided to stay at a near-by airport hotel - the Hampton Inn. Although the flight was 15 minutes late the shuttle process was extremely efficient. The Hampton Inn was your standard airport hotel - nothing memorable but easy to get to; clean; a good sleep. In retrospect we were very pleased with our decision not to try to drive somewhere at night.
February 6, 2020 - San Jose to Atenas
Of course being adjacent to the airport we were awoken by the early morning planes, but all in all not that bad. We then had the included
breakfast (with traditional Costa Rican gallo pinto - rice and beans). No doubt it will not be our best breakfast of the trip but being hungry it filled the void.
We then took the shuttle back to the airport where we found another shuttle to Alamo where we had arranged for a vehicle rental - a 4 x 4 SUV in that a couple of our lodgings will be a off the beaten track, requiring the higher SUV clearance and its 4 x 4 driving functionality. This process was easy and we were soon on our way.
Below is a map of more or less the route of our trip - essentially out to the coast and south through Puntarenas. Although not shown on this map we will be driving into Drake Bay, an isolated community in the rainforest adjacent to Corcovado National Park.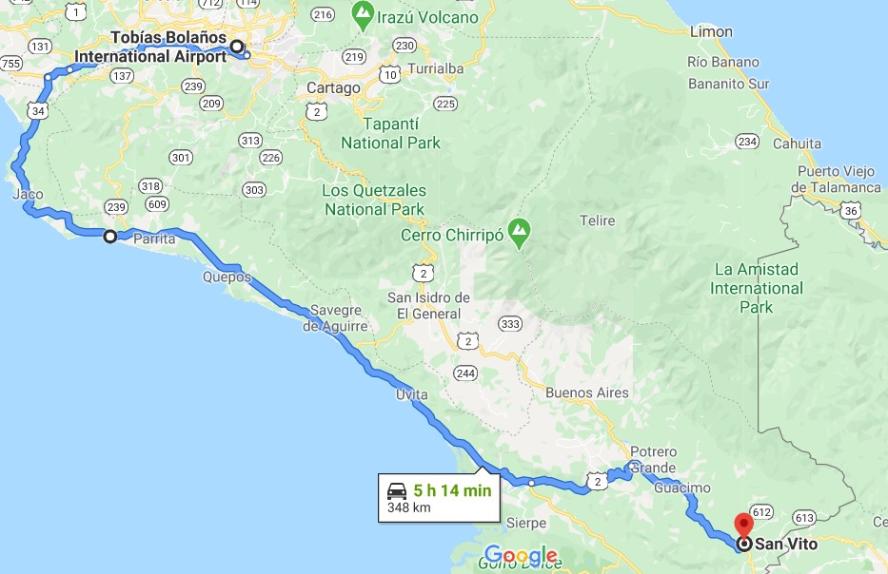 Day 1 was very relaxing - no rush leaving the hotel and a short hour drive to our first stop. Fortunately we knew to have a bit of local currency - colones, necessary to pay the road tolls encountered along the way. Our place was a little tricky to find but my printed maps got us close enough that along with directions from a girl in a puperia (a small local food and provisions store) who fortunately spoke some English, we found our lodging reasonably easily.
Rather than a longer first day drive we chose to shorten the journey and stay at Eden Atenas, where we will also stay our last night leaving a short 45 minute drive back to the airport. We arrived 1:00 ish, checked in and enjoyed a very relaxing afternoon.

Eden Atenas is a small boutique hotel with six rooms. We stayed in the Monkey room although we did not encounter any monkeys. The closest we came was this painting on the wall over the bed.
T
he building has a very nice wrap-around terrace with the Monkey room having a wonderful view across the valley. Very comfortable rocking chairs provide a relaxing means of enjoying the views of the countryside, the vibrant flowers that cover the property and the sounds of the birds - even if there was not a monkey to be seen or heard.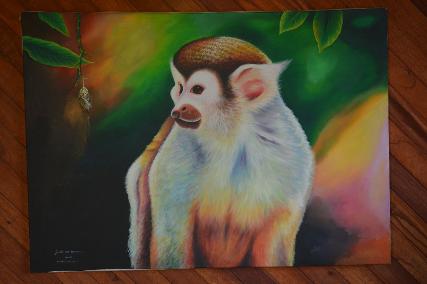 Our hotel room had a number of these artistic Costa Rica designs on the wall.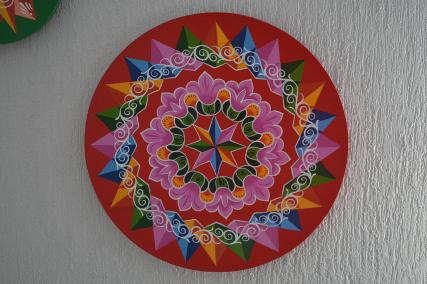 Approaching a toll booth there were numerous locals weaving in and out of trafic selling their goods - sun hats and sunglasses and coconut water and pastries and who knows what else.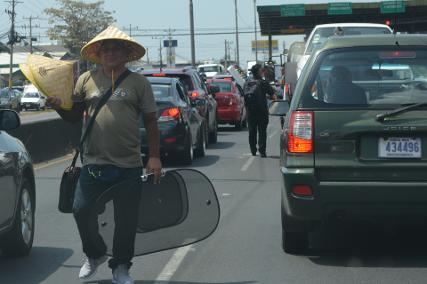 A hammock and rocking chairs, all looking out to the valley and lush vegetation beyond.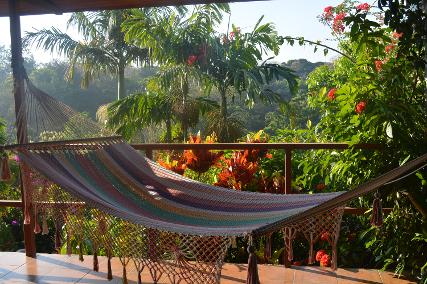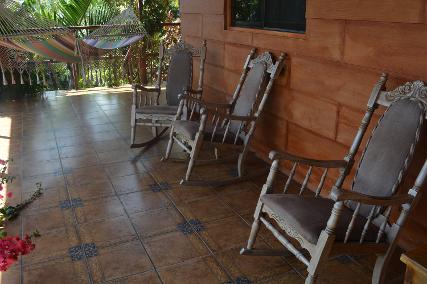 Our first place (we're not counting the Hampton Inn) … our first Buddha. We expect this to be a zen trip.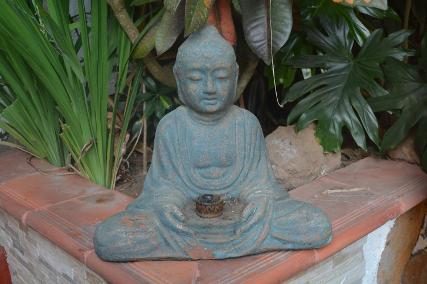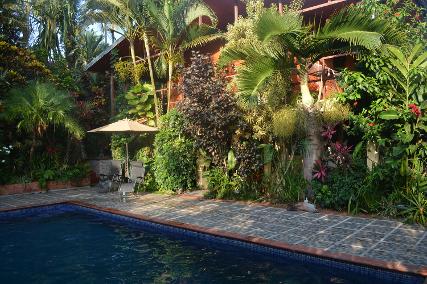 Lily and Max, the two very friendly resident shepherds, both of whom love to catch water splashed at them. There is a nice pool at Eden Atenas, very much appreciated as the temperature (at least according tho the temperature guage in the vehicle) reached 34 C.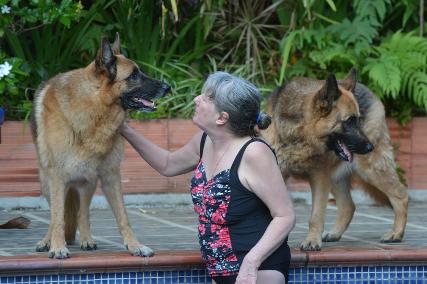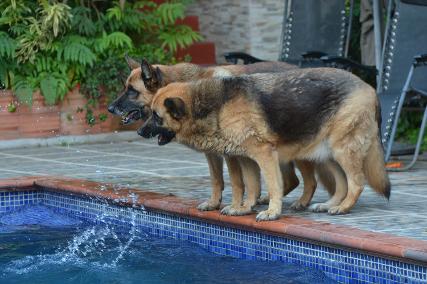 As the name suggests this is an eden, with lush vegetation, colourful shrubs and flowers, and numerous chirping birds.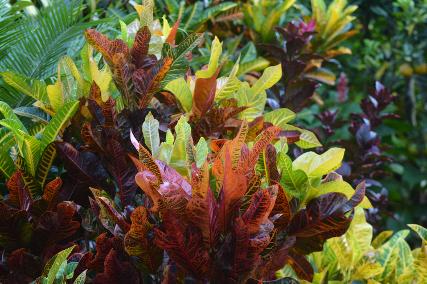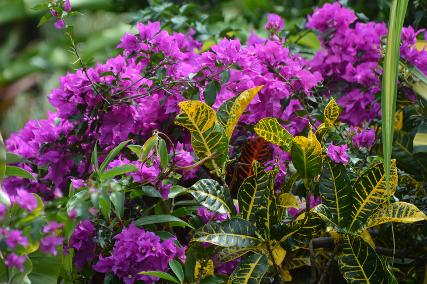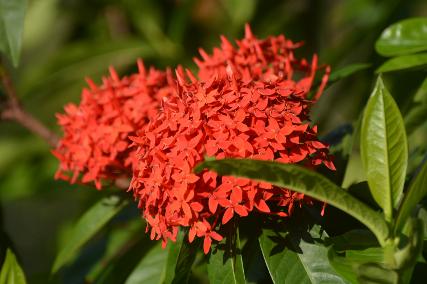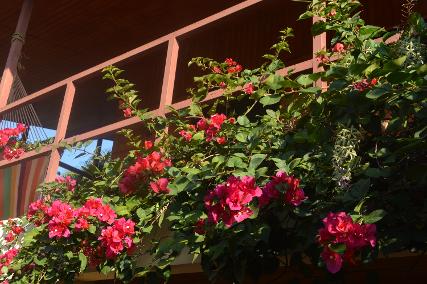 Our hosts Jan and Avtar (and another guest who ate there last night) recommended La Finca as the place to eat in Atenas. It is primarily an Italian restuarant / pizzeria - somewhat unexpected in rural Costa Rica but decent. We started with an Ensalada Caprese that came with a generous serving of pesto.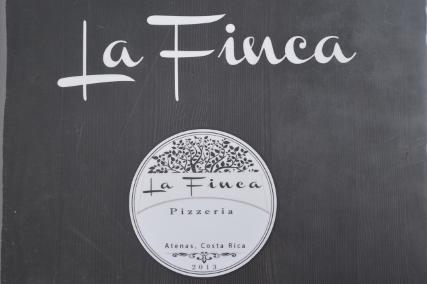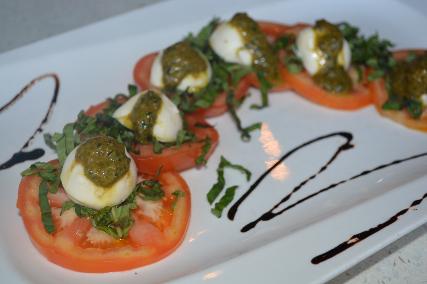 Gayle enjoyed a Vegetariana pizza …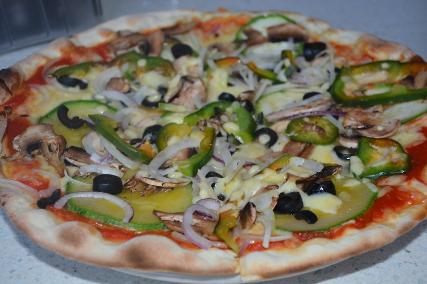 … while I had the Fettuccini Alfredo with some nice cheese / garlic bread.