3 October 2016 - Colle Cesoni/Casaprota, Rieta, Latium => Halifax

Today we flew home. A quick breakfast - we needed to leave Colle Cesoni by 8:00 am, an hour and a half drive to the Rome airport, then a flight to Montreal and finally back to Halifax. Tired but home.

Memories of Sicily / Italy
La Casa dei Fiori and our damusso in Pantelleria
our first experience with essentially only cookies, cakes and coffee for breakfast
the great meals Carlos cooked
the rock walls throughout Pantelleria
the scenic drives on Pantelleria with the sea virtually always in view
the salt pans and windmills north of Marsala
Scopello including drinks under the eucalyptus tree in one of the village's squares, the dog swimming in the fountain and the daily weddings, including drone coverage of one
swimming in the warm turquoise sea near Scopello
the Agrigentana goats at Fattoria Vassallo and the extensive antipasti buffet ... and Yago and Spirit
the Baroque towns of Scicli, with its memorable gelato, and Noto
the long sandy beaches of south Sicily
the ancient Greek ruins of Selinute
driving through too many very narrow streets
every town/city being way larger than expected
the stunning beauty of the hills, valleys and sunset at Colle Cesoni, Casaprota
the fundraiser in Casaprota for the earthquake victims of Amatrice
the (Florentine) Steak and gnocchi at Baglio di Pianetto
the isolation and beauty of Masseria Susafa
La Mangiatoia - our room in the former stable of Colle Cesoni
Baglio di Pianetto - the winery and the wonderful bottle of wine
trying to order the right coffee, i.e. the many definitions of café lungo
pizzas and pasta (and octopus)
Gayle's hammock tour of Sicily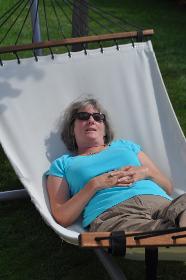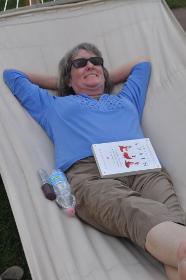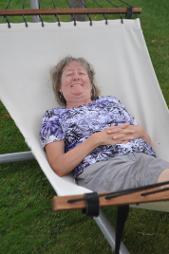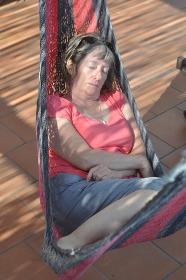 Expenses:
Costs are relatively inexpensive in Sicily (although that can't be said for Pantelleria). While we did use Aeroplan points airfare, including the flights from Rome to Pantelleria, Pantelleria to Palermo and Palermo to Rome totaled $1,771.
Food (keeping in mind most breakfasts were included in the lodging cost), including wine was a very reasonable 50 euros ($75 Cdn) per day. The most expensive meal was $138 (The Steak and a great/expensive bottle of wine) while we had many meals, incl. wine for < $60. Food was somewhat more than Greece (43 euros) but less than Provence (80 euros) or Portugal / Spain (62 euros) or our last trip to northern Italy (66 euros).
Lodging ranged from a low of 60 euros to a high of 160 euros, often reflecting upgrades to nicer rooms. Here is a list of where we stayed, the cost and the website.
160 euros La Casa dei Fiore Pantelleria www.pantelleria-lacasadeifiori.com
70 euros Casale Corcella Scopello http://www.casalecorcella.com
80 euros Laguna dei Fenici Marsala www.lagunadeifenici.it
60 euros Fattoria Vassallo Licata http://www.fattoriavassallo.it/en/
75 euros Villa Quartarella Modica www.quartarella.com
80 euros La Quercia e l'Asino Piazza Armerina www.bbquerciaeasino.it
110 euros Masseria Susafa Polizia Generosa http://www.susafa.com/en
152 euros Baglio di Pianetto Santa Christina Gela http://www.bagliodipianetto.it/?lang=en
100 euros Colle Cesoni Casaprota www.collecesoni.it
106 euros ($160 Cdn $) was the average cost.
On the whole we would consider our lodgings similar to those of other Mediterranean trips.
In terms of comparative costs we spent, on average
122 euros - 2013 trip to Northern Italy
109 euros - Corsica/Provence;
139 euros - Portugal/Spain, and
79 euros - Greece.
Overall, including airfare, car rental, fuel, lodging, food, entrances, parking and other small miscellaneous expenses the total cost of the 25 day trip was $9,050.
And with that the sun set splendidly to bring an end to our three and half weeks in Sicily / Italy.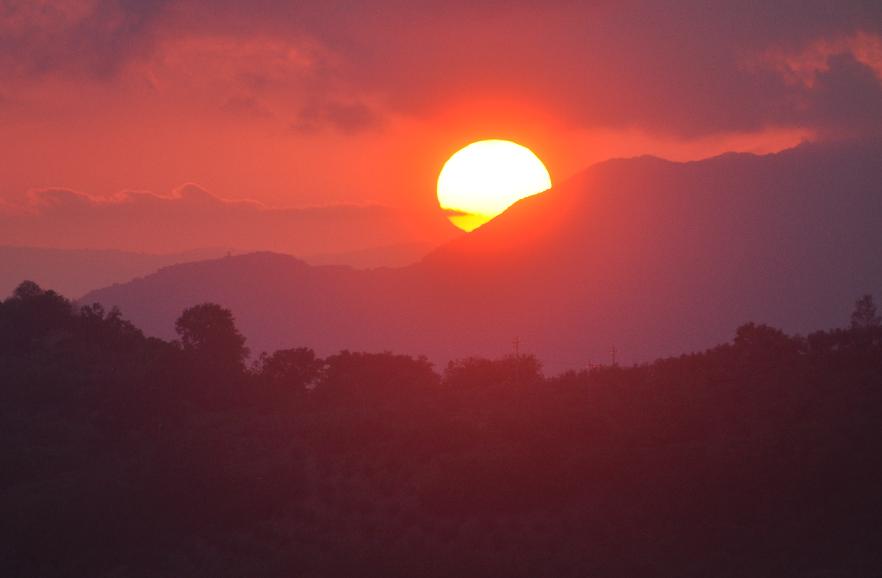 02 October 2016 - Colle Cesoni/Casaprota, Rieta, Latium

Weather was ok but not great today - intermittent showers and lots of clouds down in the valleys. Rather than being a B&B the rooms at Colle Cesoni have small kitchenettes where one can make their own breakfast/other meals. For short stays like ours a welcome hamper is provided of eggs, juice, coffee, cheese, meat, jams and bread. With the tomatoes we were given by the farmer in Sicily we made ourselves a pretty nice breakfast.
On the first Sunday of each month there is a market / fair in nearby (9 kms) Osteria Nuova. As well the super-markets are open until 1:00 pm so we went over. We bought some cured ham, cheese and bread for some sandwiches, both during the day and on the plane tomorrow as well as a bottle of Limoncello and a bag of pizza dough flour for Paul, both to bring back. The market / fair was starting to close down but still enough activity for a nice stroll, admiring all the fresh vegetables and fruit, the meat and cheese, the bread (mostly gone). There were also stalls of clothes, household goods, toys, those selling plants and flowers and many Italian style 'fast food' trucks. Although we were there at the tail end the market / fair appeared to be very well attended.
Not being much of a day for a drive we returned to our apartment and in-spite of the clouds just admired the views up and down the valley. We have been to a lot of places and certainly views of water and mountains are striking but this has to be one of the prettiest areas we have been. The hills are large enough and the valleys deep and extensive enough to make this area visually stunning. The sunsets are spectacular (the photo below is just a tease for tomorrow's) and the sounds of the sheep and cow bells music to the ears. There is no question we would like to return again and spend more time at Colle Cesoni and in this area.
Before going our for our final meal we were going to take a short drive but when we went up to pay (since we will be leaving relatively early in the morning) we got to chatting with Giovanni (and Anna Maria although she does not speak English - between them they speak I think five languages but both don't speak all). Giovanni had a very interesting career as a senior foreign correspondent, telling us stories of being one of the first westerners allowed in China, travelling through Moscow on a questionable aircraft, of his time in South America etc.. We talked about the earthquake and the relationship between the villages of Casaprota and Amatrice; about the fact two of Giovanni's friends died in the August 2016 earthquake bringing a very personal side to something that can seem distant. As well Giovanni told us about the property, an abandoned farm dating back to 1865 that he and Anna Maria purchased 35 years ago, restored and turned into an agriturism apartments. While chatting Anna Maria went to the kitchen, returning with these very tasty donuts, filled with chocolate - both white and dark. Yummy! During our time Gayle noticed the sun setting - absolutely stunning.
We went into the village to the one open restaurant and had a couple of pizzas and a bottle of wine to end the trip (unfortunately they were out of the ravioli). Perhaps not the best pizza and meal we had but so typically Italian it seemed like the most appropriate way to finish off.
Clouds in the valleys winding through the Latium countryside as seen from our terrace.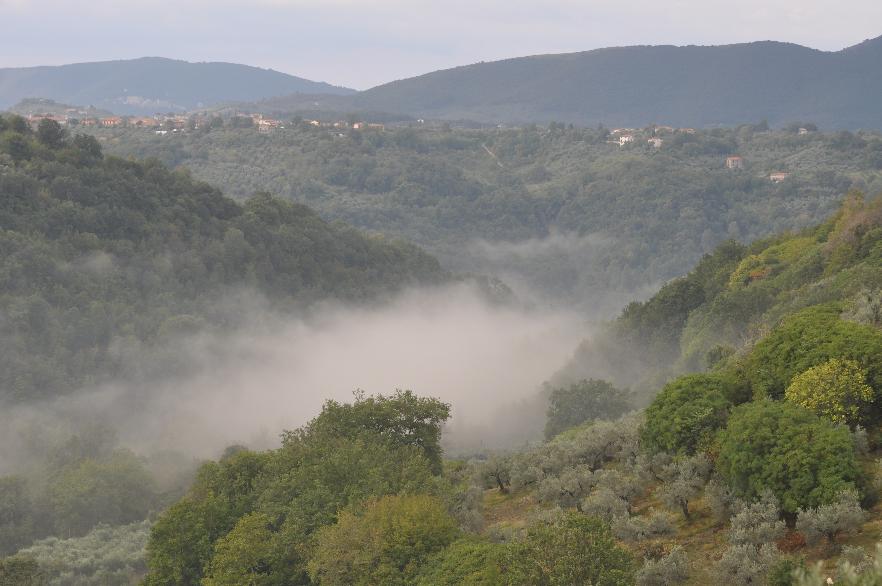 There's something about an Italian tiled roof.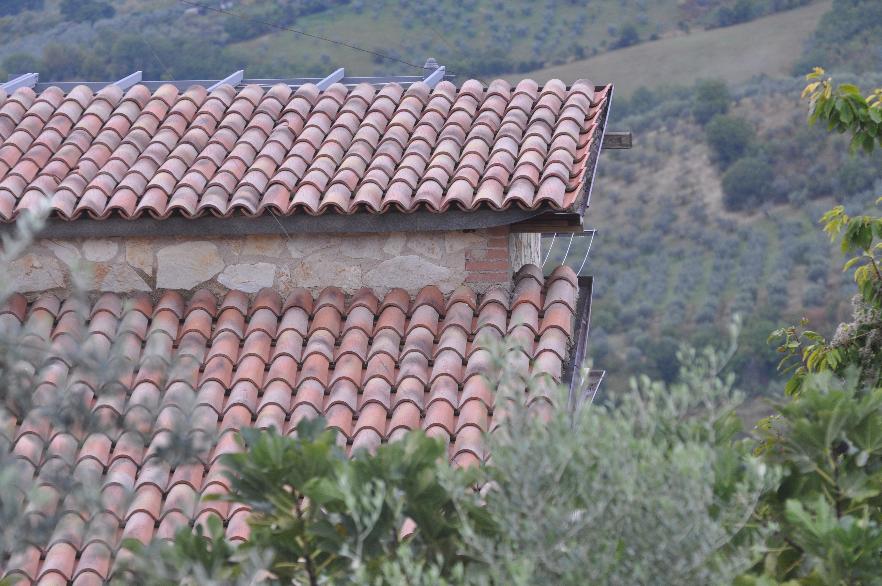 Made it ourselves breakfast.
The village of Casaprota.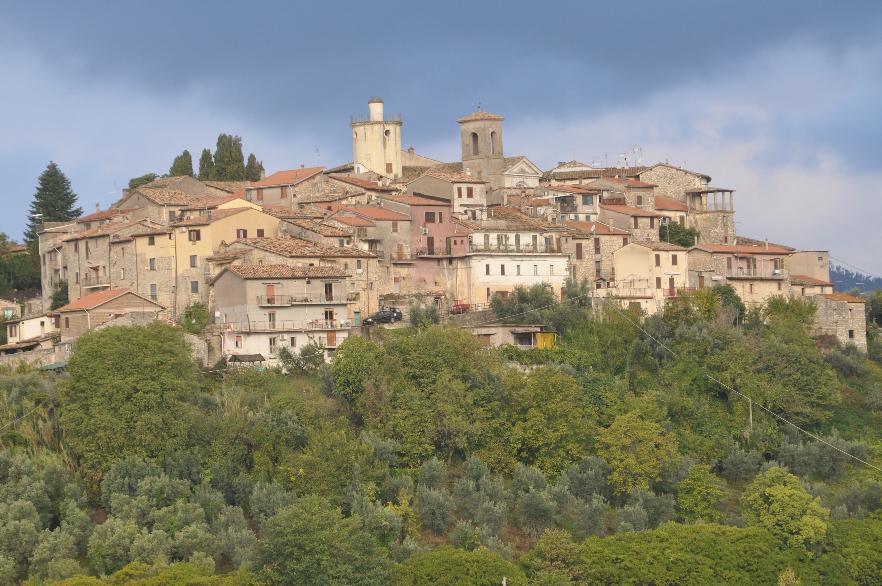 The well landscaped grounds of Colle Cesoni looking over olive trees and the valleys beyond.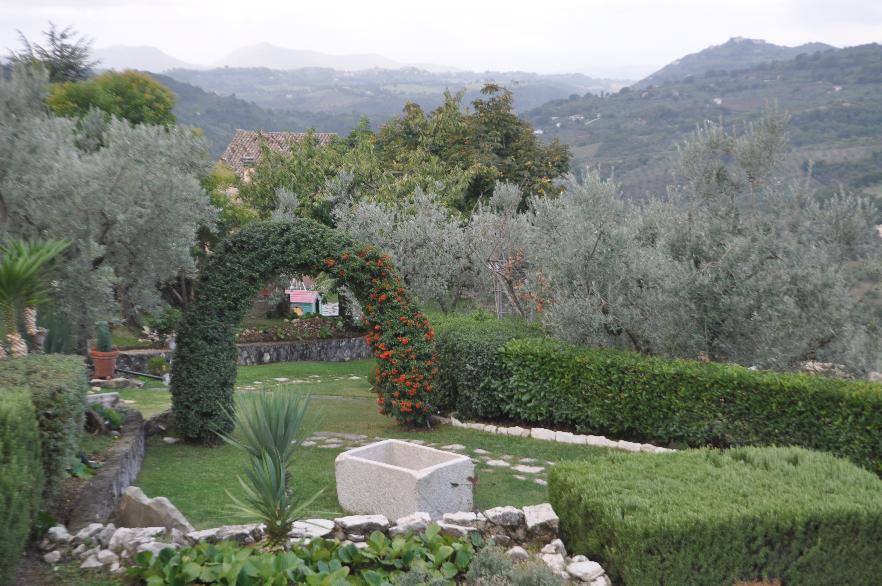 The hilltop villages of Collelungo and Casaprota.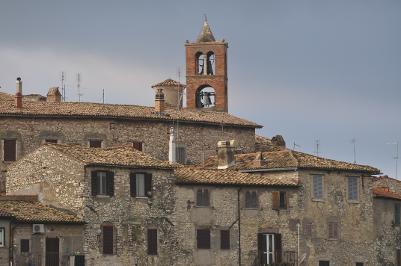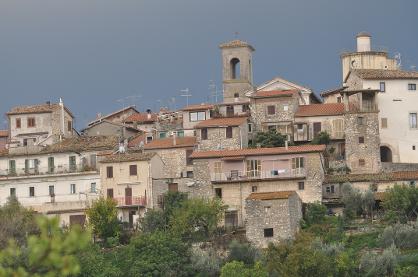 In our room old wine bottles and in the restaurant a copper pot and a grape basket.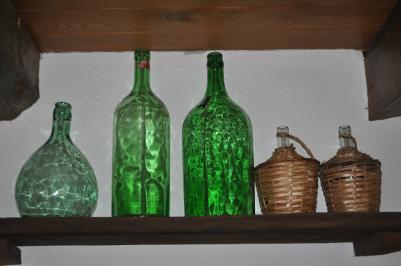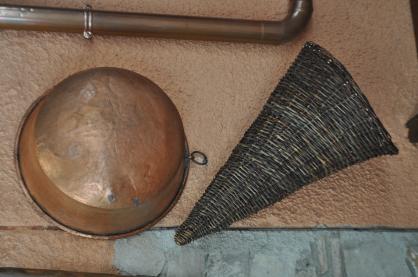 Some of the interesting wall ornaments that gave our room character.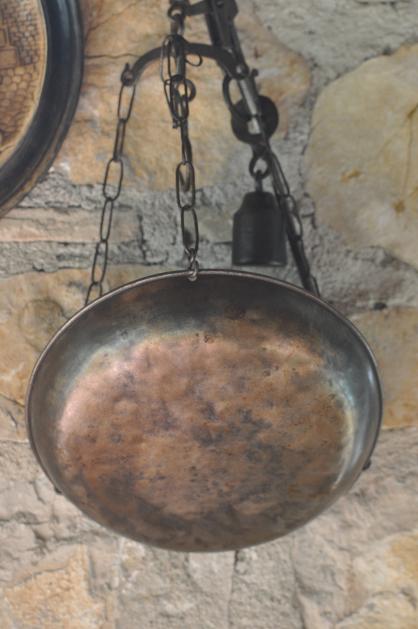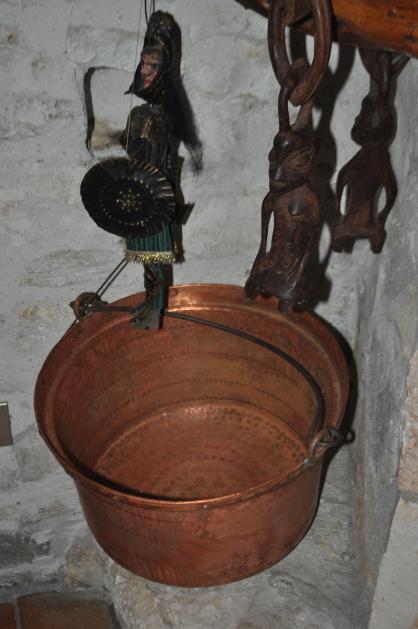 Flowers brightened up the market / fair.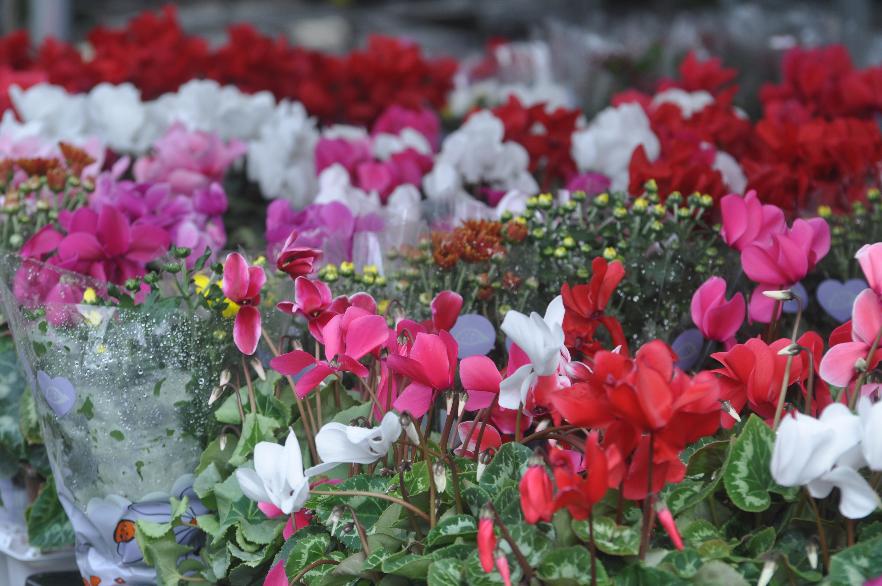 ... and there was meat, and cheese and bread.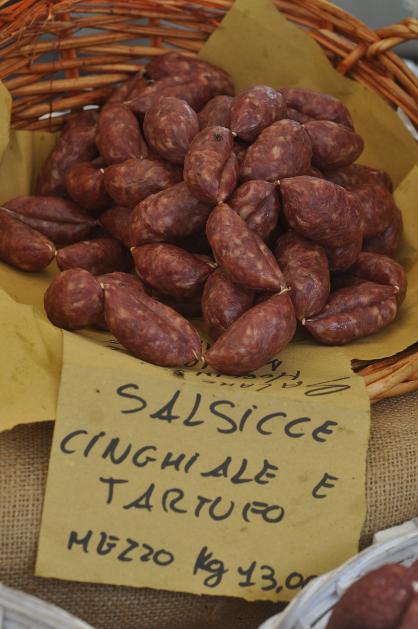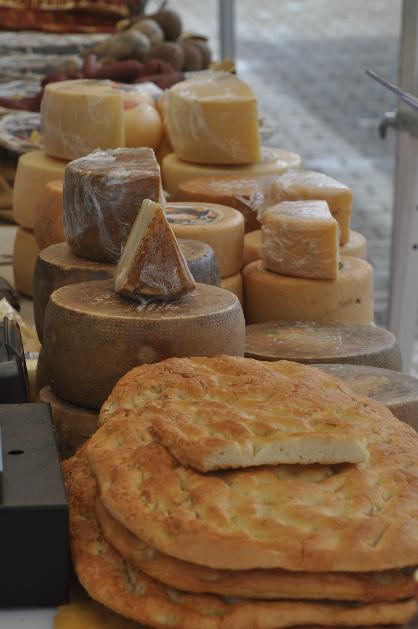 ... and plenty of vegetables everywhere - peppers, tomatoes (ok perhaps a fruit but the bright red photo fit in here), mushrooms, carrots, broccoli, cauliflower, and on and on.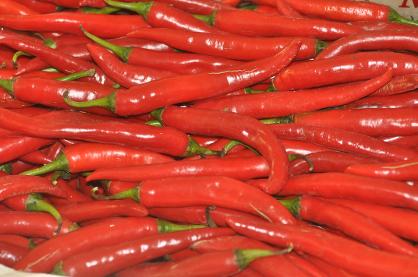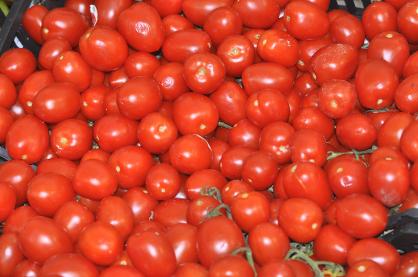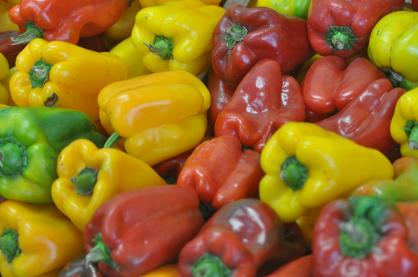 There was also an abundance of fresh fall fruits - apples and peaches; pears and plums, grapes of course, oranges and lemons plus lots of melons.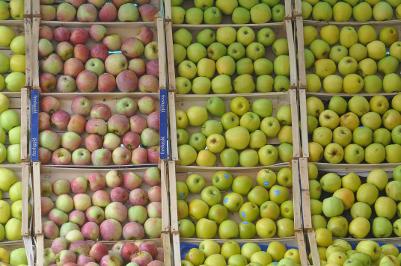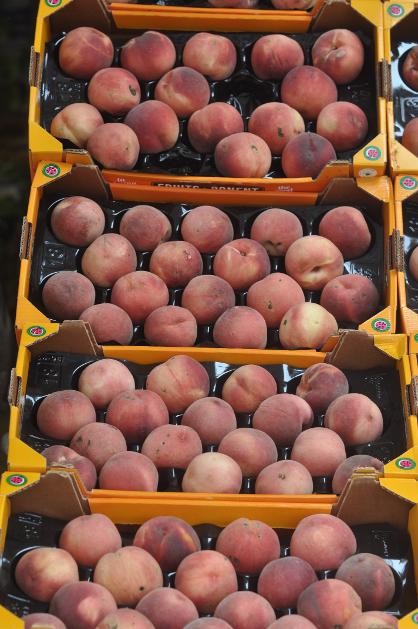 More meat and cheese at the market.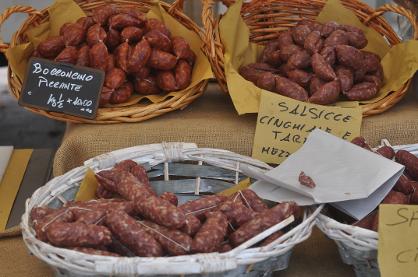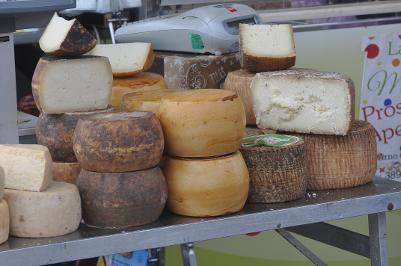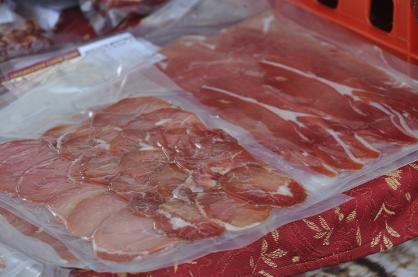 Being Italy there is always wine, whether at the markets or in the restaurant.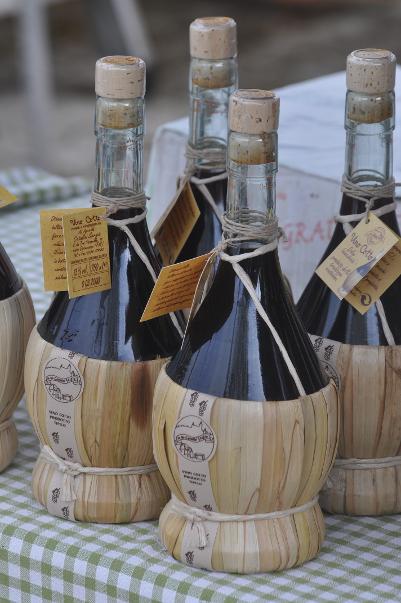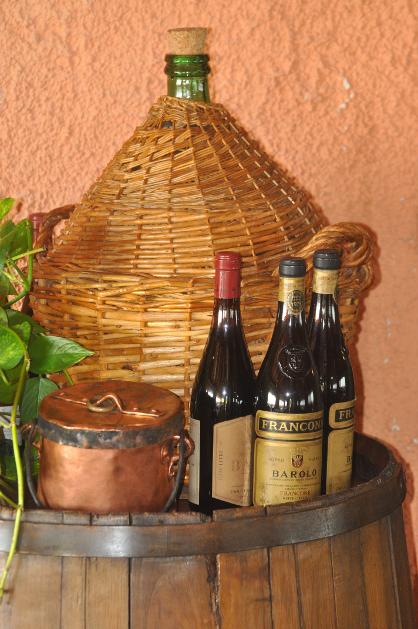 Anna Maria and Giovanni, two very hospitable hosts and the tasty sugary donuts we were treated to while chatting.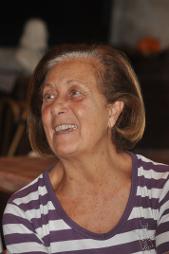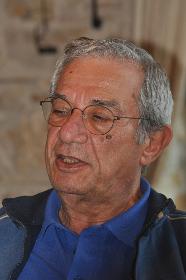 ... and at the end of the evening the sun began to set over the nearby hill-top villages, and our trip.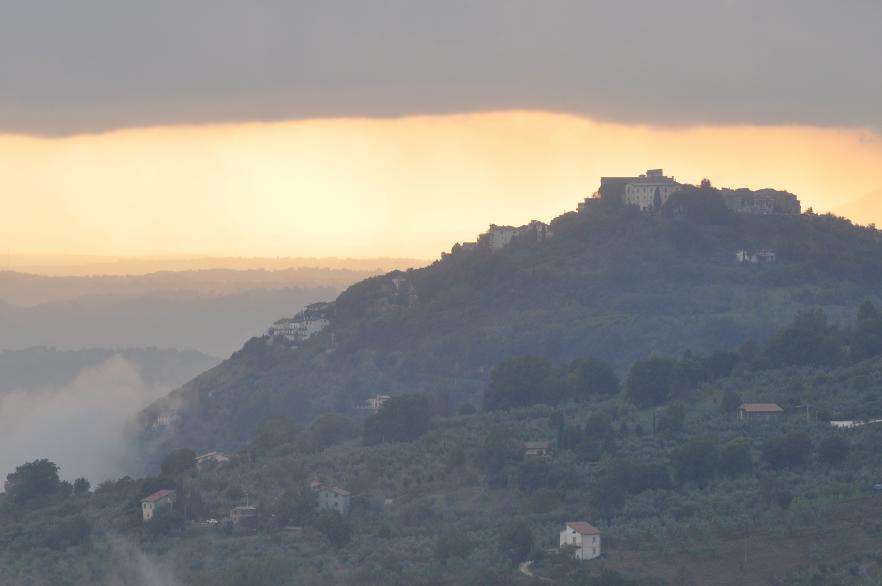 01 October 2016 - Baglio di Pianetto/Sicily to Colle Cesoni/Casaprota

Today is a travel day. When planning the trip we had the option of flying home from Sicily in one day but it meant leaving Palermo on a 6:30 am flight which meant getting up at something like 3:00 am as we were an hour from the airport. Then a five hour layover in Rome. It didn't seem very appealing so we decided to leave Sicily a couple of days early and spend two night in the hills north-east of Rome. We had spent a short night (arrived late; left early) in the nearby medieval hill-top town of Casperia (approx. 40 km away) back in 2008. We said we would like to return so it just seemed to make sense to take a noon flight out of Palermo and spend a couple of nights in this area.
A final quick breakfast followed by a reasonably easy drive to the airport and car rental return. The flight out of Palermo was unfortunately an hour late (a horrendous check in process) and then we wasted another half hour to 45 minutes trying to find the car rental area. You would think following signs to car rental would not be that difficult but like the road signs throughout Sicily that was not the case. I would have felt really bad had it not been for Tim and Lisa from LA who were right behind us and equally confused. It was like the blind leading the blind. Quite an ordeal but of course we finally found the place, picked up our car and were on our way ... an hour and a half from the airport north-east of Rome.
The area is visually spectacular with lengthy valleys, the hills of the Apennines, olives, sheep, forests, mountain-top villages ... a buffet for the eyes. We were met at Colle Cesoni by Giovanni, the nicest 75 year-old fellow one can imagine. He settled us in to La Mangiatoia, a former stable converted into a studio apartment maintaining its old stone structure with terracotta floors, wood ceiling beams, an impressive fireplace and of course fabulous panoramic views.
We became aware a few days earlier that there was going to be an event this evening in the village square. We had arranged for dinner at Colle Cesoni on the Saturday night but as it turned out the chef was involved in the community fundraiser event. There is a close relationship between the towns of Casaprota and Amatrice (80 kms apart), where the earthquake struck in August. Each year people of Amatrice come to Casaprota to cook and provide for the village's festival in August. Reciprocally the people of Casaprota deliver the new harvest of olive oil to Amatrice. Amatrice is famous for a pasta sauce named for the village - Amatriciana, being a traditional Italian pasta sauce based on tomato, pecorino cheese and guanciale - cured pork cheek. The chef and others at Colle Cesoni, along with others in the village were preparing pasta Amatriciana for 200 in the town square (and then repeating the event for 500 the next day in Rome). The evening first started with a religious procession followed by music, fireworks and long lines for pasta. Fortunately Giovanni was there to guide us - neither of us heard any other English spoken the entire evening. It was a warm, beautiful fall evening with young and old out to help their neighbours. We watched the fireworks, listened to some music and ate pasta amongst the locals.
An attractive plate of grapes available in the lounge of Baglio di Pianetto.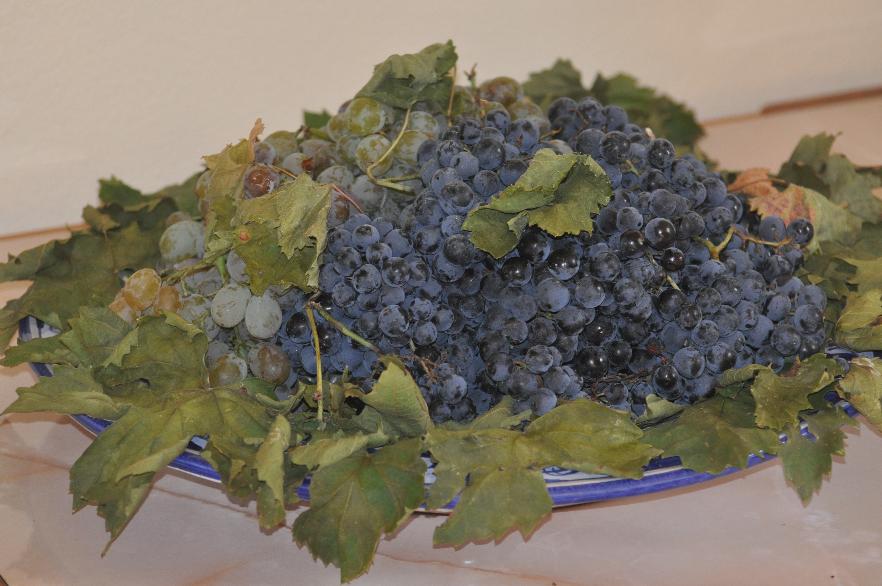 Lots of fresh fruit and of course pies and cakes.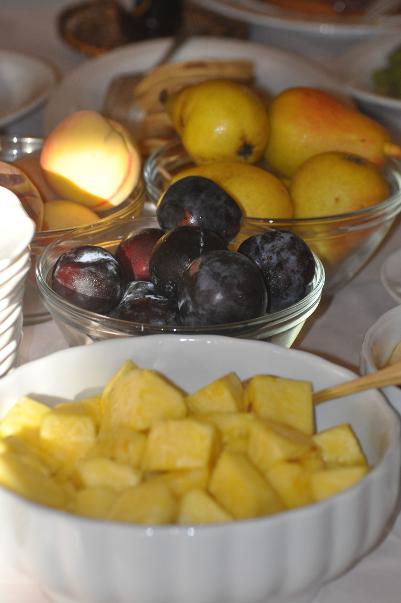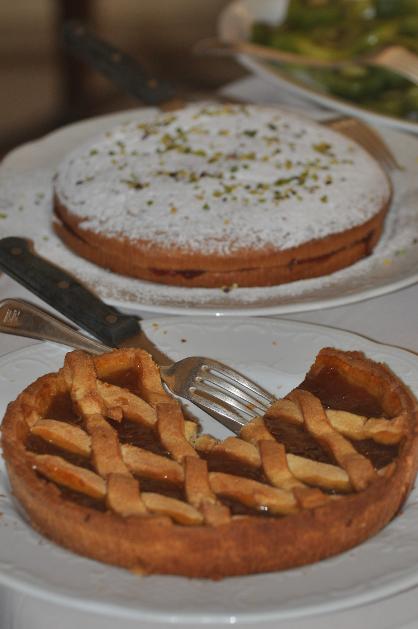 Enjoying yet another breakfast.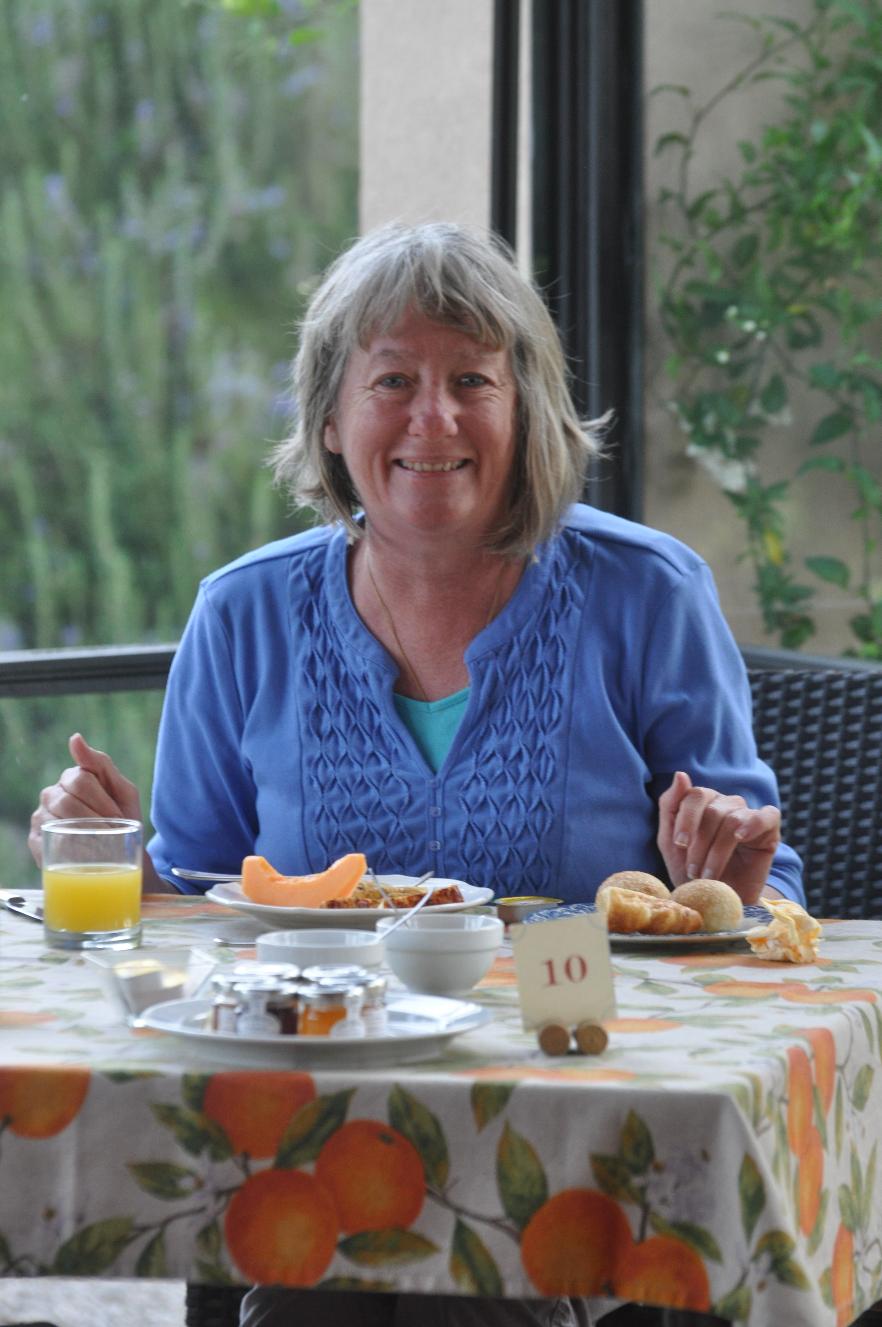 Some of the vineyards of Baglio di Pianetto.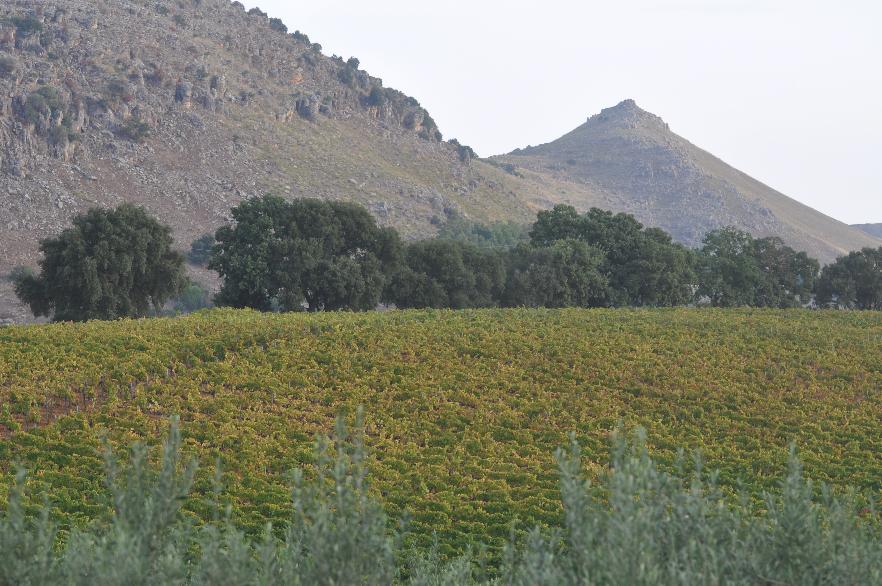 Our room at Colle Cesoni - beautiful wood beams, nice artwork on the walls and an impressive fireplace with a unique twisted piece of wood. An attractive terracotta floor and lots of copper. The room was originally the stable of the farm, home to the cows and other animals.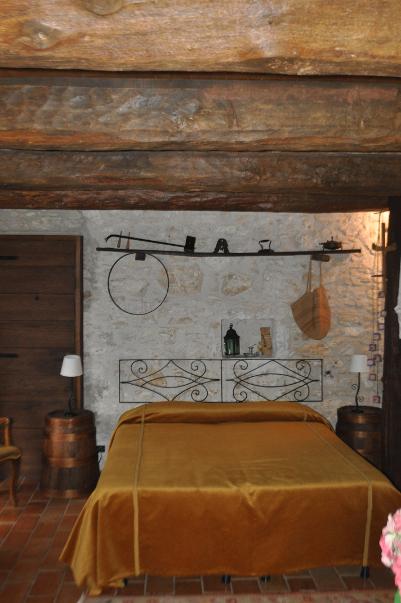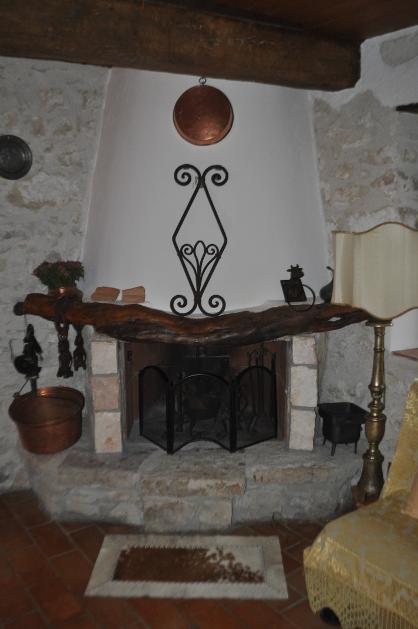 There was a religious aspect to the event, including a solemn march through the village.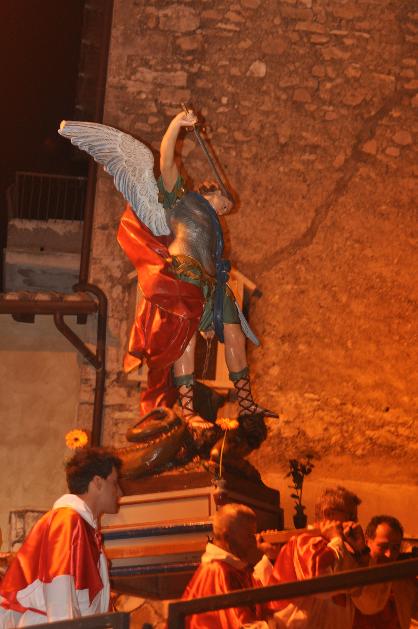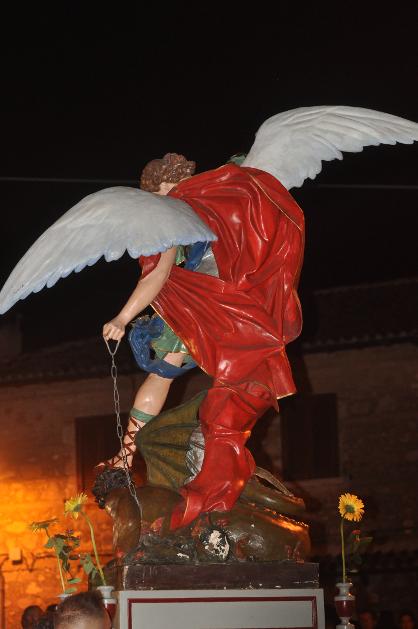 Fireworks at the Amatrice fundraiser.
The steaming pasta being cooked.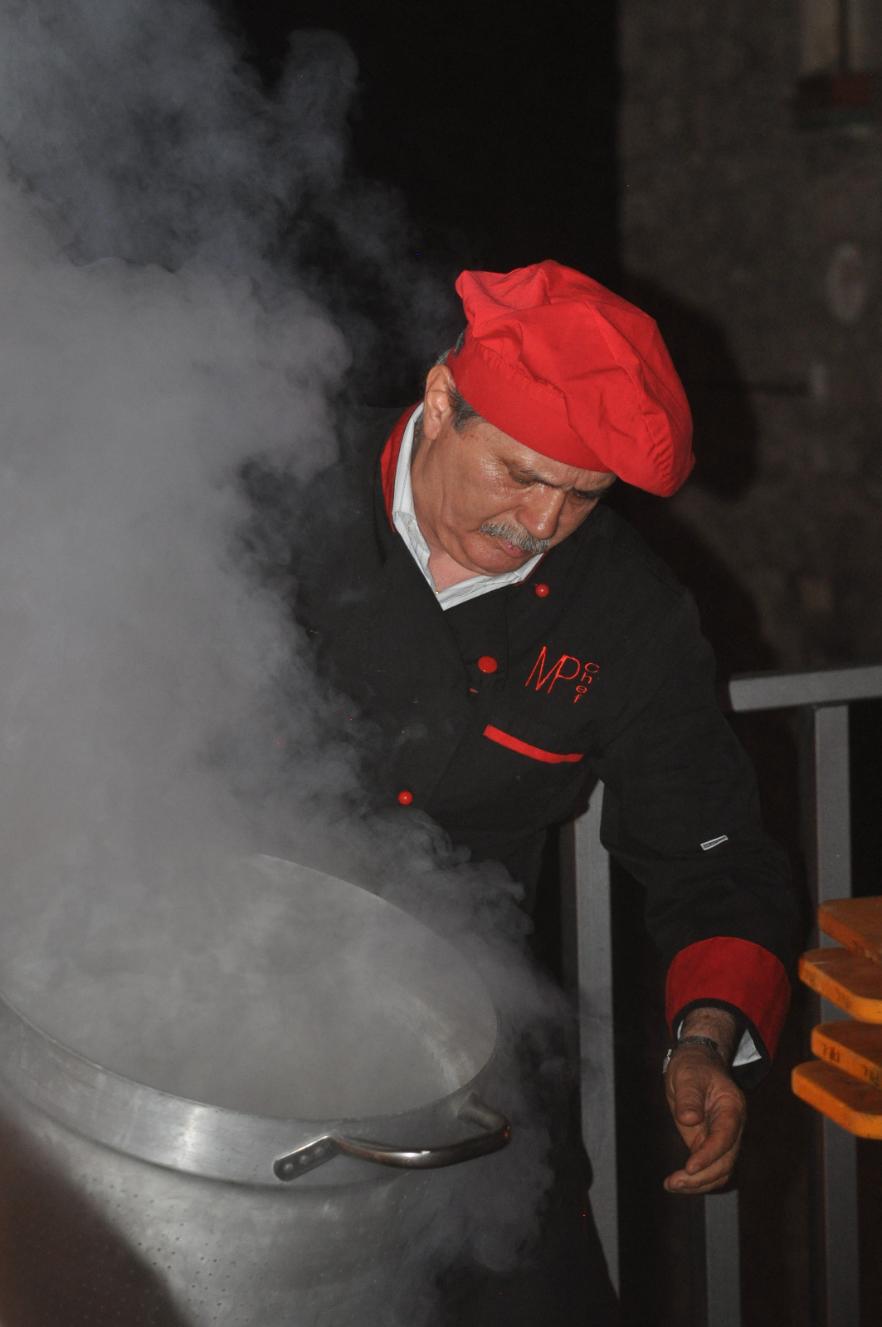 Women of Casaprota serving the pasta.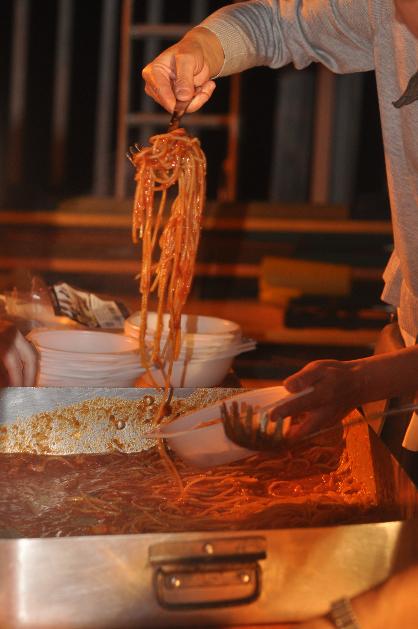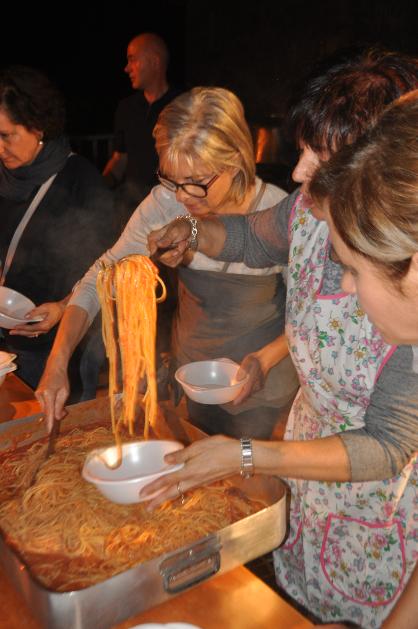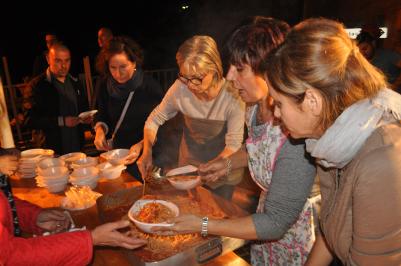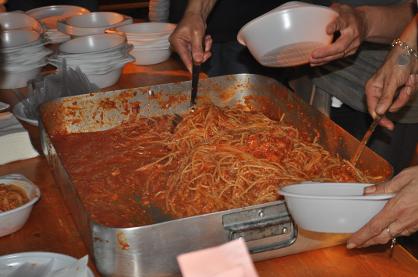 Gayle eating her Amatriciana pasta (after picking out the pieces of pork cheek).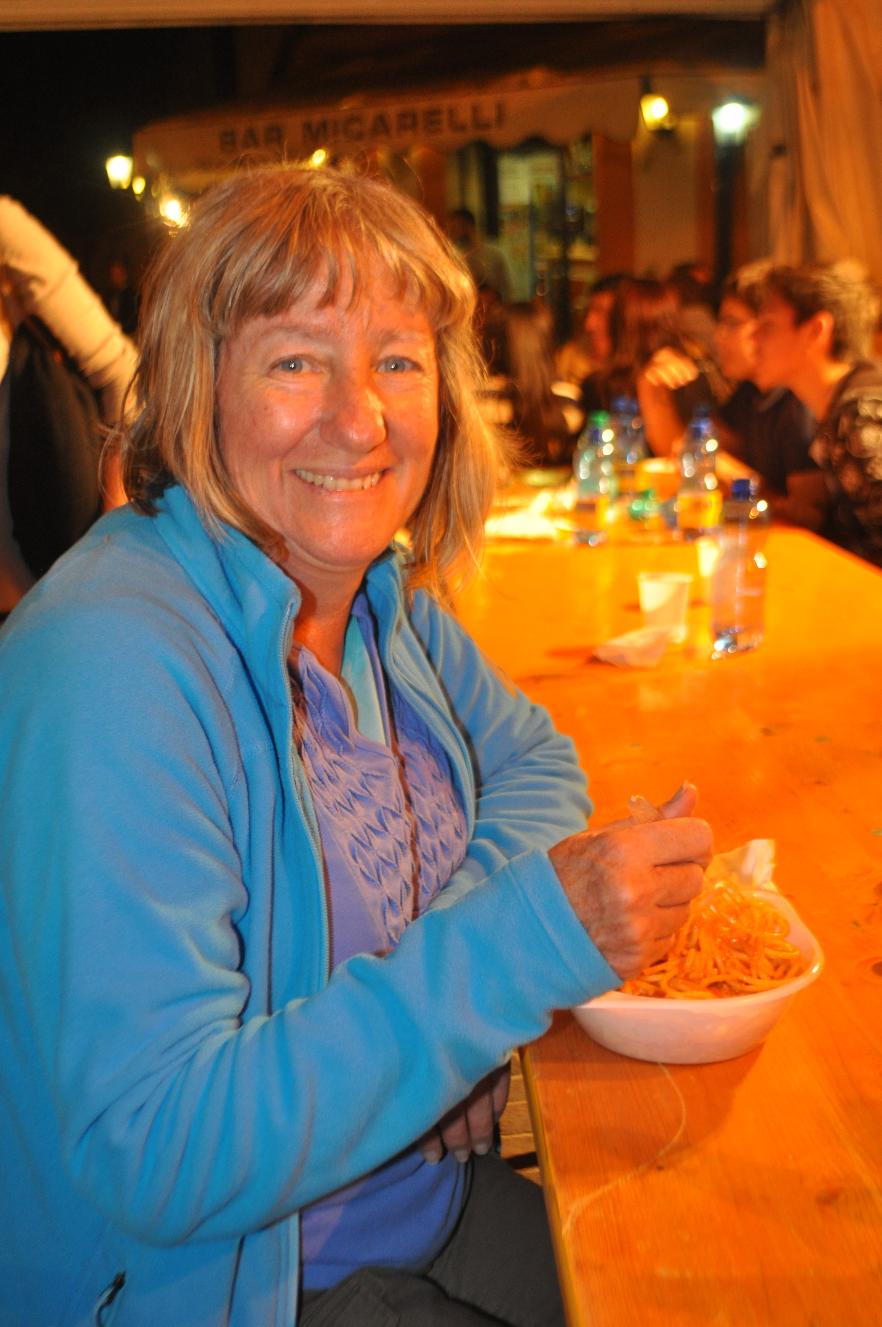 30 September 2016 - Baglio di Pianetto

For the most part a quiet and uneventful day. We awoke to a pretty sunrise and then enjoyed another extensive breakfast buffet. During breakfast we had a lengthy and interesting chat with a fellow from Chicago who with his wife have traveled extensively to South America, the middle east, Morocco, Asia, Cuba (which took some effort and creativity for an American in 2007) and of course Europe. He had great stories to share - a really nice chat.

We then went out for a short (hour and a half) drive. Nothing much to say other than we ended up in some very narrow streets with cars parked on both sides in a mountain town that was to say the least a challenge in a relatively large vehicle. But we made it back unscathed and returned to spend some time around the very large pool here at Baglio di Pianetto.

We treated ourselves at dinner, first with a recommended (and it turned out to be an excellent recommendation) bottle of 2010 Cembali Nero d'Avola (33 euros). We started with two pastas - a fettuccine with fresh porcini mushrooms (15 euros) and again the gnocchi with spinach and Troncetto die Guelfi cheese as Gayle so much enjoyed it the previous night (and equally so tonight) at 11 euros. But the big dish was the Florentine steak and I mean BIG. Here in Italy they have these massive steaks. This one was 900 grams (approx. 32 ounces). It was huge but perfectly cooked, absolutely delicious and so good with the excellent wine. I still don't know how I ate it all but I managed to. I doubt I will eat much for the next few days. We finished with a flavourful light lemon and tangerine sorbet. One of the best meals I can remember.


Views from our room - at sunrise and then later in the day.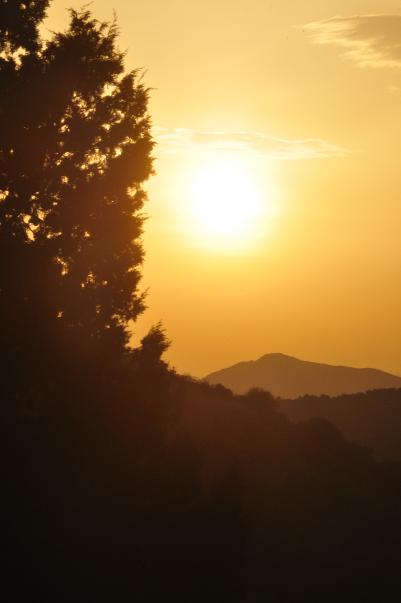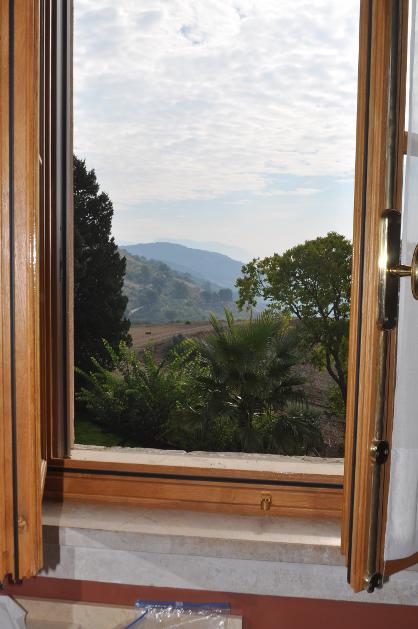 Lots of copper in the dining room and another extensive breakfast buffet.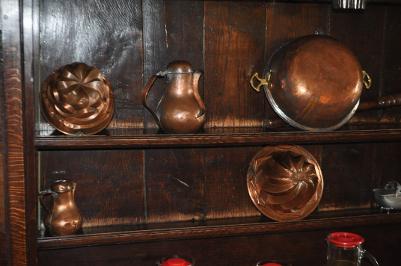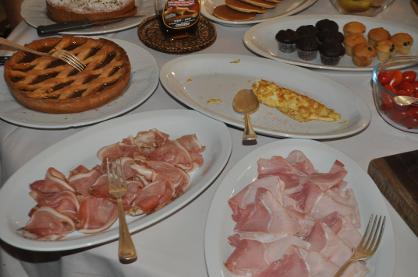 An intricately painted traditional Sicilian cart displayed outside reception.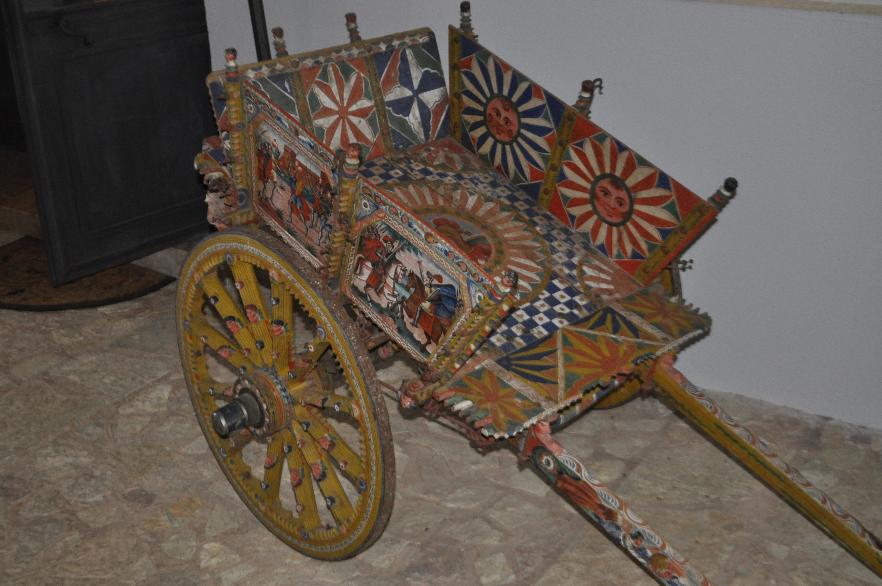 On our drive there on the side of the road is a fellow selling his vegetables and fruit.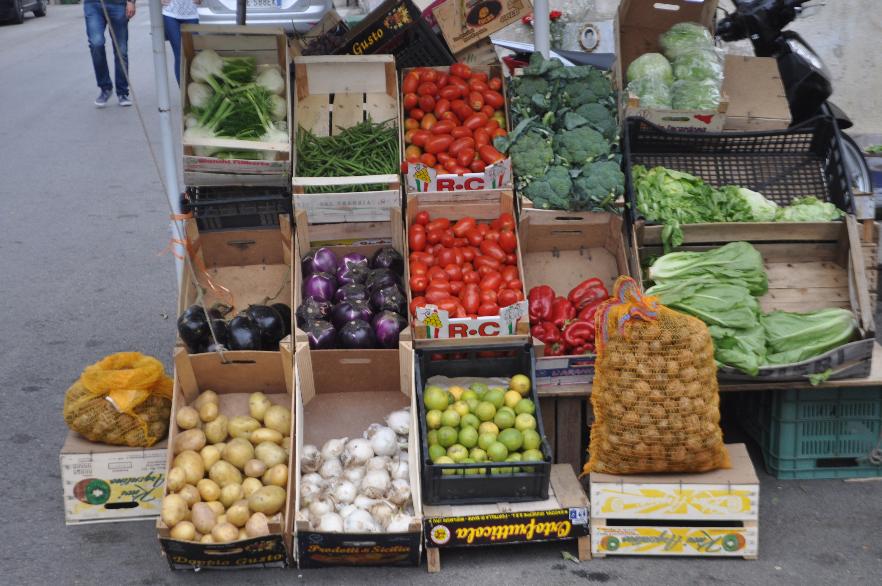 Here are Pianetto they have a large 33 meter pool, with great views of the surrounding vineyards and countryside.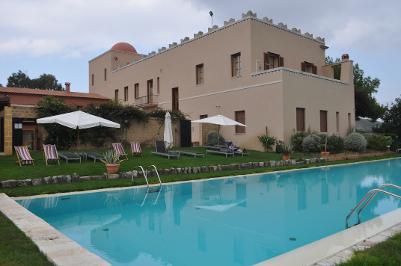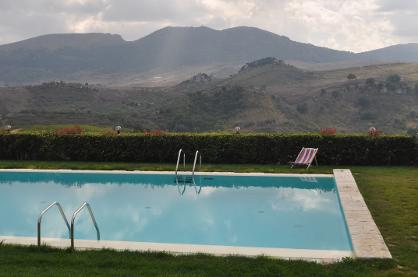 Even on the last day of September there is colour from the flowers.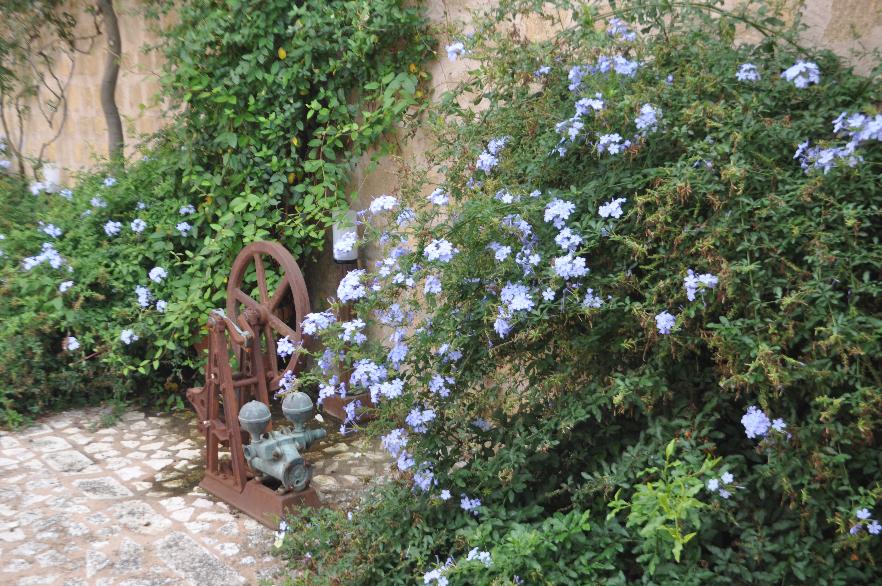 A little R&R never hurts.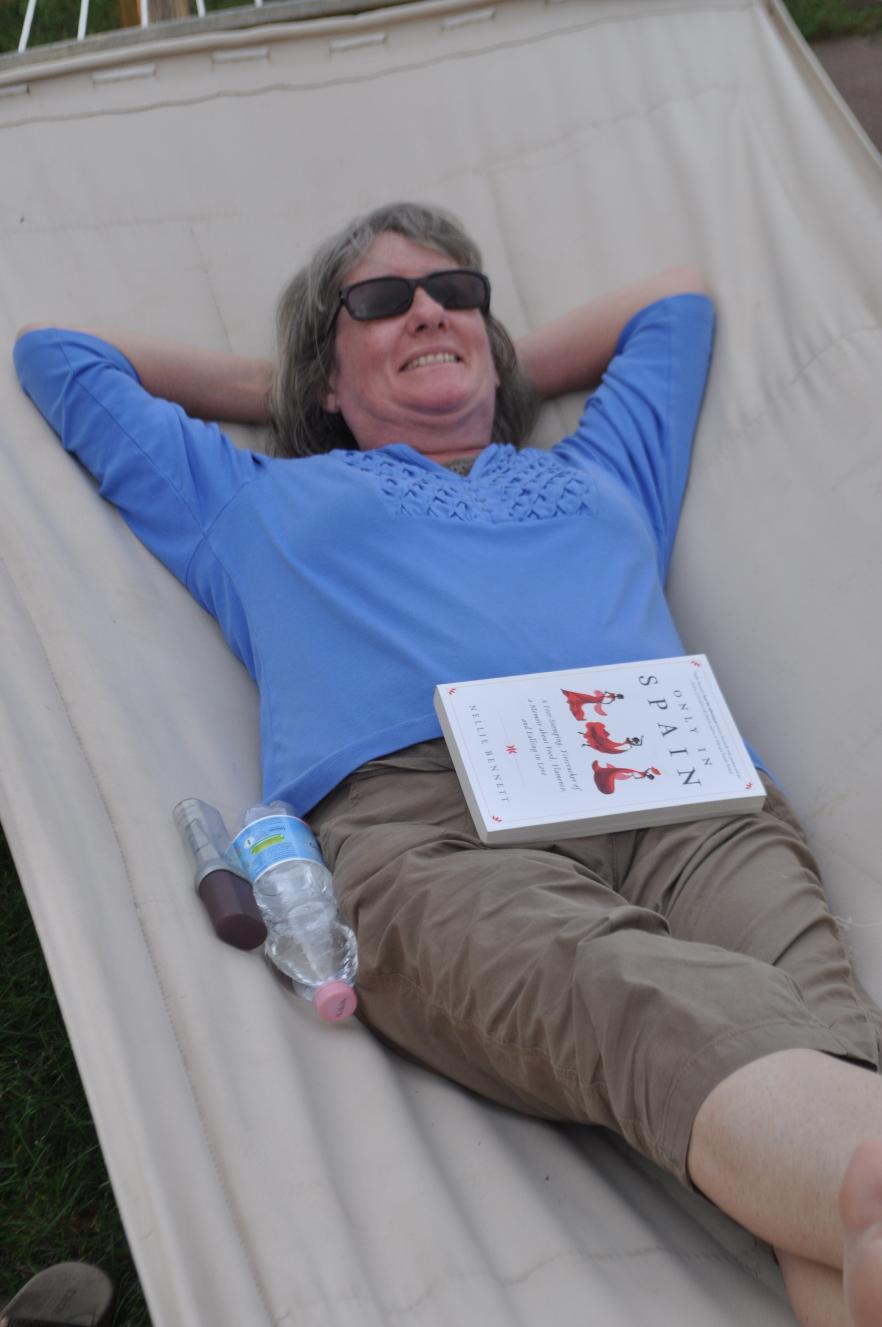 Being a winery it is all about the wine ... and good food.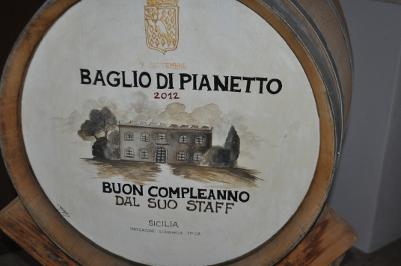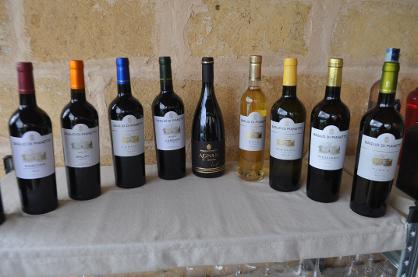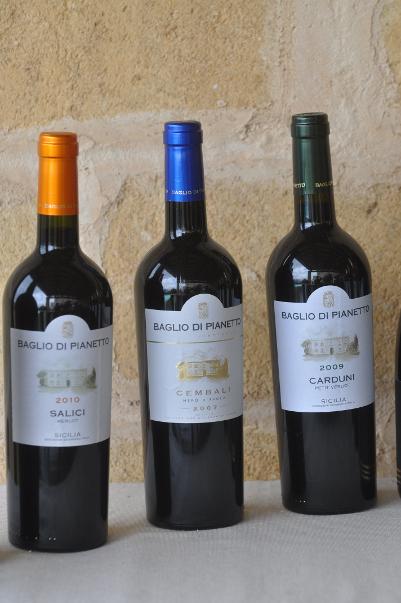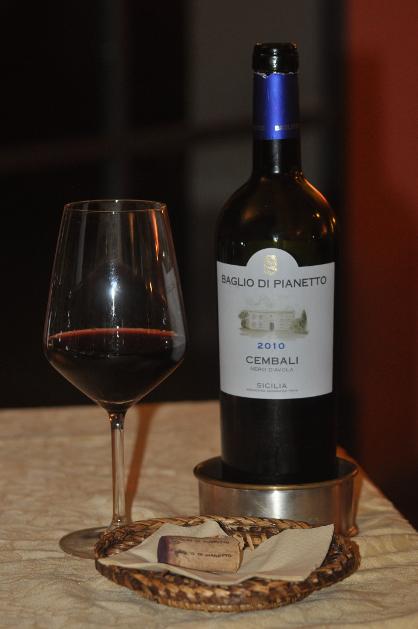 Reflecting on a great meal.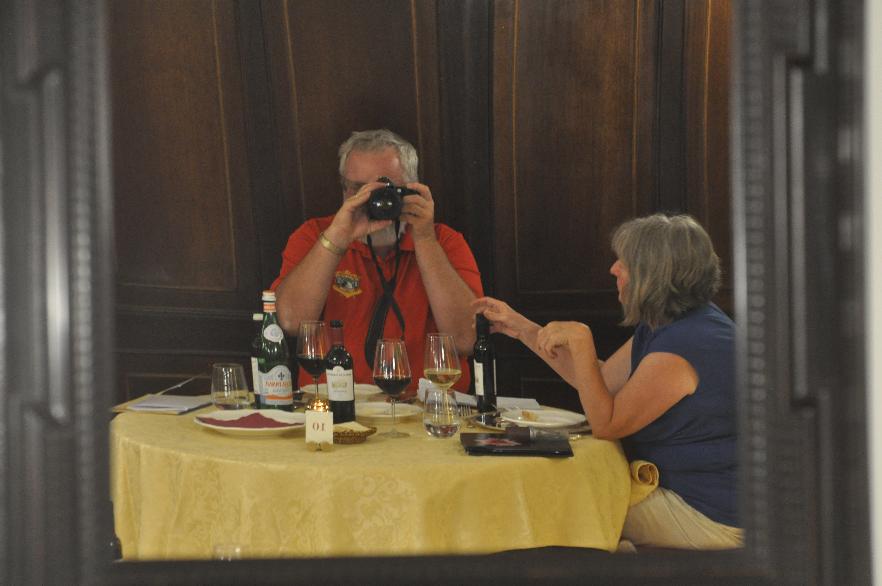 Our excellent wine this evening is a Cembali 2010 - great choice.
.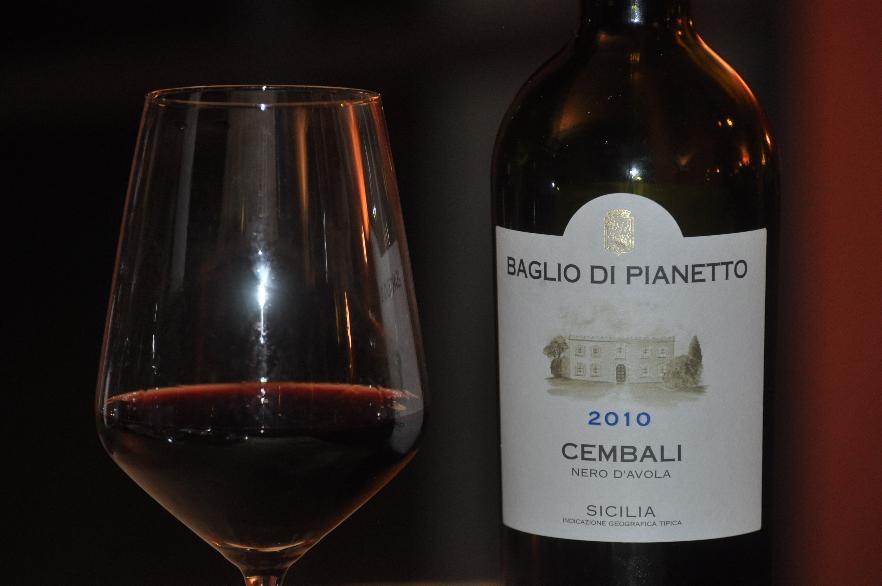 The Steak and Norm digging into The Steak.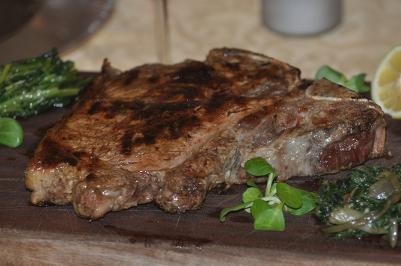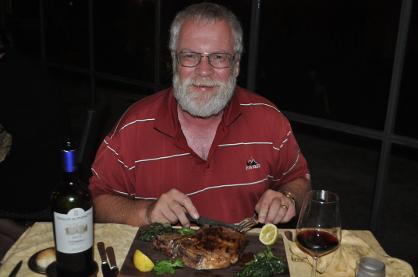 Gayle with our wonderful server Roberta.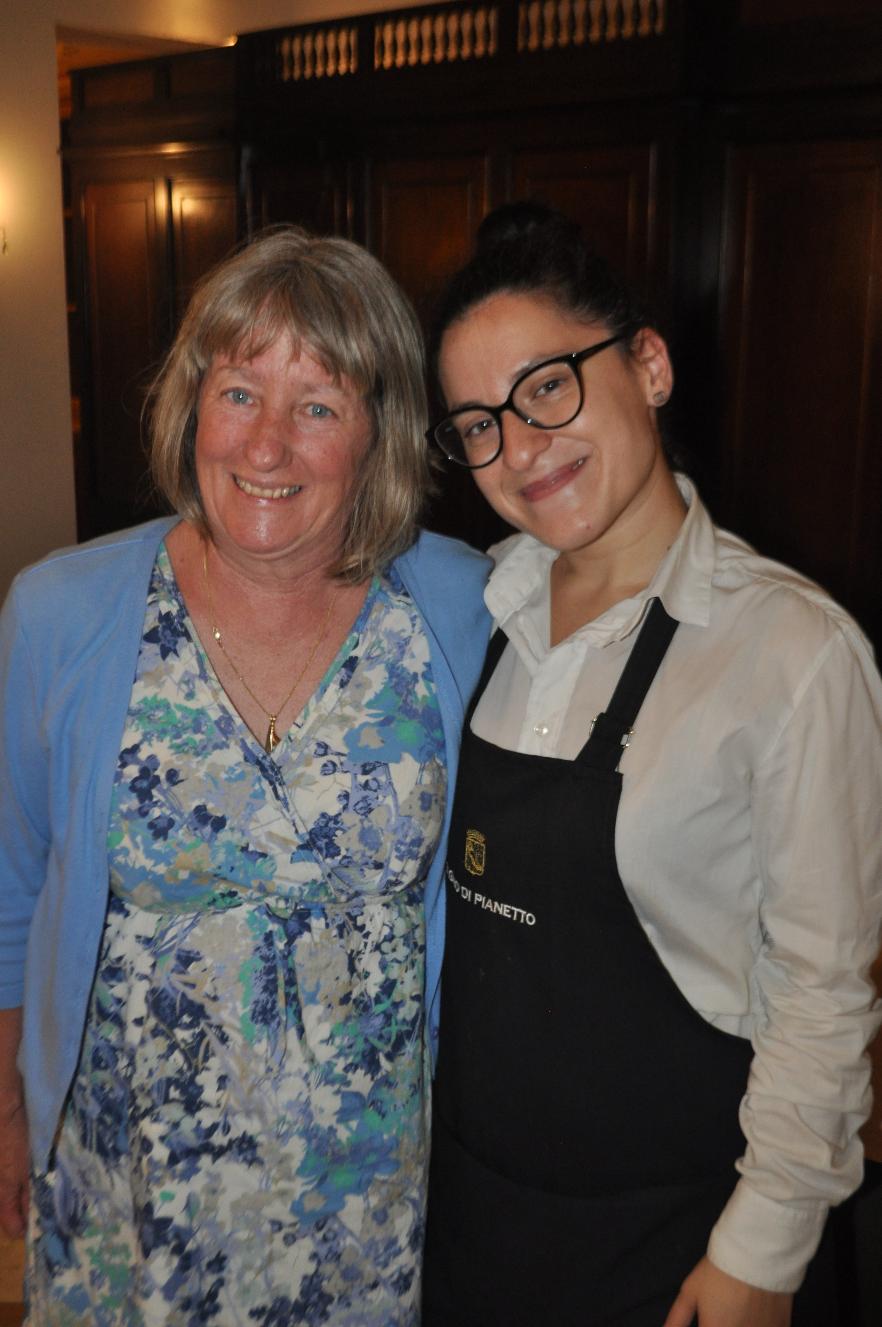 29 September 2016 - Masseria Susafa on to Baglio di Pianetto

After chats with two couples we met from Boston - a couple of other seasoned travelers as well as a young couple on their honeymoon we packed up and headed out on a relatively short drive west and north in the general direction of Palermo. It was a nice route along some mountain sides and through some valleys but we didn't see much that gave us reason to stop and therefore do not have much to report.
We arrived at Baglio di Pianetto, a family vineyard late afternoon. A beautiful property Baglio di Pianetto "
stems from the desire of its founder to create a wine that celebrates the uniqueness of the Sicilian terroir through the savoir faire of the great French chateaux. A challenge born out of the love for the land and its fruits which since 1997 has pushed Count Paolo Marzotto and his family to innovative and daring choices, in full respect of territorial identity. Today, the second and third generation alongside the founder in this endeavor with the same devotion and the same enthusiasm."
The Baglio is 'classy' with beautiful rooms (ours at least) and a huge 33 m pool at which one can relax and enjoy the views of the surrounding mountains and countryside. There is also a top notch restaurant where we had a wonderful meal. Gayle started with a lentil soup and then we each enjoyed an excellent pasta - potato gnocchi with spinach and cheese for Gayle and a 'pipe rigata' pasta with pistachios, Nebrodi sausage and saffron for me. I then had the sliced black angus sirloin presented with shaved cheese and balsamic vinegar. Gayle had a glass of prosecco to start the meal and then we had a half bottle of the estate's Ramione 2010 - a nero d'avola / merlot blend (only 8 euros). For dessert we had an interesting Sicilian orange 'Cassatina' an almond marzipan with candied orange peel and sauce. A very nice meal.

Even the fireplace has carvings in the stone.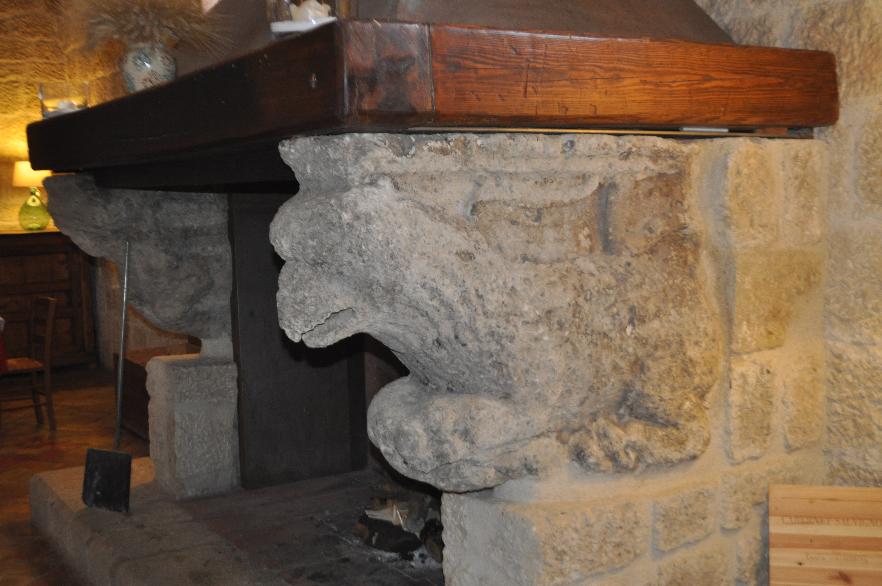 Breakfast, with a cappuchino and blood orange juice.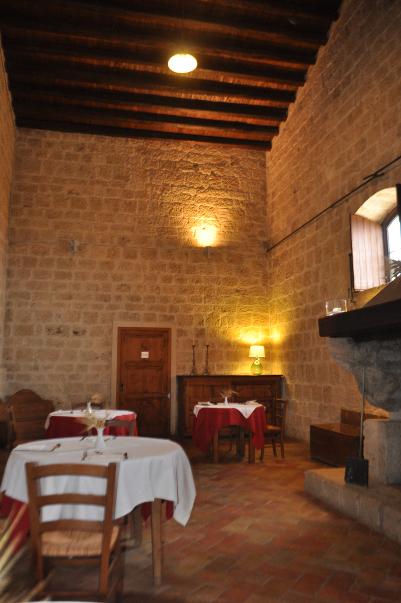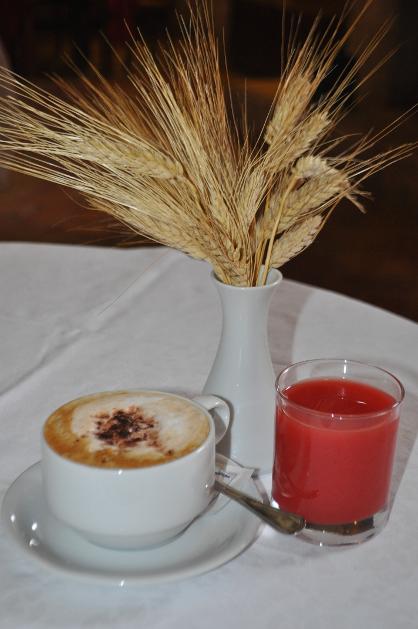 Most every morning most every place ... chocolate (or cream) croissants.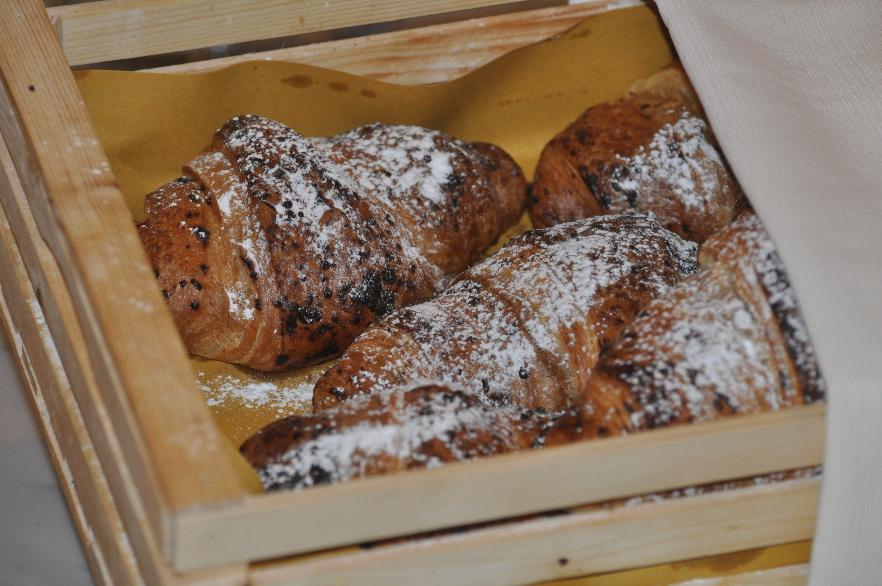 More fields ... more tomatoes.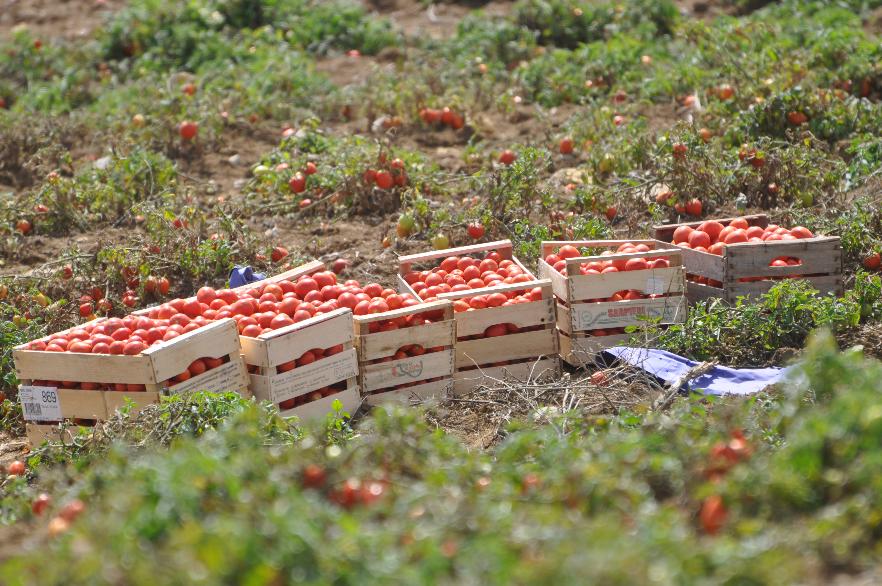 Mountains and vineyards in the Sicilian countryside.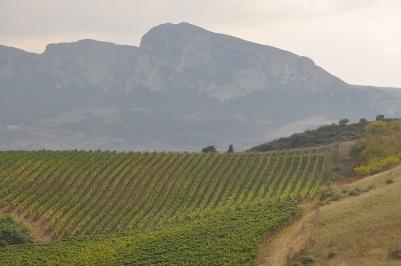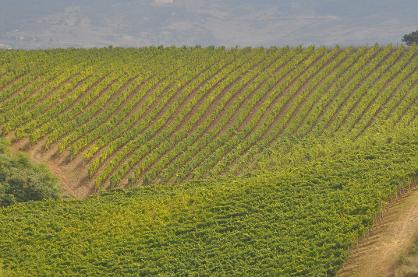 Our room at Baglio di Pianetto.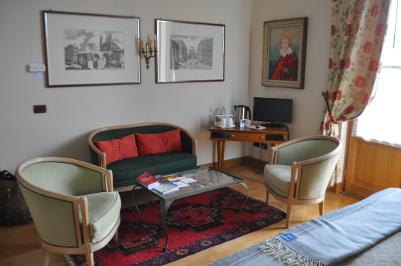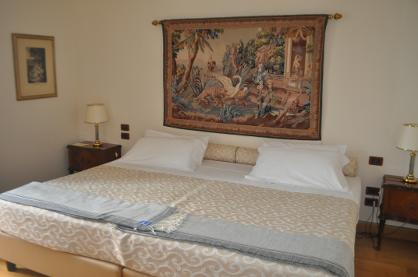 Two excellent pastas for dinner - a pipe rigate and a gnocchi.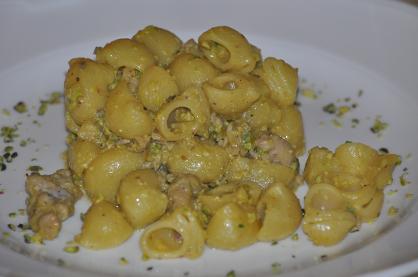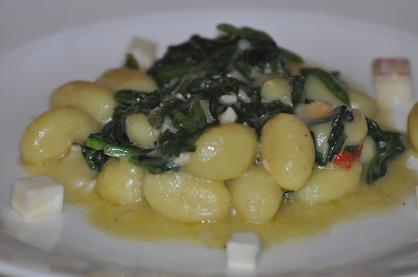 28 September 2016 - Masseria Susafa with a drive through Monti Madonie

Another extensive breakfast (seems to be a recurring theme) and another few hours necessary to digest the extensive breakfast. Again the weather was decent in the morning but as the afternoon came so did the clouds. In spite of this we decided to head out for a few hours. On our way we passed a couple of groups picking tomatoes. I asked the first if I could take a few photos and was met with a lot of hand waving, raised voices and a clear no. Shortly thereafter though the exact opposite reaction - smiles, poses and generosity in giving us a half dozen just picked ripe tomatoes to take away with us.

Someone back home asked me to take some photos of the Targa Florio, a Sicilian auto rally apparently held in this area. I said sure never expecting to see anything. But upon driving through the small village of Caltavuturo there was this sign, and shortly after a map and I soon realized we were actually driving the same roads as the rally. We followed the road, as it was, through Scillato, Collesano and on to the coast at Campofelice di Rocella before we returned to the Masseria on the main highway. Like many other drives through the mountains of Sicily the roads were not in the best shape - certainly not Indy 500 quality. Washouts, upheavals, absence of asphalt - one needs to be very cautious and prepared to hit the breaks around every turn. I can't imagine what it is like racing a rally over these roads. And one section entering Scillato had a 27% grade!

It was a very pretty drive through the Monti Madonie. As we descended to the coast the clouds disappeared and the temperatures rose but after we turned back inland to return the clouds re-appeared and the rains began. But the rain stopped by the time we made it back to Susafa.

As we had the other nights we went to the bar before dinner, ordering a bottle of wine - this time a nice white Zibibbo (our choice of reds the previous two nights were not the best) which we enjoyed by the fire before going to dinner where Gayle, having so enjoyed her meal the first night ordered the exact same things - the capellacci stuffed with porcini mushrooms and the almond semi-freddo for dessert. I had a filling 'Italiano' ( ham, mozzarella and tomato) Schiacciata (foccacia) and then the giant ravioli with ricotta cheese and spinach covered in a delicious well made fresh tomato sauce.

After dinner we returned to the bar where I worked on the travel blog and chatted with the Director while Gayle enjoyed the warmth of the fire and talked with other guests. Another relaxing, and good day.


A lemon loaf and only in Italy - chocolate 'salami' for breakfast..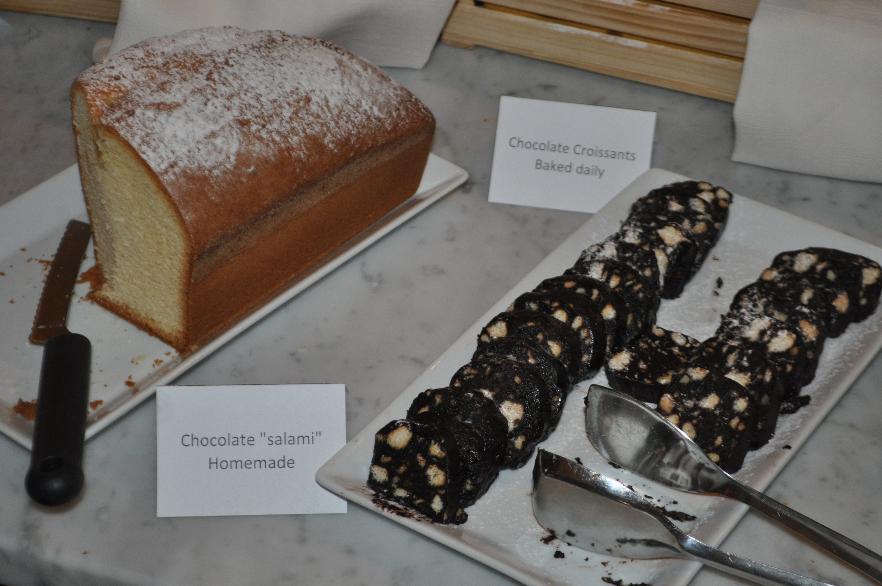 A deserted farm as seen from Masseria Susafa.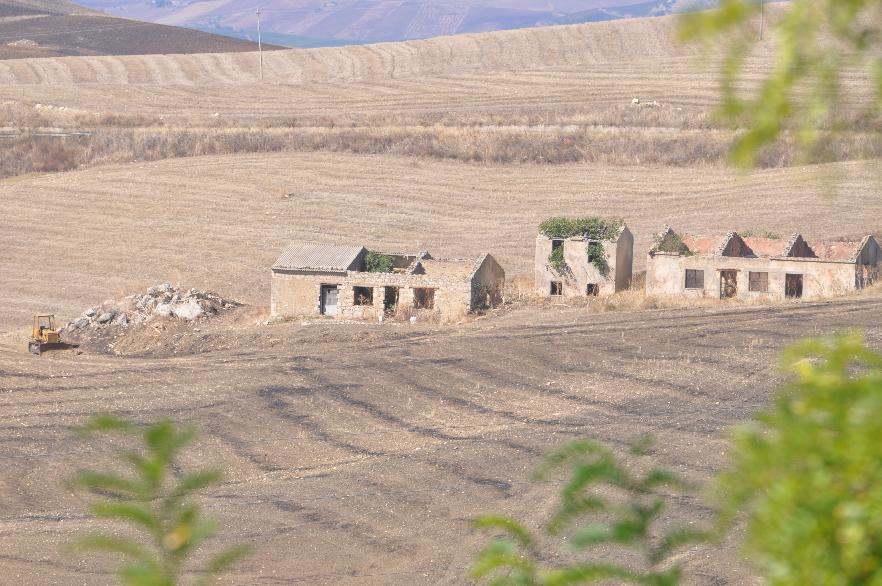 Beautiful Italian roof tiles protecting the stone buildings.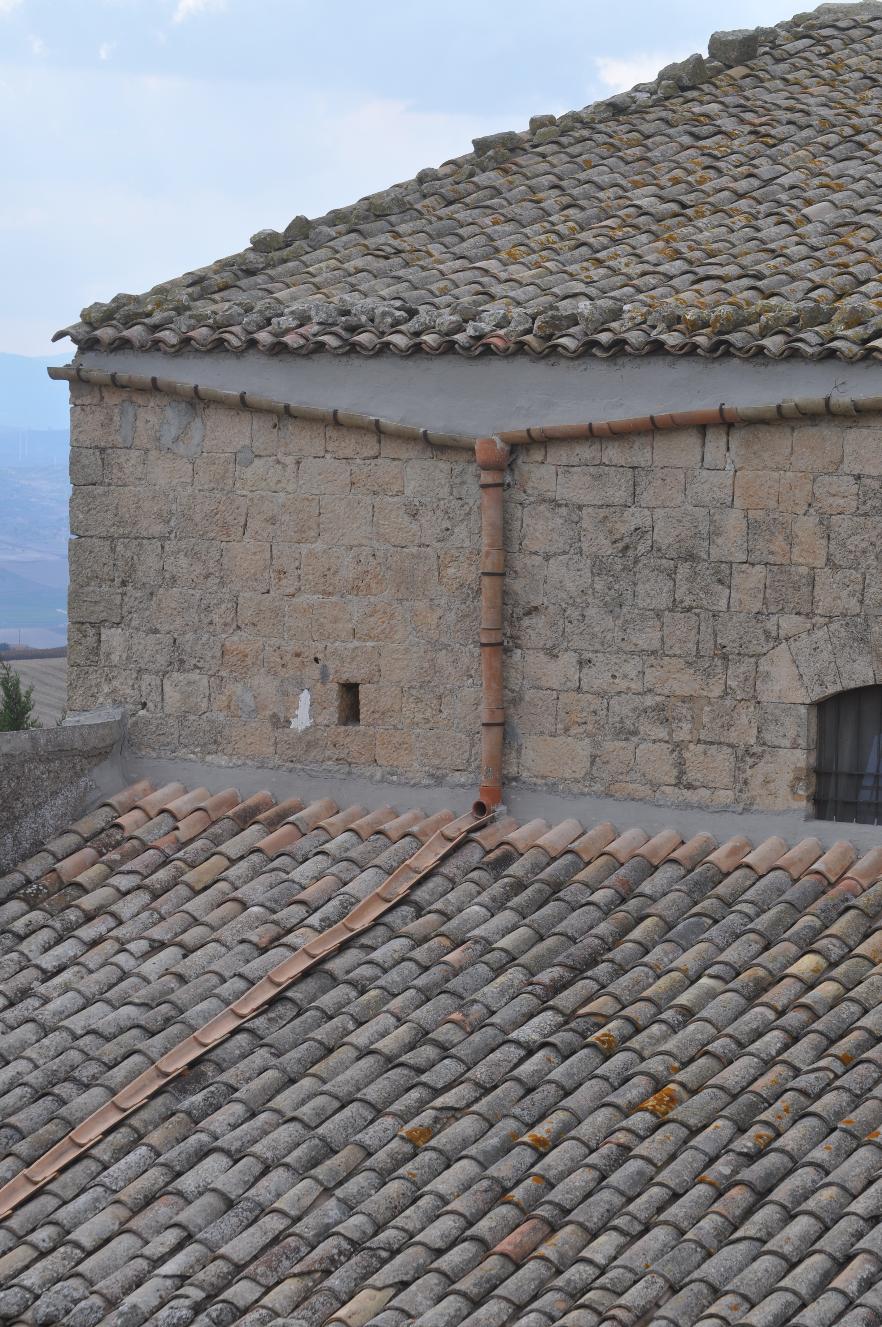 The Masseria benefits from extensive gardening.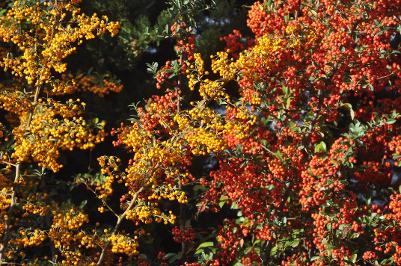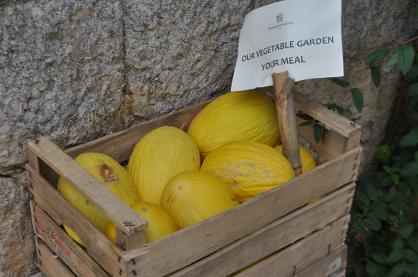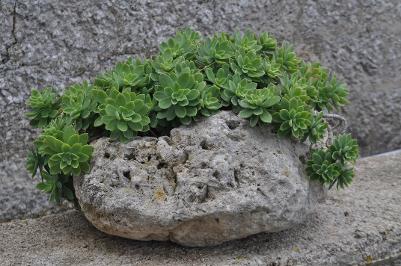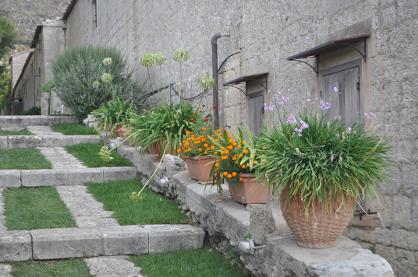 We passed a number of farmers out picking their ripe tomatoes.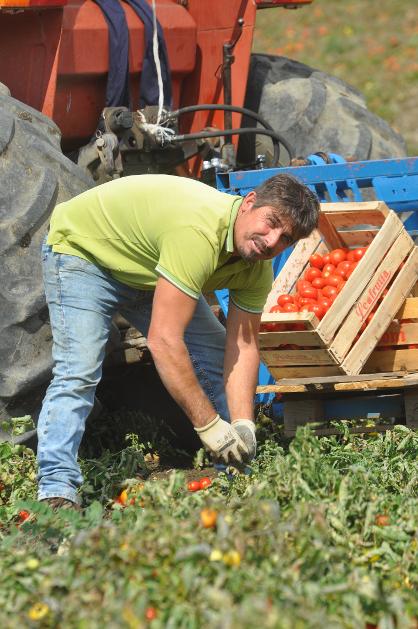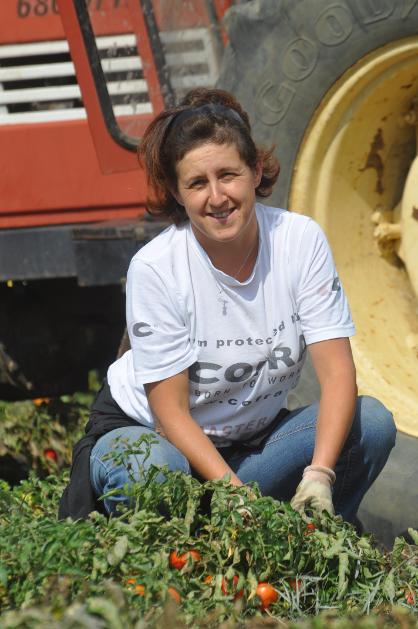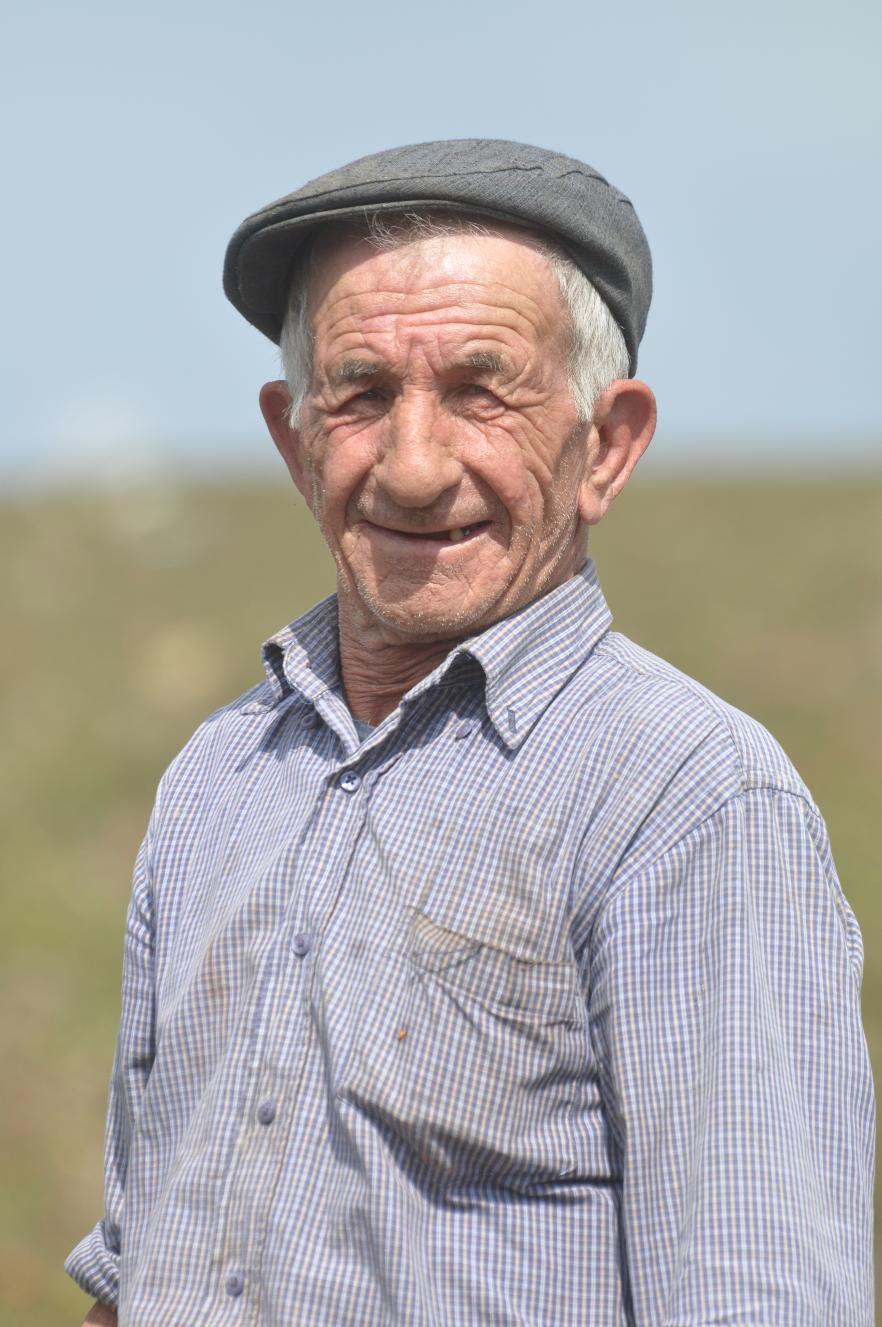 ... and the fruits (Gayle tells me in reality tomatoes are a 'fruit') of their labours.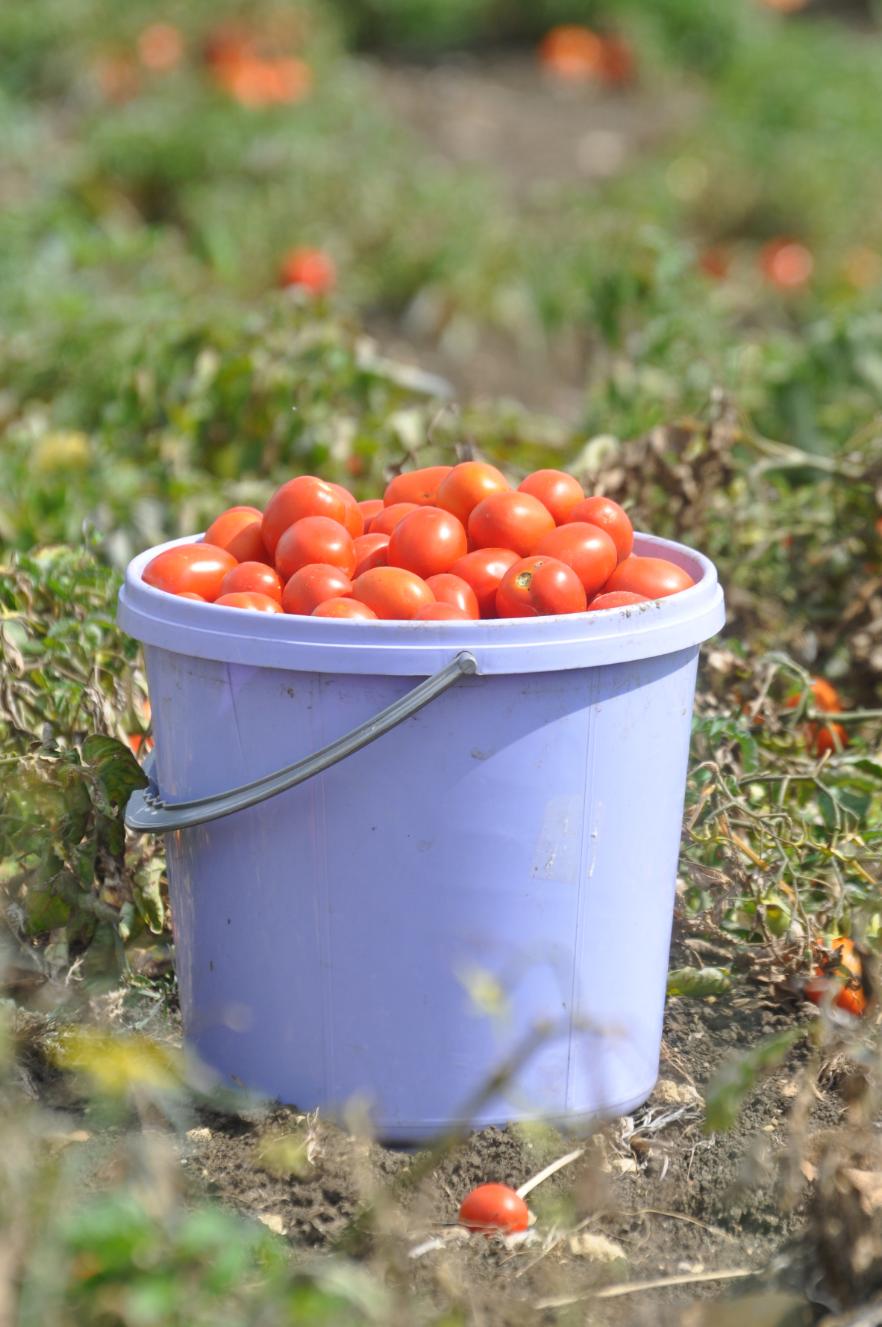 Some of the impressive vistas in the Monti Madonie.



... and some beautiful roads to drive.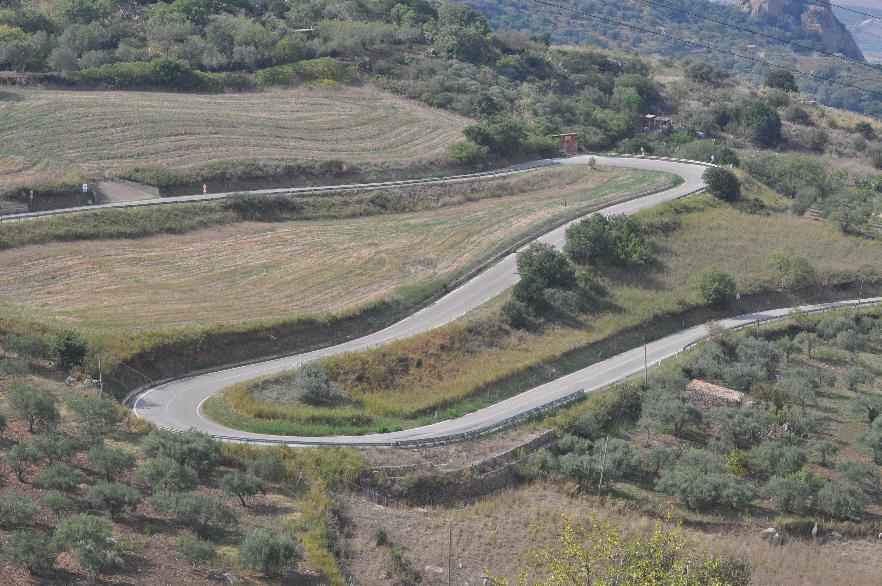 The routes of the Targa Florio.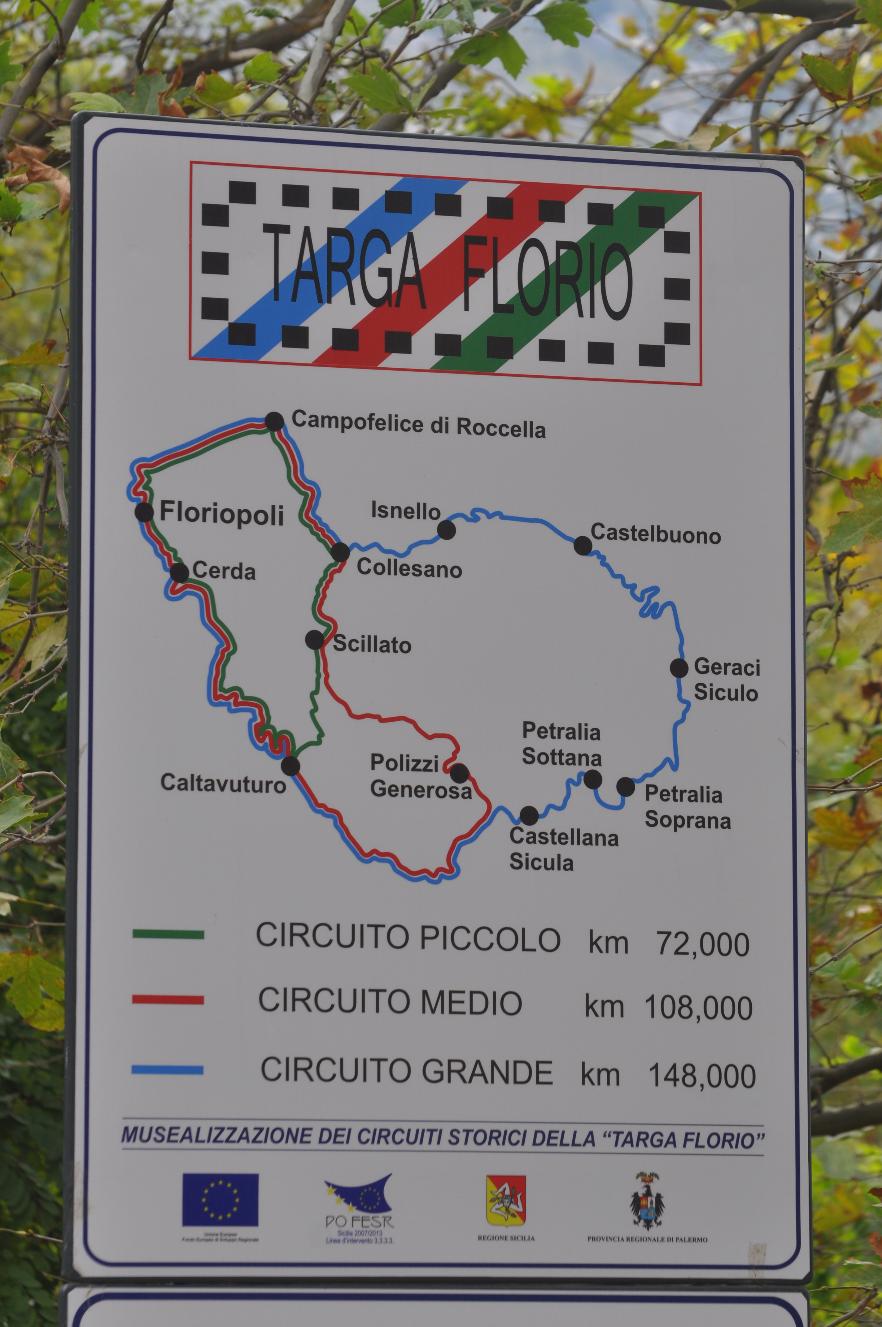 ... but in the mountains there are driving challenges at just about every turn.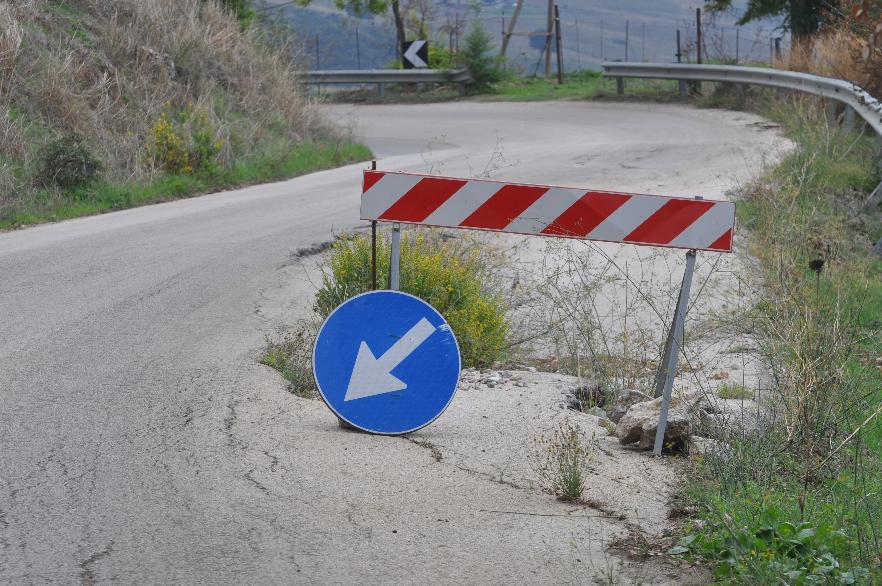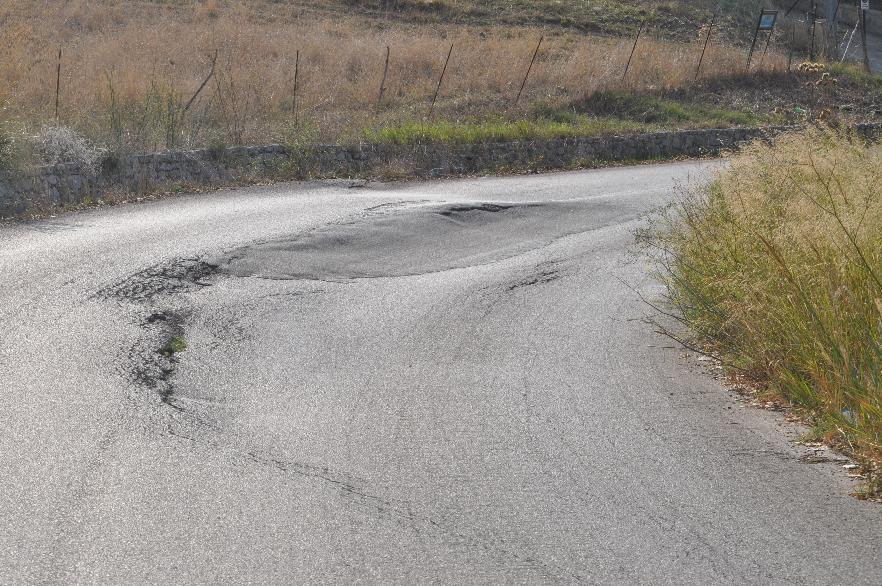 Ok so perhaps Gayle is not the only one to get some R&R / shut eye.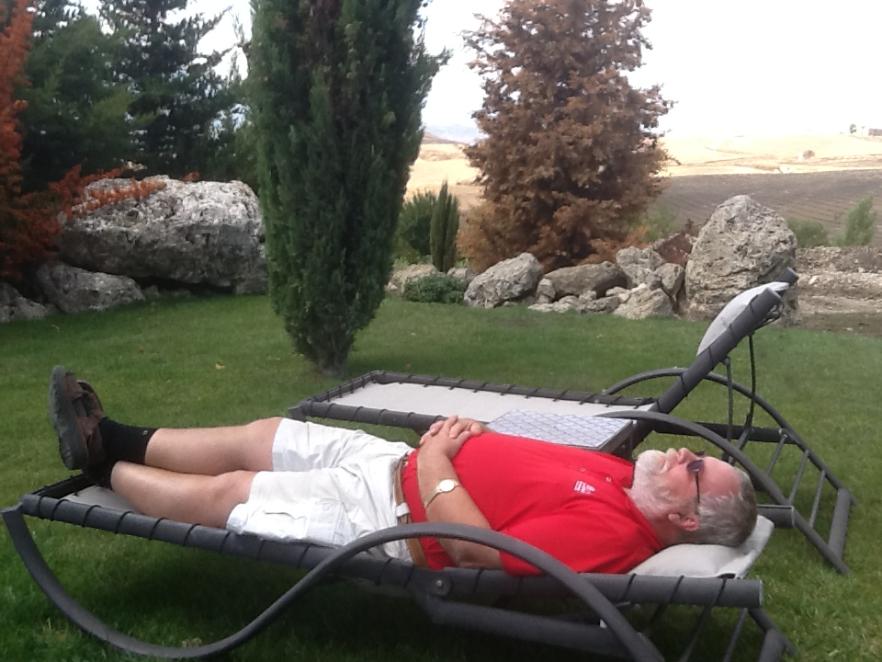 'Italiano' Schiacciata (foccacia) with ham, mozarella tomato oregano olive oil.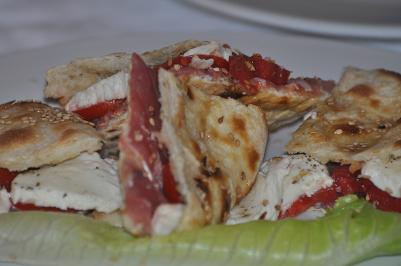 Ravioli Giganti con ricotta e spinachi al pomodoro fresca with salvia (sage).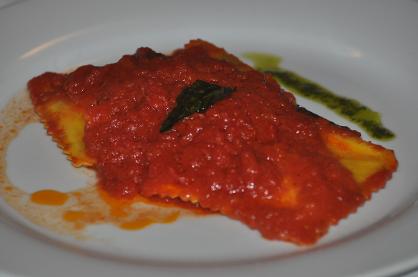 27 September 2016 - Masseria Susafa

As Masseria Susafa's website says "Here, in a peaceful setting with lovely surroundings that have remained unchanged for years, you'll find it easy to simply make time for yourself and discover some of the origins of Sicilian culture. Staying as a guest at Susafa you are stepping into an older, more genuine lifestyle, where you can restore your deeper sense of time and enjoy the gentle rhythm of country life, with its slower pace; as the silence enfolds you, you'll find peace and tranquillity and feel as though you are living in a world apart, sensing the need to slow down in order to savour it better."

Other than the singing of the birds and the bells of the cows and sheep this is indeed an accurate description of the experience here.

"The property has been owned and farmed for five generations. Susafa is first and foremost the story of a land, with all its events and deeds involving local people and places - a microcosm that speaks of and testifies to an older Sicily, which, nonetheless, still exists today. It is a story about men, and work, about lives lived according to the slow rhythms of nature, and according to the seasons, where the day began in the last hour of dark before dawn, and ended at the first sign of sundown.

The construction of the houses was almost certainly completed around 1870. They were built next to a nucleus of older buildings that can still be seen, dating back to the second half of the 1700s. The older structures belonging to the Catholic church were bought by the Saeli family after the unification of Italy, around 1865. The high, thick, fortified walls protected the inhabitants from the much-feared raids. The old ovens where the women used to bake the bread that was given out to the men as they left for the fields can still be seen."

So we had what we are going to call a Simply Lie On The Hammock (or 'Sloth') day. No travel, no history - just laze around enjoying the fresh air and the sounds and smells of the country. Of course that is easier to do when one is well fed - from the extensive breakfast buffet where one can squeeze the pomegranates for fresh juice along with tomatoes, cheese (lots of cheese), salami and ham, fruit, yoghurt, cereals, scrambled eggs, bacon, breads and jams, cookies, croissants and cakes; to another quality dinner.

Oh ya, and Gayle enjoyed her restful time on the hammock!


Breakfast, including freshly squeezed pomegranate juice.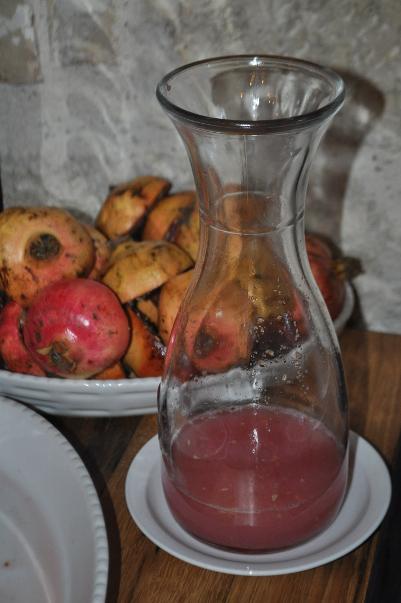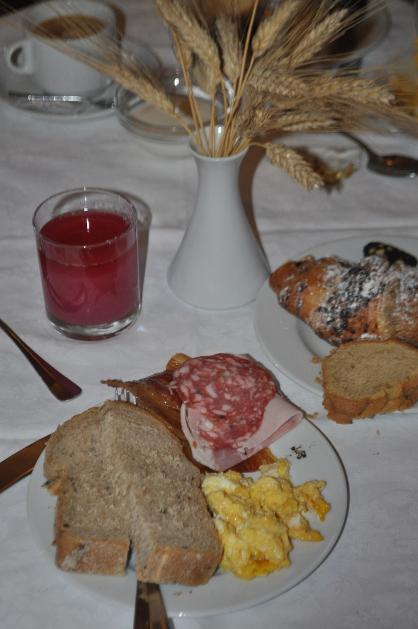 The massive stone dining room in which Gayle enjoys her breakfast.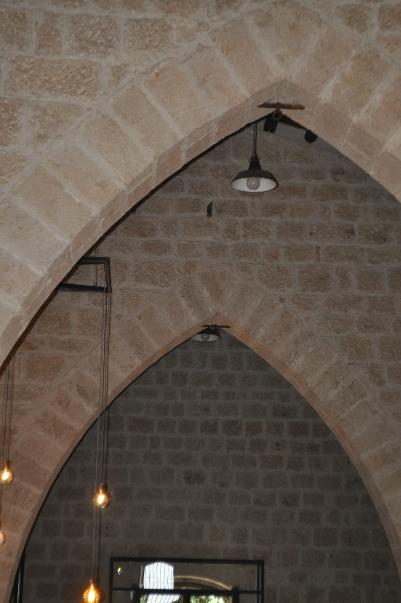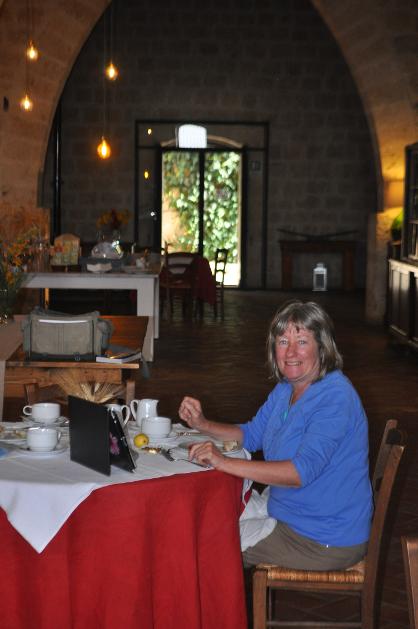 Images of the beautiful Masseria Susafa.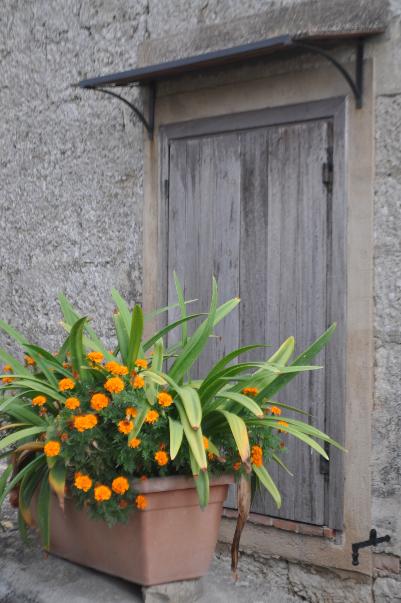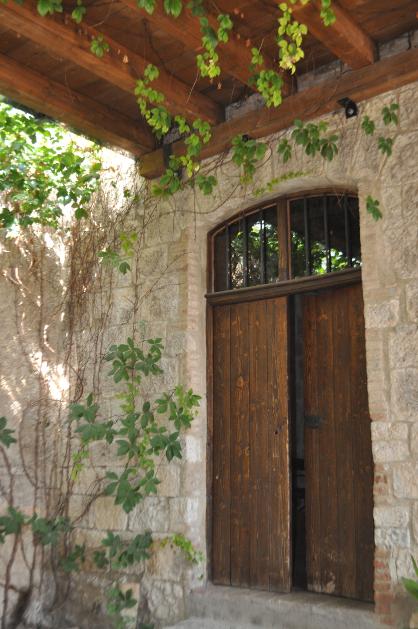 Grounds and the rooms at Masseria Susafa.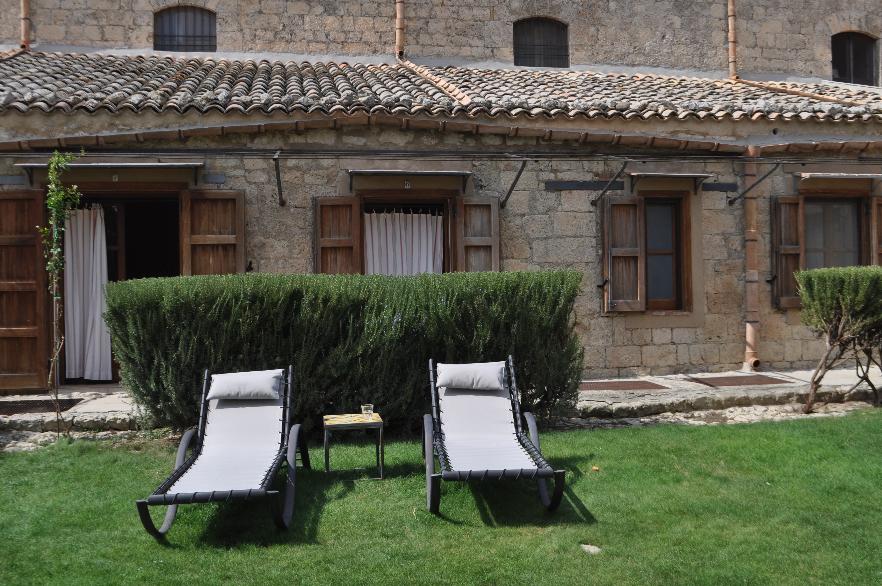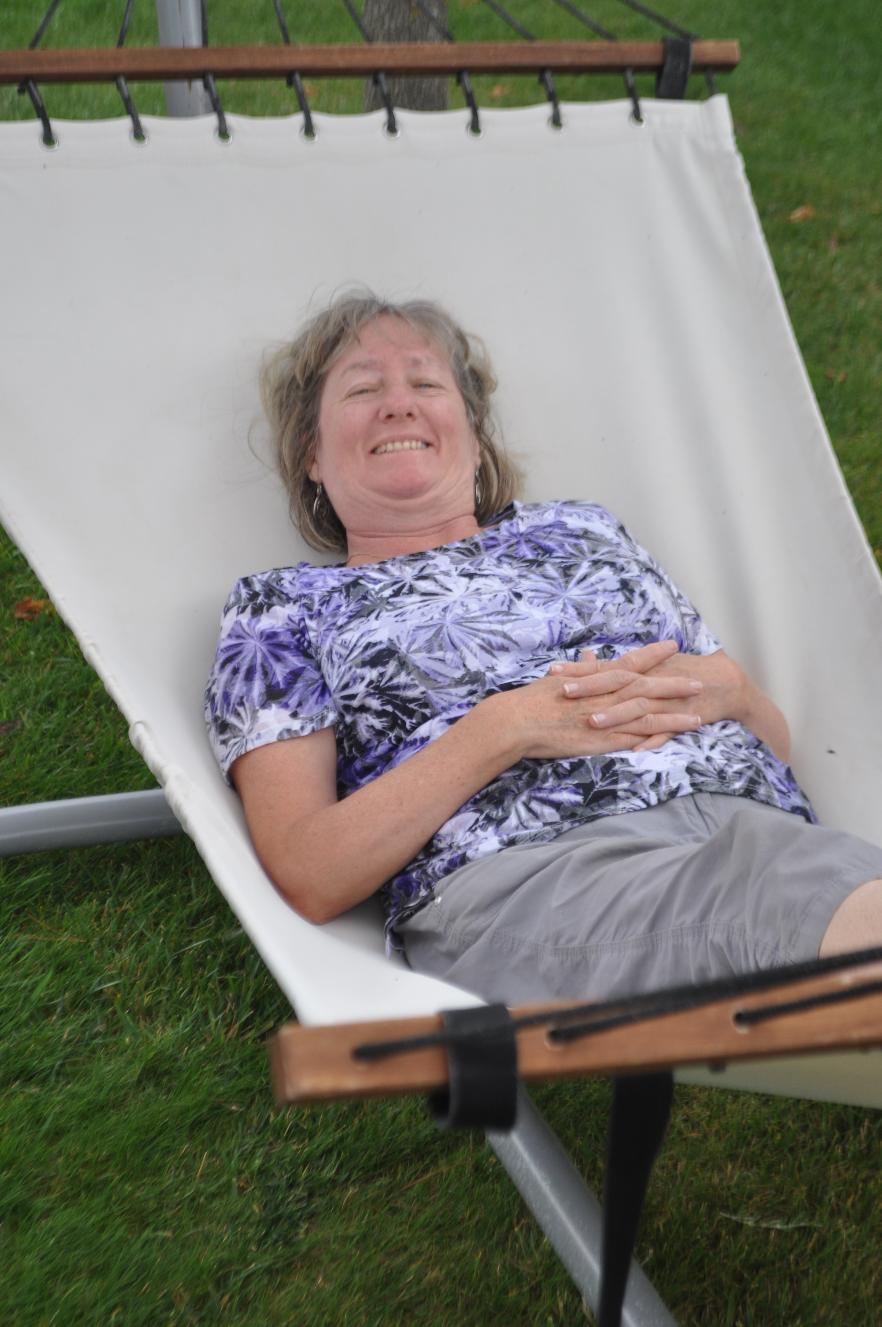 Throughout our time in Sicily we came upon lots of fresh vegetables (and fruit) including garlic, eggplant and ripe or drying tomatoes.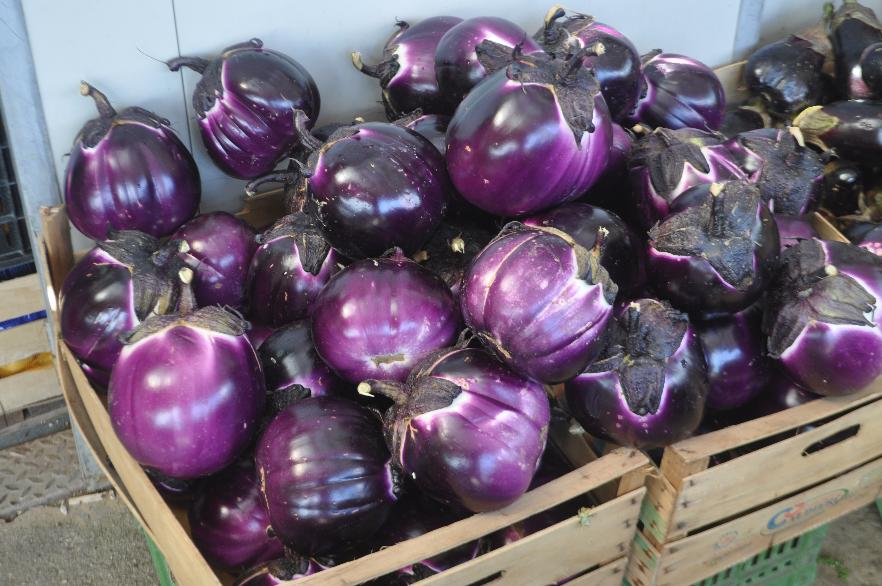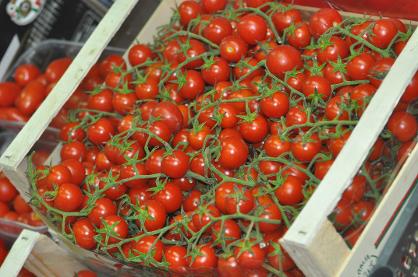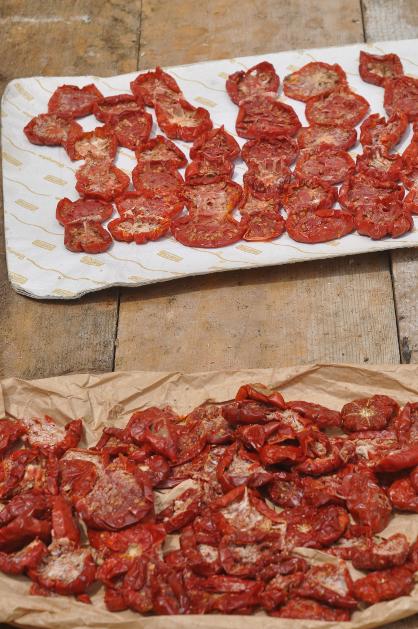 A bee on the lavender in the garden.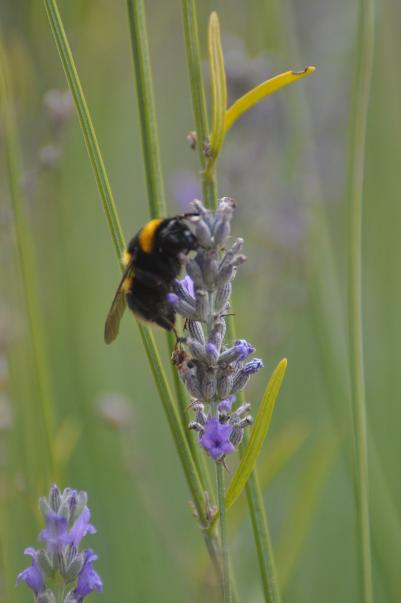 Fresh flowers in the restaurant.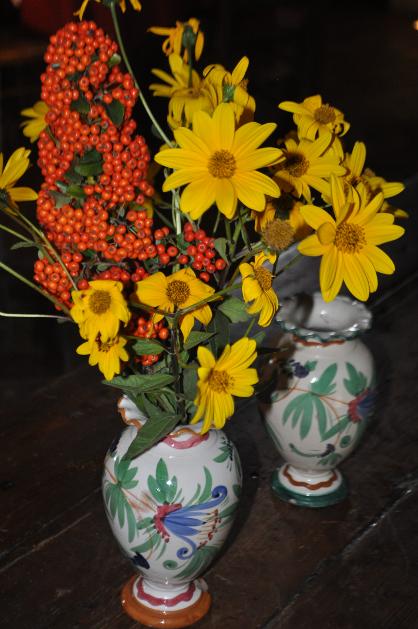 A nice fire to accompany dinner.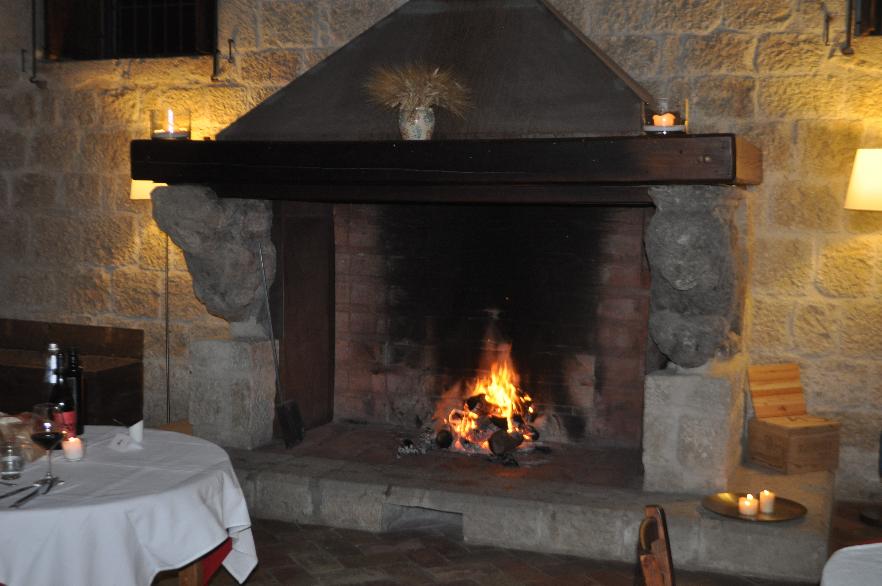 Insalate verde with apples and sun dried raisins, and peppers with toasted bread crumbs, garlic, mint, raisins and pecorino cheese on top of tomato cream.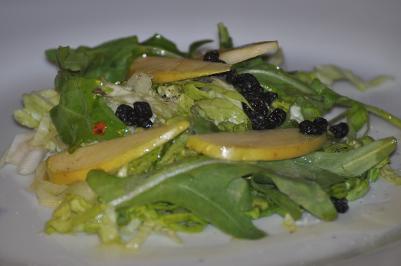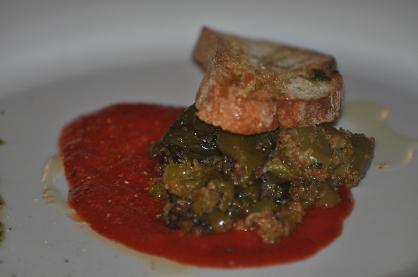 26 September 2016 - Piazza Armerina to Masseria Susafa near Polizi Generosa

After another great breakfast and final visit with the l'asinos (donkeys) we decided to go into the center of Piazza Armerina to see the Duomo and town. There was some road work going on so Salvatore guided us to the top of town and a parking spot right next to the Duomo. We stepped inside the elegant 17th century Duomo with its attractive blue-and-white stuccoed interior. The town's central core is relatively small with most of the restoration being in the Piazza del Duomo. But the rest of Piazza Armerina is "...an endearing jumble of cobbled steps and faded granduer, with dilapidated yet graceful churches and palazzi, narrow streets and skinny alleys"

As we started to drive north it again began to rain. We encountered a bit of a challenge when at Villapriola the road to Alimena appeared to be closed due to a 'landslide'. But after stopping an Italian who came from that direction we understood the road was rough in a number of areas but passable. We gave it a go and although there were stretches where we were only driving 20 to 30 kph we managed to make it through the 20 or so kms. As we entered the Monti Madonie the rain increased and the temperature dropped dramatically, getting down to as low as 12 C.

Eventually we found our way to Masseria Susafa where we will be staying the next three nights. Very impressive, as we entered we both immediately thought Paradore or Pousada. Beautiful stonework, large, gardens and flowers throughout the Masseria is very 'classy'. Fortunately, given its rural location dinner is served here at the Masseria.

Dinner is relatively expensive but of excellent quality. For example pastas that are generally 7 to 10 euros elsewhere are 14 to 16 euros here. And while the servings are not huge (which Gayle appreciates) the flavours and creative menus are excellent. For dinner I started with a risotto with a mix of Sicilian cheeses, bacon and honey (14 euros). Gayle had a superb Capellacci pasta stuffed with porcini mushrooms and provola cheese with almonds and cherry tomatoes (16 euros) and for a Secondo piatta I had the Salsiccia Grigliate, i.e. a traditional Sicilian sausage made with fennel seeds and black pepper. Gayle then had a dessert to die for - an Almonds 'semi-freddo' and warm chocolate. 'Semifreddo' is a semi-cold ice cream made using eggs. A wonderful meal in a beautifully impressive dining room.


B&B La Quercia e l'Asino (the oak and the donkey)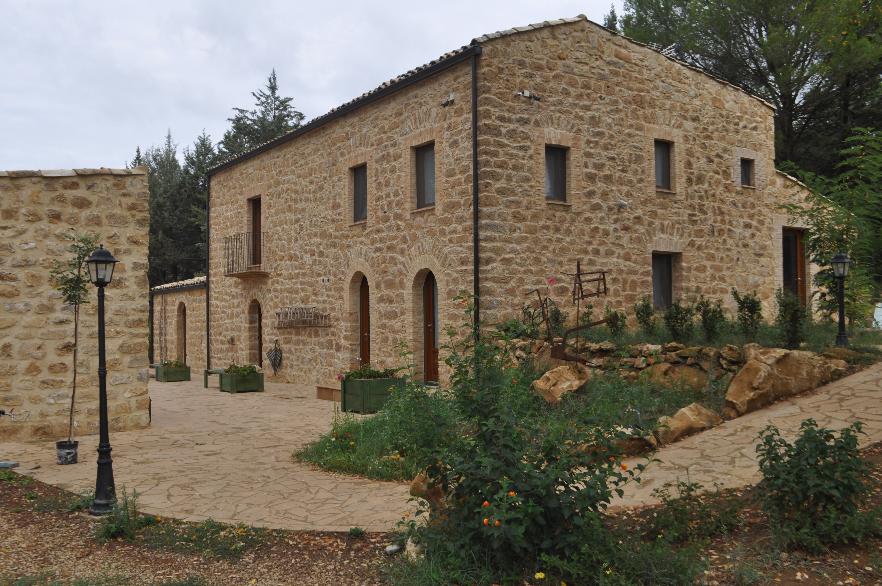 The Duomo of Piazza Armerina as seen from the B&B.



Gayle wanted more donkey photos so more photos she gets. There are five donkeys that have been affectionately named by one of our friends back home as Dumb, Bad, Smart, Whoop, and Kick.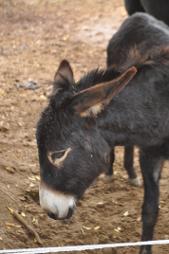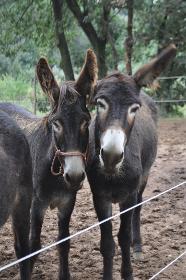 Inside Piazza Armerina's Duomo.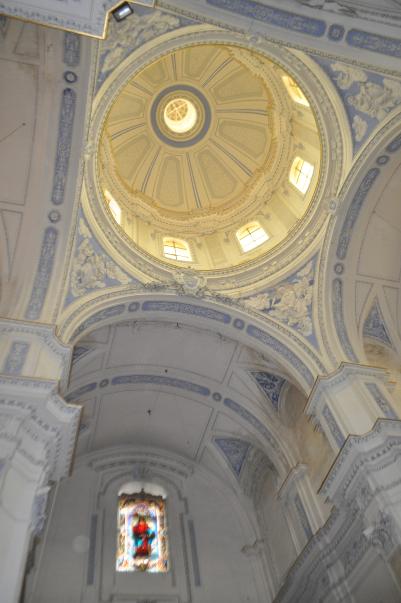 Stone seen everywhere during our stroll in central Piazza Armerina.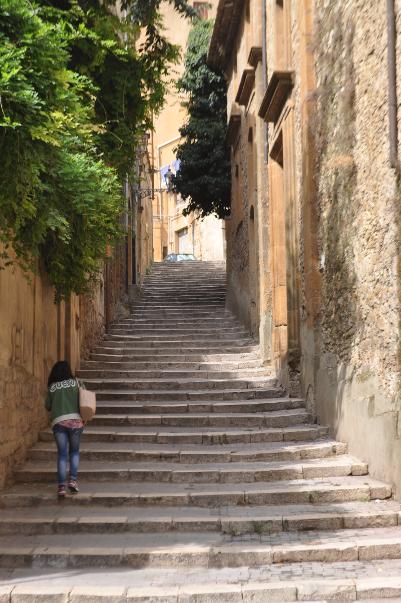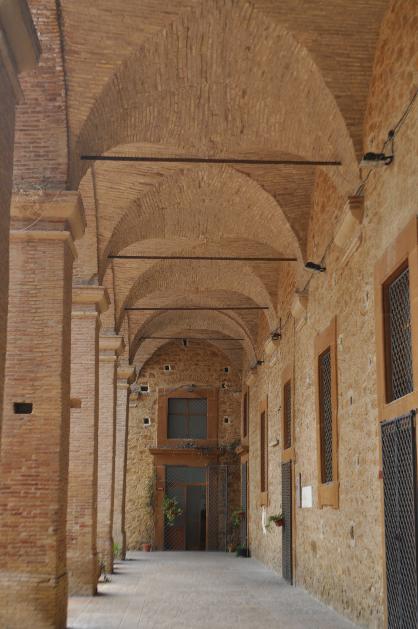 Narrow cobble-stoned streets of Piazza Armerina.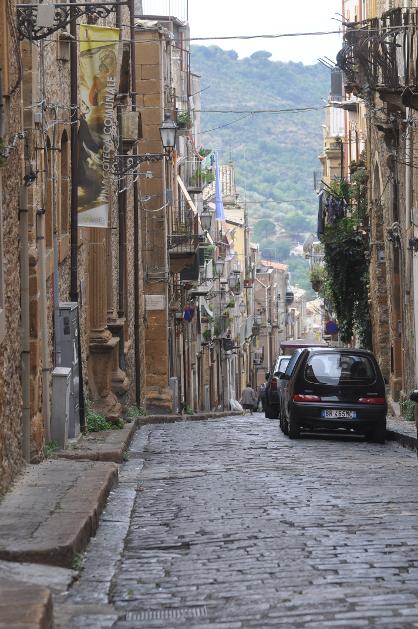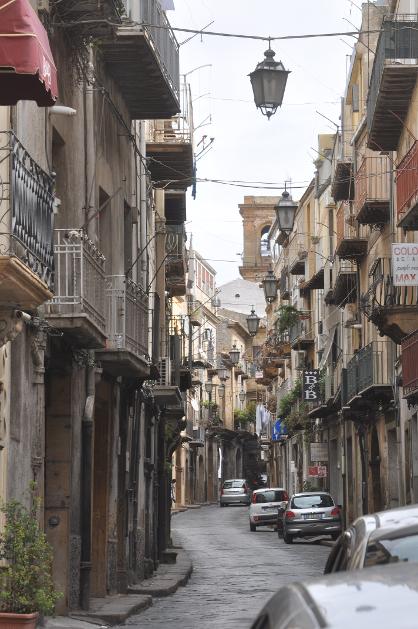 Caliscabetta, another central Sicilian densely built town dominated by the church.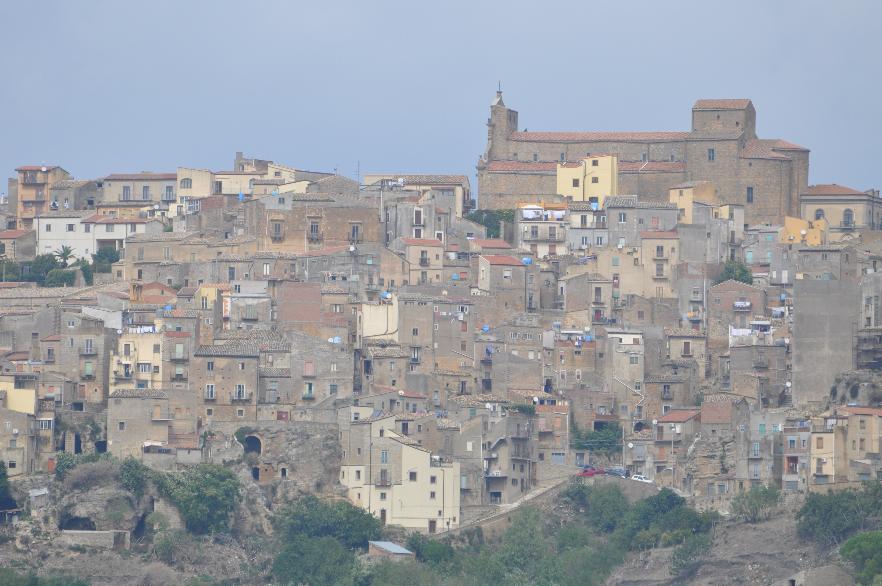 Silhouetted on a hill in the rain.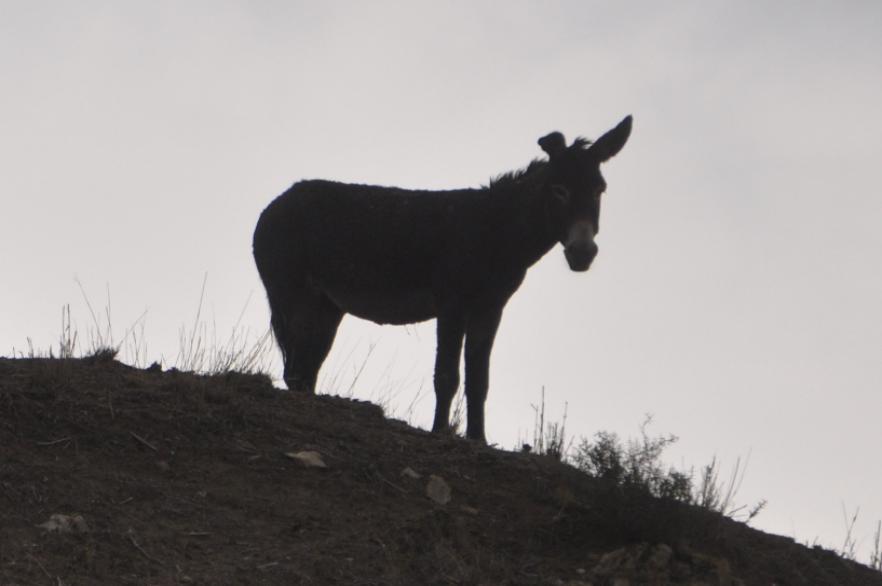 Masseria Susafa's impressive dining room.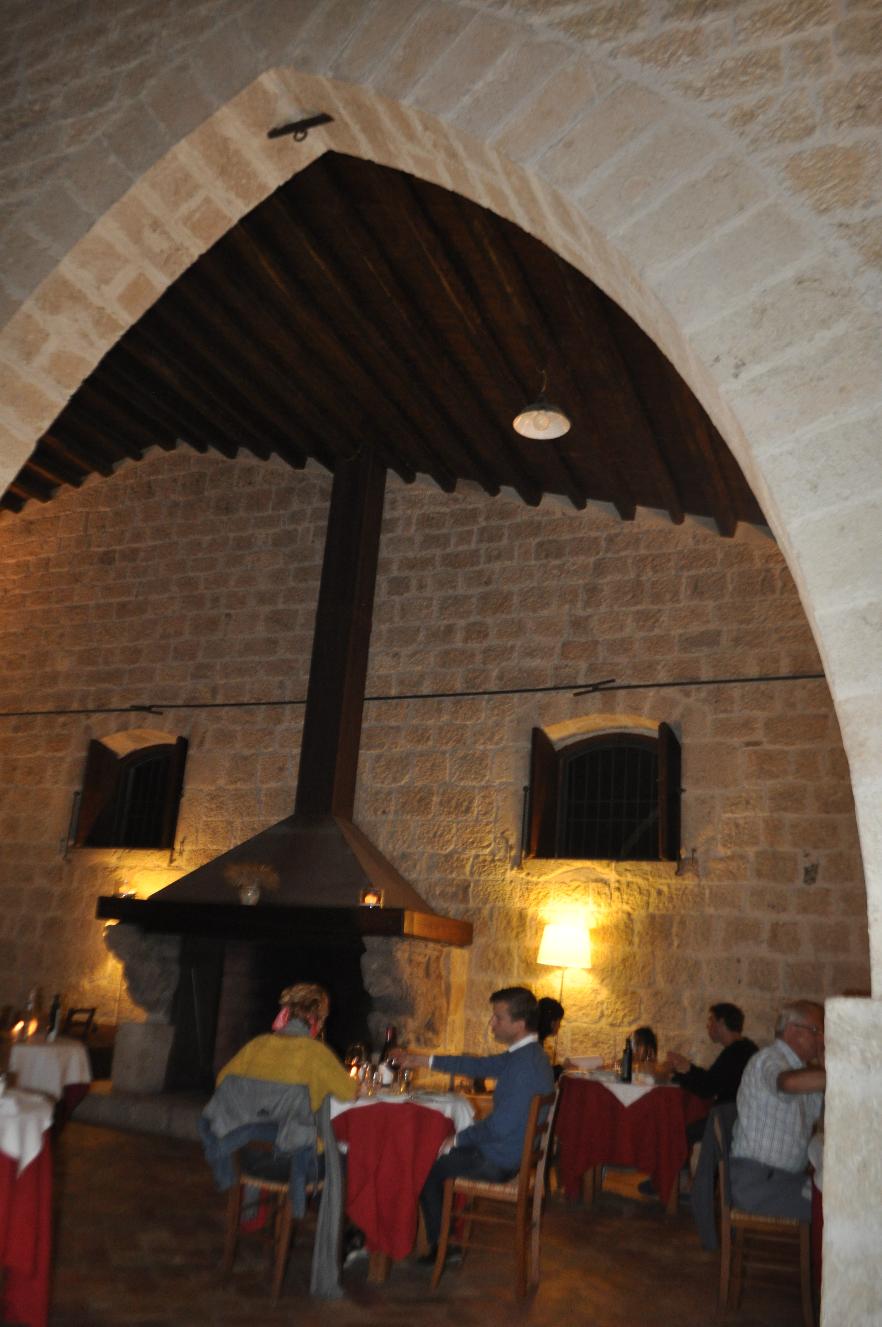 Porcini mushroom stuffed pasta and local sausage.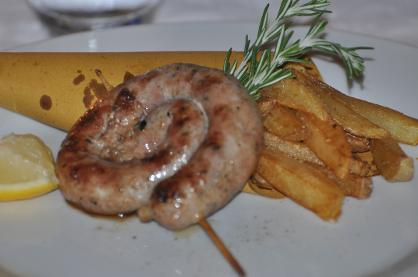 Best dessert so far - Almonds Semifreddo.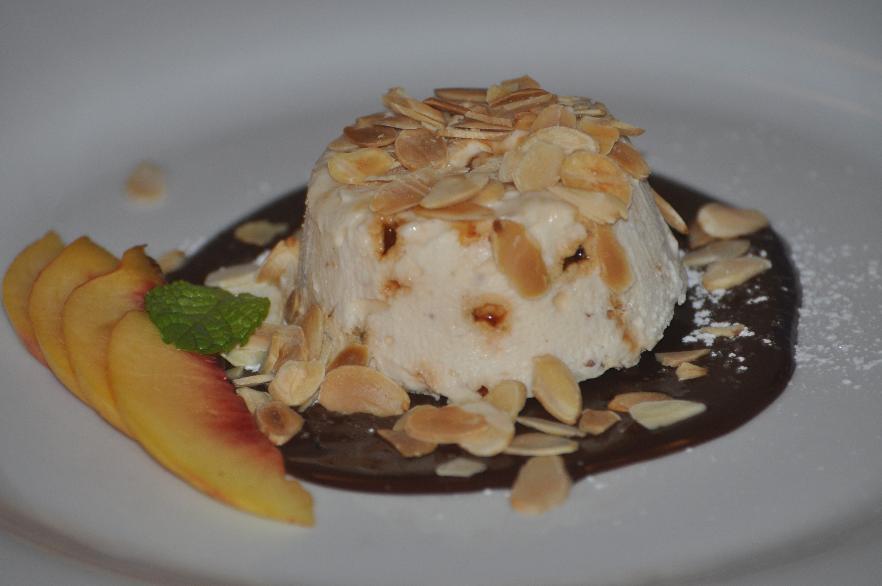 25 September 2016 - B&B La Quercia e l'Asino and Villa Romana del Casale

Breakfast was delicious, with fabulous chocolate croissants, an egg frittata, blood-orange juice, of course cakes and cookies, olives, nuts, jams, tasty sun-dried tomato buns and prickly pears. While we have seen prickly pears in many of our travels as we were driving yesterday we actually saw them grown commercially - acres and acres of cactus plants. It was interesting, after having seen so many to be served prickly pear for breakfast. Very soft, and quite tasty they do have many very hard seeds that make them somewhat difficult to eat.

Although we are not here in Sicily to be immersed in all the history (many others that we have met certainly are) we did decide to visit the nearby Villa Romana del Casale. The Villa dates from the early fourth century AD and remained in use right up until is was covered by a mudslide in the 12th century. It was then hidden from view for seven hundred years until excavations began in 1950 revealing multi coloured mosaic floors that are unique in the entire Roman world for their quality and extent. A roof and walls were added to indicate the original size and shape of the villa. It is theorized the villa, being in a rural location was an occasional retreat and hunting lodge, supported by the many mosaics of animals and birds including two specific hunting scenes. It is apparently clear the villa complex belonged to an important owner. While there are other splendid Roman villas in Italy, none have anything like the extra-ordinary interior decoration of the Villa Casale. The floors of almost the entire building are covered with bright mosaics of excellent quality. This was our kind of 'museum', relatively small that takes an hour or so to experience.

We returned to B&B La Quercia e l'Asino (the oak and donkey) just before it started to rain, rain that continued the rest of the day. We were going to go into and wander around Piazza Armerina but not to be. We did go in town around 7:00 pm for an dinner and were amazed by the amount of traffic. We found the little trattoria Salvatore suggested and were welcomed by a very nice woman who couldn't speak a word of English. But we worked together to figure out was on the menu. Unfortunately I left my SD card in my computer so there are no photos but Gayle enjoyed a very flavourful Ceci e spinachi (chick peas and spinach) soup for 5 euros and me the Antipasto della casa, a huge plate of what I will call rustic Sicilian foods (10 euros) - actually lots of stewed vegetables, cous-cous, cheese, and some meat. I'm glad I didn't order anything else. We then had a pasta (8 euros) - a fusilli con pesto alle trapenese that I was not crazy about but Gayle liked. Although not the best vino on the trip (yet not the worst) we had an entire liter (home made - no label) for 4 euros. Still raining we made our way back to the B&B for a nightcap of lemoncello.



There are some really unique (weird / interesting) pieces of art /contraptions at B&B La Quercia e l'Asino.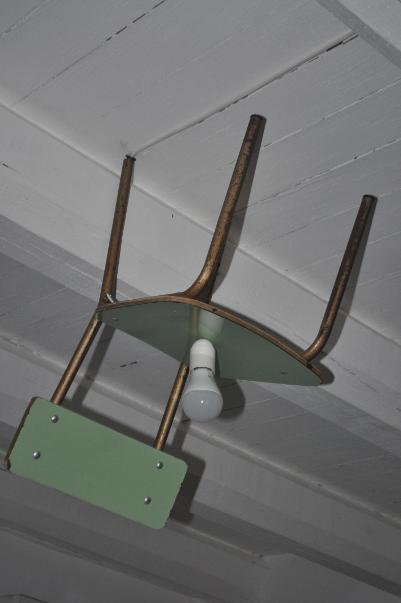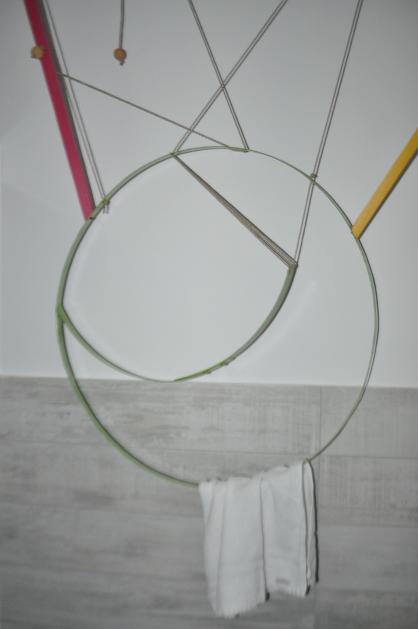 A great variety for breakfast.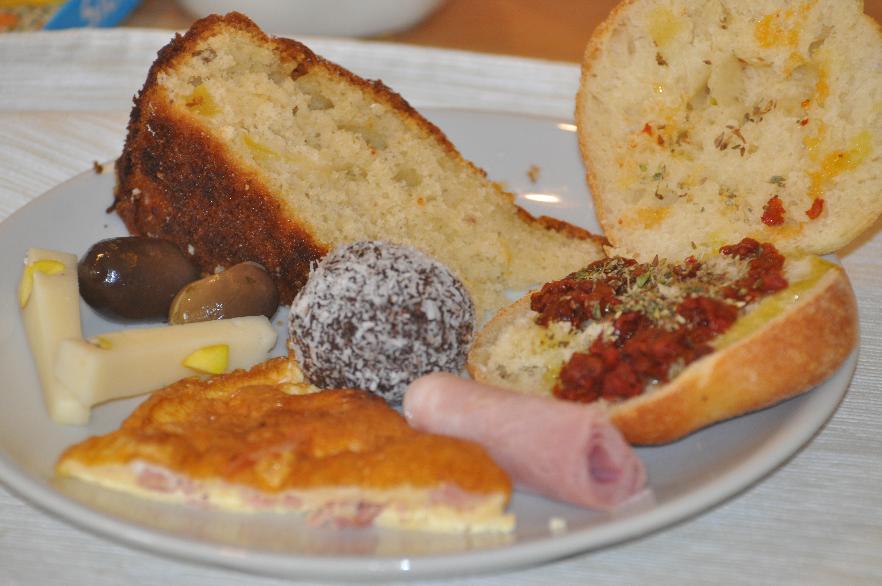 A traditional Sicilian custard filled pastry with pistachios.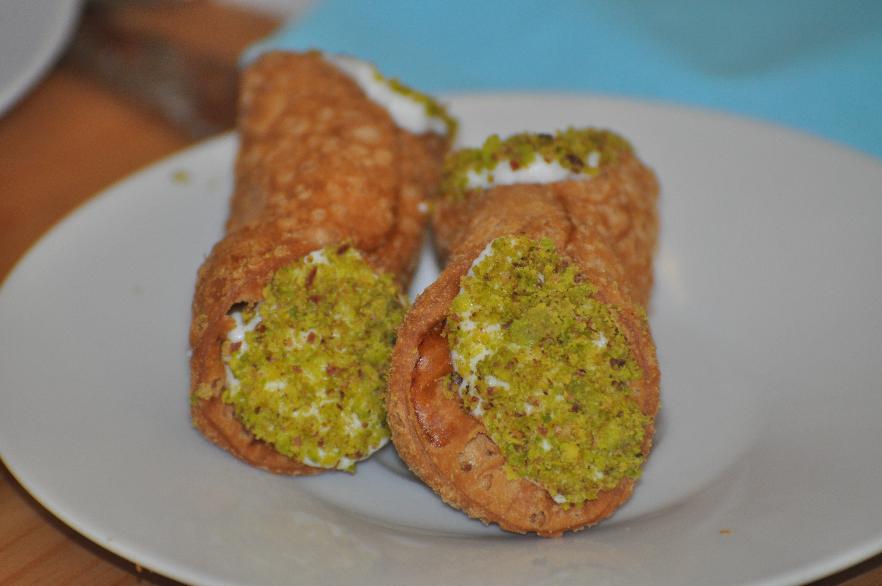 Prickly pear fruit served at breakfast and on the cactus plant.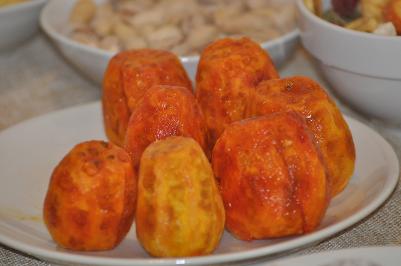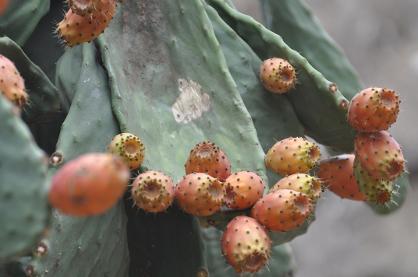 The five asinos i.e. donkeys.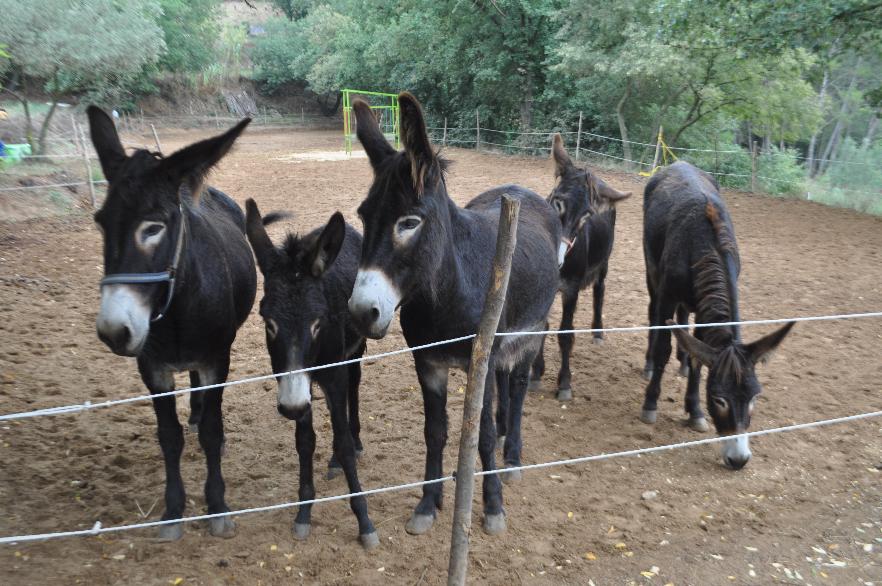 In addition to his five donkeys Salvatore trots his horse around the property.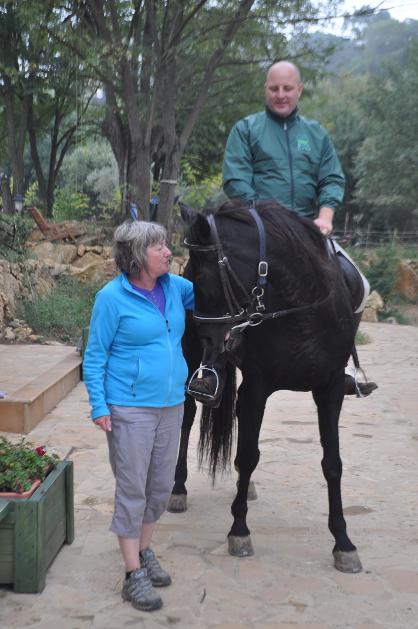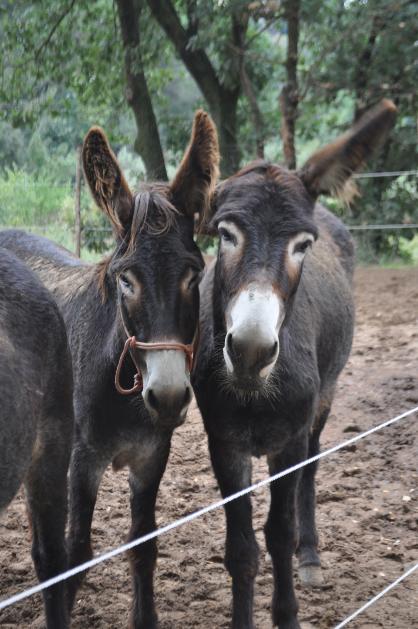 The 'must-see' if you are in central Sicily - the Villa Romana del Casale.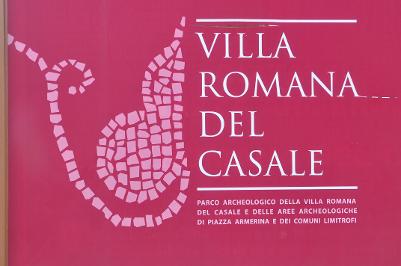 Some of the mosaics at the Villa.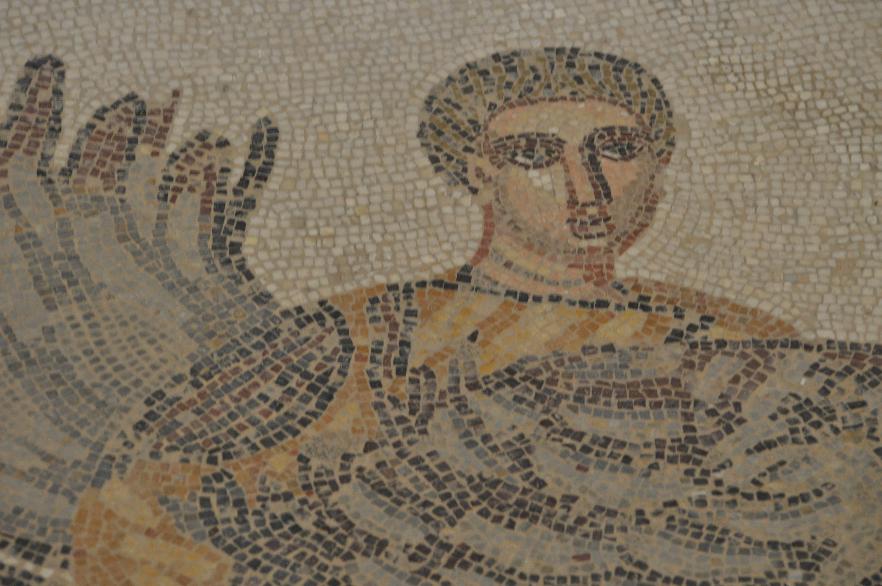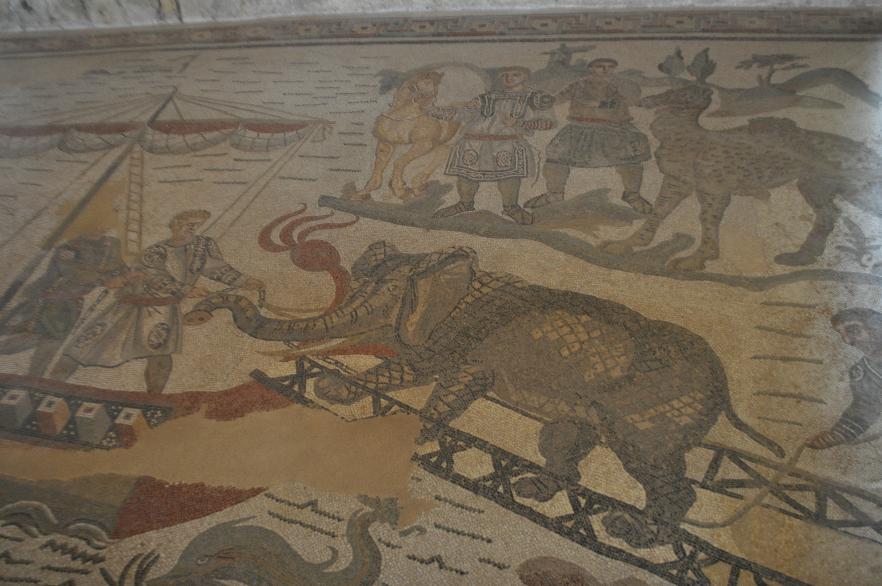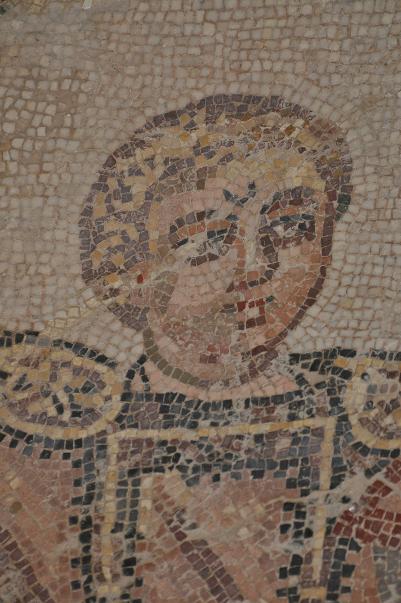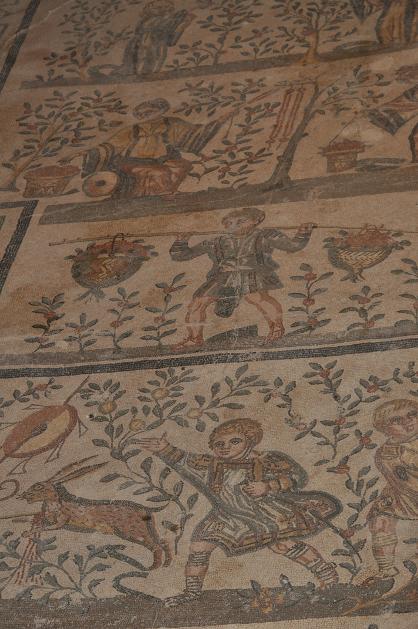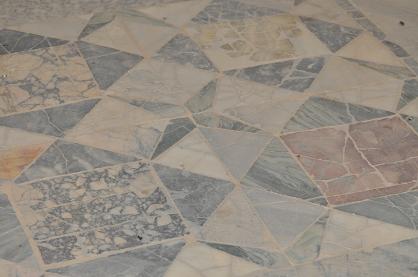 24 September 2016 - Ragusa Ibla to B&B La Quercia e l'Asino, Piazza Armerina

One final breakfast at Villa Quartarella, with a farm fresh egg of course, a good-bye to a nice British couple we met and chatted with each morning/evening and directions from Francesco.

We stopped in nearby Ragusa which has two towns - Ragusa Superiore on a higher ridge and the lower town of Ragusa Ibla. We visited Ibla which over the past decade has undergone a renaissance with the renovation of historic buildings and the opening of some stylish hotels and restaurants. Not that large it is nice to wander along the limestone streets through the various piazzas, admiring the historic buildings. The church of San Giorgio is the central focus of Ragusa Ibla, up a number of broad steps at the end of the Piazza del Duomo. Upon entering the church we were witness to a wedding - quite the impressive location in which to be married.

We decided to have lunch in Ragusa before driving north through a number of similar looking towns/cities, some of which we needed to drive through the narrow roads of the town's centre and some of which we bypassed. But all of them were much the same, with a cathedral prominent at the top and dense houses adjacent to each of other - a solid wall of brown/grey. There was Vizzini, and then Grammichele, Caltagirone (the ceramic centre of Sicily) and finally Piazza Armerina where we will be staying the next two nights. Unfortunately about half way between Ragusa and Piazza Armerina it began to rain - the first rain of the trip. At times it was quite heavy with the roads saturated with water, accumulating in significant 'ponds'. While unable to see much of the rolling countryside we did make our way to Piazza Armerina by which time the rain had stopped.

Having had a large lunch there was no need to go out for dinner. After finding our B&B La Quercia e l'Asino we went to a nearby market to get some bread, meat and cheese and then with some leftovers from lunch and a bottle of wine had enough for an evening snack.


Our room was huge with a loft for larger families but as a result an extremely high ceiling and lots of space. The beautiful floor to ceiling stone walls were very attractive and gave the room an old country feel.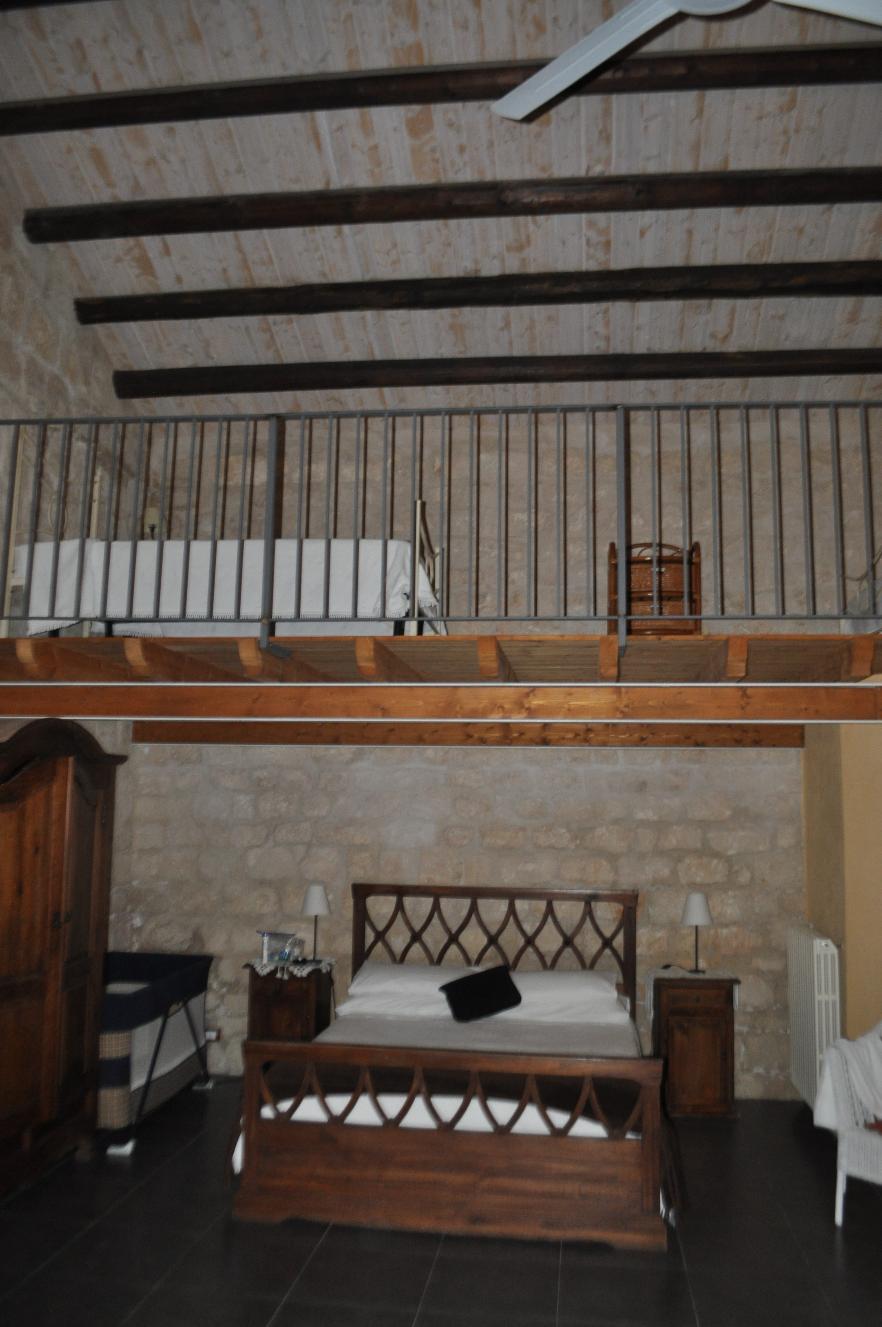 Rock walls - very common in the region, flowers, old farm instruments, a well, fruit trees and wandering chickens make up Villa Quartarella's courtyard.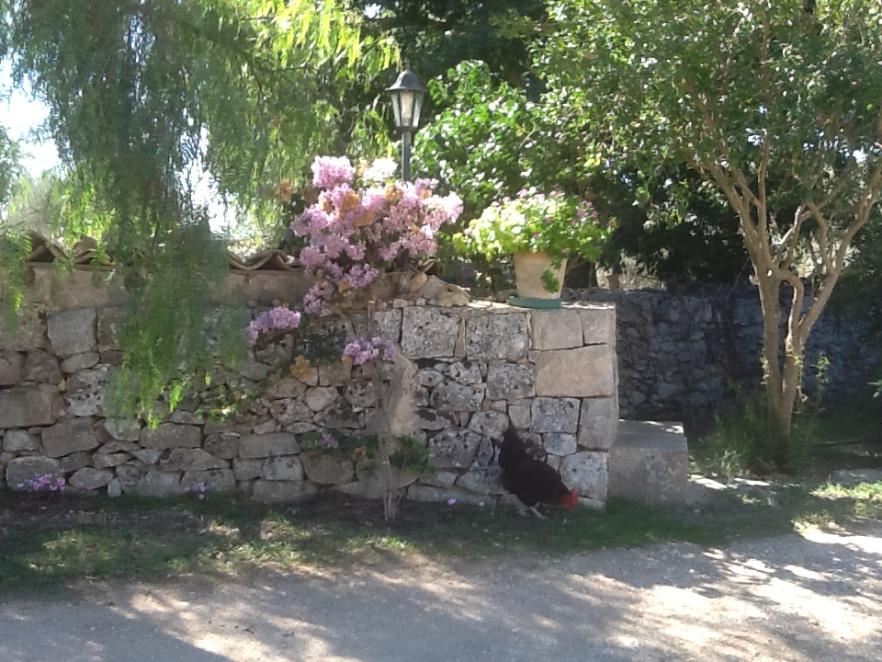 Vines adorn the rooms and the breakfast area from which one of Francesco's egg providing chickens can be seem roaming free.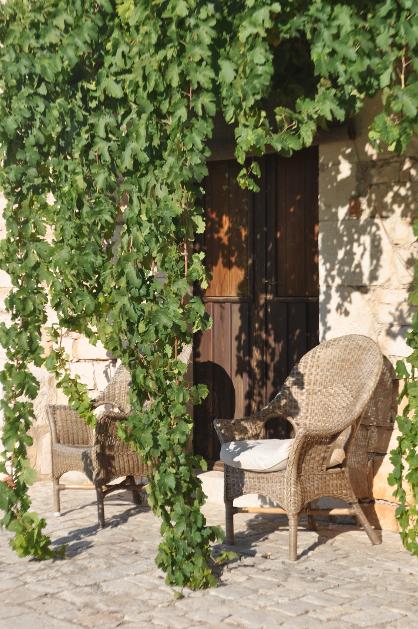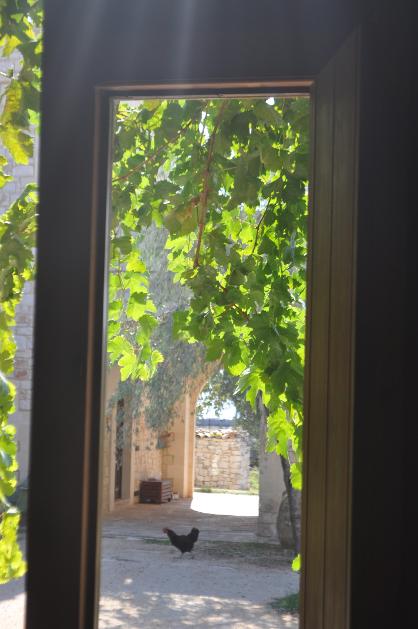 Francesco has his fruit trees including these pomegranates and many attractive flowers, including these roses still blooming in late September.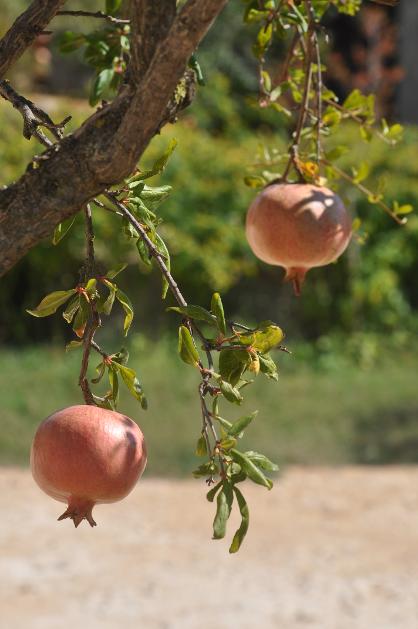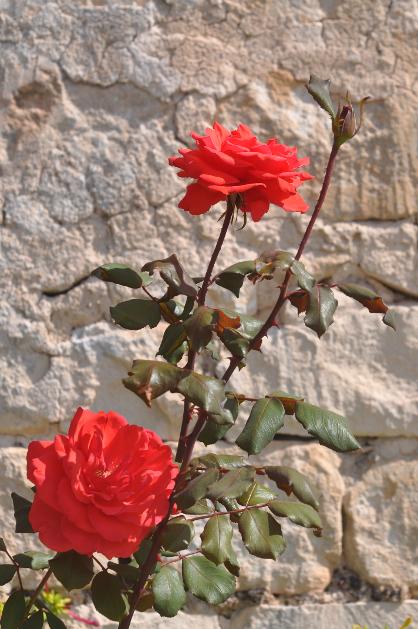 Our first glimpse of Ragusa Ibla - the cathedral and a hillside of nothing but buildings.



Love the balconies here in Sicily.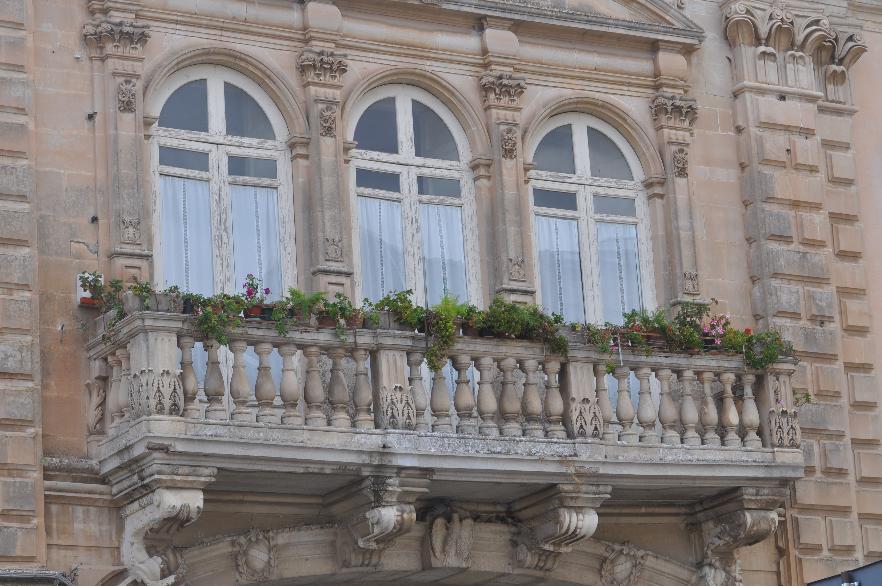 Upon entering the church of San Giorgio we stumbled upon another wedding.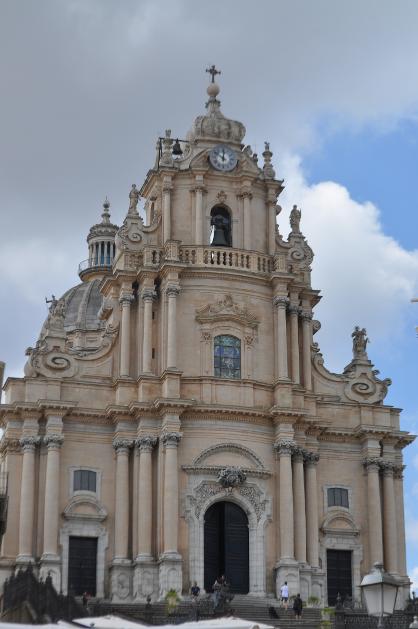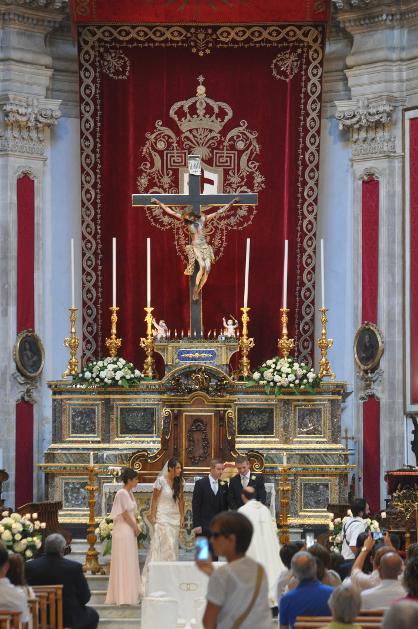 Nothing like the steps of the Church of San Giorgio in Ragusa for the family wedding photo.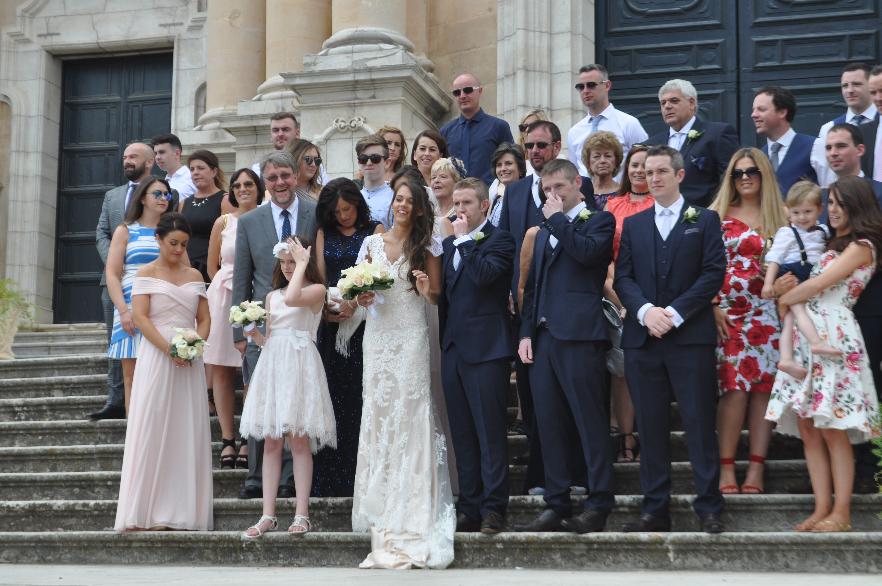 Lunch of a plate of local meats and cheeses and another insalate caprese.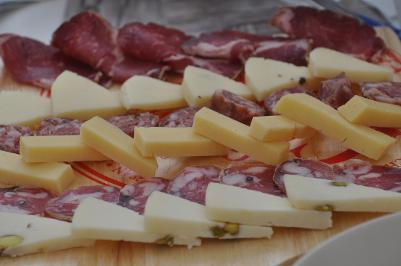 You may have heard roads in some Italian villages/towns are extremely narrow. It's all true. Yet locals seem to find a way to park, even when they can't leave much room between their vehicle and a stone wall.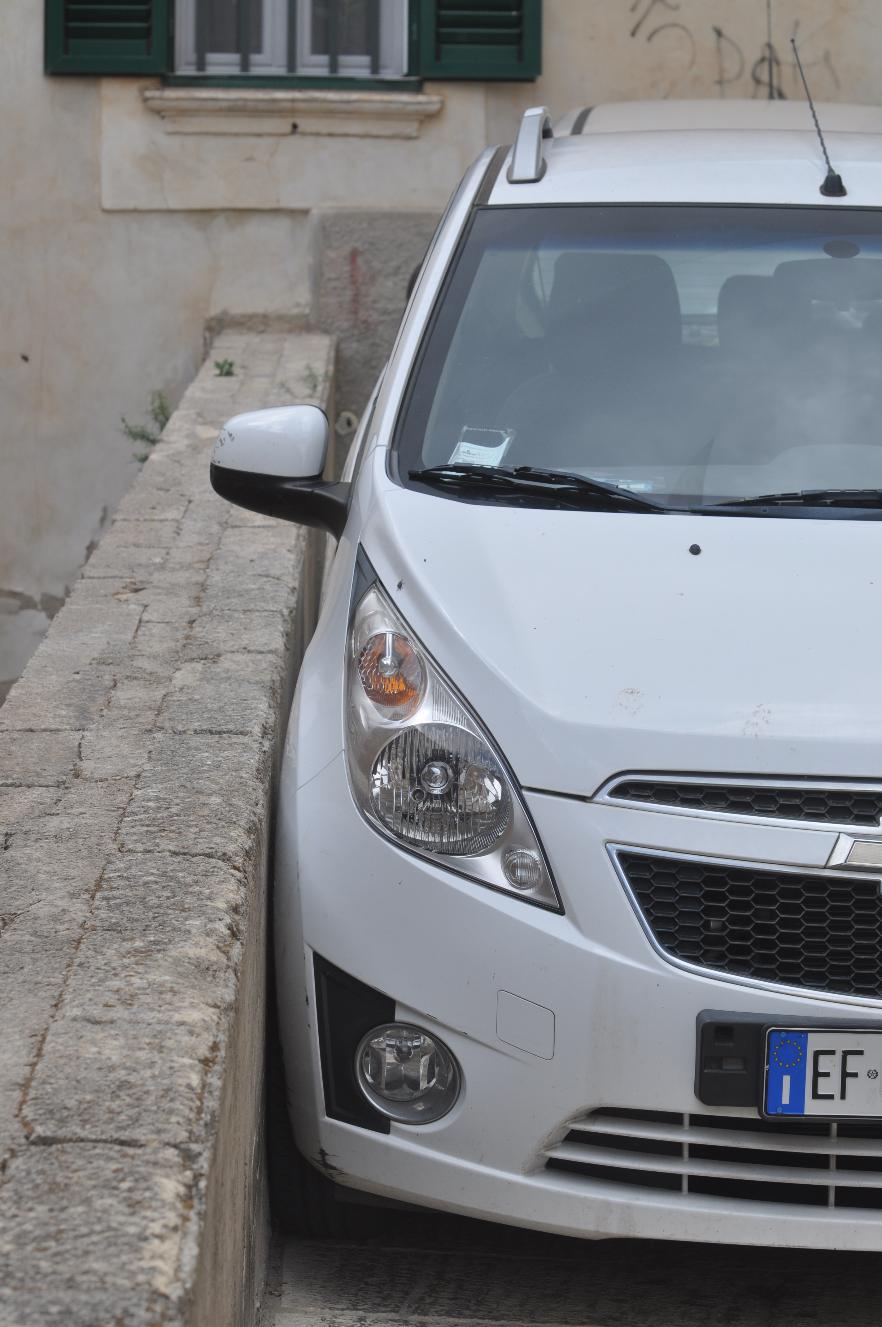 Typical Italian towns in the center of Sicily - very compact with narrow alleys and virtually no green space.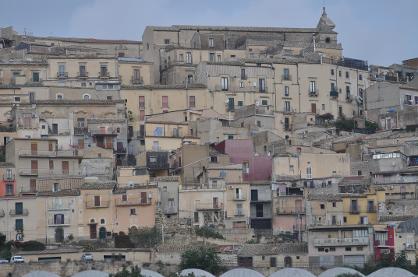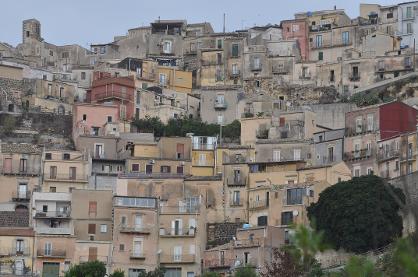 This could be one of what look like similar towns - with a cathedral at the top of a hill and dense dense housing below. In this case it is Ragusa Ibla.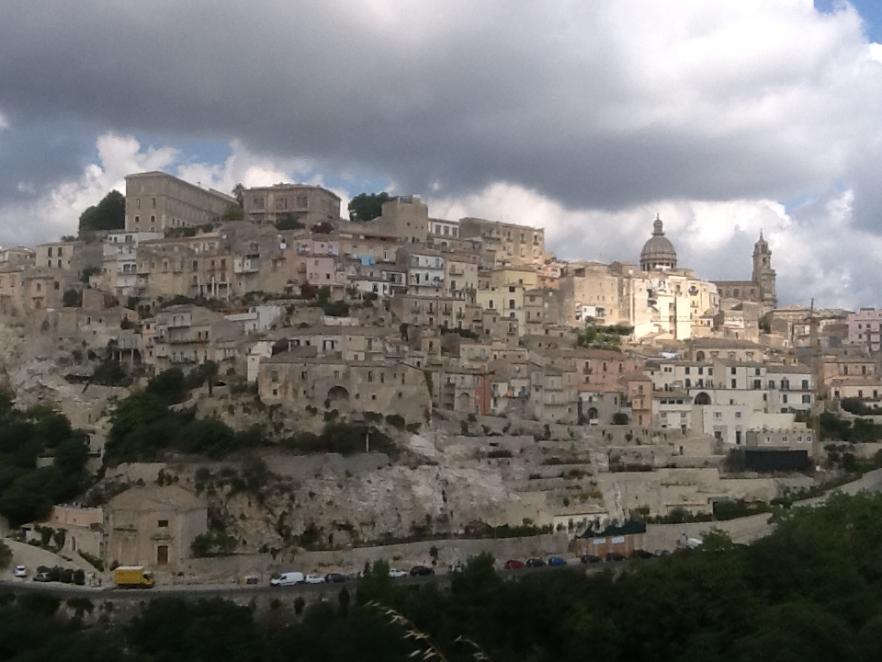 23 September 2016 - Villa Quartarella, Noto and the south-east corner of Sicily

After breakfast we left for a relatively lengthy day trip, first to another Baroque town - Noto. After the devastating earthquake of 1693 that destroyed 70 towns and cities and resulted in an estimated 60,000 deaths there was a massive rebuilding that coincided with the golden age of Baroque architecture. Noto is a shining example of the result. Although the town has existed for centuries what now exists is considered a 'new town', a triumphant symbol of renewal. Years of restoration has resulted in many of the buildings, churches and palaces now returned to their honey-hued colour. An added benefit is that the historic old area is pedestrian only, making for an enjoyable stroll with many stopping for meals at the outdoor restaurants along the main streets.

We spent a couple of hours meandering through town during we made three stops. The first was for an arancine, a lightly fried rice ball with various fillings, for example ham and cheese or spinach. A very enjoyable street food at a very reasonable 2 euro price each. We then went into the Palazzo Ducezio, currently serving as the town hall. Another beautiful building of columns and stone balconies it has this Hall of Mirrors and a ceiling that was painted with an art technique that uses realistic imagery to create the optical illusion that the depicted objects exist in three dimensions, called 'trompe l'oeil'. Finally we stopped for Gayle to have her daily fix of gelato - today stracciatella - milk-based ice cream infused with fine chocolate flakes.

We then drove south of Noto, first to the Valla Romana del Tellaro which in spite of the signs we could not find, then the Riserva Naturale di Vendicari - which seemed like a nice hike but not much more so we move on, and then to the beach at San Lorenzo, which while quite beautiful was windy and a bit cool. I did nap for 20 minutes on the beach although Gayle stayed in the car. Next it was on to the small fishing village of Marzamemi where we made another short stop. The village is certainly set up for the hordes of tourists although it was now quite quiet. Next we drove down to the furthest south-west tip of Sicily, to Portopalo di Capo Passero and along the southern coast where we passed a number of really beautiful long sandy beaches, particularly just east of Pozzallo.

We returned to Villa Quartarella thinking we would again order pizzas or dinner. But Francesco had left to visit family and it turned out the pizzeria was in Modica, which given the traffic the other night was not appealing. We considered going back to Scicli but were somewhat tired so simply finished off some wine, cheese and fruit we had and called it a night.


Pastries and sweets for breakfast and Francesco making the coffee, and later eggs.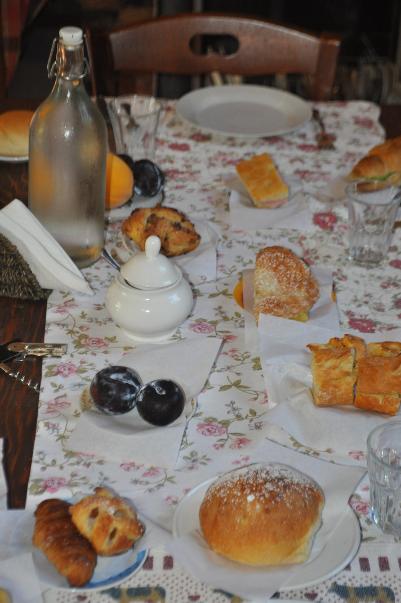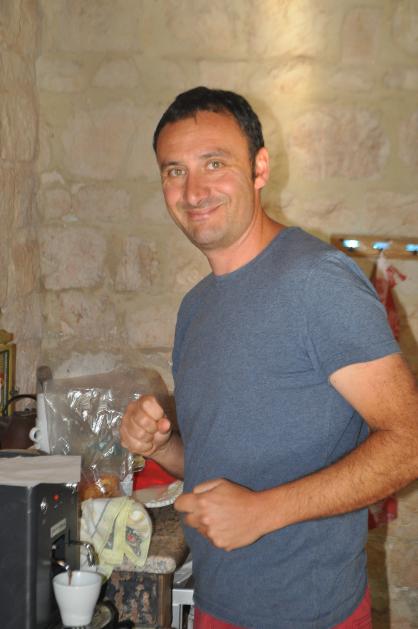 The Porta Reale, built in 1838 entering into Noto and one of the many restored churches in the town.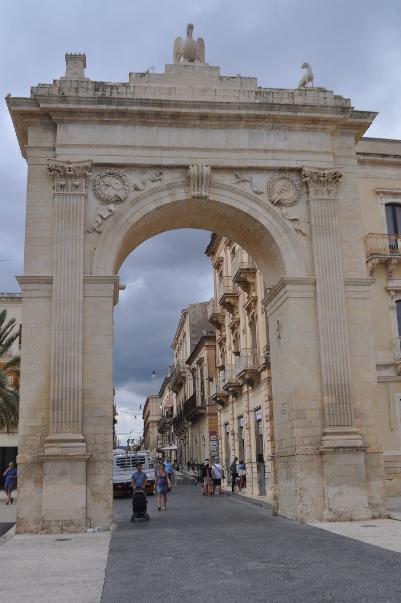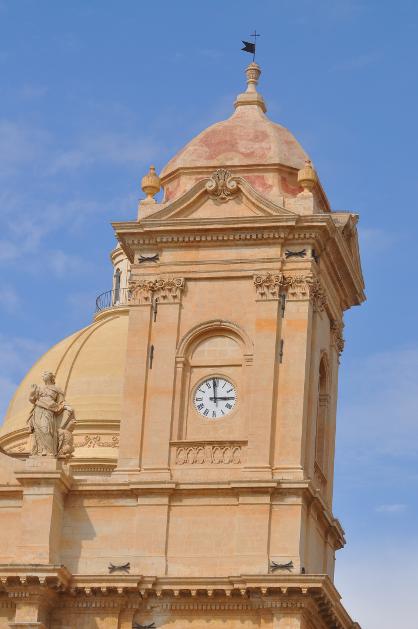 There are numerous restaurants along the Piazza Municipale.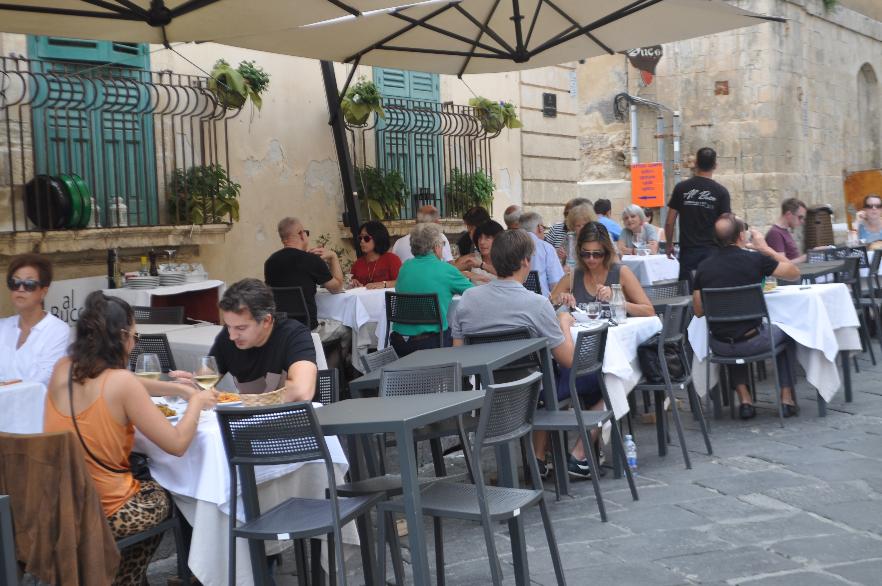 Some of the gargoyles are great.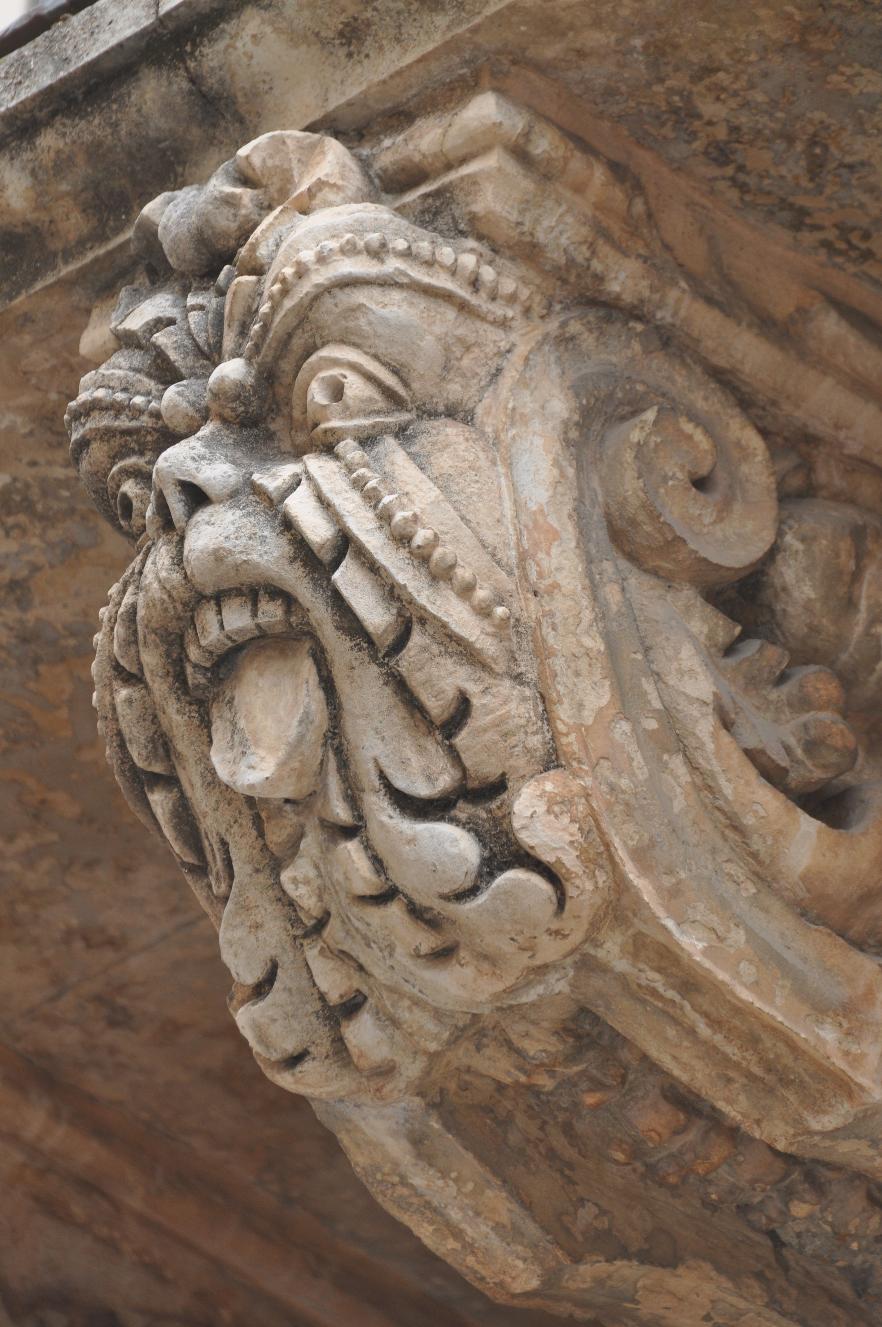 Another attractive balcony.



A common street food in Sicily are these rice balls called arancine. With different centers they a quite filling and generally only 2 euros each.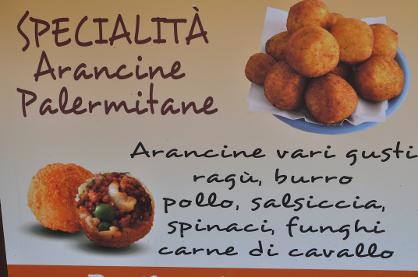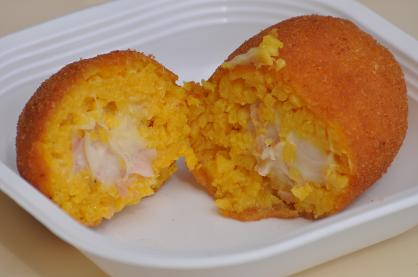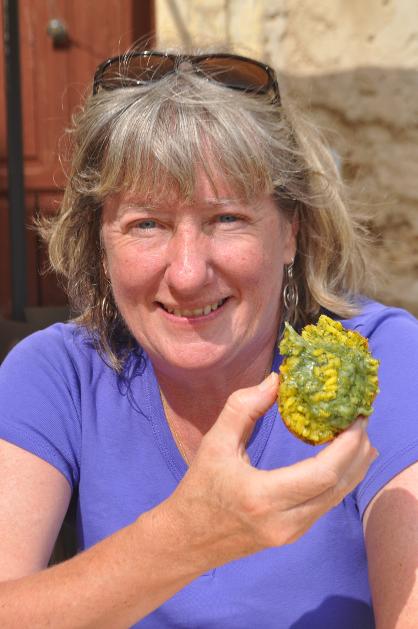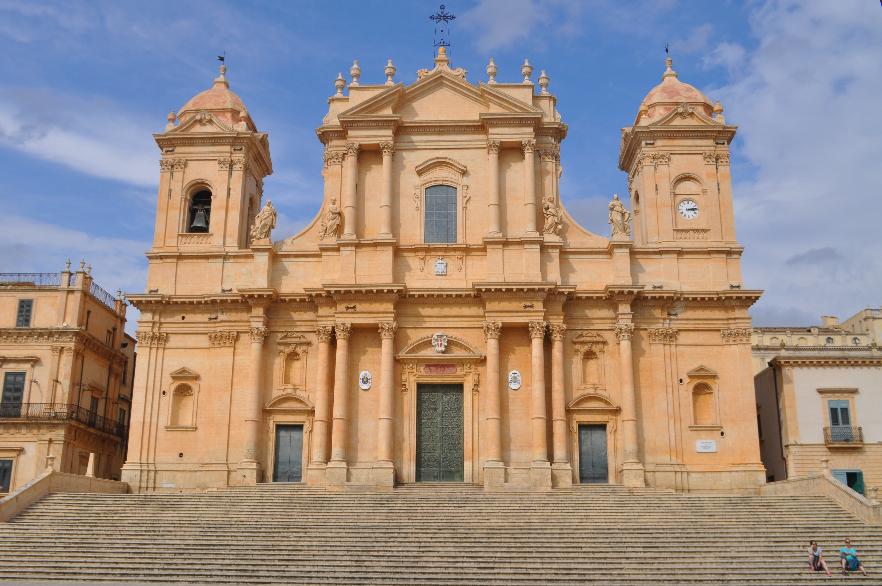 Buildings, balconies and architecture of Noto.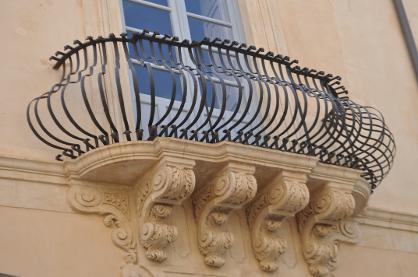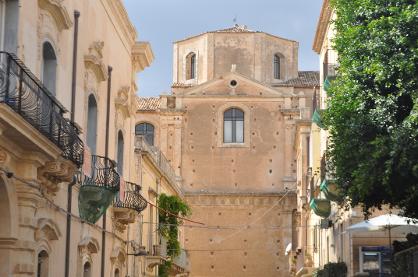 How did he take that photo without a selfie stick?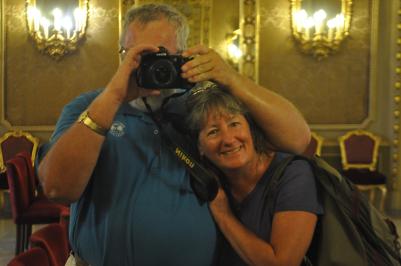 And this is only about 1/5th of the choices of gelato.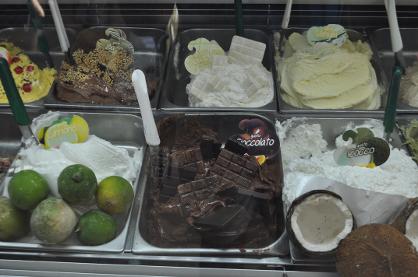 A gentleman on a park bench.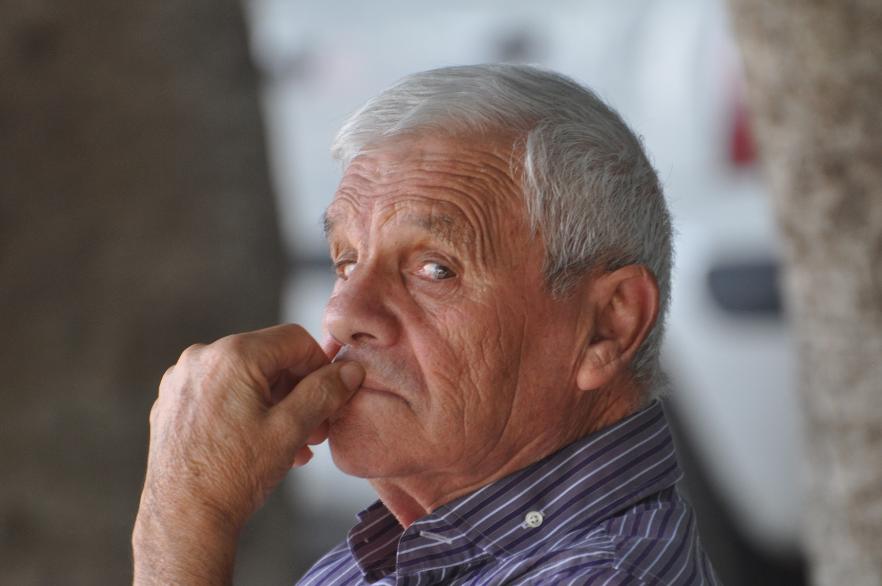 The beach at San Lorenzo.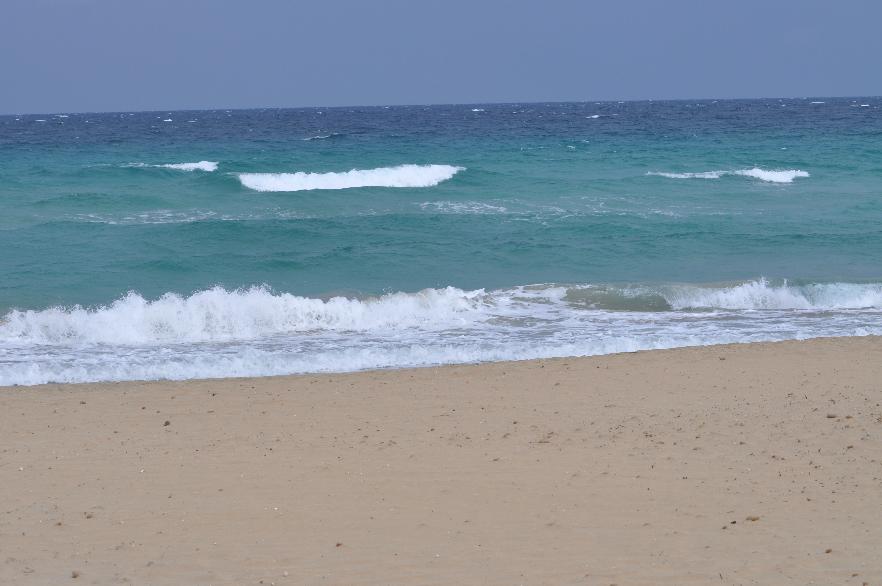 Enjoying a stroll on the beach (east of Pozzallo).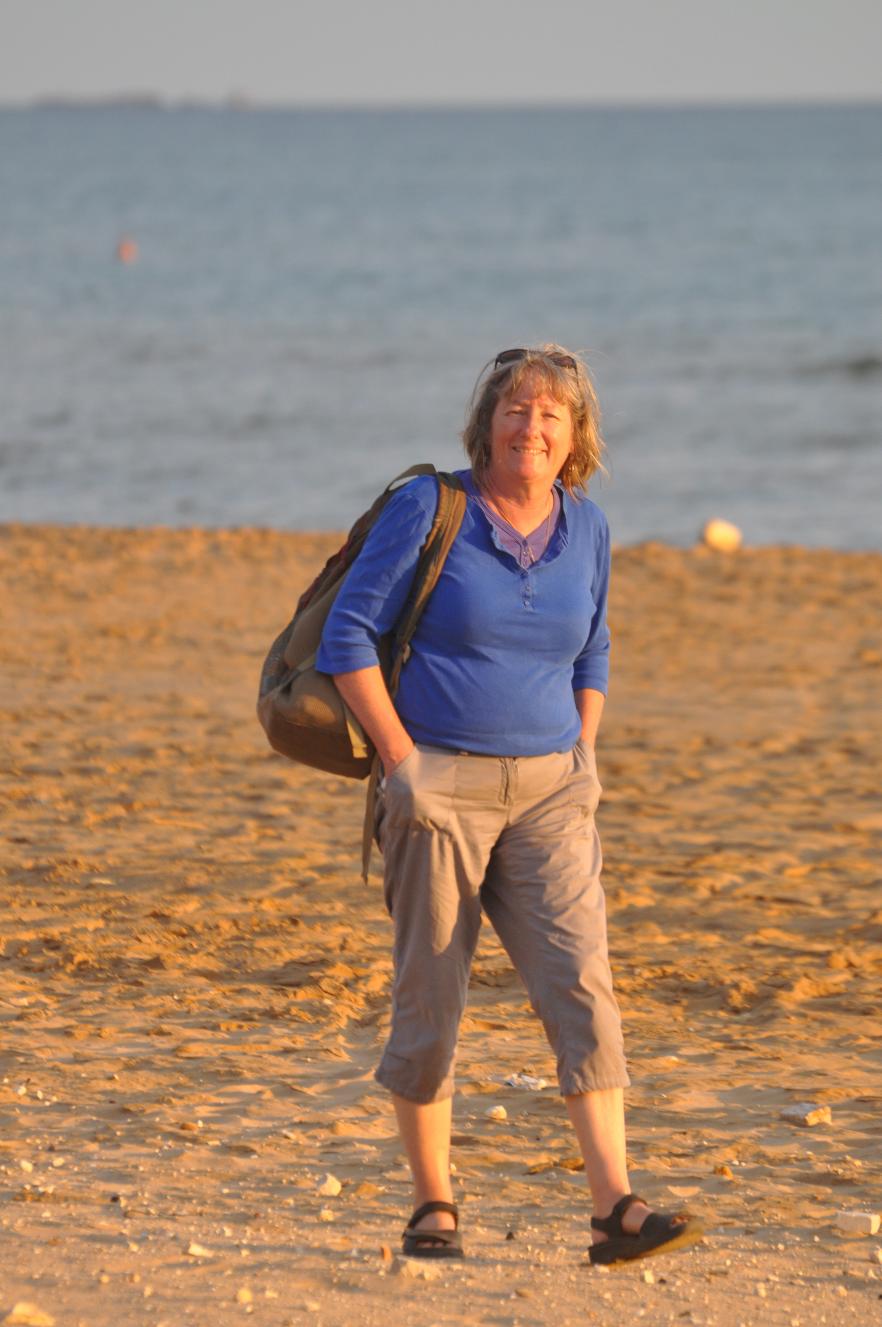 Sunset over the beach near Pozzallo.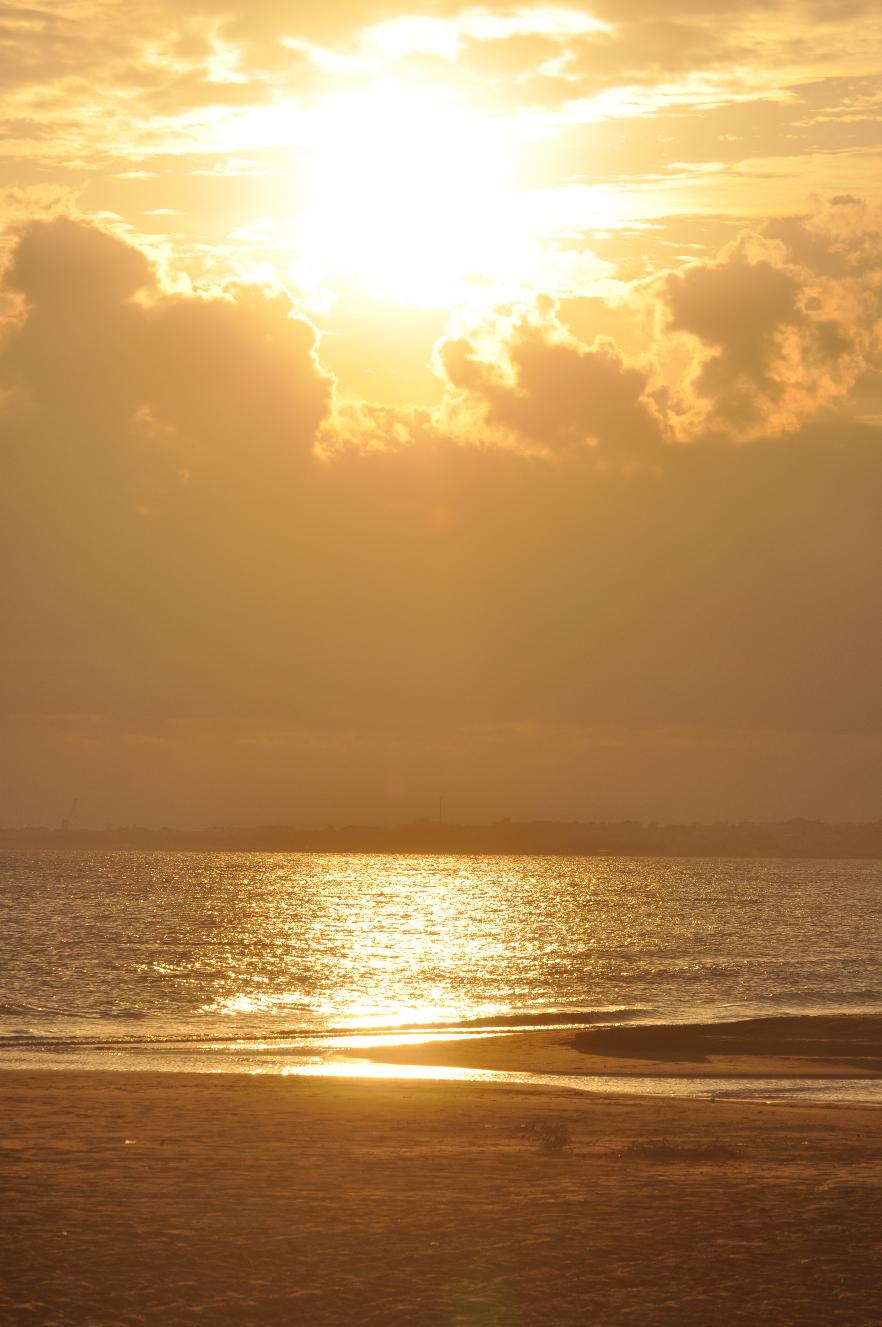 22 September 2016 - Villa Quartarella, Scicli and Sampieri

Francesco provides a very nice breakfast of sweets and rolls, juice and coffee and his just laid that morning fresh eggs that he personally retrieves from his chicken coup. While not a farm it has that feel with the chickens and roosters running free around the property.

Francesco was extremely helpful in providing guidance as to where to go, to park and to eat. His first suggestion was Scicli, a small nearby town set in a gorge below a limestone bluff. His recommendation turned out to be spot on as we both enjoyed strolling through the pedestrian friendly Baroque town has that has seen quite a restoration in recent years, particularly to the Piazza Italia and the Via Mormina Penna - now lined with restored Baroque churches and palaces. Scicli is well known as the setting of a popular Italian TV crime series - Montalbano, much of which was filmed here, giving rise to 'Montalbano' tours which are apparently very popular. While in town we scouted out a restaurant Francesco suggested, finally finding it after being in parts of the town other tourists have not likely visited and with the help of a policeman who provided directions. After finding the osteria and deciding to return later that evening we stopped on the via Mormina Penna for a very intense chocolate sorbet gelato (Gayle) and a lemon 'granite', sort of an ice smoothie (Norm).

We then went down to the coast to the town of Sampieri for some beach time. There is a stunning 2 km long sweep of sand running form the Gothic ruins of an abandoned brick factory (which fans of Montalbano will recognize) to the small local resort town with its core of traditional cubic fishermen's houses built of the same limestone as the cobbles on the streets.

We returned to Quartarella for the sunset (quite nice) and then back to Scicli to the Osteria del Ponte for dinner. Both of us had the local pasta - cavati - Gayle the Picchi Pacchiu with datterino tomatoes of Scicli and capers (8 euros) and I the pasta con zucca (pumpkin) e pistacchio (pistacchios are very common locally) ( 7 euros). Gayle then had an insalata di pomodoro datterino di Scicli (3 euros) and me the costolette di agnello alle olive e peperoni (lamb chops with olives and peppers) for an unbelievably inexpensive 7 euros. Our organic Nero D'Avola wine at 18 euros was very good, somewhat better than the grocery store bottle the night before but nowhere near 10 times, i.e. the ratio of price. An excellent choice of restaurant with extremely tasty food and a very nice bottle of wine.


The rooms of Villa Quartarella.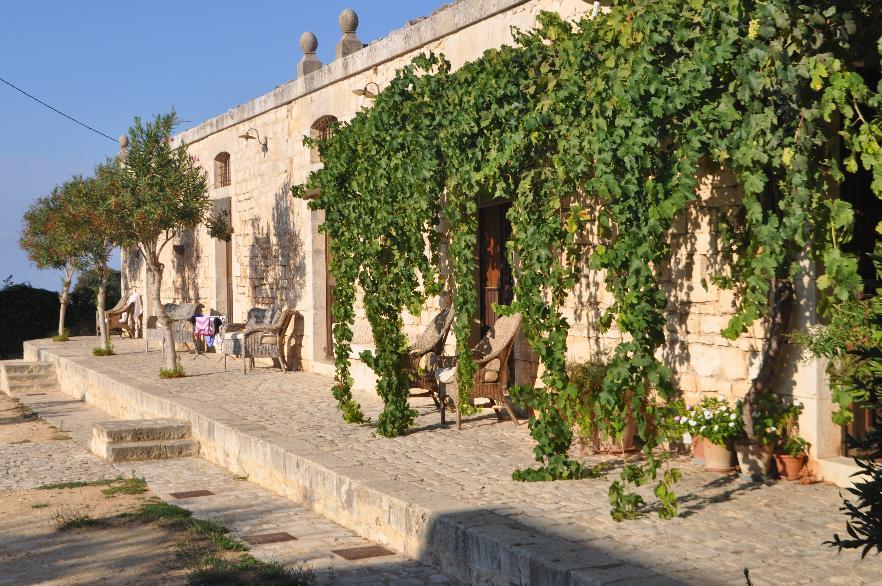 A narrow alley way in the town of Scicli and the Church of San Bartholomew.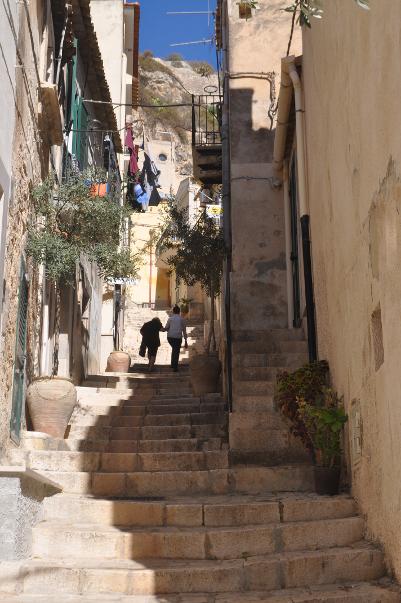 Church of San Bartholomew with the cliffs of the gorge beyond and the church again at night.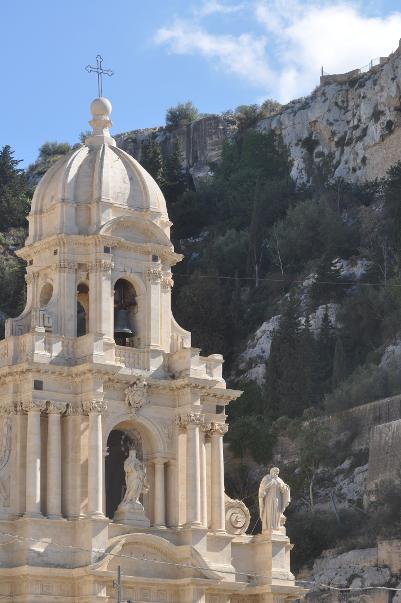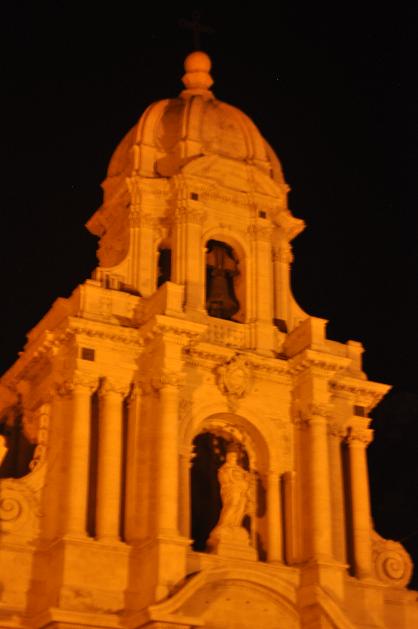 These Baroque towns have some beautifully restored buildings.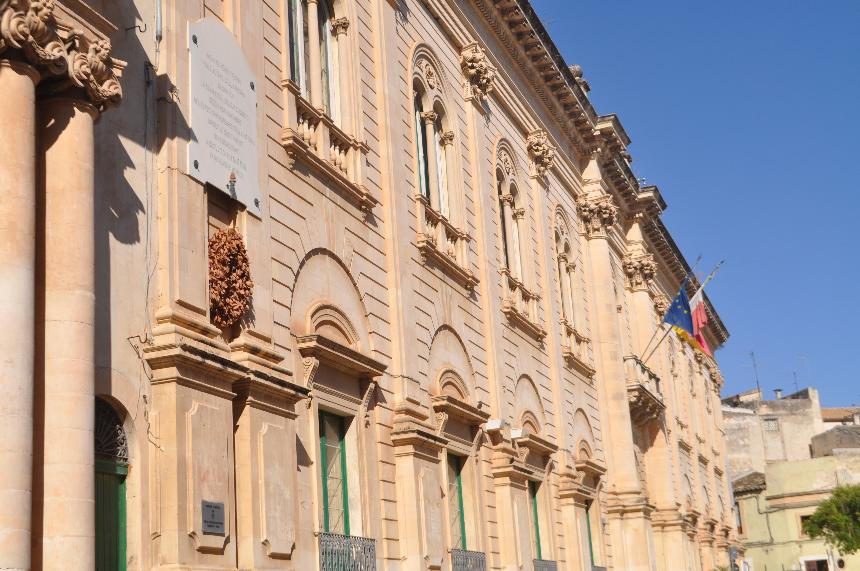 ... and some interesting gargoyles below balconies.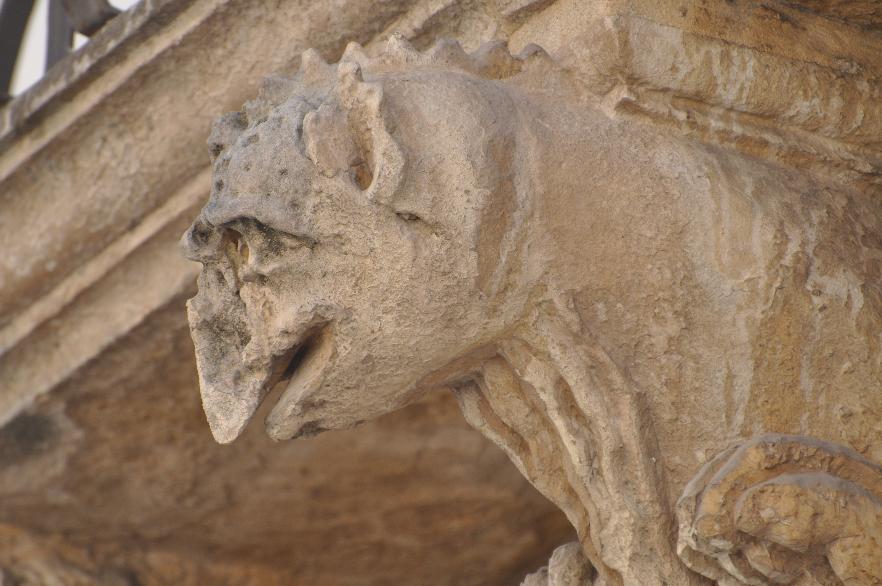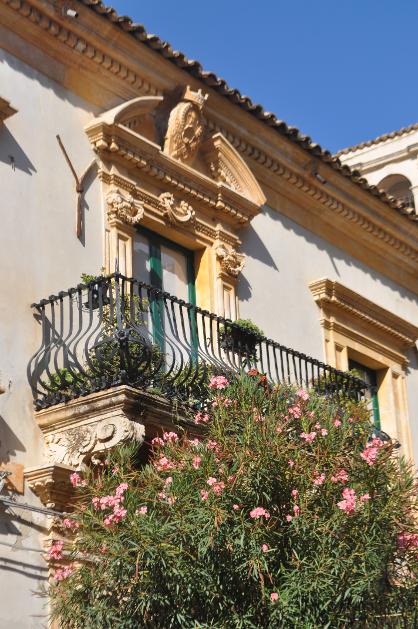 The old brick factory and the beach at Sampieri.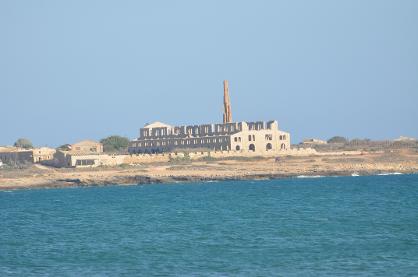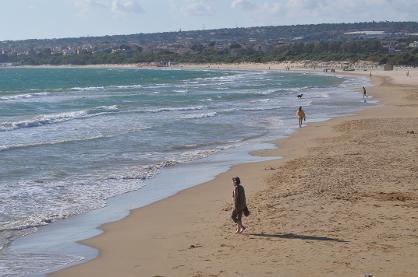 We couldn't decide which sunset photo we liked the best
with the flowers, or
with the thistles, or
with the bird
so here they all are.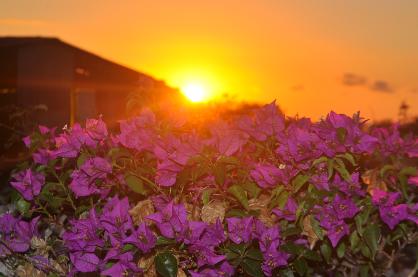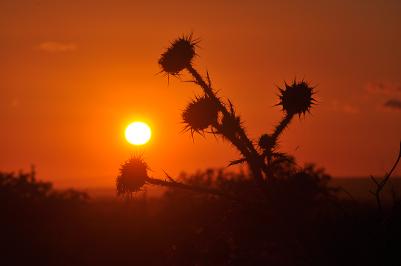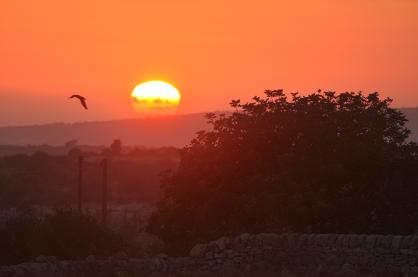 Wonderful cavati Picchi Pacchiu.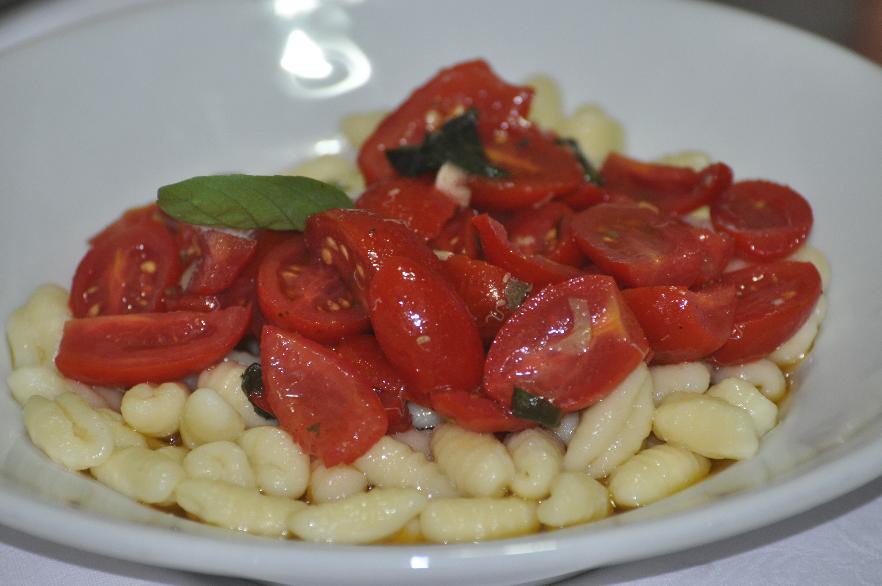 ... and the cavati con zucca e pistacchio.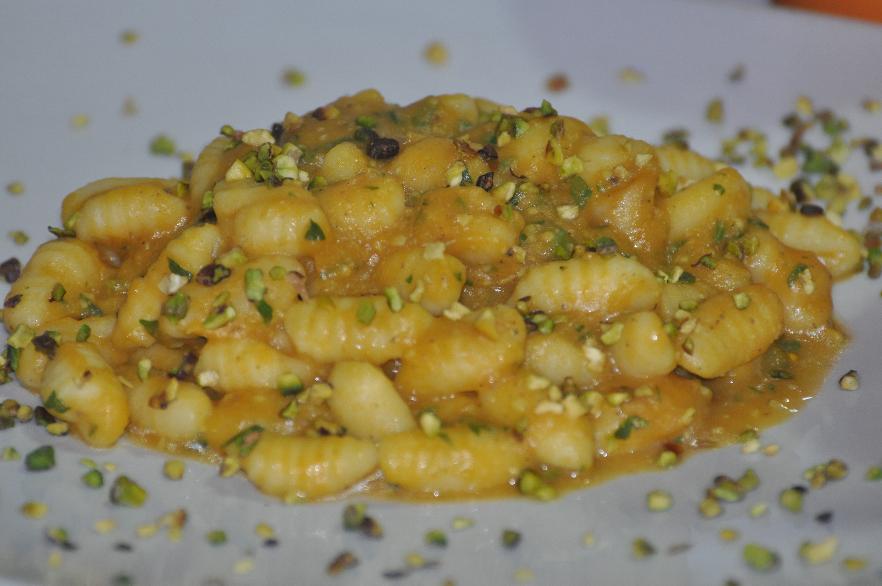 21 September 2016 - Fattoria Vassallo to Villa Quartarella, Modica

After breakfast we got the full tour of the farm. We met the animals (chickens, geese, pigs, goats and donkeys) and then went out to the fields to see where the vegetables (pumpkin, tomatoes, sesame to name just a few) are grown.

The prized possession of Salvatore is his herd of Girgentana goats indigenous to the province of Agrigento here in the south of Sicily. The Girgentana goat has characteristic horns, twisted into a spiral form. It has a long beard and a primarily white coat with grey-brown hair around the head and throat. It has a good production of high-quality milk. Beyond those in the province the only others are in zoos in Rome and Berlin, The name of the breed derives from Girgenti, the name of Agrigento in the local Sicilian dialect. There were in the past more than 30,000 head in the hills and coastal zone of the province but today the breed is in danger of disappearance. By 1993 the population was estimated at 524. In 2007 the conservation status was listed as 'endangered' and at the end of 2013 the registered population was only 390. It is a real shame for as you will see in the photos these animals are very gentle, with a number of them licking my hand as would a pet cat or dog. It is a great credit to farmers such as Salvatore that efforts are being made to preserve the breed.

Salvatore also hosts local school children each spring when there are young new born animals at the farm. Given how much we enjoyed interacting with the animals we can't fathom how much fun it must be for the children.

The whole farm is organic. It was a very interesting experience.

We drove east mostly along the coast. Not the most scenic drive as the entire area is covered by a 'sea' of green (well white) houses. Obviously an important agricultural area but not that attractive. Towards the end there were a few nicer seaside resort communities. Although it is pretty quiet now with most units shut down we can only imagine how busy and crowded it must be during the summer months.

After a few misguided turns (the non-existence of road numbers is quite irritating) we were successful in finding our 'home' for the next three nights, the Villa Quartarella. Francesco can arrange for pizza delivery which we (and others) took him up on. Very nice 12" pizzas for only 6 euro ($9 Cdn) and a bottle of surprisingly good Sicilian wine (way way better than the stuff we had at a restaurant a few nights previously) that we picked up in a small grocery store for 1.70 euros (approx. $2.50 Cdn). A simple but tasty and filling meal.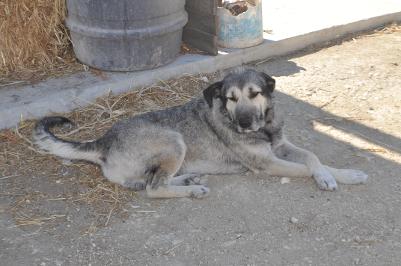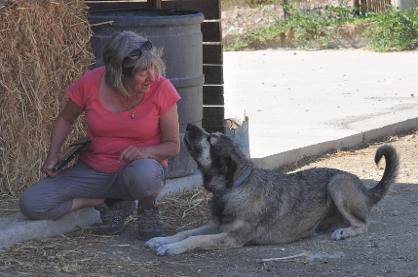 The prize of the farm are the 'Girgentana' breed of goat, with their most unique horns.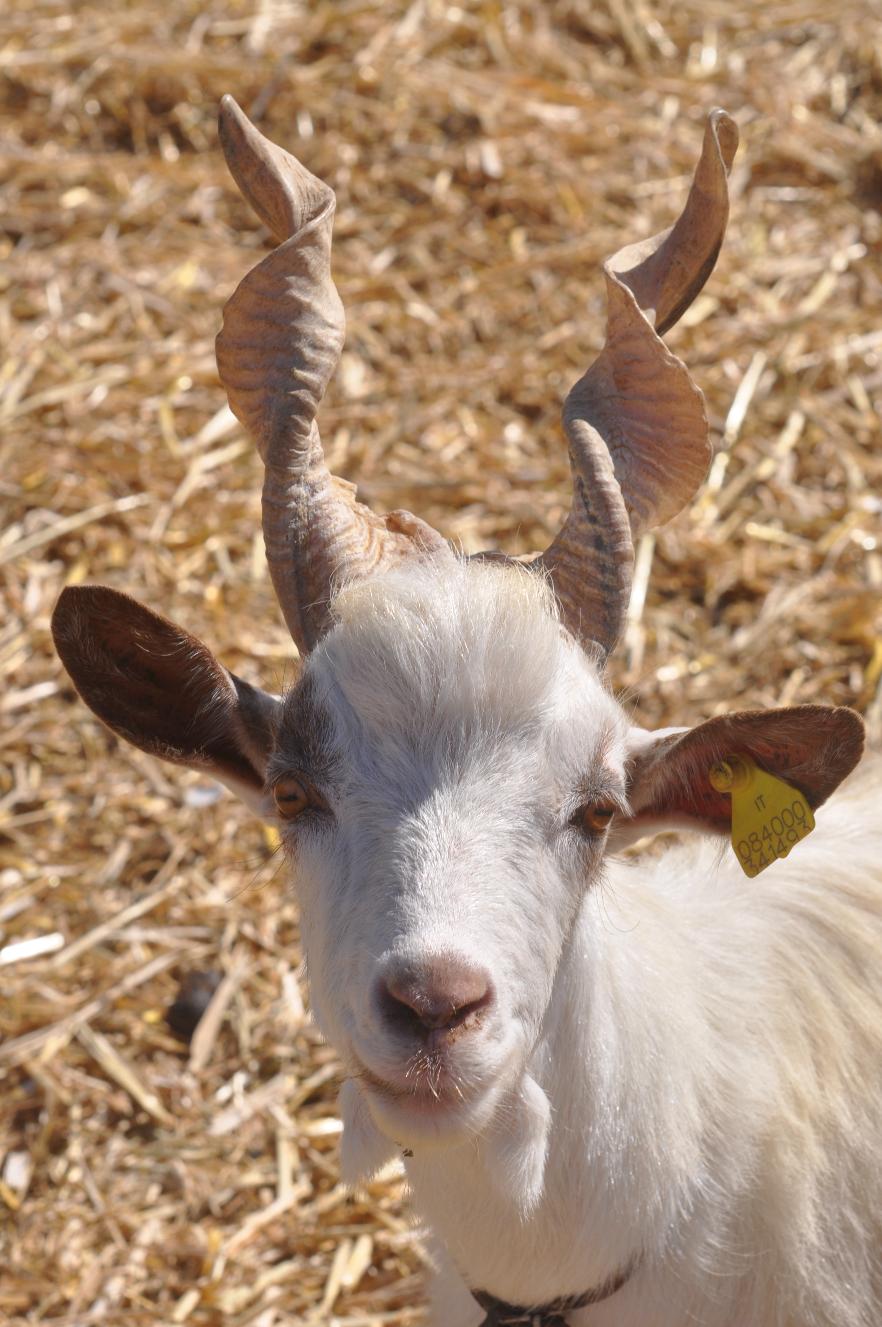 "Ok, nice straight line, everybody smile" said I.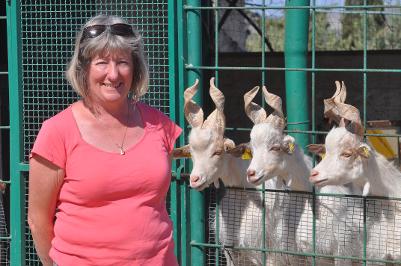 "Come closer come closer ... I won't bite." said the goat.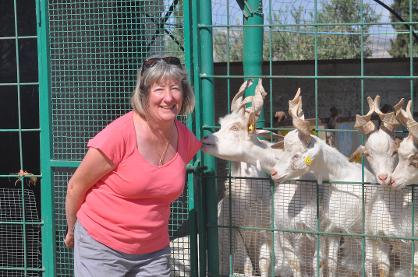 "Sorry I have to whisper but I don't want the others to hear - do you have any snacks, breakfast was a bit light this morning" said the goat.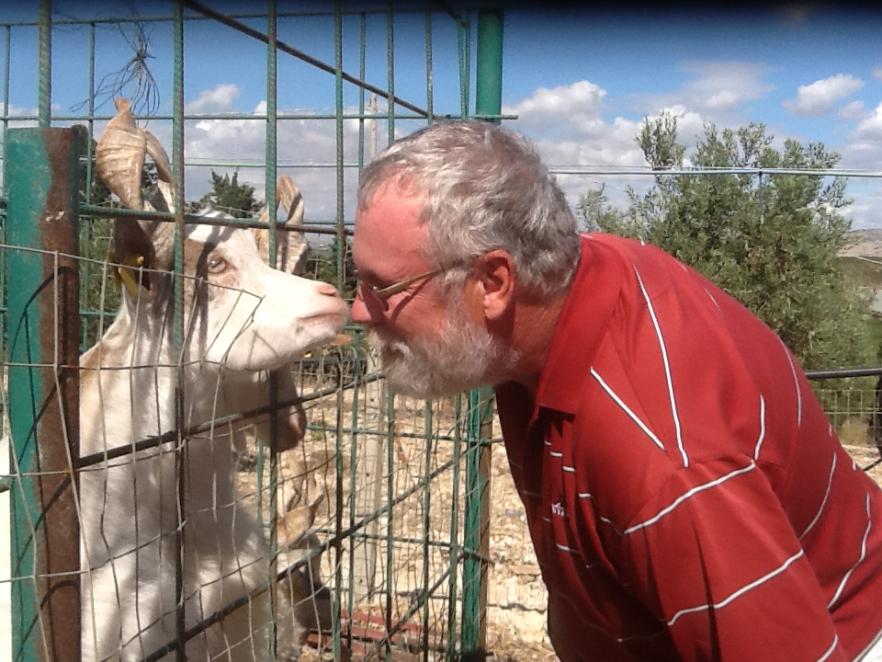 But there are also and geese ...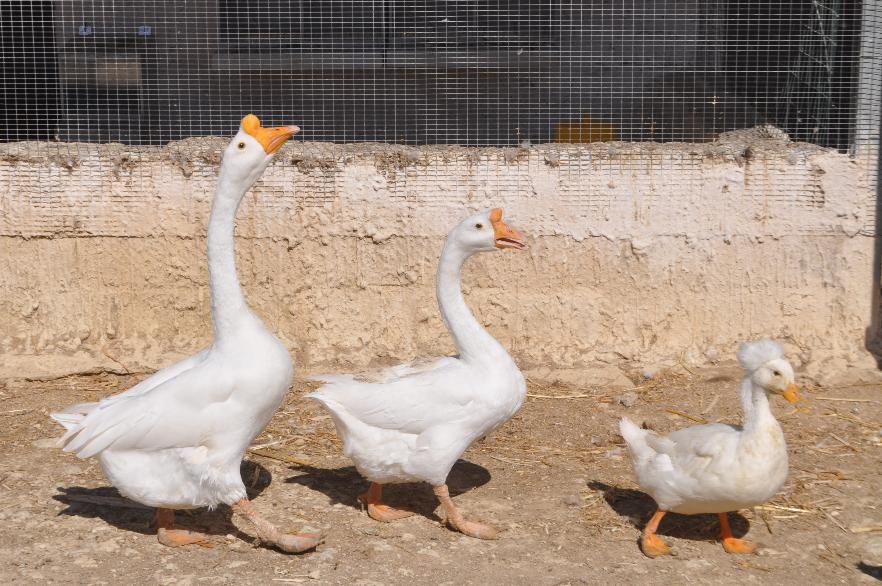 ... and pigs. The babies were so cute, not that mom wasn't. She was a real ham for the camera.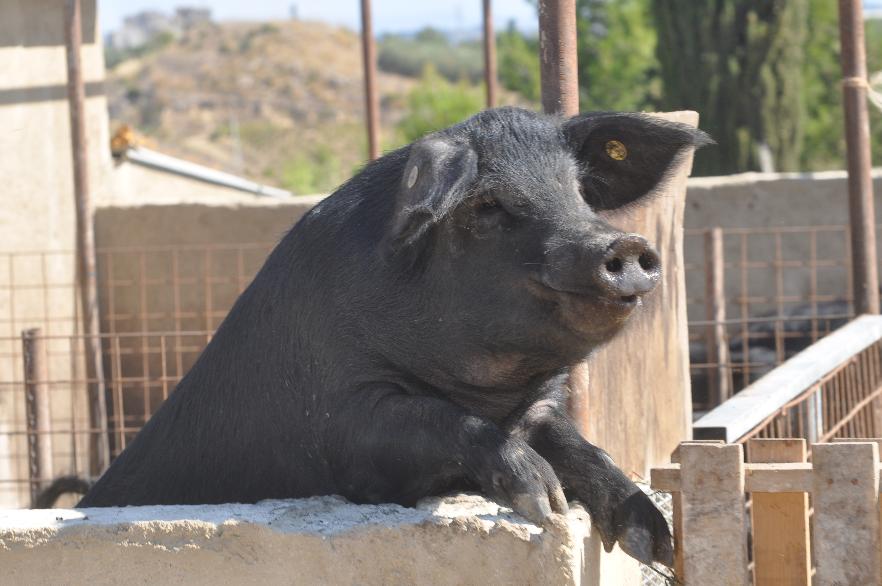 ... and Sardinian donkeys rather than Sicilian donkeys because they are shorter so that when the children look at them they look them in the eye rather than looking up at them.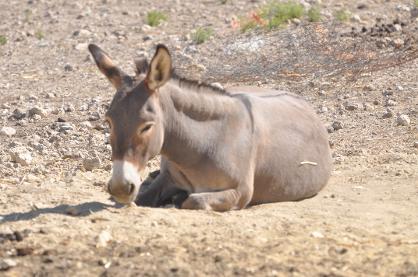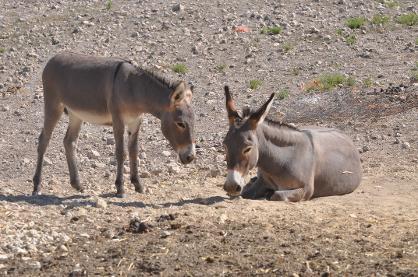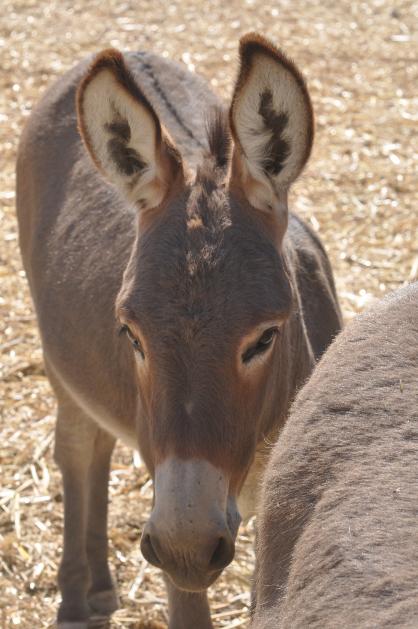 Gayle and Salvatore out on the farm.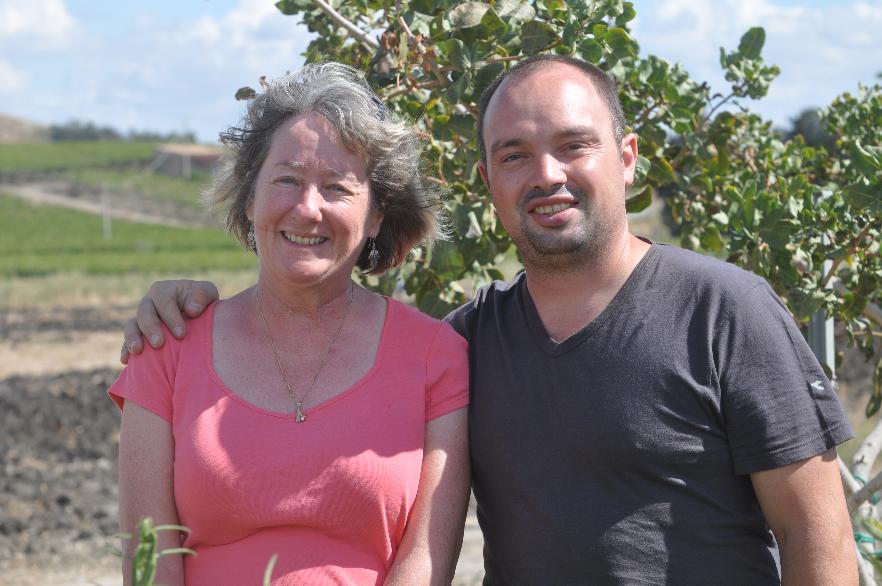 A field of new ripe pumpkins and beautiful fresh tomatoes.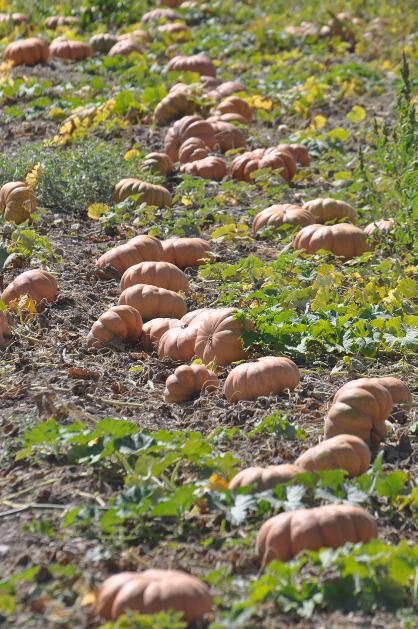 The farm is one of a very few to have the rare Girgentana goat. Salvatore is proud of his organic certification.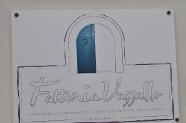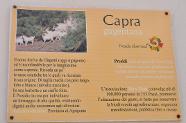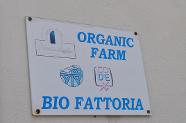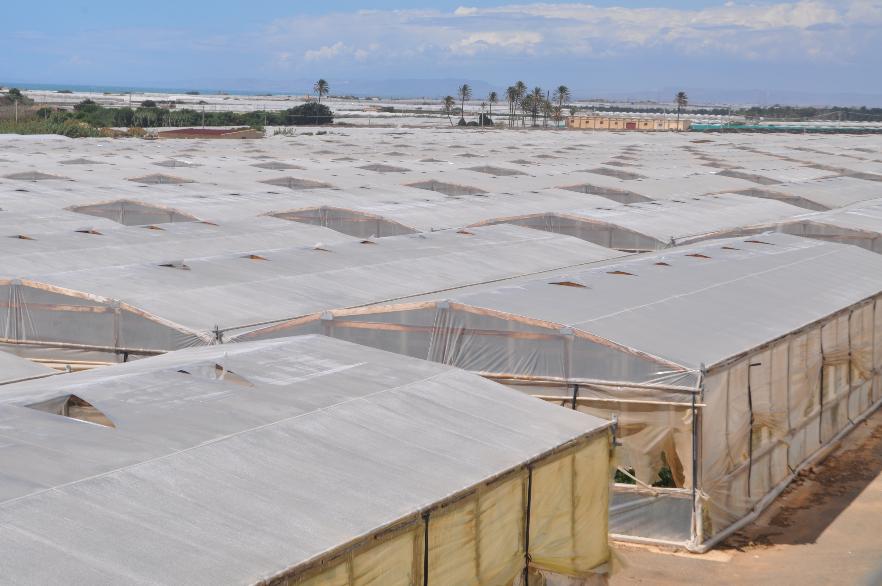 Right in the middle of a seaside village a shepherd and his flock of sheep - strange sheep with these really long tails - longer than that of a dog.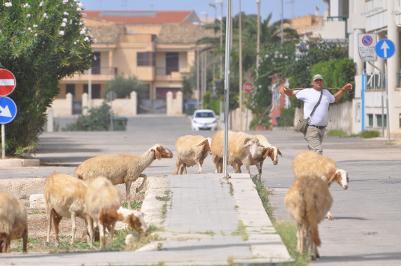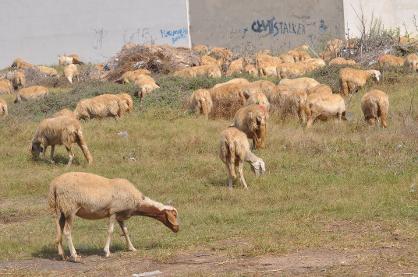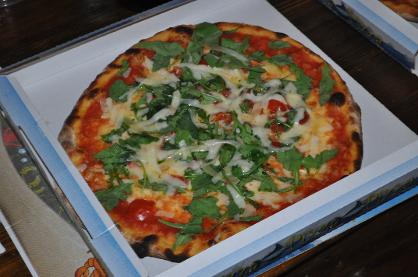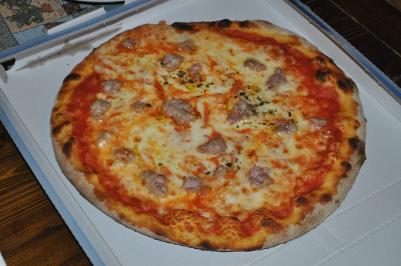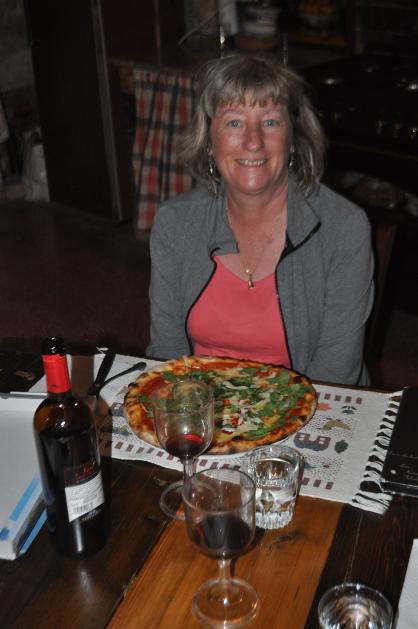 20 September 2016 - Fattoria Vassallo, Cale del Re and Licate

Breakfast at Fattoria Vassallo is of the 'sweet' variety - coffee, bread with jams and cookies/cakes. We were provided a light sponge type cake that was very nice.

After a morning of relaxation and a short walk down the road to enjoy the vistas of the rolling hills, vineyards, olive groves, fruit and almond trees we drove to the coast to a beach recommended by Salvatore. Cale del Re is about eight kms west of Licate. A very nice beach although with the wind swimming was not advisable. The beach did slope off gently allowing us to wade in and enjoy the waves and refreshing sea. We enjoyed a couple of hours soaking in the sun.

We then went into the town of Licate, a relatively small port town dating form 280 BC. The town's historic center is largely Baroque. Through the center are two long wide tree-lined avenues with palaces and interesting architecture, along with a number of cafes, gelaterias and restaurants. There are many narrow alleys that crisscross the old town reaching down to the harbour. As well we saw as a number of older men sitting around, discussing the day's issues - exactly what we imagine Sicilian life to be like but something we had not seen in the rural areas.

We returned to Fattoria Vassallo for another filling dinner. In particular the antipasti, tonight essentially a buffet rather than a single plate was a meal in itself. Great bread, marinated olives, tasty oily sun-dried tomatoes, two cheeses, the most delicious fresh goat cheese - with a flavour much more subdued than that of most goat cheeses - and the Tallegio like cheese, stewed peppers and for me some dried ham, all with Salvatore's excellent wine. This would have been plenty on its own but of course there was then a pasta dish, for me a beef cutlet and for Gayle an really nice salad that she very much appreciated but could barely make a dent in, and again fresh grapes to finish the meal. Tonight Salvatore's sister Laura and her boyfriend Flavio prepared and served the meal.
And all for only 15 euros each. We felt so guilty eating so well we actually gave Salvatore 20 euros each for the meal, and even that was a steal, particularly in that it included the wine.


Our freshly baked breakfast cake.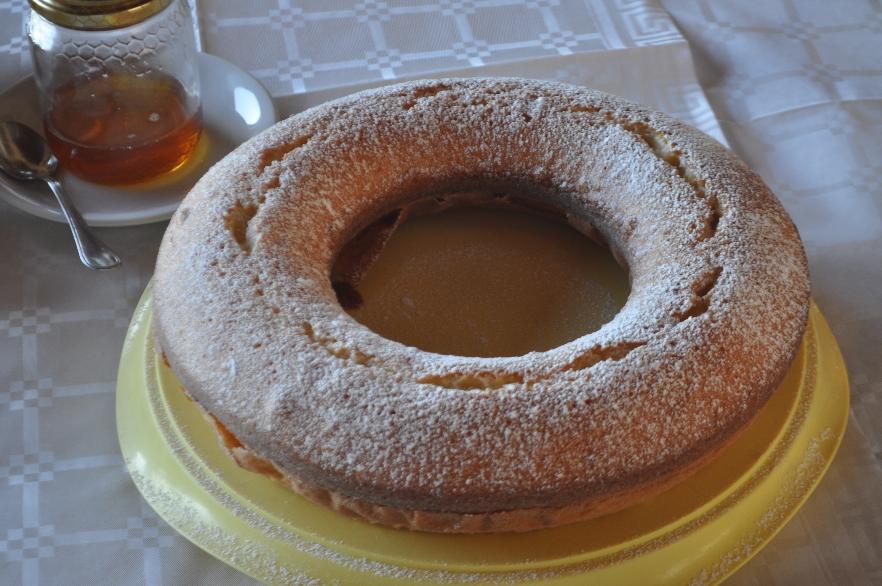 A nice stone wash basin at Fattoria Vassallo.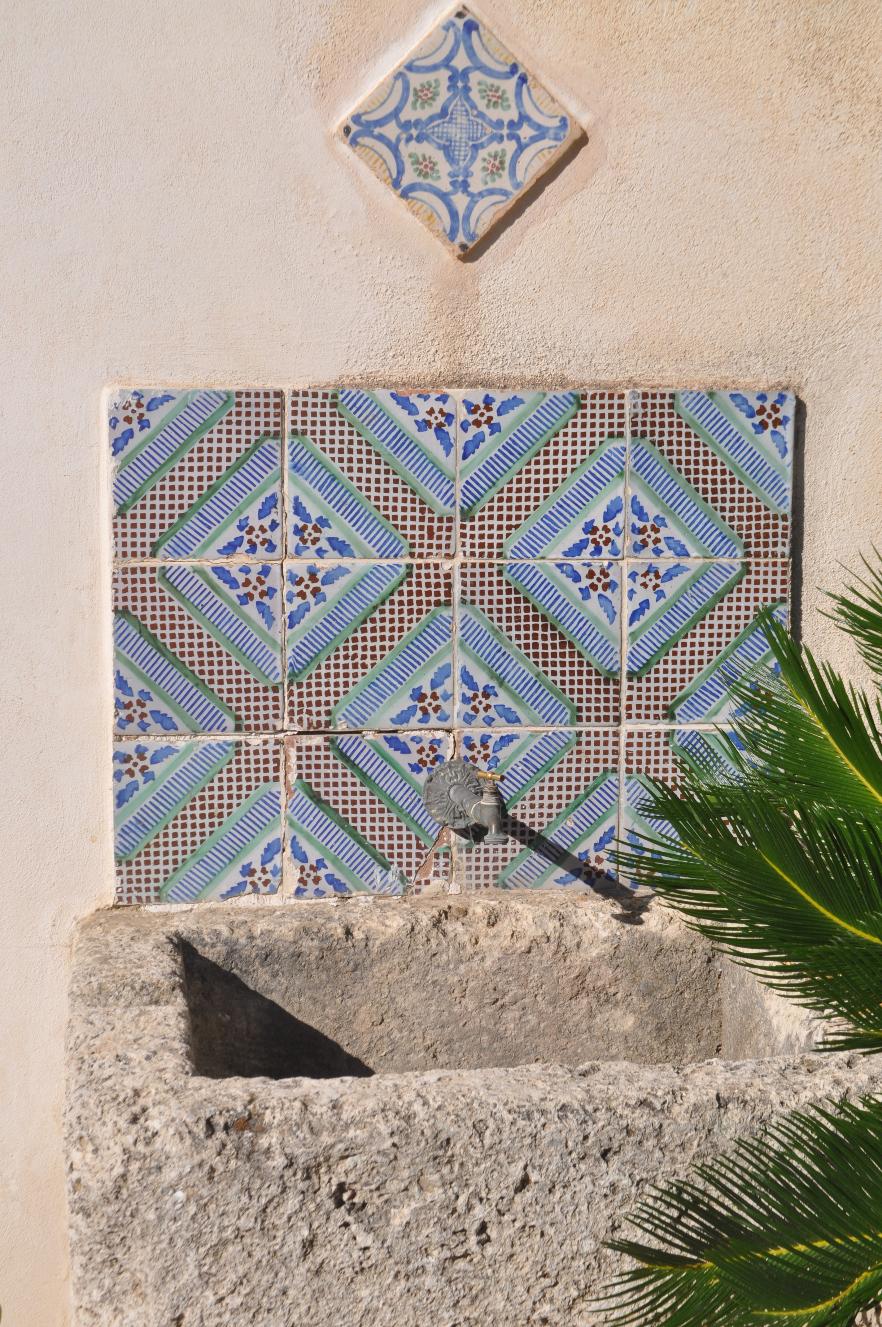 Cale del Re, a pretty cove, where we spent a couple of hours on the beach.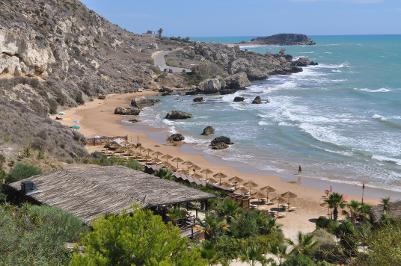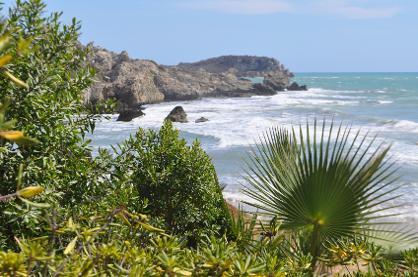 Gayle says never turn your back to the sea/ocean, even for a photo as a wave might knock you over.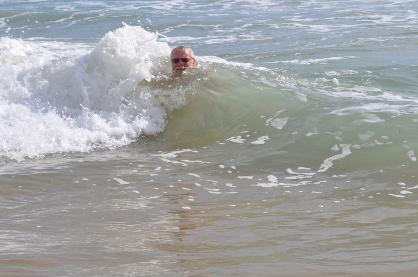 ... and yet again she was right. Where did that wave come from?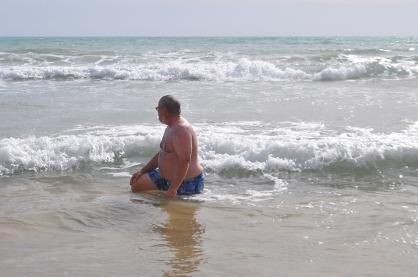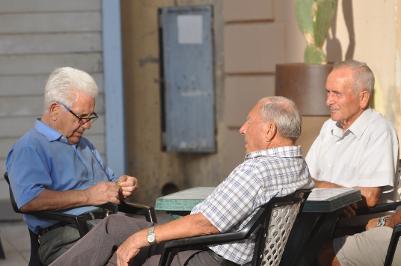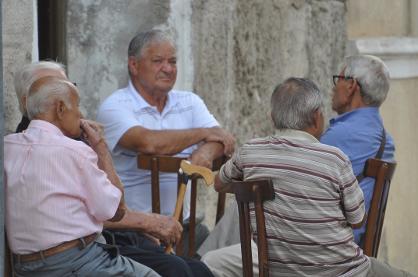 A couple of typical narrow alleyways/streets in the centro of Licate.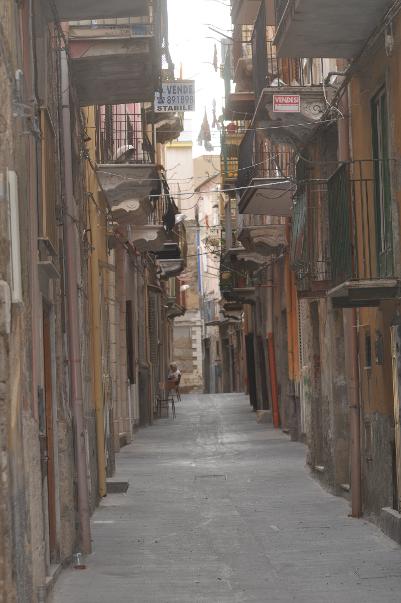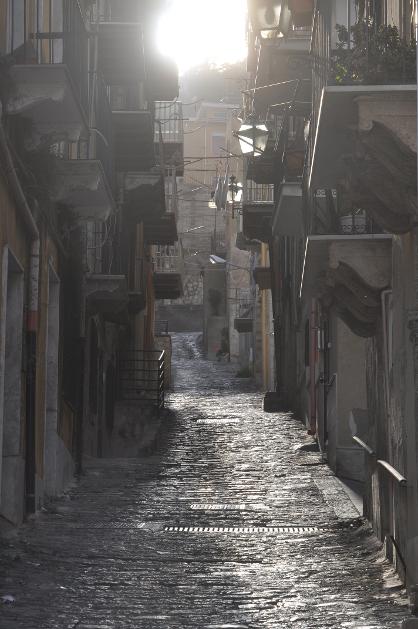 Salvatore says the umbrellas are for a festival and the clothes drying - simply typical Italian.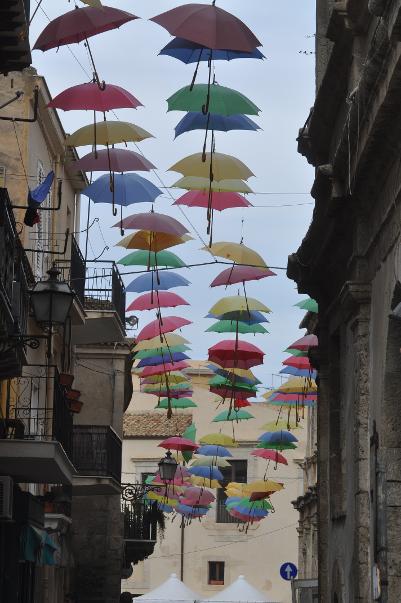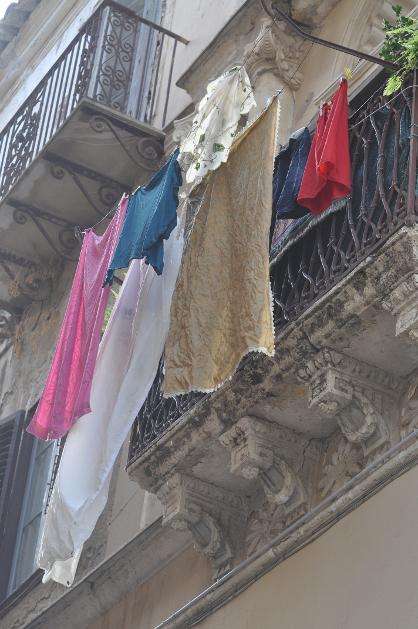 Tonight Salvatore's sister Laura and her boyfriend Flavio prepared and served dinner.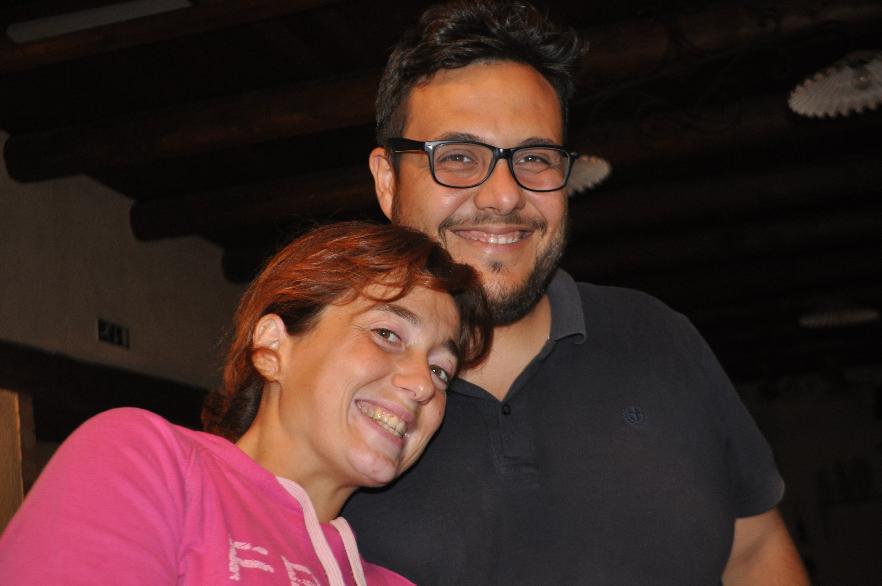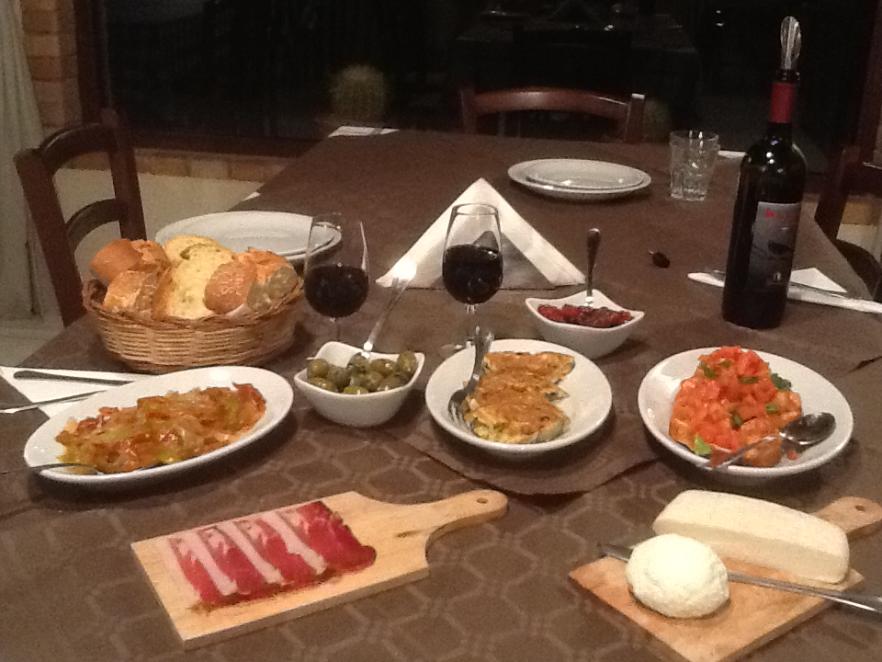 The bruschetta was so tasty - fresh tomatoes, olive oil and basil - simple but so good.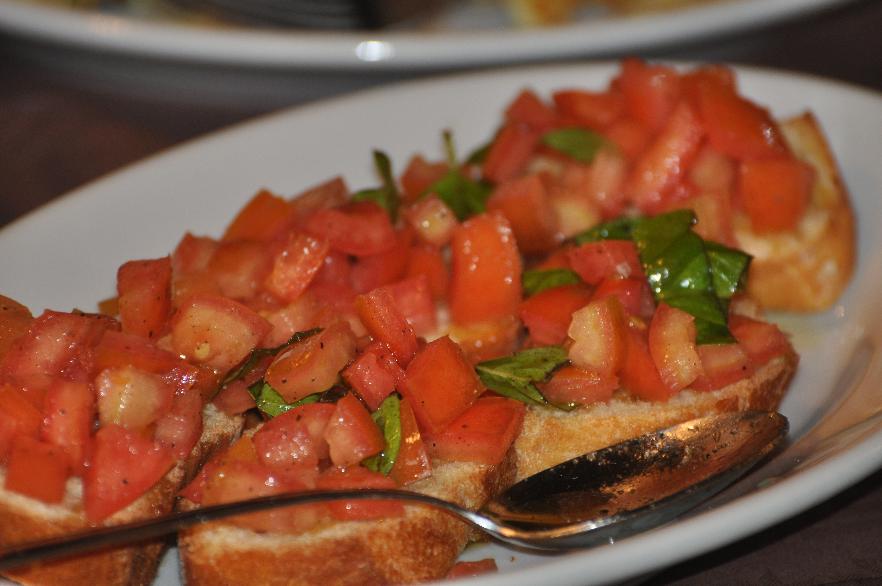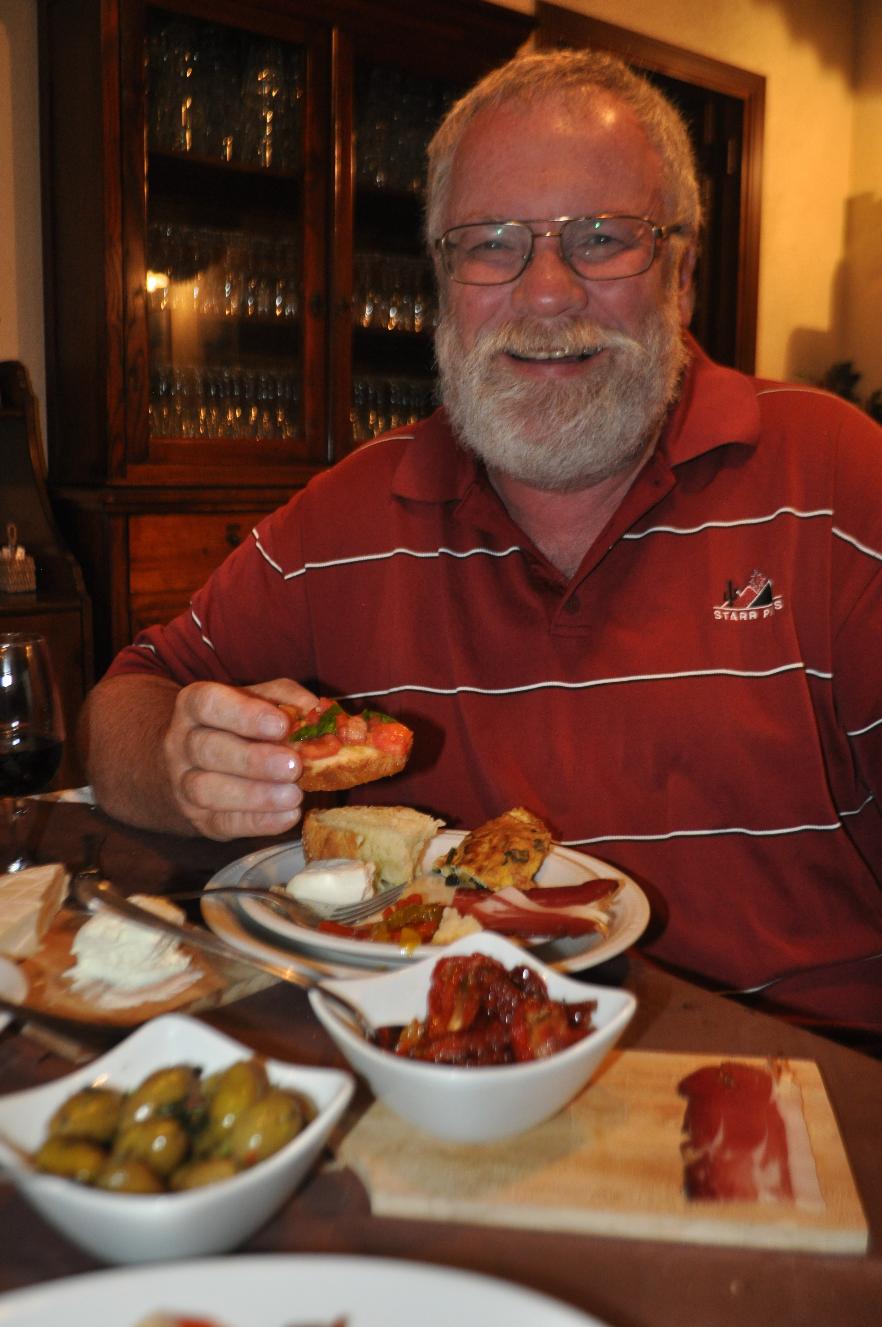 Now a salad might not seem all that exciting but for Gayle a fresh salad of tomatoes, cucumber, carrots, lettuce, raddicio etc. was a welcome light final course. And simple but fresh picked grapes from Salvatore's vines were a tasty finish to the meal.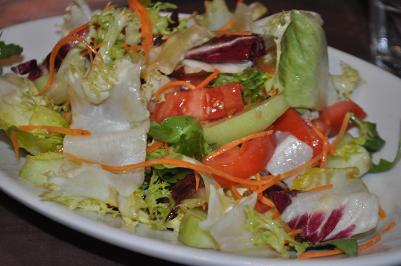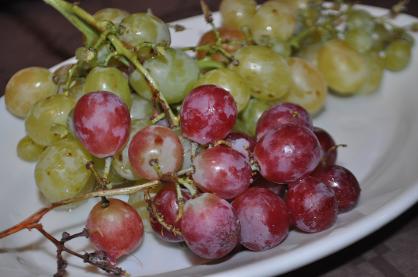 19 September 2016 - Laguna dei Fenici - Marsala to Fattoria Vassallo


We awoke to some strong winds that were no doubt welcome to the kite surfers that frequent the area. After another 'salty' breakfast during which we had a nice chat with two Austrian fellows we left for a lengthy drive, first south through Marsala (nothing noteworthy) and then east along the south coast of Sicily through some nice rolling hills covered with vineyards and olive groves. Although this was to be our longest driving day we did stop at the ruins of Selinunte for a few hours.
Selinunte was an ancient Greek city on the south-western coast of Sicily. The archeological site contains five temples centered on an acropolis. Of the five temples, only the Temple of Hera, also known as "Temple E", has been re-erected. At its peak before 409 BC the city may have contained up to 30,000 people.
Temple E dates to 460-450 BC and has a very similar plan to that of two other temples on the acropolis. Its current appearance is the result of reconstruction using the original material carried out – controversially – between 1956 and 1959. The peristyle is 25 x 68 meters with a 6 x 15 column pattern (each 10 meters high) with numerous traces of the stucco which originally covered it remaining. Temple E was supposedly dedicated to Hera based on an inscription but some scholars deduce that it must have been dedicated to Aphrodite on the basis of structural parallels (or so says Wikipedia).
The acropolis is a chalk massif with a cliff face falling into the sea in the south. The settlement in the form of a massive trapezoid, extended to the north with a large retaining wall in terraces (about 11 meters high) and was surrounded by a wall (repeatedly restored and modified) with an exterior of squared stone blocks and an interior of rough stone. It had five towers and four gates. To the north, the acropolis was fortified by a counter wall and towers from the beginning of the fourth century BC. At the entrance to the acropolis is the so-called Tower of Pollux, constructed in the sixteenth century to deter the pirates atop the remains of an ancient tower or lighthouse. Temple C, the oldest in this area, dating from 550 BC had in 1925-1927 fourteen of the north side's seventeen columns re-erected.
It was all very impressive.
We continued driving east past some beautiful beaches and the city of Agrigento, where there are other apparently very impressive ruins. Eventually we made our way about 15 km inland to Fattoria Vassallo, an organic farm where we will be staying, and eating the next two nights. Salvatore showed us his animals, including native Gergenti goats from which his cheese is made. Dinner started with an absolutely wonderful antipasta of ham (for me), fresh goat's cheese, a Tellegio cheese, olives, sun dried tomatoes and an egg/asparagus/pea frittata - a meal in itself, followed by a busiate pasta, with a fresh tomato (but no garlic) sauce and a cheese made by Salvatore similar to but not exactly parmesan. Then for me there was a pork chop and Gayle a fried cheese dish. All sourced from the farm, all organic, and all accompanied by Salvatore's very good home made Merlot / Nero D'Avola wine. For dessert we enjoyed some just picked grapes and a glass of Limencello. An unbelievably great meal for the ridiculous price, including the wine of 15 euros each.

Kite surfers (yes it is windy here) as seen from our terrace at Laguna dei Fenici.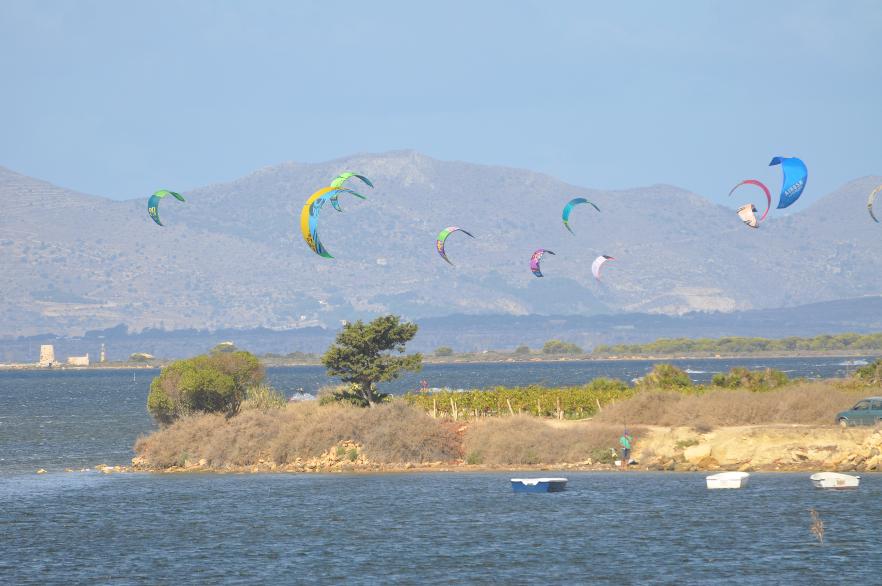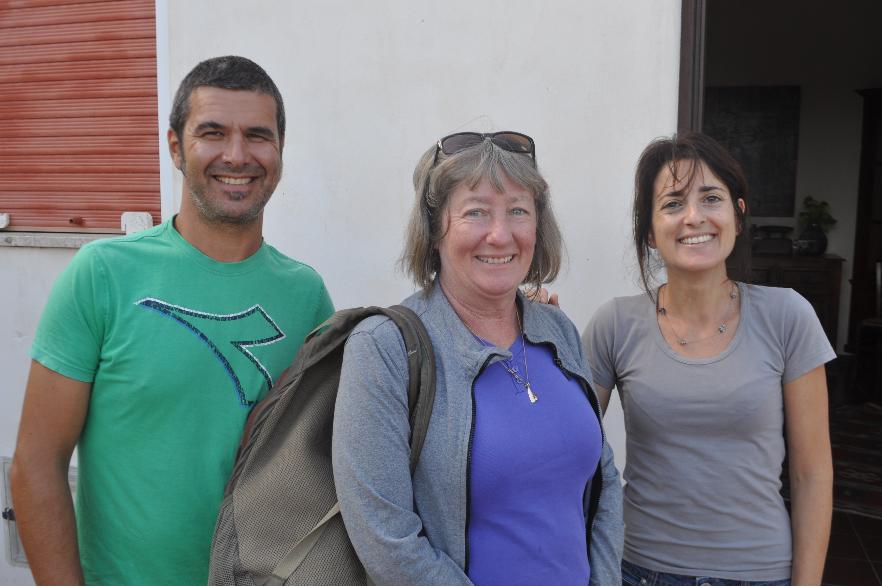 The first view of the impressive Temple E.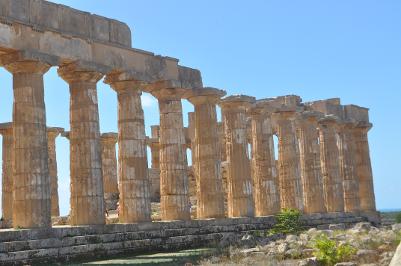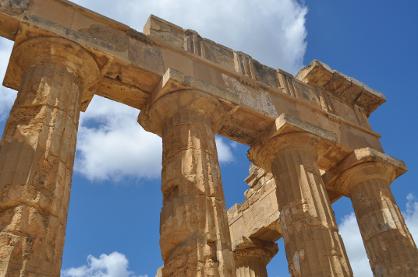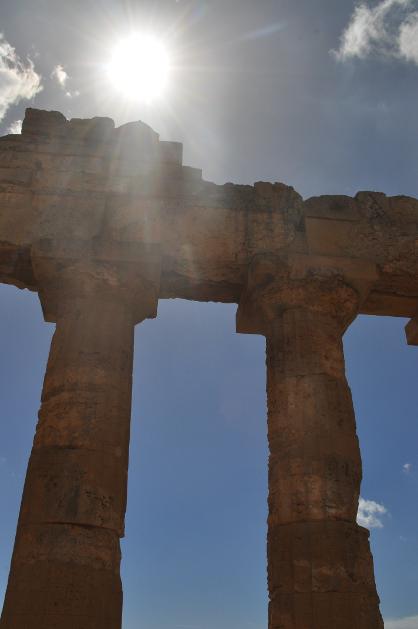 The Acropolis, or Temple B.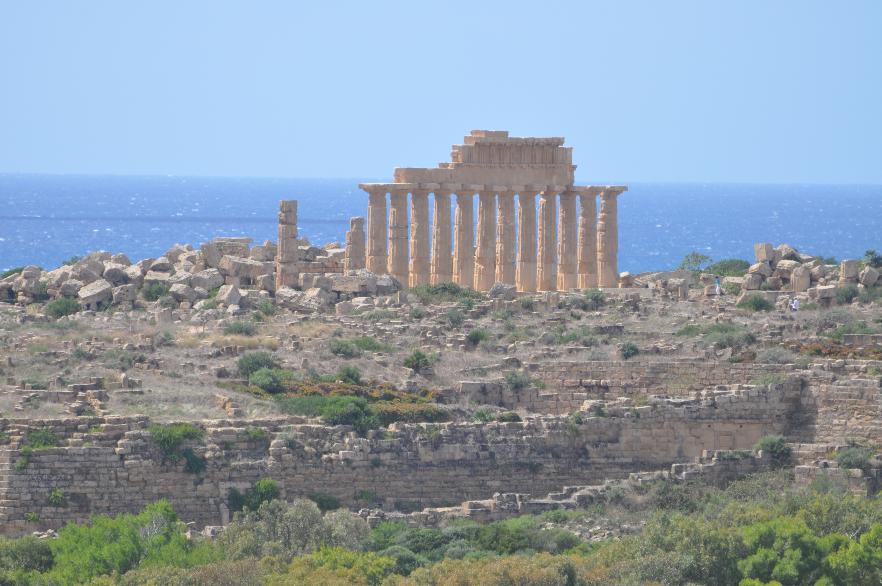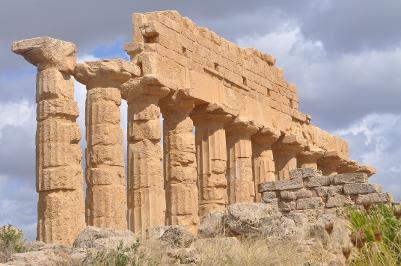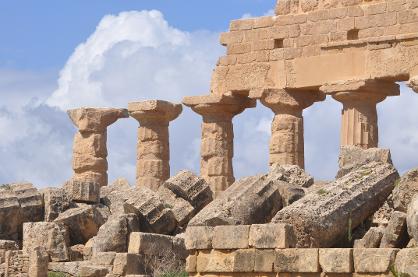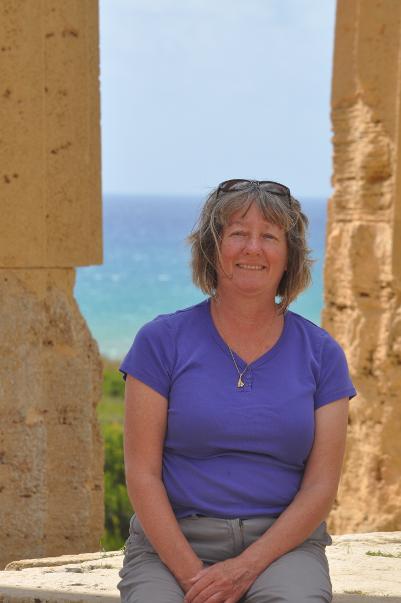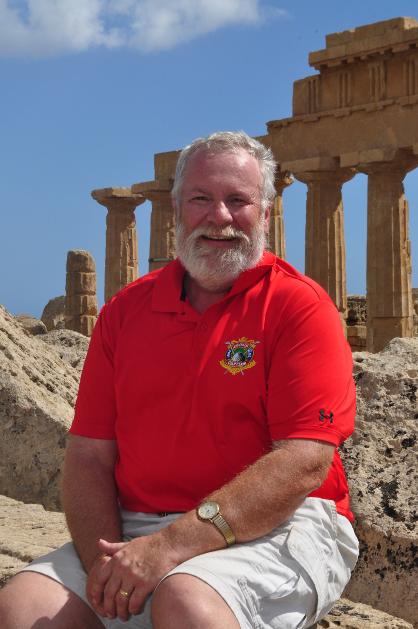 A flock of sheep and a 'modern' shepherd, complete with cell phone.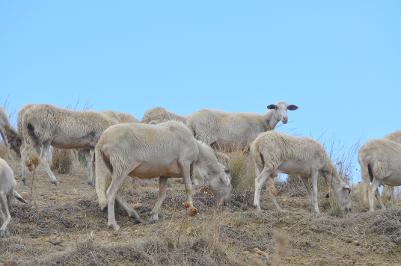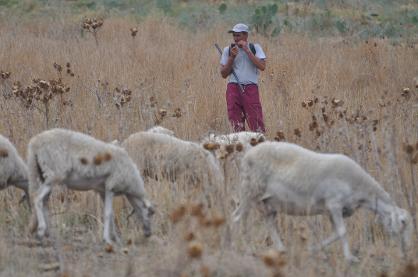 The white limestone cliffs set off the blue sea along parts of the southern coast of Sicily.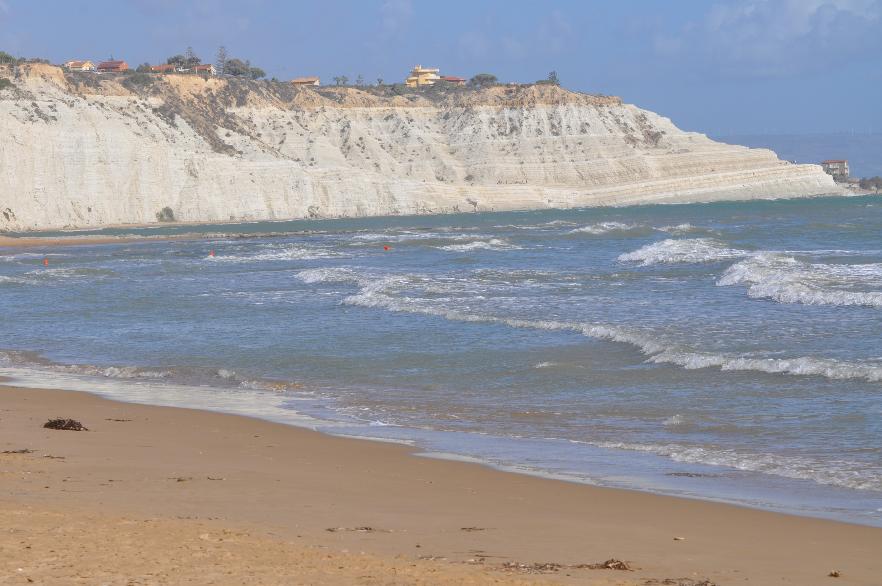 Just driving along the road approaching Agrigento and there on a hilltop are more ruins.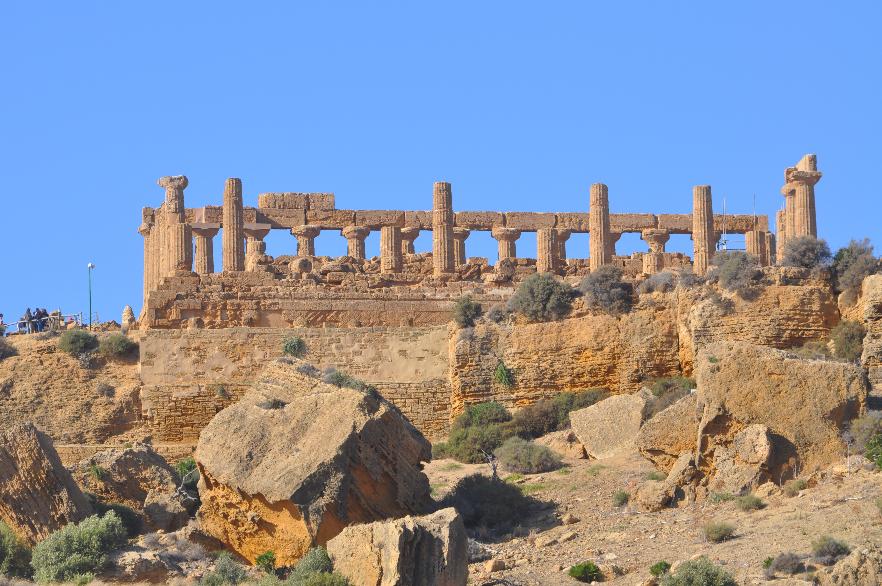 Our delicious antipasta and Salvatore, our host.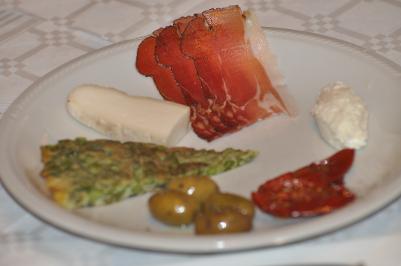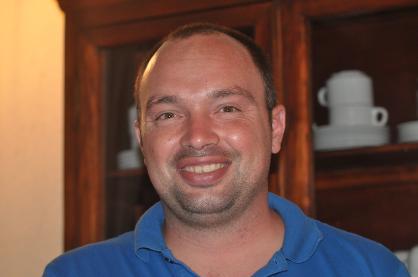 18 September 2016 - Laguna dei Fenici - Marsala


We started the day with a 'salty' breakfast, being the opposite of the traditional southern Italian 'sweet 'breakfast of little more than coffee and cookies/cakes. Here are B&B Laguna dei Fenici Aila serves a much more complete breakfast in respect of the expectations of her guests. We asked about the term 'salty', first thinking it had something to do with the salt production of the area but no, it was an alternative to 'savoury', i.e. the opposite of sweet used to describe the traditional breakfast. Not that there weren't croissants, cookies and fresh baked home-made cake to accompany the eggs, tomatoes, cheese and ham, yoghurt, juice and fresh fruit. We almost needed a nap after eating so much.

We then went for a drive along the lagoon and salt flats that stretch to the shore from the small island of Mozia here on the west coast of Sicily just north of Marsala. The area is a protected reserve, being the
largest lagoon in Sicily, characterized by shallow water of one to two meters deep and often no more than 50 cm. The lagoon formed
relatively recently (i.e. it did not exist at the time of Phoenician colonization of Mozia) following the movement of sand caused by underwater currents. The main activity o
f the lagoon is salt, which is extracted by evaporating water channeled into special ponds.
Pumping water and grinding of salt were carried out by means of windmills, some still preserved. In spite of its seemingly hefty price of 7 euros we decided to go into the windmill/museum where there was an informative 10 minute video of the production process of the salt along with an opportunity to wander through and up the windmill. The video was good, being quite informative but otherwise the museum was somewhat lacking. But we did learn about the process for producing the salt, the contribution of the windmill and the aspects of manual work.

We considered the boat tour around Mozia island but decided against it, returning to our B&B. Unfortunately the clouds rolled in covering the setting sun. We returned to the restaurant near the museum where we had for the most part a disappointing meal. A nice plate of busiate alla trapanese the traditional local pasta with fresh tomatoe, garlic and basil sauce but otherwise nothing exciting. Worse though was something we thought could not be served in Italy - a bad glass of wine. We didn't want a full bottle so ordered a glass each. Normally the house wine is decent but this was certainly an exception. Oh well.


Gayle enjoying her 'salty' breakfast.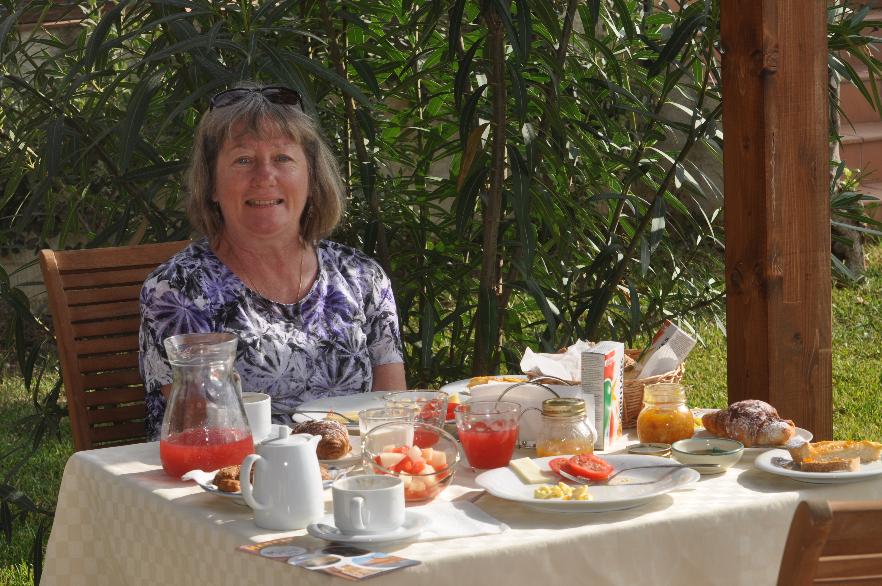 Aila, the owner helping out with the dishes, and Paula the housekeeper. Lots of smiles.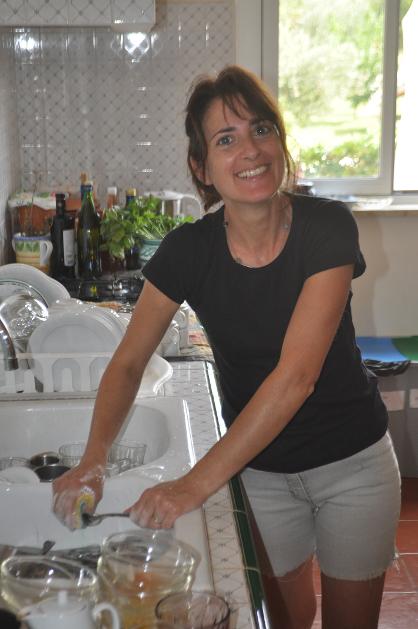 The windmill became an important tool in moving the water from one saltpan to another and then in the grinding of the salt.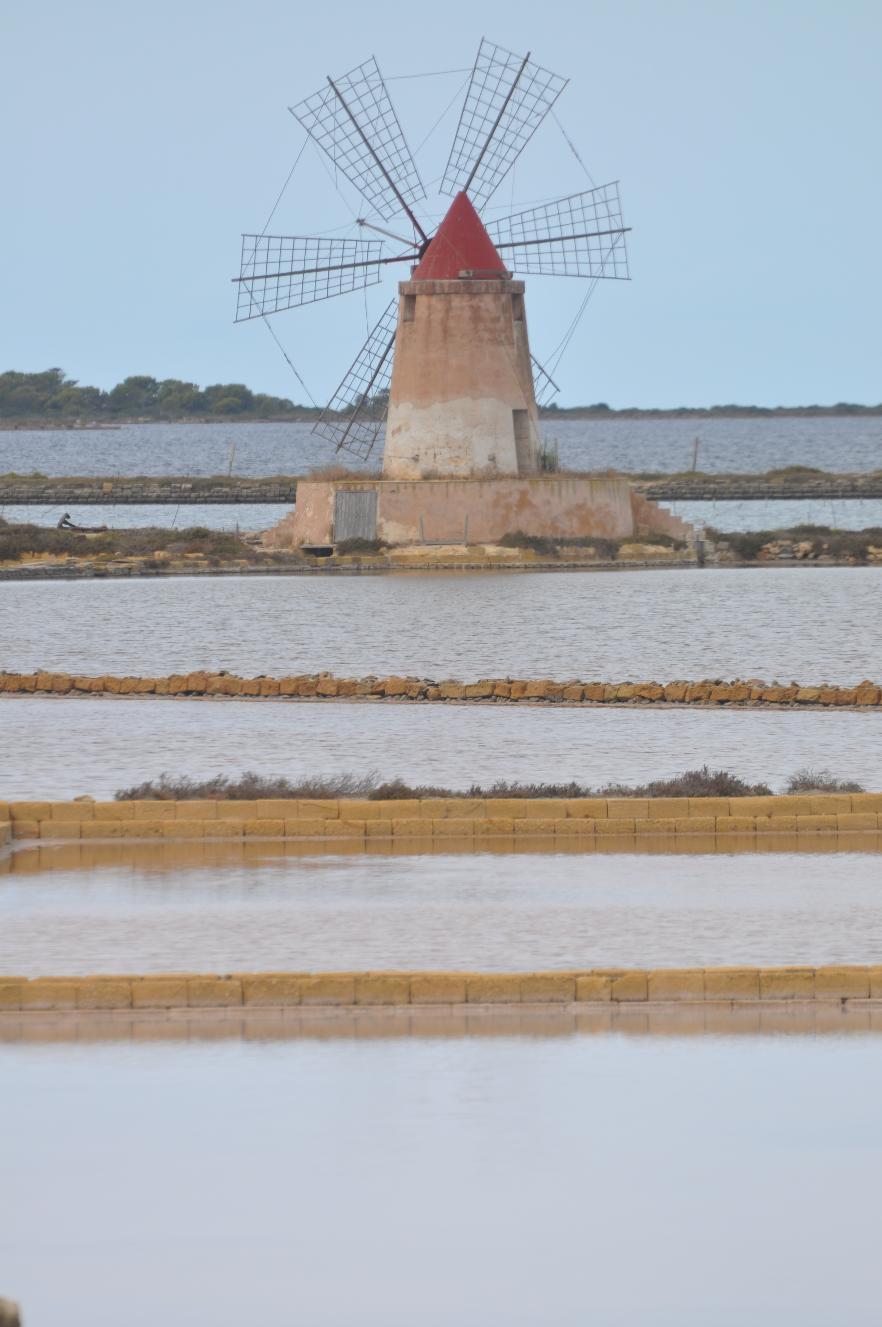 Even on a Sunday the salt was being harvested and piled. Windmills, piles of salt and the saltpans from which the sea water evaporates, leaving the salt crystals.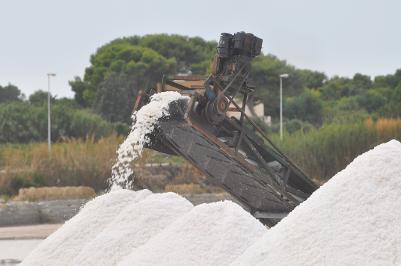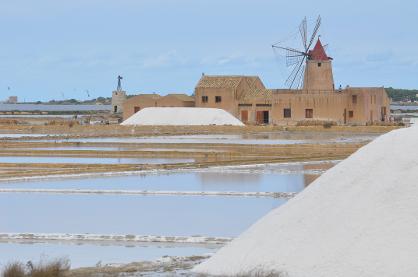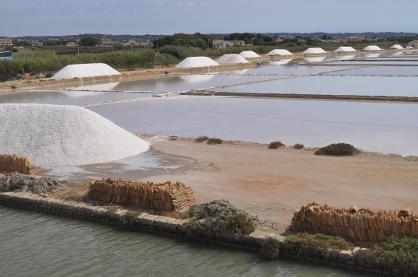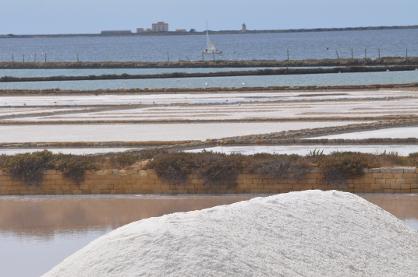 The windmill of the Museo del Sale, first at the museo and then at night as seen from the restaurant.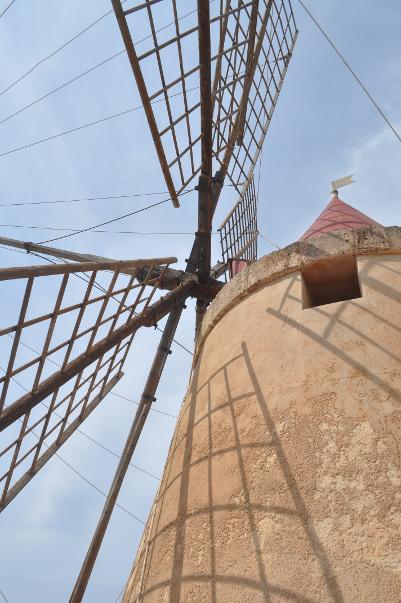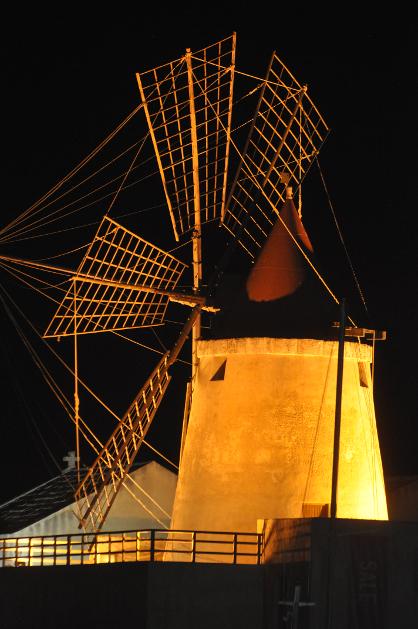 Traditional busiate alla trapenese, with it's tomato, garlic and basilico.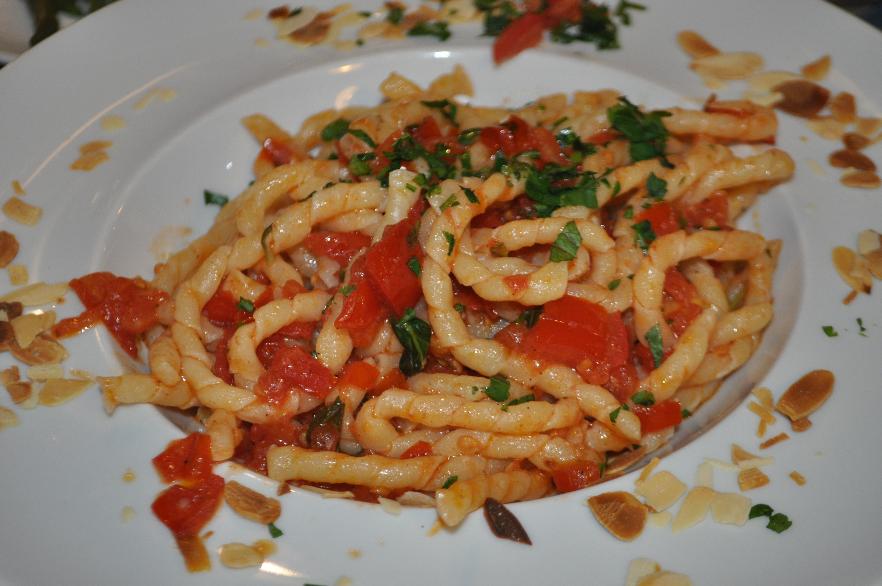 17 September 2016 - Scopello to Marsala

Casale Corcella was a nice stop - perhaps not the most impressive room - somewhat small and a bit dark - another window would have been nice but with a decent breakfast at 70 euros a night it was excellent value. And that view - we can't say enough.

We left, deciding to return to the Reserve Naturale dello Zingaro. This was the first nature reserve established in Sicily when in 1980 residents rose up to challenge a proposal to build a 7 km road from Scopello north to connect with San Vito Lo Capo. The uprising was successful, protecting wildlife and a rugged coast from development. The terrain is quite rugged with elevation changes and numerous rocks along the path. One can walk the entire 7 km but we only had time for the shortest 1 km hike to the first beach, Cala Capreria. Being a Saturday, and attracting those who could not enter Friday afternoon due to the fire we expected it to be crowded, as as you will see below crowded it was. But we found our 2 sq meters to place our towel (really that is pretty much all that was available) and swam with the fishes. We say that as there was a large school of fish that came virtually ashore, aided in part by those feeding them bread etc.. Yes it was unfortunately crowded but a nice experience just the same.

He hiked back out (a little less than half an hour) and left the area for our next stop, in Marsala. The drive was pretty, through rolling hill-sides most of which were covered with vines. Being September we were often stuck behind trucks full of grapes bringing them to the wineries. We had a bit of difficulty finding our B&B - Laguna dei Fenici as we entered Marsala from the east and had to navigate the centro before heading north. The B&B was somewhat further from the city centre than we thought but that is a good thing as we are well out in the country, right on the lagoon.

We were treated to a beautiful sunset before heading out to dinner where we had a local pasta - basiate, and then for Gayle another pizza (how can one go wrong with pizza in Italy?) and me a tasty whole octopus (how can one go wrong with octopus in Italy?). A pleasant bottle of local Zibibbo white wine made for a nice meal to end the day.


Our parting views for Casale Corcella - somewhat difficult to leave.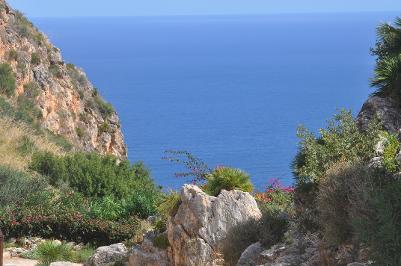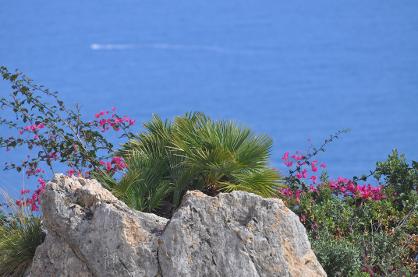 Our first view of Cala Capreria cove / beach.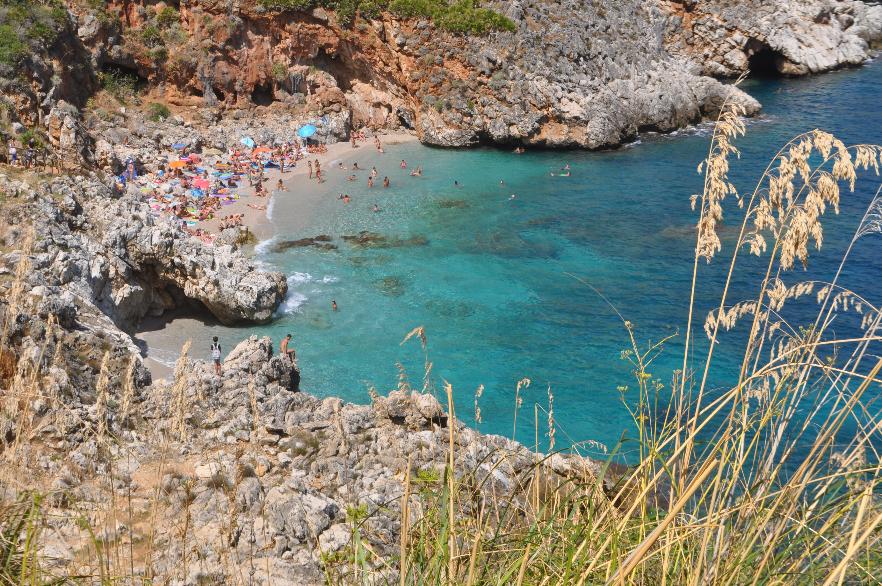 Did we say the beach was somewhat crowded?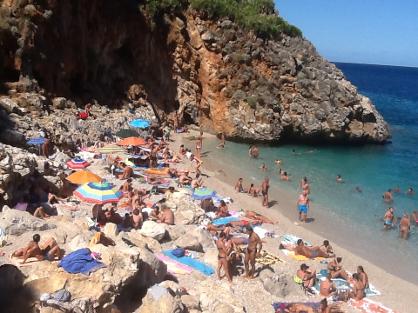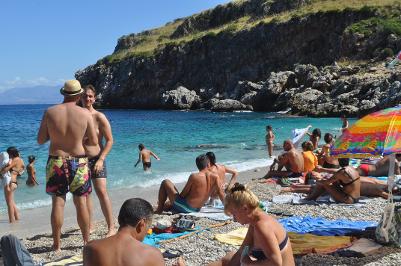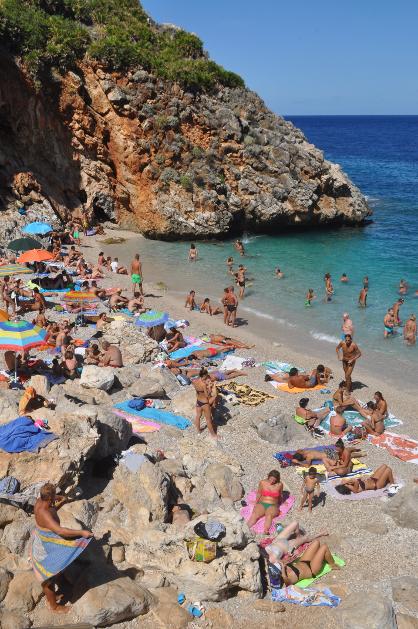 More beautiful coastal scenery ... and Norm.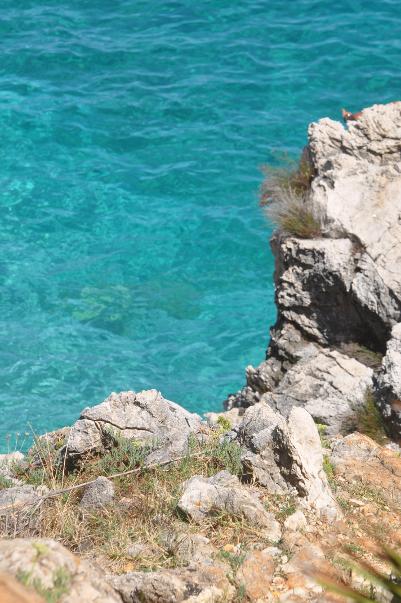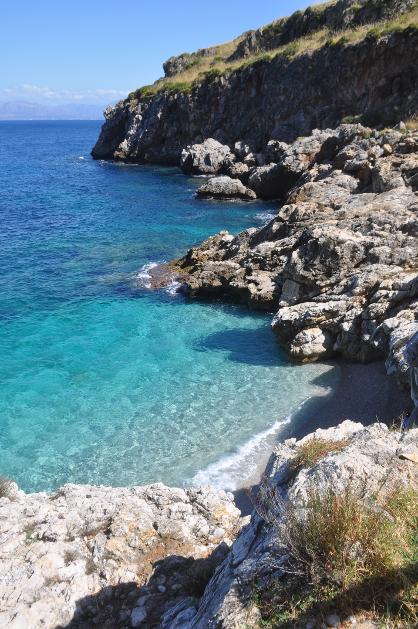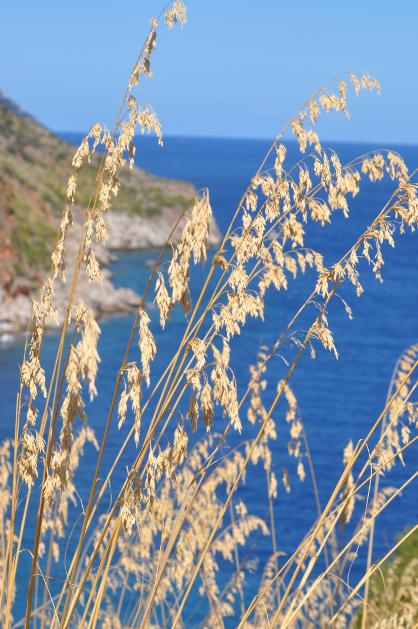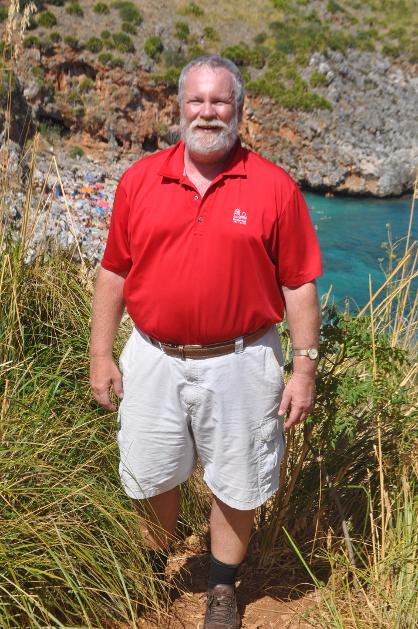 The north-west of Sicily is certainly a wine region, with vineyards covering many of the hill-sides.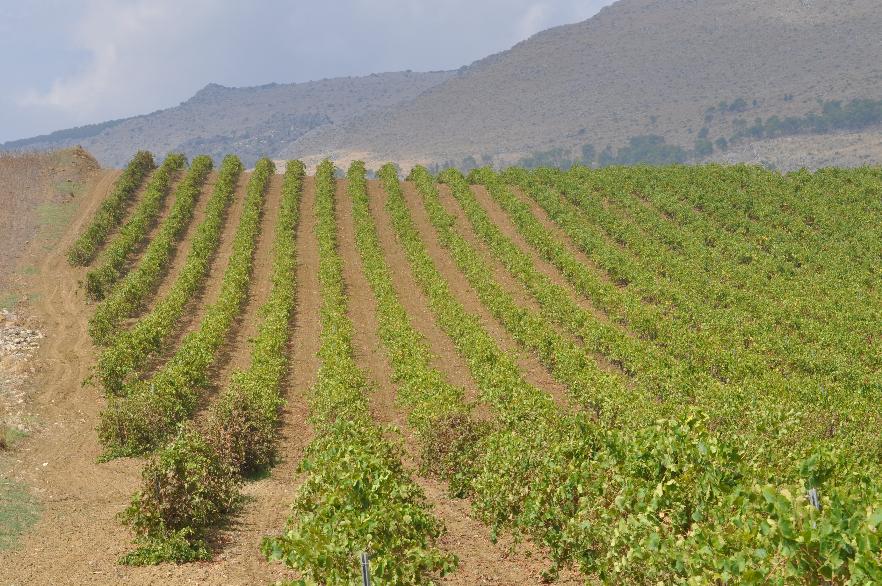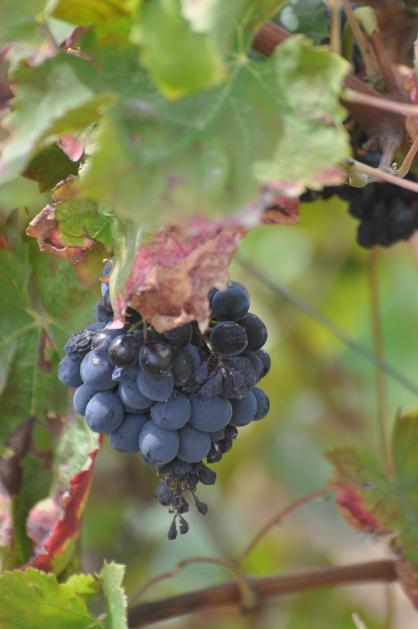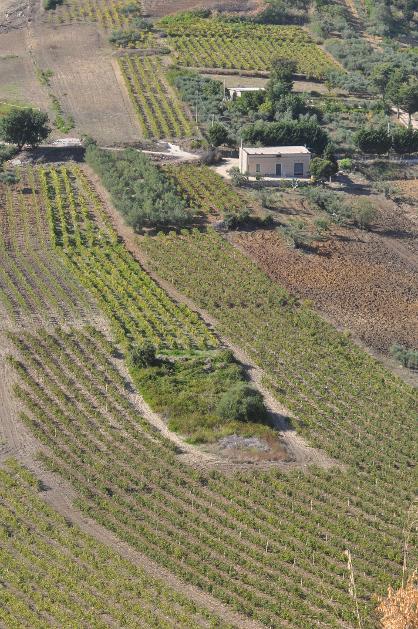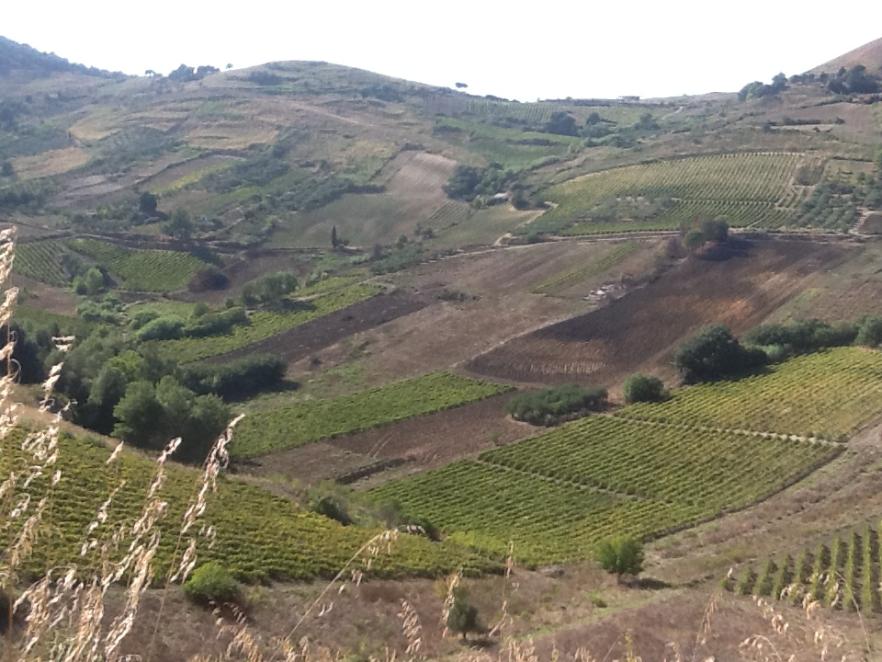 We were treated to a gorgeous sunset.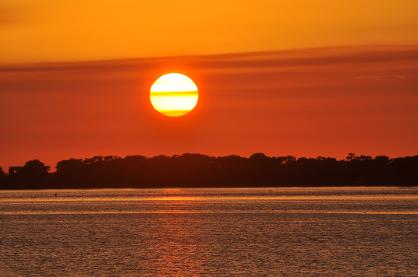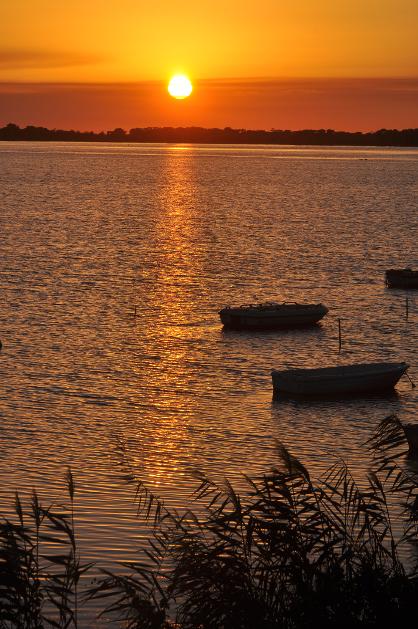 I guess we all need to get used to pizzas for dinner - after all this is Italy and the pizzas have so far been excellent.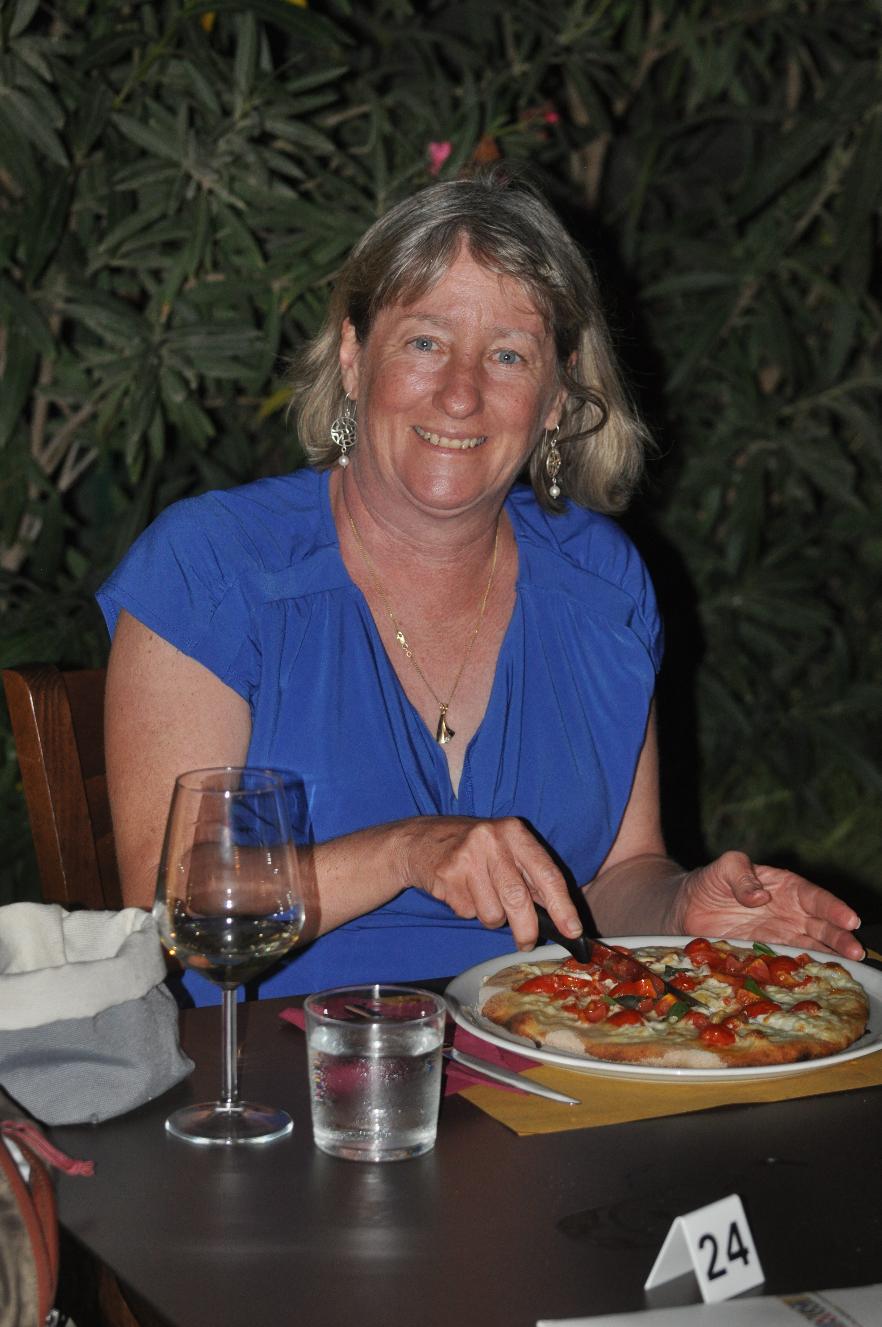 A sharp eye will notice two legs missing - s/he came with all eight but I couldn't wait to try this octopus before taking the photo.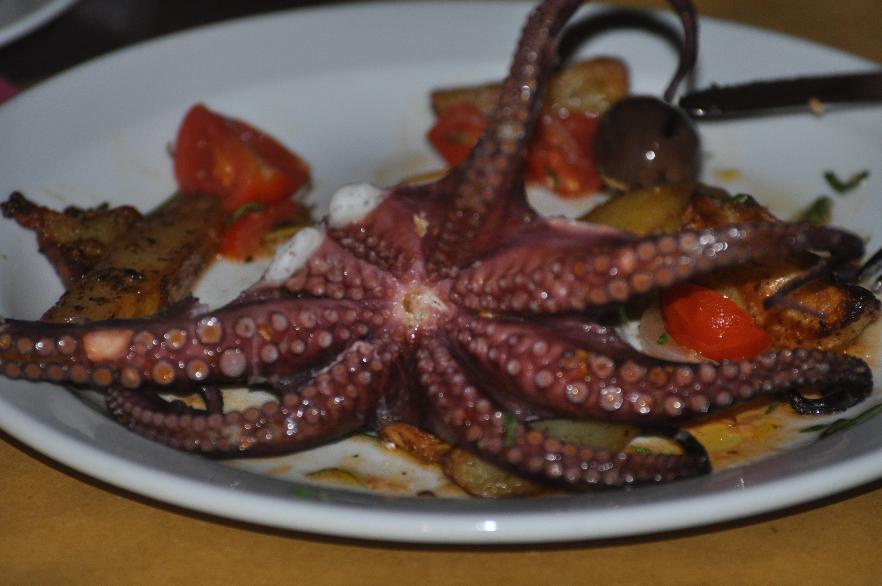 16 September 2016 - Scopello

Today we stayed in the area, first trying to visit the Riserva Naturale dello Zingaro, the first nature reserve established in Sicily after an uprising by local residents blocked the construction of a proposed 7 km coastal road in 1980. Unfortunately shortly before we arrived around 1:00 pm a small brush fire had broken out above the reserve resulting in its closure. So we went a km or so back toward Scopello to another beach, the Lido Cala Mazzoa di Sciacca. There are actually two small beaches, both somewhat crowded but with beautiful aqua/turqoise coloured water, very calm and warm for swimming. We spent a relaxing couple of hours before returning to Scopello for an early meal.

The earliest any restaurant opened was 6:30 pm so we stopped in for a drink (Gayle prosecco, me a lemon peach fresh fruit shake) and a small olive bread panini underneath the famous magnificent eucalyptus tree in the one of the tiny village squares. We then hung out in the 'main' square watching people go by and this dog that treated the bystanders to a show be drinking from and then swimming in the village's fountain. Quite amusing.

Next was our third (and actually fourth as there was a second one this day) wedding in three days. Scopello is certainly the go to place to be married. In addition to the photo crews complete with lighting we saw a first - a drone hovering over the bride and groom recording the event from a different perspective.

Just as we entered the restaurant the winds picked up considerably, enough so that most of the outdoor seating was shut down. Neither of us were very hungry - Gayle only had an insalate mista and me a pizza, before heading back up the hill to Casale Corcella.


Some cheese and tomatoes (which are so much better/flavourful than those back home) for breakfast.


One of the terraces at Casale Corcella with these fabulous views to the sea.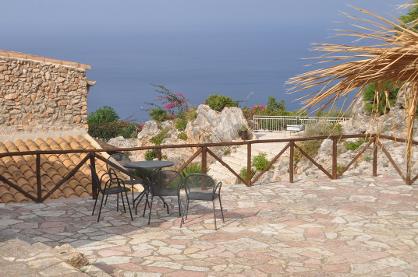 Views down to the sea from Casale Corcella, 1.2 km up the hill.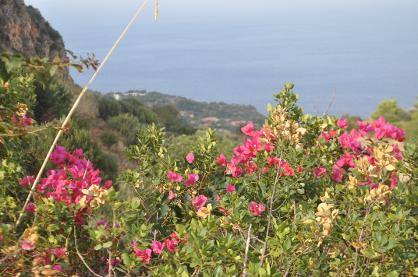 Scopello as seen from Casale Corcella.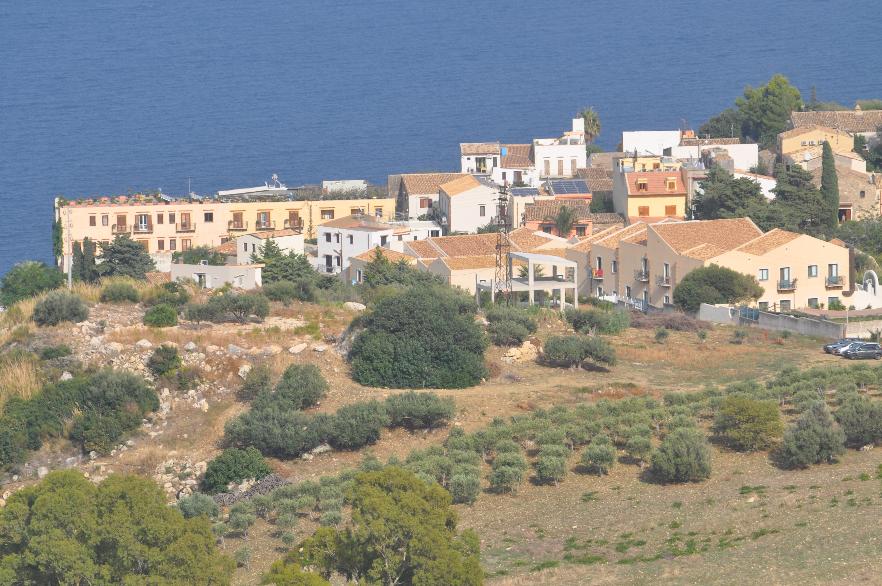 Lido Cala Mazzoa di Sciacca- a nice little cove with great swimming.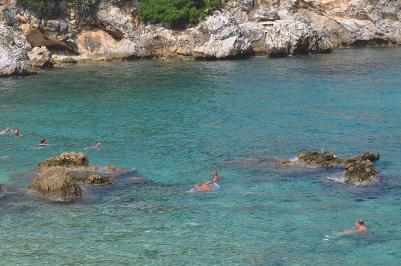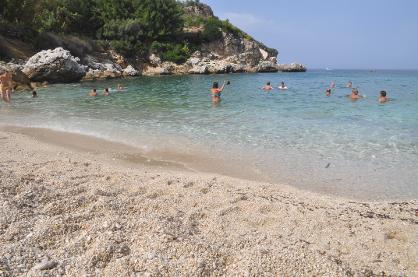 Perhaps not the most elegant pose.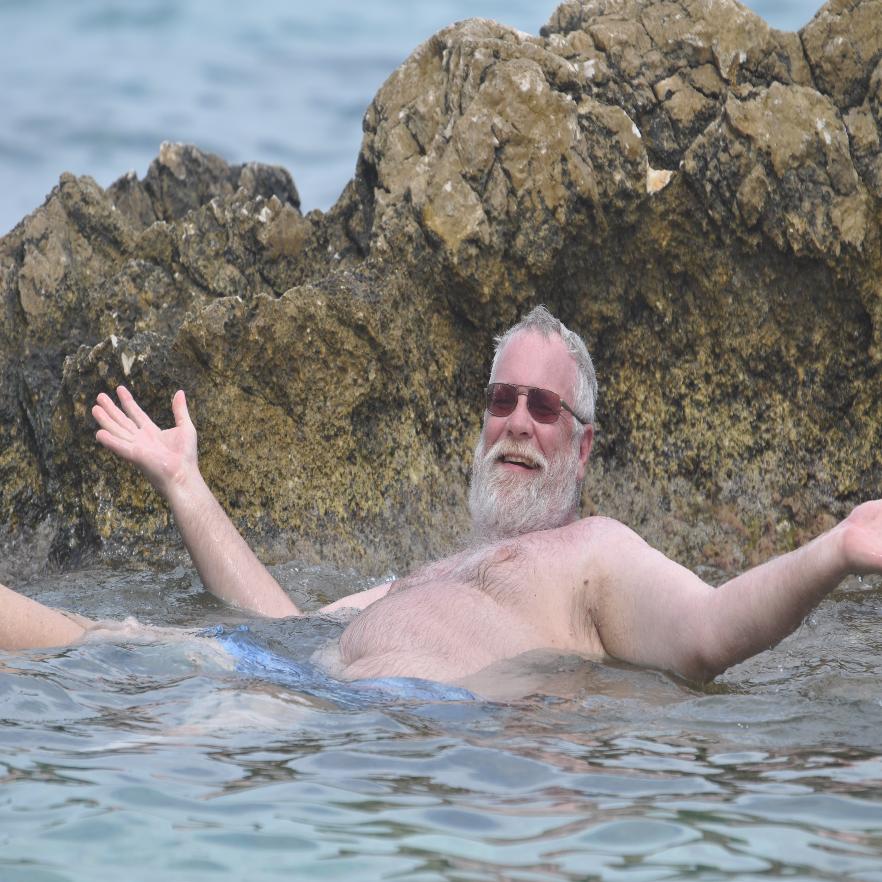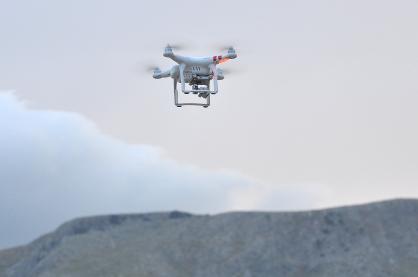 What's a wedding these days without drone coverage?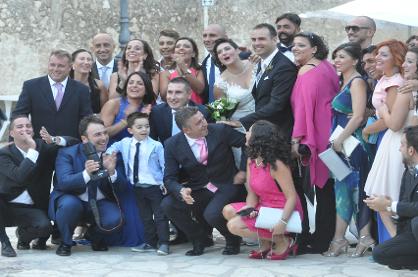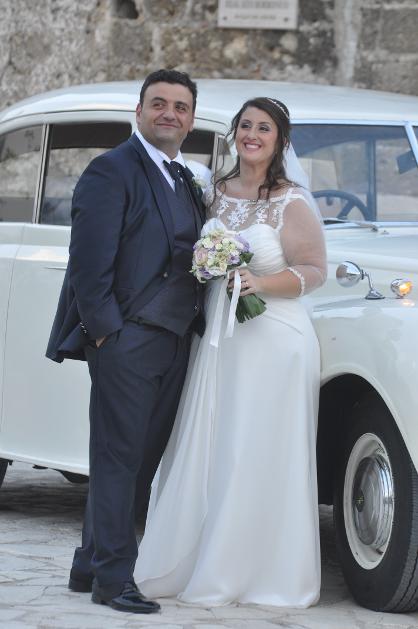 The crowd enjoying a dog cooling off with dip in the square's water fountain.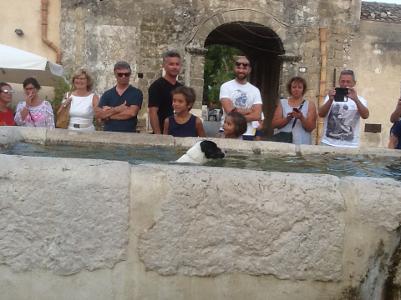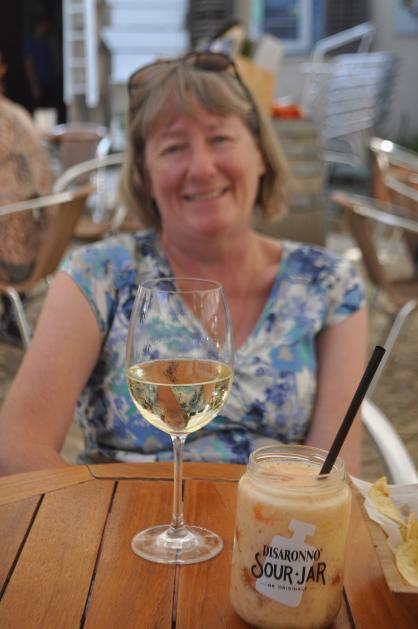 During our leisurely afternoon we enjoyed a drink at a restaurant in the plaza.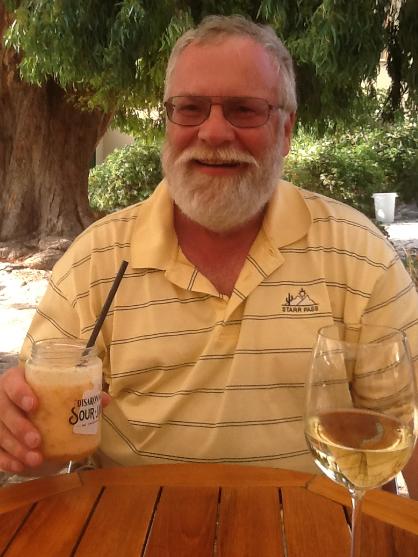 15 September 2016 - Scopello, with a drive to Erice and San Vito Lo Capo

This morning's breakfast of course included a custard filled cookie, but also yoghurt, bread, cheese, a little tomato and large cappuchino coffees.

Shortly after noon we left for a scenic drive through the hills above Scopello, past the Castello de Baida and then connecting to the main road to Trapani and the nearby village of Erice. Situated high on a mountain top 750 metres above sea level the village is walled. Erice is thoroughly medieval with shiny cobble-stoned lanes and interesting old stone buildings. Of course there are tourists (like us) and lots of shops and restaurants. But one can 'escape' the other tourists by exploring the side alleys. The best aspect of Erice is simply the sights while wandering about - interesting architecture, carved doors, bell towers and churches. We enjoyed a nice visit that ended with these very tasty rice balls known as La Tonda Fritta - mine chicken and curry and Gayle's four cheeses. Something to carry us through to dinner - excellent and unique for only 2.50 euros each.

We then drove 25 km north to San Vito Lo Capo a holiday town with an expansive beach. Being a weekday in mid-September we were shocked at how crowded it was, how many people were on the beach even when we arrived late afternoon. We can't even begin to imagine what it is like in August. That said it was an extremely nice sandy beach with very shallow water.

We returned to Scopello and chose La Tavernetta for dinner. During the day the restaurant has a breath-taking view of the coast and sea but at night unfortunately one can't see much beyond the edge of the restaurant. But we were outdoors in an open air area enjoying a very warm evening. Gayle started with a brushetta - just ok - while I had a pulpo salad - very simple, simply octopus. Gayle's caprese salad was much better with an enormous amount of mozzarella bufala cheese while my seafood risotto was a bit of a disappointment - just not enough seafood. A white wine produced only 20 km away nicely accompanied dinner.


The nice sitting area at Casale Corcella overlooking the sea, and Gayle being friendly with one of the cats.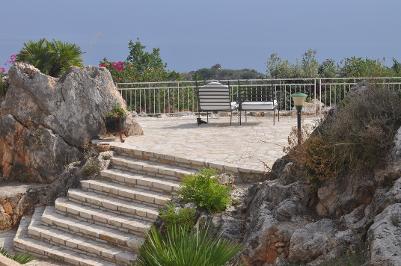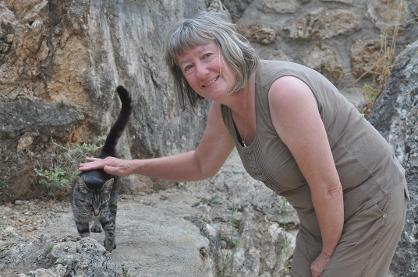 The remaining walls of the Castello di Baidi.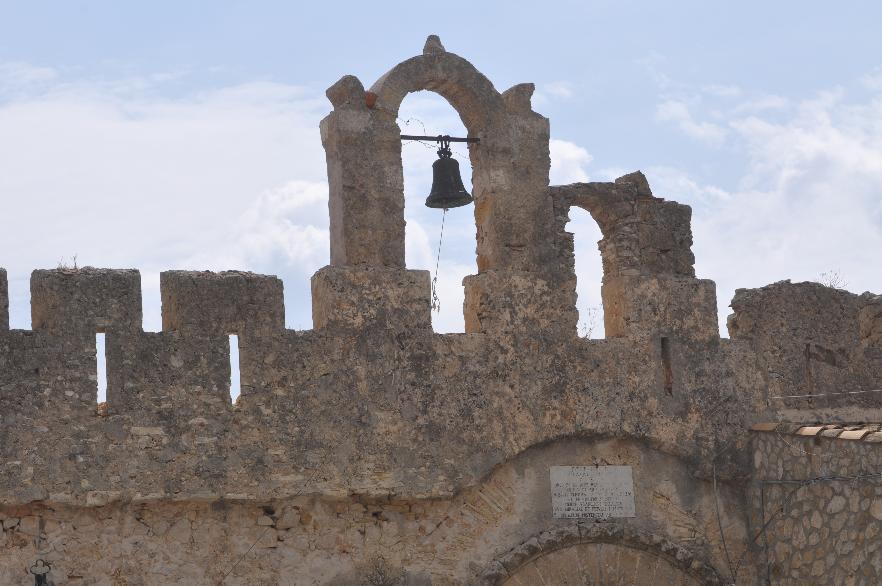 And believe it or not we are already about one-third of the way up the climb to Erice which is located on the top, literally on the top of the rock.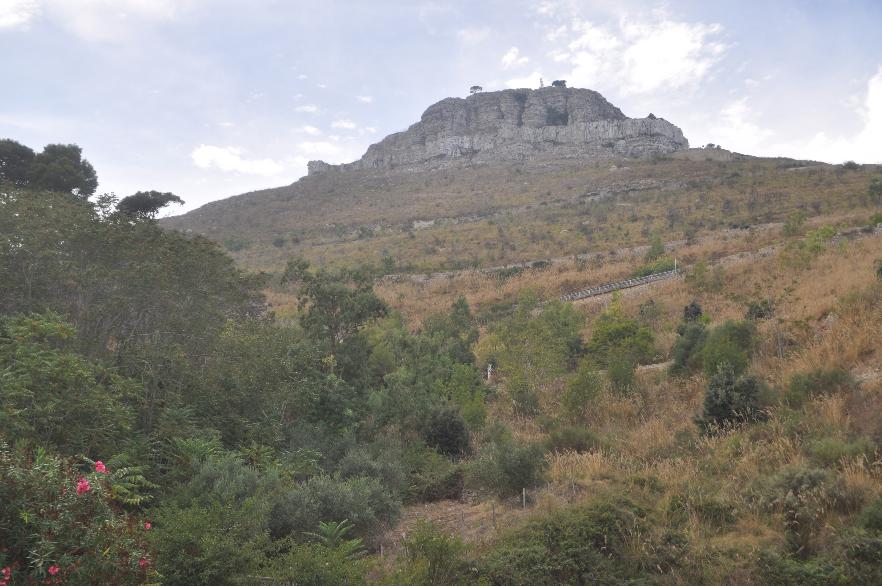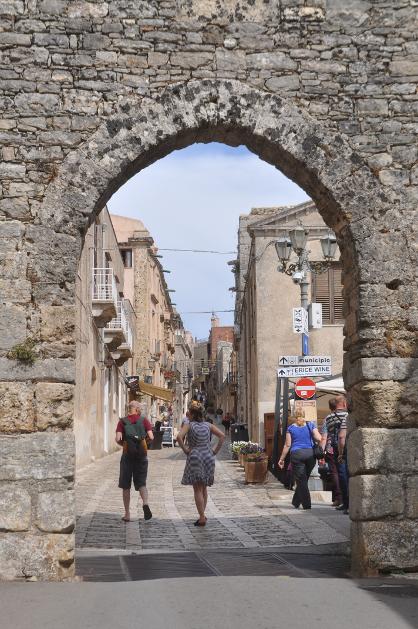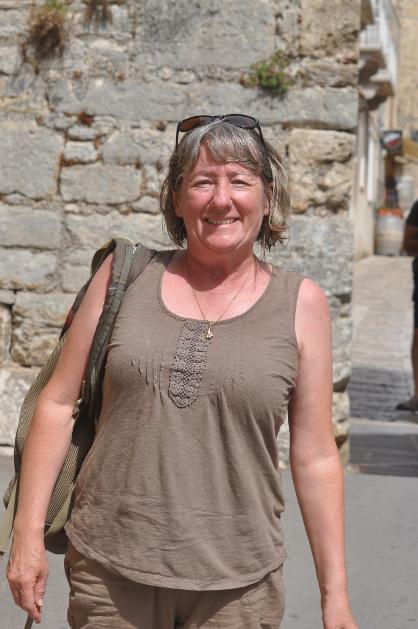 Glistening smooth cobble-stones forced on to be careful due to the slippery / uneven surface.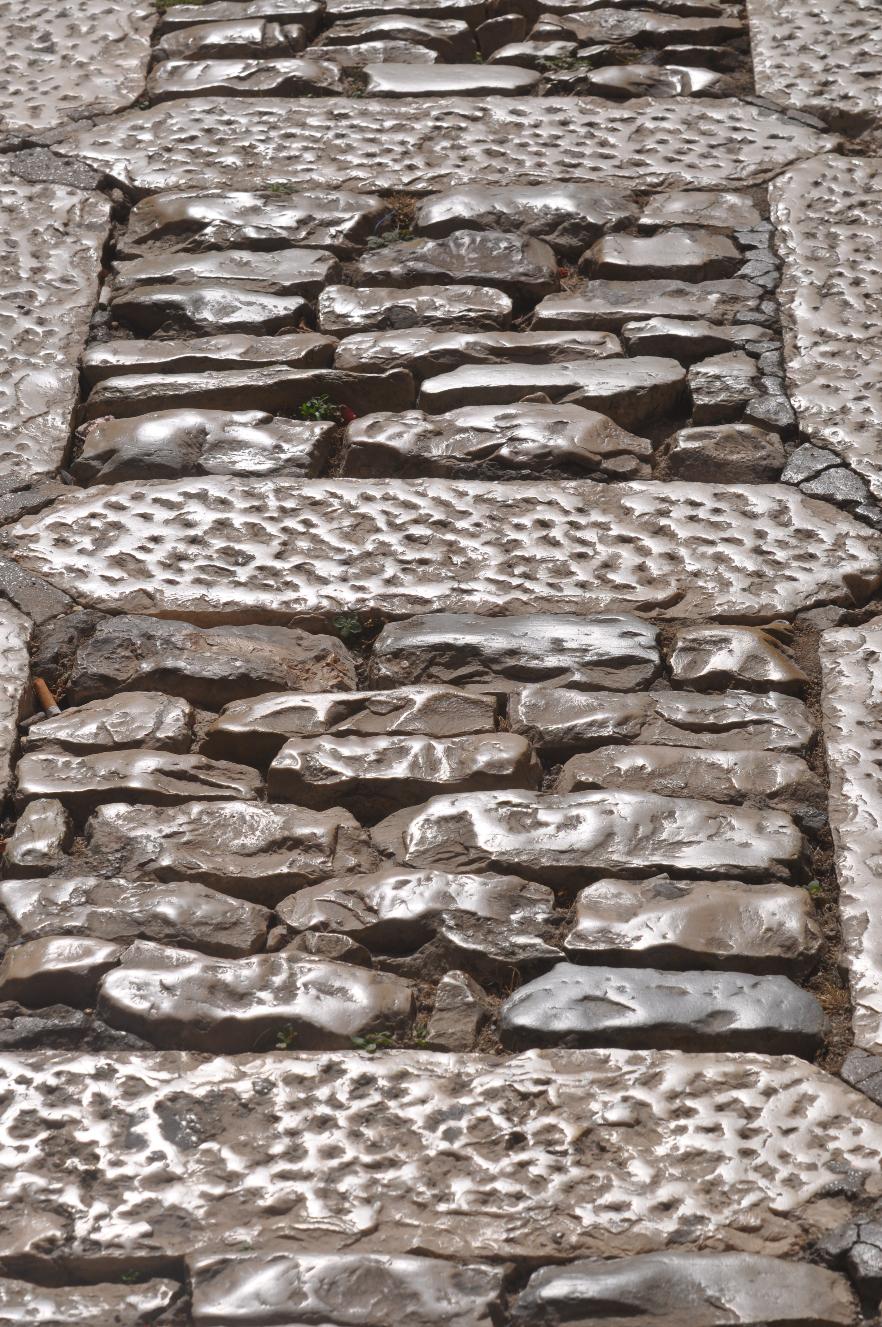 A couple of the narrow cobble-stoned streets.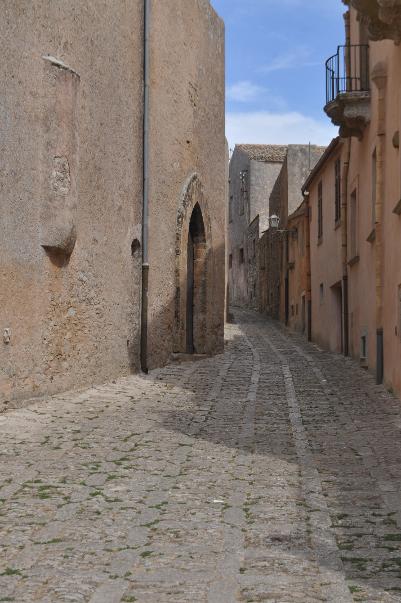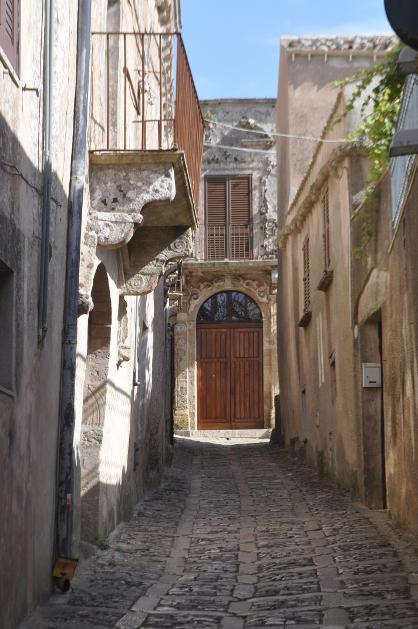 Architecture and balconies of Erice.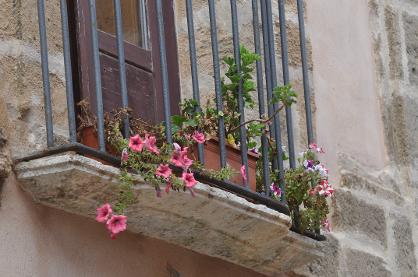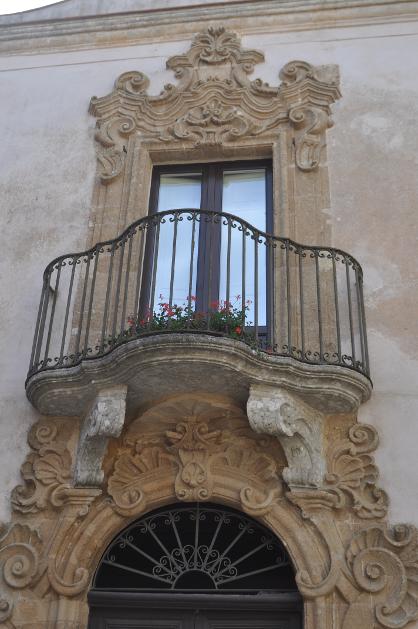 The coastline looking north from the road up to Erice.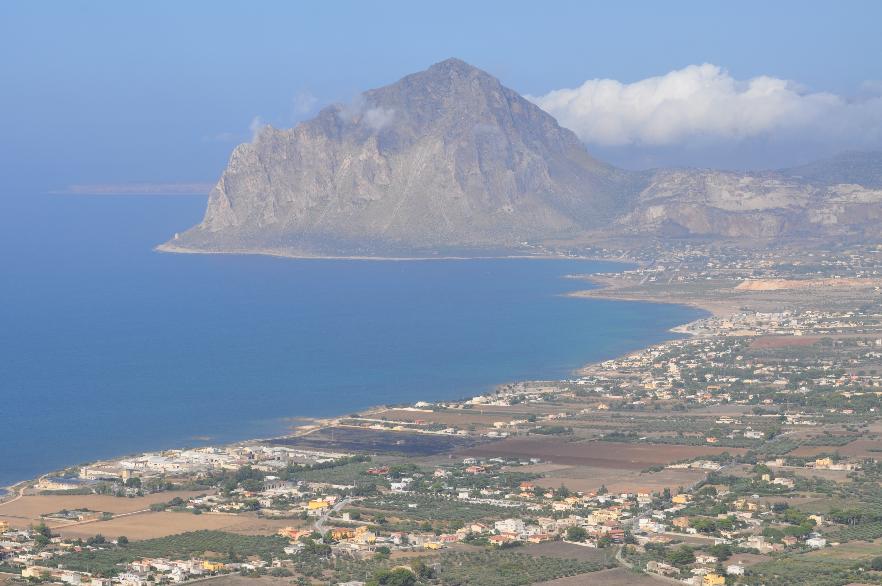 The very busy beach at San Vito Lo Capo.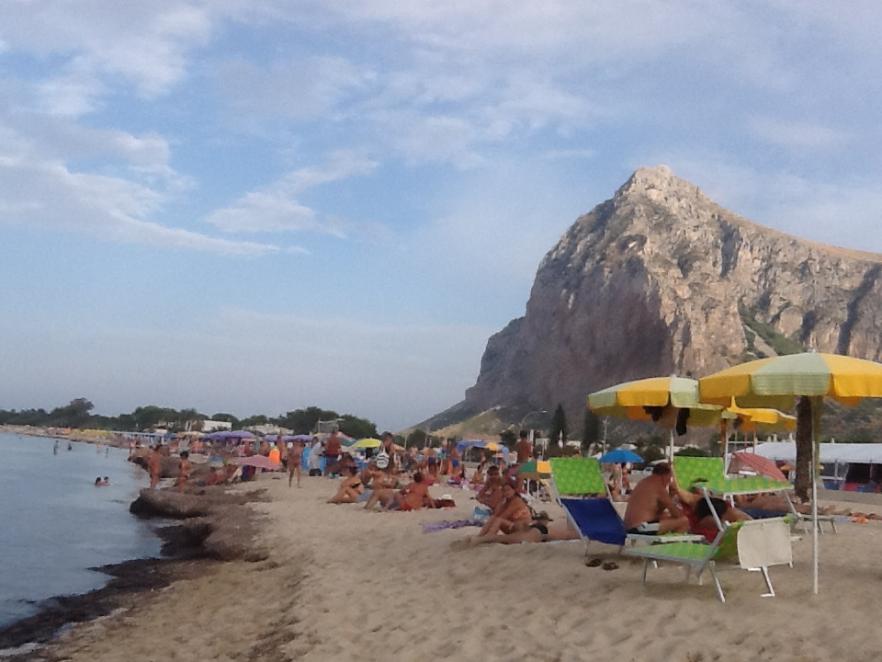 Highlights of dinner included a huge caprese salad, with an amazing amount of mozzarella di bufala cheese and a nice plate of pulpo/octopus.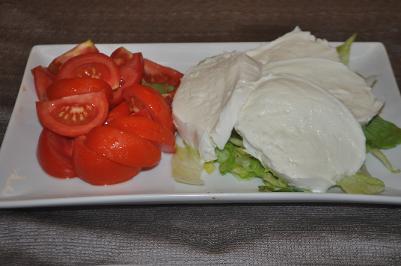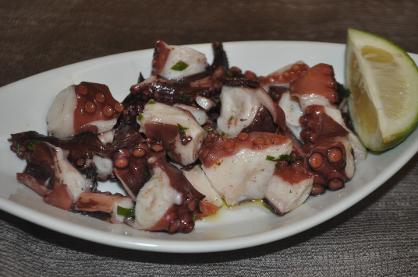 14 September 2016 - La Casa dei Fiori, Tracino, Pantelleria
to Casale Corcella, Scopello, Sicily


Our last day on Pantelleria. We spent the morning doing what we did most mornings - joined Maria Concetta and other guests for breakfast, worked a bit on this travel-blog, and in this case packed up. Upon departure Maria Concetta gave us a bag of dried grapes/raisins and Carlos a large bag of salted capers. Very generous. We said our goodbye's and drove back in to Pantelleria town for some fuel and a couple more gelati. From there its was to the airport for our mid-afternoon flight to Palermo.
We have a number of memories of Pantelleria:
the welcoming of Maria Concetta, Carlos and Valeria - our stay felt like home
our beautiful, and unique dammuso Plumbaco, including the large comfortable terrace
Gayle and her hammock

the dammusi throughout the island

Carlos' superb cooking
simply relaxing at La Casa dei Fiori
the flowers and landscaping, including numerous varieties of cactus/succulants at La Casa dei Fiori

the steep, curvy, at times very narrow roads / lanes, and the of challenge driving on the island
the scenic drive of the north and east coasts and all the beautiful blue sea vistas

the vineyards, and resultant nice white wine and Passito dessert wine

the sweets and cookies every day for breakfast
consistently great weather
the absence of any beaches
We landed in Palermo where we picked up another rental car and drove the approximately one hour to the quaint village of Scopello. Our lodging for the next three nights is Casale Corcella, located 1.2 km straight up the mountain from the village. Not as spectacular a place as La Casa dei Fiori but good value for only 70 euros. The view down to the village and the sea from here high up the mountainside is spectacular.
We drove down to the village where there are lots of choices of places to eat. We chose a less fancy place where Gayle had an excellent pizza and I a plate of pappardelle with cinghiale (wild boar), both of which we very much enjoyed.


Maria Concetta and Gayle under the almond tree at breakfast.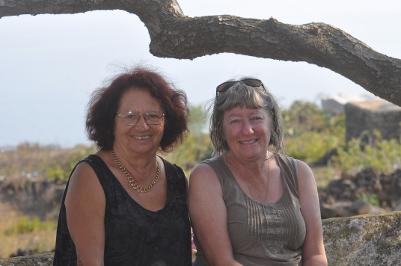 Who would have guessed a freshly made cake would be flavoured and coloured (green) with fresh mint?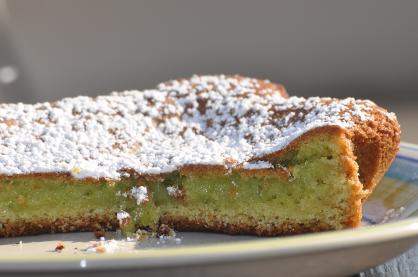 Maria Concetta

Valeria, and

Carlos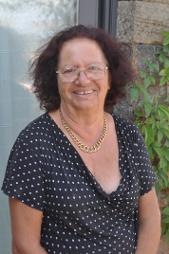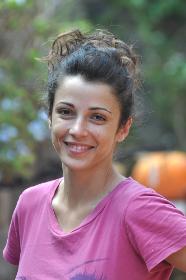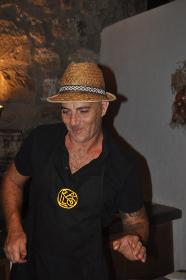 Our view to the sea from our terrace.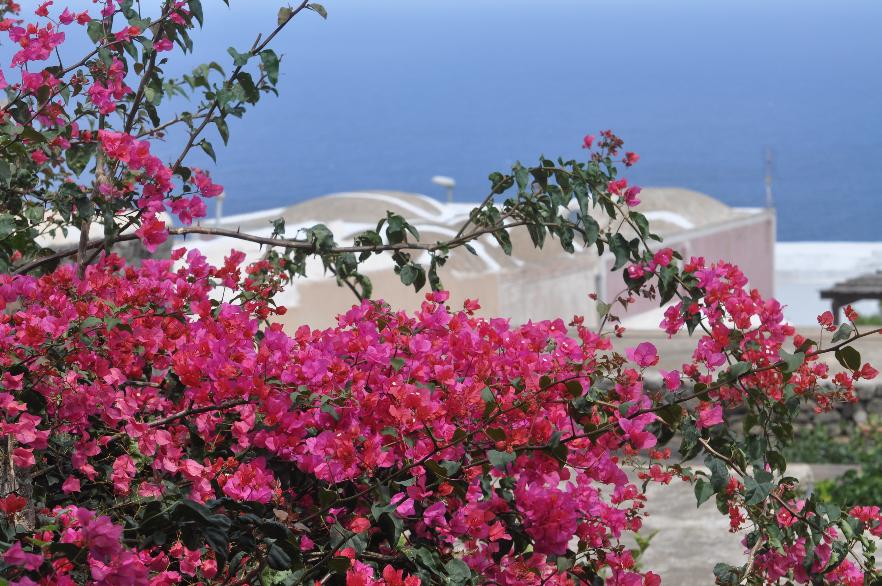 With the temperatures in the high 20s it was nice to take a refreshing dip in the pool.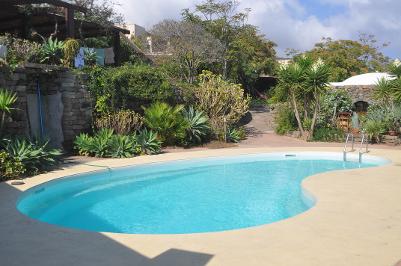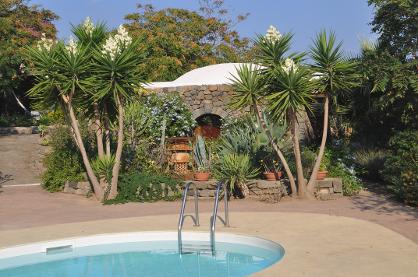 More evidence of why Maria Concetta called this The House of Flowers.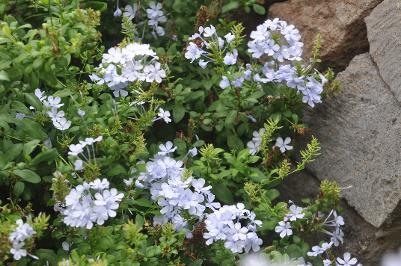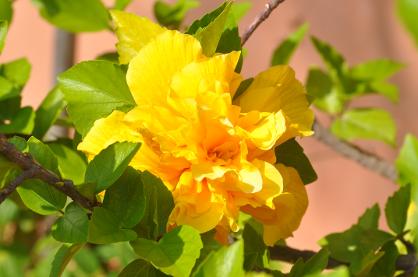 One of the nicest vistas was on the narrow road from La Casa dei Fiori down to the sea, past this freshly painted dammuso with its palm tree.



Enjoying gelato (chocolate with hot peppers and fragola (strawberry) for Gayle and chocolate with capperi (capers) and white chocolate with lemon for me) by the harbourside of Pantelleria town.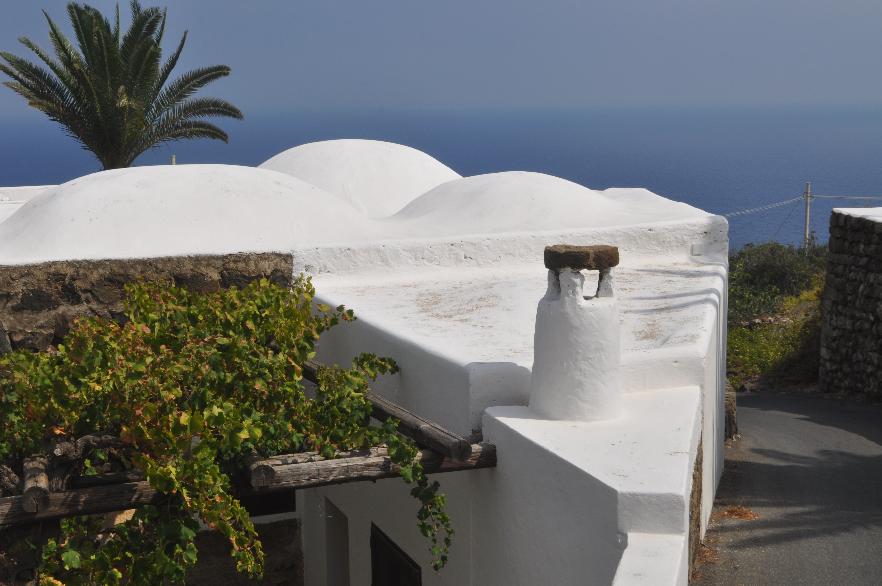 A nice traditional Italian meal - pizza and pappardelle al ragu di cinghiale (wild boar) in a courtyard in Scopello.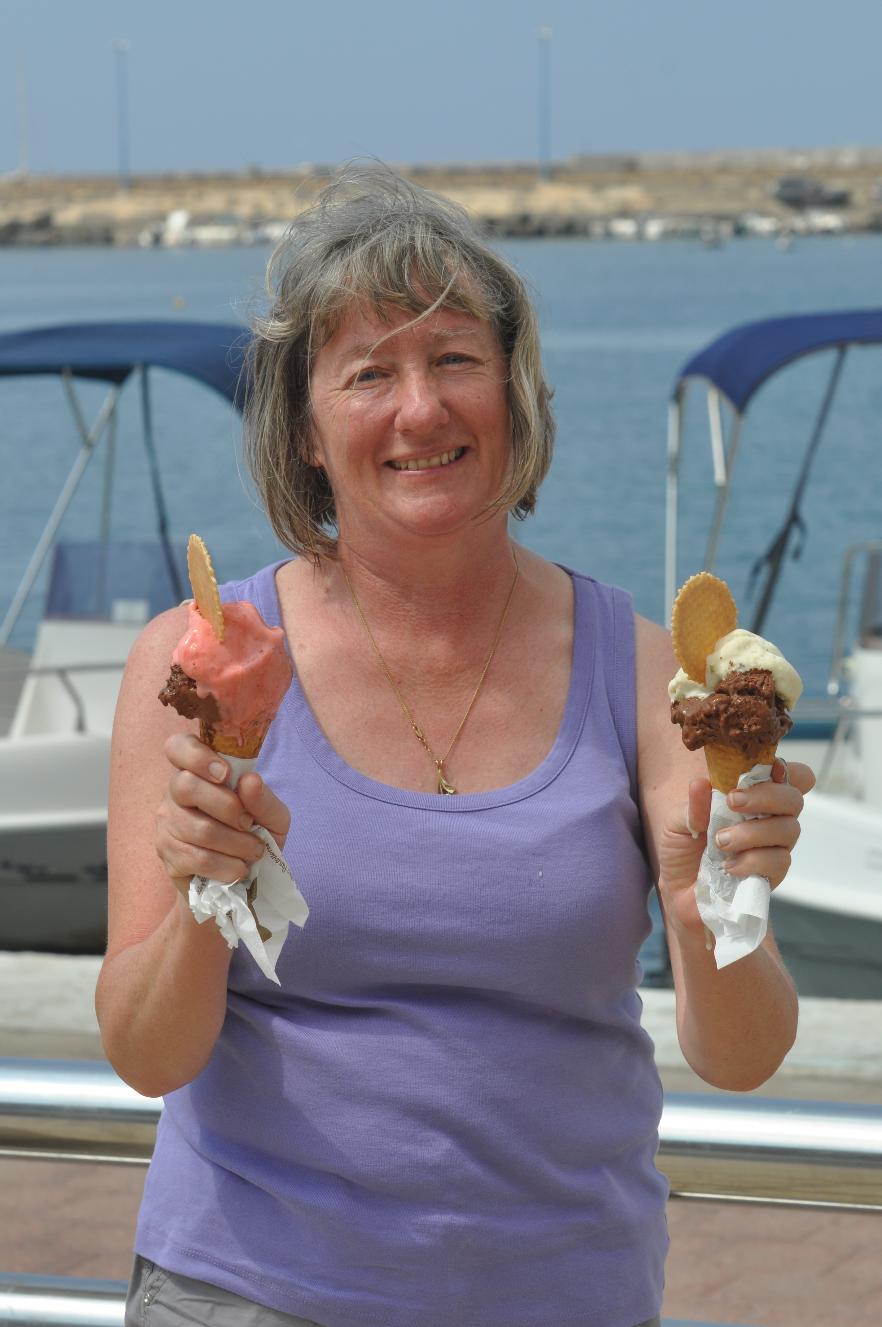 13 September 2016 - La Casa dei Fiori, Tracino, Pantelleria

Another beautiful sunny day on Pantelleria. Today we went for a drive along the north coast and then to the Lago Specchio di Venera, or Venus' Mirror. This tiny lake, the only one on Pantelleria, is volcanic in origin, fed by thermal springs and being very shallow displays outstanding colours.

Throughout the island caper plants are prolific. The flower bud of the caper plant has been used as food for a long time, having been mentioned in the Bible, as well as Greek and Latin classical literature. The capers here on Pantelleria are reported to be the best in the Mediterranean. The buds are picked from plants that either grew spontaneosuly or are cultivated. The capers of Pantelleria, used as a condiment, are of the highest quality. The techniques of how the caper is handled after being picked contributes to the high quality of the product. Once the caper is picked, it is carefully cleaned and sorted according to size. They are then kept in special brick containers under salt to preserve the strong aroma. The salt dissolves because of the waters in the capers to form a kind of pickle. The capers are then drained from the pickled water and salted again, a process repeated several times.

Driving on Pantelleria is to say the least a challenge. The roads are often one or perhaps one and half lanes, requiring focused attention and a willingness to find driveways or other passing spots. Often there is a need to back up to allow another vehicle to barely pass by. Unfortunately the need to be attentive does not allow the driver (nor really the passenger) much opportunity to admire the vistas or pull over for photos. But we did manage to survive without any incidents.

The island is known for it's wine - primarily from the zibibbo grape that grows well in the volcanic soil. The day-to-day drinking wine - vino pantesco - is white with a fruity fragrance. There is a fortified Moscato, a sweet amber-coloured dessert wine and then the rich golden raisin wine - Passito. Invented by the Punicians the first ripe bunches of grapes are picked with the musty ones carefully discarded. The bunches are then placed on a 'cannizza' and exposed to the sun, covering them at night and from the dew. Once the bunches become dry (raisin), the grape is placed in a jar and covered in must. After six days they are pressed, and the liquid is gathered. Then the pressed liquid is mixed with some juice that had been kept in the sun for three days. All this is placed in clay containers, closed tightly and opened after fermented, 20 to 30 days later. Along our drive we stopped at a small winery where we sampled some of the white wine as well as two vintages of Passito, one of which we bought.

We then returned to La Casa dei Fiori where we relaxed before yet another very nice meal. Starting with stuffed peppers and a fava (bean) spread we then enjoyed another nice pasta, Gayle's with the traditional Pantesco tomato, garlic and basil sauce and mine a seafood sauce of garlic and baby shrimp. I then had two small grilled fish caught that day by Carlos. In Italian they are 'pettine' while in Pantesca they are called 'sorcia'. However Carlos told us locally they are known as 'mouse' fish. Dessert was a light and tasty pannacotta.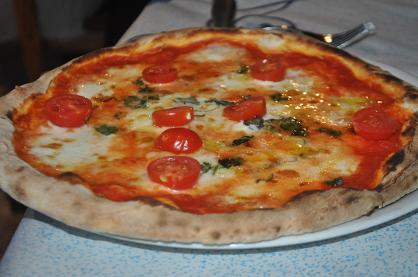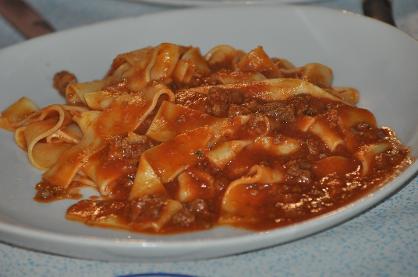 An almond on one of the trees covering the breakfast area and Maria Concetta and a guest cracking open the almonds on a nearby rock, or as the guest said "the largest nut cracker in Italy"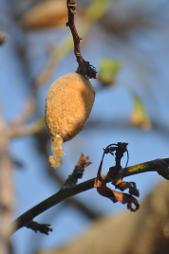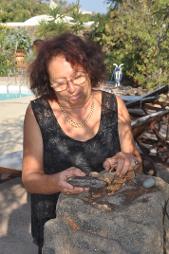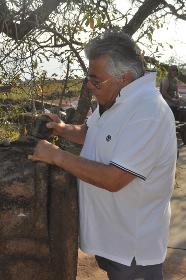 Pantelleria is known to have the best capers in the Mediterranean - left is a caper plant, with the berries picked every eight days and right a bowl of capers in salt.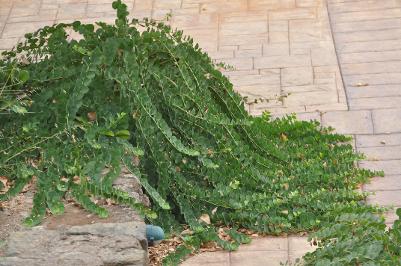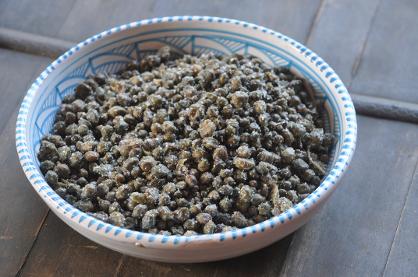 The rocky, terraced landscape of the north coast of Pantelleria.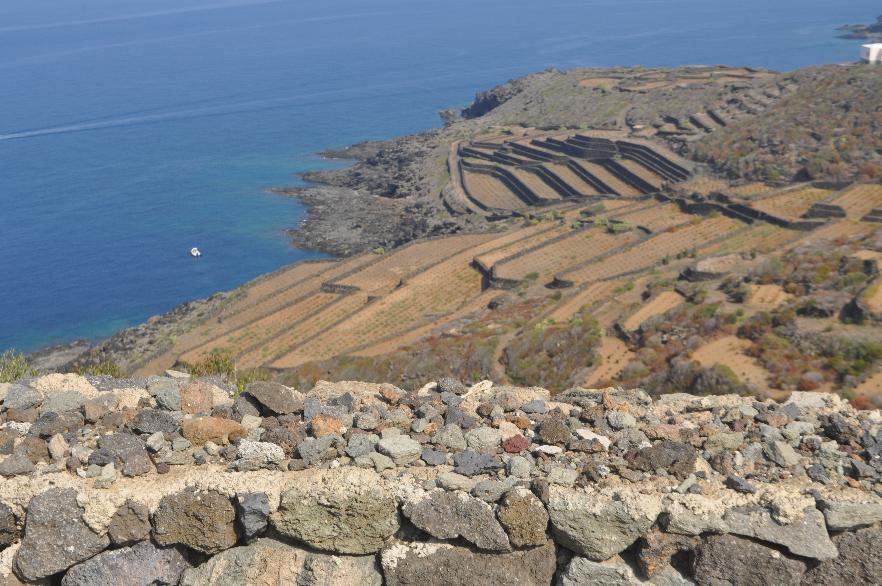 Although not very accessible due to the rocks and cliffs the very blue sea is exceptionally clear.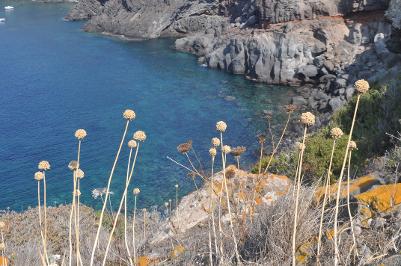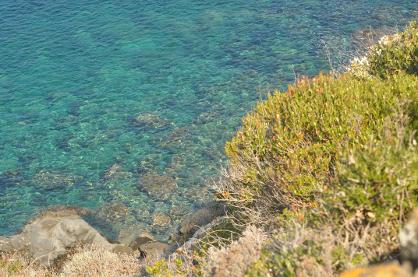 The Specchio di Venere located in the base of a crater is the only lake on Pantelleria.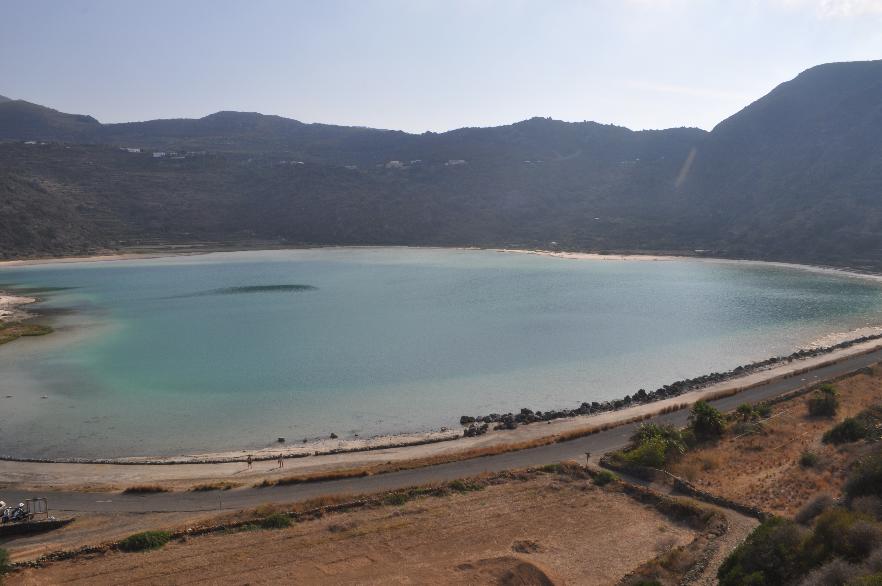 Driving in Pantelleria is often a daunting experience. This is NOT a one-way lane!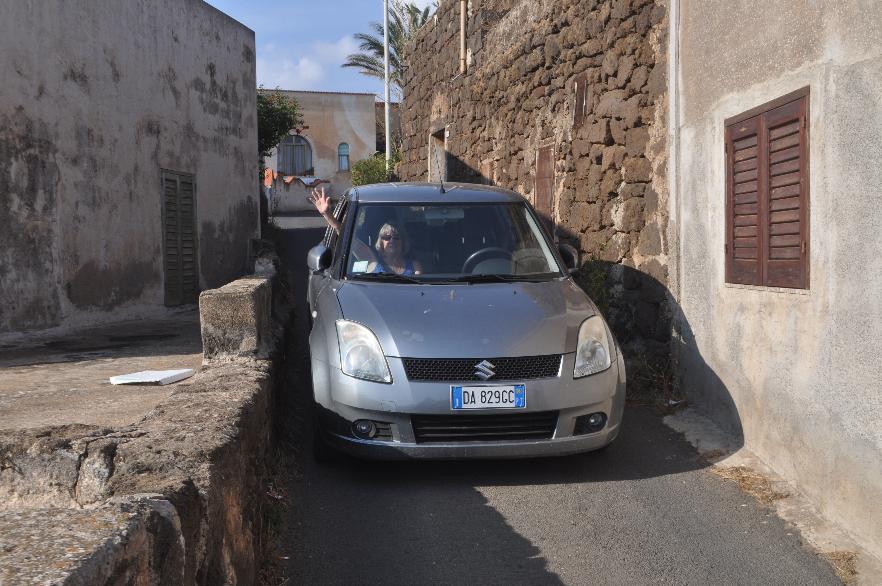 The rich golden-coloured raisin wine known as Passito.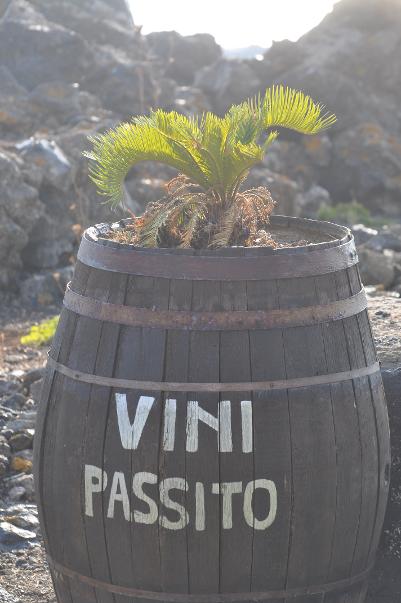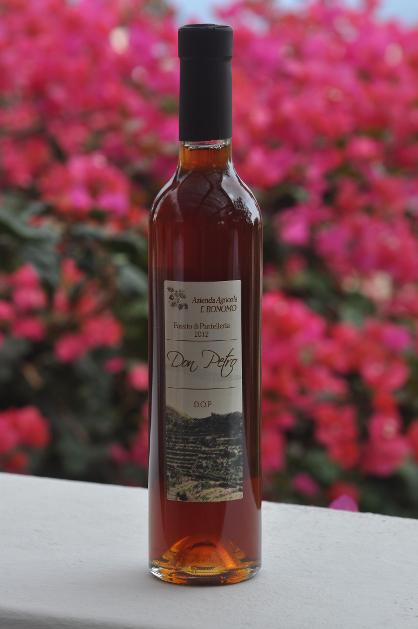 A little wine, a nice Italian meal ... it's all good.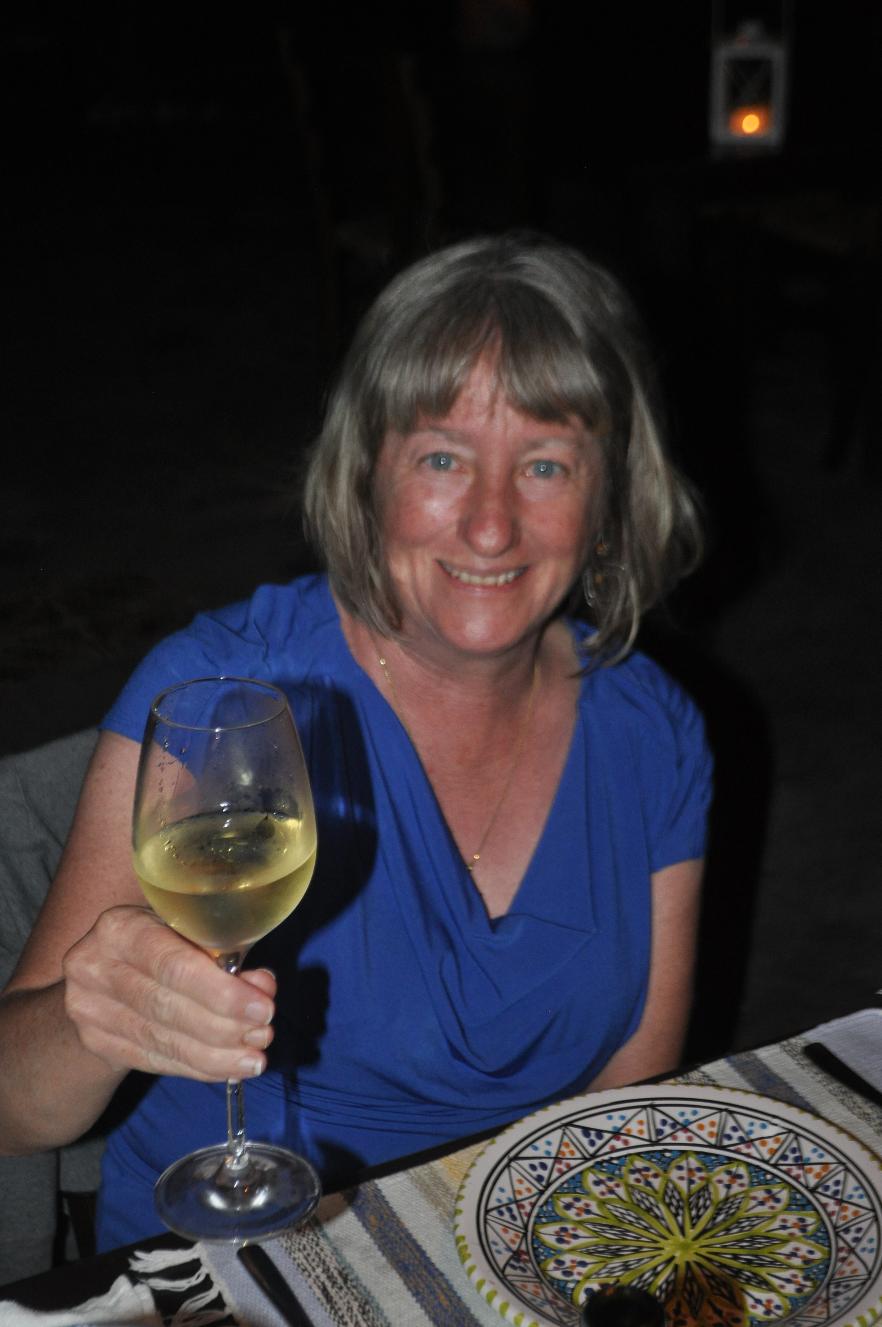 Carlos, his mother Maria Concetta,, and Valeria.



Dinner tonight started with some delicious stuffed peppers - both red and green, and (although not shown here) a tasty fava/bean spread with some grilled toasts.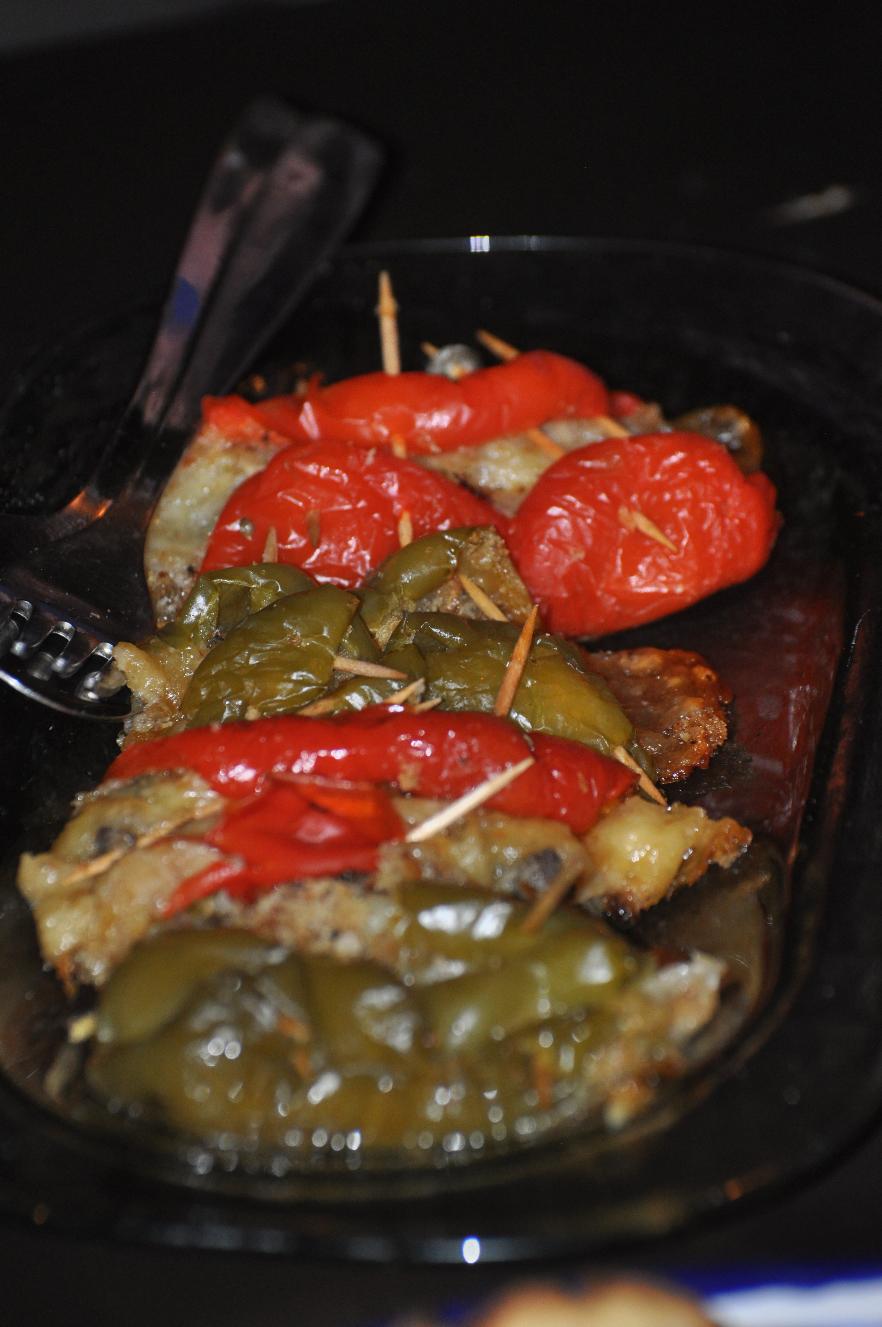 In Italian 'pettine'; in Pantesca 'sorcia' but locally known as 'mouse' fish.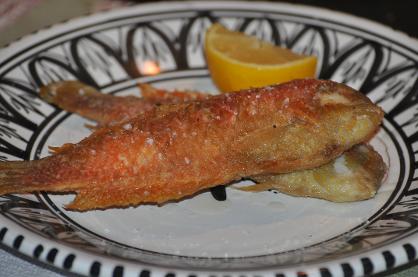 Pannacotta for dessert with peaches and dried grapes.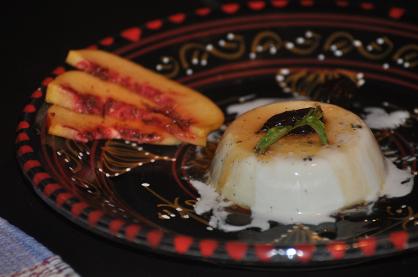 12 September 2016 - La Casa dei Fiori, Tracino, Pantelleria

Yet another slow day. Again we spent the morning and early afternoon relaxing at our dammuso. Some sun, a short swim, a nap on the hammock - it's all good. One thing I did was take a video of our dammuso and its accompanying terrace to remind us of what a beautiful apartment we have. One of our priorities when traveling is to find places with character. We certainly succeeded here in the Dammuso Plumbaco at La Casa dei Fiori.

Mid afternoon we went out, across the center of the island to Scauri where we hoped to get something to eat. We decided to eat at dei Fiori the first, third and last nights but try other restaurants the other two. The drive was really quite nice, again along some very narrow rock lined roads but through numerous vineyards. Being September it is harvest season. Along our drive we saw a number of men picking the white Zebbibo grape the common variety on the island. Red wine is not made here but the white, very aromatic is quite nice.

After a bit of searching we found the bar/restaurant Carlos suggested, nicely situated on the water's edge. We're not sure what hours they may have served food for lunch but at 4:00 pm we were told they did not again have food until 8:00 pm. Dinner here on the island is very late - Carlos begins to serve between 8:30 pm and 9:00 pm. We would have thought a place on the water where there were a number of locals sun bathing and swimming would have had some food but it was not to be. We then tried in town - nothing; another advertised restaurant - closed; and one along the road - open but not serving food again until 8:00 pm. Certainly somewhat frustrating.

So we decided to return to Tracino along the road hugging the cliffs of the east side of the island where we got a couple of pizzas and a calzone, along with some ingredients for a small salad, all of which we took back to our place and enjoyed on our terrace. In the end it all turned out ok - the pizzas were decent (the calzone less so) and along with some left-over wine made for a nice inexpensive meal.


A few dammusi - the top two are our Plumbaco as seen from the back (left) and side (right) and then below two others seen on our drive - all built of the volcanic rock with the domed ceilings.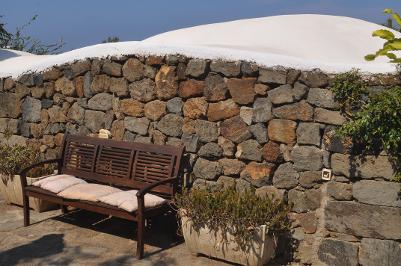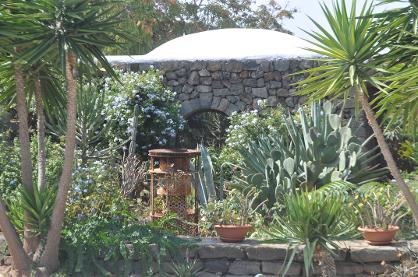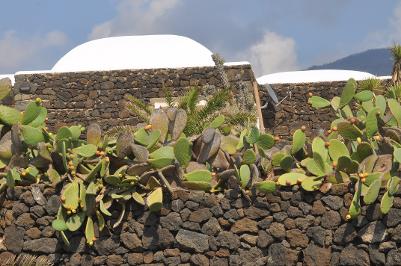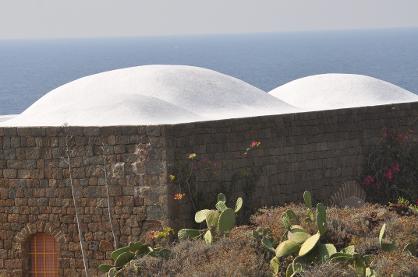 Here is a video I took of our dammuso - Plumbaco at La Casa dei Fiori. Hopefully it will show you a bit of our accommodation here on the island.



Gayle certainly did love her hammock, spending countless hours reading or napping.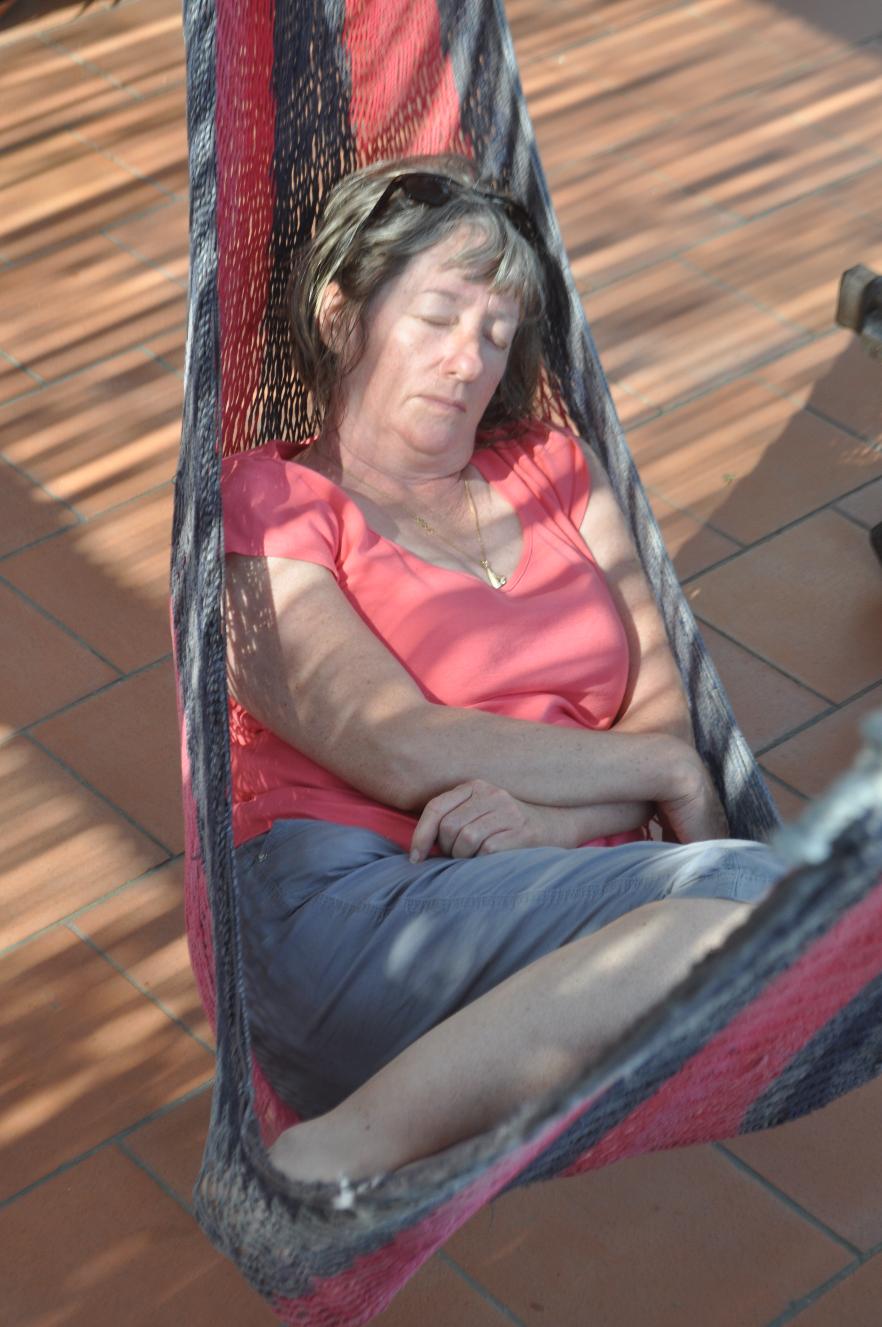 September is harvest month and for this fellow it was still hot enough (27 Celsius) to be a two hat day.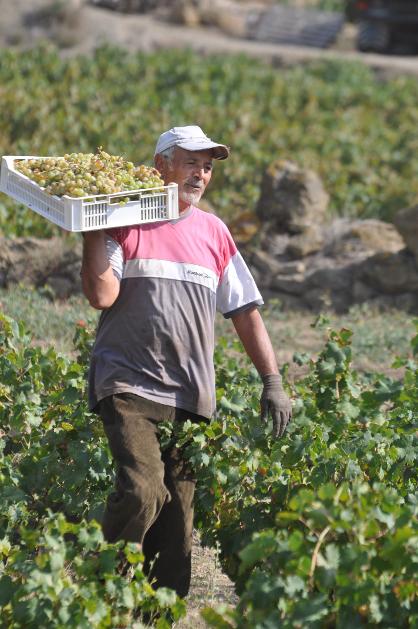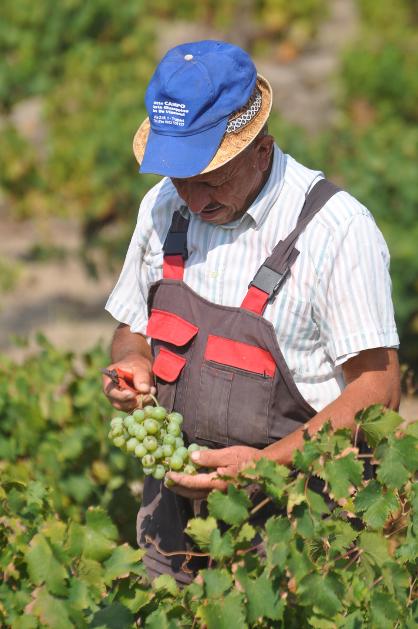 A little wine, a salad, some pizza and a calzone - the only thing missing was the romantic music.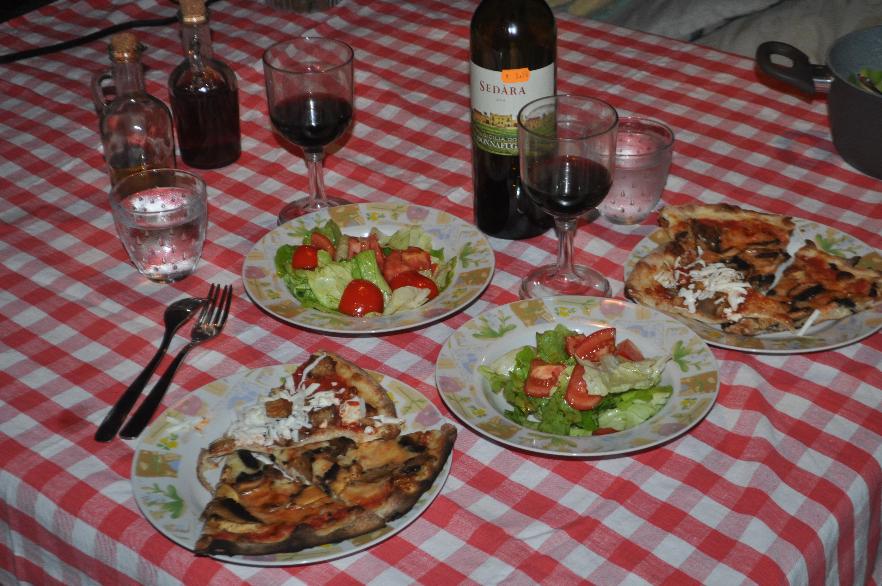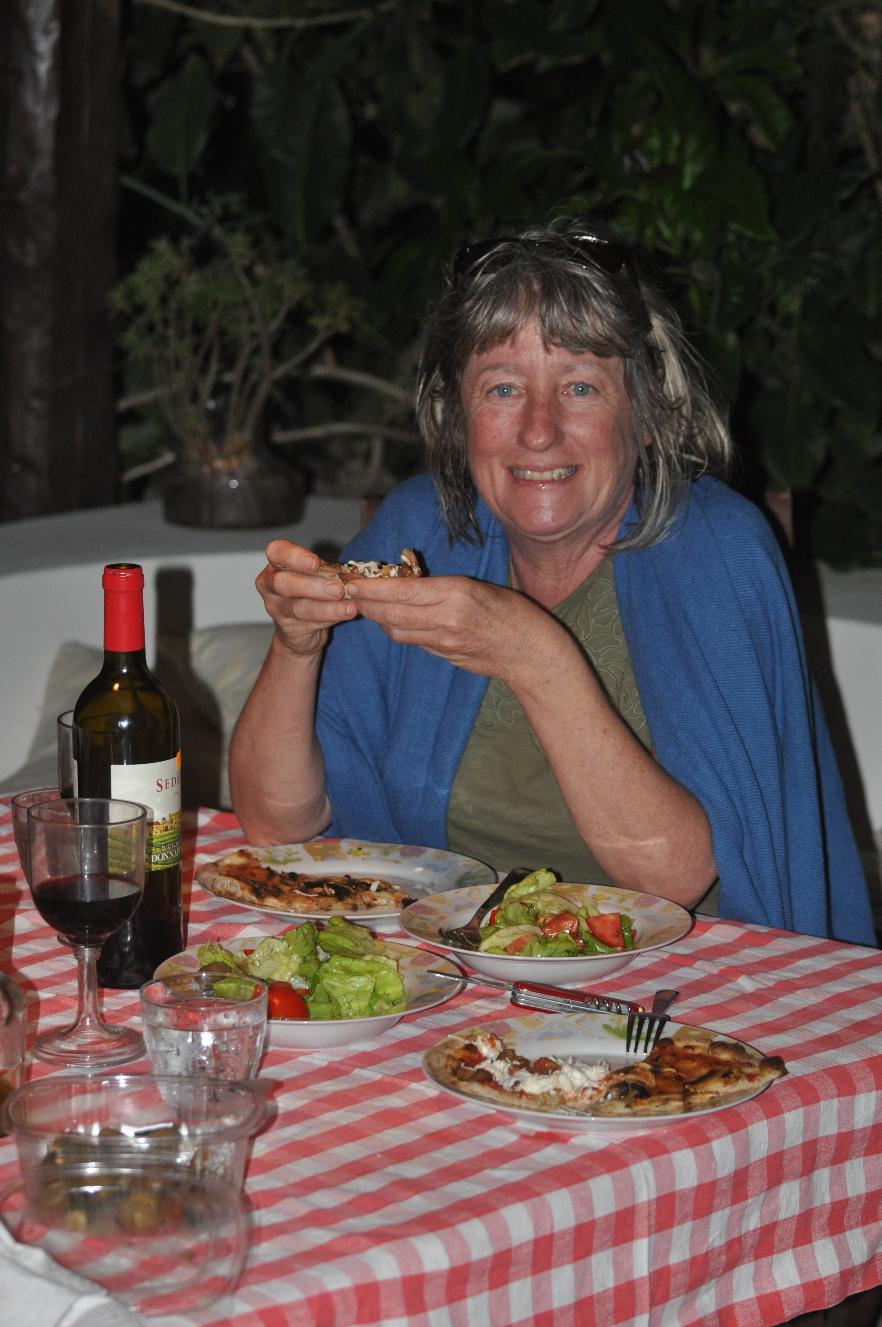 11 September 2016 - La Casa dei Fiori, Tracino, Pantelleria

We are clearly going to get into a routine - wake up somewhat late; have coffee and sweets for breakfast; sit around our dammuso enjoying the warm weather and views to the sea, and go for a drive in the afternoon.

After breakfast we walked up the hill to the square (if one wants to call it that) in Tracino, a really small sleepy hamlet. Then mid afternoon we decided to take a drive around the north-east end of the island, past the Arco dell' Elefante, a rock formation that really does look like the head of an elephant. The drive on the lower road follows terraced slopes behind a patchwork of stone walls with grape vines, capers and blackberry bushes throughout. The driving is something else with the road being barely, and I mean barely wide enough for two vehicles. Most often you need to nearly come to a full stop, and on occasion back up to find a driveway or whatever to pull over. We continued on to Scauri, which was pretty much shut down (it was Sunday although when we returned on Monday it was not much different) and then being low on gas decided to continue further to the town of Pantelleria, where the only two gas stations on the entire island can be found.

We did find and figured out how to use the gas pumps. Other than a couple of gelaterias Pantelleria also was pretty much asleep. Being somewhat hungry (cookies and sweets only take one so far) we enjoyed a gelato on the harbourside near the castle. We then drove back to La Casa dei Fiori, essentially having driven entirely around the island in a few hours, and that with a number of stops.

We again enjoyed Carlos' culinary skills. For starters we had stuffed peppers, zucchini and onions, with the nuts in the stuffing adding to the texture and flavour. Then a pasta dish - tonight ravioli stuffed with ricotta and mint in a tomato sauce and then finally for me stewed rabbit while Gayle had a plate of spinach. Fruit soaked in Amaretto and a shot of Passito finished another enjoyable meal.


Sunday morning outside the tobacco shop in Tracino, Pantelleria.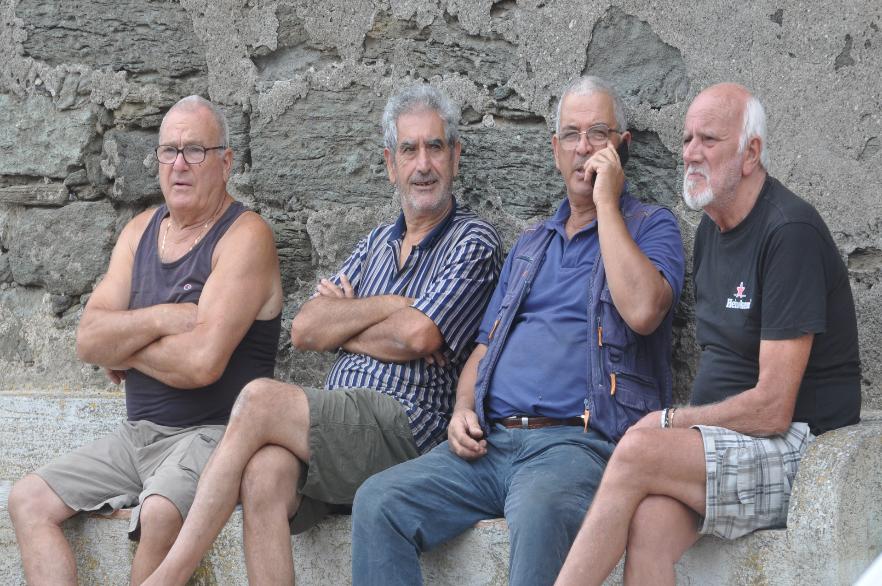 In the back of a very small alimentari eggs are available from this large basket.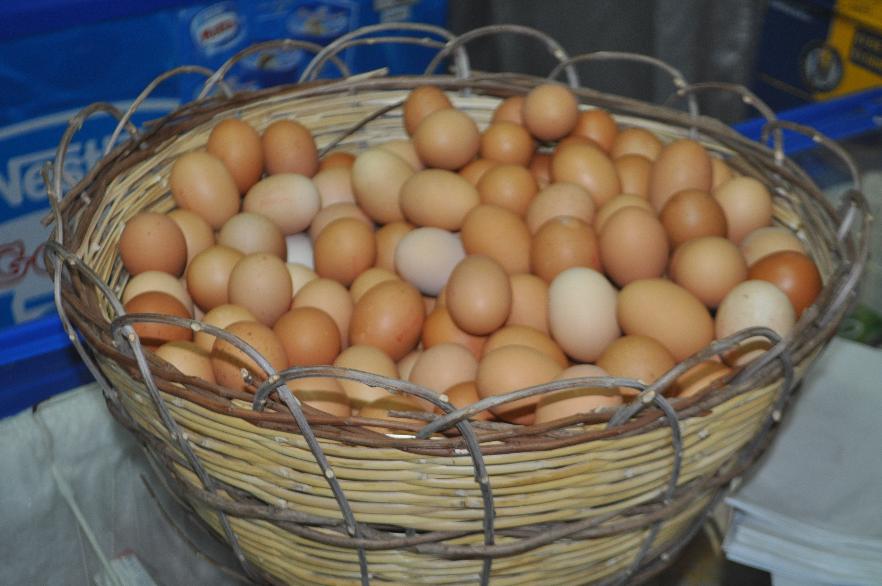 Tomatoes drying on the wall near Carlos' kitchen.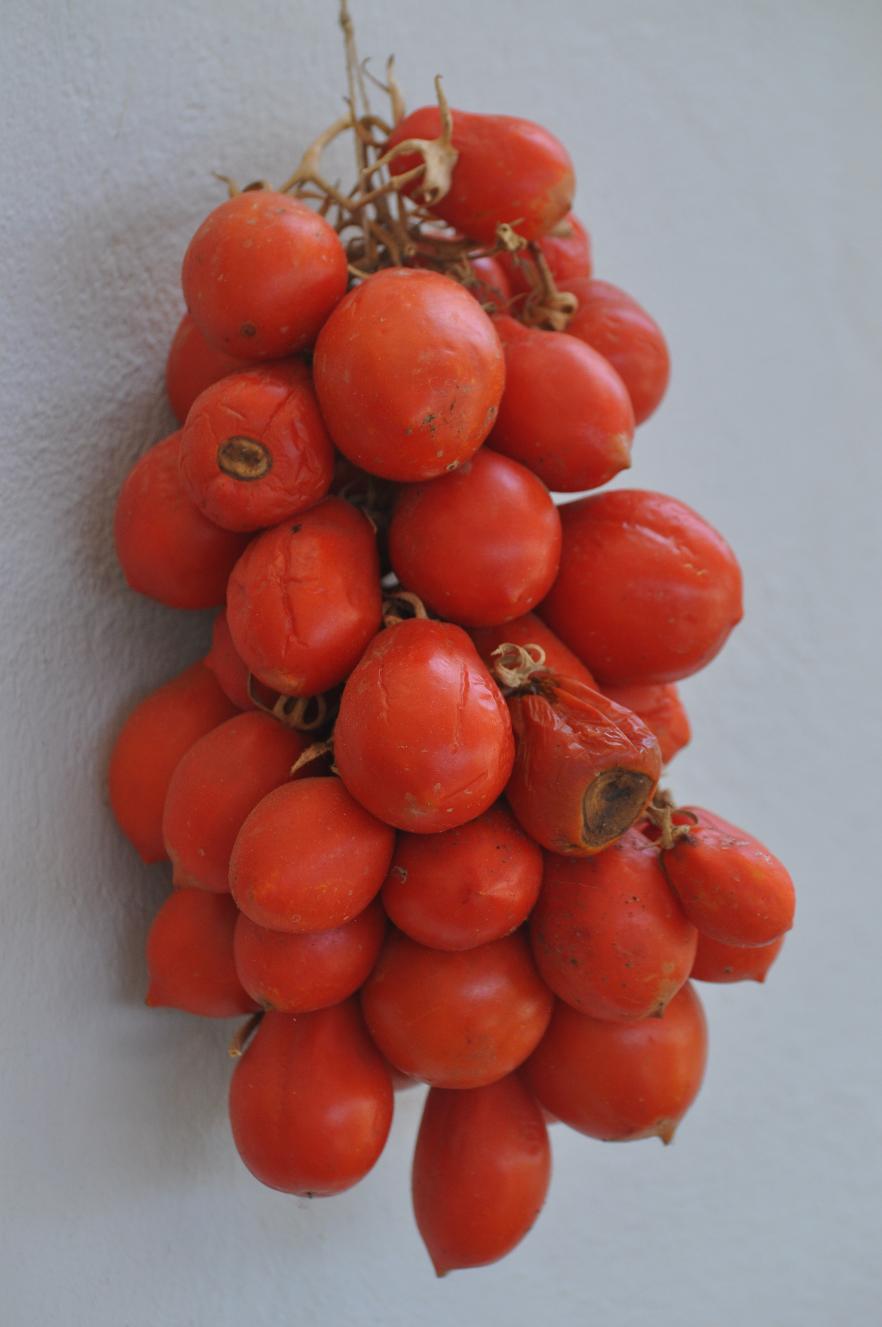 There is a reason they call this The House of Flowers.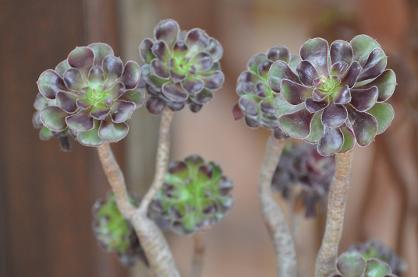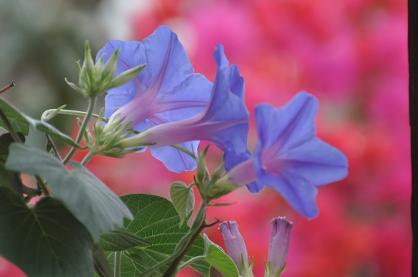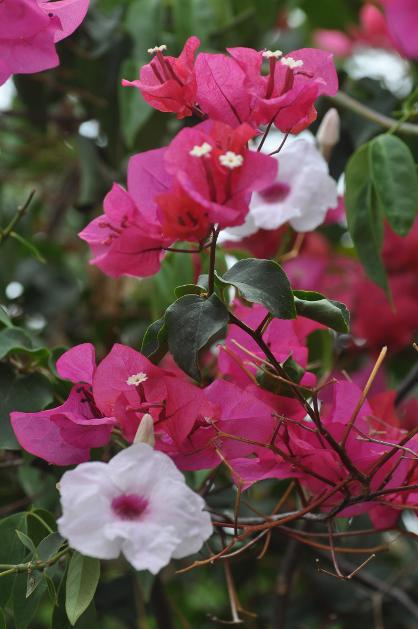 The breakfast area at La Casa dei Fiori.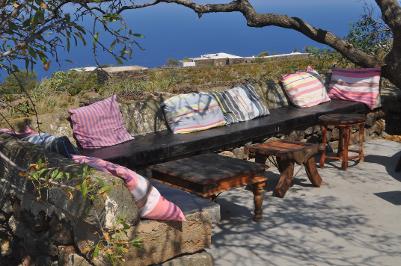 The pool and the sea beyond.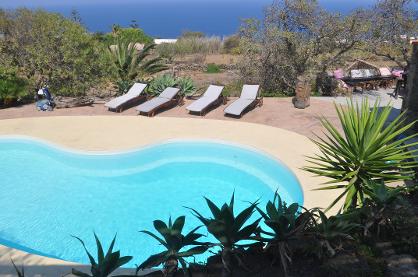 On the north-east of the island is a rock formation known as the Arco dell'Elefante. And it really does look like an elephant's head.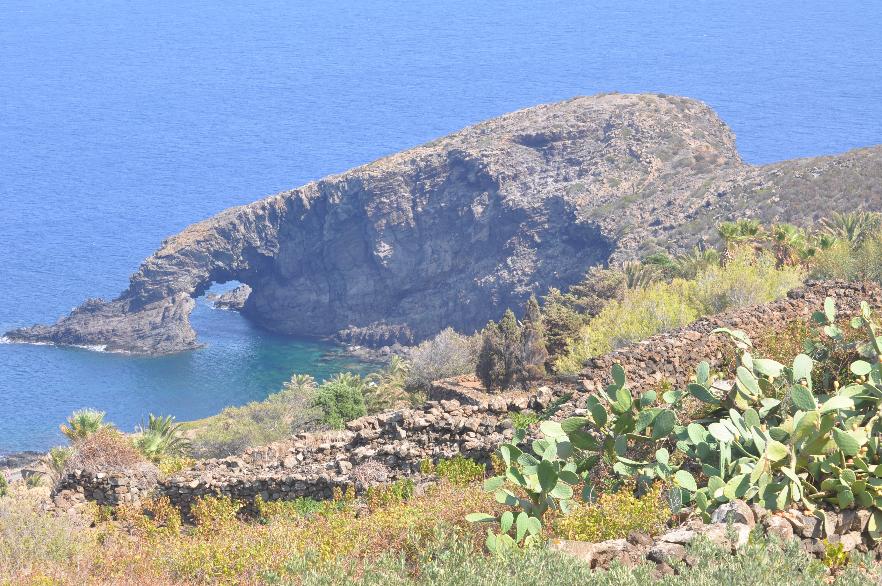 Pretty much everywhere during our drive around the island we would see either the sea, often well below us or vineyards.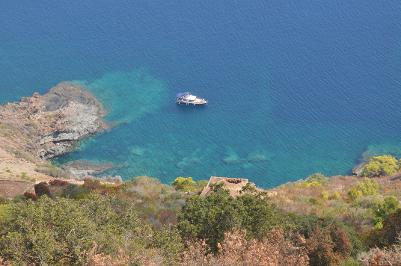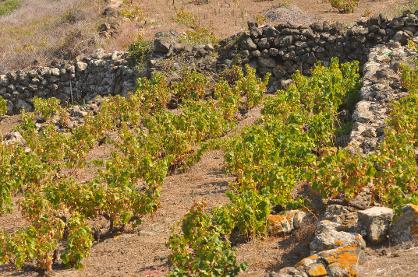 Stuffed peppers and zucchini (there were also stuffed onions), and rabbit in a very nice tomato and olive sauce.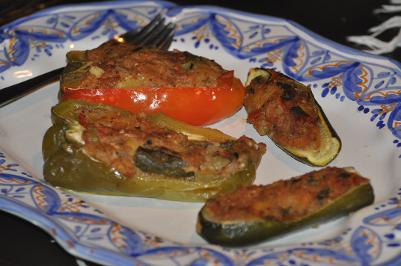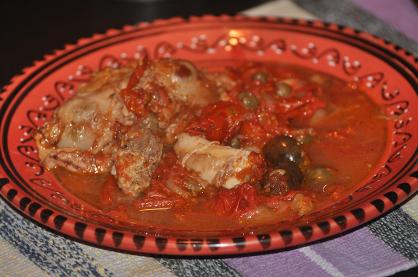 10 September 2016 - La Casa dei Fiori, Tracino, Pantelleria

After a comfortable (and long) sleep we awoke at 9:15 am to nothing but sunshine. Fortunately breakfast went to 10:30 am so all was good. Elsewhere in Italy we experienced a number of sweets at breakfast. Here at La Casa dei Fiori breakfast is almost entirely cookies and pastries. Coffee of course - good strong coffee - a peach and grape tart and tasty nice light homemade cookies and biscuits courtesy of Maria Concetta, owner of the Casa, and a plate of fresh fruit. But no juice, no yoghurt, no cereal, no cheese, no eggs. Good this first morning but not sure what we will think by morning five.

We are staying in a traditional dammuso, the typical home of the island dating back to the 10th century. Damusso are built of exceptionally wide walls, necessary to support the domed roofs. The particular shape of the roof is above all to collect the little rain water into cisterns located near the dammuso. The thick walls keep the rooms cool in the summer and warm in the winter. The dammusi, built out of the natural stone found on the island blend in very well in the surrounding landscape. The interior of the dammuso is made up of three spaces - the main room, a small bedroom and an alcove. The alcove adjoins the main room via a big arch, usually closed by an embroidered or lace curtain of middle-eastern influence. Traditionally each dammuso had a few stone-built stables of different sizes depending on the number of animals to be kept in them. The courtyard was used to thresh the grain, oats and barley. There was also an area used to dry grapes, figs and tomatoes, slightly sloped and built on the south face of the dammuso to expose it to the most sunlight. As well there is typically a stone garden designed for citrus plants, such as lemons, limes, mandarins and oranges, with high walls to protect the trees from the strong winds and to keep the temperature warm in the winter.

As the dammusi are often built into the hillsides it has been challenging to get a good photo, and inside the subtleties of the white arched roof just don't photo well. Perhaps tomorrow I will try to take a video.

Being a very small island and having five days we have no great urgency to get out and explore. So today was spent relaxing on our large terrace, looking out to the sea, enjoying a swim and of course a nap (or two). Gayle particularly enjoys swaying in her amaca (hammock). Although we very much enjoyed the dinner prepared by Carlos we wanted to try a couple of other restaurants so went out to dinner, to Il Principe e il Pirata - supposedly the top restaurant on the island, just a few kms along the coast. Although Gayle very much enjoyed her choices - eggplant parmigiana with coulis ragusano and home made ravioli of ricotta and mint filled with fresh tomatoes - I ended up ordering an expensive basket of fried fish that was mediocre at best. At least the wine and the Bacio Pantesco, a light typical Pantelleria (or at least that's what the menu said) dessert were good. Unfortunately the music feed had irritating issues and the service, which started excellent but then had us being ignored have us looking forward to returning to La Casa de Fiori and Carlos' cooking tomorrow.

After a challenging drive back up the steep hill, along the narrow roads in the dark we returned and called it a night.



A fruit pastry and a bowl of fresh fruit for breakfast.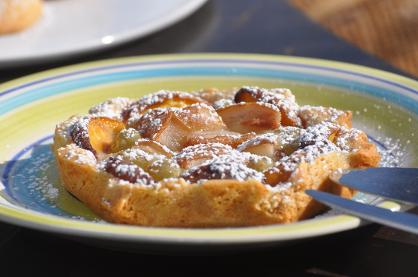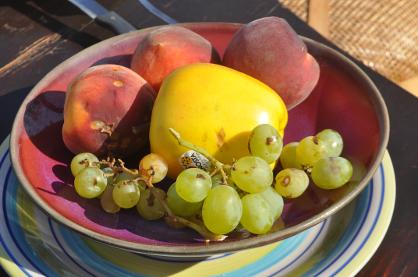 Maria Concetta putting out the breakfast of sweets and cookies.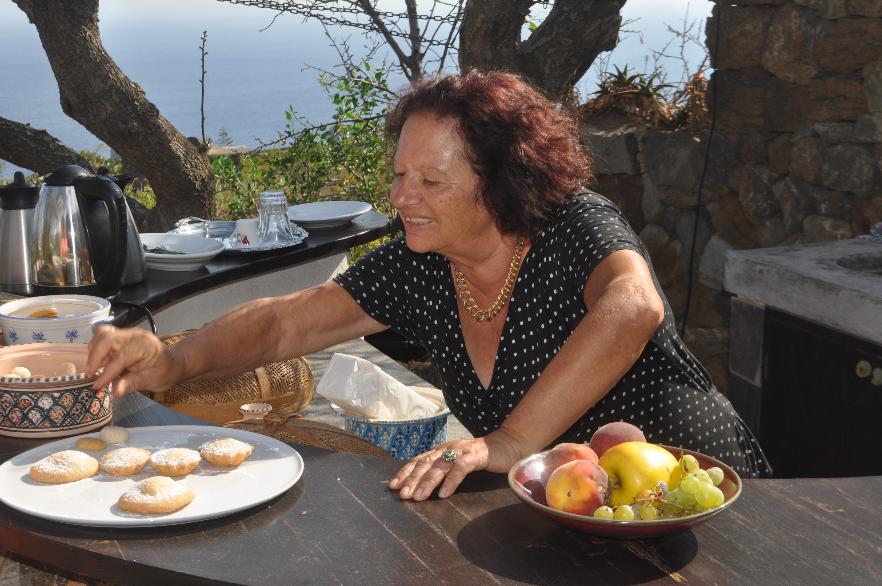 Our stone wall, domed roofed dammuso Plumbaco.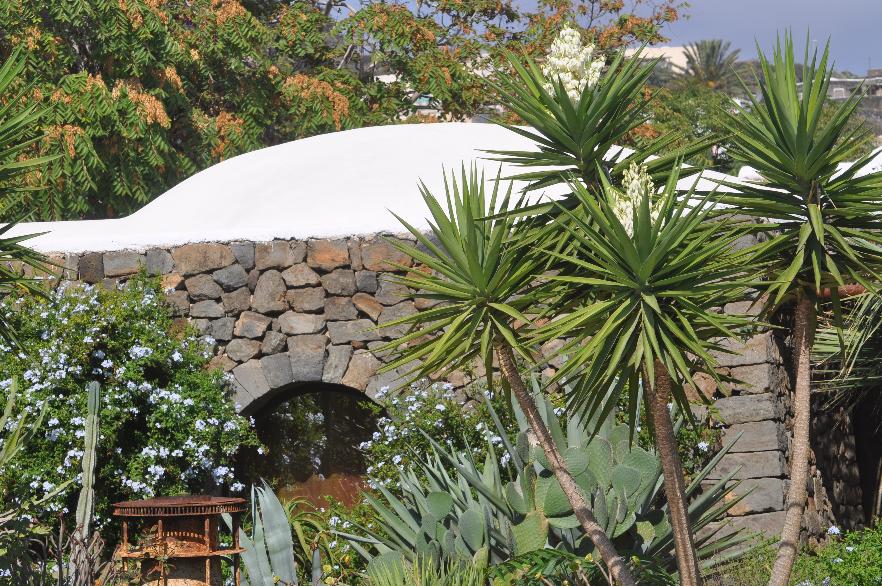 Colourful and large bathroom.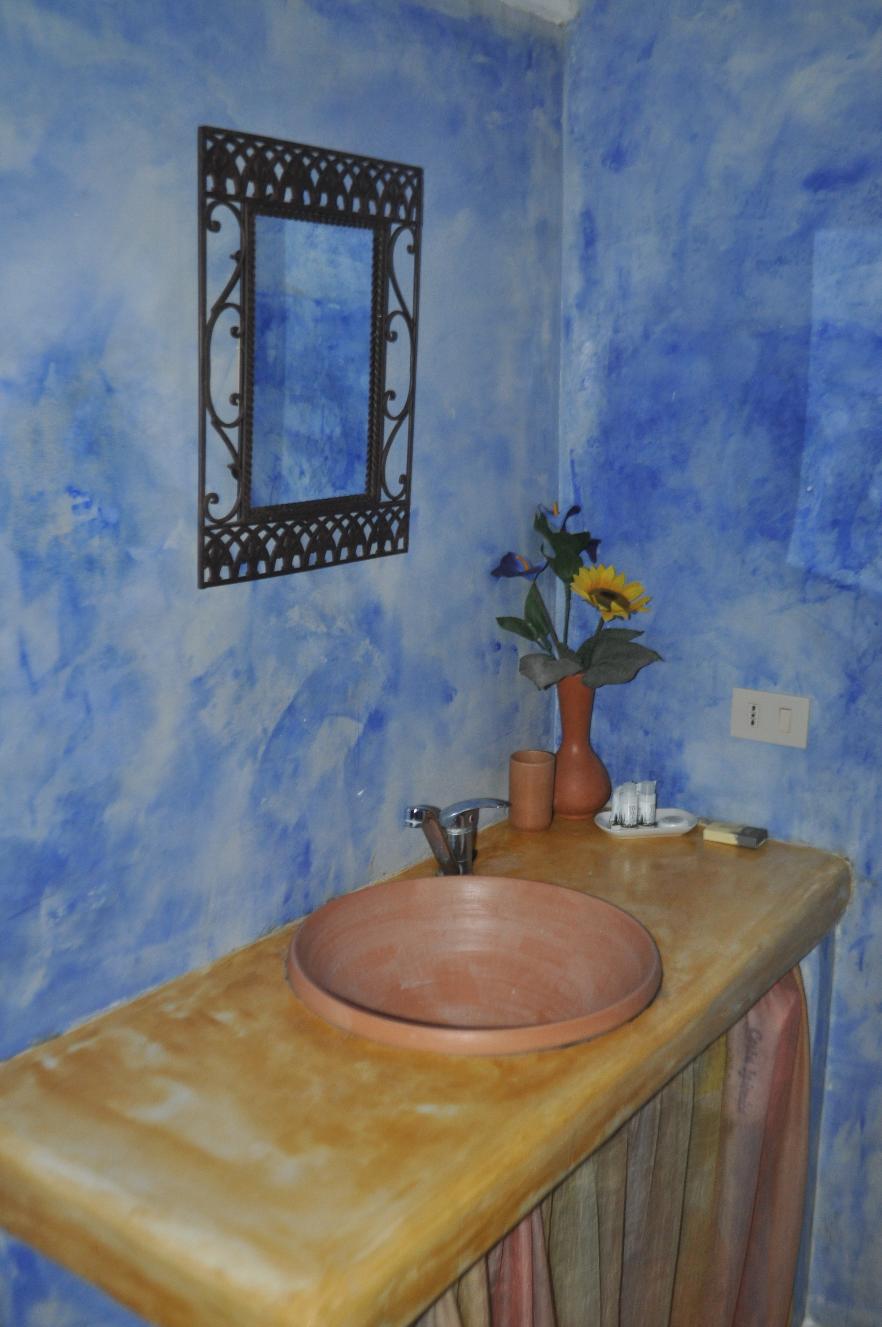 The full kitchen and some of the nice stone work inside the dammuso.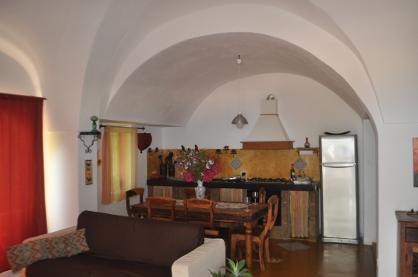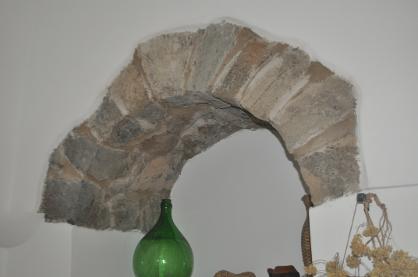 Beautiful tiling in the floors throughout the dammuso.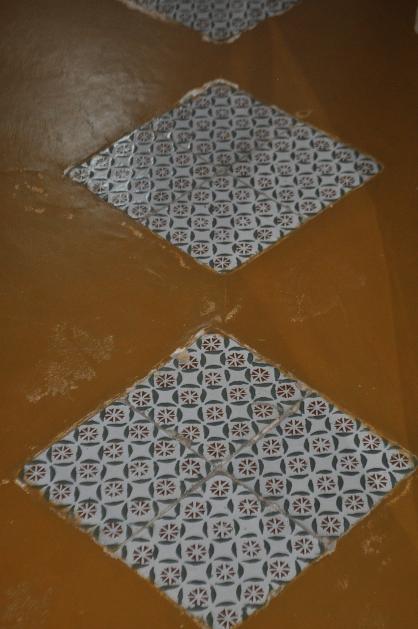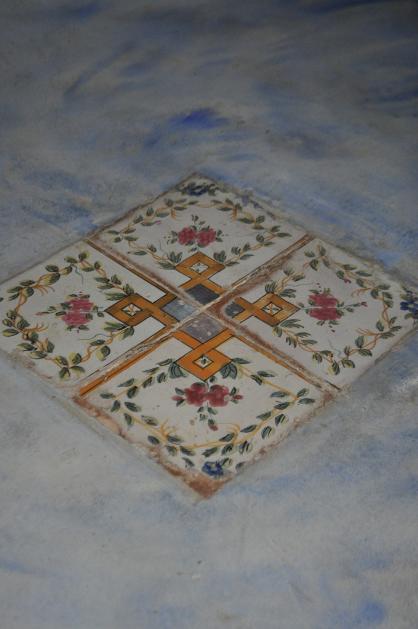 The corner of our terrace framed by colourful bouganvallia.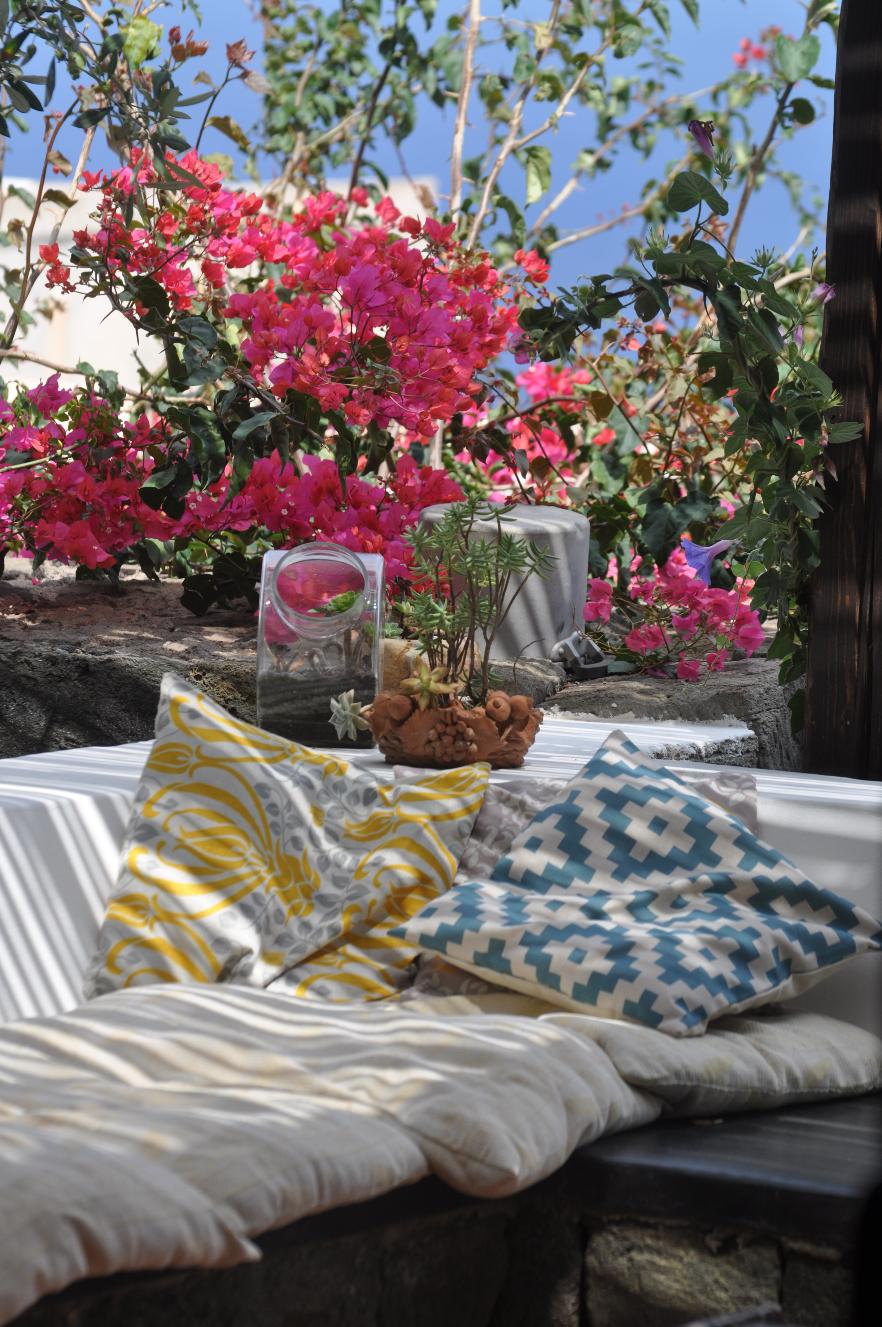 The 'bubble' tops of dommusi with the sea beyond.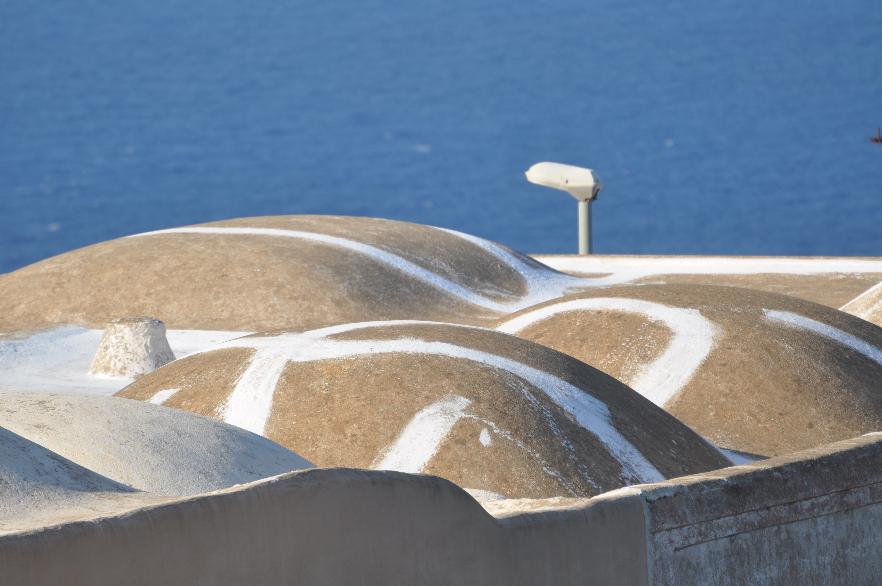 The day's selection of fresh fish.



Parmigiana di melenzane con colatura di Ragusano (eggplant parmigiana with coulis Ragusano) at
9 euros.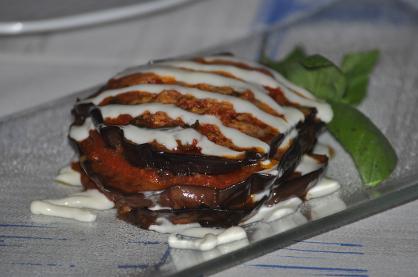 Ravioli panteschi di ricota e mentuccia al tomates (home made ravioli of ricotta and mint with fresh tomatoes) at 14 euros.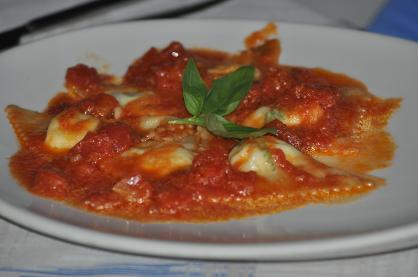 08 / 09 September 2016 - Halifax to Toronto to Rome to Pantelleria

Every trip starts with a long day of travel - in this case from Halifax to Toronto to connect to an overnight flight to Rome where we had a tight connection to a direct flight to Pantelleria. When we originally booked we had three hours but a schedule change reduced that to two. Arrival 20 minutes late created some anxiety (missing the flight would have been very problematic) but in the end we got to the Blu-Express check in counter with 25 minutes to spare. The flight from Rome to Pantelleria, a small island in the Mediterranean more or less two thirds of the way between Sicily and Tunisia took about an hour, arriving as scheduled. Although we didn't expect anyone to meet us at the airport Carlos was there to greet us. We picked up our rental car and followed him 10 km along the north coast to La Casa dei Fiori, translated The House of Flowers, where we are staying in a traditional dammuso (more about the damusso tomorrow) .

First impressions reminded us a bit of Majorca, with narrow roads and rock walls everywherea, and a bit of Palminzana (off Hvar in Croatia) due to the vegetation. Very few trees, some vineyards and always the sea within sight as the island is only 83 square kms. It is believed the island's present name probably derives from the Arabic bint ar-riah or 'daughter of the winds'. Windy it certainly is with a constant breeze that tempers the warm temperatures. It was in the high 20s with mostly blue skies.

Of course having virtually no sleep on the overnight flight the first thing on the agenda was a nap. With dinner not until 8:30 - 9:00 pm after our rest we went up to the alimentari to pick up a few things as we were both somewhat hungry. A bottle of wine, some bread and cheese was perfect to tide us over to dinner.

One of the attractions of La Casa dei Fiori is that dinner is served. In fact Carlos, the son of Maria Concetta has been a chef in London and Stockholm. Not having to find a restaurant the first night is always a nice plus. Dinner was delicious - first three plates of vegetables - grilled eggplant, roasted peppers and vegetable fritters, followed of course by a pasta dish and then for me a baked Sarago, an isalnd fish, all accompanied by a bottle of local (there is a fair amount of wine production on Pantelleria) white wine. We finished with some fresh fruit and a glass of passito, the rich golden raisin dessert wine of the island. A great first meal. Although we will try a couple of other restaurants on the island we will certainly enjoy Carlos' cooking another couple of times.

Still tired it was easy to fall asleep.



Our first glimpse of Pantelleria from the plane as we approached the airport.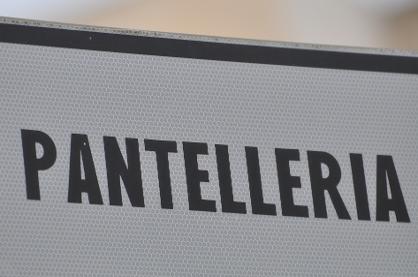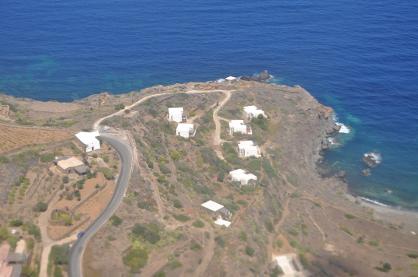 Being La Casa dei Fiori, or 'House of Flowers' we were of course welcomed by a beautiful bouquet of 'fiori'.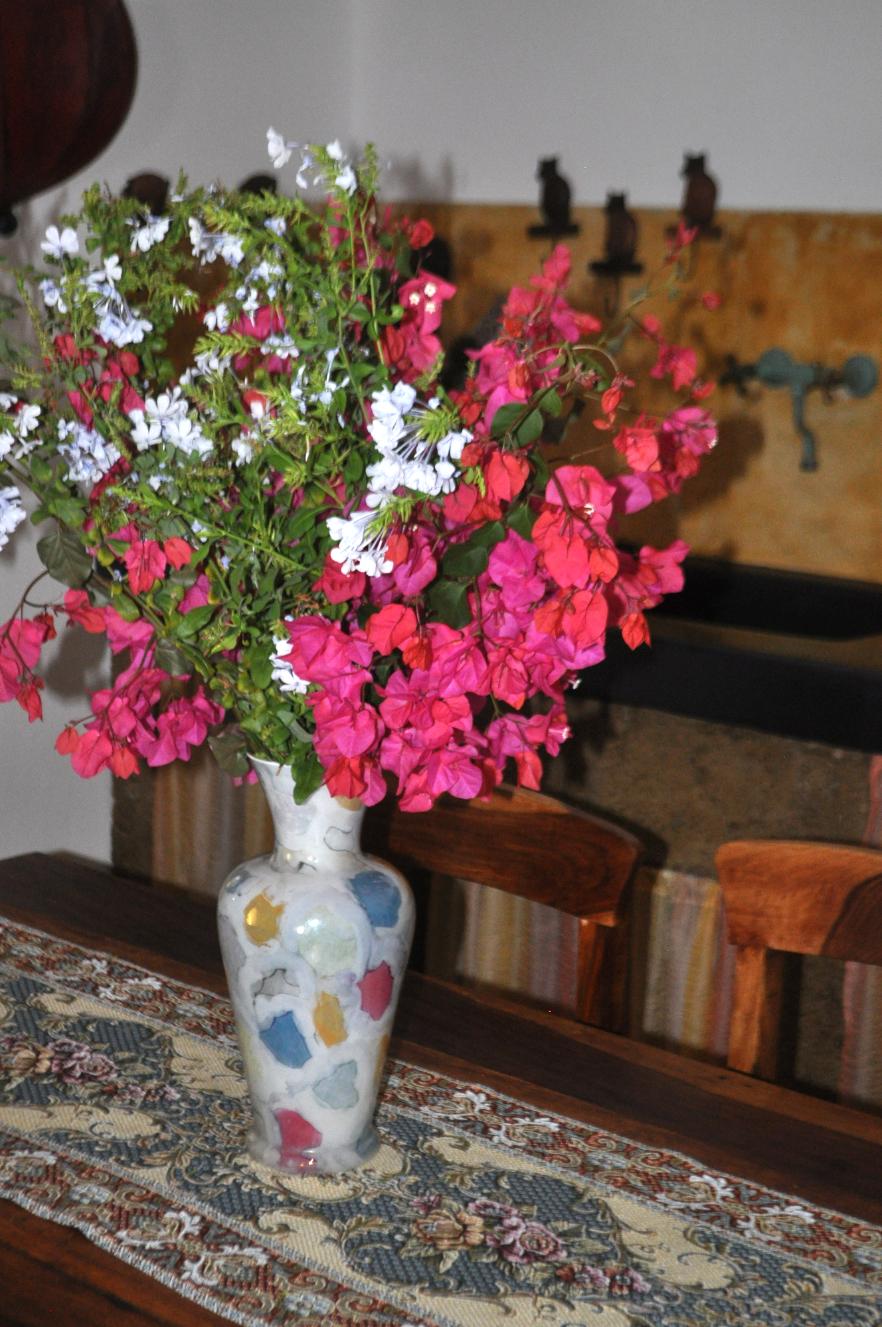 A little wine, cheese, bread and olives (ok and potato chips) to get us through to dinner.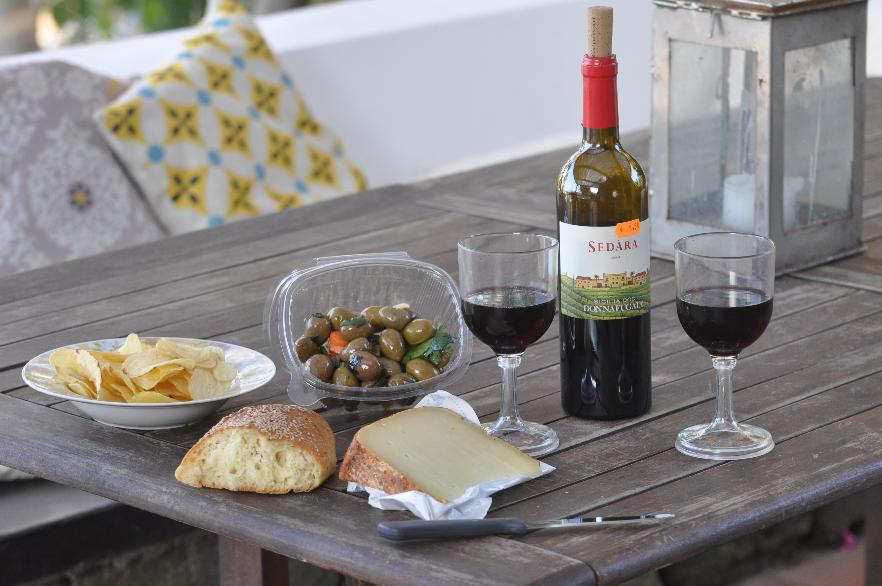 Carlos at work in the kitchen and our primo piatto of roasted peppers and vegetable fritters. Although I am not a huge fan of peppers these were extremely tasty with great flavour.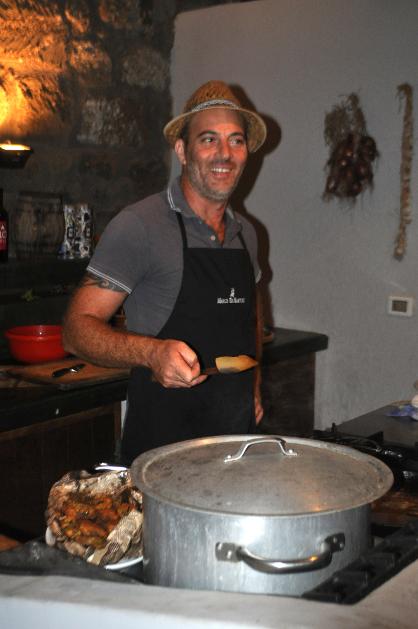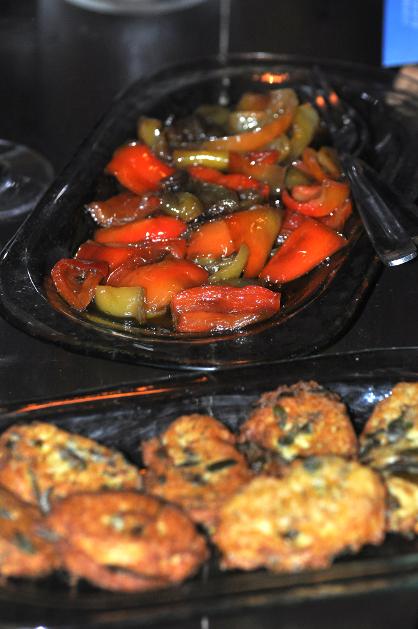 Carlos and Valeria preparing our dinner.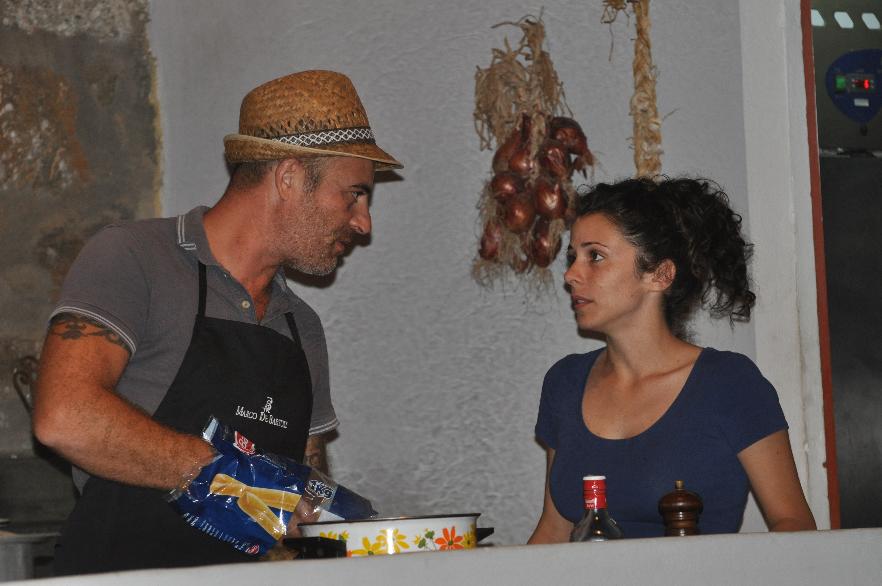 Of course our first meal here in Italy had to include a delicious plate of pasta.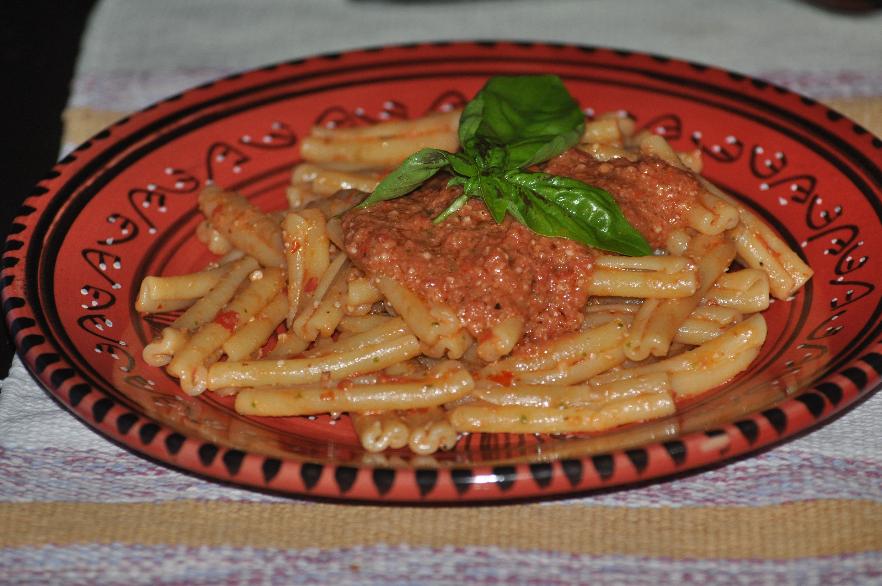 Fish is very popular on any small island surrounded by the sea. This is a Sarago, caught off the north-east coast of the Pantelleria.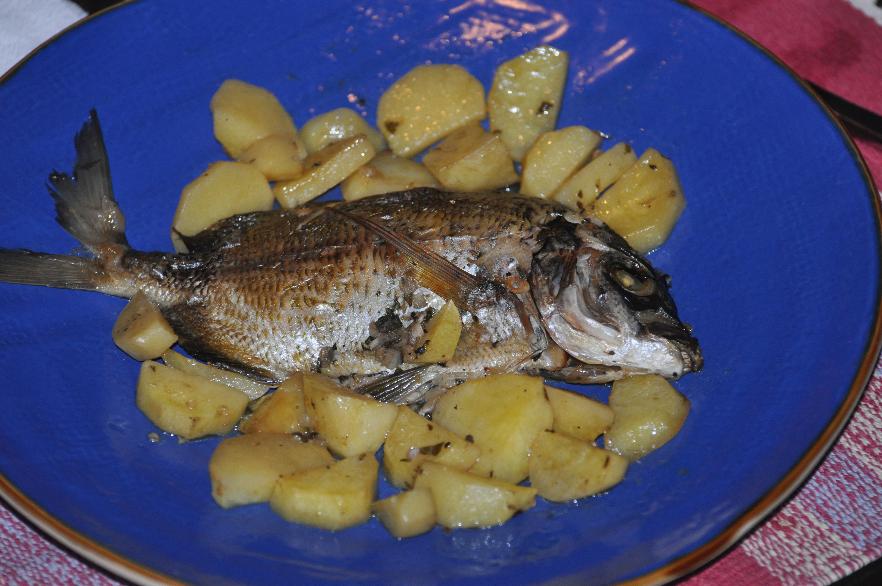 Two happy travelers enjoying our first dinner at La Casa dei Fiori, Pantelleria.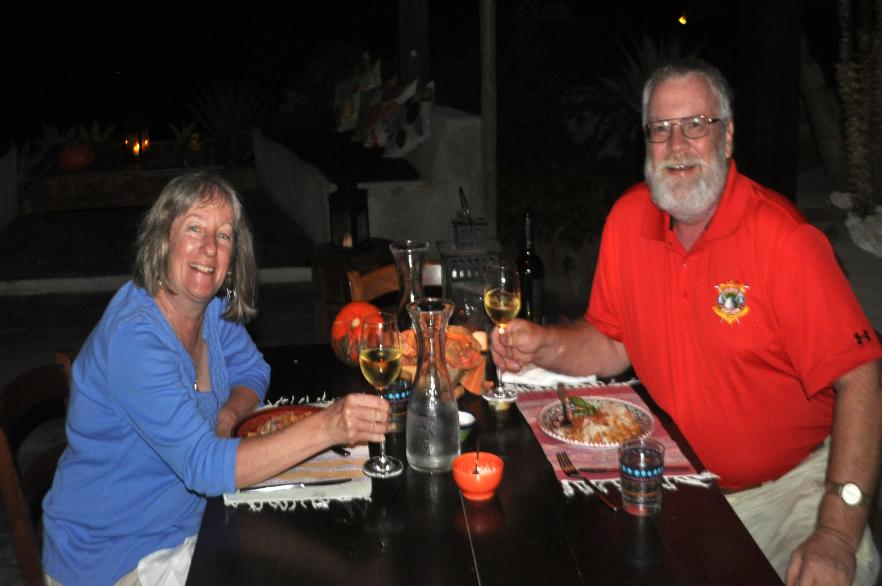 Sicily 2016 - September 08 to October 03, 2016
Our next trip is to Sicily. Gayle spent some time on Sicily during her year of travelling in 1974/1975 while Norm has never been this far south on any of his trips to Italy.
The trip begins with five nights on the island of Pantelleria, an island in the Straight of Sicily between Sicily and Tangiers, actually closer to Tangiers than Sicily. No particular reason for going to Pantelleria other than it qualifies as being 'off the beaten track'. Apparently the food is supposed to be very good.
Then it is back to Sicily for two and a half weeks, from Palermo to the west side near Trapani, then south with a couple of nights in Marsala, along the coast past Agrigento as far as Modica and then through the interior, i.e. between Caltanissetta and Enna back to Palermo. In spite of two and half weeks we will not be spending any time along the east coast and although not staying on the north coast we will likely do a day trip.
Rather than leaving Palermo on an early morning flight we will be leaving mid-day to Rome where we will then head about an hour and a half north-east of Rome for our last two days.
As always the ability to keep the travel-blog current will be dependent on the speed of Wi-Fi access. Photos can take some time to upload. Check back regularly to see if an update has been posted.
Norm and Gayle