June 19
,
2010 - July 01, 2010
Having been 30 years since we were in France and Greece for our honeymoon we booked a trip to a number of Greek islands for September. However after each of our mothers passed on (Mary in February and Leila in April) we decided to add a short trip (11 nights) to Provence as we had spent the first half of our honeymoon in France.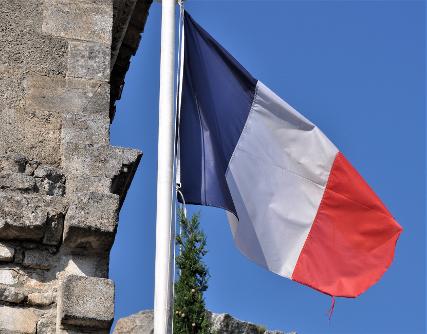 June 19 / 20
,
2010 - Halifax => Montreal => Marseille => Forcalquier
We flew to Montreal and then directly to Marseille (Air Transat) the evening of June 19th. From Marseille it was an hour and a half or so drive, through Aix en Provence to the small town of Forcalquier.
During the Middle Ages the town was the capital of Haute Provence. With a population of nearly 5,000 Forcalquier is built around the slopes of a steep conical hill, crowned by an octagonal chapel, Notre Dame de Provence. The oldest part of the town is the area around the Place Saint-Michel with its Renaissance fountain (1511) and narrow side-streets along which there are many doorways dating to the 12th to 16th centuries. The town is also known for its 12th century 'concathedral', Notre Dame de l'Assomption with its bell towers and the 13th century Franciscan Cordeliers Convent. The Port de Cordeliers is all that remains of the town's fortified walls.
We stayed three nights at the Auberge Charembeau, 4 kms out of town. The Auberge is built within the imposing walls of an XVIIIth century farmhouse within a property of hills and meadows. The grounds are very tranquil with a number of benches and chairs for one to relax and enjoy the views of the surrounding countryside.
We ate at a creperie in Forcalquier - how French - our first night starting with a L'En Cas Provencal salade that included ratatouille, a fresh chevre (goat cheese) avec ail (garlic) and fines herbes, tapenade and toasts. Gayle had a Vegetarian crepe of cheese, mushrooms, onions and ratatouille while I had the Three Cheese crepe of gruyere, roquefort and reblochon with crème fraiche, accompanied by a half litre of Cotes du Ventoux wine. For dessert we shared a Tatin - caramelized apples with crème fraiche and flambée calvados.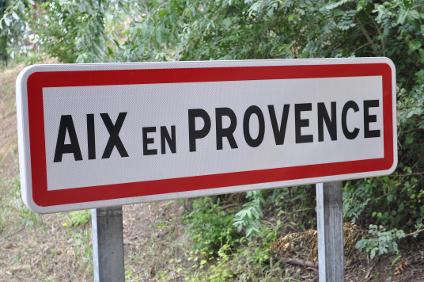 Auberge Charembeau was an easy one hour drive from Marseille airport.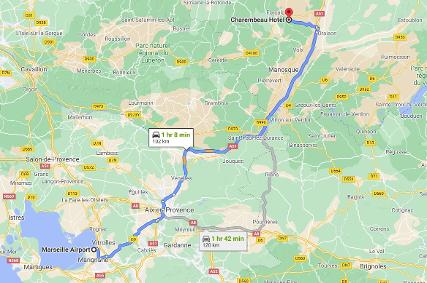 Where the spring poppies were in full bloom.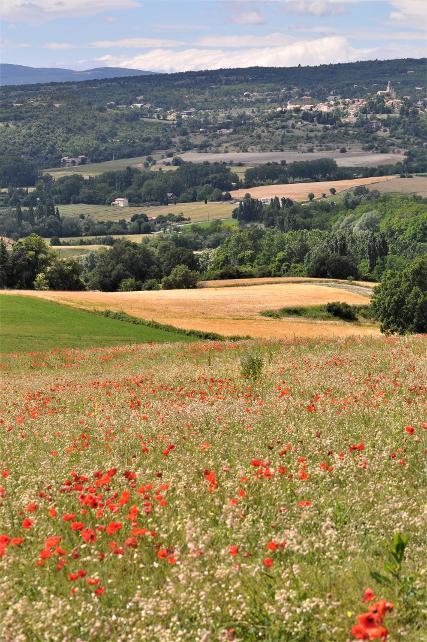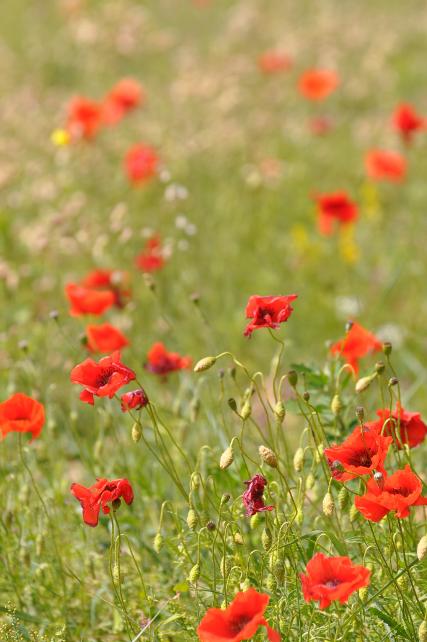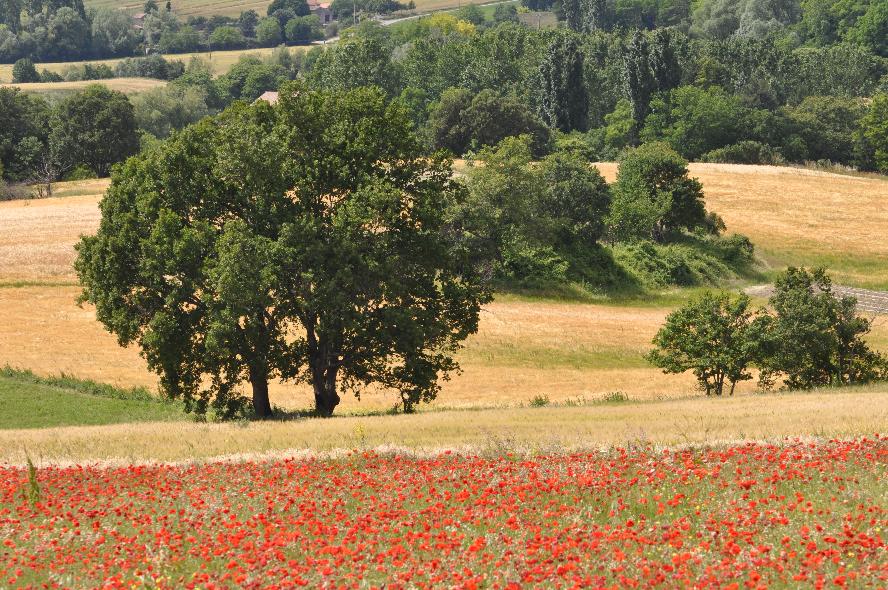 The tranquil grounds of Auberge Charembeau.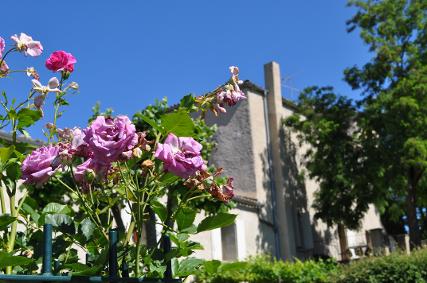 Enjoying the views of the countryside.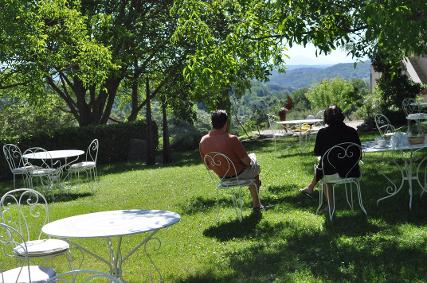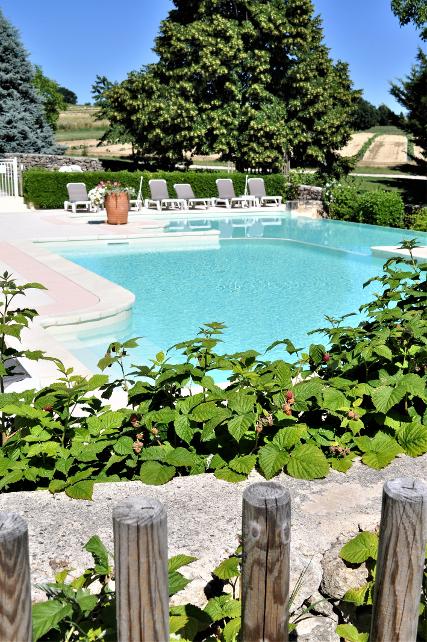 A French Boulanger (bread shop) / Patissier (bakery), and some bread from the next day's market.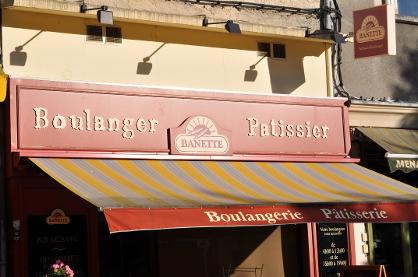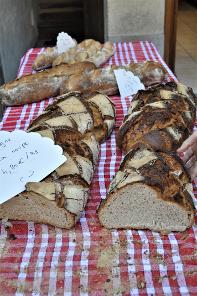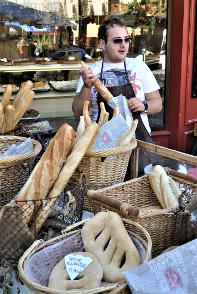 Forcalquier's cathedral - Notre Dame de l'Assomption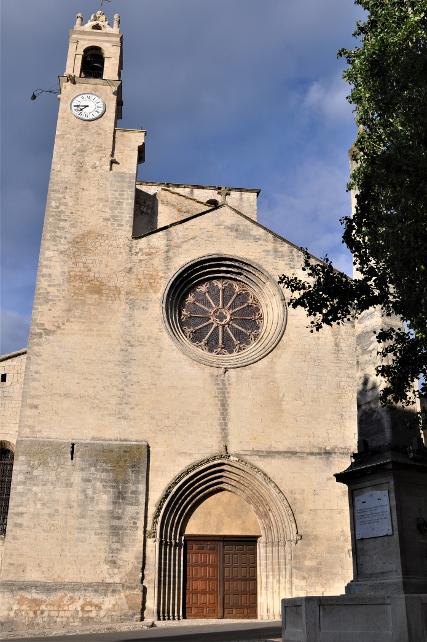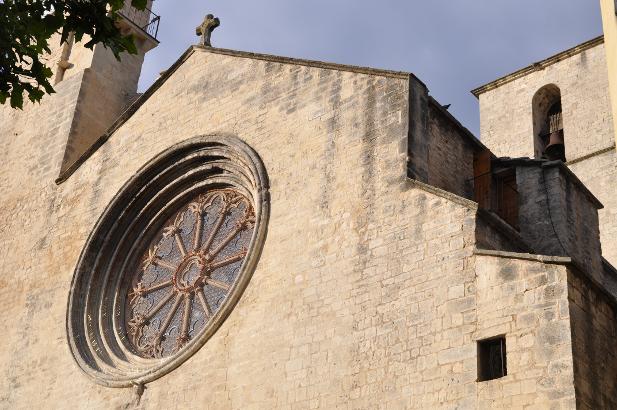 Seeing a creperie while strolling through Forcalquier we quickly agreed this was the place for dinner - a very good choice for our first meal - a nice salad; French crepes and local wine, in a nice setting.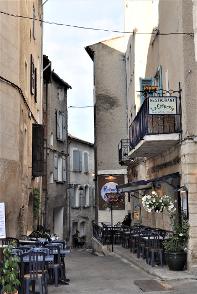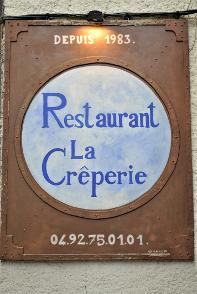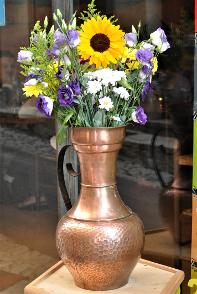 Our meal at Restaurant La Creperie included a L'En Cas Provencal Salad, a Vegeterienne crepe and a trois Fromages crepe, ending with a Tarte Tatin, accompanied by a half litre of Cotes du Ventoux wine.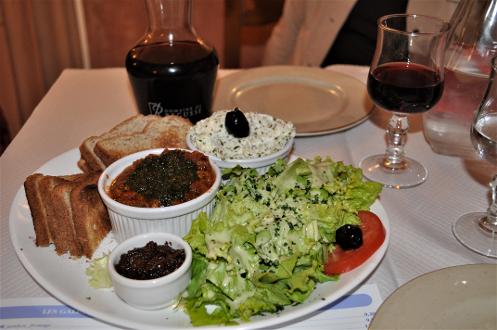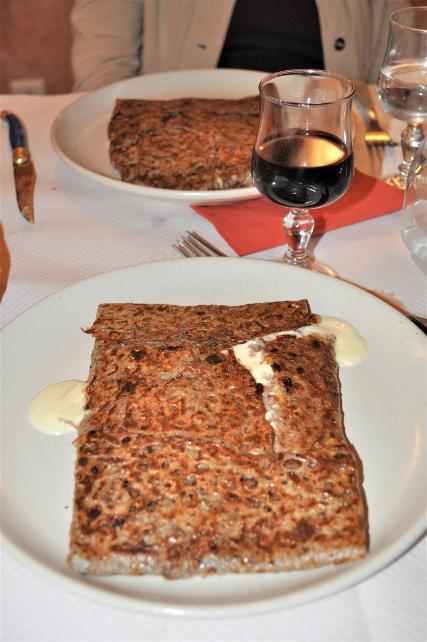 June 21
,
2010 - Forcalquier (market day), Auberge Charembeau
We awoke to a beautiful sunny day that allowed us to enjoy breakfast outdoors on the the large grassy area. Breakfast, although extra (10 euros each) was extensive and delicious.
Monday is market day in Forcalquier, filling the Place du Bourquet and the adjoining streets. After breakfast we went into town to wander through the market, admiring all the displays of meats, cheeses, olives, breads, fruits, flowers and vegetables. It was very busy - the market, the cafes the narrow streets - a French tradition. We bought some bread and spreads that we had early afternoon on our balcony along with some wine.
In the afternoon we visited nearby Salagon museum and gardens. The gardens have been created on the nobotany principles and lair out to fit the site's agricultural history. They show the relationship between humans and the plants around them; the way plants are used, knowledge about them, representation of them, etc. They are also an aesthetic creation, an educational tool and a facility for the conservation of plants and knowledge. There is a village plants garden, a medieval garden, the modern garden and the fragrance garden, along with permanent exhibits of village craftsmen and Salagon through the ages. More detail can be found on the website www.musee-de-salagon.com. As well, on site is the Salagon medieval priory, a historic monument since 1981. Together with the Ganagobie monastery, Salagon priory is one of the most significant sources of heritage of the Haute-Provence during the medieval period. Included is the church, built in the 11th century, the priory residence - built in the 15th century on the site of a monk's residence, and the agricultural buildings, from the 15th and 18th centuries.
We returned to Forcalquier where we ate in, of all places, a Moroccan restaurant. Although there are currently (2021) two Moroccan restaurants in Forcalquier we do not recall the name of the place nor what we ate. We do recall a Belgian couple we chatted with who had their dog with them. French restaurants allow dogs to come inside, provided they are well behaved. Surprisingly we have no photos of our meal. All we know is it cost 40.90 euros.
Back to Auberge Charembeau for a peaceful sleep in the countryside where there is not a sound until the early morning when the chirping of the multitude of birds can be heard.
Freshly baked croissants and an assortment of breads along with other breakfast staples.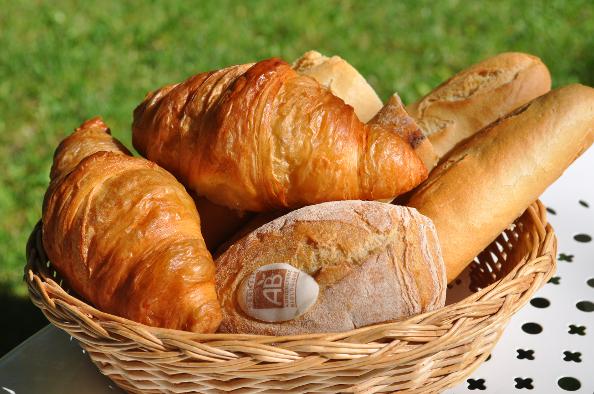 After breakfast it was off to the weekly market in Forcalquier, where there were flowers, and cheese ...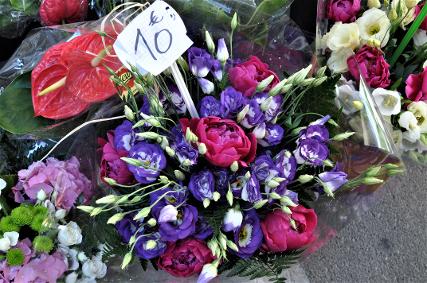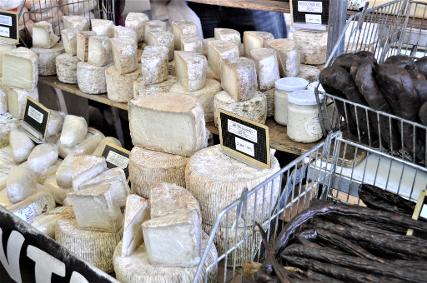 ... and garlic, and quiche and cheese and meat ...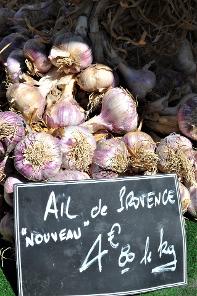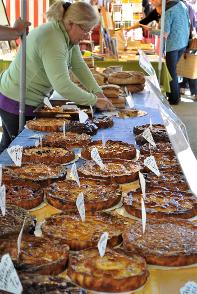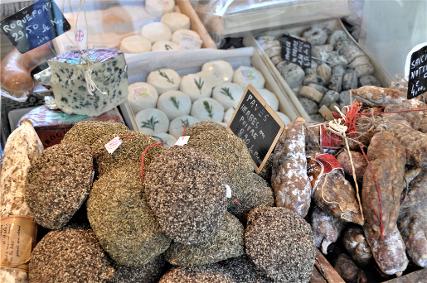 ... and olives, and tapenade, and dolmades and numerous varieties of olives ...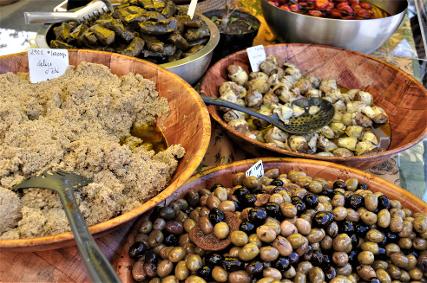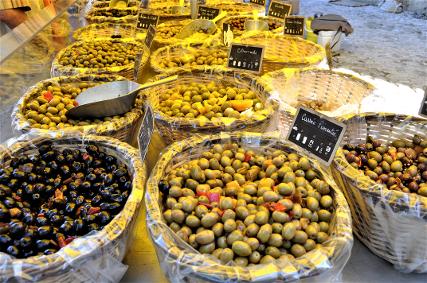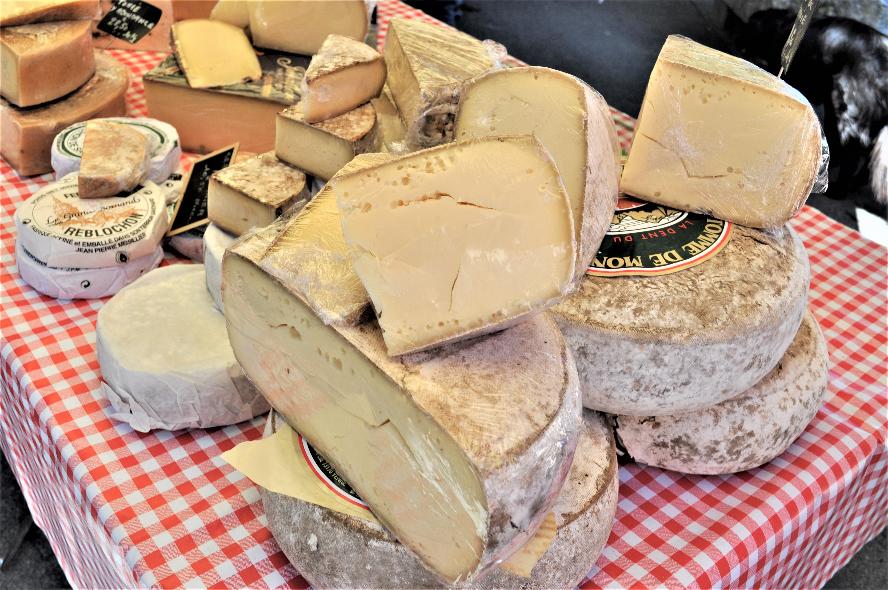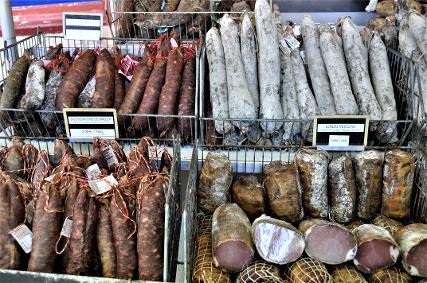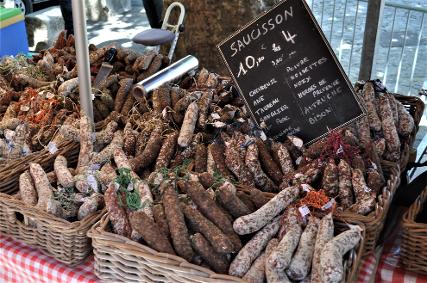 ... and a sun-dried tomato paste, sun dried tomatoes and more olives ...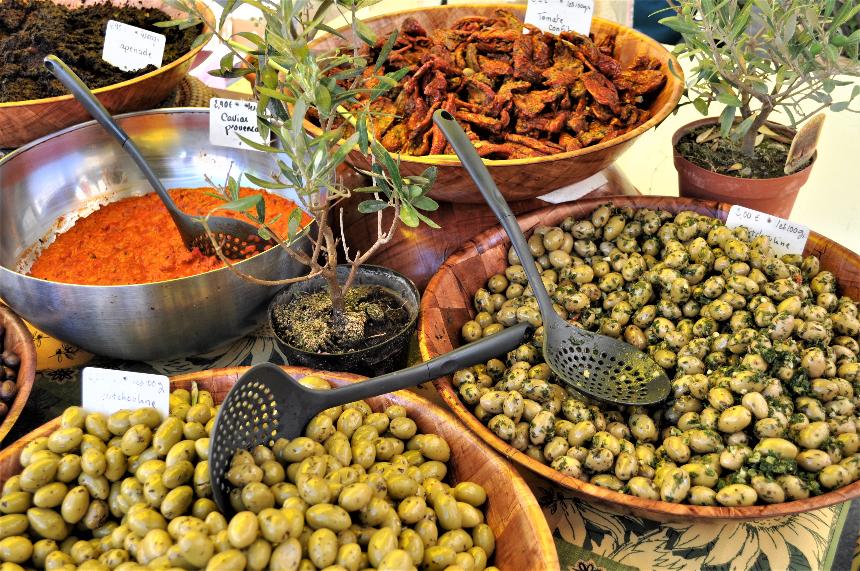 ... and more garlic and stuffed tomatoes and paella ...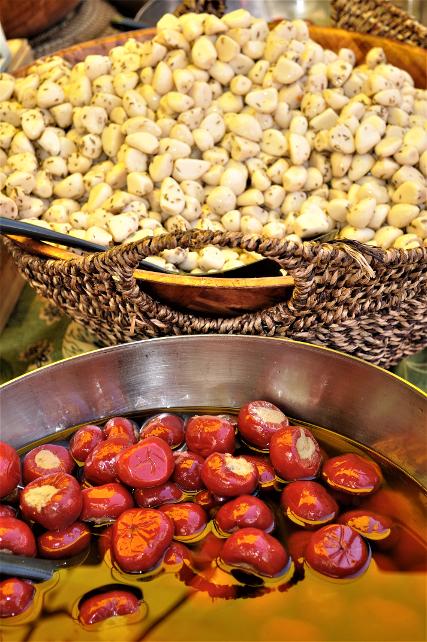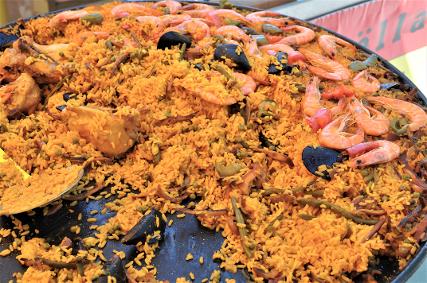 .. and the streets and cafes full of shoppers.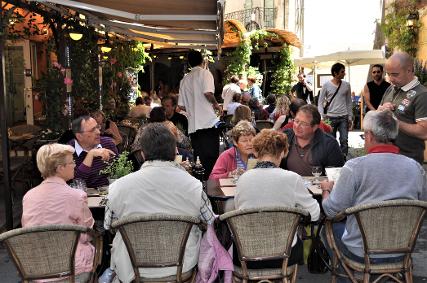 Another old church in Forcalquier. Smile.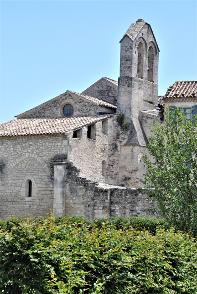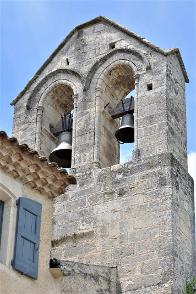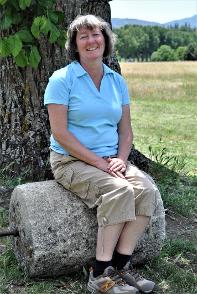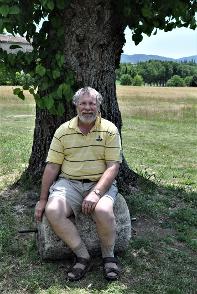 The monastery, priory and a small snippet of the gardens at Salagon.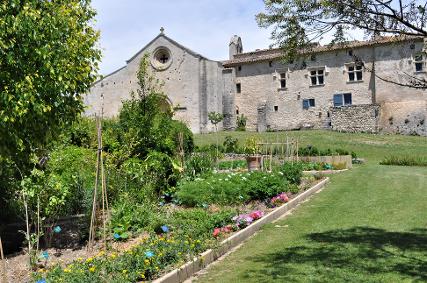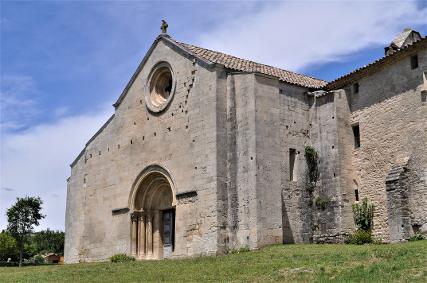 A nearby hill town crowned by a cathedral.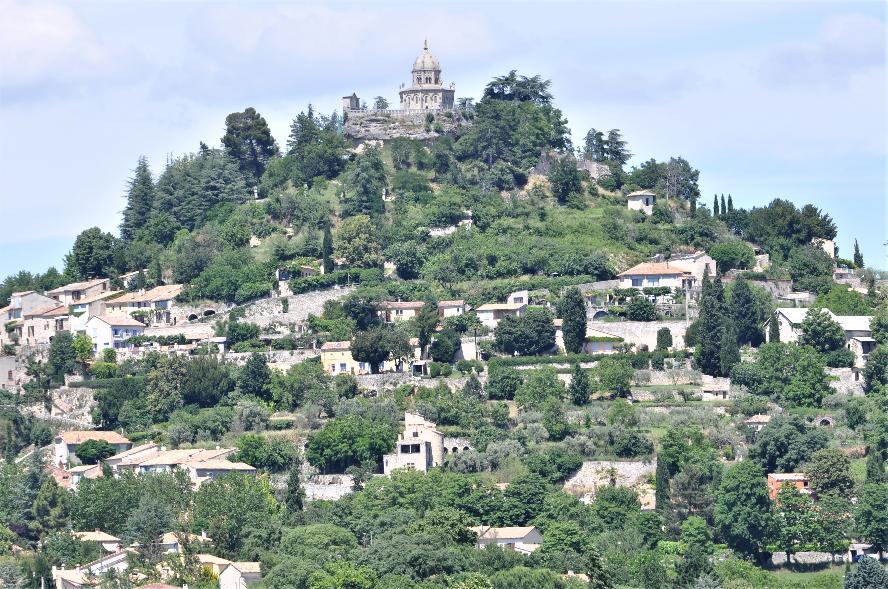 Attractive stone buildings are common in Provence.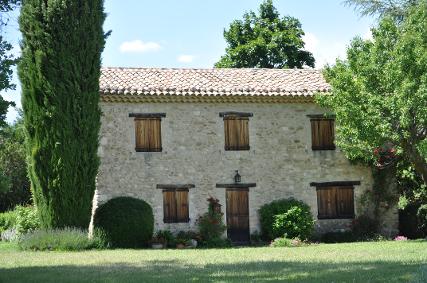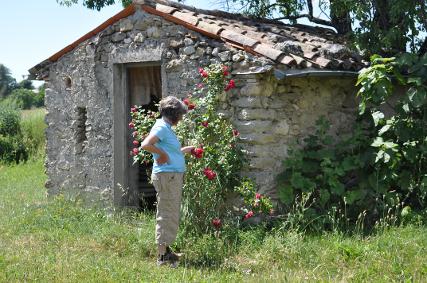 Enjoying the view, the flowers and a snack (with wine) on our balcony at Auberge Charembeau.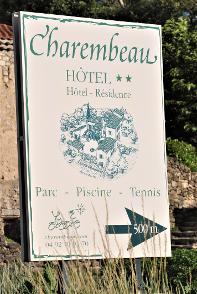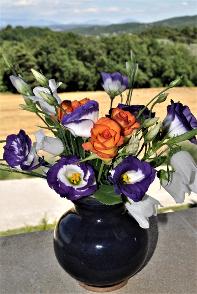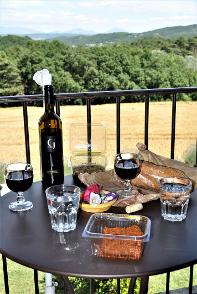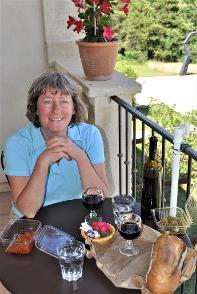 June 22
,
2010 - around Forcalquier, Auberge Charembeau
After another enjoyable outdoor breakfast on what was another wonderful day we then left for a drive around the area.
The first place we came upon was the Ecomusee l'Olivier, initially built in the early 1900s as a place where the local limestone was transformed into quicklime. Eventually the factory was converted to one of L'Occitane products - olive oils, vinegars, local savory groceries, truffles, soap and care products. In 2006 Olivier Baussan installed his collection of objects he gleaned from around the Mediterranean linked to the mythical olive tree. The Musee is now a space for promoting the olive tree and its culture. From the biology of the tree to its mythology, from the traditional soaps to the use of oil as fuel for lighting, from the pruning of the olive tree to the harvest of the fruit and the making of olive oil, and finally a tasting. One of those nice < 1 hour museums it was quite interesting.
Our next stop was the garden of the abbey of Valsaintes with its beautiful rose garden (among others). The website describes the gardens as an invitation "... to wonder, stroll, relaxation and serenity allied to the pleasure of discovering an exceptional natural, historical and spiritual space."
Afterwards we went to the village of Simiane-la-Rotonde (population 600 plus or minus). It was a wonderful stop as we strolled through the narrow alleyways of the village. We first stopped at a cafe for coffee and pastry and then later stumbled upon a pottery shop where we purchased two bowls and a cafe-a
u-lait cup and saucer.
Our drive took us through a number of lavender fields. Early on they were short of full bloom but as we drove a bit west and north the colours became somewhat more vibrant. We expect the fields to be even more impressive in another week or so but still it was nice to see the start of what will be.
Given the great weather and the beautiful grounds at Charembeau, rather than go out for dinner we purchased a number of 'picnic' items - meat, three cheeses, including camembert and roquefort, bread, olives, artichokes in oil, a salad and raspberries - accompanied by water and a bottle of red wine. We laid out our table cloth on one of the outdoor tables under a tree, brought out our flowers and enjoyed a very nice meal.
The Musee l'Olivier in Volx.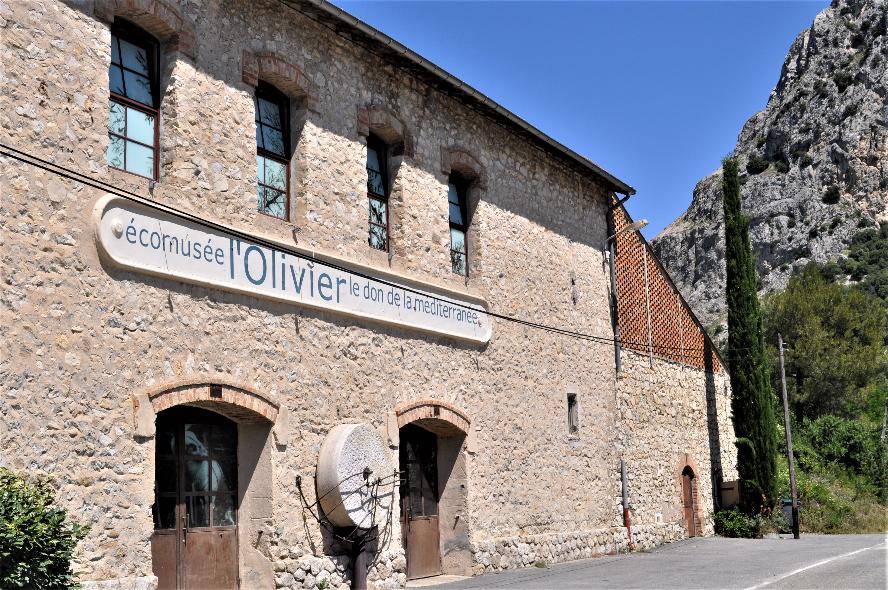 Two of the olive pressing wheels. One of the museum's displays.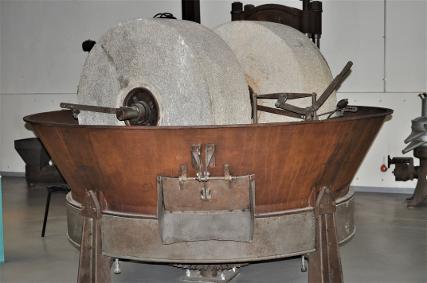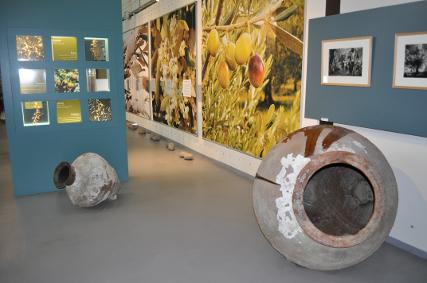 Windmills, fields of sage and not quite yet in full bloom lavender all contribute to a scenic countryside.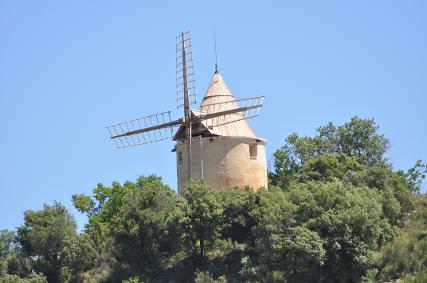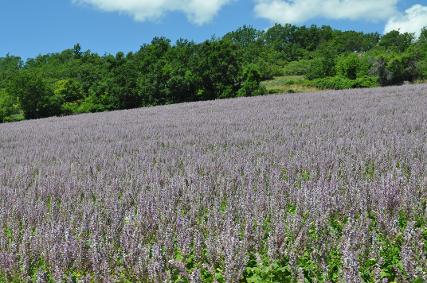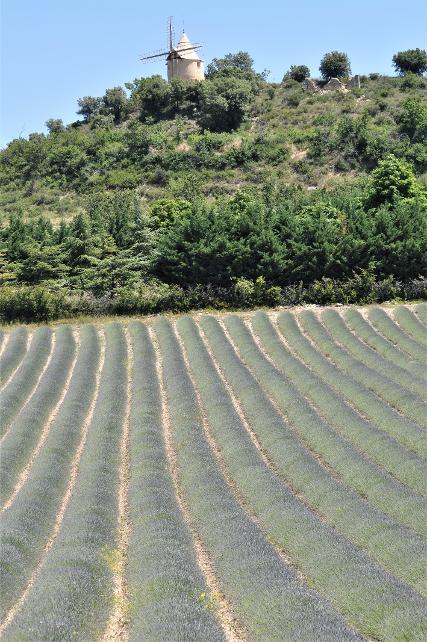 Countryside in the region. Admit it - quite cute.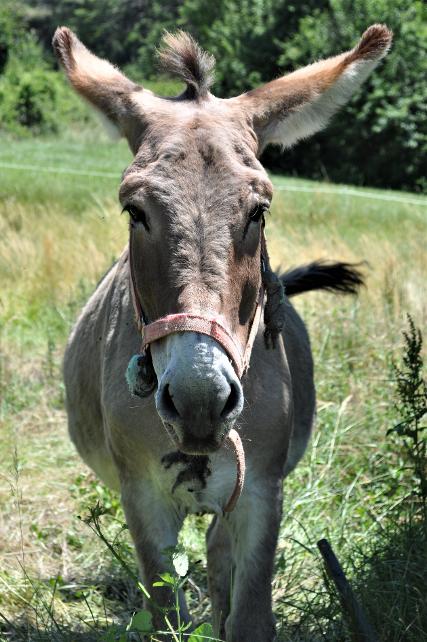 Our next stop was Pépinière - a rose garden, in conjunction with the Abbaye de Valsaints.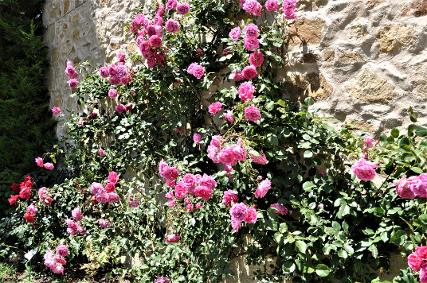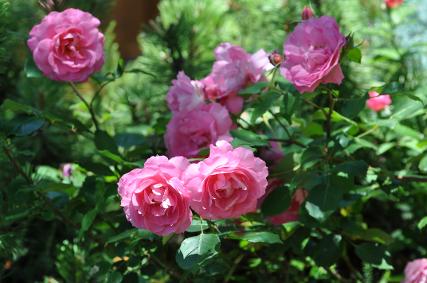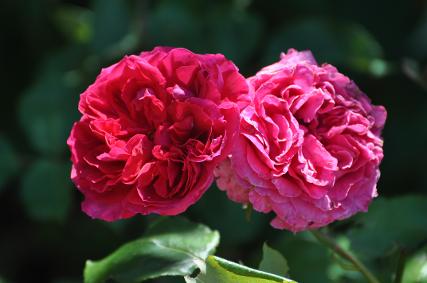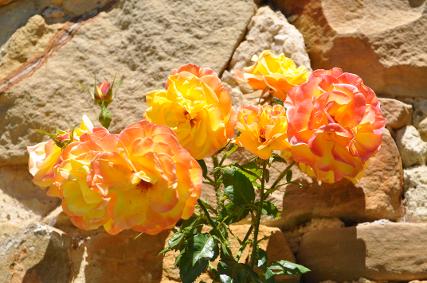 Flowers attract many butterfliers.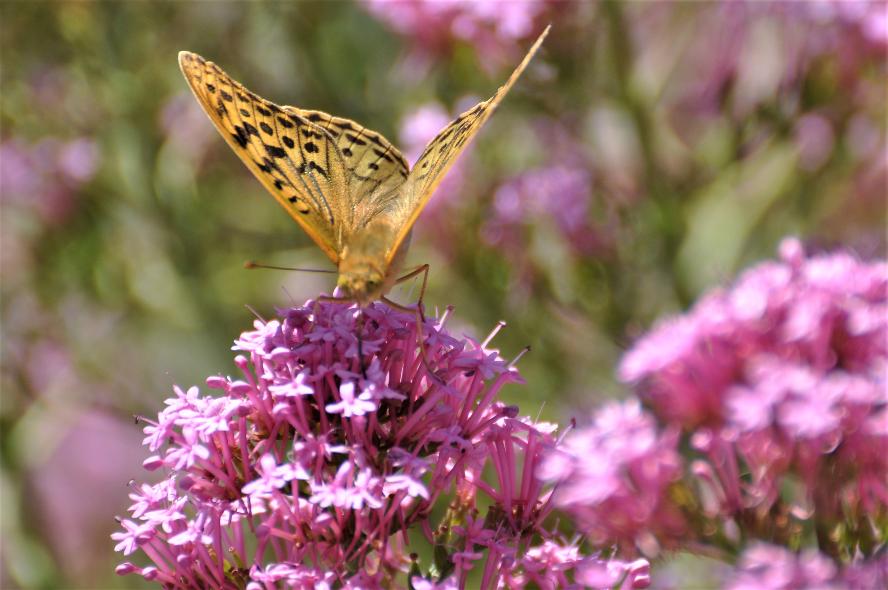 As we drove further the lavender became somewhat more vibrant.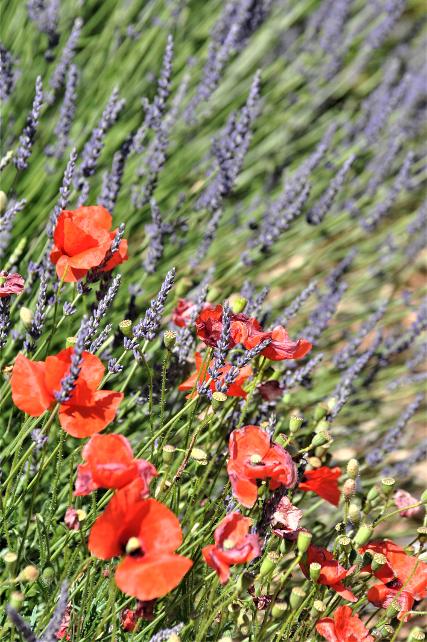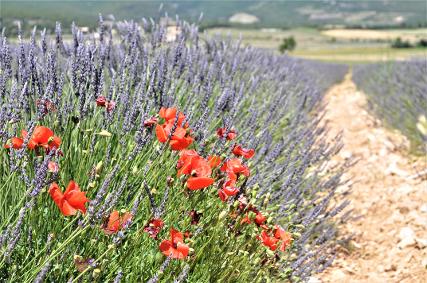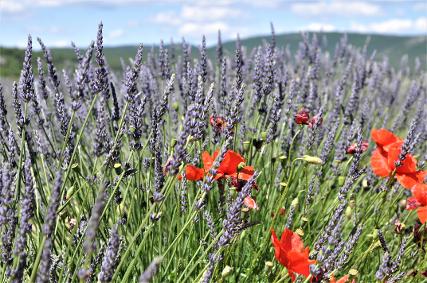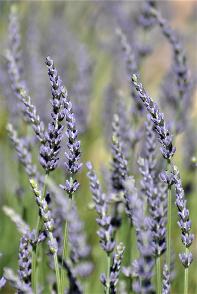 Beautiful Provence windows.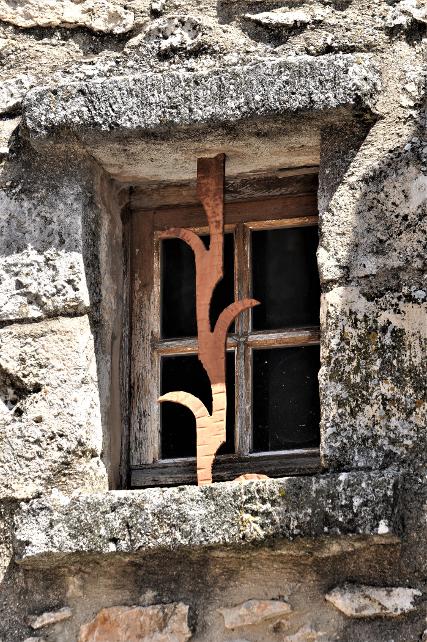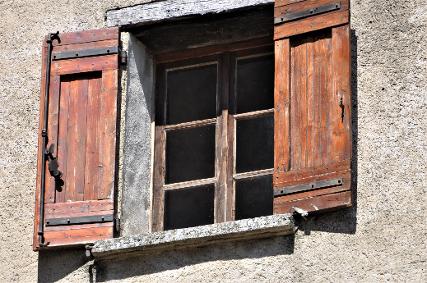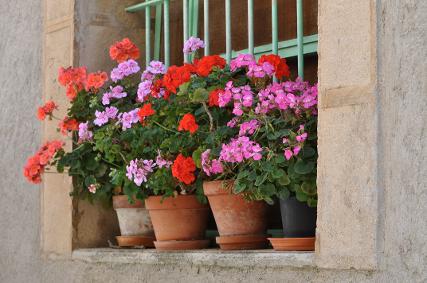 The view east from Simiane-la-Rotonde.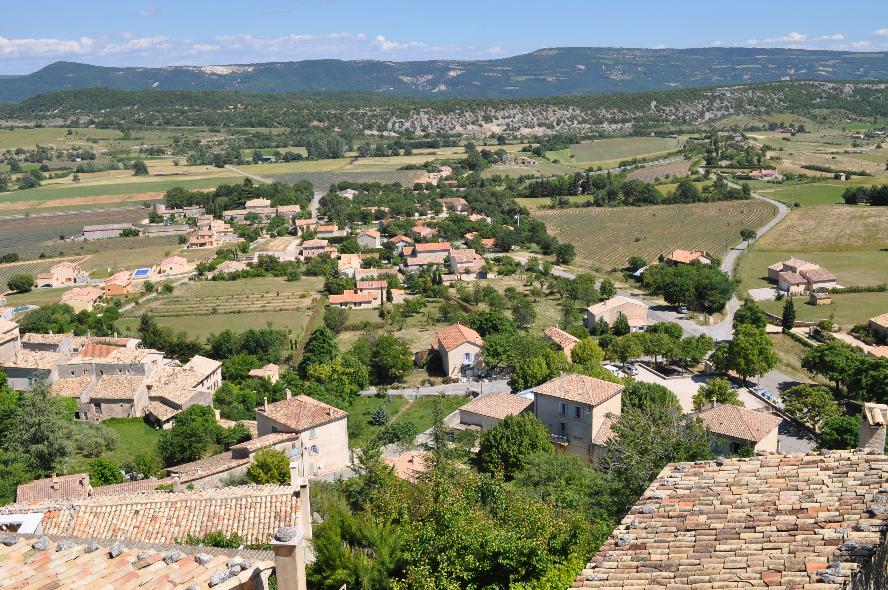 A stop at a cafe in Simiane-la-Rotonde along with a church in the village.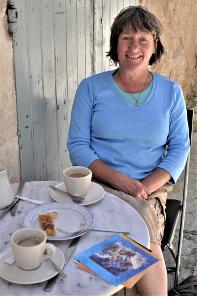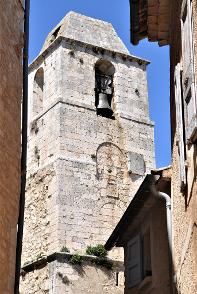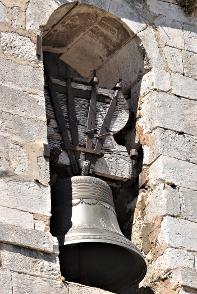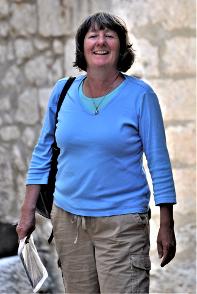 Flowers, buildings and vines in the village.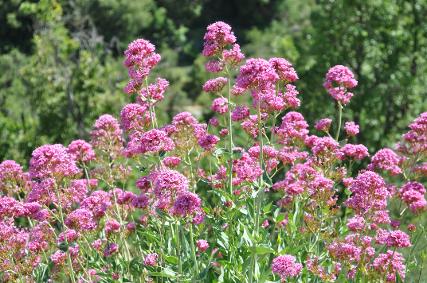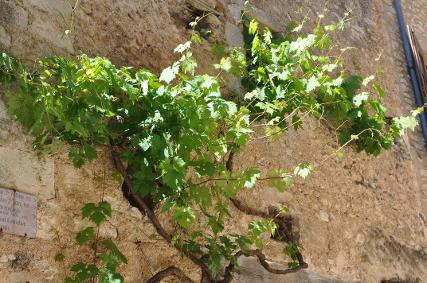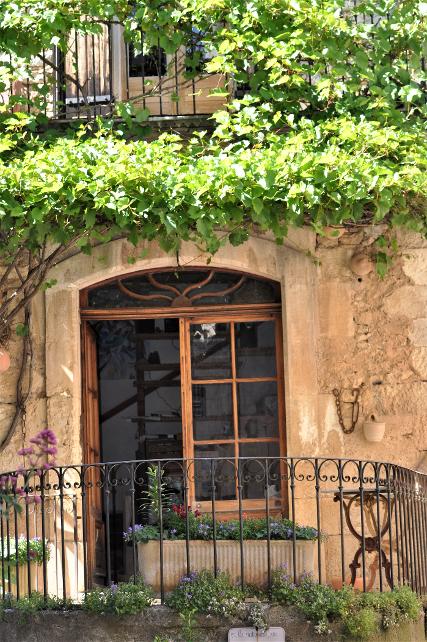 Our picnic dinner. We bought the blue and yellow bowls earlier in the day in a pottery shop in Simiane-la-Rotonde.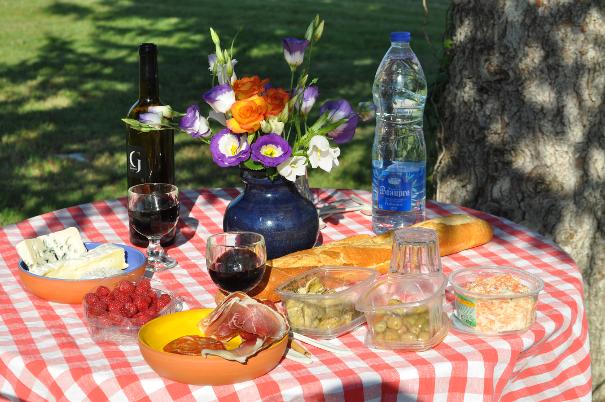 June 23
,
2010 - Forcalquier to Villages des Beaumettes (Au Ralenti du Lierre)
We left Auberge Charembeau after yet another tasty and enjoyable breakfast. Our itinerary took us west through the Luberon to Villages des Beaumettes where we will be staying the next three nights at Au Relanti du Lierre.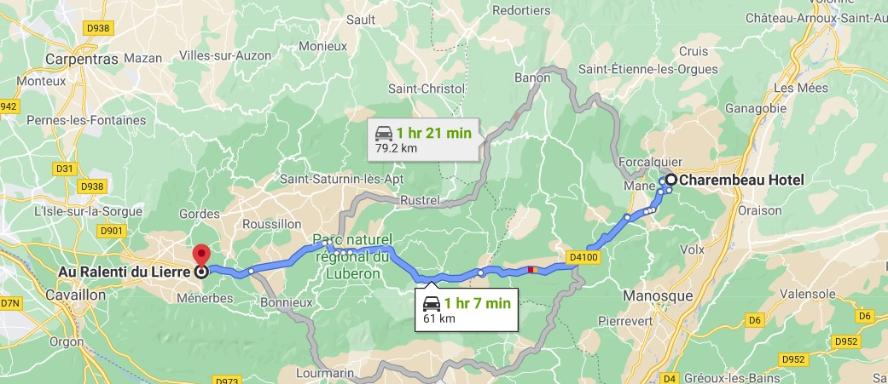 We drove through some beautiful gently rolling French countryside along some attractive tree canopied roads and past a number of even more vibrant lavender fields. We drove over some very old cobblestones and saw the bright red cherries ripening. Along the way we stopped for a snack that included a salad and some toasts with cheese and then desserts of chocolate mouse and a fruit crisp.
Our 'home' the next three nights is Au Ralenti du Lierre, ideally located near many beautiful villages of the Luberon, Gordes, Menerbes, Roussillon and Lacoste. The B&B is an authentic, spacious and bright 16th century mansion with an interior courtyard, its Provencal garden and swimming pool surrounded by dry stones.
Having had a mid-day snack we ate a light dinner at a nearby cafeteria style place - Du Pain sur la Planche. Nothing fancy but Gayle's bread smothered with an olive pate, grilled eggplant and bell peppers, topped with Parmesan and my Assiette du Royans - pesto ravioli accompanied by toast with warm goat's cheese and honey; bread with camembert, ham, a green salad, grilled vegetables and tomatoes both were excellent.
The birds had me up early - in time to catch the sunrise. Auberge Charembeau's main building.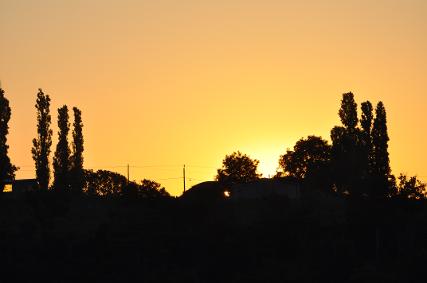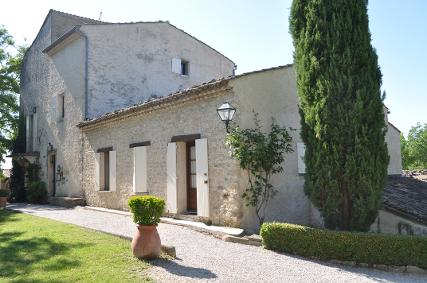 Breakfast. Planning our day's route.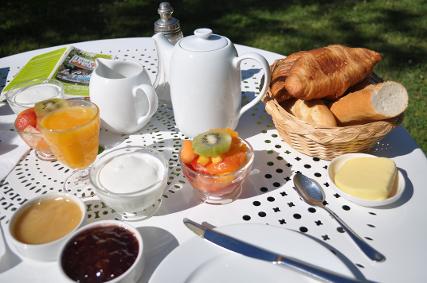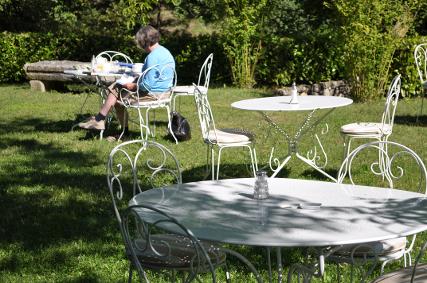 Auberge Charembeau -final views before departing.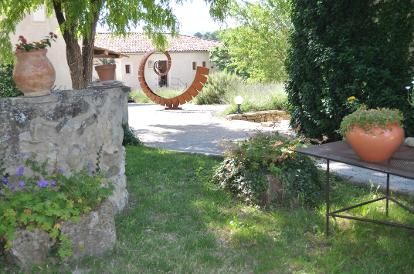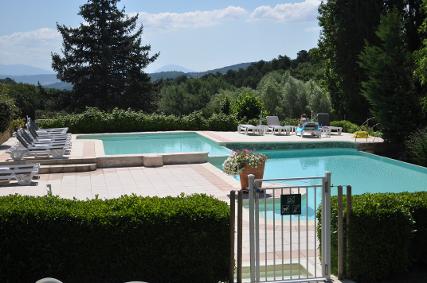 Churches, old doors, and colourful shutters seen along our drive.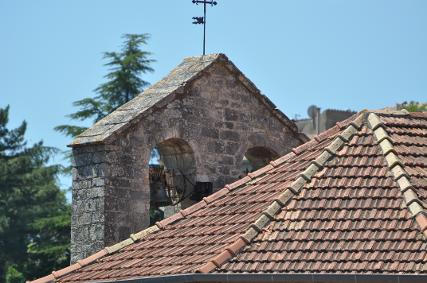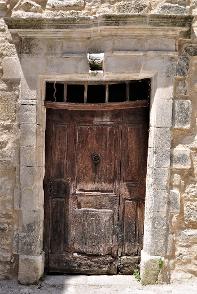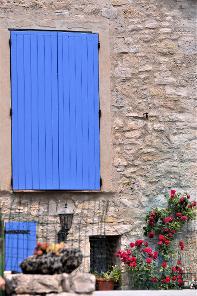 Some vey old, and tricky to walk on cobble stones.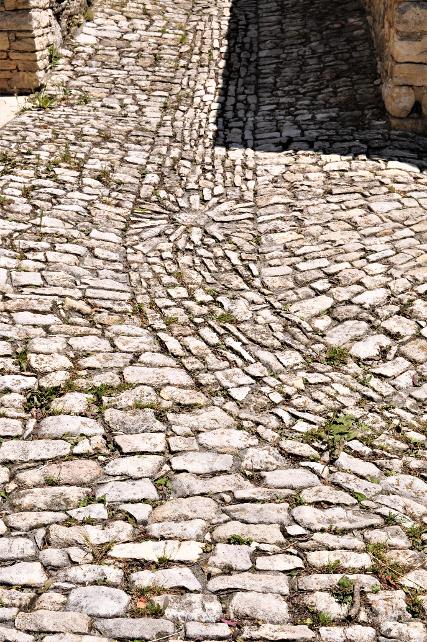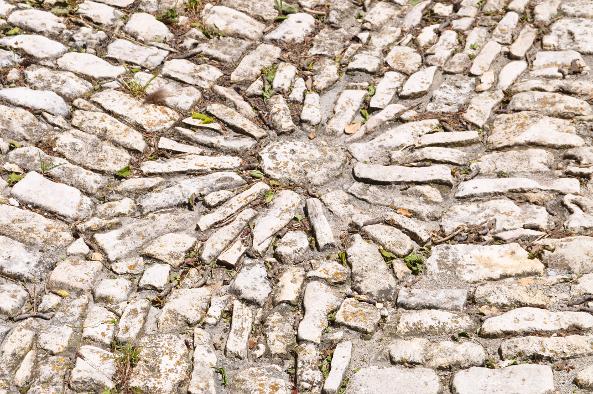 Like driving through a tunnel.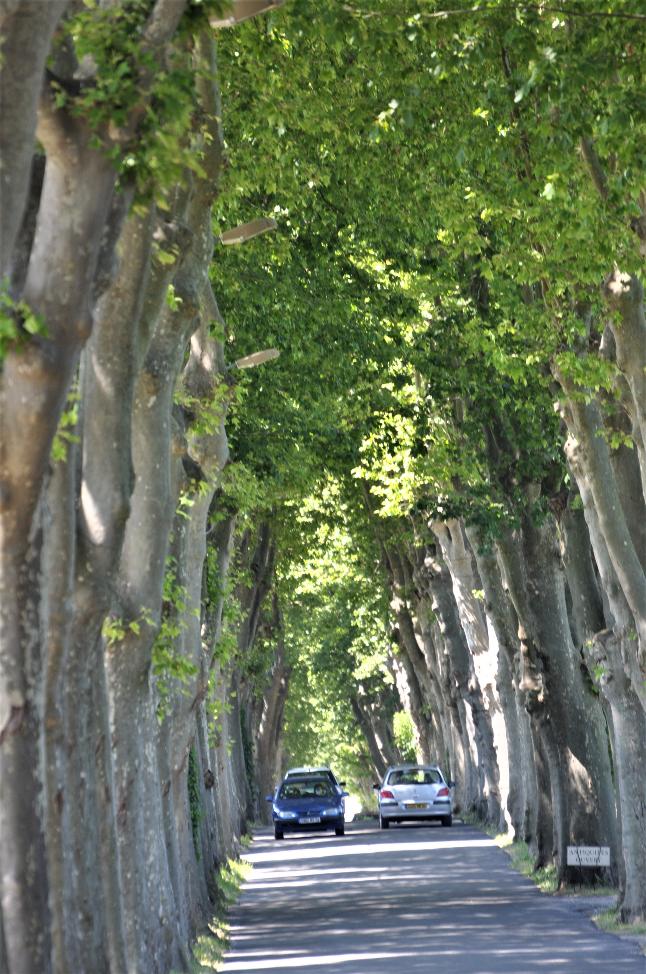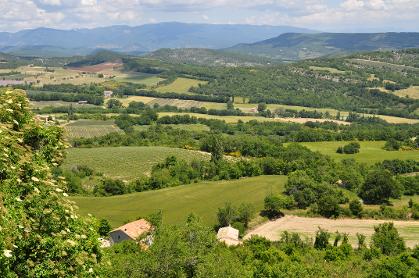 A light lunch including desserts of chocolate mouse and fruit crumble.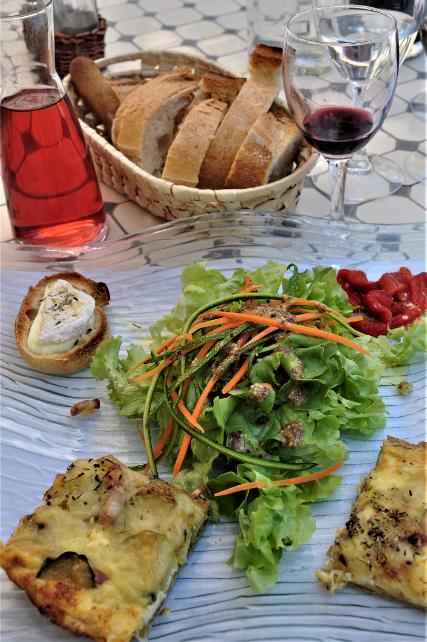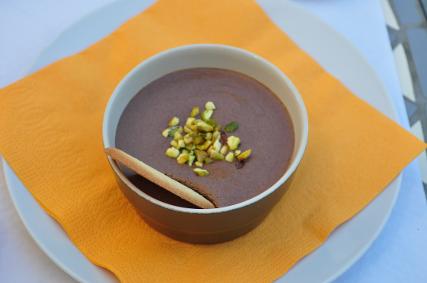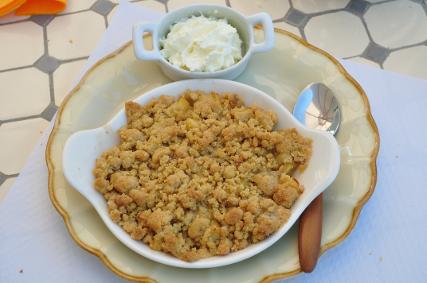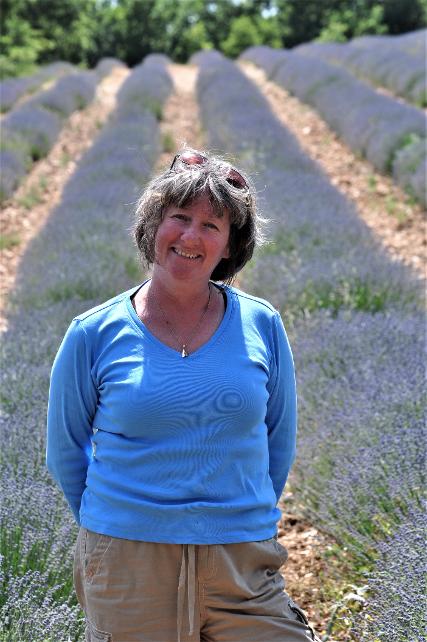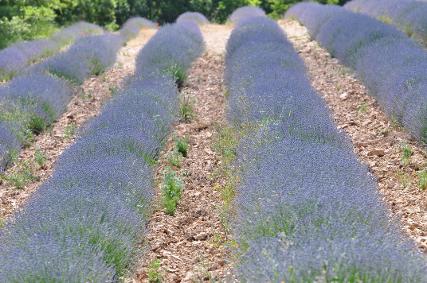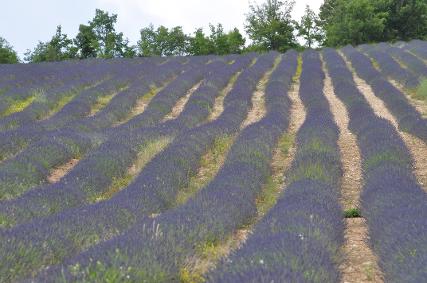 Ripening cherries. A bike that has outlived their mobility purpose - now a piece of art.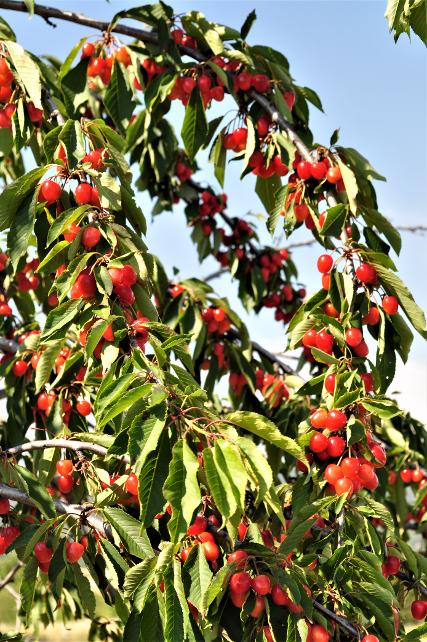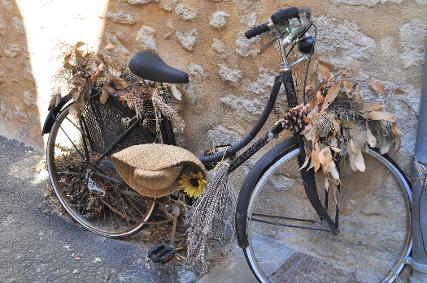 A typical stone building of Provence.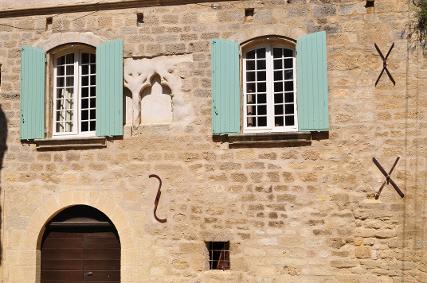 Pate d'olive, aubergines grillees, poivrons grilles and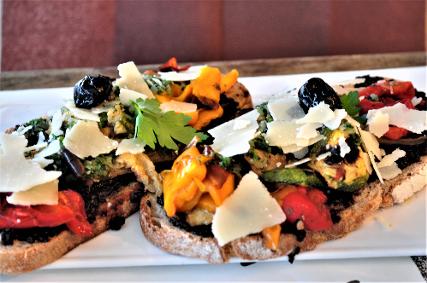 Assiette du Royans - ravioles grillees; toast de Chevre chaud au miel; jambon cru; salad verte; legumes grilles and tomates (15.90 euros)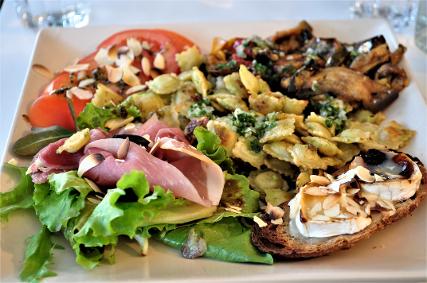 June 24
,
2010 - Villages des Beaumettes (Au Ralenti du Lierre) and nearby area
Au Ralenti du Lierre has a nice pool on the upper level where breakfast (on nice days of which this was another) is served. After breakfast we checked out the small market set up on the street of the Villages des Beaumettes and then spent the late morning / afternoon driving around the area.
Our first stop was the nearby Lavender Museum where the lavender of Provence is showcased in a traditional Luberon farmhouse. The Musee includes the largest collection of copper stills dating as far back as the 16th century. Two documentaries inform one on the growers work, the lavender planting, cutting and distilling. The botony, history, tradition and agriculture are all covered. Of course there is an opportunity to purchase all things lavender, including oils, cosmetic products, soaps, bubble baths etc. in the boutique.
Next we visited Le village des Bories, also in Gordes. The origin of the bories (similar to the trullis we later experienced in Puglia, Italy) is believed to date back to the time of the Ligurians who lived in the region around 1000 B.C. The bories, also familiarly known as 'Gallic huts' are built of drystone, that is stone without mortar, on the principle of the corbel vault. These traditional dwellings, using local stone were still being built up until the last century. The bories village, restored between 1969 and 1975, looks as it did when the last inhabitants abandoned it at the beginning of the 19th century.
Then we stopped in Gordes for a light lunch in the garden of Le Jardin. Gayle had a Tarte du Luberon - essentially a quiche of fromage de chevre, with tomatoes and basil and I a salad of jambon (ham) de pays with warm chevre served on toasts. We shared a Tarte Tatin for dessert.
The rest of the afternoon was spent driving through the area, stopping and wandering through a couple of small, quaint villages and enjoying the scenery of the surrounding countryside, including the even more vibrant lavender.
We had dinner at Le Carillon in the small, cute village of Goult where we enjoyed eating outdoors. The restaurant faces the church on Goult's main square and is now recognized by Michelin's Guide to Restaurants with
"... this restaurant offers excellent Provencal-inspired cuisine with the odd contemporary twist. Tables are set up in a small dining area with modern decor and out on the terrace, where you can soak up the village atmosphere. A charming welcome and a well-devised wine list that pays particular attention to organic options. A lovely spot"
Gayle enjoyed a wonderful L'assiette de legumes frais while I started with a carpaccio of jambon cru with Parmesan and tomates confites with shallots, followed by a saddle of lamb. Dessert was a Tarte au citron (lemon) with meringue Italienne. An excellent meal enjoyed in a wonderful location.
The ivy covered front of Au Ralenti du Lierre.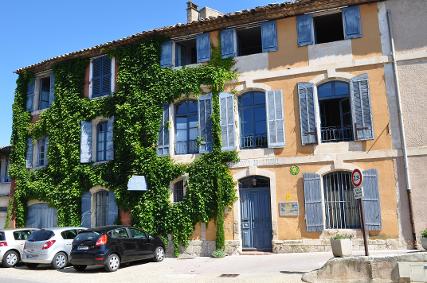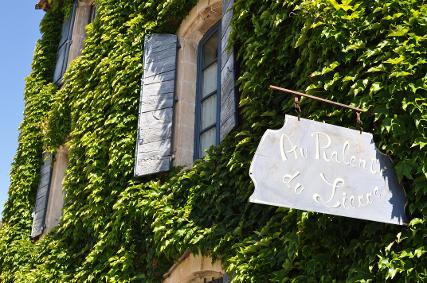 The small market in Villages des Beaumettes, just outside our B&B.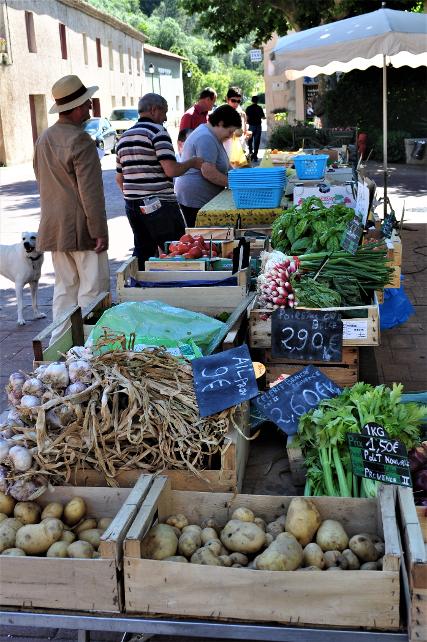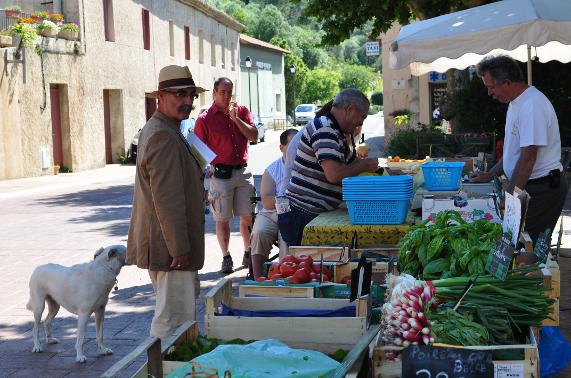 A vibrant field of lavender.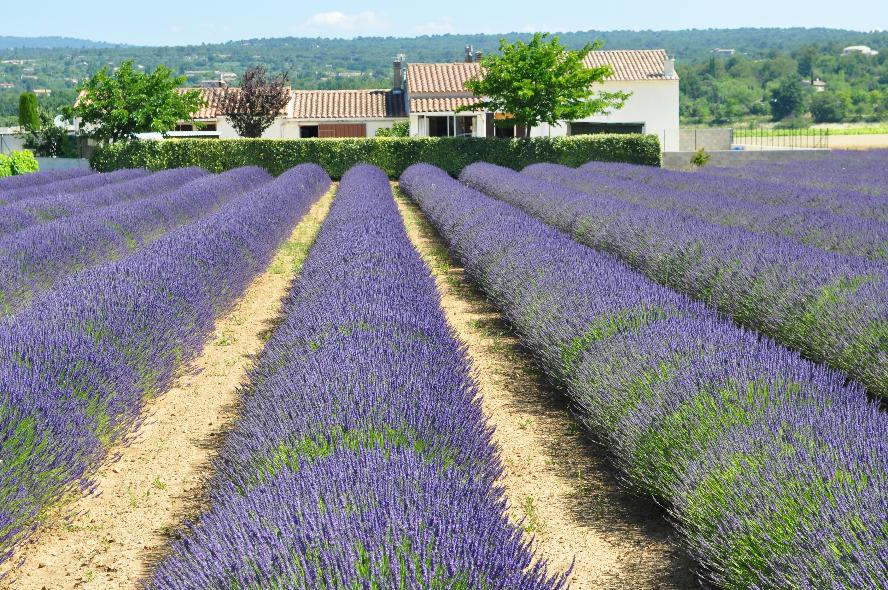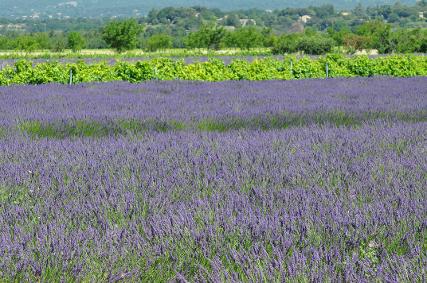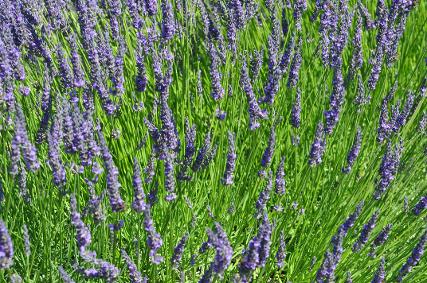 Copper stills at the Lavender Museum.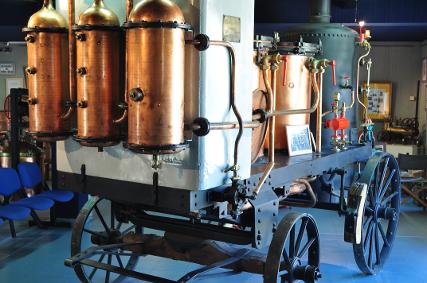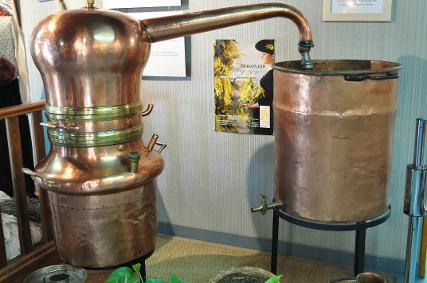 A Provence cart. The Provence town of Gordes.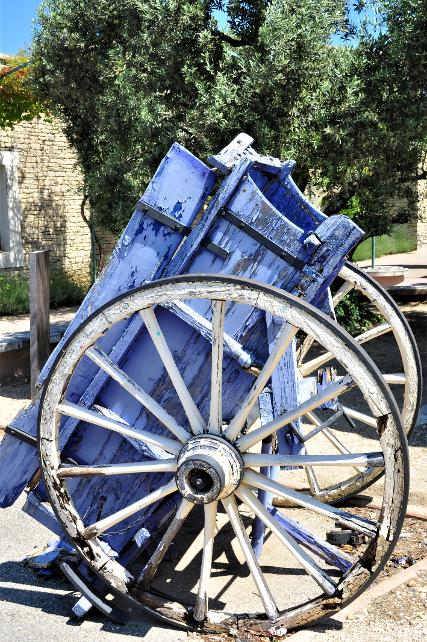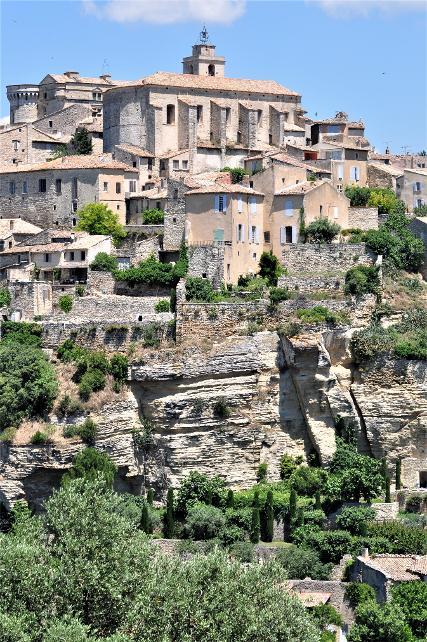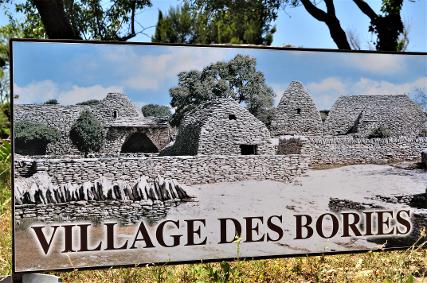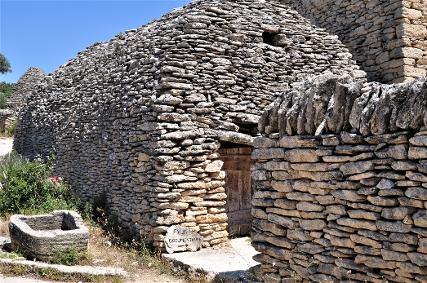 All built without mortar.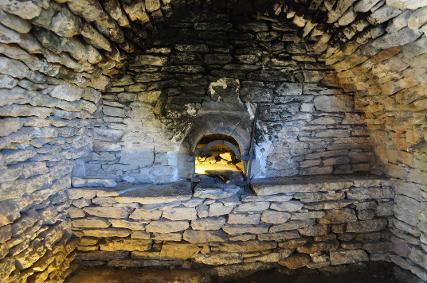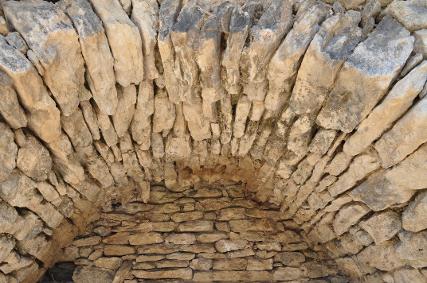 It was very interesting to wander through the museum, especially where we had stayed in a similar 'trulli' in Puglia, Italy.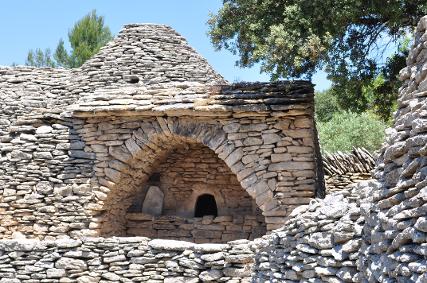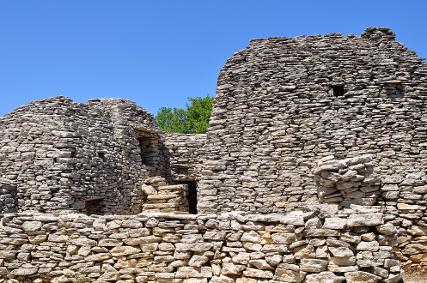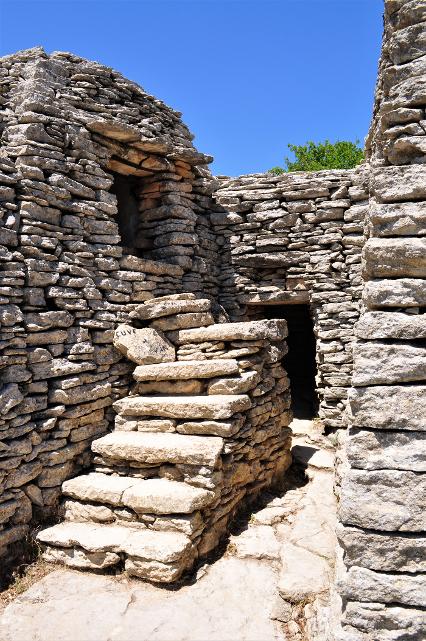 A typical Provence town - Gordes - where lunch tables are fully occupied.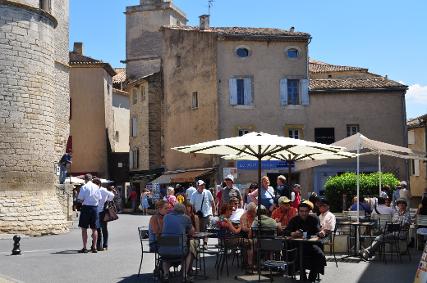 We stopped for lunch at Le Jardin,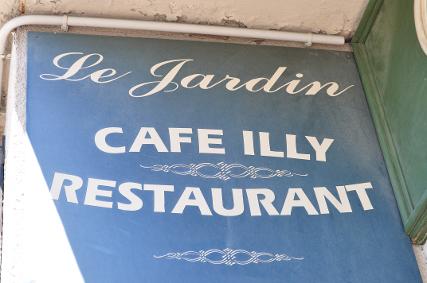 A plate of jambon / ham with chevre on toast; a goat cheese and tomato quiche, and a Tarte Tatin, with caramelized fruit for dessert.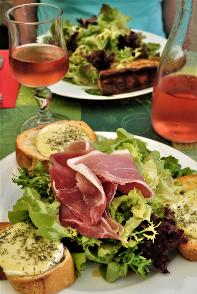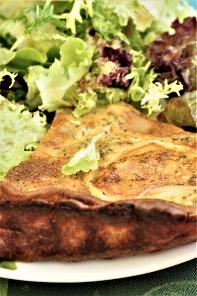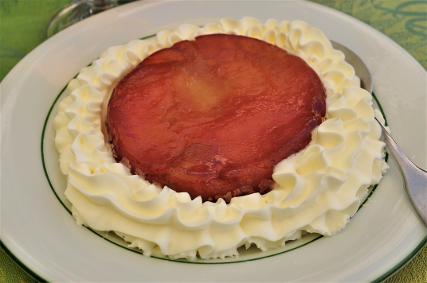 The Abbaye de Notre Dame de Sanaque.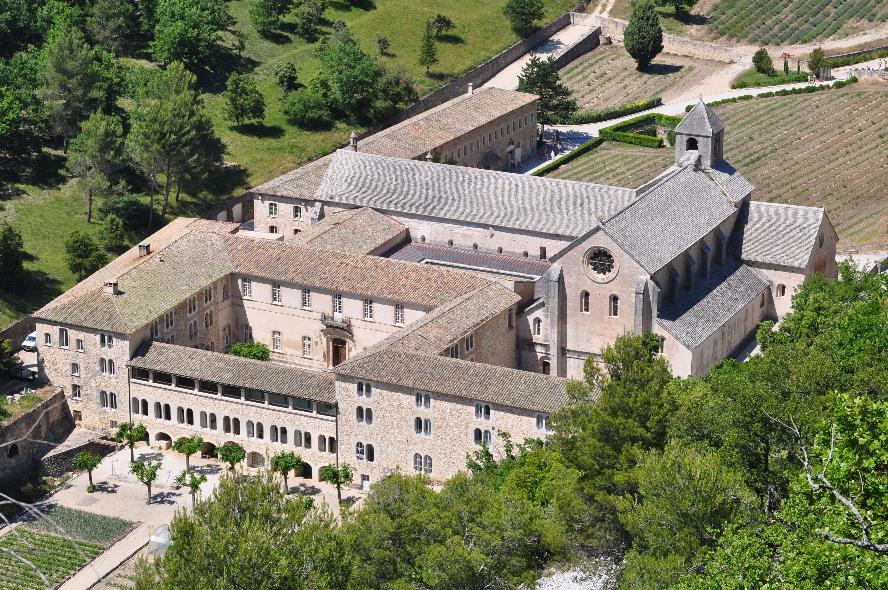 Churches; stone walls; tile roofs; gently rolling countryside - images of Provence.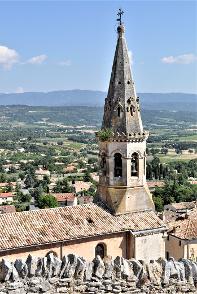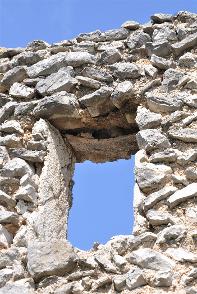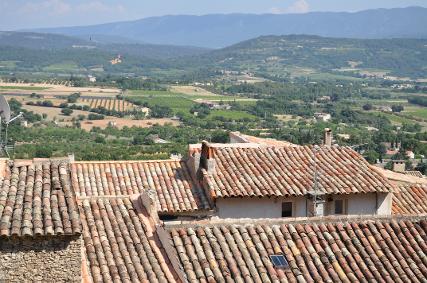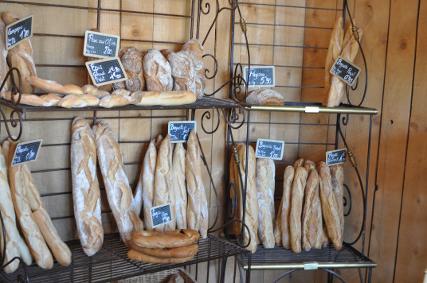 The village of Roussillon is known for its ochre-rich earth, used by the Romans for producing pottery glazes.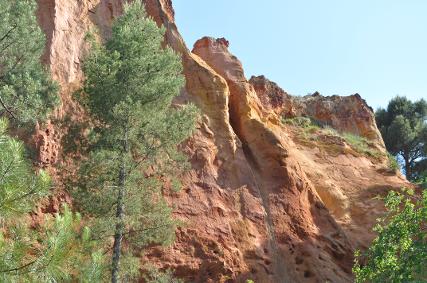 Colourful French window shutters.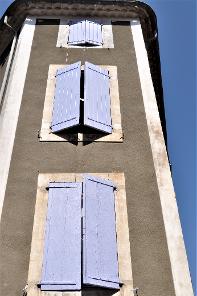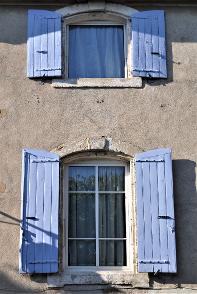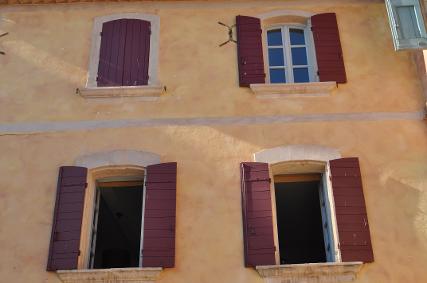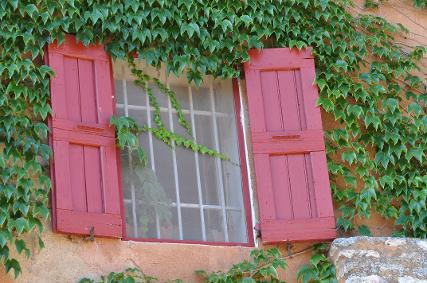 Colourfully painted homes in Rouissillon.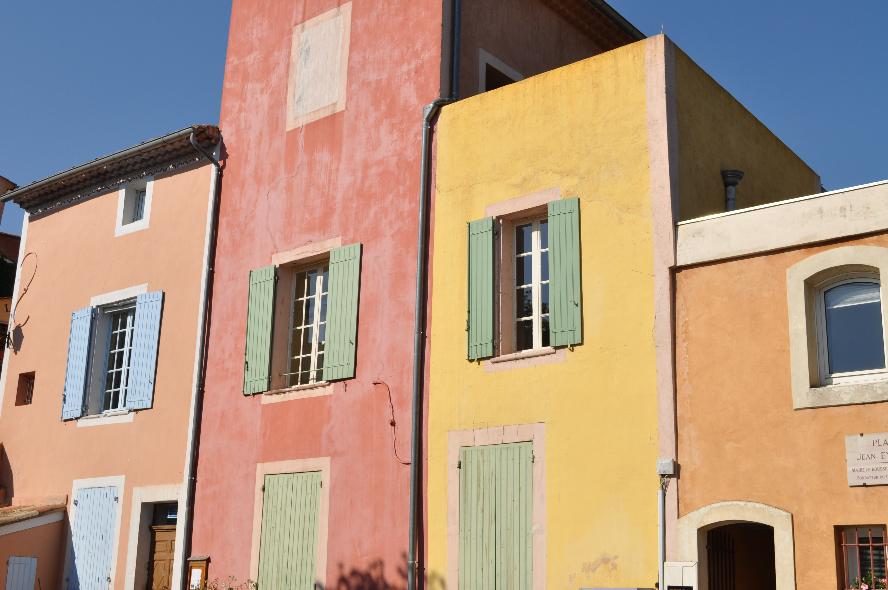 A few more images from Roussillon.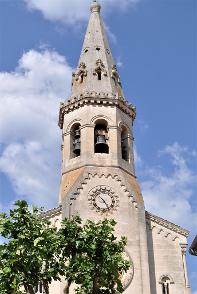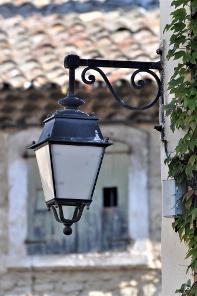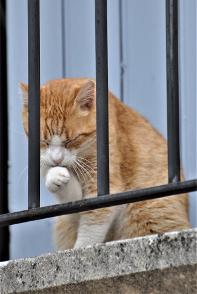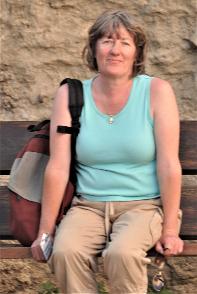 Before dinner we stopped back at Au Ralenti du Lierre where Thiery gave us a tour of the rest of the home, including the dining room with its massive wood table of which Thiery was so proud.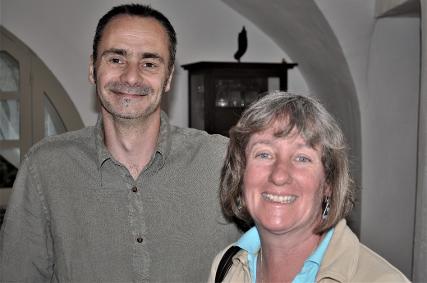 Restaurant Le Carillon in Goult.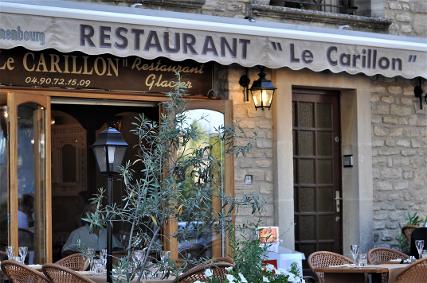 Carpaccio de jambon cru with Parmesan, tomato confit, and crisp shallots.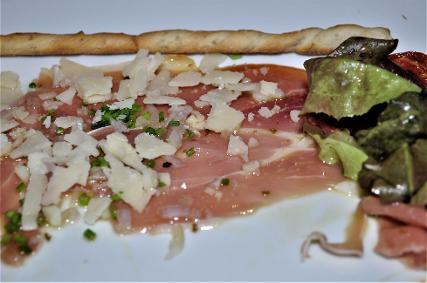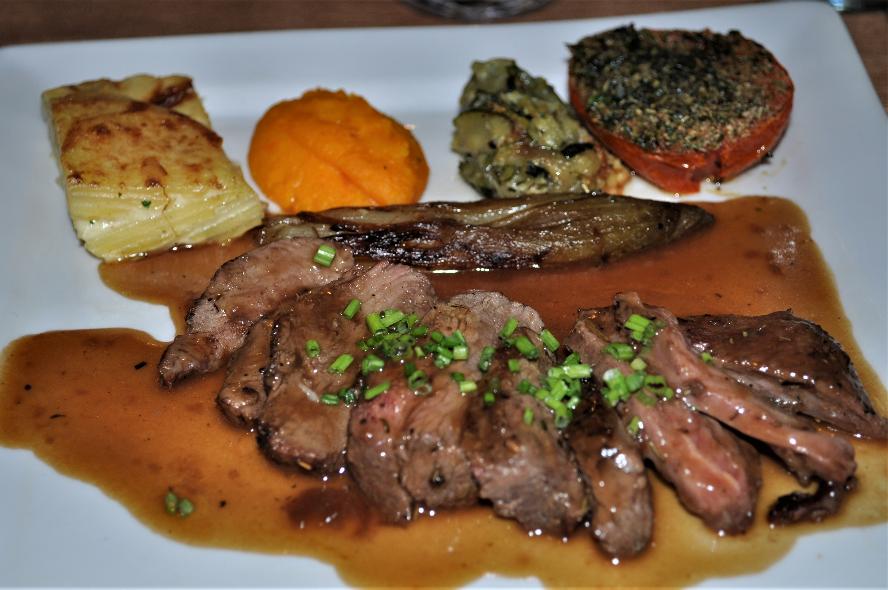 One of the most interesting vegetarian plates ever. A tarte au citron with meringue Italienne for dessert.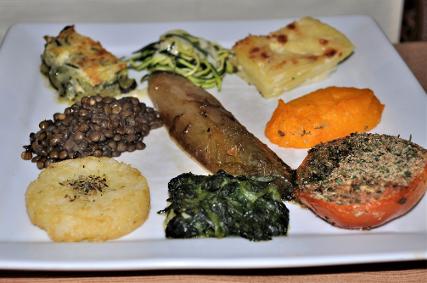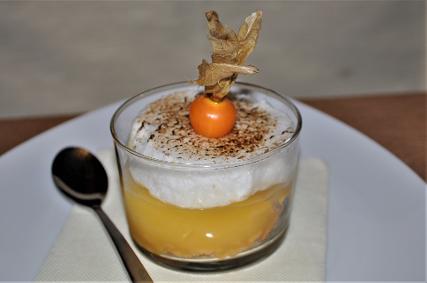 June 25
,
2010 - Villages des Beaumettes (Au Ralenti du Lierre) and areas south-east
Today we leisurely explored south-east of Village des Beaumettes, first ending up another market where we wandered around for a while watching the French stock up on fresh fruits, vegetables, bread, meats and cheese. We ultimately ending up at the Chateau de Val Joanis near Pertuis.
The Chateau includes gardens that were created in 1978, and voted 'Garden of the Year' in 2008. Designed in the images of 17th century gardens, three terraces are spread out sheltered from the mistral (winds). The old-fashioned vegetable garden, ensuring self-sufficiency in vegetables and fruits, coexists harmoniously with the large collection of perennials, roses and other Mediterranean species. Of course we enjoyed a wine tasting, along with a tasting of olive oil. We bought bottles of each, the oil to bring back with us; the wine to enjoy.
Otherwise it was a where-ever the road takes us drive through the countryside. ultimately ending back in Goult where we had dinner at the other restaurant - Aux Fines Herbes. Gayle enjoyed a Aubergines (eggplant) a la Provencal followed by an Assiette Vegetarienne (a vegetariane plate) and a Tiramisu Aux Framboises (raspberry) for dessert. I started with a Brick de Crotin de Chevre (goat's cheese), then the Filet de Boef Juste Saisi (beef seared in Satay butter) and then finally a Faisselle Miel-Amandes (a french cheese with honey and almonds). All was enjoyed with a very nice bottle of Cotes du Rhone Village Cairanne, Domain Galuval, Grand Coeur 2005. Gayle's meal 24 euros; mine 28 euros and the wine (a relatively expensive bottle) at 30 euros.
An ivy covered wall highlighted by old shutters.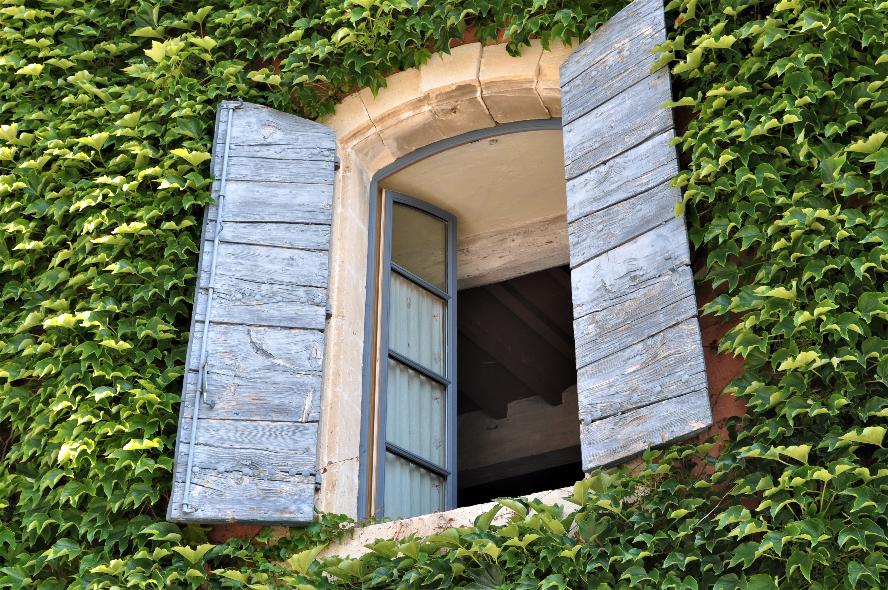 We don't recall in what village we stumbled on this market but again there were all sorts of products available including these olives - numerous varieties - spices, and herbs.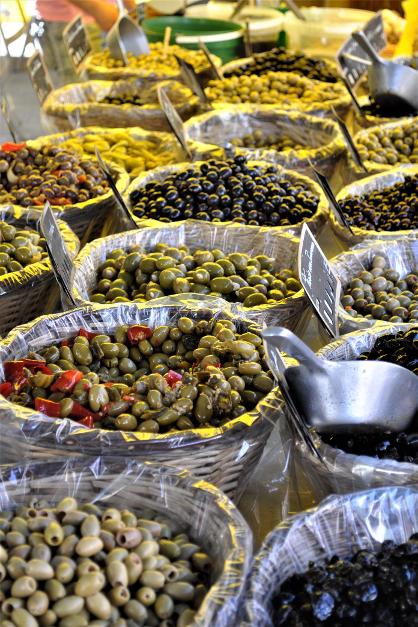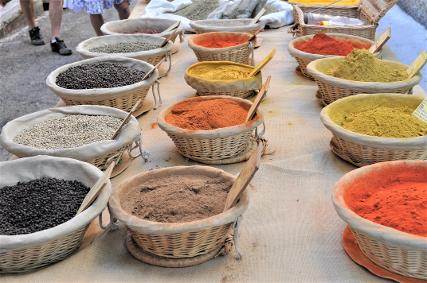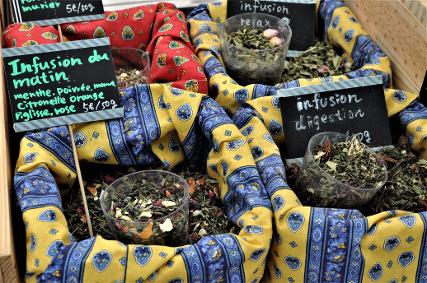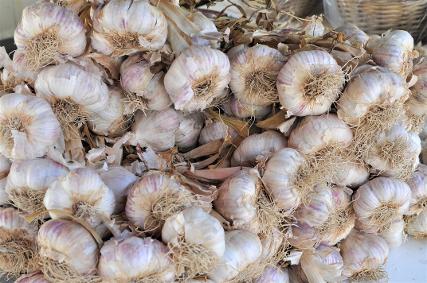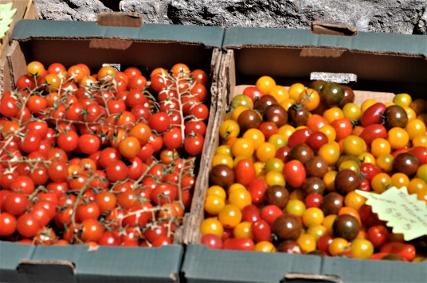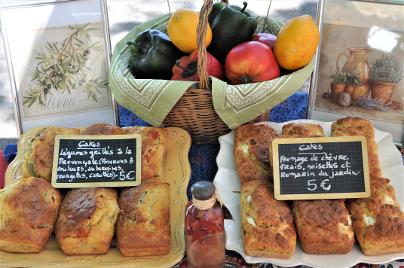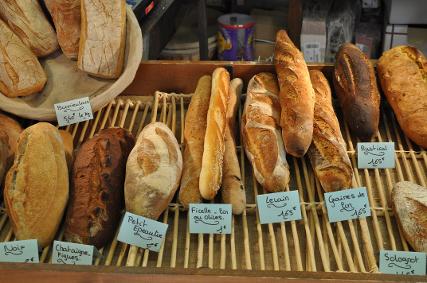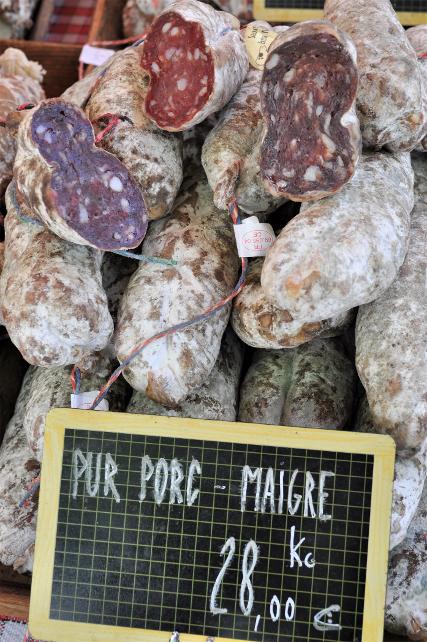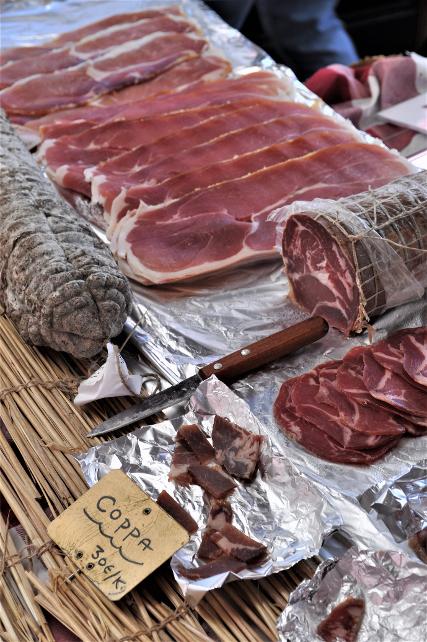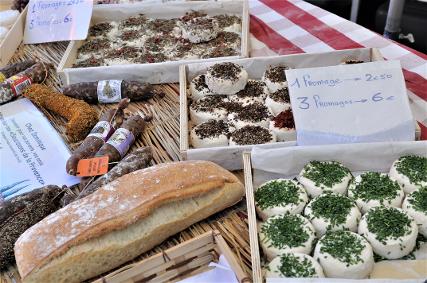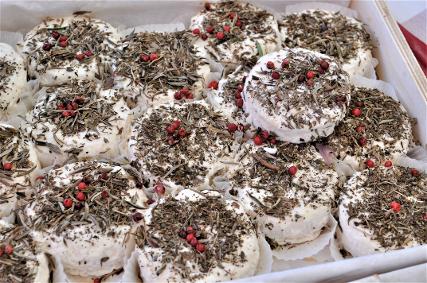 The market takes over the street. Lavender - the product of the season.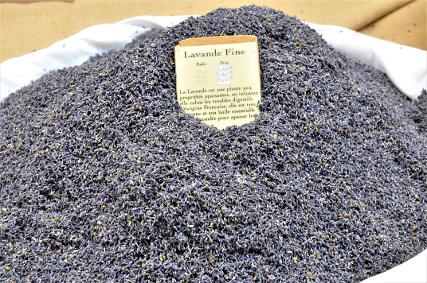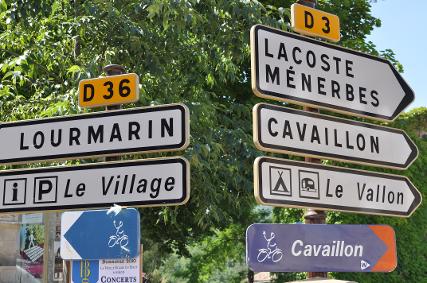 Lavender, flowers and vines.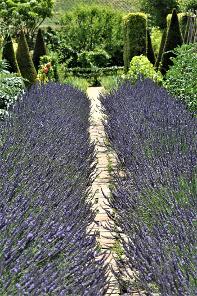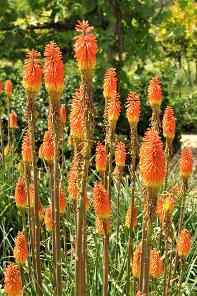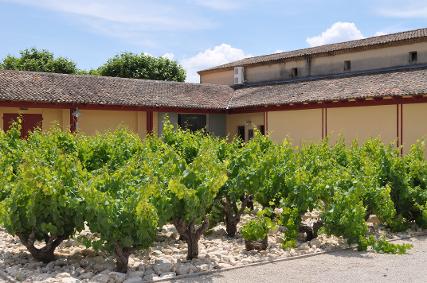 The gardens at the Chateau de Val Joanis.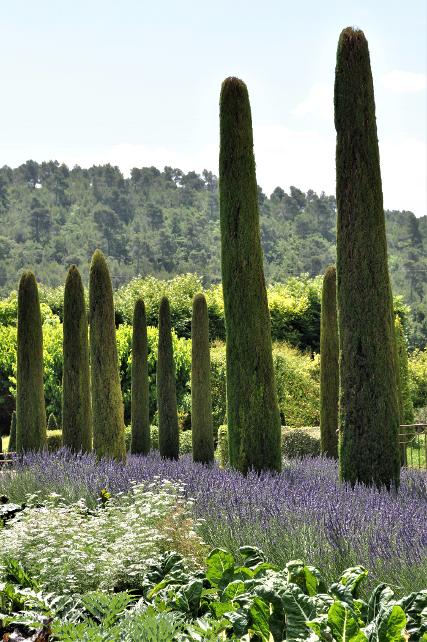 An olive oil tasting. Wine to buy - and we did. Rose is popular here in Provence.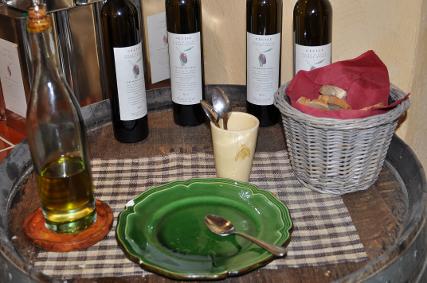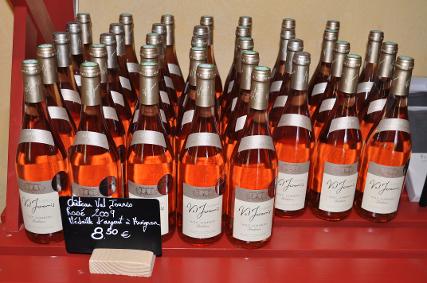 Elderly men enjoying their afternoon gathering. A citron
Pressé
and chocolate croissants.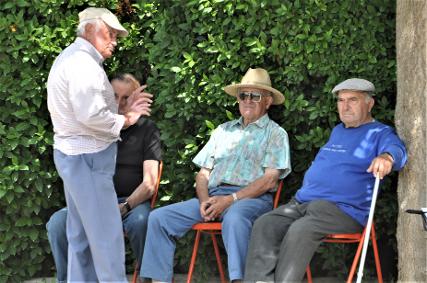 The wines of the Luberon.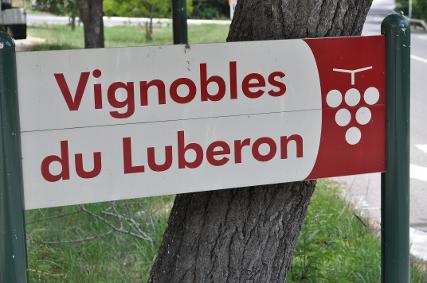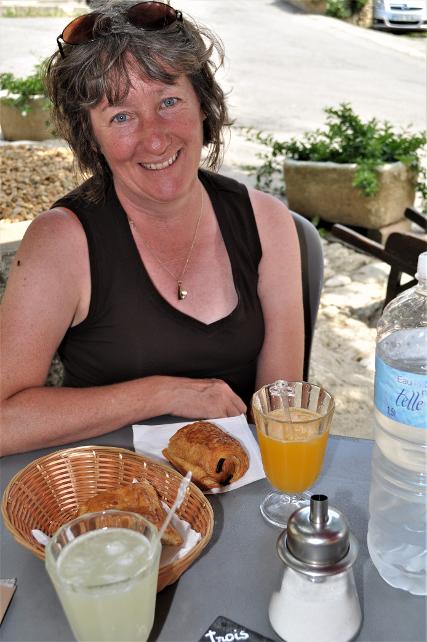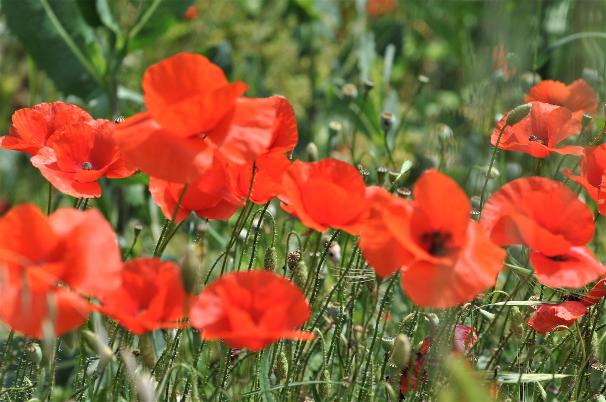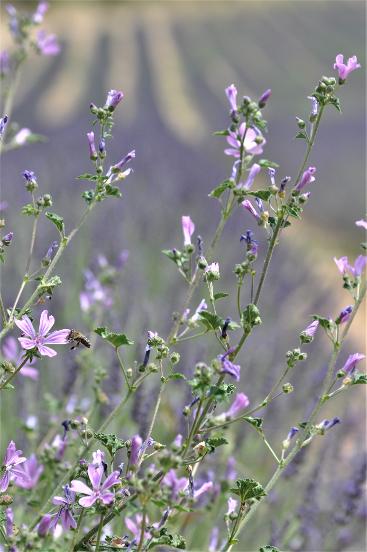 Outdoor cafes and stone buildings with Provence blue pained shutters - typical.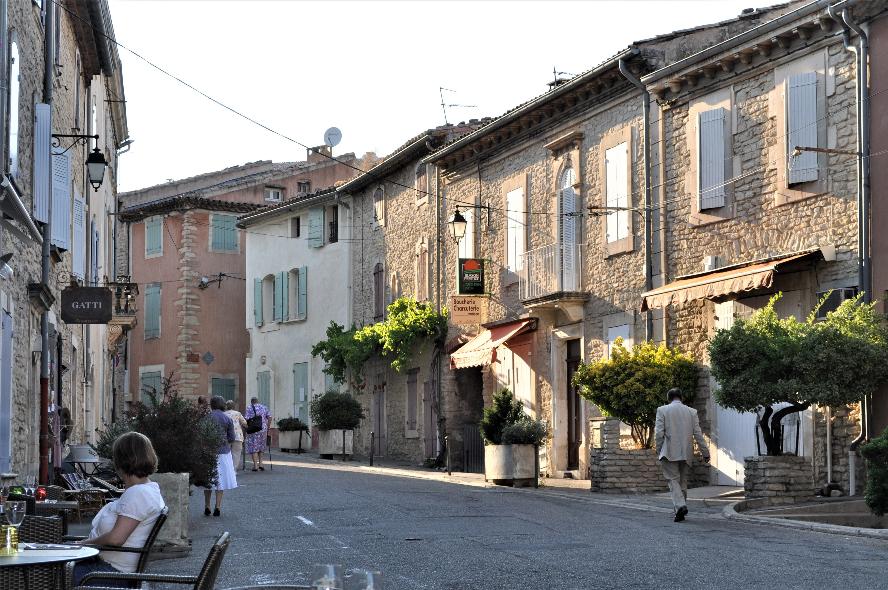 Aubergines a la Provencal. Brick de Crotin de Chevre.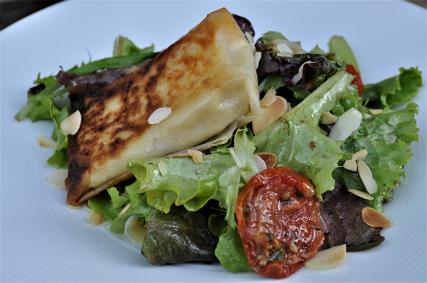 A nice bottle of Cairanne, a nearby Rhone wine and Gayle's Assiette Vegetarienne (vegetarian plate).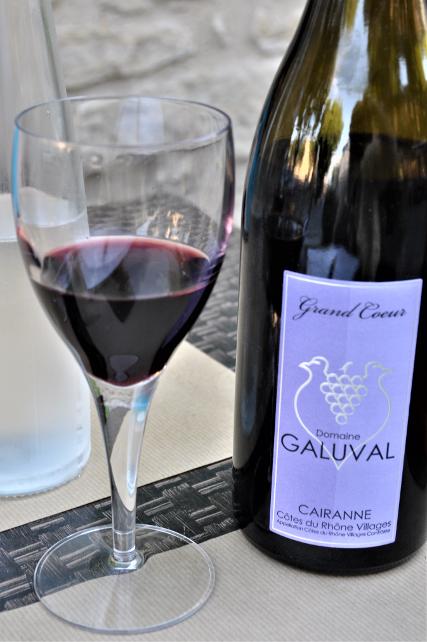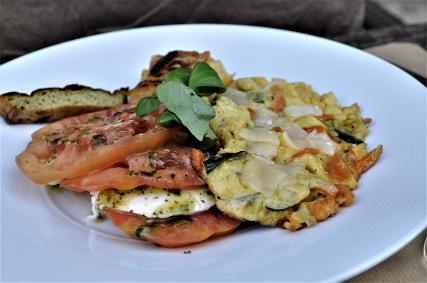 Filet de Boeuf Juste Saisi.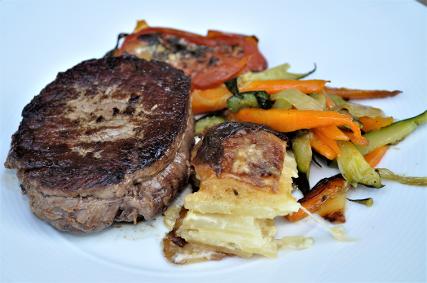 A large choice of desserts Gayle had the Tiramisu aux Framboises and me the Faisselle Miel-Amandes.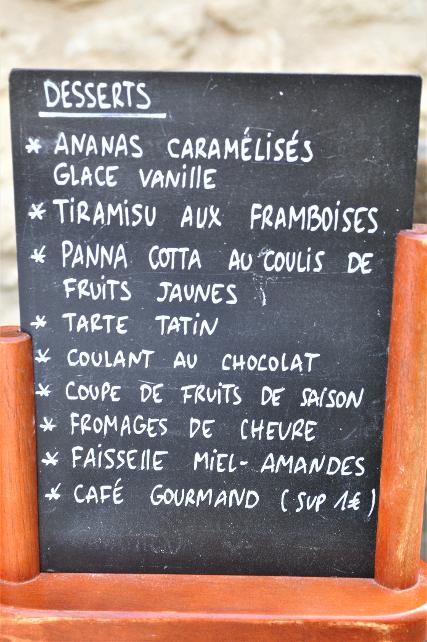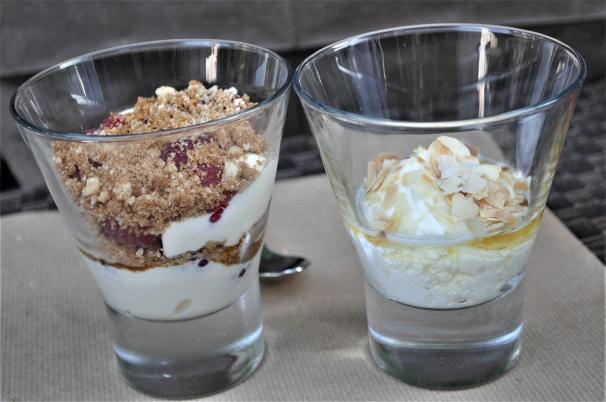 June 26
,
2010 - Villages des Beaumettes to Les Baux-de-Provence (le Prince Noir)
Sadly we are missing most of today's photos. We have a few at breakfast and then a few of late evening from our B&B le Prince Noir in Les Baux de Provence. But for reasons we don't understand there are 86 photos in between that are not on the memory stick.
After breakfast we left Au Ralenti du Lierre and drove west past Cavaillon, on to Saint-Remy-de-Provence and then to Les Baux-de-Provence. It was a beautiful drive with numerous stretches through canopies of trees. We enjoyed a short stop and nice stroll through Saint-Remy-de-Provence.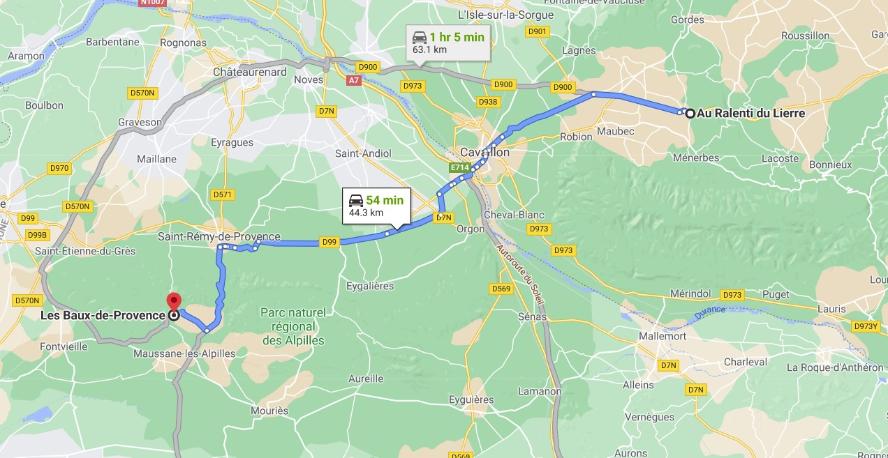 The village of Les Baux-de-Provence is situated in the heart of the Alpilles on a rocky plateau, an immense and superb stone fortress. The village is officially classified and labelled as 'one of the most beautiful villages in France', due in part to its 22 Historic Monuments, including the church, chateau, town-hall, hospital, chapels, houses, and doorways. The village has been painstakingly restored welcoming more than 1.5 million tourists per year (over 4,000 per day). This compared to the 400 permanent residents, of which only 22 live in the upper part of the village, where we stayed at the B&B Le Prince Noir. The village can only be visited by foot. One can admire the ancient restored homes, the beautiful Renaissance facades and several magnificent hotels that now serve as art galleries or museums. At the summit of the village is the Citadelle des Baux, where the main ruins of the town's dramatic past can be explored.
There are traces of habitation in Les Baux as far back as 6000 B.C.. The existence of limestone, and later bauxite provided an economic stability to the region. In the Middle Ages the area became the stronghold of a feudal domain, with the fortress being built from the 11th to the 13th centuries. In 1642 the town was offered to the Grimaldi family of Monaco. Administratively Les Baux is French but the title of Marquis of Baux is traditionally given to the heir to the throne of Monaco, currently Jacques, the son of the current Prince of Monaco Albert II.
We stayed in the upper part of the historic village at a B&B - Le Prince Noir, carved out of the mountainside rock with one of our walls actually being the rock face. Staying at Le Prince Noir provided us the opportunity to explore Les Baux before the crowds of tourists arrived and after they left. Our room, included a patio that overlooked the narrow alleyways of the village.
For dinner we ate at one of the restaurants in town. Gayle had a cannelloni of spinach and goat cheese while I started with a terrine de lapin (rabbit) followed by a filet d'agneau (lamb) accompanied by a bottle of Chateau Romanin "La Chapelle" a local Baux-de-Province wine. For dessert we shared a mousse au chocolat.
Au Ralenti du Lierre's pool, and one of the thirsty housecats.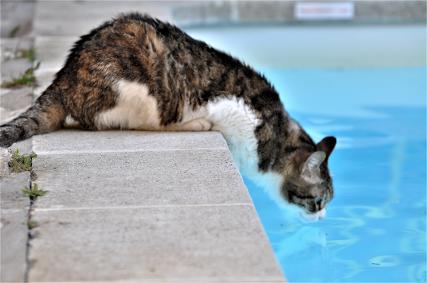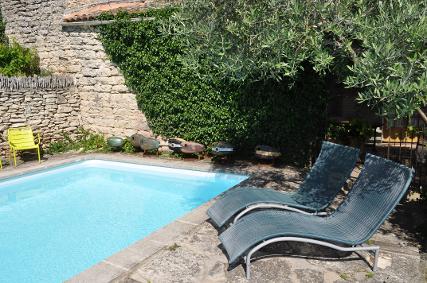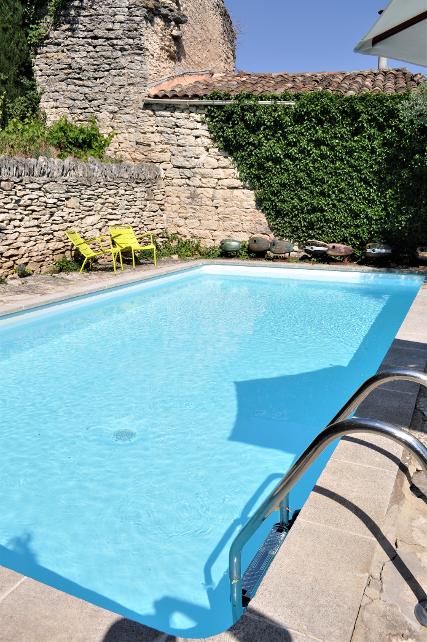 Enjoying breakfast - note the cherries.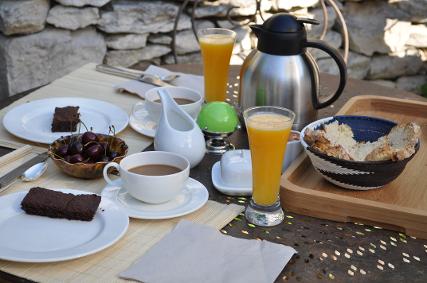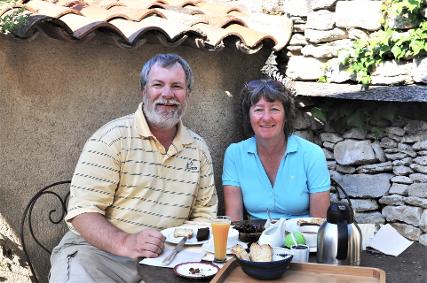 One of the quaint villages along our drive. Driving in a 'tunnel' under a canopy of trees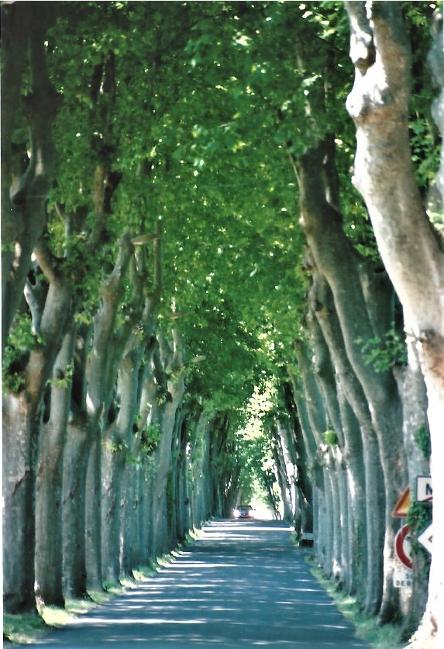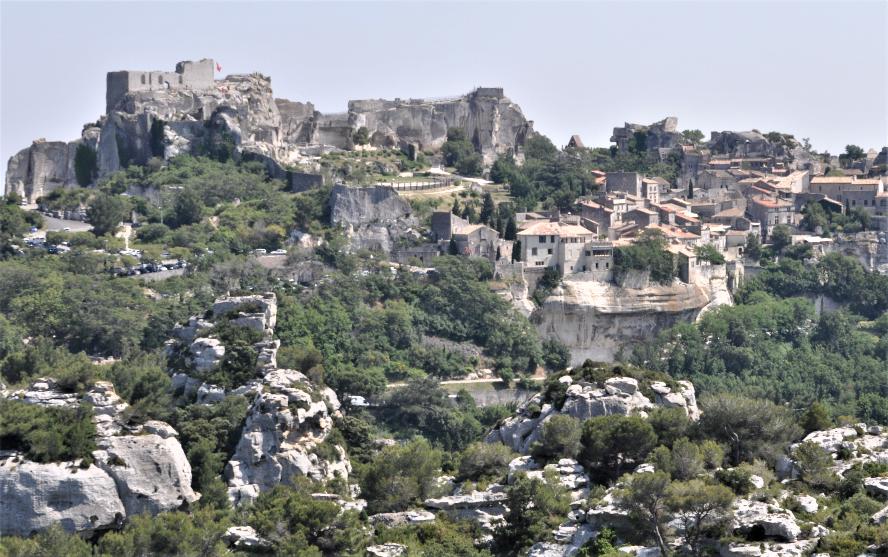 Views from our terrace at le Prince Noir to the narrow alleyways of the village.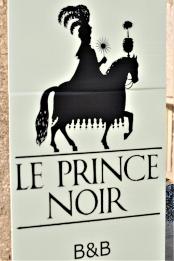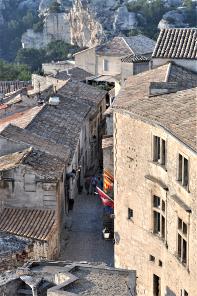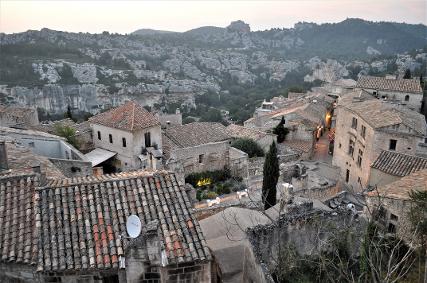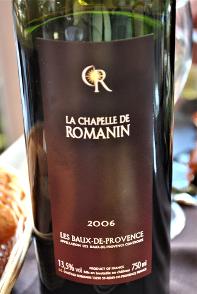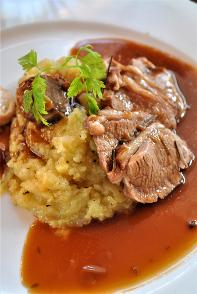 A nice bottle of Chateau Romanin "La Chapelle" 2006 from the vineyard of a nearby village a short distance north-east of Les Baux paired well with my filet of lamb served with pommes de terre in olive oil and Gayle's Cannelloni d'epinard (spinach) and chevre frais (young goat cheese).
The fortification at the top of the village.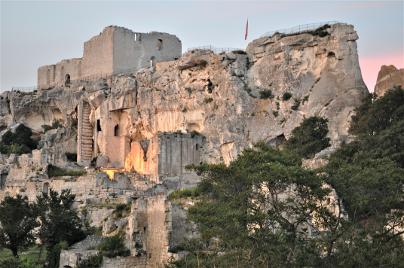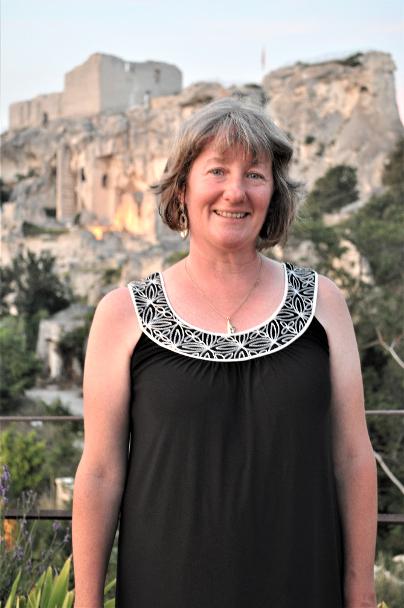 A roaring bonfire up at the castle and the castle lit up, both as seen from our terrace.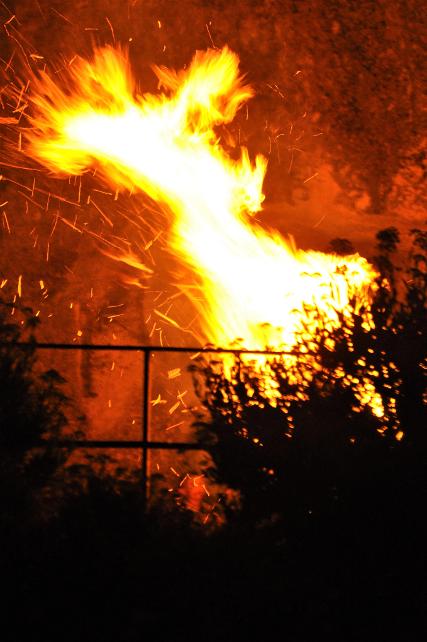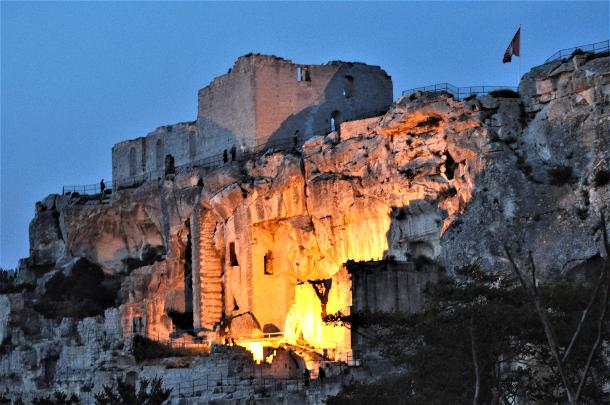 June 27
,
2010 - Les Baux-de-Provence (le Prince Noir) and surrounding countryside
Our day started with another wonderful breakfast on our beautiful terrace, from which we looked down at the village and up to the castle.
We enjoyed a quiet and relaxing day - time spent on our terrace soaking in the sun, a wander through the village checking out the many interesting shops. and then an afternoon drive around the countryside. At times the village felt quite crowded with the numerous bus tours but whenever that was the case we could escape back to Le Prince Noir. The area around Les Baux-de-Provence is a very enjoyable drive, through vineyards and olive groves. There are a number of small villages, each with quaint cafes and shops.
With such a nice terrace we decided to buy some food and have a 'picnic'. Bread, cheese, meat, pate, olives, fruit (cantaloupe and kiwi), pizza and a bottle of regional wine - Mas de la Dame 2007. As we ate and dusk set in with a beautiful sunset over the mountains, activity began at the castle. The fortress was lit up, with another huge bonfire, similar to last night, and music. Being the highest B&B in the village we could actually see some of the festivities and listen to the music. It was special to enjoy great food and wine, and lounge on our terrace, listening to the music from above.
Sights on and from our terrace.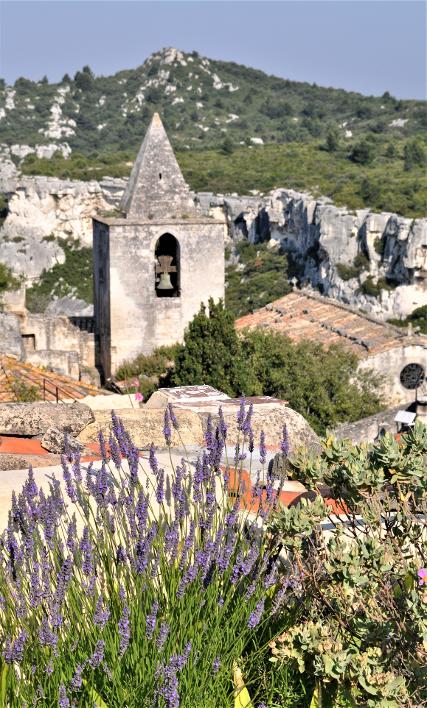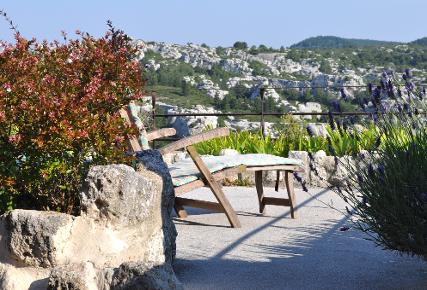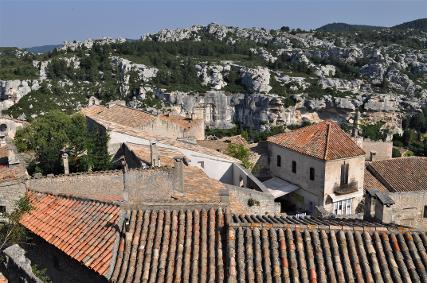 If he was solid black he would be Le Prince Noir. Another filling breakfast enjoyed in the sun on our terrace.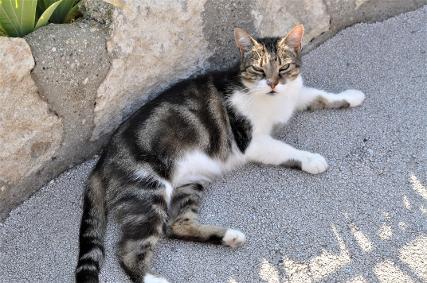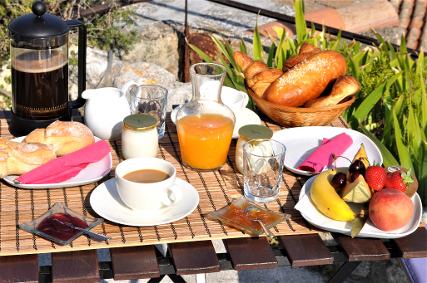 This is a region of both olives and vineyards, and sometimes both.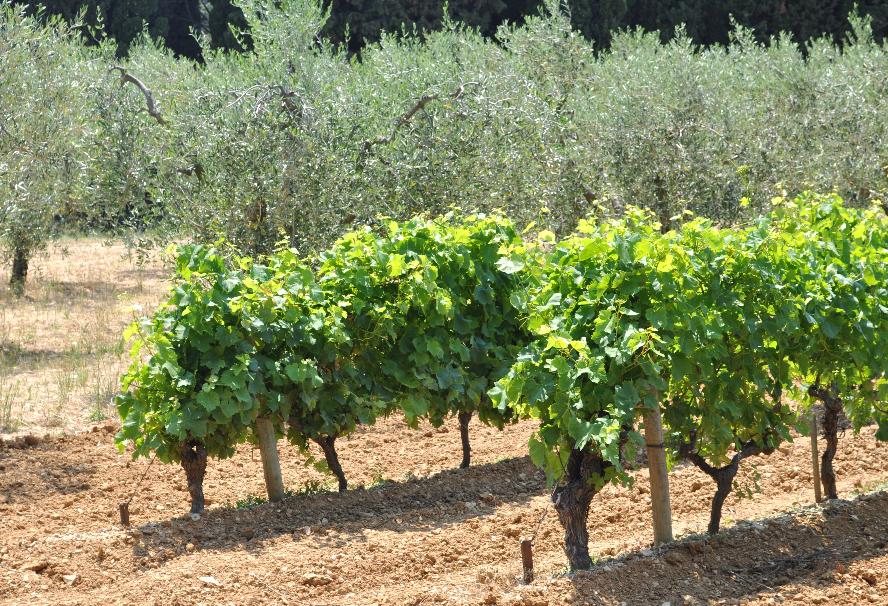 A rural village near Les Baux - yes that is the entire road and an olive pressing wheel.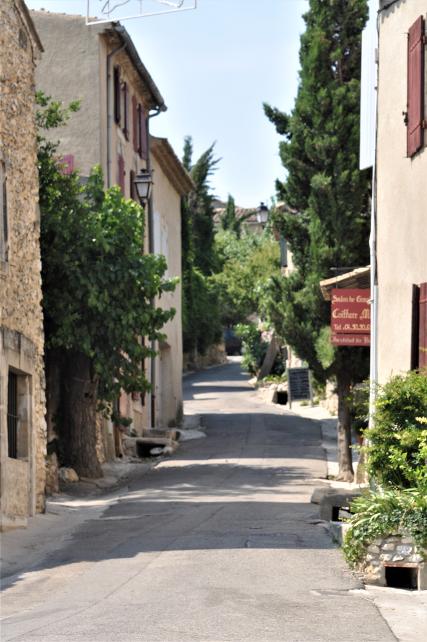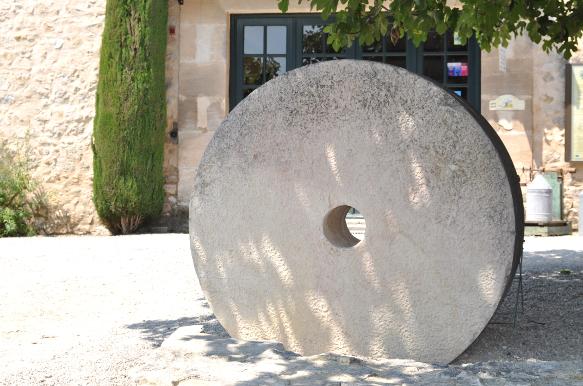 Mas des Barres - one of a number of olive oil operations in the Maussane-Les-Alpilles.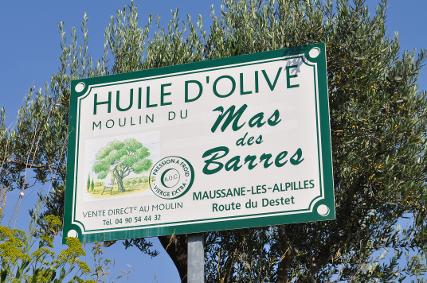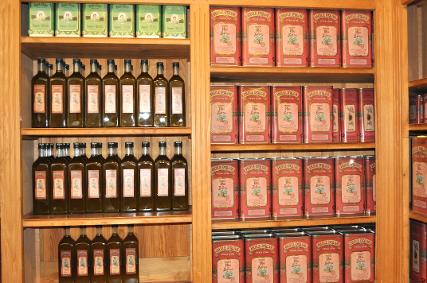 It was common to see a cafe or a creperie or a glacier (ice cream) throughout our drive. We stopped at this one. Ice-cream first; photos an after-thought,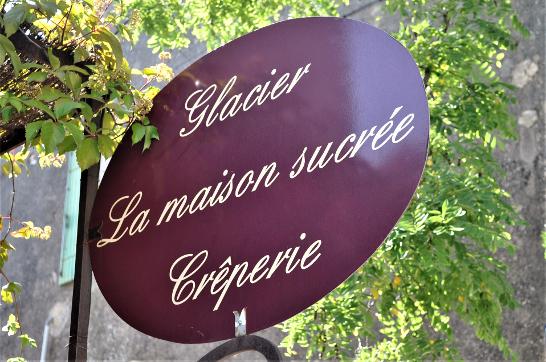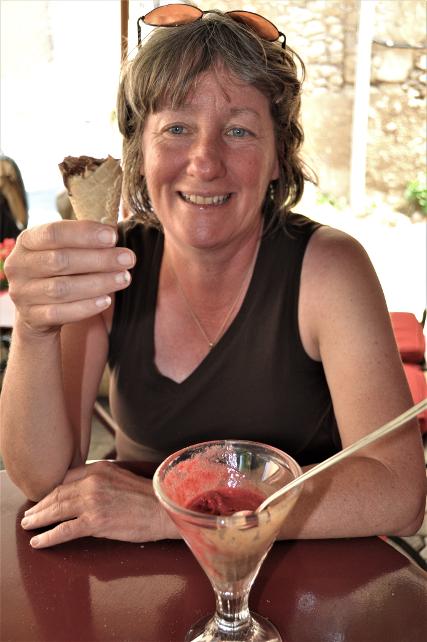 Back in Les Baux-de-Provence one of the many historic buildings.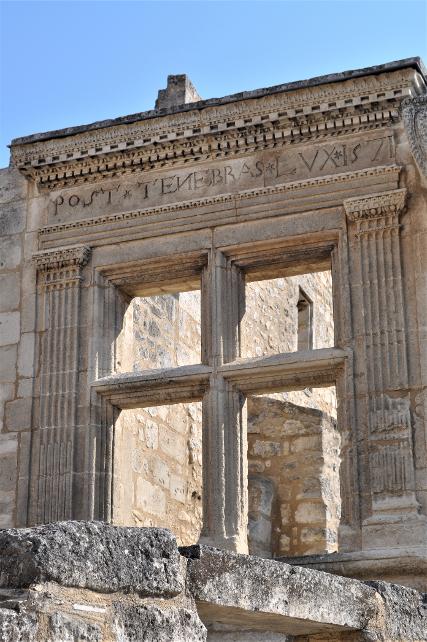 The entrance to our B&B Le Prince Noir.
We put our red checkered table cloth to good use as we enjoyed dinner on our terrace - bread, wine, meat, cheese, pizza, olives and fruit.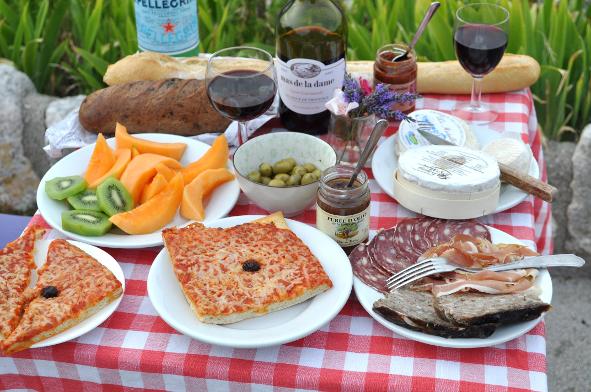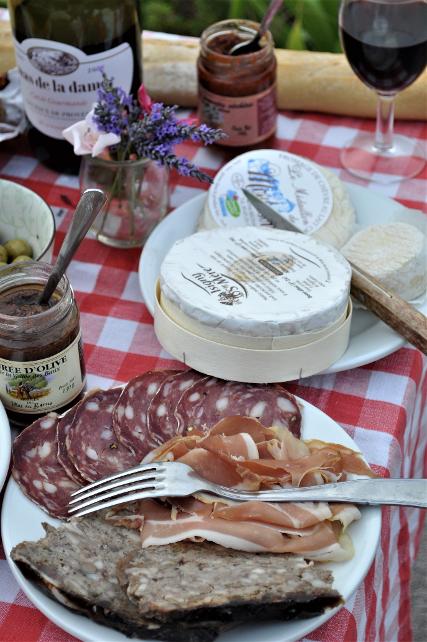 About to enjoy dinner with Les Baux as our backdrop.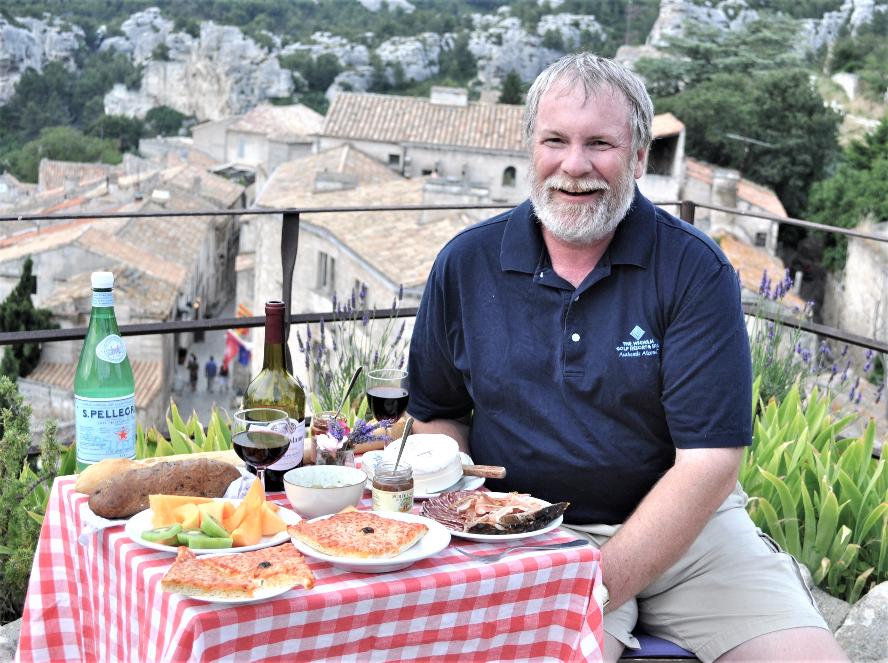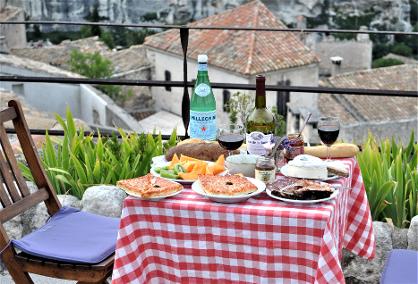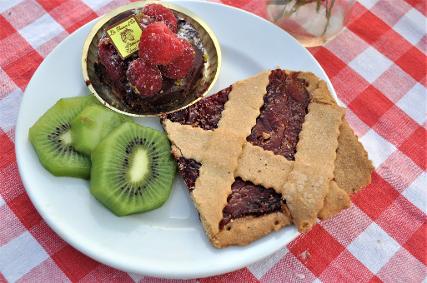 June 28
,
2010 - Les Baux-de-Provence to Aix-en-Provence (Le Clos des Freres Gris)
After breakfast we had a fascinating chat with the owner of Le Prince Noir - Benoit. Beyond sharing loads of information about the village, its history and the nearby area Benoit also told us of how he came to be one of only 22 permanent inhabitants in the 'old' village of Les Beau. His English mother, then a young women in her early 20s was touring through Europe in the late 1940s / early 1950s when she came upon Les Baux. She fell in love with the area and village, deciding to put down roots. She saw her friends continue on, making Les Baux her home. She later met and married a local French fellow after which along came Benoit (and perhaps other siblings, we don't recall). Benoit too has a special connection to Les Baux, making it his home his entire life. Ultimately, along with his wife Ute, they built Le Prince Noir to allow those like us to experience this village of France, not from the outskirts but from inside the town itself. We were so appreciative of Benoit sharing the history of both the village and his family with us.
Rather than driving directly to Aix-en-Provence we detoured north to Graveson where we stopped to visit the Jardin Aquatique, a water garden created in 1997 by Alain Stroppiana, first as a basin for containing his Koi fish, sheltered by a large rock from which gushed a first waterfall. Over the years Alain added to his water paradise, building other spaces that evolved to 15 ponds and three waterfalls. In addition to the aquatic plants there are flowers, shrubs and trees representing 2,000 varieties, all along rock gardens and paths.
We then drove to Aix-en-Provence and Le Clos des Freres Gris, our last stop of the trip.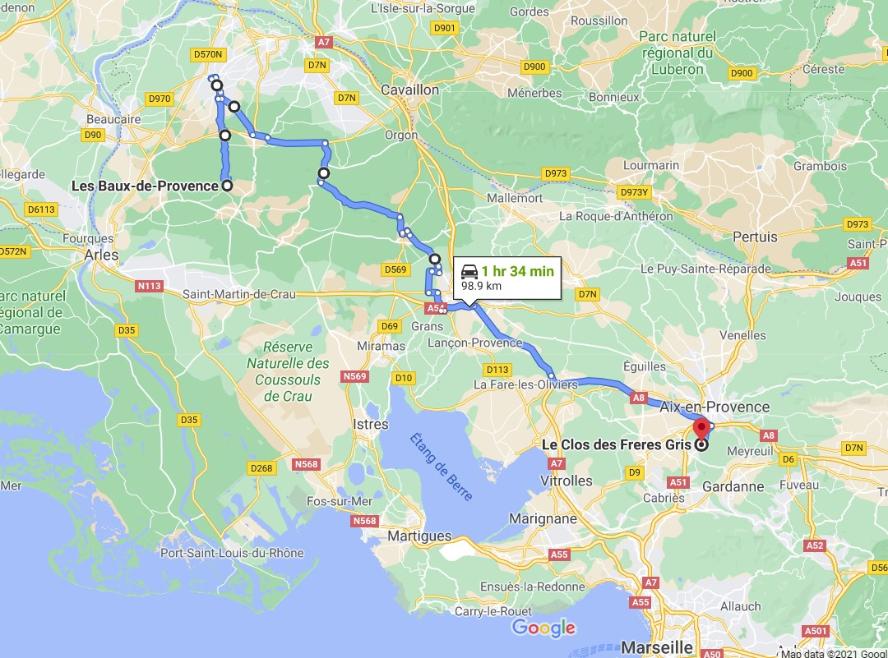 At the time we visited Le Clos de Freres Gris had nothing but Excellent reviews. The property, a few kms south of Aix, is certainly beautiful, with extensive grounds and a large pool somewhat away from the house and other guests. There were two resident Dalmatians that gave us much joy, reminding us of Moondance. Our room was gorgeous, impeccably designed and appointed - exactly what we imagine as a typical style here in Provence. Colourful, comfortable and lots of light. Our hosts Caroline (from Texas) and Hubert appeared friendly, hosting a wine and cheese tasting late afternoon and offering numerous suggestions on things to do, places to visit and eat. We took them up on a dinner suggestion and while ok, was nothing particularly memorable. Perhaps it is for that reason we, quite unlike us, do not have any photos of our meal. It was nice to return to our comfortable room.
Our bedroom at Le Prince Noir. Note the thickness of the outside stone wall.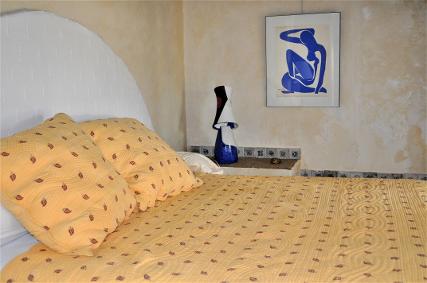 Enjoying the views and sunshine on our terrace.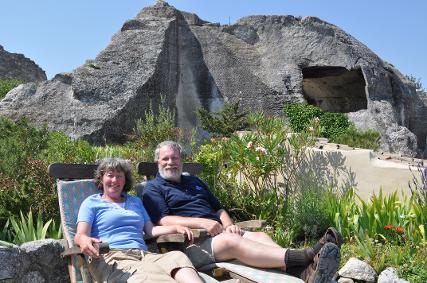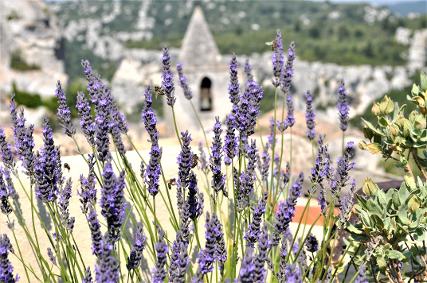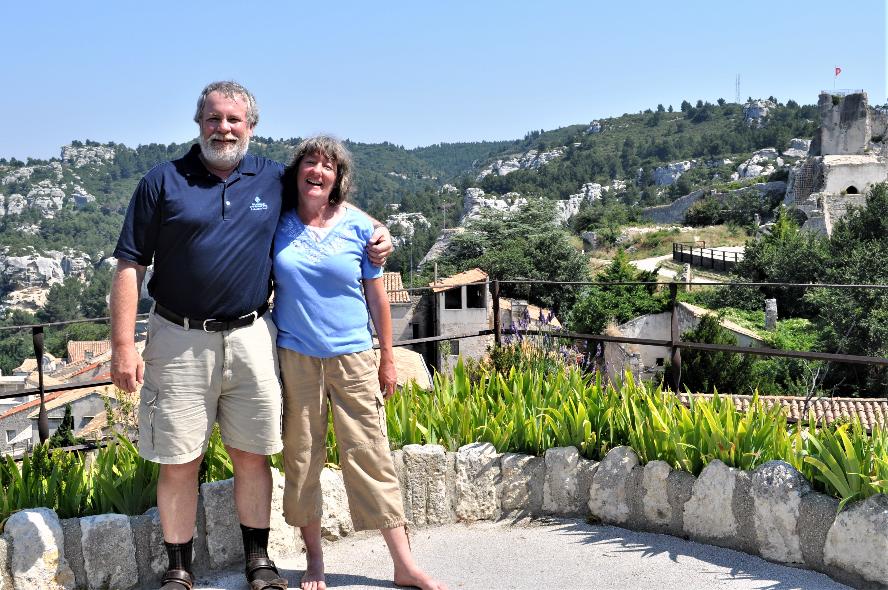 Benoit sharing his stories.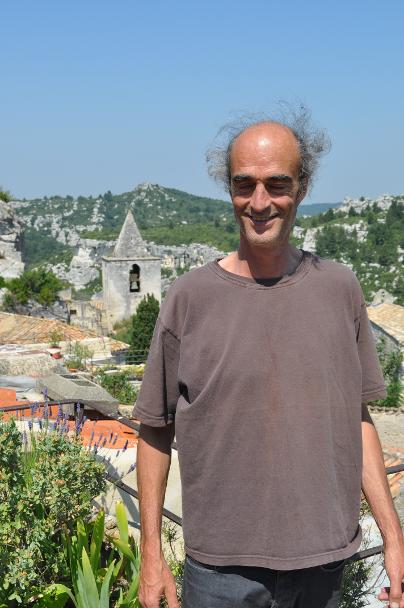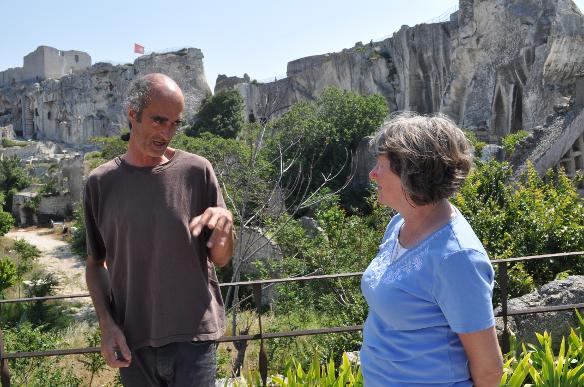 It is always fun to step into a patisserie and imagine the treats one could order. Unfortunately after large B&B breakfasts the appetite to do so is often not there.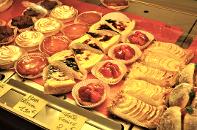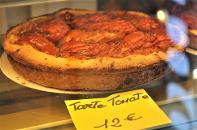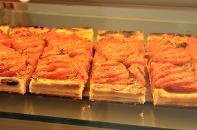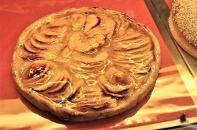 ... or fresh fruit and / or veggies.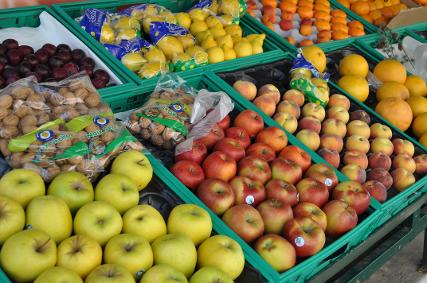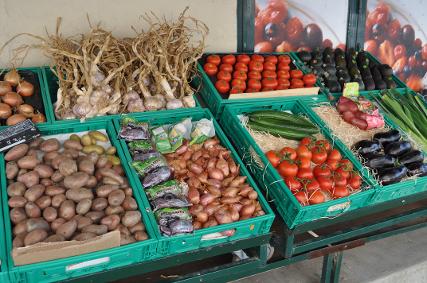 Sights in the towns and villages we passed through.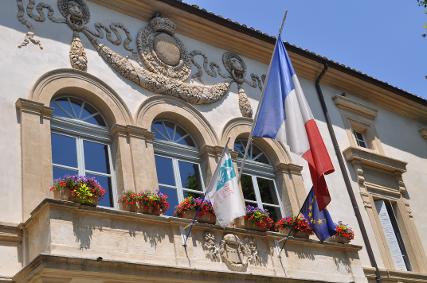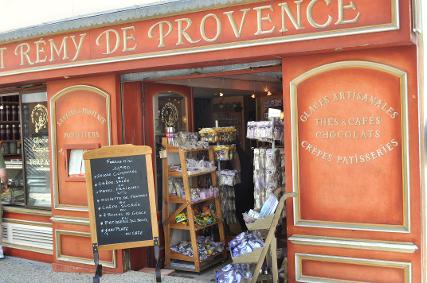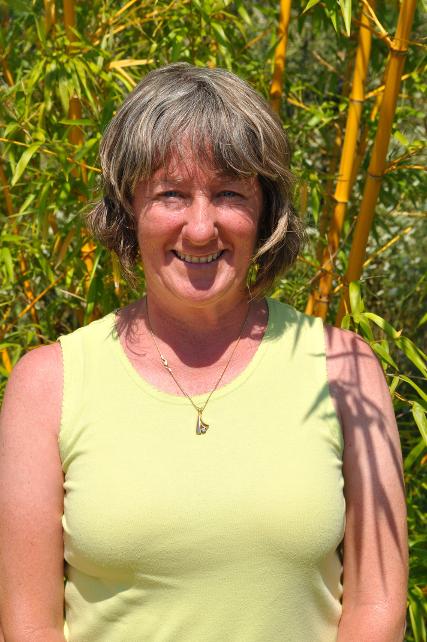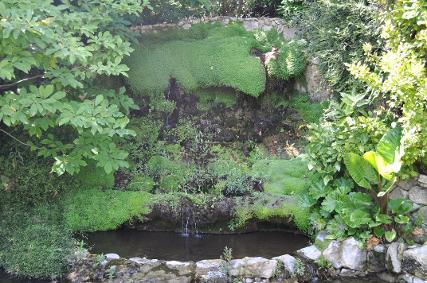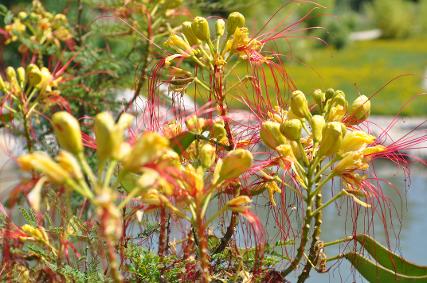 We don't recall where we stopped but we enjoyed sharing this interesting plate of crepes, with cheese and salad for lunch.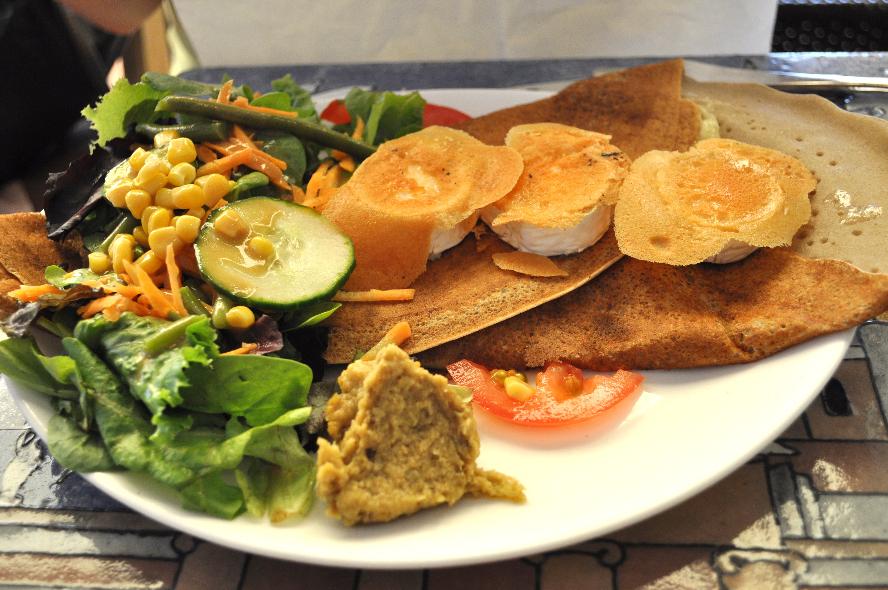 A gorgeous bathroom mirror and olive sprigs contributed to a stunning room.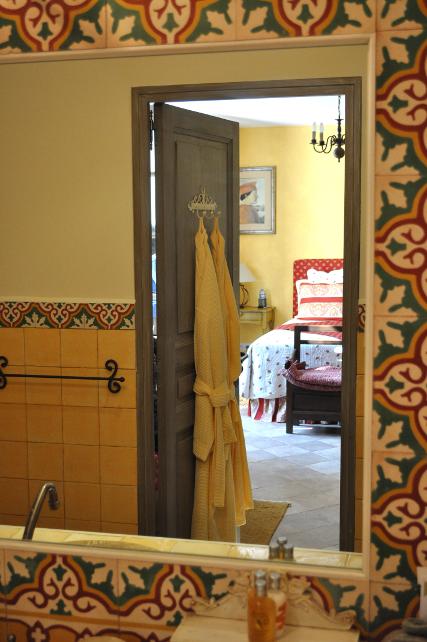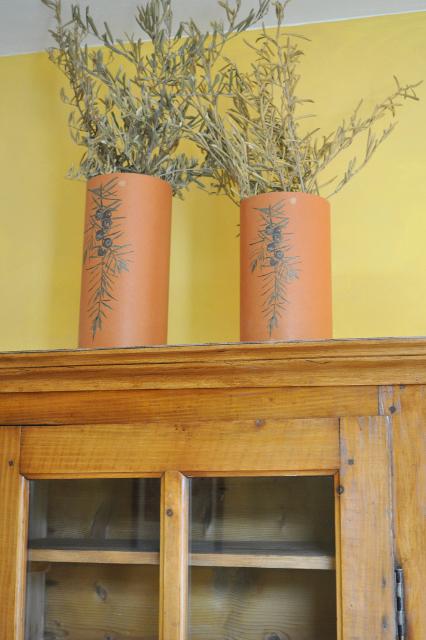 Provence colours, matching pillows and drapes, attractive bed-side mats - gorgeous.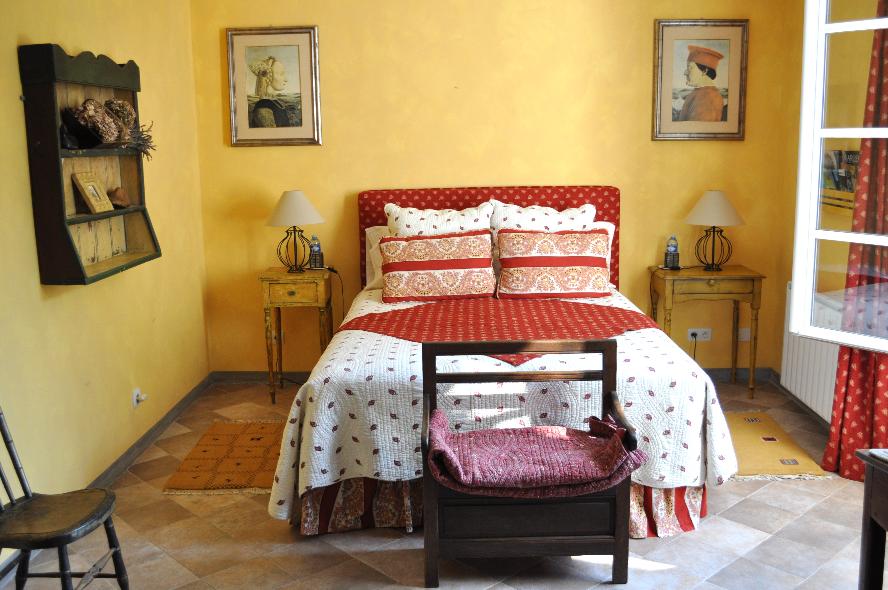 Le Clos des Freres Gris' pool. One of the two Dalmatians.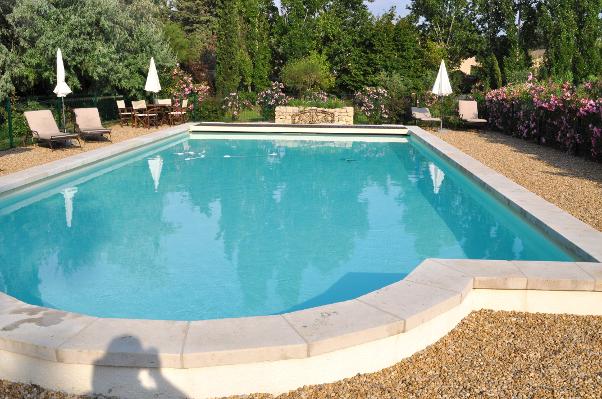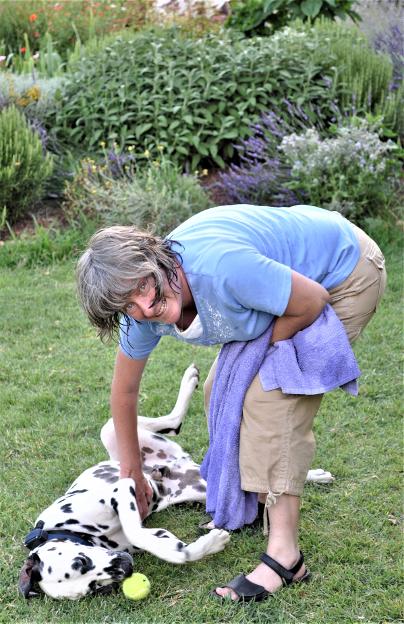 June 29
,
2010 - Aix-en-Provence - Taste of Provence
Today is all
about food - two fine meals and a tour of the Farmer's Market and food shops through Tastes of Provence. Aix-en-Provence is a city known for its lifestyle with Tastes of Provence providing an opportunity to discover it through one's taste buds. From their website:
"Join your passionate gourmet guide, as we stroll through historic, golden streets, dipping in and out of food shops, tasting local specialties and learning tidbits of history during our foodie tour. Each memorable gourmet walking tour includes a trip to the 700 year old marketplace, where we meet the local farmers and are treated to their unique food products."
"The town is alive, not only with restaurants and cafés, but with historic food specialty shops and farmers markets that have maintained their reputations and traditions for hundreds of years. Even in this age of apparent supermarche domination, here one will see regular customers crowding into these shops and markets in search of the best food products."
"Most French home cooks rely on their butcher, fishmonger and fromagerie for parts of their meals. They will order exquisite cakes and tarts from their favourite patisserie. Your hosts will take you to some of these purveyors of fine food as we stroll the elegant streets of Aix-en-Provence tasting pastries, macarons, candied fruit and absorbing some of the fascinating history of the city."
Our tour guide was Jennifer Dugdale. Originally from California Jennifer experienced France through her parents travels, then travelled the world before settling down in Provence and creating Tastes of Provence. We enjoyed an informative three hour tour learning about and sampling the food of the area. Very worthwhile.
One of the suggested lunch restaurants was Viktor, where we stopped for a light meal of a cherry tomato with mozzarella salad toasts, with cheese, sun-dried tomatoes and basilica accompanied by a few pieces of duck, enjoyed with some rose wine.
After some time back at Les Clos de Freres Gris we returned to the city - our B&B is 5 kms outside the centre of Aix-en-Provence - for dinner at Le Tomate Verte, a recommendation of Hubert. We were very pleased with our choice and our meal. Gayle started with the Tarte tatin de tomates vertes with sorbet basilic which she raved about while I had the Duo de gaspacho maison. For our mains Gayle had an Aubergine fendue with tomates cerises, parmesan and basilic while I the Souris d'agneau (lamb shank) confite, slow roasted for four hours. We each had a dessert with our fixed price (29 euros each) meal - Gayle the Mi-cuit au chocolate noir and me a Crumble en verrine (a small, thick-walled glass container with no base used by the French to serve food). All enjoyed with a half litre of Domaine de Terre blanche from Les Baux.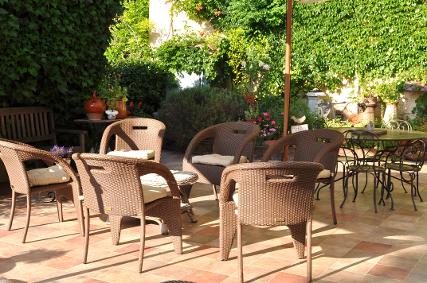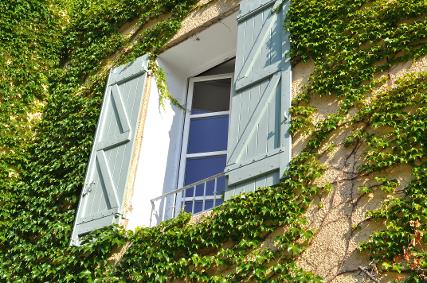 Enjoying both the sunshine and breakfast.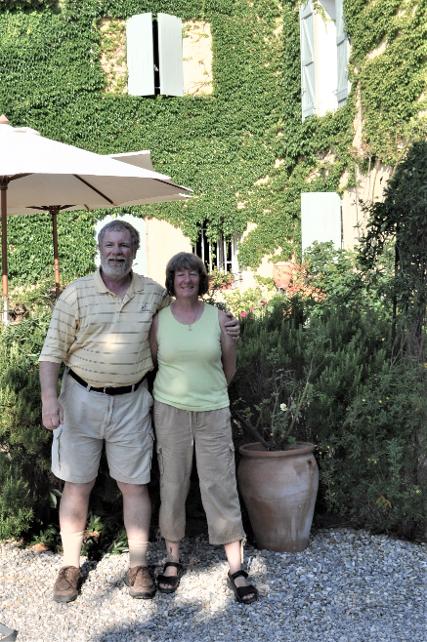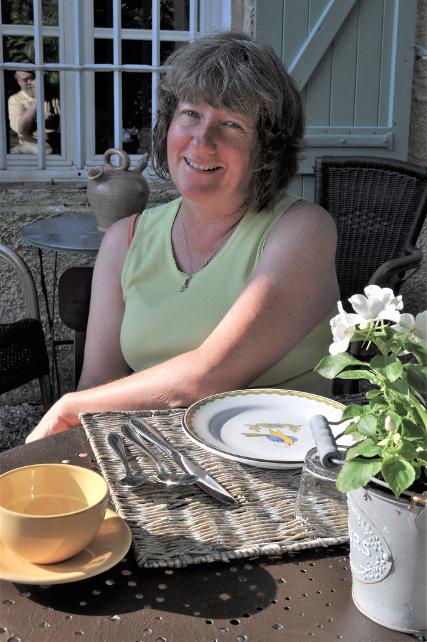 Jennifer, our Tastes of Provence tour guide.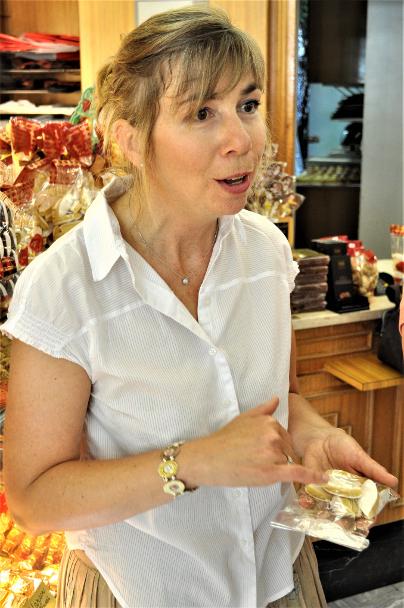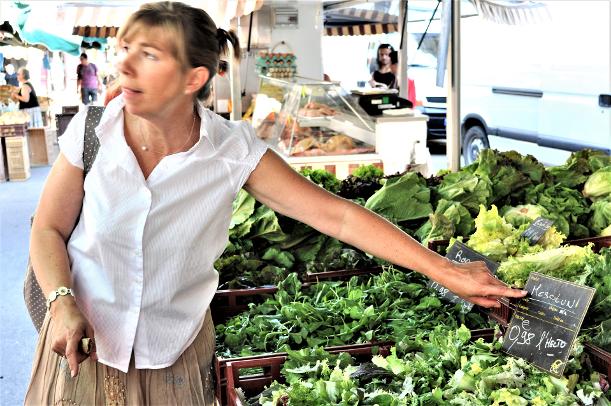 There are many patissiers and even more pies, cakes and other wonderful options.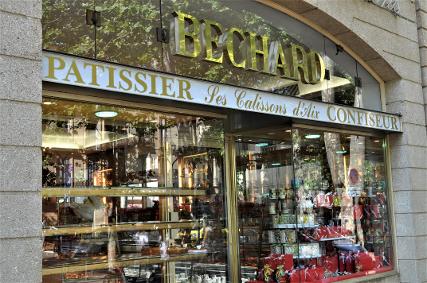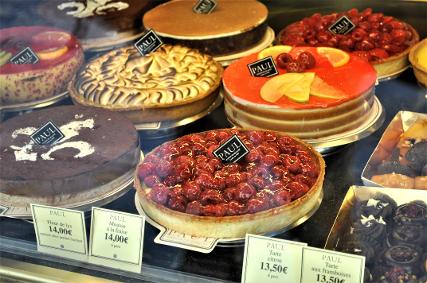 Chocolates, and cookies and pasteries.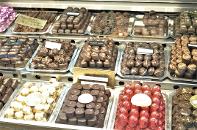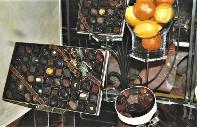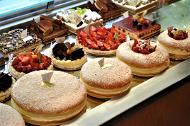 It's the season of ripe cherries.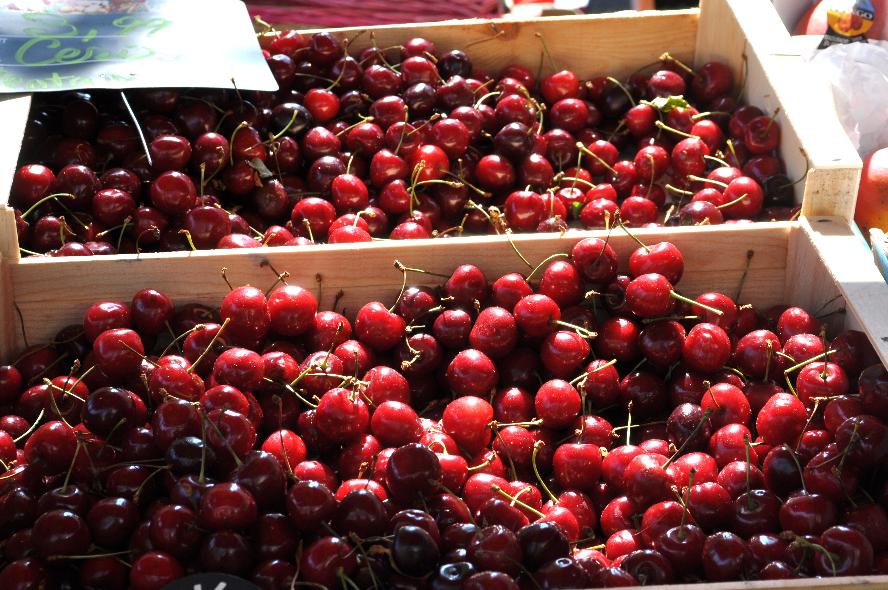 Tomatoes and zucchini flowers.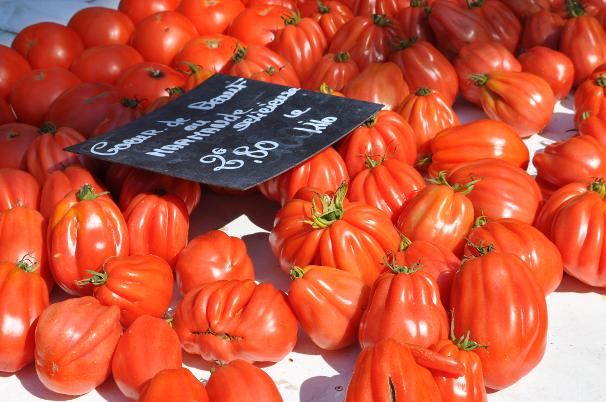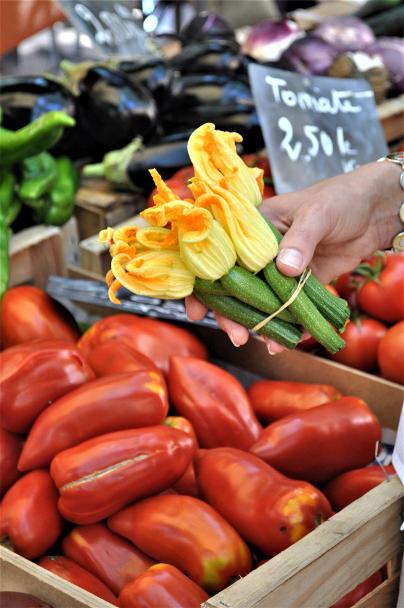 Just one portion of the market, in one of Aix-en-Provence's attractive squares.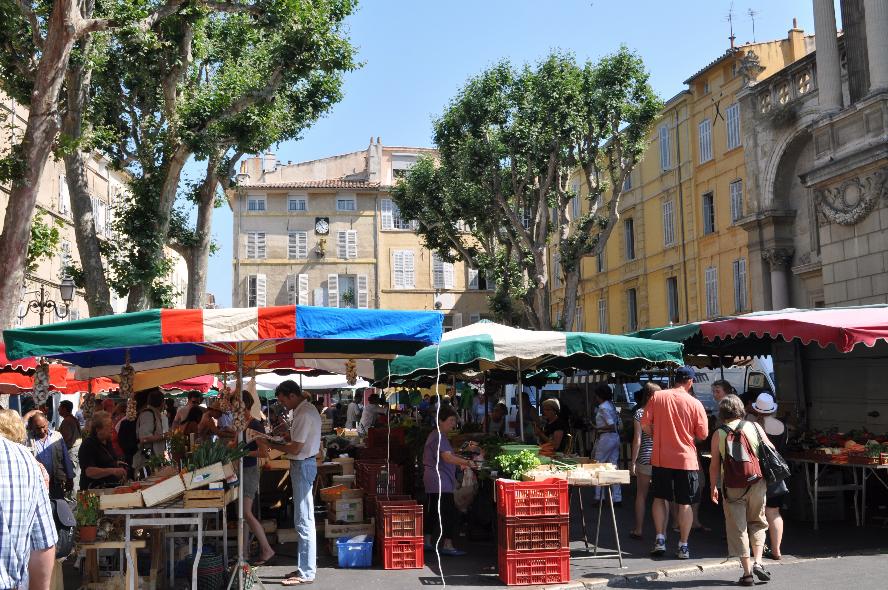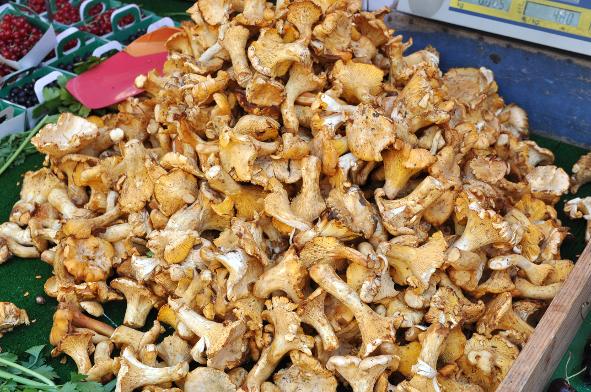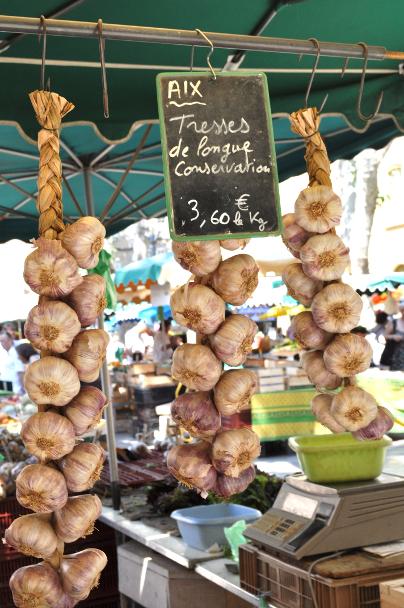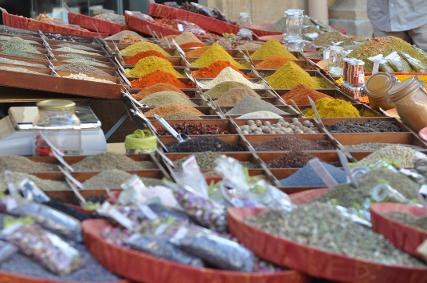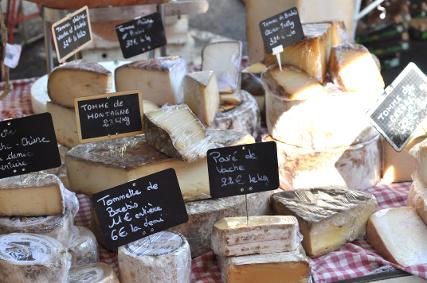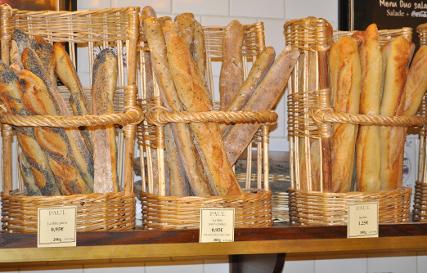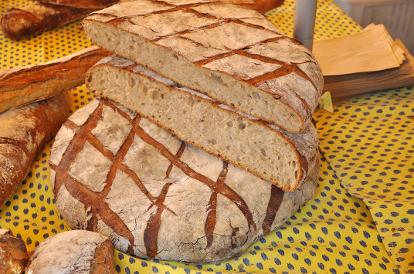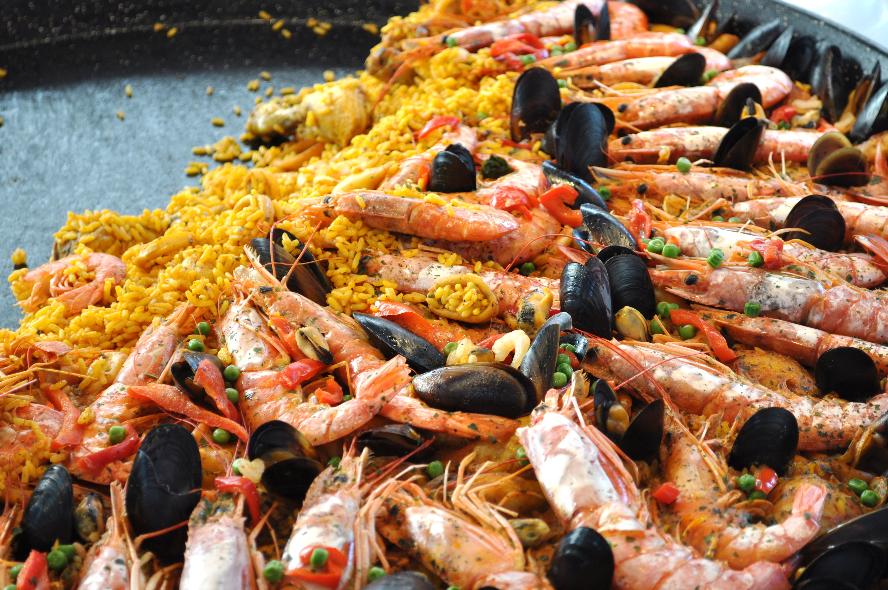 Fresh ground coffee. Flowers, flowers, flowers.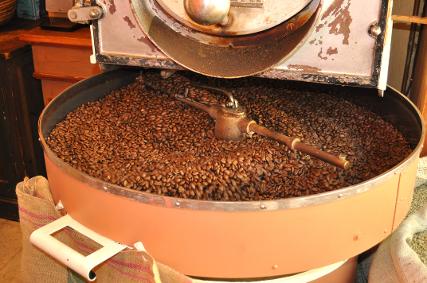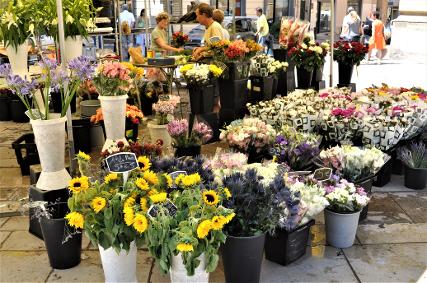 A lovely lunch at Viktor.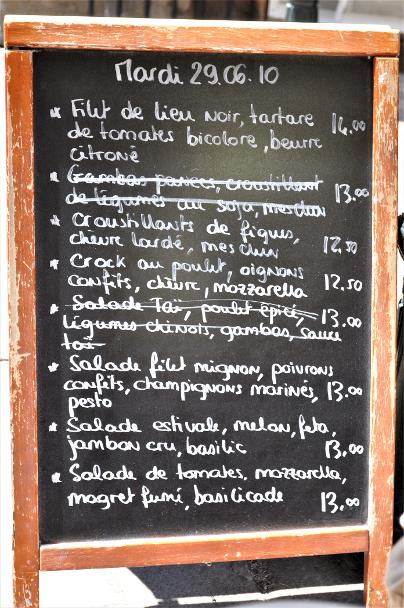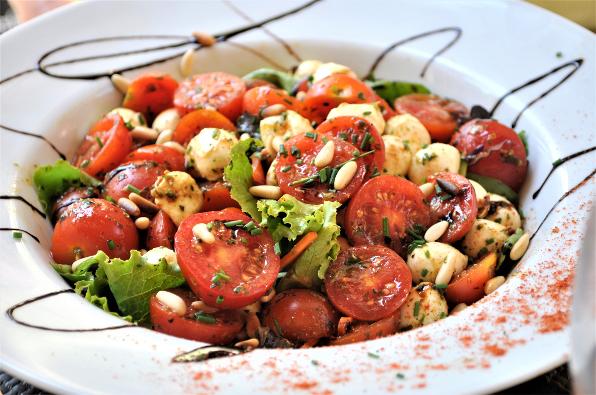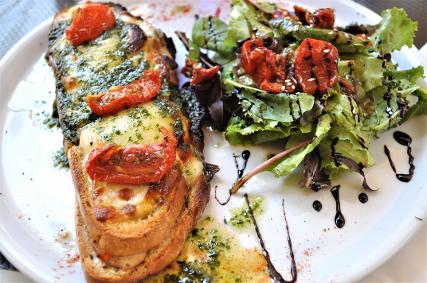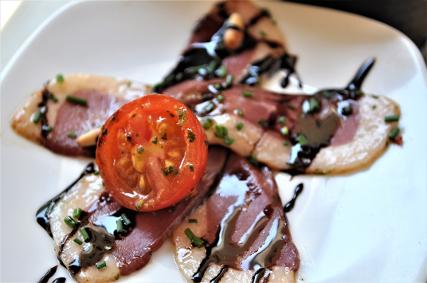 A couple of the stone buildings that make Aix-en-Provence such a beautiful city.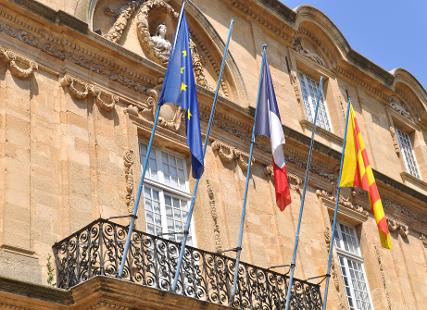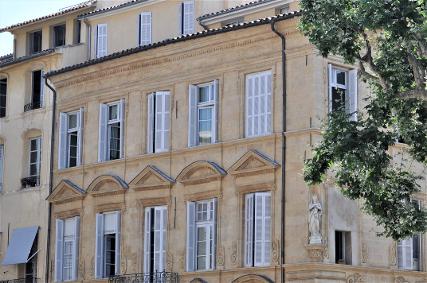 Then there are old hand carved doors.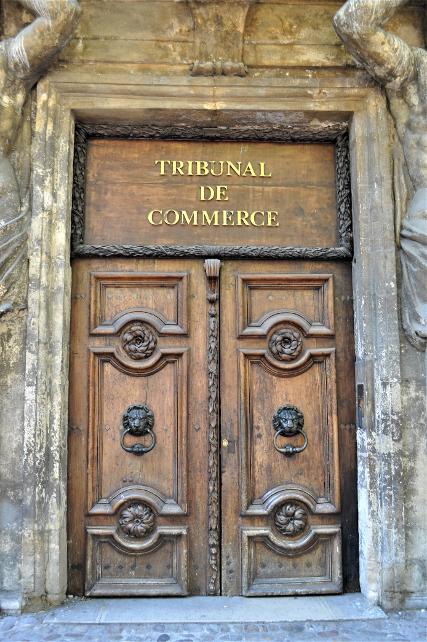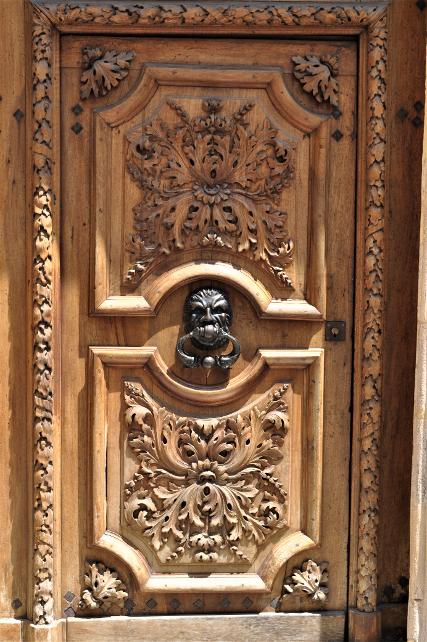 A quiet (very narrow) street.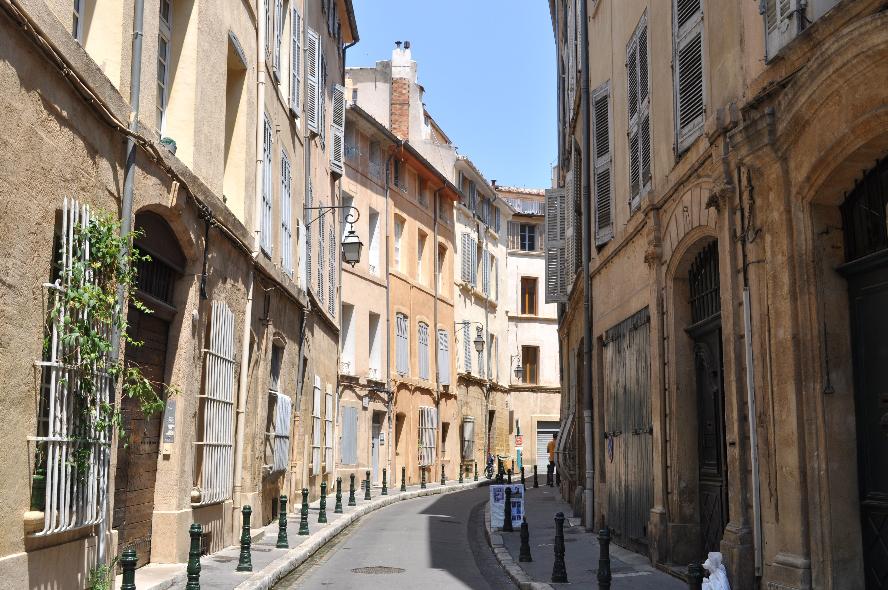 Dinner was enjoyed outdoors along Rue des Tanneurs, with a good portion of our meal served in glasses, including my starter of a duo of gazpacho.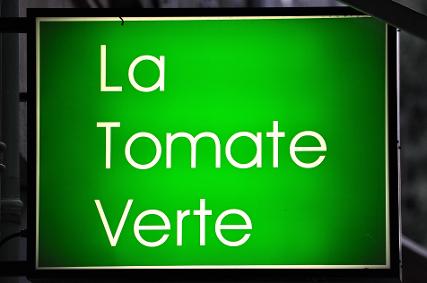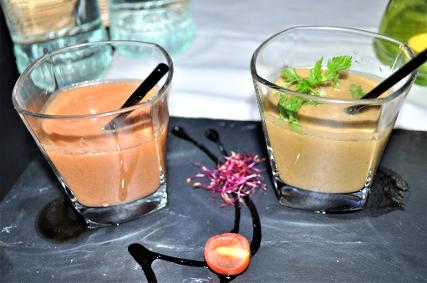 To start we shared a tarte tatin de tomates vertes, with a salad in a glass.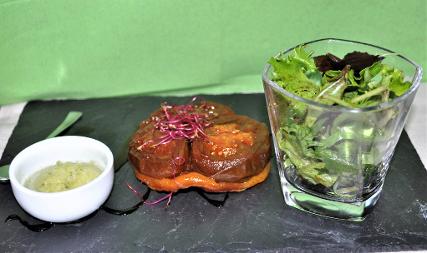 Gayle then had the aubergine fendue with tomates cerises, parmesan and basilic.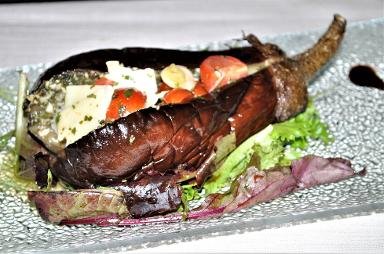 Souris d'agenau (lamb) confite - slow roasted for four hours.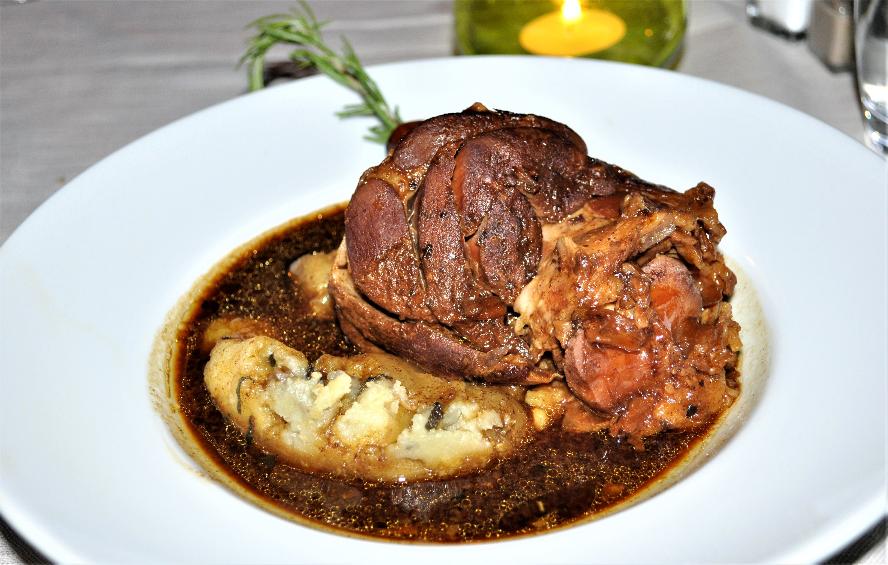 Tonight we each had a dessert - Gayle the Mi-cuit au chocolate noir and me a fruit crumble en verrine.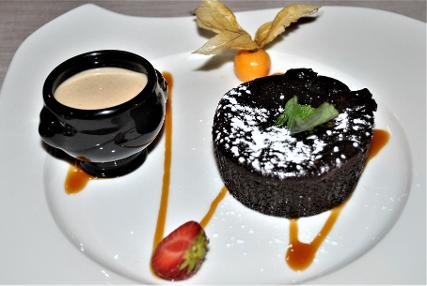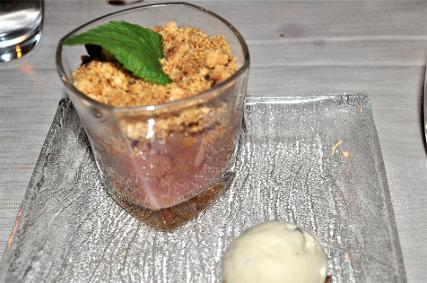 June 30
,
2010 - Aix-en-Provence (Le Clos des Freres Gris)
We spent the afternoon taking a drive south east of Aix-en-Provence east past Brignoles towards Draguignan. Simply a leisurely day slowly winding our way through small villages and pretty countryside. We passed La Guinguette du Lac Carces, a restaurant on the shores of Lac le Caramy. Being reasonably busy we decided to stop for some lunch. Gayle enjoyed the chevre chaud en croute (goat cheese in pastry) accompanied by Patates frites - yes that vacation treat of French Fries - while I had La Daube provençale (a classic French stew of slowly simmered beef).
We continued on our way passing fields of wildflowers along with the odd sunflower, returning to Les Clos de Freres Gris for a late afternoon around the pool.
We again drove into Aix-en-Provence where we ate at Cafe Le Verdun. Having had lunch we had only one dish each - for Gayle a Salad Bel Air of avocado, hearts of palm, eggs, artichokes in oil and tomato while I the Magret de Canard (duck) with sauteed vegetables, enjoyed with a bottle of Chateau Sainte Marguerite (Gayle's mom's middle name being Marguerite). Gayle finished with a Creme Brulee before we returned to our B&B.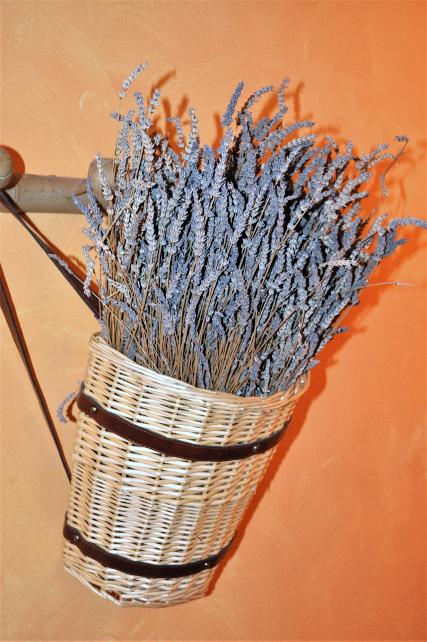 More of the attractive decorations throughout Le Clos des Freres Gris.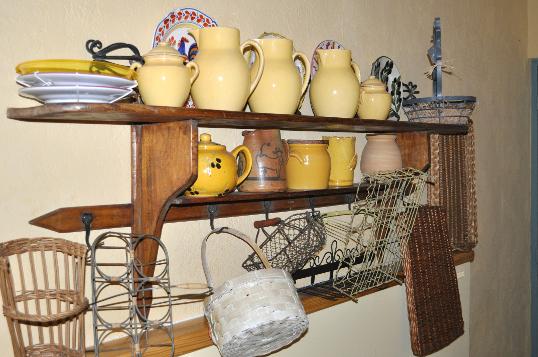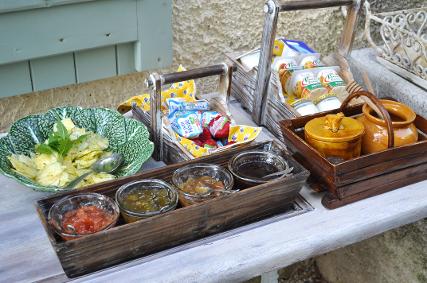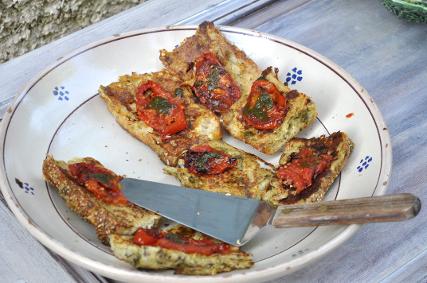 Not often one sees white aubergine (eggplant), plus artichokes.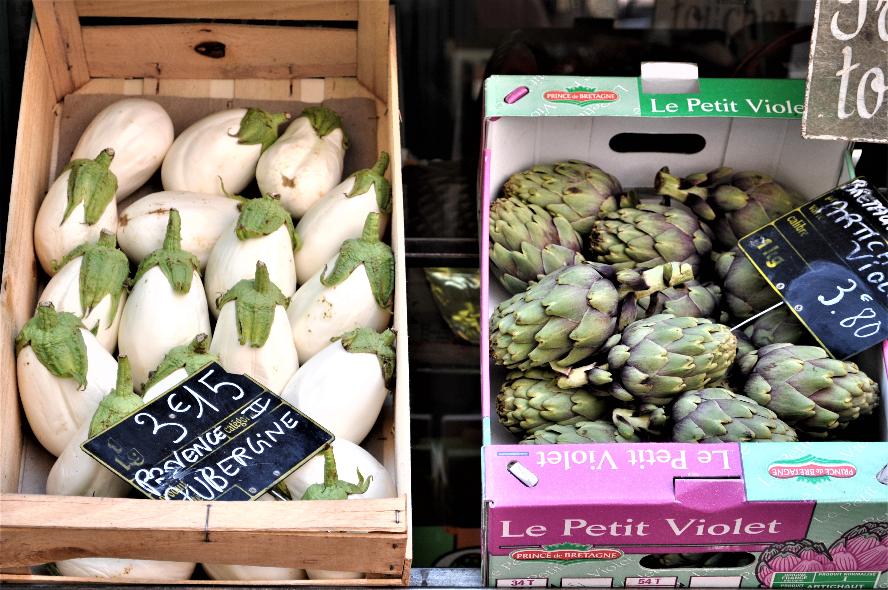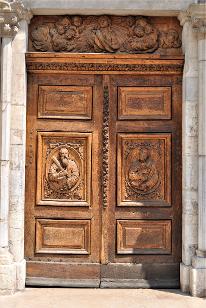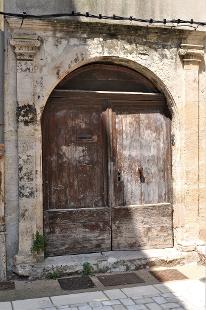 Gayle on the shores of Lac le Caramy. A beautifully painted wine bucket ... and rose wine.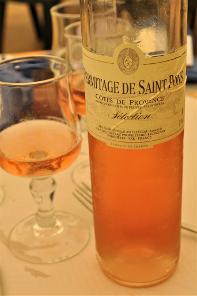 Le chevre chaud en croute. La doube provencal.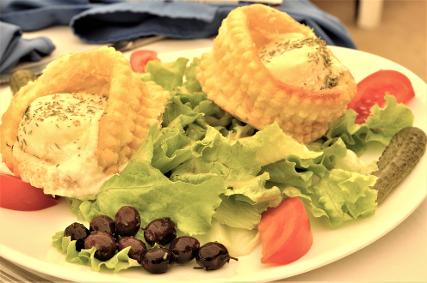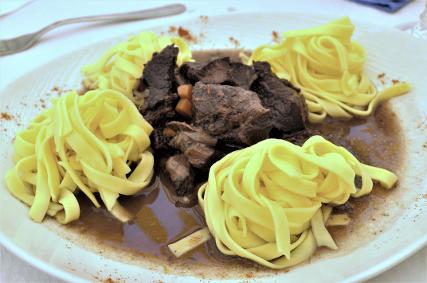 One of the nice things about traveling in the spring is the abundance of wildflowers,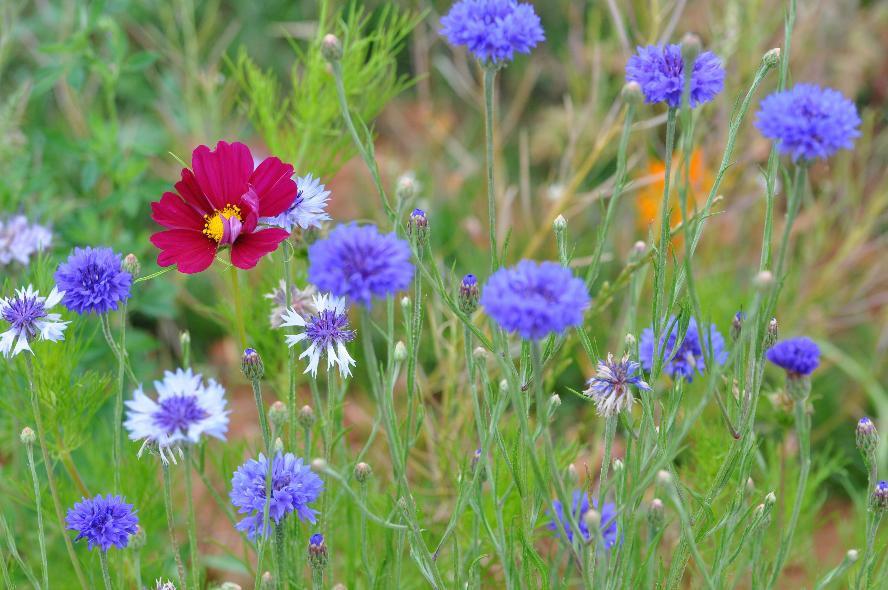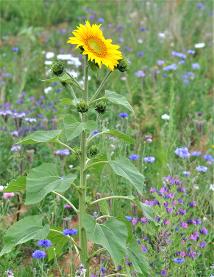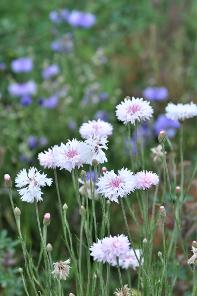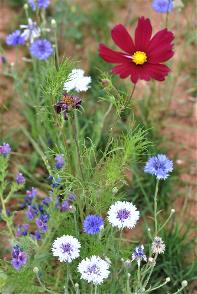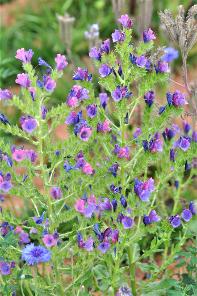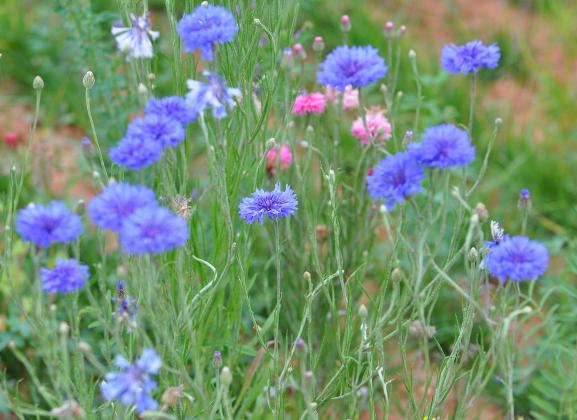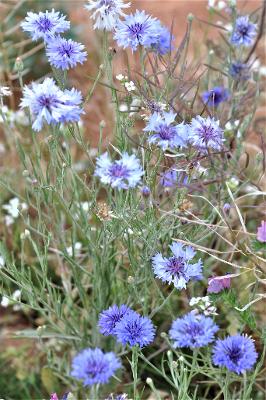 While we were a little early for full fields of sunflowers the odd one was in full bloom.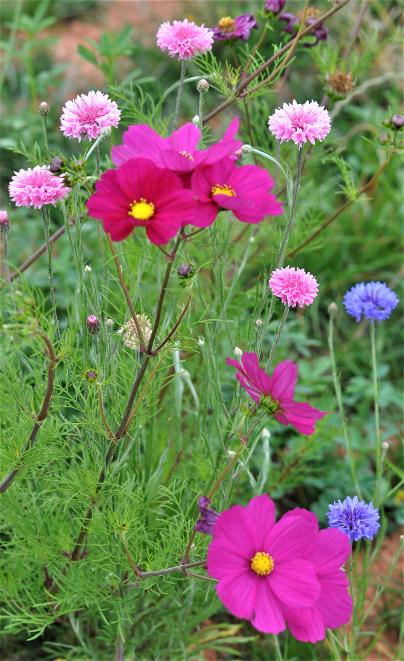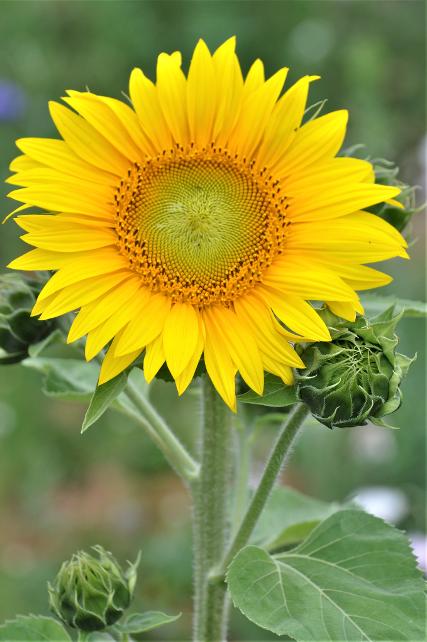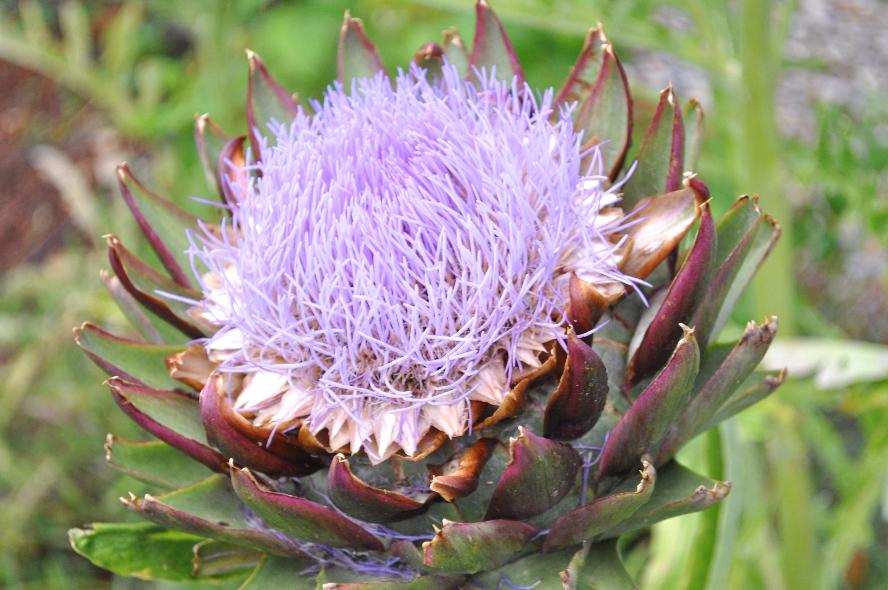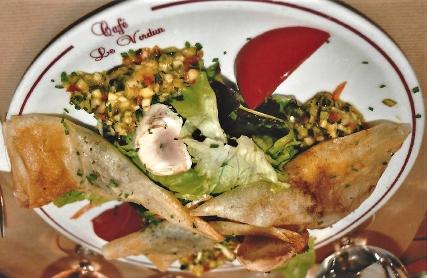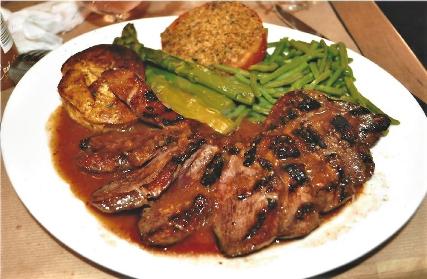 July 01
,
2010 - Aix-en-Provence to Montreal to Halifax
Having to leave a tad early for the 45 minute drive to the Marseille airport we had an abbreviated breakfast. Caroline did seem to be a bit put off by our ask to start breakfast a bit (like only 15 minutes) early but we downed some coffee, croissants and fruit and we were on our way.
It is hard to assess Les Clos de Freres Gris - our room was beautiful, exquisitely decorated in exactly what one would imagine in Provence. The grounds are gorgeous and pool wonderful. At times Caroline was friendly and helpful, making us feel very welcome but at others she was 'off', with rigid rules and making guests feel uncomfortable. Strange.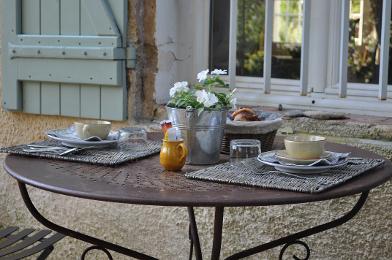 We had no problem finding the airport and returning our vehicle but once inside the excitement began. As we were lined up to check in there was an announcement to clear the airport. We did with the rumour being a bomb. It was actually quite surprising how many simply stepped outside but stood next to the building. We of course crossed the road to wait it out a good distance from the terminal. After about half an hour we heard an explosion - not huge but an explosion just the same, and shortly thereafter were told we could re-enter. As we did, heading to the Air Transat check-in we literally walked beside a suitcase, still smoldering on the floor that security had blown up. Excitement we did not need.
After that smooth sailing. We check in, boarded our flight to Montreal from where we connected back to Halifax, bringing our trip to an end.
fields of lavender
the Bories
enjoying breakfast on the lawn of Charembeau
Tastes of Provence food and market tour
Thierry
Les Baux-de-Provence and Hubert
tunnels of trees
quaint villages
patisseries and boulangeries
numerous gardens and wildflowers
rose wines
the bomb scare at the Marseille airport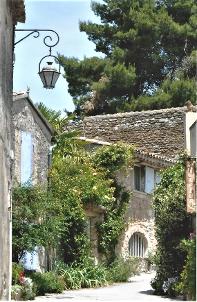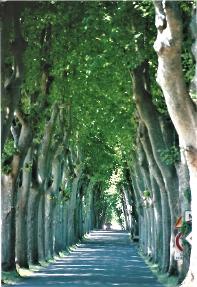 Lodgings - Provence 2010
Here are the lodgings at which we stayed, the cost (often in an upgraded room) and a link to their website
106 euros Auberge Charambeau Forcalquier www.charambeau.com
96 euros Au Ralenti du Liere Villages des Beaumettes www.auralentidulierre.com
176 euros Le Prince Noir Les Baux-de-Provence permanently closed
150 euros Les Clos des Freres Gris Aix-en-Provence www.freres.gris.free.fr
_________________________________________________________________________________________________
Expenses (based on average exchange rate 1 euro = $1.33 Cdn):
We found a spreadsheet with expense data proving:
$1,791 airfare
$1,875 lodging (128 euros or $170 Cdn per night)
$1,175 food (80 euros or $107 Cdn per day)
$ 611 vehicle (rental, fuel, tolls and parking)
$ 230 activities (admission to museums etc.)
$ 562 souvenirs
$ 146 miscellaneous
$ 280 boarding of Toledo
______
$6,670
$ 367 average cost per day excluding airfare, souvenirs and boarding of Toledo