As some may know I enjoy taking photos of elderly people. During this trip, unlike our experience earlier this year in Corsica and Provence, there were many people out and about. Often they would be enjoying the afternoon or evening sitting on a park bench. You will note a disproportionate number of photos of men. On the one hand there were more men out but as well women were less willing to have their photo taken. I hope you enjoy the images.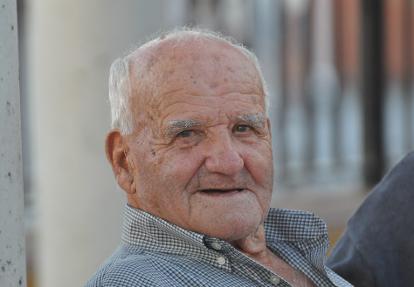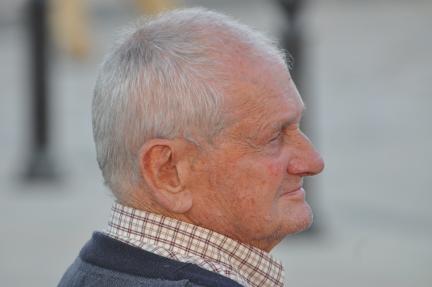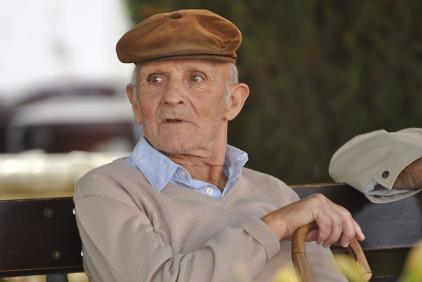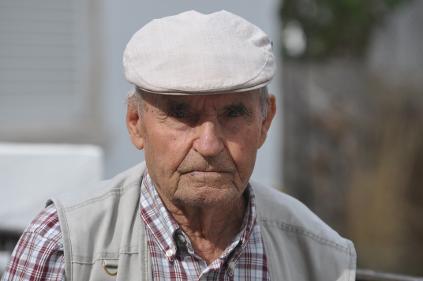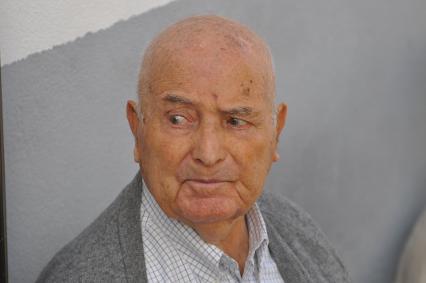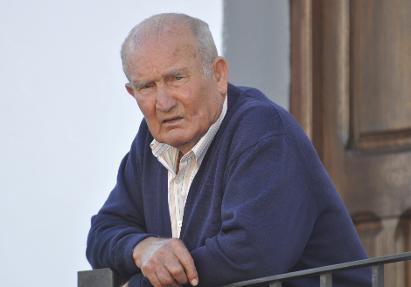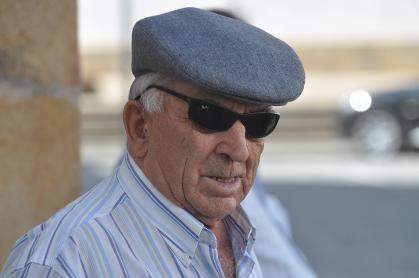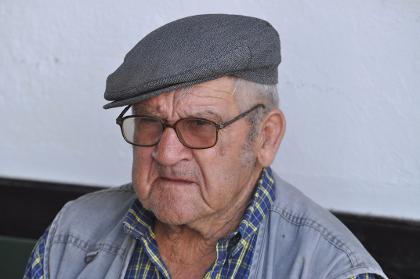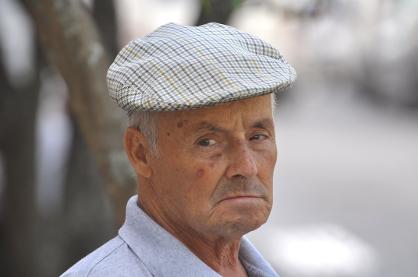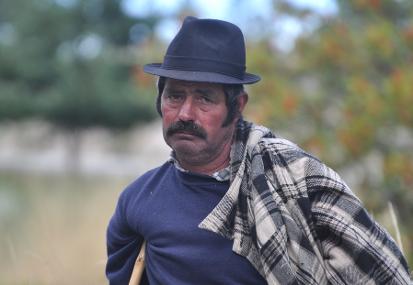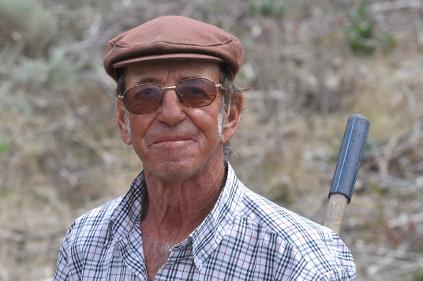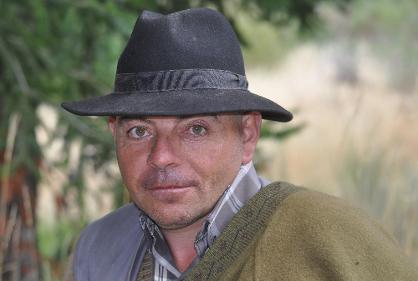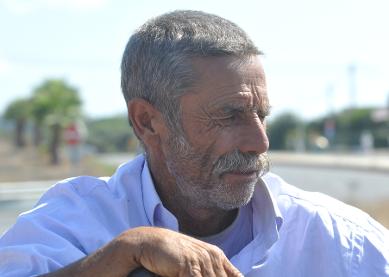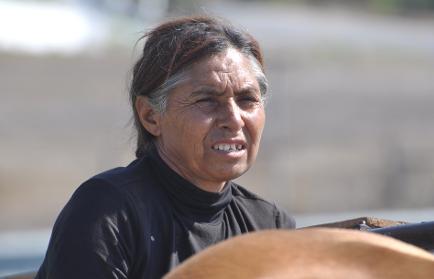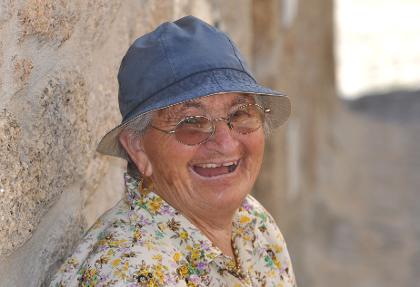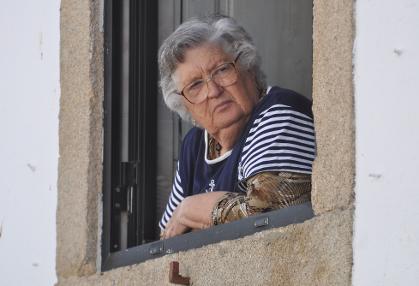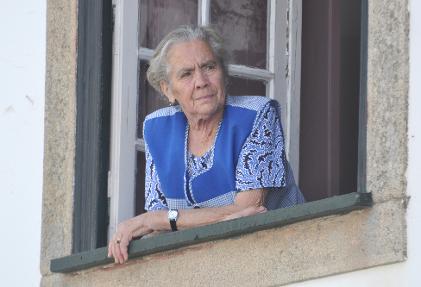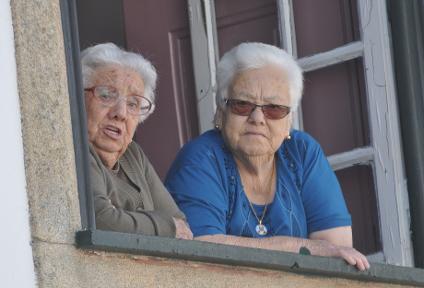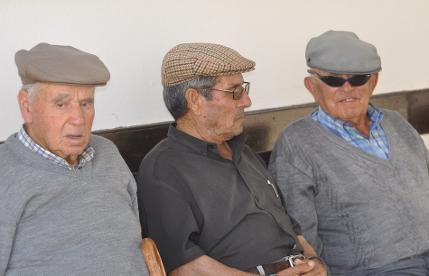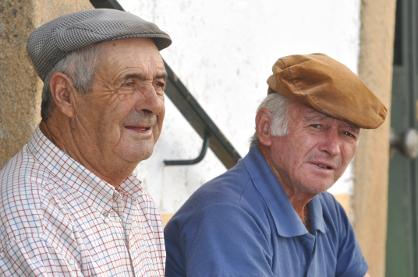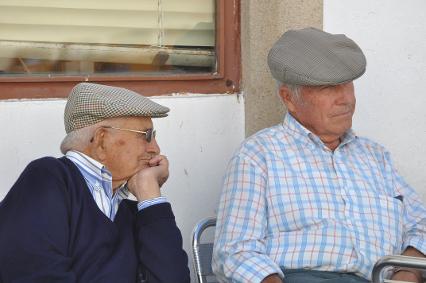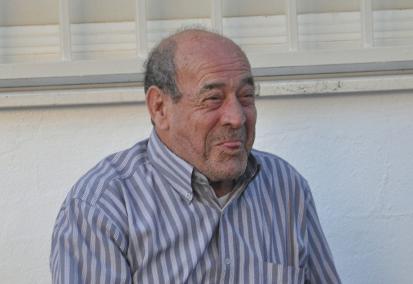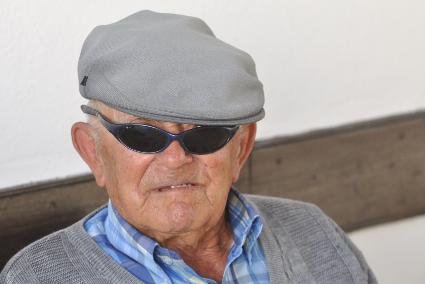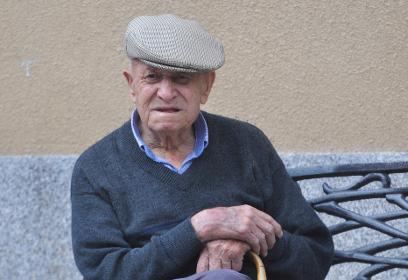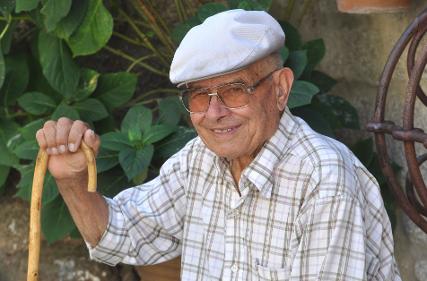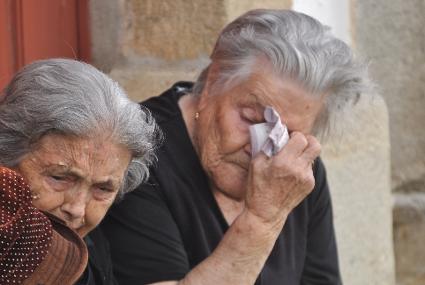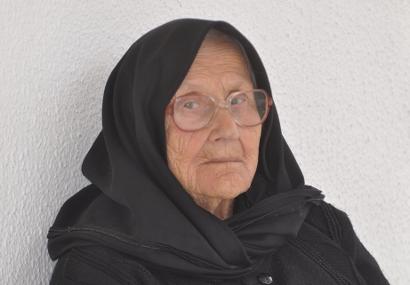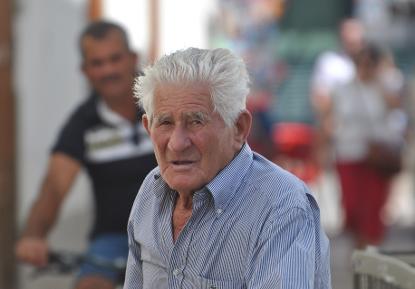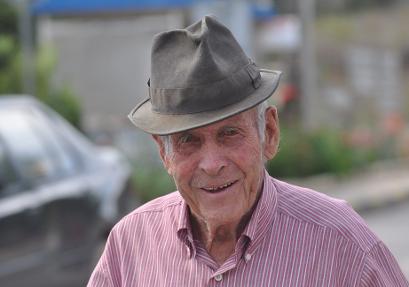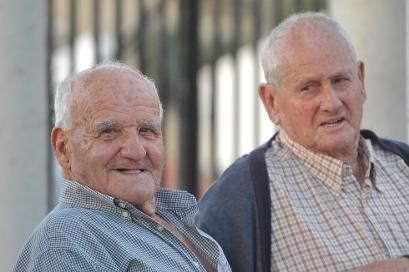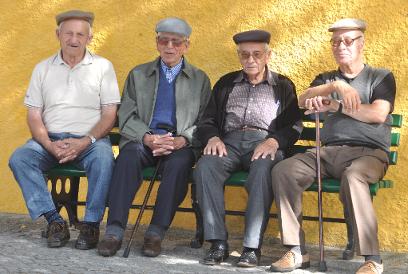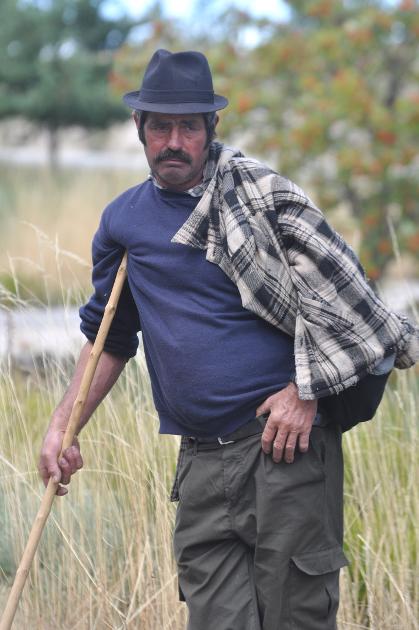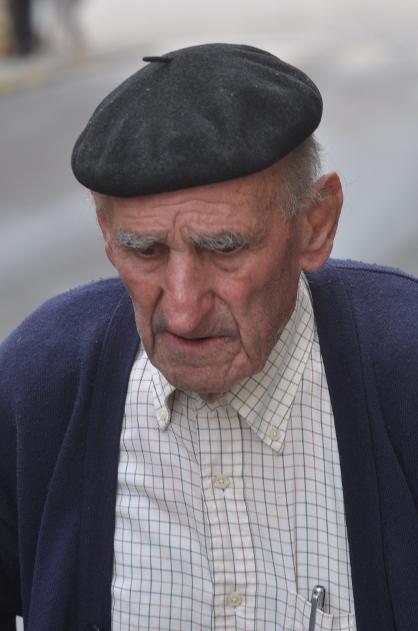 September 10 - 14 and 25 - 29, 2014 - Portugal
Another great trip. Here are our most vivid memories of Portugal
the historic Pousadas, especially the Pousada Flor da Rosa
the meal at Pousada Belmonte, especially the crusted wild boar
the numerous people, particularly elderly out and about and the resultant photo opportunities
Dolly
dinner, with no less than 24 candles, and breakfast in the garden at Casa Rosada
the quality of meals (dinner and breakfast) at Casa Rosada
the location and tranquility of Casa Tres Palmieras
the changes Gayle observed in the Algarve from 40 years ago - less quaint with condos, hotels etc. although many beautiful coves and beaches remain
the throngs of people at the Feria Medieval em Palmela
the orange trunks of the recently cut cork trees
the open space along with many animals, incl. cows, sheep, goats, horses, donkeys, deer
the shepherds
sitting in a cafe in Monsanto with a pitcher of Sangria overlooking the expansive landscape
the smile and laugh of the lady from whom we bought a small Monsanto doll when I took her photo
having the 'President's Suite' (we were told Jacques Chirac along with Spanish and Portuguese kings have stayed in this room) at the Pousada Palmela and the view it provided of the medieval festival
So there you have it. 30 years since we were last in Portugal. Hopefully we won't wait another 30 :-).
_________________________________________________________________________________________________
September 29, 2014 - Palmela to Lisbon to Ponta Delgada to Toronto
After breakfast we packed our bags and left for the 45 minutes drive to Lisbon airport. One missed connection resulted in us taking the 'wrong' bridge in to Lisbon but we were able to easily find the airport in spite of having to drive a bit more through the city.
Our flight included a two-hour stop-over in Ponta Delgada, Sao Miguel, Azores - not particularly exciting sitting in the airport but it is what it is when travelling. We reboarded and six hours later were in Toronto, where we stayed with friends overnight before continuing on to Halifax to bring an end to our trip.
A lounge area along the glass walls of the interior courtyard, and to the right part of that interior courtyard.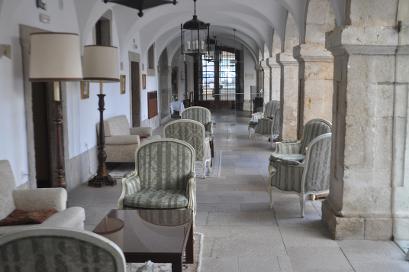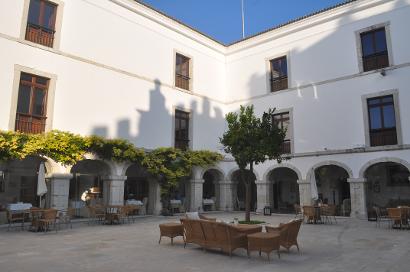 September 28, 2014 - Casa Tres Palmieras, Portimao, Algarve to Palmela
Today we leave the Algarve. Although short we enjoyed both Casa Rosada in Castro Marim and Casa Tres Palmieras (CTP) just outside Portimao (Praia da Rocha). Dolly was a wonderful host, providing a beautiful location, an excellent breakfast and a sincere interest in her guests. Good on her for continuing to operate this perfectly situated B&B.
Of course we were in no hurry to leave, and even after checking out took a walk down to the beach. But leave we had to, driving though Monchique and the Serra de Monchique. Surprisingly hilly with twisty turning roads it was slow going through the Serra but once on the other side we made some decent time. We made a few short stops to break up the drive but for the most part took a direct route to Palmela.
Knowing exactly where to go (we stayed at the Pousada our first night) we thought it would be easy to get to the Pousada. How wrong we were. What we didn't know was that a Medieval Festival was being held in Palmela this weekend, with an estimated 10,000 attendees each day. You will see from a photo below the crowds, crowds we had to drive through to get to the Pousada. It was very slow going - many were not being particularly attentive - and in fact we didn't make it all the way as there is a reasonably steep narrow incline near the end. We decided to park below the Pousada rather than attempt to part the sea of people. After checking in we of course went out to see what was going on. It was crazy. There was falconery, jousting, medieval stuff to buy, food to eat and many dressed in period attire. But all were having a good time. Staying at the Pousada, particularly in our room overlooking the castle provided us a close refuge to leave the crowds.
We had dinner at the Pousada, and while the dining room and service were good the food, particularly mine was agan just mediocre. This would be one criticism of the pousadas and paradors - nice breakfast but generally just so-so dinners.
We returned to our room for the Danca Aerea pela Dancarte, two dancers rappelling down the side of the castle wall, with spotlights casting shadows of their descent and dance. And we had the perfect vantage point from our room. The Feira Medieval em Palmela was certainly not what we expected but it was a very interesting end to our trip.
Dolly - the sweet owner and hostess of Casa Tres Palmieras.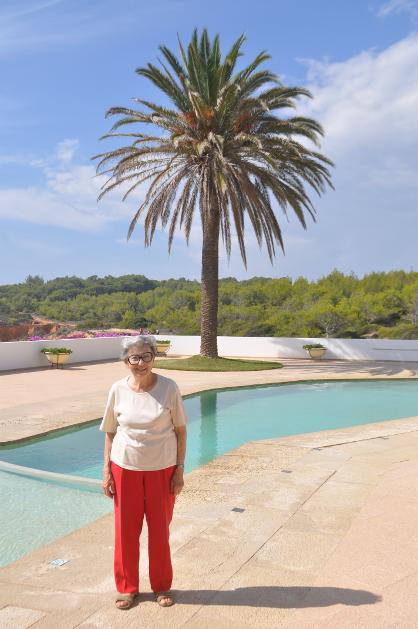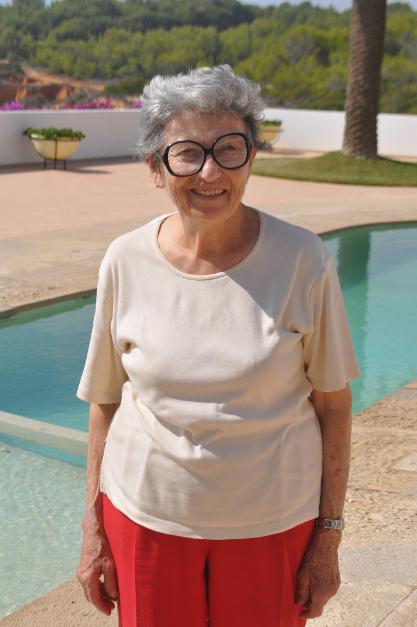 Birds of Paradise grown by Dolly at Casa Tres Palmieras.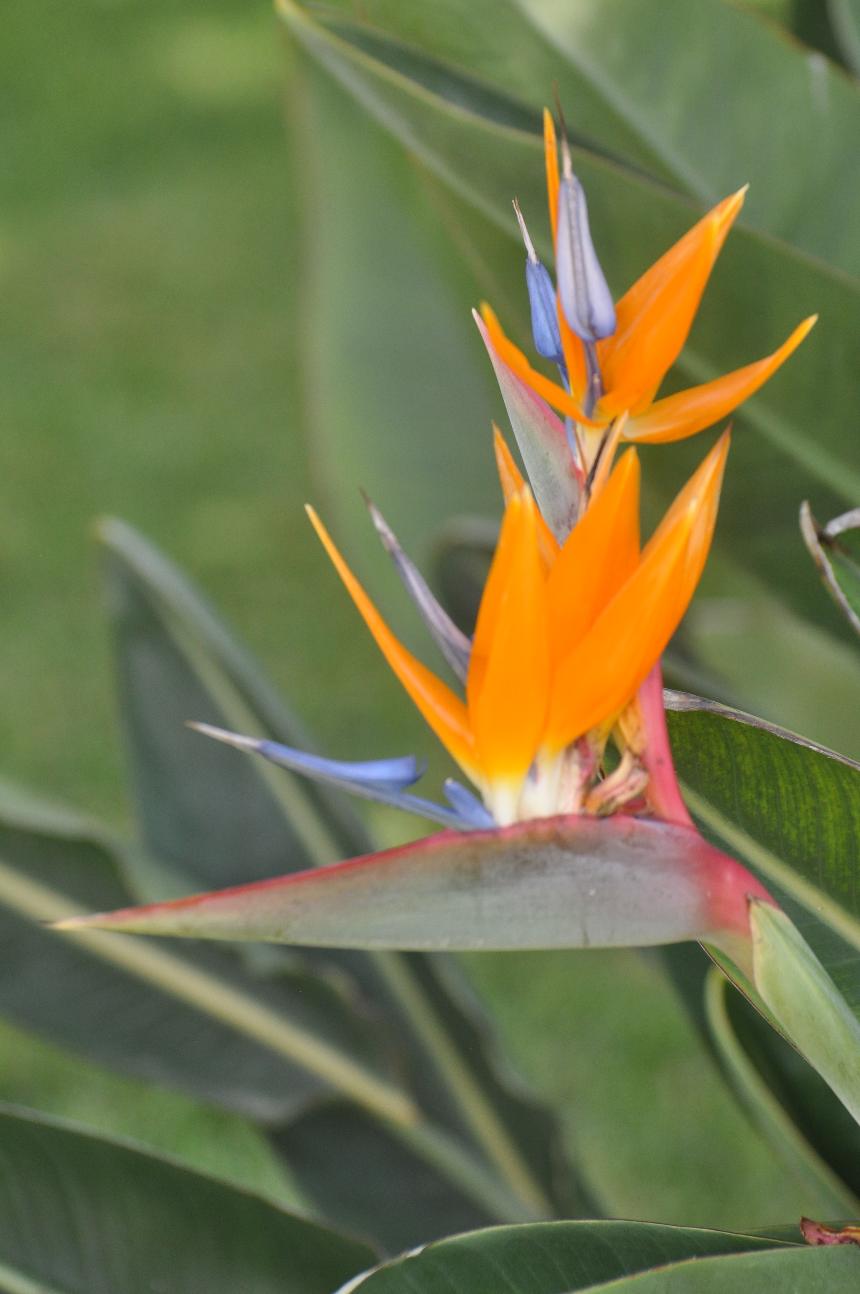 The beach just below, but unseen from the B&B.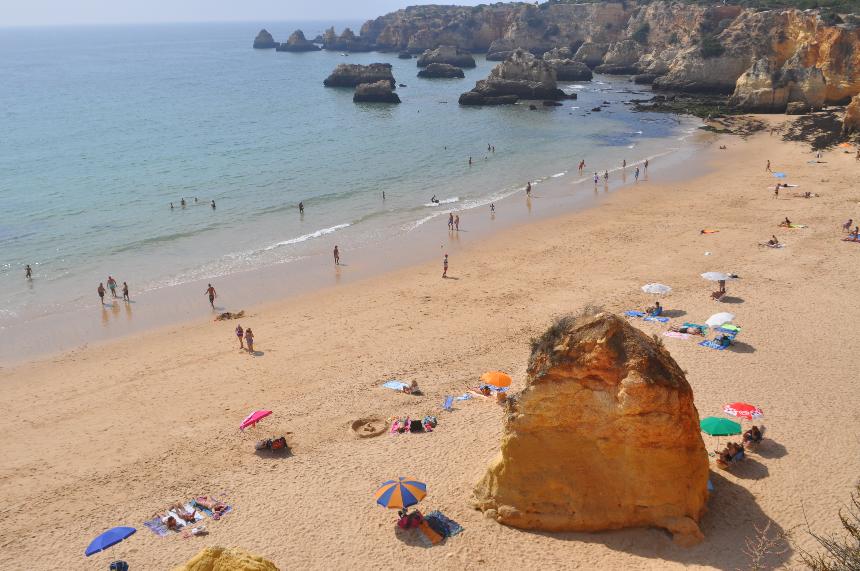 On the beach and the wall of CTP overlooking the sea and cliffs.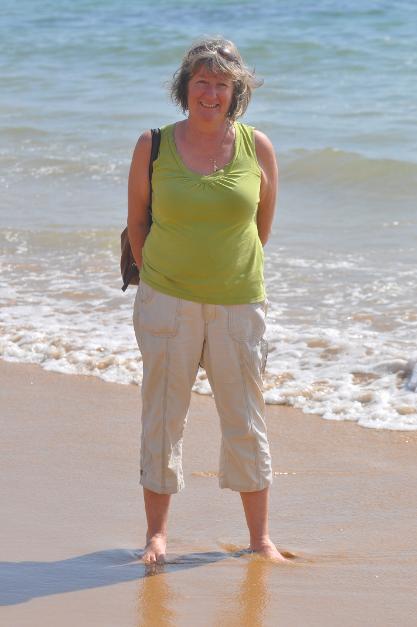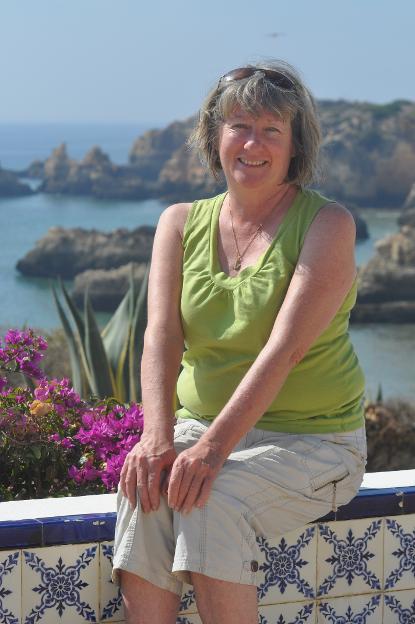 A fellow strolling along the road of a small village.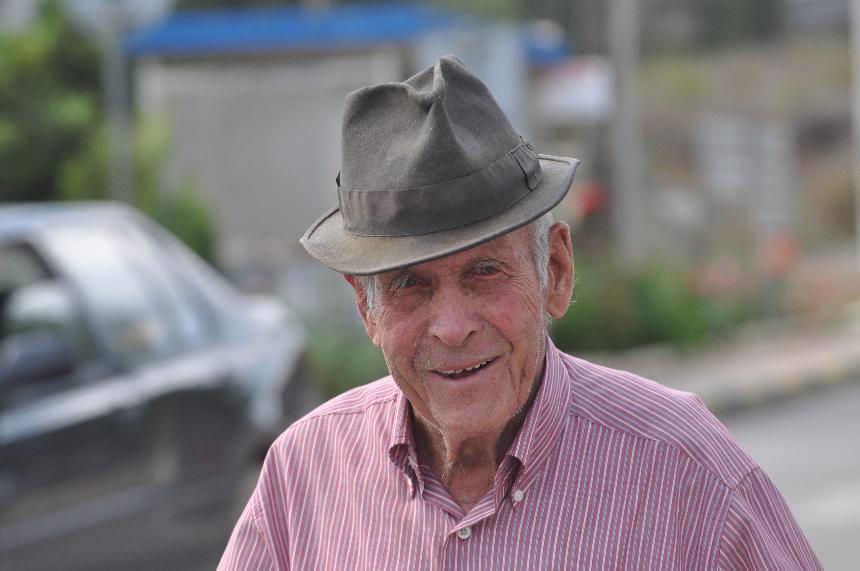 So we are driving along this isolated rural road, round a corner and lo and behold - traffic. Nice cow bell.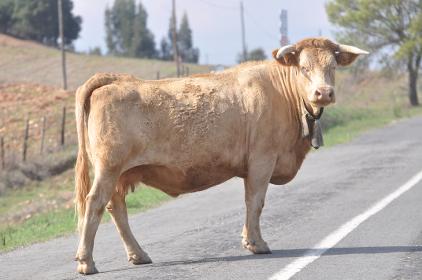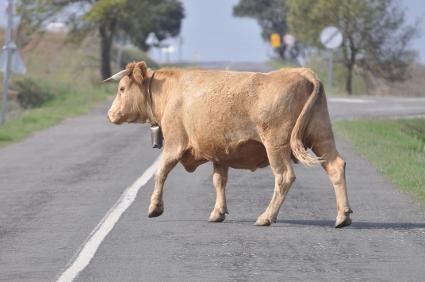 Talk about crowded - and apparently it was worse a few hours earlier.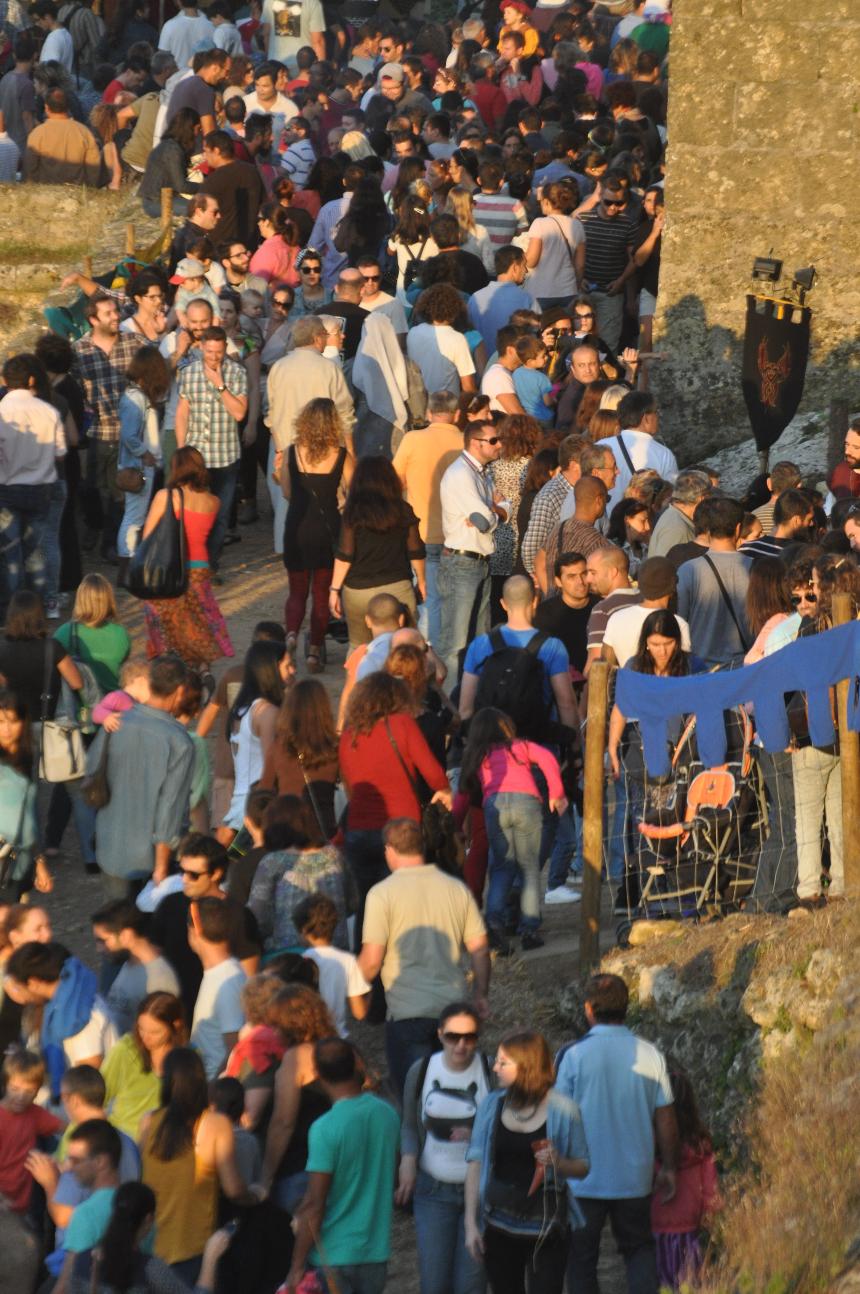 Many at the festival came dressed for the part.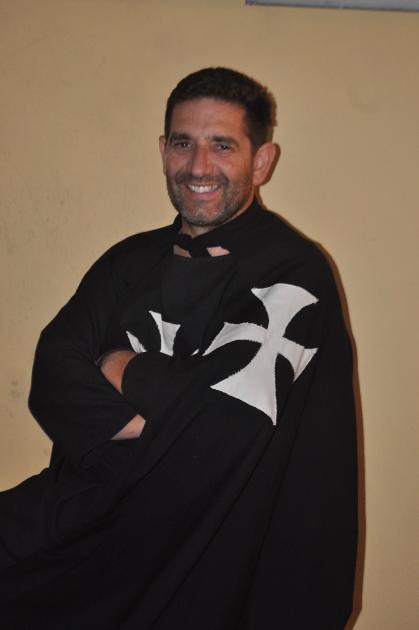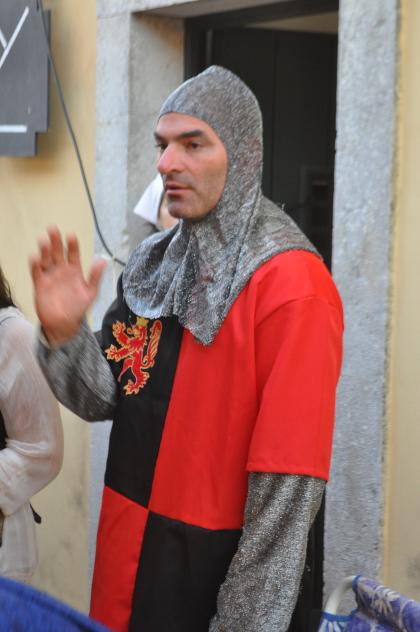 ... and a number of young children were in the spirit (and costume) of the festival.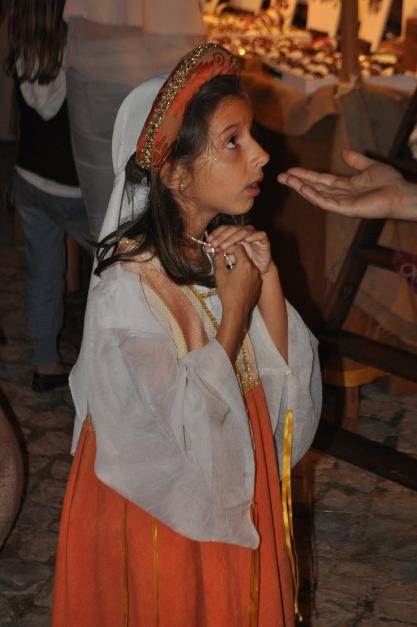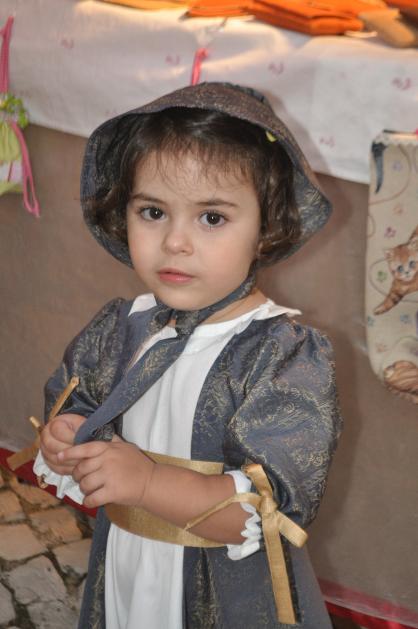 Another large and interesting salad.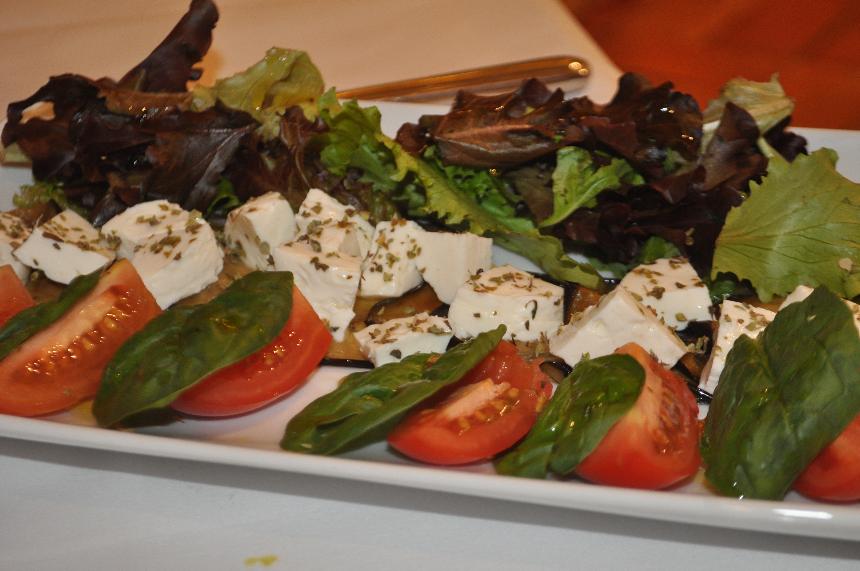 A pair of dancers rappelling down the castle wall with spotlights providing interesting shadows.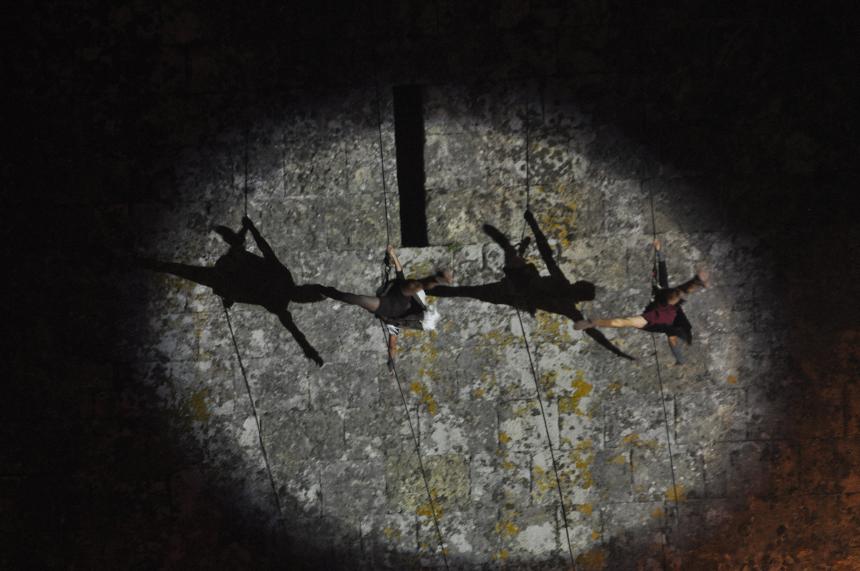 September 27, 2014 - Casa Tres Palmieras, Portimao, Algarve
Casa Tres Palmieras (CTP) has an elegance about it. For example individual breakfast tables are set up along the exterior wall overlooking the sea and cliffs beyond. Fresh flowers in a crystal vase; a nice "good morning" tile and a small Barcelos chicken made the table that much more attractive. A beautiful sunny morning did not hurt.
Although there was some desire to drive further down the coast in the end we decided to stay put and enjoy the property. It was in the high 20s so we enjoyed a swim, then lounged around, and then walked along the cliffs above the beaches down to the few beachfront restaurants. The beaches are beautiful - busy but not packed. There are some hotels as we got a bit further down but nothing intrusive, i.e. set back a reasonable distance and nothing as monstrous as those in Portimao itself.
But rather than eat lout we decided to get some food and bring it back to CTP and eat here. Our first stop in Portimao was not productive but we then returned to Alvor, in part to see the area during the day and found a better shop where we got some acorn fed ham (it was quite nice and 1/4 the price for imported Spanish Serrano ham in Halifax); cheese; bread and a bottle of wine from the area (Alvor). We also got a pizza and returned to CTP where we set up a table and enjoyed a nice low-key dinner.
Overall it was a very enjoyable day.
Breakfast set up at the wall with an amazing view - perfect.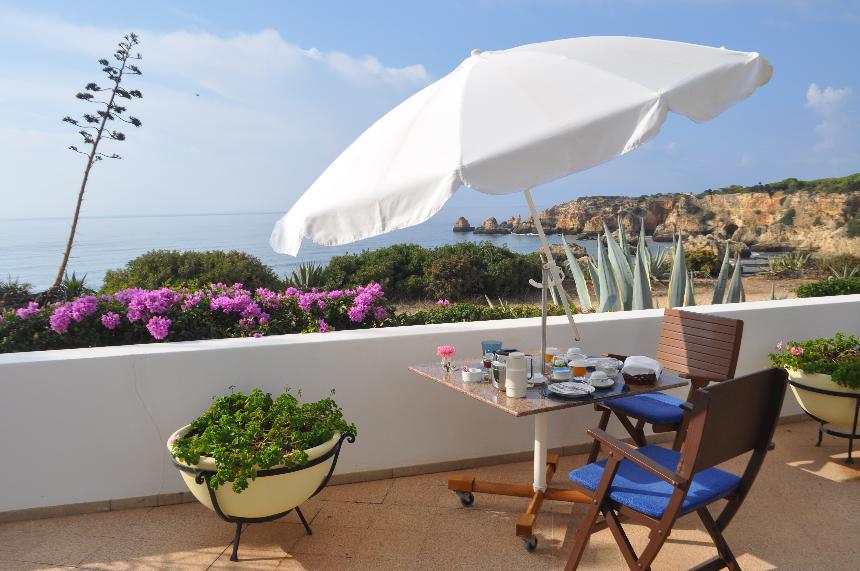 Fresh flowers and a welcome at breakfast.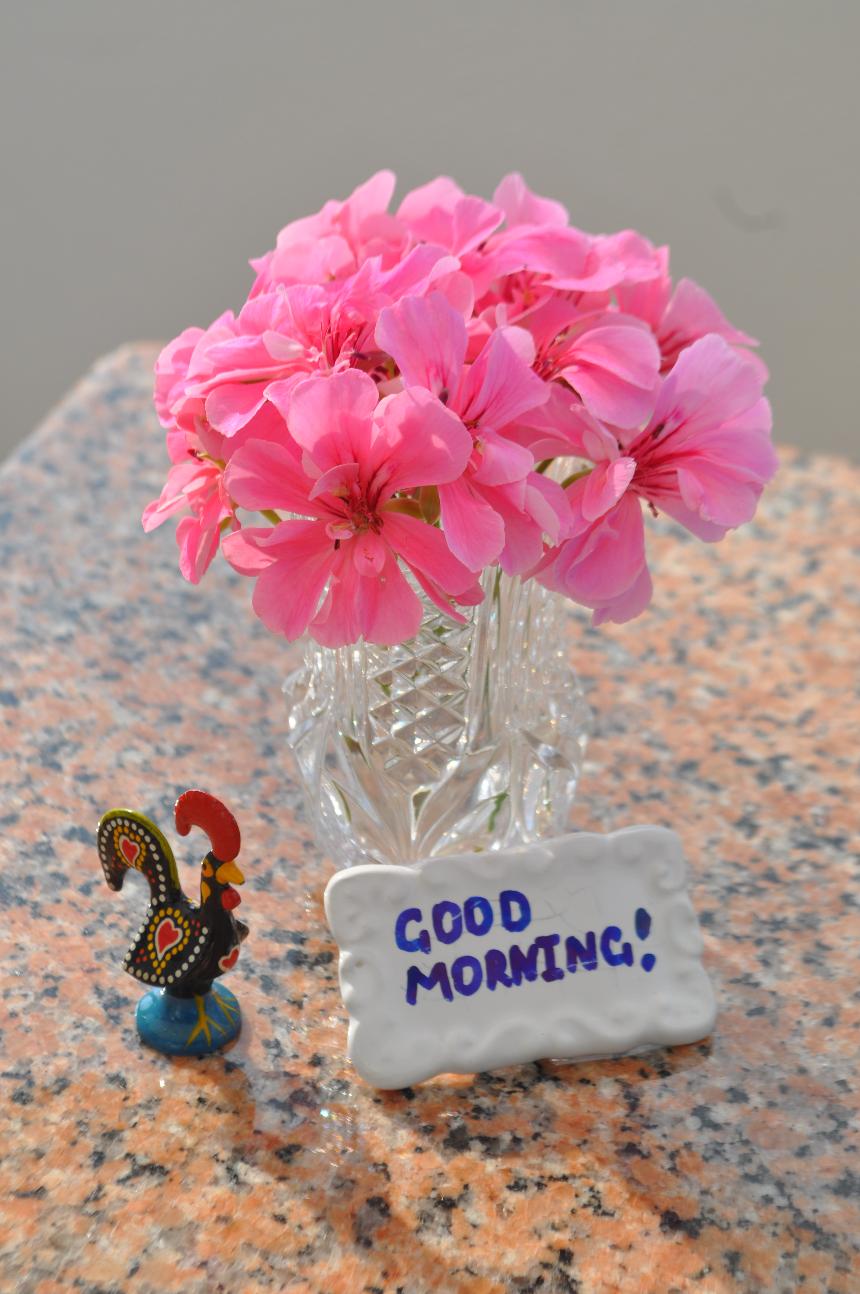 The three palm trees of Casa Tres Palmieras and a partial view of the beach below the B&B.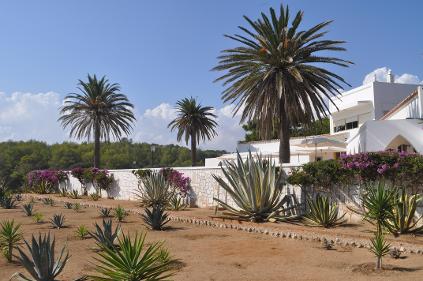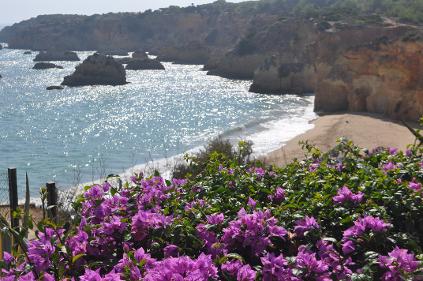 Views of the beach from the cliffs near Casa Tres Palmieras.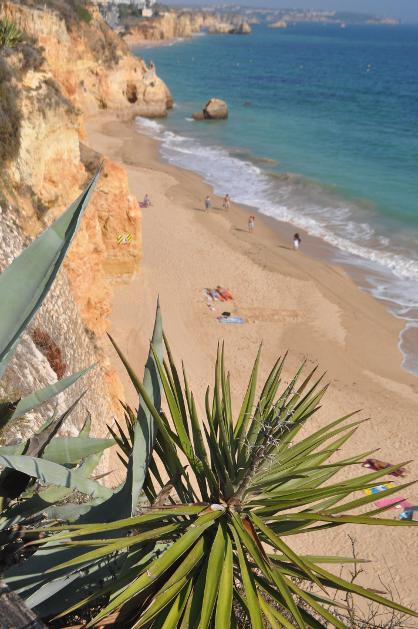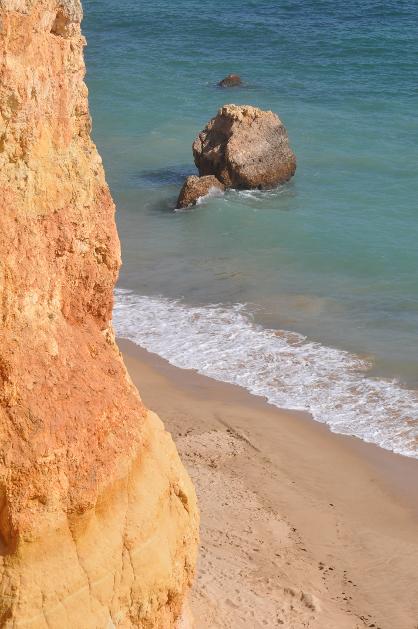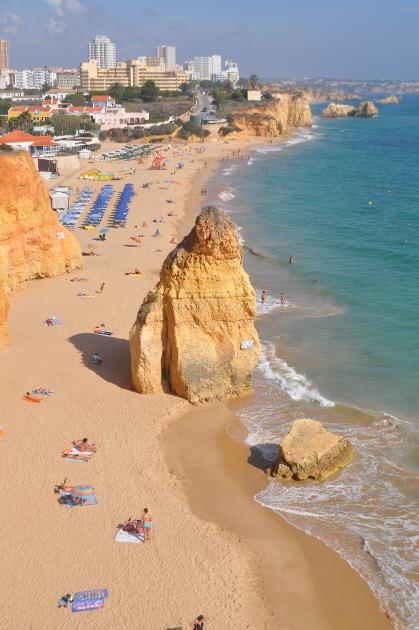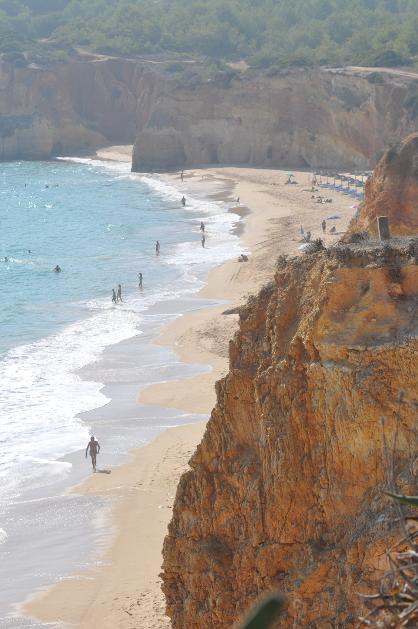 There are a couple of these nice tiled benches on the property.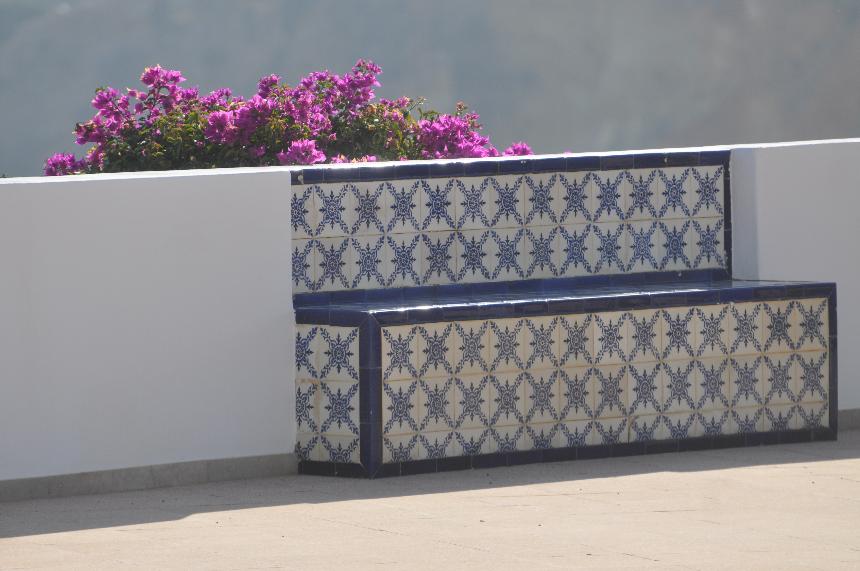 The view out of our room, across the pool and beyond.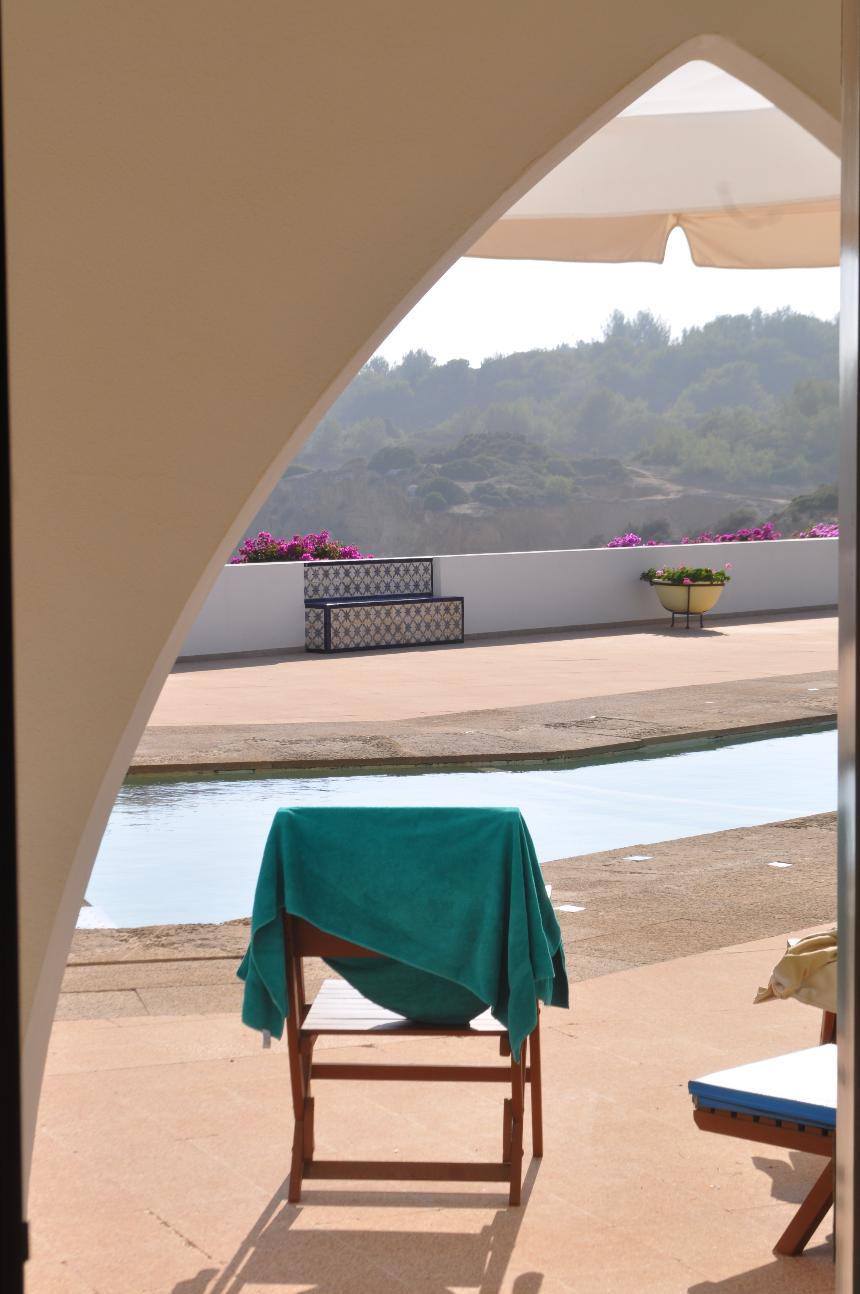 September 26, 2014 - Castro Marim, Algarve, Portugal to Portimao, Algarve
Breakfast was as well in the garden, featuring an extensive plate of fruit encircling a granola yoghurt. Breads with a nice selection of home made jams, juice, and coffee made for another great breakfast.
We left Castro Marim driving east along the coast road, which was somewhat slow and in retrospect not all that interesting. Our first stop was Tavira a town with a nice reputation. We found parking near the centre and wandered through for an hour or so. Very people oriented with many outdoor restaurants, a number of plazas, some of which had musicians playing and a couple of quaint cobble stone bridges crossing the river. When in the tourist centre we noticed some nice pottery which is made further down the Algarve, and bought a couple of pieces. We continued our drive west, making one wrong turn in our efforts to stay off the autostrade that took us up into the hills, but we found our way back ok.
Along the road I saw this 12 foot (or so) Barcelos chicken. While usually I won't go back in this case I did to get the ultimate touristy photo. However in doing so I noticed a sign to the pottery place that produces the pieces we bought in Tavira. We stopped in and purchased a number of other nice pieces of Portuguese pottery.
Mid afternoon we arrived in Portimao and easily found Casa Tres Palmieras (CTP). The most expensive stop of our trip at 209 euros this five room B&B overlooks the water and beautiful coastline. The drive in through Portimao is somewhat disheartening as all one sees are these massive condo and hotel complexes. But somehow CTP is strategically situated that none - not one single one of them, nor the busy beaches that lined the coast can be seen. One feels simply isolated yet you know you are in the middle of a vacation centre. The views over the colourful bougenvallia to the sea and cliffs is outstanding.
Although there are a number of restaurants on the beach only a 10 minute walk along the cliffs, we decided to go to the nearby fishing village of Alvor. What a surprise. The place is packed with restaurants lining narrow streets, one after the other. In fact TripAdvisor lists 117 restaurants in this town of only 6,200 people. We ended up at a very authentic little spot Tasca Morais - nothing fancy but excellent food and wine at a very reasonable price. While there was not a lot of choice for Gayle she enjoyed her omelette, salad and fries. I had a hearty fish soup followed by an excellent arroz marisco (seafood in rice). The flavour of the broth was wonderful. A very interesting little town.


Part of Casa Rosada's beautiful gardens and the wonderful fruit plate for breakfast.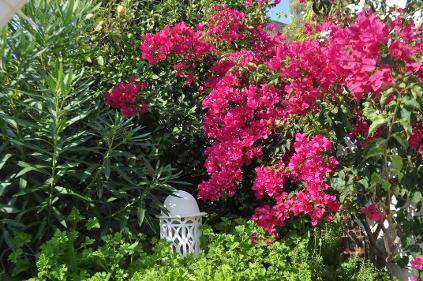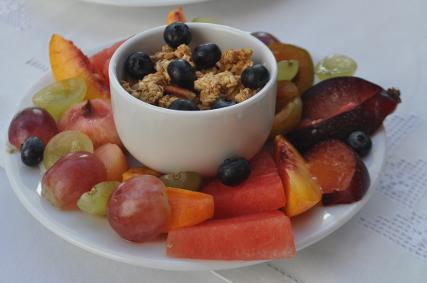 Poppy - Andrew and Rupert's friendly Portuguese hunting dog and the Casa Rosada itself.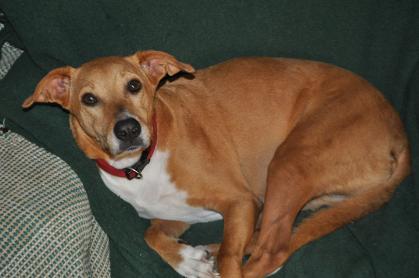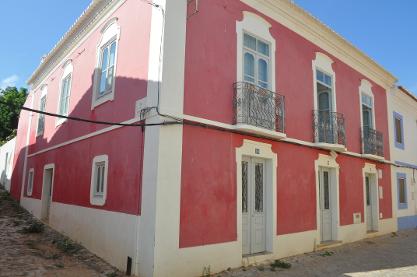 These appeared to be gypsies.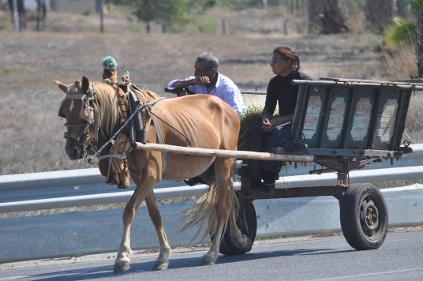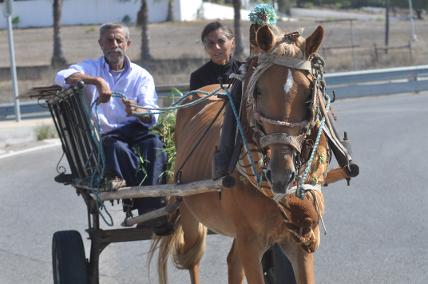 We have come across a number of interesting things to eat on our travels but this is the first time we have seen an octopus burger ... but it was too early in the day for lunch so I passed.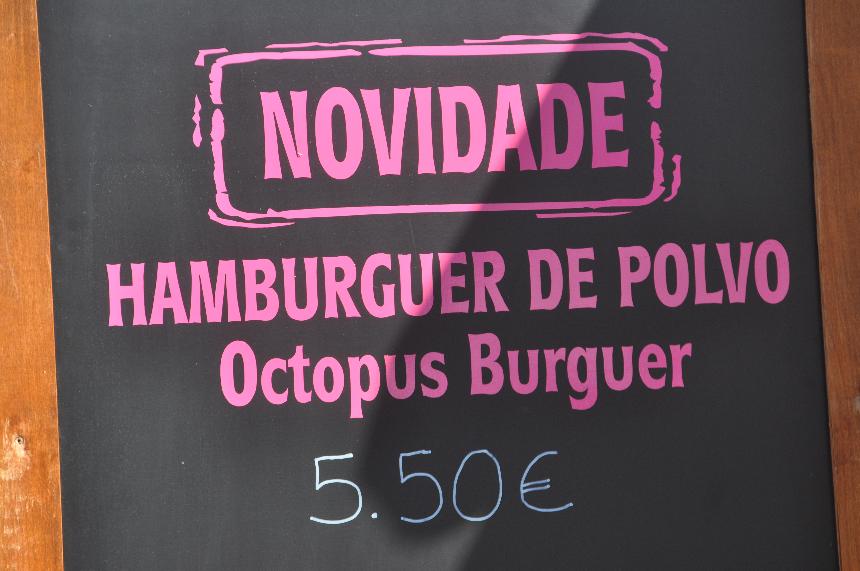 The Cock of Barcelos - the symbol of Portugal. So the legend goes the Barcelos cock originated in the middle ages in Barcelos, then just a small town in the north of Portugal. A pilgrim was on his way to Santiago de Compostela, still today a city of pilgrimage in Spain. On his journey he was accused of theft, tried and found guilty. He still protested that he was innocent, and begged to be allowed ot plead his case again personally a the judge's house. Praying to Saint Jacob for help, he claimed that a grilled cock on the judge's tabe would crow to prove his innocence. As is the way with mediaeval legends the cock duly came to life, crowed and the fortunate and was released. The Barcelos Cock has become a symbol of faith, justice and above all extraordinary good luck and timing.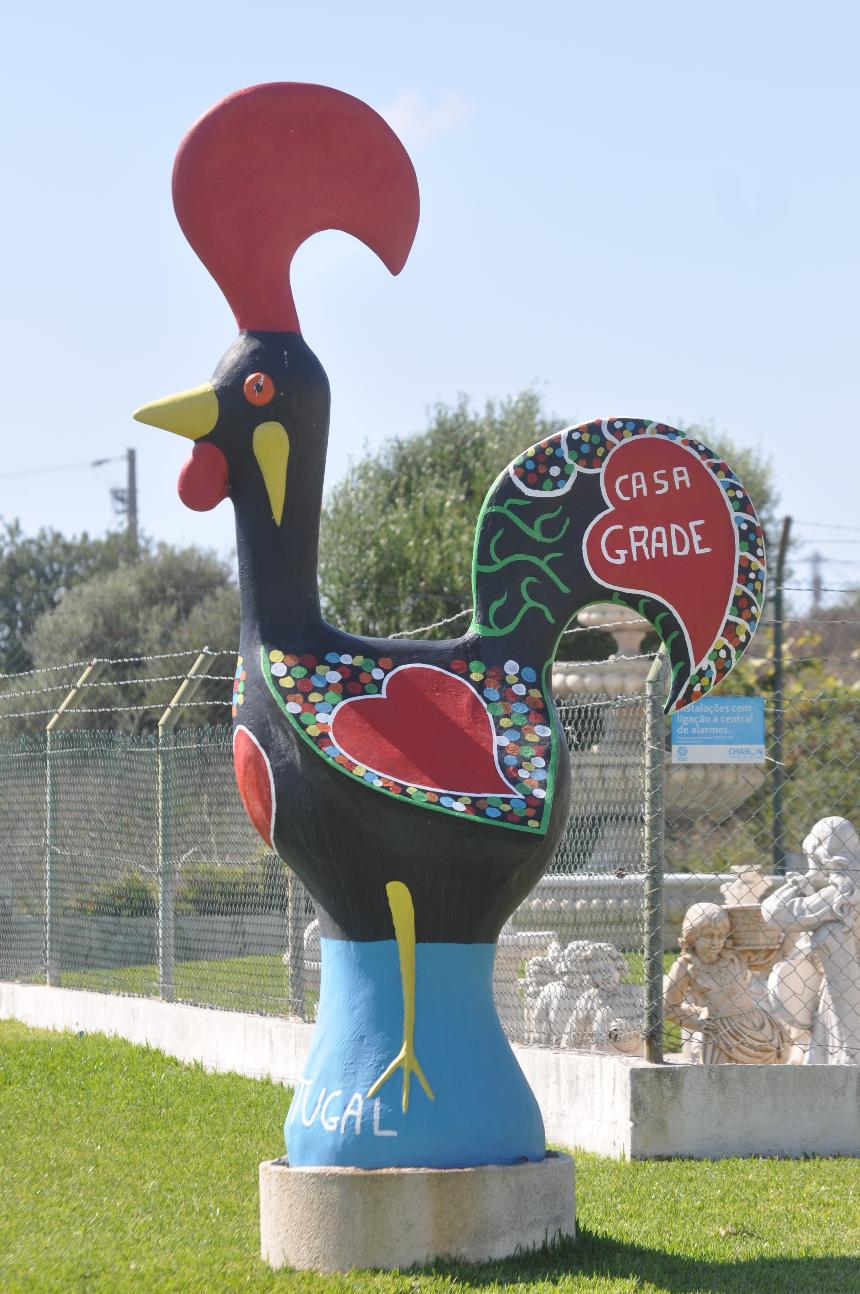 Porches pottery along with an employee hand-painting.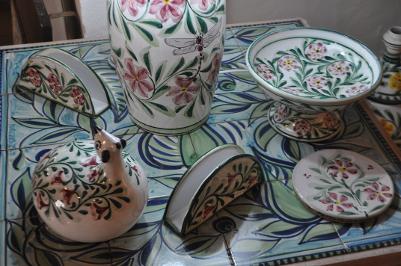 The Mediterranean sea as seen from Casa Tres Palmieras.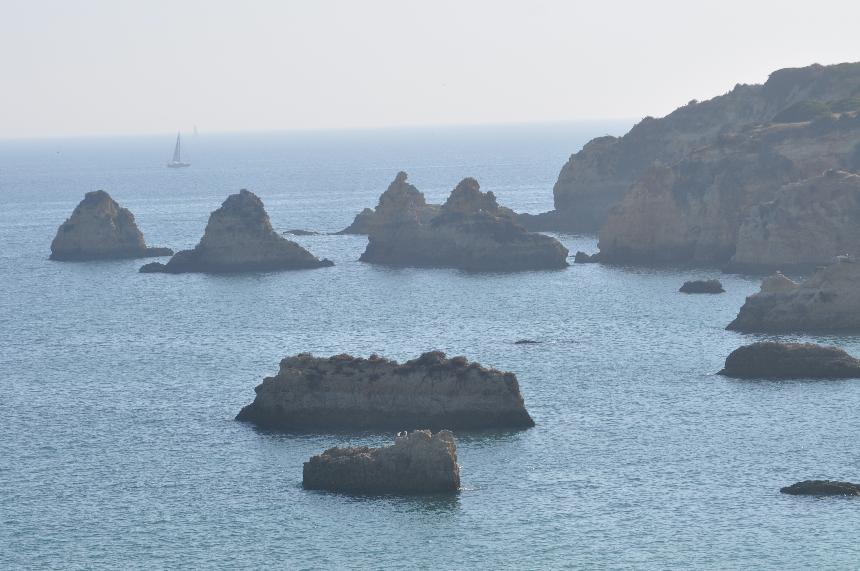 ... and now with the colourful bougenvallia.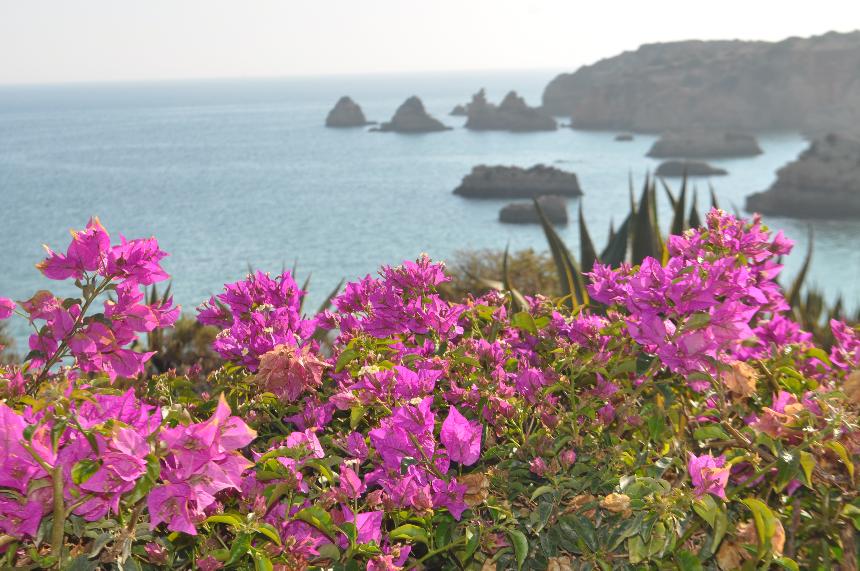 The reflection of one of the palmieras in the pool.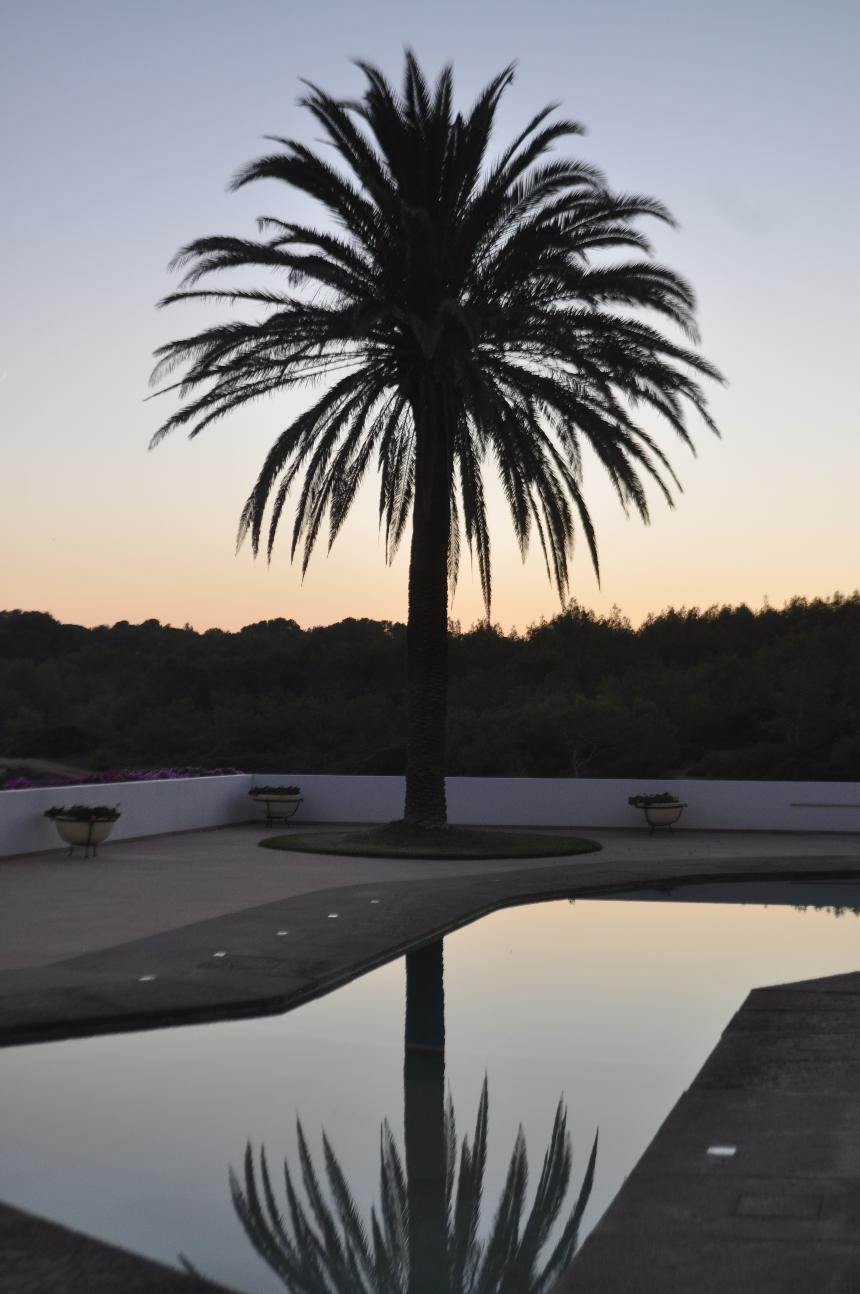 Arroz Mariscos - between a paella and a fish stew - delicious.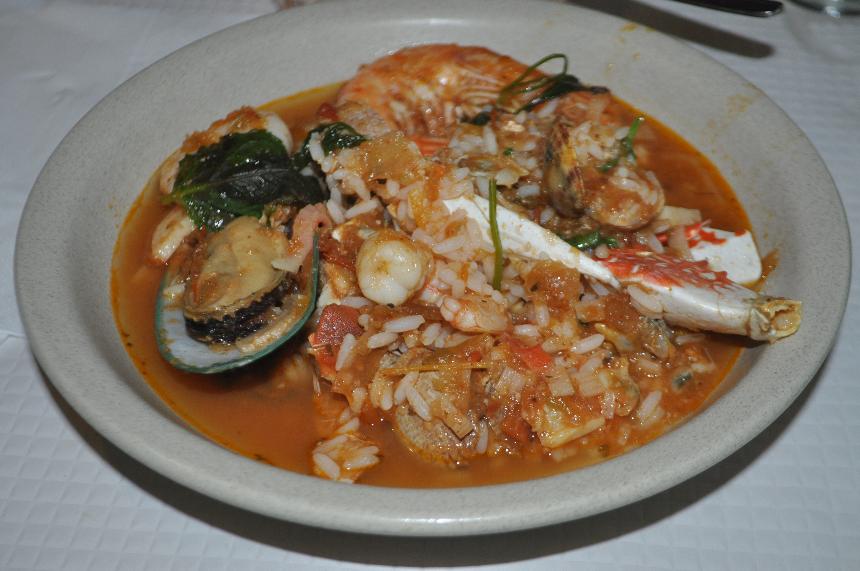 September 25, 2014 - from Spain to Castro Marim, Portugal
We crossed the bridge from Spain to Portugal and within a couple of kms were in Castro Marim. We found a small three room casa that looked nice and booked it for our one-night stop on the way to further down the Algarve. Castro Marim is certainly a sleepy little town but the Casa Rosada was another winner.

Small and cute the charm of the casa is in Andrew and Rupert who are another two wonderful hosts ... and Rupert - wow can he cook. Having the opportunity we of course booked dinner. Little did I know dinner would be served in the beautiful garden - designed and attended to by Andrew, lit by no less than 24 candles (yes we counted them). Romance plus, the photos do not at all do the ambiance justice - it was special.
And then when we thought the atmosphere could not be outdone dinner arrived. We started with three tasty spreads, a Moroccan carrot dip, a fresh cheese and an olive tapenade. Gayle then had vegetarian falafel and me a ferreira, which is a fish of the sea bream family, accompanied by a local Algarve chardonnay. Served on a bed of grilled vegetables my meal was both typical Portuguese and very good. Dessert was a poached peach in this exquisite syrup. A homemade liqueur from the Seville oranges from the tree six feet from our table completed the meal.

A few of the colourful houses along a street of Castro Marim.



Portugal has unique chimneys and lots of chickens - here we have both.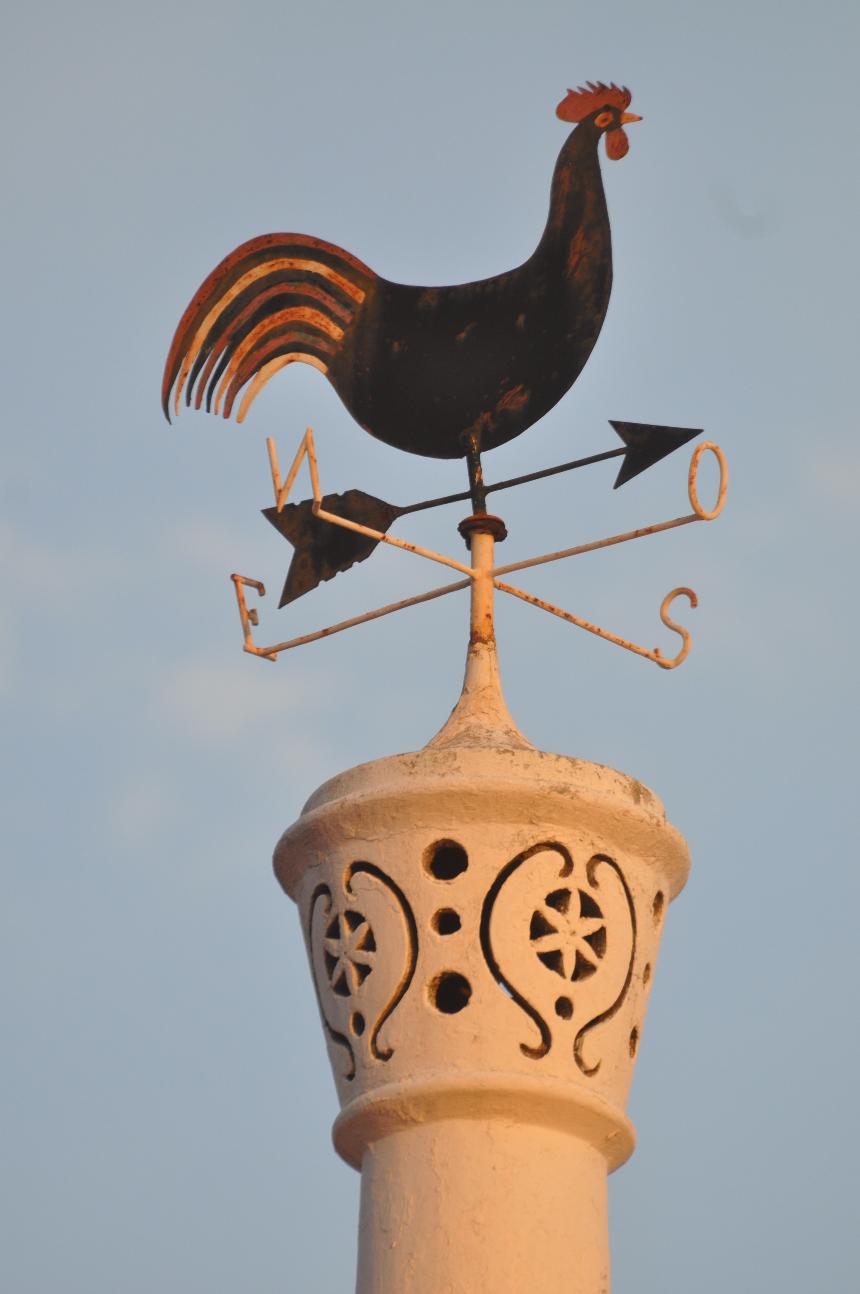 Dinner in the garden, with a trio of spreads and delicious bread as a first course.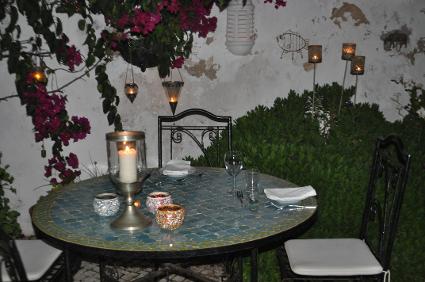 My Ferreira - of the sea bream family.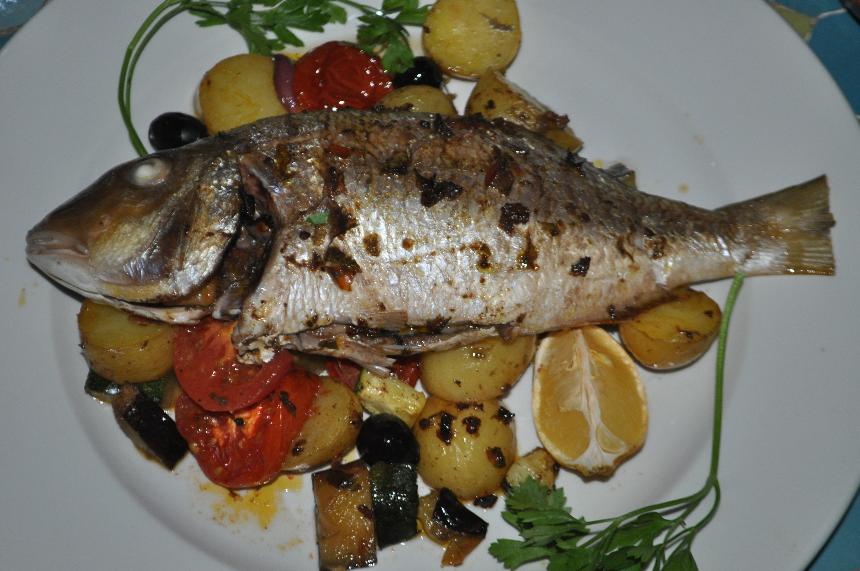 September 14, 2014 - Belmonte around the Serra da Estrela and then to Spain
After a very restful sleep we enjoyed another filling breakfast. The onlyas negative thing is that all the pousada breakfasts are the same - good but perhaps a little tiring after our fourth.
Rather than driving straight to Spain we decided to circle the Serra da Estrela, the highest mountain range in continental Portugal. The north side is very forested but along the way we were fortunate to encounter a few shepherds, who had no problem with me photographing them, although I can only imagine what they were saying to each other as I was doing so. Interestingly neither of these shepherd had dogs, or at least not nearby. A ways up the road we came across another, this time with a couple of mountain dogs and a herd of goats. He was very friendly inviting us over to see his dogs. These made for great photo ops and nice experiences. We t
I recorded the sounds of the sheep bells (Gayle calls it a symphony) you should be able to hear here. Nothing to watch - just close your eyes and listen (I haven't figured out how to embed these addresses so you will have to copy and paste into your browser)

https://www.youtube.com/watch?v=Dkx9FKdfJE4
And if you want to actually see the sheep check this out
https://www.youtube.com/watch?v=JdFULSKBfxw

We then descended, circled around the west side and again ascended, but this time to a lunar landscape of nothing but rock and wasteland. Here the temperature dropped considerably, 15 degrees less than in the valleys below.

While we were very happy to have taken this drive it was nearly 4:30 by the time we finished and we were still a an hour and a half from our destination in Spain. But the rest of the drive through Portugal was reasonably straight and easy, only made a bit challenging by a brief but heavy rain storm. We reached the Spanish border and continued on to our stop for the next couple of nights.
For the next phase of our trip please go to the Spain 2014 page.
We return to Portugal September 25th at which time I will return to this page.


Breakfast at the Pousada Belmonte.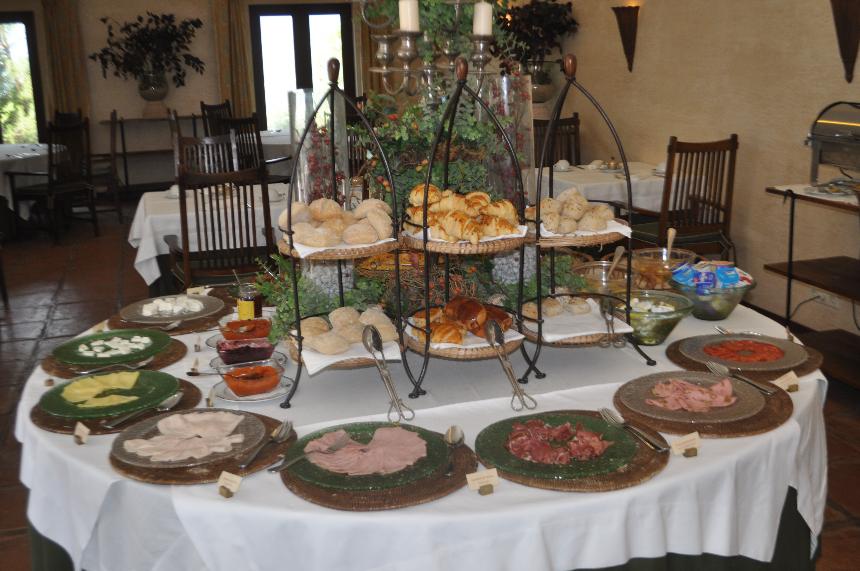 The shepherd and his sheep.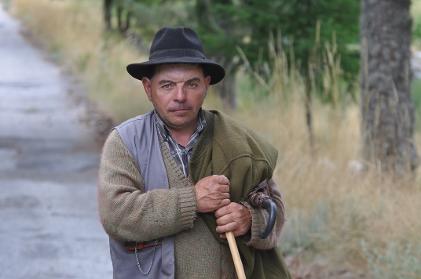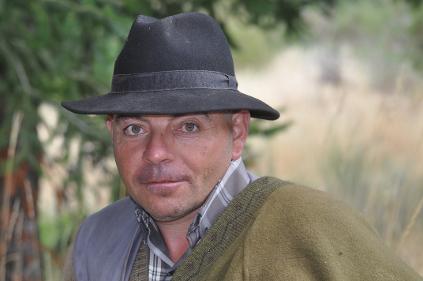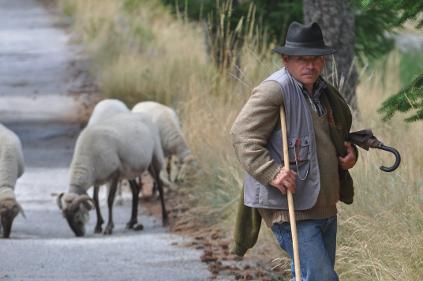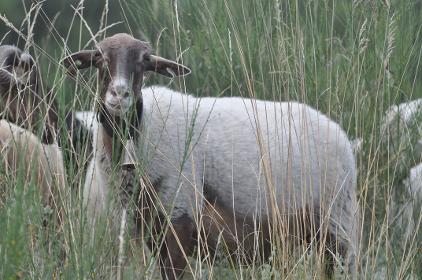 Both shepherds no doubt chatting about this strange fellow taking photo after photo.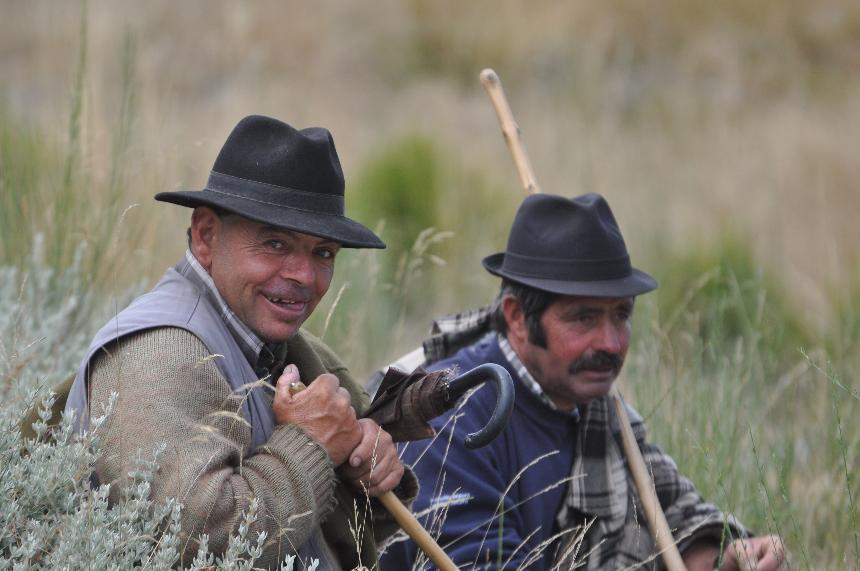 On the left the goat shepherd and the right one of the sheep shepherds.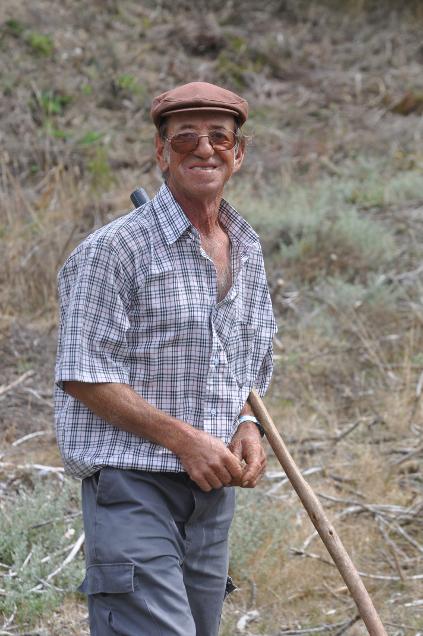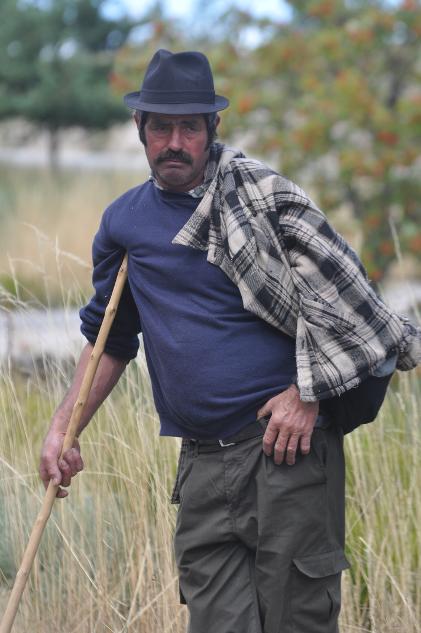 The rugged landscape of the Serra da Estrala range where the temperature dropped to 10 C - it was mid 20s in the valley below.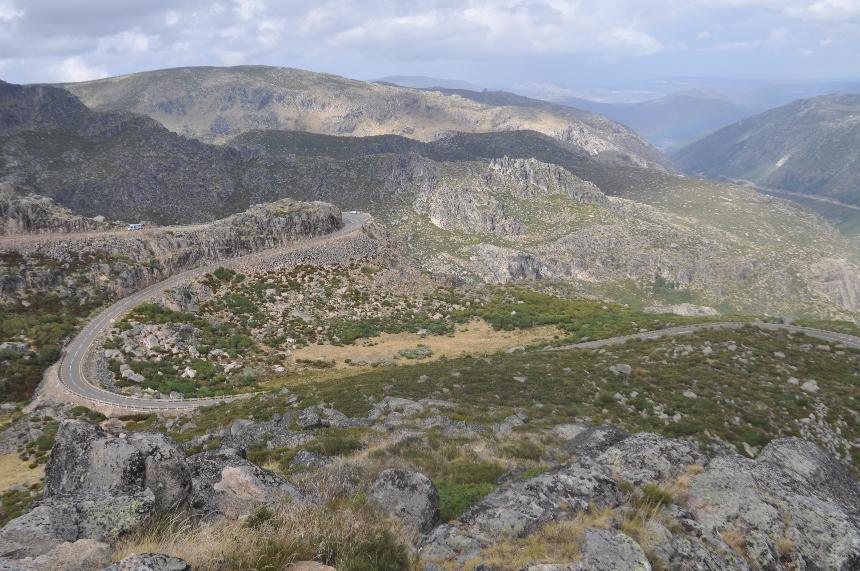 An elderly lady in the Serra da Estrela town of Sabugueiro.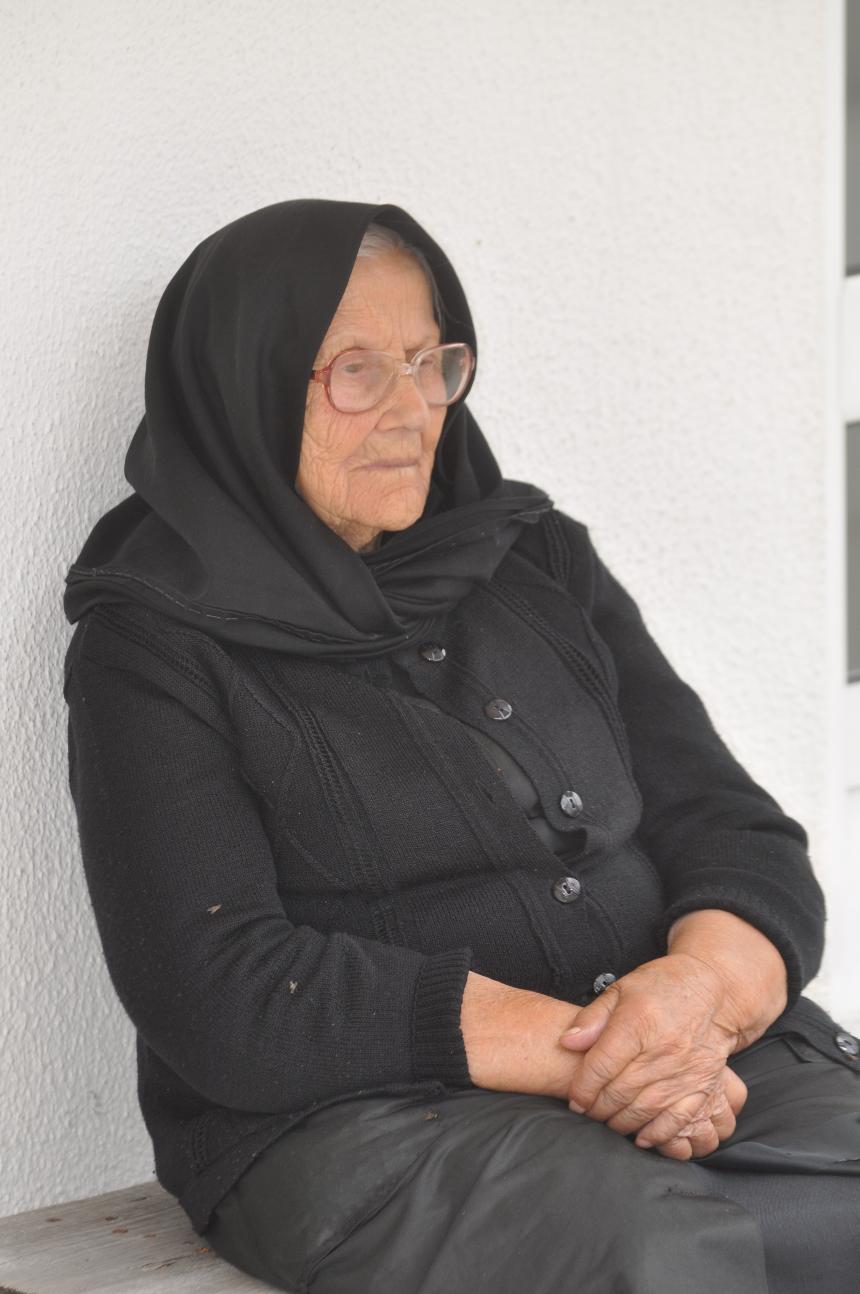 September 13, 2014 - Flor da Rosa to Belmonte
After taking a number of additional photos of the castle we departed, heading north on a nice drive first through plains with many sheep and cows, then through some pine and (wonderfully smelling) eucalyptus forests on past Castelo Branco from where we went a bit east to a couple of villages - Idanha-a-Velha and Monsanto.
Idanha-a-Velha is a small, very sleepy village with some roman ruins and a number of old stone buildings. Only a 20 minute stop ... and we only saw a handful of inhabitants but a nice break from driving. Half an hour further up the road we ascended to the hilltop town of Monsanto. Perched on the side of a hill covered with rocks similar to those around Peggy's Cove the old part of this pretty town has one meandering over cobble stones through narrow alleys and past stone buildings. Locals make these Marafona dolls of the Holy Cross. These Greek fertility dolls are made with a cross, having neither eyes to see or a mouth to speak because they are to be thrown under the bed of the bride to bring them luck. Similarly they are placed under beds in bad weather in order to drive away thunderstorms. Of course we had to buy one.

It was then about another hour's drive to Belmonte where a few kms outside of town, isolated in the hills is the tranquil Pousada de Belmonte. The Pousada is a reconstruction of the ruined Convent of Nossa Senhora da Esperanca where there is a also a small 13th century Chapel. The Pousada de Belmonte preserves all of the historical architecture of the site.

Unlike our dinners at Flor da Rosa that were ok this meal was superb. From the selection of wonderful breads to the mushroom appetizer to Gayle's tagliatelle with mushrooms to the service all were very good. But the highlights were my wild boar, in particular the corn bread coating and the degustation of chocolate for dessert. An excellent meal for sure.

The cross of Flor da Rosa as one enters through a number of areas to reach the actual pousada.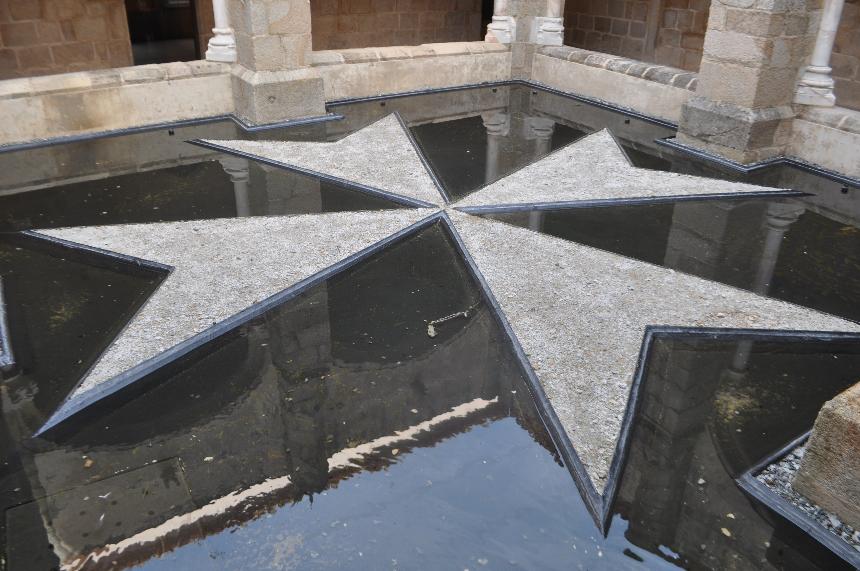 On the left the view out one of our windows of our room and on the right the cross of Flor da Rosa entering the chapel.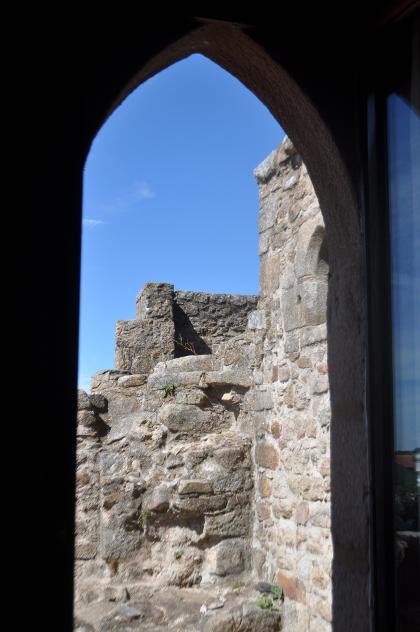 Trees from which cork has been recently harvested.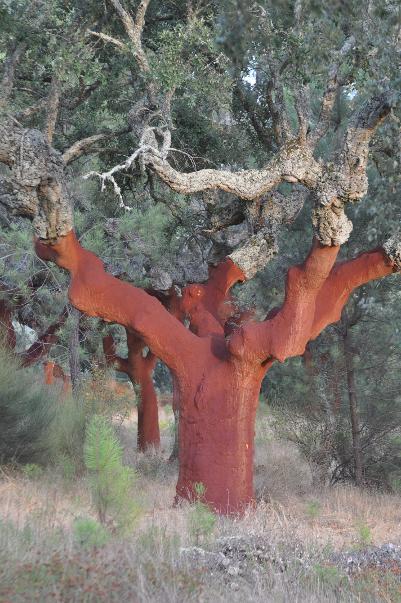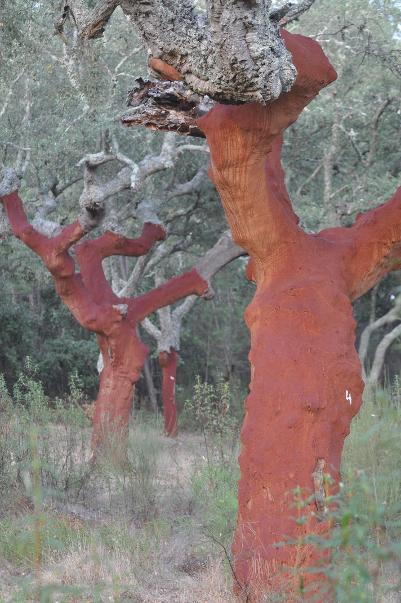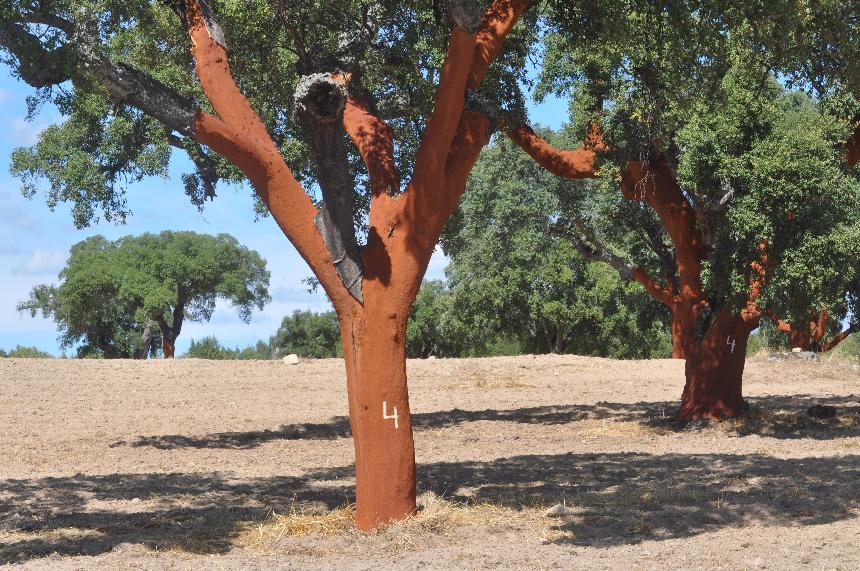 Lots of sheep, goats and cows along our drive today (and everyday).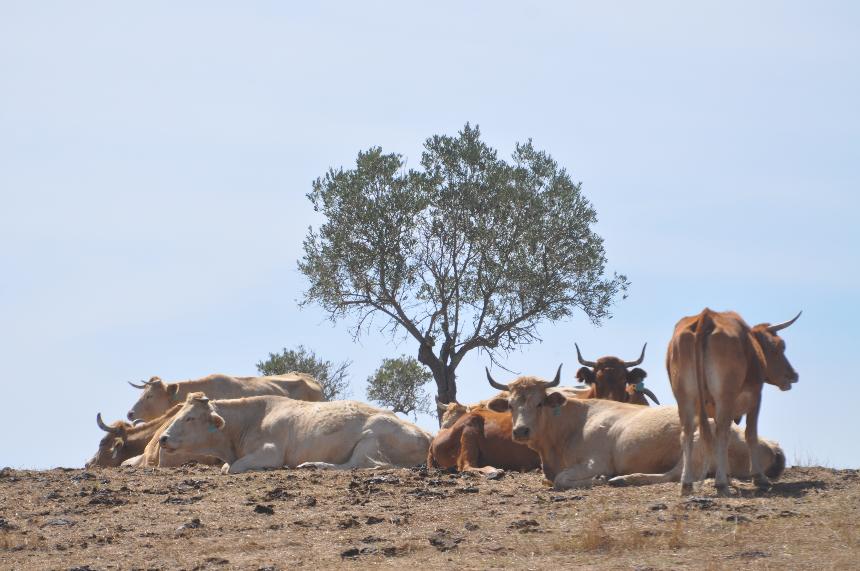 Every now and then one can spot a stork nest - this one above a church.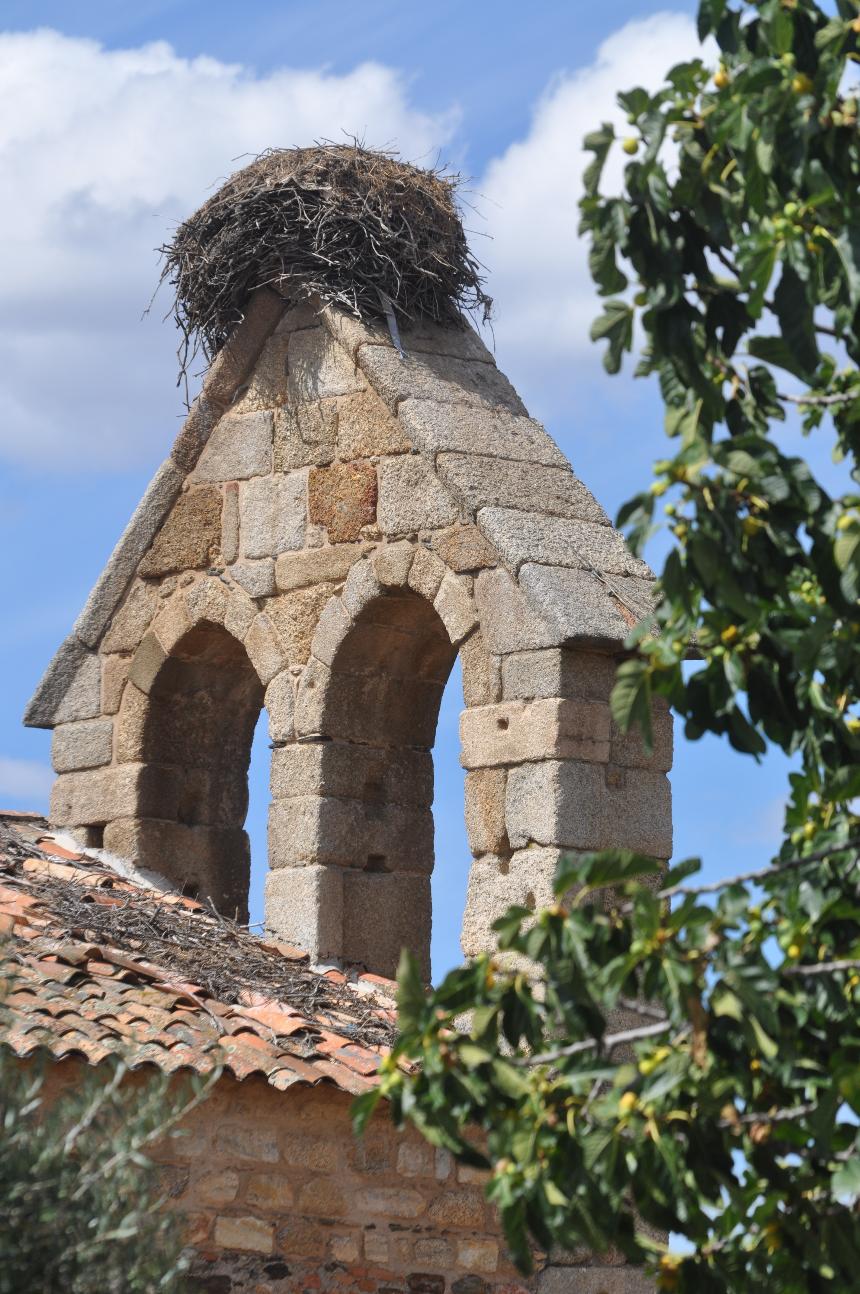 Colourful flowers adorning the side of a stone building in Idanha-la-Velha.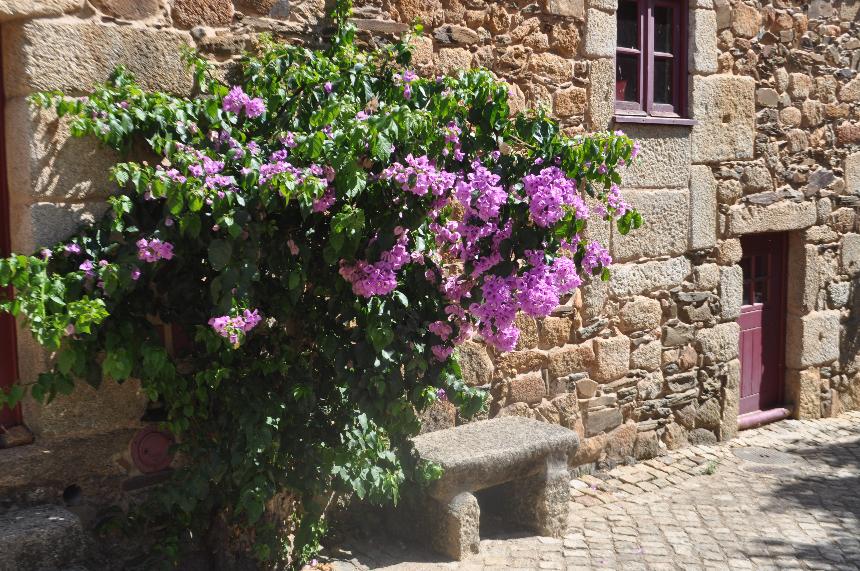 Yes we bought a small doll (5 euros) from this nice lady.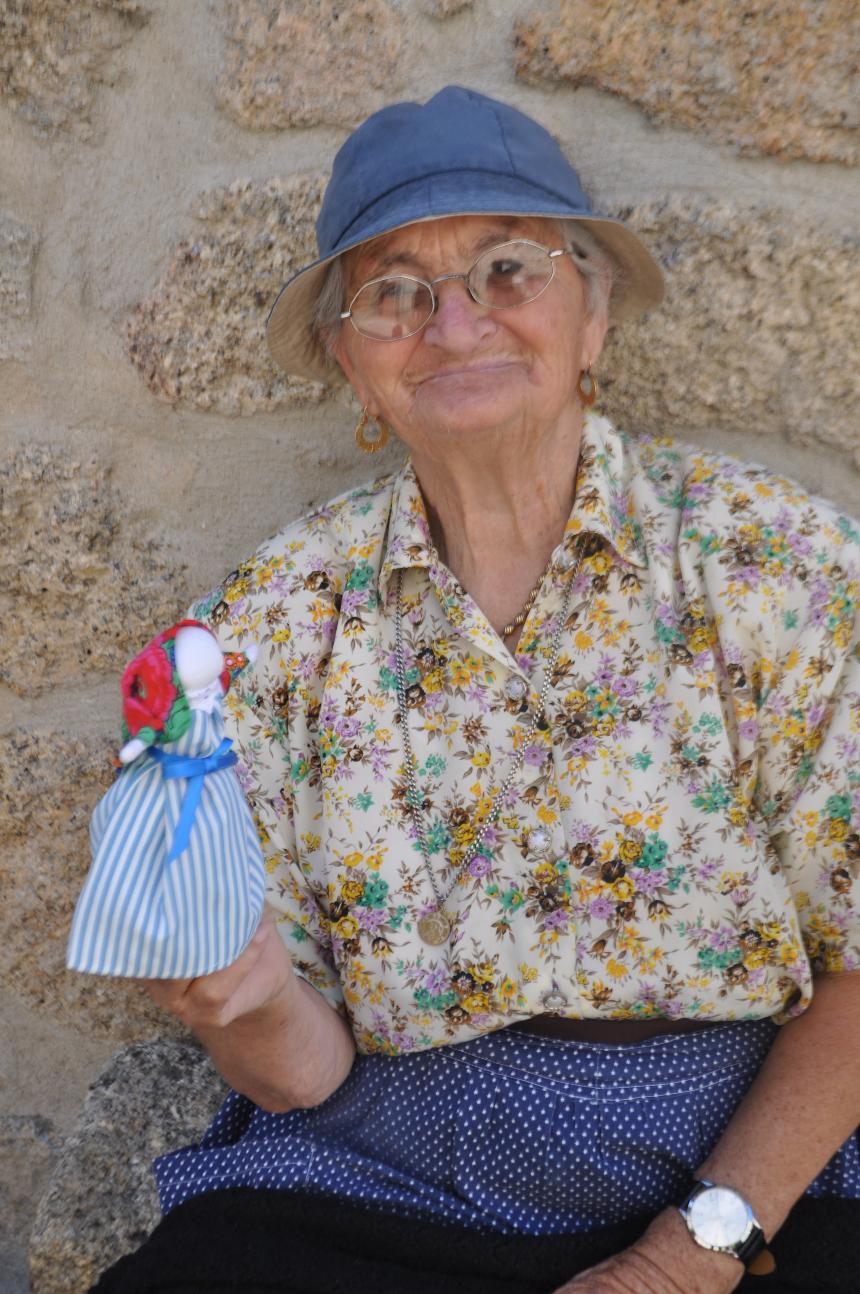 The stone buildings of Monsanto.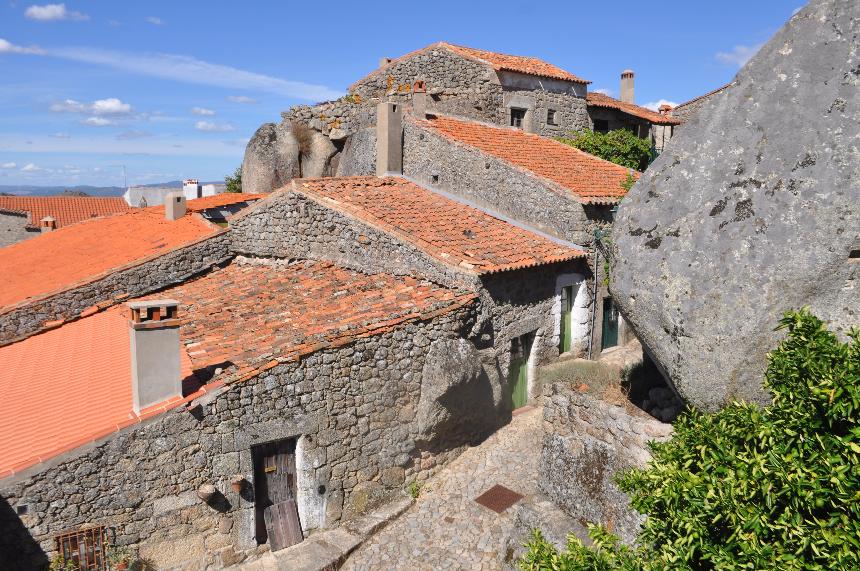 A pitcher of sangria, a piece of cheesecake and views across the plains from the roof top terrace in Monsanto - priceless.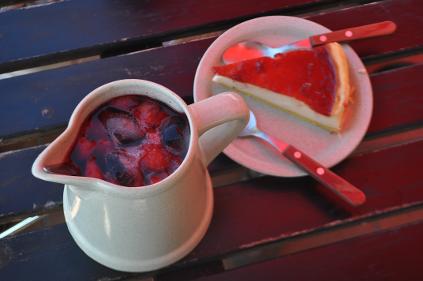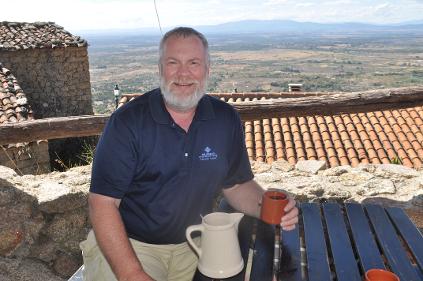 Portuguese tiled roofs leading up to the weather vane on the church in Monsanto.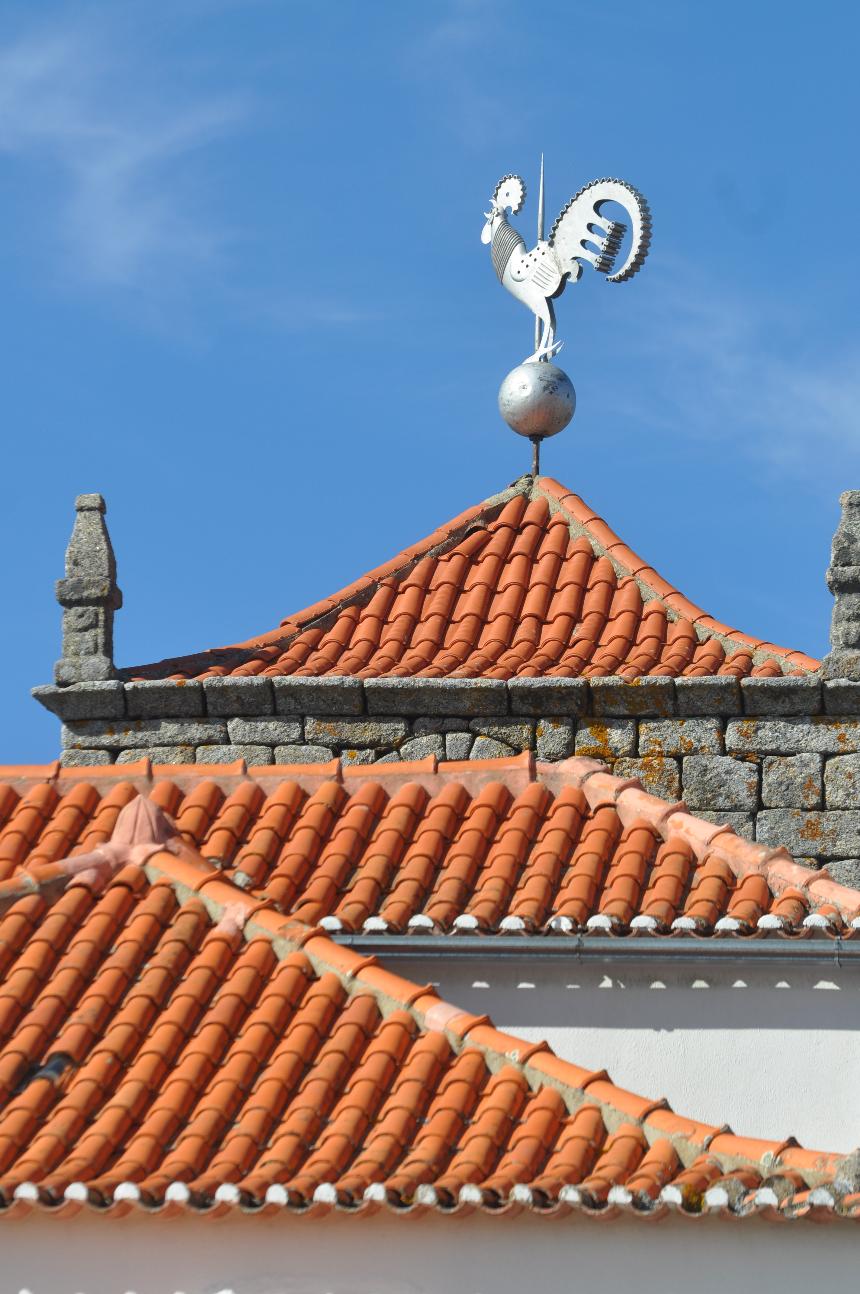 Another impressive room in the quiet (except for the beautiful sounding birds) and peaceful Pousada Belmonte.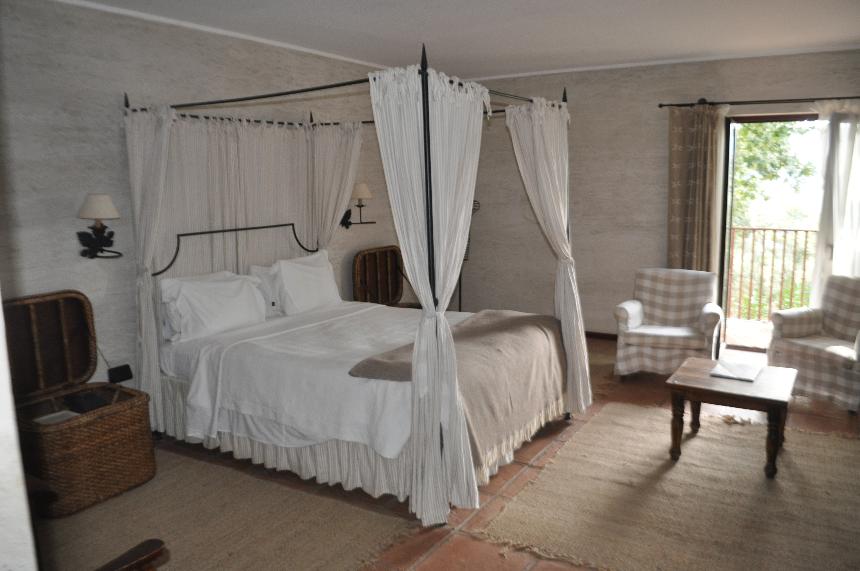 Dinner was fantastic with my wild boar - it was the coating of corn bread and herbs that made it and an interesting assortment of chocolate desserts.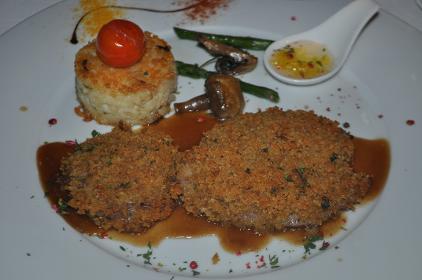 September 12, 2014 - Flor da Rosa (Crato) with a day trip to Castelo de Vide and Marvao
Today was intended to be a relaxing day and indeed started out that way. We enjoyed a leisurely breakfast, caught up on news back home, worked a bit on the blog and all of a sudden it was 3:00 pm. But we did decide to go for a drive, first to Castelo de Vide and then Marvao, where we stayed back in 1984.
Castelo de Vide is supposed to be a sleepy town, and was certainly that. Lots of people, many of them elderly out in the parks, outside the bars, on benches in the town squares, doorsteps and gazing out their windows. Some of you may know I enjoy taking photos of elderly people and this was a bonanza. Everywhere I turned were wonderful old people perfect for some great photos. The vast majority (although some said no) were very open to having their photo taken. There are a number of photos below that I really like, particularly the four gentlemen on the park bench.
We then moved on to Marvao, a village / castle on the top of a hill with expansive views in all directions. We wandered through the narrow streets/alleys, stopping in at the Pousada where we stayed a night during our previous trip. We stopped for a drink on a nice terrace looking east to Spain, before returning through some nice cork forests to Flor da Rosa.
We're not sure how or why (although our suspicion is that it had to do with the bus groups that were in the Pousada both nights) but we were upgraded to the Master Suite - like wow - this room was very very very impressive. Stone walls - three plus feet thick and we knew because there were stone benches by the windows the width of the wall - throughout; a massive fireplace; ceilings I'm guessing 14 to 16 feet high; great views and a very nice outdoor terrace built into the castle walls. Not sure why we were so fortunate but we did not turn it down.

Our amazing room - stone walls throughout; I'm guessing 14 to 16 foot ceiling - very impressive.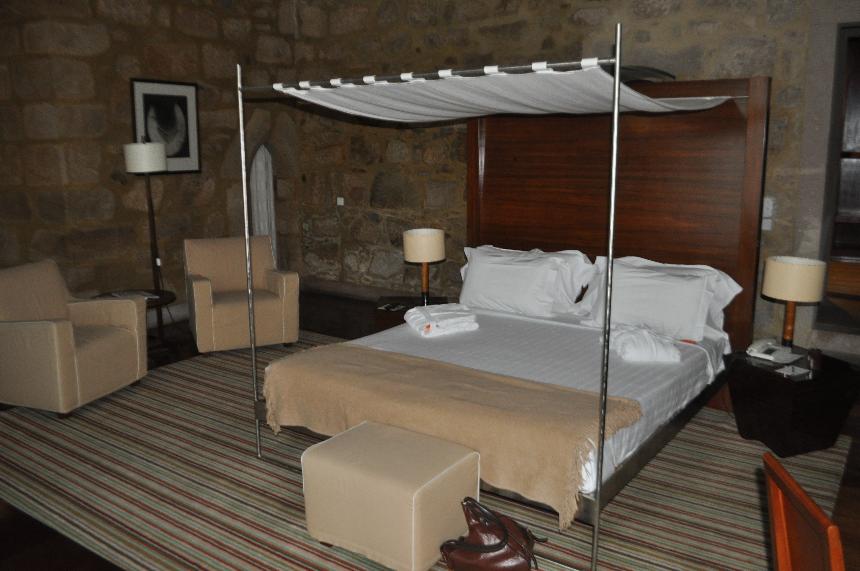 Our terrace wedged in the thick castle walls.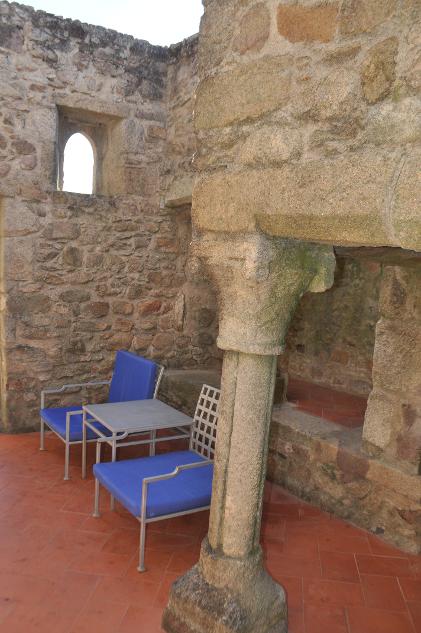 The entrance to the Pousada after passing the cathedral - the ceilings are amazing.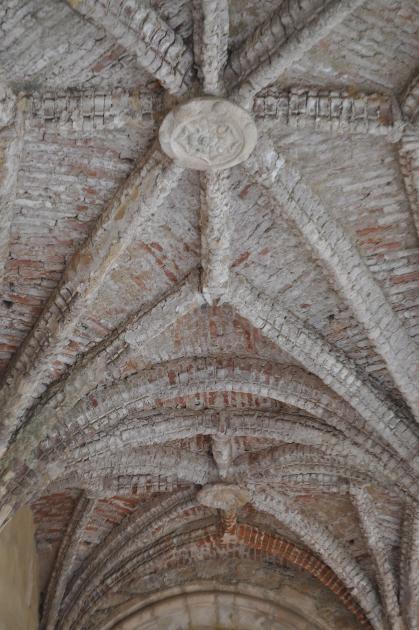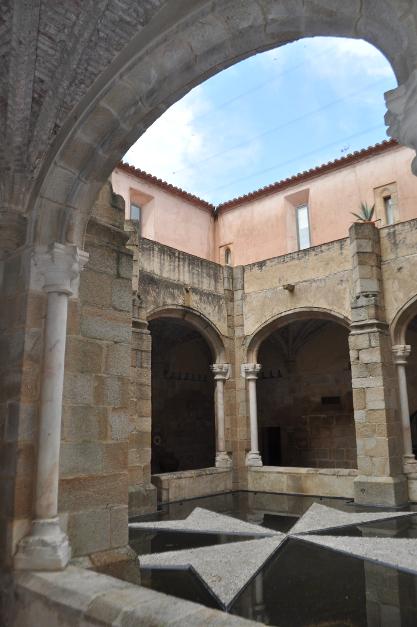 The ceiling in the Pousada's bar.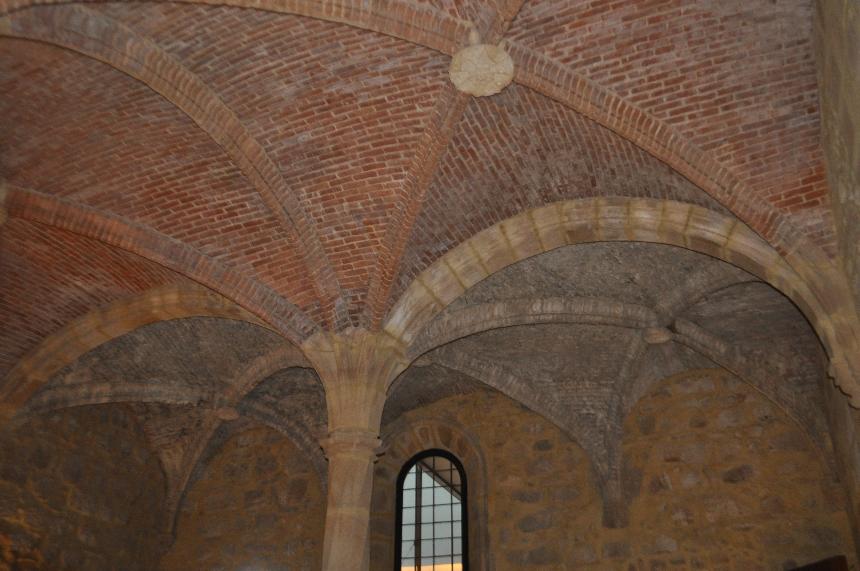 The spectacular Pousada Flor da Rosa dating from the 14th Century (our room was in the tower on the left).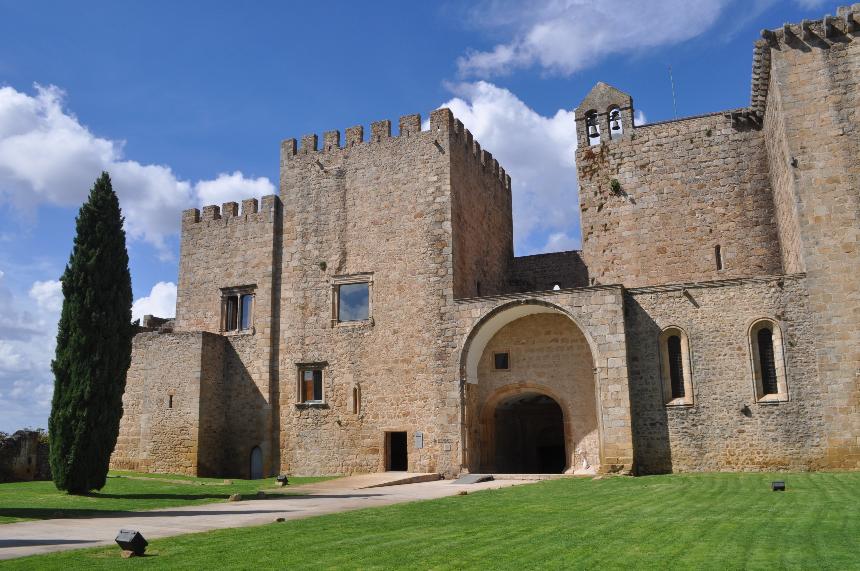 Approaching the town of Castelo de Vide.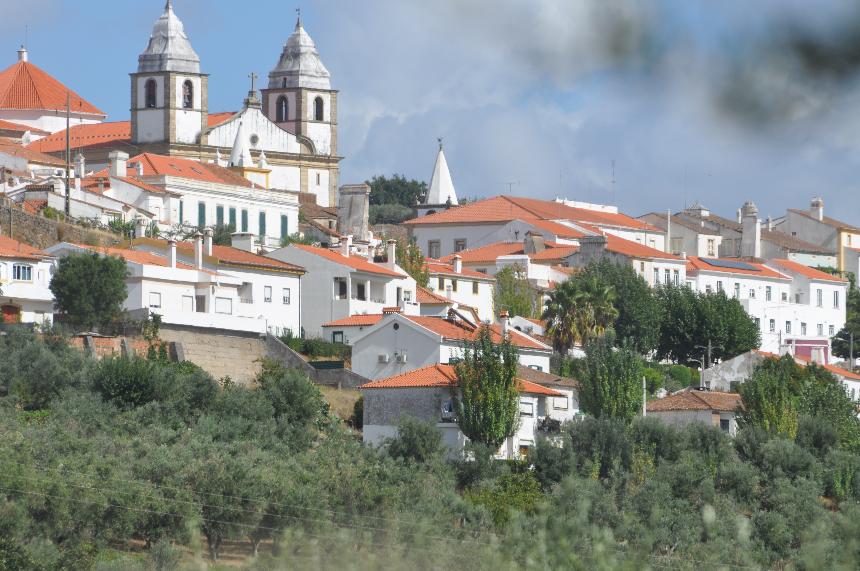 Streets and alleys in Portugal - on the left in the hilltop town of Marvao and on the right Castelo de Vide.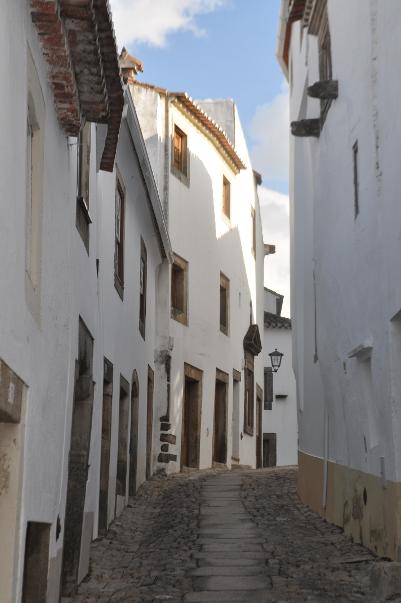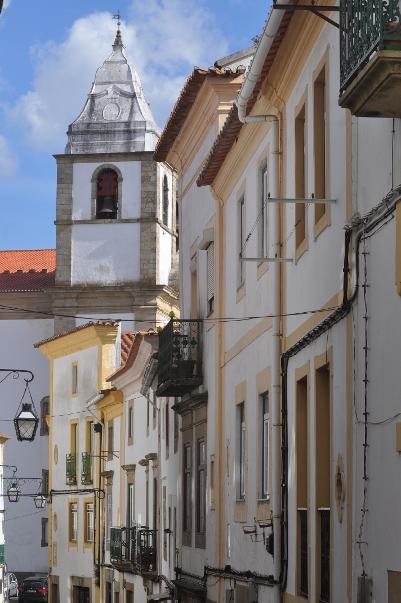 Castelo de Vide was supposed to be a sleepy town where locals sat around in bars and on park benches just chatting the day away. The town lived up to its billing as there groups after groups of people doing just that. Enjoying taking photos of elderly people I had a field day. Here are a number of locals enjoying their afternoon.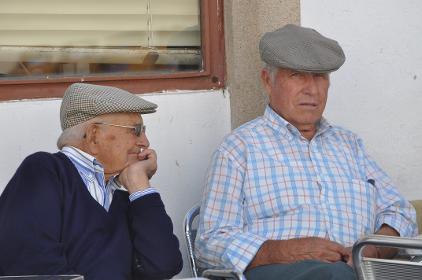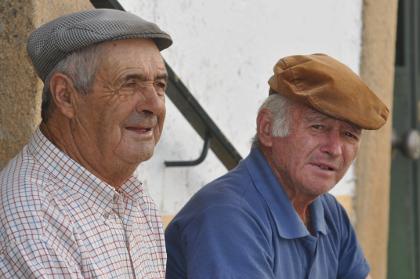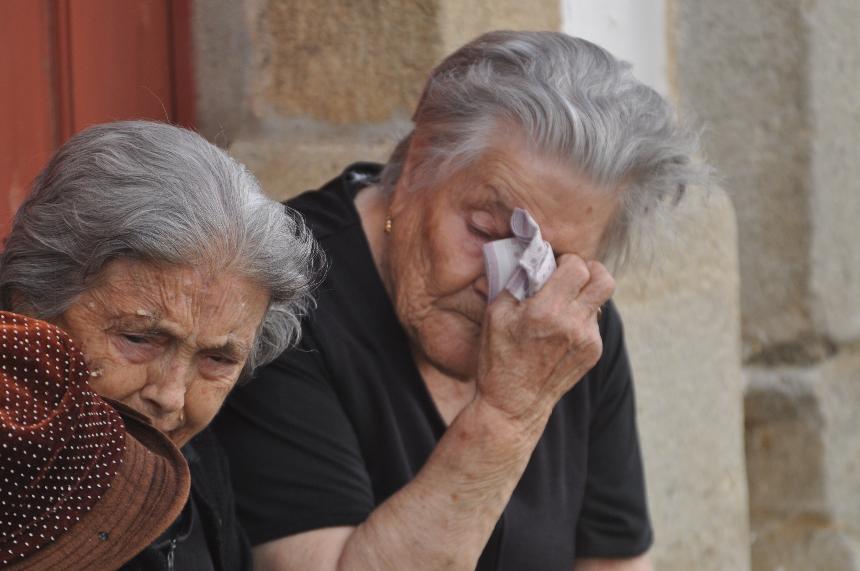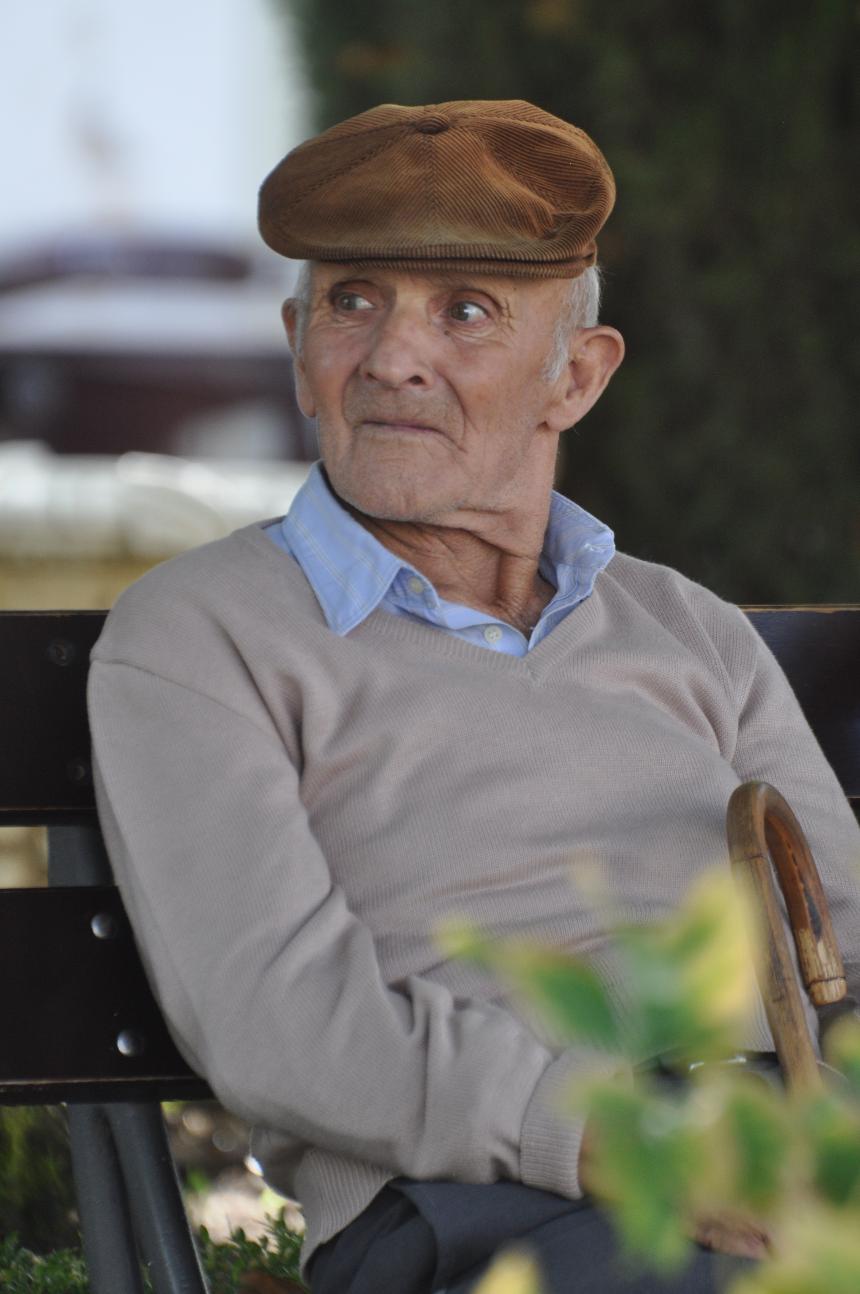 Four men passing the afternoon on a park bench in Castelo de Vide.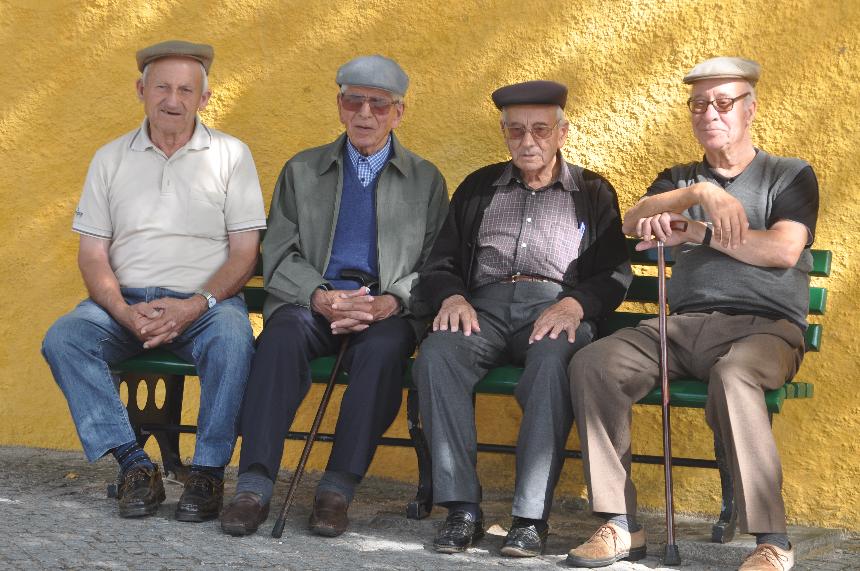 Enjoying drinks on a nice terrace looking out to the plains and Spain from Marvao.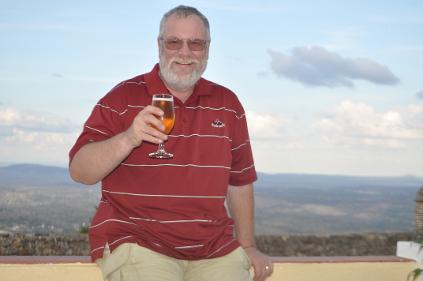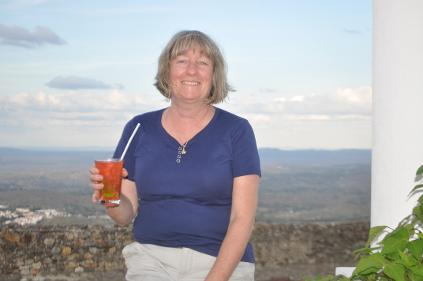 A chocolate cake with the emblem of Flor da Rosa.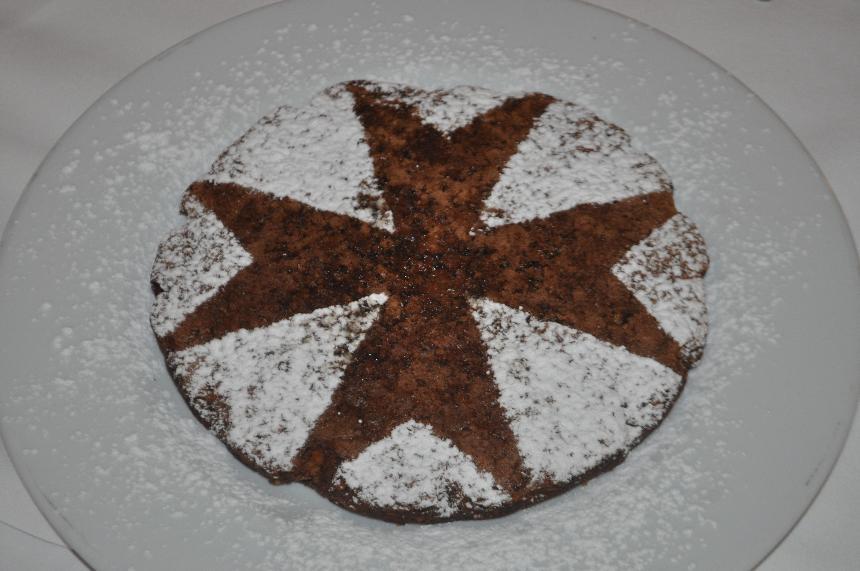 September 11, 2014 - Palmela to Flor da Rosa (near Crato)


We woke to thick fog - nothing to see at all outside our window. After breakfast - decent but not nearly as extensive as those of the Spanish paradors we wandered through the ruins of the castle de Palmela, buying a couple of bottles of regional wine along with a pottery coffee mug at at small shop.
Now past noon with the fog lifted we set out east toward the Alentejo and the town of Estremoz. For the most part the land is flat with cork trees being prevalent. We reached Estremoz where we walked up to the historic old part of town, seeing a small museum and a shop with the dolls of Estremoz. Having bought a couple of these unique dolls way back in 1984 we were only there to look.
Now late afternoon with the sun shining and the temperatures in the high 20s we headed due north, about an hour until we reached the Pousada in Flor da Rosa, just north of the town of Crato. This pousada is a spectacular castle dating from the early years of the second half of the XIV century, when Friar Alvaro Periera built the Monastery of Santa Maria de Flor da Rosa. Shortly after the loss of independence in 1580 the monastery went in to a state of decline, ultimately with "no one in it". There was some restoration in the late 1700s but with the extinction of religious Orders in Portugal in 1834 the condition again deteriorated. In 1910 the Monastery was declared a National Monument with restoration beginning in 1940. As you will see with some of tomorrow's photos this is a spectacular building.
There really is not much else in the small village of Flor da Rosa so there was no question we were going to eat in the pousada. The meal was good - Gayle particularly enjoyed her mushroom risotto - but not outstanding. After a long day of over 200 km of driving we were ready to call it a night.



Our first Portuguese breakfast, just outside the monastery's courtyard.



The olive groves looking out one direction of our corner room.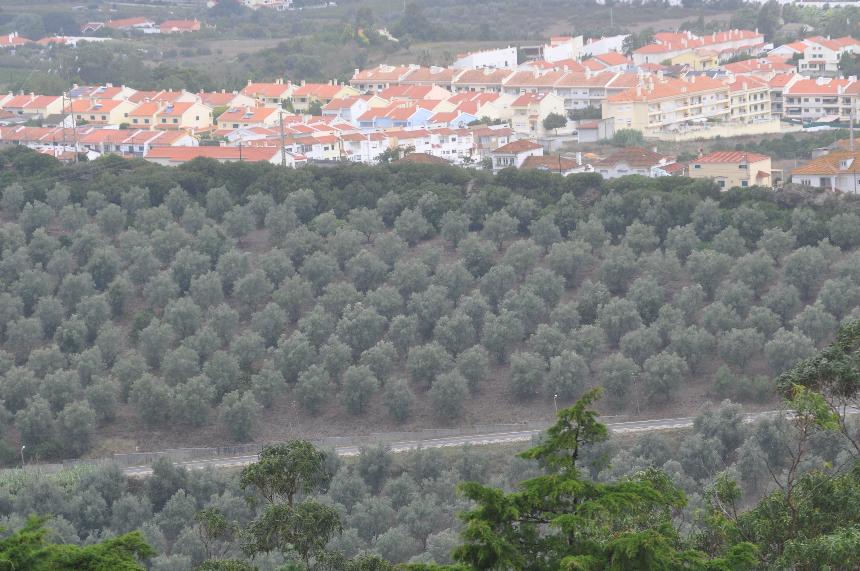 ... and the Palmela castle as seen through out bedroom window looking out the other direction, and then again from outside.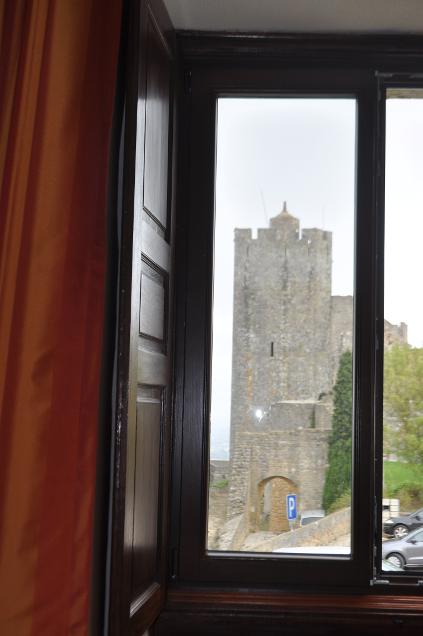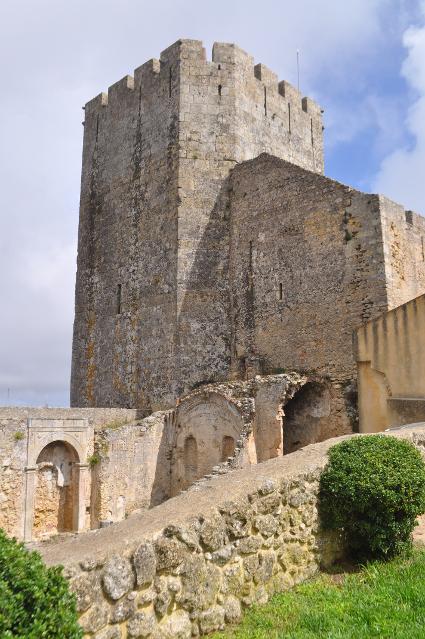 The Pousada de Palmela as seen from a portico to the castle.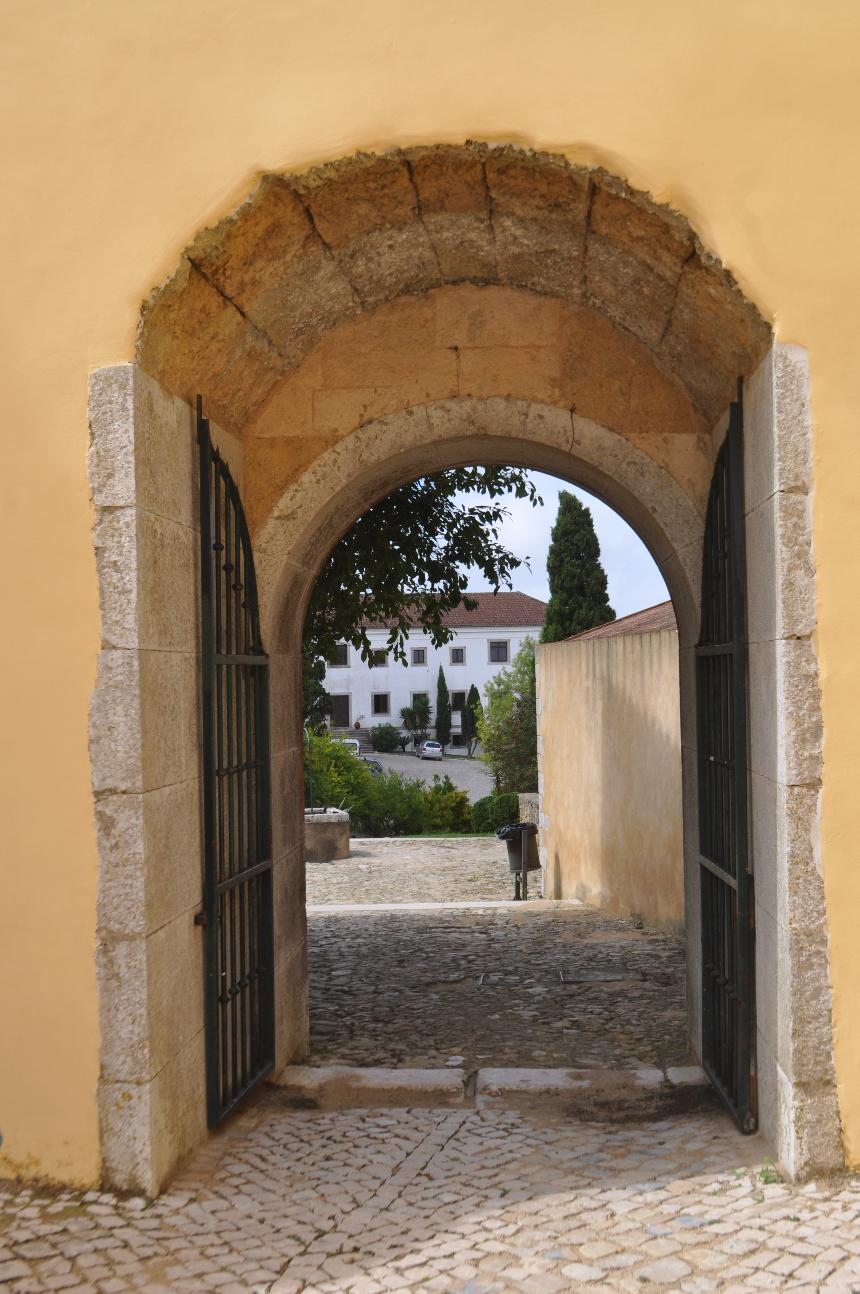 A recently cut cork tree along with a number of others in a forest. The cork, once cut exposes a very orange trunk.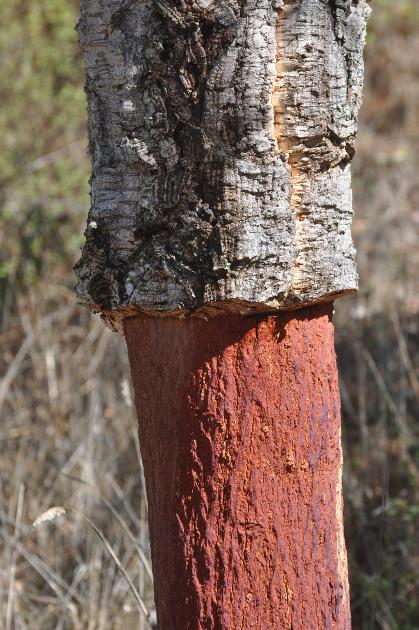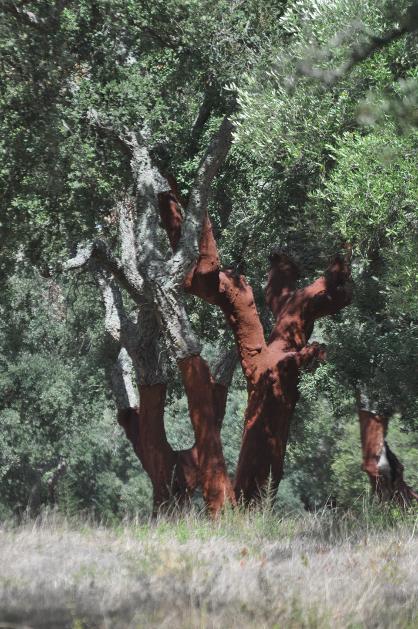 A truck loaded with cork and a close-up of the cork.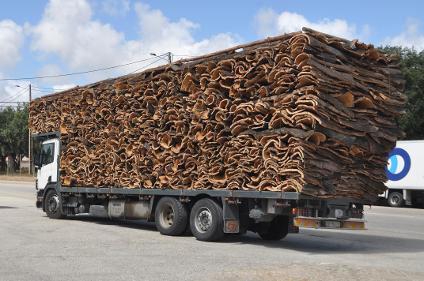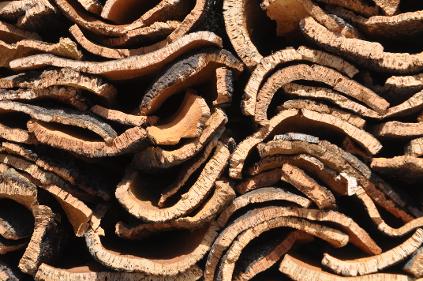 Many Portuguese streets and sidewalks are done in designs of stone. In Estremoz marble is used to create this beautiful sidewalk.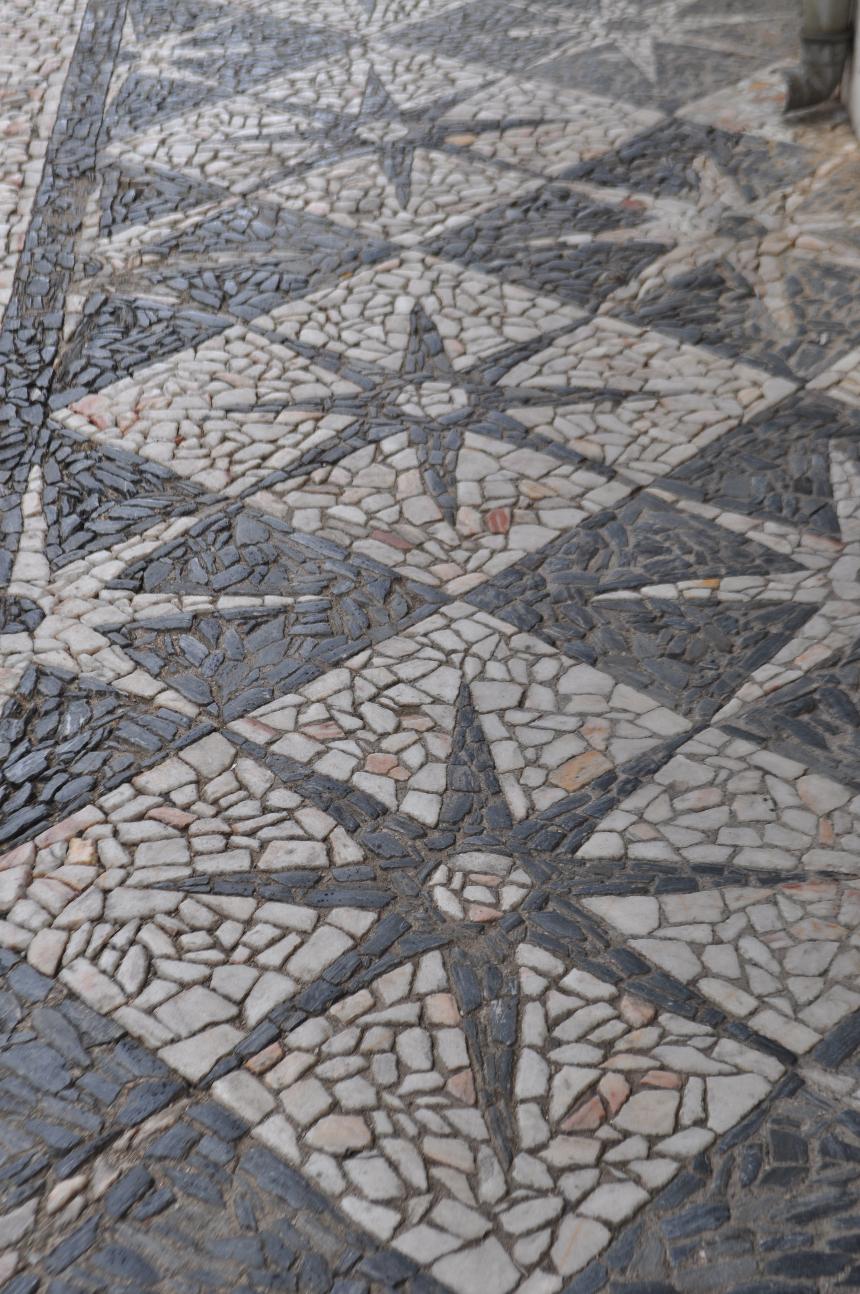 The tower dominating the central square of the historic walled upper area of Estremoz.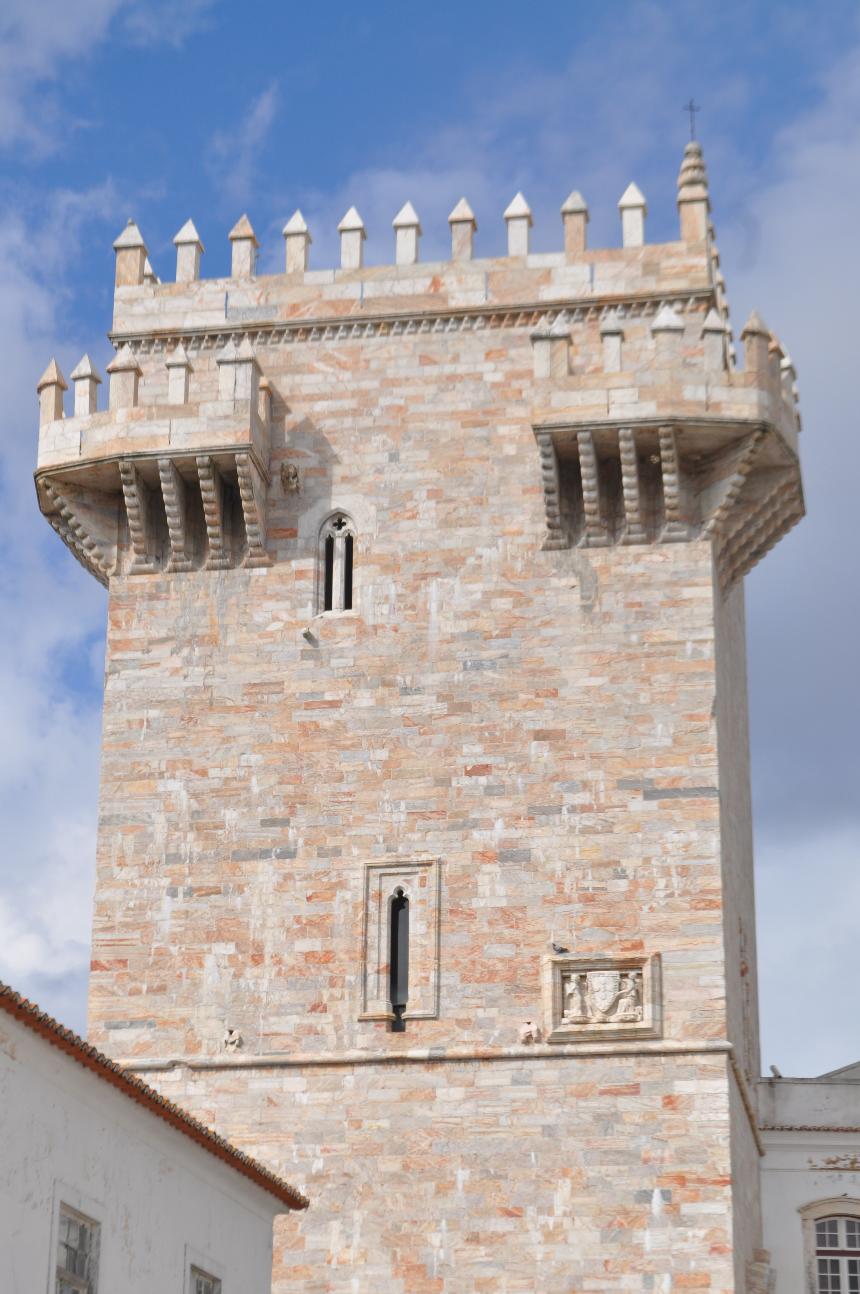 Beautiful narrow cobble stoned lanes in Estremoz - alive with people, and on the right I'm the shopper and Gayle the carrier - but always with a smile.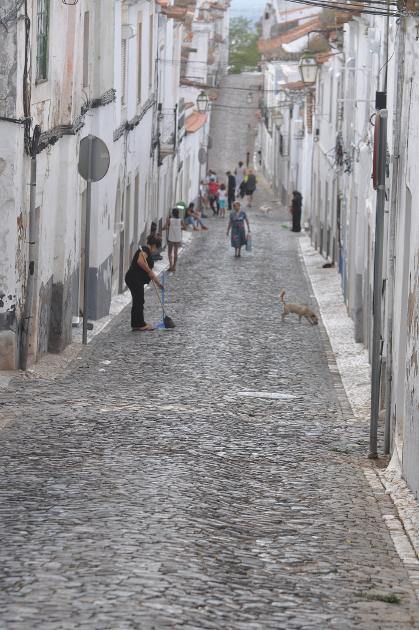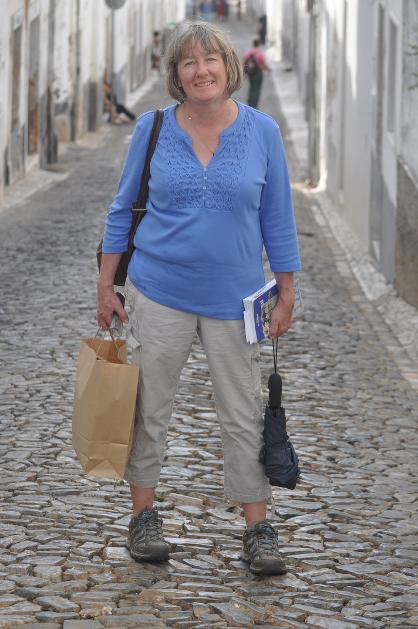 Cobble stoned street through the historic walled upper section of Estremoz.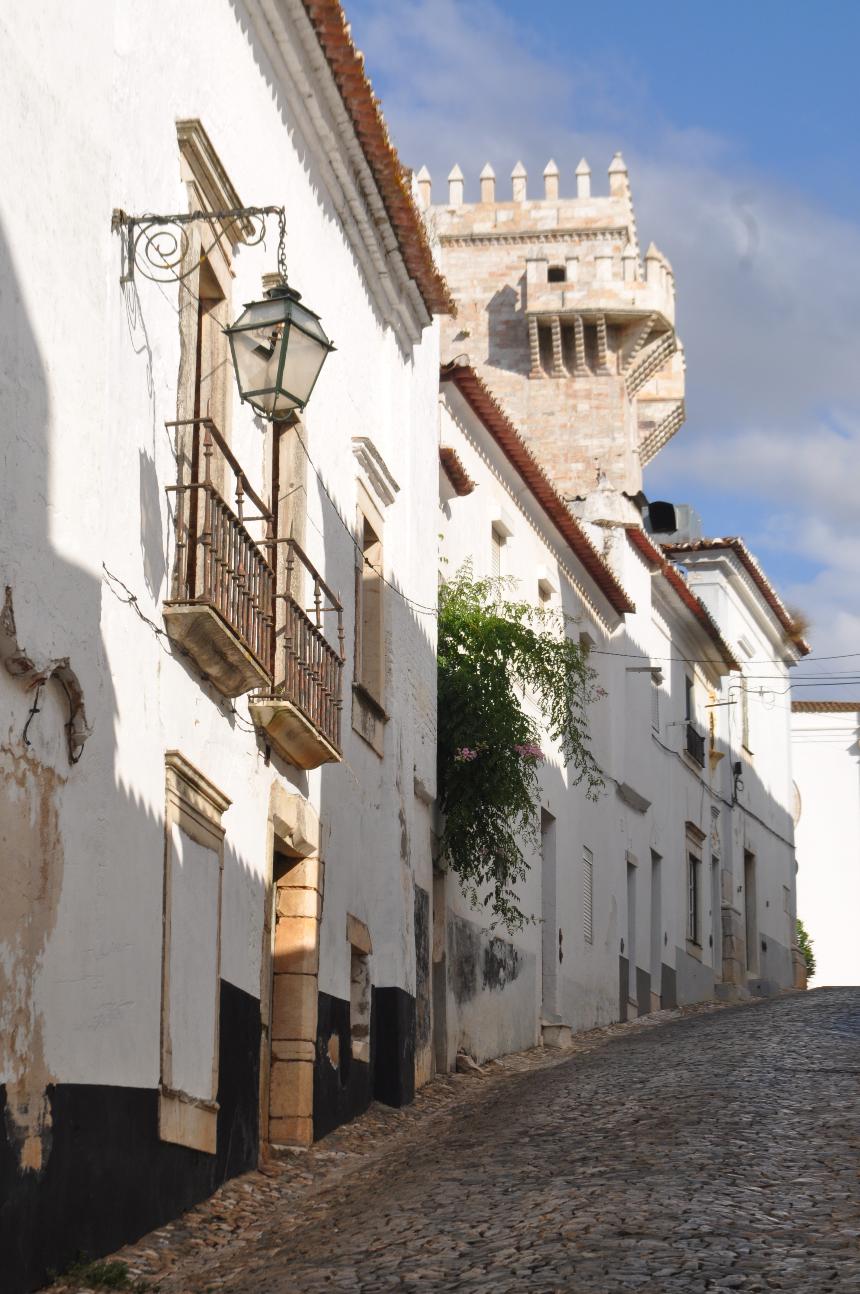 September 9 / 10, 2014 - Halifax to Palmela, Portugal
We are here in Portugal with all our flights being on time. We flew to Toronto from where we took SATA airlines, a Portugese carrier based in the Azores to Lisboa with a change of planes in Ponta Delgada, Sao Miguel, Azores. If even only a short stop at the airport it was kind of neat to be back in Sao Miguel where we spent six days during our vacation in Portugal in 1984.
The one unfortunate thing about the Lisbon airport is that it is right in the middle of the city. Immediately upon leaving one is in the midst of a busy city centre, with poor, or more accurately non-existent, signage. Admittedly I got twisted around heading west rather than east or south - there are bridges in each direction. But a stop at a petrol station got us turned around after which we fairly easily found our way out of the city. Although not raining the weather was not great - quite overcast.
The drive to Palmela was relatively short - we intentionally try to stay not too far from where we land after an overnight flight - to the Pousada de Palmela. Pousadas are the Portugese equivalents of Spanish Paradors, often in historic buildings as is the case in Palmela. The Pousada Castello de Palmela is located in a 500 year old convent adjacent to the Castle, a National Monument since 1919 when it was reconstructed after being ruined in 1834. The interior of the Pousada enjoys the preservation of 17th century remains, including the cloister and a number of galleries. The castle sits above the village of Palmela, founded in 310 BC.
We were unusually tired upon arrival, and with a downpour outside we laid down for a nap before dinner. But unfortunately neither of us awoke until 11:00 pm - no dinner tonight. But here we are in Portugal looking forward to embarking on another great trip.

Sunrise (as seen from the plane) approaching Sao Miguel, Azores.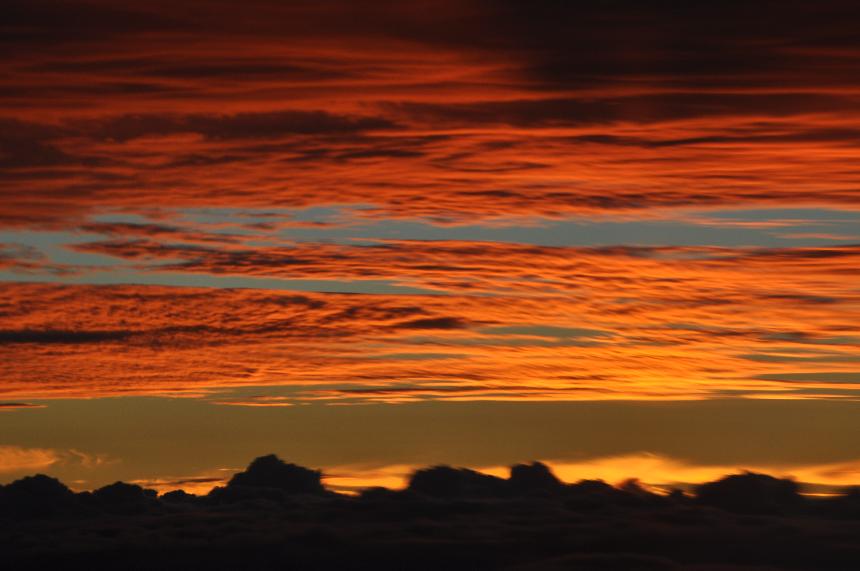 SATA airlines - a Portuguese carrier based in the mid-Atlantic Azores islands.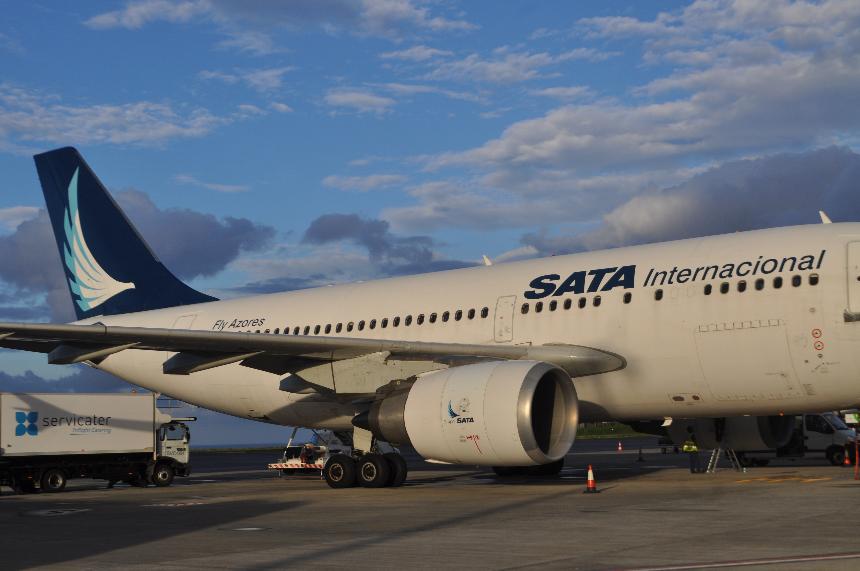 Our room - very impressive, with beautiful orange tile floors, nice large windows, high ceilings and comfortable seating. Very nice indeed.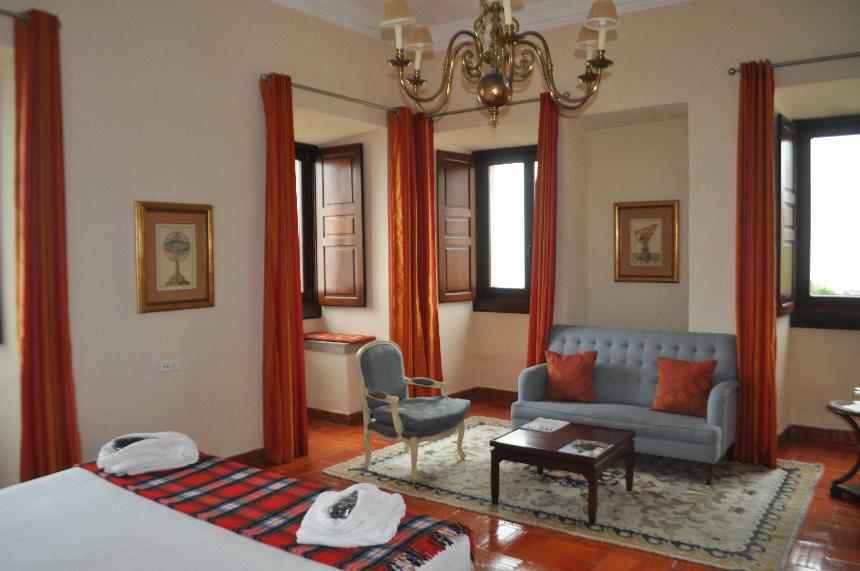 The Palmela castle as seen from the window of our room. We had a corner room with the castle out one side and the town of Palmela and countryside beyond, including a large olive grove on the other. The princess is happy looking out to her tower.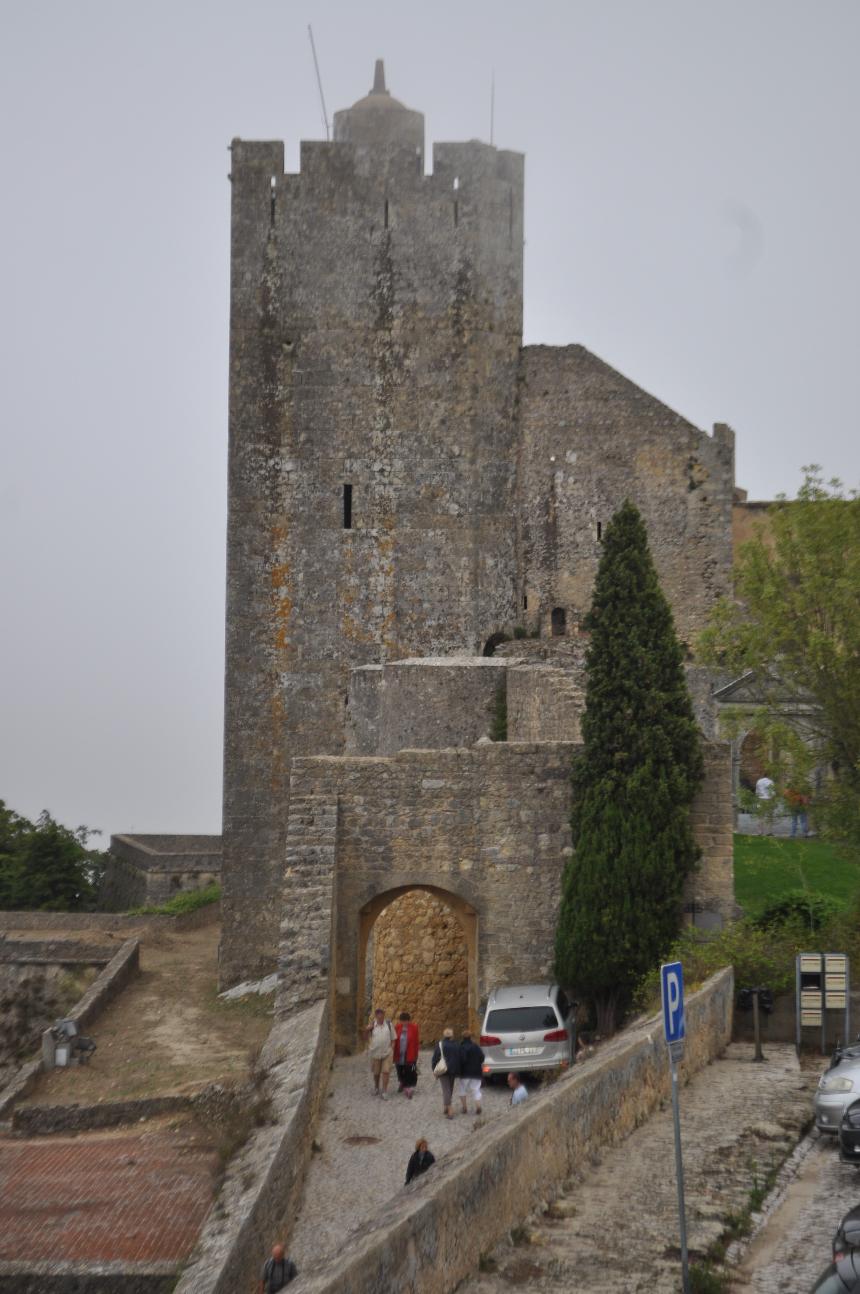 The interior of the Pousada around the courtyard. This area doubles as the restaurant including breakfast.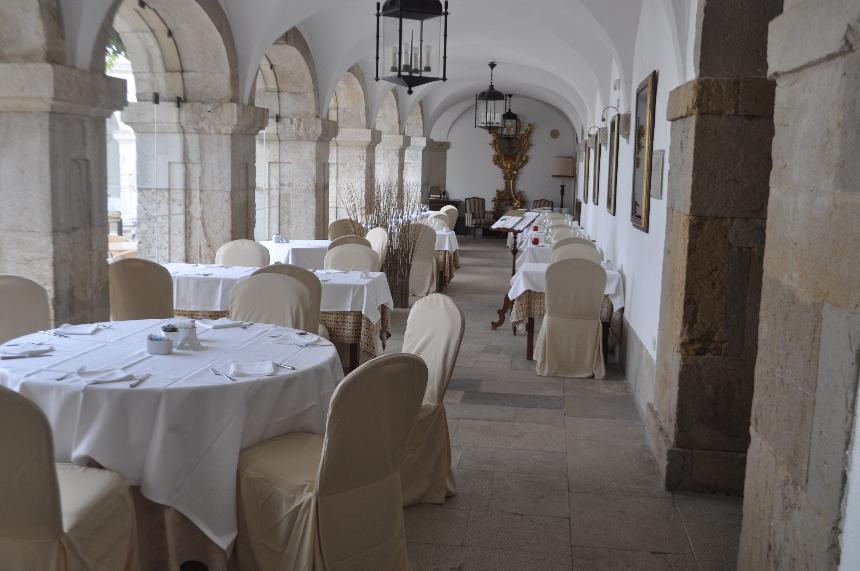 The inner courtyard of the Pousada, unfortunately not very useful in the rain.