Memories of Costa Rica (Alajuela, Guanacaste and Puntarenas):
Nineteen (19) days in north west Costa Rica. Here are our most vivid memories, in no particular order
delivering beanie babies to a kindergarten class in Bijagua
sunsets and sunsets and sunsets and sunsets - each stunning and vibrant
dinner on the beach at Pangas, including the ceviche and Surf & Turf I cooked on a lava rock at my table ... and a final spectacular sunset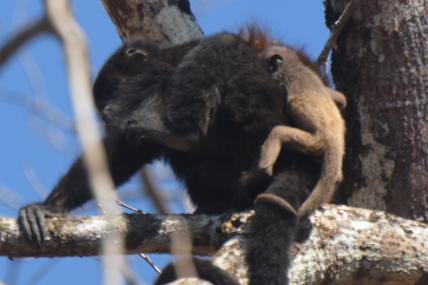 the birds (particularly the toucans) at B&B Tenorio and elsewhere
the farm tour at B&B Tenorio
watching the turtle hatchlings being released and making their way to the sea
Ovidio and Lorenzo (the crocodile)
monkeys (seen nearly every day) swinging from the branches
the 8 km Playa San Miguel
eating at Locos Cocos, and Peluche (the dog)
the flowers and large iguanas on our roof at Casa Mapache
speed humps, and the gravel coast road
walking Negro, Lassie, Shakira and Bonita at the Costa Rica Dog Rescue Centre
a relaxing day and enjoyable buffet meal at Tabacon Hot Springs
Gallo Pinto
dips in the pools
the consistently great weather - sunny and hot
Alejandro and Pippa, and all the other people we met along the way
the view from La Colina Pura Vista to Playa San Miguel and the ocean beyond
enjoying the sunset from the infinity pool at Hotel Luna Azul
the shrimp and lomito (beef) meals I enjoyed at Luna Azul
all the fresh fruit at breakfast
seeing an armadillo and capuchin monkeys
the sounds of the howlder monkeys
Gayle spotting a pygmy owl at Mundo Milo
the ranch feel driving through Guanacaste
early morning nature 'TV'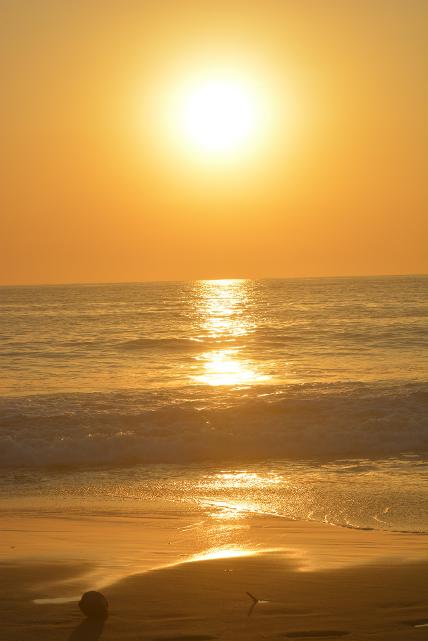 Expenses (based on average exchange rate 1 US$ = $1.35 Cdn):
Here are the costs of the of the trip (excluding airfare and souvenirs)
$ 3,450 lodging ($182 per night)
$ 1,517 food ($80 per day - primarily dinner and a few groceries / tapas)
$ 835 car rental ($731 or $38 per day) plus fuel ($104)
$ 150 Tabacon (excl. estimate of food included in food above)
$ 146 miscellaneous (primarily tips)
$ 6,098 for 19 days
The average cost per day (lodging, food, vehicle and miscellaneous) was $321.
Lodging ranged from a low of $80 US to a high of $186 US). Here is a list of where we stayed, their location, amount we paid and links to their websites.
$186 Heliconias Nature Lodge La Fortuna www.heliconiasnaturelodge.com/
102 Casitas Tenorio B&B Bijagua www.casitastenorio.com/
173 Hotel Luna Azul Ostional - Juanillo www.hotellunaazul.com/index.htm
142 La Colina Pura Vista Playa San Miguel www.lacolinapuravista.com/
80 Mundo Milo Eco Lodge Junquillal www.mundomilo.com
107 Casa Mapache Huacas www.casamapache.com
It is our practice not to using a booking agency, e.g. Booking.com but rather book online directly with each place we stay, after having contacted them through email. In this way we save the establishment the booking commission and are familiar to the staff when we arrive.
The average lodging cost at $182 was considerably less than previous trips to Costa Rica (and Panama) yet we were every bit as pleased with our lodgings. Other trips included further off the path / isolated eco lodges which explains much of the difference.
Overall, the average cost of this trip was well less than the past two trips to Costa Rica (and Panama). The following reflect all costs other than airfare to/from and souvenirs, i.e. they include lodging, food, vehicle rental, fuel, miscellaneous and tours, if any.
$438 - 2018 Costa Rica
$425 - 2018 Panama
$415 - 2016 Hawaii
$383 - 2017 Costa Rica
$321 - 2019 Costa Rica
February 25, 2019 - Casa Mapache (Huacas)

Our last day in Costa Rica and again we spent most of it at Casa Mapache. First a nice breakfast, then time in the pool, some work on the blog and then back to the pool. Actually to think about it that's exactly what we did yesterday.
We had a reservation for 5:00 pm at Pangas. We arrived early with the hopes of getting a prime table. Being the first ones in the restaurant we were given the front table on the beach, no other tables or obstructions between us and the estuary/ocean. We started with a few drinks - two basic margaritas for me (it was happy hour) and a fancy Carambola Colada - Creme de coco de la casa; Flor do Cana 7 anos y carambola fresca - homemade coconut cream, Flor de Cana 7 years and fresh star fruit, for Gayle. We lingered over our drinks while watching another stunning sunset.
We were going to enjoy the meal, with no limits on the colones. Gayle started with a Gazpacho - chilled cucumber, bell peppers, red onions and croutons, while I had the mixed ceviche - marinated fish, shrimp and octopus. For main courses Gayle had the Vegetarian Flat Bread, a mix of smoked pear, zucchini and artichokes over a bed of fresh tomato and mozzarella, sprinkled with capers. Well presented but not as great as it read in the menu. I went with the surf & turf, four large grilled shrimp and an 8 oz steak for 22,000 colones (a little < $50 Cdn). The unique thing about the experience is the manner by which the beef is cooked - on a heated piece of lava rock by the guest them self at the table. The meal was enhanced by a glass of Argentinian Luigi Bosco Pinot Noir. We were too full to even consider dessert. The whole meal came to $138 Cdn - really quite reasonable for the drinks and food let alone the the ambiance of eating dinner on the beach enjoying the sunset. It was a great last evening.
Every day of the trip started with Gayle up early, usually with her eyes scanning for any nearby wildlife. Today a troop of monkeys passed through the trees on the Casa Mapache grounds.
I'm glad Gayle got me up to see the monkeys.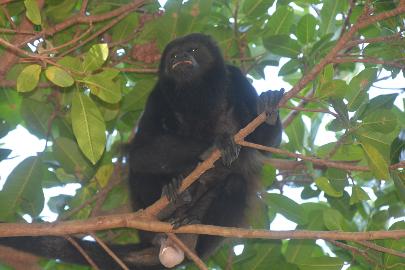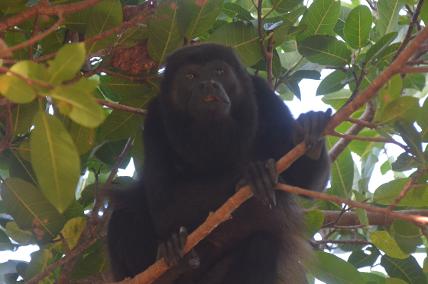 I take a lot of grief over my 'raspberry' golf shirt. Gayle insisted we do a colour match with this bougainvallia.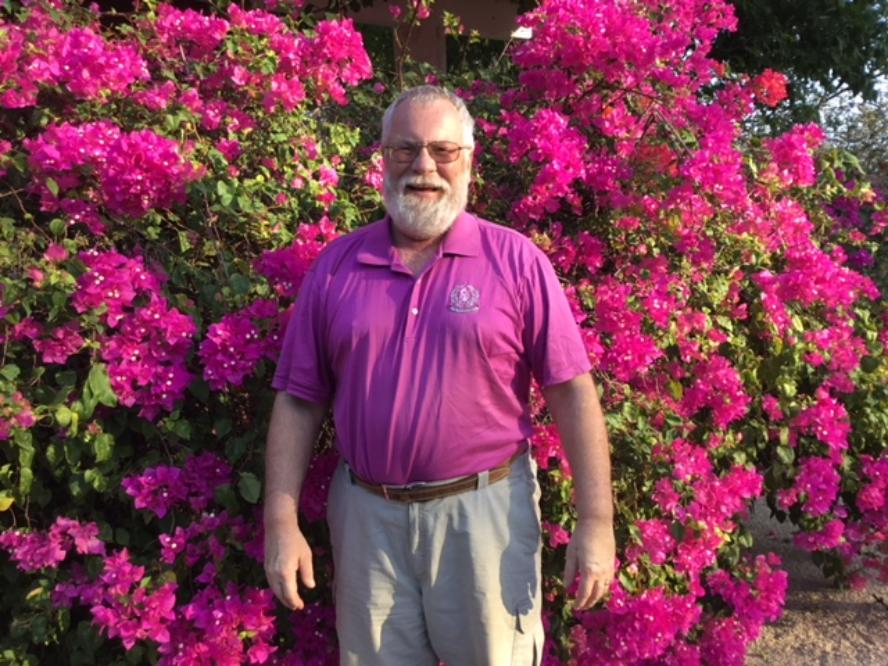 More colour at Casa Mapache.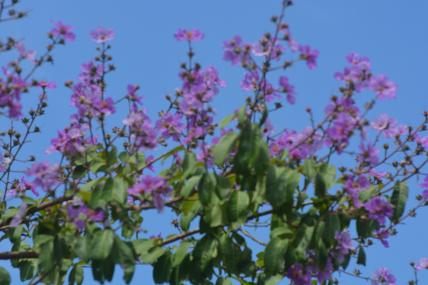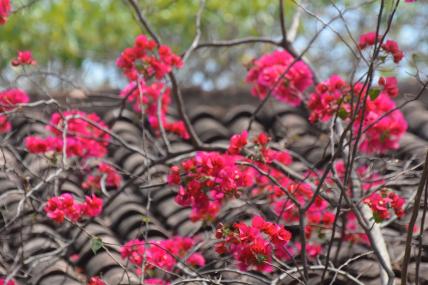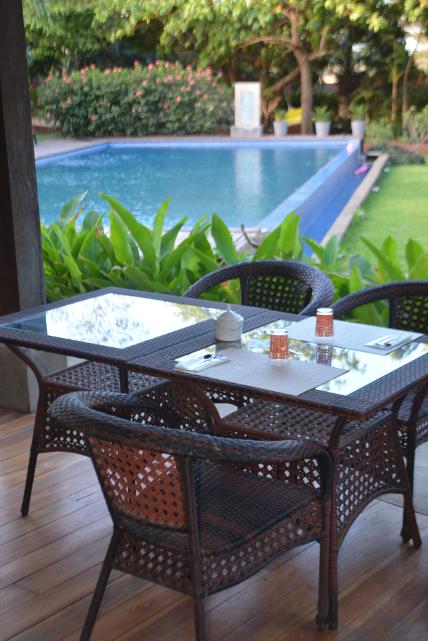 Last day - maximizing our use of the pool.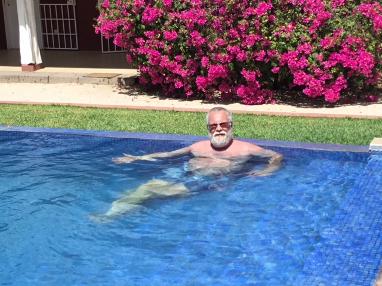 Pangas came highly recommended and certainly lived up to its reputation.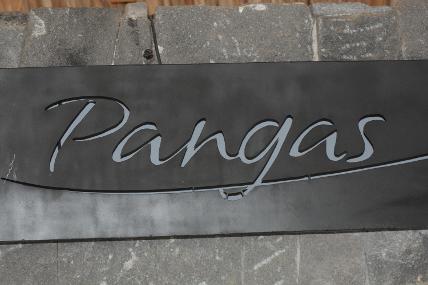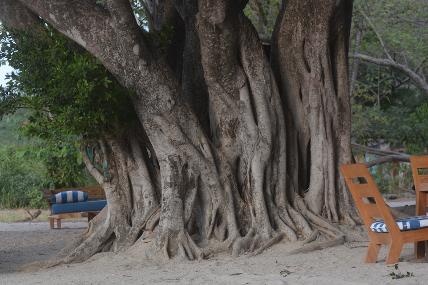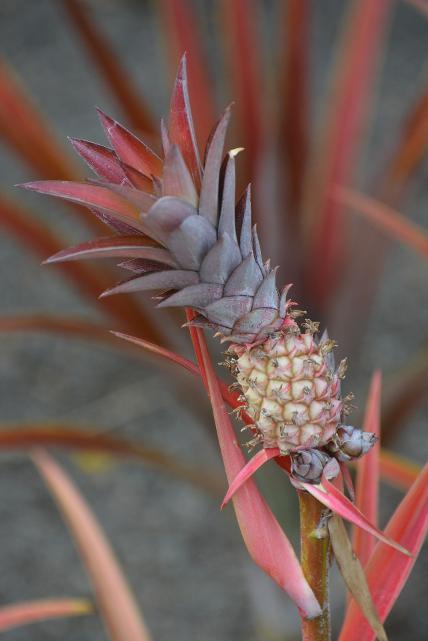 Dinner on the beach with what turned out to be another magnificent sunset - a perfect end to our trip.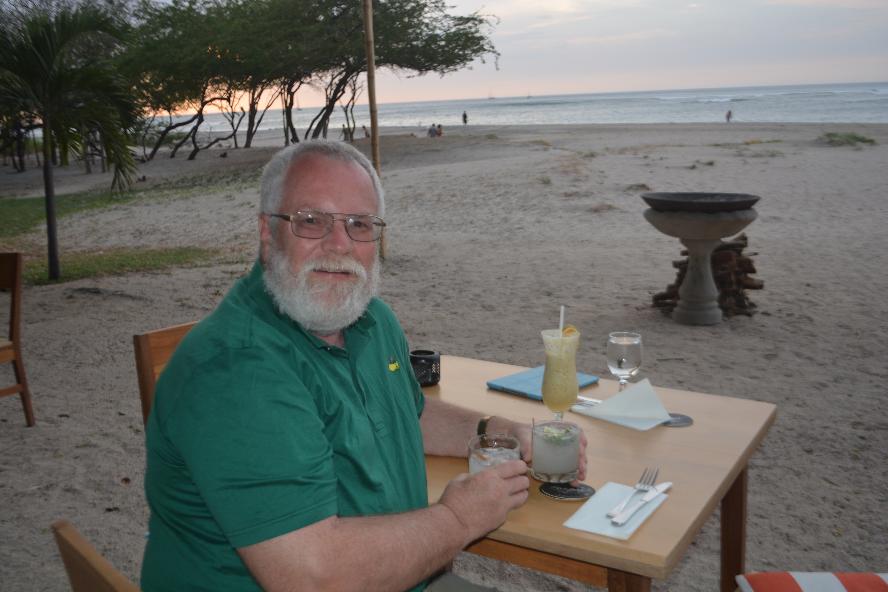 Last night - last magnificent sunset.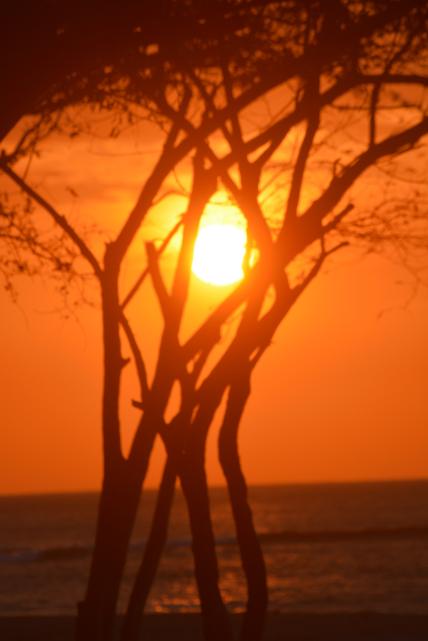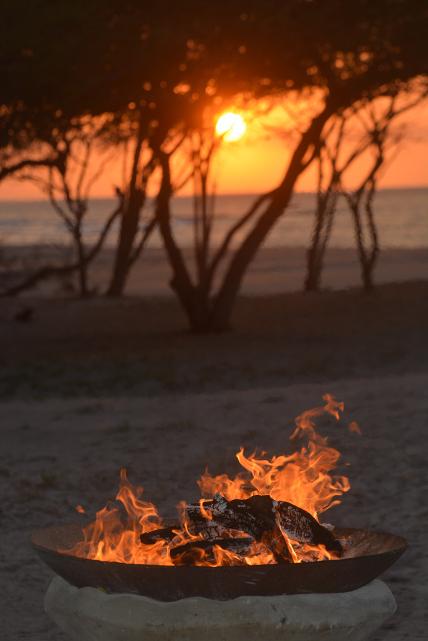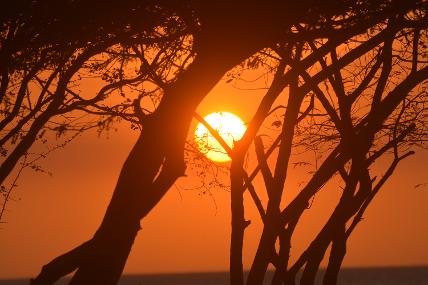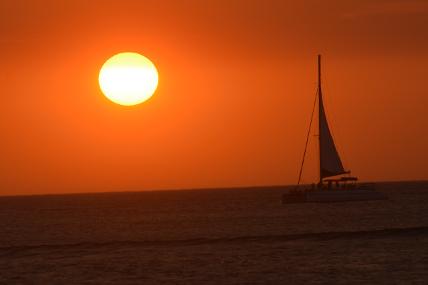 Sun, sun, sun ... and there goes the sun Mixed ceviche - fish, shrimp and octopus.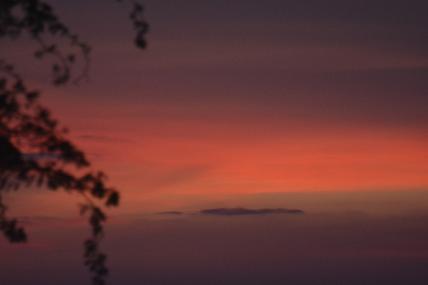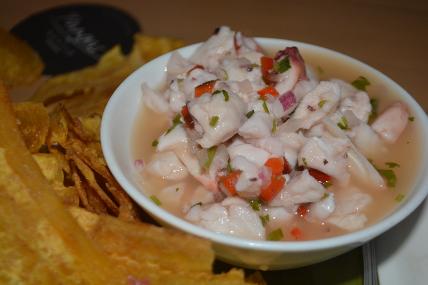 Gayle's meal - gazpacho and then a vegetarian flat bread with smoked pear.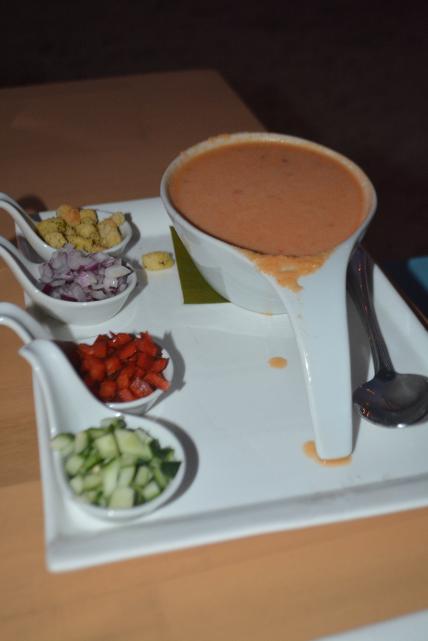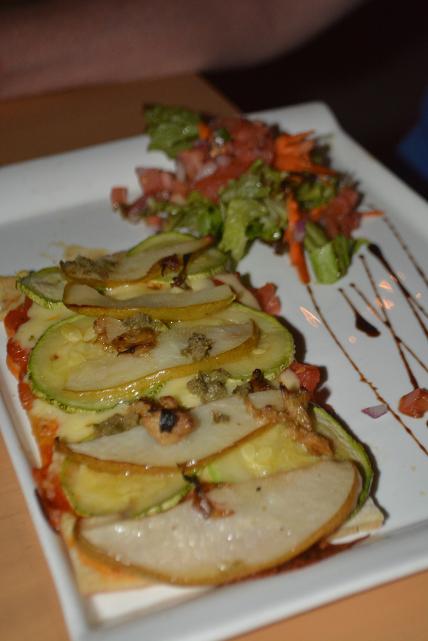 And finally my Surf & Turf where I cooked the meat on a hot lava rock, with a number of tasty sauces.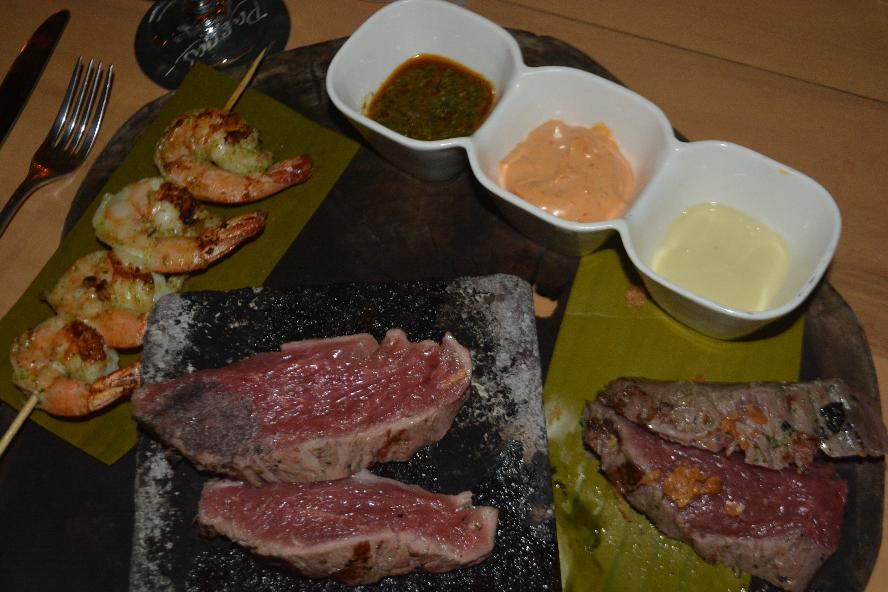 February 24, 2019 - Casa Mapache (Huacas)

Another day in paradise. First a nice breakfast, then time in the pool, some work on the blog and then back to the pool. We decided to have a mid afternoon meal in Tamirindo before taking a walk on the beach to enjoy what we expected would be another magnificent sunset.
We had a nice lunch at Green Papaya where Gayle had an expensive margarita (premium tequila) along with a large burrito filled with stir-fried zucchini, carrot, sweet red pepper, cabbage, onion, mushroom, spinach, kale, rice, black beans, cream cheese and roasted sun-flower seeds - a smorgasbord of ingredients with a hot hot sauce, a sauce that became increasing hot as time passed. Gayle found the burrito surprisingly good. I had the Caribbean Coconut Curry, chicken with stir fried vegetables in coconut curry sauce served over rice. Also good.

After a chat with the waiter about life in Tamarindo / Costa Rica we strolled down to the beach - a beach that was much calmer than most and certainly more crowded than most. But the sunset did not in any way disappoint. It truly was magnificent, as hopefully you will agree after seeing the photos below.
On the way back to Casa Mapache we stopped at Pangas, a restaurant for which we had two recommendations, where we made a reservation for tomorrow night.
An omelette and fruit for breakfast. The pool and our room (on the right) at Casa Mapache.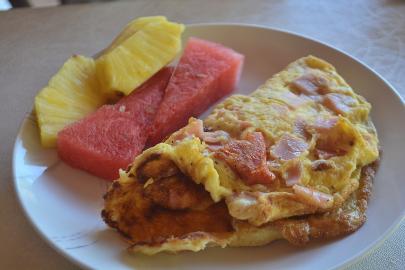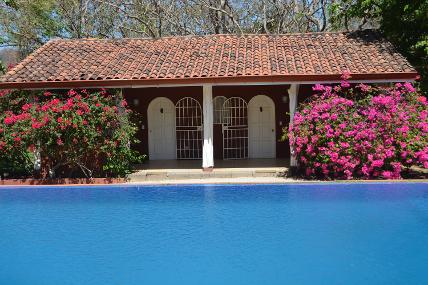 Gayle had a huge burrito, with a particularly hot hot sauce while I had the Caribbean coconut curried chicken.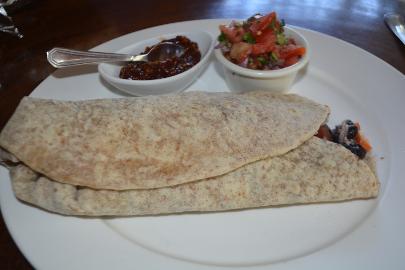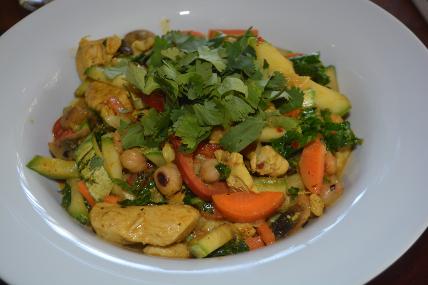 Sunset as seen from Tamarindo's beach - we just sat, watched and enjoyed.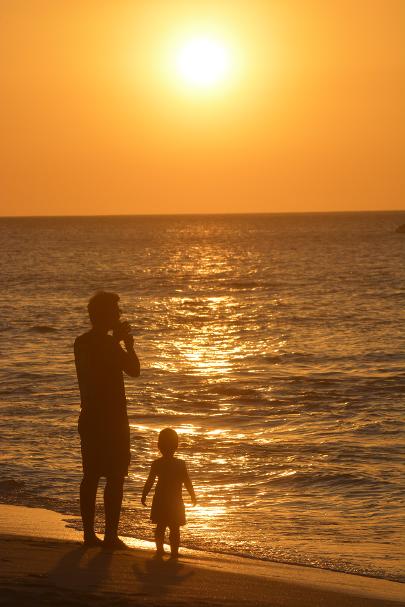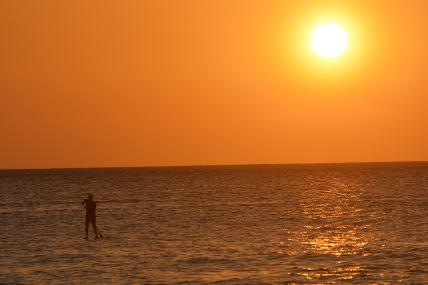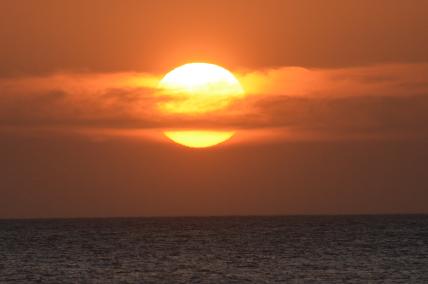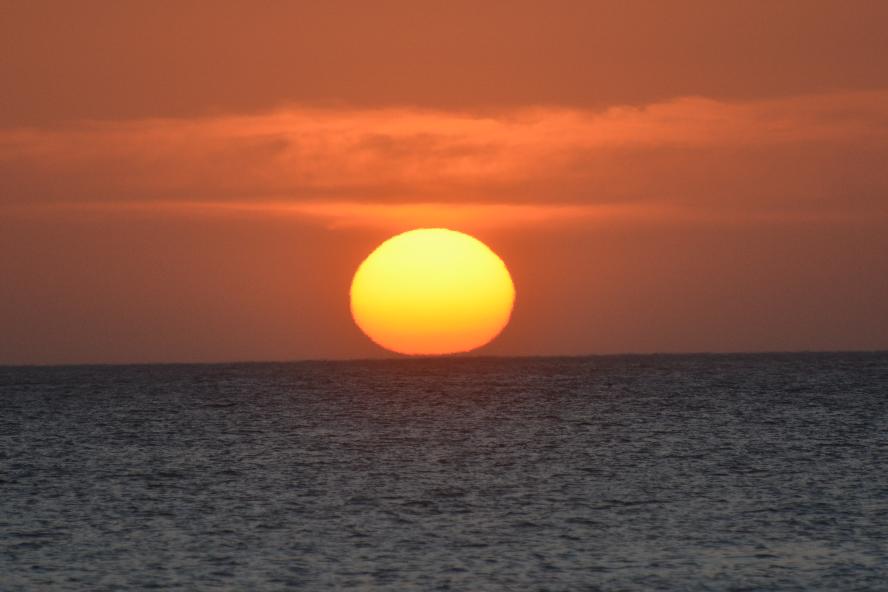 February 23, 2019 - Mundo Milo (Junquillal) to Casa Mapache (Huacas)

Our last day at Mundo Milo. Although we had a noon check out we were welcome to stay as our next lodging was < 1 hr away with check in not until 4:00 pm. We worked on the travel blog and had a couple of dips in the pool.

We enjoyed a great few days at Mundo Milo. The staff were wonderful, the rooms interestingly themed (we being in one of the two Persian rooms) and a wealth of wildlife nearby, from the birds flying through the open-air restaurant, a pygmy owl Gayle saw early one morning, iguanas in trees adjacent to the property, numerous monkeys, crocodiles in a nearby mangrove swamp and a turtle sanctuary where hatchlings are released to find their way back to the sea. Furthermore meals were very good along with being well priced, all served in a friendly manner by either Micheil, Lieke or Ariani.
We finally left around 2:30 pm for the short drive to Casa Mapache, just past Tamarindo.
We were met at Casa Mapache. approx. 15 minutes beyond Tamarindo, by Stephanie, who welcomed us with a broad smile. After getting the lay of the land we took Stephanie up on her suggestion for dinner in nearby Huacas. Punta Tranquilo is a decent typical Costa Rican Soda (a diner). The only negative was that it is adjacent to the highway resulting in too much noise, but beyond that the service and food was good. I had a typical Costa Rican dish Chifrijo del Punta - chicarrones (pork) and frijoles (beans) served with tomato, avocado and nachos over rice. Gayle then had a vegetarian pizza - just the right size while I had a calzone. After the filling Chifrijo del Punta I really didn't need any of the calzone - good thing I didn't order the large. I ended up taking three-quarters of the calzone home.
It was then back to Casa Mapache where we turned in for the night.
Mundo Milo's pool. Big iguana high in a tree on a thin branch.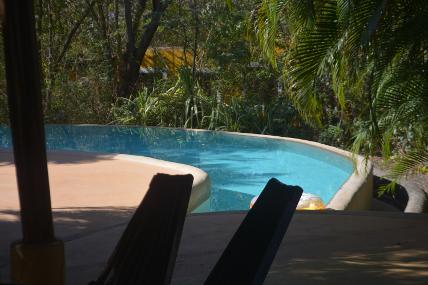 From a distance an iguana in a tree.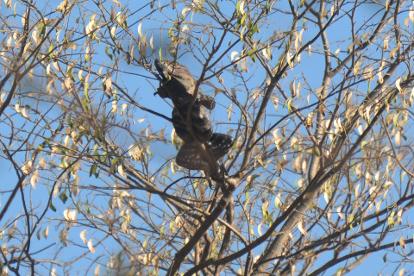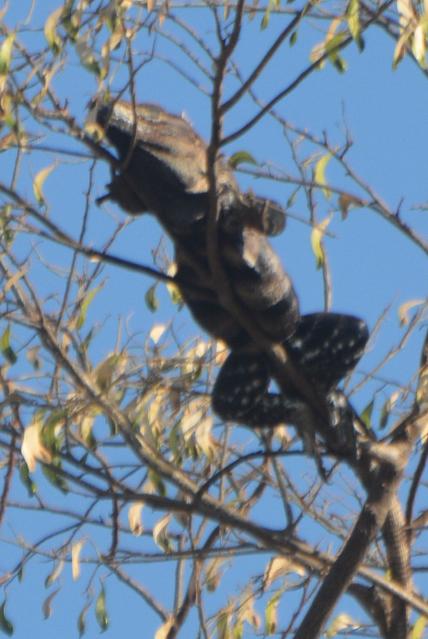 Our Persian room (#4) - large windows to the outdoors and an authentically themed terrace area.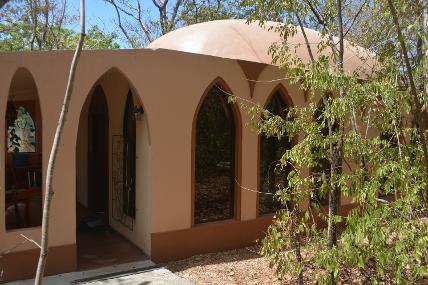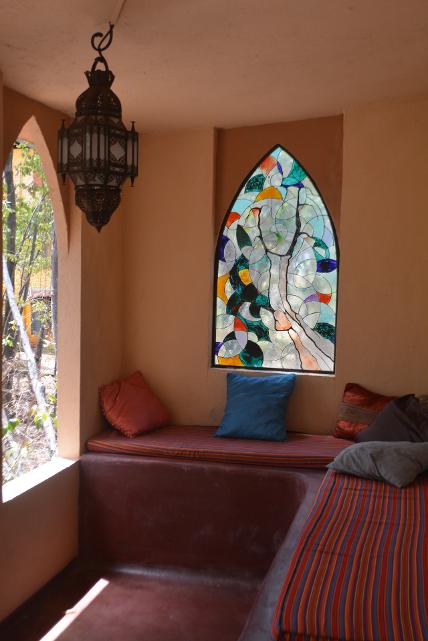 Fried eggs and Gallo Pinto - a great start to any day. Our most wonderful server - Ariani.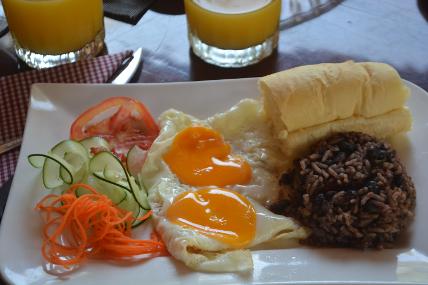 Along with Michiel, our host Lieke.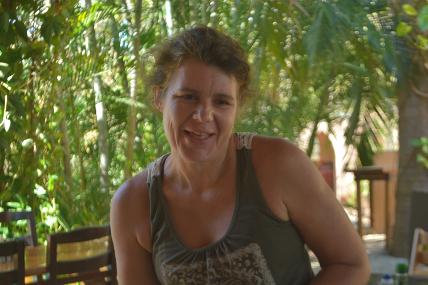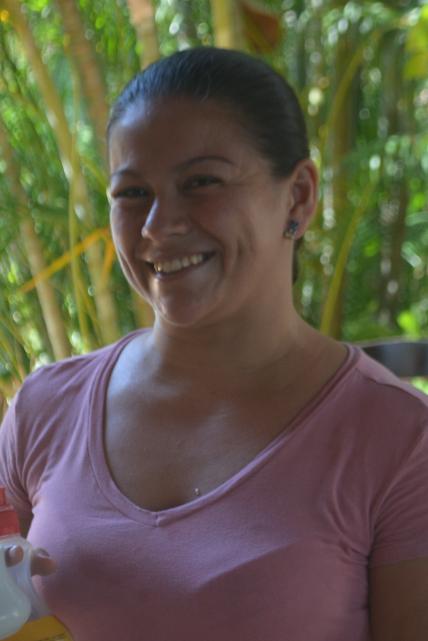 Pizza and Pasta, Mundo Milo's adopted cats.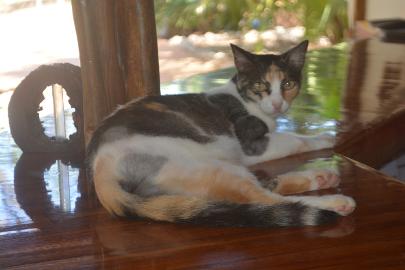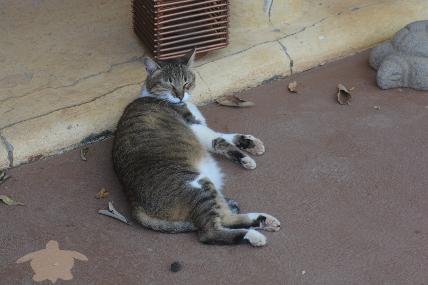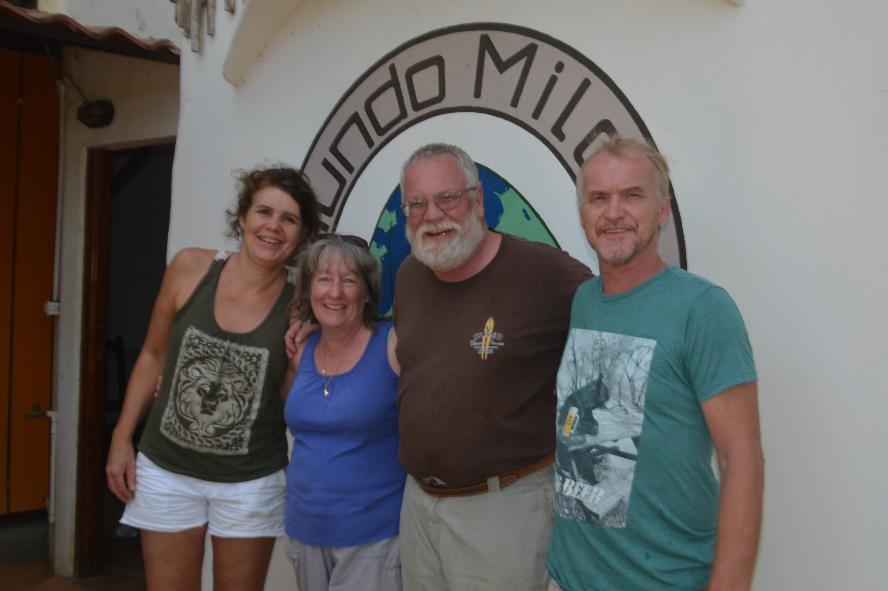 The view from our room across the pool at Casa Mapache.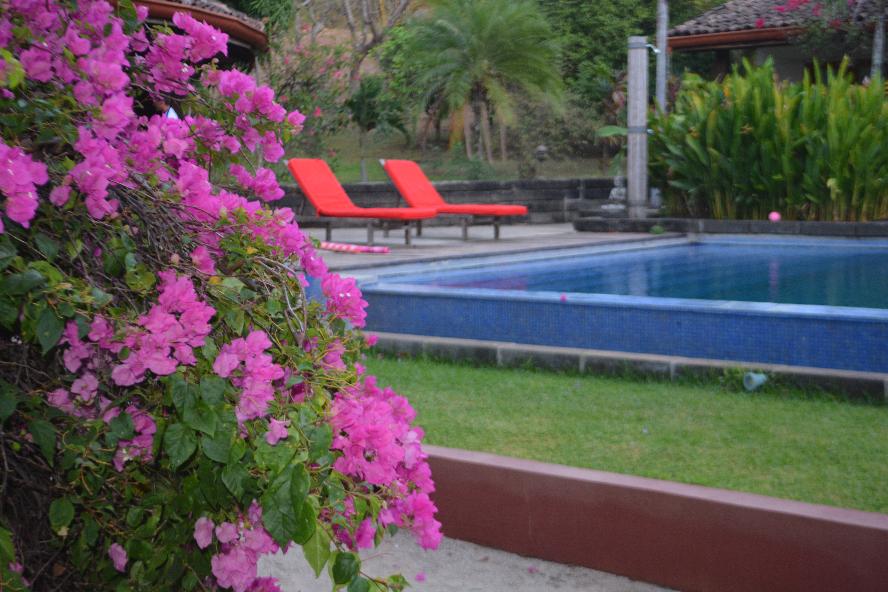 We ate dinner ar nearby Punto Trenquilo. I started with Chifrijo del Punto - a typical Costa Rican dish named for the first syllables of the main ingredients - chicarrones (pork) and frijoles (beans). Gayle then had a Vegetariana pizza with tomatoes, black olives, onions, mushrooms and oregano while I had a Calzone filled with tomato sauce, mozzarella, ham, mushrooms, an egg, olive oil and oregano. Even the medium calzone was way too much food after the filling Chifrijo.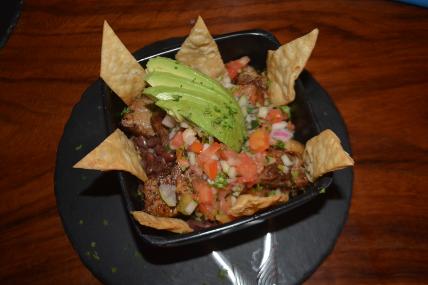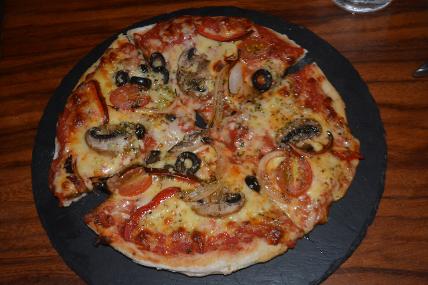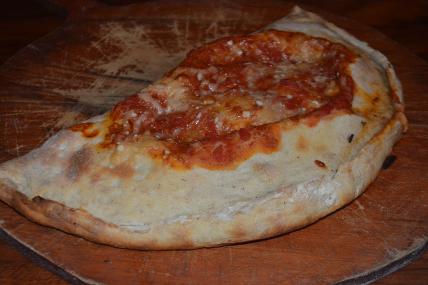 February 22, 2019 - Mundo Milo Eco Lodge (Junquillal)
This morning Gayle convinced me to go for an early walk to the beach. On the way we came across a troop of monkeys crossing the road on their monkey 'bridge' and then swinging, branch to branch through nearby trees. Some great shots, including a number of infants (baby monkeys).
We returned to the Lodge where we enjoyed breakfast and then another chat with Ionnis and Rena, two Greeks from Corfu who were traveling through Costa Rica.

Michiel had mentioned a fisherman with an 'adopted' crocodile at nearby Playa Blanca. Without much else to do we took a drive to see if we could find the crocodile, which we did. We found Ovidio, the fisherman who lived near an estuary where 'Lorenzo' and an offspring live. Lorenzo, perhaps 3 metres (10 feet) was quite responsive to Ovidio, coming ashore for him. Another fascinating nature experience.
After some time in the pool we returned to the beach just before sunset for our last night in Junquillal. There were no hatchlings today but once again a spectacular sunset. Then back to Mundo Milo for another great meal with wonderful service from Ariani.
Monkeys and crocodiles - another day of wildlife and nature.
A monkey bridge paced across the road, providing a means for the monkeys to safely cross.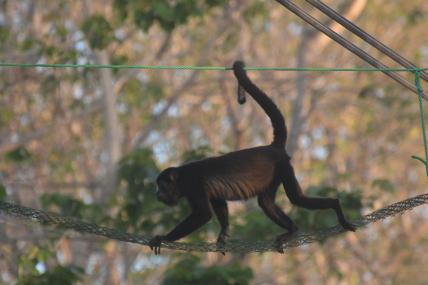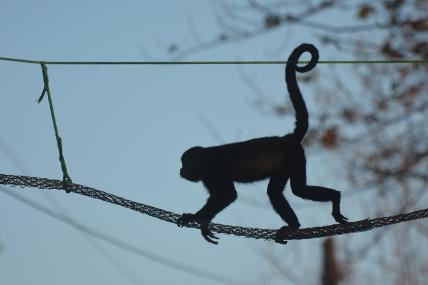 Isn't this little infant - yes a baby monkey is known as an 'infant' - cute?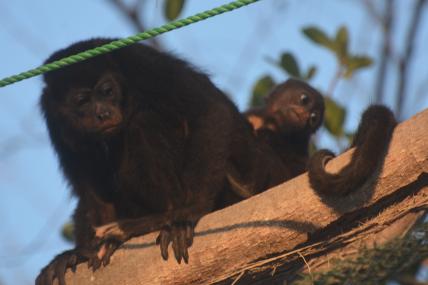 Monkeys near Mundo Milo Eco Lodge.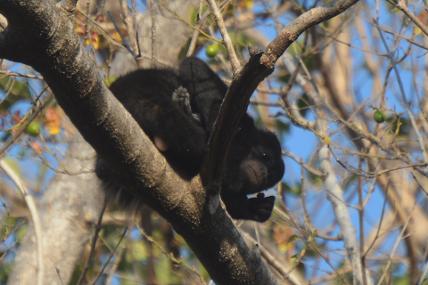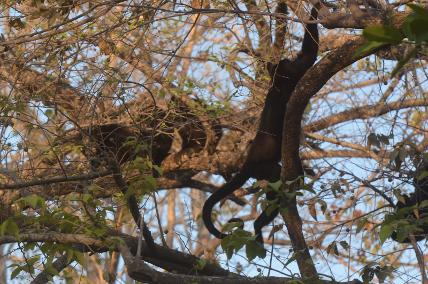 And another Howler monkey and her baby.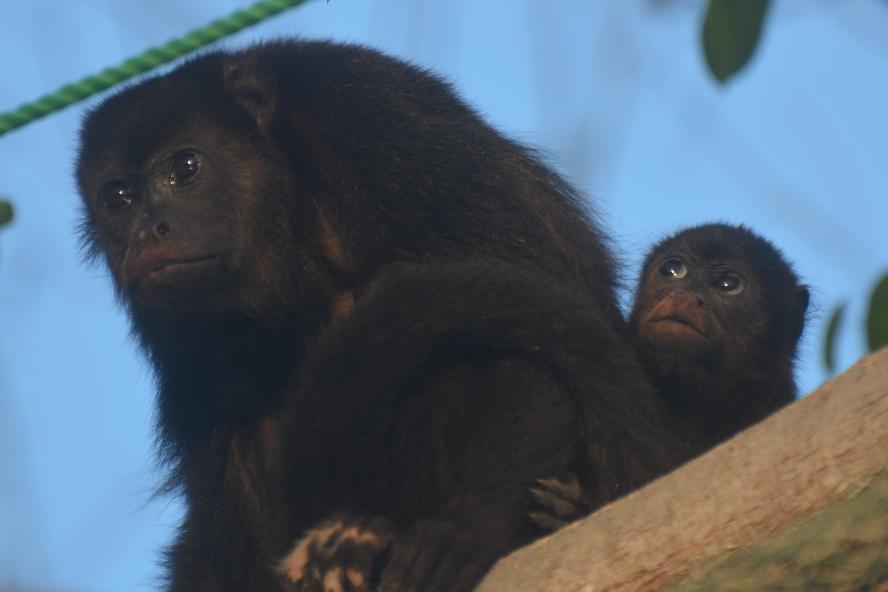 With Ioanns and Rena, two adventurous travelers from Corfu, Greece whom we met at Mundo Milo.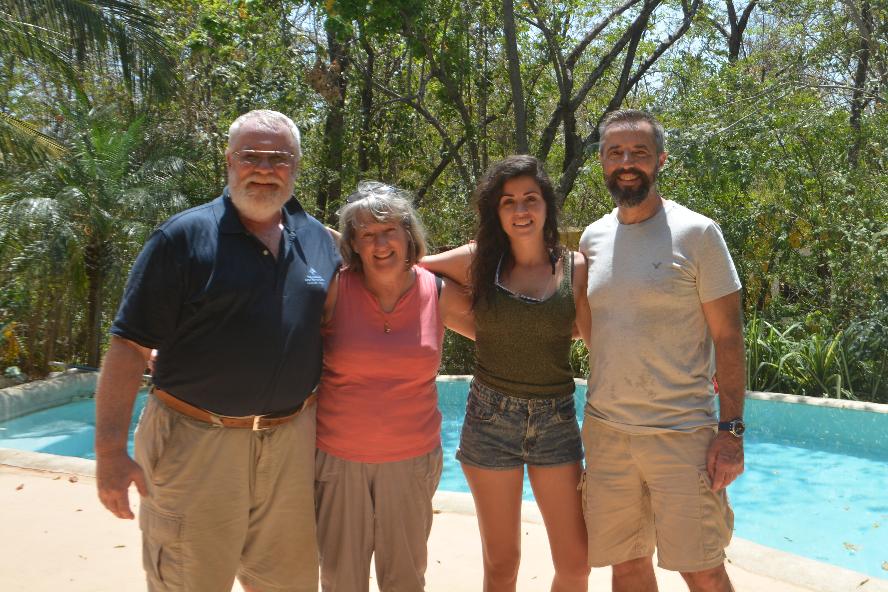 Dental work looks pretty good.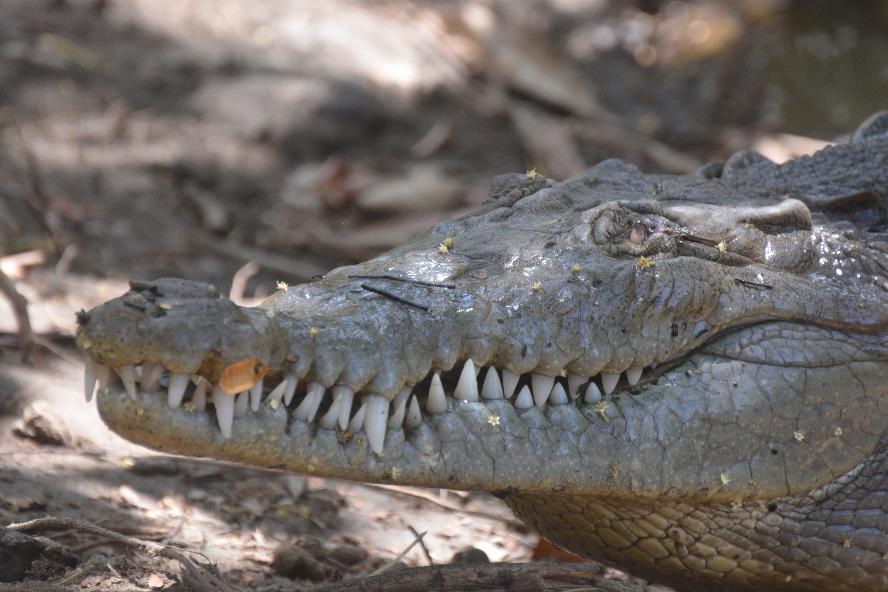 Videos of Lorenzo and Ovidio.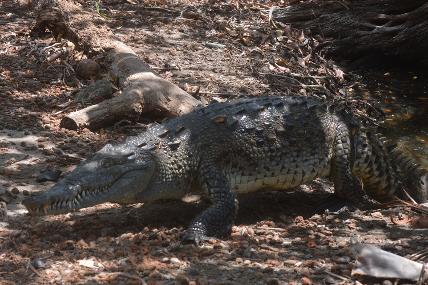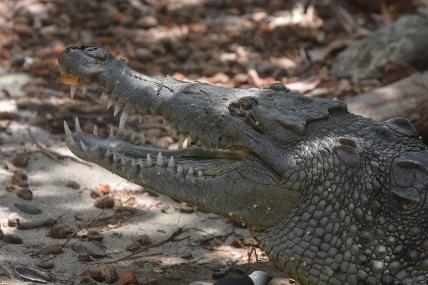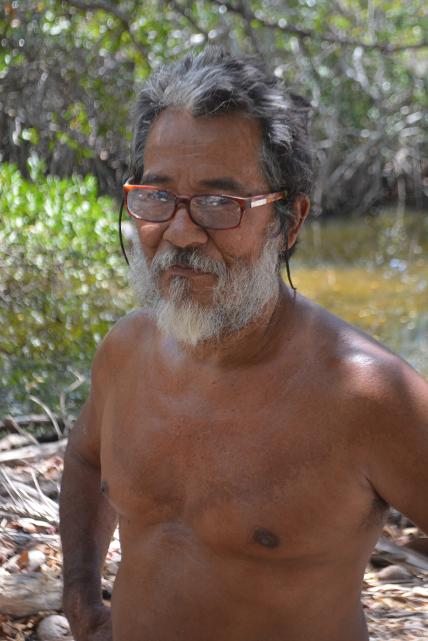 Perhaps a few of these signs in Halifax might address our traffic problems.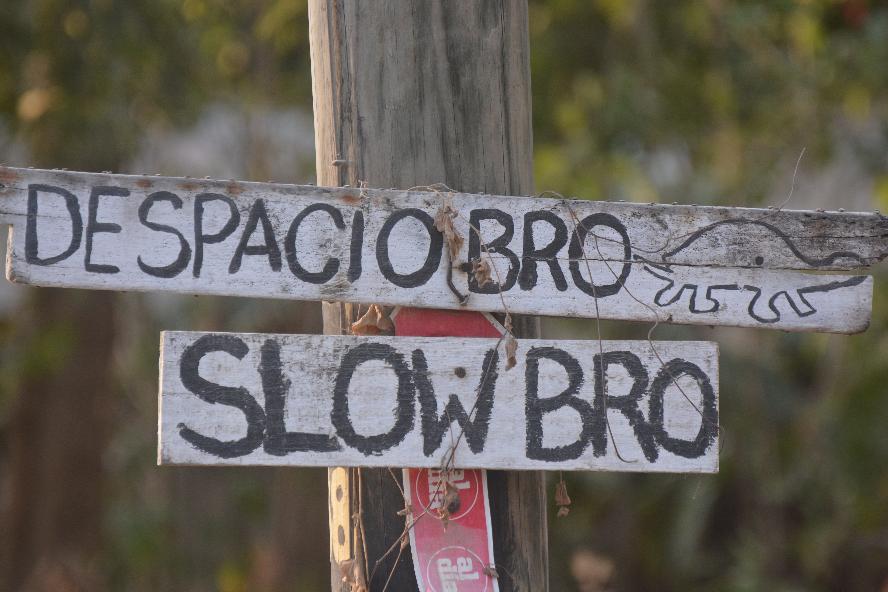 Portions of Junquillal beach and the Pacific ocean.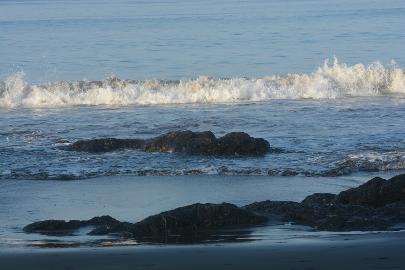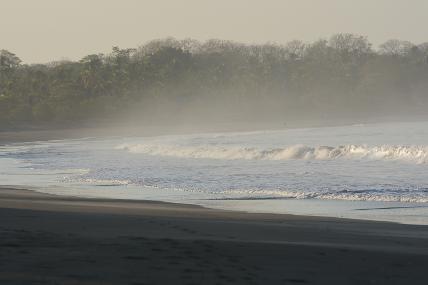 These gorgeous sunsets are becoming somewhat routine.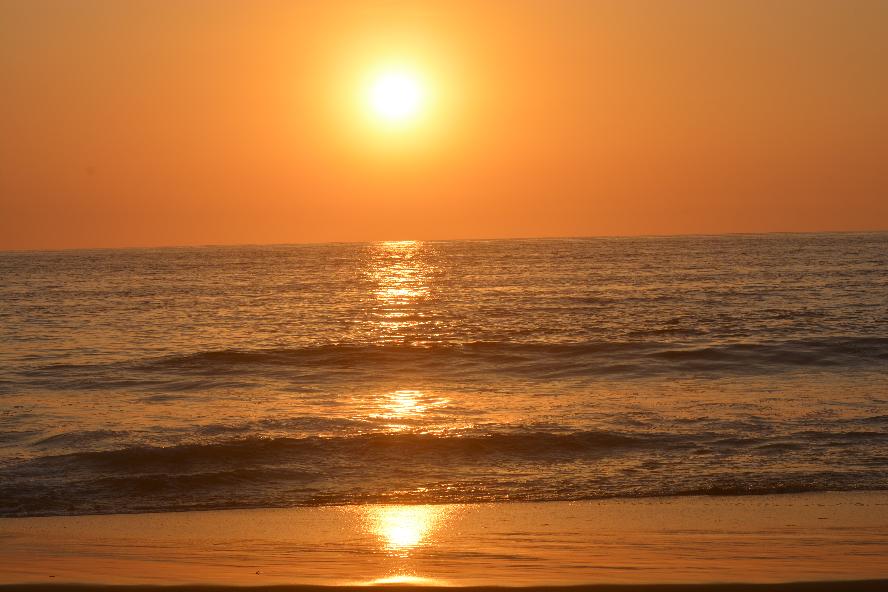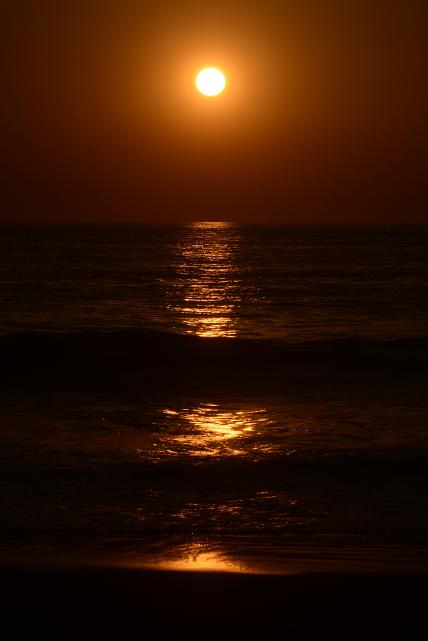 Dinner included a pumpkin soup, a nice piece of beef tenderloin, tagliatelle with vegetables and goat cheese, and an apple strudel with ice cream for dessert.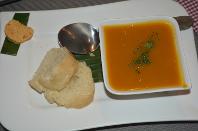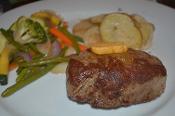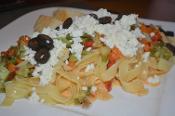 February 21, 2019 - Mundo Milo Eco Lodge (Junquillal)

After the disappointment of there being no turtle hatchlings yesterday we were hopeful there would be some today. But before a late day trip back to the beach the day started early for Gayle as she woke before sunrise. Having done so she had the good fortune to see a pygmy owl - a small pocket-sized owl. We then had a breakfast of one of the things we very much enjoy about Costa Rica - a serving of Gallo Pinto (rice and beans). The rest of the day was spent working on the travel blog, interspersed with dips in the pool.
.
Late in the afternoon word began to spread that there were hatchlings today. We headed to the beach and the turtle sanctuary just before 5:00 pm and the release of the hatchlings. We arrived to find there were 83 newly hatched baby turtles about to be released for their journey to the sea. Volunteers of the Asociacion Vida Verdazul Turtle Conservation Centre first provided some education to the gathering crowd on the turtles that come ashore, the work of the conservation centre and the incubation periods for the various species of turtles. A line was then literally drawn in the sand behind which we stood as volunteers released the baby hatchlings. We all then watched as the baby's scurried down the beach towards the sea and the gorgeous sunset. It was a wonderful experience, one that we were fortunate to observe.
We returned to Mundo Milo for a what turned out to be another excellent meal. I started with a Ceviche servido con Chili-Guaro - white fish fillet marinated n lemon juice served with fresh coriander with Chili-Guaro after which I then enjoyed the Camarones grande a la plancha (grilled large shrimp) served with sweet chili sauce. Meanwhile Gayle had the Gado Gado, an Indonesian dish of steamed vegetables served with rice, a hard boiled egg covered with a tasty peanut sauce. We then finished our meal with a Panqueque delgado con lelado y salsa chocolate, a crepe filled with vanilla ice cream and warm chocolate.
Another great day, the highlight of course being the release of the turtle hatchlings.
Starting the day with a typical Costa Rican breakfast.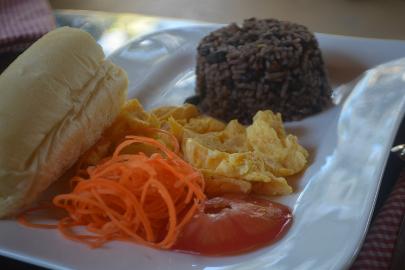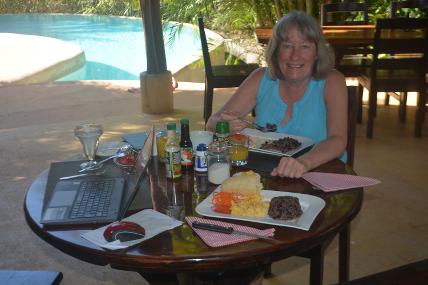 Birds regularly visit the open-air rancho style restaurant.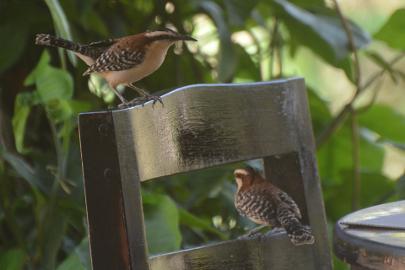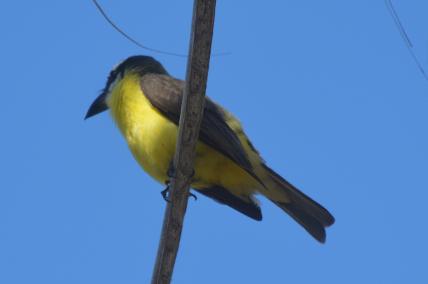 Our Persian themed room with its domed ceiling, Moroccan light fixture and Persian painted walls.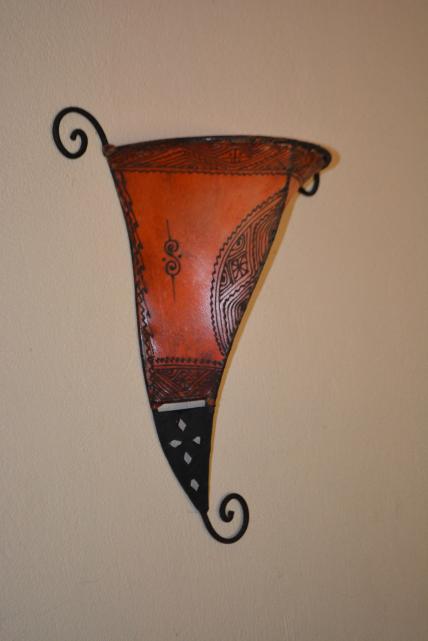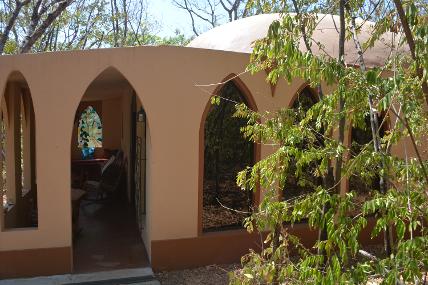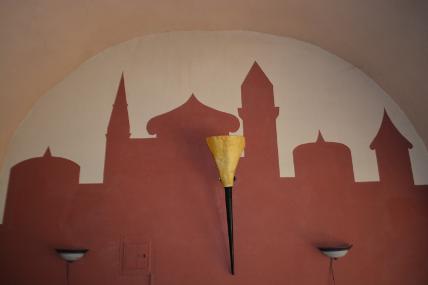 Palm trees, the ocean and a cloudless blue sky - perfection.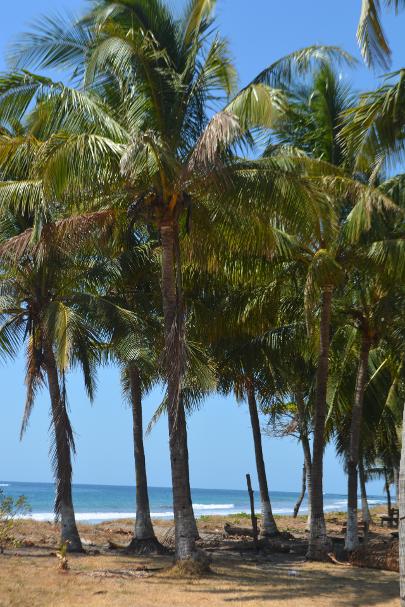 All along the beach are these inspirational signs.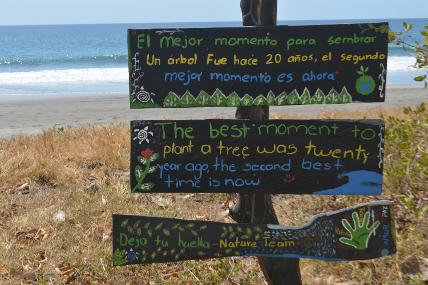 A larger than average turtle.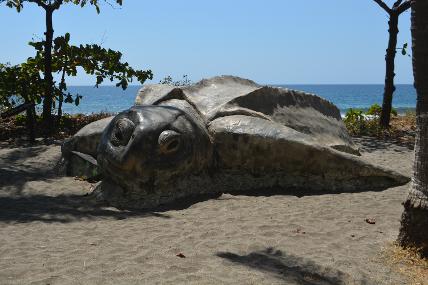 Beautiful Junquillal beach and the Pacific ocean.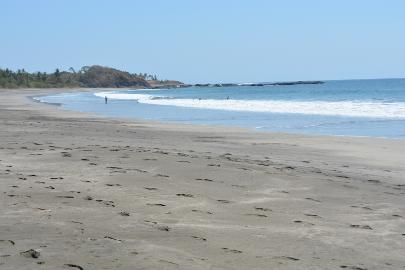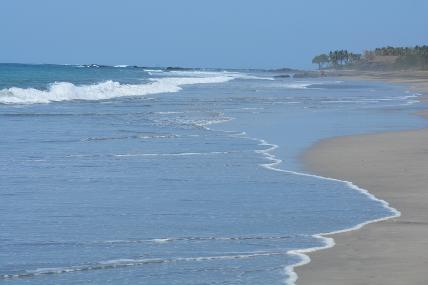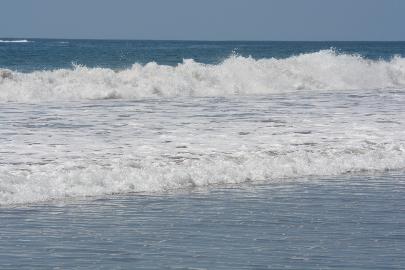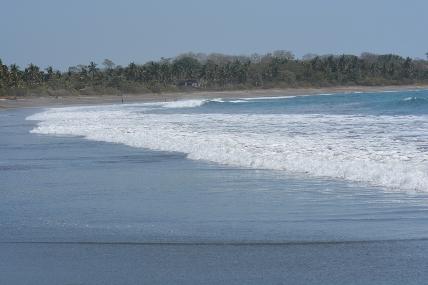 Another stretch of Junquillal beach and a hermit crab.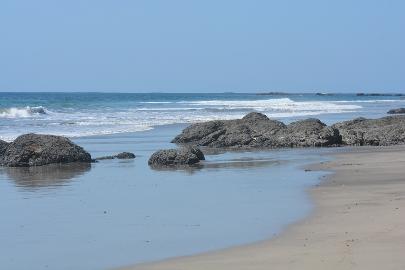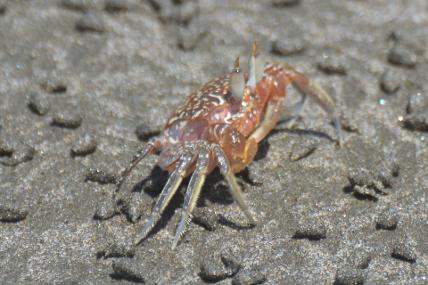 While walking the beach Gayle saw a flock of pelicans in the distance. They approached and flew over us in formation.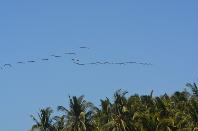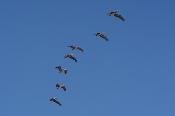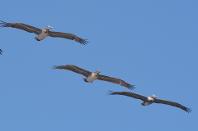 The Asociacion Vida Verdazul Turtle Conservation Centre and its volunteers work to improve the odds of the hatchlings reaching the ocean in order for a shot at survival.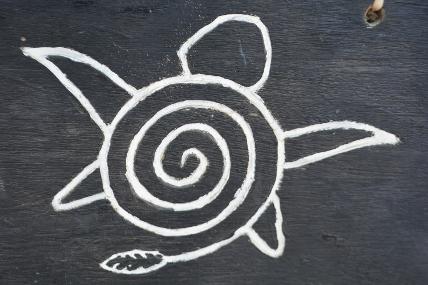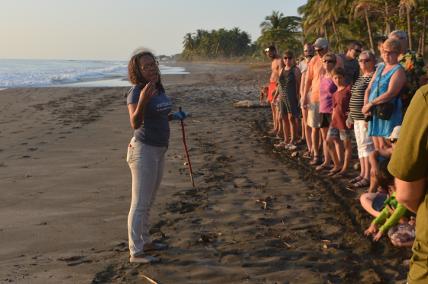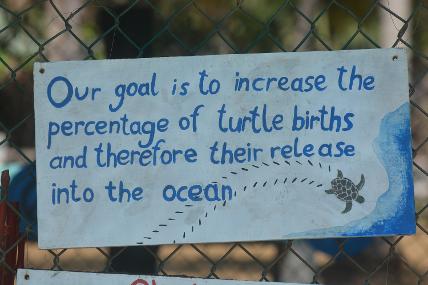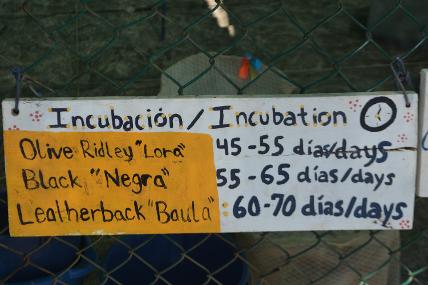 A bucket of new Olive Ridley hatchlings.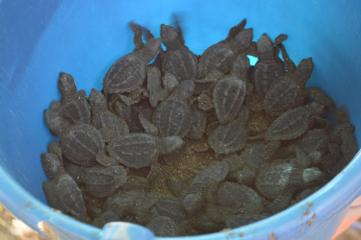 Hatchlings on their way to the sea.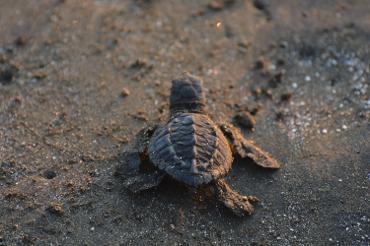 Another video, this one of the hatchlings making their way to the sea as the sun sets over the Pacific.
Here I come - the hatchlings were two inches, more or less.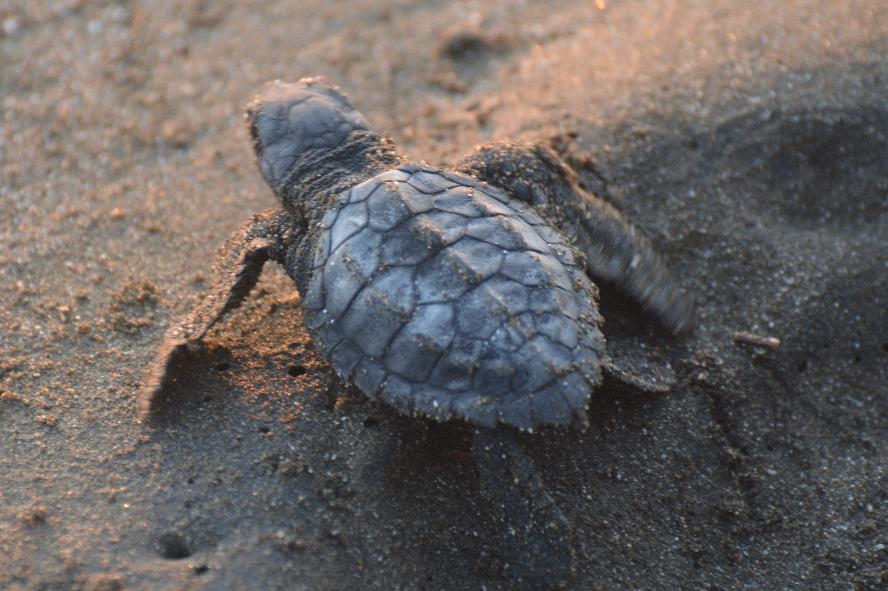 More new hatchlings on their way to the sea.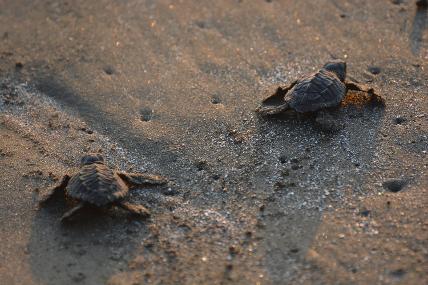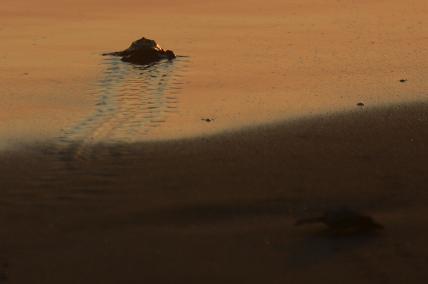 Yet another memorable sunset.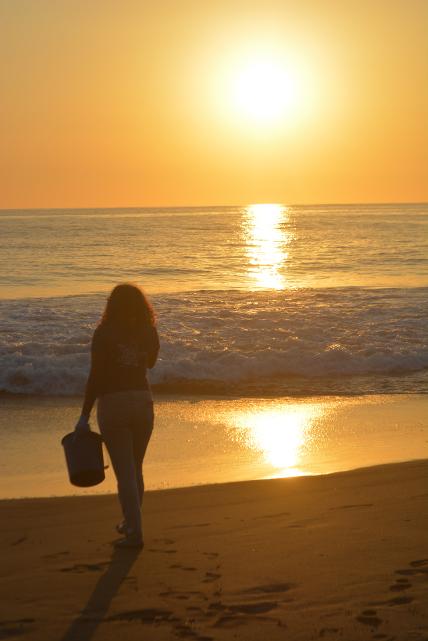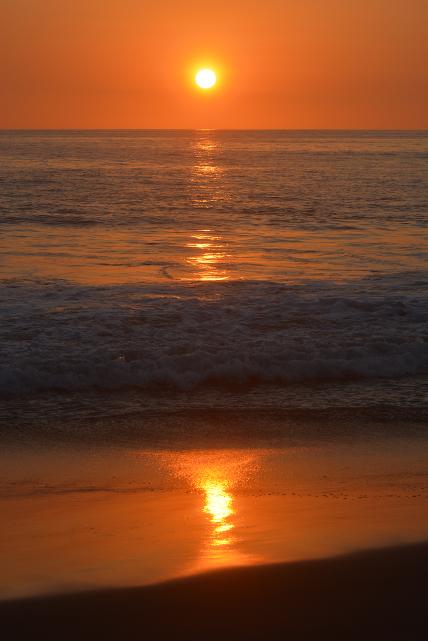 Ceviche as an appetizer... ... and Camarones (shrimp) as my main course.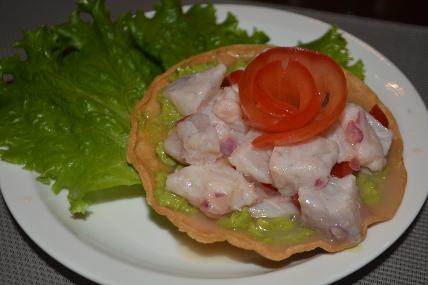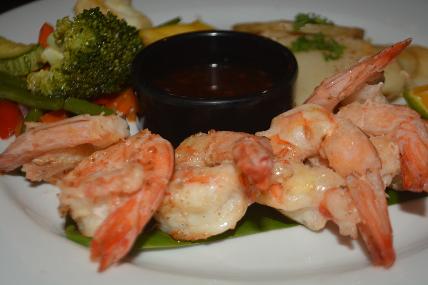 ... and for dessert .... not really but this is a real spider perhaps only an inch to two from end to end - one can do magic with a telephoto lens and subsequent cropping.

Feb 20, 2019 - La Colina Pura Vista to Mundo Milo Eco Lodge (Junquillal)

Another moving day. After a filling breakfast we said our good-byes to Corrine, Laurent and Joe, their Cocker Spaniel - get it Joe Cocker. Our route took us further south (still on the gravel road) and then across the peninsula to Jicaral and finally paved roads. It was then a fairly easy drive, although it is a challenge to keep to frequent 60 kph and often 40 kph limits - the common speed limits here in Costa Rica. We passed by Nicoya and on through Santa Cruz before heading back out to the coast to Junquillal and Mundo Milo Eco Lodge.

After Michiel checked us in to our Persian room he made us aware of the possibility of turtle hatchlings being released to the sea. Just prior to sunset we went the short distance to Junquillal beach where we found a few volunteers working at the Asociacion Vida Verdazul Turtle Conservation Centre, a group that promotes conservation and re-population of sea turtle species native to the Pacific coastline. Unfortunately no young turtles hatched today leaving us heading back to Mundo Milo.
One of the nice aspects of Mundo Milo is the on-site restaurant. The food, and service turned out to be excellent. I had the day's special - a large blackened tuna steak in a mango salsa, after an Ensalada de queso cabra con remoloche, acietunas y nueces (a goat cheese salad with pickled beets, black olives and walnuts). Gayle, being not hungry had an Ensalade verde con vegetales frescas, aquacate y palmito (mixed greens with fresh vegetables, avocado and palm hearts). It was a tasty meal in a nice casual open-air restaurant.
Corrine, Joe and Laurent. ... and the two of us with the ocean as a back drop.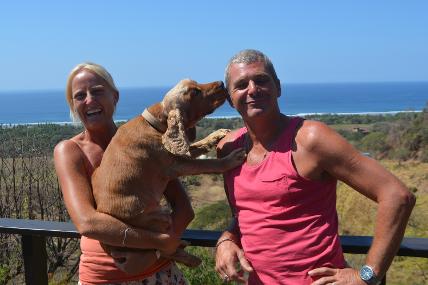 It doesn't look that long but Playa Miguel is 8 km of isolated beach.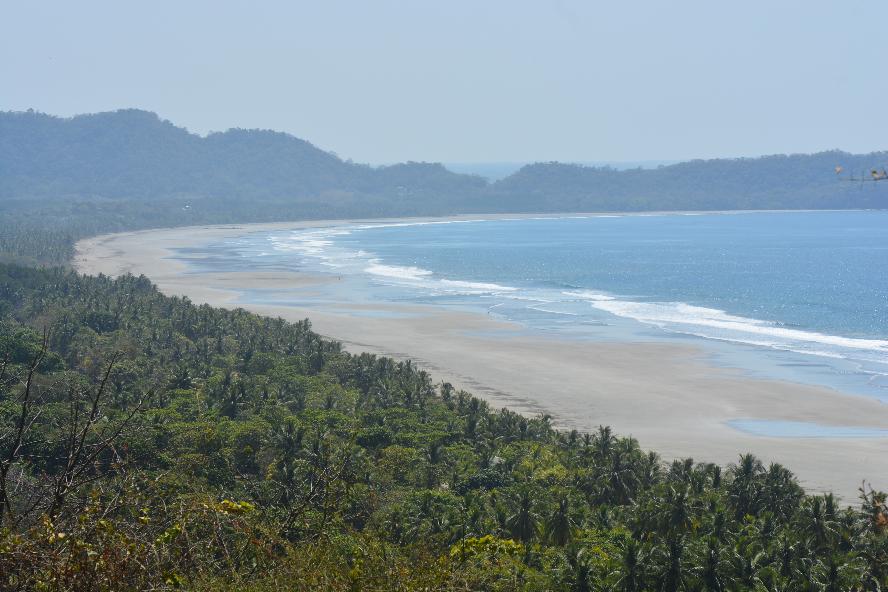 The Golden Silk Cotton Tree and one of the cotton pods.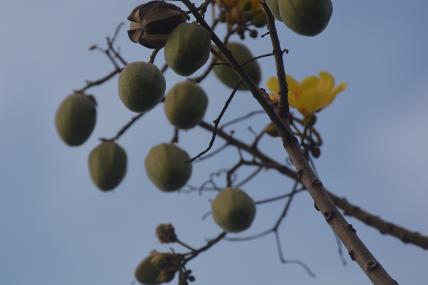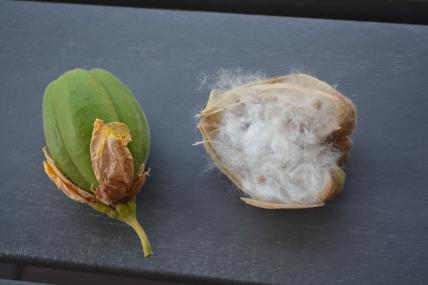 A couple of the colourful trees along our route.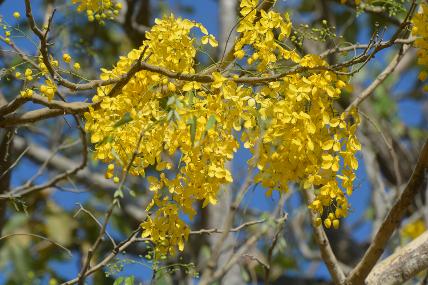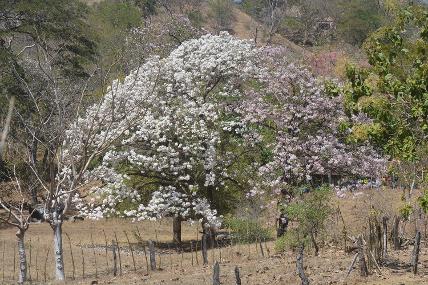 Playa Juanquillal, another beach where the turtles come ashore to lay their eggs.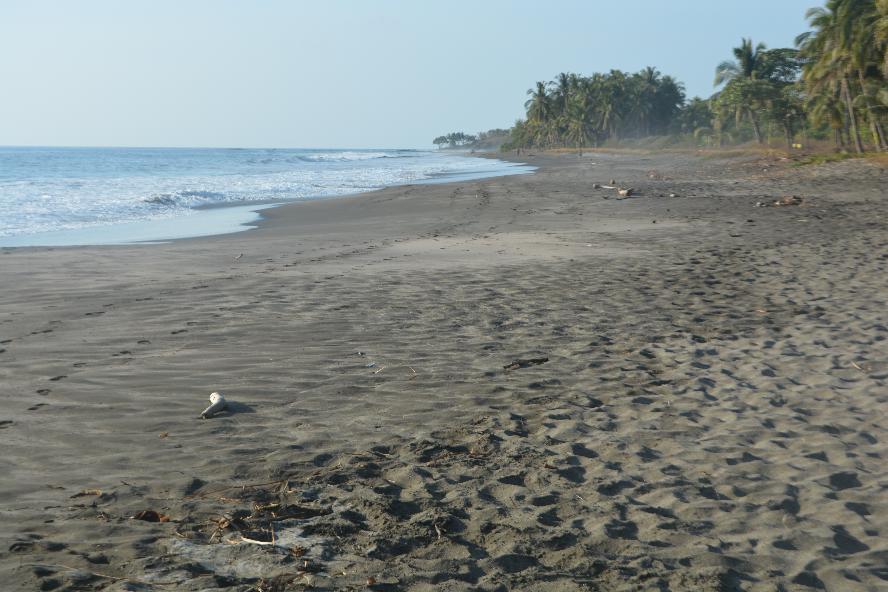 Volunteers at the turtle sanctuary.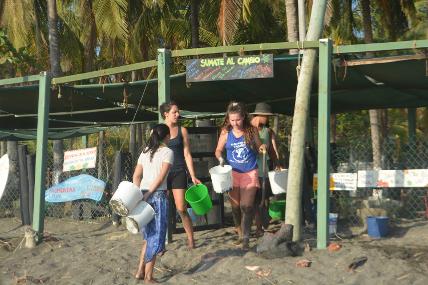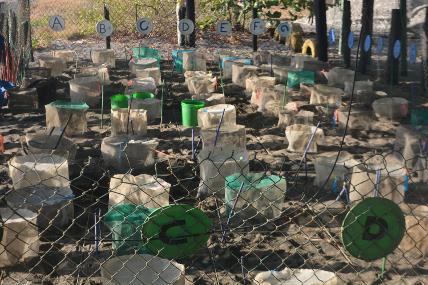 An interesting goat cheese salad. A large blackened tuna steak with mango salsa.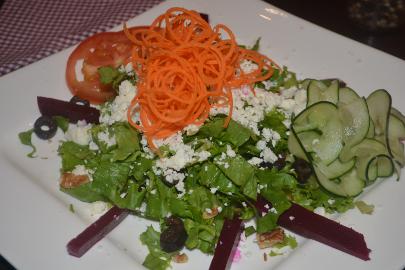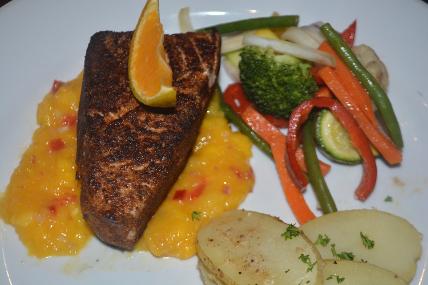 February 19, 2019 - La Colina Pura Vista (Playa San Miguel)

There is not a lot to do at Playa San Miguel and La Colina Pura Vista which means another day of not doing a lot. After a relaxing afternoon, with a number of visits to the pool, we returned for a walk on the beach and a drink at Locos Cocos while watching another vibrant sunset.

We returned to La Colina Pura Vista where we enjoyed yet another dip in the pool before seeing a bit of wildlife, including a huge iguana on the wall and then after dark an armadillo.
For dinner Laurent prepared a delicious lasagna (not exactly French but really good) and a interesting salad for Gayle. For dessert we enjoyed another tasty banana flambe - actually in anticipation of how good we expected dessert to be we each ordered the same dessert, a rarity.
For us this was a perfect vacation day - a great start to the day with a great breakfast, great weather (sun and heat), a great pool, a great walk on the beach, and a great sunset. Perfect.

A nice bowl of fruit to start the day. Hammocks and lounge chairs surround the pool.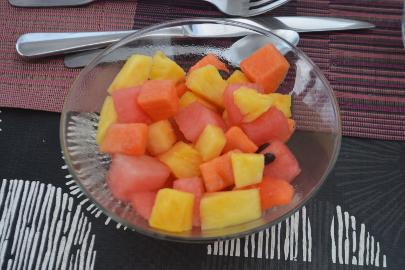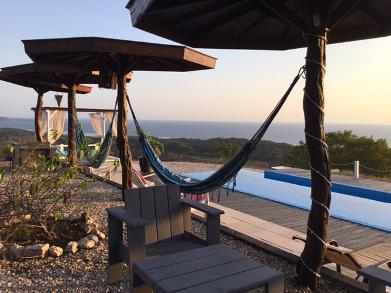 La Colina Pura Vista's perfectly positioned infinity pool.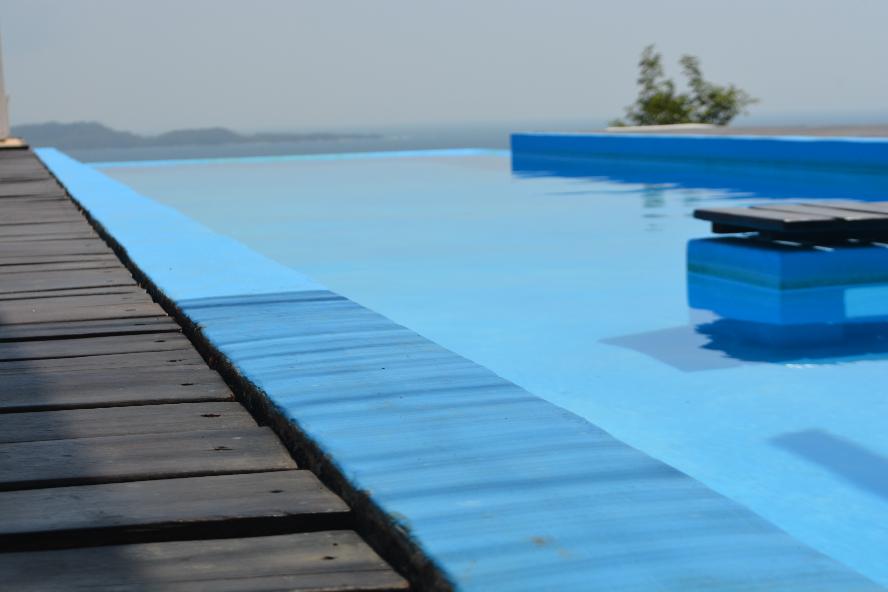 As everywhere there were lots of birds in the area. 'Joe' the 'Cocker' Spaniel.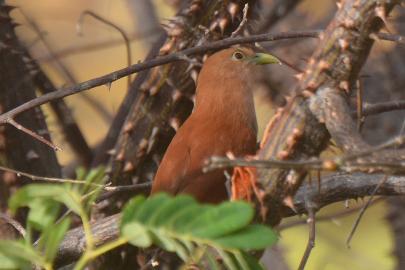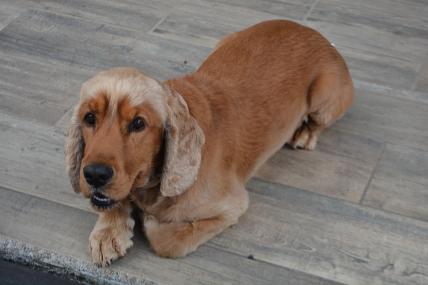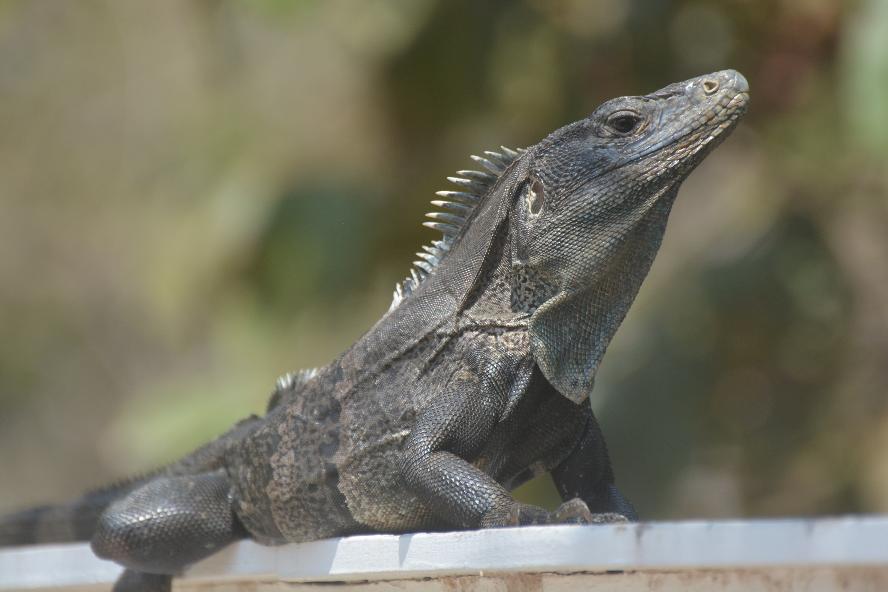 And the resident armadillo.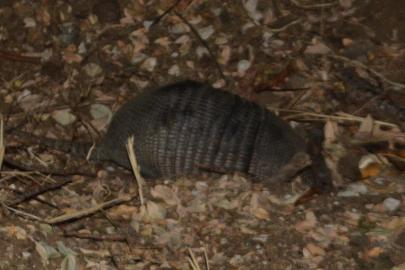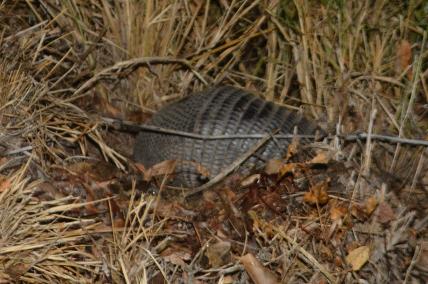 The wide expansive Playa San Miguel and yet another vibrant sunset.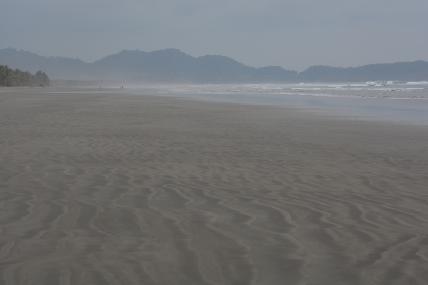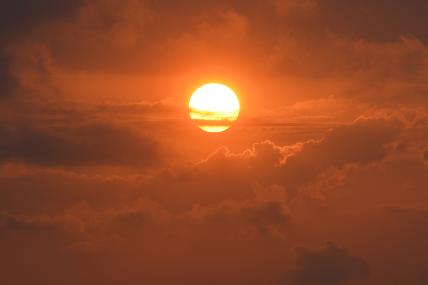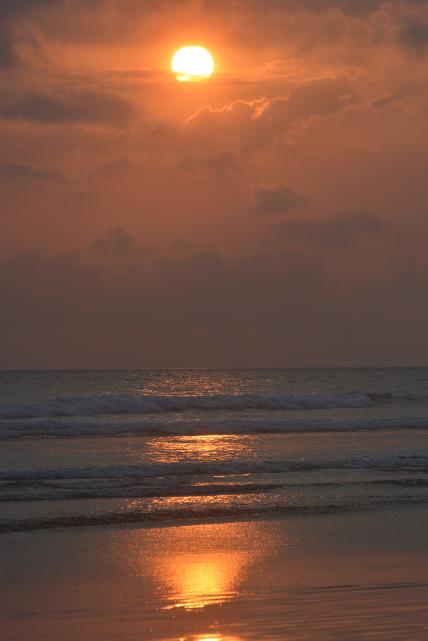 Gayle's salad and my lasagna.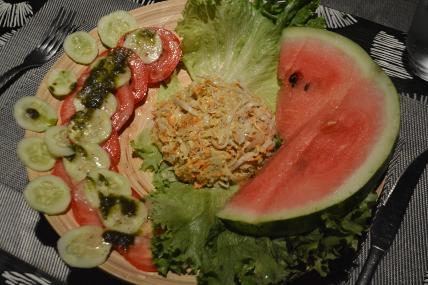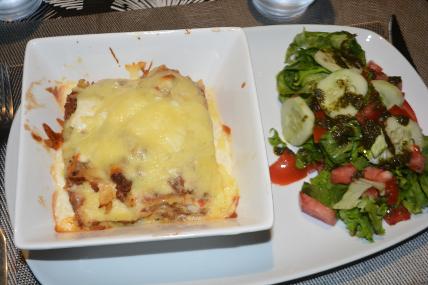 Another bananas flambe - our delicious dessert.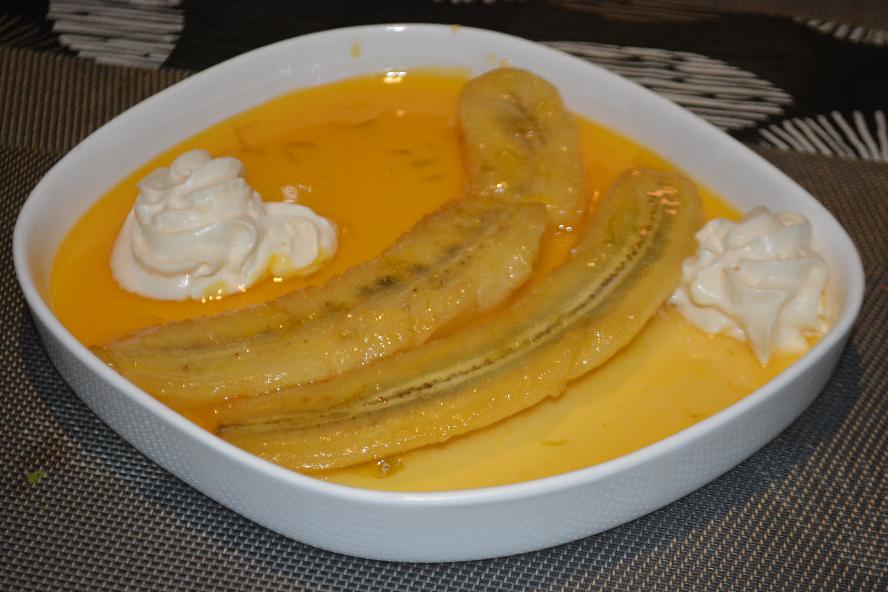 February 18, 2019 - La Colina Pura Vista (Playa San Miguel)

There is not a lot to do at La Colina Pura Vista or Playa San Miguel, which for us is a good thing. We started the day with a tasty breakfast including lots of fresh fruit, fresh juice, delicious freshly baked bread with jams, ham, cheese, some yoghurt and an egg, of course with coffee.
After breakfast we continued our chat with Kai and Nick. For a couple so young they have enjoyed a wealth of experiences. This trip was their honeymoon - six weeks in Costa Rica from the south (Osa) to the north soon coming to an end, after which they are off to Cuba for three weeks - renting a car, staying in home stays etc. A very nice couple.
We spent the rest of the morning and afternoon relaxing on the property, enjoying a number of swims. Laurent and Corrine left early afternoon to visit friends in Samara. Late afternoon we went down to Playa San Miguel to check out the beach and find a recommended restaurant - Locos Cocos. The beach actually stretches for eight kms with hardly a sole on it. A beautiful wide expansive beach, although like others it has waves and undertows / rip currents that precluded swimming for us.

We easily found Locos Cocos, Henner, the guy in charge and his dog Peluche. This is not a Michelin star establishment - the kitchen is in a shipping container - but provides good food in a spectacular setting just off the beach, with views across the water and wonderful sunsets. The ambience is very informal and friendly. I started with the ceviche, served with plantain chips after which I had squid / calamari in garlic and oil served with a pineapple chutney, rice and a nice selection of vegetables. Gayle had a vegetarian Quesadilla with french fries. Then for dessert we shared a pineapple flambe with vanilla ice cream and chocolate sauce. A pineapple smoothie and a couple of beers made for an enjoyable meal in a wonderful setting

Freshly baked French bread, jams, fruit, fresh juice, plus yoghurt, eggs, ham and cheese for breakfast.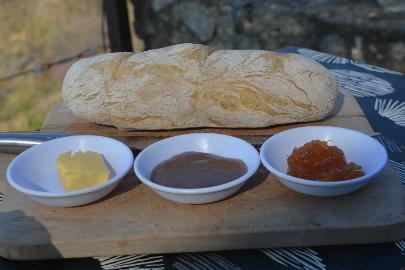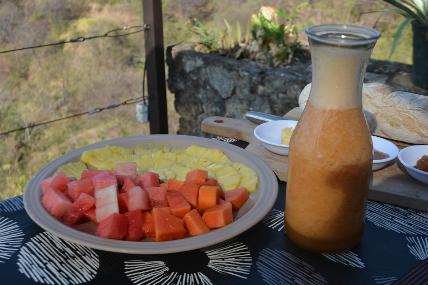 If you put a swing by a bar someone is bound to use it.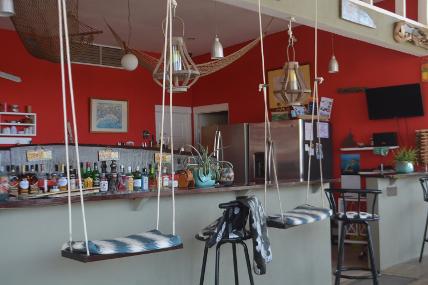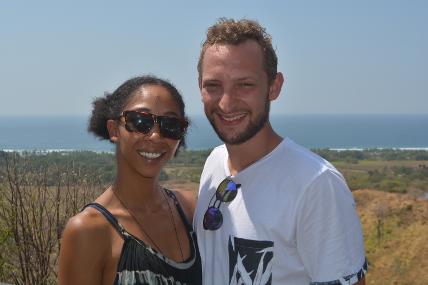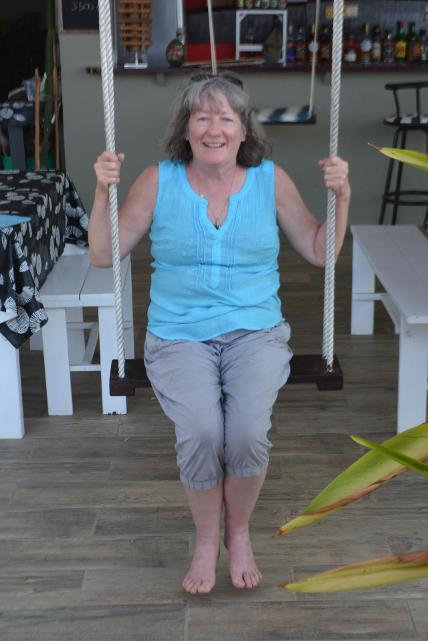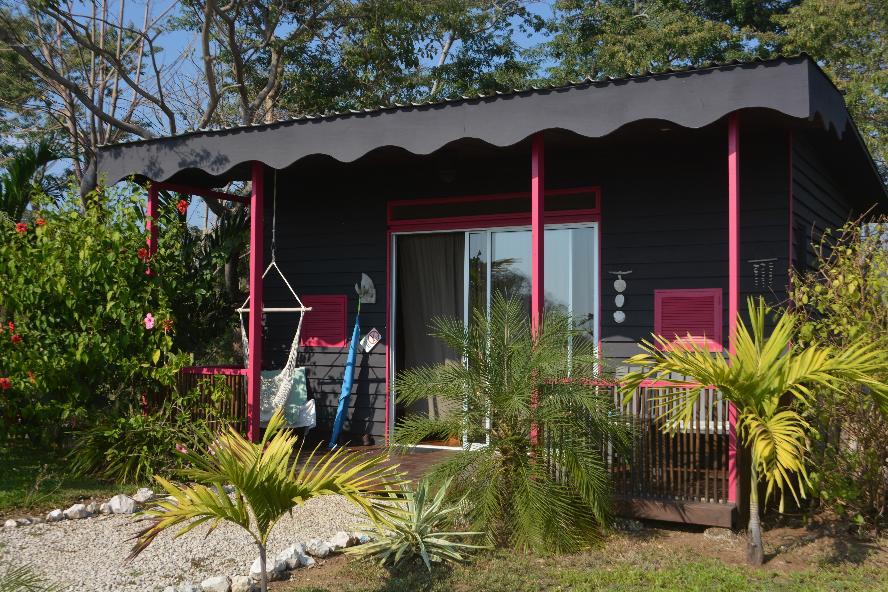 A comfortable shaded lounge chair and a long pool with a great view to the ocean.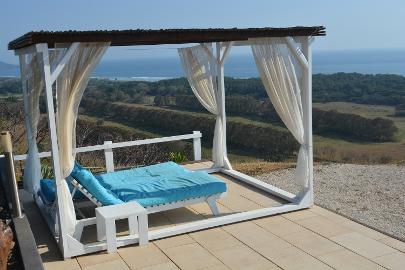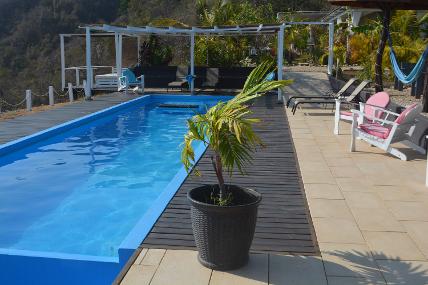 Happy happy on Playa San Miguel.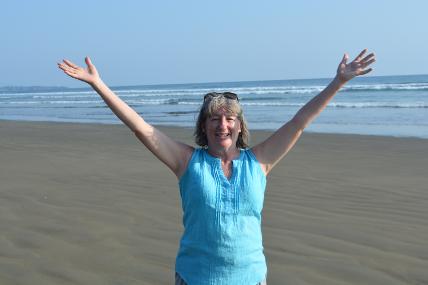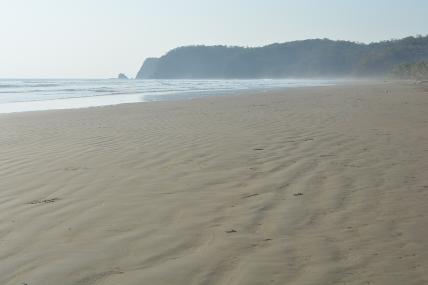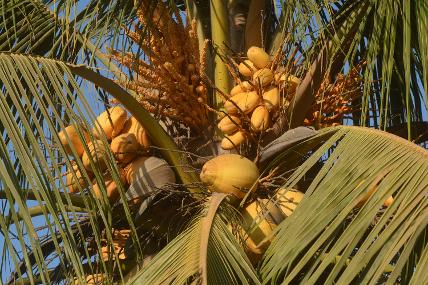 We will always take ambiance, view and sunset over fine white linen table clothes.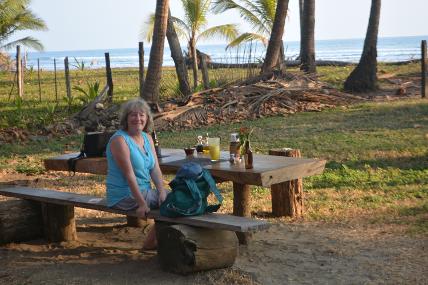 Fresh pineapple juice at sunset. Locos Cocos kitchen - in a shipping container.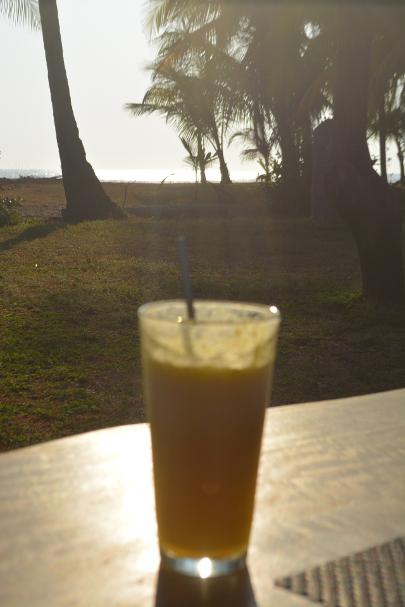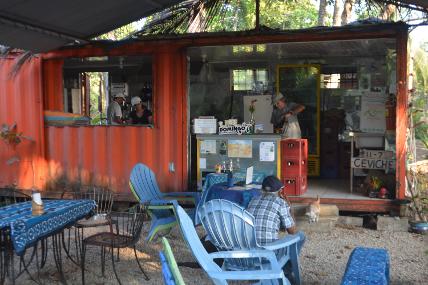 The setting sun touching the sea.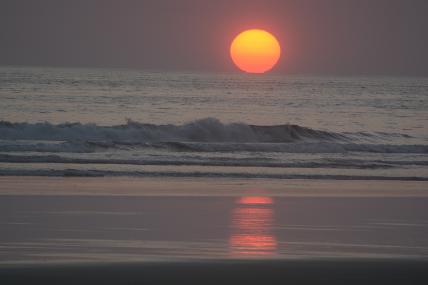 Playa San Miguel certainly challenges for the best sunsets.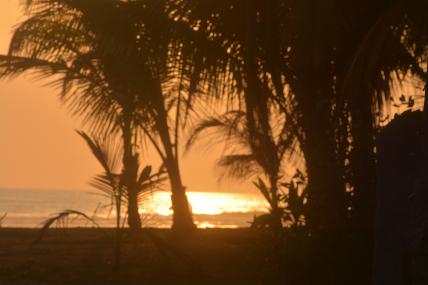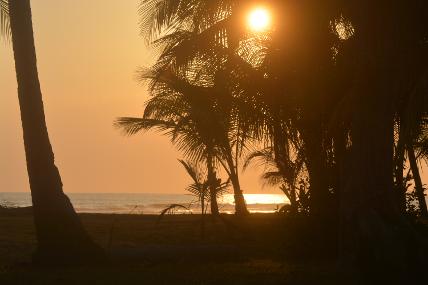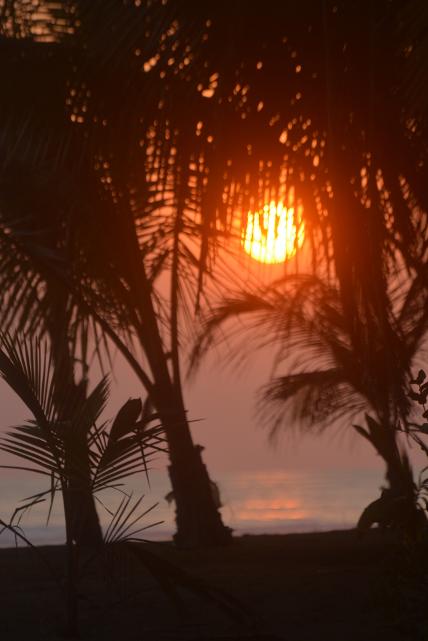 Henner ... and his dog Peluche (teddy bear)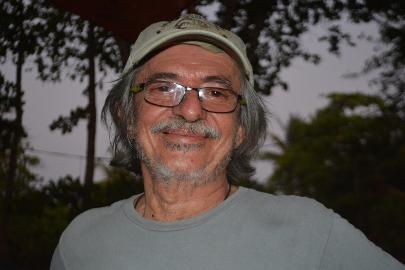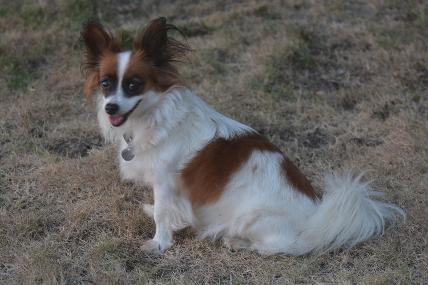 Dinner - cheviche with plantains, quesidillas, squid with pineapple chutney, rice and and a salad, and pineapple flambe with ice cream and chocolate drizzle.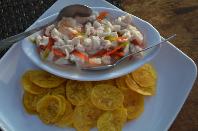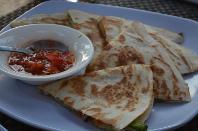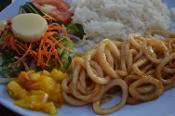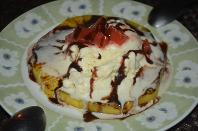 Feb 17, 2019 - Hotel Luna Azul to La Colina Pura Vista (Playa San Miguel)

Another moving day. After breakfast we packed up and left Hotel Luna Azul for a two to three hour drive, at a maps.google average speed of only 31 kph due to the condition of the gravel roads. This assumes no stops which of course is never the case with photos, monkeys, a water crossing, Samara and a direction oops near Punta Islata.
Shortly after leaving we noticed someone stopped - our first monkey encounter of the day. Then approx. 10 km south of Samara we encountered some water. We saw a taxi go through so figured there shouldn't really be much problem with our high-clearance vehicle, and there wasn't. However another couple with a only a car decided otherwise, no doubt frustrating after having driven 25 km on these dirt roads just to turn around.
We stopped for a short time in Samara, checking out the beach and buying a few supplies. It was then on our way past Playa Carillo and further south. Unfortunately we missed a sign to Punta Islita which took us a bit out of our way but the silver lining was another troop of monkeys, these quite visible in a tree sparse of leaves. Back on the right road we continued south past a number of nice looking beaches to Playa San Miguel, a gorgeous isolated barren 8 km beach and La Colina Pura Vista, high up on a hill overlooking the coastline.
La Colina Pura Vista is small with only two cabinas, run by a French couple - Corrine and Laurent. We enjoyed the pool and thanks to Corinne's sharp eye saw a few white-faced Capuchin monkeys, a coatimundi and an armadillo. After a refreshing and relaxing dip in the infinity pool we ate dinner prepared by Laurent. The meal tonight was a mushroom (and chicken for me and other guests) risotto, with tiramisu (with a cocoa topping) and a half baked chocolate 'bomb' cake for dessert.

The others staying were a young British couple, Nick and Kai, nearing the end of a six-week honeymoon in Costa Rica, with another three weeks in Cuba to follow. We had a great chat with them about our respective travels.
As soon as I stepped out the door to head up to breakfast I was greeted by this HUGE lizard on the tree right outside our room.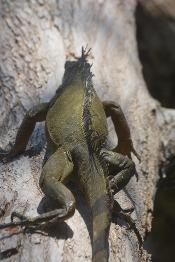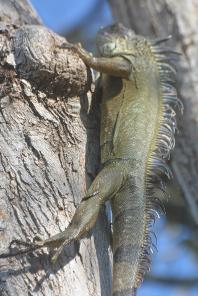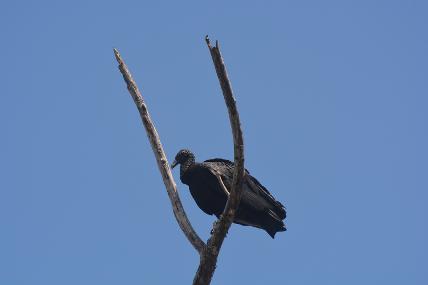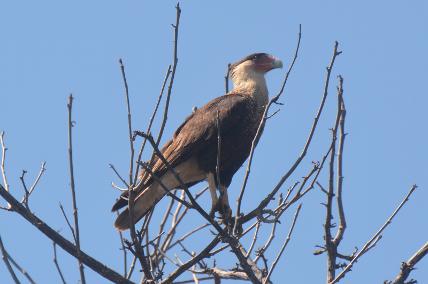 ... and it appears they get along - both the vulture and the hawk sharing a branch.
Oobla-dee and Oo-bla da guarding over Gayle. Colourful flowers around the lodge.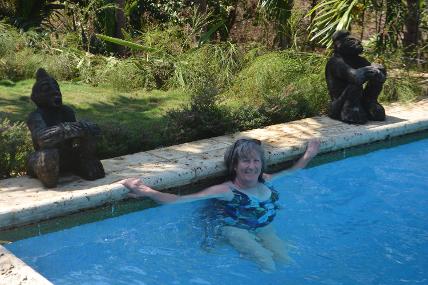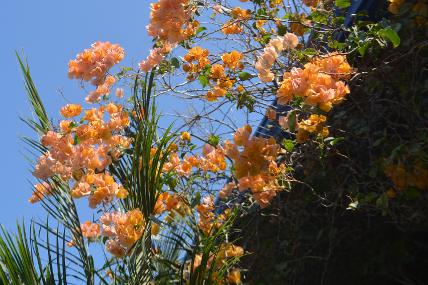 Highway 160 - well not exactly a highway. Note the speed hump on the right, somewhat redundant given the dirt road already seriously limits one's speed.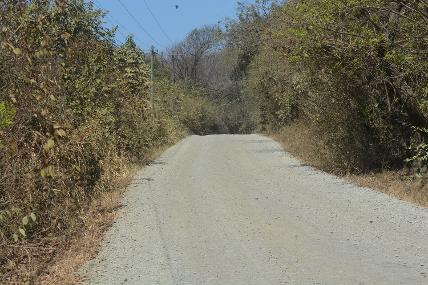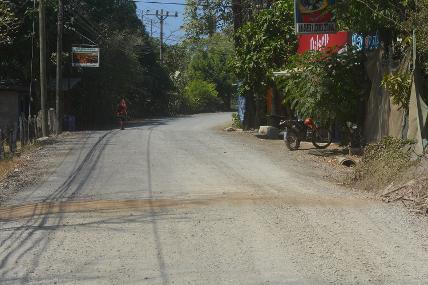 Every once in a while we came across these flowering trees.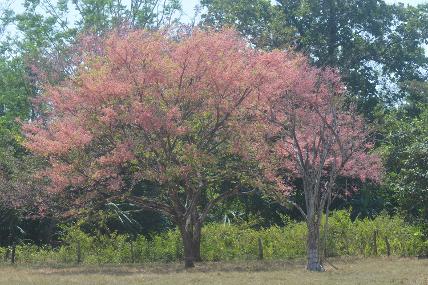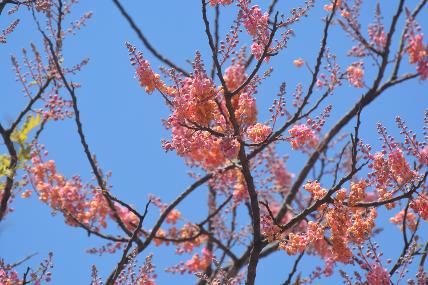 The first monkeys of the day, a few kms after leaving Playa Azul.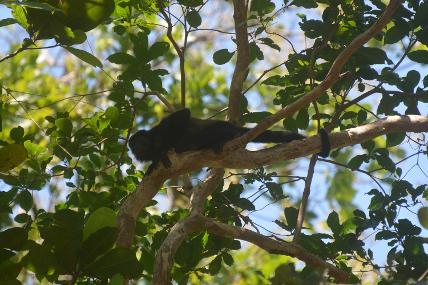 The one questionable crossing, perhaps 10 km north of Samara.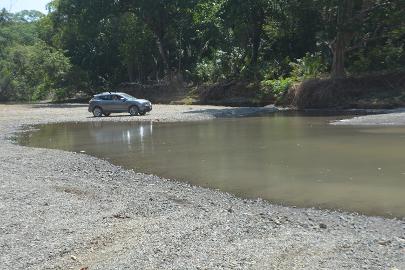 Playa Samara ... and Playa Carillo, a few kms south.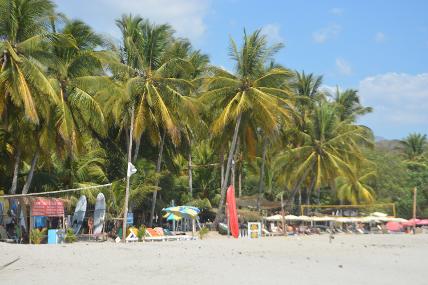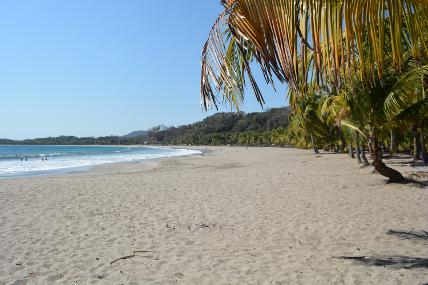 Monkeys, monkeys and more monkeys. Note the baby on the the back of the monkey on the right.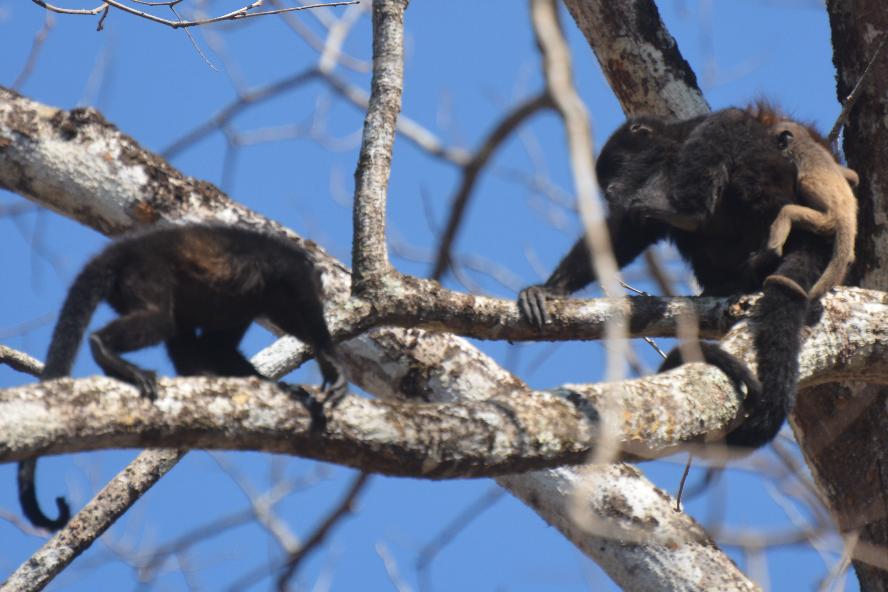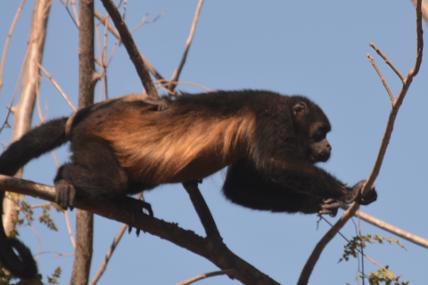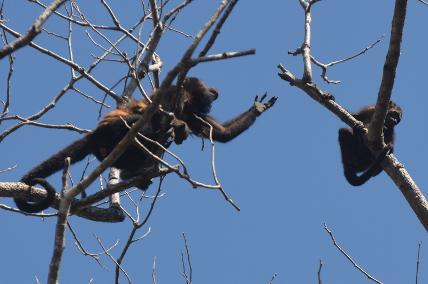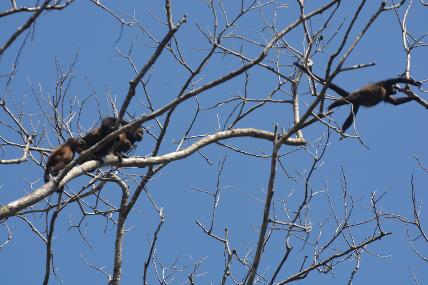 The view from La Colina Pura Vista across San Miguel beach to the ocean.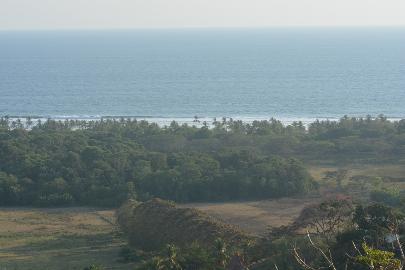 Another beach along our drive.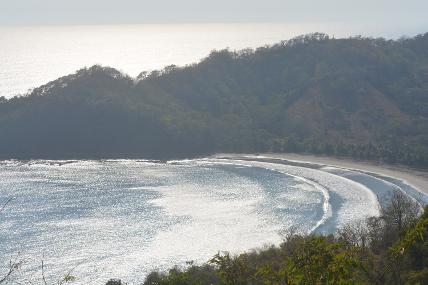 Not great photos but a white-faced Capuchin monkey (otherwise we have only heard and seen howlers) and a coatimundi.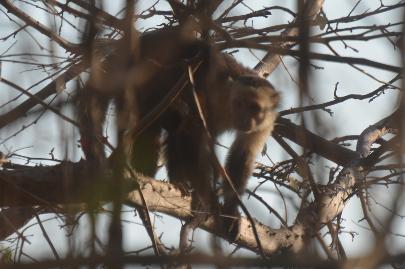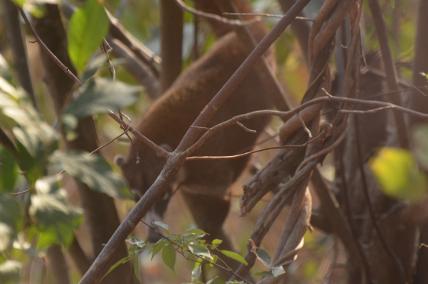 Ho hum, another stunning sunset. Chicken (none for Gayle) and mushroom risotto.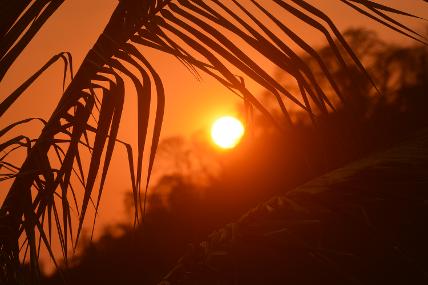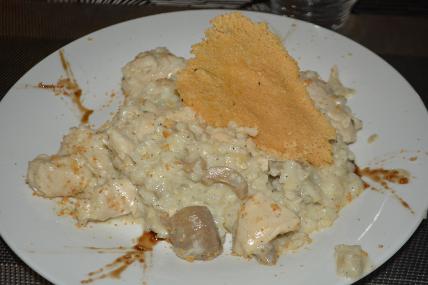 Tiramasu, with a cocoa topping ... ... and a half baked chocolate bomb.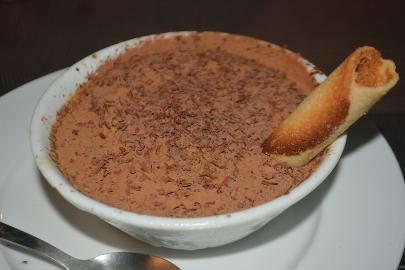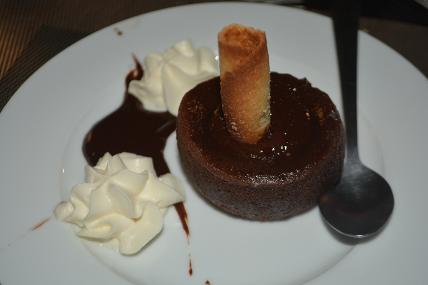 February 16, 2019 - Hotel Luna Azul (Playa Luna Azul) and Playa Ostional

Today too was a pretty much stay at the hotel , relaxing day, although we did go to Playa Ostional. The beach of Ostional is the location for a rarely-seen biological wonder. In rainy season (September - not now) the week before new moon, hundreds - and sometimes hundreds of thousand sea turtles come to one specific mile of beach at Ostional to dig their eggs into the black, volcanic sand. Turtles nest at Ostional year round, but peak time is during the rainy season. From August through December arribadas (when the turtles come ashore en mass to lay their eggs) occur regularly once, sometimes even twice a month, and the numbers of nesting females are in the range of hundreds of thousands as opposed to tens of thousands for the dry season months. Usually the arribadas occur during the darkest nights: a few days before the new moon, when the majority of turtles arrive between 8 pm and 4 am.
Early afternoon of the dry season we saw, as expected, count em ... zero (0) turtles. We did however see plenty of pelicans diving for fish along with a flock that flew overhead. The ocean in this area is generally too risky to swim in due to the rip currents., and being hot we returned to Luna Azul and the pool.
We enjoyed a wonderful dinner - plump gnocchi for Gayle, a wonderful beef ternderloin in a delicious pepper sauce for me and then a fantastic dessert - bananas flambe with ice cream in an amazingly tasty sauce. Excellente.
The parrot returned (well we really don't know if it is the same parrot) for a better photo.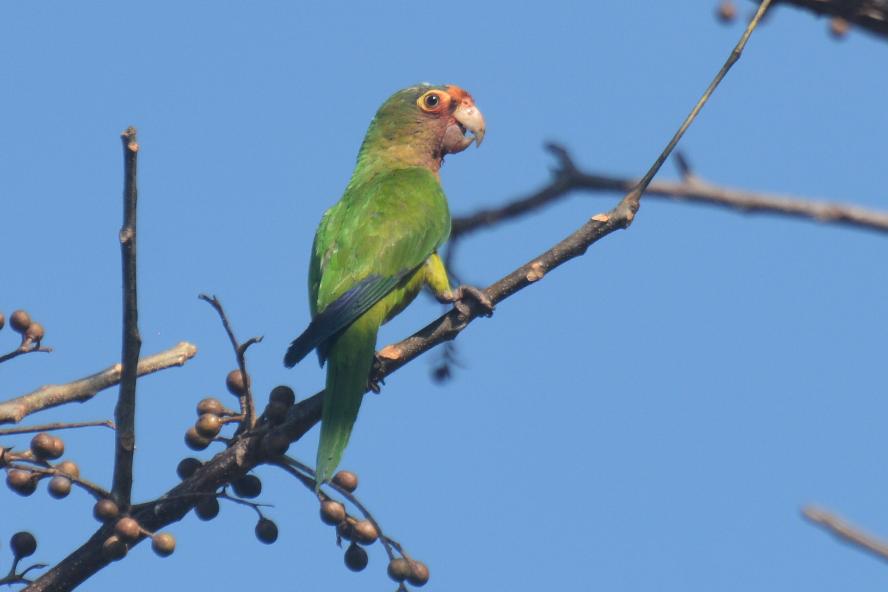 The Luna Azul pool ... being guarded by Oobla-dee and Oobla-da.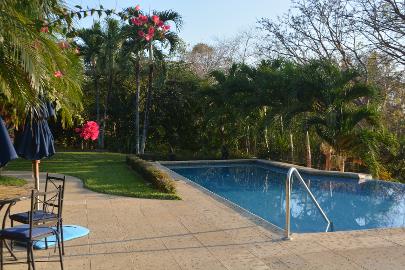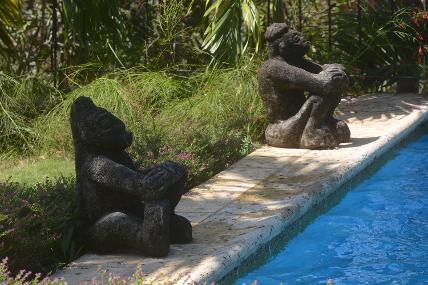 Pelicans 'fishing' at Playa Ostional.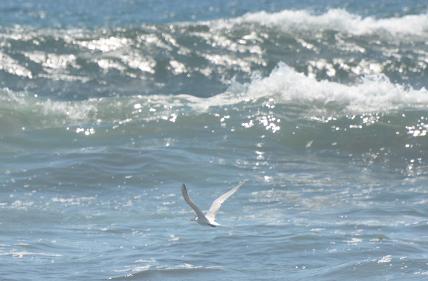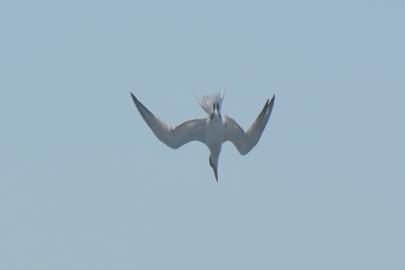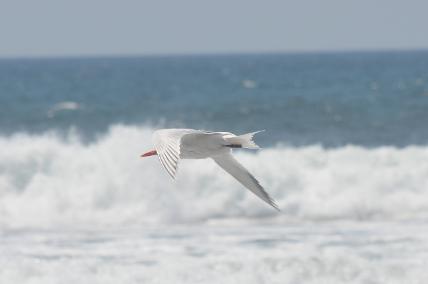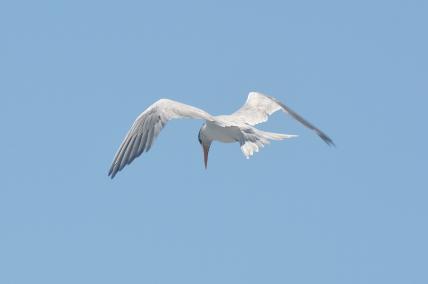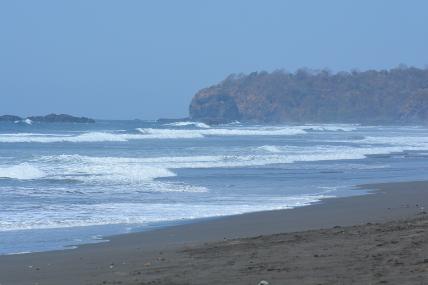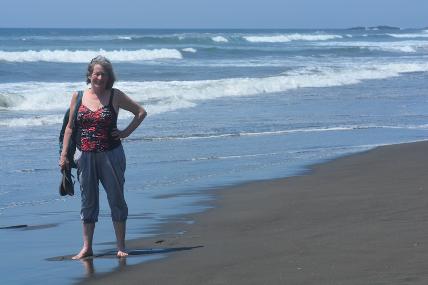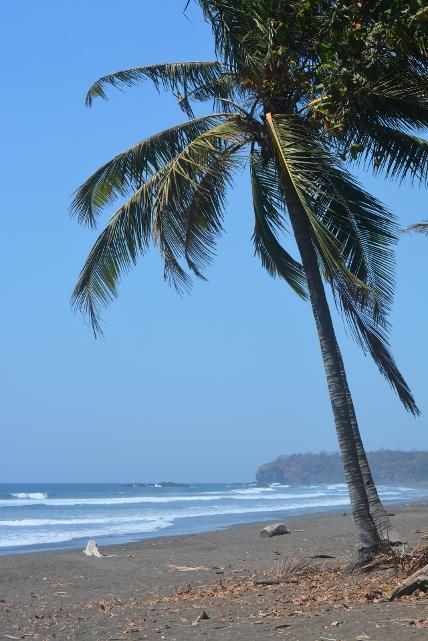 And then a flock of pelicans flew overhead.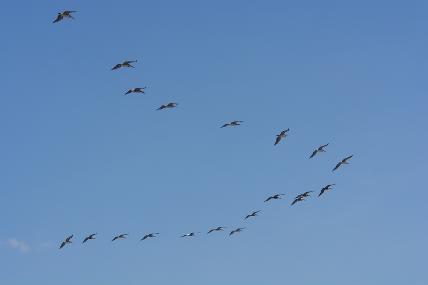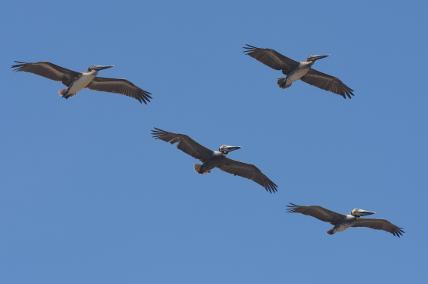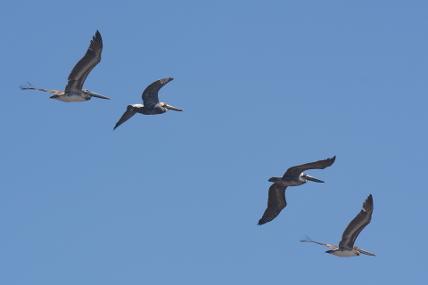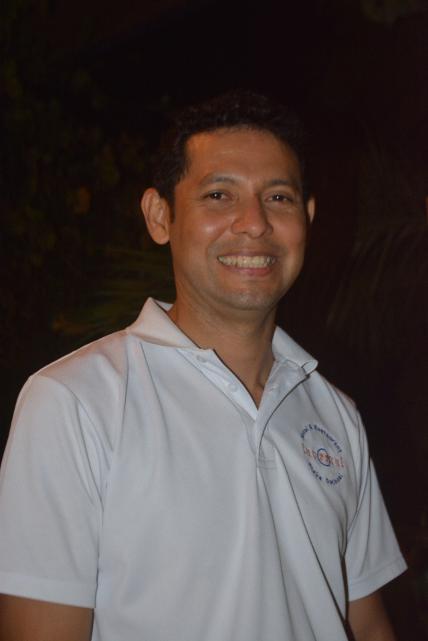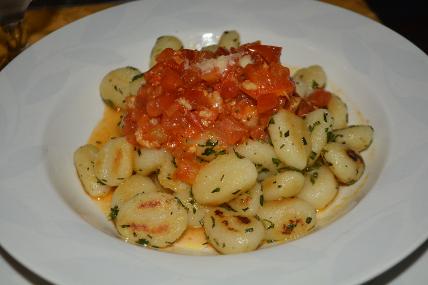 A simply delicious beef tenderloin with a wonderful pepper sauce - superb!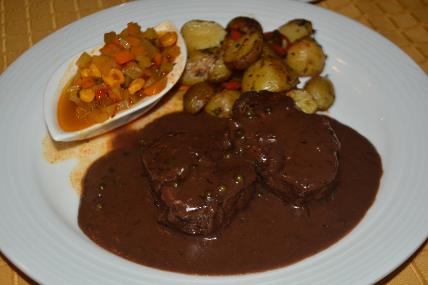 Simple but perhaps one of the best tastiest desserts we have ever had - a perfect bananas flambe.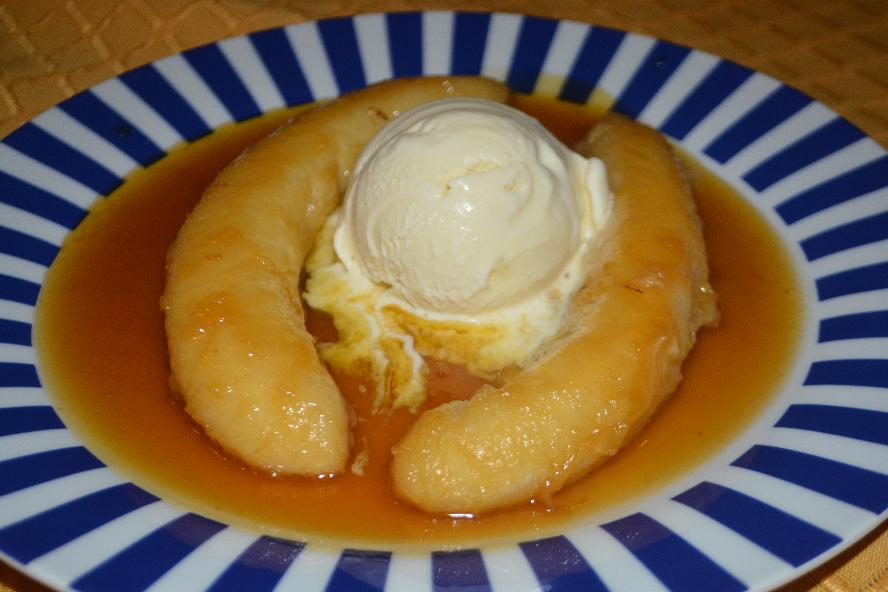 February 15, 2019 - Hotel Luna Azul (Playa Luna Azul)

Today was a very relaxing (aka lazy) day. We spent all day at Hotel Luna Azul, starting with a nice breakfast, time by the pool, work on the travel blog, more time at the pool, an afternoon drink, more time at the pool, a nap in the lounge chair, and dinner.
Gayle enjoyed the Fettuccini Primavera and I a delicious serving of grilled shrimp (camarones) for dinner after which we split a Cafe Rica Luna Azul. a coffee infused ice cream smoothie - very tasty.
And that's it. Perhaps the shortest daily report but we didn't really do much other than enjoy another perfect day of weather and lots of relaxation. Life is very good
Shrubs and flowers on our walk from our room to the pool / restaurant.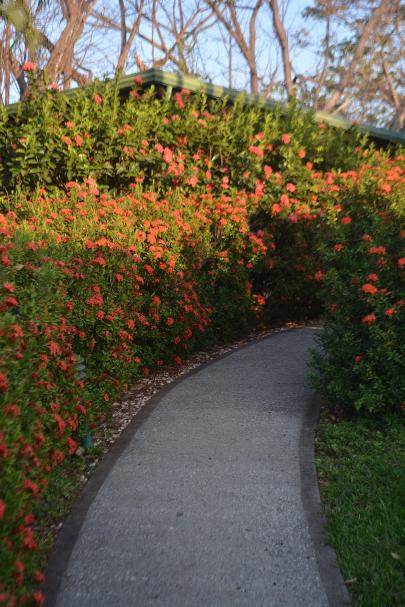 Tough to get a good photo of a parrot but here is at least something.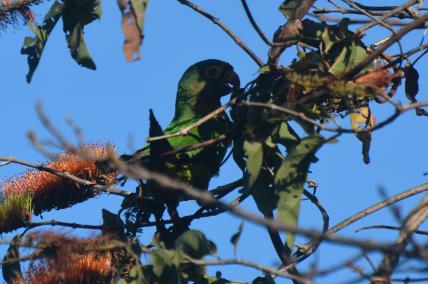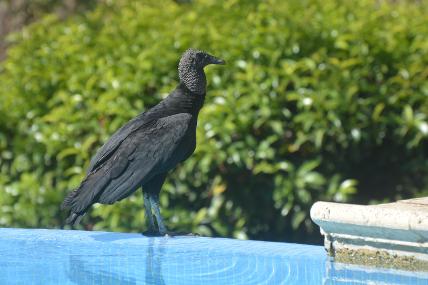 Our balcony looking out across the countryside. The cottages and grounds of Luna Azul.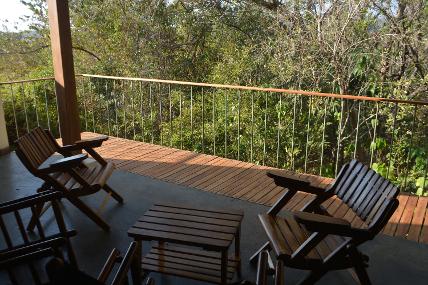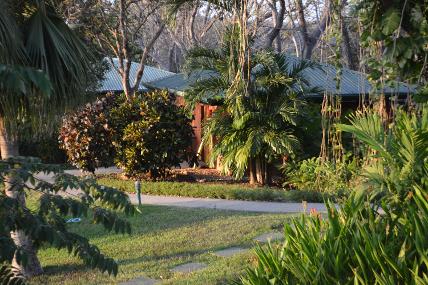 Lush tropical vegetation around the restaurant and pool.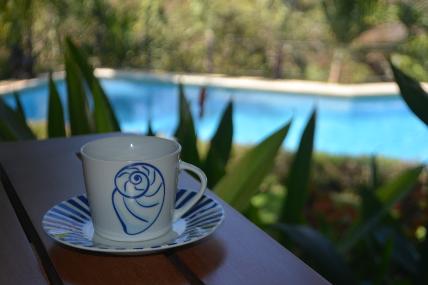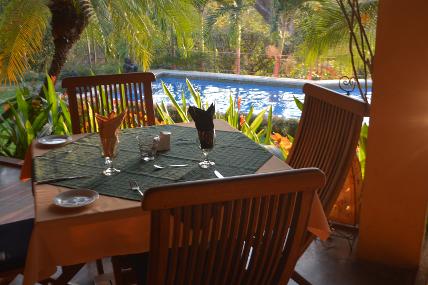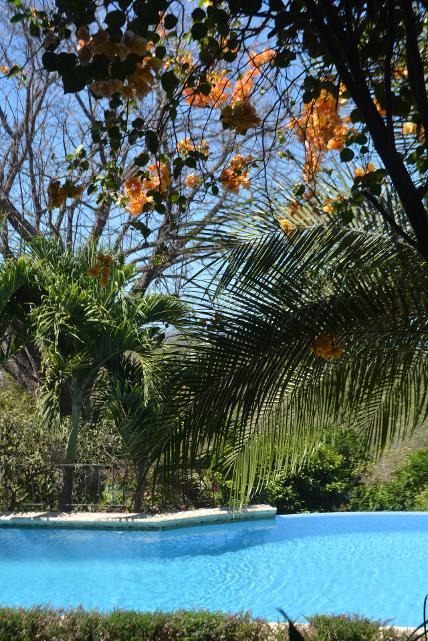 Colourful flowers ... .. and very happy to be cooling off in the pool.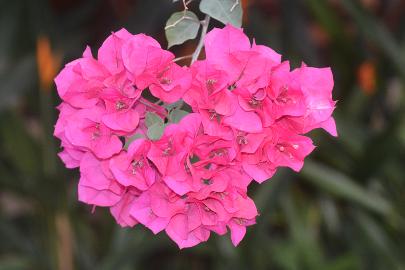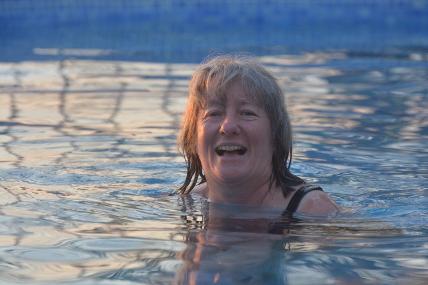 The sunsets just keep getting better.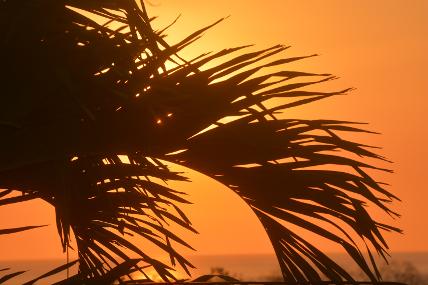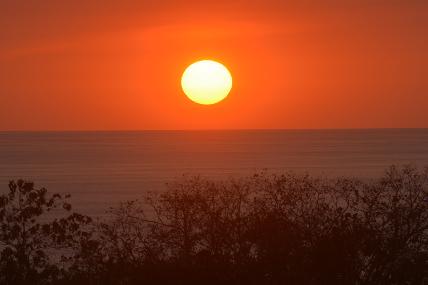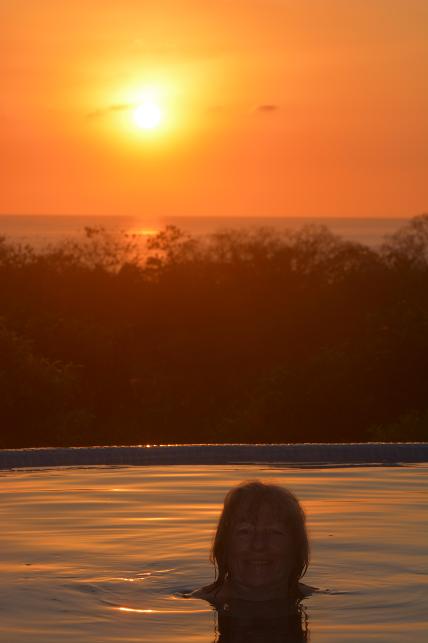 Our friendly pool vulture and a toad near the pool at dinner - wildlife everywhere.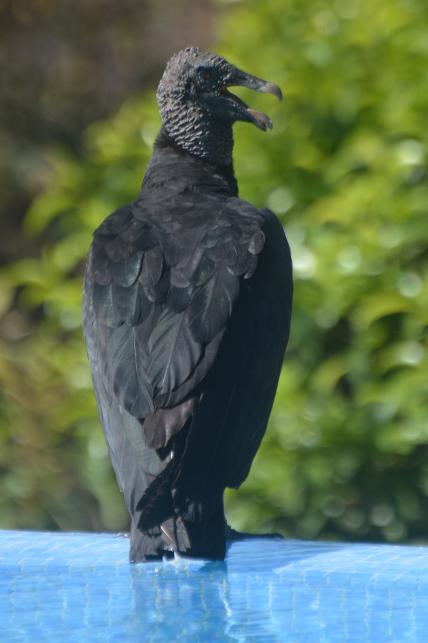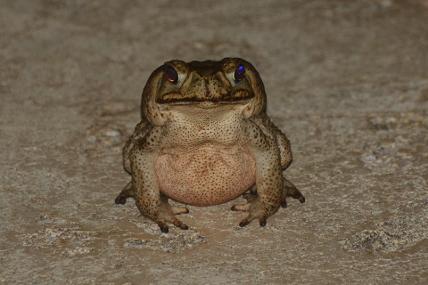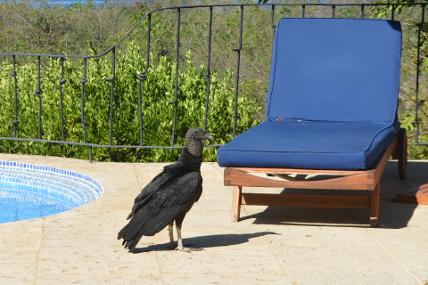 Tonight's menu. The Cafe Rica Luna Azul dessert.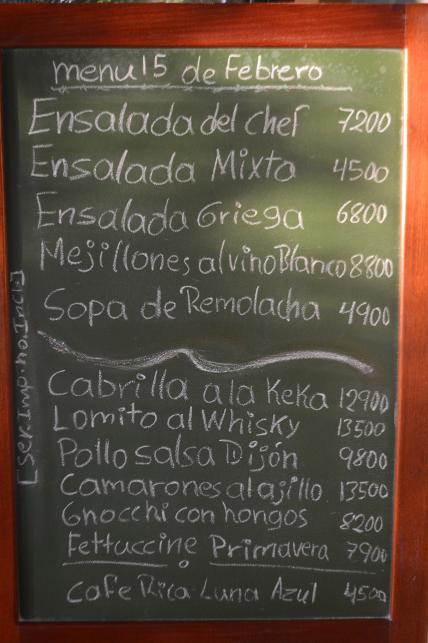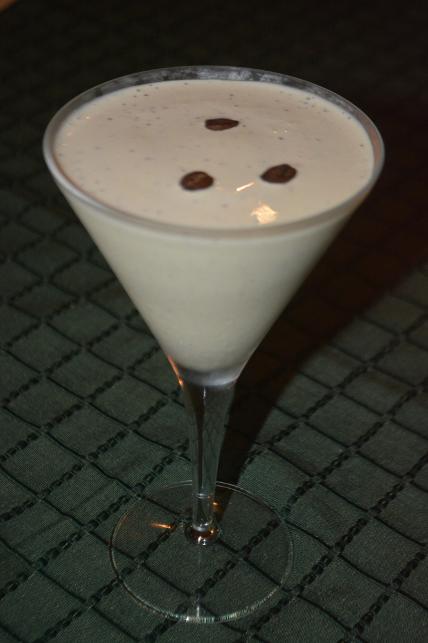 Fettuccine Primavera. Camarones (shrimp) al ajillo.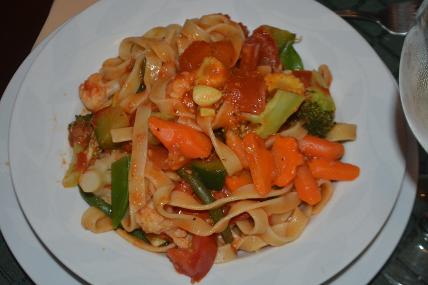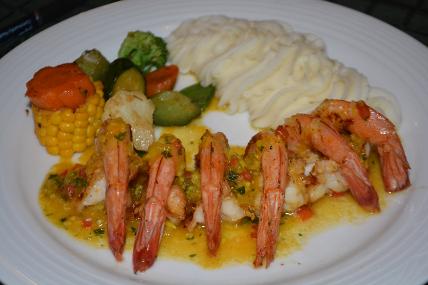 Feb 14, 2019 - Casitas Tenorio (Bijagua) to Hotel Luna Azul (Playa Luna Azul)

We decided to take the 7:00 am farm tour to start the day, and very glad we did. Jonathan took us a short way up the hill to Casitas Tenorio's farm where we saw the rabbits (and bunnies), guinea pigs, horse, calf, cow (that we all had the opportunity to milk), sheep and chickens (who produce the fresh eggs we enjoy at breakfast). A very worth-while tour for those who love farm animals. And as a bonus we came across a cool lizard on our way back.
We then saw Wilmer placing the day's bananas in the trees, an invitation for the birds to come and enjoy their breakfast as we ate ours - today it was pancakes.

Casitas Tenorio is owned and run by Donald Varela Soto and Pip Kelly Varela, a Costa Rican / Australian couple. Casitas Tenorio B&B is more than just a place to stay – it's an invitation to experience Costa Rican life as part of the community. It is a working dairy farm, hence the farm tour where they grow their own food and are working to regenerate the forest on areas of the farm. Casitas Tenorio B&B is a perfect destination for anyone who wants an insight into rural living in Costa Rica. We saw lots of birds, flora and fauna – on site, and in the surrounding area. Although we didn't, as it is a few hours hike which I concluded my knees likely could not handle Casitas Tenorio is nearby to Rio Celeste ( a river and lake known for its uniquely coloured blue waters) located in the Volcano Tenorio National Park. As documented yesterday our opportunity to visit and deliver materials to the children enhanced our experience. Where Pippa is a volunteer in the school and community, knowing everyone at the school, it was wonderful to see her interact with the teachers and children first hand..
We left on what was to be a lengthy drive back to Liberia and then out to Guanacaste province and the coast of the Nicoya Peninsula. The last hour plus was on a gravel road where one could not drive any more than 30 kph to 40 kph, bumping along all the way.