Memories of Turkey:
Less than a week in Turkey but still lots of memories:
the elderly women in Kirazli
watching Suzan bake Gozleme bread and stopping for boreks and tea with Muserref
the lived in feel of the farming community of Kirazli
the friendliness of the villagers - lots of waves and smiles
the modern infrastructure - roads, buildings, resorts etc.
Ephesus, in particular the Celsus library
the call to prayer
the oasis that was Tas Otel and our really nice cottage
the friendly cats of Tas Otel
tea and cake each afternoon at Tas Otel
the pedestrian streets of Alacati
the market ladies of Yagcilar
the restaurant gardens and food of Papazz and Asma Yapragi
the concept of choosing our meal from the dishes in the kitchen at Asma Yapragi
the street dogs and cats of Alacati
meeting and chatting with Uktu
Zeynep and the staff at Tas Otel and Mehmet at Ephesus Lodge
our struggles trying to find Tas Otel
the ying (the suburban outskirts) and the yang (the pedestrianized cobblestone historical town) of Alacati
the impressive selection of Turkish pottery in Selcuk
Expenses (based on average exchange rate 1 euro = $1.52 Cdn):
Here are the costs of the Turkey portion of the trip
$ 30 ferries (50% of Chios to Cesme)
$ 862 lodging (95 euros or $144 per night)
$ 255 food (28 euros or $43 per day - dinner including wine)
$ 410 car rental ($362 or $60 per day for the 6 days we had a vehicle) and fuel ($49)
$ 206 miscellaneous ($35) and entrance ($171 - Ephesus including guide)
$ 1,763 for 6 days
The average cost per day (ferry, lodging, food, entrances, vehicle and miscellaneous) was $293, essentially the same as the $285 per day in Greece.
Food and wine, keeping in mind all breakfasts were included in the lodging cost, was very inexpensive - only 28 euros ($43) on average per day. We should probably mention that neither of us were feeling fantastic and this far into the trip we were not as hungry as earlier on, tending to order less. This reflect the cost of dinners, generally including a glass of house wine each. Note all food costs include tax and tips. As one can no doubt assess from the food photos we continued to eat very well.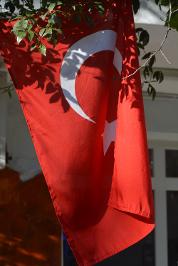 Lodging ranged from a low of 85 euros to a high of 105 euros a night. Both included breakfast. Here is a list of where we stayed, the amount we paid and the website.
105 euros Tas Otel Alacati www.tasotel.com/en
85 euros Ephesus Lodge Kirazli www.ephesuslodge.com
90 euros Moxy Hotel Vienna www.marriott.com/hotels/travel/vieox-moxy-vienna-airport/
As is our practice we communicate and book directly with each place, and in doing save the establishment the booking commission and are are known to the staff when we arrive.
October 09 / 10, 2019 - Kirazli to Izmir to Istanbul to Vienna to Montreal to Halifax
Other than a long day and a half of travel our trip comes to an end today - four plus weeks in Greece and now six days in Turkey. We had our last breakfast (love those puffy breads), completed our final packing and were off on a one hour drive to Izmir's airport. We arrived at 10:00 am efficiently met our car rental guys, just as planned.
We then flew Turkish Airlines to Istanbul's new airport where we had a (planned) six hour layover. We used Aeroplan points to book business class which, beyond the comfort on the flights provided us access to the Business Class lounge. We chose a routing (through Vienna) that gave us significant time enjoying the ambiance, food and drink provided in the lounge. Perhaps not quite as impressive as the lounge at the 'old' Istanbul airport it was still well worth the opportunity.
Upon entering we were welcomed by Linda and Bill, sign with our names in hand as we had welcomed them in Astypalea. Our 'peeps' who had just spent a couple of nights in Istanbul arrived a couple of hours before us. We spent the afternoon into the early evening chatting, eating and laughing, catching up with each other on our respective experiences since going our own ways after Koufonissi. While Bill's daily (and timely) E-blogs kept us well informed the tardiness of posting updates to our travel blog (not my fault photos take so long to upload) provided them with less information. We had communicated on Messenger a number of photos (particularly of the spectacular sunsets) and some of our experiences but there was so much more to share.
We eventually boarded our 8:00 pm flight to Vienna, arriving shortly after 9:00 pm local time (there is a one hour time difference). Being booked on an Austrian flight the next morning we had to overnight in Vienna. We chose an airport hotel within walking distance - well at least for those fit Austrians. If only I had taken a cart. Anyway the directions through tunnels etc. were quite good such that we easily found the Moxy Hotel. A quick check in and we were good. A relatively small room but clean and quiet at a decent price for an airport within walking distance of the terminal.
We were up pretty early, returning to the terminal, checking in and heading to the business class lounge. While ok it was not nearly the standard of the lounge in Istanbul in terms of ambiance or food (really surprising there was no juice during the breakfast hours) - but lots of coffee.
The Austrian business class flight was top-notch. Comfortable reclining seats (not those Air Canada pods), great food, excellent wine and drink and very friendly and helpful service. We were truly pampered. In spite of Gayle being randomly selected (or so we were told) for a secondary customs check (all was good) we made our connection and arrived in Halifax as scheduled, pretty tired but glad to be home.
So thankful to have a morning cup of coffee and dream about returning to Turkey (and Greece).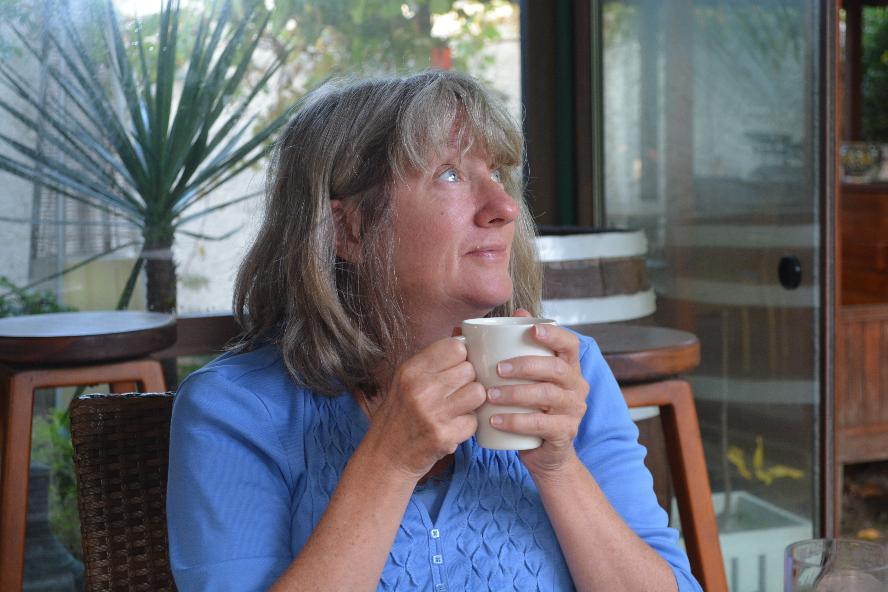 Mehmet, our host at Ephesus Lodge. A Turkish painted bell with the Greek 'evil' eye.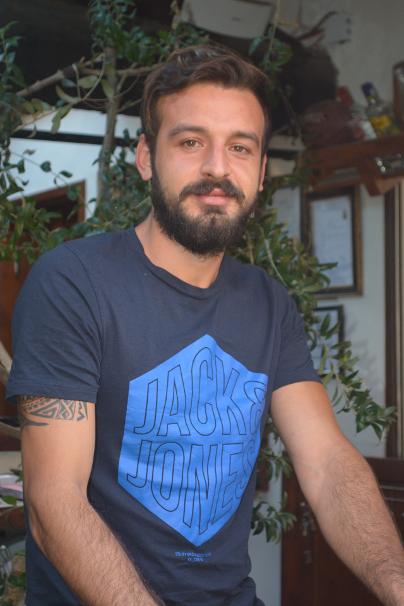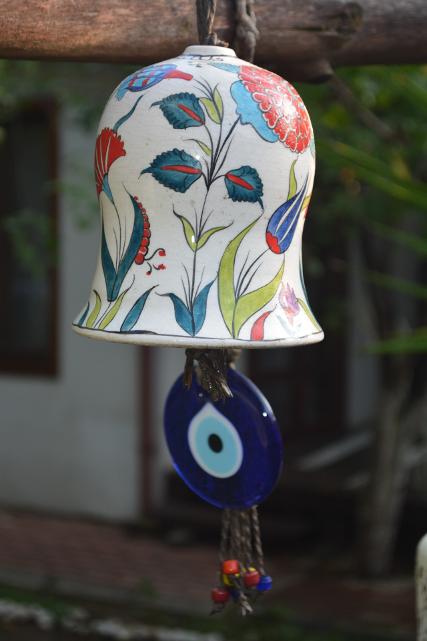 Stuffed grape leaves and a chickpea / tomato / pepper concoction, just a couple of the many dishes at the Istanbul Lounge.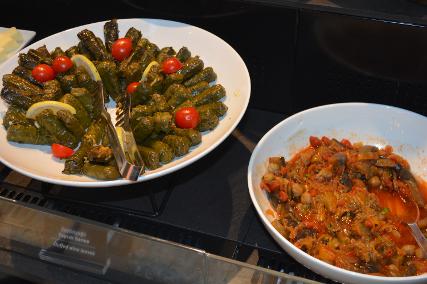 There were trays of desserts including baklava and many other Turkish treats.
We flew Austrian airlines from Vienna to Montreal - excellent.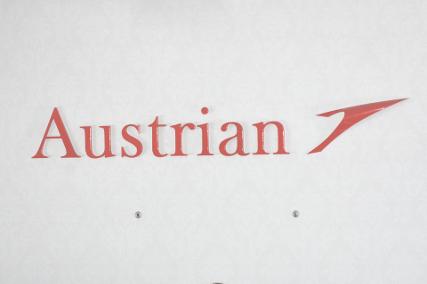 A plate of antipasti to start out meal, selected from a wide range of choices.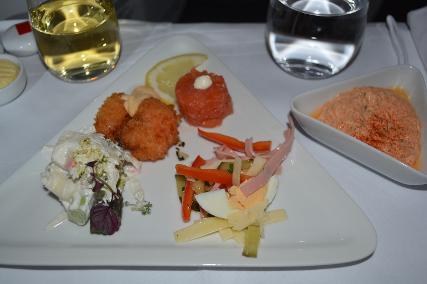 The chef dishing our antipasti from the trolley.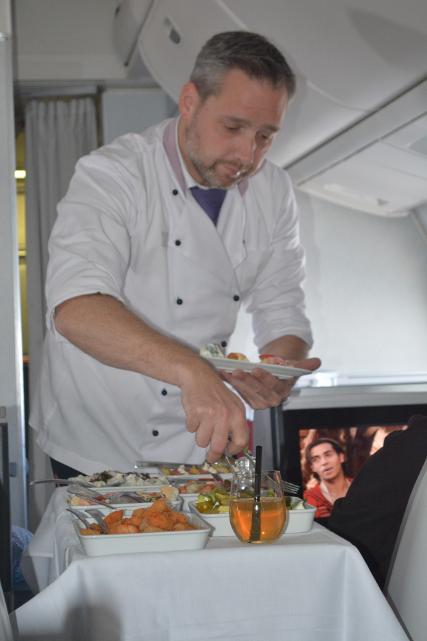 Ricotta cappellacci with tomatoes and fresh parmesan.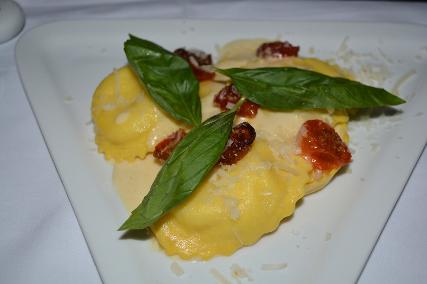 Viennese 'Zwiebelrostbraten' with roasted potatoes and sauteed green beans.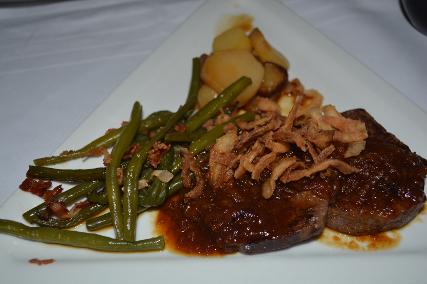 Lots to drink during the flight including a tasty sweet Beerenauslese wine that paired with the chocolate mousse.
Buffalo mozzarella with fig carpaccio - the vegetarian option for the second service.
One of the many desserts offered after the meal.
The Wurstel mit saft - a traditional Viennese sausage.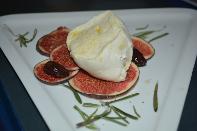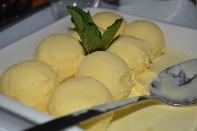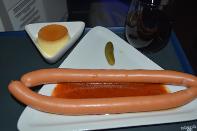 October 08, 2019 - Kirazli Koyu (Ephesus Lodge) - visit Ephesus
Finally heavy rains over-night and into the morning, so much so that we did not believe we would be able to go to Ephesus today as planned. But the skies started to clear a bit as we were eating breakfast such that Sezgin suggested we could go before the rains were forecast to begin again later in the afternoon. In spite of the fact Sezgin's guide fee was $100 (US) regardless of how long we stayed a few hours seemed like enough for us.
On the 20 minute drive to Ephesus Sezgin told us about Kirazli village, how he came to settle there - he is originally from Kars on the east border near Armenia - and the reliance of the village on agriculture and farming.
Ephesus dates from the 10th century BC when Androclos, the son of the King of Athens-Kodros, was searching for a new settlement due to the Dor invasion of Greece. Androclos was a
ware of an Apollon oracle that a fish and a boar would show the location. Shortly thereafter, while frying, a fish fell down from the pan, irritating a hiding boar. The feared boar escaped, followed by Androclos until he killed the boar in the area that then became the Ephesus settlement. Ephesus was ruled by the Lydian king, Kreisos in the mid 6th century BC and then later dominated by the Persians. As Ephesians did not join the Ionian Rebellion against the Persians the city was saved from destruction. Under the rule of Alexander the Great Ephesus garnered great prosperity. The Romans controlled Ephesus beginning in 190 BC after which it reached its height, being notorious for its wealth and luxury from the 1st century BC until the 4th century AD. During this period the population increased to 225,000 with the city becoming the capital of the new Asia. By dredging the port the city became a gateway to foreign countries, thriving with commerce and culture. There was new construction including the Celsus Library, now significantly re-constructed. The city was destroyed by the Goths in 263, and although rebuilt its importance as a commercial centre declined as the harbour was slowly silted up by the Kucukmenderes River. The final blow as an large earthquake in 614 AD partially destroyed Ephesus.
The ruins of Ephesus were uncovered between 1863 - 1874 when a British railway engineer detoured to the location, discovering evidence of the city. Throughout the 20th century there has been excavation work primarily by the British and Austrians. In recent years the main focus no longer lies in the excavation of further buildings and public spaces but rather on the care and preservation of the buildings that have already been discovered, with many important structure and monuments having been restored. While there is much to see, in the course of the excavations that have now lasted over a century it is estimated only 10% of the ancient city of Ephesus has been unearthed.
We spent a couple of hours wandering through the ruins with Sezgin providing us the history, including
Roman Basilica: The typical basilica is 160 meters long with the Ionic columns adorned with bulls' head figures dating to the 1st century AD. The basilica was used as a stock exchange and commercial business as well as meeting of the law courts. It was destroyed by an earthquake in the middle of the 4th century A.D.
Curetes Street: One of the three main streets between the Hercules Gate and the Celsus Library. There were fountains, monuments, statues and shops on the sides of the streets. The many earthquakes damaged many of the structures along the street, with columns constantly restored until the major quake of the 4th century when the columns were replaced by others from different buildings in the city. Under the colonnaded galleries of the houses on the slope, those used by the rich Ephesians, were mosaics on the floors, some of which still exist..
Latrines: Part of the Scholastica Baths built in the 1st century AD, they were the public toilets of the city, with an entrance fee to use them. In the centre there is an uncovered pool with the marble toilets aligned along the walls. The columns surrounding the pool supported a wooden ceiling. Of course there was a drainage system under the toilets.
Celsus Library: The library is one of the most beautiful structures in Ephesus, built in 117 AD as a monumental tomb for Gaius Julius Celsus Polemaeanus, the governor of the province, by his son. The grave is beneath the ground floor with a statue of Athena, the goddess of wisdom over it. The capacity of the library was more than 12,000 scrolls - the third richest library in ancient times. The facade has two-stories with Corinthian style columns on the ground floor and three windows on the upper story. Statues (copies of the originals which were taken to the Ephesus Museum in Vienna in 1910) symbolize wisdom, knowledge, intelligence and valour, the virtues of Celsus. There was an auditorium for lectures and presentations, built during the reign of the Emperor Hadrian.
Theatre: The theatre is the most magnificent structure in the ancient city, located on the slope of Panayir Hill. It was first constructed in the Hellenistic Period in the 3rd century BC. During the Roman Period it was expanded to be the largest in Anatolia with a capacity of 25,000 seats. The seats with backs, made of marble, were reserved for the 'important people'. The stage is three stories or 18 metres high. The facade facing the audience was ornamented with relieves, columns with niches, windows and statues. The theatre was used not only for concerts and plays, but also for religious, political and philosophical discussions along with gladiator and animal fights. During the late 1980s, through the 1990s and as late as 2009 concerts (Ray Charles, Joan Baez, Diana Ross, Bryan Adams, Julia Iglesias, Jethro Tull, Sting, Elton John, Chris De Burg, Lionel Richie, Pavarotti and Madonna) were held until concerns over structural issues became a concern.
After a couple of hours we had seen what we needed to see to have a feel for the history and magnitude of Ephesus. Certainly having Sezgin lead and guide us through the archaeological site was informative as he pointed out and explained many of the structures we would have likely not noticed.
We returned to Kirazli late afternoon when, as Sezgin forecast it began to rain again. The afternoon was spent relaxing and packing after which we again ate at the Lodge.
Our room at Ephesus Lodge - actually quite bright during the day with its skylights.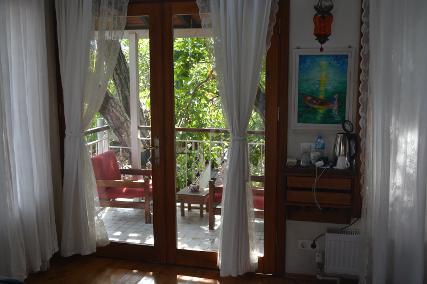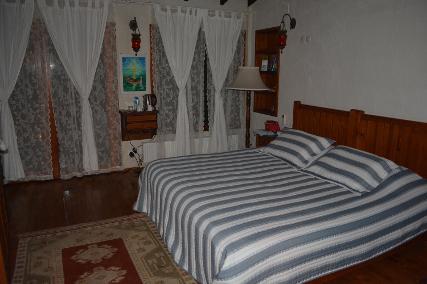 Our most helpful host Mehmet. You have to admire the honesty / humour.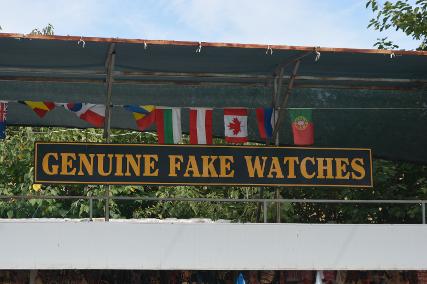 Our guide (and Lodge owner) Sezgin explains the history of Ephesus.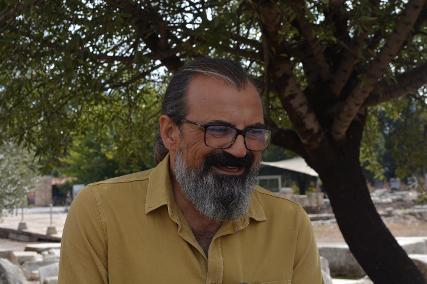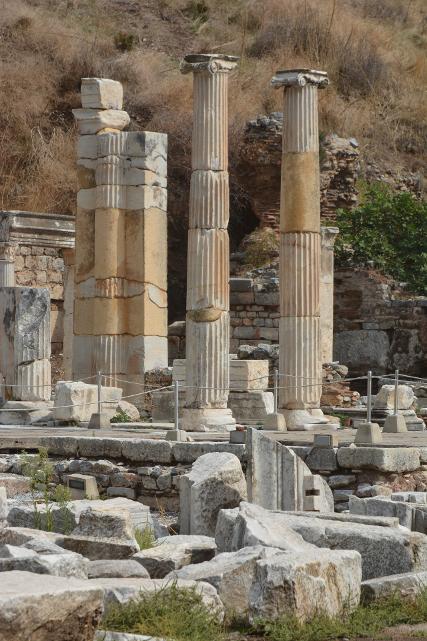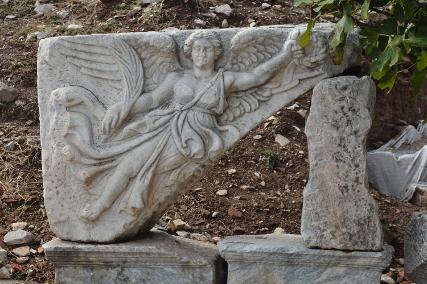 Curetes Street leading to the Celsus Library.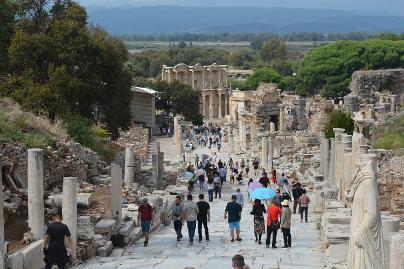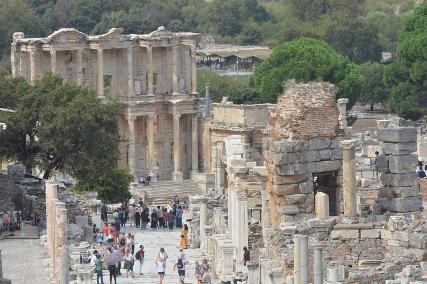 The restored Celsus Library.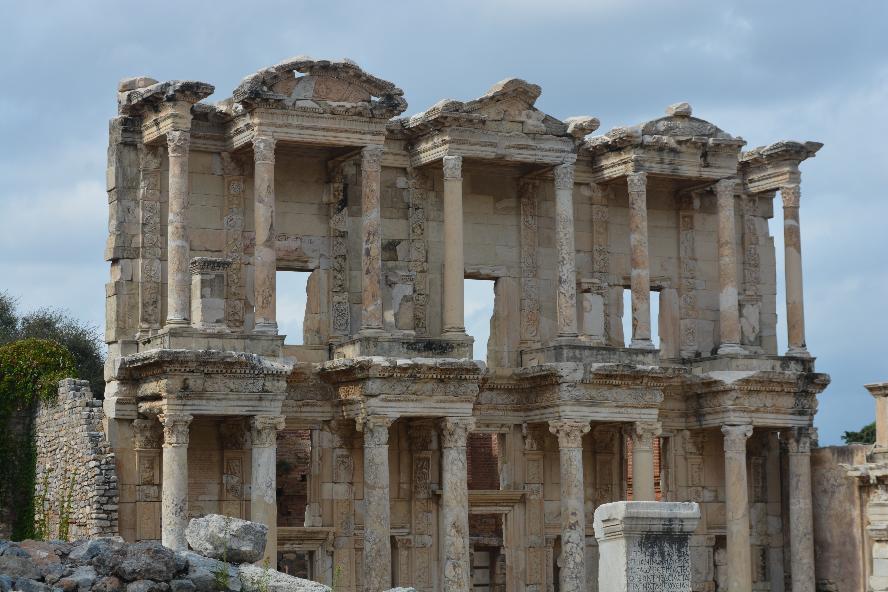 Beautiful preserved mosaics.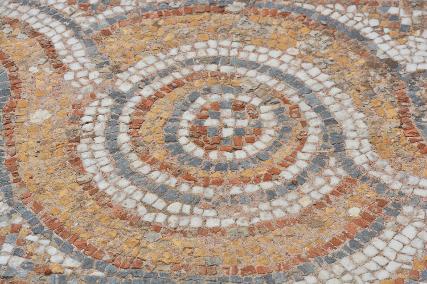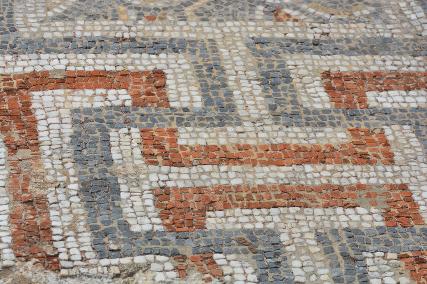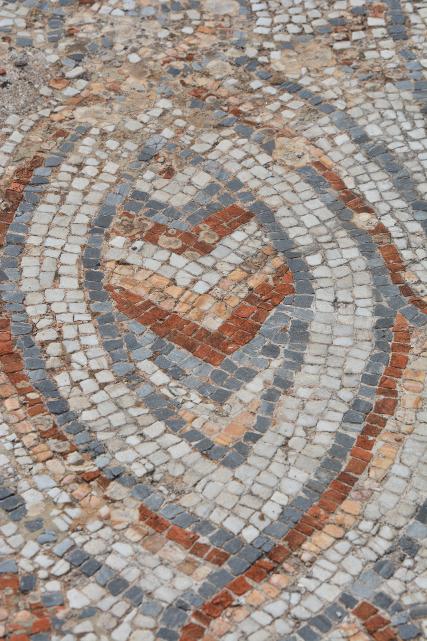 The Ephesus marble open-air toilets with no evidence of separation between 'stalls' - the epitomy of a public toilet.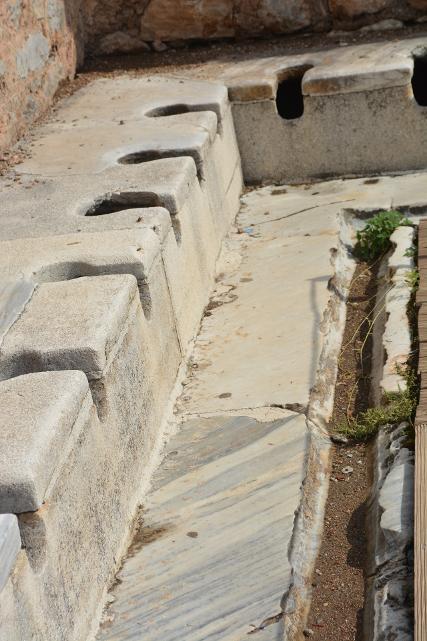 A reconstructed arch on the front of the Temple of Hadrian.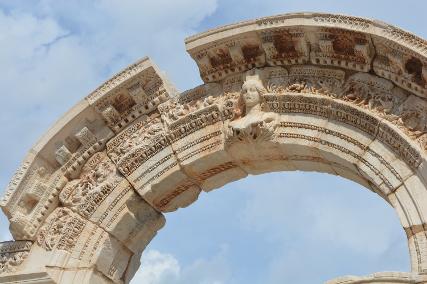 A Roman outhouse without the house.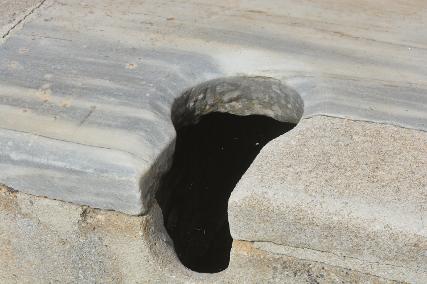 A sampling of some inscriptions.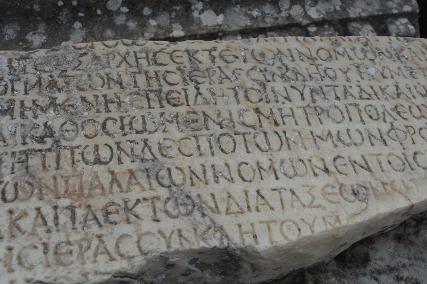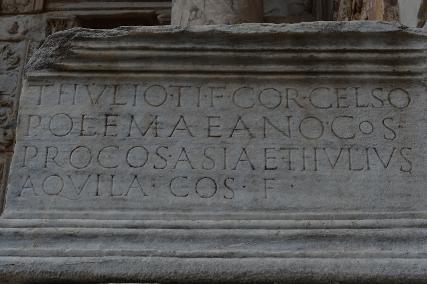 Ephesus' theatre that can hold 25,000.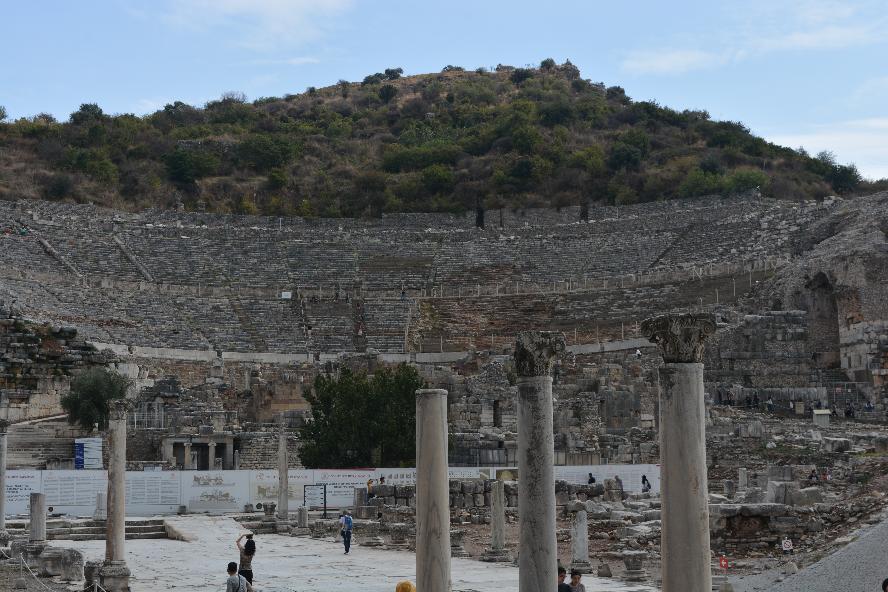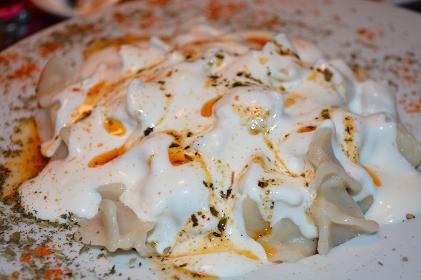 ... and a vegetarian plate (eggplant, potatoes, tomatoes and red peppers) with yoghurt for Gayle.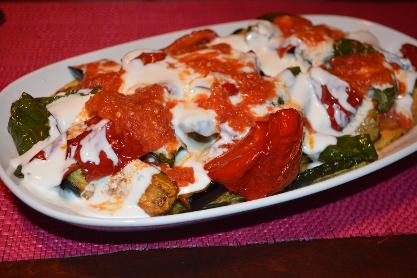 October 07, 2019 - Kirazli Koyu (Ephesus Lodge) - short trip to Selcuk
Our day began with another wonderful breakfast. To start there was cheese and walnuts, served on a nice wood board. Of course breads, including a basket of fried 'puffy' breads. Tomatoes, cucumber and peppers along with sun-dried tomatoes, a spicy tomato / pepper dip, honey, jams and a fresh egg, along with lots of coffee.
While admiring the pottery on the table in the eating area Mehmet, our host, brought out a wide selection. As we were on the look out to purchase some more Turkish pottery (we had bought one plate when we were in Istanbul) Mehmet directed us to a shop on the outskirts of Selcuk.
Selcuk is a nearby town to the ancient city of Ephesus. Its original Greek name was Agios Theologos which evolved into Ayasoluk. In the 14th century the city was the capital of the Emirate of Aydin and reported to have a mosque considered by some to be one of the most magnificent in the world, unequaled in beauty. After the Ottoman Empire the city was renamed Selcuk after the Seljuk Turks who first led an incursion into the region in the 12th century. Selcuk is one of the most visited tourist destinations within Turkey due to its vicinity to the ancient city of Ephesus and its works of art. In 1921, after the capture of the village by the Greeks the town had a population of only 600 (580 Greeks, 10 Turks and 10 Armenians). Today it is a city of nearly 30,000. The old quarter of Selcuk retains much traditional Turkish culture. Ayasoluk Hill dominates the surrounding area with several historical buildings on its slopes, including the Isa Bey Mosque, built by the Aydinids in 1375 and the Grand Fortress / castle.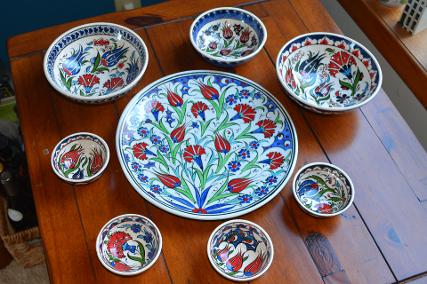 The huge ceramic shop was everything we could imagine with table after table full of pottery, and every wall covered with plates. There was so much to choose from. All hand made and painted the pottery, even with the 'end of season 50% discount'.
We were pleased with what we purchased - it was exactly what we wanted but still it was expensive. For example the plate, even at 50% off, was $75 Cdn.
After our shopping we drove into the centre of Selcuk, parked and wandered around - the fish market, through a small park, past a number of other stalls selling fruits and vegetables, and then just along the streets, past bakeries, cafes filled with men playing board games and a surprising number of gold jewelry shops. Selcuk struck us as a very lived in city. We then drove back to Kirazli, past the olive and fig trees and the many vineyards. Being grape harvesting season we saw a number of tractors / trucks delivering their bounty of grapes to a transfer station to then be delivered to the wineries. The predominant grape of the area is one only found in Kirazli and neighbouring
Gökçealan village - the
'osmancik'. The grape reportedly produces a "high quality and exotic wine".
We had intended to eat at nearby Koy Sofrasi, from whom we received directions yesterday to Ephesus Lodge but unfortunately it is closed on Mondays. As a result we drove towards Kusadasi - a very scenic drive, particularly when reaching the mountainside descending to the coast. Along the way we passed a restaurant Sultan Sofrasi Vadi that appeared to have a nice view over the mountains. We stopped in. Initially we were the only guests (except for the many hungry cats). The fellow we assumed was the owner was very helpful in explaining the dishes and making suggestions. We each had a glass of the region's wine while I also had an orange / pomegranate juice mix. Gayle had a dish known as Menemen, a traditional Turkish dish of eggs, tomatoes, green peppers and spices such as ground black and red pepper, all cooked in olive oil. Normally a breakfast dish, when eaten as a main dish onions are generally added. We also ordered the Karisik Kizastna, another traditional dish of fried aubergines (although any vegetable can be used), potato and yoghurt. I then had the mixed grill lamb with tomato, pepper and rice. Good but the meat at Usta (a Turkish restaurant here in Dartmouth) is still much better than anything I had in Turkey.
It was a short drive back to Kirazli and Ephesus Lodge.
Local cheese and fresh walnuts. A selection of olives, jams, tomato and cucumber.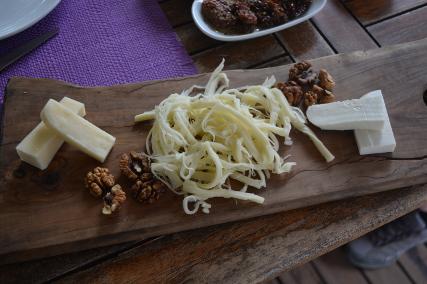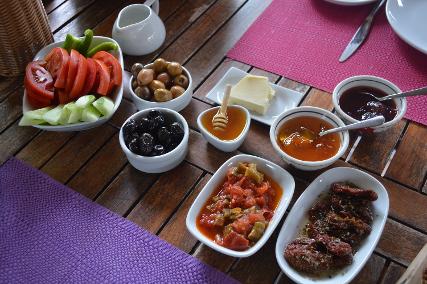 Delicious puffy breads. A spicy tomato/pepper dip and sun-dried tomatoes.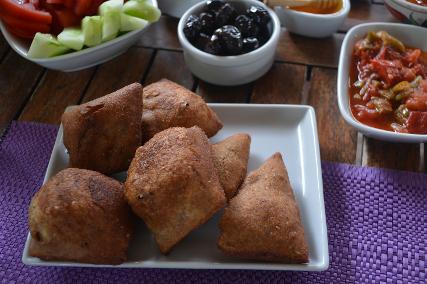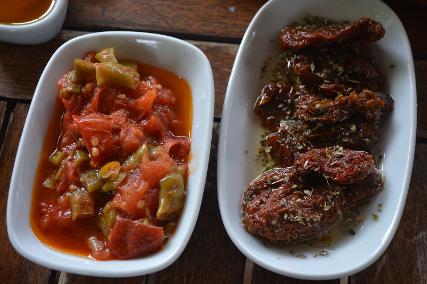 A beautifully carved rocking chair. Did Scam Cat immigrate to Turkey?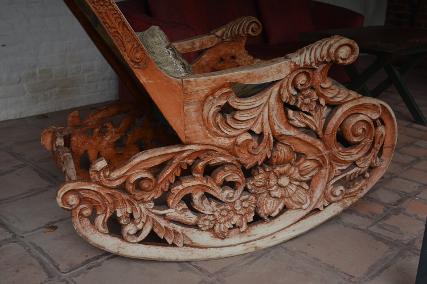 Ephesus Lodge had a number of beautiful / colourful Turkish ceramic plates.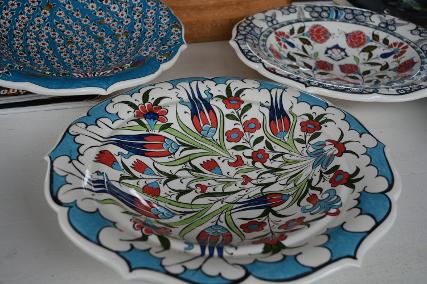 We were in Kirazli right at the height of grape harvesting season.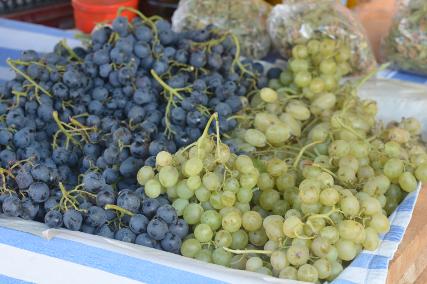 Truckloads of grapes, ready to be transported.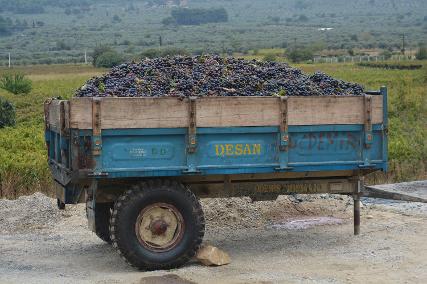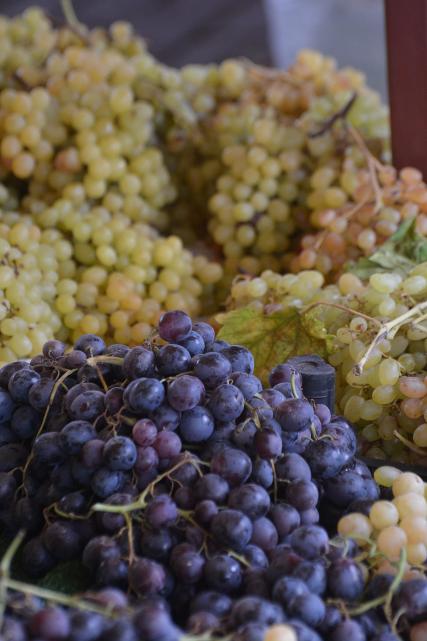 Turkish art ceramics where we purchased a number of plates and bowls.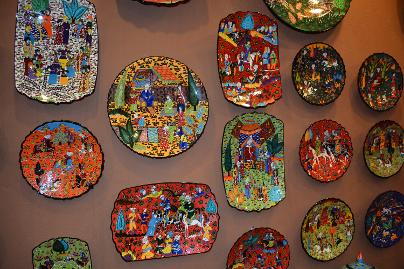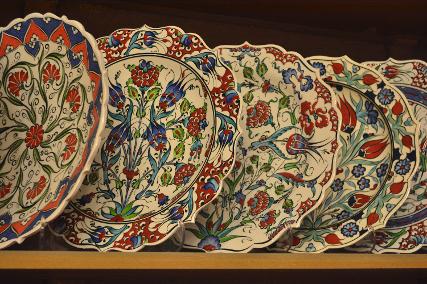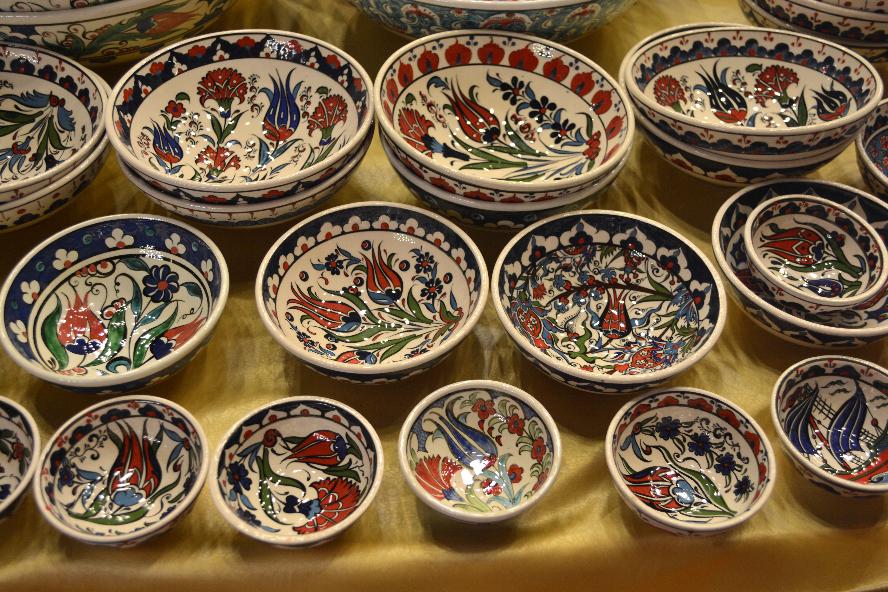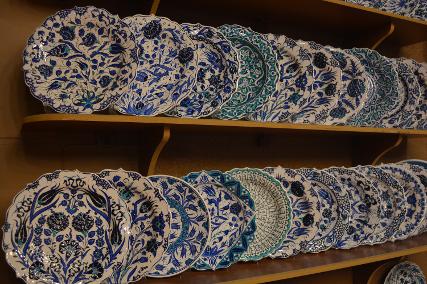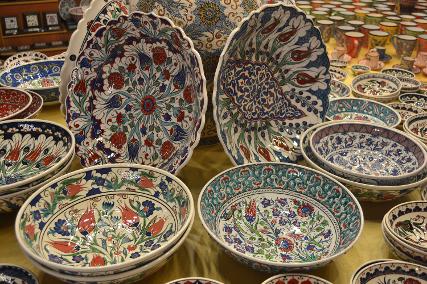 A wide selection of fruit for sale at a market stall.



A women selling fruit in Selcuk.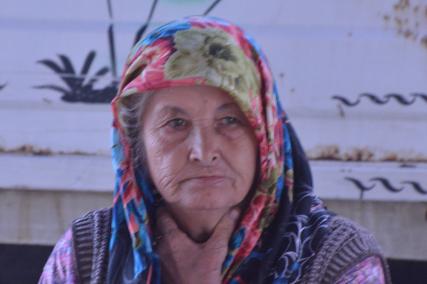 The men enjoying their board games and tea, with friendly smiles and thumbs up for the photographer.
A bakery in Selcuk - fresh bread and a tray of baklava.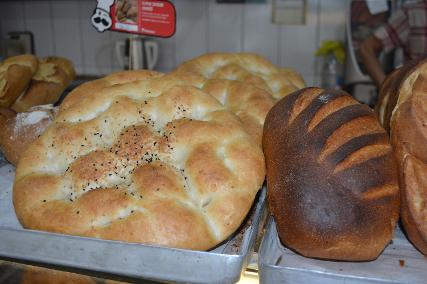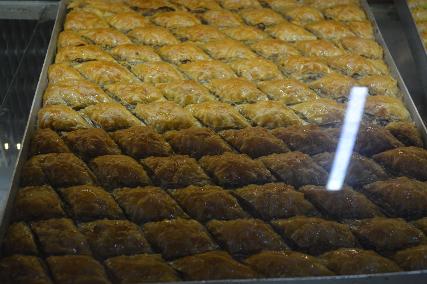 Another couple in Kirazli passing the time.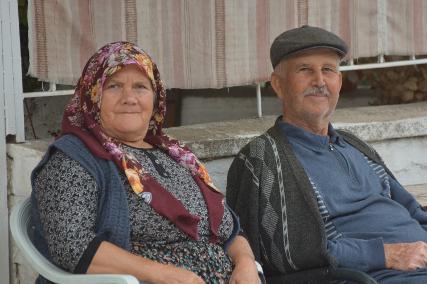 The view of the mountains from our table at Sultan Sofrasi Vadi.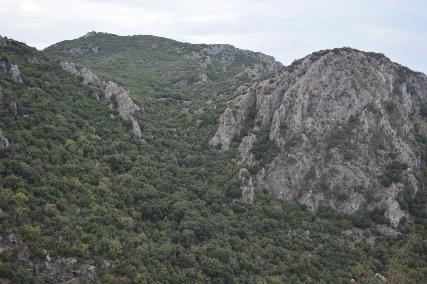 The Sultan Sofrasi Vadi menu. Wine and an orange / pomegranate juice mix.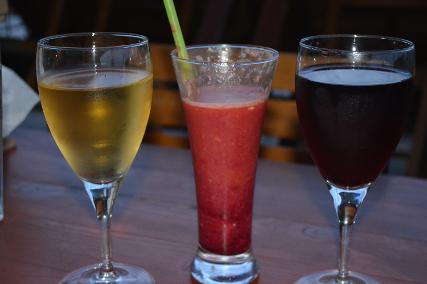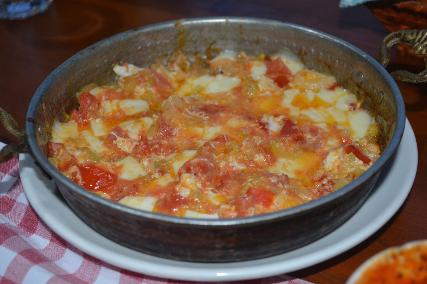 Karisik Kizastna - eggplant, potato and yoghurt. Mixed grill lamb - chops and shish.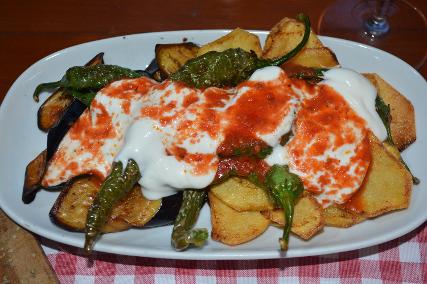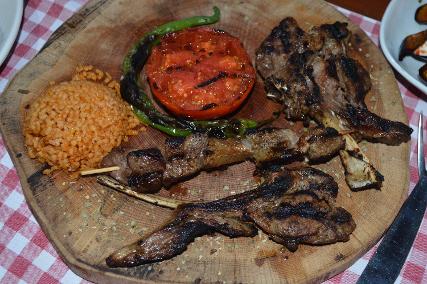 October 06, 2019 - Alacati to Kirazli Koyu (Ephesus Lodge)
Moving day as we leave Alacati and drive first east and then south towards Kusadasi and nearby Ephesus and the small farming village of Kirazli Koyu (translating to 'dark cherry' re the cherries grown in the area) where we will be staying the next three nights.
Another tasty breakfast, time with our cats (sorry if Scam Cat might be jealous), and goodbye to the staff (sadly Zeynep had left our second day to spend the weekend in Istanbul), who although they knew little to no English were very helpful throughout our stay.
Before heading out we drove the few kms to the beaches south of Alacati. There were a number of large hotels / resorts but all was very quiet.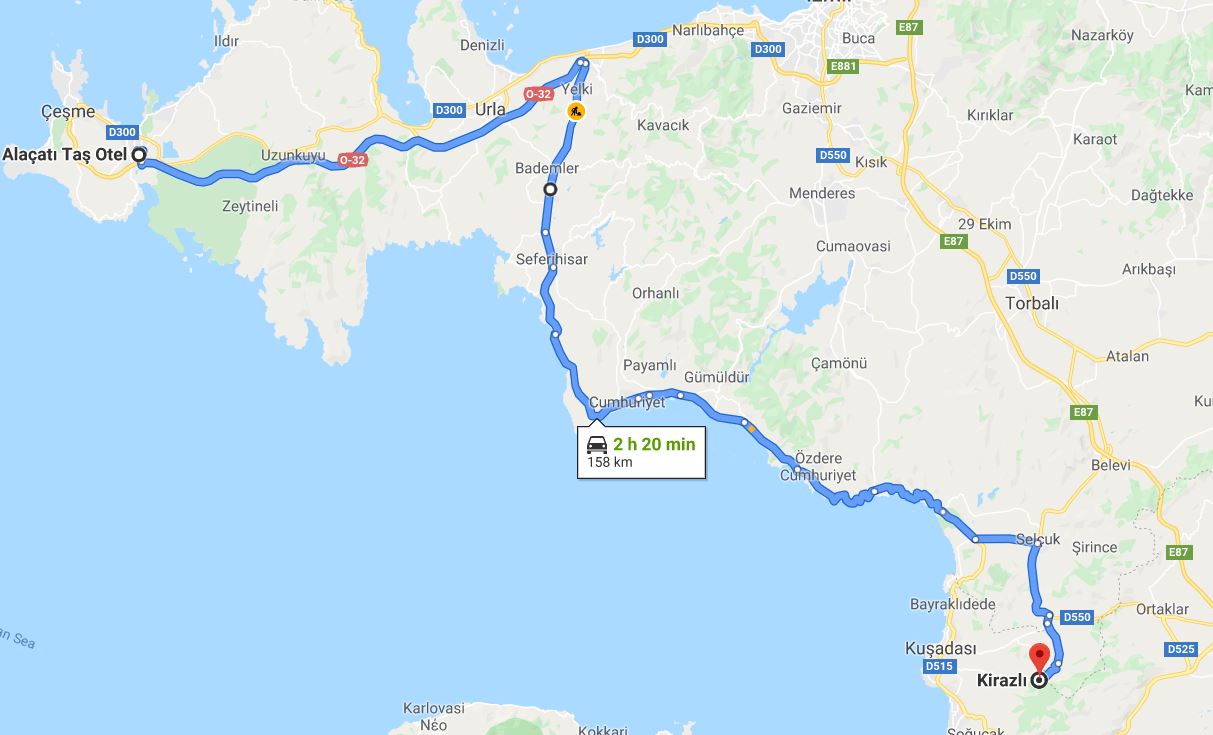 We took the highway (we had driven the smaller road the previous day) to Urla and then drove south, past Seferihisar and along the coast towards Kusadasi.
There was some scenic coastline but also a number of large hotels / resorts along the beaches, which even at this time of the year were very crowded.
We continued on before turning east towards Selcuk and then on to Camlik, Gokcealan, and finally Kirazli.
We hit a home run with our stay at Euphesus Lodge in Kirazli, a farming village with a population of just under 1,000. After settling in to the lodge and our room - the 'Ask' room (which translates to 'love' in Turkish - Gayle says I'm forever the romantic) with a balcony overlooking the interior grounds of the hotel. The village and this seven (7) room boutique hotel is certainly off the beaten track. The lodge was developed in order to keep the authenticity of the village, to display the local culture, arts and architecture yet provide a comfortable 'home-like' stay. There are chickens, turkeys and ducks on one side and olive trees on the other, a small pool in which to refresh in the heat of the summer and a small restaurant providing breakfast and local food for dinner.
But the charm is strolling through the village and encountering the locals socializing the cafes / restaurants, baking their bread (gozleme), selling vegetables, fruit and/or bottled goods at a roadside stand, cracking open and cleaning nuts or just sitting on their steps watching the world go by. This is a very lived in farming village busy with tractors passing frequently, at this time of the year loaded with the grapes being harvested. Along our walk we saw a women baking bread in her oven. Of course we stopped to take a few photos. Another women then handed us some of the bread to eat. The bread is a Turkish flatbread known as Gozleme. The Gozleme are often stuffed with various fillings of spinach and feta, potato, or spiced beef or lamb. The Gozleme dough is a combination of flour, olive oil, salt and water (no yeast). These large breads differ from a borek in that the latter uses a much thinner dough known as yufka. Although the gozleme can be eaten as a bread like a borek it is often stuffed. After Muserref showed us her boreks we decided to sit a while and enjoy some with tea. She seemed beyond pleased when we gave her a 5 Turkish lira tip on a 15 lira charge. A great experience. Nearly every step there was the opportunity to take photos of colourful fruits and vegetables and those selling them. The locals were very happy to have their photo taken - smiling or waving. While my focus is on older women and men all the younger ones wanted some of the action as well - happily smiling for the camera. As we walked back into the village we passed many others - particularly older women - sitting on their steps, enjoying the warmth of the sunshine.
We returned to Ephesus Lodge - passing chickens, ducks and geese. Having had the boreks there was no need for a big meal. The Lodge does have a restaurant albeit with a somewhat limited menu. Gayle had a salad while I had some very tasty meatballs flavoured with mint, along with some fries, a grilled tomato and pepper.
Although there is lots to be said for cities we generally much prefer to be out in the country. Kirazli and Ephesus Lodge is perfect for us.
Breakfast breads, jams etc. and of course freshly squeezed orange juice.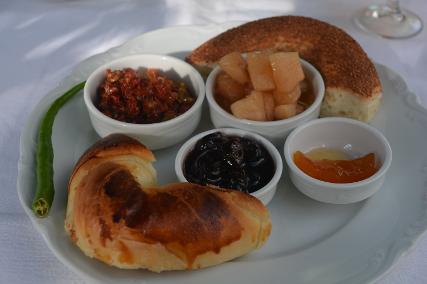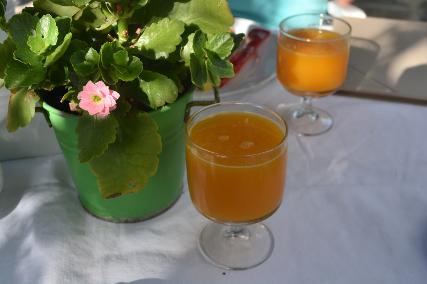 To the right - the main building of Tas Otel.
Below left Gayle and Nilufer, one of the hotel's staff.
Below right - one last photo of the pool (note the reflection of the building) and grounds of this tranquil and peaceful property (at least at this time of year as there is a bar across the street that apparently can be quite loud at times, particularly on summer weekends).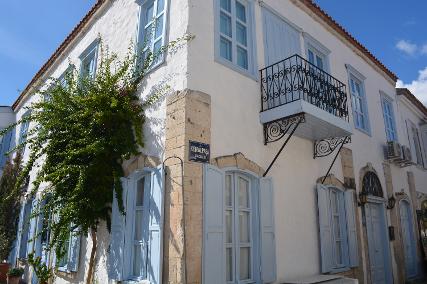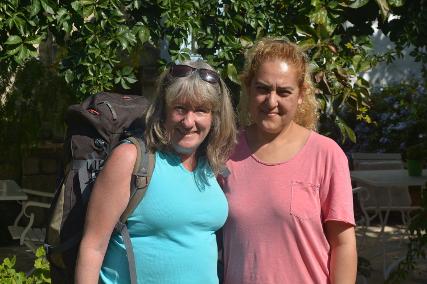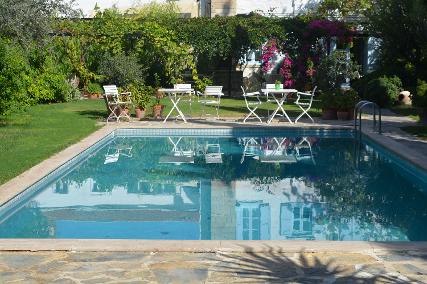 On the streets of Alacati a female (somewhat unusual) goatherd keeping an eye out over her tribe.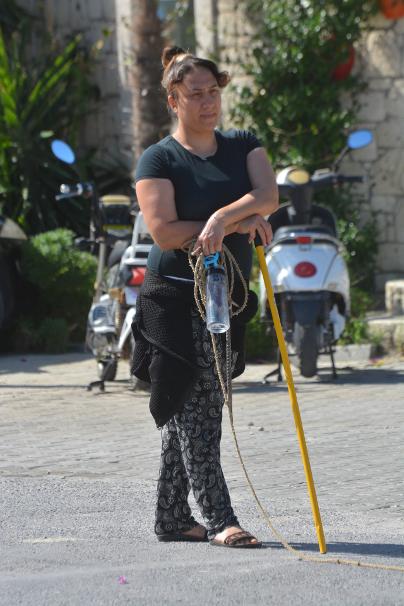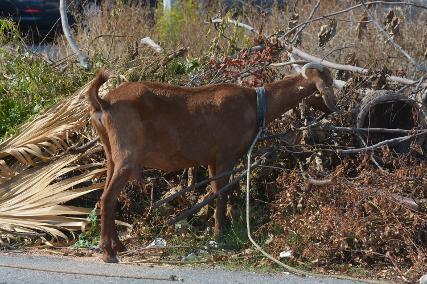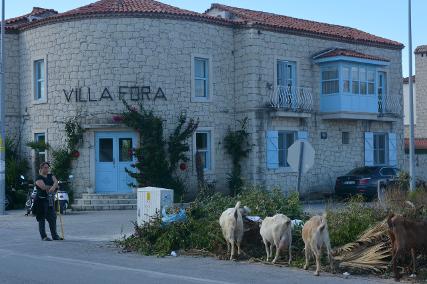 The west c
oastline south of Seferihisar
.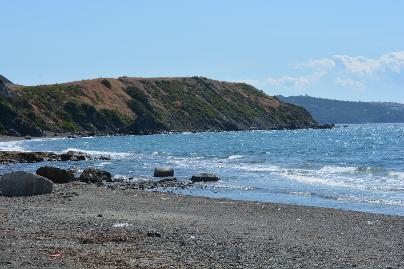 Wait, no it's not real, but it did catch my attention (not that I was speeding of course).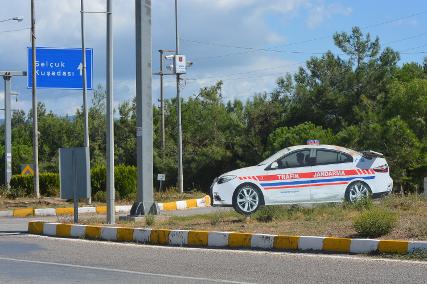 A bit north of Kusadasi there were a few of these monstrous hotels / resorts with a packed beach - not our idea of a vacation.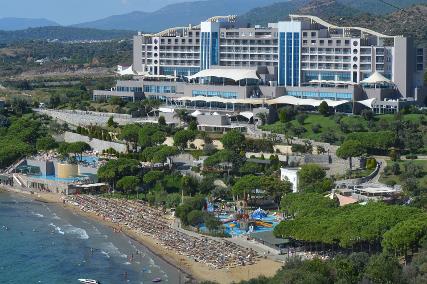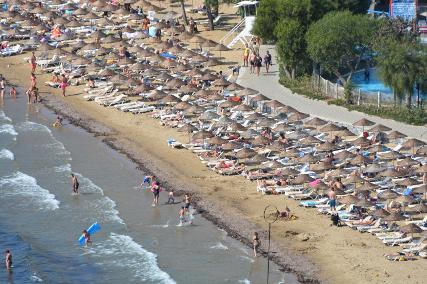 Our 'Ask' (which in Turkish means 'love') room and its small balcony.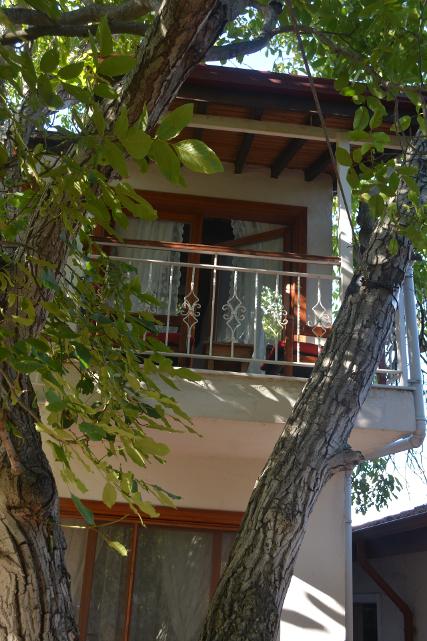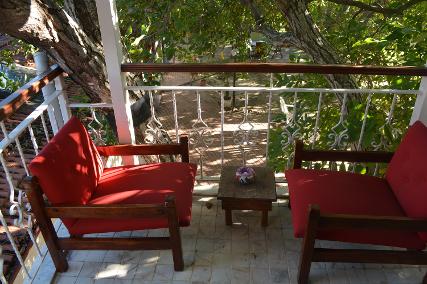 The cafes / restaurants of Kirazli are dominated by men (we recall seeing only one woman at one restaurant).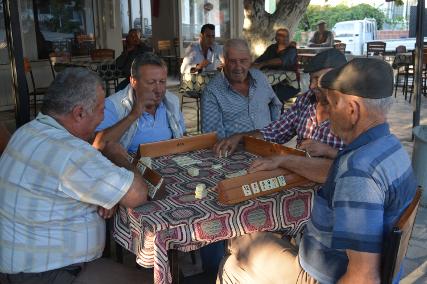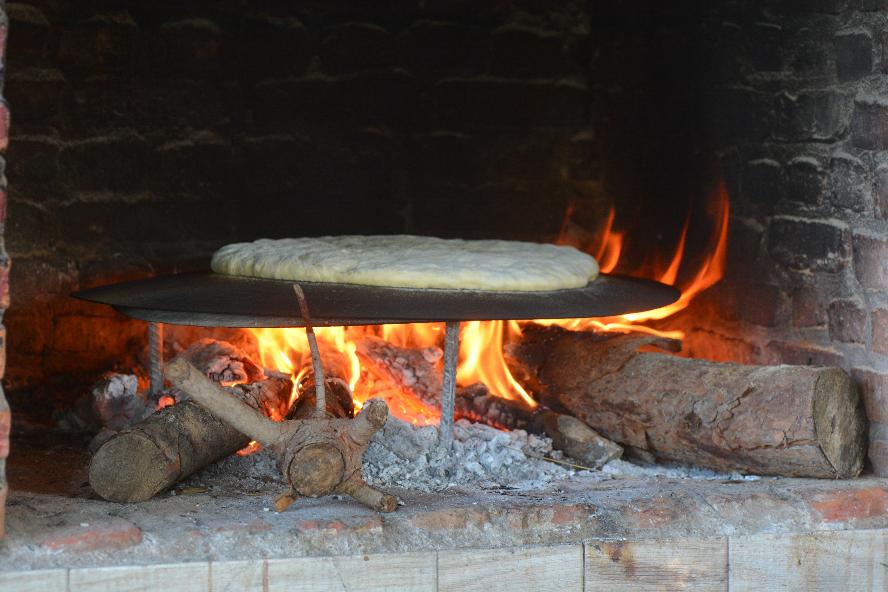 Muserref and the Gozleme (breads) her mom baked.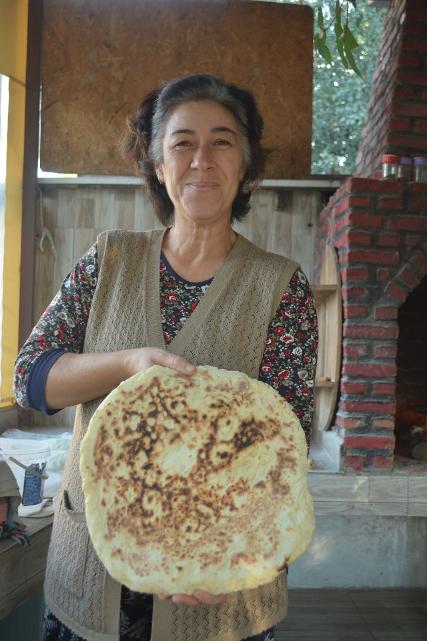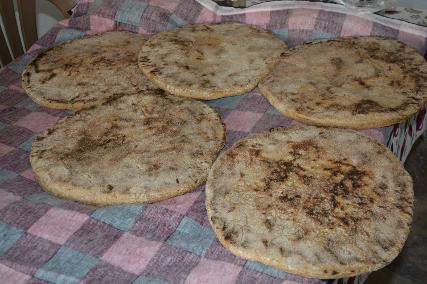 Suzan baking Gozleme in her outdoor oven.
Enjoying our just out of the oven (they were very hot) boreks and tea.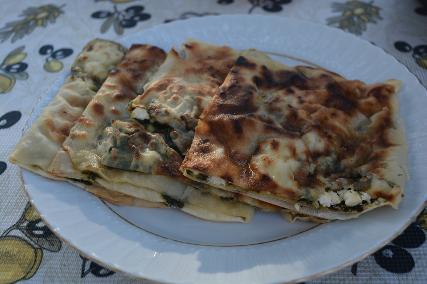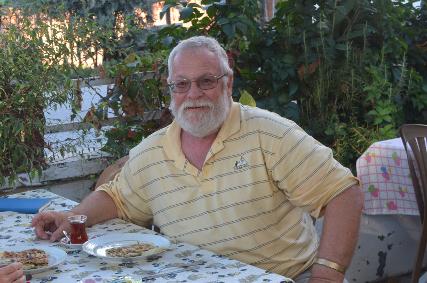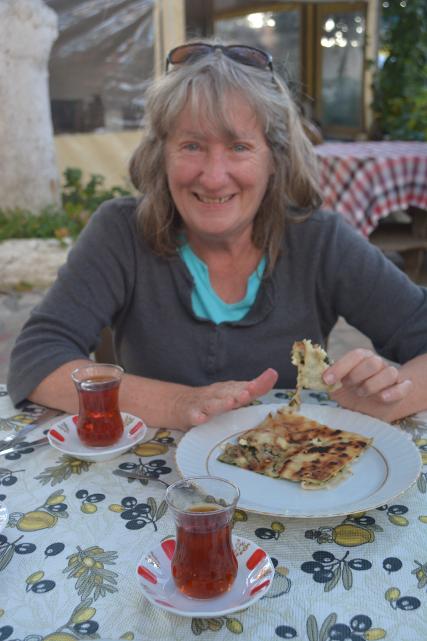 This is certainly a farming village, and a friendly one at that with smiles and waves.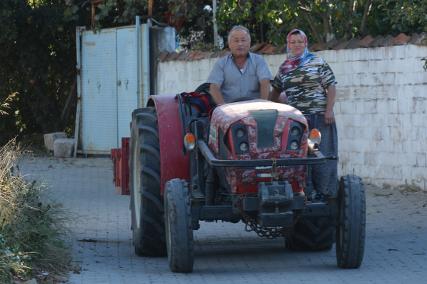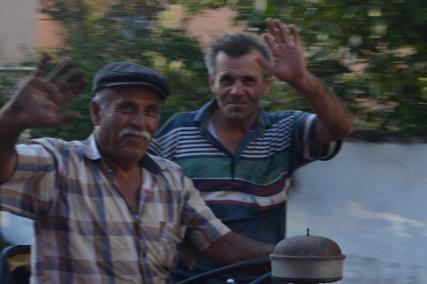 There were a number of vegetable / produce / fruit stands through the village.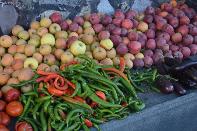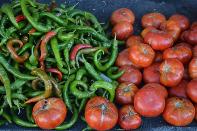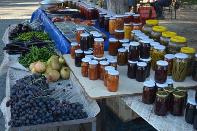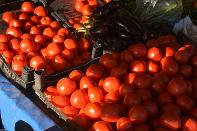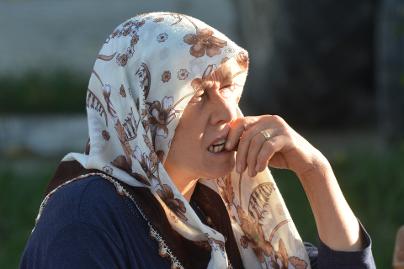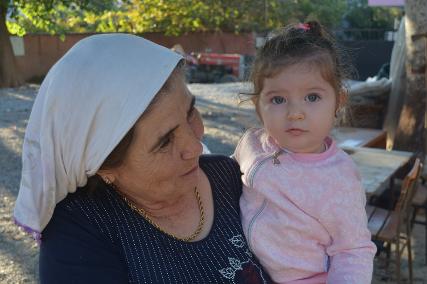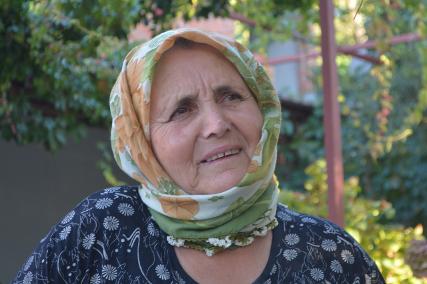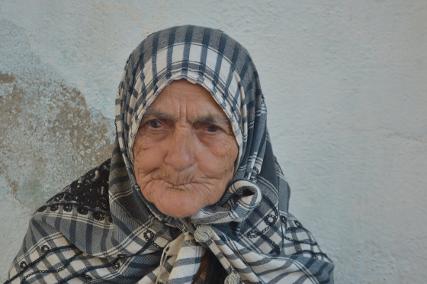 Some of the women we encountered while strolling through the village.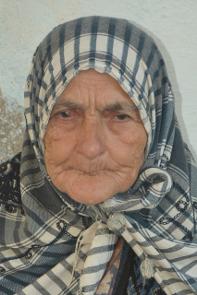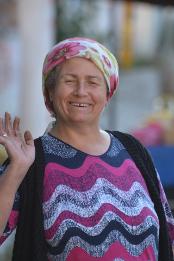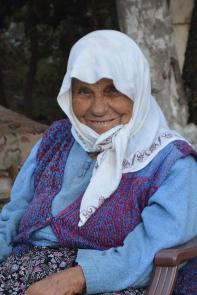 .. and yet more elderly women on the streets of the village.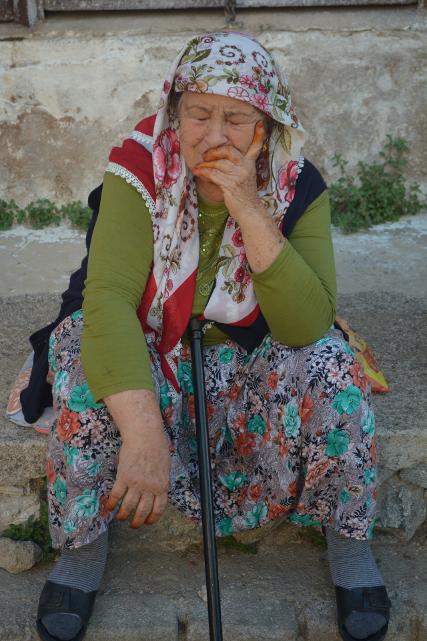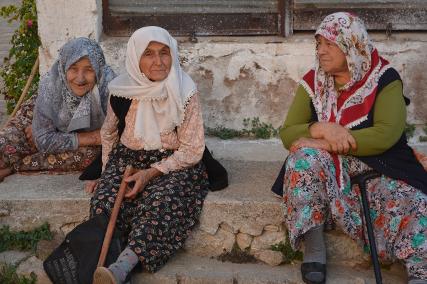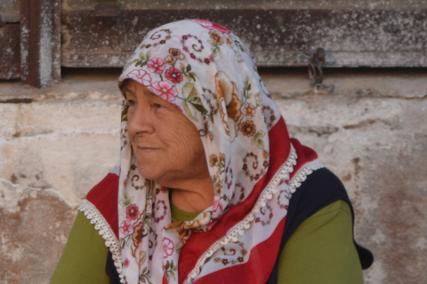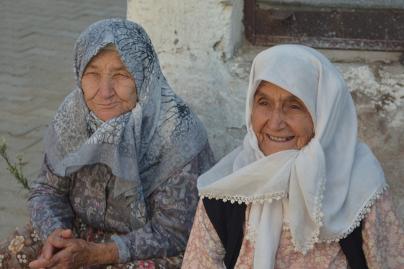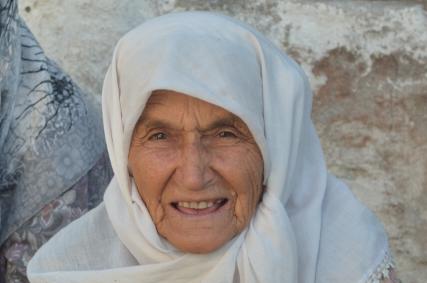 Salad for Gayle and some very tasty meatballs with mint for me.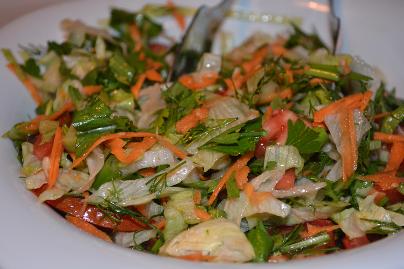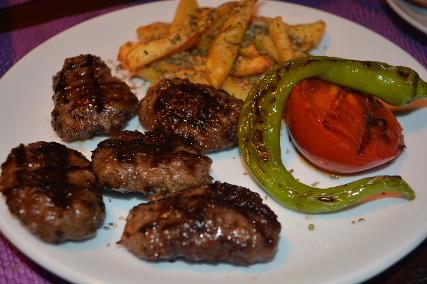 October 05, 2019 - Alacati (Tas Otel) with an afternoon drive to Urla and Balikliova
This morning, after breakfast, we had an interesting chat (we mostly listened) with Uktu who gave us his perspective, including some data, on climate change and the need for re-forestation. As a scientist Uktu firmly believes that climate change is a serious issue, with negative impacts. Very interesting.
In the afternoon we went for a drive east to Urla and then part way up the Karaburun Peninsula. The drive towards Urla was nice enough, through a number of olive groves, but nothing spectacular. Urla is a suburban 'bedroom' community, comprised of many who commute to Izmir (30 to 40 minutes). The town and area is more agricultural than industrial - olives of course but also fruits, particularly citrus, vegetables and flowers, providing produce to Izmir, a city with a population of nearly 3 million.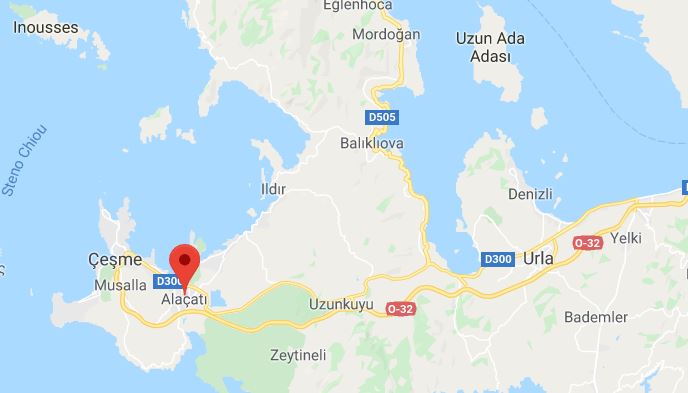 Our drive took us from Alacati east towards Urla - about 45 minutes. About 10 km before we reached Urla we turned south through some farmland / vineyards until coming upon a small market in the village of Yagcilar. My photos solicited smiles and laughter from the ladies selling their produce and bottled goods. It was then back through Urla and north to Balikliova, a small fishing village. After a short stop we drove across to the west coast, through Ildir and along the picturesque coast back to Alacati..
The drives both up the east coast to Balikliova and down the west coast through Ildir of the Karaburun Peninsula were more scenic than further south, due to the water. We stopped in the small fishing village of Balikliova - the name actually comes from 'valley full of fish'. The village, as has much of the peninsula, has become a summer retreat. Fishing and agriculture drive the economy of the village with olives, artichokes and narcissus being the primary products of the area. The village was full of locals, either selling their produce or socializing at the cafes. Crossing to the west side one passes Ildir, a picturesque sea-side village facing the Greek island of Chios. Ildir is the site where the ancient Greek city of Erythrai was located in the Hellenistic period (323 BC to 31 BC). The ruins are situated within the modern-day village with the site explored in depth in the 1960s. Although we did not stop the village is apparently quite calm and laid back, supplemented by a number of summer-house owners and retirees, mostly from Izmir.
We completed our circle, passing by a number of beaches and returning to Alacati. Of course we took advantage of the afternoon tea and cake at our hotel before returning to Asma Yapragi for dinner. While Gayle had a nice local Sauvignon Blanc white wine I got creative and asked for a mix of the cranberry and lemon juices that were available (sort of like an orange / pomegranate juice mix). With a cinnamon stick it was actually a very tart, tasty, refreshing drink. It was then into the kitchen to select our mezes that were then delivered on small plates or in small bowls. We had pumpkin with yoghurt, an aubergine spread, spicy spinach yogurt, a vegetarian meatball and two fried (and filled with cheese, herbs and spices) courgette flowers. That was enough for Gayle while I had the slow cooked lamb with garlic as a main course. Perhaps being in a tourist town prices were certainly higher than what we had experienced in Greece. That said the ambiance of the restaurant was top notch. Compared to Greece the house wine, although more expense - a large glass was $8 Cdn, tax and tip included as compared to the $3 to $5 in Greece - was noticeably better. The concept of being invited into the kitchen to see the food, beautifully displayed on large colourful platters, was unique. We were so full we did not even consider dessert. Afterwards a nice stroll through the town brought us back to Tas Otel.
Our favourite / 'adopted' Tas Otel cat / kitten. Uktu.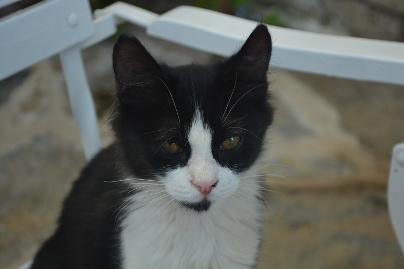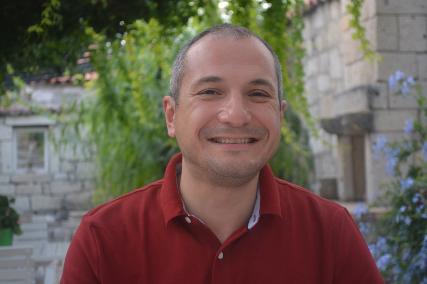 A few of the market ladies of Yagcilar ... all of whom of course tried to sell me something.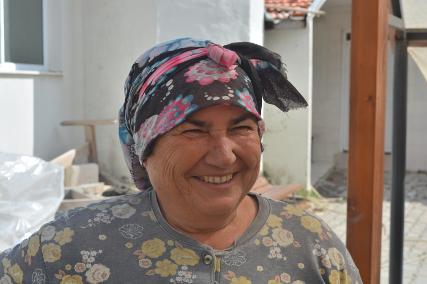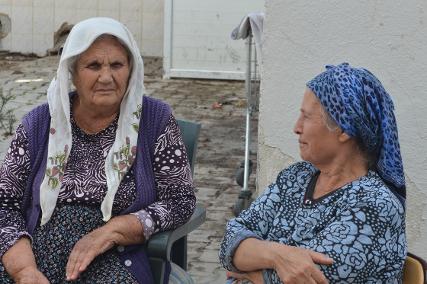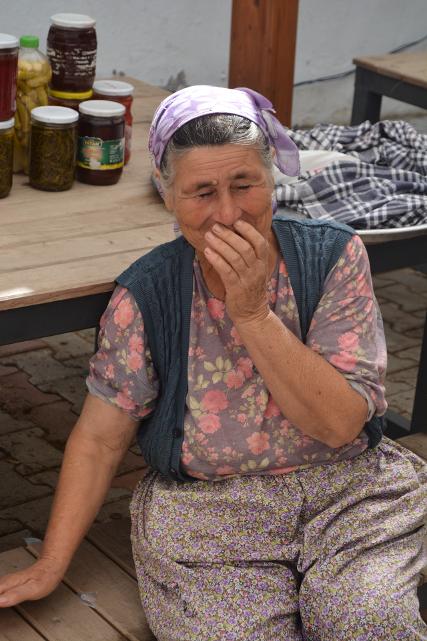 Melons, vegetables and bottled (we assume pickled) goods for sale in the small town square market in the village of Yagcilar.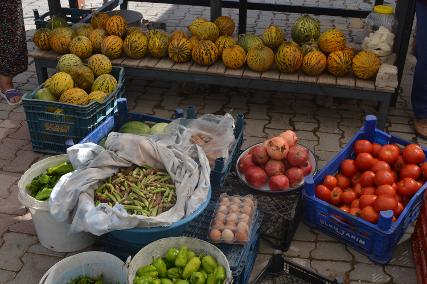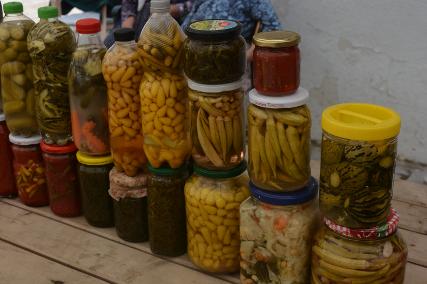 Beans, peppers, cucumbers, tomatoes, aubergine, onions and lots of other produce.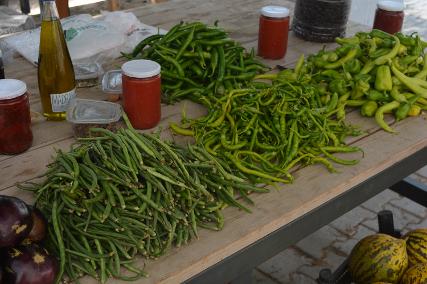 Melons (note the wind turbine in the background). ... and in the market lemons and pomegranates.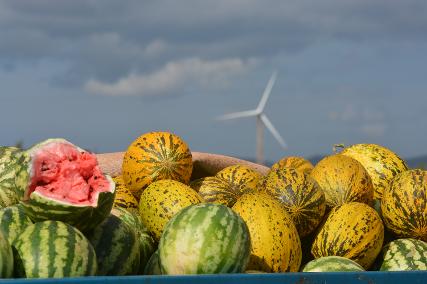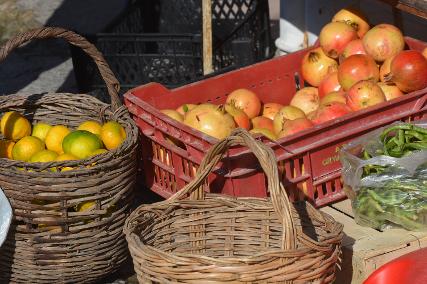 In Balikliova a basket of eggs, and across from the butchers shop drying village sausage.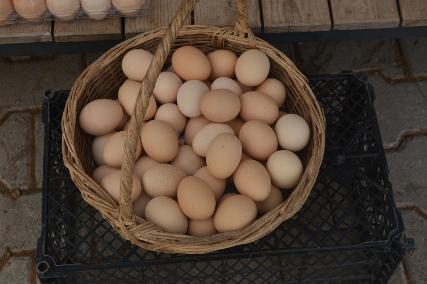 Mussels with lemon sold by street vendors.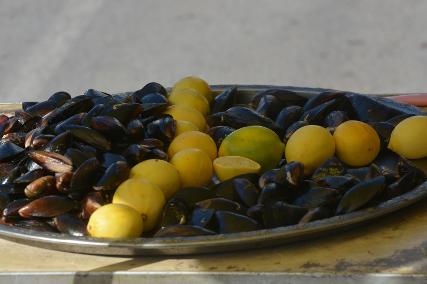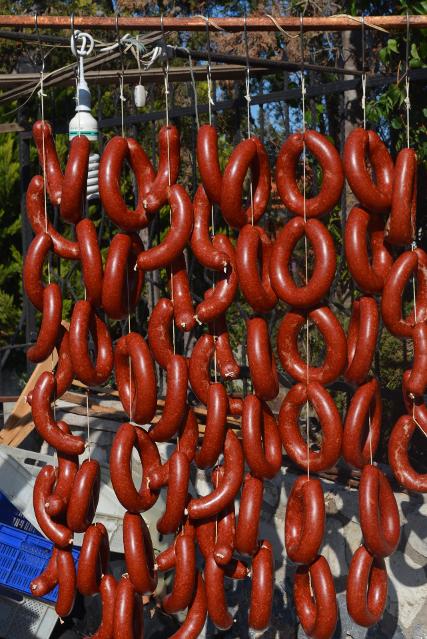 A two turret mosque near Gulbahce. The Turkish flag can often be seen in homes and shops.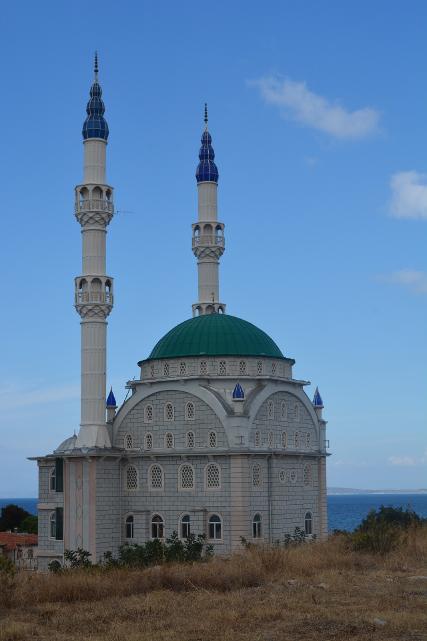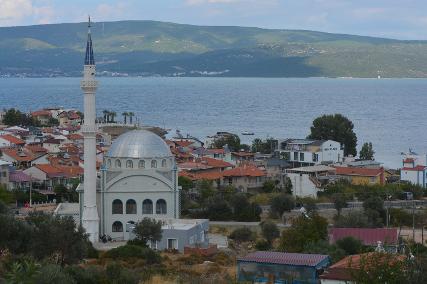 It is common for groups of men to hang about at a cafe / restaurant, but much less so for a group of women.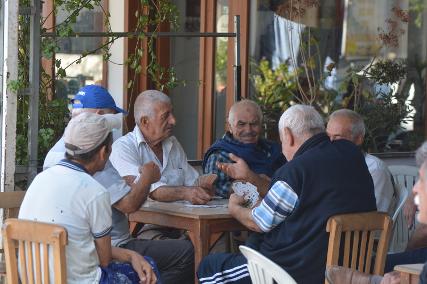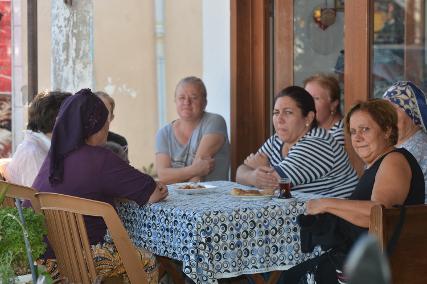 Tea and chocolate cake. Good to the very last lick.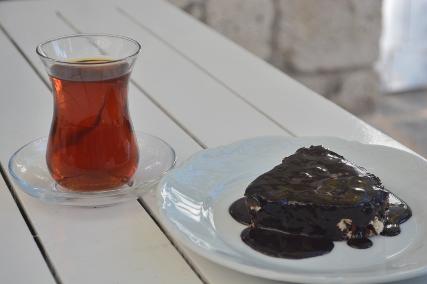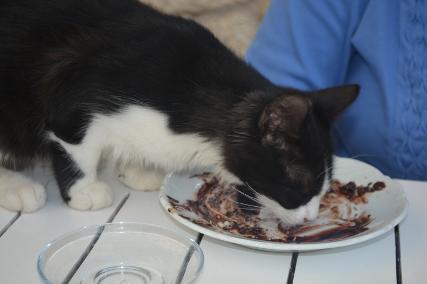 I take an afternoon nap and before you know it I have company.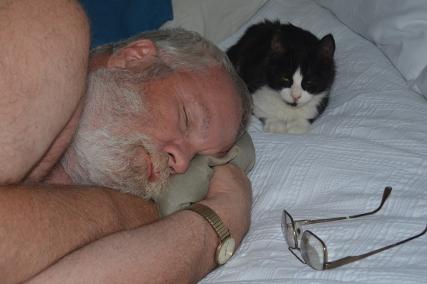 Company who clearly appreciates the joy of a nap, here using my pillow.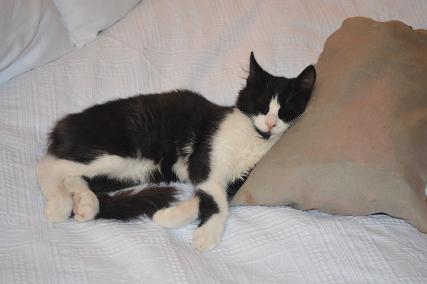 Tables at Asma Yapragi set in a open aired garden - great romantic atmosphere.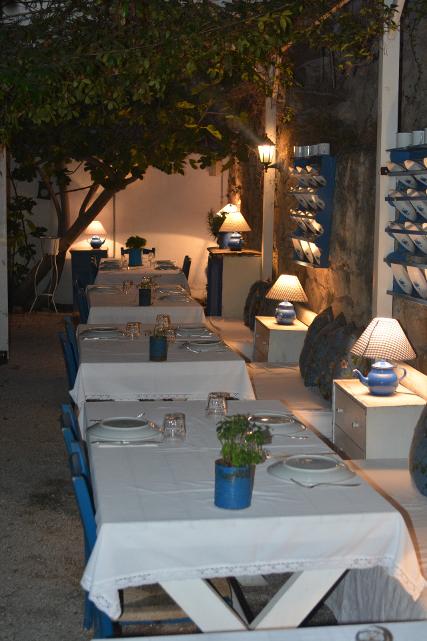 Slow cooked lamb with (lots of) garlic.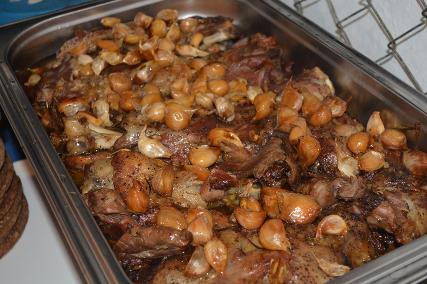 Beans with raisins and walnuts.
Our mezes, including on the right the filling of the courgettes flowers.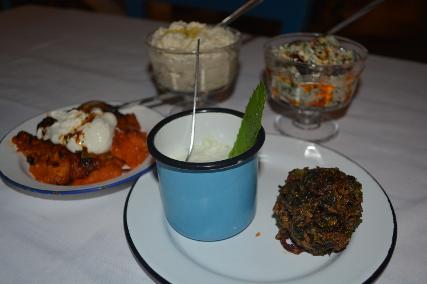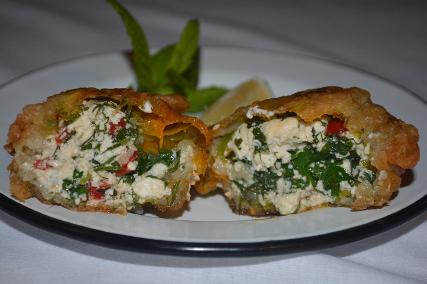 The 'Adhan' is the Islamic Call to Prayer, called out five times per day. It is called out from the mosque by the muezzin from near or in the mosque's minaret tower. The muezzin's voice is usually amplified by loudspeakers mounted on the minaret. In some cases the Adhan is a recording. The Arabic word adhan means 'to listen', being an alert that prayers are about to begin inside the mosque. During dinner we heard one of these adhans from the nearby mosque.
Slow cooked lamb with garlic. Content after a nice dinner.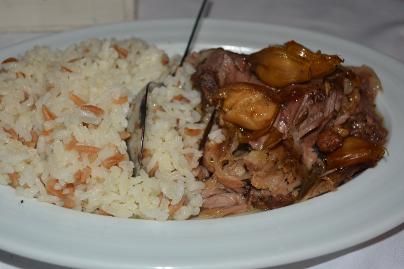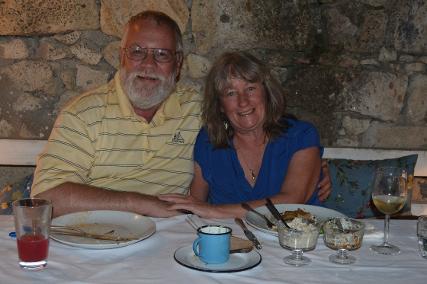 October 04, 2019 - Alacati (Tas Otel)
Alacati lies in the centre of the Cesme peninsula in a windy corridor. 'Poyraz' or the prevailing north winds lets Alacati 'breathe' in the hot summer days while 'lodos', the prevailing south wind in winter provides for a warm and pleasant climate. These winds apparently make Alacati one of the most important windsurfing centres in the world, albeit it was not windy during our visit.
The historical name of Alacati is Agrilia. Agrilia is located in the centre of Ionia, - the area between Izmir in the north and the Meander River in the south. The three Ionic cities in the vicinity of Agrilia are Erythrae (today's Ildir, one of Alacati's villages), the island of Chios and Clazamenae (today's port of Urla) The Ionian cities had their golden age in the 7th century B.C., following the colonization of other cities in the Mediterranean. Ionia continued to flourish under the Roman Empire, playing an important role in the rise of Christianity and contributing to the development of Byzantine art. Alacati in the early Ottoman period was a settlement of a Turkish tribe called 'Alacaat' (horse with mixed colours). Over time the word 'Alacaat' evolved into Alacati.
In the 1830s the Ottomans 'invited' workers from the island of Chios and other nearby islands to give them a hand in agriculture. More Greek workers came to dry the marshes, otherwise a source of malaria. Making use of the land given to them by the local Turks these Greek workers established vineyards, developed wine-making and chose to stay rather than return to their islands. The new town of 'Alatzata' was established a few kms inland with beautiful stone houses being built. The municipality was established in 1873 with the majority of the 12,000 residents being Greek.
Alacati's destiny then changed with the Balkan War (1912-1914). A number of Turkish people of Bosnian and Albanian descent fled from the Balkans, coming to Alacati while at the same time the Greeks began to leave. In 1923 the new republic of Turkey and Greece signed an agreement on the 'exchange of populations' - a forced migration. More than two million people had to leave their homelands. According to the agreement the Greeks living in Asia Minor were required to migrate to mainland Greece and the islands; while Turks living in Northern Greece in return migrated to Turkey. As a result, in addition to the immigrants of Bosnain, Albanian and Bulgarian descent, now came immigrants from places such as Thessaloniki, Kavala, Crete and Kos, significantly changing the makeup of the town.
Most of the stone houses along the narrow streets of Alacati are at least 100 years old. Following the opening of Tas Otel in 2001 more and more of these houses were bought and restored by those escaping the big cities. The town was declared an historical site in 2005 and thus the architecture is now preserved and protected.
A very nice breakfast including jams and marmalades, olives and olive oil, and oregano all being of Tas Otel's own production is served each morning in a comfortable setting by the pool. The boutique hotel is an oasis on the edge of the pedestrian area of Alacati. Like many in Alacati the staff have 'adopted' a number of cats - all very friendly.
We spent the afternoon wandering the pedestrianized streets (an area approx 1 km x 1 km) of the town, including a stop at a recommended restaurant Asma Yaprag. A very interesting set up in that all the dishes are displayed in the kitchen where one is invited in to receive an explanation after which one chooses what they would like. Everything looked interesting. Actually the majority of offerings were vegetarian, a bonanza for Gayle. We left saying we would be back for dinner.
During the afternoon we relaxed back at Tas Otel where we met an interesting fellow, Utku, from Ankara. Utku is an ornithologist and evolutionary biologist, interested in evaluating how past responses to climate change may affect vertebrate species, and how this knowledge can be used for conservation. We enjoyed an interesting chat over tea and cake.
Unfortunately when we returned to Asma Yaprag we discovered the restaurant was full - no reservation => no seat. We were quite miffed that when there in the afternoon we were not asked whether we wanted to make a reservation, particularly after saying we would be back. This is one case where perhaps language may have been an issue. We did make a reservation for the next night and then went back to Tas Otel as we had not brought our map. Next we were off in search of another recommended restaurant which turned out to be at the far end of town and, while the food may have been good was not that inviting (more like a cafeteria). We continued our walk around town looking for a place to eat. Sat down at one place but decided to leave. Eventually we ended up at a place (Antioche) just around the corner of our hotel. We should have known better given there was no one else there but we were really tired and frustrated and it was starting to rain. So we stayed, where Gayle had a cheese pide, an oblong pizza like thing, while I had diced lamb fried on an iron plate with tomato and chili. It was ok but we both agree we should have walked the little bit extra and returned to Papaaz where the food and atmosphere were much better. When traveling we feel we have a good record of making good decisions but this was not one of those times. Oh well, at least it was a really short walk back to our cottage.
A wide selection of jams at breakfast. My favourite - sour cherry.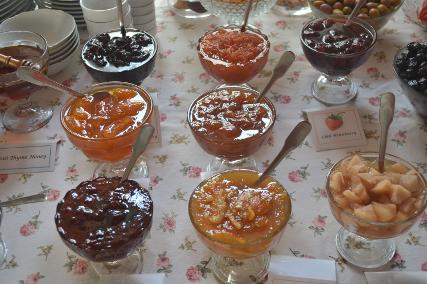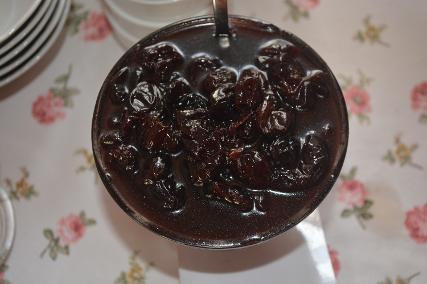 A selection of breads, including Turkish 'pretzel' bread. Tomatoes and cucumber.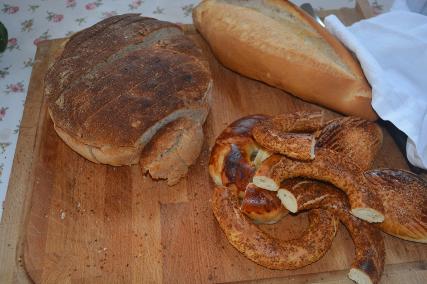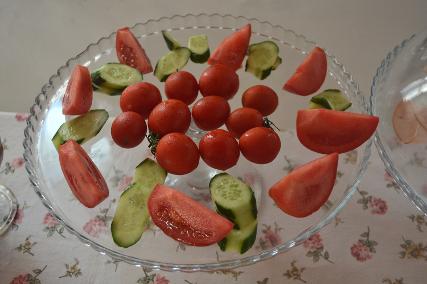 Our breakfast guest. Another enjoyable start to the day.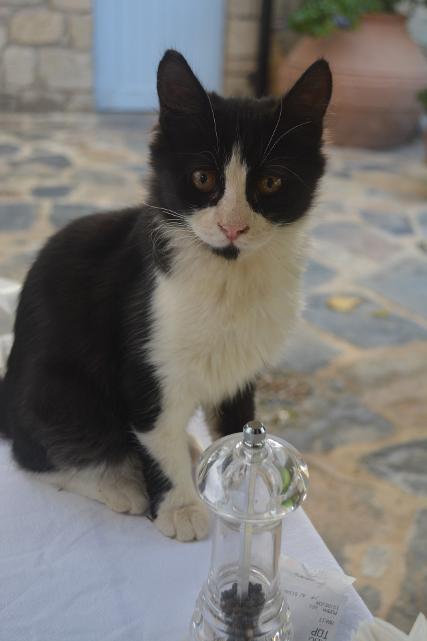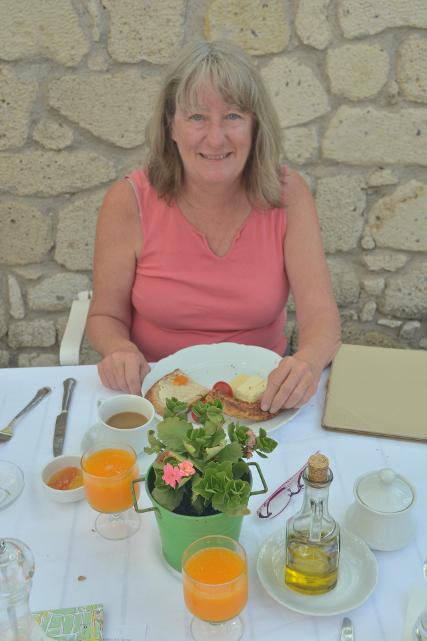 Beautiful Turkish pottery in our bathroom.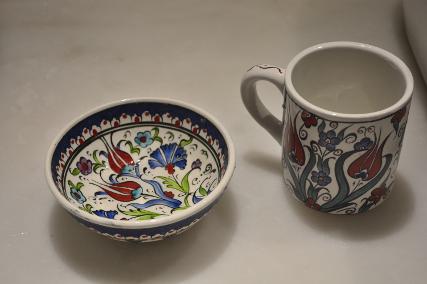 Our Turkish 'house cat' enjoying the comfort of our Greek towel.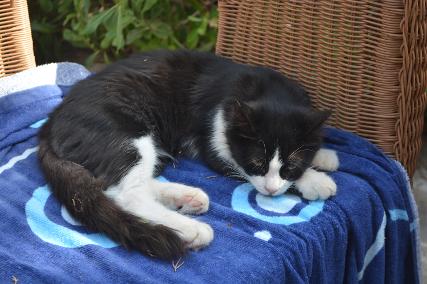 The entrance to Tas Otel. Zeynep, the wonderful owner of the Otel.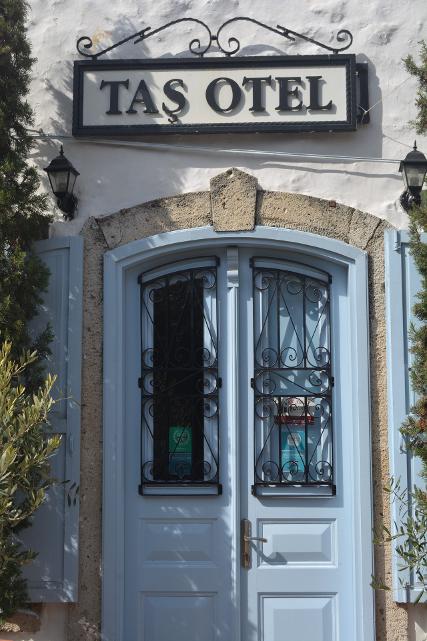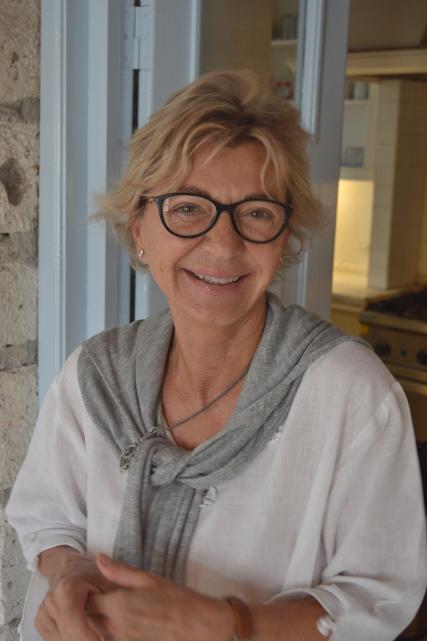 Kemalpasa Cad., the main 'street' of Alacati. Cobblestones throughout.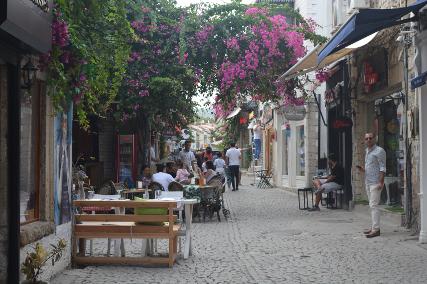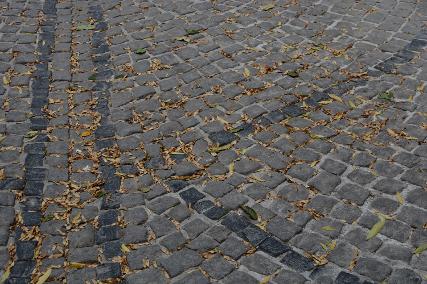 The garden area of Asma Yapragi. A beautiful display of plates on the wall.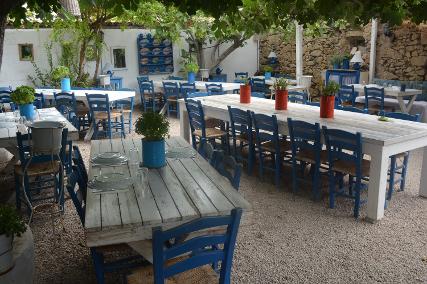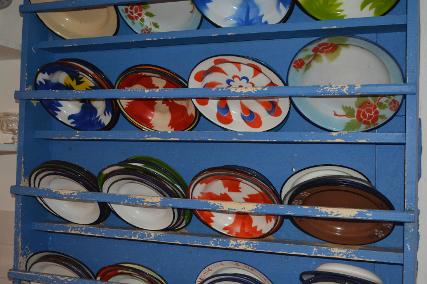 Dishes in the kitchen from which one chooses whatever they would like.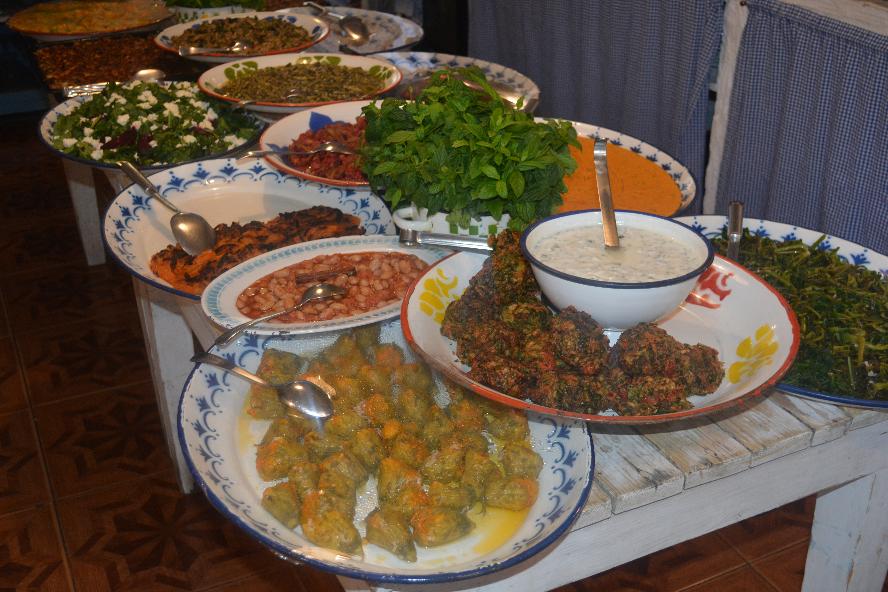 Such as vegetarian meatballs and others dishes at the restaurant we wanted to eat at but couldn't.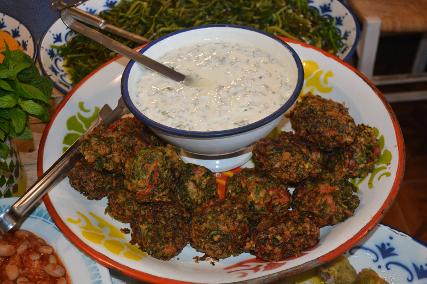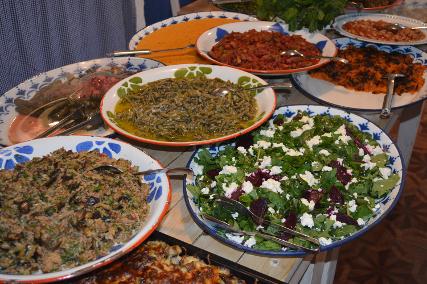 Courgettes flowers. Spiced lamb.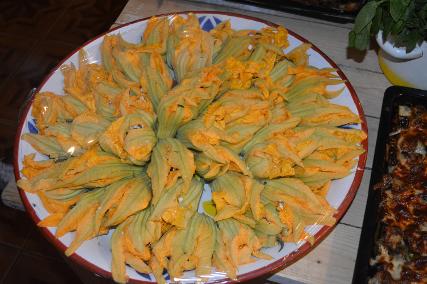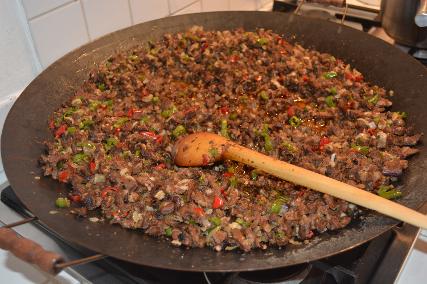 Tea and cake being delivered. Waiting patiently for their afternoon treats.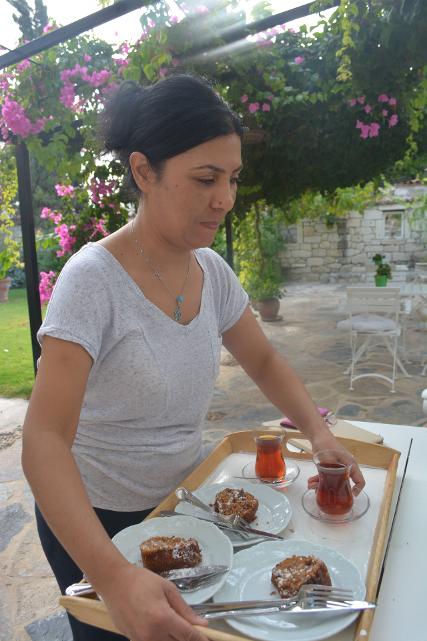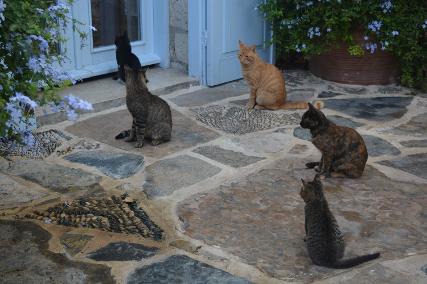 Another of Tas Otel's delicious cakes.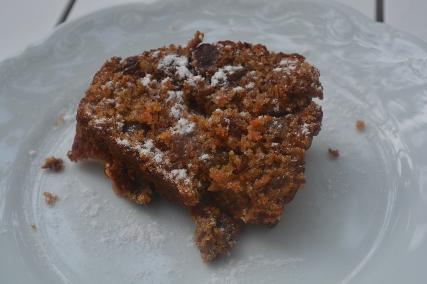 Utku, Gayle and me enjoying afternoon tea and cake.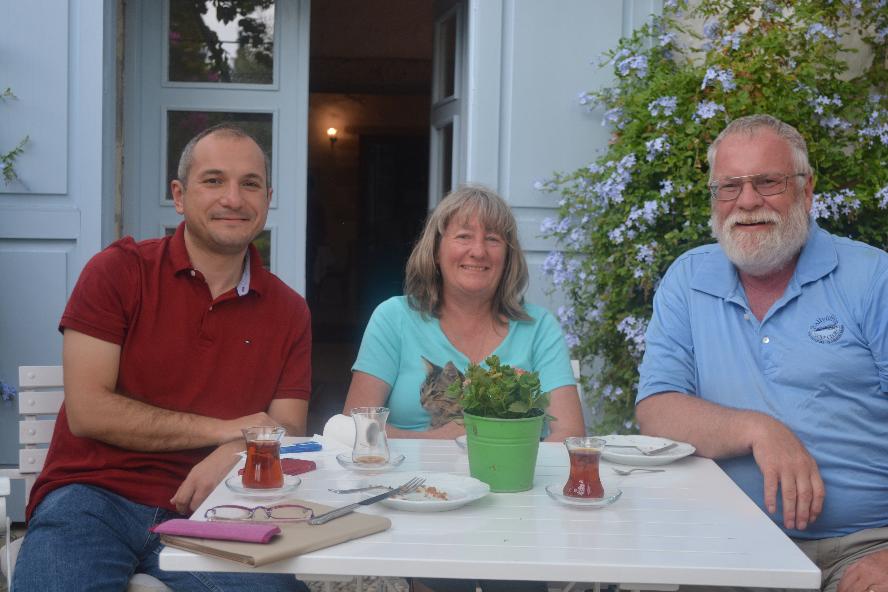 One of the turrets of Alacati's mosque. The Alacati windmill lit up at night.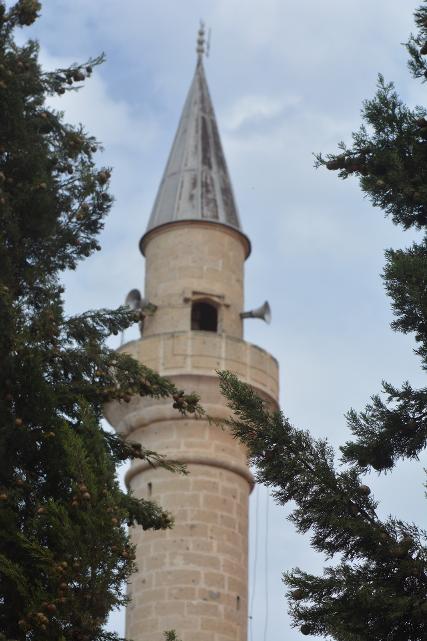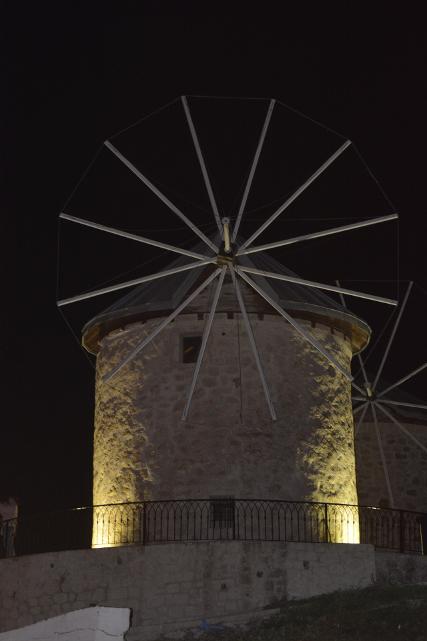 Not our first choice but we ended up having a meal of cheese pide and diced lamb fried with tomato and chili.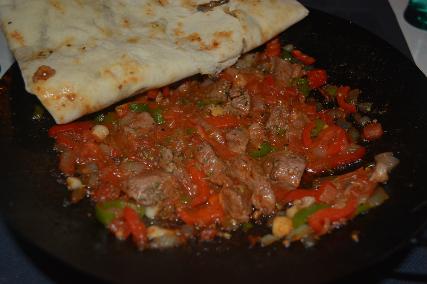 October 03, 2019 - Cesme to Alacati, Turkey
On to Turkey. The ferry was somewhat slow at 50 minutes (apparently there is a hydrofoil that can cross in 30 minutes) but we arrived, never had to show our Turkish VISA ($165 Cdn for the two of us), and quickly met the car rental guy outside of customs as arranged.
The drive to Tas Otel in Alacati (pronounced Allatcheta) is in theory 11 km and 19 minutes. We probably drove 40 km and took nearly two hours. After filling up with gas we got somewhat twisted due in part to the difficulties in finding street signs. As it turns out Alacati, a town known for its architecture, vineyards and windmills, one of the most traditional towns in Turkey with stone houses, narrow streets, boutique hotels and numerous restaurants is pedestrian only. Approaching one's hotel from the 'wrong' side, in this case the north, on one of the many tight narrow streets results in a dead end, and a difficult exit. Try again a street over - same result. Very very frustrating. Perhaps a GPS would have been helpful but as has always been the case we were eventually successful. We ultimately went around and approached from the east, finally finding a street near enough to where we thought our hotel was located. We easily parked on the street on the 'outside', got out and after a very short walk we finally found Tas Otel. To have been that close yet that far was, as said frustrating.
Tas Otel, a renovated 130 year old Greek Mansion opened in 2001 as the first of what are now 400 small boutique hotels in Alacati. The hotel has 8 rooms, two of which are separate from the main building, one of which we had. Our room was at the other end of the pool with a nice outdoor seating area. After settling in we went for a short walk along the main street, passed a number of small shops and numerous restaurants. Of note were the street dogs (and cats). There are many, all of whom seemed to be enjoying their afternoon nap. They all appeared well fed and healthy.
Between our stroll and dinner we enjoyed tea and cake, an afternoon tradition at Tas Otel.
For dinner we went to a suggested restaurant - Papazz. The main section was set in a nice garden. To start a large tray of mezes, or appetizers, were presented to us, for us to choose what was appealing. We chose three - courgettes flowers, an aubergine dip and finally a pumpkin, tomato and onion stew like dish. It turned out each were 20 Turkish lira, or approx. $4.60 Cdn. Gayle then had a small salad (there was a choice of regular and small which was perfect for Gayle in that she rarely finishes the large servings we have experienced) and I, after seeing all the fresh tomatoes near the kitchen had the Sucuklu Pizza, i.e. a pizza with Turkish sausage. We actually ordered a dessert - a Turkish baklava to share. Soaked with honey and covered with blueberries and nuts it was delicious. Although service was a perhaps a tad too efficient, we were in no hurry but did feel a bit rushed, the setting was wonderful and the food very good. A really nice meal.
A short walk brought us back to Tas Otel to end our first day in Turkey.
The two vehicles on our ferry. Our welcome to Turkey - a large flag on a rock outcrop.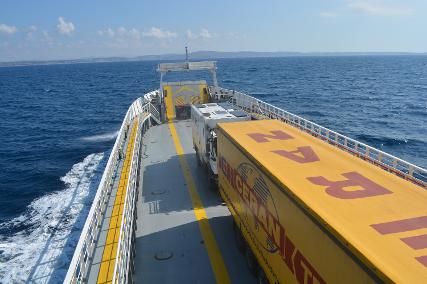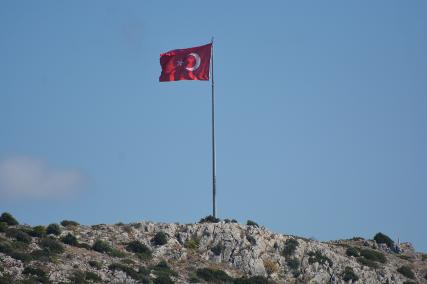 Unlike the islands of Greece we saw a number of large resorts as we approached Cesme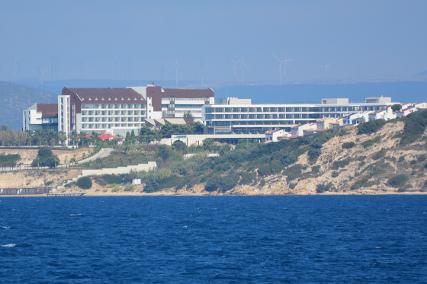 The ruins of Cesme castle.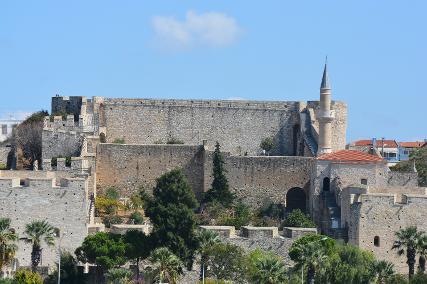 Our room / bed. The pool with our separate cottage beyond.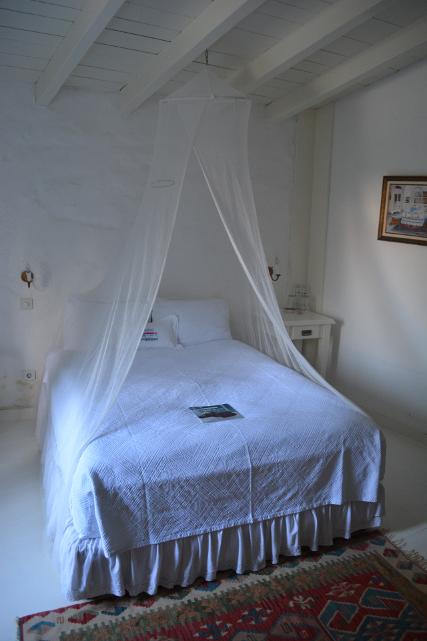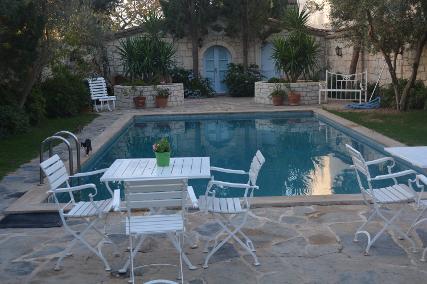 Our seating area just outside our cottage.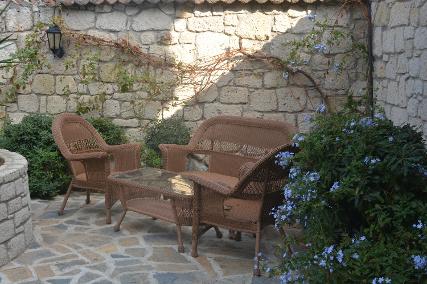 The pool and main building of Tas Otel. Each afternoon tea and a cake were served.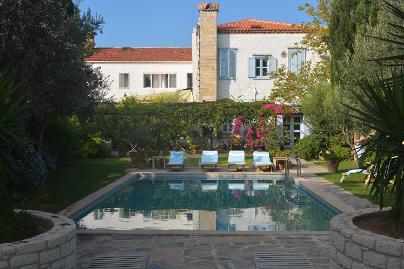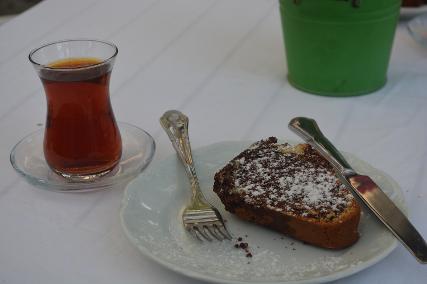 Stone buildings, beautifully painted shutters, colourful chairs, and balconies all contributed to the charm of Alacati.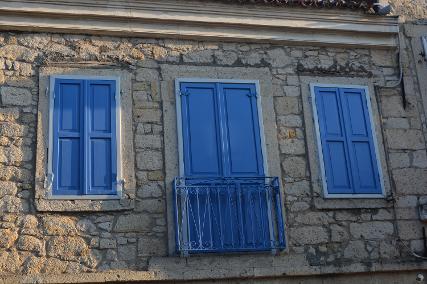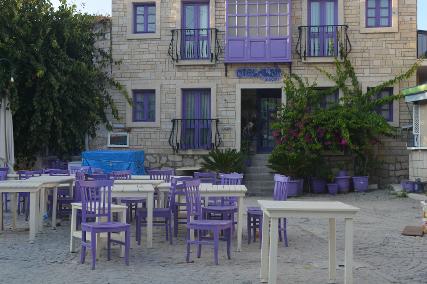 A fruit shop just around the corner from Tas Otel.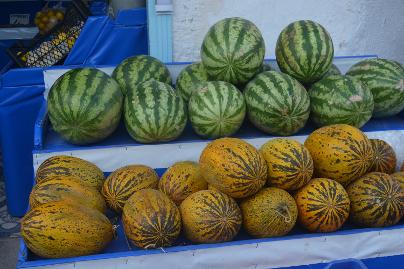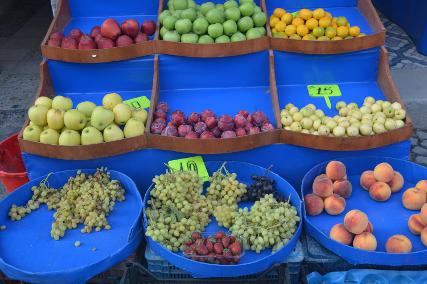 A small sampling of the street cats and dogs of Alacati.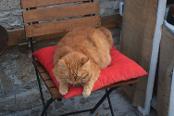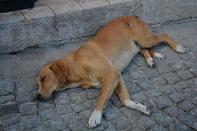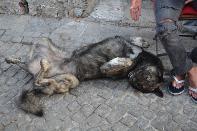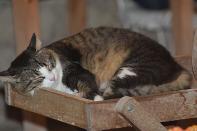 A selection of mezes (small appetizers).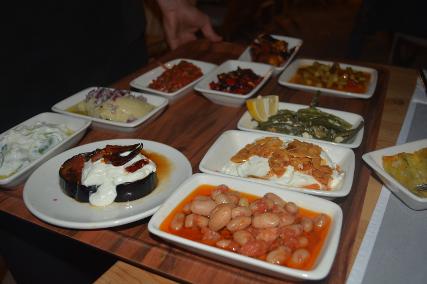 The three mezes we chose - courgettes flowers,
aubergine dip and pumpkin in tomato and onion.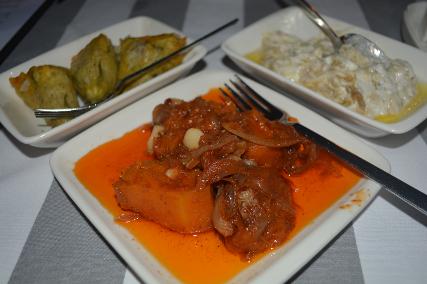 The owner and a server at Papazz.
A small (perfect for Gayle) salad with homemade goat cheese.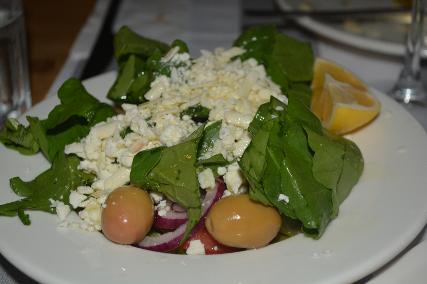 Fresh ripe tomatoes on the counter of the kitchen.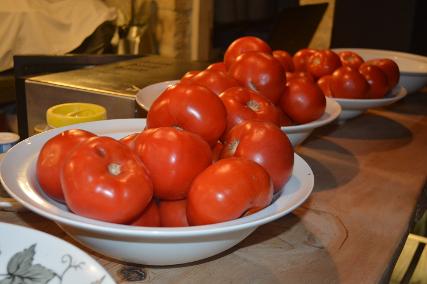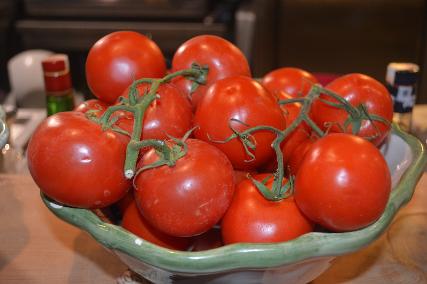 Pizza with Turkish sausage. Baklava with blueberries and nuts.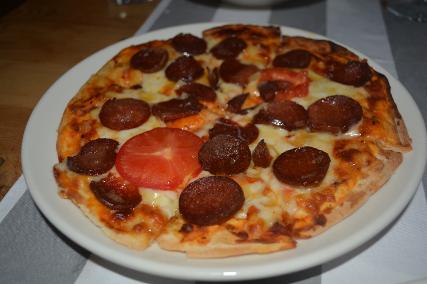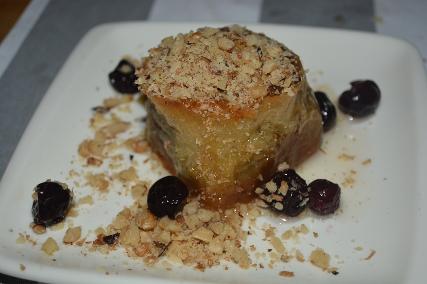 Turkey - October 03, 2019 - October 10, 2019
For a second time after a lengthy trip to Greece we are spending some time in Turkey. In 2017 we ended our trip with three nights in Istanbul. This time we are further south, having crossed over from the Greek island of Chios to Cesme. After four + weeks in Greece we will be six nights in Turkey
Alacati (3 nights) - at Tas Otel, and
Kirazli (3 nights) - at Ephesus Lodge
before flying from Izmir to Istanbul to Vienna to Montreal to Halifax.