September 16, 2023 - Kefalonia - Myrtos Beach
After a bit of work on the travel blog under the watchful eye of one of the house cats, we enjoyed another leisurely breakfast chatting with a couple from Australia nearing the end of a five month - yes month not week - trip to Europe and the middle-east.
While we can't think of any hosts who have not been wonderful we want to make special mention of Petros and his partner Vania. Nothing is too much trouble. Vania is a bit shy but Petros could not be more helpful. He just has a way about him that makes everything so easy. We very much enjoyed both.
Today our journey took us south to Myrtos beach.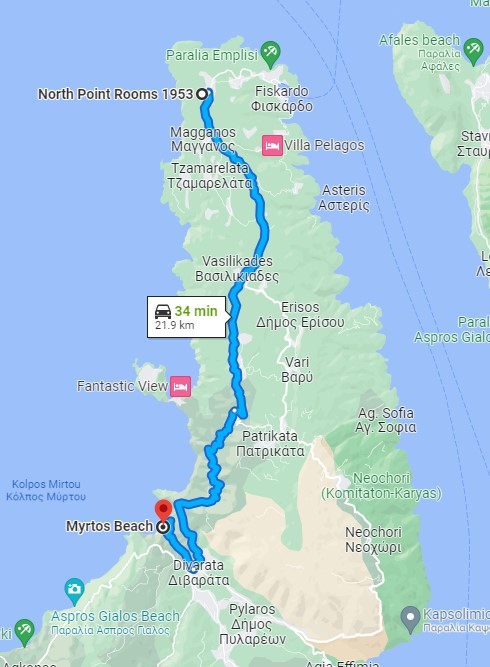 In theory just over half and hour from North Point Rooms 1953 but in reality somewhat longer with the numerous photo stops along the way.
Myrtos Beach is undoubtedly one of the main attractions of Kefalonia. Located in a beautiful area around huge verdant hills Myrtos has gained a worldwide reputation, constantly included in travel magazines among the most beautiful and impressive beaches in the world, garnering awards for its cleanliness and natural beauty. As a result Myrtos Beach is one of the most photographed places in Greece.
Every year Myrtos is awarded the Blue Flag, one of the world's most recognizable eco labels awarded to beaches that meet and maintain the highest environmental, sustainability and safety criteria.
The beach has a semi-circular shape surrounded by impressive white rocky cliffs with lush vegetation on top creating a spectacular setting. The lush green area, the abrupt terrain, the white pebbles and the crystal clear waters compose a stunning scenery. A portion of the beach is well-organized with umbrellas and sundecks while space is maintained on each end that is unorganized.
Being on the west coast of Kefalonia Myrtos is blessed with beautiful sunsets although we were not there in the evening to enjoy one.
There is a nice 'photo op' site on the road high above the beach providing an opportunity to take some stunning shots.
On the way to Myrtos we passed the island and village of Assos. Founded under Venetian rule Assos served as the administrative capital of northern Kefalonia from 1593 through 1757. The Venetian Senate commissioned the construction of the Assos Castle, one of the largest in Greece, in 1595. The castle was initially built with the view that it would protect locals in case of an invasion by passing Turks or pirates, but for various reasons such as the absence of natural springs for a water supply, it was never adopted as a fortress, and gradually the grand plan was dropped. In the 1920s the castle was converted to a prison which housed political prisoners after WWII. After the 1953 earthquake most people left the island and the prison was closed. In retrospect we regretted not driving down to get a closer view of the town, island and fortress. Next time.
Dinner was at a traditional nearby tavern - Makis. We ate light - just a Greek salad for Gayle and a plate of olives followed by lamb chops for Norm. We returned to North Point 1953 rooms and retired.
While working on the travel blog each morning I always had company - if not Benny one of the cats.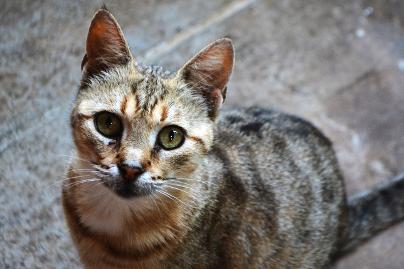 A new day; a new loaf for guests.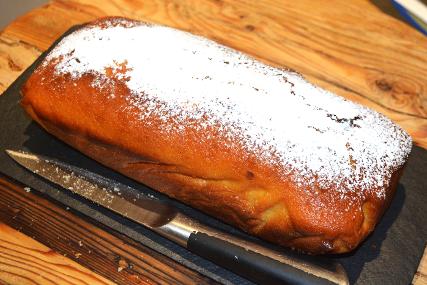 Today's toast - fresh tomatoes and feta with oregano.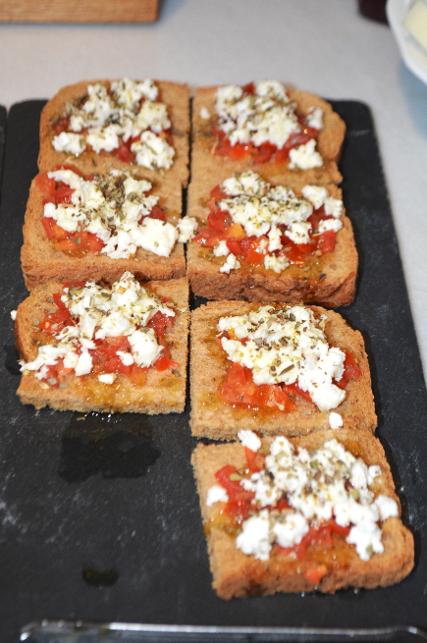 A lot of variety for breakfast.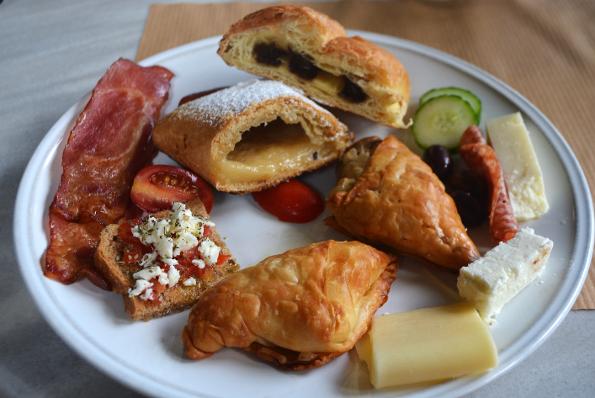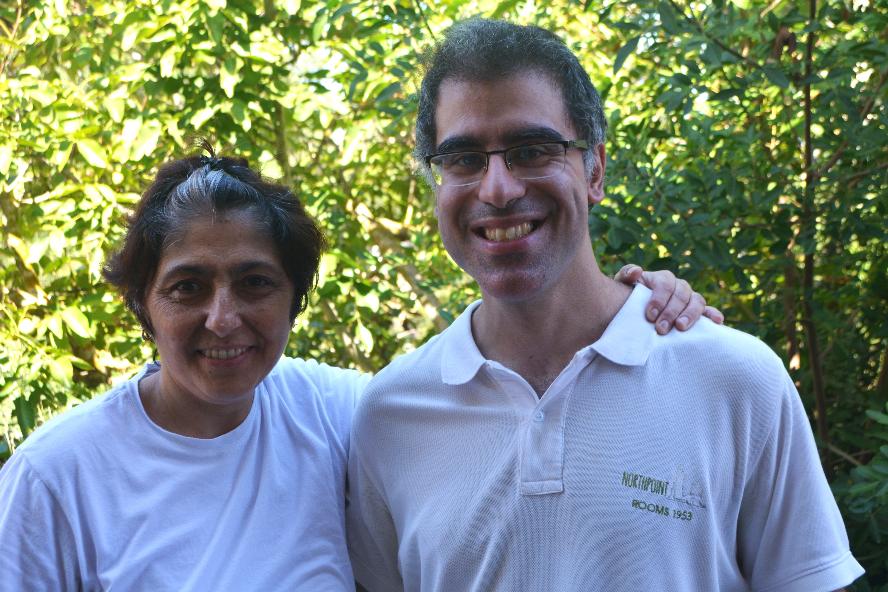 The village of and island of Assos.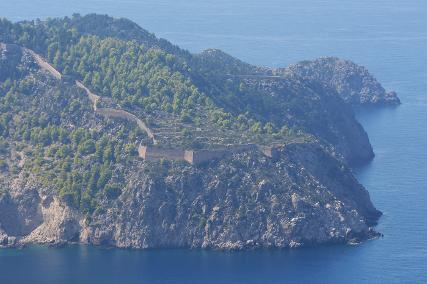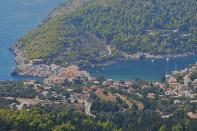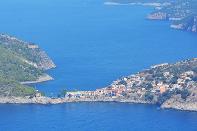 Myrtos Beach - one of the most photographed beaches in Greece, seen here from the road above.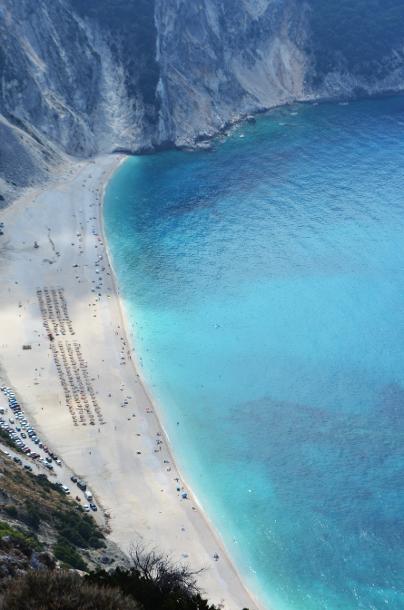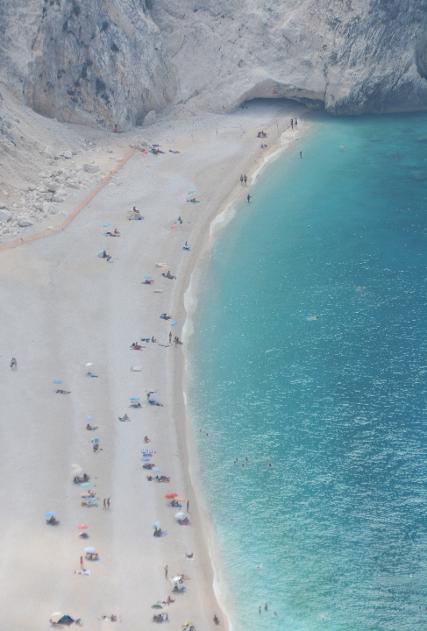 Is Gayle feeling my heart beat or covering a stain on my shirt?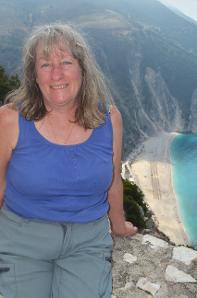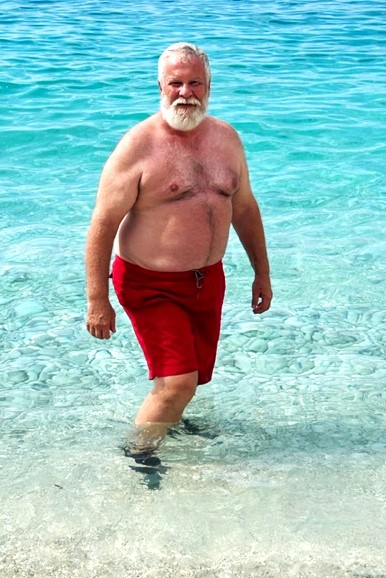 Myrtos beach during the 4 km drive down.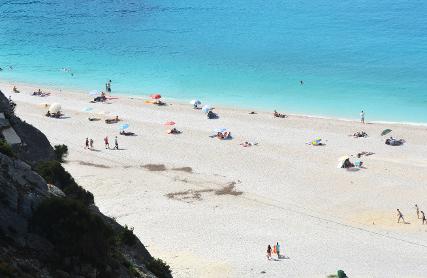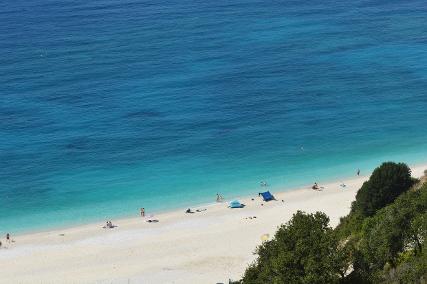 It can't get much nicer than this.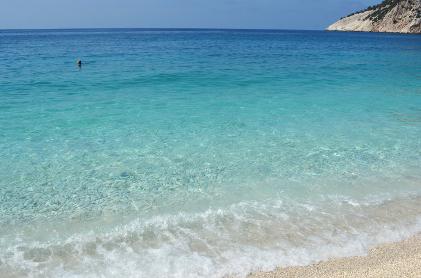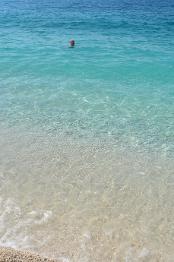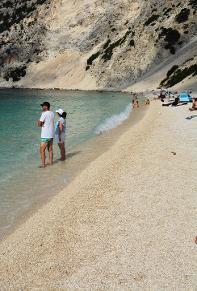 Such soothing warm water. And a video of the beach and surrounding rock cliffs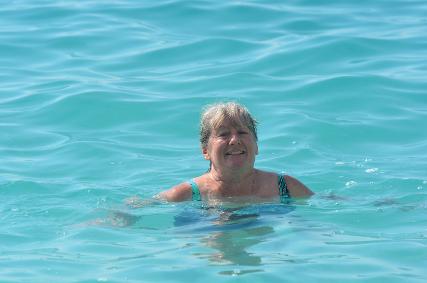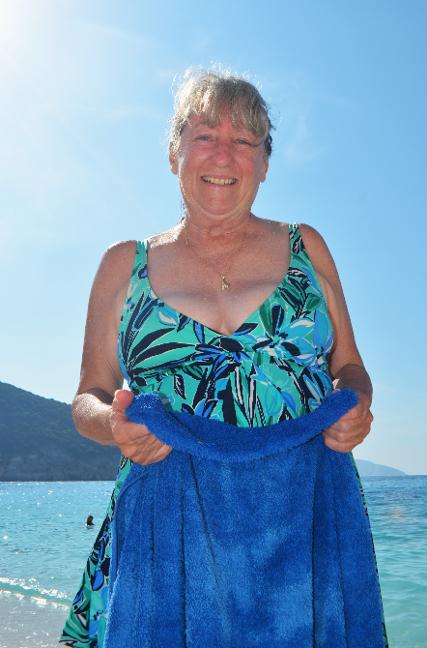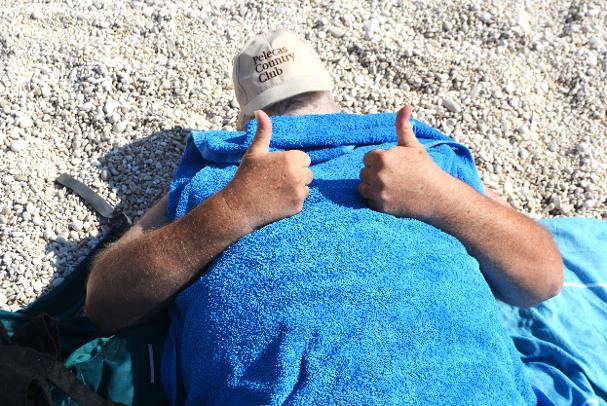 Gorgeous turquoise transitioning to blue water.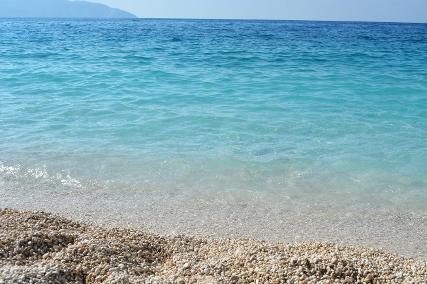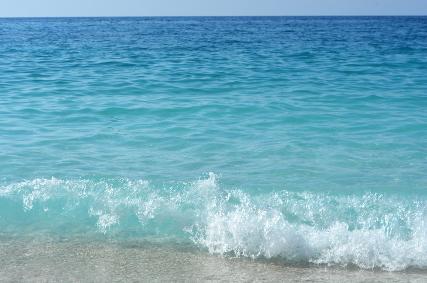 Like most Greek beaches Mykros is full of pebbles (and some larger stones).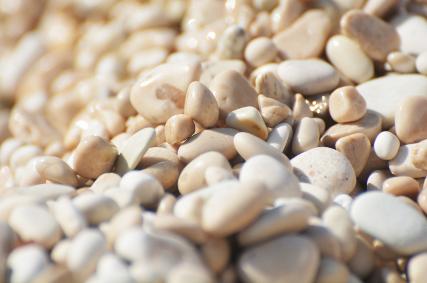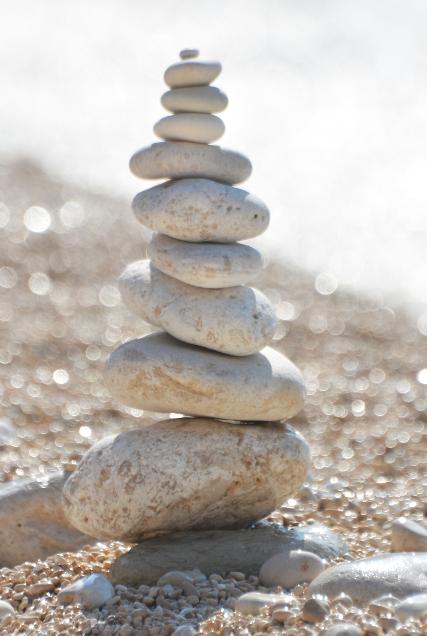 A number of roadside goats on our drive today.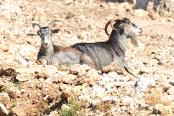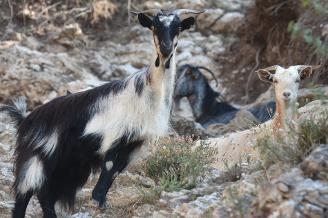 Benny taking after me => napping. Afternoon snacks - all included.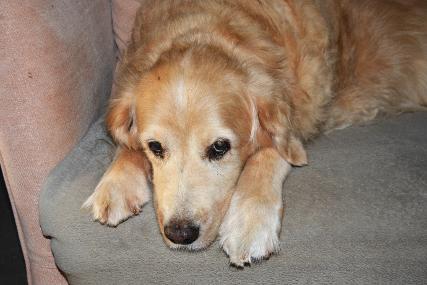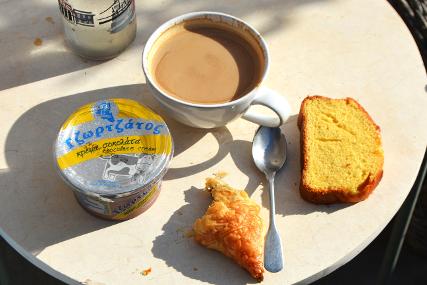 A simple dinner tonight at Makis, starting with an order of olives which went nicely with the olive tapenade that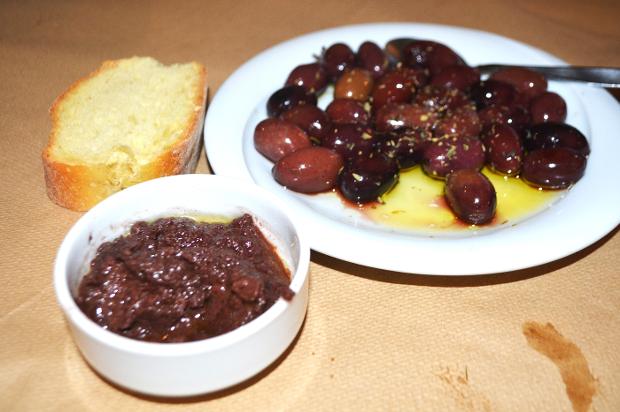 A Greek salad. And lamb chops.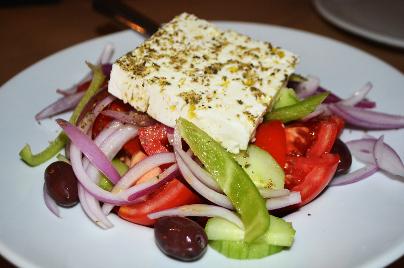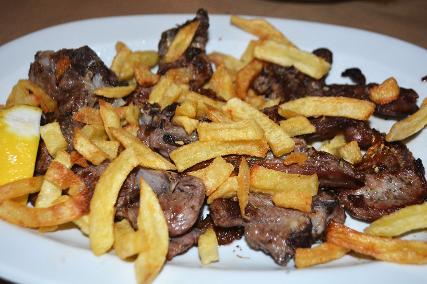 September 15, 2023 - Kefalonia - North Point 1953 - Fiskardo
After a very comfortable sleep we awoke to a nice day. I started the day with a couple of early morning coffees working on the travel blog and befriending Benny, the resident dog along with a number of house cats. We enjoyed a great breakfast, complete with fresh orange juice, coffee of course, granola, chocolate croissants, other pastries, cheese and spinach pies, small toasts today with salmon and capers, meats, cheeses, tomatoes, cucumbers, yoghurt, bacon and eggs. Certainly no need for lunch.
In the afternoon we went into Fiskardo, a pretty little fishing village. Fiskardo is the northernmost port of Kefalonia with a small and diminishing fishing fleet. The coast around Fiskardo is mainly rocky with numerous pebble-beached coves. The area, dense with forests, has been declared one of great natural beauty and as a result is protected under Greek law.
Fiskardo has been identifed with the ancient town of Panormos, mentioned as far back as the 5th century B.C.. In 2006 workers stumbled upon a perfectly preserved Roman-era grave complex. Inside were five burial sites including a large vaulted grave and a stone coffin as well as gold jewellery, pottery and clay pots, gold earrings and rings, gold leaves attached to ceremonial clothing, and bronze artefacts decorated with masks, a bronze lock and coins. Other excavations have uncovered remains of houses, a remarkably preserved theatre with stone back seats, a baths complex and a cemetery, all dating to Roman times between 146 B.C. and 330 A.D.. At the time the complex was uncovered a Greek Culture Ministry spokesman said "Nothing else like it has ever been discovered on any Ionian island." Unlike most of Kefalonia Fiskardo escaped the destruction of the 1953 earthquake, keeping its original architecture.
We stumbled upon the cemetery with a number of tombs, then wandered along the harbour with many yachts and tour boats, along with restaurants. Before leaving we each enjoyed a gelato.
Before returning to North Point we stopped for a swim at one of the nearby beaches - Emplesi. A couple of kms off the main road the beach was very accessible, with easy parking and fantastic water - warm and colourful. We certainly enjoy our daily swims.
For dinner we took Petros' recommendation and went to Alati, a restaurant on the sea with great sunset views. The sunset tonight was decent, although perhaps not as spectacular as it could have been. The meal however was superb. Quite surprisingly the garlic and salted pita breads were delicious. Gayle had a dish of linguini with fresh tomato sauce, and a huge ball of burrata cheese covered in pesto, which she absolutely loved. Norm took a bit of a risk on sesame crusted tuna - this after all is a fish restaurant - which also was wonderful, reminiscent of the excellent tuna he enjoyed at Golfo Dulce in Costa Rica. All was accompanied by the best wine so far, a white Papargyriou. An excellent meal in a very scenic setting.
Greek yoghurt with bananas and granola. Meats, cheese, tomato, cucumber and avocado.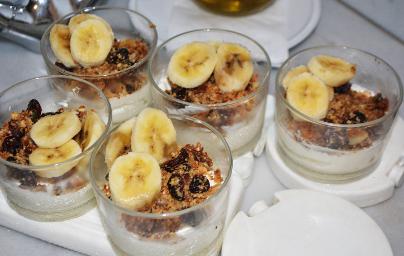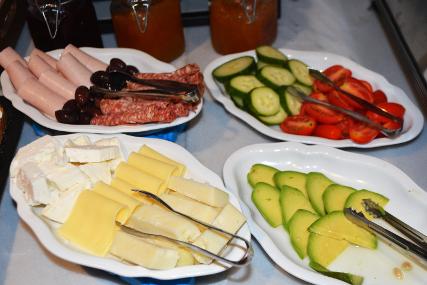 Chocolate croissants, other pastries, salmon and capers toasts and small cheese pies.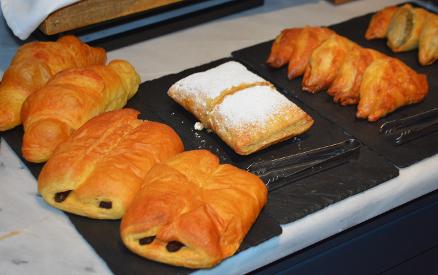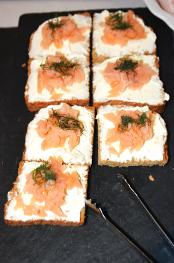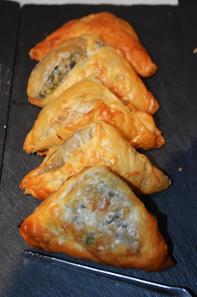 Lavender (unfortunately not in bloom) outside our terrace.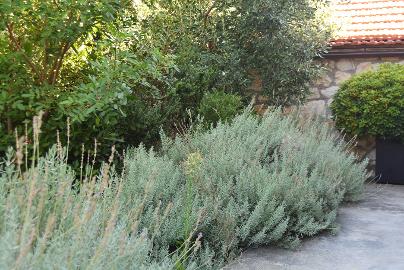 Brightly coloured bougenvillia.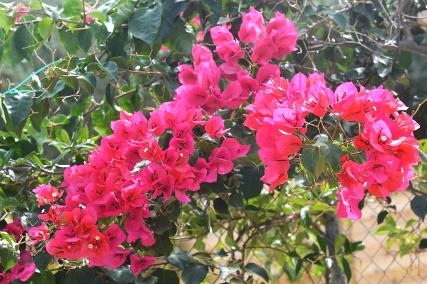 Gayle on our terrace and our new friend Benny.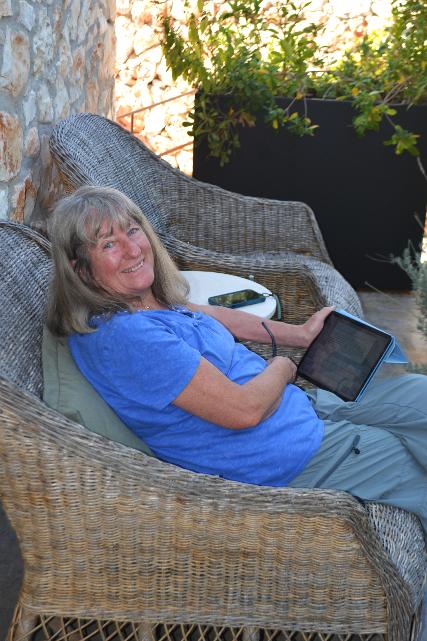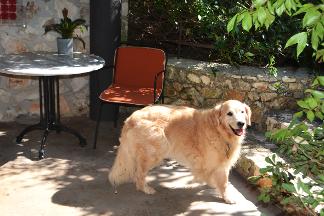 North Point Rooms 1953 with two cypress trees framing the entryway.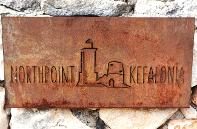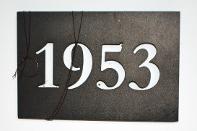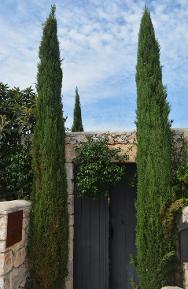 The church just outside North Point Rooms 1953.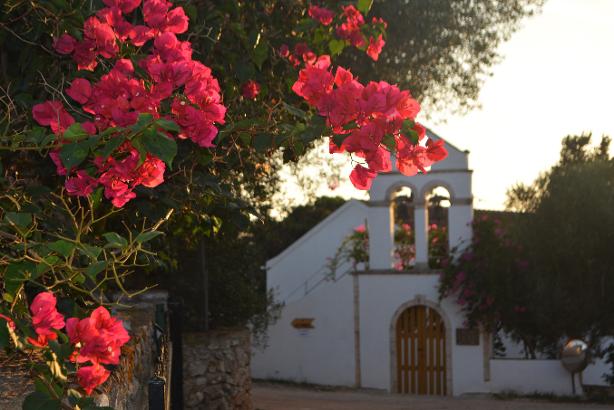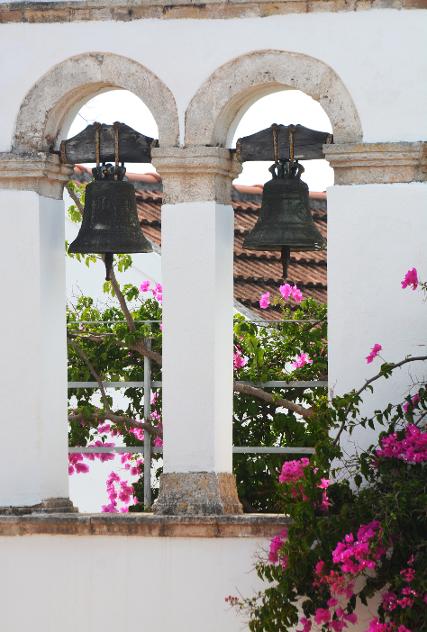 An old home amongst the olive trees on our drive into Fiskardo.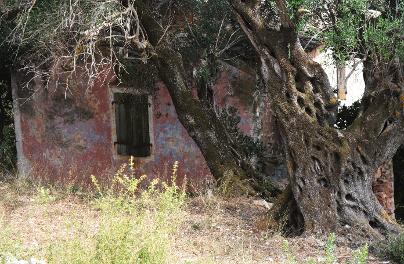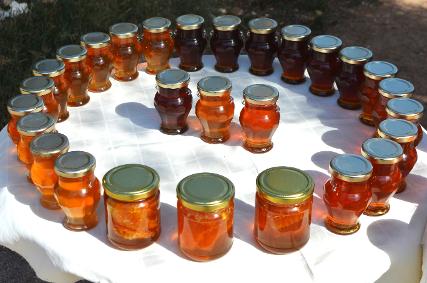 Attractive buildings along Fiskardo's waterfront.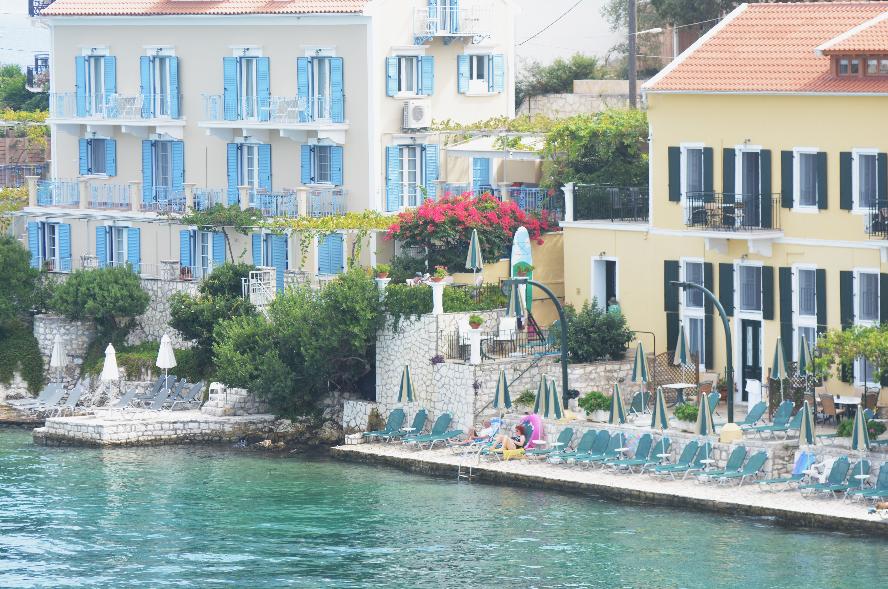 Such a pretty little harbour with turquoise water and a small beach.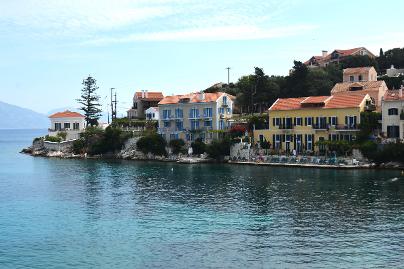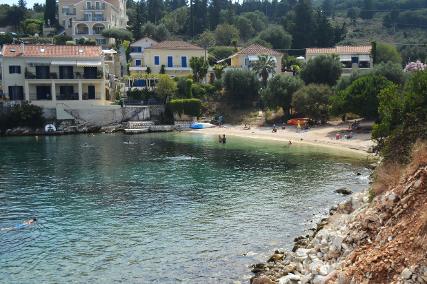 A Roman cemetery / burial ground discovered in 1993 containing at least 51 tombs (identified so far) dating from the 2nd to the 4th century BC.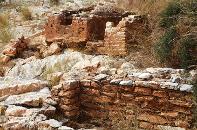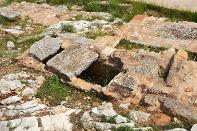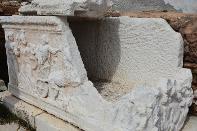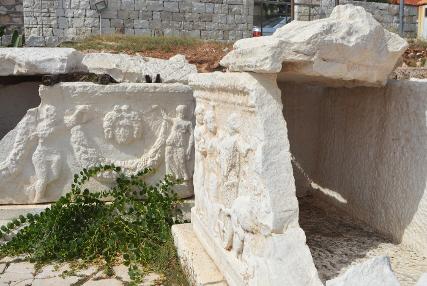 Many boat tours of the Ionian islands stop in Fiskardo.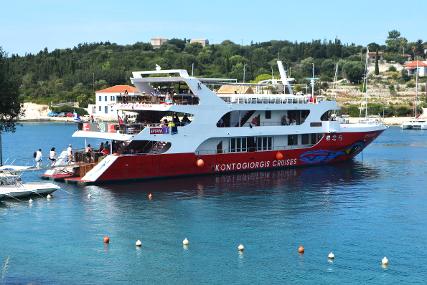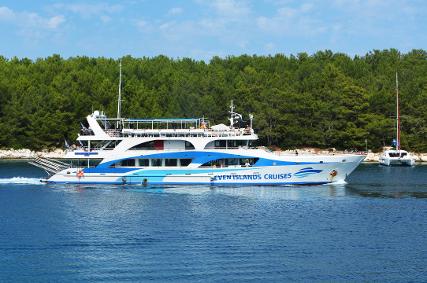 Boats in the harbour - this one from Panama.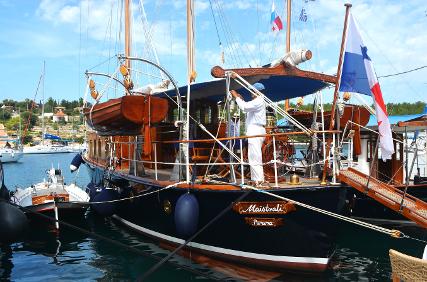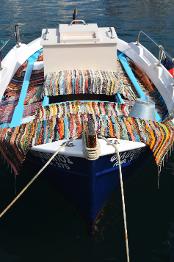 Flowers adorning a building.
An elderly woman being helped by a bakery employee.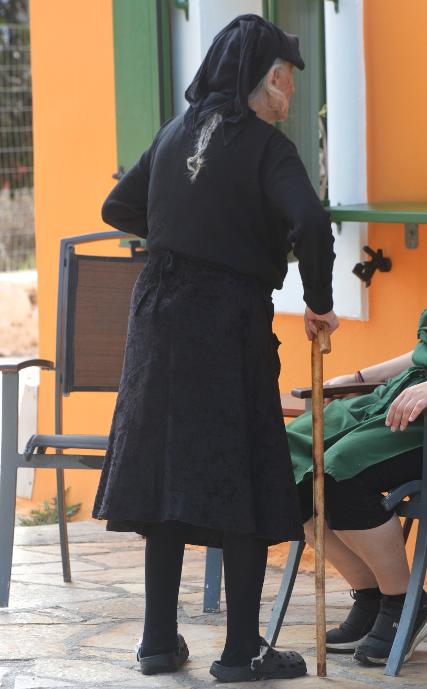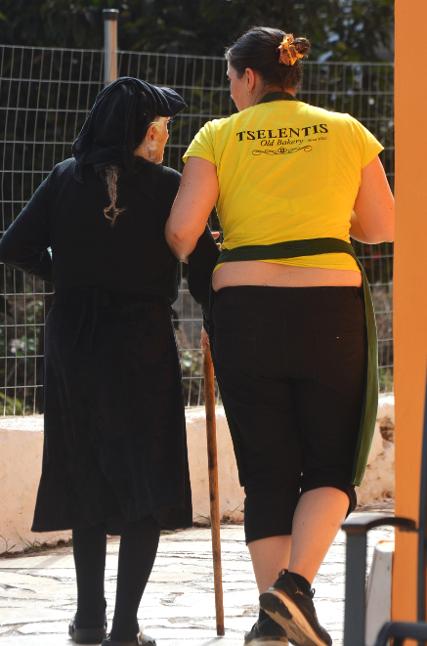 A few sights in Fiskardo.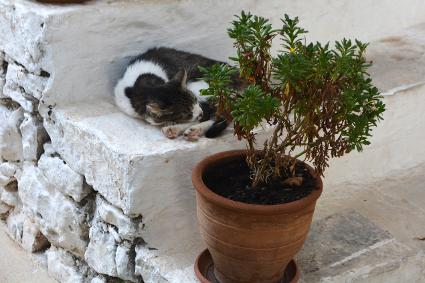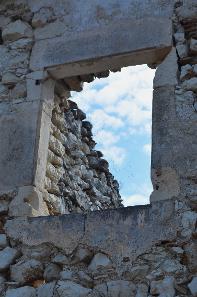 Emplisi beach, between Fiskardo and North Point Rooms 1953 - very easy to park and access.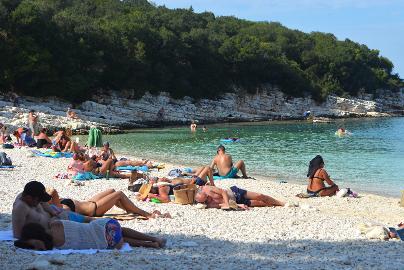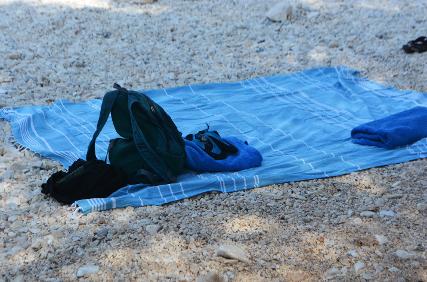 The water is very green near the shore, turning turquoise a bit further out and then finally a deep blue.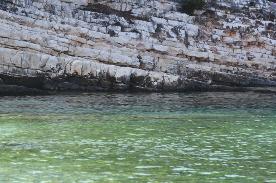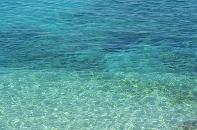 Today's beach to enjoy a swim.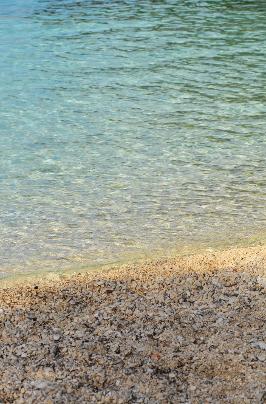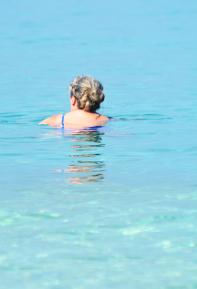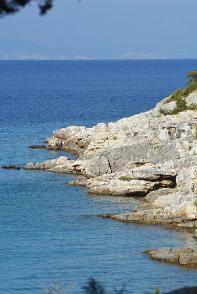 Enjoying the sunset before dinner.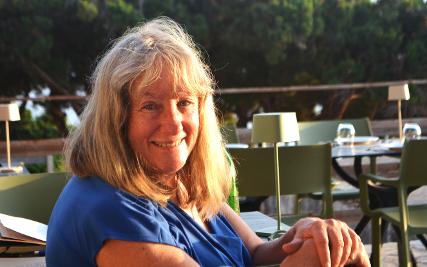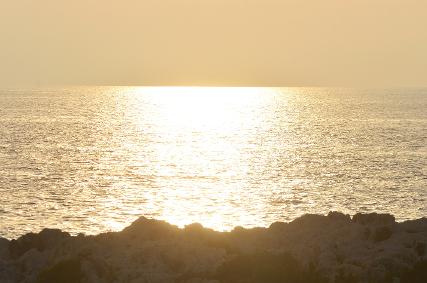 The cove / swimming area in front of the restaurant.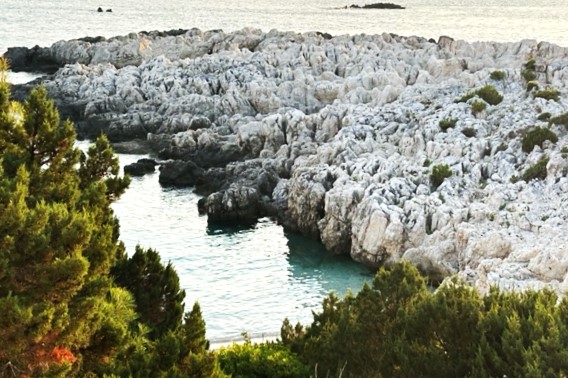 Who knew pita bread could be so tasty? Add garlic and salt and voila!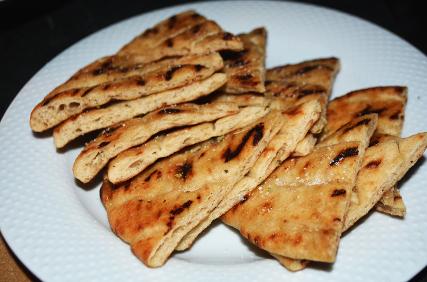 Liguine with a large delicious piece of burrata covered in pesto.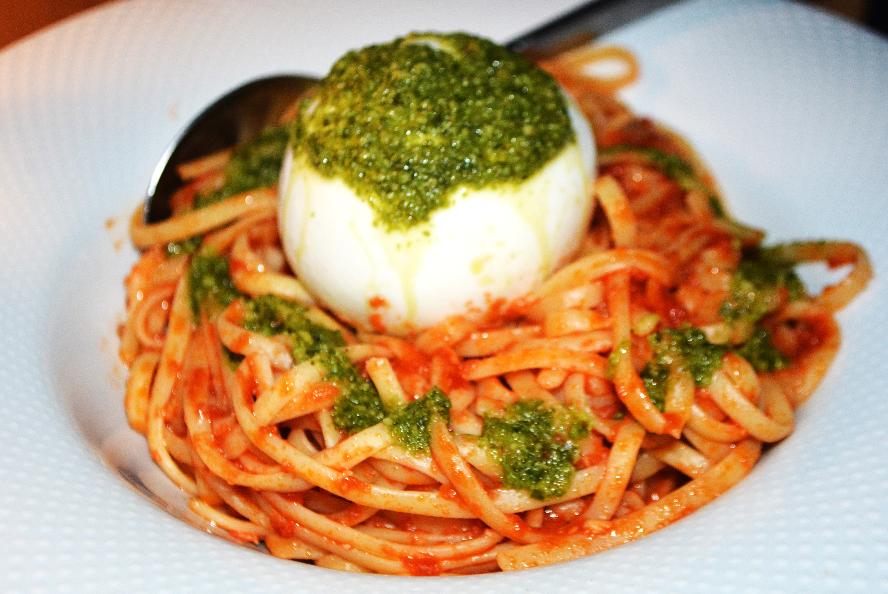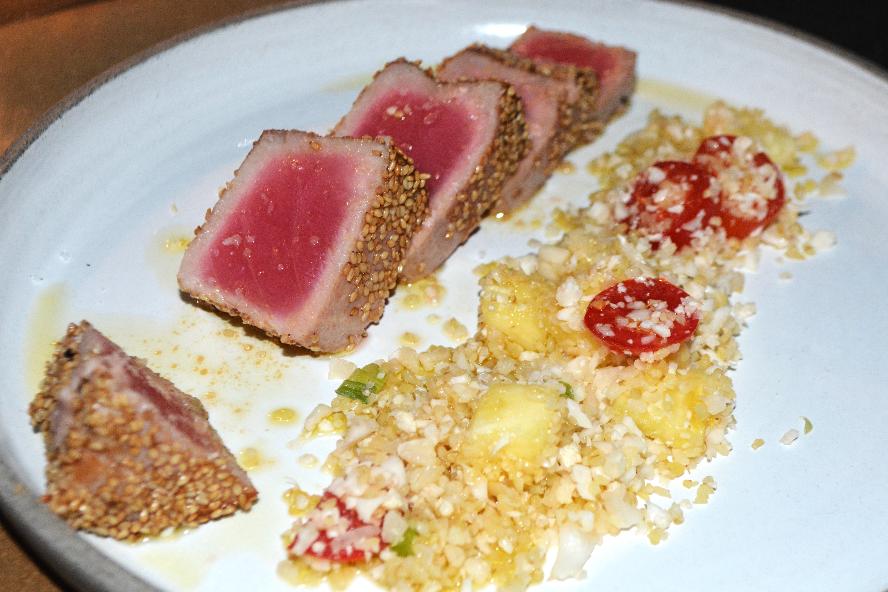 Sunset while enjoying drinks before dinner at Alati.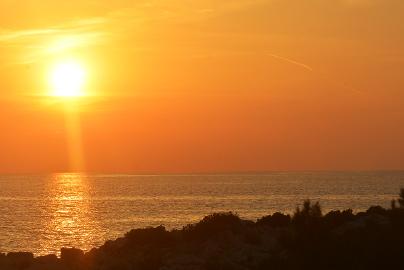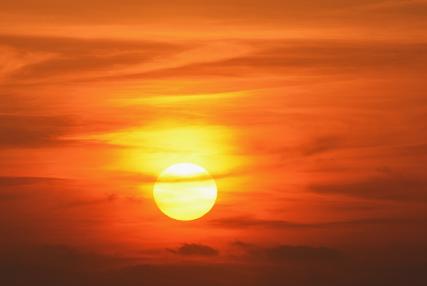 September 14, 2023 - Lefkada to Kefalonia - North Point 1953
We left Lefkada today to ferry to the next island south - Kefalonia. We would say we were more impressed with Lefkada than perhaps we expected. A very green island with lots of olive and cypress trees. Our lodging - Thealos Villages - was great; a large unit with separate bedroom, kitchen and a nice outdoor area. There were a number of pools for our use and an expansive vista across the sea to the mainland. Although we didn't cook there was a stove with oven and a microwave along with a full fridge. There are a number of relatively easily accessible beaches (at least compared to Paxos and the west of Corfu), and some scenic drives. We certainly will consider returning.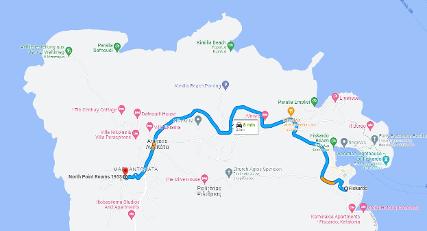 Due to the ferry strike that delayed our leaving Lefkada and arriving in Kefalonia by one day we had only three nights at North Point Rooms 1953. One nice thing is that the Rooms are < 10 minute drive from the ferry, assuming of course one does not miss the sign and drive another five to ten kms further. But we figured it out, returned, saw the sign we missed and found North Point1953 quite easily.
We were met by Petros and right away knew this was going to be a great stop. Petros just has a way about him that makes one feel so very welcome. He was so accommodating throughout our stay.
Haris, the owner, and the name of our room, started to build his collection of lodgings first with the Primarolia Hotel in Patras that opened in 1997. This was followed by the Emelisse Hotel in Fiskardo. Using his experience, love for the travel industry, and the desire for continuous development he has created new projects in both Ithaca and Kefalonia. The Perantzada Hotel opened in 2000 in Ithaca. Then in 2017 Haris added the North Point Rooms 1953 in Markandonata, a small village near Vilapata in north Kefalonia. The Rooms are a place of total peace and relaxation - six rooms in a secluded area within a marvelous garden providing absolute serenity. So the website says. And we agree. Simply delightful.
Petros suggested the nearby Old Stone Taverna for dinner. Gayle had a wonderful plate of grilled vegetables, fortunately not swimming in olive oil. She loved them. Norm tried the traditional Kefalonia meat pie, a pork and beef pie that didn't quite work, being somewhat dry. We did finish with a large piece of baklava that we shared. All in all a nice start to our stay in Kefalonia.
Breakfast of pastries and cakes, spinach and feta pies, toasts with tomato, cheese and olives, an egg pie, olives and fruit, among other things.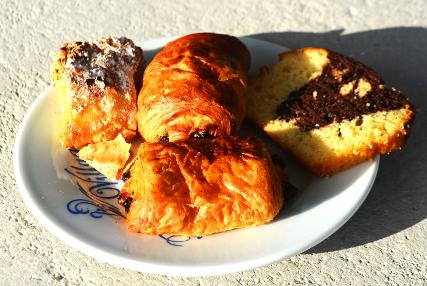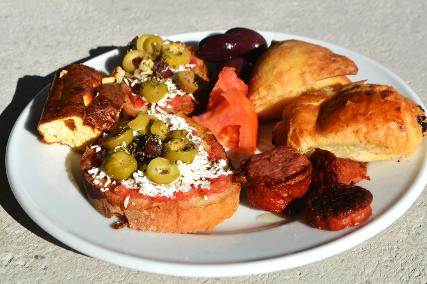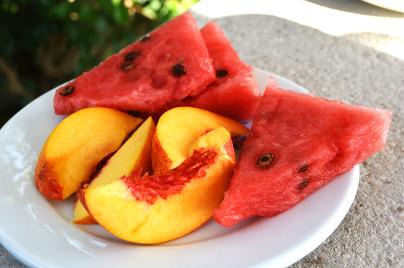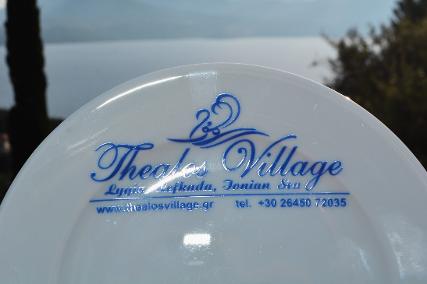 While I was waiting in the car for Gayle to get our ferry tickets I took this photo of a fellow passing his time in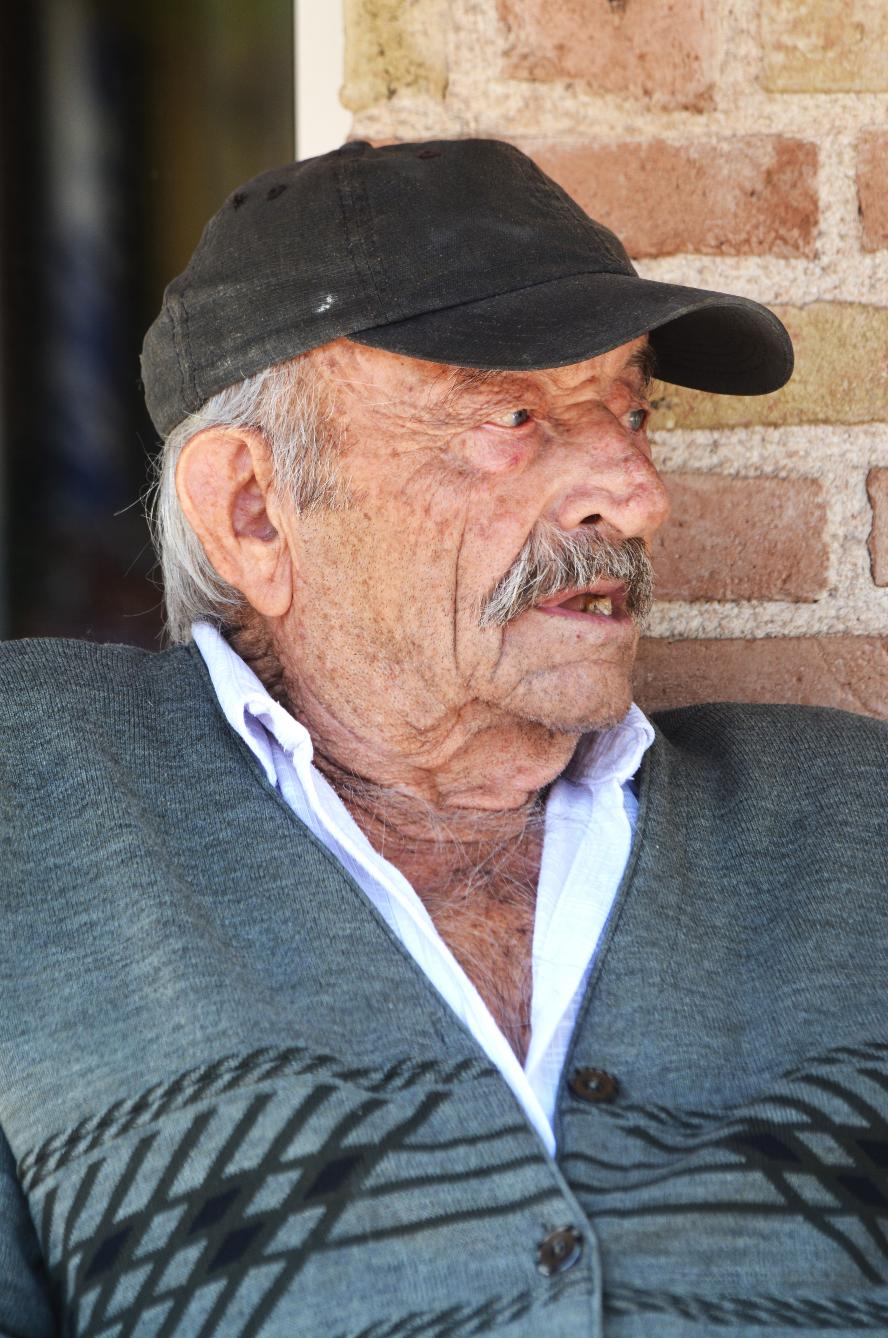 Leaving Lefkada on our way to Kefalonia from another attractive port village - Visiliki.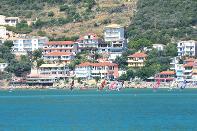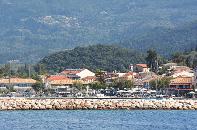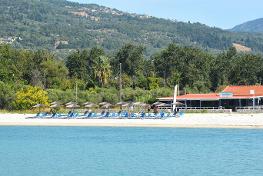 Arriving in Kefalonia - the pretty port of Fiskardo.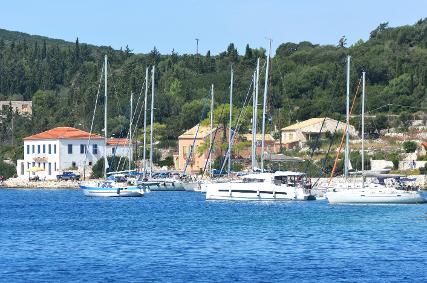 Fiskardo's harbour is crowded with yachts and sailboats.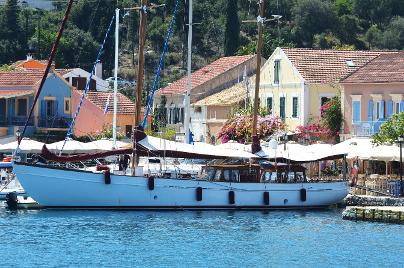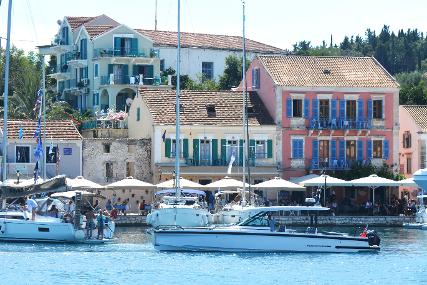 Beautiful, colourfully painted buildings along Fiskardo's harbour.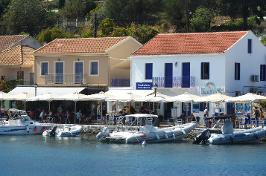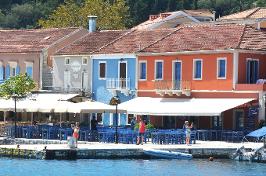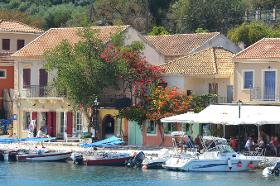 Our room - Haris - named after the owner, and our private outdoor terrace area, surrounded by trees and shrubs (lots and lots of lavender).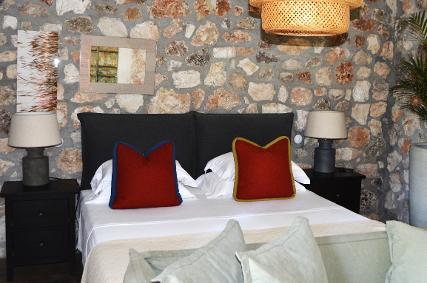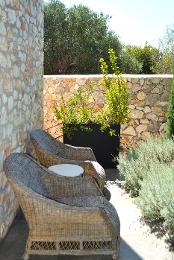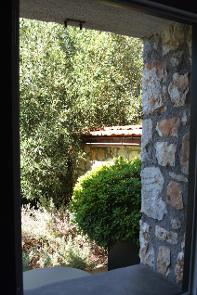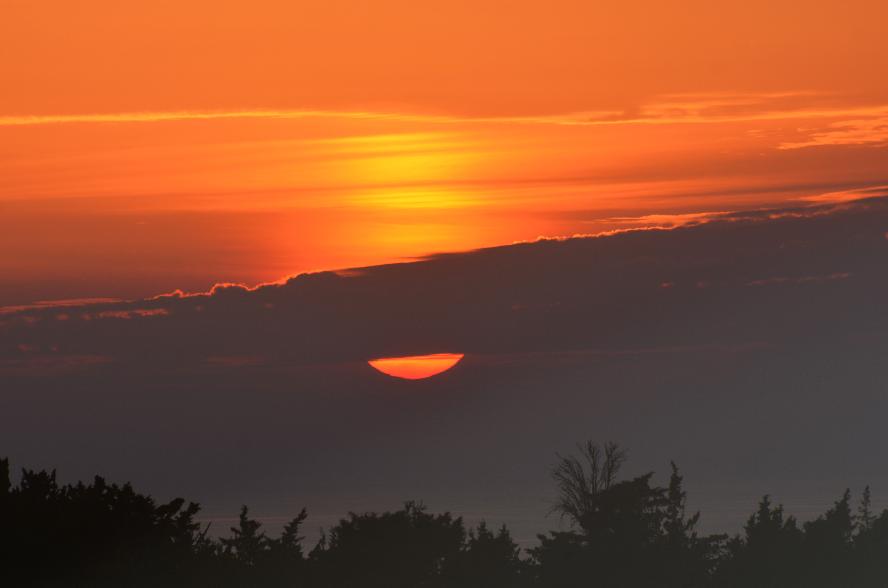 The Old Stone House. Which was quite busy / nearly full.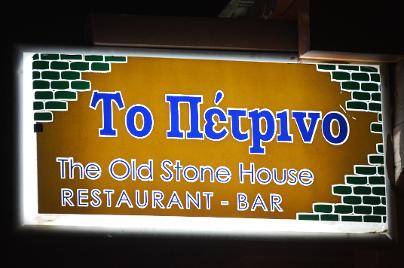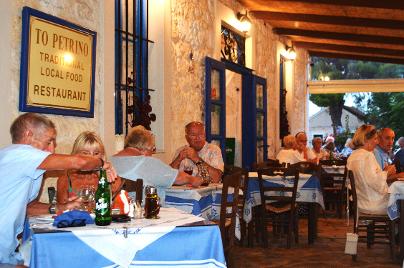 My first Mythos of the trip.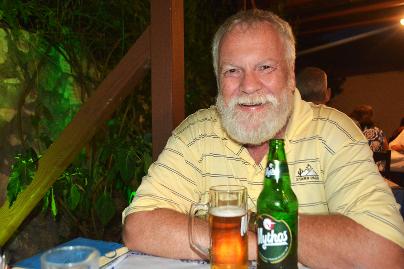 A lovely plate (not too oily) of grilled vegetables for Gayle.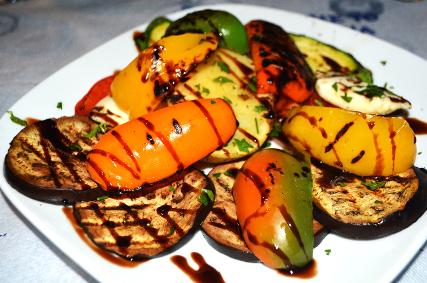 A Kefalonian meat pie. One can never have too much baklava.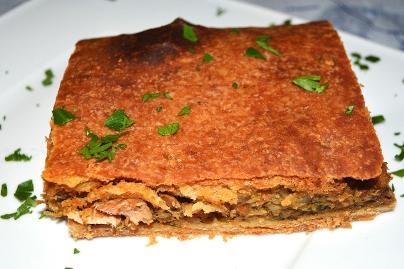 September 13, 2023 - Lefkada - Thealos Village - Mikros Gialos and Ammousa beaches
Today was out extra day in Lefkada due to the ferry strike.
Two more beaches today. Down the east coast first to Mikros Gialos beach. Beautiful sparkling water but a bit too organized with 'water taxis' and other 'toys' on the beach. Still it was a pretty drive through the olive groves and we were fortunate to find a parking spot close to the beach. Without shade we did not stay too long but did enjoy our stop.
It was then further down the coast to Ammousa beach.
Somewhat smaller and again with small stones but also beautiful - the water so blue and warm.
Being later in the day with the sun starting to set we enjoyed a bit of shade. Parking was very easy and convenient.
As we drove back to the main road we passed a fellow selling a number of products - olives, honey, capers etc. We stopped for a photo but in the end bought a jar of capers to bring home with us. After taking a number of photos the fellow handed me a number of figs as a 'gift'.
Love the Greeks!
Nearby was the charming fishing village of Sivota, or Syvota. A very walkable village with many restaurants / tavernas lining the port. We found a nice shop where we purchased a beach blanket, another tea towel and a nice plate, albeit the plate was from Crete rather than Kefalonia. The port of Sivota is well known as the bay offers some of the best natural protection for boats - resulting in a large marina of fishing boats, yachts and sailboats.
The taverna we chose was Odyssey in part due to the availability of a whole grilled octopus, which was delicious. Gayle had Gemista again - stuffed tomato and pepper; good but not as tasty as the one she had the other night. After dinner we crossed the road where we bought a couple of desserts - an orange pie and a baklava to have back at Thealos Villages.
It was a fairly easy half hour drive back up the coast to return to our place.
Another filling breakfast overlooking the water and mainland.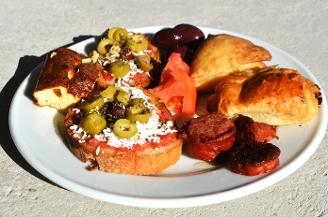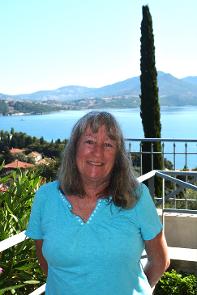 The bay leading to Mikros Gialos beach. The beach included 'water taxis' And Gayle.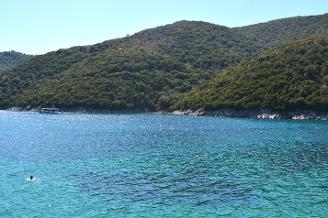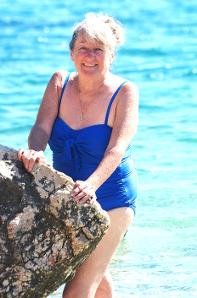 The waters just off the beach.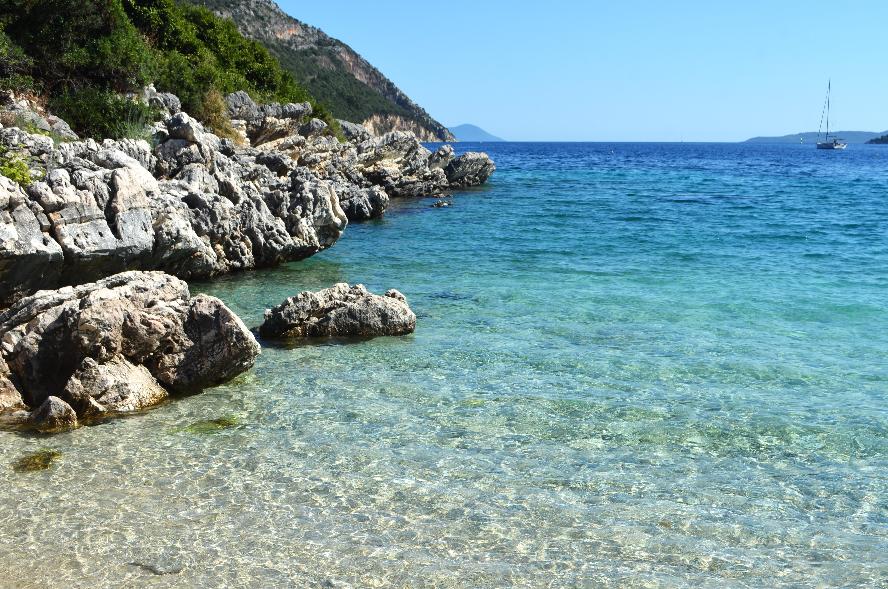 The water sparkled. The bay leading in to Mikros Gialos beach.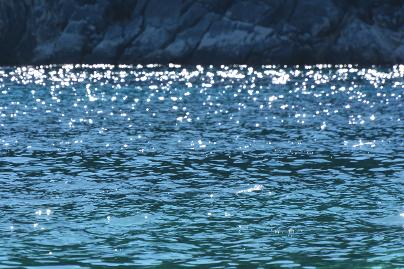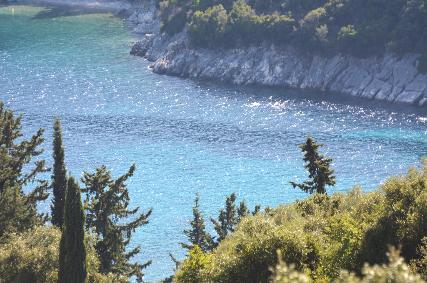 Our second beach visit was to Ammousa Beach.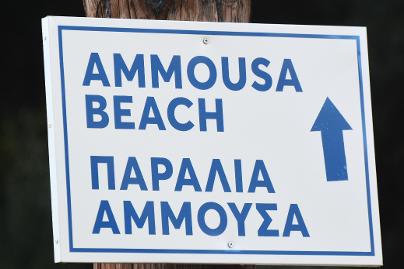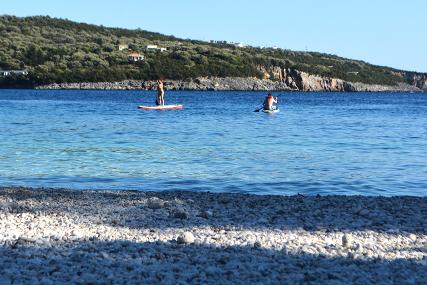 The somewhat organized beach. Gayle enjoying yet another swim, her second of the day.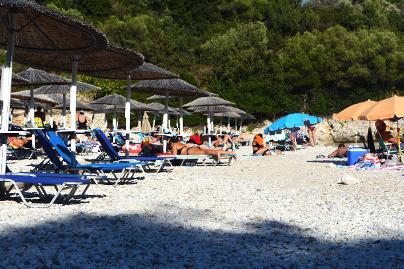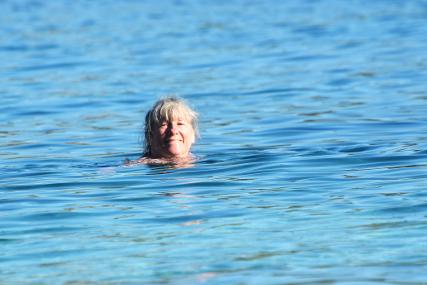 Along our drive we encountered a number of sheep, including this 'black' sheep.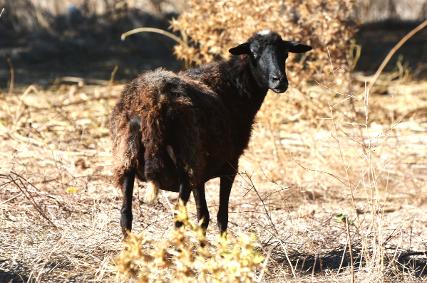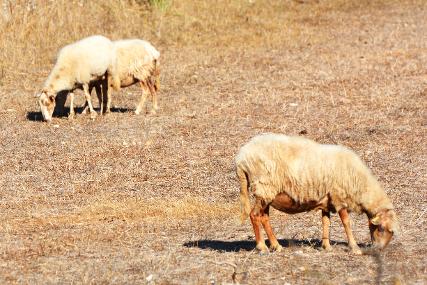 And theses two cuties on the roadside.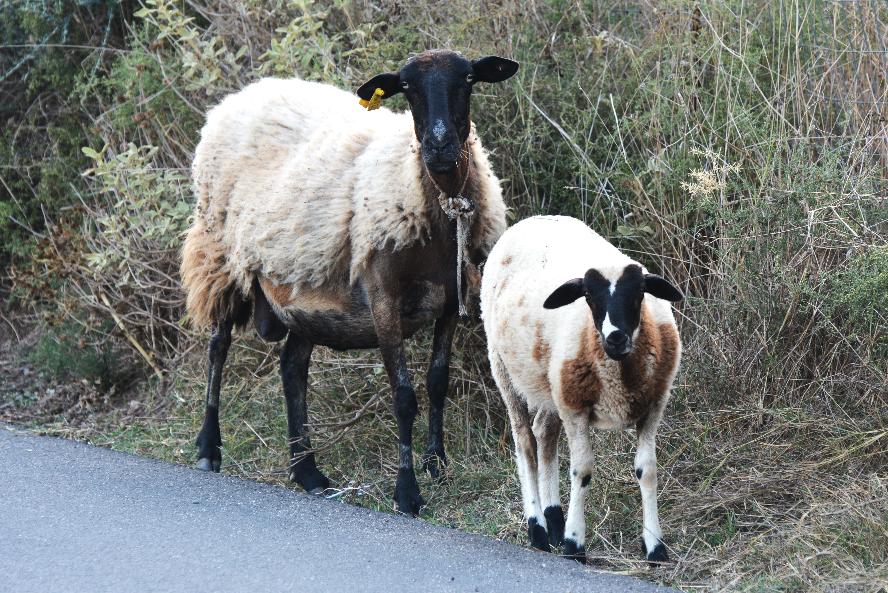 For sale - honey, olives, capers (we bought a jar) among other products.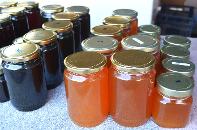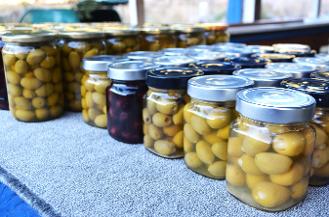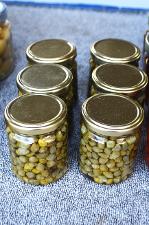 The fellow at his stand was very happy to have his photo taken.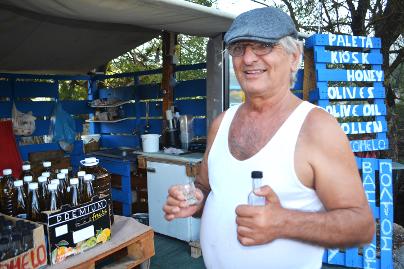 And gave me a handful of figs as a parting gift.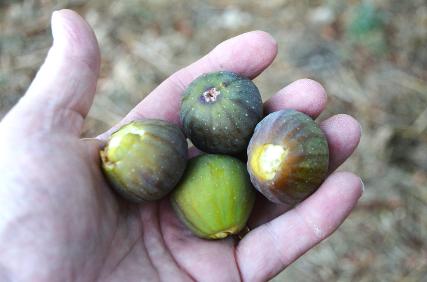 There were lots of restaurants / tavernas on the waterfront to choose from. We somewhat randomly chose Odysseia.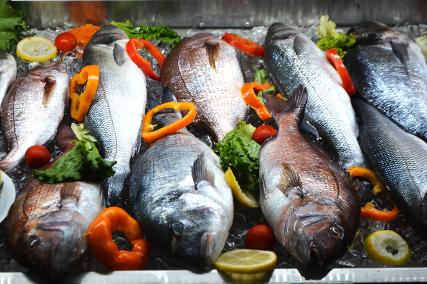 Sitting down to dinner in Syvota.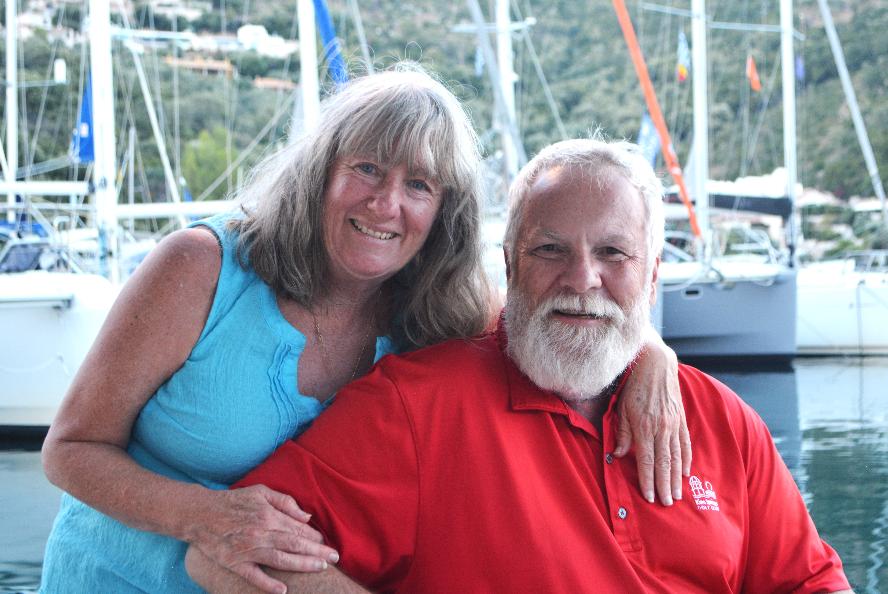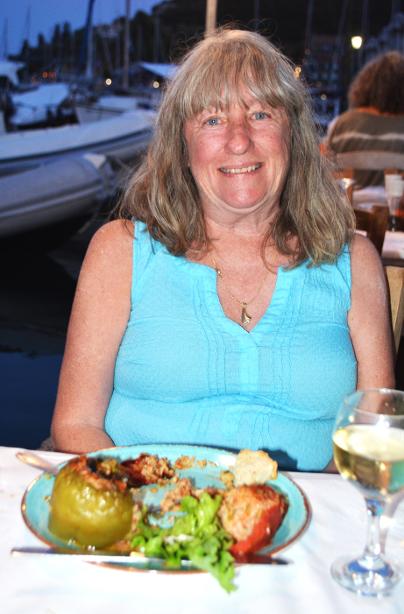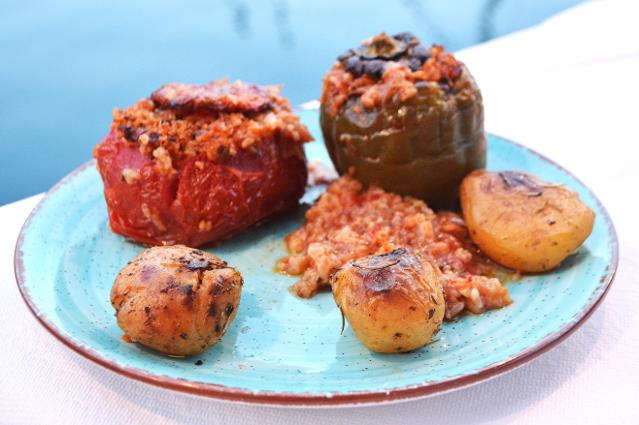 As soon as Norm saw whole octopus on the menu he knew what he was ordering - and it was delicious.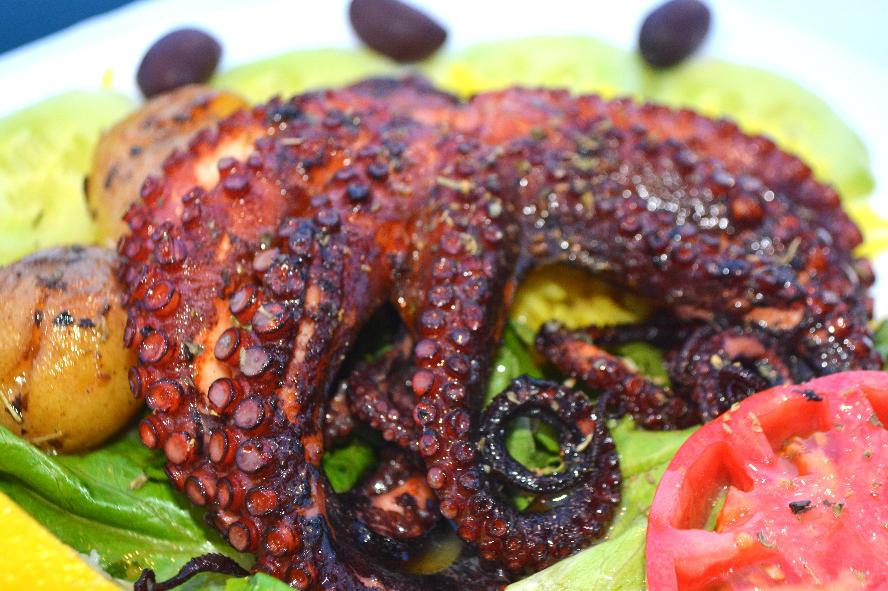 We passed on dessert, rather going across the street to a bakery where we bought an orange pie and a baklava that we took back to and ate in our unit at Thealos Village.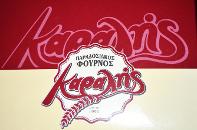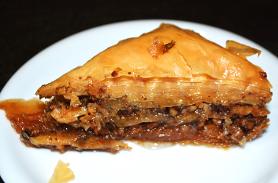 September 12, 2023 - Lefkada - Thealos Village - Englouvi
Time to explore a bit and start to hit the beaches of Lefkada. Today we drove inland from Nidri to the mountain village of Englouvi and then on to Kavalikefta Beach across the mountains.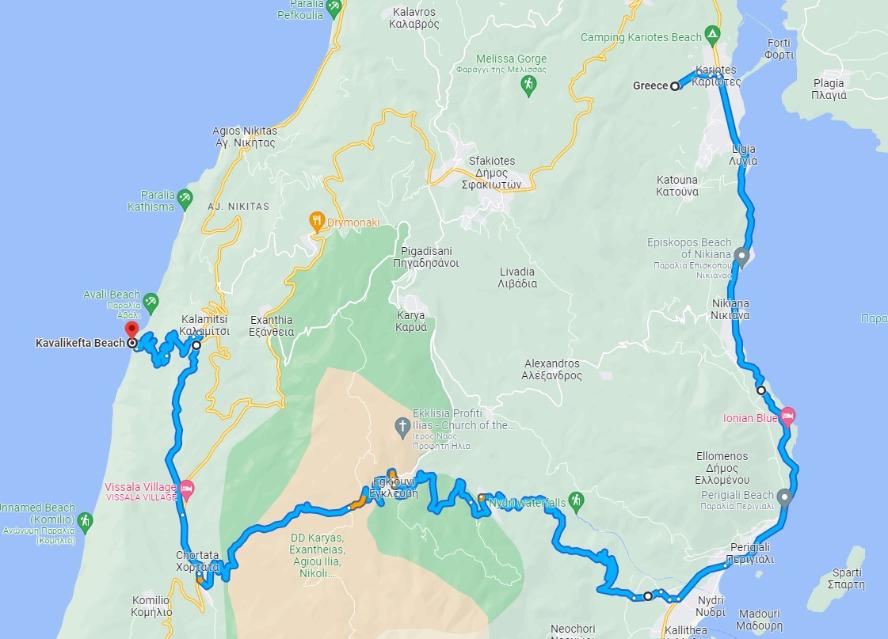 We stopped for lunch in the village of Englouvi, famous for its lentils. Englouvi, at 730 metres, is the highest village of Lefkada and one of the oldest on the island. The name 'englouvi' is due to the village's location, surrounded / trapped in the mountains. The hard working inhabitants from generation to generation grow crops of lentils on the plateau of the village mountain at a height of 900 metres. The lentils are known for their unique taste and nutritional value.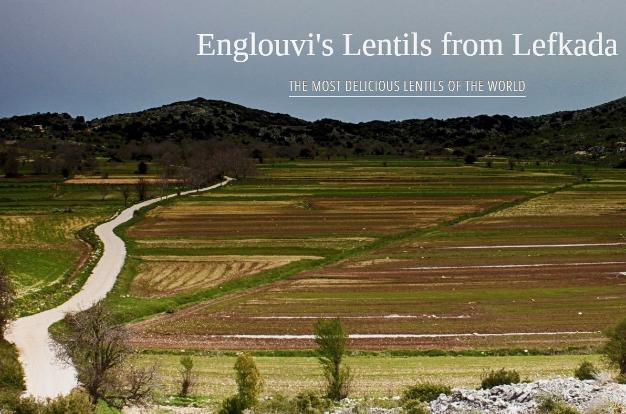 On August 6th each year the 'Feast of the Englouvi Lentil' takes place in the village as the lentils-farmers celebrate their local product. The Englouvi plateau is listed in the Food and Agriculture Organizations of the United Nations as one of the five protected areas for unique aesthetic natural and cultural beauty of Greece. Englouvi's lentils are cooked according to the traditional recipes and as a result stand out for their unique flavour and texture.
We stopped at one (of the three) tavernas in the village square for lunch where Norm had mama's meatballs with fried potatoes and Gayle had, of course, a bowl of lentils. We both agreed they were indeed very tasty. A fun stop.
We then continued west to the coast and made our way down the 'S' bends to Kavaliklefta Beach. We ended up paying five euros for parking but it provided easy access to a beautiful beach strewn with large boulders creating a number of interesting swimming 'pools', and perhaps more important some shade. Another very worthwhile stop.
On the way back (north to the top of Lefkada, then east to Lefkada town and finally south back to Thealos Village) we were treated to a wonderful sunset. Having had lunch there was no need for dinner.
Immediately upon turning inland along a narrow country road we came across this home with all kinds of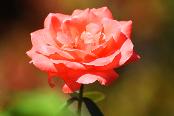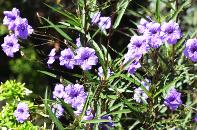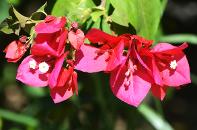 Scenic views to the east coast as we begin to climb the mountains.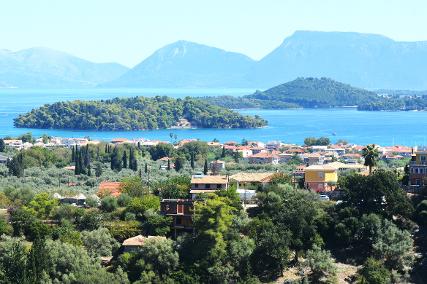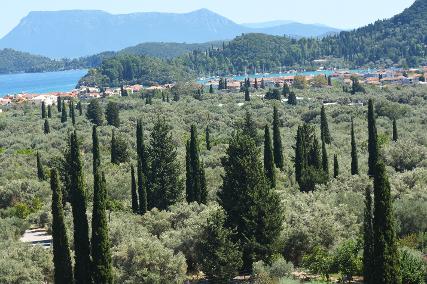 Lots of Cyprus trees throughout the area.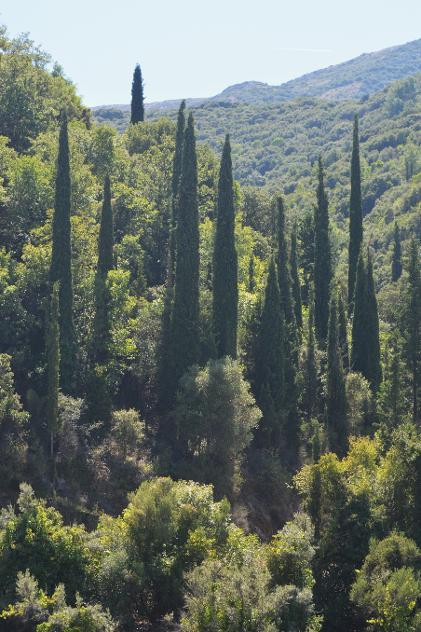 Englouvi's church. Englouvi - home of an internationally famous lentil.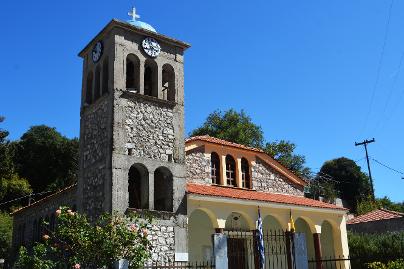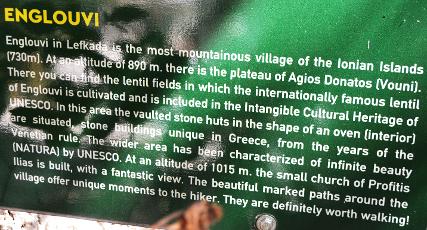 The village square - there were actually three tavernas on the space.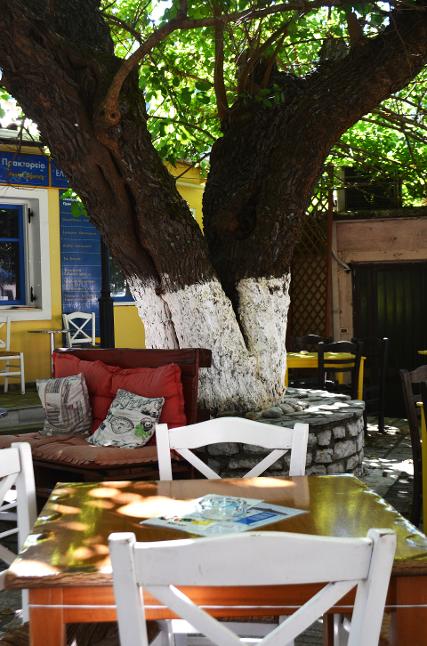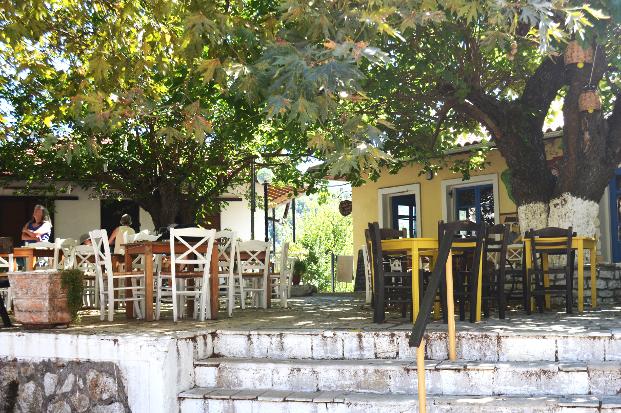 Everything Lentil. Ready for lunch. Fresh lemonade and orange juice.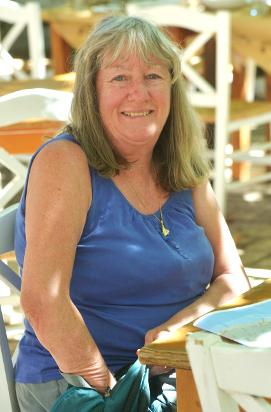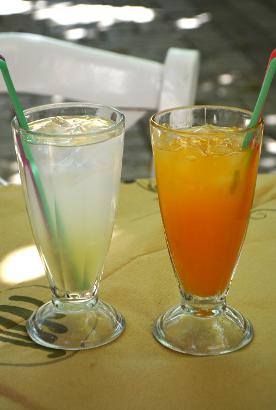 Looking forward to the bowl of lentils.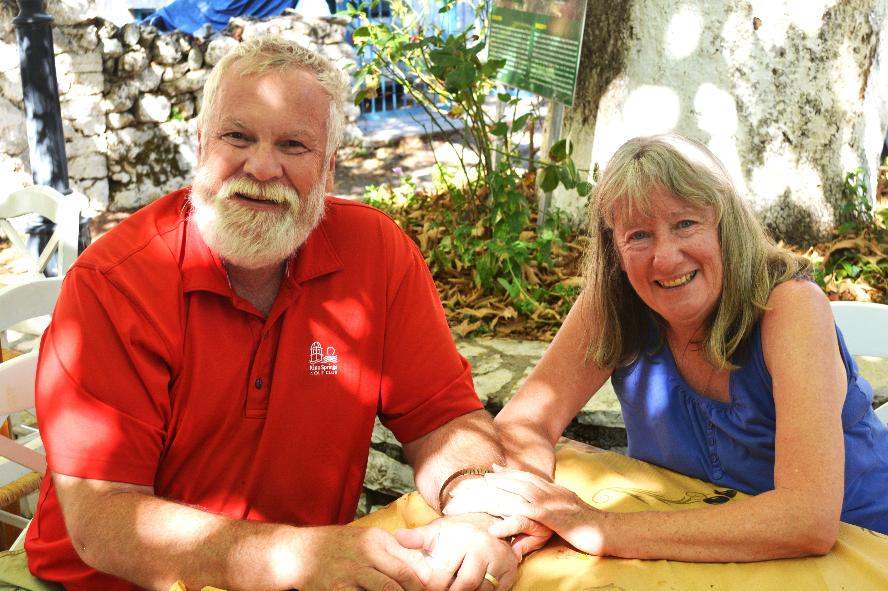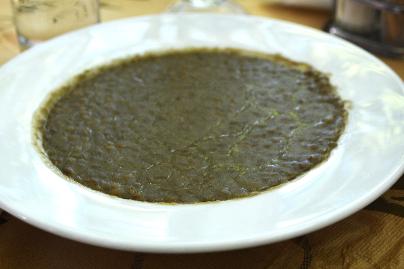 Left - a bowl of llentils
Below left - Mama's meatballs with fries
Below right - orange pie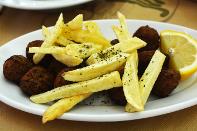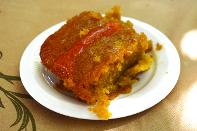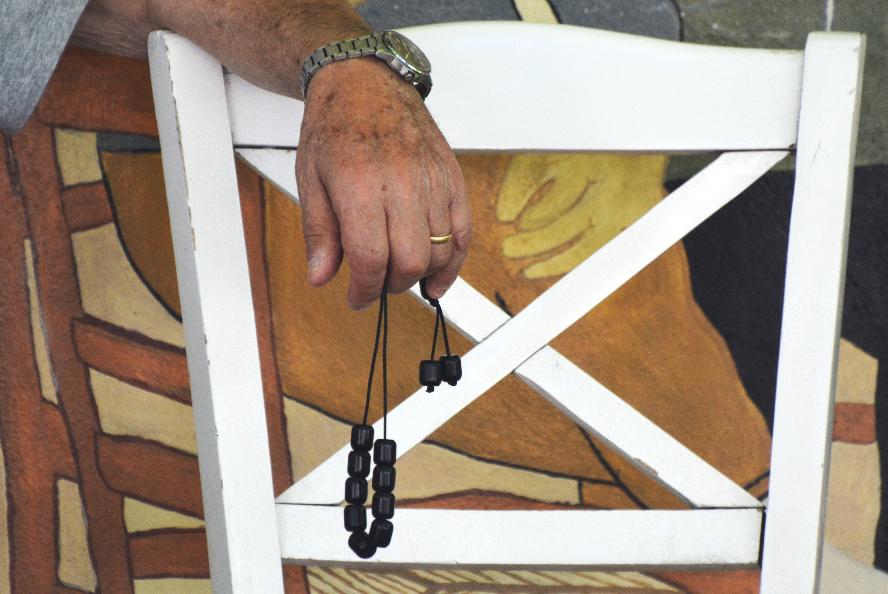 The painted side of the tavern. A local.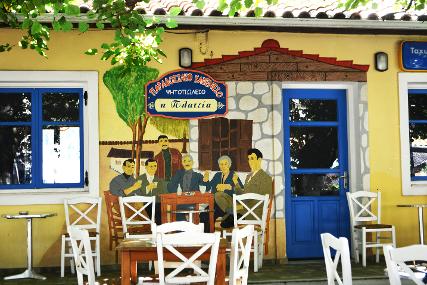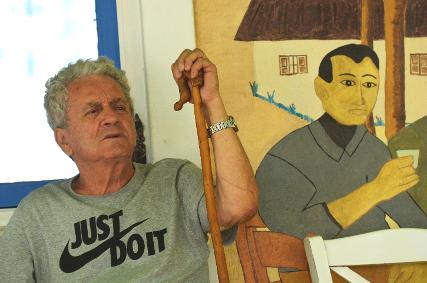 Our waiter. Helping this fellow re-string his worry beads.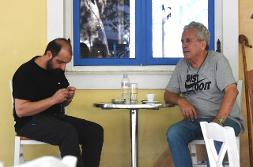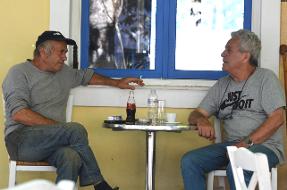 A windmill as we left Englouvi. The view back to the east coast.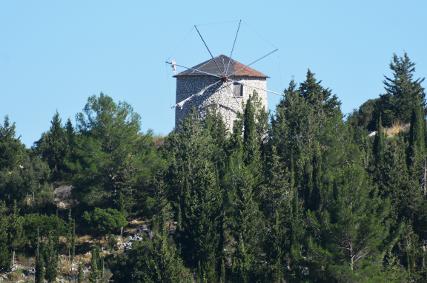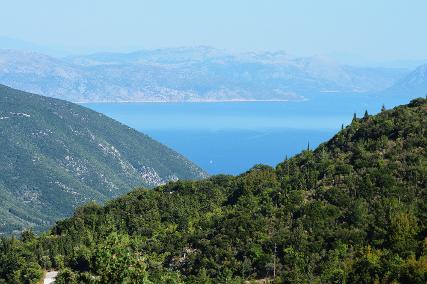 The village of Englouvi nestled in the hills.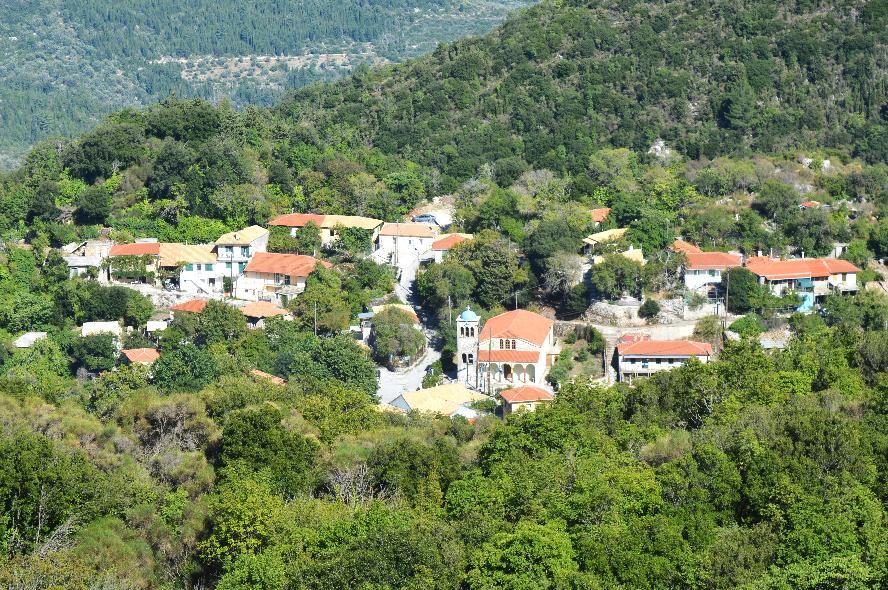 Kite surfers over Kaavalikefta beach.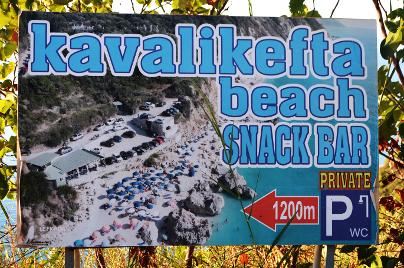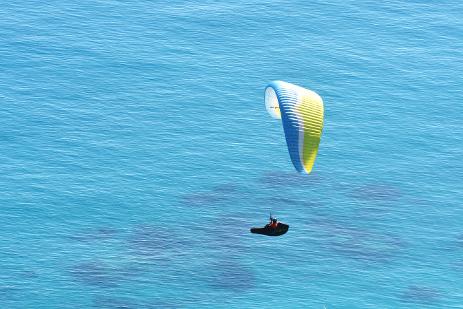 Our first view of Kavalikefta beach - very impressive.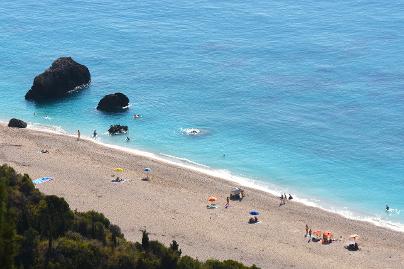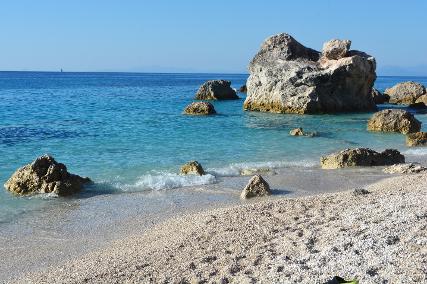 Another beautiful beach with turquoise water.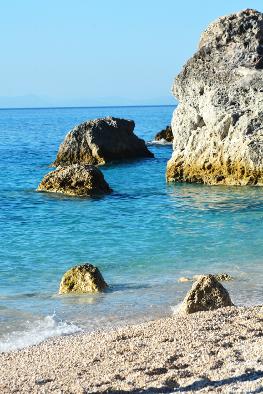 A video of Gayle enjoying the waters of Kavalikefta Beach, Lefkada.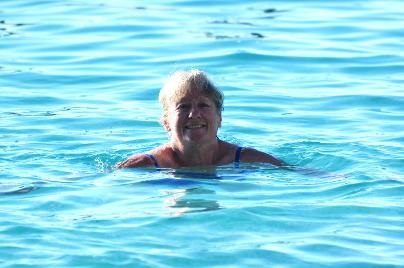 Small pebbles at the shoreline. Larger stones on the beach.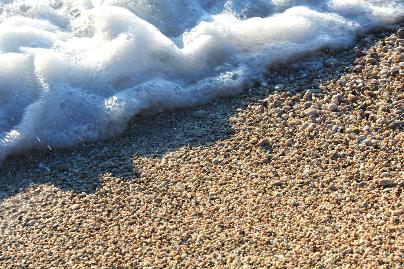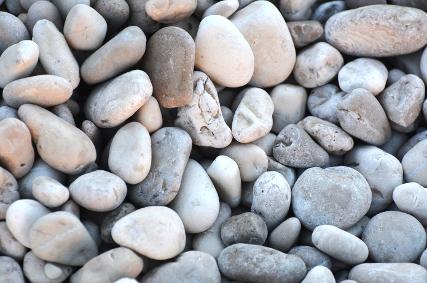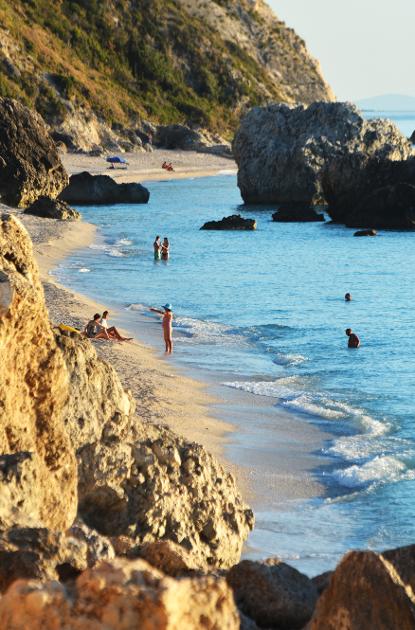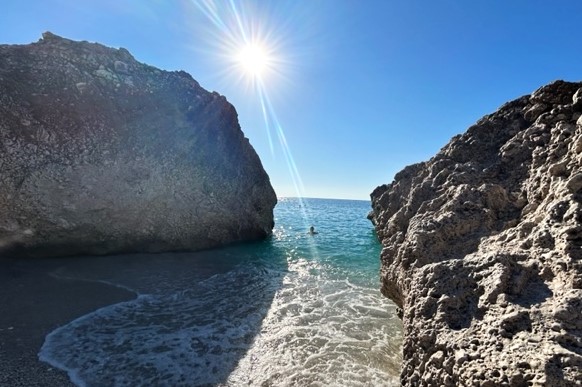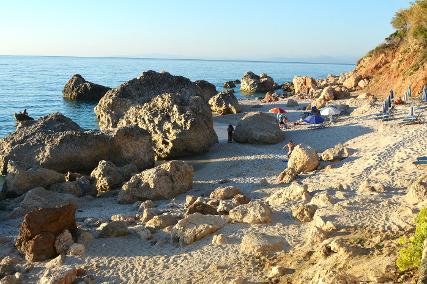 Sunset over the west coast of Lefkada.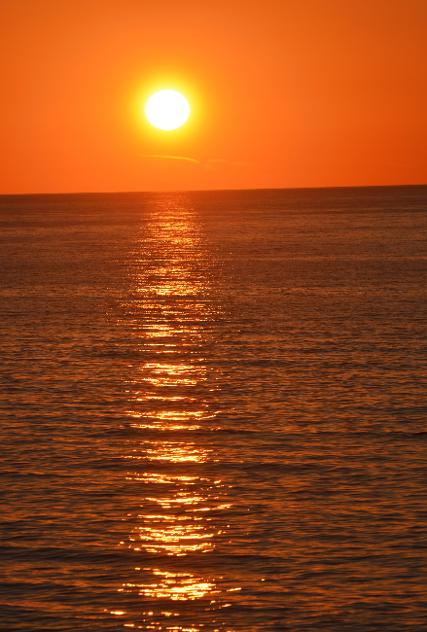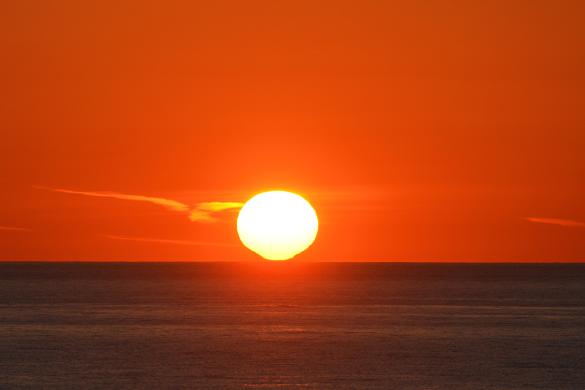 September 11, 2023 - Lefkada - Thealos Village - Nikiana Beach
Another relatively do nothing day. Unlike yesterday we did get out to the local beach - Nikiana in the next town south of us. Another rocky beach but easily accessible with a nice pine tree to provide us with shade. Regardless of the absence of sand once one gets in the water it doesn't matter.
For dinner we reserved a table right on the water at Ta Kaviopia. We were warmly greeted with service being top notch. A nice small appetizer was a good start. Gayle ordered her go to Greek Salad of tomatoes, cucumber, onion, olives, pepper, capers, apples and feta. Norm had the Sofigado, a dish characterized by its sweet and sour flavours. This beef stew, or in my case large pieces of beef, hails from Lefkada, believed to have been developed under the influence of Venetian culinary tradition. Sofigado is prepared with cubed beef, sauteed onions, red wine vinegar, garlic, rosemary and petimezi - traditional Greek grapemust. The dish is typically enriched with slices of quinces (mine had plums) and served with a turmeric porridge. With a nice meal sitting on the waterside we ordered a bottle of red wine - a Tselepos Estate 'Driopi' Nemea (Agiorgitiko grape) - good but not great. After dinner we were each provided a 'gift' of geranium liqueur - those Greeks can and do turn just about anything into a liqueur. It was surprisingly good.
Our unit was the stone house in more of less the middle.



The view from the breakfast area down to other units.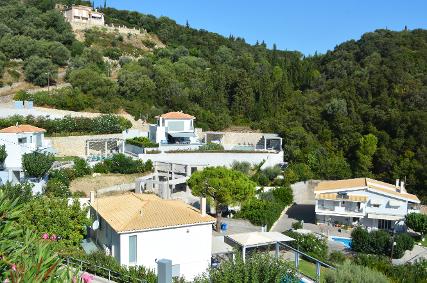 Sailboats in the sea between Lefkada and the mainland.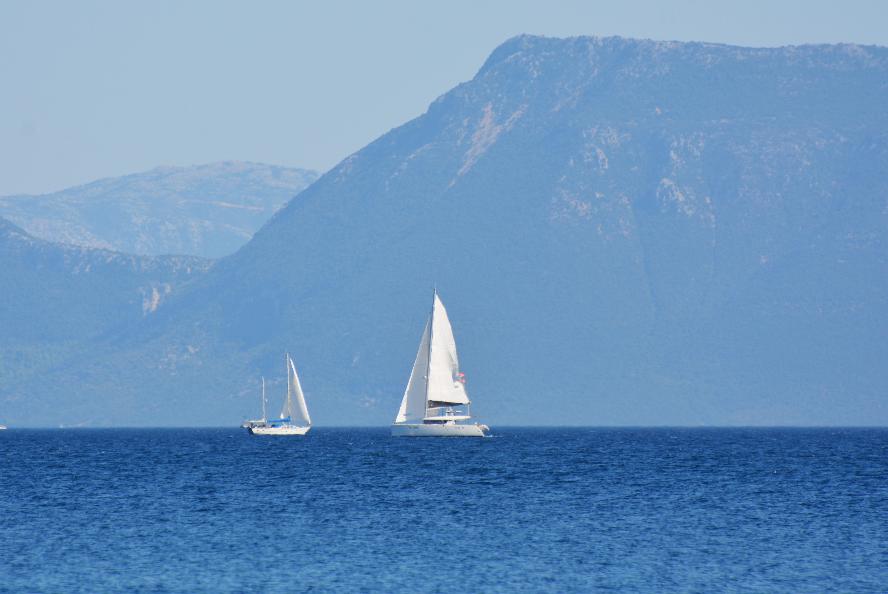 Nikiana Beach - small stones and some beach umbrellas.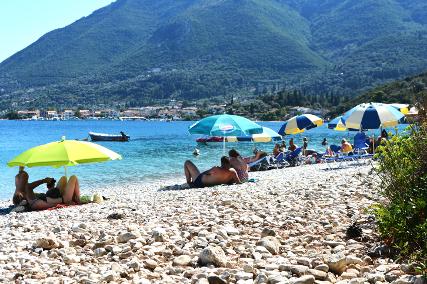 Swimming in the beautiful waters at Nikiana beach.
Nikiana beach as seen from the road.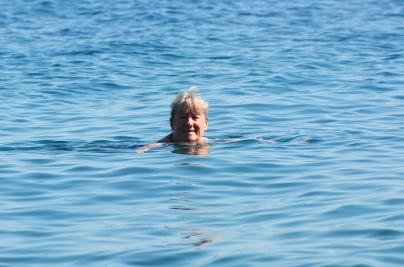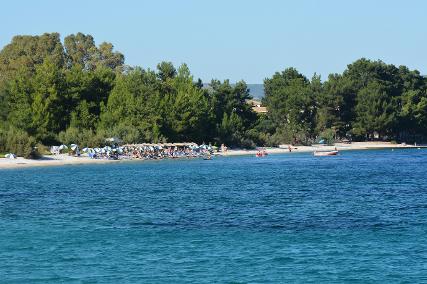 Dinner at Ta Kanioria. Where there are lots of cats. And pretty flowers.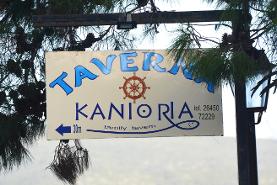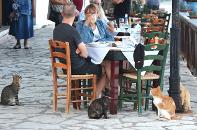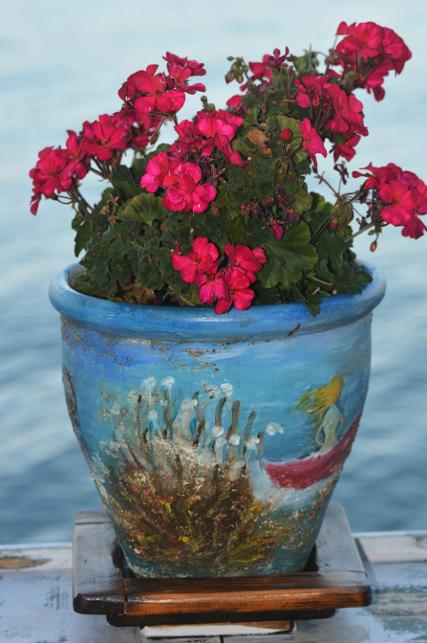 A pre-dinner 'on the house' appetizer. Greek salad for Gayle.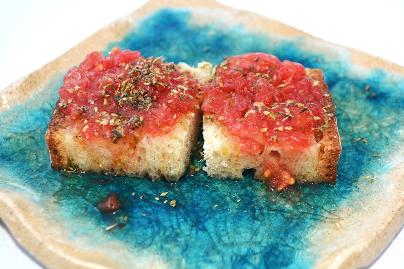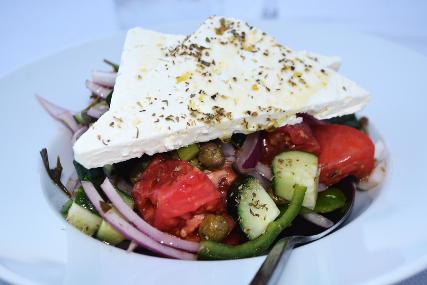 Sofigado - slow cooked beef in petimezi and plums. Geranium liqueur.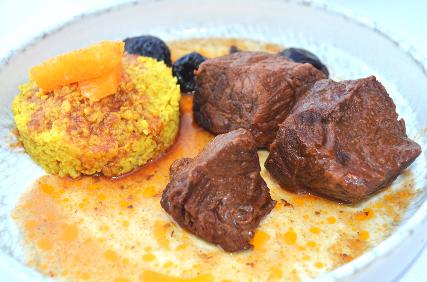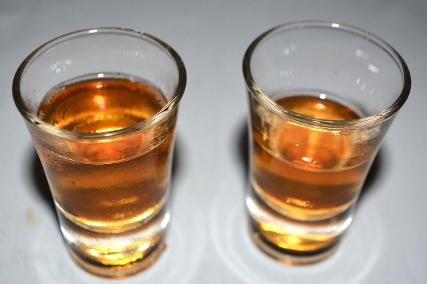 Gayle enjoying a glass of wine and Norm the geranium liqueur.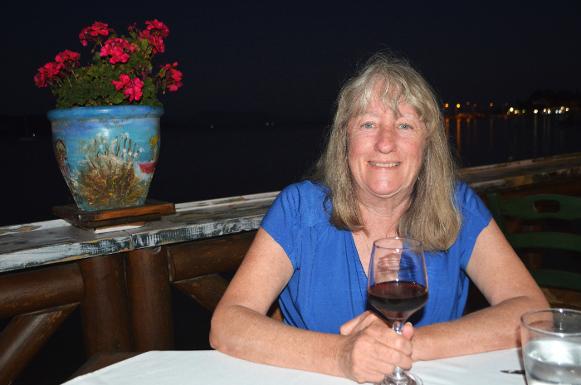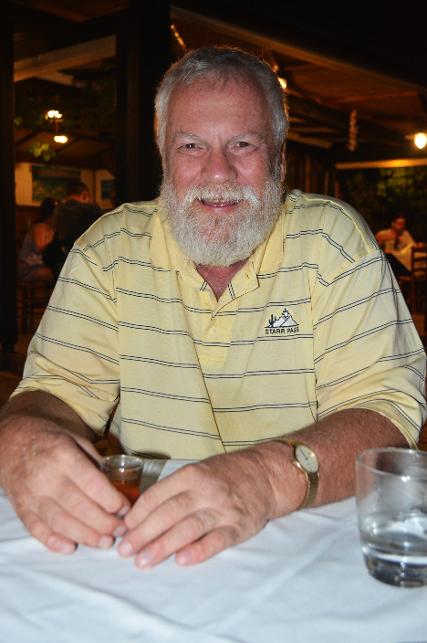 September 10, 2023 - Lefkada - Thealos Village
Today is Travel Blog light. We were originally to spend four nights on Lefkada, ferrying to Kefalonia on September 13th. However the Greek ferry union called for a one day strike on the 13th with no ferries running. As a result we had to cancel a night in Kefalonia (North Point 1953 was very good about this, refunding our prepaid accommodation charge for the day) and extend our stay in Lefkada which was done with no problem. As a result we had an extra day which we used to wash clothes and chill out, not leaving Thealos Villages other then to go to dinner.
Breakfast was actually quite good - not the best we have had but more than expected at this 'resort'. Thealos Village surpassed our expectations for the price paid. The unit was large with a separate bedroom and a full kitchen - large fridge, stove, microwave, dishes, cutlery, pots and pans. There was a nice sized outdoor space with a clothes drying rack for those of us who chose to not figure out how to use the washer and dryer that were available. There are a number of pools available for guests on a property that is set in a semi-circle on a hill with a fabulous view down to the water and across to the mainland.
For dinner we went to Taverna to Toykoyti where we ordered way way too much. Start with some olives - of course we are in Greece, home of the olive; then tzatziki which Gayle loves. Gayle was also in the mood for some fried potatoes - why not? We likely should have stopped there but no the Gemista - stuffed tomato and pepper was appealing so sure, order that also. Unfortunately there was confusion between us and the server about what peppers we wanted with us also receiving the peppers stuffed with feta. And finally Norm was attracted by the seppia, a type of squid which was way more than imagined. At the end embarrassingly we took back five, yes count them, five containers of leftovers. As said, way too much.
Morning coffee delivery - and yes she got a nice tip! Lots of breakfast options.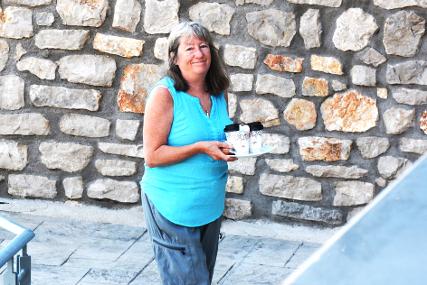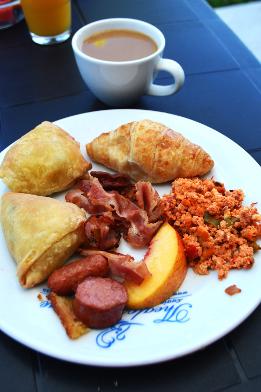 The panoramic views enjoyed while eating breakfast.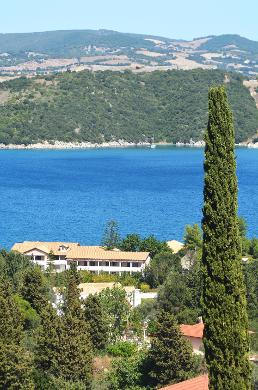 Gayle on our terrace, and in one of the Thealos Villages pools.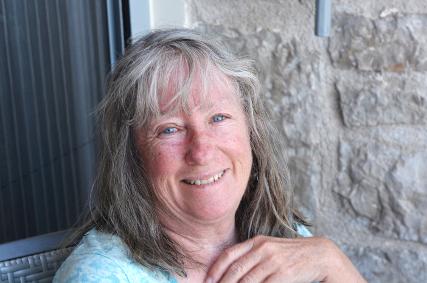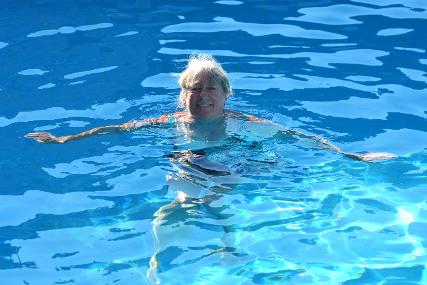 Our restaurant tonight - Taverna to Koytoyki. Olives.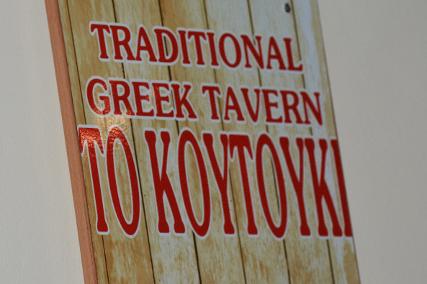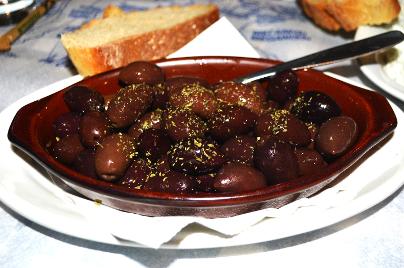 Tzatziki. Fried potatoes.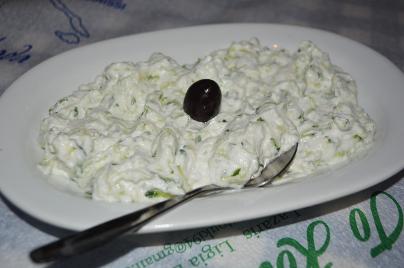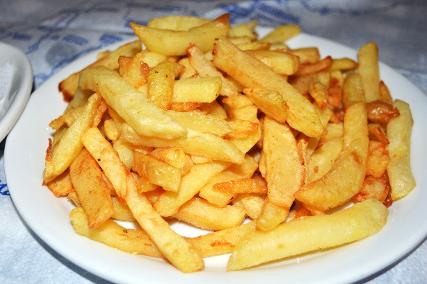 Peppers stuffed with feta. Gemista - stuffed tomato and green pepper.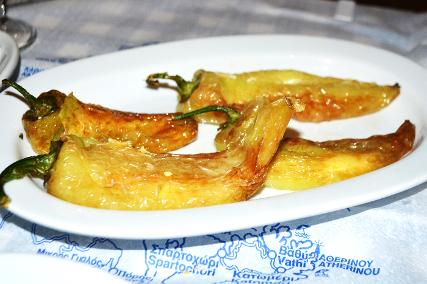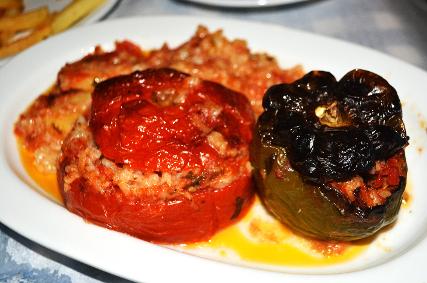 Seppia for Norm. Our 'gift' for dessert.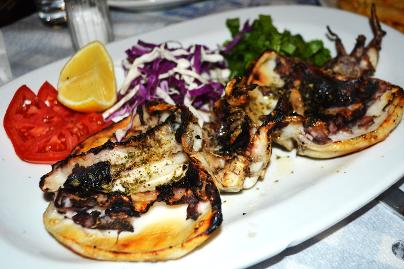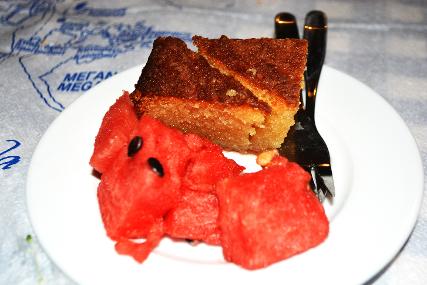 September 09, 2023 - Paxos => Lefkada - Thealos Village
After six days in Paxos it was time to move on to our next island - Lefkada.
But before leaving we enjoyed another nice breakfast and chat with Helen. We spent time taking more photos of the property, and then after packing enjoyed our remaining wine up on the terrace, overlooking the sea on this glorious sunny morning.
We detoured (only a couple of Kms) to one of the two gas stations on the island to fill up and then returned the car to the nearby office. We were driven to the port where we boarded the ferry to Igoumenitsa. It was an calm 1 1/2 hour trip.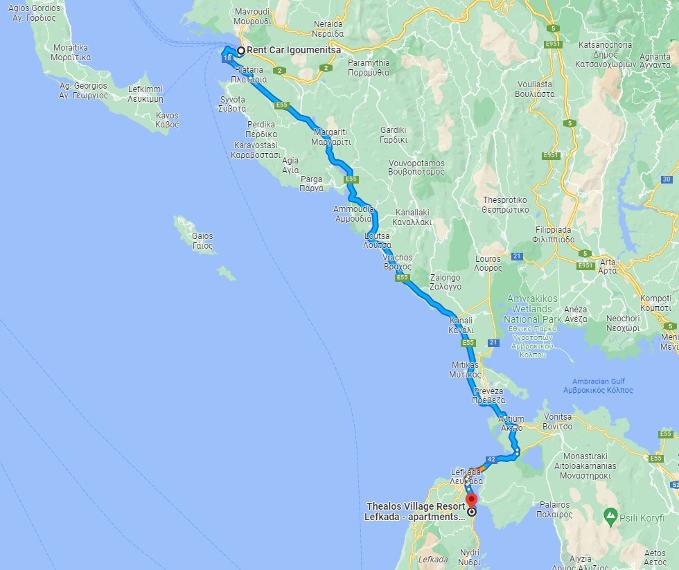 We encountered a few issues finding our car rental (there is a Rent A Car Igoumenitsa and a Rent Car Igoumenitsa - easy to get confused) but eventually found our way and were off on the 1 1/2 hour drive south to Lefkada.
The drive was reasonably scenic with sections along the sea.
We skirted the city of Preveza before heading to Lefkada.
After crossing the causeway and driving through Lefkada town to the east coast road it was an easy drive to Thealos Villages. More of a resort than a B&B, although breakfast was included. Our room was very well designed with a nice outdoor space with fabulous views to the water and mainland beyond, a kitchen with a full fridge, lots of storage space, a washer and dryer, plus drying racks for those who couldn't figure out how to operate the washer and dryer :-), and a nice table to work on.
For dinner we decided on a restaurant that served pizza where we ordered light - just one vegetarian pizza between us that we thoroughly enjoyed. We also enjoyed meeting Arsie (named due to her huge back-end so we were told), a very well behaved dog traveling with her Romanian owners.
Sunrise again from the road in front of B&B Zakspitaki, essentially the same location as the sunset the previous night.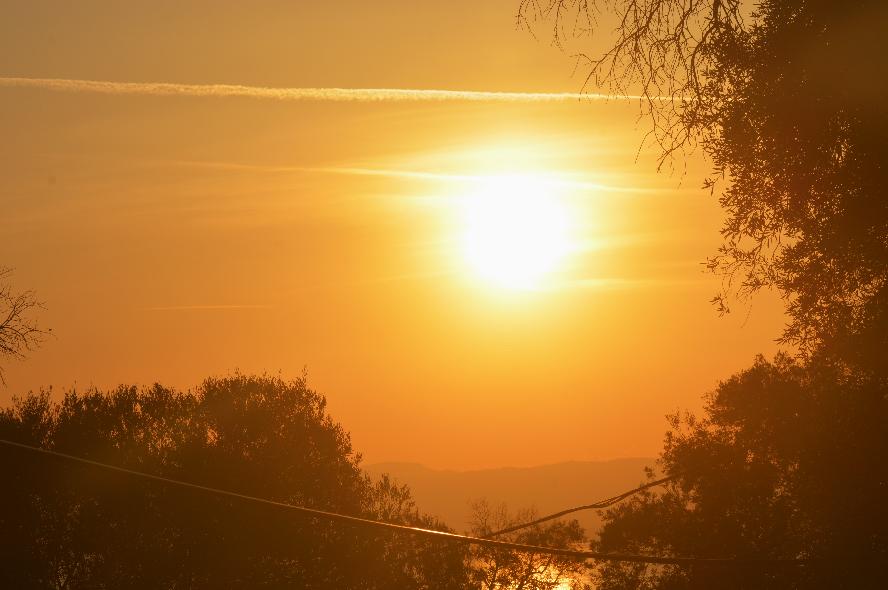 The estimated 800 + year old olive tree just across the road from B&B Zakspitaki.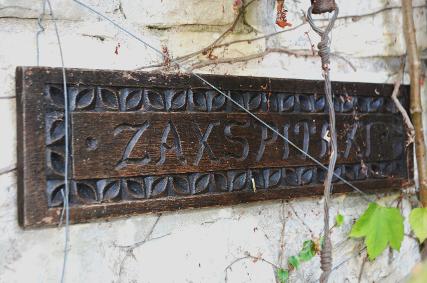 The olive tree as seen from our room.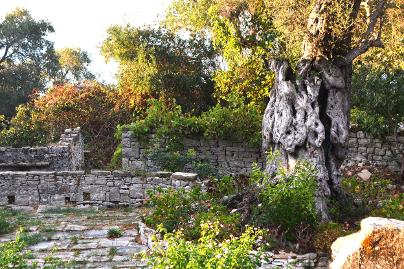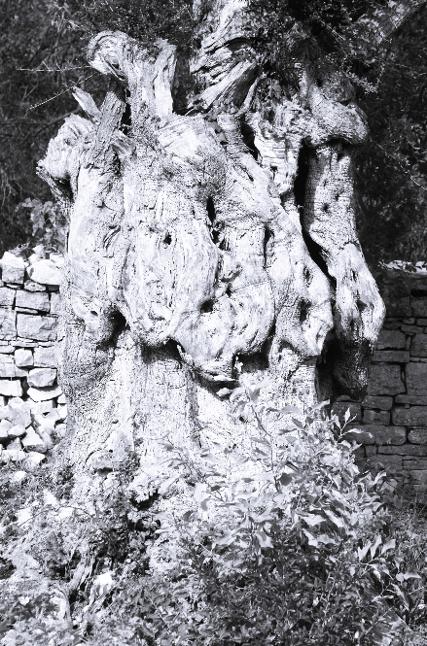 Attractively painted windows with shutters.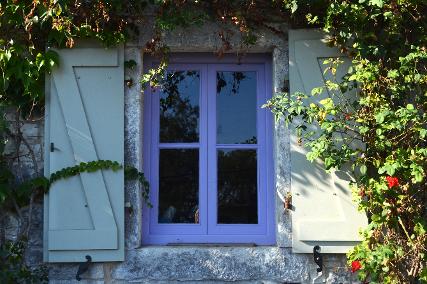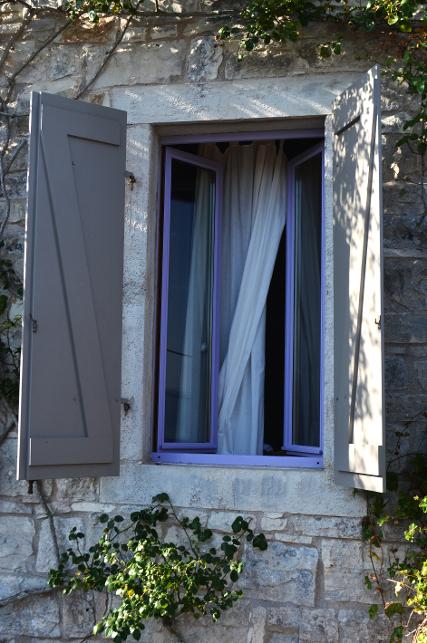 Zakspitaki has an old feel about it with shelves etc. like these.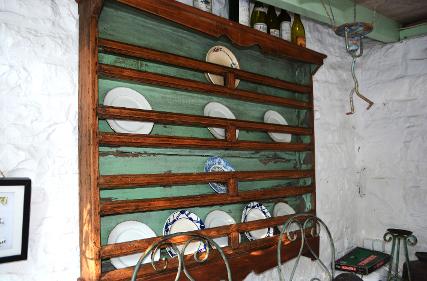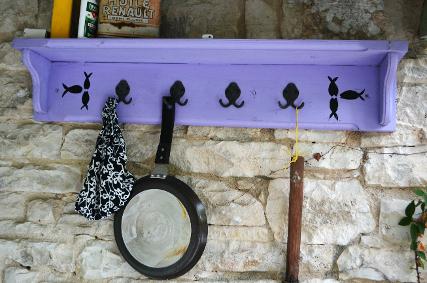 The beautiful wood doors imported from Tanzania. A plant in an olive can.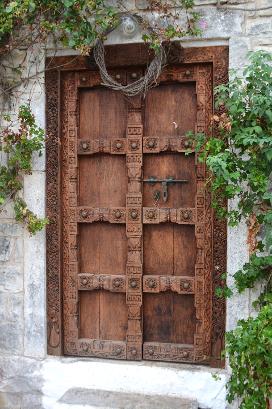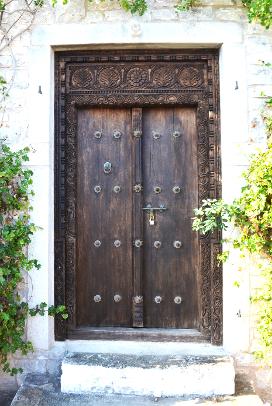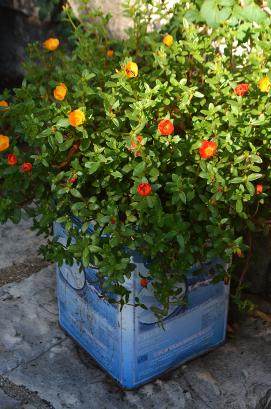 A couple more photos of the Zanzibar room.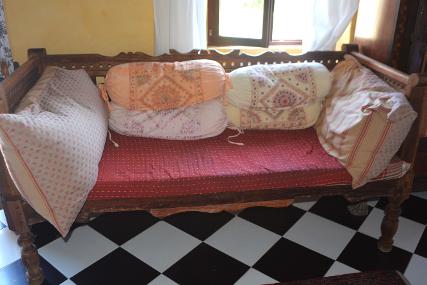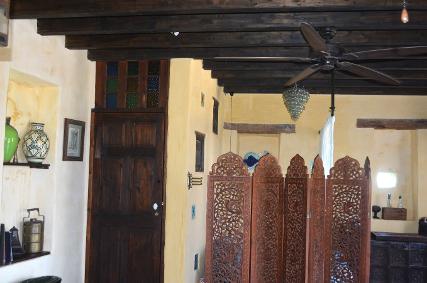 Yoghurt and fruit for breakfast.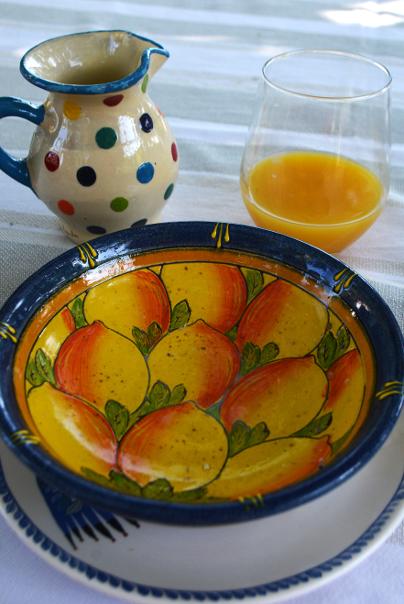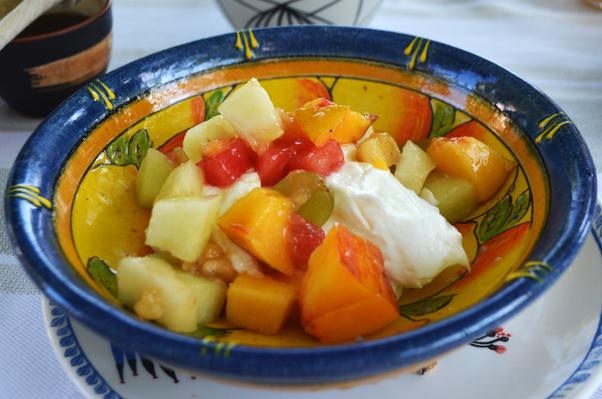 A spinach pastry today. And another version of an apple cake.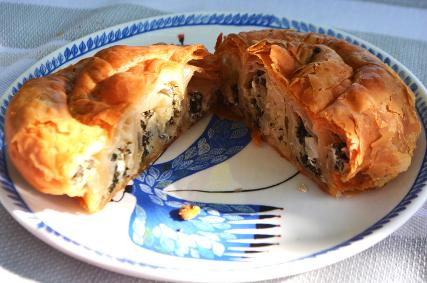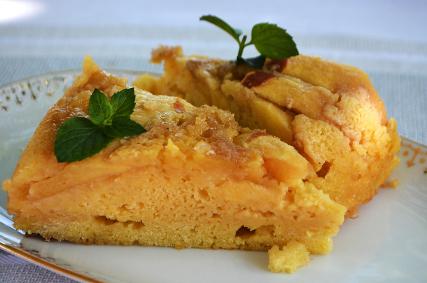 Enjoying a glass of wine on the terrace before we leave.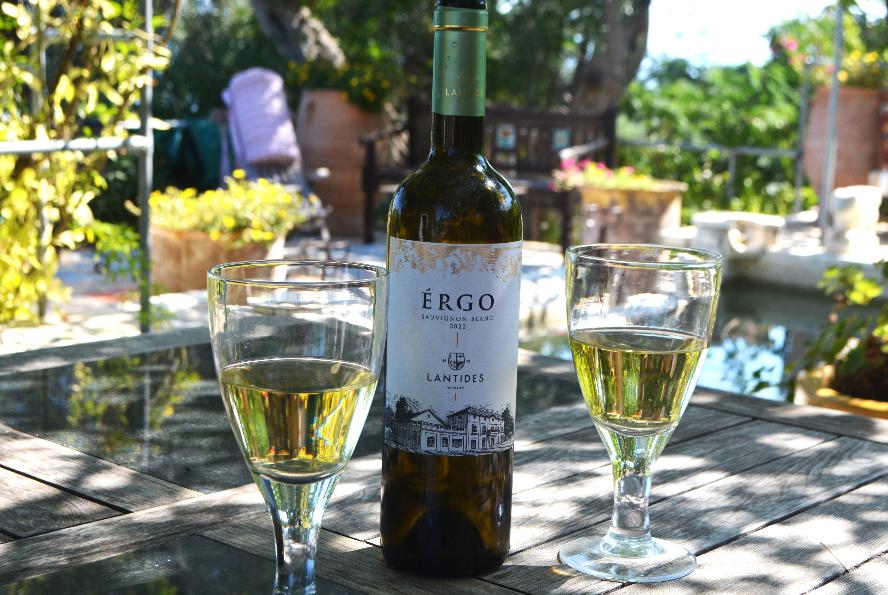 A short video of the terrace at B&B Zakspitaki. Fossils in the tiles on the terrace.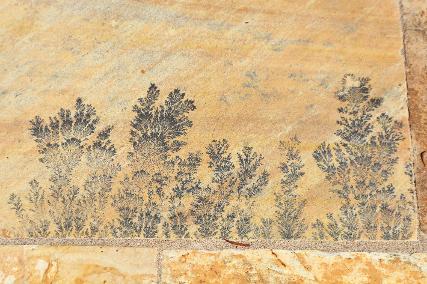 There are a number of these huge urns from Crete at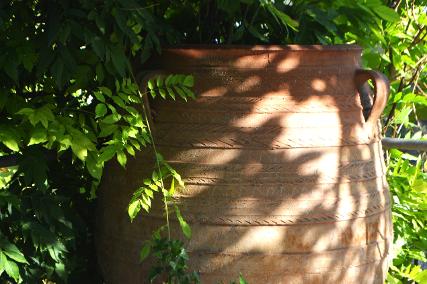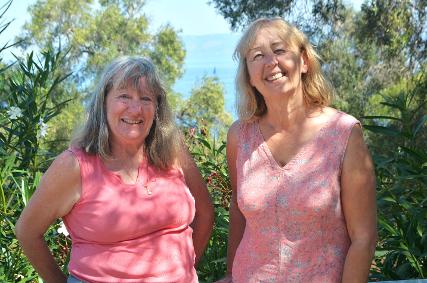 Sad to leave B&B Zakspitaki.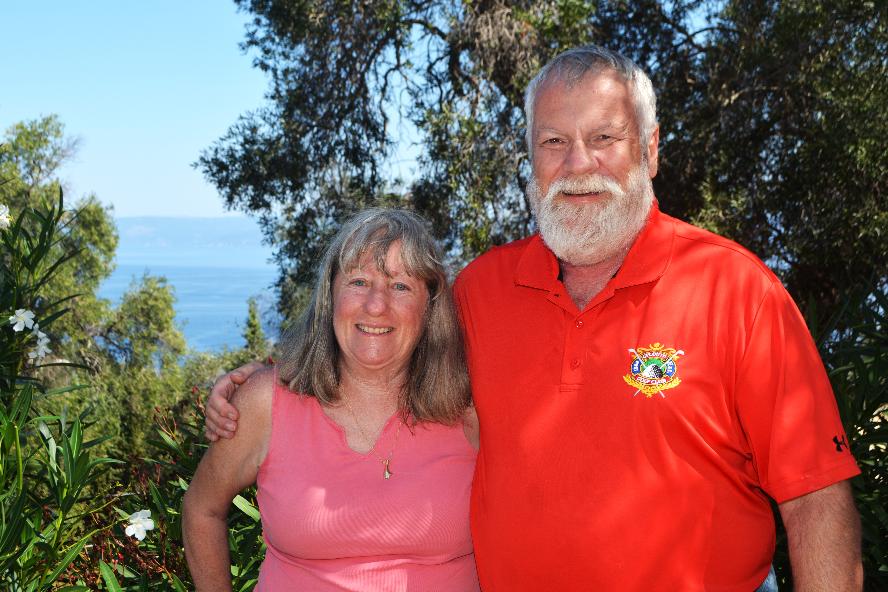 The bakery in Potamos. Taverna Kereklas.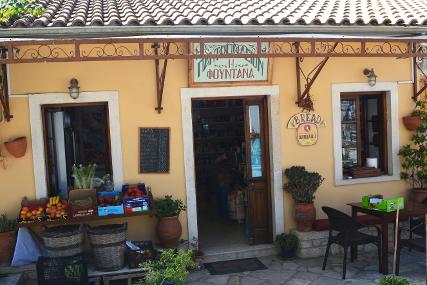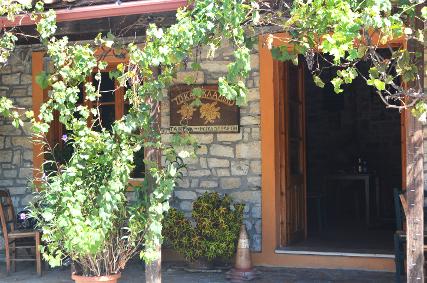 The church in the village of Patamos.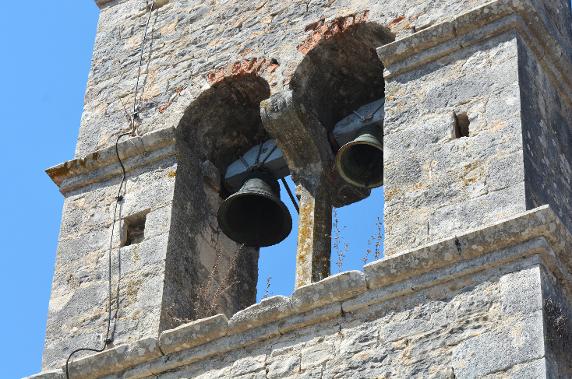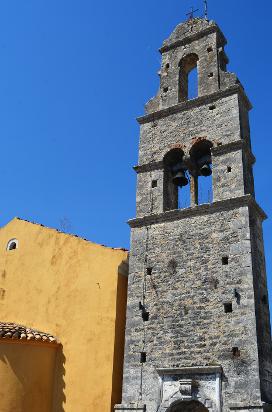 Arriving in Igoumenitsa. A flooded coastal delta along our drive.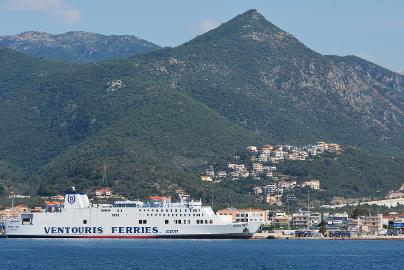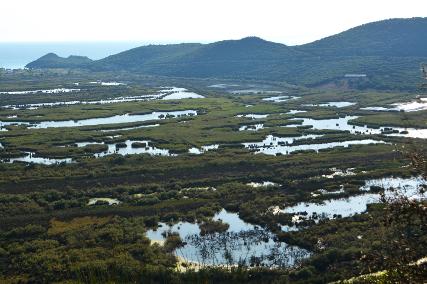 Forts guarding access to Lefkada.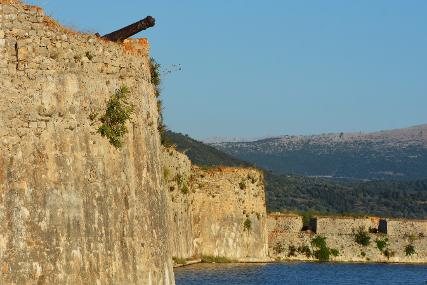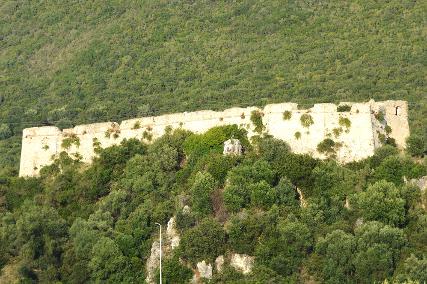 Thealos Village as seen from our stone cottage (#7).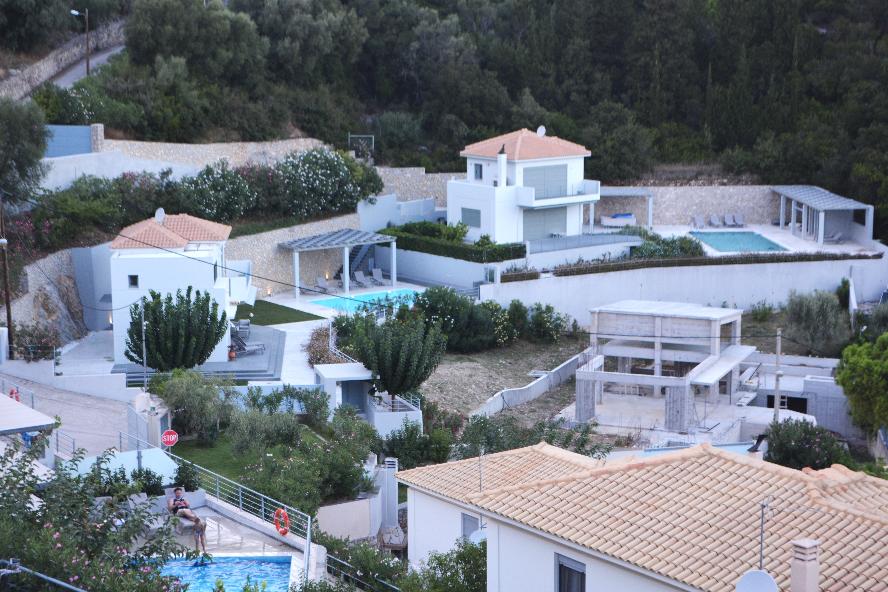 Arsie, the Romanian dog. Pizza for dinner. ... with a smile.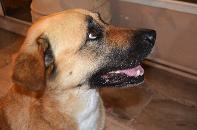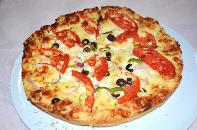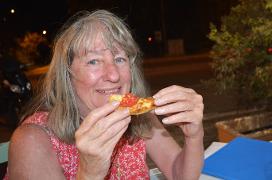 September 08, 2023 - Paxos - B&B Zakspitaki
Boat tour to west of Paxos and Antipaxos
Another long Travel Blog post today as we took a boat tour along the west coast of Paxos after which we went to Antipaxos for a couple of swims, including one at a gorgeous sandy beach with a taverna were we enjoyed lunch.
We had an early (for us - 8:30 am) breakfast in order to get to the port of Gaios in time for our 10:15 am departure. After leaving Gaios harbour through the fjord like channel we headed south, then west around the southerly tip of Paxos and north along some stunning coastline of gorgeous coloured waters, white chalk cliffs and a number of caves, including the Ypapanti / Pappanikoli. The Greek submarine Papanikolis used to hide in the cave during WW2. Rumour has it this cave has a secret passage to the church Ypapanti where the crew used to exit the submarine.
The trip continued on to the Blue Caves and to Ortholithose, an impressive standing rock in the sea. This was the last cave entered with beautiful waters and a view of the vertical rock in the crystal-clear sea. Then it was on to Galazio (or light blue) bay and finally Tripitos arch or 'Kamara' where one can admire the enormous and elegant structure of this natural bridge, surrounded by blue and green waters.
We then continued south to Antipaxos where we stopped for another swim. We had moved on from a previously planned swim due to a bloom of jelly fish. Unfortunately this new stop, which seemed fine to the captain, had at least one jelly fish to whom I got too close. A quick jab but I was definitely stung as evidenced by both the pain and the welt that formed two days later. But beyond the pain of the sting and the subsequent welt there were no other negative effects. But I did get out of the water quickly.
We then went to Paralia Voutoumi Beach, a beautiful sandy beach on Antipaxos where we relaxed for a couple of hours, enough time to have something to eat in one of the tavernas. Gayle had an excellent Briam (often briams are overcooked and mushy but this one was not - Gayle approved) while Norm had octopus - two large legs.
On the way back we detoured into Mongonissi channel - remember the rain yesterday - and then one more swim at Balos beach, before returning to Gaios.
A tour of over six hours, including water, a little bit of food and a glass of ouzo was great value for the 43 euro price each. Plus the day was absolutely perfect for a tour, a significant change from the previous days here on Paxos. If we were going to have one great day this was it.
After returning to Zakspitaki we decided to go back to Lilas for dinner. We weren't hungry after our lunch but thought we would enjoy a small final meal. I parked in the 'secret' spot Nicholas told us about behind the taverna, and entered the taverna through the back way. We felt somewhat both guilty and 'special' when, with two other couples waiting for tables we were escorted by Lilas to the one open table. It appears we had become VIPs. Tzatziki, mamas hand cut fries, clearly the best saganaki we have had on the trip, and for me pork souvlaki. After our meal I asked Lilas for a baklava. When she said she didn't have any I replied "What kind of Greek restaurant doesn't have baklava?" She said "Wait" after which we saw her cross the road to a bakery, to return with a piece. Ya, Lilas truly made us feel like VIPs. We left full and happy.
Today a cheese stuffed phyllo. We will never tire of apple cakes.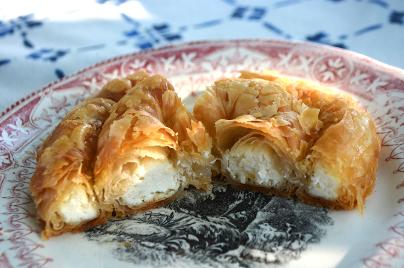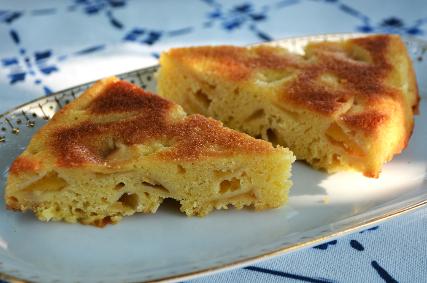 Panos Boat Tours. Picturesque Gaios harbour.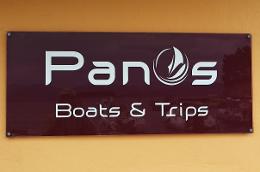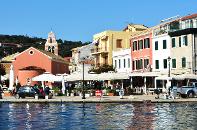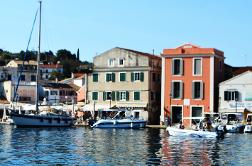 A boater and sailor's paradise as we leave the fjord like harbour.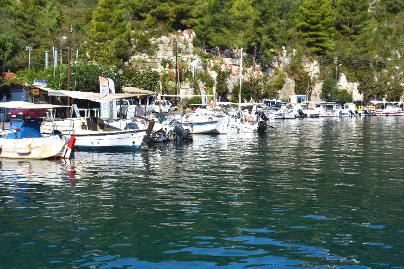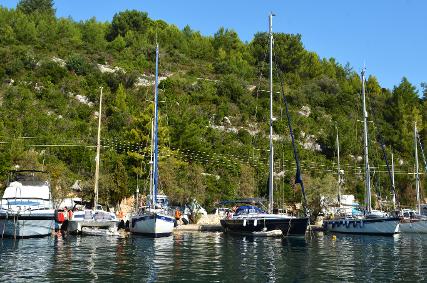 Churches along the boat tour.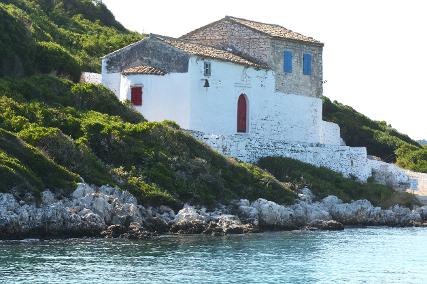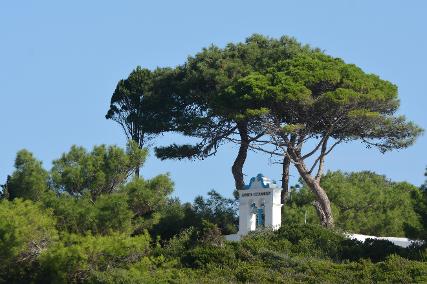 As we headed south down the east coast and then around the tip to the west side enjoying emerald green coloured water.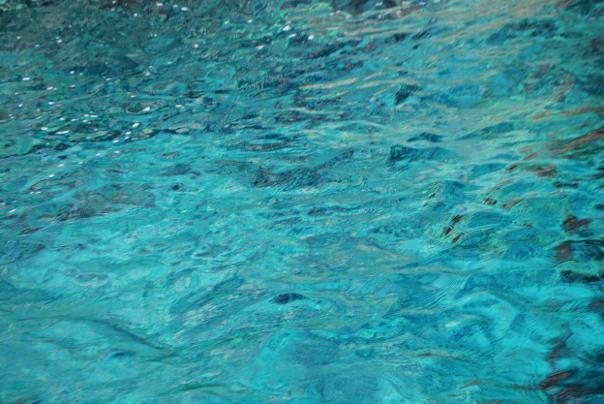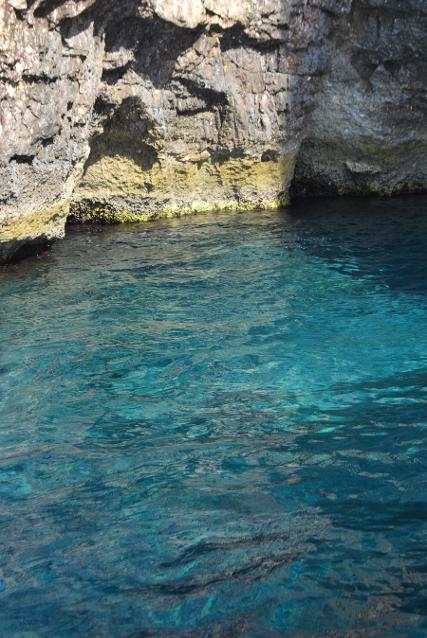 One of the many caves on the west coast of Paxos.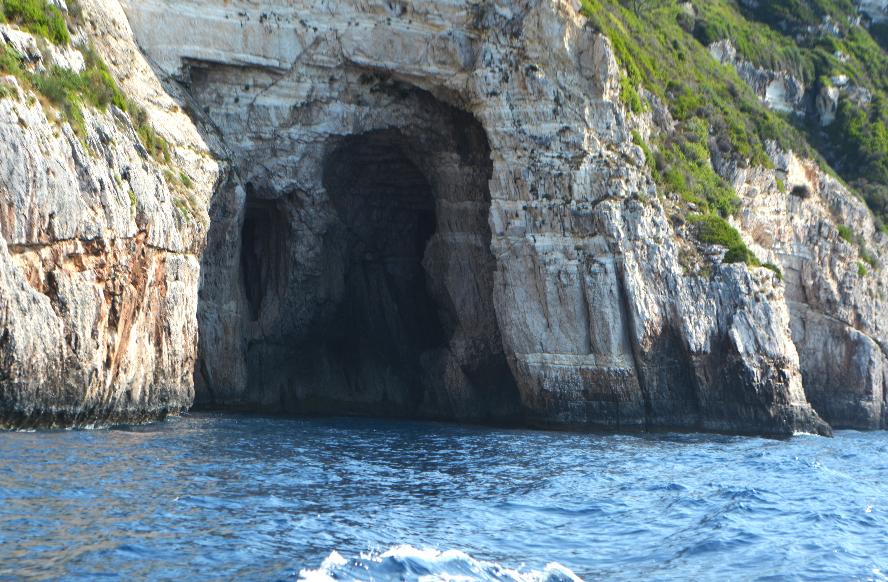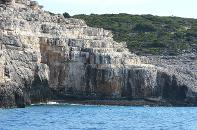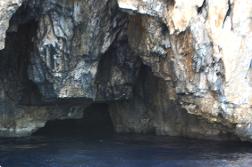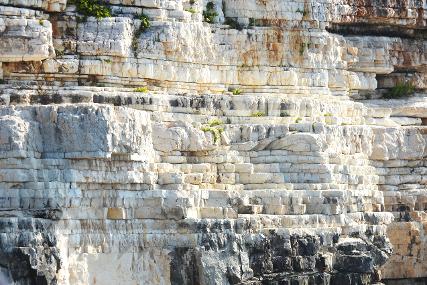 We can't get over the different colours of the water.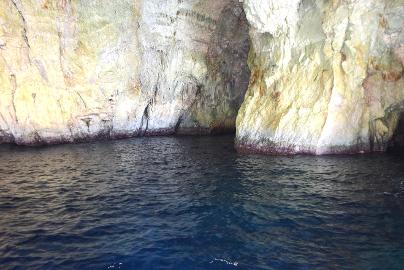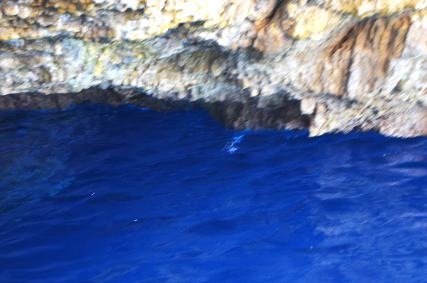 The (dark dark) indigo blue caves.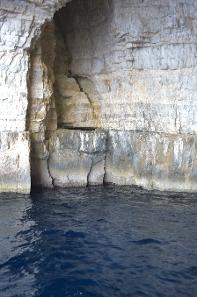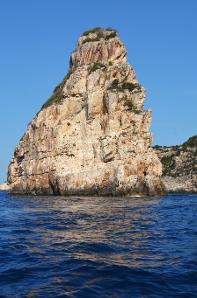 A couple of videos of our trip along the coast.
Gorgeous coloured water fronting many caves. Not surprisingly we were not alone.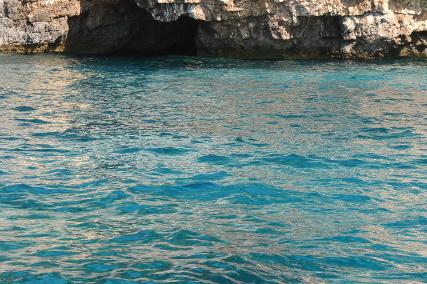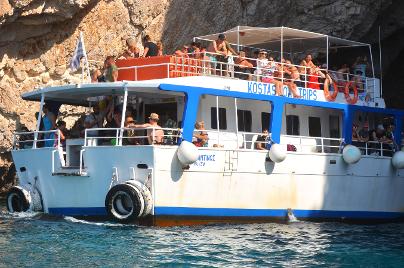 There are numerous caves along the coast, a number of which we entered.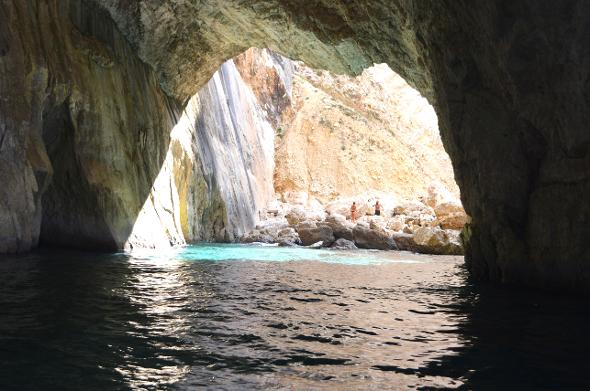 Some of which had small beaches within.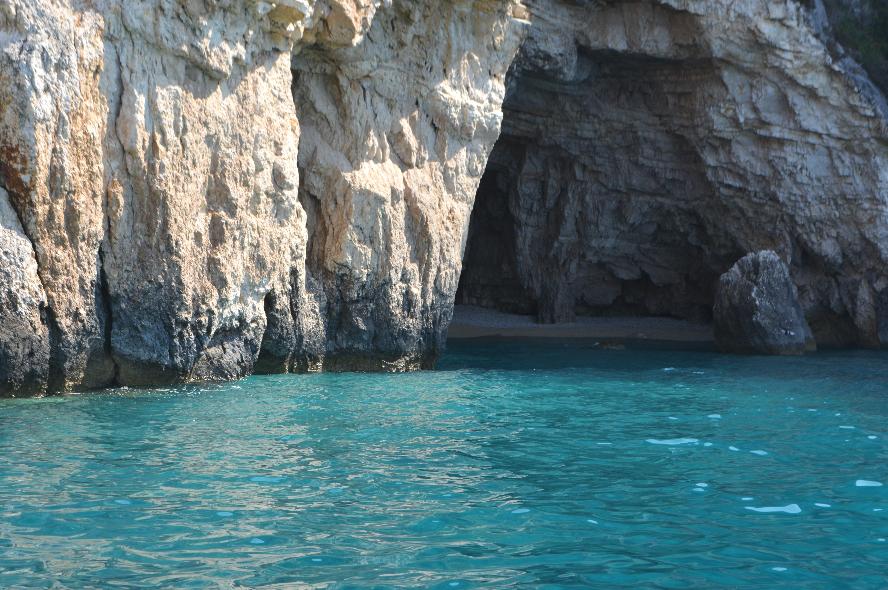 Of course we stopped for a number (four altogether) of swims.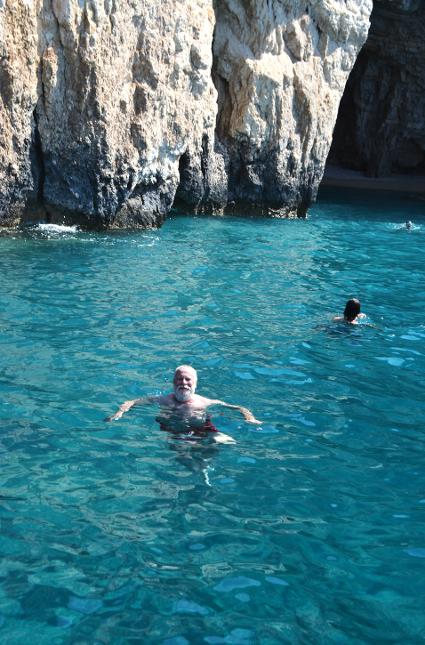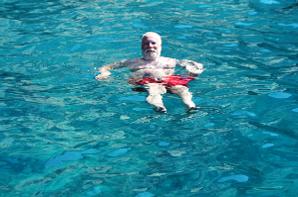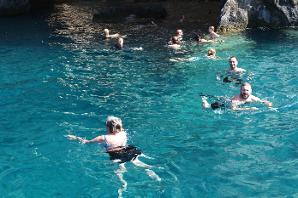 More colourful water; more small beaches.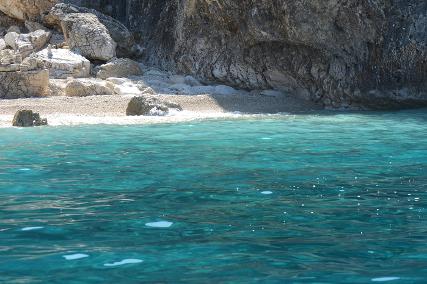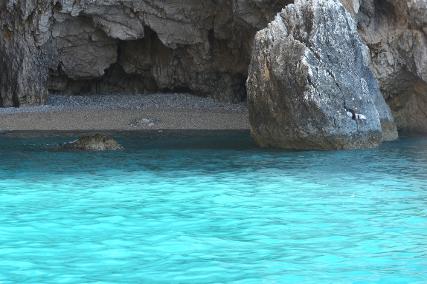 Unfortunately there were lots of jelly fish at one place the captain intended to stop - so he moved on. At a later stop although none were seen from the boat I can confirm there was at least one jelly fish.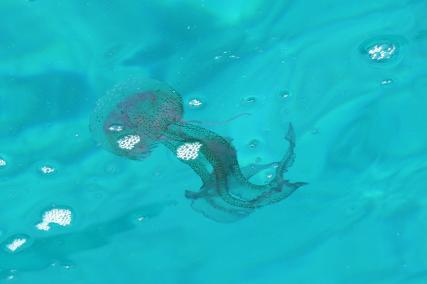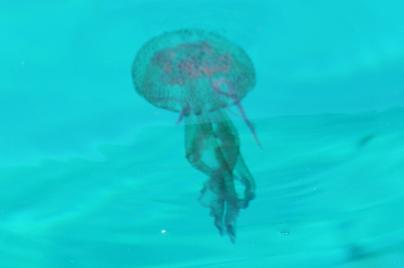 Dramatic white clay cliffs.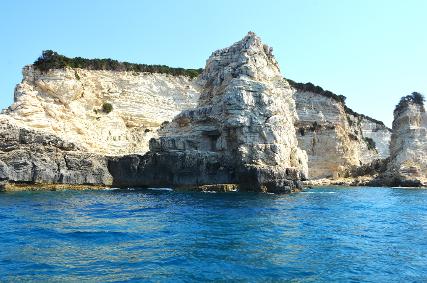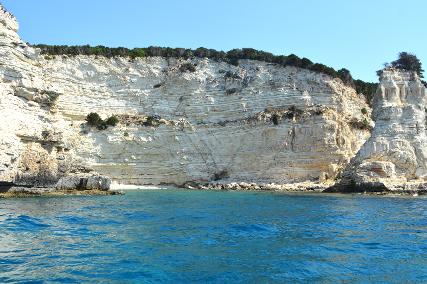 More sea and another short video of the white chalky cliffs.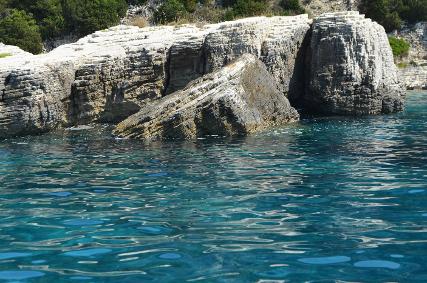 Please help this old guy get back into the boat! Actually no help needed.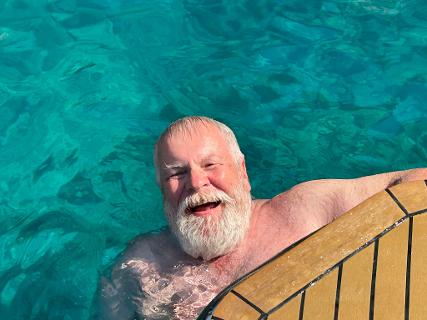 Enjoying a swim in the warm Ionian waters.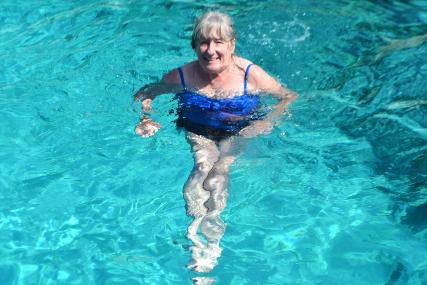 Another beach where we stopped for a swim, and I encountered a jelly fish.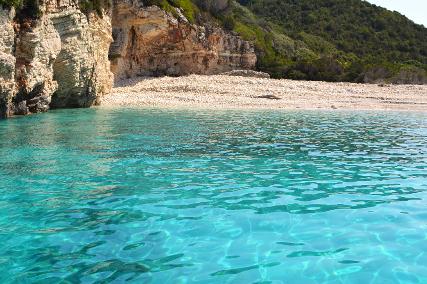 Cool shapes created by the seaweed.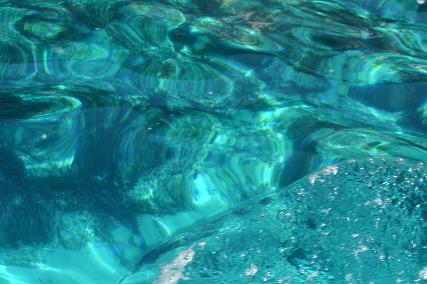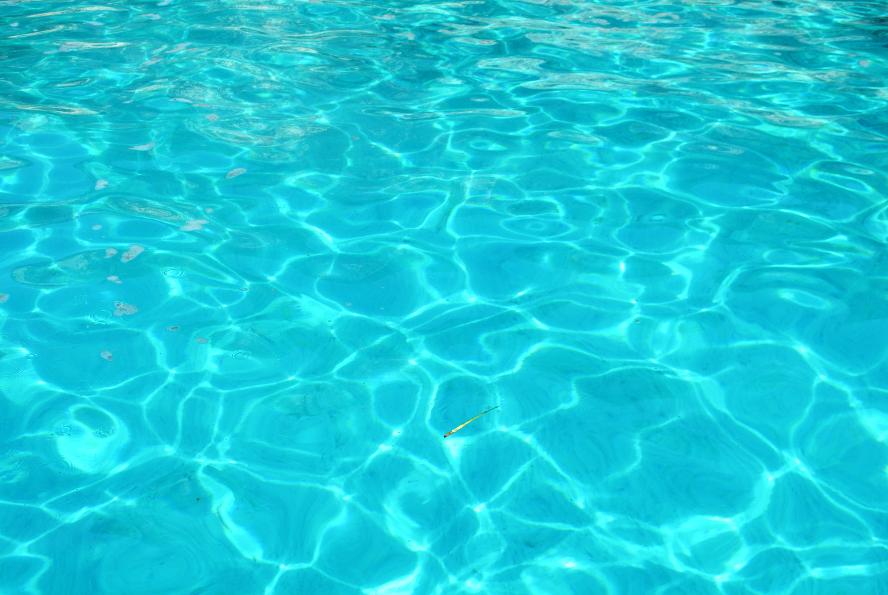 About to get into the water again.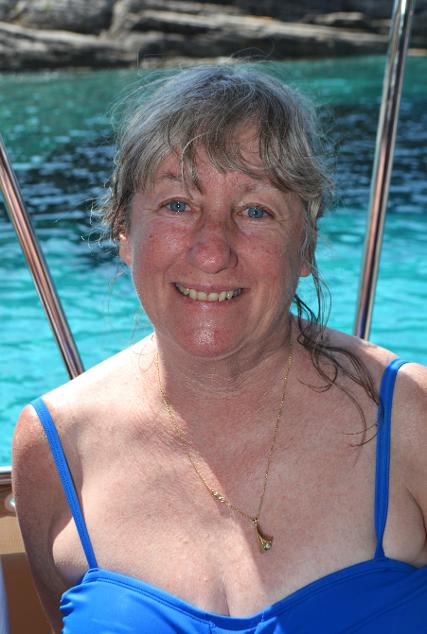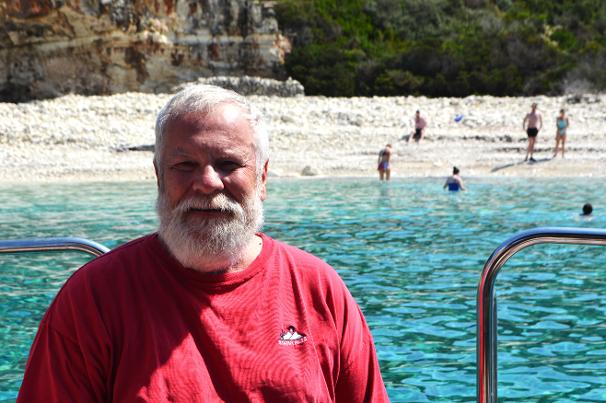 The others on our tour enjoying the swim stop.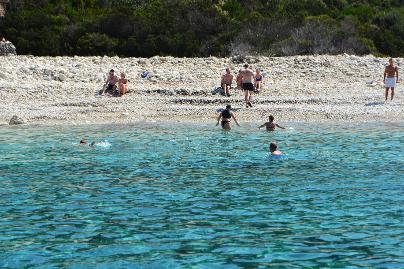 The enticing azure / turquoise waters off the coast of Paxos.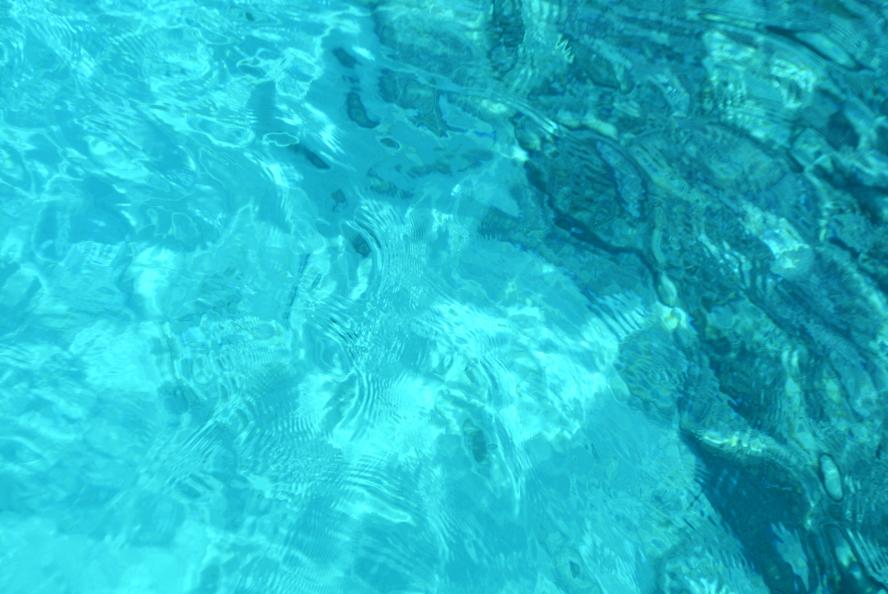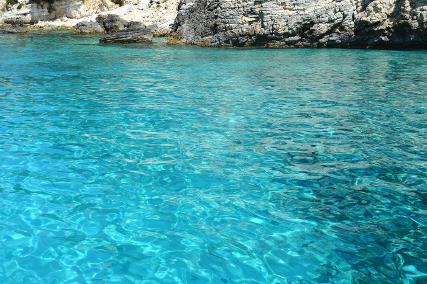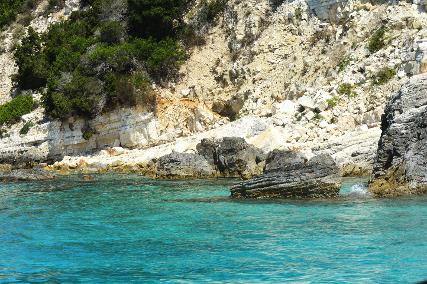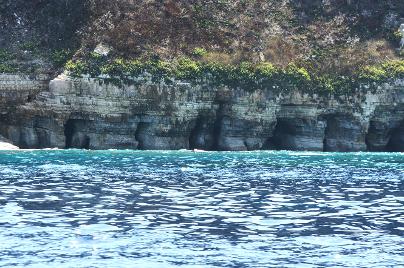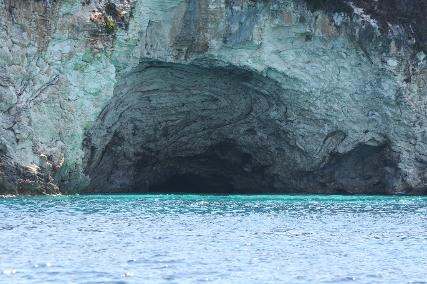 Paralia Voutoumi Beach, Anitpaxos.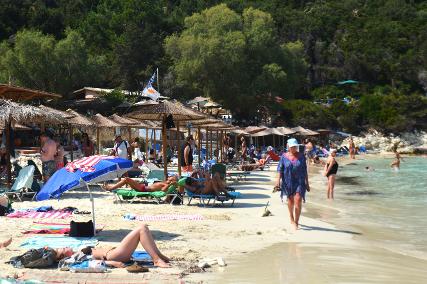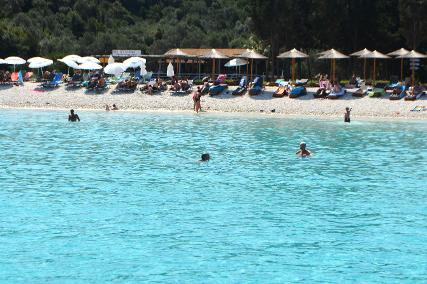 The colour of the water - Wow!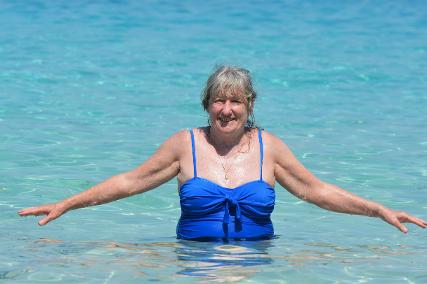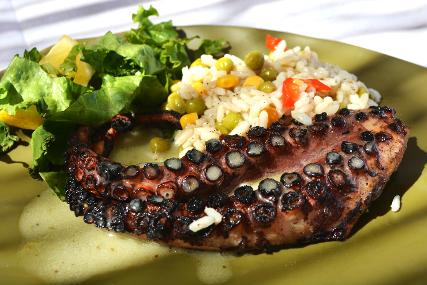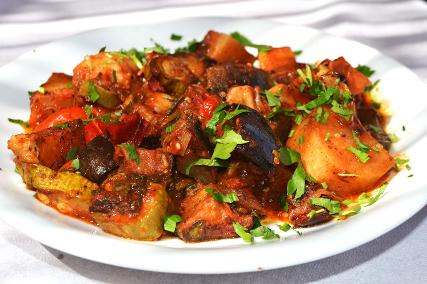 An organized beach with sunbeds and umbrellas. The next group waiting to board their boat.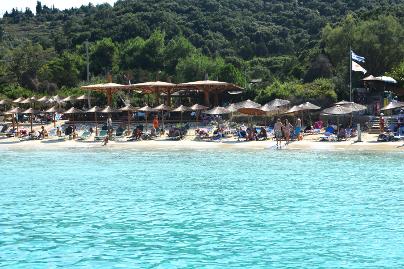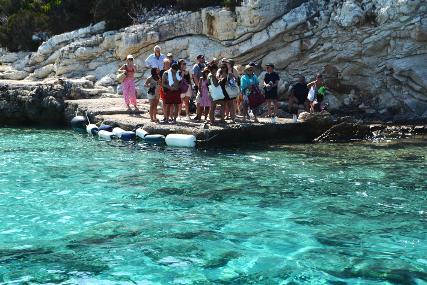 After six plus hours on the sea, swimming and relaxing in Antiparos we returned to Gaios.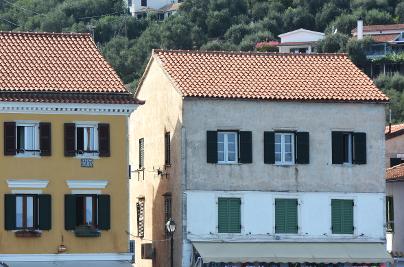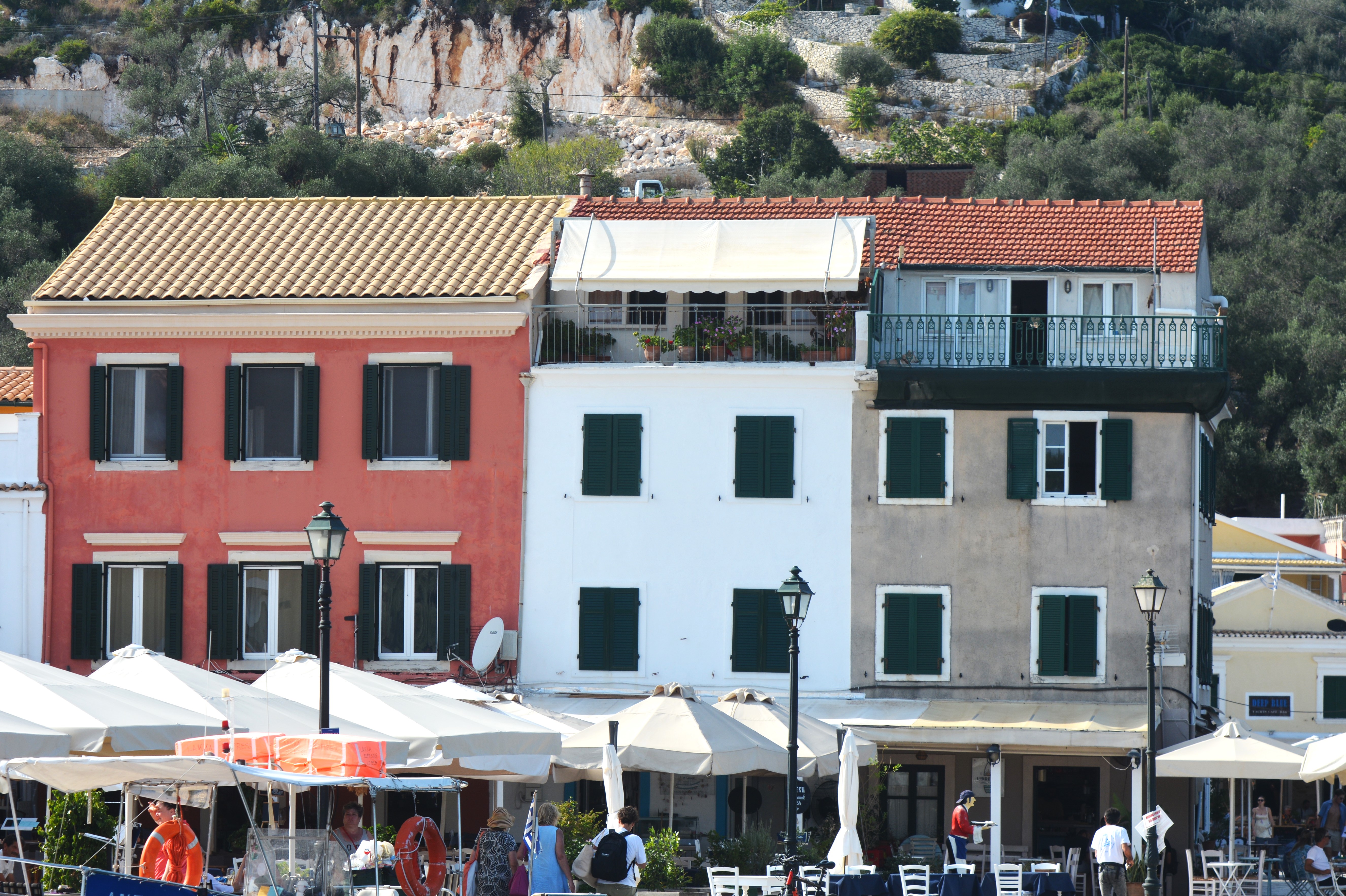 With its h
arbour lined with boats.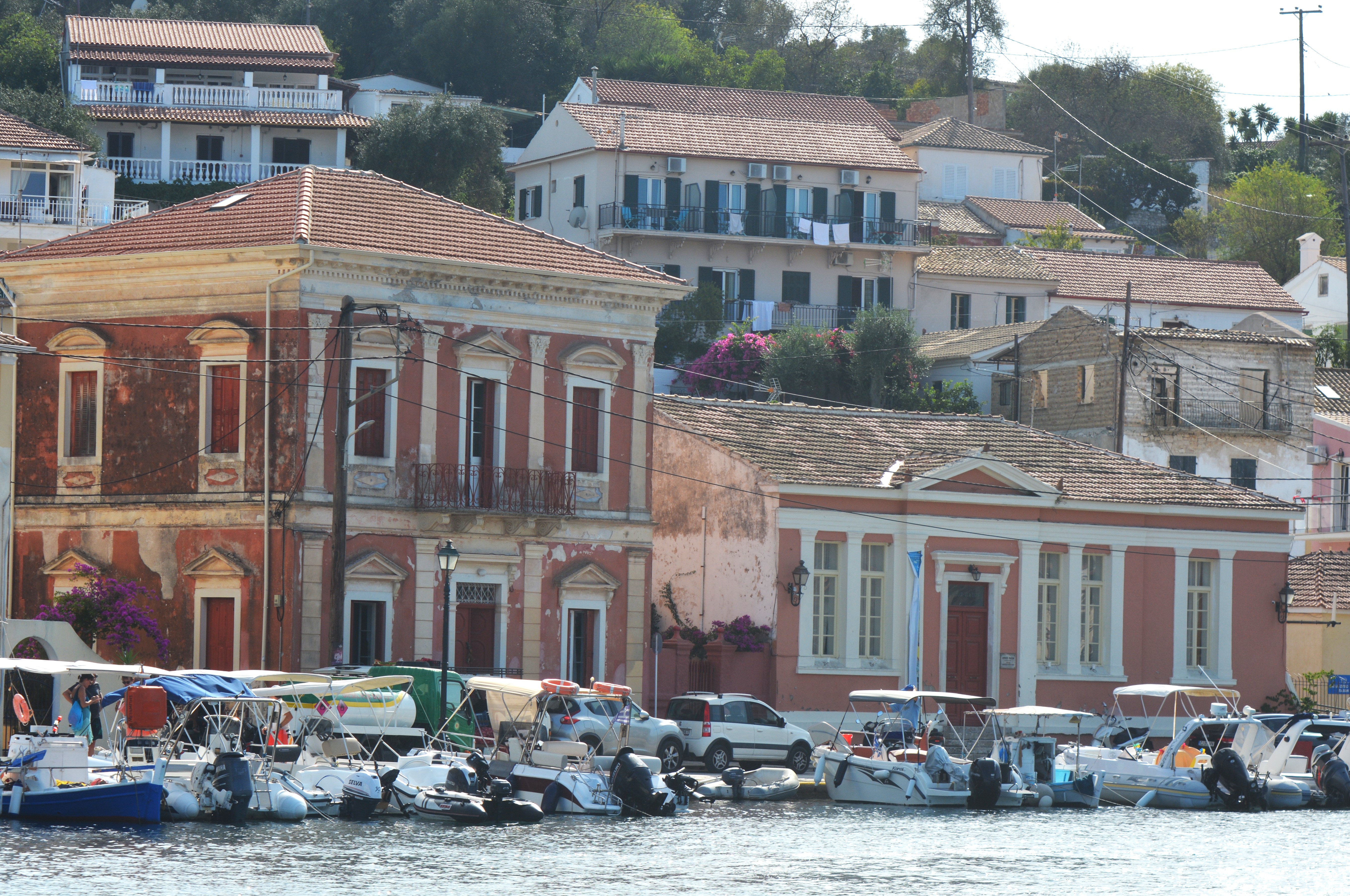 Sunset as seen from the road in front of B&B Zakspitaki.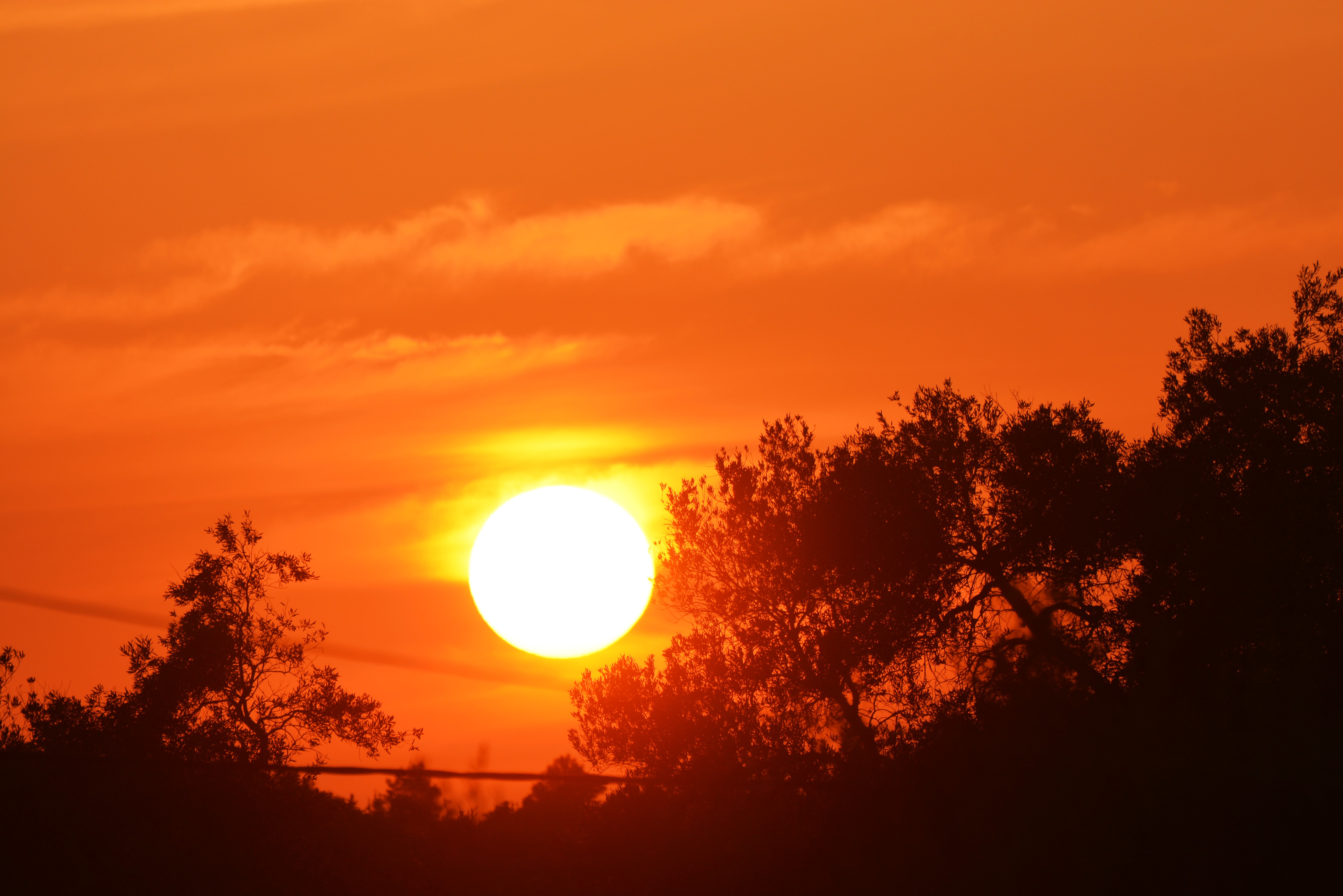 Another full night at Lilas. House wine.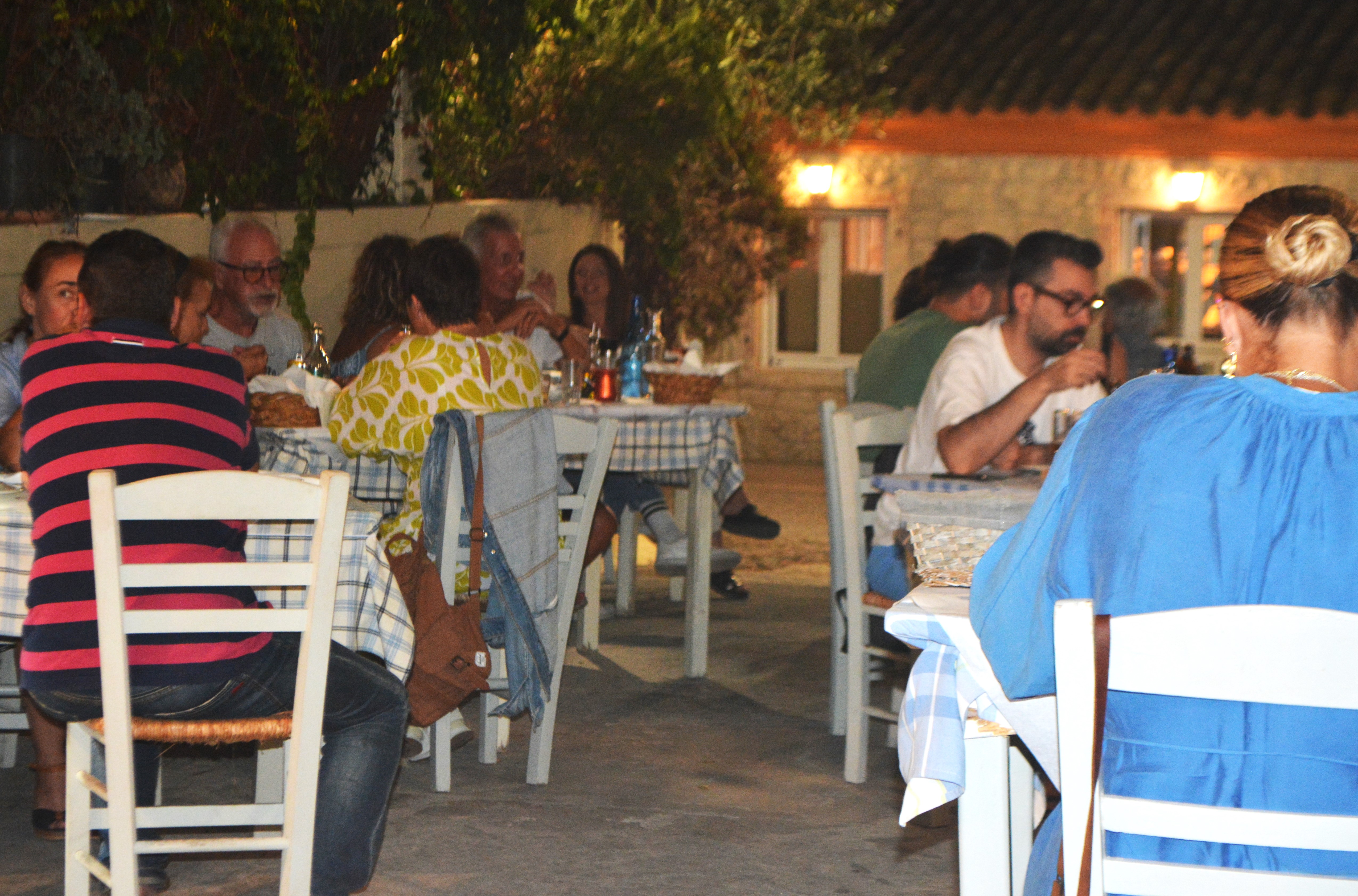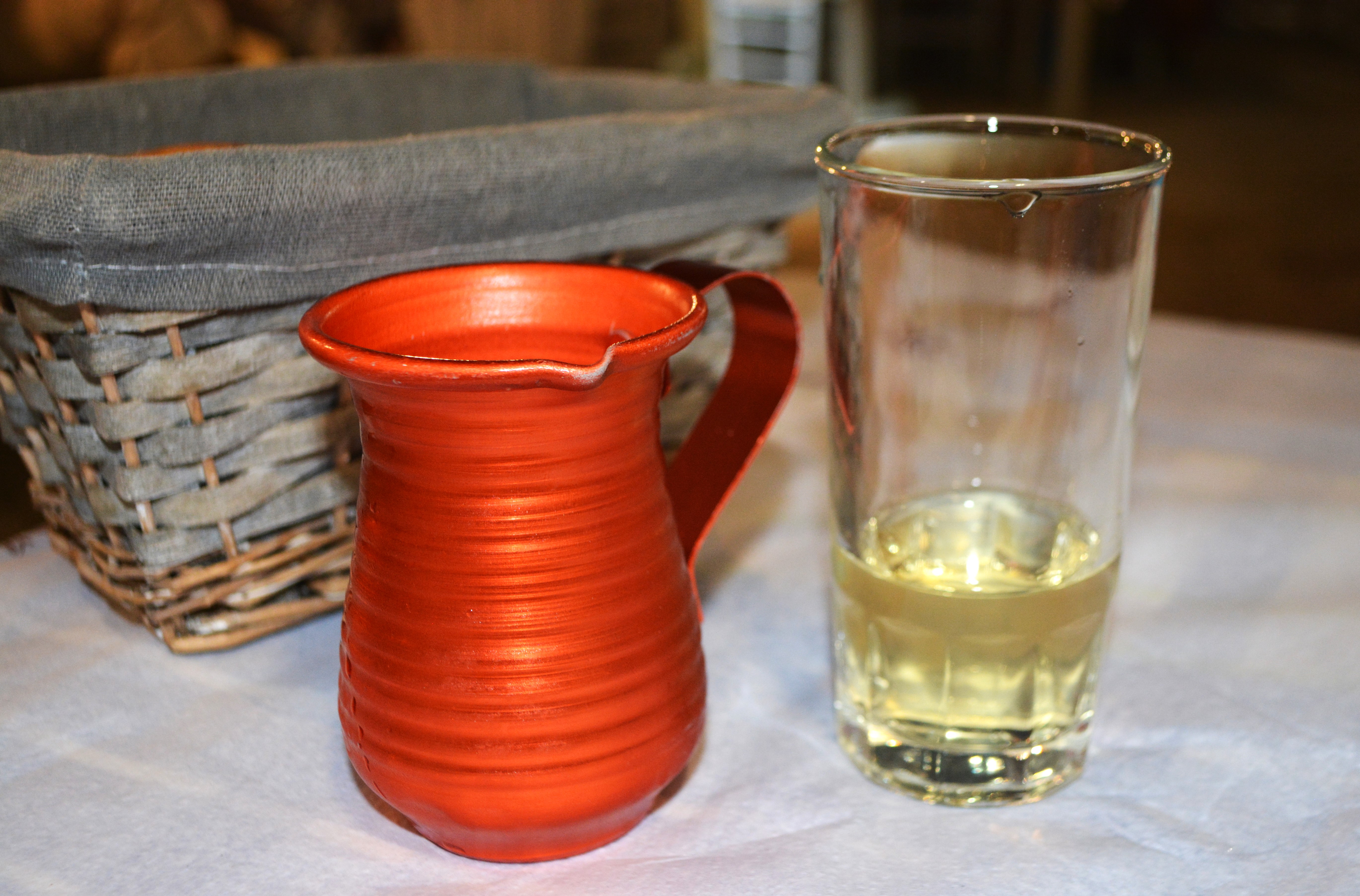 Tzatziki. Saganaki (one of the best) Mama's chips. Pork souvlaki.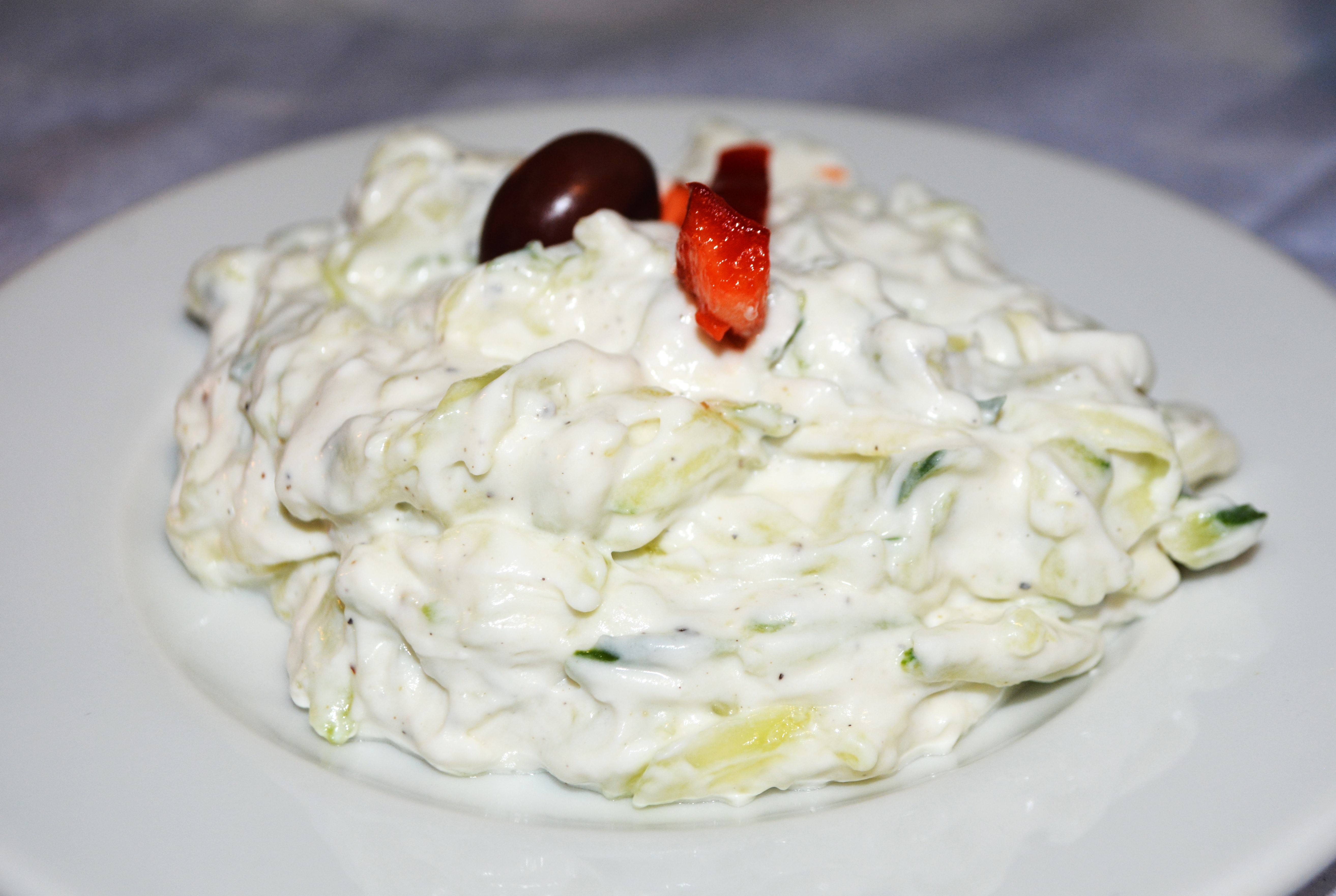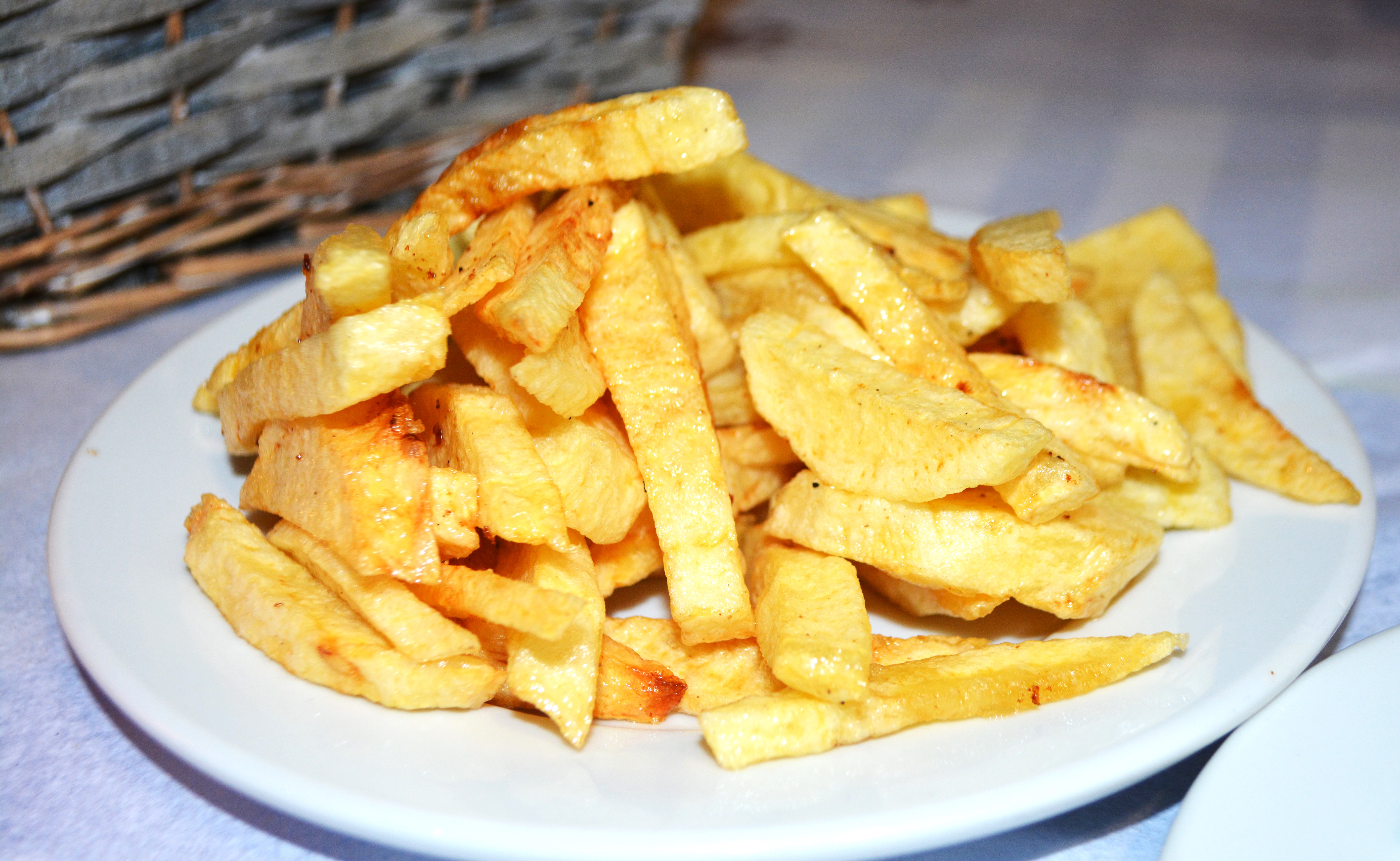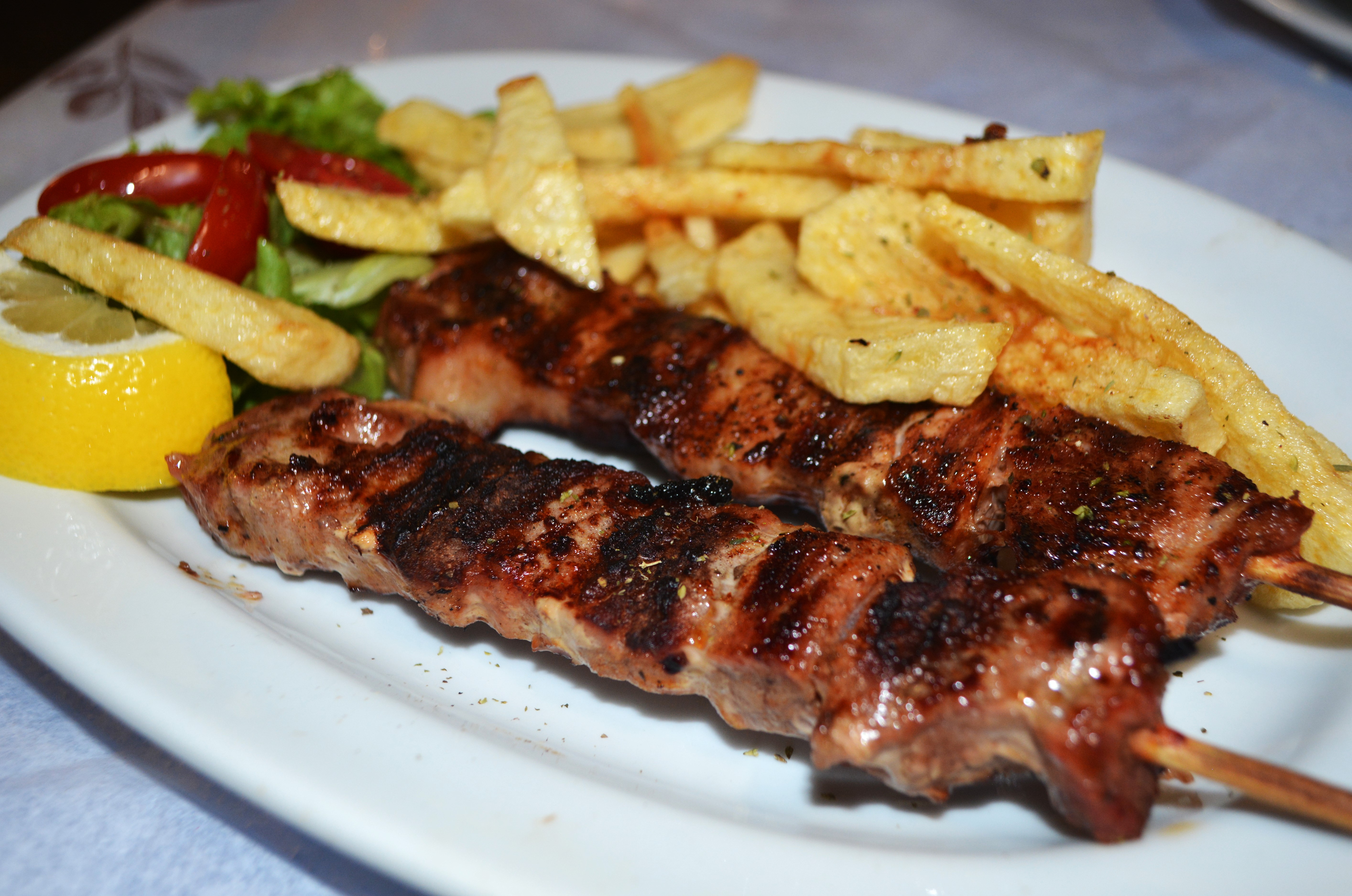 Enjoying another dinner at Lilas, finishing with this large piece of baklava.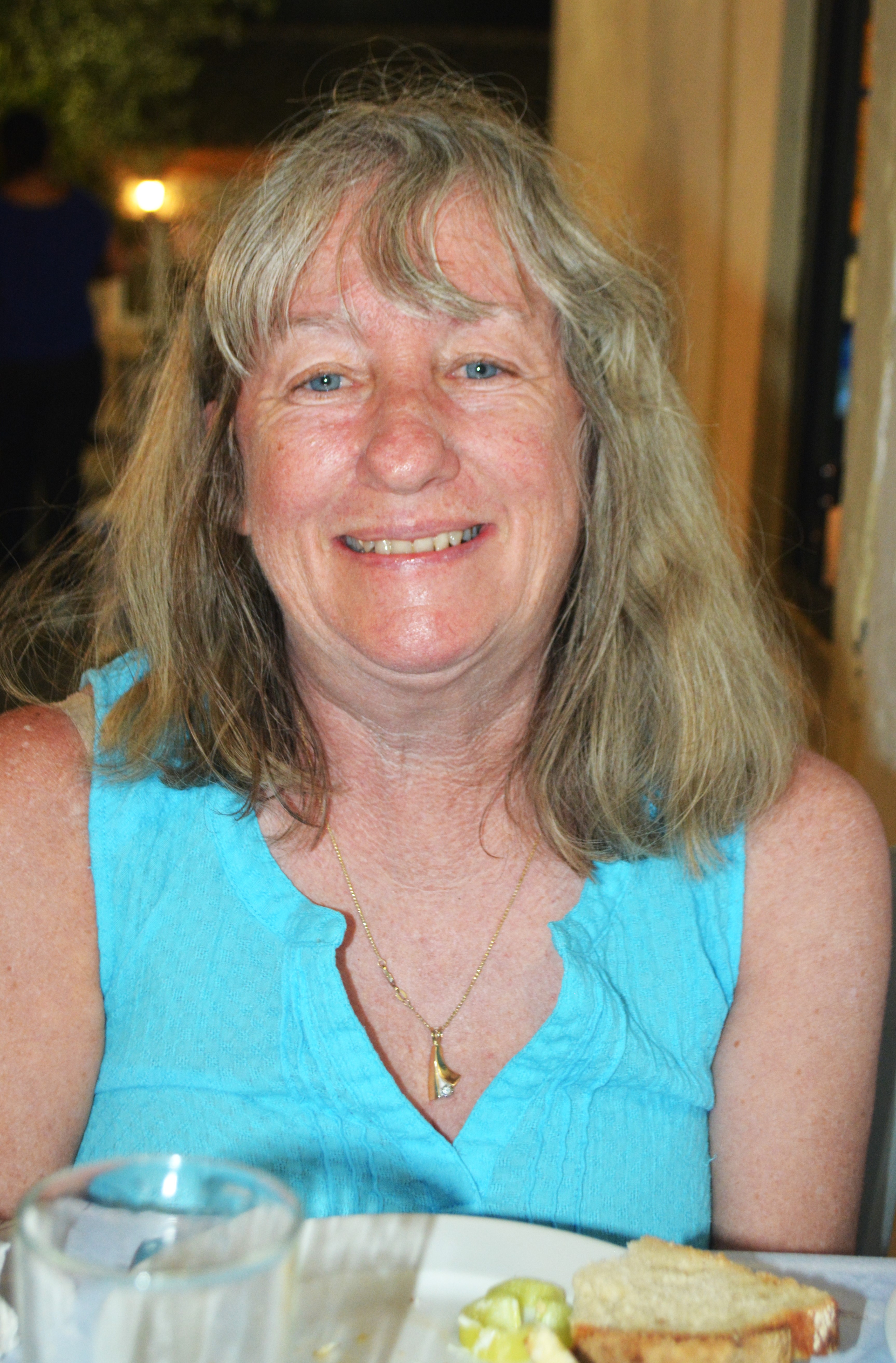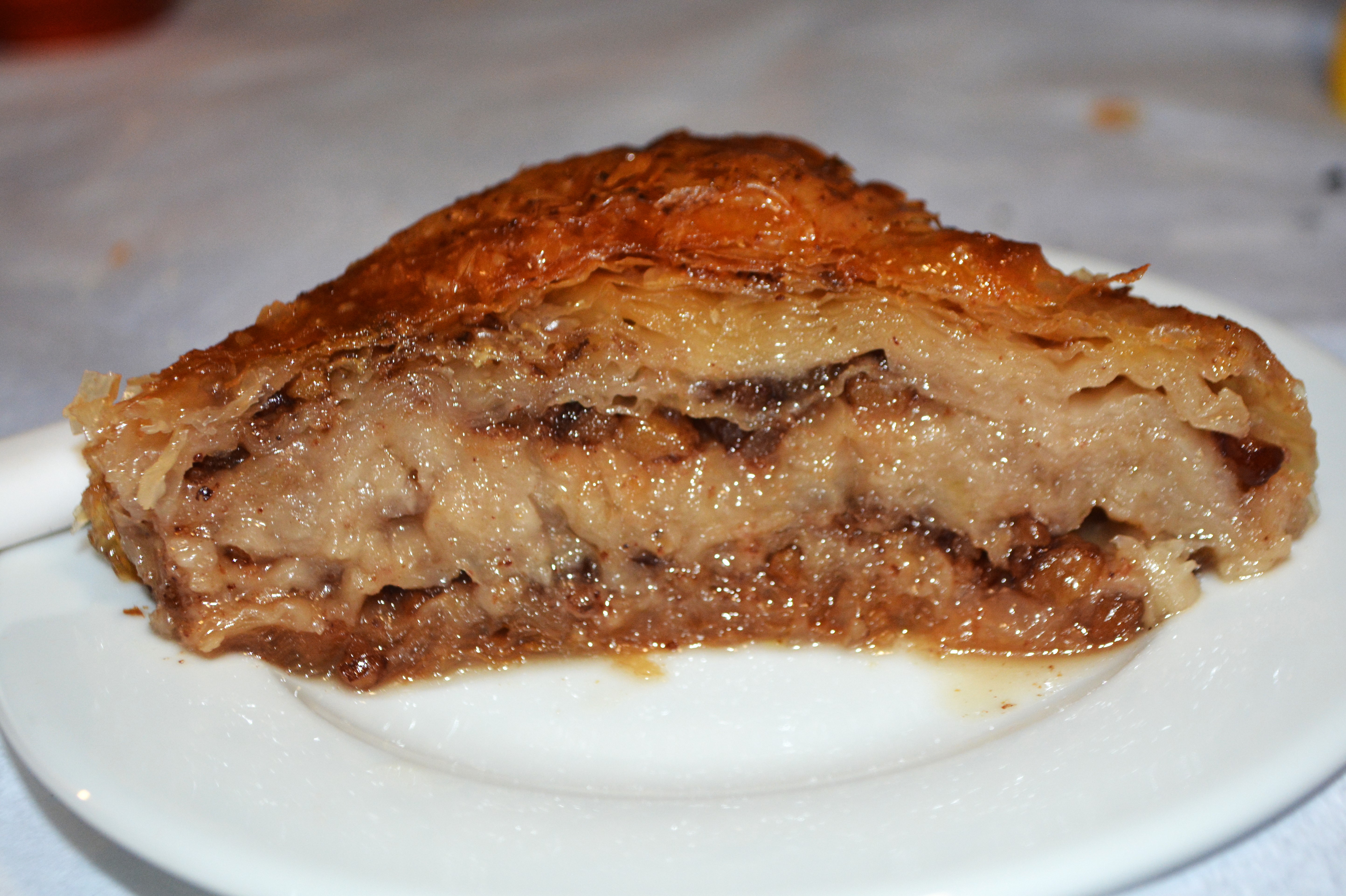 September 07, 2023 - Paxos - B&B Zakspitaki
Today started like every other day but finished on quite a different note.
Yet another wonderful breakfast, today with spinach rolls and a very thick apple pie.
With the forecast being for better weather today we decided to head to a beach - Mongonissi on the south of the island. Doing so required us to drive by / through Gaois, the main port of Paxos in order to check out parking options for tomorrow's boat tour.
Gaios, a natural port is surrounded by two small islands - Panagia and Agios Nikolaos. The result is an entrance that resembles a fjord. Panoramic views are provided of both entrances - the Islet and monastery of Panagia to the North and the main settlement to the center and south. The two islands can be accessed by boat, of which there are many in Gaios. Panagia has a simple monastery dedicated in Mother Mary while the isle of Agios Nikolaos has a fort of the same name dating back to 1423. The road above the port provides a wonderful expansive scenic view.
We continued south through some small stone lined rural lanes - I would not call them roads - until reaching a pretty bay with Mongonissi beach on the far side. We parked and walked around past the taverna to the sandy beach. Although there were a number of people enjoying their sun beds it seemed a bit strange no one was in the water. Then only a couple of minutes after we sat down it started to rain - so much for the weather forecasters. The beach was soon deserted - we packed up and went home, albeit along a different road that hugged the beautiful coastline.
Before dinner Helen and Nick invited us, and the other couple (Brits Helen and Andrew) to a meet and greet. Nearly two hours of chatting with some wine and tapas - a wonderful idea and very much appreciated.
We were not very hungry but did decide to return to Lilas for a light dinner - after all the food was great, and relatively inexpensive and the ambiance wonderful. As Gayle was getting us a table while I parked the car she saw a fellow arrive with what looked like a bouzouki case. Her hopes for more music skyrocketed, soon to be confirmed by our server Nicholas. After dinner (Greek salad for Gayle and lamb ribs for Norm) we waited, and waited until finally three fellows brought out their bouzoukis and one his guitar at 9:45 pm, and the music began.
This was not a 'performance' or a 'show' but rather an intimate jam session of authentic Greek music for family and friends. A bunch of guys enjoying what they obviously love - just sitting in a taverna playing their music.
I grabbed my camera, this time got close up, and started taking photos and videos. This must not happen often as I was soon being guided to better opportunities. For example Nicolas took me into the kitchen in order that I could get a better photo of chef Spiros (?) cooking the night's meat on the spit. I shared our Travel Blog 'business card' with Nicholas and soon many were putting it into their phones, including the local priest who noted that now the church has our travel blog. Everyone seemed happy to have their photo taken - Chand the busboy, mama peeling and cutting potatoes, the kitchen staff, Lilas and Nicholas. While the music was playing we ended up chatting at length with another British couple - Mel and Chris, who too stumbled upon this experience and even after finishing their meal stayed to listen to the music. As the evening wore on Nicholas brought over a 1/4 litre of wine 'on the house'. When finished another 1/4 litre magically appeared. Then one of the bouzouki players came over and provided me a business card in order to let them know when the photos would be posted. The guys played for two hours, often with others singing along, although no one danced. It was nearly midnight when we finally left what without a doubt will be one, if not the, highlights of the trip.
In addition to the photos there are six videos below. Have a listen.
Spinach in phyllo for breakfast. And today's use of apples.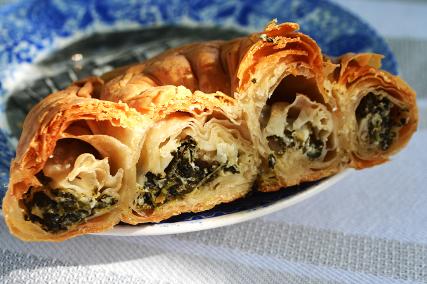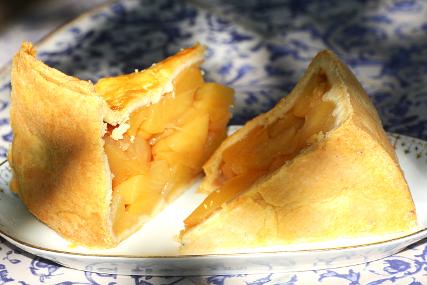 Gayle enjoying breakfast. A nice table on the terrace.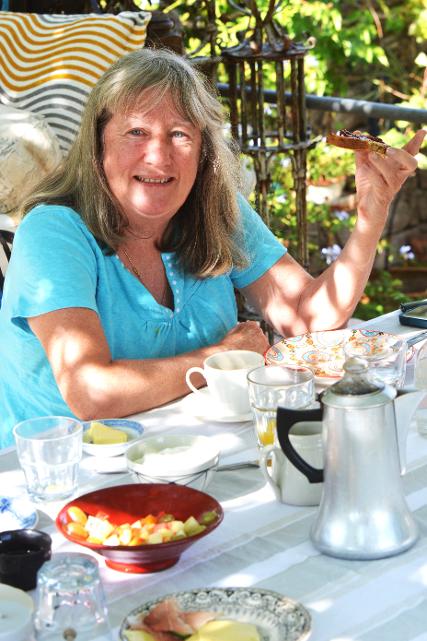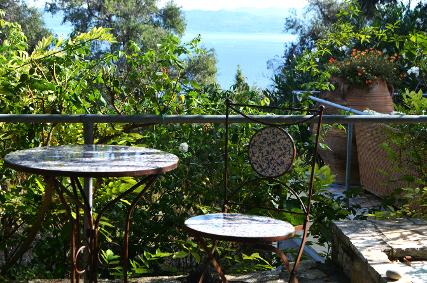 Along with a day bed (there were actually two).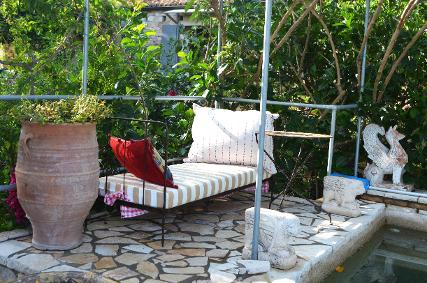 The northern entrance to Gaios harbour.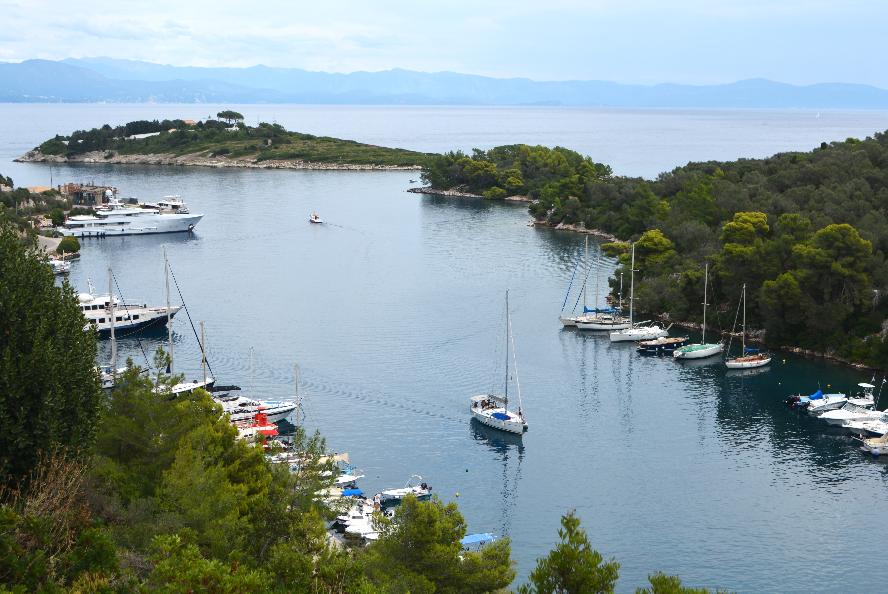 Turning almost 90 degrees in what is a fjord like link to the harbour itself.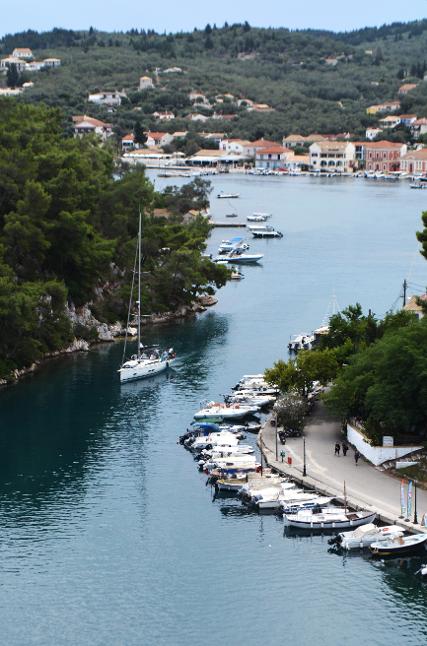 Sailboats passing in the day. Gaios, very much a harbour town.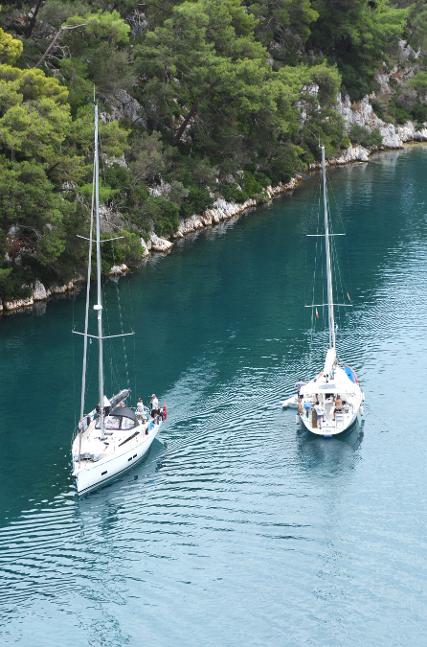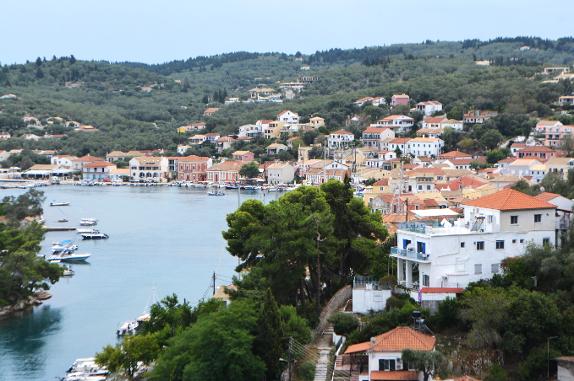 A narrow rural 'road' with rock wall. A rural church.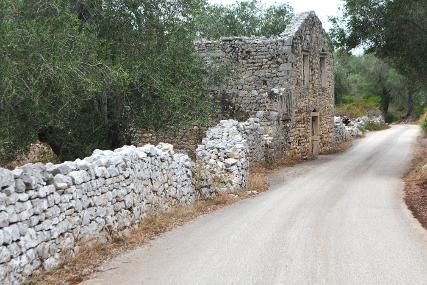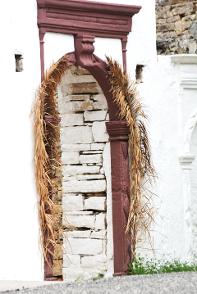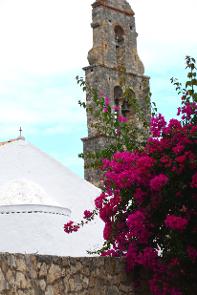 We made it to Mangonissi beach where there were lots of people on theses beach chairs until it started to rain minutes after we arrived. Sadly we packed up and went home.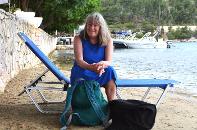 Bright colourful bougainvillea.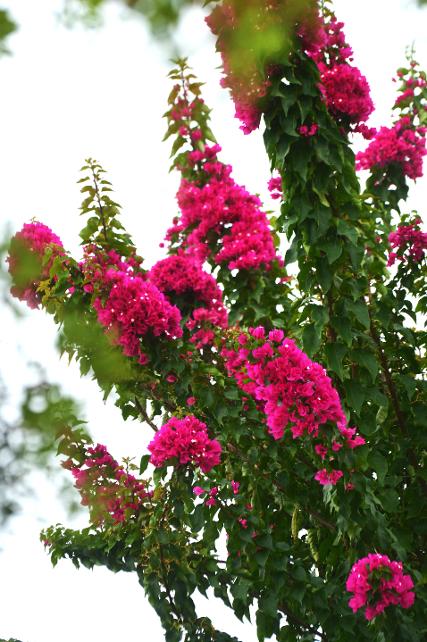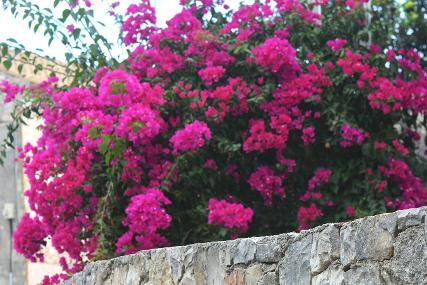 Tapas to go with the meet and greet. Nick and the wine.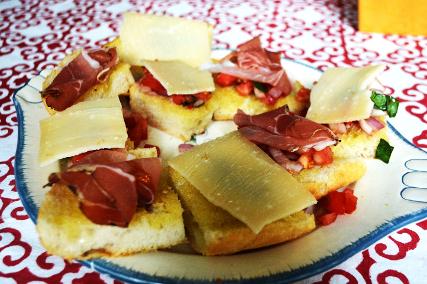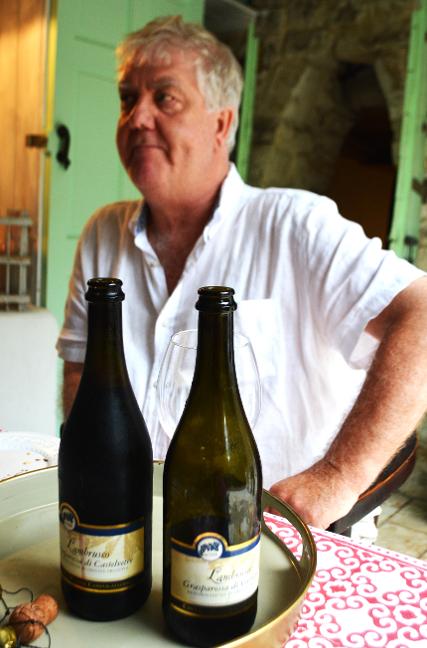 Helen and Andrew. Helen and Helen.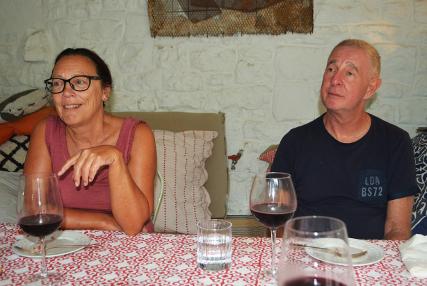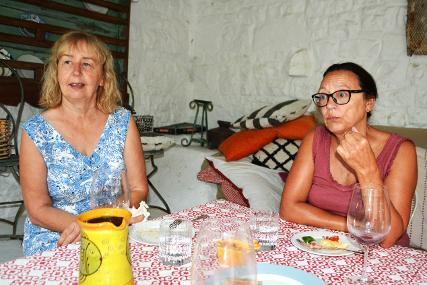 Of course a Greek Salad. And of course lamb chops and mamas fries.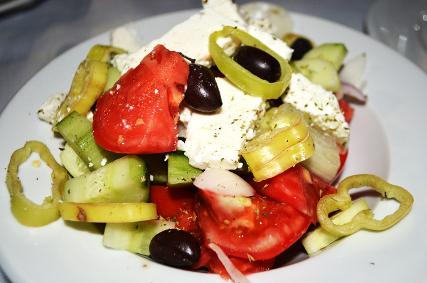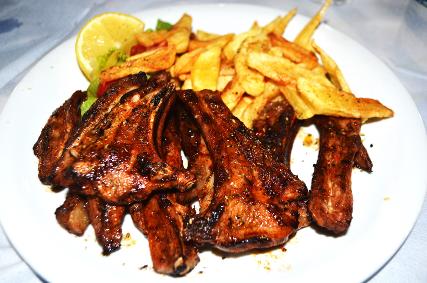 We expected we were going to be in for a treat when we saw the bouzoukis come out of their cases.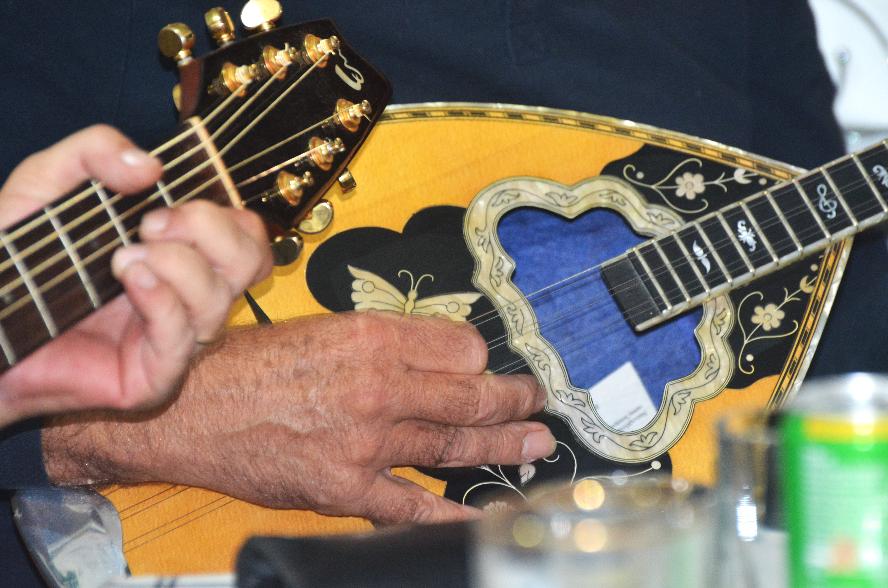 Here is some of the music we enjoyed - six videos in all.
Gayle absolutely loving the music and watching me wander around taking photos and schmoozing with the staff.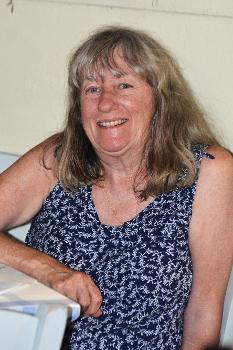 More fries being cut tonight - clear evidence they were not frozen.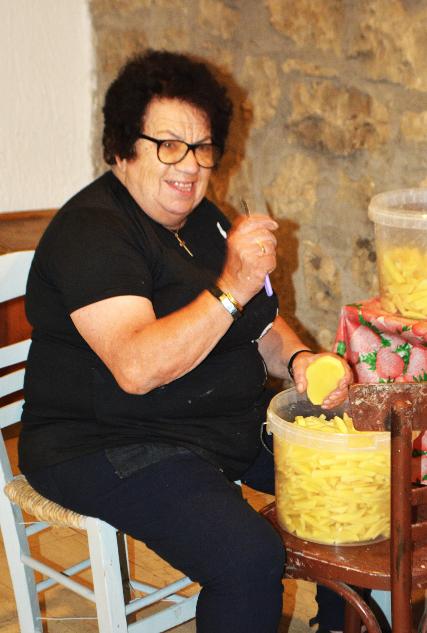 The village priest, a regular at Lilas we were told.
Just a large gathering of locals playing music.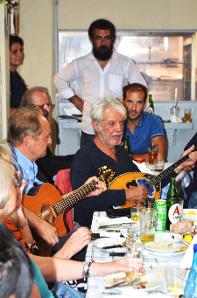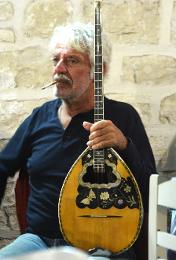 Lila (owner) and Nicholas (server).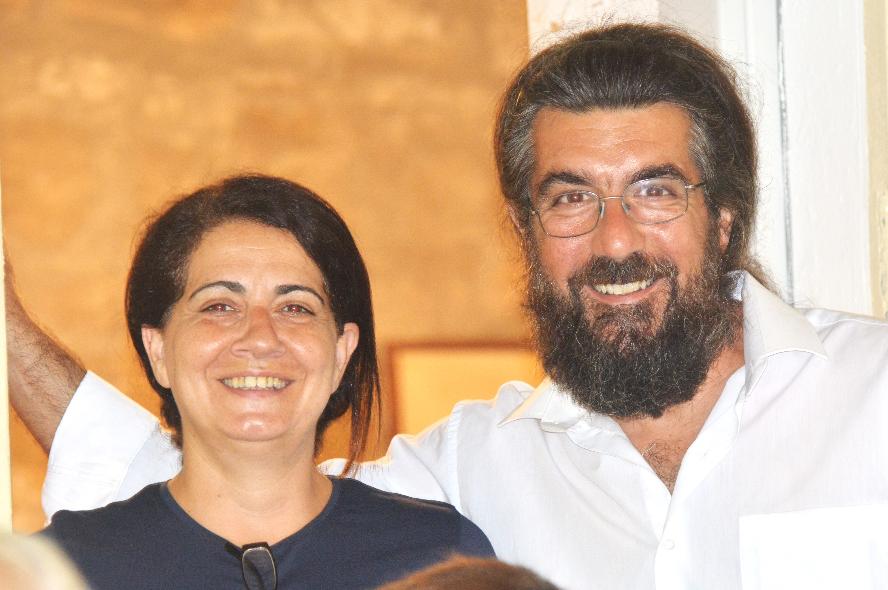 The rest of the Lilas' staff.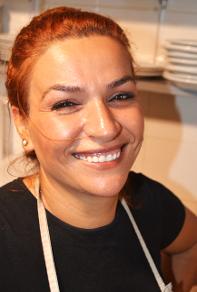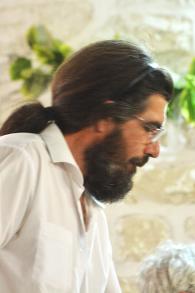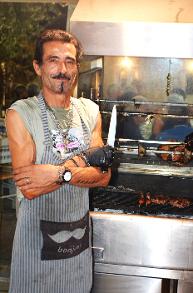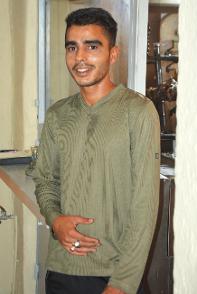 Just an awesome experience to listen to the music.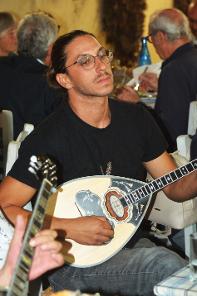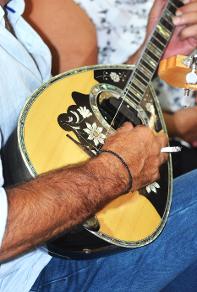 The four musicians - three bouzoukis and a guitar.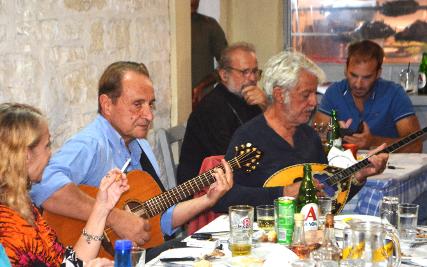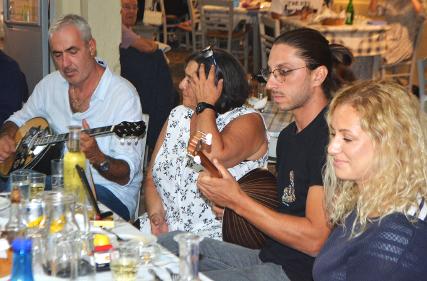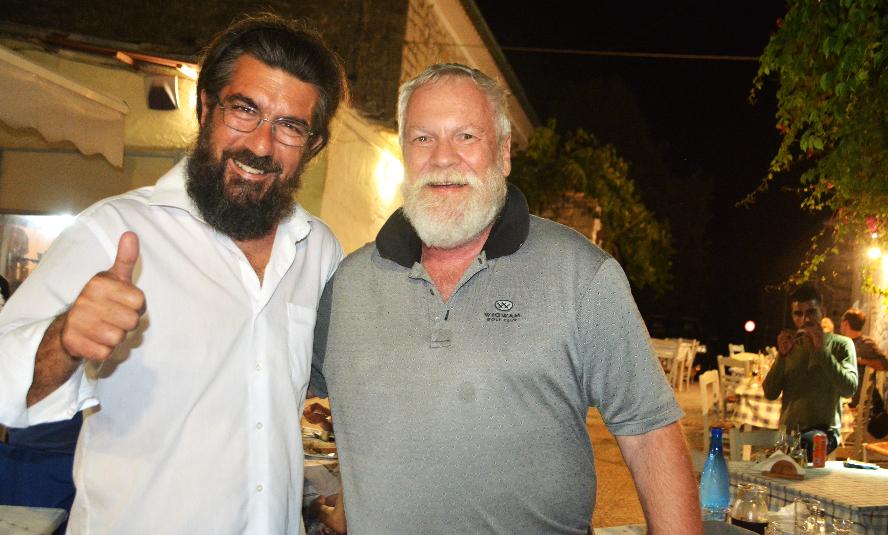 Another very nice British couple, Mel and Chris, we chatted with while enjoying the music.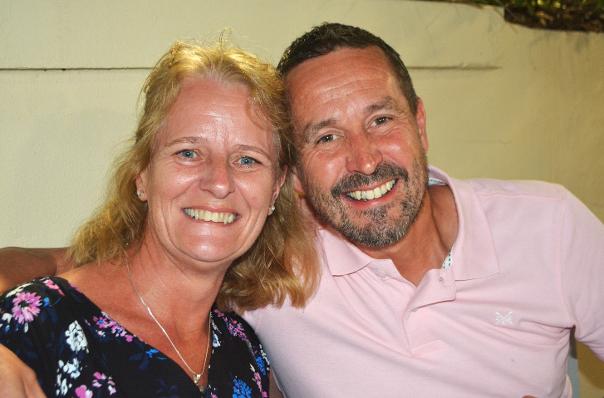 The second of our 'gifts'.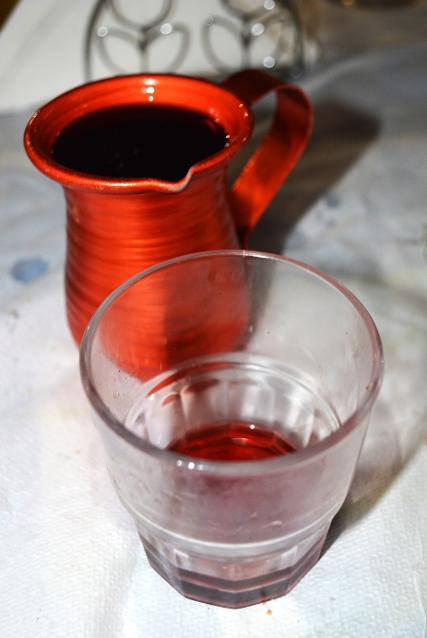 September 06, 2023 - Paxos - B&B Zakspitaki
It continued to call for questionable weather today and off and on they were right. But we did enjoy a break mid-day to go for our first swim in the sea.
As will be the case every day we generally slept in to near 8:00 am and made it to breakfast 9:30 ish. Again a wonderful spread - great Greek yoghurt topped with fresh fruit and smothered in Greek honey; Helen's home-made cereal, meats, cheese, tomatoes and spanakopita (cheese in phyllo). Remember those apples from yesterday - today they showed up in an apple pie. Delicious.
There was a break in the weather mid afternoon, enough so that we went to Loggos to check into tickets for a boat tour to the west side of the island and then to Antipaxos. Afterwards we made our way to Paralia Levrechio Beach. The beach was very rocky - so glad we brought out water shoes but once we got into the gorgeous turquoise sea it was all good. Reasonably warm it was a bit wavy but all in all very nice to finally get in the water.
We returned to spend the afternoon at Zakspitaki before heading to nearby Patamos and Dolos Restaurant for dinner. Due to the rain the number of tables were limited so we had to wait / return in 45 minutes. Dolos is a not a taverna / grill house per se but tries to be a bit more sophisticated restaurant with mixed success. The cheese stuffed red peppers were very tasty but seemed expensive for the two small peppers. Gayle's mushroom risotto was good but not great and my Ionian fish soup (traditional recipe) was more a vegetable soup (albeit a good one) with a very little bit of fish rather than the other way around. The meal was enjoyed with a nice bottle of Peloponnese white wine, rather than the house wine we most often have.
Breakfast - one could not ask for anything more. And those apples - today transformed into a pie.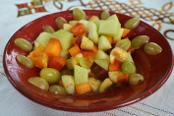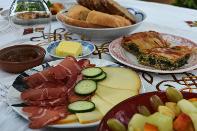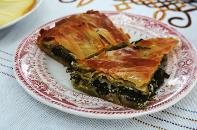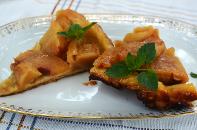 B&B Zakspitaki. Jacaranda Cottage - the other room.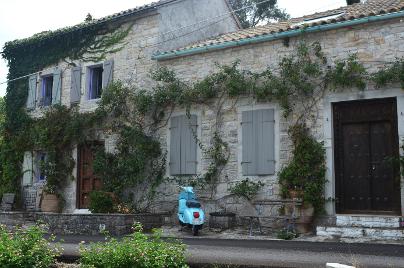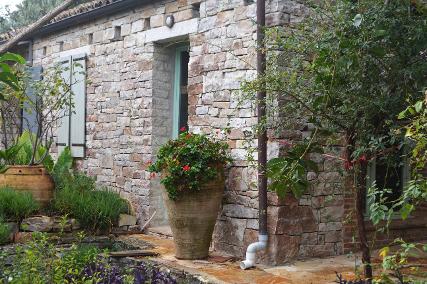 The (estimated) 800+ year old olive tree just across the road from B&B Zakspitaki.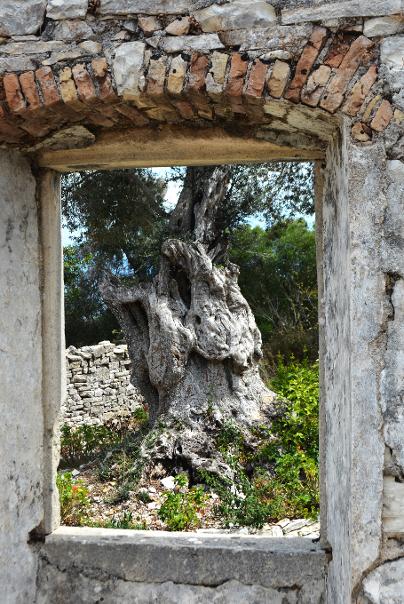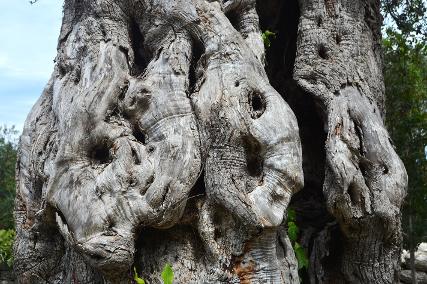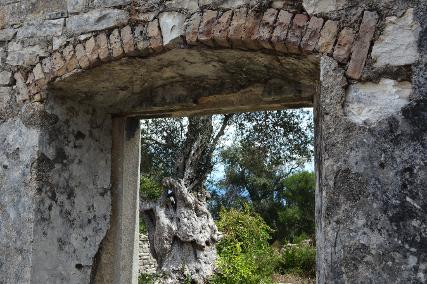 Helen. One of the ornate Tanzanian doors.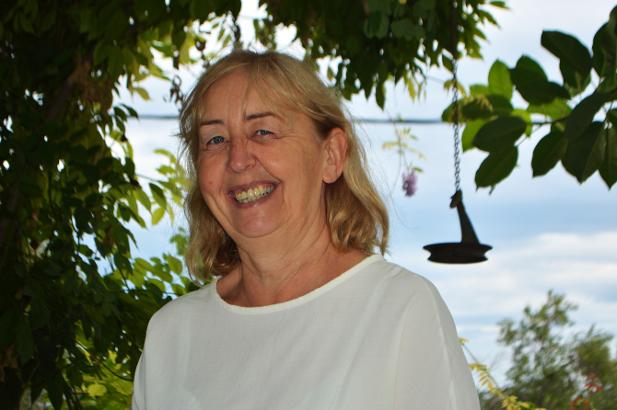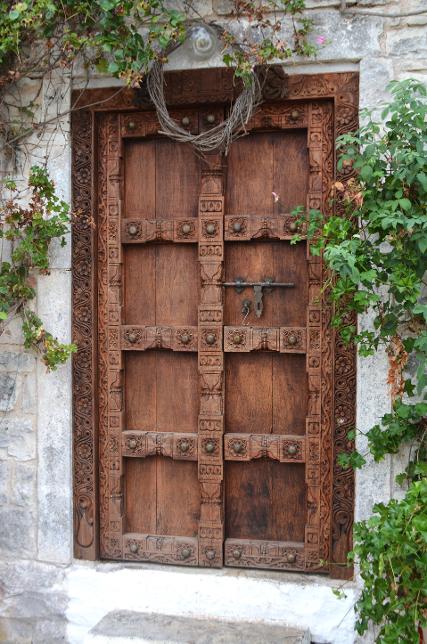 Right - look at the colour of the water.
Below - Levrechio beach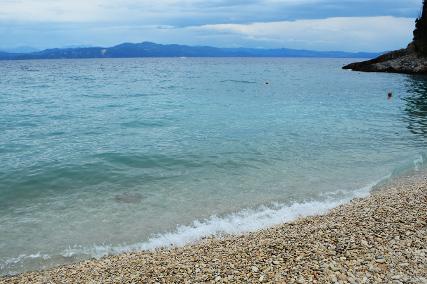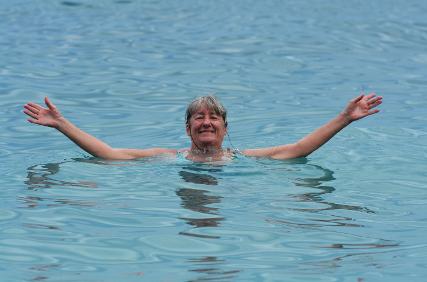 Umbrella and beach chairs dominated the beach. A building along the road, near Dolos restaurant.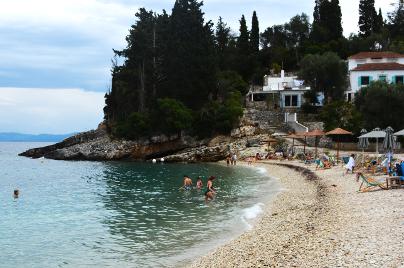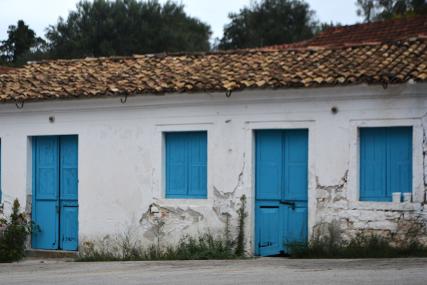 A Peloponnese white wine. Cheese stuffed red peppers.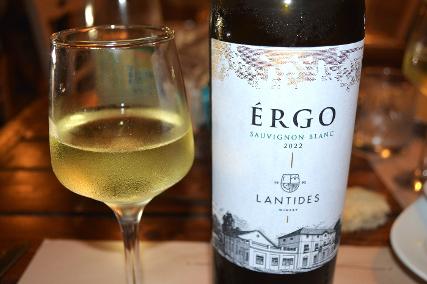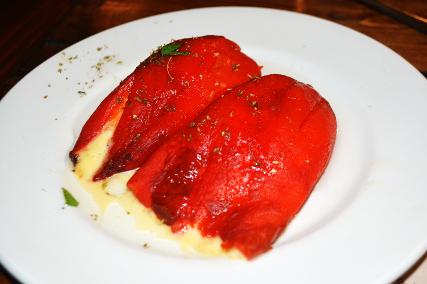 Ionian fish / vegetable soup. Mushroom risotto.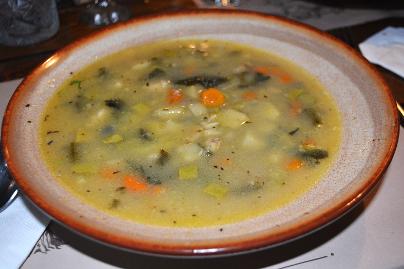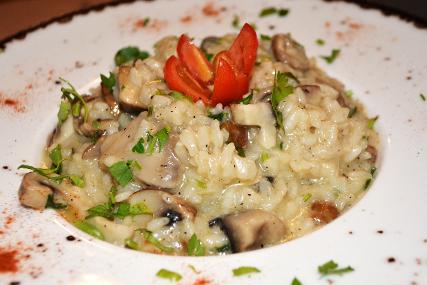 In spite of being into September the taverna was full. A cat across the road sheltering from the rain.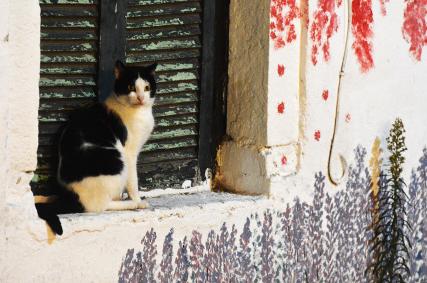 September 05, 2023 - Paxos - B&B Zakspitaki
Another overcast / drizzly day but we clearly escaped the worst of it. We are reading of torrential downpours and flash floods in Skiros, Volos and the Pelion, with fatalities from those being swept into the sea. So although the light rain is a bit of an inconvenience we must always keep our 'problems' in context with those who have it so so much worse.
Most of the day was spent at Zakspitaki in our Zanzibar room Zanzibar is a very special place for Helen and Nick as it is the place they met. The Zanzibar room is a re-creation of a typical room in Zanzibar, Tanzania. The rooms on Zanzibar island are generally large with high ceilings, complete with ceiling fans to keep cool in high humid temperatures. The furniture and doors mainly came from Zanzibar. During Helen and Nick's first date Nick kept disappearing down side streets. When Helen asked him where he kept going he said he was keeping an eye on some beds he was having made in a local workshop with the one here in the Zanzibar room being one of them. For photos of the Zanzibar room see the September 03, 2023 post.
Paxos has been inhabited since prehistoric times. According to tradition, the Phoenicians were the first settlers. It is believed the name 'Paxos' originated from the Phoenician word 'Pax' meaning trapezoidal. In ancient times Paxos played a significant role, especially during the First Illyrian War in 229 BC when the Battle of Paxos was fought between the ancient Greek and Illyrian fleets. Paxos has been ruled by various conquerors, including the Romans in the 2nd century BC, pirates during the Byzantine era and Middle Ages, and by the Crusaders. Eventually the Venetians gained control of the island at the end of the 14th century. During the Napoleonic Wars the Ionian Islands were occupied by the French and Russo-Turkish alliance. However Paxos surrendered to the Royal Navy frigate HMS Apollo along with troops from Cephalonia and Corsica on February 13, 1814. The United Kingdom established the Ionian Union in 1815. In 1864 Paxos along with other islands were ceded to Greece.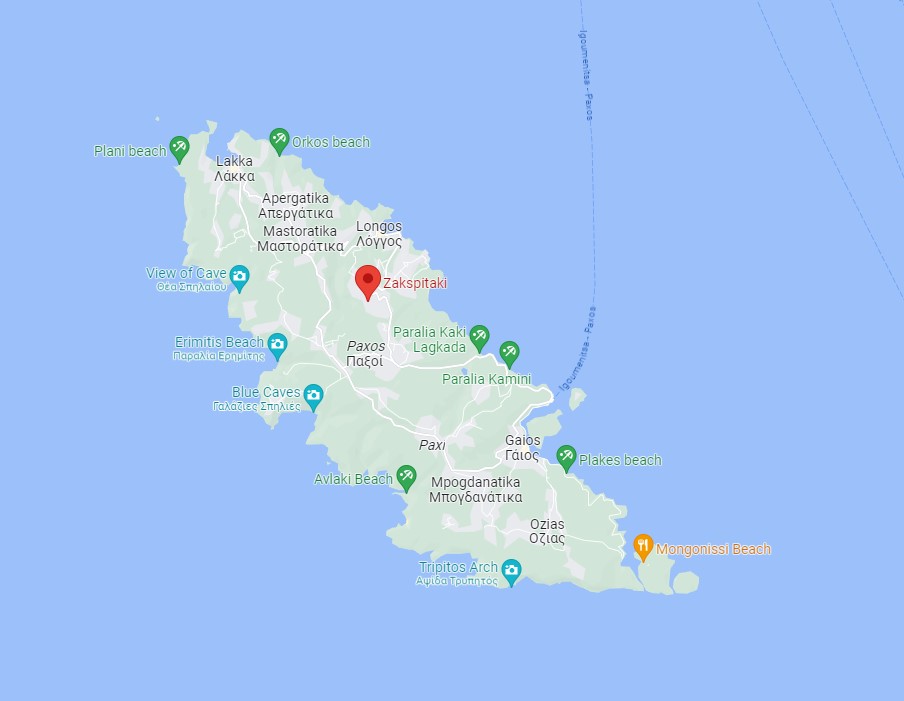 As it began to clear in the afternoon we decided to head to Lakka at the north end of the island. Lakka is the second largest village on Paxos, after Gaios, flanked by silver green olive groves and cypress trees. The picturesque fishing village is locate on a natural, almost circular harbour created by two headlands sheltering the bay form the open sea. Lakka is a popular tourist destination for yachting, windsurfing, snorkeling and swimming. There are a number of nearby beaches, although most of them are rocky / pebbly, soon forgotten when in the clear turquoise sea.
We spent some time wandering through the small village, including a walk to the schoolhouse used in the series Maestro in Blue, shot here in Paxos as well as Corfu and Athens.
There are a number of restaurant choices but in the end the pizza oven attracted us to Pounentes where Gayle enjoyed a perfect size, thin-crusted, delicious Greeka pizza along with oven roasted potatoes - perhaps a bit large to be perfect but good just the same. Norm was also very pleased with his choice - a melt-in-your-mouth Moussaka. During dinner we engaged in a lengthy chat with a couple from England - Phil and Libby. It is a most enjoyable part of our travels to connect with other travelers as was the case here. A very nice couple.
From Lakka it is a short drive back to Zakspitaki.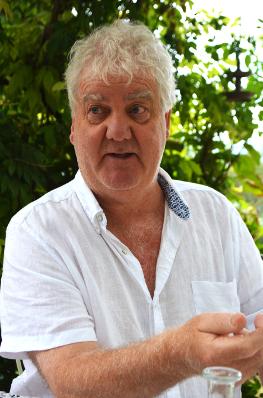 On the doorstep was this crate of apples - to be well used over the rest of our stay.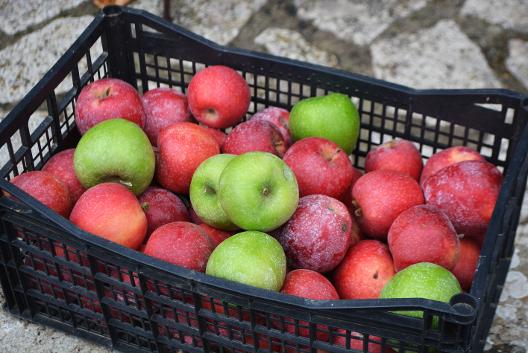 More breakfast bowls and food, including a delicious spinach swirl.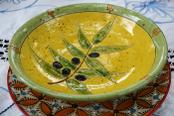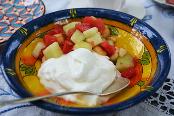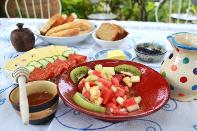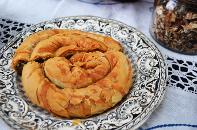 Shots from the attractive narrow alleyways of Lakka.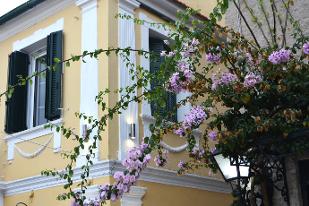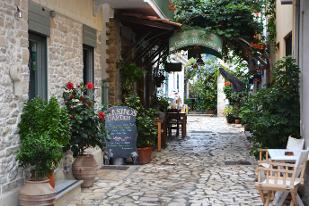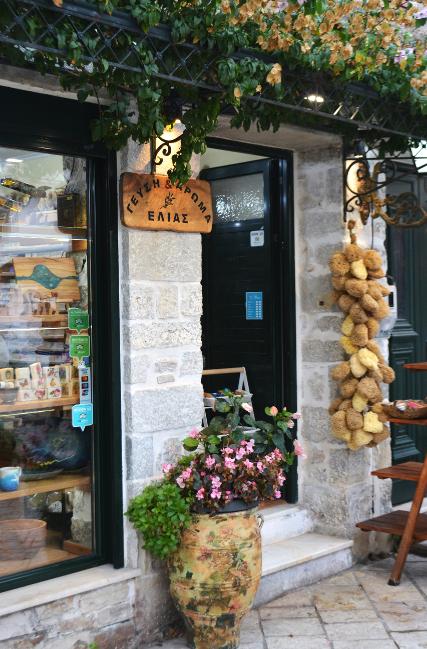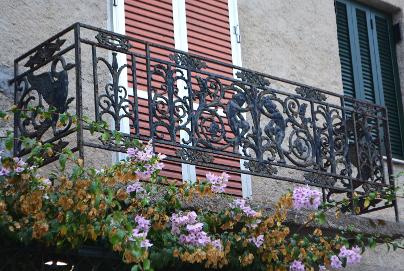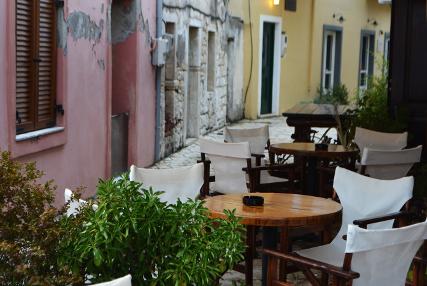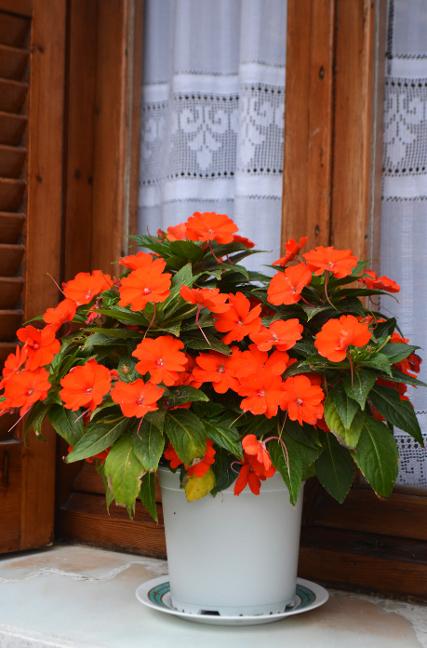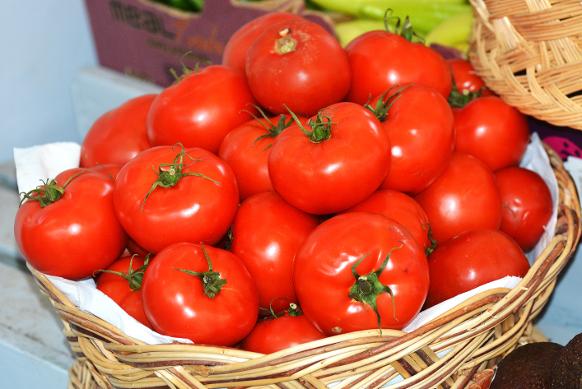 The harbour as seen from near the school house featured in Maestro in Blue.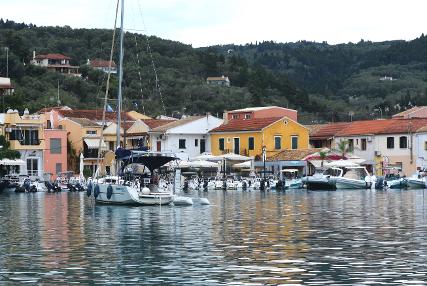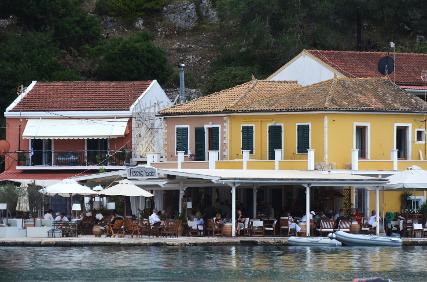 A couple of fishing boats in Lakka's harbour.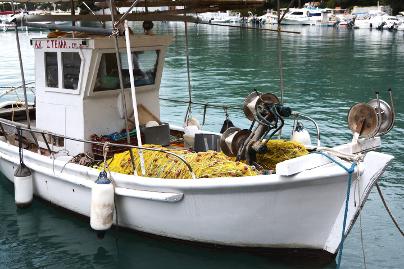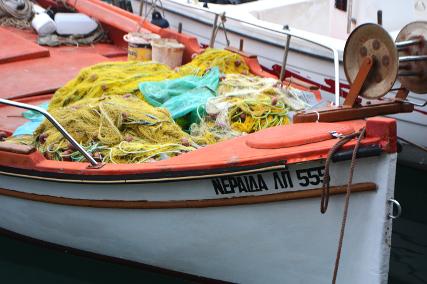 The pizza (and other stuff) oven. Roasted potatoes.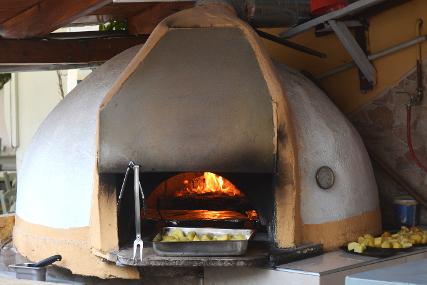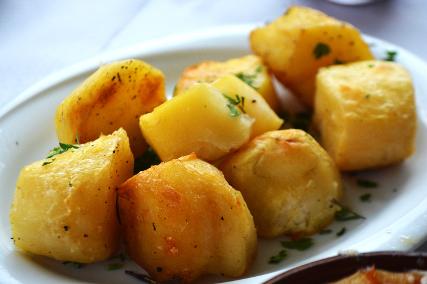 Katerina, our server. Phil and Libby.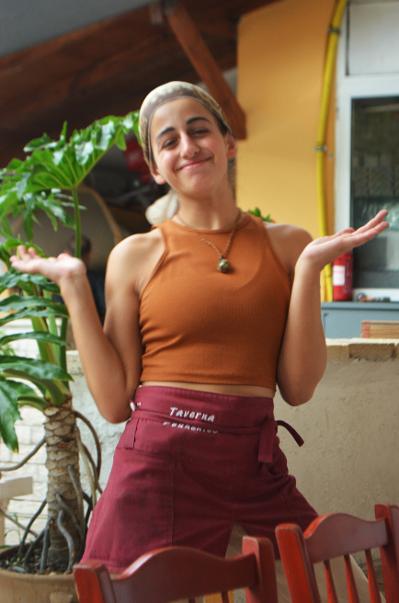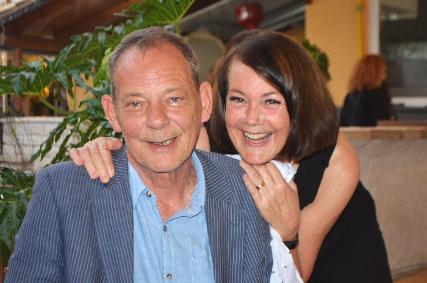 Moussaka. A Greeka pizza.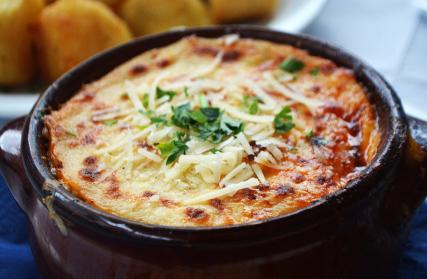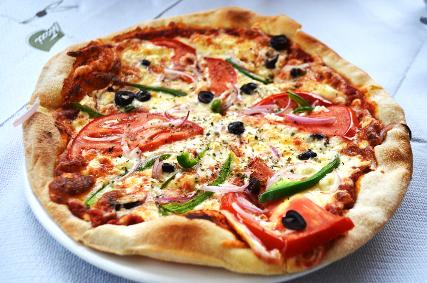 September 04, 2023 - Paxos - B&B Zakspitaki
Today is Travel Blog 'light'. We started with a nice filling breakfast and chat with Helen. Beautiful pottery from Paxos for cereal, yoghurt, honey, a large fruit salad, ham, cheese, bread, coffee and juice.
However shortly after finishing breakfast the weather forecasters were able to congratulate themselves as it started to rain. Not heavy but it was overcast with light drizzle throughout the day. As much as it precluded us from touring it was not nearly as bad as on the east side of the mainland on the islands of Skiathos and Volos where serious flash floods were experienced, resulting in at least one death.
The main house of Zakspitaki is over 120 years old. It was started in 1896 but never completed as, like a lot of Greeks at the time, the owners emigrated to Australia seeking a new life. Helen and Nicholas (Nick) bought the completely dilapidated property in 2001. The main house had only four walls, no floors and a leaking roof. The Zanzibar room, where we are, was an old goat shed. Jacaranda Cottage and the Summer House did not exist at all. The garden terracing had all fallen down towards (and in some cases, on) the main house. It has taken over 20 years to get the house and the outdoor terraces and garden as planned.
Paxos, or Paxi, is the romantic hideaway of the god Poseidon. A verdant island with turquoise waters, picturesque villages, imposing cliffs (on the west of the island) sheltering caves and fantastic beaches. Paxi, the smallest of the Ionian Islands is located 7 nautical miles to the south of Corfu and 8 nautical miles off the Greek coast. The capital of Paxi is Gaios, an attractive port naturally protected by the two islets of Panagia and Agios Nikolaos, give the resemblance of a Norwegian fjord. Olive groves and cypresses predominate on Paxos, while on Antipaxos there are vineyards and the renowned exotic beaches Brika and Boutoumi.
Corfu at the top left; the mainland on the right; Paxos and Antipaxos near the bottom.
The rain finally subsided in time for us to go out to dinner to a nearby taverna Lilas Grill House. We just caught the last seconds of an intense sunset before settling in at this quaint traditional tavern with good, relatively inexpensive Greek fare. Gayle had, surprise, a Greek salad while Norm lamb off the spit. We shared a plate of giant beans, a specialty of the island. For dessert Gayle had a walnut cake (Karidopita) while Norm had the orange pie. The best 'mountain' bread, water and a 1/2 litre of red wine brought the bill to 44 euros ($65 Cdn).
Zakspitaki's small plunge pool and terrace area.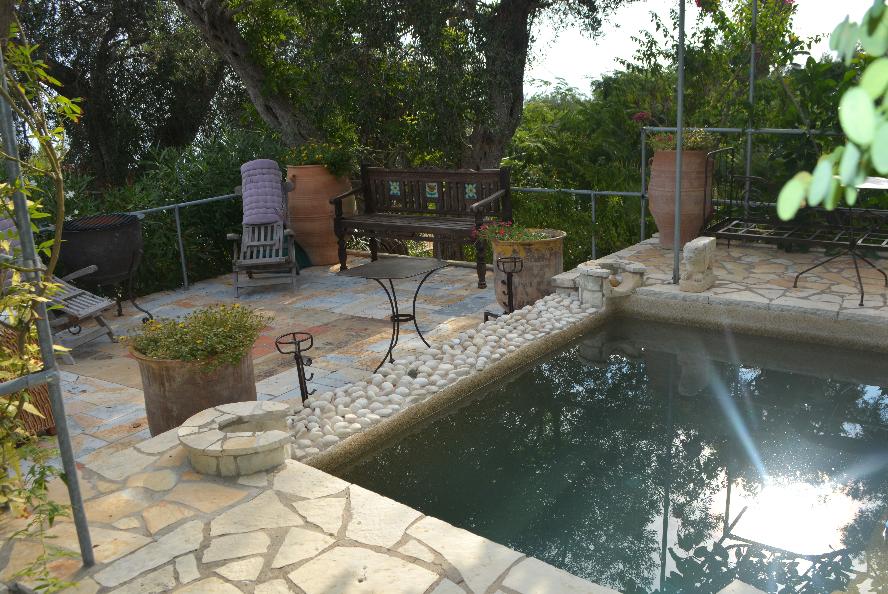 Beautiful Paxos pottery, fresh fruit, meat and cheese are only a portion of our breakfast.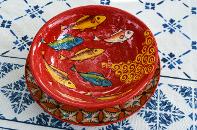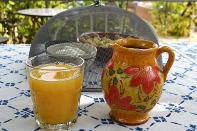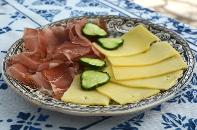 The view out our window to the olive tree estimated to be 800+ years old.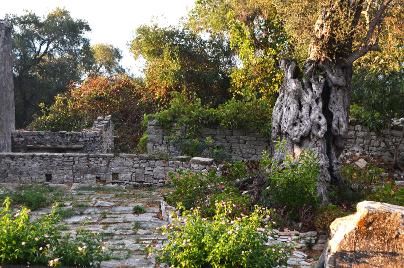 Zakspitaki's original and main building.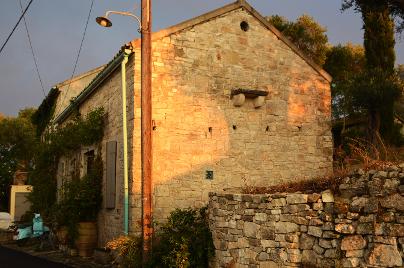 Sunset over the west of Paxos.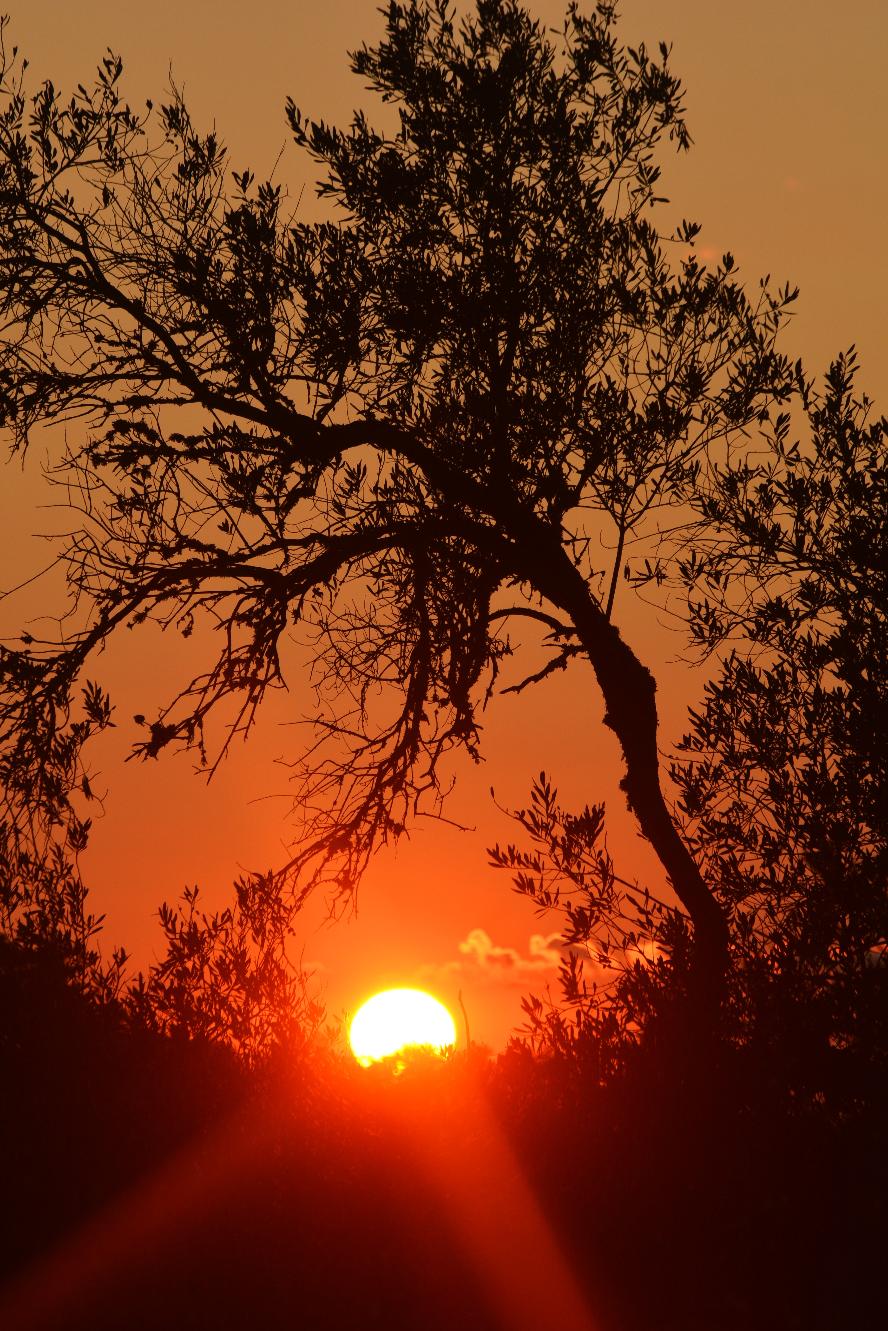 Dinner tonight at Lilas Grill Room. Where you know the potatoes are not frozen when ....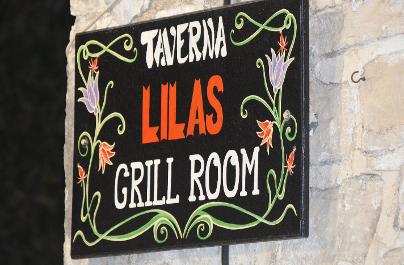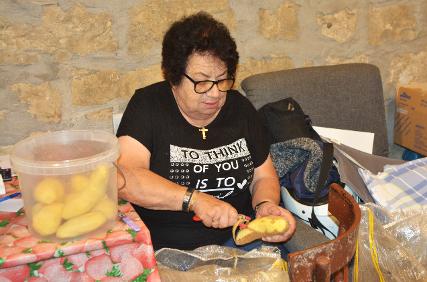 Another Greek salad - tomatoes are hidden underneath. Giant beans, an island specialty.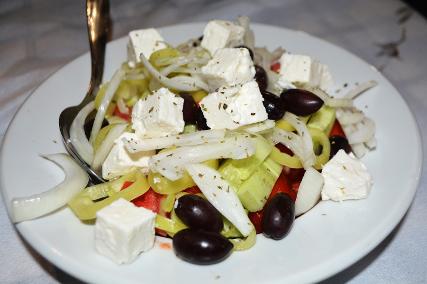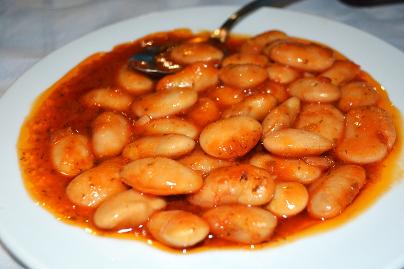 Lamb on the spit. Lamb on my plate, with fries and salad.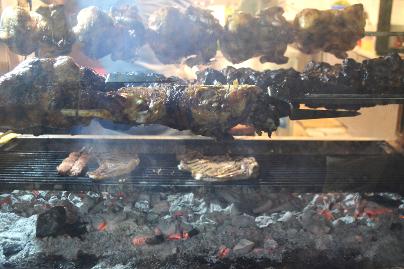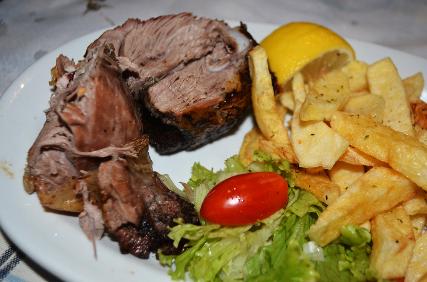 Our waiter and another Greek couple enjoying dinner.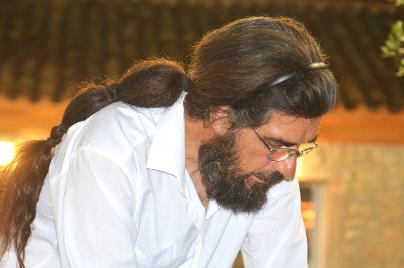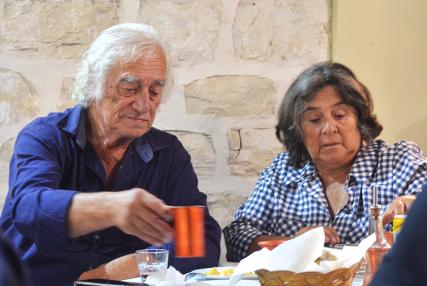 Our waiter was unsure whether they had any baklava left so we went with a piece of Karidopita (walnut) cake
and an orange pie for dessert.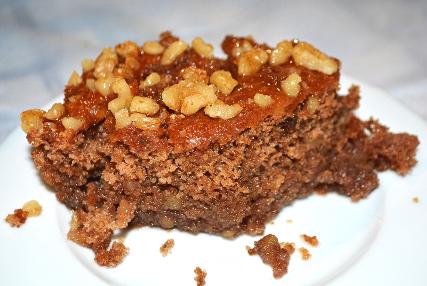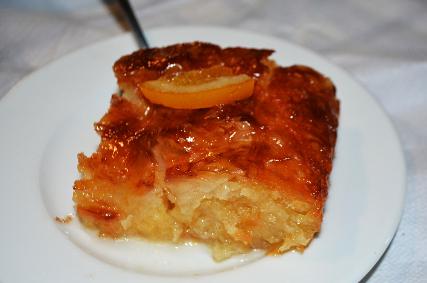 Gayle there by the wall at our table. Completely full when we finished our meal and left.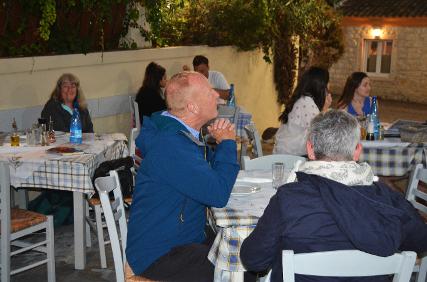 September 03, 2023 - Corfu => Paxos - B&B Zakspitaki
Our last morning on Corfu, or at least until we return for six nights at the end of the trip. We had another filling breakfast, with ham and cheese (for me) crepes, cheese filled pastries and all the other delicious stuff. We then wandered around the property for a short while capturing photos of more of the grounds and buildings.
The drive, this time through the centre of the island, to the port of Lefkimmi in the south was quite scenic. Driving through some small villages we encountered a number of elderly Greeks - mostly men - congregating at the cafes and tavernas. Unfortunately it is virtually impossible to park meaning I couldn't stop to take any photos, plus we were not sure exactly how long it would take us to get to the port. But not to worry, we made it with plenty of time - over an hour to spare. We were met by Gregory and Roula who picked up their vehicle. A very nice couple. We then boarded the small Desponia P ferry (Kamelia Lines) for the short 45 minute, and reasonably calm ferry to Paxos.
One comment / observation before we leave Corfu was the sad state of garbage. Whether simply a lack of pride, or as we have heard issues with the landfill this part of the island was actually quite disgusting, with garbage bins overflowing and litter strewn almost everywhere. Not a good look.
We were met at Paxos port by Helen. After a bit of effort, and help from Helen, we connected with our car rental and soon followed our host the 4 kms inland to Zakspitaki, our B&B for the next six nights. We are staying in the Zanzibar room, very African themed in recognition of Helen and Nick's travels throughout Africa. When travelling we search for rooms with some character, and this checks all the boxes. Beautiful old furniture, gorgeous artwork, an open Moroccan shower - all wonderful.
After a short rest we drove to the nearby port village of Laggos where we strolled through, checking out restaurants. The roads here on Paxos are actually not bad - perhaps not always two lanes wide but often with pull over areas to pass, except for the drive along the waterfront of Laggos where one has to sneak their way between the water and the tables of the restaurants, all the time being attentive to pedestrians ambling along often with no awareness of the vehicles.
In the end we decided not to eat in Laggos but rather return to the village of Kourteika. There being two restaurants we chose Kareklas for dinner, where Gayle had a Greek salad, Norm Moussaka and for dessert we shared a Baklava. At the table next to ours was a couple from England - Paul and Sarah. We enjoyed a wonderful chat with them about Greece, to which they have, like us, travelled quite extensively.
Upon leaving we were only a few metres down the road when we saw a trio playing live Greek music. We stopped for drinks and listened for an hour or so. When leaving Ioanna approached us having noticed me taking photos. We chatted and she asked if I could send her the photos and video I had taken. Through meeting her we got the names of the musicians - Ioanna Bogdanou, Christos Papapanagiotou and Filippos Passalidis. Just before we left a couple of locals got up to dance. This happen stance opportunity to listen to live, and very good Greek music made our day and no doubt will be one of the highlights of our trip.
Ham and cheese crepes. Feta filled pastries.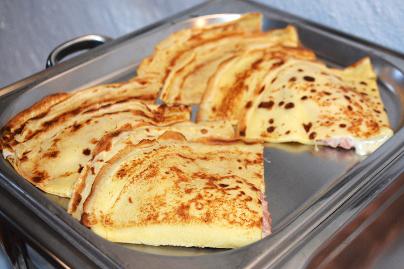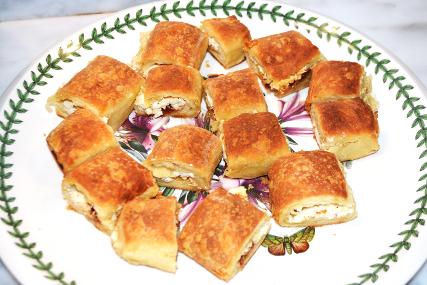 The nice outdoor breakfast area. Plate of food, bread, jam, juice and coffee.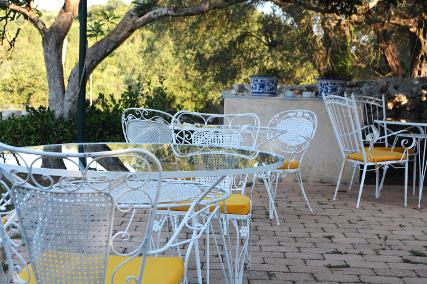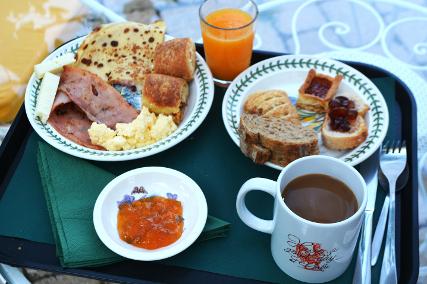 A few parting shots of the beautiful property here at Pelecas Country Club.
The horse barn. The gardens in front of our unit.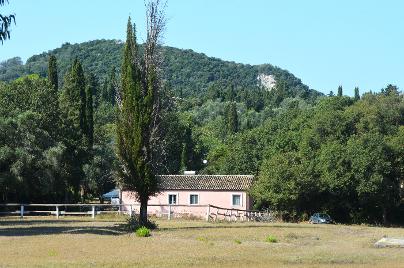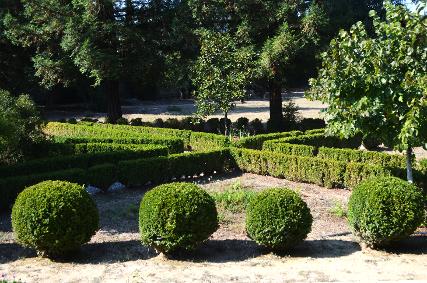 Old farm machinery and olive grinding wheels interspersed around the property.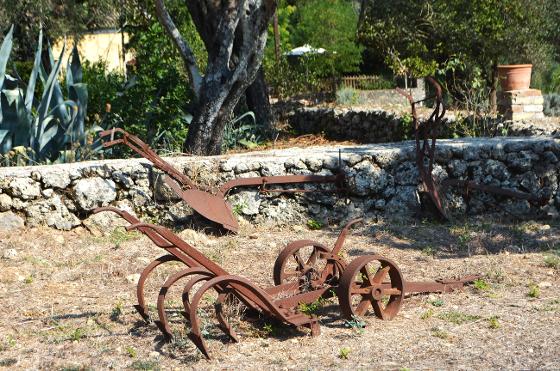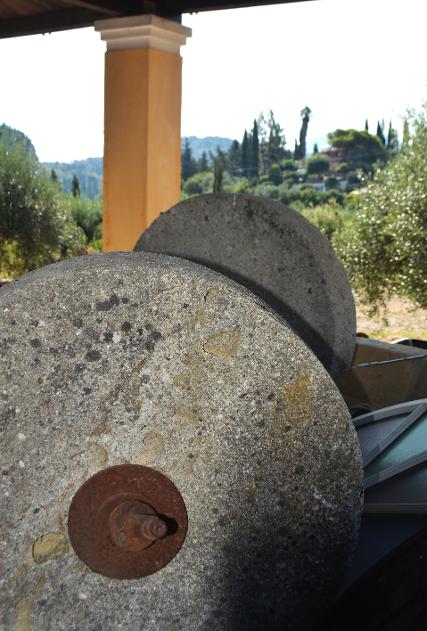 The village of Pelekas. One of a number of roadside shrines.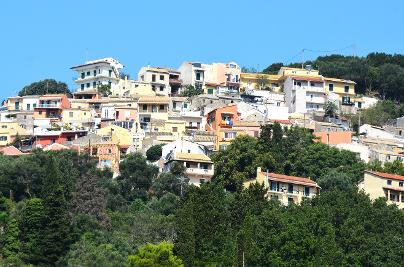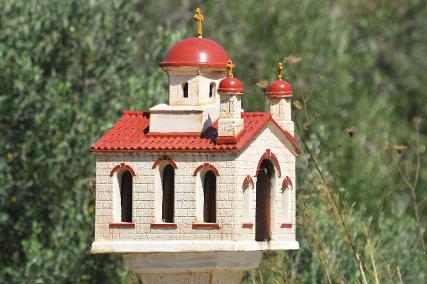 Gregory and Roula of Dellavia Rent-a-Car. Returning our car at Lefkimmi port.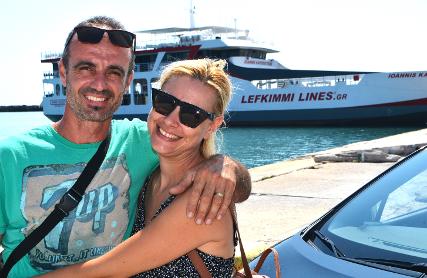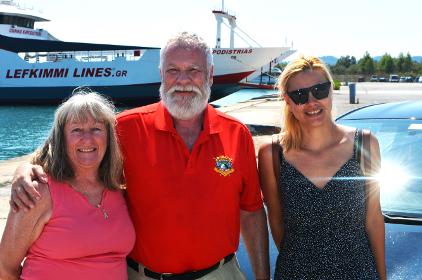 Our small Kamelia Lines ferry, the Desponia P about to take us on a 45 minute ferry to Paxos.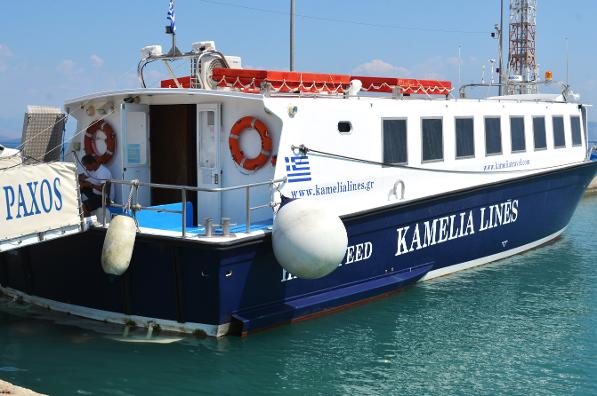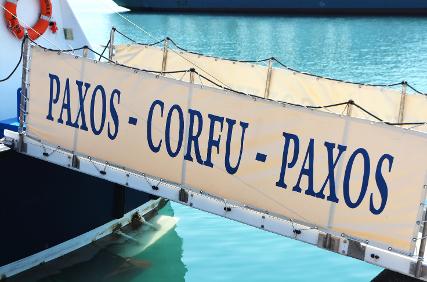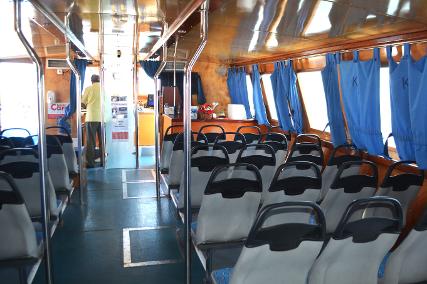 Some of the way too much garbage around Corfu.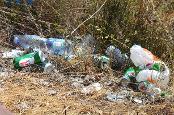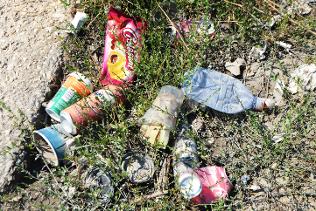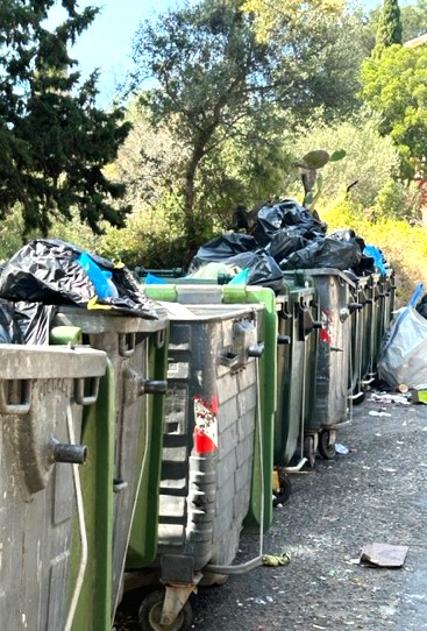 Zanzibar, our beautifully decorated African themed room.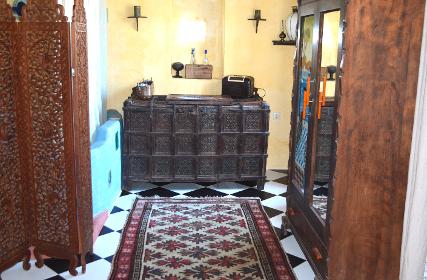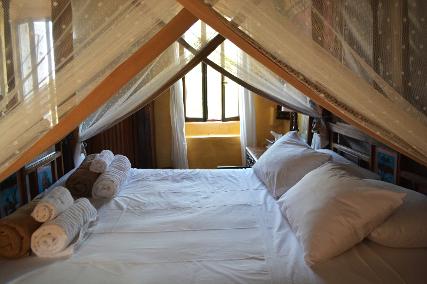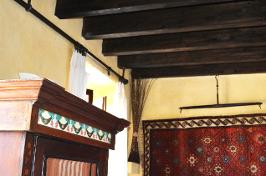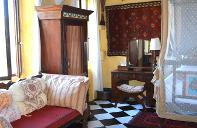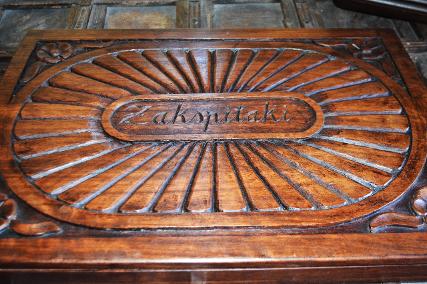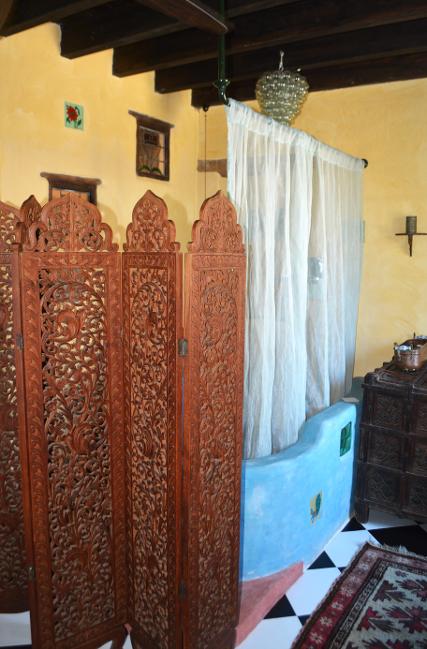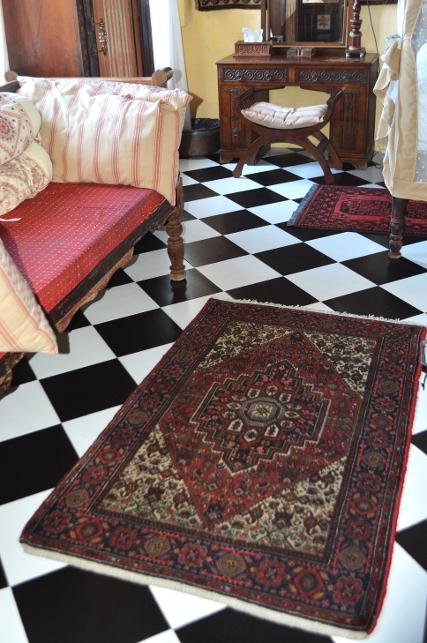 Laggos harbour. This is actually the road through Laggos.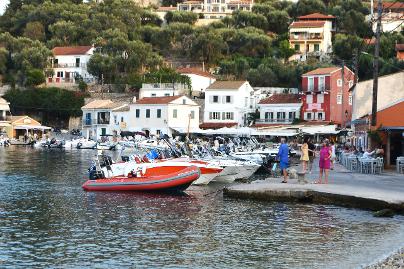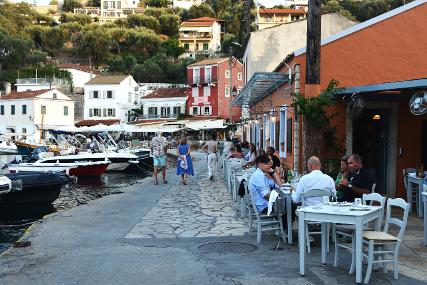 Passing the time in Laggos.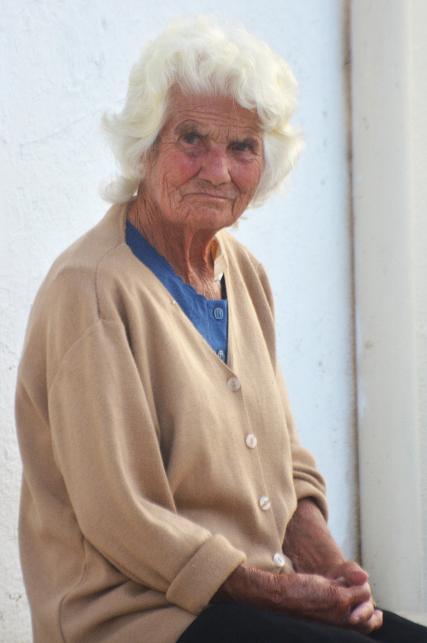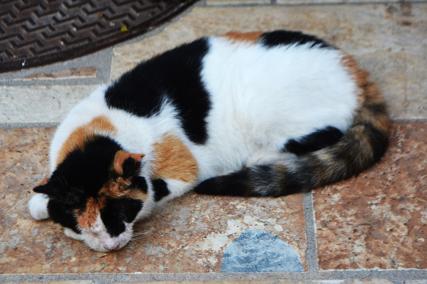 A traditional bakery. One of the attractive buildings, now a restaurant.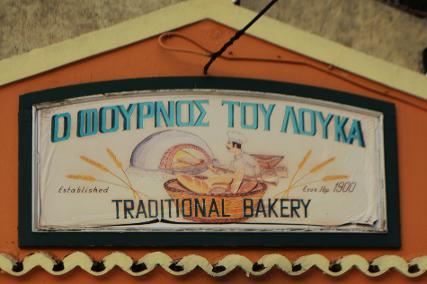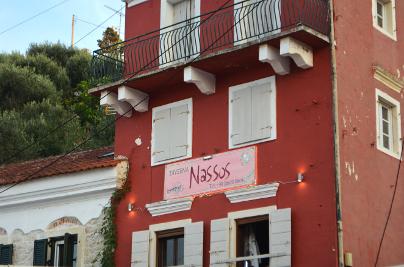 We ate at Kareklas, home to many many very polite cats.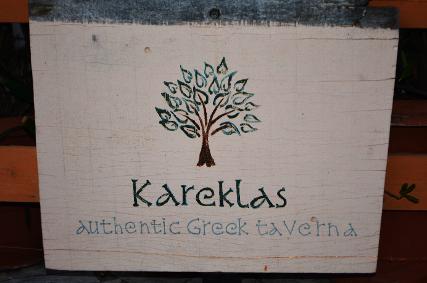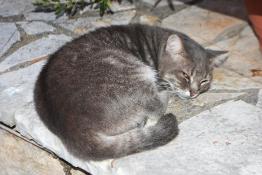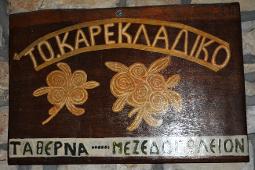 Georgios, the owner. Paul and Sarah, the nice British couple we chatted with over dinner.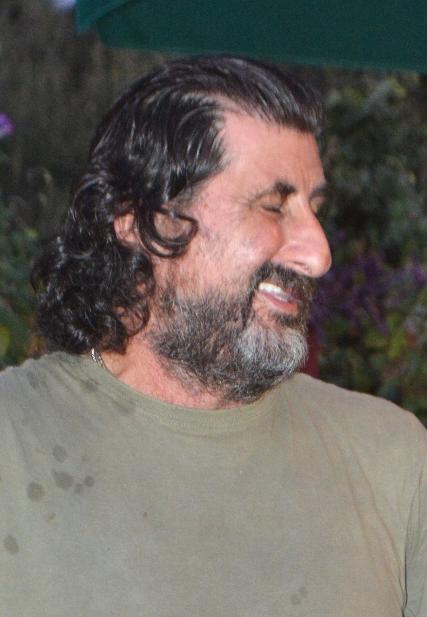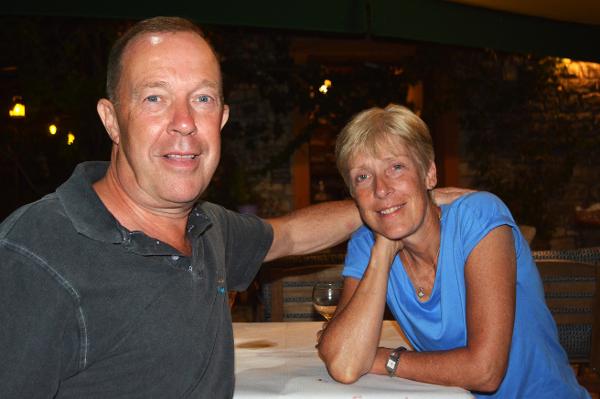 Moussaka. And baklava for dessert.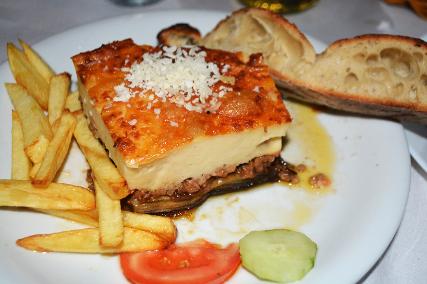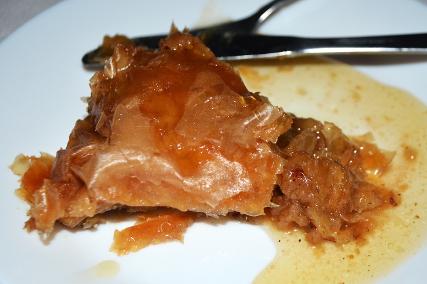 After leaving Kareklas, just down the road we came across some live Greek music at Dolos Restaurant.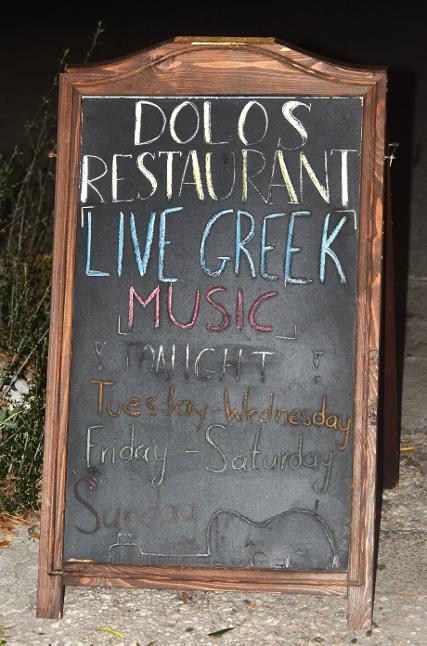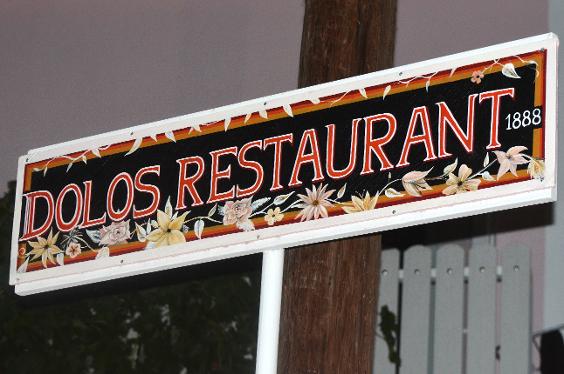 Where we of course stopped for a drink and a listen to what turned out to be wonderful authentic Greek music.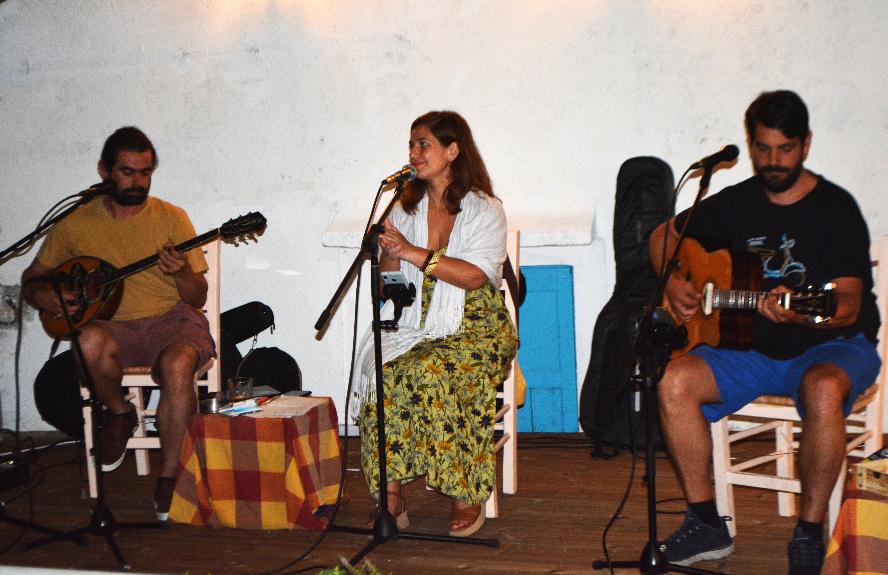 Entertaining us were Ioanna, Christos (playing the bouzouki) and Fiilppos.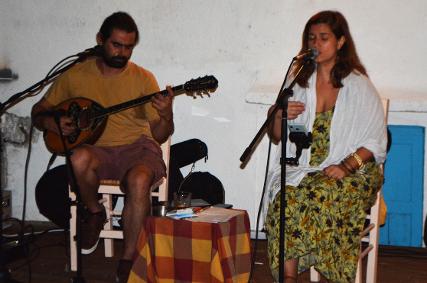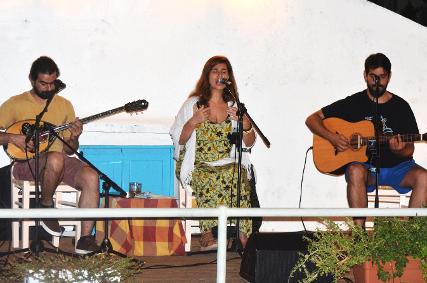 Christos Papapanagioutou playing the bouzouki.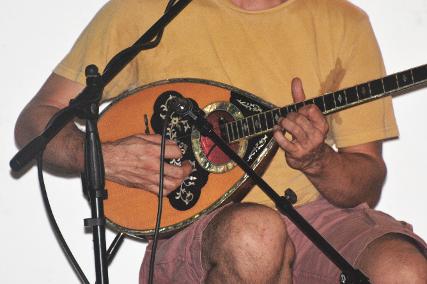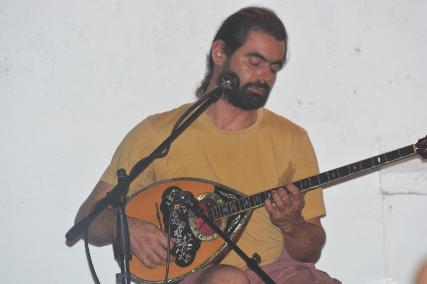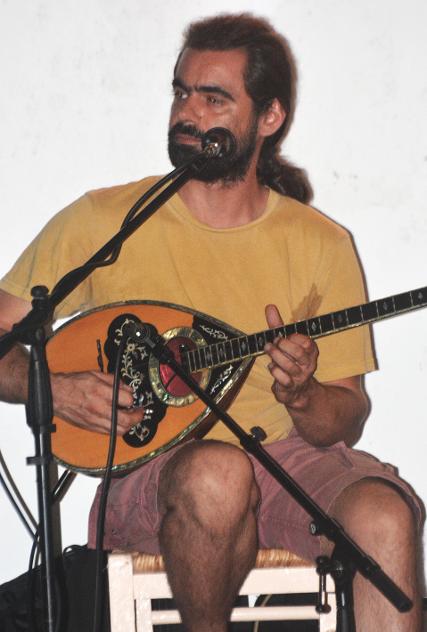 Ioanna and Gayle. As Ioanna chatted with us a fill in took her place.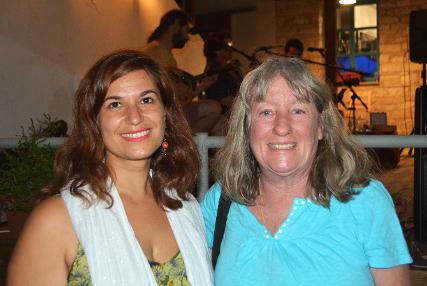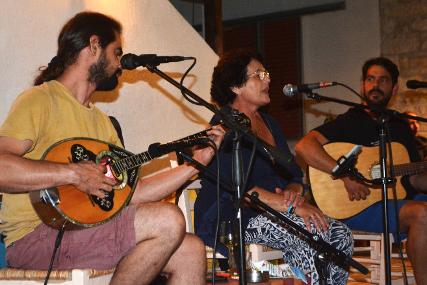 And some more music and some impromptu dancing to end our night.
September 02, 2023 - Pelecas Country Club
Debating what to do on our last day of this portion of our visit to Corfu, the absence of anything specific we really wanted to see, the great weather and an inviting pool left us deciding to stay and enjoy the property here at Pelecas CC.
The day started as all others had, with a filling breakfast. There are a number of standard offerings, e.g. orange juice, coffee, fruit, meat and cheese, eggs, both scrambled and fried, bacon, tomatoes and olives cereal, breads and croissants, jams and honey while each day there was a different pastry, Mediterranean salad, and pie. Not only is the food very good but it would be impossible to leave hungry.
We hung around our room, booked our ferry ticket for tomorrow's trip to Paxos, did some co-ordination of vehicle drop off (in Lefkemmi) and pick up (in Paxos) and then decided to just stay put and enjoy the great weather by the beautiful pool.
After a second swim in the early evening we headed back to Stavros Traditional Grill where we understood there would be some music being played ... and there was. Having had a considerable amount of food the first few days we cut back tonight, sharing a tzatziki, baked mushrooms and saganaki. No Greek salad, no hand-cut fries, and no meat dish. However we could not resist finishing the meal off with another huge piece of honey-soaked baklava.
Perhaps not our favourite style of Greek music but enjoyable just the same. There was a youngster, perhaps three or four who certainly enjoyed himself as he danced vigorously and endlessly until shuffled off to bed. The addition of the music drew a very nice crowd of locals. Having to leave tomorrow morning we didn't stay too too late, until 10:15 ish.
Back to Pelecas Country Club where I worked on the travel blog for a while before calling it a night and off to bed.
The ever smiling, ever helpful Xarhs / Xaris.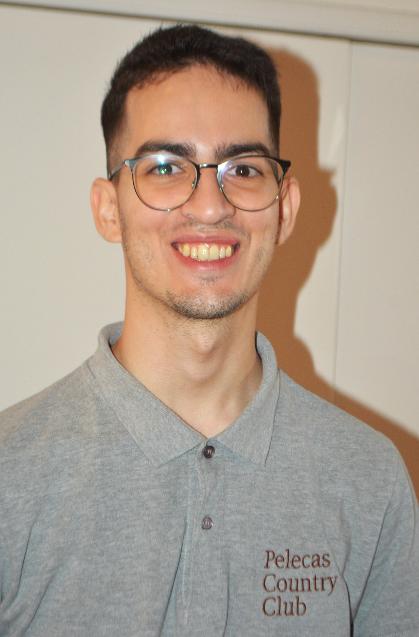 Phyllo pastries filled with apple.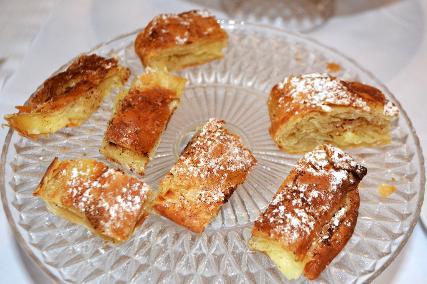 Today's pie - ham and cheese.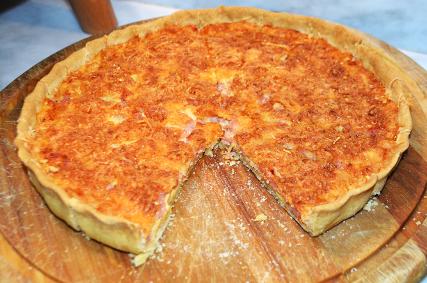 Today's Mediterranean veggie salad. My breakfast plate.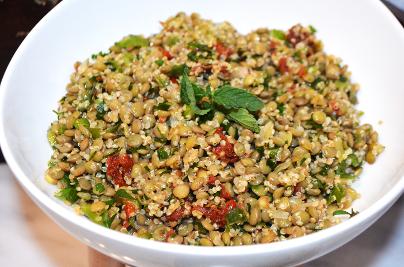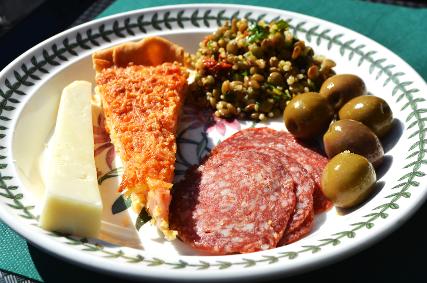 The Pelecas CC pool. Gayle enjoying a swim.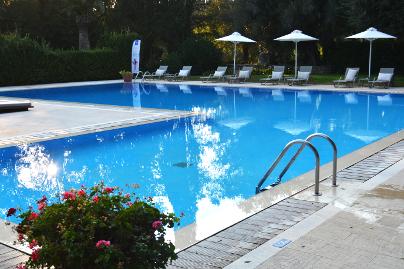 Some of the beautiful property and flowers here at Pelecas CC.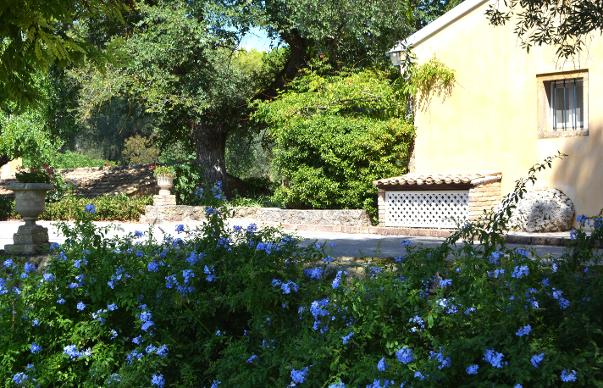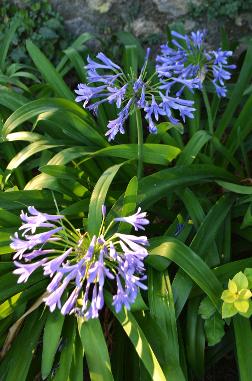 An old bread oven. An olive tree with character.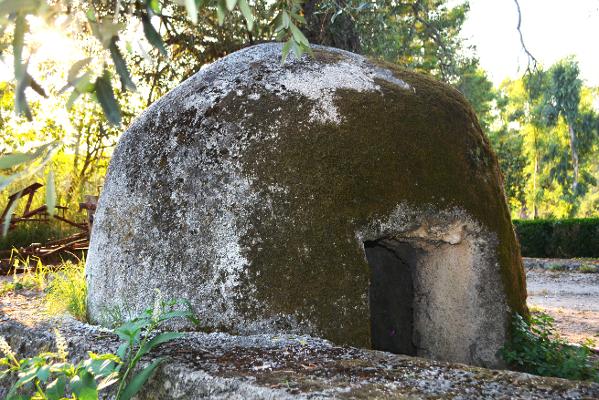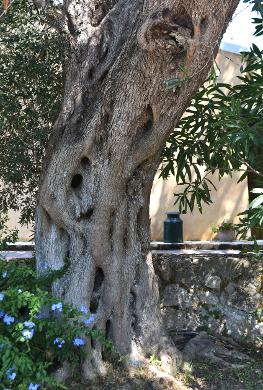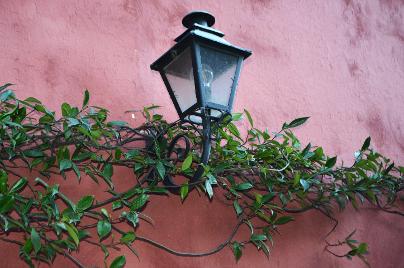 The entrance to Pelecas Country Club.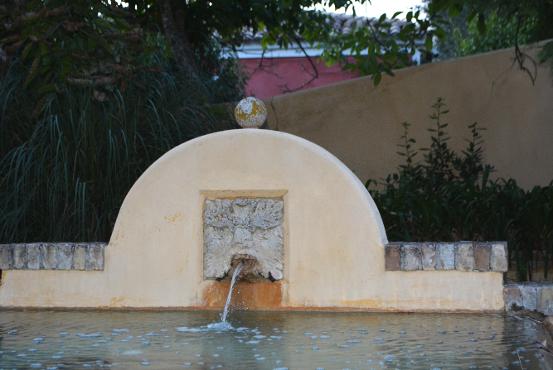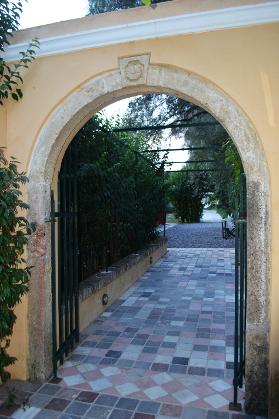 We didn't see the sun set but the sky was a nice colour as we arrived at the taverna.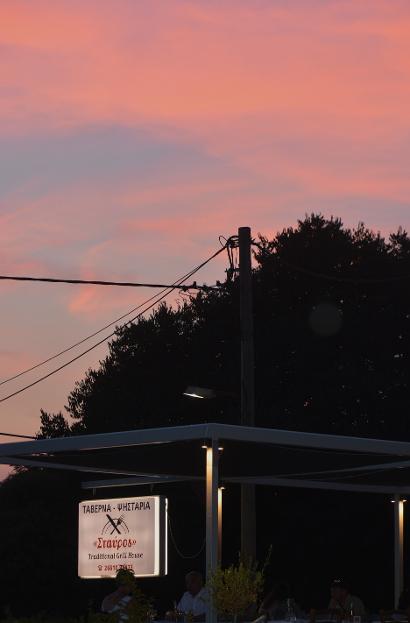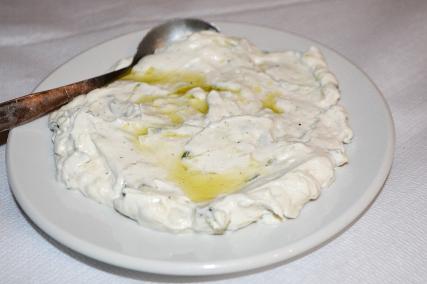 The House starter plate, similar to the other night.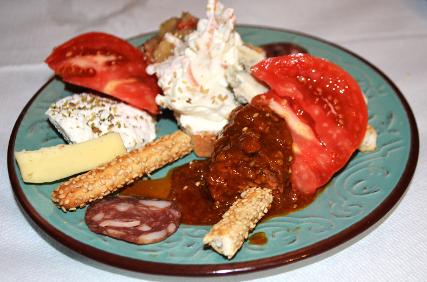 Saganki - a nice golden colour but not the best - very rubbery.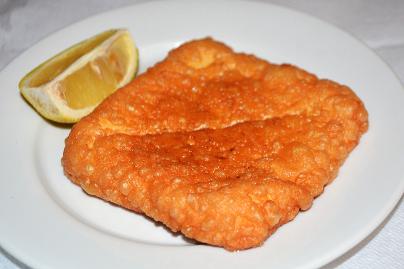 Baked mushrooms - actually quite good.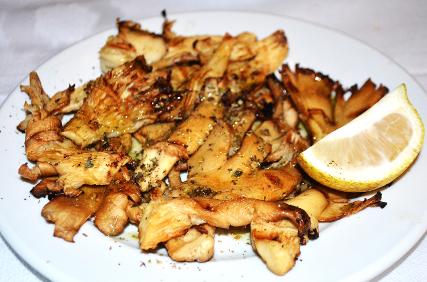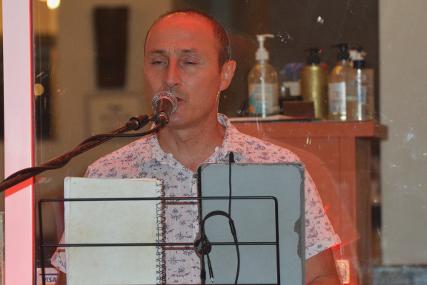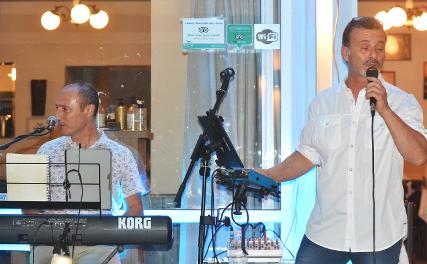 A video of the guys playing / singing.
Fortunately it was Saturday as this would never happen "... on a Sunday"
A huge piece of baklava. Now you see it ... ... now you don't.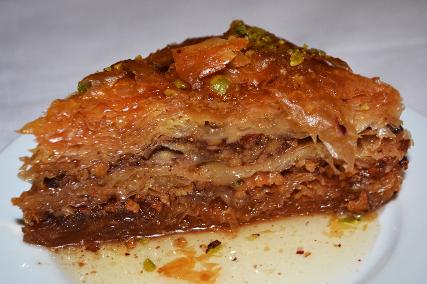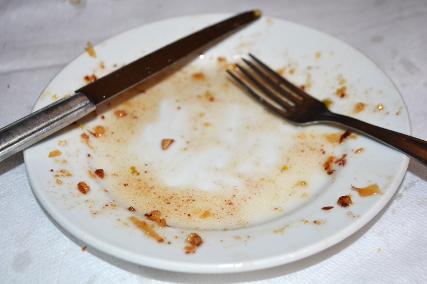 September 01, 2023 - drive to the south of Corfu
We ventured out today down the west coast to the south of Corfu. We chose to hug the coast which resulted in a very very very difficult drive. To call the 'road' a full lane would be very generous. Thank goodness there were few other vehicles as passing would often be near impossible. In retrospect we wish we had taken some photos of the 'roads' but I was so focused on driving, and there was no where to pull off doing so never even crossed our minds.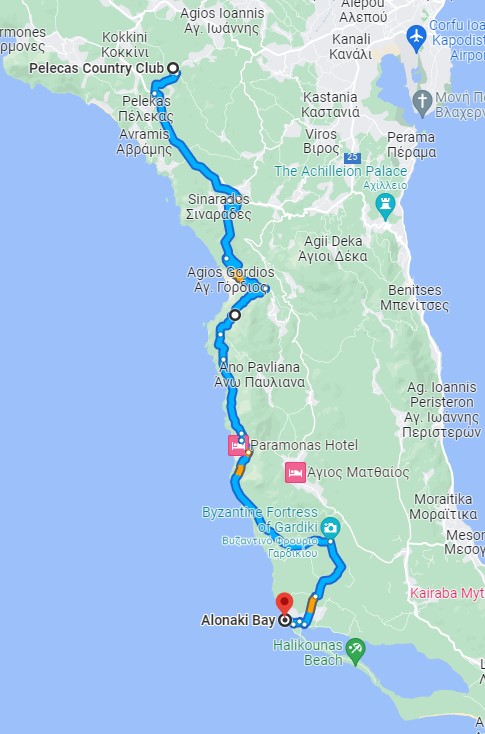 We wound our way through Sinarades and then on to the resort area of Agh. Gordios. Although hard to believe the 'road' got even worse as we continued south, over a few mountains to Pendati, Paramoras and finally Prosoudi Bay. Just before Prosoudi Bay we happened upon a grove of very old olive trees, demonstrating considerable character in their trunks and branches. While there we met a couple, Jennifer and Julien, from London, although he originally from France. It provided a nice opportunity for each to take each other's photos at the base of the tree.
The signage called the 'mother' tree Mitera - being 1,500 years old, exceeding 6.5 metres in height and with an 8 metre mean diameter. The tree belongs to the Oleo europesa family of olive trees. It's variety is 'Liastro' - the first olive tree variety of Corfu, planted by the ancient Corintheans. The tree first bears fruit in April with harvesting in October / November to produce olive oil. Mitera is apparently the proud mother of 196,000 olive trees in this area - from Gardiki to Skala, as a result of traditional grafting. The olive trees thrive in the clay soil and proximity to the sea from which the sea salt provides protection from disease. This original tree 'Mitera' is also a movie star, with many Greek and international productions having been filmed here, including My Big Fat Greek Wedding 3.
Afterwards we stopped at the small Prosoudi Bay beach, mostly covered with lounge chairs and umbrellas as seems to be the case in most of Corfu. We almost ate at the taverna but decided to continue further south to Alonaki Bay, our original destination. The beach here was sandy and absent lounge chairs / umbrellas but very windy with virtually no one in the water. What there were were a number of wind surfers. Other than Gayle dipping her toes we did not go in.
We ate at the nearby Alonaki Bay Tavern, very nicely set amongst pine trees and gardens with views out over the sea. Gayle had her standards - a Greek salad and hand-cut fries. The salad was heavy on the onions but Gayle noted they were very sweet and tasty. Norm had the tomato balls - well not really balls; more like fritters and then the grilled octopus.
We drove back along the east coast, i.e. a 'real' road. We turned west at Gastouri, crossing to the west side and back to Pelekas. Not having dessert we enjoyed the karidopita and orange pie we had purchased at the bakery last night.
It being a stressful drive I expected I would sleep well tonight.
Spinach pie. A very filling breakfast.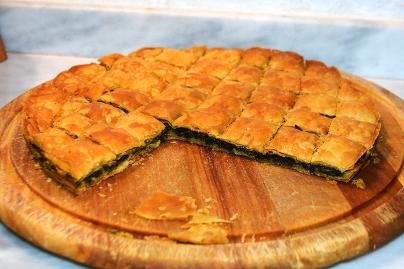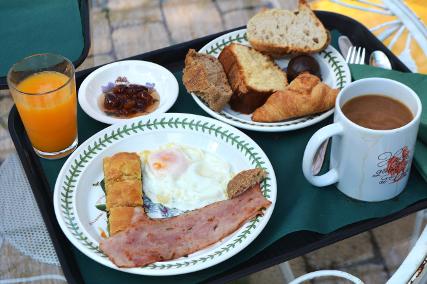 A salad. Chocolate with nuts 'truffles' Morning cake.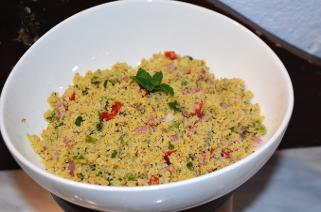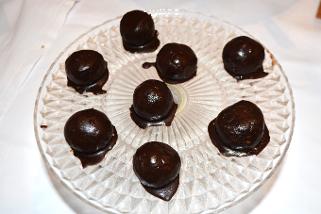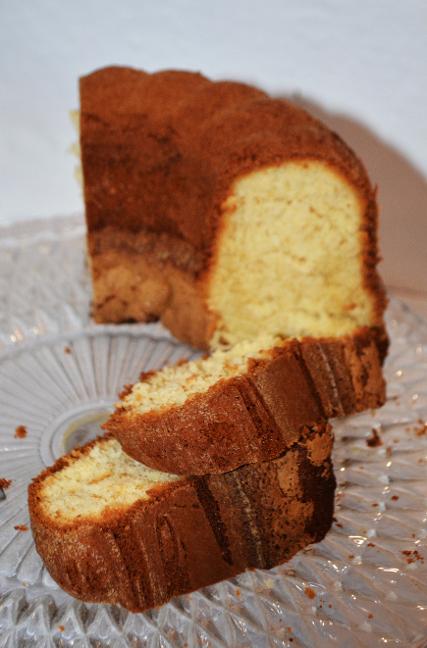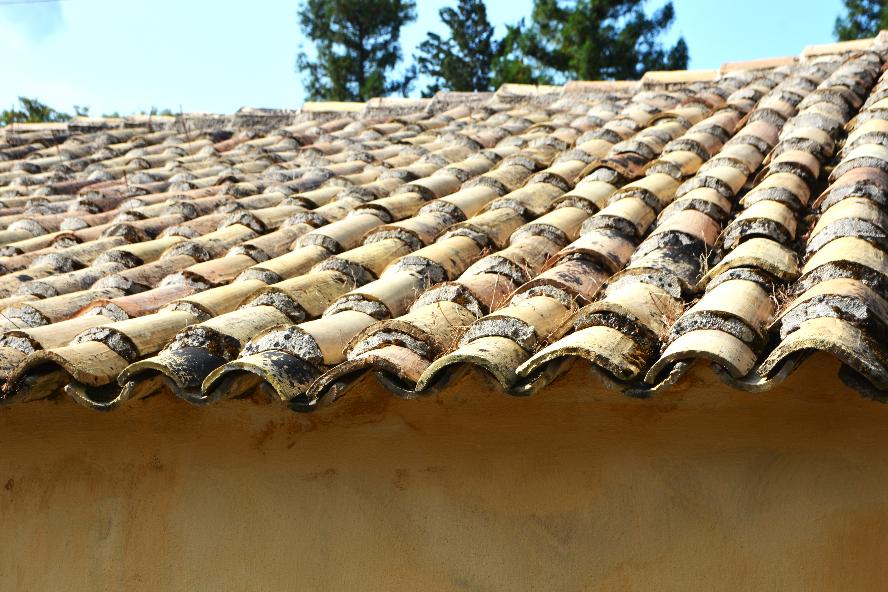 Some of the historic milk cans. A weighing machine.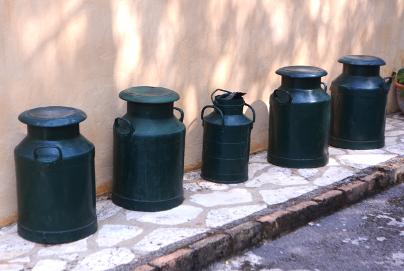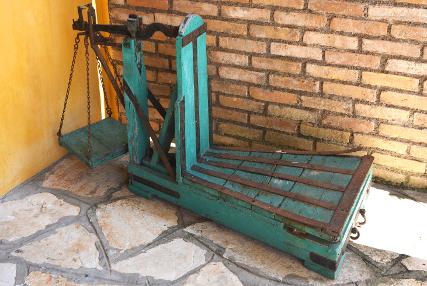 A small church on the roadside near Pelekas.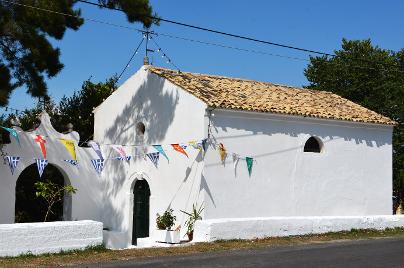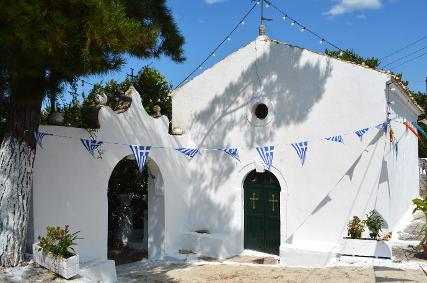 Looking across the interior of Corfu towards Corfu town and across the water to Albania.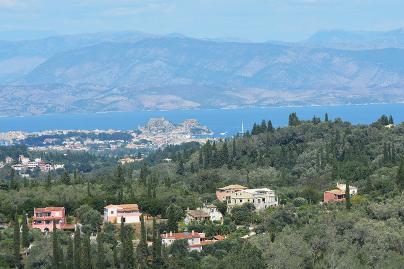 The coastline at Agh. Gordios.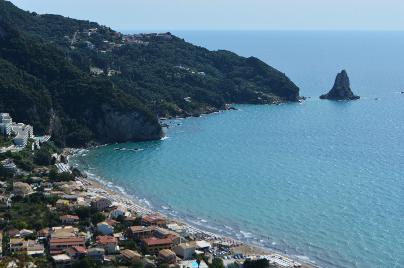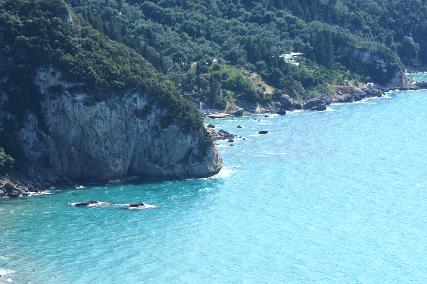 Apparently 1,500 years old - one massive gnarly olive tree, that apparently still bears fruit.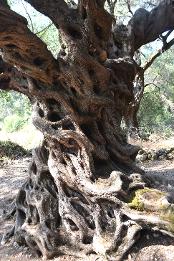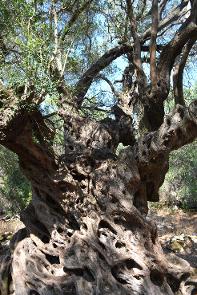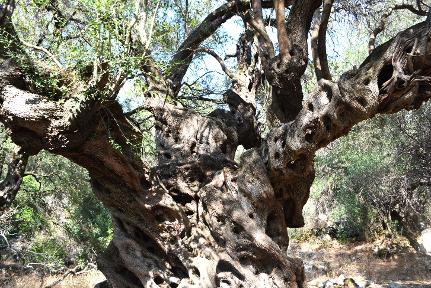 In front of the 1,500 year old olive tree. Not sure why the blue paint.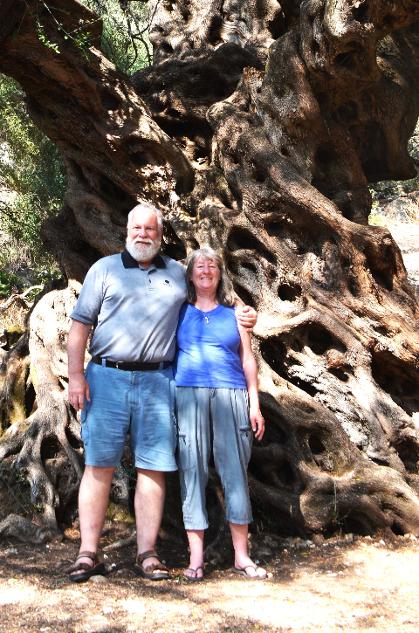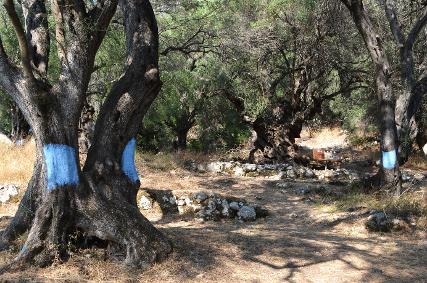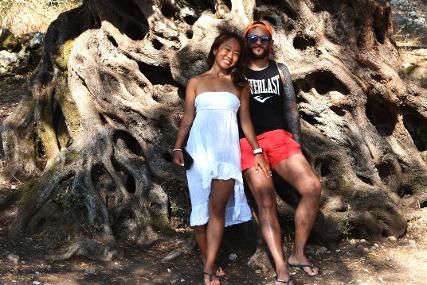 Prasoudhi Beach - small and like most Corfu beaches - filled with chairs and umbrellas.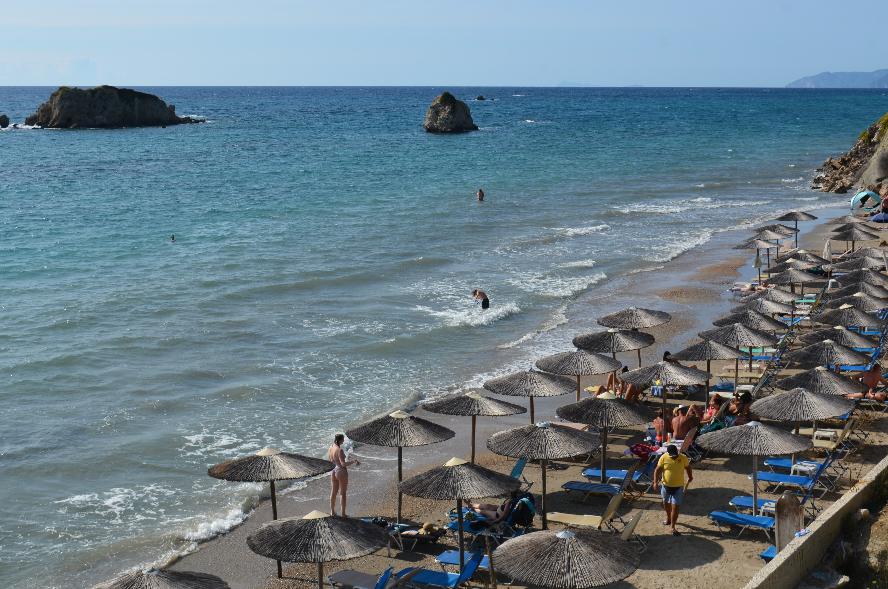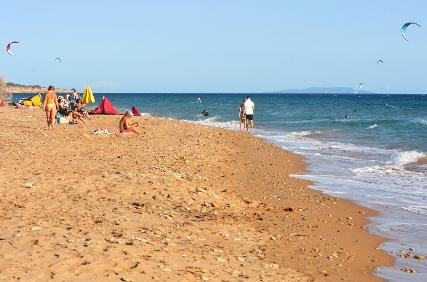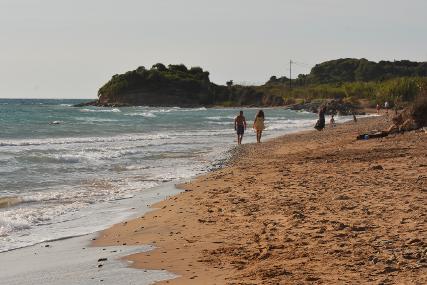 Gayle on the beach. Not Gayle on the water.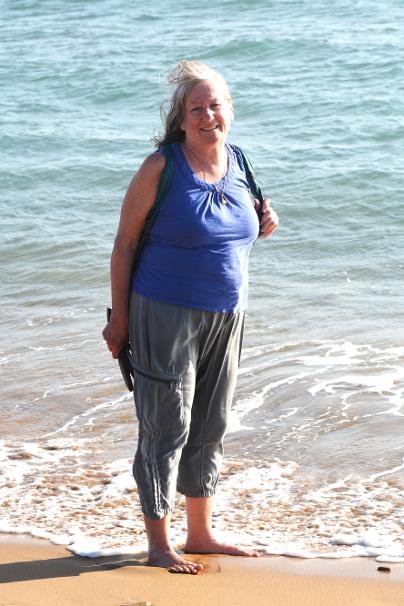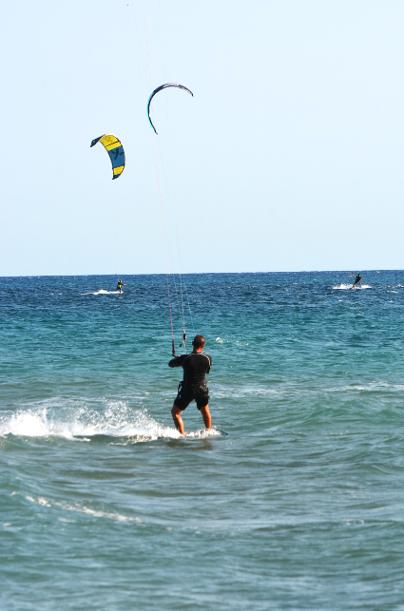 Alonaki Bay Taverna. Another Greek Salad - this one with lots of sweet onions.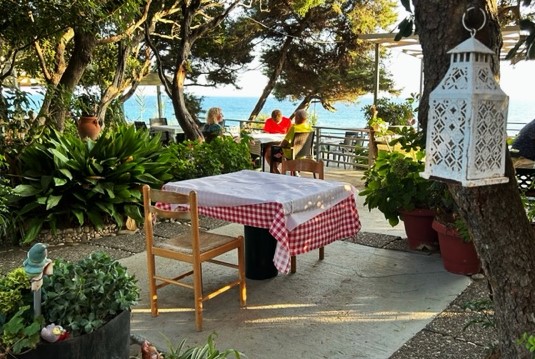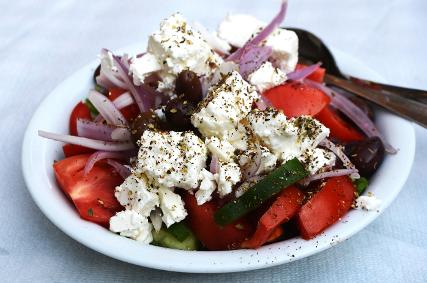 Tomato balls / fritters. Grilled octopus.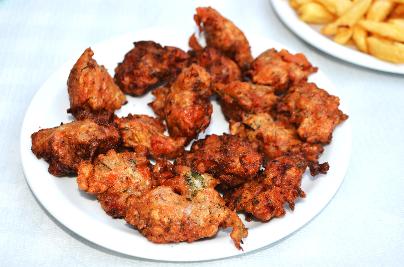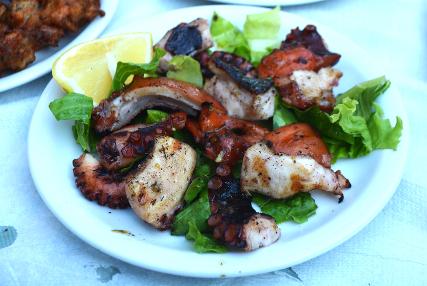 Last night we purchased a piece (not the whole pan) of Karidopita (walnut) cake and orange pie, which we enjoyed tonight.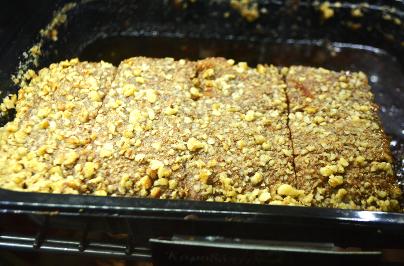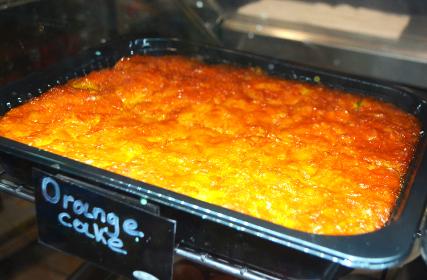 August 31, 2023 - Corfu - Pelecas Country Club
Today was pretty much a repeat of yesterday with most of it spent here at Pelecas Country Club.
The weather is great - generally sunny with temperatures in the high 20s, with a light breeze. Very nice spending time around the pool.
A bit more history:
"During World War II the estate enabled the family to grow wheat and have many animals - cows, sheep, chickens and bees. This provided the means to produce milk, butter, honey, eggs, oil and wine, goods that allowed for survival during those trying times.
Many of the objects used at the time have been salvaged, like the green milk containers in front of the Loutrouvio building, the wine barrels in the reception, the olive press stones, the scales (balanza) used to weigh the hay, the 'rampauli' (hook and rope used to drop buckets in the well), the family monogram used to mark the olive trees and some agricultural machinery used in the production of the wheat.
One of the stories that Nonna Lina told when she came down to have her glass of wine at the bar is that of an airplane, a Liberator that went down in the field during the war. Grandfather hid the survivors for a few days in the estate's Sagrado, where the dining room is today. There is a thank you letter sent by the survivors to the family."
Late afternoon we finally got out - going to the nearby beaches. The first seemed difficult to park and somewhat steep to get down to so we headed to Gilfada where we found a decent parking spot and the access was quite easy. Although late afternoon the beach was still quite busy. While we thought the waves were significant they did not stop quite a few from getting in the water. The best we did was walk through the edge along the sandy beach, just getting our feet wet. Gayle took a nice walk well down the beach while I enjoyed doing what I do best - had a nap.
We were treated to another colourful sunset as we returned to Pelekas Village for dinner, tonight at Jimmy's. Jimmy himself, not the original Jimmy being his uncle as the restaurant has been around since 1970, greeted us and took our order. Gayle had a vegetarian moussaka - a large piece that honestly I was very surprised she finished but she did, while Norm had the Pastitsada, a Corfu signature dish being a beef stew in a red / tomato sauce served with pasta, flavoured with Corfiat herbs. Also a large serving it too was very good.
No baklava tonight, although we did stop at the bakery for pieces of orange pie and Karidopita (walnut) cake for tomorrow.
Angela, the manager of Pelecas Country Club.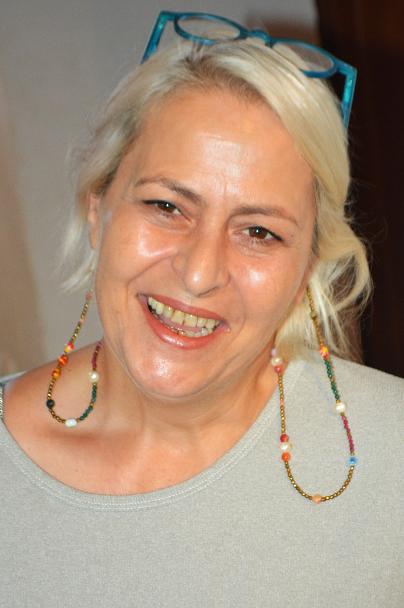 A buddha looking over the breakfast area.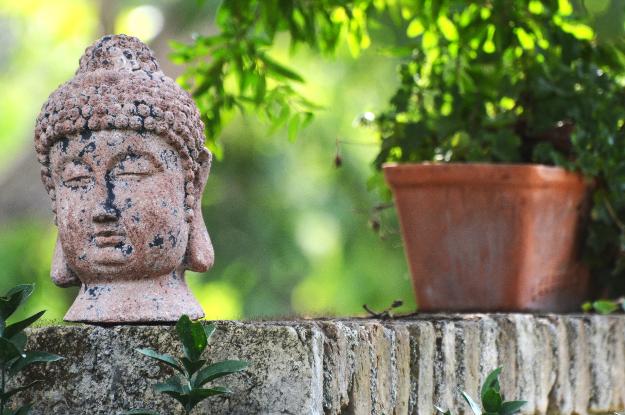 For breakfast this morning, in addition to all the standard fare, feta cheese in phyllo and a garbanzo bean salad.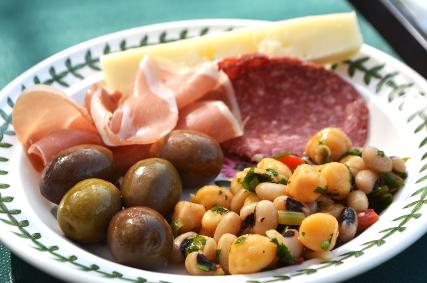 Grapes and figs growing here at Pelecas.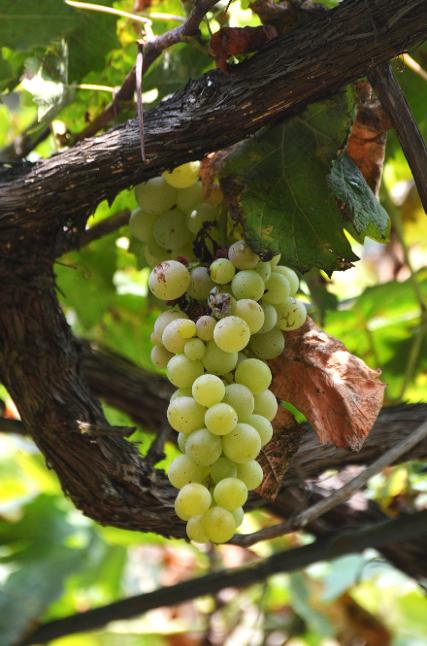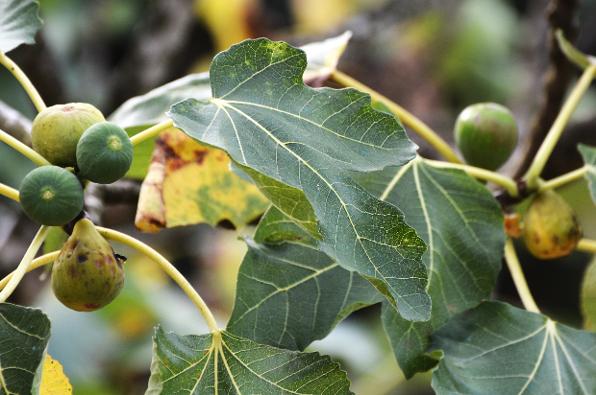 There is a tribe of goats here on the property, sometimes just outside our room.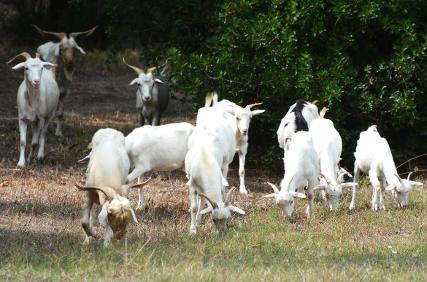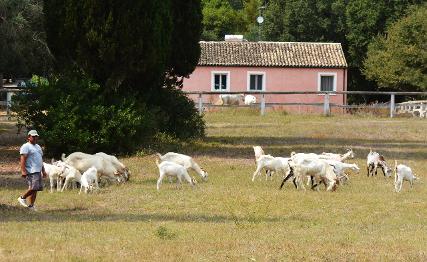 The entrance to Peleacas Country Club.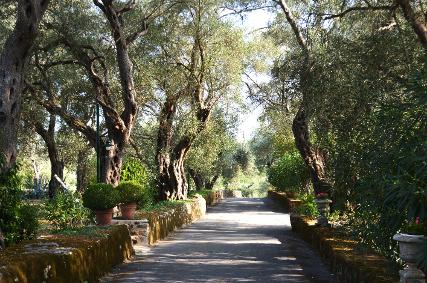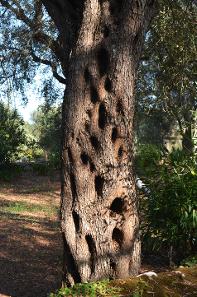 The narrow road to the beach.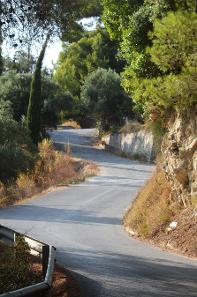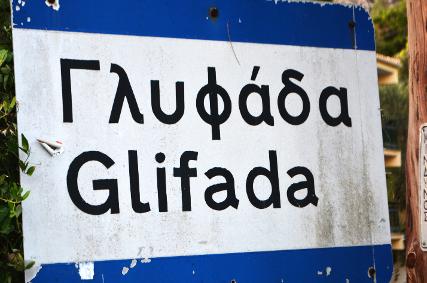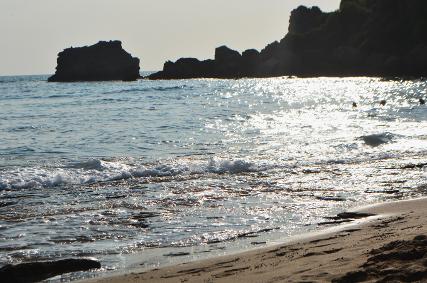 It is fairly wavy on the west coast. Babe on a beach.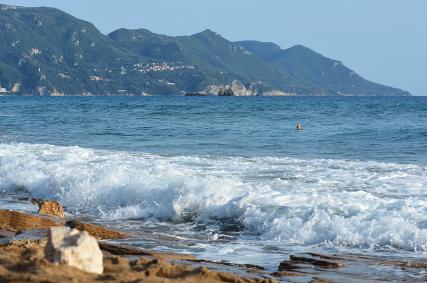 The coastline looking south from Glifada.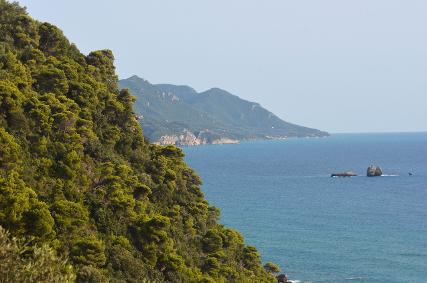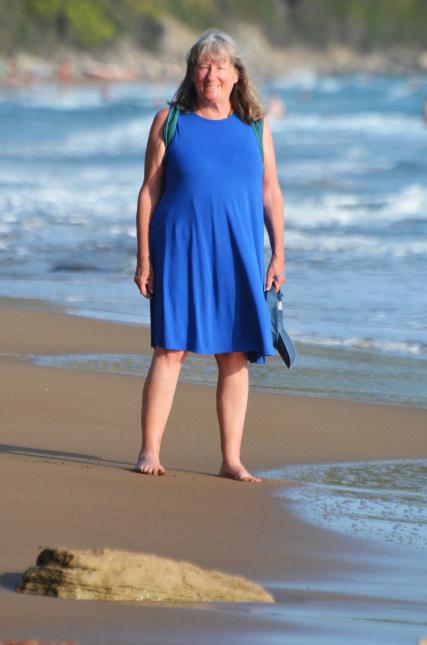 Sunset on the west coast near Pelekas.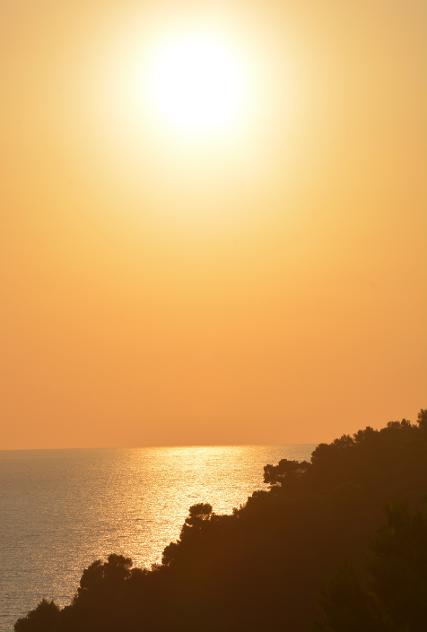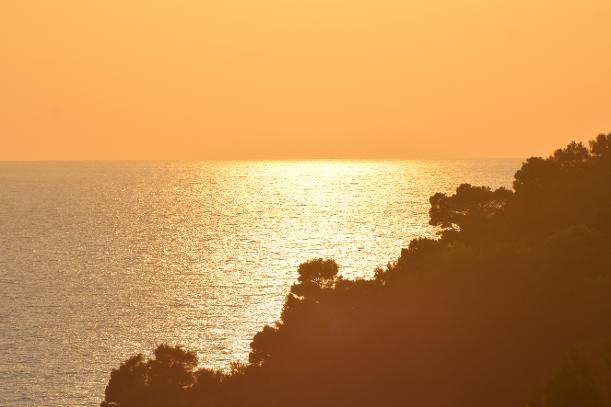 A bakery in Pelekas Village. Note the 'ish' Pelekas Village church.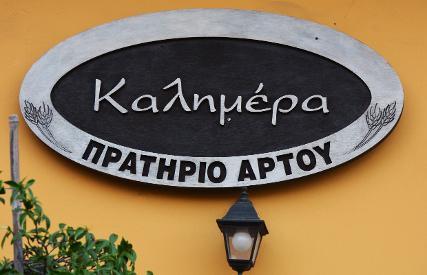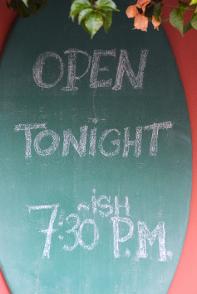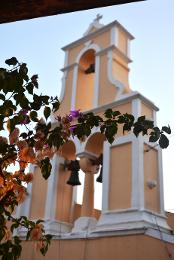 A few Pelekas Village locals.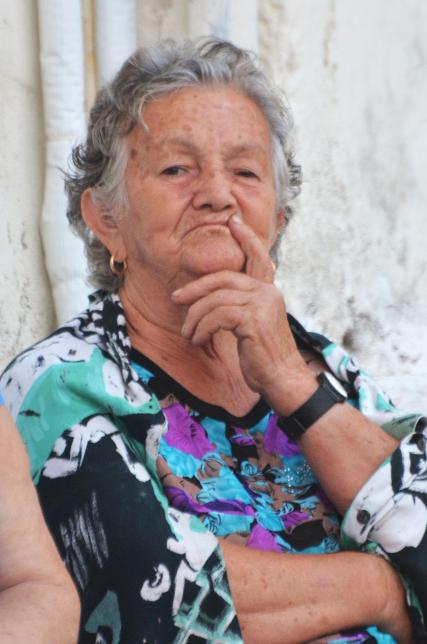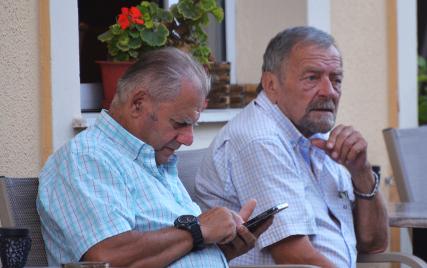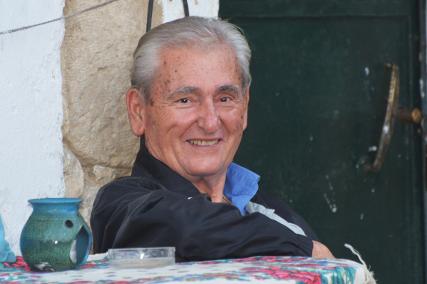 Only one dish each tonight (although they were large servings) of vegetarian moussaka for Gayle and Pastitsada, a Corfu signature dish of pasta and beef, for Norm.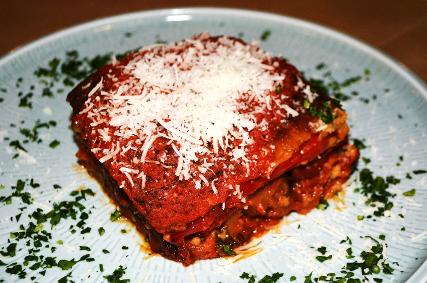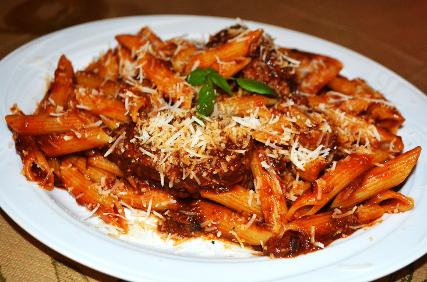 Tonight's 'blue' moon that occurs every three years or so.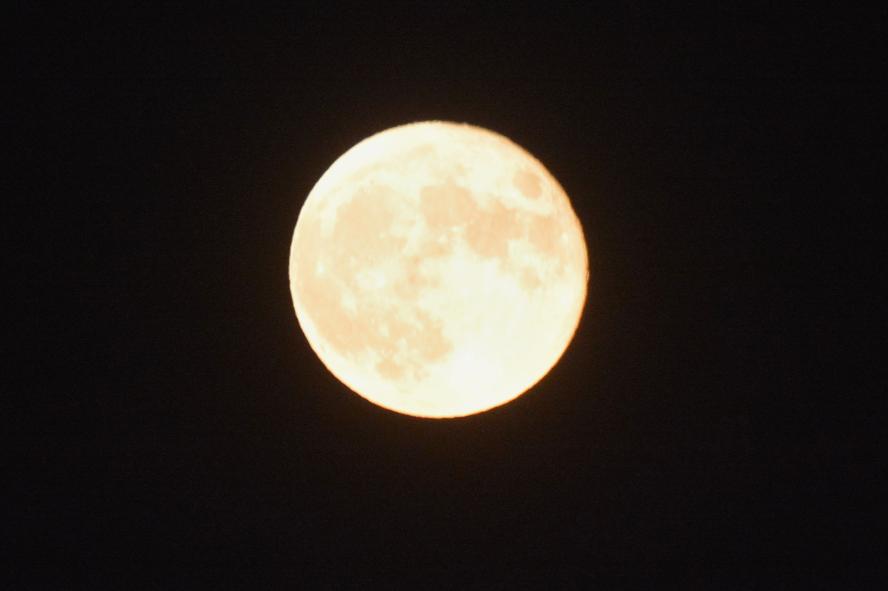 August 30, 2023 - Corfu - Pelecas Country Club
I'm not sure whether it is all the things going on back home - crosswalk flags, Collins Financial Consulting, a leaky roof, rocks dislodged in our brook due to the summer's storms, or we're just getting older but our decision to stay here for five nights is looking brilliant.
Our day started with a wonderful breakfast. Fortunately breakfast is available until 11:00 am as we didn't roll down until 10:30 am after a solid sleep. Other than a dog or two in the evening and a few roosters in the morning it is exceptionally quiet here. Breakfast was all one could want starting with freshly squeezed orange juice, hot coffee, a huge selection of fruit, cheese, meats, tomatoes, olives, yoghurt, cereal, sweets, crepes, ham, eggs and a Ladenia, i.e. a traditional Greek flat bread - sort of like a foccacia. Enough to easily carry us through to dinner.
According to the Pelecas website in
"May 1843 the gate to the estate opened wide as Larione, the Italian caretaker welcomed the family. It was time to bring grand-father's descriptions to life - time to see the fields, the horses, the vines and the olive groves. Each September everyone gathered at the vines to pick the grapes. It was the time of the vine harvest, the 'Vedemia' as they called it. Wine was the first thing to come into the home, and after that they took to all other agricultural work that would bring the crops and food for winter. In mid-autumn they started picking the olives, 'La Raccolta". It was a festive process, accompanied by music. Each bouloukaris (man) brought along five or six of bouloukarisses (women) to help with the picking. During this process they sang in groups, competing with each other. The olives were taken to the olive press where everything was done with the help of horses."
The afternoon was spent relaxing - a bit of swimming; some napping; just enjoying doing nothing.
For dinner we drove 8 km to a highly rated Greek taverna out in the middle of nowhere. Unfortunately it was right on the road, but otherwise exactly what we expected. Generations of a family involved with a young son - perhaps 12 - taking our order, and another, around five riding his mini-scooter around the taverna. If last night was traditional Greek food tonight was the same, plus some. In addition to a Greek salad (this one with lots of tomatoes), hand-cut fries, lamb chops and baklava we had tzatziki, country sausage and for me retsina. Way too much food (we brought some home) but very tasty and enjoyable. Total cost of the meal - 52 euros or $77 Cdn.
The drive back, although in the dark, was easy as we were familiar with the route. We enjoyed the full 'blue' moon before turning in for the night.
Our Classic Room - la scuderia, or stable in Italian.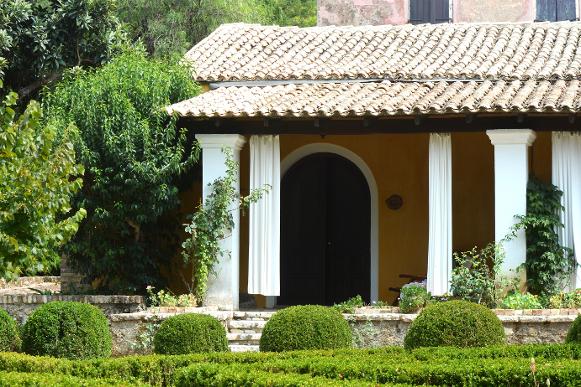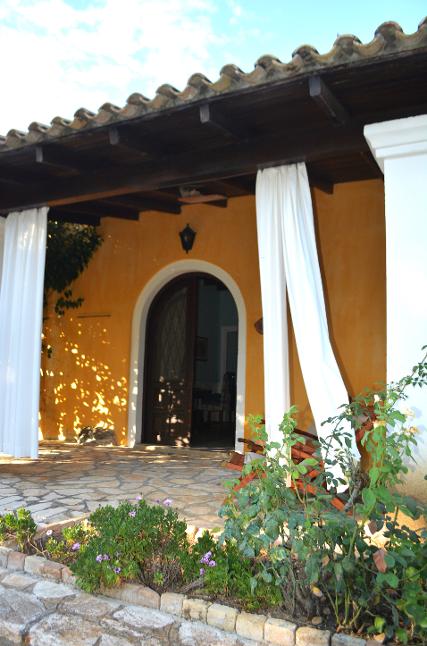 Our private terrace area ... ... overlooking hedges and an Italianesque garden.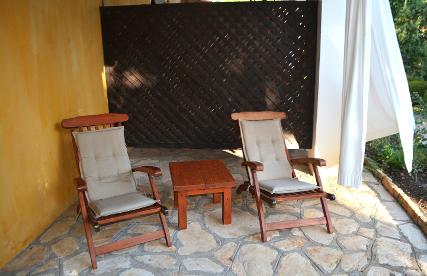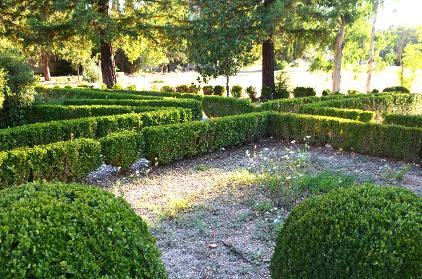 Sweets. Ham and cheese crepes. A wide selection of fruit.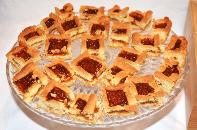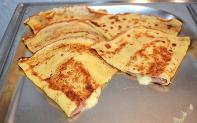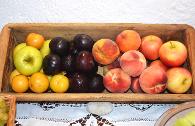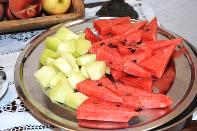 Ladenia - a traditional Greek flatbread. Lots of food for breakfast.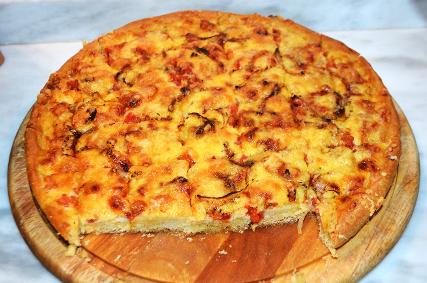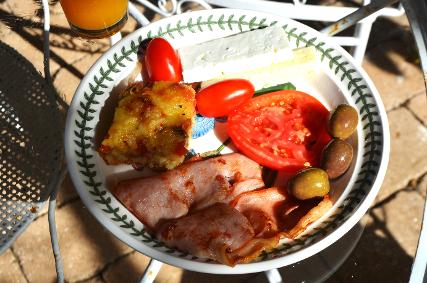 The outdoor breakfast area.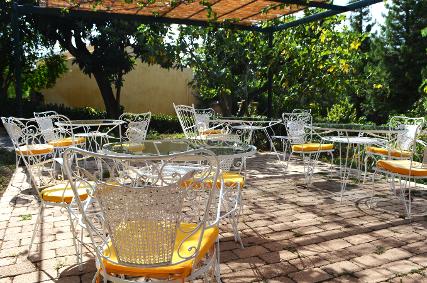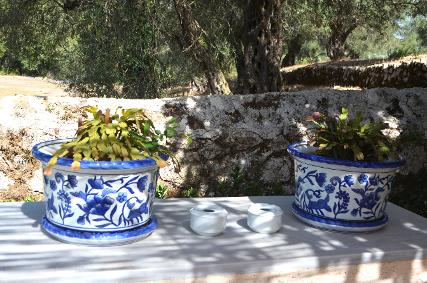 A few of the buildings - the yellow one a suite above our room; the pinkish one (painted as it is for effect) the breakfast room, dating from 1831.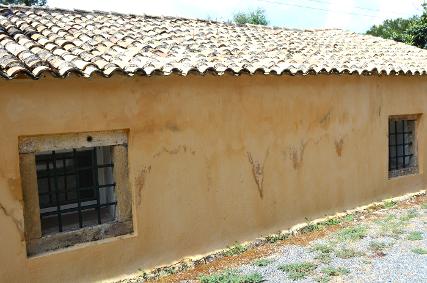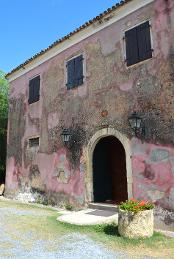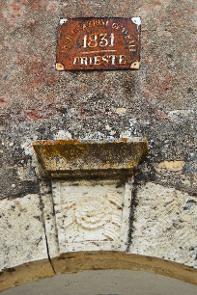 Around the property - an Italian looking bowl in reception; some steps next to our unit and flowers around a very old olive tree.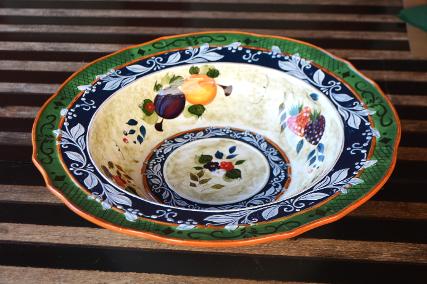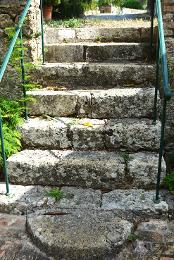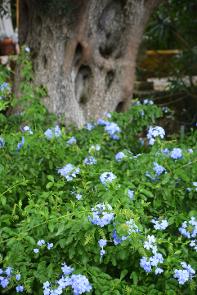 Pelecas Country Club's huge pool.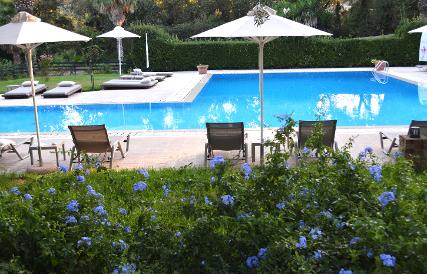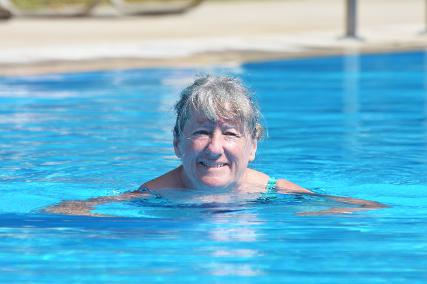 Stavros Traditional Grill House, Where they serve retsina.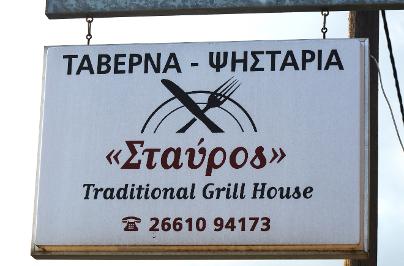 A starter plate - a 'gift' of the house.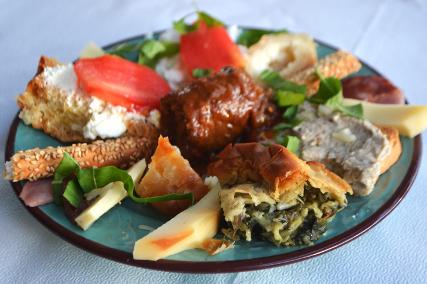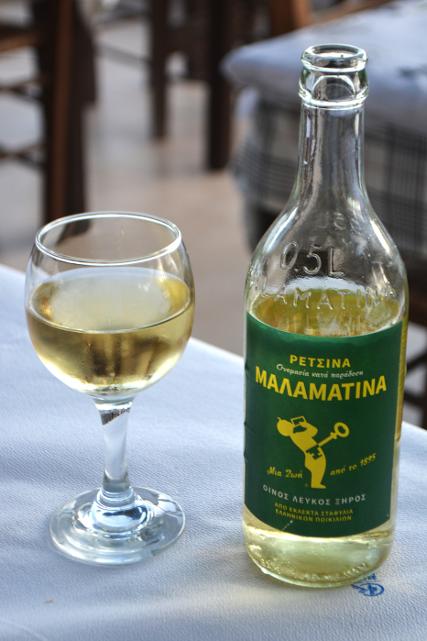 Tzatziki and bread - so good. A plate of hand cut fries.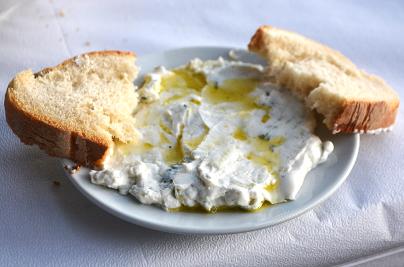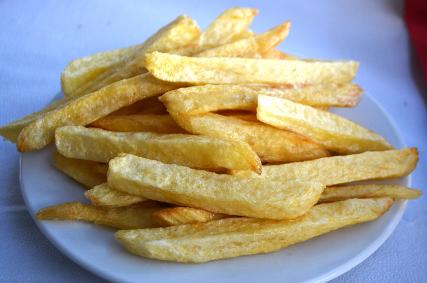 A large Greek salad - that easily could have served four.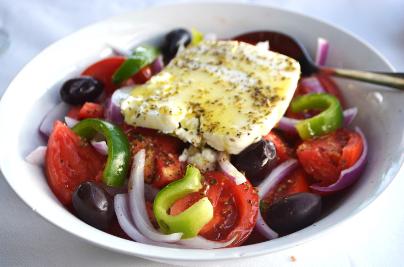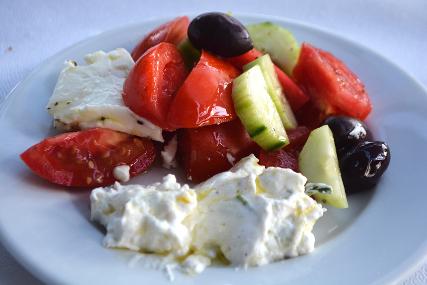 Lots of country sausage. A 'portion' of grilled lamb ribs - Stavros' specialty.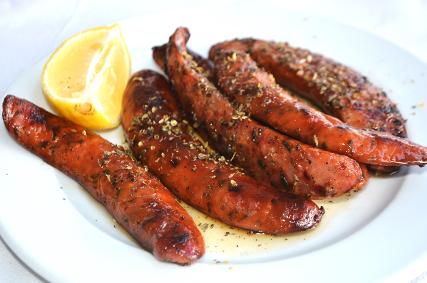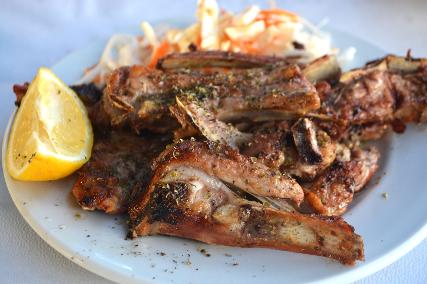 And again we finished with a large piece of honey soaked baklava.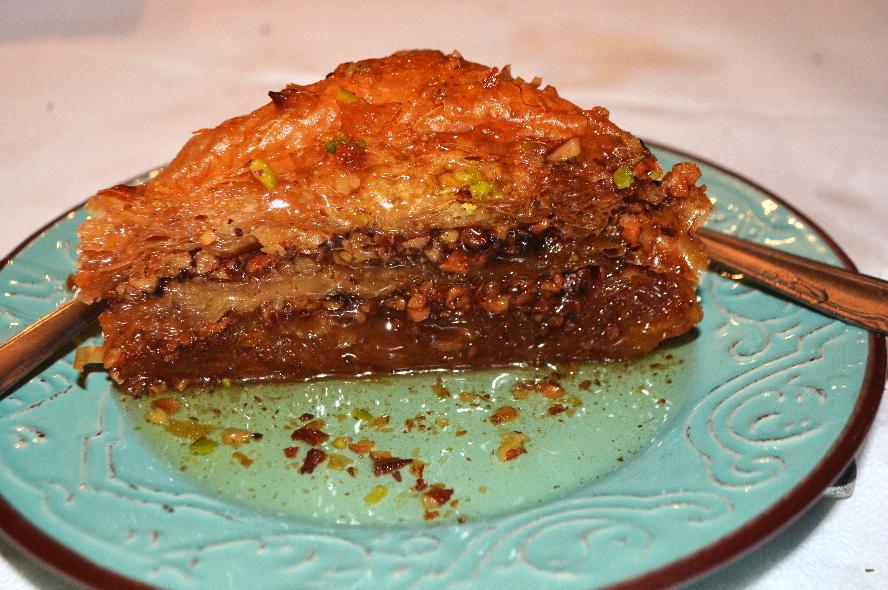 Aug 28 and 29, 2023 - Halifax => Toronto => Athens => Corfu
We made it! A couple of moderately delayed flights but we had lots of time to connect so no problem. We had 3 1/2 hours in Montreal which we enjoyed in the Maple Leaf lounge - a great way to start the trip with good food and a glass (or three) of nice wine. The overnight flight to Athens was as expected - long and hard to sleep but it is a small price to pay for the next five weeks. From Athens we took an Aegean flight (< 1 hour) to the island of Corfu, or as it is also called Kerkyra.
Corfu is an island off Greece's northwest coast in the Ionian Sea. It is defined by rugged mountains and a resort-studded shoreline. Its cultural heritage reflects years spent under Venetian, French and British rule before being united with Greece in 1864. Corfu Town, flanked by two imposing Venetian fortresses features winding medieval lanes, a French-style arcade and the grand Palace of St. Michael and St. George.
While we will spend the last night of our trip in Corfu Town, upon arrival, after picking up our rental car at the airport, we crossed 10 km to the west-side of the island to Pelecas Country Club, our home for the first five nights.

As apparently most do we missed the unmarked entrance, driving a further km into Pelekas Village. Here we asked and were very helpfully directed back to the Country Club. In fact Alexandros, the restaurant owner who helped us called Angela at the Country Club to let her know we were on our way. For dinner we returned to Pelekas Village to eat at Alexandros Taverna.
Angela welcomed us warmly with a glass of Prosecco. Very shortly after being taken to our room it was nap time. We slept well for a couple of hours before returning to Pelekas Village for dinner. Before eating we were treated to a beautiful sunset. Dinner was as Greek as it gets - saganaki (grilled cheese), a Greek salad, lamb chops, and a large piece of baklava for dessert in a quaint taverna with soft Greek music playing. Total cost, including two glasses of quite nice Greek wine was 49 euros ($72 Cdn)
We returned to Pelacas CC and immediately found our pillows.
Another Aegean plane on the tarmac at Athens airport as seen from my seat on our Aegean flight to Corfu.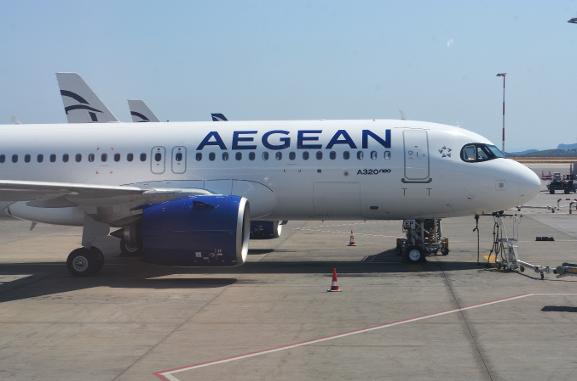 After arriving at Pelecas
Country Club the welcome glass of Prosseco went down quite quickly.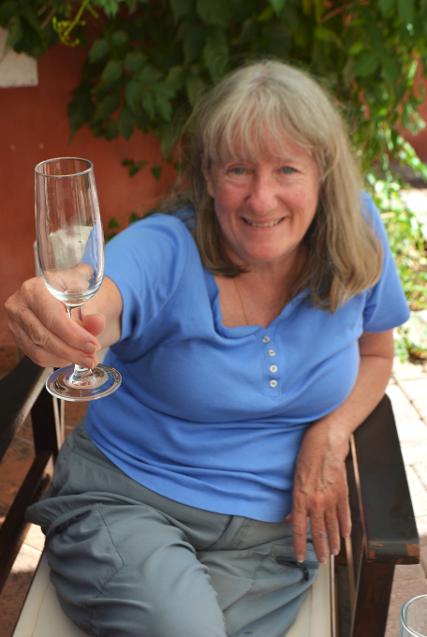 Glasses of very decent Greek wine (6 euros or $9 Cdn) each.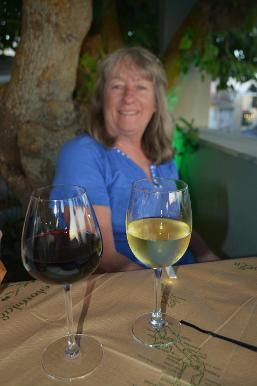 While we enjoyed the setting sun.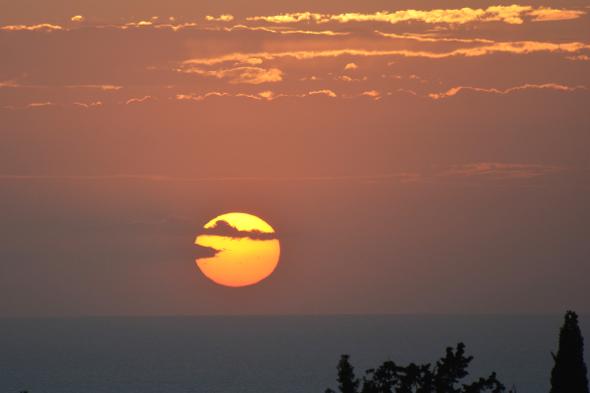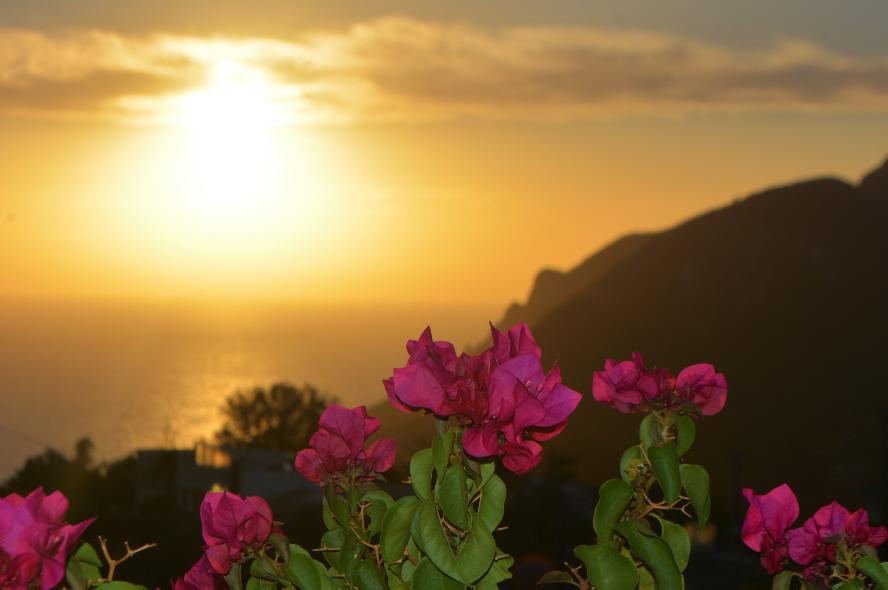 After re-learning a few Greek words (included on the menu) we started with a piece of Saganaki (fried cheese).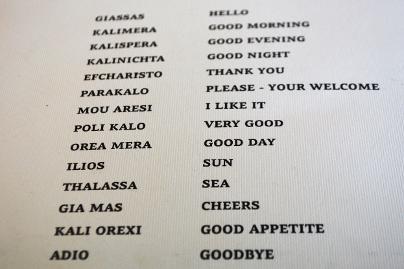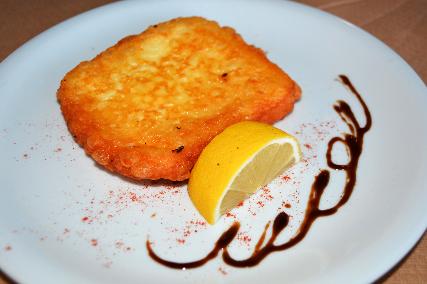 Not surprisingly Gayle had a Greek Salad. While equally unsurprisingly Norm the lamb chops.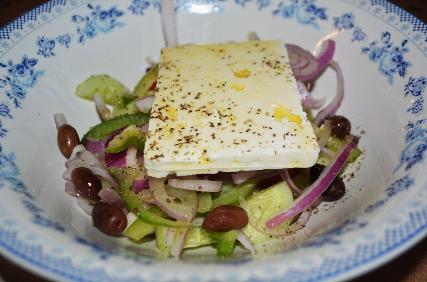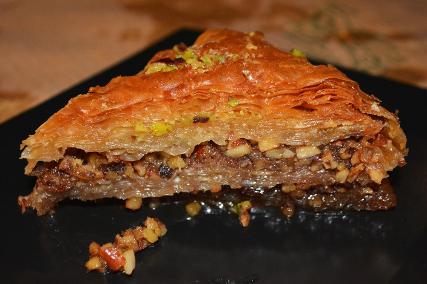 We finished a great first Greek meal at Alexandros' Taverna with a nice piece of baklava.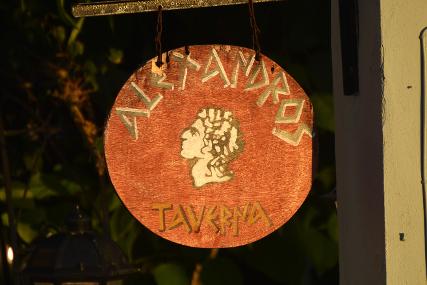 And yet again back to Greece - Aug 28, 2023 to Oct 02, 2023
Greece in September (well a bit of August and October as well) has become our thing. After five weeks last year we are returning for the same duration this year. This time we will be traveling through the Ionian Islands, a region new for us.
This trip will include five new islands - Corfu, Paxos, Lefkada, Kefalonia and Ithaca.
After arriving in Athens we fly to the island of Corfu where we will spend the
first part of the trip. We then work our way south before returning for another five nights on Corfu at the end.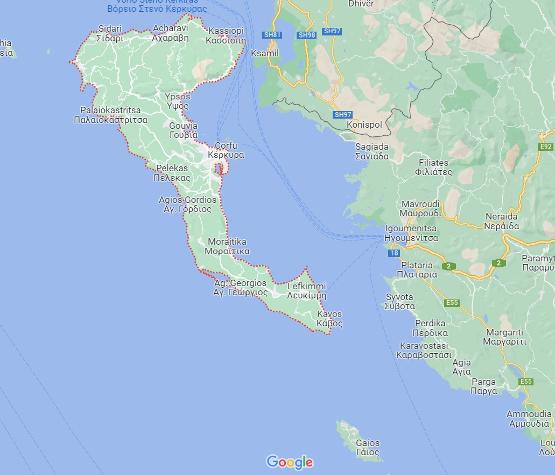 After flying from Halifax to Corfu via Toronto and Athens, a popular and relatively large island of 585 sq kms, we will spend our first five nights in the central and south parts of Corfu, not trying to see it all as we will be returning at the end of our trip.
We will then take a ferry from Lefkimmi in the south-east to the small island of Paxos (only 30 sq kms and a population of 2,300) where we will spend six nights.
We have watched two series filmed on these islands - the Durrells, filmed in Corfu and
Maestro in Blue
, filmed primarily on the island of Paxos.
After six nights in Paxos we will ferrty to Igoumenitsa (across from Corfu) on the mainland where we will rent another car to head south to the island of Lefkada, to which one can cross over a causeway.
After a few days in Lefkada we will ferry to the large island of Kefalonia (or Cephalonia as it is also known) where we will be in two spots, one in the north and then one in the south. From there it is to the nearby small island of Ithaki before returning to Igoumenitsa and back to (the north of) Corfu for five nights before spending our last night in Corfu town in order to catch an early flight Athens and back to Canada.
Check back the end of August for the first update after we arrive. In the meantime enjoy your summer.