September 3 to September 26, 2013 - Lasting impressions of northern Italy
Our lasting impressions of our trip to Italy
the spectacular Cinque Terra coastline
the endless switchbacks
the strenuous hike from Vernazza to Monterosso Al Mare
the numerous travellers we met, primarily at the agriturismos
enjoying dinner with Tatiana and Marc (and Josephine)
the impressive Villa Campestri, and the ornate bed in our suite
the wonderful rolling hills of Tuscany and Monferato
the stone buildings, many hundreds of years of old
the two climbs up the hillside for a memorable five plus hour dinner at Selvaggia
Lake Como and the lakeside towns (no wonder Clooney has a villa there)
the oustanding landscaping at Casa Portagioia
the breakfasts
figs (in season) are actually pretty good ... give figs a chance
the variety of dinner choices - with many vegetarian options
the fresh tomatoes
the warm sunny weather - low 20s to mid 30s with only one day of rain - we love these Mediterranean destinations
the huge and most impressive central square (Il Campo) of Sienna - all that it was built up to be
Stephano at Accademia Buon Gusto - bringing wine tasting to a whole different level
the friendliness and hospitality of our hosts, particularly at the B&Bs and agritourismos
well cooked and numerous shapes and sizes of pasta
pizza for five euros ($7)
quite good house wine in a restaurant for five euros a litre; a bottle for six euros ($8.20), tax and tip included
the unbelievably extensive choice of wines at dinner and in enotecas (wine shops)
We enjoyed another wonderful trip - with very good weather; some great scenery; enjoyed a number of very good meals; met a number of nice people - both other travellers and those where we stayed; had a lot of laughs; stayed more or less on budget; took some nice photos ... and had a great time.
Thanks for following.
In order to make limoncello one first needs lemons.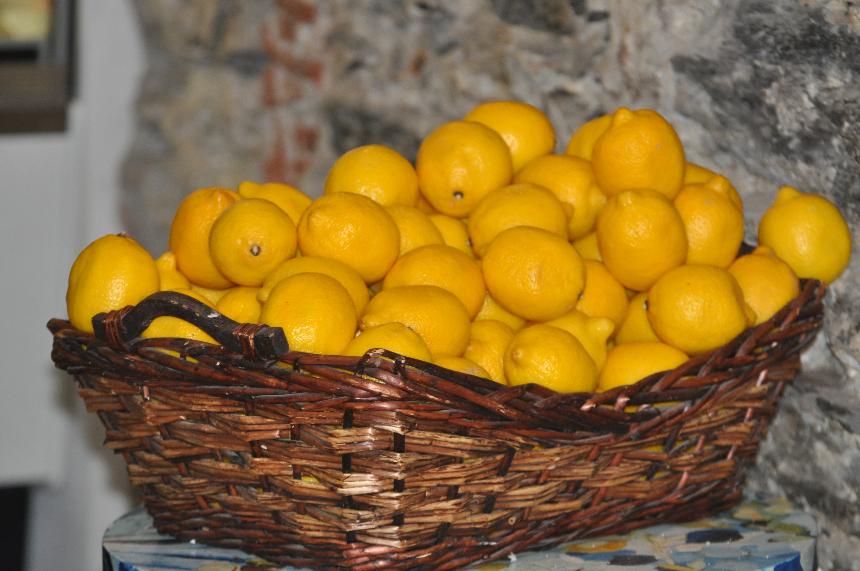 Gelati - in all flavours and colours.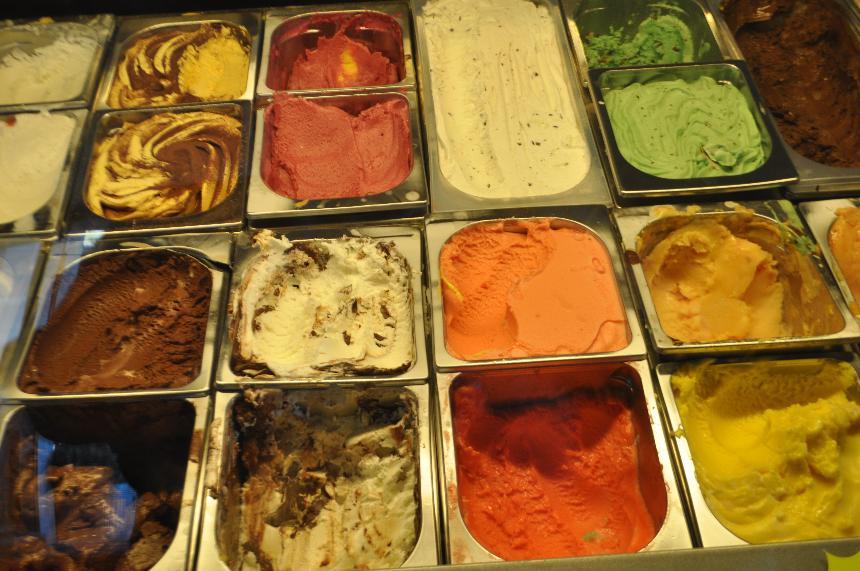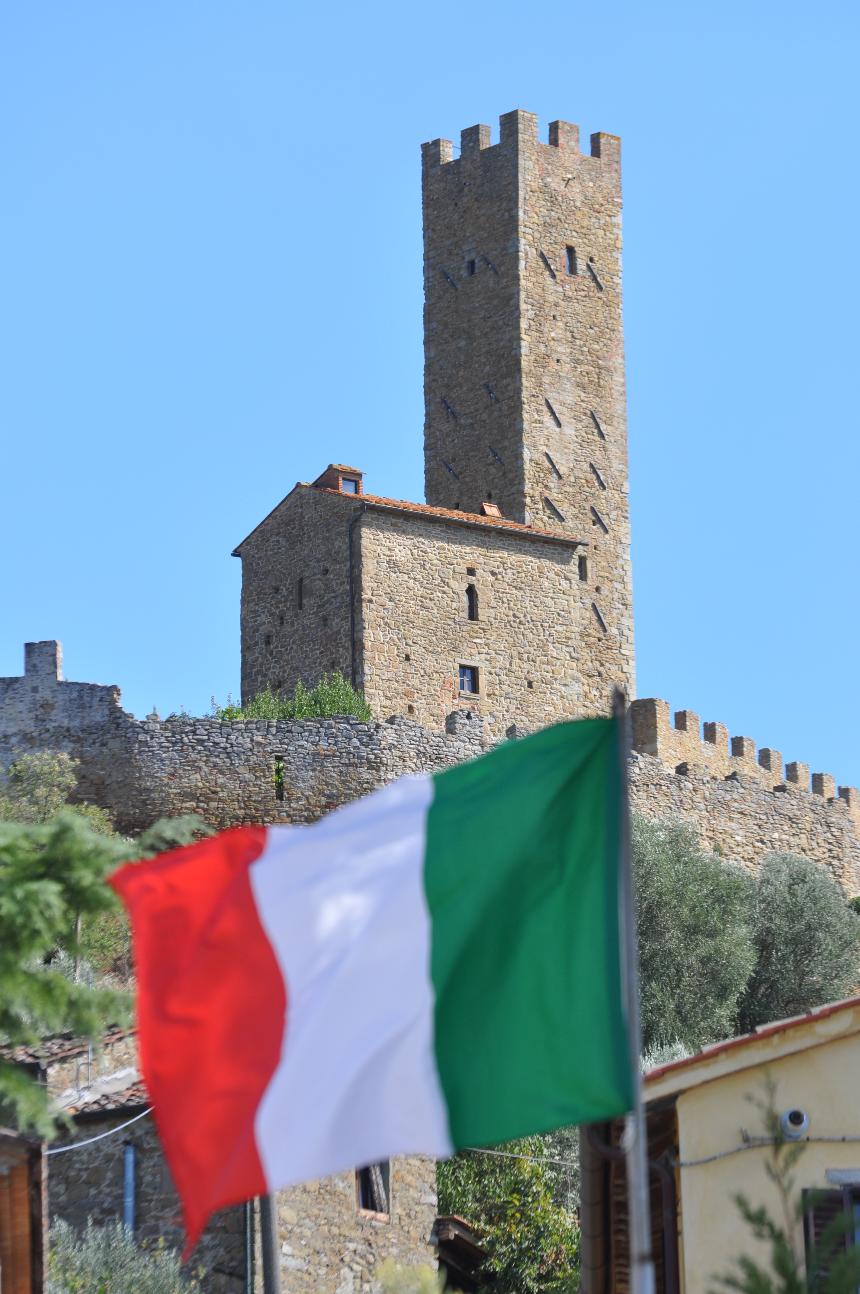 Thursday, September 26, 2013 - Il Cavenago (Ghemme) to Halifax
Home today. Breakfast, while ok was not up to the standards we had become accustomed to. Fortunately this was a morning that we were in a hurry to eat and get out so it was not an issue. We wer on the road as planned at 8:30 am. The drive to the airport was 45 minutes as we were told, leaving us plenty of time to drop off the rental car, check in and catch our flight to Frankfurt. We had nearly three hours between flights in Frankfurt - a nice connection time meaning to urgency to transfer terminals. Our Condor flight left and arrived right on time.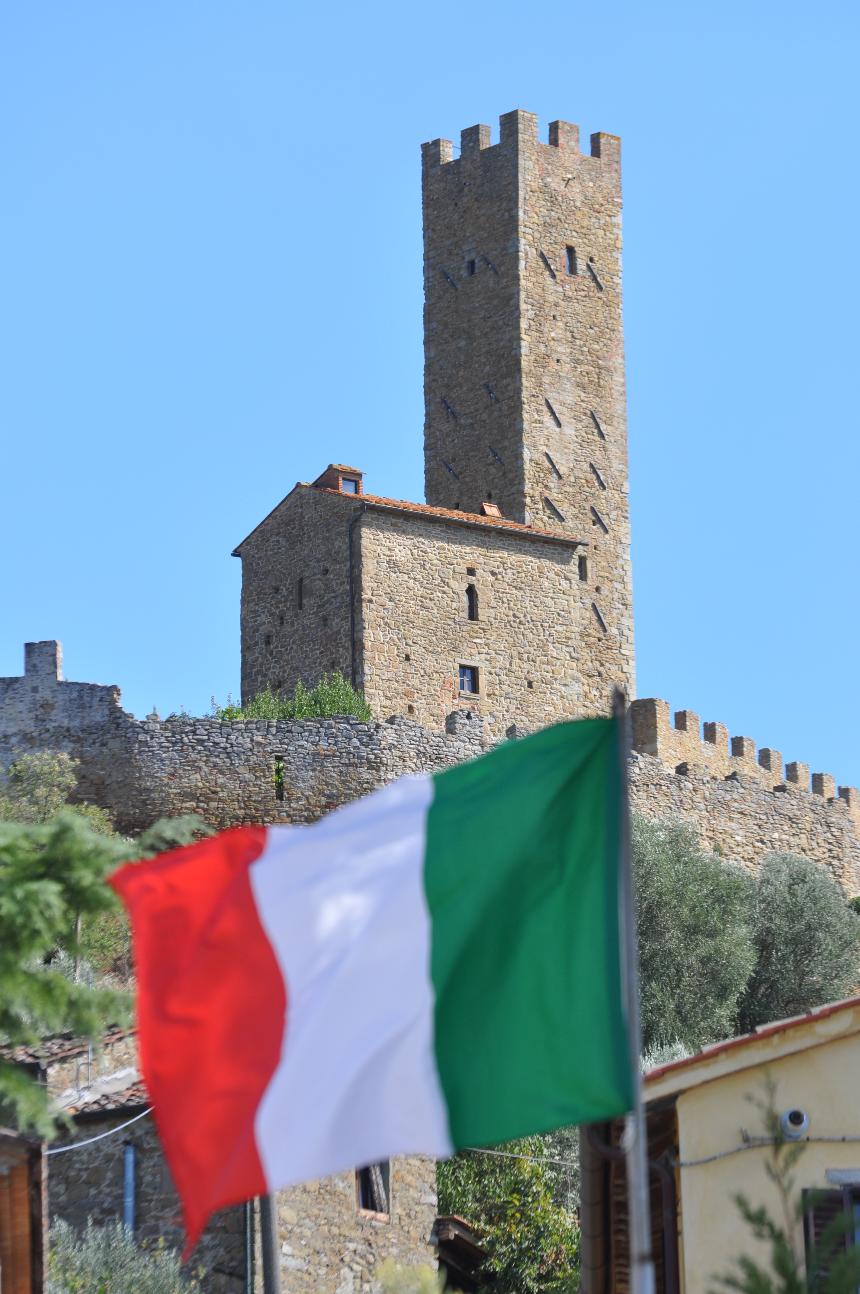 The inner courtyard of Il Cavenago as seen from our bedroom.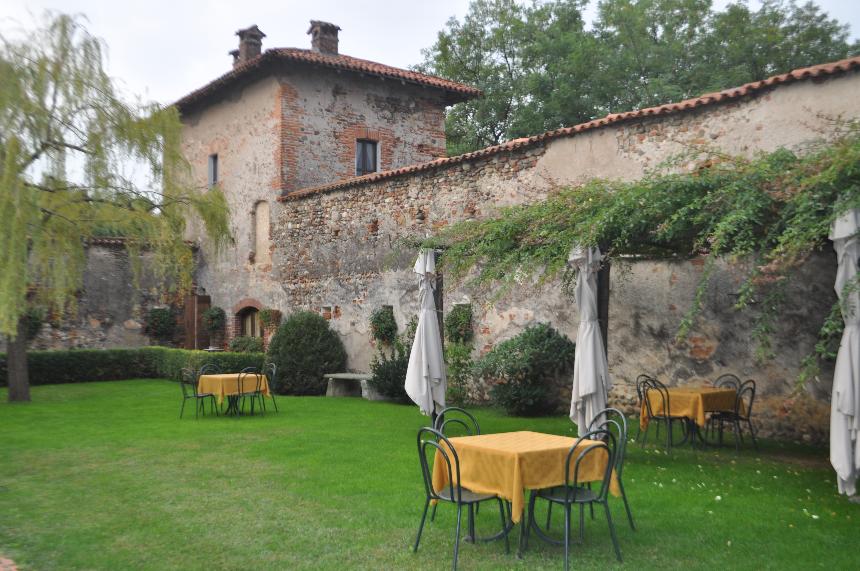 Part of the former country house Il Cavenago.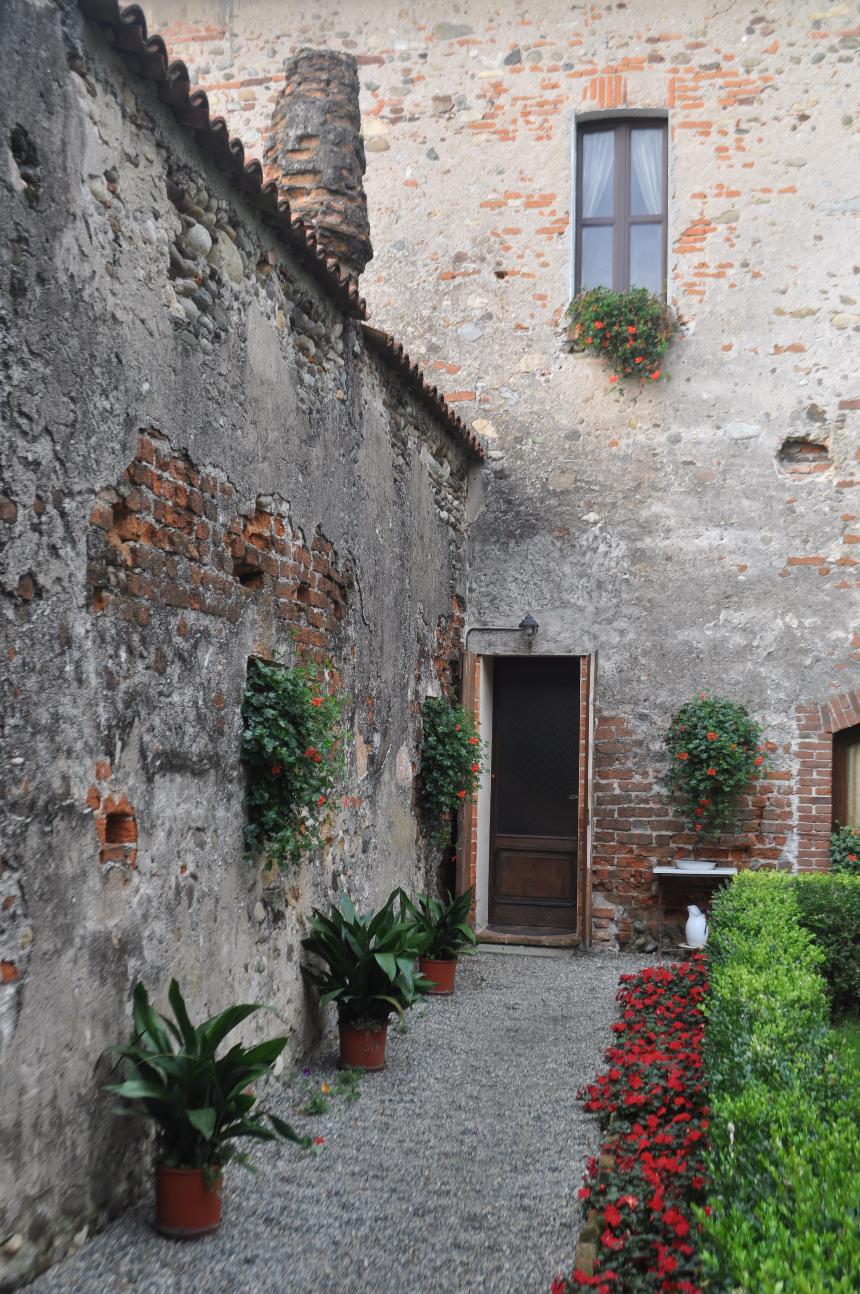 Wednesday, September 25, 2013 - Castello di Razzano (north of Asti) to Ghemme
Castello di Razzano turned out to be a very nice stop, with us being particularly impressed with the countryside of this area. In fact we could have stayed another night with a day trip south to Alba and the Barola wine area. There were wine tastings and tours we could have attended but we felt it was simply too far from the (Milano-Malpensa) airport and therefore booked our last night somewhat closer, in Ghemme.
We left late morning and soon after getting on the road encountered a small group harvesting grapes. Being a perfect photo opportunity I stopped and started snapping pictures. After posing snipping a bunch of grapes one fellow handed me the scissors and took my photo 'working'. We left with a couple of nice bunches of grapes to have throughout the day and some nice photos.
The drive today was very easy - essentially flat and straight, quite the change from the switchbacks I have been seeing in my sleep. In addition it was quite short as Ghemme is less than 100 km away. As a result we arrived early afternoon. The defensive country residence of Il Cavenago dates from 1650, being the former country house of the Cavenago's Count and one of the most ancient buildings of the municipality of Ghemme. The rooms reflect their original state, featuring wide fireplaces, floors made of ancient fired brick and wooden coffered ceilings.
Rather than going out we opted for the meal served at Il Cavenago. It turned out to be very good with a plate of meats and marinated mushrooms for Gayle as the antipasto, spinach filled raviolli for the primo platti and then fresh cheese with pesto, pear with a garganzola sauce, a cheese plate for Gayle and duck for me, all accompanied by a bottle of local Ghemme wine. A salame di cioccolato (a chocolate roll) and spumino alla fragola (a strawberry cream) for dessert finished what was a very enjoyable final meal.
We finished packing and called it a night as we had to leave early the next morning.
... and yet another filling breakfast with great bread and right of the vine grapes.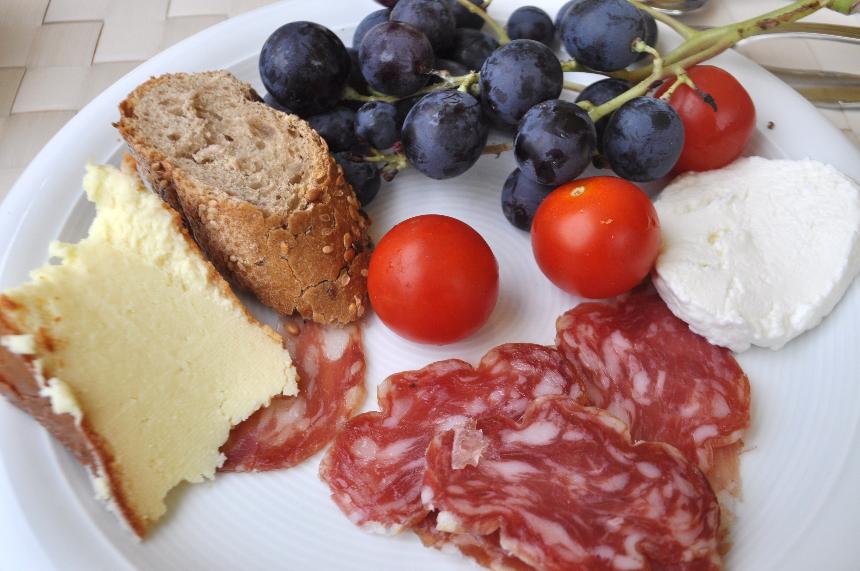 There is a very nice bodega in conjunction with the winery here at Castello di Razzano.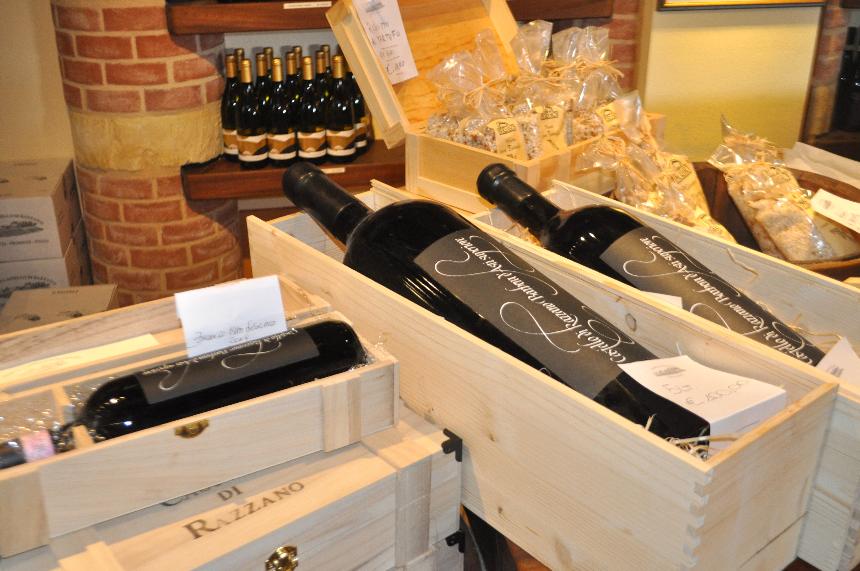 The grounds of the Castello di Razzano are very attractively landscaped with flowers accentuating the vinyards.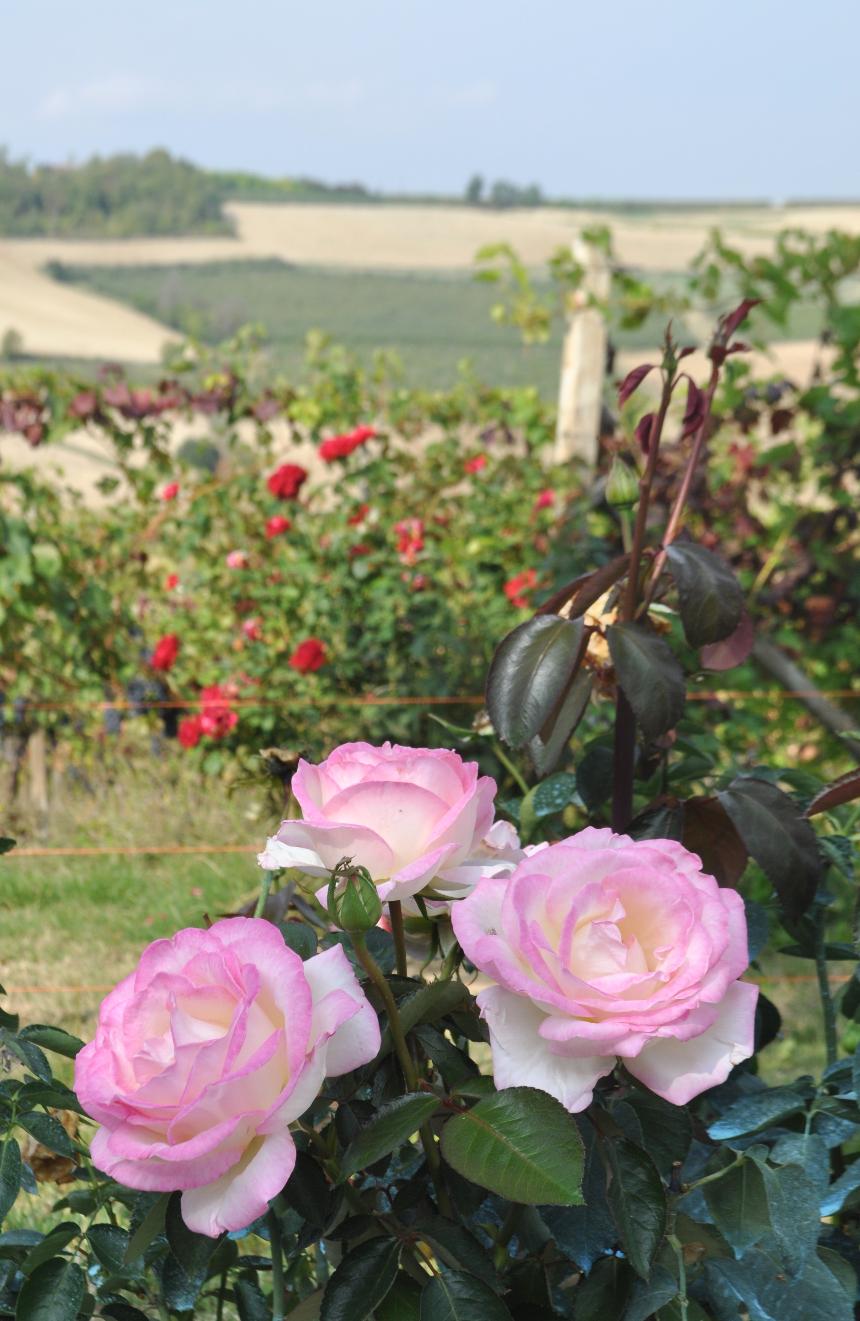 Vinyards and a church in the Monferato region north of Asti.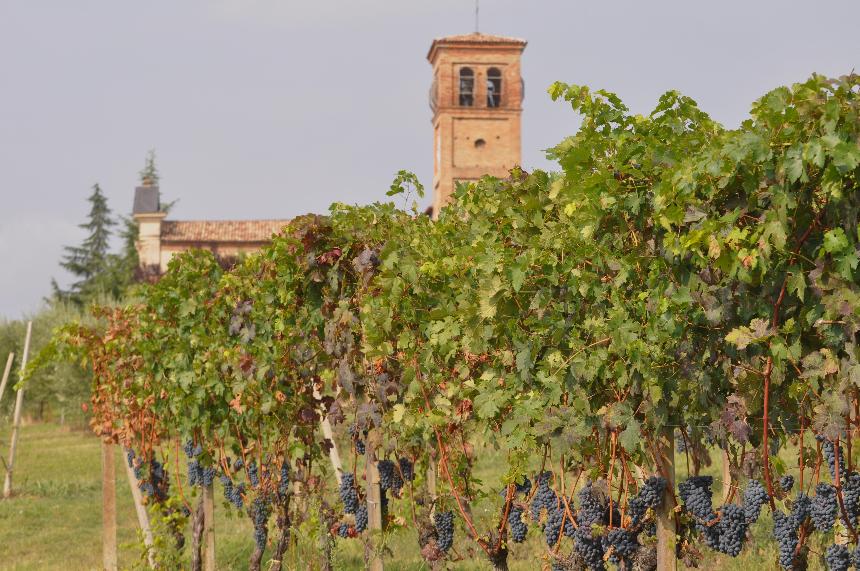 A new career or simply a photo op? I'll stick with retirement assessements and tax returns.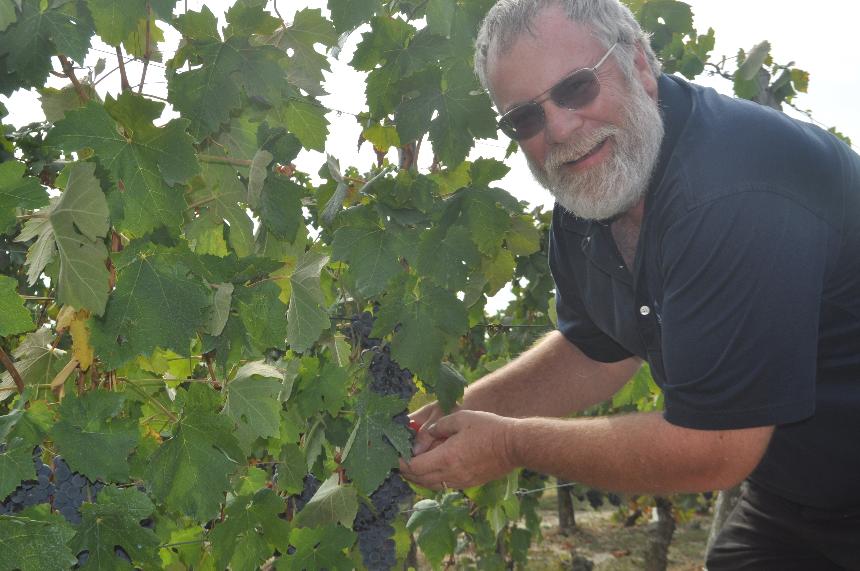 Not bad for an inexperienced picker! Just kidding.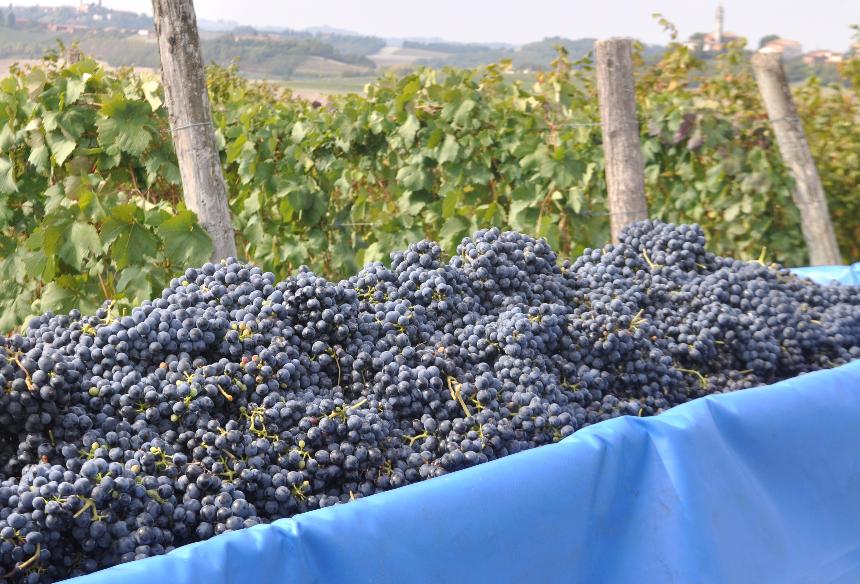 One of the grape harvesters.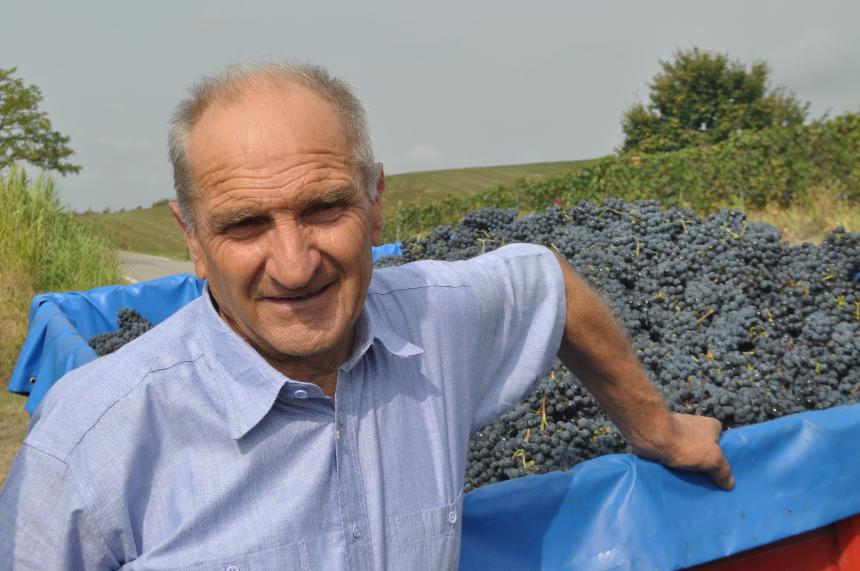 Vinyards and hilltop towns - a common site in this area of Italy.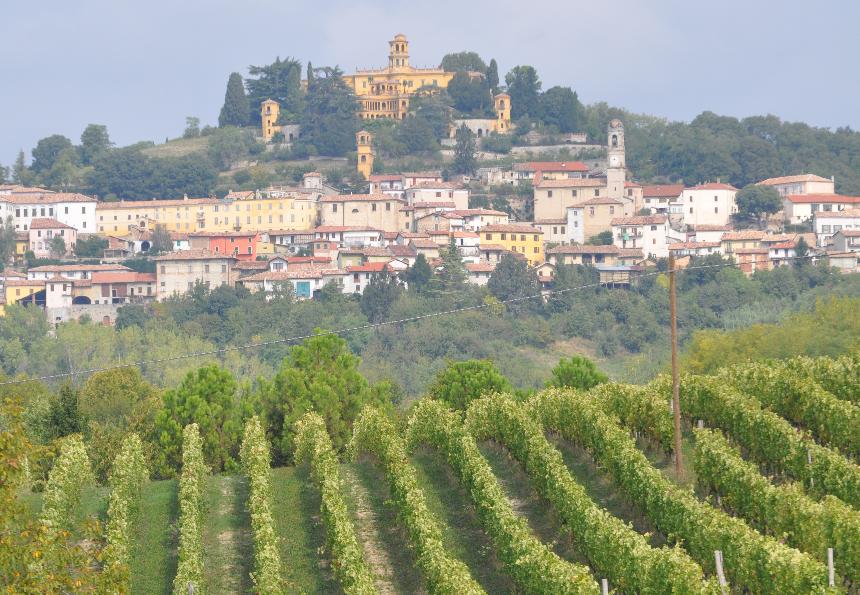 Fresh cheese with pesto - part of our nice dinner at Il Cavenago.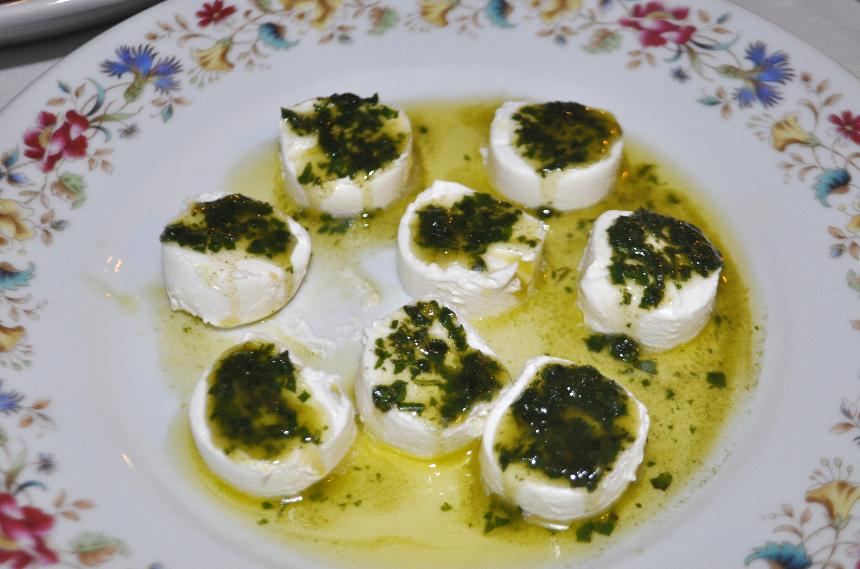 Tuesday, September 24, 2013 - Castello di Razzano (north of Asti) and around the Monferato countryside
Today was another restful day. The morning included another nice breakfast, although it is still frustrating and annoying that at least Italian law allows one to smoke outdoor restaurant areas. There were three other occupied tables at breakfast this morning and all had smokers. We wanted to enjoy the nice weather oustide but smoking while eating should not be allowed. Afterwards we strolled around the property, including the pool area nicely overlooking the vineyards and nearby town of Tonca, and then worked on the blog.
Near noon we realized there was a market in Castel Monferato so made a quick decidion to drive the half hour in spite of being told the market shuts down at one. Castel M turned out to be somewhat larger than expected but we (luckily) did find the market and yest it was in the process of closing up. It didn't seem we missed much. The drive back took us through some small roads and tiny villages, yet most still had either a church or a castle perched high up a hill that the town was bult around. The area was actually very scenic and quite pleasant to drive.
Before returning to Castello di Razzano we bought a bottle of Asti Spumante, the sparkling champagne like wine of the area. After a quiet afternoon we opened the wine and found a nice place on the property where we could see the sun set. What a wonderful way to enjoy the late afternoon / early evening.
For dinner we drove the 7 km to Moncalvo. Although a couple of restaurants looked somewhat more refined and romantic we settled on a more basic operation primarily because they served pizza. Very decent Barbera D'Asti house wine for 5 euros ($7) a litre (tax and tip included) - we only had a half litre) and pizza for 5 and 6 euros ($7 to $8.50) was perfect for us. Some risotto and a very basic lettuce and tomato salad rounded our the meal - nothing fancy but good food and what we wanted. Unfortunately we had to drive the narrow roads back but made it just fine to finsih off a relaxing day.
One of the many hilltop churches or castles.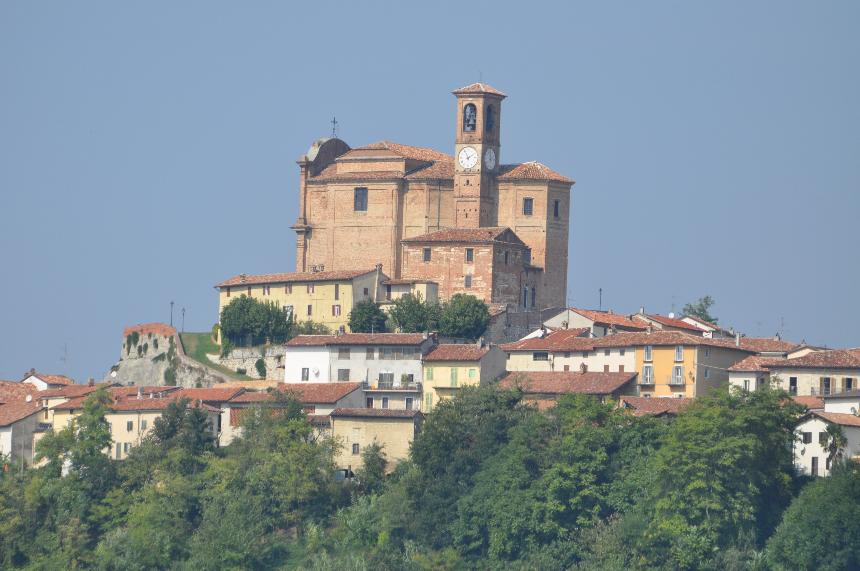 Plump ripe grapes just about ready to be harvested.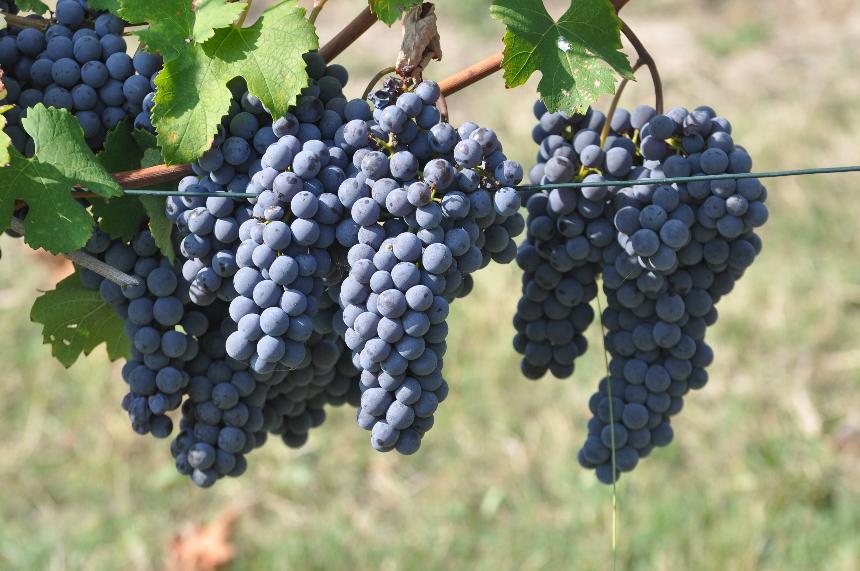 Sun dried tomatoes at the Casale Monferato market.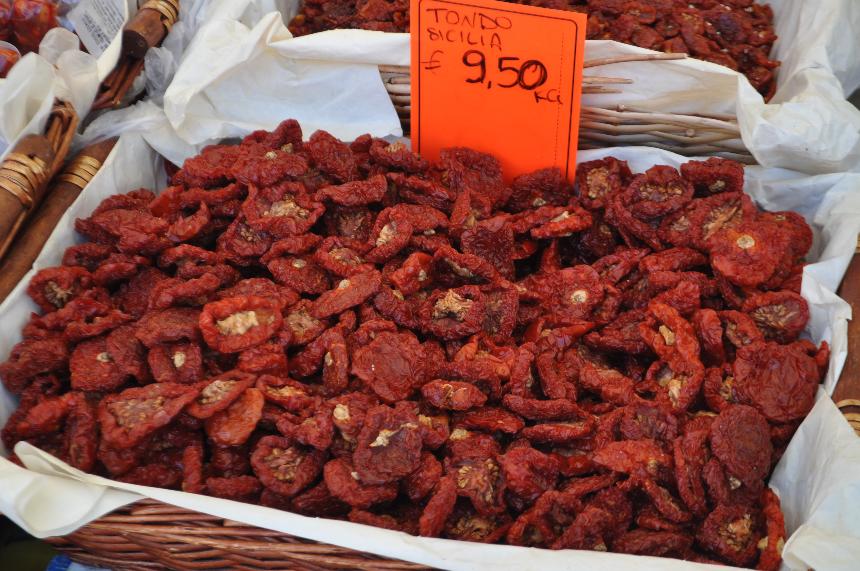 A large wine region, the hills are covered with vineyards.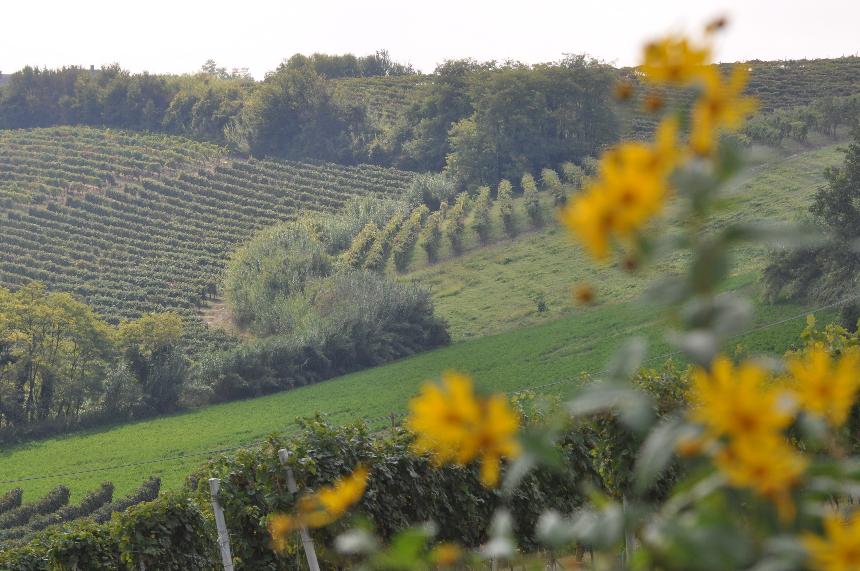 Gayle's new best friend ... Pepe (don't tell Toledo).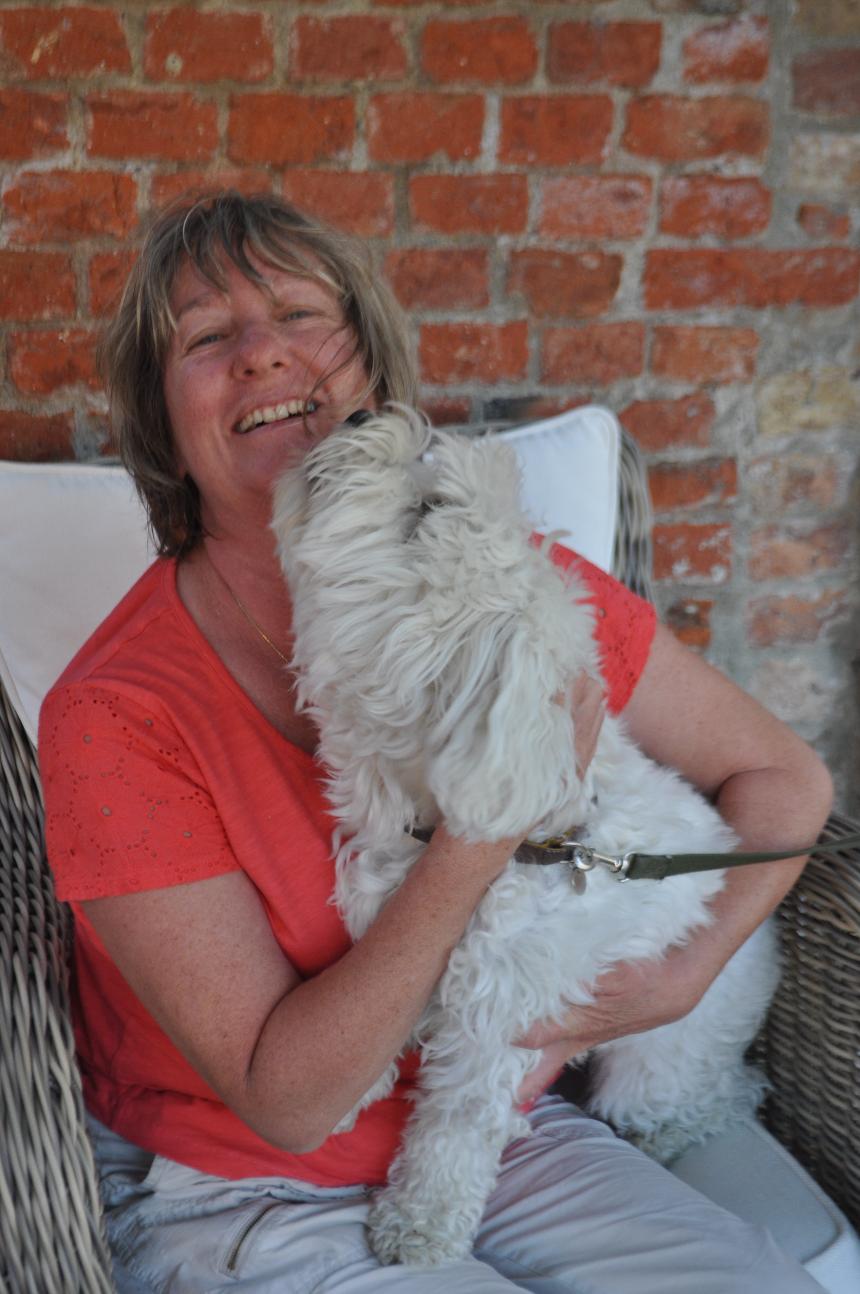 The interior of Castello di Razzano as seen from our bedroom window.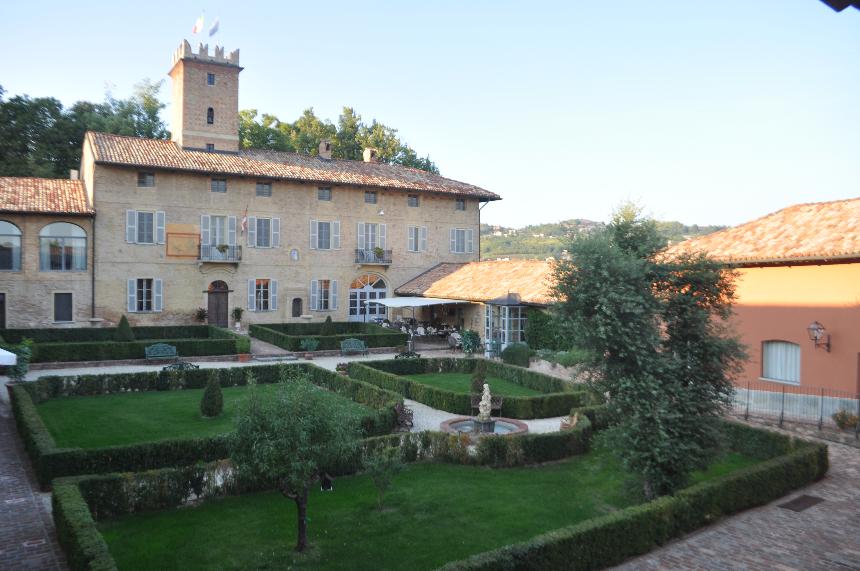 When near Asti bring out the table cloth and enjoy the Spumante.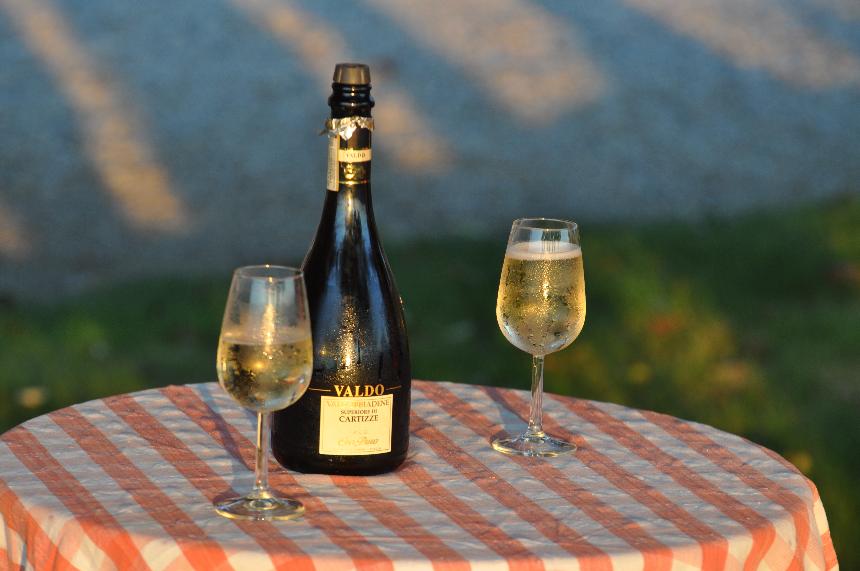 Enjoying the Asti Spumanti looking out over the vineyards to the setting sun.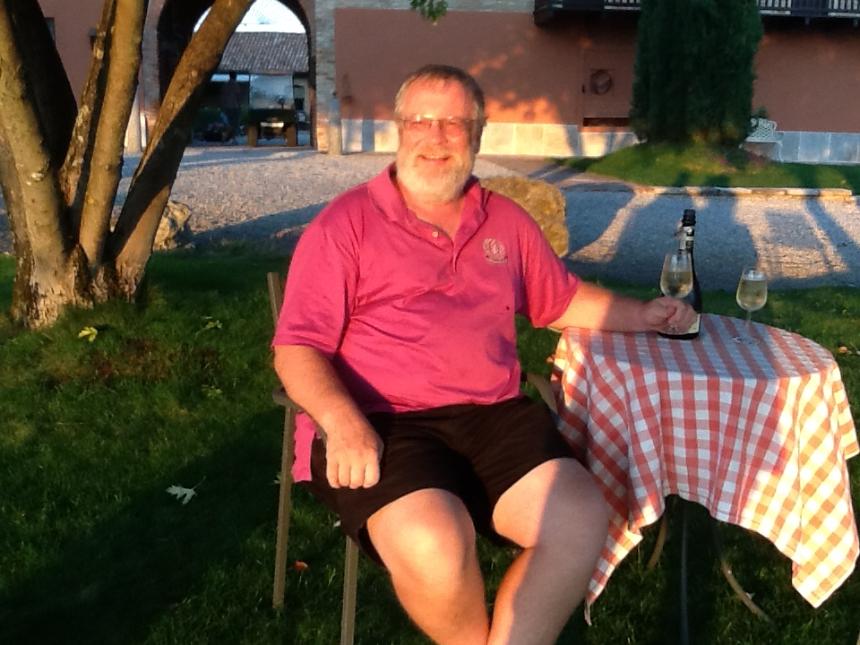 Thin crusted fresh tomato pizza.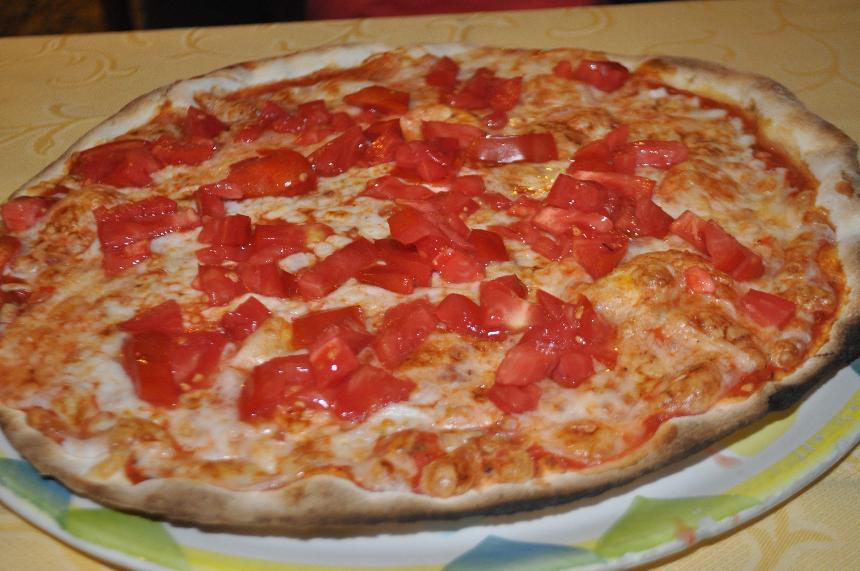 Monday, September 23, 2013 - Uliveto Nel Parco (Monterosso) to Castello di Razzano (north of Asti)
Today was a driving day ... a long, over 300 km, driving day again over narrow and winding mountainous roads. First it was climbing the mountain out of Monterosso and then up and down, and in and out of the valleys as we drove north along the coast towards Genoa. Yes we could drive the autostrada to make time but zipping along at 130 k/hr is not our idea of 'seeing' a region.

We did head inland to bypass Genoa but unfortunatley missed a sign costing us 30 km and 45 minutes. As we headed north-west the rolling countryside began to include vineyards, particularly as we approached Acqui Terme and then Asti.
As we neared our stop for the night I saw this old fellow walking along a street in the small village of Tonca. I asked if I could take his picture and after obliging he started talking - 100% Italian of course. Eventually I figured out he was asking for a ride up the hill (he was ambling alone with a cane) to the town square, which of course was at the very top of the town. So in the car he goes and after a few destras (right) and semper doritos (straight ahead) we found the square. He then tried, quite persistently we must say, to have us join him for a drink but unfortunately we had to find our place. It was only after indicating we had to sleep (head on folded hands) were we able to continue on our way.
Our home for the next two nights is the Castello di Razzano, a 300 year old castle that is now the home of a significant wine operation, with cellars to tour, a wine museum and an extensive bottega. The accommodations and grounds reminded us of the paradors in Spain. The only thing missing was a restaurant. We ended up driving 10 km to the town of Castell 'Alfero where we found one of the two suggested restaurants on the cobble-stoned square at the very top of the town. It was warm enough to eat outside in front of a beautifully lit church. A glass each of Asti Spumanti and some excellent pasta made for a very nice meal.
I had to take one last picture before leaving Uliveto Nel Parco.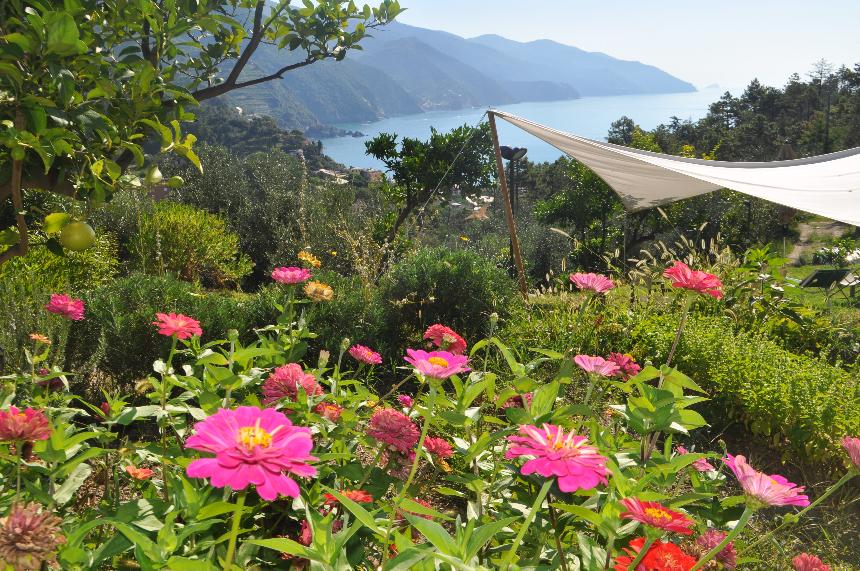 As we approached Acqui Terme and Asti vineyards became more prevalent as we wentered the Barbara d'Asti and Barola regions.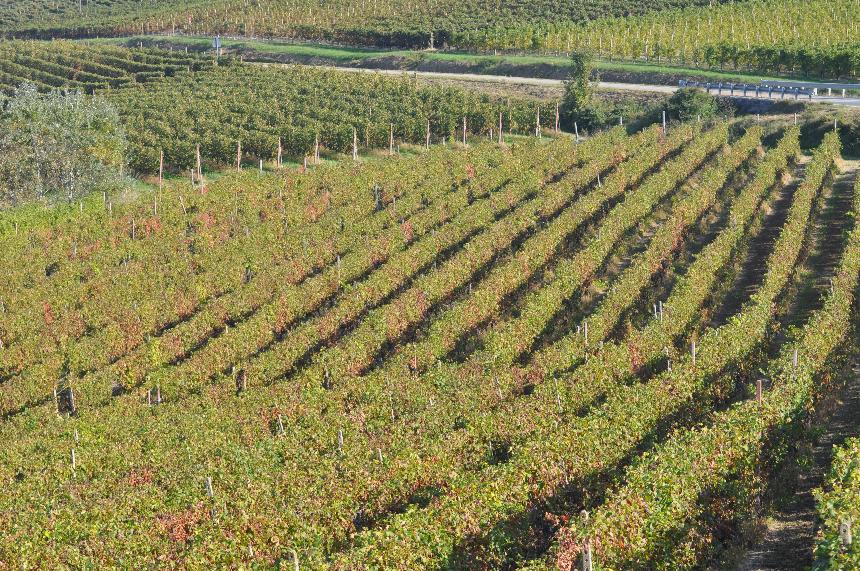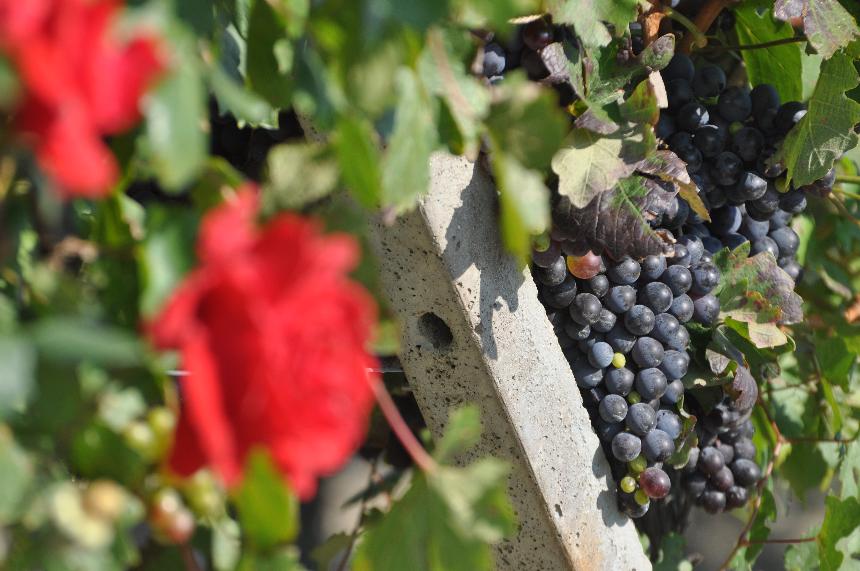 The elderly Italian gentleman who hitched a ride with us to the square in Tonca.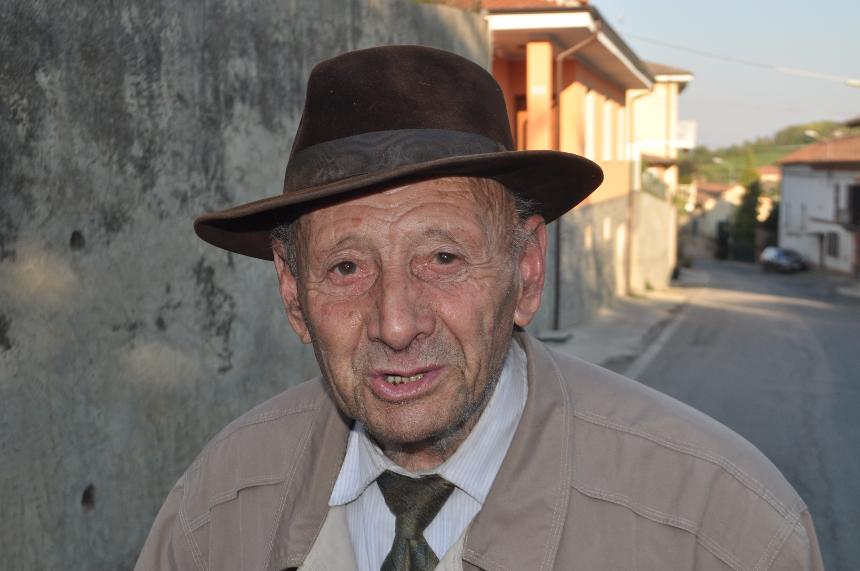 A couple of sunset photos from the Castello di Razzano.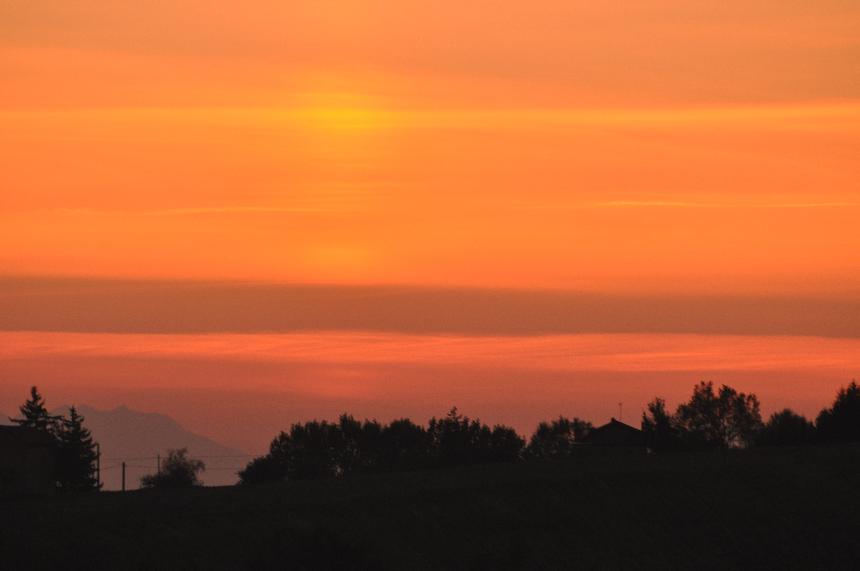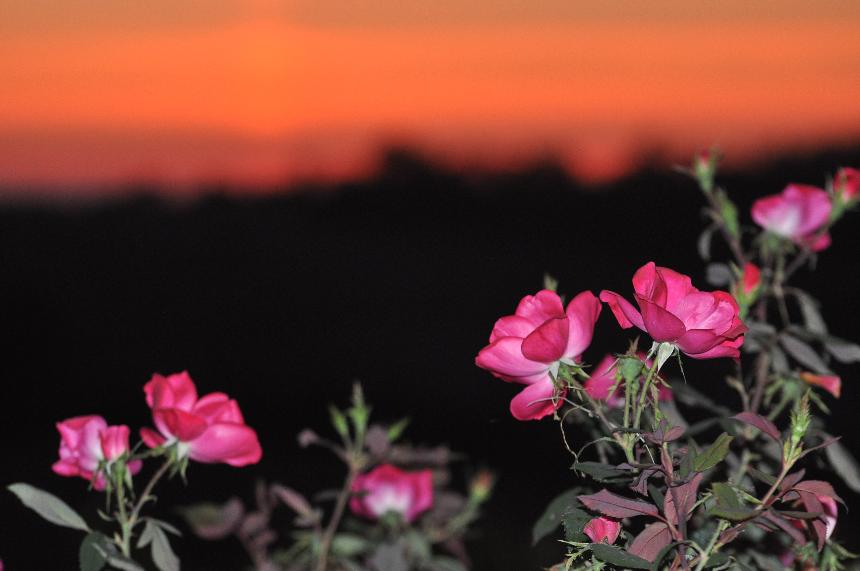 The church at night in Castell 'Alfero.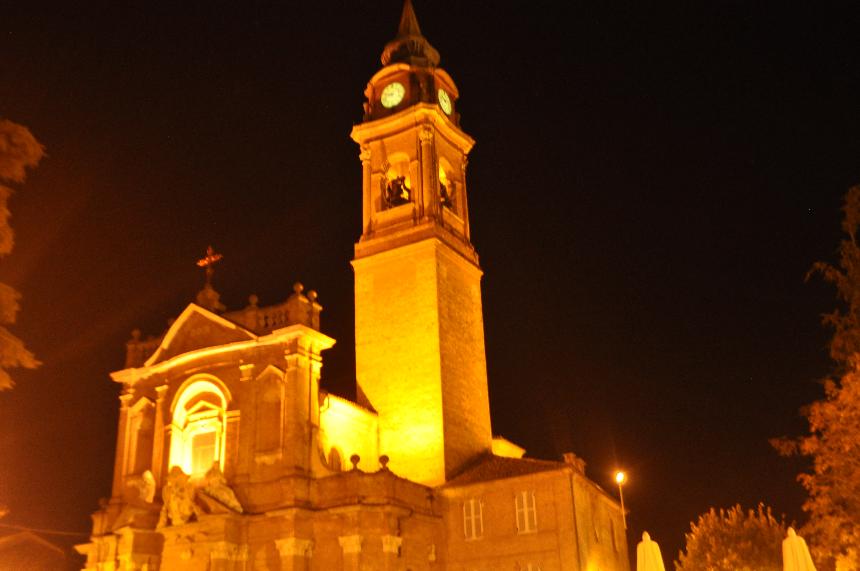 Sunday, September 22, 2013 - Uliveto Nel Parco (Monterosso) and nowhere else
Today was our do nothing day and what a great day it was. After a late breakfast that included a very nice chat with a wonderful Australian couple Paul and Sue we spent the rest of the day just lounging around - in part due to being a tad sore from our hike yesterday but mostly just because ... I updated the blog; Gayle read; we swung in the hammocks and just stared out along the coast. We had a glass of wine, and then stared out along the coast some more. It was great. A beautiful sunny day, nice temperature ... perfect.
Tommy again cooked dinner for his guests tonight. In addition to Paul and Sue two newlyweds - Jennifer and Matthew arrived today. They are from the village, or I mean town, or really city of Swindon, England (population not 50,000 as one resident believed but rather 240,000 as another resident estimated, quite correctly - sorry Matthew). Married all of one week they were enjoying their honeymoon. After moving the tables together (thanks Paul) we enjoyed a great time with lots of laughs. After toasting the newlyweds and realizing we were re all from the Commonwealth we then toasted the Queen. Now when was the last time you did that? The meal was again delicious, starting with a tomato tagliatelle, then a selection of vegetable tarts etc. and of course a fresh fish. Dessert was a chocolate cake filled with hot chocolate sauce courtesy of Elena. Pregnancy is certainly not interfering with her ability to contribute to an excellent meal - both Tommy and Elena are wonderful cooks. Tommy again brought out his liquers for a nice finish to the evening.
Another wonderful and very filling breakfast.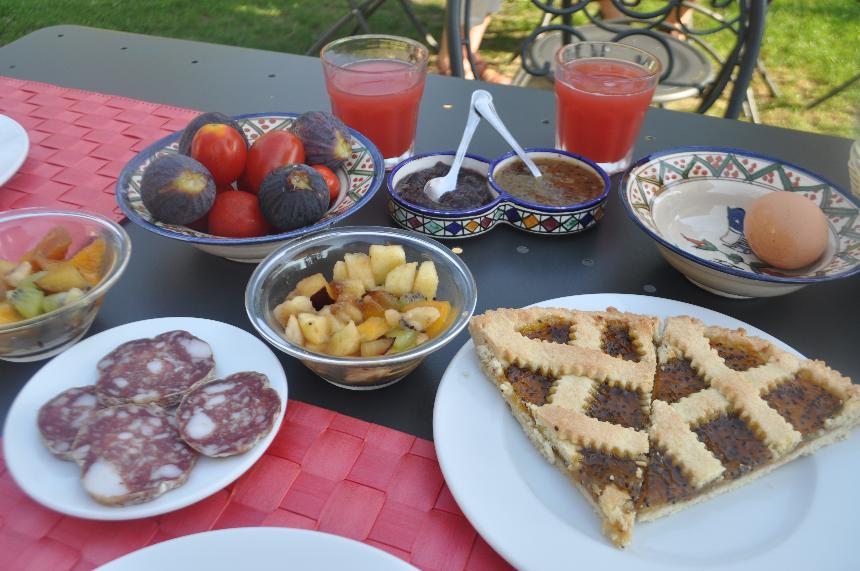 A couple of views of Uliveto Nel Parco - first up to the mountains and then down to the sea.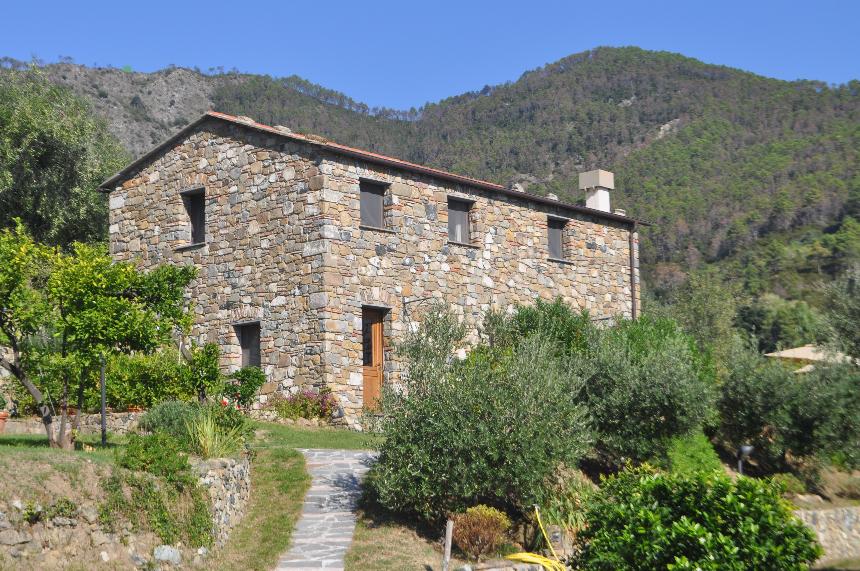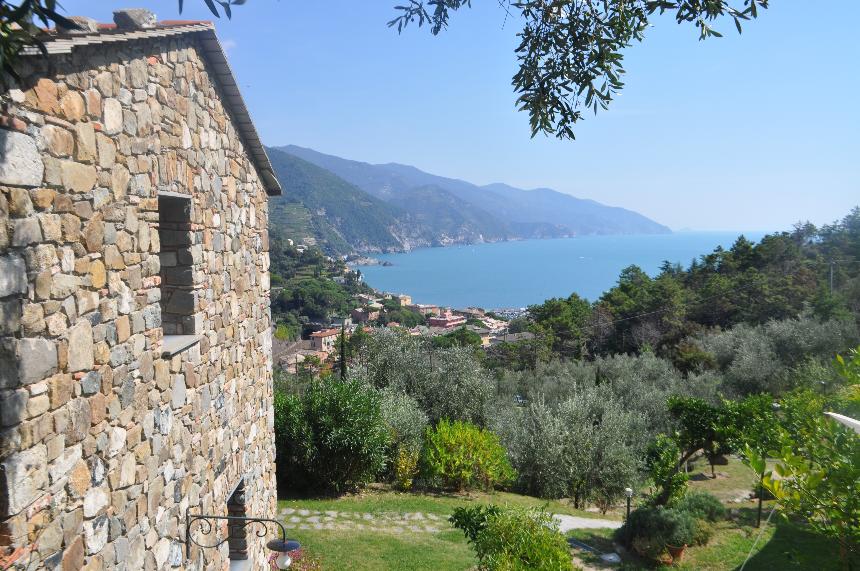 Can an afternoon in the warm sun enjoying this view be much better? Answer ... no!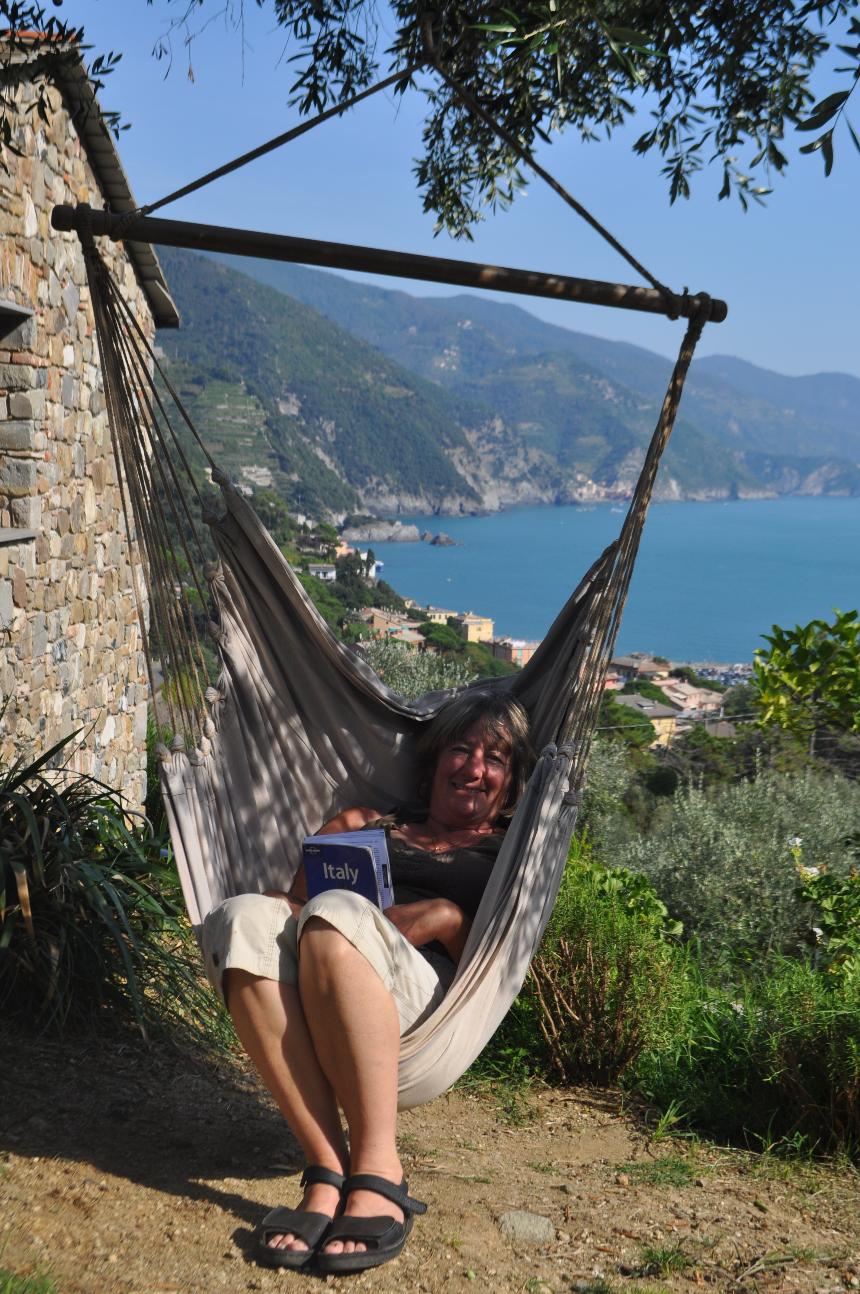 The nice vegetarian portion of dinner - a bean square; a pumpkin something and stewed peppers.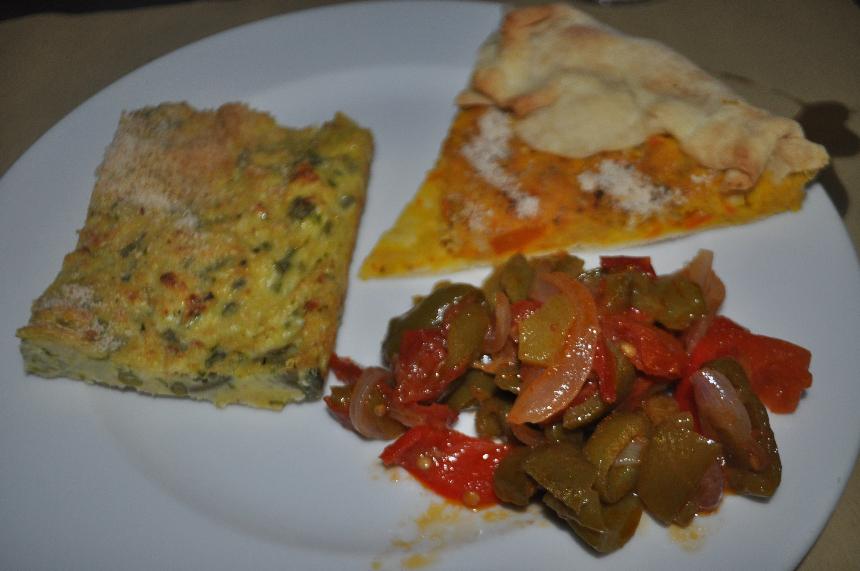 Saturday, September 21, 2013 - Monterosso to Manarola to Vernazza and a hike back to Monterosso
Today was our active, busy day. It started by taking the train (virtually enitrely through tunnels) from Monterosso to Manarola. Where friends had stayed in and fell in love with Manarola we had to visit. We walked throughout the town including a very short way on the path to Corniglia, a trail that is now closed after the landslides of 2011. The town is every bit as picturesque as described with tall, narrow multi-coloured buildings. Having some time before the ferry left for Vernazza we had a light lunch at a restaurant near the harbour. What attracted me to this particular place was the grilled octopus - which turned out to be ok, but not as great as I had hoped for. Gayle on the other hand very much enjoyed her simple yet tasty spaghetti with pomodori and cheese.
After lunch we took a very crowded ferry past Corniglia (the Cinque Terre town perched on a hill at which the ferry does not stop - only the train) to Vernazza, perhaps the prettiest of the five towns. As with each town it is very easy to walk the length in a short time. After having done so, past a number of shops, restaurants etc. we began the hike along the coast to Monterosso-al-Mare, considered the most difficult and longest (1 hr 45 min) of the hikes that connect the towns. The first half hour was essentially straight up, along what was sometimes a very narrow path over rock steps, often proving to be difficult for two to pass. Up and up and up - I kept hoping after every turn it would end but up it continued. About 20 minutes in we passed a home destroyed by the floods/landslides of 2011. Tommy told us three people died - that it was quite scarry. Tommy also told us that each year there are helicopter rescues of those who have fallen down the cliff side from the 'path', with occasional fatalities.
The walk was quite crowded with a few dogs, the elderly (including a French group of obvious hikers who appeared to be in their 70s) and a young couple with their infant children in carriers on their backs. The central section high up on the cliffs provides spectacular panoramic views of the sea and coastline was somewhat flatter. Unfortunately photos can't properly capture the sense of height and the experience although I do try with one below.
As we started to descend we were concerned it would be even more difficult with the uneven stones but fortunatly the last section was primarily a set of flat stone stairs. It was still difficult given the significant drop between steps but not nearly as bad as we expect it would be if descending into Vernazza. The other 'win' near the end was this fellow who set up a limoncello / lemonade stand. Quite the character he was selling his home made limoncello ("The best in Italy ... fresh with both lemon and orange peel") for 5 euros a bottle and ice cold refreshing lemonade for 2.5 euros. We don't know how difficult it is for him to get his supplies up to his business premises aka hut, but the concept is absolutly brilliant.
Including the limoncello / lemonade stop the hike took us two hours. We congratulated our achievement with a stop of some wine at a restaurant with a great view overlooking the glistening blue sea. Unfortunately the restuarant where we wanted to eat was fully booked for dinner so we bought some foccacias (one with tomatos and cheese and the other spinach) and a local nut dessert - and again had a light meal at our B&B on the hilll overlooking the Cinque Terre ... magical. After the most rigorous exercise we've had in years we slept very well.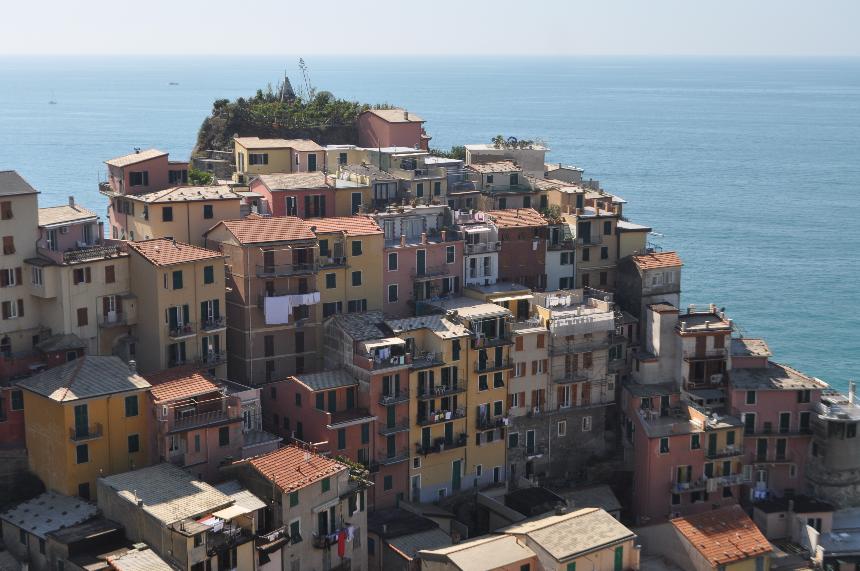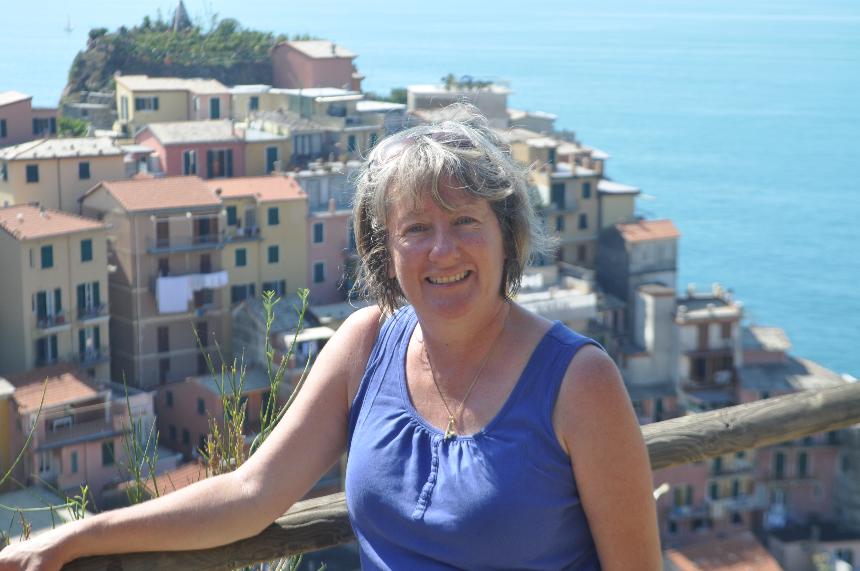 A few boats tied up near Manarola.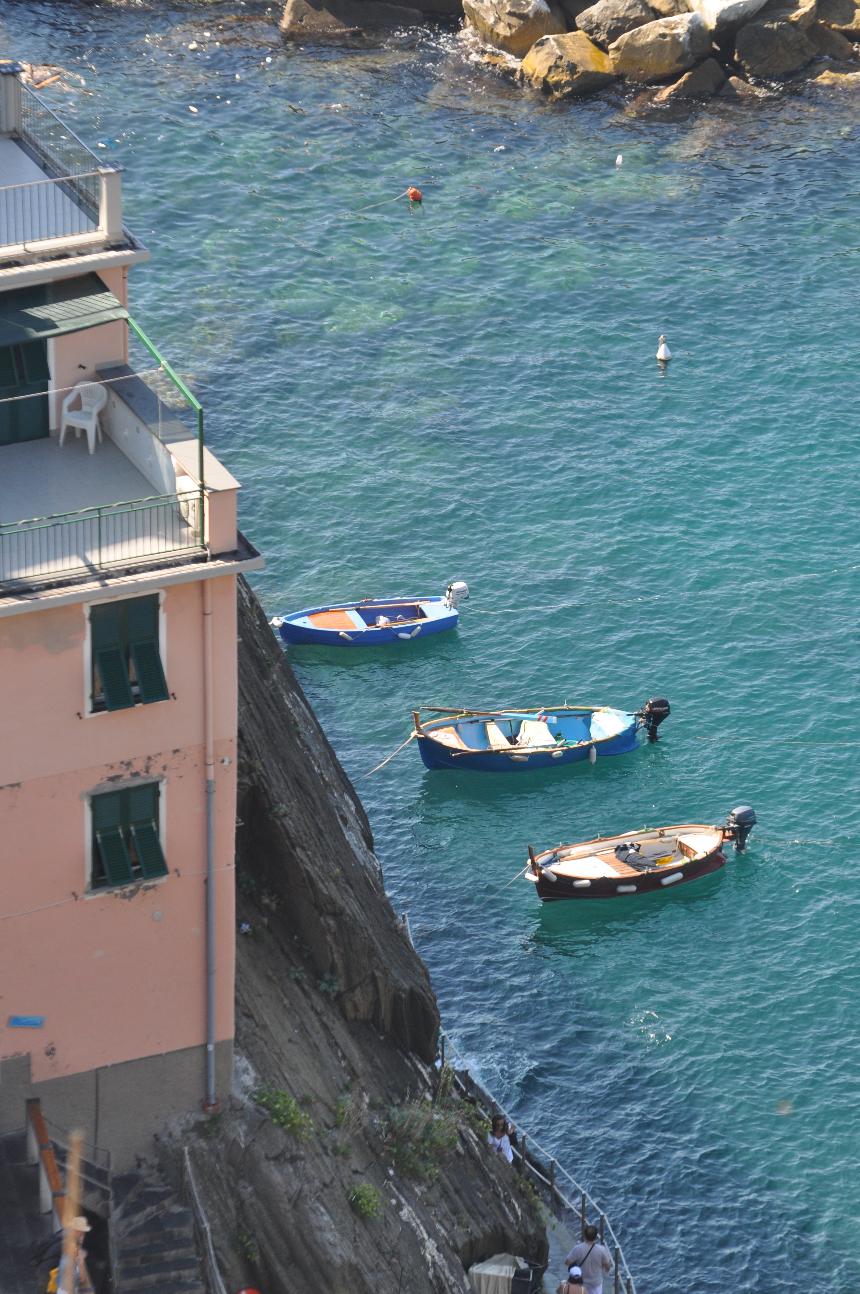 Grape harvest in Manarola.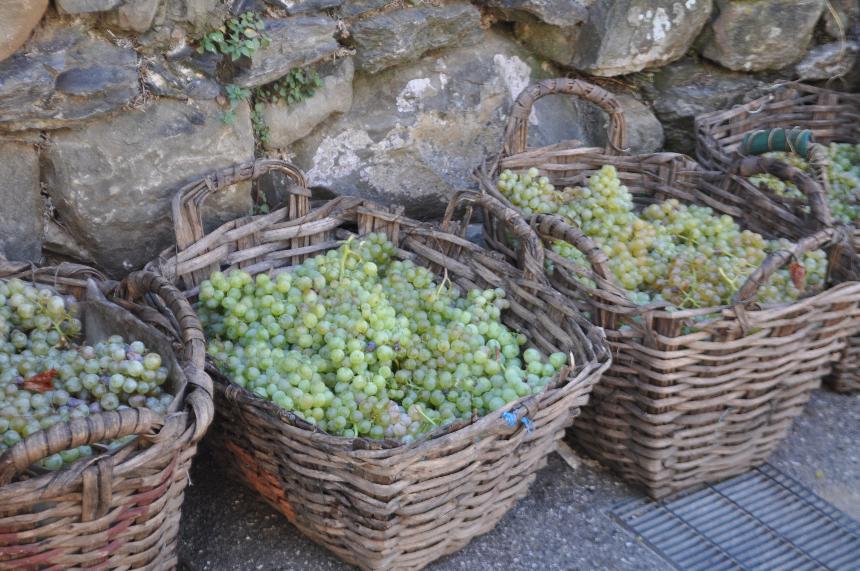 Grilled octopus for lunch.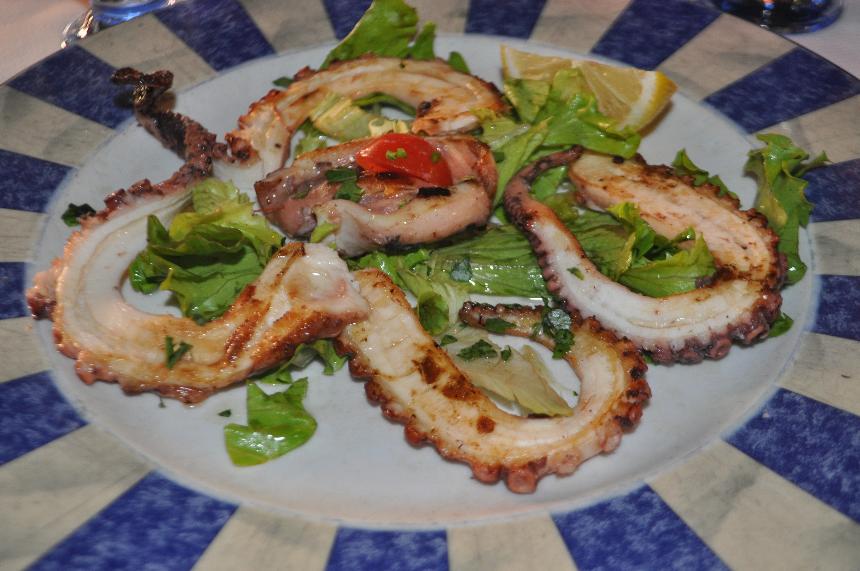 Corniglia, the smallest of the Cinque Terre towns, set high on a bluff as seen from the ferry.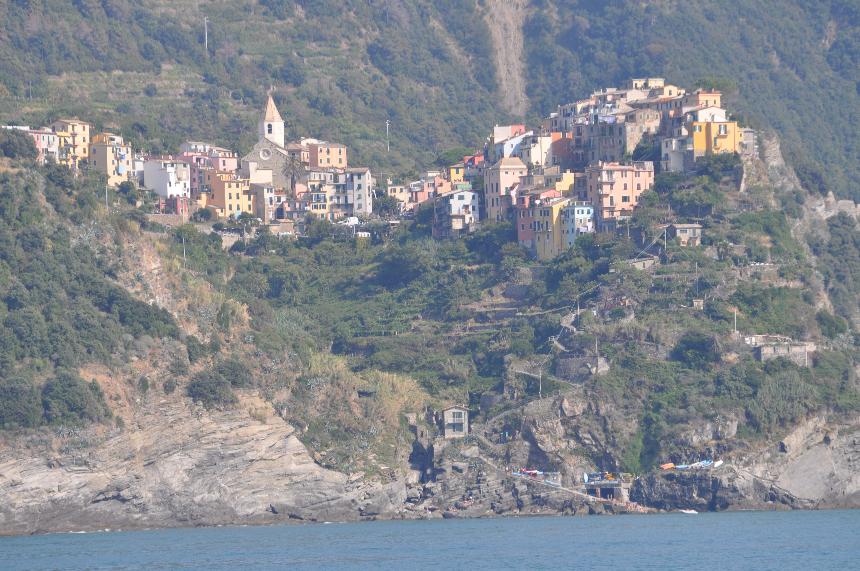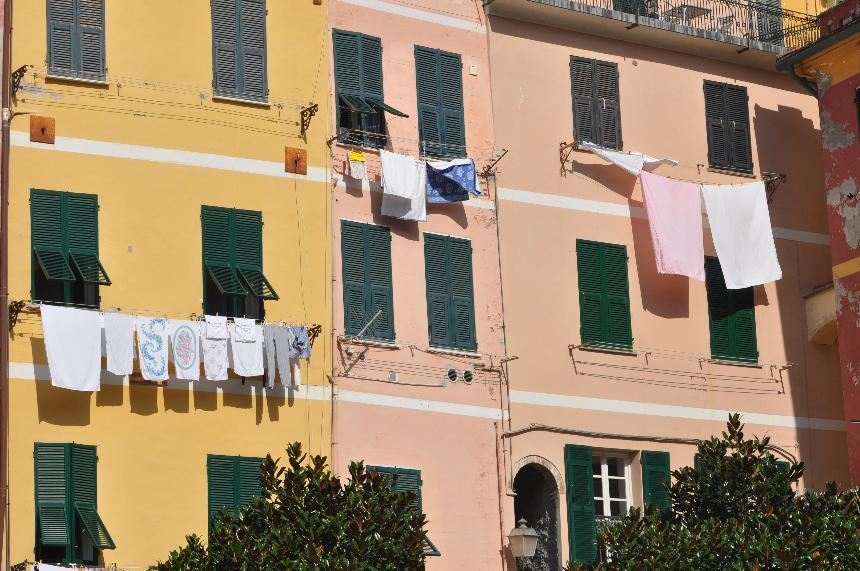 The postcard perfect Vernezza as seen from the trail to Monterosso.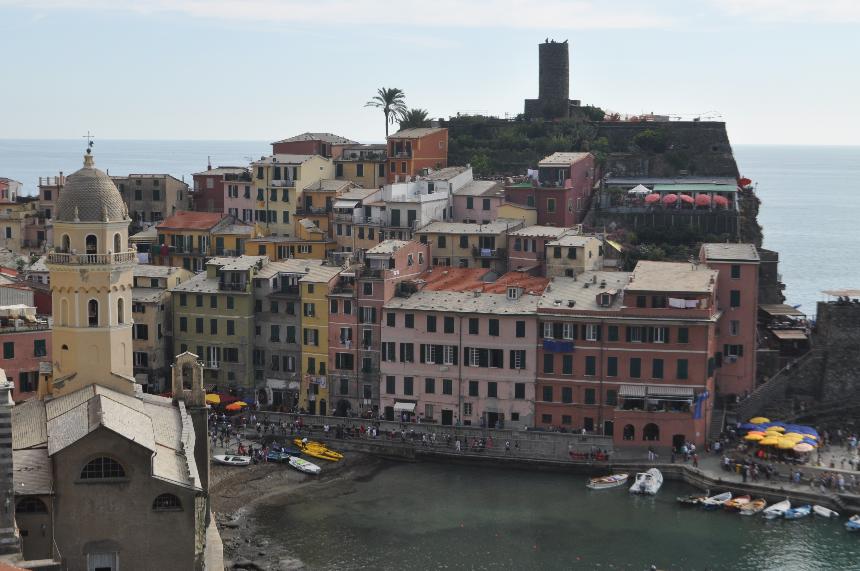 The remnants of a home destroyed by the floods / landslide of 2011.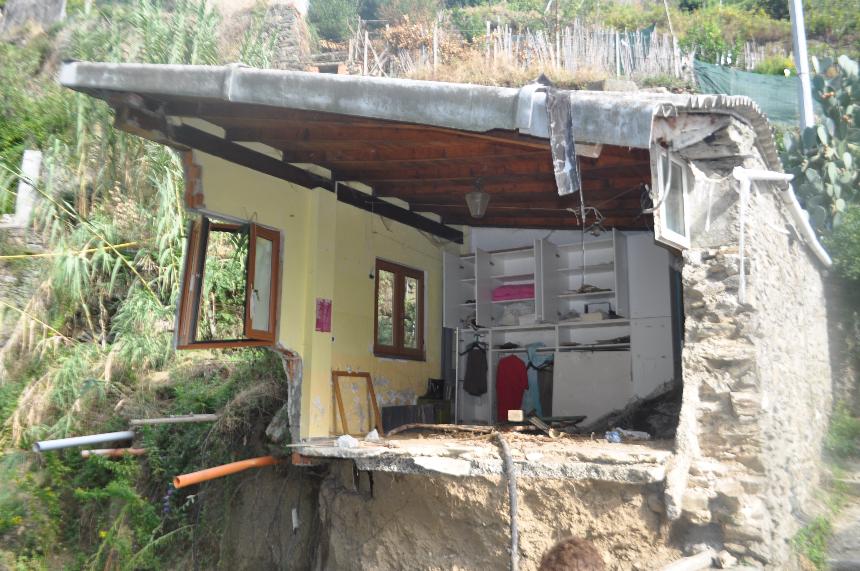 High up on the trail from Vernazza to Monterosso - looking out to the sea and north to Monterosso.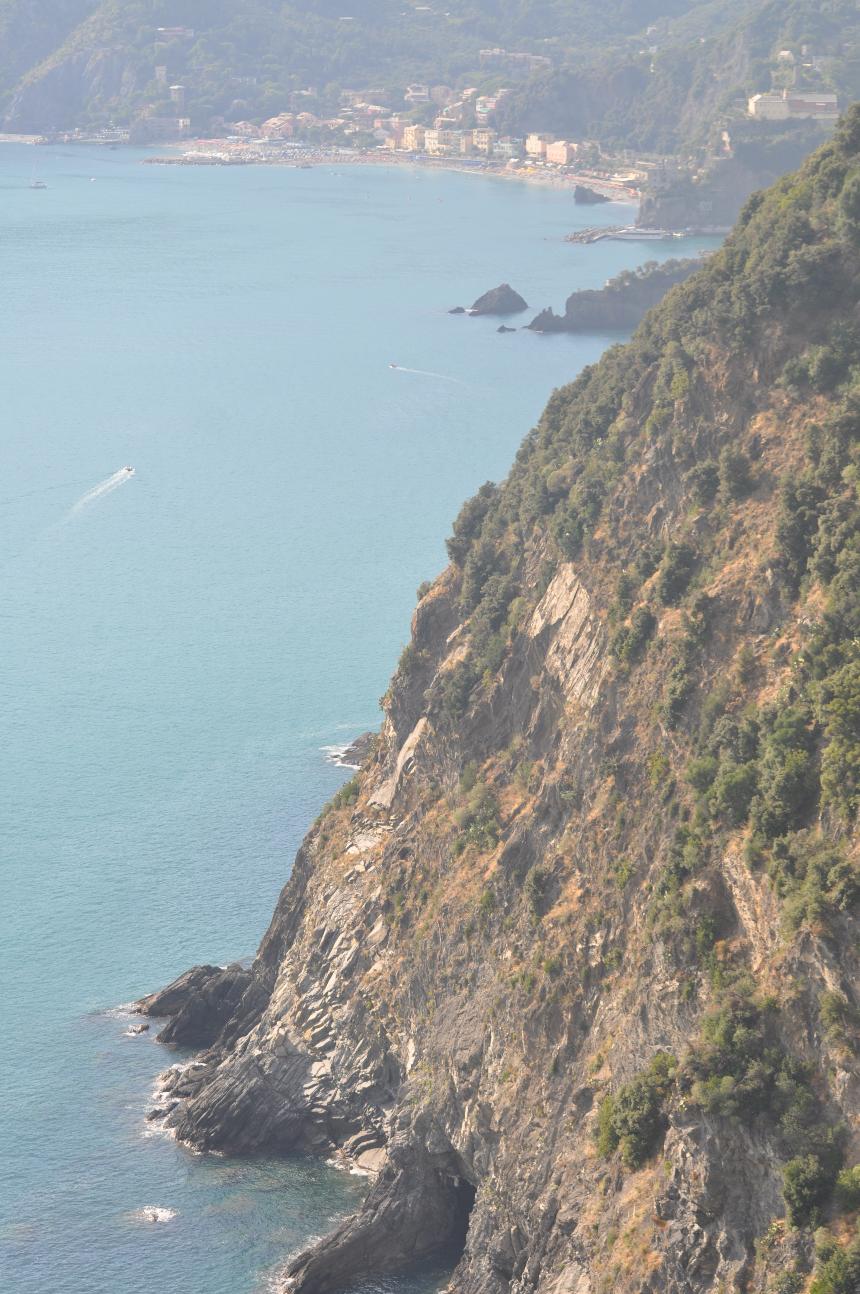 Clearly the Italian entrepreneur of the year!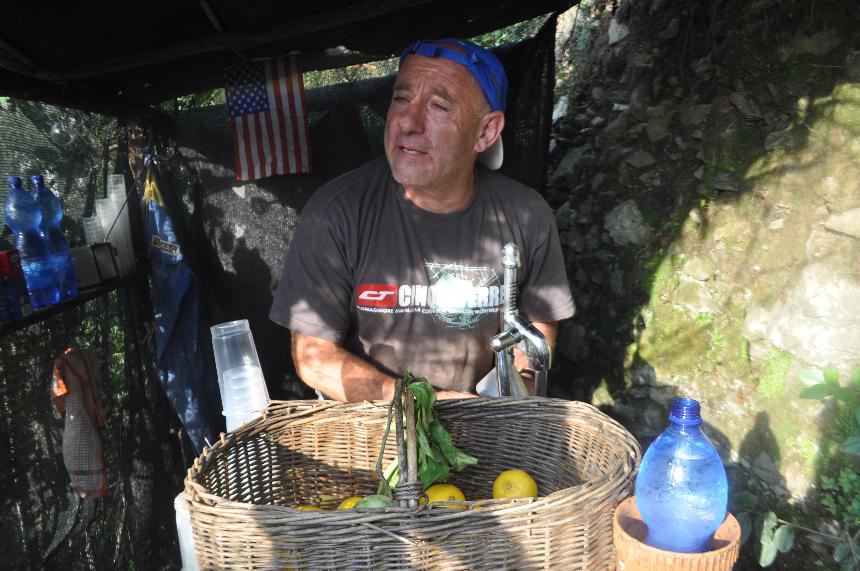 He didn't say I was suppossed to drink the limoncello slowly did he?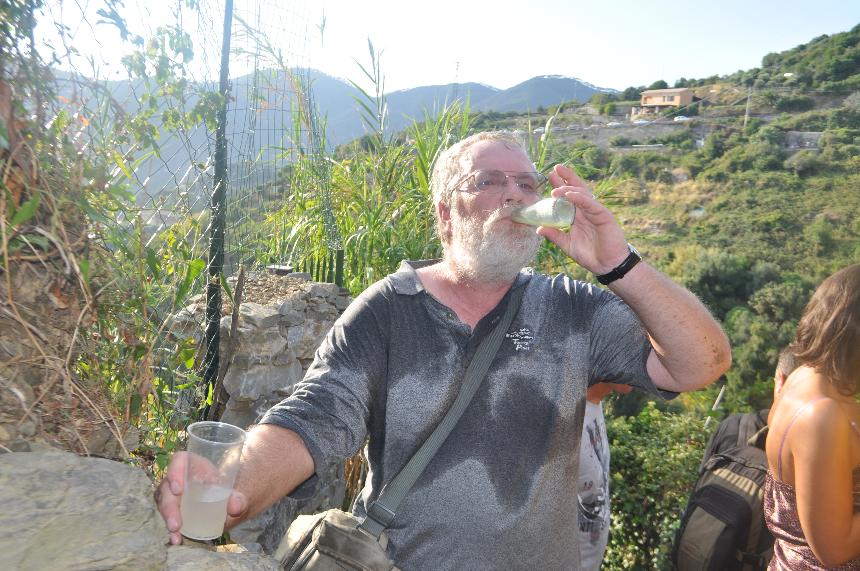 Gayle looking pretty darn good at the end of the walk.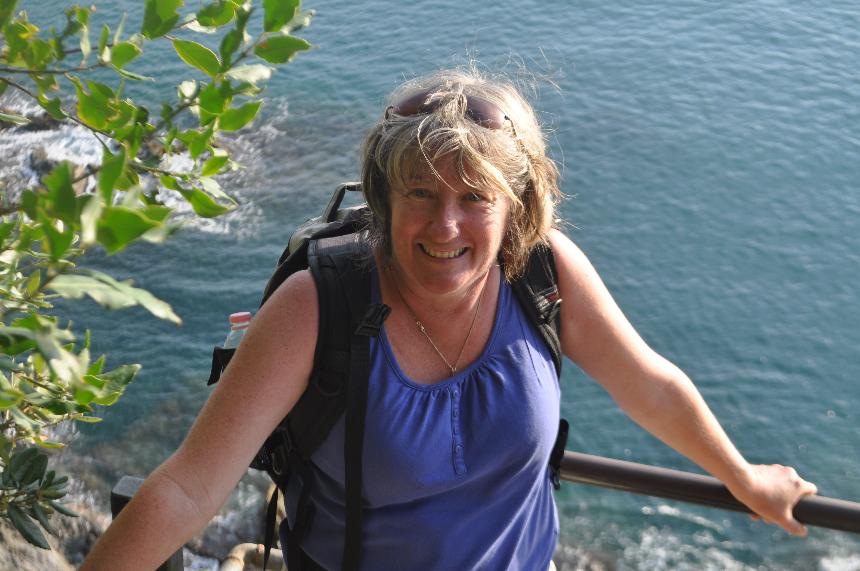 Friday, September 20, 2013 - Monterosso (Cinque Terre)
Another morning and another extensive breakfast - fresh fruit, natural yoghurt, great coffee, juice, bread, cookies, a tart, jams, eggs, tomatoes and figs ... returning to only coffee and toast is going to seem strange when we return home.
Tommy showed us the path - in places somewhat steep - down to the town. We took our time strolling about, watching the many enjoying the sun on the beach and generally just people watching. For such a small town it was quite crowded with people wandering up and down the promenade, eating or drinking at the restaurants and bars etc.
One has to pass through a tunnel in the rocks to cross over to the old town where there are a many more restaurants and a few shops. After some window shopping we ended up mid-afternoon at a restaurant with a fantastic outdoor sitting area overlooking the sea. We enjoyed a couple of glasses of very nice white wine, made in this area - with Gayle having a pasta called 'trophie' with a pesto sauce and me an excellent plate of spaghetti with seafood - after all we are on the sea. A very nice lunch with good food, nice wine and a spectacular vista.
Having finished eating at 4:30 we knew we weren't going to have dinner but probably would be a bit hungry later so bought some cheese and olives along with some bread and water and lugged them up the hill to have with a bottle of wine and some salami we had from previously. The ascent earned us the right to add a few calories with our 'picnic' dinner.
The coastline is no less stunning as seen from our breakfast table in the morning.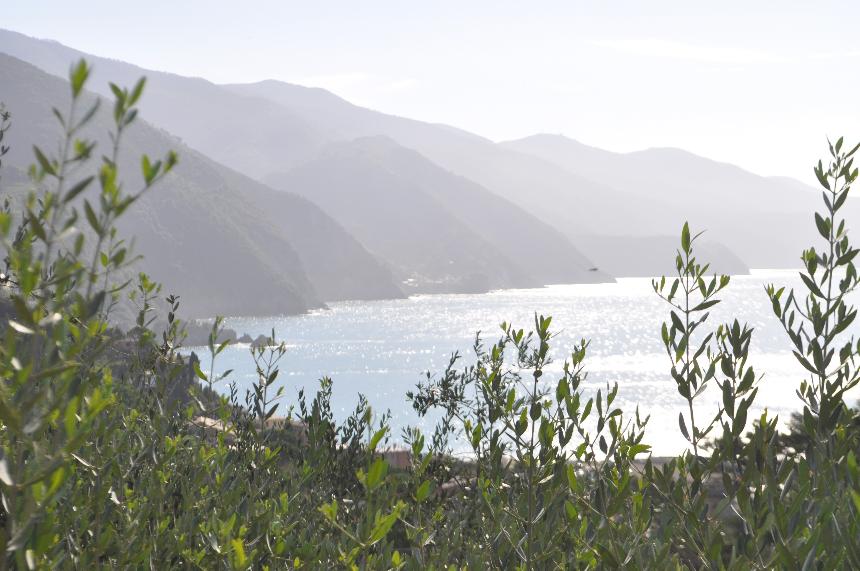 Yet another wonderful agroturismo breakfast - this time with quite tasty fresch figs picked 15 ft from our breakfast table.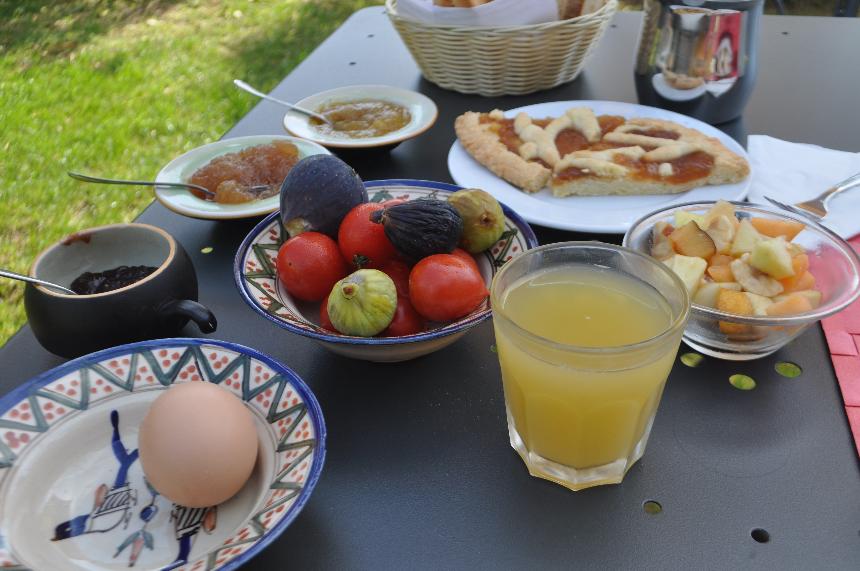 A number of photos of the promenade, beach and sun worshipers here in Monterosso-al-Mare.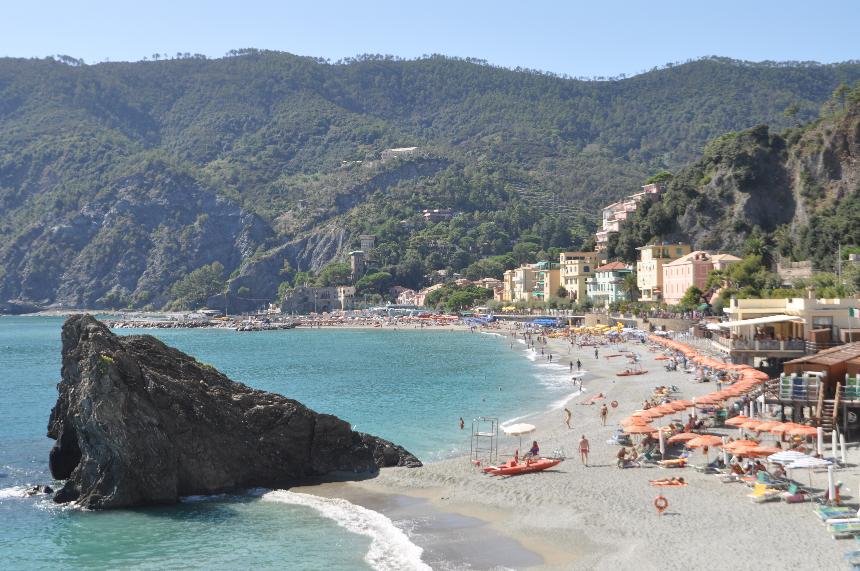 Even in the latter half of September, with warm (upper 20s) temperatures the beaches are reasonably crowded.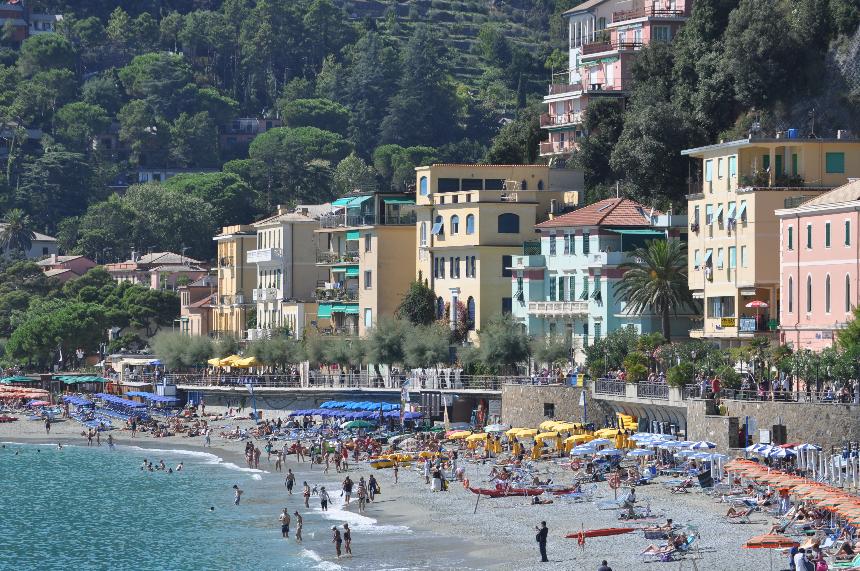 Being on the sea the perfect marriage of pasta and seafood - spaghetti with clams, mussels, prawns and calamari.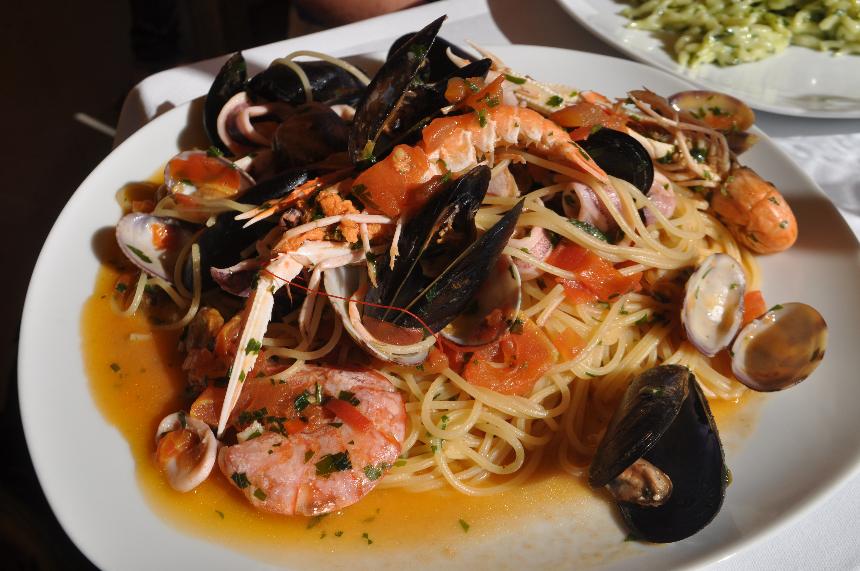 In Monterosso with the Mediterranean sea as a backdrop.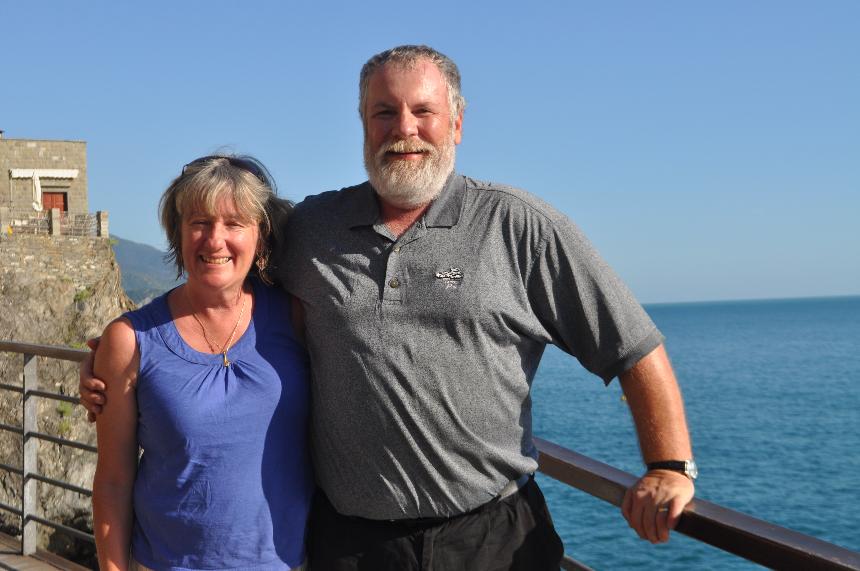 Thursday, September 19, 2013 - Radda in Chianti to Monterosso via Firenze, Lucca and La Spezia
After four nights in the Chianti area it was regrettably time to move on. In retrospect we could have spent another night or two here. After having Benedetta show us one of the apartments (friends will be in Italy next year and are looking for cooking facilities) we said our good-byes and headed out, although initially not far as we stopped in Castellina in Chianti where we bought some pottery.
Being later than we had planned (what else is new?) we skipped Panzano and started our drive north-west, first past Firenze and Empoli - a town Mike and I stayed in many years ago while cycling through Italy. Then it was over near Lucca, a walled town everyone recommends (next time) one visits and then rather than via the autostrada we took the smaller roads through the mountains. Very scenic altough again we were caught behind a truck for some time - impossible to pass on the narrow twisty mountain roads. We did stop at a small shop in some small village to pick up a little ham, cheese and a potato pie to tide us over until supper.
In order to get the road north to Genoa one has to drive through parts of La Spezia. Not the easiest to navigate but somehow we made it through and found the right road north. However we weren't done. The road to Levanto steeply climbs a mountain from which one takes an even smaller road to descend to Monterosso, the last of the Cinque Terre towns. After a number of wrong turns and dead ends we found the gate and called Tommy to meet us and lead us up to Agriturismo Uliveto nel Parco (www.ulivetonelparco.it). Set well up the hill this three unit agriturismo has a spectacular view down the entire Cinque Terre coastline. Although there is a photo below it comes nowhere close to presenting the view we have, particularly from our second floor bedroom windows.
Tommy, and his wife Elena, who is expecting their first child in two weeks, run this family property. This night Tommy was providing a meal for us, a couple from Arizona and a mother/daughter from Oregon. The meal lived up to the great reviews provided on TripAdvisor with a hearty minestrone soup, a nice plate of vegetables including a very tasty pepper stuffed with olives, and for me a fresh fish (Tommy is also a fisherman). Liz and her mom shared a bottle of grappa, Tommy's father wandered by and started telling stories, Tommy brought out some home-made liquers (pomegranate, rose petal, mirto and erba luisa of the verbena family (the latter two being herbs)) and well we had another night that stretched out until midnight. This travelling is tiring :-).
An attractive window at Fattoria Poggerino.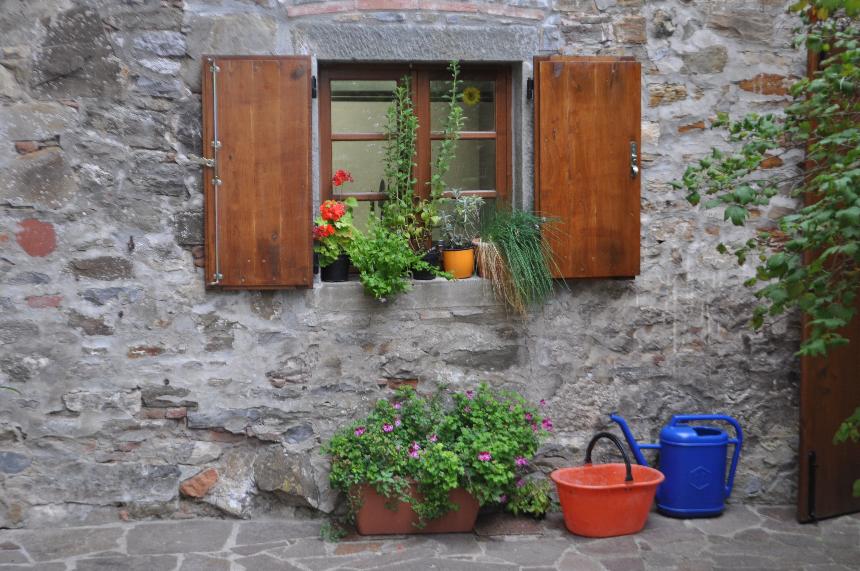 Like Cara last night Benedetta was hesitant to have her picture taken. Not sure why as both take very nice photos.
The symbol or logo for Chianti wine is a black rooster. Here is the real thing at Fattoria Poggerino.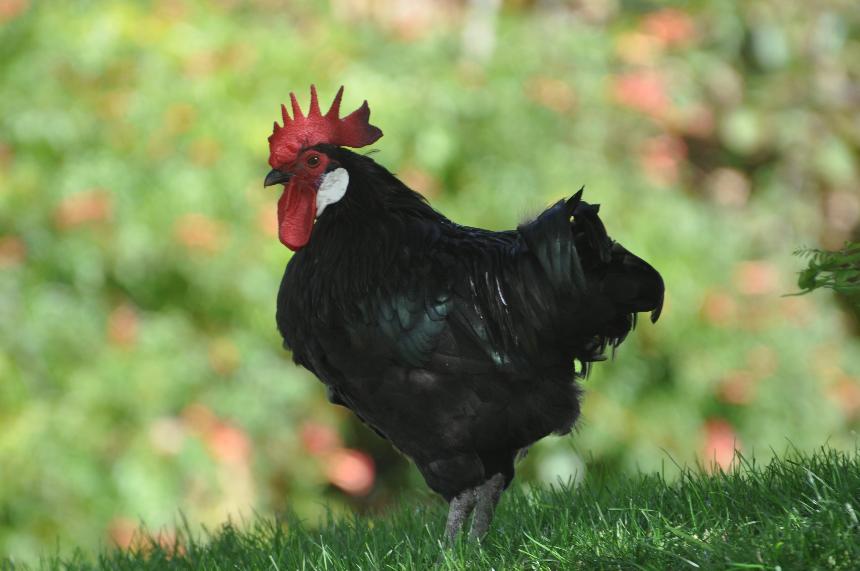 Hams in a shop in Castellina in Chianti.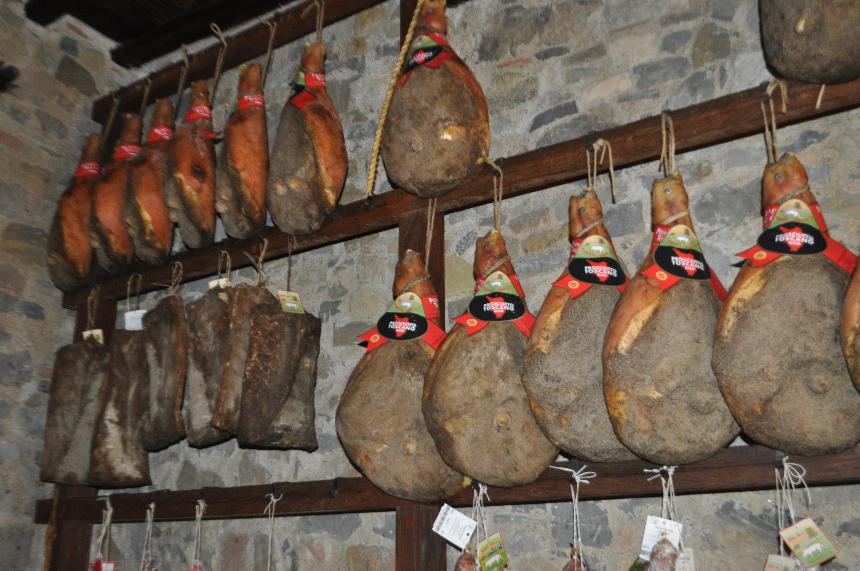 ... and yet more Tuscan countryside - for us it never gets old.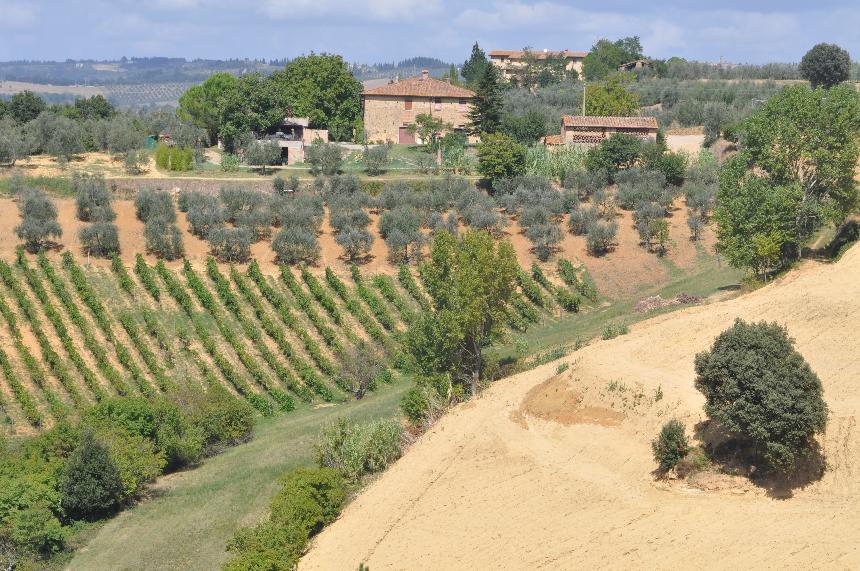 A church in the mountains driving from Lucca to La Spezia.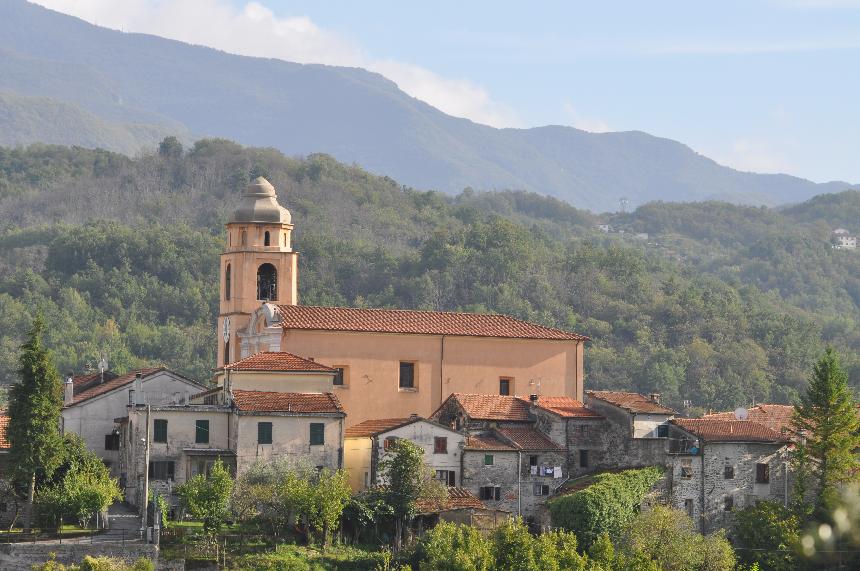 The view from our room down the Cinque Terre coastline - first impressions are pretty darn good.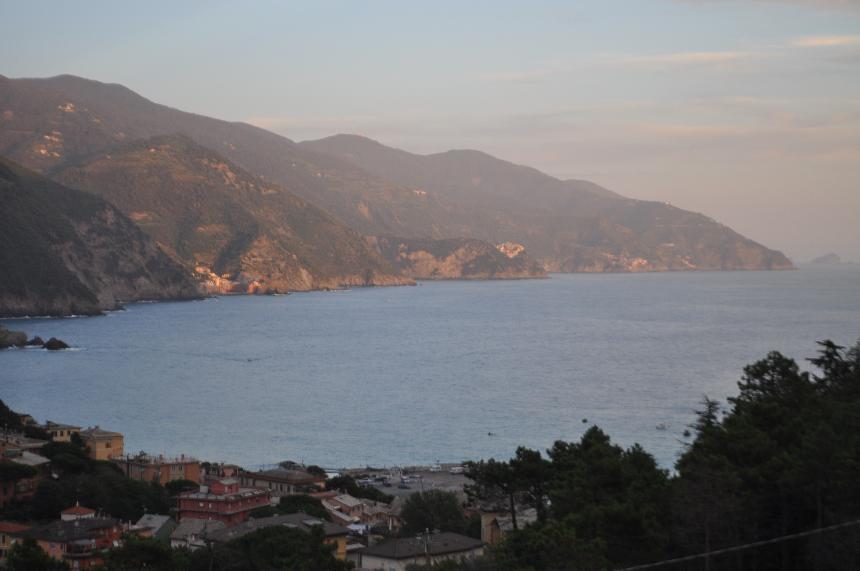 The antipasto plate including an especially tasty pepper stuffed with olives.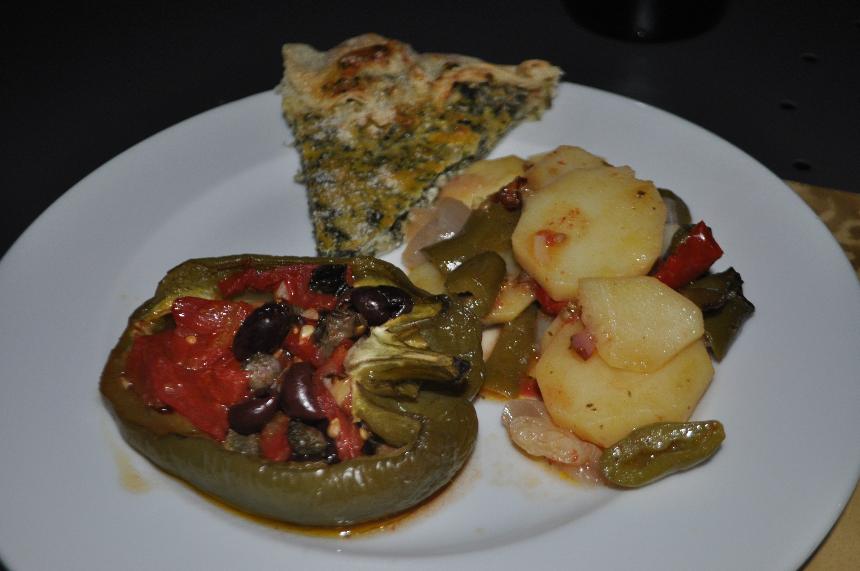 Tommy is a fisherman. Dinner includes a fish, in this case a moremma (sp?) of the bream family.
Wednesday, September 18, 2013 - Radda in Chianti to Sienna; afternoon at Fattoria Poggerino
During our previous trip while we drove by we did not actually go in to Sienna, a city that is generally accepted to have the most impressive central square in Italy, one where annual horse races continue to take place to this day. We've seen numerous videos of the square so decided this time to drive the 45 minutes and visit. We're glad we did. First the drive from Radda through Castellina to Sienna is very picturesque through the rolling Chianti hillside - vineyards and olive groves throughout the countryside.
We parked outside the Porta Roman, one of the gates that provides entrance to this walled city. Vehicle traffic within the walls is significantly limited providing for a nice walk in to the city centre. After a stroll past numerous pizzerias, restuarants (including a number of foreign - Turkish, Indian and Mexican for example) we turned a corner, walked through a narrow alleyway to an expansive square, surrounded by attractive buildings and the tower as the focal point. While on the one hand there were more people than we had experienced the entire trip, the square was so large parts still seemed vacant. The neat thing about Il Campo is that it is not flat but rather a sort of an off centred bowl - very impressive indeed.
Having driven quite a bit through Tuscany we decided to spend the afternoon at the farm, returning around 3:30 pm. The sun was out for a few hours providing for an enjoyable quiet afternoon. Just before leaving for dinner Frank and Cara, two Americans we met at the farm dinner returned from the Academmia Buon Gusto, which we had also recommended to them. They loved the place, having had quite the expereince with a group of Egyptians (who they said at some point while dancing around the table invited them to dinner in Florence - they passed). As they were eating at the same restaurant as us we all ate together, enjoying a nice evening sharing stories. This is exactly why we so much enjoy these smaller personal stops - places where when you meet someone, for example over dinner the opportunity sometimes presents itself to pass on recommendations and/or share experiences. The meal, like the previous night was somewhat more refined than would be our preference but enjoyable just the same, especially the tirimasu Gayle had for dessert. A somewhat loud but very enjoyable evening.
Walking in to Sienna from the Porta Romana to the city centre.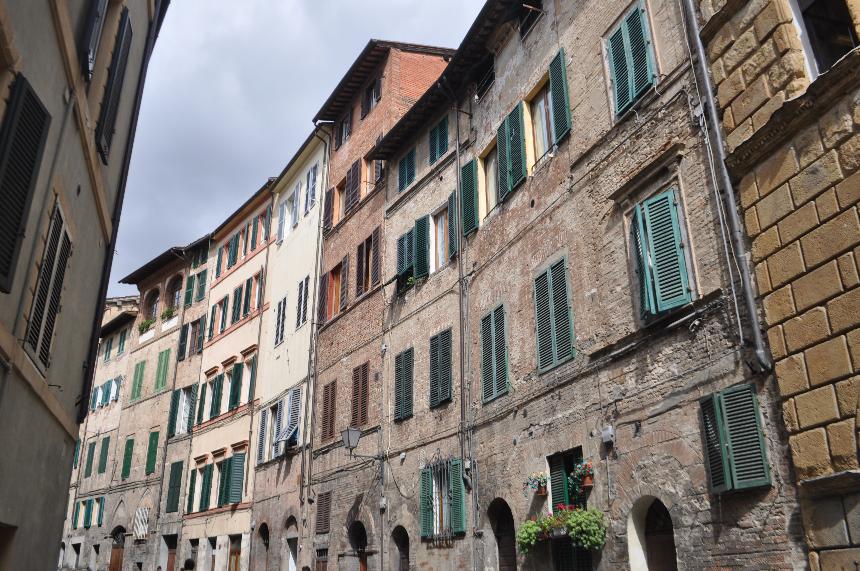 The next few photos are in and around Il Campo, the central square of Sienna, still the site for annual horse races. Very impressive.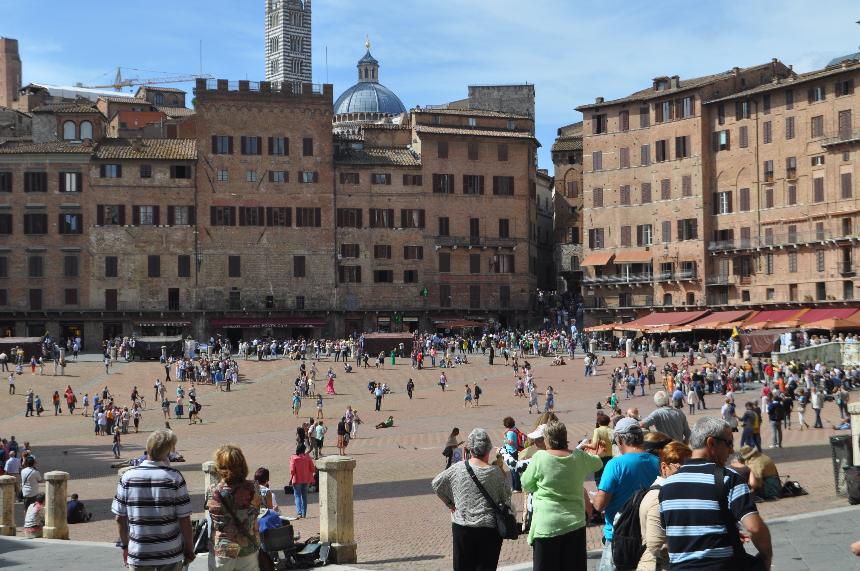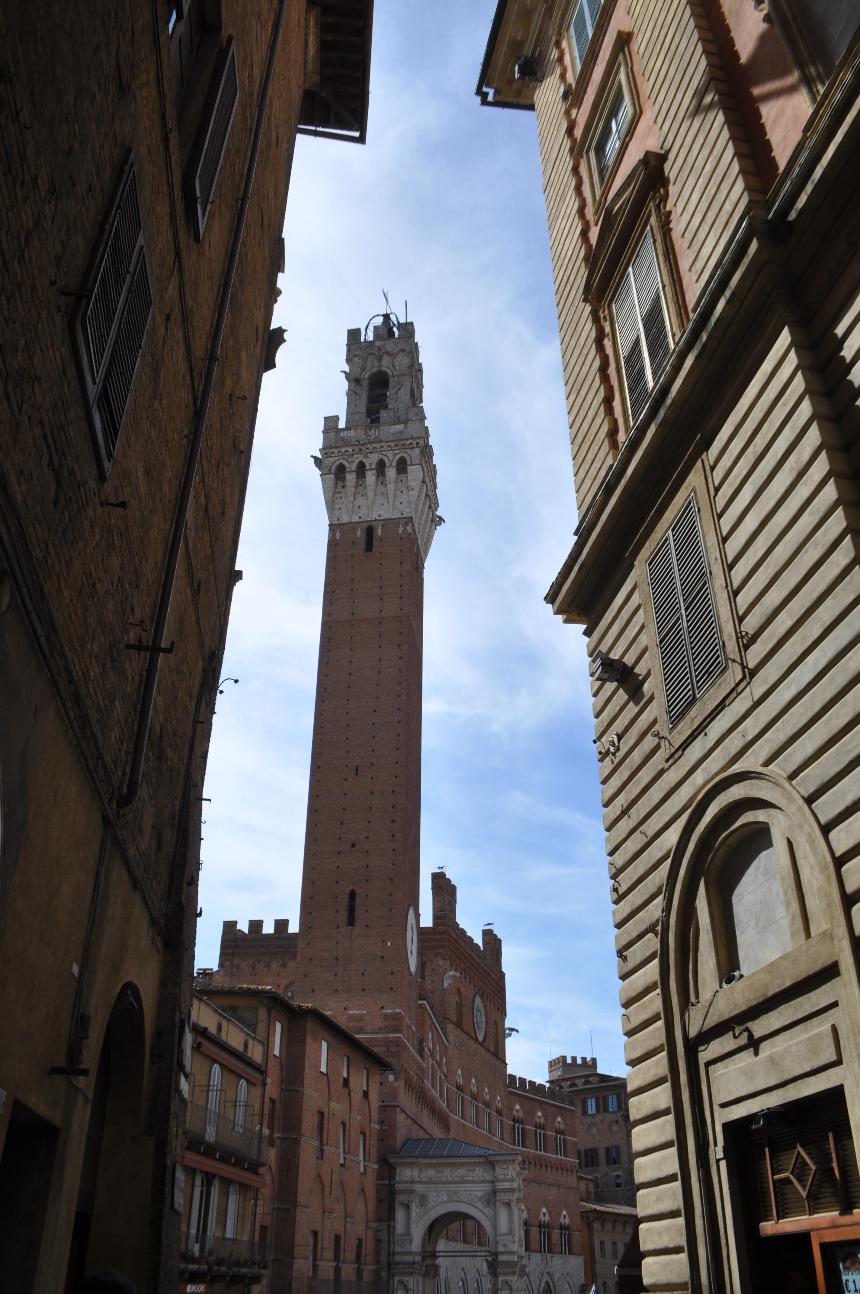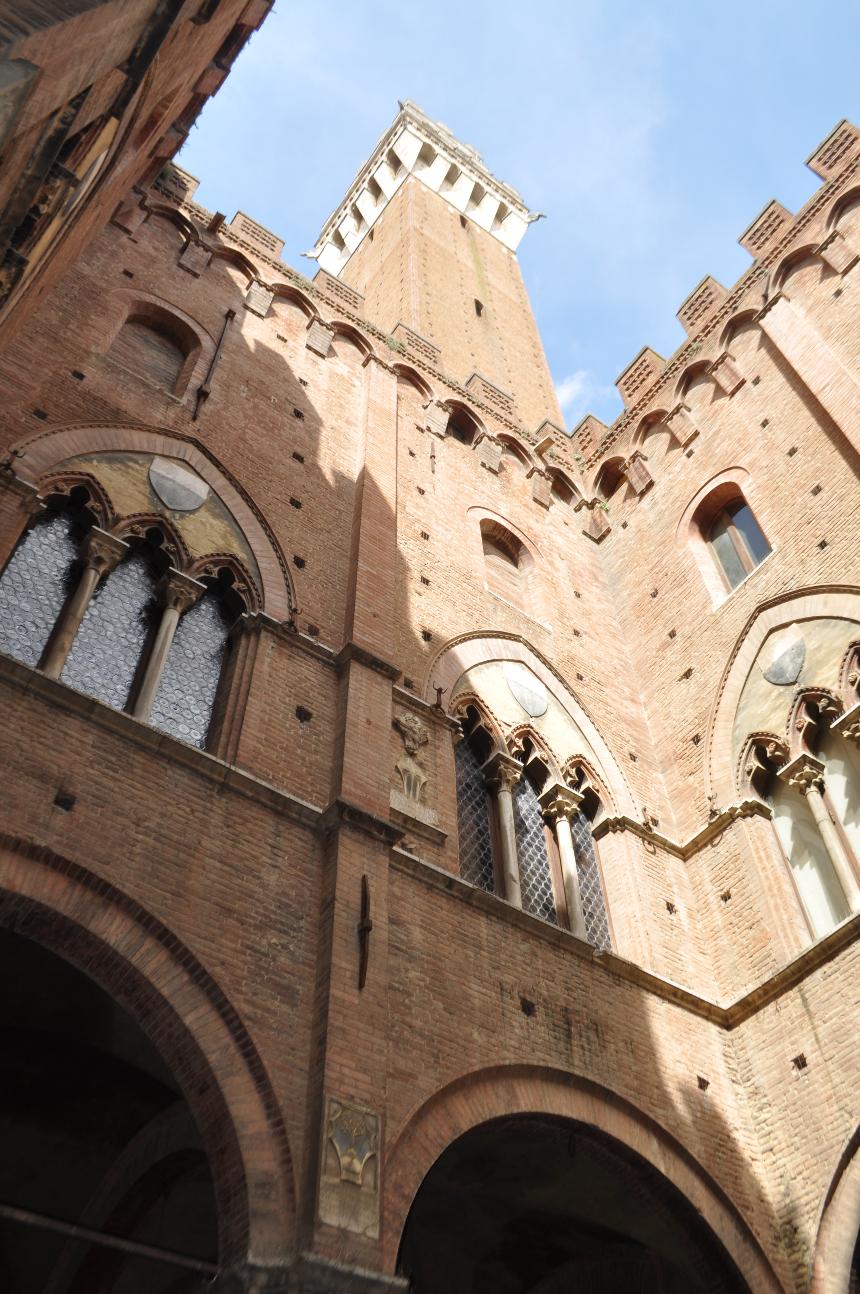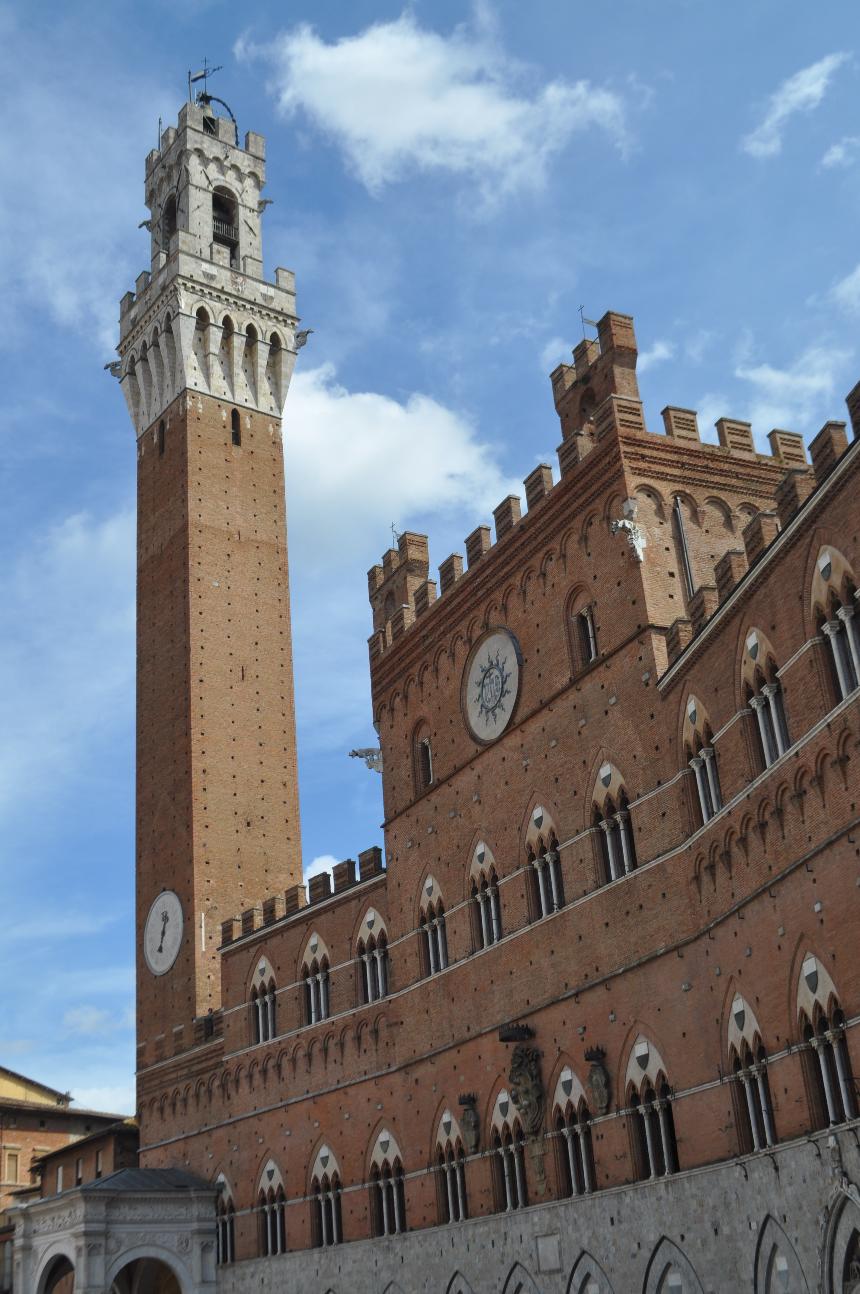 Italina gelato - colourful and delicious.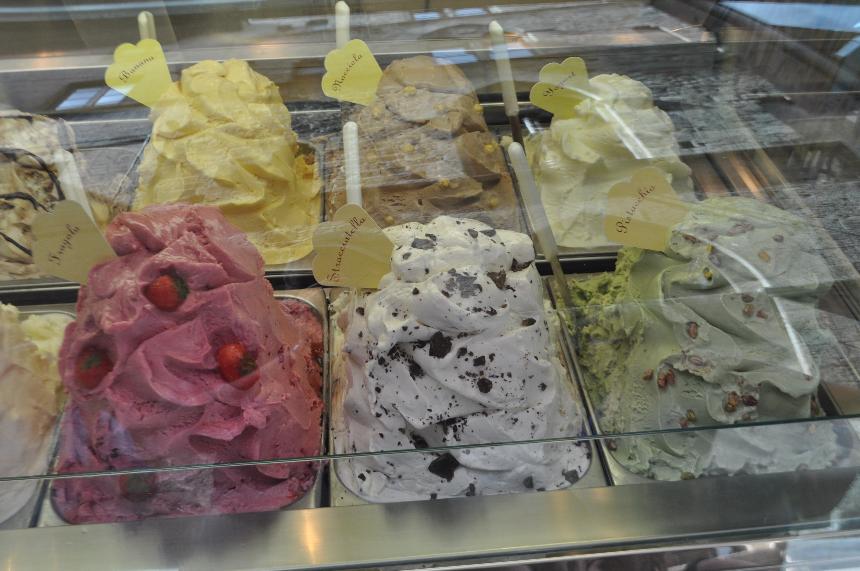 More picturesque Tuscan countryside, this time near Castellina in Chianti.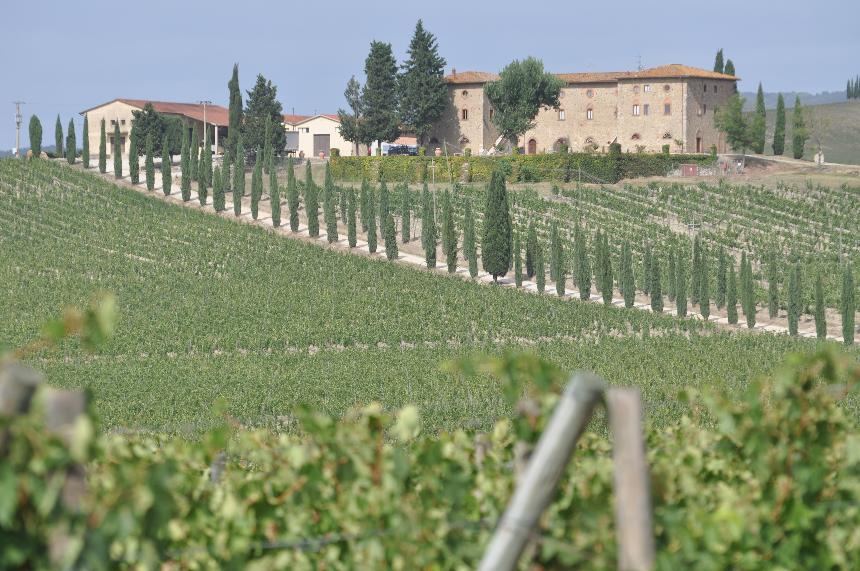 One of Gayle's favourite desserts - tiramisu - and this was one of the best (after Wendy's of course).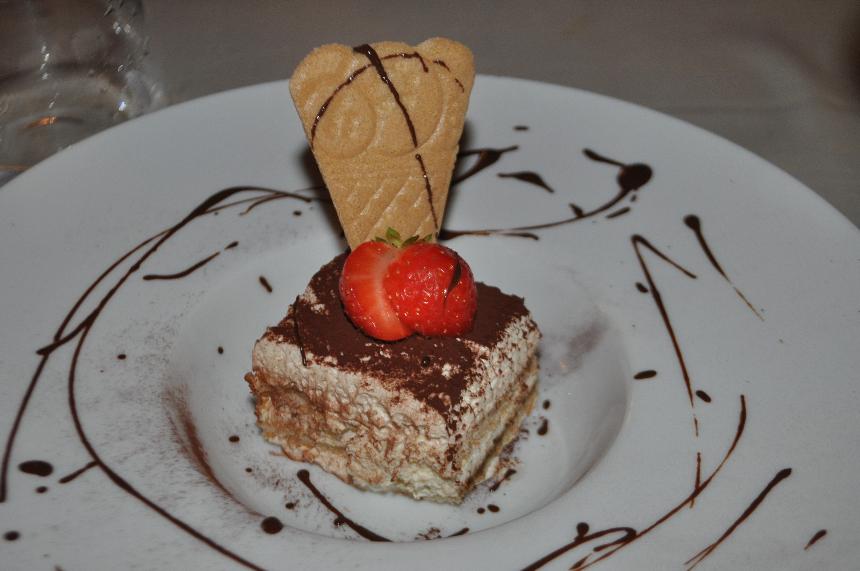 Cara and Gayle at dinner.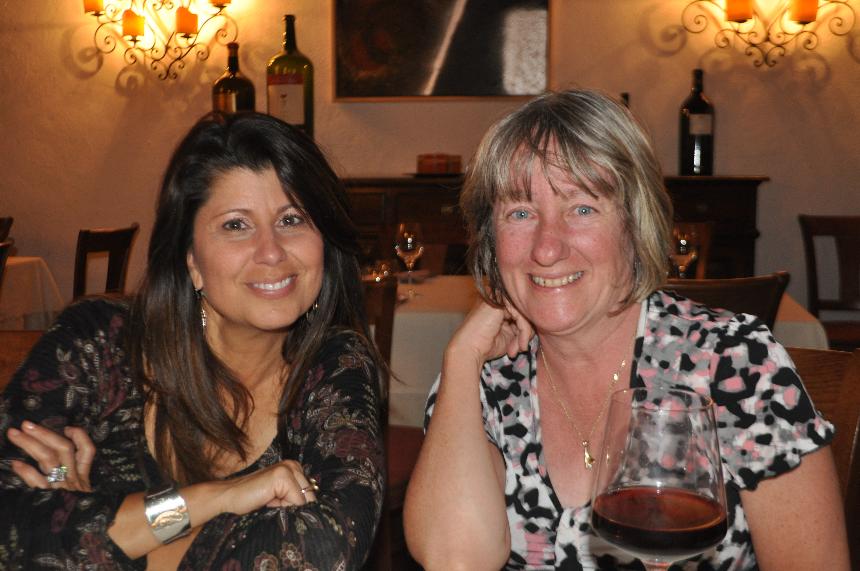 Tuesday, September 17, 2013 - Radda in Chianti to Castiglion Fiorentino to Pienza to Lamole and back to Radda
Ok so my excuse is that we had a tight corner table. But really I'm an idiot. The other night at dinner I left my pullover (one of my cherished Irish golf sweaters) at a restaurant. The problem was I didn't realize I had done so until after we had moved on to our next stop. Terry, after searching throughout Casa Portagioia tracked the pullover down at Pietros (thank you Terry). Ultimately we decided to drive the 1 hr 15 min back and pick it up. Mission accomplished.
Given we had done so we decided to continue south and then across (west) to Pienza - a town we enjoyed on our previous trip. We now understand why. While the drive south was flat and pretty boring it improved considerably as we turned west and passed Montepulciano. Pienza, a small wine town full of narrow alleyways, stone buildings, a nice wall to walk along, museums and of course another impressive church. But what makes this town interesting is that it feels so very muched lived in, with clothes drying on lines outside the buildings, old and young both walking the streets, and with three ladies sitting together outside knitting. Although it was a bit of drive our return visit to Pienza was well worth it.
The drive back to our restaurant took considerably longer than we anticipated, due both to the tight twisting roads with endless switchbacks - which can be slow when caught behind a bus for a number of kms and the photo opportunities, particularly with the light of the setting sun. Unfortunately this meant we were late for our reservation which was too bad as we had a table that would have provided spectacular views of what was a beautiful sunset from high in the hills of Lamole. As mentioned we ate at the Ristoro di Lamole, a restaurant in the tiny village of Lamole where we enjoyed a wonderful meal seven years earlier. The meal was again good. In this case though Gayle especially enjoyed her dishes - another Papa pomodori - the tomato bread soup but this time with a poached egg and then crepes with porcini mushrooms and bechamel sauce, also excellent. On the other hand my dishes, while good were not spectacular and given the upscale costs at this somewhat more refined dining restaurant they left me wanting. I did very much enjoy my Vin Santo and contucci for dessert while Gayle's chocolate torte was very nice. As was the case seven years ago the evening ended with complementary Limoncello, served very chilled. Although the restaurant was only approx. 10 km as the crow flies it took us 45 minutes to return home as regrettably the roads in this area do not follow the path of the crow.
More sunflowers, and while beyond their peak still colourful.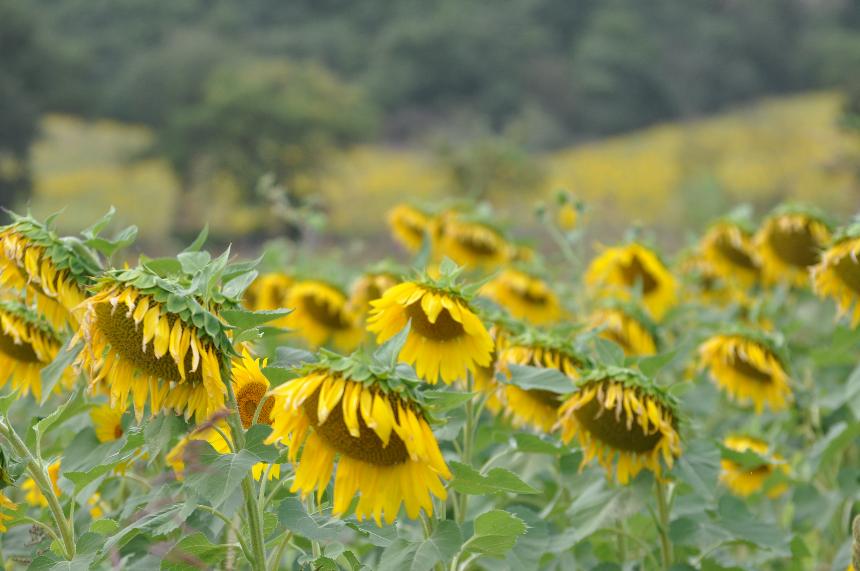 The wine town of Montepulciano.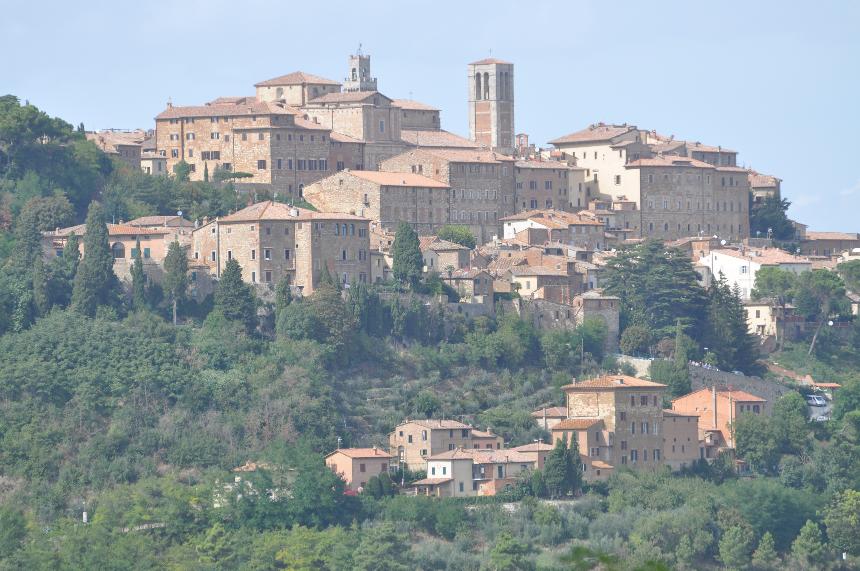 Cheese ... cheese ... and more cheese.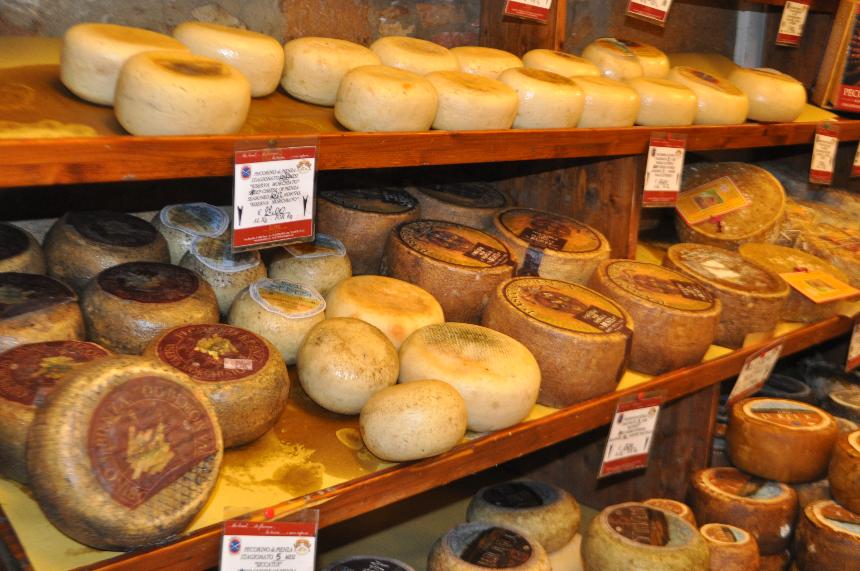 The church tower and bells of Pienza as seen from the town's walls.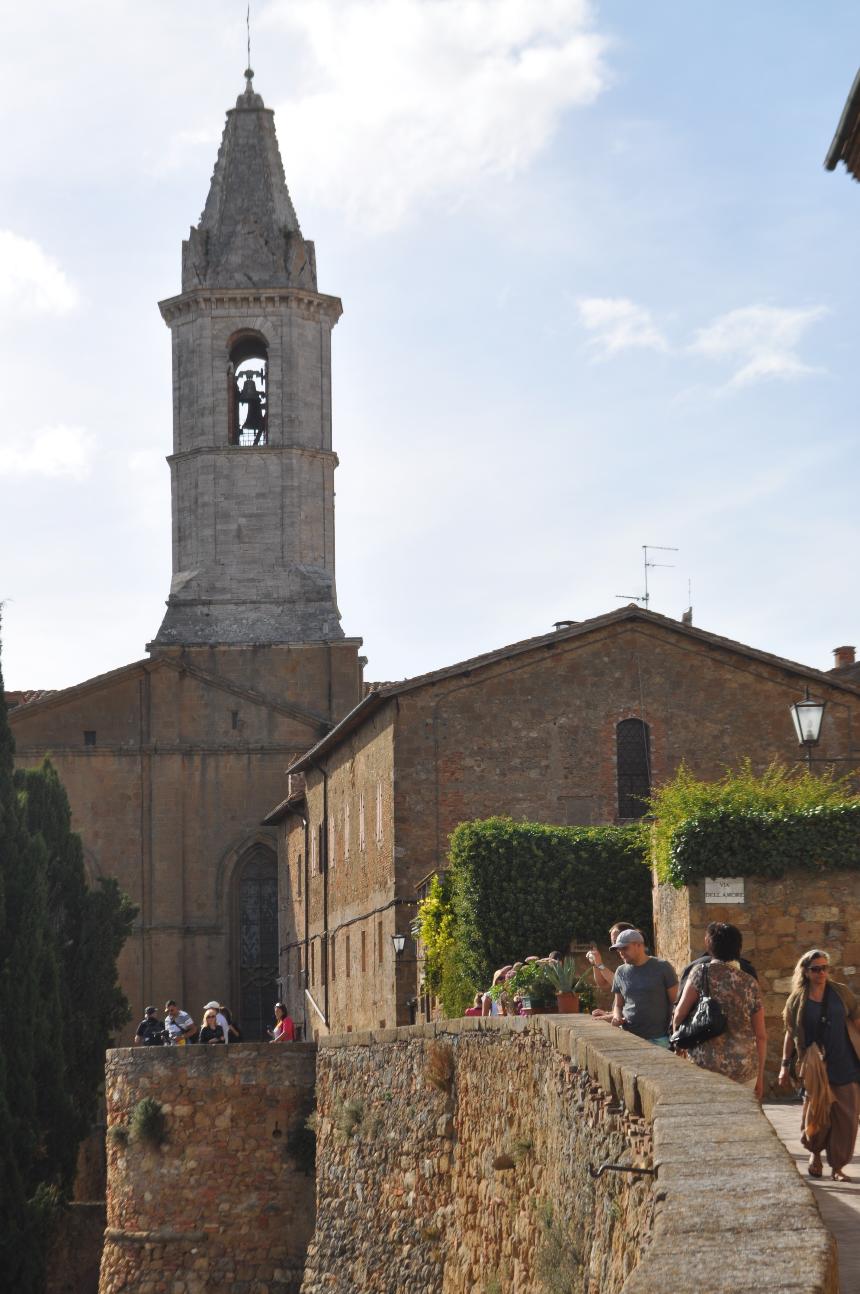 Clothes drying against the stone wall of a Pienza building.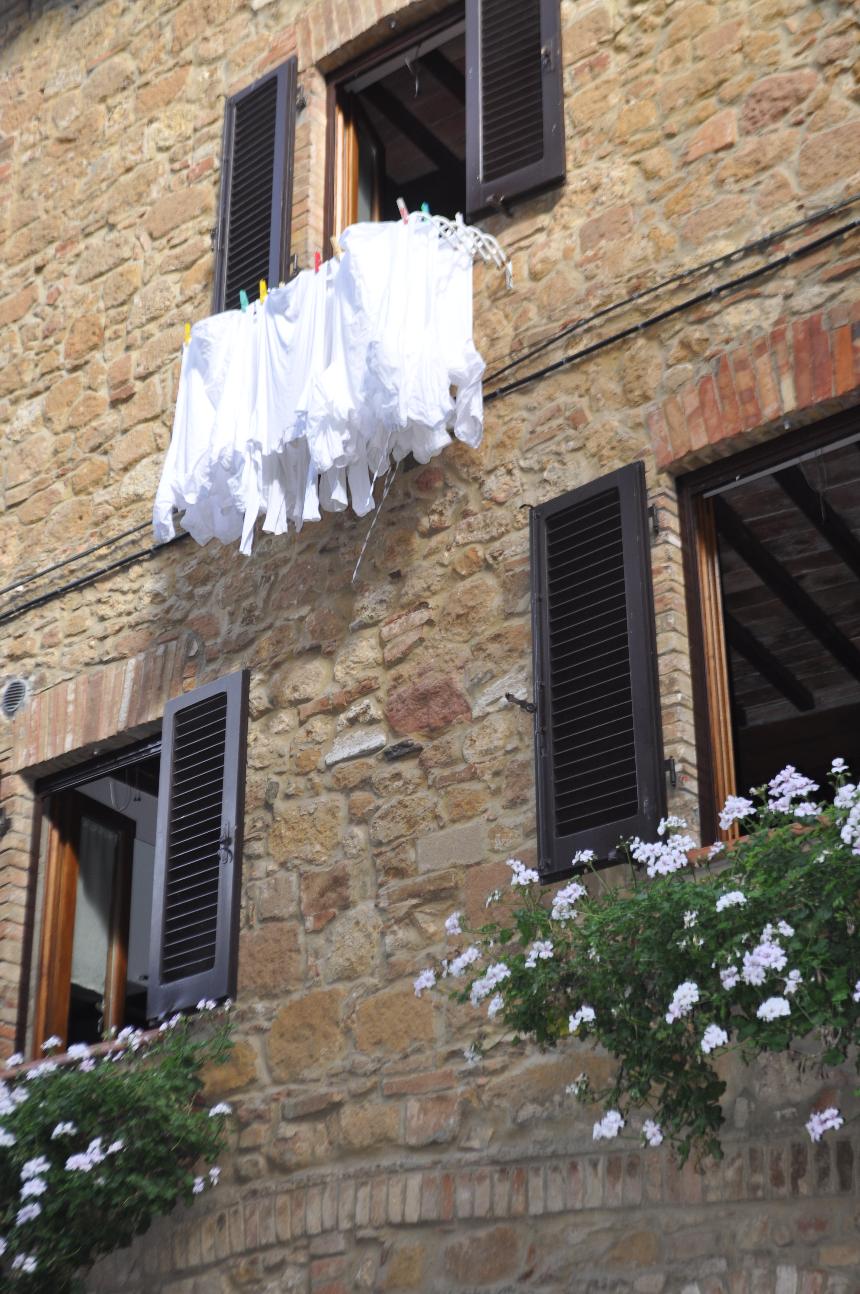 An afternoon of knitting in Pienza - a very lived in town.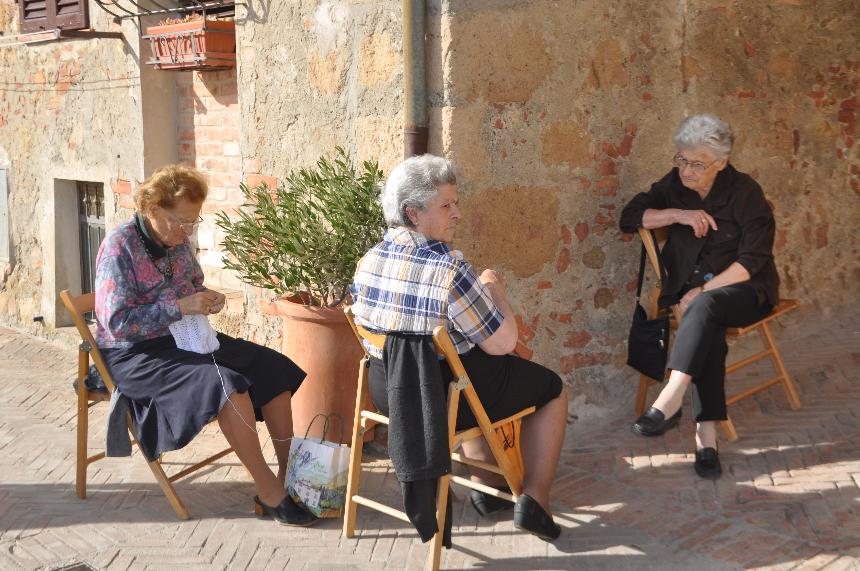 Gayle says there are too many photos of her and not enough of me ... so here I am in Pienza.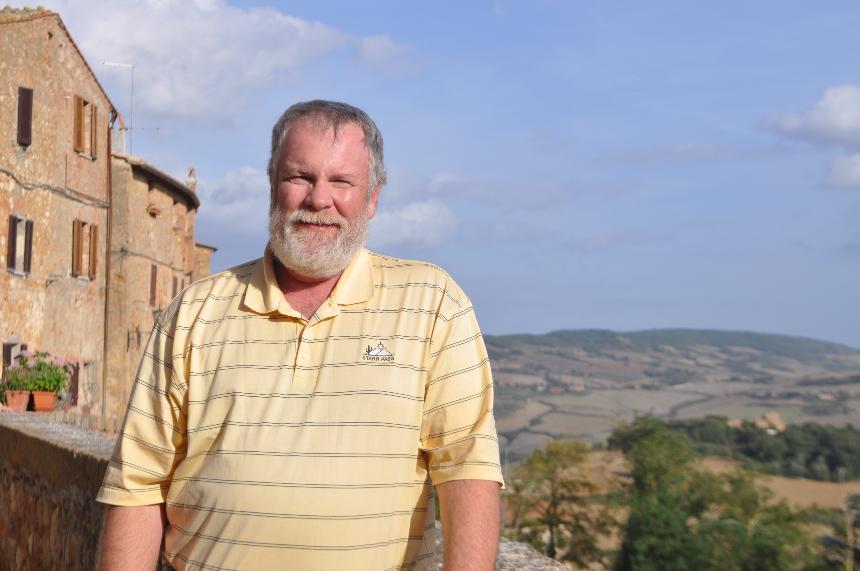 Tuscan countryside with cyrpus trees, stone buildings, vineyards, plowed fields - so picturesque.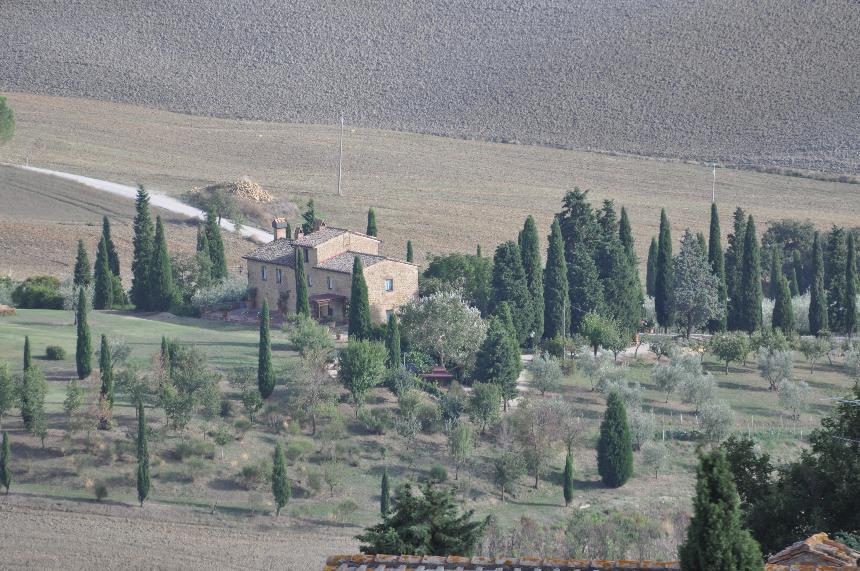 Does this not say Tuscany to you?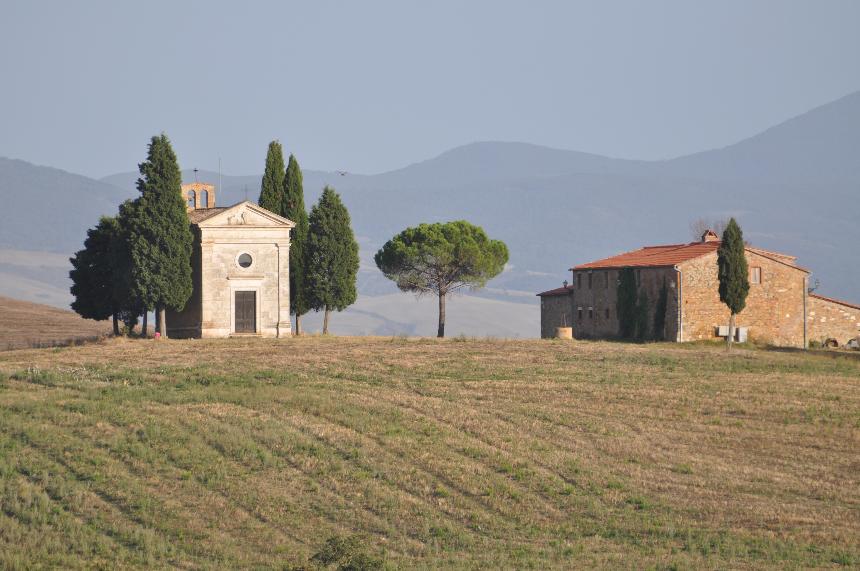 My antipasto of tuscan ham and salami and a sampling of crostinis.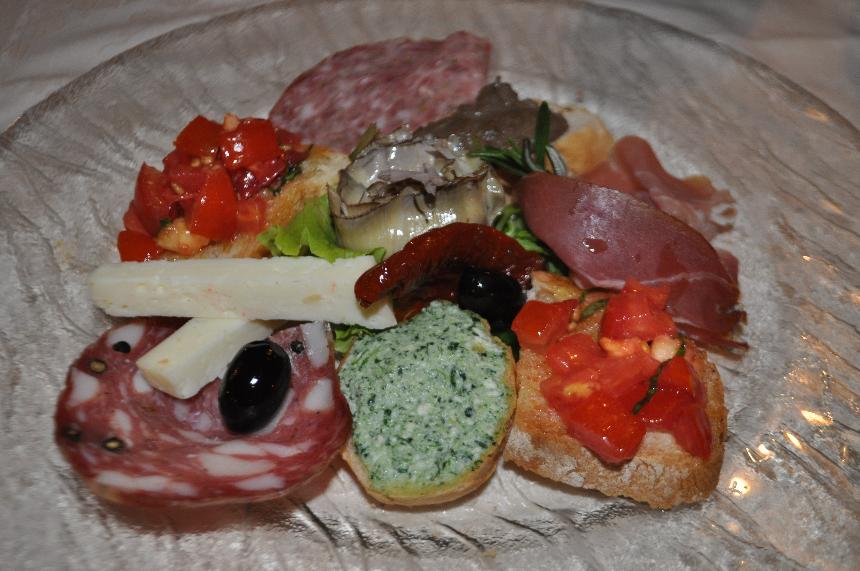 Vin Santo (Italian dessert wine) and contucci - a great way to end a meal.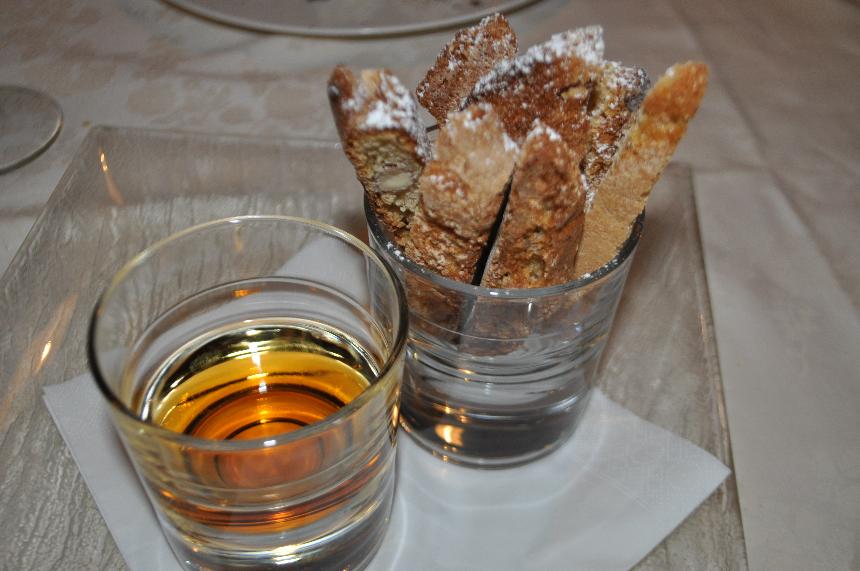 Monday, September 16, 2013 - Radda in Chianti (Fattoria Poggerino) and surrounding villages
Today was somewhat of a reminiscent day as we re-visited a number of the places we saw in 2006. We started with a short stop in
Radda itself where we bought some paneforte to try later in the day. Then it was Volpaia, an old stone village with a focus on wine. Although not overly hungry we had some lunch at the restaurant in the village. Gayle had a leek and pepper soup while I was drawn to the cinghale (wild boar) stewed with olives. Both were very good although quite surprisingly - given the area we are in, the house wine we ordered was actually not so great. We then continued on along the gravel road over the hills to Lamole where we had a nice chat with Sussia, bought bottles of olive oil and limoncello and made a reservation for dinner for the next night. We then drove through the very picturesque countryside to beyond Panzano where we found the Rampolla vineyards - the wine we very much enjoyed the previous evening, and bought a couple of bottles of the same.
We then returned to the old part of Panzano and were strolling along the streets when we decided to check out a highly rated tourist attracion - the Academmia Buon Gusto. It is somewhat difficult to properly describe this experience. Once you pop your head in this small wine tasting shop and Stephano (with his unique hat) sees you and draws you in you are captive. An hour later we left, and only because we had to be at dinner. A group of Norwegians were there when we entered and where still there when we left. The shop has wine and glasses literally everywhere. Stephano offers you a small sample from a bottle on the left of a shelf, and proceeds to work along the 20 or so bottles. As well as being a wine expert he is an entertainer and a philosopher. His analogy of wine to a book (both need to be opened, savoured, analyzed, enjoyed, discussed, remembered etc. etc.), his bantering about his wife (at least we think he has a wife) and what she has to put up with, his serving of chocolate between tastings - its a show, and a very good one. We recommended Stephano to two other couples staying at Poggerino, both of whom went and told us they thoroughly enjoyed the experience. One couple was there with a group of Egyptians telling tales of dancing around the table. A certain highlight.
Perhaps it was a good thing we had to return to the farm for dinner as there seemed to be no end to the tasting opportunities. Eight of us were seated at one table which was great for interacting - a couple originally from Austria, now in Australia via South Africa, and two American couples. It is always nice to share travel stories and as mentioned above to pass on suggestions. Dinner was quality over quantity, and vegetarian which has surprised us as been more common than we would have thought. The first course was a very nice antipasto plate with half a dozen small servings of crostini, a traditional tuscan salad, gnocchi etc., followed by an eggplant pasta dish and tiramisu for dessert. I must say the quality of Benedetta's cooking is top notch.
The early morning sun on a stone building in Chianti.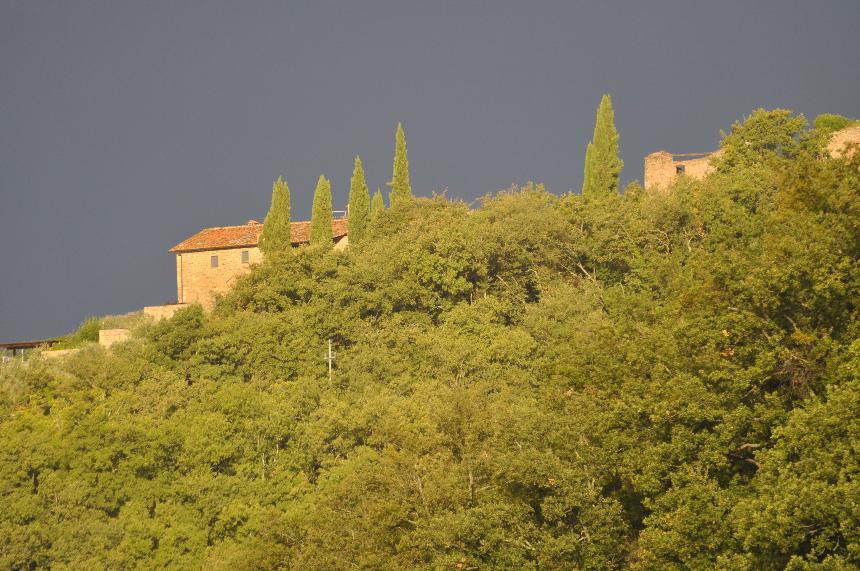 Free range farm fresh eggs; picked from the garden tomatoes along with vegetables were just part of the breakfast.
The Fattoria Poggerino - a beautiful old stone building housing the rooms of the farm.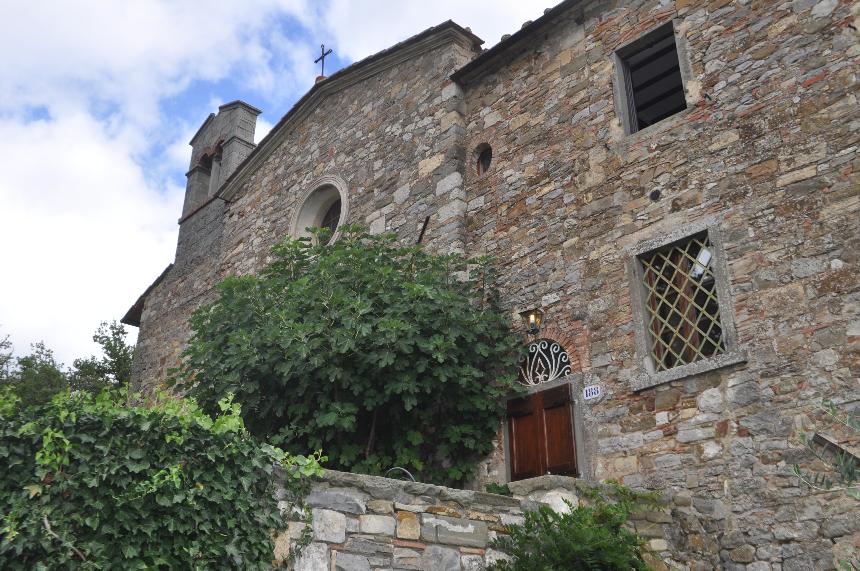 The pretty little stone village of Volpaia.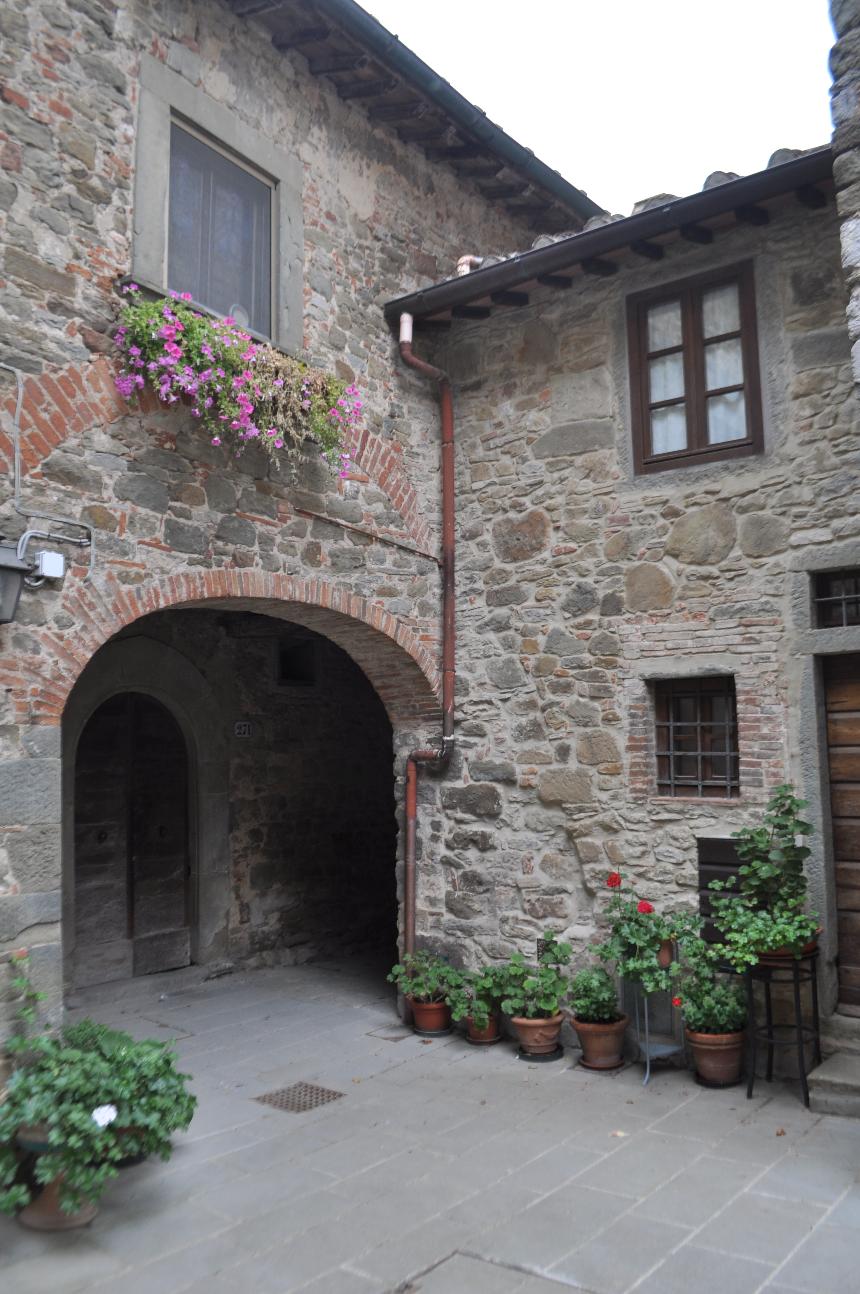 The meat is cinghale (wild boar) stewed with olives along with spinach, which is quite common.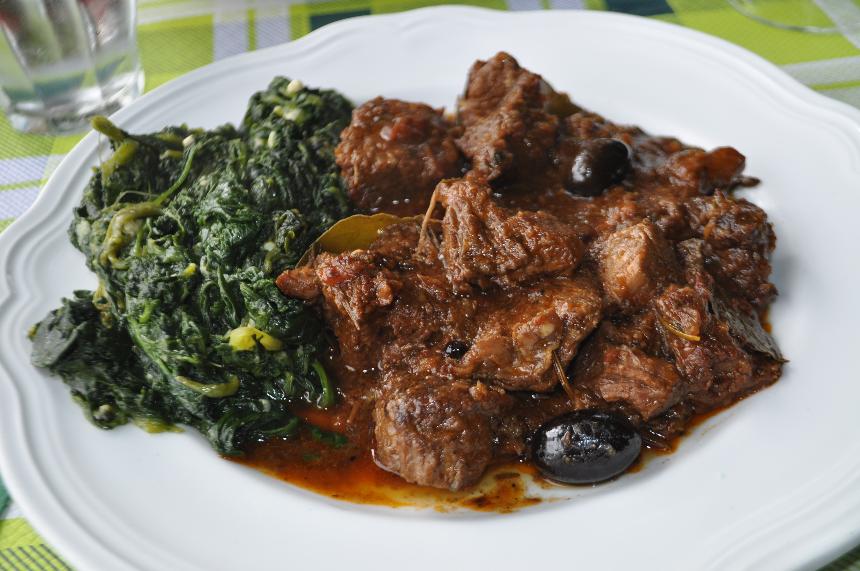 The vineyards and olive groves of the Rampolla estate, with Panzano in the distance at the top of the hill.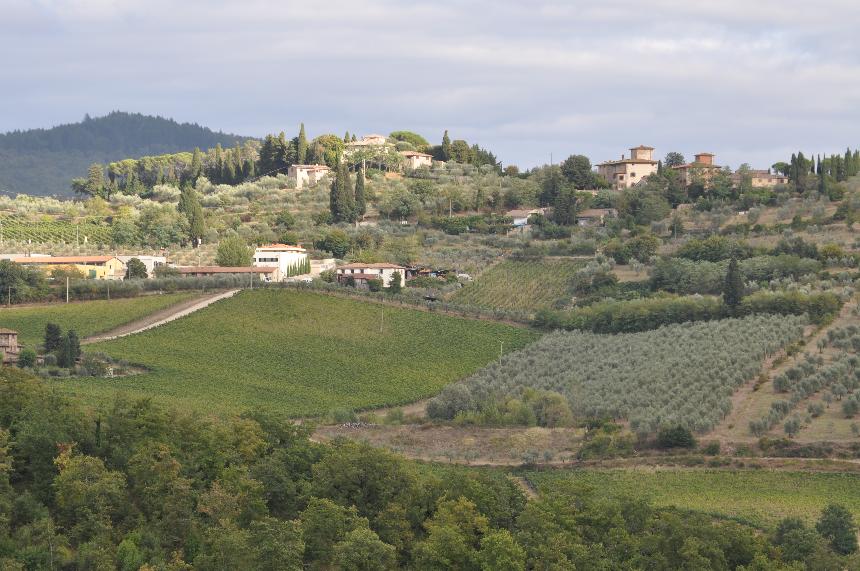 Stephano ... the wine entertainer; philosopher and all round great experience.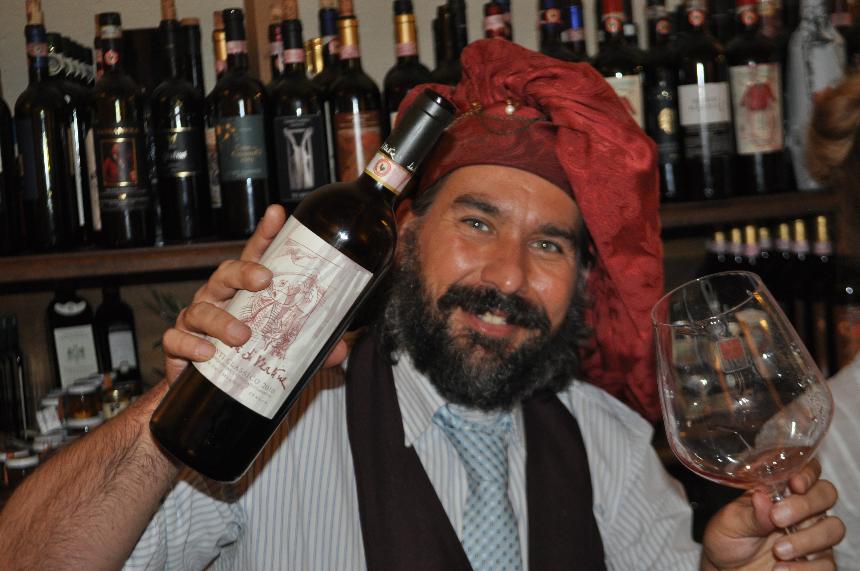 Apparently chocolate enhances the wine tasting experience - who knew?
The interesting and extensive antipasto at our meal at Fattoria Poggerino.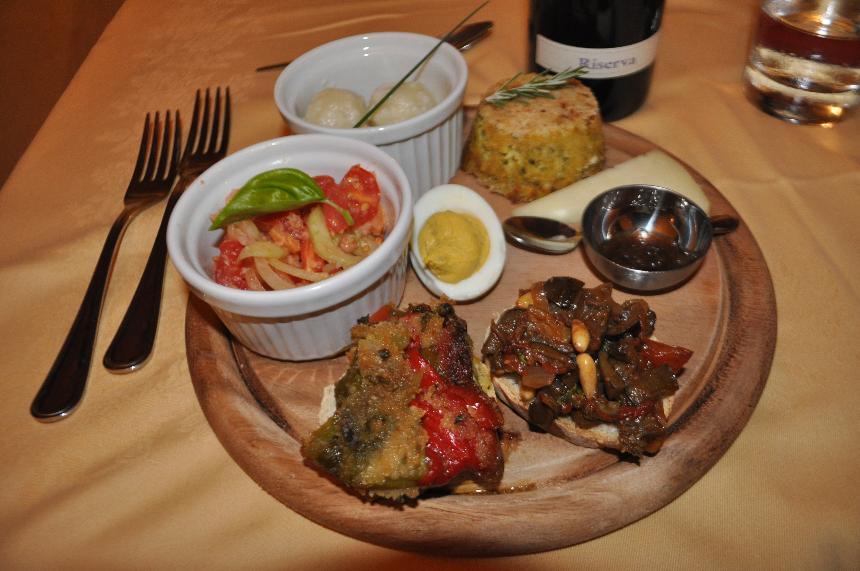 Sunday, September 15, 2013 - Casa Portagioia (Castiglione Fiorentino) to Radda in Chianti (Fattoria Poggerino)
Today was a quiet day. We enjoyed another wonderful breakfast courtesy of the cooking of Marcello, the wit of Terry and a nice chat with a couple of ladies from PEI. We left as late as we could after a lengthy and interesting chat with Terry. The drive to Radda in Chianti, our home for the next four nights took us west across some flat plains to the rolling hills of Chianti. Along the way we stopped at Gargonza, a very tranquil medieval village dating from the 13th century. The carefully restored houses inside the medieval walls retain the simplicity of the rural life. The hotel has received a number of awards and based on its location is no doubt something special. We continued past vineyards and olive groves, just passing through a town before a cycling race was about to begin - we had to weave in and out of riders warming up.
We arrived at Poggerino (www.pogerino.com) mid afternoon at the same time as a nice Austrian couple. We have a nice suite with two rooms (plus a large bathroom) with a very nice table and seating area right outside. The beautiful building is located amongst the vineyards and olive groves approx. 3 km from the town of Radda - peaceful in the country just as we like it.
We enjoyed a superb Tuscan dinner at Osteria le Panzanelle in nearby Lucereli. The random wine I chose from an extensive list was from a nearby vineyard and turned out to be wonderful, a nice complement to our very good dinner. Gayle started with a Pappa al pomodoro which is a bread, tomato and basil soup which out of 10 we both gave it a 12 - fabulous. I had a simple, but traditional thick spaghetti called Pici, with a garlicky cheese sauce - also delicious. For our secundi plates Gayle had an eggplant parmigiana and I grilled lambchops - both very nice. Believe it or not there was still room for dessert. Gayle enjoyed some Gelato del Chocolato and I a Vin Santo - 2000 vintage - along with some contucci (an almond cookie also known as biscotti). This was nothing fancy - but just a nice simple Tuscan meal that we both immensely enjoyed.
Did we not say breakfast included a wide selection of fruit? ... and this does not include the fresh berries!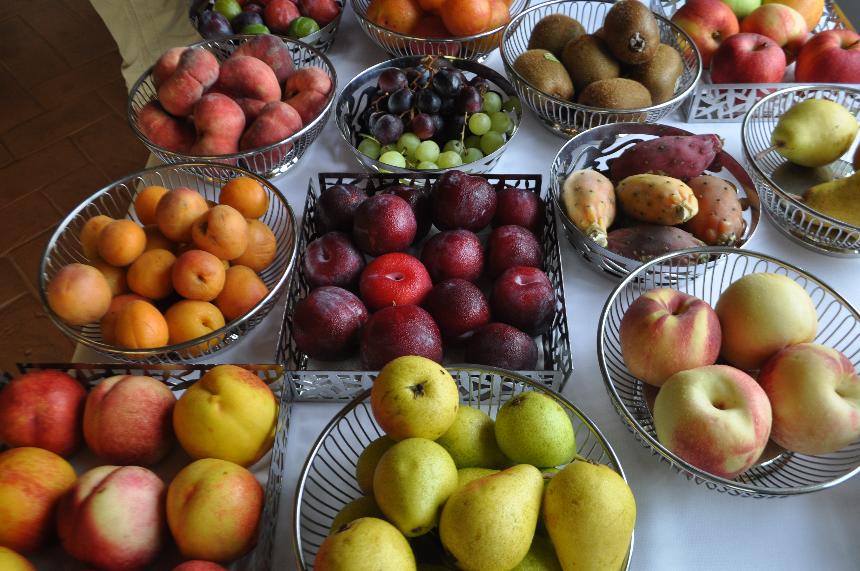 A couple of photos of Gargonza - a thirteenth century fortified village.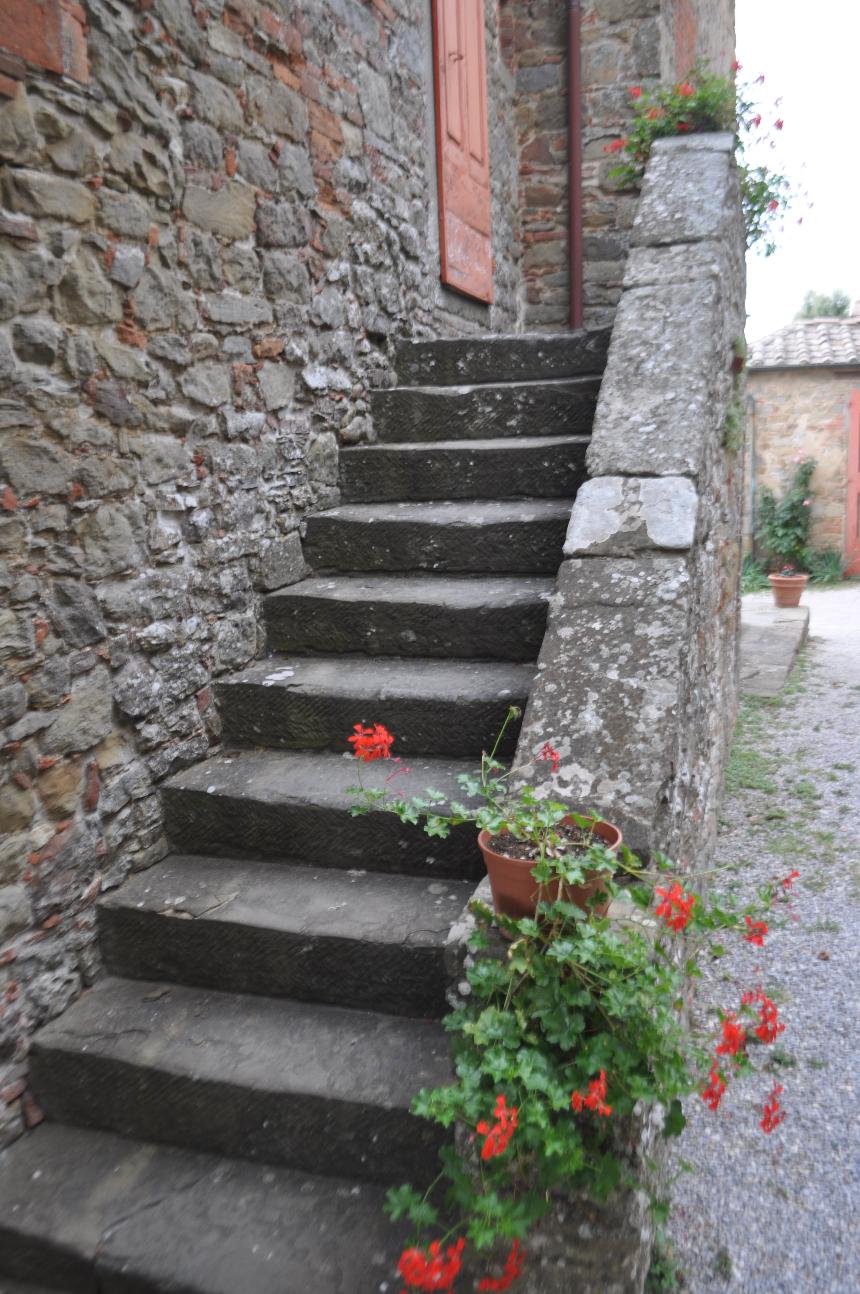 Pappa al pomodoro (bread, tomato and basil soup).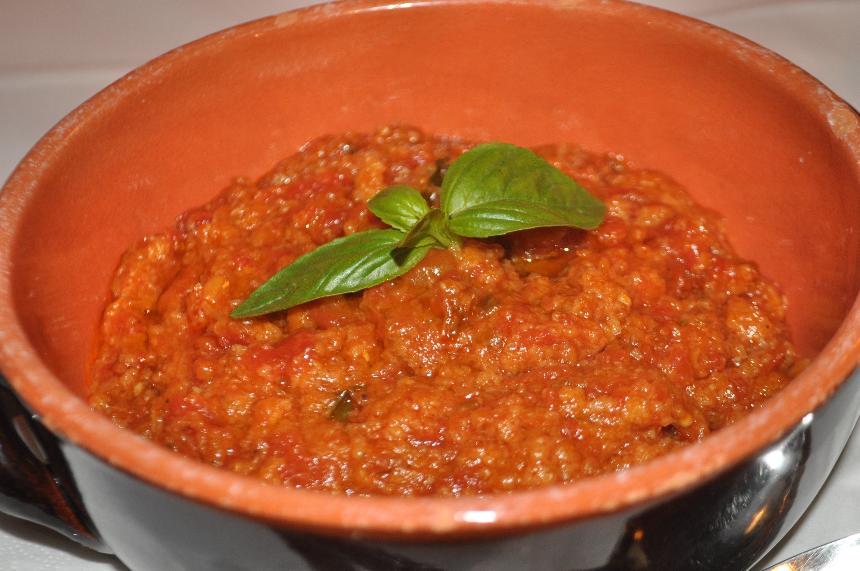 Malanzane alla parmigiana (eggplant parmigiana).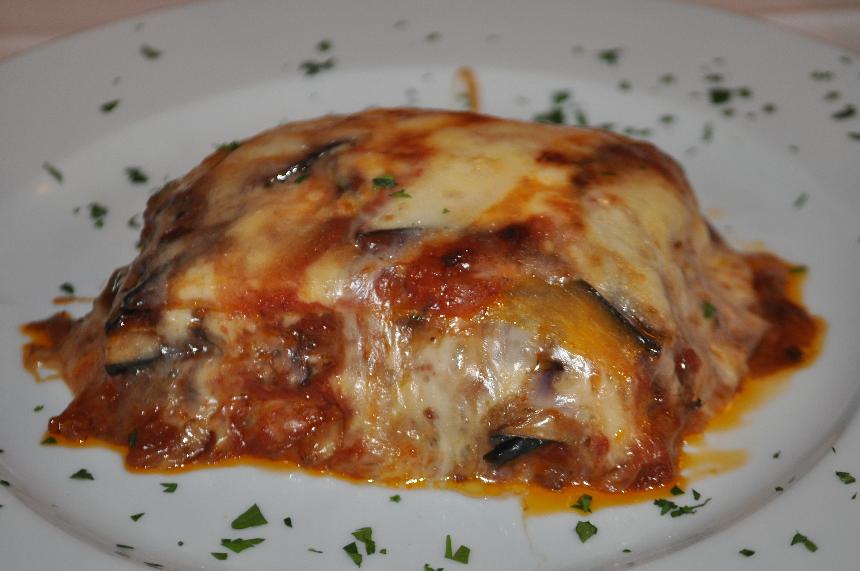 Saturday, September 14, 2013 - Casa Portagioia (Castiglione Fiorentino) with a trip in to Cortona
Breakfast this morning included the widest selection of fruit one could imagine, including fresh blackberries, raspberries and blueberries which went very nicely with honey and yoghurt. The problem with these nice places is that we don't particularly want to leave, but evenutally we did for a visit to Cortona, a town we had fond memories of when we stopped in during our 2006 trip. Before visiting the town we drove the 4km north up the hills of the valley to see the Monastery le Celle, dating from the early 13th century. Set against the rock walls of a canyon it is certainly an impressive site.
We spent a couple of hours leisurely walking through Cortona - every bit as impressive as we remembered it. There were numerous restaurents, a number of shops including pottery and paintings and a nice central square where a wedding was taking place. I browsed a wine shop that was mesmerizing with the number and wide range of prices of wines. I saw a 375 ml bottle of Vin Santo for 220 euros! A very nice - and again pedestrian focused town.
We returned for a couple of relaxing hours at Casa Portagioia mostly photographing the beautifull property. Having heard good things about a family run ristorante in Castiglione we deciced to give it a try. Very local we may have been the only foreigners there. It was one of those crazy Italian places one imagines with the owner Pietro wandering about directing activities. The bantering waitresses - likely family - created a hectic, but certainly authentic ambience - you really had to be there to understand the operation. The ravioli we shared was nice as was my 'picollo' (small) steak (by Tuscan standards) while Gayle had a tradional thin crust pizza - clearly the most popular item on the menu.
A couple more photos of the flowers and attractive landscaping at Casa Portagioia.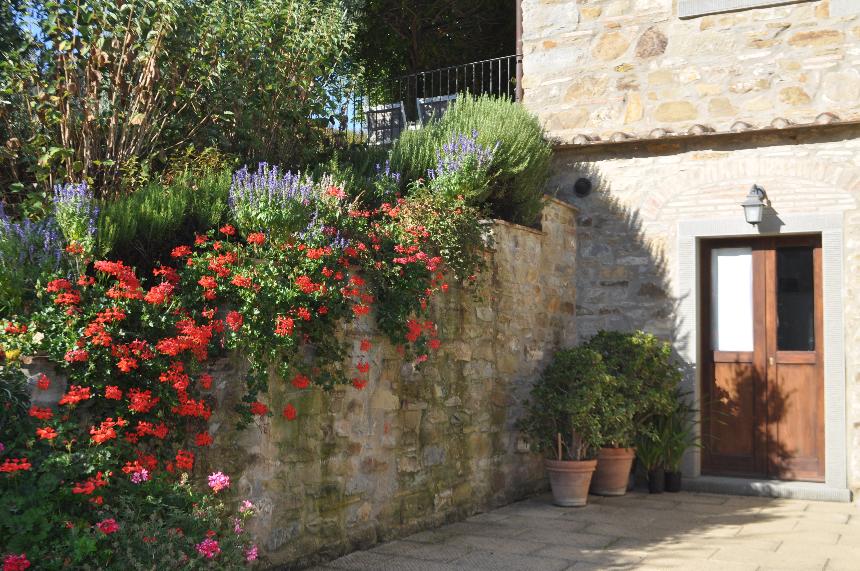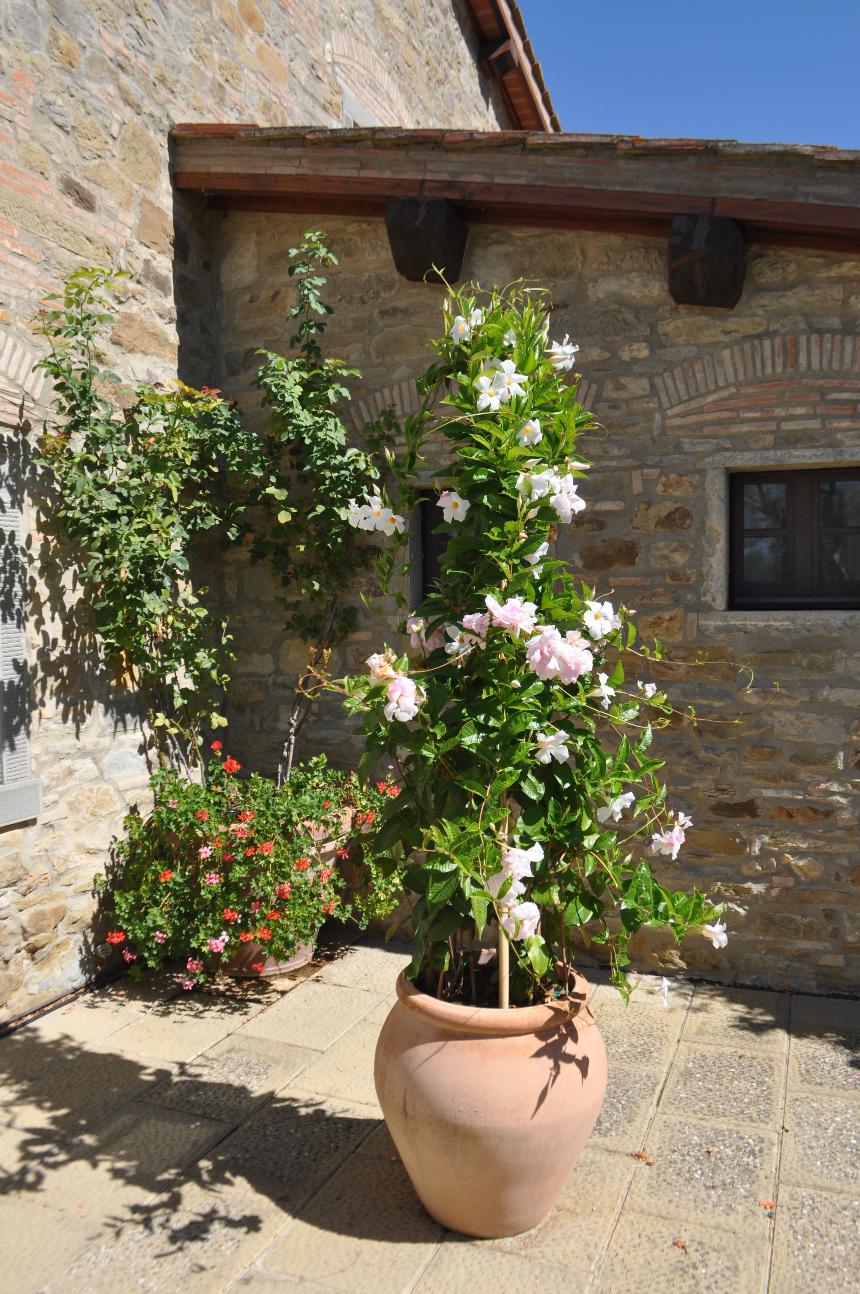 Tuscany is certainly wine country. The choices are endless ... and overwhelming. This is the selection from only one region.
It seems every small town has its stone church with bells - this one is between Castiglione Fiortino and Cortona.
Tile tile roofs and church bells at the isolated monestary del Cella just outside Cortona.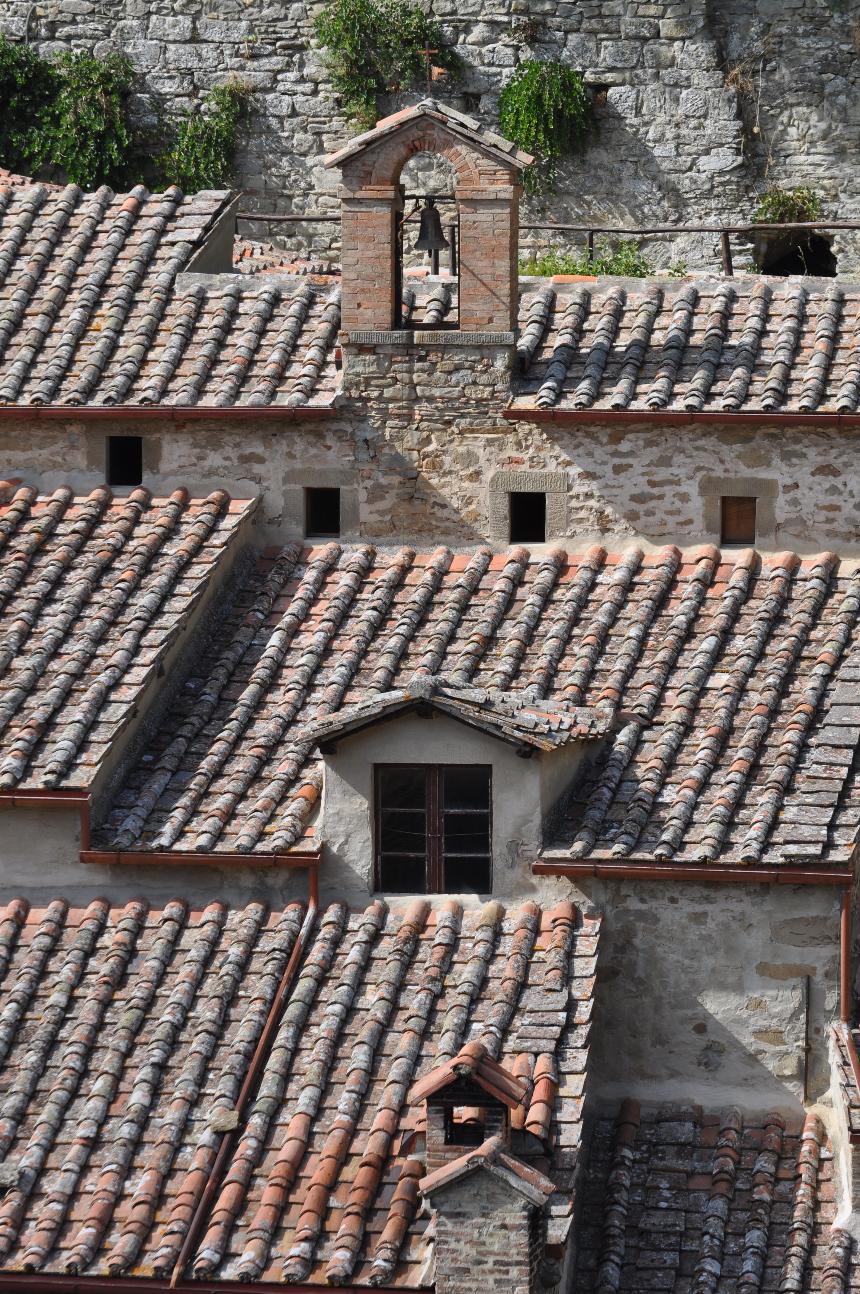 A narrow alleyway in the pretty town of Cortona.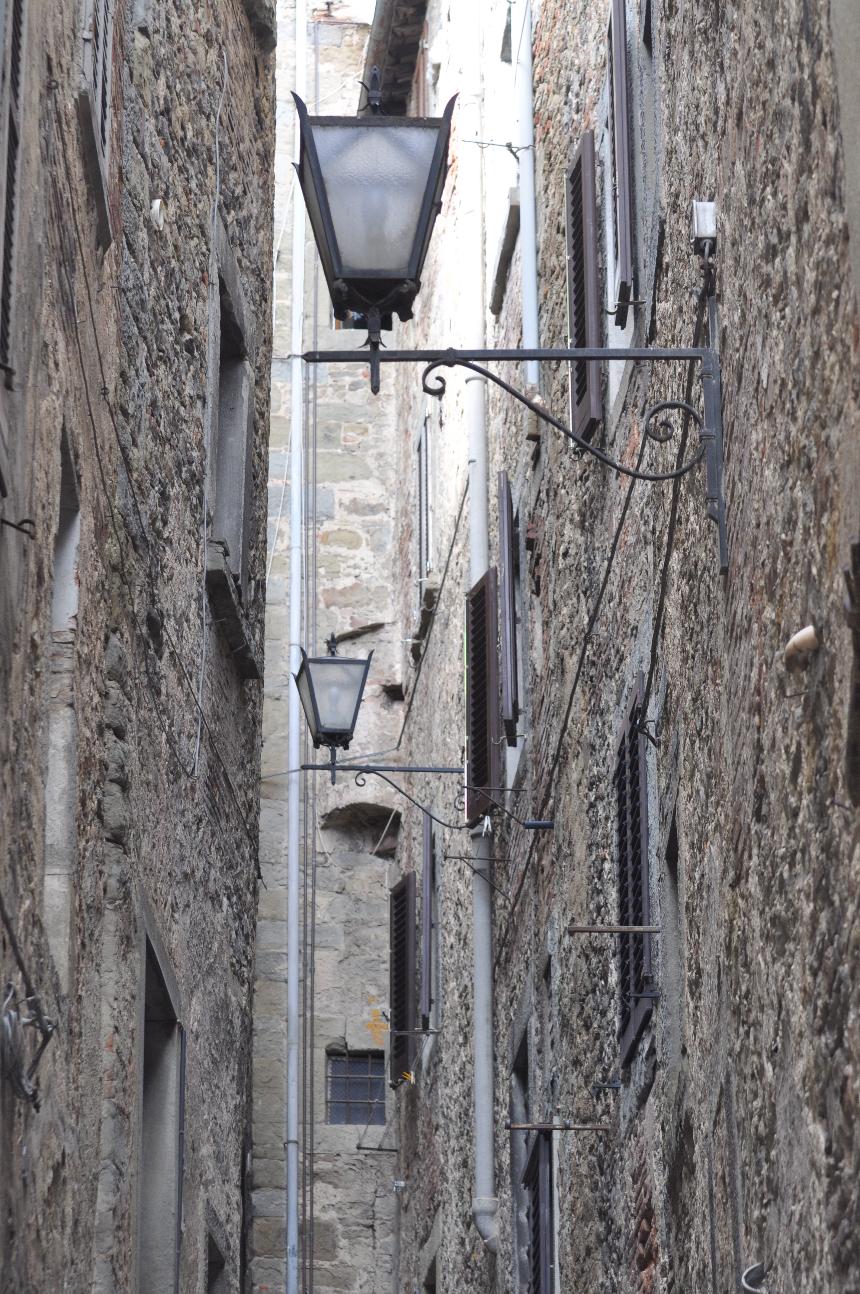 The cyprus trees (during the day and at sunset) leading to Casa Portagioia.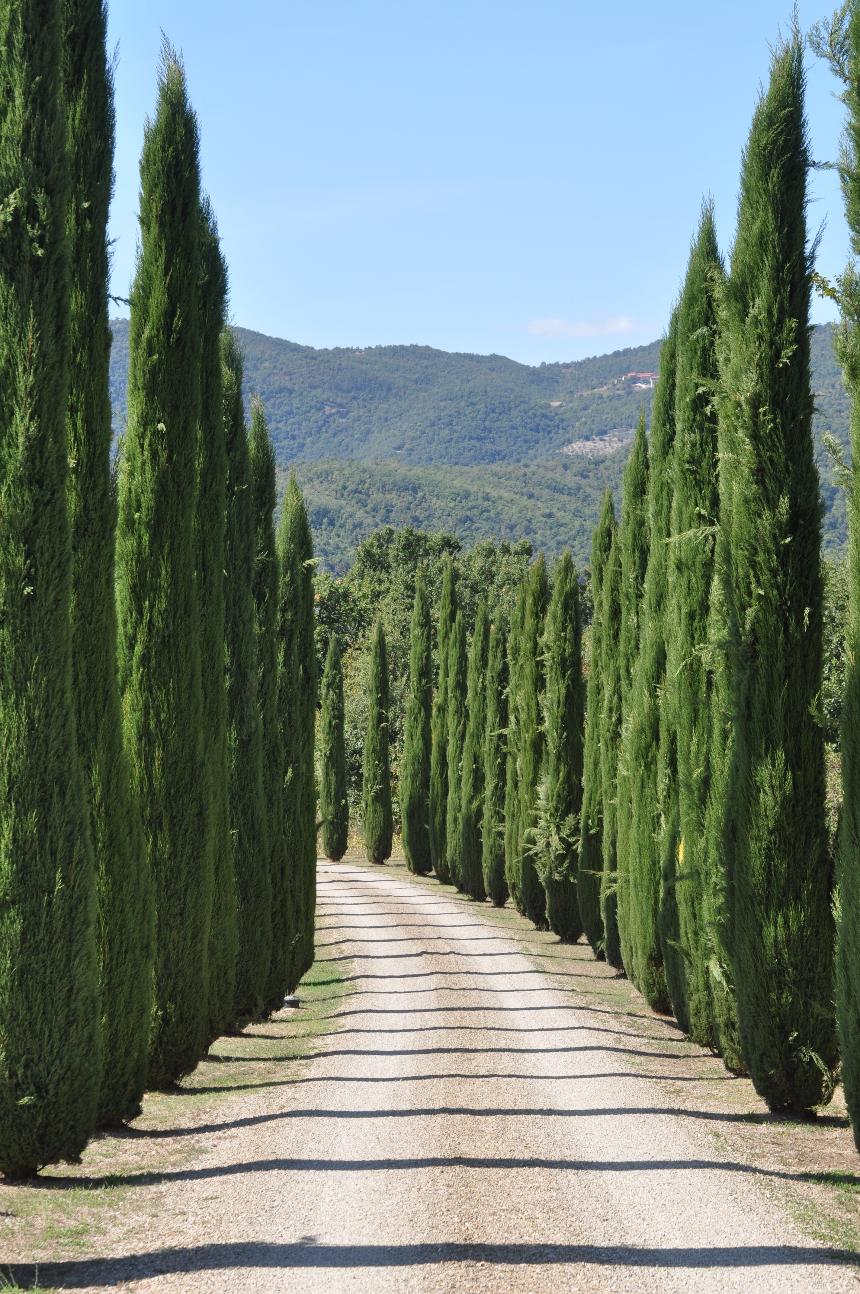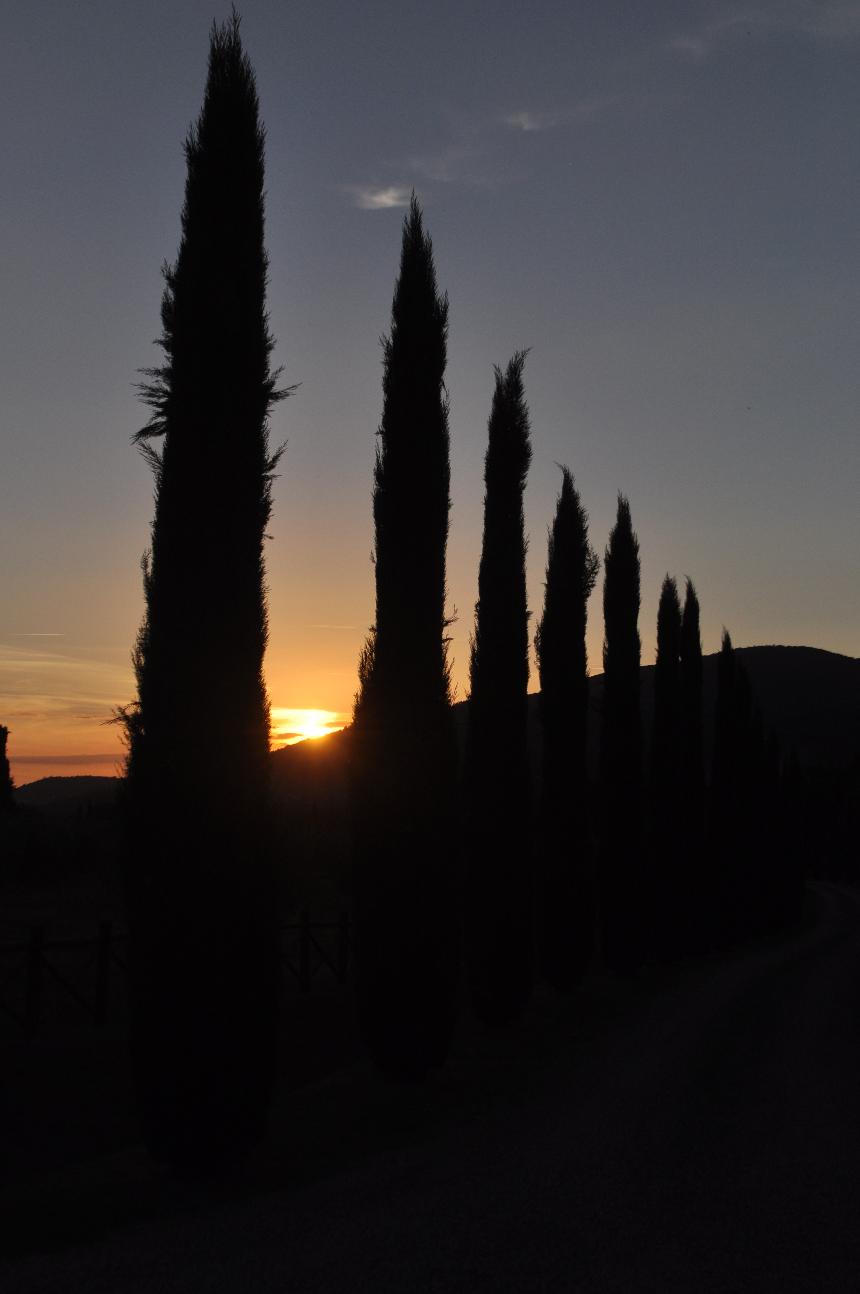 Gayle's vegetarian pizza - perhaps not the best she has ever had but still a nice thin Italian crust.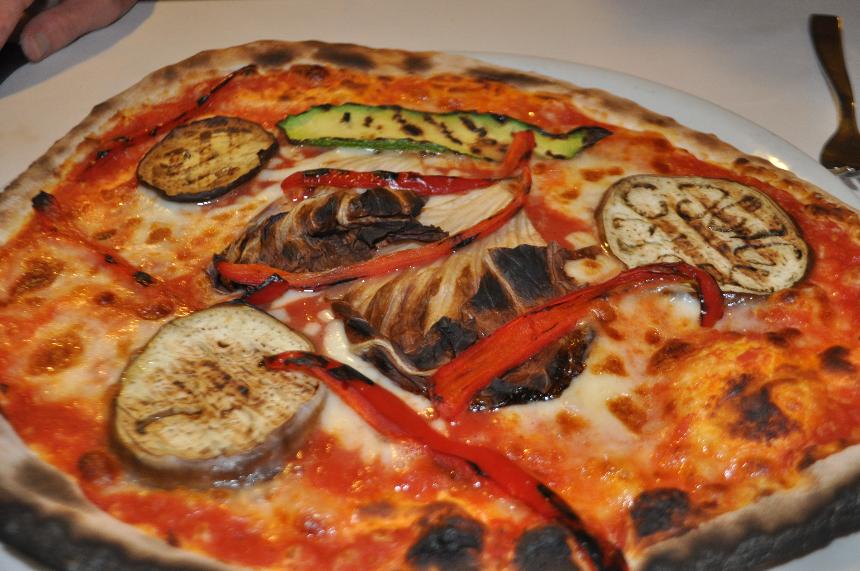 Friday, September 13, 2013 - Villa Campestri (Vicchio) and then south to Castiglione Fiorentino and the Casa Portagioia
We enjoyed another nice breakfast basking in the sun on the terrace of the villa. We took our time packing and leaving so by the time we finally got on the road it was nearly noon. The first part of the drive was very scenic. About half way we spotted the mountain top village of Poppi whose castle dates from 1191. The walled upper part - the original town is compact and nice to walk with porticos along the main cobbled street. We stopped for a wonderful tomato and mozzarella di bufalo bruschetta - a very nice mid afternoon snack.
The drive continued south past Arezzo and on to Castiglione Fiorentino where we have booked in to the top ranked (by TripAdvisor readers) of all the over 2,500 B&Bs in Tuscany. The Casa Portagioia has won many other awards - see their website www.tuscanbreaks.com. Marcello showed us around the property - the vineyards and olive groves, the well restored buildings, and the pool all set off by detailed landscaping. Every part of the property is accentuated by the colour of flowers - which we have not seen elsewhere due to it being late summer. Simply stunning! The lavender, now not in bloom still provides a wonderful aroma. Our room, although nowhere near the size of the suite at the villa, is nice and large, very tastefully decorated with an attractive clay tile floor and wood beams on the ceiling. Having arrived late afternoon and having had a bit of lunch we were not keen to drive the 6 km back into town and find a restaurant so we quickly took Marcello up on his offer of bread, cheese, meat and wine. Not one, not two ... but four varieties of the local pecorino, plus Tallegio and Blue chees, fresh pomodorini (small cherry tomatoes) and olives, fantastic foccacia bread, ham and Tuscan salami for me and a nice half bottle of Rosso di Montalcino wine. Looking out over the flowers to the hillsides dotted with cyprus and olive trees this was simply perfection.
We haven't seen many animals - cows or sheep - but this guy seemed to take an interest in us, although I really took the photo for the countryside in the background :-).
A church in some small village along today's drive.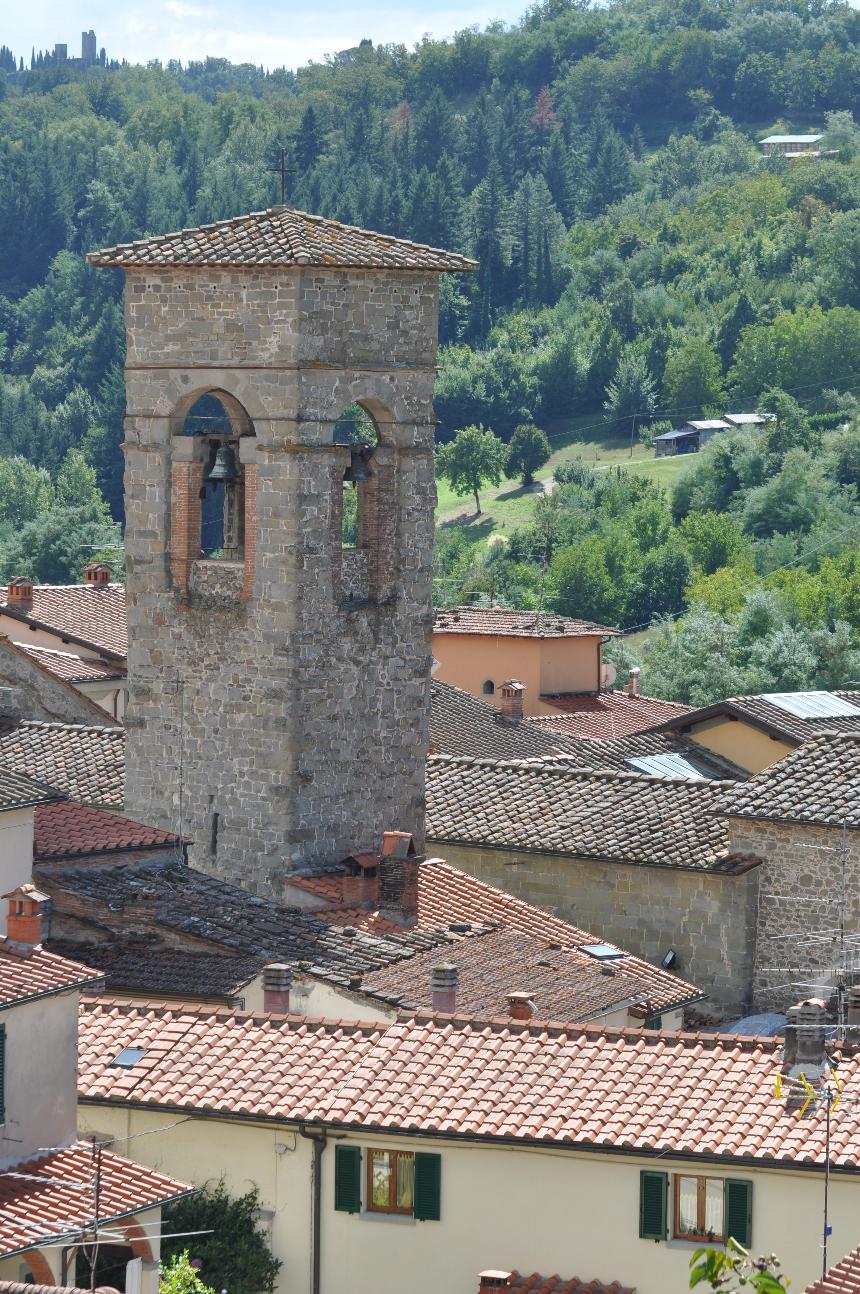 A couple of photos of the interesting hilltop village of Poppi with its covered porticos. We strolled through the town, stopping for a small bruschetta.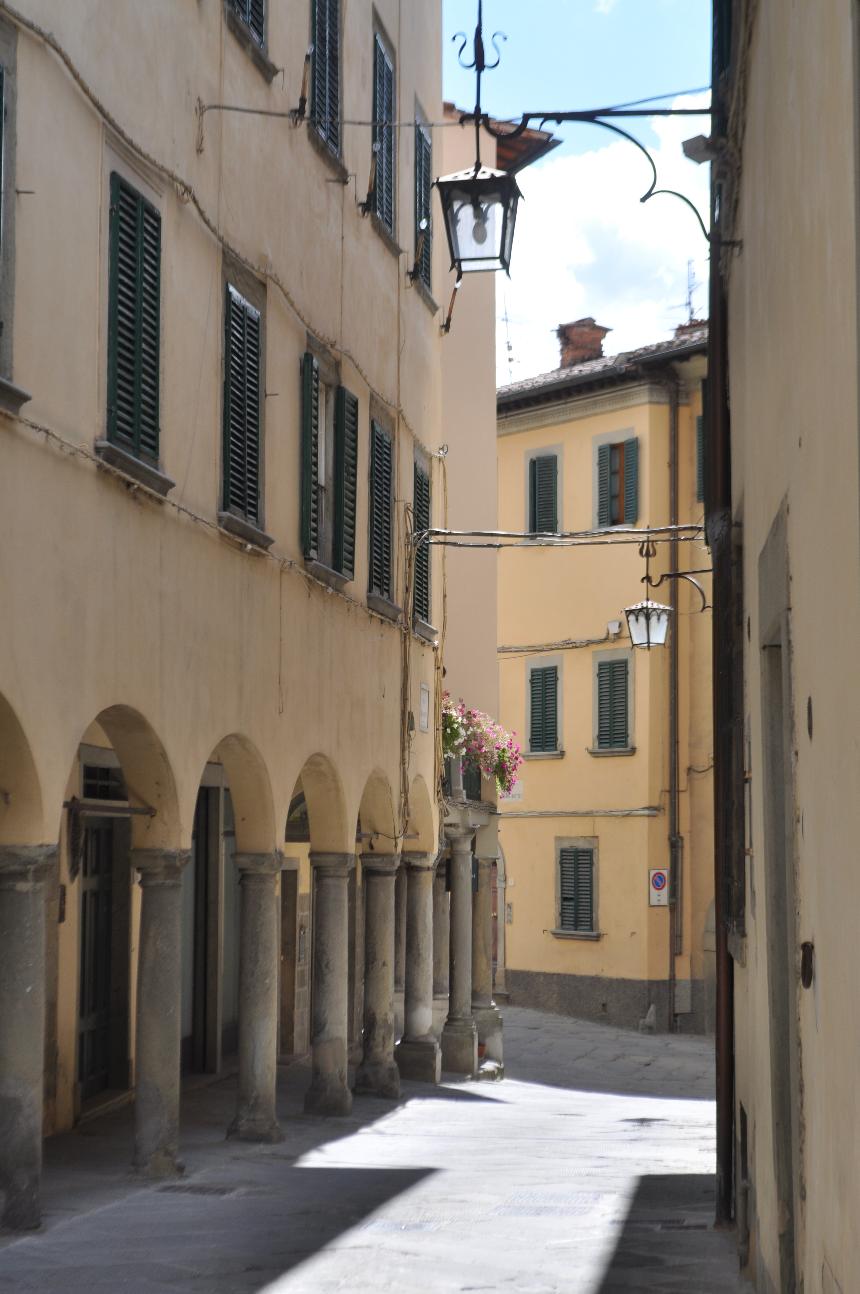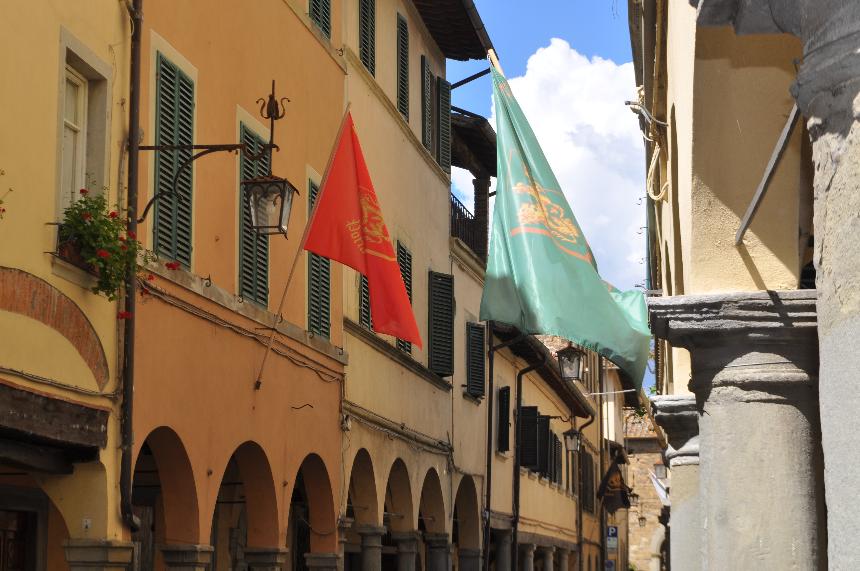 A midday snack - bread, fresh tomatoes, mozzarela di bufalo and some oregano - so simple but so delicious.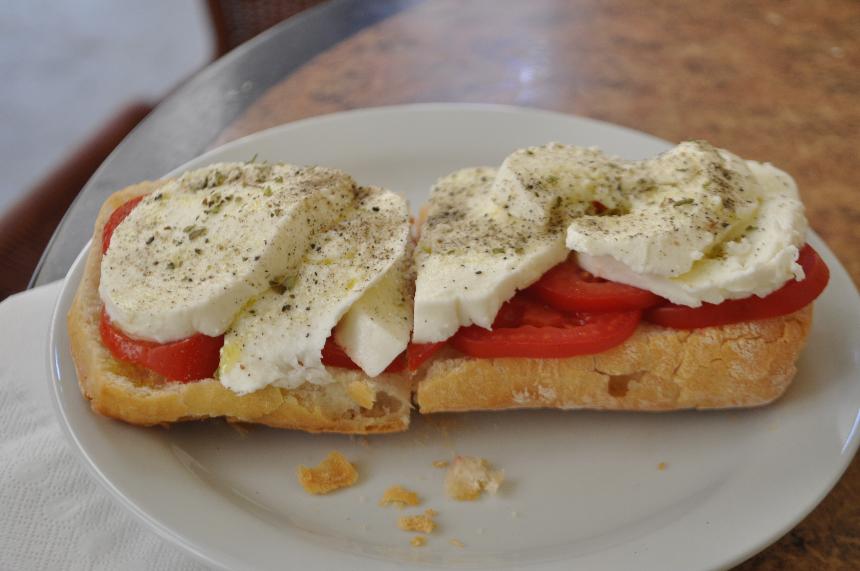 We passed fields and fields of sunflowers, most of which were well beyond their peak, although these few remained bright and vibrant.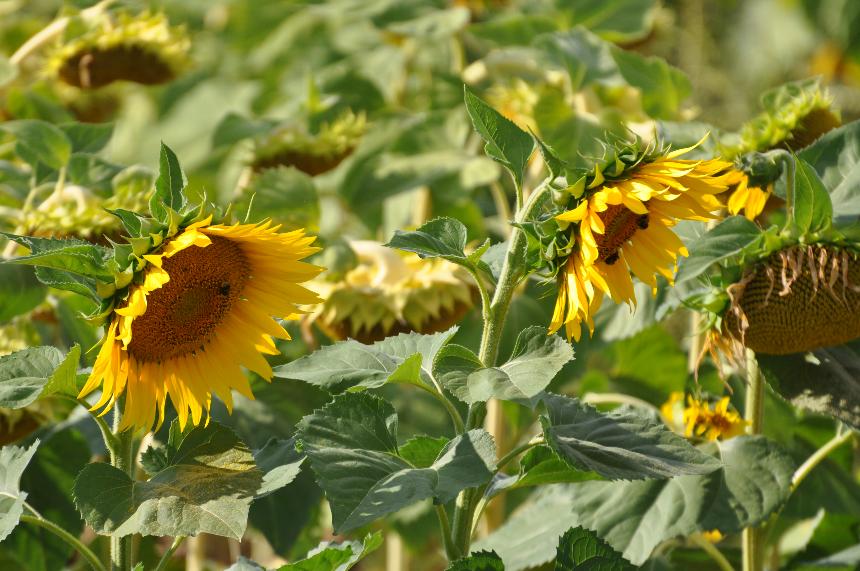 The breakfast area - surrounded by flowers, as is virtually the entire property.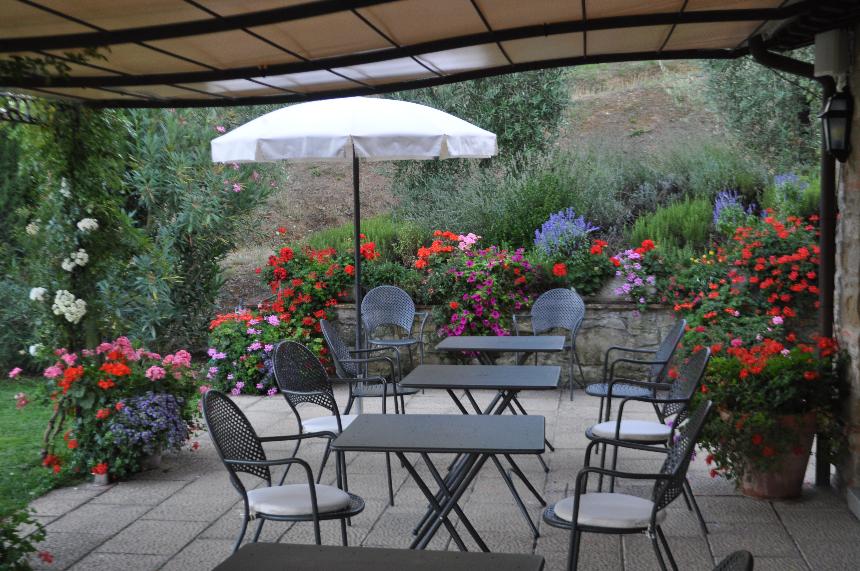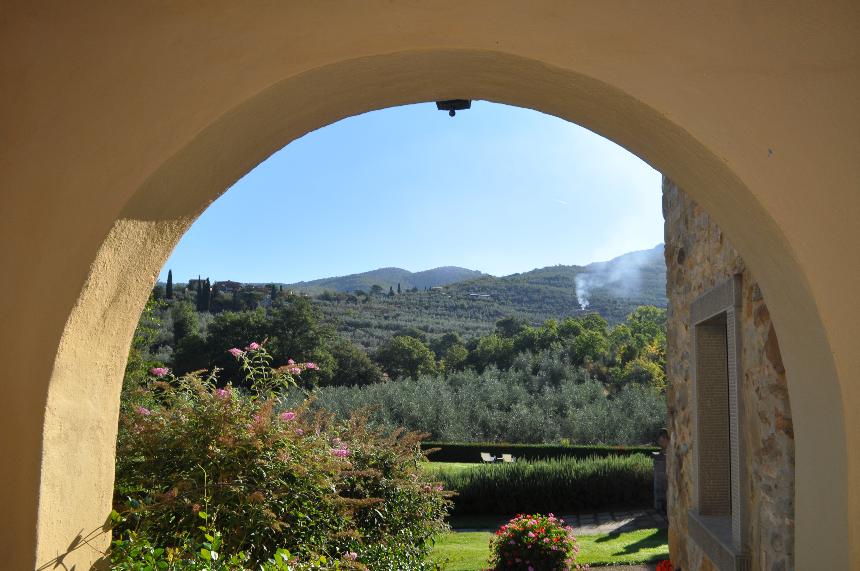 Four types of regional pecorino, Tallegio and a blue cheese accompanied by fresh tomatoes and olives - better than any restaurant.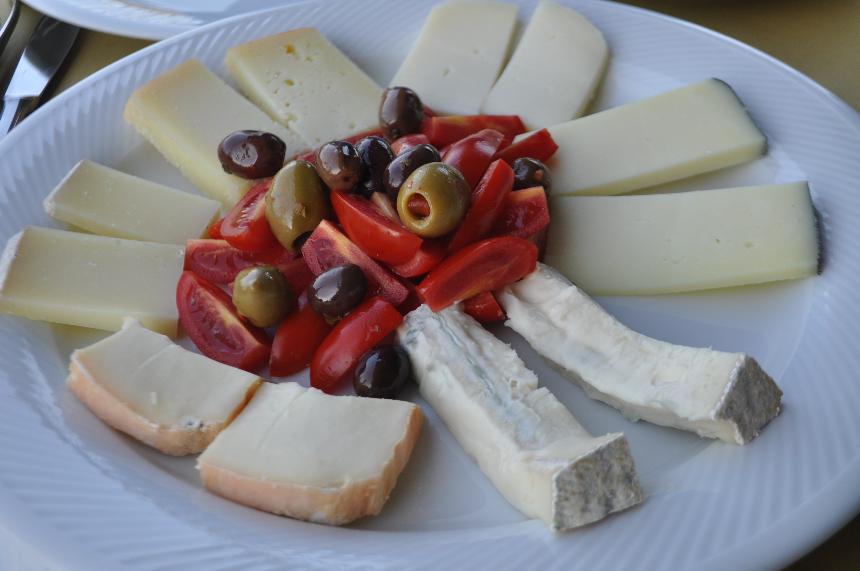 Cheese; olives; baked figs; tomatoes; ham and Tuscan salami; and a Rosso di Montalcino - what a great casual supper all thanks to Marcelo.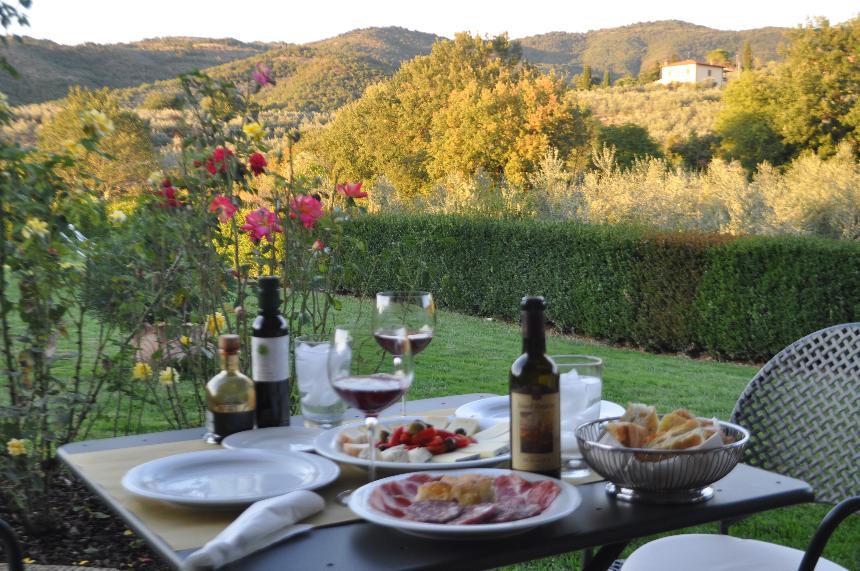 Thursday, September 12, 2013 - Villa Campestri, with a short visit to Vicchio
We spent most of the day at the Villa Campestri (www.villacampestri.com). The first records of the villa date from the 13th century. At that time the nucleus of the Villa was a small defensive fortress protected by watchtowers. The 1430 land register records the enlargement of the building from fortress to manorhouse. In the late 17th century the building took on its current appearance as a renaissance villa. The current owners purchased the property in 1989, renovating it to the resort it now is.
When one has such a beautiful Italian villa at their disposal why would one want to spend the day elsewhere? The villa is situated on a hillside with expansive lawns, a nice pool area and of course olive groves. The terrace at the front of the villa is perfect for breakfast soaking up the morning sun. We took a walk around the property and a short walk to a nearby 600 year old cyprus that is supposed to be the largest (in diameter) in the valley.
W went in to Vicchio for a short while to pick up some water and other treats - including some olive stuffed foccacia bread, but otherwise the day was spent enjoying the villa. The sun shone most of the afternoon providing the opportunity to spend some time around the pool, beautifully situated overlooking the valley..
Villa Campestri has a restuarant at which we had a mixed dinner - I very much enjoyed a simple oil and parmigiana cheese spaghetti first course and then a mouth watering Cuore di filetto di Chianina in crosta di olive nera - a Chianina beef fillet in a black olive crust with a fortified Vin Santo sauce and pine nuts, accompanied by a nice (albeit not as nice as the previous night) Chianti Rufina wine. Unfortunately Gayle was not crazy about either of her dishes - they were both 'ok' but not to her taste. It was disappointing given we were looking forward to a nice meal at a real nice place. But unfortunately not every meal can be memorable.
The sun trying to poke through as early morning clouds roll across the front of the villa.
The front of the villa, with breakfast served on the terrace.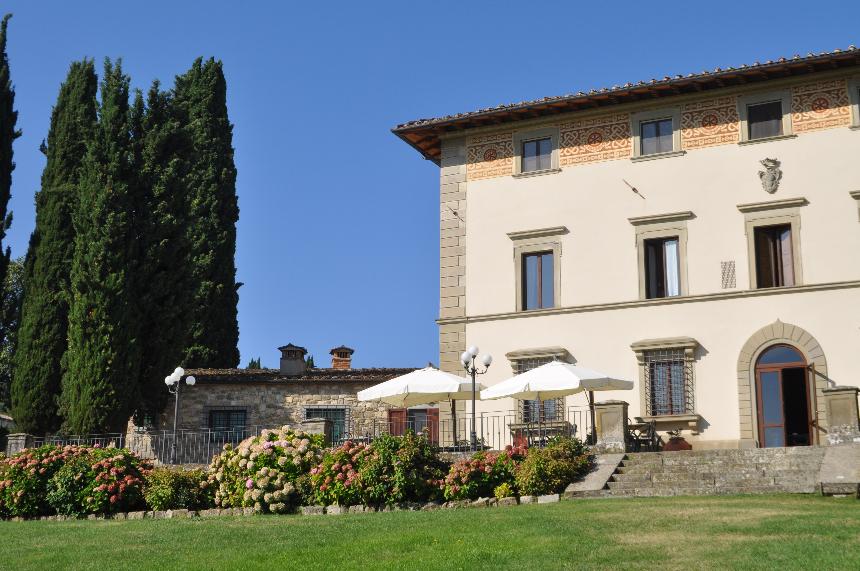 Being an olive oil estate I had to include at least one photo of the olive trees.
The cypress lined driveway leading in to the Villa Campestri.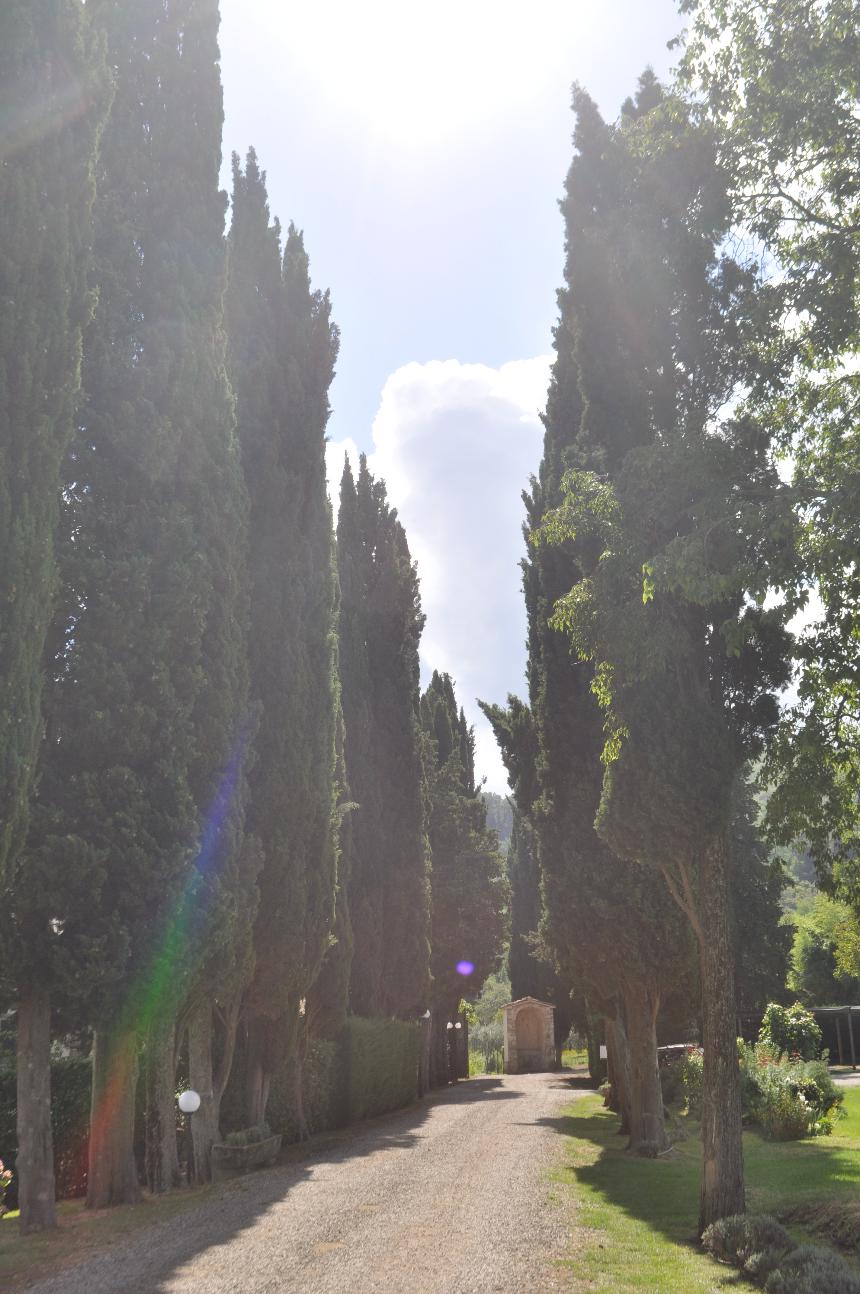 Fresh tomatoes and other vegetables at a small fruit and vegetable shop in Vicchio.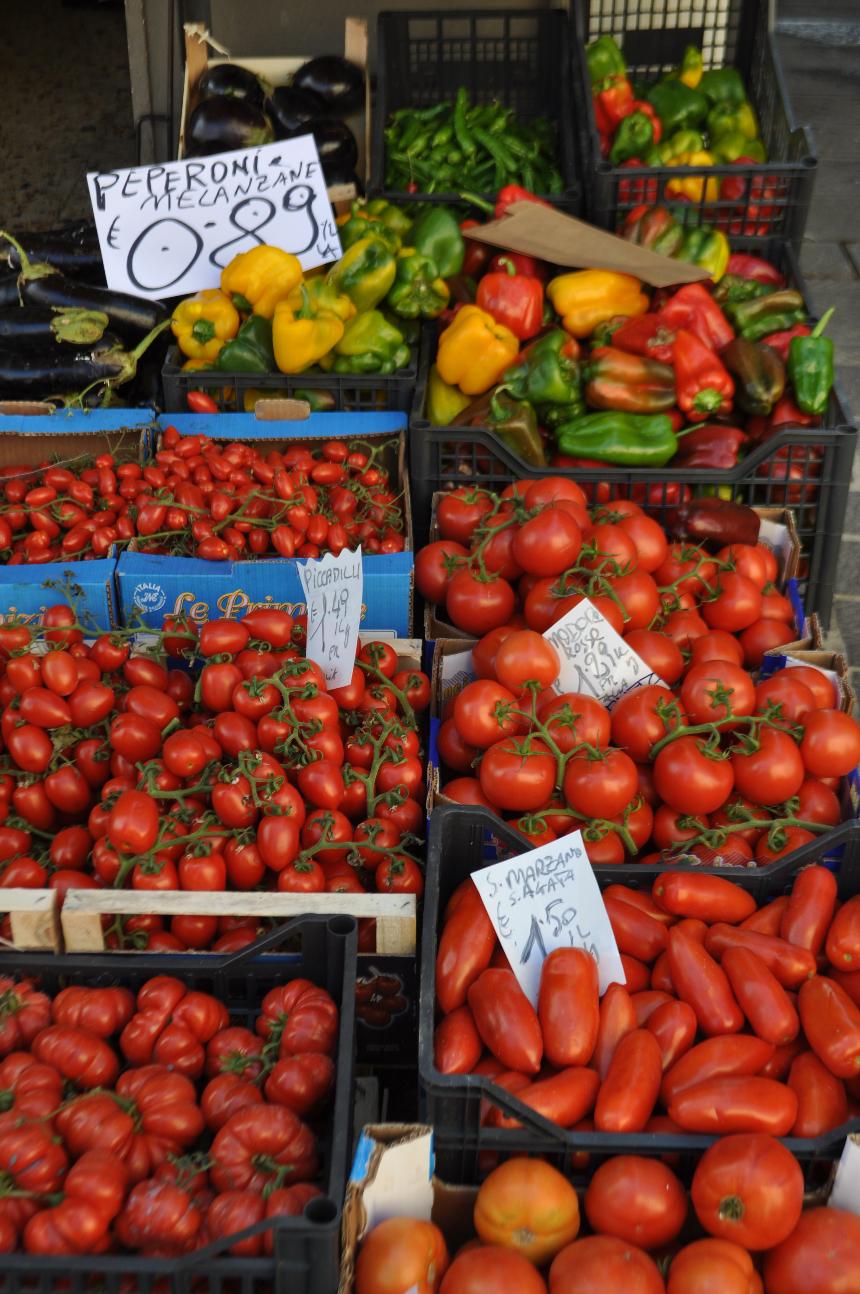 A square in the town of Vicchio.
The pool, looking across the Megello valley.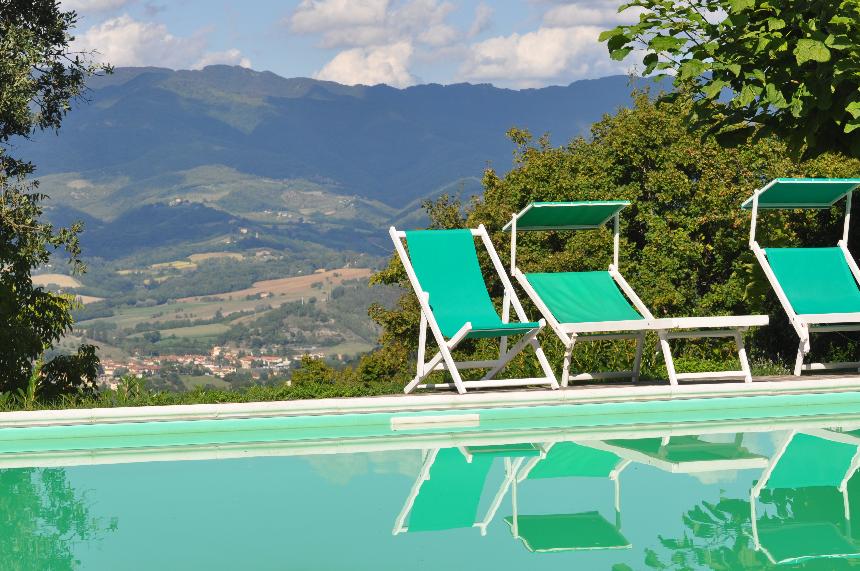 The common / lounge area on the first floor. Due to the thickness of the walls internet was not available in the rooms so spent considerable time in this area.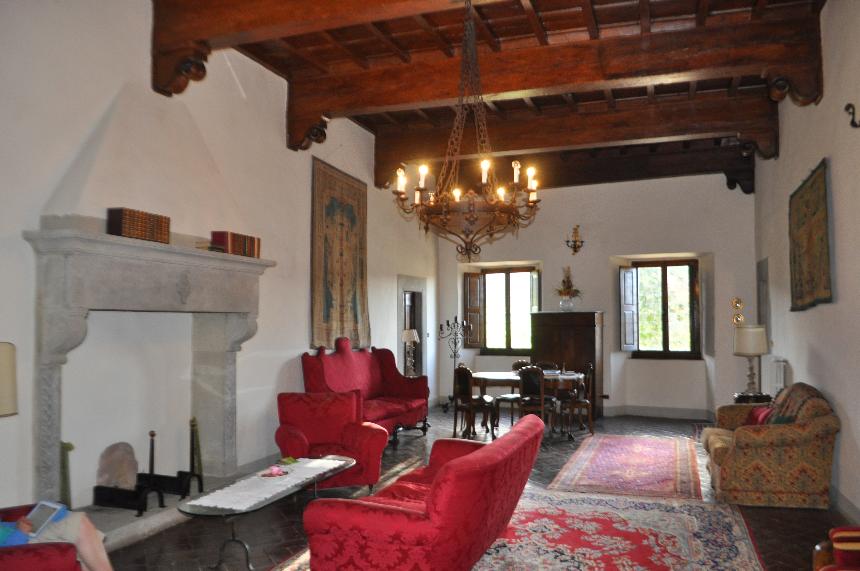 Wednesday, September 11, 2013 - Bosco del Fracasso, Scandiano through the Apennines to Vicchio (Villa Campestri)
After breakfast we took a short walk to the vineyard to discover Mauricio, his two sons and the two volunteers picking grapes. Interestingly the white/green grapes were intermingled with the dark/purple grapes but at this time only the white grapes were being harvested. Then Anna took us through her jam making operation, where her sister and mother were labelling jars, and then to the top floor where the casks aging the balsamic vinegar were stored. Anna explained the process of extracting the vinegar from the smallest barrel and sequentially topping up from four other barrels, with new juice added to the largest barrel. The barrels were from a wide variety of woods - walnut, chestnut, cherry, acacia, oak to name just a few. Anna and Mauricio (an accredited balsamic vinegar taster) bottle their own vinegar - both aged seven years and 13 years. We of course bought a few bottles.
The early part of the day's drive was actually quite unattractiive, through flat landscape with industry on both sides of the road. Eventually we turned south to begin our drive through the Apennines, the mountains that cross Italy between Bologna and Firenze; mountains that I biked over 39 years earlier. Although memory tends to fade the size of these mountains do not - perhaps not the Alps but they remain noticeable, with endless switchbacks up and down, over and over particularly as we crossed from west to east.
As some of you know I enjoy taking photos of elderly people. However at times doing so can be awkward, particularly if one stops the car, walks down the road, asks if it is ok and then is told no. But today was a good day - two asks and two smiles. In fact this lady on the roadside, with her bucket of blackberries started talking to me (in Italian) about dogs (I knew the word 'cane') and truffles ('tartufo') and who knows what else ... smiling for her photos, talking away ... and then she just left. I'm glad I got a few good shots.
Being tired from an exhausting drive through the hills, and admittedly a bit hungry we saw what looked like a nice rural trattoria so stopped, and glad that we did. The nicest lady looked after us - a fun experience with her limited English and our limited Italian. But we figured it out and had some really great food - bruschetta with of course the freshest of tomatoes - they are in season - stuffed (with potato - a local Tuscan recipe) ravioletti with shaved truffles - seemed to be the obvious thing to order given the lady on the road said something about truffles, and grilled lamb. A perfect afternoon stop.
After what seemed like a gazillion more tight twisty turning switchbacks we arrived at Villa Campestri a little after 5:30 pm. A beautiful estate - it has branded itself as an 'olive oil resort' set amongst the cyprus and olive trees on the slopes overlooking the Megello Valley and the town of Vicchio. Likely because of a tour booked in we were upgraded to a 'suite' - three rooms totalling over 1,000 sq feet, with an absolutely huge bedroom including a bed that has to be seen (see photo below) to be believed. More on the Villa tomorrow.
Having had a late, and large lunch we skipped dinner this evening.
.
Mauricio hard at work picking grapes.
The balsamic vinegar casks.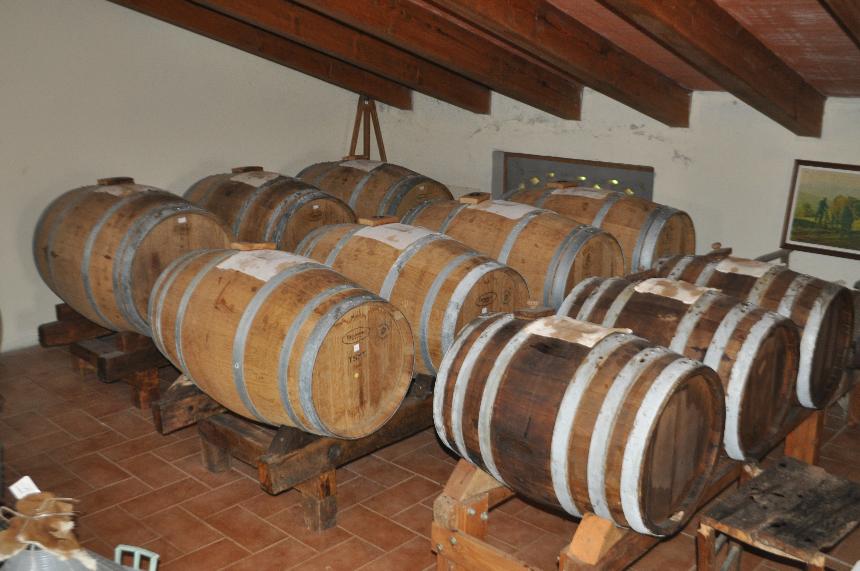 Anna explaining the balsamic vinegar process.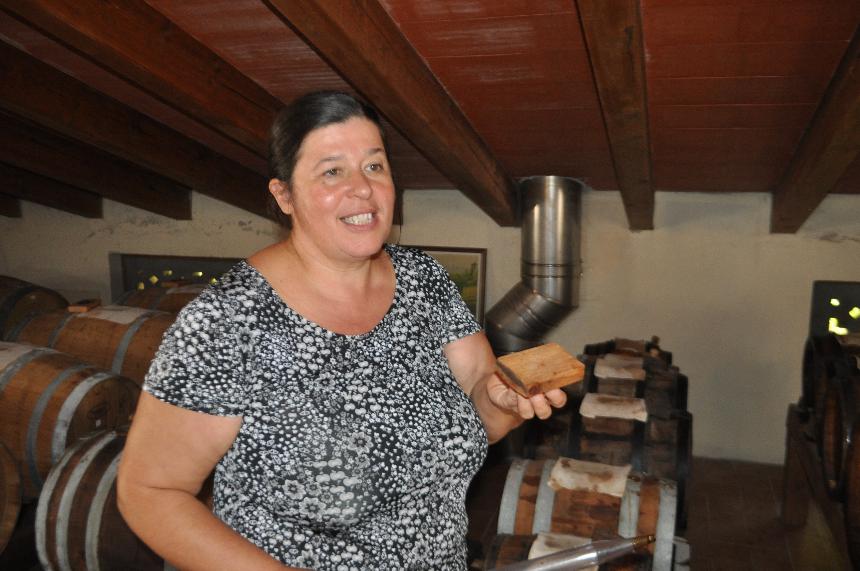 This lady proves that some are more than willing to have their photo taken ... and to tell a complete stranger the day's story.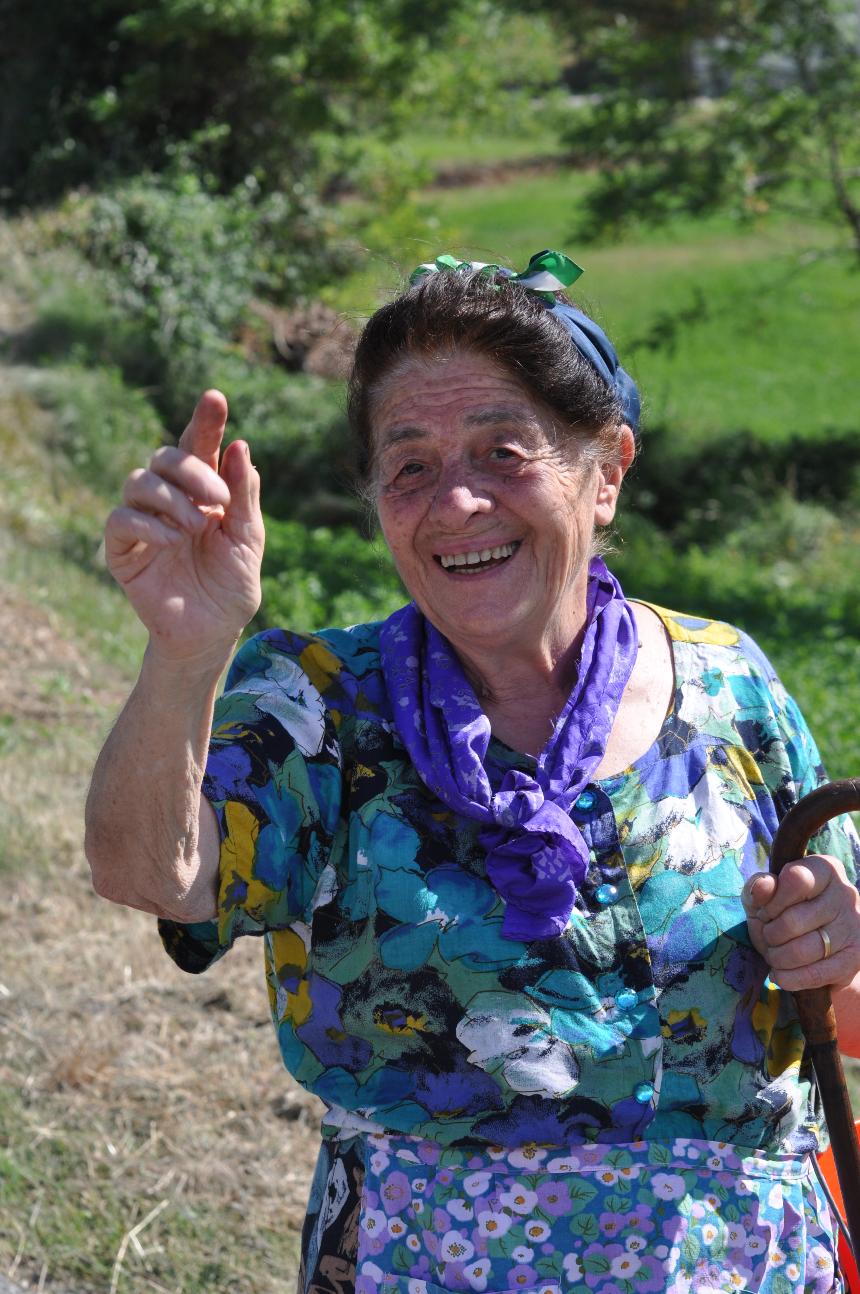 ... and then she just left ... no doubt off to cook or bake her berries in some way.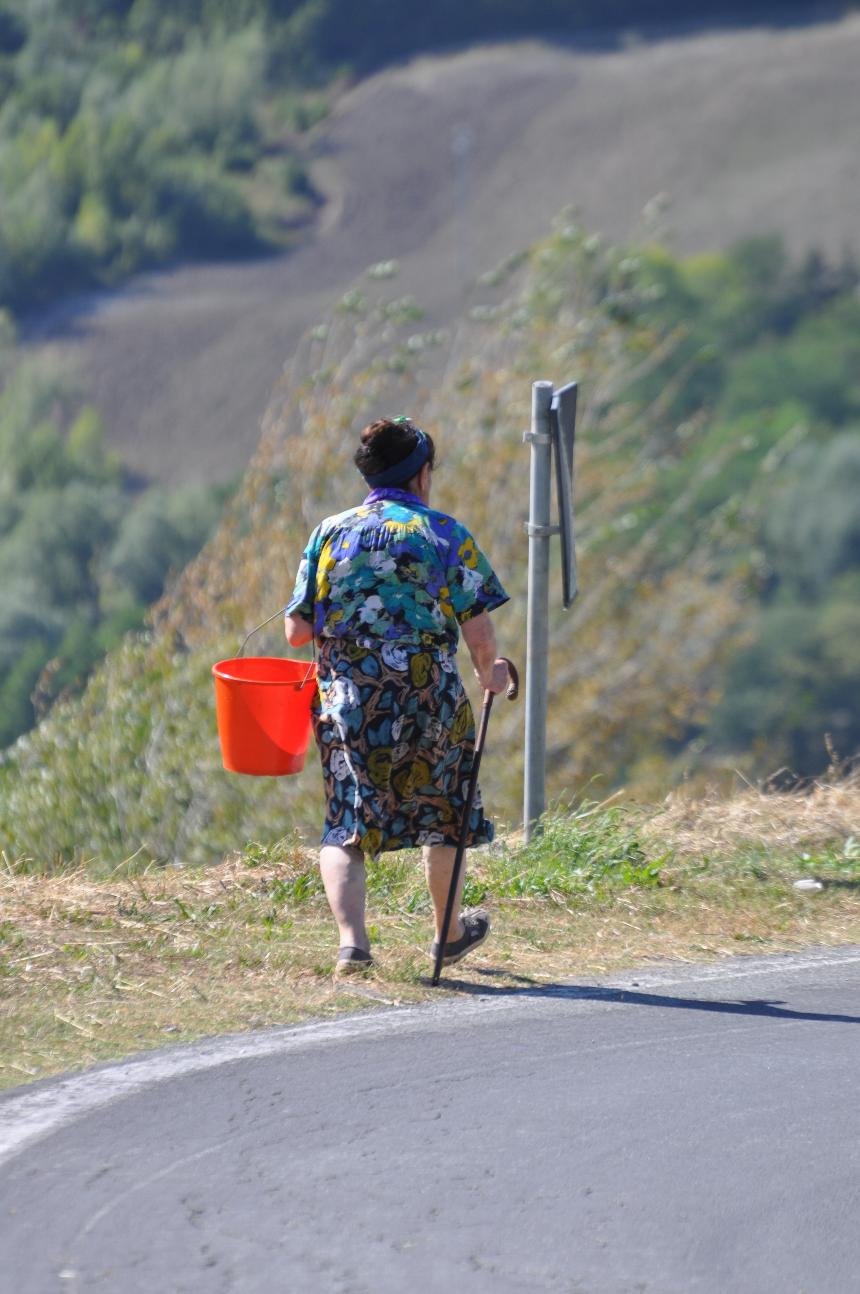 Bruschetta - simple but delicious.
Raviollitini (stuffed with potatoe) with shaved tartufo (truffles) and cheese.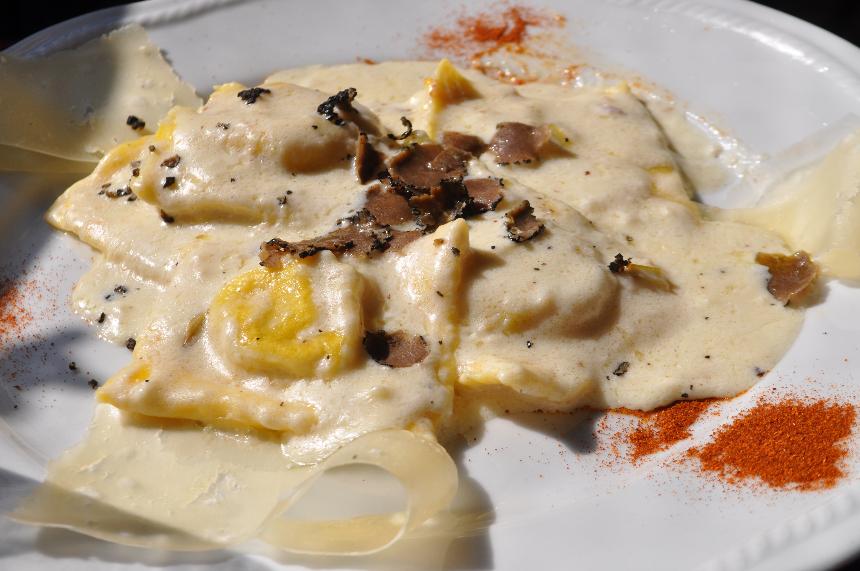 This is why we stop at rural trattorias out in the middle of nowhere - they tend to be run by the nicest people ... and the grilled lamb was pretty darn good as well.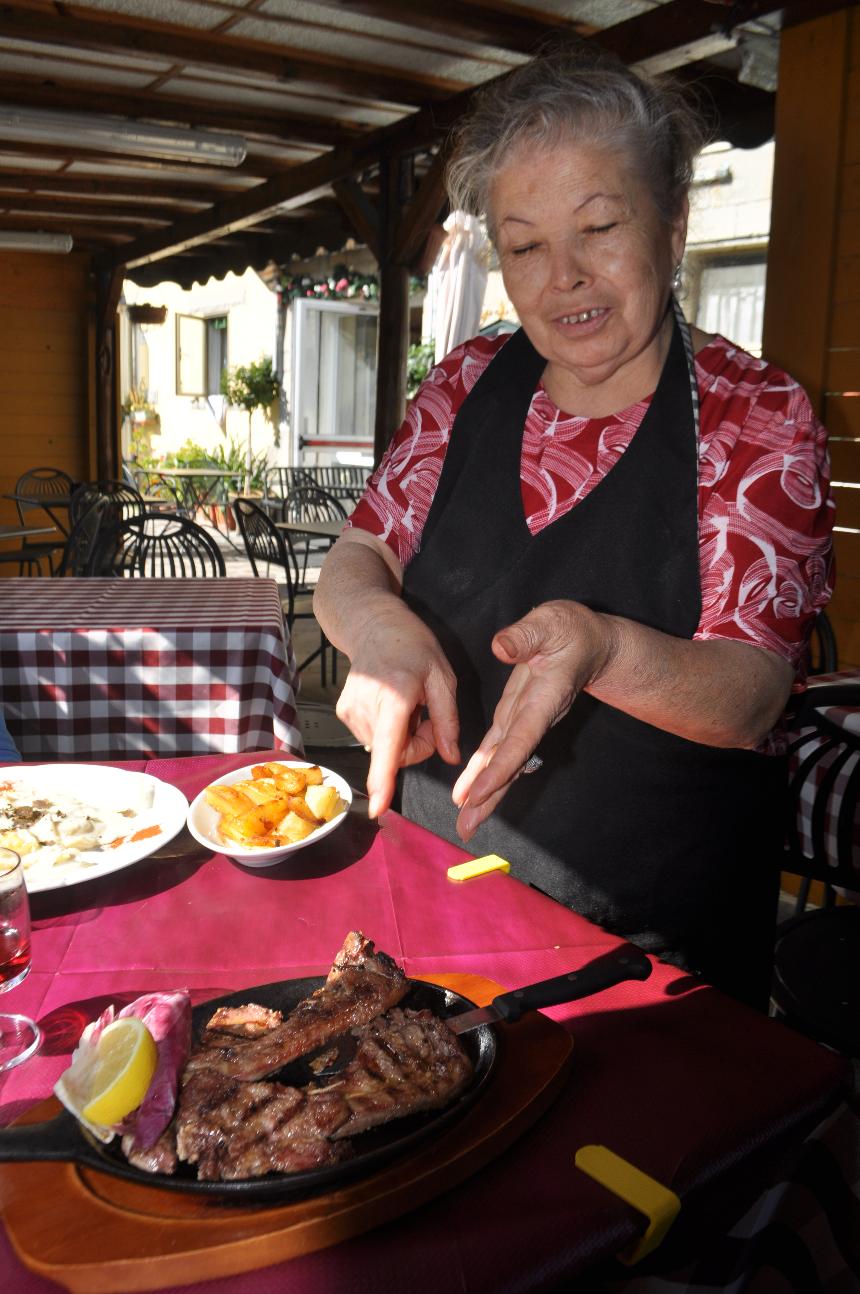 The view over the tile roof to the cyprus trees and hills beyond from our room.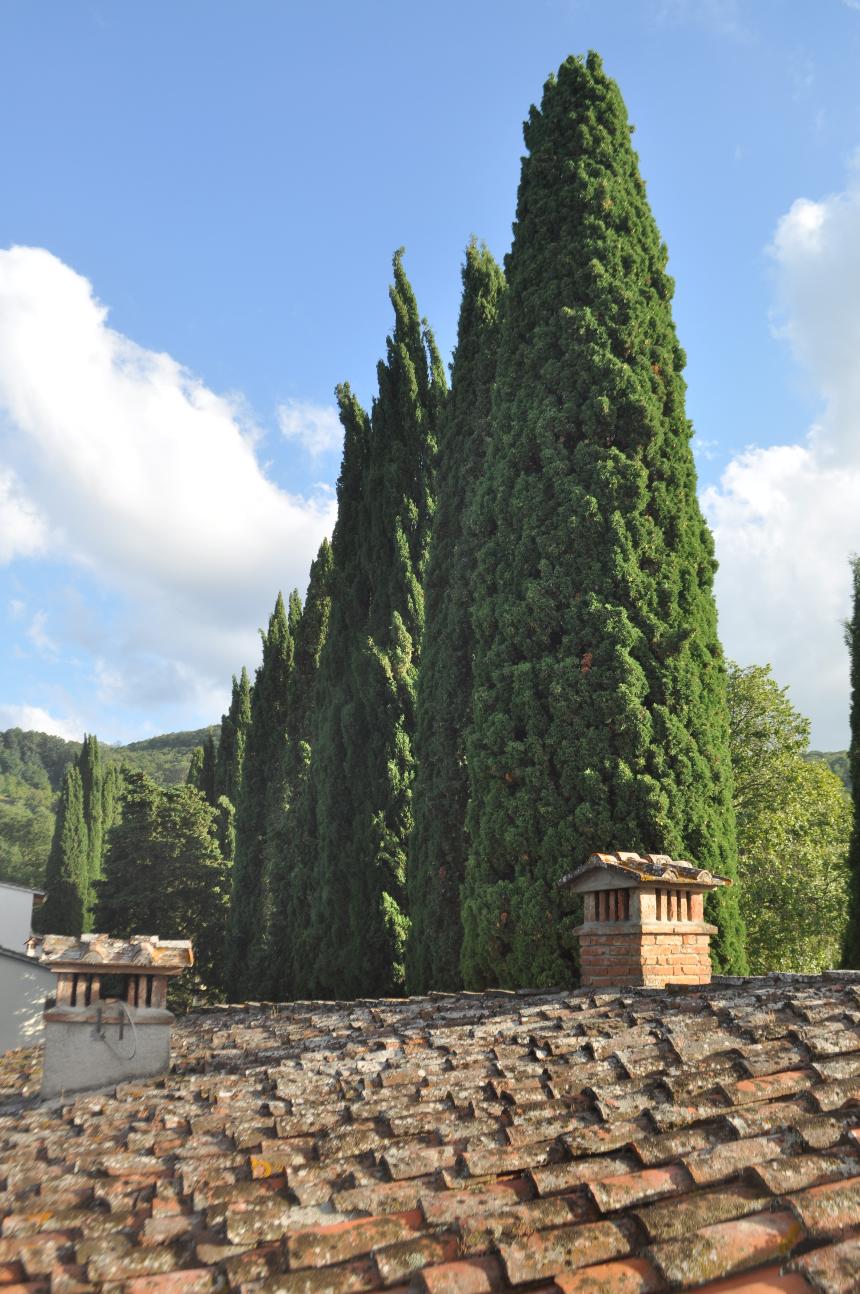 This certainly receives the award for the most ornate bed we've had on any of our trips.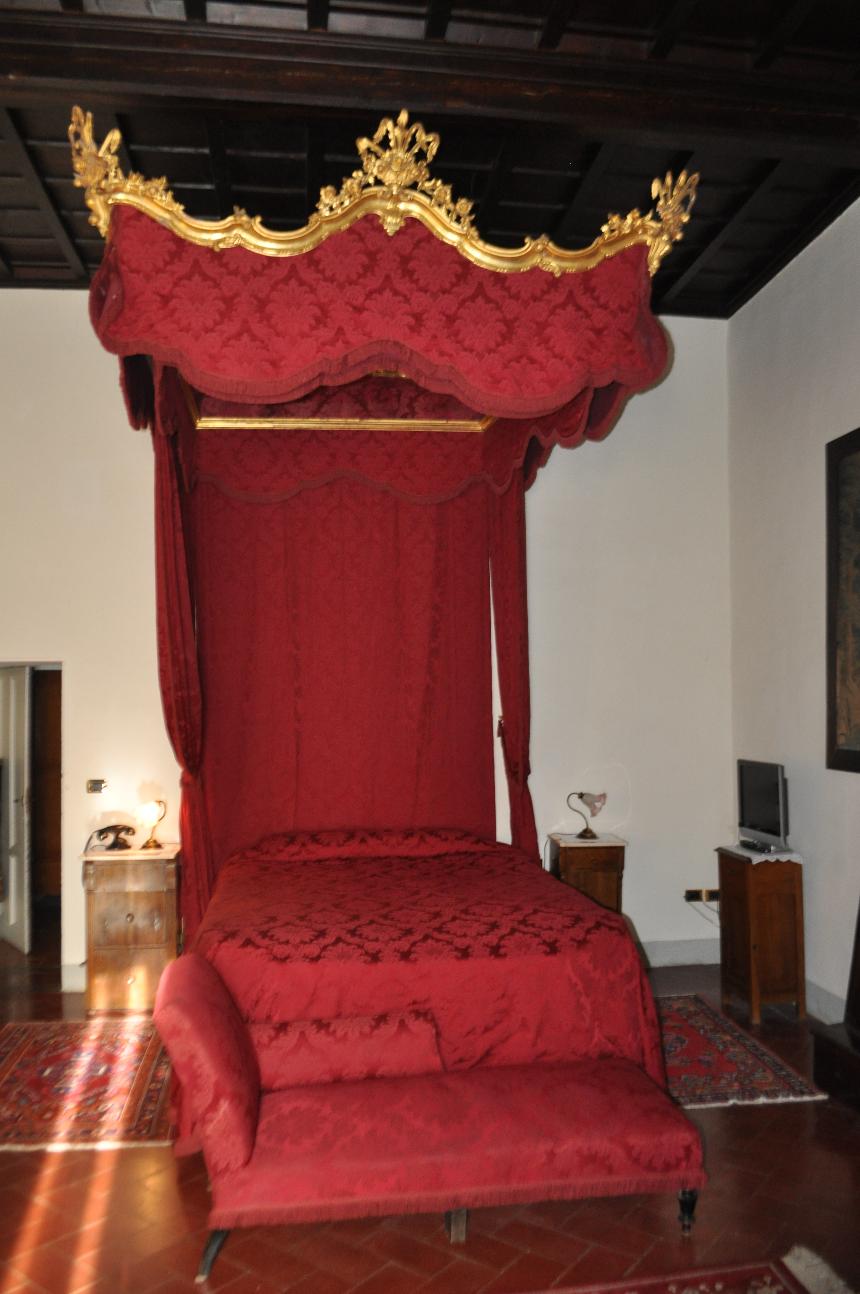 Tuesday, September 10, 2013 - Bosco del Fracasso, Scandiano and a day trip in to Parma
We weren't sure what to do today. Our agriturismo was not set up for just sitting around and relaxing (remember it is a working farm) but where there were a couple of other volunteers helping out we considered offering to pick grapes for the afternoon. However where we chose to stay in this area to go into at least one of the cities, either Parma or Modeno in the end we decided to go to Parma for the afternoon. It was a bit over an hour to drive and then there was the challenge of finding the Centro and the underground parking. After a few wrong turns we found the parking garage closest to the central core. Like a number of European cities the central area is effectively pedestrian only - other than for access to the few who live here and the delivery vehicles, but otherwise no traffic. There are a number of impressive buildings - theatres, museums, churches, towers and the Duomo (cathedral). We stepped in to the Duomo - which impresses simply by its massive size, particularly given it was built by hand back in the 11th century - and then just wandered about the streets. We stopped for a couple of slices of pizza and the local cookie, the Tortelli Parmigiani, which we discovered was filled with a plum paste. We then returned to our agriturismo. While Parma was ok in retrospect probably not worth the drive in and back. We probably should have stayed and helped out at the farm.
After only pizza for dinner last night we went to the nearby Ristorante Bosco for what turned our to be a wonderful meal. To start Gayle had a Sformato di zucchini con salsa leggera al pomodoro and for me the really expensive (16 euros = $23) plate of parma ham, a special drier sweeter ham apparently from a very small production area Culatello dell'Arch Brozzi. We both then had tagliatelle, Gayle's with porcini mushrooms and mine meat ragu, all accompanyed by a very nice bottle of regional Sangiovese di Romagna. As you will see in the photo deciding on dessert was not an easy choice so we shared a peach stuffed with chocolate and then covered with a creamy sauce (Gayle says whatever it was called it was "to die for") and a Zuppa Inglese - layers of chocolata and cream covered by lady fingers soaked in liqueur, the Italian version of the British trifle coveted by the Italian aristocrats on their journeys. We were then offered a liqueur - Passito di Pantelleria which was very nice. In addition to the great food we had just an excellent waitress - Manuela - who due to the absence of an English menu took the time to translate/explain every dish to us. Great service and well prepared food made for an excellent Italian meal!
A wide selection of Italian cakes and sweets for breakfast.
The pedestrian only central area of Parma.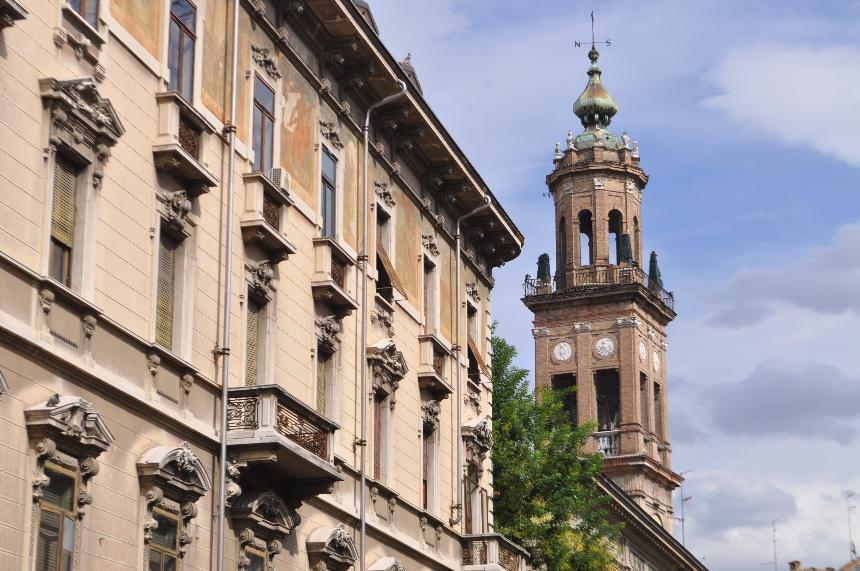 Part of the ceiling of the duomo of Parma.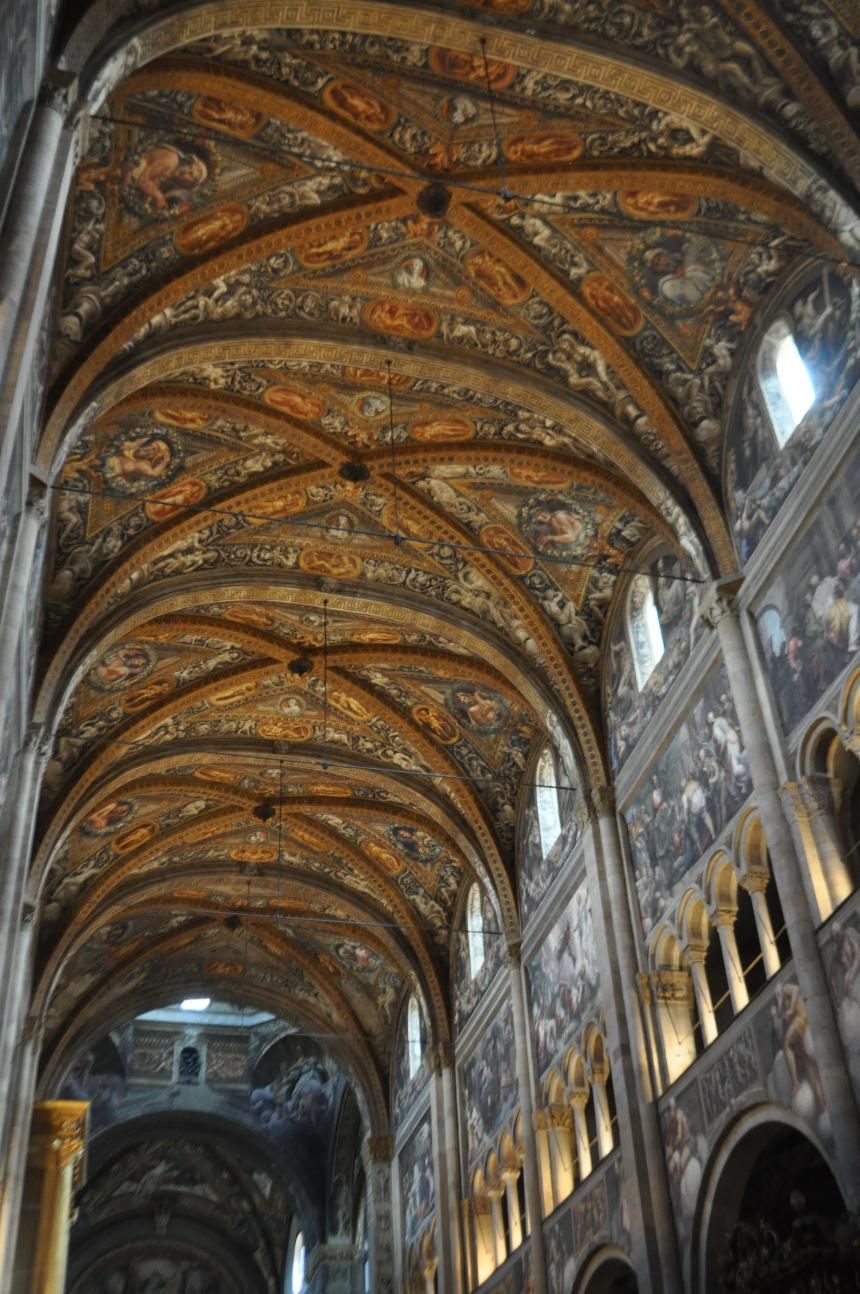 A selection of sweets from one of many shops in Parma, and throughout Italy.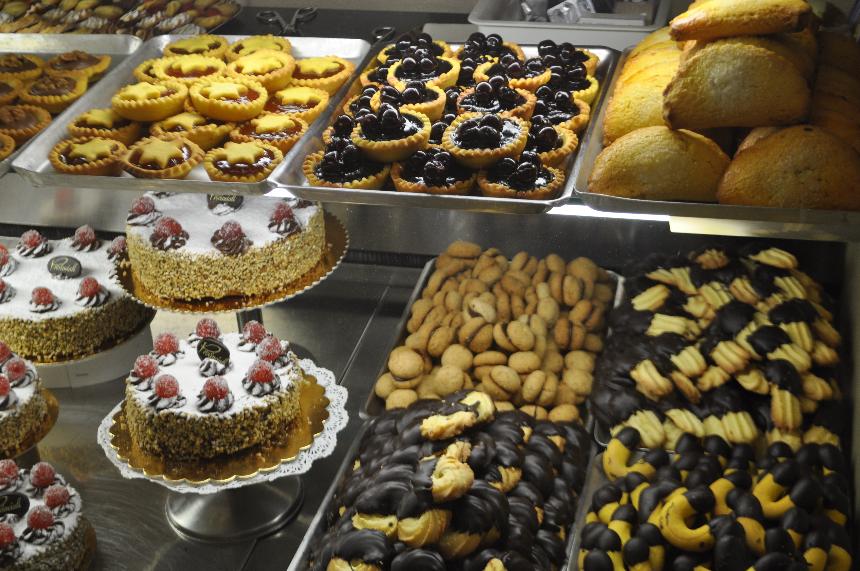 The local cookie, filled with a plum paste.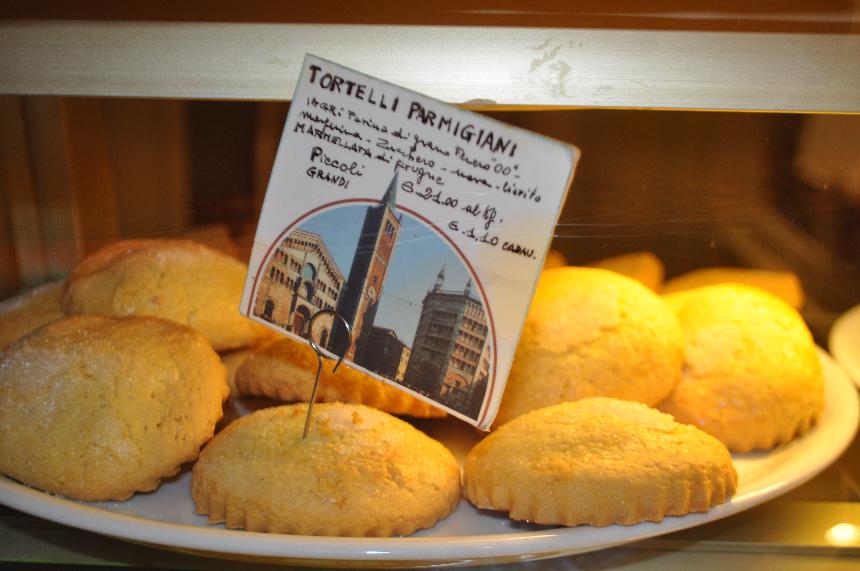 A little panzo (lunch) in a park in Parma.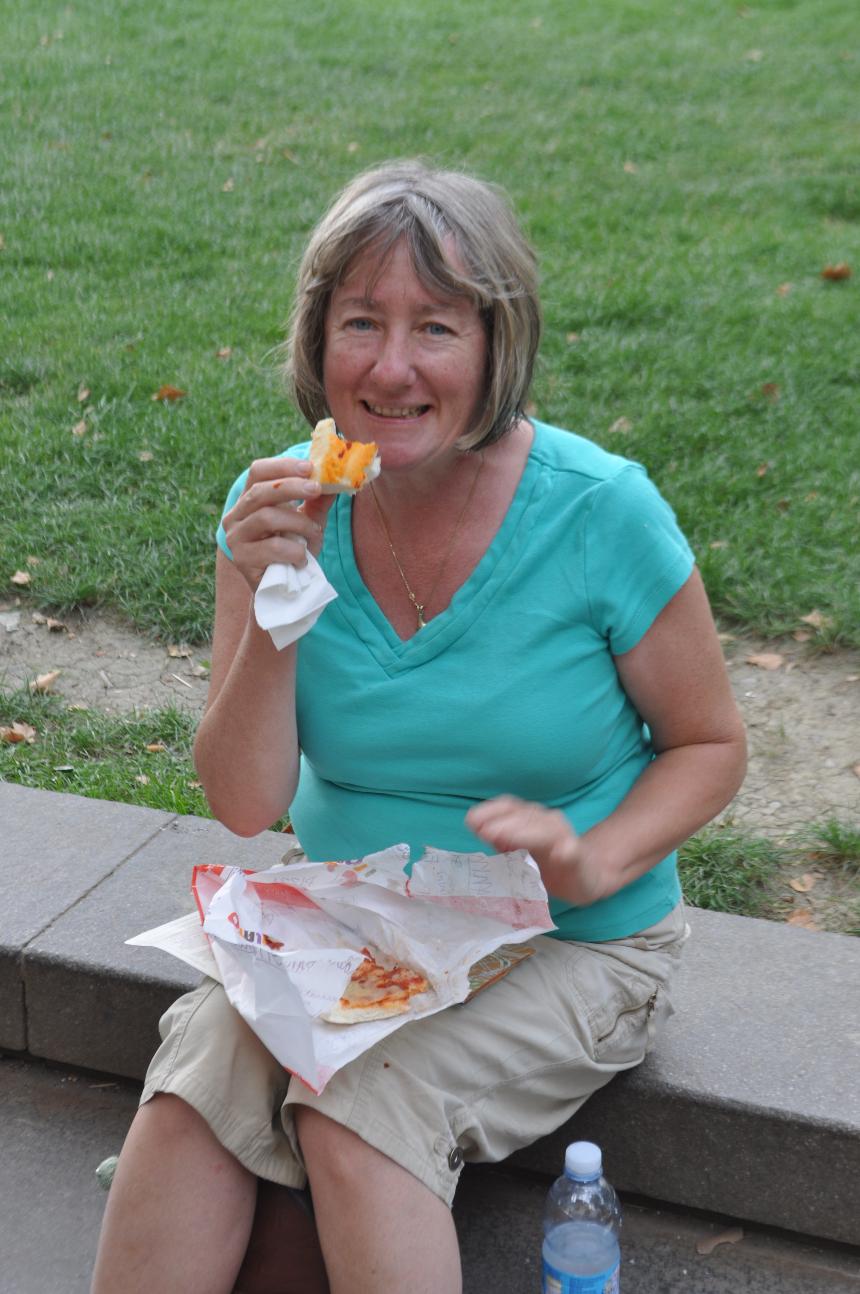 Gayle's primo platti of Sformato di zucchini topped with a piece of dried parmesan.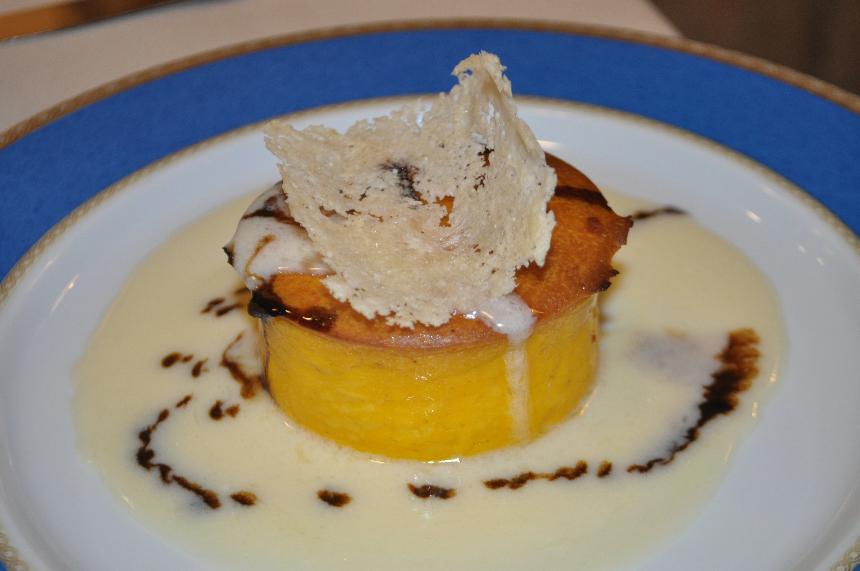 Cutting slices of parma ham directly from the leg.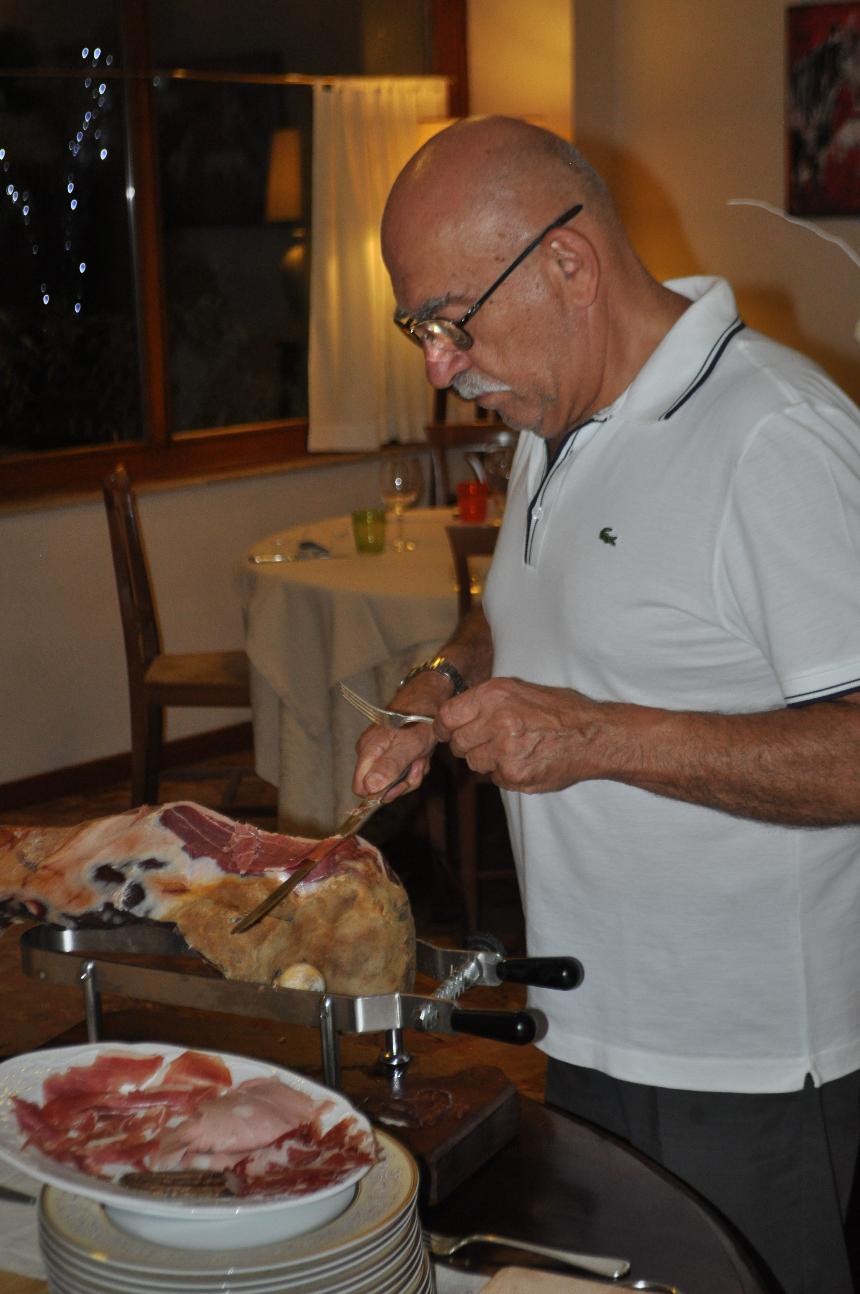 My plate (appetizer) of parma ham.
Monday, September 09, 2013 - Vetto (B&B La Fossa) to Scandiano (Agriturismo Bosco del Fracasso)
After a peaceful sleep interrupted only by the sounds of the crickets and the roosters early in the morning we arose to another nice day. We first spent some time with the dogs and then simply enjoyed the beauty of the hills and countryside. After a bit of work on the blog we sat down to breakfast - cheese, more warmed bread with a wide variety of home-made jams, fresh ( and with chickens onsite you know they are fresh) eggs, coffee and as Tatiana explained to us as Italians always have sweets for breakfast a cake, in this case a traditional Mantovana. It was nearly 1:00 pm before we said arrivederci and left what will be a most memorable stay.
The drive north to Scandiano ( just south of the cities of Parma, Reggio-Emiliga and Modena) was relatively short at only 90 km, having us arriving mid-afternoon at the Agriturismo Bosco del Fracasso, a real down to earth farm where we will be staying the next two nights. Anna and Mauricio are very welcoming and super nice. As mentioned this is a farm, not a resort, with in fact two volunteers here at the moment helping out in the fields during this busiest time of the year. There are ducks and geese, a couple of pigs, apparently cows at the other end, fruit trees - pears were being prepared for jams, and vineyards. While our room is quite nice the farm has little else for the traveller but that is ok - it is actually nice to experience an operation where the focus remains on the farm with the agriturism being an additional source of much needed revenue. Nice people are what, in the end, make a place.
After a number of large meals we wanted something simpler, and therefore went in search of pizza (after all this is Italy). The first place was closed for holidays but we did find another in town - more of a take-out with only two small tables but the pizza was very tasty, which is what we were looking for.
You know the eggs for breakfast are going to be fresh given the chickens wandering around the yard.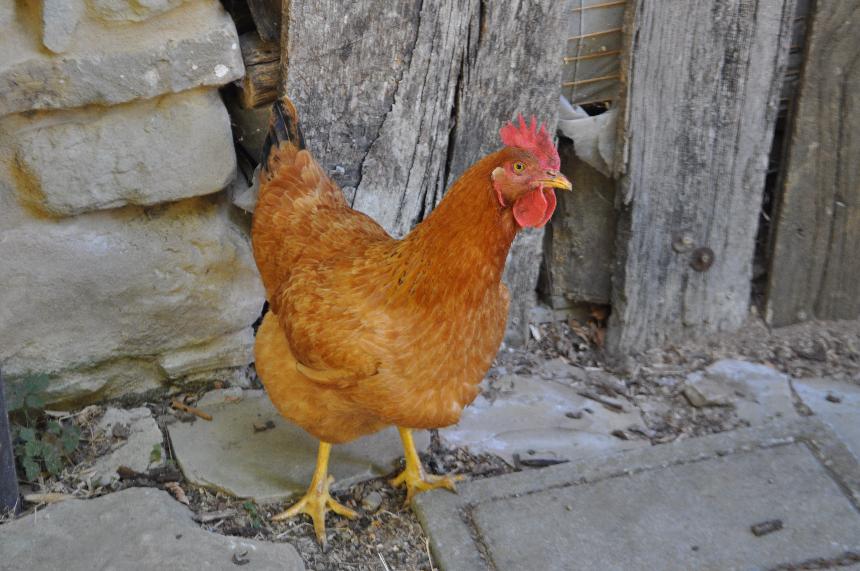 No less than otto (eight) of Tatiana's home made jams for breakfast.
Torta Mantovana - Tatiana's version with additional spices of cinnamon, nutmeg and cloves.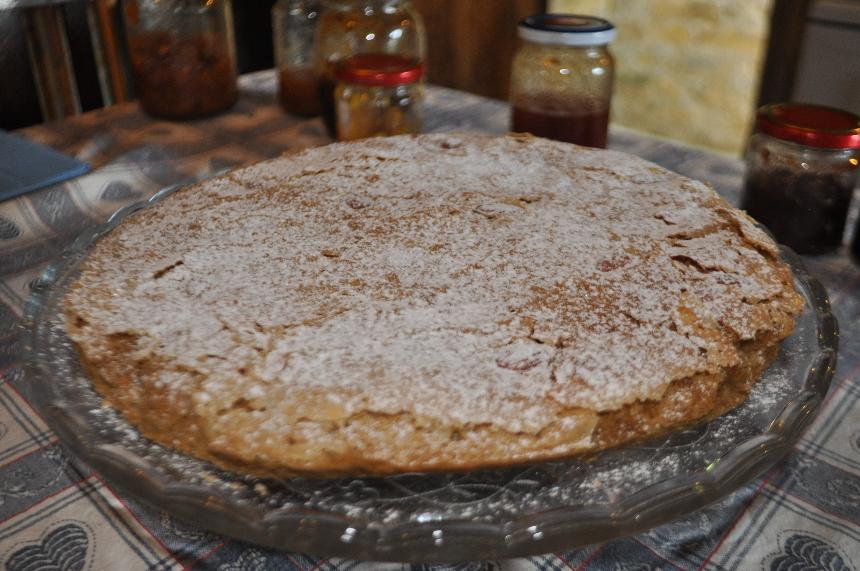 Enjoying time on a stone bench with the hills of the Apennines in the background.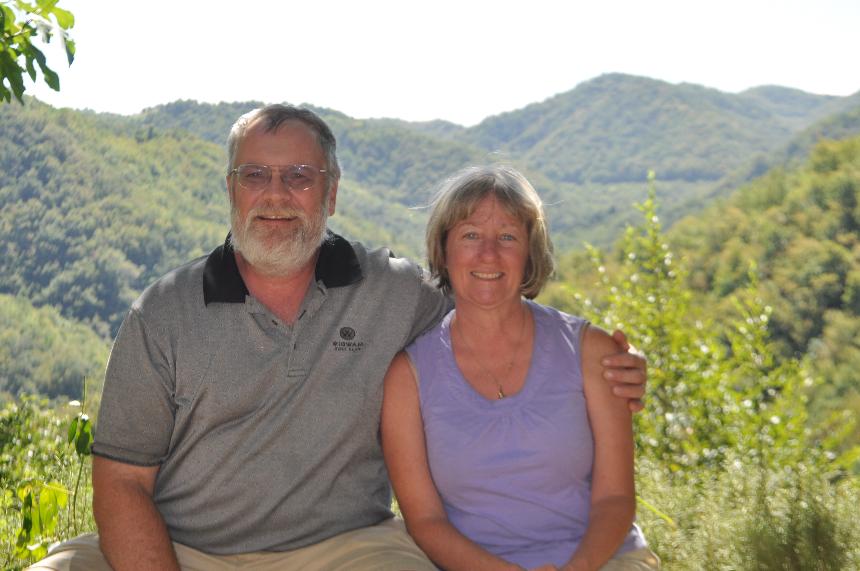 One of the beautifully restored (both inside and out) buildings at the B&B La Fossa.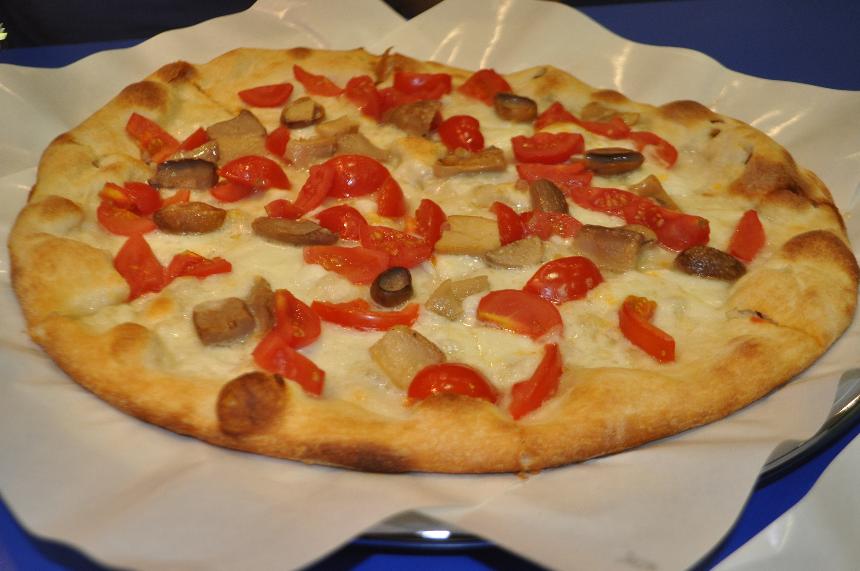 September 8, 2013 - Salsamaggiore Terma to Vigolena to Vetto (B&B La Fossa).
One of the family at Antica Torre recommended we visit the medieval village of Vigolena, only a short 15 minutes away. Being Sunday we had to weave in and out of a number of 'Sunday bicyclists' - not the professional want to be types but the social bicyclists who were all over the road. Good on them for being out but it was a bit like an obstacle course trying to get around them. Vigolena was interesting - a medieval castle dating from the 11th century - there were a number of displays of armaments and tools of torture, including a guillotine. The view of the village and surrounding countryside from the top of the tower was spectacular.
After dinner last night I enjoyed a glass of Vin Santo - the Italian dessert wine. Most Vin Santo is lighter in colour and style and comes from Tuscany, but only in a very small area around Vigolena do they make a special darker Vin Santo. Not cheap but I did buy a bottle.
Shortly thereafter it began to rain, at times somewhat heavy, requiring me to take even more care driving the tight twisty roads up and down the hills of the Apennines. We stopped for lunch at a locanda out in the country but being Sunday it was full so we had to move on, eventually making our way to the B&B La Fossa near the village of Vetto. Five kms up the hills with the last two kms being along a very narrow lane winding along a hillside - straight up on one side, straight down on the other - at times having us question where we were really going. But after a few stalls we made it to a set of buildings as out in the middle of nowhere as one can imagine, to be greeted by Tatiana, Marc, their two year old daughter Josephine, Matilde and Brando the dogs, six cats, 15 or so chickens and a horse. Being hungry we asked Tatiana if she might have some bread and cheese. We could not have been more impressed or pleased as we were provided a loaf of fresh bread, two large pieces of Swiss and Reggiano parmesan cheese and a nice bottle of wine, all of which hit the spot.
After a relaxing afternoon we enjoyed a wonderfuly dinner with Tatiana, Marc and Josephine (for a while until she fell asleep). This was truly an experience of being part of the family - not simply being served but actually sitting down and eating with them. Tatiana, like Gayle, is also a vegetarian which only reinforced that one does not need meat to enjoy an excellent meal. We started with a Farinata con Gorgonzola followed by polenta covered with mushrooms. Then it was a lentil pie accompanied by fresh tomatoes and zucchini. There is no doubt the taste of these fresh large vibrant red tomatoes, flavoured with olive oil and/or balsamic vinegar is quite different than what is generally available at home. For dessert we enjoyed Tatiana's homemade ice cream and then finished the evening with a samplin gof Marc's homemade Italian liquers - juniper berry; cherry; nocino (nuts); orange and others - the choices were many, and then of course an espresso.
We so much enjoyed such a great evening discussing iwht Marc and Tatiana what brought them to this isolated place; the years of very hard work renovating their home and the guest houses - and what a great job they did - Tatiana's superb cooking and on and on. This was for us the perfect experience - being out in the country sharing the experiences of a very interesting and nice couple.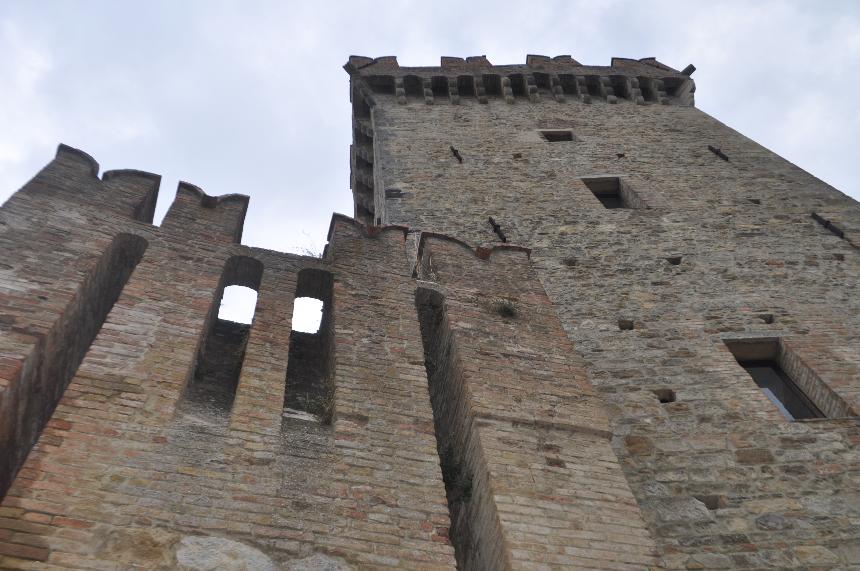 The medieval village of Vigolena.
Views of the Appenine hills from our bedroom window.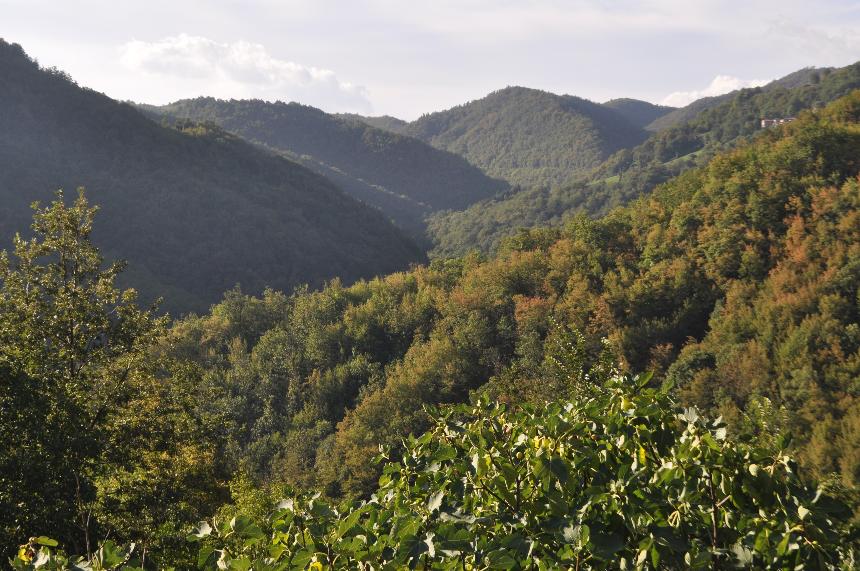 Bread, cheese and wine upon arrival at B&B La Fossa.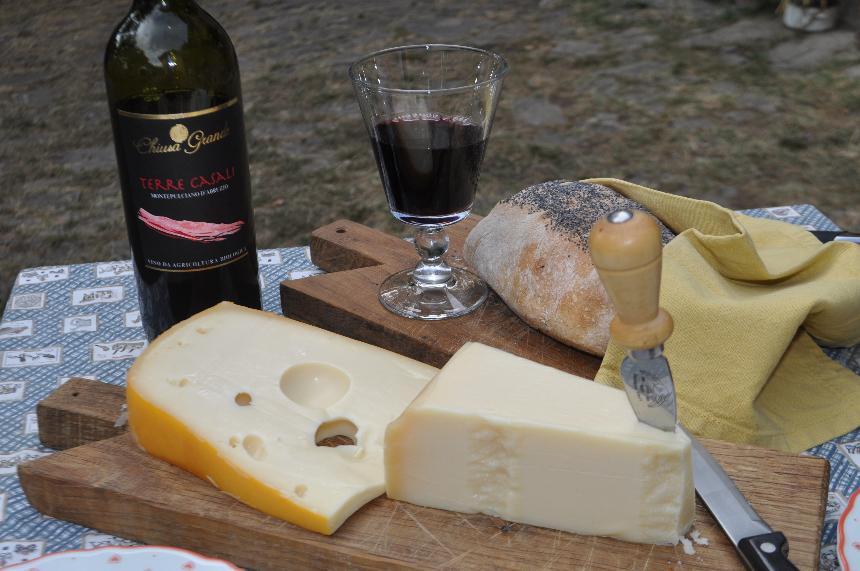 The tranquil setting of the B&B La Fossa - with chickens, dogs and cats wandering throughout.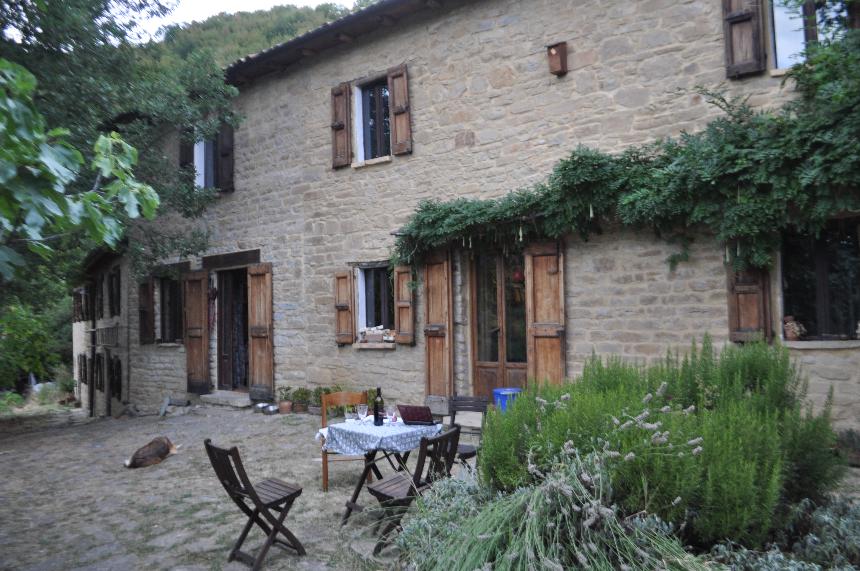 Our antipasto - a Farinata Con Gorgonzola - somewhere between a crepe and pancake topped with gorganzola cheese.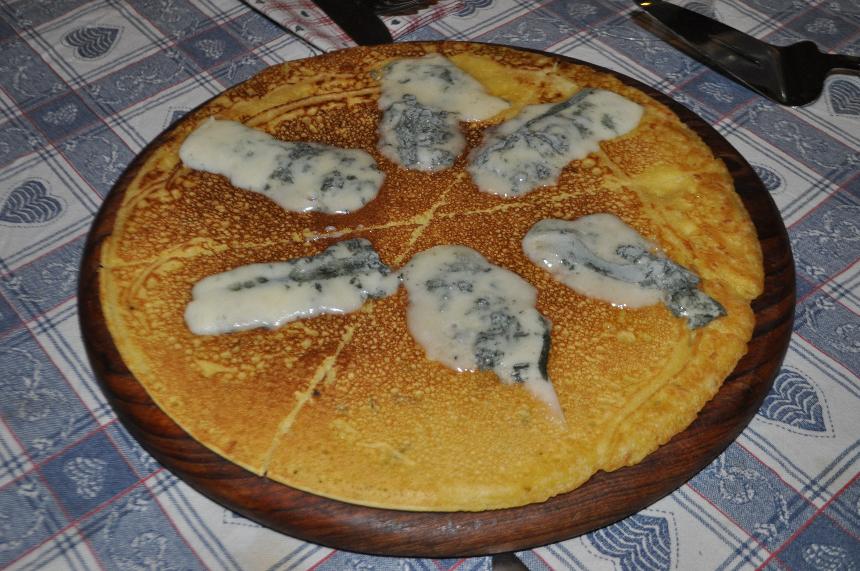 Gayle, Tatiana, Josephine and Marc enjoying dinner.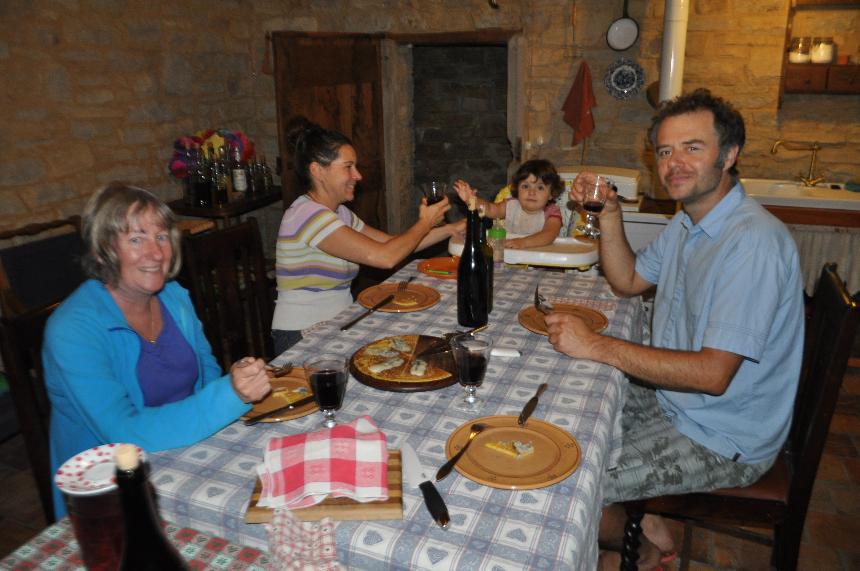 ... and with me in the picture.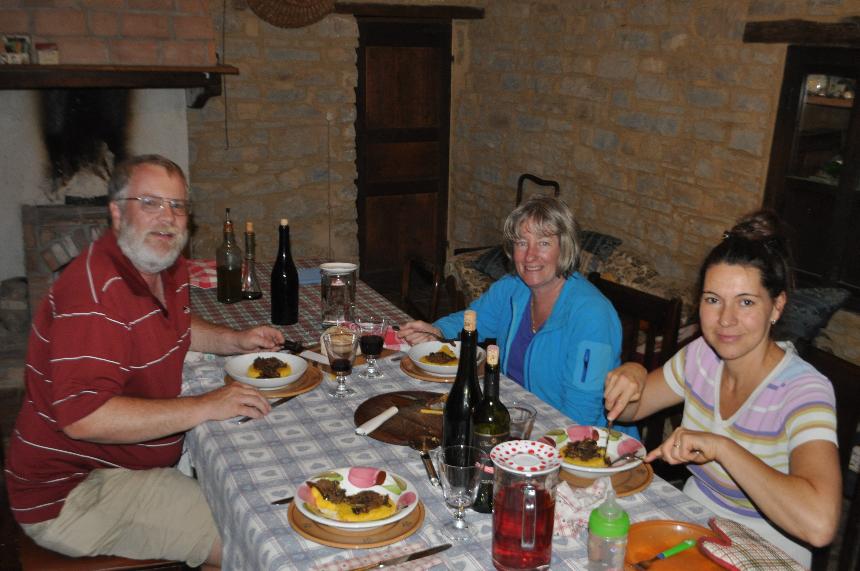 Polenta smothered with mushrooms - delicious.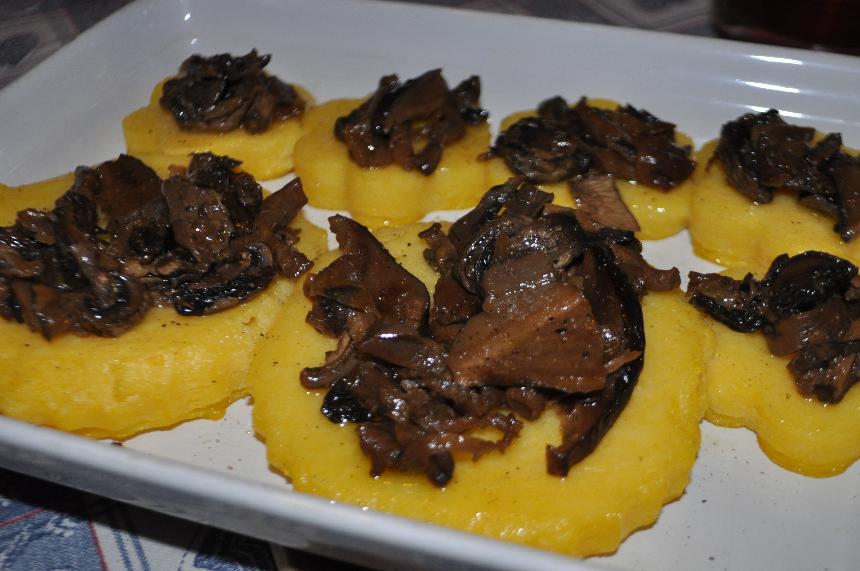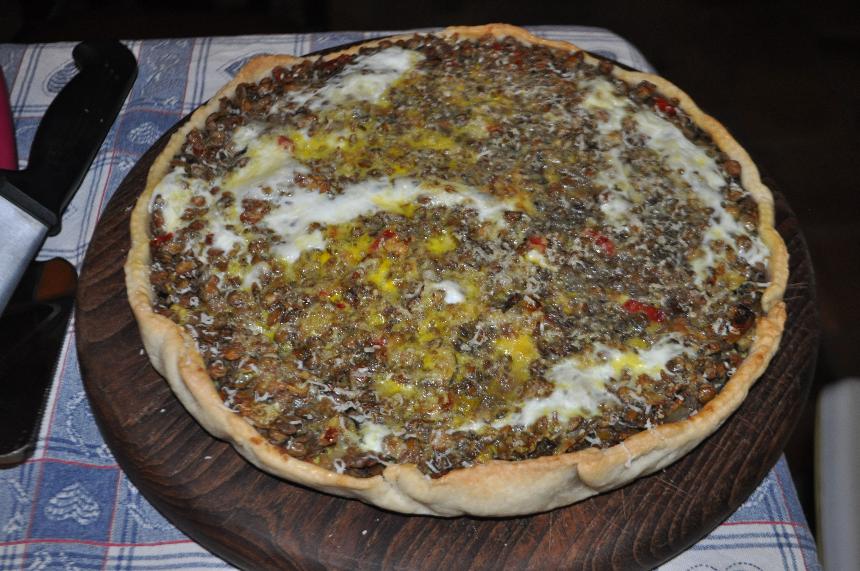 Vibrant red fresh tomatoes, with olive oil and balsamic vinegar, along with zucchini proving food does not have to be complicated to be tasty.
Marc's homemade Italian liquers - a 'smooth' ending to a wonderful meal.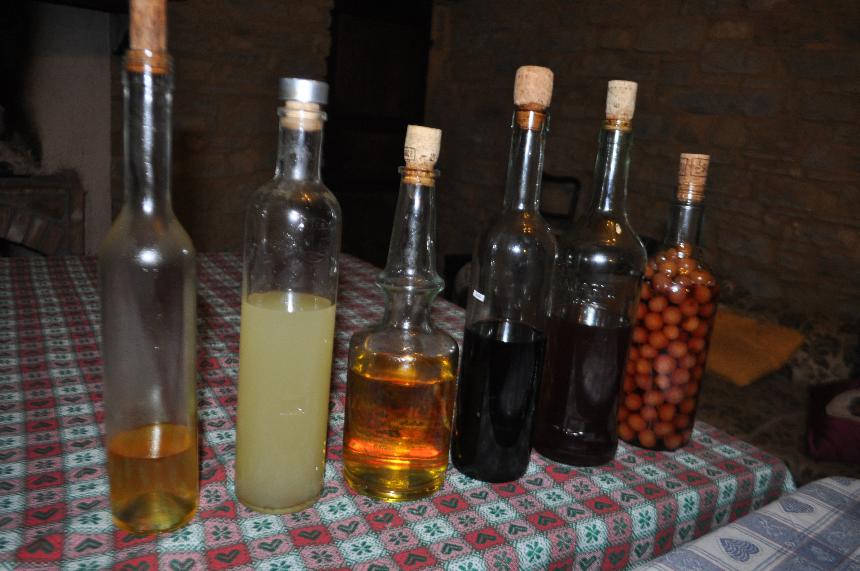 Saturday, September 7, 2013 - Lezzeno, Lake Como to Salsamaggiore Terma (near Parma)
After two full days on Lake Como it was time to move on. The weather had been near perfect - if anything too hot as it has been in the mid 30s (today was again sunny but it 'only' reached 32 celsius). After breakfast we packed up, said arrivederci to Constantino and Rafaella and set out on the drive down along the lake to Lecco. From there it was through a lot of suburbs to Bergamo, then south, then east past Crema and Cremona, on to Fidenza and finally Salsamaggiore Terme where we were staying at the nearby Agritourismo Antica Torre. Total distance was 216 km, taking us the better part of five hours. The farm has a nice pool so I had a quick swim before proceeding to fall asleep on a lounge chair. After all it was a long drive with perhaps more roundabouts then I had encountered on any given day before.
Agritourismos are family run farms where most of the food is sourced directly from the farm. We had very much enjoyed our experiences in Slovenia and Croatia (and the similar cortijos in Spain) so have booked a number here in Italy. Dinner was served outdoors with a full house - perhaps 20 guests. We started with a light airy foccacia bread topped with mushrooms. Next was a very tasty eggplant parmigiana followed by tagliatelli with a ragout sauce for most and vegetable lasagne for Gayle and the other vegetarian. The meal was accompanied by a bottle of wine made and aged at the farm and then for me a glass of Vin Santo - not the more common and lighter Vin Santo from Tuscany but a very unique and local Vin Santo dessert wine from the nearby village of Vigoleno - a very nice way to end the meal and the day.
Just a sampling of our breakfast at Nest on the Lake. In additon to the fruit, salad and tomatoes here there were eggs, meat, cheese, bread, croissants, pastries, coffee, juice, cereal, yoghurt and on and on.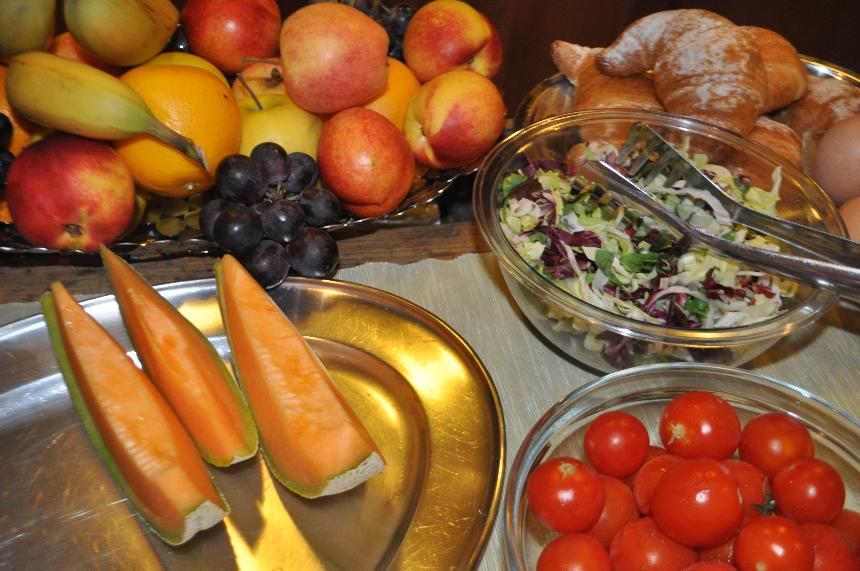 Although we saw our first vineyards only at the end of the day being near mid-September the vines were full of ripe grapes, ready to be picked sometime soon.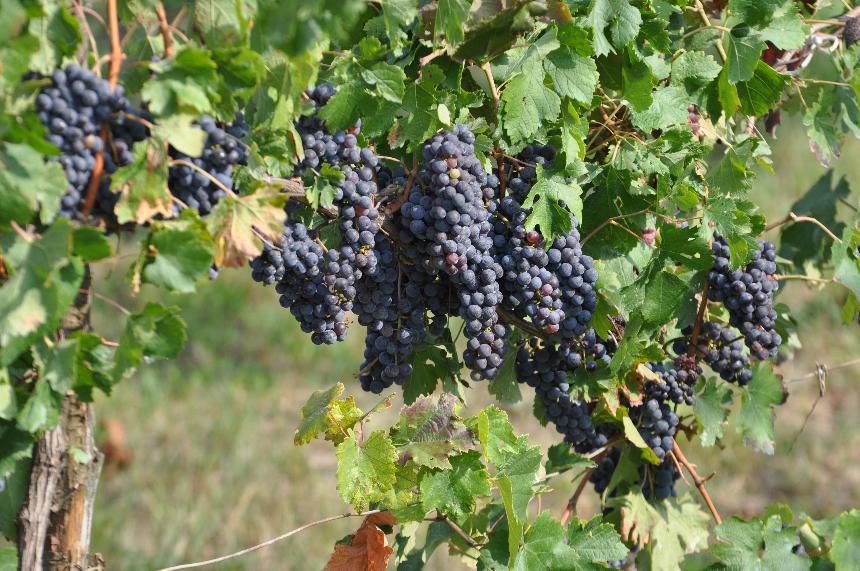 The menu for dinner at the Agrotourismo Antica Torre.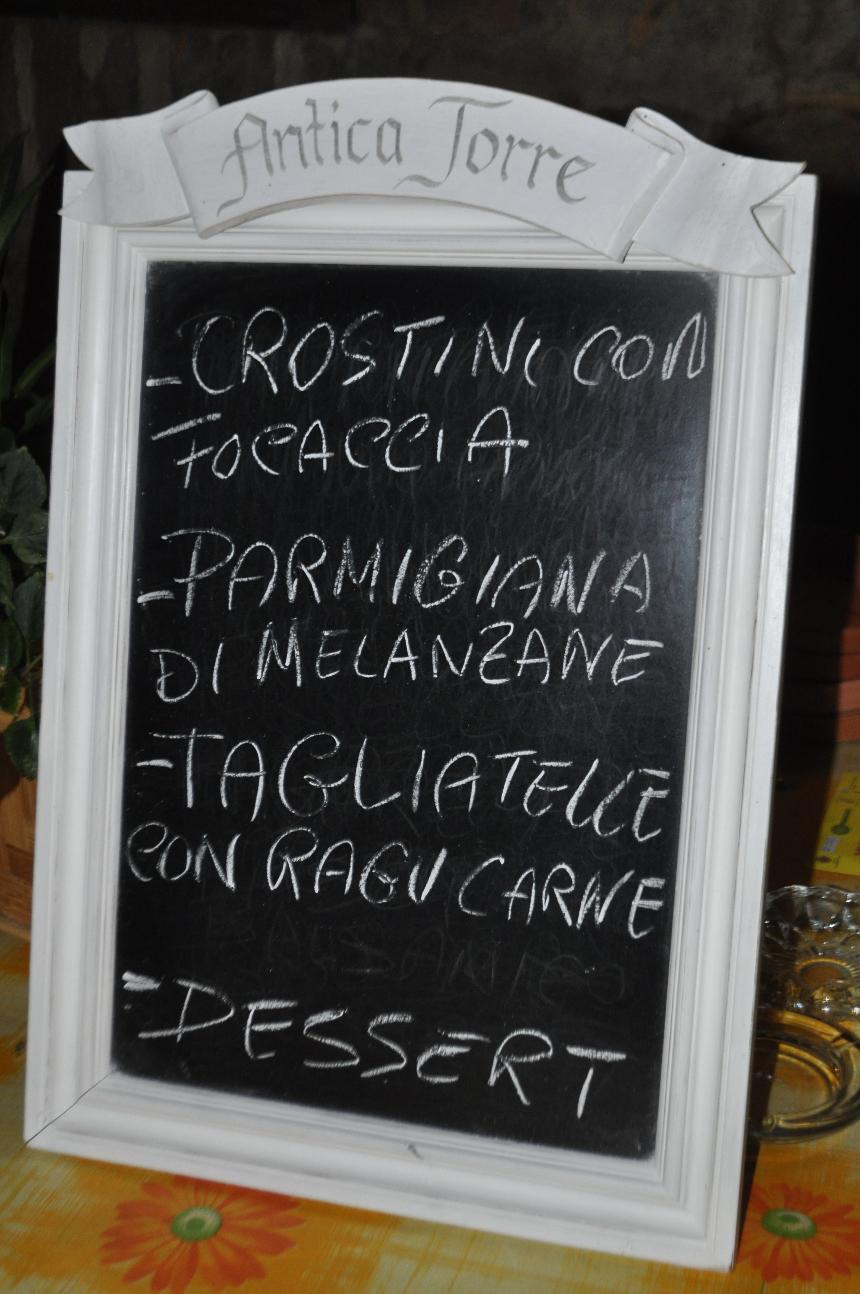 After the foccacia with mushrooms and before the tagliatelli with ragu (vegetarian lasagne for Gayle) we enjoyed this eggplant parmigiana.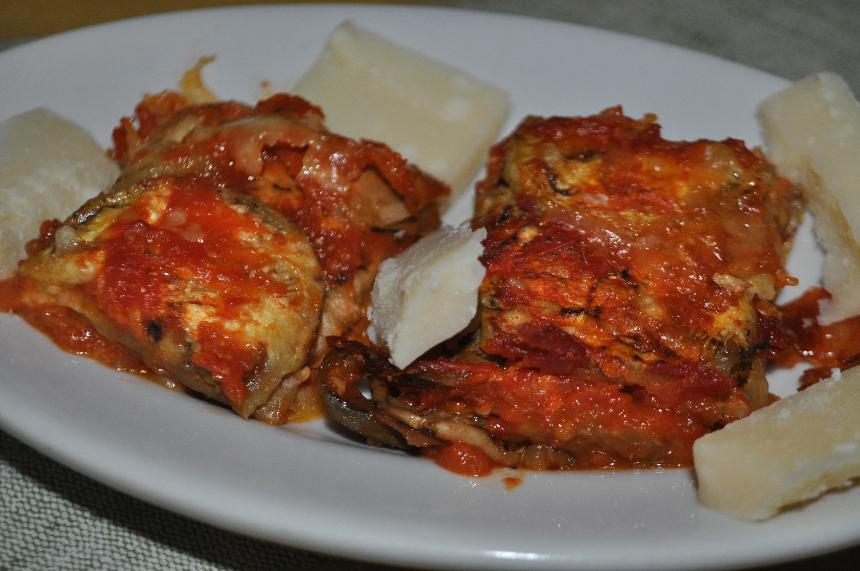 Being a family dinner we were offered seconds ... and thirds. No one left hungry.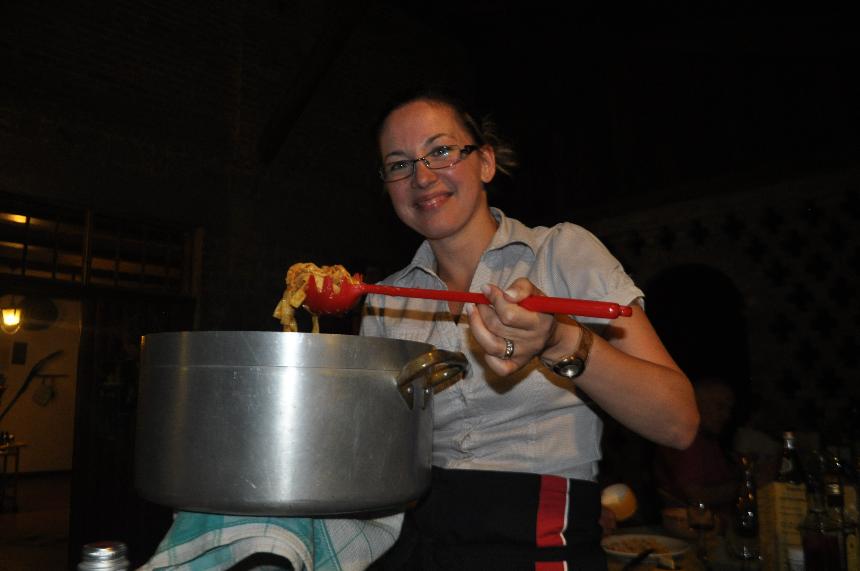 Nanna (and chief cook) with her grand-daughter ... as proud as can be.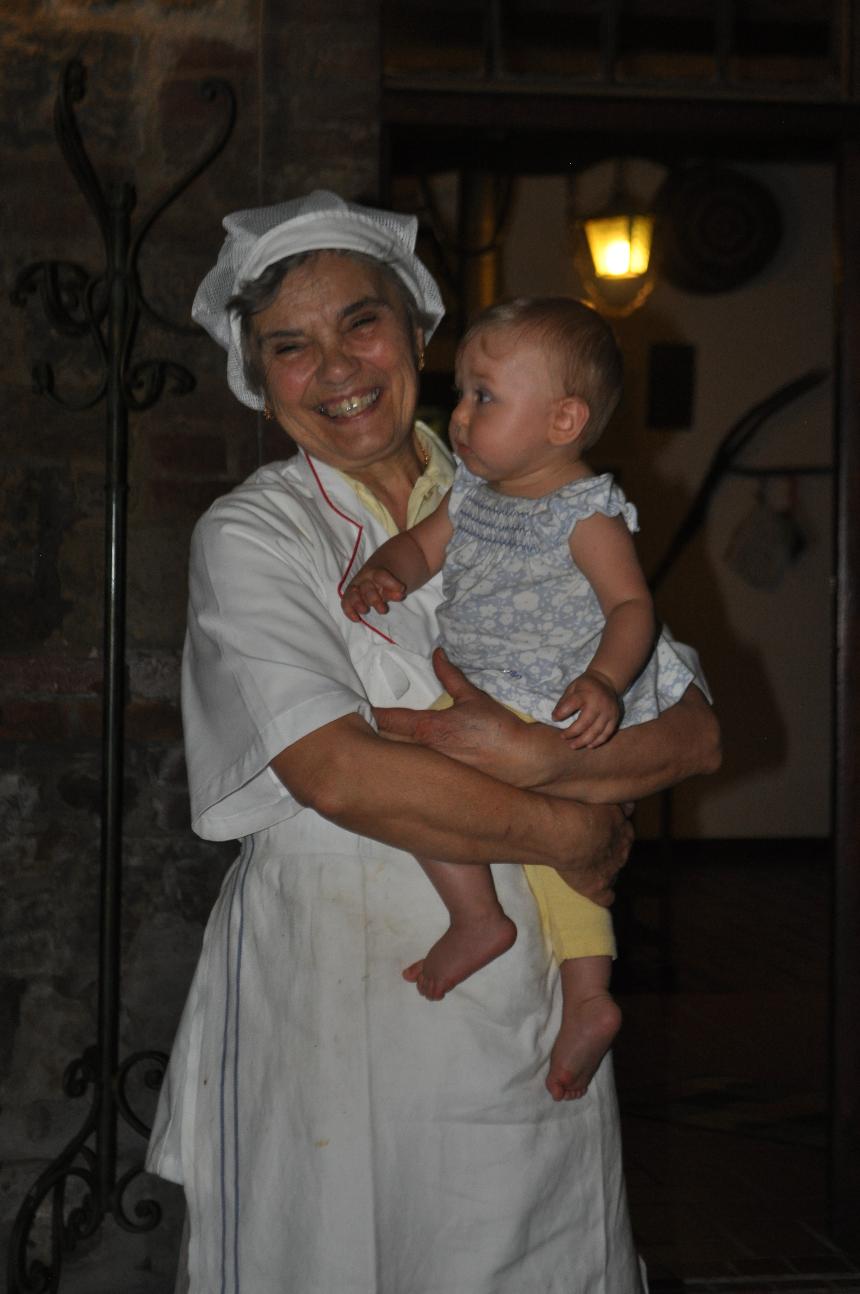 Friday, September 6, 2013 - Lezzeno, Italy
Today was a quiet day. After the previous nigt, and the very late, well actually early (1:15 am) return to our place getting up early was not in the cards. After we did finally make our way down to breakfast we didn't rush. Then some time updating the blog and it was mid afternoon.
We then drove the 7 km to Bellagio, a pretty, albeit somewhat touristy town where the three arms of the lake meet. We strolled through the streets and alleyways, window shopping, including a well stocked wine store, stopping for a gelato and then stepping inside the 11th century church.
Returning to Lezzeno and Nest on the Lake we went for a short swim in Lago Como and then enjoyed a half bottle of wine on our terrace, simply taking in the wonderful vistas - the lake, the mountains on the far side and the villages dotting the shores.
Before long it was time to head back to Abate for dinner. We had reserved as I wanted to try the paella which had to be ordered a day in advance. Different than the sausage and shrimp based Spanish paella it was very well prepared, with primarily white fish along with some chicken and sausage. As well I had brushetta with Missoltino, sundried whole white fish preserved in salt while Gayle had a nice Insalata Mista (mixed green salad) and then reordered the Tocc - the polenta she so much enjoyed the other night ... and it was every bit as good the second time, all accompanied by a nice bottle of Soave. Cinammon and peach tiramisu for Gayle and the local Miascio cake for me finished the meal. Everything we ordered during our two visits to Abate was extremely well prepared and presented - two very enjoyable meals.
A ferry approaching Bellagio beyond the attractive lakeside gardens.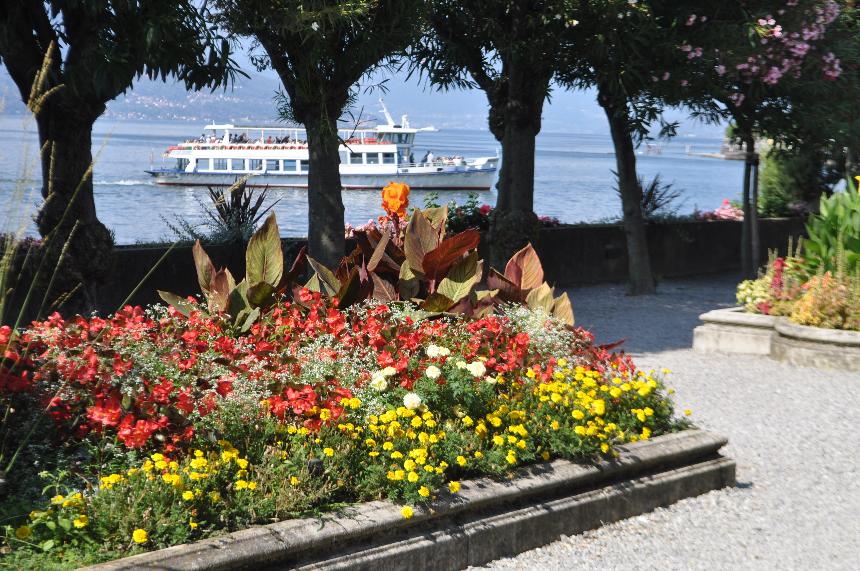 The pretty lakeside village of Bellagio.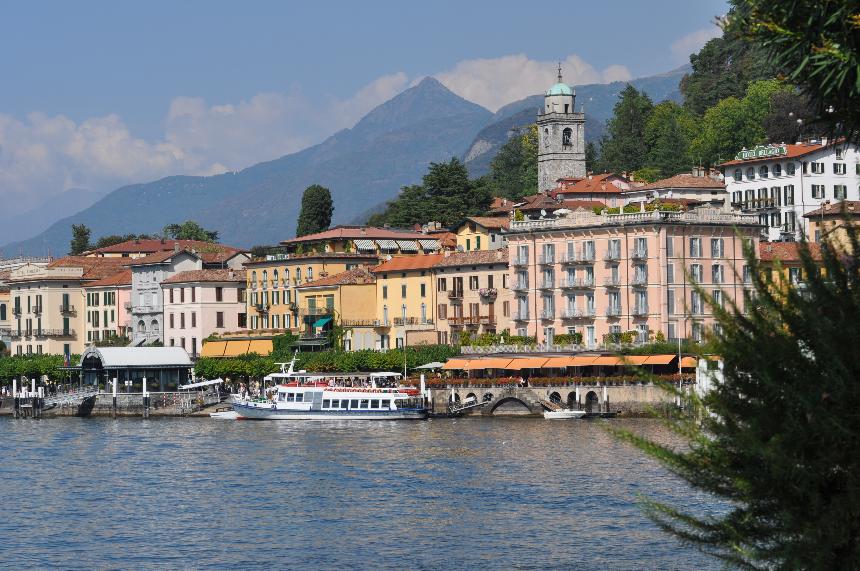 Gayle with Bellagio in the background.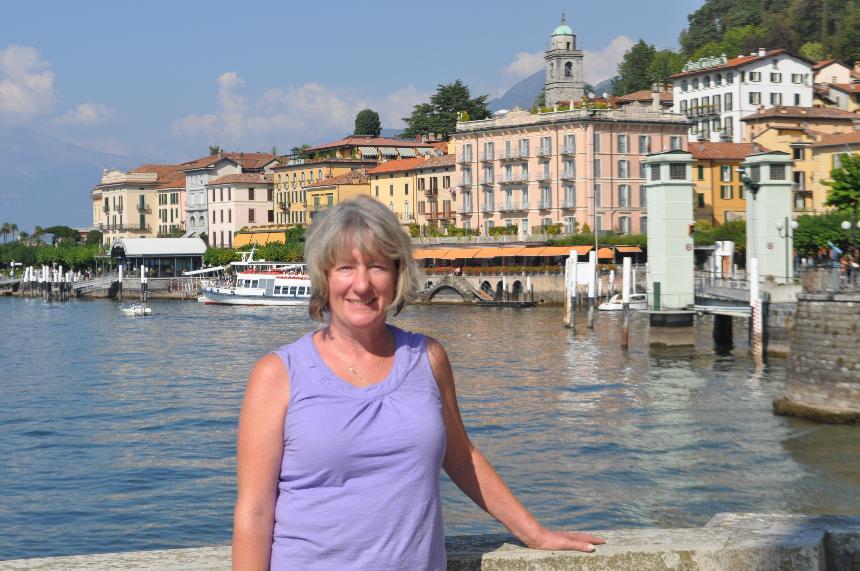 Enjoying a cup of gelato - chocolata, passion fruit and lampone (raspberry).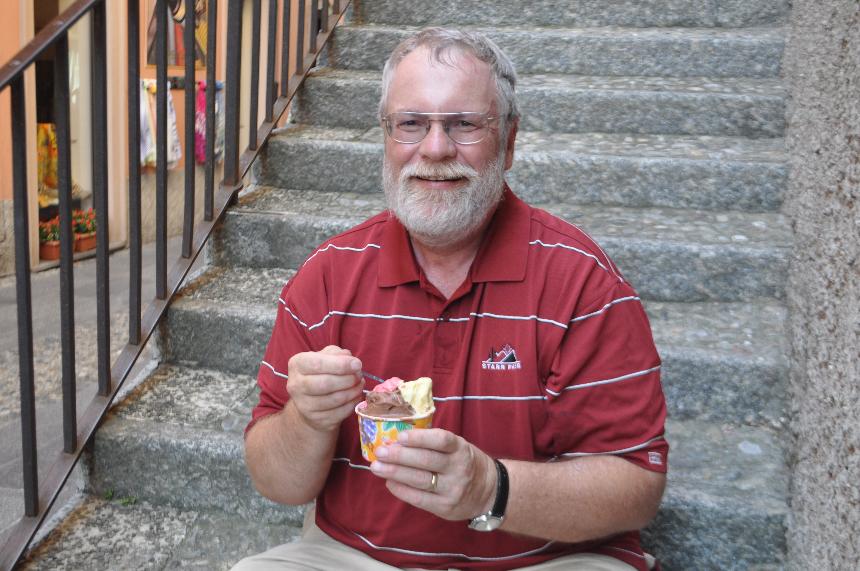 Fresh tomatoes in a small produce shop.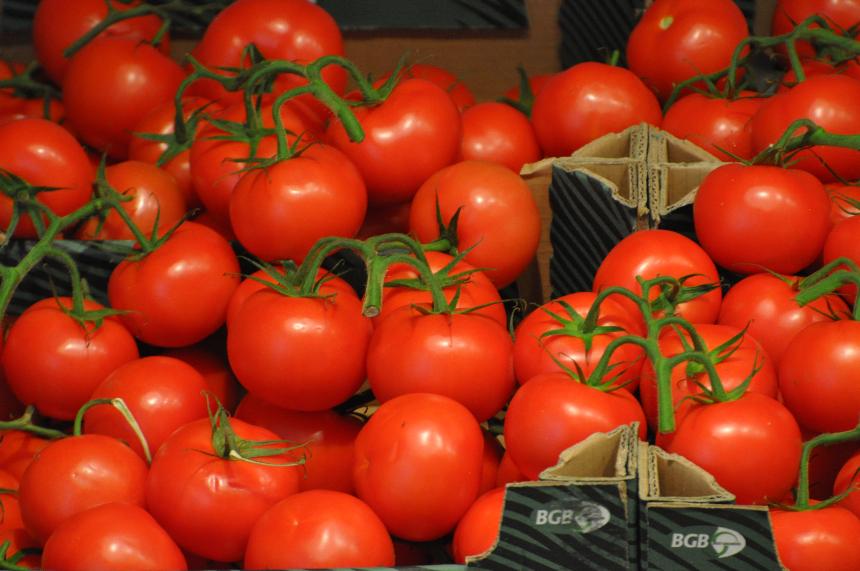 One of the narrow alleyways leading up the hill in Bellagio.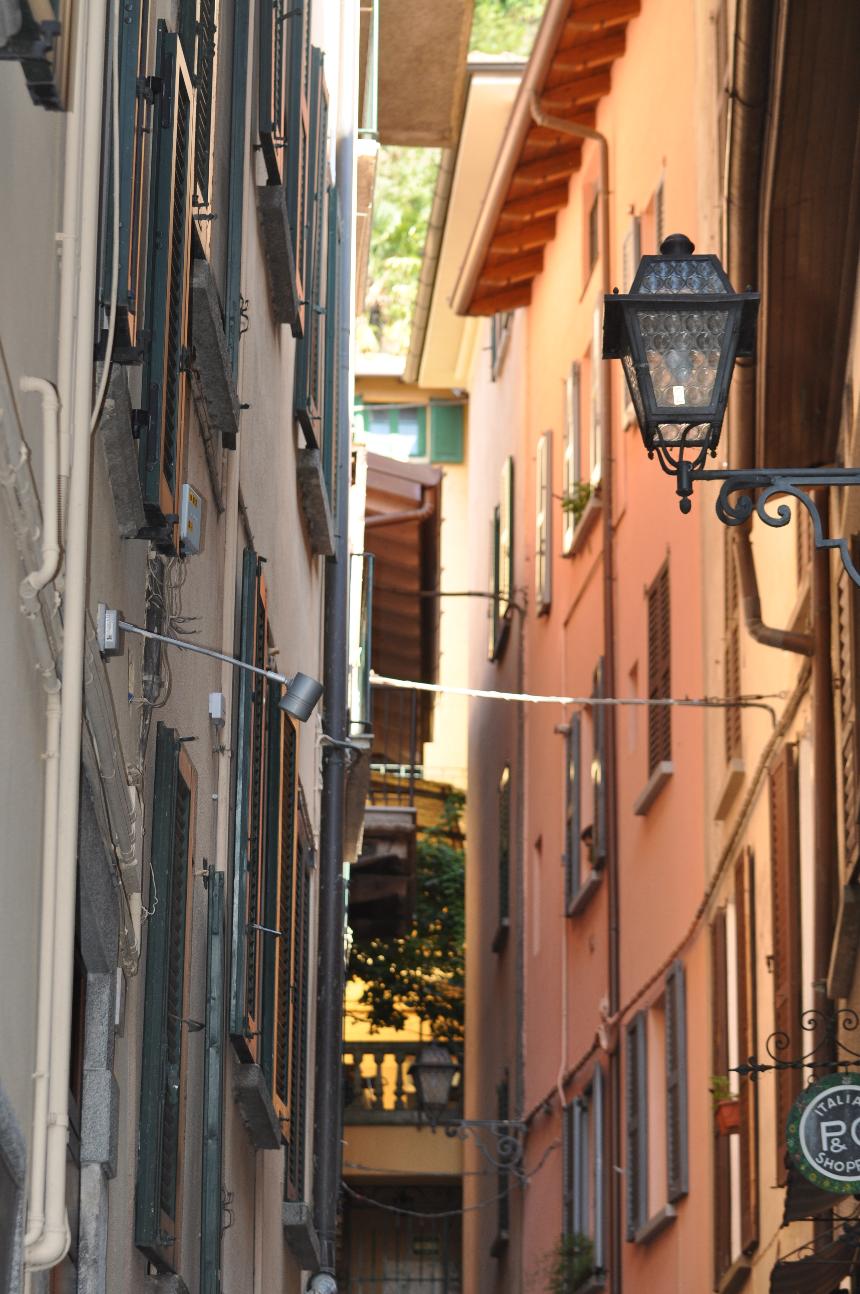 Relaxing after returning from Bellagio with wine on our terrace (and best of all when I asked how much Constantino said "niente", don't worry.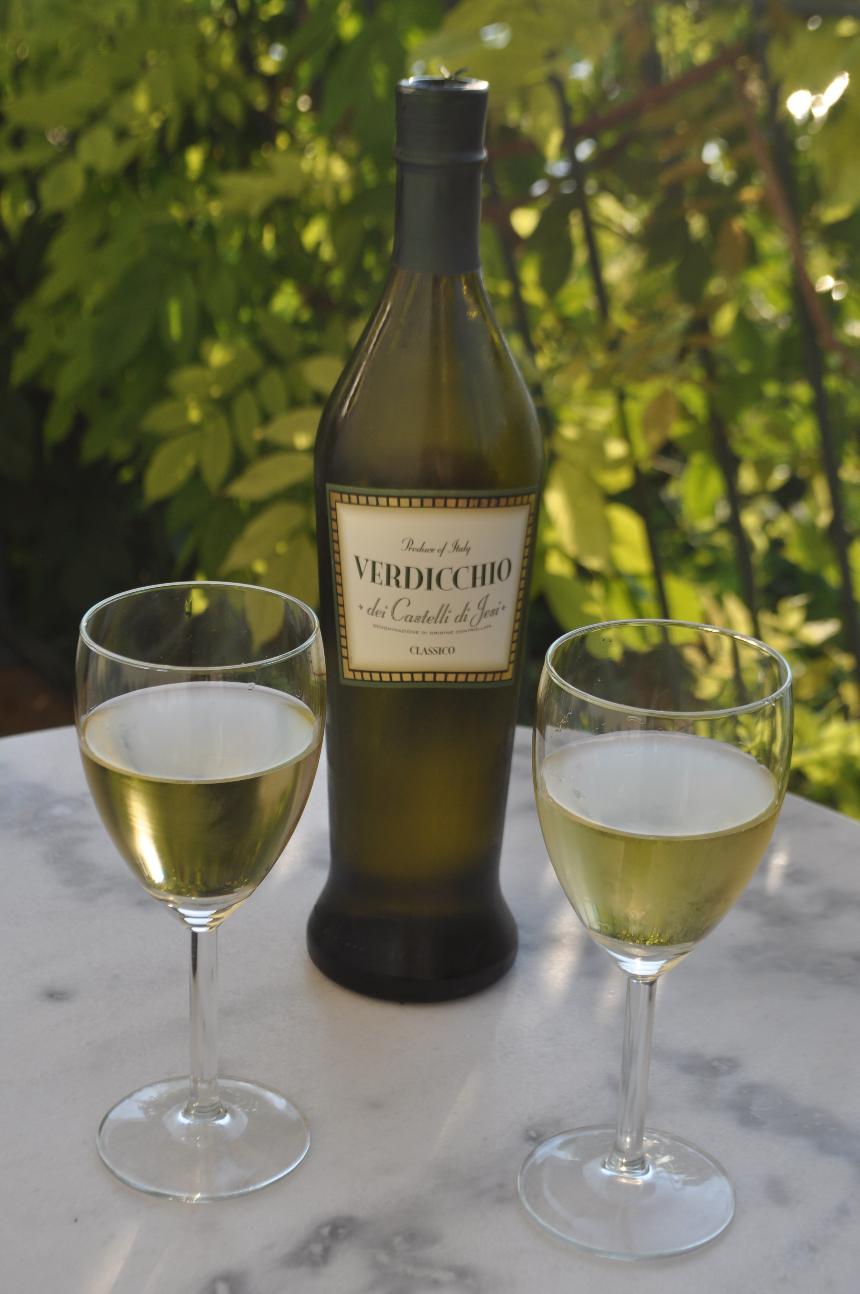 The local paella - with white fish, some chicken and sausage. I had to order this a day in advance but it was well worth it.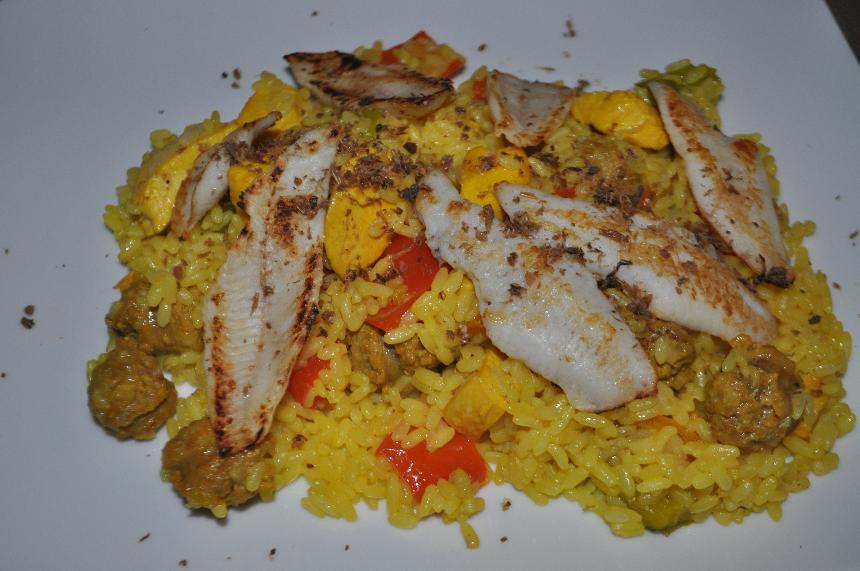 A local dessert Miascio - a cake with dried fruit.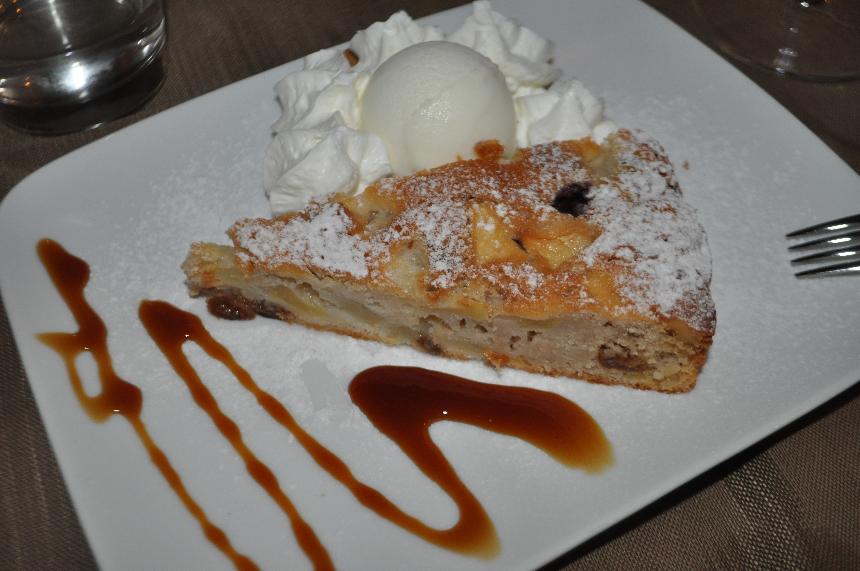 Thursday, September 5, 2013 - Lake Como, Italy
After a late (we needed to catch up on our sleep) but relaxing (and filling) breakfast overlooking the lake we drove to the town of Bellagio, right at the centre of the 'Y' of Lake Como. However rather than staying - we will return tomorrow - we took the 15 minute car ferry across the lake to the attractive village of Varenna. We spent some time wandering around this pretty little town including along the waterfront where there were a number of restuarants and gelatorias. Not nearly as touristy as Bellagio appears to be Varenna was a nice stop.
We then drove down the lake (towards Lecco) with a plan to find the Agrituristica La Selvaggia in Mandello del Lario. La Selvaggia is not only the top ranked TripAdvisor restaurant in the entire Lake Como area but rather than being a restaurant per se appeared to be more of a communal family style meal, similar to those we enjoyed at a number of agritourismos in Slovenia and Croatia - no menu but rather you get what is cooked that day. Unfortunately finding this place is quite a challenge, particularly when you ask an Italian whose English is limited. We ended up on a half-lane gravel path before being pointed up this mountain. But up we went (Gayle says we need to walk to justify all the food we plan to eat). After 20 very strenuous minutes we arrived only to find out one must book in advance. So then the tough decision. Do we descend (there was apparently another route that was somewhat shorter and less arduous), kill four hours and then return, again climbing the rocky 'steps' back up to the Agrituristica? Apparently after nine years we are the first guests who have climbed up the mountainside twice in one day!
The meal was exactly as described in many TripAdvisor reviews. First some grilled pieces of bread with bottles of both white and red home made wine - without a doubt the best home-made wine we've ever had. Then marinated mushrooms, aubergine and sweet pearl onions to spread on the fresh bread, along with sheep's cheese made on the farm and for me a tray of meats. Then came a plate of fresh tomatoes with quail's eggs. Normally this would have been a decent meal in and of itself but we were just started. Gnocci with a pesto sauce and tagliatelle with fresh tomatoes were the two pasta dishes. Gayle then received polenta and a grilled mozzarella sandwich while I had a special piece of beef from the female cow. If that wasn't enough - and it was - I then was offered some rabbit. Fermino then popped the cork on a bottle of Muscat to be enjoyed after dinner with the cheese and honey and plate of three cakes. Afterwards there was coffee and of course grappa - of which I have some not so fond memories but out of courtesy I tried a small glass.
But beyond the great food what made the dinner so enjoyable was the joyous and welcoming nature of Angela, her always smiling father Fermino (who made sure we were never short of wine) and the two English fellows - Dan and Mark - who joined us at our table and with whom we swapped stories throughout the night. Having arrived at 6:40 pm we finally left near midnight - no doubt the longest dinner we have every had. But it was exactly what we enjoy - an informal outdoor Italian meal with great hosts and interesting conversation with other travels. Perfecto!
On the ferry from Bellagio to Varenna.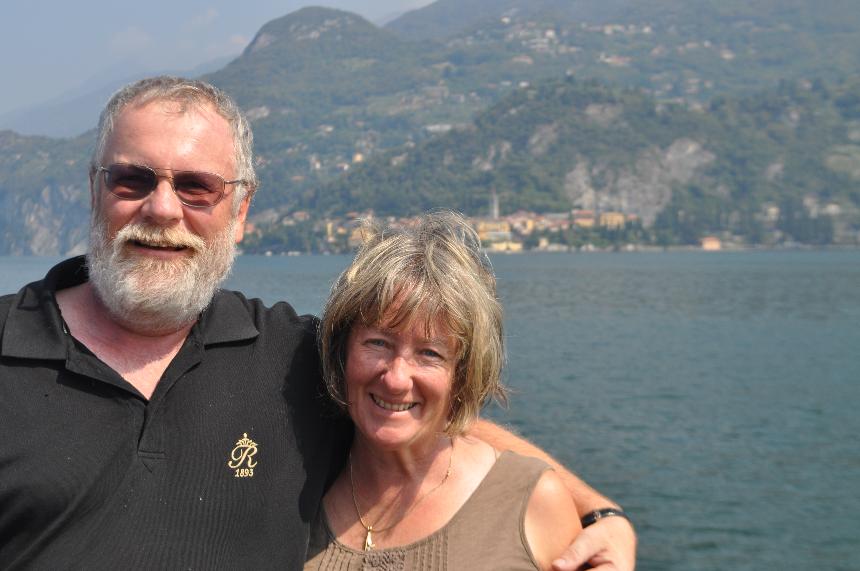 The next few photos are of the small (population 812) village of Varenna on the shores of Lago Como.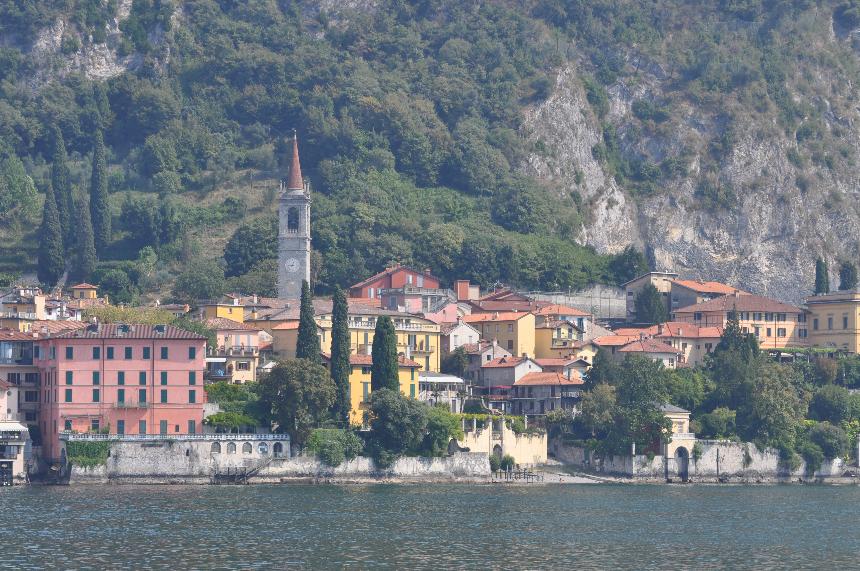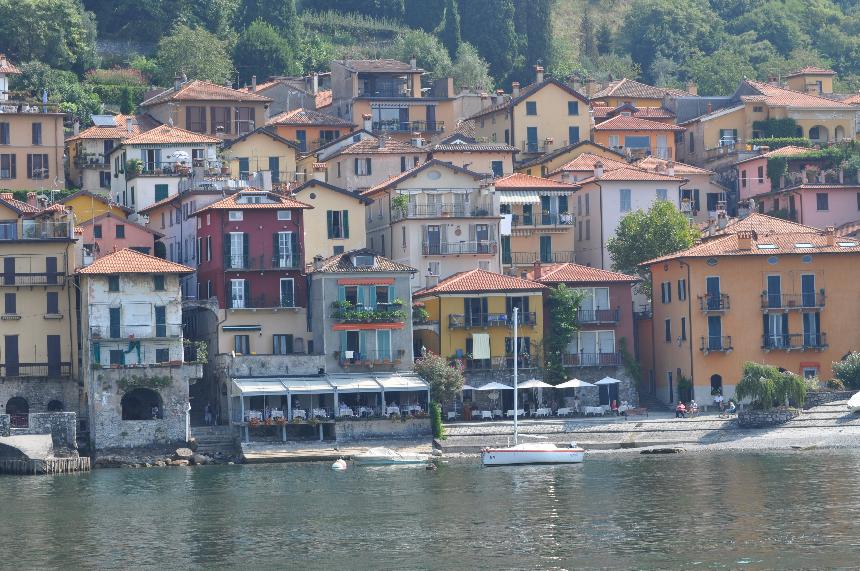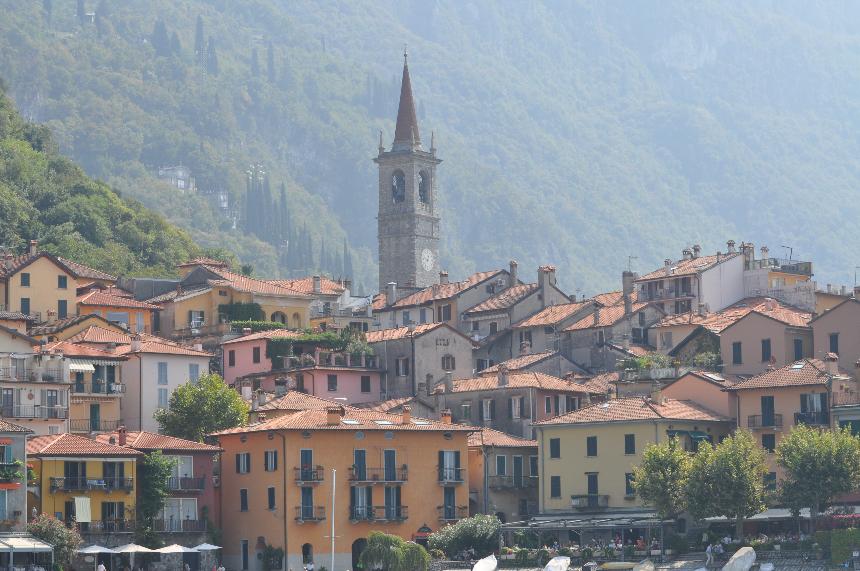 The pretty lake-side of Varenna.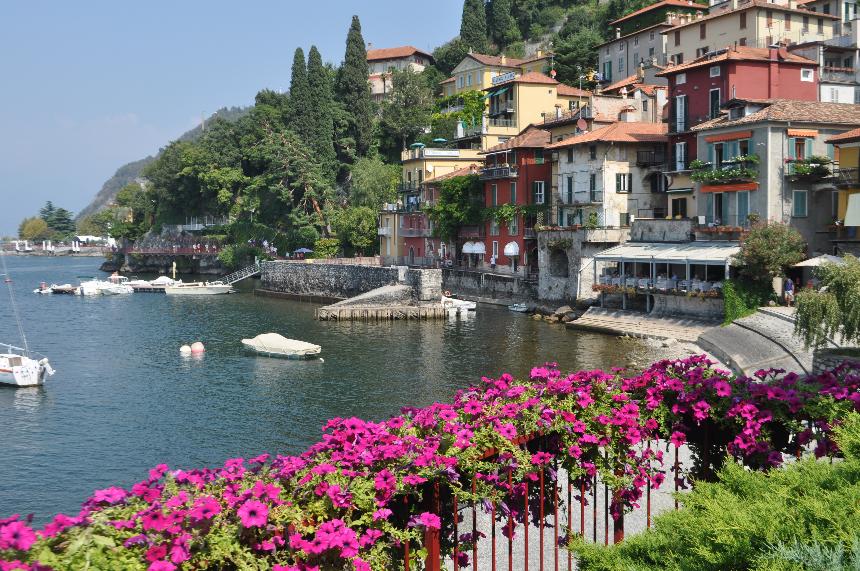 Outdoor family style Italian dinner at La Selvaggia.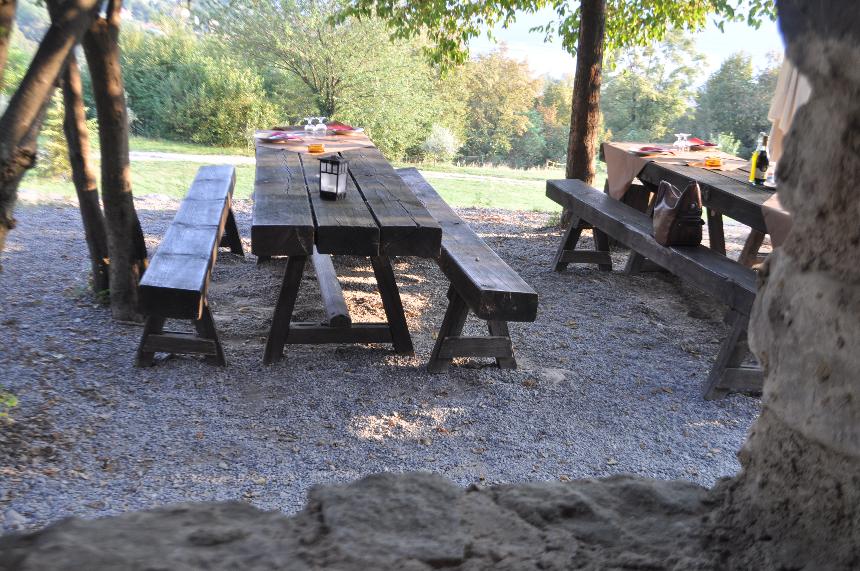 Fresh tomatoes with oil, oregano and quail's eggs.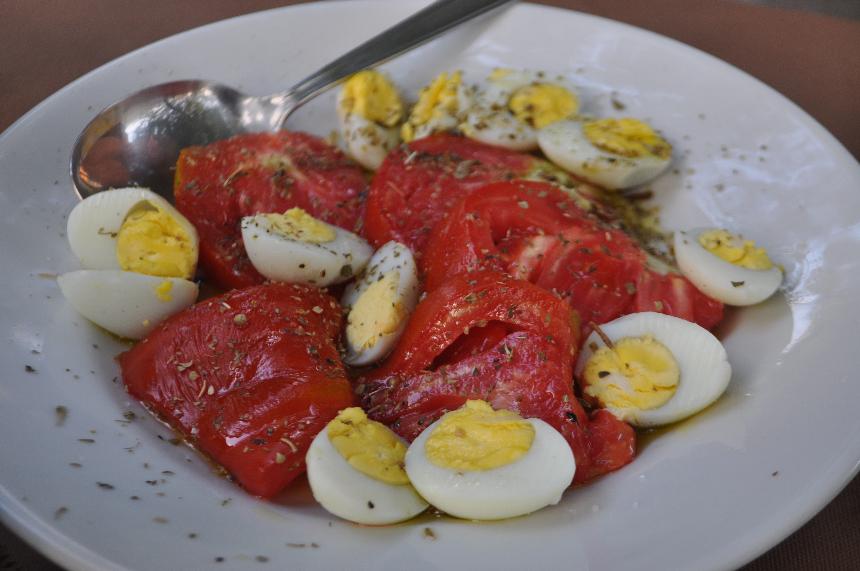 The tray of desserts, which was accompanied by cheese, honey and Muscat.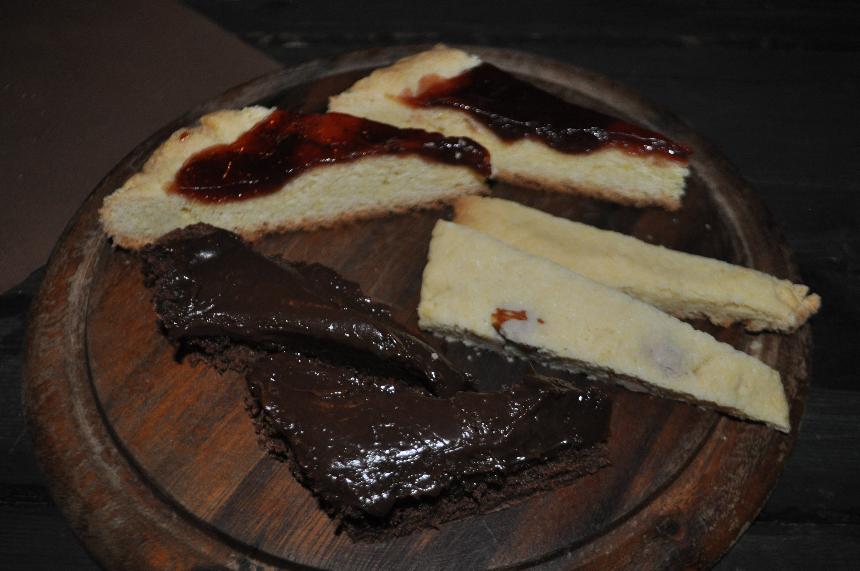 Mark, Angela, Gayle and Dan at Agrituistica la Selvaggia.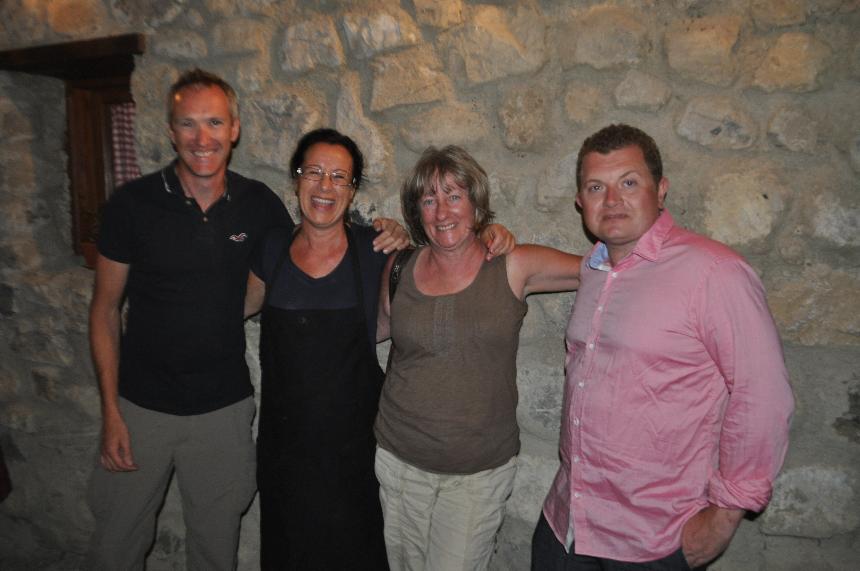 Wednesday, September 4, 2013 - Lake Como, Italy
Saluto (Greetings). Here we are waking to the sound of the water lapping on the shores of Lake Como, looking across the lake to the mountains on the other side. Flights were both on schedule - to Frankfurt and then flying over the snow-capped Alps to Milano (Malpensa). Sunny and hot - it reached 29 celsius - we picked up our car and drove straight to Lake Como. Well straight might not be the best word. After navigating through the town of Como - signage is sketchy - we then drove this 'road' along the shores of the lake. Up and down, left and right through small villages the road is anything but straight. Thank goodness we rented a small car.
Being quite hungry we stopped for a quick lunch - Gayle's Caprese salad was good although my canneloni not so much, but the views across the lake from the restaurant were spectacular. Continuing along the very scenic lake side (although I could see little as I was fixated on avoiding the other cars, scooters and rock walls) we had no trouble finding our place the Nest on the Lake in Lezzeno. Dating originally for 1804 it is actually quite modern. All the rooms face the lake with nice balconies.
Of course we napped most of the late afternoon before walking abouth 1/2 km to the recommended restaurant Abate that specializes in lake white fish. Perhaps 90% of the menu had lake fish in one form or another. Being welcomed with a glass of Prossecco was a nice start. While my fish sampler plate was very good, the highlight of the meal was the Tocc - a typical food of the area made with polenta, butter and cheese. We finished the meal with some wonderful gelato - chocolata and limone - reminding us of why we so much enjoy Italian gelato.
A great start to the trip.
Ancient stone steps in an old Italian village.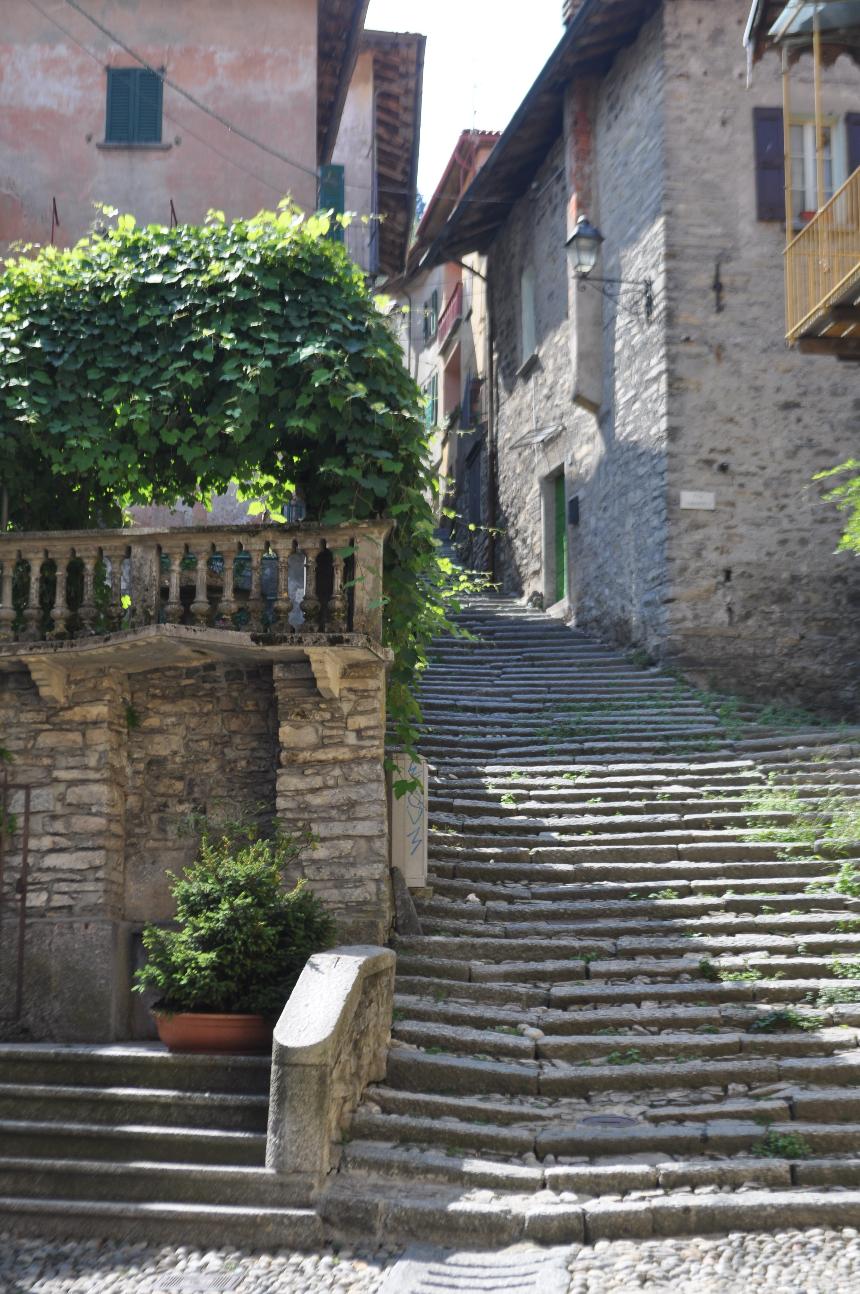 The narrow alleyways of the village of Molina.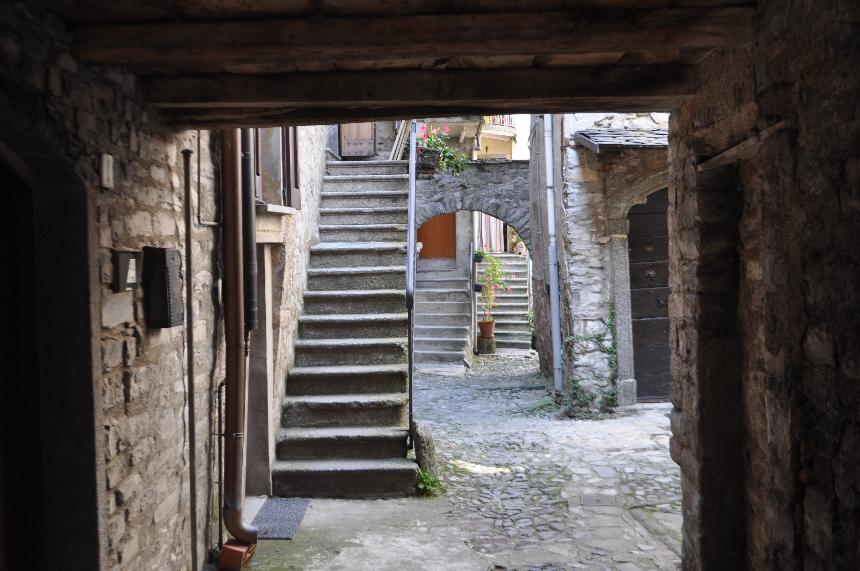 Gayle's Caprese salad - mozzarella, fresh tomatoes, oregano and olive oil.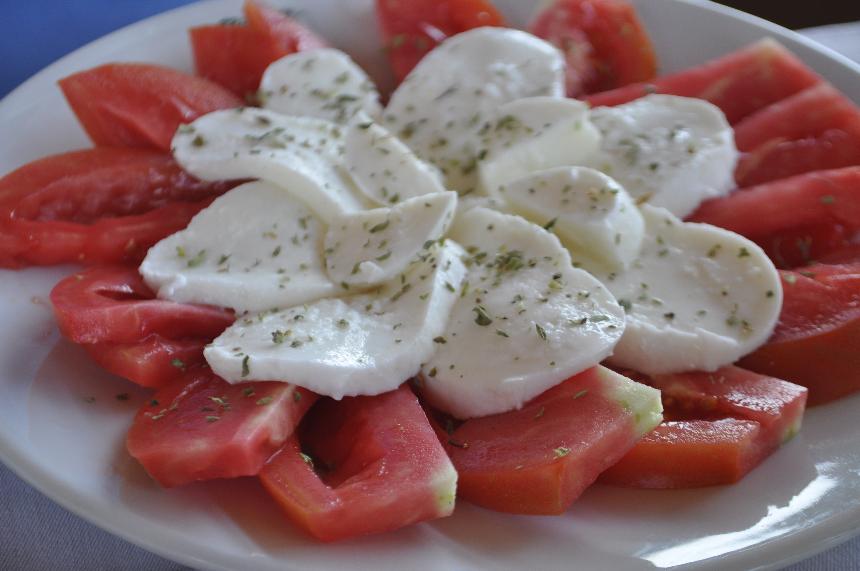 One of the many villages along the shores of Lake Como.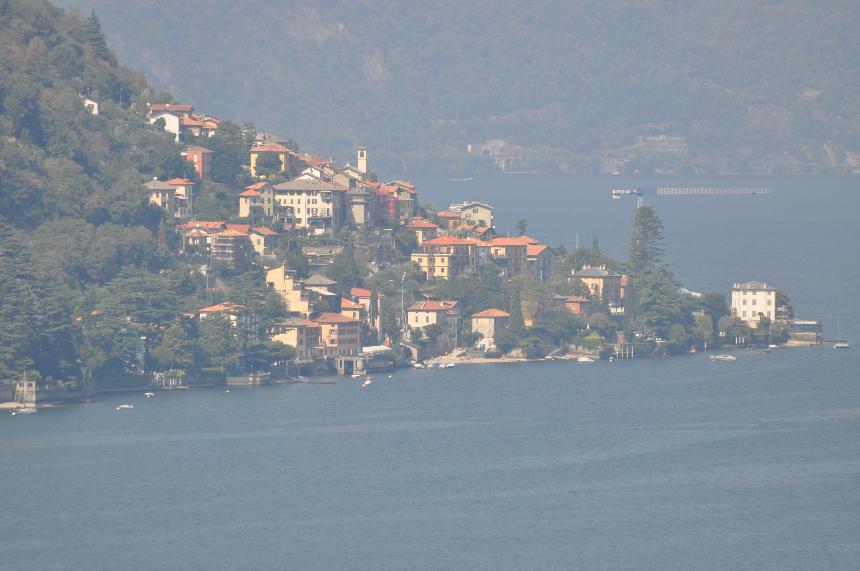 Vines wrapped around our balcony - how Italian.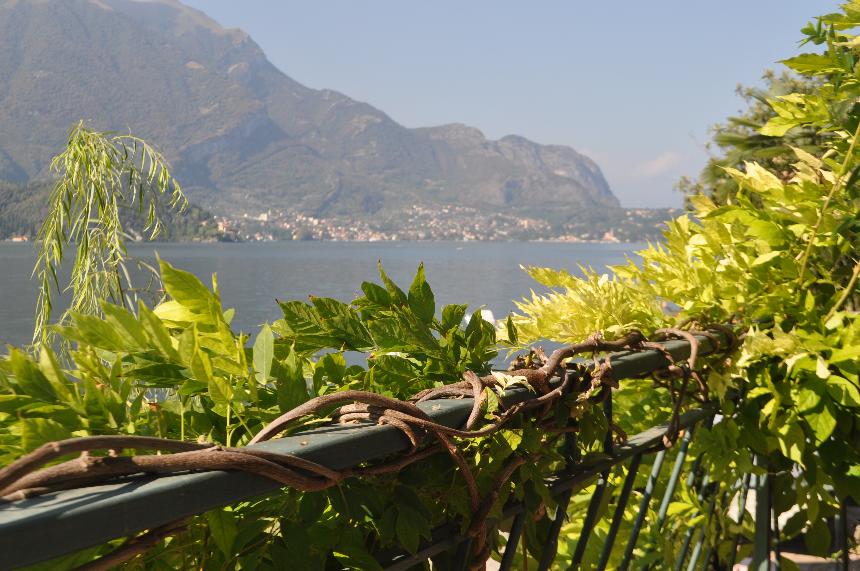 Gayle on our balcony of the Nest on the Lake, looking across lago Como.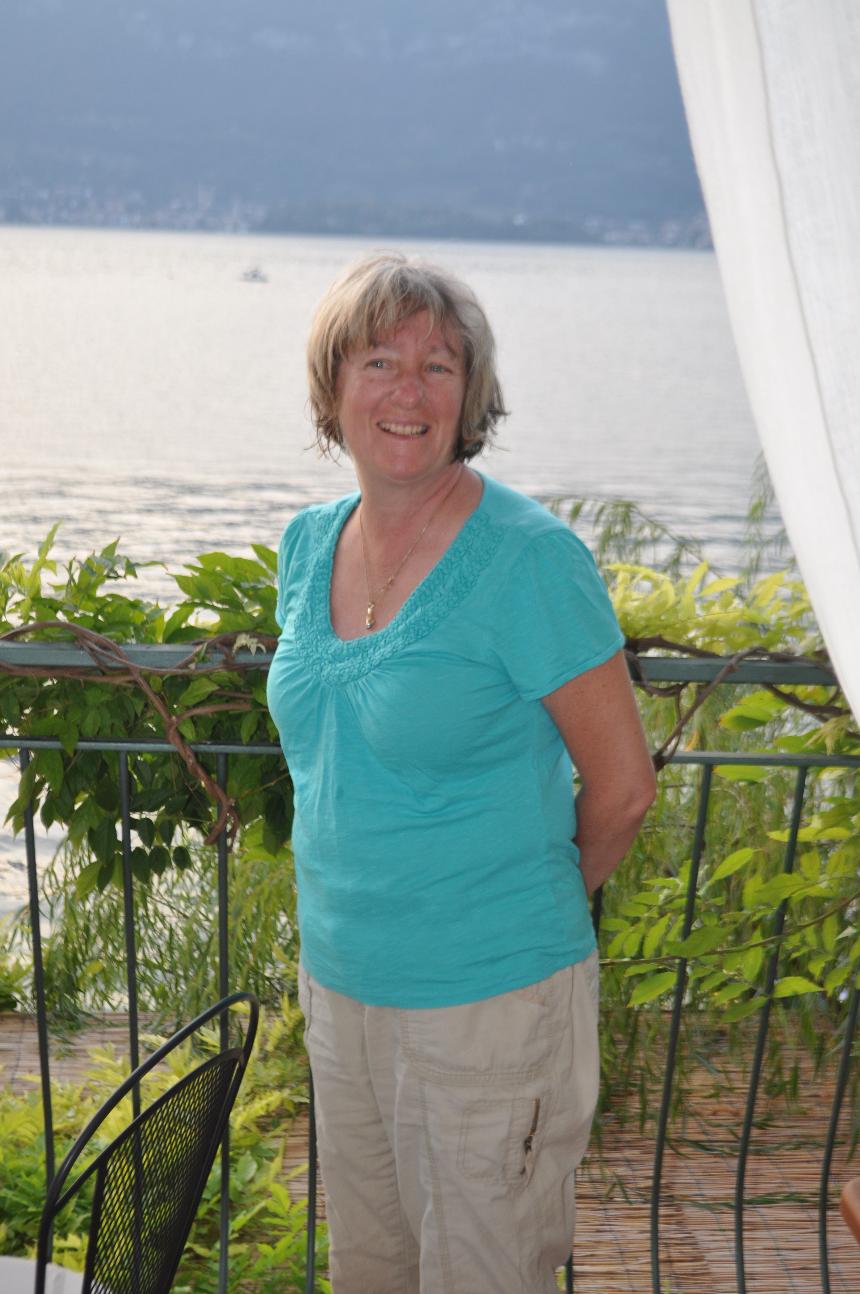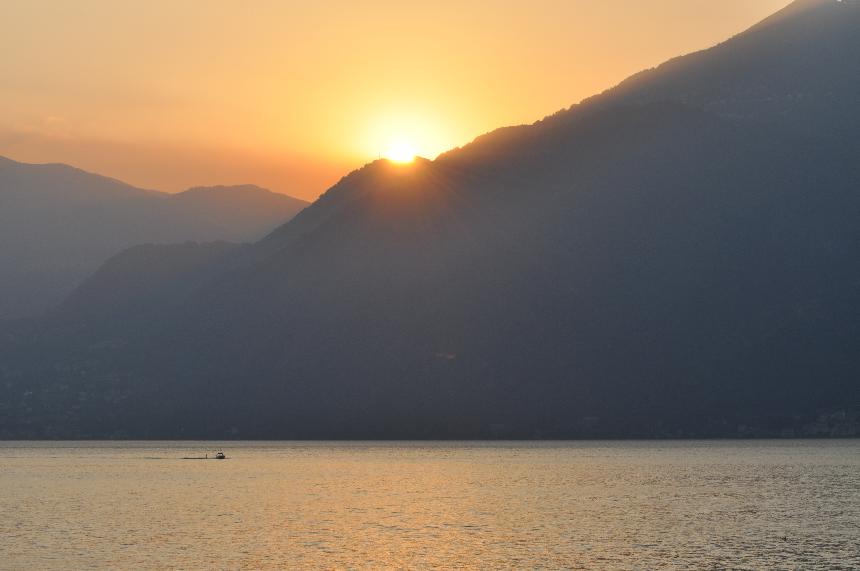 Mix di filette di Laverello - the sampler plate of white fish.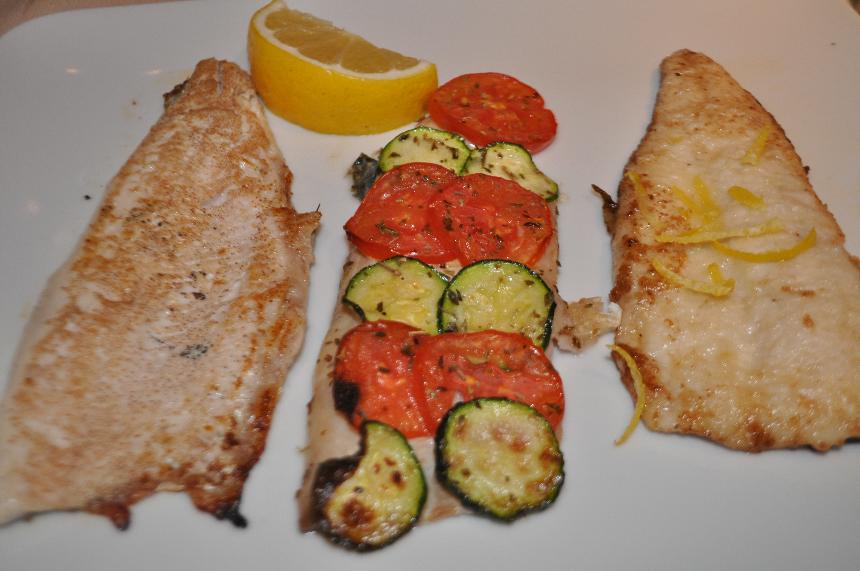 Gelati for dolci (dessert).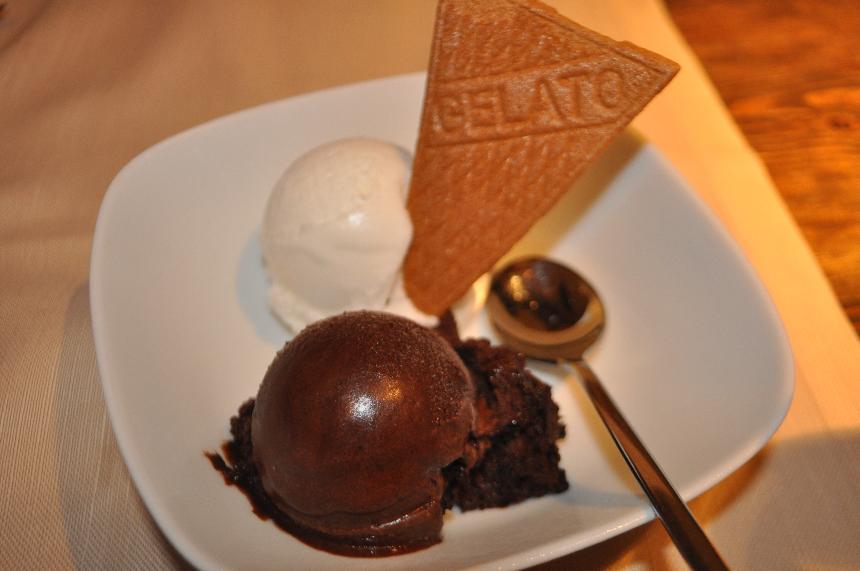 Buongiorno. We are off (Sept 3) to Italy for a good part of September. We fly into Milano and immediately head to the foothills of the Alps to Lezzeno on Lake Como. Then it is south to Parma (parmigianno cheese and parma ham) and Modena (balsamic vinegar). Driving through the Apennines (a mountain range through central Italy across which I bicycled way back in 1974) we stay at an olive oil resort just north of Florence. We are then in Tuscany for nearly a week, first at what should be an extremely nice B&B near Cortona and then four nights at a farm right in the heart of the wine region of Chianti. This is very near where we stayed in 2006, an area we look forward to returning to and exploring further. Next it is to the coast and Cinque Terra, five villages along the Mediterranean coast north of Pisa that everyone we know who has visited say we must go - so we are. The five are from all accounts very picturesque seaside villages with spectacular walks along the cliffs between them. Finally we return to the north - beyond Genoa to near Asti for a few nights before flying out of Milano (Sept 26).