Memories of Italy (Tuscany and Umbria):
Fourteen (14) days in Tuscany and Umbria, Italy. Here are our most vivid memories, in no particular order

sitting on our terrace at Lupaia admiring the rolling countryside and Montepulciano
our homemade caprese salad at Fonte Bertusi
the Turkish Bath in our Turco room at Lupaia
being called "a cute couple" by Christina
dinner and a wonderful bottle of Vino Nobile di Montepulciano at Lupaia
Anna and her "ssslllooowwllyyyyy"
Maria (Orvieto) solving our parking issue ... "Alhora"
the medieval parade in Orvieto
the sun on the Duomo in Orvieto
the ancient village of Ceri
the church/library at Borgo di Carpiano
Orvieto and Pienza and Gubbio and Todi and Monte Castel di Vibio and Assisi and all the other hilltop medieval towns we passed and/or stopped in - all wonderful to wander about
the meals at Borgo di Carpiano, both the quality and presentation
the 'road' (actually narrow gravel lanes) getting to our lodgings - Luapia, Podere le Corone, Borgo di Carpiano, Le Mole Sul Farfa
the service, especially of Ricardo, Emanuela and Elisa at Borgo di Carpiano
artesan meats and cheeses
the tilled fields of the Crete Senesi
the rolling hills and the abundance of green in Umbria, in sharp contrast to Tuscany
other travelers we met (Christina and Jordan at Lupaia, the sisters from Helsinki at Borgo di Carpiano, Robert and Shelley from Virginia at Fonte Bertusi, Douglas and Shirley at Podere le Corone, among others)
our wonderful hosts (Maria in Orvietto, Manuela at Fonte Bertusi, Anna at Podere le Corone, Ricardo at Borgo di Carpiano, Elisabeth and Stephano at Le Mole Sul Farfa and Enzo at Borgo di Ceri)
regrettably Gayle not feeling well
our Sunday lunch at La Grotta in Radicofani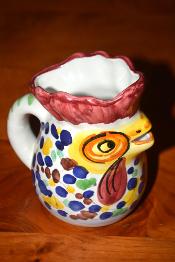 At this point in our travels / life there isn't much room in the house to purchase souvenirs. In Italy, beyond a bottle of wine, olive oil and balsamic vinegar this small chicken pitcher is t
he only thing we purchased.
the wonderful late afternoon lighting on the agritourismos, cypress trees and fields in and around Pienza and Montepuliciano
breakfasts, particularly at Fonte Bertusi, Lupaia, Podere le Corone (especially the cakes) and Borgo di Carpiano
our glasses of prosecco
Expenses (based on average exchange rate 1 euro = $1.55 Cdn):
Here are the costs of the Italy portion of the trip
$ 201 airfare - 50% of Karpathos to Rome 'internal' flights only
$ 2,758 lodging (127 euros or $197 per night)
$ 1,295 food (60 euros or $93 per day - primarily dinner including wine)
$ 574 car rental ($323 or $23 per day), fuel ($228) and parking ($23)
$ 49 miscellaneous
$ 4,877 for 14 days
The average cost per day (flights from Greece, lodging, food, vehicle and miscellaneous) was $348.
Food and wine, keeping in mind most often breakfasts were included in the lodging cost, at an average of 60 euros ($93) per day was 33% higher than spent during the Greece portion of the trip. Some of this is attributed to more and better wine and some to a few high-end meals at Lupaia and Borgo di Carpiano. Note all food costs include tax and tips. As one can no doubt assess from the food photos we ate very well.
Lodging ranged from a low of 70 euros to a high of 324 euros for a one night stay (a treat for our anniversary and the most we have ever spent ... ever). Here is a list of where we stayed, the amount we paid and the website.
70 euros La Soffitta e Torre Orvieto www.bandblasoffitta.com
130 euros Fonte Bertusi Pienza www.fontebertusi.it
324 euros Lupaia Montepulciano www.lupaia.com
100 euros Podere le Corone Doglio www.poderelecorone.com
140 euros Borgo di Carpiano Gubbio www.borgodicarpiano.com
90 euros Le Mole Sul Farfa Mompeo www.lemolesulfarfa.com
100 euros Borgo di Ceri Ceri www.borgoceri.it
It is our practice not to using any booking agency, e.g. Booking.com but rather book online directly with each place we stay, after having contacted them through email. In this way we save the establishment the booking commission and are familiar to the staff when we arrive.
The average lodging cost at 127 euros ($197) was the highest (ignoring inflation) spent in Italy, although not by much. More than Greece; less than Spain. Given the quality of our lodgings, the excellent breakfasts and most often availability of dinner we continue to believe we receive excellent value.
The average cost of lodging of our Italy trips continues to be in the middle of those of other European countries:
160 euros - 2017 Spain (Andalucia, Sierra Nevada, Murcia and Majorca)
146 euros - 2018 Spain (Pyrenees and Menorca)
140 euros - 2012 trip to Slovenia and Croatia
139 euros - 2014 Portugal/Spain
136 euros - 2013 Spain (Andalucia)
127 euros - 2018 Italy (Tuscany and Umbria)
122 euros - 2013 Northern Italy
109 euros - 2014 Corsica/Provence
106 euros - 2016 Sicily
106 euros - 2018 Greece (Dodecanese)
97 euros - 2017 Greece (Cyclades and Peloponnese), and
79 euros - 2015 Greece (Cyclades and Crete).
October 13, 2018 - Ceri to Rome to Montreal to Halifax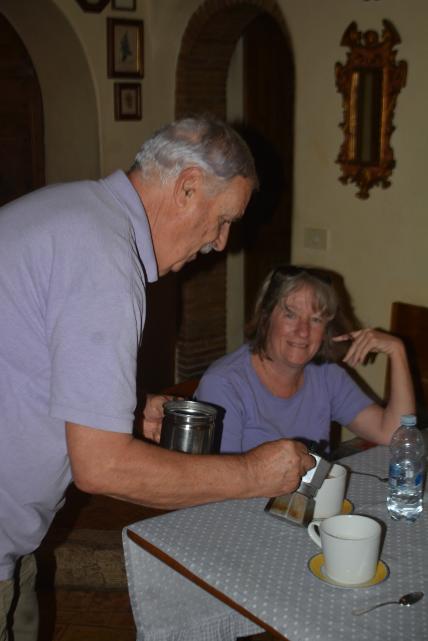 Although he didn't have to Enzo was up before we left, making us a coffee before we got on the road.
The benefit of staying in Ceri is that it is an easy <40 minute drive ot Rome's Fiumiciano airport. Unfortunately we had some issues with the rental car return that we continue to pursue.
Like our return from Istanbul last year we booked Aeroplan business class seats home. Originally we were routed Rome => Istanbul => Boston => Halifax but a change in departure time of the Boston to Halifax flight resulted in a change to Rome => Montreal => Halifax. As a result we missed the opportunity to spend time in the Istanbul lounge but avoided going through the US, saved 7 hrs and avoided a very early (7:10 am) departure from Rome with an even earlier wake-up time.
While Gayle continued to feel miserable and I was not crazy about the business class set up it is certainly wonderful having the space, comfort and service of business class, especially when paying with Aeroplan miles.
Both flights were on schedule resulting in arrival back in Halifax as planned.

October 12, 2018 - Mompeo (Le Mole Sul Farfa) to Ceri (Borgo di Ceri)

After breakfast we packed and headed out, first driving around the village of Mompeo but not actually wandering through. Rather, after driving through the Sabine hills we stopped in Bocchignano, another interesting hilltop town with narrow alleyways, and stone buildings and archways throughout. We continued on our way, with the hills flattening out as we crossed the River Tiber and west past Lago di Bracciano to the small town (population 88 according to Enzo) of Ceri, where we will be staying our last night.
Ceri, occupying a fortified plateau, was inhabited before the 7th century BC by Etruscans. Numerous tombs from the Etruscan and Roman periods can be found in the area. The town, as it looks today, was founded in 1236 due to the protection provided by the rock formations. During this same period the castle was constructed to provide defense to the town. Since the 14th century Ceri became the property of some of the greatest Italian families with the Torlonia, an Italian noble family from Rome still owning a large part of the current town. The main attraction is the Romanesque Church in which during restoration in 1980 frescoes from approximately the 12th century were discovered on a wall of the church building.
We stayed at Borgo di Ceri. The house is in an ancient building that includes evidence of the historical inhabitants of the village from the Etruscans to the Romans through the Middle Ages and the Renaissance period. The B&B is entered from the Piazzetta di Ceri with the opposite side opening onto an enclosed Mediterranean garden providing views over the crenellated (our word of the day) walls to the valley beyond. The garden includes citrus and olive trees, prickly pears, laurels, holm oaks and cypresses. The interiors retain the ancient charm of the village with original period furnishings to fireplaces, from ceilings with large wooden beams to brick floors. Enzo was wonderful, helping us in any way he could, including directing us to the alimentari (where we bought some prociutto, cheese and tapas to supplement our breakfast), encouraging us to visit the church and see the frescos and letting us know of the only ristorante open in the village for us to check out.
We returned to the B&B where we enjoyed a bottle of Prosecco in the garden above the Etruscan tombs, overlooking the castle walls to the countryside beyond. An enjoyable way to spend our last afternoon in Italy.
We ate at La Rocca. One really nice aspect was that one can order mezzo (half) portions of the pasta dishes, which Gayle really appreciated. I started with an All' Italiana antipasto of local meats and a bit of cheese. A very nice selection for the price (6 euros). Then we each had a mezzo portion of pasta - Gayle the Gnocchi di patate ripieni di funghi porcini - saltati in padella (potato dumplings with porcini mushrooms seasoned with marscapone cream) and me Pappardelle al Barola con cinghiale (Barola flavoured pappardelle with wild boar sauce). Both (7 euros each) were delicious. Being our last night I also ordered the salsicce (sausages), also 7 euros. With our meal we enjoyed a Rosso di Montalcino 2015 Altesino (20 euros).
We then returned to complete our packing. We did not have a ridiculous departure time but did have to be on the road by 8:30 am.
___________________________________________________________________________________________________
Ivy covering Le Mole Sul Farfa.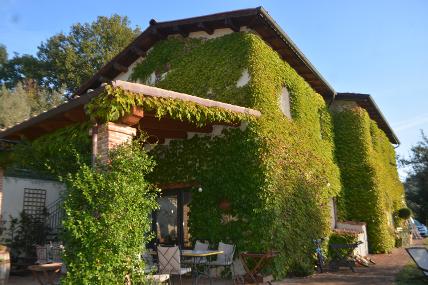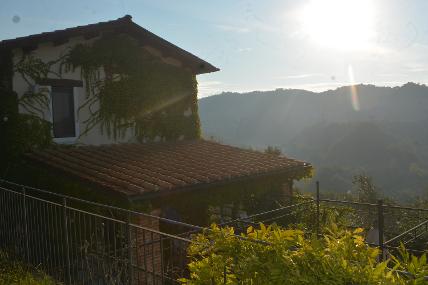 Solar panels at Le Mole Sul Farfa.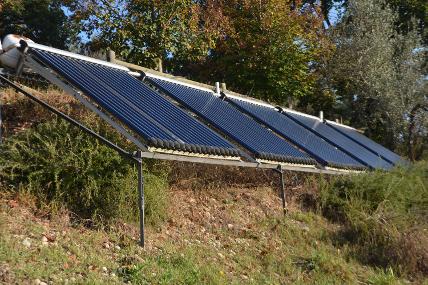 Views of the hills from the terrace just outside the dining area.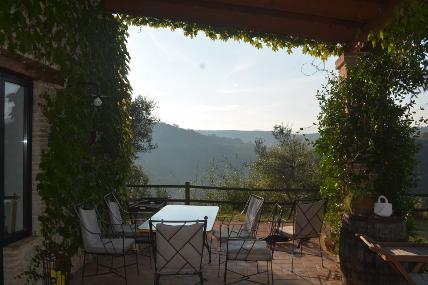 The gate entering Bocchignano and an old stone archway.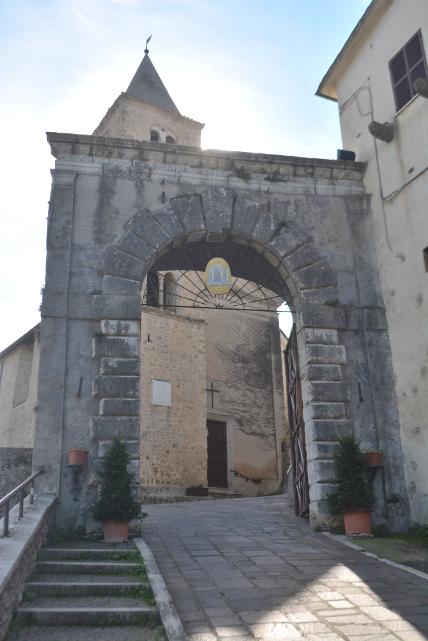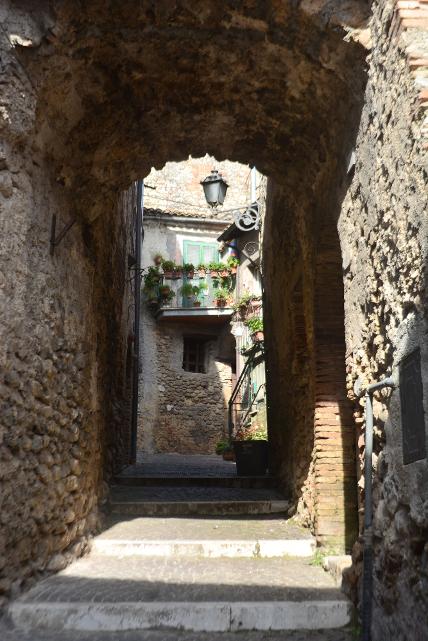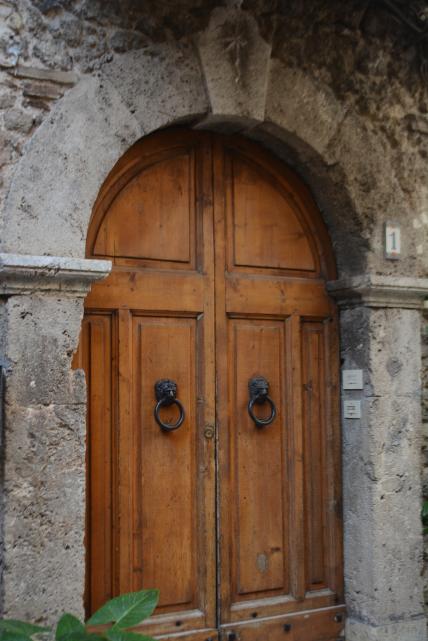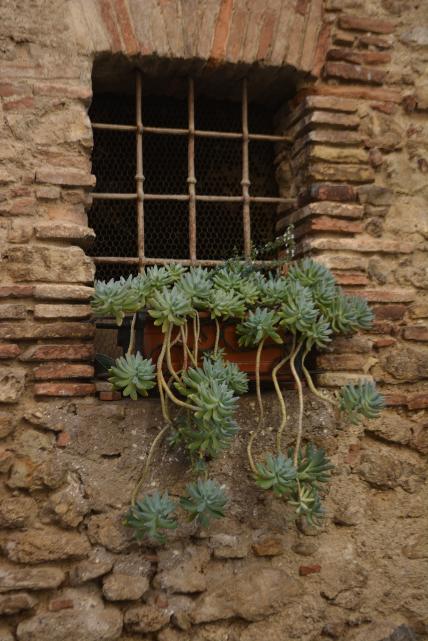 Views of the countryside from the garden of Borgo di Ceri.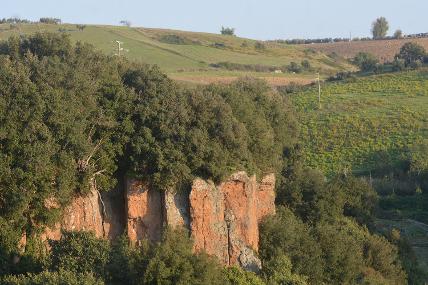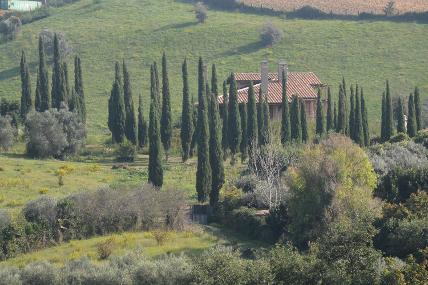 Window box flowers brightened the village. Enjoying our last prosecco.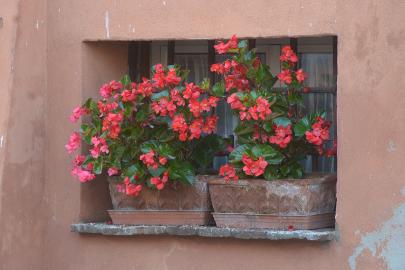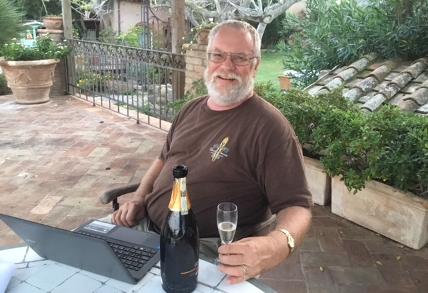 Cobble stones in the village. The Romanesque church.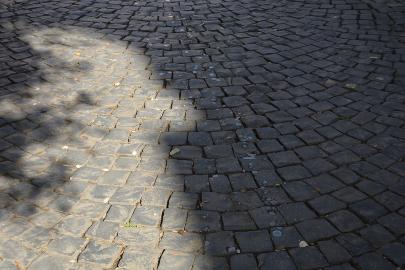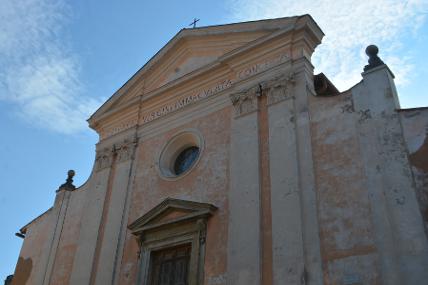 The interior of the church of Ceri with frescos dating from the 12th century.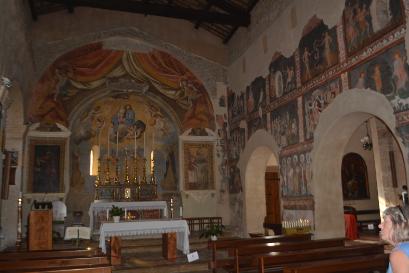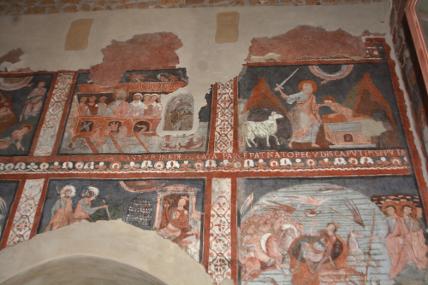 Entering the gate of Ceri. The fortified crenellated castle on the plateau.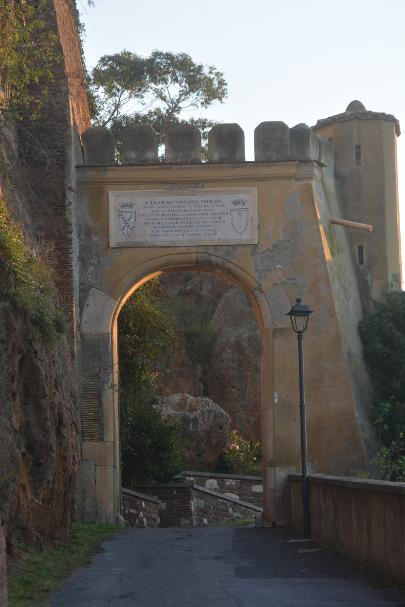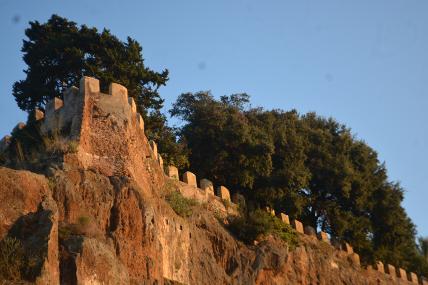 The road into the village of Ceri.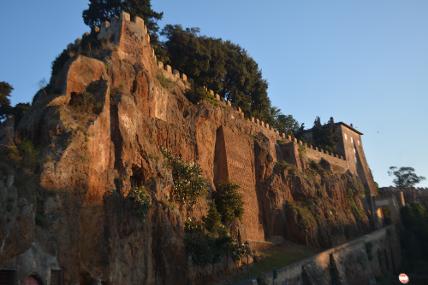 Pasta for Gayle - gnocchi di patate ripieni di funghi porcini saltati in padella, i.e. seasoned with marscapone cream.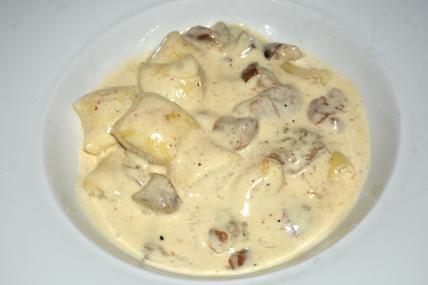 Pasta for Norm - pappardelle al Barole con cinghiale (Barola flavoured pasta with wild boar sauce).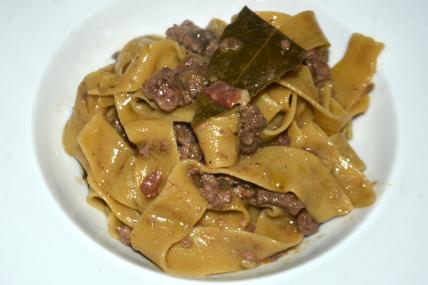 The All' Italiana antipasto of local meats and cheeses.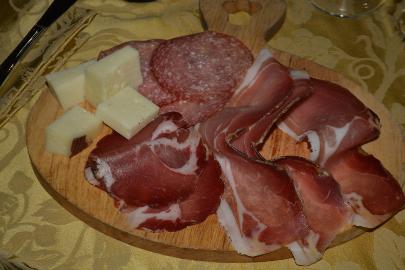 My secondo of salsicce (sausages) with potatoes.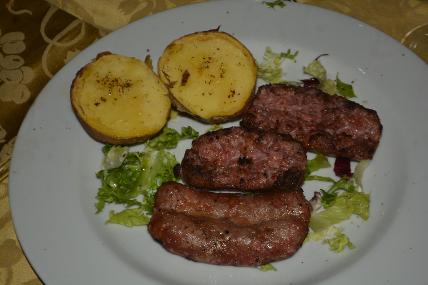 October 11, 2018 - Mompeo (Le Mole Sul Farfa)

Very little to say today. First off Gayle is feeling pretty bad - her back continues to hurt and she now has either a tooth issue or a virus but regardless - miserable (in spite of the forced smile at breakfast). And then there was the weather - our worst day yet with rain throughout most of it and clouds hovering in the valley.
We enjoyed a nice breakfast, after which Gayle napped and drank lots of tea. Meanwhile I worked away at the travel blog although Gayle was generally not up to reviewing and choosing photos. We did not leave the property.

For dinner we again split one meal. The antipasto was a selection of bruschetta - one mushroom; one cherry tomato (the last of the season); one olive tapenade and one olive oil. For the pasta dish we had stringottzi con almond pesto, pecorino cheese, garlic, oil and cherry tomatoes - very flavourful. The buckwheat pancake was filled with red onions (of course not a hit with me but I guess it can't always be about me), feta, walnuts, a balsamic reduction and arugula. And while neither of us are particular fans of creme caramel, Stephano's made with only milk, eggs and lemon skin, with homemade caramel, then baked for 1 hour 50 minutes was silky smooth delicious.
After dinner Gayle could not get to bed fast enough.
__________________________________________________________________________________________________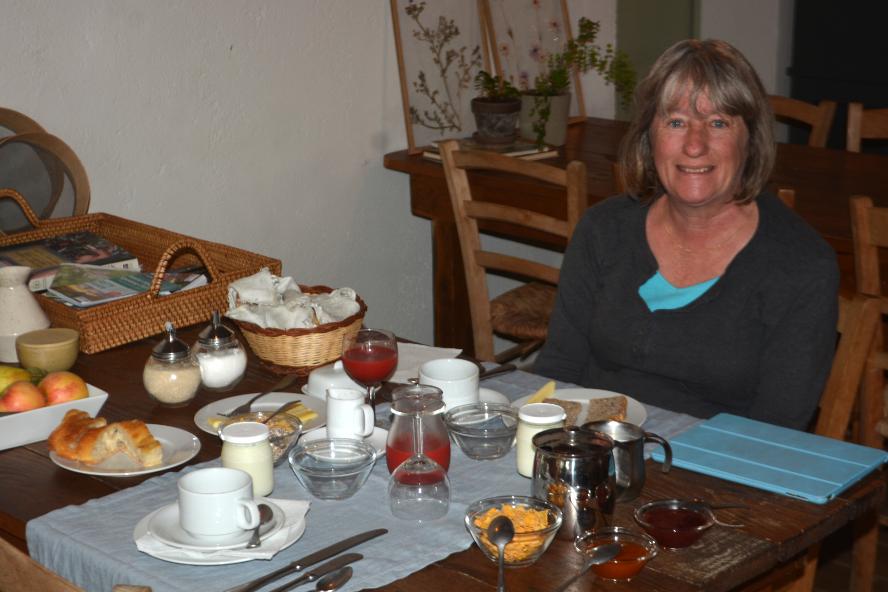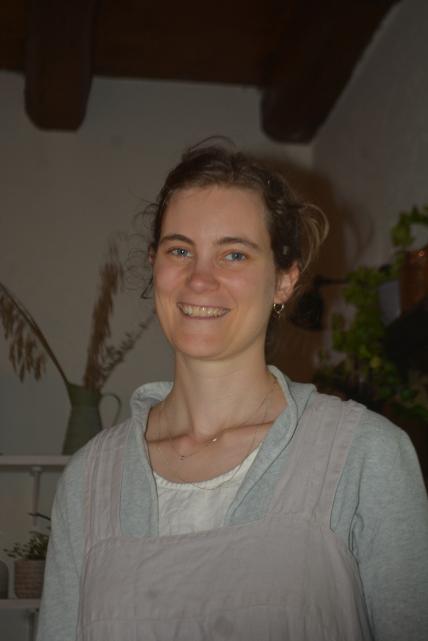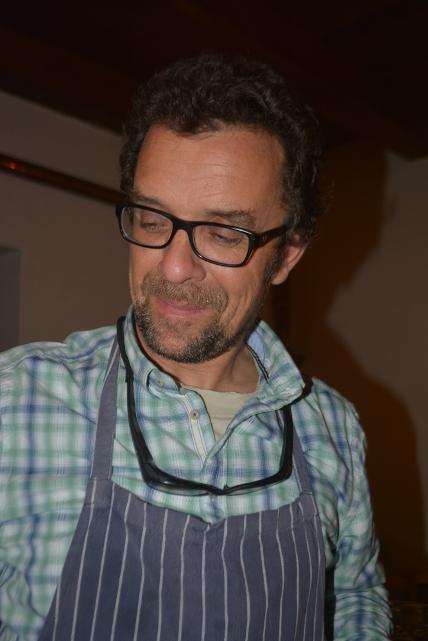 Dried herbs. It was not a great day.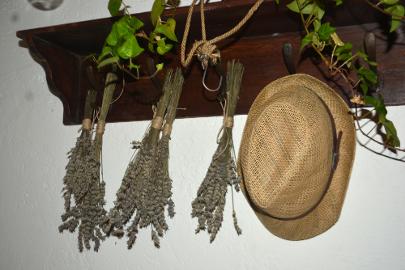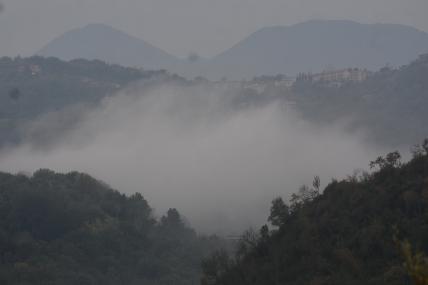 There are a number of donkeys that wander about the olive groves.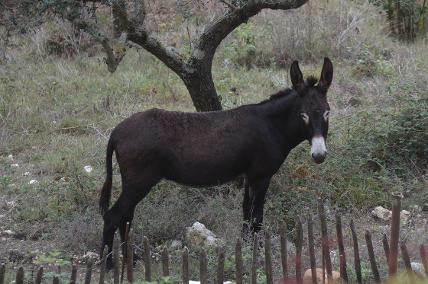 Some of the grounds (the pool is at the far end).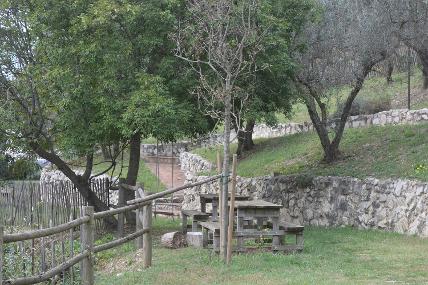 The porcini mushrooms used in the pasta and other dishes.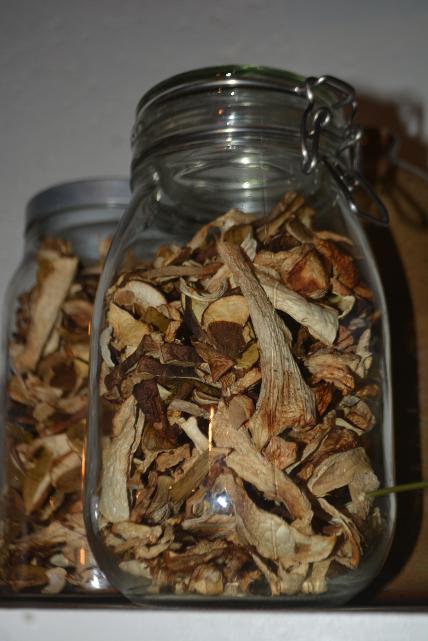 Bruschetta - mushroom, cherry tomato, olive tapenade and olive oil.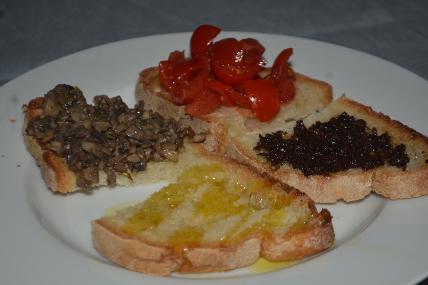 Srtingottzi with almond pesto, pecorino cheese, garlic, oil and cherry tomatoes.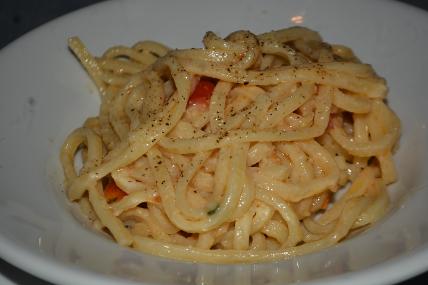 A buckwheat pancake with red onions, feta, walnuts, balsamic reduction and arugula.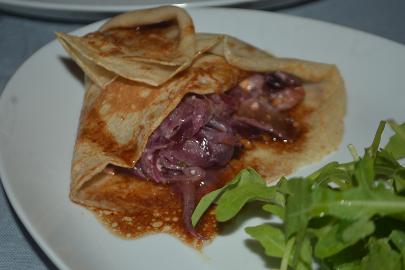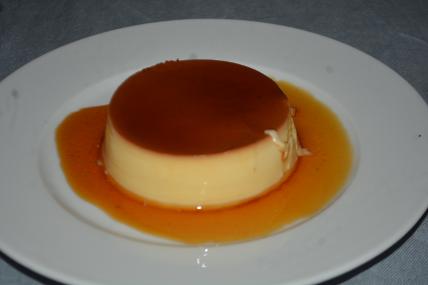 October 10, 2018 - Borgo di Carpiano to Mompeo (Le Mole Sul Farfa)

Today we say goodbye to Borgo di Carpiano and a wonderful experience hosted by Riccardo and Marilisa. The ancient castle dates back to the beginning of the 10th century, originally owned by Rovaldo Baldassini, protector of the city of Gubbio. In the 17th century it was inherited by the Curia of Gubbio who built a church dedicated to San Biagio and Sant Liberata. The church was later deconsecrated due to a decline in the population of the area. Riccardo and Marilisa discovered the "mass of ruins" in 2001, embarking on a dream of bringing back life in the ancient medieval village. Restoration was lengthy, using original materials, with most of the furniture coming from the families of the owners. The end product is spectacular. We estimate at least half of those staying were returning guests - one couple we believe they said their ninth visit. It is easy to understand why given the ambiance of the place, the grounds, the peace and tranquility, the food - not only quality and presentation but flexibility with menus, the attention to detail, the service, and the friendliness of staff and hosts.
Heading south through the hills of Umbria we stopped in Assisi, a town often recommended and dominated by two medieval castles and many churches / cathedrals, the most significant of which is the Basilica of San Francesco d'Assisi. Built between 1228 and 1253 the basilica was badly damaged by an earthquake in 1997, including the collapse of a part of the vault, killing four. The site is the destination of many a pilgrimage, with Assisi linked in legend to its native son St. Francis, a lover of nature in part due to the legend of his preaching to an audience of birds. The Franciscan structures of Assisi are recognized as a UNESCO World Heritage Site.
After a couple of hours we pushed on, driving along the base of the Apennine mountains past Spello (which also would have been nice to wander through but time did not allow), Foligno, past Spoleto and then east of Terni on to Rieta. Throughout the drive we passed a number of hilltop towns, all of which would have been interesting to explore. However given a relatively lengthy drive, having left a bit late and having stopped in Assisi we pushed on to our next stop near Mompeo in the Sabine hills. We had wanted to stay at Colle Cesoni in nearby Casaprota, where we spent two nights in 2016, but they closed in September. As a result we found another agritourismo, Le Mole Sul Farfa, one that serves only vegetarian meals. Given the volumes of food we have been eating we asked if we could split a meal, i.e. we would simply both eat half of each serving. The request was of course no problem, resulting in us trying everything but not eating excessively. While the servings were not huge it was enough and worked well. We started with a beetroot carpaccio with fresh goat cheese, walnuts and rucola antipasto, followed by risotto with porcini mushrooms (delicious). For the secondo we had a gateau di patate, a potato cake with smoked scamorza cheese and marinated carrots. Dolce was a chocolate and almond cake followed by home made limoncello.
After a long day with the stop in Assisi and the drive through rolling countryside and Gayle still not feeling her best we were anxious to call it a night.
___________________________________________________________________________________________________
A breakfast dish of panzanella (a Tuscan bread salad)
with fresh buffalo mozzarella.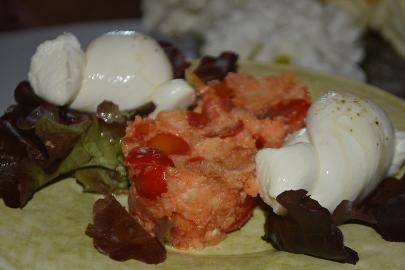 Riitta and Arja - the sisters from Helsinki.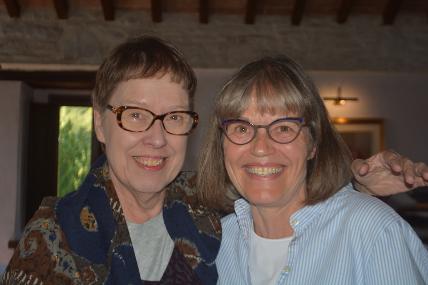 One of the Borgo's outdoor sitting areas, and a path on the property.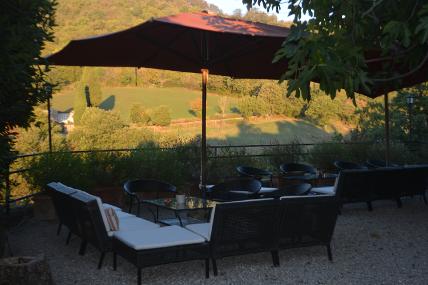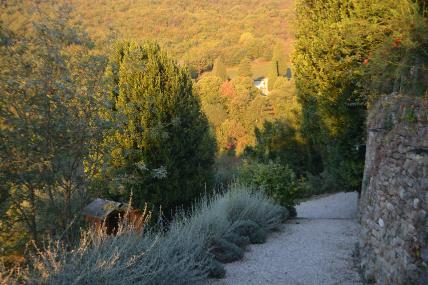 The old alter and the comfortable, social area in the church / library.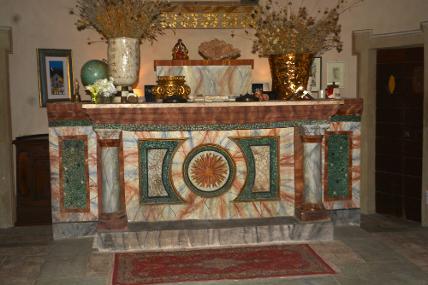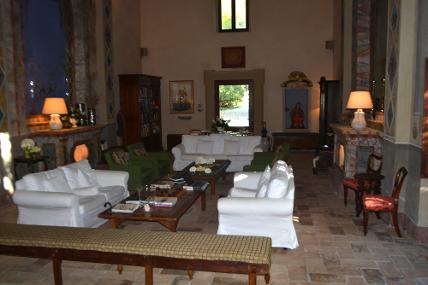 Inside and outside the old church (now library and social room) of Carpiano.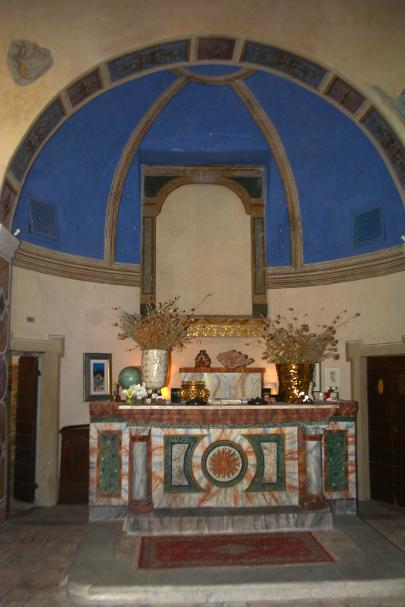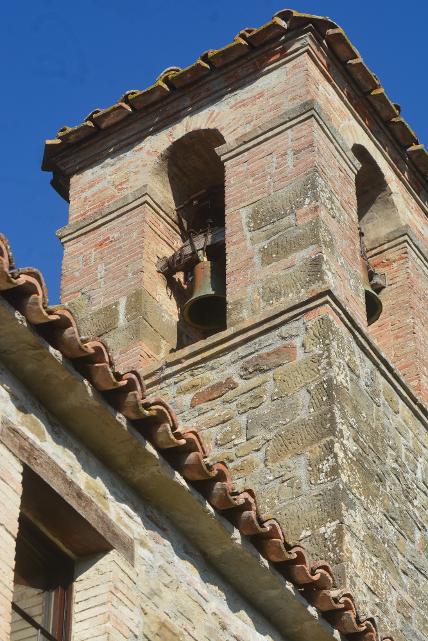 Riccardo, always at our service.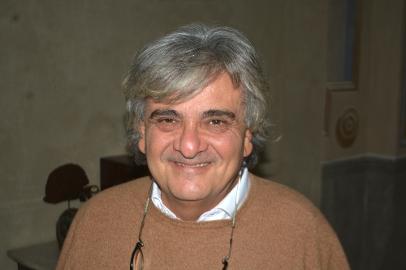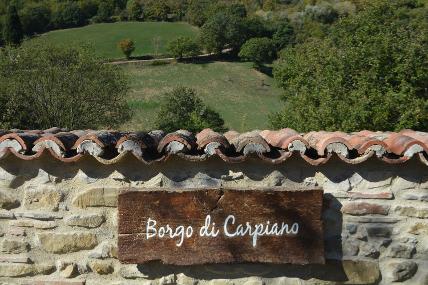 Hilly landscape of Umbria.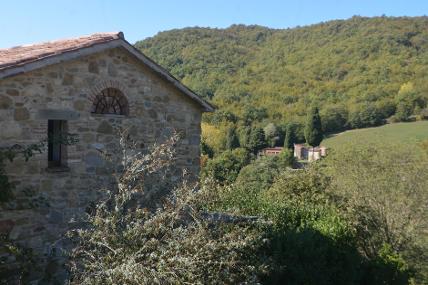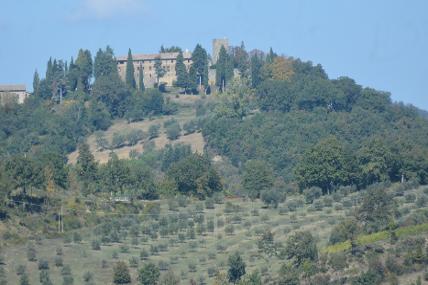 Sheep grazing the Umbrian hills. Assisi.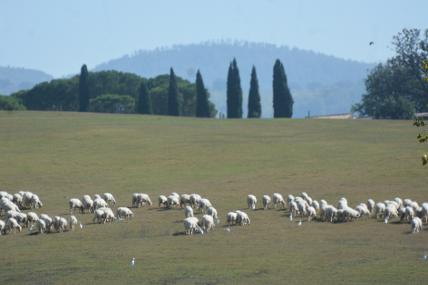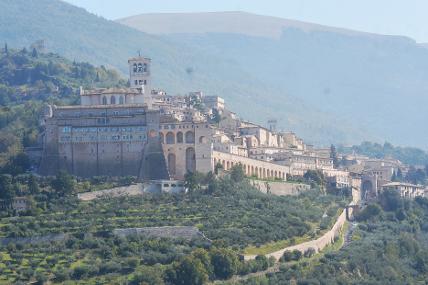 Both these crema cannellones and meringues were popular in the shops in Assisi.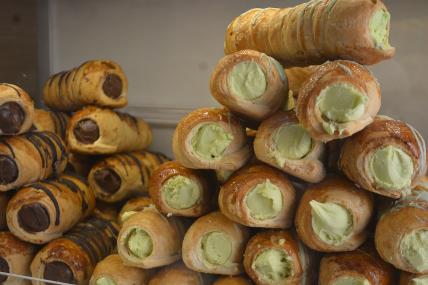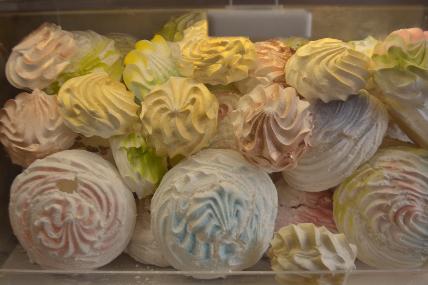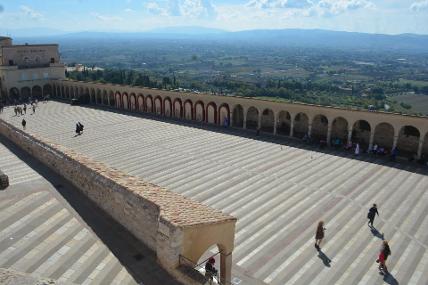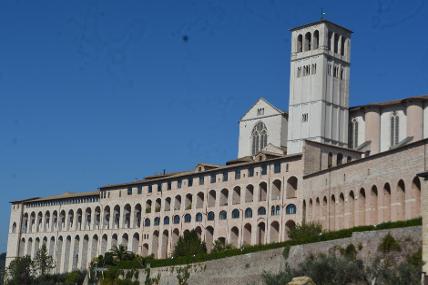 Dominating the town of Assissi - the Cathedral of San Rufino.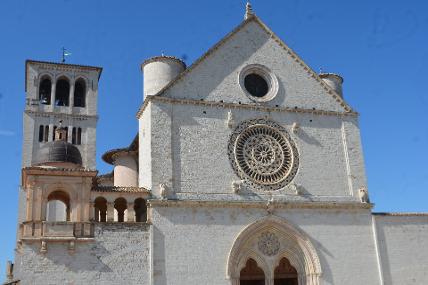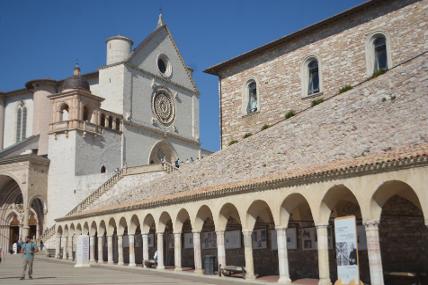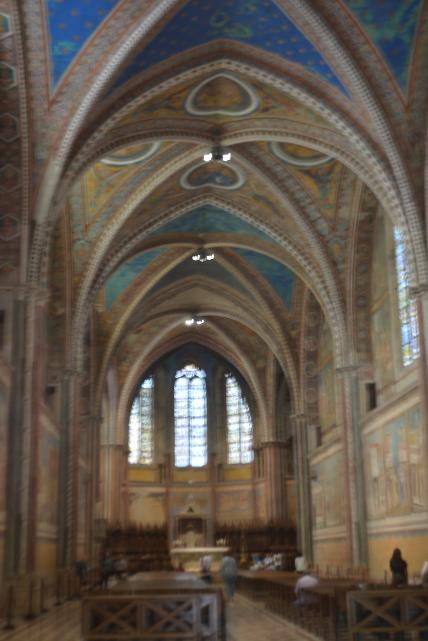 The beginning of the fall harvest. Another hilltop town, possibly Spello.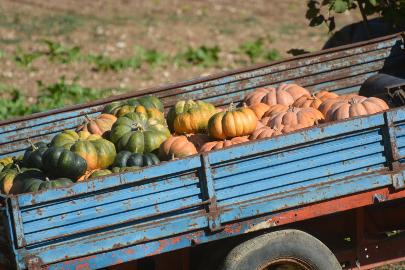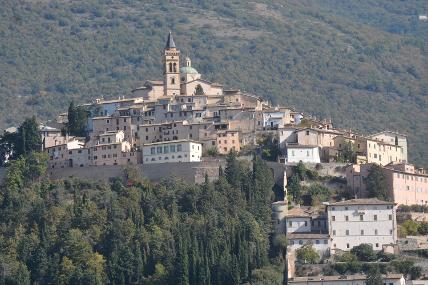 Beetroot carpaccio with fresh goat cheese, walnut and rucola.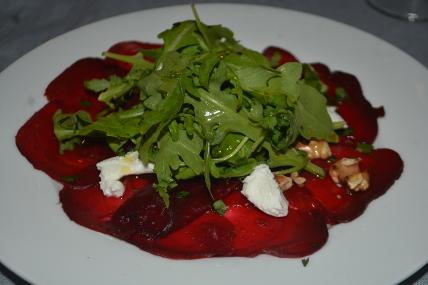 Risotto with porcini mushrooms.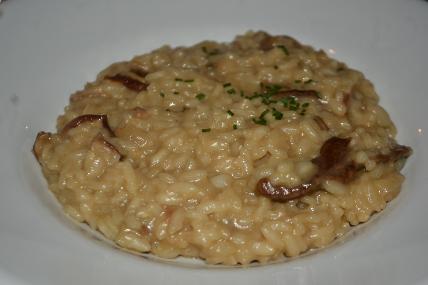 For the secondo a gateau di patate - a potato cake with smoked scamorza and marinated carrots.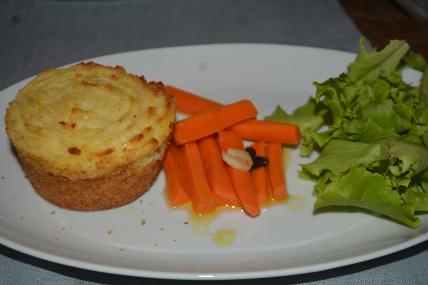 Chocolate and almond cake.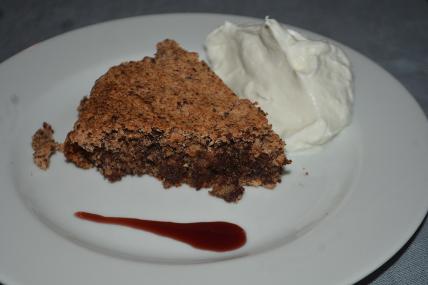 A glass of home made limoncello after dinner.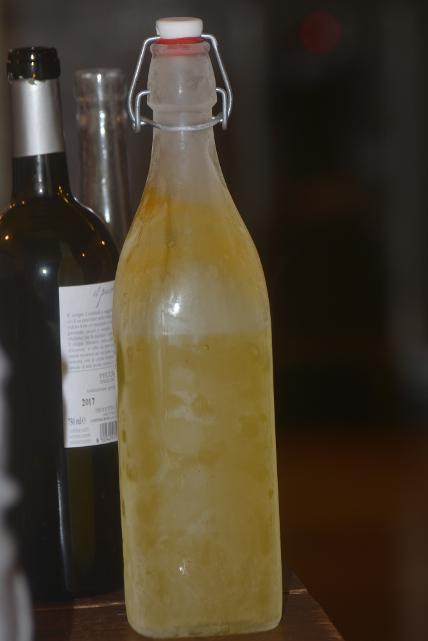 October 09, 2018 - Borgo di Carpiano with a trip to Gubbio

Another great day to be in Umbria. We awoke to sunshine and warmer temperatures. Breakfast again was most enjoyable, chatting with other guests we met, especially Arja and Riitta, two sisters from Helsinki who told me all about Kalakukko, the traditional food of fish baked inside a loaf of bread, similar (although I believe a bit different) than the 'fish bread' Mike, Steve and I purchased way back in 1978 at a market in Helsinki. The things you chat about when meeting other travelers.
We went to the nearby (18 kms) medieval town of Gubbio for the afternoon. A town of 33,000 whose origins are very ancient, with the hills above already occupied in the Bronze Age. After the Roman conquest in the 2nd century BC the town remained important as attested to by its Roman theatre, the second-largest surviving in the world. Gubbio was very powerful in the beginning of the Middle Ages, engaging in wars against the surrounding towns of Umbria. The historical centre has a decidedly medieval aspect, the town being austere in appearance because of the dark grey stone, narrow streets and Gothic architecture. Many houses in central Gubbio date to the 14th and 15th centuries, originally dwellings of wealthy merchants. Among the historical and often visited buildings and sites are the:
Roman Theatre - an ancient open air theatre built in the 1st century BC using square blocks of local limestone. Originally with a diameter of 70 metres the theatre could house up to 6,000 spectators,
the Duomo, built in the late 12th century
a number of other impressive basilicas and churches
the Palazzo Ducale, with construction beginning in 1470, along with other palaces, and
the Piazza S. Giovanni, mentioned in documents as far back as the 12th century.
Although we did not enter any of the churches, palaces or museums we enjoyed a very interesting and enjoyable walk about the medieval town none-the-less, soaking in the centuries of history. Yet at the same time we also encountered the current - a group of men playing cards outside a bar, another group playing bocce near the Teatro Romano, and many artesanal shops selling a wide variety of cured meats, cheeses, honeys, olive oils and now that they are in season truffles. A very enjoyable visit.
On the way back, just after we turned onto the lane taking us down the hill to the Borgo there was this lady working away cleaning up olive tree leaves and branches. I stopped to hopefully take a photo but before I could get out of the car she walked over, smiling and talking a mile a minute, of course all in Italian. Then unfortunately a grader approached from behind forcing me to move on. I snapped one quick photo but wish I could have had the opportunity for others. We later found out from our server Elisa, that her name is Marcella.
We spent the late afternoon / early evening relaxing before heading off to the pre-dinner gathering followed by dinner. Although there is a set menu Ricardo was very clear that if a guest wanted something else to just ask. After he explained to Gayle what vegetarian dishes were being prepared for her tonight he then mentioned the main menu included tuna carpaccio as the antipasto and swordfish as the 2nd piato. He must have noticed my small wince. While the fish would no doubt be wonderful I have never been particularly happy with the swordfish I have had and tuna carpaccio - pass. Ricardo quickly said no problem and substituted beef carpaccio (which was delicious) and beef tenderloin with zucchini and roasted potatoes. I'm so glad I spoke up as I really enjoyed what I was served. For the pasta we had tagliatelli with cherry tomatoes, parmesan, porcini mushrooms and shaved truffles. Given the amount of truffles added - quite substantial - we were a bit surprised there was not a bit more flavour, but still very nice. For her main course Gayle had a vegetable cabbage roll. Dessert was a creme brule and a vin santo with cantucci. With Gayle still not feeling great and therefore not drinking we did not order a bottle of wine. We did have a prosecco each before dinner and I had the wine we had not finish from the previous night. Given four courses, the quality of the food, the menu flexibility, the olive oils and breads and the impeccable service - thank you Emanuela and Elisa - 39 euros ($60 each) is a very reasonable price. Given the isolation of Borgo di Carpiano, and the unlikelihood one would go elsewhere for dinner one contemplates that perhaps with a captive clientele dinner might be just ok. That is so not the case. Three nights; three wonderful dinners - this could get habit forming.
After a great breakfast; a nice visit to Gubbio, a relaxing afternoon and a delicious dinner we went to bed very content.
__________________________________________________________________________________________________
How cute is this serving of Gayle's boiled egg?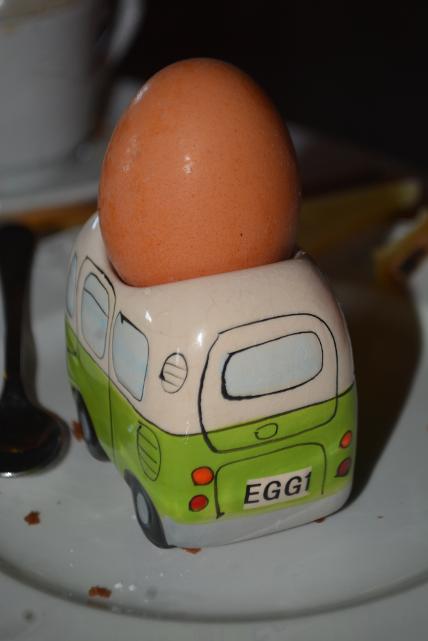 The dining room with its fireplace.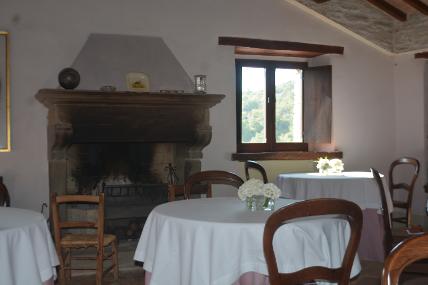 Today's basket of tomatoes that will find their way into the dinner menu.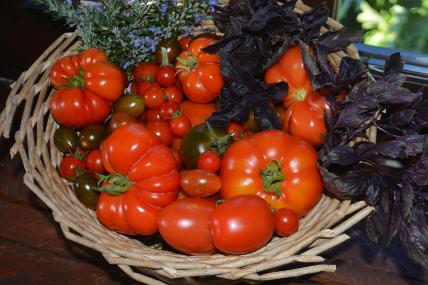 Breakfast servings of prosciutto and Tuscan cheeses.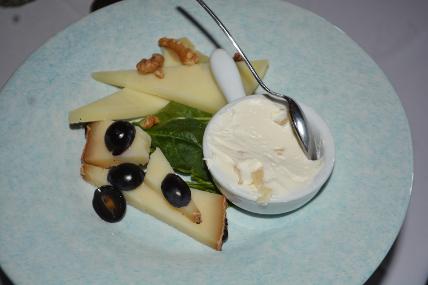 Mateo picking grapes from the trellis over the lunch area for tomorrow's fresh morning juice.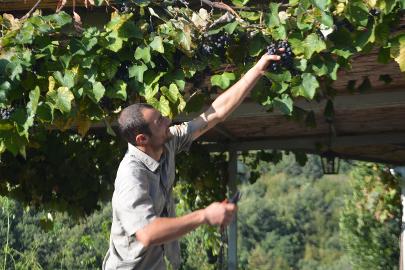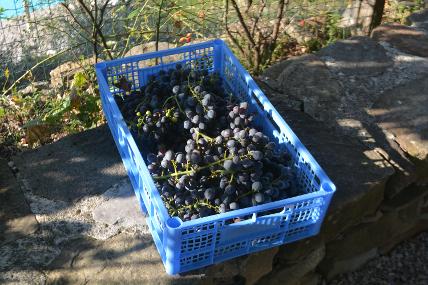 Men of Gubbio out for an afternoon of cards.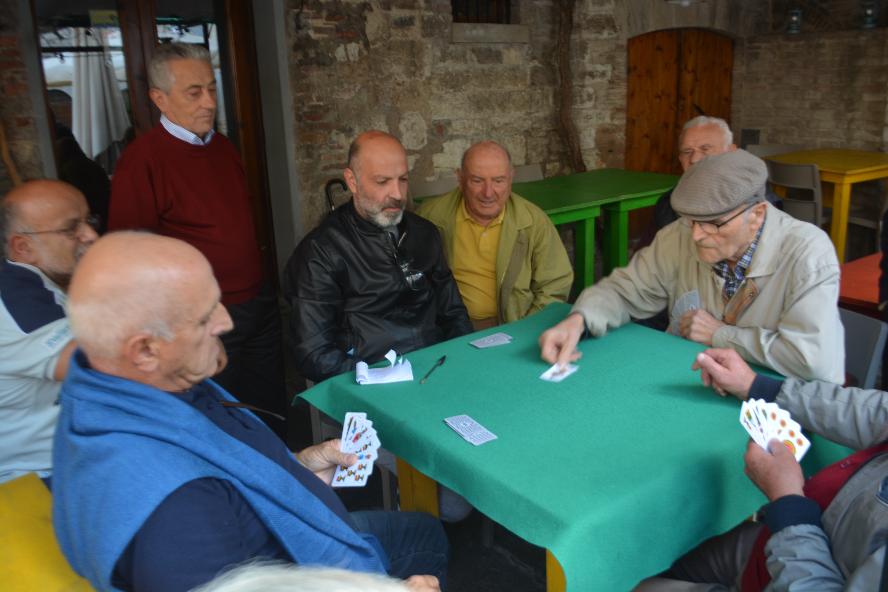 Artesanal shops in Gubbio sold cheese, cured meats and fresh truffles.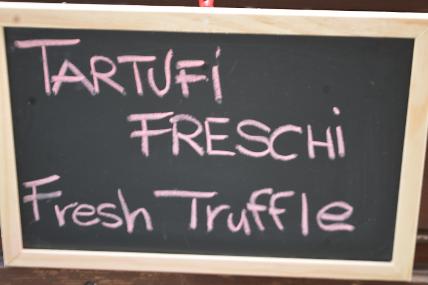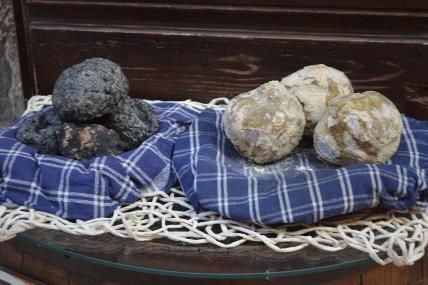 Some of the many medieval stone buildings of Gubbio.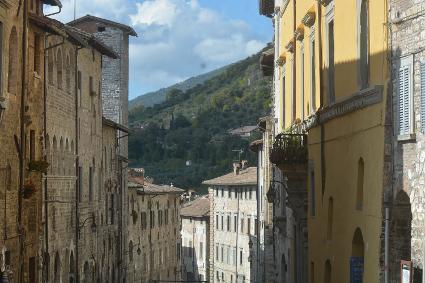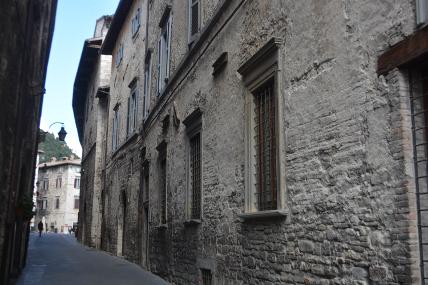 A lantern hanging in an archway.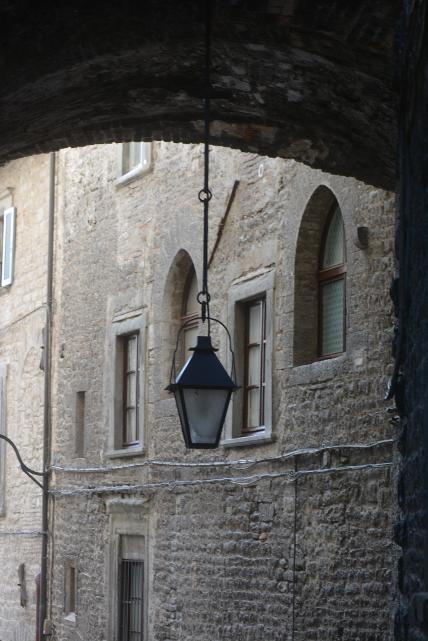 ... and an old old door, large enough to have a door within the door.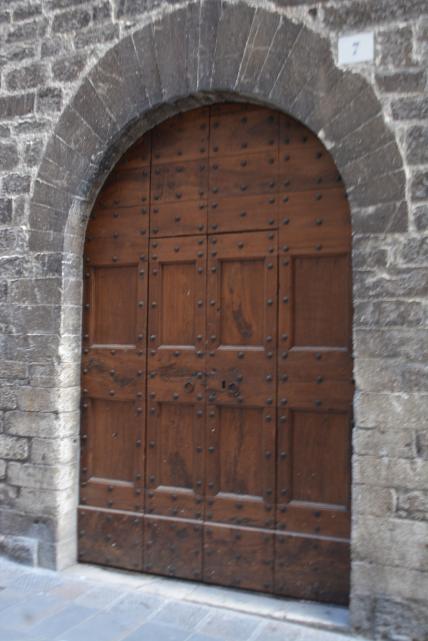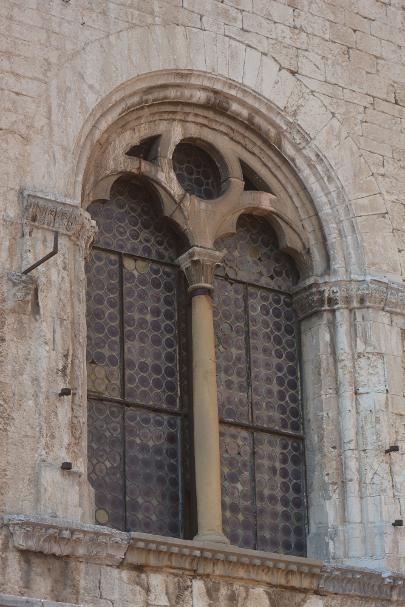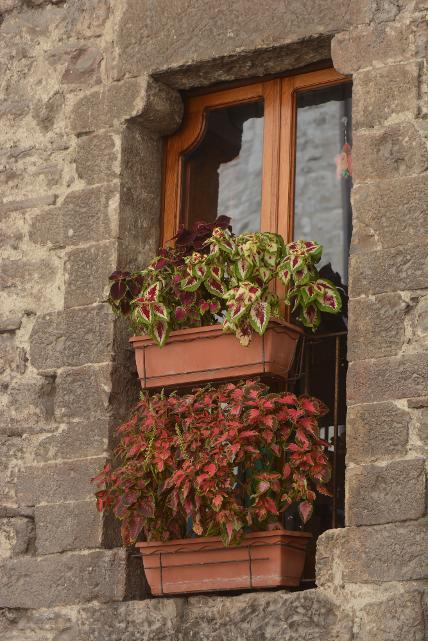 Traditionally Italian - clothes hanging to dry. A dragon horse hitching ring.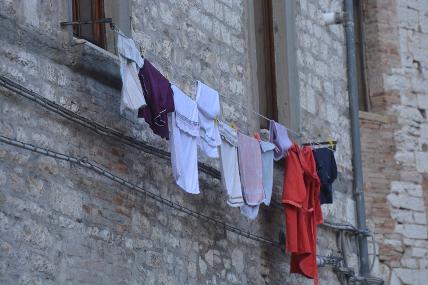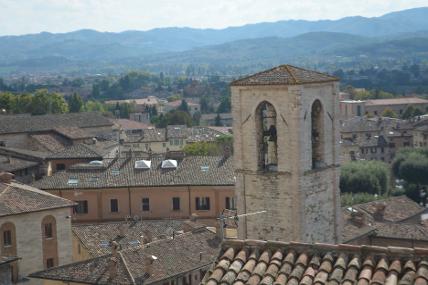 It was such a nice walk through the streets and alleyways of Gubbio.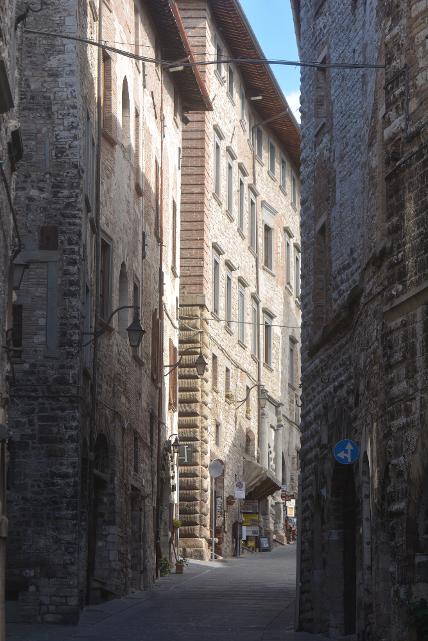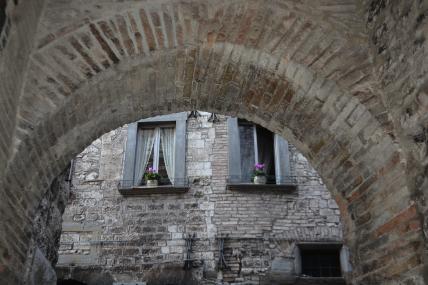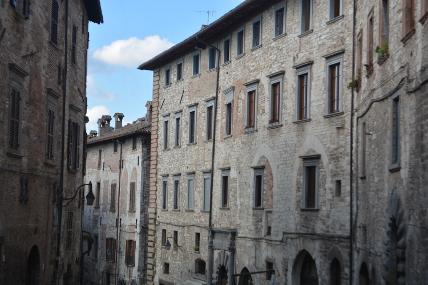 Unlike the spring there are not many flowers in the fall but these roses were still in bloom.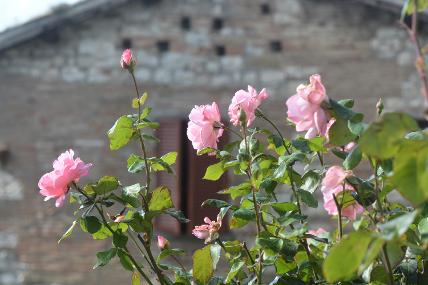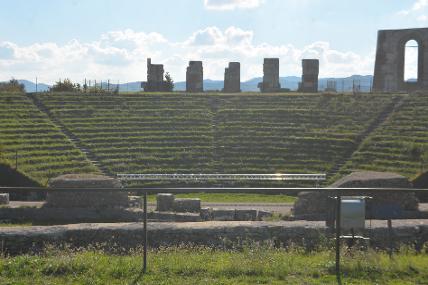 Men of Gubbio out for an afternoon of bocce.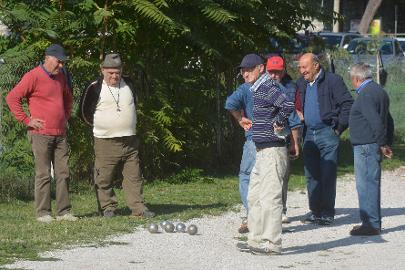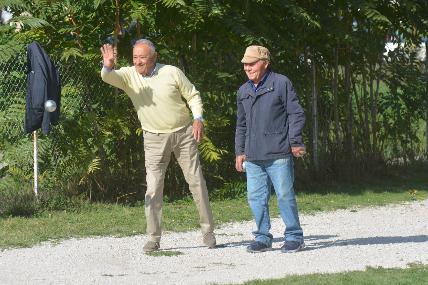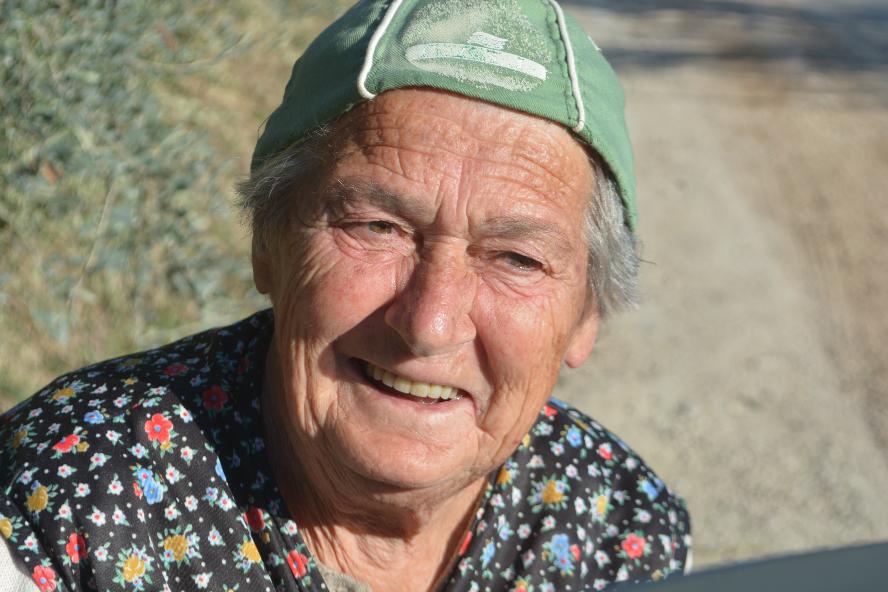 Again a choice of olive oils ... With an accompanying olive oil menu.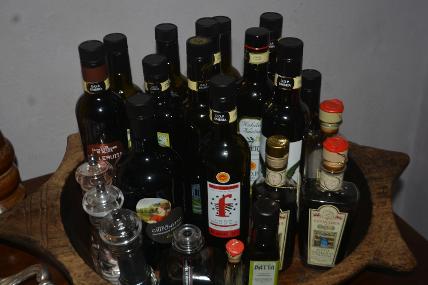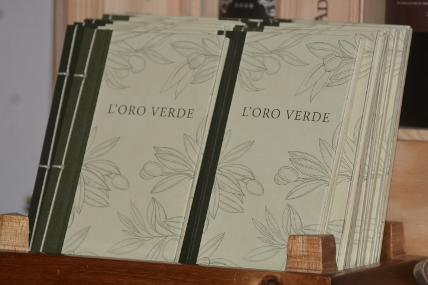 Two of our servers - Emanuela and Elisa. Beef carpaccio for the first course.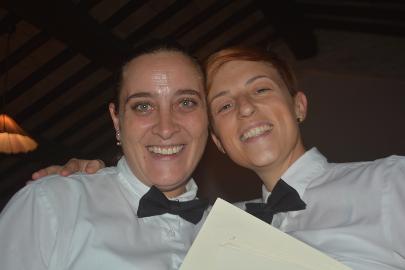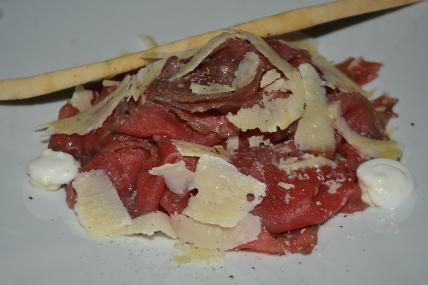 Truffles to enhance tonight's pasta. Elisa again.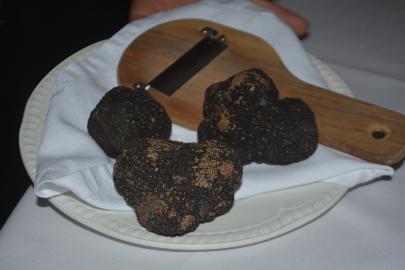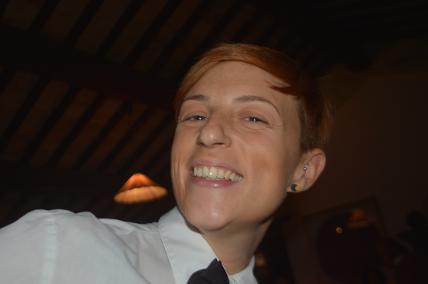 Smiling Emanuela shaving the truffle.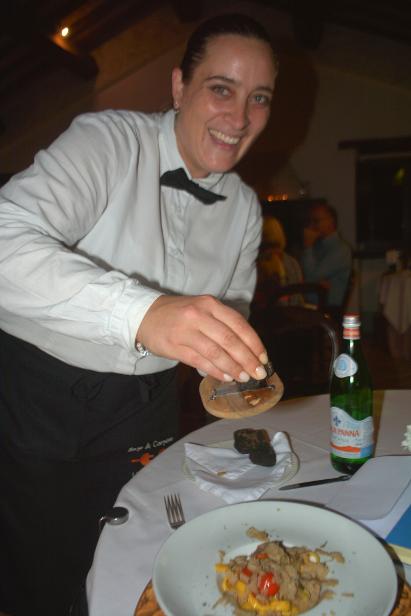 Tagliatelli with cherry tomatoes, parmesan and porcini mushrooms before the addition of the truffle.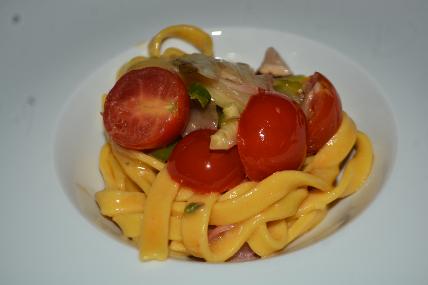 With a lot of shaved truffle.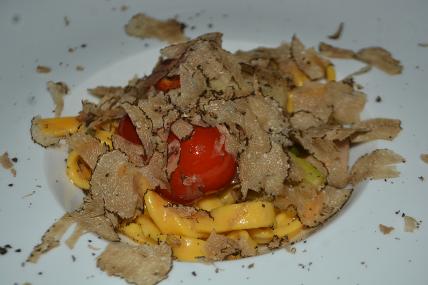 For Gayle vegetarian cabbage rolls.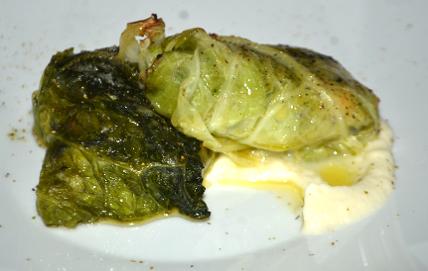 ... and for me beef tenderloin with zucchini and roasted potatoes.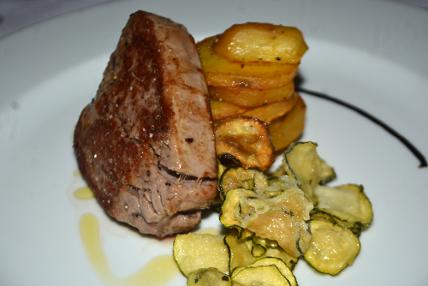 Creme brule. Cantucci and vin santo.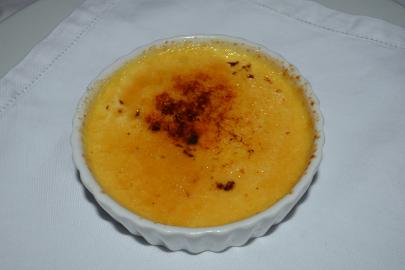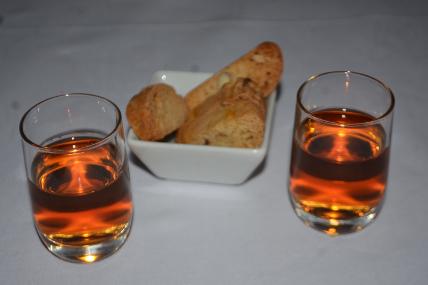 October 08, 2018 - Borgo di Carpiano

Given the location and ambiance of this place there is considerable incentive to stay put, which is exactly what we did today. Breakfast certainly did not disappoint, with a surprisingly good apple, celery, kiwi and lemon fresh juice and a quail's egg being the 'egg of the day'. Fresh baked breads, yoghurt, proscuitto with cheese, cherry tomatoes and lettuce served uniquely on an inverted cup, capucchinos, fresh fruit and on and on. Once again great food and perfect service.
With decent Wifi we were able to catch up a tad on the travel blog. We're still working on Greece, having fallen considerably behind due to focusing on enjoying our time rather than on the travel blog, particularly where there was poor Wifi at a number of places. As Gayle was not feeling particularly well while she rested I was over at the lunch area working away. Staff were very considerate, working around me as they prepared for lunch, including ironing the table cloths before setting the tables, each of which had a little bonsai olive tree. Although we didn't have lunch, and really don't understand how others could after the massive breakfast only a few hours earlier, as I left I was handed a couple of small mini pizza pockets - just another little thing indicative of the attentiveness to guests.
The afternoon was spent relaxing and napping. While we checked out the pool it was too cold (at least for us) to actually swim. Essentially we simply enjoyed the ambiance and vistas of the surrounding countryside.
Dinner was again memorable. tonight a white Orvieto Classico Superiore DOC Terre Vineate Palazzone 2017 (procianico, grechetto, verdello, druppeggio e malvasia grapes) wine. Although dinners are a set four courses there is great flexibility. As Gayle wanted to eat light she asked for a simple salad to start rather than the richer leek and potato flan. What she was served was anything but simple with fresh tomatoes, both pecorino and parmesan cheese and carrots drizzled with a balsamic vinegar. I too felt like I was overeating so we both skipped the pasta course. Gayle then had aubergine with mozzarella while I a fish timbale with basil, covered with zucchini and smoky mozzarella (a dish from Sicily). We then skipped dessert, sneaking out before others finished their meal. Unfortunately by doing so we missed a birthday celebration as from our room we could hear the singing. Another well prepared meal. If only we had somewhat more of an appetite.
___________________________________________________________________________________________________
Riccardo, our host Nothing like starting breakfast with a capucchino.
Notice the creative inverted cup for serving the breakfast meat and cheese salad.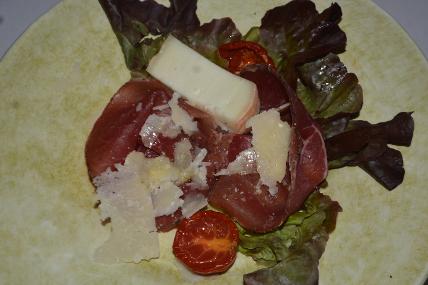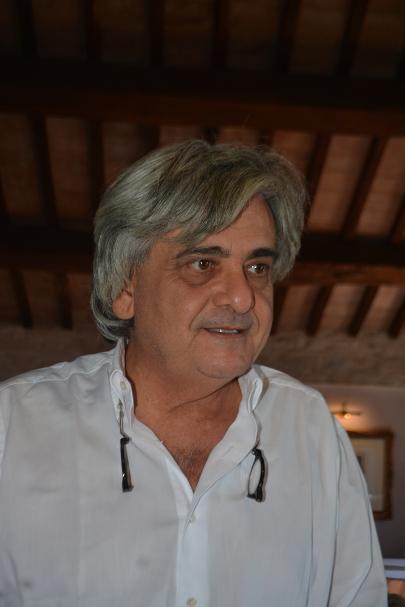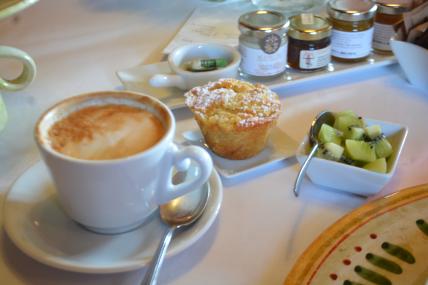 Quail was the egg of the day.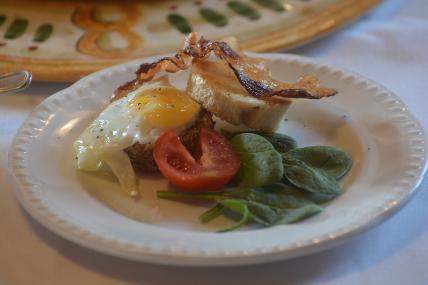 A couple of photos inside the church / library - pretty darn impressive.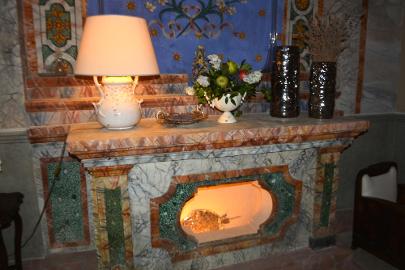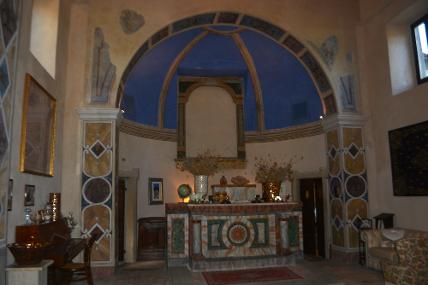 The landscape around Borgo di Carpiano. Grapes growing over the lunch terrace.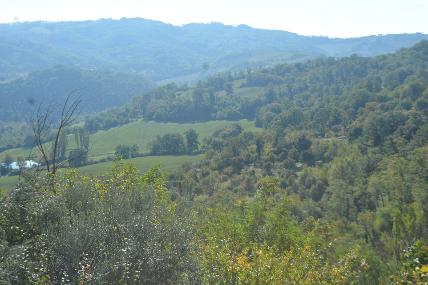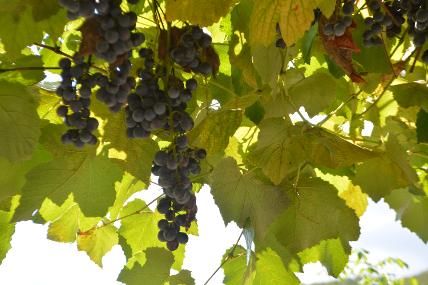 A basket of vegetables to be used later for dinner.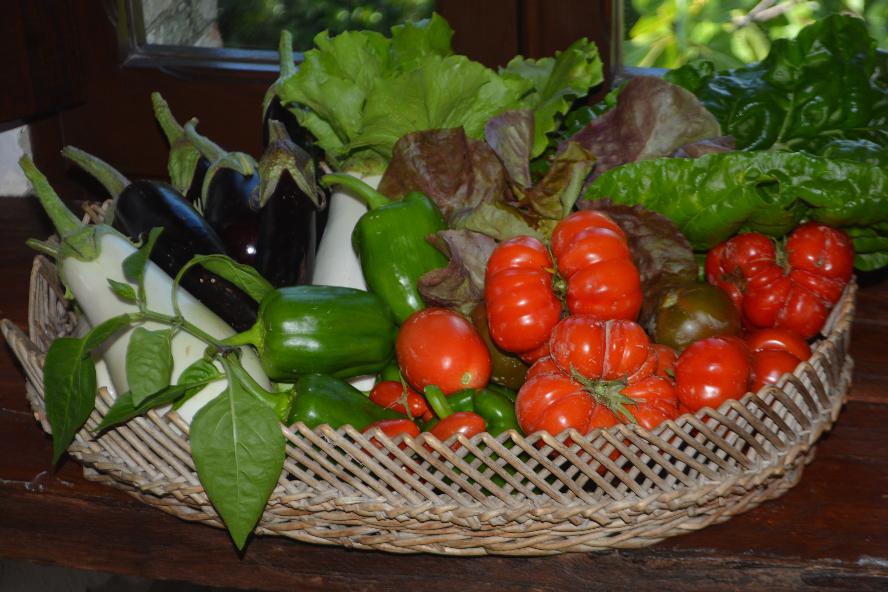 You know attention is paid to detail when the table cloths are ironed before lunch.
Lunch setting with bonsai olive tree and colourful chargers.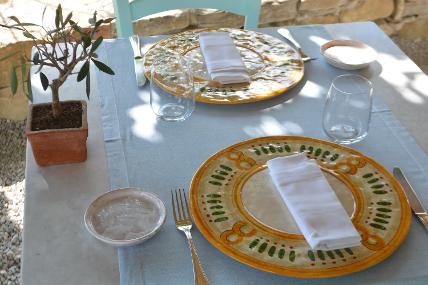 Another photo of the pool. Mini pizzas for lunch on our vibrant terrace table.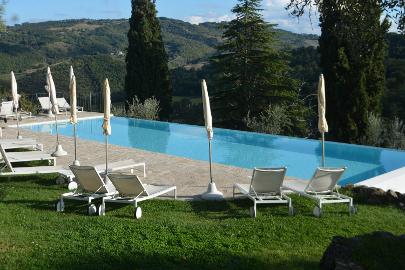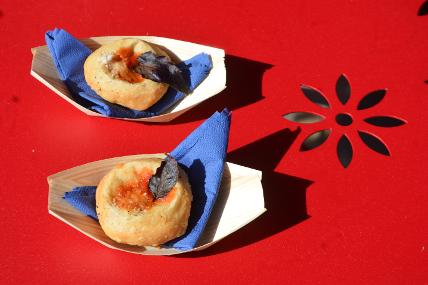 Flowers outside our window. The cobble stoned walkway between the buildings.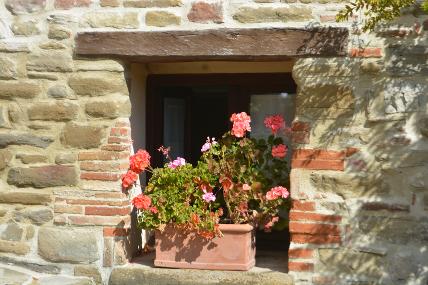 Lettuce salad with tomatoes, pecorino and parmesan, carrots and balsamic, beautifully presented.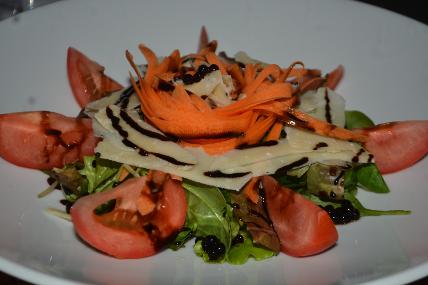 Leek and potato flan with proscuitto.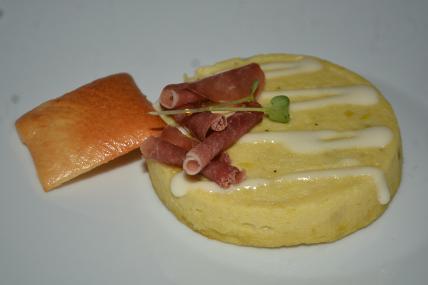 Aubergine with mozzarella.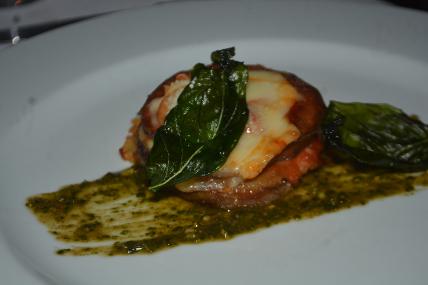 Timbale with basil covered with zucchini and smokey mozzarella.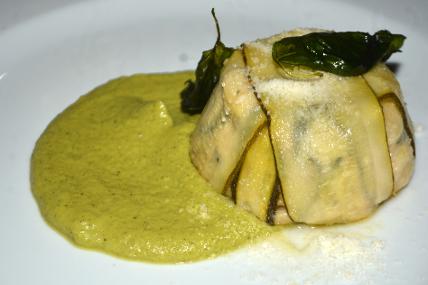 October 07, 2018 - Doglio (Podere le Corone) to Gubbio (Borgo di Carpiano)

Before leaving Podere le Corone we purchased a bottle of their olive oil to bring home with us. Then it was goodbye to Anna (albeit 'ssssslllllooowwwlllyy') and Molly (her dog) andBA_IT_731 off for a stop in Monte Castello di Vibio for a short walk about. Another nice village. We then drove north along the slower country road through Marsciano and on to Perugia where we got on the highway. Unfortunately we took an exit before we should, heading west around the city. Although a mistake it did provide us an opportunity to see Perugia from the other side. Upon realizing our navigational oops we turned around to then find the correct road through the hills towards Gubbio. The drive was very scenic through the rolling hills of Umbria. At Mengara (10 kms before Gubbio) we took an even smaller road, backtracking 8 kms until reaching a yet smaller narrow one-lane path another 1.5 kms down the hillside to Borgo di Carpiano.
We were very impressed with Borgo di Carpiano's reviews and their website. In fact we could not get a room our preferred dates (we later found out there was a wedding) but rather than pass we rearranged the order of our stops, driving from Montepulciano south to Podere le Corone, then north to Carpiano and then south again. A bit of a risk but in the end the Borgo is as special as the reviews indicate, making it a great decision. However, in spite of booking in early May there was only one last room available - a standard room. The room was somewhat small, although the bathroom was of nice size. What was really wonderful was the nice large terrace, basked in sunshine most of the day.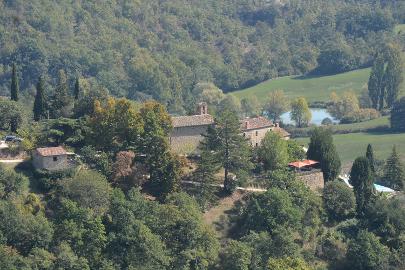 The ancient castle of Carpiano is a small hamlet between Perugia and Gubbio. It is a place of simplicity (except for dinner), elegance and warmth of genuine hospitality. The Borgo is surrounded by olive trees and lush woods in a pristine valley crossed by the Ventia stream. The three stone buildings are perched on a ridge of rock ending with an infinity pool overlooking the valley. In the main building the old
church has been restored, with the original frescoes. It has been converted into a library and meeting room hosting classical music concerts and events, such as weddings.
During the fall and winter months meals are served in the large dining room, if need be in front of the warmth of the old fireplace. Meals are special here, with homemade breads and cakes, vegetables from the garden and quality ingredients locally sourced. The Borgo has only nine rooms, all renovated respecting the original architecture and materials of the time. Although we didn't partake there are a number of activities offered / arranged, including wine tastings, cooking classes, truffle hunts, cultural and/or artistic tours etc.
Dinner begins with a social hour in the church / library where guests have the opportunity to meet each other. A perfect place for a pre-dinner drink. Before moving to the dining room an 'amuse-bouche' is served, tonight a small meatball. Dinner is beyond a meal, it is a show with impeccable service. The event starts with a variety of breads served in a carved wine-bottle. This is followed by an olive oil tasting where each guest can choose one of approx. 10 olive oils to have with their bread and rolls served shortly thereafter. Then the first course - a delicious pumpkin flan with pecorino sauce, actually very similar to our starter at Lupaia. Then a pasta dish of risotto with porcini funghi. For the second piatto I had the pork ribs and beef belly, carved by the chef in the dining room while Gayle had a spinach tartlet. We enjoyed a bottle of Petroro 4 - Todi Rosso - Peppucci 2016, a local Umbrian wine from just outside of Todi. Dessert was a tasty lemon cake from the Amalfi coast followed by a piece of chocolate with almonds, and for me a glass of Vin Santo di Torgiano DOCG Lungarotti. We actually had no idea what the meal was costing us and honestly did not care [it turned out to be 39 euros per person]. The servings, beautifully plated / presented, were not huge but very rich. We very much look forward to two more meals here the next couple of nights.
___________________________________________________________________________________________________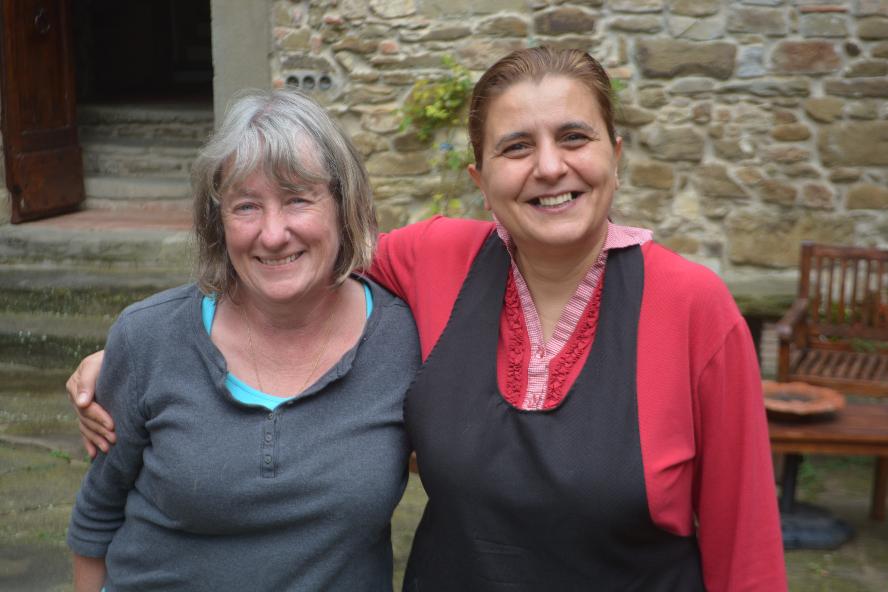 As if the road is not narrow enough one needs to always be on the lookout for unexpected users.
The nearby countryside as seen from one of Carpiano's terrace areas.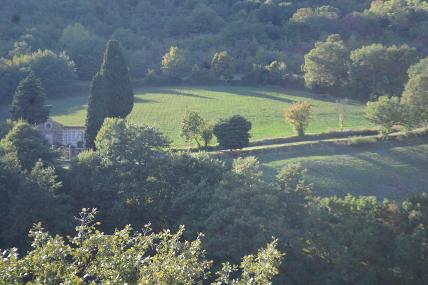 Our large comfortable terrace, recipient of the sun most of the day.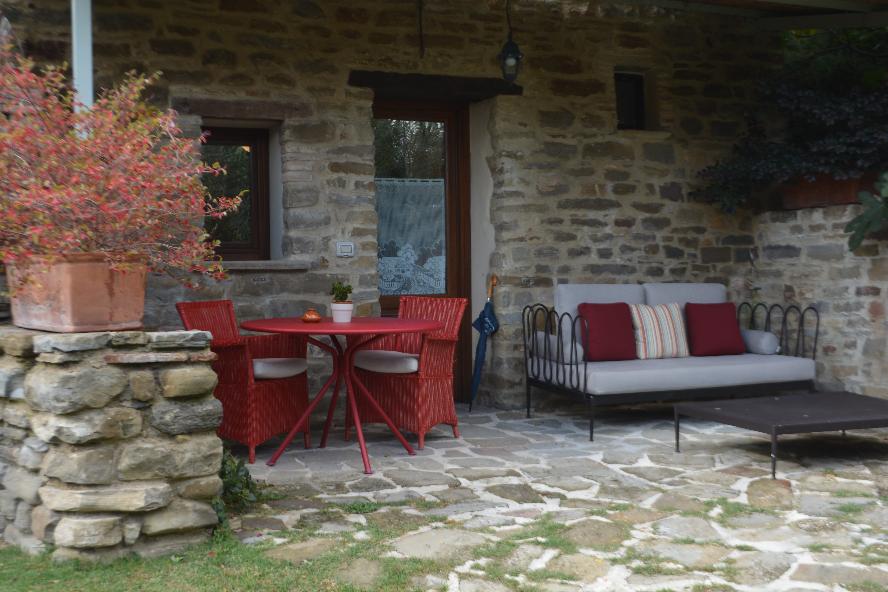 The infinity pool overlooking the Umbrian hills.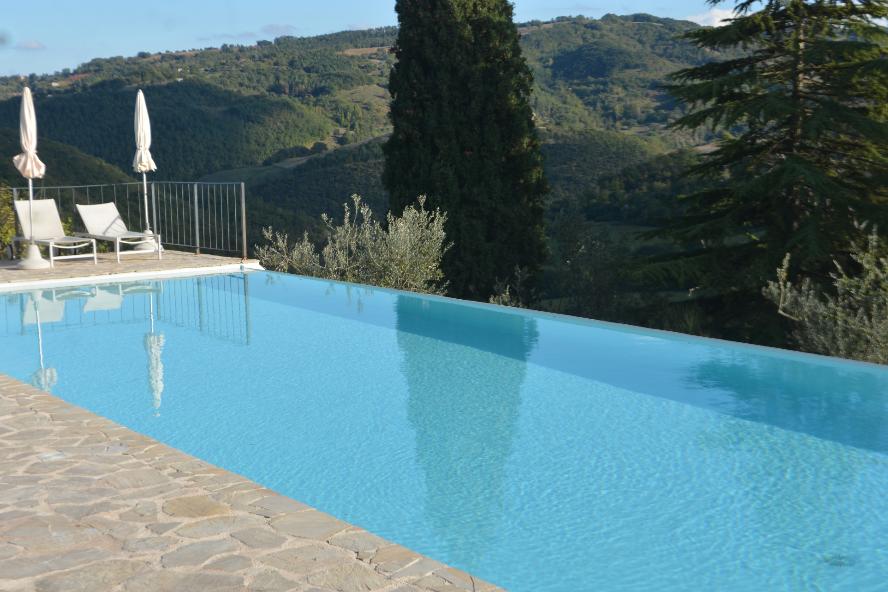 Breads beautifully presented in a wine bottle, along with bread sticks.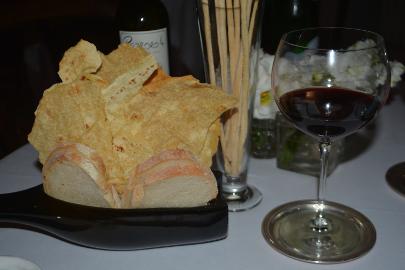 Olive oil, rolls and brown bread focaccia baked with a cherry tomato.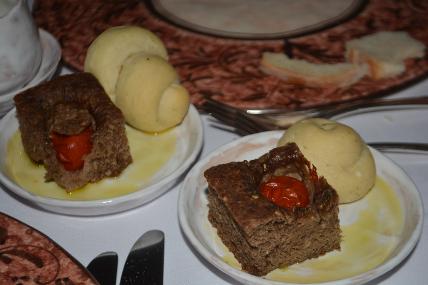 The pre-dinner olive oil tasting. A choice of perhaps 10 different olive oils.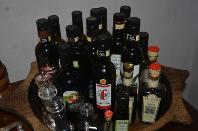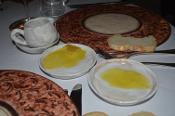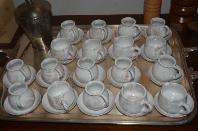 Flowers from the weekend wedding. Pumpkin flan with pecorino sauce.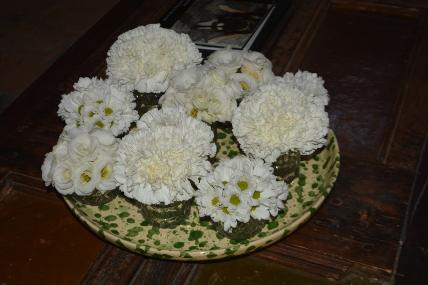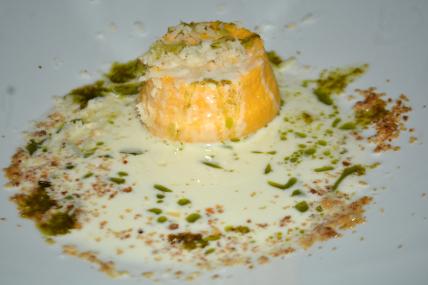 Risotto with porcini funghi (mushrooms). Gayle's second plate - a spinach tartlet.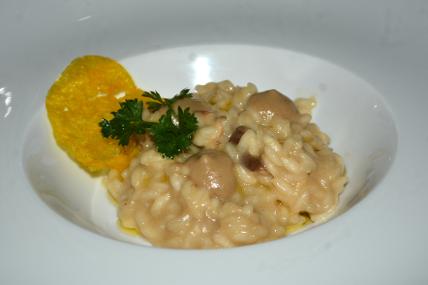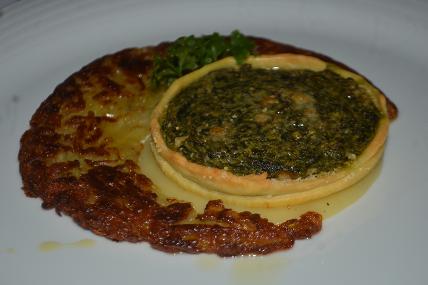 The second plate (for meat eaters) - pork ribs and beef belly, carved in the dining room by the chef.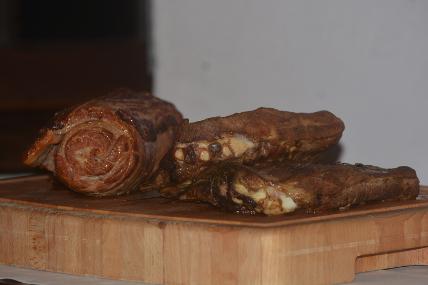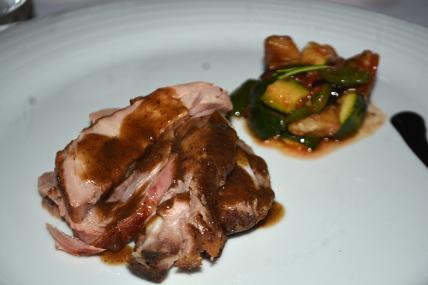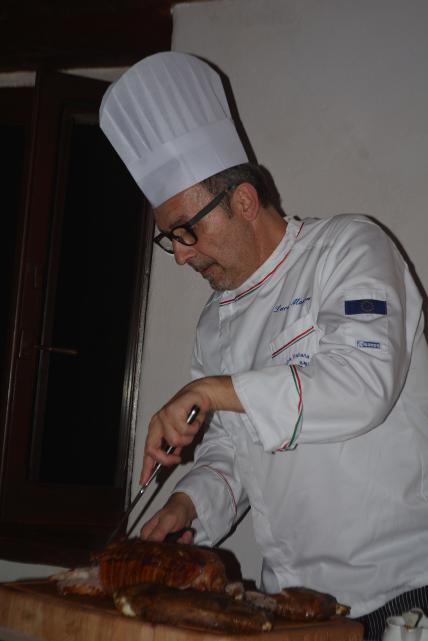 A lemon cake from the Amalfi coast and chocolate with almonds for dessert.
October 06, 2018 - Podere le Corone with a visit to Monte Castello di Vibio

Another not so nice (in terms of weather) day. Breakfast included more cakes and a pie, as well as chats with Shirley and Douglas, and an English couple John and Sue, from Cambridge, who arrived the previous day. The podere would have been a great place to stay put, relax and work on the travel blog but unfortunately, as mentioned, no Wifi. As a result we went to nearby Monte Castello di Vibio where we parked ourselves in a hotel and caught up on email and news. Where it was raining consistently we chose not to walk about but rather returned the next morning. Monte Castello di Vibio is a small, again hilltop, medieval town famous for housing the smallest theatre all'italiana in the world. Built at the beginning of the 19th century (opened in 1808) during the Napoleonic Wars to support the cultural ideals of freedom, equality and brotherhood t
he theatre has only 99 seats. Closed in 1951 it was restored in the 1980s, reopening in 1993. It continues to host public performances on a regular basis.
While Podere le Corone is an agritourismo its primary economic purpose is the production of olive oil, from a grove of 5,500 trees.
There are further details with the photos below and we did buy a bottle of their oil that we brought home.
We ate with Anna again this evening but asked her to serve only three courses - the antipasto, pasta and dolce. Even that again turned out to be too much food. The antipasto focused on grilled breads, some filled with cheese, some topped with herbs and oil. For me Anna added some cured meat. Then again huge servings of pasta - for Gayle fusilli with fresh pomodoros (tomato sauce) and for me pappardelle with cinghiale ragu. For dessert we had lady fingers infused with strawberries, covered with cream anglaise. Although it might not seem like much we were again stuffed at the end of the meal. There was one other couple at dinner - from Israel - who had arrived that day, she (Ronit Ophir) being an accomplished folk singer with 20 CDs.
Hopefully the weather will be better tomorrow.
___________________________________________________________________________________________________
Yesterday was certainly not a one-day thing - today four new/different cakes and pies for breakfast.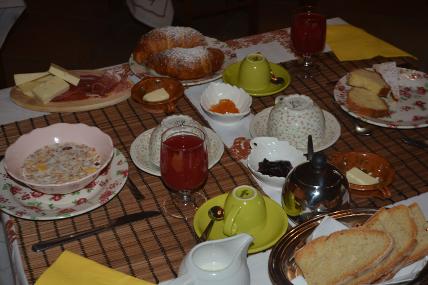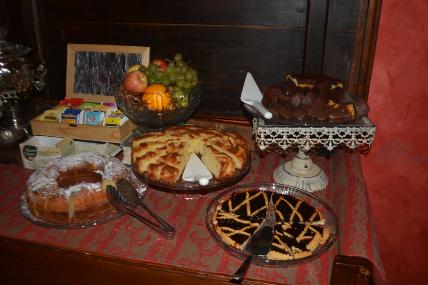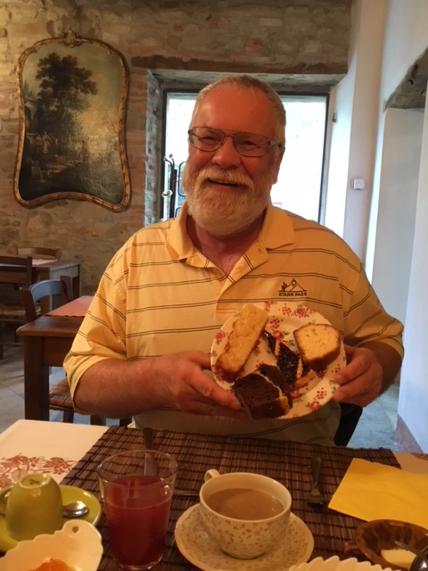 Newly weds Shirley (France) and Douglas (Scotland).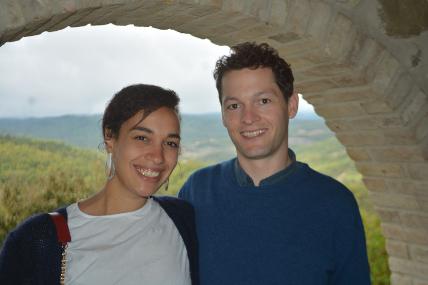 We awoke to a morning shrouded by clouds.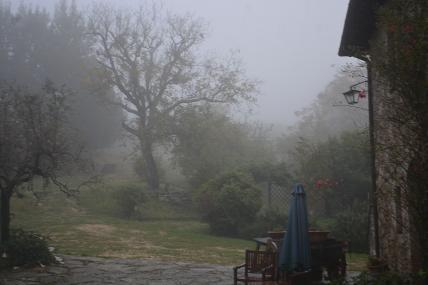 The exterior of the rooms and the courtyard of Podere le Corone.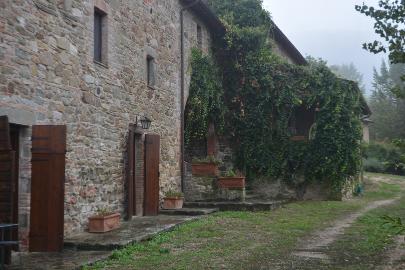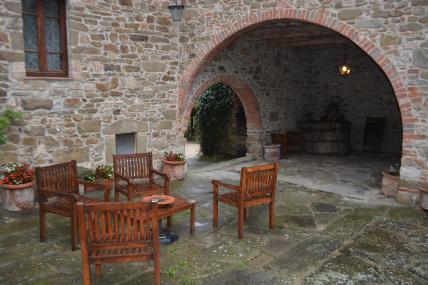 The narrow streets and alleys of Monte Castello di Vibio.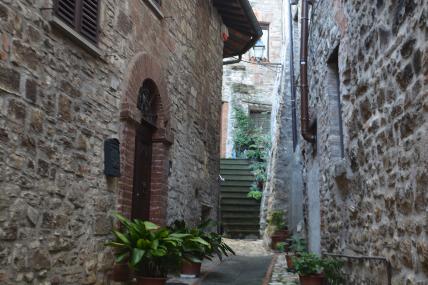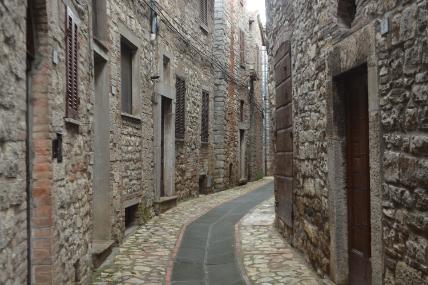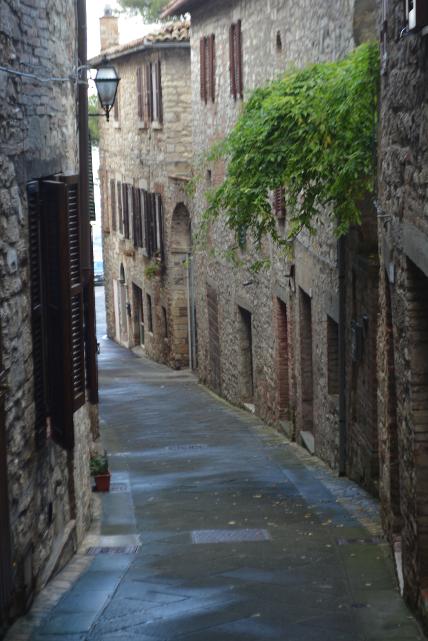 Beautiful stonework and wood beams throughout.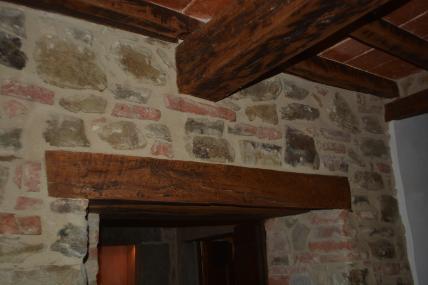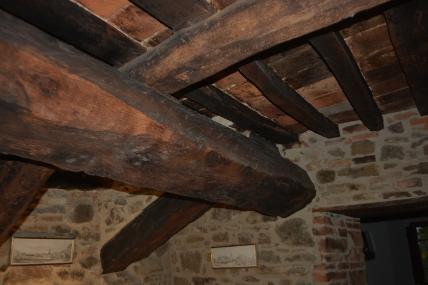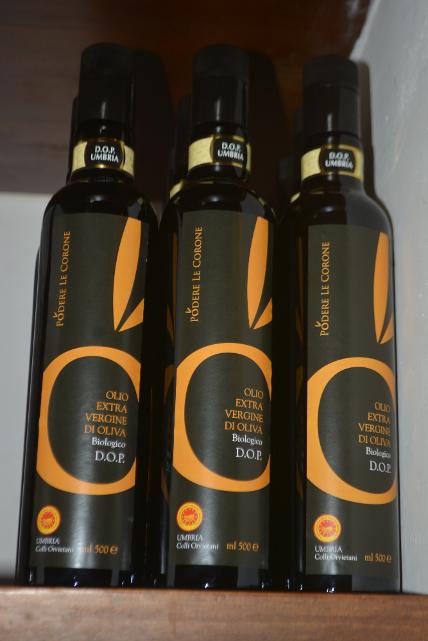 Podere le Corone's primary activity is the production of olive oil
from a grove of 5,500 trees.
A number of varieties of olives are grown: frantoio, leccino, moraiolo, pendolino and kalamata. The olives are generally harvested by mechanical means beginning in November and milled in the nearby town of Collelungo. The olive oil has won a number of international awards, including the 2014 winner of the New York International Olive Oil competition. Very impressive.
of the 2014 New York International Olive Oil competition - very impressive.
Today's antipasto plate focused on focaccia breads. Pappardelle with cinghiale ragu.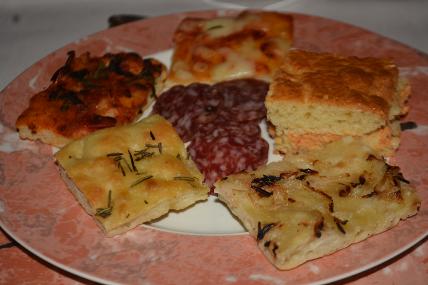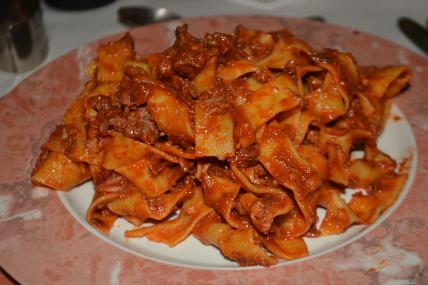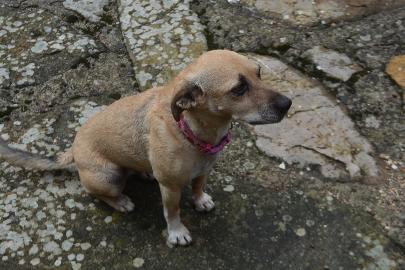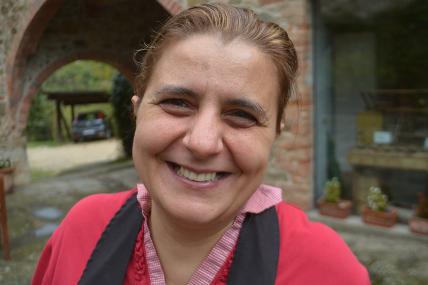 October 05, 2018 - Doglio (Podere le Corone) with a visit to Todi

Our stretch of nice weather came to an end today. It was cool, with forecasts of rain. We had a typically Sicilian breakfast with a focus on sweets and cakes. A huge croissant, cereal, juice and a plate of eggs, meat and/or cheese, but the two cakes and jam filled pastries were the highlight. During breakfast we met a couple from London, he (Douglas), a guitarist and composer being originally from Scotland and she (Shirley) being originally from France. Another nice couple.
With no Wifi and mediocre weather we went to the nearby village of Doglio where we were led to believe the bar would have a Wifi connection. A small village of < 100 inhabitants there are a number of monuments and places of interest including the Avenue of Remembrance, lined with oaks, one for each fallen soldier of the First World War. Although Gayle got a connection unfortunately I did not so after our coffee we headed to Todi, a further 12 km. Todi, a medieval town perched on a hilltop overlooking the east bank of the river Tiber, is best accessed by a funicular. A very walkable town, almost all of Todi's main medeival monuments - the co-cathedral church (Duomo), the Palazzo del Capitao, the Palazzo del Priore and the Palazzo del Popolo - front the main square, the Piazza del Popolo. Apparently the piazza is often used as a movie set. We found a cafe just off the main square where for a couple of fresh orange juices we had Wifi access to catch up on emails and news.
Given the amount of food we had eaten the past few days we decided to simply buy some bread, meat and cheese to have back in our room. We returned to Podere le Corone late afternoon.
There is a stone on the property that reads "La fatta Filipo deto vani da ripavela 1601". In other words 1601 marks the beginning of the history of the farm, or 'Podere', around which in the past the rural life of the community revolved. In its isolated location the stone and wood buildings exudes a feeling of the past. The podere is peaceful and relaxing, with only the sounds of nature ... and the tractor tilling the fields. In 1994 the property was purchased by a family from Sicily and transformed into the agritourismo it is today.
The skies cleared in order that we could enjoy another beautiful sunset. We ate our food in our room and called it a night.
__________________________________________________________________________________________________
Breakfast has a focus on cakes and pastries.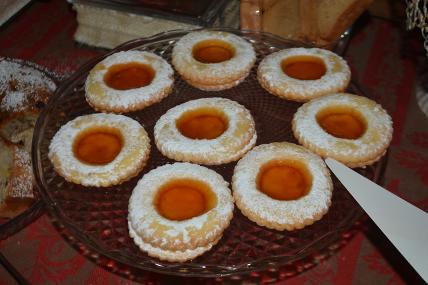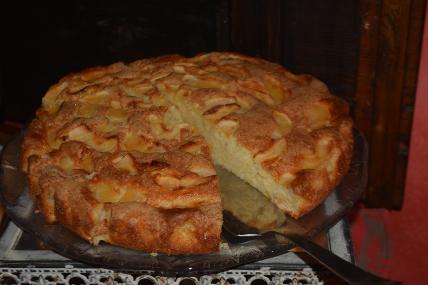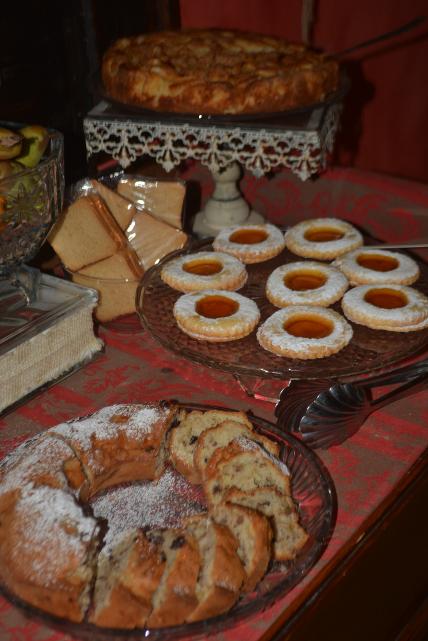 The courtyard of Podere le Corone.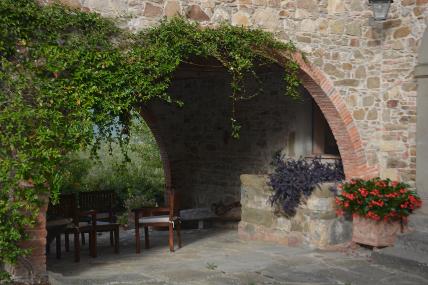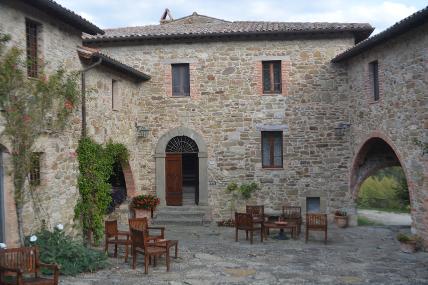 The small, but impressive village of Doglio, with ripening nisperos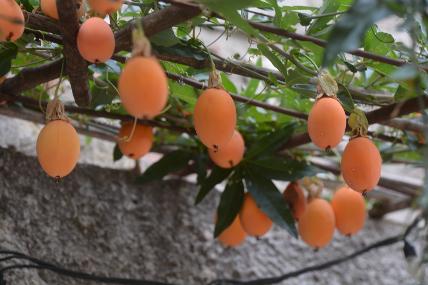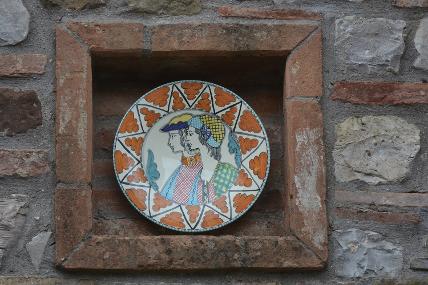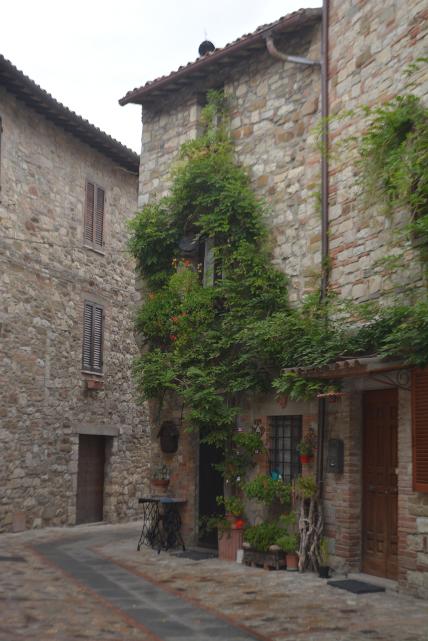 Countryside just outside of Todi. A nicely tiled roof.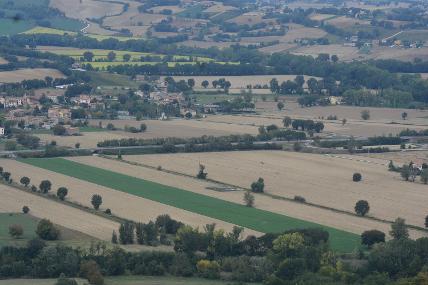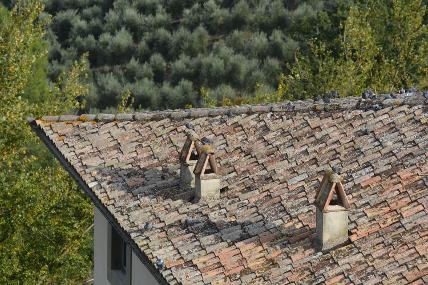 The town hall and a couple of alleyways in Todi.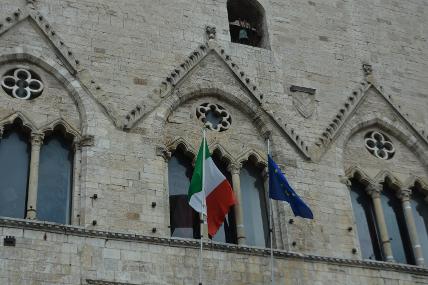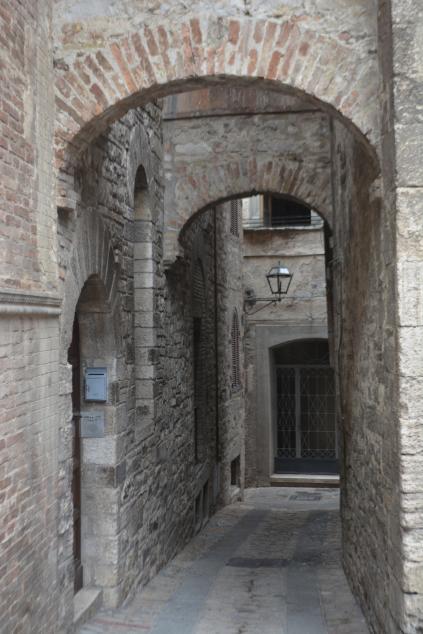 Enjoying our fresh orange juice (yes in spite of the glass it is 100% orange juice) and 'tapas' at a cafe in Todi where we accessed Wifi. Gayle has suggested I am 'tipsy in Todi' but really I'm only leaning over to allow her to take the photo.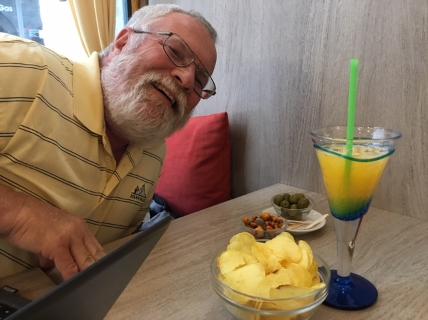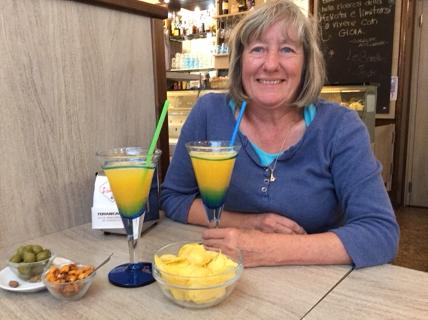 Stone buildings in the town of Todi.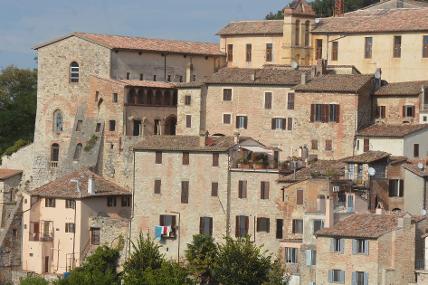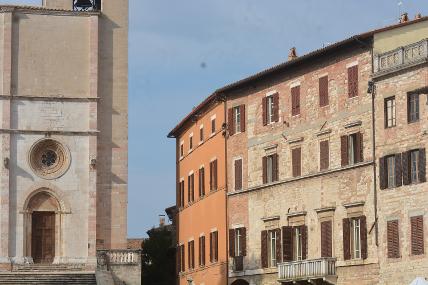 As seems to be common a group of friends passing the time on a bench in a park.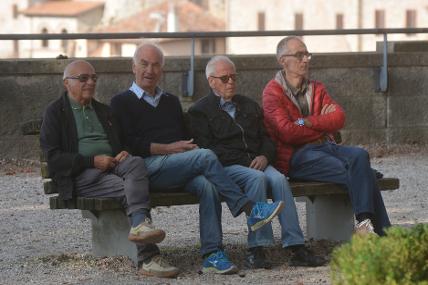 These serpents are another example of the interesting door knockers found on European doors.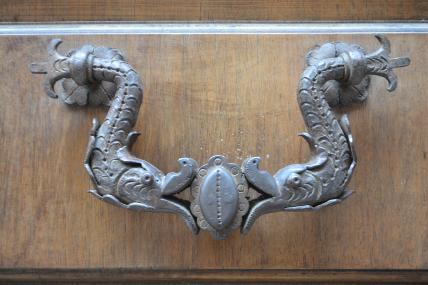 Although overcast most of the day the skies cleared early evening for a nice sunset.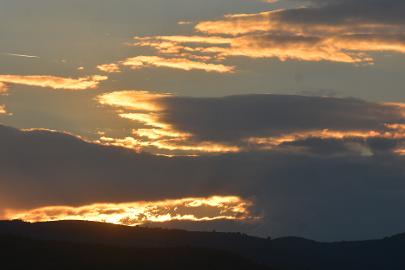 October 04, 2018 - Montepulciano (Lupaia) to Doglio (Podere le Corone)

After a wonderful sleep we awoke to yet another sunny day. Surprisingly, for a place this upper end there was no coffee machine in the room (apparently only in the suites) nor in the restaurant. That said once staff arrived to set up for breakfast they were more than happy to make us a couple of cappuccinos that I took to our terrace for us to enjoy in the early morning sunlight. Afterwards we experienced the Turkish steam bath before heading off to breakfast where it was warm enough to enjoy outdoors in short sleeves. The breakfast spread was keeping with the overall class of the place. There was a quiche, a caprese salad, tomatoes, cakes, a variety of breads and croissants, and all the standard items (a wide selection of fresh fruit, meat, cheese, boiled eggs, cereal, yoghourt, jams etc.). Only thing obviously missing was chocolate :-). We again sat beside Christina and Jordan, enjoying our chats. At one point Christina said "
You are the cutest couple",
taking us back a bit, especially from someone in their 30s. It did put a smile on our faces.
After more photos we slowly packed, leaving as late as we could ... noon, Lupaia being the exception to the generally 10:00 am departure times. On our way back to Montepulciano we stopped at two wineries - first Canneto but we weren't crazy about the samples we tasted and then nearby Montemercurio (the wine we enjoyed last night) but unfortunately the shop was closed. So we continued on to Chianciano Terme where Gayle spotted a wine shop. We figured lets at least check one out and were fortunate enough to purchase their last bottle of Montemercurio, and a bottle of Vin Santo, a dessert wine I very much enjoy, both of which we brought back home with us. We also purchased a bottle of Prosecco to have later on our trip. We continued on to Chiusi and then south on a twisty, not so great rural road winding its way up and down and around the endless hills and valleys. Not a particularly fast route but quite scenic.
We essentially returned to the outskirts of Orvieto before turning east and into the larger hills of Umbria, eventually reaching Doglio. Another one-lane 'road' down the hillside led us to Podere le Corone where we were enthusiastically greeted by Anna. We settled in to our large unit - a bedroom, nice large bathroom with tub and a separate sitting room, after which we enjoyed the setting sun. The one downside of Podere le Corone is that it does not have Wifi - not a slow connection but no Wifi at all. No emails; no updates to the travel blog.
Anna, from Sicily serves four course dinners in the dining room with its ancient Umbrian tapestry. Gabriella and Anna together prepare typical Umbrian dishes, occasionally interspersed with those of Sicily. Tonight we started with an excellent antipasto plate of bruschetta with tomatoes, cheese, grilled aubergine, cheese with herbs and fragiole (white beans). We could tell early there was going to be way too much food. Then came a huge plate of pasta - fusilli with funghi and for me salsaccia. Then the second plate was a lasagna but rather than pasta 'bieta' (something like swiss chard) was used, stuffed with mozzarella and pomodoro, along with oven fries. Always interesting to try something different but this will not go down as one of our memorable dishes. However dessert was a home run, sfogline con crema which Gayle described as little pillows of creamy goodness. Being the only ones eating at the agritourismo this evening - in our 'private dining room' - it was nice to have the full attention of Anna, someone who clearly does everything in her power to serve the guests. Having had way too much food we waddled back to our room.
__________________________________________________________________________________________________
Our beautifully tiled Turkish themed bathroom, and steam bath.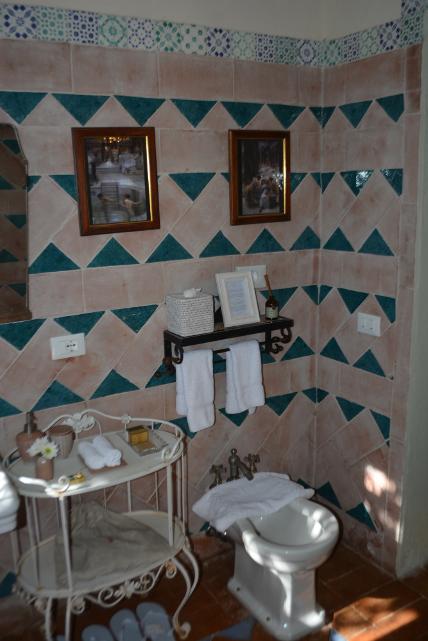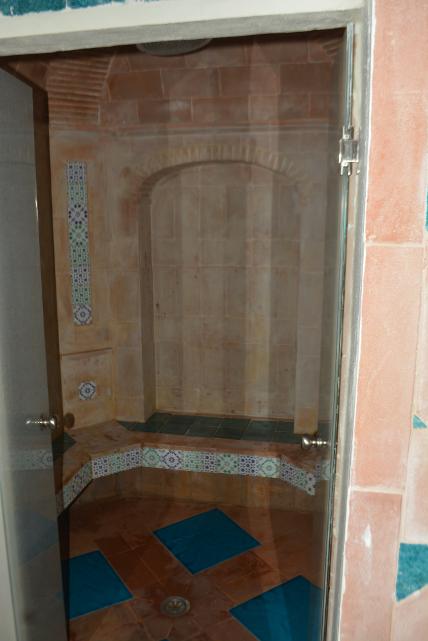 An early morning cappuccino, enjoyed by the Queen of Coffee, and biscotti basked in sunlight on our terrace.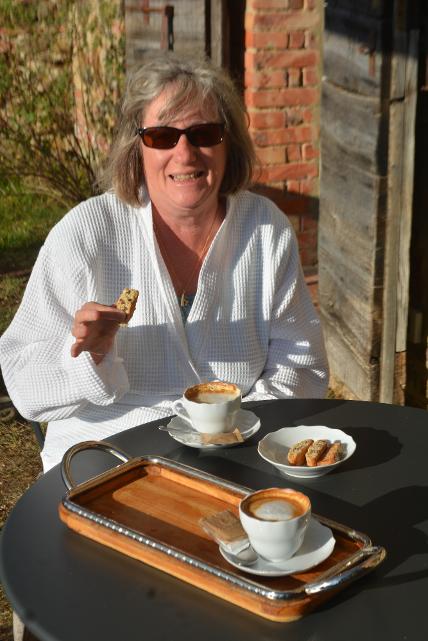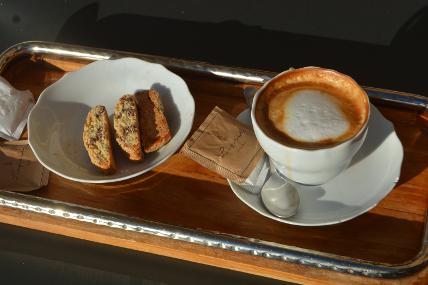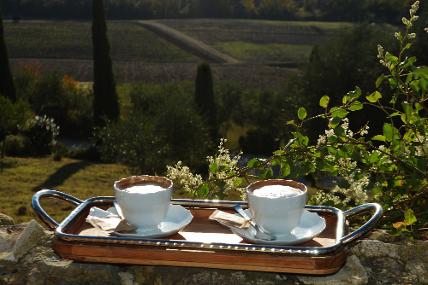 Choices, choices, choices. With this for breakfast we trust you can see why we do not eat lunch :-).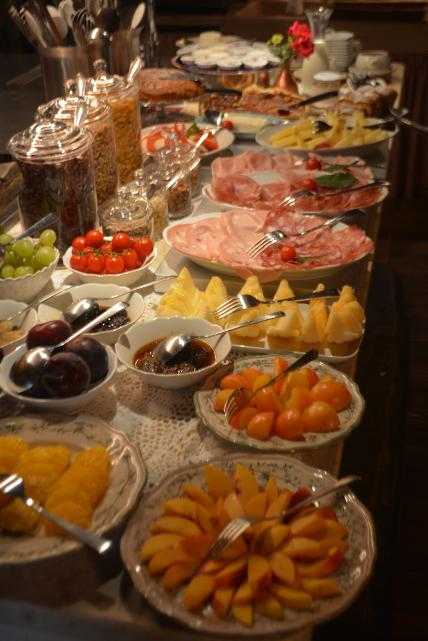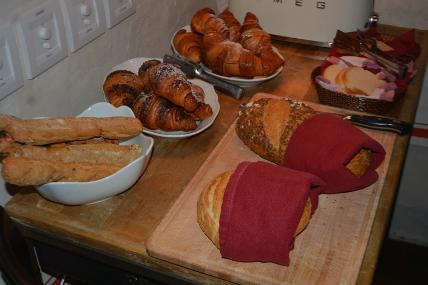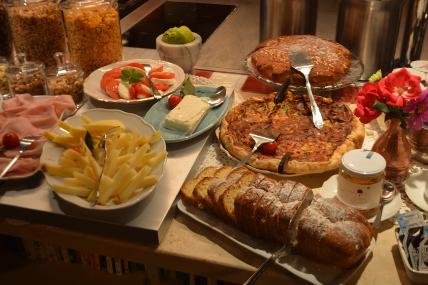 An early morning view from our terrace. The Lupaia luggage cart.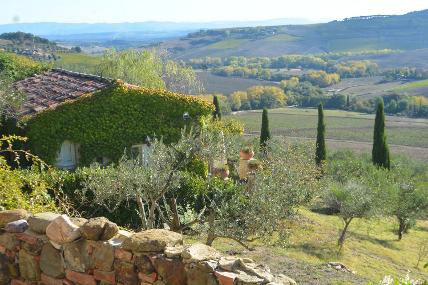 Set up for breakfast and Marco Amiracone ("big friend"), the maitre'd at Lupaia.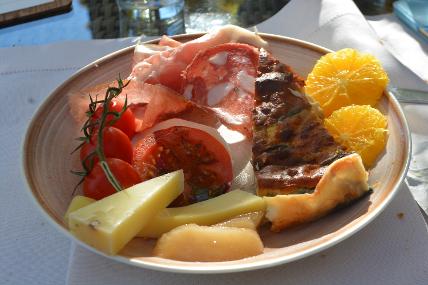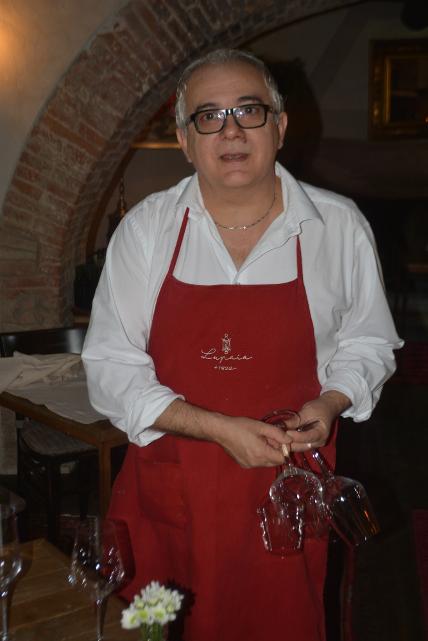 Enjoying a Lupaia breakfast - warm enough to be outdoors in short sleeves.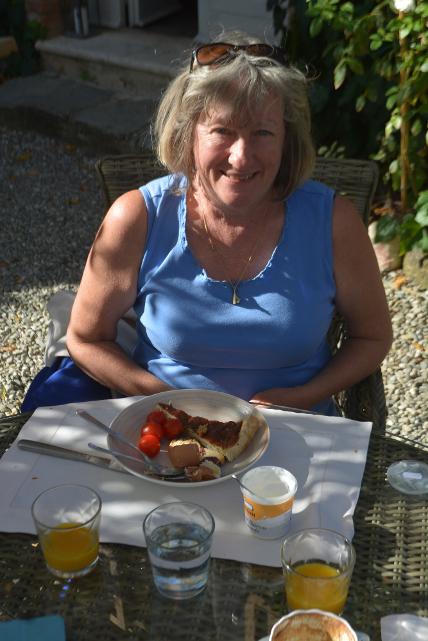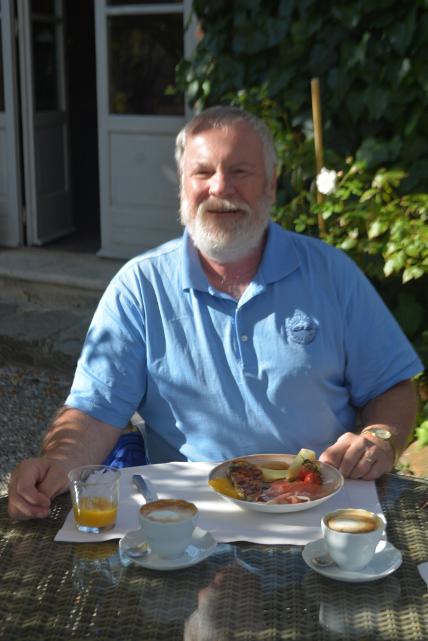 Christina and Jordan. The relaxing sitting area looking out to Montepulciano.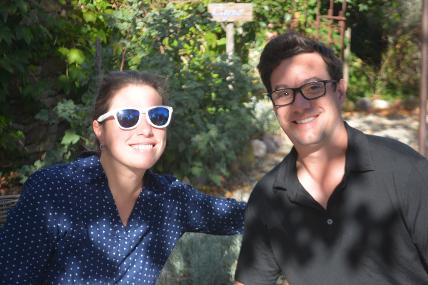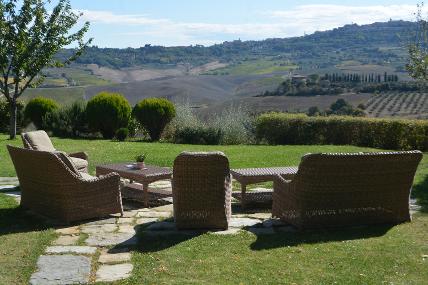 Starting the day's cooking with fresh vegetables, including lots of tomatoes.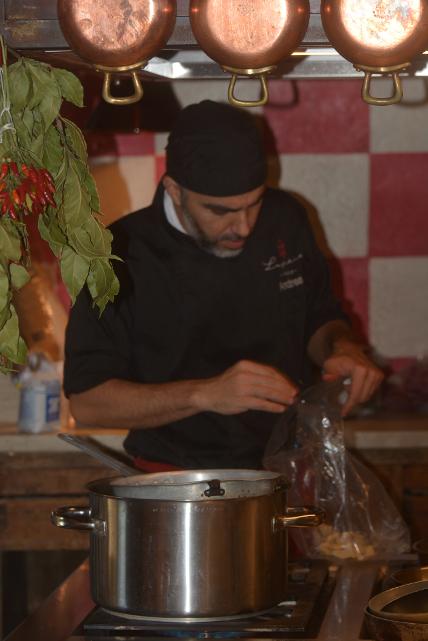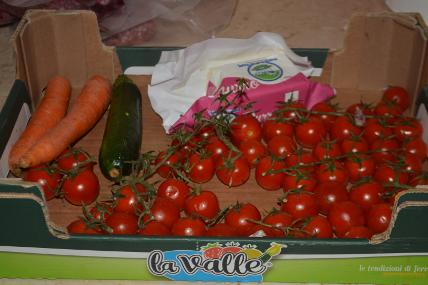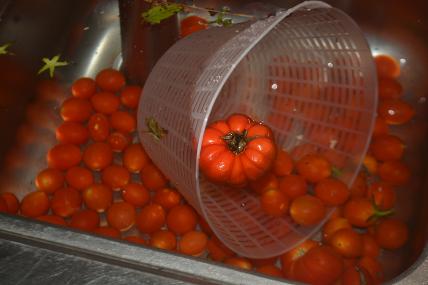 Lots of vineyards around Montepulciano.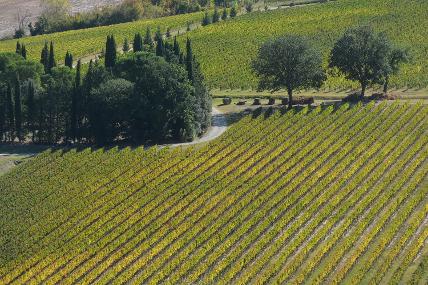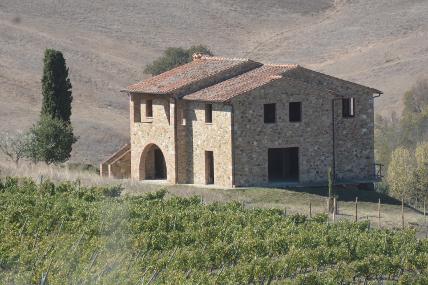 Our rooms (both doors our ours) at Podere le Corone. An impressive tapestry in the dining room.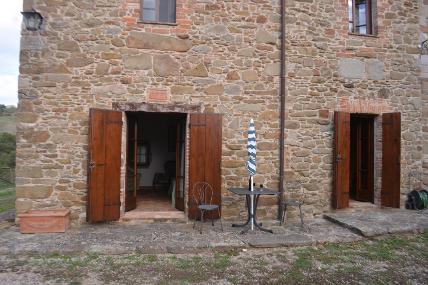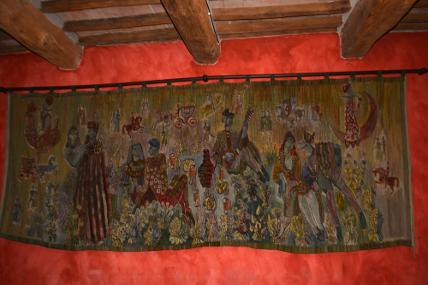 The attractive table setting Gayle enjoying her antipasto with a glass of wine.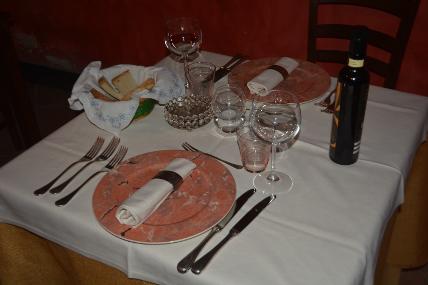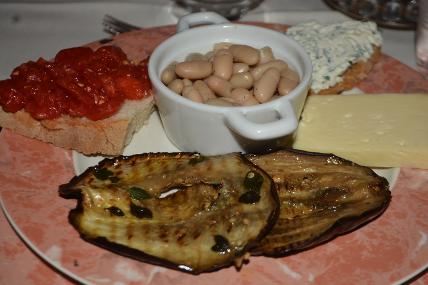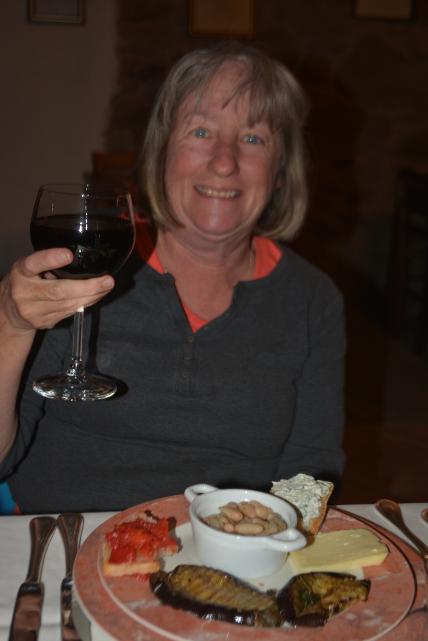 Fusilli with funghi and for me salsiccia. Sfogline con crema (little pillows of creamy goodness).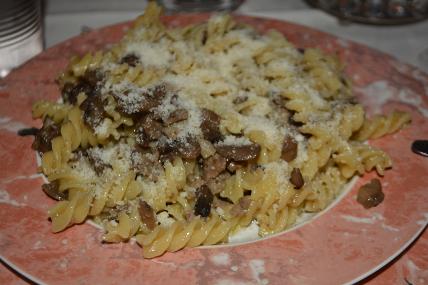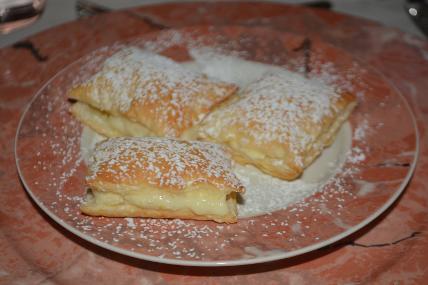 October 03, 2018 - Pienza (Fonte Bertusi) to Montepulciano (Lupaia)

The day of course began with yet another pleasant, filling breakfast. Afterwards we packed and checked out - somewhat surprisingly most of the places we stayed in Italy have a 10:00 am check-out time. Not firm but still stated as 10:00 am. It was a very short drive (probably our shortest ever at only 20 kms) to our next stop near Montepulciano.
Having only been to grocery shop and eat, and having considerable time until check-in, and it being a nice day we decided to stop and stroll through Pienza. We visited Pienza in both 2006 and 2013, and while the other well-known towns (Montalcino and Montepulciano) in the area are nice we did like Pienza the most. It is relatively small and flat, easy to see in a couple of hours. A very nice stop.
We continued towards Montepulciano, past an increasing number of vineyards and the church of San Biagio, after which we found the one-lane gravel 'road' that took us the > 3 km through vineyards and tilled fields, up a slope and eventually to the boutique hotel Lupaia. We had a one night gap before we could get into our next place but still debated for a considerable time whether to book Lupaia or not. Its web page is very impressive and reviews outstanding but a 'Deluxe' room costs 360 euros - 324 euros ($505 Cdn - by far the most we have ever paid for a night) with the 10% discount for full payment at the time of booking. We could have booked a standard room for 'only' 261 euros but figured if we were going to treat ourselves we would go at least middle of the road (the suites are that much more). After all we had some 'anniversary' budget to use. In retrospect we are very glad we did.
Lupaia is a country estate in the heart of Tuscany. Laying on foundations over 1,000 years old the main house and annex date back to 1622. There are five ancient stone farmhouse buildings that receive guests. Lupaia was formerly a goat farm on a hilltop, being abandoned for 40 years. The hotel of nine rooms enjoys vistas across expansive fields, vineyards and olive groves to Montepulciano to the east and Montefollonic to the west. The heart of Lupaia is the open kitchen in the main building. Here guests enjoy a home-cooked four-course menu of traditional Tuscan dishes that changes daily with ingredients from the organic vegetable garden and local markets.
We arrived before our room was ready, allowing us to explore the property and enjoy a welcoming glass of Prosecco on the comfortable couches overlooking the countryside. While doing so we met a young couple Christina and Jordan from Montepellier, Vermont with whom we had a number of nice chats during our short stay. They were here on their honeymoon as were other couples - we met two others. Afterwards we got into our room - Turco - coincidentally the same name as the Portuguese water dog we met (since passed on) during our first stay at Casa de San Martin in the Spanish Pyrenees. Our room was bright with a nice sitting area by the entrance. The highlights of the room are the Turkish steam bath and the terrace with it unobstructed view across the rolling hills to Montepulciano. Having booked directly we were provided a nice bottle of Rosso di Montalcino wine, as was offered had we booked through i-escape. Spending the late afternoon sitting on our terrace, enjoying our wine and just admiring the views was absolutely wonderful. A few have commented about the difficulty of driving to and finding Lupaia which is somewhat true. However its isolation, peace and quiet is what makes it so appealing to us.
Dinner is a set four course menu, tonight a pumpkin squash flan, gnocchi all' aglione (like garlic but milder) with a tomato sauce and parmesan, pork capocollo (a cut below the neck) with a plum and honey sauce and a creme caramel for dessert. The gnocchi effectively melted in one's mouth with each bite being a culinary experience on its own.
For Gayle the chef replaced the pork with a plate of buffalo mozzarella, tomatoes and grilled eggplant. All wonderful if only the serving was a quarter of what it was. I tried to help but there was simply too much.
Expecting a special meal (and it was) we ordered a very enjoyable bottle of wine, a Nobile di Montepulciano 2012 Montemercurio "Messaggero" at 42 euros ($64 Cdn). The wine was so good we bought a bottle the next day that we brought home with us. Dinner was 45 euros ($70 Cdn) tax and tip included per person. Not cheap (as we expected) but given the quality of food and service, along with the ambiance and open kitchen worth every euro.
With Christina and Jordan (early to mid 30s) sitting at the next table we continued chatting about our travels and families off and on, being the last two couples to leave the restaurant. It was a very enjoyable evening.
We returned to our room and quickly fell asleep on one of the most comfortable mattresses we've had the pleasure of experiencing.
__________________________________________________________________________________________________
Be prepared - this was a great photo op day, our last morning at Fonte Bertusi, our time in Pienza, the scenic drive to Lupaia, Lupaia itself and dinner. More than the average number of photos.
__________________________________________________________________________________________________
As we step out of our room at Fonte Bertusi these are some of the expansive vistas we enjoyed.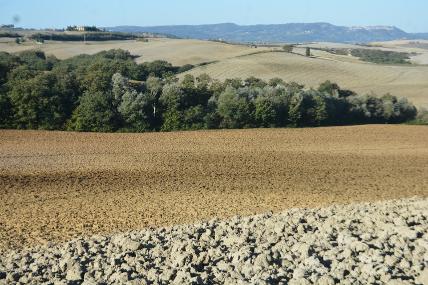 Our last breakfast at Fonte Bertusi ... a 'sunny' start to a sunny day.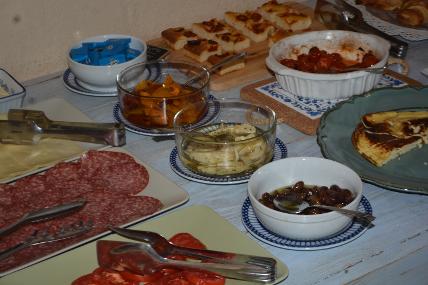 Between San Quirico d'Orcia and Pienza more cypress trees and great vistas.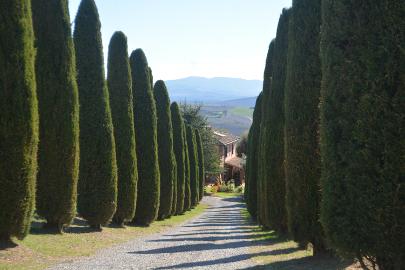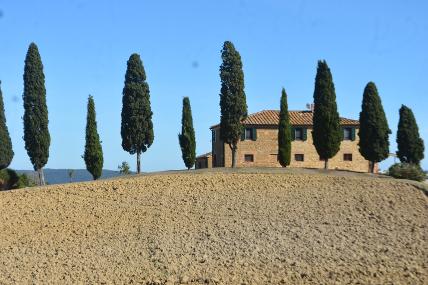 Pienza is a very attractive town with flowers throughout and shops (artesanal food - meat, cheese and wine; clothes; jewelry etc.), many with nice displays such as this wine shop.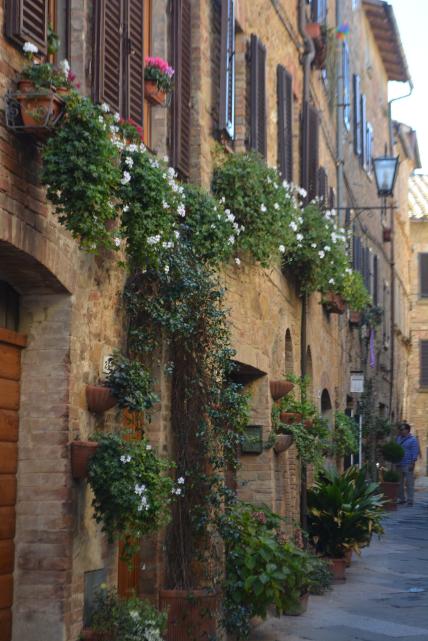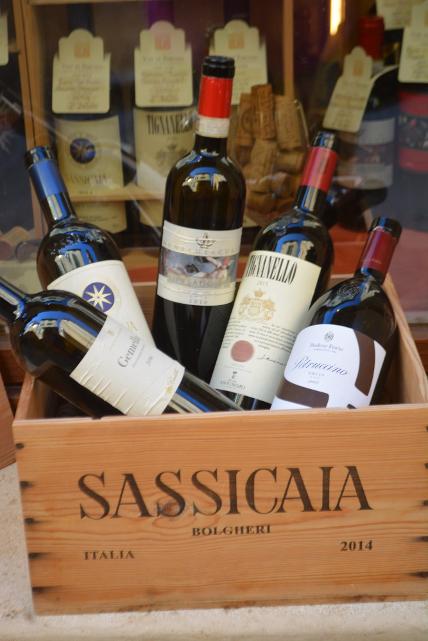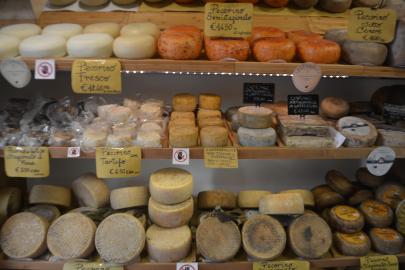 We came across a group taking a painting class. With opportunities such as these we understood why.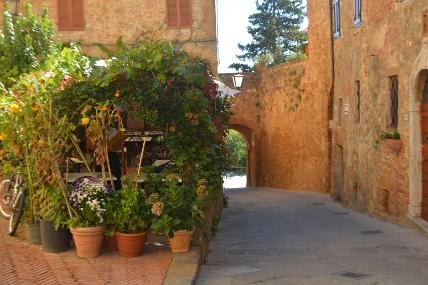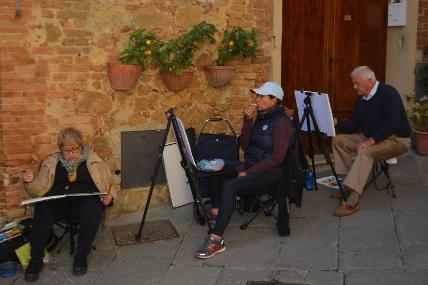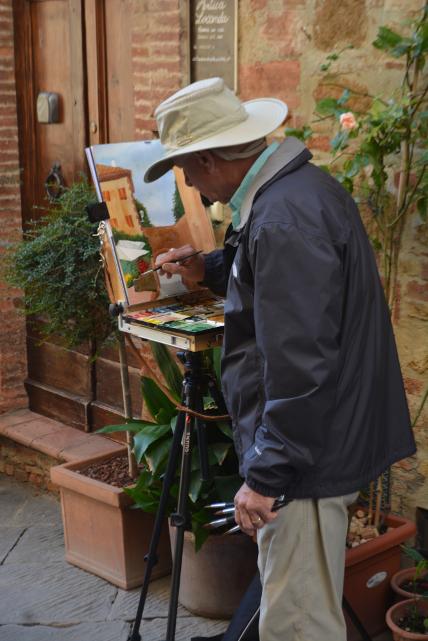 Had to have an Italian flag somewhere in the travel blog. This one is outside Pienza's town hall.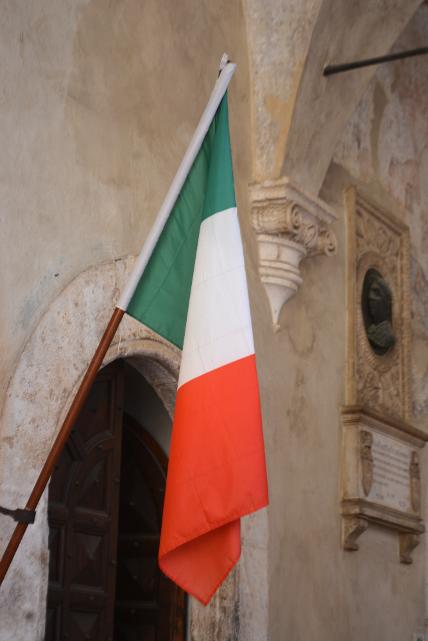 The church tower of Pienza.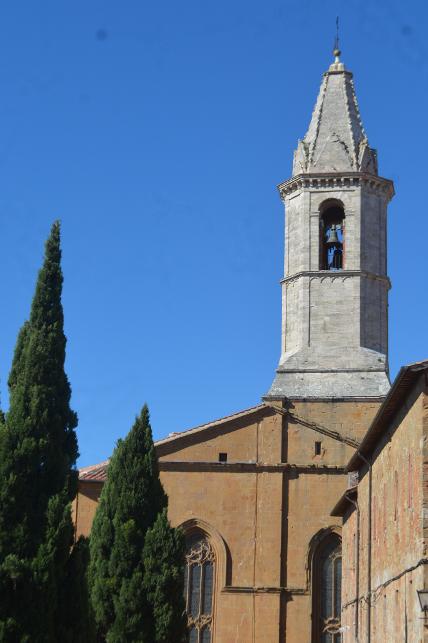 Sightings in Pienza - shutters and flowers in the sunlight and an interesting dragon on a window grate.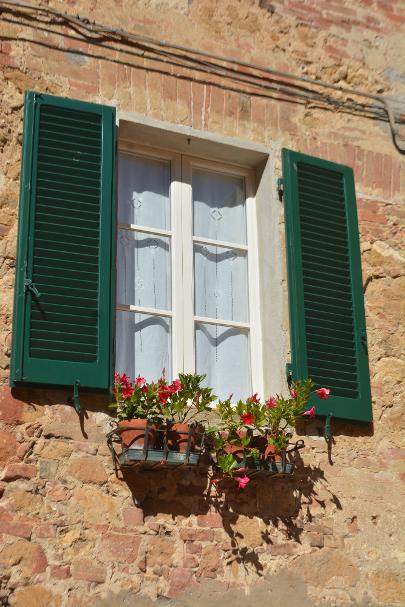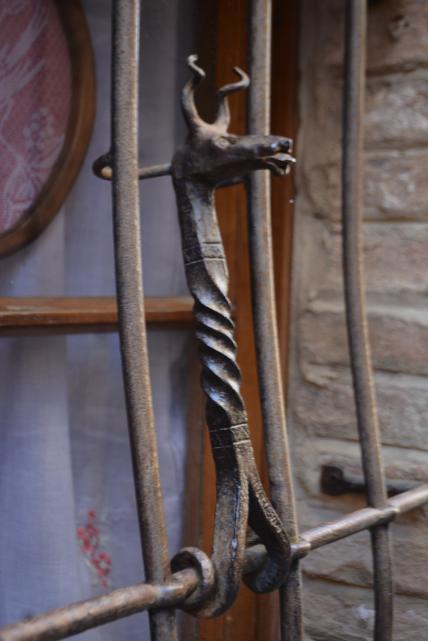 Some of the sights along our short drive. Imagine when the cypresses mature.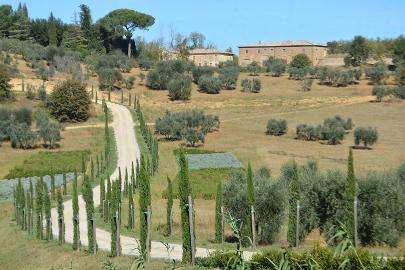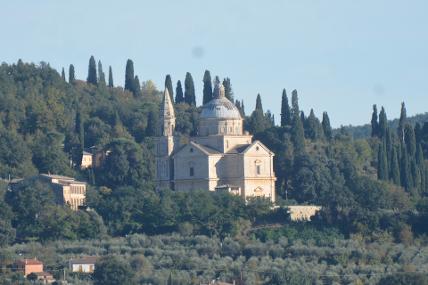 Beyond the town itself Montepulciano is famous for its wines.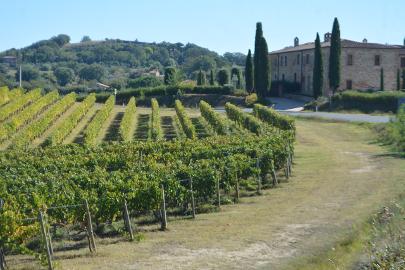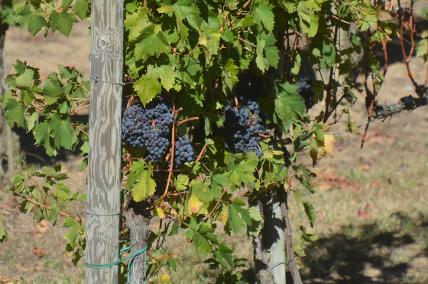 The dining room fireplace with huge wood mantle. Beautiful tiling in our Turkish themed bathroom.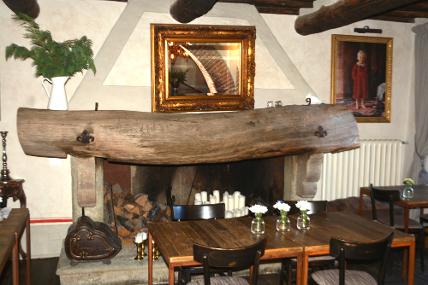 The main building / restaurant dating from 1622. The ivy beginning to turn its fall colours.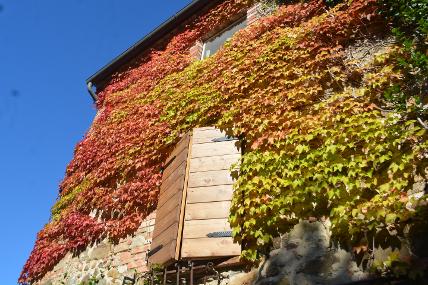 Our welcoming prosecco ...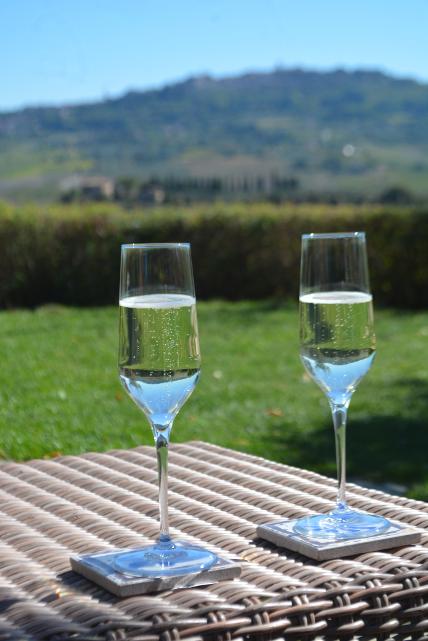 ... and nice note and bottle of wine.
Our room, Turco, was on the bottom level with a really nice terrace.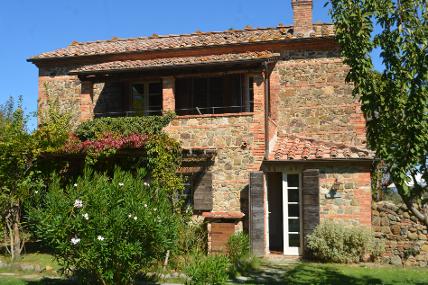 Happy enjoying a welcoming glass of prosecco.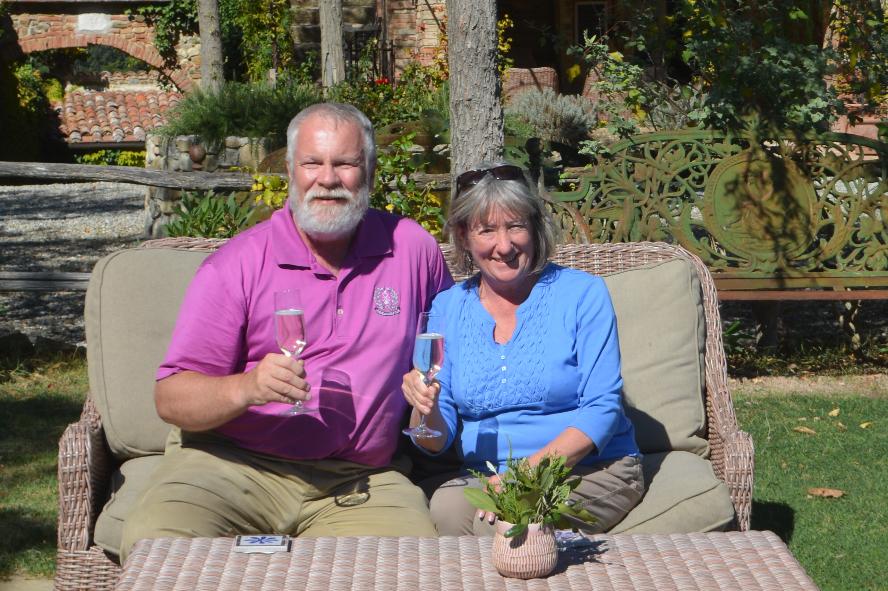 Nearby Montepulciano on the hilltop. Our terrace with views across the fields to Montepuliciano.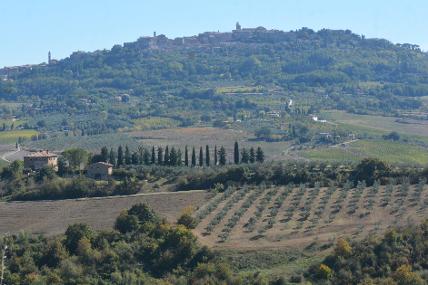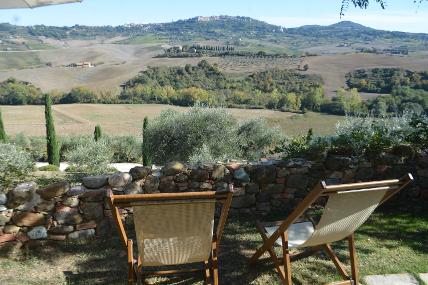 Cypress trees framing the distant fields.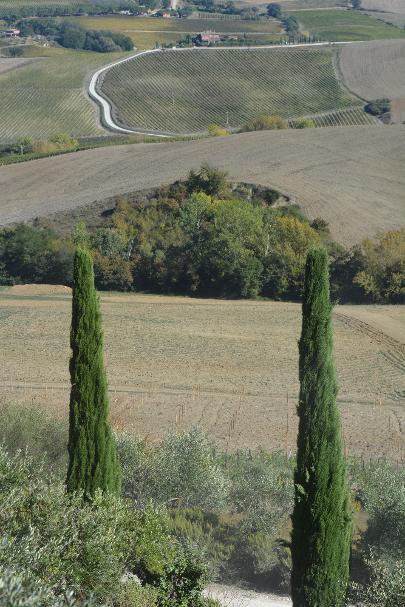 It was too cold to swim but the inviting infinity pool is ideal for the warmer summer months.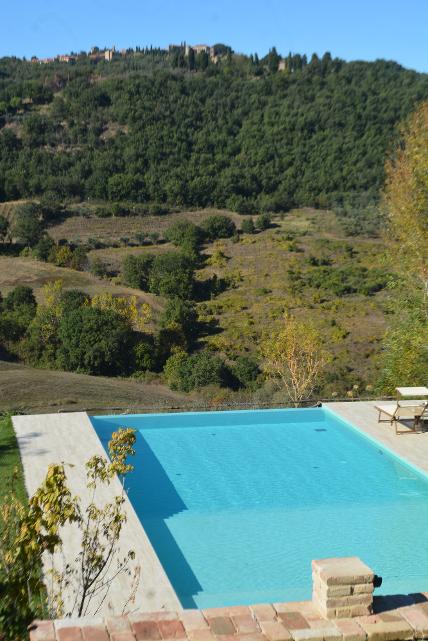 Sitting on our terrace, enjoying both a glass of wine and the views towards Montepulciano.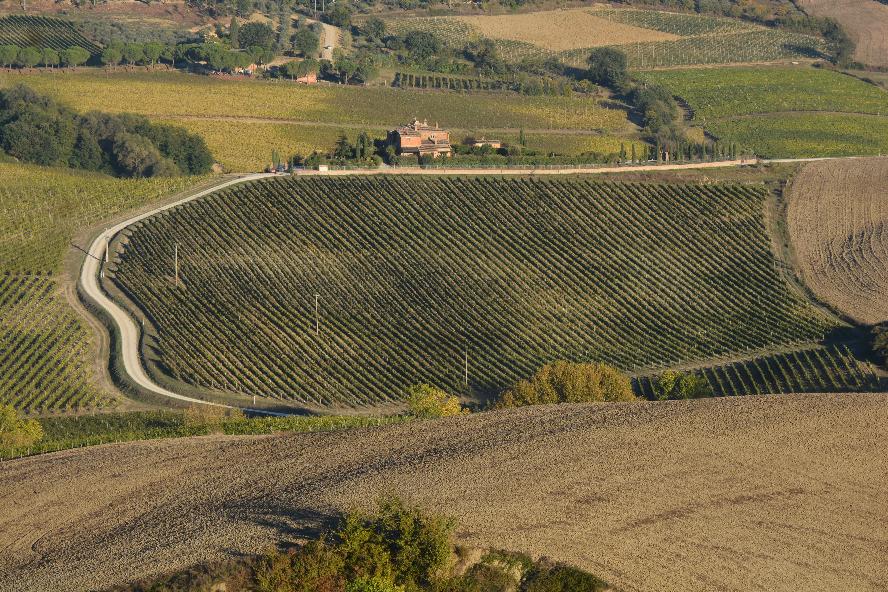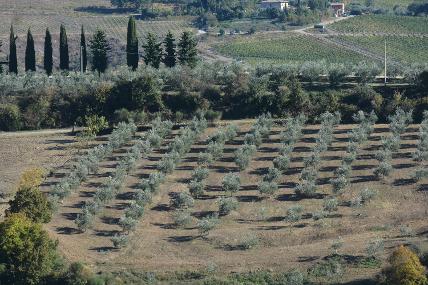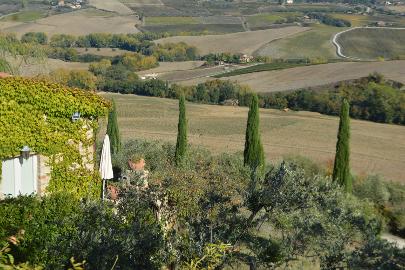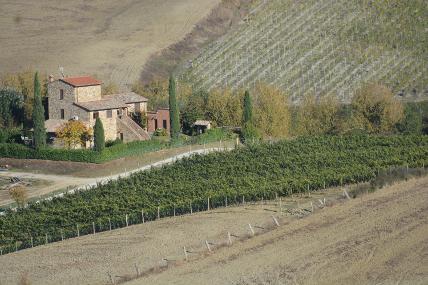 The setting sun spotlighting the tilled fields and this barn.
Fresh tomatoes being cooked for the gnocchi sauce. This evening's menu.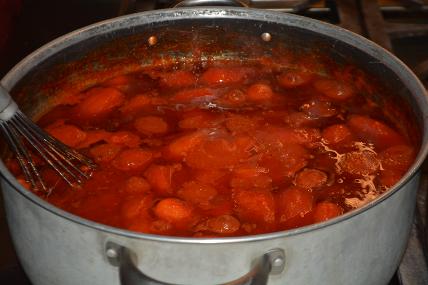 Lupaia's excellent chef preparing dinner.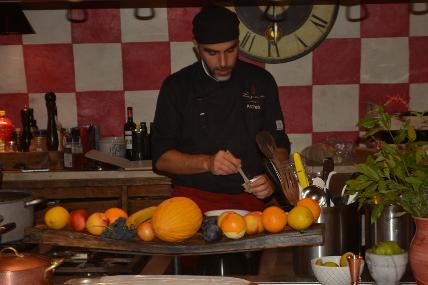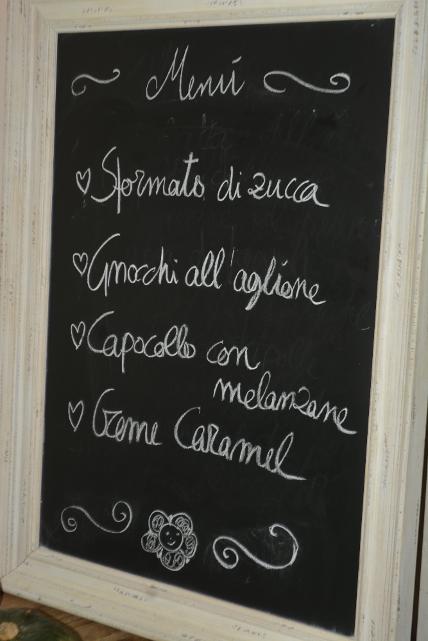 A short video of the tomatoes and potatoes cooking in preparation for the evening's gnocchi.
An amise-bouche (small starter) of small white beans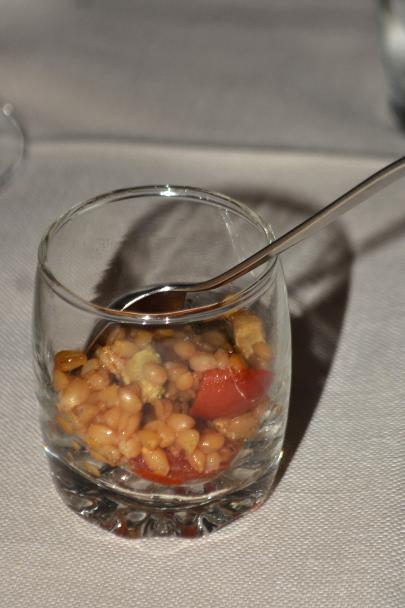 Pumpkin squash flan with ricotta cheese inside and a pecorino sauce.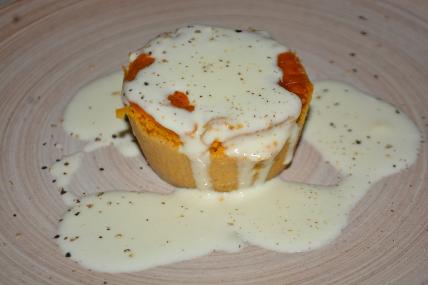 Gnocchi in tomato sauce with parmesan.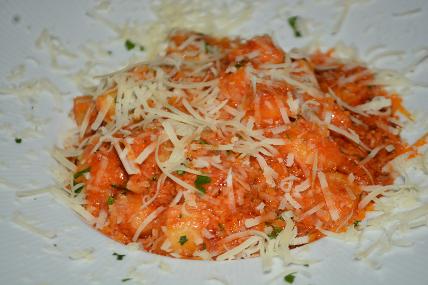 Gayle's vegetarian buffalo mozzarella, tomatoes and grilled eggplant.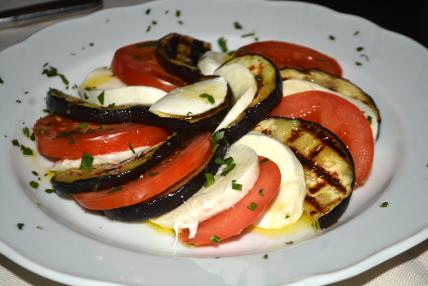 Capocollo con melanzane (pork from below the neck( with an eggplant 'stew'.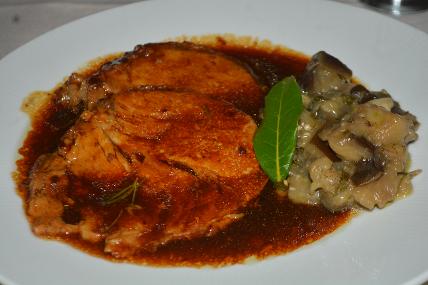 Dessert was creme caramel.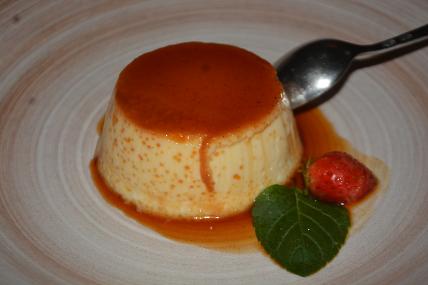 Remember that fireplace earlier - filled with lit candles for dinner.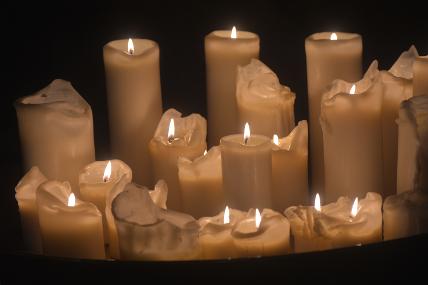 October 02, 2018 - Pienza (Fonte Bertusi) with a drive through the Crete Senesi

The sun was back out this morning although it remained somewhat cool. Another filling breakfast, with a different design on our cappuccino scuros (yes we had multiples), including a continued chat with Robert and Shelley.
A bit about Fonte Bertusi - in 1985 Edoardo (Eddy) and Trofimena (Mena), with their four children packed everything they owned and left Naples moving to Tuscany to start a new life, one they imagined in harmony with nature rather the hustle of large city. They began to restore a farmhouse they purchased, turning it into a holiday home, opening its doors to the world. At the time the Val d'Orcia was a sleepy, lonely place albeit full of large enchanted spaces, an area that had yet to discover the industry of tourism. The first guests arrived in 1990, and as they say the rest is history. Over the years the replanting of trees (olive, cypress etc.) and bushes created a blanket of nature around the ancient farmhouse, built in the 1700s. Birds and animals have returned to the area. Years later the children and their spouses have taken over Fonte Bertusi, continuing to invite guests to their slice of heaven.
Among the many things to enjoy at Fonte Bertusi the tourist guidebook, provided at check-in and kept by us throughout our stay, is beyond description. A comprehensive guidebook of recommendations, along with information on the area's villages, churches, historic locations, restaurants, drives, and on and on. Other places we have stayed have provided guide books but this is the benchmark against which all others will be measured, and we fully expect will never be surpassed.
We struggled with a dinner reservation - our first two choices being closed on Tuesday - leaving it in the hands of Manuela while we went out for an afternoon drive. We first visited Castelmuzio, another small hilltop village of narrow alleys and beautiful stone buildings. The drive through the Crete Senesi (Senese clays), an area south of Siena, and the Val d'Orcia is special, being a perfect landscape characterized by rolling hills, cypress groves and ancient hilltop villages. The distinctive grey colouration of the soil gives the landscape an appearance often described as lunar. The region is known for the growth of its white truffles. We continued past Petroio, Montisi, San Giovanni D'Asso, Asciano and Monteroni d'Arbia before returning to San Quirico d'Orcia and Fonte Bertusi.
Manuela was able to get us a reservation at Sette di Vino, a restaurant at which we actually had a light lunch outdoors back in 2006. A difficult place to assess. The owner was a character, perpetually apologizing for his English that actually was not that bad, and going on and on about how fresh the ingredients were (memories of Mama Nena in Chania). The menu is very limited but there were a number of appealing options. The brushetta was disappointing - very minimalistic. The insalate pomodoro (tomato salad) - wasn't really a salad but rather a sliced tomato with some balsamic. It was very tasty, i.e the tomatoes were as good as advertised but the serving was again very small with nothing accompanying. On the other hand the Assaggi di Salumi Misti (meat plate) was nice and the Zuppa di Fagioli (vegetarian white bean soup) beyond delicious - a definite 10! House wine (Rosso di Montalcino), served in a traditional Chianti bottle was good and reasonably inexpensive (6.0 euros for a 1/2 litre). For dessert I ordered the Contucci di Pienza and Vin Santo - they just brought the bottle and let you take what you wanted. The small place was packed (good thing we got a reservation) mostly with locals, generating a boisterous vibe. We enjoyed what we had but 41.5 euros for the small servings seemed a bit much at the end of the evening. The short drive back to Fonte Bertusi brought our day to an end.
__________________________________________________________________________________________________
Every morning a different design on our cappuccino scuros.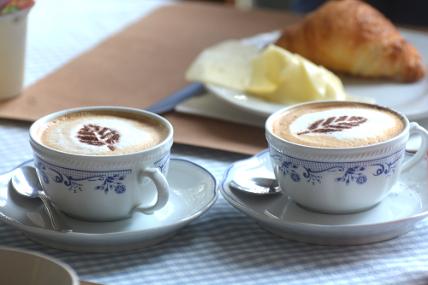 Another filling breakfast plate.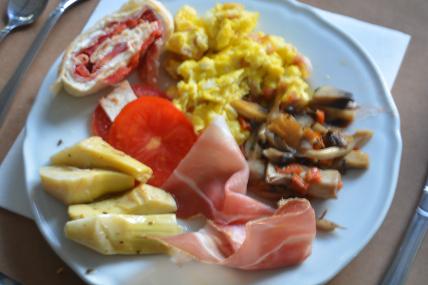 Robert and Shelley (Ricmond, Virginia). Manuela (owner along with her husband).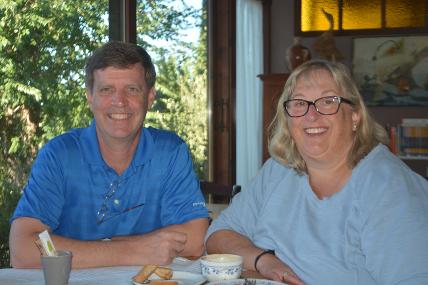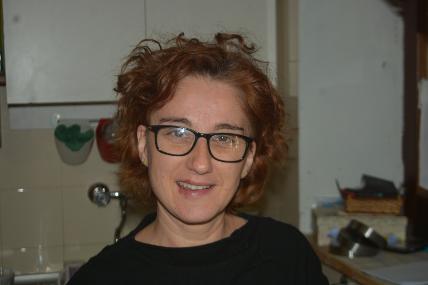 Ripening olives. The entrance to the garden of Fonte Bertusi.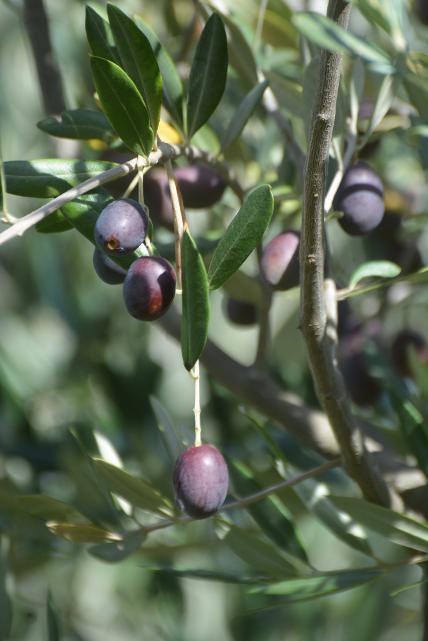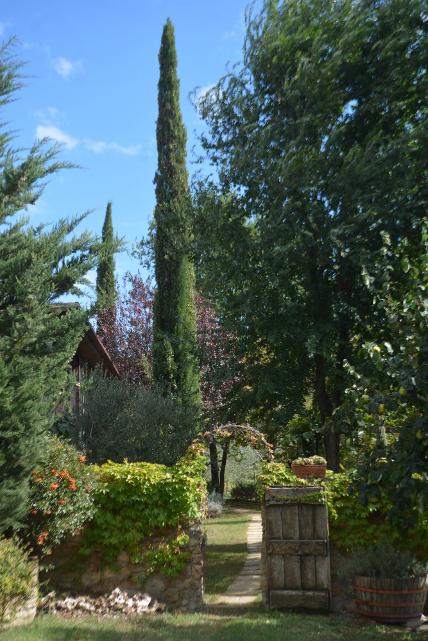 The village of Castelmuzio.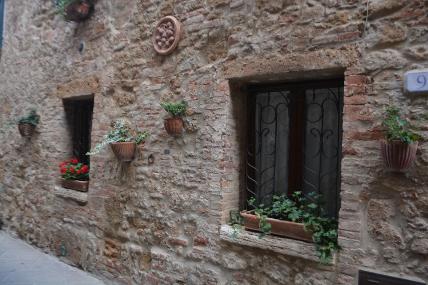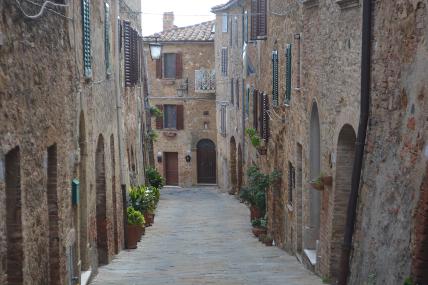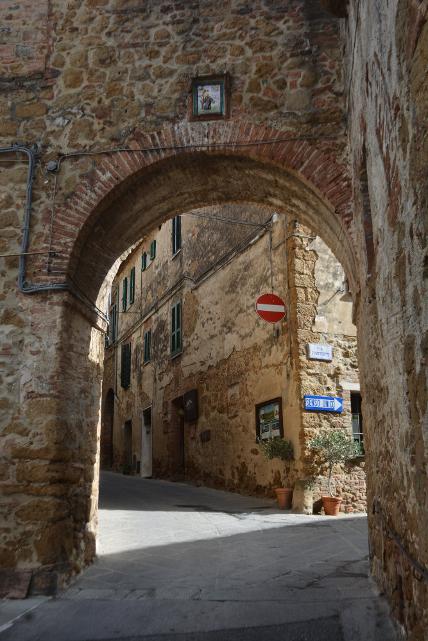 Just some of the attractive landscapes in the Senesi area of Tuscany, with its chalk-like tilled fields.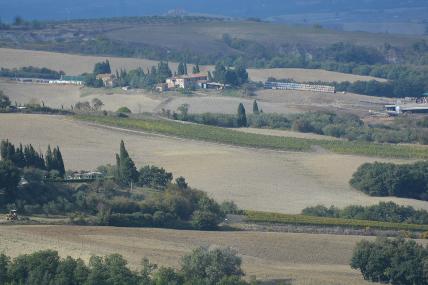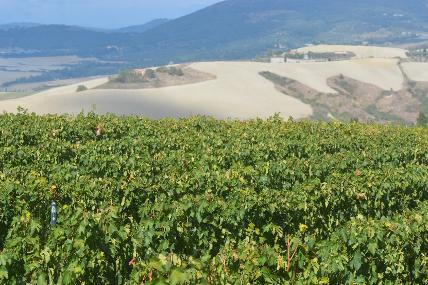 A green field was an exception to the otherwise brown landscape of southern Tuscany.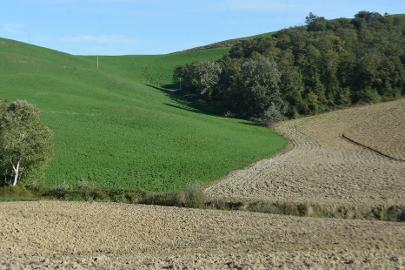 A row of cypress on a hilltop.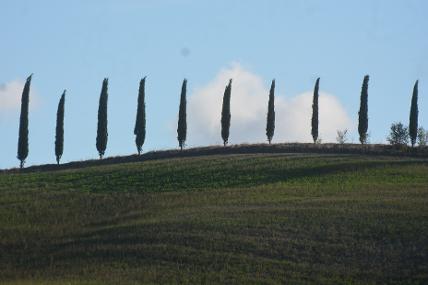 Stunning countryside between Pienza and San Quirico d'Orcia.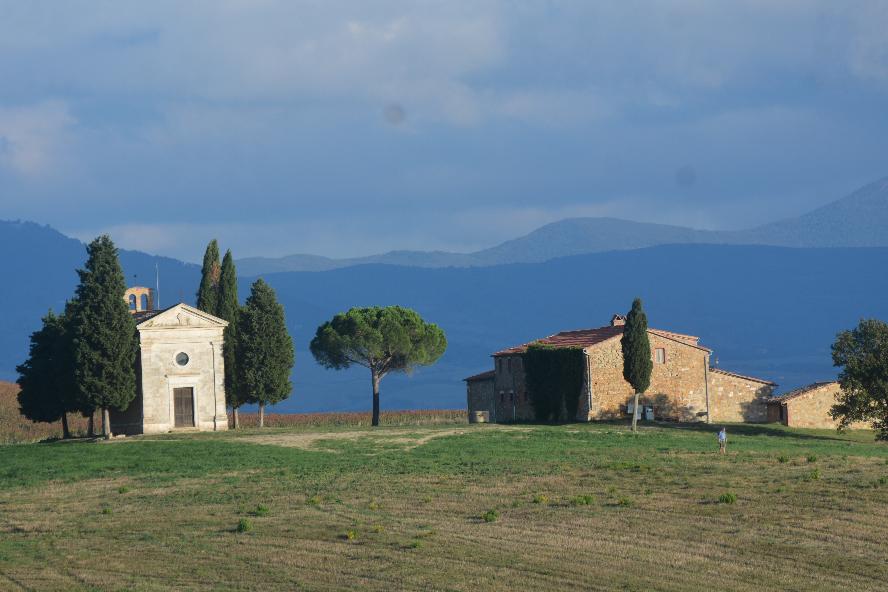 Enjoying a glass of wine and the setting sun. Happy in Italy!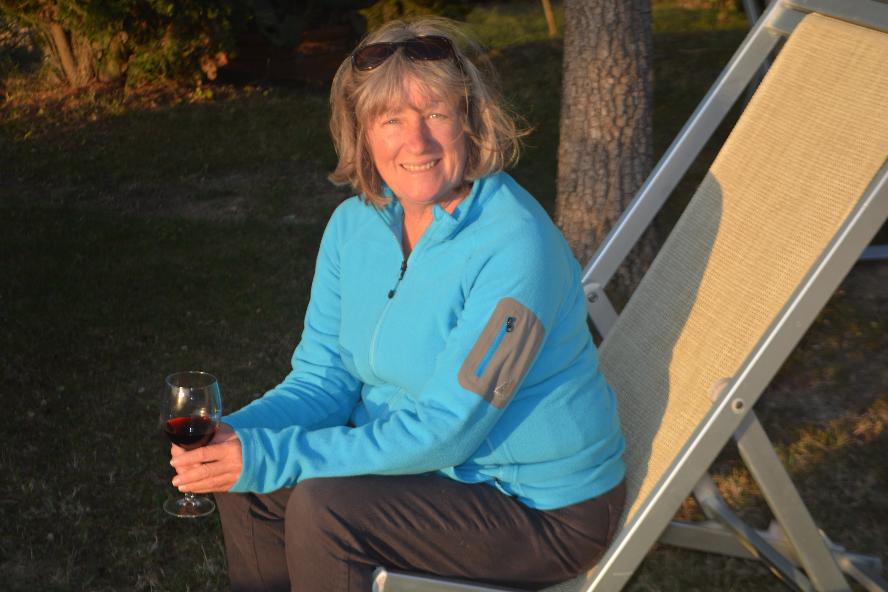 The Zuppa di Fagioli (white bean) really was excellent.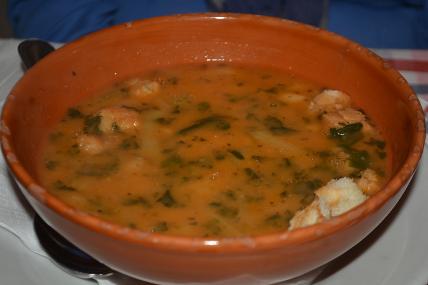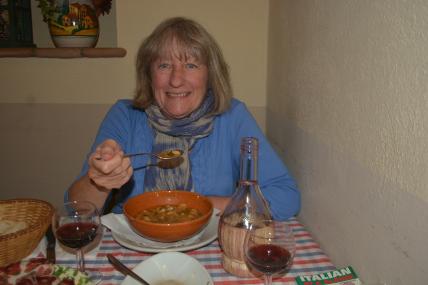 Getting ready for dessert.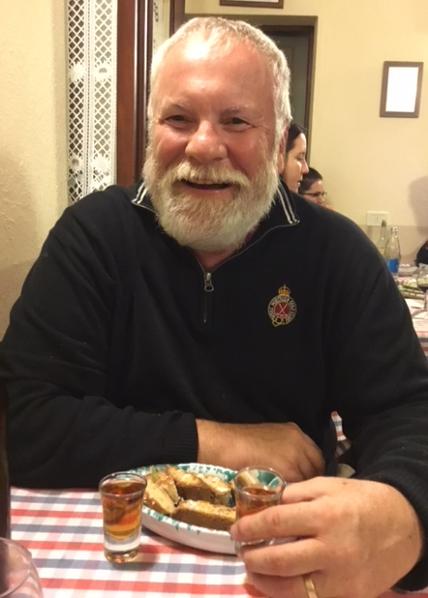 A very nice meat plate including prosciuto, salame and capocolla salsicce.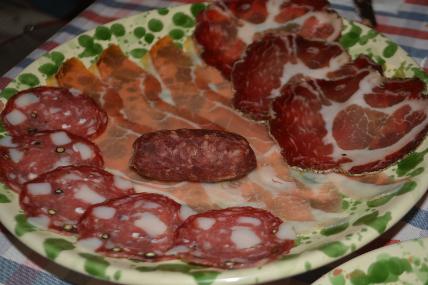 Vin Santo and Contucci di Pienza for dessert.
Oct 01, 2018 - Fonte Bertusi with visits to San Quirico d'Orcia and Montecchiello

The weather turned. It was cool and overcast this morning. We enjoyed another filling buffet breakfast complete with all the standard fare - meats, cheeses, cereals, eggs, sandwiches, fruit, yoghourt, juice, coffee (love those cappuccino scuros with the artistic foam), jams, sun-dried tomatoes, artichokes in oil and more. During breakfast we chatted with Robert and Shelley, a nice couple from Richmond, Virginia.
As Fonte Bertusi has a washing machine for its guests and the weather was not great we decided to wash our clothes later in the morning - two loads. Drying conditions were not great but it was nice to wash our clothes while relaxing and working away on the Greece travel blog - yes we are way behind.
Mid afternoon we went out for a drive around the area, essentially a counter-clockwise circle first to San Quirico d'Orcia, then to Monticchiello and back through Pienza. San Quirico is a charming, walled town often overlooked by those who visit the more famous Montalcino, Montepulciano and nearby Pienza. The distinctive landscape of the Val d'Orcia, flat chalk plains interspersed by almost conical hills topped by fortified settlements exemplify the beauty of agricultural landscapes (ok maybe I didn't actually write this). The expansive, sweeping landscapes are indeed tremendously attractive (but I did this). The walled town is perfect for strolling, with narrow streets housing small shops. The Collegiate Church of San Quirico, dating from the 8th century was rebuilt into its current structure in the 12th century. Over the years there were numerous additions with the interior decoration dating from he 17th century. As mentioned we are not at all religious but are just the same fascinated by the achievement of these impressive churches / cathedrals being built centuries ago.
We continued on to the small village of Monticchiello, rising on a hill surrounded by the Siena countryside. Documents trace the origin of the village / castle to 973. The village was a significant stronghold throughout the 13th century, being involved in numerous disputes with Montepulciano. The Franco-Spanish war in the mid-1500s began the decline of Monticchiello until it was merged with Pienza in 1778. As it was getting late we moved on rather than strolling through another village but did enjoy the setting sun as it poked through the clouds illuminating the countryside.
By the time we returned to Pienza it had begun to rain, for a few minutes quite a downpour. We found the local Co-op where we purchased supplies for dinner - tomatoes, buffalo mozzarella and pesto for a caprese salad, cheese, prosciutto, cinghiale, sun-dried tomatoes, artichoke hearts in oil, bread and a bottle of Rosso di Montalcino from Manuela. We enjoyed a nice 'in house' dinner.
__________________________________________________________________________________________________
The tilled rolling hills north as seen from the pool at Fonte Bertusi.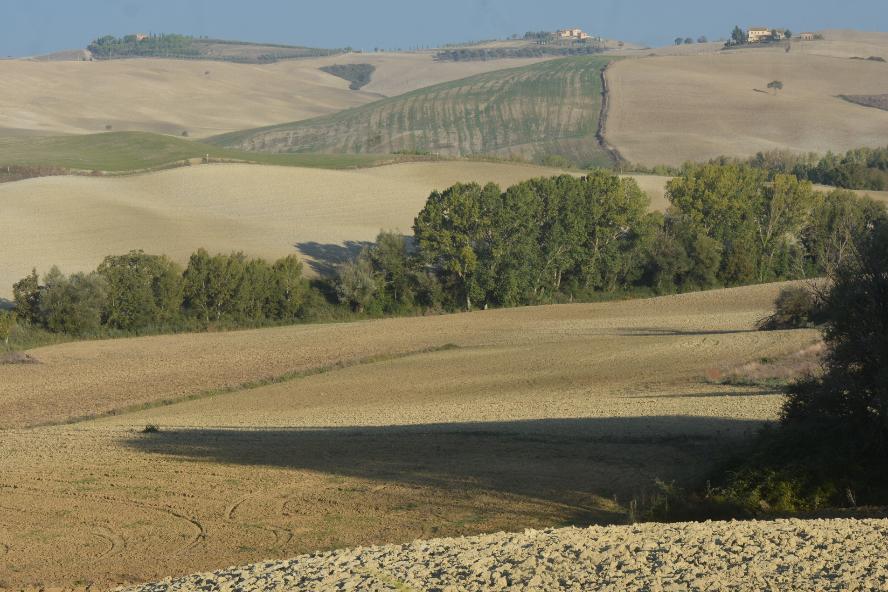 Morning coffee (cappuccino scuro) came today with a smile.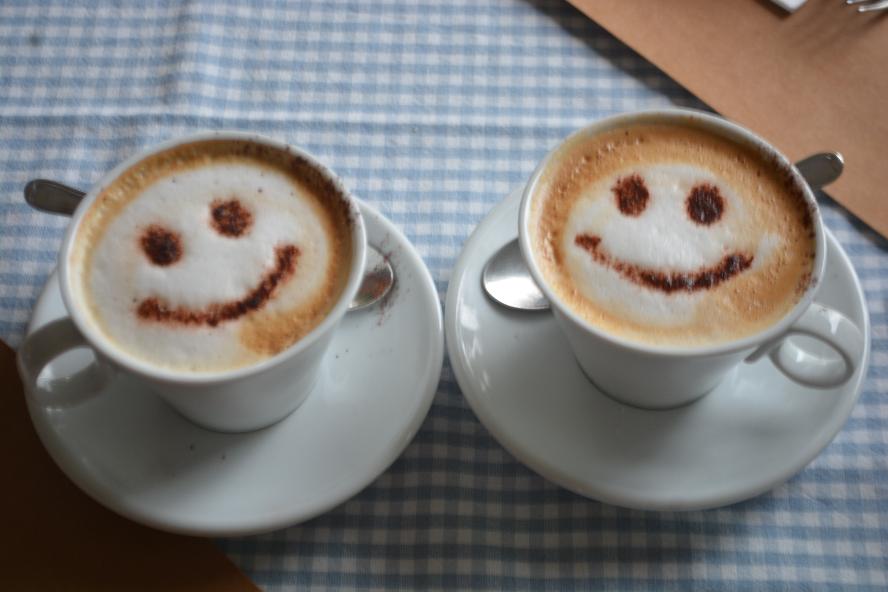 Breakfast at Fonte Bertusi including blood orange juice and an extensive spread of breakfast delicacies.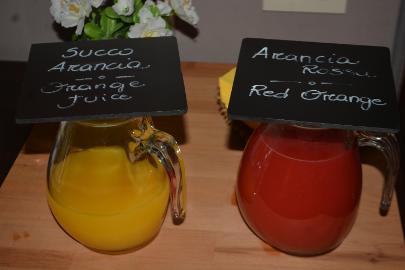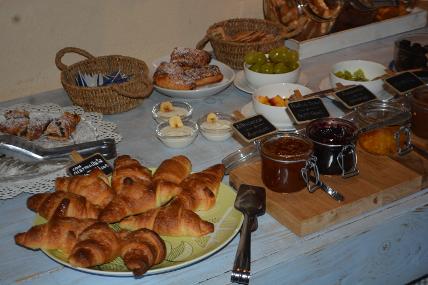 The Collegiate Church of San Quirico. Nearby vineyards.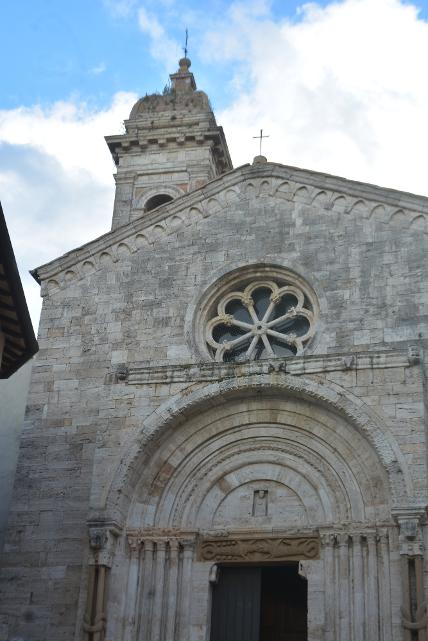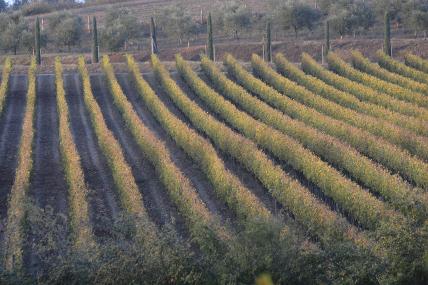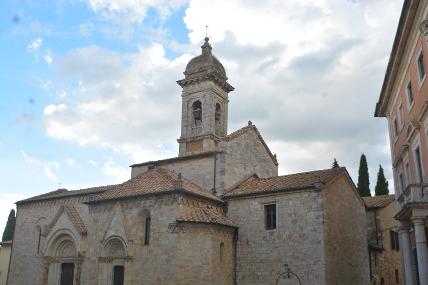 Narrow streets in San Quirico d'Orcia.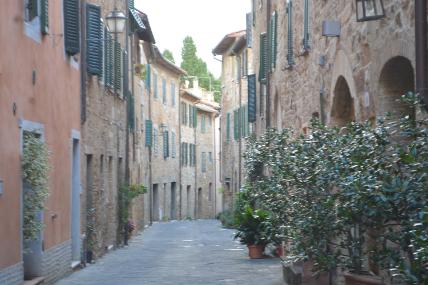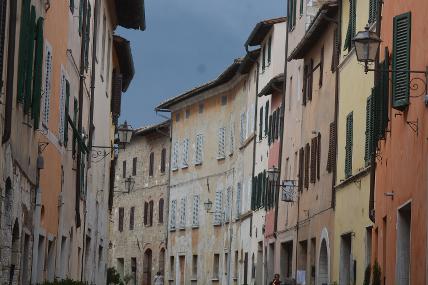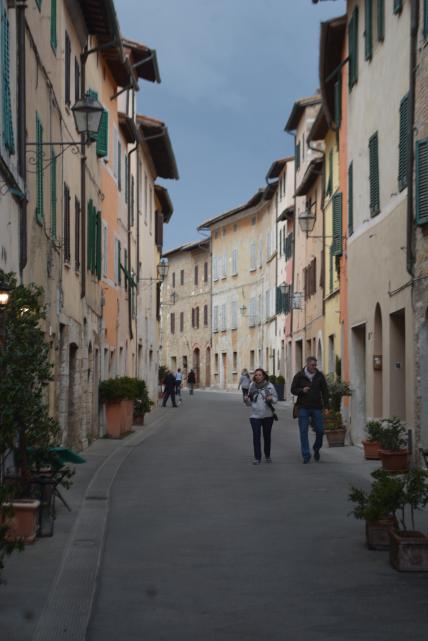 Our terrace and the Fonte Bertusi pool.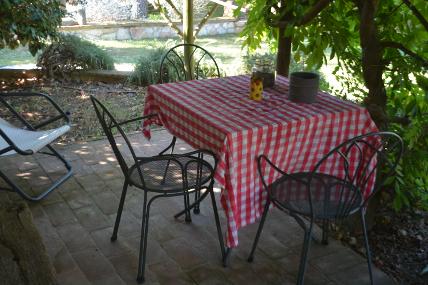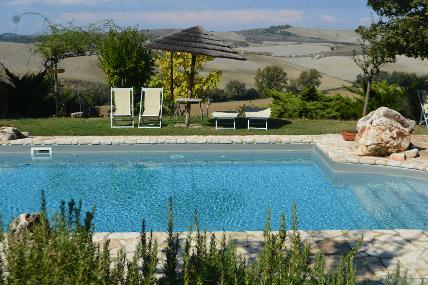 Sun emanating from the clouds near Monticcheillo.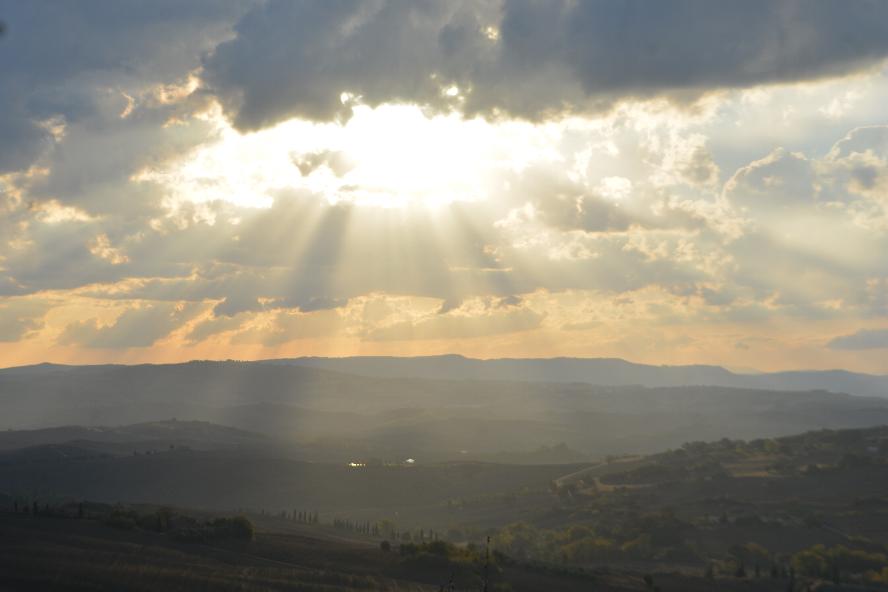 Eating in - a caprese salad, an antipasto plate (prosciutto, cinghiale, sun dried tomatoes, artichoke hearts, bread and cheese), and a bottle of Tuscan wine.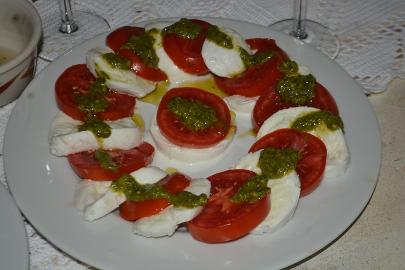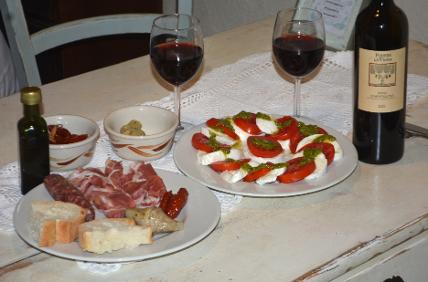 The previous evening's sun setting over the fields and rolling hills behind Fonte Bertusi.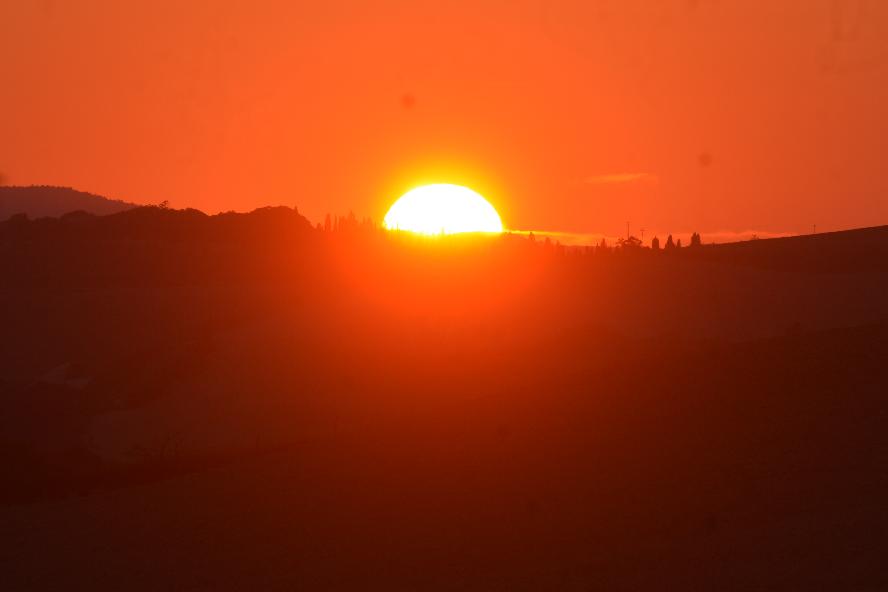 September 30, 2018 - Orvieto to Radicofani to Pienza (Fonte Bertusi)

After a light breakfast - not unreasonable given we paid only 70 euros for a pretty nice room in town - we retrieved our car from the parking garage (thanks Maria), parked in a square and wandered around Orvieto for another couple of hours. I bought a small 'chicken' milk/cream pitcher and then Gayle saw a nice bag with a German Shepherd similar to Okaye for Katrina.
As a result we did not leave Orvieto until noonish, heading a bit west and then north through some scenic rural countryside. We passed through Acquapendente and then spotted a castle, reported to be one of the most spectacular fortresses in Tuscany. For centuries the Rocca (Castle) of Radicofani was one of the most important strongholds in Italy, guarding the border between the Grand Duchy of Tuscany and the Papal States for hundreds of years. The castle has its origins in 978. It was restored /renovated many times over the centuries, including after the conquest from the Grand Duchy of Tuscany (1560-67) with two lines of protective walls. There are three ruined towers at each corner that can be visited. The castle was knocked down in the 1700s before being officially restored in the 1900s. While we drove up we decided not to take the time to wander through the grounds but rather returned to the village, hoping to find a ristorante. We entered from the east to a desolate, almost ghost town like experience. A nice Sunday afternoon with virtually no-one (locals or tourists) in sight.
In spite of the absence of people it was a nice stroll through the narrow main street, past many buildings beautified with colourful flowers. With no ristorante in sight we almost gave up but fortunately continued to the top (west) end of the village where we came across Ristorante "La Grotta". Clearly the place to be (apparently there was another bar in the medieval town but that's it) it was full when we arrived but two table were opening up. A big Sunday afternoon meal seems to be the thing to do in Italy. The place was busy and loud with no obvious other tourists. We ate way too much but enjoyed a wonderful meal. The house wine was 3.50 euros ($5.50) for a bottle but having recognized a Tuscan wine we quite enjoy (Morellino di Scansano) we 'splurged' and spent an extra $15 for a very nice bottle of red wine. Gayle ordered the gnocchi with funghi (mushrooms) and I the crepes ricotta and spinachi. I shouldn't have but I also ordered the salsiccia (sausages) with sides of patate arrosto and spinache as a vegetable. It was all very good but we chuckled when offered dolce (dessert) and waddled out. At least it was down hill to the car :-). We happened upon a couple, Bob and Sue, from Ottawa on the way back with whom we enjoyed a nice chat about traveling in Italy.
We continued our drive north until just before San Quirico d'Orcia where we turned toward Pienza. The rolling hills, plowed fields, occasional vineyard (not as many as we expected) and numerous cypress trees lining driveways to agritourismos or farms, all highlighted by the setting sun - yes another nice sunny warm day - provided some nice photo ops. In fact there was a fellow outside Poggio Covili flying a drone when shortly after a busload of Japanese appeared with a gazillion cameras and selfie sticks. That said it was quite a photogenic driveway. We continued on through Pienza (will visit later) and a few kms west until finding Fonte Bertusi, our lodging for the next three nights. We were greeted by Manuela and shown our large room with kitchenette. We enjoyed a beautiful sunset over the pool (just outside our room) and the rolling fields. Having had the huge mid-day meal there was no need or desire for any more food. Wifi was good so I worked on the travel blog before again calling it a night relatively early.
__________________________________________________________________________________________________
The view of the square from La Soffitta e Torre. The very helpful Maria (who solved our parking issue).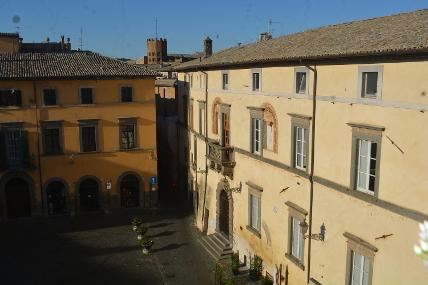 Wood beams and tile ceiling in our 15th C B&B.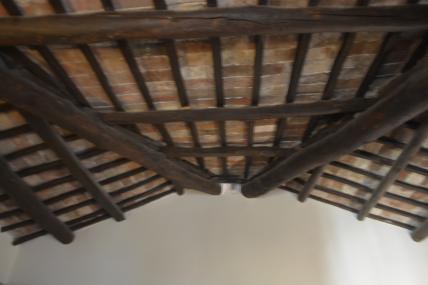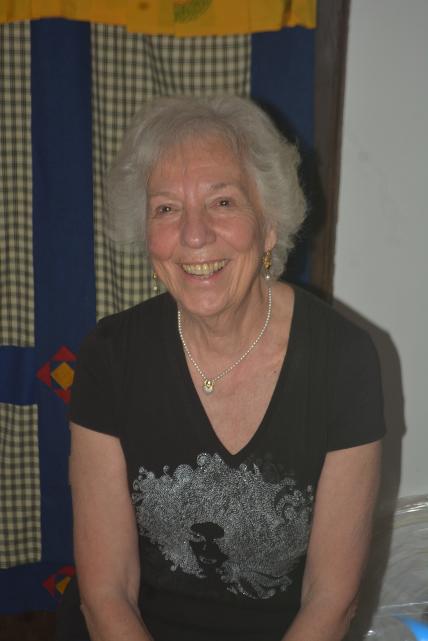 Orvieto is a very enjoyable town to walk through with alleys, towers, churches, palaces etc.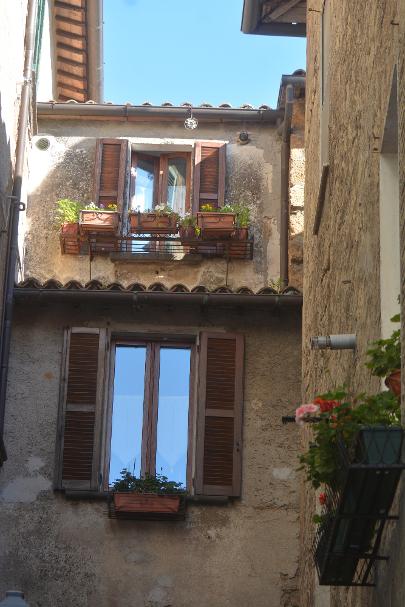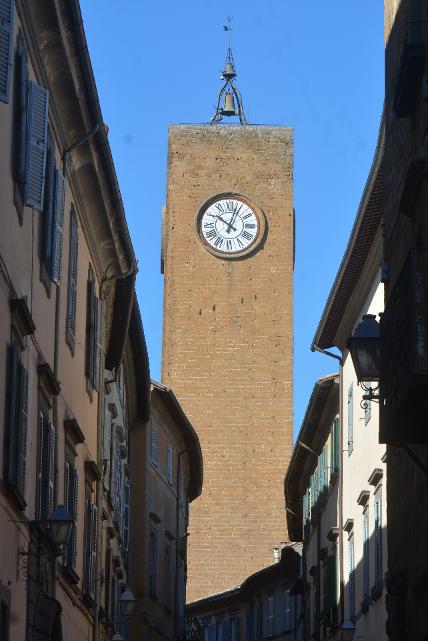 More sausage, meat and cheese.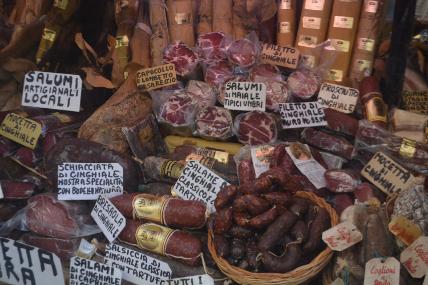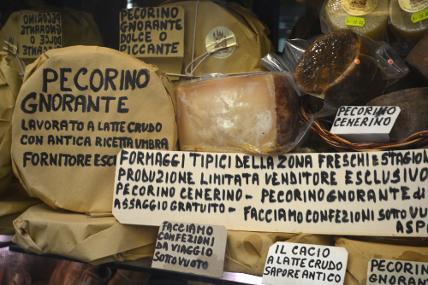 Colourful stained glass in the Duomo.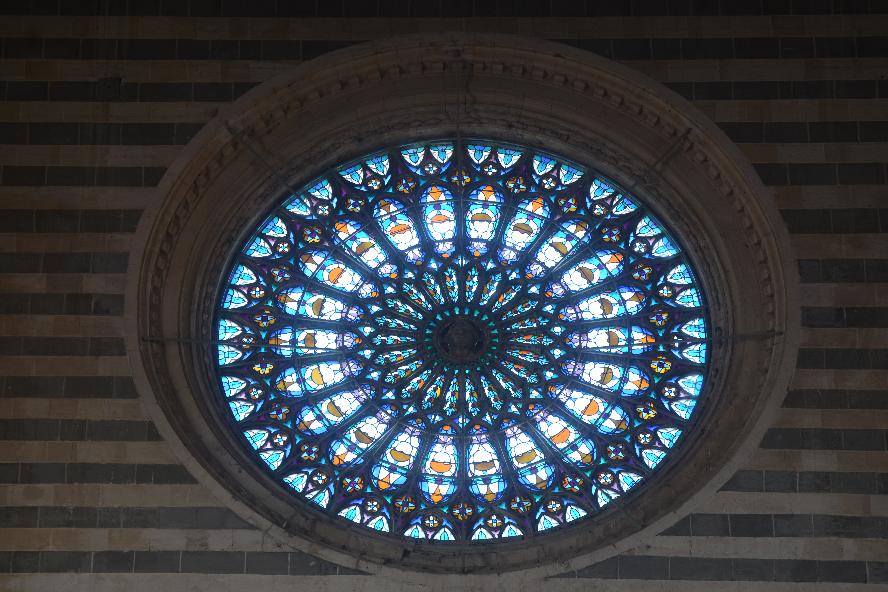 The Orvieto Duomo with a couple of photos from inside.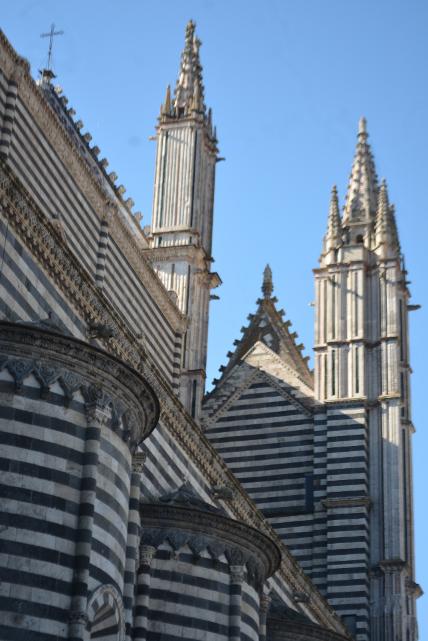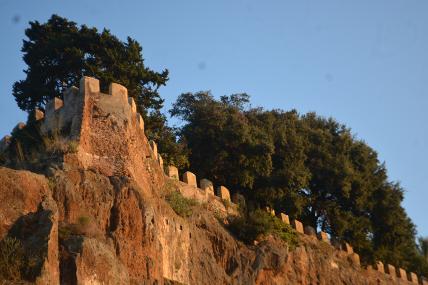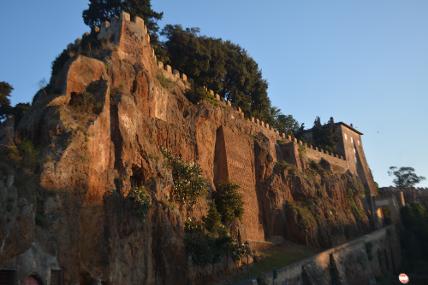 Narrow streets and alleyways adorned with flowers encountered on our stroll through Orvieto.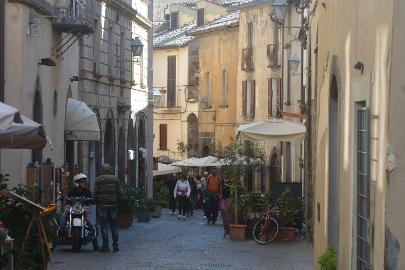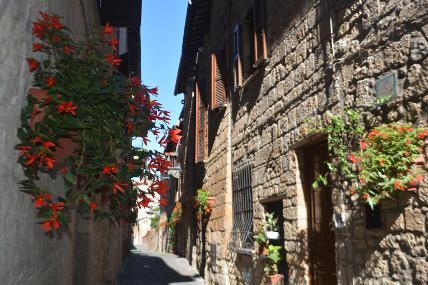 As we left Orvieto there was this viewing point looking back to the town.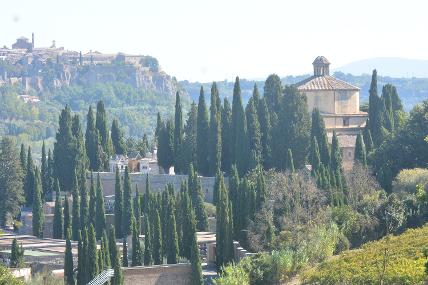 It is not uncommon to come across abandoned churches along the drive.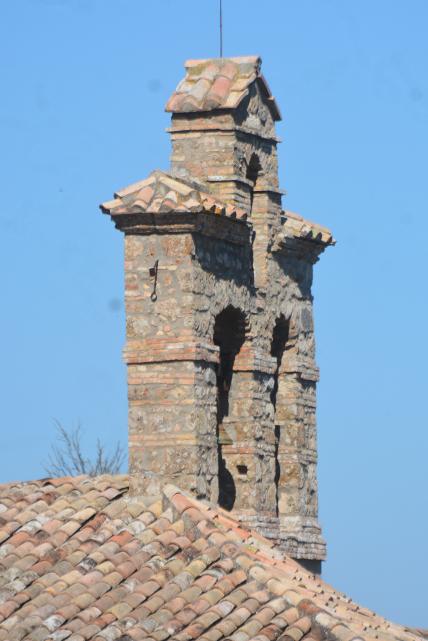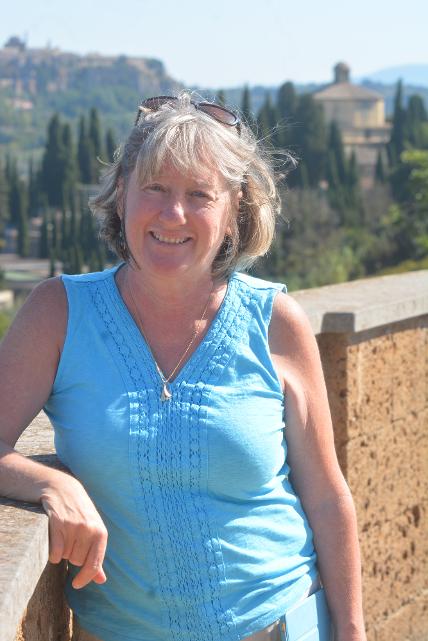 Although it was fall there were still some roadside flowers. The tower of the Radicofani castle.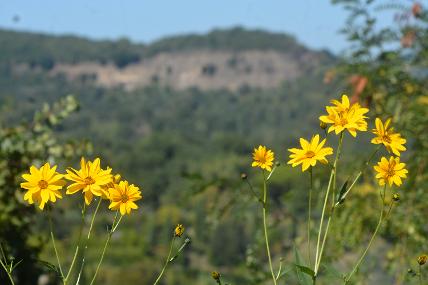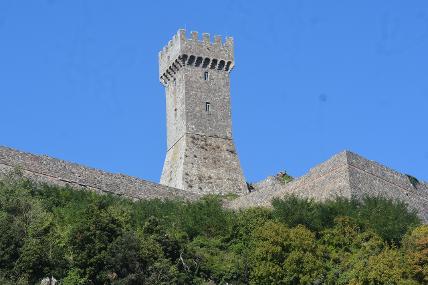 The sun was perfect on these flowers in an old stone trough.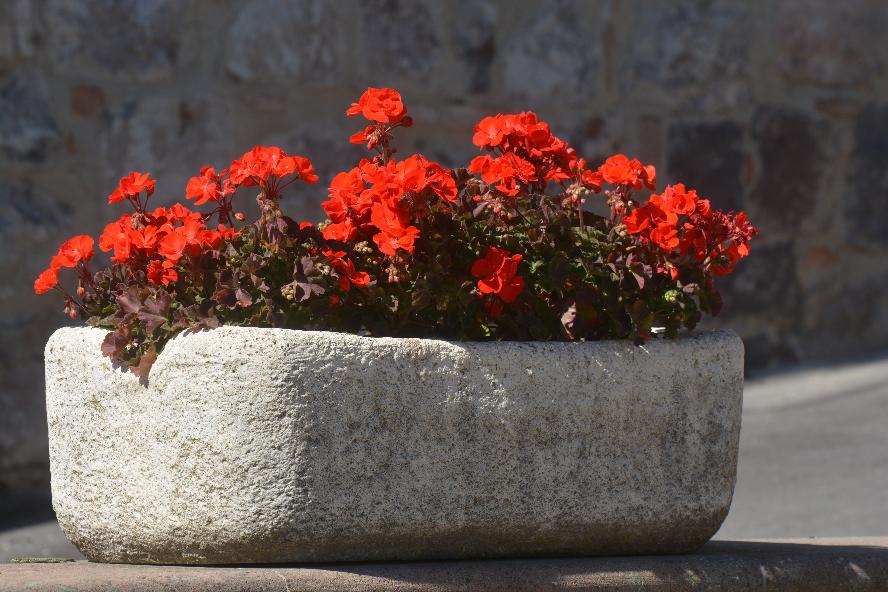 The main (narrow) street winding its way through Radicofani.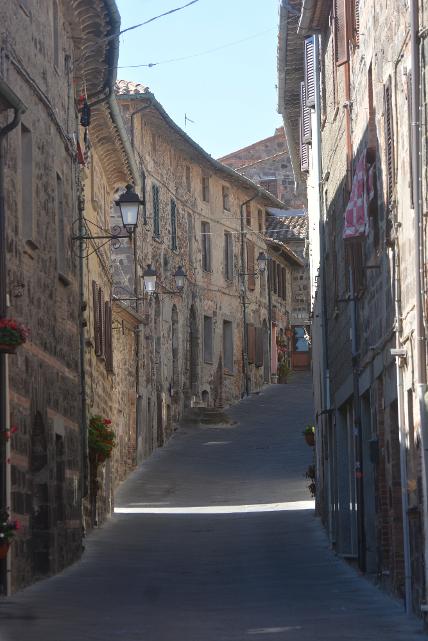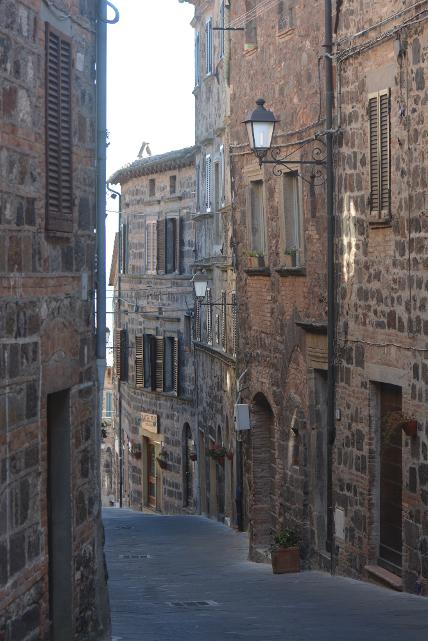 More flowers brightening up the town.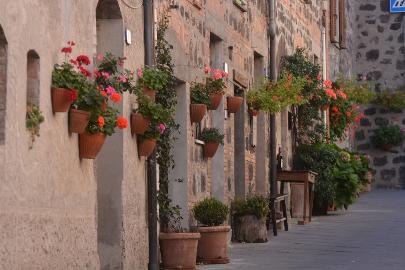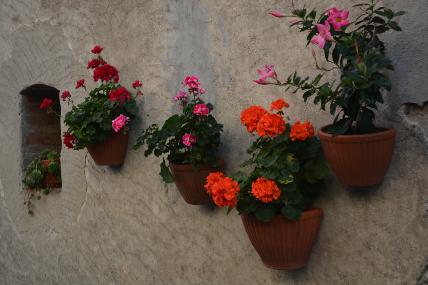 Impressive ornate doors of Italy (ok one in Orvieto and and one in Radicofani).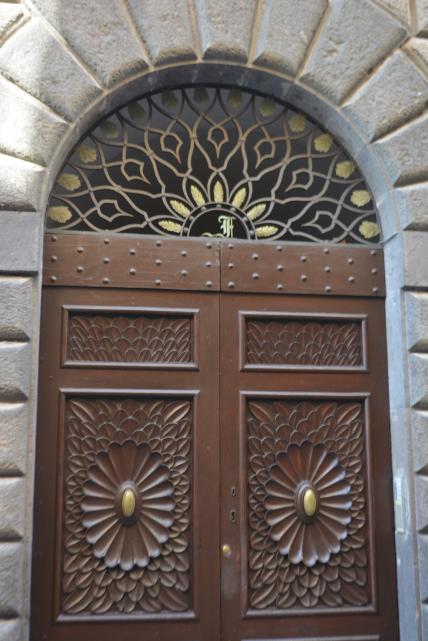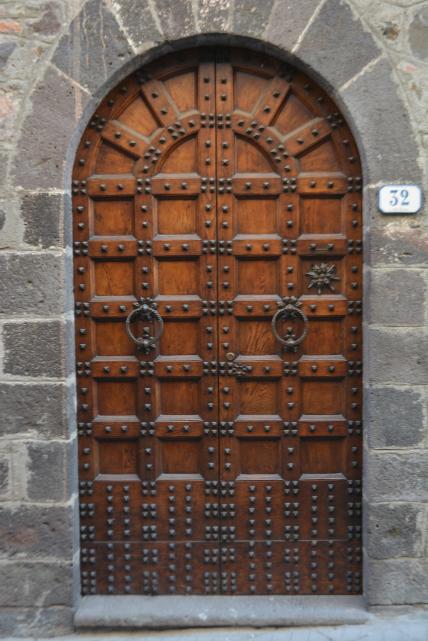 A crowded Sunday afternoon at Ristorante "La Grotta" and Gayle's (small plate of ) gnocchi with fun
ghi.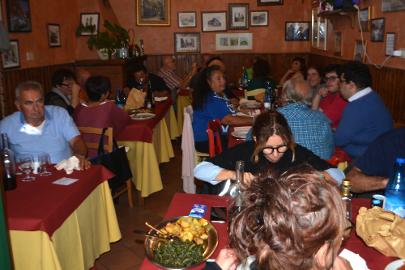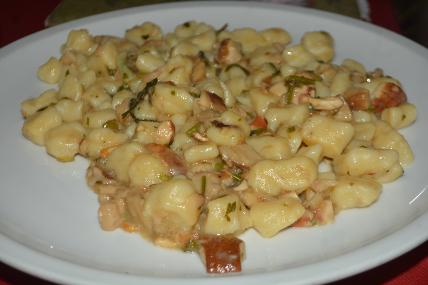 A bottle (not a glass) of house wine for 3.50 euros ($5.50) - at a restaurant none the less! But we went with something better , an excellent Tuscan wine for 13.0 euros ($20.15) - still an amazing bargain.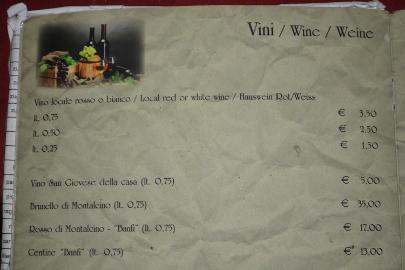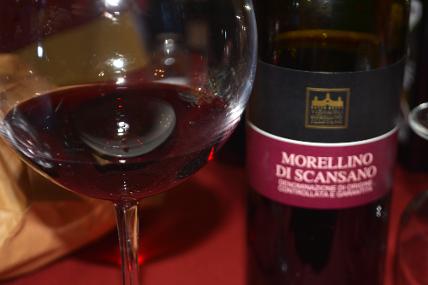 Crepes ricotta and spinachi. Salciccia with roasted potatoes.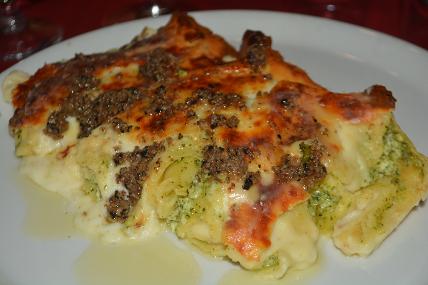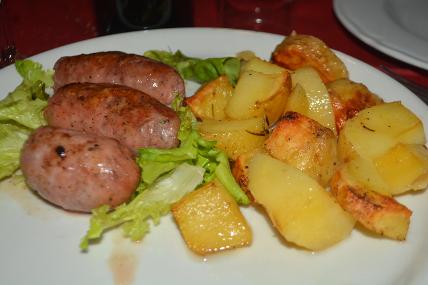 The dramatic entrance to Poggio Covili (not where we stayed), especially interesting with the shadow lines.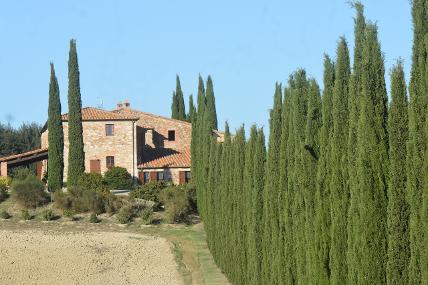 Approaching the town of Pienza.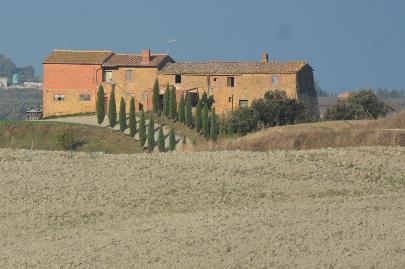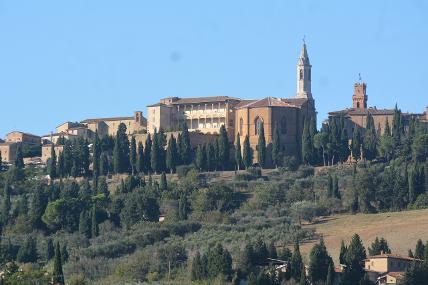 September 29, 2018 - Karpathos to Rome (via Athens) and then on to Orvieto

We awoke early (shortly after 4:00 am), had the last of our food (the last of our fresh OJ, baklava, fruit etc.) and headed out in the dark for the short 15 minute drive to the airport. Beyond a minor sherpa mishap entering the terminal we departed as scheduled, arrived in Athens and then departed again as planned for Rome. The flight was somewhat turbulent, the remnants of the 'Medicane' but we landed more or less on schedule.

The drive north to Orvieto was quite easy - out of the airport to the Rome ring road, clockwise to the A1 and straight north. A stop at a service station to buy a map of Umbria but otherwise good time. Finding our lodging in Orvieto, a medieval town of narrow roads, many of which are one way brought with it a few challenges but we eventually ended up just behind the Palazzo del Popolo. I went in search of our lodging La Soffitta e Torre (The Attic and Tower), a 15th century building off the Piazza del Popolo. A few inquiries and a walk around the plaza and I eventually connected with Maria. Up three flights of original stone stairs got us to our room on the top floor, with a small window overlooking the piazza. After some struggles at the parking garage, we walked back the 600 m or so, had a gelato and then tried to take a nap - after all we had been up since 4:00 am ish - but as Maria regularly says "allora" we were unable to.
So we went out to wander the narrow streets and alleyways. Presumably because it was a Saturday night it was very vibrant and active. When we reached Corso Cavour, the main street through Orvieto we stumbled upon a parade / celebration of locals in costume, marching and drumming through the streets. We later saw posters of a festival and were fortunate to have viewed at least part of it. There were many shops along the way with wine, meats, especially dried/cured meats, cheese, and all type of artesanal foods. During our stroll we looked for restaurants but non opened until 7:30 pm - it was a bit after 6:00. We continued to wander through the back alleys until we reached the end of Via Lorenzo Maitani with the setting sun illuminating Orvieto's Duomo / cathedral. The Duomo, a symbol of the city itself is apparently one of the most beautiful in Italy. Certainly in the setting sun the facade is very impressive. Construction began in 1290 with the intent to replace two decaying churches with one large cathedral. The Duomo is a magnificent building that brings together different architectural styles, in particular Gothic and Romanesque. The result was due to efforts of a considerable contingent of sculptors, goldsmiths and painters, after the design and construction of this massive project at a time when cranes and other current day building aids did not exist. One certainly does not have to be religious to appreciate the enormity of the achievement of building a cathedral such as the Duomo in Orvieto.
One of the highlights is The Rose Window (1354-1380). It is the focal point for the observer of the cathedral's facade, consisting of a double row of columns with intersection arches. All very impressive.
We then circled back to a restaurant near the Polozo but it was fully booked until 9:30 ish. As was the next one and the next one. Perhaps the festival, perhaps Saturday night but the place was hopping. Even at the pizzeria we eventually decided on we could not get a table outside. So in we went - not much in terms of ambiance but the thin-crusted pizza was good (Bufalina - tomato sauce, buffalo mozzarella cheese for Gayle (8 euros or $12.40) and Salsiccia - tomato sauce, mozzarella and sausage for me (7 euros or $10.85)) albeit very simple and the wine from nearby considerably better than that which we had in Greece, although somewhat pricier but still inexpensive at 4 euros ($6.20) per glass. But who can go wrong with pizza in Italy? We returned to La Soffitta e Torre turning in early.
__________________________________________________________________________________________________
The cobblestone streets of Orvieto.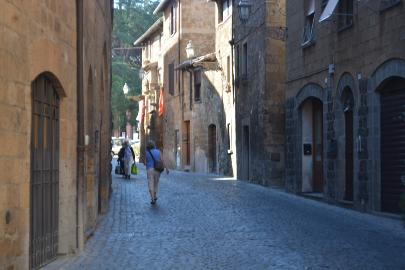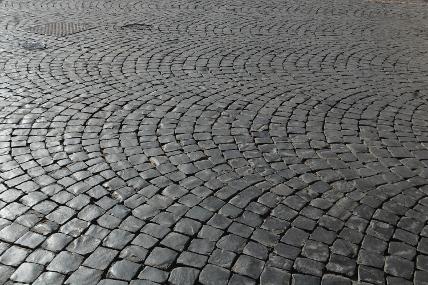 While walking the streets of Orvieto we stumbled upon this parade.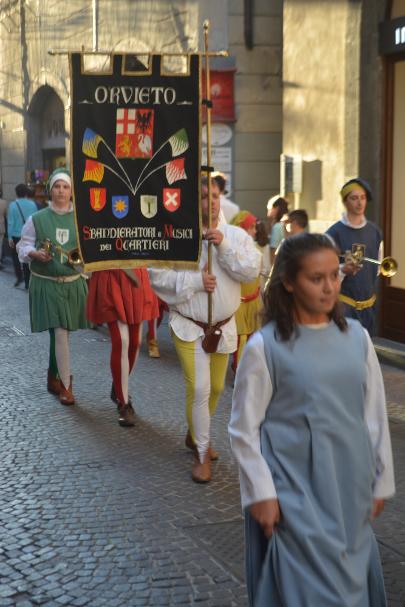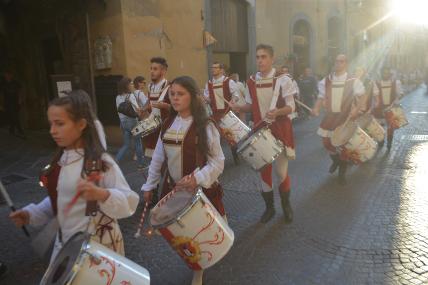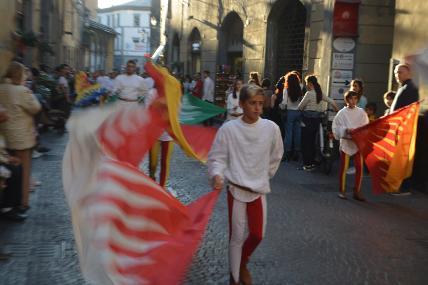 We're in Italy and the artesanal food is abundant.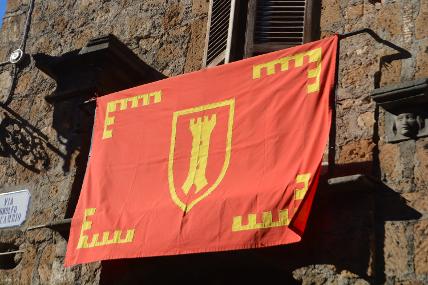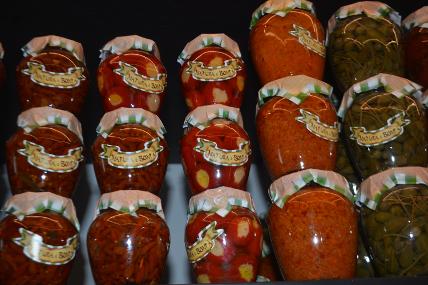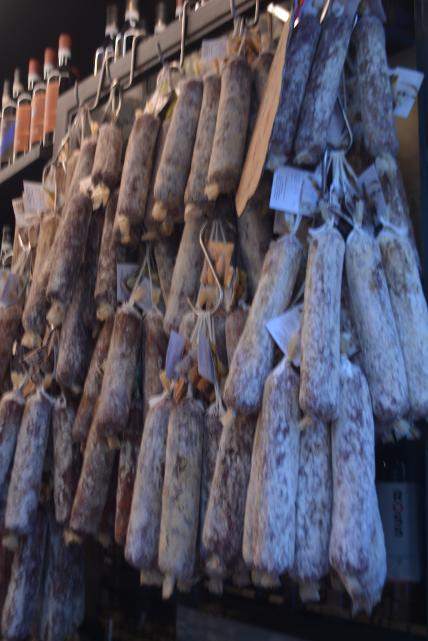 Towers and narrow roads (this on the right being Via Lorenzo Maitani that comes out at the Duomo) are the trademark of Orvieto.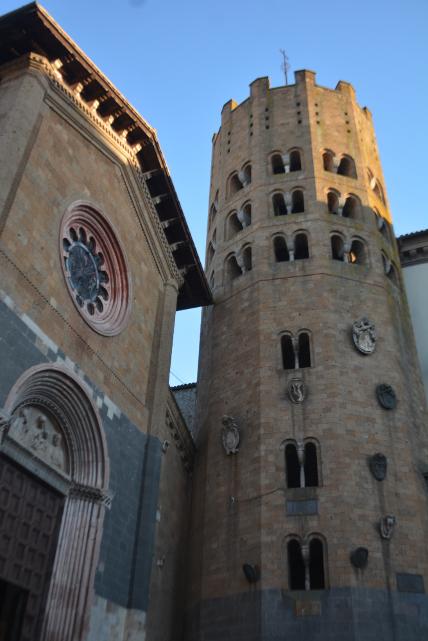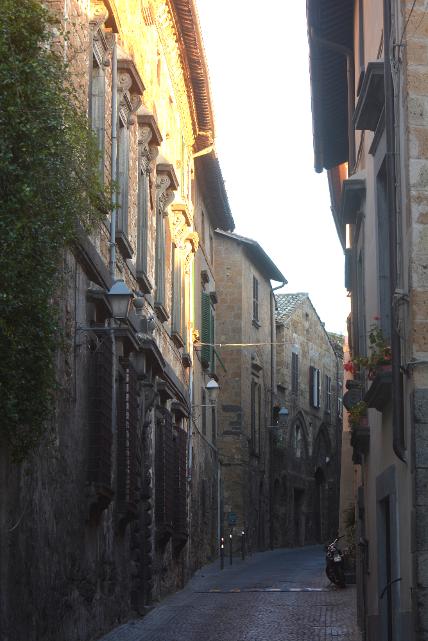 Orvieto's Duomo highlighted by the setting sun, including on the right The Rose Window.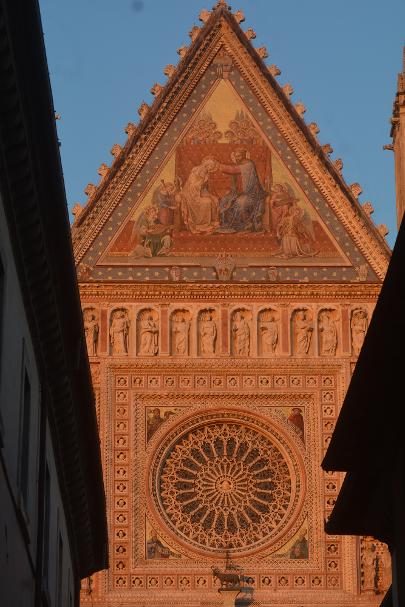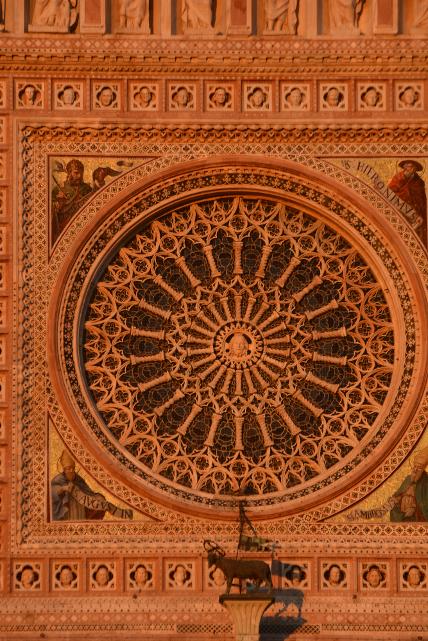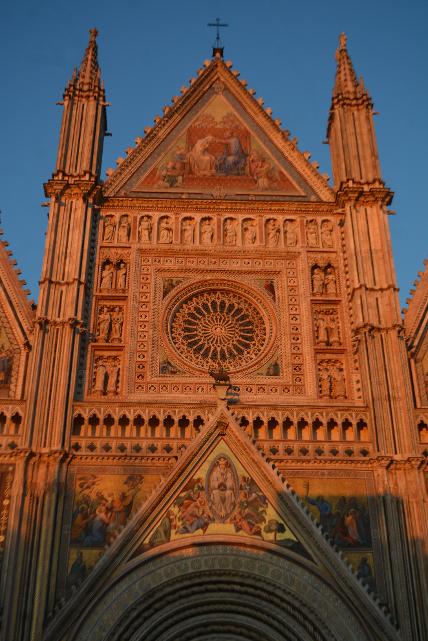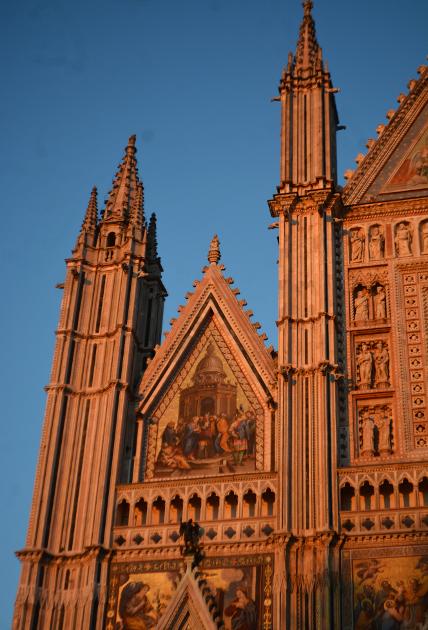 Orvieto's cathedral, not basked in sunlight.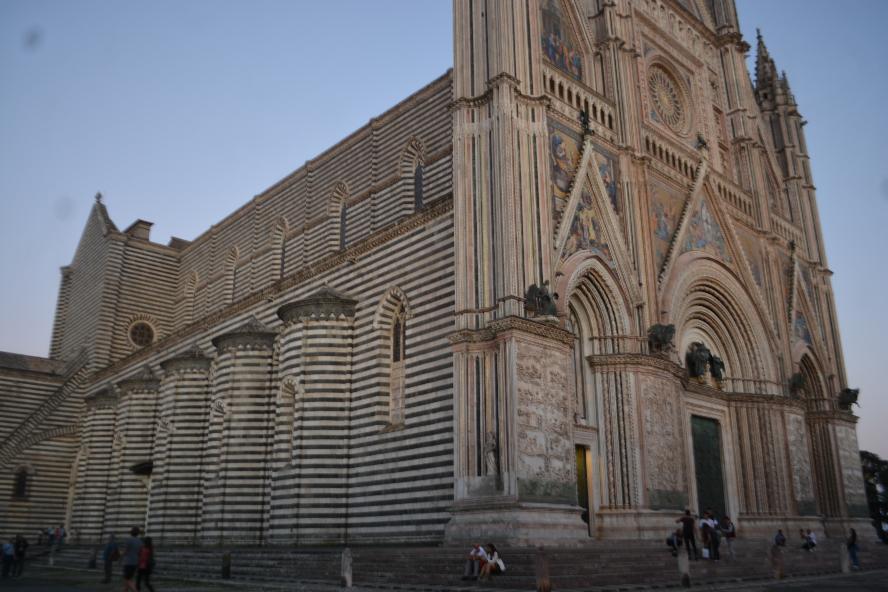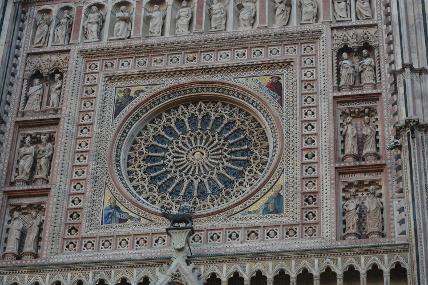 Not being religious we're unsure of the significance of the pigeon.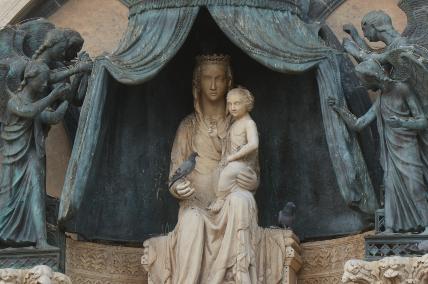 Gayle simply admiring the Duomo.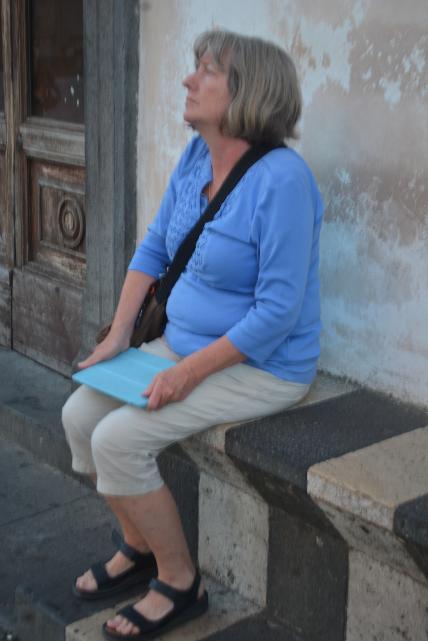 Tonight's dinner - pizzas - Bufalina on the left and Salsiccia on the right.