June 01, 2017 - Barcelona to Halifax

Today we flew home. Breakfast and a taxi out to the airport for our flight to Montreal, connecting a one back to Halifax.

Memories of Spain / Mallorca / Barcelona:
scrambling to get to Malaga given the delay in getting to Montreal / unable to make our connecting flight to Brussels
arriving at El-Guarda at 11:30 pm and then chatting over a bottle (or more) of wine with Hans and Miranda
the wildflowers
walking down the mine to the river cutting through the gorge in Ronda
the scenic rolling hills and olive groves throughout the Alcala del Valle area
our meal at Pollear and those at El Guarda
Carmen, Mariana, Fran and Peter
the Mirador room at Cortijo del Marques
the fields of red poppies
the landscaping and flowers at Cortijo Prado Toro
seeing the Rif mountains of Morocco
the slow but scenic drive across the face of the Sierra Nevadas
our Magic Moroccan Memory night
the citrus grove tour at La Joya del Valle de Ricote
the views from the terrace and our room in Guadalest
the drive to Calla Torta and the sandy beach
the drive from Valldamossa to Port Soller along the north coast of Mallorca
the narrow lane and switchbacks ascending and descending the mountain to reach Muleta de Ca S'Hereu
the views of Port Soller and the sea from our room at Muleta
eating outdoors at Muleta de Ca S'Hereu
Michele and Thor
returning to Orient and Son Palou

eating outdoors at Son Palou

sangria on the lawn at Son Palou

the picturesque Orient valley

wandering through the alleys of Barcelona's El Born district

the quality of all the meals at all the places we stayed that served dinner
the expansive breakfasts
the light through the stained glass windows of Sagrada Familia
'tapas'
Expenses:
We got a great price of $1,585 for the airfare from Halifax to Malaga, returning Barcelona to Halifax. Adding Valencia to Palma, Mallorca ($213) and then Palma to Barcelona ($178) the total airfare was $1,976 (total for both of us).
Food (keeping in mind all but two breakfasts were included in the lodging cost), including wine was a very reasonable 63 euros ($97 Cdn) per day. Note all food costs include tax and tips. The average daily amount spent on food was virtually the same as our 2014 trip to Portugal / Spain (62 euros). This compares to considerably less in Greece (43 euros), considerably more in Provence (80 euros) and more or less the same in Italy (66 euros in northern Italy but 50 euros in Sicily).
When considering the cost of the lodging one needs to think of the mainland separate from Mallorca, which is considerably more expensive. Lodging ranged from a low of 90 euros a night to a high of 275 euros, often reflecting upgrades to nicer rooms. For example, Son Palou where we paid 275 euros for a junior suite has standard rooms for 175 euros. Here is a list of where we stayed, the cost and the website.
134 euros Cortijo El Guarda Alcala del Valle http://www.el-guarda.com
140 euros Cortijo del Marques Albolote http://www.cortijodelmarques.com
90 euros Cortijo Prado Toro Pitres http://www.pradotoro.com
90 euros Casa Rural Las Chimeneas Mairena http://www.laschimeneas.com
125 euros La Joya del Valle de Ricote Villaneuva del Rio Segura http://www.lajoyadelvalledericote.com
130 euros Cases Noves Guadalest http://www.spainboutiquehotel.co.uk
175 euros Finca Son Jorbo Porreres http://www.fincasonjorbo.com
217 euros Muleta de Ca S'Hereu Port Soller http://www.muletadecashereu.es\en
275 euros Finca Son Palou Orient http://www.sonpalou.com
191 euros We Boutique Hotel Barcelona http://www.weboutiquehotel.com
The average cost on the mainland was 114 euros ($177 Cdn); in Barcelona 191 euros ($296 Cdn) and in Mallorca 218 euros ($338 Cdn), for an overall average of 160 euros ($250 Cdn).
We certainly spent more on lodging this trip than those of the past but on the whole the rooms were somewhat superior. In terms of comparative costs to previous trips we spent, on average
140 euros - 2012 trip to Slovenia and Croatia
139 euros - 2014 Portugal/Spain
136 euros - 2013 Spain
122 euros - 2013 Northern Italy
109 euros - 2014 Corsica/Provence;
106 euros - 2016 Sicily, and
79 euros - 2015 Greece.
Overall, including airfare, car rental, fuel, lodging, food, entrances, parking and other small miscellaneous expenses but excluding souvenirs the total cost of the 24 day trip was $11,370 (or $1,650 per person per week)
May 31, 2017 - Barcelona
Gayle in particular wanted to come to Barcelona to see Gaudi's Park Guell and Sagrada Familia. Today is the day. Fortunately the weather is again great which made walking pleasant. After a much better breakfast than we were expecting we walked the 10 to 12 minutes to Placa de Catalunya, the large square in central Barcelona generally considered to be both the city centre and the place where the old city and the more 'modern' 19th century city meet. The Placa has a beautiful fountain and attracts hordes of people/tourists. From Catalunya we took a bus that even with dedicated bus lanes took 30 to 45 minutes for the approx. 5 km distance - yes Barcelona is a congested, busy city.
Park Güell is a public (except for the Monumental section) park system of gardens and 'architectonic elements' located on a hill a bit west of central Barcelona. With urbanization in mind the design of the park was assigned to Antoni Gaudi, a renowned architect who was the face of Catalan modernism. The park was built between 1900 and 1914, officially opening in 1926. In 1984 UNESCO declared the park a World Heritage Site. The Monumental Zone includes the Porter's Lodge, Casa Del Guarda, a Catalan vault, the Monumental flight of steps, the Hypostyle room, the Austria gardens (so named due to Austria's donations of trees), Nature Square or Theatre where open-air shows were/are held and a portico that resembles a wave. Colourful tiles are predominant on the seating and other aspects of the park. Unique/interesting but not spectacular.
We then walked down the hill towards the center of the city and Gaudi's Sagrada Familia. The walk was not the most interesting in the world - the bus route struck us as much more so - but there were a number of small parks and shops along the way. As we had a pre-assigned time for visiting the Sagrada we spent about an hour eating some small empanadas/sandwiches and relaxing in the park next to the basilica.
The Basílica i Temple Expiatori de la Sagrada Família is an imposing Roman Catholic church, a landmark in Barcelona, designed by Catalan architect Antoni Gaudi (1852–1926). Gaudí's work on the building is also part of a UNESCO World Heritage site. Construction of Sagrada Família commenced in 1882. Gaudí imposed his architectural and engineering style, combining Gothic and curvilinear Art Nouveau forms. Gaudí who devoted his last years to the project, died in 1926 at age 73 with less than a quarter of the project was complete. Sagrada Familia's construction progressed slowly, as it relied on private donations. Construction was interrupted by the Spanish Civil War only to resume intermittent progress in the 1950s. Construction passed the midpoint in 2010 with the hope of completion in 2026, the centenary of Gaudí's death.
The basilica is indeed fascinating in its detailed sculpture on the exterior facades, the towers reaching to the heavens, the cavernous interior and the light that permeates through the stained glass windows. Certainly very impressive although many of the other cathedrals we have visited, e.g. in Soller are perhaps equally as impressive in that they were built many hundreds of years ago without the benefit of cranes and current technology. That said the light entering the basilica is like no other we have ever seen and it was certainly worthwhile to experience such a remarkable structure.
Late afternoon we walked back to our hotel, rested a bit and then headed out to dinner. We had a tough time choosing but eventually made a reservation at Bastaix, a tapas restaurant near the Basilica de Santa Maria del Mar with great ambiance. Although the restaurant and tapas were decent (we preferred Casa Lolea the night before) the walk through the alleys of the El Born district, narrow with cafes and boutique shops was quite enjoyable. In retrospect we wish we had had more time to explore this area further. As mentioned the tapas were good although not outstanding, the Albarino wine and cava to mark the end of our trip were very much enjoyed.
Placa de Catalunya, a meeting place for many.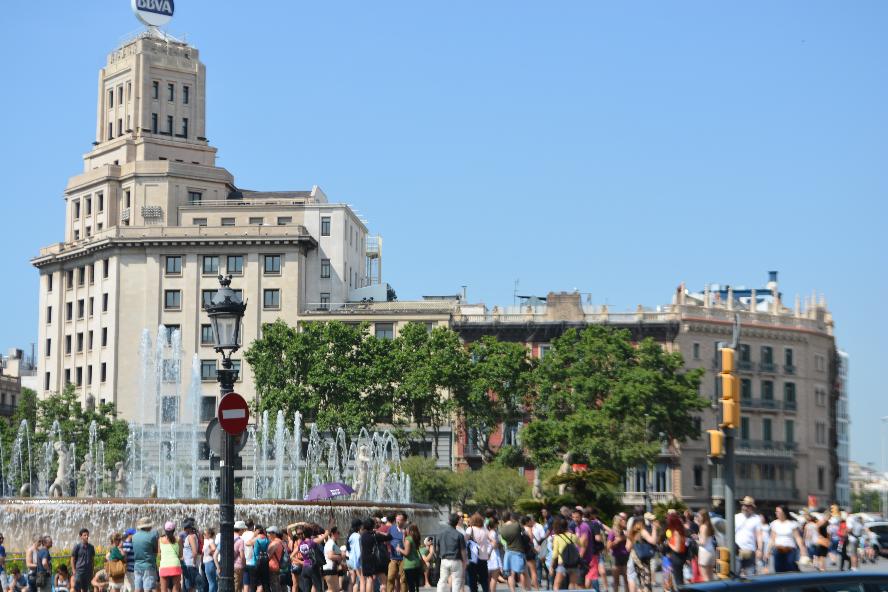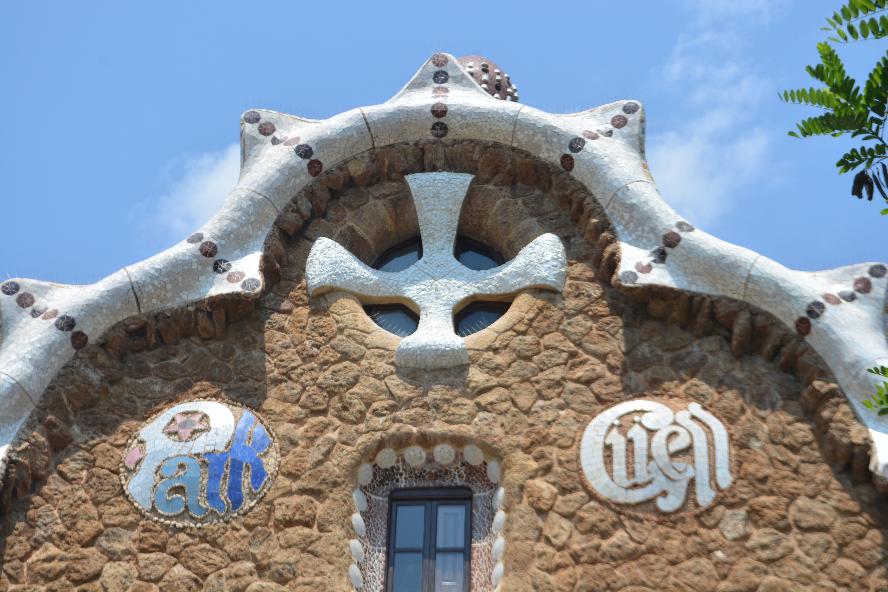 The view from Park Guell down and across central Barcelona to the sea. Note the absence of skyscrapers.
Some of the stone walkways.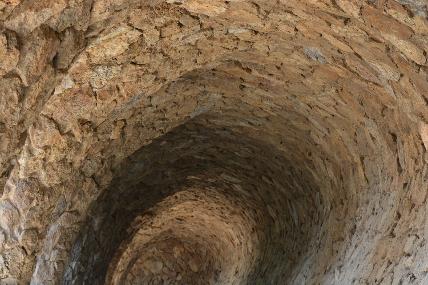 The benches throughout the Monumental area are covered with colourful tile.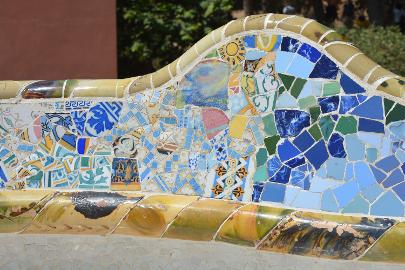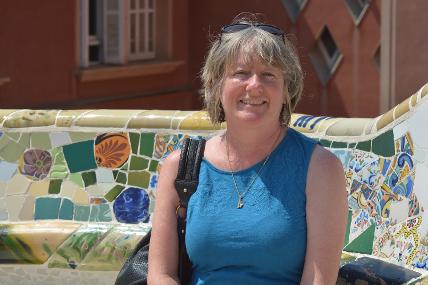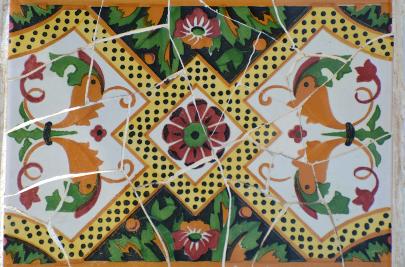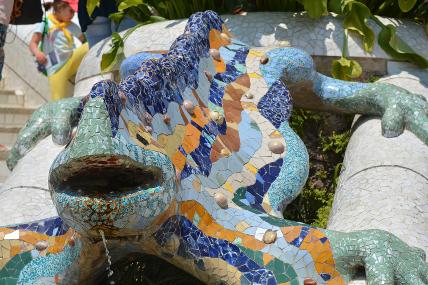 On our walk from Park Guell to Sagrada Familia we stopped in to a small bakery to pick up some sandwiches. 75 cents for a baguette - if only we could get that back home.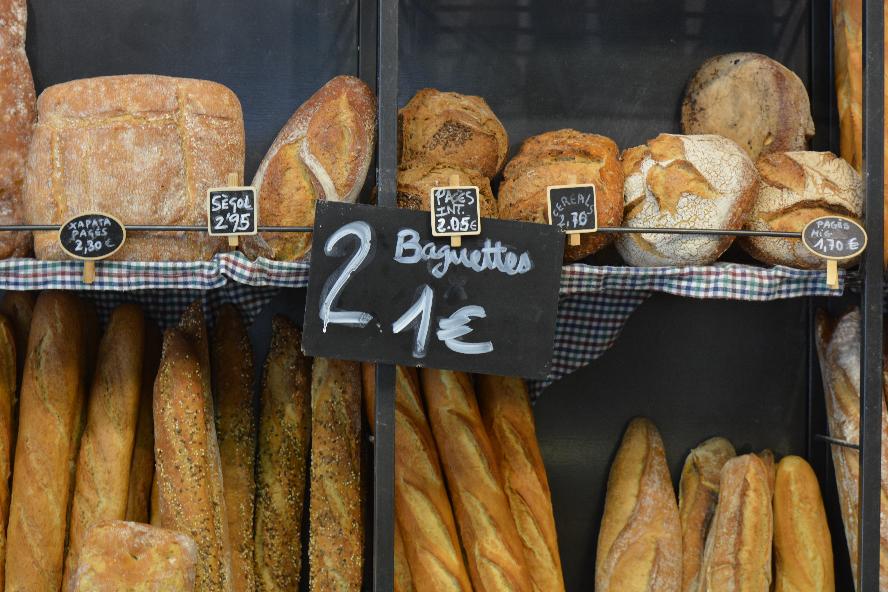 It is impossible to capture how massive the Sagrada Familia is from the outside but here is but a small portion of the structure.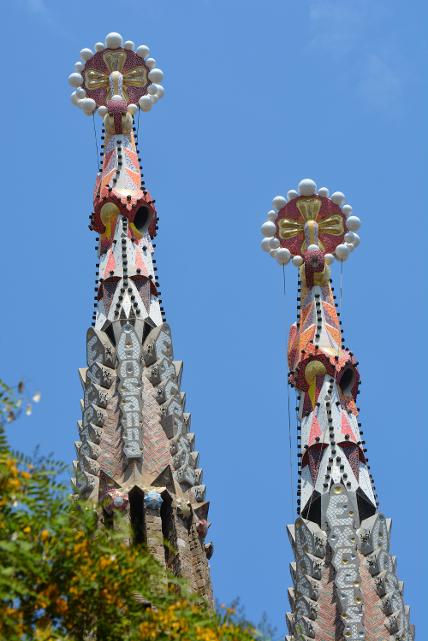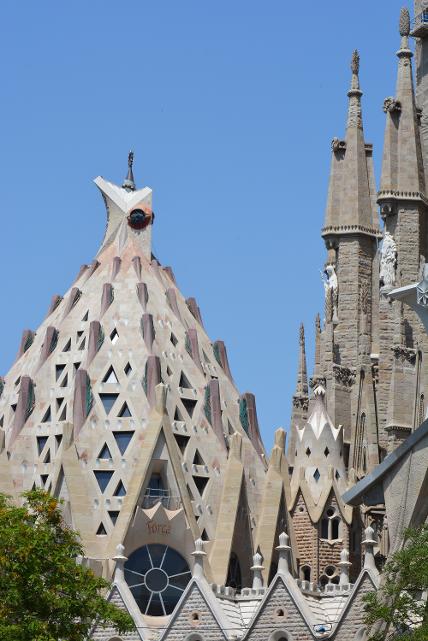 The 'softer' yellow / green / blue light from the east - the colours below are the result of the stained glass windows.
The afternoon light streaming in from the west creates a stunning display of colour.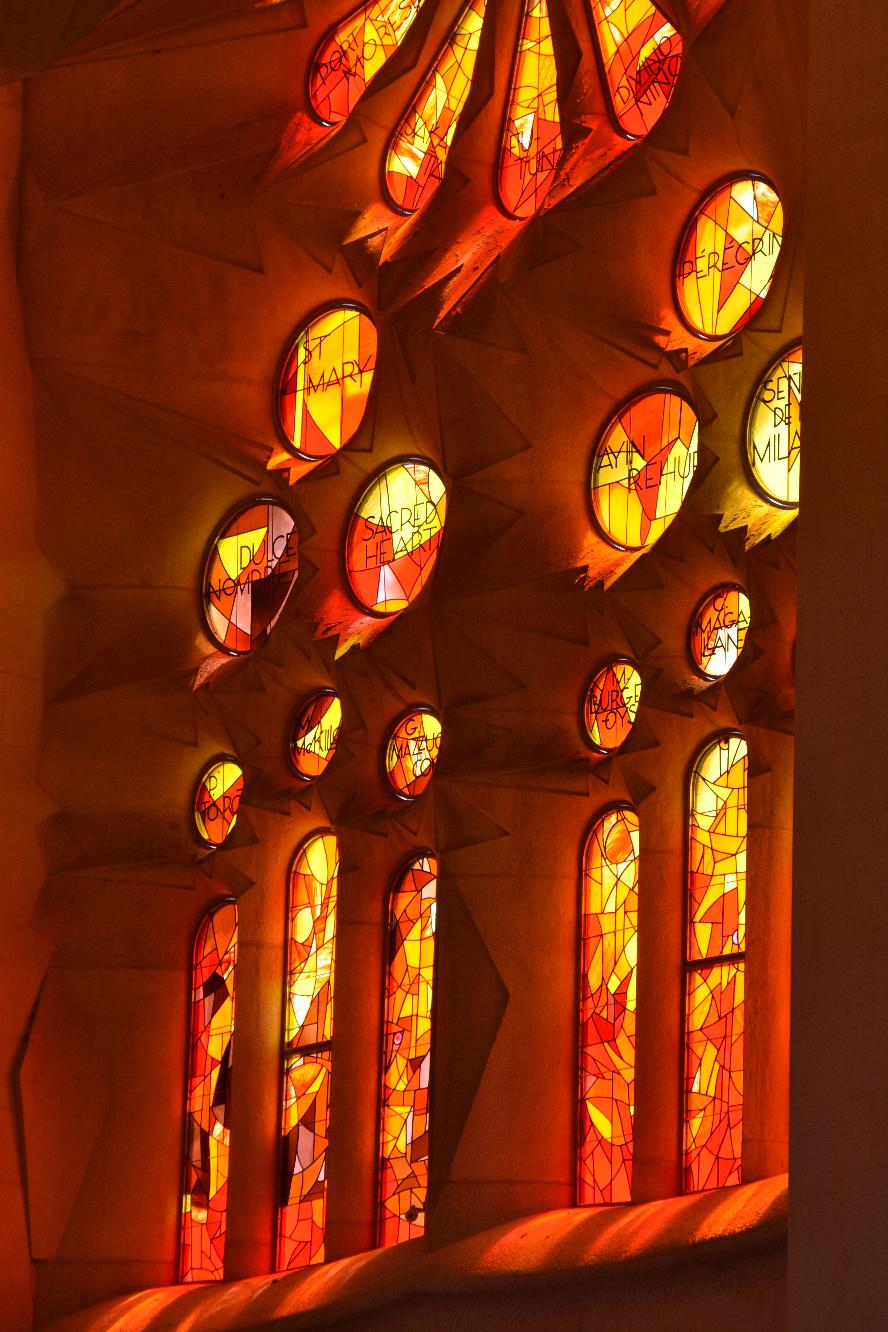 Some of the interior with the stone columns, symbolizing trees, branching out at the top to support the structure.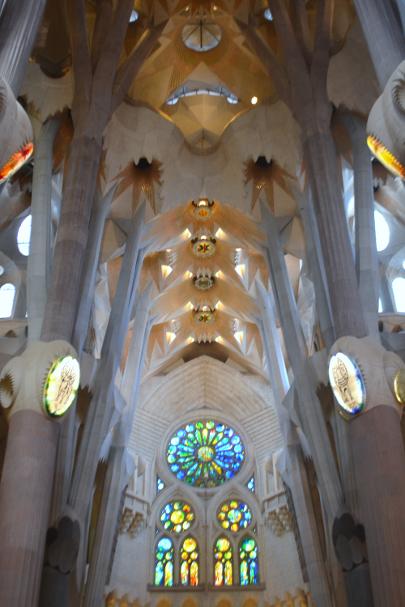 More of the impressive stained glass, lit up by the exterior light.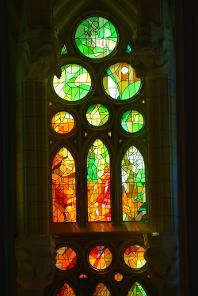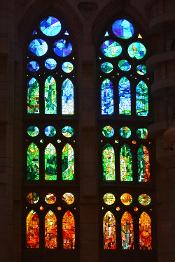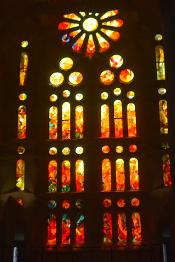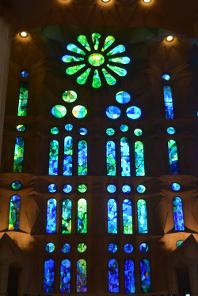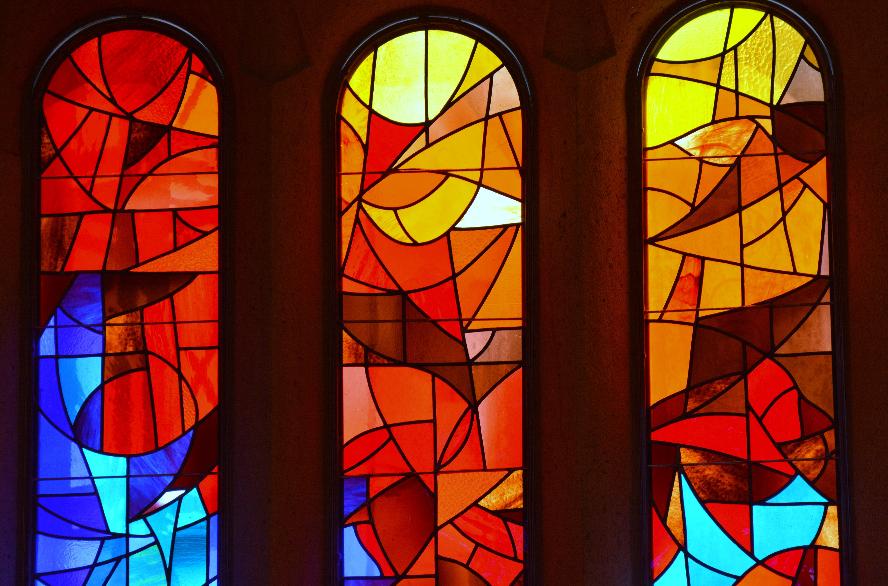 We ate downstairs (underground) at Bastaix, a tapas restaurant, starting with Patates bravas, a traditional Spanish tapas, this served with harissa sauce and aioli.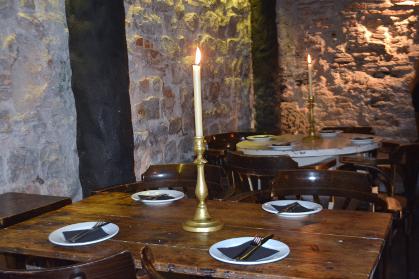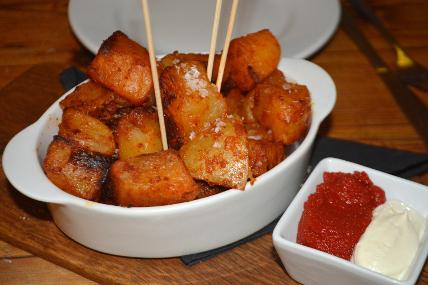 What better way to finish our culinary experience in Spain than with a wild mushroom on artichoke 'coques' (a tapas), a serving of pulpo/octopus, another glass of cava and an escuna de crema catalan (a mousse version of catalan cream).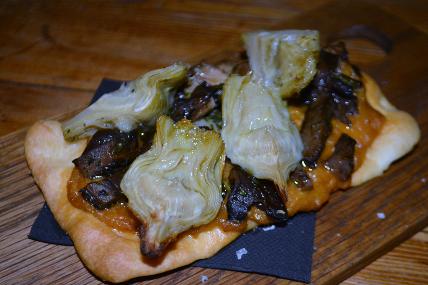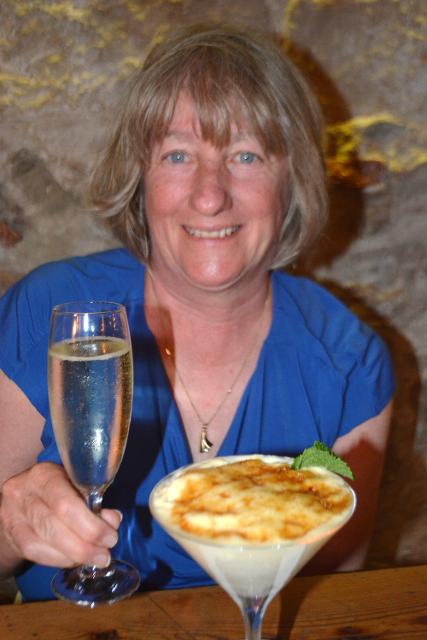 May 30, 2017 - Son Palou, Orient to We Boutique, Barcelona
Today is a travel day. After nine nights we leave Mallorca and fly to Barcelona for our last two nights. With a 5:00 pm flight there was no need to rush. We enjoyed another leisurely breakfast before packing up and heading on our way. Another glass factory was suggested and being reasonably on our way we decided to stop in to see if you could find a drip-less Mallorcan oil cruet. The design is such that any excess oil drips down the spout and back into the bottle through a small hole - genius. Fortunately we were successful in finding one of decent size - success!
We arrived at the airport in plenty of time for our short (50 minute) flight to Barcelona. With our suitcases and gazillion kilos of pottery we decided to take a taxi into the city, only to arrive to find out the taxis were on a one-day strike in protest of ubers. So there we were on the bus (which was actually quite inexpensive and efficient) to get as far as Plaza Catalunya. From there it was s 20 minute walk which would have been fine if not for the gazillion kilos of pottery, but we found our Hotel without any difficulty. Our room was the junior suite and while we did not have a balcony we did have a nice sitting room. Like virtually all of the hotel the floors were covered with Catalan mosaic floor tiles. Apparently a fellow from Valencia did a few buildings in Barcelona. In fact when renovating a box of unused tiles was found behind a wall.
Just around the corner from the hotel is the Arc de Triomf (Catalan). Perhaps not as well know as the more famous Arc de Triomphe in Paris the Barcelona Arc was built as the main access gate for the 1888 Barcelona World Fair with the arch crossing over the wide central promenade of the Paseig de Lluis Companys leading to the Ciutadella Park that now occupies the sit of the world fair. The arch is built in reddish brickwork. The front 'frieze' contains the stone sculpture Barcelona rep les nacions (Catalan for "Barcelona welcomes the nations").
For dinner we went out to a suggested tapas bar, Casa Lolea. We were very very lucky to get in as all tables were booked but one party had not arrived and enough time had passed that we were given the table (others after us were turned away). The tapas concept is small dishes to share or bite size food usually on toast. We ordered a bottle of sangria to have with our tapas that started with a warm goat cheese salad. Then a couple of the montaditos (the toasts), which were quite excellent. Then there was a traditional Spanish omelette, which was like no other Spanish omelette with being plump and very creamy rather than dry as I make them. Finally I had to have the pulpo/octopus ceviche which I very much enjoyed. A really nice and fun meal.
The glass factory near S'Esgleieta where we replaced our drip-less oil cruet.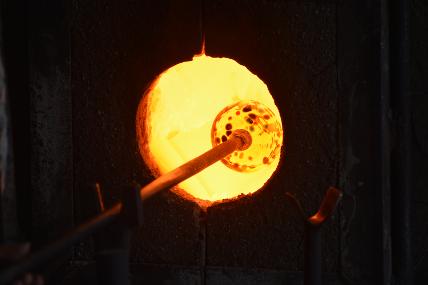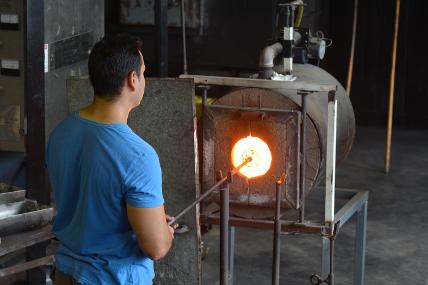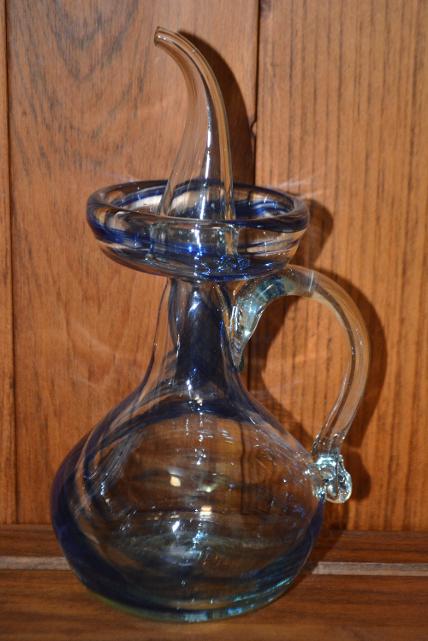 Although we did not have a balcony we did have a very nice sitting room.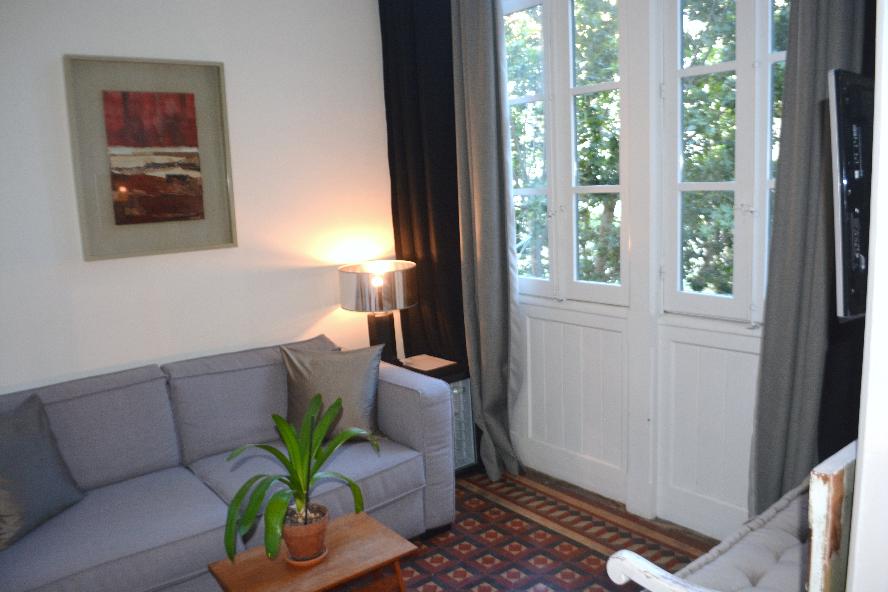 One of the nicest features of the We Boutique Hotel are the beautiful tile floors.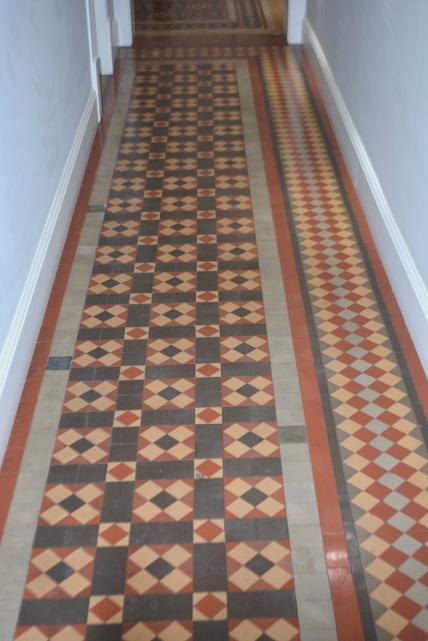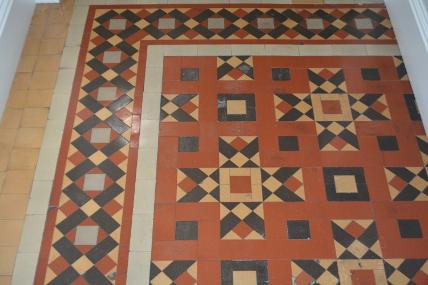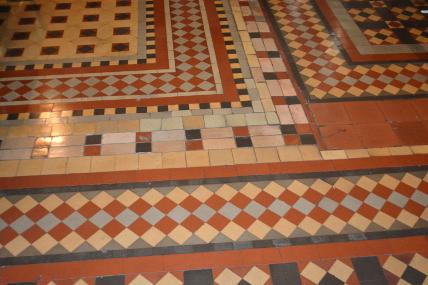 Just a small sampling of the beautiful buildings, most with stone (or marble) balconies that line the generally tree-lined streets / boulevards of central Barcelona.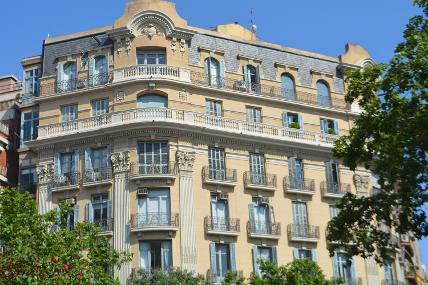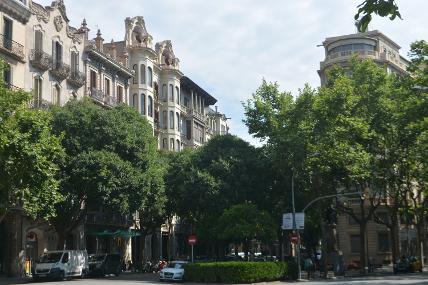 The Barcelona Arc de Triomf.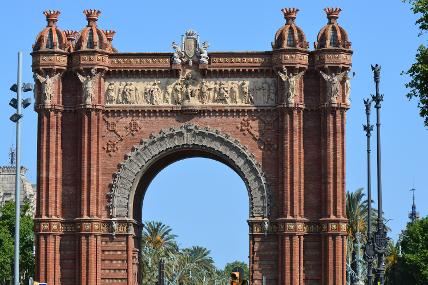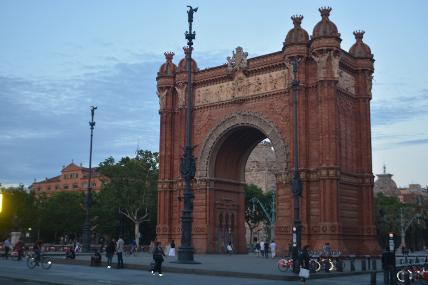 The Born district of Barcelona, just east of our hotel is this maze of narrow alleys - clothes drying; a number of nice small boutique shops and lots of activity.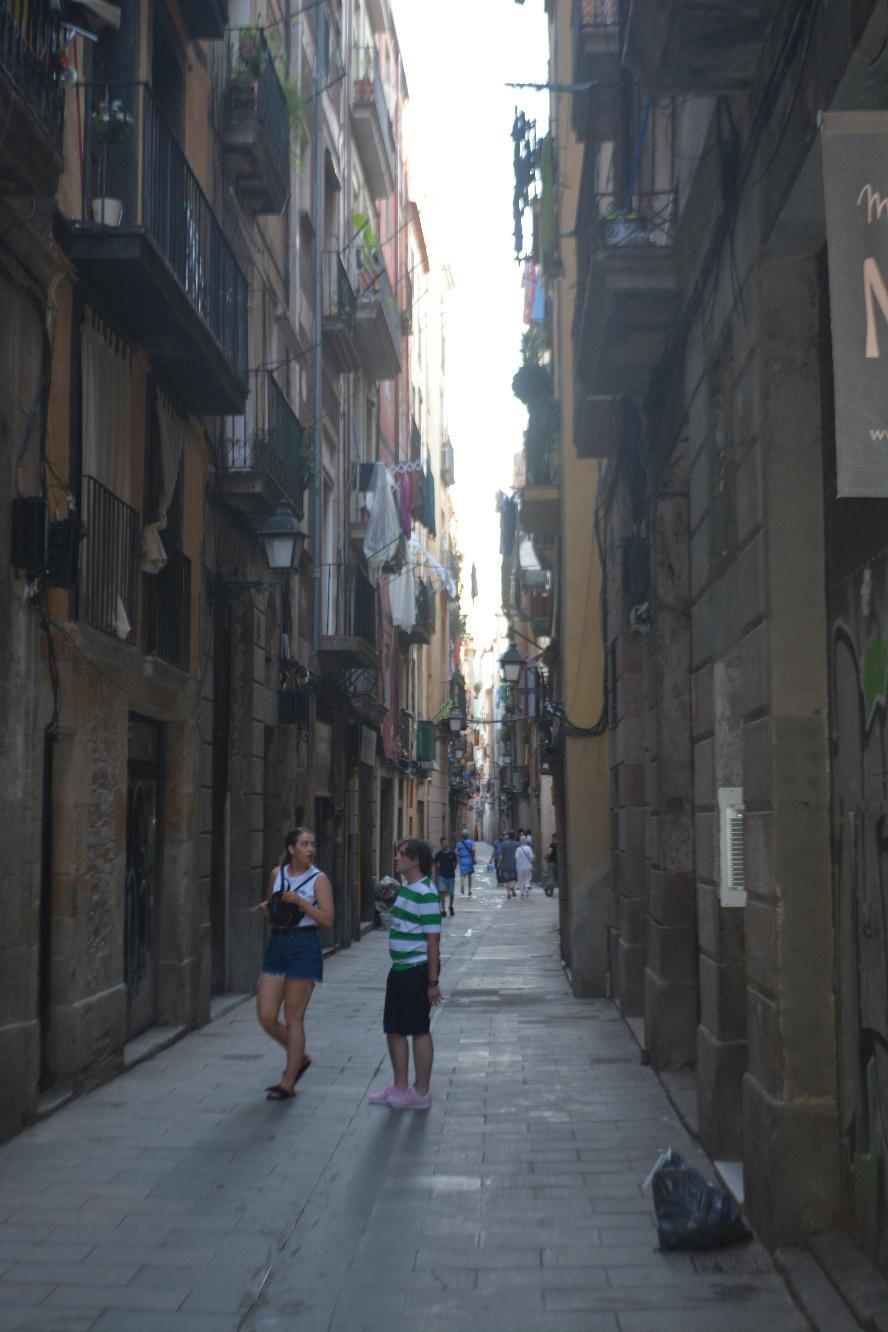 To start a warm goat cheese salad with beet, honey and nuts vinaigrette.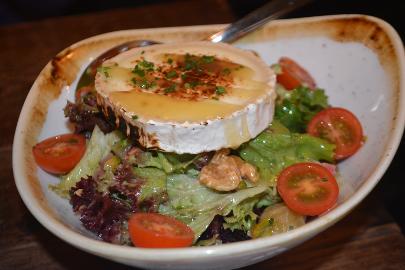 ... and then a freshly made, very moist/creamy Spanish omelette with tomato covered bread.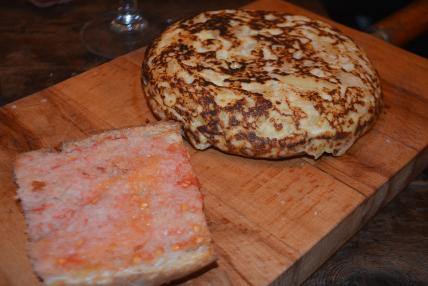 Bar type tapas - small bite size servings - on the left cecina with red pepper chutney and goat cheese and on the right cabrables cheese with sweet peppers. And then an pulpo (octopus) ceviche.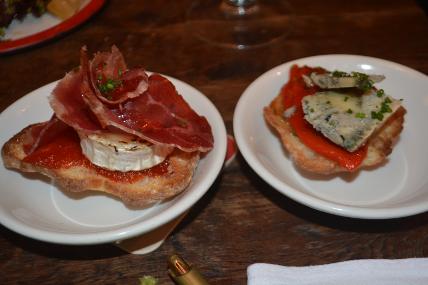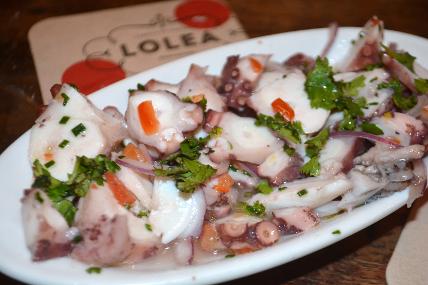 Enjoying the tapas ... and sangria.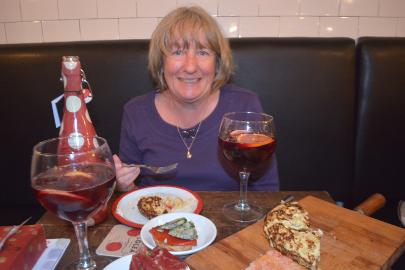 Catalan cream for dessert.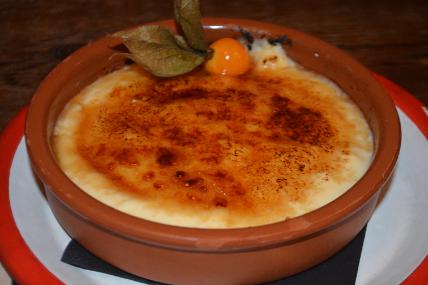 May 29, 2017 - Son Palou, Orient
The morning was much the same as every other morning. Down to breakfast around 9:30 am where we spent an hour plus leisurely enjoying the cereals, excellent breads with garlic and grated tomato, yogurt, meats, bacon (for some of us) and an egg, cheeses, fruit and fresh orange juice. Then back to the room with stops to admire the beautiful countryside followed by some time working on the blog or catching up on news/emails.
When in Mallorca in 2011 we bought this olive oil decanter but unfortunately it was broken. We decided to take a drive to a glass factory to see if we could find a replacement. We didn't get 500 meters out of the village when we encountered these fellows picking cherries. When I stopped to take a few photos one of the fellows gathered up a handful and handed them to me over the fence. Shortly thereafter, while driving the narrow stone walled roads, often slowed by cyclists we came across a flock of sheep. It is less and less frequent that we encounter shepherds but there are still a lot of sheep on the island. We did find a decanter near the village of Campanet but it was too large so we passed on it and returned to Son Palou.
We spent the late afternoon / early evening on our terrace, looking at the mountains, eating the cherries we were given, some crispy potato 'tapas' made with olive oil and a bottle of Spanish Cava we had purchased - can life get any better?
Our favourite red wine is Muga from Rioja. We have visited the winery twice on our journeys to northern Spain. Although not available in Nova Scotia whenever in Ontario or Quebec we buy a number of bottles. Son Palou's wine list included Muga and as this was our last night on Mallorca we decided to go all out. We would have started with a glass of cava but where we just had a bottle we decided to go straight to the wine. As it turned out the Muga we were served was not the regular version but the 'Selection Especial' - clearly justifying the cost ... and it was everything we expected.
Meals here at Son Palou begin with an interesting chef's creation starter. Tonight it was a gelatinized gazpacho - very nice. Gayle then had the Vichyssoise as her first course, presented in a bowl of three quail eggs then with the cream of potatoes and leeks poured by our waiter James. I could not pass up grilled octopus served over a carrot / potato mixture - colourful and, for those like me who like octopus, delicious. Gayle then had a beetroot Capelleti (a pasta) with ricotta cheese, egg yolk and truffle juices - good but nowhere near the smoked aubergines Cannelloni with light boletus/mushroom cream of the previous night - the highlight dish of her trip. To accompany my red wine I had the char-grilled beef tenderloin on a bed of wild mushrooms - simple but nice. We each had a dessert - Gayle the mini chocolate mousse bombs which were quite excellent and me a repeat of the chocolate and hazelnut cream with carob cookie and mandarin ice cream from the first night - which I knew would be excellent.
As we were lingering over the last of our wine, and enjoying the ambiance of a great meal eaten outdoors James brought over chef Yago who is from the Basque area of Spain. It was nice to meet the creator of our memorable meal. By Spanish standards (at least at the cortijos/fincas and restaurants we ate) the meal was somewhat more expensive. While our other meals were also excellent the sophistication and presentation here was a notch above, and after all it is Mallorca where things can be a bit pricier. The meal, including the wine was just under $200. Yet still much less expensive than if in Canada. For example the Muga Especial was 37.75 euros ($59 Cdn). The same bottle in Canada is $39.75 at the (Quebec SAQ) liquour store - double that in a restaurant, add tax and it would be > $90.
The (outdoor) ambiance, the service provided by James, the food, the wine, and meeting chef Yago all made for a memorable last meal in Mallorca.
The village of Orient, with its old stone buildings.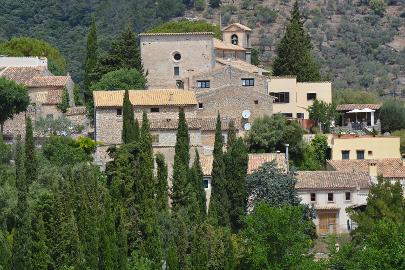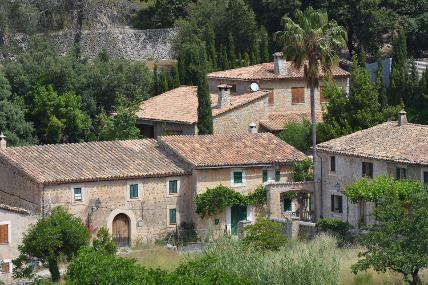 Cherries were in season and being picked. That handful was soon to be ours.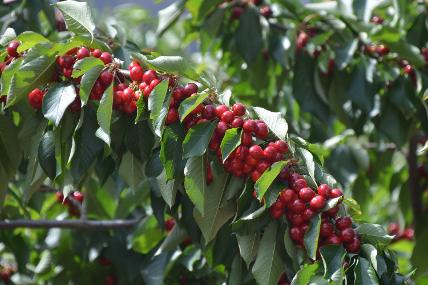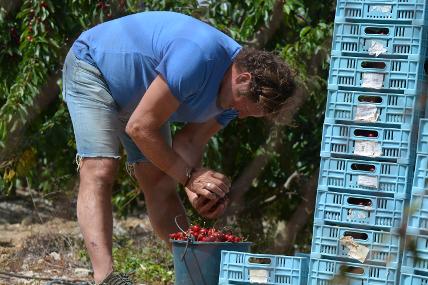 You can't have a trip to Mallorca without coming across sheep (and goats).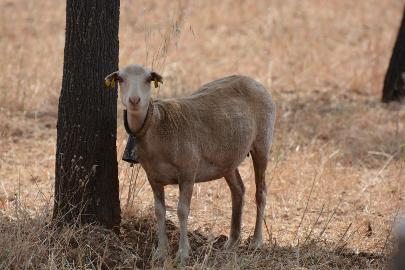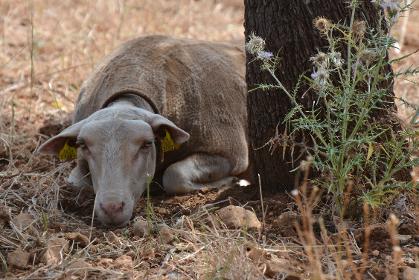 One of Mallorca's many windmills.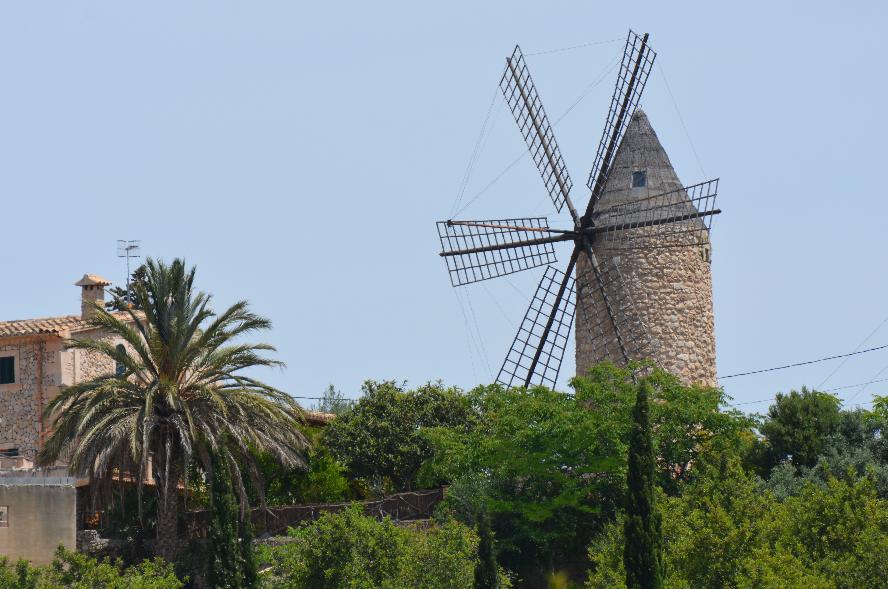 After returning from our drive we enjoyed the cherries we were given along with a bottle of Cava we had purchased while relaxing and reading.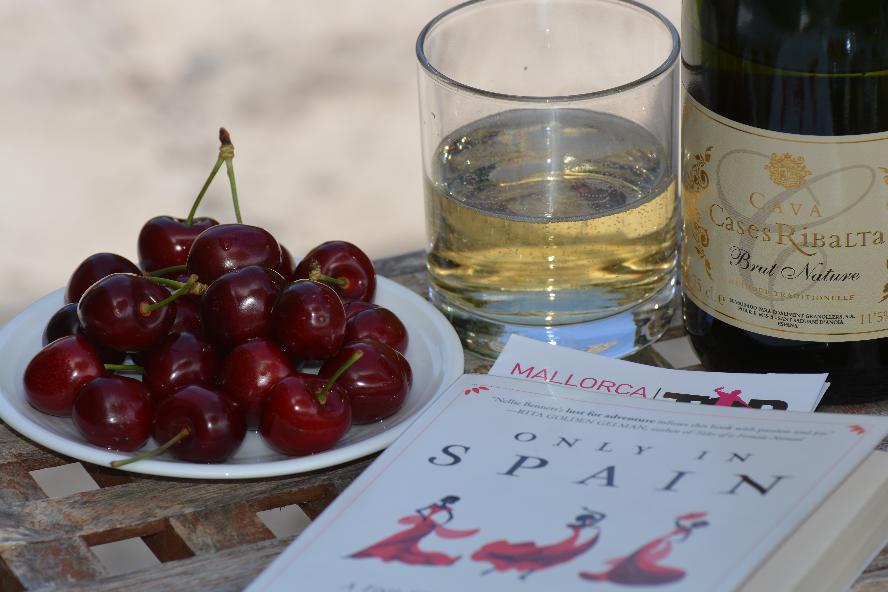 For others this view of the Orient valley from just outside our room may be repetitious but for us it never gets old.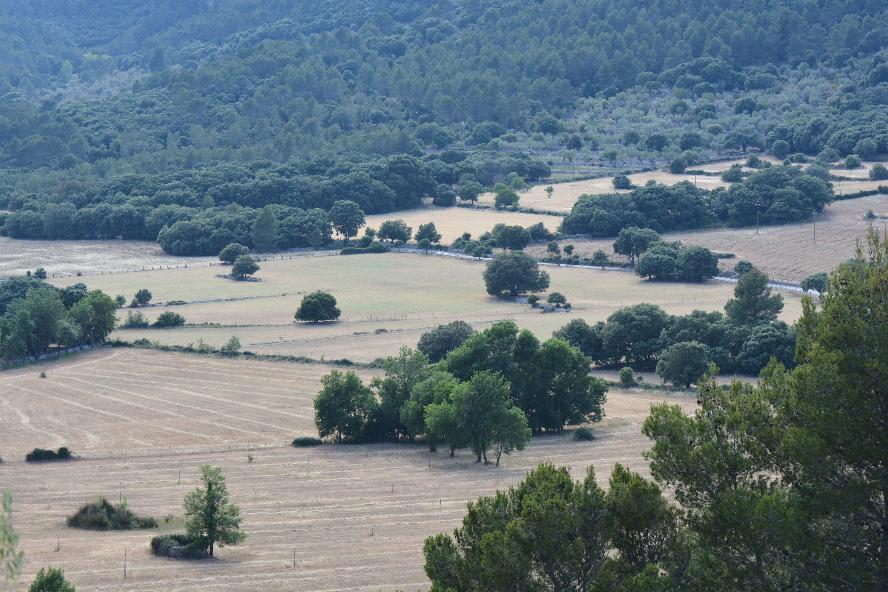 Gayle, in her Spanish dress, clearly looking forward to dinner.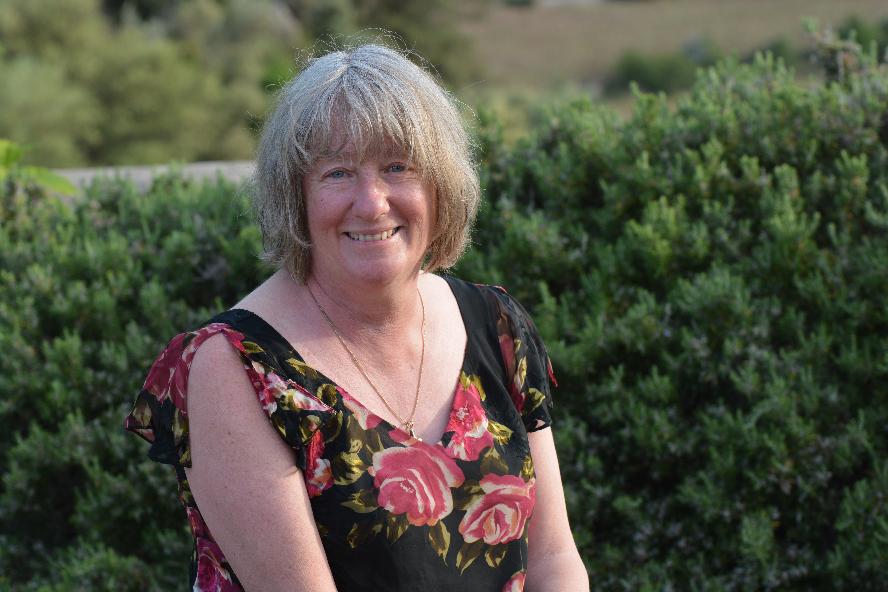 Our favourite wine - Muga.
Our starter of gelatinized gazpacho and my grilled octopus salad with carrot infused potatoes, mahon cheese and paprika dressing.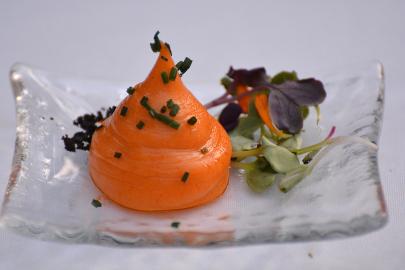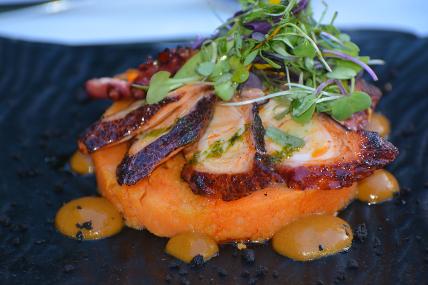 Vichyssoise with the 'pumpkin' yolk of quail eggs and the broth poured by our waiter James.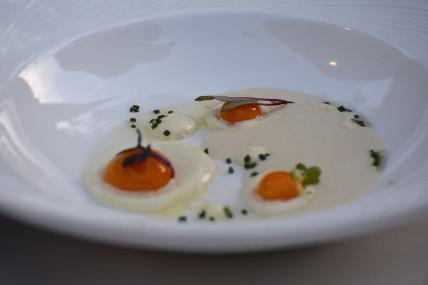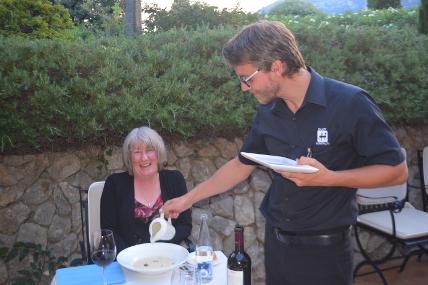 Beetroot Capelleti with ricotta cheese, egg yolk and truffle juices.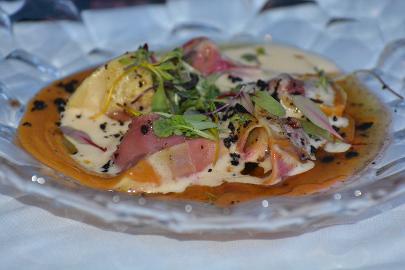 Char-grilled beef tenderloin on a bed of wild mushrooms.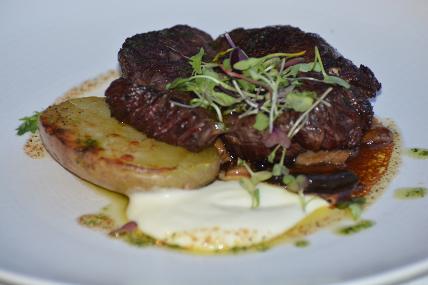 Mini chocolate mouse bombs with ice cream.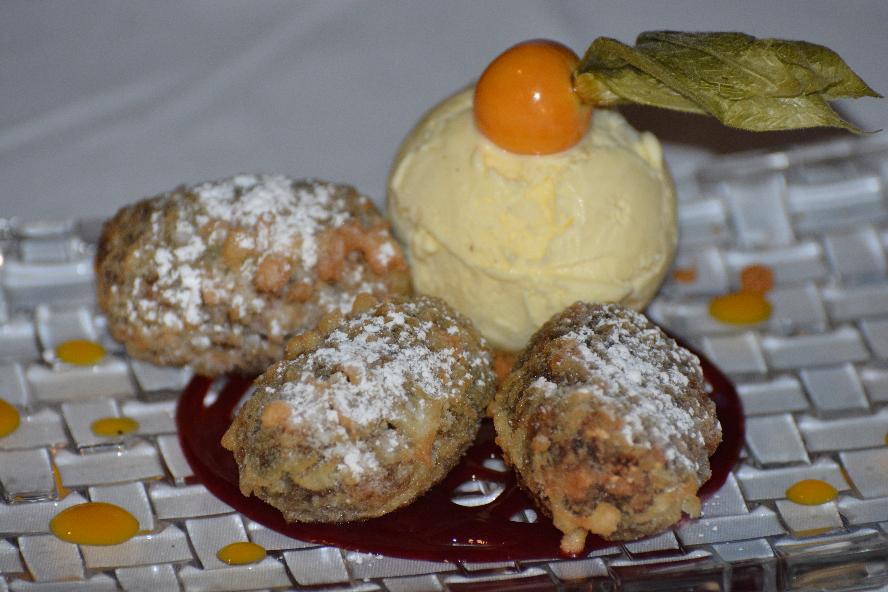 Yago, the Basque chef along with one of his happy customers.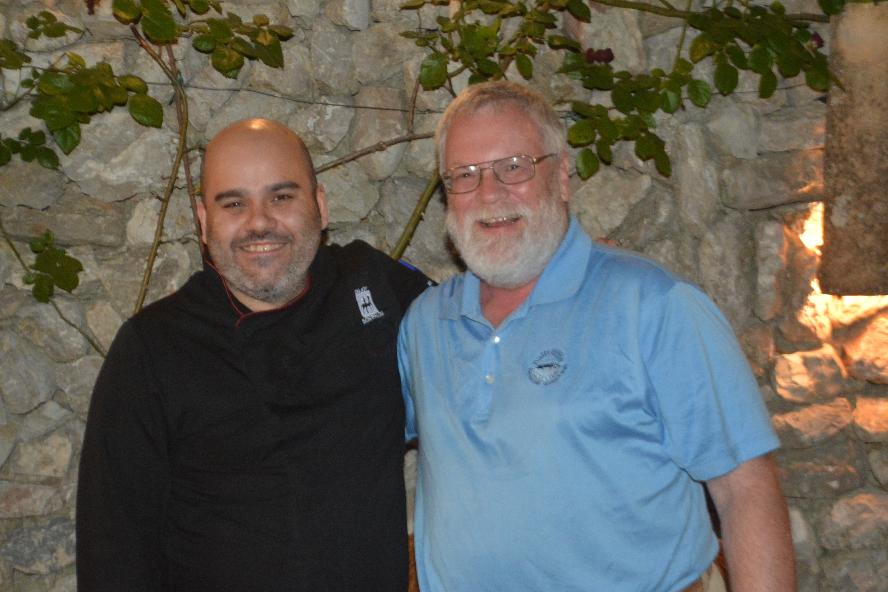 Finishing our wine after dinner at Son Palou.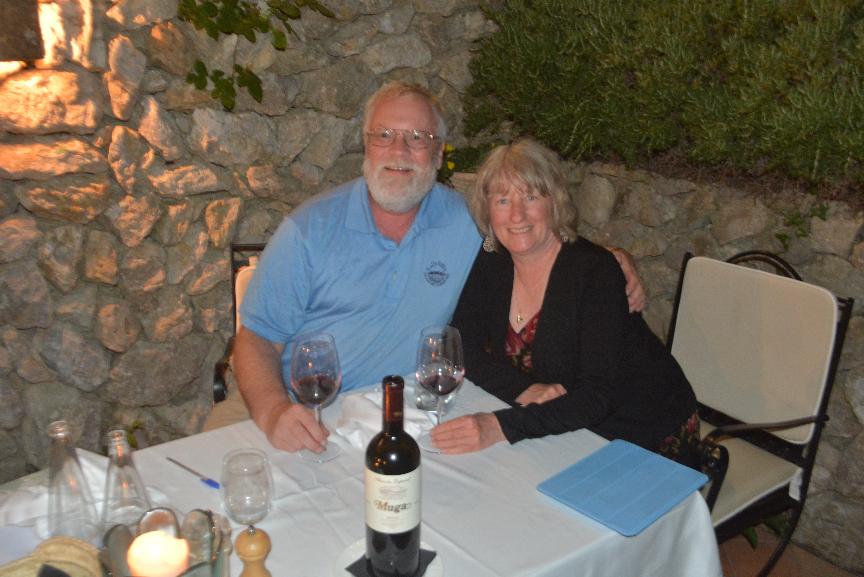 May 28, 2017 - Son Palou, Orient
Son Palou is such a tranquil country estate with a small, quaint accompanying village. Son Palau, situated on a hill covered with green apple trees with a magnificent view along the valley of Orient dates back to the 14th century
Breakfast was once again extensive, enjoyed in a relaxed environment amongst the stone walls and pots of colourful flowers. After breakfast we wandered through the gate to the adjacent village , surrounded by mountains on all sides. The settlement in the Orient valley dates back to the talayotic (?) age with the first written reference being traces to 1233 when it is mentioned as "Aurient". The parish church dedicated to Saint George is in the centre of the village among narrow little streets and stone houses. In spite of having a population of < 30 the village has two hotels and four restaurants, serving a large hiking and cycling clientele. One interesting observation was that most every building in the village had dried flowers on their doors, we assume remaining from Easter. We circled down along the road and then back to Son Palou.
One of our fondest memories of our previous visit was enjoying a pitcher of sangria on the well manicured front lawn. As the sangria takes an hour to prepare as the fruit needs to soak in the sangria - one needs to be patient for quality - we took a swim in the pool given today was another nice sunny hot (high 20s) day. We found a spot on the lawn, Olga brought us our sangria, and like back in 2011 we enjoyed a wonderful couple of hours sipping our refreshing drinks in the sun on the lawn of Son Palou.
Dinner was again memorable, particularly for Gayle who choose very well, enjoying one of the best dishes she recalls in the last number of years (and the bite I had confirmed her assessment). It was a smoked aubergines Cannelloni in a light boletus (mushroom) cream. Unbelievably well presented and simply delicious. I had the rack of mallorcan sucking pig ribs with 'ratatumbet' vegetables. Like the tumbet at Muleta, and similar to ratatouille and Catalan samfaina, there were sliced potatoes, aubergines and red bell peppers all fried in olive oil, topped with garlic and parsley. Good but nothing compared to Gayle's Cannelloni. Dessert was a light almond soufflé with orange ice cream. Beyond the food and ambiance what made the meal particularly enjoyable was the wonderful Spanish music being played. Perfect
Enjoying another Spanish / Mallorcan breakfast.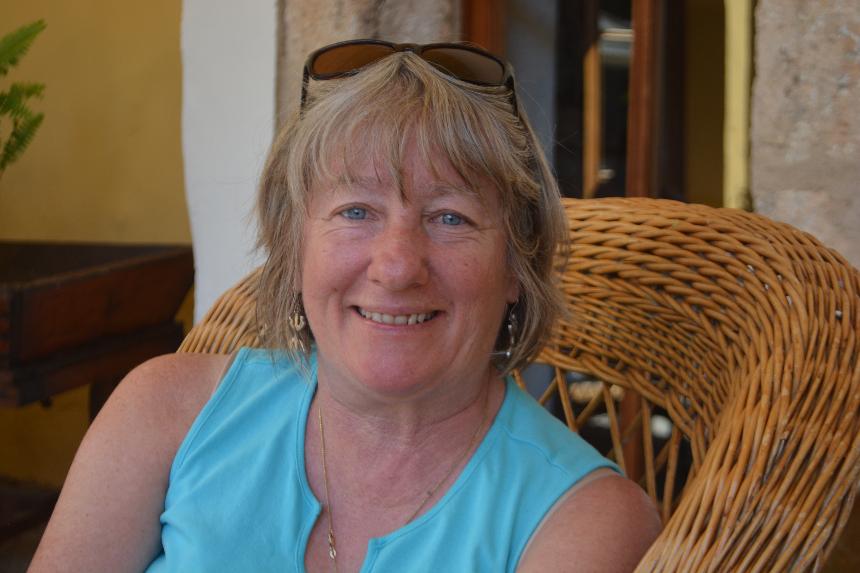 The small village of Orient, in which many building had these dried flowers.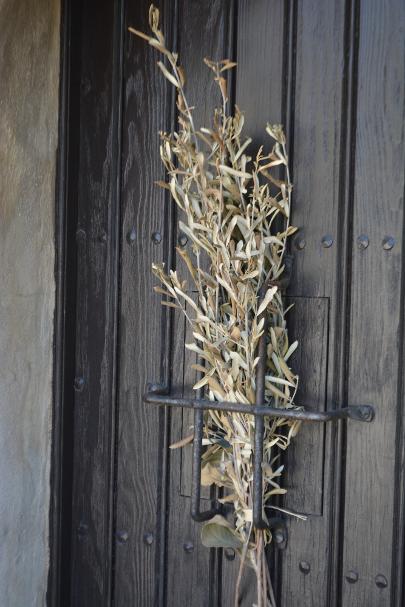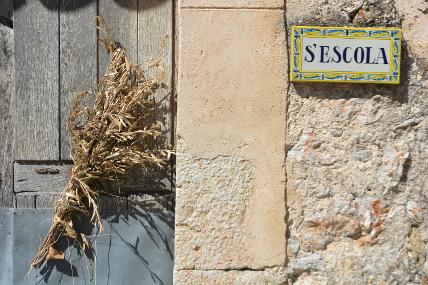 The pool overlooking the valley and the olive groves and mountains behind our room.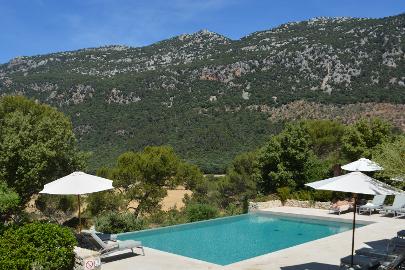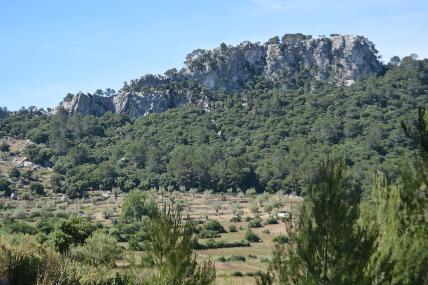 Cherries on a tree on the property and a pot of flowers in the outdoor breakfast area.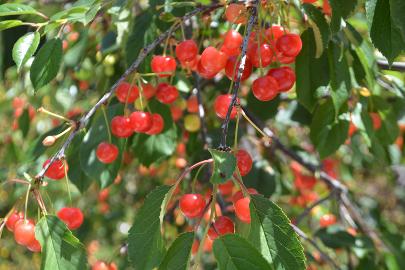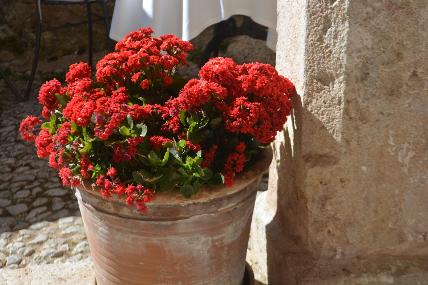 Our pitcher of Sangria enjoyed on the front lawn.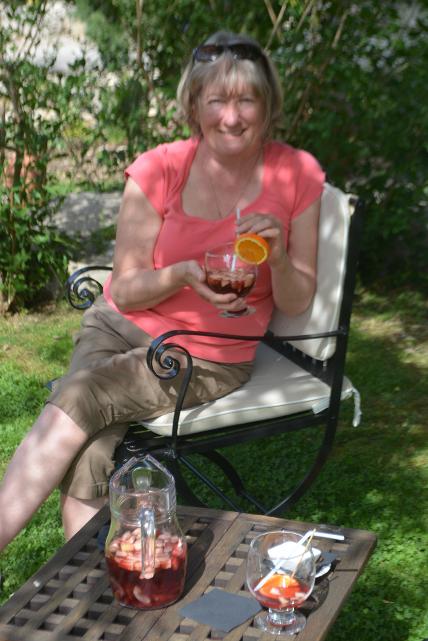 The beautiful stone table and building that is Son Palou.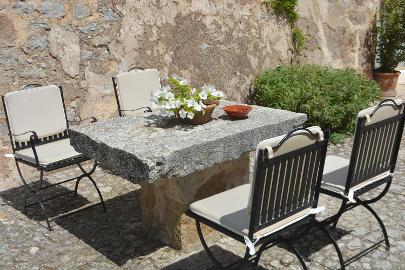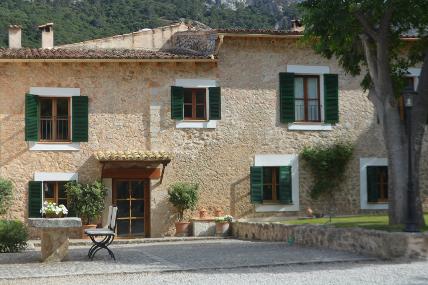 The valley below our room and Gayle enjoying a glass of wine before dinner.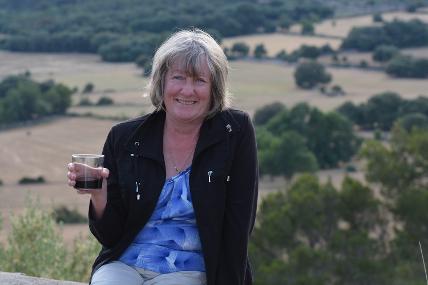 A tasty appetizer of peas (mine with ham) and my rack of mallorcan suckling pig ribs with 'ratatumbet' vegetables.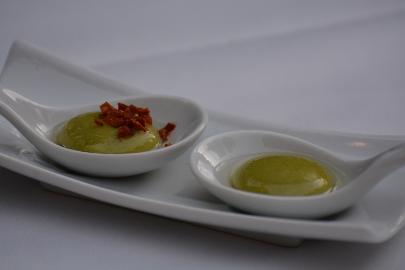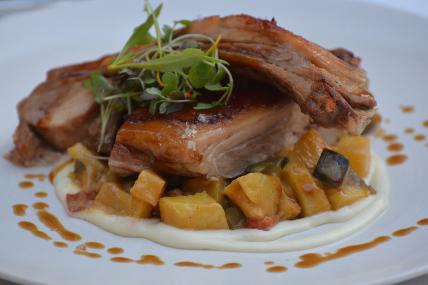 Gayle's 'dish of the year' was smoked aubergines Cannelloni with light boletus cream.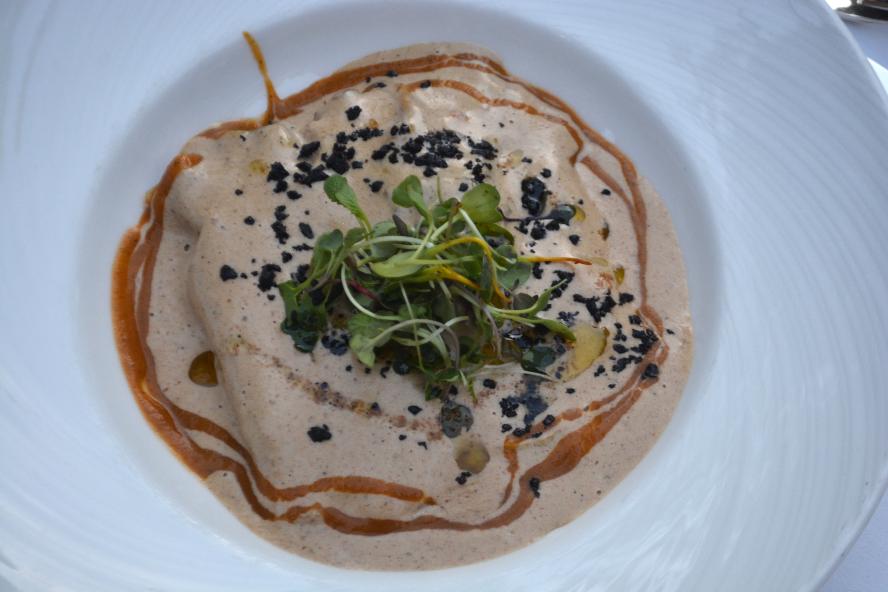 Dessert tonight was an almond soufflé with orange ice cream.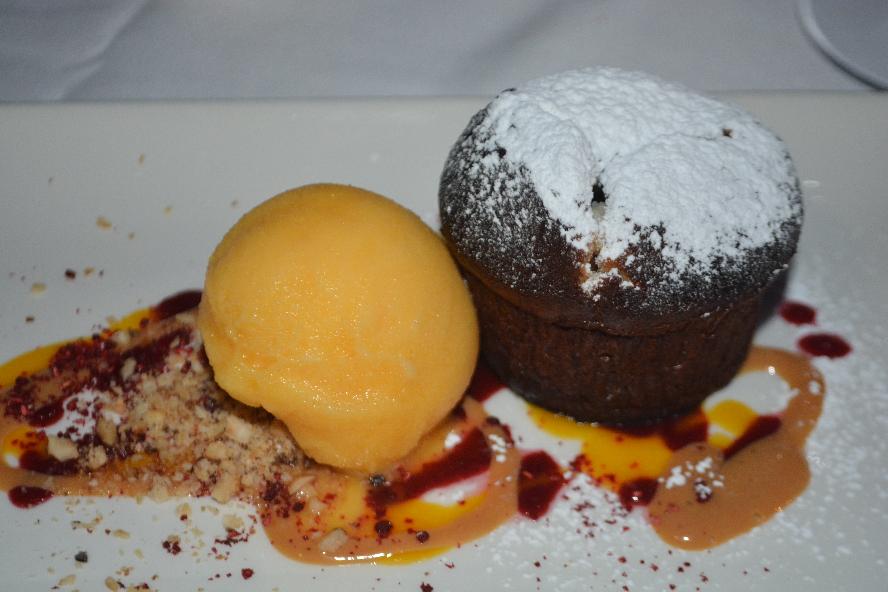 May 27, 2017 - Muleta de Ca S'Hereu, Port Soler to Son Palou, Orient
Three wonderful days at Muleta de Ca S'Hereu Muleta´s but it is time to leave. However before doing so a little info on the property. The island of Mallorca was split into 12 states at the times of the christian conquest of the island by the troops of King Jaime I (1229). The Muleta state was part of a settlement called Castelló. The original Muleta was divided into three properties at the end of the 17th century, of which Muleta de Ca S´Hereu was one, dedicated to the growing of olive trees and therefore to oil production. The houses in the property are placed on the top of a mountain from which the sea, the valley and the port of Sóller are seen; they were built at different stages with the hall and bedrooms dating from 1672. The tafona, used to produce the olive oil until the 1980s has been preserved into a small museum. What especially impressed us about Muleta are the very old, very gnarly, very interesting olive trees all around the property.
We wound our way down the mountain one last time and stopped shortly thereafter in Soller where the Saturday marked was happening. The walk into the centre of the small town (population 14,000) took us through some nice narrow alleyways, to the market in the centre. A standard small-town market with lots of food (fruit, vegetables, meat, cheese, fish, bread etc.), clothing, jewellery, crafts etc. Soller is connected to Palma by an historic train, and the port of Port Soller by the popular tram. We are continually amazed at the church's throughout Europe. Here in this small town (population only 14,000) just off the Placa is the church of Sant Bartomeu whose original building dating from some time before 1236 and the largely baroque interior from 1688 to 1733. It constantly amazes us that churches of this proportion were ever built (let alone how they were built) in such small out of the way villages.
After leaving Soller we again drove along the beautiful (especially on a nice sunny warm day) north coast of Mallorca back to Valldamossa where we stopped to wander through the village. A magnet that attracts many tour groups it is none-the-less an attractive village well worth the stop. We then circled back east to the Orient valley, and Son Palou, a country hotel in the small village of Orient. The drive from Bunyola is interesting with the See Mallorca website writing:
"Nervous drivers should take care when tackling the road to Orient from Bunyola, with bends at alarming angles and little in the way of barriers to stop you tumbling deep into the countryside. But those who make it to this village are rewarded with the marvellous sight of this tiny hamlet. With a population of less than 30, Orient nestles among olive trees at the foot of Puig d'Alfabia. Orient is popular with walkers and cyclists."
I drove the road and we survived, although one needs to be very attentive of the numerous cyclists.
We had stayed at Son Palou for our four nights in Mallorca in 2011, where we appreciated the rural tranquility and the excellent food. In fact the food was so good we ate all four dinners at Son Palou. We were both looking forward to returning to a place we so much enjoyed but at the same time were somewhat apprehensive as to whether it would fulfil our memories, particularly given the cost had increased to 275 euros per night (for a junior suite with terrace, although a standard room - no terrace - can be had for 175 euros). That said, based on the number of guests around and those at dinner and breakfast the hotel (14 rooms) seemed to be full - mostly English and German.
We were happy with the room we chose - very private with a nice terrace and view of the mountains. Dinner, like Son Palou itself was relatively expensive, at least compared to what we had been paying. However we don't mind paying the euros for quality, and the food here is excellent quality. With the weather being nice we ate outside (as we did all three nights) - candlelight on a warm Mallorcan evening - perfect. Gayle enjoyed a very tasty stewed rice dish while I had Moroccan lamb over tabouli and vegetable tagine. We split a superb dessert of chocolate and hazelnut cream with carob cookie crumbles and mandarin ice cream. The food was every bit as wonderful as we remembered. We were glad to have returned.
It really never gets old waking up, opening the window and having this as the first thing one sees.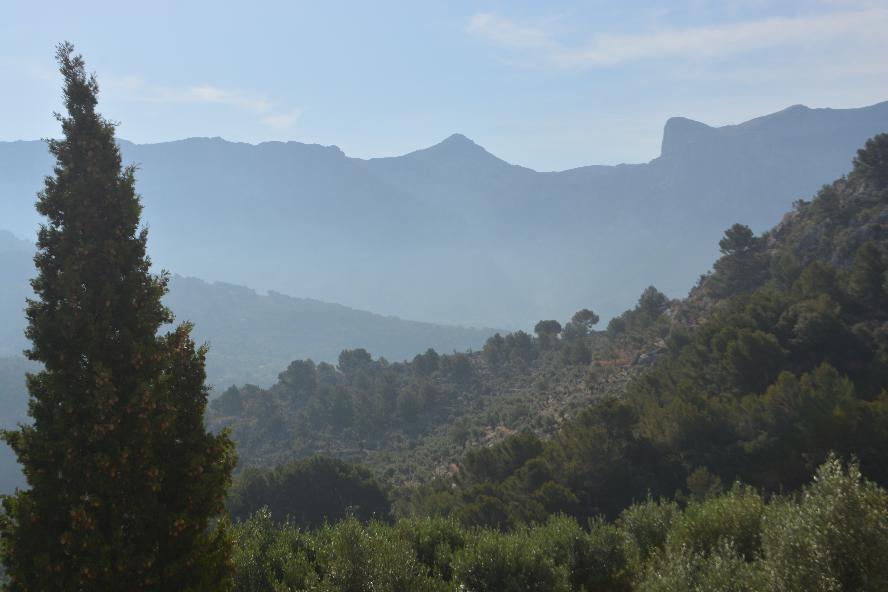 Old pots, old olive trees - just some of the sights around Muleta de Ca S'Hereu.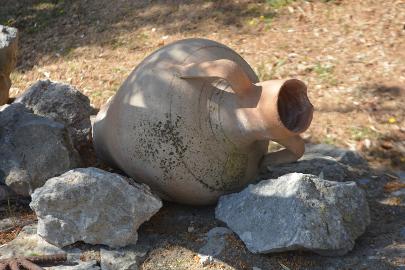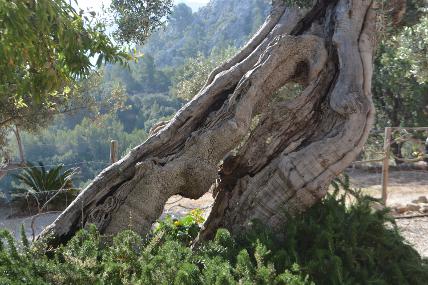 Some of the narrow stone streets of Soller.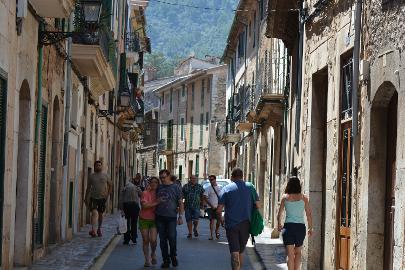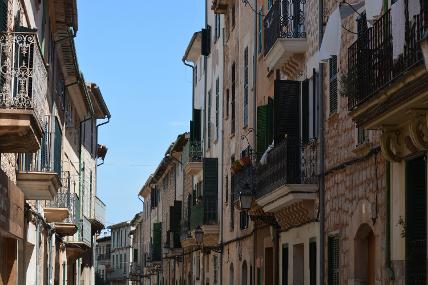 The Saturday market in Soller - bread, nuts, vegetables, and fruit ... and that's only a very small portion of the food.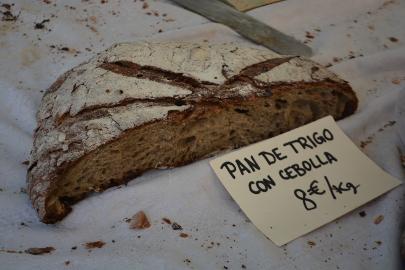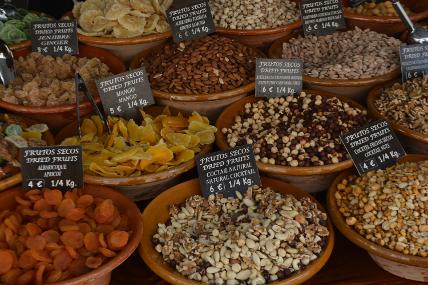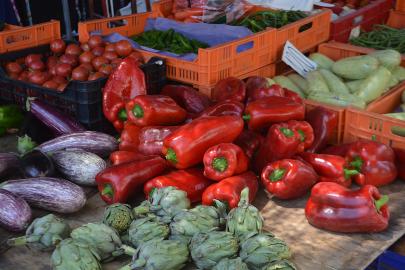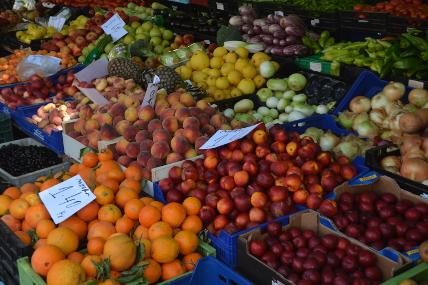 Sant Bartomeu church in Soller.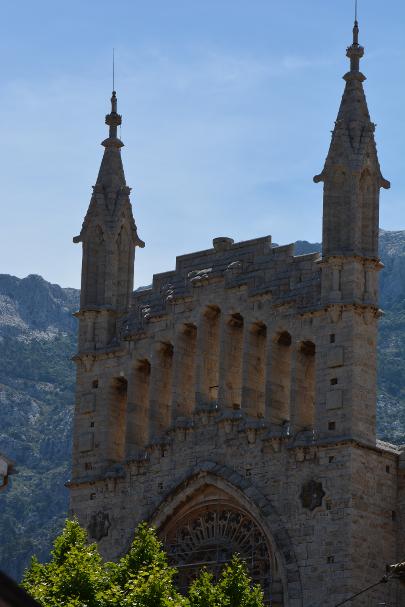 Our last views of the blue Mediterranean through attractive stone resorts / homes and olive groves.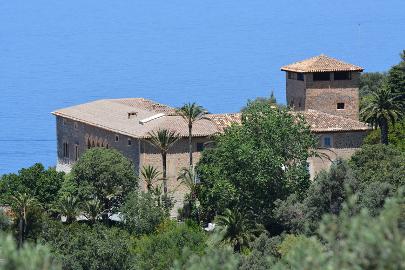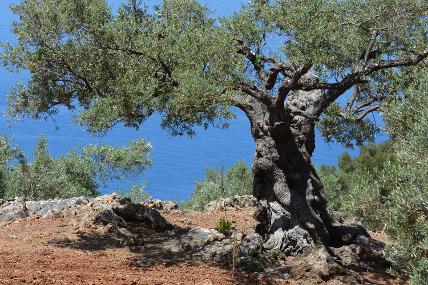 The green tiled church of Valldamossa along with flowers brightening a window.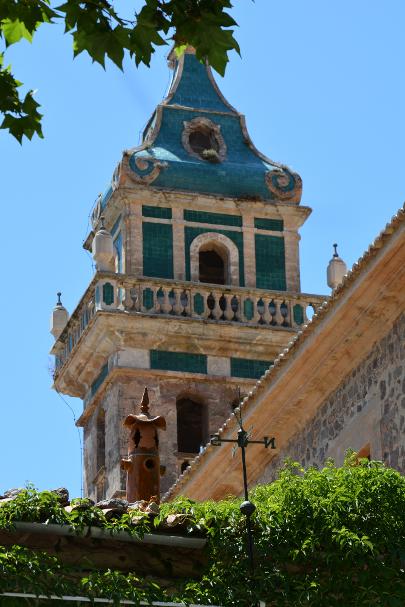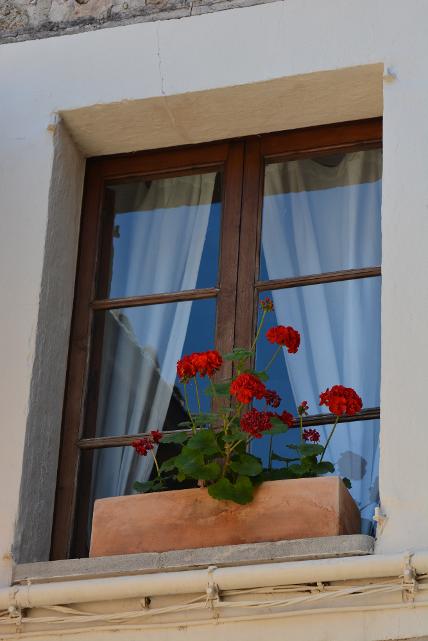 Looking out over the valley and the golden fields at sunset and the outdoor dining tables.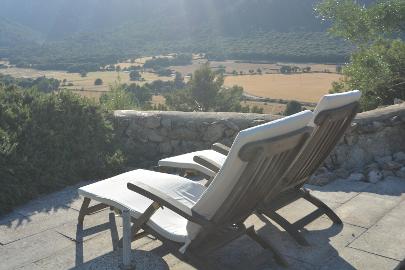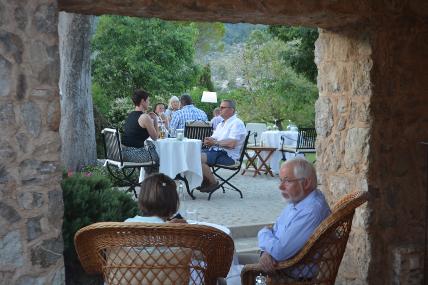 Stewed rice with Mediterranean's vegetables with a flavour of toasted black garlic.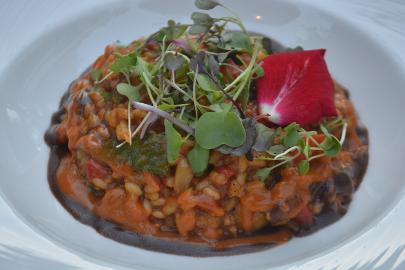 Confitted off the bone lamb in moroccan style with tabouli and vegetables tagine.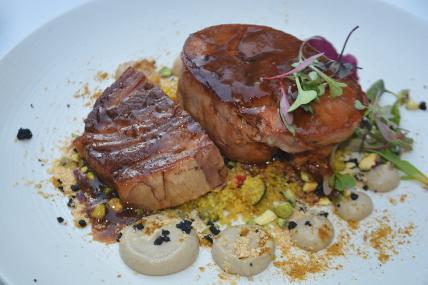 Dessert - chocolate and hazelnut cream with mallorquin's carob cookie crumbles and mandarin ice cream - both delicious and very photogenic.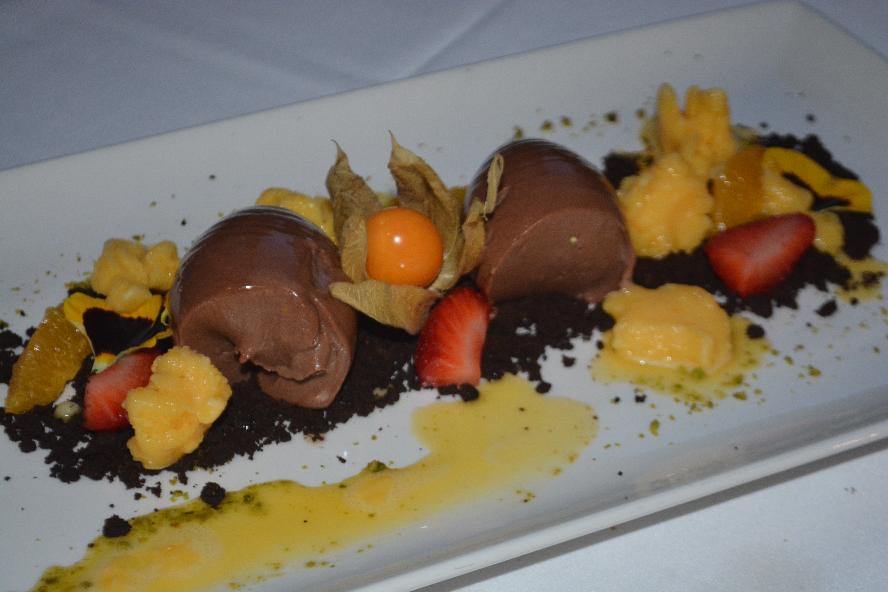 May 26, 2017 - Port Soller and Muleta de Ca S'Hereu
After another wonderful breakfast amongst the olive groves with some nice photos taken of Michele/Thor and Gayle/me we braved the 'road' down to the port. A couple of times we had to back up but we made it unscathed. Even Thor, an experienced European driver who no doubt has driven many interesting roads in the Alps and his native Norway said this one has its challenges.
The Port of Soller was actually quite pleasant to stroll through. A moon shaped harbour of sand and sunbathers is bordered by a number of hotels, restaurants and shops. There is a tram that runs the four kms or so between Port Soller and Soller that was heavily used. Before leaving we had a couple of ice creams, which were unfortunately a bit disappointing. We then ascended the 'road' back to Muleta where we spent the afternoon taking a 'very' short walk along the hiking trail above Muleta (more for the photos than for the walking) followed by a nap and some reading / trog updates. A most enjoyable afternoon in another hot (high 20s) sunny spring day.
Dinner was again excellent, especially given the three courses were only 22 euros. We each started with a white asparagus salad after which Gayle had a Mallorcan vegetarian dish known asj tumbet - potatoes, red peppers, aubergine and tomatoes covered with a thick tomato sauce. I had duck in a delicious orange sauce - at least it was presented as duck, and I thought it was duck but Thor was not convinced. I explained that Mallorcan duck might be somewhat different than Norewegian duck but he didn't seem convinced. However we did share a number of laughs. Michele, like Gayle, is a vegetarian so neither could offer their wisdom. Dessert was a tasty roasted apple cake, with the meal accompanied by a bottle of local Mallorcan red wine from nearby Binissalem. Another nice evening enjoying a nice meal in a nice setting chatting with a nice couple - thoroughly enjoyable.
Thor took this nice photo of us enjoying breakfast.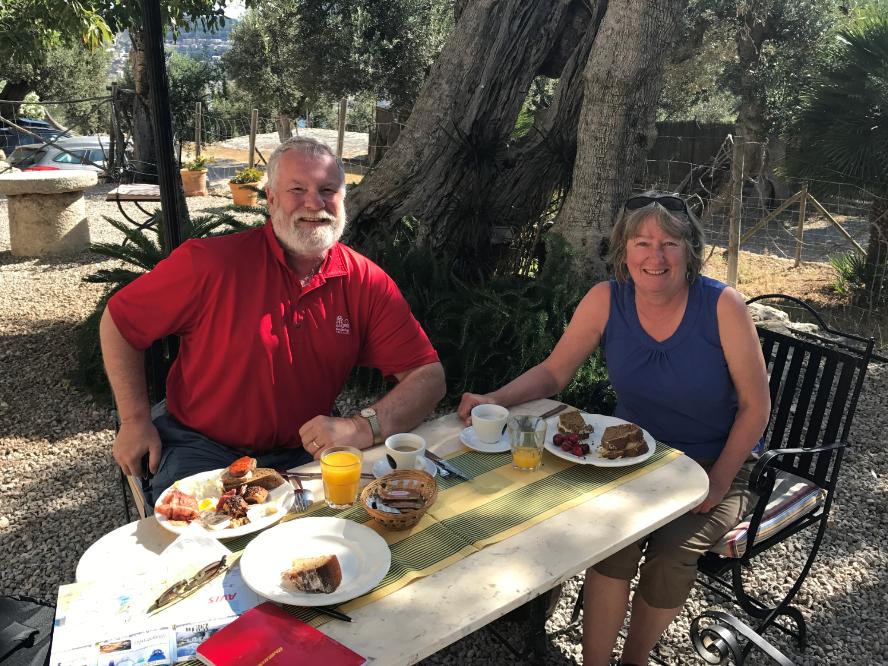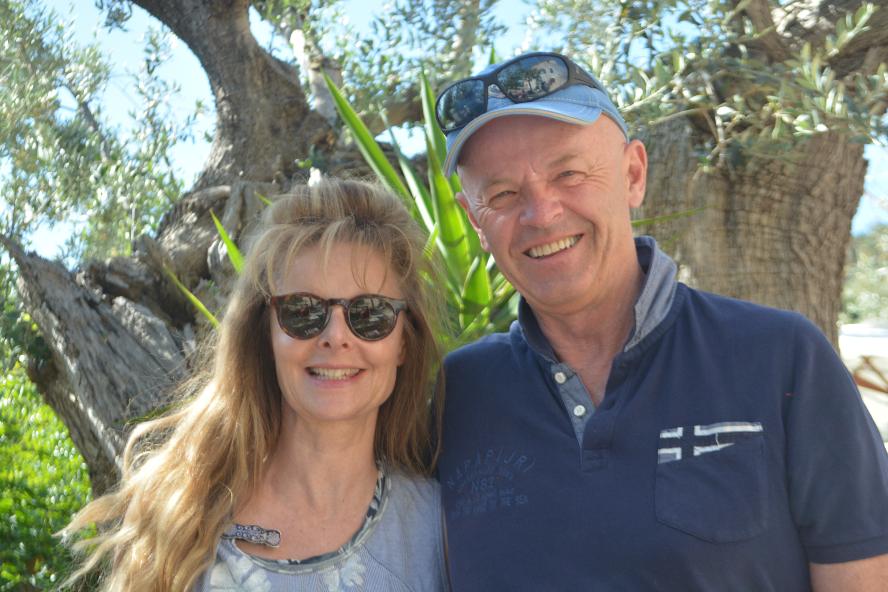 The very popular tram that runs between Soller and Port Soller and the crescent beach, bordered by restaurants and shops provided for a nice stroll.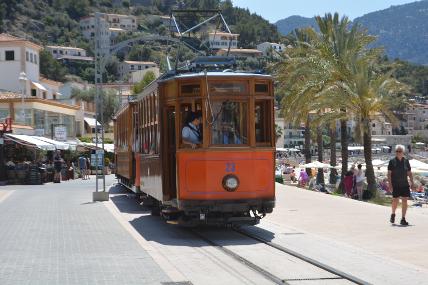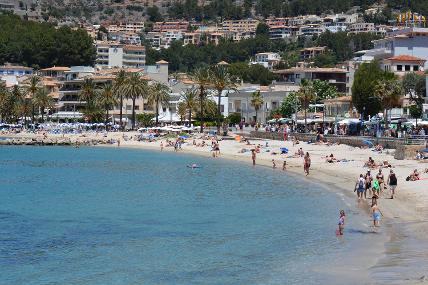 To call this a 'road' would be a considerable exaggeration. A 1.2 km gravel lane switching back and forth up the side of the mountain, requiring constant attention and care.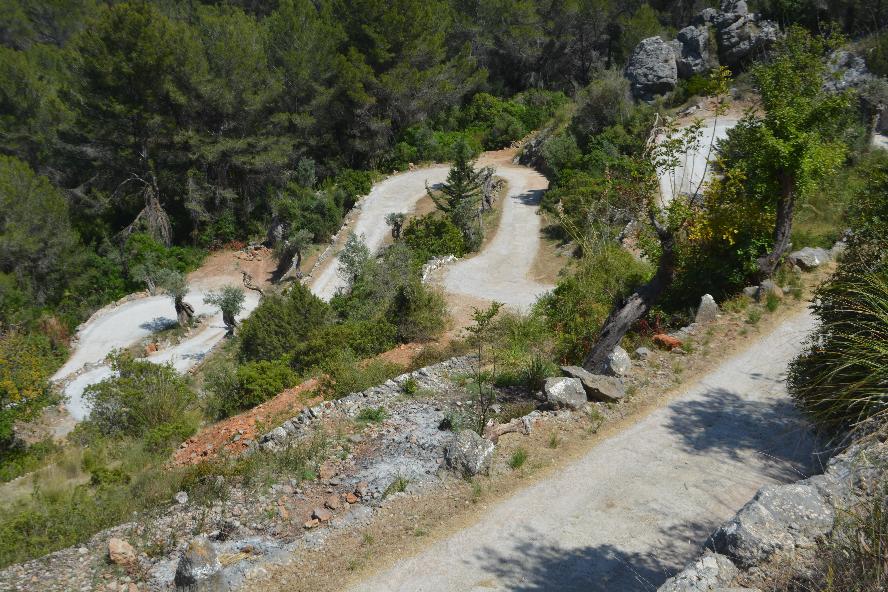 Our room had these huge windows - two on each of three sides - providing great views of the olive trees, the mountains and the harbour.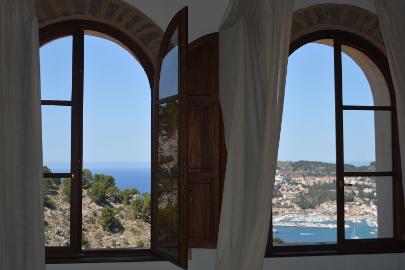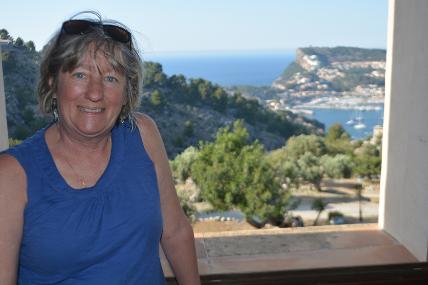 The Serra de Tramuntana that that crosses the north of Mallorca and surrounds Port Soller.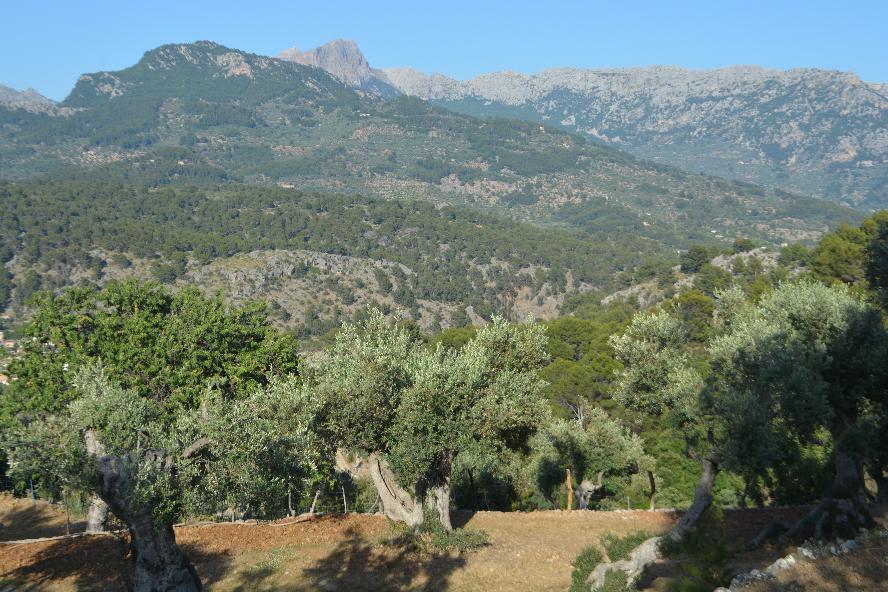 The north coast of Mallorca has an abundance of very old and interesting olive trees.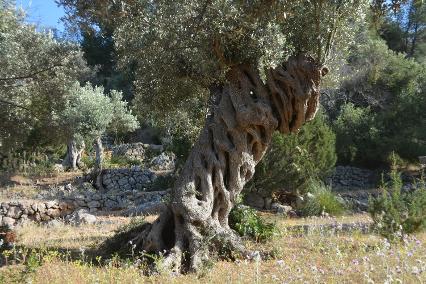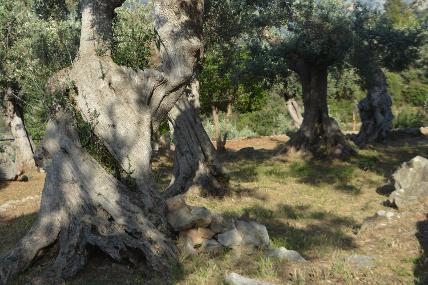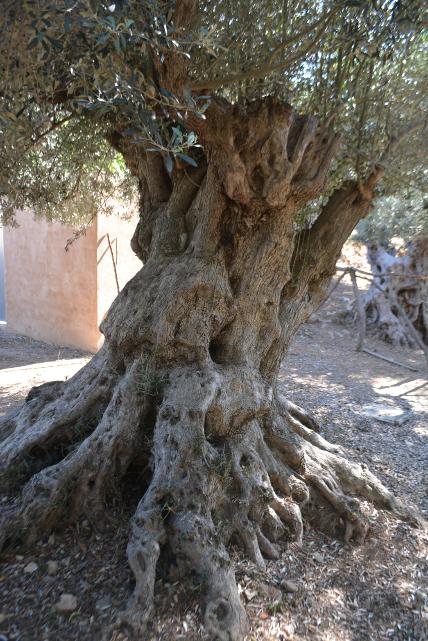 Many come to Mallorca and Muleta de Ca S'Hereu to hike the many trails through stone walls lining hiking paths, all with great vistas. Some walk more (the Norwegians and Swiss) while some walk less (Norm and Gayle).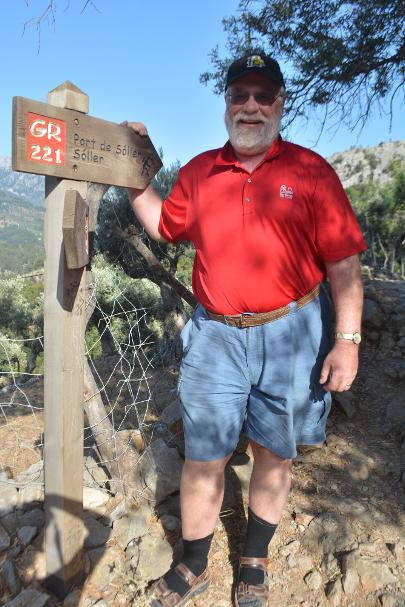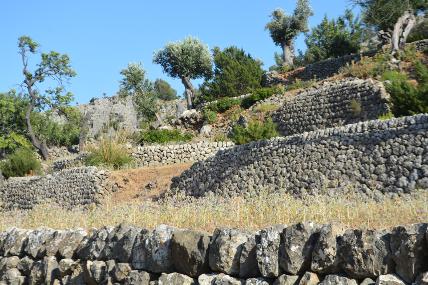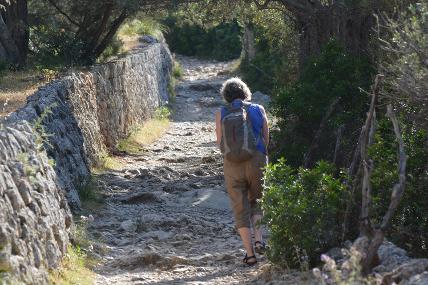 Muleta de Ca S'Hereu has a nice little olive oil museum on site.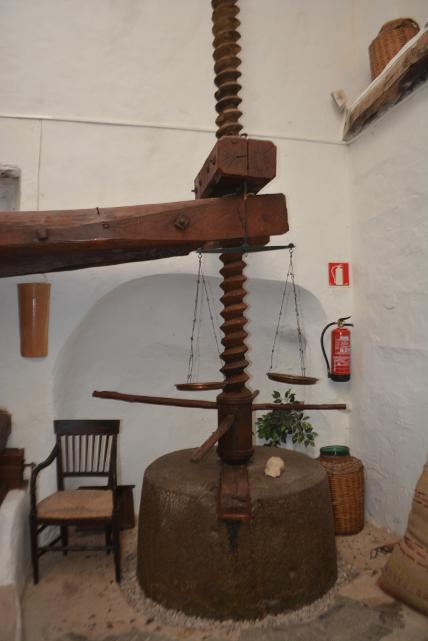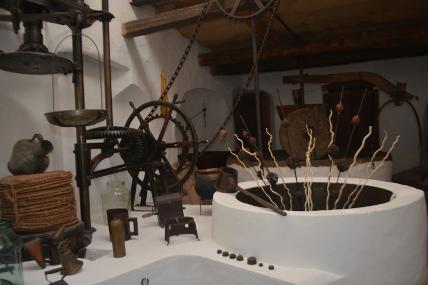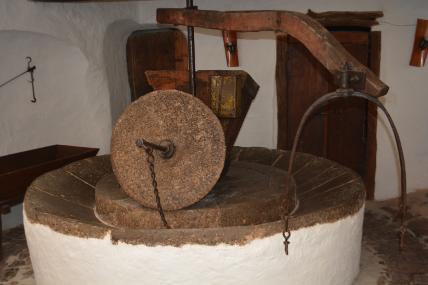 A nice white asparagus salad and the local tumbet - potatoes, aubergine and other vegetables smothered in sauce - perfect for Gayle.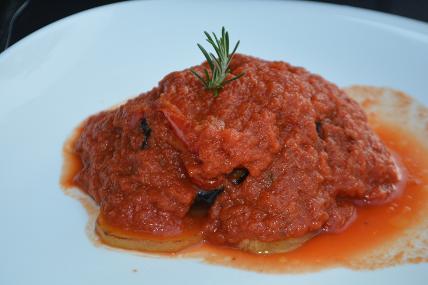 The duck smothered in orange sauce and apple cake for dessert.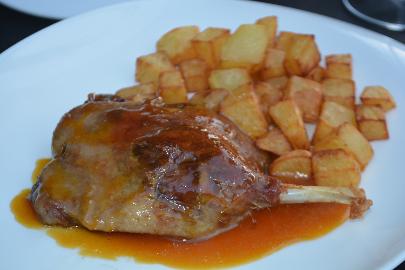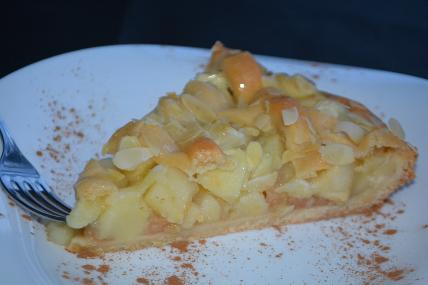 Port Soller at night from our window / room at Muleta de Ca S'Hereu.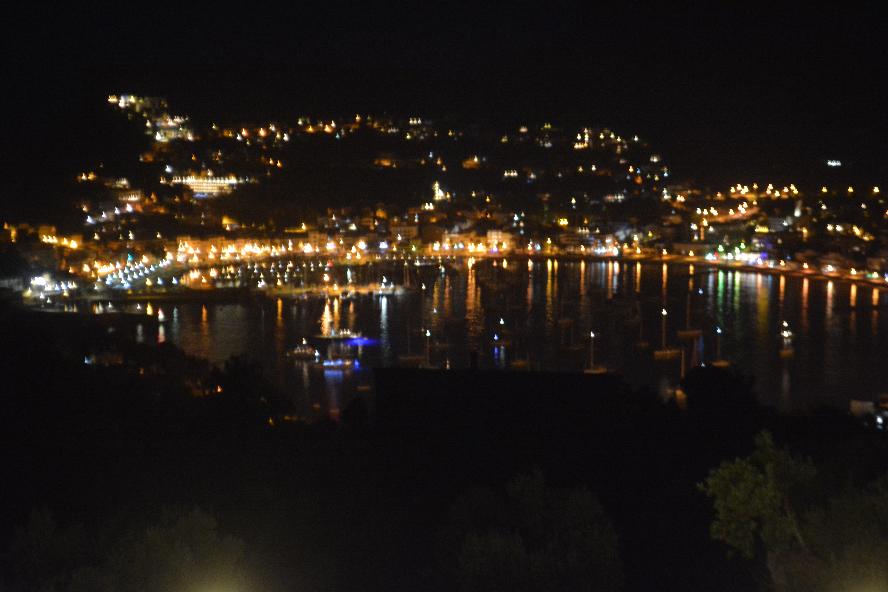 May 25, 2017 - Muleta de Ca S'Hereu
Today the car did not move. With a 'road' not particularly welcoming to descending or ascending we decided to stay put. We enjoyed a great breakfast, again outdoors, had a swim in the pool, had a pitcher of sangria, relaxed on the comfortable seating amongst the olive trees, enjoyed the vistas to the mountains and down to the sea, and napped. Others may have gone for invigorating walks (yes that's you Thor and Michele) but we lived up to our 'sloths on vacation' mantra by lazing around and doing pretty much nothing.
Speaking of Thor and Michele, we met this really nice couple from Zermatt, Switzerland, Michele and Thor (originally from Norway). They were at Muleta the same three nights as us. Thor endured my passion for crosswalk flags which makes him A ok. Michele is also a vegetarian which made it easy to connect with Gayle. We enjoyed some great laughs and shared some stories.
Dinner was again wonderful outside with the setting sun. My meal started with a plate of gambas cooked in garlic and olive oil while Gayle had a tomato salad. We then both had paella, Gayle a vegetarian version which she so much appreciated and me a mixta (fish and meat). There is something that seems so appropriate to having paella when in Spain. A nice light flan finished the meal.
A quite, relaxing and absolutely wonderful day.
The view out to the sea from our breakfast table.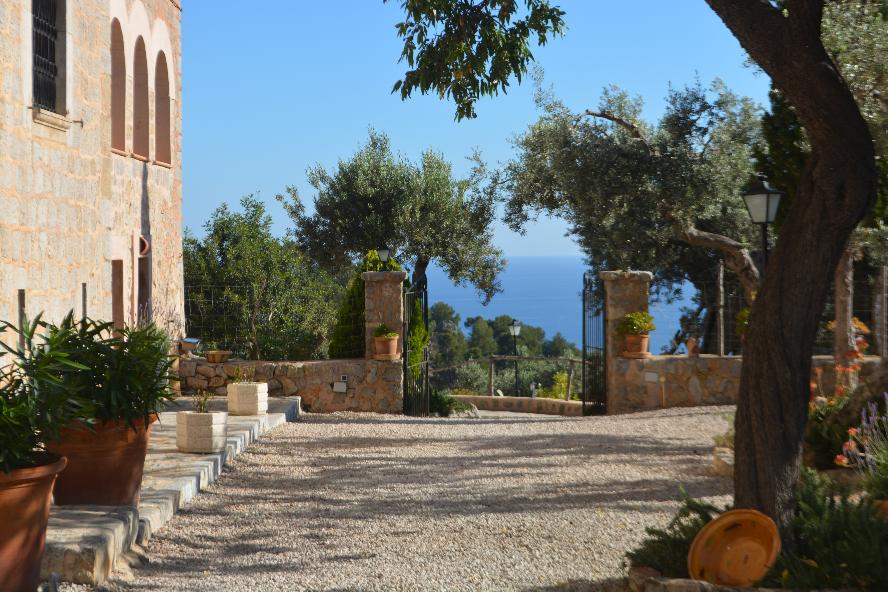 Lavender and another breakfast of meat, cheese, 'mountain' bread and fresh fruit and juice.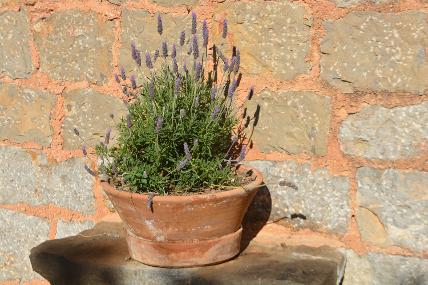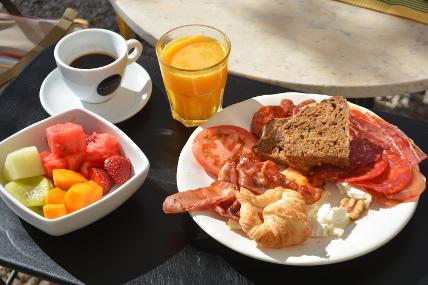 A pitcher of sangria and an afternoon of relaxation - the perfect vacation.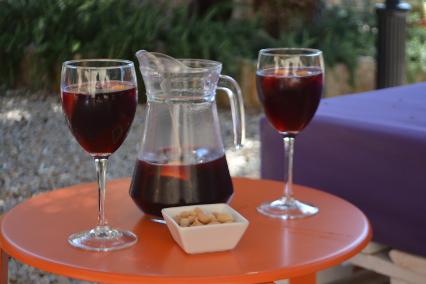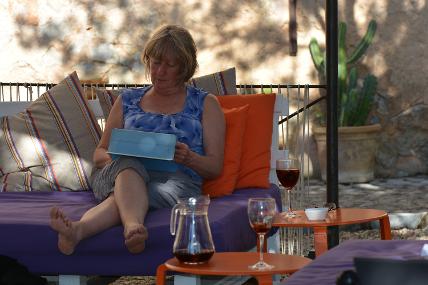 More gnarly olive trees and adjacent to the property are a few sheep and this donkey.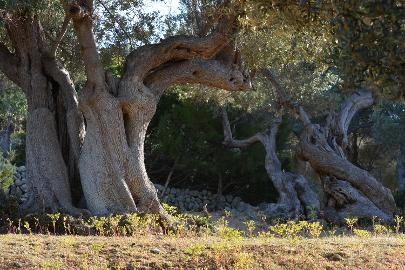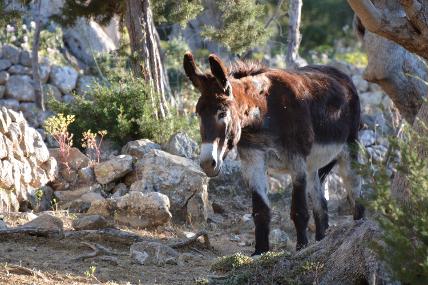 Dinner is served outdoors with the setting sun.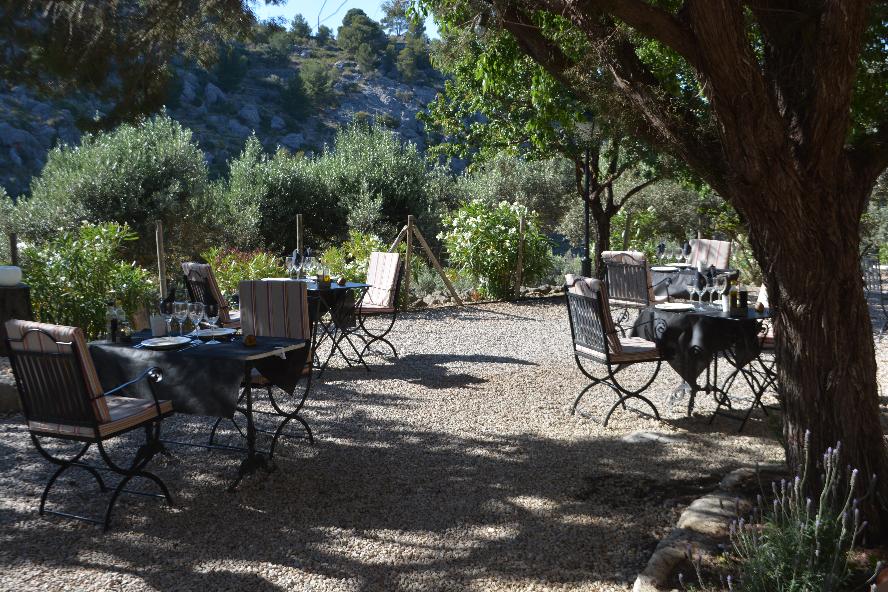 Thor and Michele enjoying a laugh.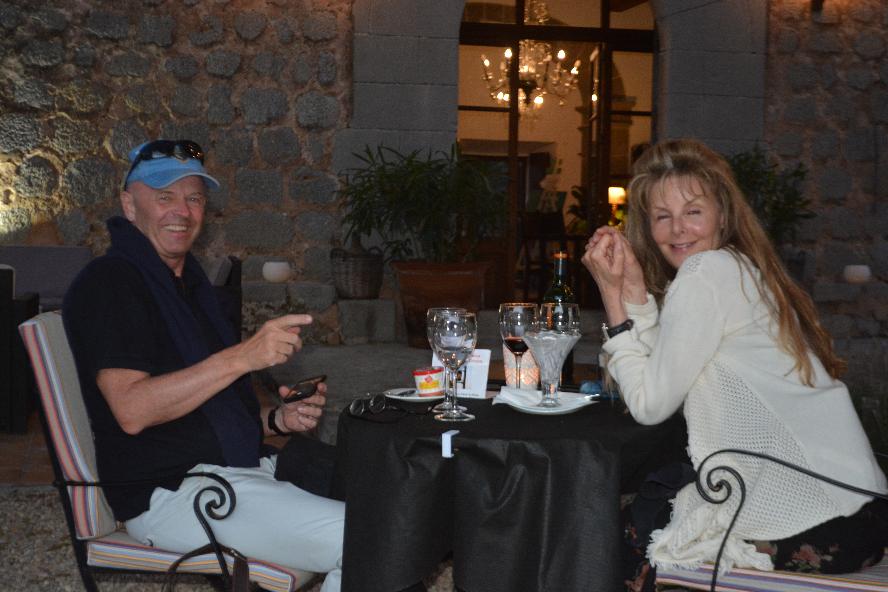 Tough to take a photo directly into the setting sun but we're glad Thor did.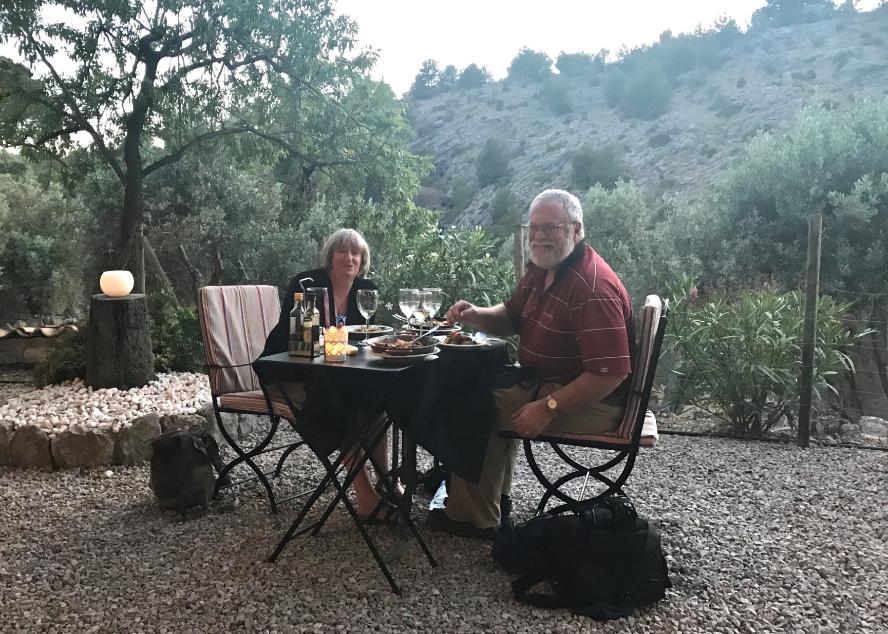 Dinner tonight was paella - vegetarian for Gayle; mixta (meat and fish) for me - all are happy.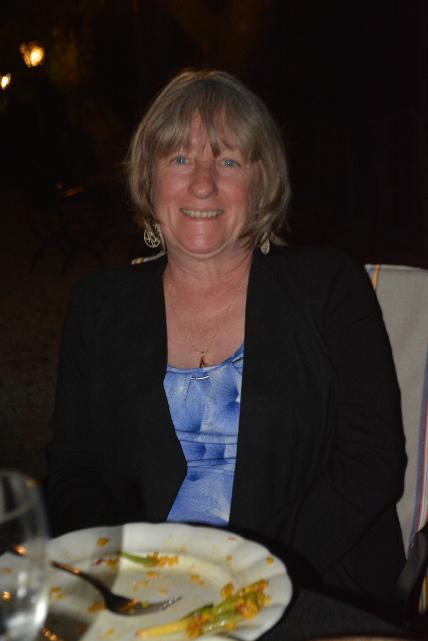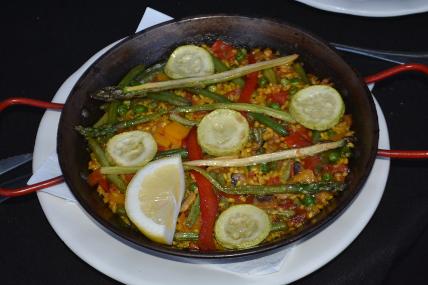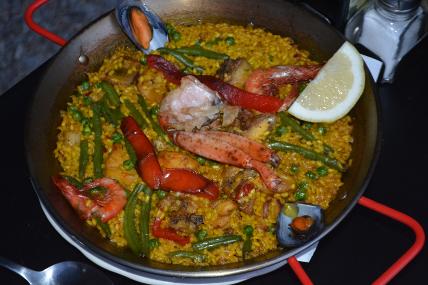 My appetizer - gambas in garlic and olive oil, and for dessert - a flan.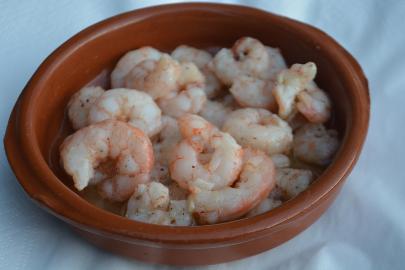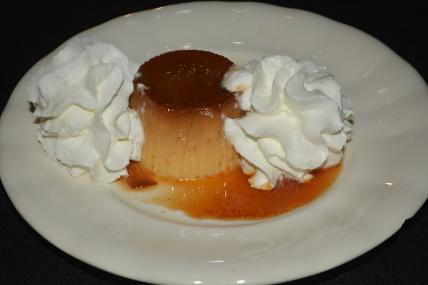 May 24, 2017 - Finca Son Jorbo, Porreres to Muleta de Ca S'Hereu, Port Soller
Another great day with respect to weather - we certainly have hit a nice stretch - sunny and highs in the high 20s.
After breakfast we said goodbye to Annie and Martin (and Bertie) and headed to the north coast, past Palma and into the Serra de Tramuntana hills/mountains the cross the north of Mallorca. We passed through Valldemossa, a pretty town (we'll return later in the week) and then Deia, another quaint village in the hills. Unfortunately the twisty, winding road provides few opportunities to pull over but a few stops allowed for some nice photos of the coastline. Throughout the drive were theses amazing (very) old olive trees, with their 'wrinkled' trunks full of character.
We eventually descended between Soller and Port Soller from where we again ascended, tight switchbacks all the way 1.2 kms pretty much straight up the mountainside to Muleta de Ca S'Hereu, our 'home' for the next three nights. Our room is beautiful with huge windows providing spectacular views in three directions - olives to the rear, mountains to the right and the harbour straight ahead. With our other two places being inland we wanted to see the water and this place definitely ticks that box - just wonderful views from high on a hill to the harbour and the sea beyond.
Given the 'road' does not provide much motivation for leaving we of course had dinner here. The dinners (and breakfasts) were very good - extremely reasonably priced and top notch quality. And if that wasn't enough having dinner outdoors in a beautiful area amongst the olive trees was special. We each started with a bowl of gazpacho - very nice flavour and texture. Gayle then had a beautiful salad including mango, avocado and white asparagus while I had a piece of cod. I wasn't expecting much but this was delicious - very dense much the same as halibut. A nice first meal here.
An early morning cloud bank settled in the valley between Porreres and Manacor.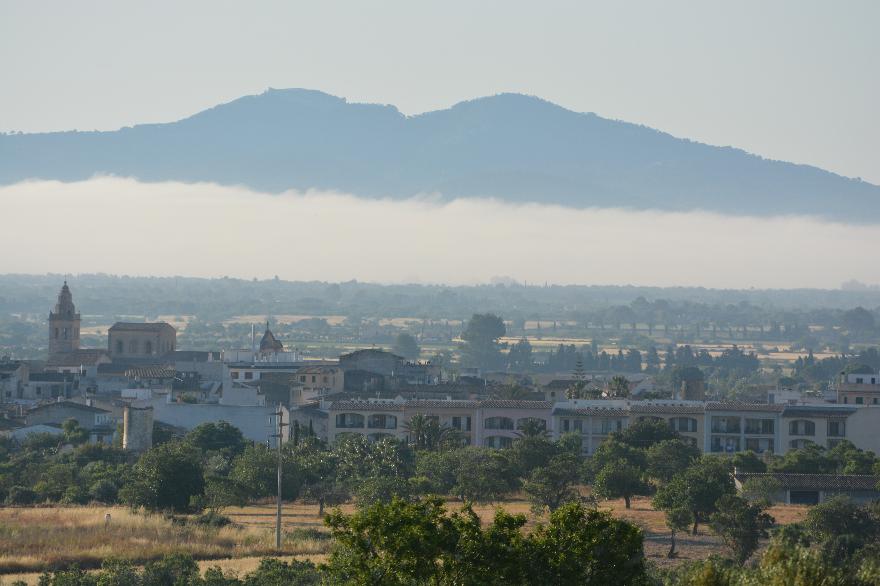 Terraced rock walls and lots of olive trees as we ascend up the Serra de Tramuntana on the way to the north coast.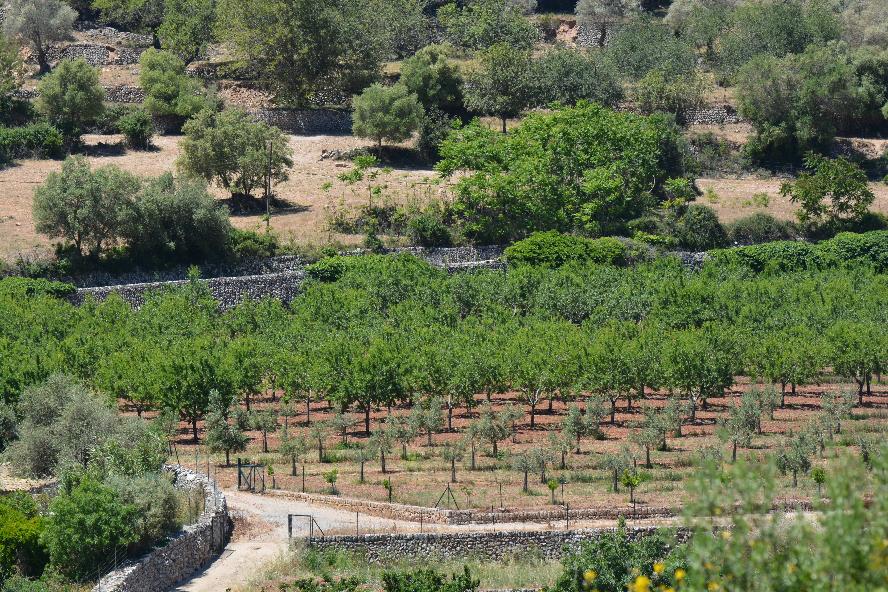 The attractive village of Valldemossa.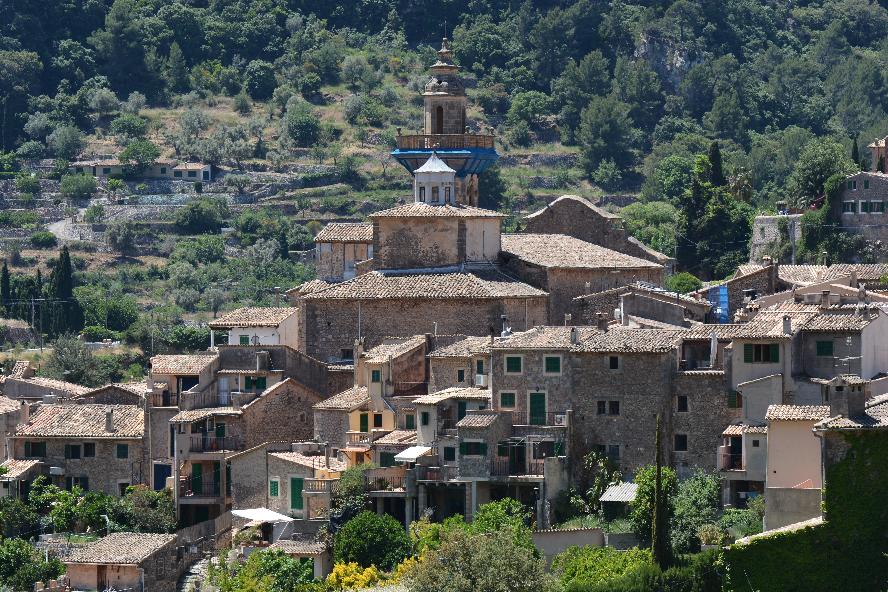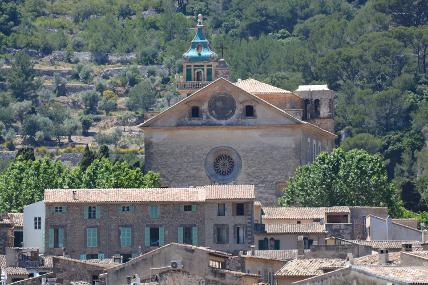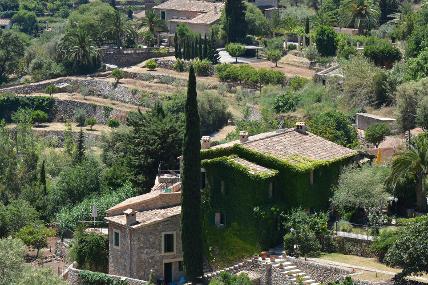 At least one flower photo per day - this was Gayle's choice today.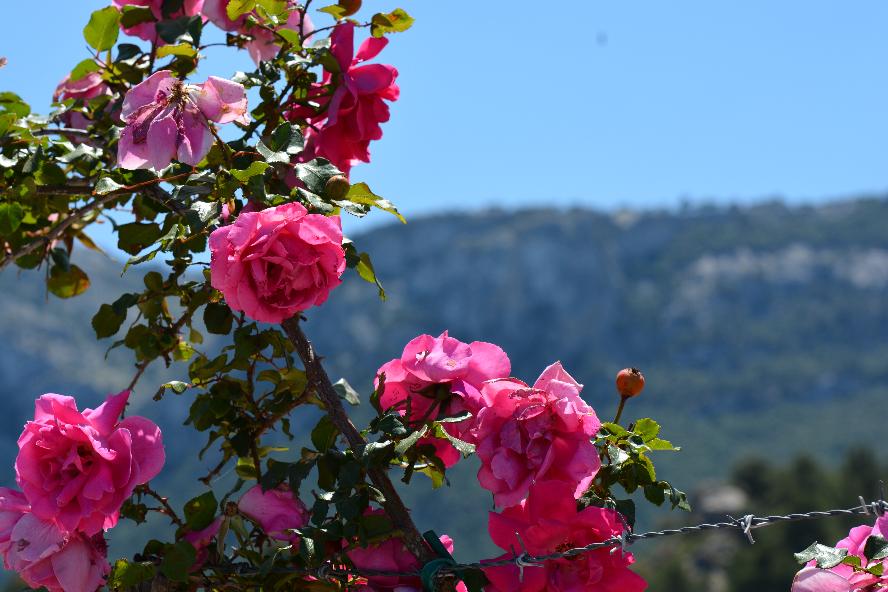 Our first glimpse of the coastline just past Valldemossa.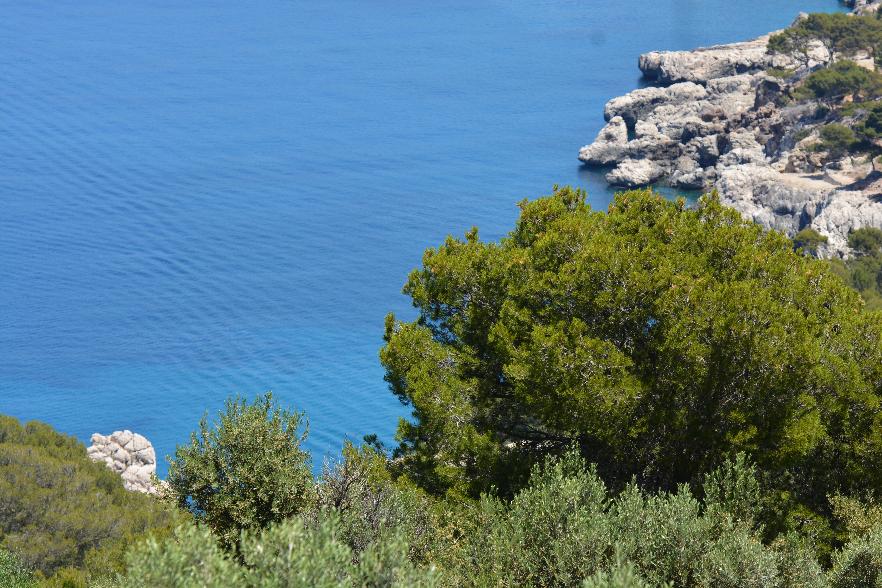 So many very old and very interesting olive trees.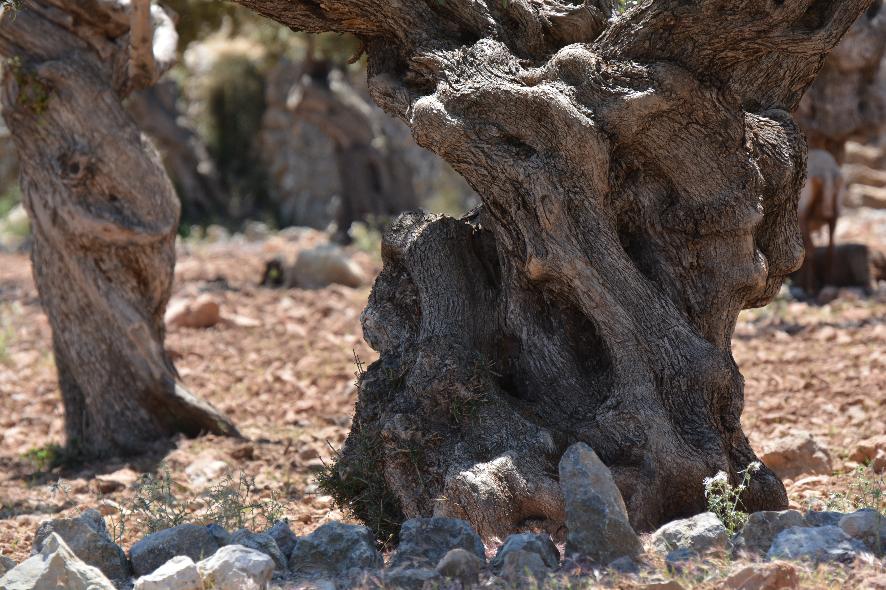 Views of the spectacularly scenic north coast of Mallorca between Valldemossa and Port Soller.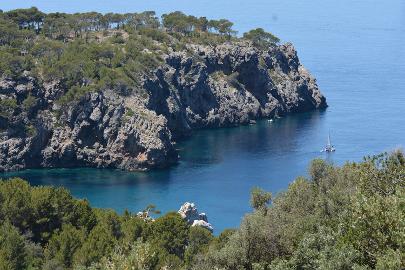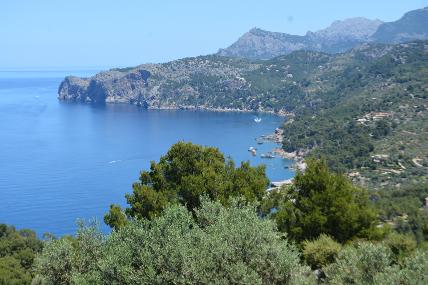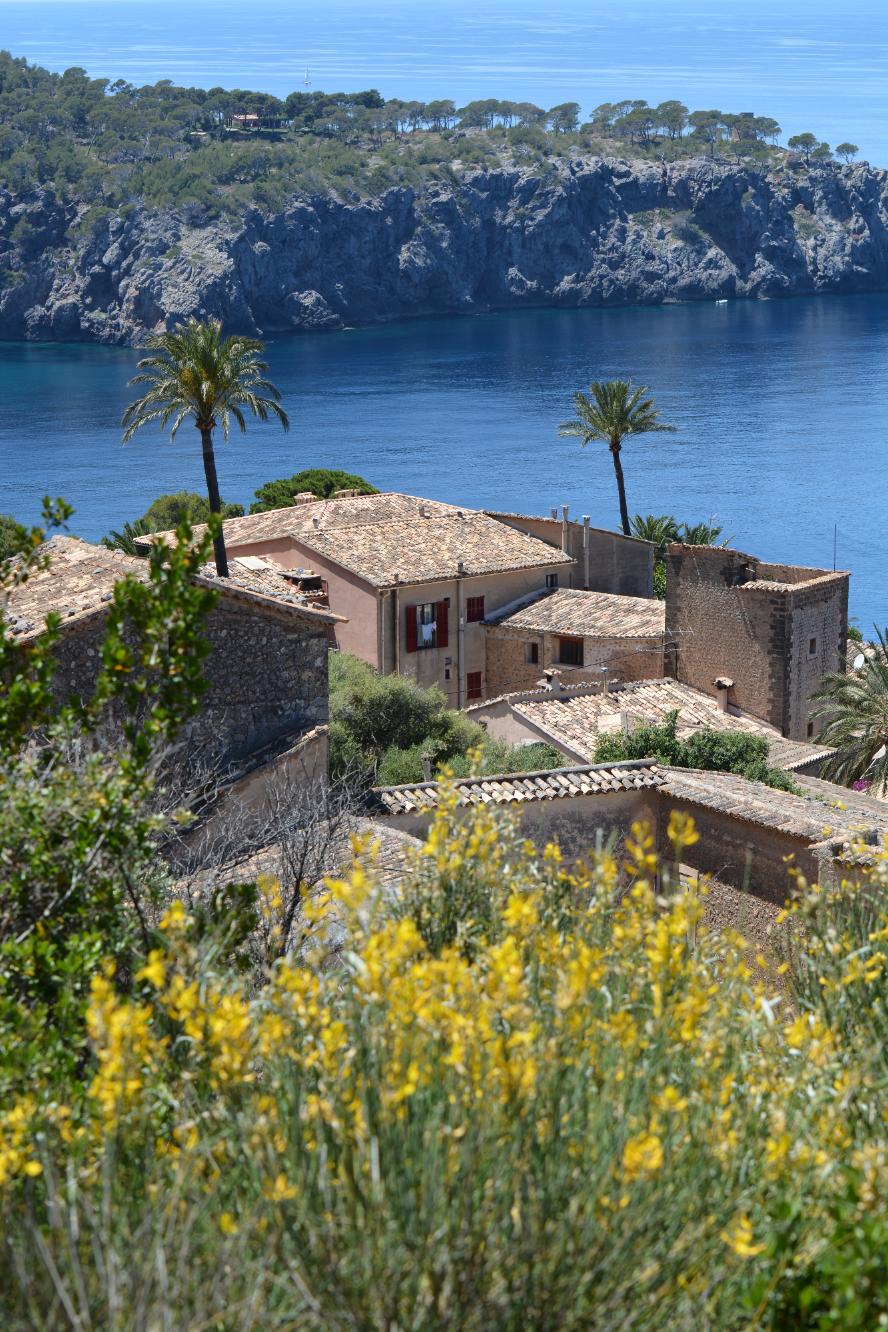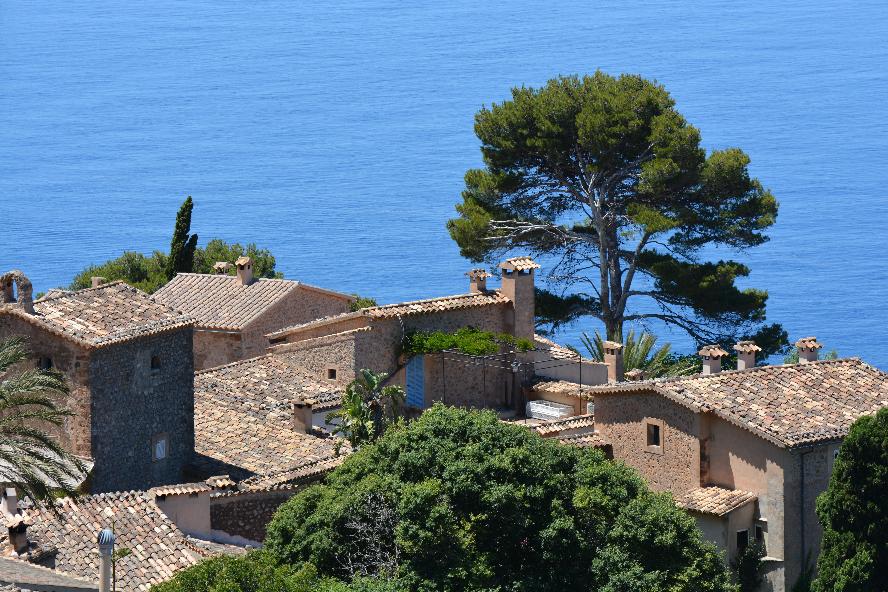 Views from the front and side windows of our room. Pretty 'suite'.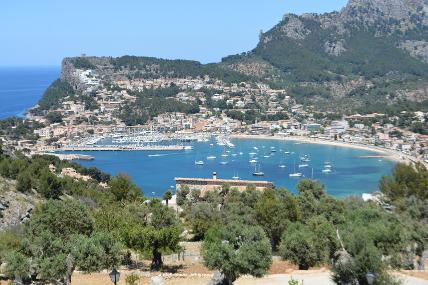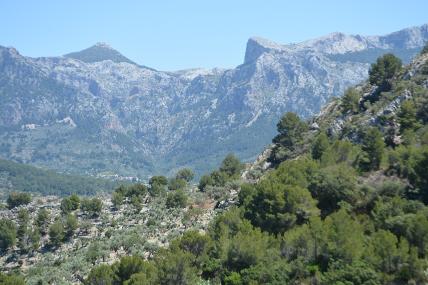 Not a bad view from the pool.
Just one of the many (very) old and interesting olive trees here at Muleta.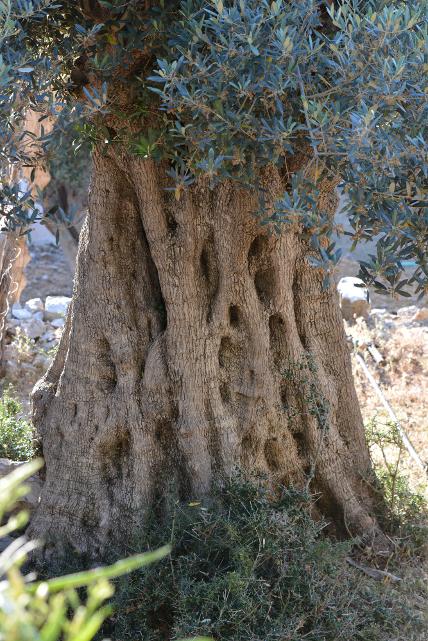 Gayle about to enjoy a nice meal with the setting sun on the outdoor terrace.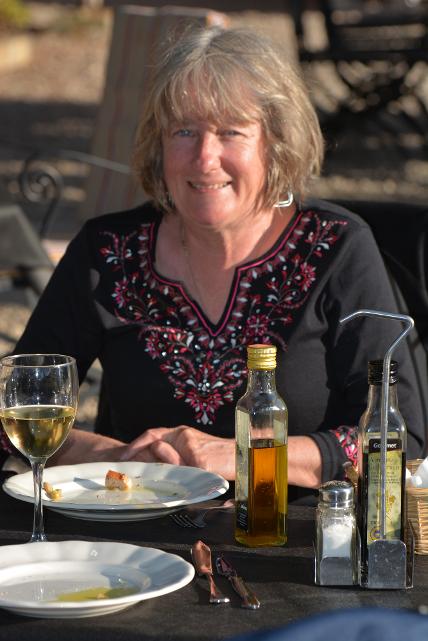 After bowls of very delicious gazpacho Gayle had a mango, avocado, white asparagus and I cod, which I never imagined could taste so good - very much like halibut.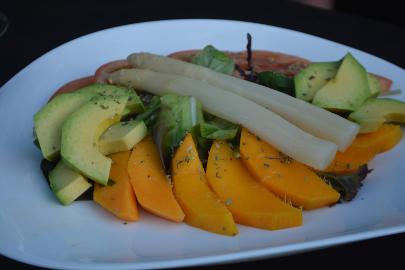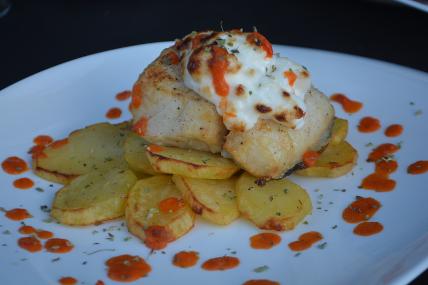 May 23, 2017 - Finca Son Jorbo, afternoon drive to Arta and Cala Torta
Today was pretty much a copy of yesterday except we went in a different direction to a different beach.
After breakfast I went for a dip in the pool while Gayle photographed the flowers and vegetation around the property. We then drove south-east to Arta and beyond to the beach at Cala Torta. Again parking is reasonably close (about a 10 minute walk) to the beach. Cala Torta is an expansive very sandy beach with a gentle slope in the water, which was much warmer than s'Amarador the previous day. We spent a couple of hours swimming and soaking in the hot sun as the temperature reached the very high 20s.
Nearby there is a restaurant / hotel Sa Duaia with great views over the hills to the sea. We stopped for some sangria and a late lunch/early dinner - not a lot - a Mallorcan meat and cheese plate for me and a goat salad for Gayle. A perfect place to stop, very relaxing with wonderful views.
On the way back we stopped for a stroll through Arta, a very pedestrian friendly town. On the way out we bought a lemon tart to have with the gift of Cava provided by Annie and Martin. We put on our Spanish music (Juan Martin and Jesse Cook) and drank cava in our gazebo on our terrace as the sun set. If it sounds romantic you have it right - it certainly was.
The path from the parking lot opens to this gorgeous view of the sea.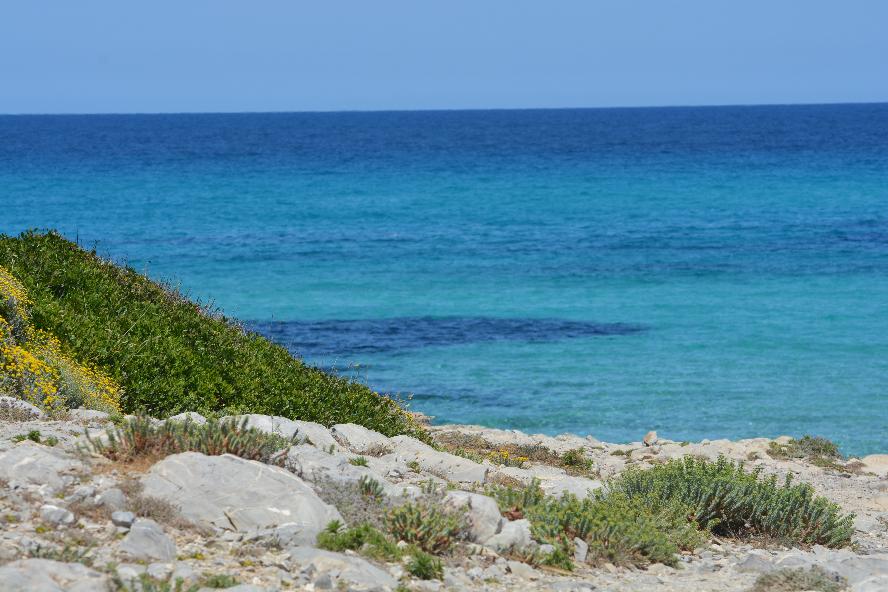 Cala Torta - a beautiful sandy beach with a gentle slope in the reasonably warm water.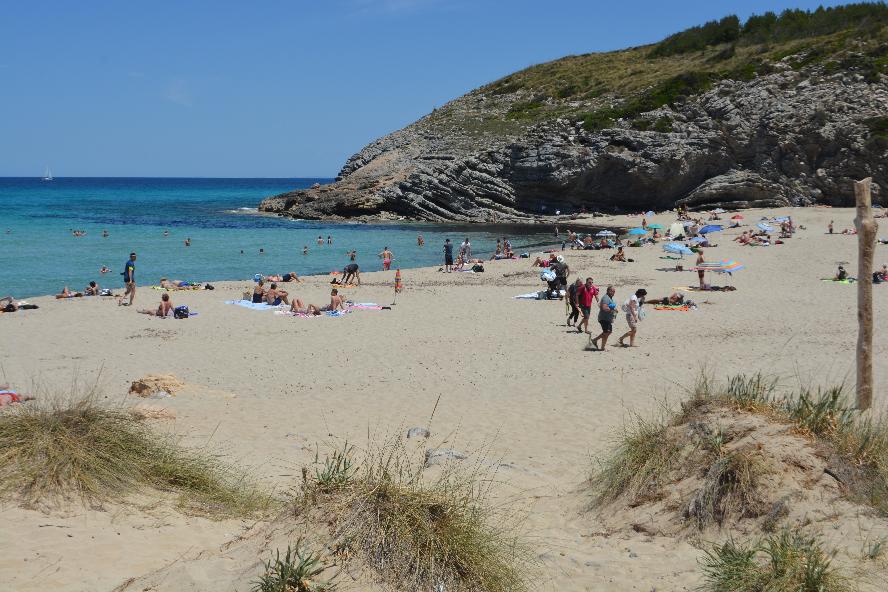 Everyday flowers - the one on the left looks like a Bird of Paradise albeit of different colour and on what appeared to be a banana tree. Quite strange.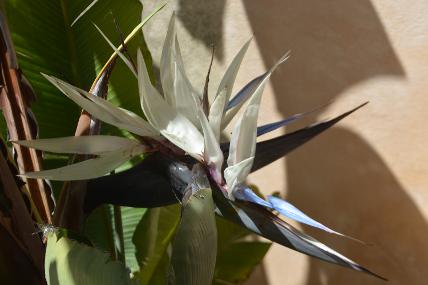 Some beach and water time - Cala Torta.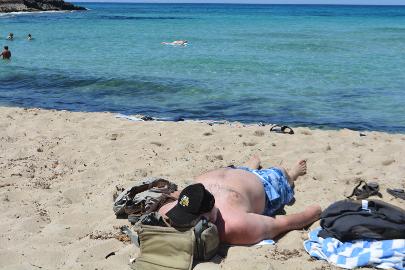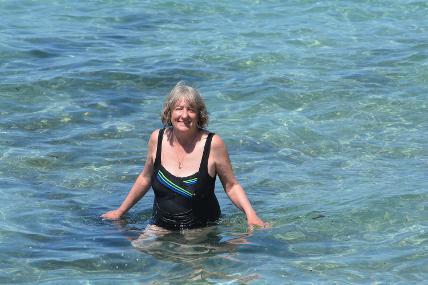 The coastline as seen from Sa Duaia perched in the hills above Cala Torta.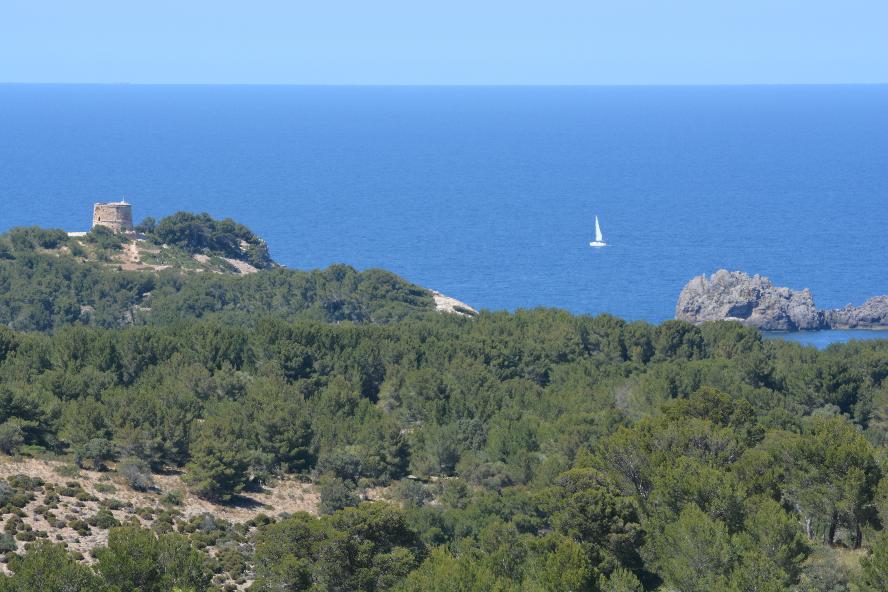 Some Sangria and a goat cheese salad overlooking the coastline.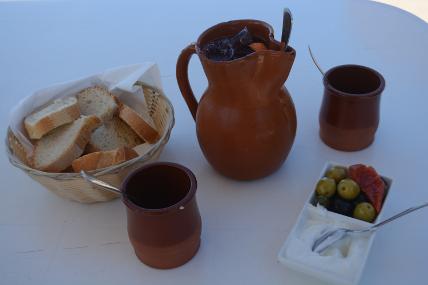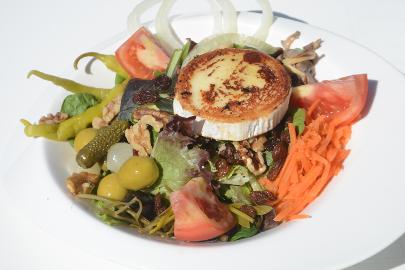 There is lots of cactus in this drier corner of Mallorca, including this prickly pear ... the one on the left not the one on the right.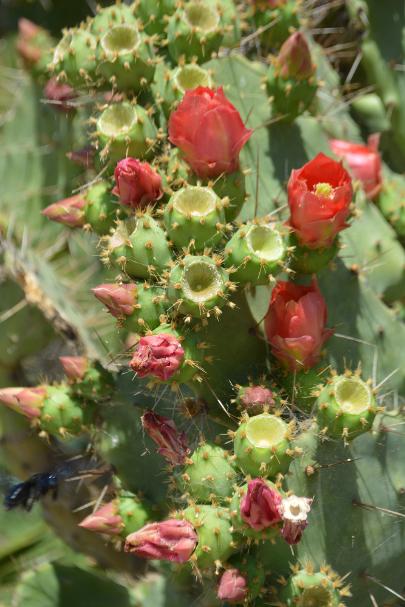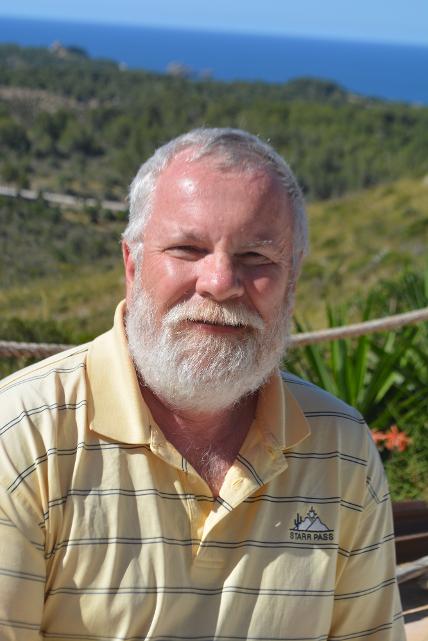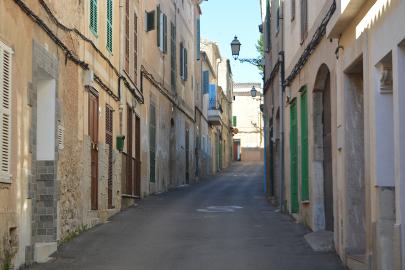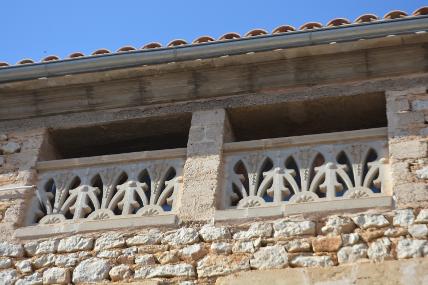 Cava on our terrace at sunset - sweet.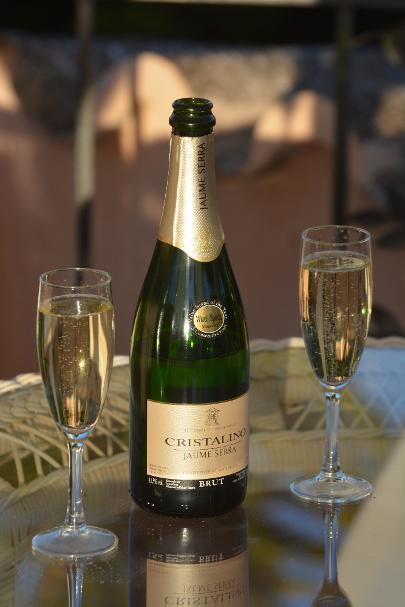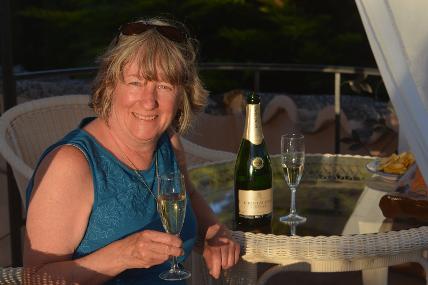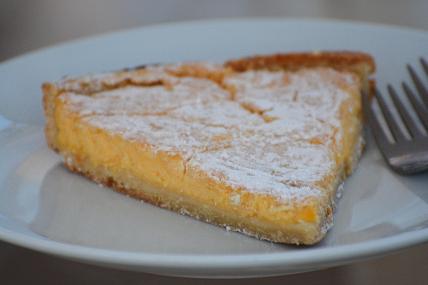 May 22, 2017 - Finca Son Jorbo to Cala Figuera and Playa s'Amarador
We certainly are being spoiled by these huge, delicious breakfasts everywhere we go. Finca Son Jorbo is no different with pastries, meat, cheese, juice, fruit, eggs cereal - more than enough to start one's day.
After relaxing the rest of the morning, some of it with Bertie, one of the 10 finca cats, most adopted as rescues over the 13 years Martin and Annie have been here. If one is ok with Bertie being your house guest, which we were, he will make himself at home. Although he did eventually drink some of the milk we gave him Annie noted he often waits for the chicken or other delicacies guests will sometimes purchase for him. After all Bertie is now 17 and deserves to be pampered.
We then drove down to the coast, first through Campos where we stopped at a ceramic shop, purchasing a couple of things. It was then around Santanyi and on to Cala Figuera, a pretty little harbour town. We wandered around checking our restaurants as we expected to return after a trip to the beach.
Nearby is the recommended Playa s'Amarador in the Parc Natural de Mondrago. The beach was a short walk from the nearby car park. Not particularly busy but the water was quite cold - too cold for us to go in. We did enjoy a relaxing hour lying on the sand in the sun though.
We then returned to Cala Figuera where a number of (higher rated) restaurants were full resulting in us strolling a bit further and settling in at the Restaurant Marina where there was only one other guest. Makes one wonder why it was so vacant but because it was we got a great table. Service was very good and the food, especially my paella (available for one here unlike the others where you had to order the paella for two) was excellent - juicy and flavourful. The 2.80 euros each for bread and olives struck us as somewhat steep but all in all we were happy with our choice.
We returned to Finca Son Jorbo just before dark.
Croissants, pastries, meat, cheese, eggs fruit, cereal etc. - another carry you right through to supper breakfast.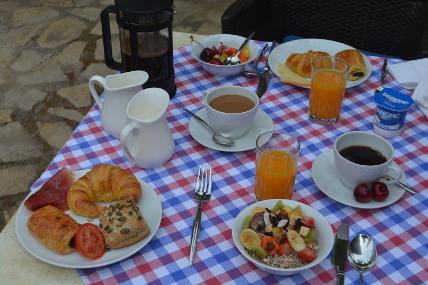 Annie is a painter - having painted the brightly coloured pieces on the wall.
And if one is ok with a house guest - which we were - Bertie will make himself at home.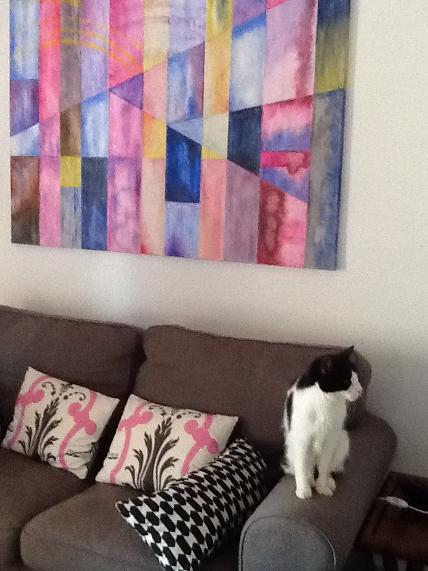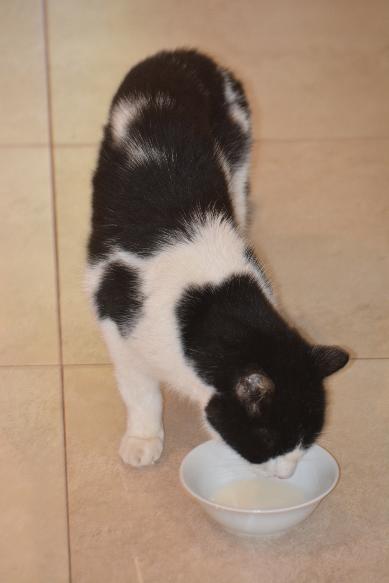 OK, so maybe I liked Bertie a little bit as well.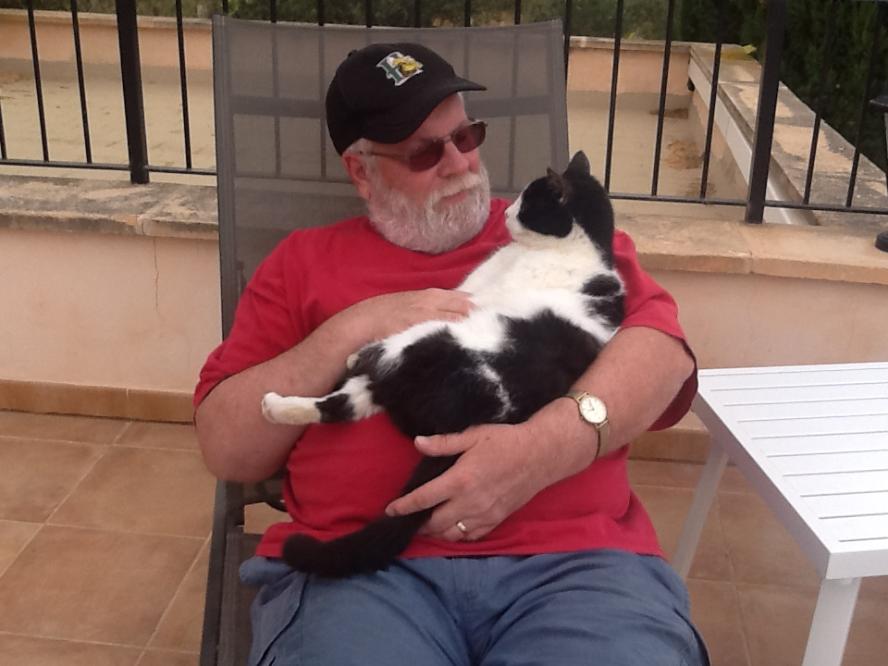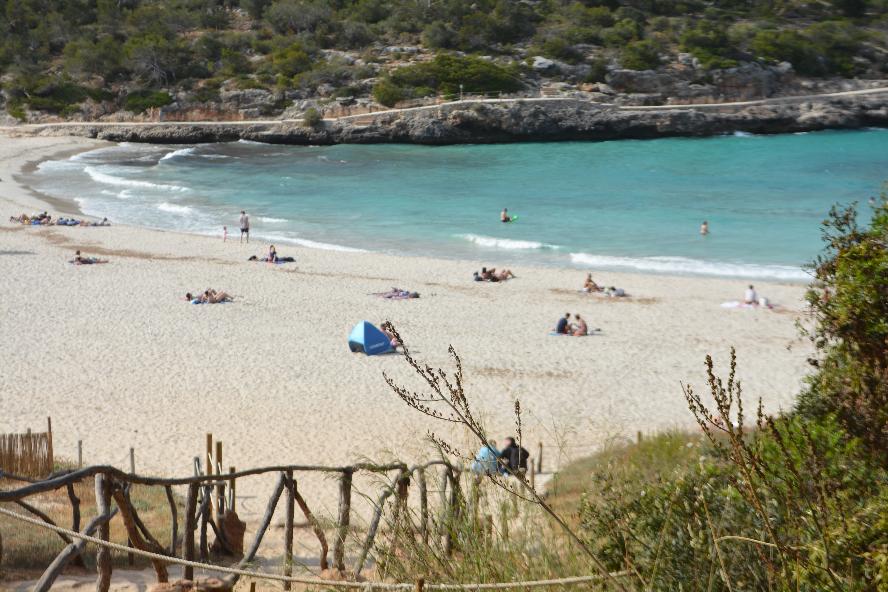 All smiles enjoying an afternoon on the beach.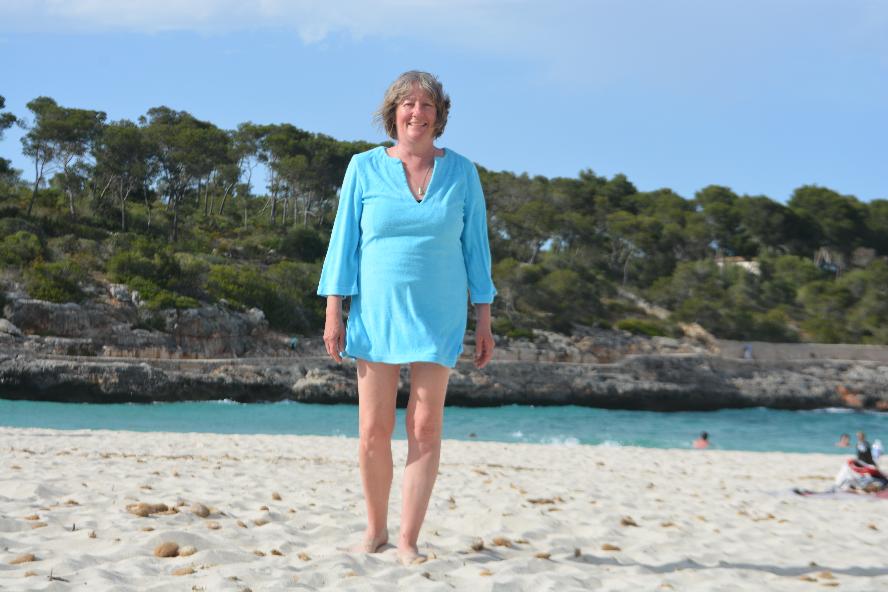 On the left the water and shoreline of s'Amarador and on the right the view of the harbour of Cala Figuera from our dinner table.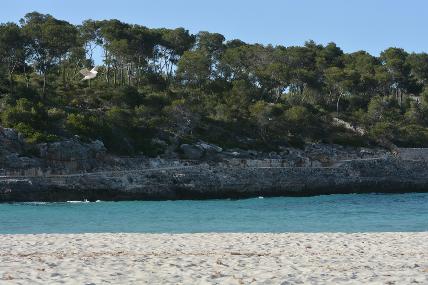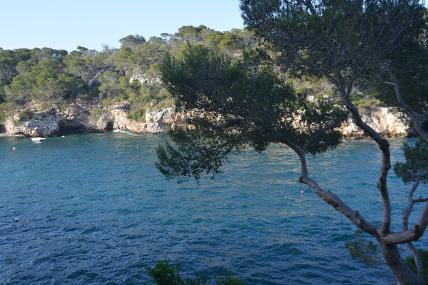 Being right on the water my meal was focused on fish - mussels and paella.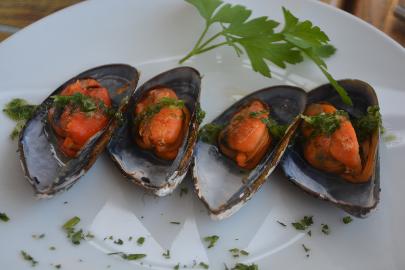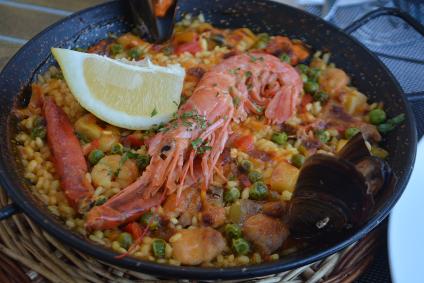 May 21, 2017 - Castell de Guadalest to Valencia to Mallorca

Not much to say today. We enjoyed another breakfast on the terrace, packed, said our good-byes to Toni and Sophia and drover the two hours, first through the mountains and then the orange groves to the Valencia airport. From there it was a short (55 minute) flight to Mallorca where we picked up our rental car and drove the 45 minutes or so to Finca Son Jorbo, just outside the town of Porreres.
We were greeted by owners/hosts Martin and Annie and settled into our huge apartment, with a beautiful large terrace, complete with gazebo, over-looking the town.
Finca Son Jorbo does not serve dinners so we went in to town where we easily found the recommended restaurant, waited a short bit for a table outside and each had a pizza.
As mentioned a very quiet 'travel' day.

Hey if they are going to put this super nice comfy chair in the bathroom I'm going to make some use of it.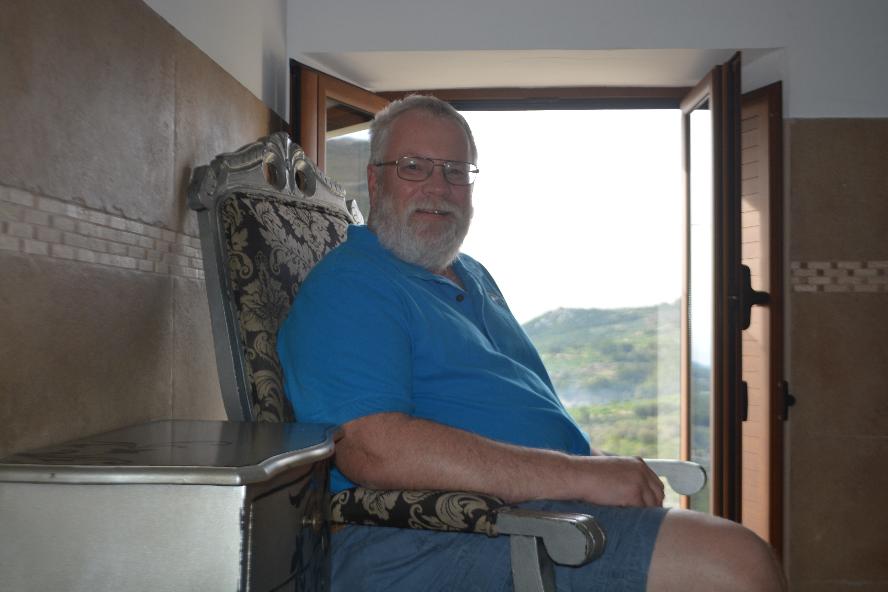 Another sunny morning/day, another breakfast out on the terrace. The Belgian group enjoyed theirs equally as well.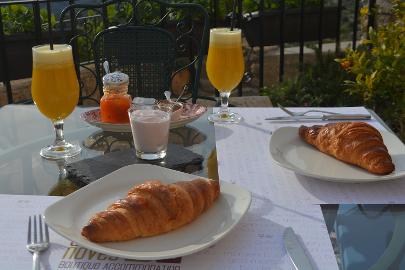 Our first glimpse of the vegetation, shrubs and flowers at Finca Son Jorbo. And the gazebo up on the roof-top terrace - yes that is ours.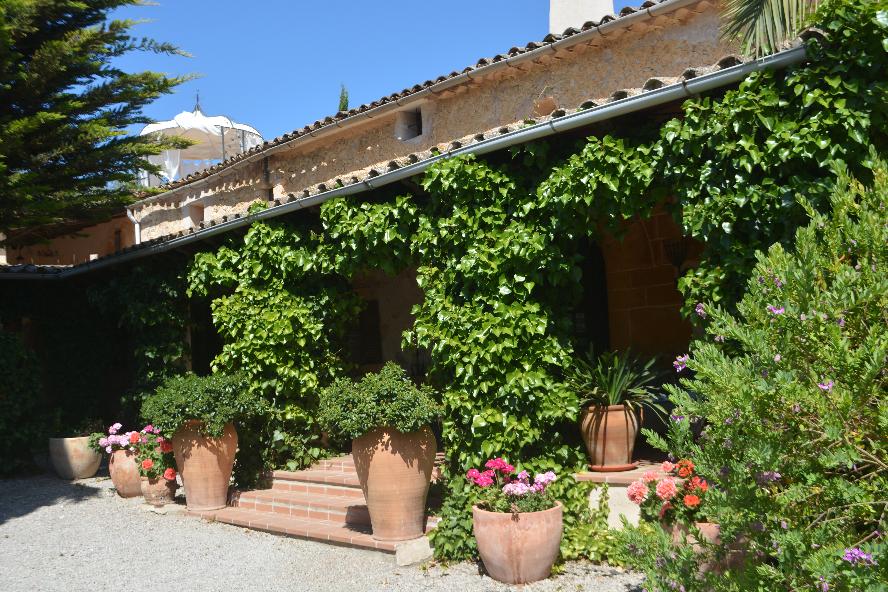 The nice size pool with a comfortable shaded sitting tent.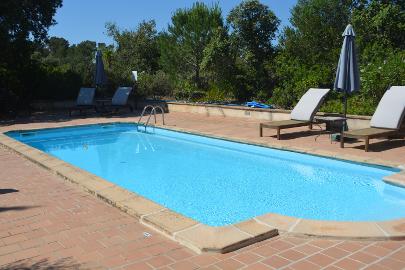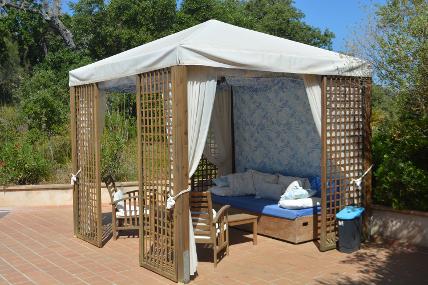 The nearby town of Porreres as seen from Finca Son Jorbo spotlighted by the setting sun.
The town square of Porreres and Gayle's zuchinni pizza. I had one of Mallorcan meats. Perhaps not the most Spanish of dinners but one can never go wrong with pizza.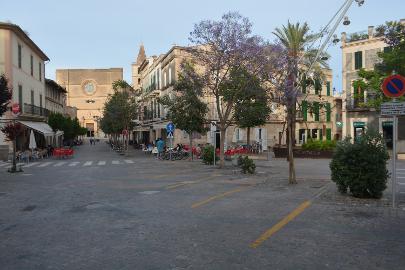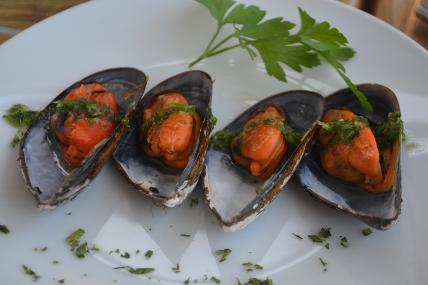 May 20, 2017 - Castell de Guadalest, with a drive to the coast
Our morning started with a lovely breakfast on the terrace of Cases Noves looking out to the mountains and donw the valley to the sea - the best of everything. A very nice breakfast of fruit, focused on the in-season Nispero.
Later we went up to the castle to find quite a little complex of shops and restaurants/bars along with a great view of the man-made lake nearby. We toured the Ordunan House and then up to the castle of L'Alcazaiba or Sant Josep, built by Muslims in the 11th century. The Orduña House was built in 1644 after the great earthquake that demolished much of the original housing in Guadalest. The Orduña family, of Basque origin, came to El Castell de Guadalest as friends of the Cardonas. They served the Cardonas as guardians of the castle and governors of their estates. In 1708 the Orduña House was burnt down and plundered during the War of the Spanish Succession. One half of the house is supported by the rock while the other half occupies areas over the chapels of the adjoining church.
Late in the afternoon we decided to drive down the valley to the seaside resort city of Benidorm - massive hotel complexes - and then further east along the coast to Altea which seemed a bit more traditional, although still with a number of vacation complexes. The drive back was predominantly through orchards of nispero, a fruit at the peak of its harvest season. The nispero were everywhere.
After returning to Cases Noves we were treated to a special dinner of 11 tapas. It would take too long to describe each, although there is a photo of each below. Often any meat was replaced with cheese but in one case Gayle was provided a separate salad - beautifully presented - bringing the total number of tapas to a full dozen. As with tapas the servings were small but after 11 each we were plenty full. Toni did a superb job explaining each tapas, many of which were sourced locally or from a family recipe. The evening was made that much more enjoyable with a table of four Belgians next to us - very engaged in the food and comparatives to that back home ... where of course Belgian chocolate is simply the best. A very unique and interesting dinner, well prepared. We were both so appreciative of the added effort of Sophia to accommodate Gayle as a vegetarian.
Breakfast (and dinner) served on these beautiful Spanish plates from Seville and the view of the 'Matterhorn' (well t really but somewhat similar from the terrace.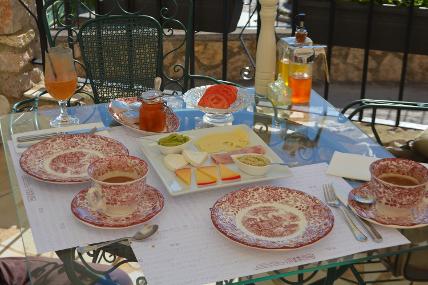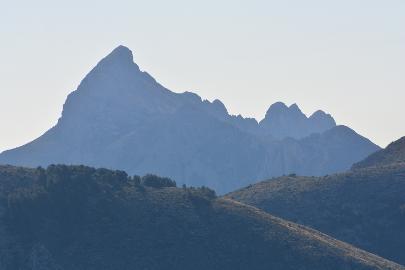 It's pretty hard to have a spring day in Spain without a couple of flower photos - these on the terrace of Cases Noves.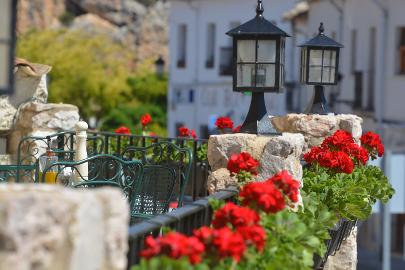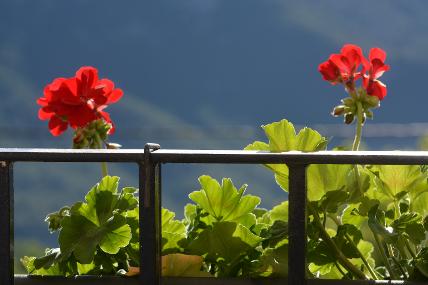 The prominent Guadalest bell tower, perched on the top of a rock, just across from the remnants of the castle.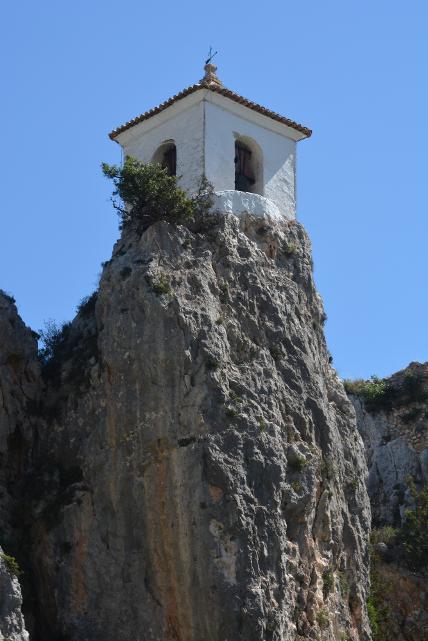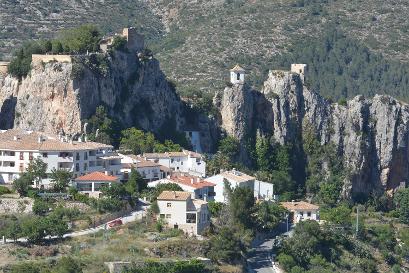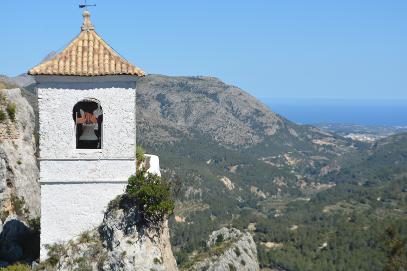 There is not much at the site of the original castle - a few stone walls and this sign to the cementerio. We tried to find it but before doing so reached a few 'dead' ends (come on Gayle laughed).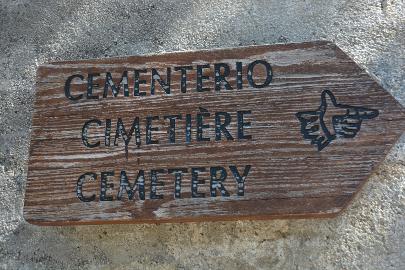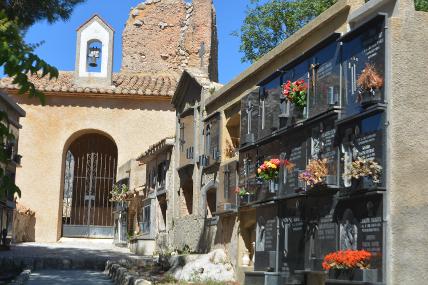 The mountains and man-made (dammed) lake east of Castel de Guadalest.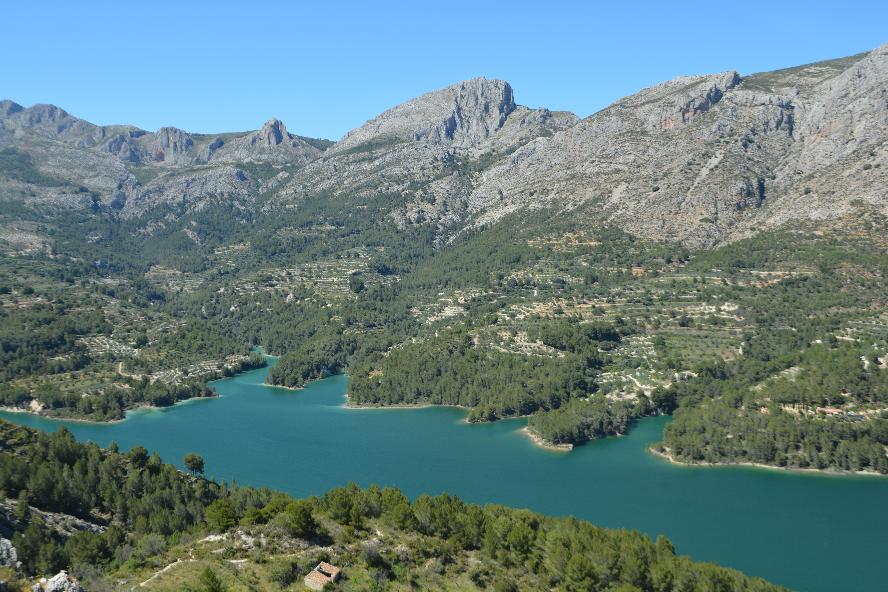 The nispero - king of the area's spring fruit.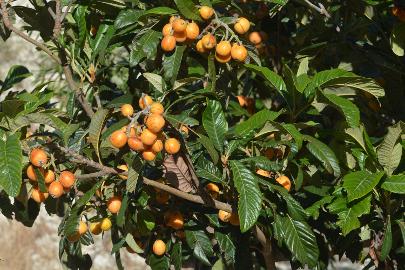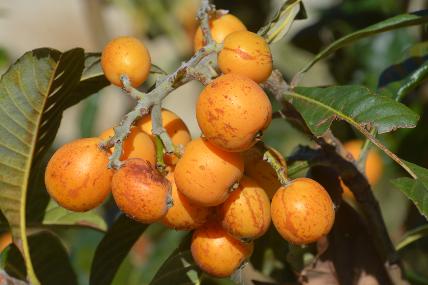 Gayle enjoying one of her tapas.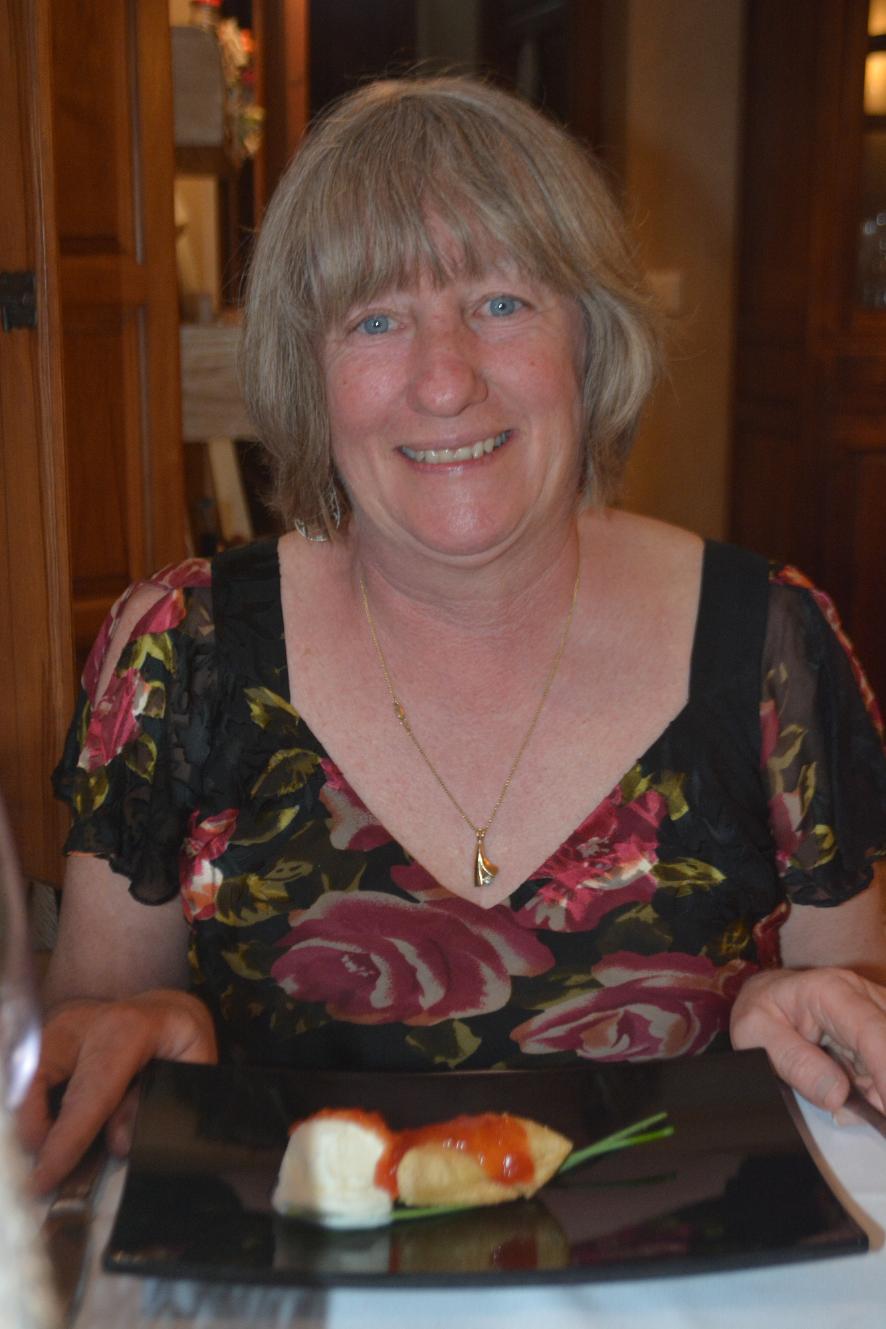 Eleven tapas each (12 in total with Gayl'e salad in place of dried cod) - small photos for traditionally small tapas servings.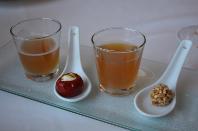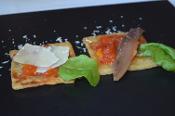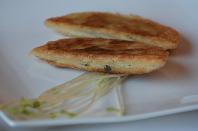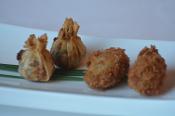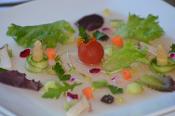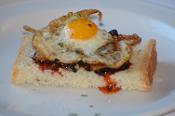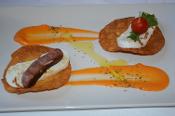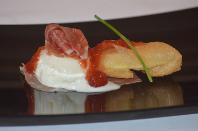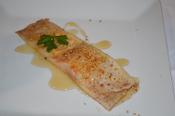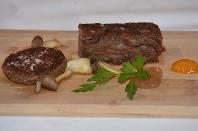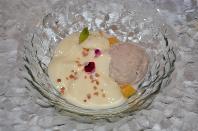 The coolest hand towels - starting out as a 'mint', add a lemon herb, the mint turns into a 'tower' and voila, a hand towel.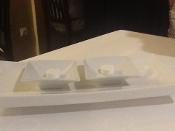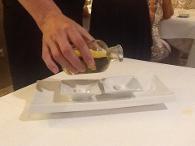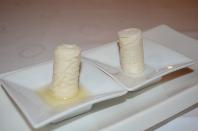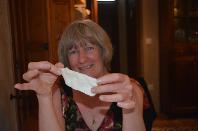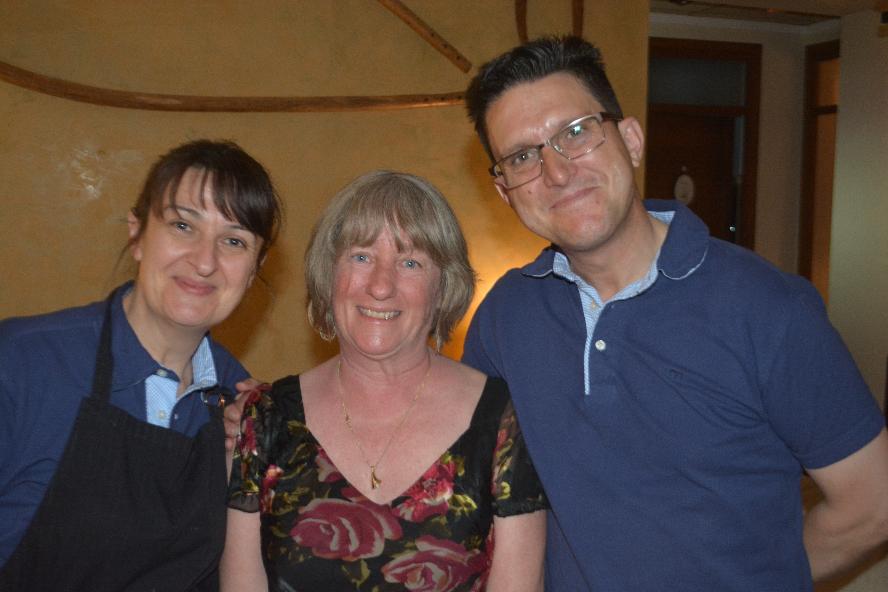 May 19, 2017 - Villeneuva del Rio Segura to Cases Noves, Guadalest
We awoke to a nice morning of sunshine and a great breakfast on our large terrace. Of course there was fresh orange juice (this is after all a citrus grove) and very nice fruit kebabs. Actually the trees were quite bare of fruit as the oranges had just been picked the previous week, except for those left for personal use.
After breakfast we took the citrus tour (approx. 1 1/2 hours) with Llanos, walking through the trees, sampling the fruit, including a number of varieties that were new to us, learning about the history of the property and nearby towns and villages and in the end leaving with a bag of fruit. There were Indian limes (quite different than the Caribbean limes we are accustomed to), oranges - both juice and eating, mandarins, lemons, pomegranates, a grapefruit like fruit with very thick skin that is eaten much like a melon along with other fruits such as avocados. A very worthwhile and informative tour.
Soon after we were on our way, driving through more citrus groves east in to Valencia province and then into the most south-east Spanish province of Alicante. At Alcoi we turned south-east driving through yet another mountain range to the small, but well visited village of El Castel de Guadalest where we were staying at Cases Noves - the 'new' house, as it was the first, and only for many years, home built in 1932 outside the historic village. We were in the Guadalest room with spectacular vistas down the mountain framed valley to the Mediterranean sea, and to the left the castle and tower.
Cases Noves has been owned and operated by Toni and Sophia since 2005. Both are extremely friendly and proud of their town and lodging. Sophia is the cook preparing a most wonderful dinner with Toni the server, answering any questions we had. The entire meal was great (and very photogenic) with the goat cheese salad being particularly noteworthy with four varieties of nuts (almonds, hazelnuts, cashews and walnuts), three types of lettuce, cranberries, sunflower and other seeds. Another wonderful Spanish meal!
Breakfast on our terrace including, surprise fresh orange juice and wonderful fruit kebabs.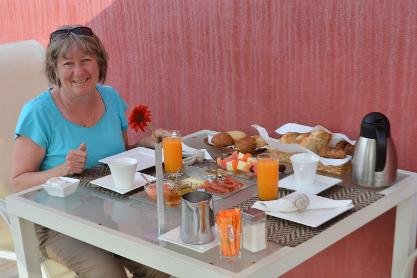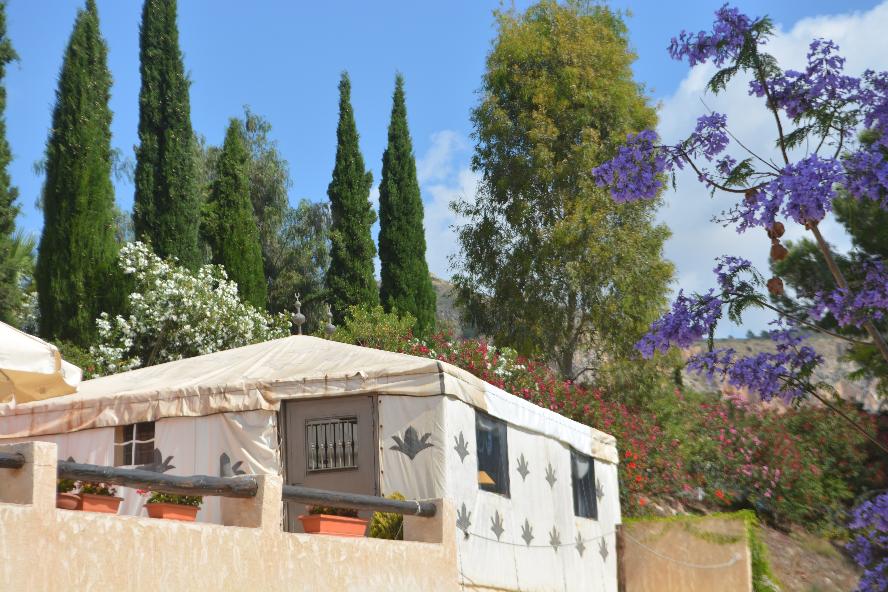 Gayle and Llanos talking citrus.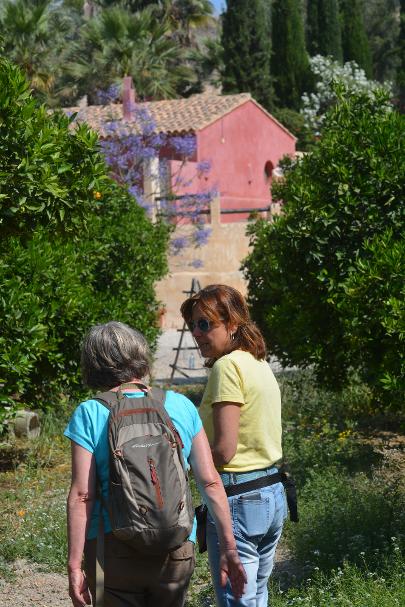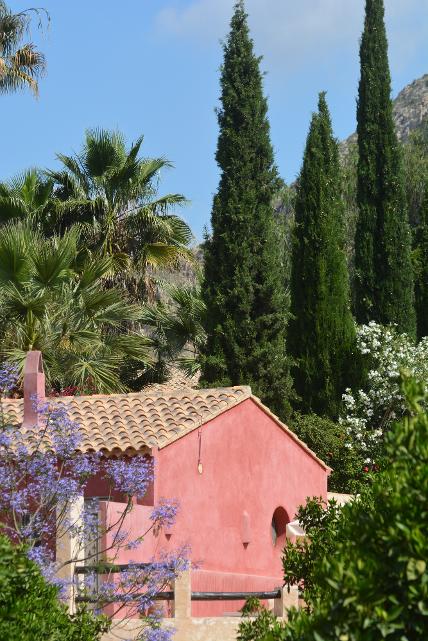 Gayle with a thick skinned citrus for which we don't recall the name, and the same growing in the trees.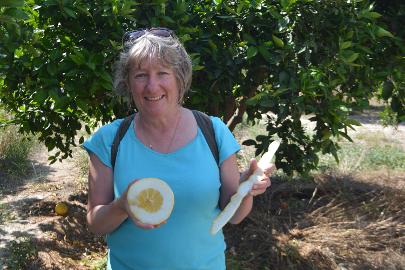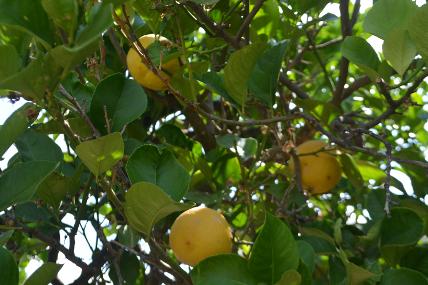 All kinds of citrus including limes, oranges and lemons.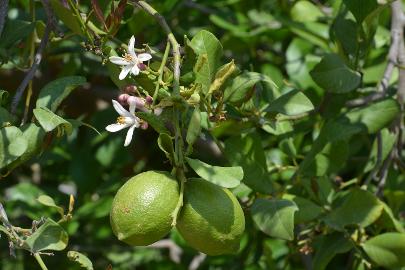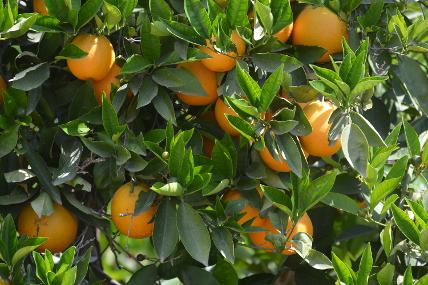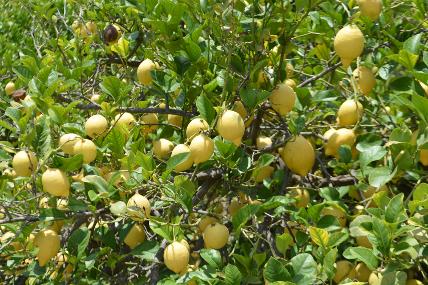 Bougainvallia, jacaranda and mountains - very scenic.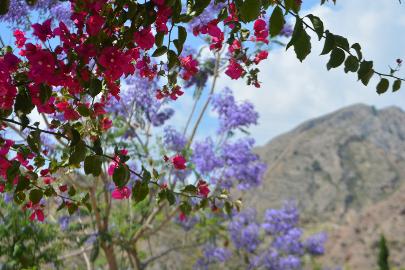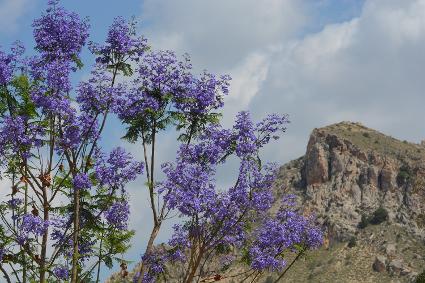 Gayle and her new friend Salsa - what a great name for a Spanish dog.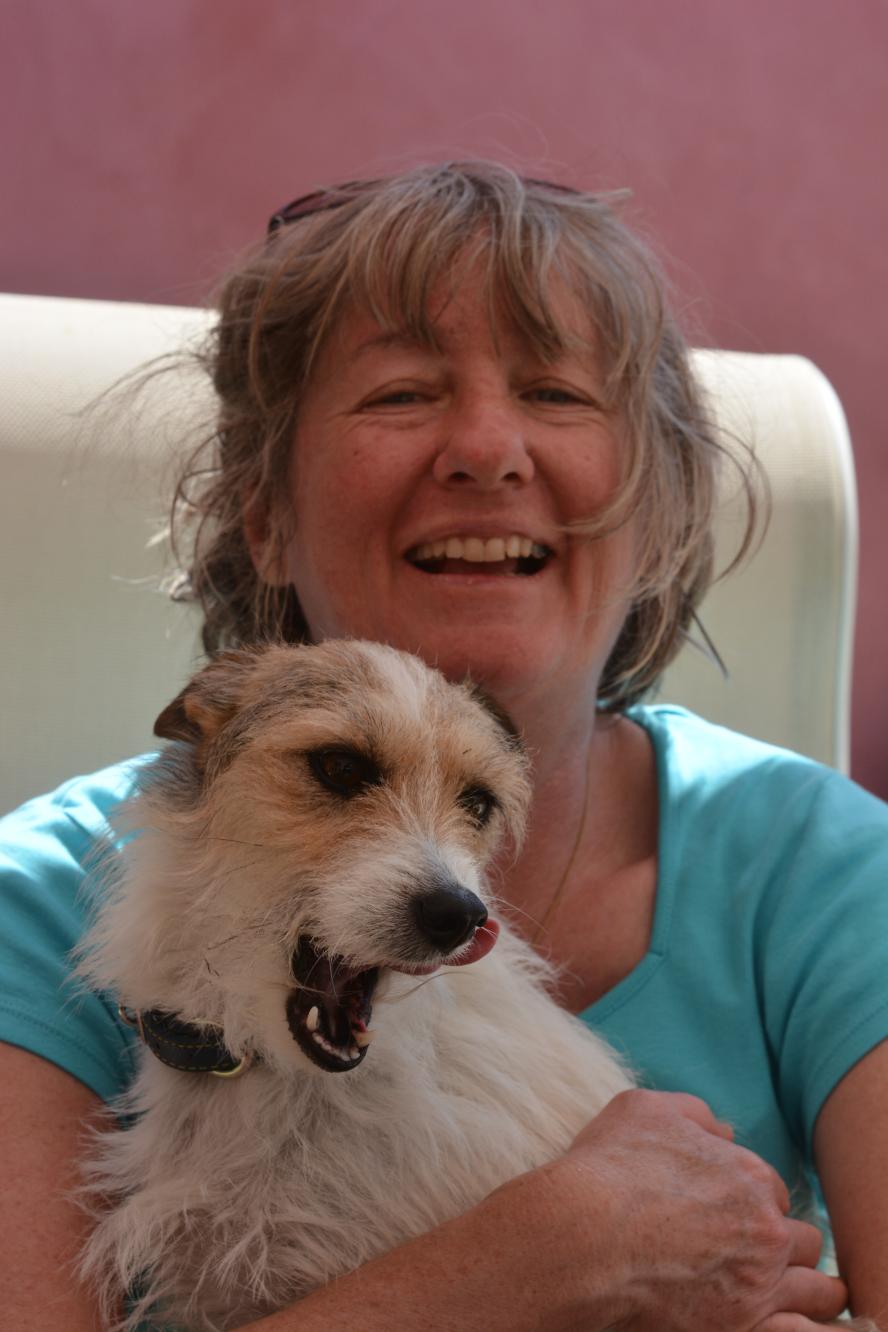 Just another Spanish castle along our drive and then the view out our window of the Guadelest room of Cases Noves.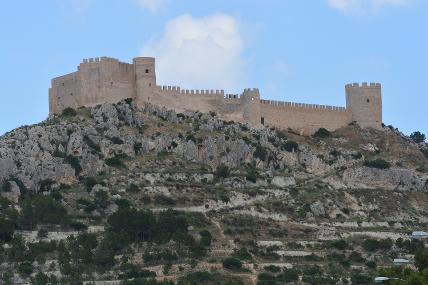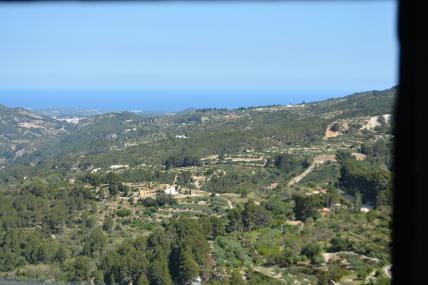 The Cases Noves terrace with great views down the valley and to the castle.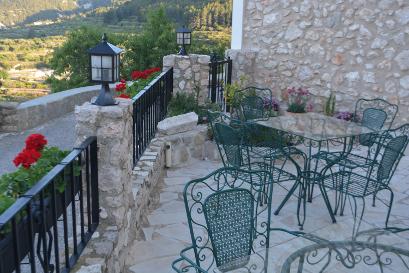 Not quite sure why it was there but this certainly is the nicest chair we've ever enjoyed in a bathroom.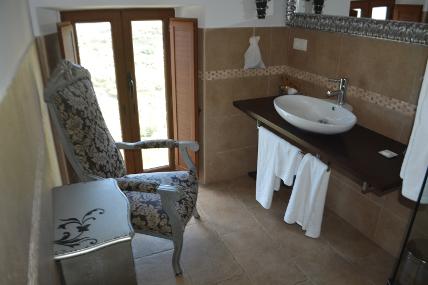 The very best goat cheese, four varieties of nuts, three lettuces and pumpkin seed salad.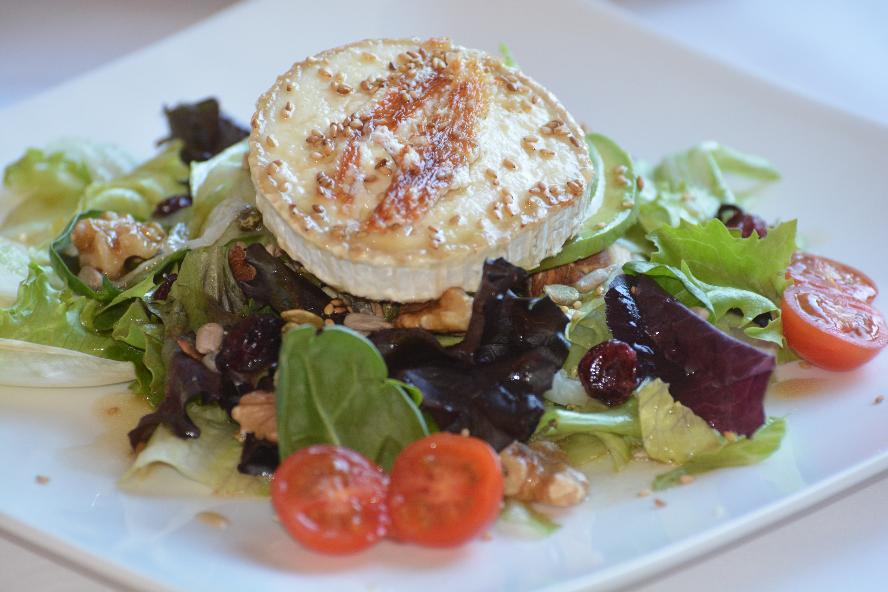 Our main courses were salmon for me and pasta in a pesto sauce for Gayle.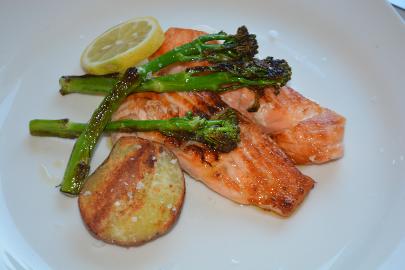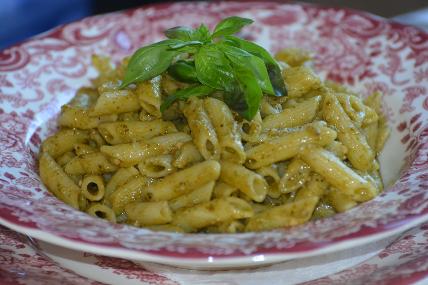 Just like we eat at home - profiteroles and carrot cake for dessert - not.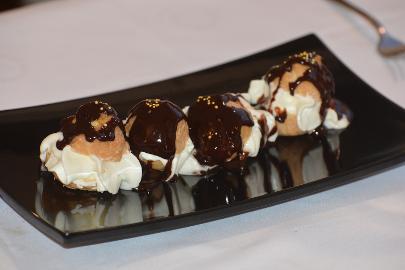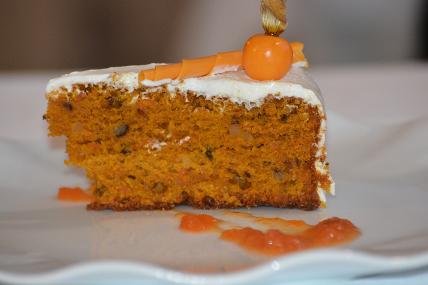 May 18, 2017 - Mairena to Villaneuva del Rio Segura, Murcia
Off again to our next destination, a long drive of nearly 300 kms. The first hour was through the mountains through the Puerto de las Ragua, to Calahorra. The land flattened as we drove the highway north to Guadix and on past Baza, Huescar, where a number of homes are essentially caves built into the soft limestone, and Puebla de Don Fadrique before where we left Andalusia and entered into the Province of Murcia.
We eventually made our wayt to the Valle de Ricote where Asis and Llanos were waiting for us in their citrus grove. We booked the 'Magic Night' where we stayed in a Moroccan tent, enjoying a romantic dinner delivered to our rose petal covered room where we could eat as quick or slow as we chose. Before dinner we enjoyed a bottle of Cava on our terrace overlooking the blooming jacaranda trees, the citrus grove and the palm trees, Cyprus trees and the hillsides beyond. Having been to Morocco this did have that feel.
After a huge vegetable and raf tomato salad the main course was Zarangollo, a common dish in the Murcian untryside. It is frequently served tapas bars but can also be prepared as a main meal. Llanos' version uses onions, cubes of zucchini and potato with the herb Albahaca, all simmered over low hear for an hour topped with fried tomatoes and an egg.
It was a leisurely, enjoyable meal and evening in a unique setting.
Las Chimeneas means 'chimenys' so it seems appropriate to include a few photos of the local chimenys ... and no the rooster is not real ...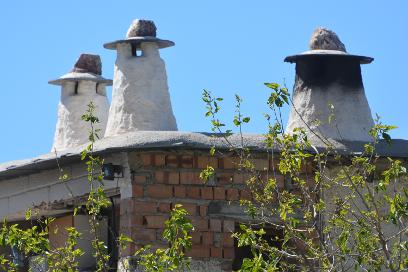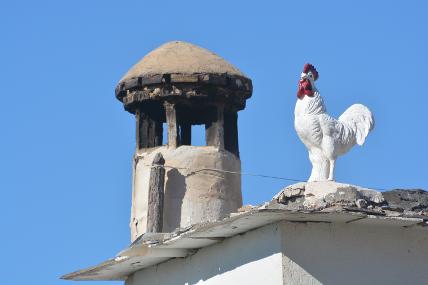 More mountain villages ...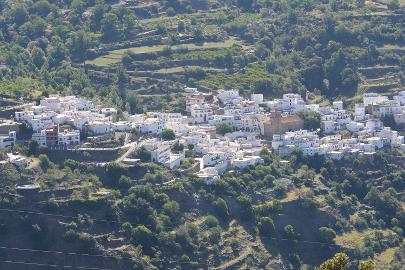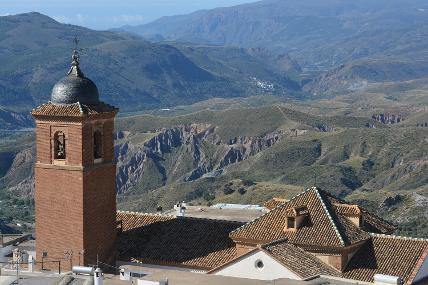 ... and more mountain flowers.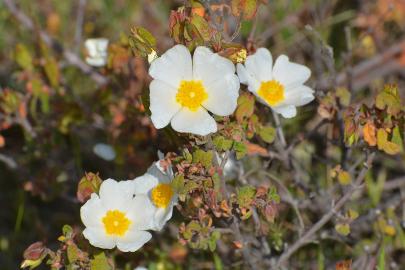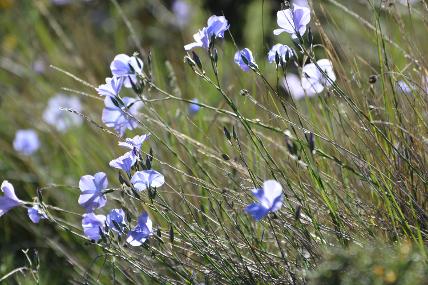 Leaving the Sierra Nevada mountains with snow still on some of the north-facing peaks and a Moorish castle in Calahorra.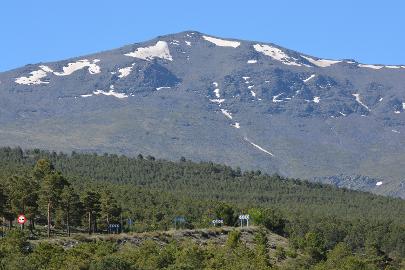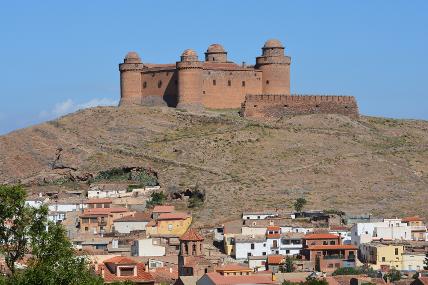 Perhaps some are tiring of the poppy photos ... but not us.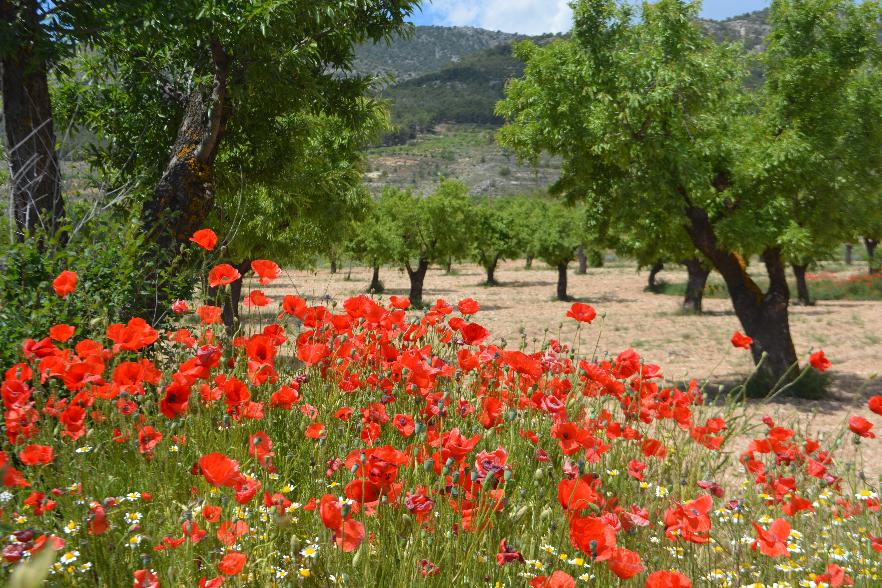 Some of the scenery as we passed into the Province of Murcia.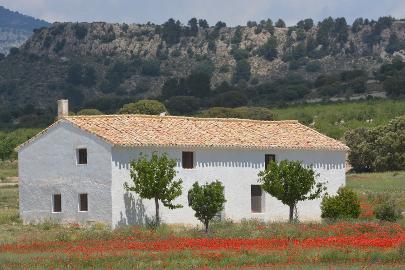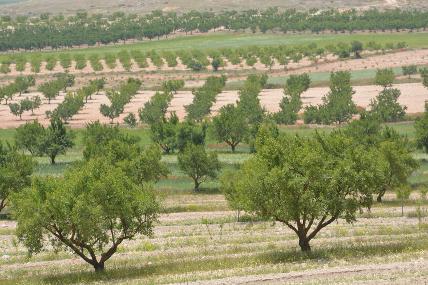 Our first glimpse of our Moroccan tent - not your standard accommodation.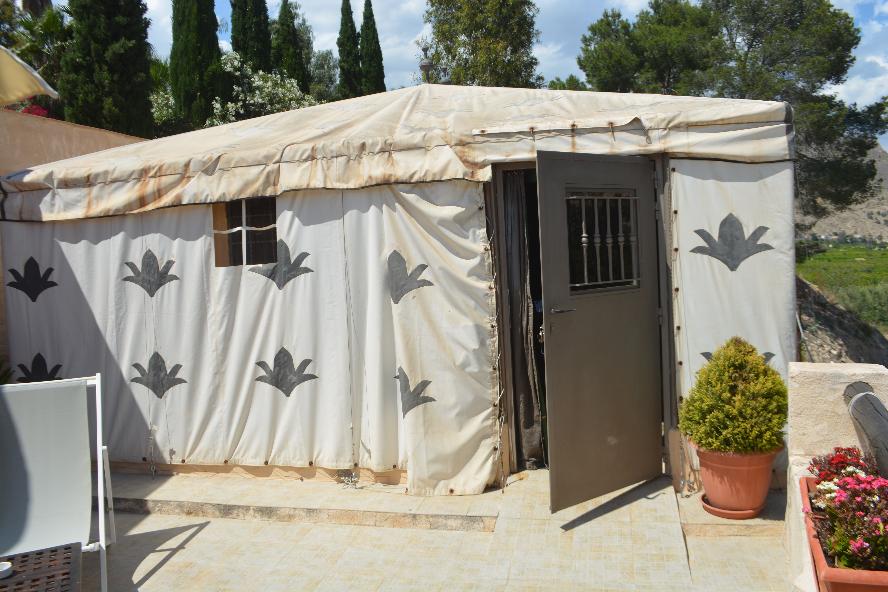 Inside our Moroccan tent - La Haymah and enjoying our welcoming bottle of cava.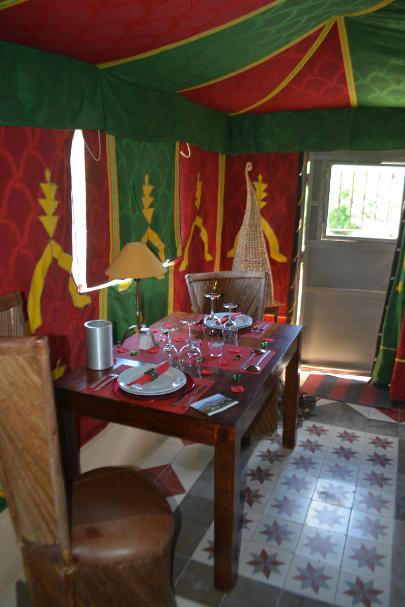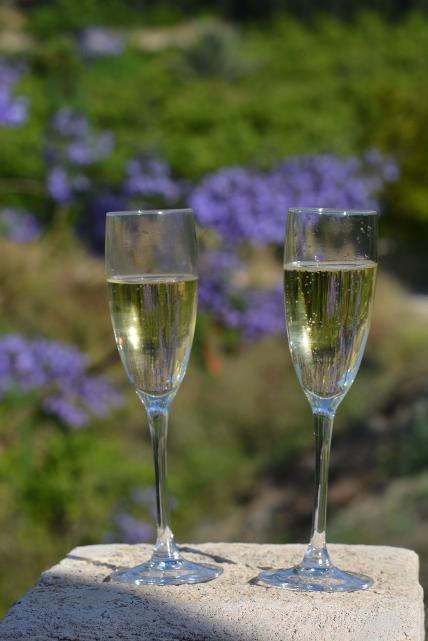 Asis and Llanos, our hosts at La Joya del Valle de Ricote.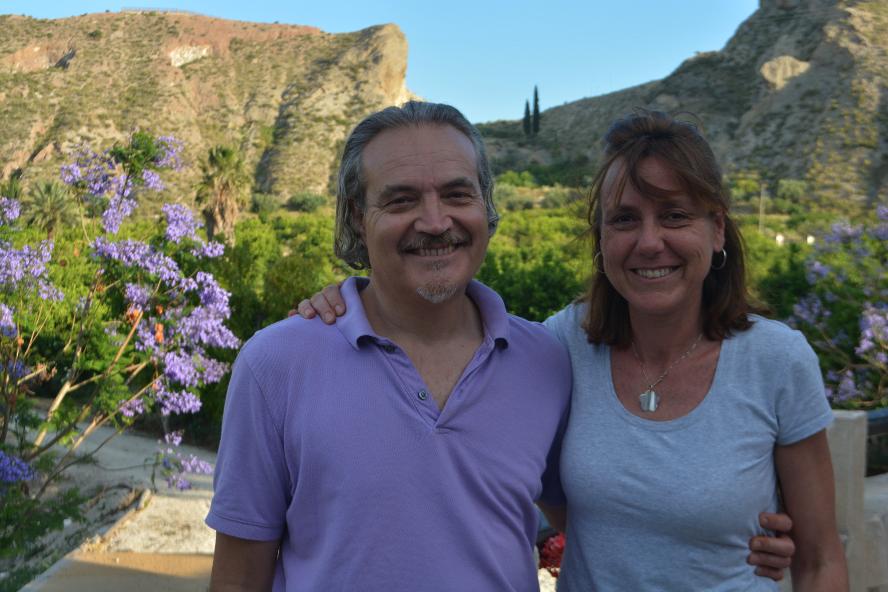 Asis serving the wine ...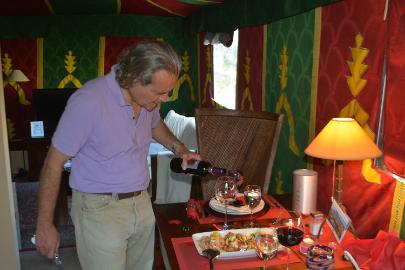 ... and Llanos delivering the gazpacho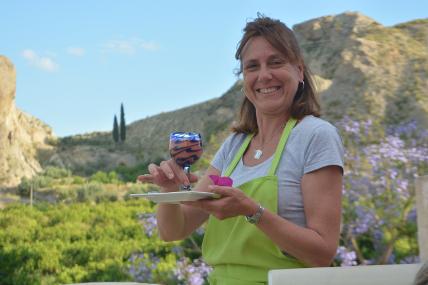 About to enjoy our meal in our Moroccan tent.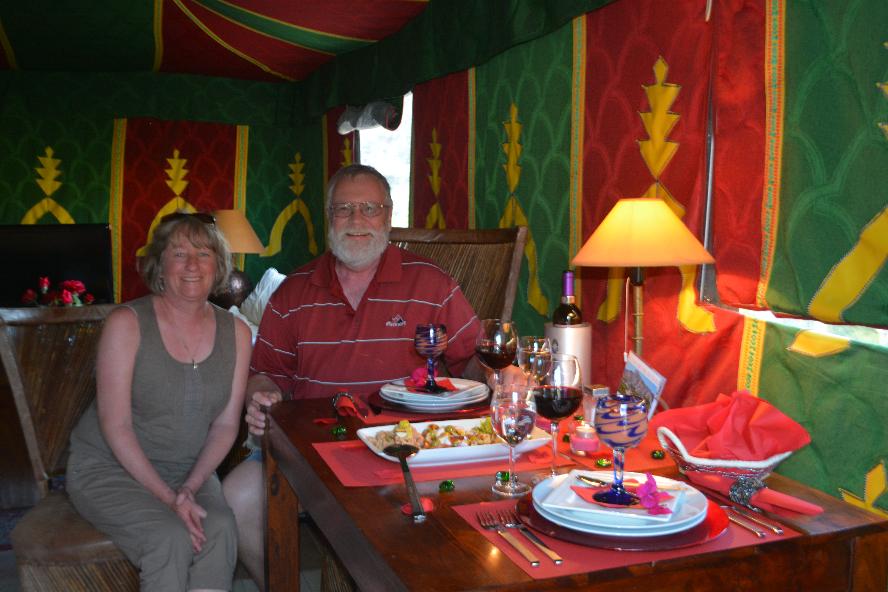 The main dish - Zarangollo - a common dish local to Murcia made with onions, zucchini, potatoes, the herb Albahaca and quality olive oil topped with fresh tomato and a fried egg.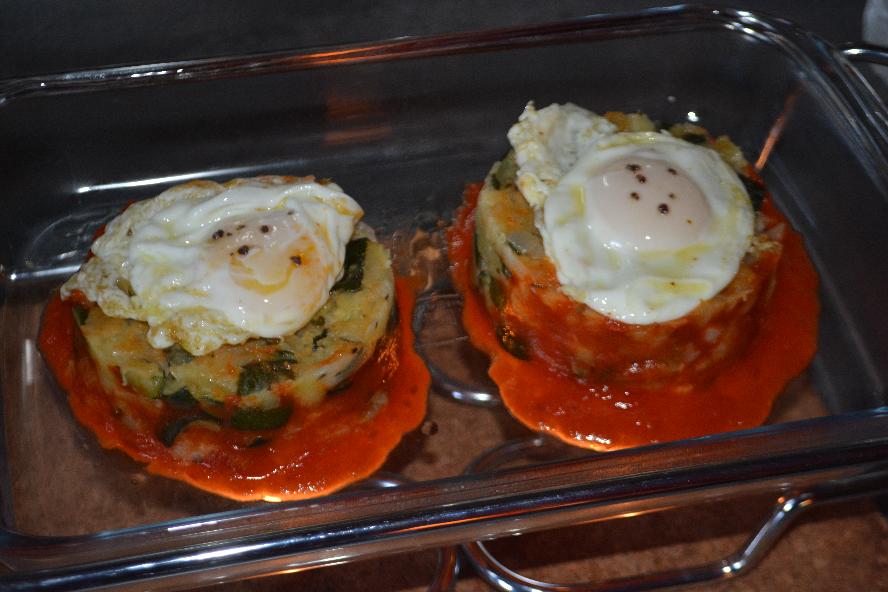 Salad, wine, strawberry gazpacho (served in a beautiful glass) and a tasty chocolate dessert to finish the meal.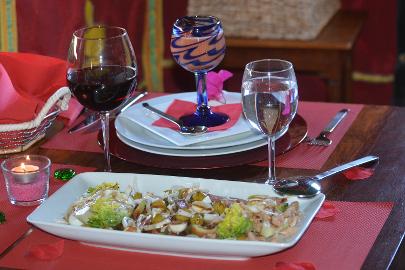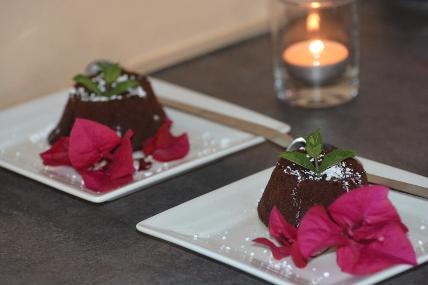 May 17, 2017 - Las Chimeneas, Mairena
Another do little day - becoming a bit of a theme. After a breakfast that included a nice choice of cereal, yoghurt and a huge bowl of tasty oranges and hard boiled eggs we took a stroll through the village. Pretty quiet as most all of the Alpajurra villalges appear to be as we drive through them at pretty much any hour of the day. Fortunately the weather has improved here in the mountains - generally sunny and while not hot very pleasant in the mid 20s.
In the afternoon we took a drive down in to the valley, down to Cadiar, across to Ugijar and then up again through Valor, completing the circle and returning to Mairena. We did stop at a suggested place - Alqueria de Morayma a bit south of Cadiar for tapas and a drink on a nice terrace with great views north to the mountains. When we asked for sangria we were offered Tinto de Verano ('literally red wine of summer'), a cold wine-based drink similar to but simpler than sangria. Normally one part wine to one part gaseosa - any form of spritzer drink although carbonated lemonade is the preferred option. At time rum is added although ours had a bit of vermouth. The drink is common here on the Costa del Sol and is considered more basic and common (and less expensive) than the more upscale sangria.
We again ate at Las Chimeneas where we enjoyed another wonderful meal - also a bit of a theme. A lentil soup, a traditional dish of baby broad beans and Serrano ham, red peppers stuffed with ratatouille and braised rabbit all contributed to an interesting, local, tasty dinner.
Breakfast of cereal, eggs, yoghurt and a huge bowl of fresh fruit - today oranges with mint.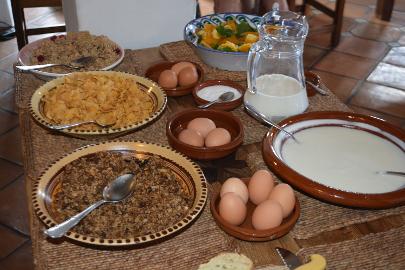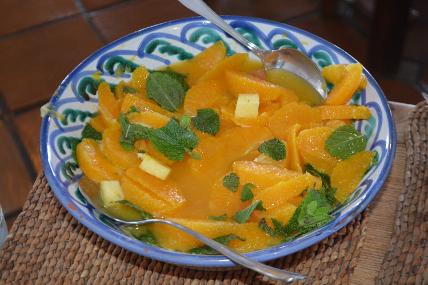 One of the alleyways in Mairena - brought to life with flowers.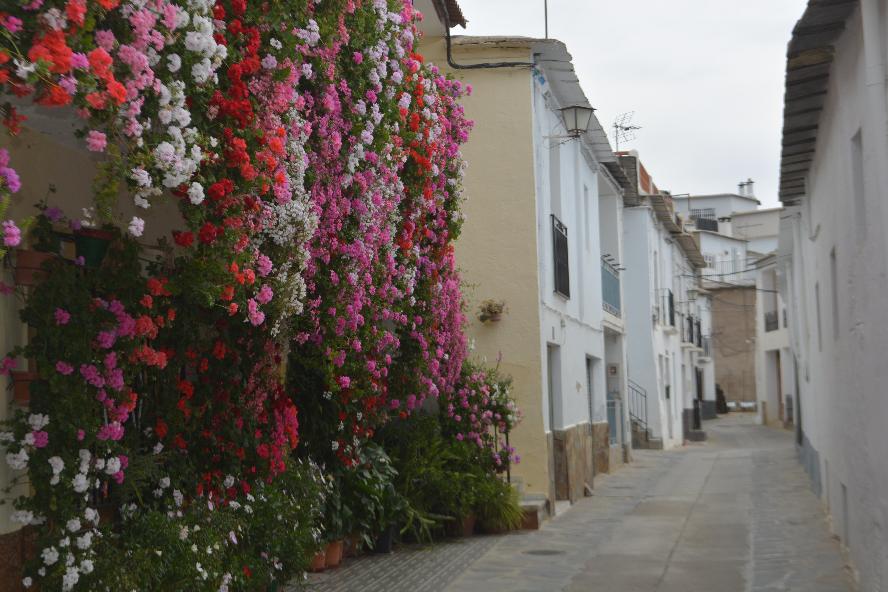 A couple of locals we saw during our stroll through Mairena.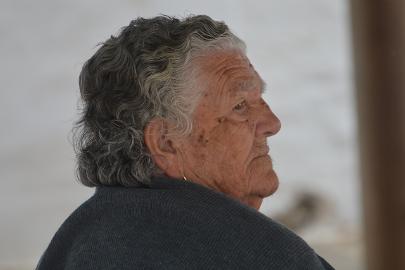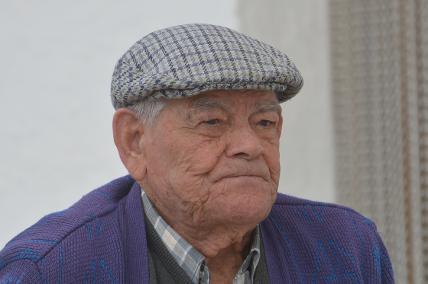 Nick suggested, and was quite right, that a nice place to stop was Alqueria de Morayma a few kms south of Cadiar. A nice terrace, a perfect size tapas and Tinto de Verana (red wine with spritzer and vermouth - a 'summer' wine).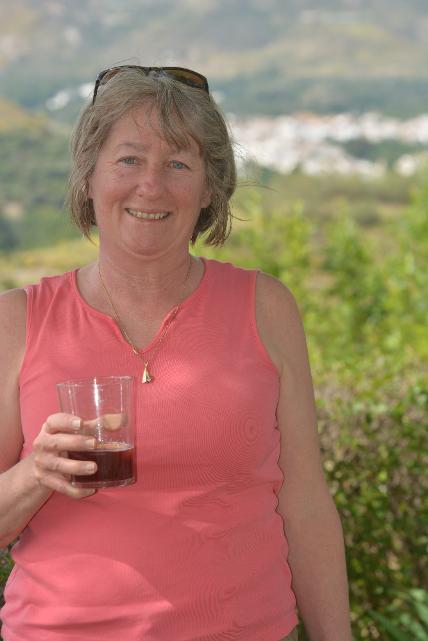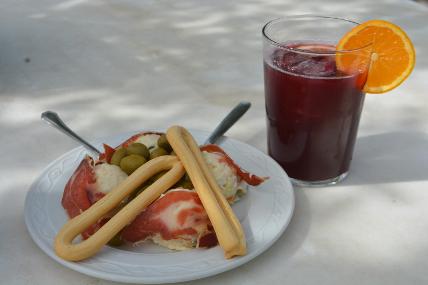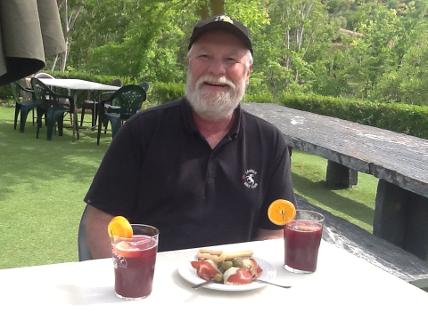 The flower adorned wall of Alqueria de Morayma and the landscape driving through the valley just beyond Cadiar.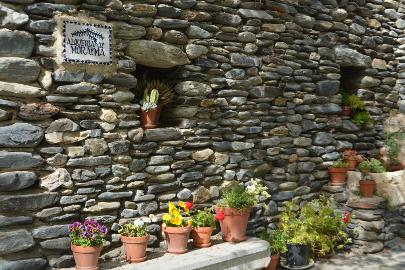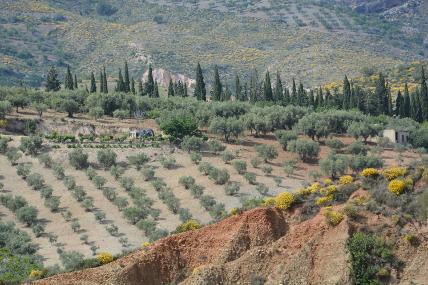 A few friends (at least we assume they are friends) passing the time in a park in Ugijar.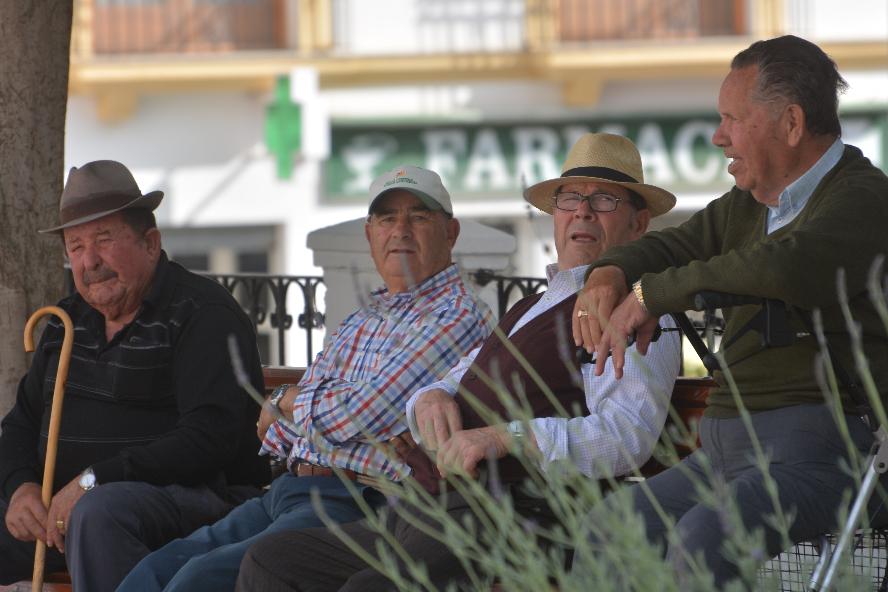 Gayle started with the Sopa de lentejas - Alpujarran lentil soup.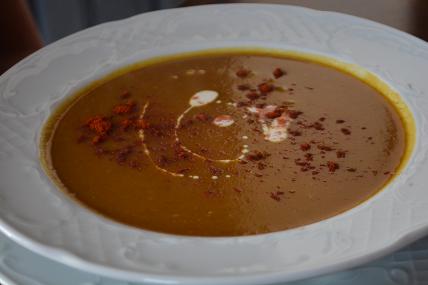 While I went with the Habas con jamon - a traditional ish of baby broad beans and Serrano ham.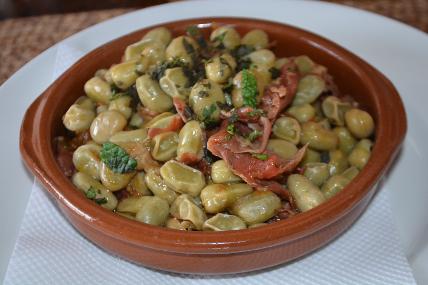 For Gayle her main course was Pimientos rellenos - red peppers stuffed with Alpujarran ratatouille.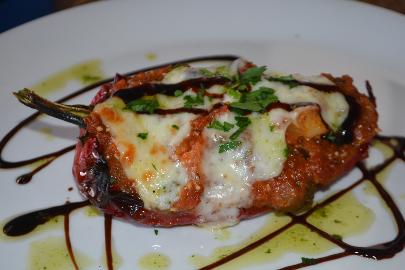 And for me Conejo al ajillo - braised rabbit with garlic, dried peppers and tomatoes.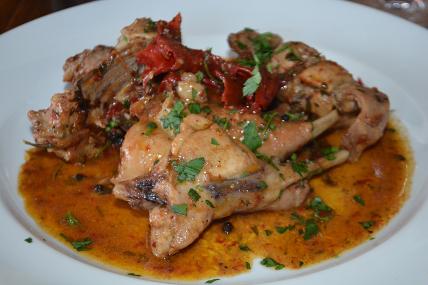 May 16, 2017 - Cortijo Prado Toro, Pitres to Las Chimeneas, Mairena
Today started with a nice breakfast on our patio. With no meals here at Crotijo Prado Toro we bought some supplies to make our own breakfast. After spending some time wandering the property and taking even more photos of the many flowers and chatting with Ludet about what brought him here from Germany via Morocco, and an award-winning Australian architect (Donald Gray) he got to know while renovating a property in in Granada helped him design the cortijo.
We left for what was a relatively short - in terms of distance - but relatively long - in terms of time - drive east across the face of the Sierra Nevada mountains. again through Trevelez and the villages of Juviles, Berchules, Mecina Bombaron, Yegan and Valor before finally reaching Mairena and our lodging at Las Chimeneas. Up, down, left, right, in, out - the drive was full of twists and turns. We arrived to a very large beautiful - with again like every room nice wood beams - room on the front of one of the buildings with a balcony overlooking the valley, a few villages and the mountains on to the sea. We were greeted by Kat (actually Katrina) from Australia who interestingly had stayed at Cortijo El Guarda when she got engaged, who chatted with us over drinks and a plate of meat, cheese and home-made seed crackers.
Las Chimeneas was pretty much fully booked with a group of painters from England, four lady walkers also from England and four lady book club members, also here to walk from Michigan. Dinner was very well done with Andrew, a Brit who settled here 18 years ago serving and explaining the wine, dishes and local ingredients to us. Not a full menu but a choice of one of three Entrantes (starters), one of three Platos principals (main courses) and one of three Postres (desserts) with the food focusing on local ingredients and recipes. In fact David and Emma, the owners of Las Chimeneas have written a cookbook / foodie experience of the Alpujarra that we bought.
Breakfast on the patio with the fountain and roses on the side wall. Some bread, meat, cheese, orange juice, a chocolate roll and coffee and we had ourselves a very complete breakfast.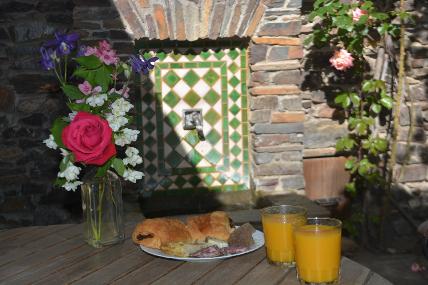 Ludet's wife it the gardener. When Ludet was looking for property he was advised the first and most important thing to have is water. Then the second and next most important thing to have is water, and the third and ... There is indeed a great supply of water, put to great use to maintain a lush and attractive garden.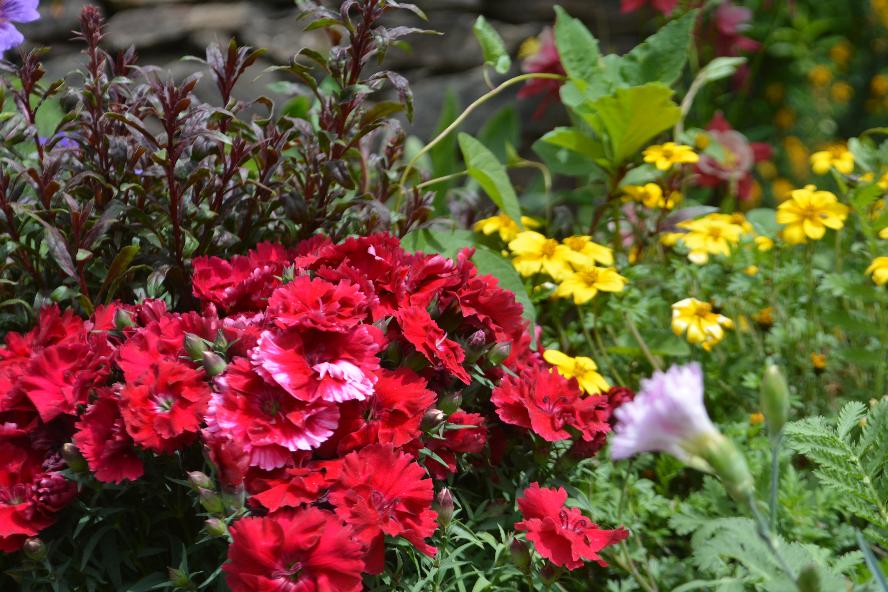 Ludet, originally from Germany, a carpenter by trade started building his cortijo in 1979. A beautiful property on the edge of the Sierra Nevada mountains.
A cat against a stone wall with a rose bush caught Gayle's eye.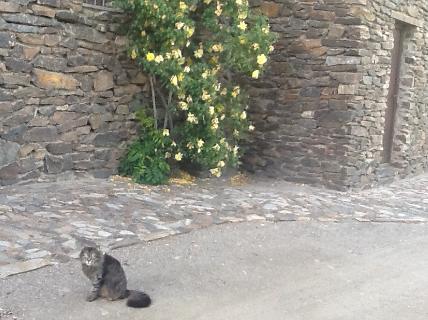 More of the colourful flowers and shrubs throughout the Cortijo Prado Toro property - these shots courtesy of Gayle.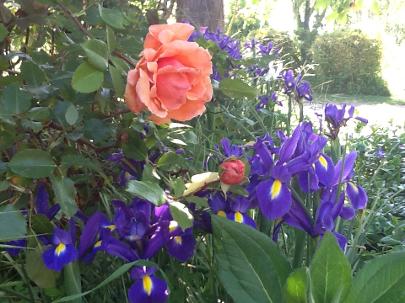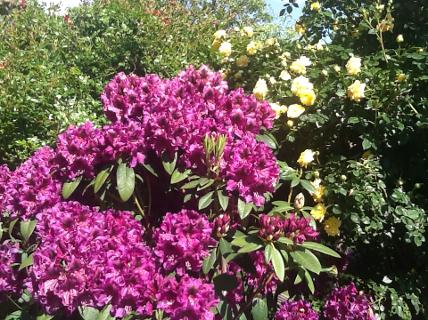 The village of Pitres, typical of the white-washed mountain villages here in the Alpujarra.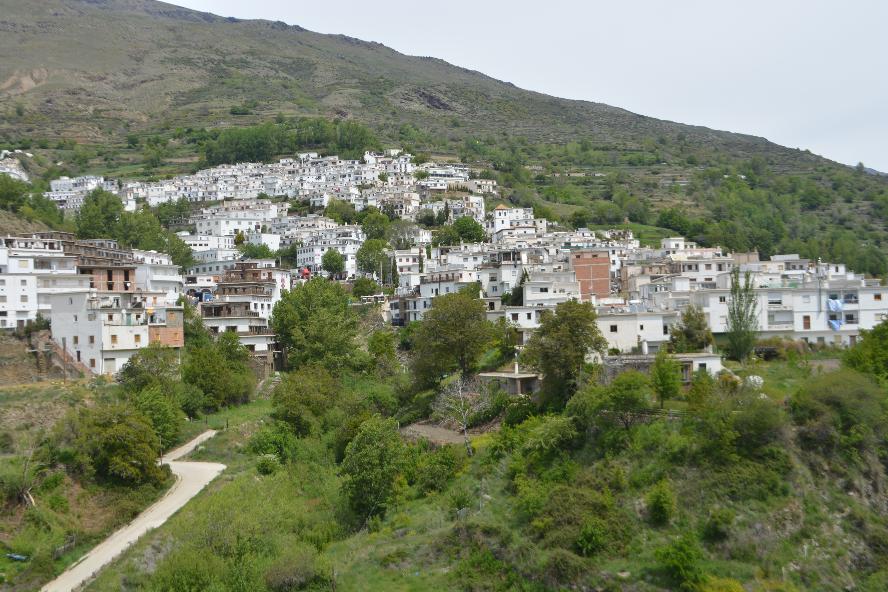 We are in the Alpujarra region of Andalusia - hugging the edge of the Sierra Nevada Natural Preserve. All along the road are flowers and shrubs.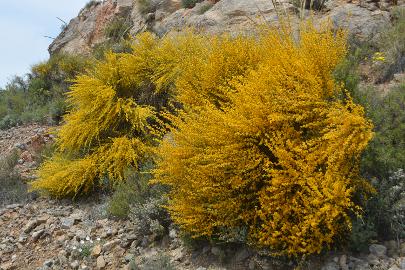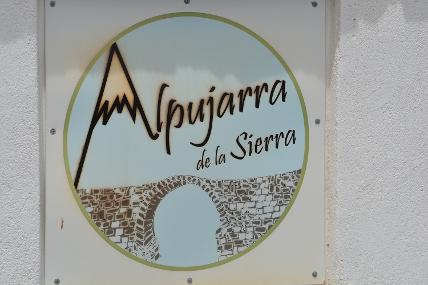 The vegetation has changed somewhat with cactus (and still the poppies) now along the roadside. Her in the village of Valor this building couldn't help but catch one's attention with the endless flower pots.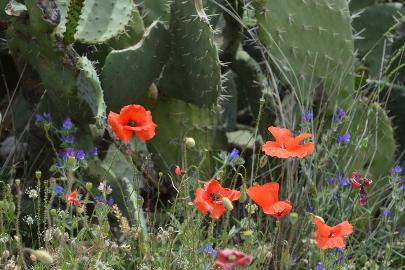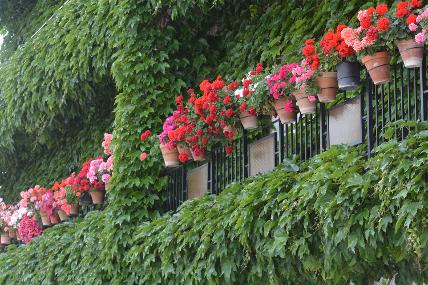 The view to the Mediterranean from our window of our beautiful front of the building room at La Chimeneas.
Gayle started with the Ensalada de humous (humous, salad and fresh flatbread) followed by a stuffed aubergine (eggplant).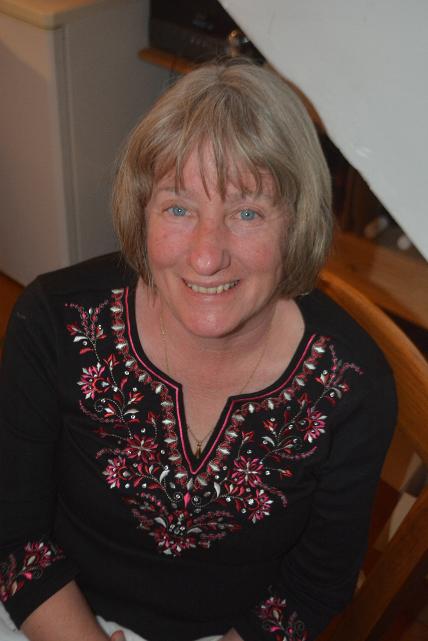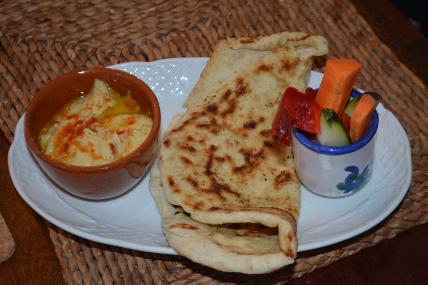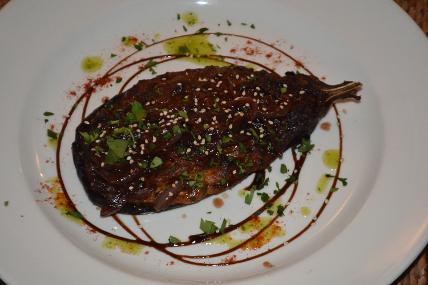 And for me calamares a la plancha (fresh squid with garlic and parsley) and a Tarta de albaricocque y requeson (apricots and goats curd tart).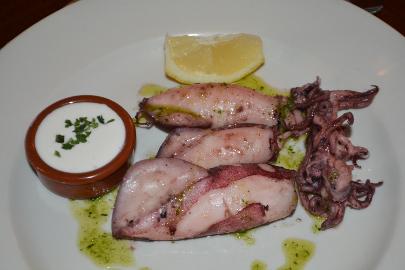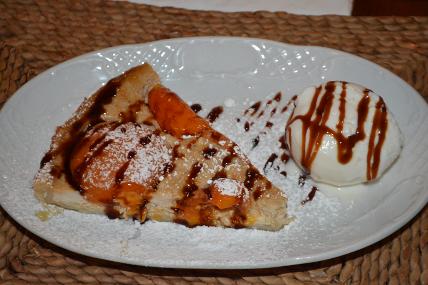 May 15, 2017 - Cortijo Prado Toro, Pitres, Alpujarra, Sierra Nevada
Today was a lazy, quiet day We first went in to nearby Pitres to pick up some supplies for breakfast - coffee, milk, juice - we had bread, cheese and meat. Pitres is a small sleepy white-washed Andalusian village - nothing too exciting. In the afternoon we drove up to Trevelez, the apparent ham capital of Spain. We arrived at a restaurant in the upper part of town that was recommended to us at ten to four, fortunate as the kitchen closed at 4:00 pm. So we ordered quick - Gayle a dish of roasted red peppers in cheese, nicely garnished with asparagus and me a more refined Ajo Blanco, heavier on the almonds and less of the garlic along with a plate of jamon Trevelez - simply a plate of ham. At home we will have a bottle of wine a week, on occasion two but since arriving here in Spain it has been a bottle at every meal. During dinner tonight we decided to finally cut back - to a half bottle! It's simply part of the culture here to enjoy a bottle of wine with a meal so when in Spain, do as the Spaniards do.
Trevelez is the ham curing capital of Spain, apparently because of the low humidity here in the mountains. According to Ludet, our host Cortijo Prado Toro the hams come from all over Spain to be aged in the village. There are shops everywhere through town as one is always within near proximity to an aging jamon.
We returned to the cortijo where we strolled up to the pool and simply admired the gorgeous flowers, especially the roses throughout the property. All in all a very relaxing, easy day.
Our view looking south from Cortijo Prado Toro over the mountains to the Mediterranean.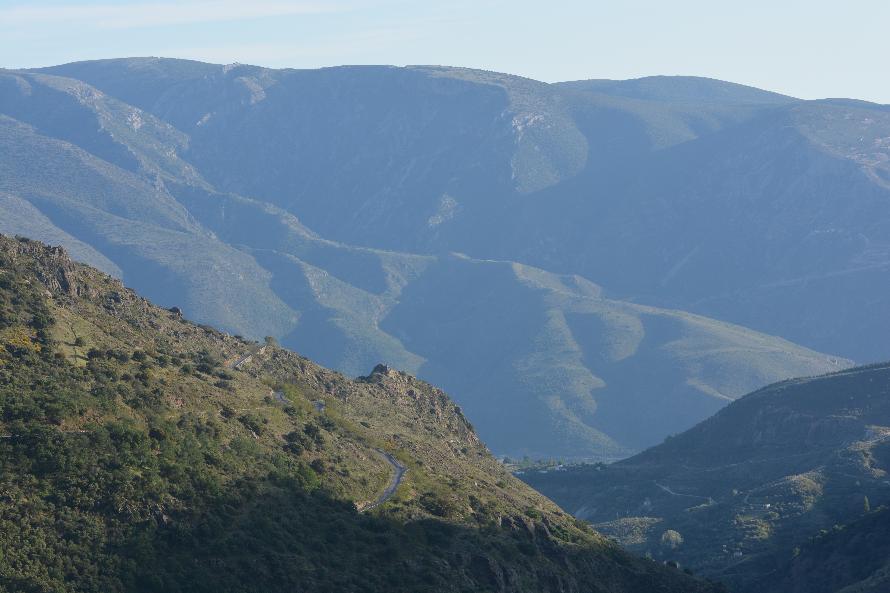 Cortijo Prado Toro and a very small sampling of the beautiful flowers throughout the property.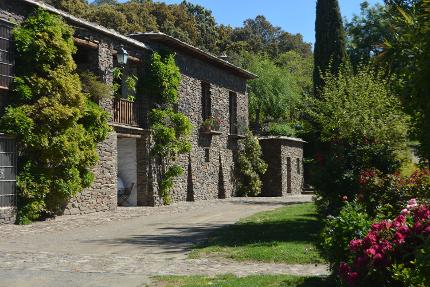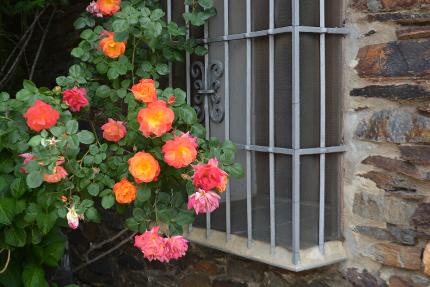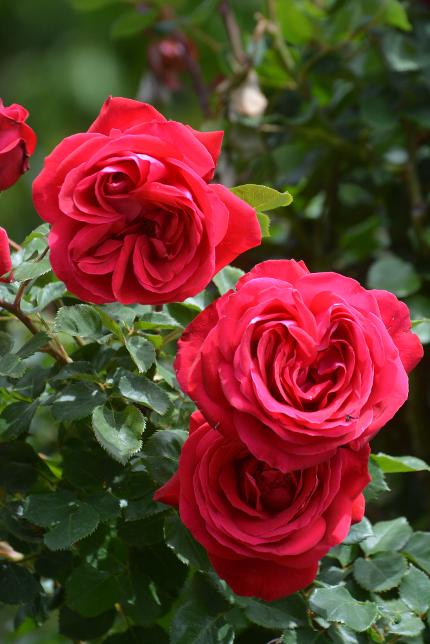 On our way back from Pitres we saw this fellow walking along the road. He seemed happy to have his photo taken.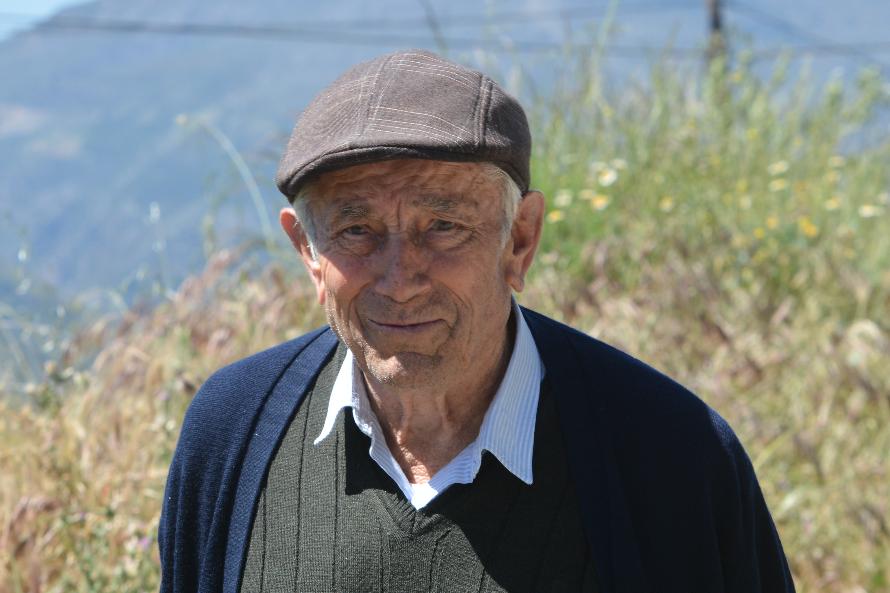 Just glad this is not our car.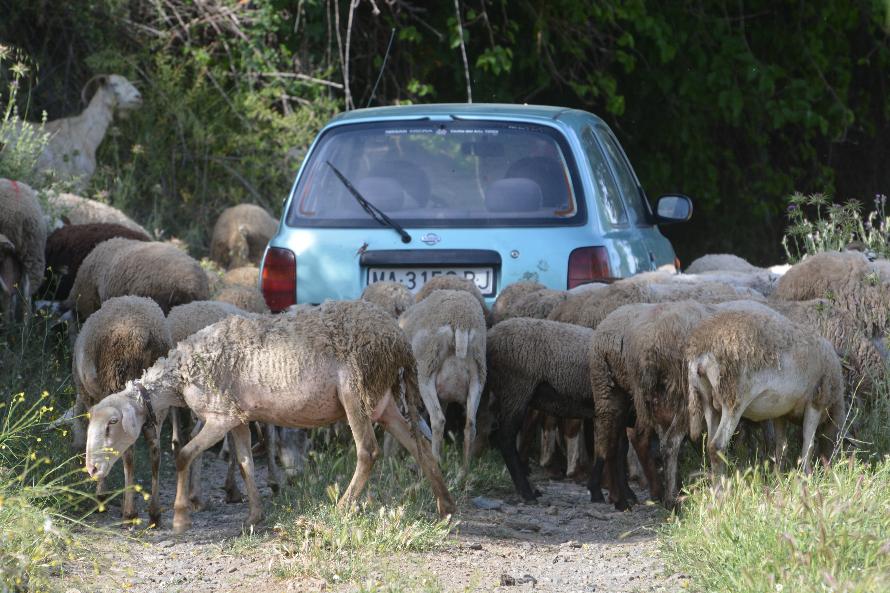 So I go into this shop and there are hams, hams and more hams (and some cheese and plates that I bought) - hams hanging everywhere.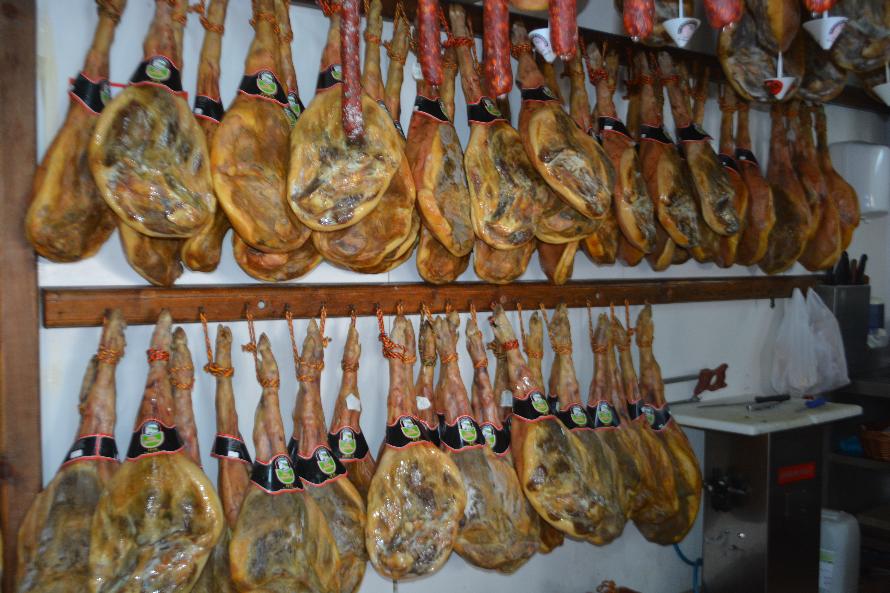 And if one thought there were a lot of hams downstairs a trip to the upper level exposed one to an unbelievable number of drying hams.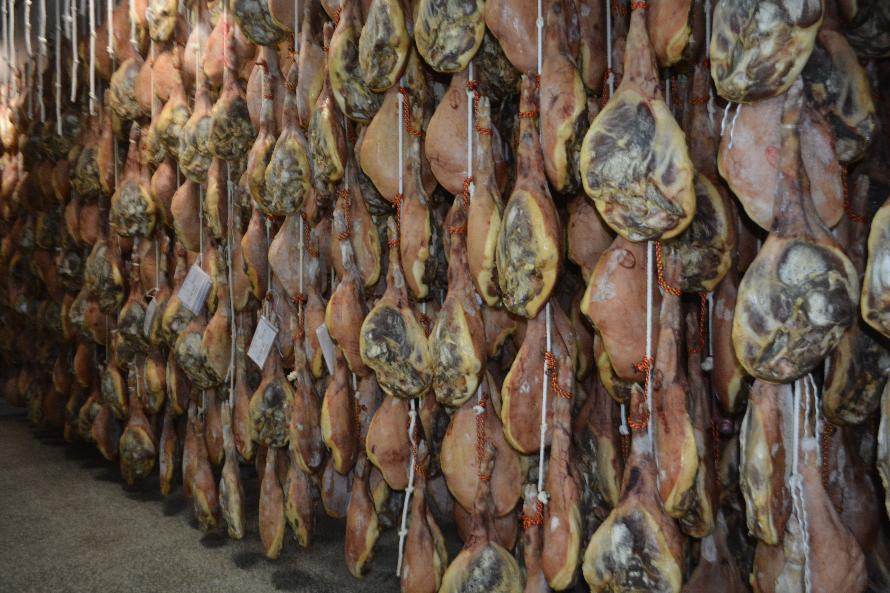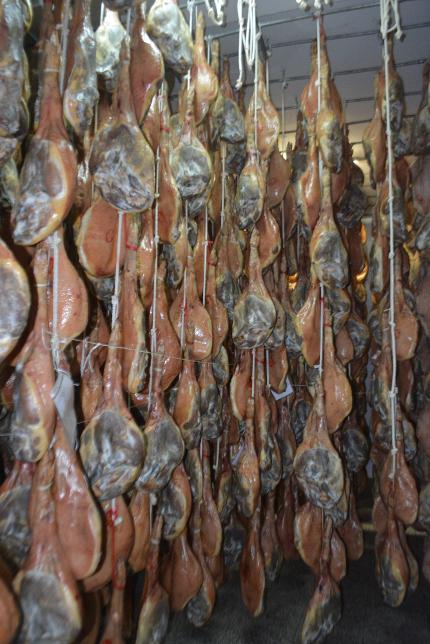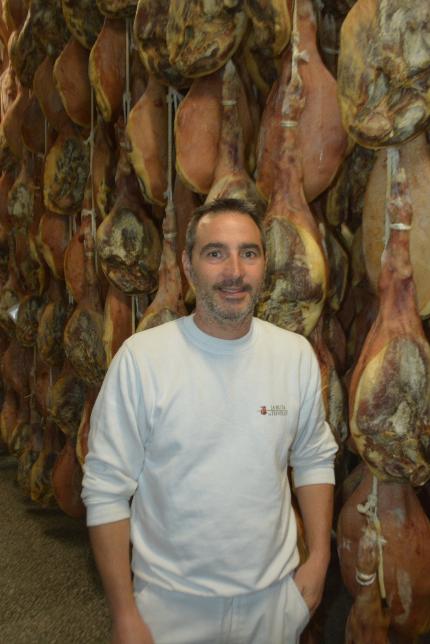 A few other sights in Trevelez - cheap wine; beautiful flowers on a wall; and a fellow on a horse.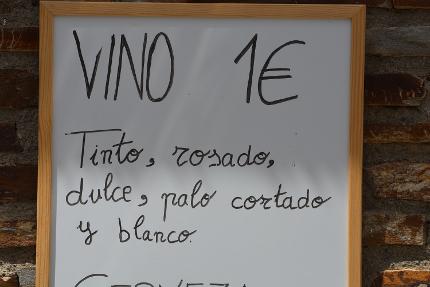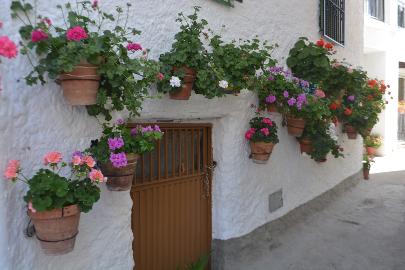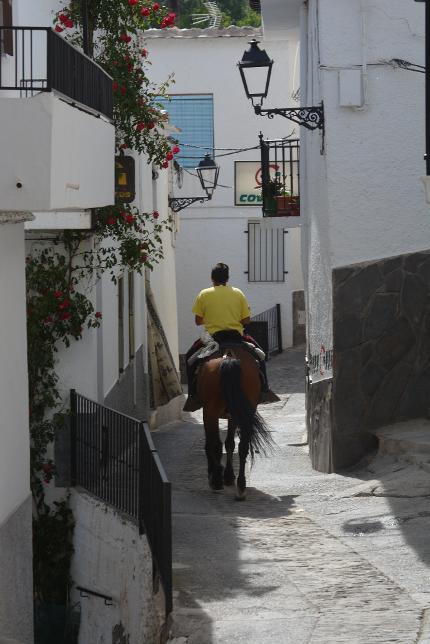 Ajo Blanco (soup of almonds, garlic, and olive oil served with bread and pear) and a plate of Trevelez jamon and vegetable stuffed red peppers in a tomato sauce, garnished with asparagus and cheese.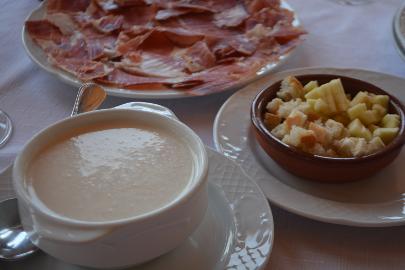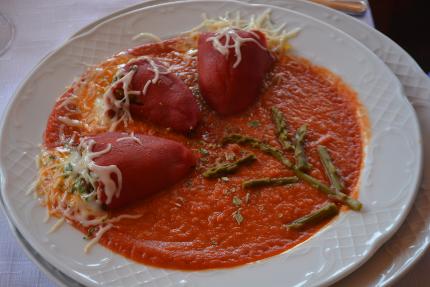 May 14, 2017 - from Albolote past and across the Sierra Nevadas to Pitres
It really is something to look behind your room and see a wheat field covered with poppies and olive groves beyond, and then out the side window to rolling countryside, again filled with olive trees, and then the other side window to a courtyard of the cortijo, and finally the last of the 360 degree views to see the chapel.
After breakfast and a short stroll into the wheat field for some photos we left heading south through Granada (really easy with a nice highway) along the western edge of the snow-capped Sierra Nevada mountains for about 45 minutes until we reached the south face where we turned on to a small winding mountain road that twisted in and out of the valleys. Although not long in kms the drive is twisty and slow.
We eventually came upon the small village of Pampaniera where we stopped and strolled through. Being a Sunday afternoon it was quite crowded with visitors, most of them appearing to be locals. We stopped to pick up some meat and cheese and then some chocolate in a very popular artisan shop. Before leaving we enjoyed a couple of lemonades on the terrace of a restaurant / bar.
We continued on to just before Pitres where we turned off to drive 2.5 kms sraight up the mountainside to the Cortijo Prado Toro where we had an apartment but no meals (breakfast or dinner). The property is stunning with flowers everywhere - roses, rhododendrons (not common in this region of Spain), irises and too many others to mention. Our apartment, El Patio, was spacious with cooking facilities and a nice patio area with a small fountain, table, sun and shade. Very nice.
For dinner we went to the nearby town of Bubion where we enjoyed some traditional Spanish soups - Ajo Blanco for me and Gazpacho for Gayle. Then Gayle had a simple but traditional Spanish tortilla and I finally some lamb. A nice meal with the added benefit that from the window we could see across the Mediterranean to the coast of Morocco and the Rif mountains. We made it back to Prado Toro just before it got dark, which this time of the year is 9:30ish.
It was difficult to know where to look from out 360 degree panoramic view from our room. Out the backside was this field of poppies leading to the olive groves ...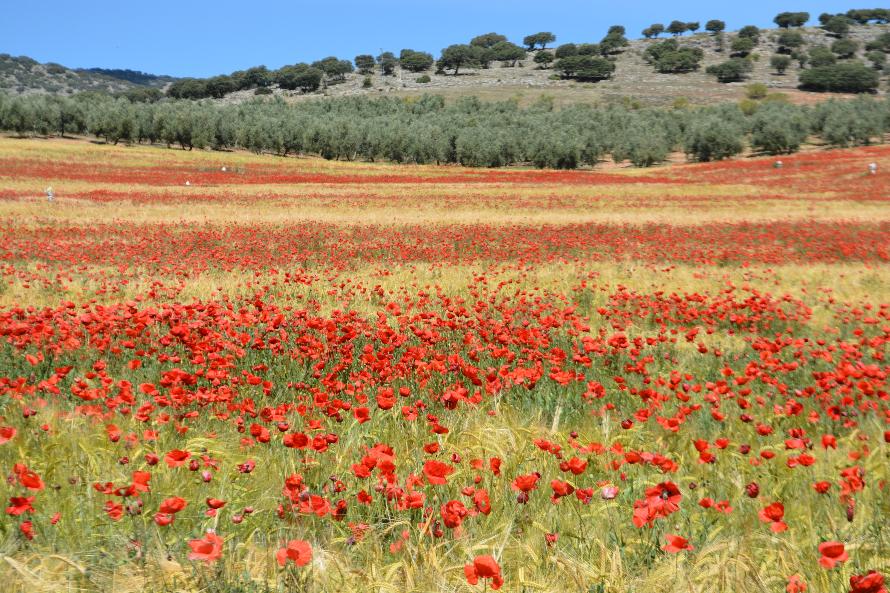 ... and then looking east these beautiful rolling hills dotted with rows of olive groves.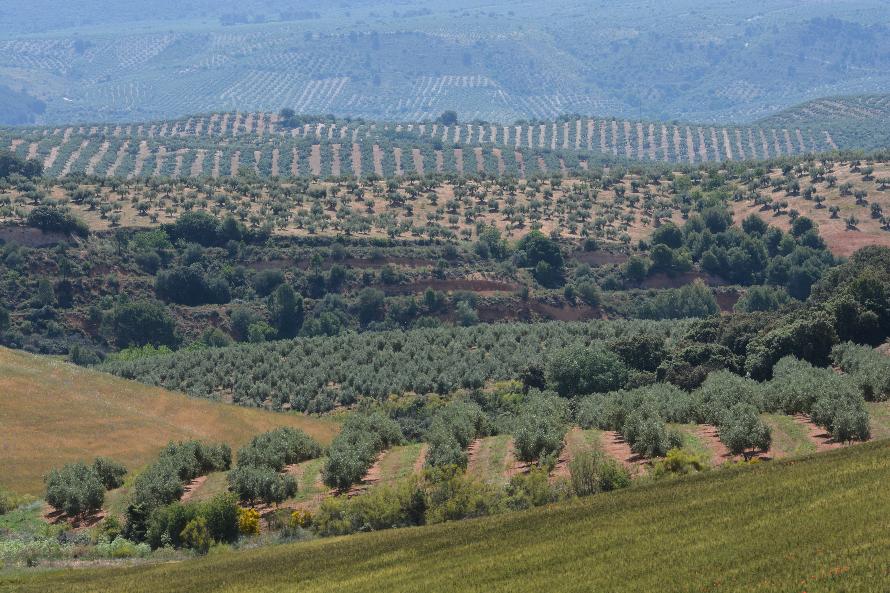 Another day ... another breakfast.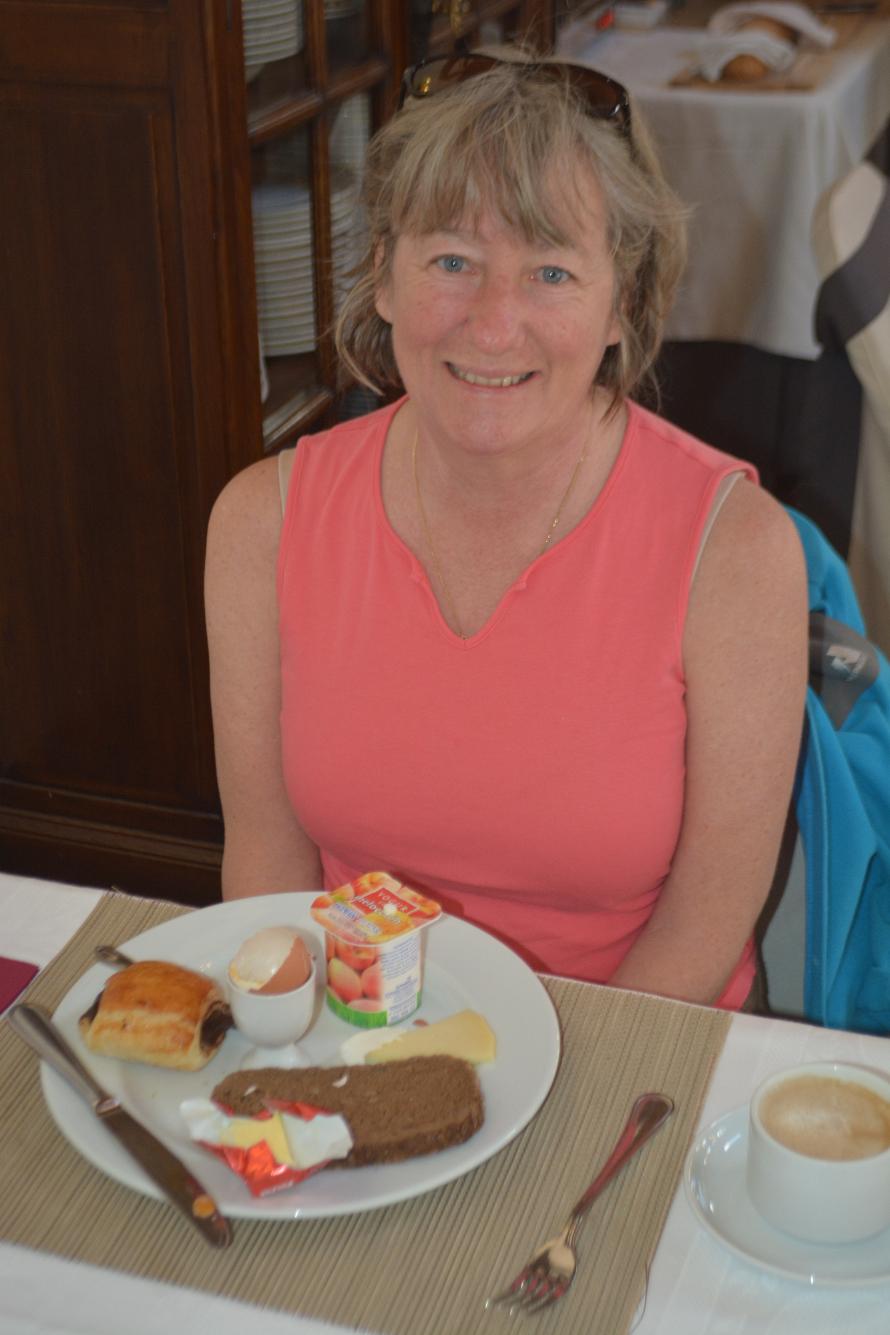 Our room high up on the left, with panoramic views in each direction, and the side of the chapel.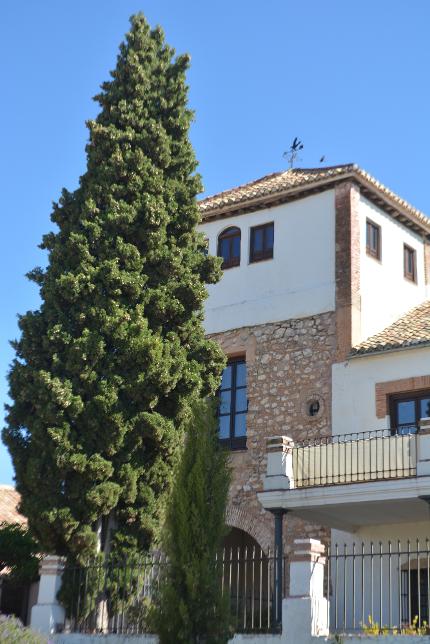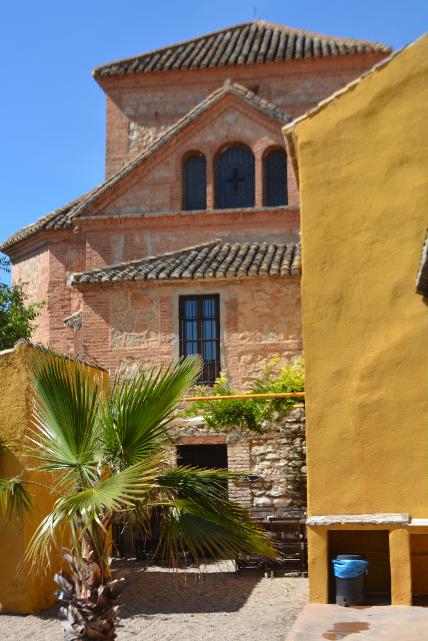 A typical Andalusian courtyard with orange trees and a fountain adorned by bright flowers.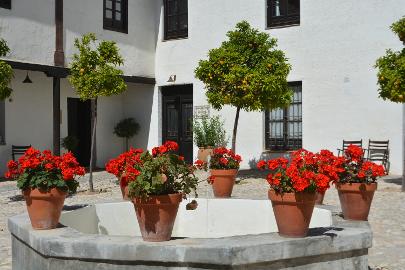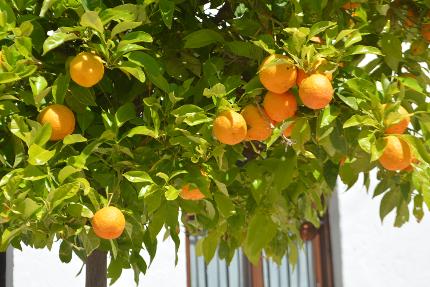 The chapel from the window of our room.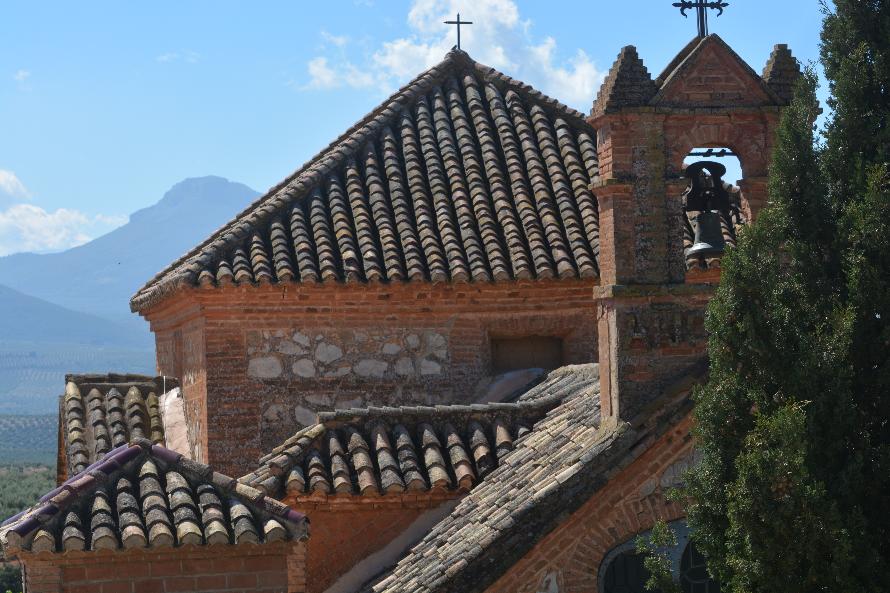 The outside and inside of the chapel.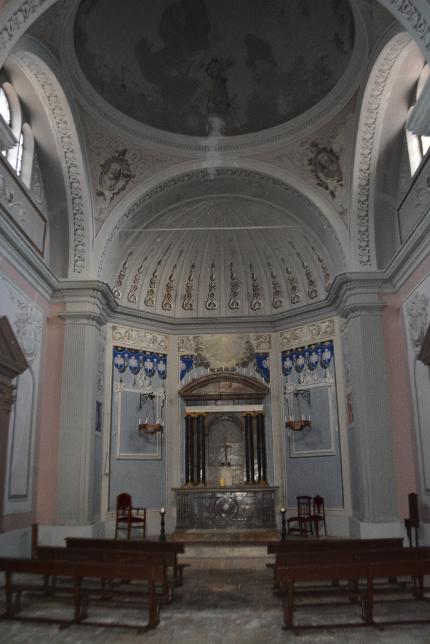 Snow still on the Sierra Nevada mountains as seen from our room at Cortijo del Marques.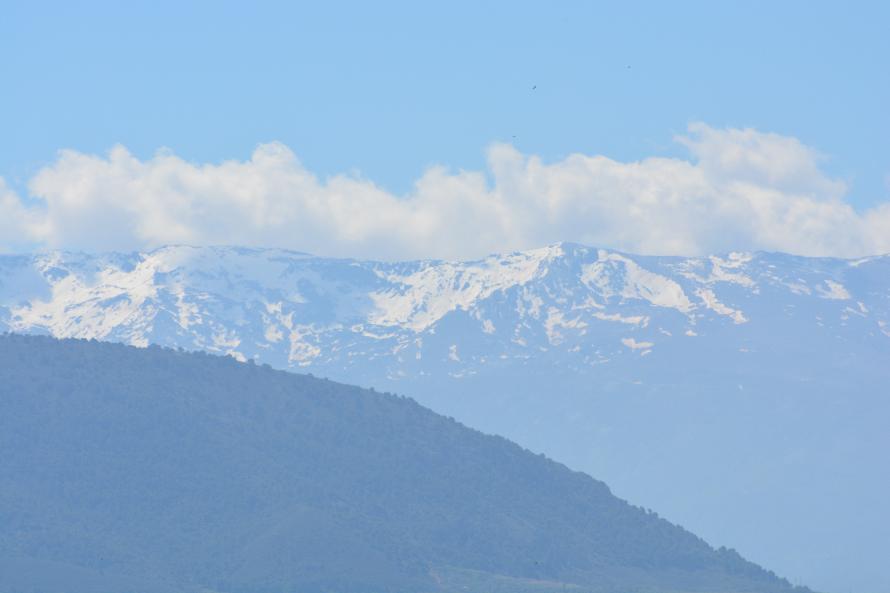 An all too common alleyway in the village of Pampaniera and colourful flowers outside most homes in the town.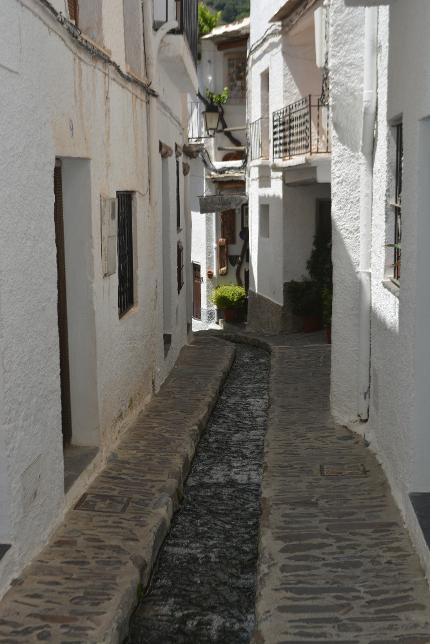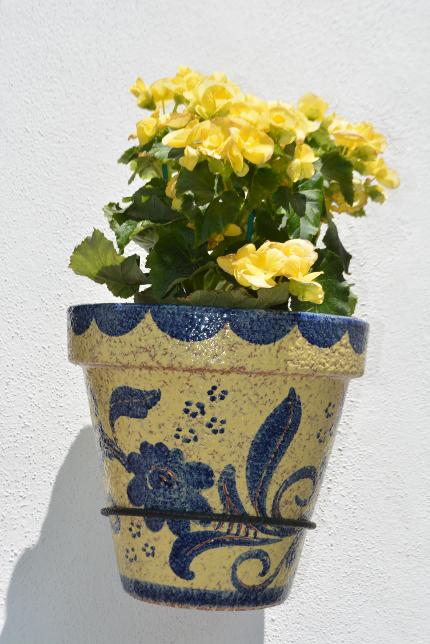 Being in the mountains of Spain there is a wide selection of cheese and lots of ham, as in this shop in Pampaniera, where there is also some excellent chocolate made.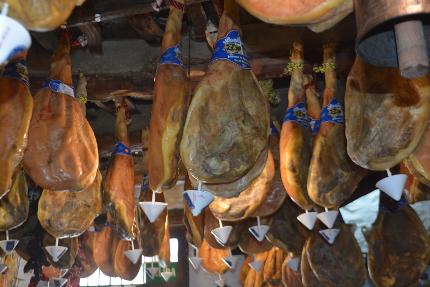 A menu of the day at a small restaurant where in Pampaniera where we stopped for a lemonade - we rarely eat mid-day after a huge breakfast. And yet more sausages.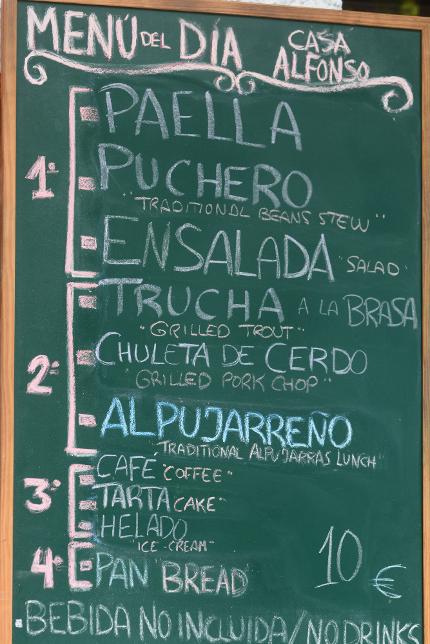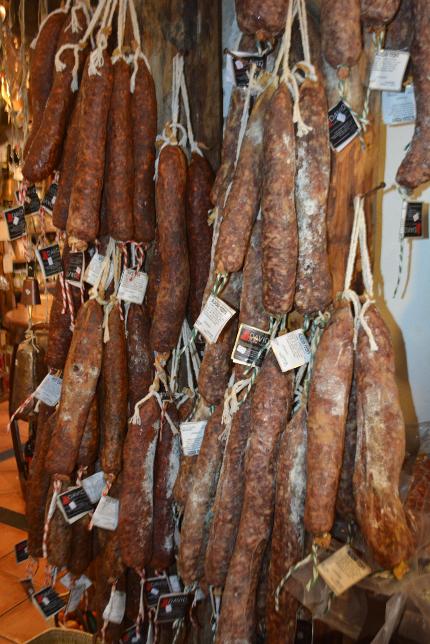 Our lodging tonight is the Cortijo Prado Toro, with flowers throughout the property and a really nice sitting area as part of our room El Patio.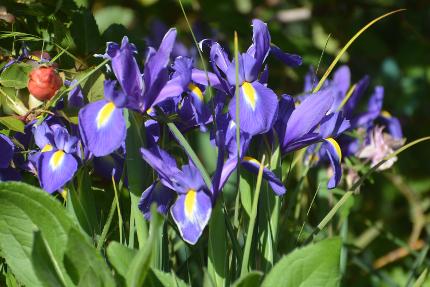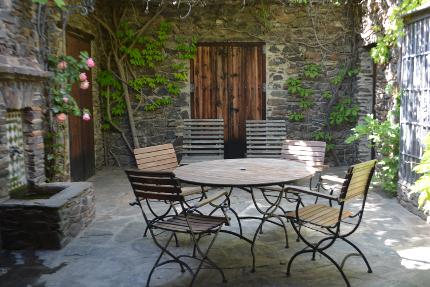 We ate at Teide in the village of Bubion where upon sitting down we were given this plate of meat, cheese and olives. At certain times of the year when the sun and weather are just right one can see across the Mediterranean to North Africa (Moroand the Rif With the sun setting.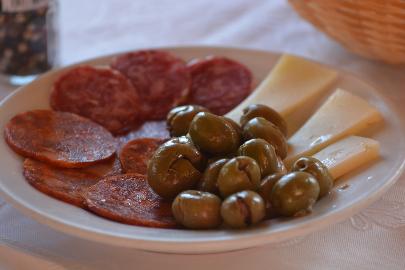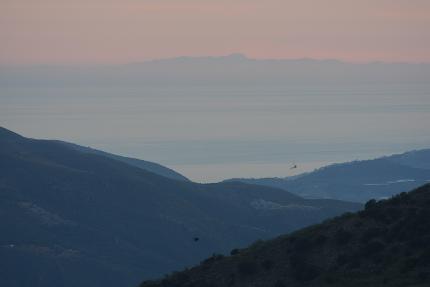 May 13, 2017 - from Alcala del Valle to Albolete, just north of Granada
My how the five nights flew by. It is hard to believe we have to leave Cortijo El Guarda already. Again we enjoyed a great stay in spite of the less than great weather.
In 2014 we shared our efforts to improve crosswalk safety back home. Hans was interested enough that we thought we would bring him his very own crosswalk flag - not that it is needed in this rural location. The crosswalk flag was a hit with Sam who instinctively took a liking to carrying a stick - we're not sure he understood the flag on the end but seemed to enjoy shaking it.
We said adios and headed off to our next stop, the Cortijo del Marques just north of Granada. Having toured the area previously we drove straight through, somewhat less than two hours. We had stayed at del Marques back in 2013 and looked forward to another typically Spanish cortijo where we anticipated another nice meal.
The history of the Cortijo has been traced back about 500 years when in 1532 a large area of agricultural land was transferred to the Marquis (Marques in Spanish) of Mondejar. In 1878 the chapel and tower were built with the property coming to look more like a small village than a farmhouse. The chapel received full church rights by means of the seal of Pope Leon XIII in 1880. During the Spanish civil the Cortijo served as barracks for the Republican forces with the chapel damaged when hit by a Nationalist artillery round. Then abandoned until carefully restored in the early 2000s maintaining many of the original features resulting in the air of an historical Andalusian manor house.
We stayed in Mirador, a room at the top of the building with 360 degree views of the wheat fields at this time of the year full of red poppies, olive groves, the church, the courtyard and the mountains of the Sierra Nevadas. Large and bright with a huge bathroom the room was full of character with its wood beams and tile floors. We couldn't have been more pleased with our choice.
Dinner was as expected - very well prepared and presented, enjoyed with a bottle of Galician Albarino wine. Gayle started with a serving of padron peppers while I had marinated chicken with caramelized tomato. The next course, the highlight of the meal was artichoke in tempura with vegetables (and for me ham) stewed in sherry. Outstanding! Gayle then had stuffed zucchinis while I a fillet of cod, gratinated with roasted red bell pepper aioli and crunchy leeks. Dessert was a glass of white chocolate mouse. A very nice meal for 29 euros each.
Still a bit cool but the sun was out early in the morning meaning breakfast in the courtyard.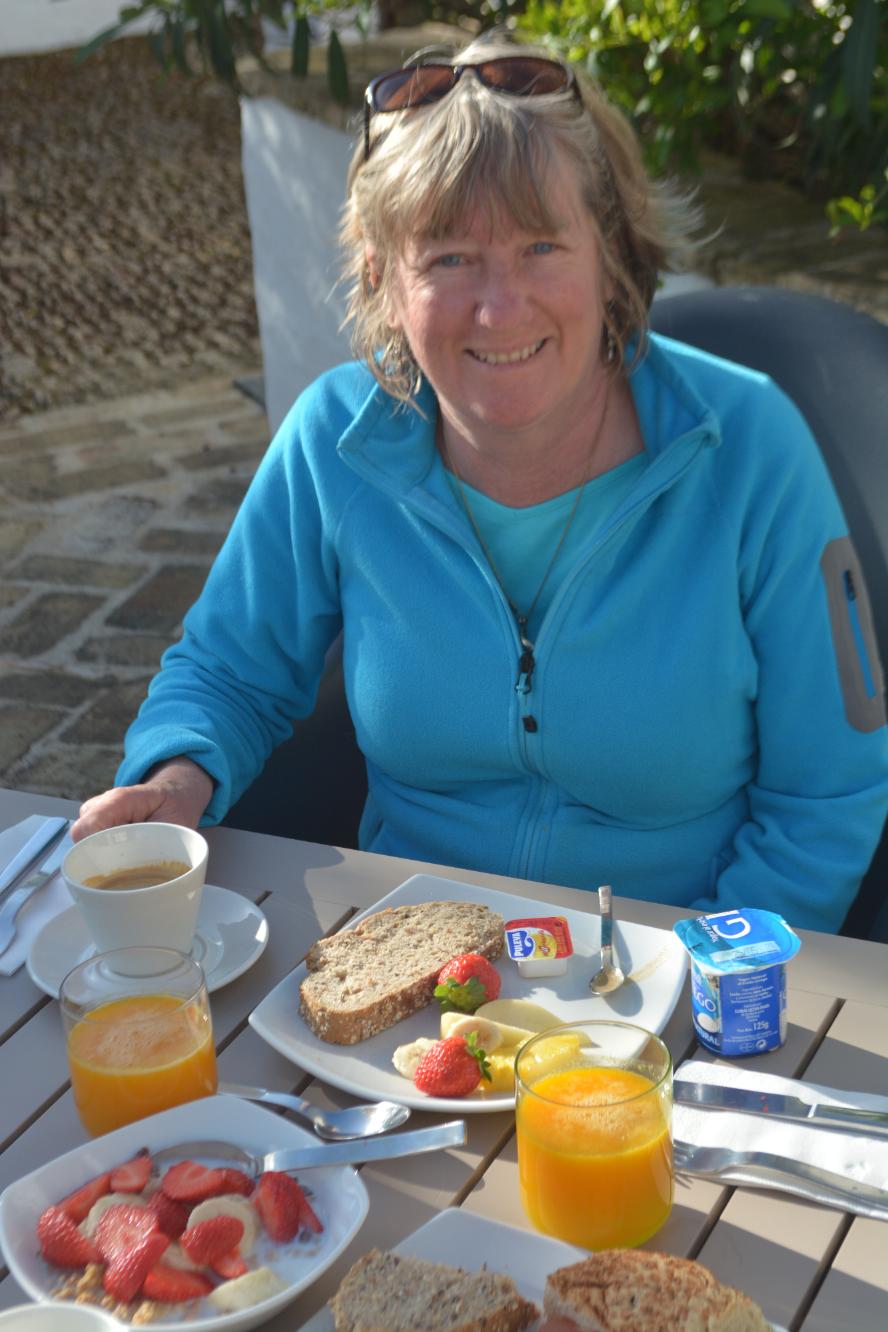 Look, sun in Alcala del Valle - so nice to finally see and to enjoy breakfast outside in the courtyard. And of course there are Hans' delicious scrambled eggs.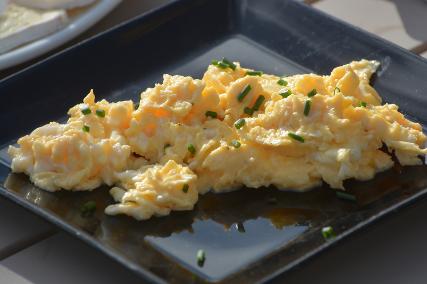 The pool is nice and large but unfortunately not usable during the cold snap we experienced.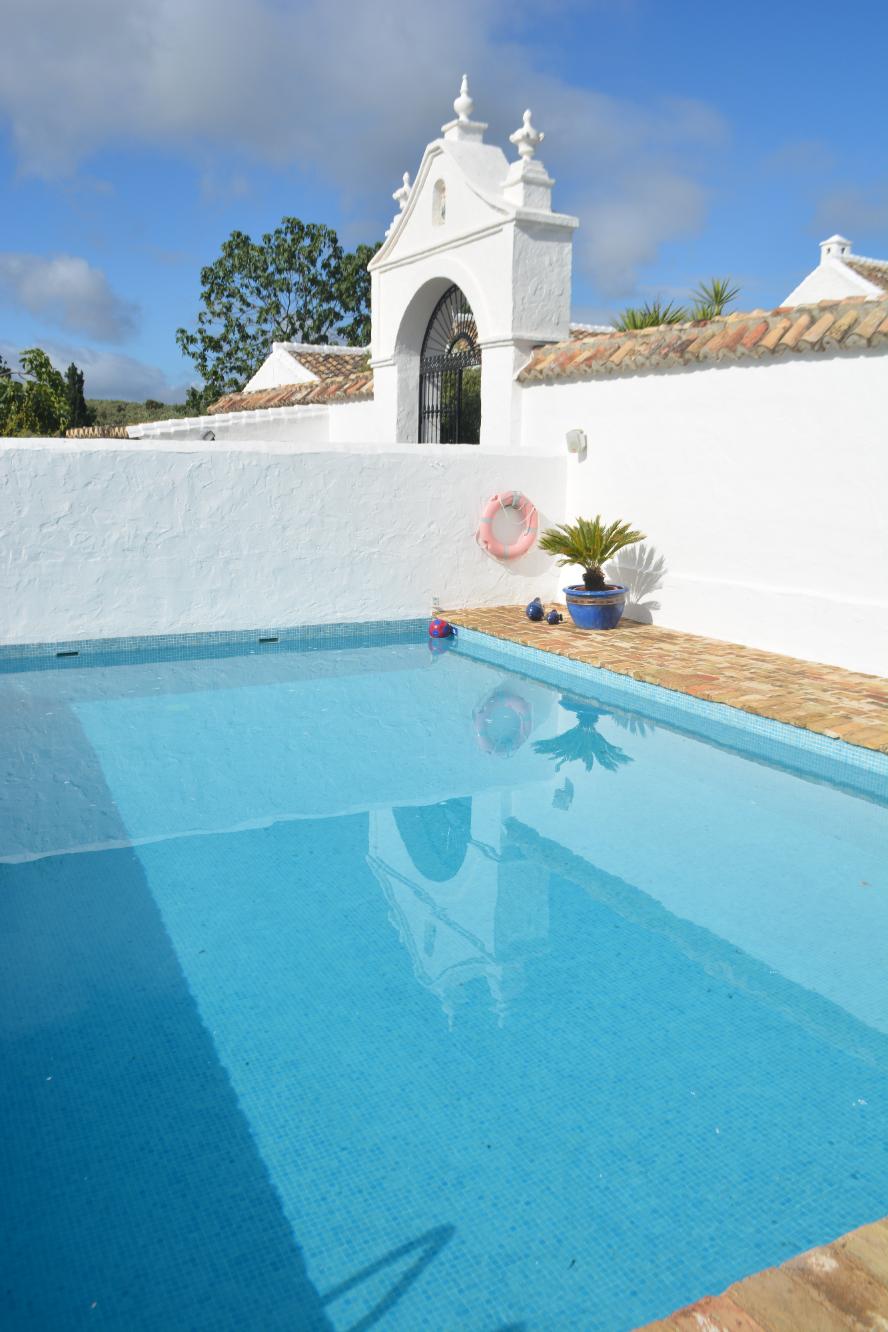 A few shots first of the countryside outside the cortijo and then of the courtyard.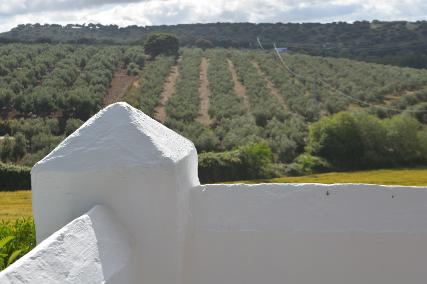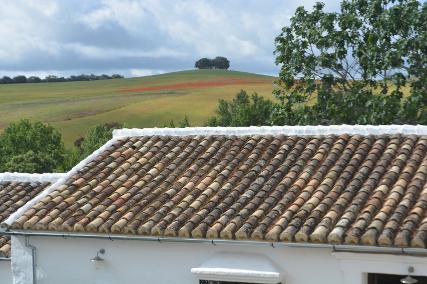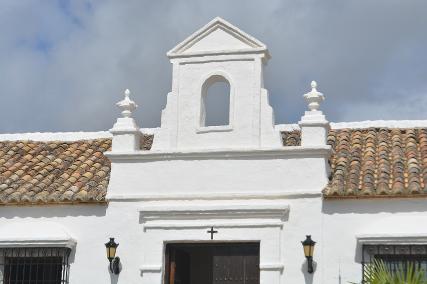 Sam, our ambassador of our Spanish crosswalk flag expansion.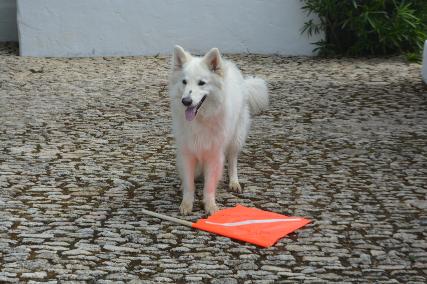 Unfortunately our stay has come to an end and we must say adios.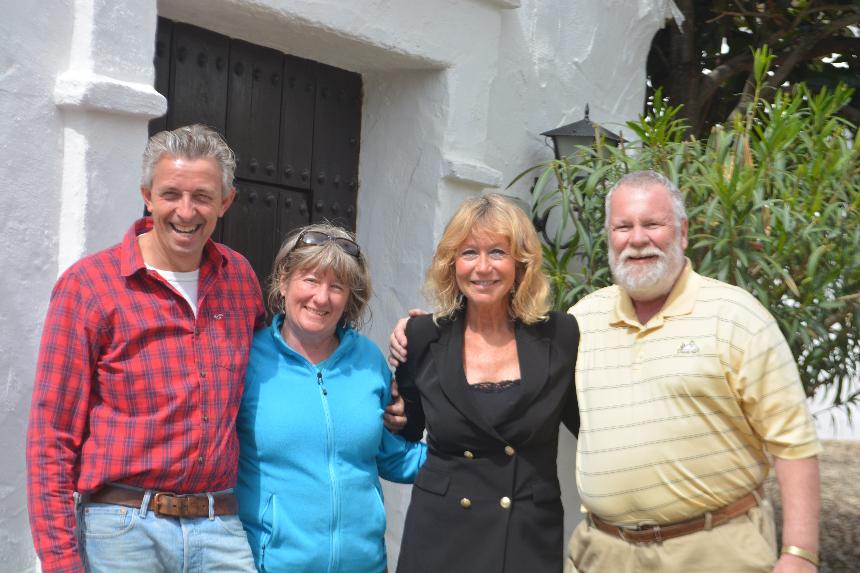 Some of the attractive rolling countryside, dotted with olive trees as we left Cortijo El Guarda.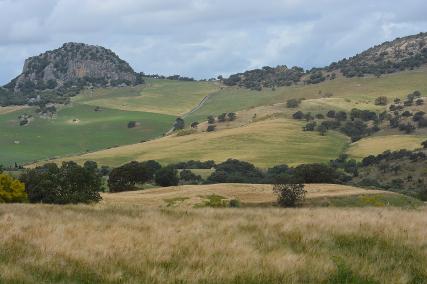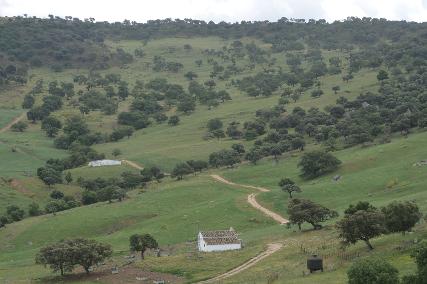 The Cortijo del Marques as you approach and then a number of photos out the windows of our room Mirador, the highest in the cortijo with 360 degree views.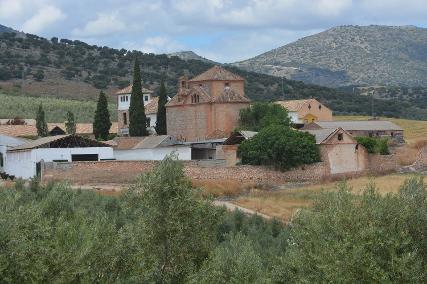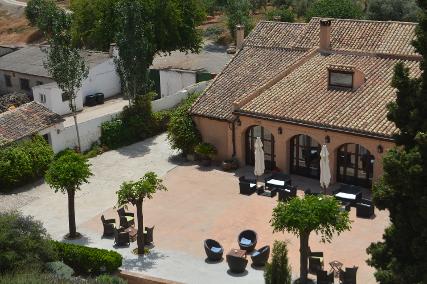 Looking great in her Spanish style dress.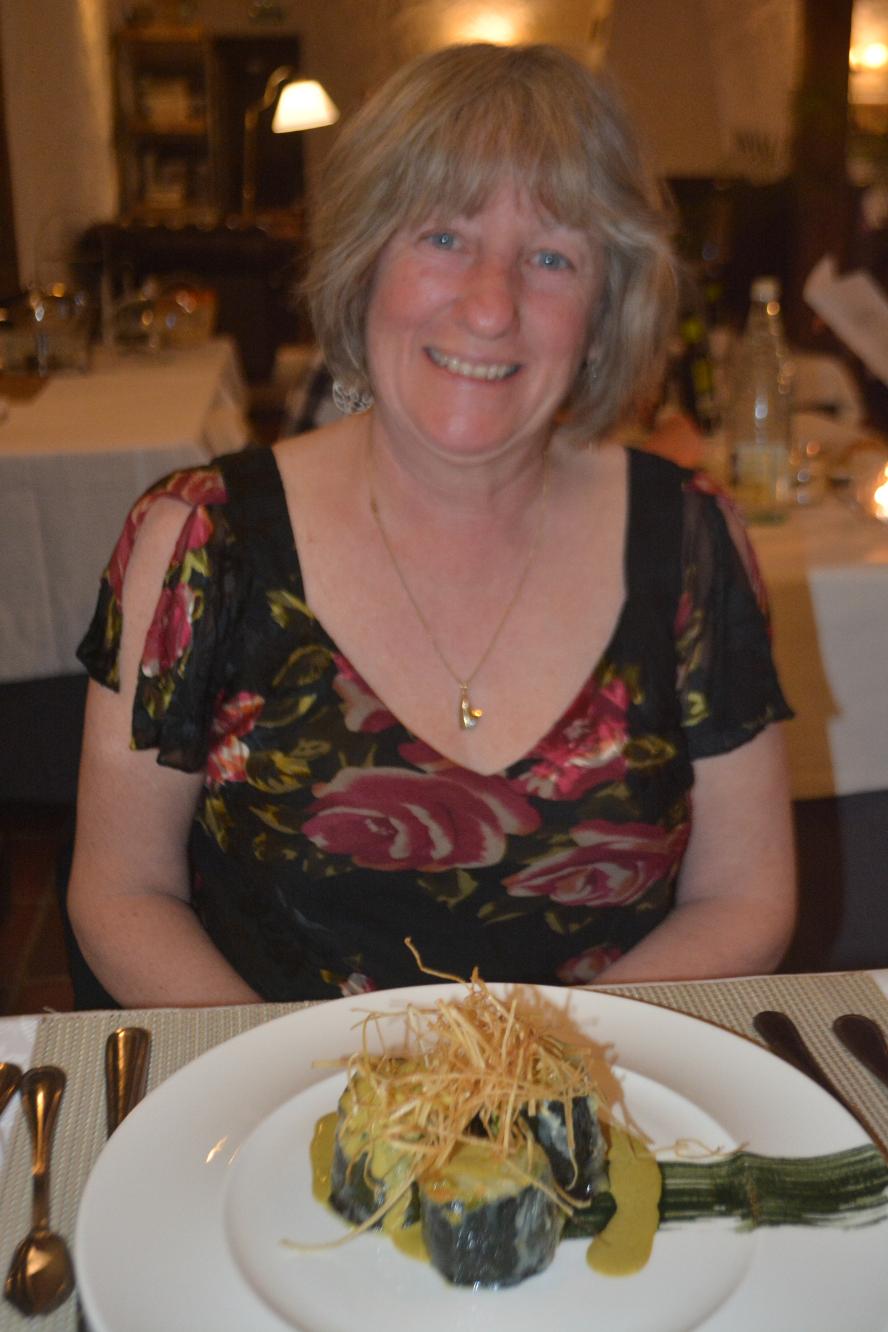 A common and traditional tapas in Spain are fried padron peppers. Gayle was served a plate for her first course.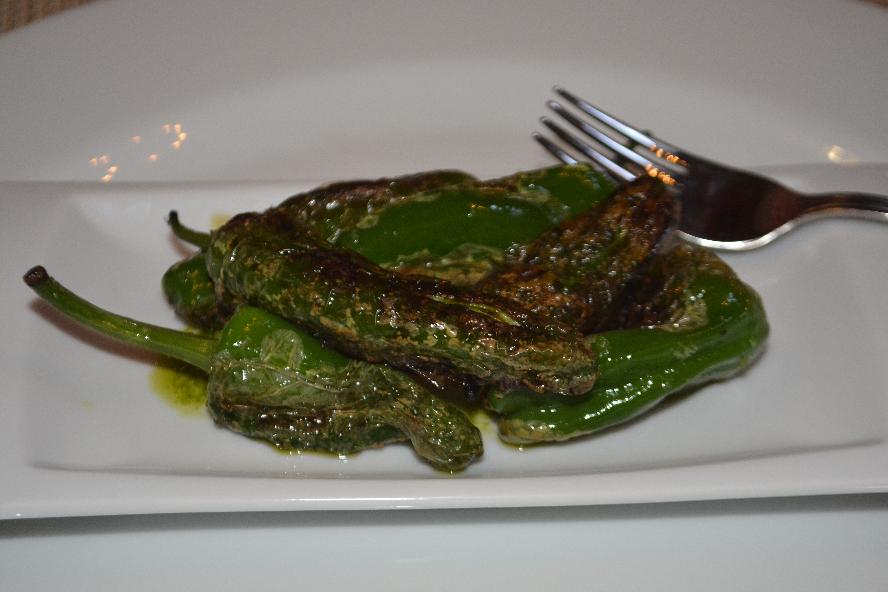 Although the tempura artichokes on the left may not photograph the best they were the highlight of the meal - tender and delicious. On the right Gayle's stuffed zucchini.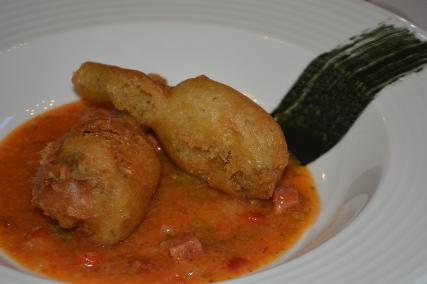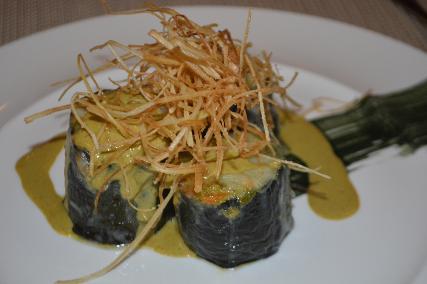 While cod may not have been my first choice it is common here in Spain and attractively presented with the crunchy leeks. Dessert was a nice white chocolate mouse.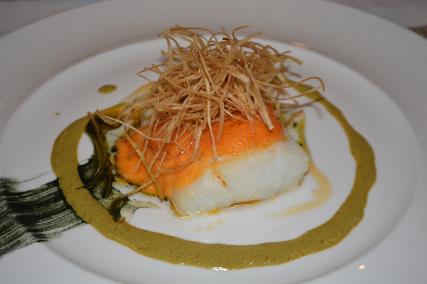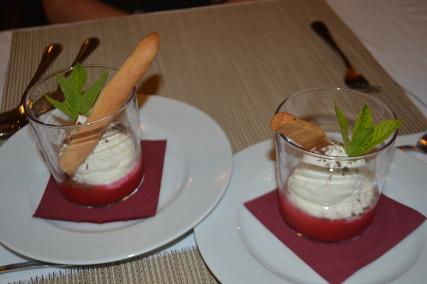 May 12, 2017 - a drive south of Ronda through the mountains to the coast
And yet another less than great day weather wise. Pretty much a repeat of the last couple of days - cool with a chance of rain. Miranda pointed out this was unusual, that April and early May had been hot and beautiful. So with no possibility of spending time at the pool we decided to take another drive, past Ronda through the mountains to the towns of Gaucin and Casares. Even with the cloud cover and occasional shower the drive was spectacular, with white villages dotting the mountainsides.
We continued south to the coast where the skies cleared, the sun broke through and the temperature rose to 26.5 C. We passed through Estepona, past vacation development after vacation development and then back north on yet another very scenic drive through the mountains back to Ronda and Alcala del Valle.
We enjoyed another wonderful dinner with Peter and Fran (a couple from Ottawa who were staying at El Guarda for 14 nights) and a Spanish couple from Barcelona. Gayle started with a salad of lima beans and cherry tomatoes while I had a piece of salmon on a bed of caramelized onions and roasted red peppers. The main course was mushroom risotto for Gayle (she could not have been happier) and stewed oxtail for me (who also couldn't have been happier with this unique dish), accompanied by a very nice bottle of wine from nearby Ronda. Dessert was a flavourful lemon tart. Once again a delicious well prepared well presented meal. Gracias Montse.
Above the clouds during our mountainous drive south of Ronda. Even with the less than perfect weather the drive was impressive. We can only imagine how spectacular it would be on a bright sunny day.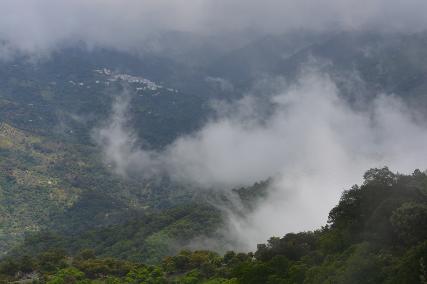 If nothing else the clouds frame the village on the far side of the valley.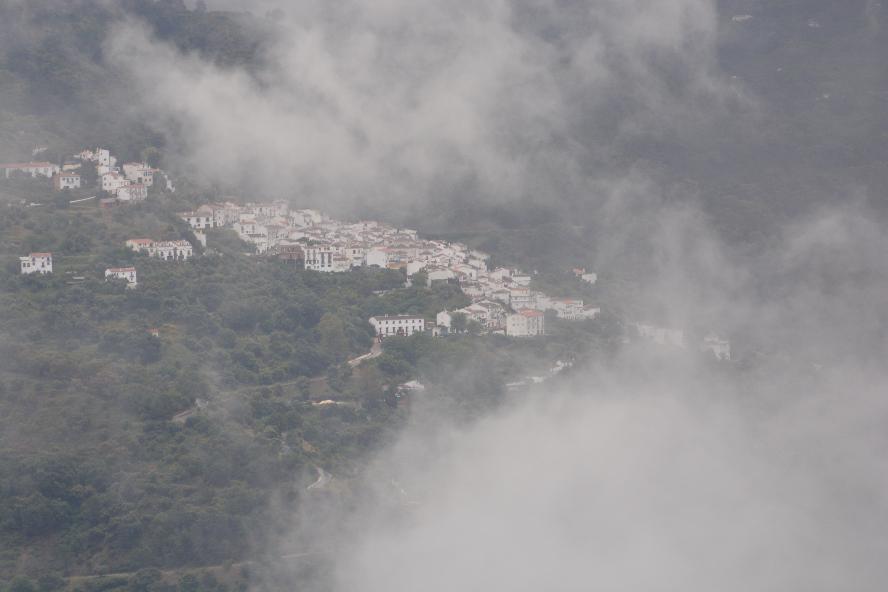 Gaucin and Casares, two of the white mountain villages we passed.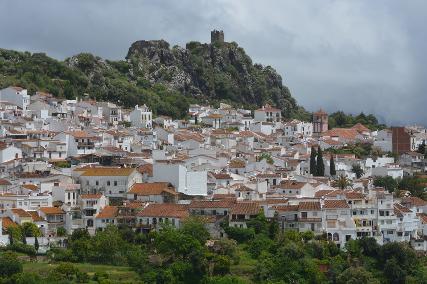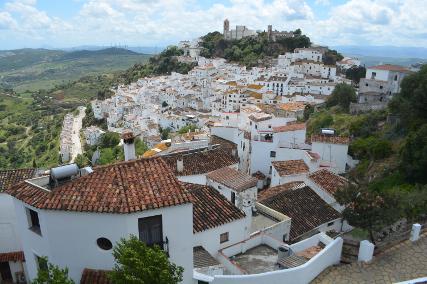 The tasty Spanish jamon / ham has to come from somewhere.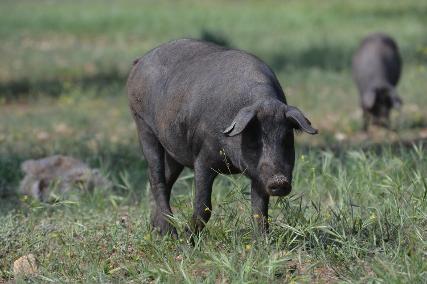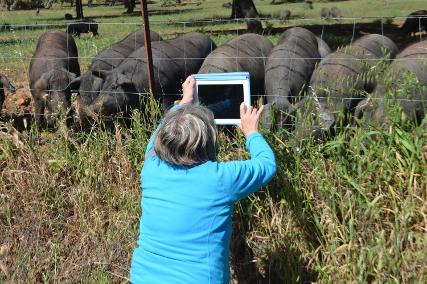 Regardless of the weather we certainly enjoyed the many colourful spring ditch flowers throughout the drive.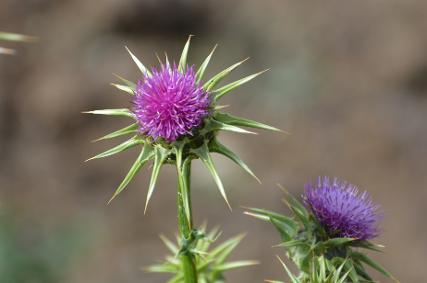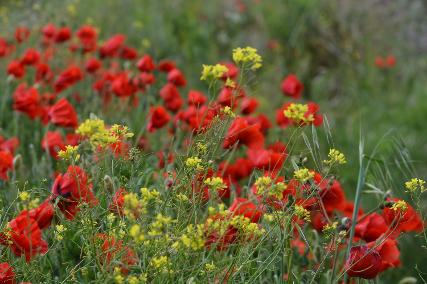 After our afternoon drive returning to Sam and a cortijo that is beautiful even with ominous skies.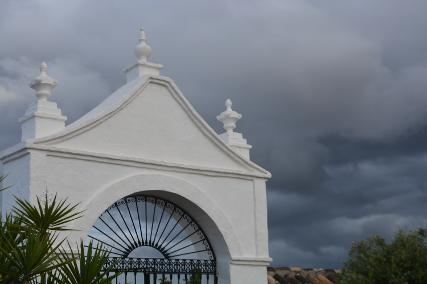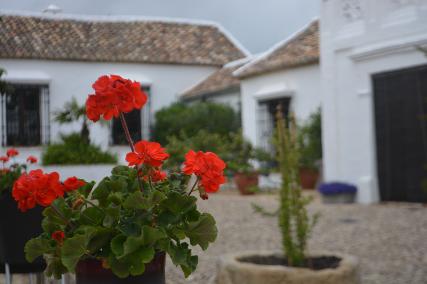 The sun about to set over the cortijo.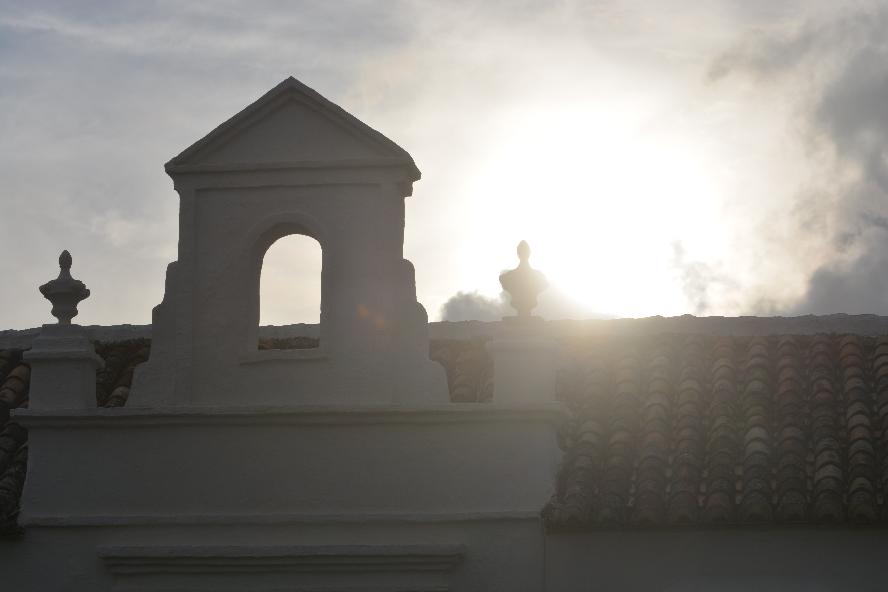 Our host and hostess - Hans and Miranda.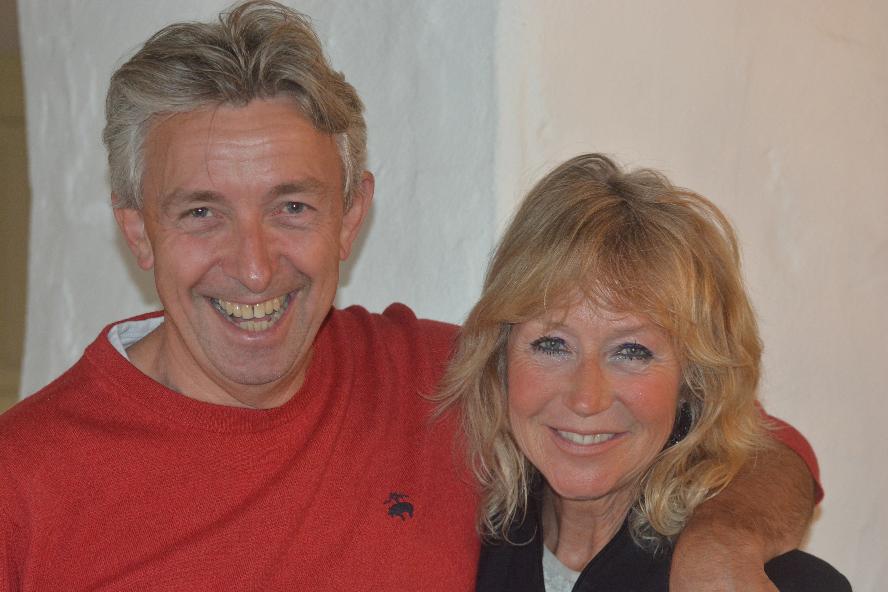 Not only is the food well presented so is the candle lit table.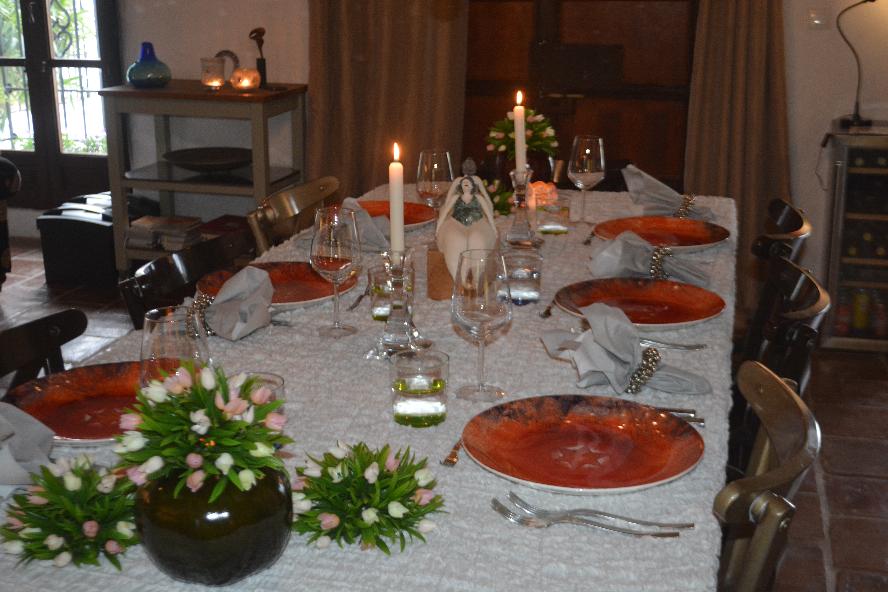 Miranda and Gayle - happy, happy, happy!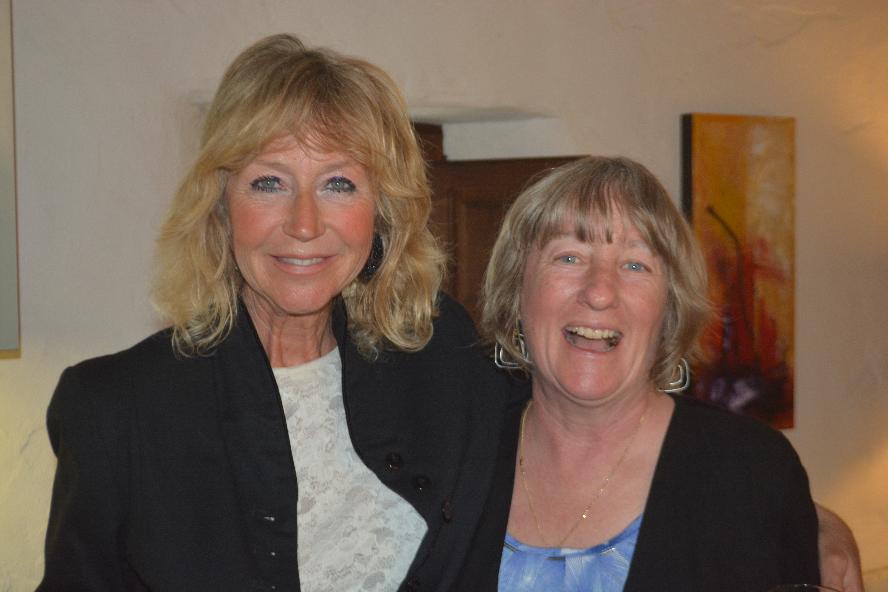 Not only superbly well prepared but the food is so beautifully presented here at El Guarda. Gayle's lima bean salad and Norm's salmon on a bed of caramelized onions and roasted red peppers started us off.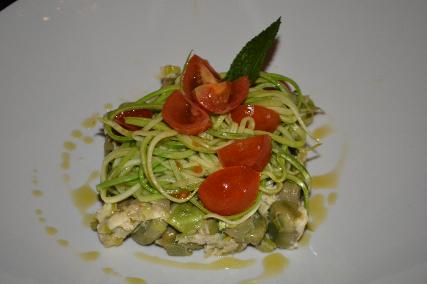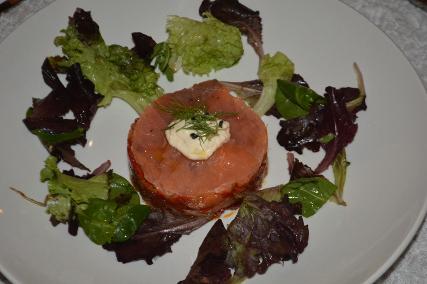 Mushroom risotto and oxtail stew.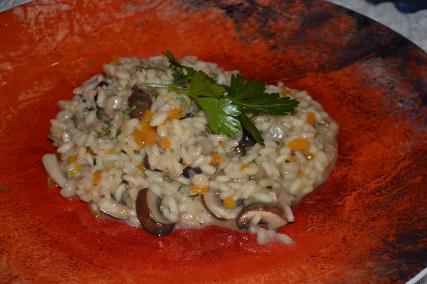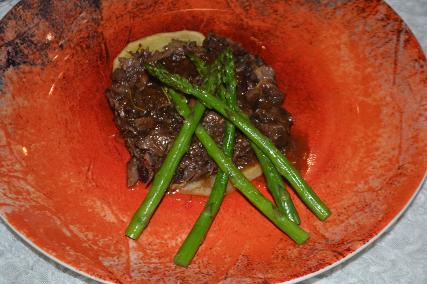 Montse, the wonderful chef who makes all this happen and a refreshing lemon tart with oranges and caramel sauce for dessert.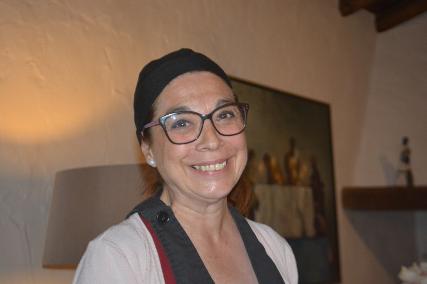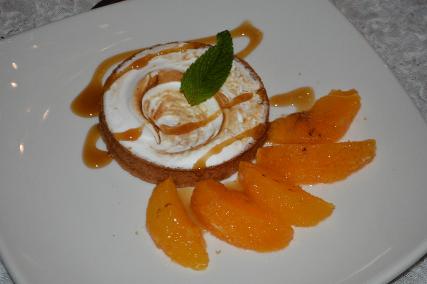 May 11, 2017 - a trip in to Ronda
The weather continues to be questionable - cool with expectations of rain - not great for sitting around El Guarda but also not great for getting out. But get out we did - driving in to Ronda, a small city we visited for one night (actually our first night) on our first trip to Spain back in 2001.
Ronda is a mountaintop city in Spain's Malaga province in Andalusia set dramatically above a deep gorge. This gorge (El Tajo) separates the city's circa-15th-century 'new' town from its old town, dating to Moorish rule. Puente Nuevo, a stone bridge spanning the gorge, connects the two.
We spent the afternoon strolling through the pedestrian friendly city, including descending the steep steps down to the river through a 'mine' accessed through the
Palacio del Rey Moro y La Mina - Palace of the Moorish King and the Water Mine. Legend has it that this was the residence of the Moorish King, Almonated, who is said to have drank wine from the skulls of his enemies. Today's structure was completed in the 18th century. The gardens give access to La Mina (the mine), an Islamic staircase of 231 steps which have been carefully cut into the rock and lead down the river. For centuries La Mina was the only source of water into the city, with slaves chained to the steps to pass water bags upwards. We could barley huff and puff up the mine, let alone imagining tossing heavy bags of water. This water supply was a lifeline to the Moors during the various Christian sieges. These steps played a vital part in Ronda's history as it was at this point that Christian troops forced entry in 1485.
We wandered along the pretty narrow cobblestone alleys. For the most part the rain held off with only a few sprinkles when we were around the Plaza de Toros. Before leaving we bought a bottle of wine, some bread, cheese and jamon for dinner before enjoying a thick chocolate caliente (hot). We then returned to the Cortijo where we opened the wine - local red from Ronda - to enjoy with our meat, cheese and bread.
On the 45 minute drive from Alcala del Valle to Ronda we encountered this herd of goats.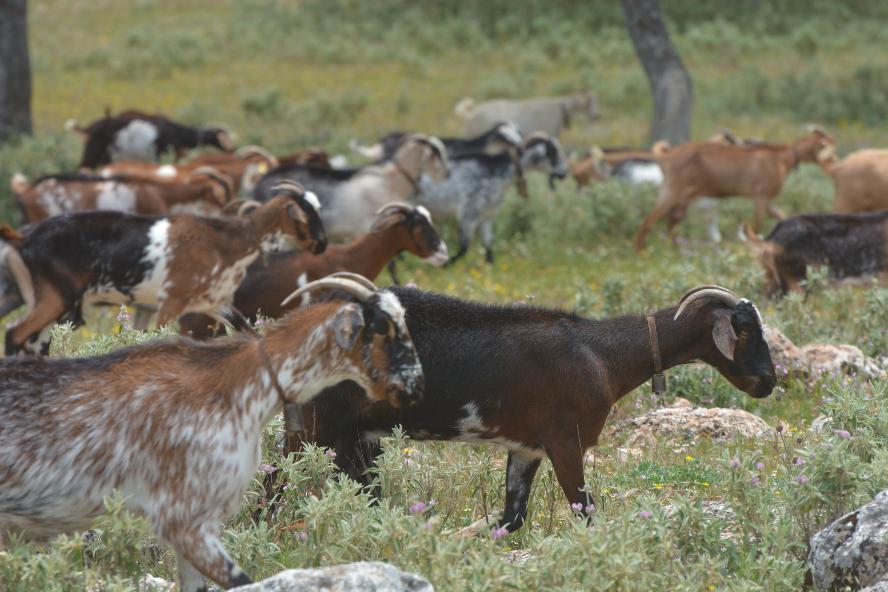 The stone Puente Nuevo connecting the two sections of the city, separated by a dramatic gorge, and then part of the gorge with homes built right up to the edge.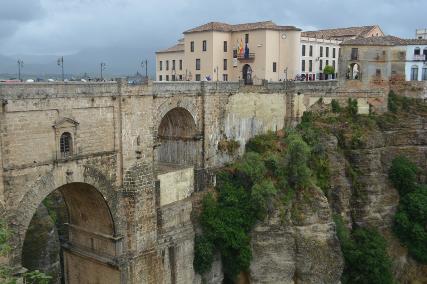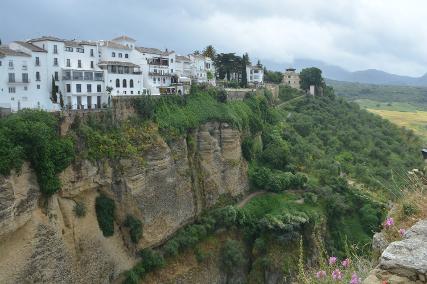 Some of the steep narrow cobblestone streets in the city of Ronda.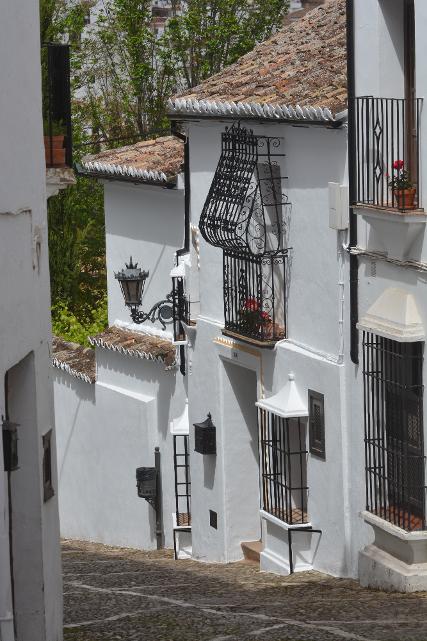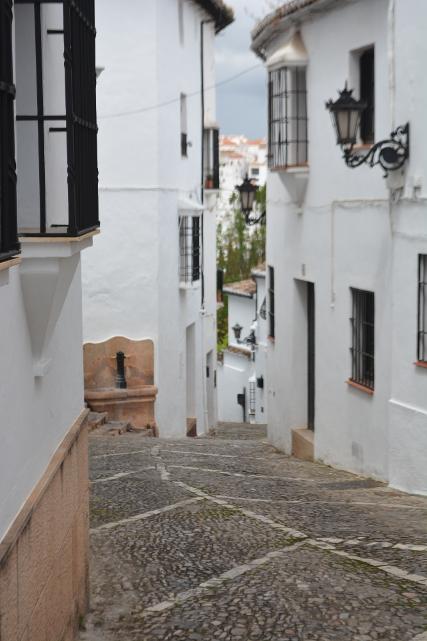 Not much of a view out this window due the proliferation of flowers.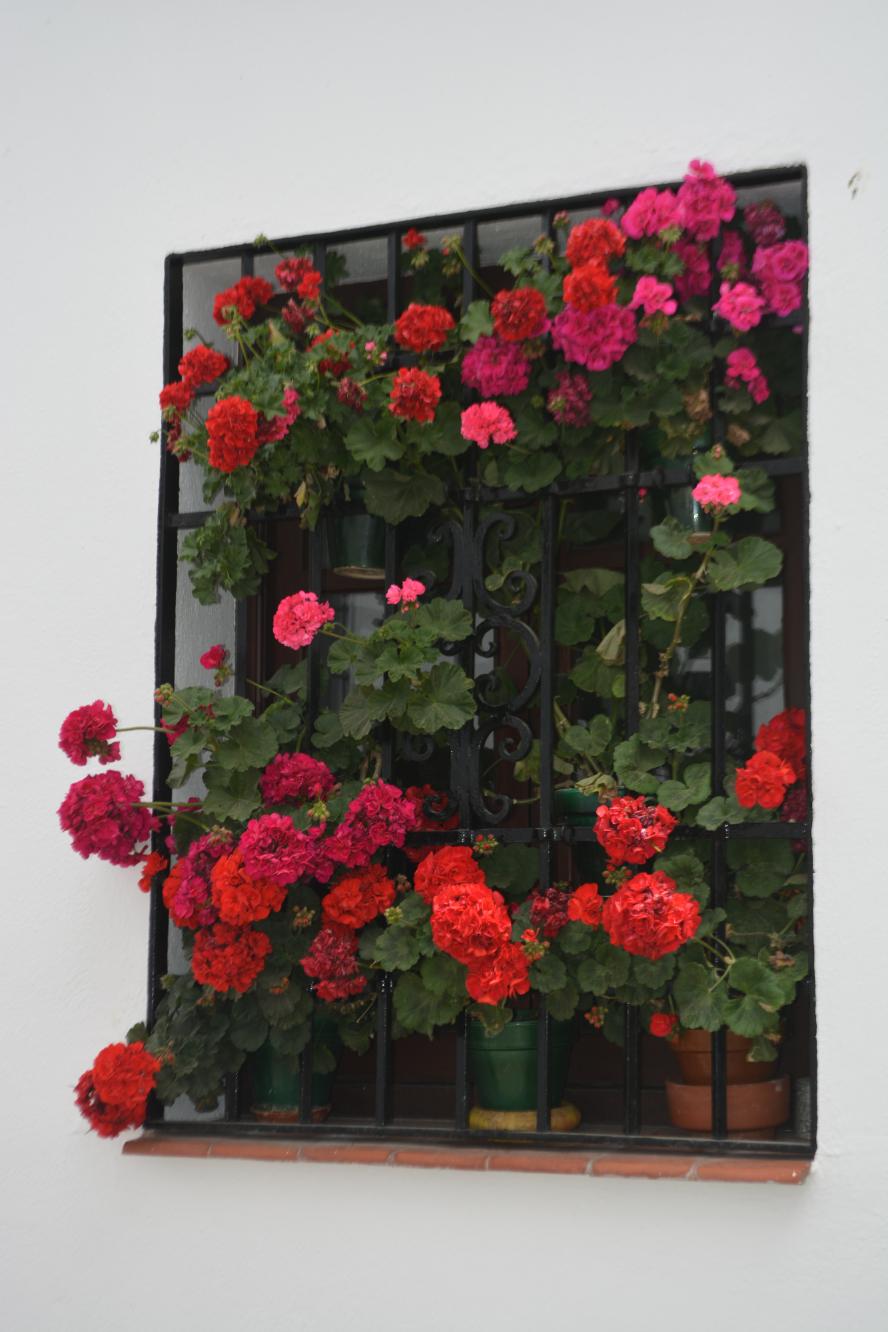 The dramatic gorge that cuts through Ronda, first from the Nuevo Puente and then from a Puente further down the gorge.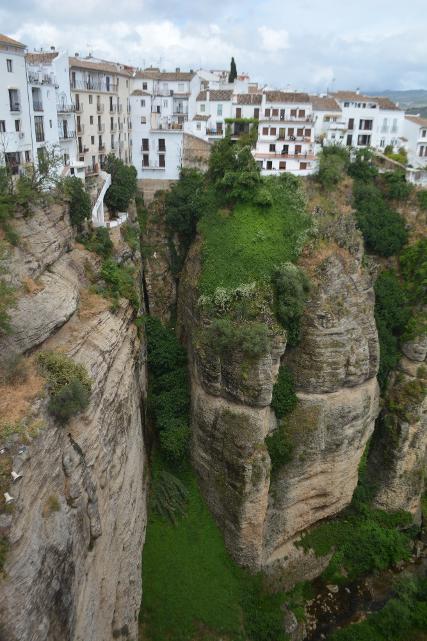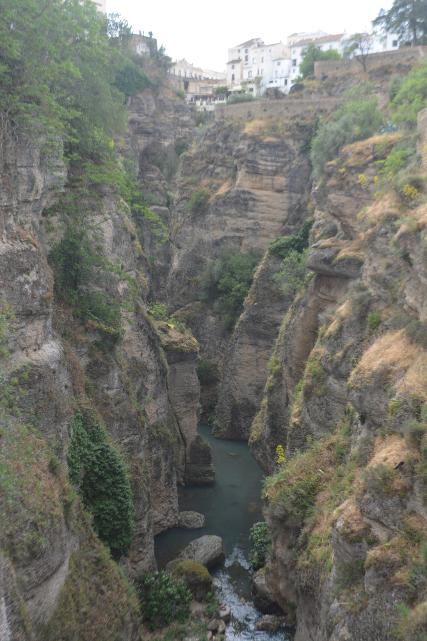 Proof that we made it down 231 steps to the river level. Next ascending back up - at least we'll earn our dinner tonight.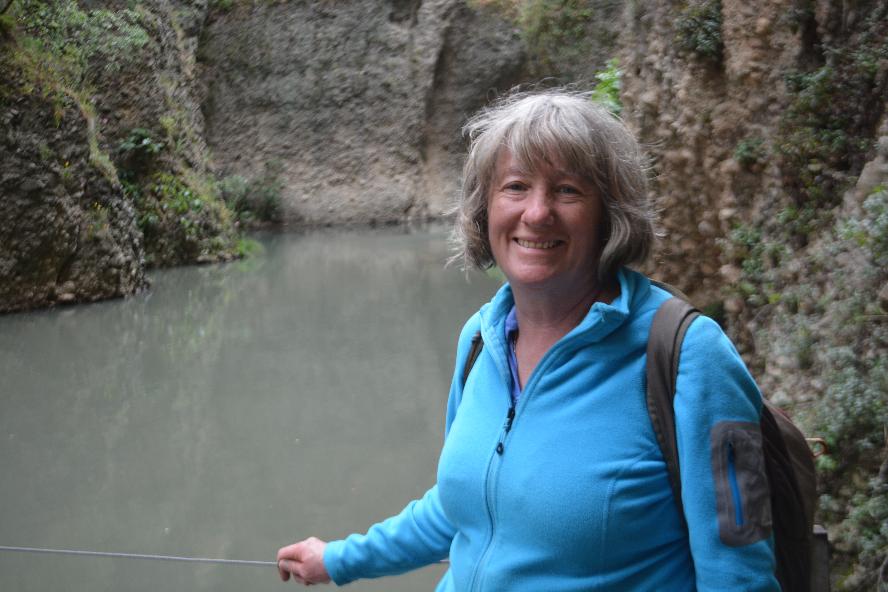 The gardens at the Palace de Reyt and roses fronting a house in Ronda.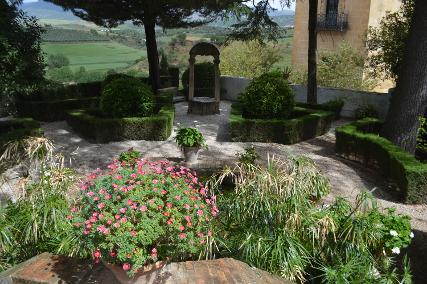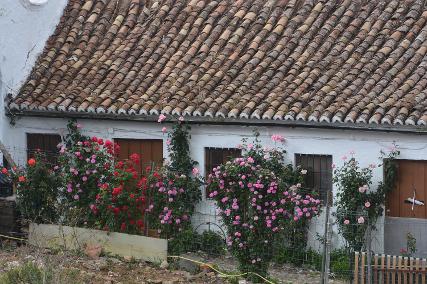 An old stone Puente (bridge) and a part of Rondo, with one of its churches, cobblestone streets and white buildings.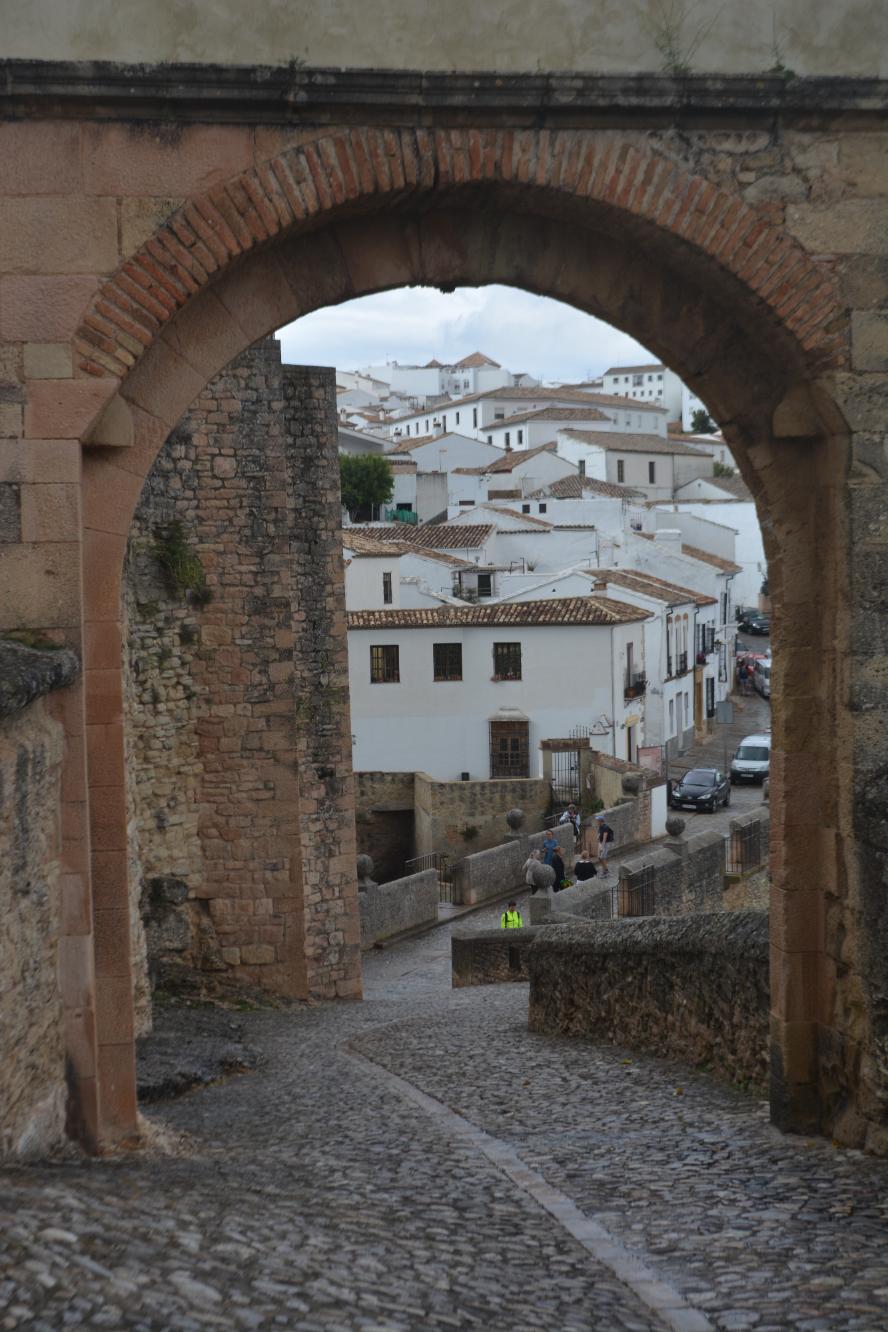 An old stone puente (bridge) and a corner of Rondo with its white buildings, Cyprus trees, cobblestone streets and a church.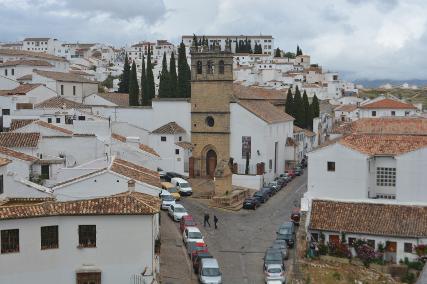 Spain is the land of ham with numerous shops in Ronda having legs of hams hanging from the ceiling with one or two being served. Tonight's 'peasant' meal came from this leg.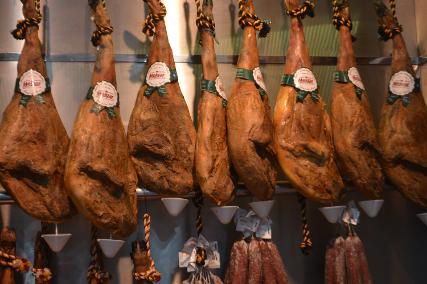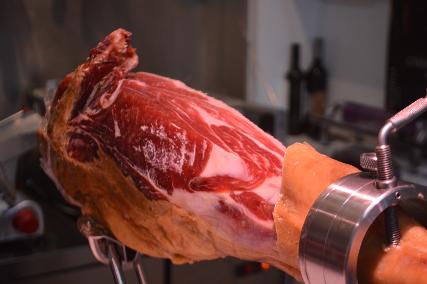 On our way out of Ronda we stopped for a chocolate caliente (hot) and a chocolate filled roll.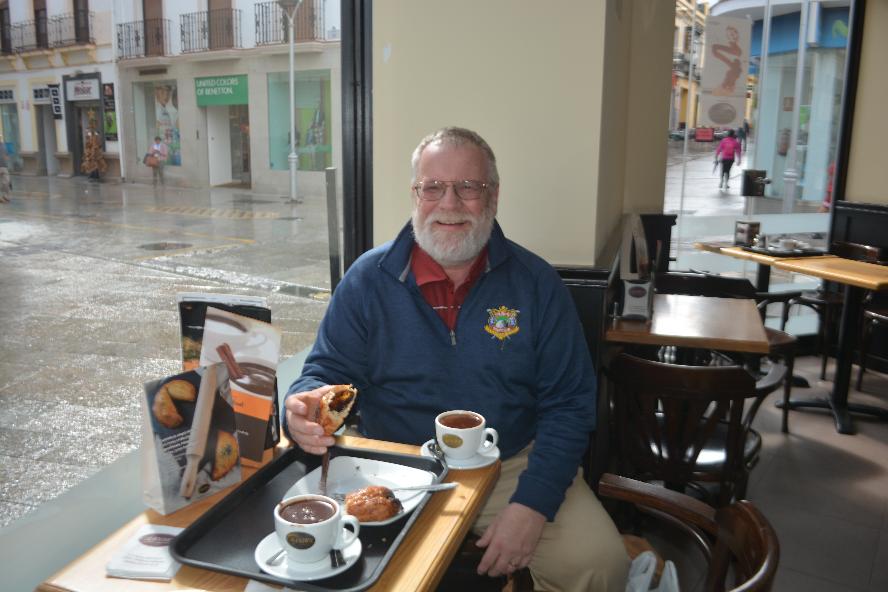 May 10, 2017 - Alcala del Valle with a drive to Sierra de las Nieves
The weather has taken a turn for the worse - cold with the prospect of rain. After a really nice breakfast - juice, meat, cheese, tortilla, lots of coffee, fruit, cereal, and an egg we caught up on email before deciding to take a drive first west towards Canete la Real and then south through El Burgo and into the Sierra de las Nieves, a natural mountainous area. We made numerous stops to photograph the many flowers - the red poppies in the fields and a wide variety of wild flowers in the ditches. The weather changed regularly, at times being sunny and up to 19 C but then the rains would roll in and the temperatures drop to as low as 13 C. But it was a nice drive with a number of attractive white villages tucked in to the hillsides.
Late afternoon we arrived at Ronda, where we wanted to stop and wander about but the clouds were ominous to the point that we decided to leave it for another day. We returned to El Guarda through Cuevas del Bucerro.
Shortly after it was time for dinner. Sitting at a communal table it is easy to chat with other guests - to share travel experiences. Dinner was again wonderful accompanied by the Toro wine we enjoyed when we first arrived. We started with a nice plate of green beans accompanied by quail eggs, cherry tomatoes and for me jamon. Gayle's main course was fresh pasta in a home-made pesto sauce with a small side salad - just the right amount. Norm had chicken accompanied by apricots and a plum sauce, a salad and some small potatoes. Dessert was a tasty molten chocolate cake, attractively dripped in white chocolate. The meal was exactly as we have come to expect at Cortijo El Guarda - excellent quality, beautifully presented and delicious, enjoyed with the other guests.
The day starts with a nice breakfast with lots of coffee and a tortilla, meat, cheese and fruit served in very attractive, brightly coloured dishes.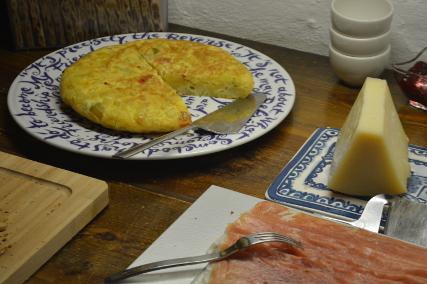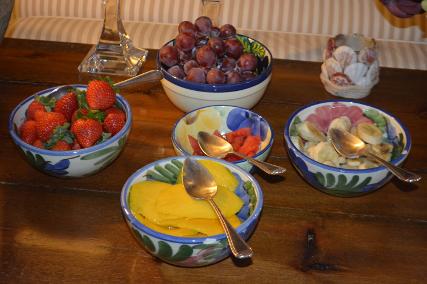 Spring time is red poppy time in Southern Spain with the roadsides and fields full of these bright orange flowers.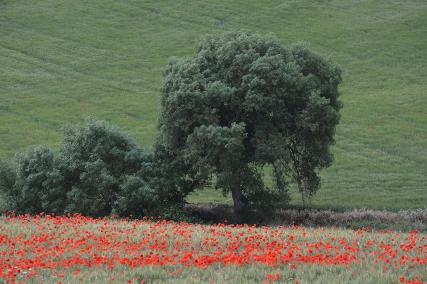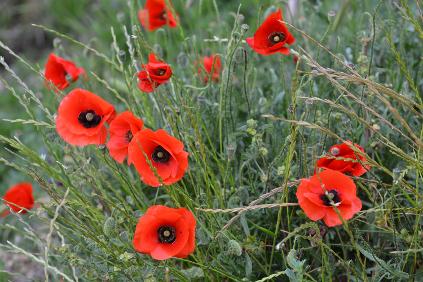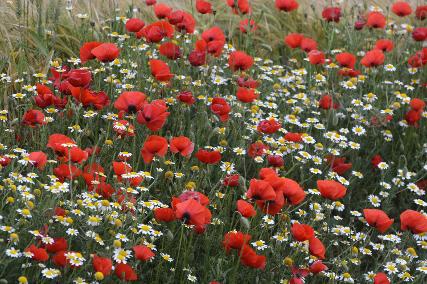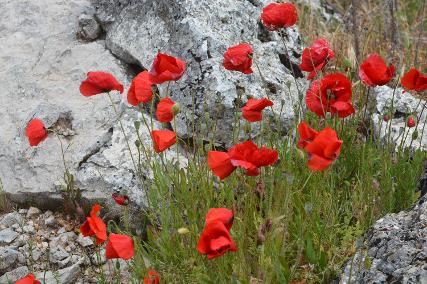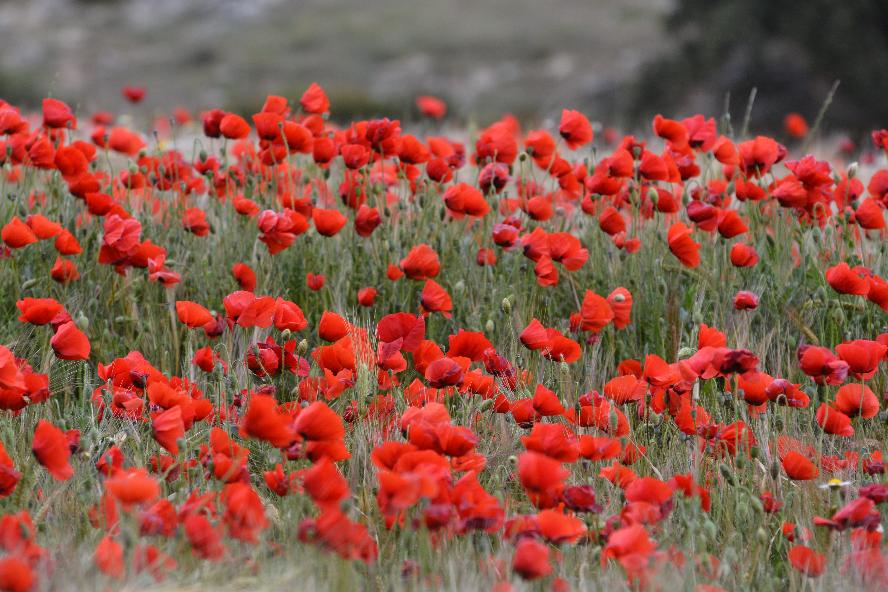 Of course there are more than poppies that bring colour to the roadsides.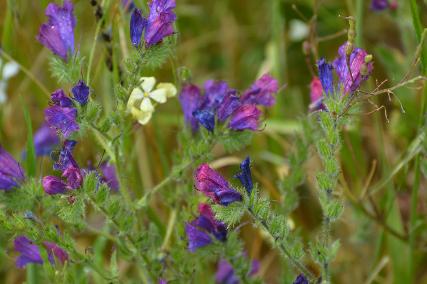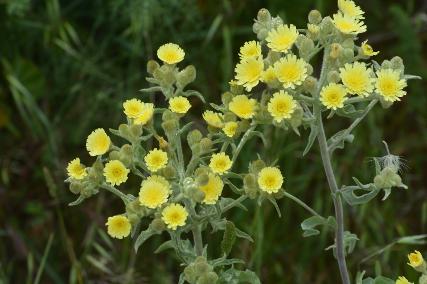 Some of the Andalusian countryside - rolling hills, olive groves and white villages.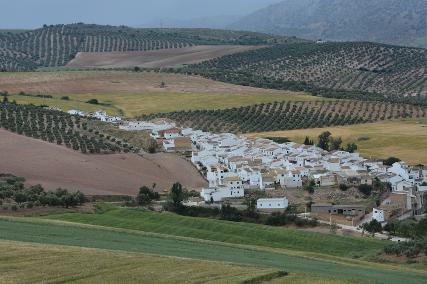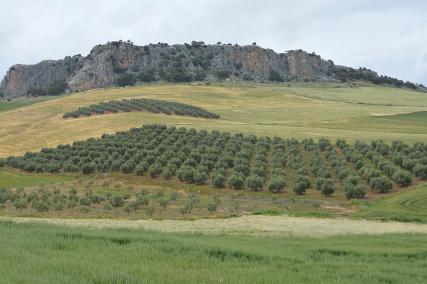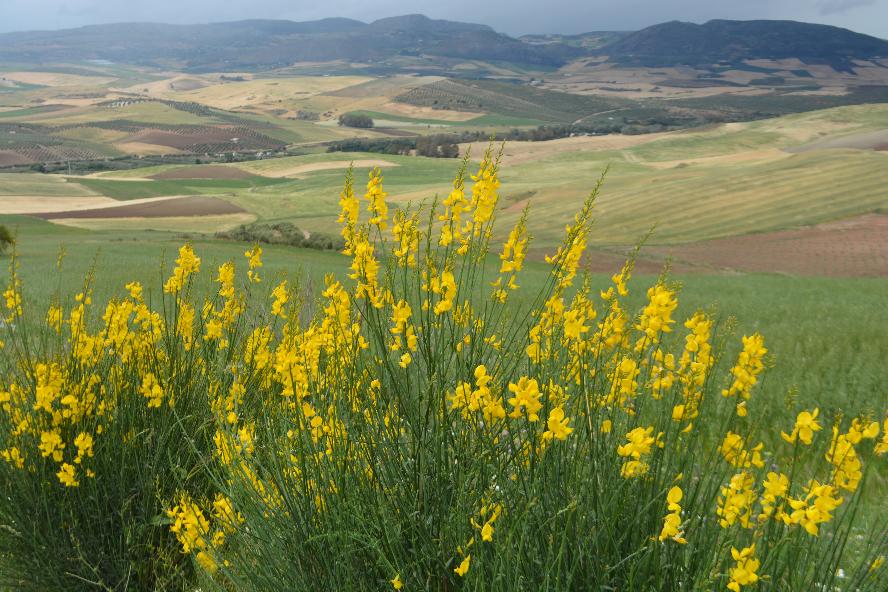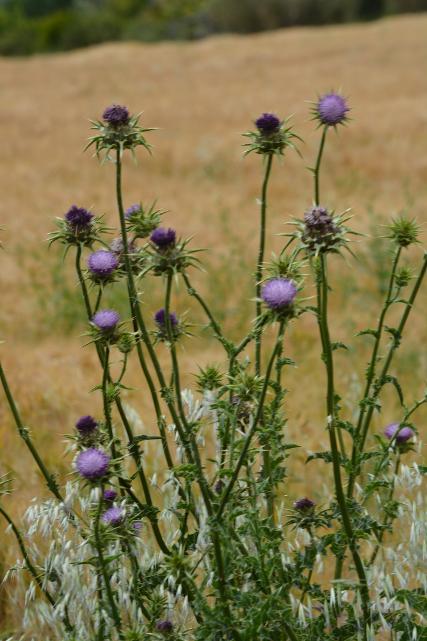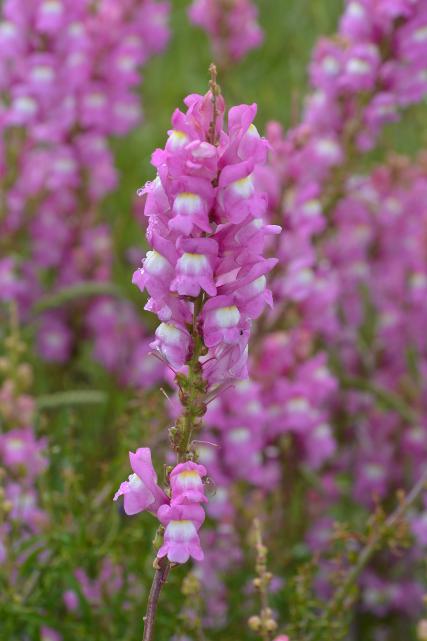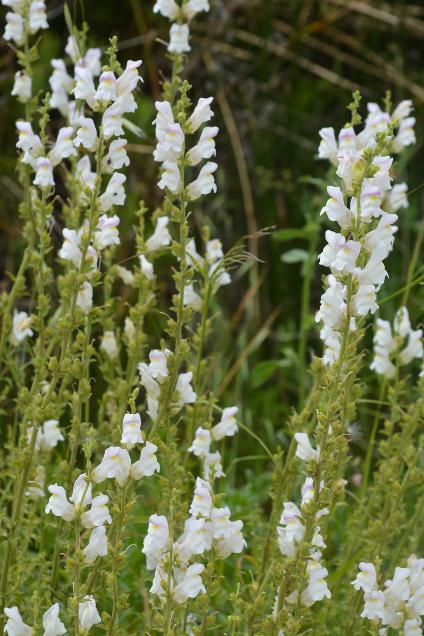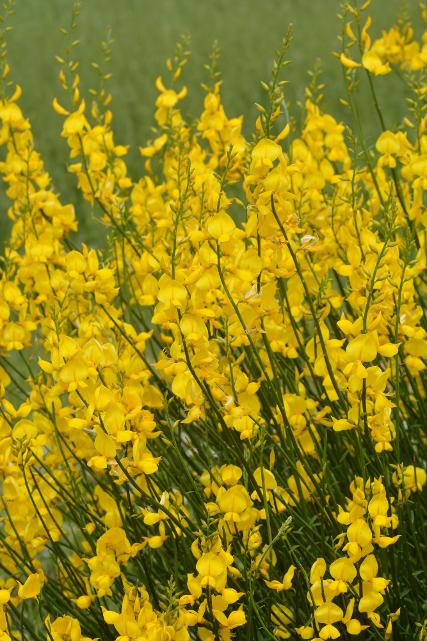 When the weather is not great dinner is served inside at a long communal table. On the left are Mariana and Peter and then on the right a Dutch couple (don't recall their names) Gayle and Carmen (Mariana's mom).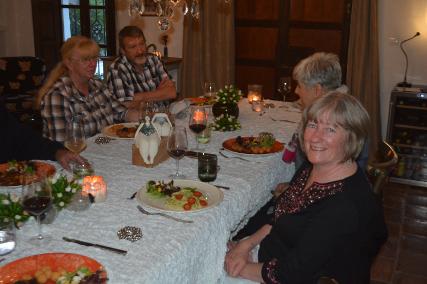 Our appetizer of green beans, small tomatoes, quail eggs and aioli sauce and then Gayle's main course of fresh made pasta in pesto sauce.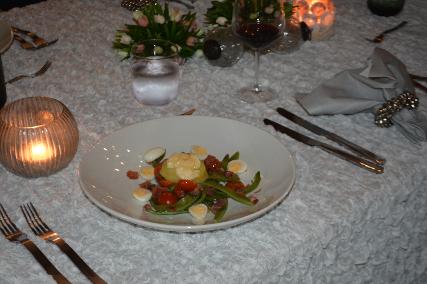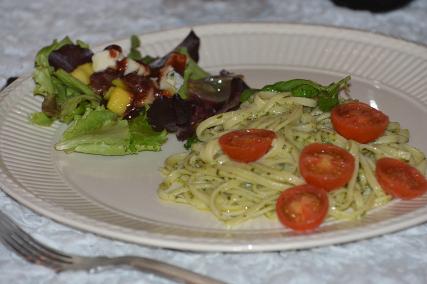 Chicken with apricots and plum sauce, a salad and small potatoes.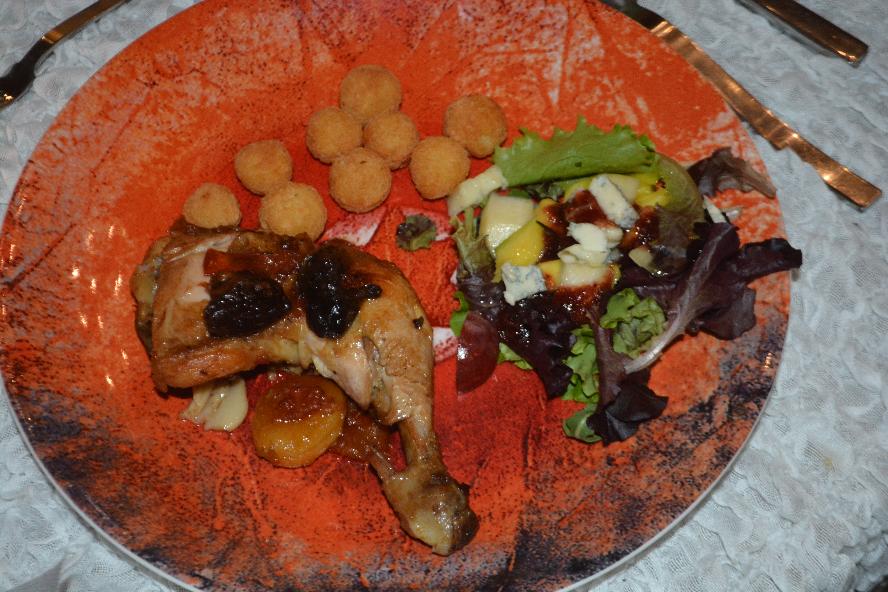 An Andalusian traditional dessert - the molten chocolate cake.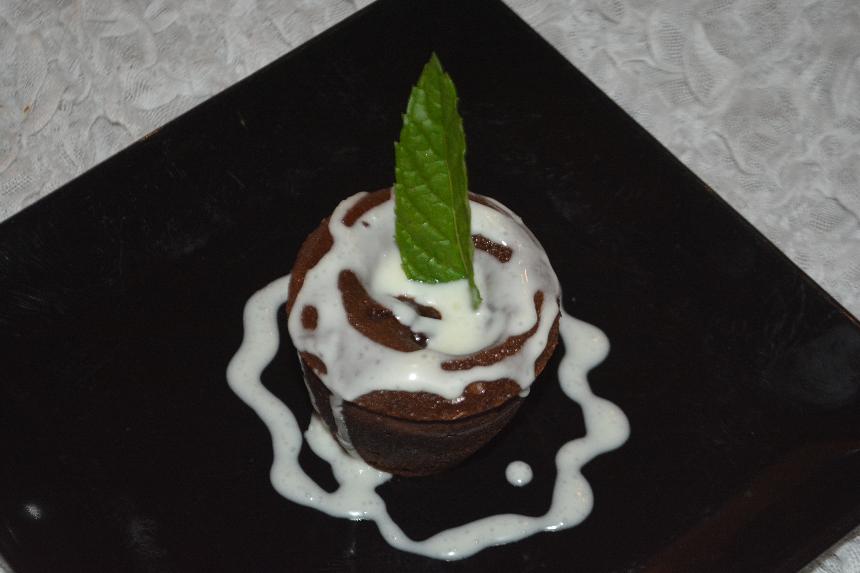 Mariana, wearing a beautiful Mexican scarf, Hans and Carmen and Gayle - all smiles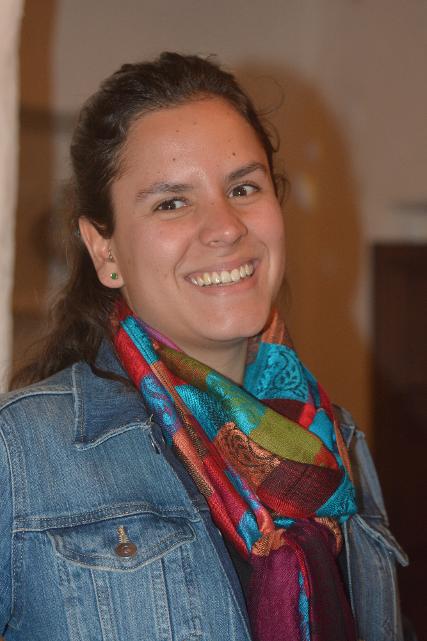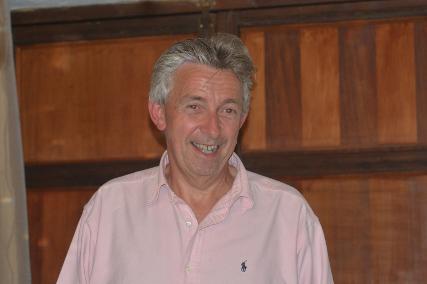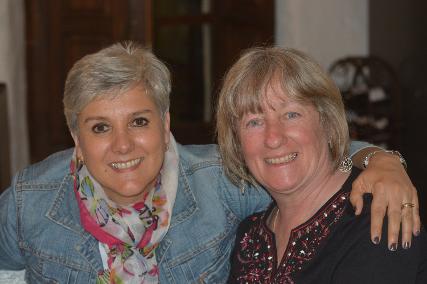 May 08, 2017 - dinner - Polear - Alcala del Valle
As El Guarda does not serve dinner on Tuesdays we returned to Polear in Alcala del Valle where we enjoyed a wonderful meal three years ago. The restaurant is very plain and non-descript in terms of ambiance - actually we would likely not even go in just walking by - but what it lacks in charm it more than makes up with interesting, creative, well prepared and presented food.
Tonight was no different. From the unique 'black' cheese to the Cordoba sweet wine, both courtesy of the house we once again enjoyed a special Spanish dinner. Seated next to us was a mother and daughter from Mexico who Gayle had met earlier in the day. We had a really nice chat throughout the meal, admiring each others dishes.
Given the volume and quality of food it was very reasonably priced at 67,50 euros, including an appetizer, two first courses, two main courses, a dessert and three glasses of wine. We return to Spain in part due to the great food. Polear was a great start to our culinary experience.
Café-Bar Polear, in Alcala del Valla and our serving of 'black' cheese - which was a very nice soft sheep cheese - just black.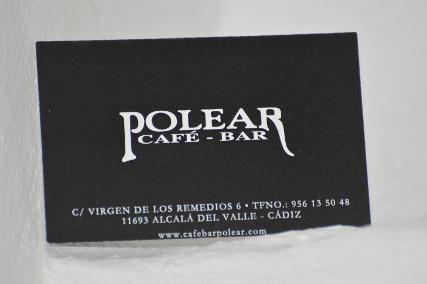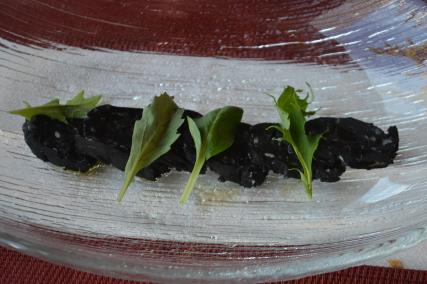 Feeling somewhat hungry we decided to have a pre-appetizer appetizer - goat cheese and toasts smothered in fig compote.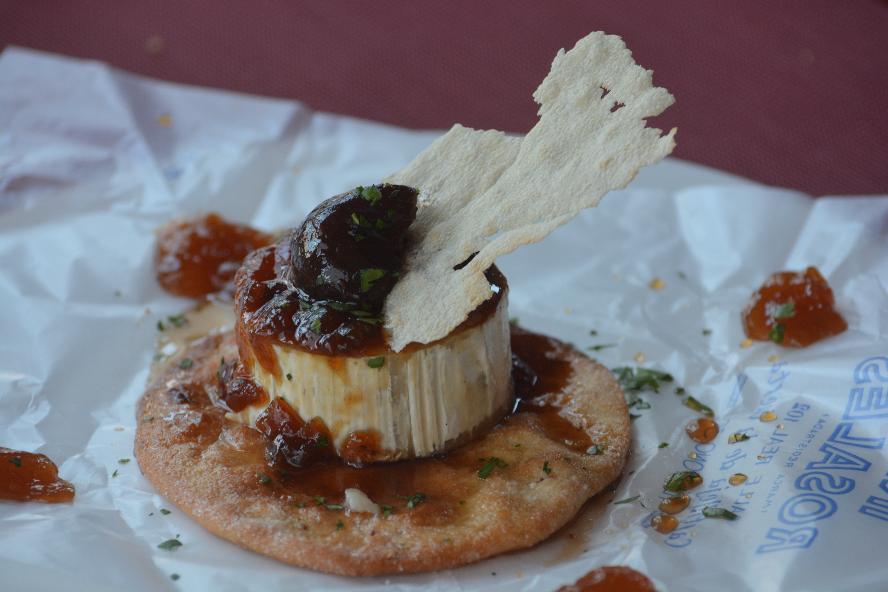 Gayle started with a white asparagus salad followed by artichokes smothered in cheese with cherry tomatoes.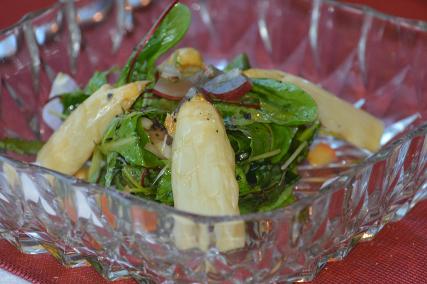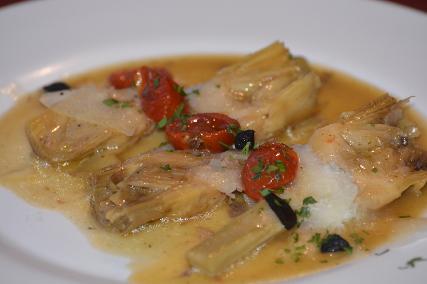 I of course had to order the pulpo / octopus along with the Iberian pork - both extremely tender.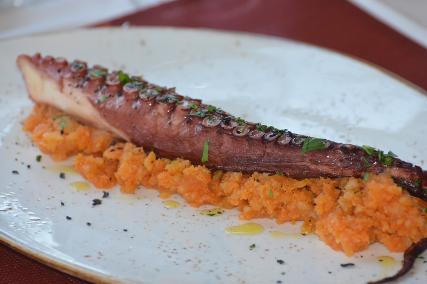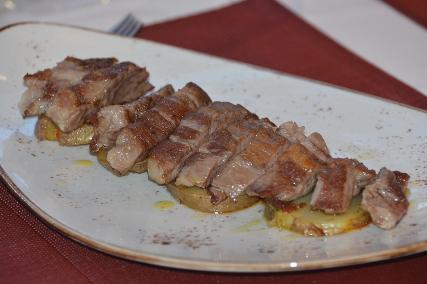 Dessert was a chocolate molten cake, which we shared.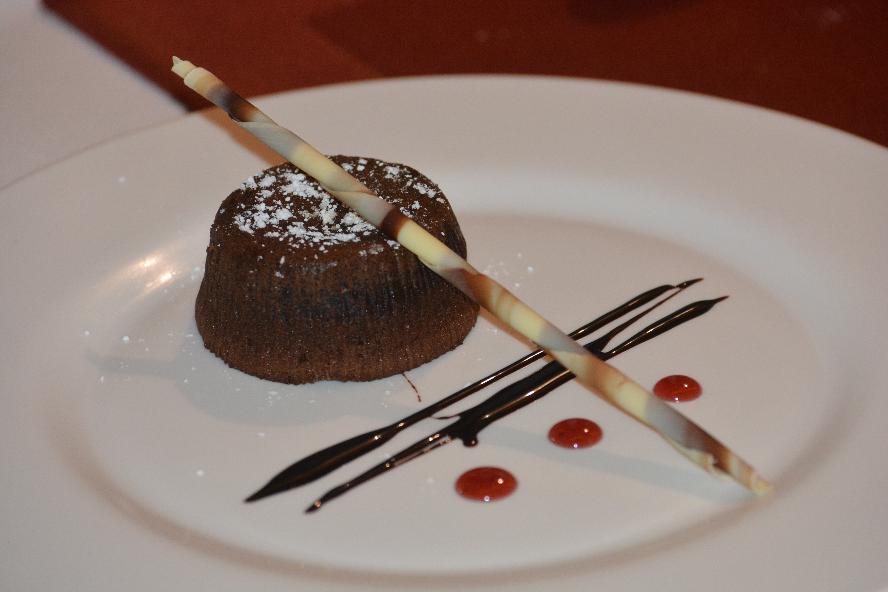 We enjoyed chatting (and photographing their food) with a mother / daughter from Mexico City - Carmen and Mariana.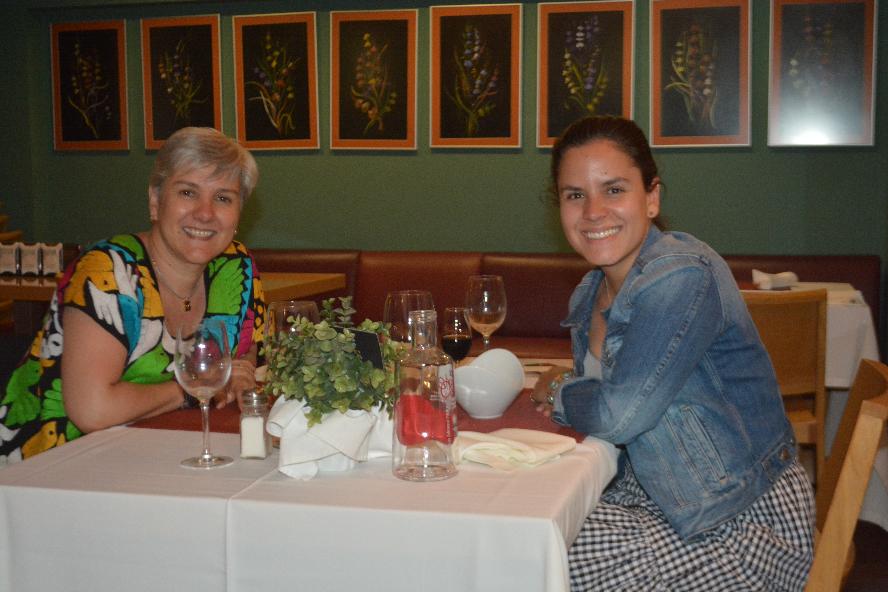 Carmen had the cod while Mariana the salmon with shrimp - both looked wonderful as well.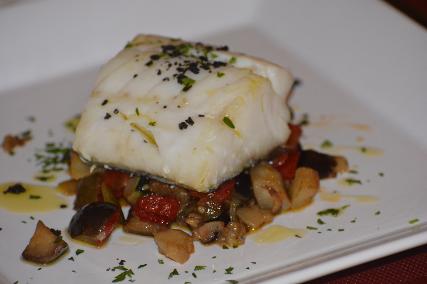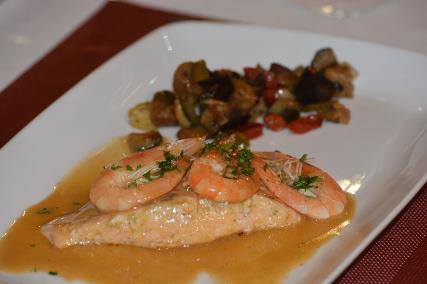 May 7 - 8, 2017 - Halifax to London to Brussels to Malaga to Alcala del Valle
Now we realize few will shed a tear for the travel struggles of one going to Spain but this trip was anything but smooth. Our 5:05 pm scheduled flight was delayed, and then delayed again, and again such that it became clear we would not make our connection in Montreal for a flight to Brussels. We were scrambling to look for other options (incl. later flights out of Montreal to Paris or Barcelona) but realized there were none. So we decided to take the midnight flight to London, followed by a short flight from there to Brussels and then on to Malaga. This had us scheduled to arrive in Malaga at 7:50 pm rather than 2:45 pm. Not great but the best we could do.
Fortunately they were able to retrieve our luggage before loading it on the plane to Montreal. But then the flight from Halifax to London was delayed, arriving an hour late. Fortunately the Brussels flight was 10 minutes delayed which allowed us to make it with just four minutes to spare. So we make it to Brussels and then find out our flight to Malaga was also delayed - this delayed flights is beginning to be a thing - this time an hour and 15 minutes having us arrive at 9:00 pm.
Of course while we made it to Malaga our luggage did not. The connection in London was too tight so we completed a bunch of paper work (although we still do not have our luggage we have been informed it has been located and will be delivered in a day or two - better than being lost). Then there was the rental car process which meant it was 10:00 before we left Malaga airport. It was then 1 1/2 drive to Cortijo El Guarda - more difficult at night but we eventually made it, arriving a little after 11:30 pm.
We had been communicating with our hosts Hans and Miranda throughout the day. Regrettably we had to cancel dinner but at least they knew. They left the gate and our room open. We tiptoed in but as we were getting a bottle of wine from the honour bar Hans, Miranda (and Sam the dog) greeted us. Over some bread and cheese and a bottle of wine we chatted until nearly 1:00 am, so thankful to be back at El Guarda.
Of course we slept (very) well, waking just in time for breakfast - exactly as we remembered it. Although we are still waiting for our luggage we were smart enough to take shorts/capris in our carry on which is great given the nice day - mostly sunny and mid 20s. Today is all about relaxing, catching up on sleep and enjoying the grounds here at El Guarda. We are once again admiring the vistas across the olive groves as well as the sounds of the birds. It is amazing how quickly our travel miseries are in the past and we are again enjoying life here at Cortijo El Guarda.
Following a few photos of Cortijo El Guarda. We are not ones to often return to a place but this is our third stay at El Guarda. We were here for one night in April 2013 and then three nights in September 2014. This stay is for five nights. Hopefully the following photos will demonstrate why we feel this place is so special.
The gate welcoming us back to Cortijo El Guarda a few kms outside of Alcala del Valle, in the Province of Cadiz, Andalusia.
'Our' fig tree just outside our room, a huge olive oil urn and bright geraniums make the courtyard so attractive.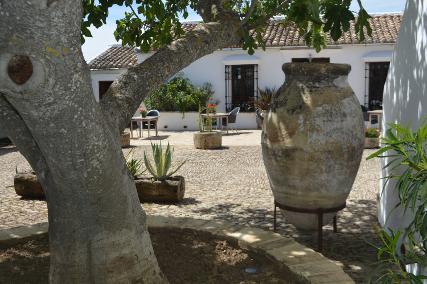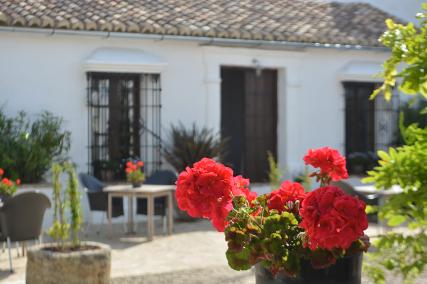 Catching up on emails and news just outside our 'fig tree' room ... and clearly happy to be back in Spain.
Spring means flowers and colour.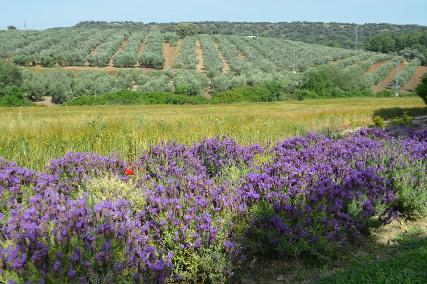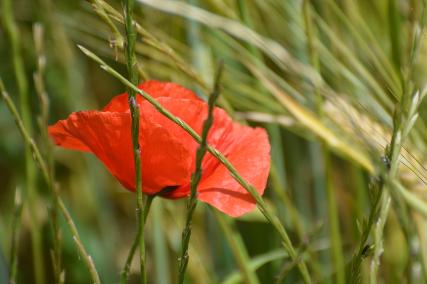 ... including a field of red poppies.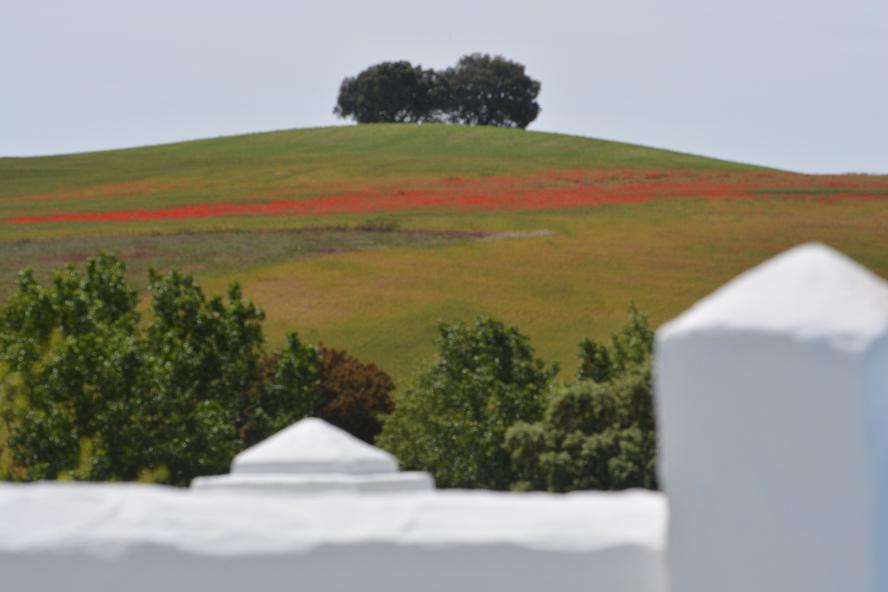 Sam the Miranda and Hans' wonderful friendly Swiss Shepherd.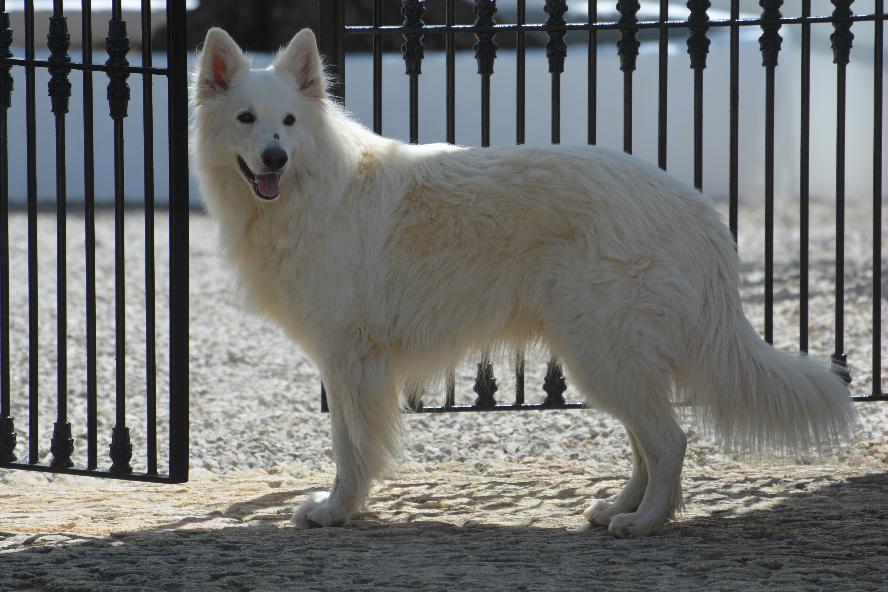 The courtyard of El Guarda.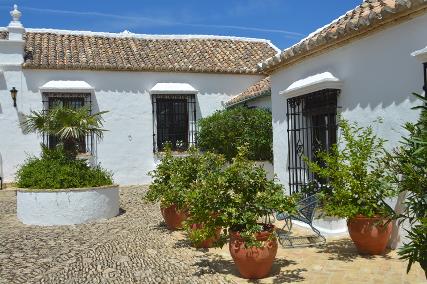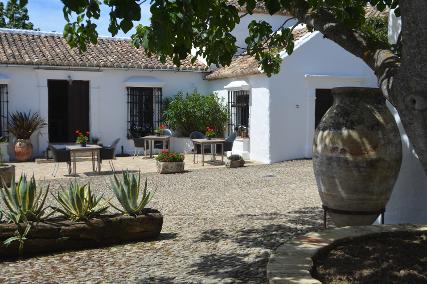 Our next adventure (May 07, 2017 to June 01, 2017) takes us back to Spain - first to Cortijo El Guarda (pictured above) in Alcala del Valle, north of Ronda for the third time, which should tell one how much we enjoy this small B&B and its Dutch owners Hans and Miranda. After five nights we head east past Granada into the Sierra Nevadas, and then on towards Valencia. We then fly to Majorca where we will stay nine nights at three different farms/small boutique inns. Then finally it is to Barcelona for two nights before returning home.