Subsequent to our trip we put together a couple of slide shows to Greek music.
The first is of us, throughout the trip.
And the second is of the island of Koufonissi.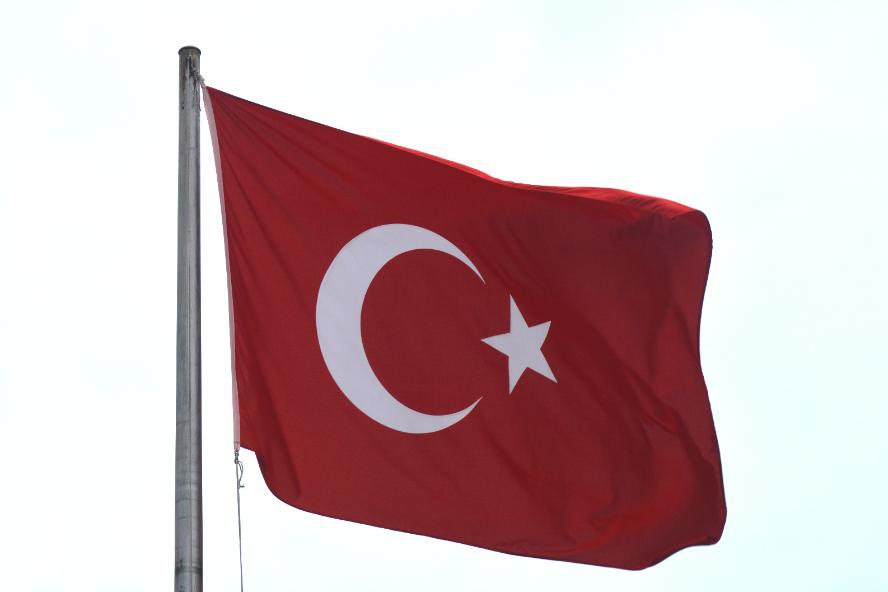 Istanbul in Review
Three nights / two days in Istanbul. Although short, we are glad we made the effort and spent the $ to visit. Two days does not provide enough time for many highlights / memories but here they are:
fresh pomegranate/orange juice
the tasty pizza like pides
that the city vaccinates and neuters homeless dogs, identifying them with a tag
the Arabic culture - call to payer etc.
enjoying dinner outdoors, watching the people wander by, in spite of a light rain
all the great staff at Oshmanhan Hotel
the impressive and massive Blue Mosque and Ayasofya
the Turkish Airlines business class lounge
the many shops with nothing but sweets - baklavas, Turkish Delight etc.
the multitude of crafts and goods in the bazaars
the massive size of the Grand Bazaar
the relatively inexpensive accommodation in a such a large city (83 euros = $125 Cdn) and food (both dinners, tax and tip in, with wine, dessert and coffee were < $60 Cdn) albeit the relatively expensive goods/souvenirs in the bazaars (plates, lamps, rugs, table coverings etc.)
October 03, 2017 - Istanbul to Toronto to Halifax
Time to return home. After 28 days in Greece and the last three in Istanbul our trip has come to an end, but not before a treat of flying home business class. Normally we would not fly business class. Straight up it is quite expensive and while some would fly no other way we prefer to use our $ for accommodations and flights within the countries we are visiting. However earlier in the year when returning from Croatia Linda (one of our peeps) found an Aeroplan flight from Zagreb though Istanbul to Montreal to Halifax for 57,500 points and an unbelievably low amount of fees and taxes. Other routings had considerably more fees. We checked it out and found only one flight on October 3rd from Istanbul to Toronto to Halifax - any other day routed through Munich or Warsaw or Geneva and then generally London, rarely with all segments business class and considerable fees. But this 10 3/4 hour Turkish Airways flight, with a five hour layover in Toronto and then the late night flight to Halifax was the same 57,500 points plus ... wait for it ... $24 each. Being business class we were entitled to use the Turkish Airways lounge in Istanbul as well as the Air Canada Lounge in Toronto.
We enjoyed a final breakfast, said good-bye to Engin and took our prearranged drive the 20 minutes or so, most along the river, to the airport. As you may know Istanbul has had its share of terrorist attacks. The first evidence of this is the police presence (with machine guns) as one approaches the departures terminal. Then as soon as one enters the terminal the very first thing you do is go through security - all bags and persons through metal detectors. There is then additional identification security before one gets to the check-in counter and finally further security with random checks of hand luggage in the boarding area.
One of the great benefits of business class is the opportunity to enter the business lounge. Ranked as one of the world's top ten private passenger lounges Istanbul can seat up to 1,100 people. The lounge, on two floors, provides a range of services and activities, including a 'realistic racetrack, video game consoles, a cutting-edge golf simulator, private resting and showering areas, a cinema, a play area for children, a library, a pool room, a prayer room and massage service'. There is a wide selection of excellent quality food including an olive bar, custom made pides, salads, salads and more salads, pasta, grilled meats, in recognition of a new route to India - Indian food, an extensive dessert bar and pretty much anything one would like to drink. Very impressive, particularly when compared to the domestic Air Canada lounge in Toronto which we had thought was pretty good but does not hold a candle to Istanbul.
We spent over two hours enjoying the comfort and food of the lounge before boarding the plane for our 10 hour 45 minute flight to Toronto. Large fully reclining seats, welcome drinks, a choice of menu, a chef (including a visit to see if Gayle's vegetarian meal was ok), and attentive service all made for a relaxing flight. It is easy to understand why passengers enjoy business class. Upon arriving in Toronto we had a considerable layover (nearly four hours after getting through customs etc.). Again we had access to the Air Canada lounge but honestly were so tired - with the time change it was the wee hours of the morning - we had trouble staying awake. And we were so full we had little interest in eating (plus the options were nowhere near as varied or appealing as those in Istanbul).
We boarded our late night flight to Halifax, arriving on schedule just before 2:00 am.
Certainly a long day but no complaints at all given the comfort and luxury - particularly for only $24 each - of business class.
The view from the rooftop breakfast area, across the river to Asia.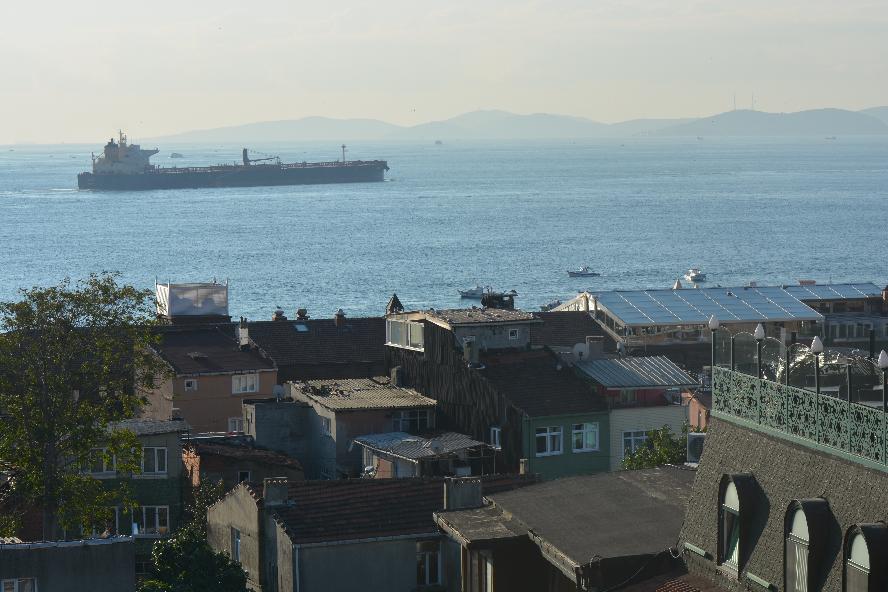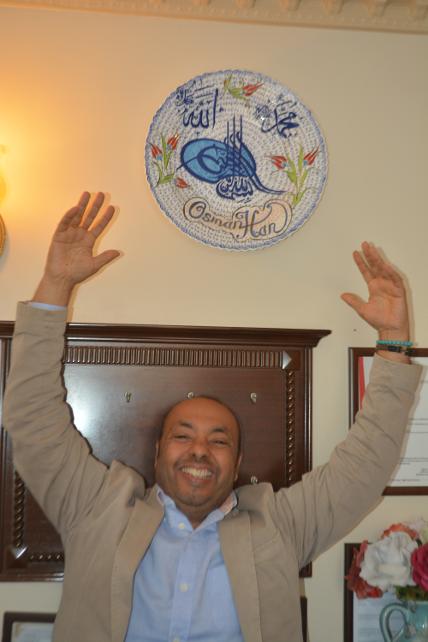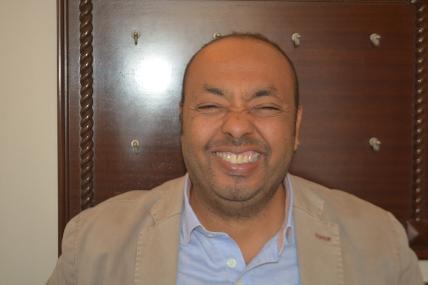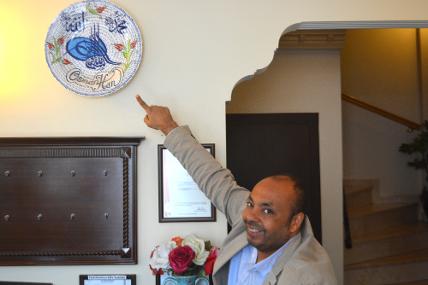 Welcome to the Turkish Airlines business class lounge.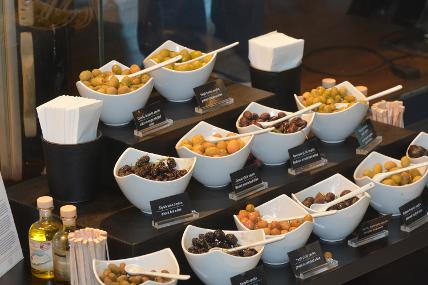 Some of the interior of the lounge - on two levels.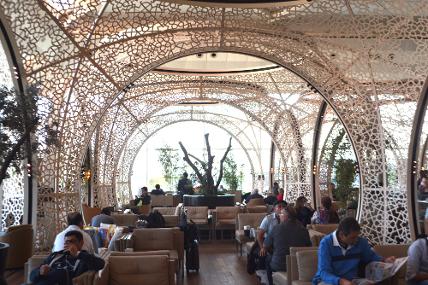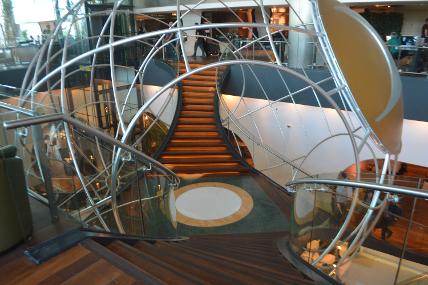 Showing off her new earrings while enjoying a Bailey's.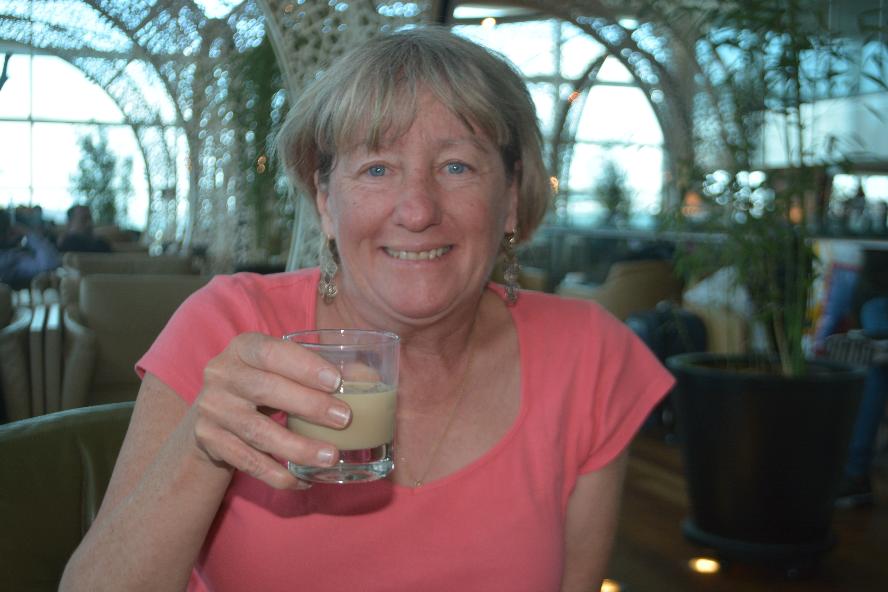 Of course lots of tasty desserts.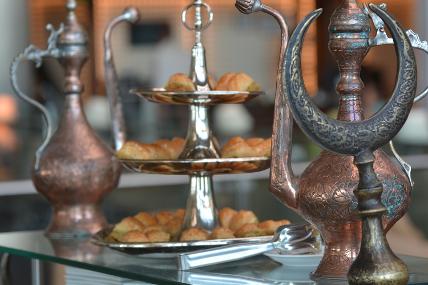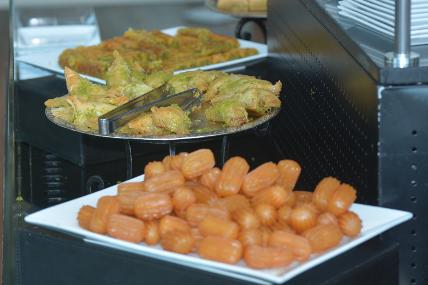 In recognition of a new route to India - lentils, rice and buttered chicken, and then at another station lots of salad.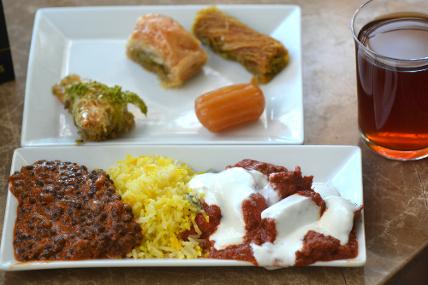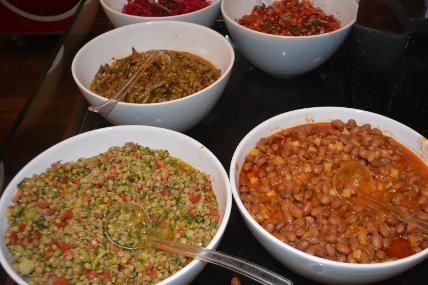 Ok so perhaps it was a small battery light in a bag but they tried.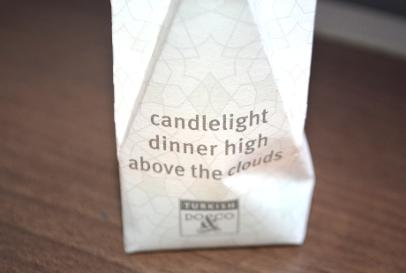 Having a vegetarian meal the chef made a point of checking with Gayle as to whether she was satisfied.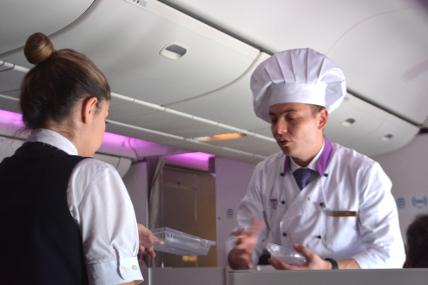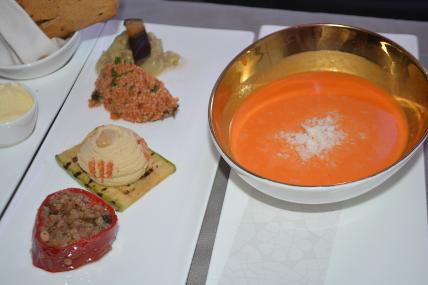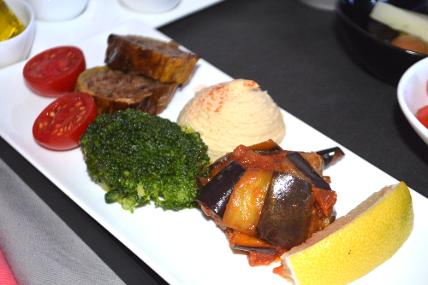 October 02, 2017 - Istanbul
Our second day in Istanbul was much the same as the first except for sunnier skies, visits to a couple of bazaars and replacing Ayasofya with the Blue Mosque.
We started our day strolling through the Arasta Bazaar, with some nice although not inexpensive goods. Lots of window-shopping but nothing purchased. We then made our way to the Sultan Ahmed (or Blue) Mosque. Constructed between 1609 and 1616 during the rule of Ahmed 1 it continues to function as a mosque today with men kneeling in payer on the mosque's lush red carpet after the call to prayer. The mosque's Külliye contains
Ahmed's tomb, a madrasha and a hospice. Hand-painted blue tiles adorn the mosque's interior walls and at night it is bathed in blue as lights from the five main domes, six minarets and eight secondary domes light the structure. Being an active mosque there is a dress code for visitors - long pants for men and a long skirt/pants and a head scarf for women, codes that were strictly enforced. Preceded by the loud public call to prayer, the mosque (although not the outdoor courtyard) is closed for 90 minutes five times each day for prayer. No question the mosque is a very impressive structure, in our view even more so than Ayasofya.
Afterwards we wandered to the Grand Bazaar or covered marked. Istanbul's Grand Bazaar is one of the largest and oldest in the world, with 61 covered streets and over 4,000 shops. Reportedly between 250,000 and 400,000 visitors attend most days. In 2014 the Bazaar was listed No. 1 among the world's most visited tourist attractions with 91.25 million annual visitors. The Grand Bazaar is located inside the walled city in the district of Fatih. Construction started during the winter of 1455/56 shortly after the Ottoman conquest of Constantinople, as part of a broader initiative to stimulate economic prosperity. Honestly, the bazaar is simply too big. Although the alleyways are generally not as narrow as those in Fes resulting in less of a sense of claustrophobia it was reasonably busy just the same. The bazaar is an intricate maze in which one can easily lose their direction if not attentive. The other problem is that there are just too many shops, so many things to see, so many vendors trying to get you to buy their goods, and so much difficulty in knowing what was authentic and what was a knock-off. We stayed for perhaps 45 minutes, seeing only a tiny portion of the bazaar, before leaving, without purchasing anything.
We meandered back towards the Hippodrome, then again past the Blue Mosque and to some shops where we saw a small whirling dervish doll and a plate that we ultimately bought. Shortly after we stopped for a drink where it was suggested to us we might want to try a mix of fresh orange juice and fresh pomegranate juice. We're glad for the suggestion as it was a nice combination. We then returned again through the Arasta Bazaar where Gayle saw some filigree earrings she liked and in the end bought. The shop-owner was playing a musical instrument as we arrived (certainly worked to have us step in his shop) and then after we purchased the earrings taught us how to say 'thank you' in Turkish, which is '
teşekkür ederim
'. H
e told us to just say 'tea-sugar-dream' and we would be fine, and for the most part he was right.
For dinner we went to Palatium were we had a decent, although not outstanding meal. The restaurant was nicely lit with attractive gourd lights and provided the option of low couches and open seats. Gayle had a Veggie Pide with mushrooms, tomatoes, green pepper and olives which she liked while I had two lamb plates - the Palatium meatballs of minced lamb meat and a Lamb shish kebab, both cooked and served in clay pot dishes. I was expecting a bit more spice in the meat patties and the shish kebab was good although not as tender as that at the Turkish restaurant back home. Of course we had to finish with a baklava and Turkish coffee.
We returned to Oshmanhan Hotel where we packed for our departure tomorrow.
An intricately designed set of bowls.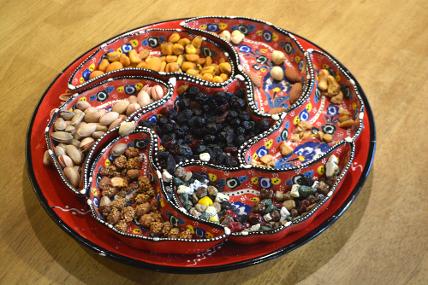 Colourful Turkish pottery.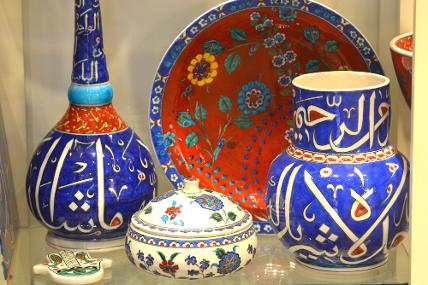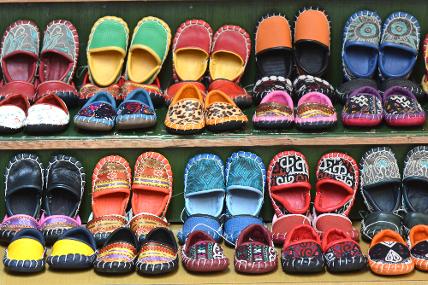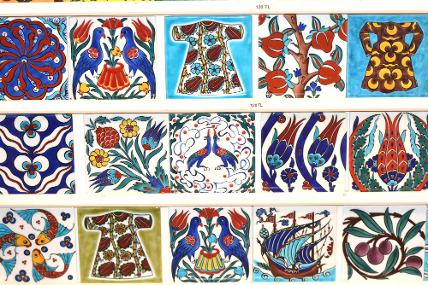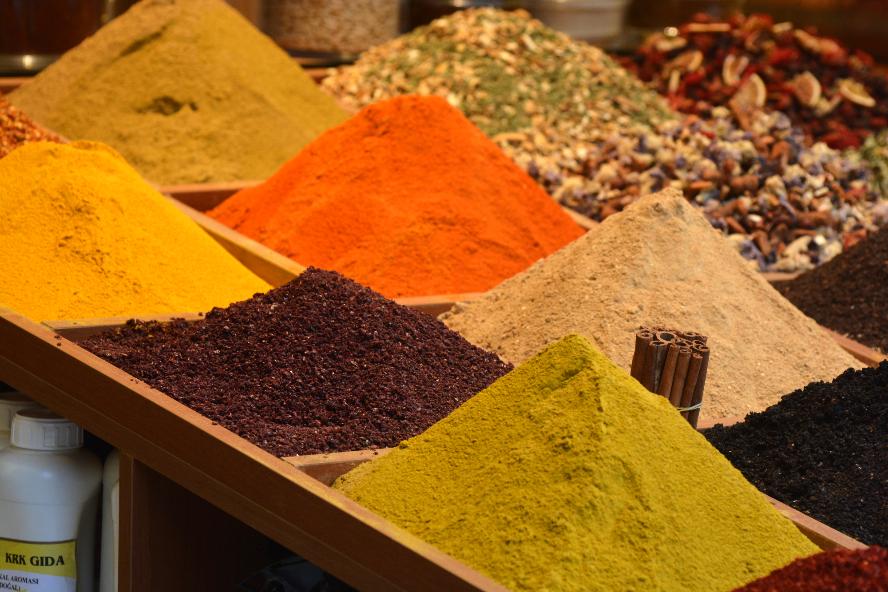 Turkish Delight - common at many shops.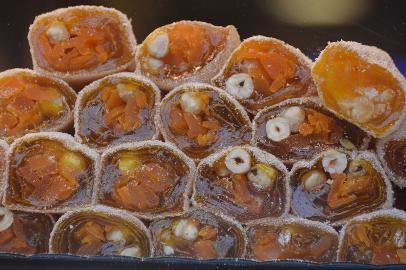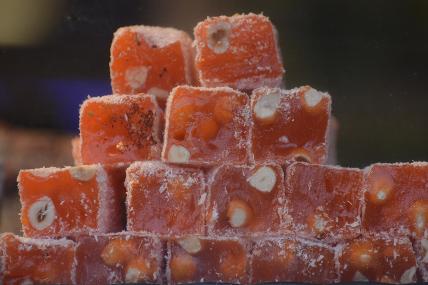 We had fresh orange juice, and fresh pomegranate juice but then it was suggested to us we have half and half ... and it was delicious with the orange actually tempering the tartness of the pomegranate.
The most impressive and sacred Blue Mosque.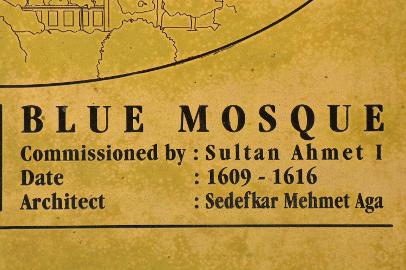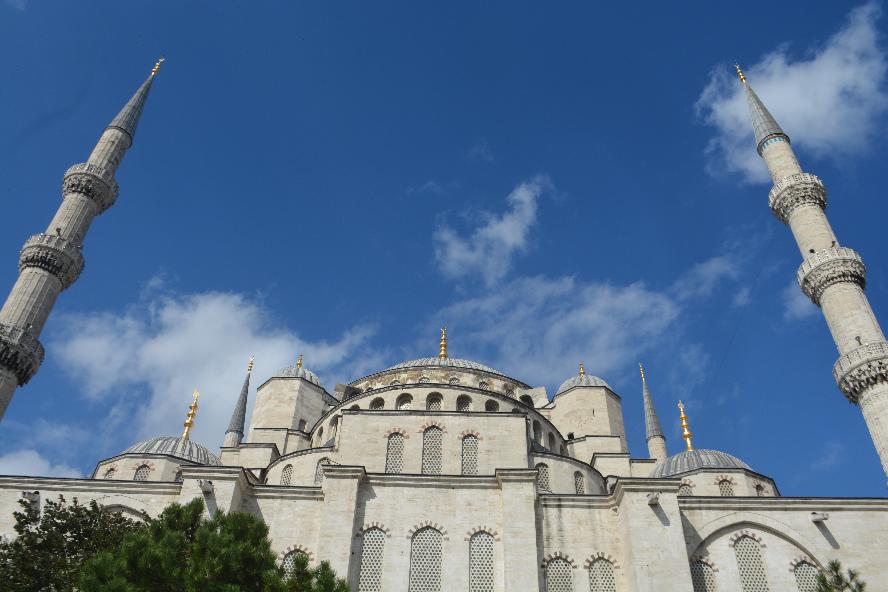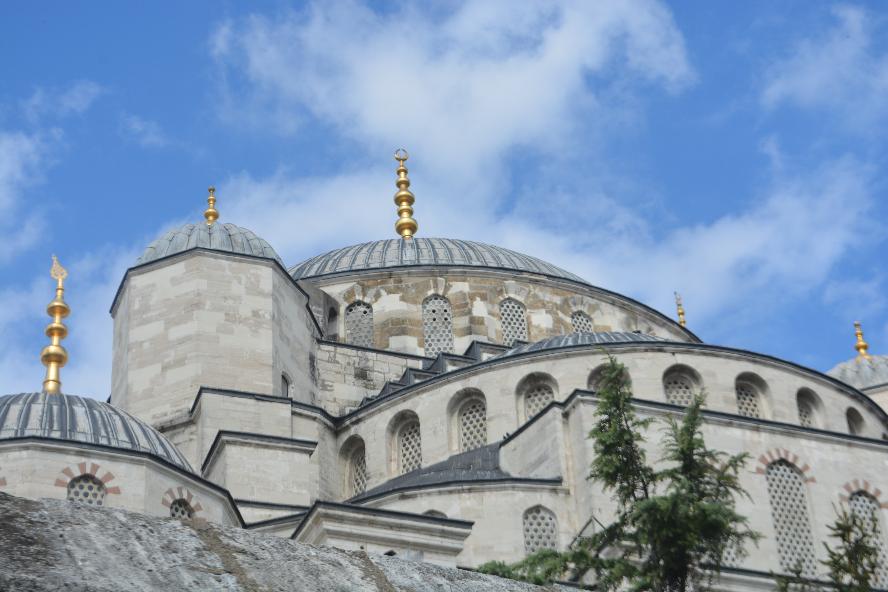 The minarets of the Blue Mosque.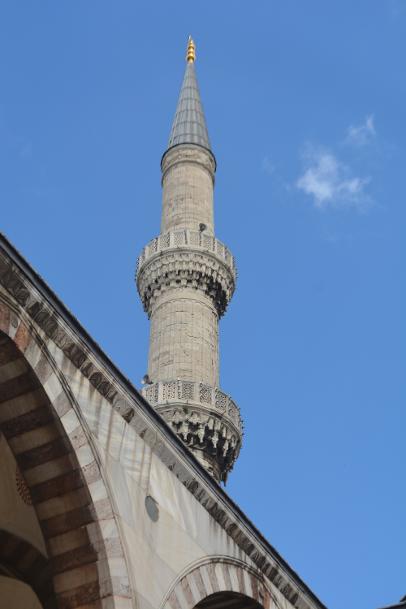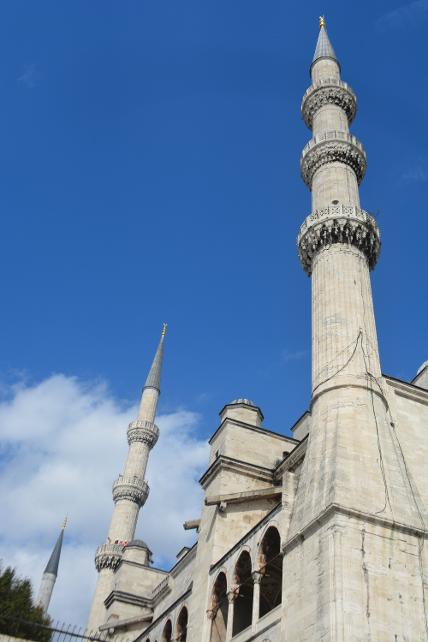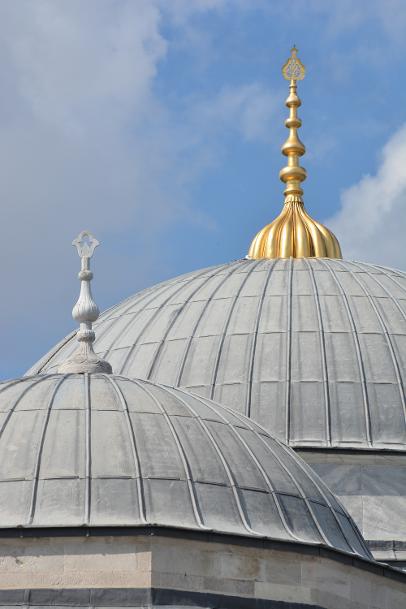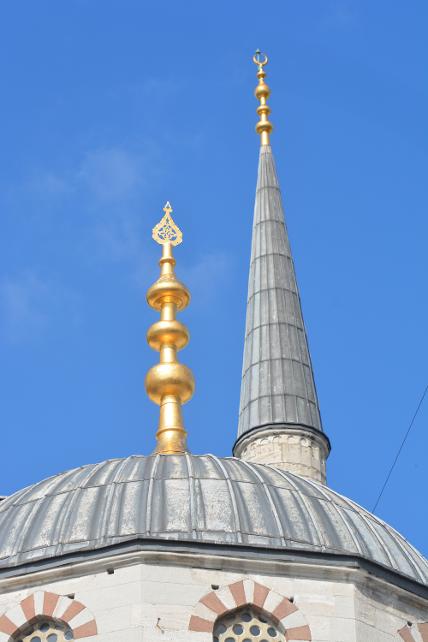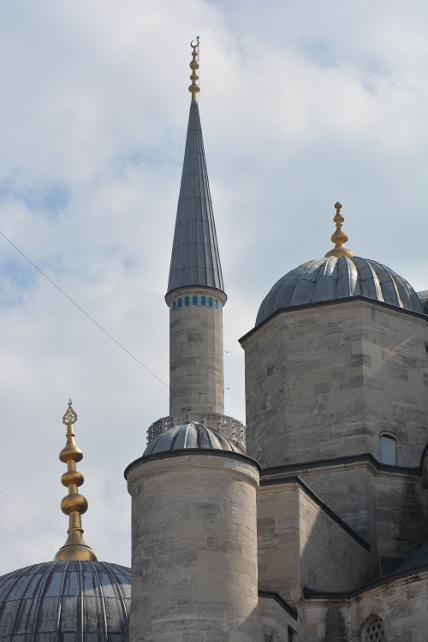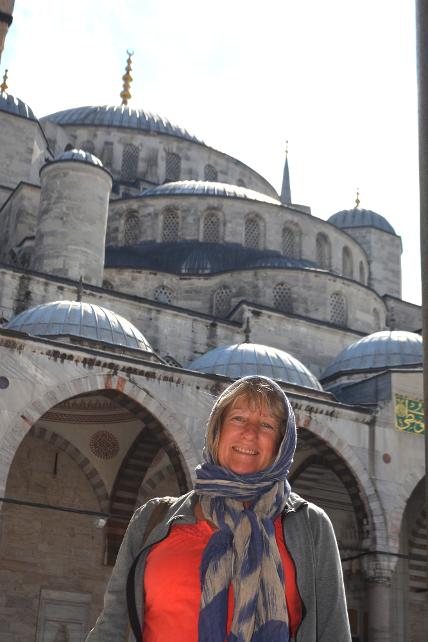 Women outside the mosque just before prayers begin.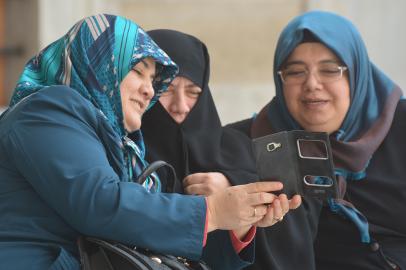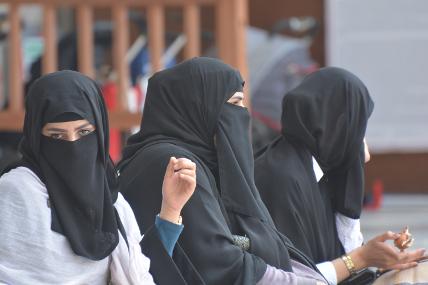 Somehow photos just don't capture the enormity and beauty of the inside of the Blue Mosque.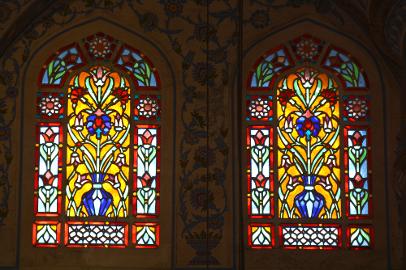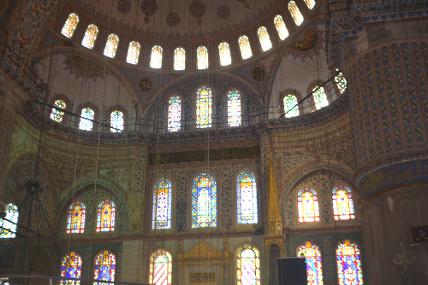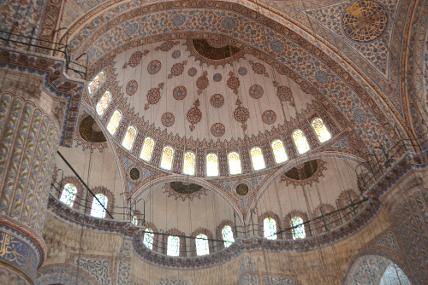 The eastern entrance to the Grand Bazaar and one of the congested alleyways inside.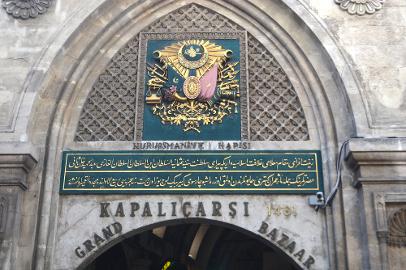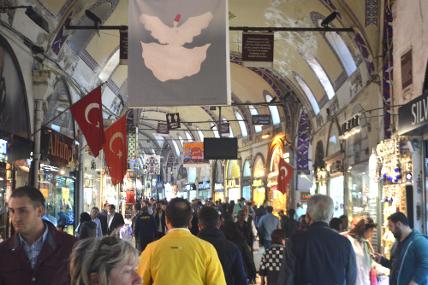 As this shopkeeper told us "
When I'm here without customers I play the music
"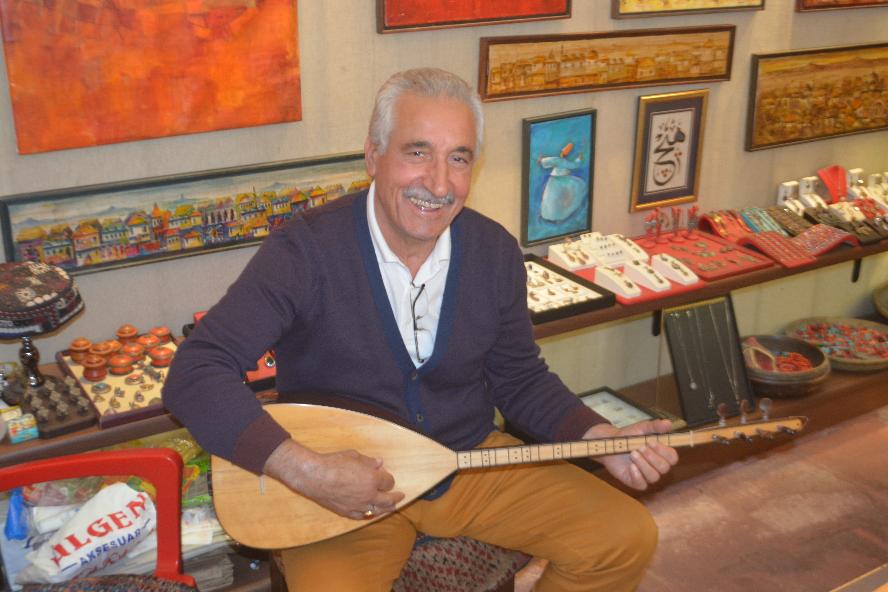 Me with my two lamb main courses.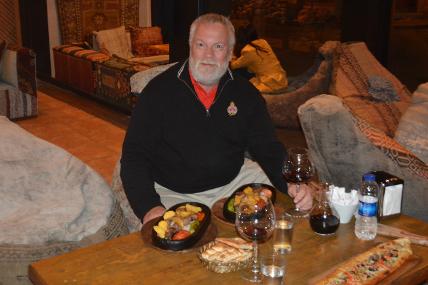 And both of us with our wine.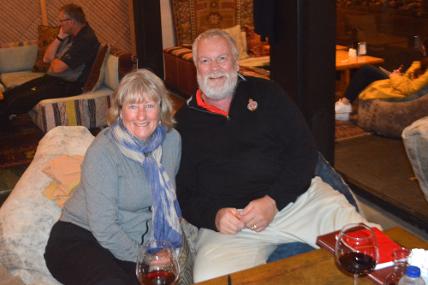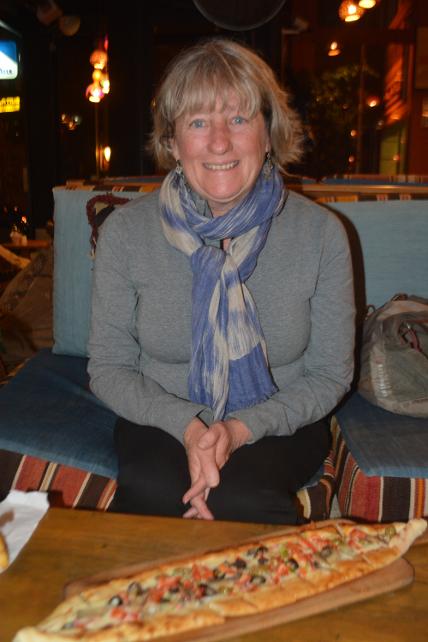 Very attractive gourd lights.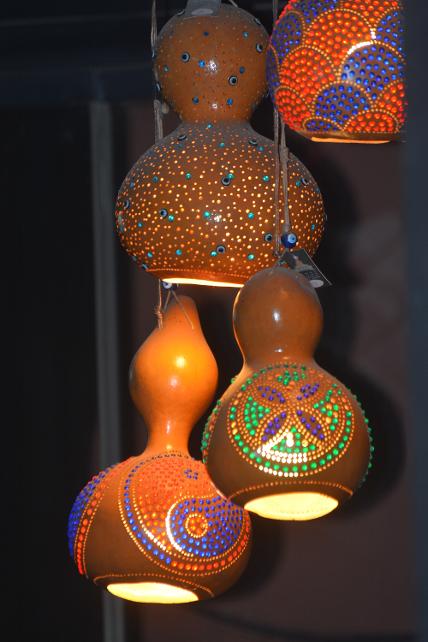 Minced lamb patties with rice and Turkish potatoes.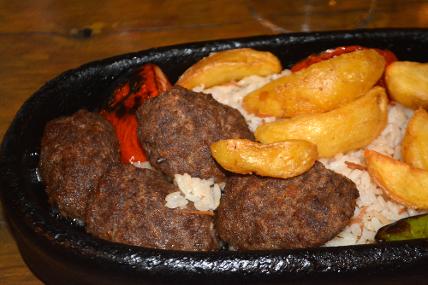 Baklava (again) and Turkish coffee.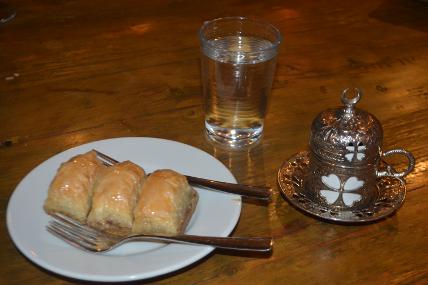 October 01, 2017 - Istanbul
Welcome to Istanbul, a very large city with a population of over 14 million!
We had always wanted to go to Turkey but it never happened. Anyone we ever met that had been spoke very highly of travelling in and the sights of Turkey. Thanks to a tip from Linda we were able to book a great deal on a flight from Istanbul to Toronto to Halifax (details later) so decided, in spite of it perhaps being less stable than some other destinations, to book three nights at the end of our month in Greece.
We were somewhat disappointed to not find a special accommodation, i.e. similar to the riads in Marrakesh and Fes. We did discover a nice, small, well located hotel, with very friendly excellent staff, for a good price convenient to the major tourist attractions, i.e. the Blue Mosque, Ayasofya (Hagia Sophia) and many other museums and palaces. We had arrived in the dark and rain the previous night and as a result did not even bother to go out. We must have been very tired as even Gayle did not hear the early morning call to prayer, which both shocked and disappointed her. I on the other hand enjoy my sleep!
Breakfast was served on the rooftop of the hotel providing decent views to the river and the steady stream of boats and tankers passing by. Breakfast was good with stuffed grape leaves, olives, cheese rolls, cheese, cakes, including today a nice plum option, spinach and/or cheese pies, cereal, eggs, juice (orange and cherry) and coffee. Very filling.
Although not raining it was overcast and cool, with the threat the skies might open at any time. We slowly wandered through the streets, checking out menus at the numerous restaurants, and popping into shops with Turkish rugs, plates, glass ware and other products. While constantly being 'encouraged' by locals to just 'take a look' most were not too persistent. Unfortunately there were a few who would not immediately accept "
no thanks
" which was somewhat irritating, but all in all not that bad. We emerged near the museum Ayasofya (formally the basilica Hagia Sophia) but then headed in the direction of the Blue Mosque, slowly ambling along through the area. By the time we got to the Blue Mosque it was closed for prayers so we headed across the Hippodrome (formally the circus that was the sporting and social centre of Constantinople, the capital of the Byzantine Empire; today a square named Sultanahmet Meydani (Sultan Ahmet Square) with few fragments of the original structure remaining)
to Karadeniz, a recommended restaurant for a light bite to eat.
We each had fresh juice - pomegranate for Gayle ($4.5 Cdn although we are in a big city) and lemonade for me. Gayle then had mercimek corbasi - lentil soup which was excellent, accompanied by a Puf Ekmegi, or pita puff which was huge (look at the size in relation to the bowl of soup in the photo below) while I had a kusbasili pide, a sliced meat pizza/pita with filling. 'Pide' is a common Turkish food, a version of pizza where a thin oblong dough base is filled with meat, veggies, cheese or whatever and then folded over around the edges. It indeed was very good.
We then went to Aysofya (entrance 40 Turkish Lira or $15 Cdn each).
The name
sophia
is the phonetic spelling in Latin of the Greek word for wisdom.
Originally a Greek Orthodox basilica it later became an imperial mosque. This was the Roman Empire's first Christian Cathedral dating from 537 AD. For most of the next 900 plus years it served as an Eastern Orthodox cathedral until 1453 when Constantinople was conquered by the Ottoman Empire under Mehmed the Conqueror. Although some parts of the city of Constantinople were falling into disrepair the cathedral was well maintained. Mehmed then converted the basilica to an Ottoman mosque, destroying the bells, altar, and other relics and either destroying or covering over the mosaics. A number of Islamic features, including four minarets were added. It remained a mosque until 1931 when it closed for four years, reopening as a museum in 1935. It was Turkey's most visited tourist attraction in 2015. Hagia Sophia was the principal mosque in Istanbul until the construction of the nearby Sultan Ahmed Mosque (the Blue Mosque) in 1616. The Byzantine architecture of the Hagia Sophia served as inspiration for many other Ottoman mosques.
We then returned to the hotel until we went out to dinner at a nearby restaurant, the Magnaura Cafe. Although it was lightly raining a covering and heaters - it was surprisingly warm with the heaters - allowed us to eat outside. Gayle started with a smoked aubergine salad dressed in olive oil, garlic and lemon - nicely presented but nowhere near as intense as the version at Kalofego, Koufonissi. I tried the Hunter Pastry - a nice roasted minced meat with garlic, carrots, onion, parsley, dill, and melted cheese fried in a pastry - small but tasty. Gayle then had the 'soup of the year' - lentil - ok but not as flavourful as the version at lunch. I ordered the grilled lamb chops in sour sauce of mint and pomegranate on a bed of vegetables. Water, a very nice 1/2 litre of house red wine, baklava for dessert and a Turkish coffee completed our meal, all for a very reasonable $53.
In spite of the weather a good first day in Istanbul.
Breakfast at Osmanhan Hotel.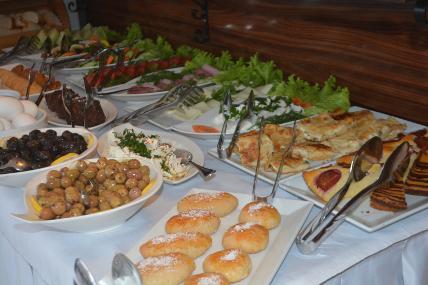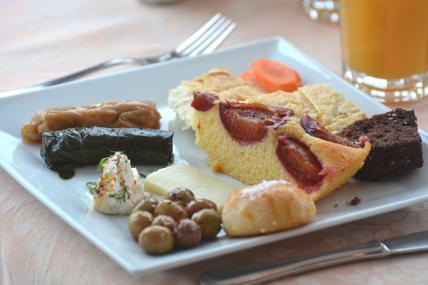 A street vendor selling corn on the cob and roasted chestnuts, both common here in Istanbul.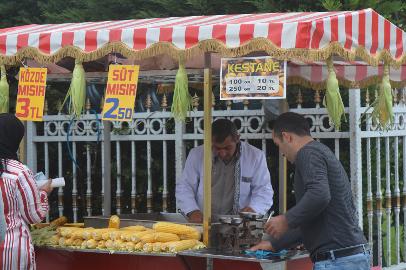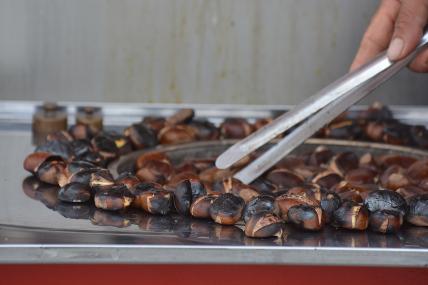 Locals on the streets of Istanbul.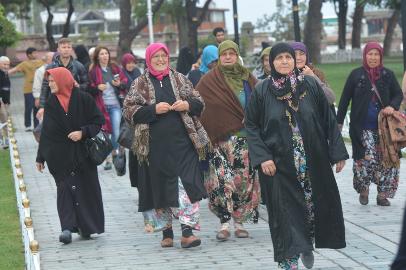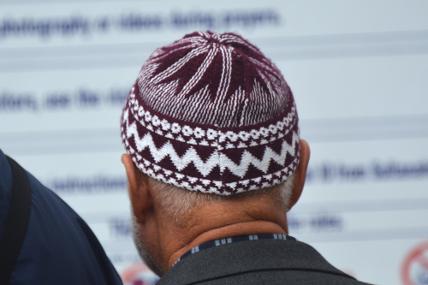 Sweets - lots and lots of sweets.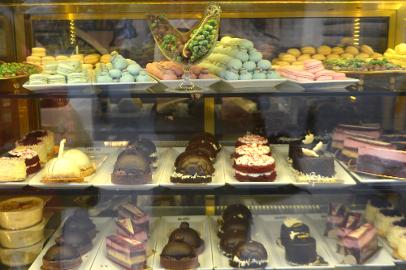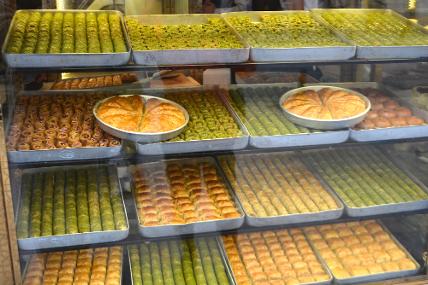 The bread was so large someone else actually came over and asked whether they could take a photo.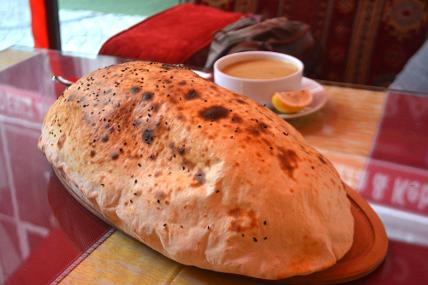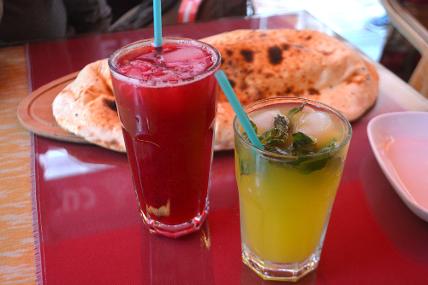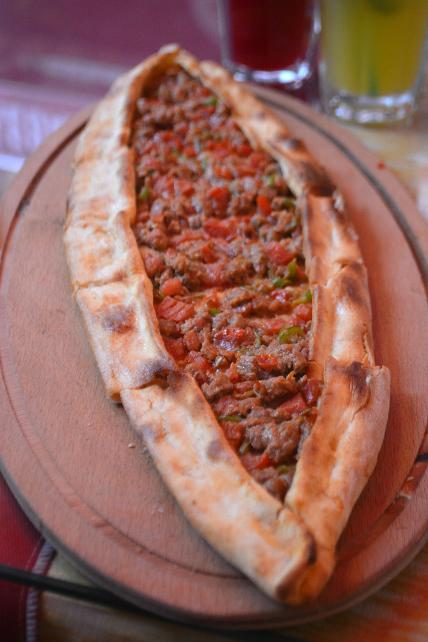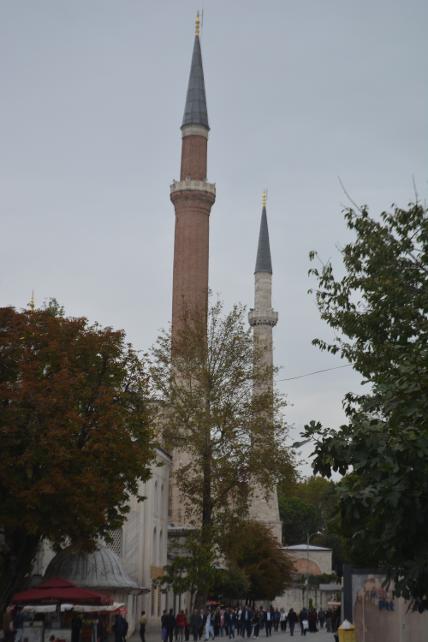 Even on a gloomy overcast day Ayasophya is impressive.
Now a museum the basilica is famous in particular for its massive dome, it is considered the epitome of Byzantine architecture and is said to have "changed the history of architecture".
It remained the world's largest cathedral for nearly a thousand years, until Seville Cathedral was completed in 1520.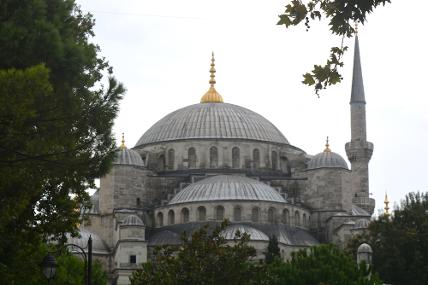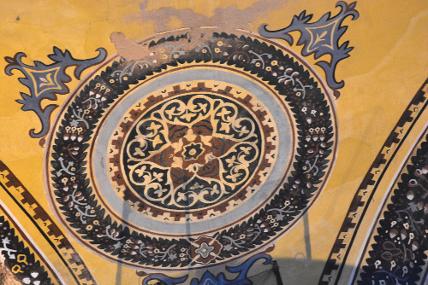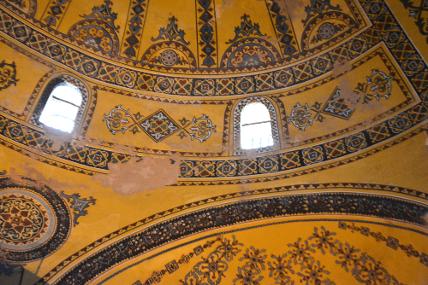 One of only a few stained glass windows inside the basilica.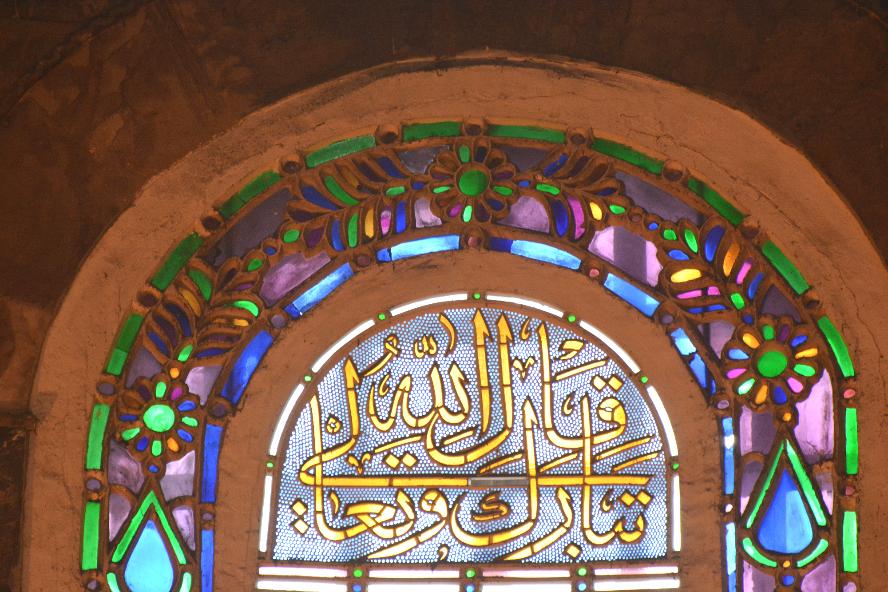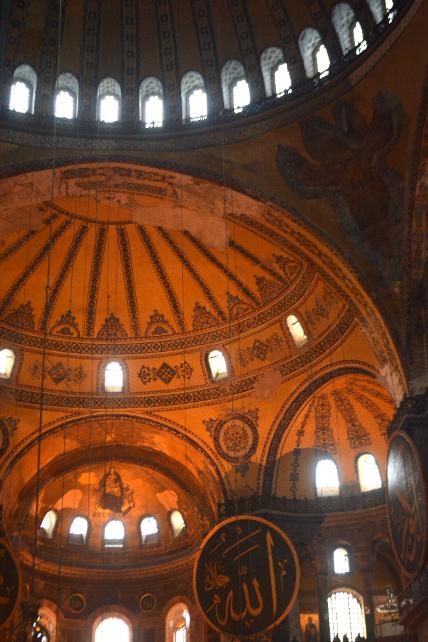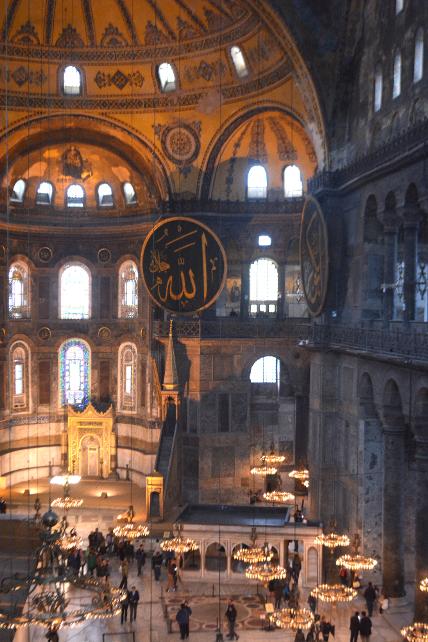 The Omphalion - all done in marble.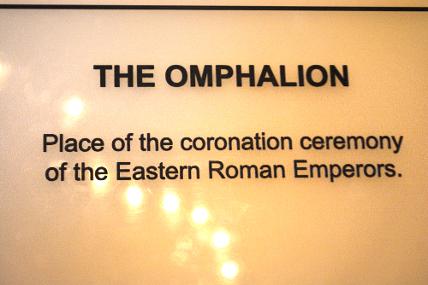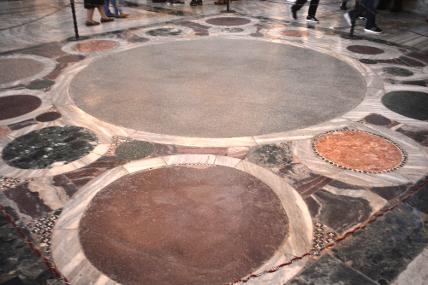 Painted ceilings and walls in Ayasophya.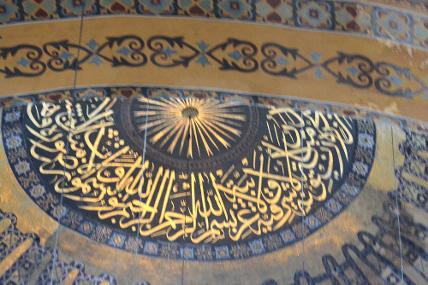 An intricately decorated pillar.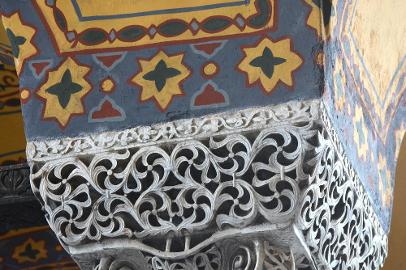 Two Turkish women walking by our restaurant.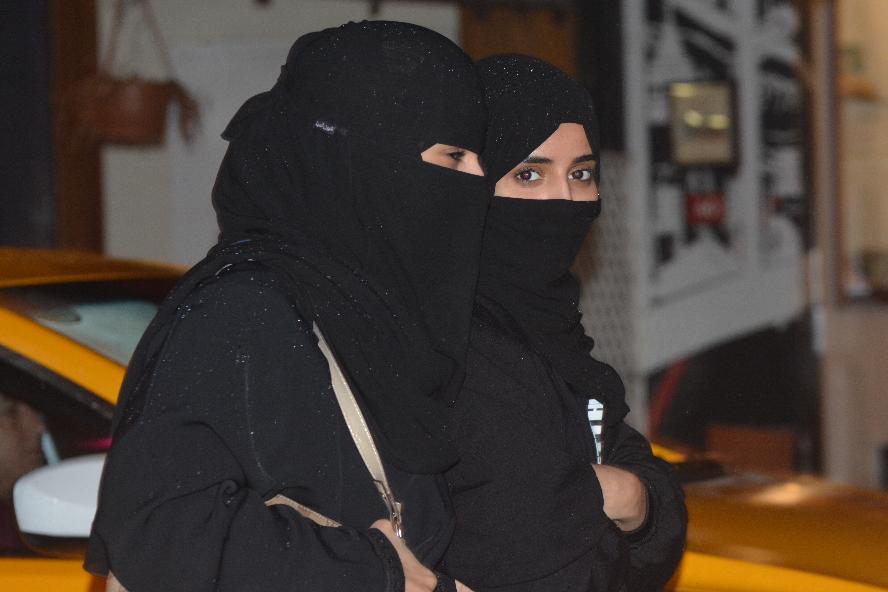 Nicely presented eggplant dip.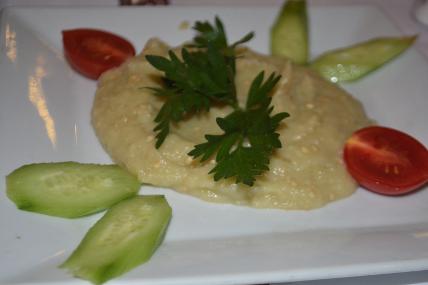 Minced lamb filled pastries.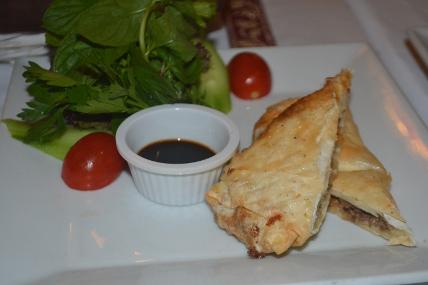 Lamb chops in sour pomegranate sauce.
Of course baklava for dessert.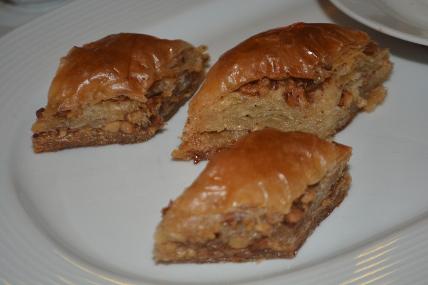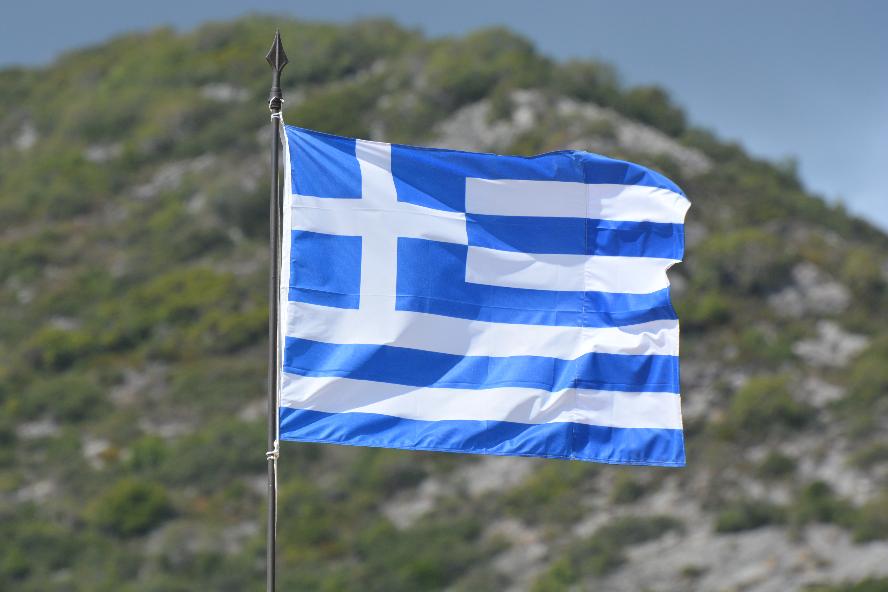 Greece in Review
There it is, a wonderful 26 days in Greece. Some of our most vivid memories:
swimming nearly every day in warm crystal clear water

our nice meal at the traditional Dallas taverna in Koronos, Naxos
the white 'sugar-cube' structures of the Cyclades
Greek 'pies', walnut and orange

the great weather - hot and sunny every day until the last couple

returning to Koufonissi and Amorgos, both being everything we remembered

staff we met including George 1 (and 2) at Faros Villas, and Thania and Lola at Pambelos Lodge

a number of great hosts including Nena at Mpelleiko, Greg at Elea Mare, and Tanya at Citta dei Nicliani

everything working out so well travelling the first time with others (our people Linda and Bill)

sharing our experiences with Bill and Linda, and how much they enjoyed Koufonissi and Amorgos

wandering the narrow alleyways of Chora, Amorgos

the dramatic drive around the Mani peninsula
Monemvasia
swimming in the aqua-marine waters of cove with the nibbling fishes just below the cafe in Avlemonas, Kythira
the isolated beaches of Kythira, although rocky the swimming was fabulous
the gorgeous sandy beaches of Koufonissi

the great places we chose to stay

sharing an ouzo (or two) with Yannis, Babis and Demitri in Stemnitsa

the drive down the gorge to the Loisos river

Panayeota, and the fact she had been to Halifax ... twice

the Greek (and Amorgian) salads

the smoked eggplant dip listening to some unique music (Freschard: tweet tweet) at Kalofego, Pori beach, Koufonissi

octopus - grilled or as a salad

the meals at Citta dei Nicliani, including the nightly vegetarian dish

the views and ambiance of Pambelos Lodge and Koufonissi, every bit as wonderful as we recalled

the view to Aegali bay from Pano Gitonia, every bit as wonderful as we recalled
Baklava, certainly a memory of eating in Greece.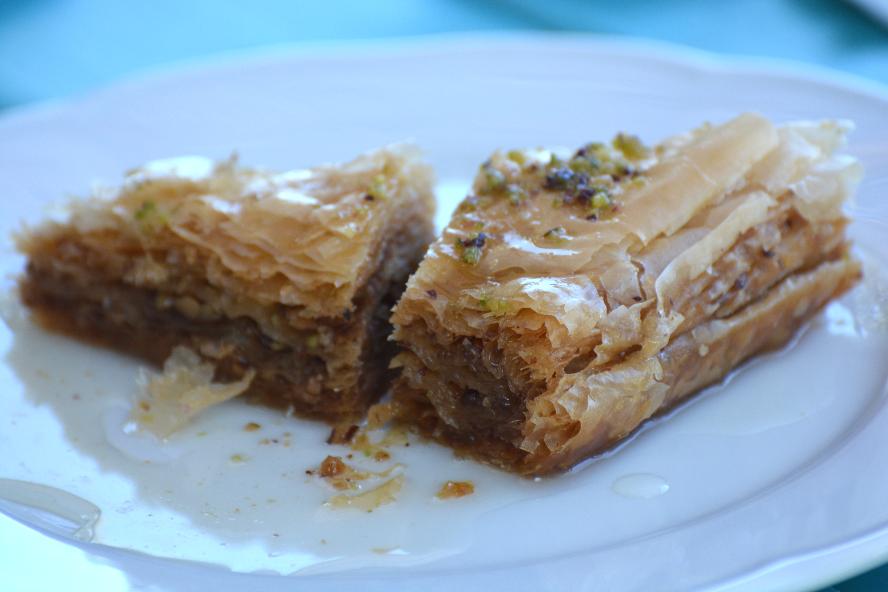 Expenses:
With respect to airfare we need to separate getting to Athens and returning from Istanbul. There were four segments to our trip
1. $1,232 Halifax to Toronto to Athens (prices are total for Gayle and Norm)
2. $ 591 Athens to Naxos to Athens
3. $ 321 Athens to Istanbul, and
4. $ 48 Istanbul to Toronto to Halifax (more on this 'deal' later).
Food (keeping in mind most, i.e. 21 breakfasts were included in the lodging cost), including wine was a very inexpensive 46 euros ($68 Cdn.) per day. This was only marginally more than the $64 per day spent in Greece in 2015. Note all food costs include tax and tips. The average daily amount in Greece was again less than other destinations in Europe. In 2016 we spent an average of $76 in Sicily and earlier this year $96 in Spain.
Lodging ranged from a low of 60 euros a night to a high of 190 euros, often reflecting upgrades to nicer rooms For example the only place we spent > 110 euros was Faros Villas in Naxos where we booked the upper floor suite at 190 euros. We could have had a room for 85 euros but being our first stop after lengthy travel we thought we could use the extra space. It is noteworthy that 19 of the 26 nights were < 100 euros ($150 Cdn), most including breakfast. Here is a list of where we stayed, the cost and the website.
At the time of the trip the exchange rate was more or less 1 euro = $1.50 Cdn, on average.
190 euros Faros Villas Naxos http://www.farosvilla.gr
90 euros Pambelos Lodge Koufonisi http://www.pambeloslodge.gr
70 euros Pano Gitonia Aegali, Amorgos http://www.amorgos-panogitonia.gr
75 euros Emprostiada Chora, Amorgos http://www.emprostiada.com
70 euros Mpelleiko Stemnitsa http://www.mpelleiko.gr/en
60 euros Elea Mare Elea http://www.eleamare.gr
85 euros Palaeopoli Villas Avlemonas, Kythira http://www.facebook.com/PalaeopoliVillas
110 euros Malvasia Hotel Monemvasia http://www.malvasia-stellaki.com/en
108 euros Citta dei Nicliani Kitta http://www.cittadeinicliani.com
75 euros Marianna Pension Nafplion http://www.hotelmarianna.gr
We spent more on lodging this trip to Greece as compared to 2015 although the costs were still considerably less than elsewhere we have traveled around the Mediterranean.
160 euros - 2017 Spain
140 euros - 2012 trip to Slovenia and Croatia
139 euros - 2014 Portugal/Spain
136 euros - 2013 Spain
122 euros - 2013 Northern Italy
109 euros - 2014 Corsica/Provence;
106 euros - 2016 Sicily
97 euros - 2017 Greece
79 euros - 2015 Greece.
Overall, including airfare, car rental, fuel, tolls, lodging, food, entrances, and other small miscellaneous expenses but excluding souvenirs the total cost of the 26 days in Greece was $8,868 (or $1,300 per person per week)
September 30, 2017 - Nafplion to Athens to Istanbul
After breakfast and checking out the nearby beach Linda recommended we left Nafplion late morning for a three hour drive to Athens and our flight to Istanbul.
Arriving in Istanbul we were surprised to discover we needed a visa to enter the country. Fortunately one could be purchases (50 euros = $75 Cdn) each just before entering passport control. We found our prearranged drive in the arrivals lounge of the chaotic airport and were driven, through a fairly heavy rain, to our hotel, the Osmanhan Hotel in the heart of old Istanbul, within sight of the Blue Mosque.
Being more tired than hungry in spite of many nearby restaurants, given the rain we went to bed rather than out to eat.
If you travel in Greece, you need to accept there will be a number of homeless cats in the streets. For the most part those we encountered seemed well fed and well looked after, although that is not the case everywhere.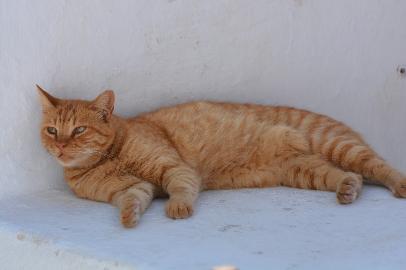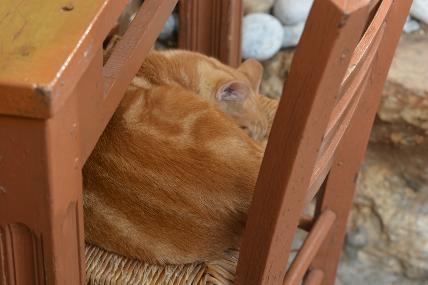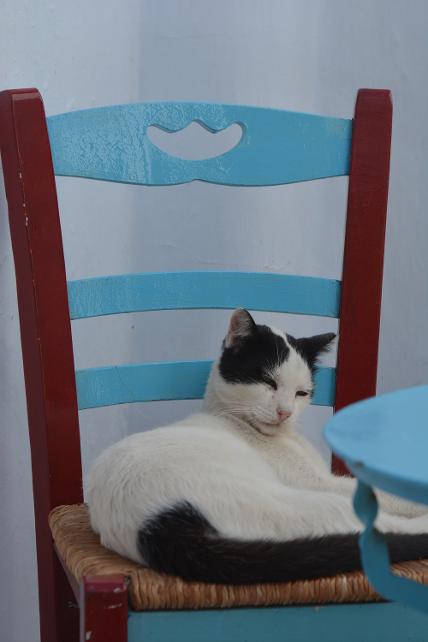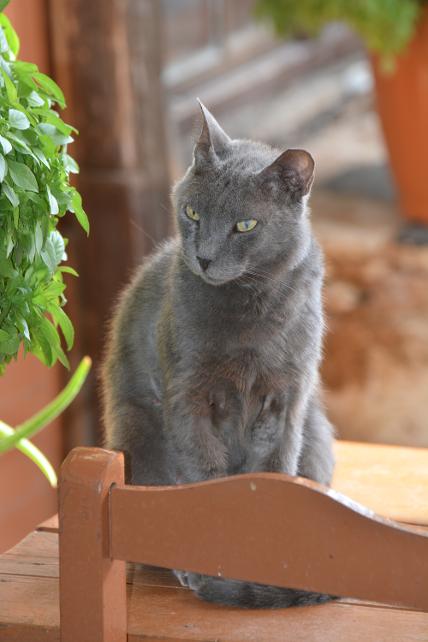 This one was literally sound asleep in this tree in Chora, Amorgos.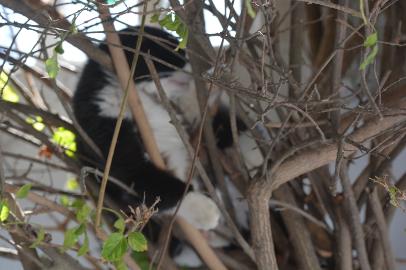 And this one right by our door on our terrace at Citta dei Nicliani.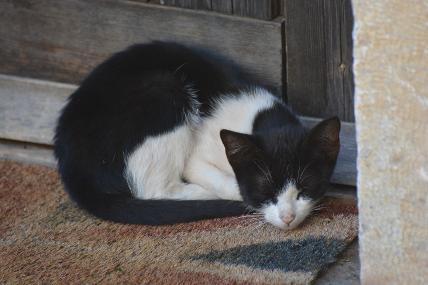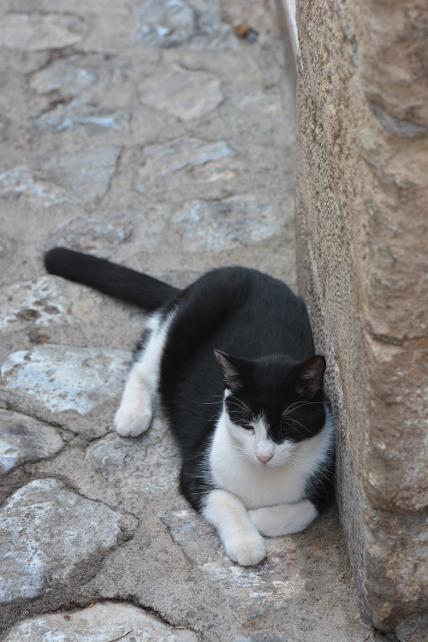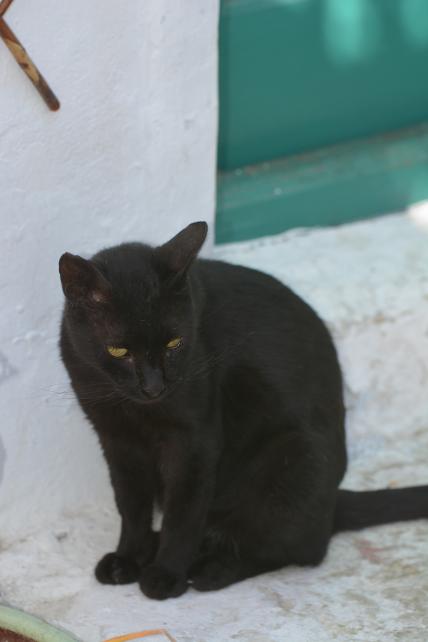 The view out Marianna Pension's breakfast window over Nafplion's old town to the harbour.
September 29, 2017 - Nafplion


Today was a quiet day spent in old town Nafplion, a seaport town that has expanded up the hillsides near the north end of the Argolic Gulf. The town was an important seaport held under a succession of royal houses in the middle ages as part of the lordship of Argos and Nauplia. Initially held by the de la Roche following the Fourth Crusade it was then controlled by the Republic of Venice, and lastly the Ottoman Empire. The town was the capital of the First Hellenic Republic and of the Kingdom of Greece from the start of the Greek Revolution in 1821 until 1834. Nafplion is now the capital of the regional unit of Argolis.
After a nice breakfast courtesy of the 'friendly Zotos brothers' we descended into old town, a grid of alleyways interspersed with a number of large squares with many outdoor cafes and restaurants. Our first stop was the Folklore Museum 'Vasileios Papantoniou', operated by the Peloponnesian Folklore Foundation since 1974. The museum focuses on the research, study, demonstration and conservation of Hellenic cultural activity. This was our kind of museum in that it was only three floors that took less than an hour to see. The displays were primarily of Hellenic dress/clothing of the past two centuries. In the gift shop we saw a colourful small plate from the island of Skopelos, an island we had visited on our honeymoon 37 years ago. Of course we had to buy the plate.
We then wandered down to the waterfront where in addition to a couple of tour buses and tourists (who had more selfie sticks than we could contemplate) one can see the water castle of Bourtzi located in the middle of the harbour. The Venetians completed its fortification in 1473 to protect the city from pirates and invaders from the sea. The Greeks regained it from the Turks on June 18, 1822 from where they assisted in the siege of Nafplio. Until 1865 it served as a fortress. It was then transformed into residences for the executioners of convicts from the castle of Palamidi. From 1930 to 1970 it served as a hotel. Since then it has mainly been a tourist attraction while occasionally hosting part of the Summer Music Festival.
We continued to cross the city, stopping for a gelato and and purchasing a Greek shepherd doll to add to our collection.
Prominent over the town is the Palamidi fortress, nestled on a crest of a 216-metre high hill. The fortress was built by the Venetians during their second occupation of the area (1686-1715). Very large its construction was an ambitious project finished within a relatively short period of only three years from 1711 until 1714. A typical baroque fortress it was captured by the Turks and remained under their control until 1822 when it was captured by the Greeks. The fortress commands an impressive view over the Argolic Gulf, the city of Nafplion and the surrounding country. There are 913 steps in the winding stairs from the town to the fortress with over one thousand to the reach the very top. We concluded it was sufficient to see the fortress from the streets of Nafplion, and did not climb up. :-)

Being less than an ideal day in terms of weather we also decided to skip going to the beach apparently just on the other side of the hill. Linda and Bill did go though and were quite impressed.
Although I hoped for a last meal of octopus it appears (or so we were told) there is no fresh octopus this time of the year in this area of the gulf so I ended up with a 'lamp' in the oven special. Actually not all that great the meat was surprisingly dry. Our other dish was a large pesto pasta which while decent was not as good as the pesto pasta we had in Avlemonas, Kythira. We were provided a little meze appetizer and some apple slices with cinnamon and cake for desert, both 'on the house'. It was then back up the steps to Marianna Pension to call it a night.
Most Greek tavernas on the islands have these relatively small, wicker seated chairs, often brightly or artistically painted. Here are a few taken for days like this when there is not much else to say.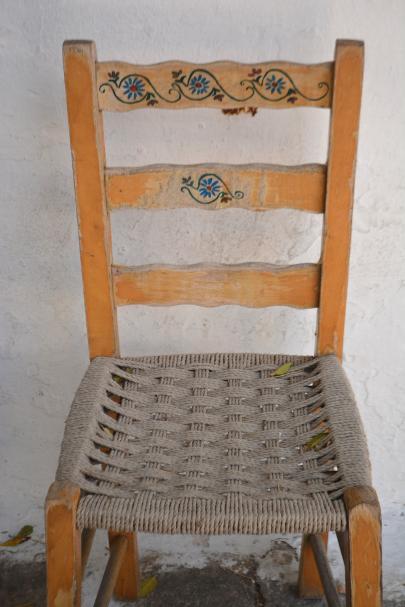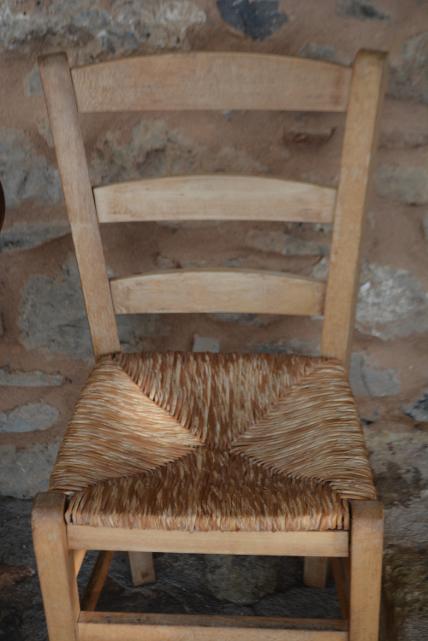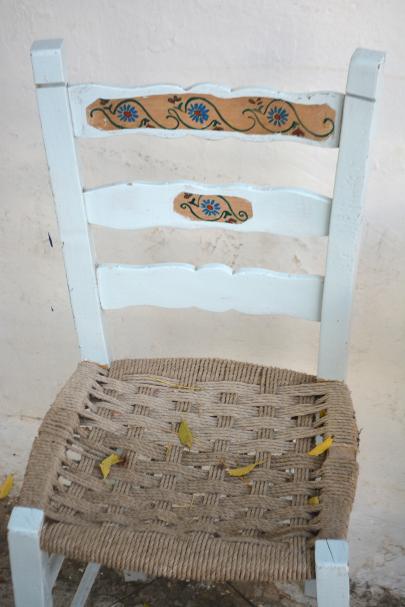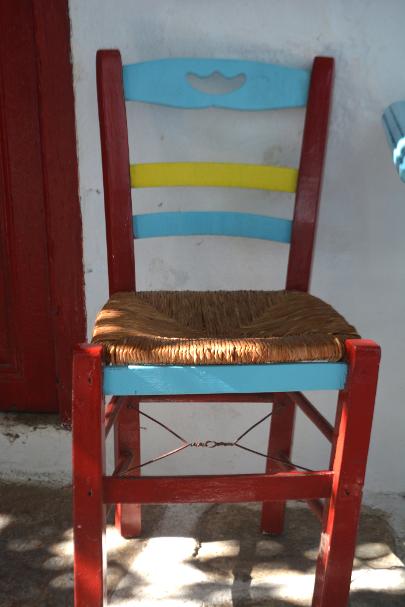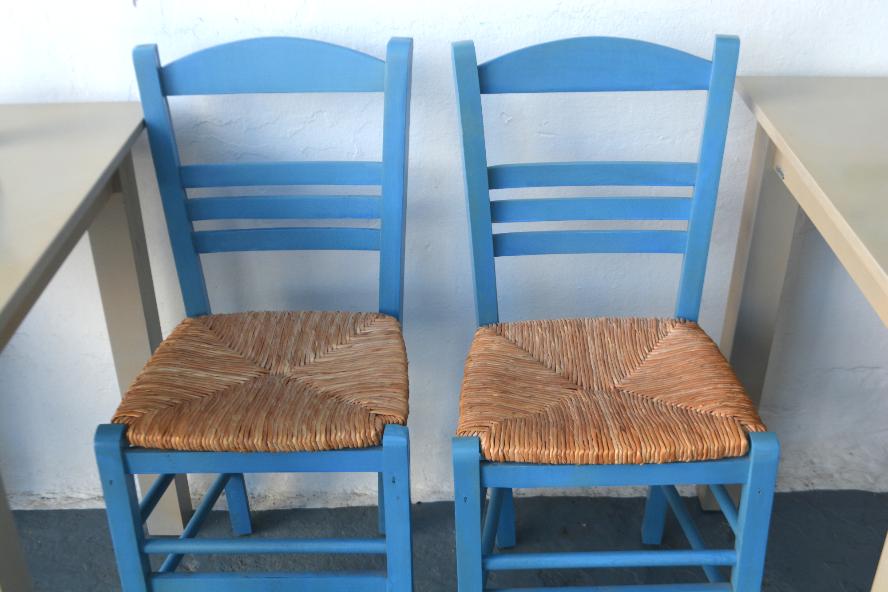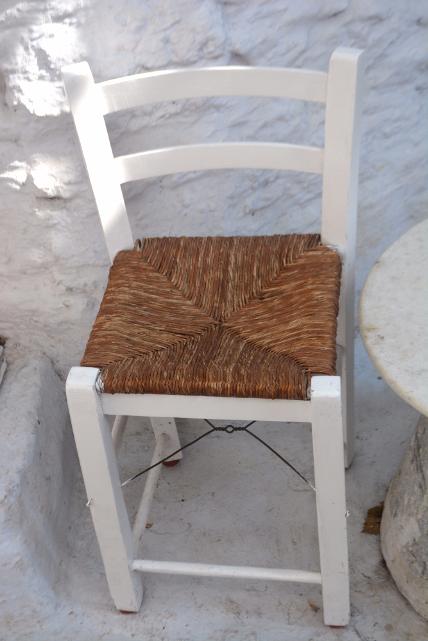 Views of old town Nafplion from Marianna Pension.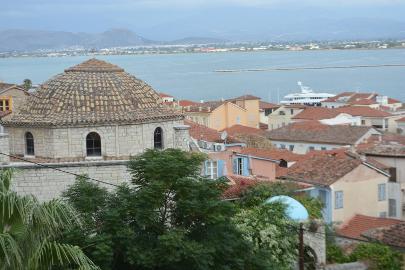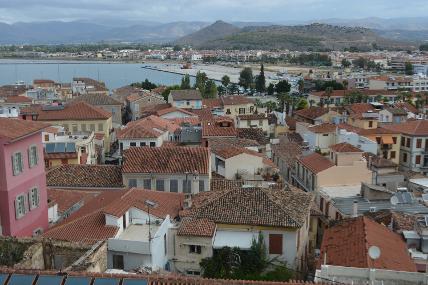 A small sample of some of the costumes at the Peloponnesian folk museum here in Nafplion.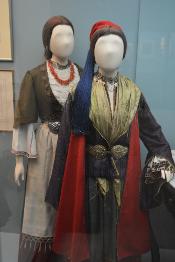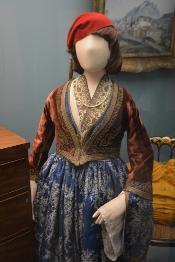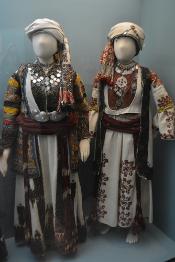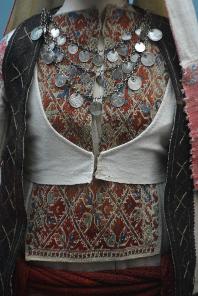 Palamidi fortress overlooking Nafplion.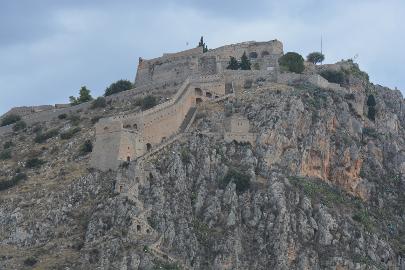 Bourtzi fortress in the harbour.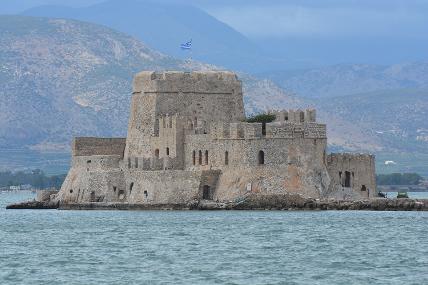 A small appetizer plate of meze and an after dinner plate of apple slices with cinnamon and small 'pies', both 'courtesy of the house'.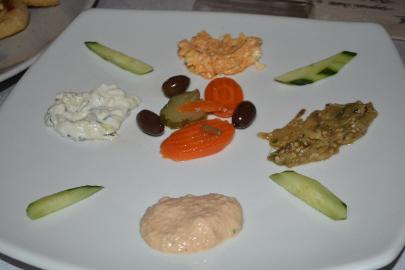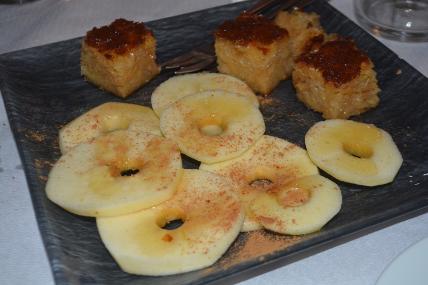 The Palamidi fortress lit up at night.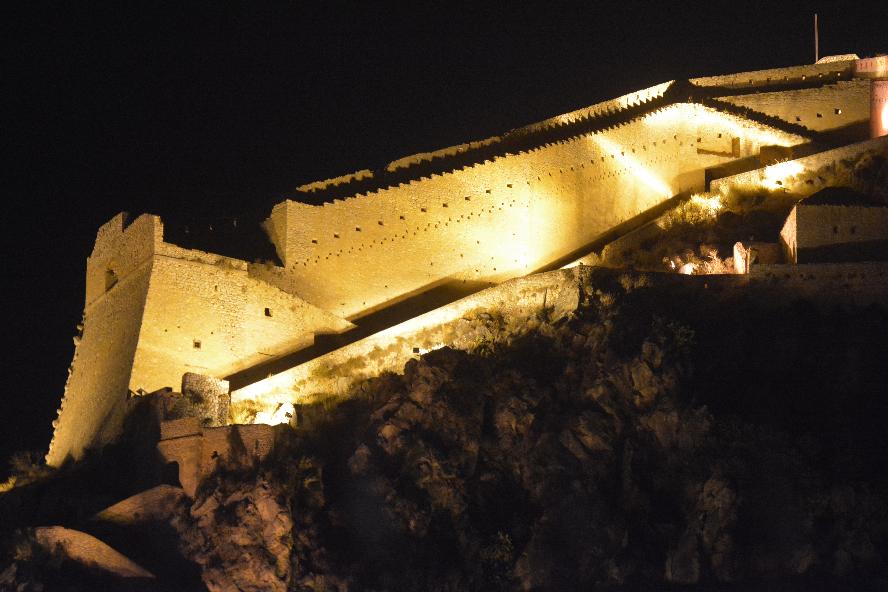 A few souvenirs we purchased.



Small dish from Skopelos (12 euros).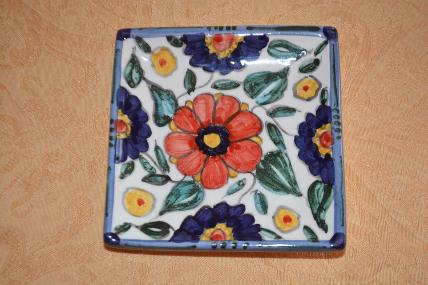 Bowl from Naxos (14 euros).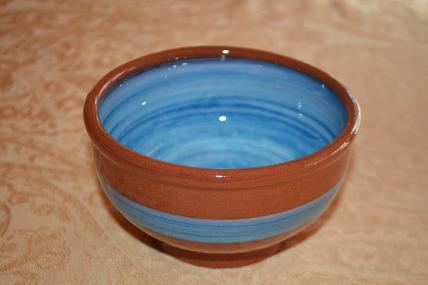 A Greek shepherd doll (40 euros).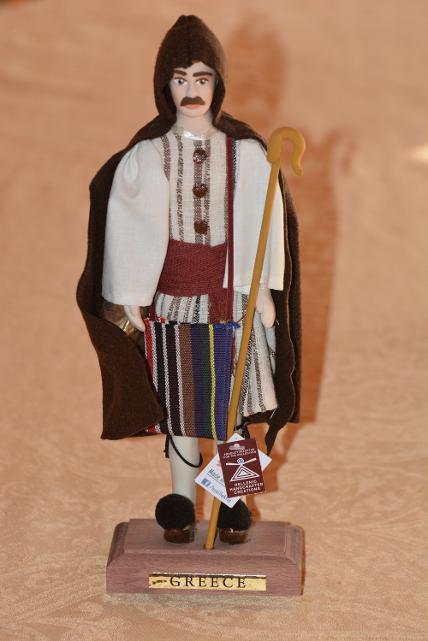 September 28, 2017 - Kitta to Nafplion

Today we left Kitta to drive north along the west coast of the Mani to Kalamata, then across the mountains inland to Sparti, north towards Tripoli and finally to the top of the Argolikos Gulf and Nafplion.
After breakfast before leaving we had nice long chats with Tania and Zaira. Tania told us about why the olive urns were covered with slate and then heavy rock, in part to keep the rain out but more important the poisonous flying viper snakes. Apparently the spring asparagus picking season is limited when these snakes begin to come out of hibernation in March. She also told us of Ilias and her living in Montenegro for a number of years and the plants in the feta containers. Then we learned that Zaira volunteers at dog shelters, both in Athens and the Mani, and how many dogs are abandoned. Afterwards we provided here with a donation to help out at the local shelter.
We left to drive north up the west coast of the Mani, first the stretch we had already done to Aereopoli, and on to Kalamata. Not as dramatic as the southern part of the Mani (or according to Linda the drive along the western side of the Argolikos Gulf to Leonidi and Poulithra) but nice just the same, with a number of quaint villages along the route. Just past Kardamili we stopped at a couple of beaches (both rocky) for our last swims of the trip. Oh how we will miss them.
At Kalamata we turned inland through the mountains to Sparti. A very impressive drive with narrow canyons/gorges, serpentine switchback roads, sheep, goats and herder dogs and a highly unlikely encounter. While driving I see this elderly lady selling pine cone baskets, honey, apples etc. in a very isolated area of the mountains between Kalamata and Sparti. I stopped to check what she was selling and to see if I could take her photo. As I approached her to look at her baskets I smiled and said "
Canada
", assuming (more or less correctly as it turned out) she would not recognize any other English, if that. But then I thought I heard her say "
Halifax
". Figuring my ears were playing tricks I just smiled back but then again "
Halifax"
this
time with two fingers raised.
Then this other women (who turns out to be the daughter and speaks excellent English) came out and explained that her mother Panayeota has indeed been to Halifax twice to visit her son who actually lives in Halifax. Lots of smiles, and then they gave me a small bag of apples. Just a wonderful encounter.
Shortly after it began to rain and the temperature dropped (eventually to 14 C) as we climbed high into the mountains. The wet roads required even more care than usual, particularly on the numerous 's' bends. In places tunnels were created in the rock in order to pass through narrow gorges. But we did come out the other end, passed through Sparti and then north towards Tripoli. Just south of Tripoli we veered off and again passed through a mountain range as we drove east towards the Argolikos Gulf and eventually Nafplion Again there was rain, at times quite heavy. As we descended towards the Gulf orange groves became predominant.

We crossed the top of the Gulf and arrived in Nafplion. Linda and Bill, who had left earlier (as is always the case) had already arrived and settled in. As we were stopped trying to figure out where to park quite coincidentally on their way to the market, Linda and Bill happened upon us. It was great as Linda led us up the hill to the parking above the Marianna Pension, making our lives much easier. We checked in and shortly thereafter went down into the old town (just below the pension) to dinner at Kastro Karima. We hadn't eaten since breakfast so ordered saganaki, a Dakos salad (rusk, which is dried bread, tomato, olives and feta), an eggplant imam for Gayle and moussaka for me. Way too much food. After an after dinner liqueur 'courtesy of the house' we climbed the steps back up to the pension and called it a night.

A narrow 'road' through town and a village church.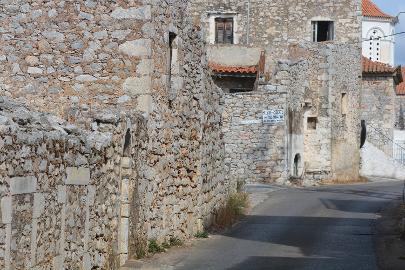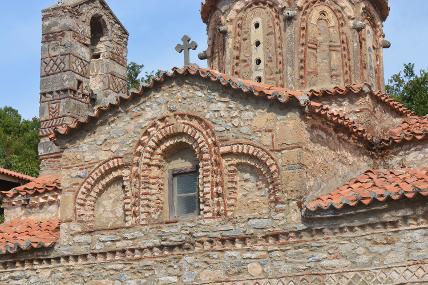 A woman on the side of the road.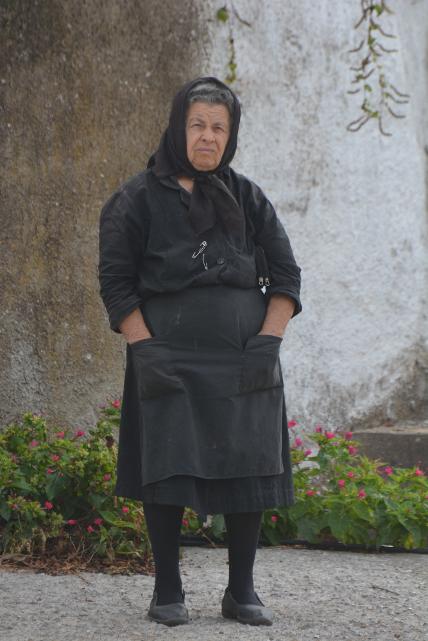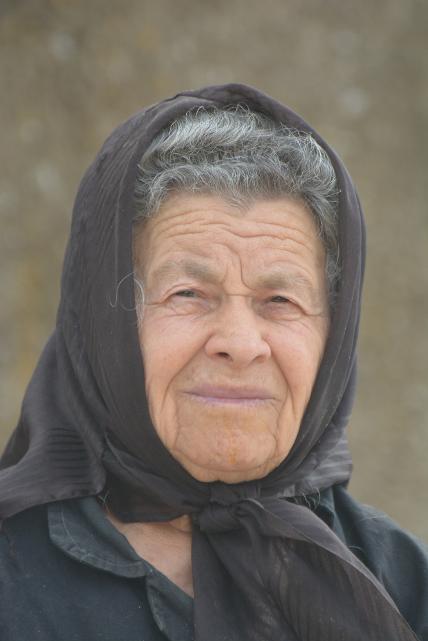 Our last swim of the trip at a beach near Kardamili, south of Kalamata.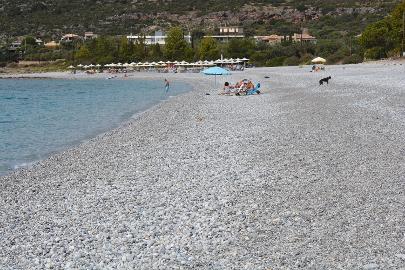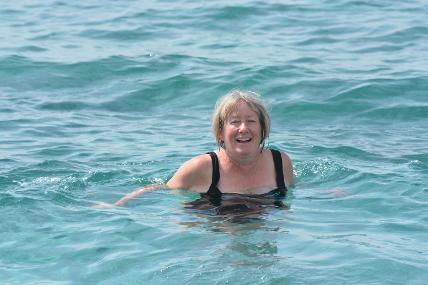 Mountain switchbacks - at least these are nice wide two lane roads ... you should see those that are effectively one lane local roads ascending or descending mountain passes.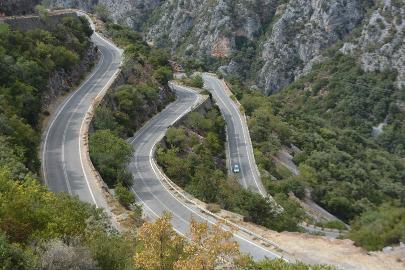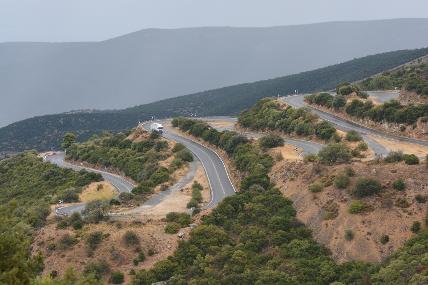 When it drops to 14 C passing through the mountains the only thing to do is bring out the versatile shawl.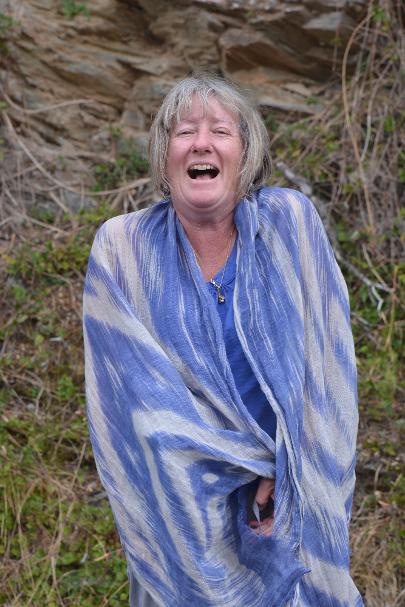 Mountains between Kalamata and Sparti.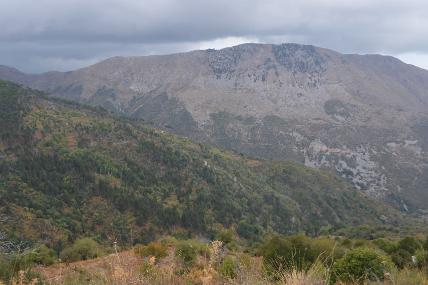 The herder dog - clearly protective of his herd but quite friendly when Gayle slowly approached him.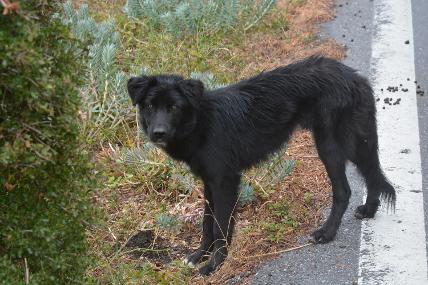 Goats and sheep being tended to by the herder dog.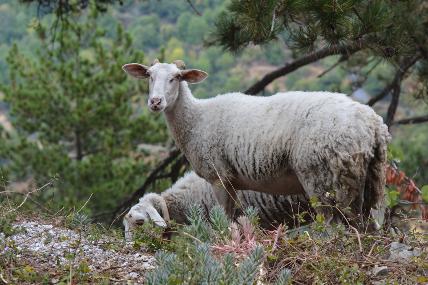 Rocks ... no problem - just cut through or under them.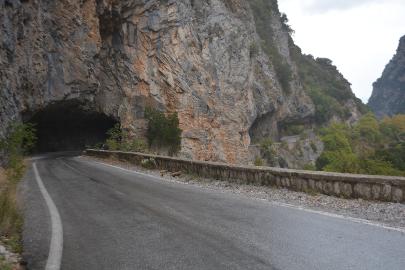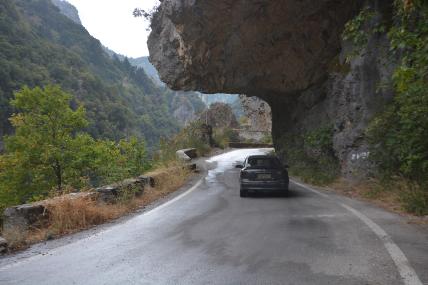 First we saw the goats and then this shepherd.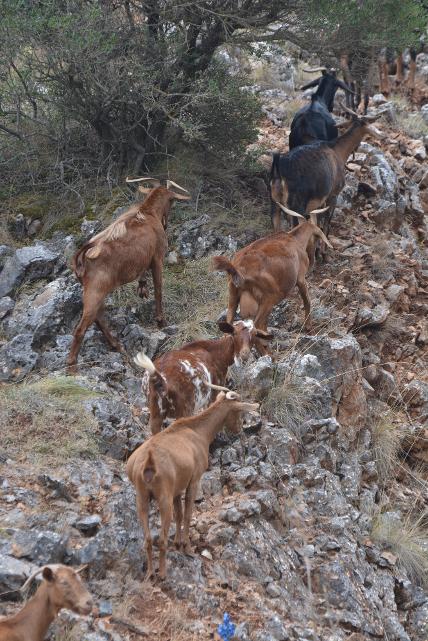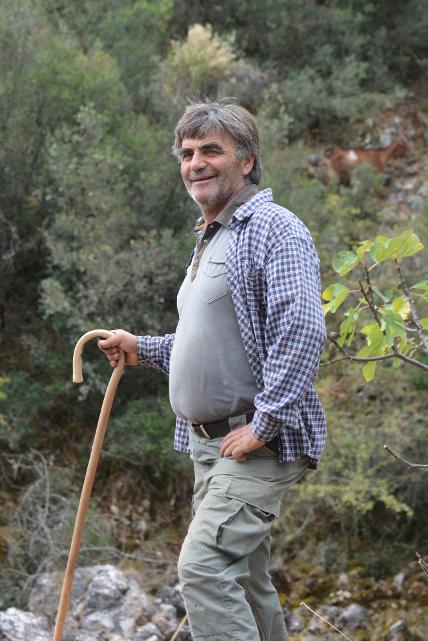 A dakos salad with rusk, tomatoes, feta, olives and capers and then moussaka.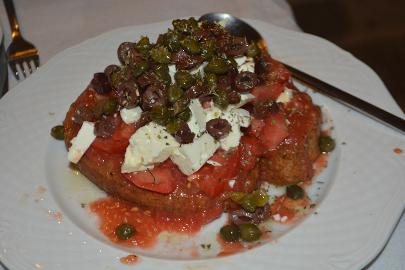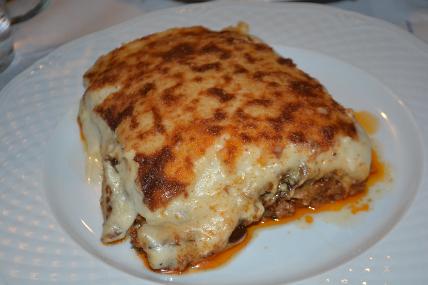 September 27, 2017 - up and down the south-west coast of the Mani peninsula

After a longer drive yesterday today we decided to limit ourselves to the west coast. We first went up to Drialos and a pottery shop where we bought a couple of small things. We then took a small lane down to the sea - no beach but a nice quiet area. A few kms later, and still north of Kitta we went down to Mezapo Beach. There are two - Kato and Pano. We wen to the upper (Kato) beach, another protected cove albeit again rocky. But as we say once you are in the warm clear water rocks or sand - it doesn't matter. Again there were a number of fish we could see in the water due to its clarity.
Next we returned to Gerolimenas where we stopped to have a drink and tzatziki in one of the harbour-side cafes. Having started their day south and working in the opposite direction Linda and Bill were at the same cafe, just finishing a similar mid-day snack. We chatted a while, they went for a swim by the Gerolimenas beach while, based on their positive reviews of the sandy Marmariou Beach we decided in spite of it being mid-afternoon to drive the 15 km south for a swim there. Unfortunately the winds had picked up a bit with the water being somewhat wavy but the sand was indeed soft beneath one's feet and the water again wonderfully warm.
We returned for a final dinner. With Panos havng left for a wedding in Spain his sister Zaira returned from Athens, where she lives in the off-season to help out. As it turns out Zaira volunteers at dog shelters both in Athens and the Mani, which provided for an excellent chat. Afterwards we decided to provide a donation to the shelters' efforts which Zaira was very appreciative of.
Dinner consisted of a traditional Greek soup - Trahanas - especially common in Crete comprised of grains and feta in a lemony broth. It won't be my favourite soup of all time but it was well made and a unique combination of textures and flavours. Gayle then had a green bean and red pepper dish along with some feta and being so good the other night I repeated the lamb loin - every bit as good the second time around.
After dinner we 'retired' to our terrace with Linda and Bill where we enjoyed a drink or two.

Gayle, Bill and Linda at breakfast intently listening to some one talk about some thing.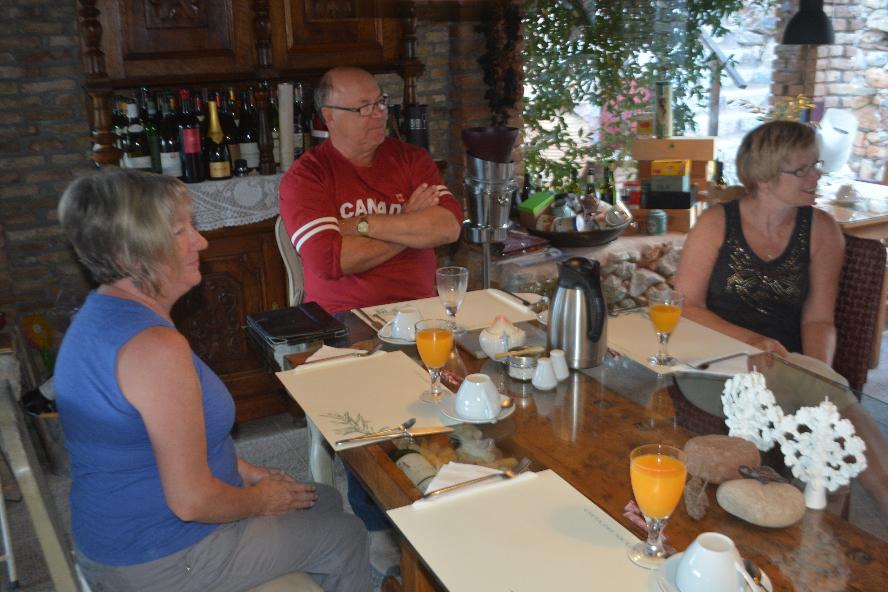 Interesting breads (along with delicious fresh baked bread) and our breakfast plate of an omelette, some ham (or more fruit for Gayle), plum jam, yoghurt and local cheese.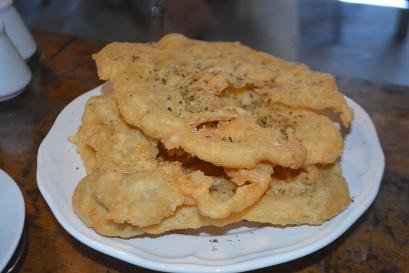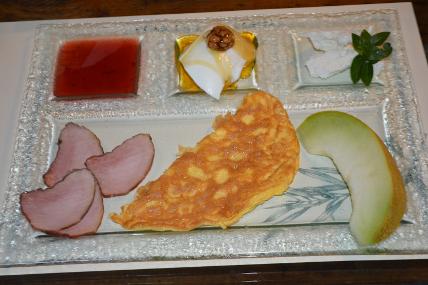 A small lane took us down to the water and rocky shore (no beach), and then the opposite view looking back inland to the mountains.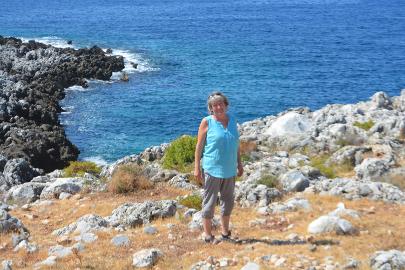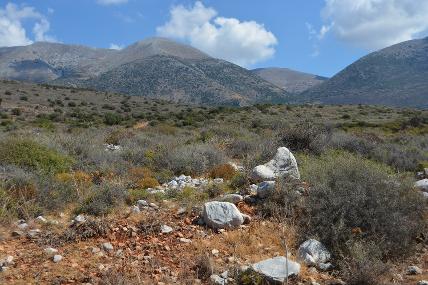 Mezapo Beach and cove, just north of Kitta.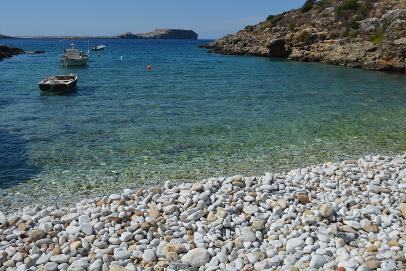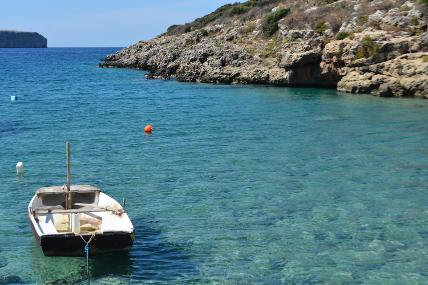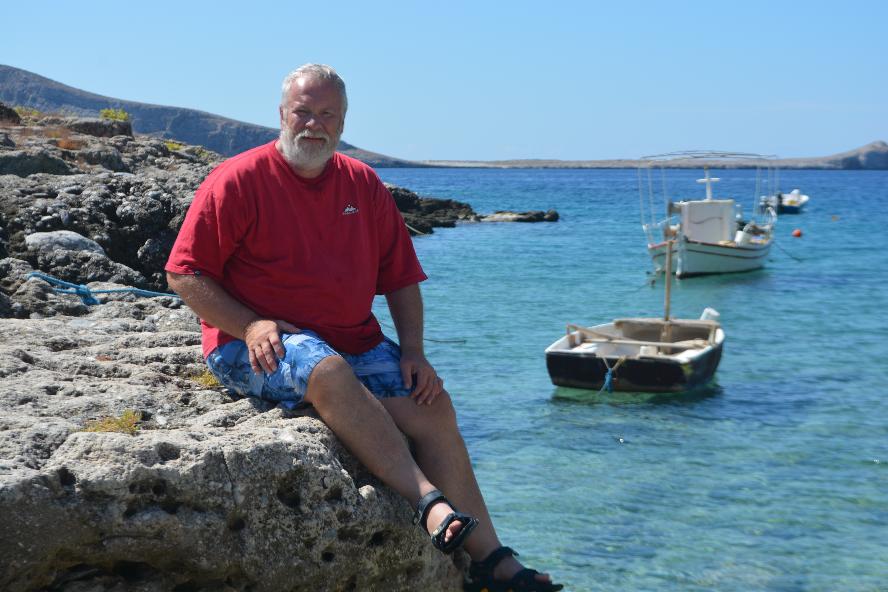 Beautiful soft sand at Marmariou Beach.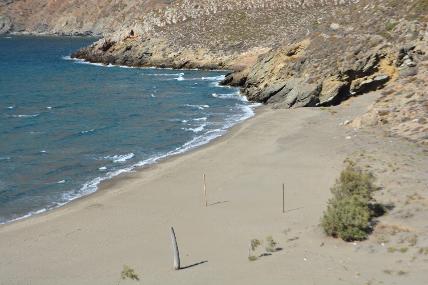 Certainly somewhat wavy but we went for a swim anyway.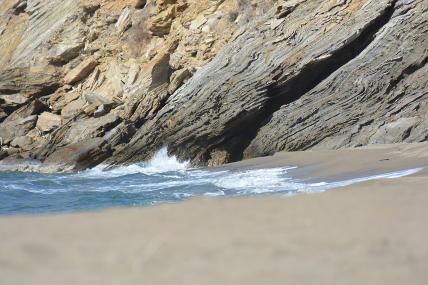 Our room and large terrace.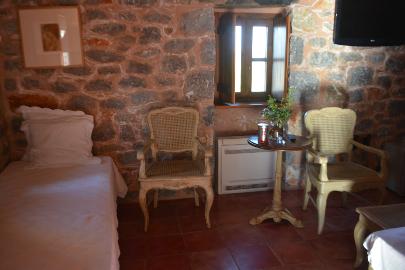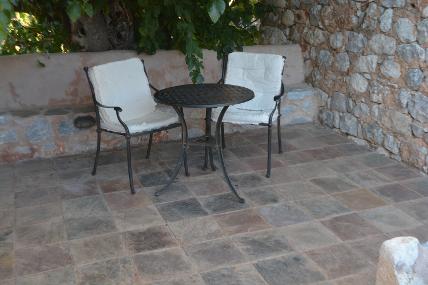 Olive oil urns covered with slate and rocks to keep out the rain and more important the snakes.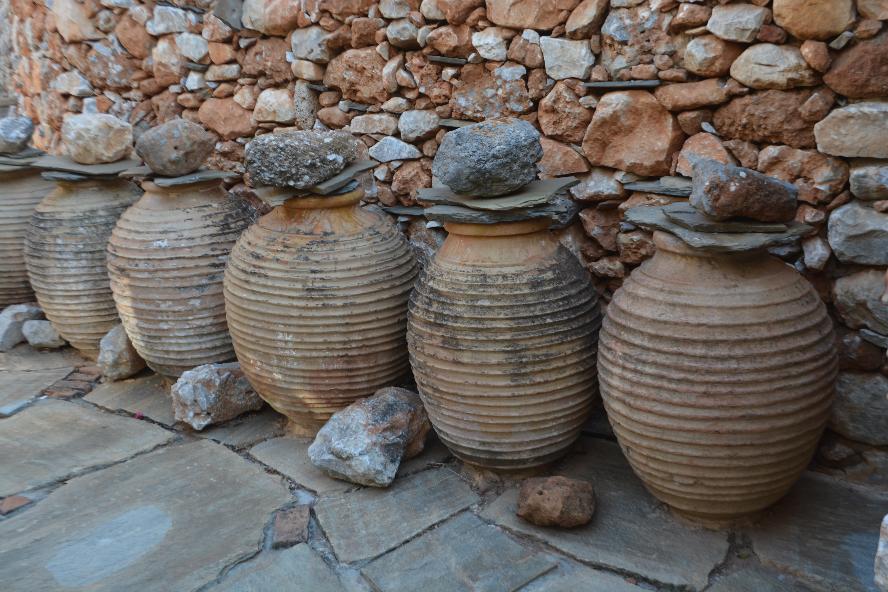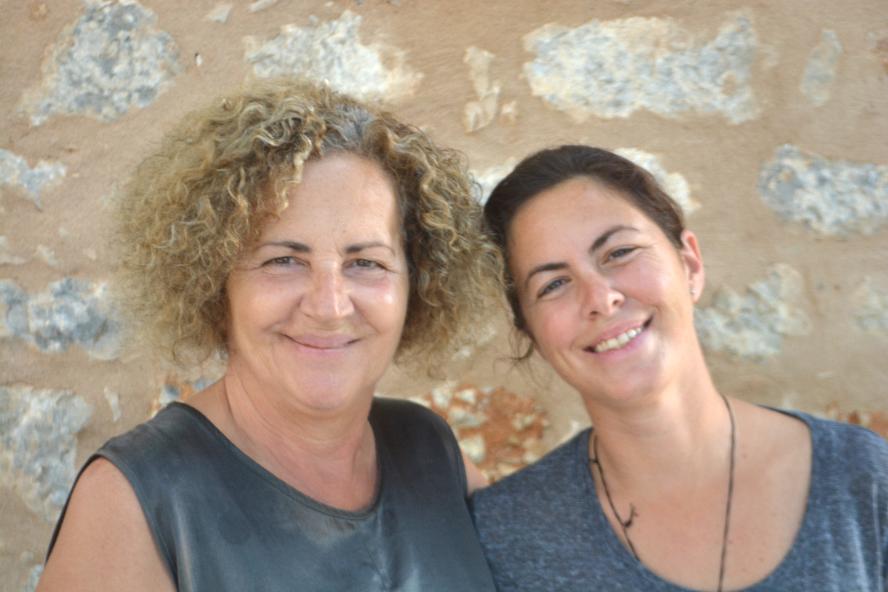 Stone walls and flowers make Citta dei Nicliani an attractive place.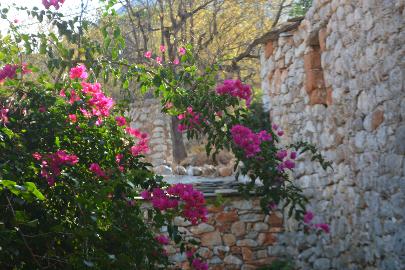 Plants in feta containers - a tradition from when plant pots were not affordable.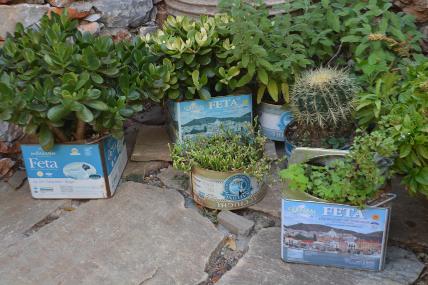 Trahanas and the vegetable dish of the night - stewed green beans with red peppers.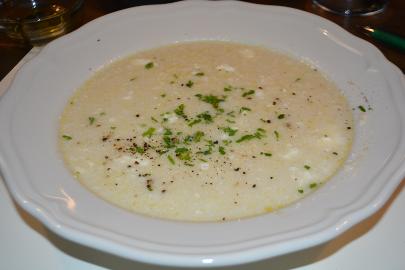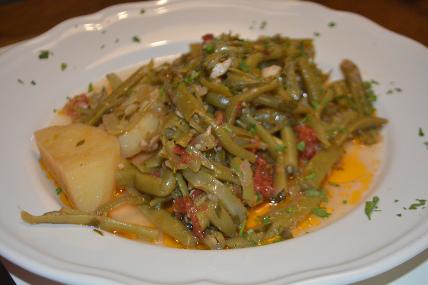 September 26, 2017 - a drive around the Mani peninsula

Our day, again sunny and warm, started with a wonderful breakfast served by Tania. Prior to and after breakfast I tried to work on the travel blog but WiFi here, while fine for emails and websites, is agonizingly slow at uploading photos - so much so that I have pretty much given up.
The day was spent driving counter-clockwise around the Mani peninsula with a couple of swims on the east side. We first detoured off the main road into the small village of Gerolimenas, with a couple of nice cafes on the water. But just having a filling breakfast we continued south on to the mountain town of Vathia. Known as one of the ghost villages of Greece Vathia is a interesting place in the southern side of Peloponnese. Vathia is an imposing village constructed on top of a hill, with stone towers, houses, churches and a breathtaking view to the sea. The village was originally founded in the 18th century and flourished during the 19th century. However, in the early 20th century, inhabitants started moving to large towns or abroad, until the village was gradually abandoned. In 1980, the Greek National Tourist Organization started a plan to restore this ghost village. In fact, renovated towers were turned into guesthouses but many have since again been abandoned returning it to effectively a ghost town once again.
We continued south past Marmariou Bay and its long sandy beach although the waves were such that we did not stop. Rather we descended to the port on the other (east) side as the point narrows. Again a number of tavernas right on the water but a rocky beach so we again continued on. We skipped going any further south although reportedly the southern most mainland point in Europe was only a few kms on.
We then headed north, first ascending the mountains and then up the dramatic coast. The scenery, particularly on a gorgeous sunny day is something else. With our swimming opportunities running out we stopped at a small rocky beach for a swim to ensure we did get into the water. The beach may not have been the best but once you get into the water the beach really doesn't matter. However only a few kms later we found Alipa beach, suggested by Ilias. While again rocky, rather than the open sea Alipa is a small protected cove, with a few fishing boats anchored. We again enjoyed a very relaxing swim, especially with the sun shining directly on us.
We continued on towards Kotronas but just before reaching the village cut through the mountains to the west side. Unfortunately this area was also the victim of a fire this summer. No where near the size or impact as Kythira but villages were evacuated, some by sea as roads were blocked by the fires, homes burnt to the ground and many animals lost their lives.
We returned to Kitta to reconnect with Linda and Bill, who drove essentially the same route, but doing so somewhat earlier enjoyed a nice swim on the sandy Marmariou beach when the waters were calmer earlier in the day. We all then enjoyed another nice dinner.

A small boat in the crystal clear Gerolimenas harbour.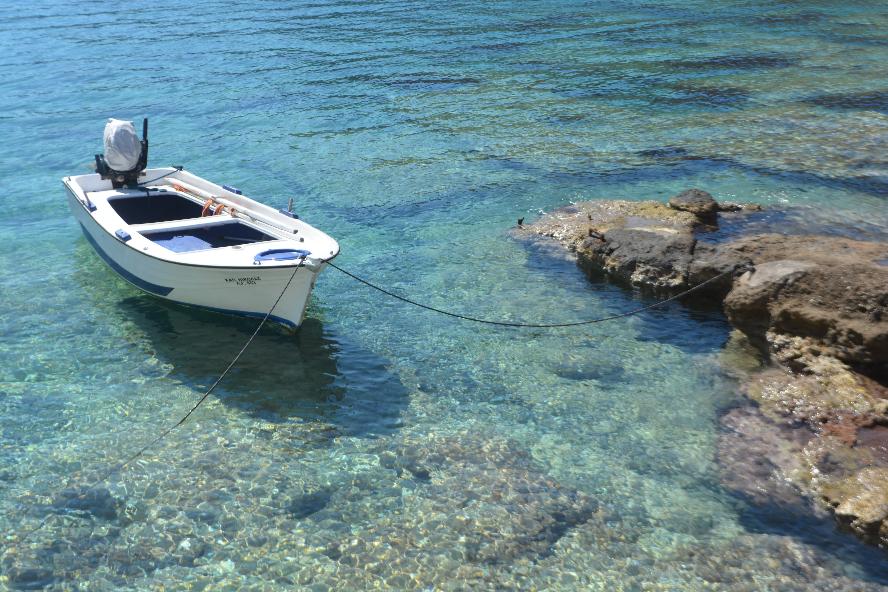 As seen along our drive through the southern Mani.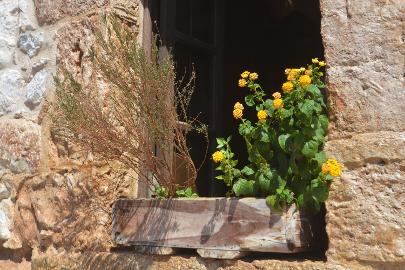 Immediately south of Gerolimenas the coastline becomes quite rugged, interspersed with a couple of isolated beaches.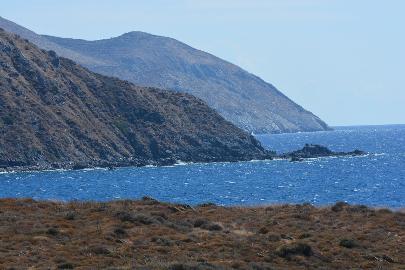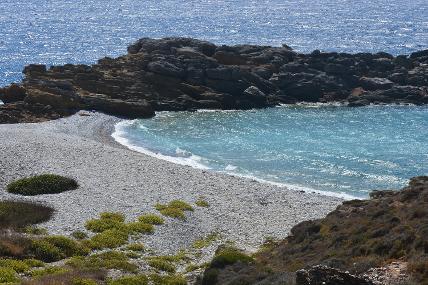 Vathia, with its tower homes, as seen from the south.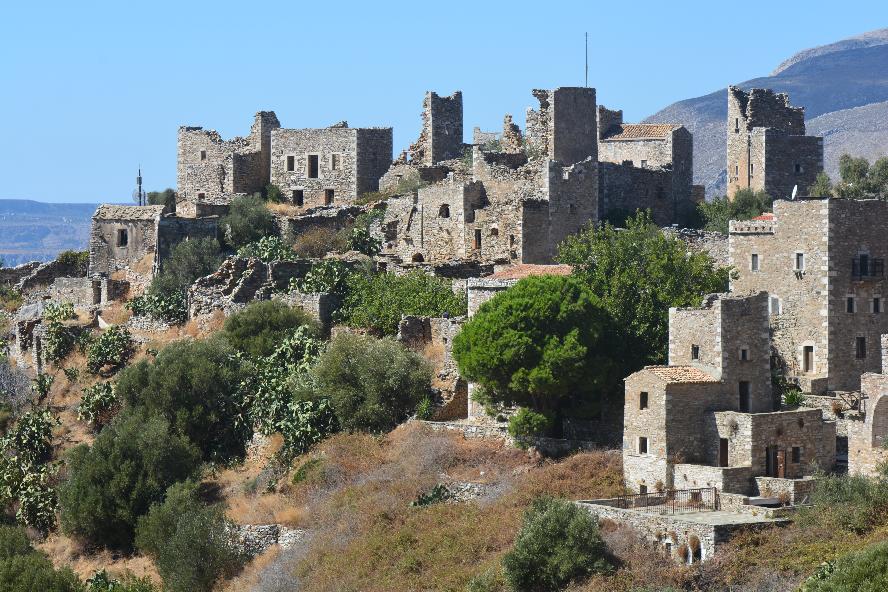 Vathia from the north, its church and a tower house.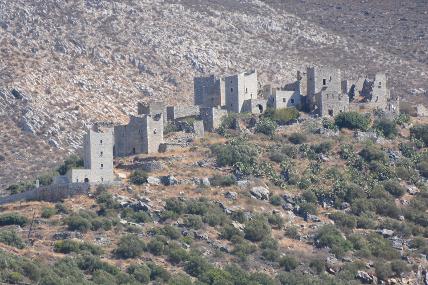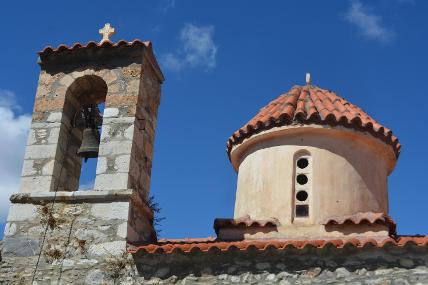 The spectacular south-west coast of the Mani peninsula.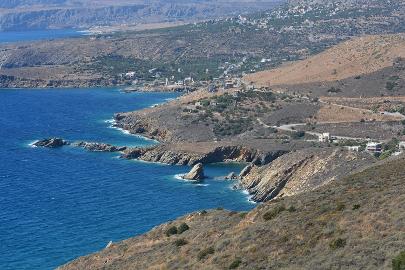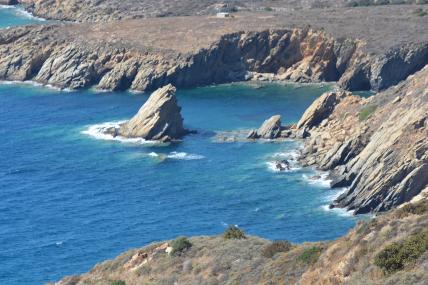 More of the scenic Mani coastline.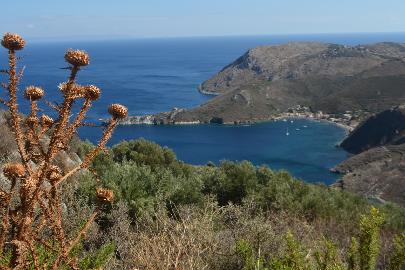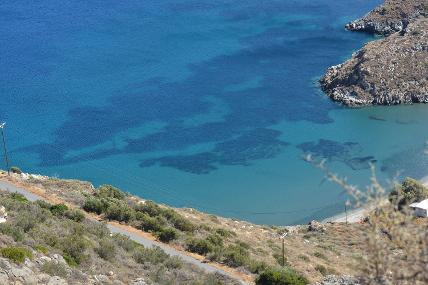 Another small village on the east coast of the Mani peninsula with a small beach (unfortunately stones rather than sand) but still great for swimming, so swim we did.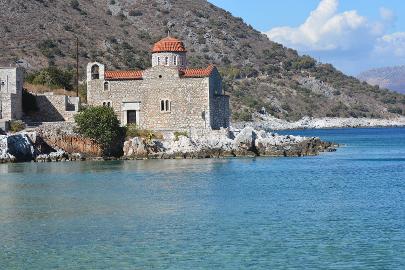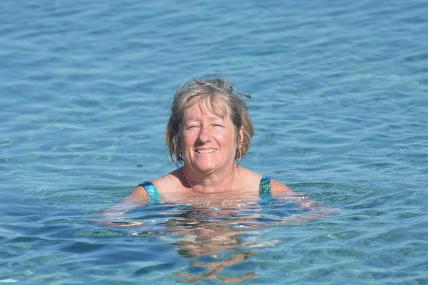 And again a few kms down the road in Alipa, still stones rather than sand but a beautiful calm protected cove with crystal clear water.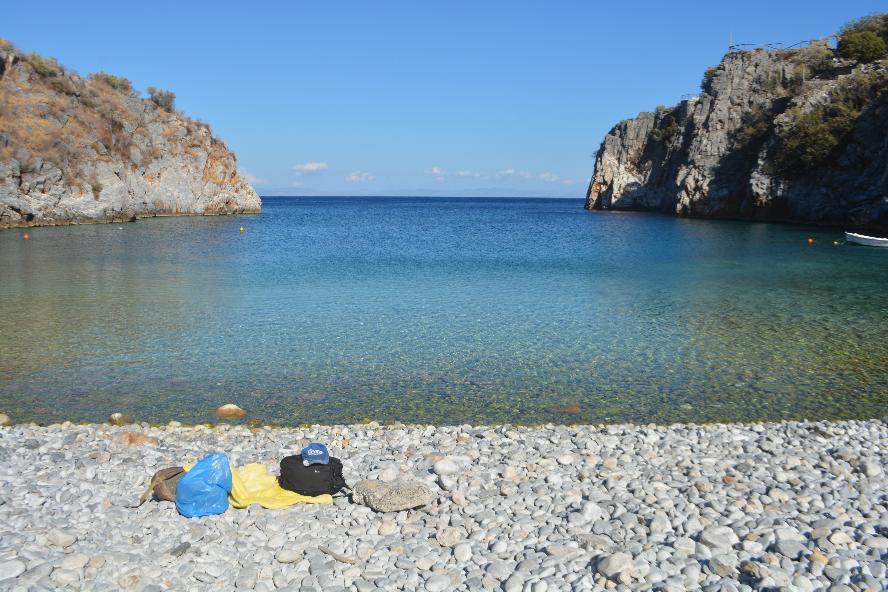 Small boats in the little cove in Alipa.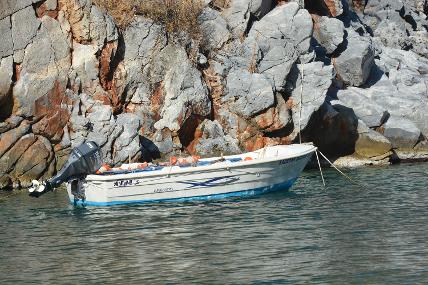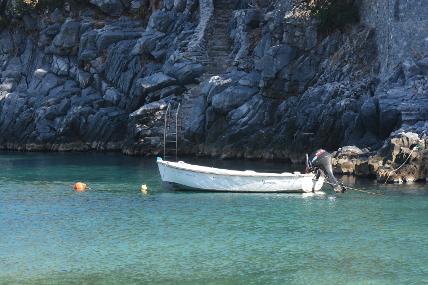 A lady in Drialos enjoying the afternoon.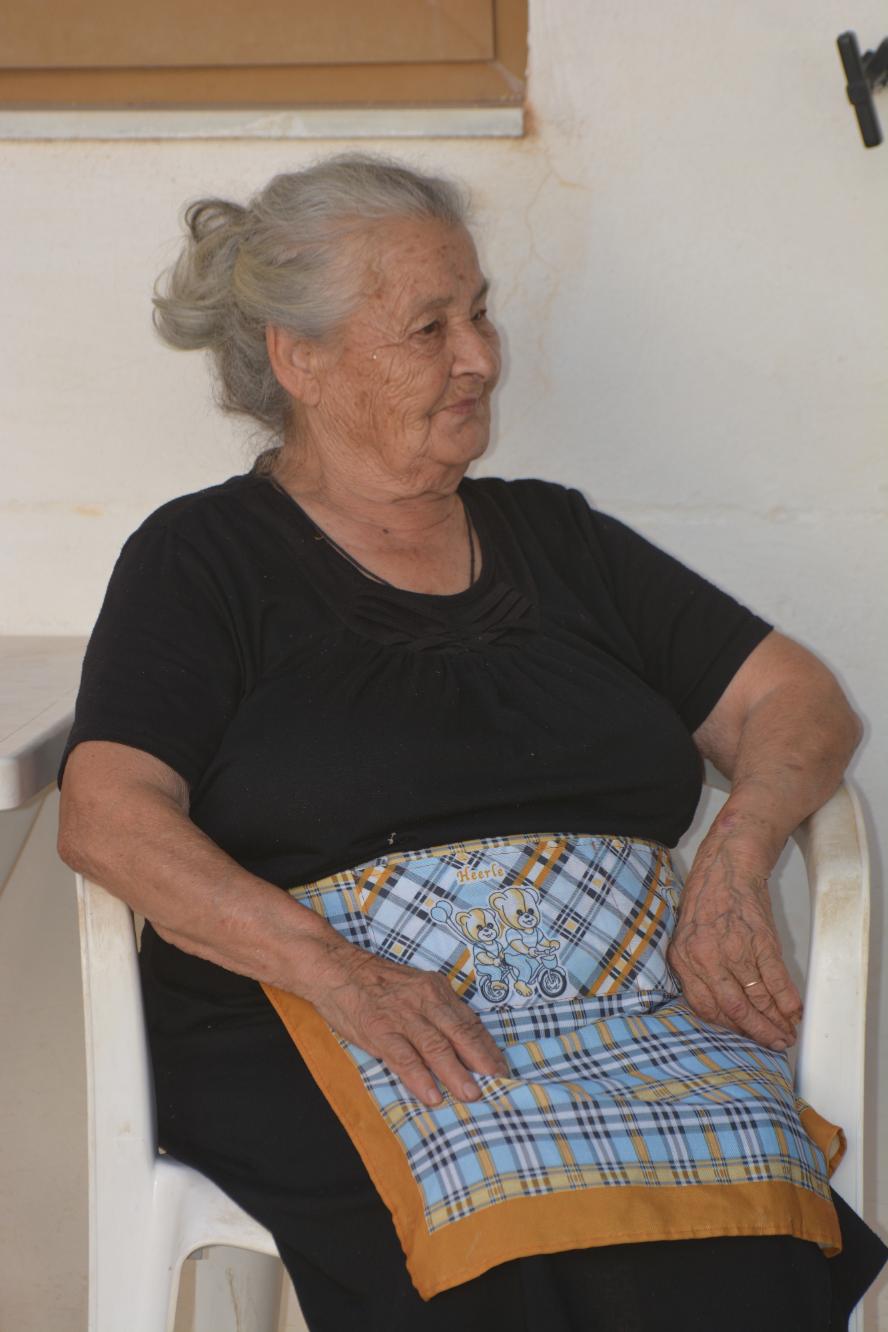 A Greek salad with capers but no onions - we hit the jackpot!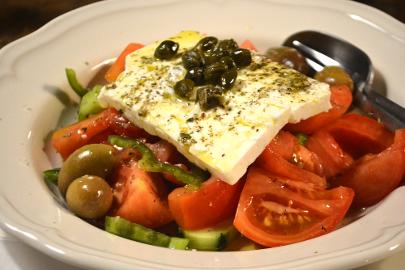 A stuffed tomato and a stuffed green pepper for the night's vegetarian special. Jackpot #2 for Gayle.


September 25, 2017 - Monemvasia to Citta dei Nicliani, Kitta

We left Monemvasia this morning for a relatively long drive to the bottom of the Mani peninsula, one 'finger' west.
As we drove north we decided to stay along the coast for a while, stopping in a small fishing village, encountering goats and sheep and finding an isolated beach - Ariana where we enjoyed our daily swim. It was then on to Lerakas (where sadly we counted 15 roadside shrines within a 5 km stretch) and Richea before turning west and crossing the mountains to Molai, with its many olive and orange trees. We then continued on around the top end of the bay through Skala (where we bought some baklava) and Githio. As we crossed another mountain range on our way to Areopoli we encountered our first rain of the trip - a relatively heavy, but short downpour. By the time we got to the west coast it had pretty much stopped. It was then the 20 or so kms south to Kitta and Citta dei Nicliani, where we will be staying the next three nights.
As usual Linda and Bill had already arrived (they always left earlier than us and arrived earlier). Panos (the son) checked us in and we immediately reviewed the menu as dinner requests needed to be provided by 6:00 pm, a half hour after we checked in.
Dinner was excellent, being somewhat more upscale than traditional Greek taverna fare. Each night Tania (the mom) prepares a vegetarian dish which Gayle always ordered. Tonight it was spinach with rice. We also had an orange salad - simply orange segments in olive oil with black pepper and capers and then I a great piece of lamb loin with seasonal vegetables - wonderful.
Having driven for a considerable portion of the day we turned in shortly after dinner.

Beautiful brown roof tiles throughout Monemvasia.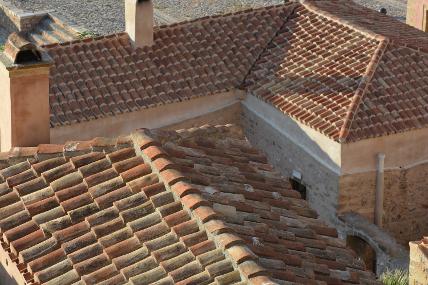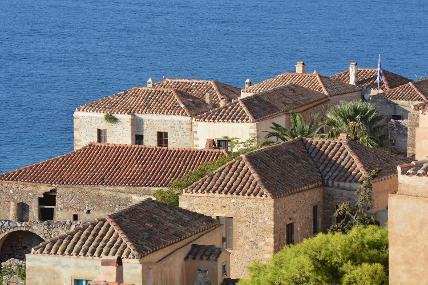 Another tasty Greek breakfast.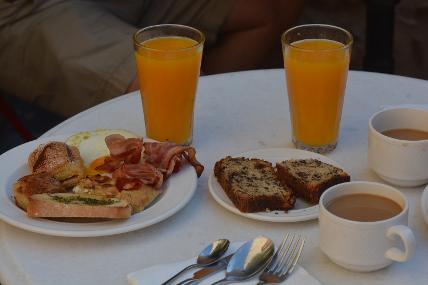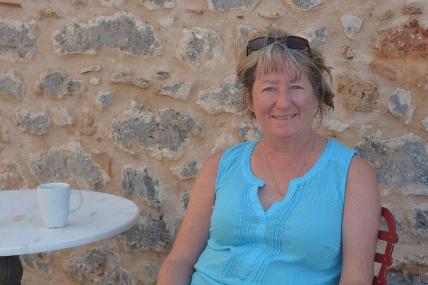 The shimmering Aegean sea.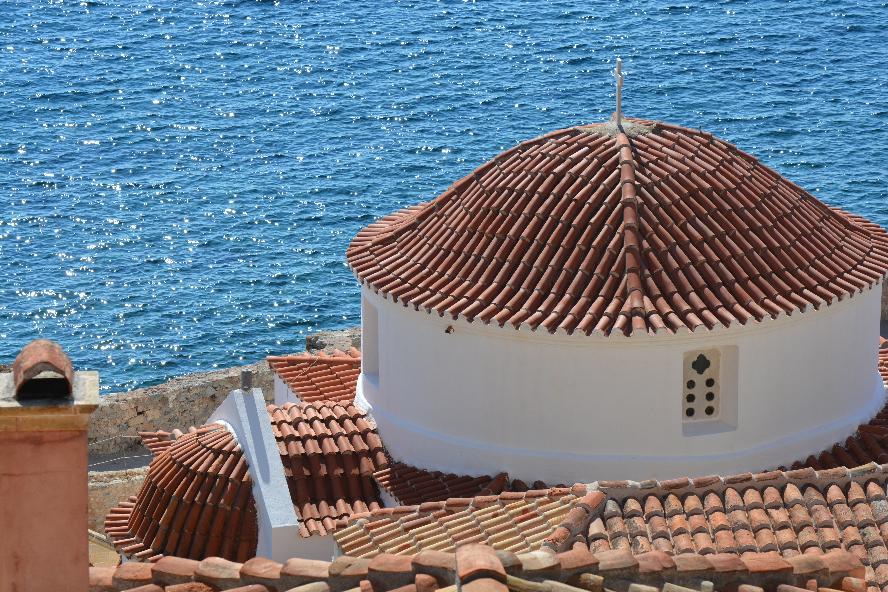 Monemvasia has narrow uneven cobble-stone alleyways, often with obstacles if one is not attentive.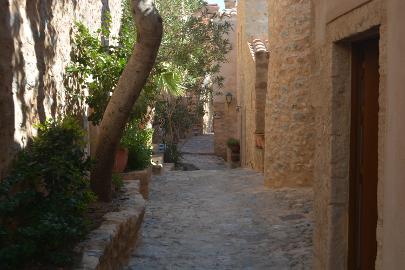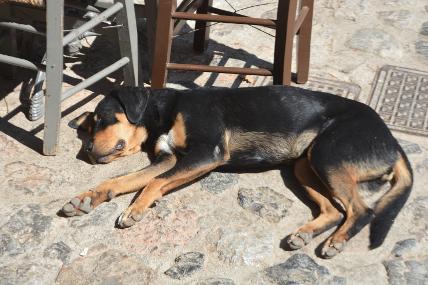 Isolated pebbly Ariana beach - where there are lots of colourful stones to collect.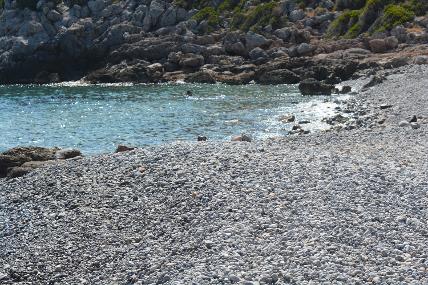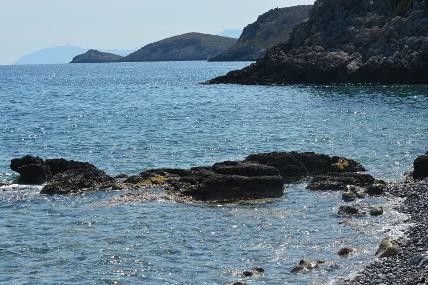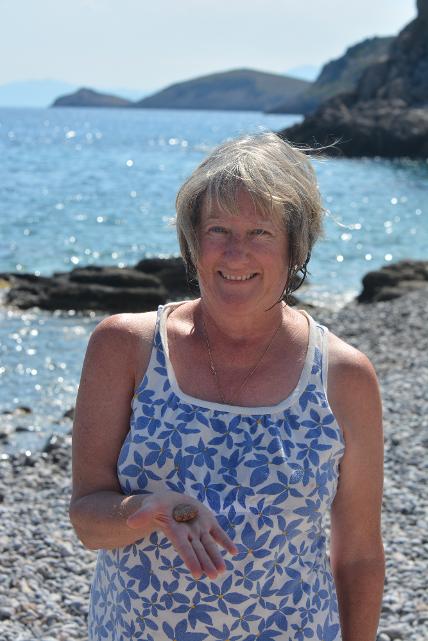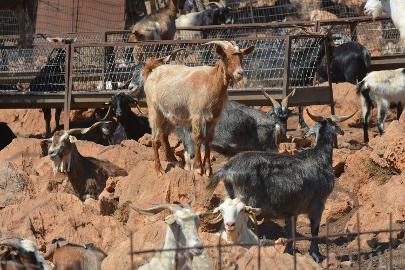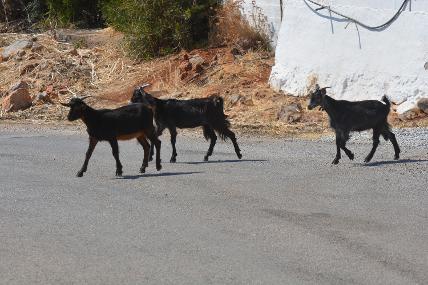 Ariana beach as seen from the road high above.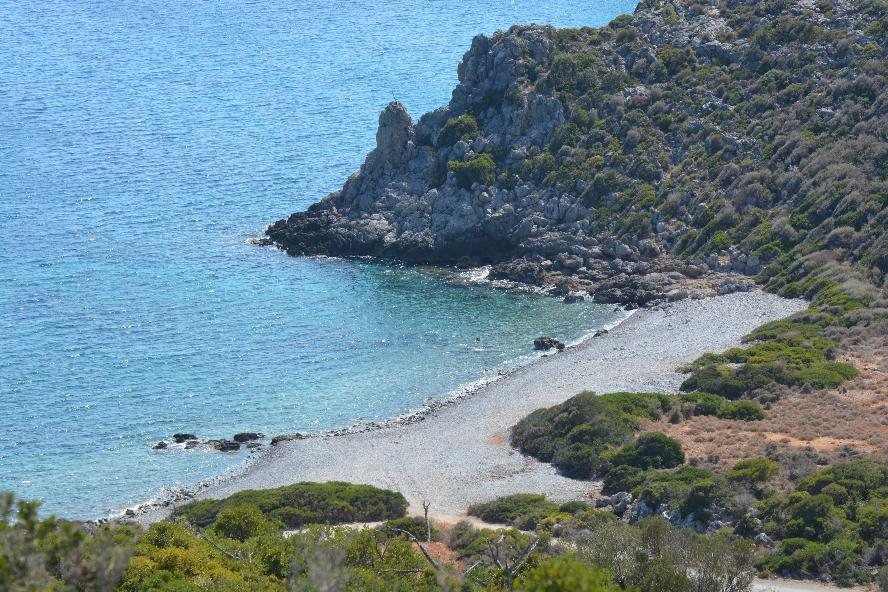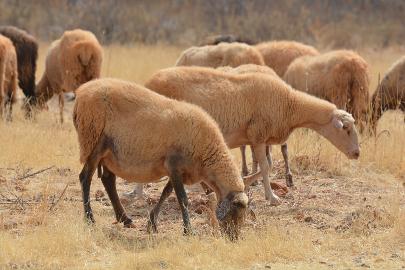 Same same but different - another shipwreck and more olives.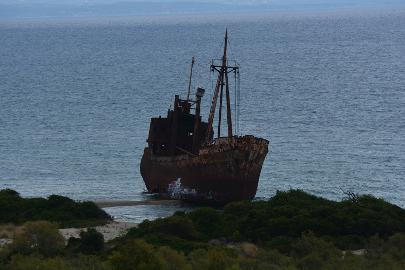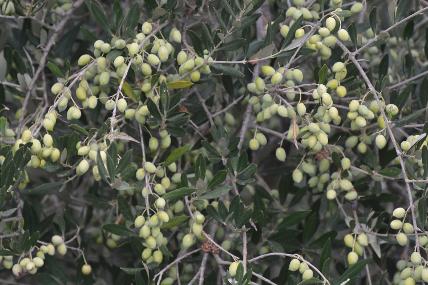 The restaurant and 'pool' at Citta dei Nicliani and a nearby pomegranate tree with ready to pick fruit.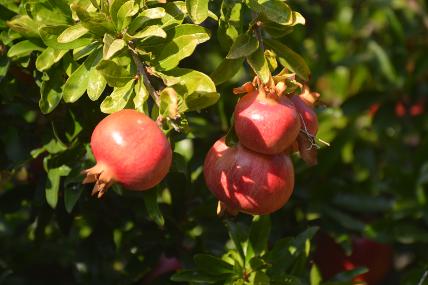 Steps to our terrace and our unit (on the left)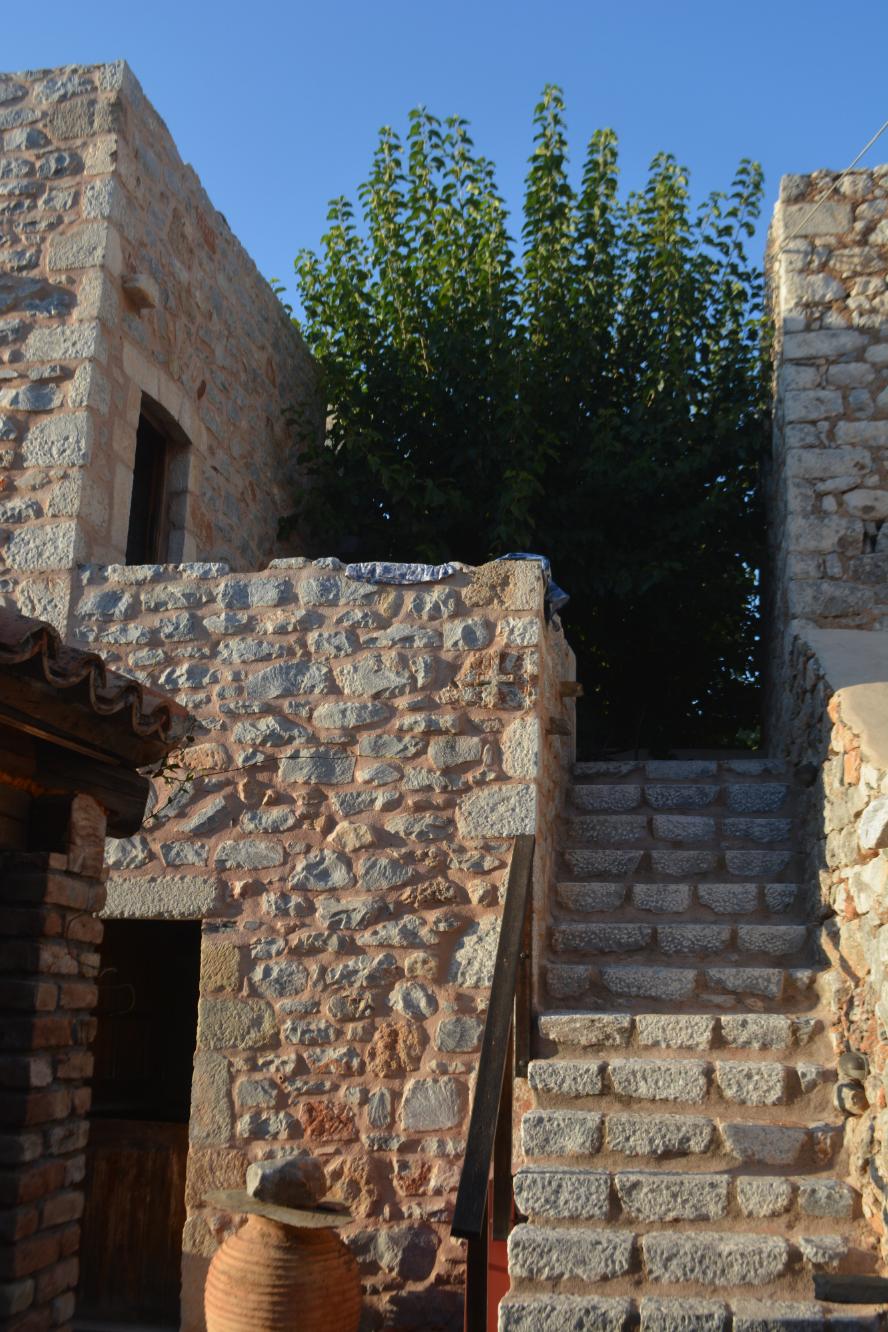 Sky colours after sunset on the Peloponnese.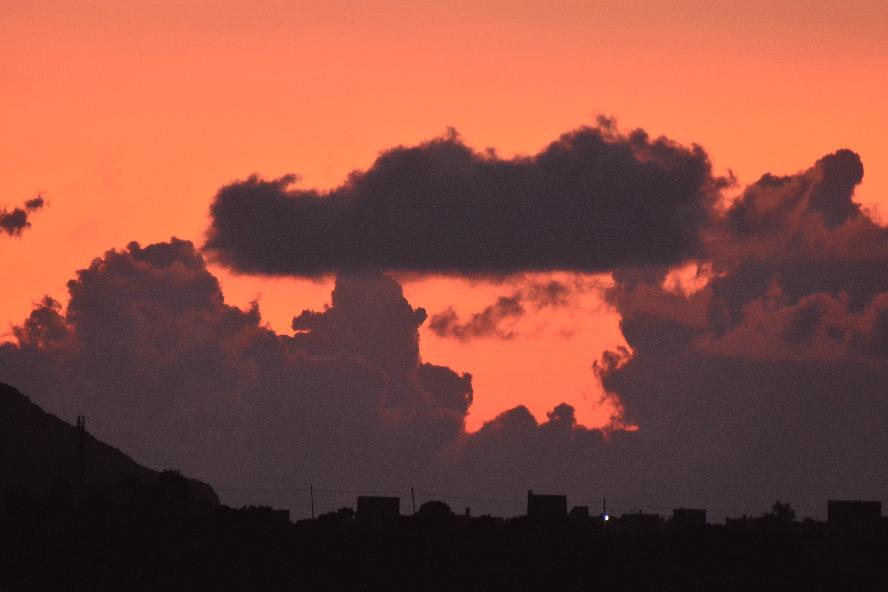 An orange salad with capers and black pepper and the vegetarian spinach and rice dish, very nicely presented.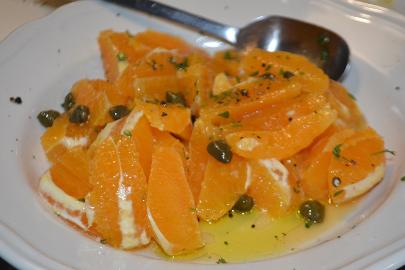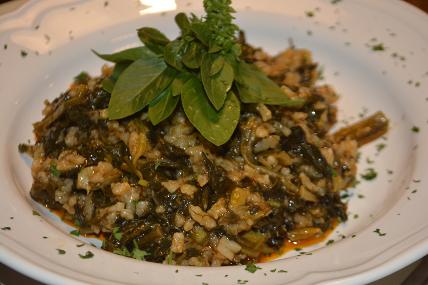 Lamb loin with seasonal vegetables.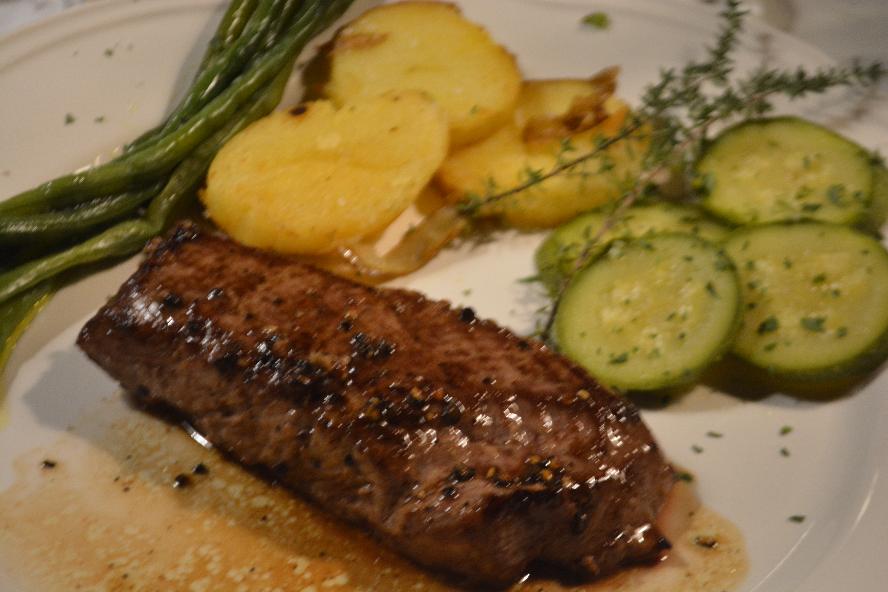 September 24, 2017 - Monemvasia

Today we stayed put, within the walls of Monemvasia.
Monemvasia, a town located on a small island
off the east coast of the Peloponnese has a population of 1,418 (2011). The island is linked to the mainland by a short causeway 200m in length. Its island is 300 metres wide by 1 km long, dominated by a large plateau some 100 metres above sea level, the site of a powerful medieval fortress. The town walls and many Byzantine churches remain from the medieval period. The town's name is derived from two Greek words,
mone
and
emvasia
, meaning 'single entrance'. Monemvasia's nickname is
the Gibralter of the East
or
The Rock
.
Breakfast was quite extensive, with all the expected items, including of course fresh orange juice.
Afterwards we wandered through the town, although we did not ascend to the fortress. The town and fortress were founded in 583 by inhabitants of the mainland seeking refuge from the invasions of Greece. From the 10th century AD the town developed into an important trade and maritime centre. The fortress withstood the Arab and Norman invasions in 1147; with farm fields that fed up to 30 men inside the fortress. It remained part of the Byzantine Empire until 1460. The town was fairly prosperous under Venetian rule until the peace of 1502-3, in which it lost its farm lands and source of its food supply. The food then had to come by sea or from Turkish-held lands. The rock was governed by the Venetians until the treaty of 1540. Those inhabitants who did not wish to live under Turkish rule were given lands elsewhere. The Ottomans then ruled the town until 1690, and then again from 1715 to 1821. The commercial importance of the Monemvasia continued until 1770 when in the Russo-Turkish War it saw its importance decline severely. The town was liberated from Ottoman rule in 1821 during the Greek War of Independence.
The stone buildings numerous churches, cobblestones and narrow alleyways make the enclosed town interesting to stroll through and photograph. We spent part of the afternoon doing so.
For dinner we ate at Chrisovoulo, an excellent choice. We went early to enjoy the views from our table overlooking the building, churches and sea. While the prices may have been somewhat more than what we have become accustomed to the quality and portions were certainly a notch above. This version of Saiti, the traditional pie with vegetables and herbs filling baked on a grill with a basil flavoured olive oil and feta cheese mouse was so plump and attractive - excellent for 10 euros. Gayle (and the rest of us who sampled as the serving was so large) had the risotto with porcini wild mushroom and truffle oil (20 euros) and I the grilled squid (16 euros). We each enjoyed a 1/4 bottle of local wine with our meals.
All in all a relaxing day, culminated with a great meal.

Time on the terrace - taking photos of the town and sea or laughing at a crack made by Bill or Linda.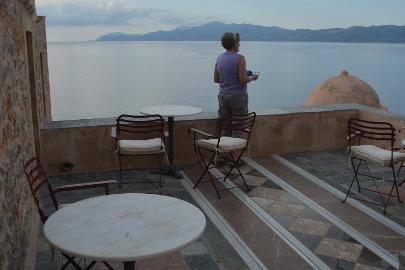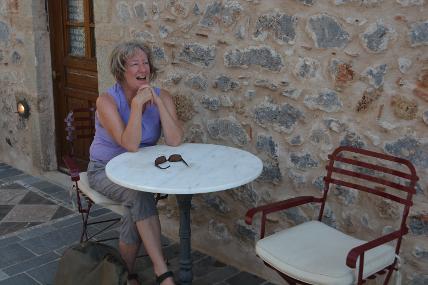 Our people aka Linda and Bill at breakfast and a plate of Greek breakfast items, including honey soaked 'pies'.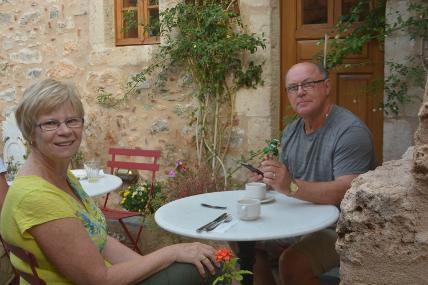 Gayle about to enter the Malvasia Hotel.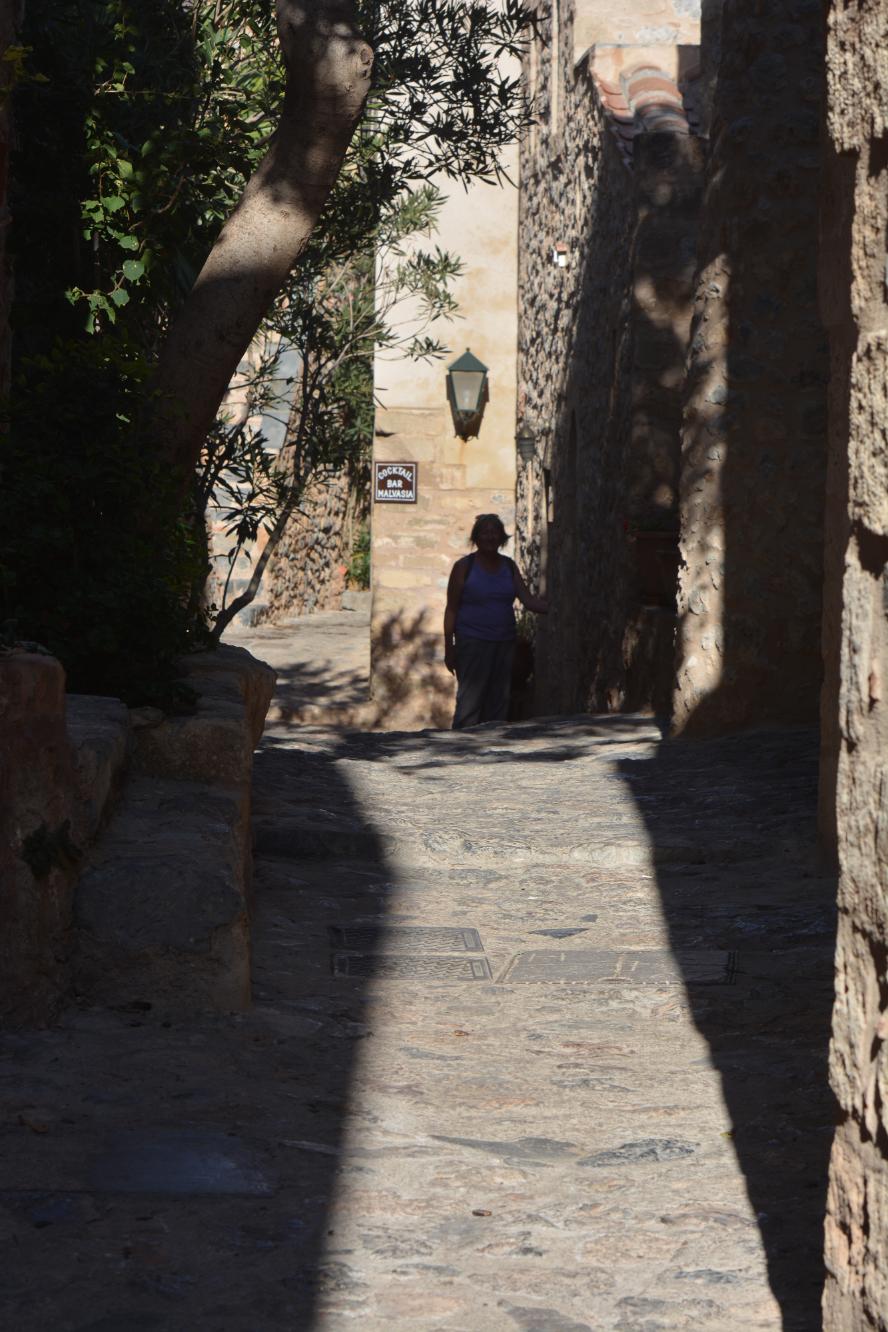 A view of the town and the Malvasia Cafe overlooking the sea (albeit pretty much every place overlooks the sea here in Monemvasia)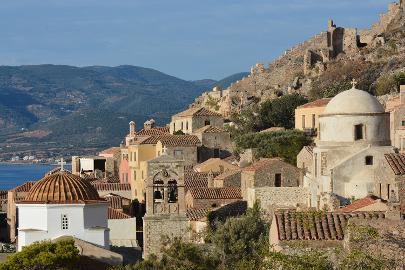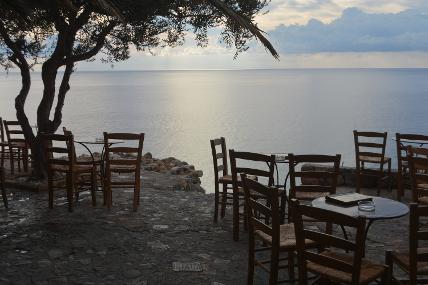 Some of the churches and tiled roofs in town.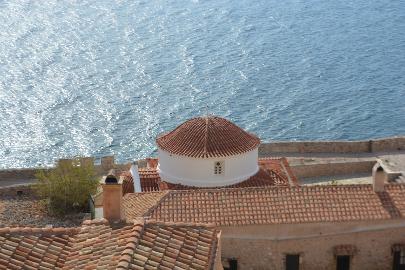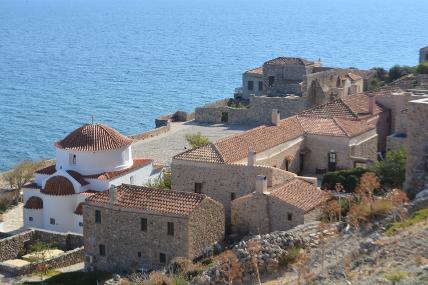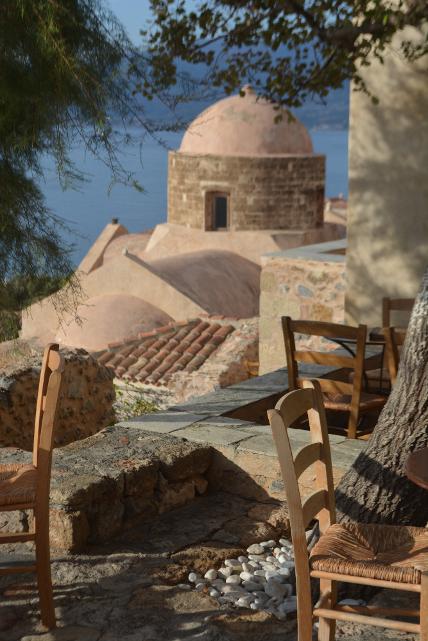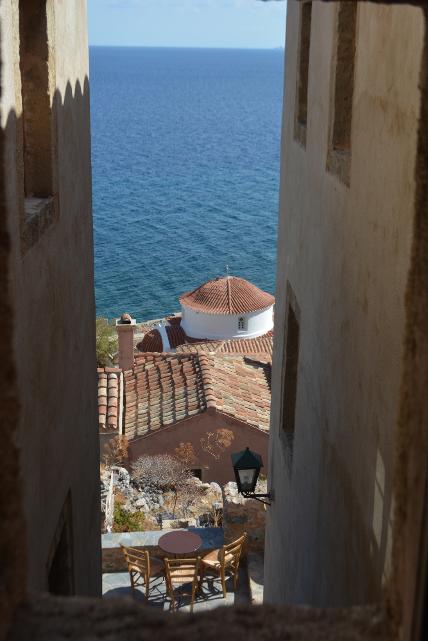 The east wall looking up.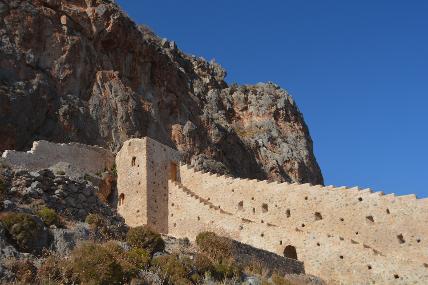 The east wall looking down.



More of the sights of Monemvasia.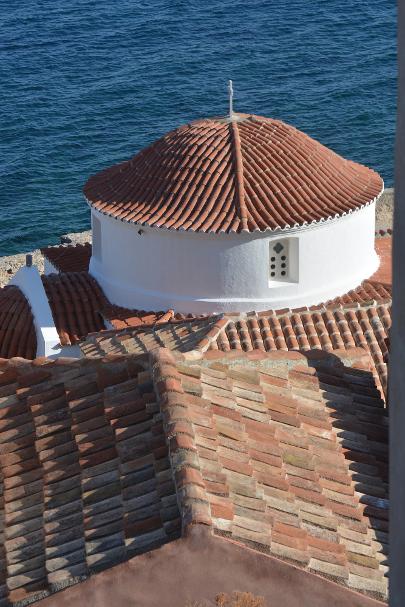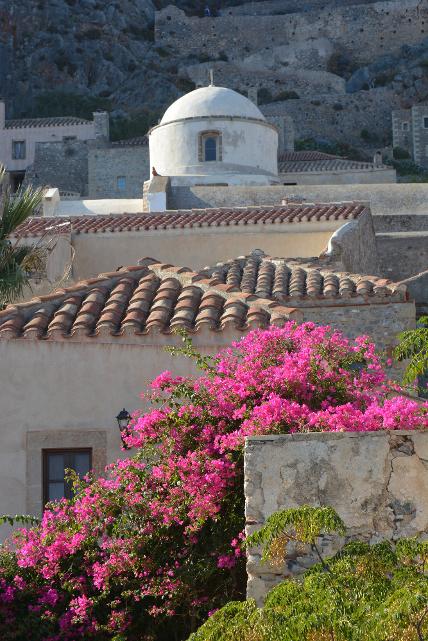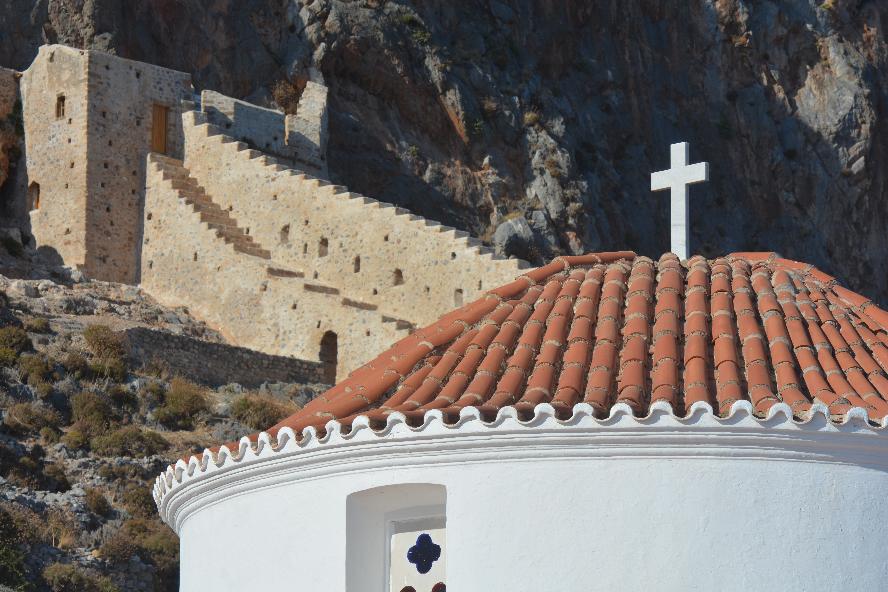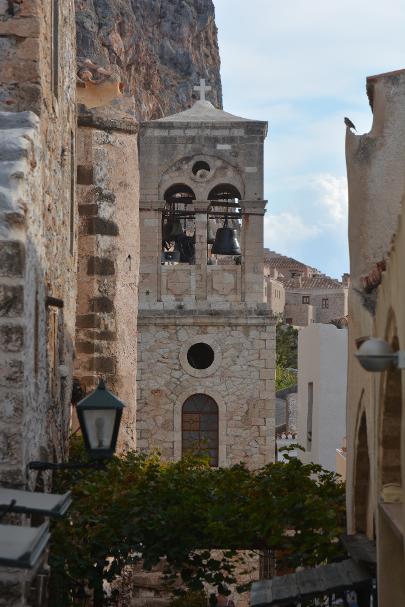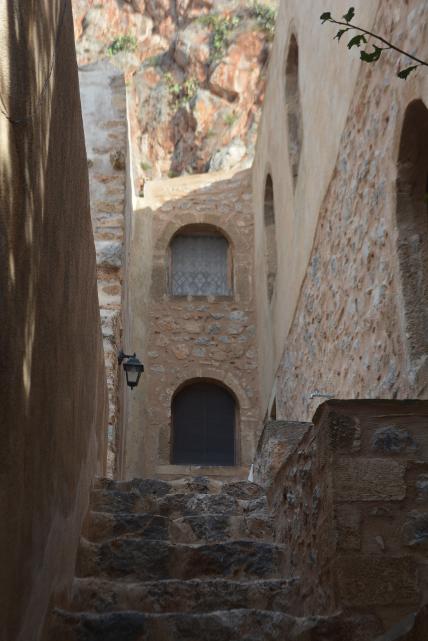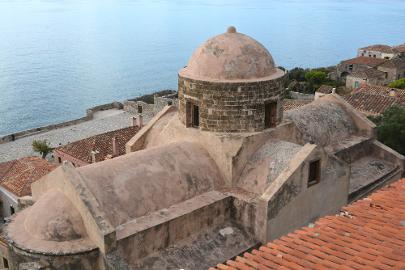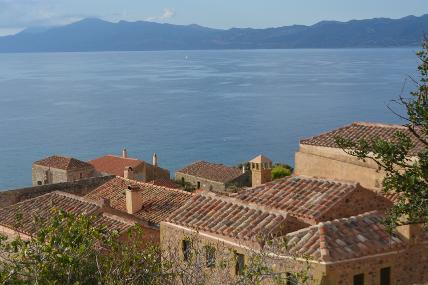 Our delicious bursting at the seams Saiti.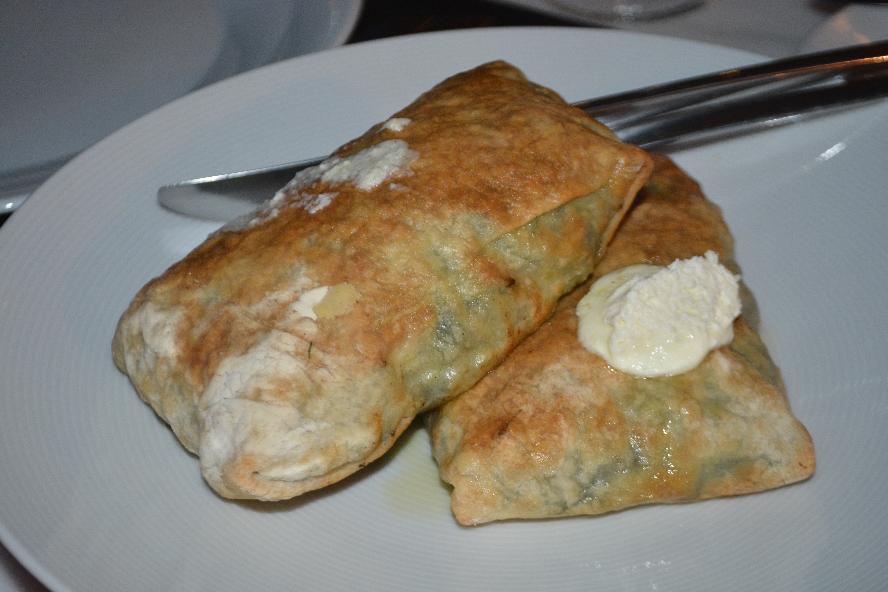 Wild porcini mushroom risotto.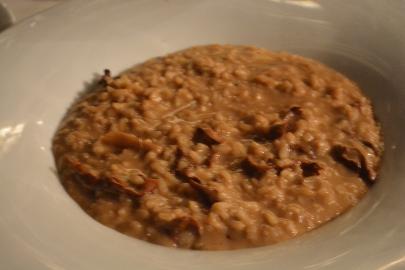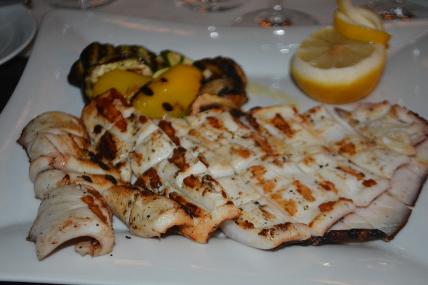 September 23, 2017 - Kythira to Monemvasia

Today we leave Kythria, on a 2:00 pm ferry back to Neapoli. Sunrise was again photo worthy. Having a juicer in our room, when we were out yesterday I had this idea I would buy some oranges and make us fresh orange juice. Gayle basically said don't bother but being as stubborn as I can be I went ahead and bought six large oranges anyway. So there I am juicing the oranges - quite easy - and we had two nice large glasses of fresh orange juice - for only 1.78 euro versus the 3.50 or 4.00 per glass at a restaurant. Gayle did admit I was right, this time.
After our juice we went down to the little alcove in Avlemonas where we had a wonderful morning swim in the crystal clear water. Only down side were the fish nibbling on our legs when we were near the rocks. We then headed back to our room at Palaeopoli Villas, finished packing, and gave the rest of our milk to three very appreciative cats/kittens.
We then returned to Avlemonas for lunch at the restaurant overlooking the alcove. A coffee for Gayle and fresh lemon juice, with mint for me, yoghurt with fruit, with a focus on figs for Gayle and a plate of octopus for me. A nice end to our time on Kythira.
When we finished we drove the short 15 minutes to the port of Diakofti where on August 29, 2000, the Nordland while on a voyage from Saint John to Gemlik, grounded off a nearby small deserted island. Fuel oil leaked out polluting local beaches. She continued to take on water until her stern rested on the bottom. She has remained there ever since with her bow sticking out of the water.
The ferry was an hour and 20 minutes after which we took a brand new road significantly shortening the time to cross over the mountains to the east side of this finger of the Peloponnese. We reached Monemvasia in 45 minutes, found a parking place outside (the castle walls prevent any vehicle entry) and found our way to the Malvasia hotel, inside the walls. Our room is large and beautiful with three windows providing great views out to the sea, and the churches and buildings below. Our people, Linda and Bill, had already checked in to the adjacent room (which had the benefit of direct access to the shared terrace) having arrived a couple of hours earlier. We spent some time catching up on our separate travels of the previous week, although Bill's daily e-blogs had kept us well informed of their experiences.
We went to dinner on a roof-top restaurant - nice views while it was light but the tables were really crammed together and the service, after starting off on a good note became quite disinterested. Having had lunch we ate a light dinner at To Kanoni of eggplant Kanoni feta in phyllo and for me an appetizer sausage. Back to our hotel and off to bed.

Another glorious sunrise and day in Kythira.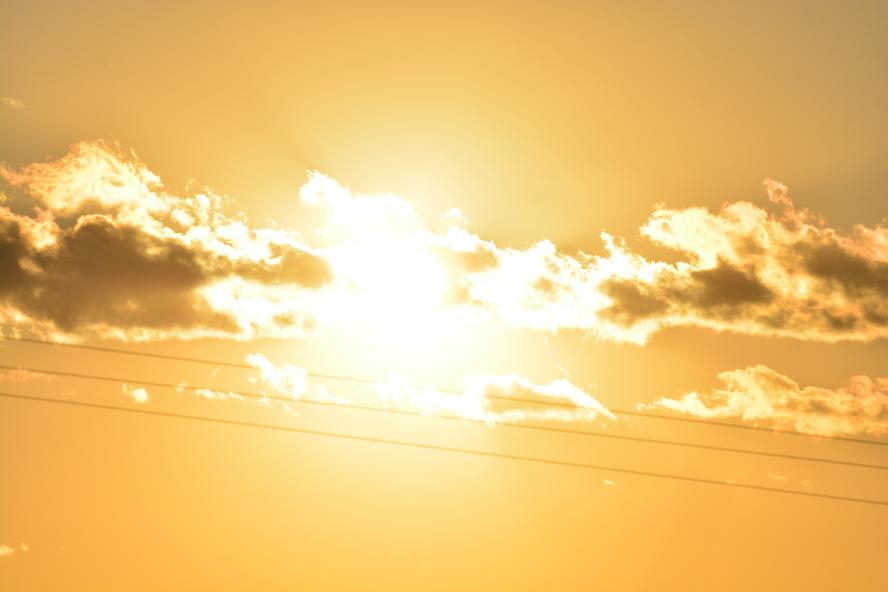 Fresh orange juice and my first effort at a timed photo (pretty good if I do say so myself).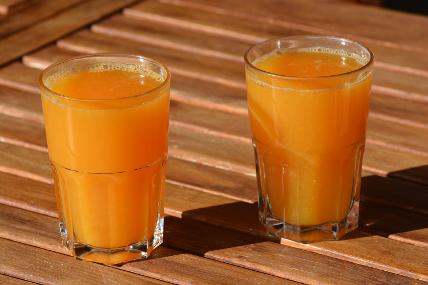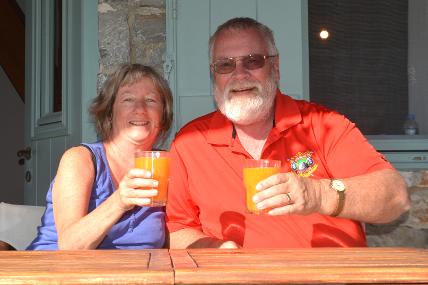 The gorgeous cove in Avlemonas where we enjoyed a morning swim before packing to leave Kythira.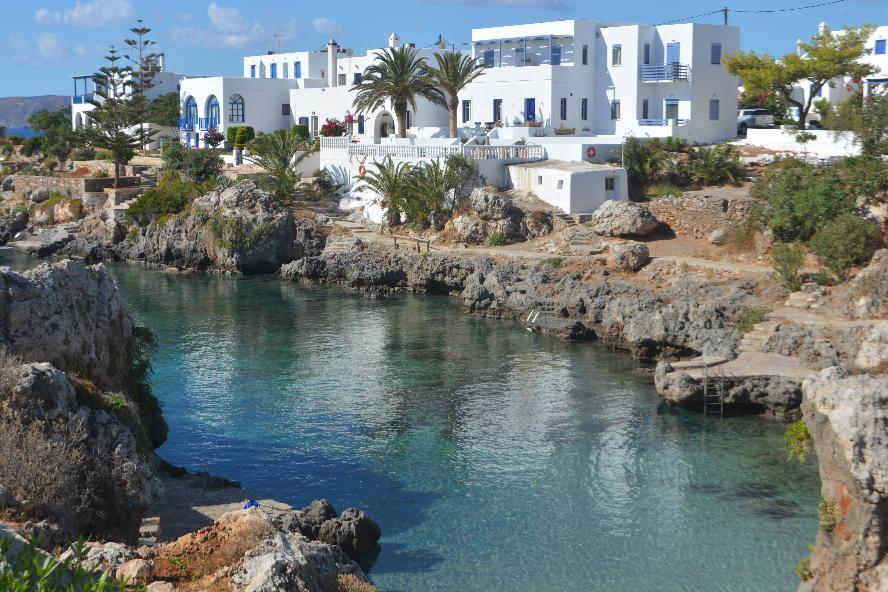 Two of the very appreciative kittens to whom we gave our left over milk, and Palaeopoli Villas.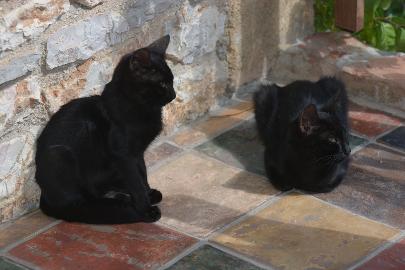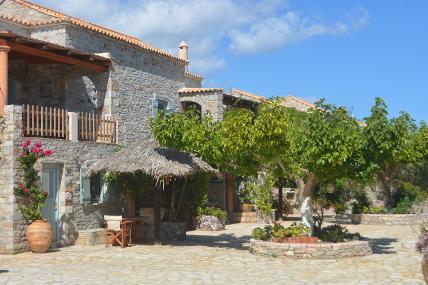 Enjoying lunch overlooking the alcove in Avlemonas before leaving Kythira.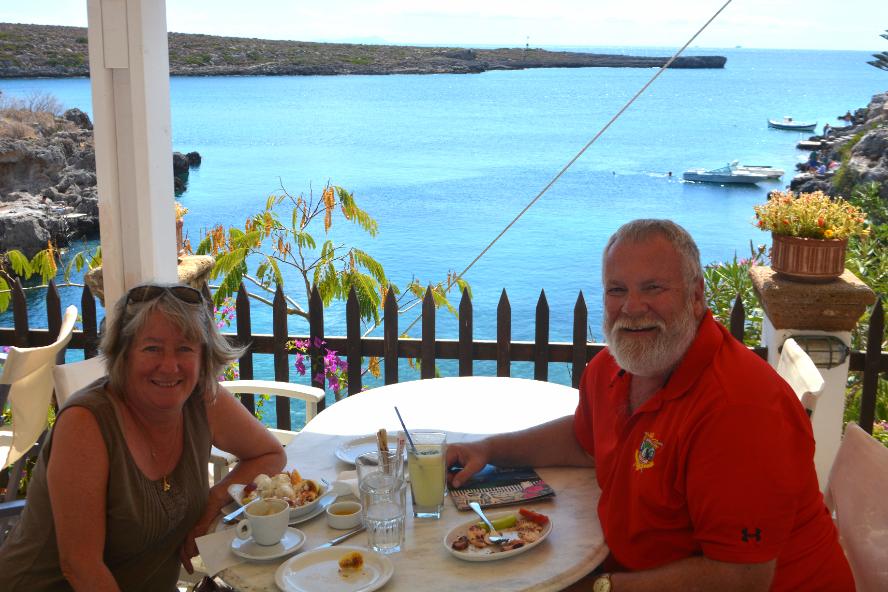 Yoghurt with fresh fruit, including figs and a marinated octopus dish.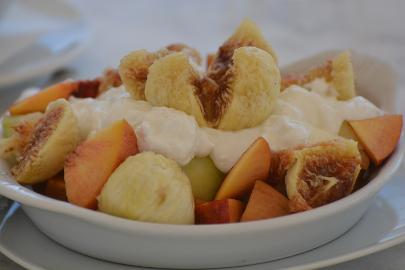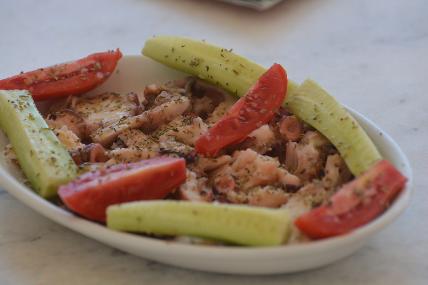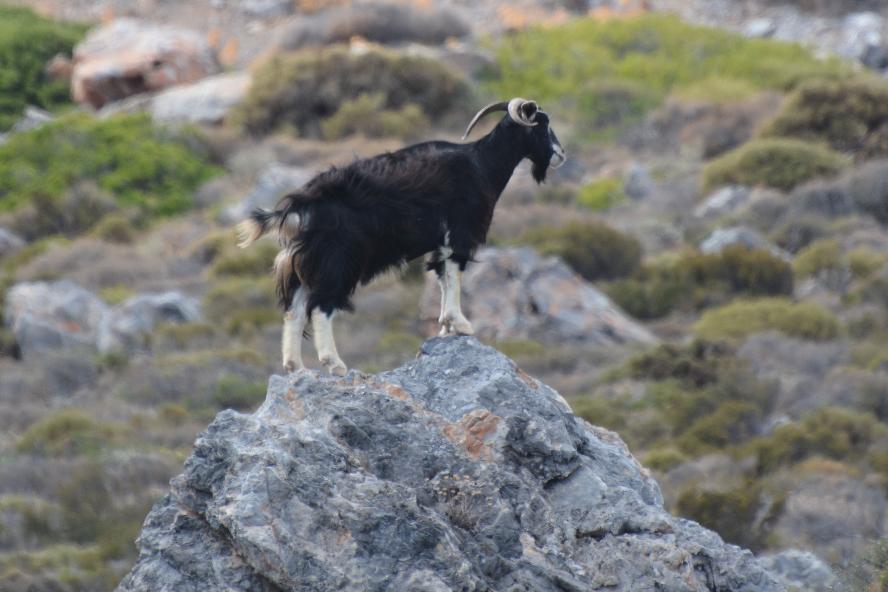 The ship wreck off the port of Diakofti.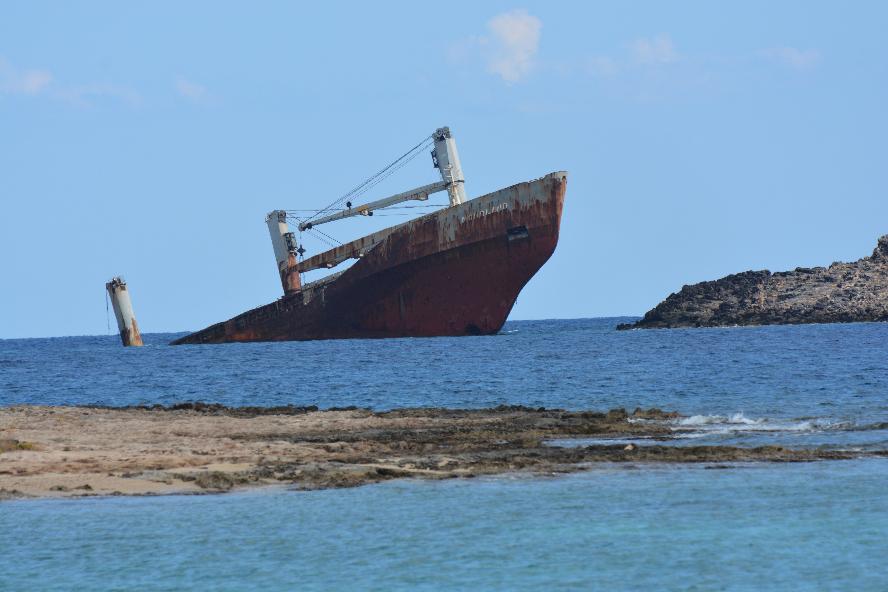 First sights of Monemvasia approaching from the south.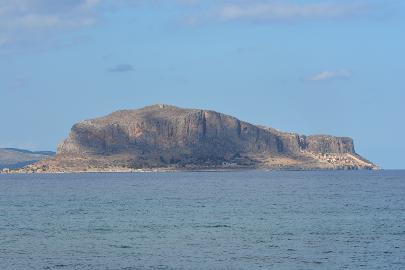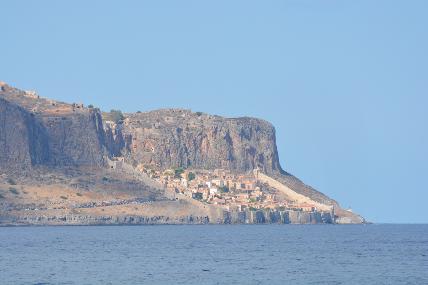 Part of Monemvasia as seen from our room.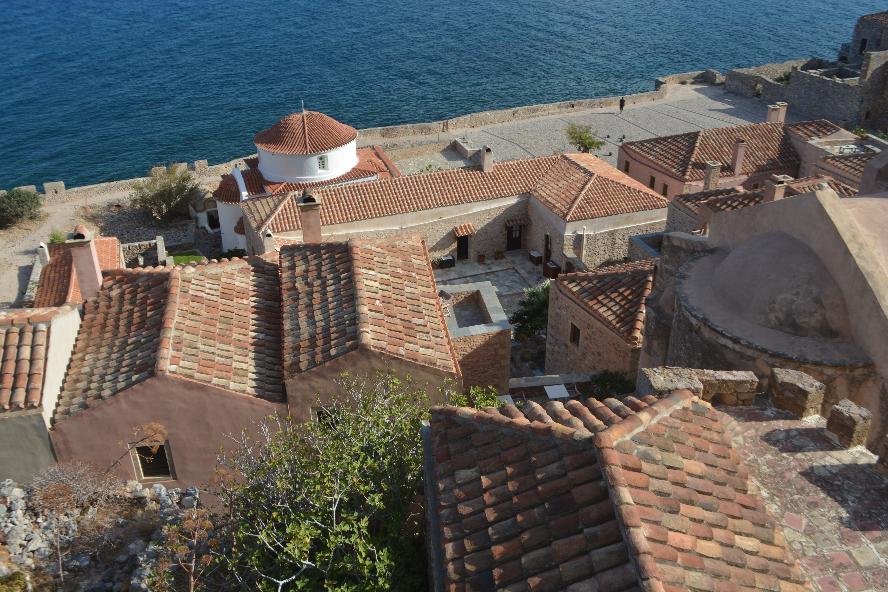 Views out our windows to the sea, and Monemvasia below.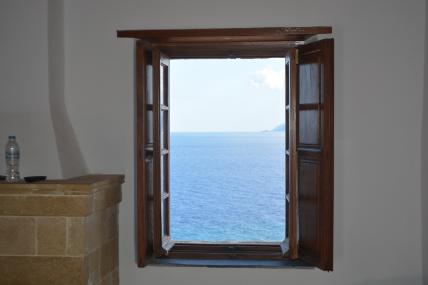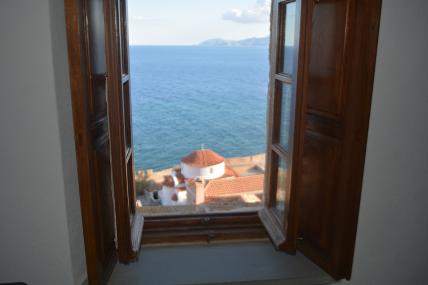 Baked feta in phylo, sesame and honey. Local sausage.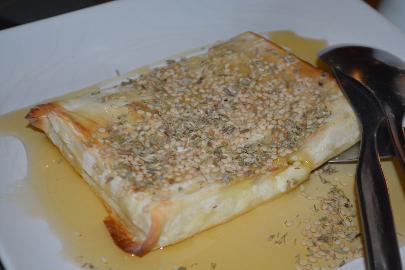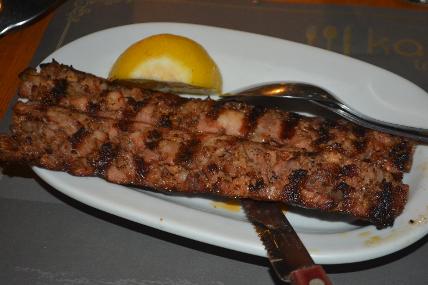 September 22, 2017 - Kythira

We awoke to a spectacular sunrise. The villas do not provide breakfast but there is a small kitchenette in which we made some coffee. Then unexpectedly Julietta arrived with some breads and local cheese drizzled in honey. A very nice gesture.
We went out around noon for what turned out to be a pretty long day. First it was to Potamos where we had to purchase our tickets for the return ferry. We then continued to Agia Pelagia and then south for a few kms, past a number of beaches and another isolated church to Lagkada Beach. The road, first asphalt then dirt was not so bad. We then saw what looked like an isolated beach so decided to continue further. The dirt road that was 'not so bad' all of a sudden become not not so bad - ruts and rocks made driving challenging in order to avoid damage from striking a protruding boulder. But we made it - to a stone pebble beach and a pretty dramatic canyon. We decided not to swim there but rather returned (gingerly) to Lagkada beach where we had our daily swim.
We then drove essentially the entire length of the island, south to Chora. In doing so we passed the consequences of the fires early this summer that burnt reportedly 8% of the island. It was interesting to see where the fires reached, but then were contained, and other areas where they were not. We continued on to Chora where we stopped to stroll through a portion of the old part of the town. We then passed Kapsali beach (which looked nice but somewhat built up) and then on to Kalamos where we detoured to Chalkos beach. Being late in the day and already having had a swim we took a look but did not go in the water.
Nearby was a highly rated traditional taverna. Taverna Filio, with tables nicely placed under a couple of shade trees was a nice setting for a meal. Gayle again had tzatziki and this time a half Greek Salad (which she again could not finish) and me baked feta cheese, with tomatoes, peppers and some green things - a different presentation than those with sesame and honey, and some smoked pork.
Although we had planned to go into to Avlemonas in the evening by the time we returned to Palaeopolis villas we both just crashed for the night.

Sunrise over eastern Kythira.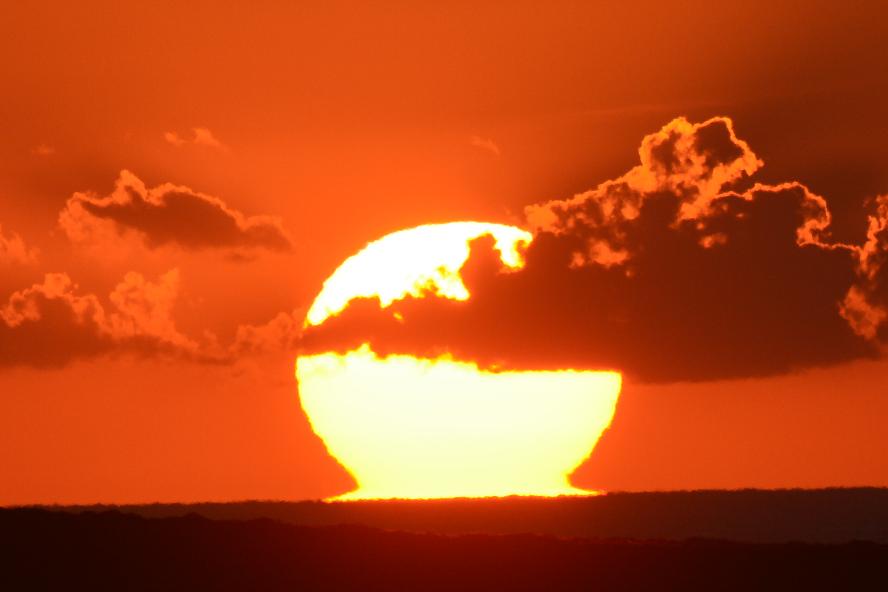 The breads with cheese and honey given to us by Julietta.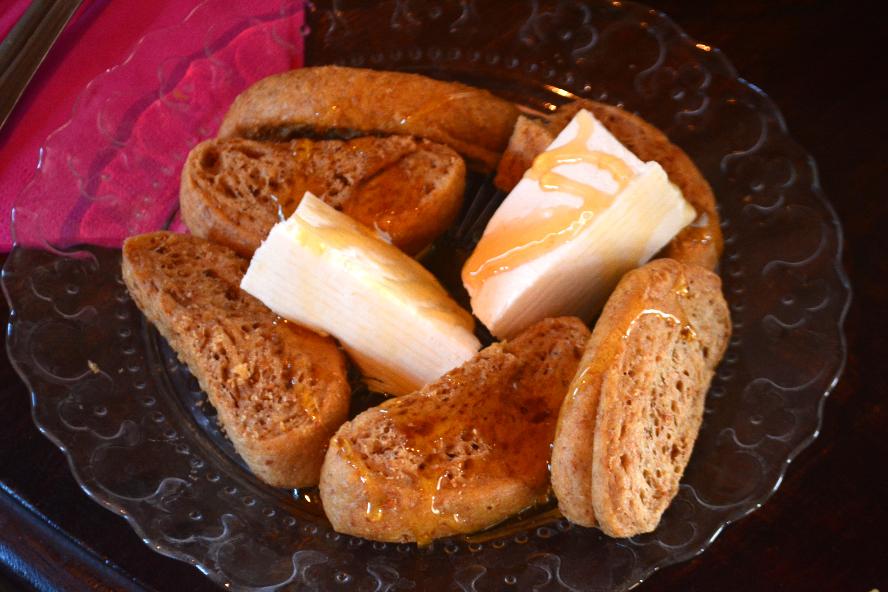 Just a few of the many colourful flowers (and a butterfly - they were everywhere) at Palaeopoli Villas.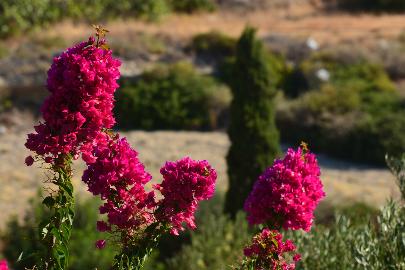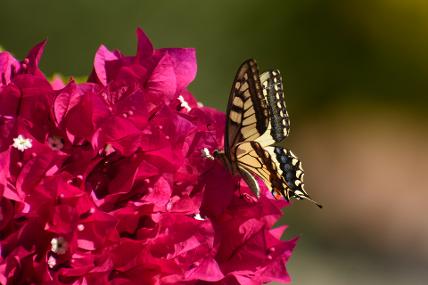 Just another beach on the drive to the better known Lagkada beach further along the coast.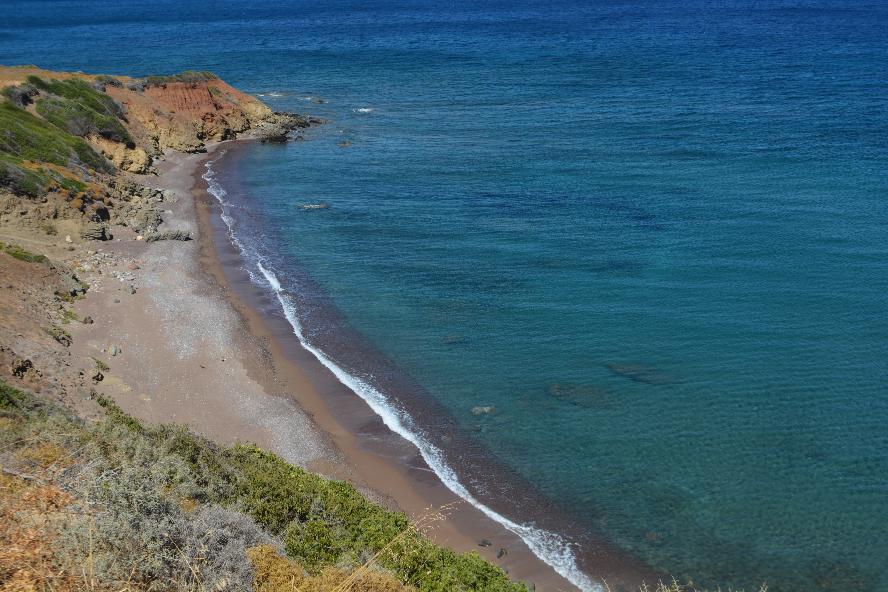 More rugged coastline; and yet another isolated church.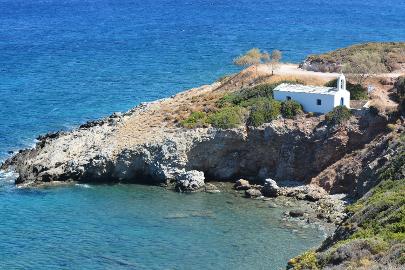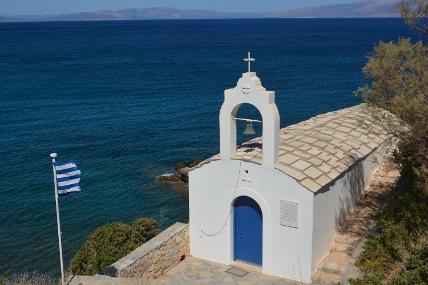 More impressive Kythirian coastline.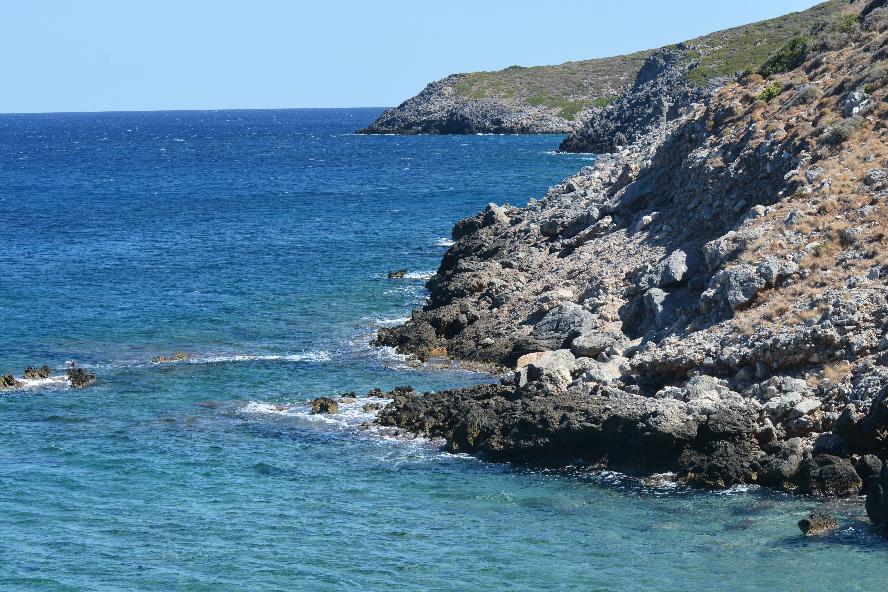 The 'road' to the gorge beyond Lagkada beach.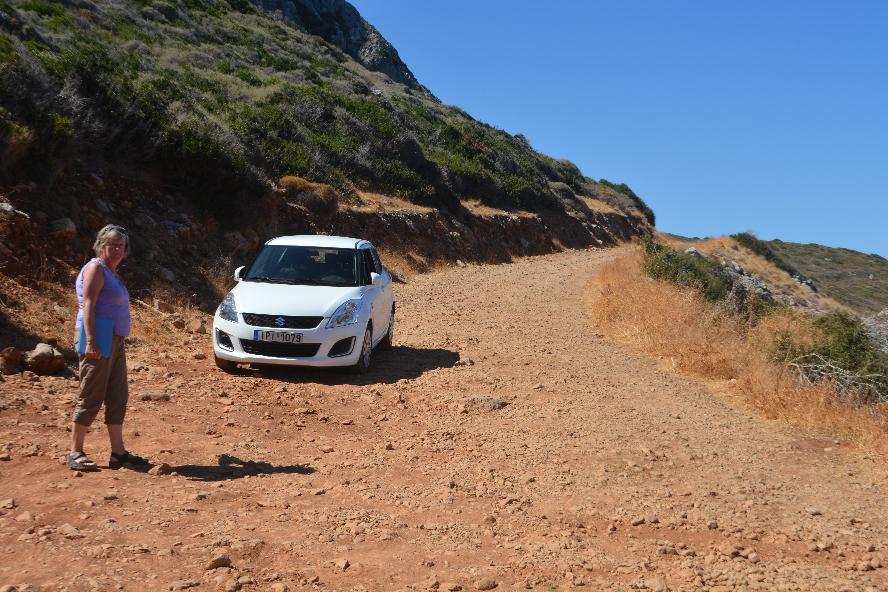 The gorge beyond Lagkada beach.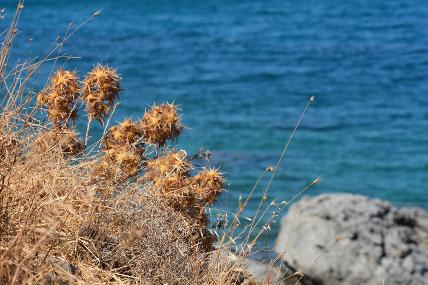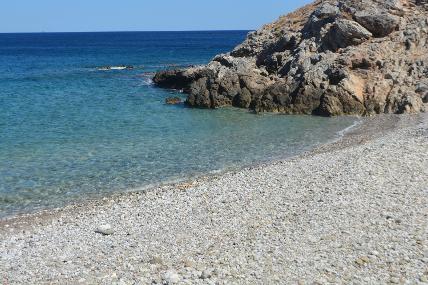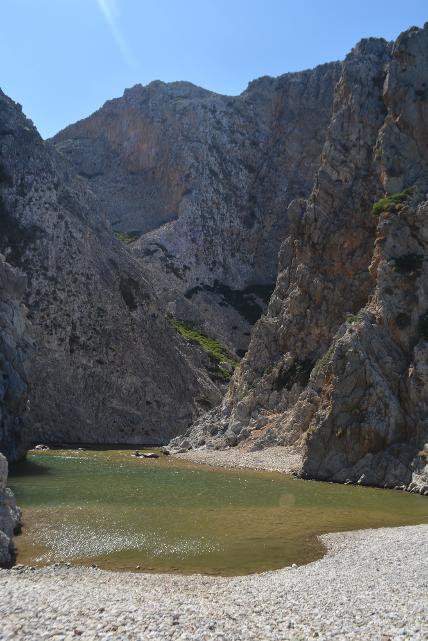 Some of the colours along the coastal drive.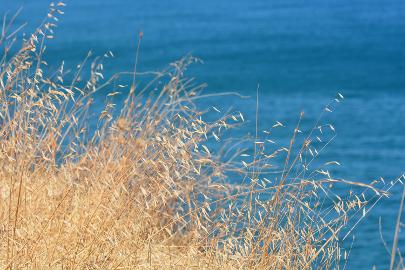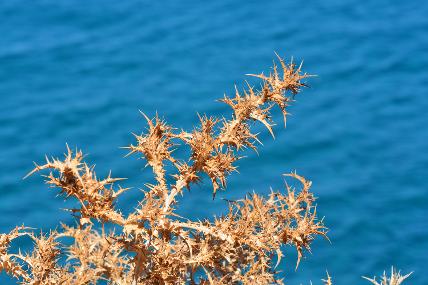 Lagkada beach a few kms outside Agia Pelagia.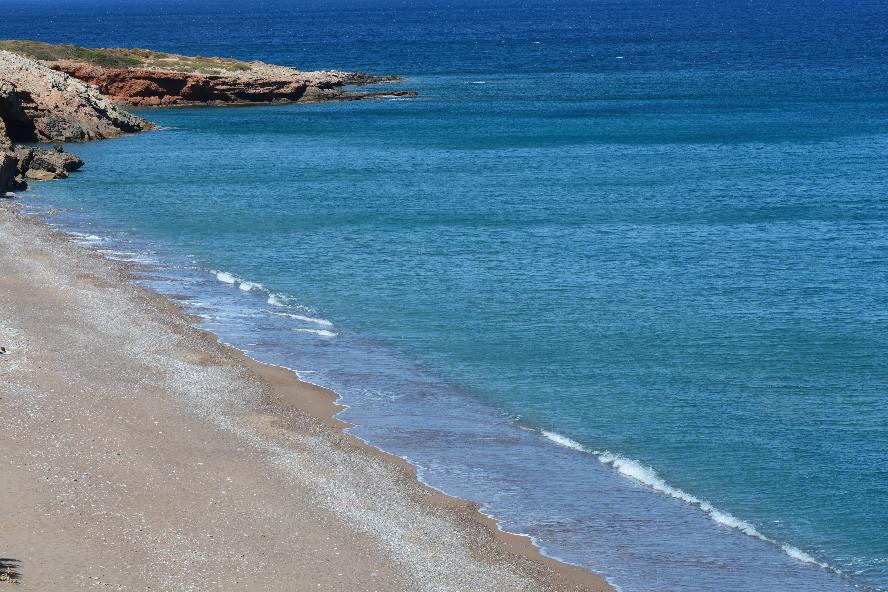 Near Ag. Pelagia, in the north-east of Kythira.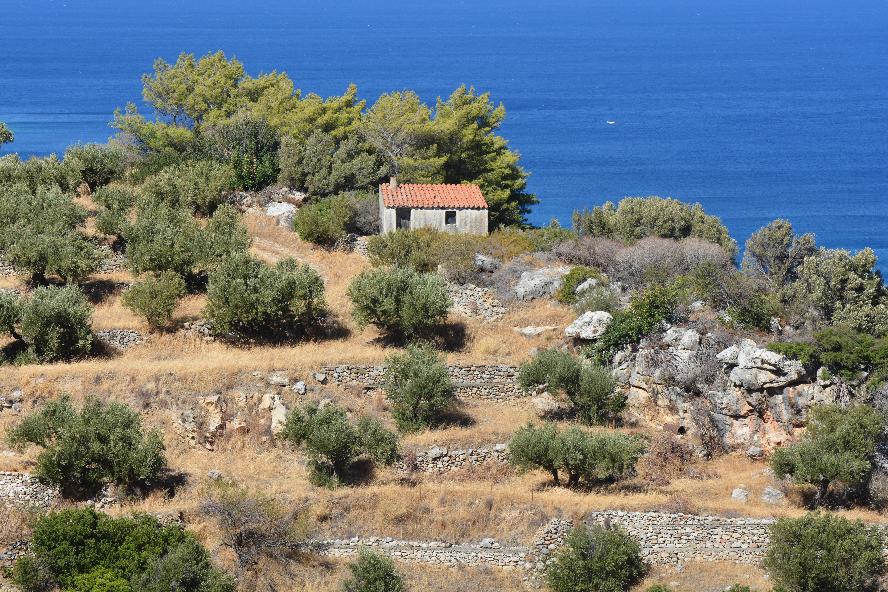 Impacts of the summer 2017 fires that destroyed a large section of the interior of the island. Interesting to see lines where the fires were stopped.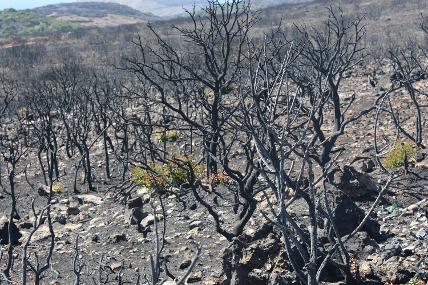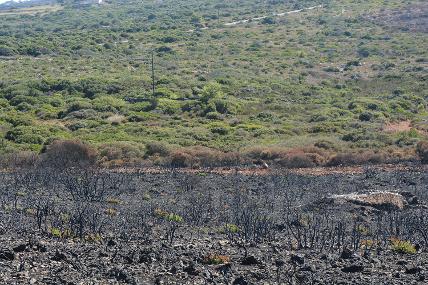 The road through Chora and one of the buildings along the road.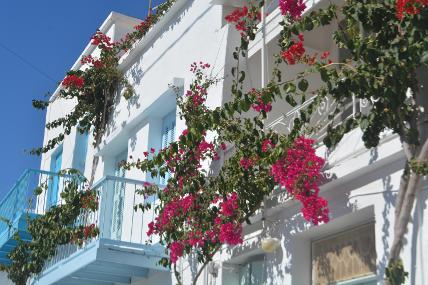 Kapsali Beach, only a few kms from Chora and the castle on the cliff of Chora surrounded by too many churches to count.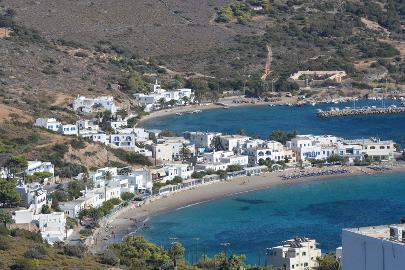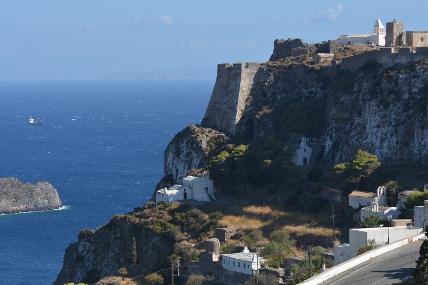 Another of Kythira's secluded beaches, this one Chalkos.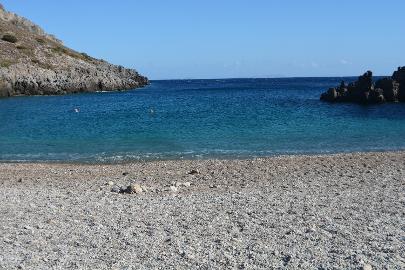 There are not many animals here in Kythira (certainly compared to Amorgos) but those that are here are some cute.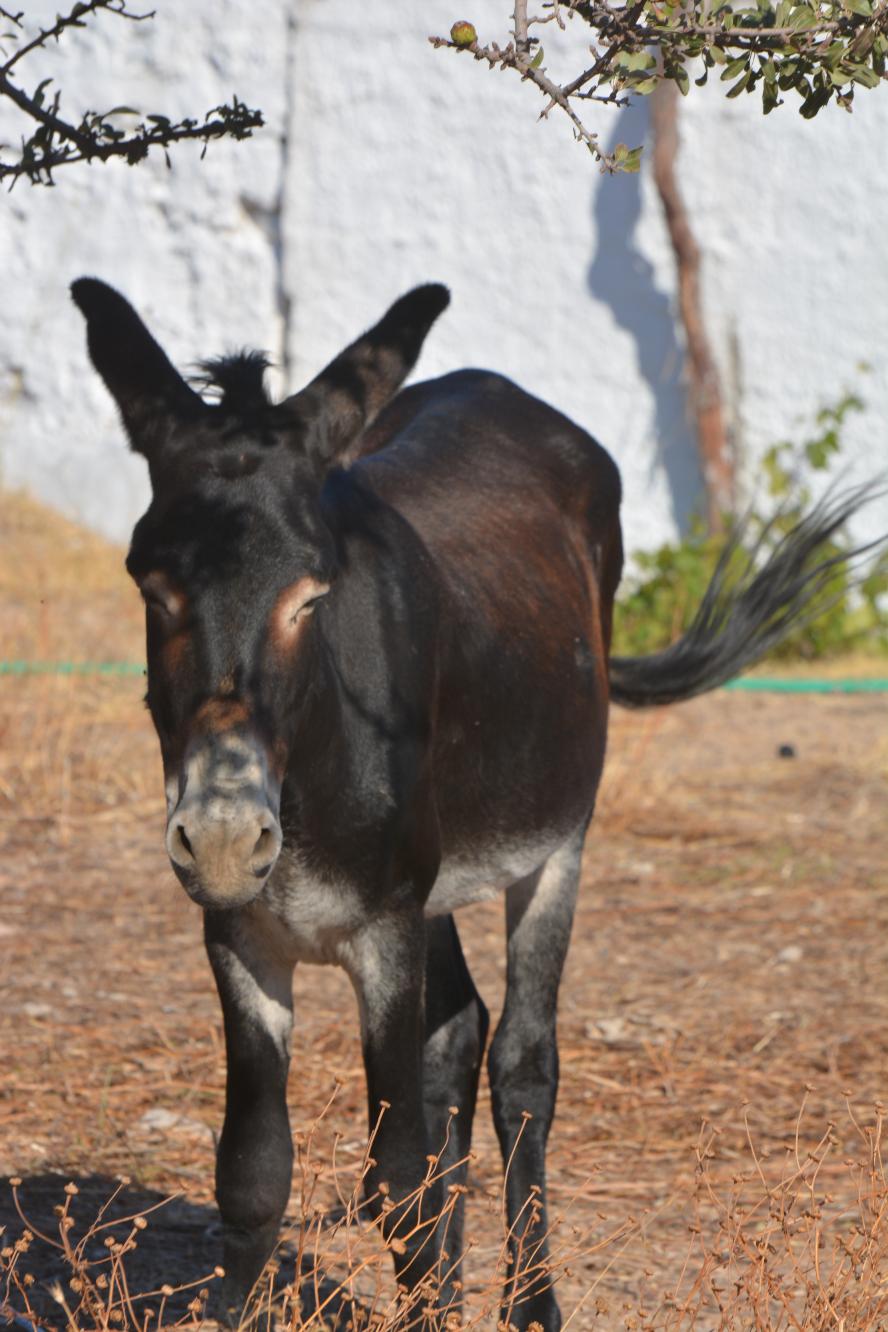 Tzatziki (a huge serving), a 1/2 Greek Salad (still more than Gayle could eat) and an interesting baked feta with olives, tomatoes, peppers and these green things.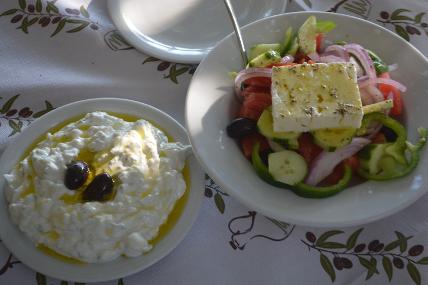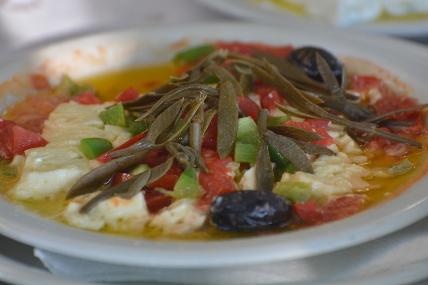 September 21, 2017 - Elia to Kythira

We had to be up early today with a 45 minute drive to Neapoli to catch the ferry to Kythira. We planned to leave at 7:00 am but with breakfast (included) not starting until 8:00 am Greg convinced us to stay a bit longer to have a coffee, some cakes and a fresh orange juice. Such a nice guy we couldn't say no, especially when he insisted we had plenty of time. Unfortunately we took two small wrong turns - one that led us a bit out of the way to some small village, and then to the centre of town rather than the more direct beach route. But worse were the slow drivers and trucks. We were supposed to pick up our tickets no later than 8:30 am and in the end were five minutes late, but got our tickets and made it to the ferry by 8:40 am ... and were not the last ones.
The ferry trip was relatively smooth, taking 1 hour and 20 minutes, arriving in the port of Diakofti. From there it was a short 15 minute drive to Avlemonas and nearby Palaeopoli where our villa was. Reasonably easy to find our room was not ready - it was not yet 11:00 am so we went into the village where we had a coffee and fresh lemon juice, and an omelette and pesto pasta. The view of the little cove from the cafe tables is so picturesque.
We returned and settled in to our beautiful two room unit, with high ceilings and stone walls throughout. Mid to late afternoon we went out to one of the top beaches on the island, only a few kms away. Kaladi beach is pebble stone rather than sand but quite something after one descends the 163 steps. The water was warm and reasonably calm. We then drove over the top of the south-eastern quarter of the island - very barren (much like the north-west of Scotland) with no animals. A nice drive just the same we circled back to Palaeopoli.
We went for dinner in Avlemonas to Psomoladea, supposedly one of the best restaurants on the island. My fried feta cheese with sesame and honey was good and Gayle's Melitzanosalata (eggplant dip) extremely good. Unfortunately her Tsaitia (handmade grilled pie with herbs, feta cheese and dill) was somewhat burnt and my fish soup, well let's just say I should have gone with the calamari or lamb. Mostly vegetables rather than fish and the broth was exceedingly lemony. Unfortunately the worst dish of the trip, but when one is traveling one is bound to miss choose now and then.

Enjoying a quick breakfast overlooking the sea at Elia Mare (photo courtesy of Greg).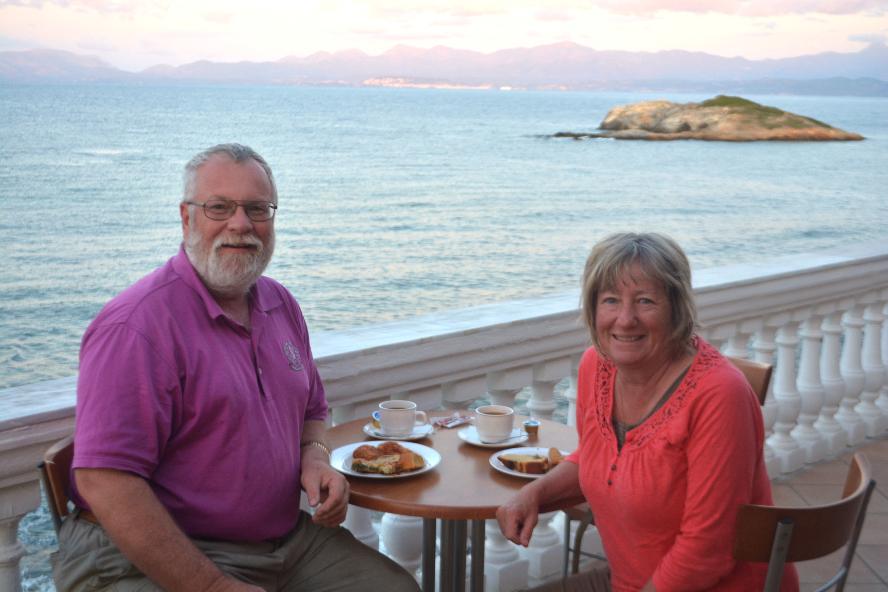 Our ferry about to leave port. The prominent church of Neapoli.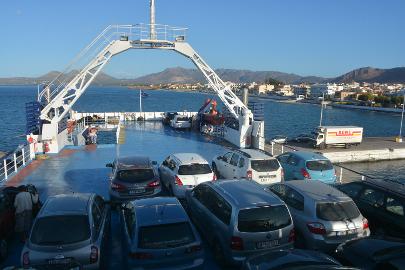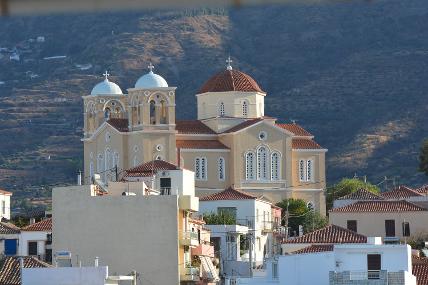 The small port of Diakofti, where the ferry arrives and departs. Remarkable colours of water.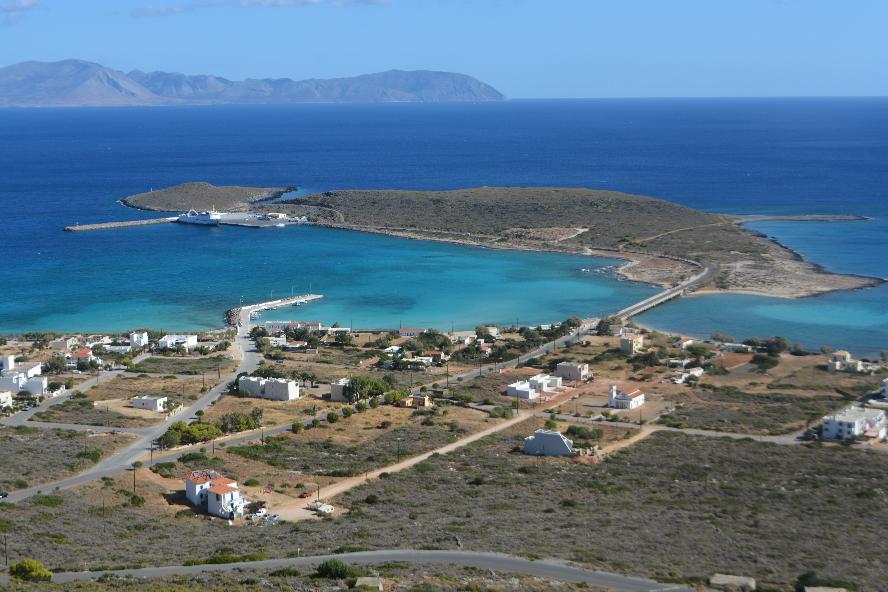 While waiting for our room to be prepared we went down to the harbour for a lunch of omelette and pesto pasta.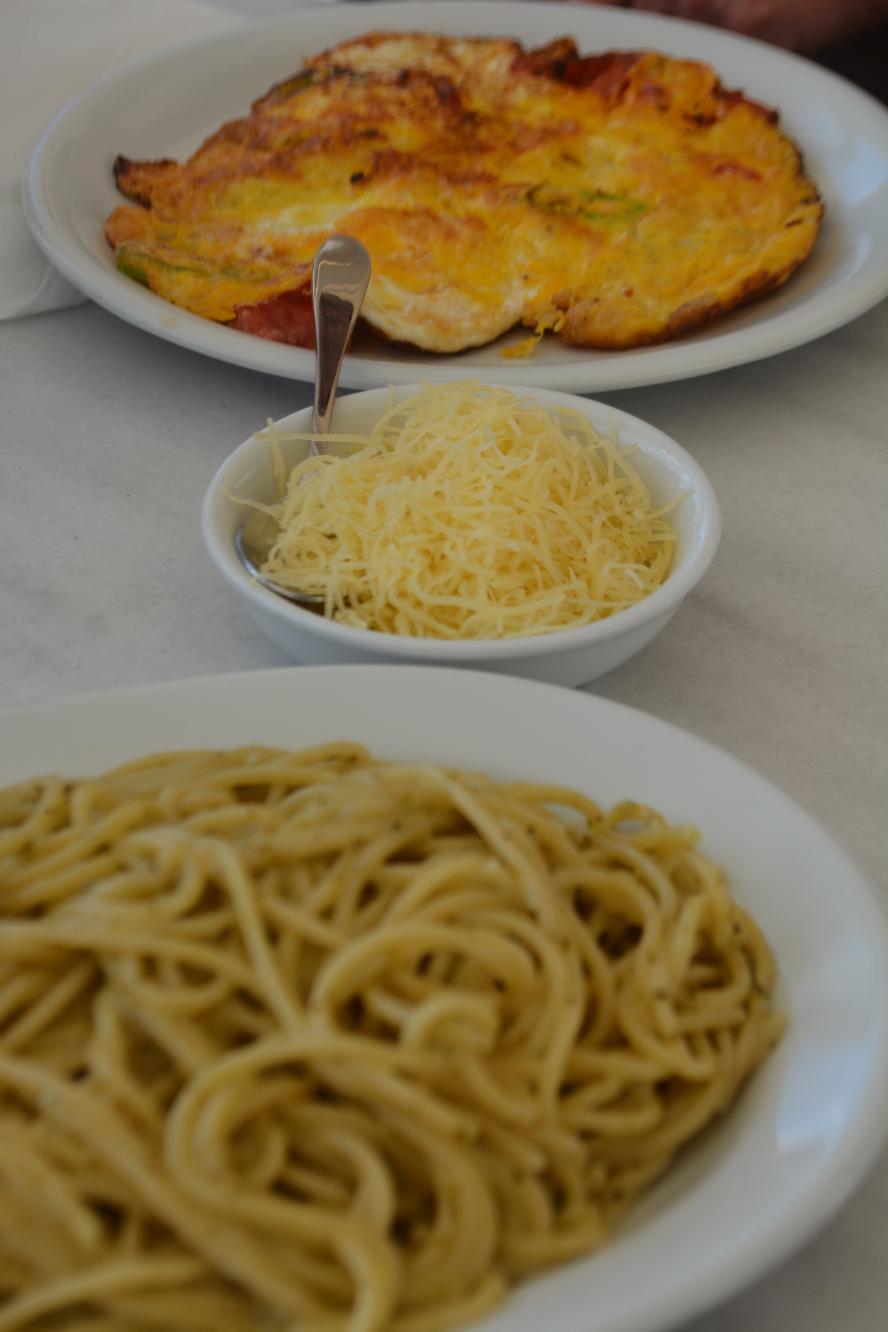 Avlemonas Beach, very near to where we are staying.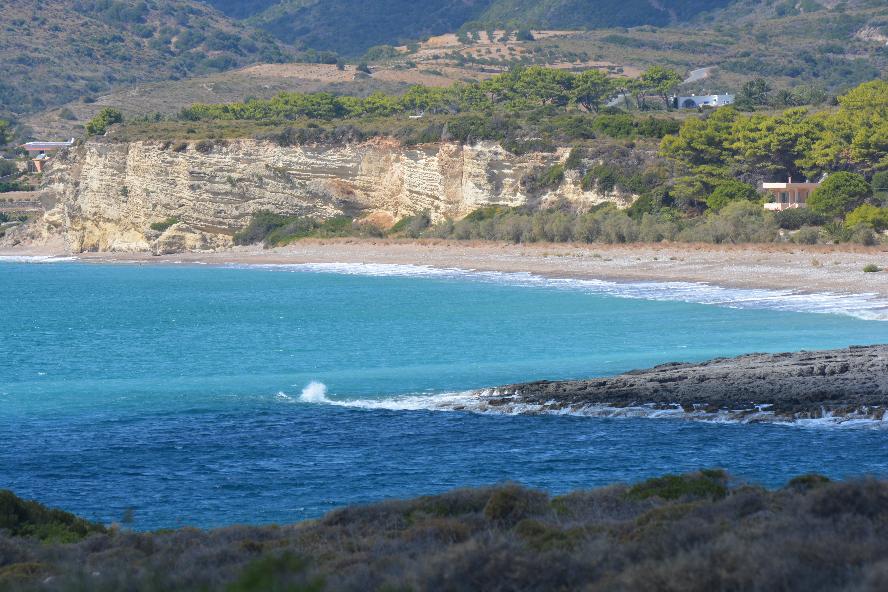 The interior of our beautiful stone 'cottage' at Palaeopoli Villas.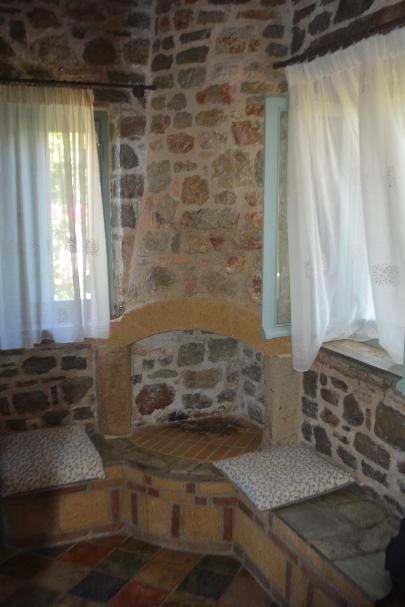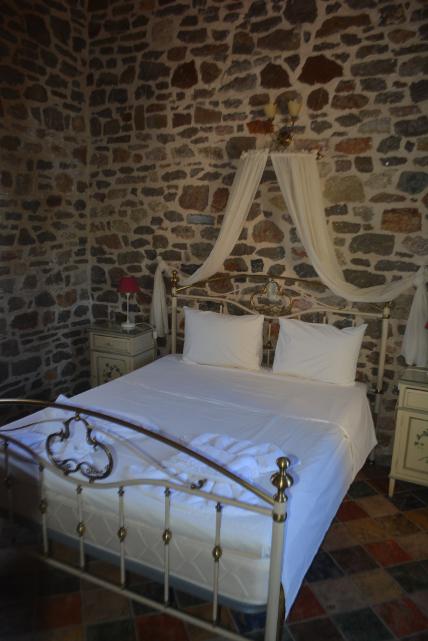 Another of the seemingly infinite well maintained small churches on the island, this one on they way to Kaladi Beach.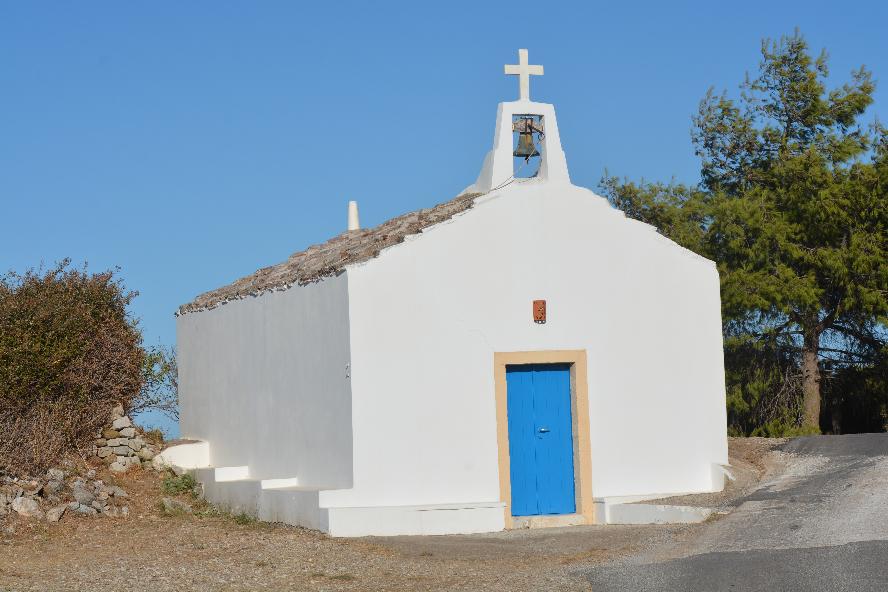 Kaladi, just one of the beautiful isolated beaches of Kythira.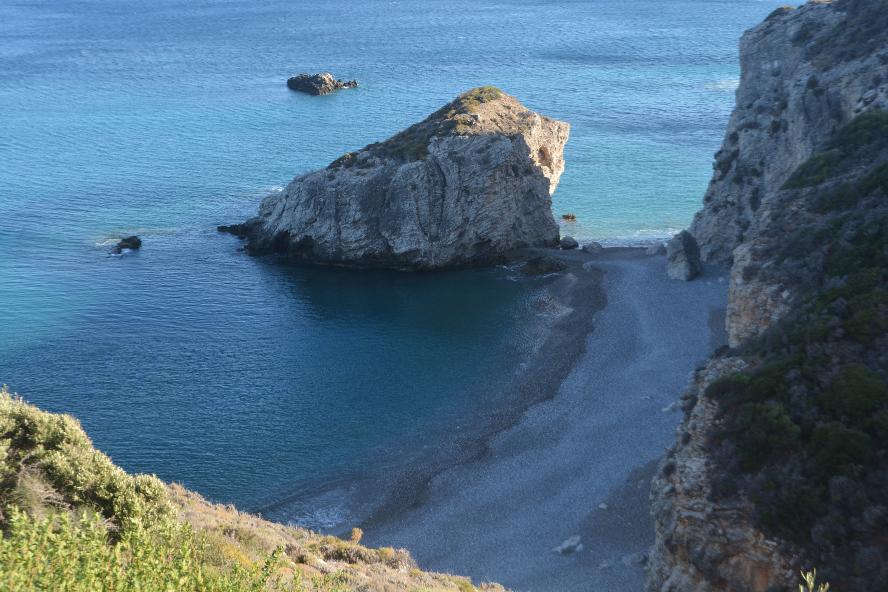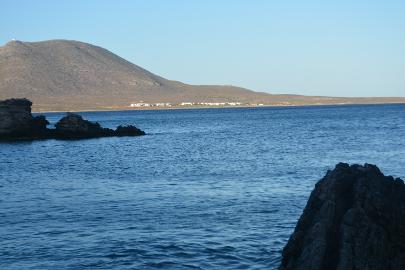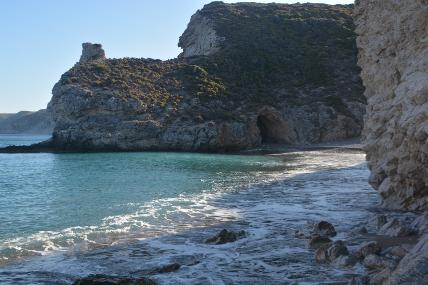 Fried feta cheese with sesame and honey. Militaznosalata (eggplant paste).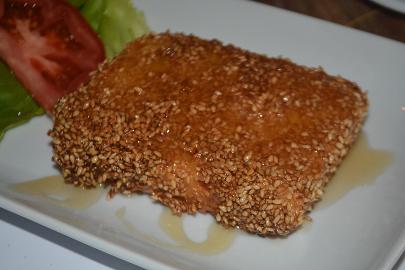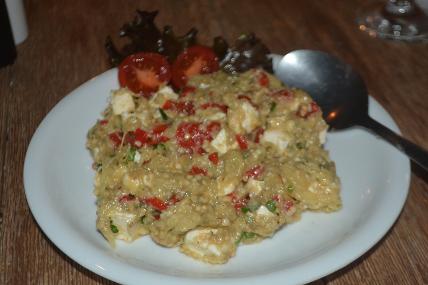 September 20, 2017 - Stemnitsa to Elia

Today did not go as planned in many ways. Originally we were to leave Stemnitsa and drive two hours to the port town of Githio and take an afternoon ferry to Kythira for a three night stay. However when we went to book the ferry tickets a few weeks before leaving we discovered the ferry had been damaged earlier in the year and was not running The alternative is a ferry from Neapoli but the problem was that ferry left at 9:00 am. So we cancelled a night on Kythira and drove towards Neapoli, stopping about 45 minutes north in Elia at a place that looked much nicer than anything in Neapoli, being right on the water.
Having not gone to either of the monasteries the previous day it was our plan to drive the serpentine road down into the valley and go to the Monastery of Prodromou. But the night before Gayle saw some earrings in the village (Stemnitsa has a silver school) that she considered buying. So after another nice breakfast and chat with Nena, including directions to the monasteries, we went back to look at the earrings again. On the way we saw this mobile veggie and fruit cart so I stopped to take a few photos, including one of an elderly fellow with his tomato.
Then off to the shop where Gayle did buy the earrings. We were about to get in the car and head out when we saw the same fellow in a cafe with a number of friends. Yes, more photo opportunities. So I went over and before you know it we were being offered ouzo and eating nuts. One simply can't decline such generosity so ouzo it was. I guess one mistake was finishing the ouzo so quickly because before I could say no my glass was again full.
Then the three fellows had us sit with them and tried to talk to us - not a word of English between the three of them, but that didn't stop their efforts. We did learn they were Yannis, Dimitris and Babis (the original fellow with the tomato), all in their mid 80s. We then learned (or so we understood) Babis is Nena's uncle (confirmed later by Nena). Nena also went to school with Yannis' son and Dimitris is the father of one her best friends. A small village.
While 'chatting' away and drinking ouzo a fellow overheard our English and started to talk to Gayle - turns out he (Jim) and his wife (Angela) are from Halifax (Clayton Park). Angela's ancestors were from Stemnitsa - now all passed away - but they were here visiting for a couple of days to see the homestead. We had a lengthy chat about traveling, Greece, and crosswalk flags (you knew somewhere along the way the crosswalk flags would become a topic of conversation).
Of course these experiences, of meeting locals and other travelers is what, for us is more special then another ruin, or museum, or monastery. As a result of the hour and a half spent in the cafes of Stemnitsa we had to forego visiting Prodromou, not something we at all regret.
When we finally did leave we still chose to drive the 7 km serpentine one lane road down the gorge emerging in the village of Elliniko. From there it was straight back to Megalopolis and then onto the new highway to Sparti. From there it was a scenic drive through orange groves and many olive trees, with the sea now in view, past Skala and on to Elia where we stayed the night. Rather than going all the way to Neapoli we found a hotel right on the sea in the village of Elia, about 45 minutes north of Neapoli. Run by Greg, a very nice fellow who would not let us leave early in the morning before some coffee, cake and fresh squeezed orange juice. The gift of a bottle of local olive oil was also a very nice touch.
We ate at a wonderful restaurant, Liogerma, adjacent to the harbour in Elia, Right on the edge it was a beautiful setting, and the food was a bit different and very good. We had a Mani salad, with orange, graviera cheese and for me some delicious smoked pork. Then Gayle had a local Stavroulas Goghes with butter pasta while I octopus in lemon. A small piece of orange pie completed a really nice meal.

Fresh fruit salad, yoghurt and an asparagus omelette (not shown) for breakfast and a very happy Nena.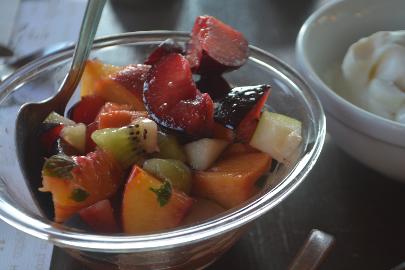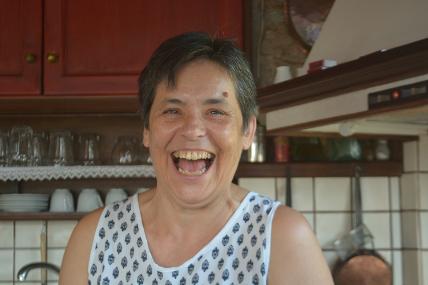 The mobile fruit and vegetable truck visiting Stemnitsa.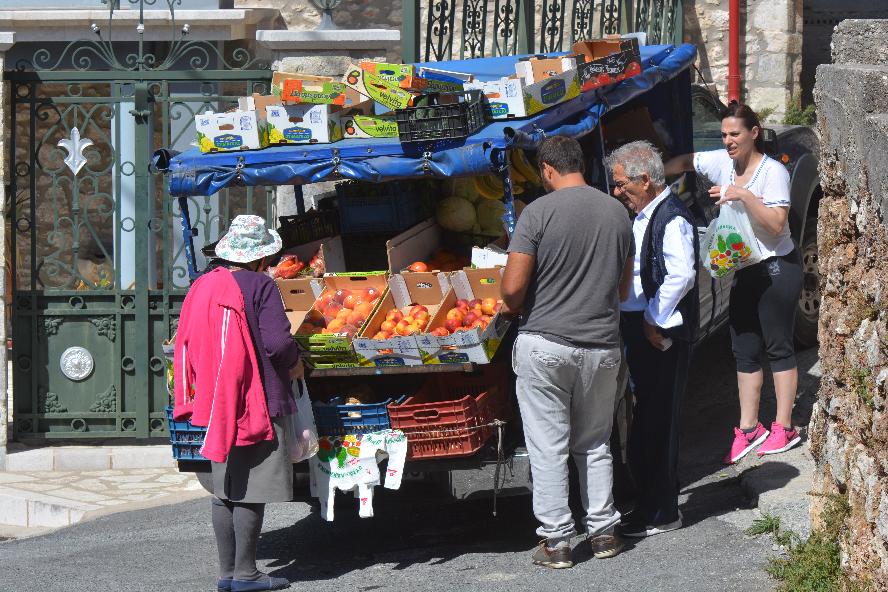 Babis, amused that some tourist wants to take his photo with of all things a tomato.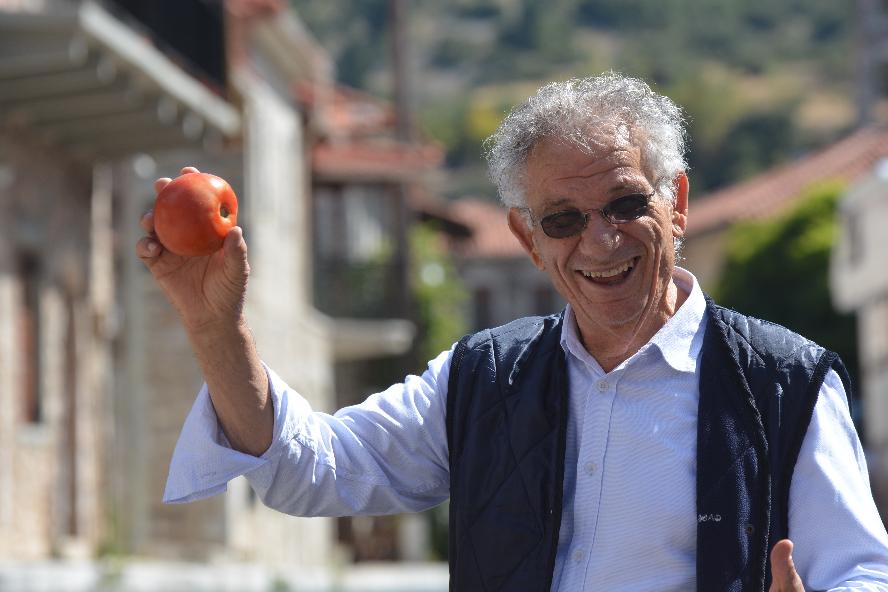 Some other guy in the cafe and Yannis.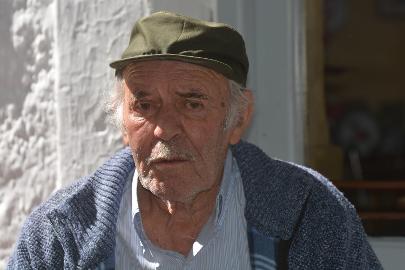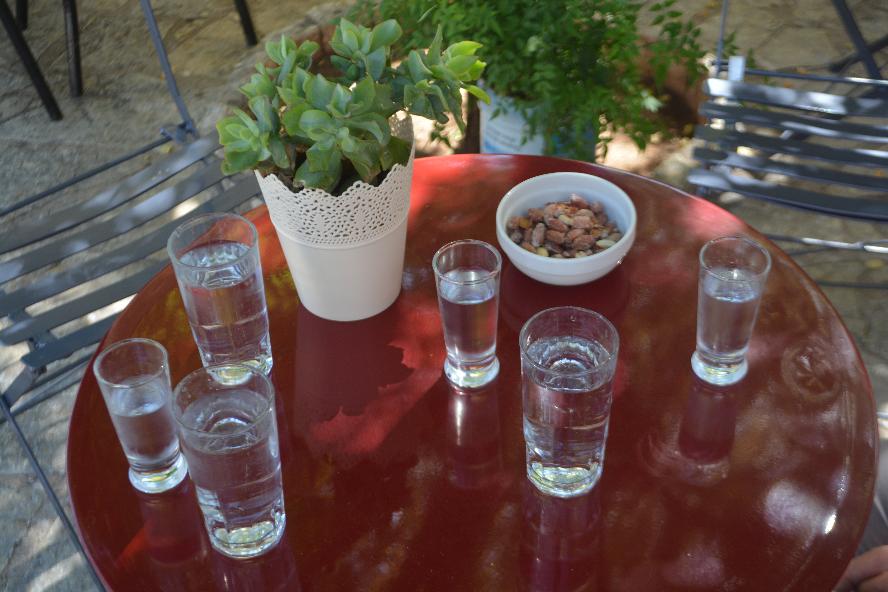 Babis, Norm, Dimitris, Gayle and Jannis.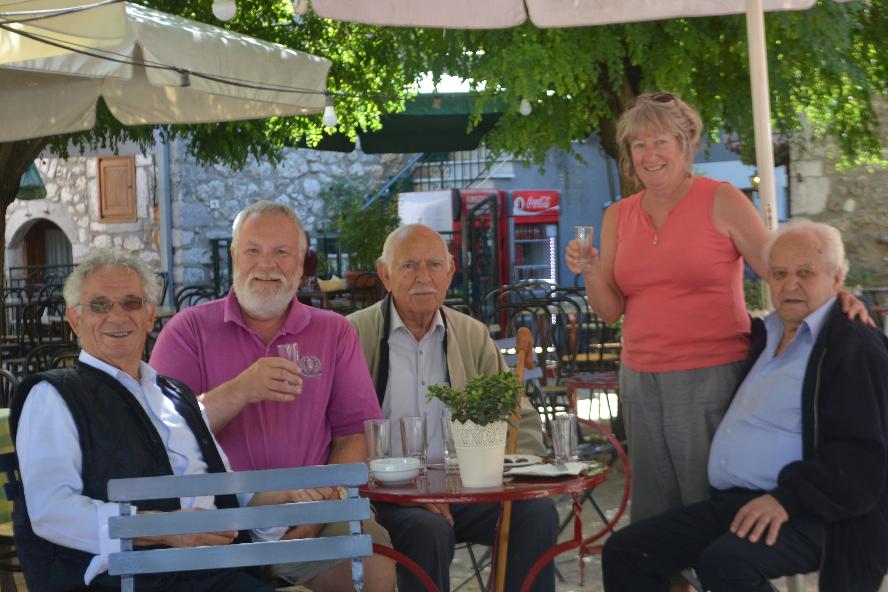 Babis and me. Angela and Jim, from Halifax.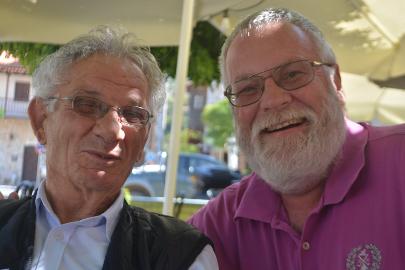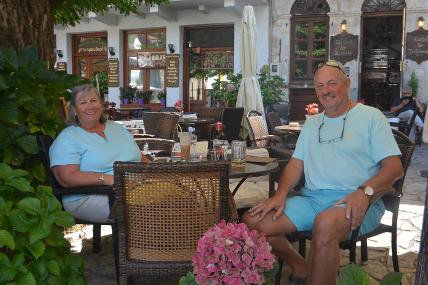 A portion of the serpentine road from Stemnitsa to the Prodromou monastery.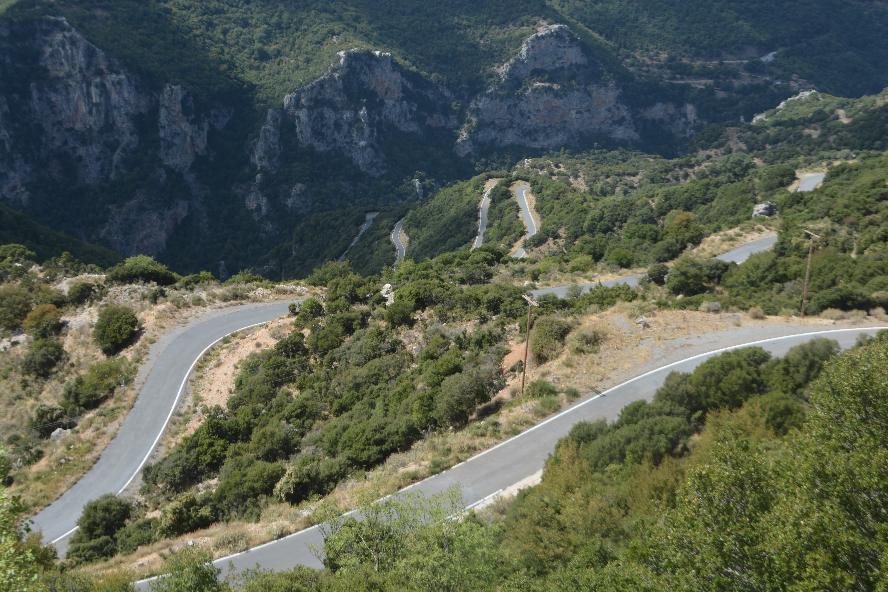 The Greeks certainly are friendly.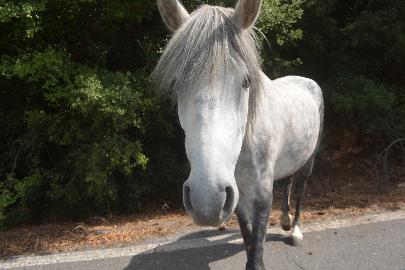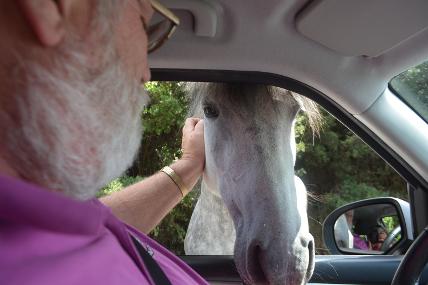 Olives and oranges - both very common in this area.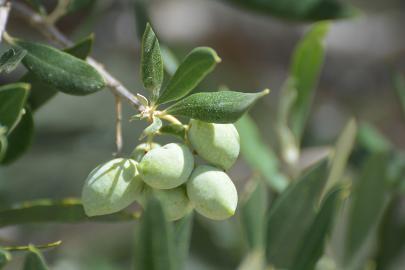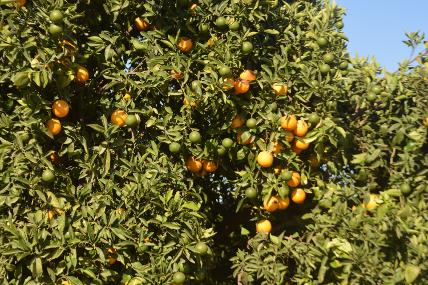 Some of the Peloponnese coastline driving south towards Elia.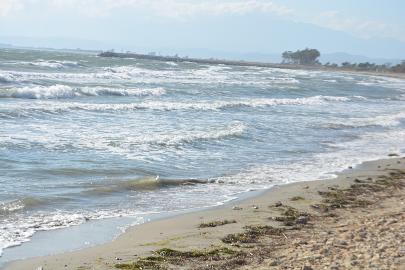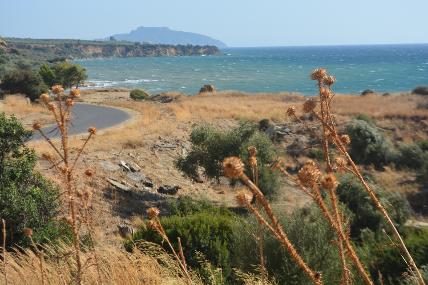 The Elia harbour as seen from our table at Liogerma.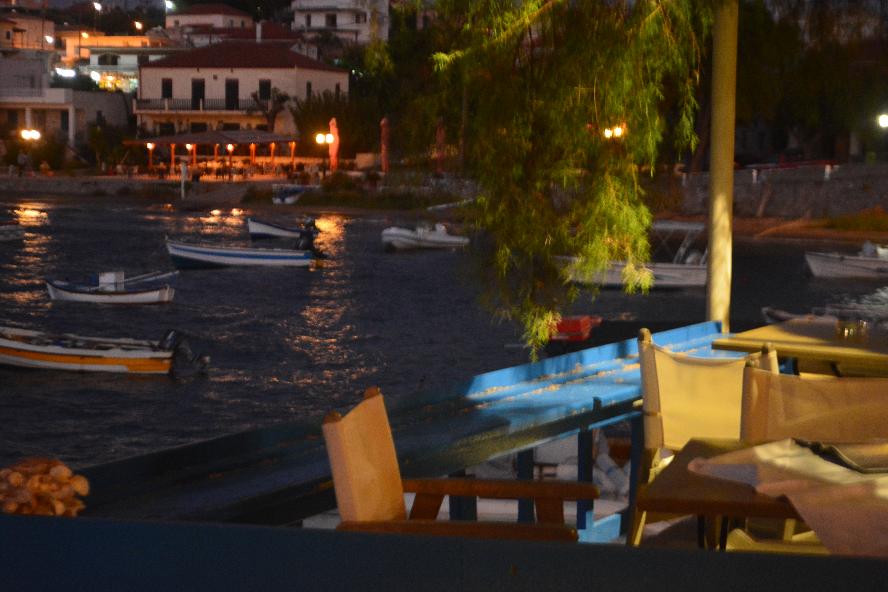 Our Mani salad and local Goghes pasta.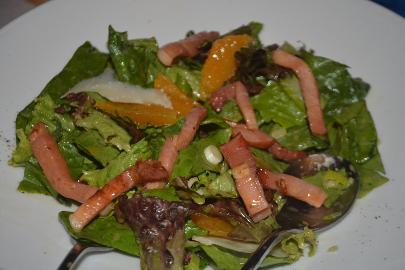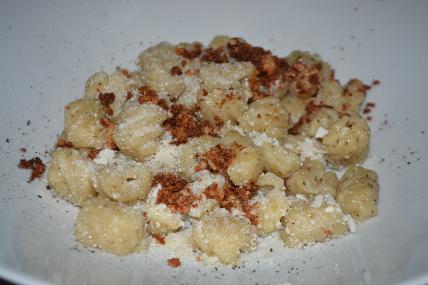 Octopus in lemon sauce and a small, but tasty orange pie.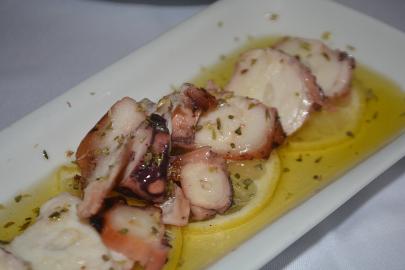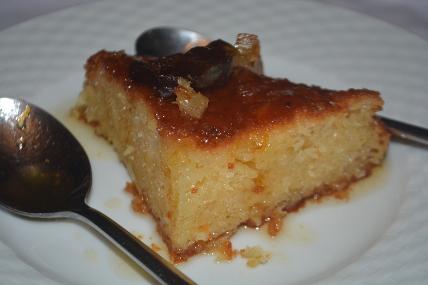 September 19, 2017 - Stemnitsa and the surrounding area, incl. Loisos Gorge

I was up early (7:00 am - easy to do when you go to bed at 9:00 pm) to work on the travel blog while Gayle slept in somewhat longer. Being in the common/eating area I chatted with Nena as she prepared breakfast, cutting up the courgette flowers to include in the omelette. We had a relatively late breakfast, at least vis-a-vis the other guests. Prior to Gayle joining us I had a nice chat with Miranda and Paul, a nice couple from Edinburgh.
After breakfast and ongoing chats with Nena included a wealth of suggestions as to where to go/visit and what to do we finally made out way out early afternoon heading first up to Dimitsana, about 6 km north of Stemnitsa. We had considered staying in Dimitsana before discovering Mpelleiko. Another nice mountain village although somewhat more touristy. As well while having a road that winds through the village there was no real town square in the way many other village towns have. After strolling around we took the road down into the north end of the dramatic Loisos Gorge. The twisty one lane road requires care but was generally well paved and easy to drive, especially as we did not come across one other vehicle along the 30 kms or so descending into the gorge and ascending out the other side. At the bridge at the bottom there was access to the Loisos River, where we dipped our feet into the cool running water.
We exited on the west side of the gorge at the village of Markos. We continued along to a restaurant Nena recommended in Panagia but unfortunately it was closed. Too bad as it looked like a nice local choice on the square of a small village. Very nice drive though. We then returned through Zatouna, on to Dimitsana and back to Stemnitsa.
The drive was very scenic and while we didn't see any animals up at these levels Gayle's sharp eyes did notice a turtle on the side of the road.
Not seeing any open restaurants that appealed to us we continued back to Stemnitsa where we had a light dinner. We then returned to Mpelleiko where we enjoyed an excellent bottle of Boutari Chardonnay with candle light on our terrace.
Again a very hot (into the 30s) day, somewhat unexpected here in the mountains but very nice with hardly a cloud in the sky.

Fresh courgette flowers + Nena's cooking skills = a moist and tasty omelette.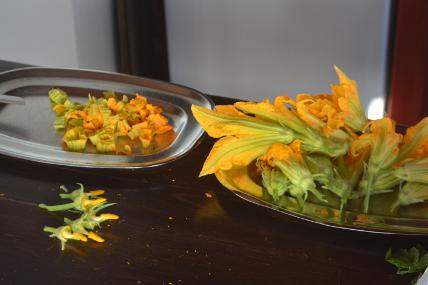 The finished product - the courgette flower omelette.



Gayle enjoying the morning on our terrace.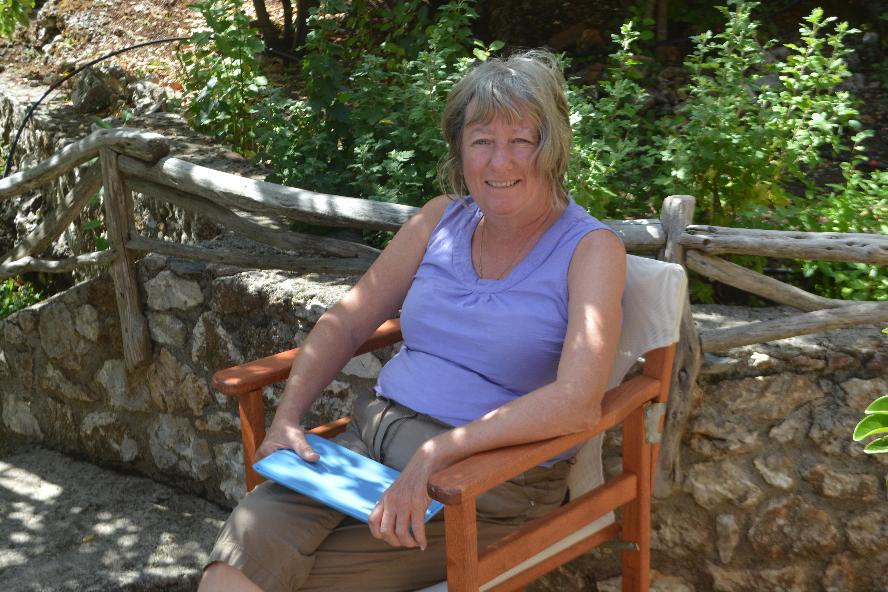 Stemnitsa, with its stone buildings and orange roof-tops.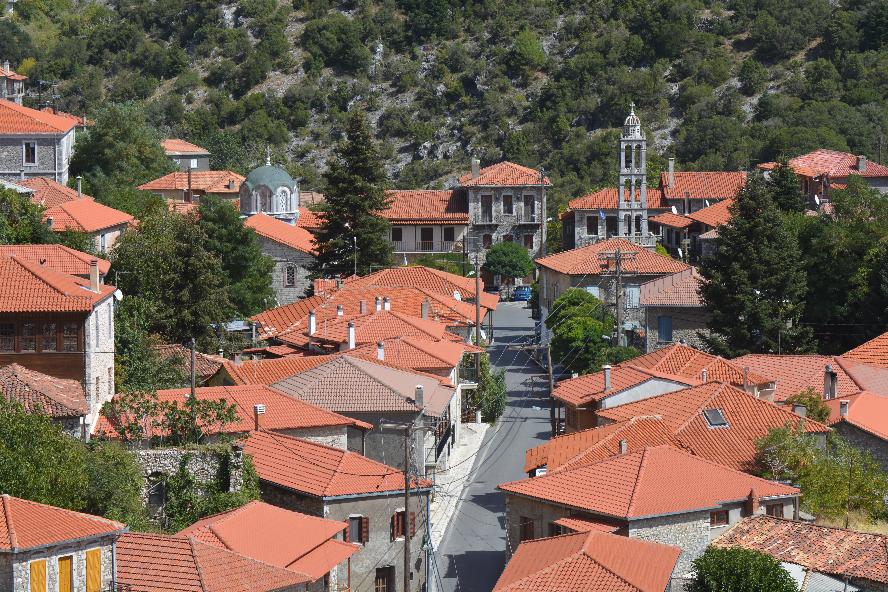 Some of the beautiful scenery here near Stemnitsa and Loisos Gorge.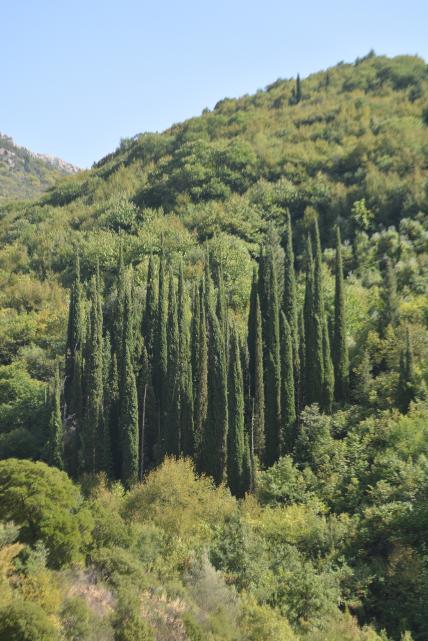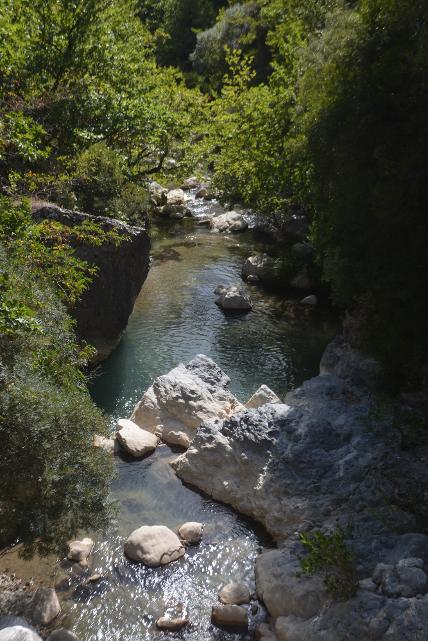 Dipping our feet in the Loisos River.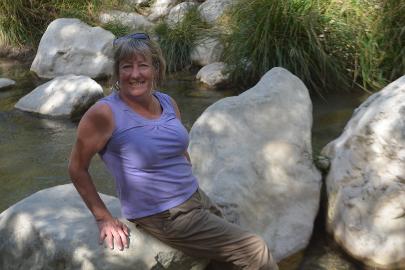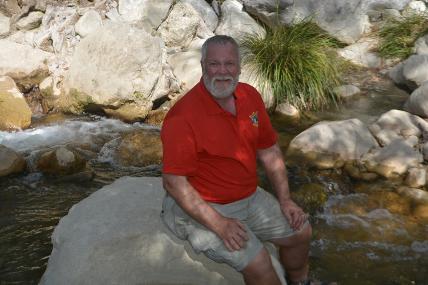 The Loisos gorge, and yes that is the road on the left of Gayle.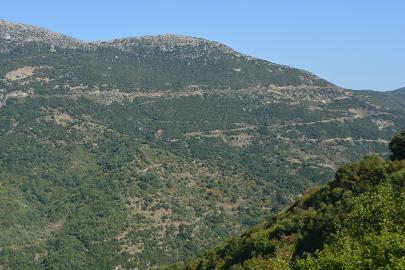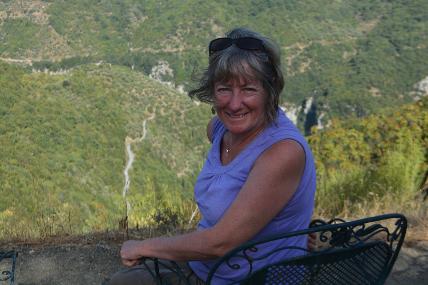 Sights in the Peloponnese mountains, including the roadside turtle and waves of mountains.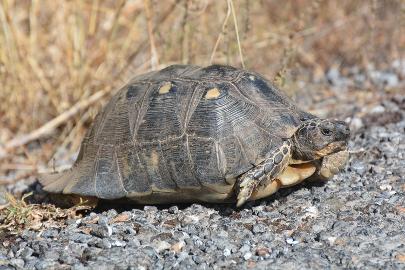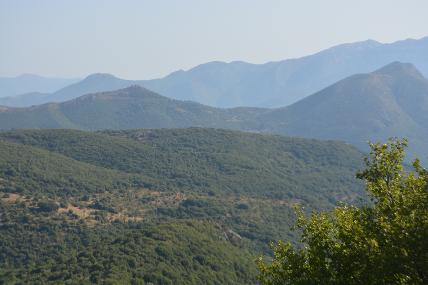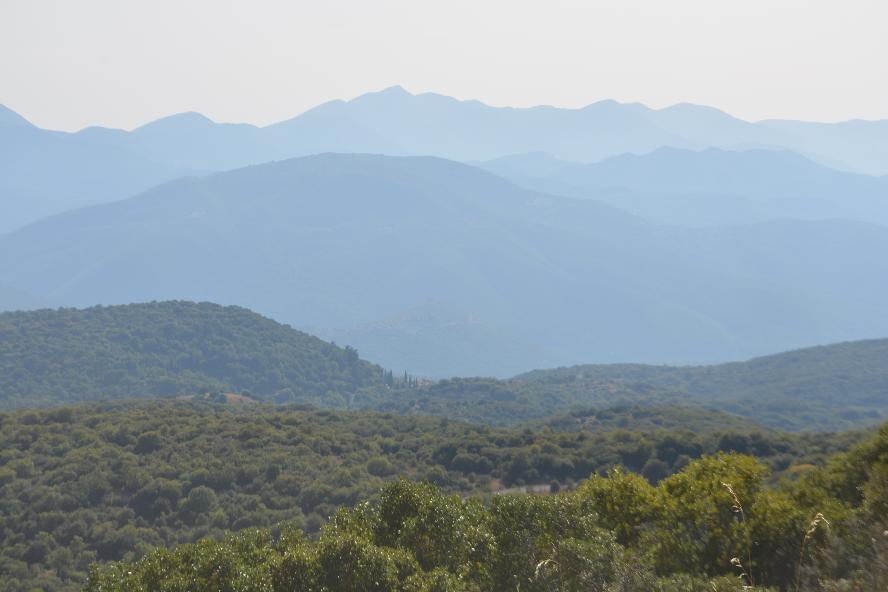 Part of the town square and the restaurant that was unfortunately closed for the day in the really small village of Panagia.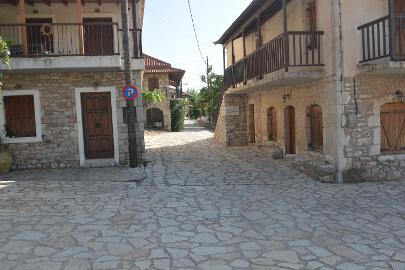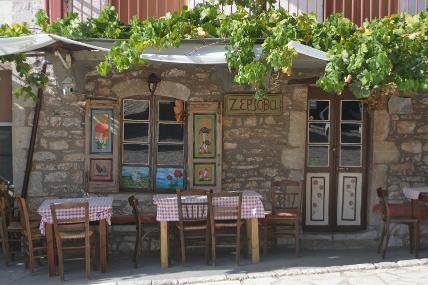 Three old fellows passing the day in Dimitsana.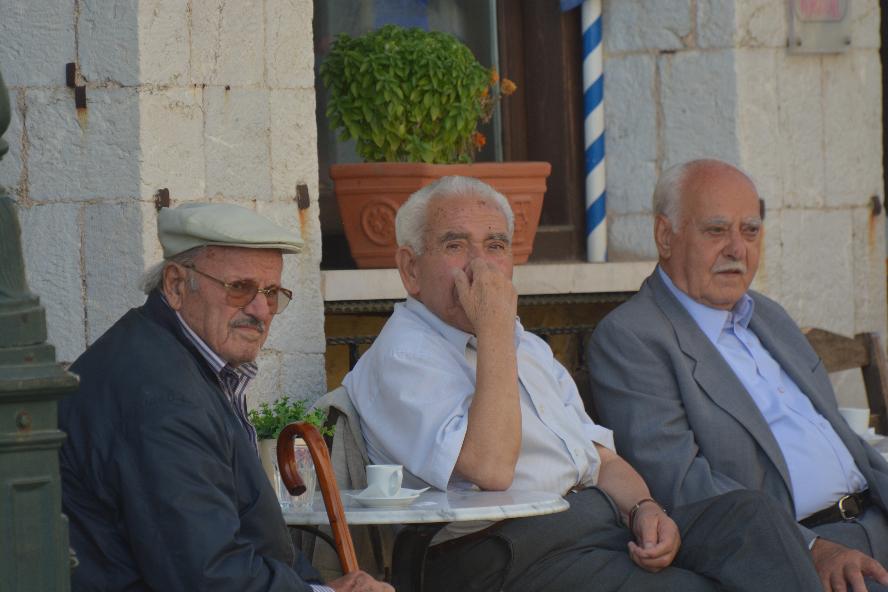 Mountain sausage for me and a simple tzatziki for Gayle for dinner.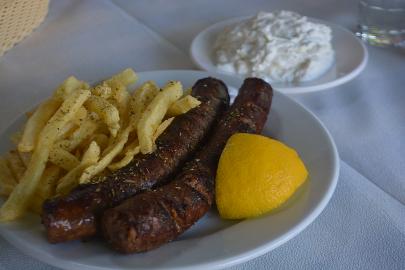 A nice bottle of wine with a candle in the driftwood made for a great end to the day.


September 18, 2017 - Amorgos to Naxos to Athens to Stemnitsa

A long travel day - one of those you just have to accept and get through - the day started with a 4:15 am alarm that allowed us to get to the port of Katapola for 5:15 am to make our 6:00 am Blue Star ferry from Amorgos, with stops in Koufonisi, Schinoussa and Icarea, to Naxos. We arrived at 9:10 am, providing a bit of time during which we had breakfast in the port before taking a taxi to the airport.
Although we arrived well before check in began the small, actually sardine packed teensy weensy airport was already full. We met a nice Australian family (three young boys 7, 5 and 20 months) from Melbourne. Not a word of a lie I pull out my binder to get the printout of our tickets and the dad says to me
"You must be either an accountant, teacher or actuary
". An actuary! I guess it was third on his list but really, in the teensy weensy airport of Naxos not only is there someone who knows what an actuary is but pegs me for one based on the organization presented in a binder with date tabs. Go figure.
The 25 minute flight to Athens passed in no time. We easily obtained our rental car and headed out on our drive to the village of Stemnitsa in the Peloponnese mountains. Virtually the entire trip was toll highway driving where speed limits reached 130 kph but one must be aware of vehicles blowing by you at much faster speeds.
In addition to being sunny it was very hot today, reacting 40 degrees C (104 F) along the route. We were looking forward to reaching the mountains were we were hoping the temperatures would actually cool off a bit.
It did not take to long to bypass Athens, head north to Elifsina, and then west past Korinthos and Tripoli. It was not obvious the exit to turn off into Tripoli so we continued on towards Megalopolis where a toll booth collector told us the exit to take. In Megalopolis we purchased a map (no GPS for these travelers) of the Peloponnese and after a short stop at an ancient theatre we drove the 45 km north, the last 10 of which became quite impressive driving cliff-edge roads. Eventually we made our way to the small village of Stemnitsa where we quite easily found Mpelleiko, our 'home' for the next two nights.
We went down to the one open restaurant in the village where we had a typical Greek meal - we shared a very tasty saganaki, and then for Gayle you guessed it - a Greek salad, and lamb in lemon sauce with fries for me. Quite tasty. We returned and crashed early (9:00 pm) given the effects of our very early awakening.
Not a lot of photos today given the travel - makes up for other days :-).

Breakfast in Naxos - love that freshly squeezed orange juice.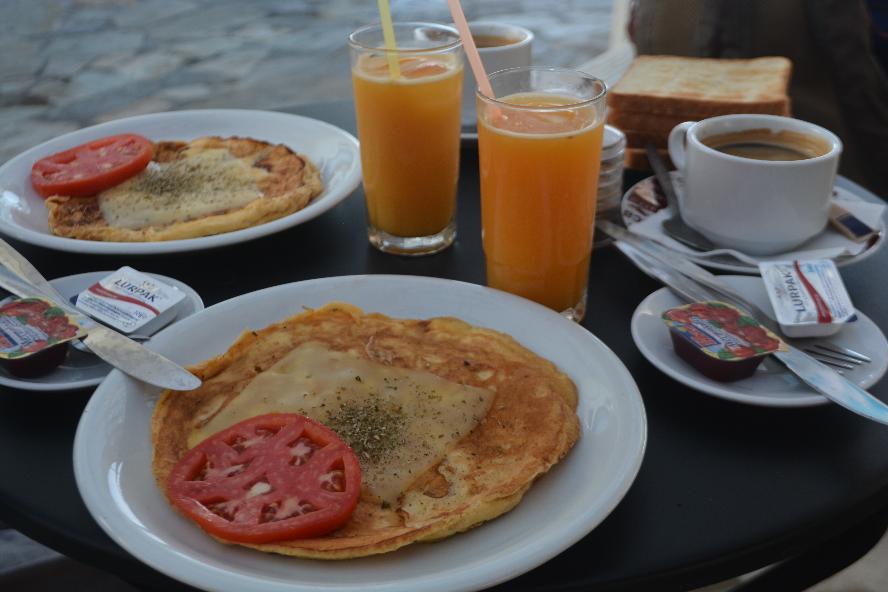 An ancient Greek theatre just north of Megalopolis.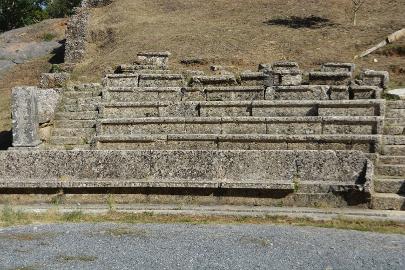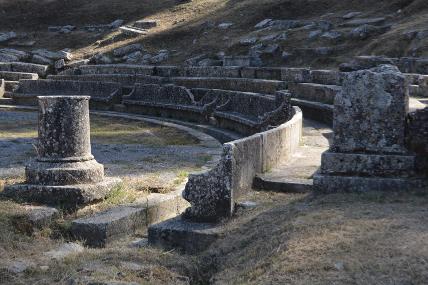 Mpelleiko Guesthouse and our nice terrace.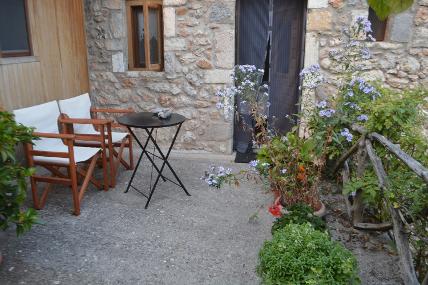 Our room and fireplace at Mpelleiko Guesthouse.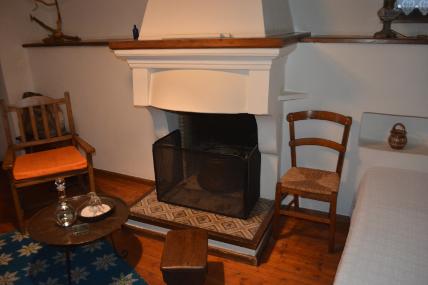 Saganaki and lamb in lemon sauce.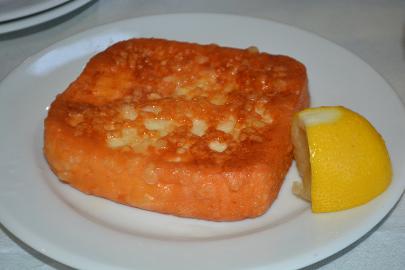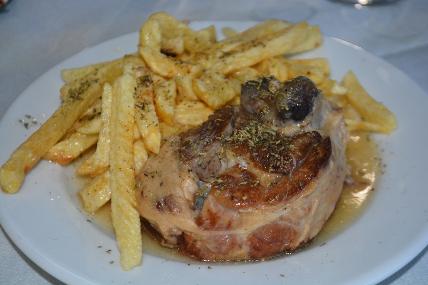 September 17, 2017 - Chora, Amorgos with a drive to the west end of the island

With breakfast not included (there is a hotplate and fridge if one wanted to make their own) we went to the nearest restaurant (30 second walk) for breakfast but presumably because it was Sunday it was closed so we had to go perhaps two minutes to the next restaurant. We enjoyed a nice breakfast of coffee, fresh orange juice, toast and honey/jams, yoghurt with walnuts and honey for Gayle and for me Avgofeta Charmolypi (essentially french toast with cinnamon). We also enjoyed a great chat with Angela, born in northern Manitoba, grew up in Montreal, works in Berlin and summers in Amorgos - friendly and interesting. Breakfast was certainly very nice although the cost does make one appreciate the value when breakfast is included in the B&B rate.
We then wandered through the back alleys and squares of Chora, with its wealth of photo opportunities. We very much enjoyed our lodgings at Emprostiada Traditional Guesthouse and the hospitality of Euggelia and our decision to spend a couple of nights in Chora.
In the afternoon we drove to the western end of the island and Kalotaritisa bay and beach where we had our daily swim. The water was surprisingly choppy but also even warmer than elsewhere. A very nice swim. Nearby are the remains of the Olympia a ship that wrecked on the shores in 1980. On the way back we took a side road to Mouros beach. We didn't actually descend to the beach (we had in 2015) but rather went to the bar to have a drink, a couple of cakes and to enjoy the views of the dramatic coastline. While taking photos Susanne, who along witalh Anders were also enjoying the beautiful afternoon, offered to take a photo of the two of us. We then returned the favour taking one of Susanne and Anders (who are from just outside Stolkholm). We enjoyed a nice chat as they had wanted to stay at Pano Gitonia (but it was full) and were next going to Koufonnisi where we suggested they consider Pambelos Lodge. If even for a fleeting moment these kind of encounters are part of what makes traveling so enjoyable and interesting - meeting people from all over the world.
We returned to Chora where we went for an early dinner at Tsagaradiko. We again shared an Amorgan salad, with then Gayle having an eggplant saganaki, with pesto and local sour cheese and me pork in orange sauce. The food was very good, the service again great and the visiting cats, including Gayle's special friend that got to know us at Emprostiada, ever present. It was then home and to bed as we had to get up at 4:15 am the next morning for an early (6:00 am) ferry.

One of the windmills on the ridge above Chora.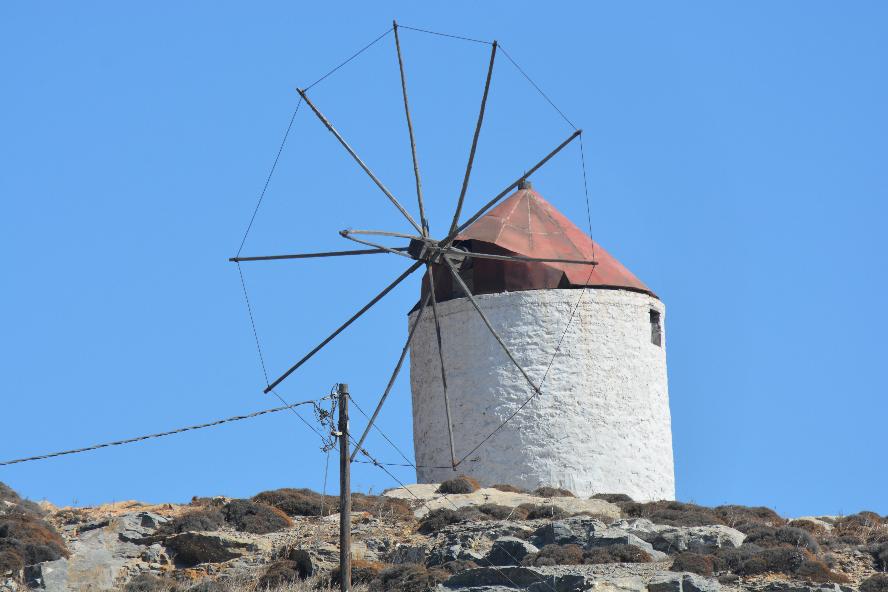 Our lodging in Chora - Emprostiada Traditional Guesthouse.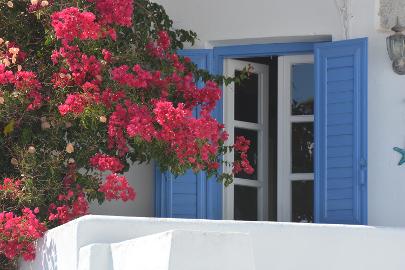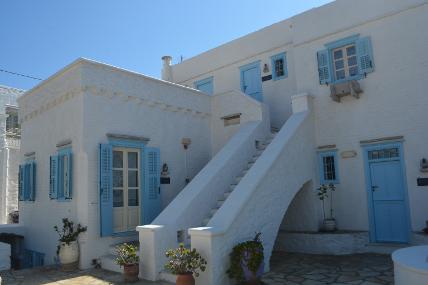 Gayle enjoying breakfast and priest who strolled by while we were eating.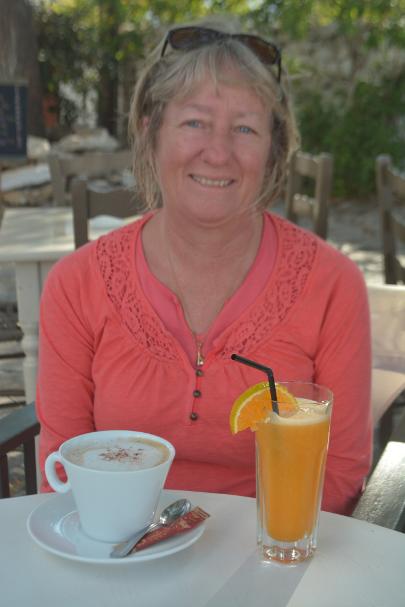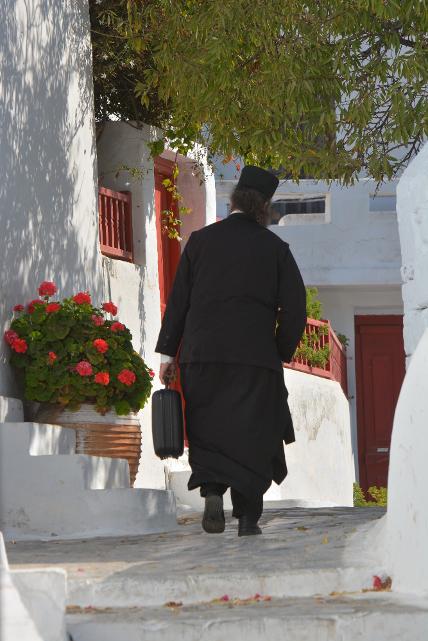 Breakfast included yoghurt with honey and walnuts and Avgofeta Charmolypi - bread dipped in egg batter, fried in olive oil with honey and cinnamon. And Angela with whom we enjoyed a nice long chat.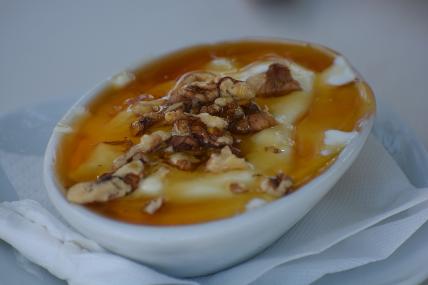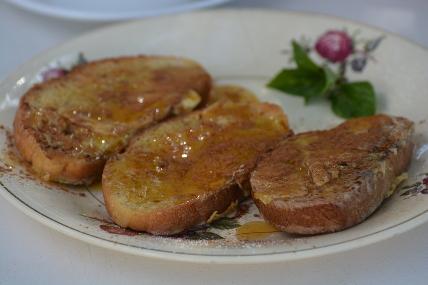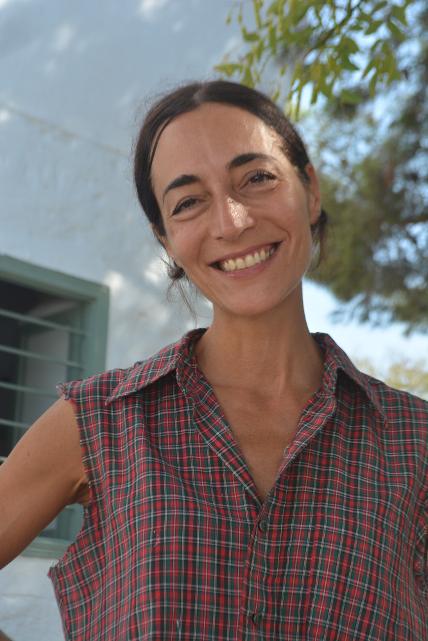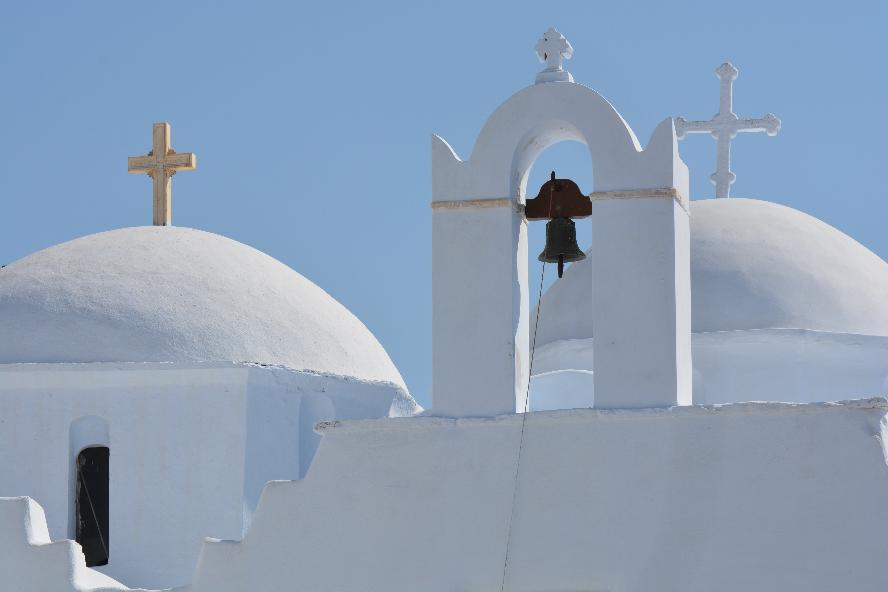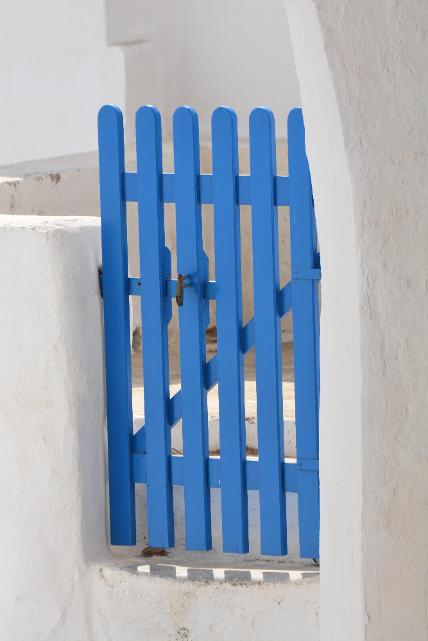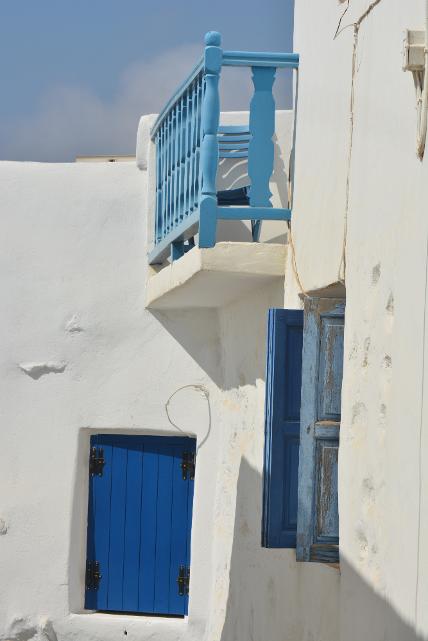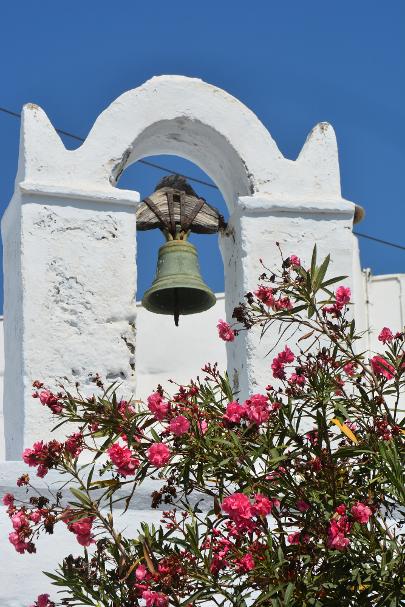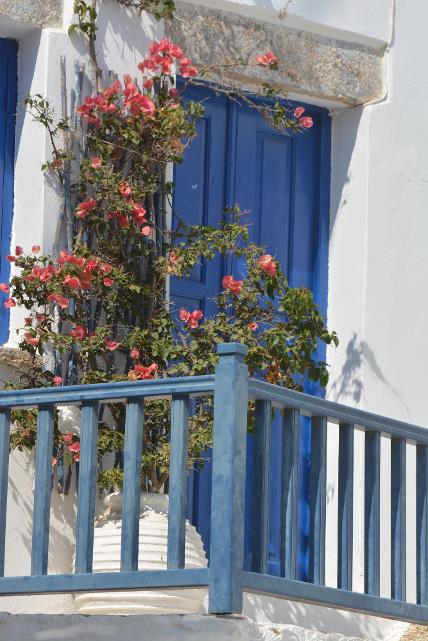 Some of the dramatic southern coastline of Amorgos.



Our first glimpse (at least on this trip) of Kalotartisa bay.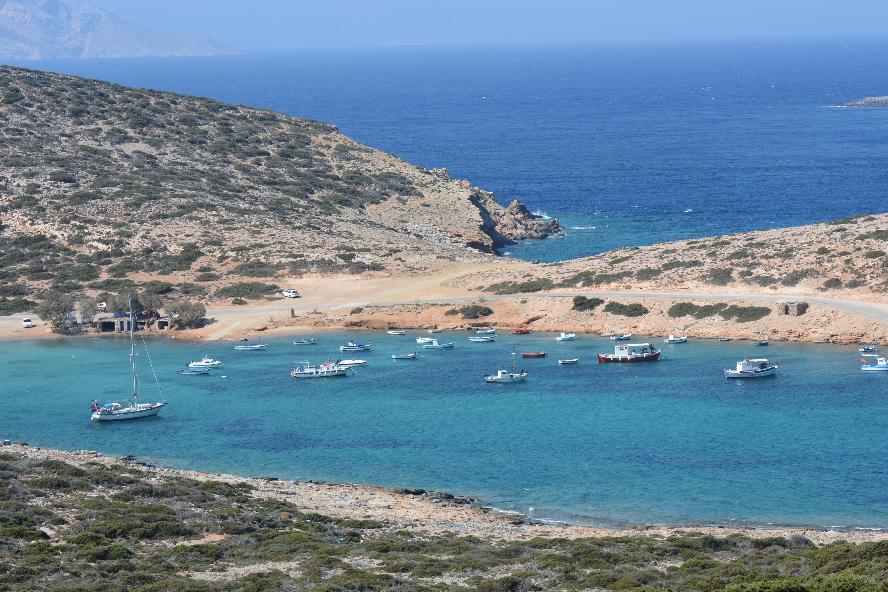 Kalotaritisa beach where we enjoyed today's swim.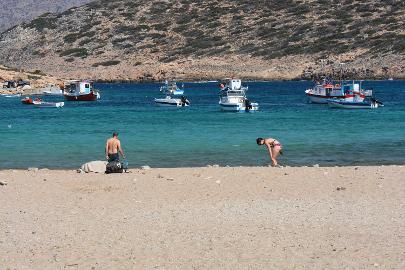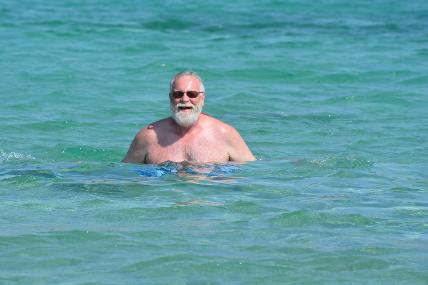 The ship wreck off the coast of the western tip of Amorgos.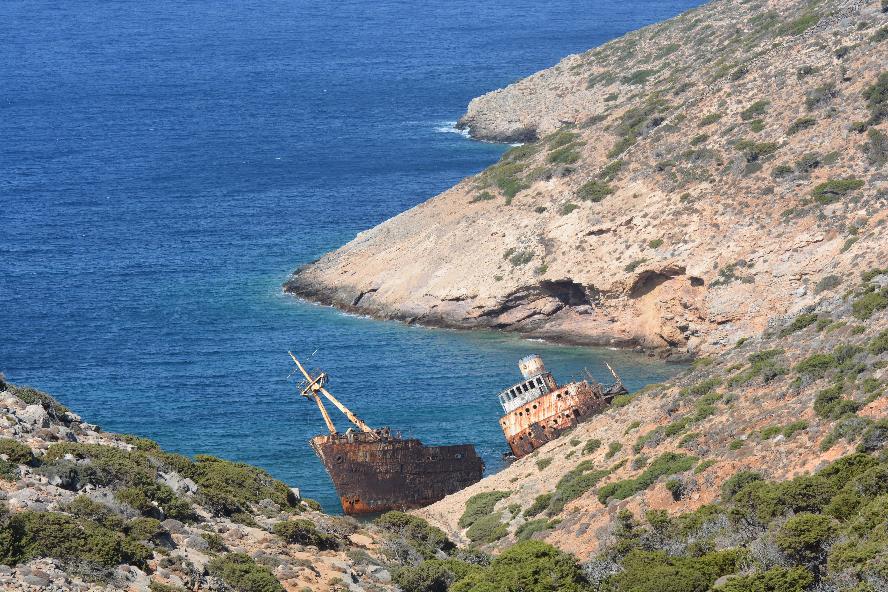 Anders and Susanne (who took our photo below), a couple from outside Stockholm we met at the bar above Mouros beach, and the view down to the beach.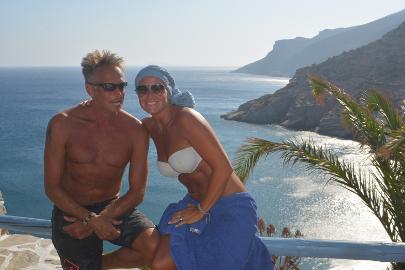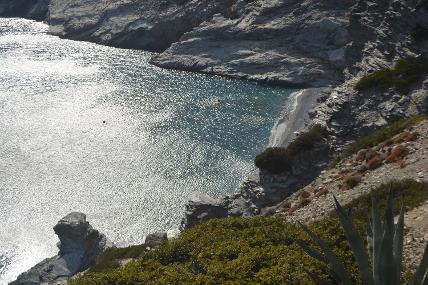 Happy at the bar above Mauros beach.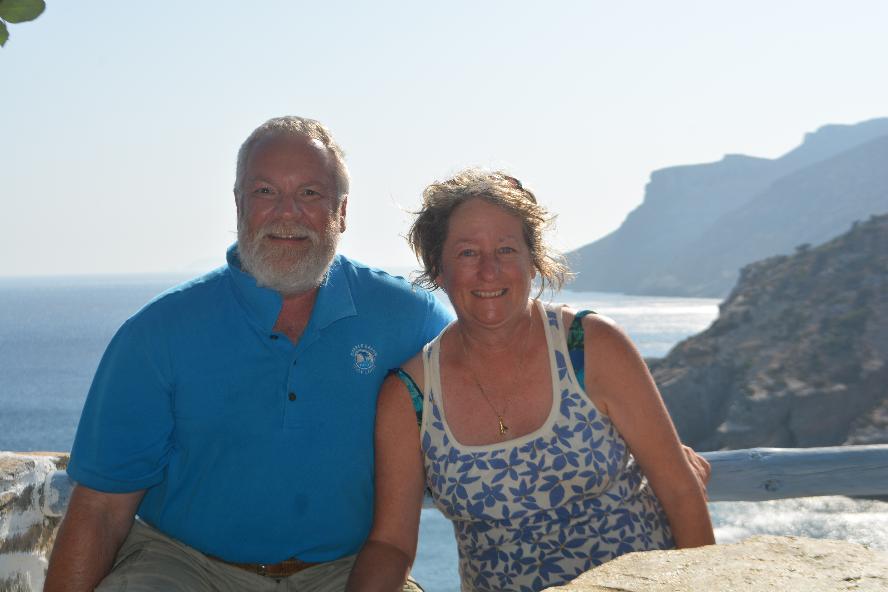 Churches in Chora in the black of night.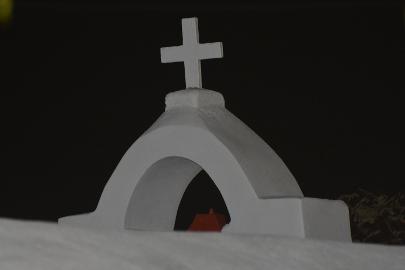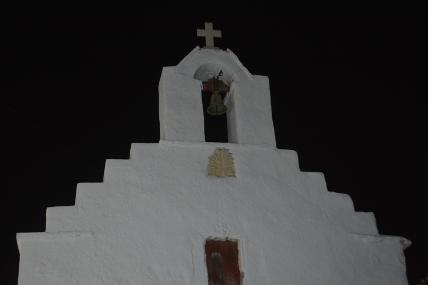 Gayle and her new best friend.



Eggplant saganaki with pesto and pork in orange sauce.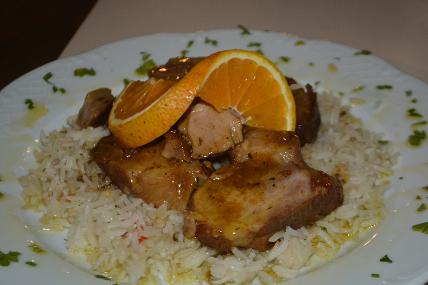 September 16, 2017 - to Emprostiada Traditional Houses, Chora, Amorgos
Sadly we had to pack up and leave Pano Gitonia and Aigiali today. Linda and Bill actually left Amorgos for a night in Naxos followed by four nights in Syros and then two nights in the mountains of the Peloponnese We will meet up again in a weeks time in Monemvasia.
Meanwhile we had a much shorter day, a half hour drive to Chora where we easily found our home for the next couple of nights - Emprostiada Traditional Houses. Built only ten years ago we thought they were centuries old, that's how well they were designed. Our two level maisonette - Fanos - is the cutest thing.
After settling in we went for a stroll through the alleyways of Chora. Immaculately clean white-washed buildings with colourful (usually various shades of blue with a sprinkling of green, brown and red) doors and shutters, churches and restaurants/tavernas at every plaza and corner this is a most interesting village to stroll through, with endless photo opportunities.
We then drove down to Katapola to pick up our ferry tickets.
Afterwards we went out to Maltezi beach, first driving a narrow essentially one lane road for a km or two and then a 20 minute walk to the beach. Mostly sandy the warm inviting water was great for our our daily swim. The setting sun provided some beautiful lighting on the beach, a church on a rock outcrop and the port of Katapola.
We returned to Chora for dinner, eating at the same restaurant where we had lunch two years earlier. The service was very good and the food decent, if not as good as we remembered it. We started with a very tasty saganaki and some ok tomato balls - the accompanying tzatziki was a nice addition. Then Gayle had a sweet and sour aubergine dish that while looking nice just wasn't to her liking and I a goat (or at least that's what the server thought the meat of the night was) kebab - ok but not outstanding. A three minute walk had us back to our place where we turned in.

Yet another great (sunny and warm) Greek day. Here we are on our last morning in Aigiali.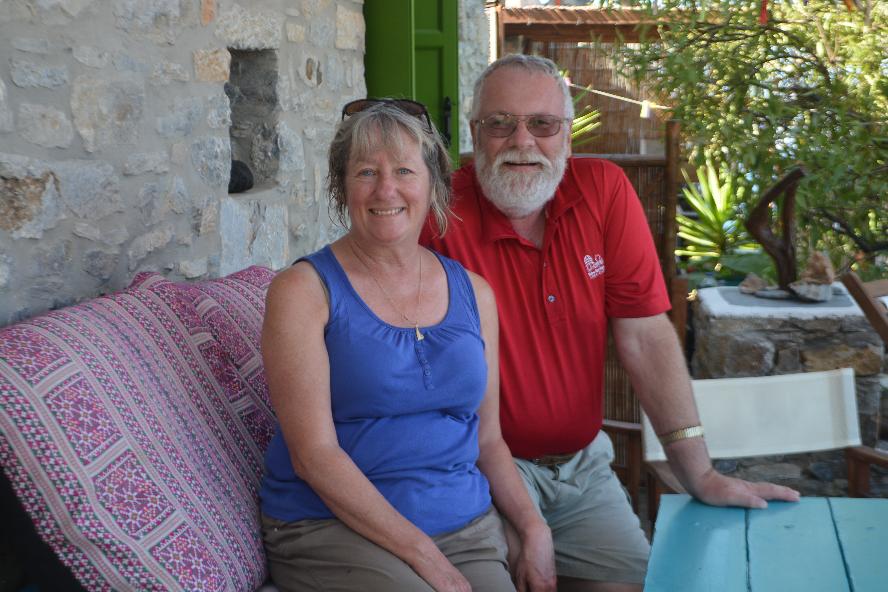 Our final views as we leave Pano Gitonia.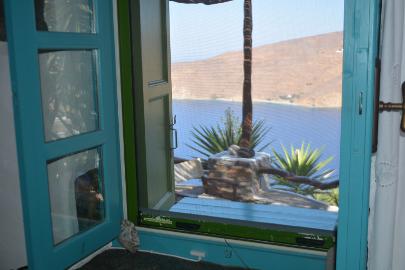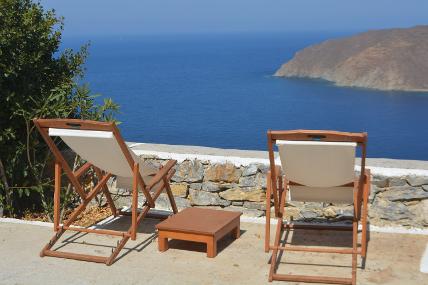 Amorgos, where we were told goats (in particular) and sheep out number human residents 10 to 1.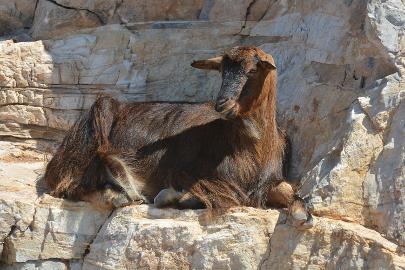 One of the narrow alleys and the restaurant where we later had dinner in Chora.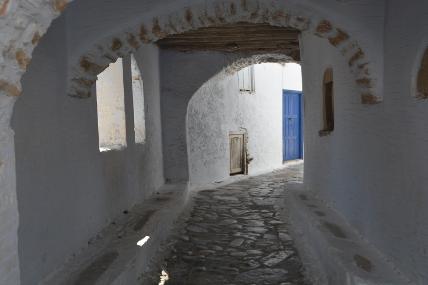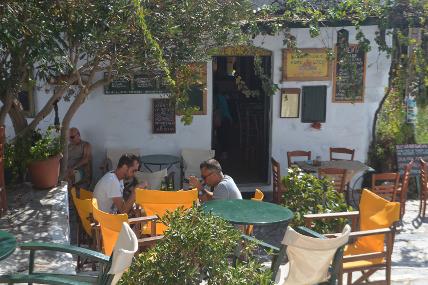 Enjoying a drink and a cake on a rooftop restaurant.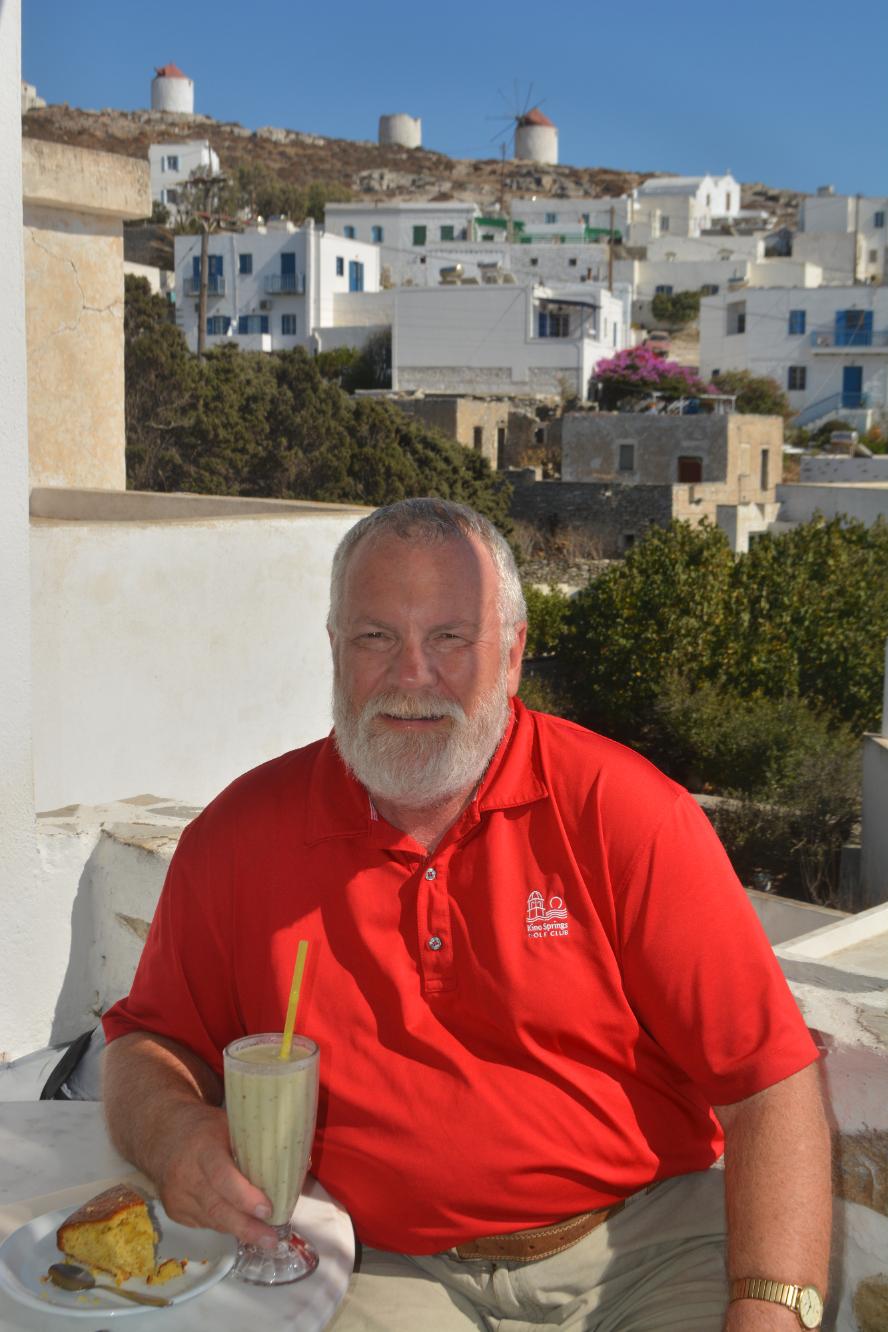 Bougainvallea, white-washed buildings and churches.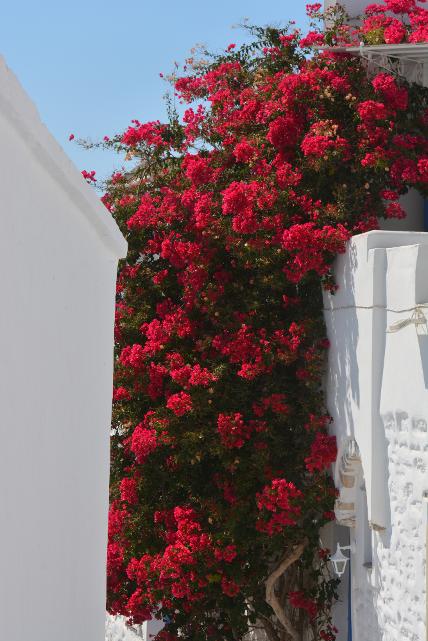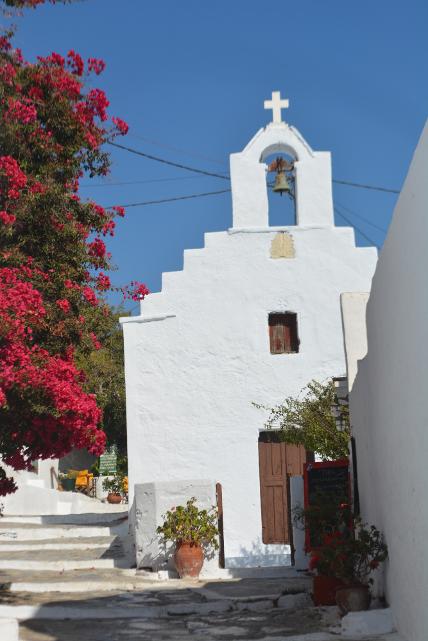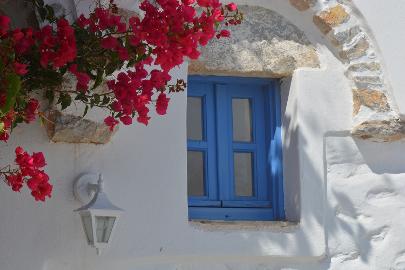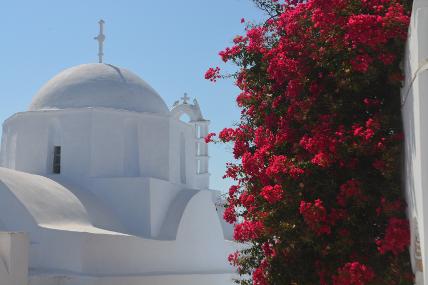 More typically Greek blue doors and windows.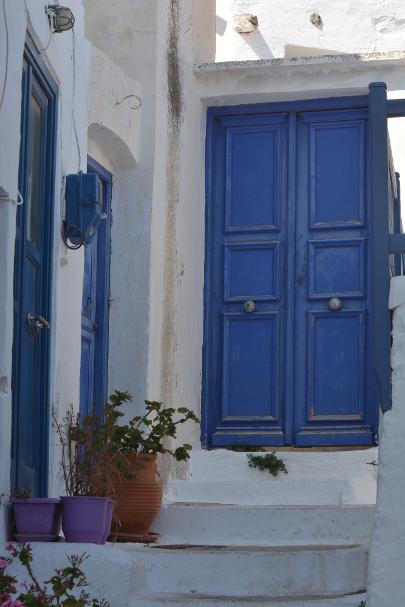 Two elderly friends of Chora who were happy to have their photos taken.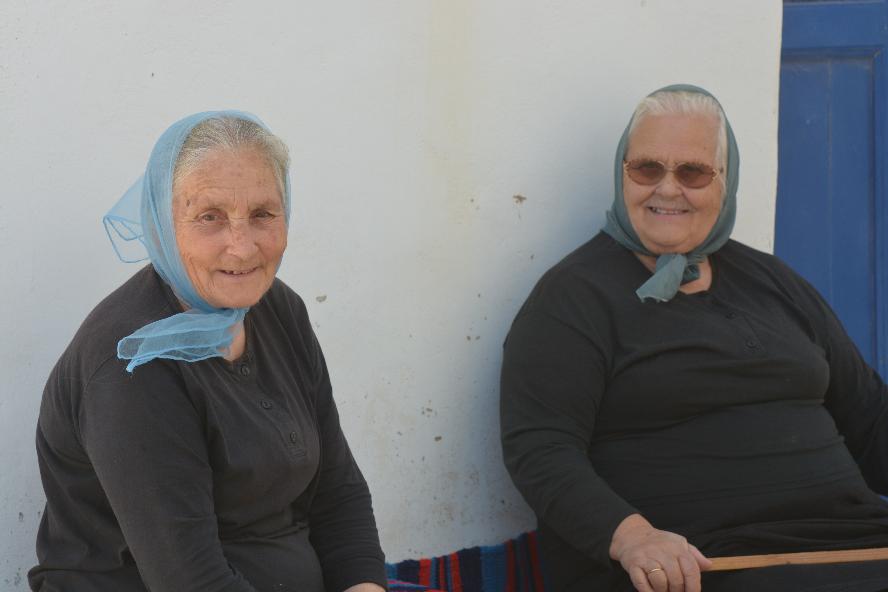 Katapola as seen from Maltezi beach.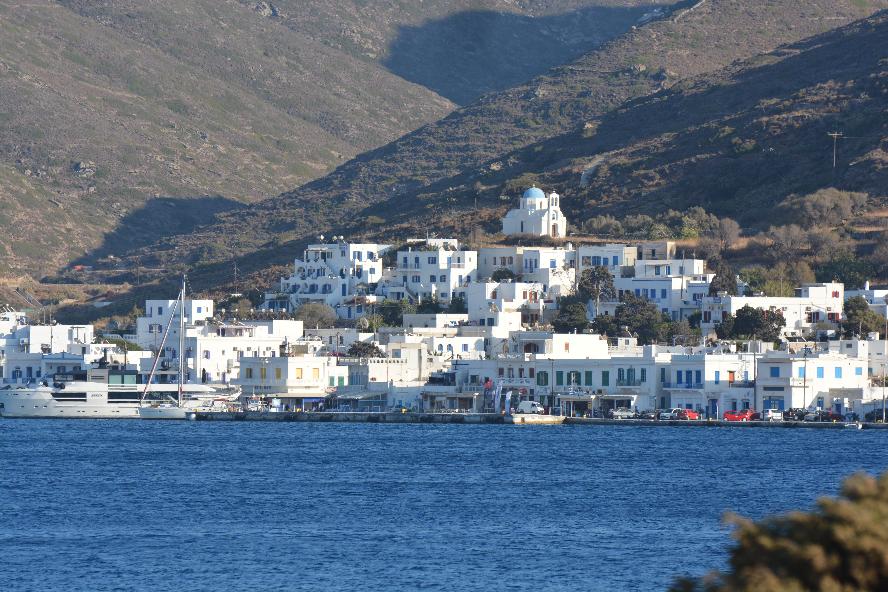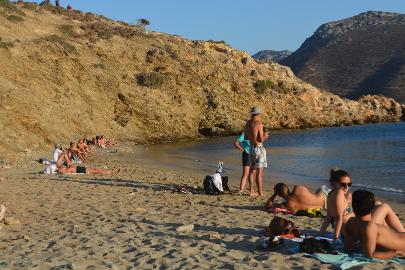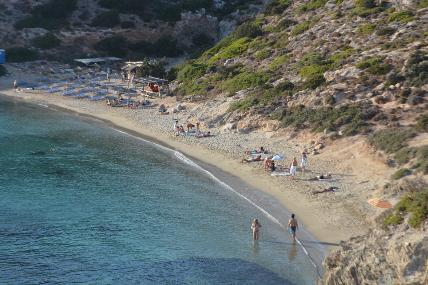 Two images of Katapola harbour - a church on a rock outcrop and sunset over the harbour.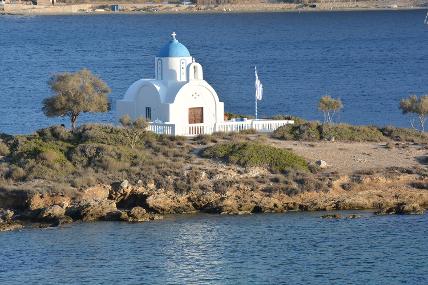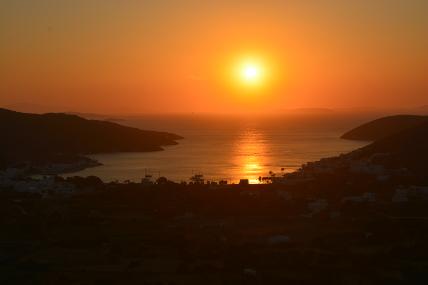 Just relaxing before dinner and an appetizer of tomato balls.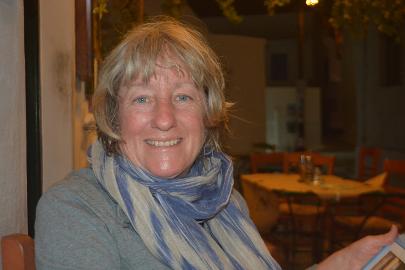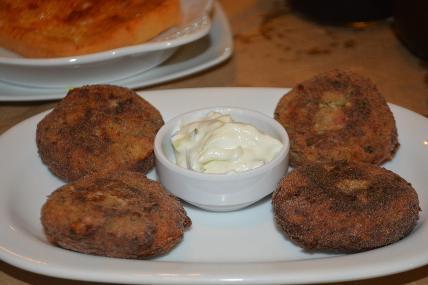 Saganaki and goat kebabs.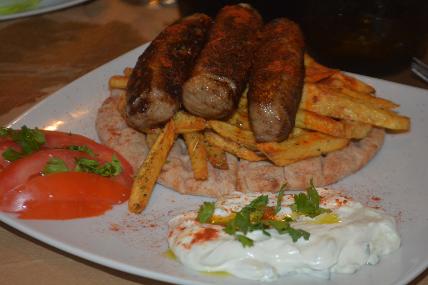 September 15, 2017 - Pano Gitonia and Potamos/Aigiali, Amorgos
Day three of not doing much - again spending the morning and early afternoon here at Pano Gitonia.
Today we were out even less, with only a trip down to Aigiali beach, another nice sandy beach adjacent to the town. Afterwards we picked up some more milk for our coffee, as well as a spinach pie and another baklava at the bakery. After eating the spinach pie we grabbed an apple we had not eaten and climbed up to 'treat' Alex, the mule. After nothing much but dry hay we expect the apple was a special treat.
For dinner we returned to Kamara. Gayle had another large delicious Amorgian salad while I the moussaka. Unlike the other night there were very few diners, so few that we had the whole upper level to ourselves. The music, at least early on, was not great dinner music but the views across the sea and the sunset were again special.
It is hard to say much on a day when we didn't do much but we certainly are enjoying this relaxing time here in beautiful Amorgos.

The road up to Potamos and Pano Gitonia.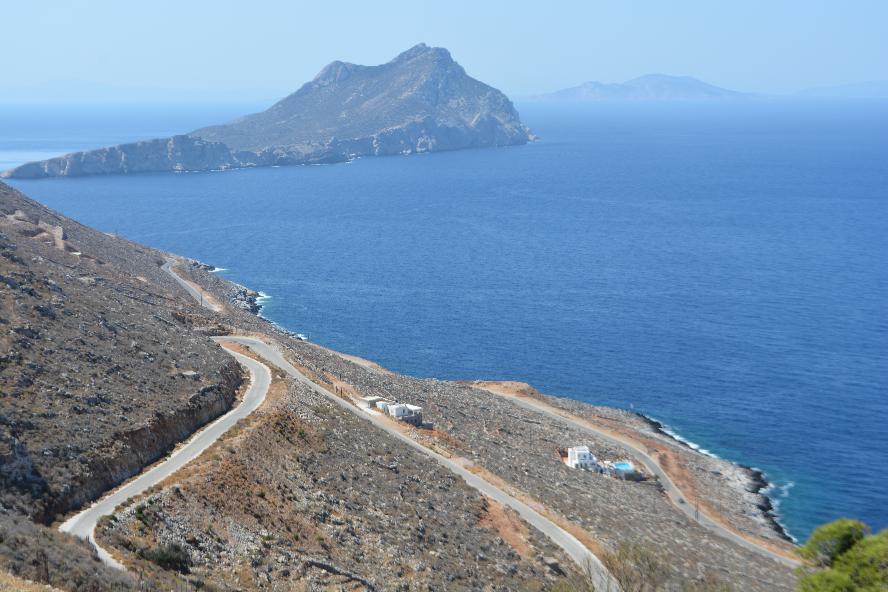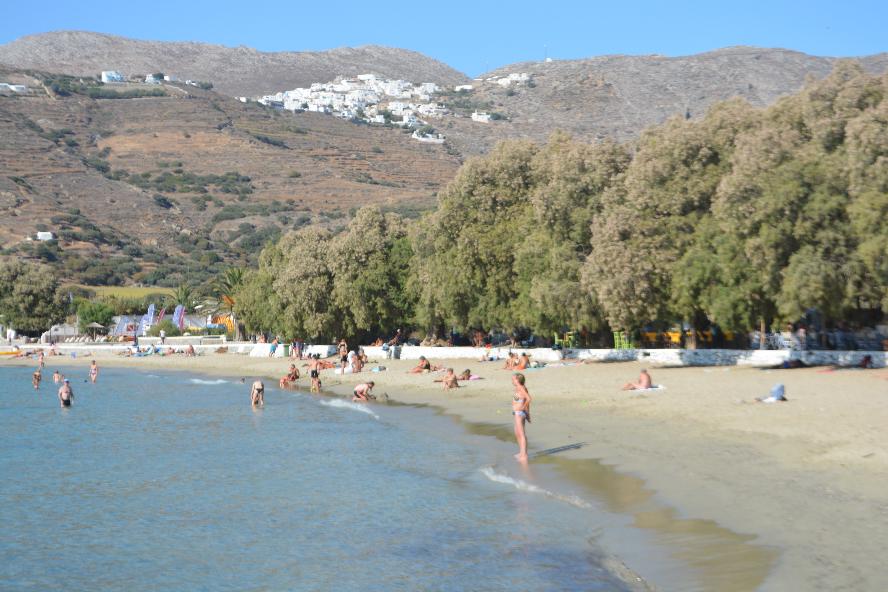 The windmill in the port of Aigiali.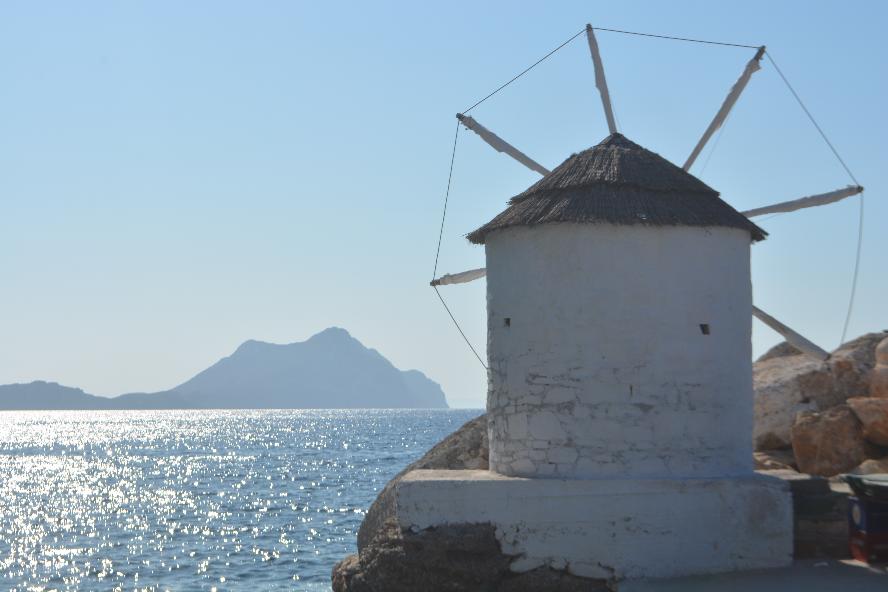 A restaurant in an alley of the Port of Aigiali and their fresh fish of the day.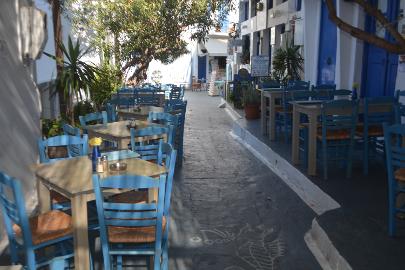 An afternoon snack for our friend Alex the mule.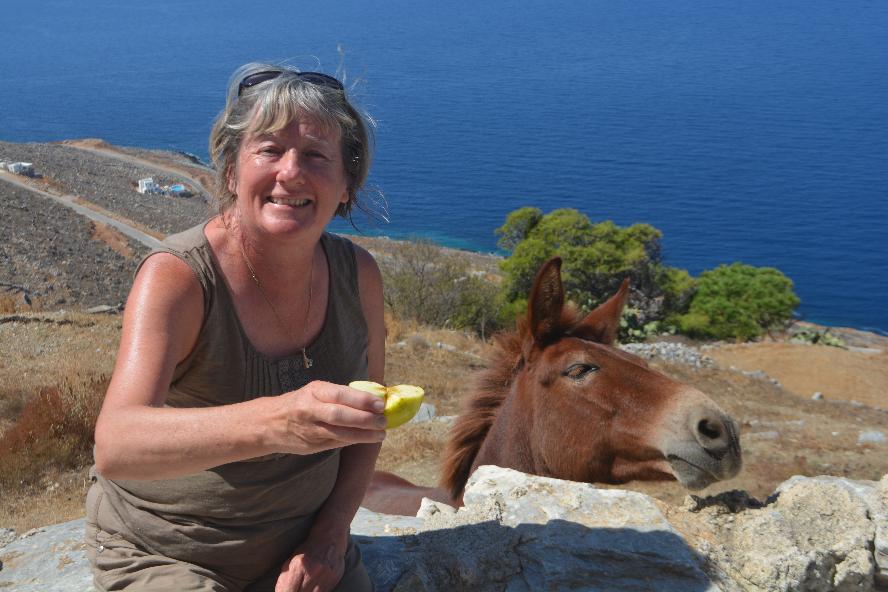 On the way back from feeding Alex.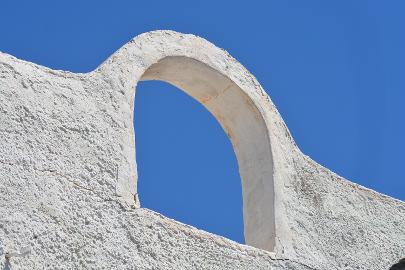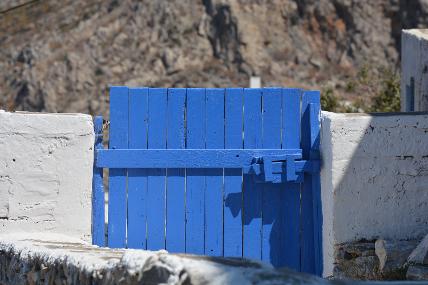 Look left past our room to the sea; look right to Gayle enjoying some hammock time.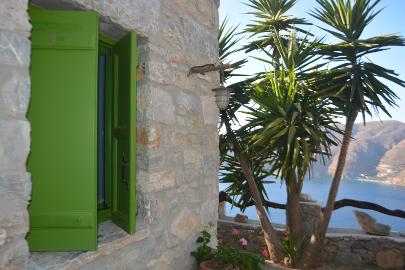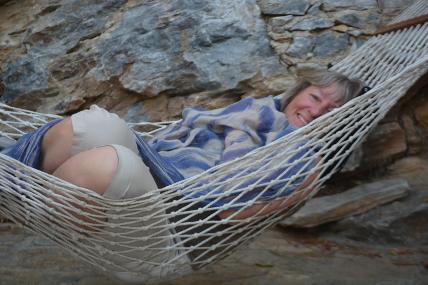 About to have dinner at Kamara.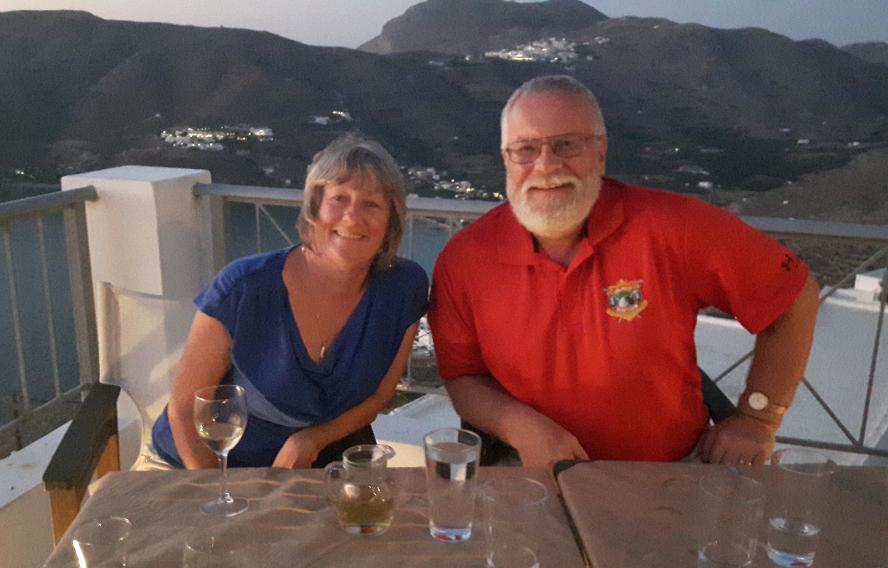 Aigiali harbour as night falls.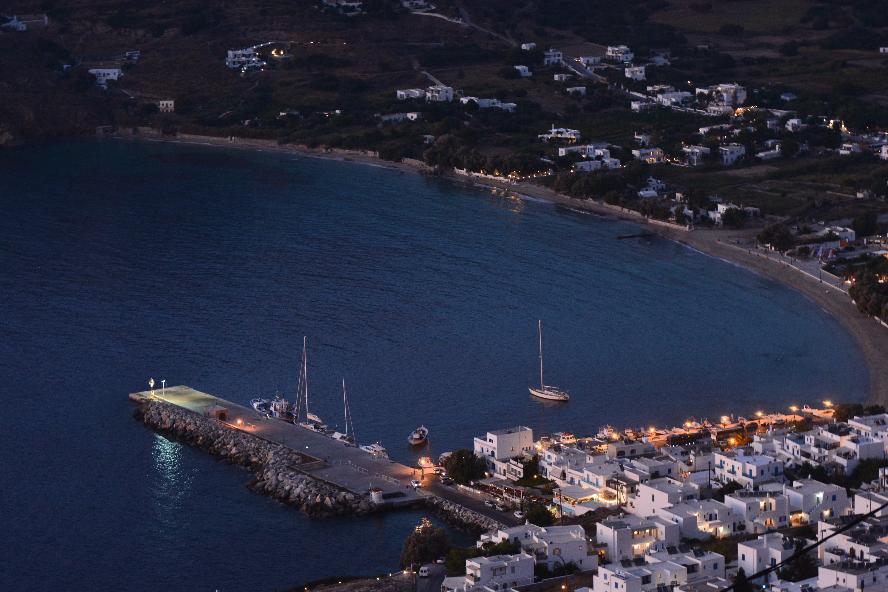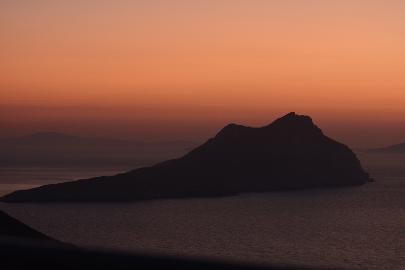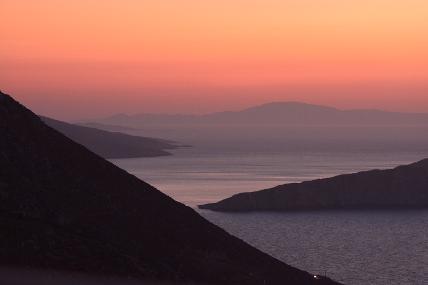 Another Amorgian salad (basically a Greek salad with local cheese, capers and small Amorgos olives, and moussaka.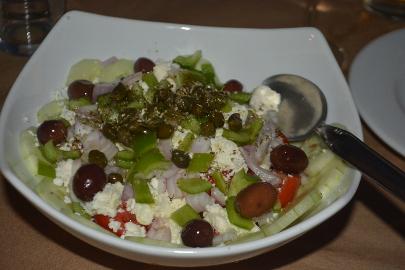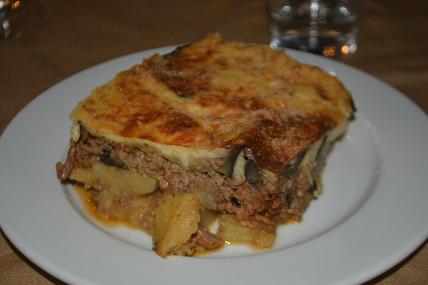 September 14, 2017 - Pano Gitonia and Potamos/Aigiali, Amorgos
Day two of spending most of the day sitting around here at Pano Gitonia, doing little more than enjoying the scenery. Mid afternoon we went to a beach across the bay - Levrossos beach. A relatively steep walk from the parking area literally through a small taverna leads one to the sandy beach. There were a very few pebbles just as one enters the water but then again beautiful clear, warm swimming. After some time in the water, and for me a short nap on the beach, we headed back up the hill but not without stopping in the taverna for some tzatziki and a couple of glasses of wine. The views of the beach and the town across the bay were wonderful.
On the way back we went up the village of Lagada. Nearby is the canyon of Araklos, the churches of Agia Triada and Panagia Epanochoriani, the windmills, and the old settlement of Stroumbos. The village has a network of narrow lanes, connecting every corner. We wandered through some of them - a pleasant stroll. We were quite impressed with the parts of the tiny village we saw.
For dinner we went to Amorgialos down on the harbour. A small but very interesting menu. Gayle had an excellent Amorgian salad while I started with the grilled potato with xinomizithra (the local soft cheese). For my main dish I ordered the grilled octopus (two nice tentacles) on a bed of black-eyed beans. No glasses of retsina; only a 500 ml bottle from Thessaloniki. Octopus and retsina - a perfect Greek meal (for me at least).
We returned and being tired - perhaps it is the sun - went straight to bed.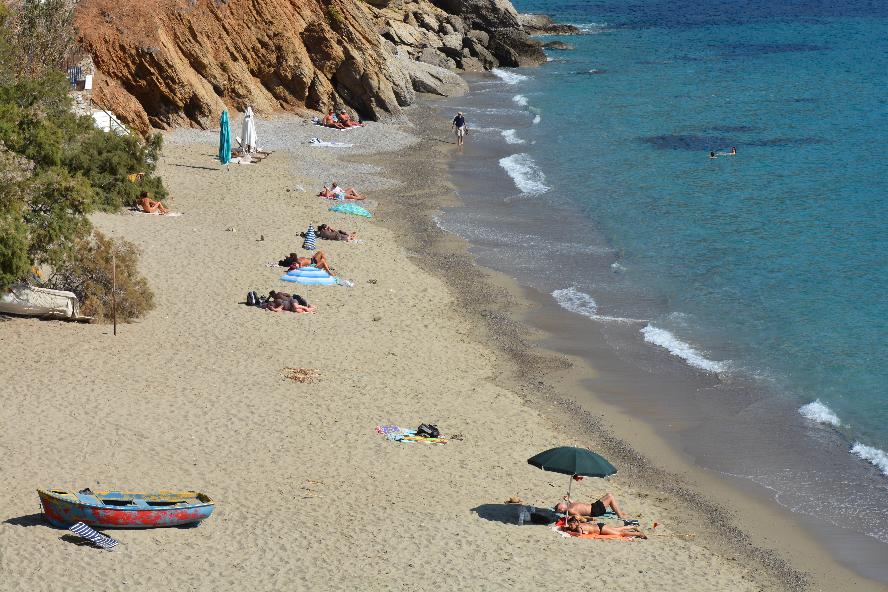 The little taverna we had to pass through on our way to Levrossos beach, and a glass of wine, bread and tzatziki we had on the way back.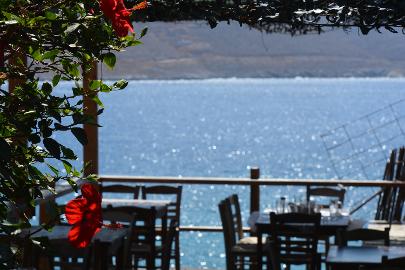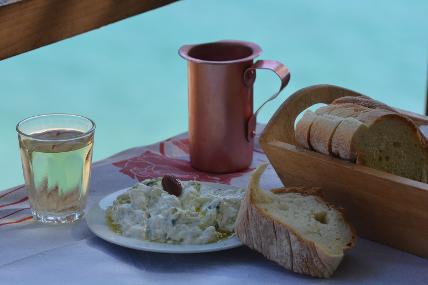 Aigiali (on the water) and Potamos (up the hill) as seen from Levrossos beach.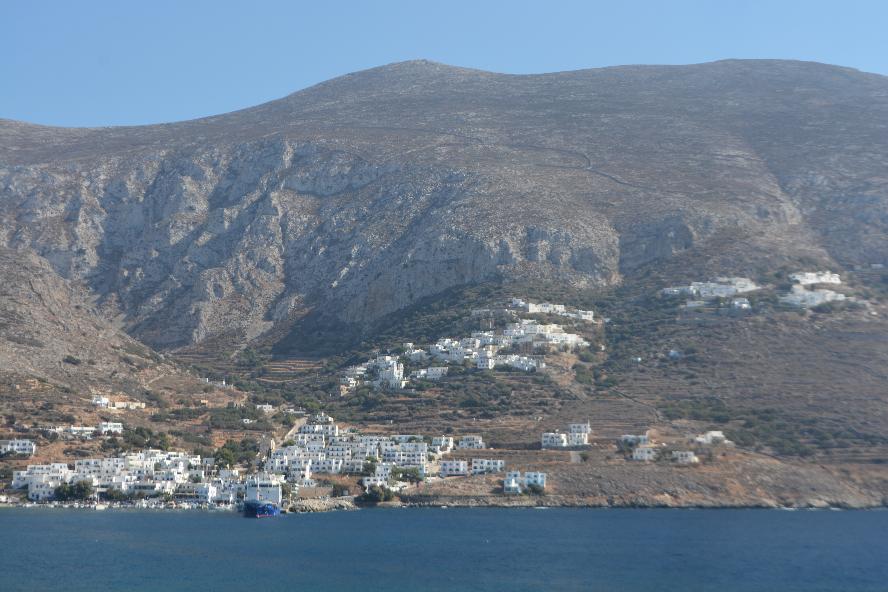 Blue doors, windows and shutters everywhere.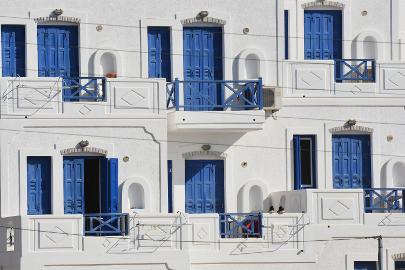 Winding twisting alleyways with brightly painted blue doors.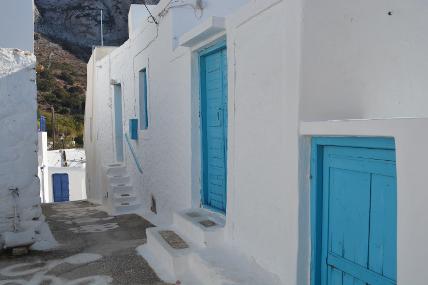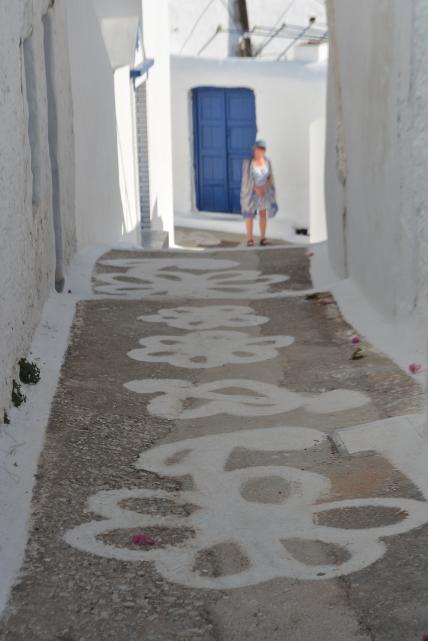 More attractively painted Greek doors.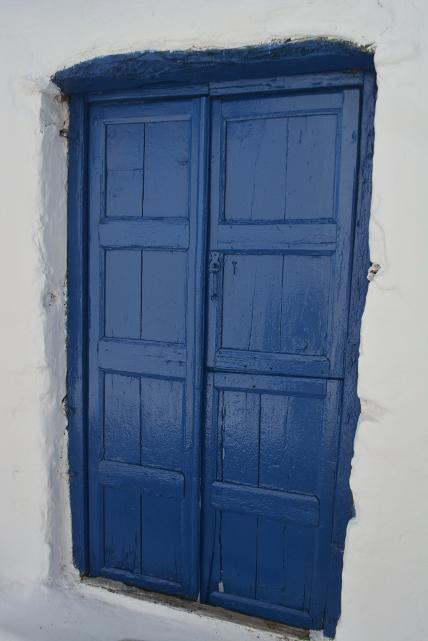 The mountain village of Lagada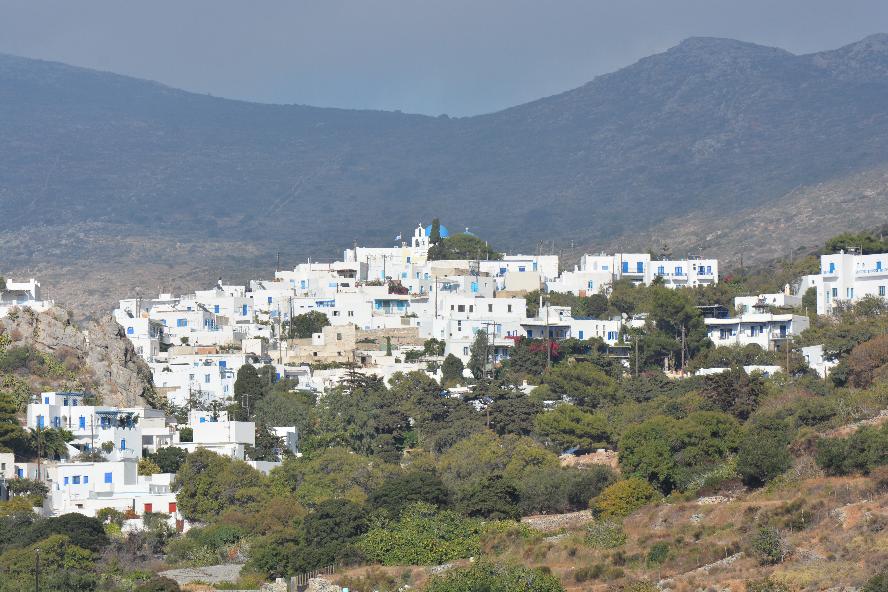 And yet another Amorgos sunset. Happy happy!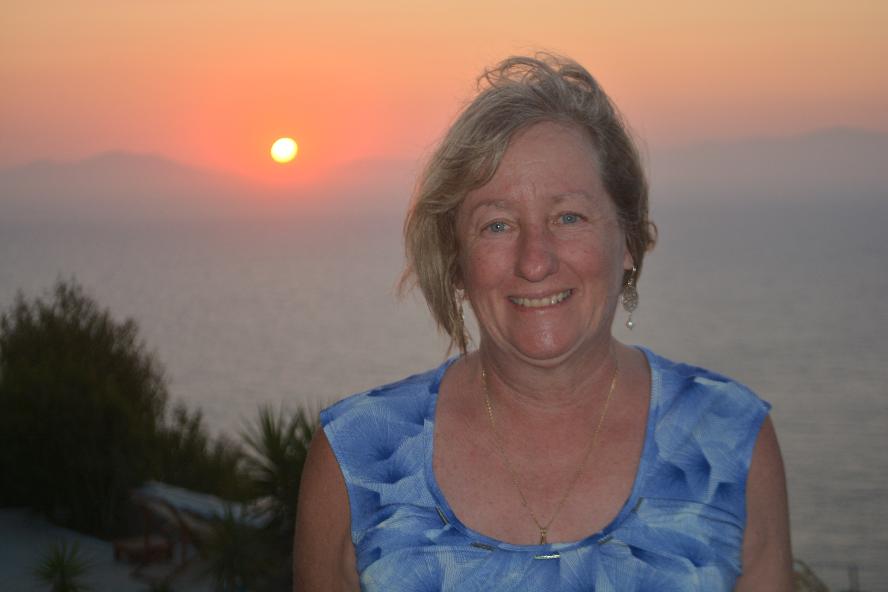 Gayle's Amorgian salad and my octopus on a base of black-eyed beans.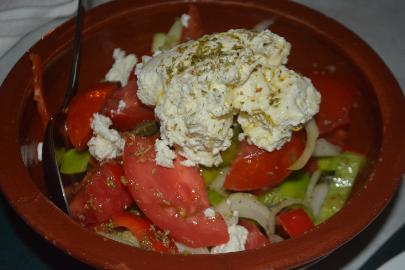 September13, 2017 - Pano Gitonia and Potamos/Aigiali, Amorgos
Having spent five nights here at Pano Gitonia in 2015 there really is little else for us to see at this end of the island. And with two nights in Chora after four here there is little reason to go to the centre or far end of the island. So these next few days are truly like being at a resort. Sleep, sit around, make some breakfast (last time we did eggs and bacon etc. but this time have decided to go a bit lighter - coffee of course, juice, bread and cheese and yoghurt with fresh fruit, walnuts and honey), relax, head to a beach, return, relax some more, which means hammock time for Gayle, and then somewhere for dinner.
For our beach today we chose Agios Pavlos Beach, perhaps 5 km from Aigiali bay towards Chora. It is a pebble beach with calm clear water. Although we didn't do so from the beach one can take a small transfer boat to Nikouria island with its three sandy beaches. Next time. The water was warm providing for a very nice swim.
For dinner we went to Kamara, up the hill in Potamos. We had eaten here a few times (two dinners and one bremoakfast in 2015) and given the prospect of another great sunset we decided to have dinner here. The views are stunning, the food quite good (Bill said it was the best meal he has had so far here in Greece) and the ambiance great, very relaxed. We shared some zucchini balls (ok), Gayle had a tasty spinach pie and I a very flavourful and juicy sausage. Back down to our 'home' and the second half of the Limoncello.
A very enjoyable relaxing day this is how vacation is supposed to be.
Quite the view from our terrace at Stable 3, here at Pano Gitonia, down to Aigiali Bay and the long sandy beach.
Breakfast, including a large serving of yoghurt with fresh fruit, walnuts and honey.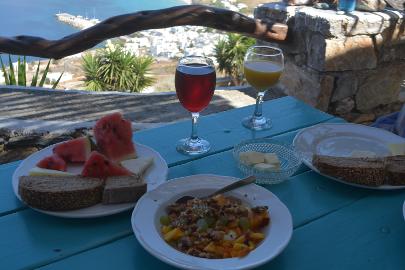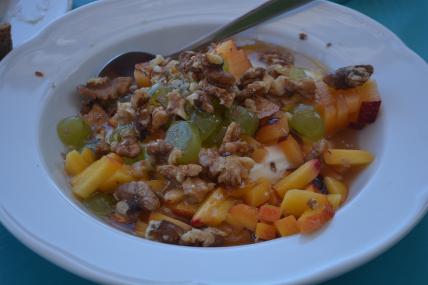 Amorgos is a rugged island, where goats thrive.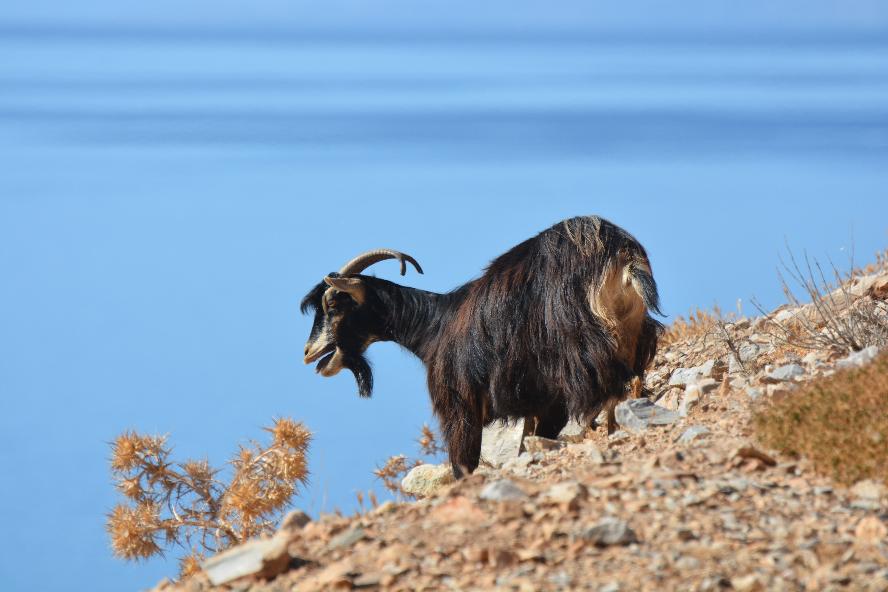 Enjoying the crystal clear, warm, calm Aegean Sea at Agios Pavlos beach,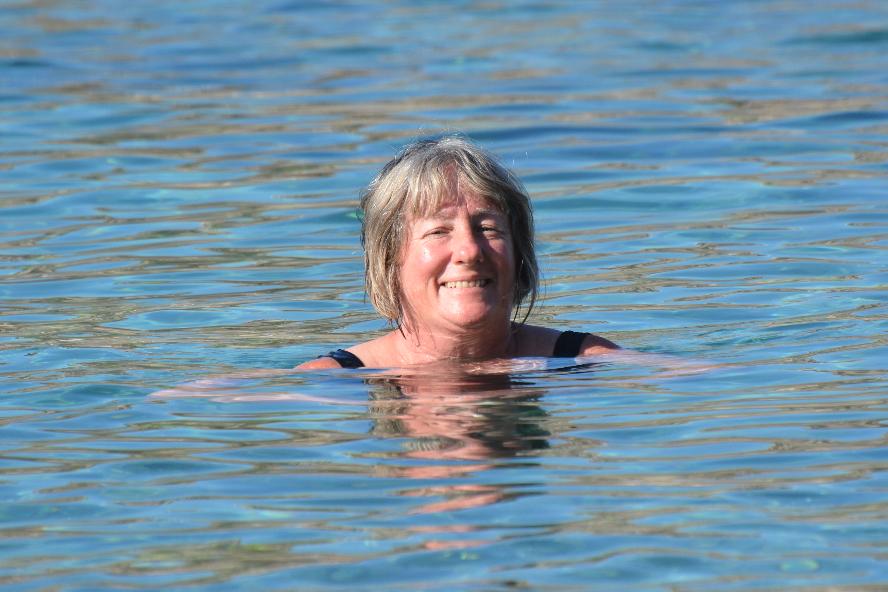 Pano Gitonia and the side of our room, Stable 3, with a wonderful view to the sea (as really all rooms have).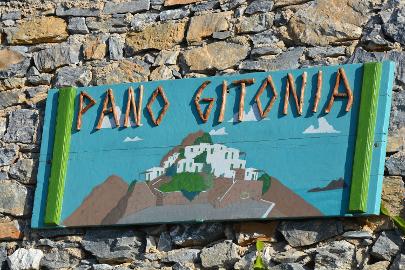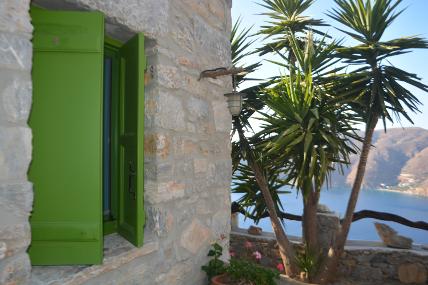 Below, one of the churches in Potamos, overlooking Aigiali Bay, and to the right a road side shrine for a young man who lost his life on the nearby curve.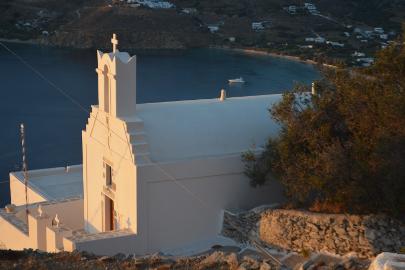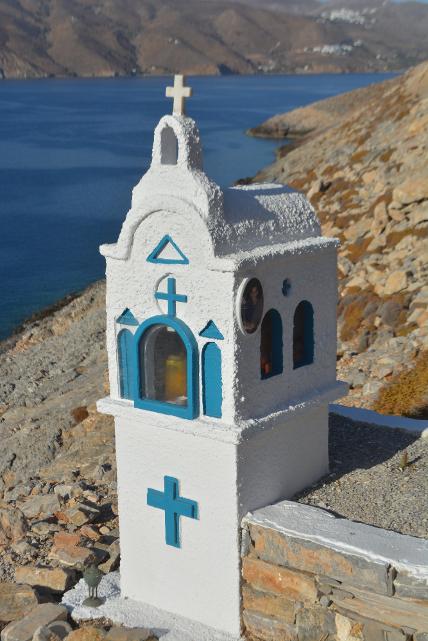 Early evening light along the north coast of Amorgos.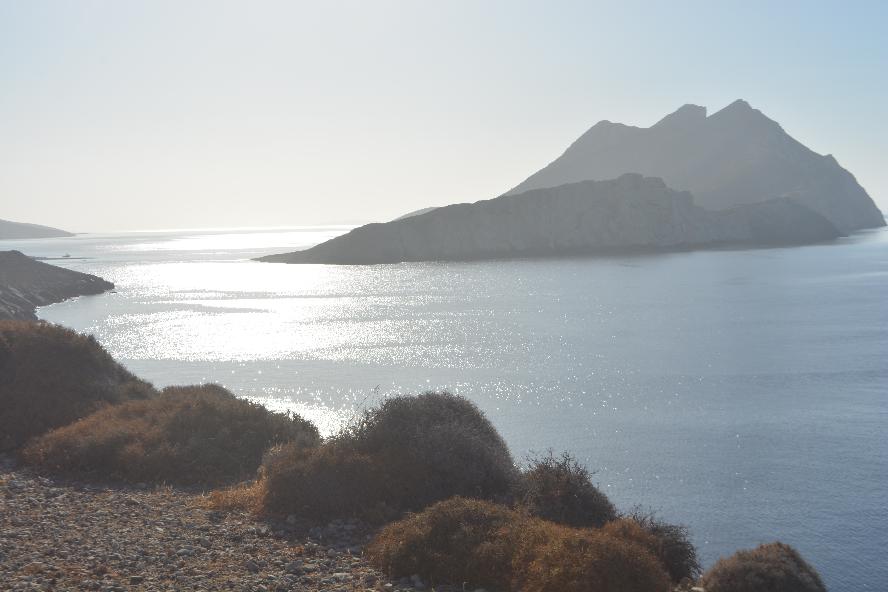 A donkey carrying water and this fellow with a shadow created by the setting sun.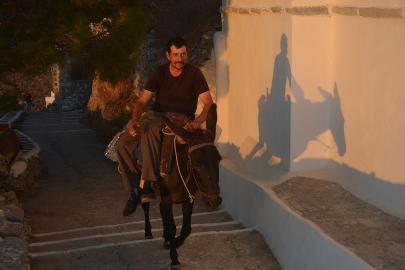 ... and Alex, or at least that's what we are calling him, the local mule.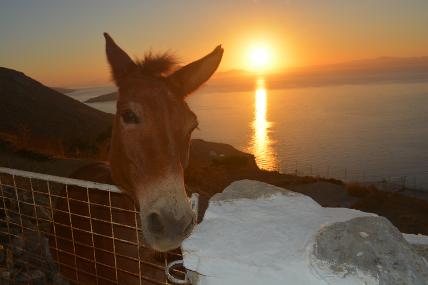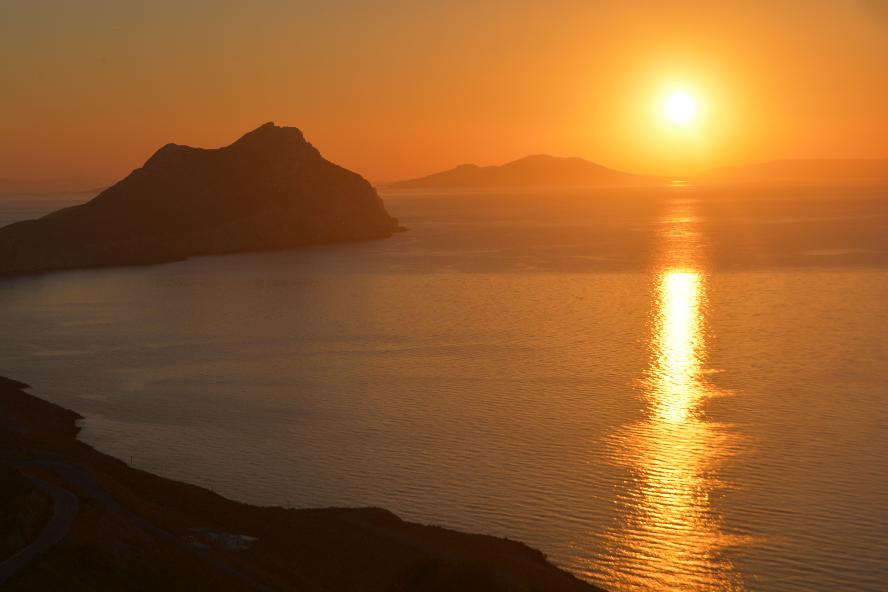 Spinach pie and an Amorgos sausage - both very good.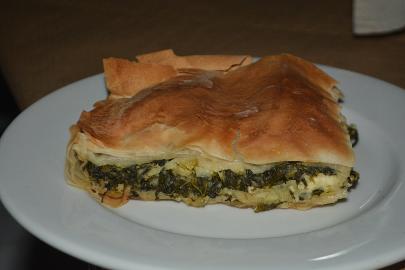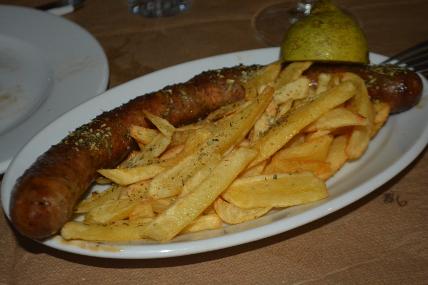 September 12, 2017 - Pambelos Lodge, Koufonissi to Pano Gitonia, Amorgos
On yet another cloudless warm day we were up early as Gayle wanted to walk the road at least part way into town. After our walk we enjoyed a final swim from the sandy beach in front of Finikas. Then back up the hill to finish packing. We enjoyed one final filling breakfast and a few photos of the four of us and Thania and Lola.
Afterwards we loaded all four backpacks on the roof of Georgio's jeep, squeezed in - three in the back was snuggy - and bumped our way down to the port where we caught the 12:20 pm Highspeed 4, a hydrafoil that took only 45 minutes to reach the port of Katopola on Amorgos. We easily found and rented our (small) vehicles here on Amorgos. A quick drink by the port, some gas in the car, and we were off on the half hour drive over the mountains to Aegali on the east end of the island, passing a number of goats along the way.
We arrived at Pano Gitonia around 2:30 pm as planned. Theo showed Bill and Linda to their room (Stable 2) while I went directly to Stable 3, the same room we had in 2015. Pano Gitonia is every bit as wonderful as we remembered, with stunning views down to the town and harbour, across to a village on the far mountain and out to the sea. As we experienced every night during our previous visit we were treated to a spectacular sunset.
While breakfast is not provided there is a little kitchenette in each unit with a fridge, sink, hot plate dishes and cutlery. During the afternoon we went into town to pick up breakfast supplies, drinks and other munchies.
For dinner we went down into town and ate at Theo's associated tavern - Katina's Restaurant-Tavern where Gayle had a nice large Amorgian salad, essentially a Greek salad but with soft Amorgos cheese, capers and Amorgos olives and I the traditional Goat 'Patatato' - really nice flavour but as is the case with goat, a lot of bone and fat. Back up the hill to the little village of Potamos and Pano Gitonia for a night cap of Limoncello that Bill and Linda purchased.
Our day began with a walk towards town, past Finikas. I stopped and just enjoyed the vistas while Gayle continued towards town just 'to feel the sand under her feet'. We then went for a final Koufonissi swim on the beach (seen here) in front of Finikas tavern before returning to our room to finish packing.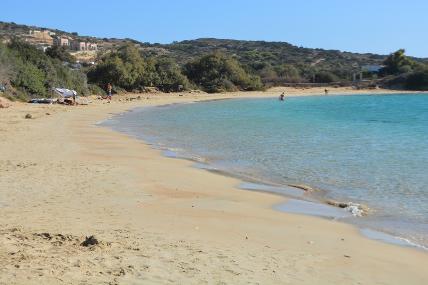 The lighting might not have been perfect (too many shadows) but a couple of photos of all four of us.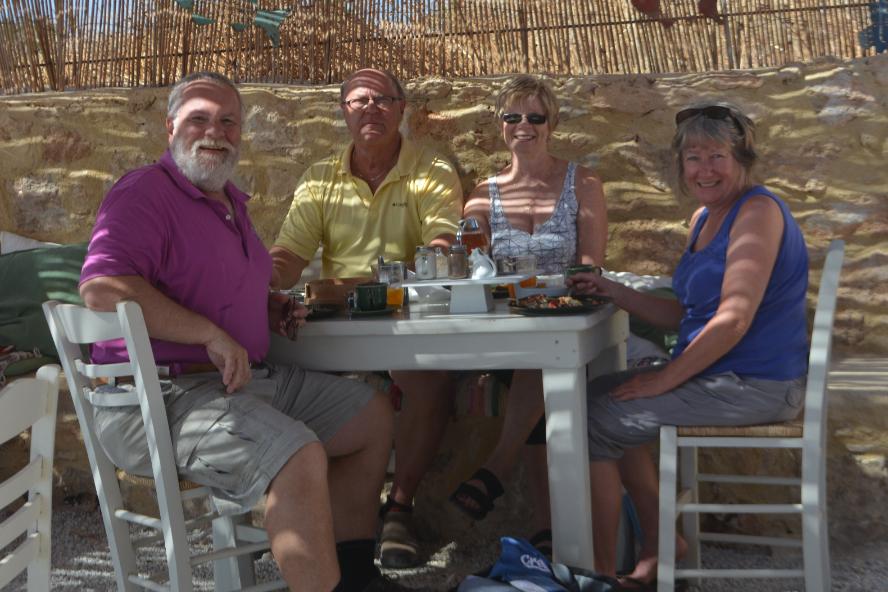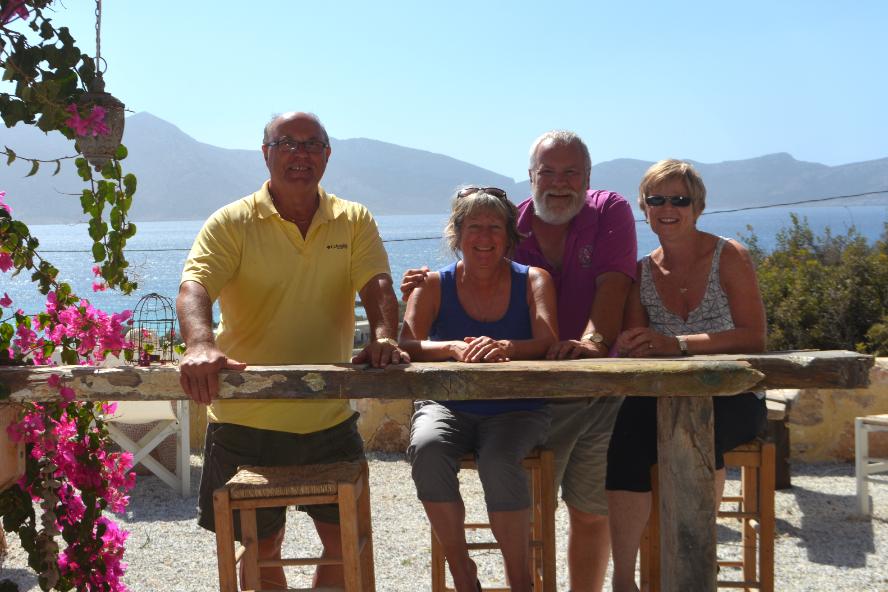 Thania and Lola - always smiling.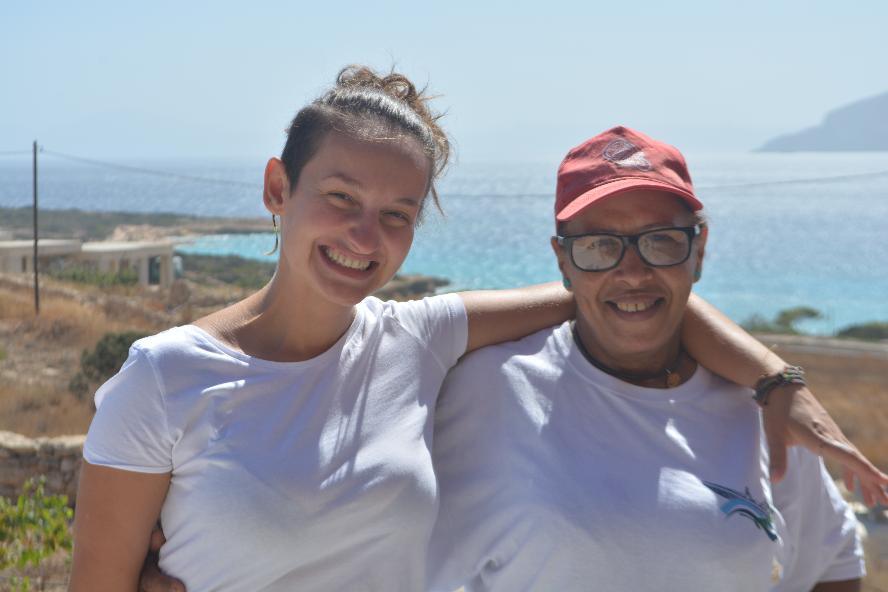 Blue sea, blue top, blue window frame.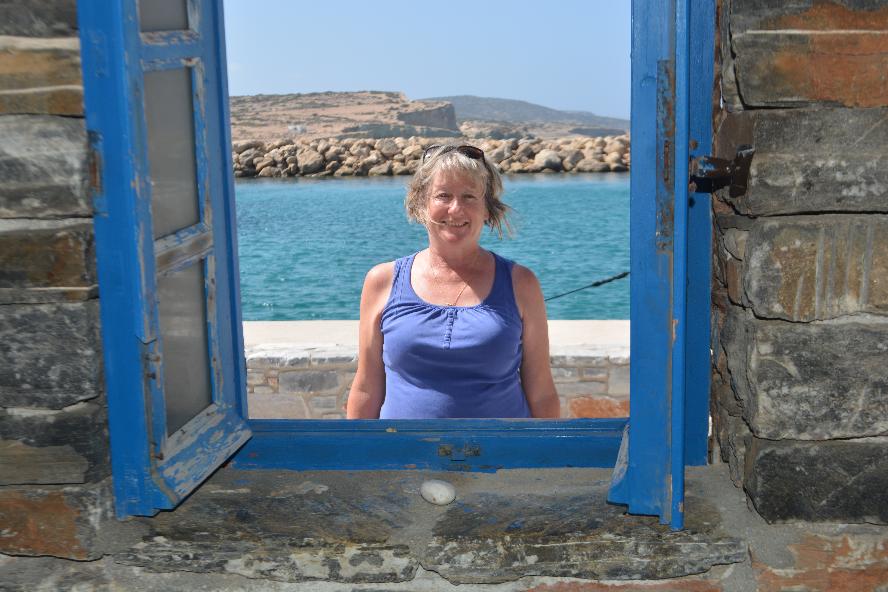 Waiting for the ferry at Koufonissi port.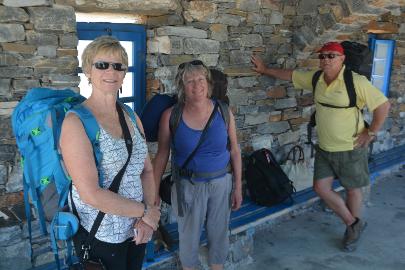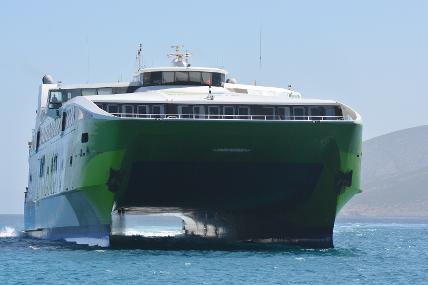 The far side of Katopola harbour and the church entering town.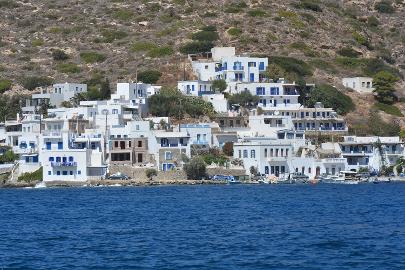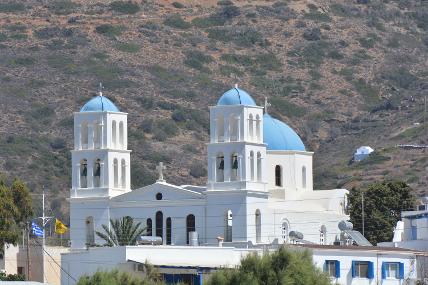 Relaxing on Katopola's harbour.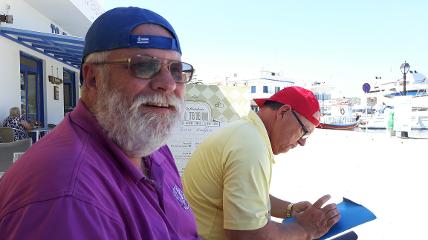 Katopola, dominated by the ferry we arrived on.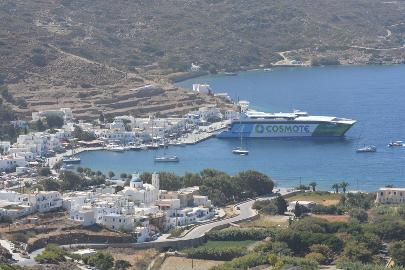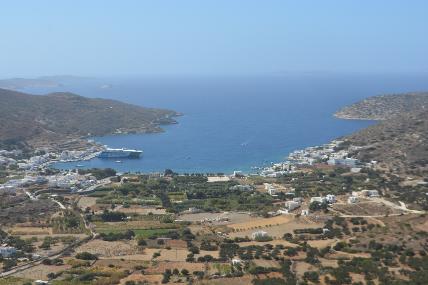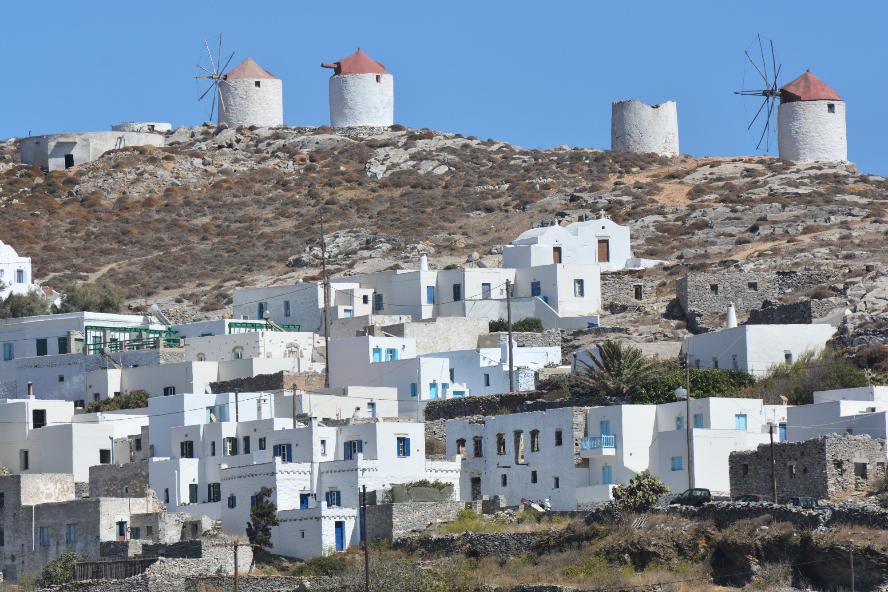 Driving up the mountain side to Potamos and Pano Gitonia.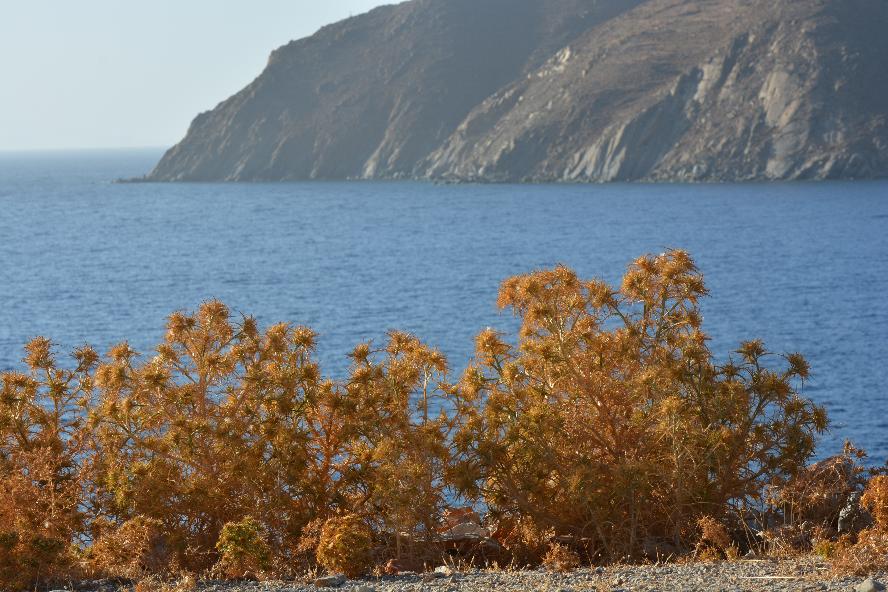 Our view of Aegali and its harbour.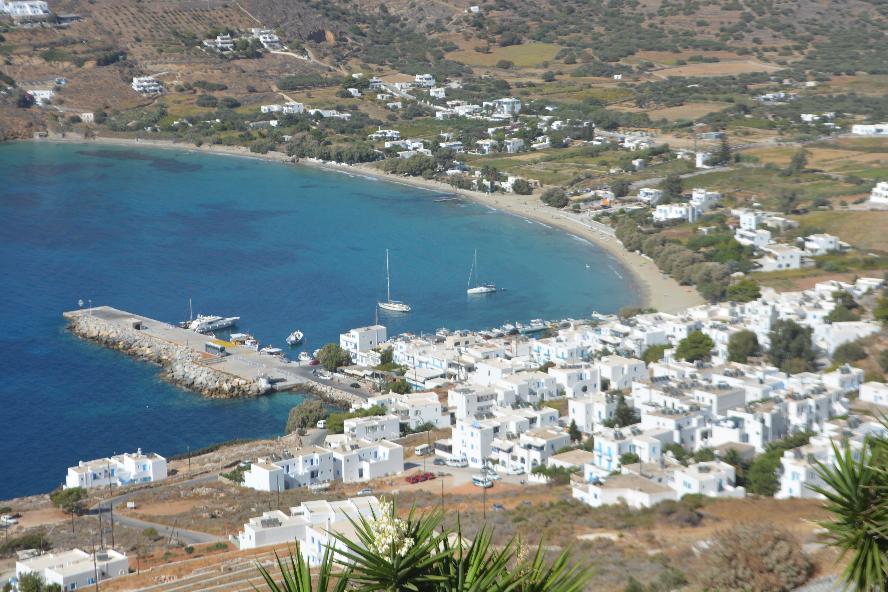 Greeted with 'swans' just like at a resort and the view out our window across our terrace to the sea and hills beyond.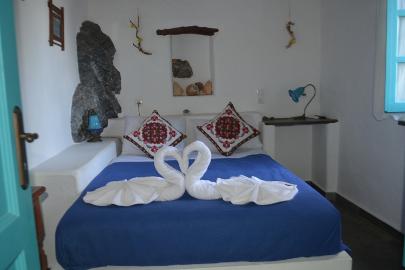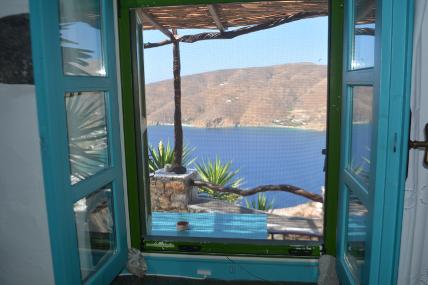 Sunsets from Pano Gitonia - spectacular.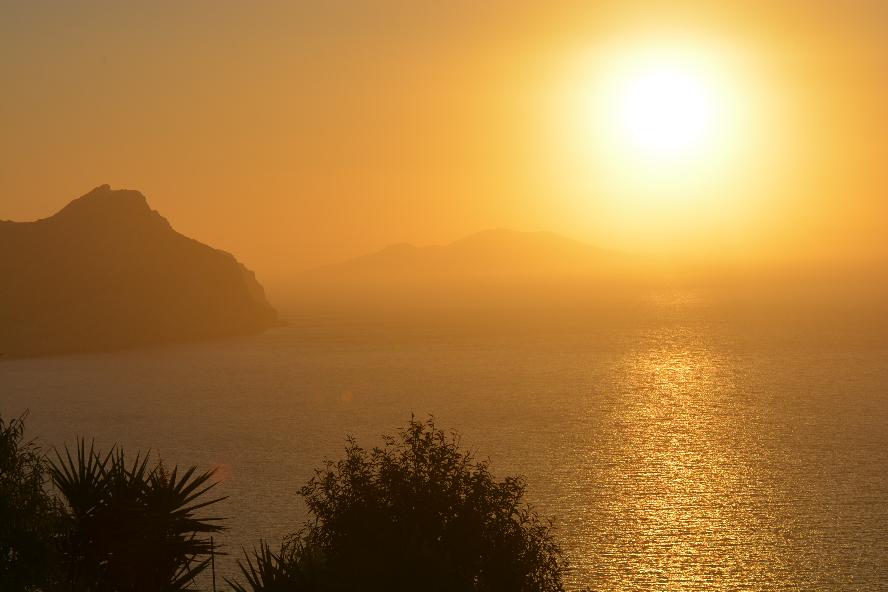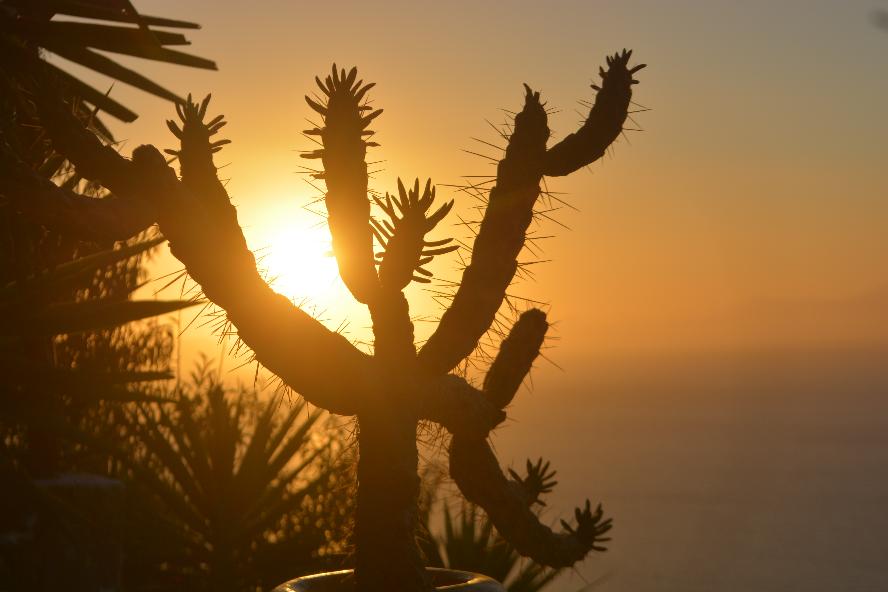 Gayle's Amorgian salad and my Goat 'Patatato'.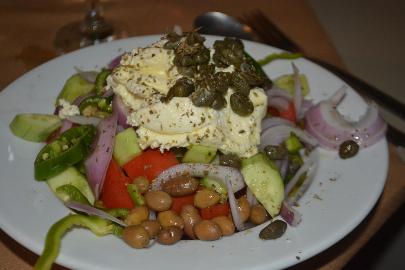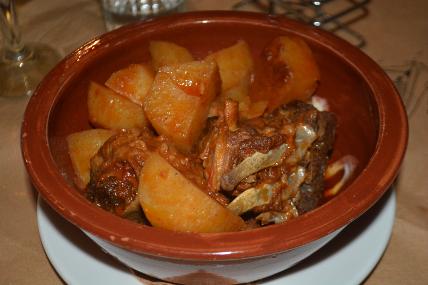 September 11, 2017 - Koufonissi - same same but different
In Thailand they have a saying "Same same but different". It seems very applicable here in Koufonissi where every day we wake up to blue skies and warm temperatures (same), spend some time enjoying the views across to Keros Island (same), amble down to breakfast (same), but have different fried eggs and different toppings on the yoghurt (different), off to a beach (same activity/different beach), then back to work on the travel blog (same) and finally somewhere for dinner (same activity/different restaurant).
Today's breakfast included fried eggs and yoghurt with fruit, the beach was Fanos (again wonderful for a couple of swims) and the restaurant Aneplora, on the far (west) side of the island. We got a drive in to town from Georgio where we wandered around. Actually there is not much there - two small food/dry good markets and a couple of very small craft shops. Somewhat unusual we did not buy anything. We strolled up and down the one main street/alley, photographing a number of the elderly just sitting on there terraces or just inside their door passing the time. We stopped for a gelato - a nice break.
It was then perhaps a 20 to 30 minute walk past the windmill, to the end of the road and Aneplora, the top rated restaurant on the island. It certainly has location, location, location with the tables looking across a small bay filled with fishing boats. We met Bill and Linda at the restaurant a bit before sunset, a sunset that was nice albeit not spectacular. Dinner was similar - hit and miss - the tzatziki was disappointing - essentially just yoghurt but the fried feta cheese with crust and honey was superb - absolutely delicious. My 'Fisherman's Rice' was decent although there could and should have been more variety of fish while Gayle did not like her vegetable briam.
We decided to take a taxi back to Pambelos Lodge (having been unable to connect with Georgio) rather than walk for what we estimated to be an hour. Bill and Linda enjoyed a nightcap at the bar later joined by Gayle with all three sharing lots of laughs with Lola and Thania.

Georgio and Thania - all smiles.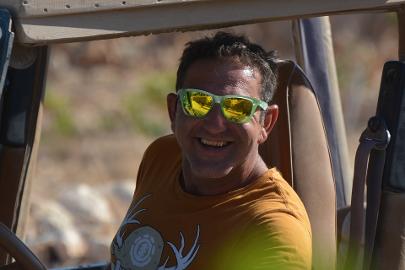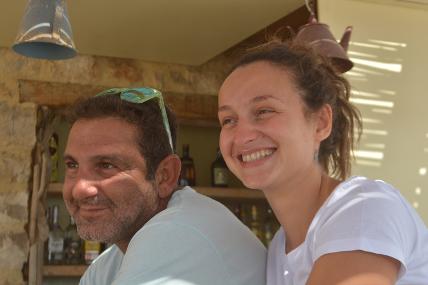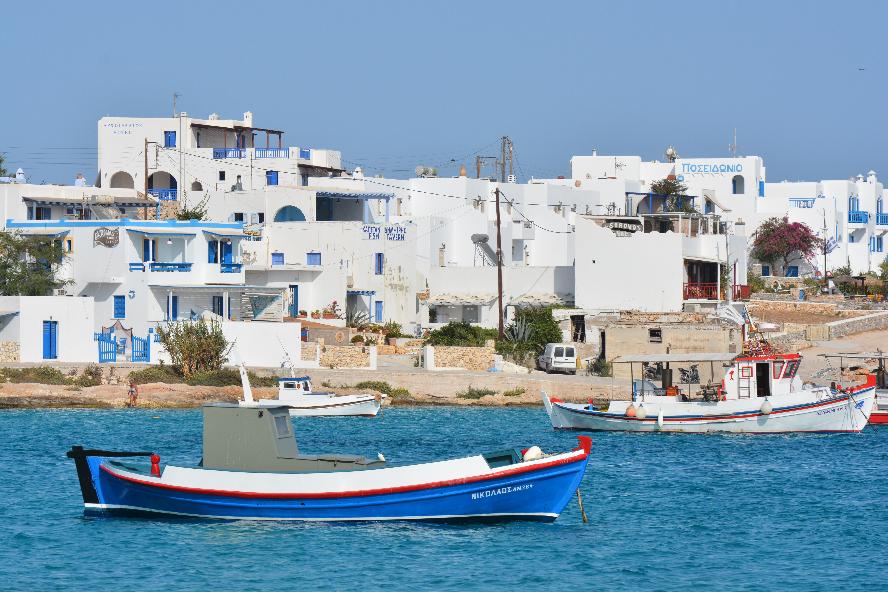 The Chora church and bell - painted in the traditional Greek blue.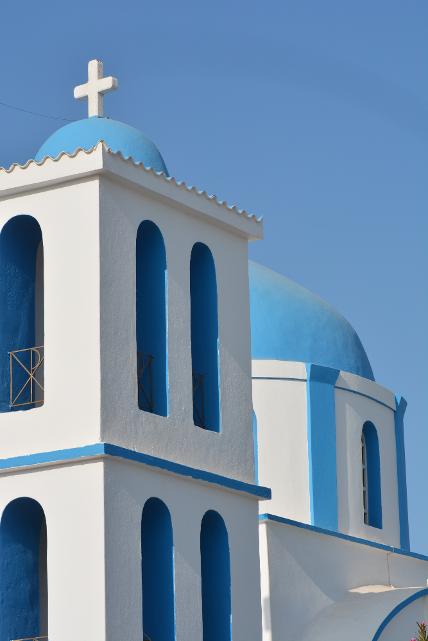 Some of the elderly of Chora.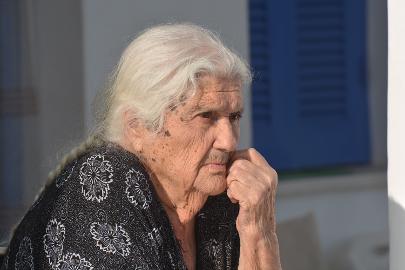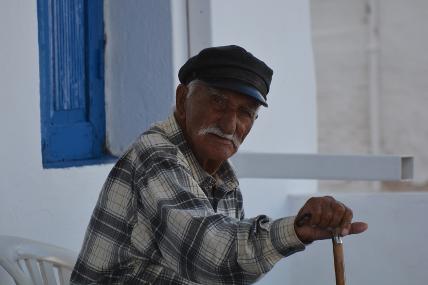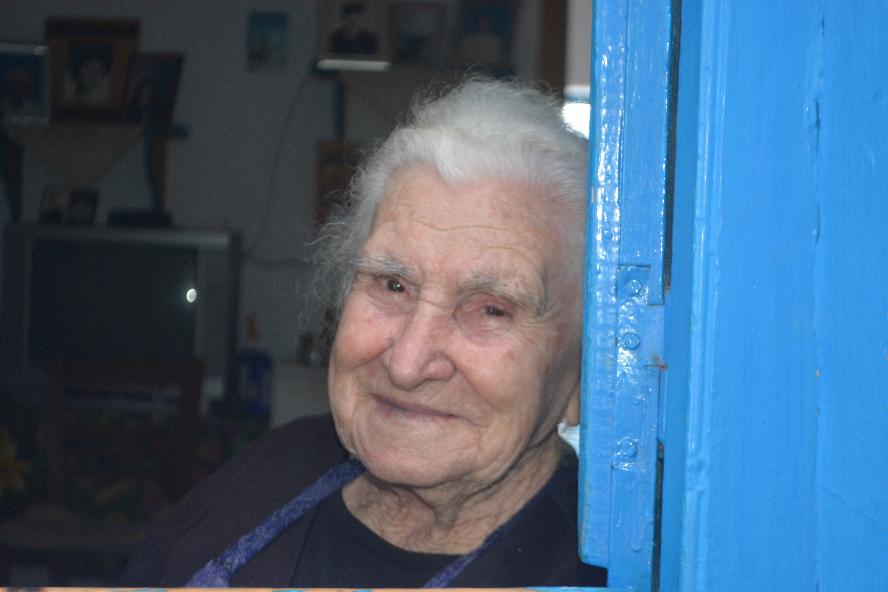 Some of the views along the only street/alley of Chora.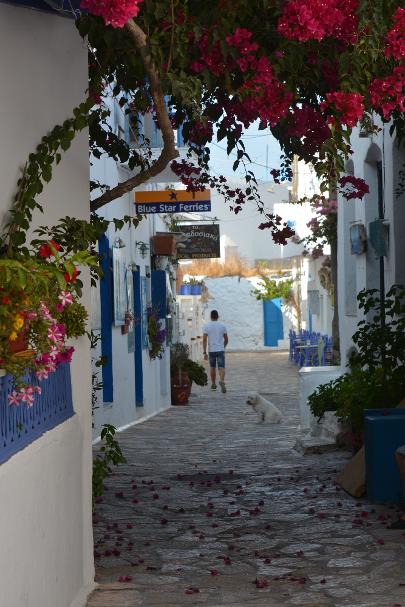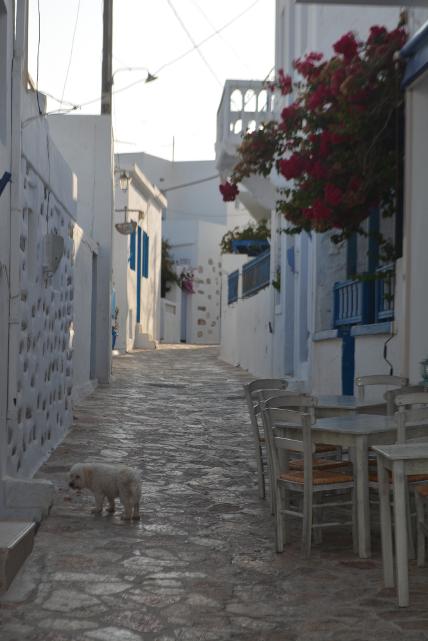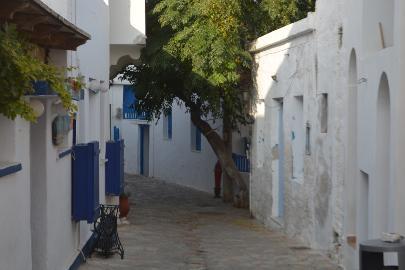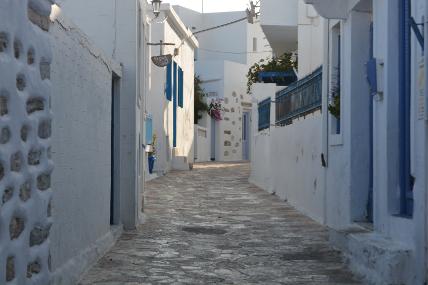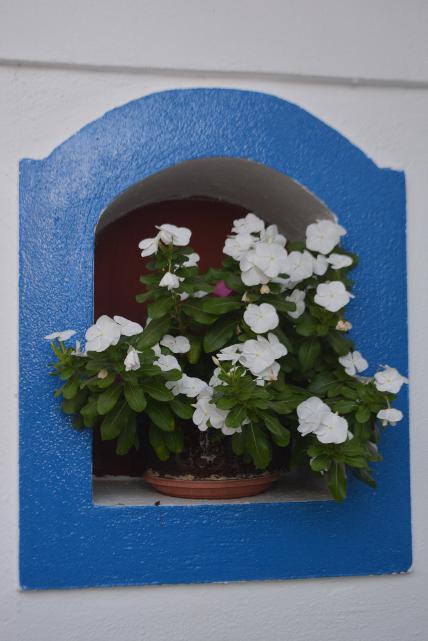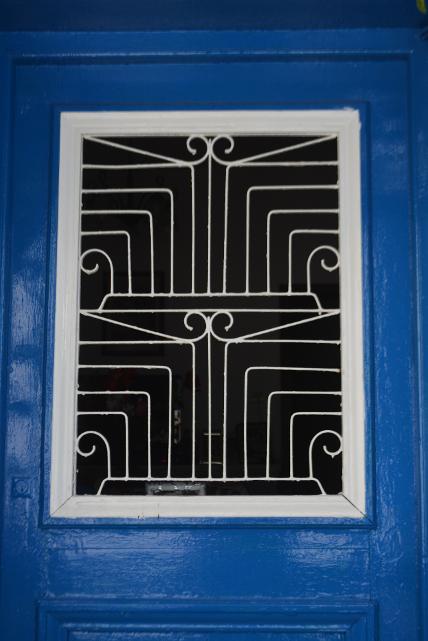 One of the remaining windmills on Koufonissi.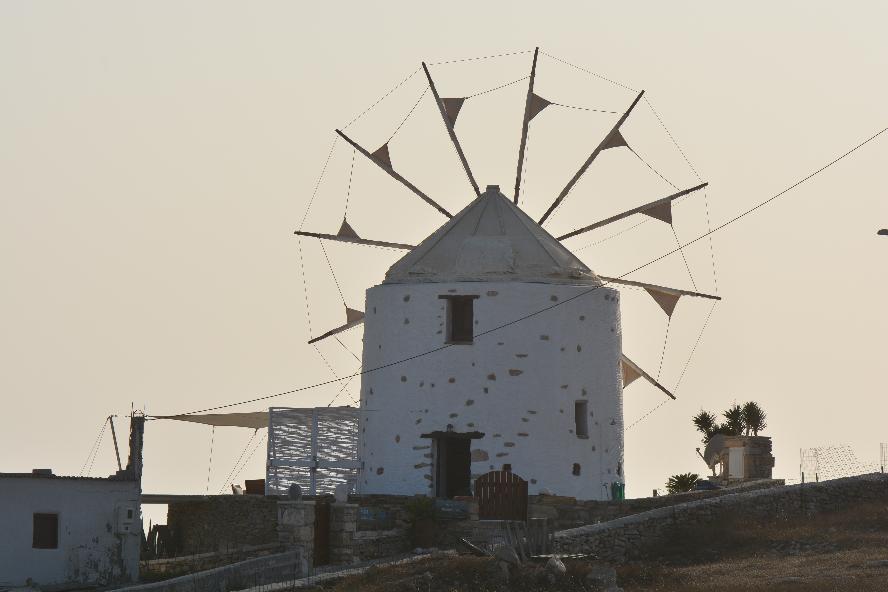 One of the tiny harbours on our walk (over the hill) to Aneplora, populated with numerous fishing boats.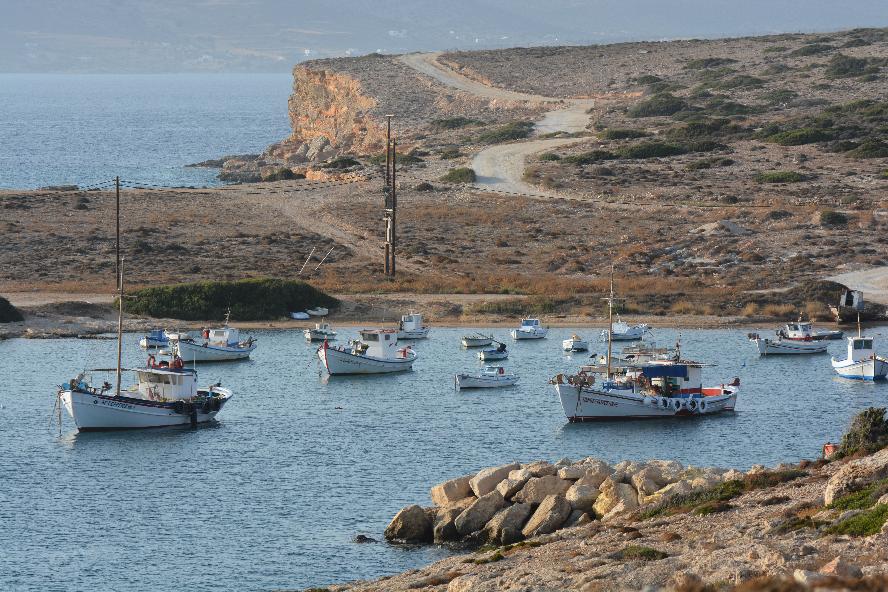 Arriving for dinner at Aneplora and wine glistening as the sun sets.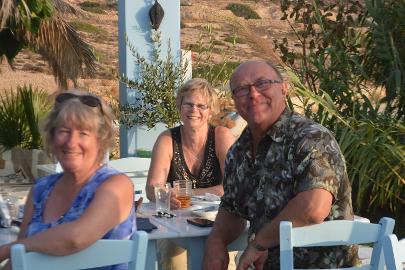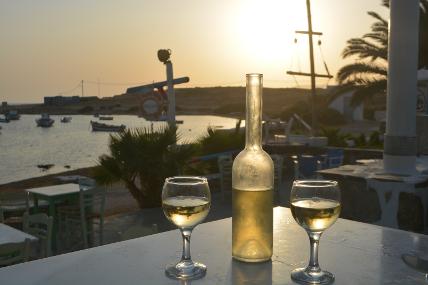 The fantastic baked feta and my fisherman's rice.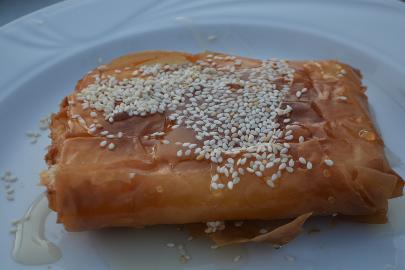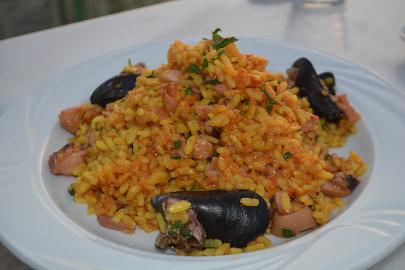 September 10, 2017 - Pori beach, Koufonissi
Here we go again - nothing but blue sky, blue sea and warm (high 20s) temperatures. Another perfect day on Koufonissi. Today we went to the furthest beach - Pori, walking on a footpath - well a rocky trail - over the top of the island. The views in every direction are something else. Reaching the summit and looking down to Pori Bay and the land and sea beyond is indeed impressive.
We made our way to the beach where we enjoyed a refreshing swim. Being in a protected bay the water was even calmer than on the south side of the island. There are two restaurants/tavernas around the bay. After our swim we went to the same one - Kofolego - as in 2015. We enjoyed the food and ambiance then and this time was no different. Gayle had what she describes as an unforgettable smoked eggplant dip along with a glass of white sangria while I had a tasty minced lamb dish on a bed of vegetables surrounded by mint flavoured yoghurt, with a freshly squeezed orange juice. The music, as we remembered from before, was a bit off-beat, and then even more so when this song 'Tweet, tweet, living in the trees, swinging in the branches' by Freschard played (for nearly seven minutes based on their video). Very catchy Gayle has been singing it ever since.
After our late lunch we went back for another swim after which we walked along the coast, about an hour, back to Pambelos Lodge. Having eaten late afternoon there was no need to go out for dinner so we stayed in while Linda and Bill went down to Fanos, which they said they enjoyed.
Another easy day, exactly what we wanted for our return visit.
Wake up, step outside to the terrace, see this - it never gets old.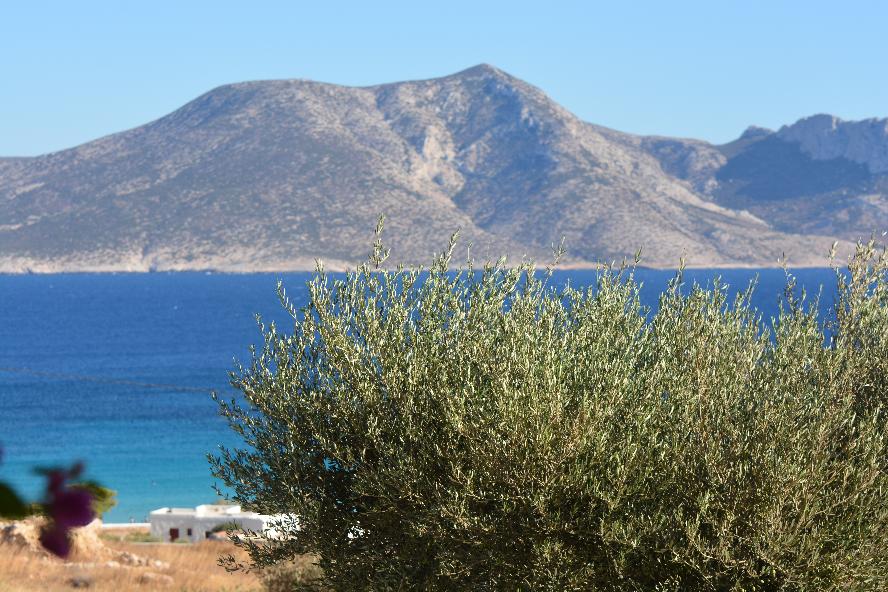 Some of our tasty breakfast.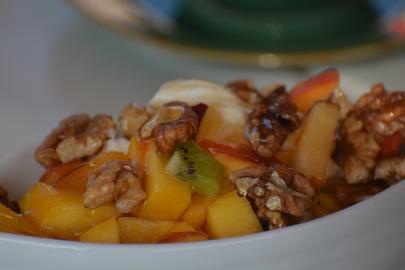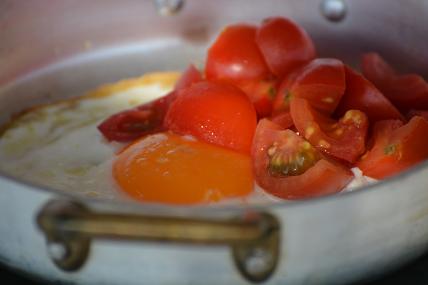 Gayle, Linda and Bill at breakfast and reaction to another of my great one-liners.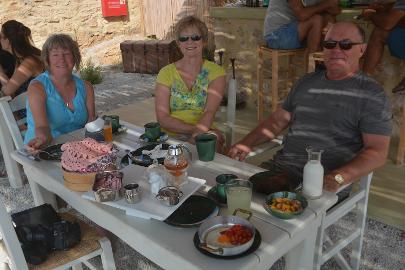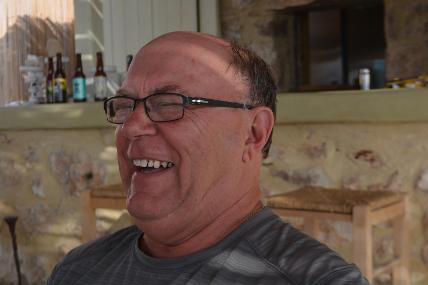 While at breakfast we saw a number of dolphins out in the channel.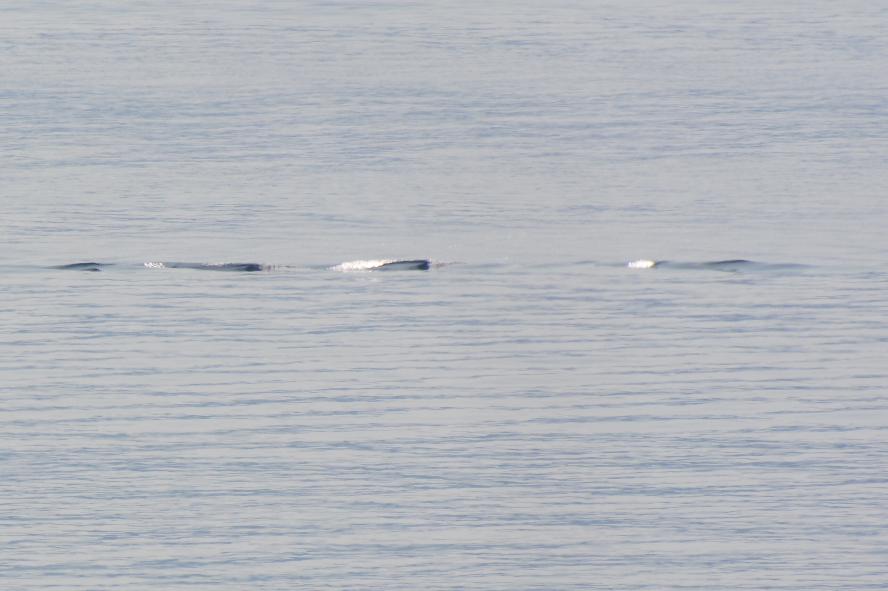 As we started our walk up the hill we first had a view of Pambelos Lodge and then, as is always the case to the sea.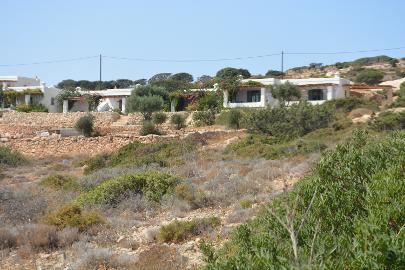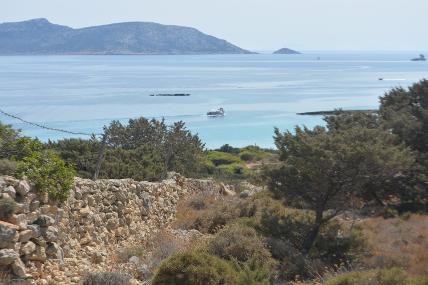 The spectacular view from the crest of the hill.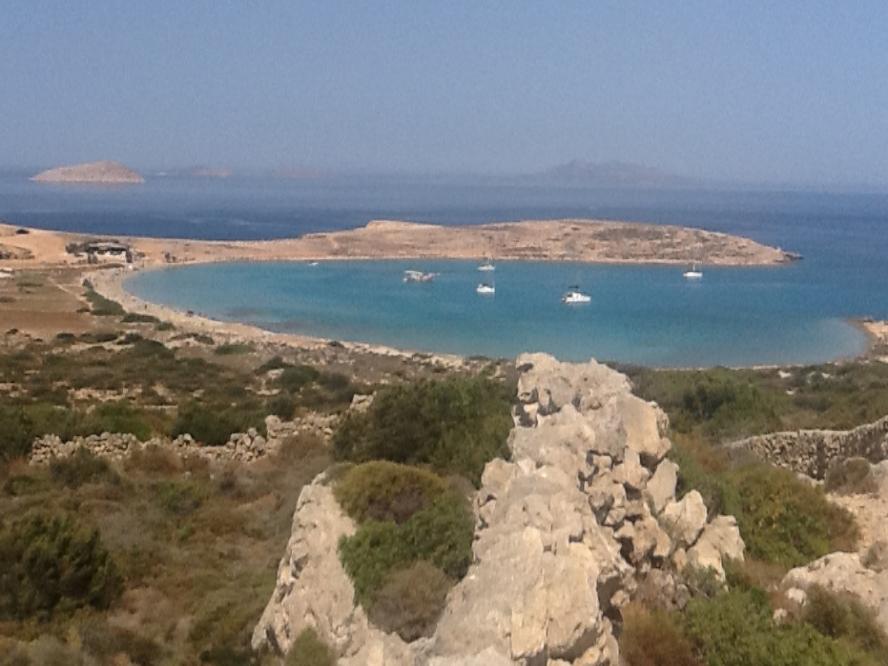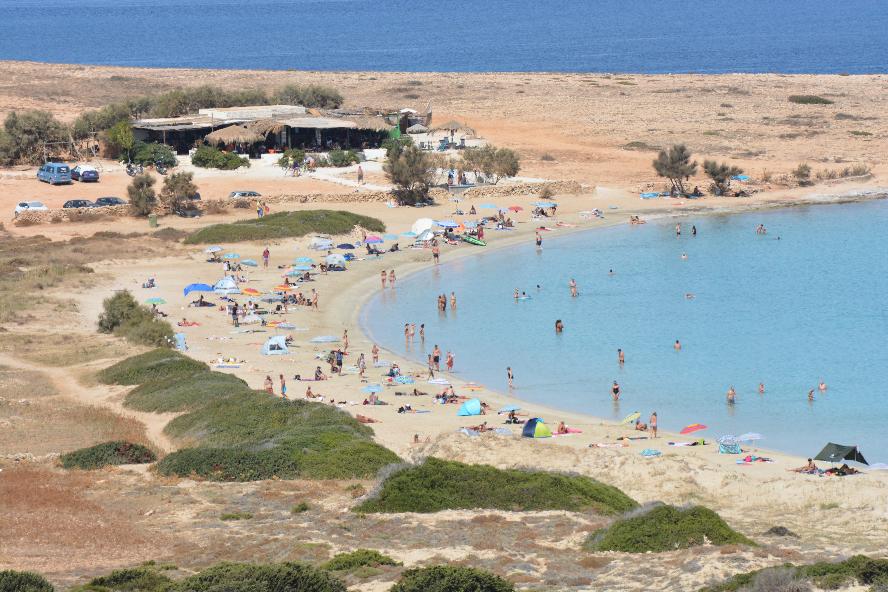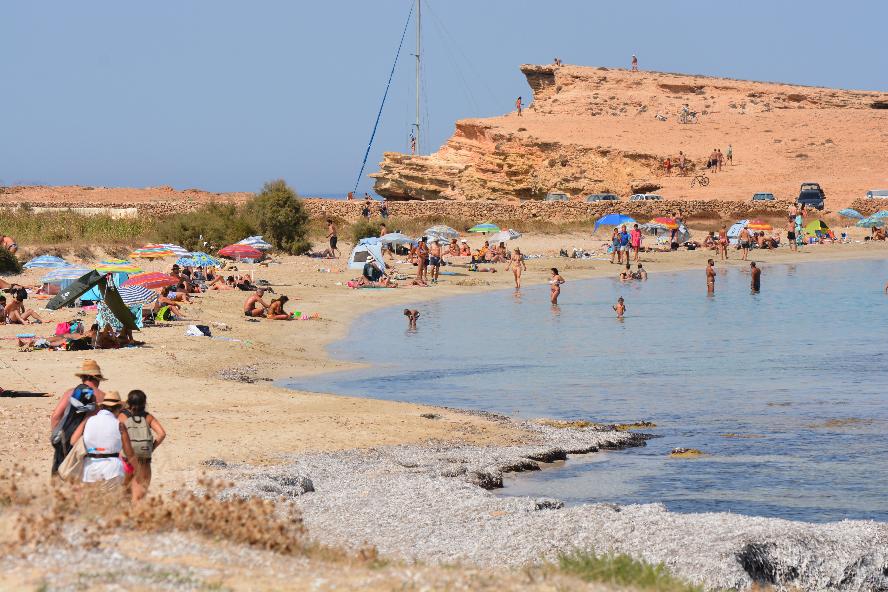 White wine sangria, Gayle's smoked eggplant dip and my minced lamb.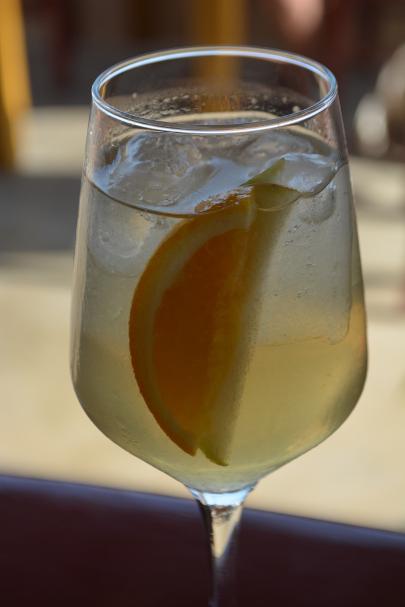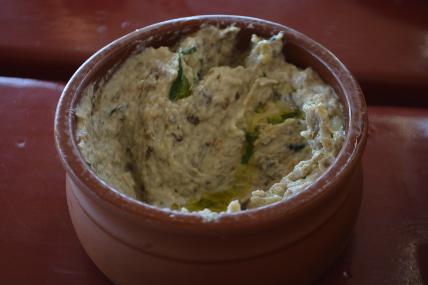 Some of the wonderful scenery on the walk back from Pori past Italida and Faros to Pambelos Lodge.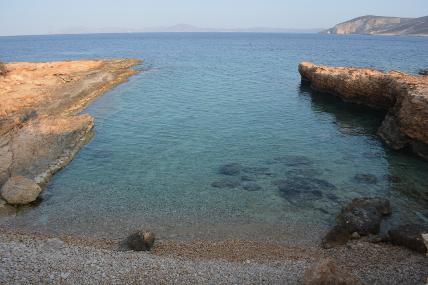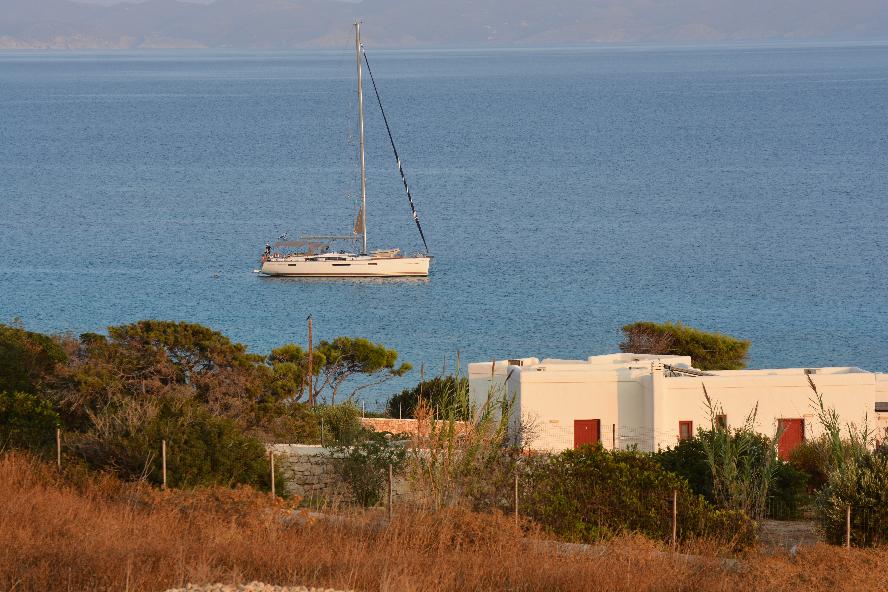 September 09, 2017 - Koufonissi
Today was a quiet, easy day. Whether it is the air or something else we are having no difficulty sleeping in. After a lengthy late breakfast (it is quite nice that breakfast is available from 9:00 until 12:30) we checked emails and worked on the travel blog. Then mid afternoon it was down to the second beach, Platia Punta, or Italida. The sand and water were much the same as Faros beach. After an enjoyable time relaxing in the Aegean Sea we headed back to Pambelos Lodge where we had a nap before heading out to dinner.
For dinner we returned to Finikas where I had a huge, a really huge meatball/meatloaf with a bit of feta in the middle and Gayle one stuffed tomato. While the food here is good the atmosphere of this beachside traditional taverna is excellent. Again the lights went off but not for the full moon but rather a birthday cake and song for a three year old. We were treated to a choice of liqueur after dinner - we both chose the Limoncello. Then it was the 10 minute walk back up the hill and early to bed.
Our terrace, and the reason we spend a considerable amount of time passing the day away, staring out to the sea and the island of Keros.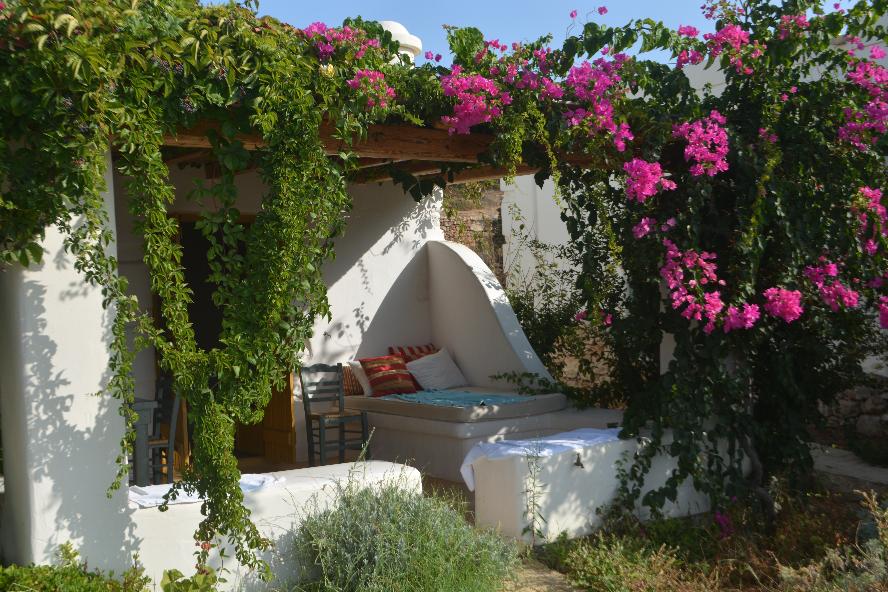 The water is a number of amazing colours from a deep intense blue to aquamarine to teal along the coast of Koufonissia.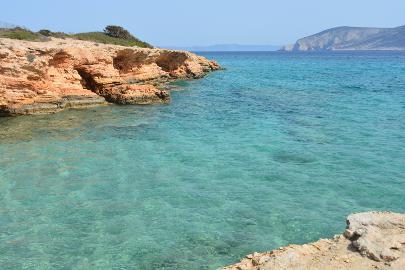 Returning from another afternoon at the beach - this time from Platia Punta, also known as Italida.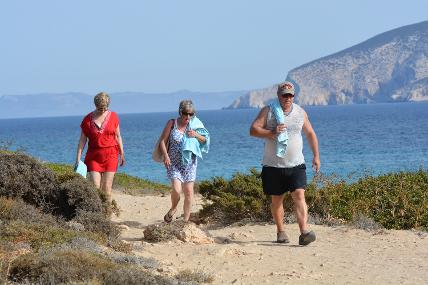 Now in fairness I am the king of the naps. But Gayle fails to take the many opportunities I provide her to record the experience. I on the other hand am quick with the camera. Here's the evidence I'm not the only one who takes a nap during the warmth of the afternoon.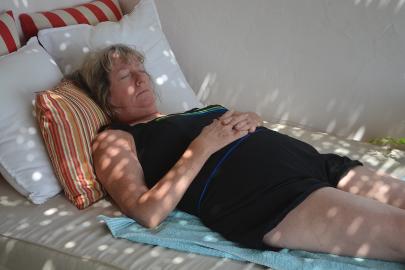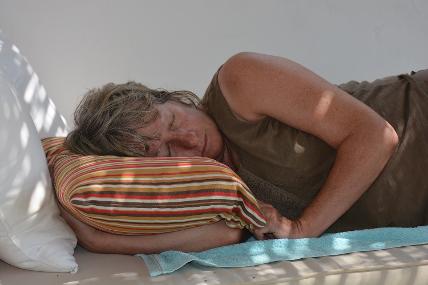 Finikas taverna - with its wonderful views of the sea.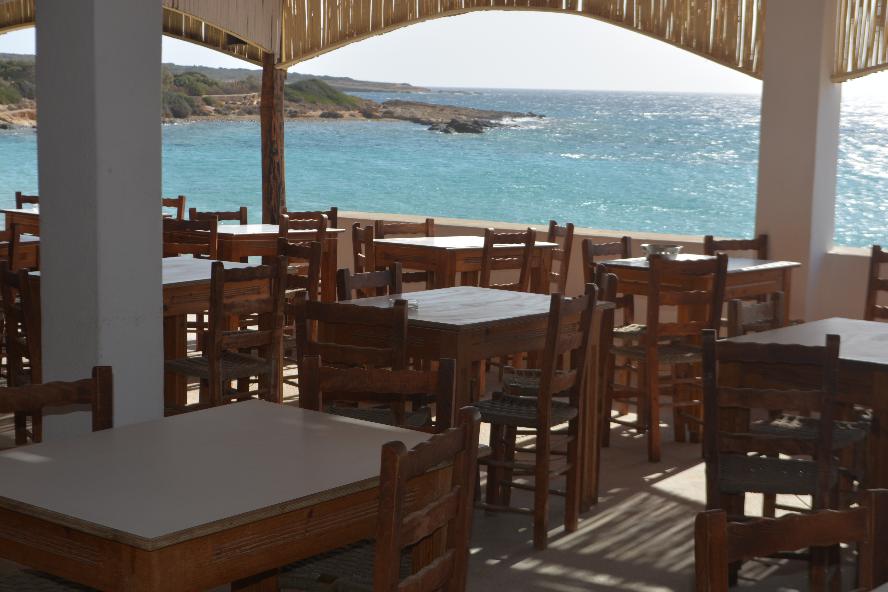 Fresh fish and spinach pie - just a couple of the many options to choose from, and Linda and Bill after having placed their order.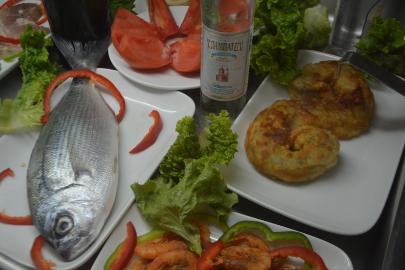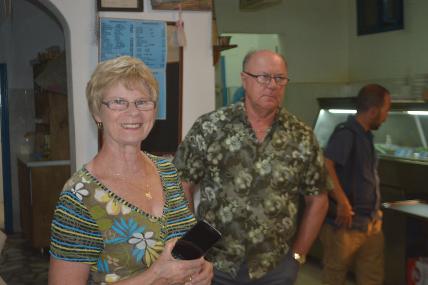 Our waiter delivering the food we chose from back in the kitchen.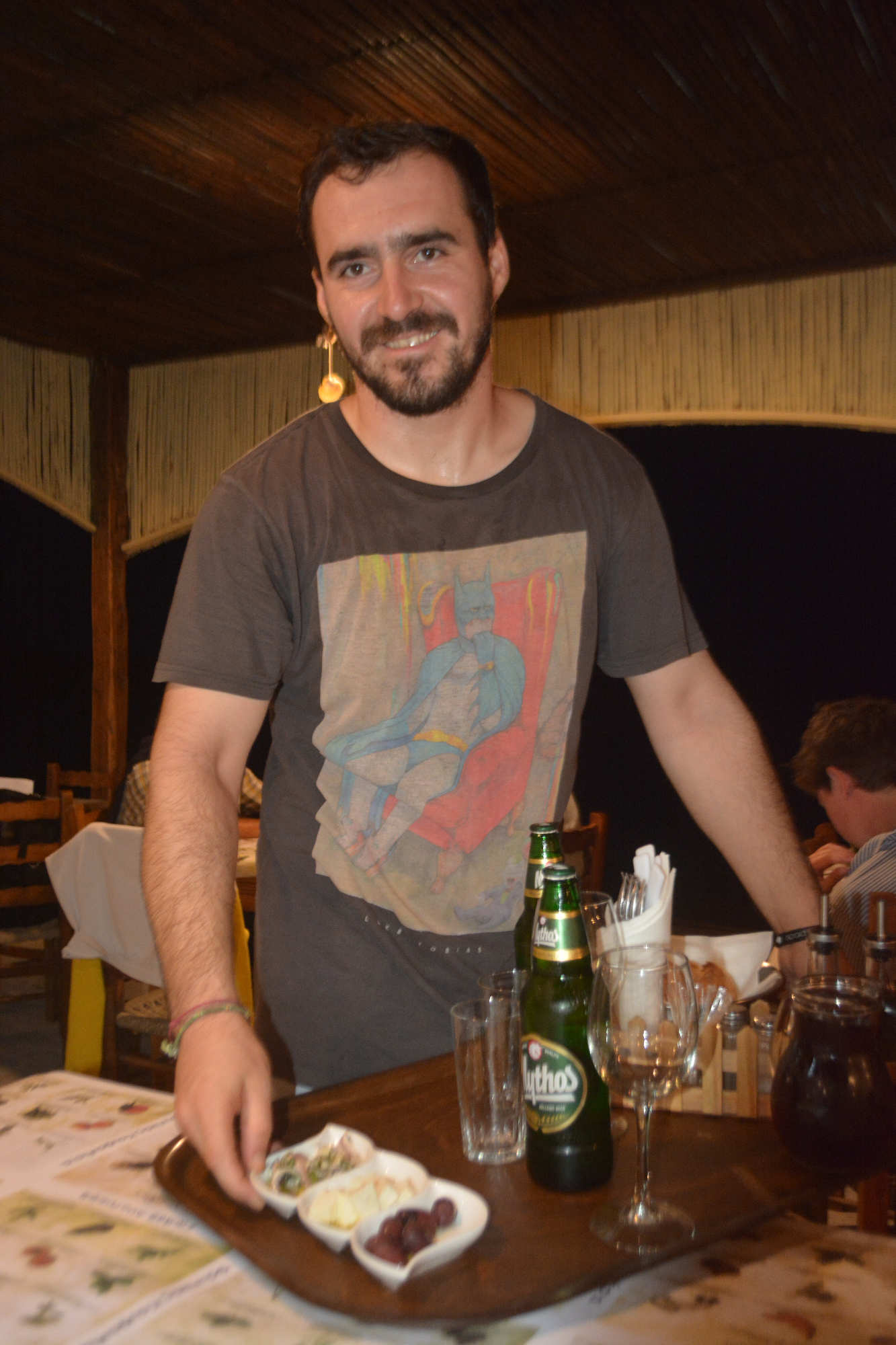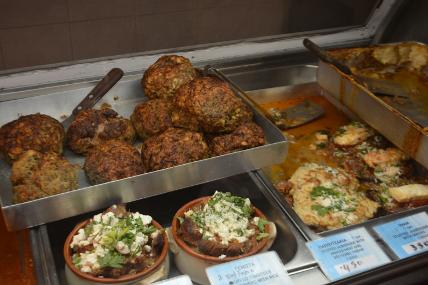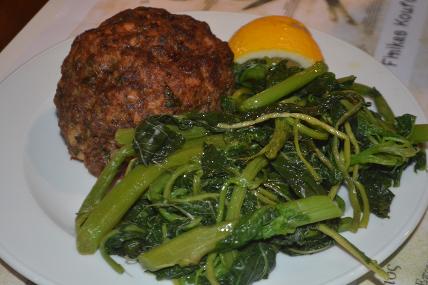 Our first night in Koufonissi we also ate at Finikas, where we choose from the kitchen. I had a wonderful grilled calamari and then for dessert we shared a honey soaked walnut cake. Not shown is the tzatziki, penne with broccoli and feta and eggplant salad.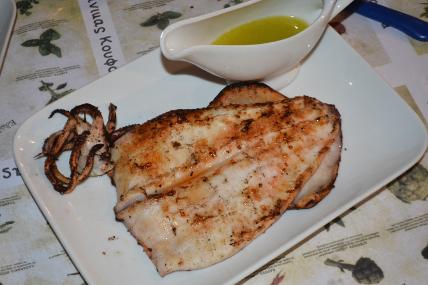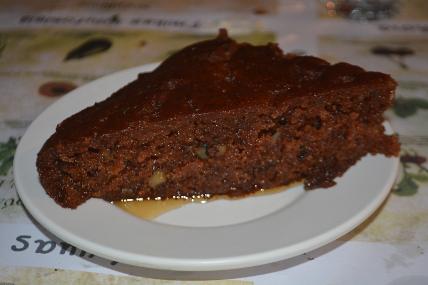 September 08, 2017 - Koufonissia
What a view to wake up to - open the door to hanging vines, calm Aegean waters and the island of Keros, like a mural on the other side of the channel. Only the chirping of a few birds, but otherwise quiet. So tranquil.
In 2015 we made our own breakfast - there is a fridge, sink, two-burner hot plate and a few dishes, cups, pots, pans and cutlery. However since then Georgio has built a bar / breakfast area. We went down where we met Thania (Athanasia), originally from Trikala in the north of Greece. Thanya's English is quite good - better than Georgio who gets by more on smiles and laughter - as she explained the breakfast options, and there are many. Either a spinach or cheese pie, a cake, toast, cereal/muesli, huge omelettes, fried egg with tomato, yoghurt with either walnuts or fresh fruit, coffee, fresh orange or lemon juice all enjoyed overlooking the vistas of the water and Keros. Well worth the increase in price to stay here at Pambelos Lodge.
Although we did not need nearly as many supplies as when we made our own breakfast we still asked Georgio to take us down to the market to pick up some milk (for our morning coffee), some wine/retsina and a bag of 'tapas' (potato chips).
Then mid-afternoon we walked (a little < 10 minutes) down to Fanos beach for a swim. The beach is something else with soft sand and crystal clear reasonably warm (similar to the swimming pool in Naxos) water. Yes we are back in Koufonissia; so glad we returned.
Never having travelled with anyone before, this time will be different. Bill and Linda Collins (friends but no relation), aka our 'people', had travelled to Greece in 2011 after we were here in 2010, staying on a few of the same islands at a few of the places we recommended. They were interested in returning as well. We were each on our own the first few days, then joined up today in Koufonnisia, and will be together as well for four nights on Amorgos. Then we will go our own way for seven days before joining again in the south of the Peloponnese for the final week in Greece (after which Bill and Linda return home while we go to Istanbul for three nights). They came in on the same Express Skopelitis ferry after having taken a five hour morning ferry from Athens to Naxos and settled into the unit next to ours.
We took the opportunity to be driven into town by Georgio and a friend where we had dinner at Melissa. We very much enjoyed the food although the service was lacking. After dinner we walked the 35 minutes back to Pambelos Lodge where we called it a day.
Wake up in the morning, step out onto the terrace and this is what awaits us. Can it get any better than this?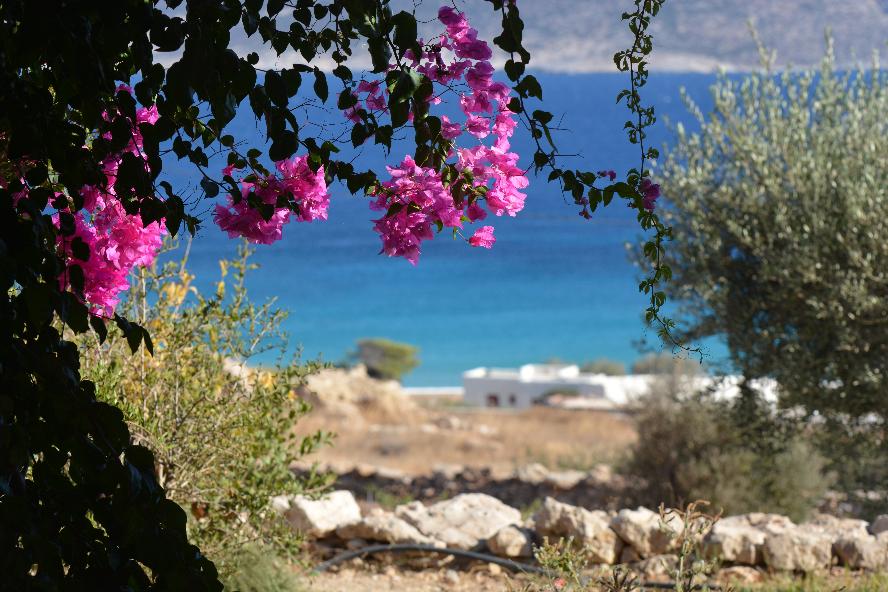 Thanya taking our order that included yoghurt with walnuts and honey, cereal, orange juice, coffee, an egg with cherry tomatoes, and not shown spinach pies. Very relaxed and very filling breakfast.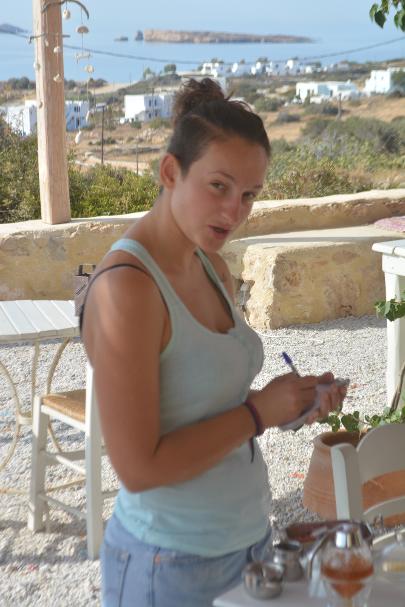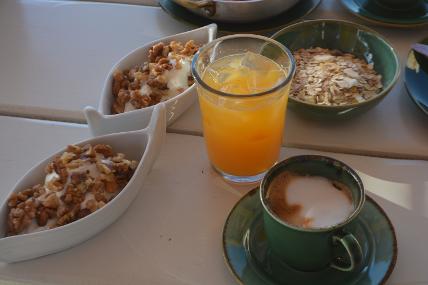 Views from the breakfast table.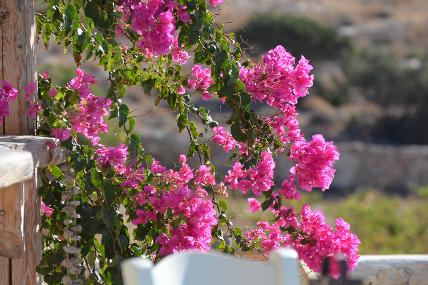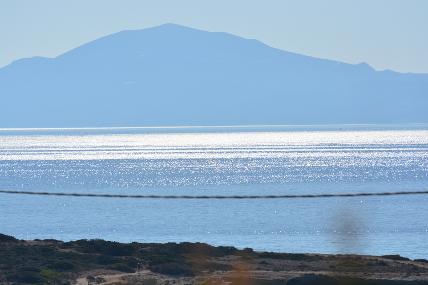 The coastal boat ferrying beach goers from port to beach (Fanos) to beach (Italida) to beach (Pori).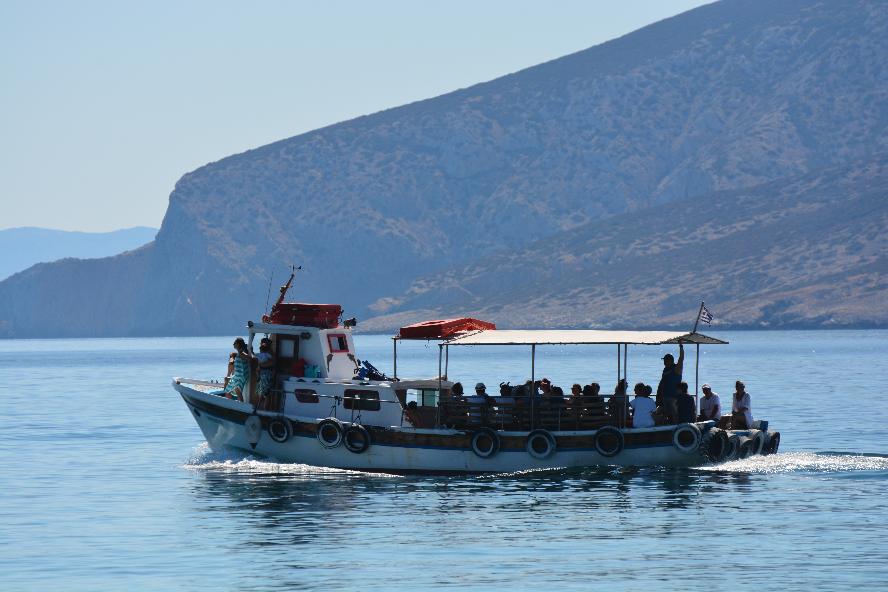 Lola, from Alexandria, Egypt, in addition to doing a spectacular job cleaning our room picked us some grapes and figs.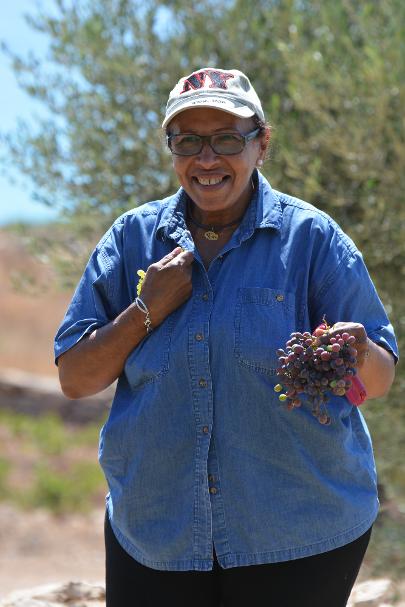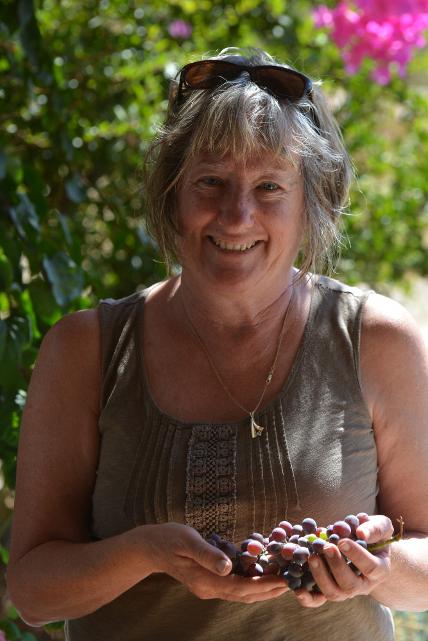 Looking out the door of our room to the sea and the island of Keros and the door of a fishing hut.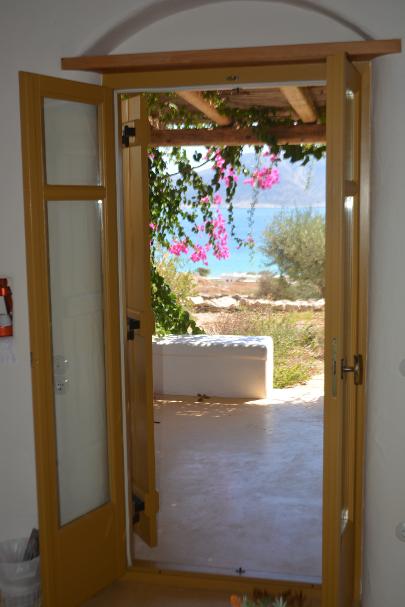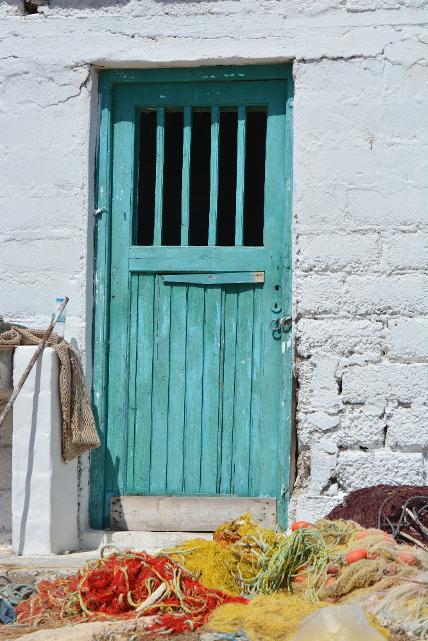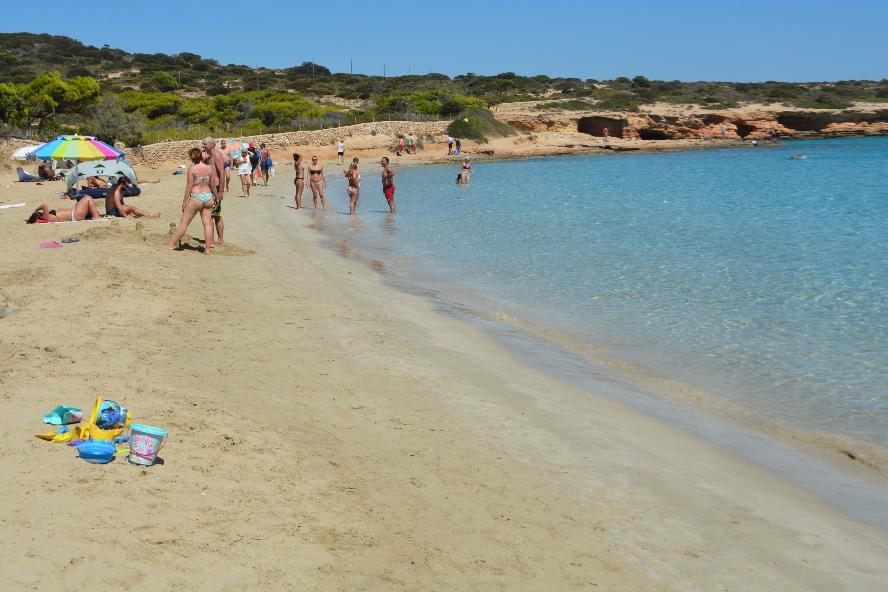 The intense blue water looking towards Amorgos in the distance.
Typical buildings on Koufonissia.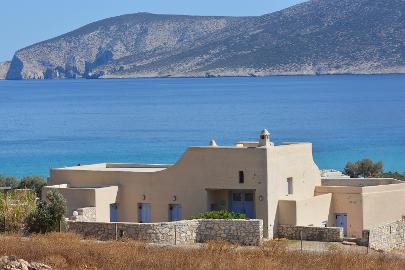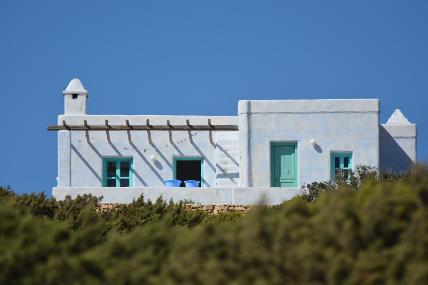 Linda and Bill arriving, picked up at the port by Georgio.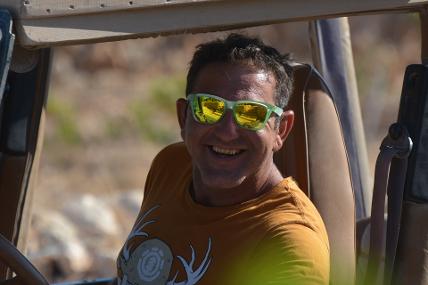 Dinner at Melissa in the village - a Greek salad and grilled octopus.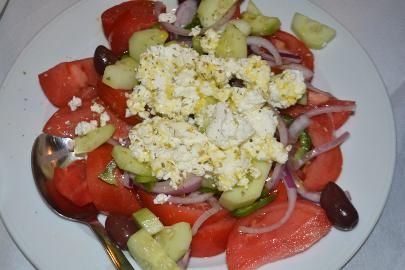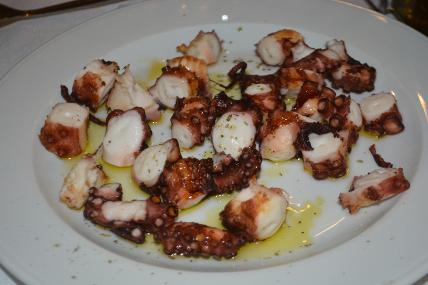 The full moon rises over Amorgos with an orange colour, turning yellow and then white as it ascends.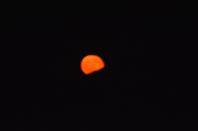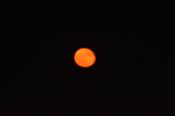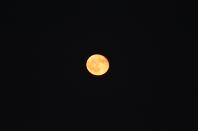 September 07, 2017 - Faros Villas to Pambelos Lodge, Koufonissia
After breakfast we packed up to leave Faros Villas. Upon departing Vicky provided a nice souvenir of our stay - a fridge magnet of a lighthouse (Faros means lighthouse) - see photo. We then drove the half-hour to Naxos Town where we easily found the place to return our car. We then picked up our ferry tickets (literally next door) and then spent an hour wandering the harbour of Naxos Town. Having had another huge breakfast we had no desire to eat. In one of the local shops we saw a nice small bowl that liked and bought. We then boarded the Express Skopelitis for our 2 1/2 hour ferry to Koufonissia.
The ferry first heads down the west side of Naxos past the many beautiful beaches, including the one near Faros Villas. The ferry then crossed the channel for its first stop at Iraclea. Next was a short hop to the island of Schinnoussa and finally on to Koufonissia where we arrived on schedule at 4:35 pm. While there are faster options the value of the Skopelitis is good at 8.5 euros ($13 Cdn) each.
As arranged Georgio was at the harbour to meet us. He threw our backpacks on the roof of his rickety old jeep and we were on our way (two km or so) to Pambelos Lodge. We have the same room (#6) with it being exactly as we remembered it. The views from the terrace, now with vines grown in to provide additional privacy, are as wonderful as before, staring out to the uninhabited island of Keros.
After settling in we walked (you have to walk everywhere on Koufonissia as there are no vehicles to rent, albeit there is now a taxi, a bus and a water taxi if the feet get sore) to Finikas, the nearest taverna (< 10 minute walk) located right on the water. Finikas is old school where one is invited in to the back room to choose their food from the case. A short while after ordering staff turned the lights out in order for their guests to see the full moon rising, bright orange in colour. As the moon rises it turns from orange to yellow to white. For some it was fascinating to watch. After a filling meal it was 10 minutes back up the hill and straight to bed.

Breakfast of fresh orange juice, coffee, eggs, rice pudding, pastries, cereal and much more, and then one of our two balconies, this one looking inland to the mountains.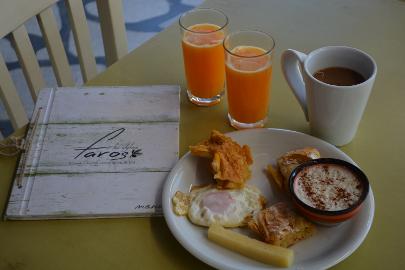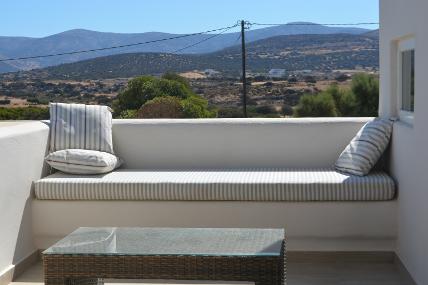 Gayle and Vicky with the personalized lighthouse fridge magnet we were given as a parting gift.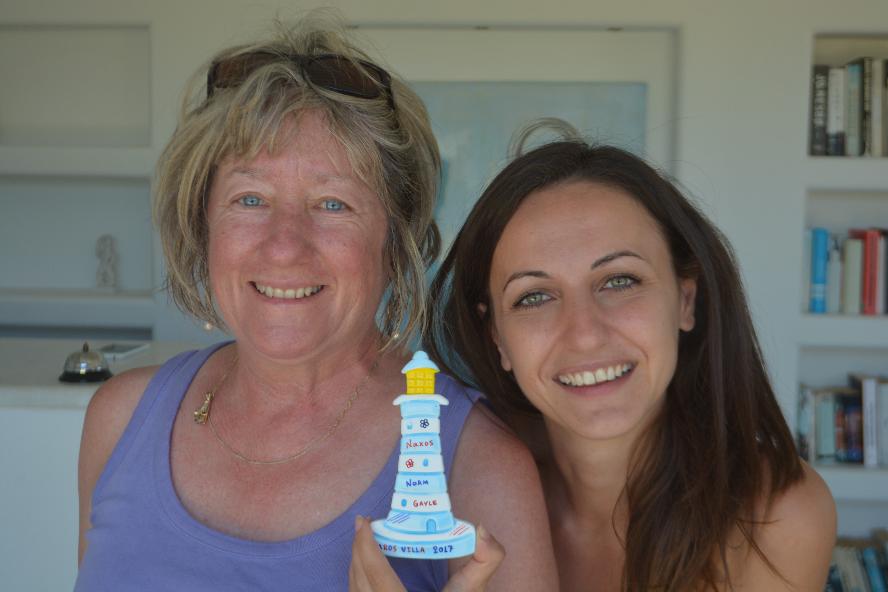 The Temple of Apollo - Portara just outside Naxos Town is a huge marble gate, the single remaining part of an unfinished temple of Apollo of 530 BC, the island's emblem and main landmark. Standing on the islet of Palatia, at the entrance to Naxos harbour, it comprises four marble parts. Its construction was initiated by the tyrant Lygdamis in the 6th century BC. Although we didn't experience it apparently the Temple offers one of the most enchanting sunsets in Greece.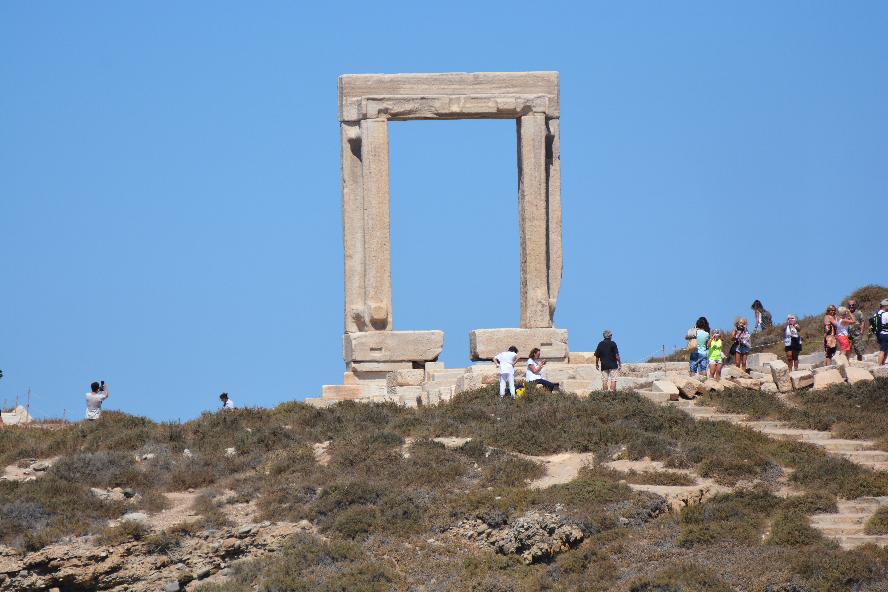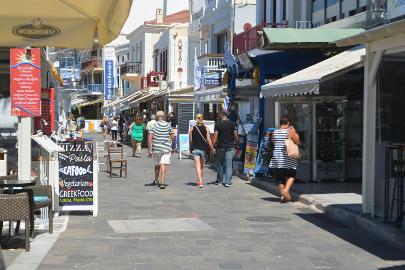 Some random guy passing the time no doubt waiting for a ferry.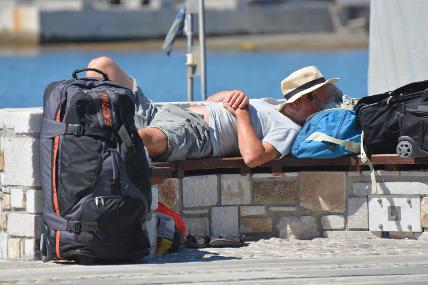 Our ferry to Koufonissia - the Express Skopelitis.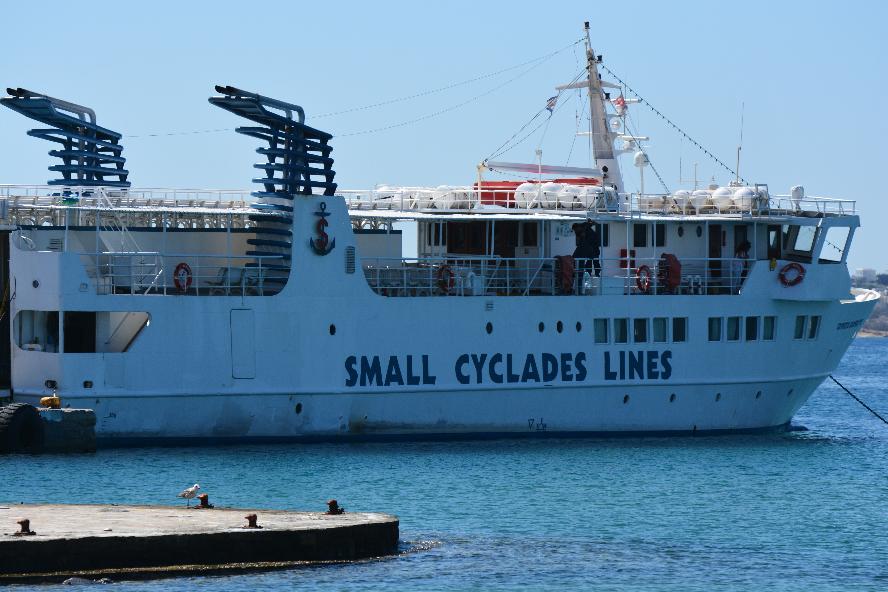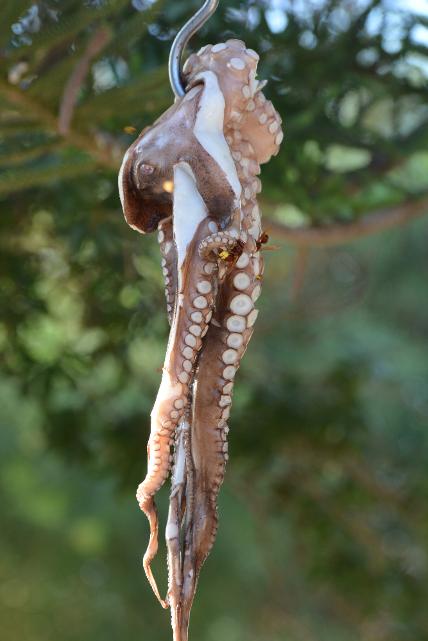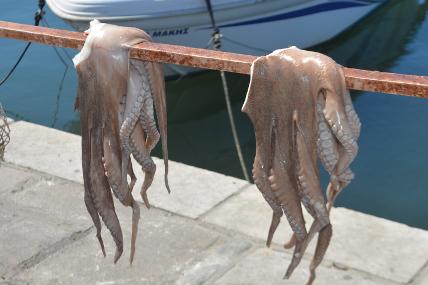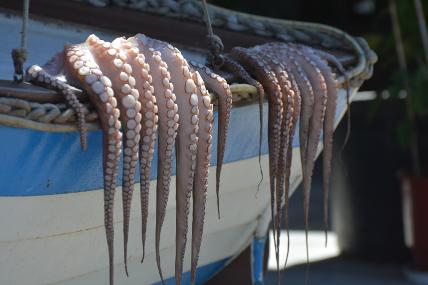 Naxos Town as seen from our ferry.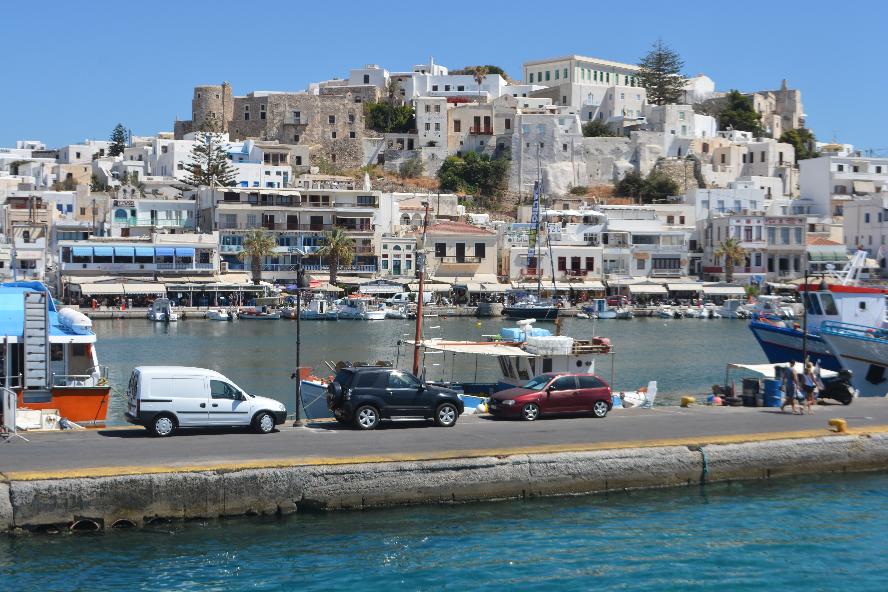 Some of the western coastline of Naxos.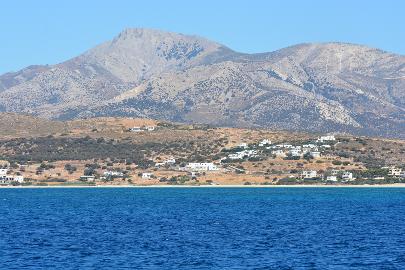 Memories of Naxos
the goats in the field next to Faros Villas
our Naxos traffic jam
sunsets over the island of Paros
the huge pool at Faros Villas
views of the sea from just about everywhere
the beautiful long sandy beaches
George 1 and George 2 - our servers
Dalas, the traditional taverna in Koronos
the remnants of windmills
walnut 'pie'
fresh orange juice
the fridge magnet gift from Vicky
Brightly coloured fishing boats in Iraclea.
The main (and apparently only) road leading out of Iraclea port and an isolated church on Schinnousa.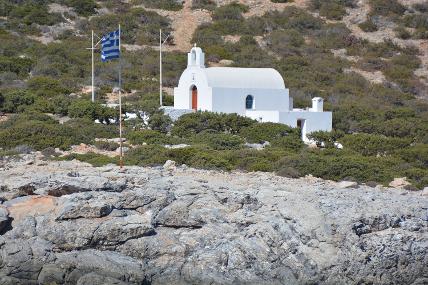 Traditional Greece - on the dock of Schinnousa.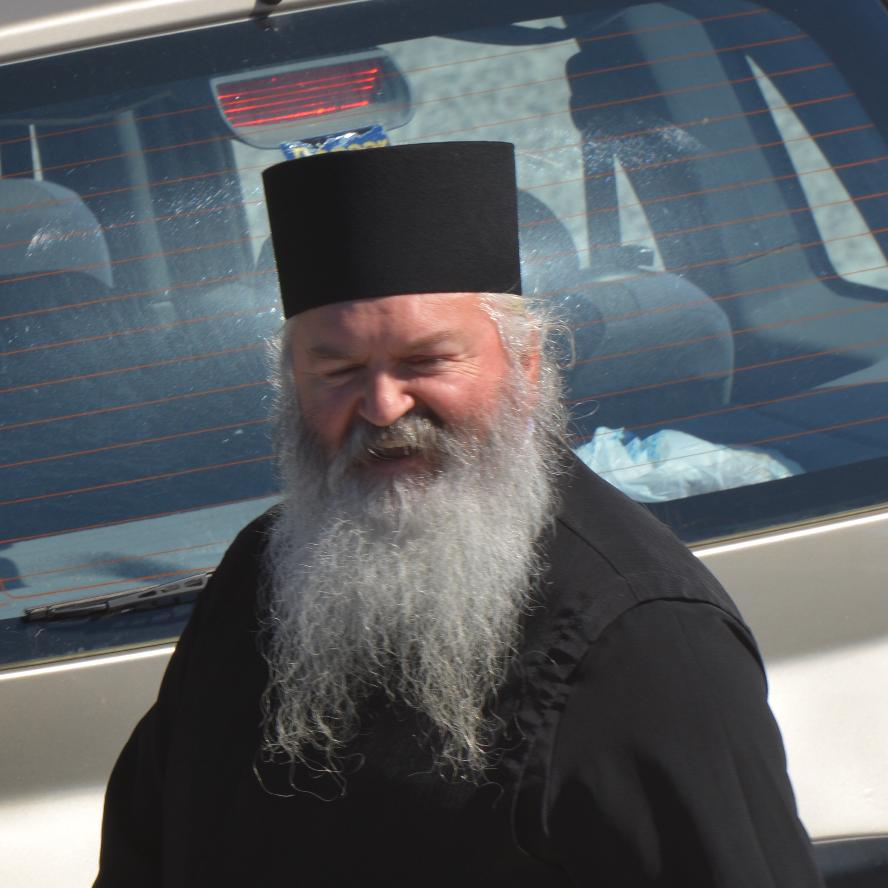 First view of Koufonissia as approaching from Schinnousa.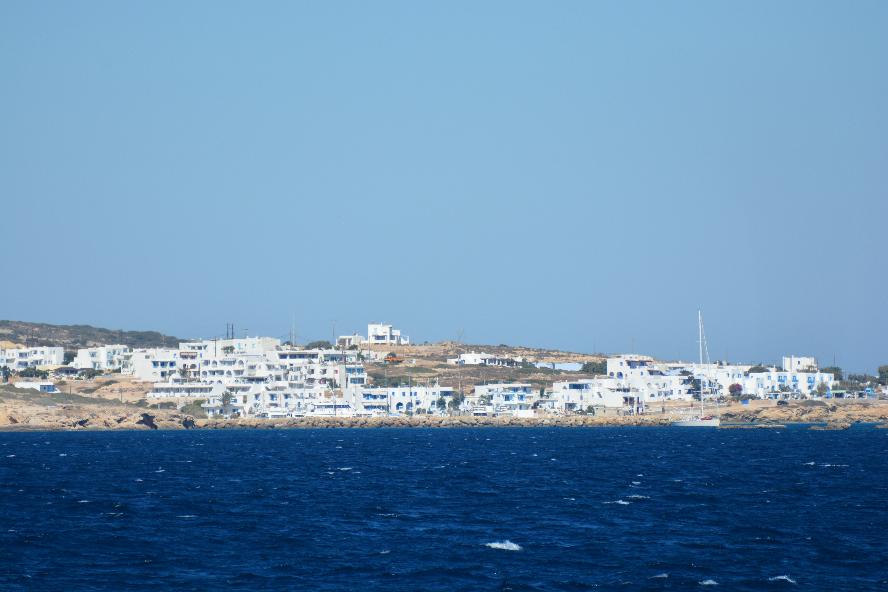 The coastline and beautiful water colours along Kato Koufonissia.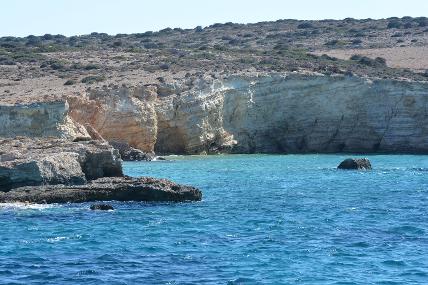 Entering the port of Koufonissia.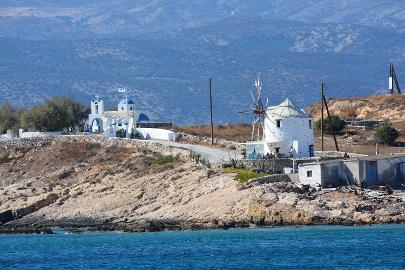 September 06, 2017 - Faros Villas with a drive through the interior of Naxos
After another leisurely breakfast today was the day for seeing the island, for a drive through the interior and mountains. Our first stop was a pottery place near Damalas which turned out to be quite a disappointment. We then continued on to the town of Chalki, a cute place with a really nice square, a very upscale pottery/ceramic shop amongst a number of other galleries and linen stores.
We continued driving through the mountains with vast vistas to the sea around virtually every corner heading north-east to Koronos, supposedly one of the most beautiful and lesser known villages of Naxos Island. It is a stepped village, scrabbling up two opposite mountain sides and renowned for its emery mines. The street plan and traditional architecture of the houses compose a breathtaking picture. We stoped to walk through a few of the alleys with stone terraces and many steps. The town is apparently known for its local food. Although we don't normally have lunch we decided to search out a taverna, ending up at Dalas. A small place - there was only us and two older locals - the food and service were great. We each had one of the daily specials - me the lamb meat with lemon sauce and Gayle aubergine with potatoes and tomato sauce in the oven. The servings were large and the food very tasty. Although we didn't order any wine Stella brought us each a glass 'from the barrel'. Unfortunately no baklava so we passed on dessert but were very glad we made the effort to search out (which included a drive down a narrow twisty road) the taverna.
We knew we did not have the time to drive around the north of the island so returned via Apeiranthos, a town built on the mining of marble. The main street, past numerous restaurants, shops and museums was made of marble. A nice village to stroll through. We then continued on past Filoti, the second largest town in Naxos, and then a bit unplanned as we missed a turn towards, but not to, Naxos Town. We returned to Faros Villas where we walked down to the beach, another of the long sandy beaches of Naxos.
Having had a filling lunch we ate a very light dinner - tzatziki, a Greek salad (no onions) and stuffed tomatoes with a nice mint flavouring. And then another piece of the walnut 'pie'.
A busier day but very enjoyable as we saw much of the interior of the island.

Chalki is a popular town, in part due to its attractive central square where just about everyone was enjoying lunch.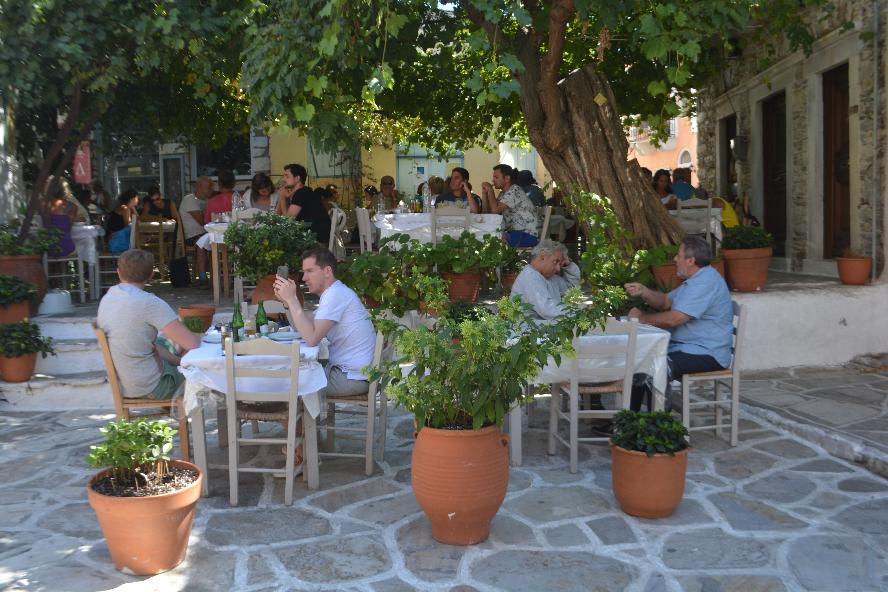 One cannot drive through the countryside of a Greek island without encountering numerous churches. The one on the left is in Chalki while on the right Stavros.
One of the benefits of driving high up into the mountains are the spectacular views of the coast and sea.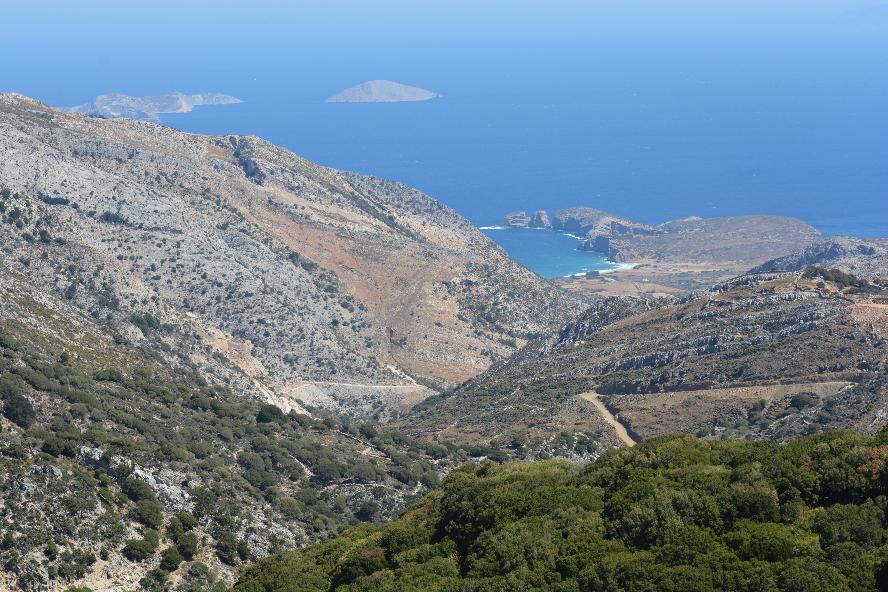 Strolling through the alleys of Koronos most of the doors and windows were painted with the traditional Greek blue.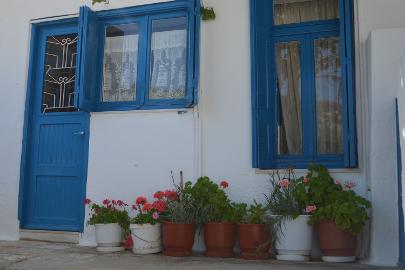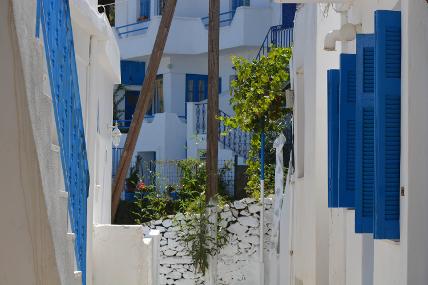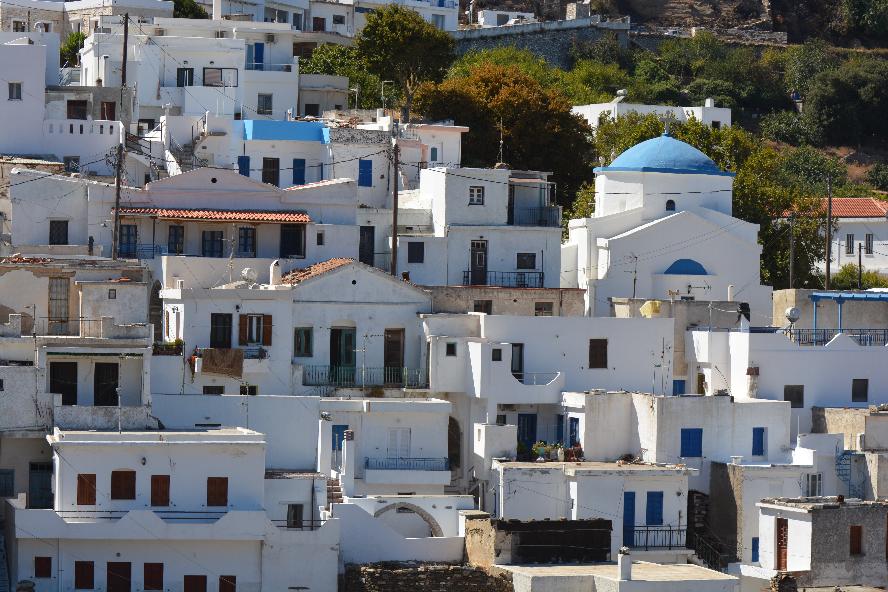 Lunch at the traditional tavern Dalas in Koronos and one of the locals passing his time in the tavern.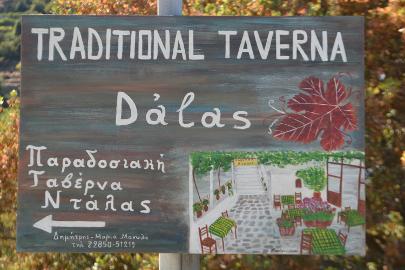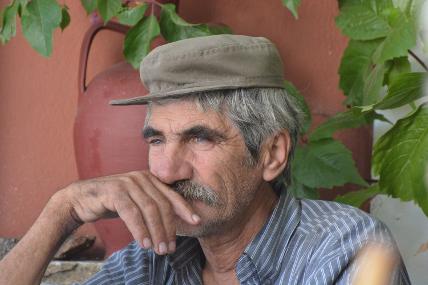 Our Dalas delicious dishes.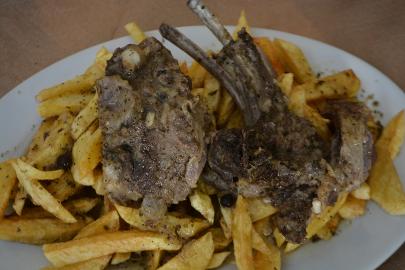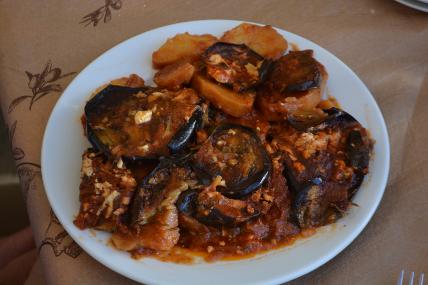 Our server Stella and her son. Gayle with wine 'from the barrel' and her aubergine.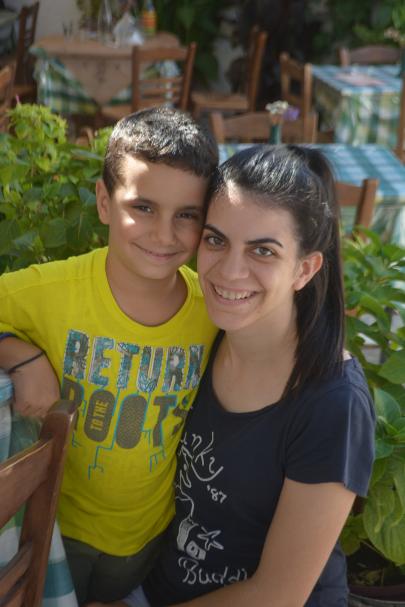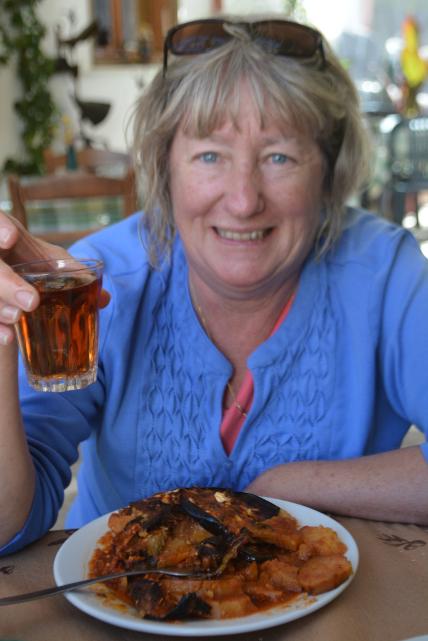 A view to the south coastline of Naxos as seen from Stavros up in the mountains.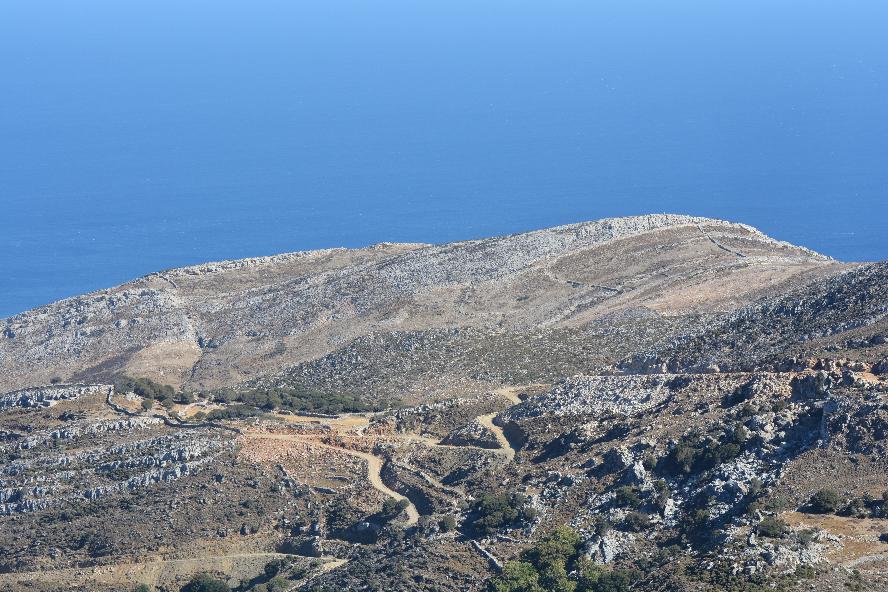 Apeiranthos, a village built on the mining of nearby marble. The streets and a few of the buildings were constructed with the marble.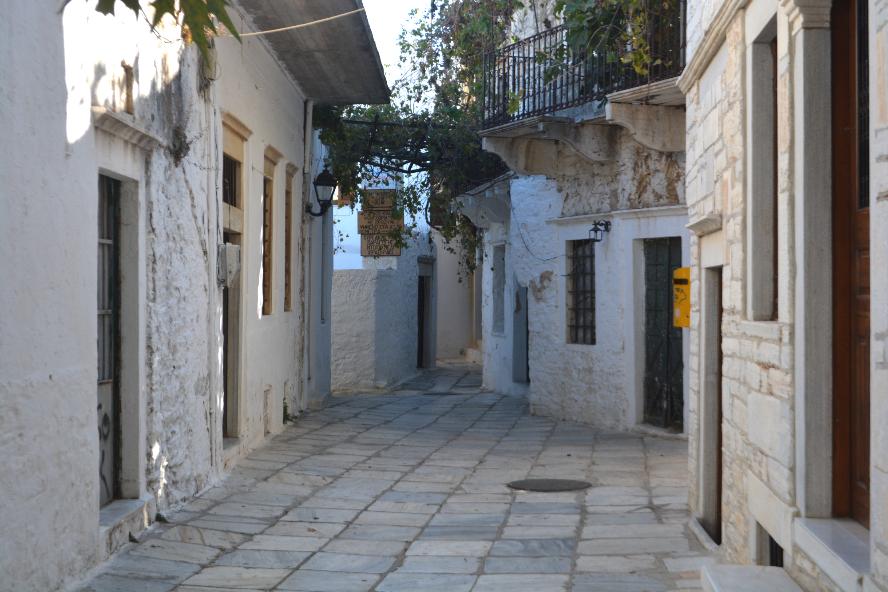 The island is dotted with a number of old windmills, most in a considerable state of disrepair. These on the other hand appeared to be in very good shape. They are quite the contrast to the large wind turbines that now generate energy.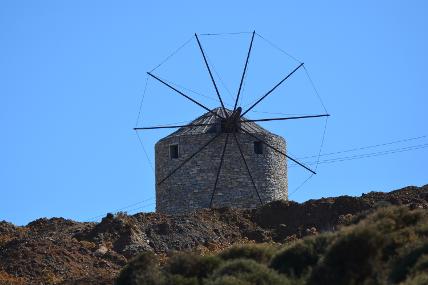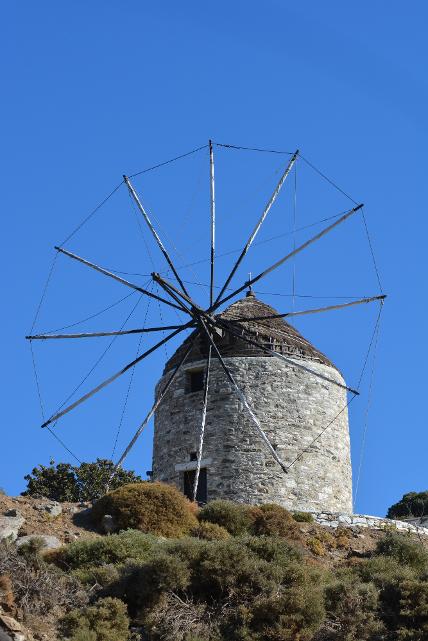 Ah those never tiring views of the sea and distant islands.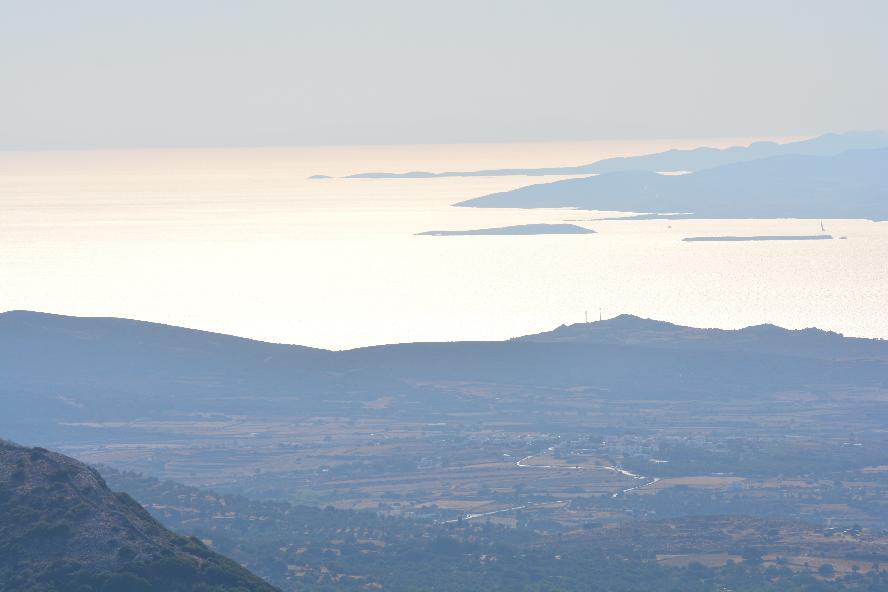 The town of Filoti, the second largest in Naxos.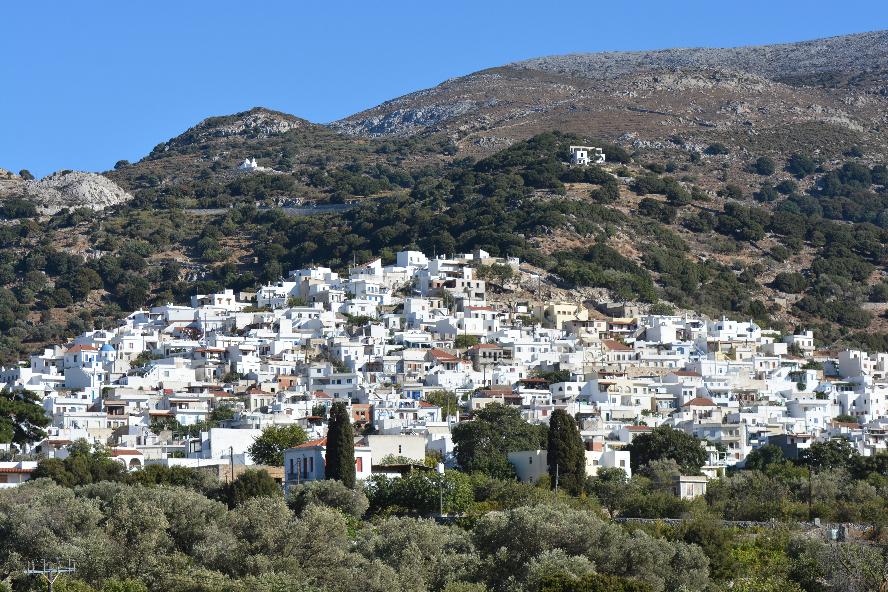 September 05, 2017 - Faros Villas with a drive around the south-west of Naxos
In spite of a good sleep and a nice breakfast (love that fresh squeezed orange juice along with Greek yoghurt, walnuts and honey, an egg and potato omelette, cereal, some meat and cheese, and tasty little spinach pies) after returning to the room I napped for another couple of hours. We then spent some time in the pool - not long enough but some time, before taking a short drive.
We first went down to the see the beaches near the now protected cedar/juniper forest. This forest is the largest of the eight cedar forests found in Greece. Covering about 300 acres the cedars are in both bush and tree form, some reaching heights of 15 ft. The entire floor of the forest is covered by white, sand, surrounded by sand dunes and long stretches of beautiful beaches. The forest shelters wild rabbits, birds and other animals. There are six beaches in Alyko - we visited St. George beach.
At this point the paved road ends and we were on dirt roads along the coast to Pirgaki and then Agiassos. Pretty barren but with some wonderful vistas of the sea and the islands beyond. On the way back we were shocked to encounter five vehicles essentially stopped ahead of us. Our hopes of it being nothing bad were confirmed when we realized we had just come upon a Naxos traffic jam - a herd of sheep being led along the road to their evening grazing area. Until the shepherd did his thing it was impossible to pass. Eventually he herded the sheep to one side in order that the vehicles could inch their way through.
We again ate at Faros Taverna - the food is good and no need to drive anywhere. After some Melintzansalata - the traditional eggplant dip with garlic, tomato, parsley, olive oil and vinegar Gayle had the artichokes in lemon sauce while I had both the special moussaka and traditional Naxos sausage. Way too much food, particularly with the accompanying delicious home-cut fried, I took one of the large sausages back to the room in order to leave a little space for the apple pie - which really was a pie and not a cake.
We awoke to the sound of bells to find these goats grazing in the field next to us.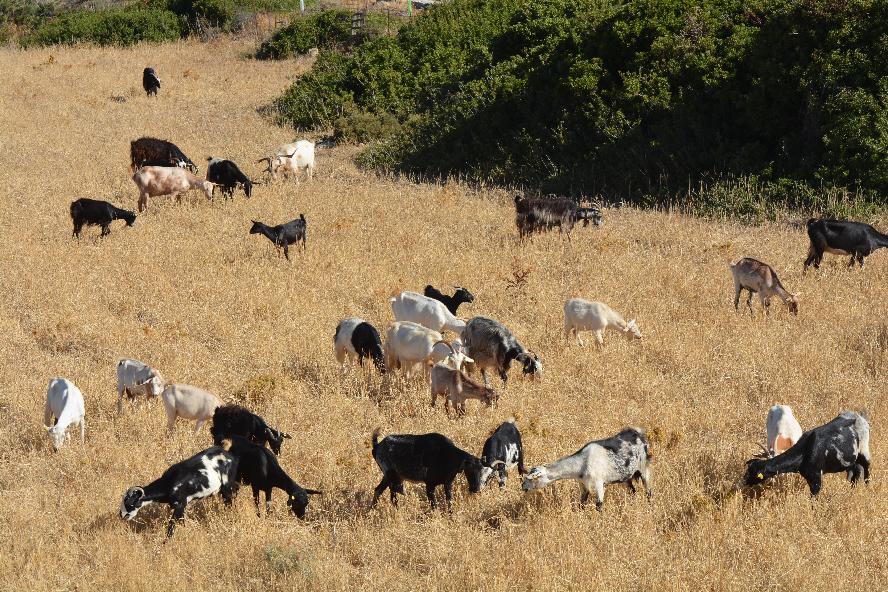 Lulu, one of the most polite cats (besides our own of course) we have come across and Mama's Recipes for the day. There was also a vegetable briam but unfortunately for Gayle it sold out.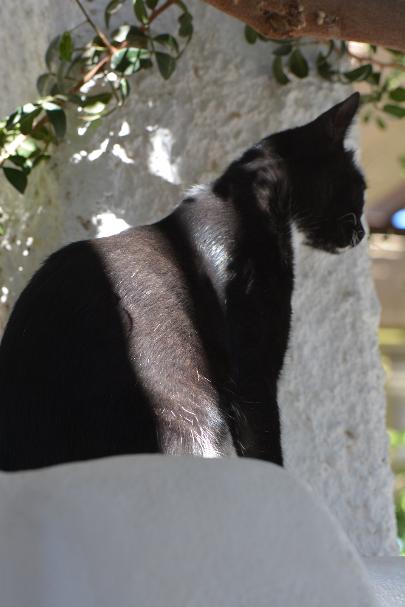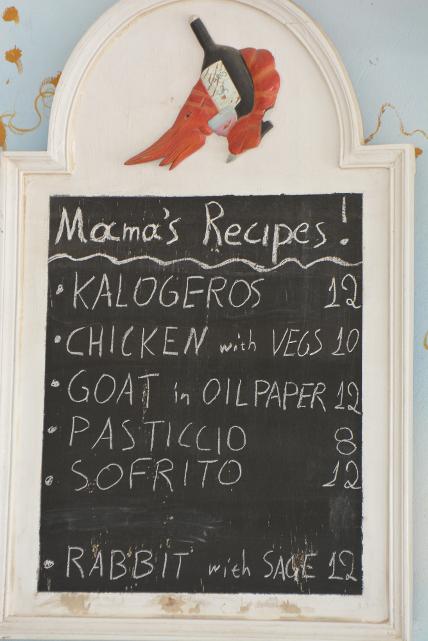 The large, very large pool here at Faros Villas.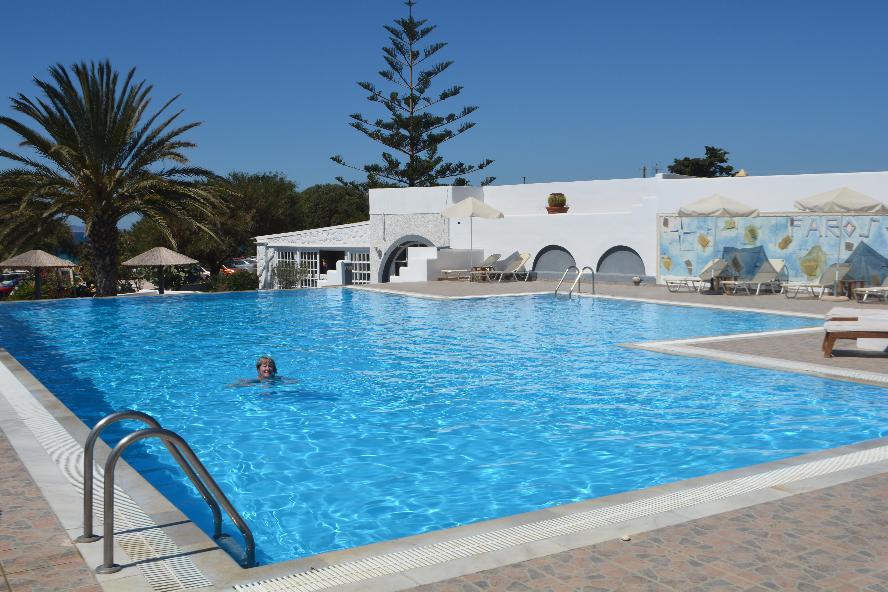 Dipping our feet in the warm water at St. George beach.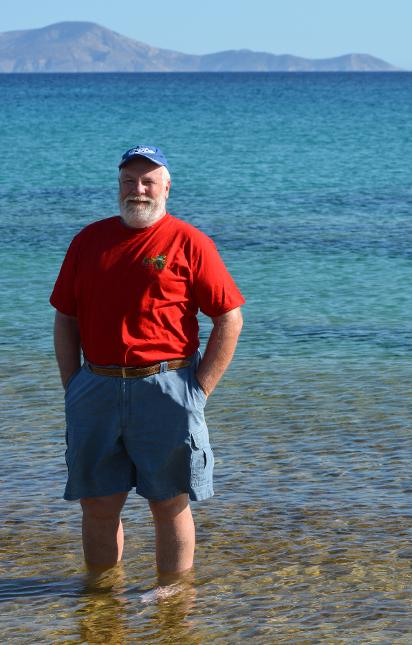 It is difficult to drive far without seeing goats or sheep.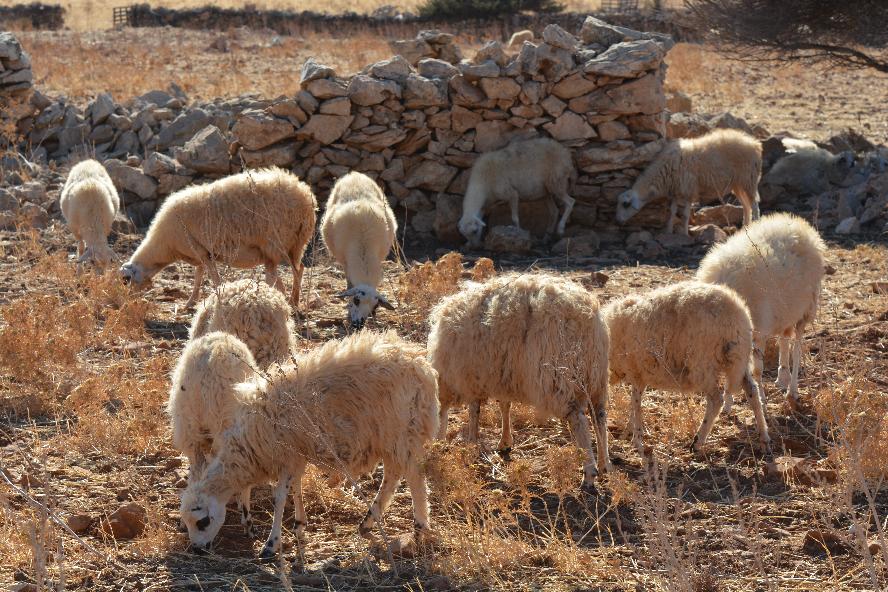 Agiassos Bay on the south-west coast of Naxos.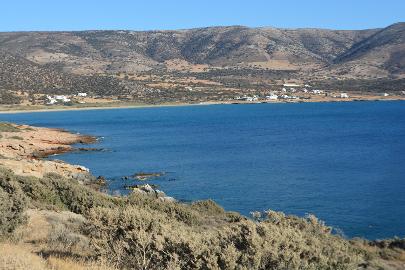 Such a pleasure to the eye - beautiful.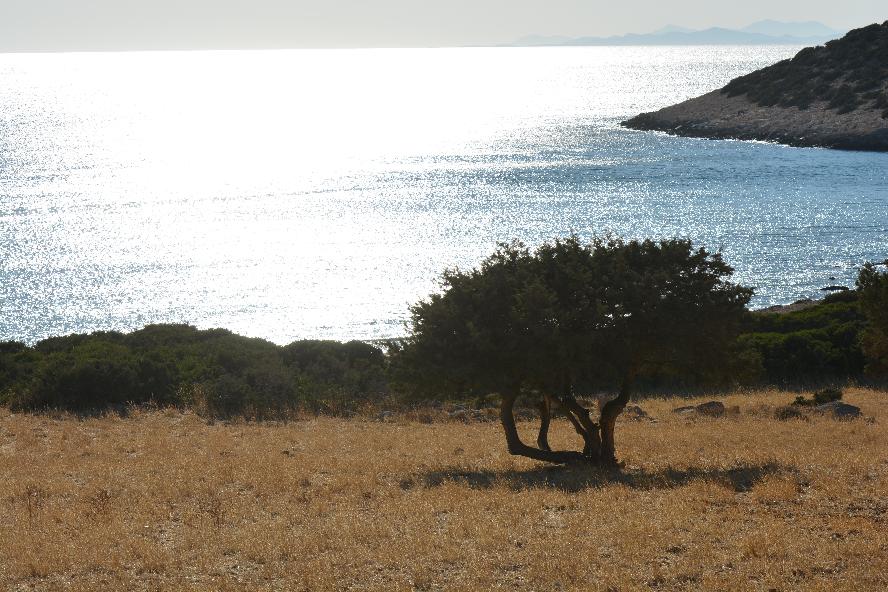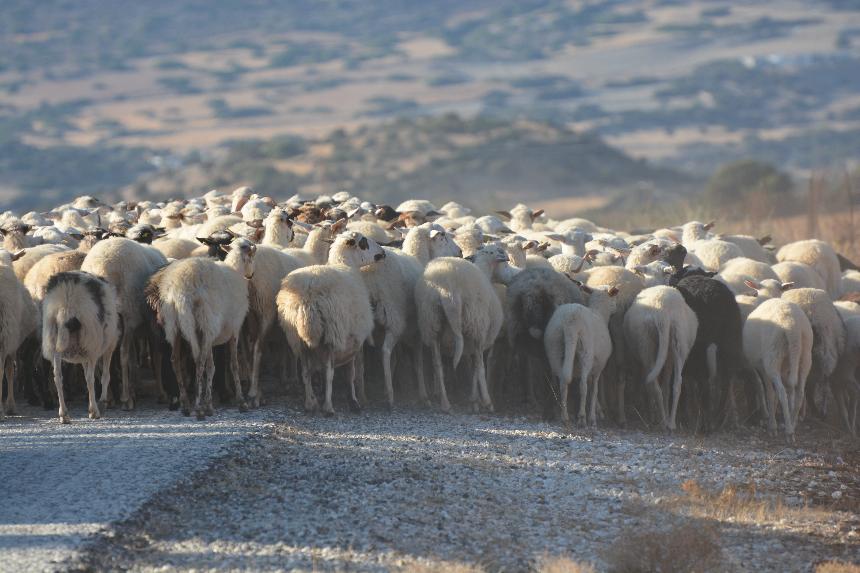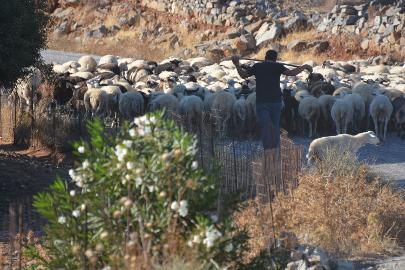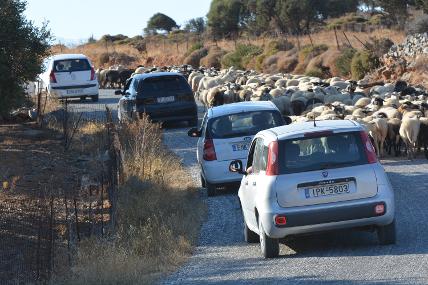 On the left the view of the water from one of our balconies and then right on the beach.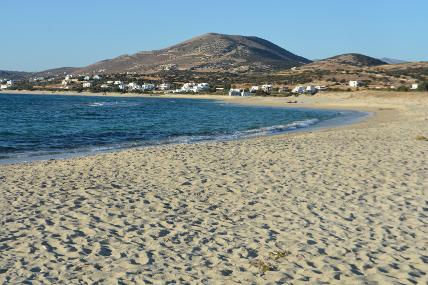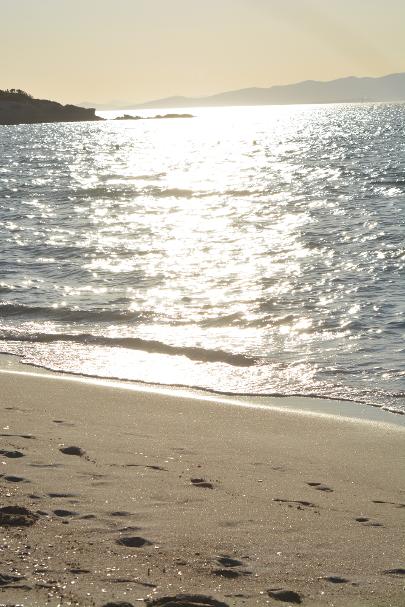 Another beautiful night - another beautiful sunset over the island of Paros.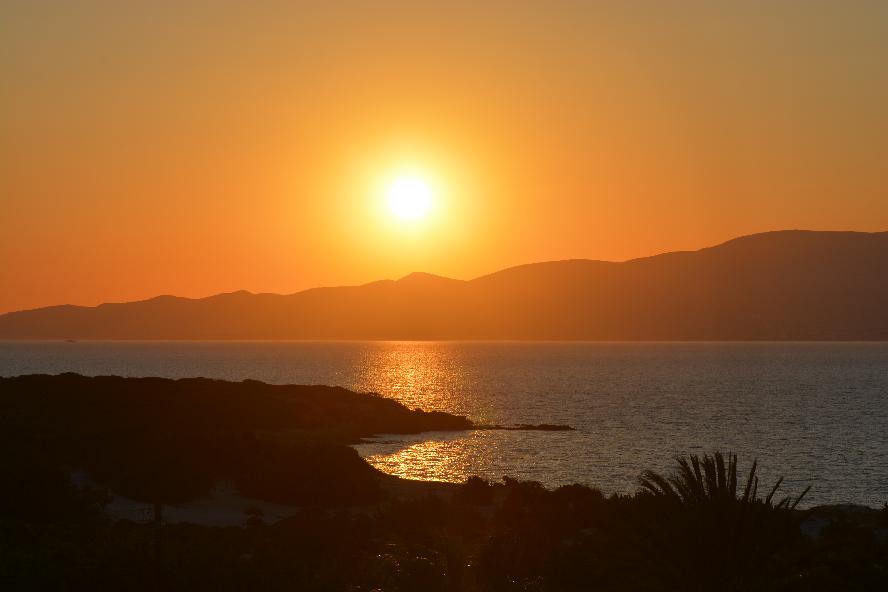 Moussaka for dinner for me (Gayle had very tender artichocks in a lemon sauce) and after-dinner liquers - Mastiha from Chios.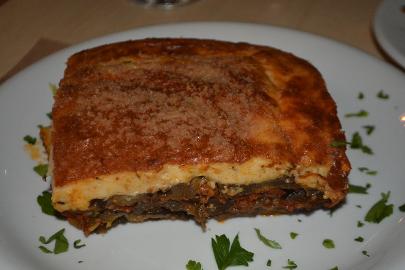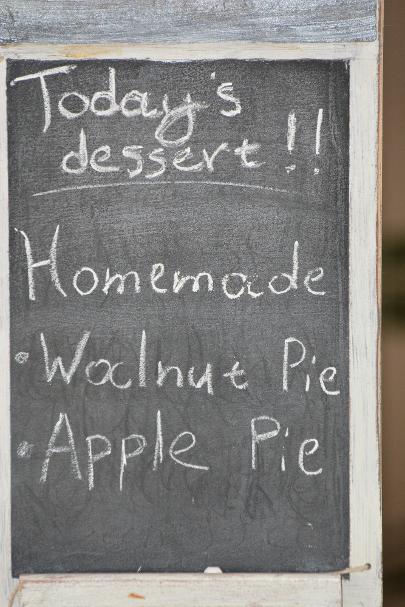 Normally we don't have dessert but the thought of a walnut cake was enticing.
We then had this long discussion with our waiter George as to whether the dessert was a walnut 'pie', like a pecan pie or a walnut 'cake', as in a honey soaked cake. It appears the term are used interchangeably here in Naxos.
We gambled on the cake and were correct. It was delicious, so much so that we ordered it again our final night.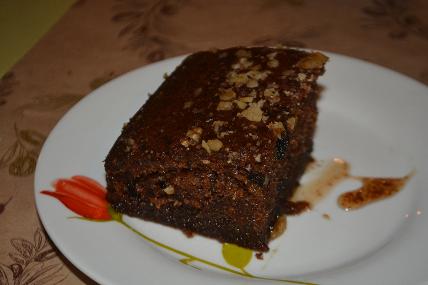 September 03/04, 2017 - Halifax to Toronto to Athens to Naxos to Faros Villas
A long long travel day. In order to make the morning connection to Naxos we took Air Transat to arrive early in Athens. This meant an early (7:00 am) flight out of Halifax, a considerable (six hour) wait in Toronto, a long (ten hour) flight (with a seven hour time change) to Athens, another (three hour) wait and finally a short (25 minute) flight to Naxos. But it did mean we were in Naxos before noon. We picked up our rental car at the airport, such as it is, and drove to Alyko in the south of the island and our lodging - the Faros Villas. Within a km we saw a small church, some sheep and goats, and great vistas of the vibrant blue waters of the sea. So nice to be back in Greece.
After checking in we had a light lunch - there is a taverna here at the villas - just a Greek salad and some tzatziki. It was then to our room for a much needed long nap. After watching the colourful sunset it was back to the tavern for dinner - unfortunately the vegetable briam that Gayle was looking forward to was sold out. We started with some garlic bread with basil, tomato and xinomizithra, the soft local cheese (just ok) and a feta baked Saganaki (quite tasty). Next choice for Gayle was the meatless mousakka but again there was none so she ended up with a unique salad of black-eyed peas, peppers, corn, both red and white cabbage, carrots and orange dressing which was quite good. I had the rabbit, one of Mama's special recipes of the day - nice huge serving with excellent hand cut fries. The walnut 'pie' (it really was a cake) was enticing so we split one for dessert.
In spite of our earlier nap it did not take long to fall asleep.
Our 7:00 am arrival in Athens was perfect timing for the rising sun.
The Naxos airport - yes the whole Naxos airport - arrivals, departures, baggage claim - all in this one building. But then there are only two flights a day.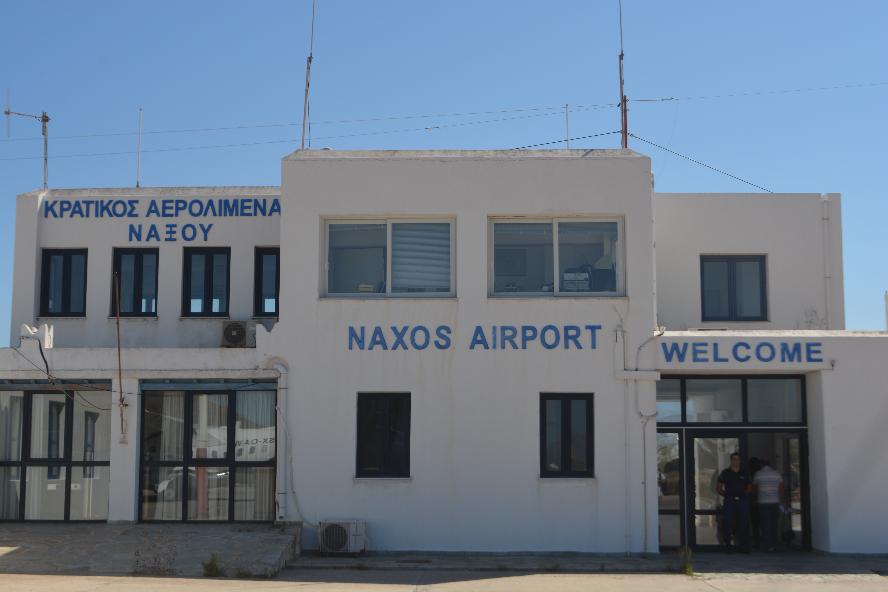 Not a km from the airport and we passed our first Greek church. And there were many more on our 15 km drive south to Faros Villas.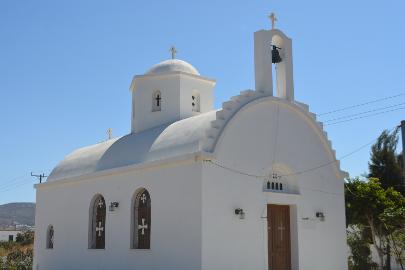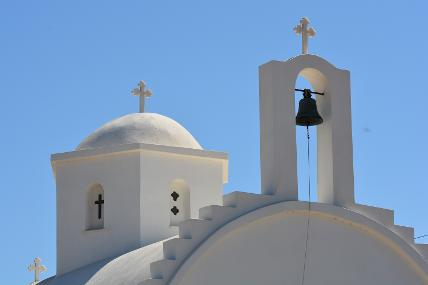 A traditional drink here in Greece is raki. Those who have read the Greece 2015 travel blog know about me and raki, particularly one evening at Aradamos in Crete. Upon arriving we were greeted with a tray of fruit, these candies and a bottle of aromatic raki. So great to be back in Greece.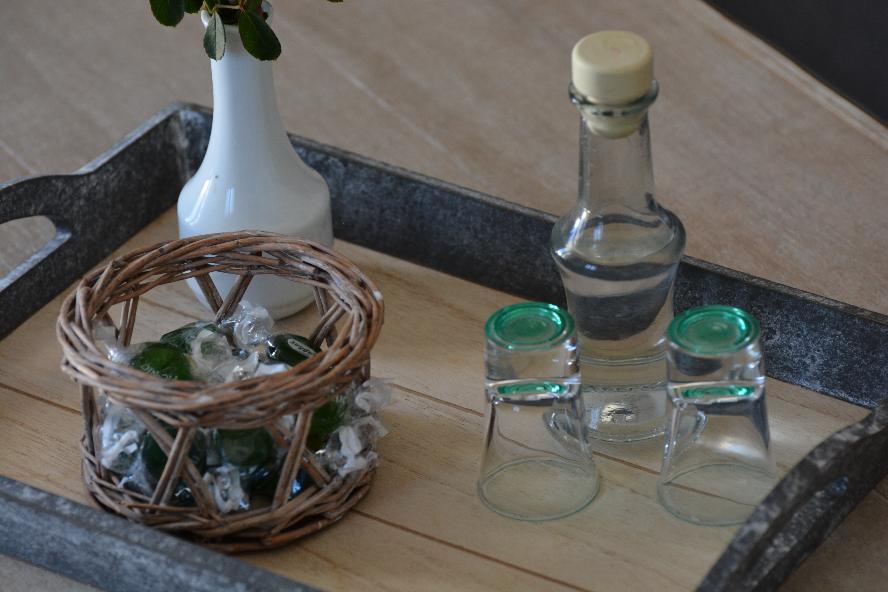 Views of the channel between Naxos and Paros from Faros Villas.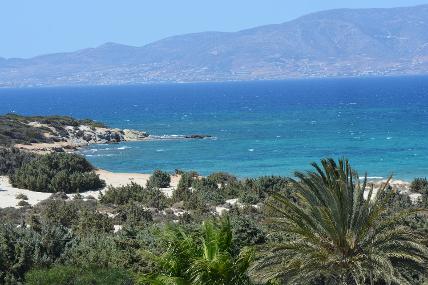 Lunch - Greek Salad and delicious tzatziki with grilled pita bread.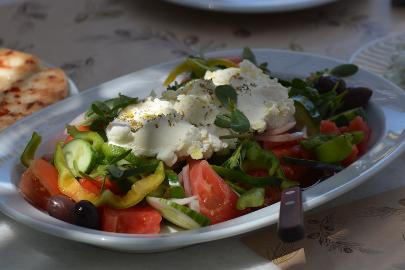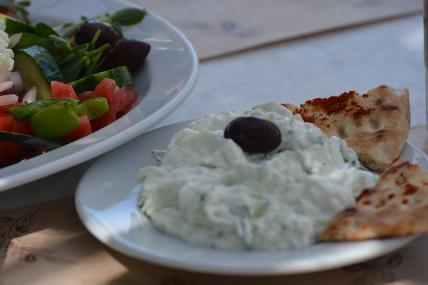 The setting sun shining on Gayle before it drops over the nearby island of Paros. And then the full moon.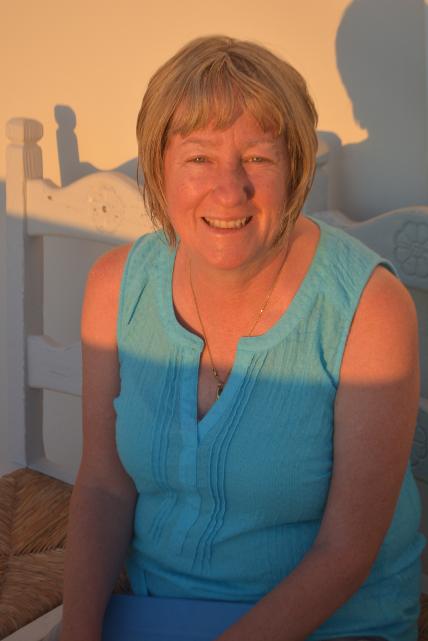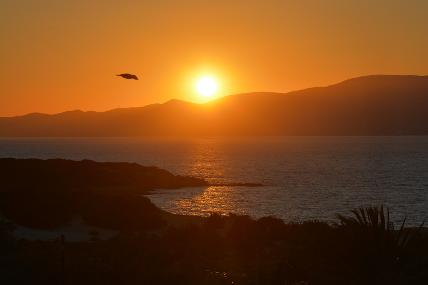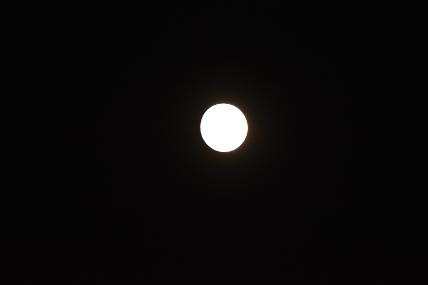 Greek salad and tzakziki for lunch and rabbit for dinner.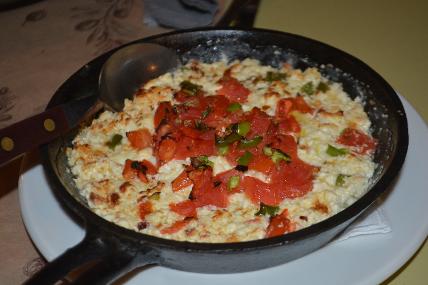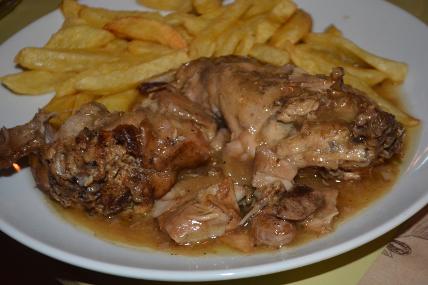 It has been only two years but we are returning to Greece. In particular we are returning to the islands of Koufonisi and Amorgos, along with Naxos, Kithira and the Peloponnese peninsula. Our final three days are in Istanbul.
Gayle in particular was so taken with Koufonisi and Amorgos she insisted we go back. Other than that any where was good. Upon landing in Athens we immediately fly to the island of Naxos where we will spend three nights. It is then a 2 1/2 hour ferry to Koufonisi, a small (6 km long and 5.5 km wide at its widest points, 26 sq kms) island, population 399, where as a tourist one walks or bikes everywhere as there are no vehicles to rent. We are returning to Pambelos Lodge which we thoroughly enjoyed. They have since installed a pool, although the beach is only a 10 minute walk and now serve breakfast so we are really looking forward to our stay. The unique thing about this trip is that we will be joined for parts of it by Bill and Linda Collins (no relation), the first time we have traveled with anyone else.
After five nights it is then a further 1 1/2 hour ferry to Amorgos, another lesser known Cycladic island but one we also have very fond memories of . We will be staying six nights, the first four at the same place as our previous trip just outside the port of Aegali followed by two nights in Chora, apparently one of the most authentic villages in the Cyclades.
From Amorgos it is back to Naxos, a flight to Athens and then 10 nights in the Peloponnese split by two nights on the island of Kithira off the south coast. After the Peloponnese we fly from Athens to Istanbul for three nights. We always wanted to go to Turkey. But when we had the opportunity for a business class Aeroplan flight home for $48 (for the two of us) the stars seemed to align and we booked.
We are hopeful internet access will be decent and we can maintain the travel blog on a reasonably regular basis. But if we are 'off line' for a few days simply assume we have encountered a dead zone. We will post once we settle in to our first stop in Naxos.