Our memories of Costa Rica 2023:
We enjoyed another great and interesting trip to Costa Rica, our 6th in the past seven years, with a number of wonderful memories, including:
returning to Las Nubes and enjoying Filip's wonderful pre-dinner tapas on the platform overlooking the coast

Filip's (Las Nubes) creative and innovative dinners

gorgeous sunsets at Las Nubes, Playa Matapalo and Pacific Edge

Filip's fresh fruit Pina coladas

the sounds of the insects (especially the Cicadas at Las Nubes), birds and howler monkeys

Gayle getting up and out well before sunrise on a regular basis to listen to wildlife

returning to le Jardin de Los Monos where the monkeys are plentiful and playful and the sloths visit frequently

the soaring / chatting Scarlet Macaws as they fly gracefully overhead

Lettika's video of the kissing sloths

dinner (especially the steaks) at the Matapalo Supper Club

delivering beanies to the students at San Andres Escula

Playas Matapalo, Linda and Uvita (Ballena Marina National Park) and the amazingly warm Pacific Ocean water

the views over the jungle / rainforest to the coast from the miradors at Pacific Edge
the laid back vibe at Pacific Edge, and connecting with Michaelynn and Sid
Sid's delicious banana pancakes for breakfast
the quality of and presentation of dinner at Scala, after driving the pot-holed dirt 'road' to the restaurant
the views over the jungle at Nature's Edge
the Toucans, Aracari and other birds at Nature's Edge
the early (5:00 am) wake-up call of the howler monkeys at Nature's Edge
having Maite, the owner of Exotica, an excellent restaurant in Ojochal, remember us and chat at length
Exotica's delicious meals and drinks, all adorned with edible flowers

our wonderful hosts Filip, Lettika, Sid, Michaelynn, Keith, Joe (and their dog Louie) and Jose

our visit to the Boruka village; a traditional Boruka lunch and the children's excitement of our gift of beanies
the interesting other travelers we met - from places such as Uruguay, Germany, Australia, USA and Canada
the isolation and peaceful environment of the rustic Hot Springs Lodge
the 'real', Costa Rica at Hot Springs including traditional Sarchi rocking chairs, Tico meals and coffee
the hummingbirds, Social (yellow-bellied) flycatchers, and Cherrie's Tanagers
participating in the making of tortillas and empanadas for breakfast
Gallo Pinto, lots and lots of fresh fruit and fruit drinks / smoothies

the attention provided to us by Jose, the Manager at Hot Springs

our evening bonfires and balloon send-off

the loss of our beloved Toledo while we were away, and our reflective walk to the nearby water fall
Katrina and Paul stepping forward to deal with Toledo's illness and our travel complications
missing our connection and having to spend two nights in Cancun, and one in Toronto
the opportunity to enjoy Mexican food and Margaritas
We couldn't resist these Costa Rica Pura Vida with flag and sloth ball caps. We are team SLOTH!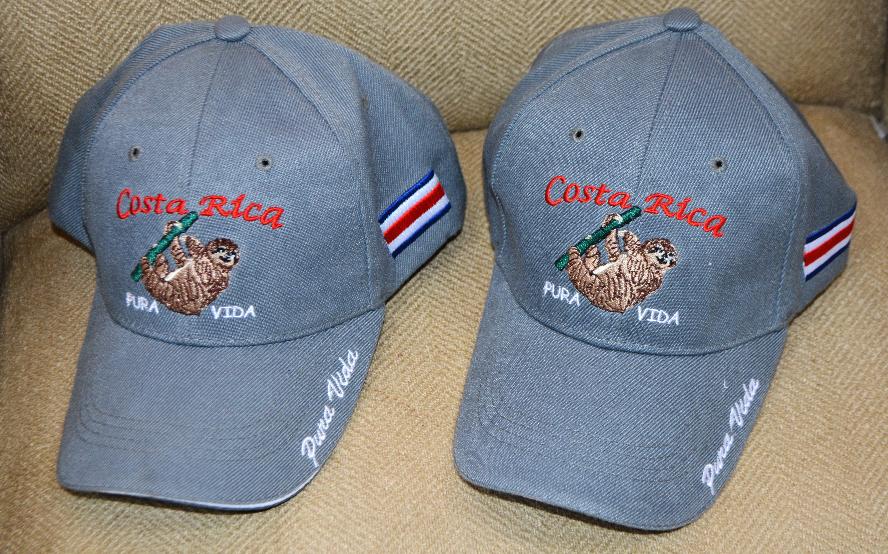 Expenses (based on average exchange rate 1 US$ = $1.3655 Cdn):
Here are the costs of our 21* day trip:
$ 555 airfare, albeit we booked with Aeroplan, seat selection and baggage (Avianca)
$ 4,831 lodging ($230 Cdn $ per night)
$ 1,814 food ($91 per day for dinner etc. including wine as breakfasts are included in lodging)
$ 2,144 vehicle ($1,941 or $97 per day for the vehicle plus fuel and tolls of $203)
$ 220 a t-shirt; 3 caps; a journal; a Boruka turtle; a wood board and a Mexican serving dish
$ 11 entrance to Ballena Marino National Park
$ 152 miscellaneous - primarily tips
$ 9,727 for 21* days
* excluding additional days and nights in Cancun and Toronto due to missed connection
The total cost excluding airfare and souvenirs (i.e. lodging, food, entrances, vehicle and miscellaneous) was $8,952 or $426 per day, primarily attributed to higher car rental costs than in pre-COVID years.
Following are the average costs of our four previous trips to Costa Rica.
$383 in 2017 (17 days)
$410 in 2018 (5 days)
$325 in 2019 (19 days)
$345 in 2020 (24 days)
$767 in 2021 (15 days) - reflecting the considerable costs at Golfo Dulce Retreat
One observation is the relatively expensive food in Costa Rica, and now vehicle rental. One might expect in a Central American country food to be cheaper than here in Canada. While there is the option to eat at less expensive local 'sodas', prices in restaurants and even supermarkets are generally comparable to Canadian prices. Vehicle rental, which was quite reasonable pre Covid-19, skyrocketed in 2022 with prices more than 3 x what they were as recently as 2020. The vehicle rental costs decreased considerably this year but were still nearly double what we paid in 2020.
Lodging ranged from a low of $125 US$ (our last night near the airport) to a high of $209 US$. All included breakfast (although breakfast is optional at Pacific Edge we have added the cost to the lodging rate).
Here is a list of where we stayed, the amount we paid (in US$) and a link to their website.
$ 151 Hampton Inn Alajuela (SJO)
$ 200 Las Nubes Matapalo www.lasnubescr.org
$ 146 Jardins de Los Monos Playa Matapalo www.jardindelosmonos.com
$ 209 Pacific Edge Domincalito www.pacificedgedominical.com
$ 172 Nature's Edge Uvita www.naturesedgecabinas.com
$ 170* Hot Springs Lodge Quespos www.hotspringslodgecr.com
$ 125 El Rodeo Estacion Belen (San Jose) www.elrodeohotel.com
* total daily rate of $250; $80 allocated to food; $170 to lodging
As is our practice we communicate and book directly with each place, and in doing so save the establishment the booking commission. As well often we are known to staff when we arrive.
A reminder of our observations if visiting Costa Rica:
always rent a 4 x 4 SUV if only for the greater clearance, and
if driving, never arrive for the first time on an unfamiliar road at night
And finally as they say throughout Costa Rica ... enjoy the Pura Vida! (the Pure Life)
March 03, 2023 - Toronto, Canada to Halifax, Nova Scotia
Nothing much to report today but for completeness we awoke early, took the shuttle to the airport, checked in and spent the morning in the Air Canada lounge, enjoying the comfort, Wi-Fi, food and drink.
The flight to Halifax departed on schedule and actually arrived 20 minutes early.
Great to be home.
March 02, 2023 - Cancun, Mexico to Toronto, Canada
Finally. We were scheduled to return to Canada today and Halifax tomorrow.
The day started great with a colourful sunrise and another pretty good breakfast. However there was an omen of not great things to come as when we left the Fairfield on the shuttle bus we saw an Artisan shop just to the side of the front of the hotel. We had no reason to leave the hotel and as such were not aware of the shop. Oh well. But we did break down and buy a Mexican serving dish at the airport.
Then we were told it was an hour and a half wait to get into the lounge. And the airport's Wi-Fi is awful to non-existent. But things began to look up when we checked the Lounge after only half an hour and were able to get in. More comfortable, great Wi-Fi and quite good food and drink.
Our flight was half an hour late out of Toronto but no big deal, until we were on board and
1) the entertainment system was not working, and
2) the pilot announced a delay due to a mechanical issue.
Two and a half hours later we finally departed, a total of three hours delayed. Which meant rather than landing at 7:15 pm and getting to our hotel 9:00 pm to 9:30 pm, we landed at 10:11 pm and did not get checked in until 12:30 am. But hey we got a direct flight back to Canada in advance of the snow storm that is forecast to hit Toronto tomorrow.
A good start to the day with a colourful sunrise. Enjoying that breakfast coffee.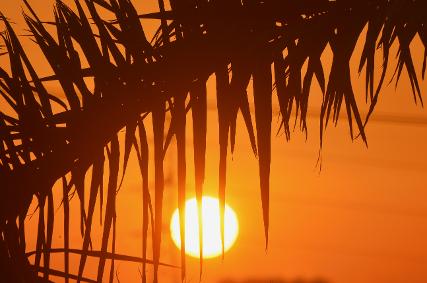 Breakfast included scrambled eggs, roasted potatoes and a beef dish.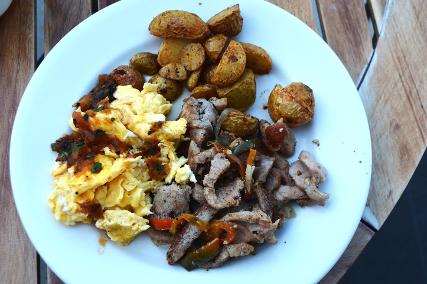 We bought a Mexican serving dish at the airport.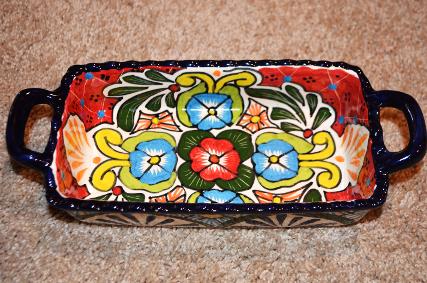 The Dragon Pass Cancun airport lounge actually had some pretty good food and drink.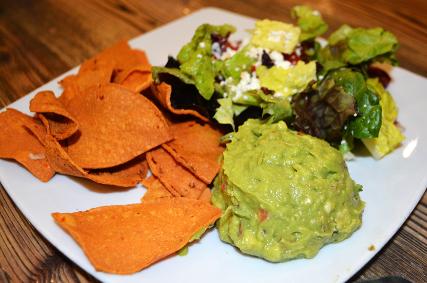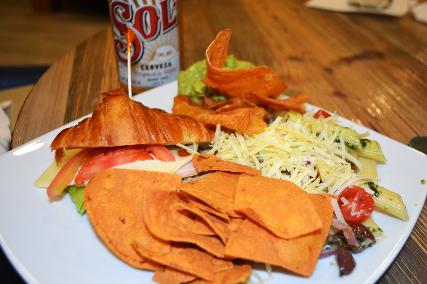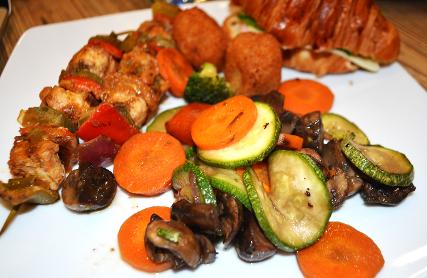 March 01, 2023 - Cancun, Mexico
We woke to the prospect of having to fly west to Denver, and try to clear US Immigration with another short connection. Plus arriving in Toronto at 12:45 am with a 6:25 am flight to Halifax. Far far from ideal - actually not something we were looking forward to.
We did find another option of a direct Air Canada flight tomorrow from Cancun to Toronto where we would have to overnight, but at least we were scheduled to arrive at the civil hour of 7:15 pm, plus no US Immigration. Paul contacted Air Canada on our behalf and was successful in getting us both booked on this flight. We were of course elated.
The rest of the day was spent relaxing, working on the Travel Blog and swimming in the Hotel's large swimming pool and accompanying hot tubs. If one is going to be stranded we acknowledge Cancun is not a bad place to have to be stuck.
The 1st floor terrace area provide a nice spot to view what turned out to be quite a wonderful sunset.
We returned to the hotel's restaurant for dinner. Quite surprisingly there were no other restaurants within walking distance. Once again Mexican food and Margaritas. I had the same Calda Tlalpeno I had last night, it being so good while Gayle had the Sopa de Champinon - a soup of diverse mushrooms served with tomato, onion, garlic and truffle essence. It lived up to its billing, being full of delicious mushrooms but unfortunately was likely made of a beef stock that was too strong for Gayle. We then had Nachos Arrachera, Gayle without and me with flank steak.
Fortunately our flight was mid-afternoon which allowed us to get a good night's sleep.
Breakfast - actually quite good. The inner back of the Hotel with its relaxing pool area.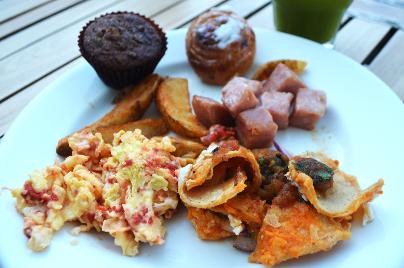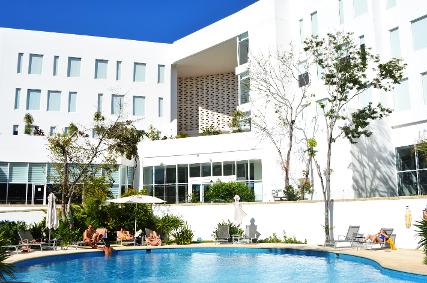 The large pool and hot tubs.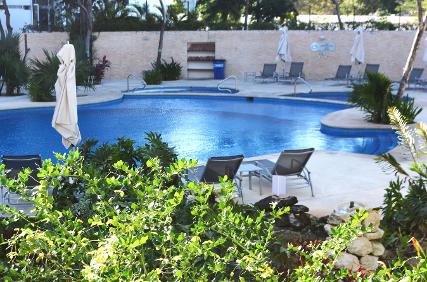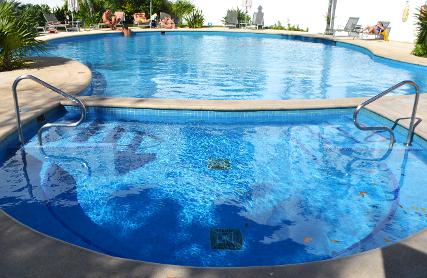 Sunset as seen from a 1st Floor terrace of the Fairfield Hotel.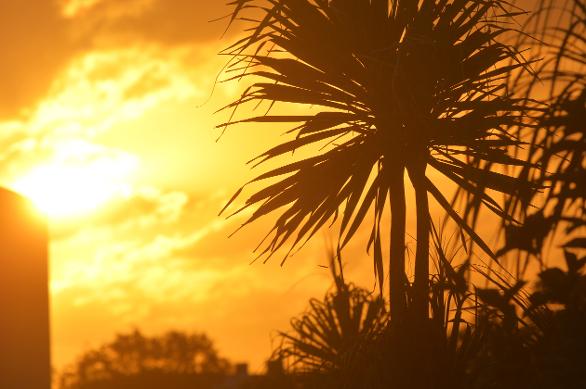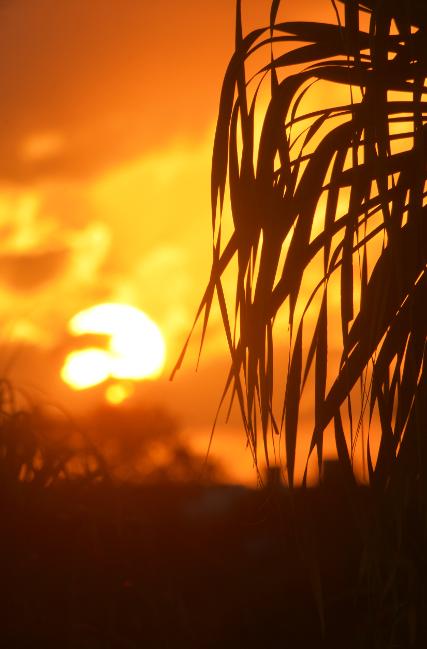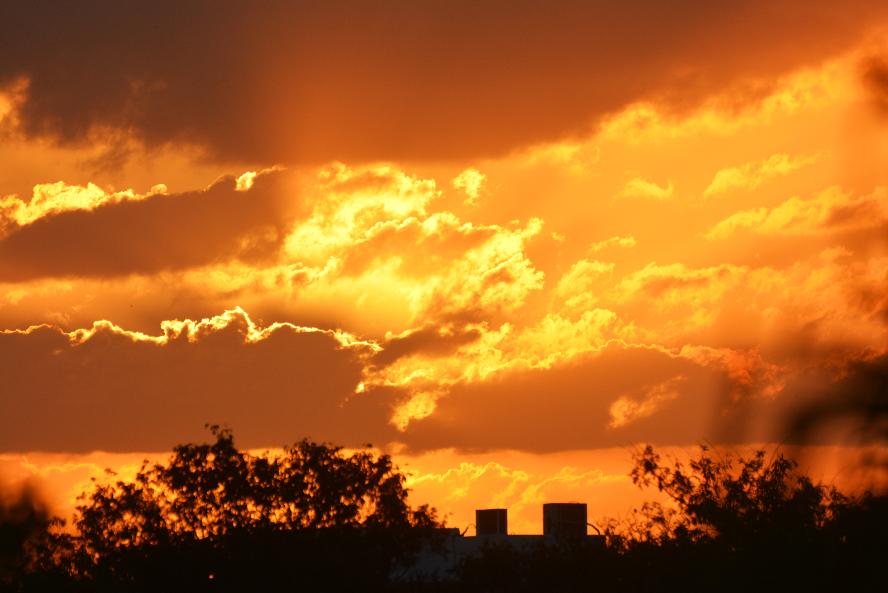 Caldo Tlalpeno again tonight given it was so good last evening.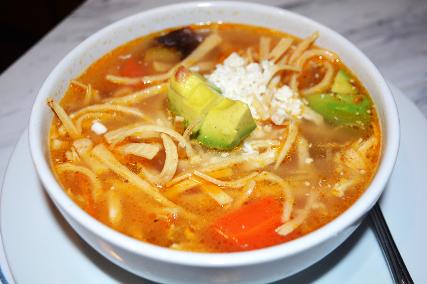 Sopa de Champinon for Gayle.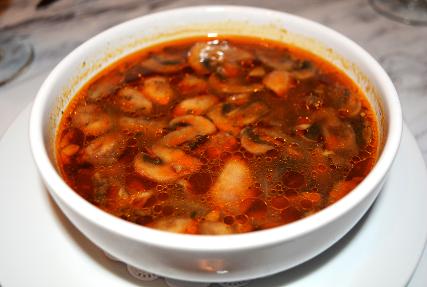 Again margaritas accompanied dinner. Nachos Arrachera with flank steak for Norm.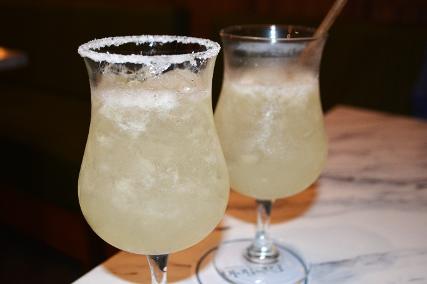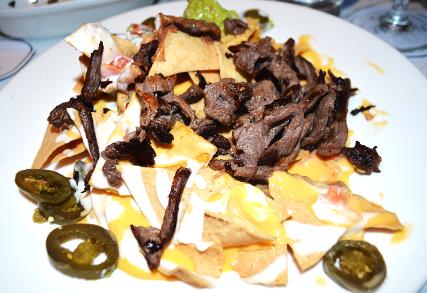 Some attractive Mexican pottery in the Fairfield restaurant.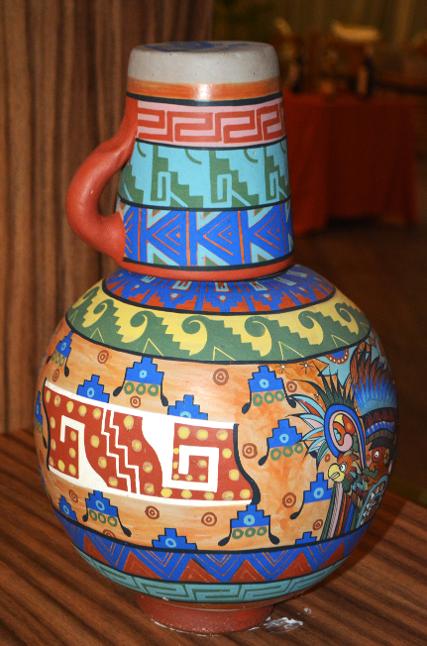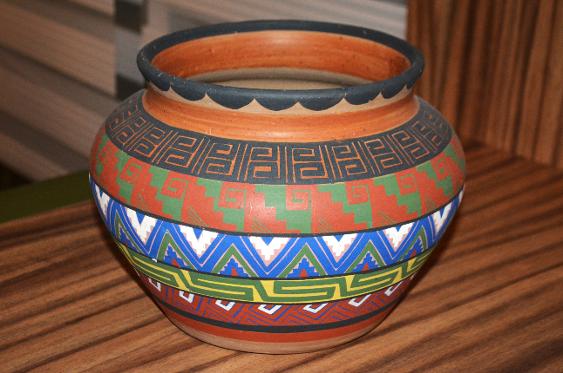 February 28, 2023 - El Rodeo Estancia Hotel, Belen (San Jose) to Cancun, Mexico
Where to begin? We were to return home today via a flight from San Jose to Cancun on Avianca, connecting to an Air Canada flight direct from Cancun to Halifax.
We were up early to return our vehicle (only six kms from El Rodeo Estancia Hotel to the Sixt office) and be shuttled to the airport. The Avianca flight left at 9:55 am as scheduled and actually arrived in Cancun a few minutes early. We had 1 1/2 hours (1:05 pm to 2:40 pm) to make our connection. We quickly knew we were going to have a problem when we got in the massive lines to clear Immigration. There was no special process for accommodating connecting passengers, no staff to assist passengers and only a very few Immigration officers to process to passengers. After half an hour Gayle finally found someone who eventually escorted us to the front of the line while others waited. Based on the progress it was clearly going to be hours to clear Immigration.
Having had to collect and transport our luggage from Terminal 2 to Terminal 3 five years ago when connecting through Cancun on a flight from Panama City I asked the Avianca agent in San Jose very explicitly whether we would have to do the same. We were assured that would not be necessary - simply collect our bags and then put them on a connecting belt. WRONG! Again we had to take them ourselves. We were now down to 45 minutes. Had we waited for the shuttle we would have incurred further delays so decided to pay the $20 US for a taxi to take us 1.2 kms to Terminal 3. Now down to 35 minutes. Fortunately we have Priority check-in (through a credit card) with Air Canada and rushed to the front of the line. Now 30 minutes. At which time the one (and only one) agent said the check-in for our flight was closed and there was nothing she could do other than direct us to the Air Canada / Star Alliance customer service desk.
Our jaws dropped when we were told the first available flight was March 04 - four days from now. We insisted the agent look harder, which fortunately he did. Eventually he found a (not very attractive) option of leaving March 02 through Denver to Toronto, arriving at 12:45 am with a 6:25 am flight to Halifax. We are getting too old to sleep in airports but took it as our best option at that moment.
We then found a hotel (Fairfield by Marriott) at a respectable price ($162 US - with a decent breakfast included) relatively near the airport. We then got on the phone with Katrina, providing her some alternative options. She spoke with Aeroplan and Air Canada but with limited Aeroplan seats on United (the Star Alliance partner) flights none of those options were viable.
Still unhappy with our option we went to dinner at the restaurant in the hotel - Mexican food and Margaritas - at least there was a bit of a silver lining. Norm started with a Caldo Tlalpeno - a chicken broth with a combination of fresh vegetables, chickpea, chicken breast, and rice served with avocado, panela cheese and flavoured with fresh epazote and a touch of chipolte chilli. It was delicious. Gayle then had the Vegetariana Burrito with Pico de Gallo and guacamole while Norm had the Enchiladas Estillo Guerrero, a traditional recipe from Tomasa Grandma stuffed with chicken with guajillo sauce accompanied by lettuce, tomato, fresh ranchero cheese, cream and avocado. Gayle enjoyed her Burrito while Norm's Enchiladas, while beautifully presented, were only ok at best.
But Mexican food with Margaritas were a wonderful way to end what was otherwise a very stressful afternoon.
Our hotel in Cancun. Excellente Margaritas.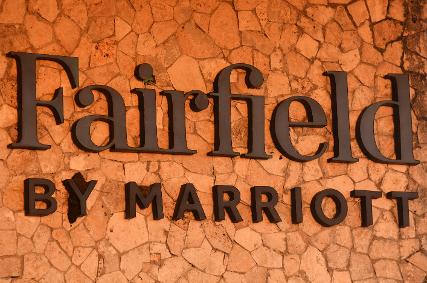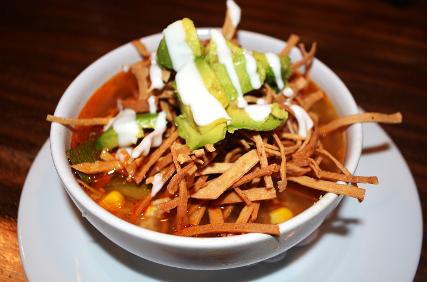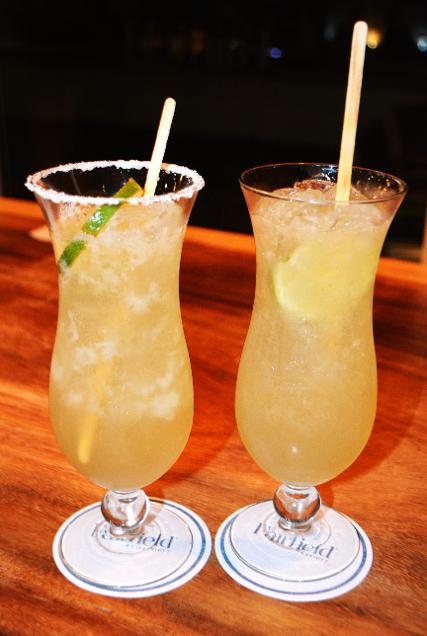 Burrito Vegetariana with Pico de Gallo and guacamole. Enchiladas Estillo Guerrero.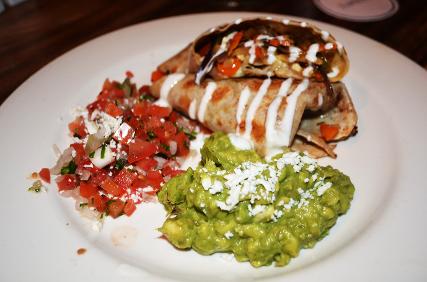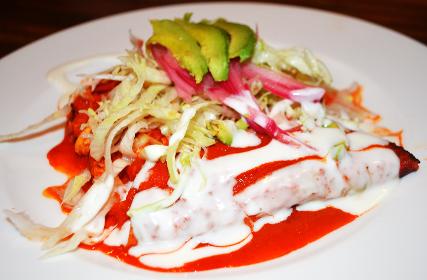 February 27, 2023 - Hot Springs Lodge to El Rodeo Estancia, Belen (San Jose)
Our last morning at Hot Springs included a very traditional Costa Rican breakfast of Gallo Pinto (rice and beans) topped with an egg, plantains and tortillas. We spent some time enjoying the many birds, chatting with Jose and setting up Jose's tripod and timer to take a couple of photos of Jose and us.
Hot Springs Lodge will not be for everyone, but for those who are looking for some solitude a bit up into the jungle/ rainforest/mountains of Costa Rica it is an excellent choice. A bit rustic, but authentic rustic it was the right place for us. Sure the Wifi is weak to non-existent but that is part of the charm of Hot Springs - to disconnect with the world and connect with the surrounding nature. Add to that the great and friendly staff and we left having enjoyed our time here.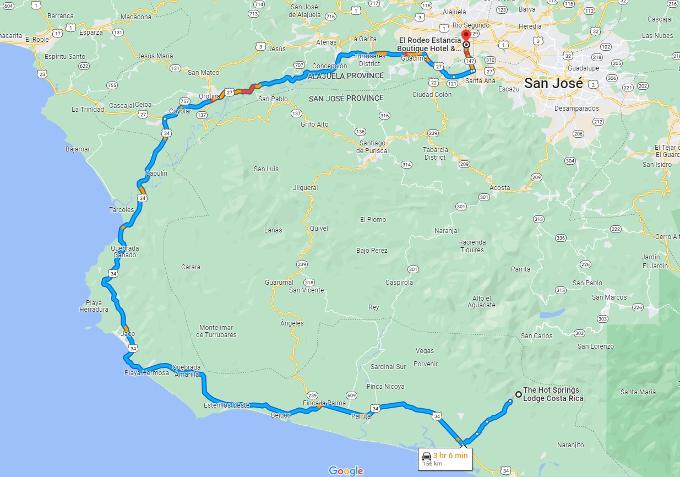 The drive to Belen, a suburb near the San Jose airport and the El Rodeo Estancia Hotel (6 km from our car rental return) was uneventful, following a route we are now very familiar with. After a few minor challenges we found the hotel, a hacienda style group of buildings with a steakhouse restaurant on site. We arrived late afternoon, packed and went to the adjoining restaurant for dinner.
Gayle had the Special House Salad (Ensalada Especial de la Casa) with among other things eggs, olives, tomatoes, onions, lettuce +++, and then, although not explicitly on the menu, a few potatoes, with a glass of Spanish wine. Norm had the home made sausage on a corn tortilla (Gallo de Chorizo de la Casa) to start, and then the Classic Argentina style steak (Churrasco Argentino), also accompanied by a glass of Spanish wine.
Needing to be up and out quite early we finished packing and called it a night.
Colourful Heliconia. Coconuts.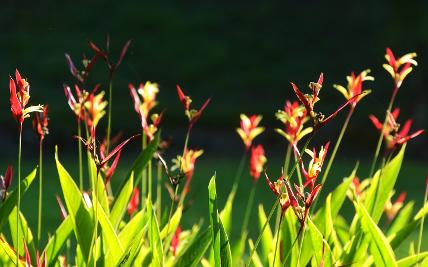 The Ylang Ylang flower with its aromatic aroma in the evening.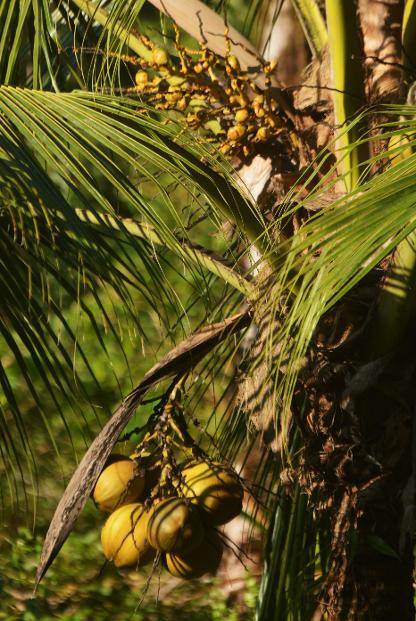 The area in front of the Lodge. Another hummingbird.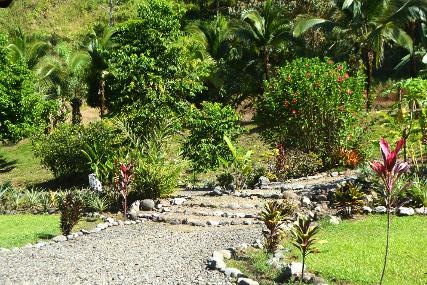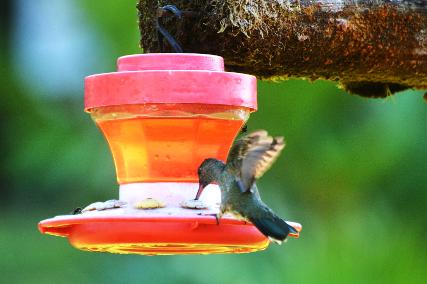 More birds - a Cherrie's Tanager. And a Grey-capped flycatcher.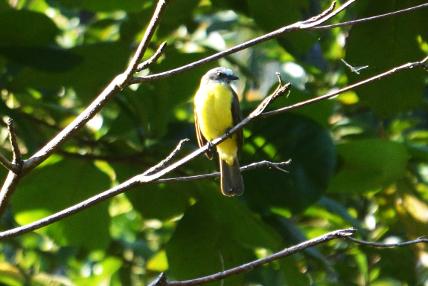 Jose set up his tripod and the timer for these shots, first on the traditional Sarchi rocking chairs.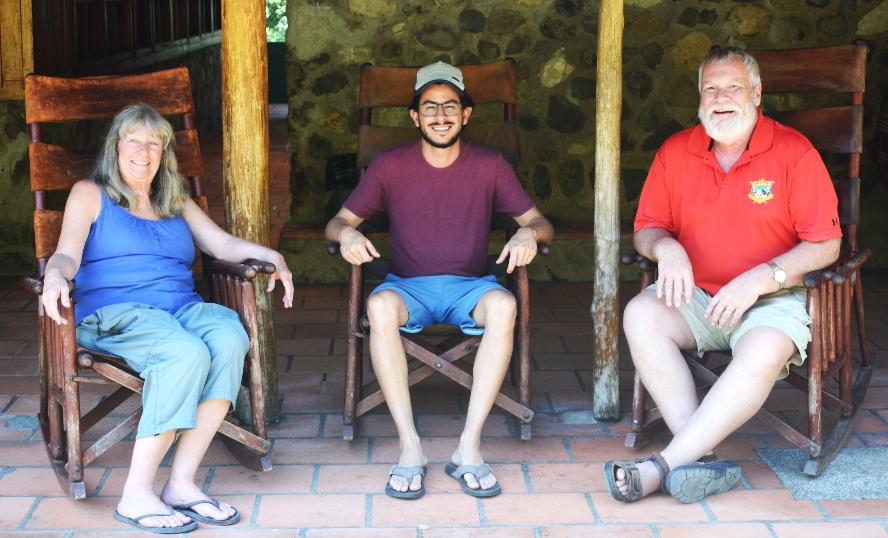 ... and in front of the Lodge.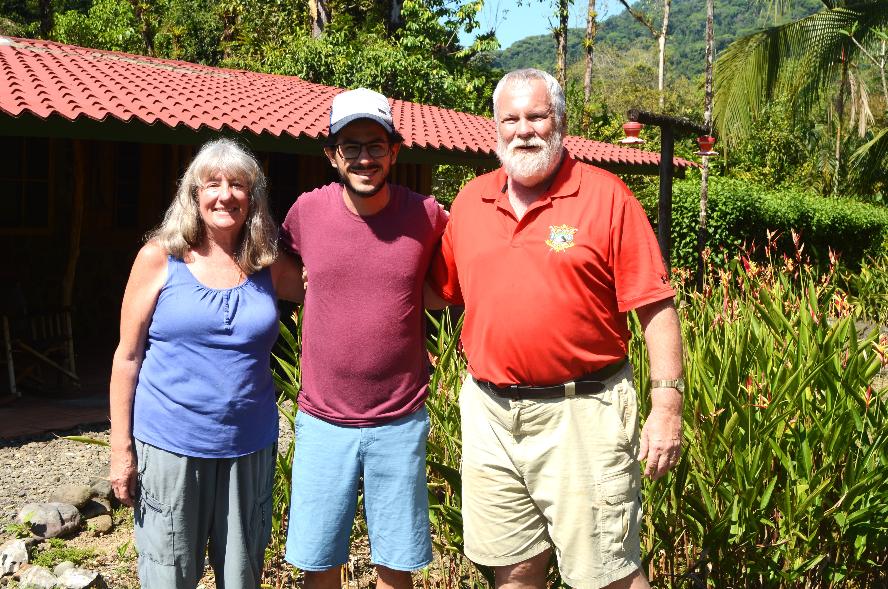 A traditional final breakfast of Gallo Pinto (rice and beans) topped with an egg, plantains and a tortilla plus coconut squares for dessert.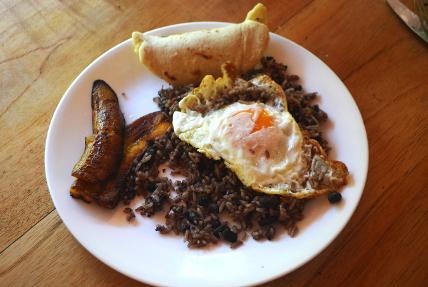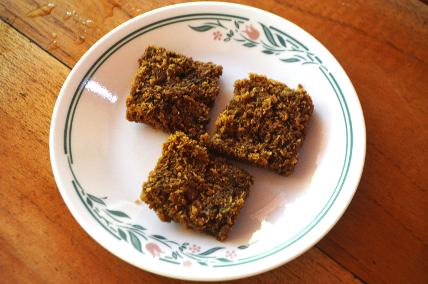 A short section of the 'road' from Restaurante La Quinta to Hot Springs Lodge.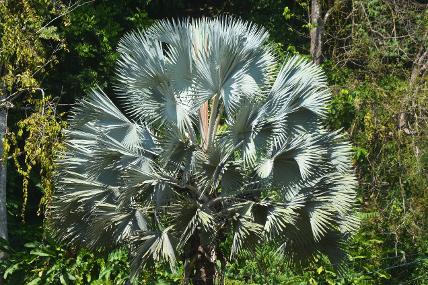 Above, a palm; below the jungle / rainforest.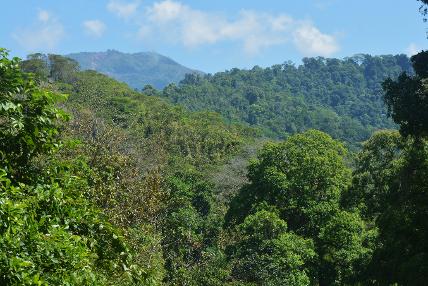 Gangatiri, a common cattle breed in Costa Rica, and sometimes a road hazard.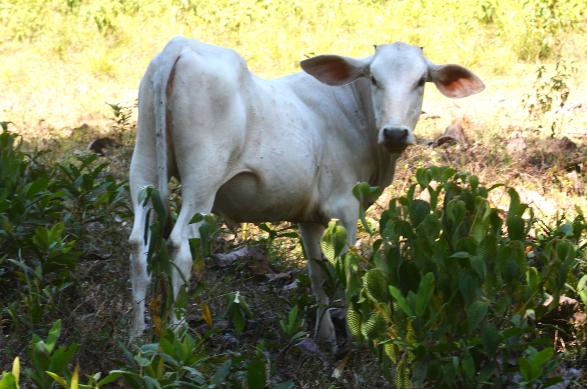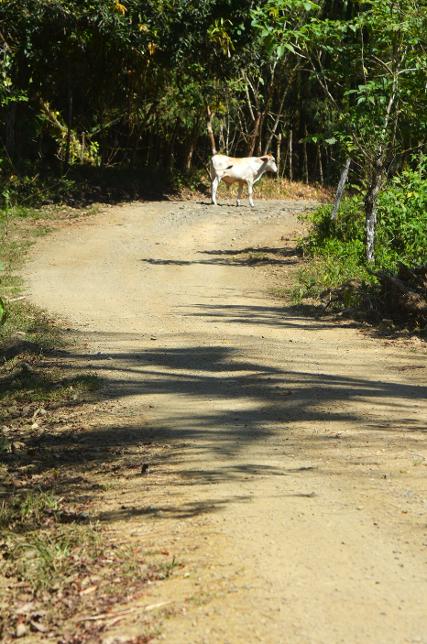 At a roadside fruit and veggie stand - pineapples, mangoes, papayas and melons.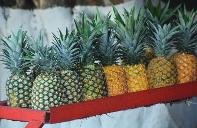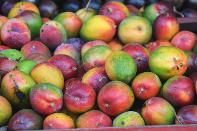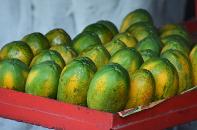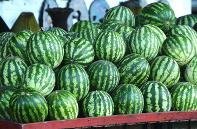 The El Rodeo Estancia Steakhouse with its cowboy theme.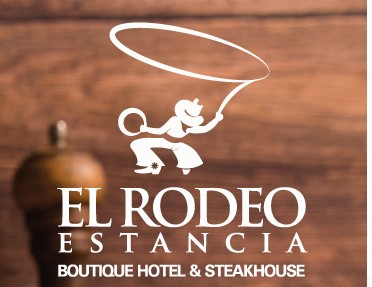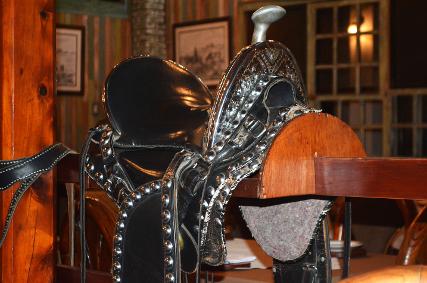 Gayle's Ensalada Especial de la Casa. Norm's Gallo de Chorizo de la Casa.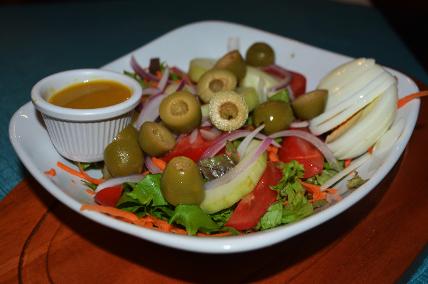 Various sides included with Norm's steak. Potatoes for Gayle.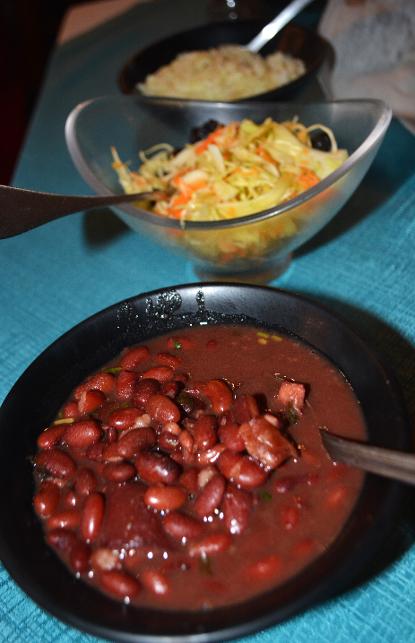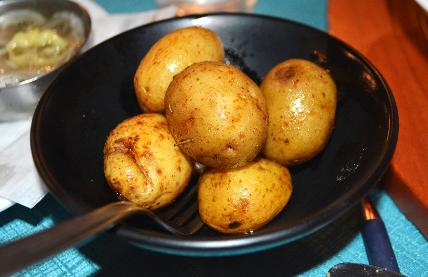 My Churrasco Argentino steak.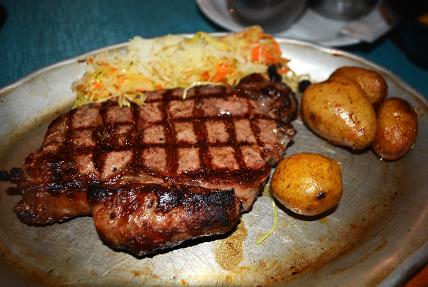 February 26, 2023 - Hot Springs Lodge, north of Quepos
Today's post is going to be very difficult to write. After yesterday's chat with the vet at the emergency clinic, and the realization Toledo was in a pretty bad place, we spent a restless evening and sleep during which we both considered what was best for Toledo, and what we would do should he not improve over-night. Gayle had decided that we had to let him go, even if we could not be there. However, fortunately or unfortunately, we did not have to make that decision as upon waking we had a message from Katrina that Toledo had passed in the early hours of the morning from cardiac arrest. Of course we were (and still are) devastated, but glad that given how bad his condition must have been (brought on by the acute pancreatitis) he passed on quickly, ending any suffering.
We knew it would be a challenging day but we soldiered on as best we could, first making empanadas, filled with cheese, or beans, or both, for breakfast. With Reina having the day off Blanca and Jose took over breakfast duties. The opportunities to get involved, to participate, makes Hot Springs more than a place to stay, but an experience. Of course they were the best empanadas we have ever had!
After breakfast we took a walk up to the waterfall (Gayle had been there yesterday) were we listened to the sound of the crashing water and simply reflected on the joy Toledo brought to us, sharing some of our memories of his antics. Although Toledo was 13 1/2 and therefore in the latter stages of his life the abruptness of the end is still quite startling. Fortunately Gayle has a very strong belief that his spirit will always be with her, as is that of our many pets lost over the years. This belief has helped Gayle get her through these times. I too am heartbroken at the loss of Toledo but there was no question he was Gayle's bestie, effectively attached to her where-ever she went. I will always remember him waiting for her on the front step, no matter the temperature or weather, when ever she went out.
The rest of the day was very quiet. Being the only guests we did not have to socialize but rather had the day to ourselves.
Yanier, our 'guest' chef for the day made a traditional Costa Rican lunch and dinner for us. Lunch was primarily a stuffed squash with veggies, olives and cheese along with a delicious beet and pineapple salad and a drink of tamarind. Dinner was a unique burrito in a wrapper made of mashed plantain stuffed again with veggies and greens, along with baked kale and a tasty rice pudding with bananas and coconut for dessert.
During the afternoon we spent time listening to the joyful sounds and watching the antics of the many birds on the property. This brought us an element of joy and peace. As well we went for a dip in the small but refreshing natural stone pool, filled with a constant flow of running water from the hills.
Jose, understanding how much we enjoyed the fire the previous night, and being sensitive to our grief treated us not only to another fire but also lit a balloon a previous guest had left, essentially filling it with hot air that allowed it to float off into the night sky where we watched it reach quite a height and eventually burn itself out. It was a very poignant way to end what was otherwise a very sad day.
That being said we are grateful for the opportunity to reflect on our loss at such a beautiful place here in the mountains of Costa Rica. Beyond that Jose was fantastic at facilitating our communication needs throughout the day.
We retired feeling happiness that Toledo was no longer suffering and proud of what everyone (Chris, Katrina, Paul and Brian) back home did to care for Toledo during his final couple of days.
A video of breakfast being prepared. ... including the traditional rice and beans.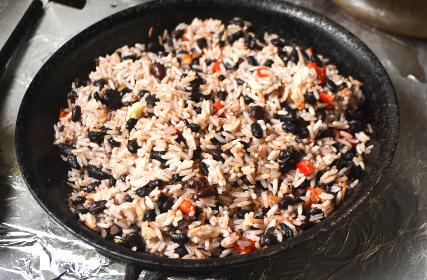 We soon became self-proclaimed experts in rolling and filling empanadas.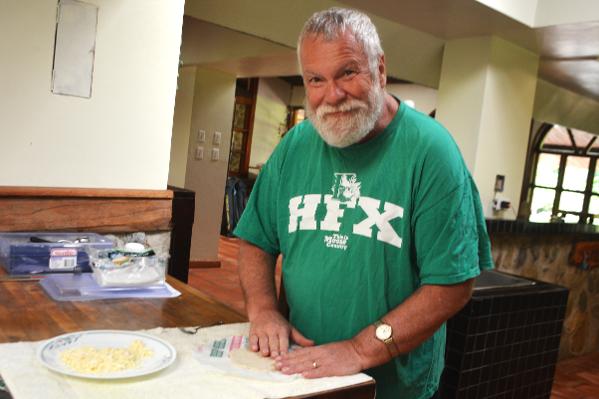 Empanadas sizzling in oil. And then done - a nice golden brown.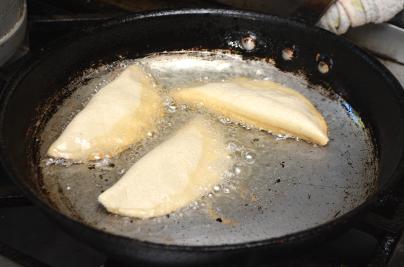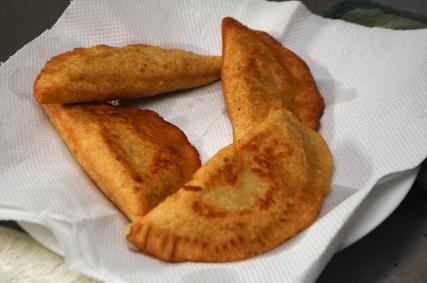 Jose making coffee the traditional Costa Rican way.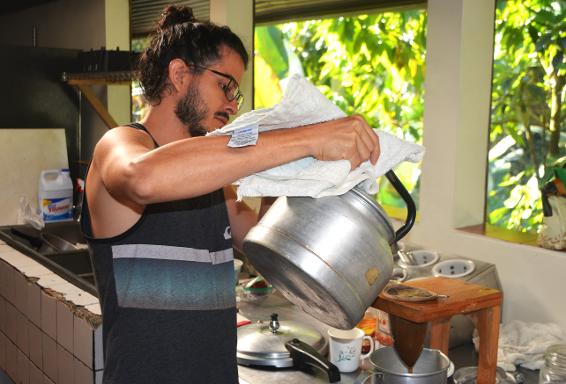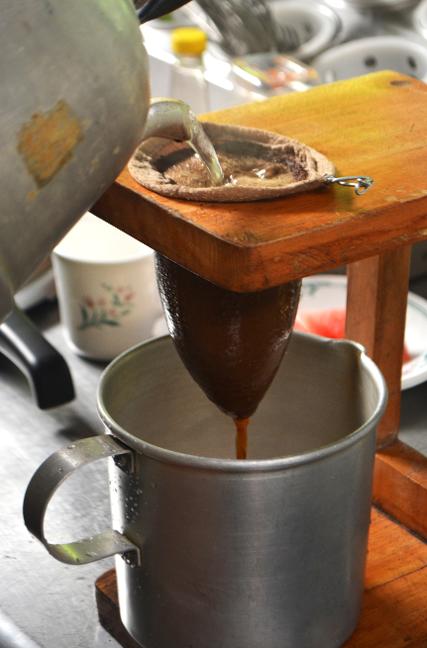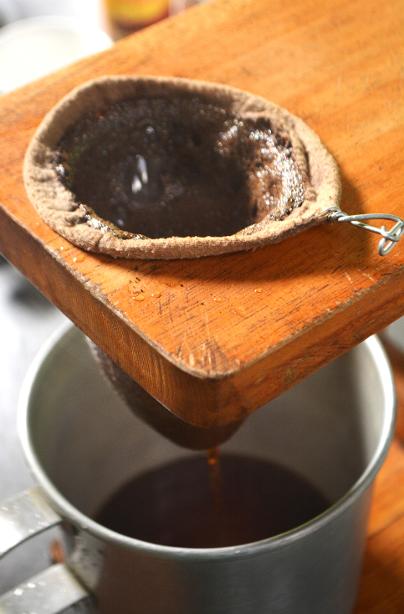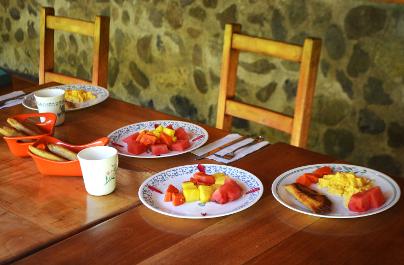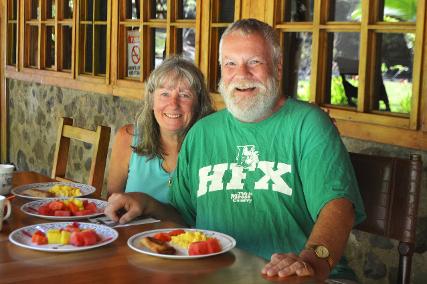 Breakfast fruit plate adorned with hibiscus. Not many empanadas left.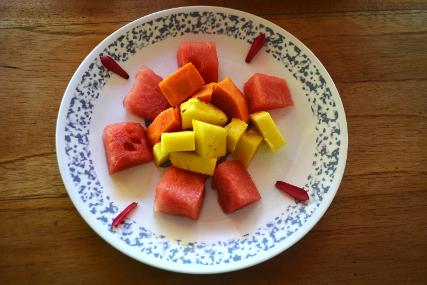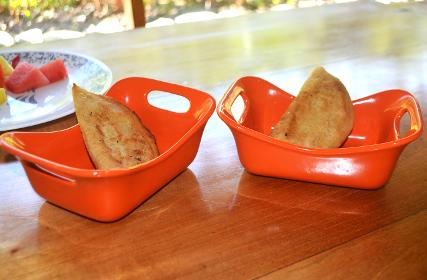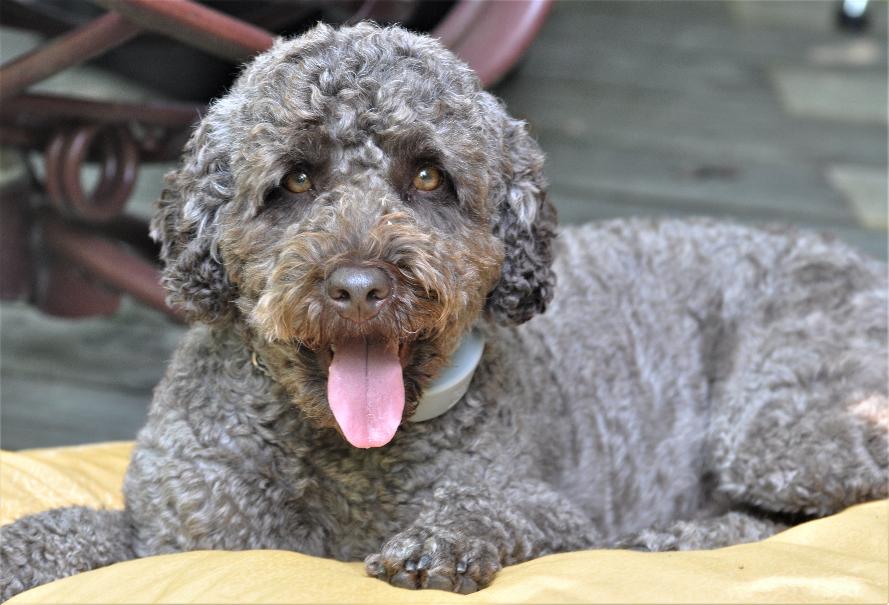 Just up from the lodge (perhaps 500 metres or so) is a waterfall where we went to reflect on our loss of Toledo.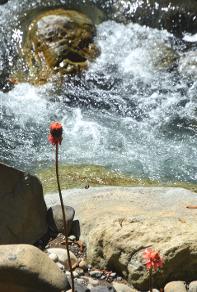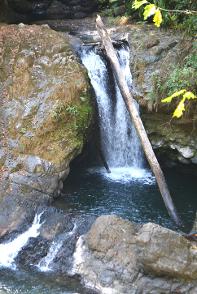 In front of the lodge ... ... with our new matching 'Team Sloth' caps.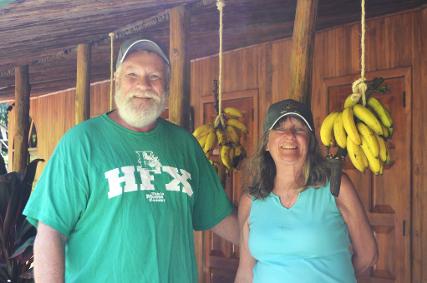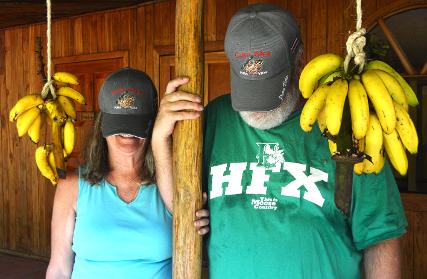 Strobilanthes flowers. A Strobilanthes dyeriana plant.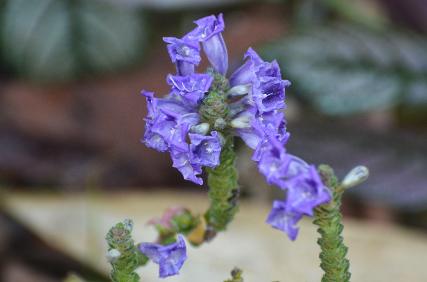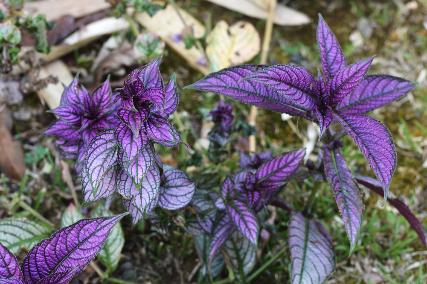 Sleeping hibiscus. Begonia.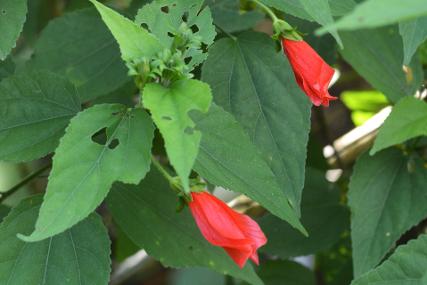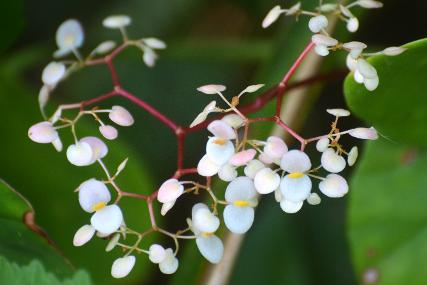 Today's lunch and dinner chef - Yanier. Sitting down to lunch.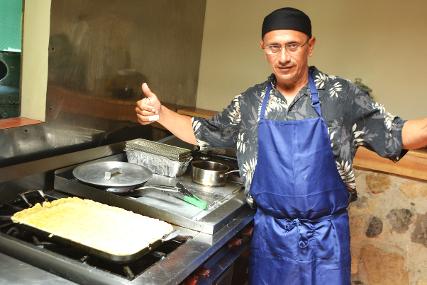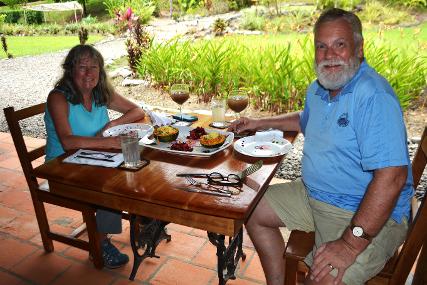 Lunch with a drink of tamarind. Stuffed squash with beets and pineapple.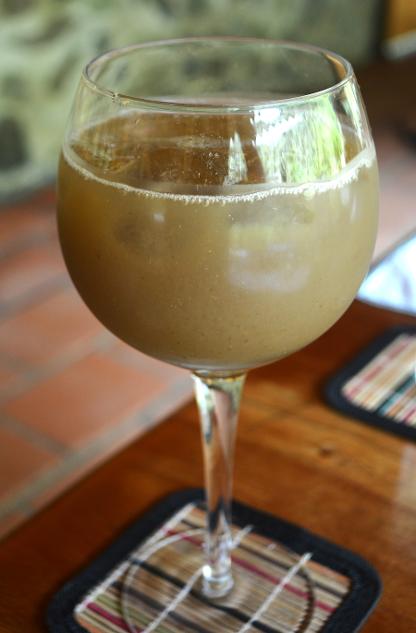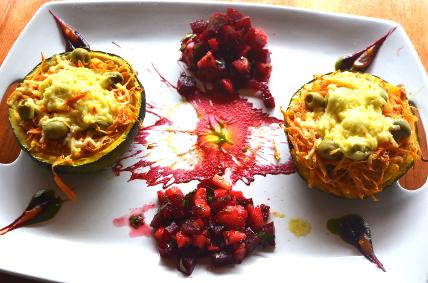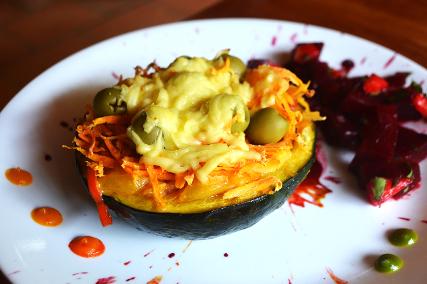 The Cherrie's Tanager (formerly known as the Scarlett-Rumped Tanager) - female with the orange and male with the bright red rump.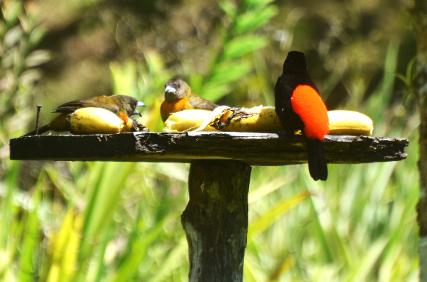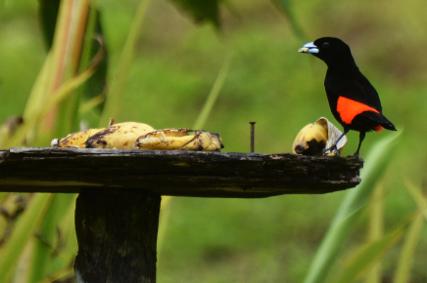 More photos of the White Necked Jacobin.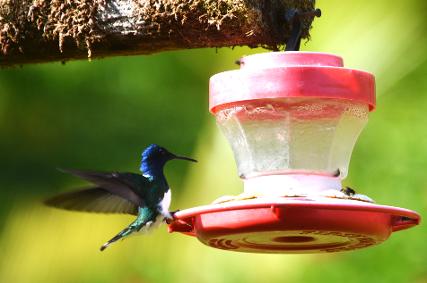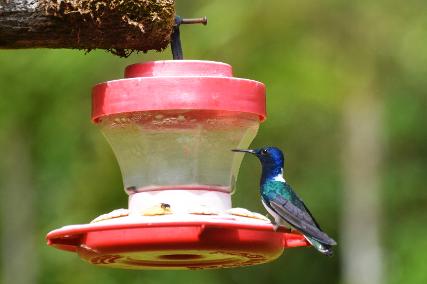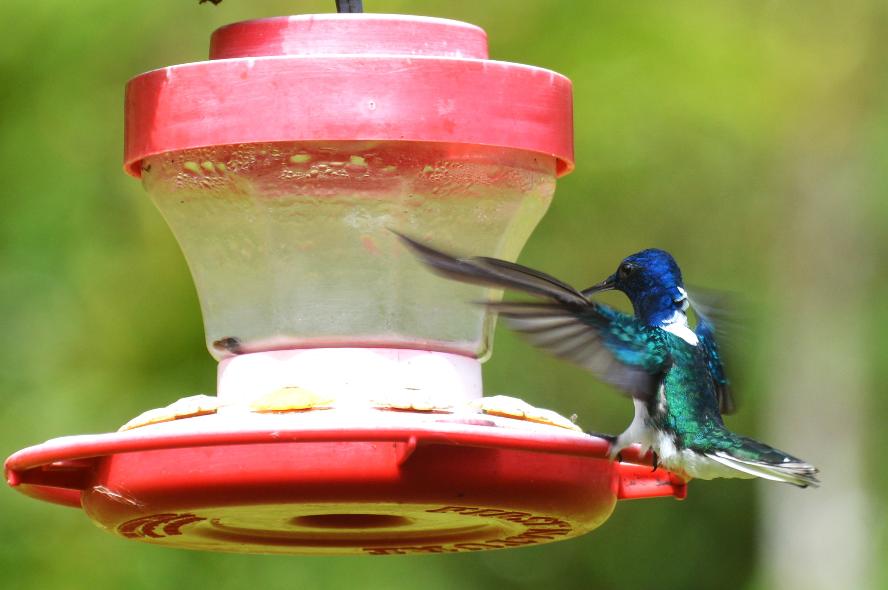 With the Wifi at Hot Springs Lodge being quite spotty we drove 8 kms down the mountain to Restaurante la Quinta, where they served excellent Guanabanana smoothies and had reliable Wifi.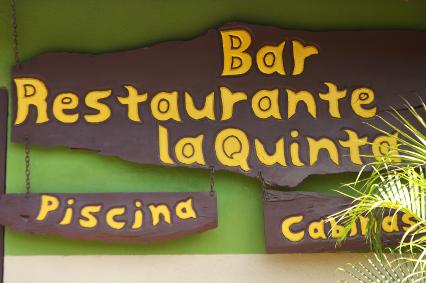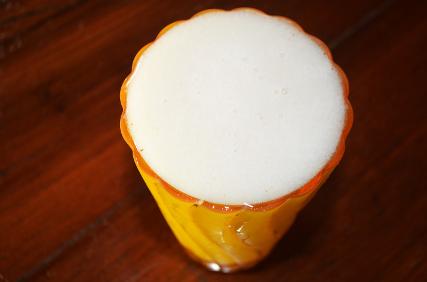 Tyson, the other lodge dog, along with Pip. The Hot Springs Lodge all stone pool.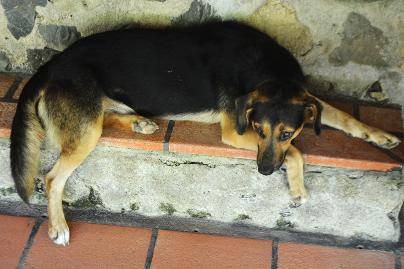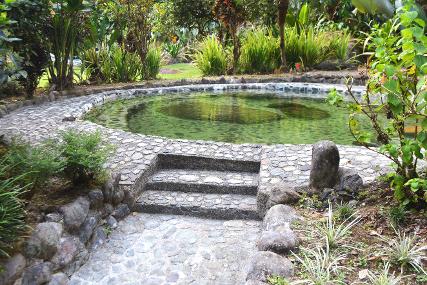 Boiling the plantains for the burrito wrapper. The planatain wrapped burrito.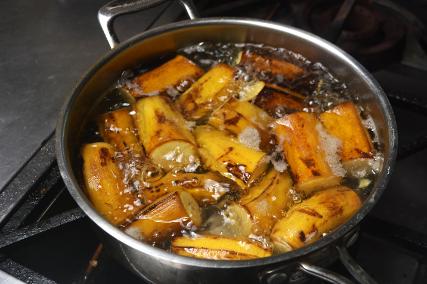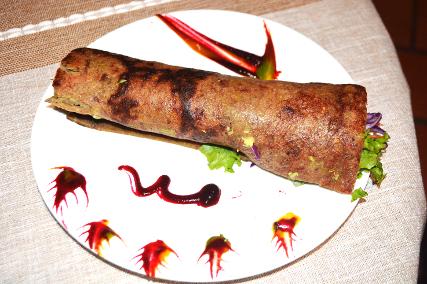 Baked kale. A rice pudding dessert with bananas and coconut.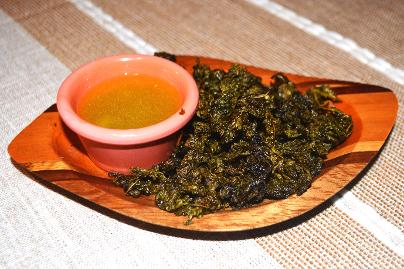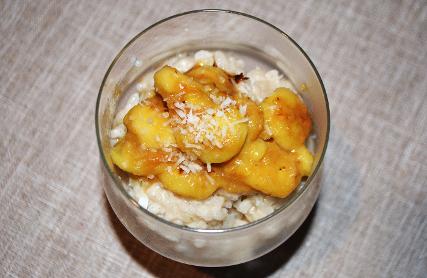 Jose setting the wood ablaze. Lighting the balloon in order for it to float away.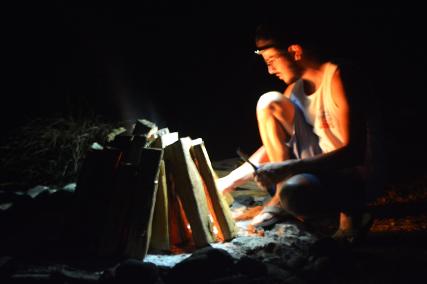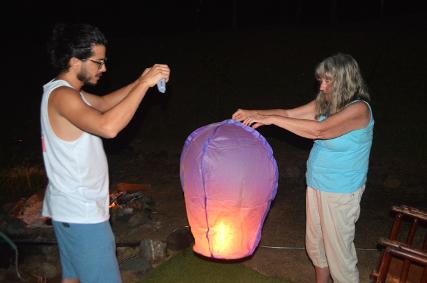 Another bonfire to end the day and the balloon released into the night.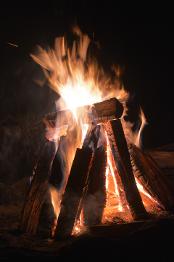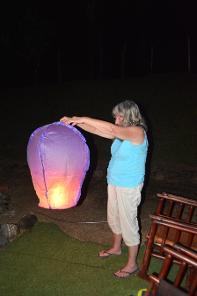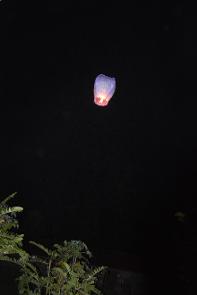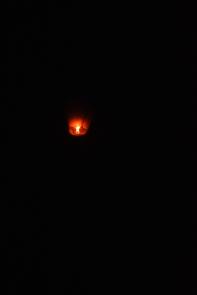 February 25, 2023 - Hot Springs Lodge, north of Quepos
Now one might think a day at an isolated Lodge with effectively no Wifi would be uneventful, with little to photograph and talk about. Today turned out to be anything but.
After waking up early, albeit not due to any howler monkeys as there are no monkeys nearby, we had a bit of internet access time (more or less 6:00 am to 7:30 am) until the connection disappeared.
Re breakfast we were active participants, being 'recruited' to assist in making the tortillas. Really quite easy but still fun to roll out the dough and pat it into a round shape. My Swiss Army knife came in handy to shape those edges that may not have been spherical. Reina fried up the tortillas and served them with the rest of breakfast that included fruit (papaya and pineapple), plantains, Gallo Pinto (rice and beans) and scrambled eggs. So traditional Costa Rican and so delicious.
We then spent time listening, watching and photographing a variety of birds, including some hummingbirds. We then wandered about the property
admiring the many colourful flours,
observing the naturally growing fruit, e.g. limone dulce and bananas,
listening to the adjacent Rio Canas,
dipping in the small pool - not for swimming but certainly good for cooling off from the heat, and
generally just enjoying the quiet, peace and tranquility
Lunch is actually often the large meal here in Costa Rica. Today we had rice, beans, more plantains, a tasty squash salad and for me a Tilapia, a fish caught in one of the Lodge's ponds that morning, accompanied by a refreshing drink of guanabana. No lack of food here.
All was good until early afternoon when we received a distressing message from our daughter Katrina that our 13 1/2 year old Australian Labradoodle dog Toledo was not well, having been taken to the vet emergency clinic. While away we have a friend Chris looking after Toledo and our cat Duke. However our son Paul had been home for a week (Feb 16 to 23) during which there was no indication Toledo was having any issues. Paul left Thursday with Chris returning. On Friday Chris noticed a distinct change in Toledo's energy along with a lack of interest in eating. Friday evening Chris spent considerable time consoling and hugging Toledo, bless his heart and care for our 'baby'. By Saturday morning things worsened to the point Chris contacted Katrina who immediately took Toledo to the clinic.
With minimal communication we decided to drive the eight kilometers down the mountain, about 20 minutes, to a restaurant that apparently had good Wifi, which it did. We communicated with Katrina and then called the vet who indicated Toledo was in pretty rough shape suffering from acute pancreatitis. She said his pain level was very severe although they were treating it with medication. We agreed to see how he progressed through the night and would decide how to proceed in the morning.
Of course this was a huge shock to everyone - to Katrina, to our son Paul, certainly to Chris and us. While Toledo was in his 'senior' years he was fine before we left. In fact we had his blood tested in order for us to feel comfortable when we left. And he seemed fine right up to the past 48 hours. Obviously this was very distressing, troubling, worrisome etc. to us. But there was nothing we could do needing to leave it to Katrina to manage things back home.
We drove back up the mountain, returning to the Lodge spending the rest of the afternoon very worried.
For dinner we enjoyed as best we could a meal of rice, more beans, a salad and for Gayle fried local cheese and for Norm chicken.
Then Jose invited us to a bonfire. He lit the path to the fire pit, carried up a few rockers and then struck a lighter that ignited a pile of logs. What a wonderfully pleasant end, sitting next to a blazing fire, under a sky full of stars and the moon, to a distressing day.
We both knew we were not going to sleep well tonight.
The tortillas were made from a simple corn flour and water dough.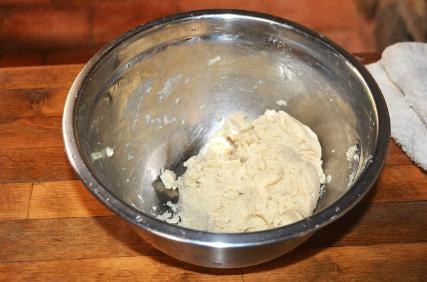 Reina working the tortilla dough.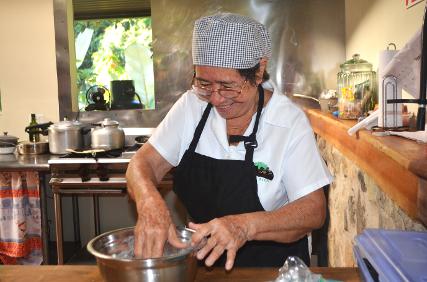 Reina demonstrating to Gayle the perfecto technique (shape, thinness) for the perfecto tortilla.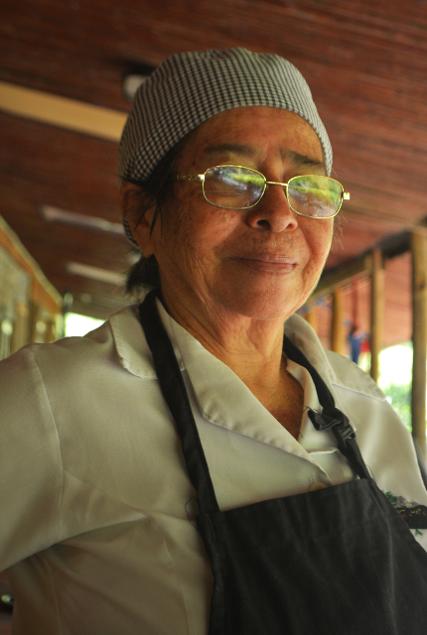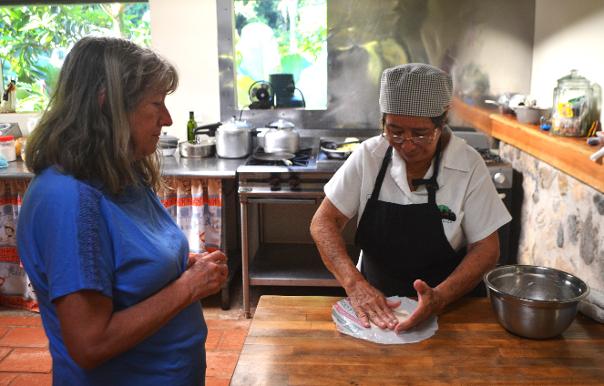 Video evidence that we actually were put to work, and it was a fun experience.
Norm doing his best to contribute to breakfast.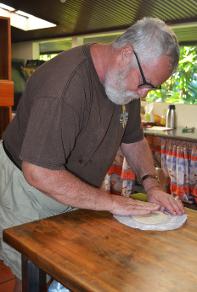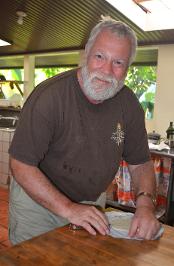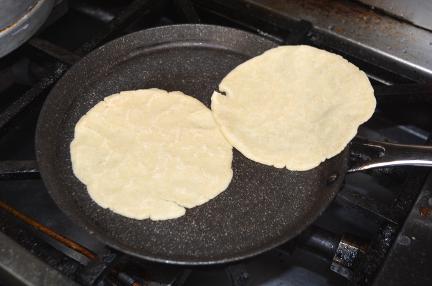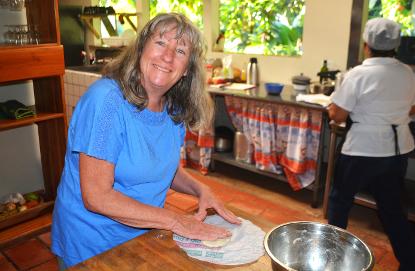 The Swiss Army knife proved useful for 'rounding' the tortilla.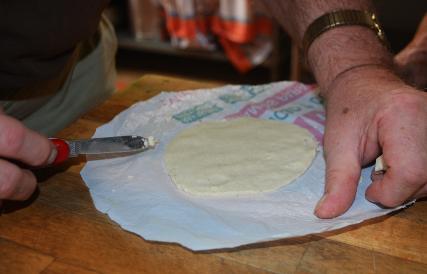 The fruits (well ok the tortillas) of our labour.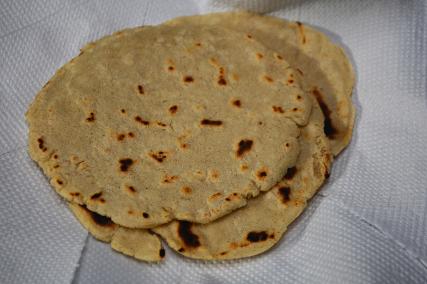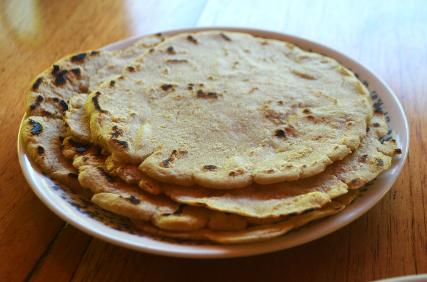 Of course a traditional Costa Rican tico breakfast is always photo worthy.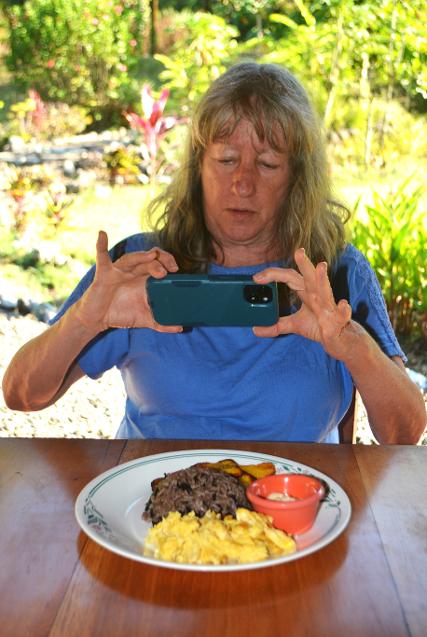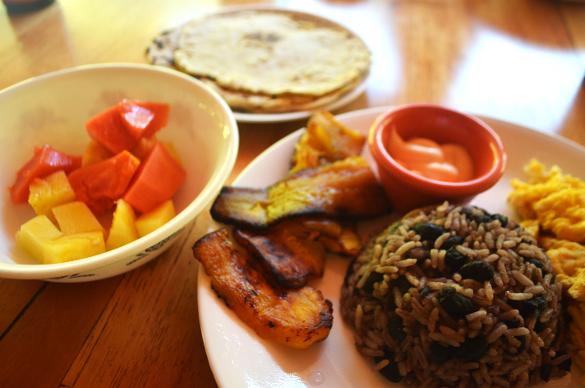 A female Cherrie's Tanager.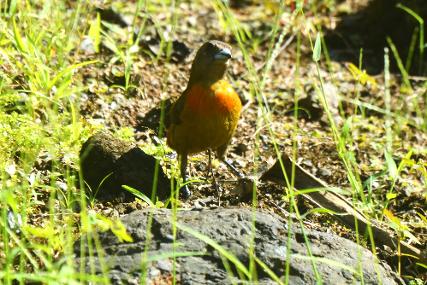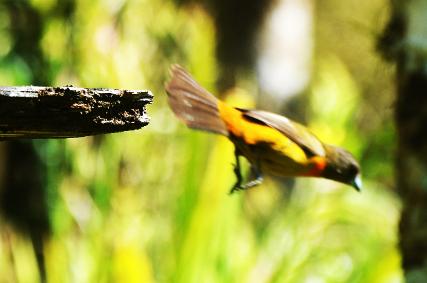 While not the White Necked Jacobin (the most common hummingbird that frequented the property) this less colourful one was enjoyable to watch as well.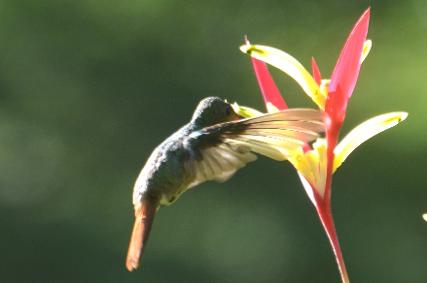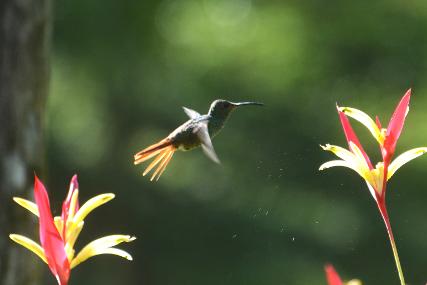 Blanca making up our room, including the attractive towel displays.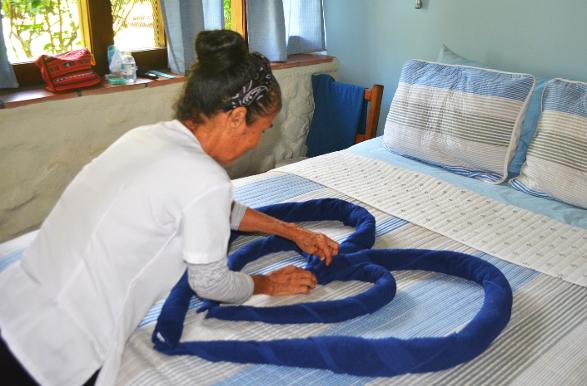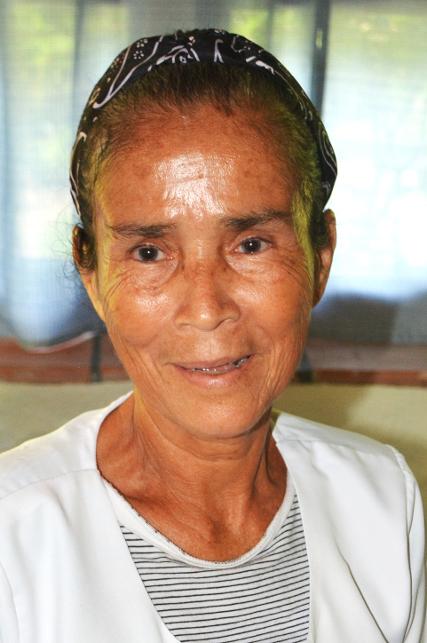 Not sure of the first one (back only) but the others are the Social Flycatcher - they were everywhere.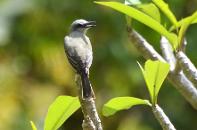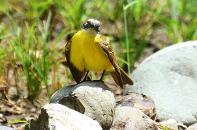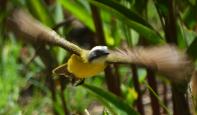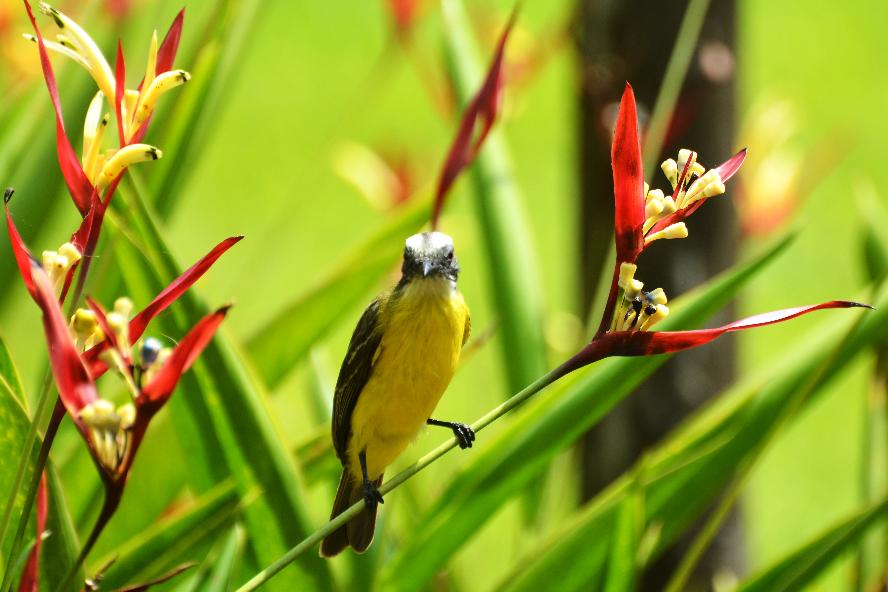 The long hallway at the front of the lodge, with rocking chairs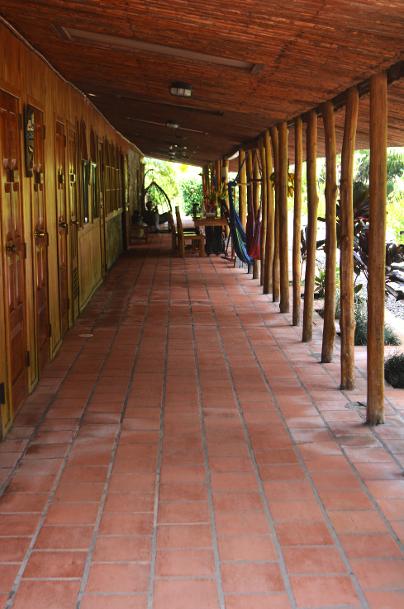 Another visitor to the Lodge.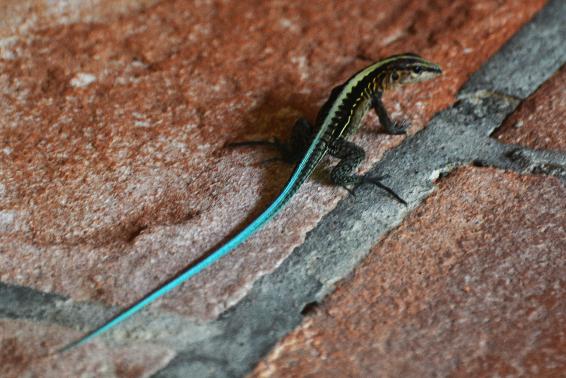 The end of the lodge - our room was on the right. A Costa Rican coloured hammock.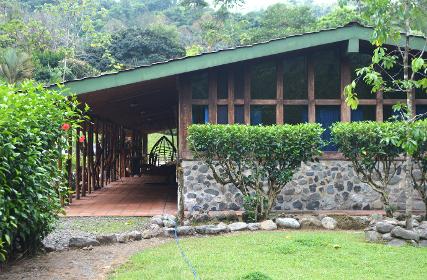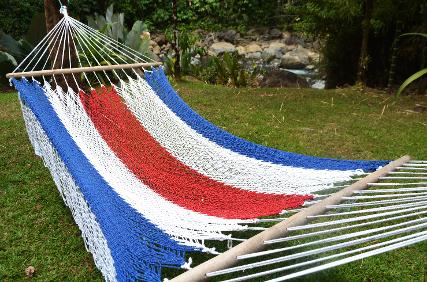 Not sure what this is - possibly an Ixora. Bamboo walking sticks.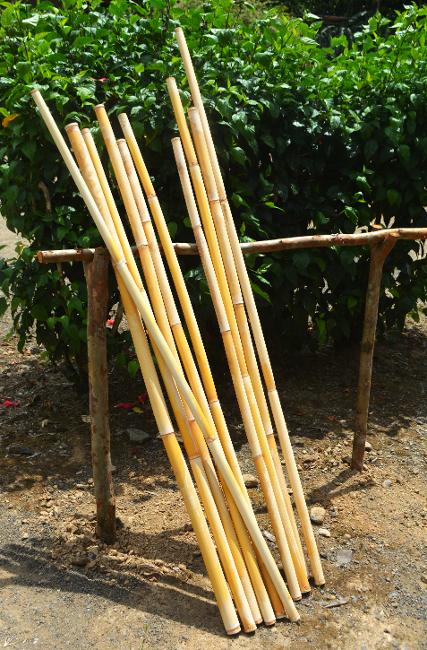 The Rio Canas flows past the lodge - considerably more water in the rainy season than now.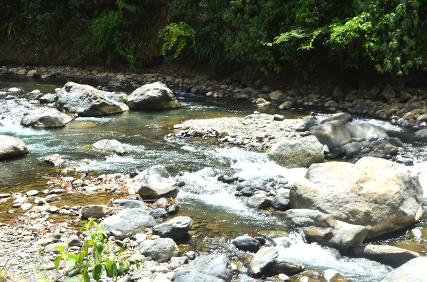 The beautiful grounds of Hot Springs Lodge adjacent to the Canas river.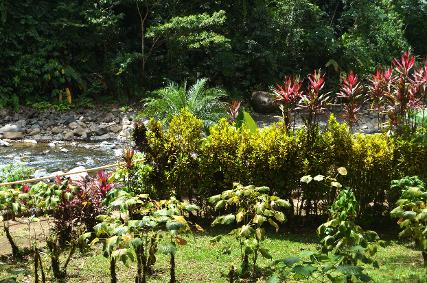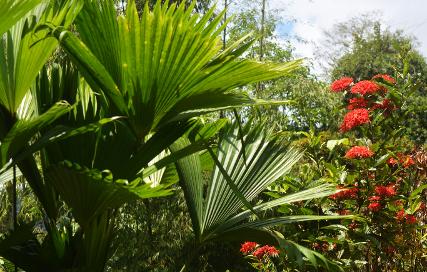 A Ti plant. Red ginger. Jungle geranium.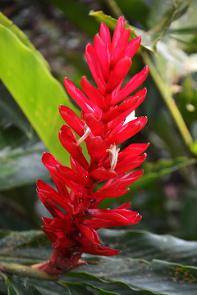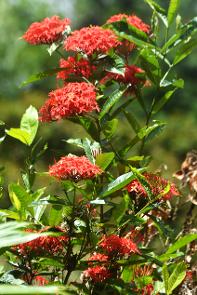 The jungle across the river HUGE Philodendrons Bananas A Limone Dulce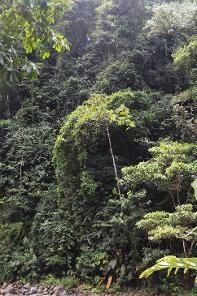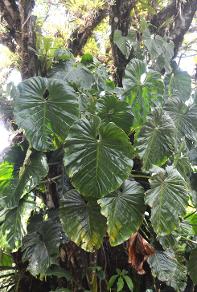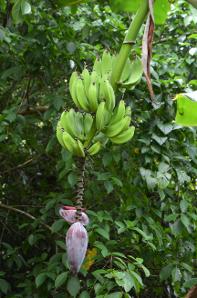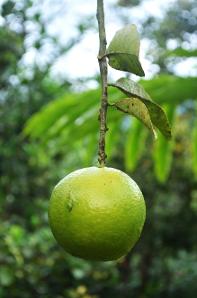 A refreshing drink of guanabanana / soursop. A tasty squash dish.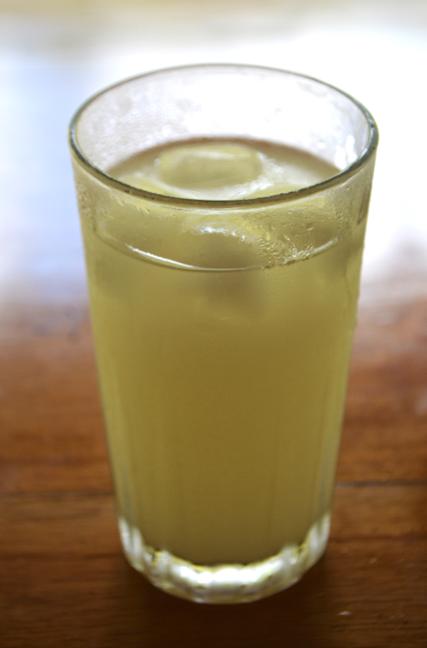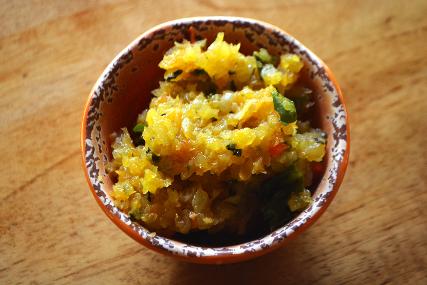 Lunch - the main meal of the day with a caught this morning Tilapia.
The beautiful White Necked Jacobin hummingbird.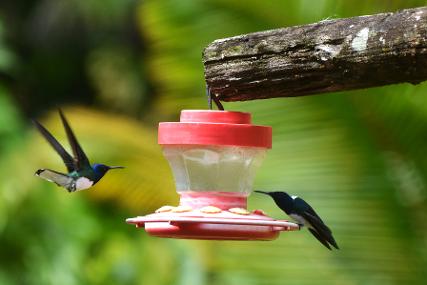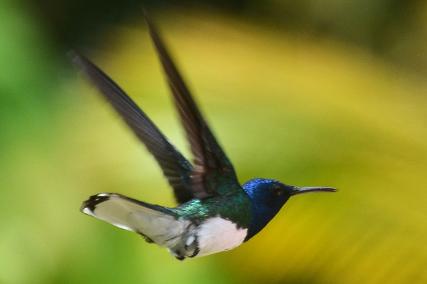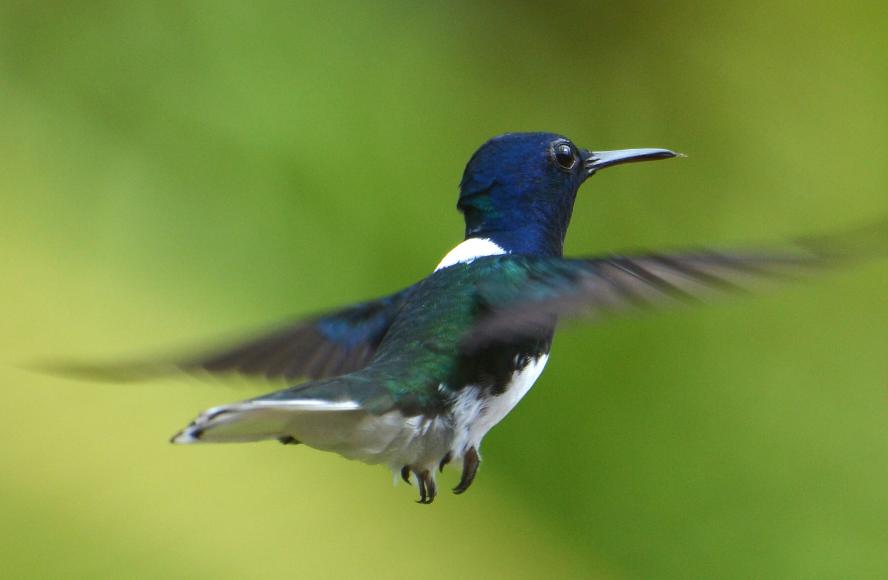 Dinner tonight was a salad, rice and beans, of course and for Gayle fried cheese and for me chicken in a local sauce.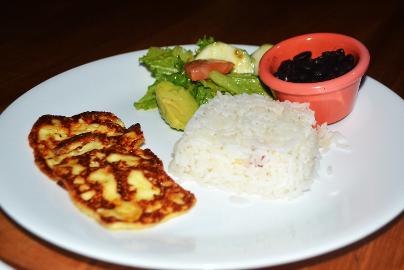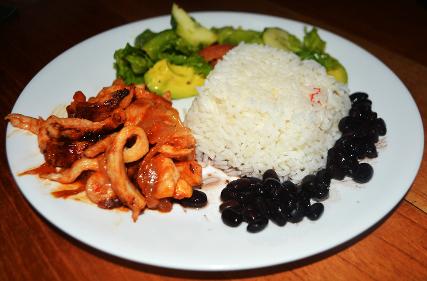 Jose even lit a path for us heading to the fire.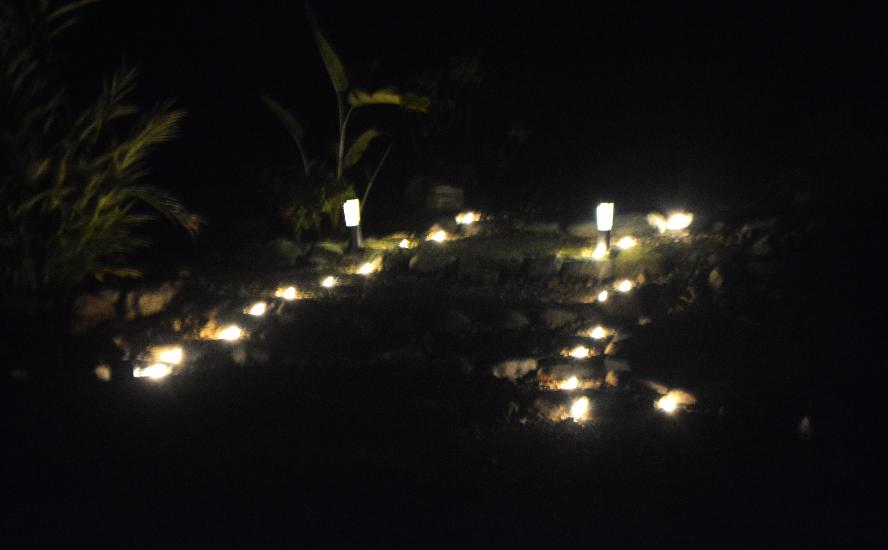 Jose lugging the rocking chairs to the fire area where he, Gayle, and Norm enjoyed the fire.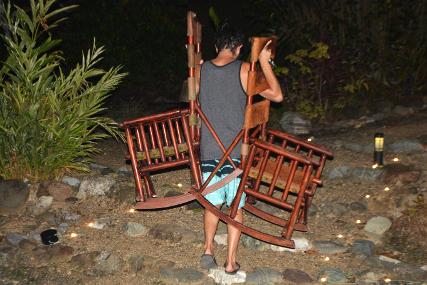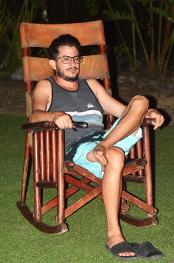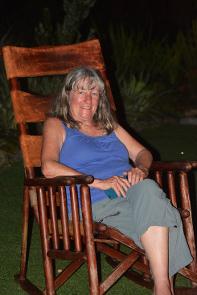 Enjoying the fire on our Sarchi rocking chairs.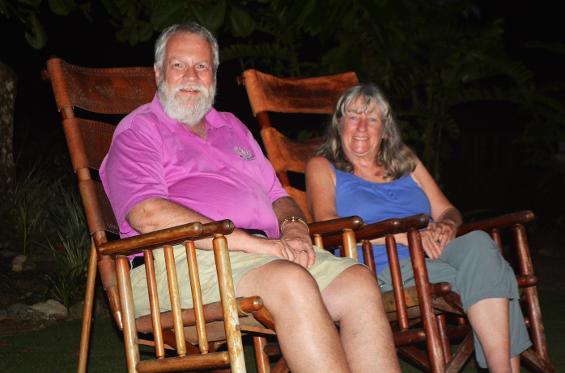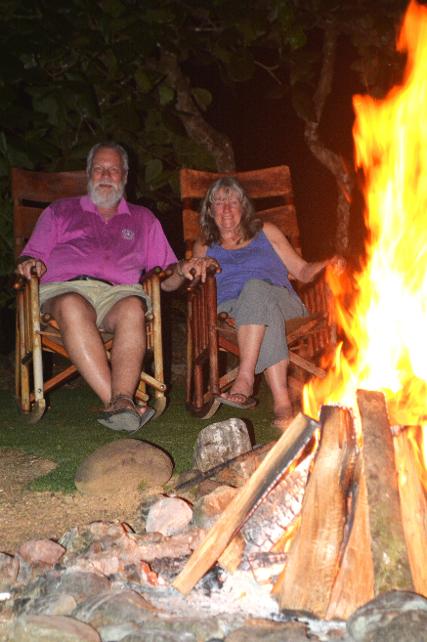 The crescent shape moon. Our roaring fire.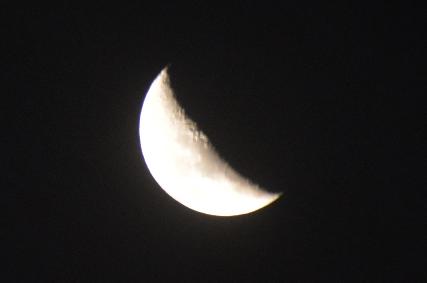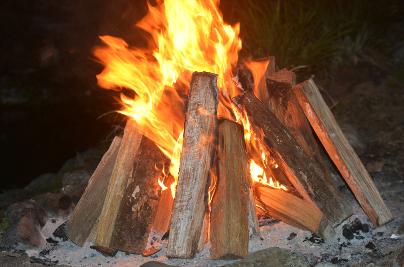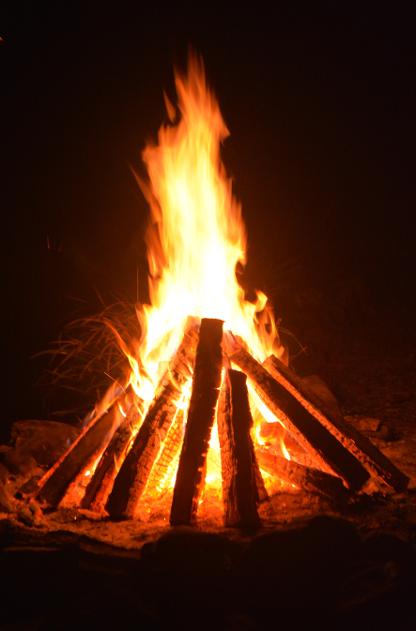 February 24, 2023 - Nature's Edge to Hot Springs Lodge, north of Quepos
Our last morning at Nature's Edge. With no guests arriving today Keith and Joe generously allowed us to stay in our room as long as we wanted, allowing for another chat, a swim and more time on our balcony admiring the rainforest and listening to the birds. In fact Keith indicated that of all their guests we were likely at the top (or bottom) of the list in terms of time spent on the property / in our room . We all agreed that that's ok. Everyone gets different things from their travels. At this stage of our life we are not all that active, i.e. interested in taking tours. We search out nice places and tend to spend a great deal of time enjoying them, as was the case here at Nature's Edge. Some observe Norm spends a considerable time on his computer / working on the travel blog. And that is true. But others spend time reading - same, same but different.
For the first morning the howler monkeys were not that loud, but the birds were singing as usual.
Before leaving Joe showed us the other lower Cabina - Aracari, closer to the trees the toucans, aracari and coati were seen.
We left around 1:00 pm for the hour and a half trip north past Dominical, Matapalo, and Quepos. About 10 km north of Quepos we turned onto a flat dirt road through a palm oil plantation for nearly five kms where we met Jose, as arranged, at a local soda. Jose, the manager of Hot Springs Lodge then led us the remaining eight kms into the rainforest, along the River Canas and up the mountain to the Lodge.
Hot Springs Lodge promotes itself as the 'real' Costa Rica. The Lodge has direct river frontage on the River Canas. The drive to the Lodge begins to prepare one for the experience of wilderness in remote Costa Rica. For example a nearby waterfall provides all the necessary power, making the Lodge totally green. Farm fresh eggs are served with each authentic breakfast and excellent Costa Rican coffee. There are many hikes and activities both on and off the property.
We were the only guests during our stay. It did not take any time to conclude Jose was going to do everything he could to make our stay an enjoyable experience. Jose cooked us dinner that included a salad, beans, a squash dish, cassava (like a potato but different - starchier), eggs for Gayle and tuna (caught by a previous guest) for me.
The only down side was the Wifi. In fairness it was indicated the internet would be spotty, which turned out to be very much the case. Connecting was ok early in the morning (like 6:00 am to 8:00 am) but virtually non-existent throughout the rest of the day. In some ways that was frustrating, particularly for me with the travel blog, but in others it was nice to dis-connect a bit.
As has been the case elsewhere it was early to bed.
Our final breakfast at Nature's Edge - a fruit bowl, juice, yoghurt with a fruit compote sauce, scrambled eggs, carrots, potatoes and for me some sausage.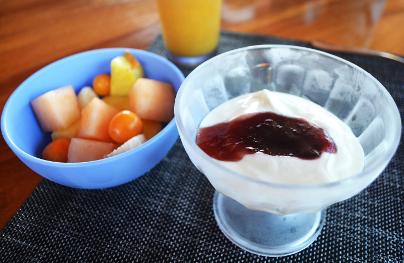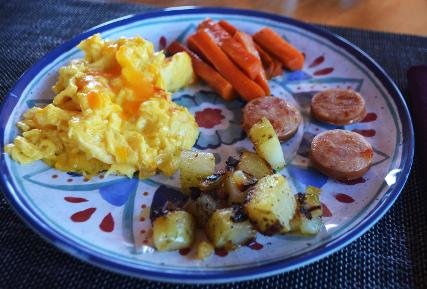 Now if one can't poke a bit of fun at themselves really what's the point. Kitchy yes but don't we look great?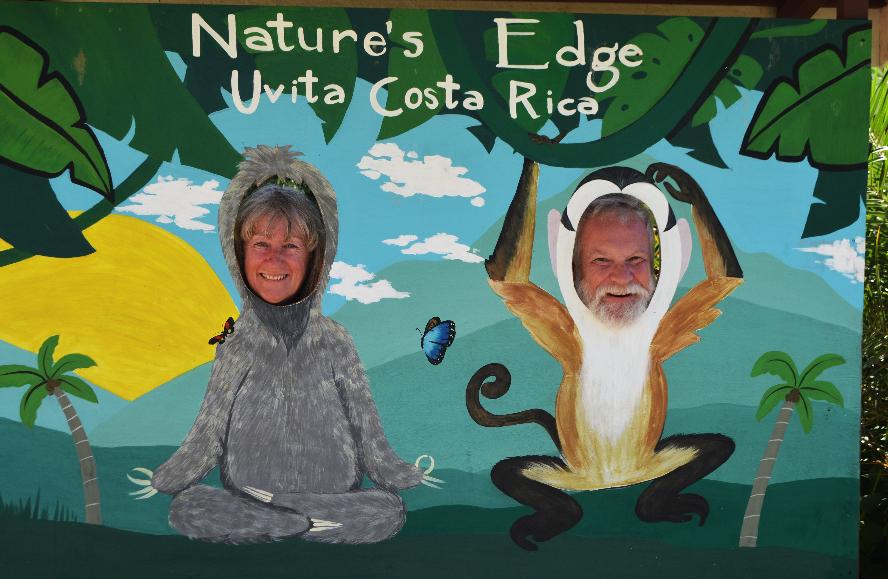 A couple of final photos of Nature's Edge Boutique Hotel set in the midst of acres and acres of rainforest.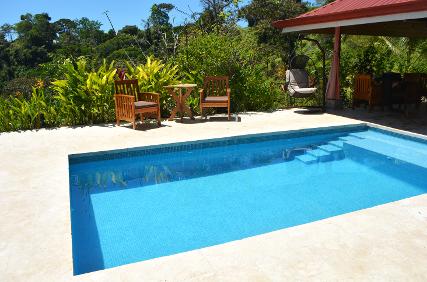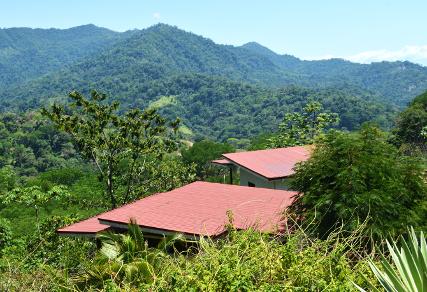 The drive from Nature's Edge Boutique Hotel to Hot Springs Lodge is very straight albeit it begins with five kms down a mountain on a dirt road and ends with 13 kms first through a palm oil plantation and then further into the rainforest along the River Canas, up the mountain eventually to Hot Springs.
The road through the palm oil plantations on our way to Hot Springs Lodge.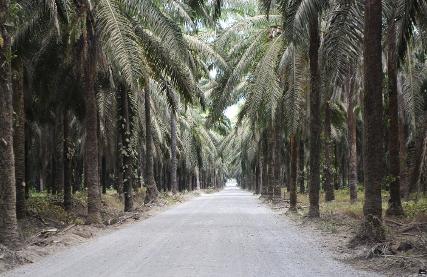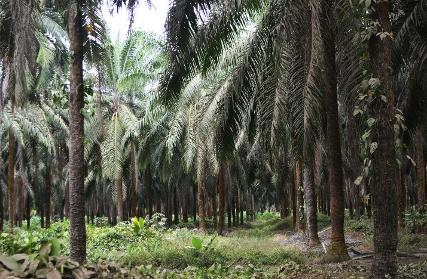 After 13 km of off road, the last eight of which took us along the River Canas
and up the mountain, crossing three streams, albeit they were small, along the way it was a welcome sight to see this sign.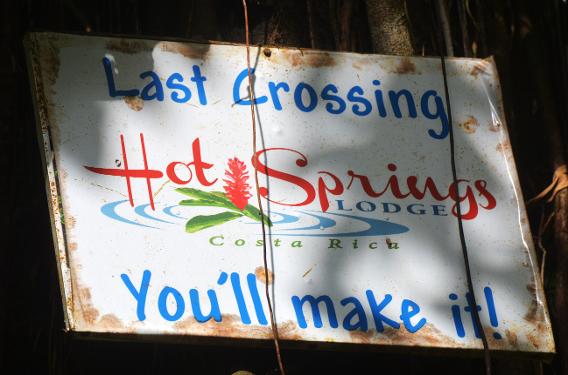 A colourful chair in our room.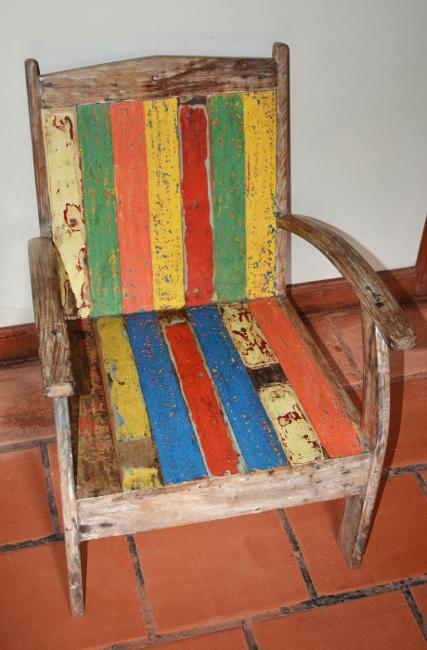 The River Canas. Crossing one of the streams.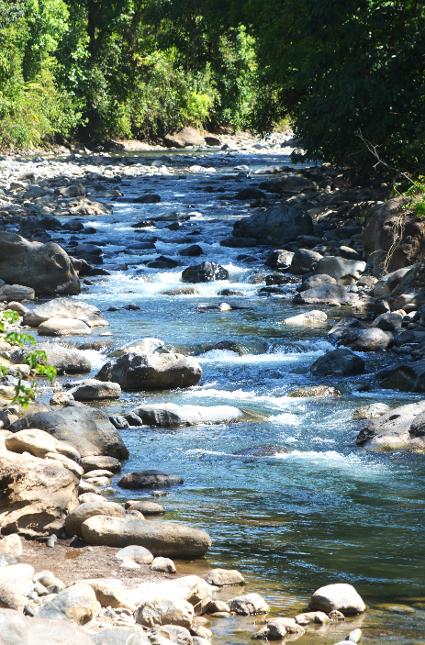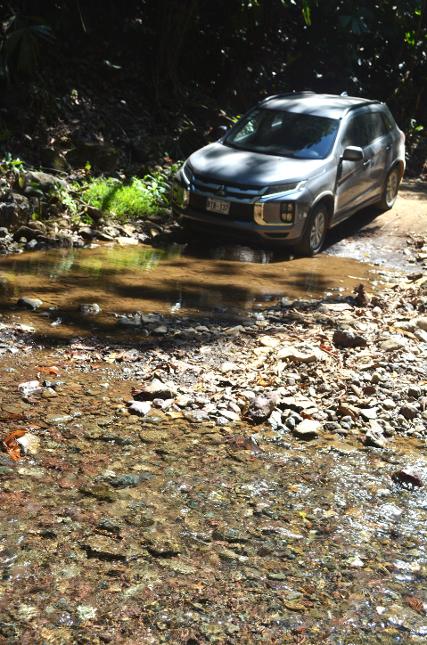 A beautiful welcome with fresh flowers throughout our room.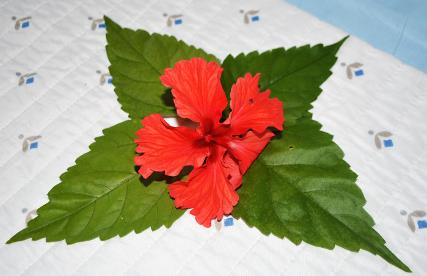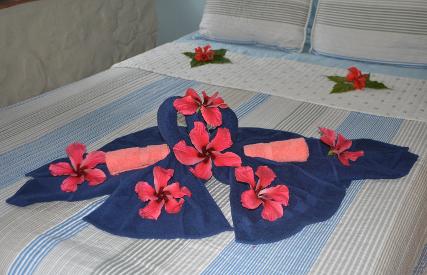 The hall leading to / from our room.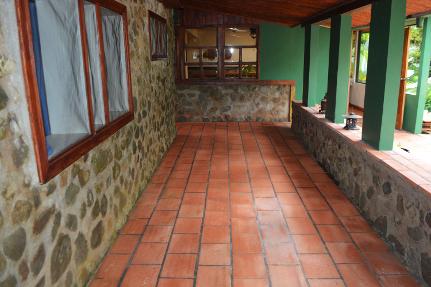 Sarchi rockers for us on our balcony on which Gayle enjoyed our welcome coconut drink.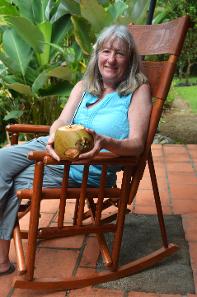 One of a number of flower arrangements, an inlaid design on a table and the front of the Lodge at dusk.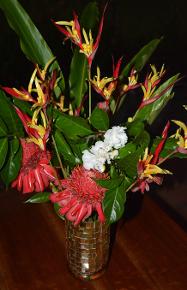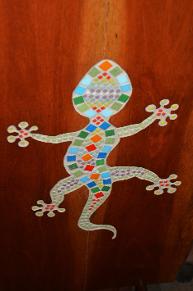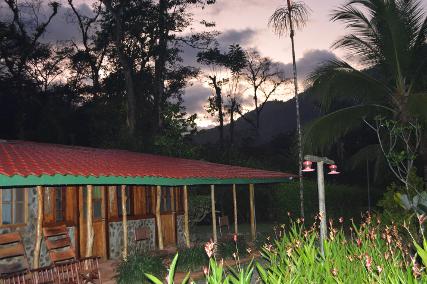 Dinner included a green salad, beans, squash, and some delicious cassava, a root vegetable used in a similar manner as potatoes. This starchy tuber looks like a sweet potato or yam but with thicker skin When cooked cassava has a neutral flavour and soft, light texture. It was actually very good. Then Gayle an egg while I had tuna, caught by a previous guest.
Jose in a traditional Costa Rican Sarchi rocking chair. Pip, one of the two well behaved Lodge dogs.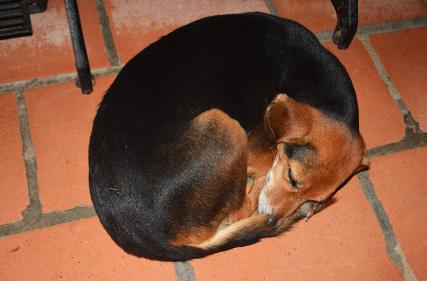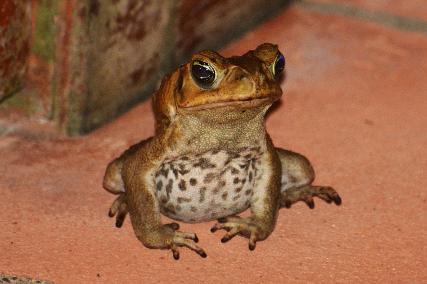 February 23, 2023 - Nature's Edge Boutique Hotel, Uvita and Ballena Marino
Most of today was similar to yesterday - awake very early to the howls of the howler monkeys; an hour plus enjoying the sounds of the birds; breakfast; chats with other guests and Keith; back to the room to work on the travel blog and catch up on emails; a swim; late afternoon into sunset waiting for the toucans and other birds; and then dinner.
The one difference today is that late morning we went down the mountain to Uvita where we went into the Parco National Marino Bellena, one of Costa Rica's 28 national parks, three of which are UNESCO World Heritage Sites. Roughly 28% of the land in Costa Rica is a park or reserve in an effort to maintain the integrity of the country's lush landscape and thriving animal population.
Ballena Marine National Park is part of the Osa Conservation Area created as a safe area for humpback whale migration, hence its name Bellena which is the Spanish work for whale. There are many whale watching excursions leaving from Uvita beach (a German couple staying at Nature's Edge went out seeing two adults and one baby humpback) but the boats are relatively small putting great risk on my sea stomach.
It was suggested to us the Restaurant Don Roger was a great spot to see the beach / coast and the Whale Tail. We did and it was.
Nature works in mysterious ways. One such oddity is the so called whale tail the juts into the Pacific Ocean at Uvita.
This giant rock and sand formation not only has the distinct shape of a whale's tail but is located in the exact spot where hundreds of humpback whales congregate each year. The whale tail itself is a result of converging currents that deposit sand on top of the rock formations to create the unique tail-shaped pattern.
Although it should be obvious in terms of transparency I did 'borrow' this photo from elsewhere.

We each enjoyed a drink at Don Roger with a great view across Uvita beach to the Whale Tail, as well as joy watching and taking photos of the many butterflies that frequented the nearby flowers. A great way to spend an hour or so.
For dinner we chose Beehive in Uvita. Gayle had perhaps her worst Margarita ever - smoked jalapeno pineapple - supposedly one of their 'special' drinks. It was not very good. The food however was better. We started with Mediterranean Hummus - roasted peppers, garbanzo beans, fresh garlic tahini lemon juice, 100% olive oil, served with pita bread - very nice. Gayle then had the Spinach Avocado Salad with cranberries avocado, spinach, onions, goat cheese, parmesan and an almond vinegrette dressing. Also good. Norm had the pan roasted Red Snapper in a cilantro lemon sauce - very tasty => excellent. We were provided excellent service by Sergio.
We then drove back up the mountain where we again retired early.
Joe plating and preparing breakfast.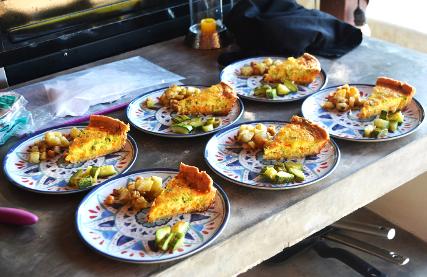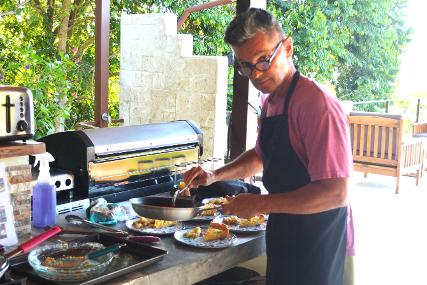 Keith and Joe. Louie. Keith again.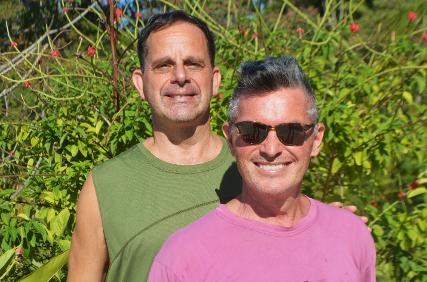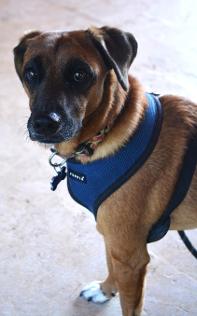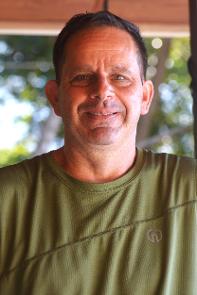 Turnera. Allamanda Cathartica.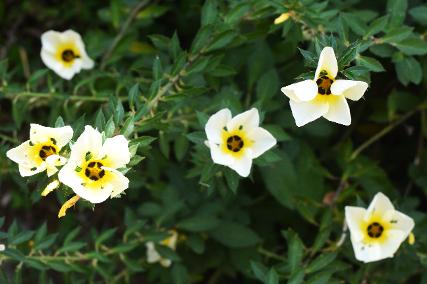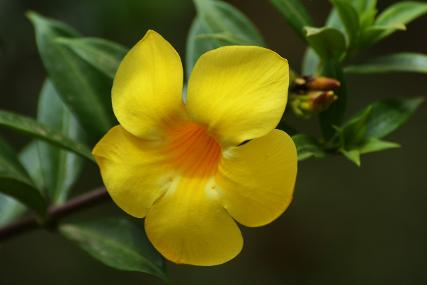 The estuary leading to Uvita beach and the launch point for the whale watching tours.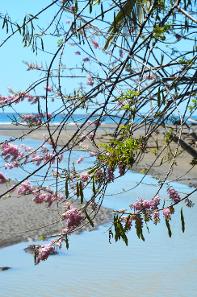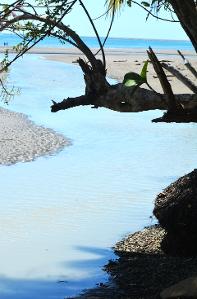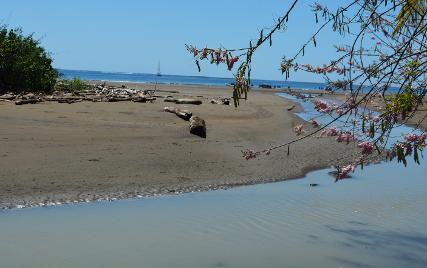 Yes be aware of vicious cocodrilos / crocodiles. No don't be afraid of the wild Gayle.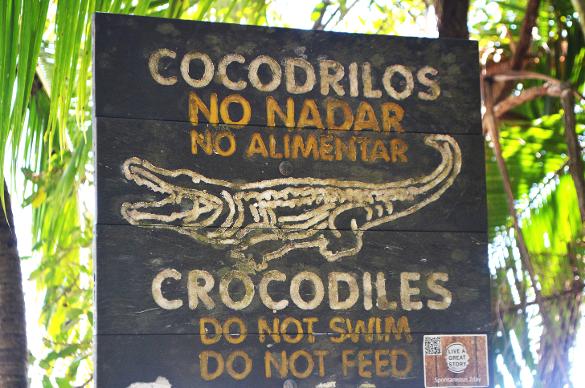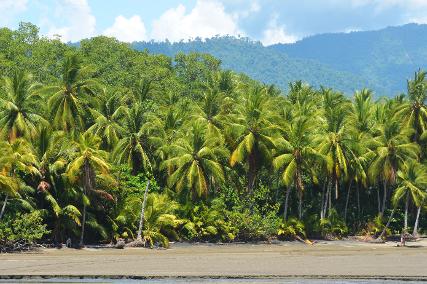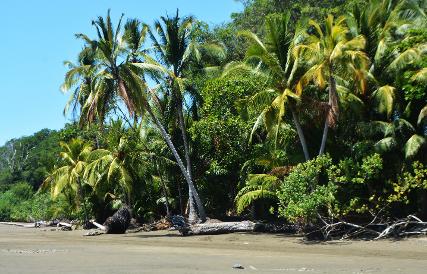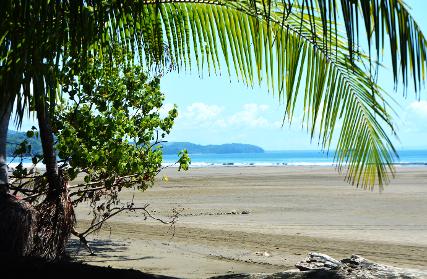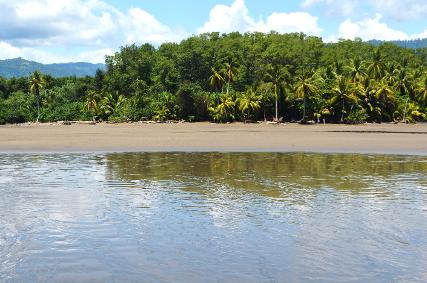 Gayle borrowed my new Costa Rica sloth hat.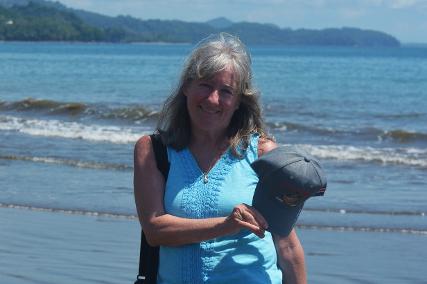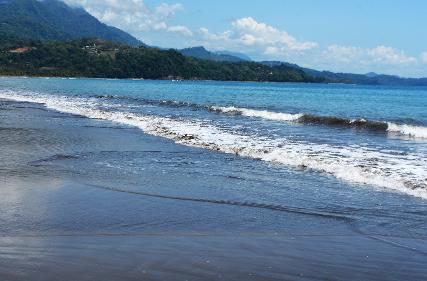 The coconuts and other beach trees draw the monkeys.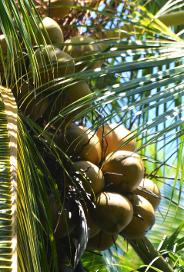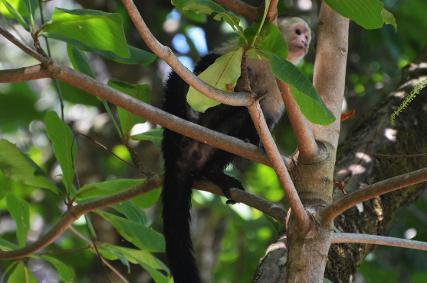 At Don Roger we sat on a bench overlooking Uvita Beach and out to the Whale Tail (to the left),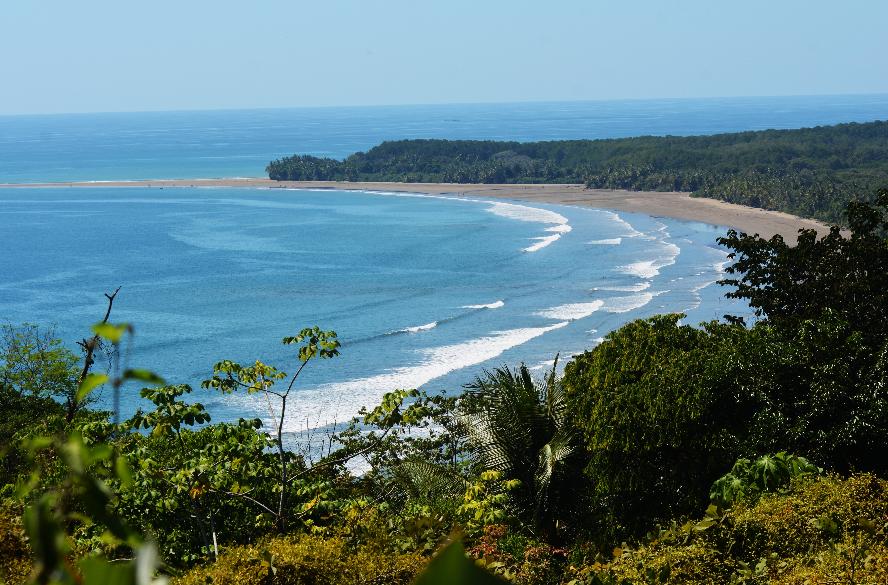 From where we saw pineapples growing, and enjoyed a couple of drinks.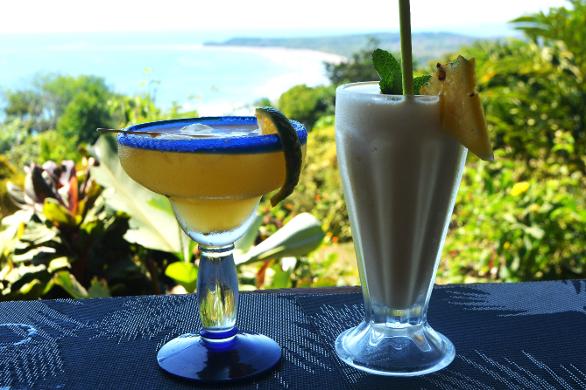 While watching many beautiful colourful butterflies.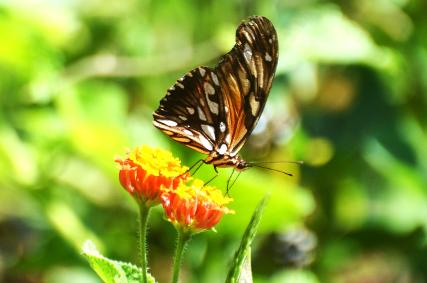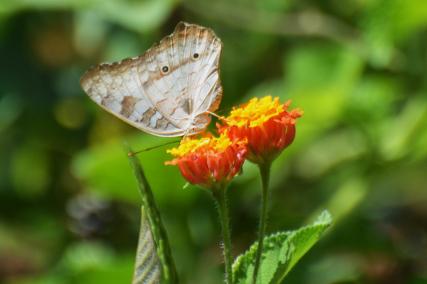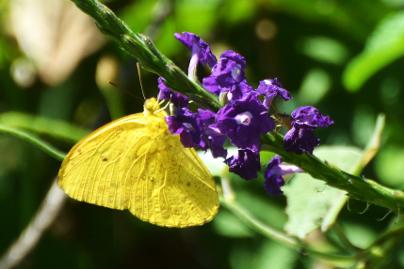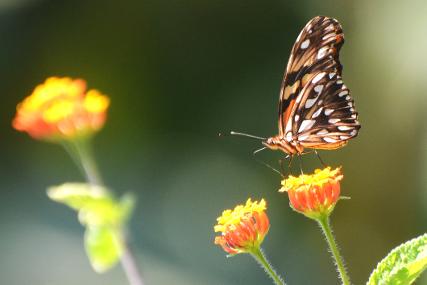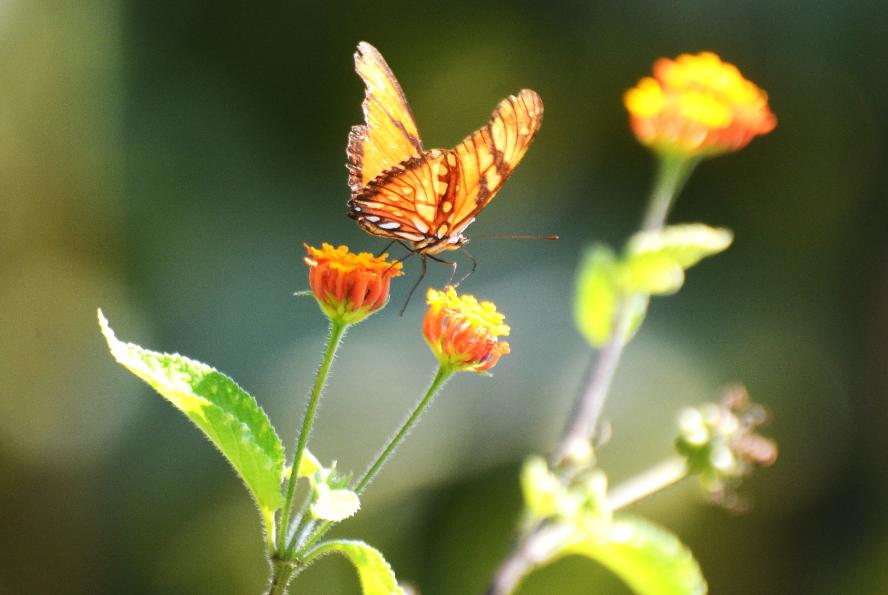 A couple of yellow breasted birds.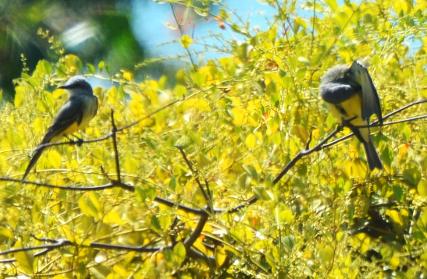 My telephoto lens is decent but then there are these. Serious equipment.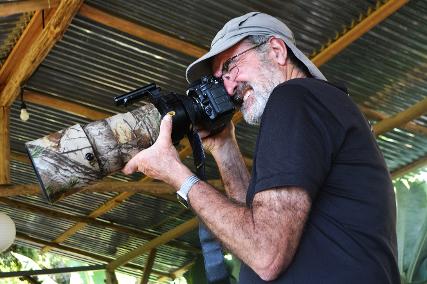 Back at Nature's Edge just before sunset a couple of toucans appeared - it is such a thrill to see them.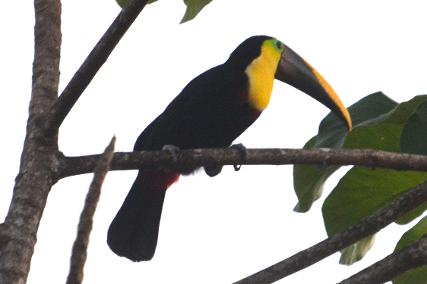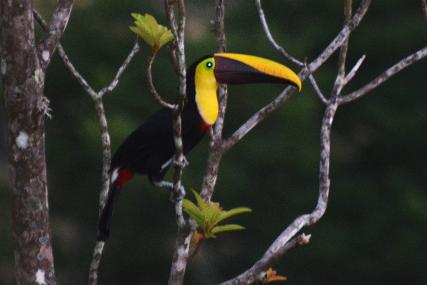 Driving down the mountain we enjoyed this colourful sky after sunset.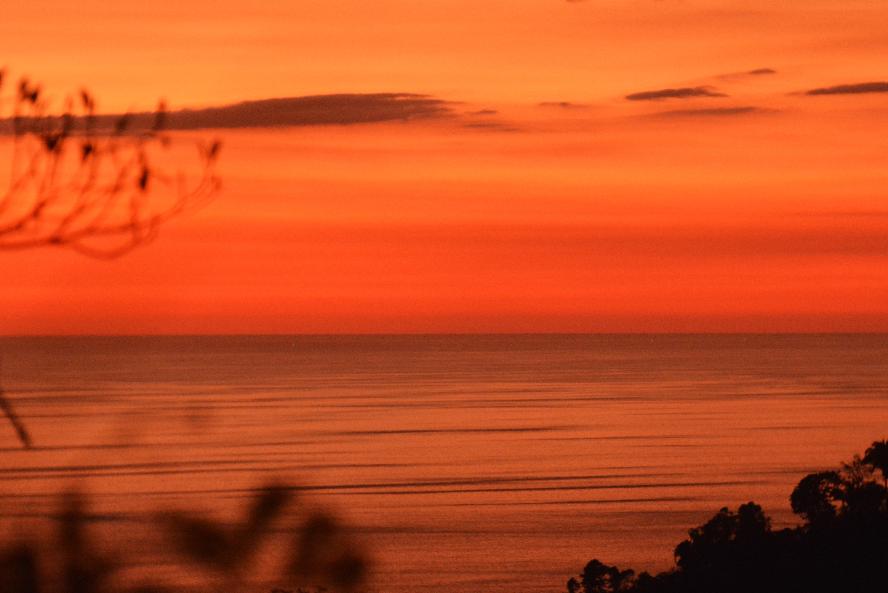 Dinner tonight was the Beehive Restaurant.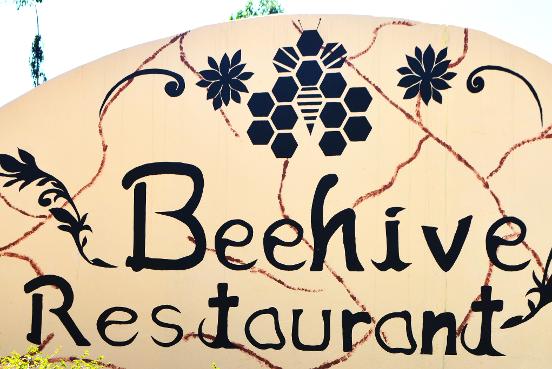 The Smoked Jalapeno Pineapple Margarita was not that good.
Mediterranean Hummus. Spinach Avocado Salad.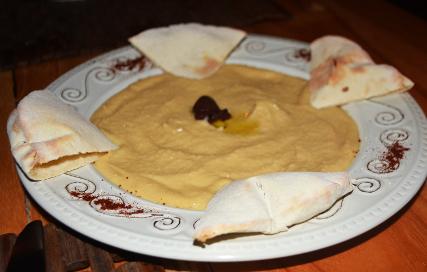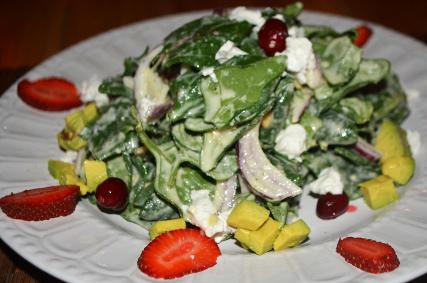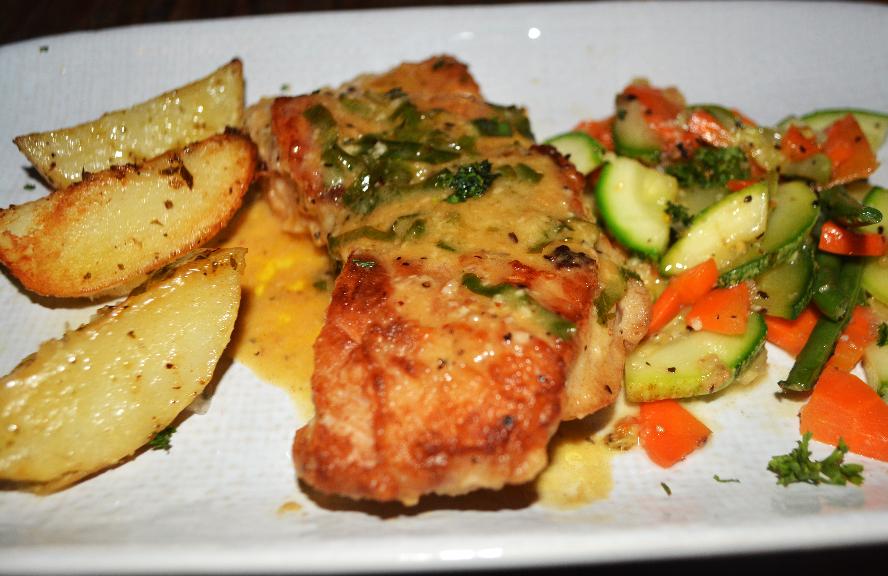 February 22, 2023 - Nature's Edge Boutique Hotel, Uvita
Another day simply enjoying the sounds of nature and taking photos of colourful flowers and whatever else wandered by, for example a coati and a humming bird.
Again breakfast, time spent on the travel blog, listen to the birds, insects and howler monkeys, swim, more gazing out over the jungle - you get the idea.
For dinner we returned to a restaurant we had eaten at twice before in Ojochal, 20 km from Nature's Edge. Maite, the owner did remember and warmly greeted us. For drinks Gayle had a strawberry margarita and Norm an orange-pineapple smoothie, each adorned with flowers that would be a theme of the meal. Gayle started with the Avocado with pineapple and citric mayonnaise after which she had the Pasta Strogonoff with fresh mushrooms, cream, wine and vodka sauce. Norm had a beautifully presented Shrimps with banana curry sauce, rice and vegetables. Then for dessert we left room for the Banana Flambe with ice cream that we recalled was excellent from our last visit - and it was again. Our server was wonderful and after the meal we enjoyed a very nice chat with Maite. Without question should we be back in the area we will again eat at Exotica.
The drive back was about half an hour with the last four kms up the mountain's dirt road. Having driven it a number of times now it was not too bad.
Bright red / orange bamboo. Crown of thorns.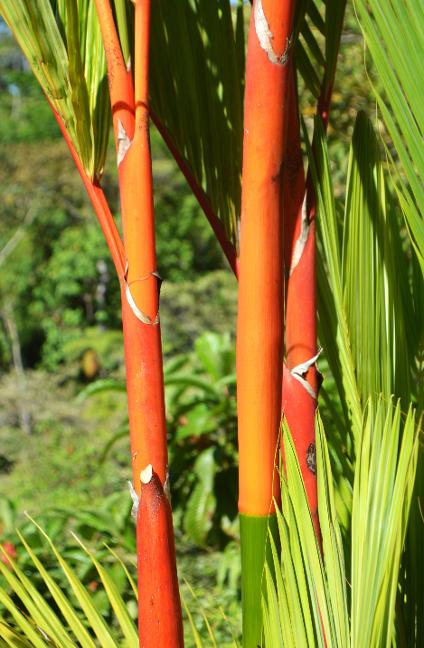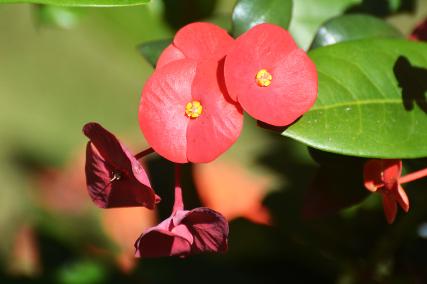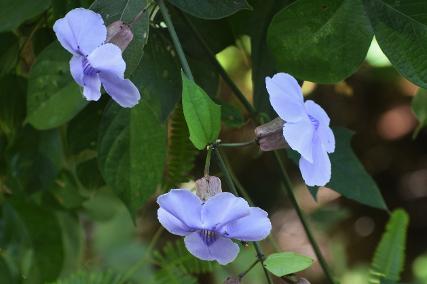 It is difficult to get a humming bird photo - I just got lucky.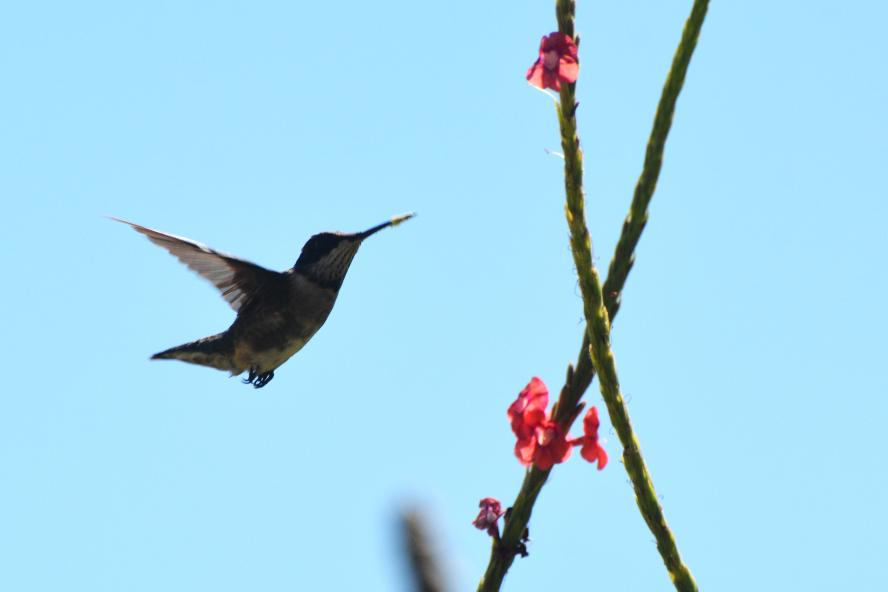 Stachytarpheta urticifolia. Ruellia simplex.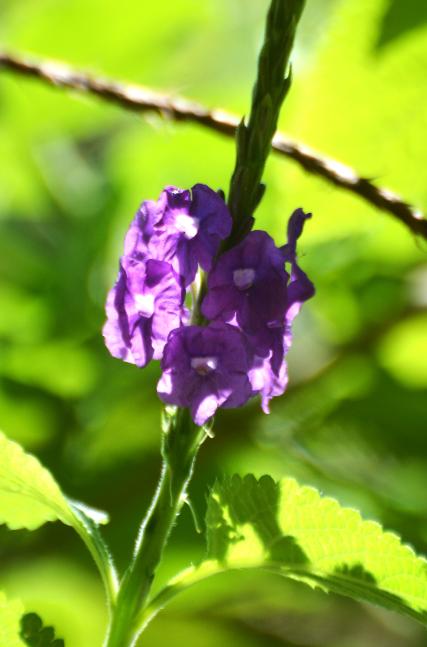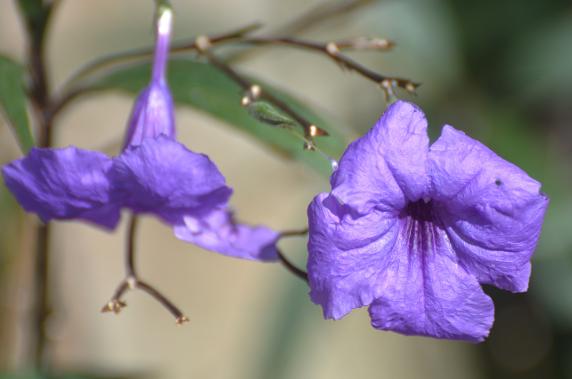 The entrance to our cabina - Heliconia.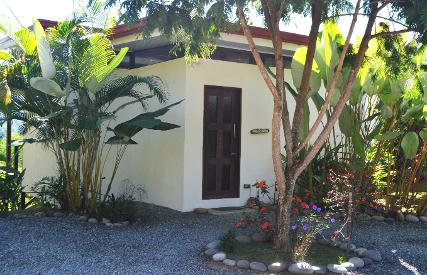 Sometimes one does not get the correct end of the animal to photograph, but his is proof that I saw a coati.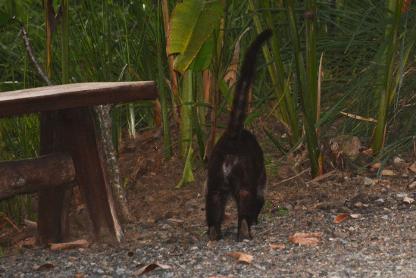 Tonight we ate at Exotica. Orange-pineapple smoothie.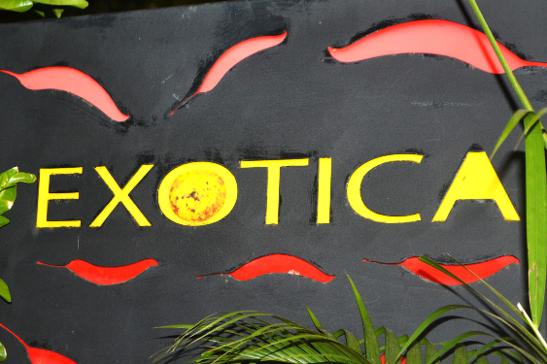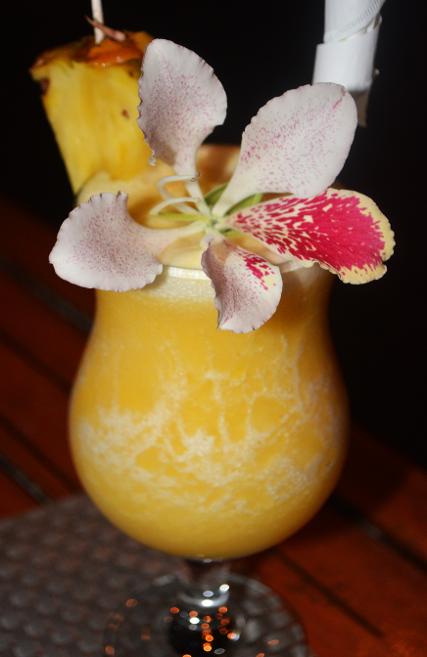 Strawberry margarita. Avocado and pineapple.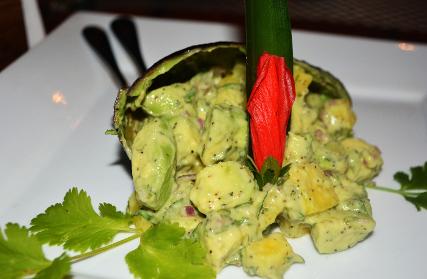 Strogonoff pasta. With accompanying garlic bread on a banana leaf.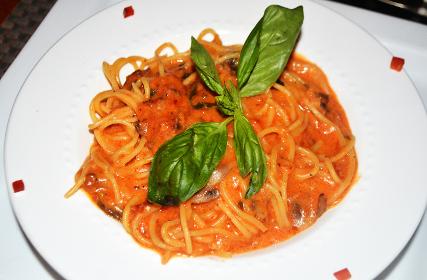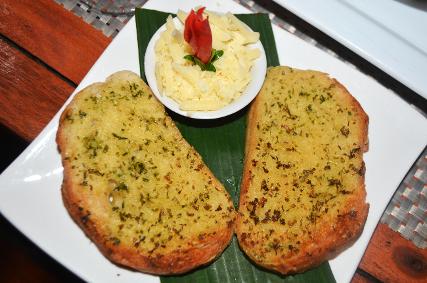 Shrimp with banana curry sauce.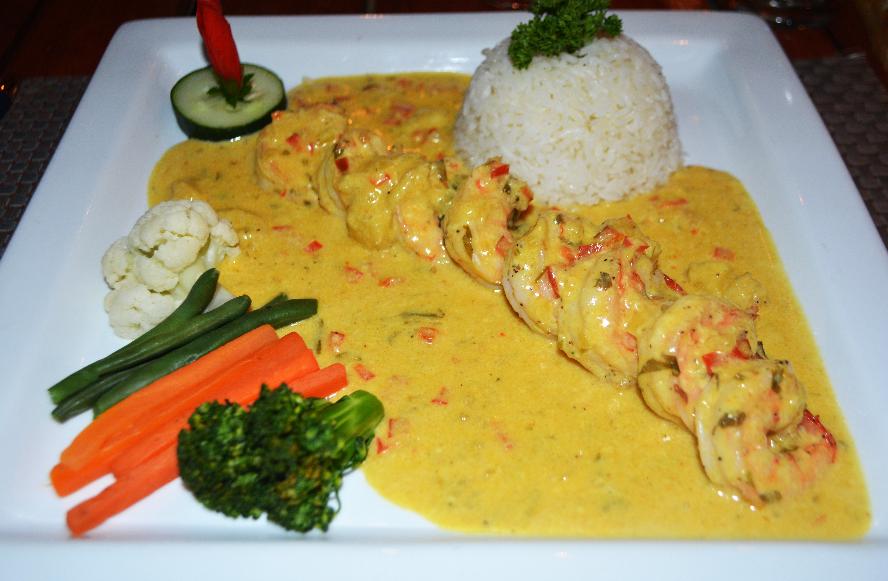 We left enough room for dessert - a banana flambe. Not only was it delicious but look at that presentation.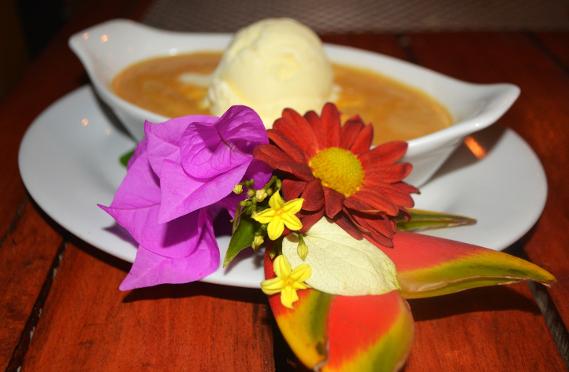 February 21, 2023 - Nature's Edge Boutique Hotel, Uvita
The morning started real early with the loud - we both swear they were just outside our window - howls of the howler monkeys. They didn't go on too long - being replaced by the birds and insects but they negated any need for an alarm clock.
Breakfast for all guests is at 7:30 am. While at first it seemed a bit strange to have only one time it does get everyone together so one does meet and chat with other guests - today an elderly couple from Australia and a couple on their honeymoon from Israel. Joe cooks breakfast - this morning a nice quiche - while Keith serves the guests. Orange juice, yoghurt with pineapple sauce, a fruit bowl and lots of coffee accompanied the main plate.
The rest of the day was spent working on the travel blog, listening to the sounds of the jungle and watching for birds - Gayle spotted some Scarlett Macaws at some distance, a couple of Crested Guans and a few Toucans stopped by just before sunset.
During the afternoon we enjoyed a refreshing dip in Nature's Edge's pool.
We decided to do pizza for supper. We drove down the mountain, order a couple of pizzas (good) and a Caesaer salad (not so good) from Pizza Time in Uvita, and brought the food back to our casita to enjoy in our comfy rocking chairs on our balcony.
As has become standard we were in bed shortly after 9:00 pm, knowing we will again be woken early in the morning by the howlers.
Nature radio (howler monkeys - turn your audio up loud) and nature TV (in this case two Scarlett Macaws lower in the valley).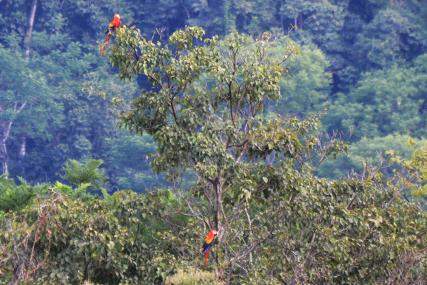 There are four units at Nature's Edge. We are in Heliconia, overlooking the jungle.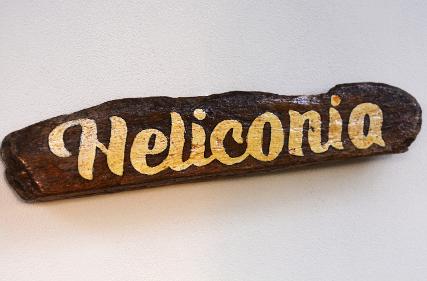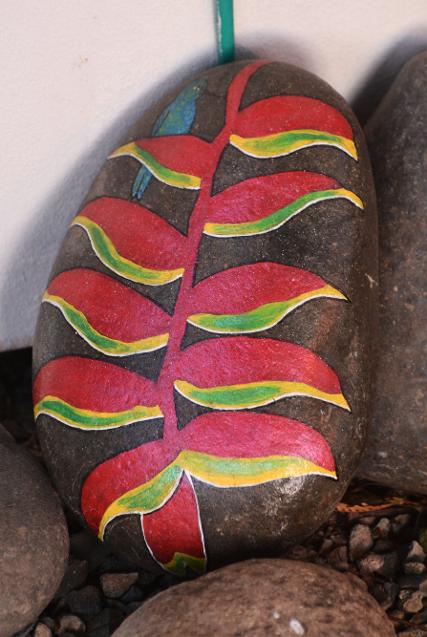 Heliconia is located at the bottom of the property overlooking the jungle.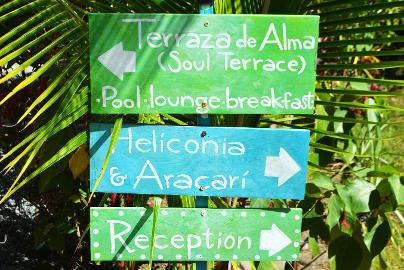 A nice herb garden adjacent to the breakfast area.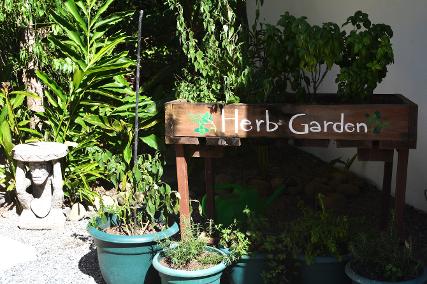 For breakfast a bowl of fresh fruit, yoghurt with pineapple sauce, a delicious quiche with sides and of course coffee.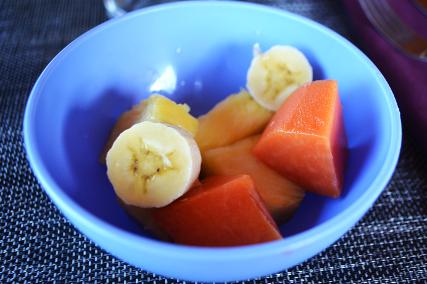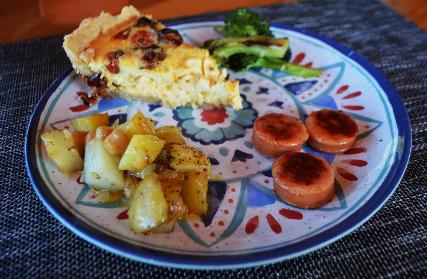 Two rocking chairs on the balcony. A brightly couloured hammock - Gayle is very happy!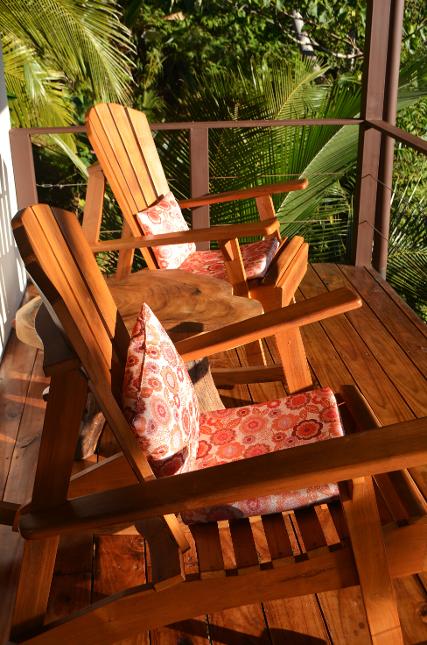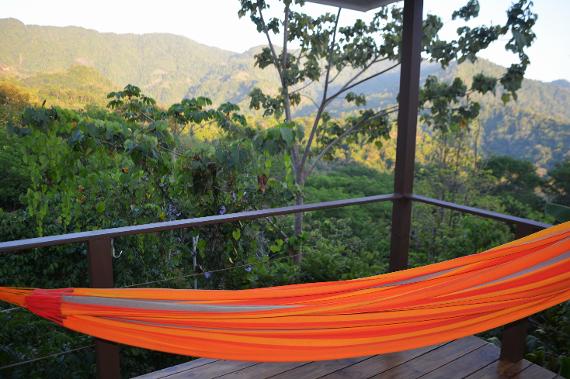 Nature's Edge pool, first looking out to the jungle and then back to the breakfast / shade area.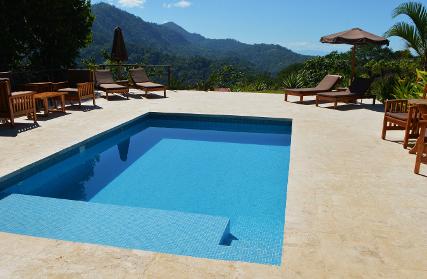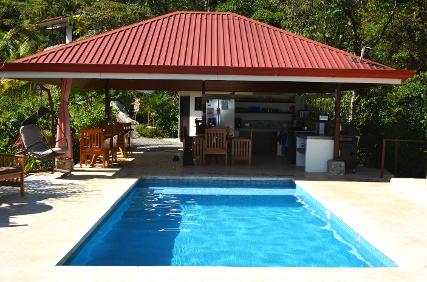 Me in the pool ... ... Gayle in the pool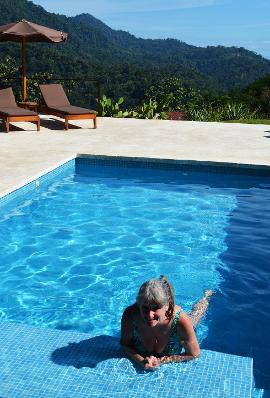 We were fortunate to have a few Toucans on the trees just off our balcony.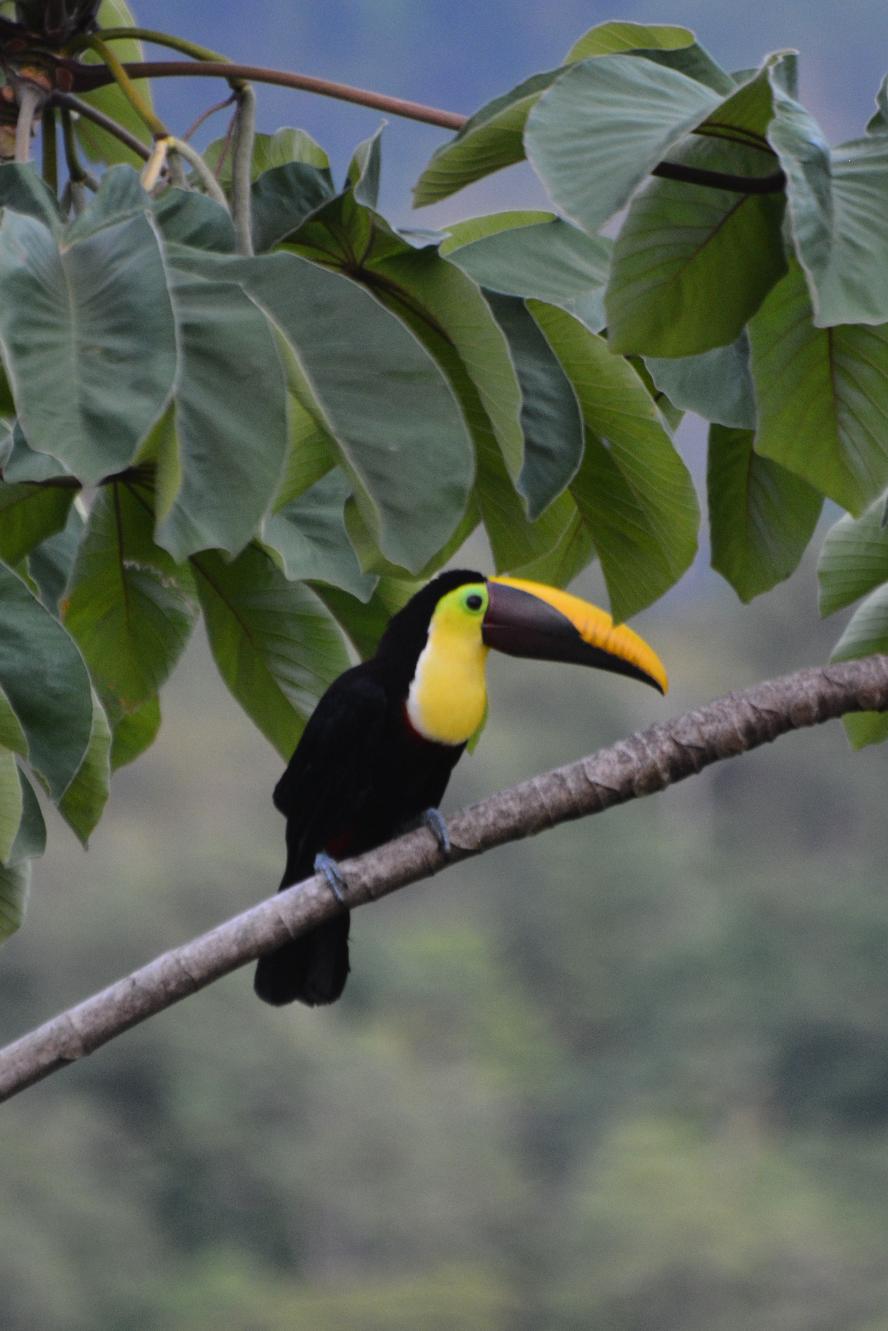 Toucans on the trees just off our balcony.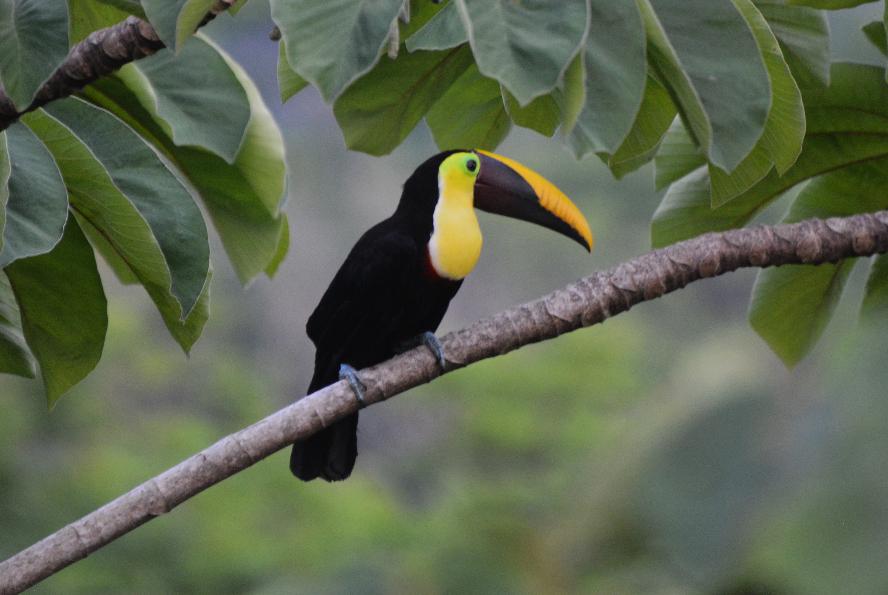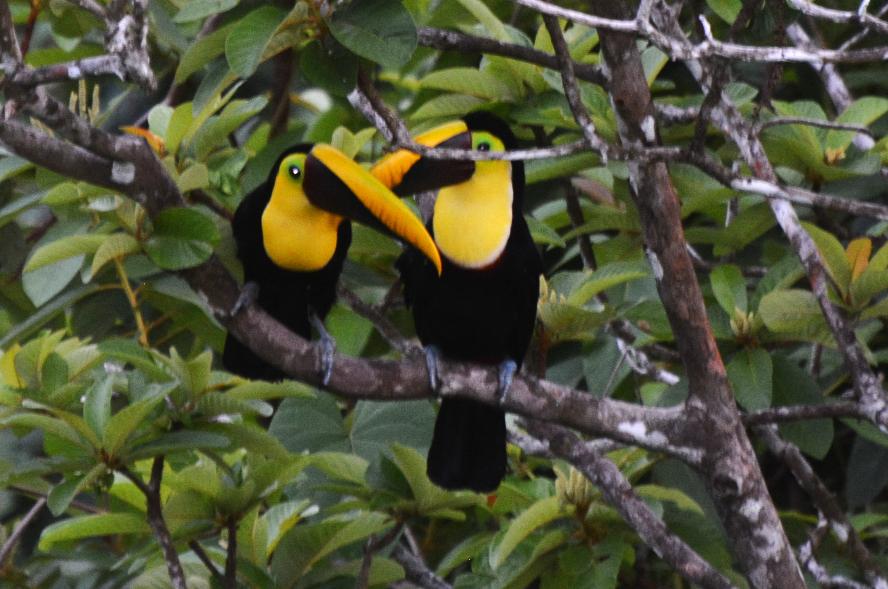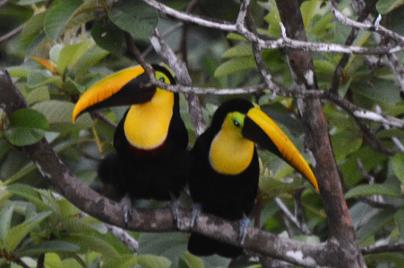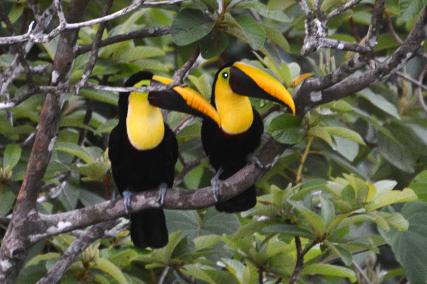 What time is it? It's PIZZA TIME!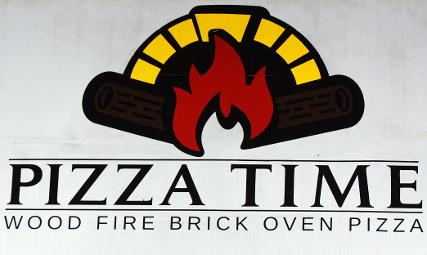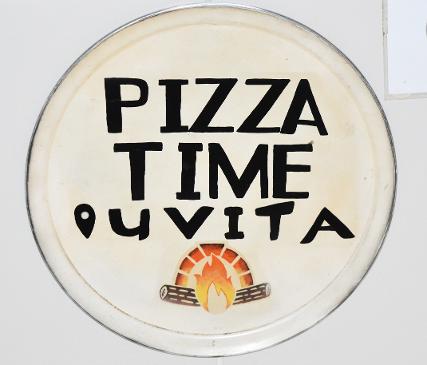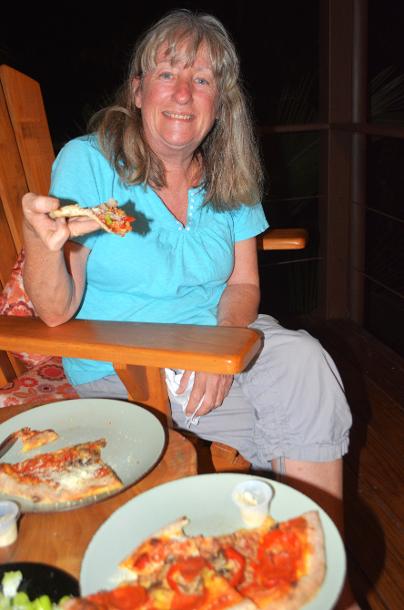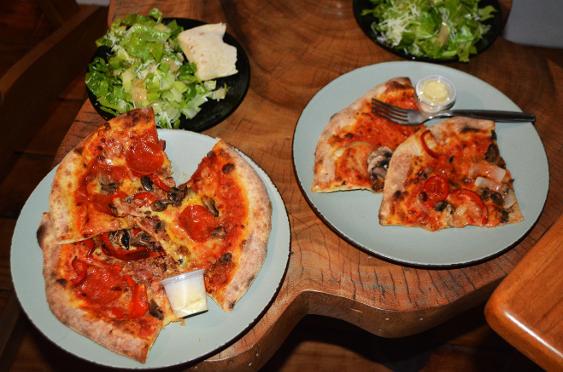 February 20, 2023 - Pacific Edge Eco Lodge to Boruca Village to Nature's Edge, Uvita
Our last morning at Pacific Edge.
After being again awoken early by the howlers we did some packing, chatted at length with Michaelynn and then moseyed down for breakfast where, having enjoyed them so much yesterday, we both again ordered the banana pancakes.
While chatting with Michaelynn we asked if sloths frequented the property. While the answer is 'yes' they are rare. There are capuchin monkeys, howler monkeys, toucans, parrots and a 'million' different birds, and on occasion sloths. If a guest finds a sloth its a free breakfast. After I mentioned NAGTA (Norm and Gayle Travel Abroad) our stuffed sloth Michaelynn decided to expand the program by placing a stuffed sloth in a tree - find him => free breakfast.
And as she wrote in an email to us "
I will find a stuffed Sloth to hide somewhere on the property. ☺️ I will affectionately name him Norm."
I am honoured.
We enjoyed such a great time at Pacific Edge. Not only is the property, the views over the jungle to the ocean and the cabins all wonderful, and there are great opportunities to meet and interact with other travelers, there are times when we just hit it off / connect with people. This was the case with Sid and Michaelynn, adding significantly to our experience.
Having 5 1/2 hours between checking out and checking in at our next destination we asked Michaelynn and Sid to arrange for us to visit the indigenous Boruca people. The Boruca are one of Costa Rica's few remaining indigenous groups, living in the Southern Zone since before the arrival of Columbus. The Borucas believe the spirit animals of the jungle helped them resist the conquistadors, and as such they hand carve elaborate masks that represent those animals, along with birds, tortugas etc..
Our visit with Marina and family included lunch and a demonstration of the use of natural ingredients such as leaves, vegetables, ginger root, mandarin lime etc. to colour the yarn used in the textiles and the paints used to decorate the masks.
The drive was somewhat lengthy, particularly where we did the circular route through San Isidro de El General, where I had to go to a bank to change some outdated bank notes. We actually found a Scotiabank, thanks to Gayle's eagle eye, where we were successful in exchanging the notes.
We then continued the drive along the Pan American Highway to the Boruca village shown in the bottom right of the below map.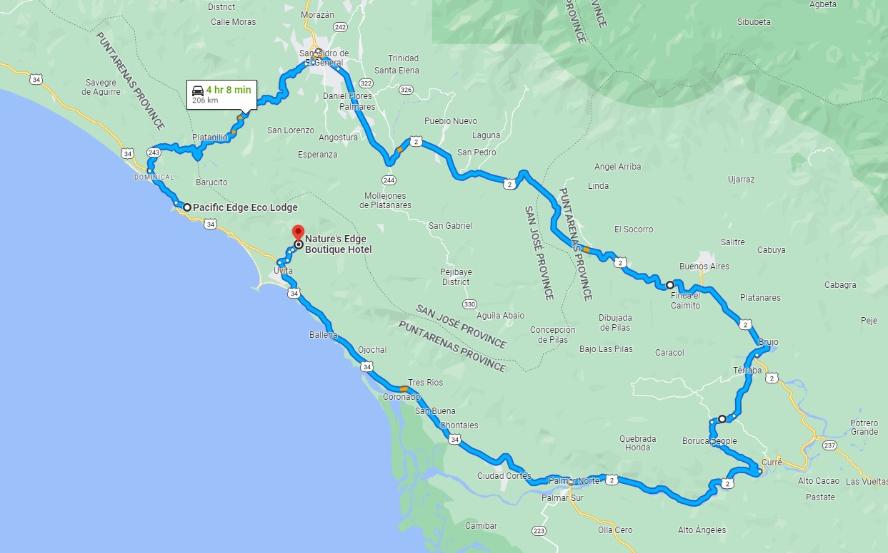 The drive in was about 14 km along what was for the most part a rough dirt road, although there were short sections that were paved. On the other hand the drive out the other side back to the Pan American Highway was 'only' 8 km, again all dirt road.
We found Marina and family quite fortuitously, i.e. we stopped to ask where she might live and lo and behold the person we asked was Marina! Marina and family began to bring out food and drink while we took out our bags of beanies and laid them across the table. There were two young girls - Ariella and Victoria (ninas) and a young boy Moset (ninos) who immediately, and excitedly, started to check out each beanie in order to chose one for themselves. Even the adults appeared keenly interested. Soon the word got out and other children showed up where they were welcome to choose a beanie. All were very polite with a 'Gracias' before leaving.
Lunch was very filling, especially for only 5,000 colones each ($12 Canadian). A drink (sort of iced tea but not), a salad, rice and beans (as expected), potatoes, squash, and for me carne - very tasty pork. It was nice to enjoy lunch while watching the children separate and organize the beanies. So many smiles - both them and us.
The drive to our next lodging was about an hour and a half, plus a stop for a few groceries. The last three kms are up a very steep dirt road which we navigated just fine, helped by the many helpful signs for Nature's Edge Boutique Hotel, our 'home' for the next four nights. Having had a large lunch we were of course not going to have dinner - just drinks and tapas, aka chips, which included a plantain version.
Our cabina looks out over the jungle. Shortly after arriving we were visited by a few Aracaris, a type of toucan, and a couple of 'traditional' yellow beaked Toucans (photos of toucans withheld as this posting is unusually long and I took better photos tomorrow). We sat out and listened to Nature Radio before retiring even earlier than normal.
Had to get one Costa Rican flag.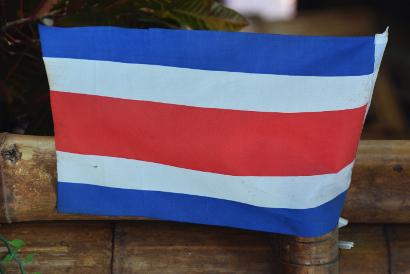 Michaelynn and Sid bought Pacific Edge in
2020 after having traveled in CR for nearly 20 years.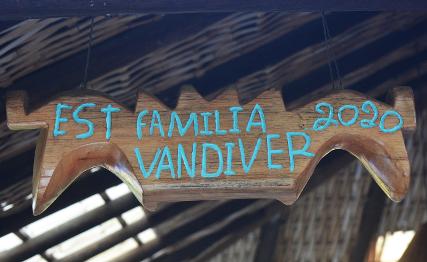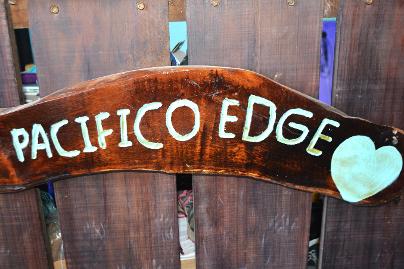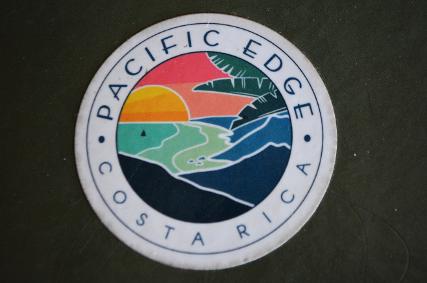 One last look at the pool.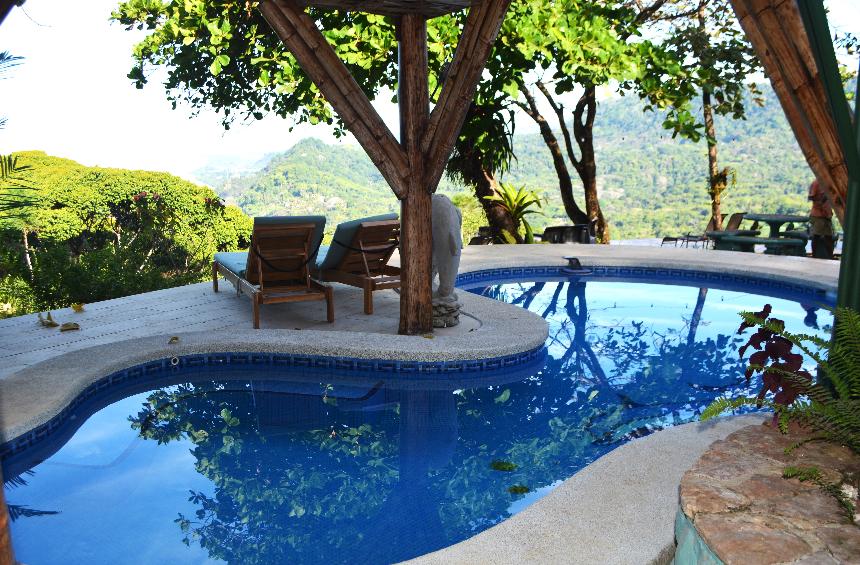 Yes, same banana pancakes as yesterday. Served of course by Sid. Michaelynn.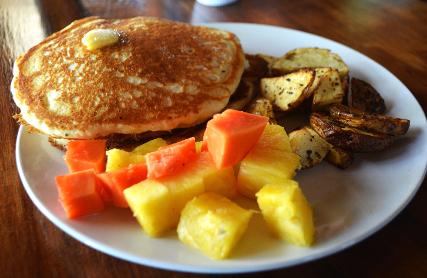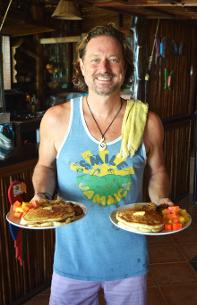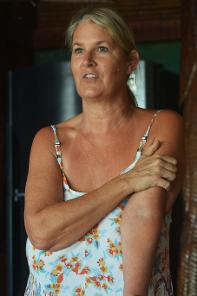 A colourfully painted antique Costa Rican cart.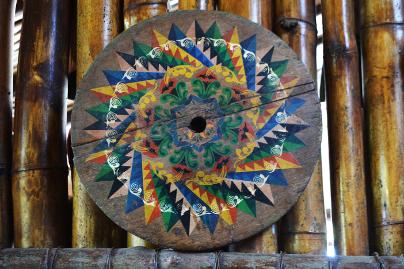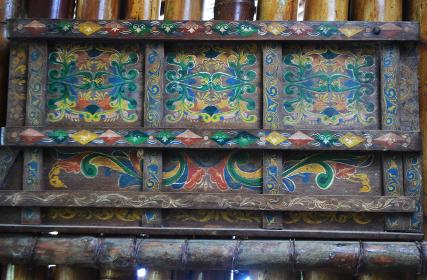 More of the selection of Boruca masks and artwork on display at Pacific Edge.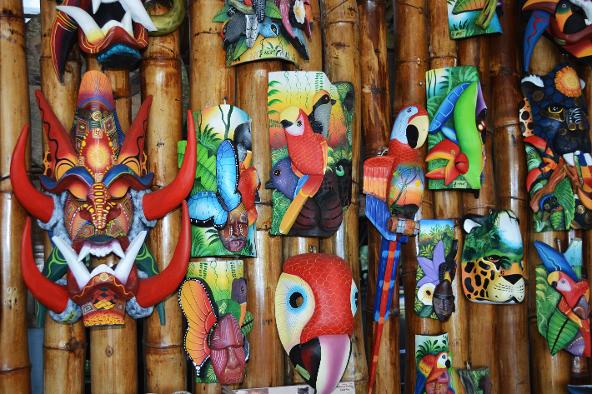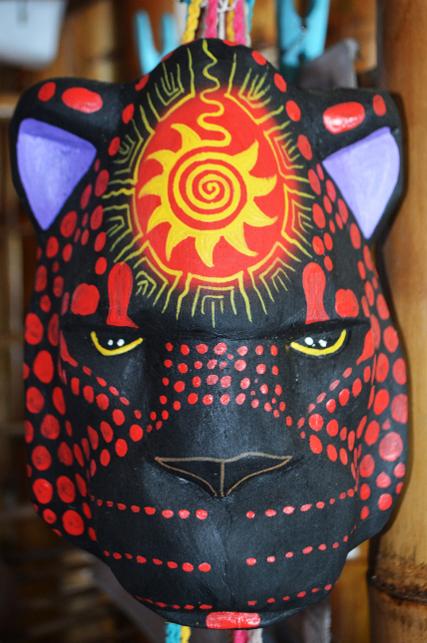 Another scary animal mask ... ... and a beautiful tortuga (turtle).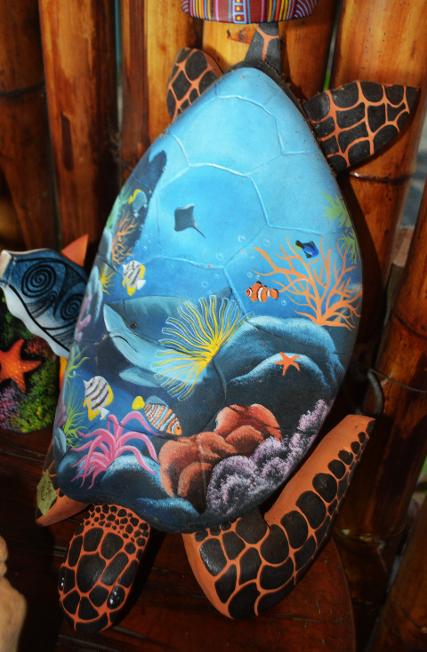 There were a number of colourful plants and flowers throughout the Pacific Edge property, including,
A Walking iris. The Royal poinciana.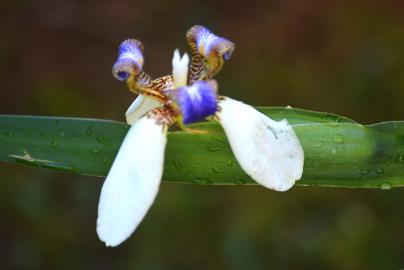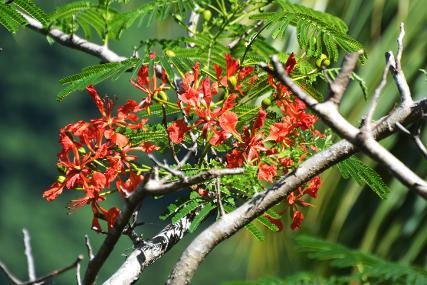 The flower of the Bengal clockvine. And the Madagascar periwinkle.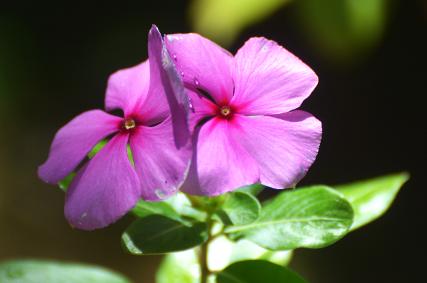 A beautiful African Tulip tree just outside San Isidro de El General.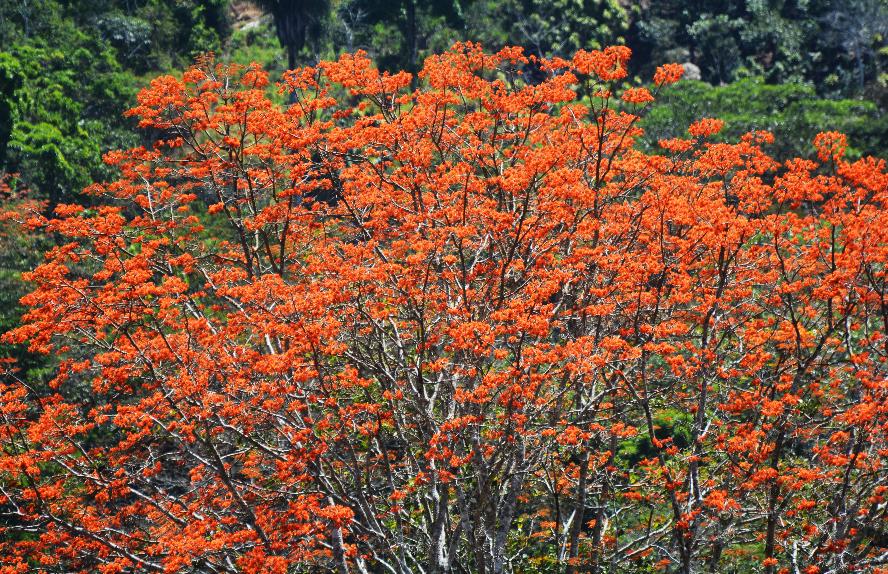 It was through Pacific Edge that it was arranged for us to visit the Boruca village.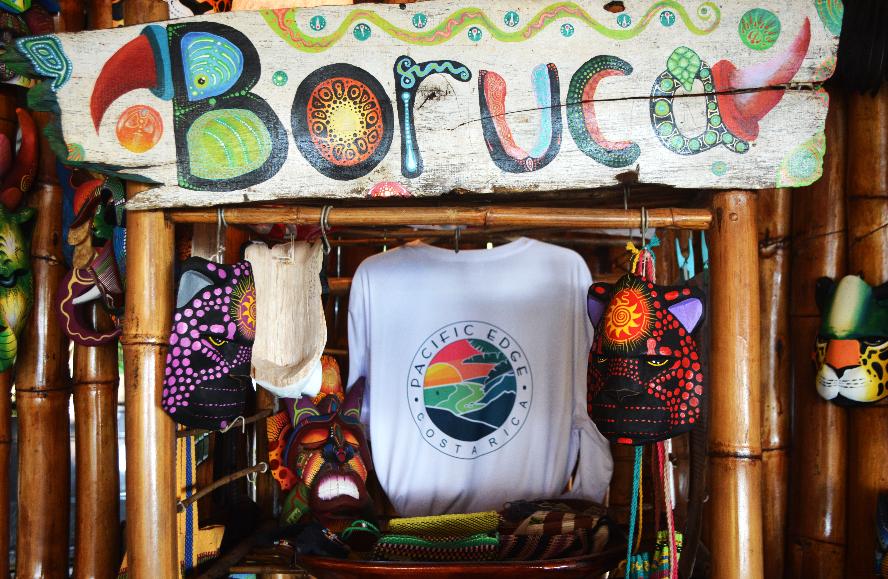 A portion of the Boruca village. Inside of a building.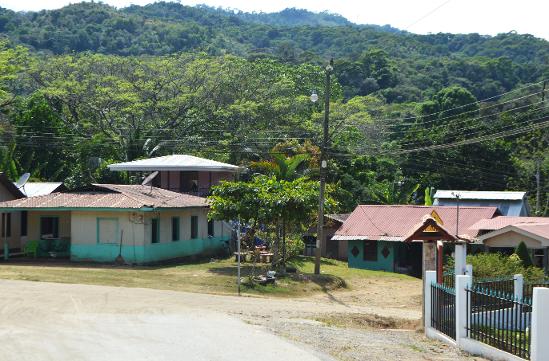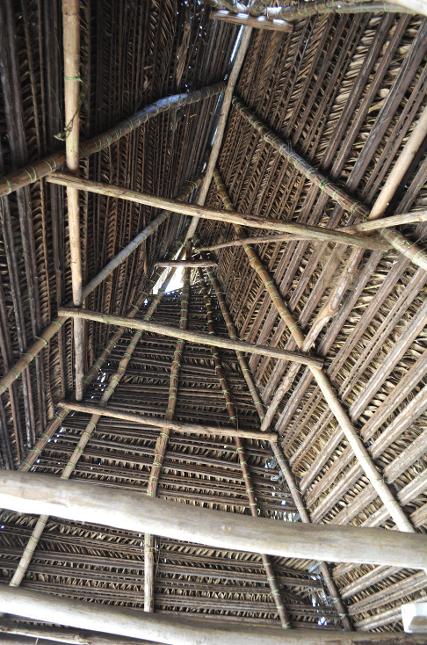 Nearby was the community centre, although we did not visit.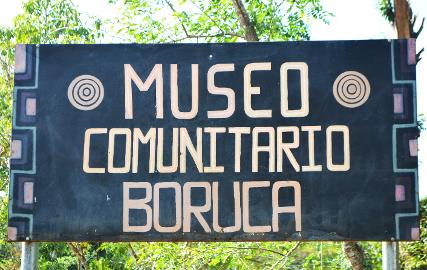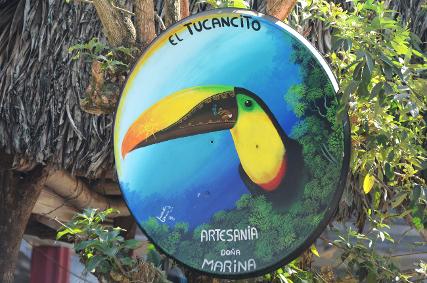 A selection of animal and other masks. Borucan handbags.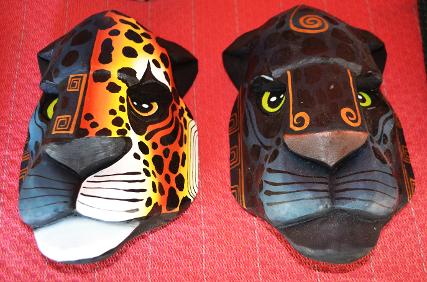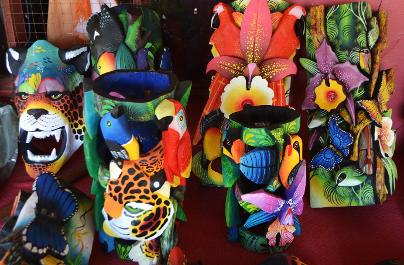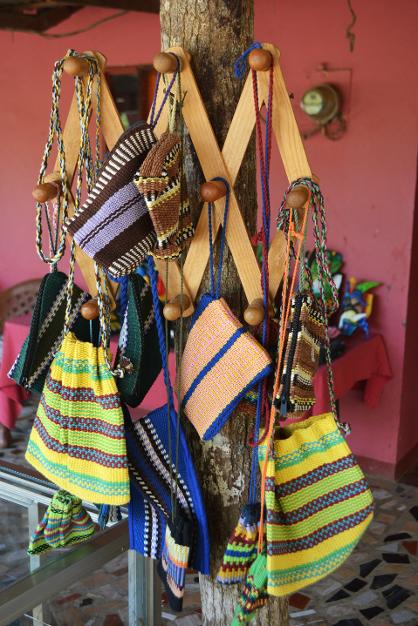 More masks and table runners.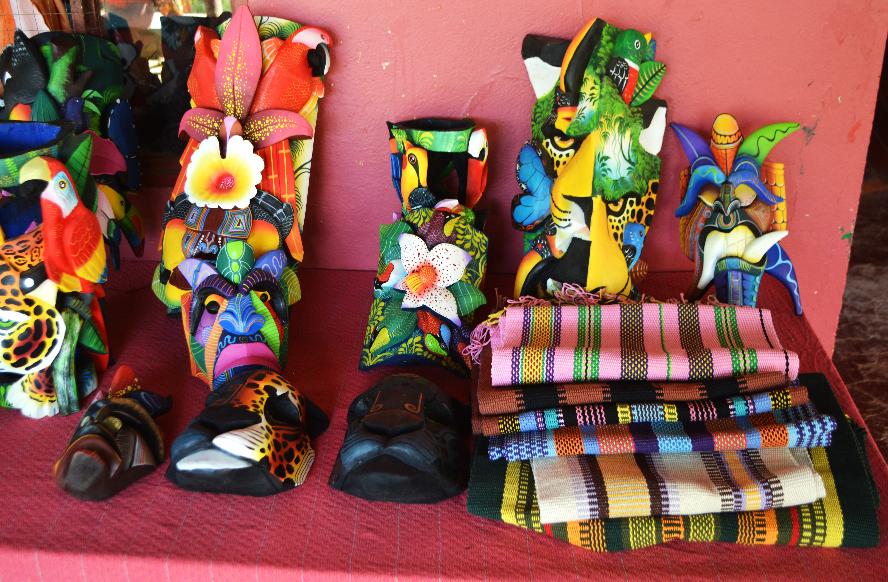 A video of Marina, Maria Jose, Moset, Ariella and Victoria pouring over the beanies.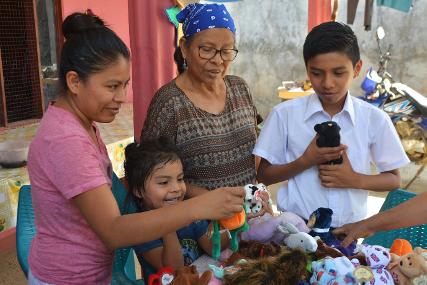 While the beanies were of course for the children the adults also took a keen interest.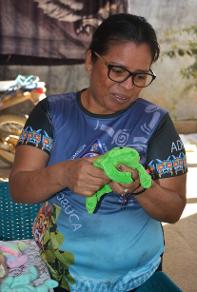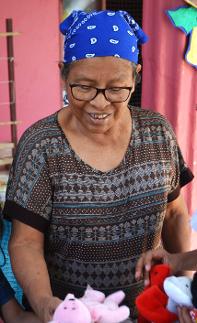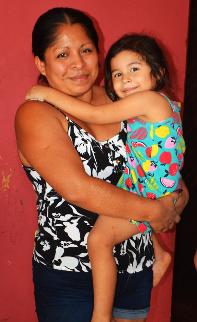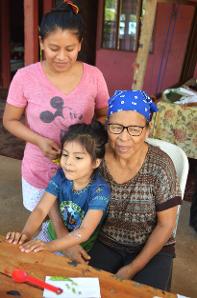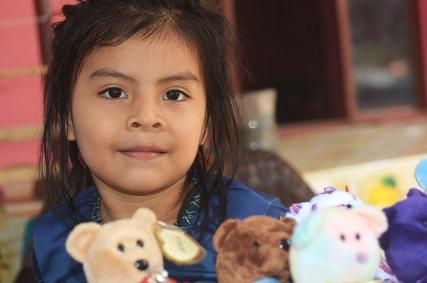 Ariella - so young but already wedding planning.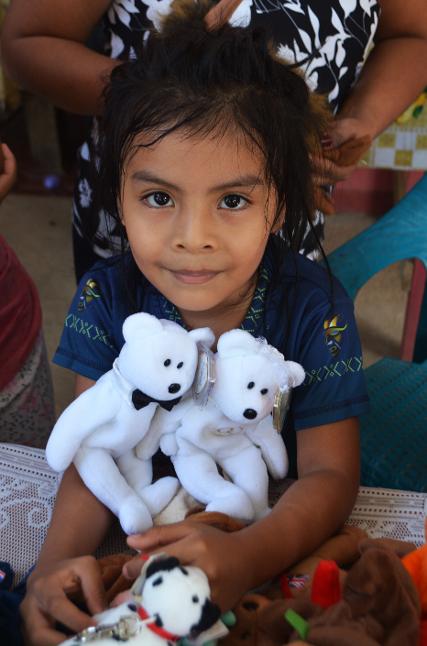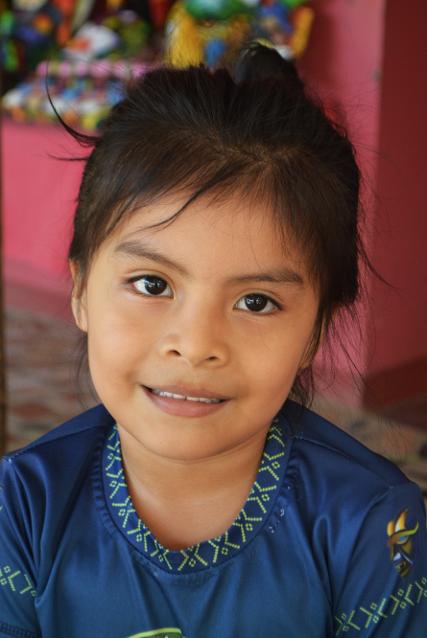 Victoria was certainly happy with her bunny.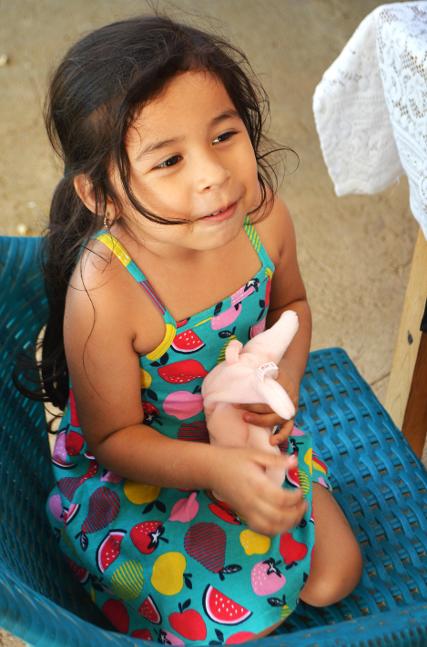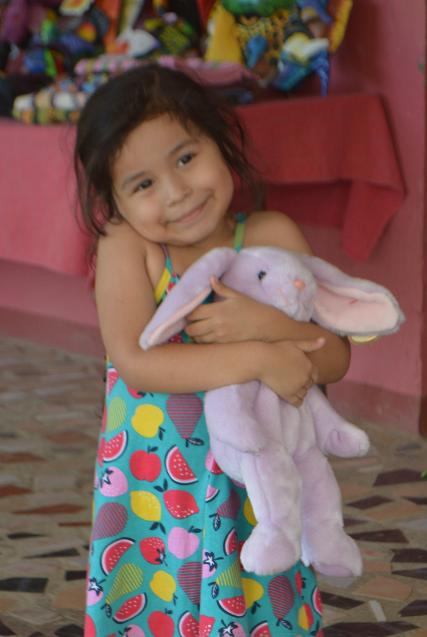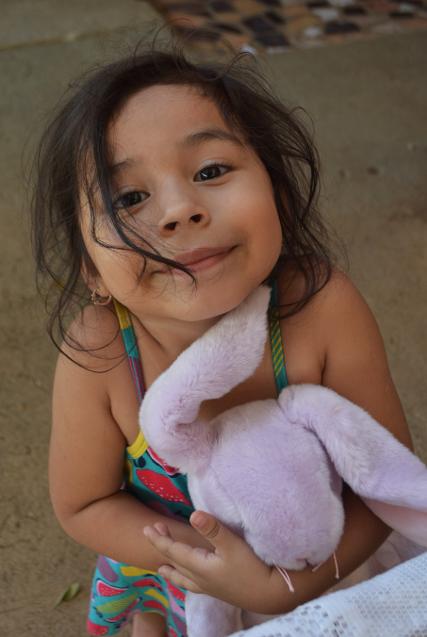 A Borucan lunch- rice and beans, salad, squash, potatoes and for me some pork.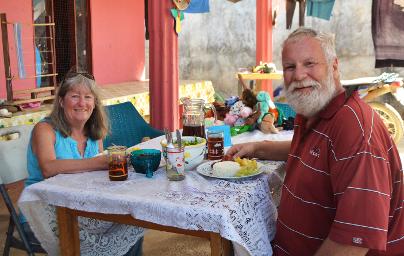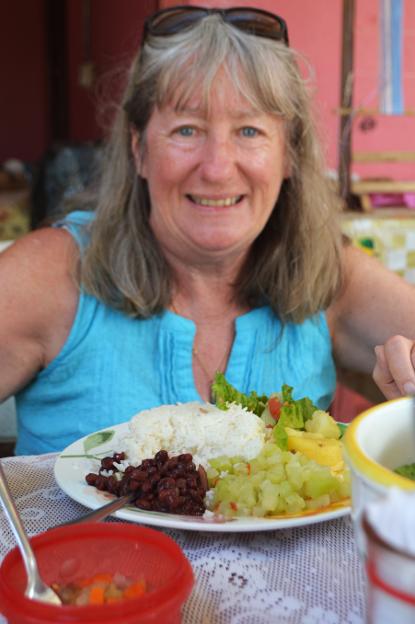 Moset. Another girl who stopped by.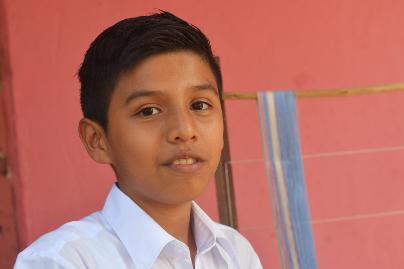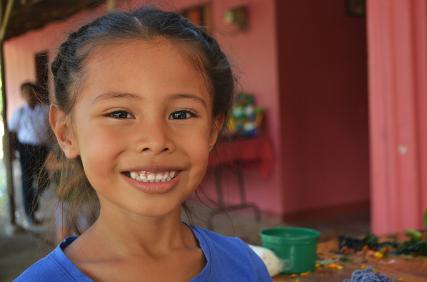 More happy children with their beanies.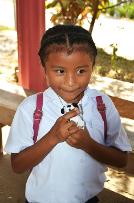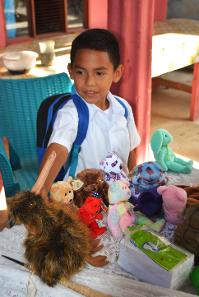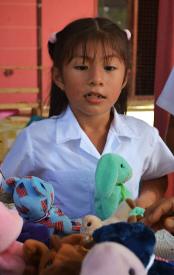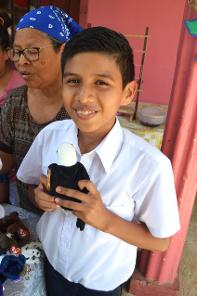 Marina demonstrating the use of natural ingredients to generate coloured yarn.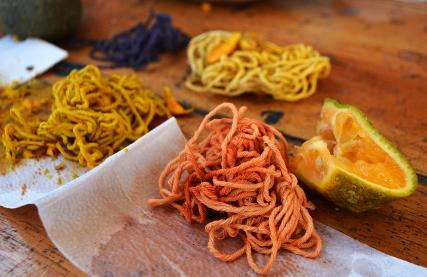 Marina spinning yarn from cotton. Yellow from ginger root.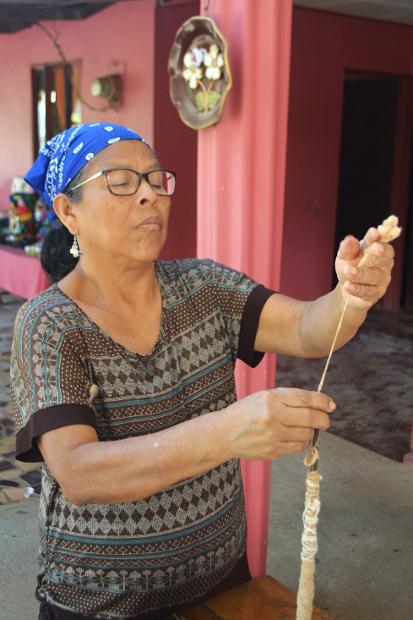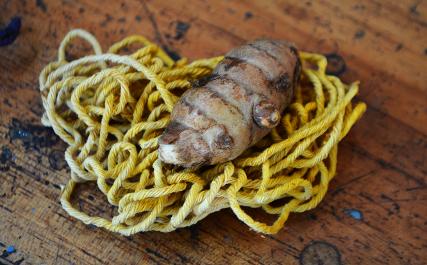 A kaleidoscope of colours.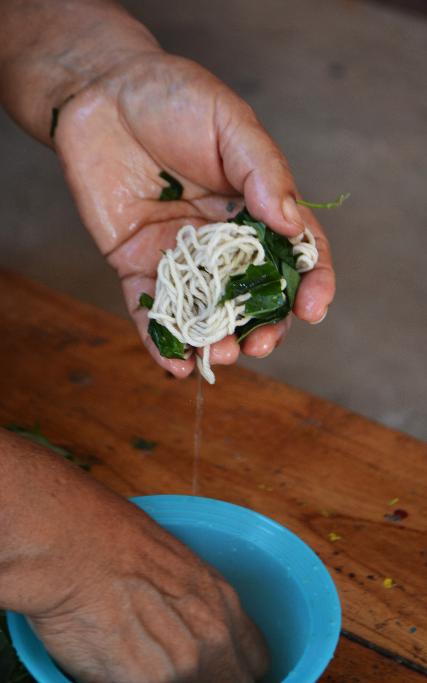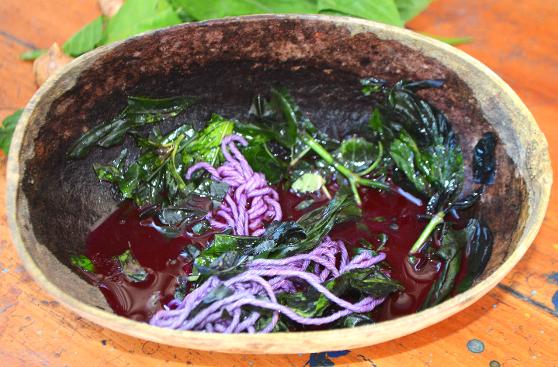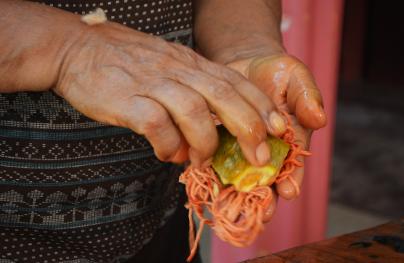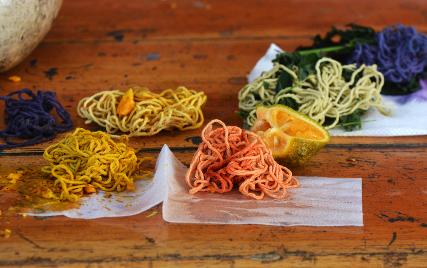 Back row - Marina; Maria-Jose; Marisol, Victoria and Gayle
Front row - Ariella and Andres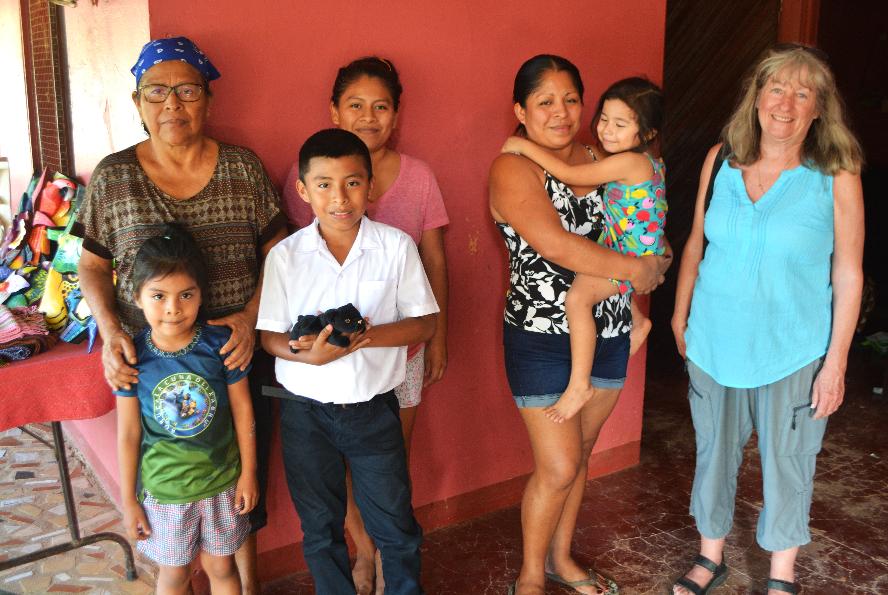 A few sights on our drive out of the Boruca village.
Not sure what it is but it was pretty. A papaya tree.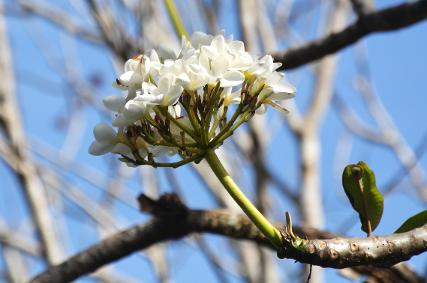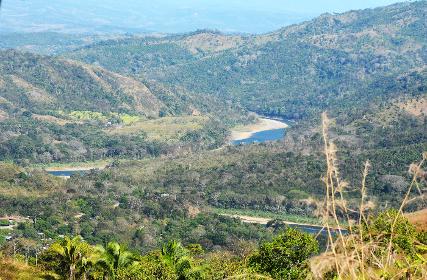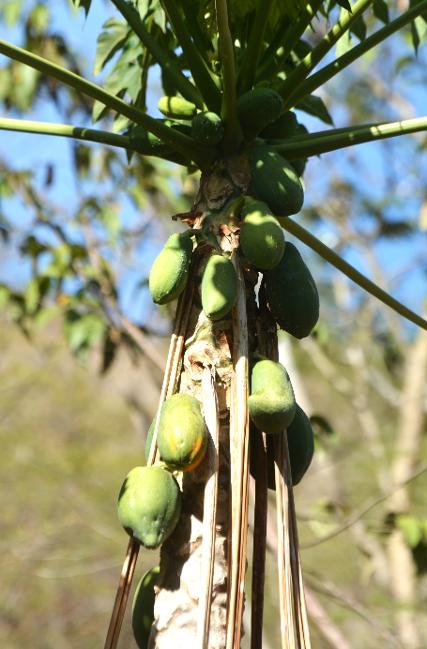 The 8 km dirt road (actually in pretty good shape) leaving the Boruca village towards Palme Norte with a sign to the village at the connection to the Pan American Highway (Highway 2).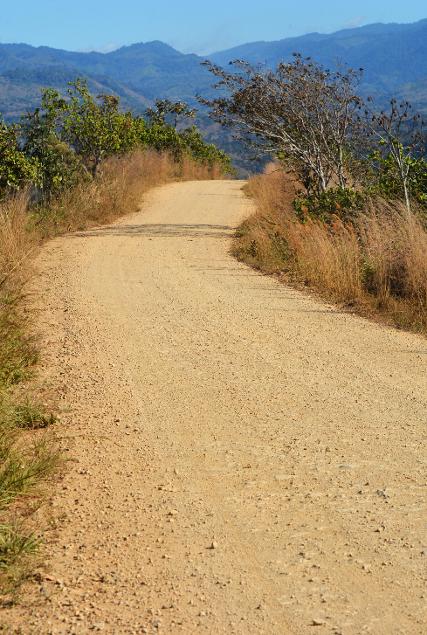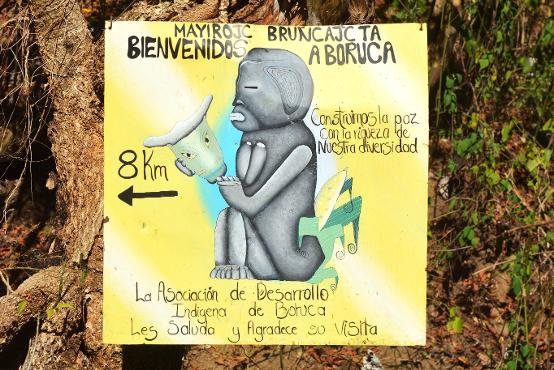 We are very impressed with our Cabina here at Nature's Edge, with expansive views over the jungle.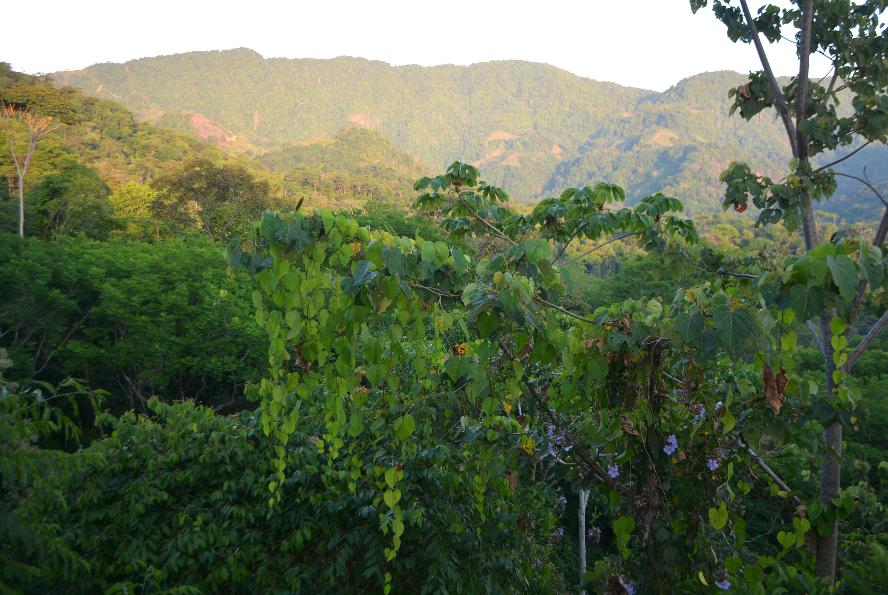 The Aracari, a medium sized toucan visited shortly after we arrived. Actually the cabina next to ours is named Aracari.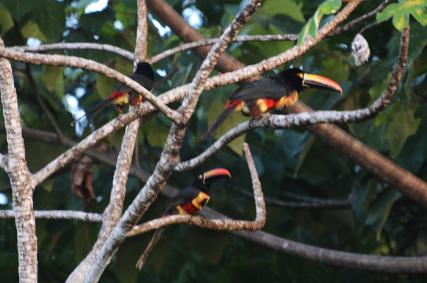 February 19, 2023 - Pacific Edge Eco Lodge
Another day of much the same. Some no doubt wonder why we come to a country with so many opportunities to explore and visit natural attractions yet don't take advantage of those attractions. Where we did many of those things (ziplining, jungle walks, mangrove boat tours, wildlife sanctuaries etc.) on earlier trips there is no need to repeat the experiences. Plus while others are out and about we often have the property to ourselves. We listen to nature (Gayle calls it Nature TV) including the monkeys, birds and insects. We chat at length with guests and owners when we have the opportunity. We work on the travel blog - no different than those who spend their time reading. And we relax. We certainly make the most of the property.
For breakfast today we both went with the banana pancakes - delicious.
And today was another one of those days. For us there really isn't anything else to see in the area. We enjoy watching birds but we are not birders; the beach is nice, but so is the pool; and one can't beat the views from Pacific Edge.
Of course we do go out for dinner. Having very much enjoyed our meals at Scala the other night we decided to return, particularly now that we knew not to make the turn that got us a bit twisted. Gayle went all out with the Scala Premium Margarita Plus - the special margarita with roasted pineapple and jalapena syrup, Cointreau, lime juice, chipolte salt with a roasted tortilla rim. I started with the Seafood Exotic Soup - seafood broth in coconut milk and turmeric, ginger, lemongrass and coriander, with rice noodles and seasonal vegetables. It was very flavourful and like all dishes here beautifully presented, but I actually liked last night's version with the richer coconut milk broth a bit better. Gayle then made an excellent choice with the Vegetable Vegan Curry of sauteed vegetables, avocado and greens from the garden in a yellow curry sauce, accompanied with aromatic rice. I had the Pork Scala Style - fried pork slices covered in pork jus and lemongrass with seasonal vegetables and cauliflower puree. Also very good. Scala does its vegetables to perfection - flavourful; not overdone. Delicious. And again, where the chocolate mouse was so so good the other night we repeated our choice, and it was every bit as good.
Knowing the way by now it was an easy drive down the mountain and back to Pacific Edge where we sat out for a bit and admired the sky full of stars.
Although we saw a few fluttering about the property it is just about impossible to get a photo of a blue morpho butterfly, so this stained glass will have to suffice as the next best thing.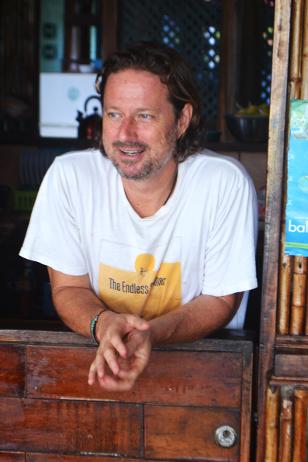 A golden ripe pineapple. Delicious banana pancakes.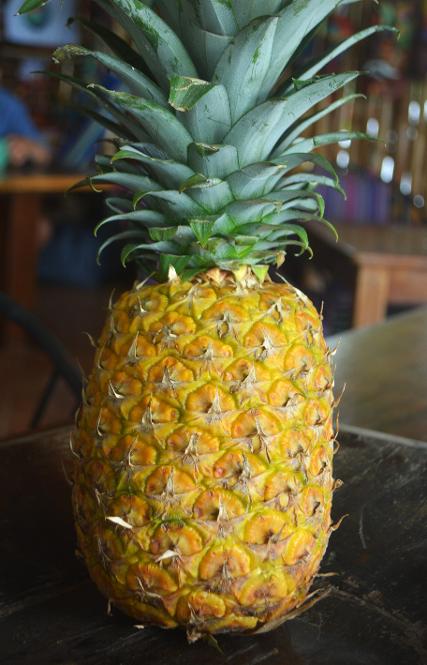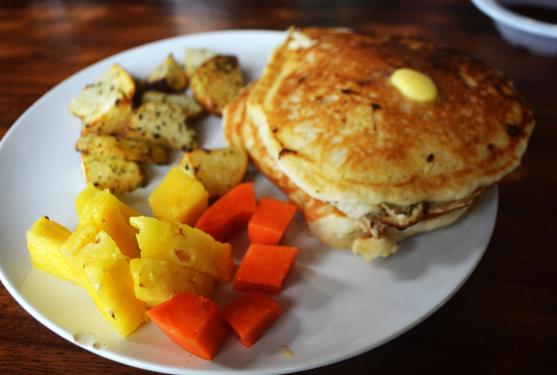 Lots of red bamboo and a plants (bromeliades) growing in the arm of a try.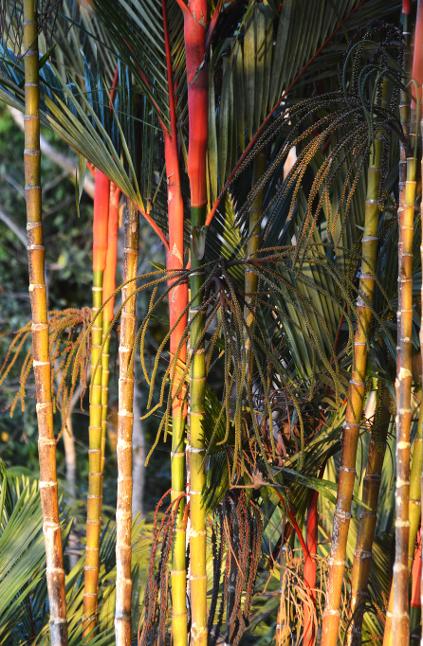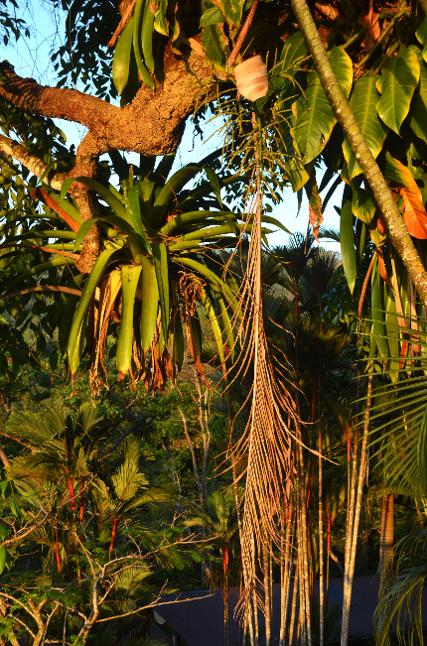 Relaxing on the porch of Cabin #2.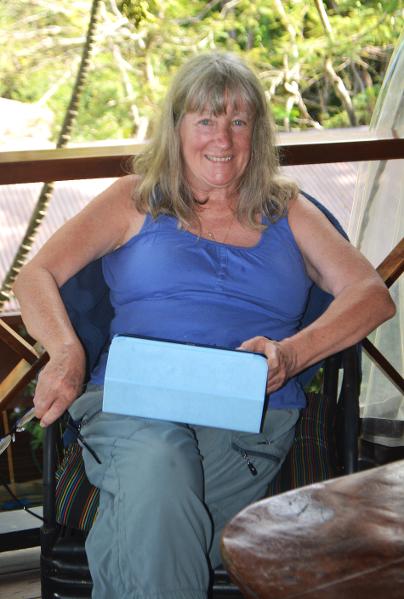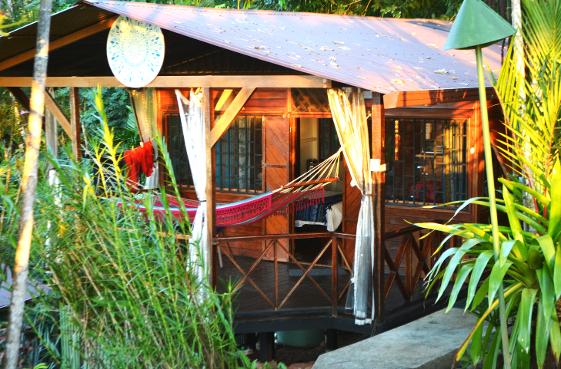 The two viewing platforms, or miradors The expansive decking.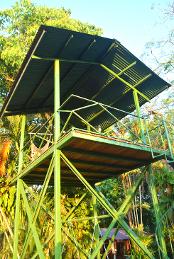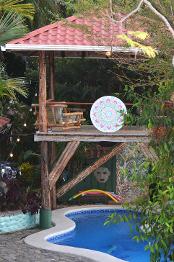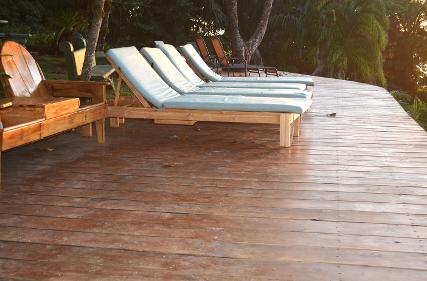 Tonight there was a nice coral colour to the sky after the sun set.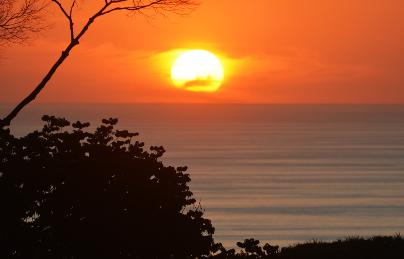 Having enjoyed our meal so much the other night we returned to Scala again tonight. We asked for (and were given) our same table in the back next to the vegetation.
Gayle (with my encouragement) went with the upscale Margarita. It was very nice but was it worth twice the price of a normal margarita - we are not so sure?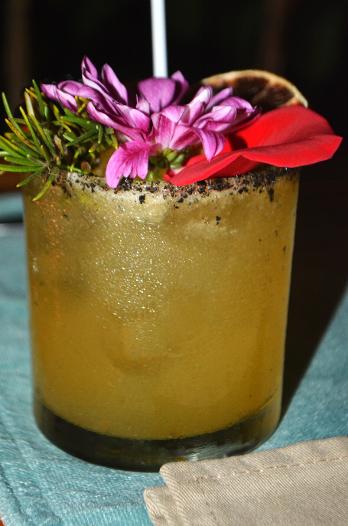 Seafood Exotic Soup Pork Scala Style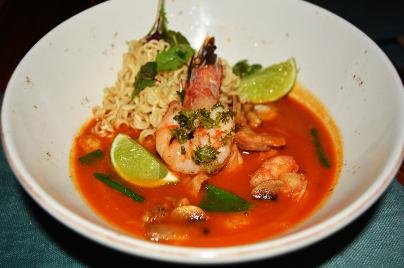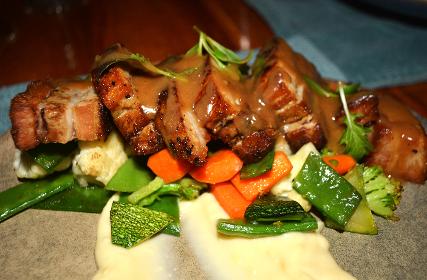 The aromatic rice to accompany ... ... the Vegetable Vegan Curry.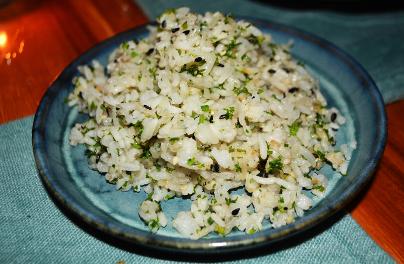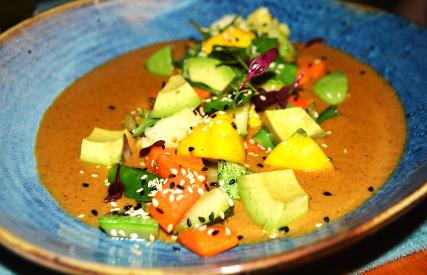 The 'Chocolat' was so good the other night we of course ordered it again.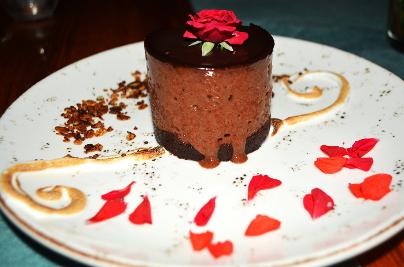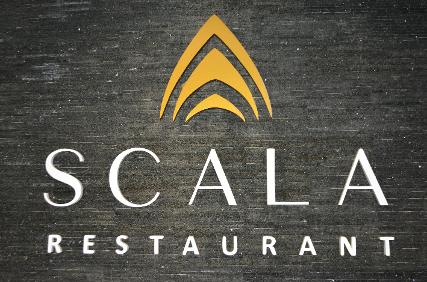 February 18, 2023 - Pacific Edge Eco Lodge
While other travelers / guests were out birding or hang-gliding we did our thing - 'slothed' around. We certainly do get maximum value from our property. With early morning views across the tree tops of the jungle, basked in sunlight it is quite easy to simply stare in amazement.
We enjoyed a very nice breakfast - me chorizo tacos and Gayle vegetarian burritos, and lots of coffee all the while bantering with Sid.
Pacific Edge has a prominent Boruca art gallery. The Boruca are an indigenous group living between two and three hours north-east of Pacific Edgedepending on your route. The previous owner of Pacific Edge had a special relationship with Marina, one of the elders in the village. Through her, Michaelynn and her daughter Kaiya have re-opened a gallery of authentic Borucan masks and woven goods, with the proceeds of purchases helping to support the village and its artists. While visiting Pacific Edge last year we bought a mask as well as placemats when at Golfo Dulce Retreat. In a couple of days, when we leave Pacific Edge we plan to drive to the Borucan village to deliver a number of beanies. Michaelynn is arranging with Marina for us to have lunch while visiting.
The afternoon was spent working on this travel blog and time in the pool. This is truly a relaxing vacation.
Sid suggested La Percela for dinner, very close by with great views out both sides to the ocean and apparently a dinner show of monkeys prancing around the exterior of the restaurant. Gayle themed her meal Mexican with a Margarita and vegetable quesadillas. Being on the ocean I went all in fish, first with a ceviche (ok), and then the Sopa de Mariscos (seafood soup) in a coconut cream broth (quite good). The monkeys appeared almost as if on schedule. They hung over the outer wall, swung through the rafters and in one case appeared as if he might make off with a patron's hat. It was quite entertaining.
Unfortunately we had a problem with the bill, an overcharge, that left a bad taste, so much so that I wrote the manager. To
his
credit he provided an excellent response, that while not negating the experience did demonstrate a sensitivity and understanding of my concerns. He certainly turned what was going to be a negative review into a no re
view. Credit to him for responding promptly (on a Sunday) and professionally.
We returned up the hill, worked inside a bit - one can't have the light on outside at night due to the cicadas and other bugs - and then called it a night.
The early morning sun illuminates the top of the trees of the jungle beneath Pacific Edge.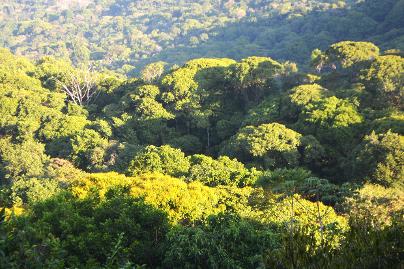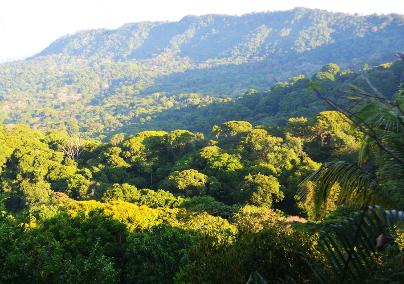 Pacific Edge has a wonderful Boruca art gallery.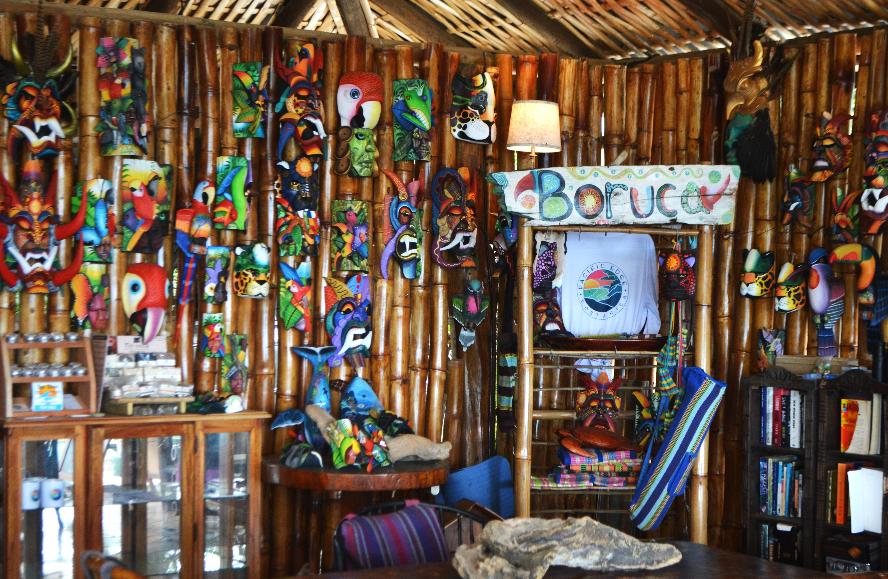 A couple of the more dominant (aka largest) masks.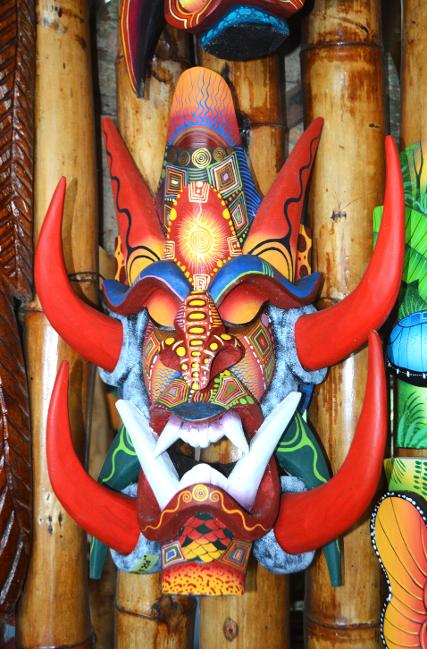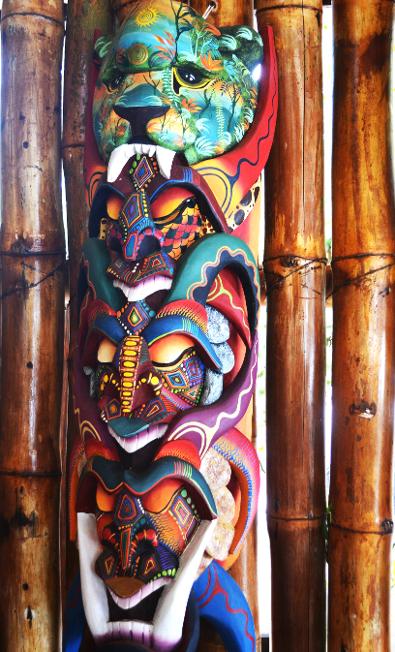 Breakfast for me were the chorizo tacos and for Gayle vegetarian quesadillas.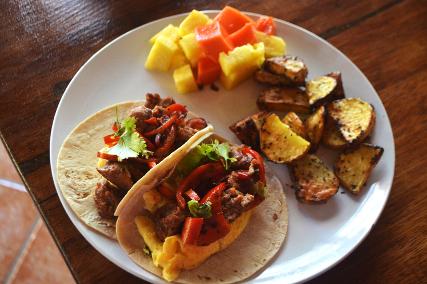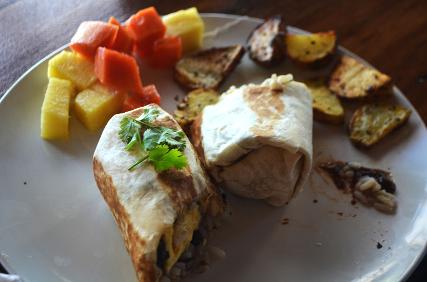 Some of the soothing scenery around Pacific Edge.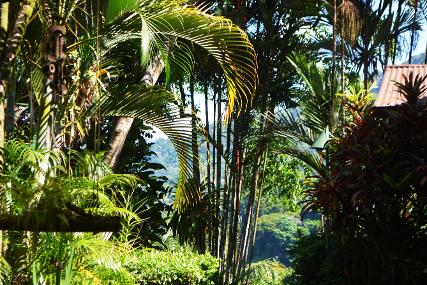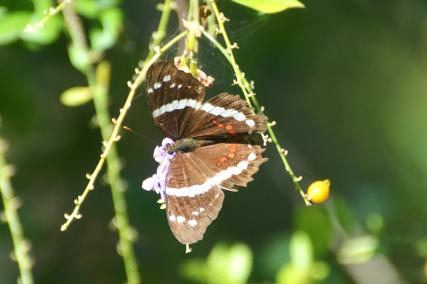 A gorgeous bouquet of flowers at La Percela along with the stunning view of the ocean out the open air 'windows'.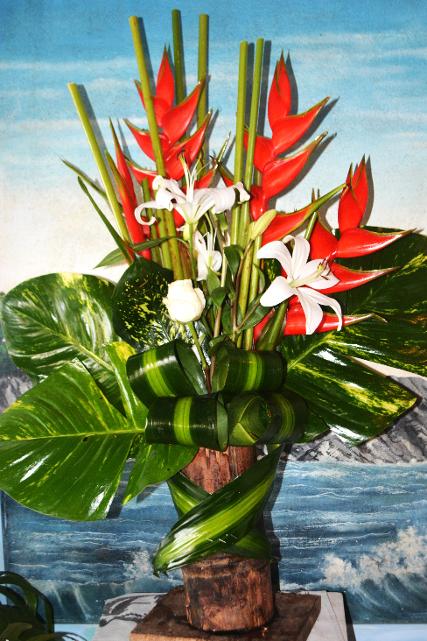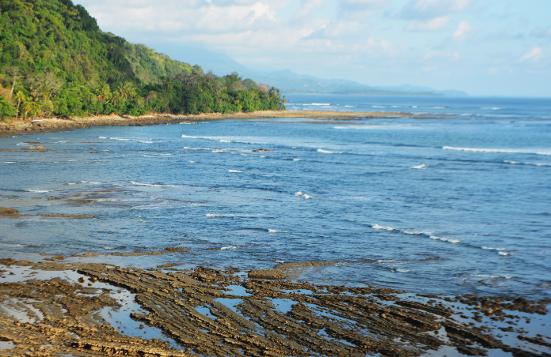 Just a few of the monkeys that put on a dinner show - no extra charge, including this guy in the rafters.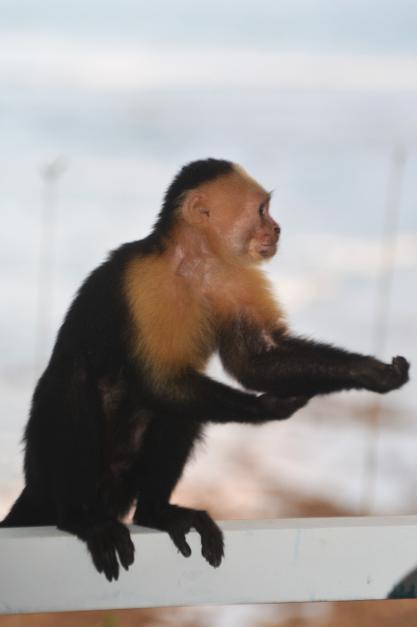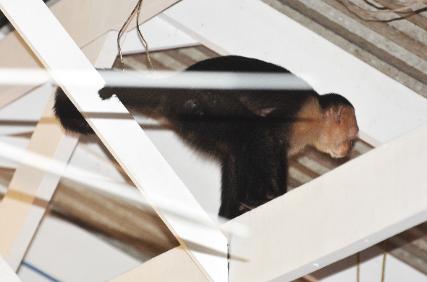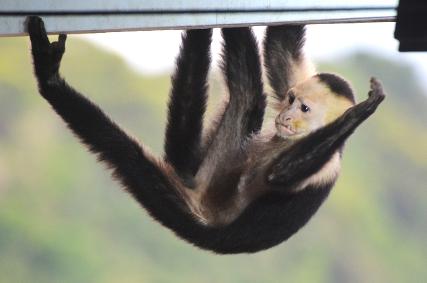 Gayle went Mexican, with a Margarita and veggie quesadillas.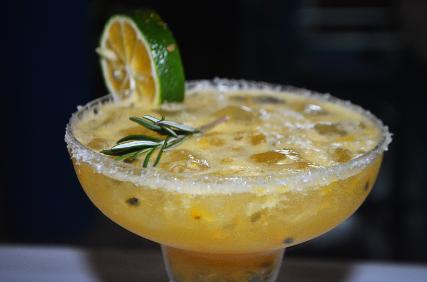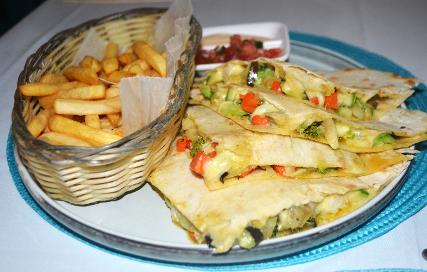 While Norm went seafood with ceviche and Sopa de Marisco with a coconut milk broth.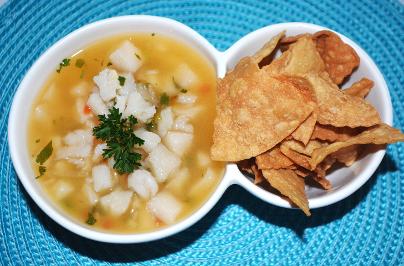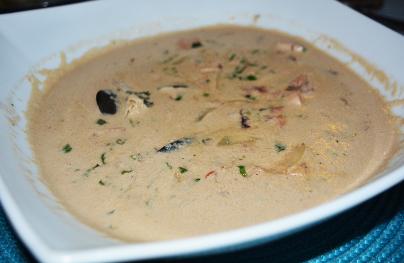 February 17, 2023 - Pacific Edge Eco Lodge
Pacific Edge is so so beautiful and relaxing. We expect we are going to spend most of the next three days just enjoying the property - starting with breakfast, then time in the pool, then lounging around admiring the views, then possibly having a drink, and then being amazed at the sunset before heading our for dinner. And that's what we did today.
A bit of a mix up with breakfast as Sid left to take his sister to the airport but Micha pitched right in to make us scrambled eggs with fruit and toast, along with a couple of cups of Costa Rican coffee - perfect.
Last night we had met and chatted with a nice couple, Julie and Craig from Seattle who had been here for ten nights but were headed home this morning. Interacting with other travelers is generally very easy at these small boutique lodgings, with this being another great experience.
Micha had the flexibility to move us to another cabin - Cabin #2 - which we were very appreciative of her doing. Both Cabins 1 and 2 are similar although Cabin 2 has more light, due to a skylight, is a bit further from the lodge and therefore a bit less noisy, and has an unobstructed view to the ocean.
We spent most of the day on our porch, working on the travel blog, watching the hang-gliders, listening to the howler monkeys, birds (there is a toucan now) and insects, which are very noticeable in the month of February. Then there was a dip or two in the pool and another colourful sunset.
For dinner we went to Scala, recommended by Micha and Sid. It is up the mountain, along some progressively rougher dirt roads. As it turned out we erred in veering right when we should have stayed straight at one point but with some navigational logic, and asking some locals along the road, found our way.
The restaurant was reasonably full, and noisy due to a couple of birthday parties. But we had a nice table at the back which worked out well. The food was superb. I started with the Tropical Ceviche - seasonal fish cured with mustard salt, purple onion, seasoned with watermelon citrus juice, aji and soy sauce, coriander, breaded shrimp and crispy rice. That was followed with Chicken Ballotti - stuffed chicken breast with goat cheese, sauteed vegetables in a mushroom sauce. Although there was a beef risotto on the menu there was no mushroom version. So Gayle asked and no problem. She had an excellent risotto with a large variety of flavourful mushrooms. Once Gayle saw the dessert menu there was no stopping her from ordering the 'Chocolat' - a chocolate mousse, Jamaican rose reduction, with praline squash seeds powder, flowers and mint. Sometimes dishes can sound good but not be all they are made to be. Not the case here as the dessert was creamy smooth and very tasty.
We returned to Pacific Edge very content and knowing we would be booking Scala again our last night.
Lots of breakfast options. With one's choice of a lot of hot sauces.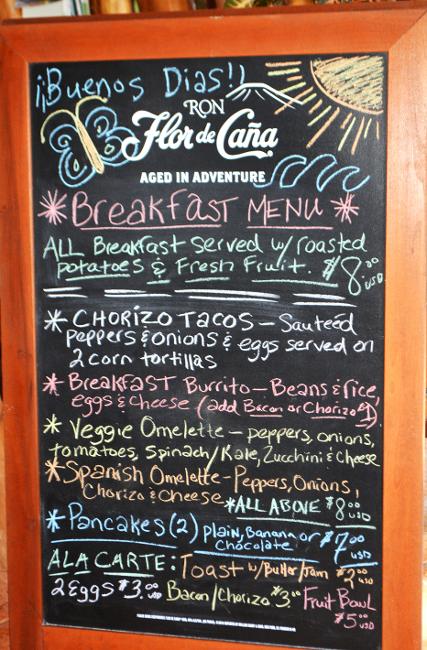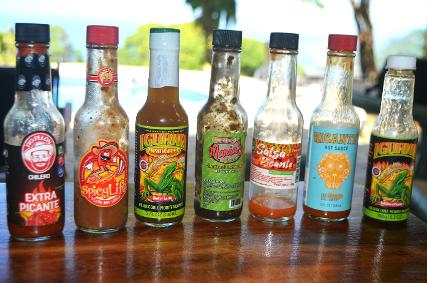 Today was simple - scrambled eggs, fruit and toast.
Nice to look forward to a dip in the pool while enjoying a leisurely breakfast.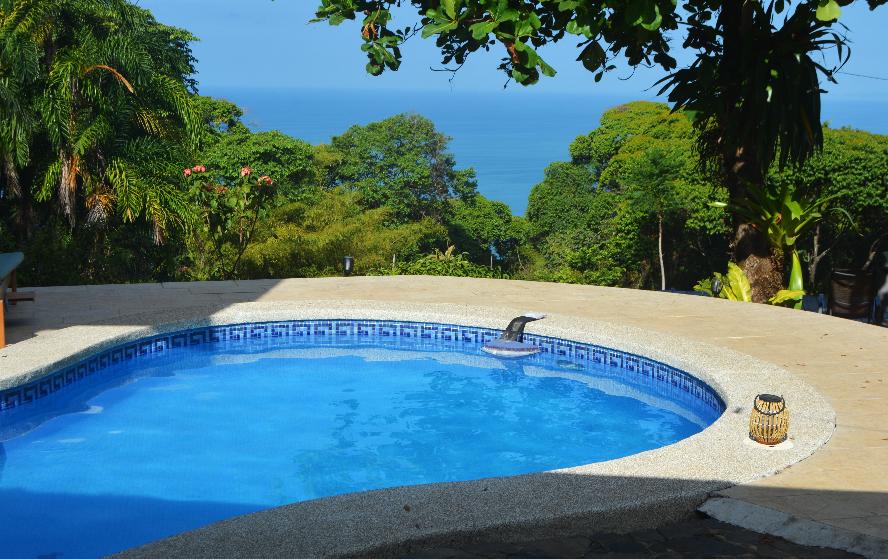 A Passion Fruit flower. Craig and Julie.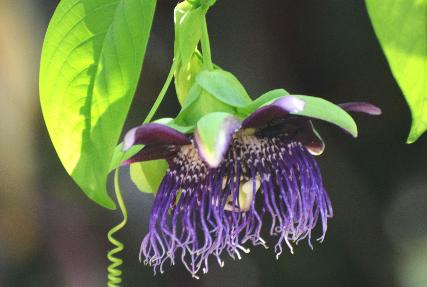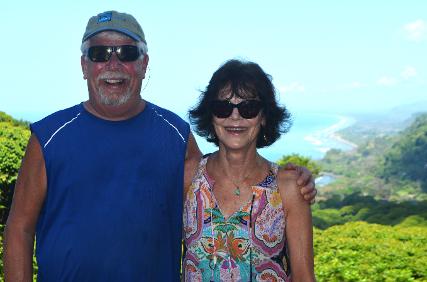 Sid, Michaelynn ... ... and Otis.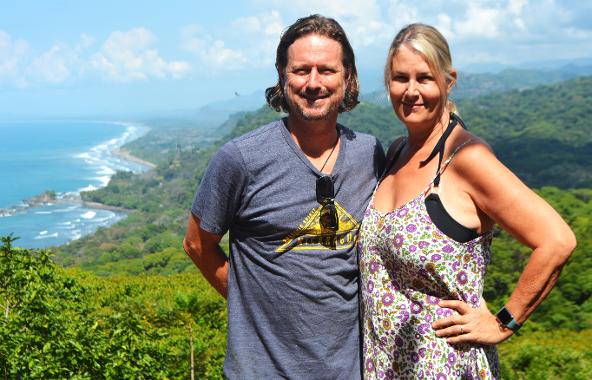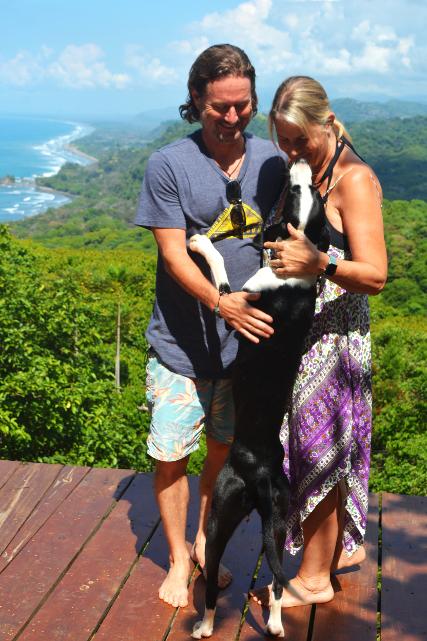 The walkway down to the cabins.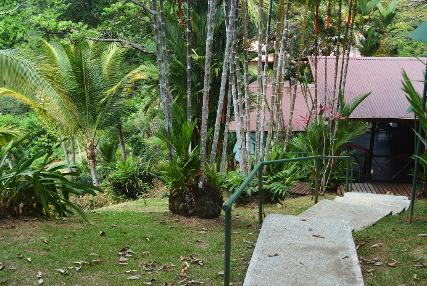 Yes you've seen this view yesterday but once more is not such a bad thing.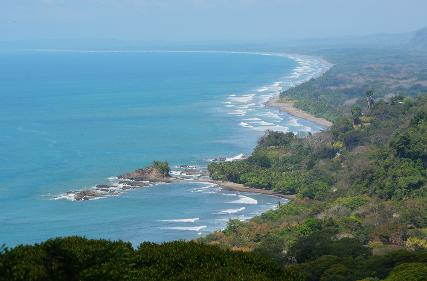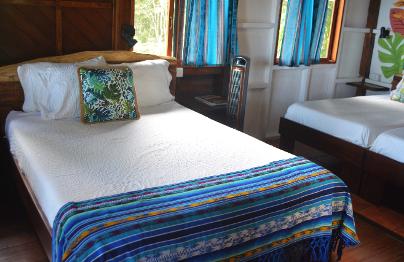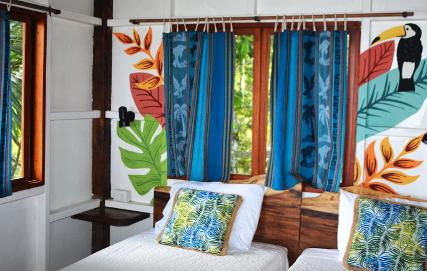 The spectacular expansive view over the jungle vegetation.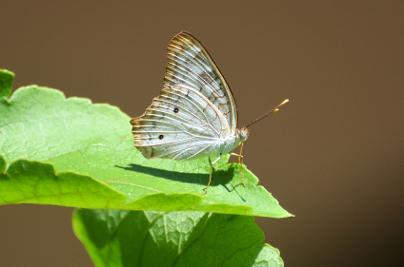 This is luxury - lounging in the hammock waiting for Sid to deliver a Pina Colada (with extra!)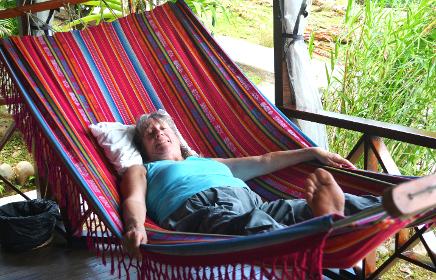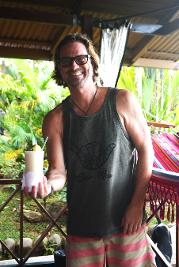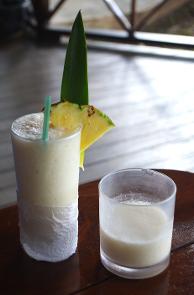 There is little more we can say.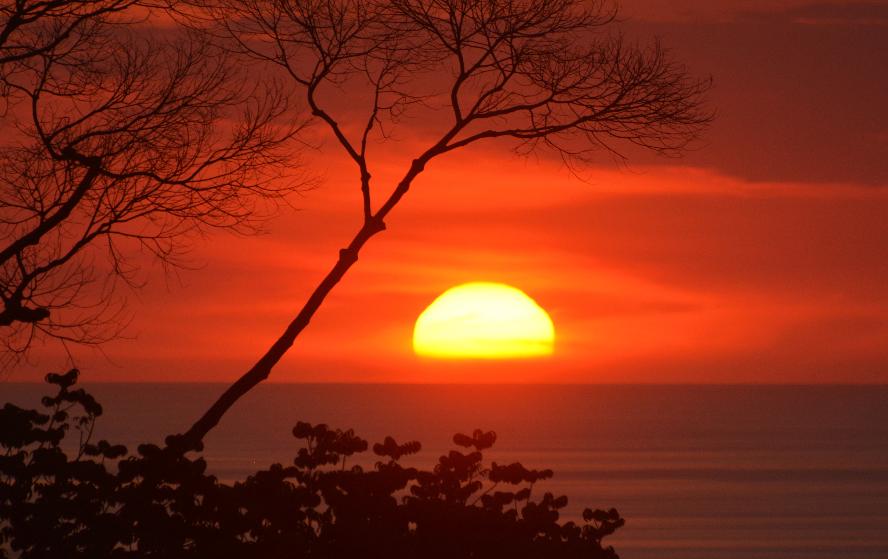 Micha and Sid recommended a restaurant further up the hills.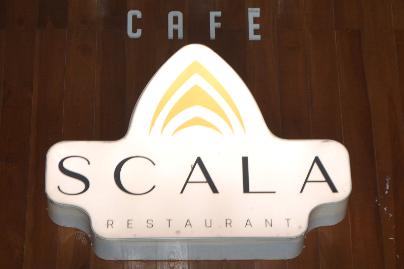 I started with the Tropical Ceviche, not your traditional roadside ceviche. So flavourful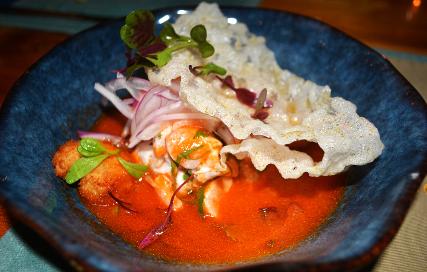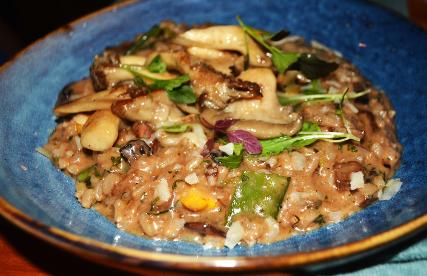 Chicken Balloti, with goat cheese and lots of vegetables.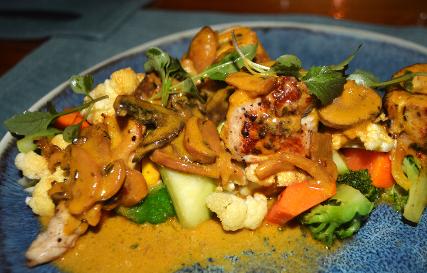 For dessert the 'Chocolat' - chocolate mousse. To cap off a wonderful meal at Scala.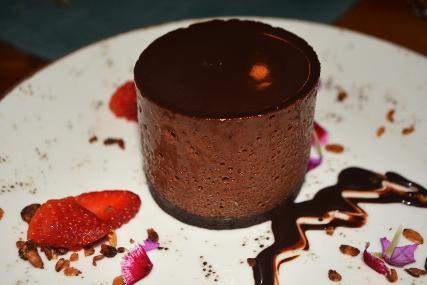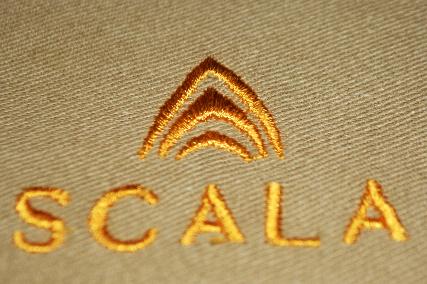 February 16 - le Jardin de los Monos, Matapalo Beach to Pacific Edge Eco Lodge
After five very relaxing days at le Jardin de Los Monos it was time to move on. But before doing so we were treated to another enjoyable display of the antics of the monkeys and the sloths were again back in the nearby coconut tree.
Los Monos has two staff - Marvyn who does the maintenance and Dama the breakfasts and room cleaning. Before leaving we gave each of them beanies for their children / grandchildren.
And then we were off for the short 30 minute or so drive past Dominical to our next stop - Pacific Edge Eco Lodge. Having a few hours before we could check in we first stopped at Playa Linda only a few kms south. We spent some time in the water and under the shade of the coconut trees.
Still having some time we stopped in Dominical where we dropped into La Junta, a small restaurant where we had a bite to eat and a couple of drinks. We figured we would eat mid-afternoon and then just buy some drinks and tapas (aka chips) to have up at Pacific Edge without having to come back down for dinner. Gayle had the patacones with a very colourful fruit salsa while Norm had the chicken wings with a mango BBQ sauce. The stop worked out perfect.
We then picked up a very few supplies at the market and drove another few kms down the road until we saw Pacific Edge on a large painted rock at the bottom of the road, making it very easy to find. It was then 1.2 kms up the quite steep hill / road were we were met by Sid and Michaelynn, an American couple who had been to Costa Rica for 20 something years and bought Pacific Edge in 2020.
After introductions we were shown to our cabin. Being a late booking only Cabin 1 was available. she cabin itself is beautiful but being the closest (and therefore noisiest) to the lodge with a bit of an obstructed view through the viewing platform Micha was very accommodating by moving us to Cabin 2 just down the hill. There are actually four cabins on the property.
Cabin 1 is unique in that it has a number of guests - bats that hang outside the shower area. They are actually very useful in keeping the insects under control, and when you get close they do fly away. And oh ya, they were on the other side of a screen.
The property is spectacular with a nice pool, a couple of elevated viewing platforms and a fabulous deck with expansive views over the jungle trees and up the coast. Plus the sunset was wonderful seen framed by some trees.
We know we will be happy during our four days here.
A video of the pool area and a few of the Le Jardin de Los Monos rooms.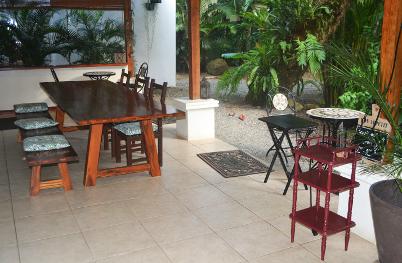 Breakfast is always special when the sloths are present (which they were four or our five days). What a cutie pie with what looks like a bit of a smile.
Le Jardin de Los Monos certainly lived up to its name, and reputation, with an abundance of monkeys moving about the property this morning.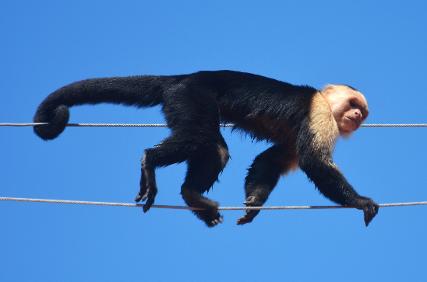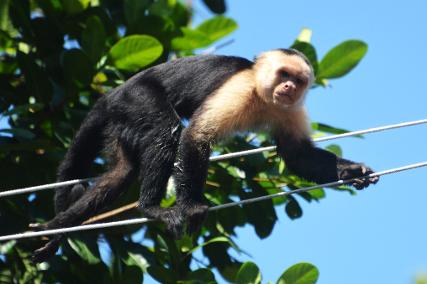 Marvyn and Dama with a few beanie babies / buddies for their children / grandchildren.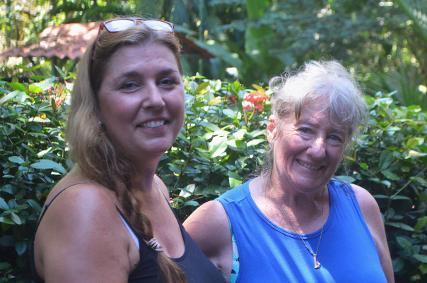 Our first stop after leaving le Jardin de Los Monos was just a couple of kms south where we left the road to go down to Playa Linda.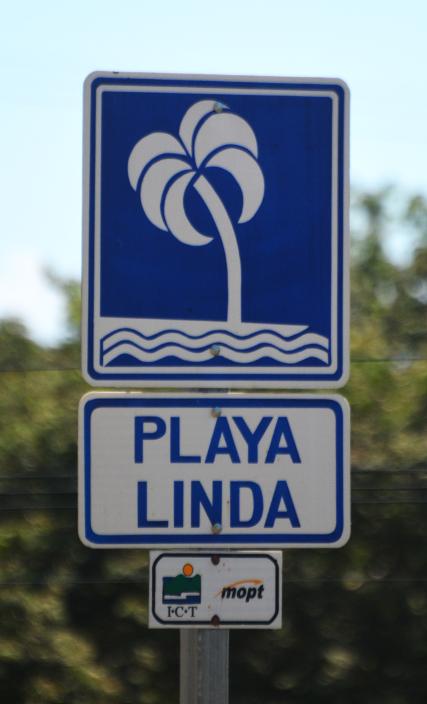 Enjoying our time on the beach.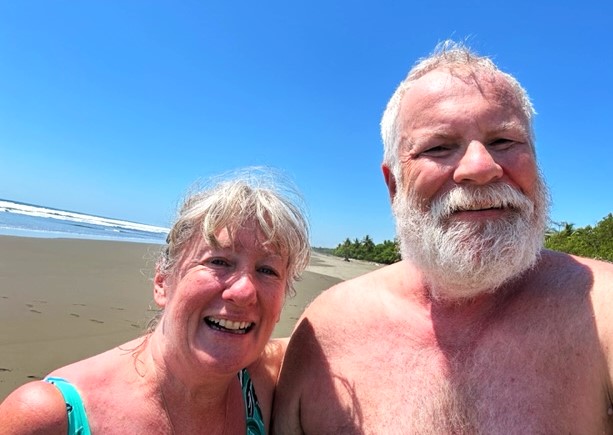 A short video of Playa Linda and the waves of the Pacific Ocean.
Where the waves were of a noticeable size - while we waded in to our knees / waist that was it. This area is known for its dangerous rip currents.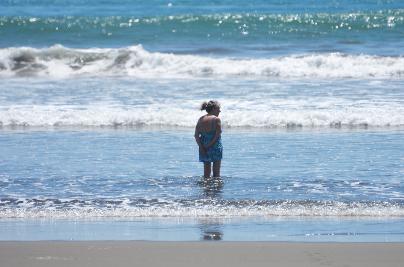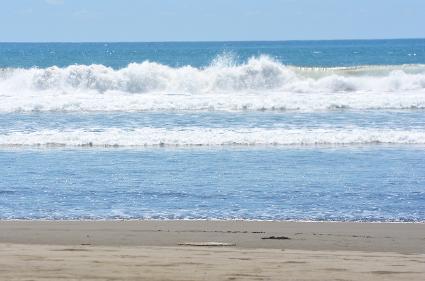 Just chillin' under the palm trees.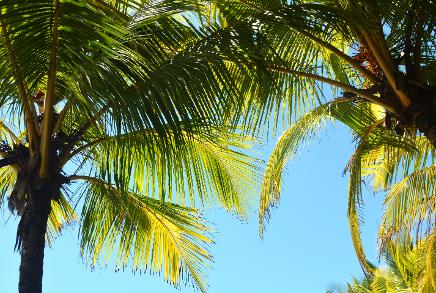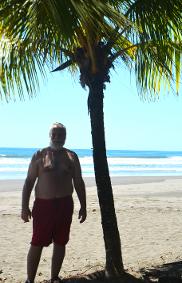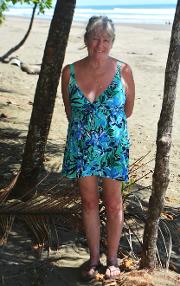 Along the road was this wetland where we encountered a number of birds ...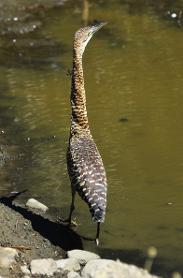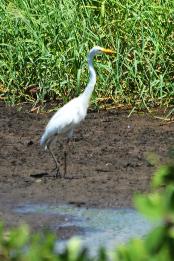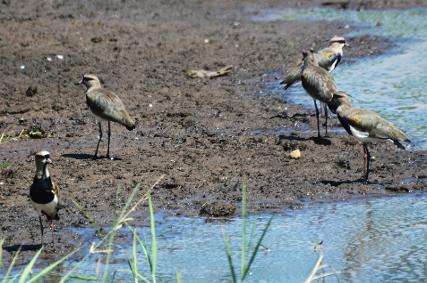 ... and one good size iguana that scampered up a tree.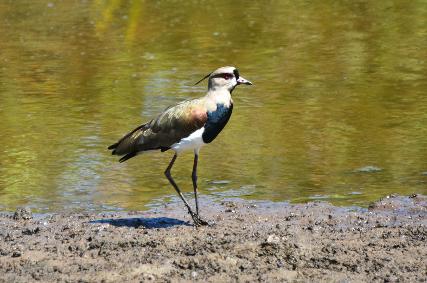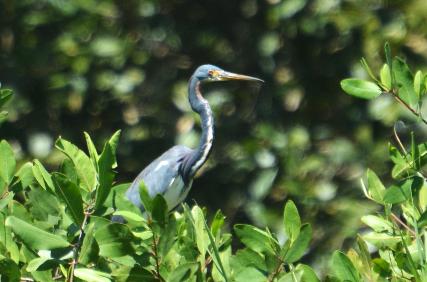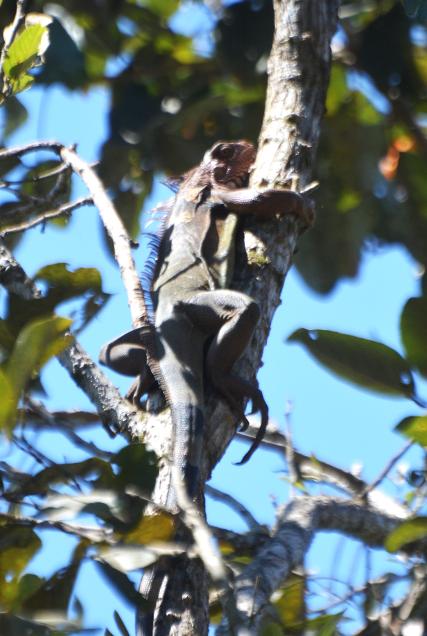 As we had some time to pass before checking in we stopped in a cafe in Domincal, La Junta where
Gayle had a margarita and patacones with a very colourful and tasty fruit salsa.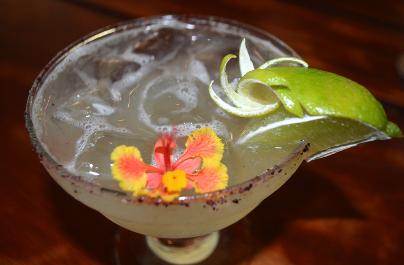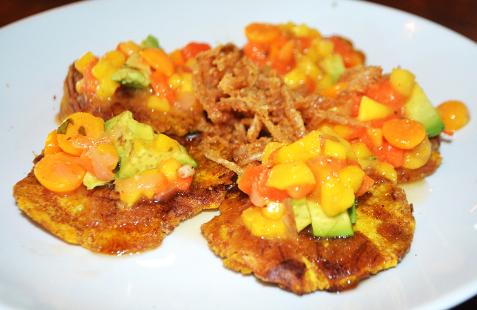 For Norm a 'Fruit Loops' (fruits of the day) smoothie and chicken wings.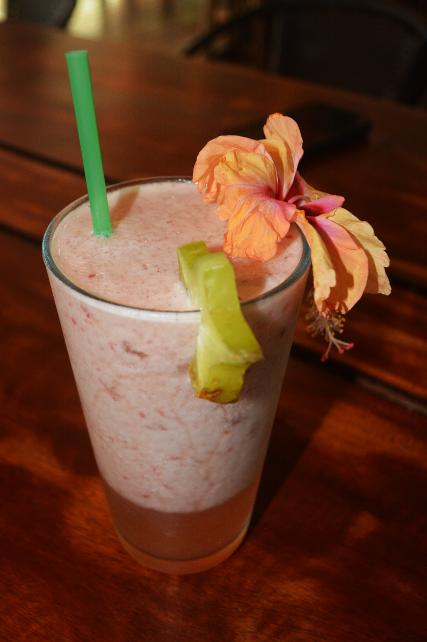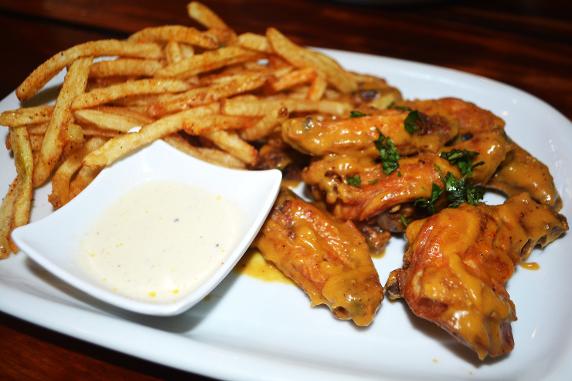 Easy to find Pacific Edge. The bats.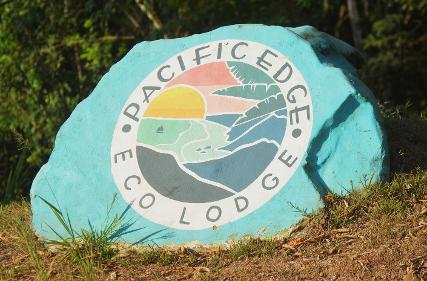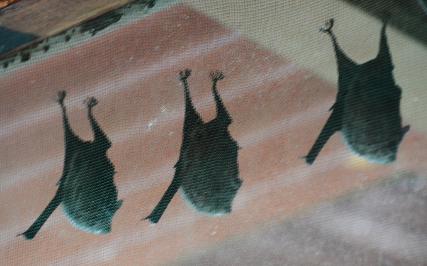 The large bright bathroom. Each cabin has a cooking area.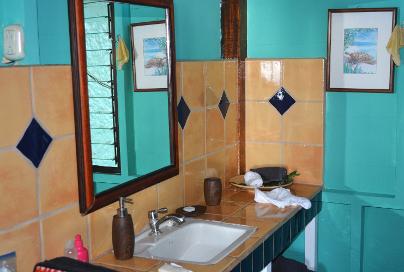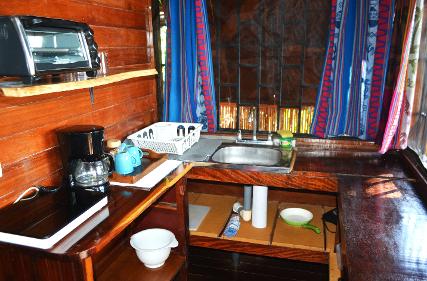 Our cabin room. Our sun drenched deck.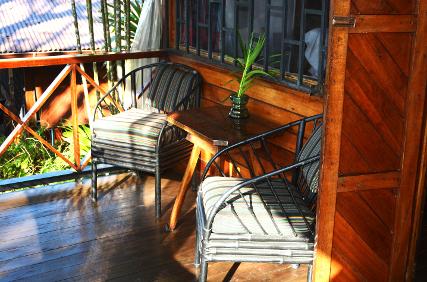 The hammock awaits. The hammock is quickly occupied.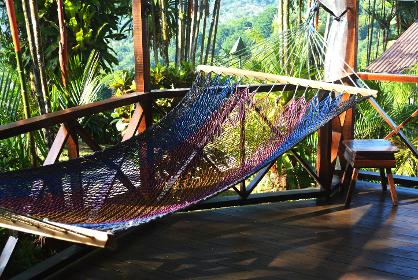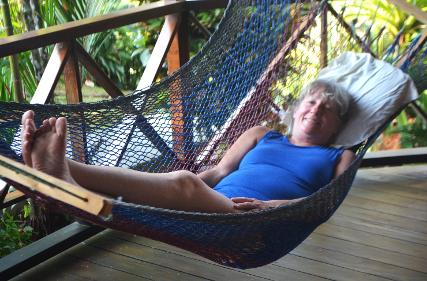 The view from Pacific Edge is something else. From high on the hill above and across the jungle below to the coastline looking north. The property is extremely well designed with an expansive deck, on which one can just pass the day enjoying the sounds and sights.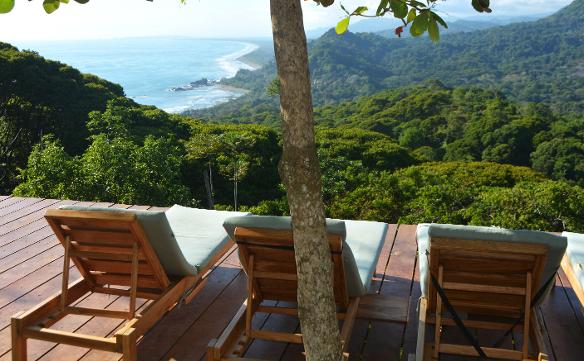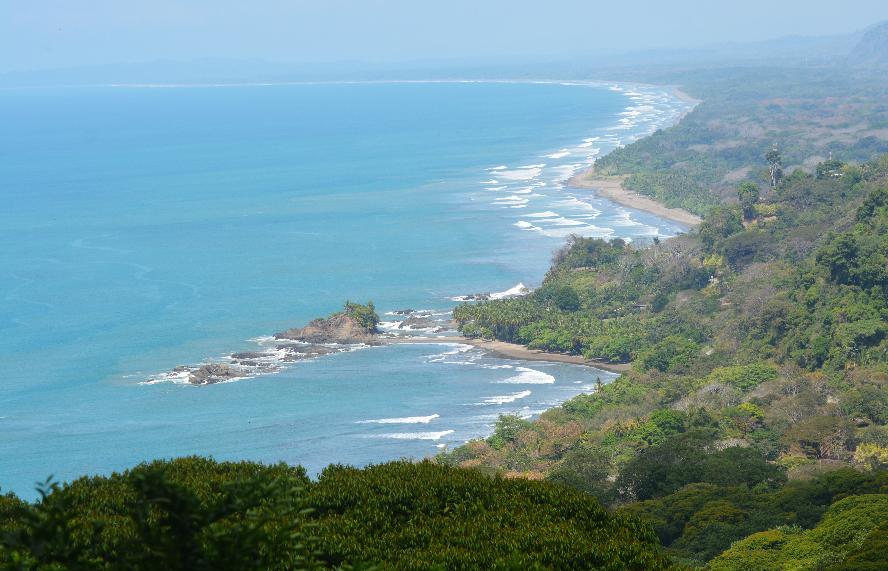 Sights that include this spectacular sunset.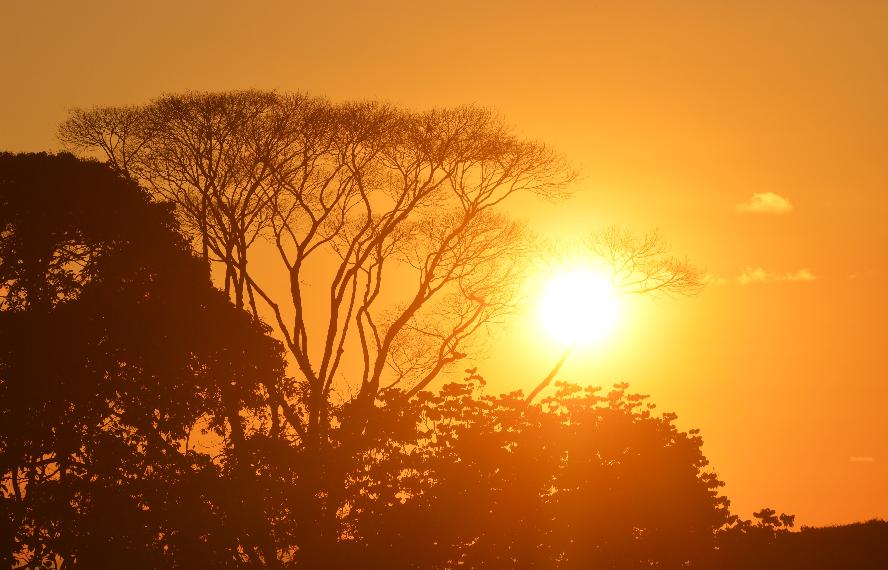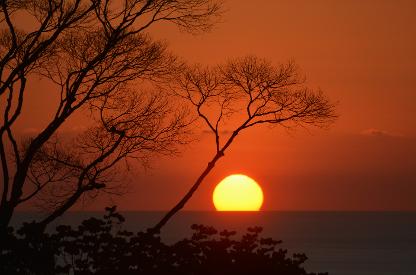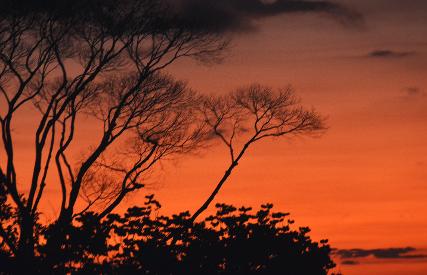 February 14 and 15, 2023 - le Jardin de los Monos, Matapalo Beach
Unfortunately today did not go as planned. It started off fine but during the afternoon I started to get stomach cramps and really did not feel great. Gayle theorized that perhaps I had picked up something from the students the previous day, or that I was suffering from heat stroke. We guess we will never know.
In the end I pretty much slept from mid-afternoon, through the evening and the night, i.e. no dinner which was really disappointing as Matapalo Supper Club is closed the following two days, meaning this was our last opportunity (this trip) to return. Plus we did feel bad about foregoing our Valentine Day's reservation but .what can one do?
As a result there were very few photos today so we have included a collection of flowers we have seen so far.
I did wake up the next morning feeling somewhat better. It was still a quieter day than normal, which of course are very quiet to start with, with most of the day spent on our balcony and by the pool. Fortunately it was another great monkey day with many crossing the property from the jungle along a wire over our roof and then through the trees on the other side.
Another nice photo I was able to get was that of a couple of Scarlet Macaws. Although they had passed before I'm often too late by the time I get my camera and focus. Birds in flight are tough to get. But I'm pretty pleased with this one.
I had actually missed sunset last night but returned this evening for another colourful display. And on top of that Gayle took her first 'selfie' with her new iPhone. These technological dinosaurs are slowly moving into this century!
For dinner we went to A Kachete, the only other place to eat in Matapalo Beach. Gayle had a very decent vegetarian pizza, although not up to the quality / taste of the pizza at the Supper Club. Still not 100% I had a simple grilled chicken along with plain rice and a garden salad - the perfect choice.
Afterwards it was back to le Jardin de los Monos and another early night.
Arundina graminifolia (an orchid)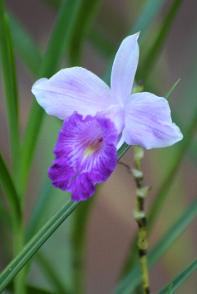 Stachytarphta jamaicensis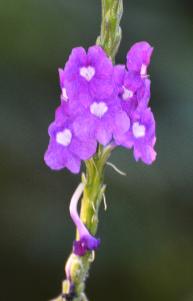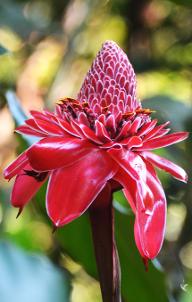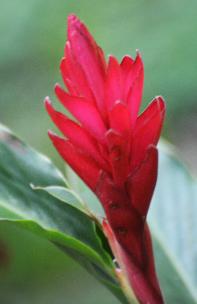 Spathoglottis plicata Red passion flower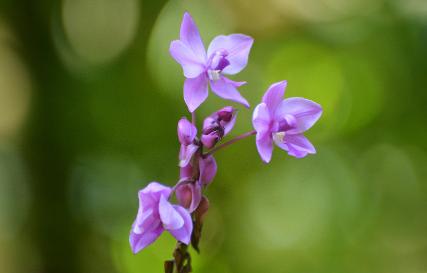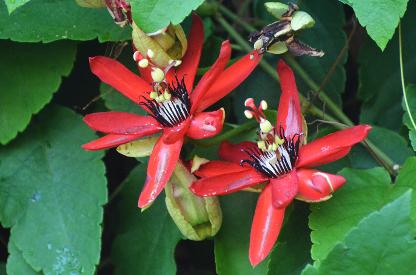 Jungle geranium Shoeblackplant / hibiscus Bougainvellea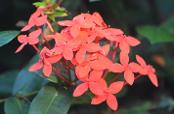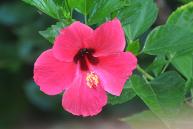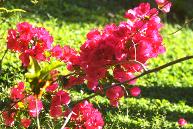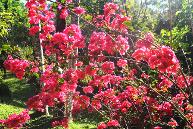 Heliconia Heliconia psittacorum Heliconia hirsuta Heliconia subulata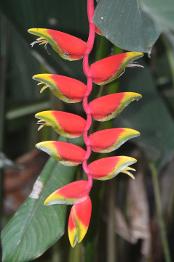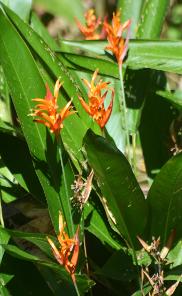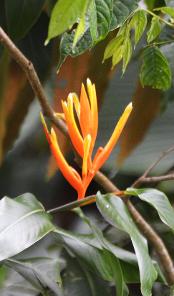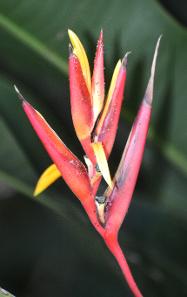 View of the jungle and its dense foliage from our balcony.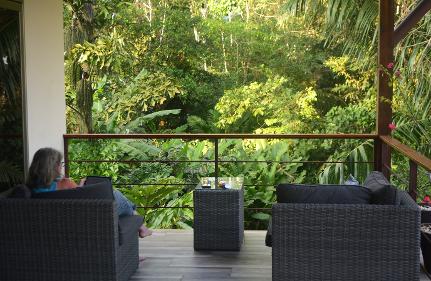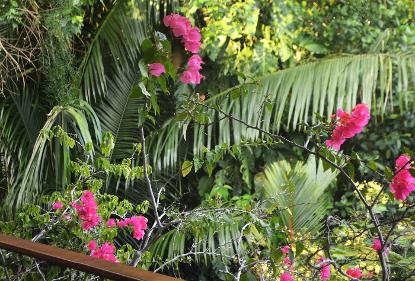 A monkey crossing above our room.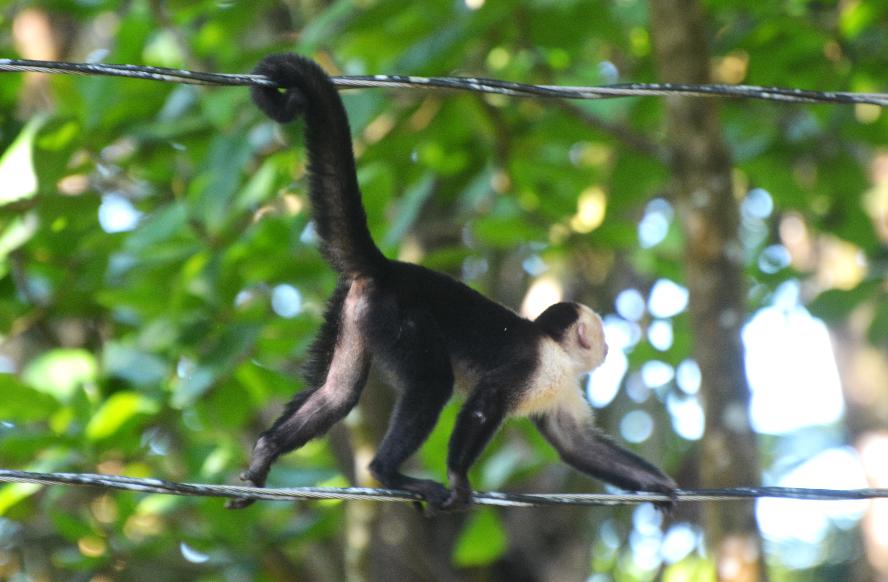 One can spend a great deal of time (and we did) watching the monkeys move about.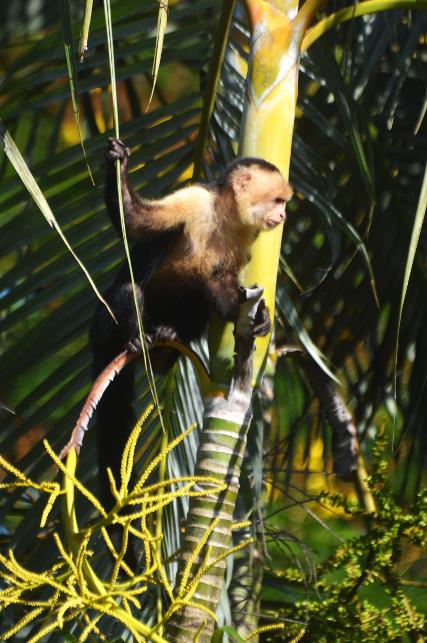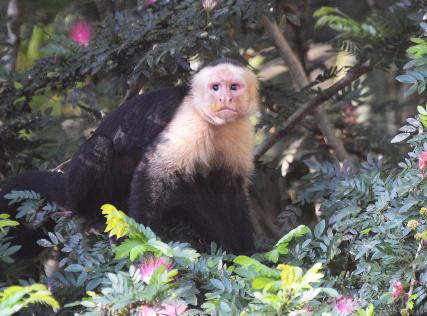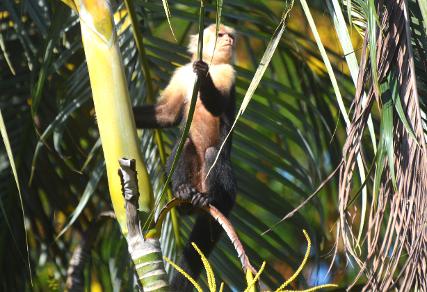 A butterfly. Gayle in the pool enjoying a drink.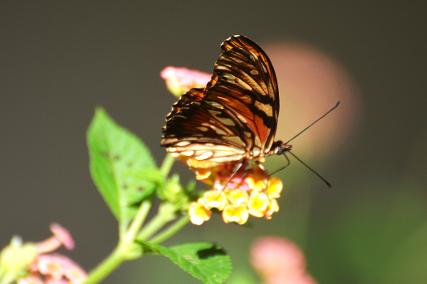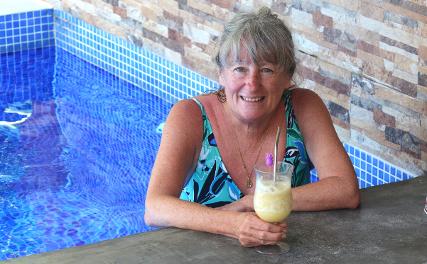 With the benefit of a telephoto lens and some cropping.
Another glorious sunset. Gayle's first selfie.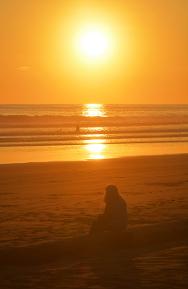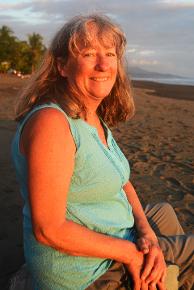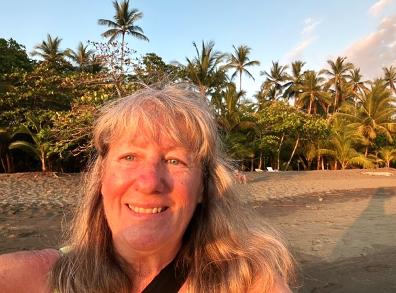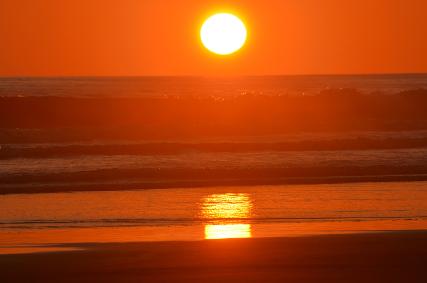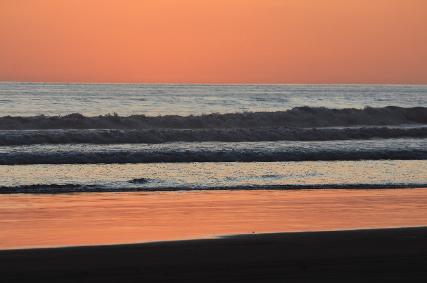 With Matapalo Supper Club closed on Wednesdays we ate at the other restaurant in Matapalo Beach - A Katchete where we had eaten once before. Certainly nothing fancy but they do make very good pizza, which Gayle enjoyed and I, still not feeling 100% had a fairly bland dinner of grilled chicken, plain rice and a salad.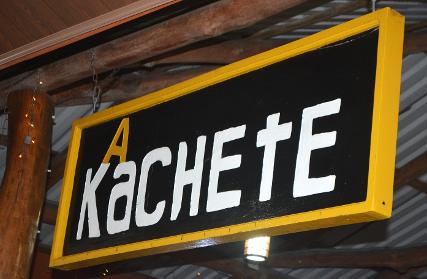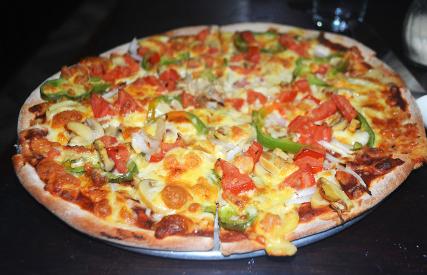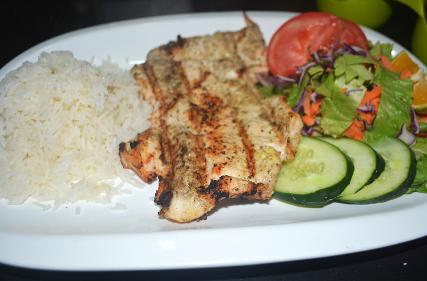 February 13, 2023 - le Jardin de los Monos, Matapalo Beach and Escuela San Andres
After a couple of days without any monkeys le Jardin de los Monos lived up to its name with a number of monkeys early in the morning and again during the afternoon. They ate the flowers, swung from branch to branch and generally were just very playful - as monkeys are.
After another enjoyable breakfast, again with Dutch pancakes, we returned to Escuela San Andres, 3 km up the mountain from Matapalo, where today the school was open. Just showing up unannounced we were welcomed by the teacher and the five students (the sixth was home sick today). This truly is a one room schoolhouse. Fortunately there were two American students (parents are building a place nearby) who of course spoke perfect English which was fortunate as the teacher's English was limited and the Costa Rican students either didn't speak much English, or were uncomfortable trying. However, as the smiles show, all were very happy with their gifts. One made sure to take a beanie for the missing student while another asked for one for her soon to be new baby sister who is "three weeks from coming out of the belly". The visit and gifting our beanies with these students was a special and very memorable experience.
We returned for another relaxing afternoon of swimming and enjoying the antics of the monkeys, and then of course it was down to the beach for the now standard spectacular sunset. It never gets old.
Dinner again was at the Matapalo Supper Club where Gayle had the antipasto plate without the meat. Lots of cheese, bread and tzatziki, along with a garden salad. I had a very Bavarian dish - pork schnitzel with sauerkraut and potatoes. Again way too large servings but a very good meal.
Then as has become our habit we returned the two to three minutes back to le Jardin de Los Monos, checked emails and then straight to bed. Fortunately it is cool enough in the evening that we can turn off the air conditioning and open the screen door and window in order for Gayle to hear the insects, birds and ocean waves in the distance before she gets up between 5:00 am and 5:30 am.
Monkeys monkeys everywhere.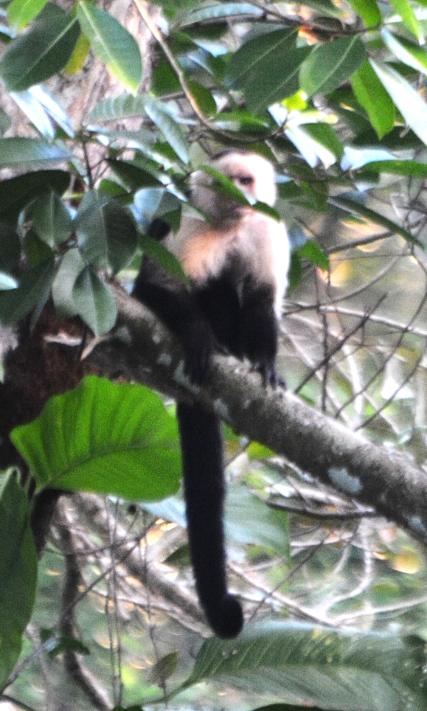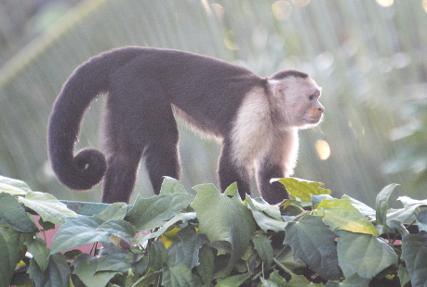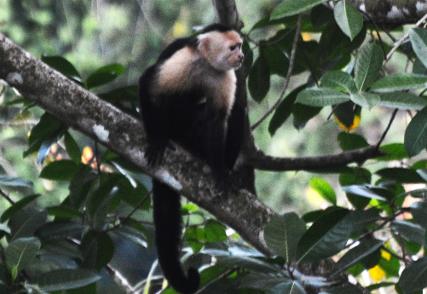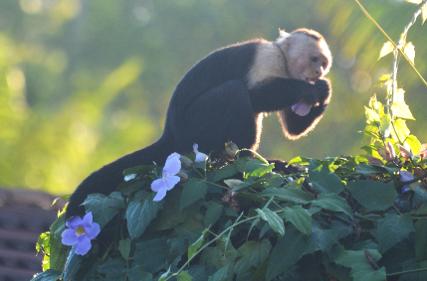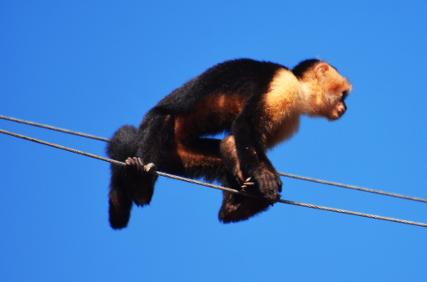 Red bamboo. Dama serving breakfast, A Dutch pancake.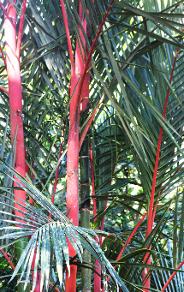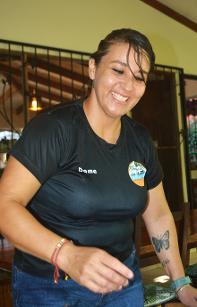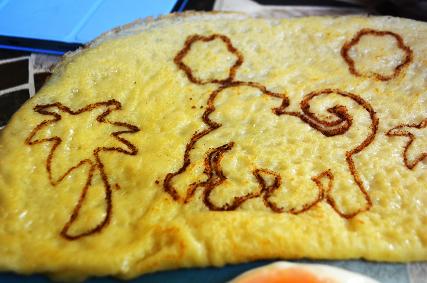 Escuela San Andres is truly a one-room school house with only six students.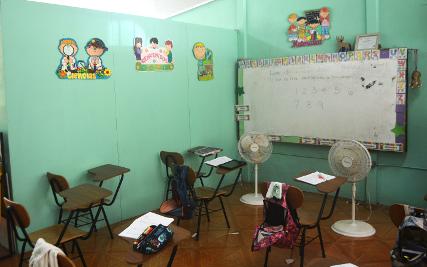 The students pouring over the beanies to choose one each. Their teacher.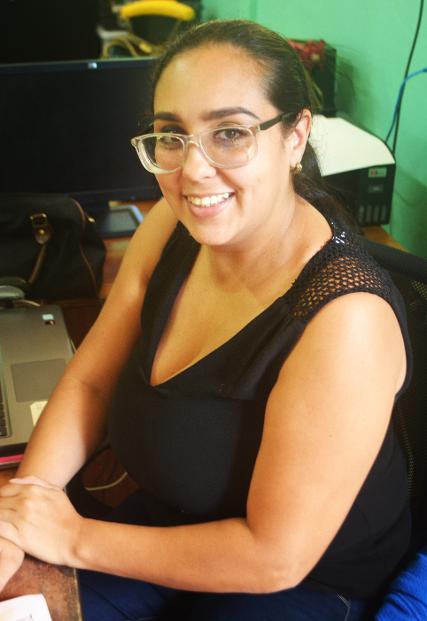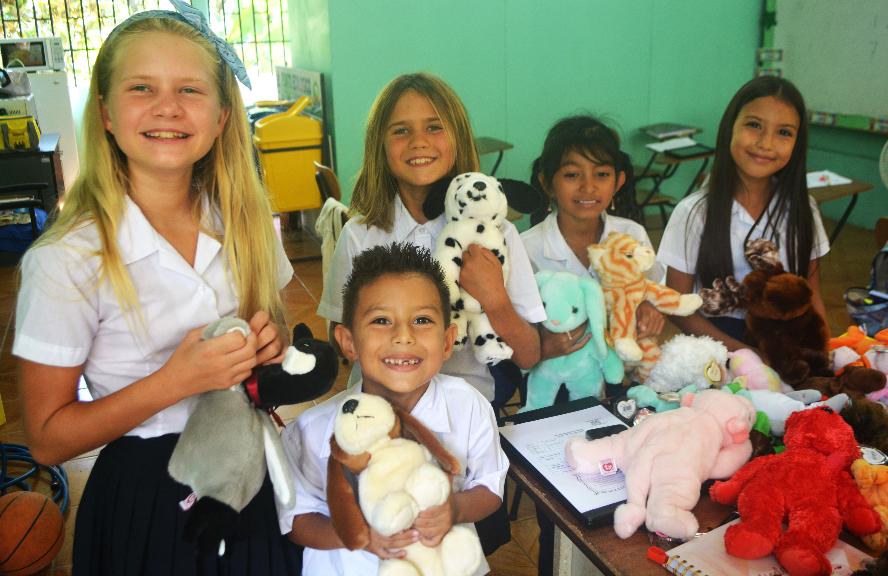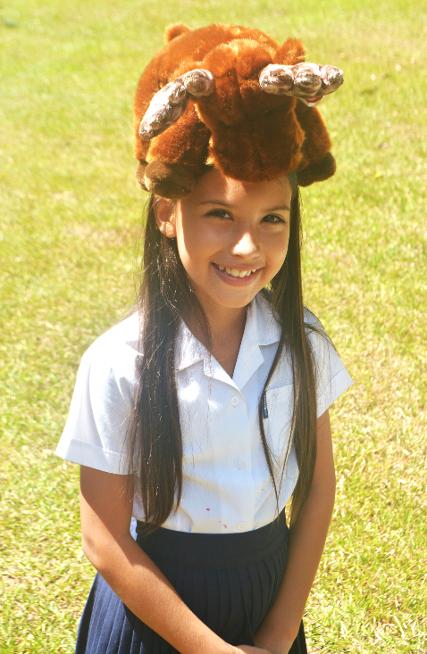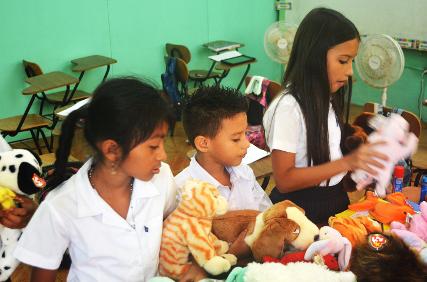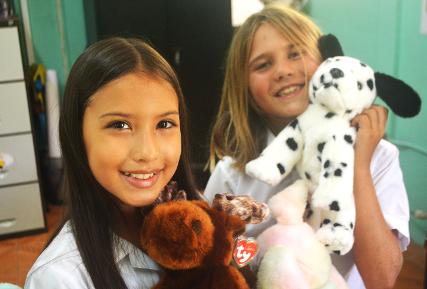 The students with their beanies in front of the school sign on the gate.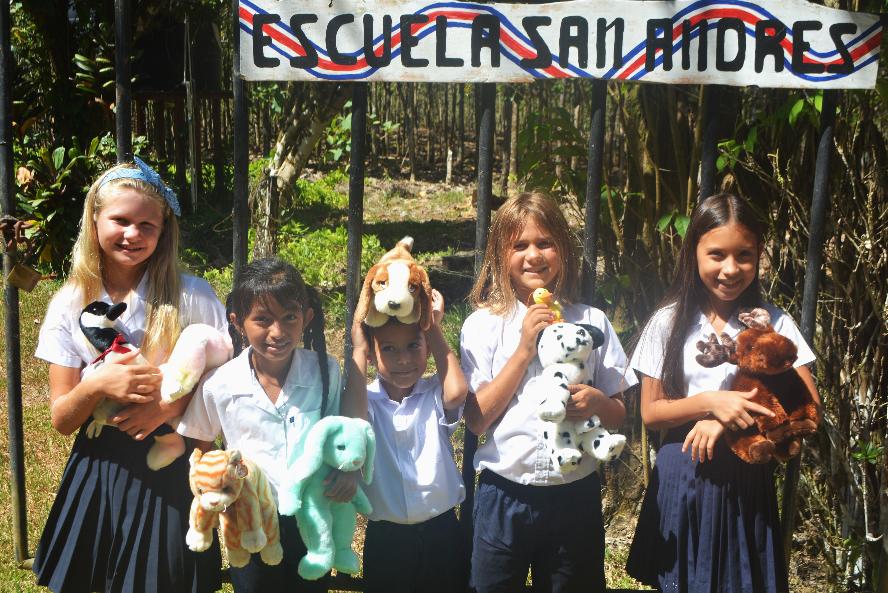 A couple of sights around the pool, including this iguana getting ready for Valentine's day with a flower.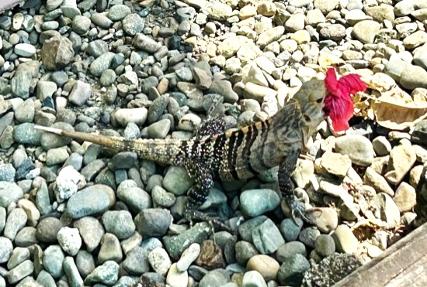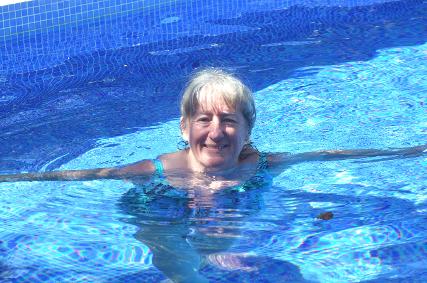 After the troupe of monkeys in the morning a number of others wandered through the property in the afternoon.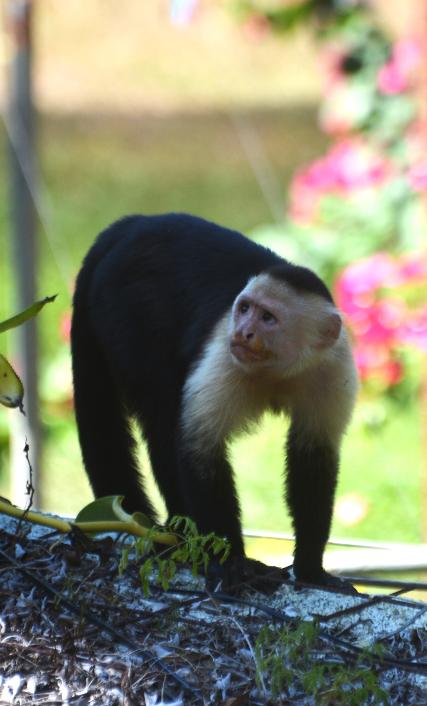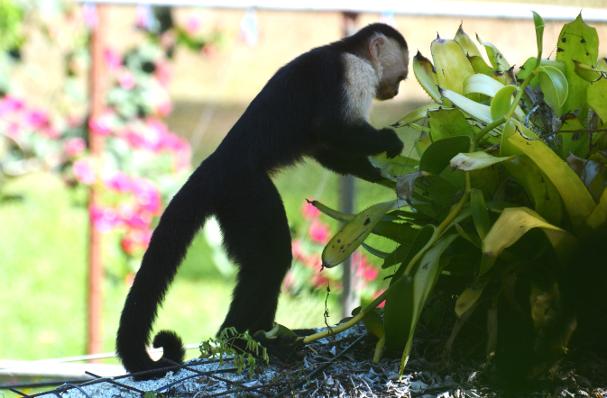 These beautiful sunsets are getting a bit routine / ho-hum ... no they are not!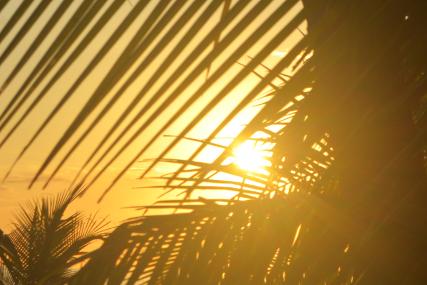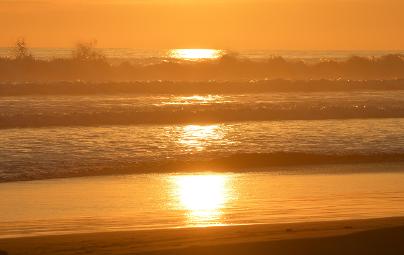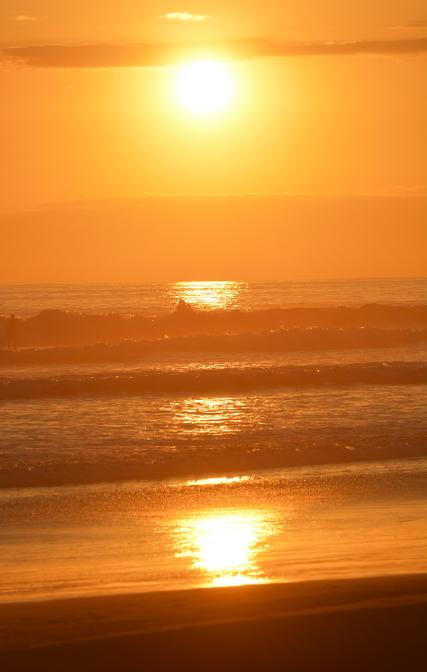 Gayle had an antipasto plate without any meat. I the pork schnitzel with potatoes and sauerkraut.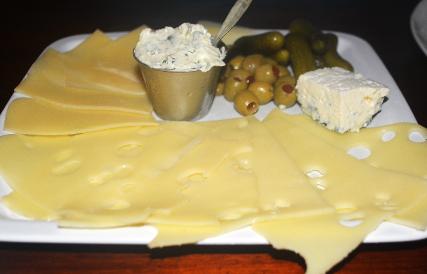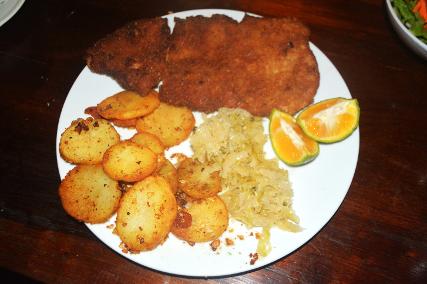 The photo is actually the back of the t-shirts staff wear. Gayle and Darleny after dinner.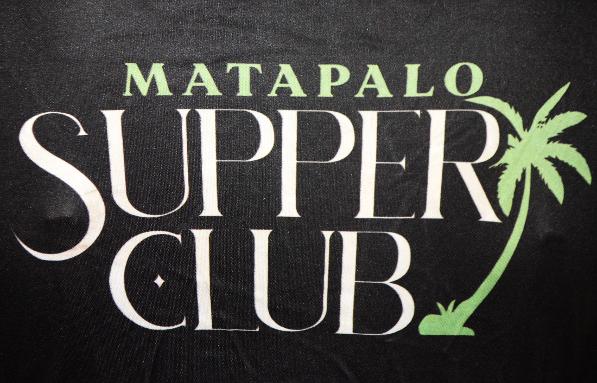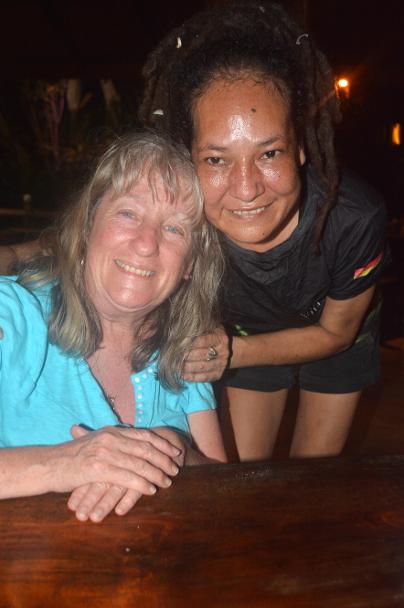 Darleny and Shaunny. The owners of Matapalo Supper Club Darleny and Daniel.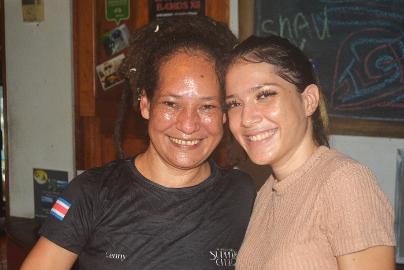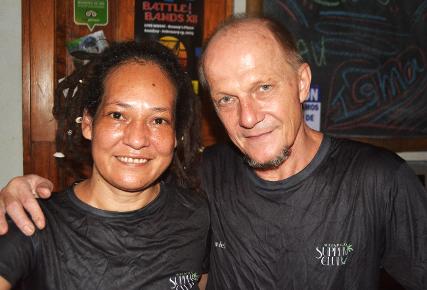 February 12, 2023 - le Jardin de los Monos, Matapalo Beach
Today was a very quiet day, starting with a lovely breakfast - lots of fruit - a bowl for Gayle, a smoothie for me and orange juice. We both had the toast with ham (Gayle of course giving me hers), eggs and jam. And lots of coffee.
Again no monkeys today (but wait for tomorrow). There are many birds that fly by - lots of parakeets, some scarlet macaws, pelicans and a large pure white bird of some species. Unfortunately being surrounded by trees by the time we see them they are gone, often without an opportunity to take photos. One would have to be at the ready constantly. I did get some parakeets but beyond that nothing.
We met a very nice young couple from Uruguay, with whom we chatted at some length. In-spite of their relatively young age, +/- 30, Faustina and Lucas have travelled extensively - New Zealand, Russia, Europe, Central America, and the US. Easily meeting other travelers - this time in the pool - including those of quite a difference in age is one of the great things about staying in small boutique lodgings like le Jardin de los Monos.
Of course we went back to the beach - a 5 minute walk - to enjoy yet another spectacular sunset. Although similar to yesterday the sunsets never get old.
Dinner was again at the nearby Matapalo Supper Club where Gayle had a delicious pizza - mushrooms, eggplant, zucchini, peppers, onions and some Gargonzola cheese while I had the again huge pasta dish with shrimp. It is becoming a custom to take leftovers back to Los Monos where they make a nice lunch the next day.
Again back shortly after 9:00, and with very full tummies straight to bed.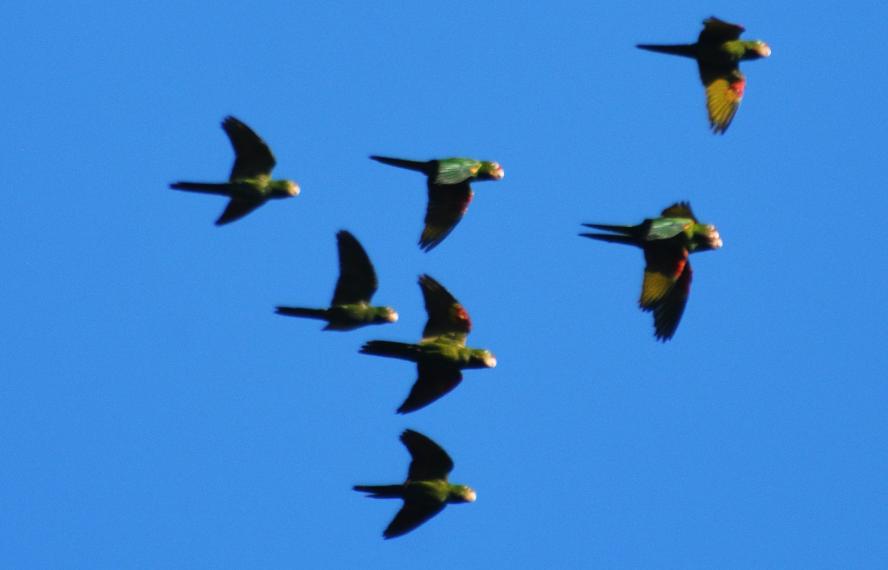 The view of the jungle from our balcony. Starting the day off with coffee and orange juice.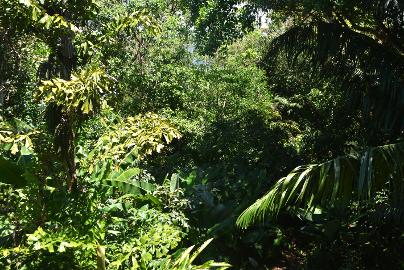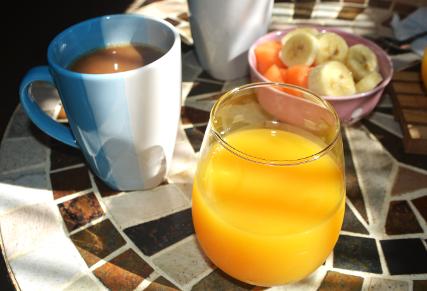 Juice, a fruit smoothie, fruit salad, jams etc. toast, ham and an egg.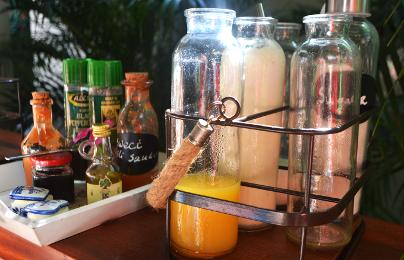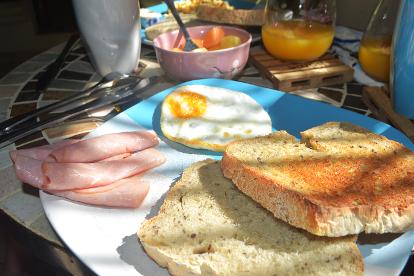 The pool as seen from our balcony.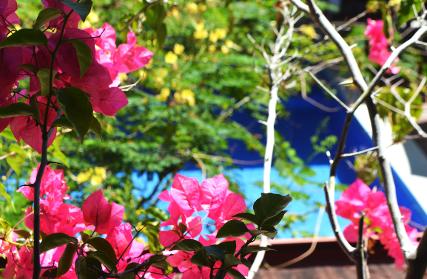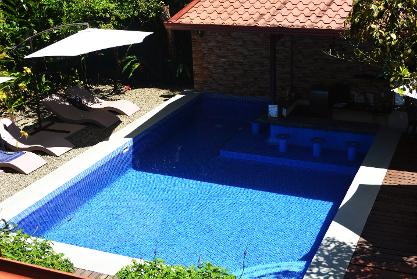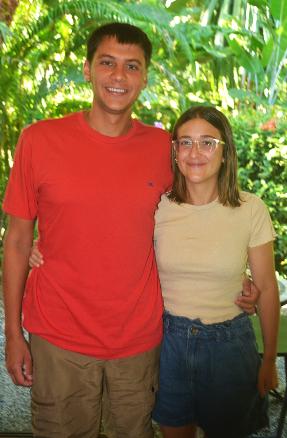 Lucas and Faustina, a very nice young couple from Uruguay with whom we had a wonderful chat sharing our travels. We had never met anyone from Uruguay. It was very easy to chat as their English was near perfect.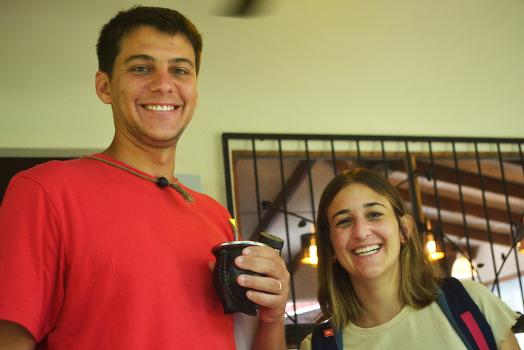 A sloth snoozing in the nearby coconut tree.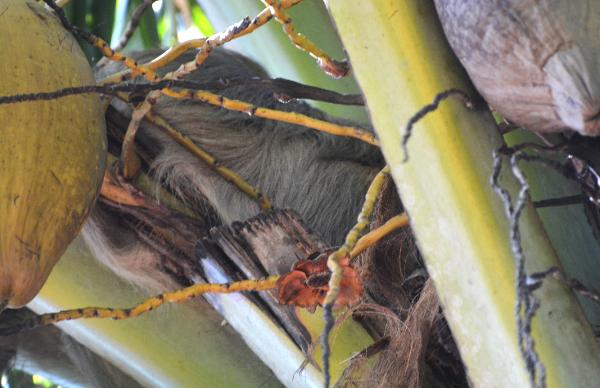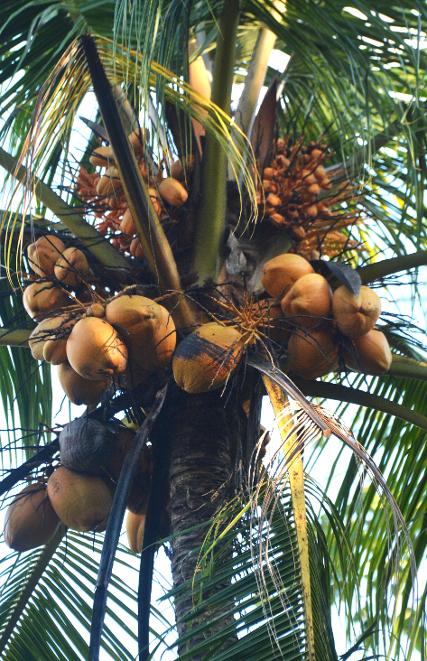 Matapalo beach is only a 5 minute walk from le Jardin de Los Monos.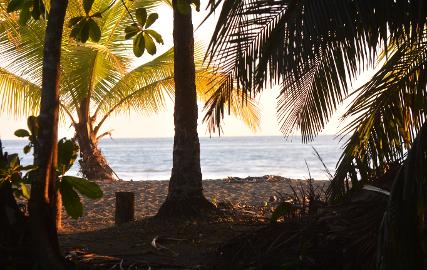 We arrived to a wedding taking place on the beach.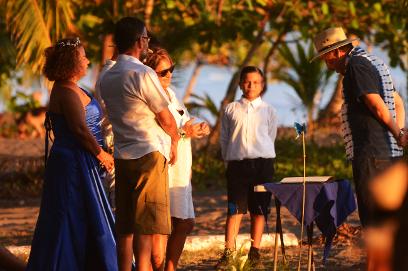 Matapalo Beach and the Pacific Ocean. The beach looking south.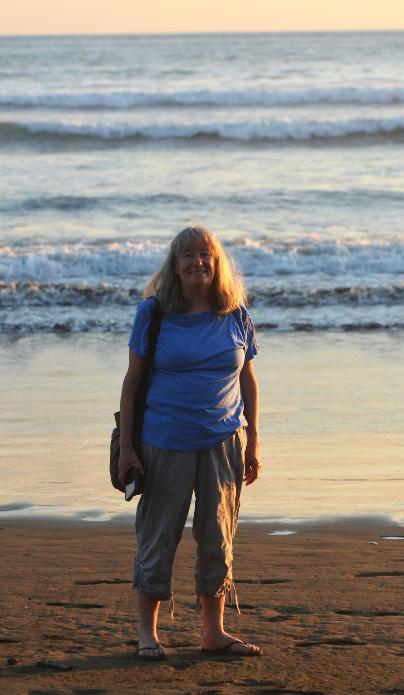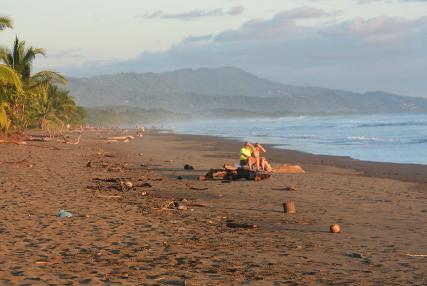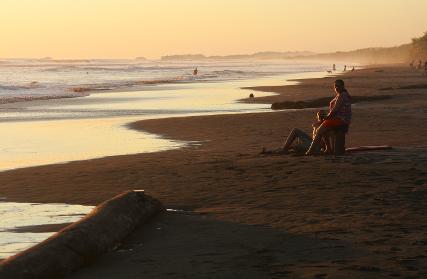 Another evening; another spectacular sunset.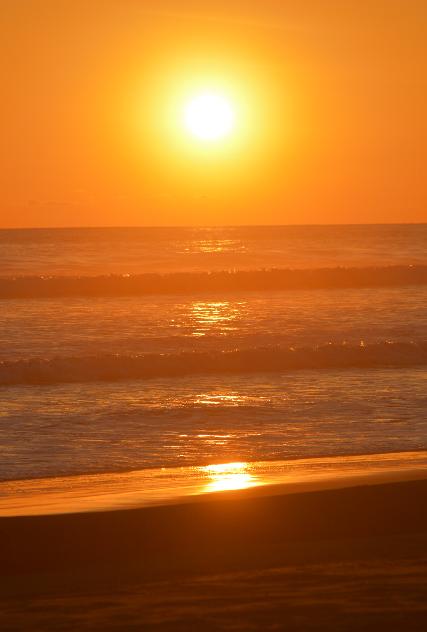 The Matapalo Supper Club Gayle looking forward to her pizza.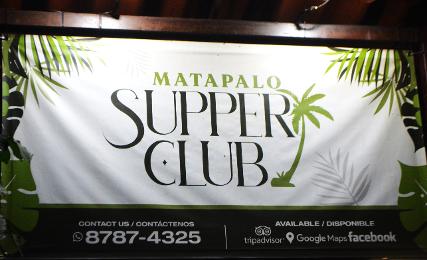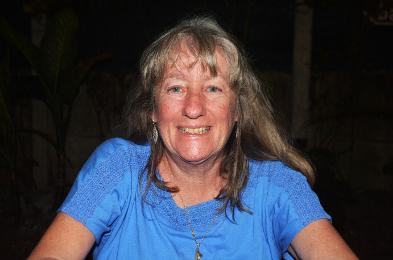 Gayle's pizza. My spaghetti with shrimp.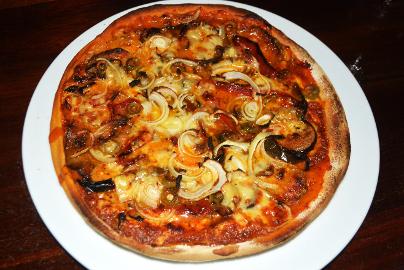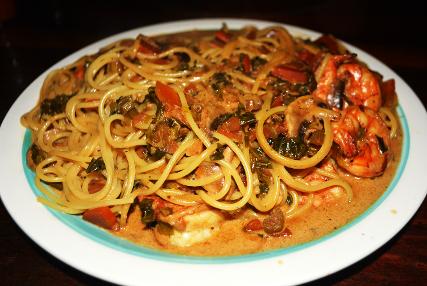 Shaunny, Darleny, Daniel and Ismael.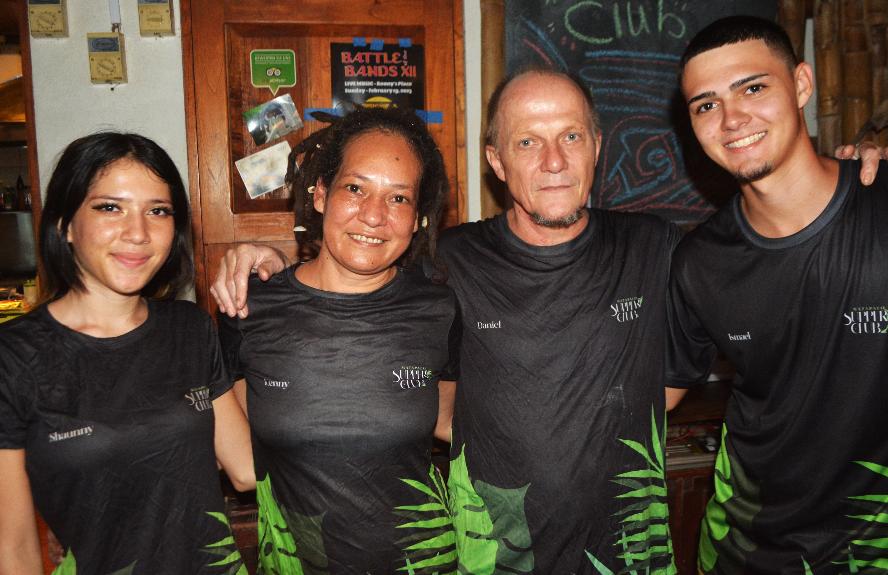 February 11, 2023 - Las Nubes to le Jardin de los Monos, Matapalo
Today is moving day - albeit less than 10 km to the coast where we will be staying the next five nights at le Jardin de los Monos (the Garden of the Monkeys).
We woke to another wonderful day. While the mornings here in the hills have been sunny, being at a bit of an elevation it tends to cloud over mid-day. Still a very nice temperature, sometimes humid, sometimes not.
We enjoyed another tasty breakfast, today huevos rancheros with lots of fresh peppers, onions, tomatoes etc., garnished with fresh avocado.
Afterwards we worked on the travel blog, had another dip in the pool and then headed back to the cabina to pack and take a video (see link below). With no one taking over our cabina Filip told us to stay as long as we wanted. We did leave around 1:30 pm for our 2:00 pm check in at los Monos.
Lettika greeted us when we arrived. Having been here twice before we knew the ropes - no need for the arrival explanations. We relaxed during the afternoon, admiring the parakeets flying by at regular intervals. Somewhat surprisingly we did not see any monkeys although there was a sloth in the coconut tree near the breakfast area.
Around 5:30 pm we headed to the expansive sandy beach, perhaps a 5 to 10 minute walk, where we were treated to a spectacular sunset, reminding us of why we like this spot so much. Then back to our room to clean up before heading to dinner at the Matapalo Supper Club, the reincarnation of el Pacifico where we ate every night Daniel and Darleny were open during our previous two visits. The food, especially the steaks, are fantastic, and all at a very reasonable price. Sure the Supper Club is still a bit rustic but certainly more upscale than el Pacifico. Of course the outdoor fire-pit remains a focal point.
We started by sharing tzatziki with some delicious breads. Then Gayle had spaghetti with mushroom cream sauce, carrots and parmesan while I had a tenderloin with potatoes and a garden salad. The portions are huge, especially Gayle's pasta which easily could have fed four. Thank goodness we have a small fridge as left over salad and spaghetti found their way back to our place. Our meals were again excellent, reminding us of why we love this place. Before leaving we reserved a table for tomorrow night.
Back to los Monos and tucked in by 9:30 pm.
A butterfly on the walk up to the lodge. The hidden Las Nubes lodge as one approaches.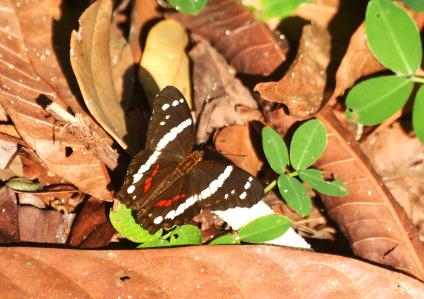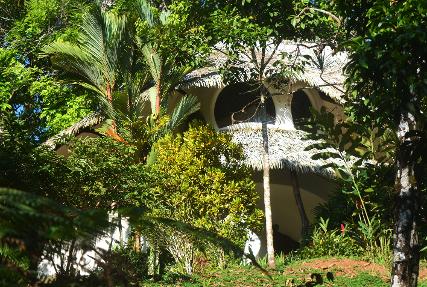 Filip preparing breakfast. The sauce for the huevos rancheros.
Tortillas ala ranchero with avocado.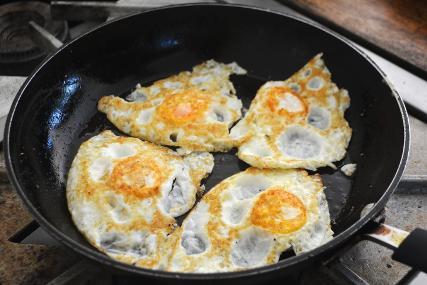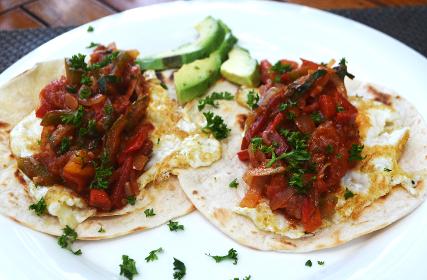 The morning sun poking through the trees as seen from our cabina.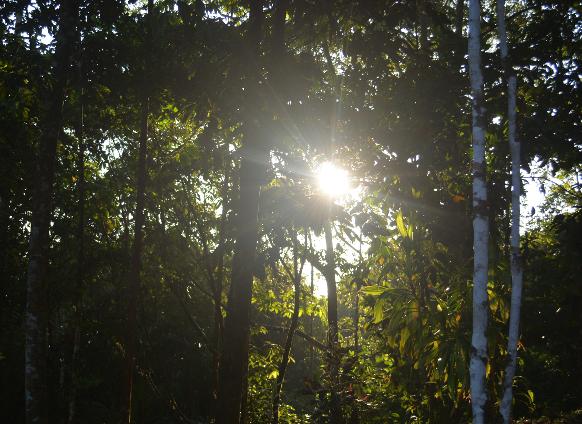 An Asian influenced statue next to our cabina.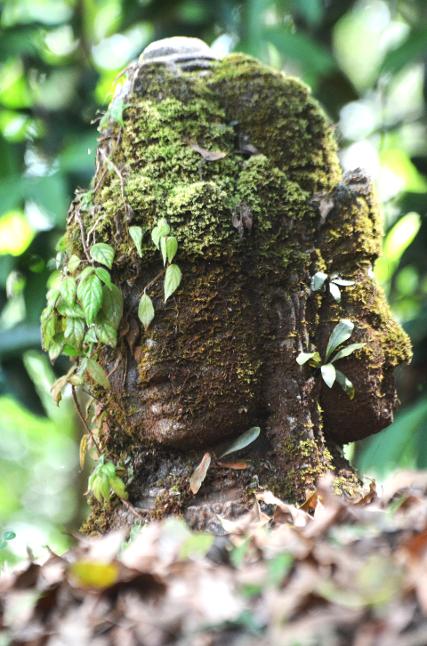 The inside of and a video of the approach to our open air room.
The 'road' was very dry except for this one little stream. Still one had to careful of the rock in the middle.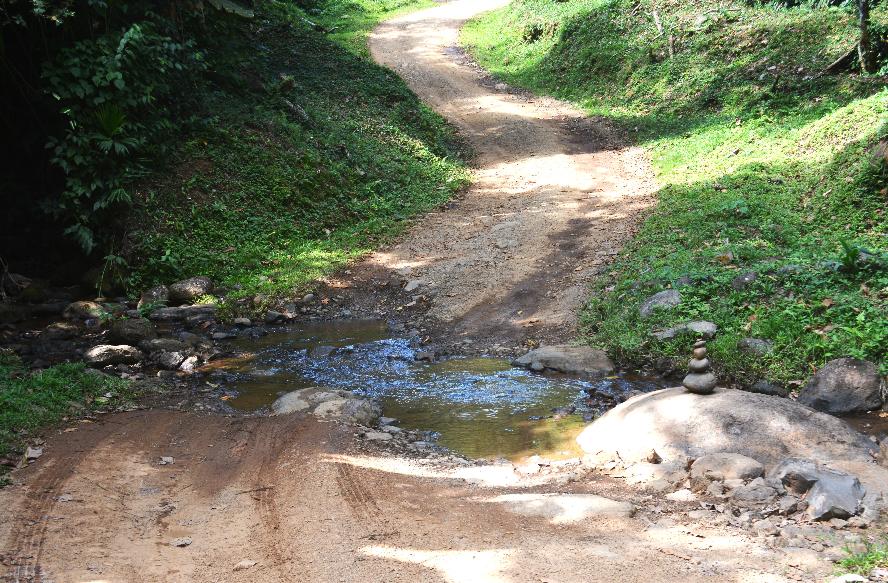 Our room at le Jardin de los Monos, with its large tub and nice stone sink.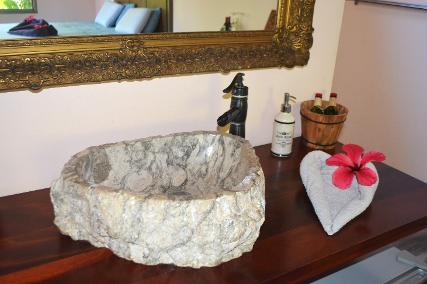 Matapalo beach, with waves significant enough that it attracts surfers.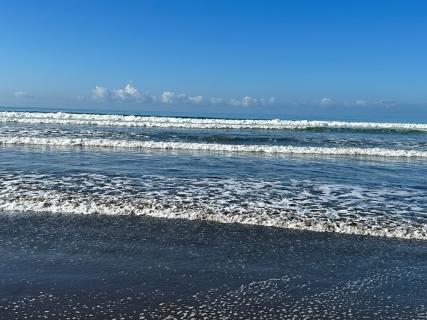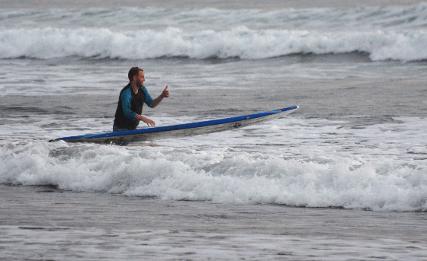 Sunset as seen from Matapalo beach.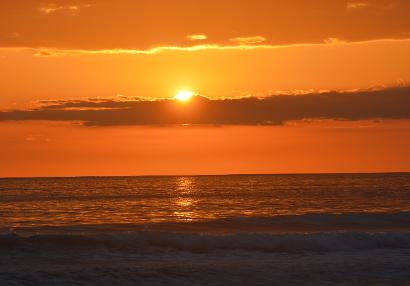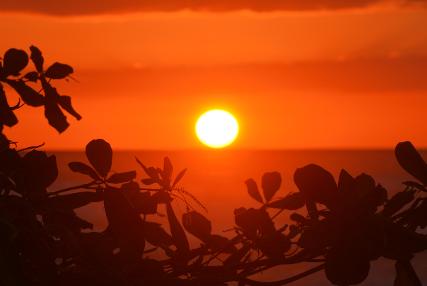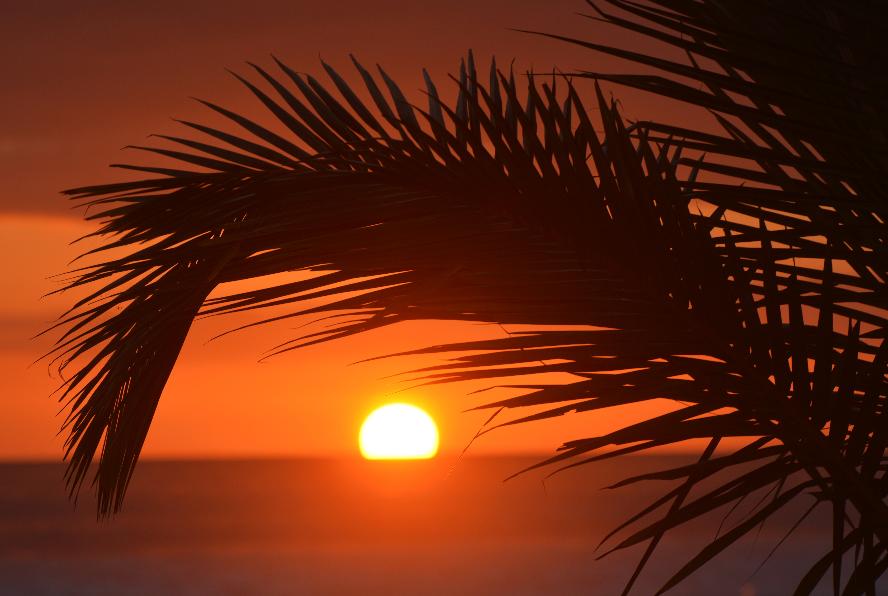 Darleny. Darleny at work cooking steaks on the outdoor firepit.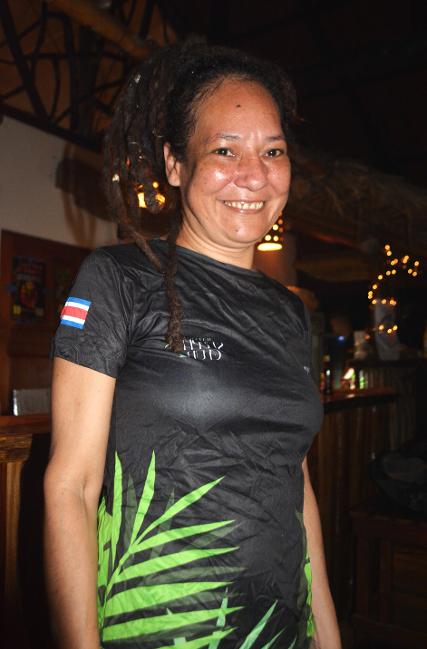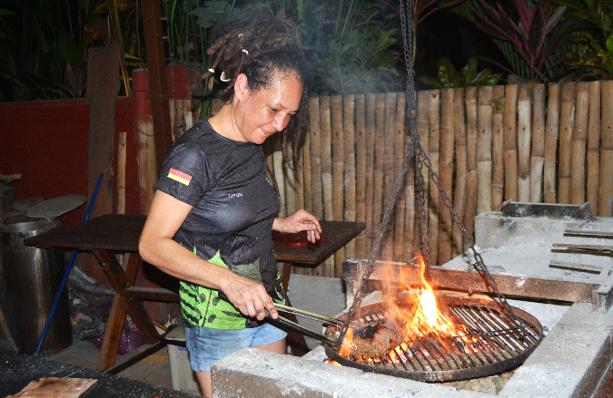 Tzatziki with some excellent breads. A large salad to accompany the steak.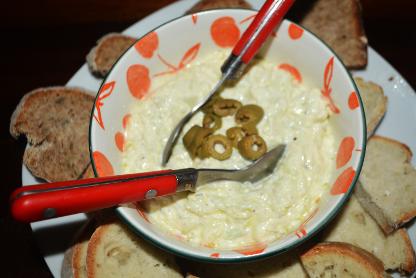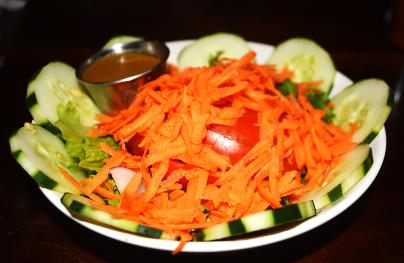 A HUGE plate of spaghetti with a mushroom cream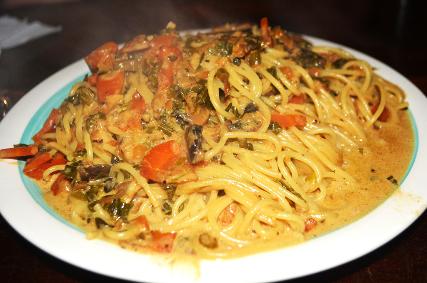 A perfect tenderloin with home potatoes.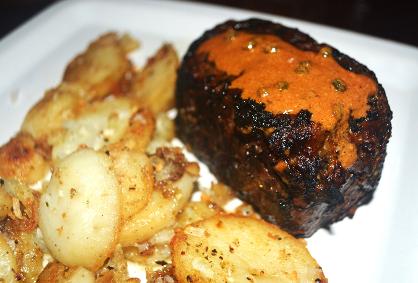 February 10, 2023 - Las Nubes Natural Energy Resort, Matapalo
Another day of doing pretty much nothing.
We were to the breakfast area a bit earlier this morning such that we did get the 'front' table, directly overlooking the valley and ocean beyond. Filip made Belgian crepes this morning with, wait for it, real Canadian maple syrup! Quite unusual for Gayle she actually had three crepes!
Most of my day was spent working on the travel blog. The Wifi is very good in the early morning, and then again in the afternoon and evening, but is quite intermittent during late morning, through lunch and into the early afternoon. We did spend some of the time enjoying a dip in the small, but sufficient pool overlooking the vegetation and mountains in the distance. Very refreshing.
Those of you who have followed our travel blog know we bring a number of beanie babies / buddies to Costa Rica to give to children of lodging staff and schools. There is a small school - Escuela San Andres, more or less half way along the road to Las Nubes, with apparently only six (or so) students. We decided to drive down to give some of our beanies to the children but sadly the school was closed, which seemed strange for a Friday. Where we are staying nearby the next five nights we will try again early next week. As you will see below we did give a couple of beanies to Agustin, the maintenance fellow here at Las Nubes for his two children.
Our pre-dinner tapas was a wonderfully tasty and refreshing watermelon gazpacho. We are reminded of how fortunate we are at times like this when enjoying gazpacho with the last of our cava, overlooking the valley and the ocean beyond.
Dinner was a Moroccan vegetable tagine with couscous, carrots and an eggplant / zucchini dish, accompanied by a cooling yogurt . Filip truly does know how to cook, combining natural ingredients to create such flavourful dishes. And then a rum soaked banana with ice cream for dessert. So so good!
After which we returned to our cabina very full and happy.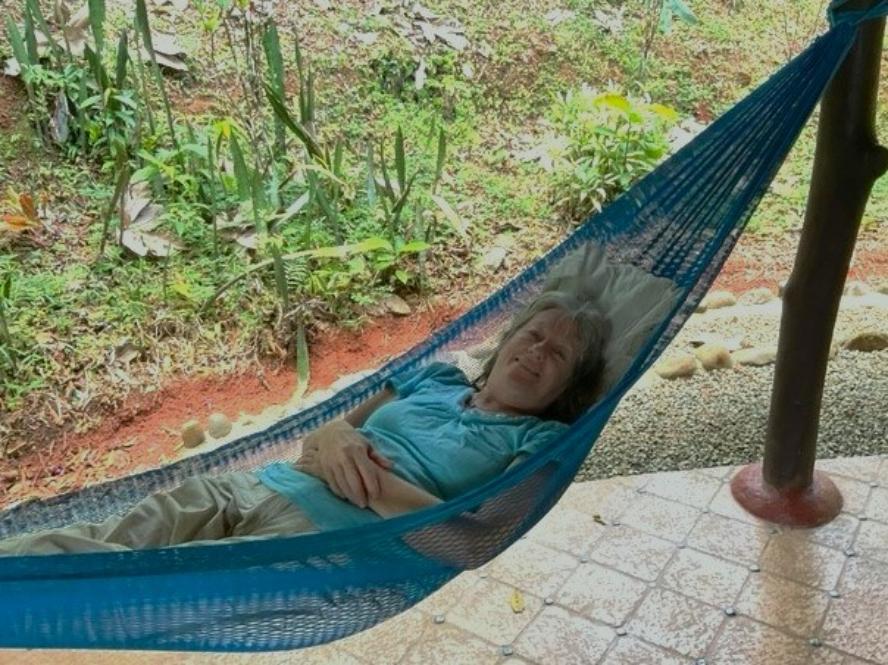 A few Toucan photos captured from a considerable distance, then cropped.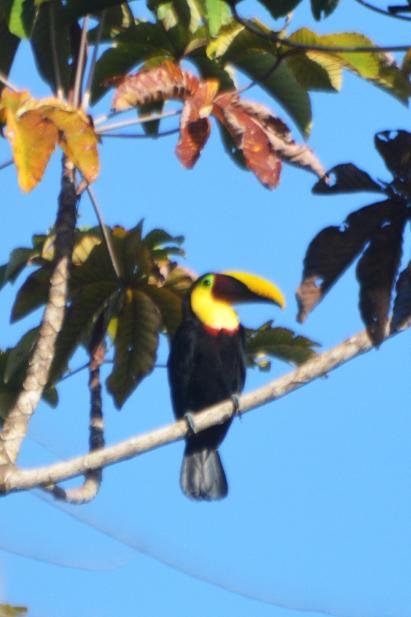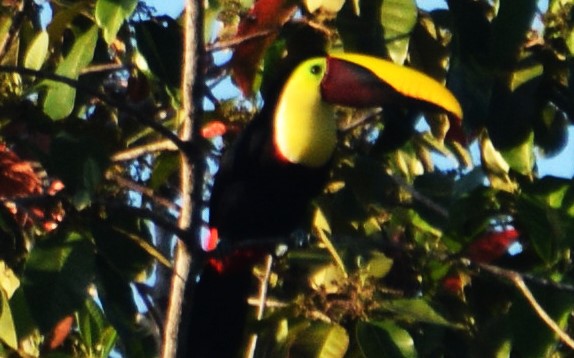 Apparently relatively rare, the Fiery-billed Aracari.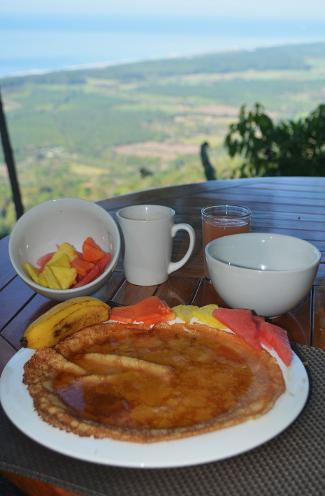 For breakfast this morning, at the front table overlooking the valley, we again had fresh squeezed grapefruit jucie (I actually saw Filip squeezing the grapefruits), granola (for me), again the selection of tasty fruits and Belgian crepes, with real Canadian maple syrup! This could get habit forming.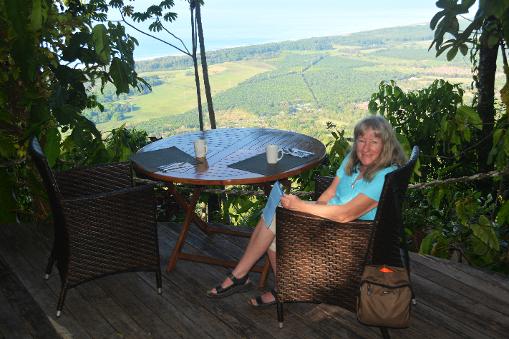 The sign says all that needs to be said.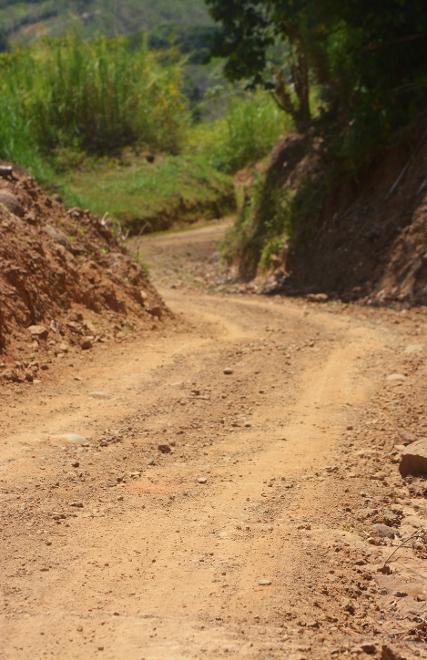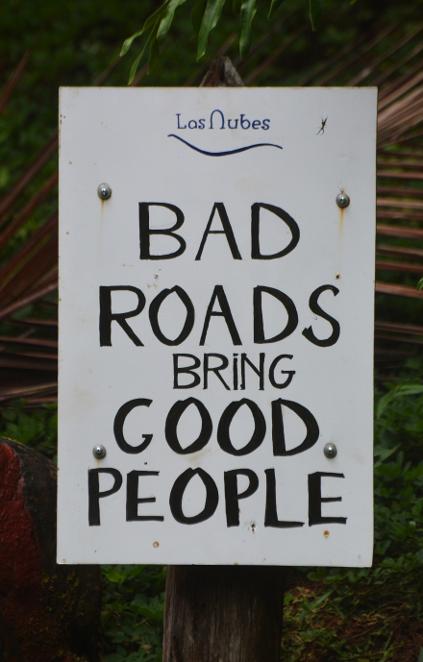 Bamboo is common here. The view to the coast along the drive to Las Nubes.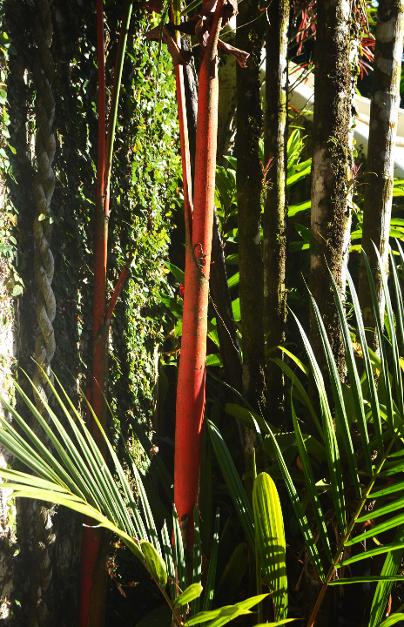 The Gaudiesque Las Nubes lodge.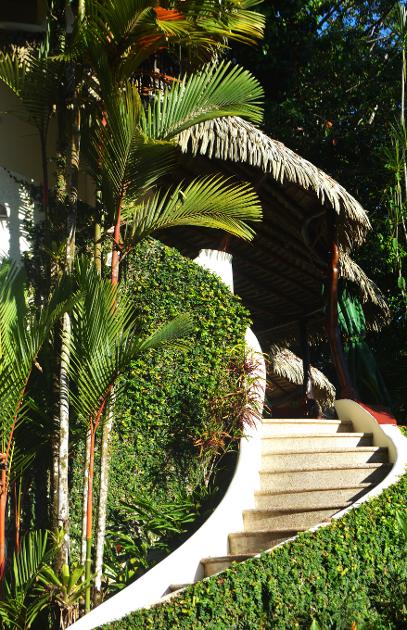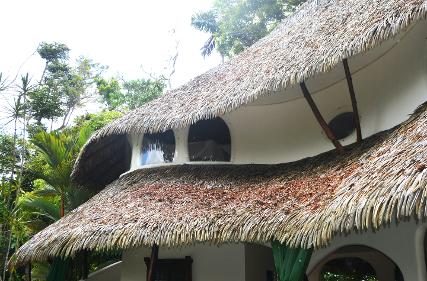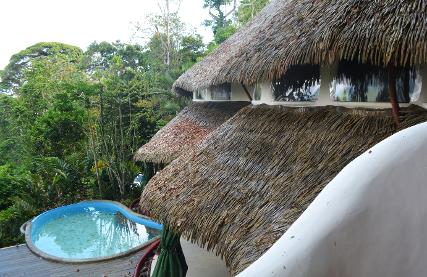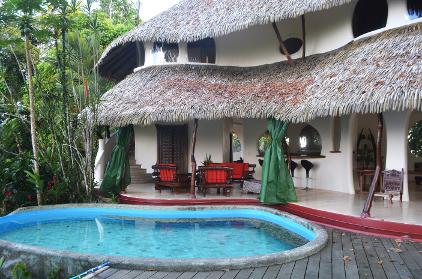 A refreshing Margarita; the Las Nubes pool; and the deck with one of the three resident cats.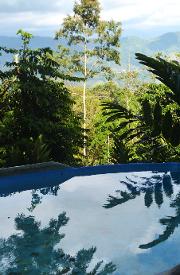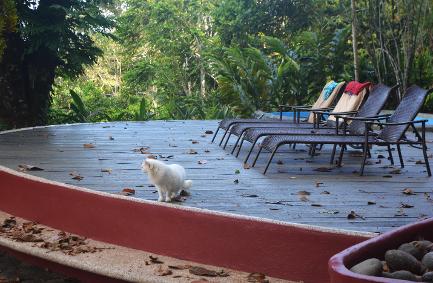 Agustin with a couple of beanies for his children Ian and Lea.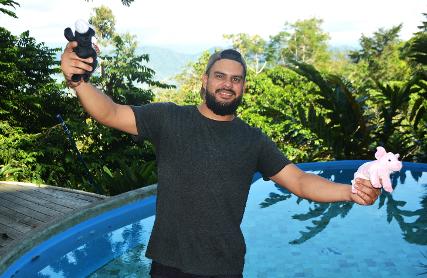 Gayle and Armelle, from Bruges, Belgium who is spending three months here at Las Nubes, helping out.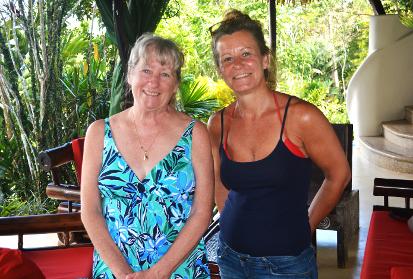 Enjoying the rest of our Cava while watching the sun set.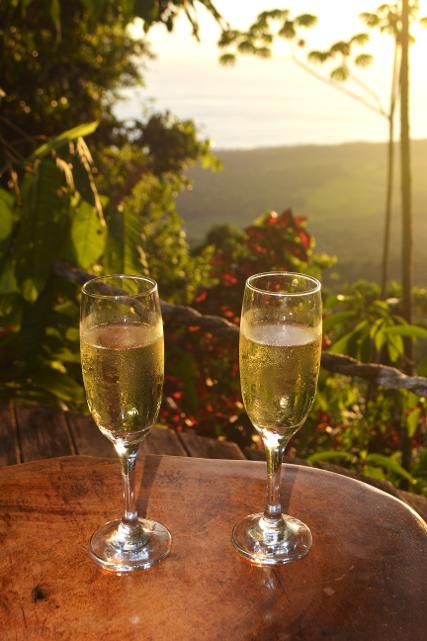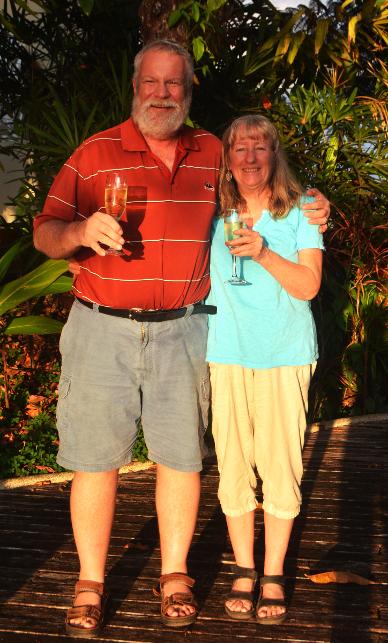 For out pre-dinner tapas tonight we had the absolute best watermelon gazpacho with feta and many other ingredients. Delicious.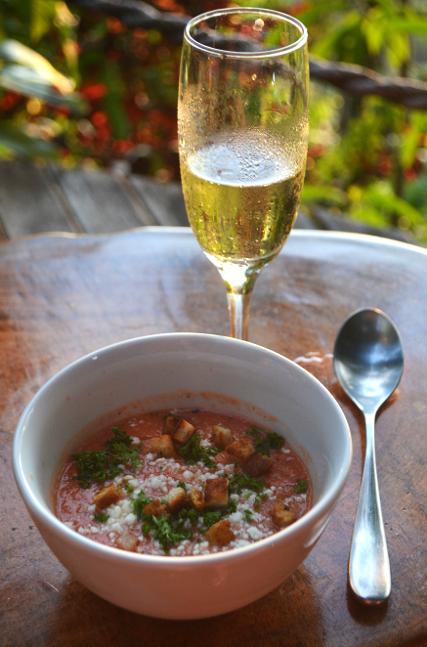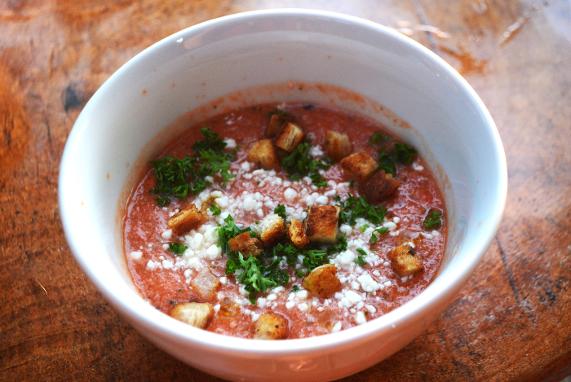 Yes we know, way too many sunset photos but it was so hard to pick just a couple.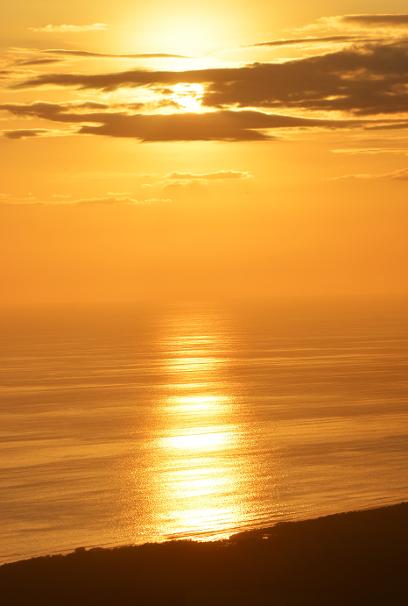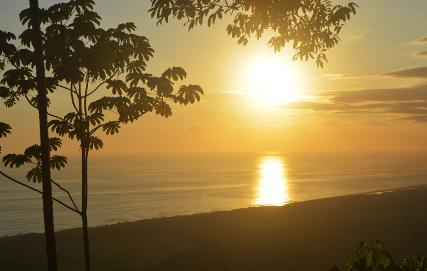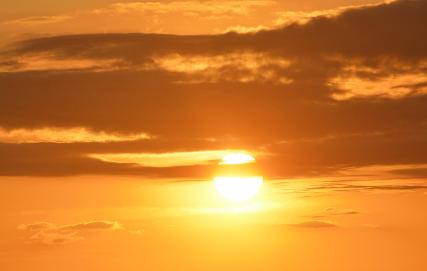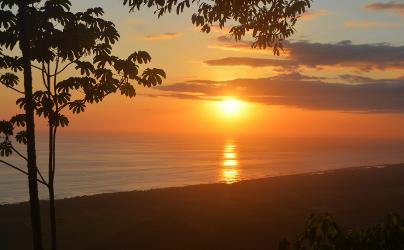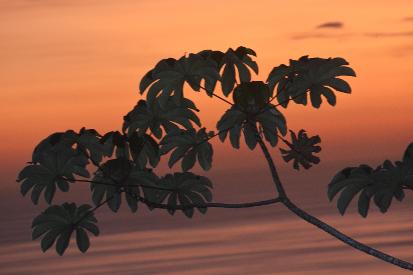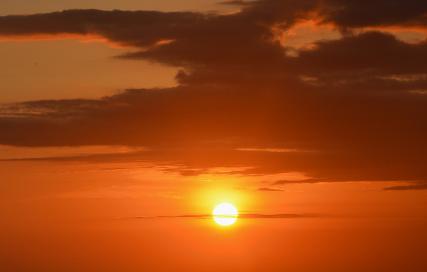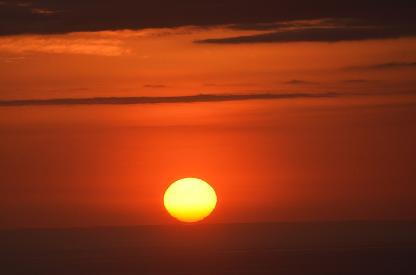 Couscous to accompany the vegetable tagine cooked in a traditional Moroccan tagine pot.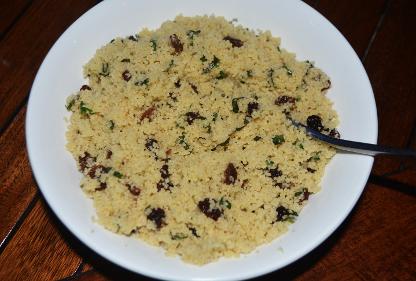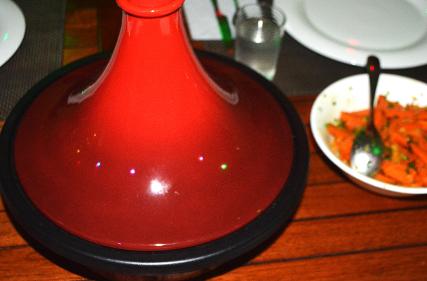 Tagine with a wide variety of vegetables along with chick peas.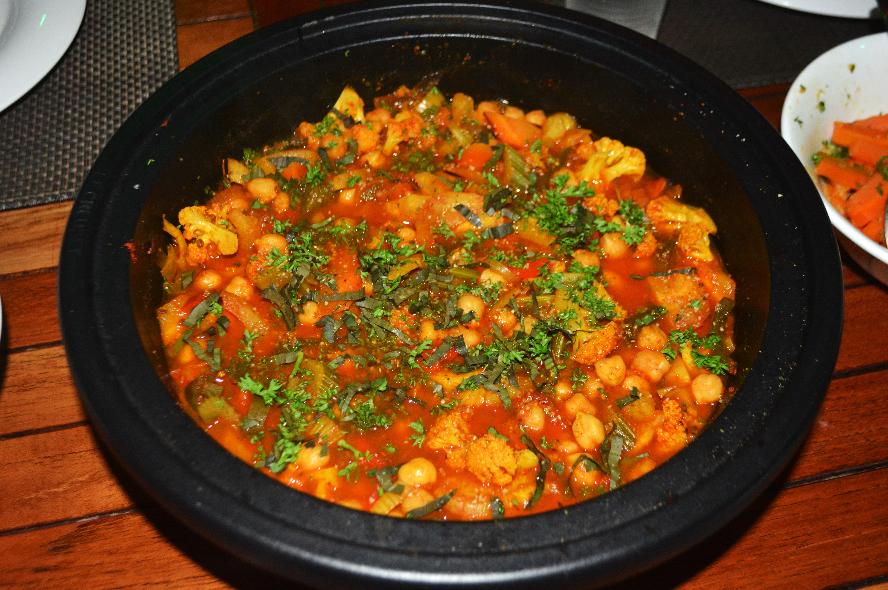 Eggplant and zucchini, along with carrots.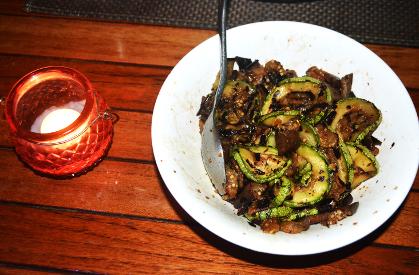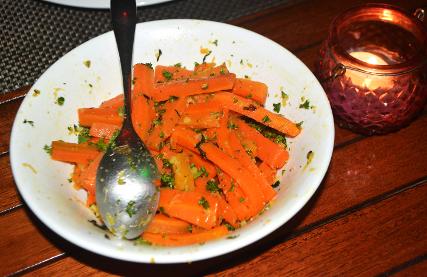 Couscous, tagine, eggplant, carrots and yogurt. Banana flambe with ice cream for dessert.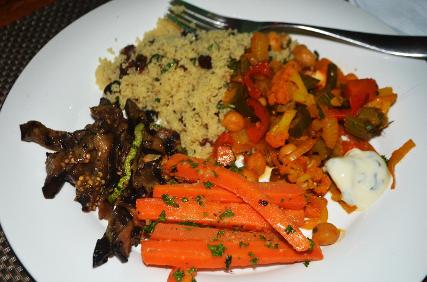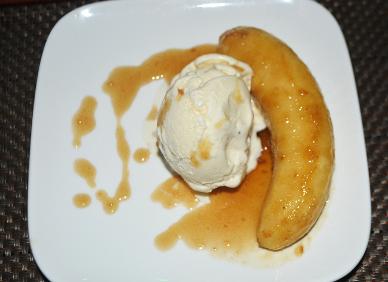 February 09, 2023 - Las Nubes Natural Energy Resort, Matapalo
The drive up to Las Nubes is a bit of a challenge - doable but only with a 4 x 4, which of course we have. Although others do drive down to the coast for day tours etc. having kind of done it all it was our plan to just chill out and enjoy the property. Actually that is our plan for the entire trip.
After a very comfortable sleep - we were worried that without a fan it might be somewhat 'sticky' but it cooled off quite nicely for a nice sleep. Gayle was of course up early (me not so much) to listen to the awakening birds and insects. This is no doubt her favourite part of the day.
We eventually made our way to the lodge where we enjoyed breakfast on the deck looking out to the ocean. Excellent Costa Rican coffee, grapefruit juice from grapefruits picked on the property, fresh fruit (pineapple, papaya and watermelon), a selection of breads, meats and cheese and eggs however one likes.
The rest of the day was a testament to doing virtually nothing. I spent most of the day working on the travel blog. It was somewhat frustrating at times as the Wifi was in and out for a couple of hours, but eventually I was successful in finishing Day 1 of the blog. Gayle spent time in the pool, wandered the property taking photos of flowers etc., and having been up early had hammock time and an afternoon nap.
Dinner was a wonderful selection of salads along with BBQ'd tandoori chicken accompanied by baked potatoes with homemade garlic butter - an all you can eat buffet. Filip is an excellent chef with the food here being very tasty and good. Dessert was ice cream with melted chocolate and almonds. Afterwards it was back to our cabina where we again were asleep by 9:30 ish.
Fruit and other supplies. A bowl of fresh fruit for breakfast.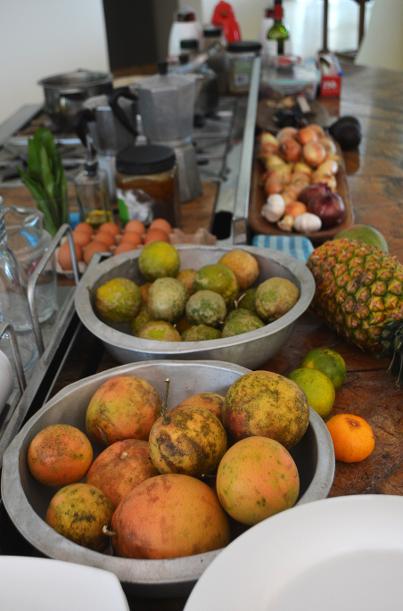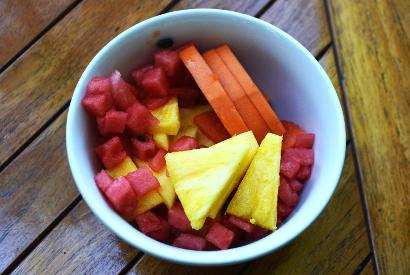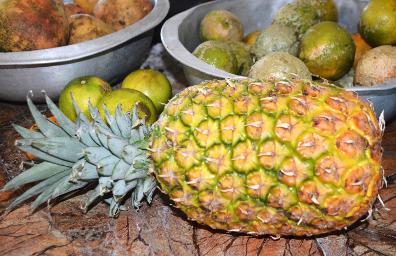 Relaxing on the deck looking down from the mountain to the coast.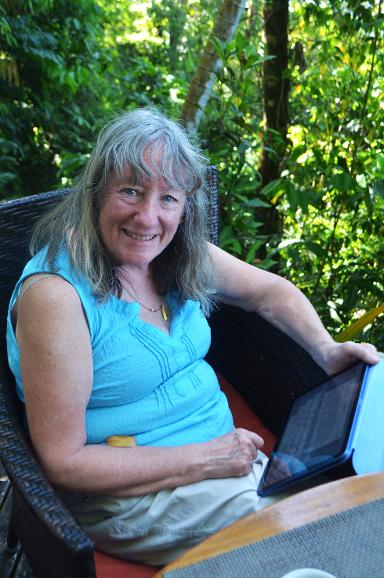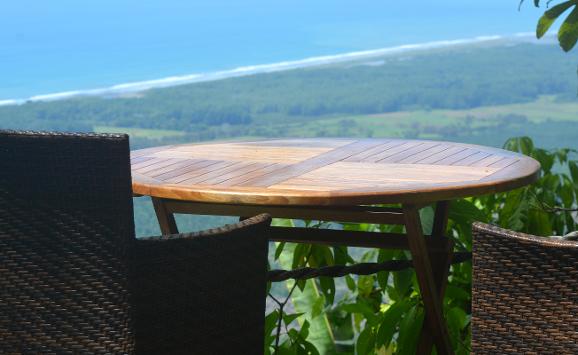 Working away organizing photos and downing a Pina Colada.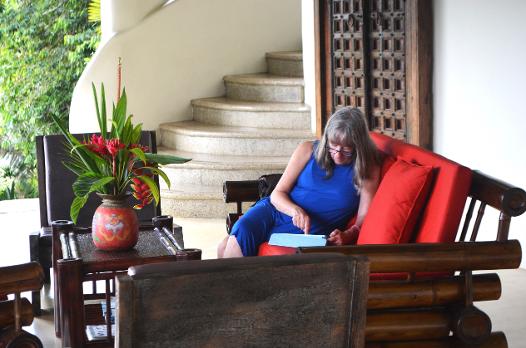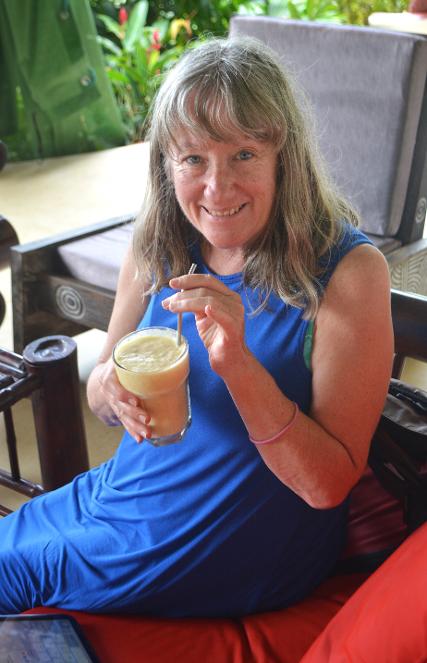 It is not quite as hot (although still humid) up here in the hills but some time in the pool was still very welcome.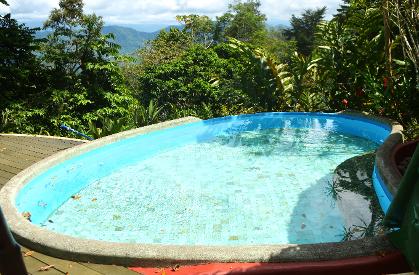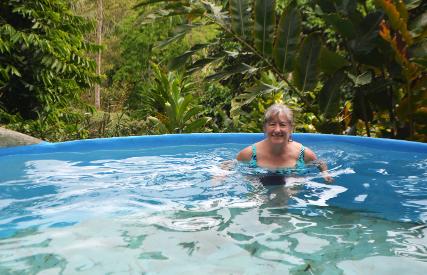 Today was Gayle's birthday celebrated with a bottle of Spanish Cava.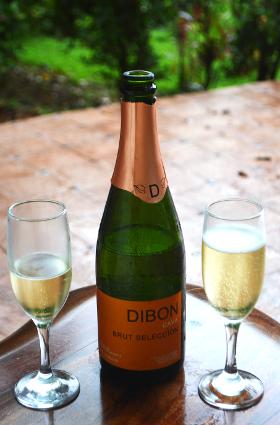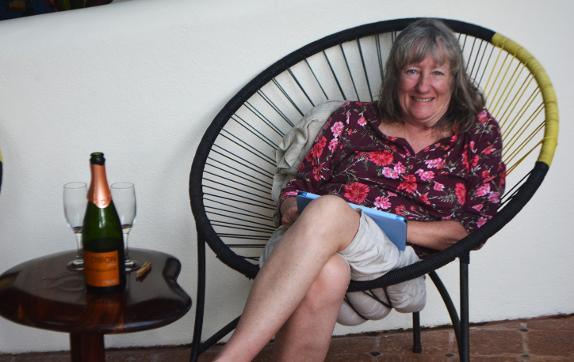 The path to our open-air cabina; the hammock and the thatched roof. We strive to stay at places with character, and certainly at Las Nubes we hit a home run.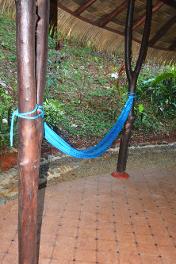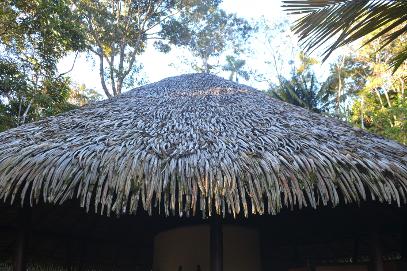 Outside - yes the cabina is exposed to the outside, and inside our circular cabina.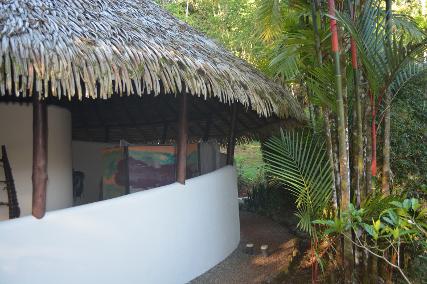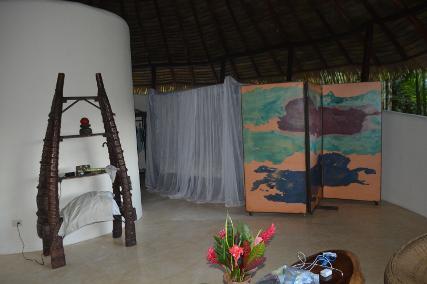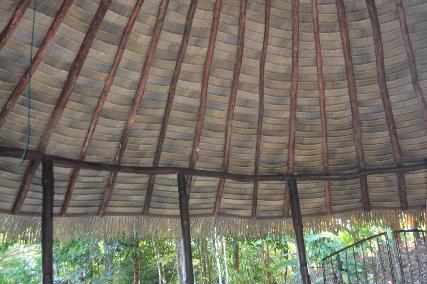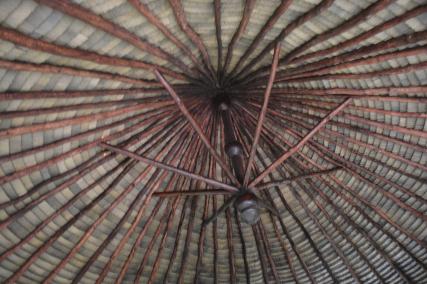 Another Costa Rican night; another Costa Rican sunset.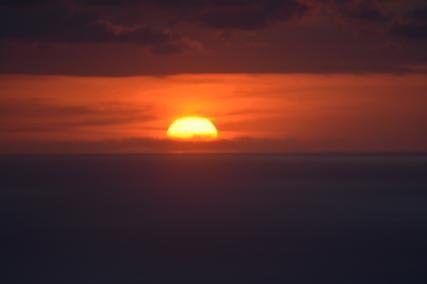 Tandoori chicken and baked potatoes being BBQd by Filip.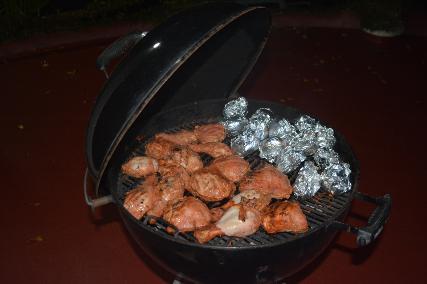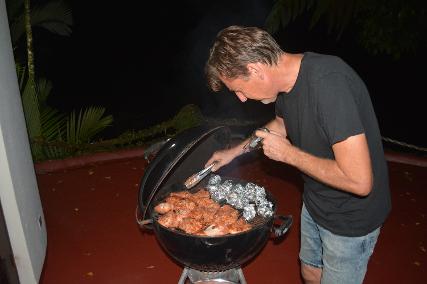 Dinner consisted of four delicious salads, baked potatoes and tandoori BBQ chicken.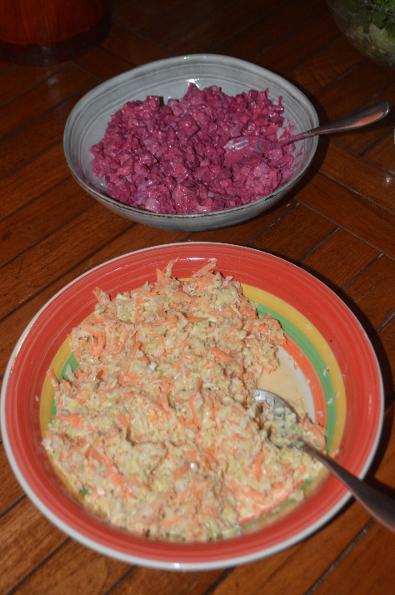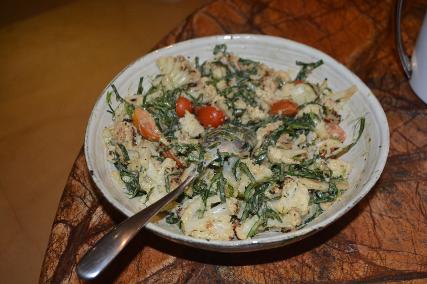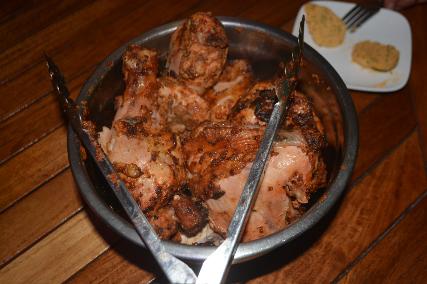 My dinner plate and then dessert.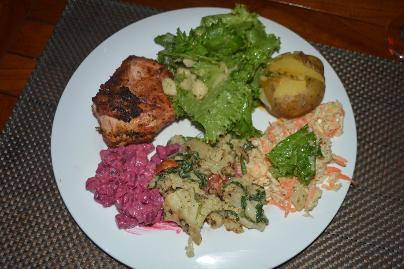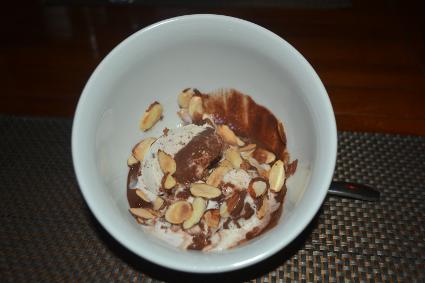 February 07 and 08, 2023 - Halifax to Toronto to San Jose, CR to Las Nubes, Matapalo
Pura Vida! We're on our way (again) to Costa Rica.
We're off for three weeks in Costa Rica, our 'go to' winter spot. There are pros and cons to the flights to CR being in the late afternoon rather than early morning. The con being one arrives relatively late at night necessitating a night in an airport hotel. The pro being one leaves at a humane hour - our flight out of Halifax departed at 10:30 am, and there was no rush making the connection in Toronto. In fact we had nearly four hours which we spent in Air Canada's Maple Leaf Lounge. The flight to San Jose (Costa Rica, not California) left and arrived early. We sailed through immigration, retrieved our luggage and easily found the shuttle to the Hampton Inn where we enjoyed a sound night's sleep.
Our morning started with a pretty decent breakfast, much better than we were expecting, after which we took the shuttle back to the airport where we then got a shuttle to our car rental agency. After an hour or so (there was only one fellow on the desk) we had our 4 x 4 vehicle and were on our way.
Unfortunately we once again missed the direct route to Orotina but rather (as we did last time) ended up on Highway 1 through San Ramon and on to Esparza. We tried a short cut through Esparza, and while it didn't work out we did happen upon a local performance in the town square. In spite of being frustrated, tired and hot (according to the vehicle's temperature gauge it got up to 37 C) we stopped for a short time to watch the performance being put on for a busload of tourists.
From there it continued to be a long slow drive south past Tarcoles, Jaco, and Quepos on to Matapola.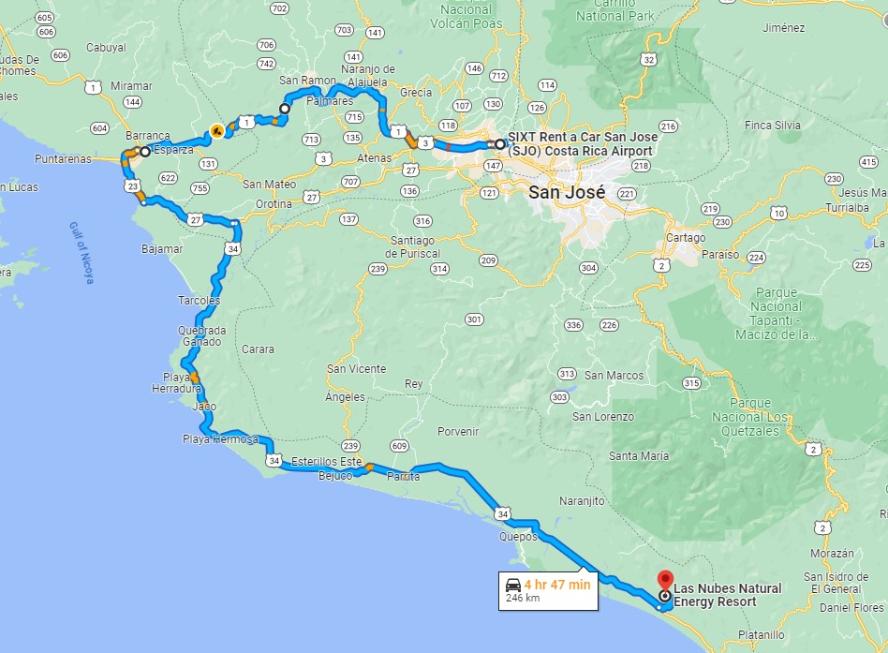 At least we know where we were going - to Las Nubes Natural Energy Resort where we had stayed in 2020. After the arduous 7 km drive up a sometimes quite steep dirt road we made it just before sunset. We were met by Filip who not only offered us drinks, but had bread and dips for us - an olive tapenade and smoked trout from the streams higher up the mountain.
Although we didn't see many birds or other animals, other than a coatimundi crossing the road and a few vultures, there was no escaping the sound of the rainforest - the insects (cicadas?) that provide constant noise, almost sounding like a rushing river (listen to the Youtube below for a sense of the sound).
We were then shown to our large open air cabina - more on that tomorrow - where we quickly unpacked and then headed up to dinner, along with a Dutch couple Elizabeth and Aldo. Tonight's meal was a delicious vegetarian tofu stuffed eggplant with lentils in an Indian coconut sauce, along with basmati rice. Dessert was a frozen Parfait Glace, infused with some Grand Marnier.
Although it was only 9:00 ish, after the long strenuous drive we very quickly fell asleep, very happy to be back in Costa Rica.
Breakfast included Gallo Pinto (rice and beans) Bananas at a roadside stand.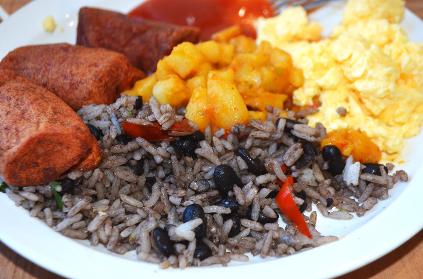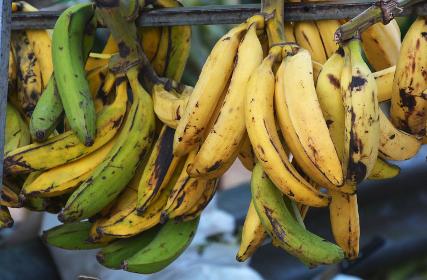 The orange flower of the coral tree seen along our drive.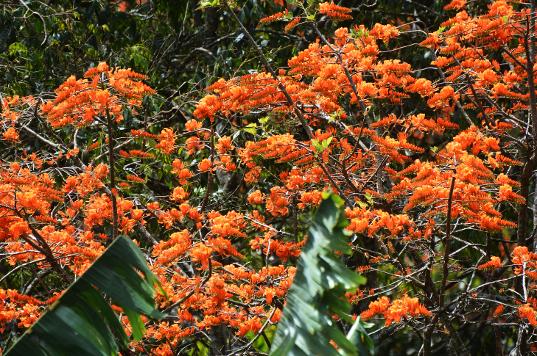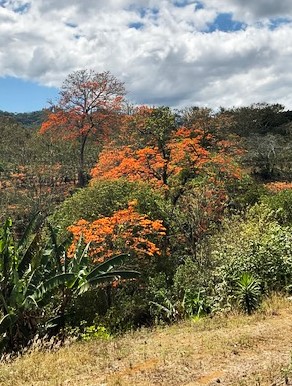 Somewhat hilly countryside on the drive to the coast. A painting on the wall of a tourist shop.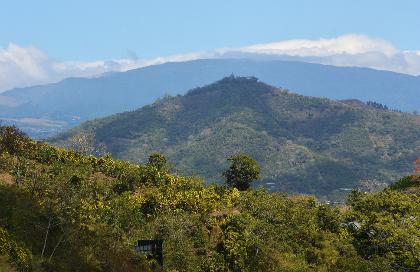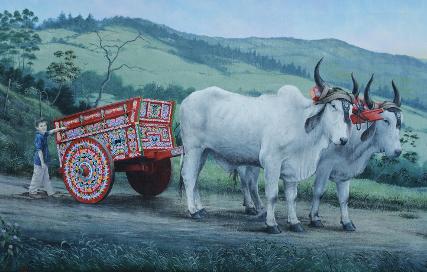 Trying to find a bit of a short cut I chose to drive through the town of Esparza. In terms of a short cut it was a mistake but it did have a silver lining in that we drove by the town square, adjacent to the church, just as a performance was about to take place. There were actually a number of tourists on a bus tour for whom the town put on this short dance performance that had something to do with this broom with a doll at the bottom.
Anyway the tourists danced and appeared to enjoy themselves as we did watching.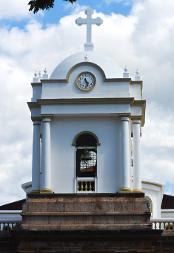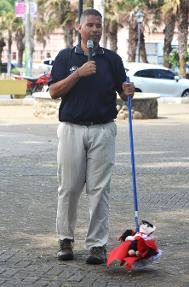 The traditional dance in the town square of Esparza.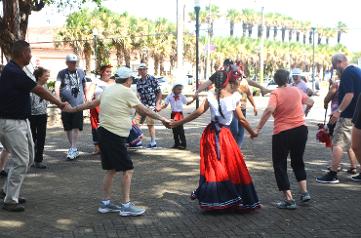 A colourfully painted wagon from the town of Sarchi. A performer in a not so friendly mask.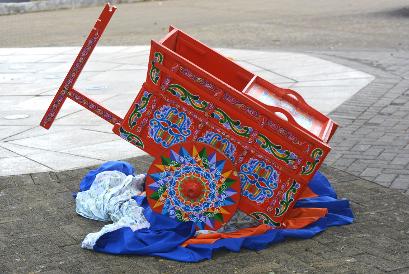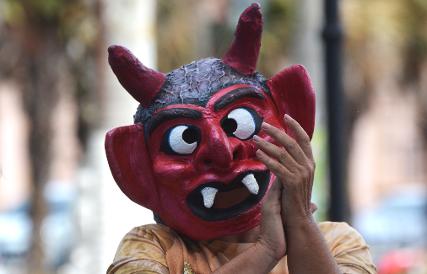 The two ladies and young boy who performed in traditional Costa Rican outfits.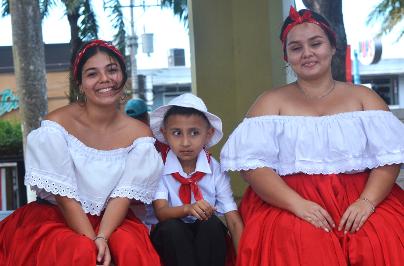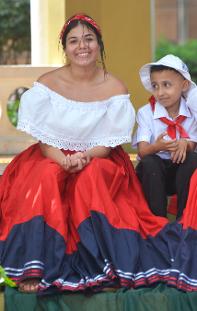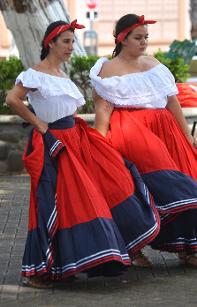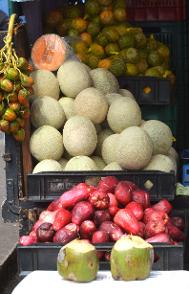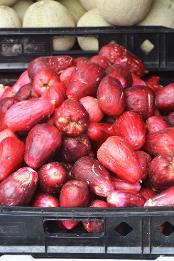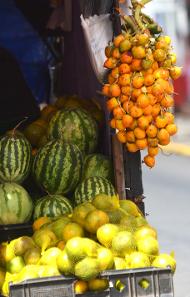 Some of the many fruits in a truck just parked on the side of the road including the manzana de aqua or Malay apple (the red fruit in the middle).
Enjoying a fresh coconut water.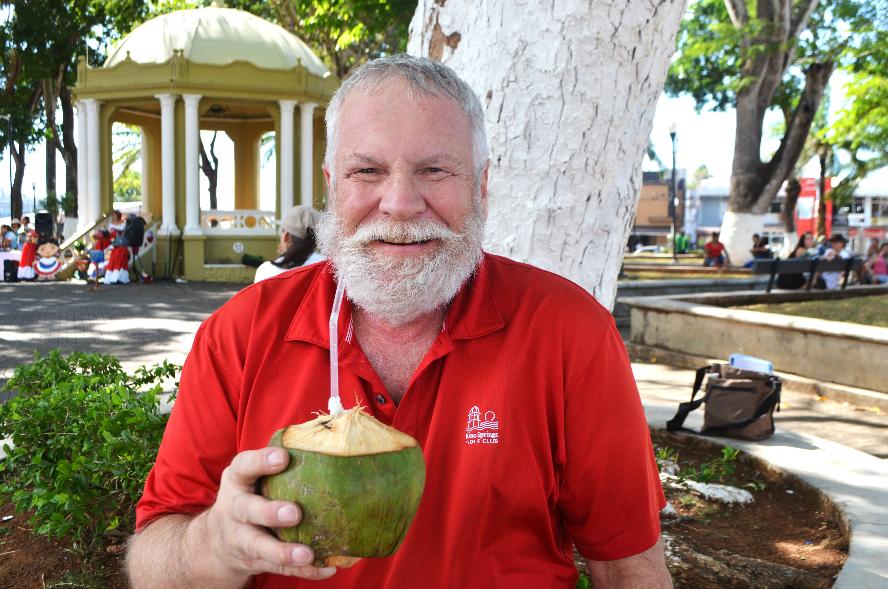 Some of the colourful, and in some cases weird masked mannequins at the performance put on in Esparza.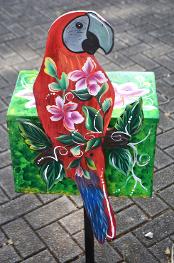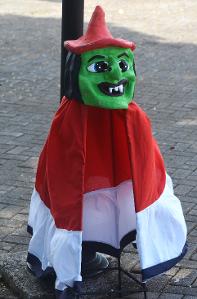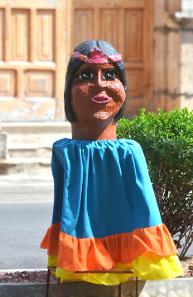 We arrived just in time to see the sunset with a glass of wine for Gayle and a Belgian beer for me.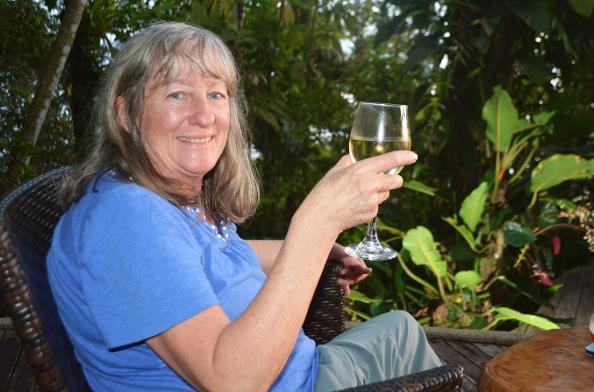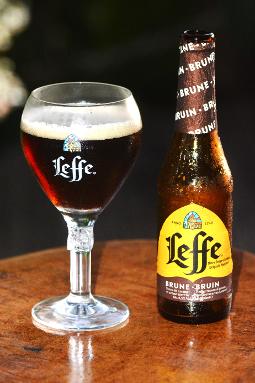 Sounds of the insects as we were arriving at Las Nubes and then the sunset shortly after we arrived.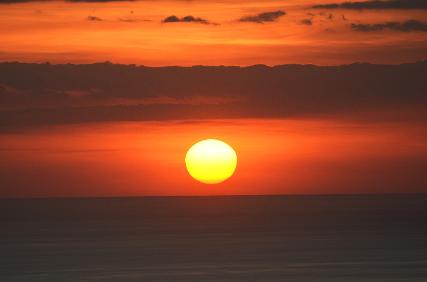 Upon arrival, along with our drinks we were treated to pates with foccacia. Filip, our host / owner of Las Nubes.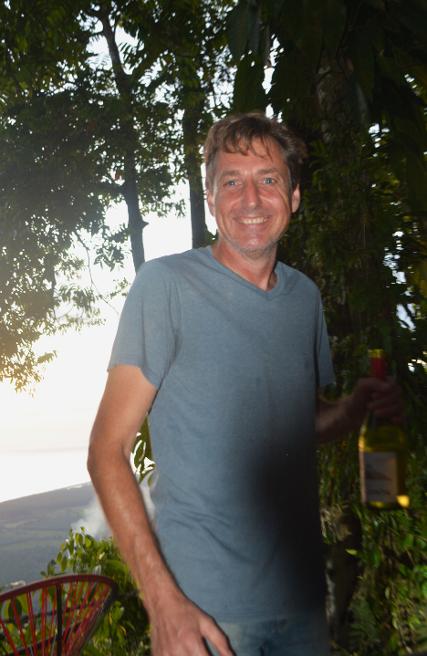 Sunset over the Pacific Ocean.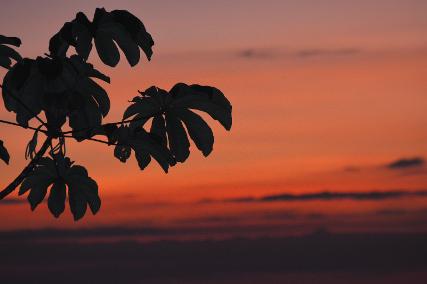 A firefly up close. His/her eyes were actually much brighter without the flash.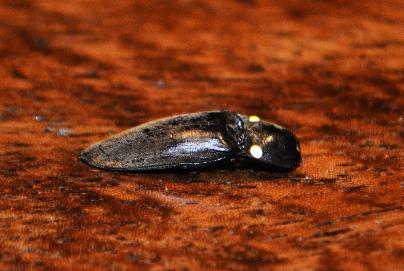 A mandarina acido, the Costa Rican version of a lime. Dinner of stuffed eggplant with a lentil coconut curry.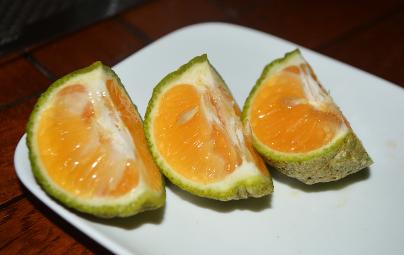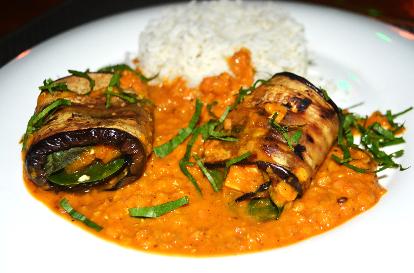 Again to Costa Rica - February 07, 2023 to February 28, 2023
This will be our 6th winter trip to Costa Rica in the past seven (missed 2021 due to COVID-19). We will be returning to familiar territory along the Pacific Coast (Puntarenas) of southern Costa Rica.
We will again be returning to a couple of places we have stayed before, along with three new lodges.
After an overnight near the San Jose airport we will pick up our rental vehicle and head to the coast and south, where we will be staying
Of course we are very much looking forward to another three weeks in Costa Rica
.