June 23 - 30, 2014 - impressions of Provence
As with our time in Corsica here are our most significant impression of are visit to Provence
the vibrant fields of lavender - the aroma and buzzing of the bees
the one field of sunflowers in bloom
the turquoise lakes
the view down the valley from Auberge le Robur
our meal at Auberge le Robur
rose wines
La Parare - in particular our Chapel room dating from the 1600s
our Le Lavande room at Le Colombiere du chateau
breakfast at Mas Perreal
our private terrace at Mas Perreal
the market in Lourmarin
the quaint stone villages of the Luberon
people watching while enjoying a drink/citron pressee
the fields of lavender
Our return to Provence was all we expected, particularly with the lavender fields in full bloom. Another great trip - both Corsica and Provence.
June 30, 2014 - Chateauneuf-Villevieille to Nice airport to Montreal to home

Our last day, well morning as most of the day will be at airports and in airplanes. We awoke to clear blue skies, finished packing and sat down to another nice breakfast under an olive tree. A nice bread board, yoghurt, freshly squeezed orange juice, a soft boiled egg and Swedish pancakes.
We were told the drive to the Nice airport was easy, other than the 15 switchbacks to get from Chateaneuf-Villevielle to Contes in the valley below although we drove the road down and up yesterday, and should take approx. 45 minutes. And it was. With a stop to re-fuel it was 40 minutes after-which we easily found the rental car return and made our way to Terminal 1. The plane sat on the tarmac for approx. 45 minutes (no idea why) which caused us to arrive late in Montreal. To Air Canada's credit when we arrived at the luggage connection area new boarding passes were waiting for us on the next flight to Halifax, as we had missed our connection.
The view from the terrace just outside out room at La Parare.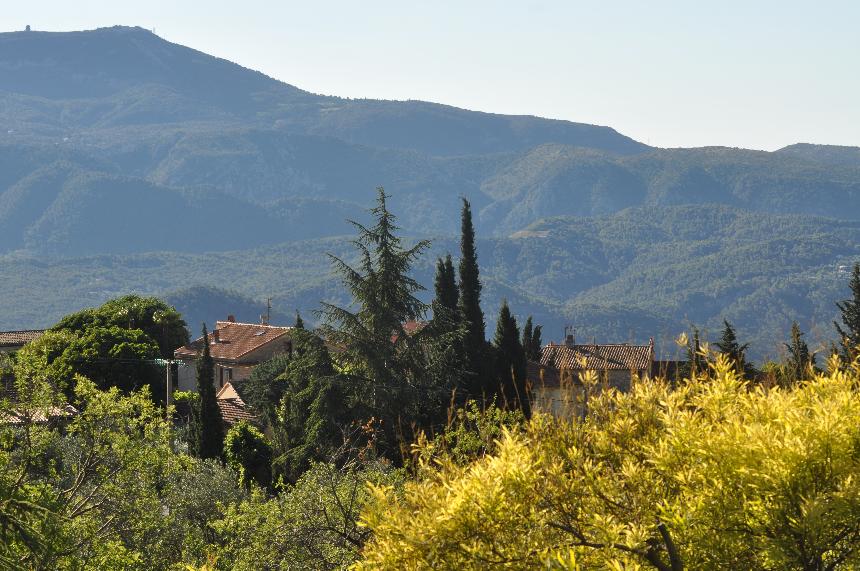 On a nearby mountain top sits the ancient, medieval ruins of Castelum novum.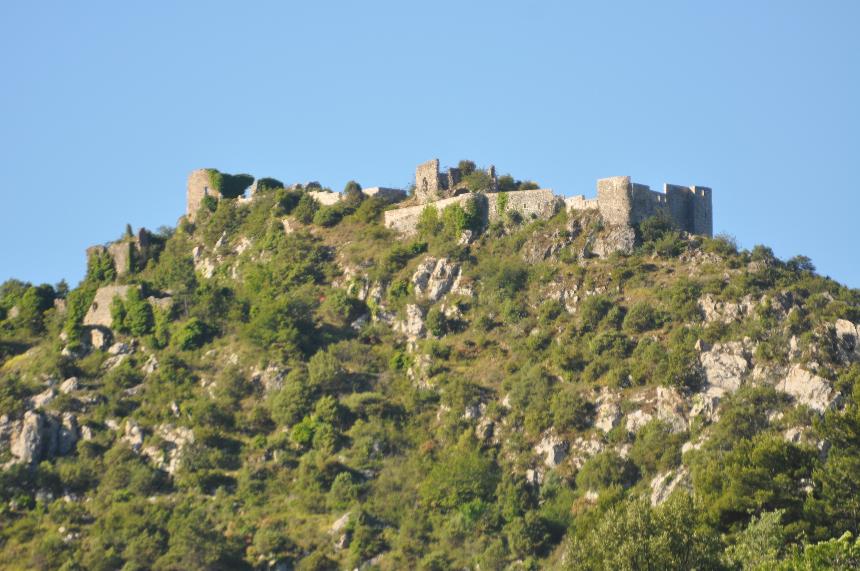 The 12th century church of Chateauneuf-Villevieille with its high, ochre-and-beige bell tower.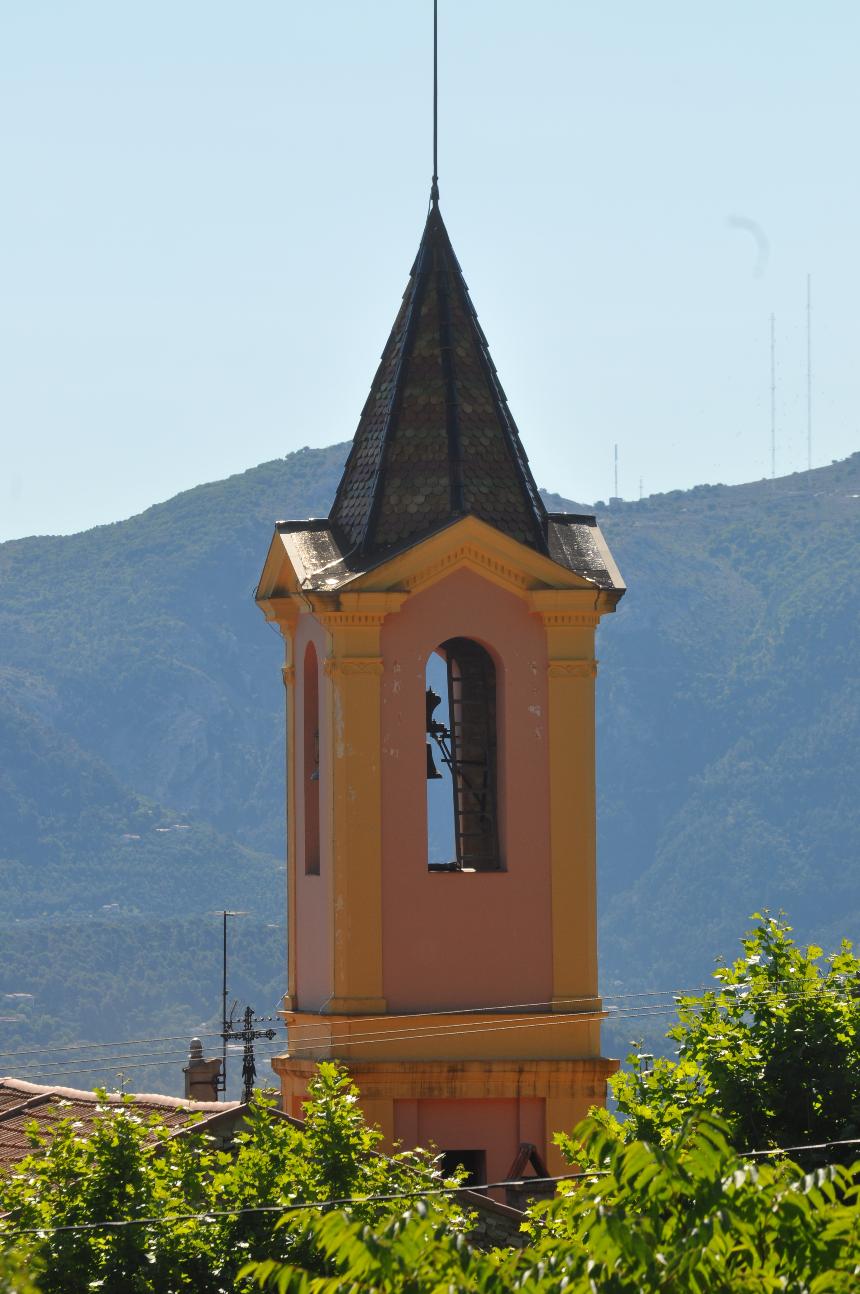 If only we had time for an early morning swim as did another guest.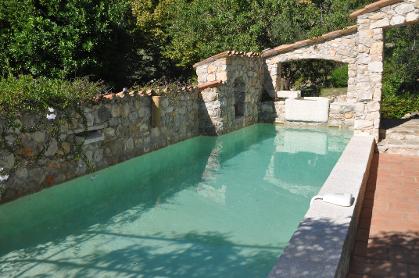 Freshly squeezed orange juice, fresh fruit, Swedish pancakes and a nice bread/pastry board.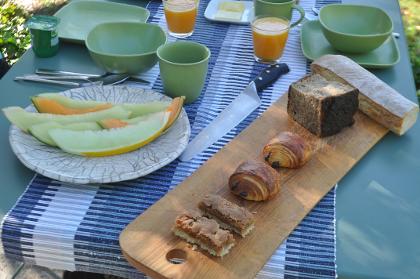 Enjoying that last breakfast under an olive tree.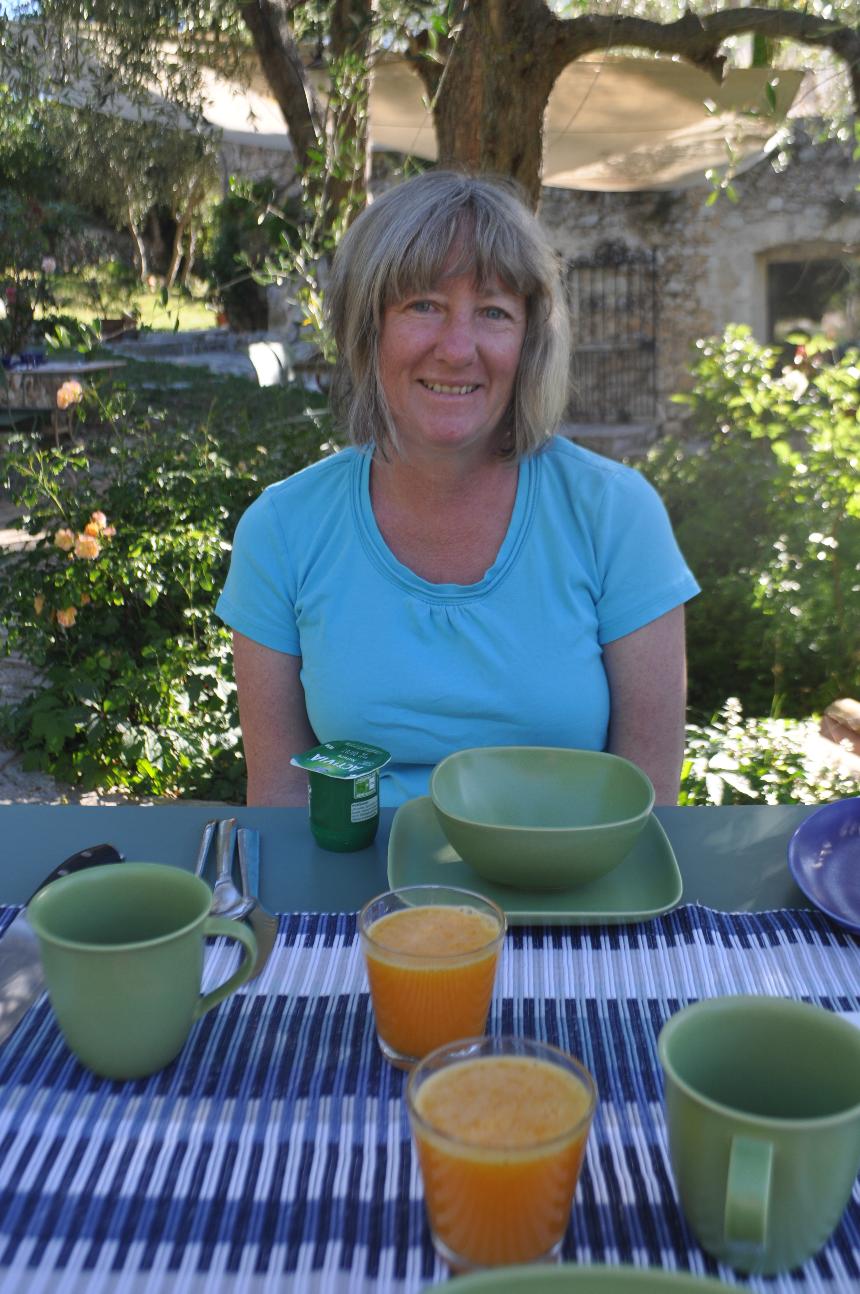 June 29, 2014 - Brignoles to Chateauneuf-Villevieille

Another morning; another nice french breakfast. A brief shower brought breakfast inside but it soon cleared up and for the most part was a nice day. We left Brignoles for a relatively long drive to Chateauneuf-Villevieille, in the hills north of Nice. The initial route took us through an area of vineyards north-east of Brignoles. A stop at a patisserie made our mouths water with the enticing pastries and pies available. The relatively flat drive through the vineyards soon changes as we approached the foothills of the Alps-Maritimes, passing through Grasse and then Vence. Although we did not stop we drove past what appeared to be the interesting (and touristed) village of St. Paul de Vence.
There is a valley running north-south on the west side of Nice, requiring a long and sometimes steep descent down the ridge, made all the more difficult by the fact there was a cycling race taking place. Across the valley (not particularly attractive with considerable industry) and it was immediately up again, turning and twisting as we ascended another of the Alps-Maritimes spines, finally making it to our destination La Parare, in Chateauneuf-Villevielle.
La Parare, originally an old stone farmhouse dating from the 1600s, is now a very tastefully renovated boutique guesthouse. Our bedroom, appropriately named La Chapelle, was small with convent like ceilings while the living area had a massive fireplace. But the most impressive aspect of our room was the bathroom. As Karin said with a house this old with thick stone walls one has to work with what one has. The bathroom was the largest room of the three with both a modern rain-shower and a very large bathtub. Interestingly the entire unit was done in a giraffe theme, which worked very well. While the most expensive (164 euros) place we stayed on the trip this is a first class boutique hotel. Although we did not have time to use it the small but beautiful pool set against stone walls was attractive. Set on a hillside La Parare has excellent views of the surrounding mountains although less so of the valley. The village of Chateauneuf-Villevielle sits on a ledge high above the river valley, with the 12th century church being the significant landmark.
Karin recommended we eat in the village of Peillon, only 14 km away, considerably less as the crow flies but over half an hour given the need to again drive a number of 'lacets', or hairpin switchbacks down into another valley and then back up the other side. The picturesque village was exactly as promised, very medieval looking on top of a high narrow rocky peak with a compact collection of grey stone homes and narrow little streets winding up and down through low, vaulted passages and sometimes by steep stairs. After an afternoon shower approaching the village was spectacular as the early evening sun served as essentially a spotlight on the village.
After a short wander through the alleys - being a pedestrian only village one can't really call them streets - up and down the steep stairs through a maze of stone buildings we made our way to the Auberge de la Madone, for our final dinner. Too cool to eat out on the terrace we enjoyed an aperitif of the on-site made bitter orange wine. The views from the terrace and the décor of the indoor restaurant were both impressive. Service was great. Unfortunately the appetizer was really not very good - a fried zucchini with virtually no zucchini and a sad excuse for a salad. My guinea fowl was quite good and the chef did go out of his way to make a pot of a large variety of vegetables for Gayle. Dessert was good and the wine, while expensive was very good. Regrettably the meal was over-priced for what it was but when one factors in the location and service it was a nice finish to our trip.
The return drive (down and up the effectively one-lane road mountainsides) in the dark took some nerve but we took it slow and returned with no problems.

Breakfast at La Bastide de Messine.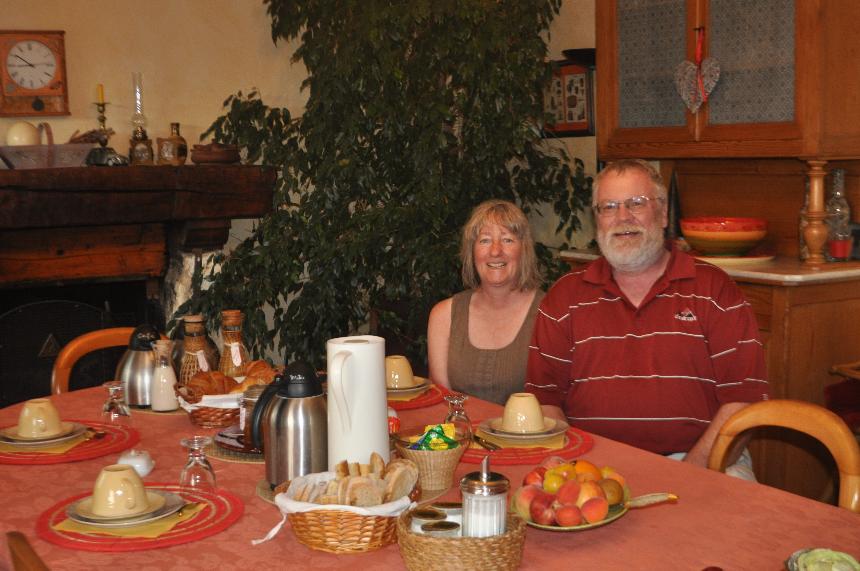 Passing through the vineyards north-east of Brignoles.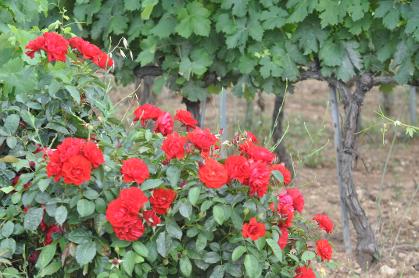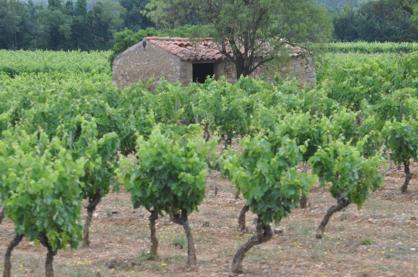 Yesterday it was goats; today a donkey.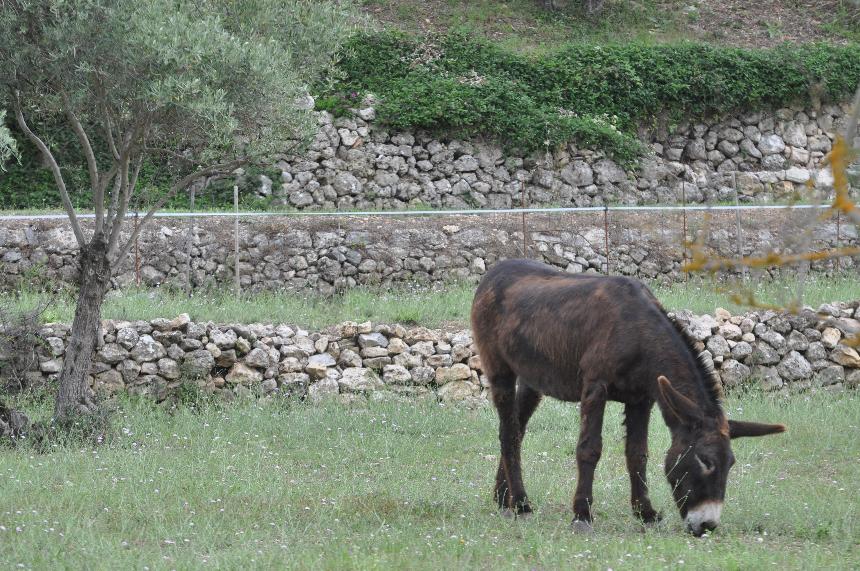 We stopped at a patisserie / boulangerie where we saw these fruit pies ... very tempting.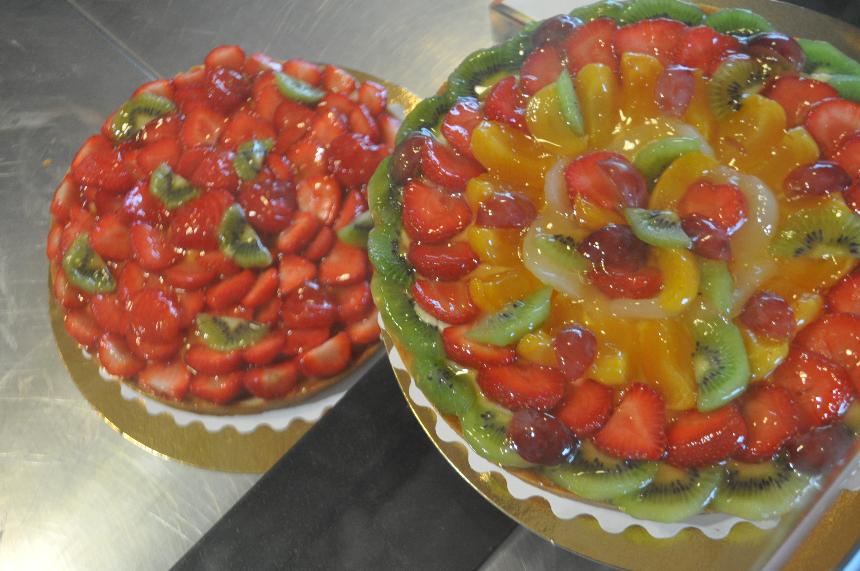 The baker baking the bread.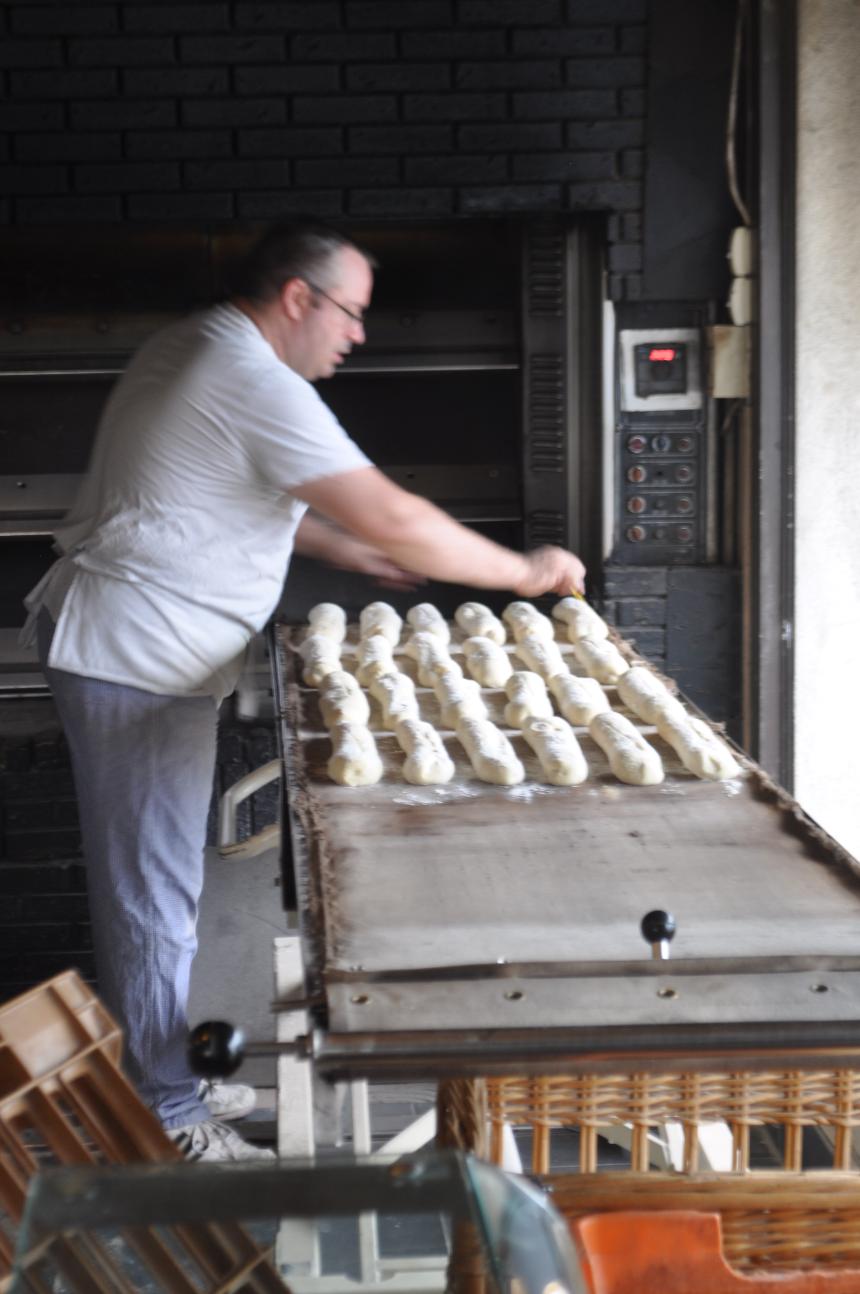 A nice seating area just outside our room with a view to the surrounding mountains and valley below and the small, but beautifully designed pool amongst the stone.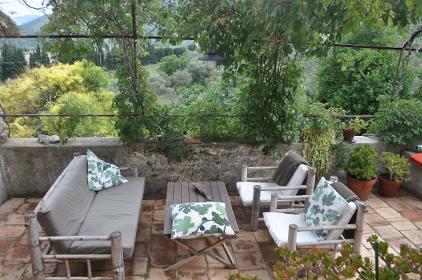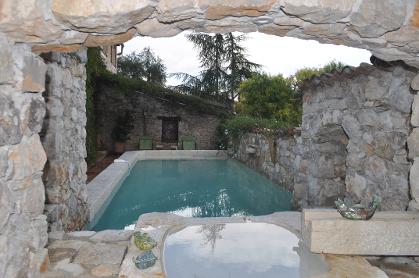 Our first glimpse of Peillon, almost as if a spotlight is shining on the village.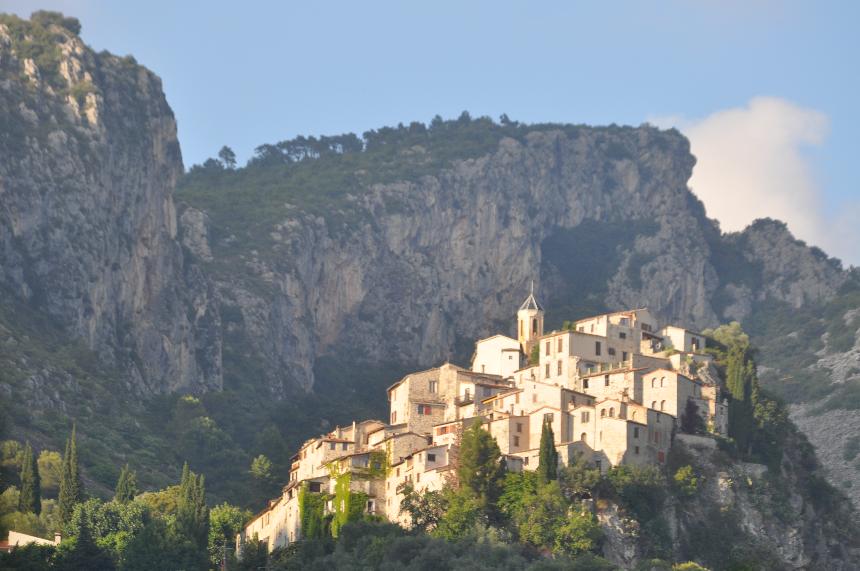 ... and as we get closer, continuing to ascend the "lacets" (hairpin switchbacks.)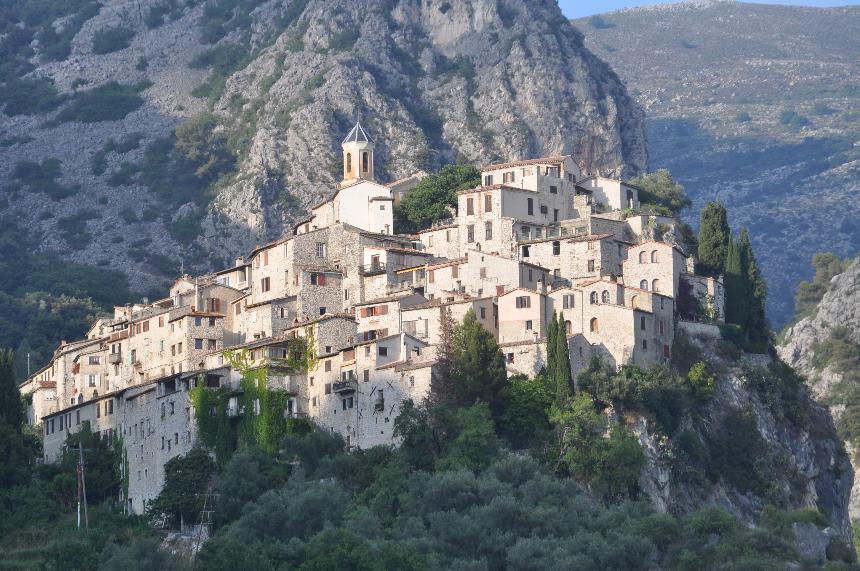 The church of Peillon, set amongst the stone buildings.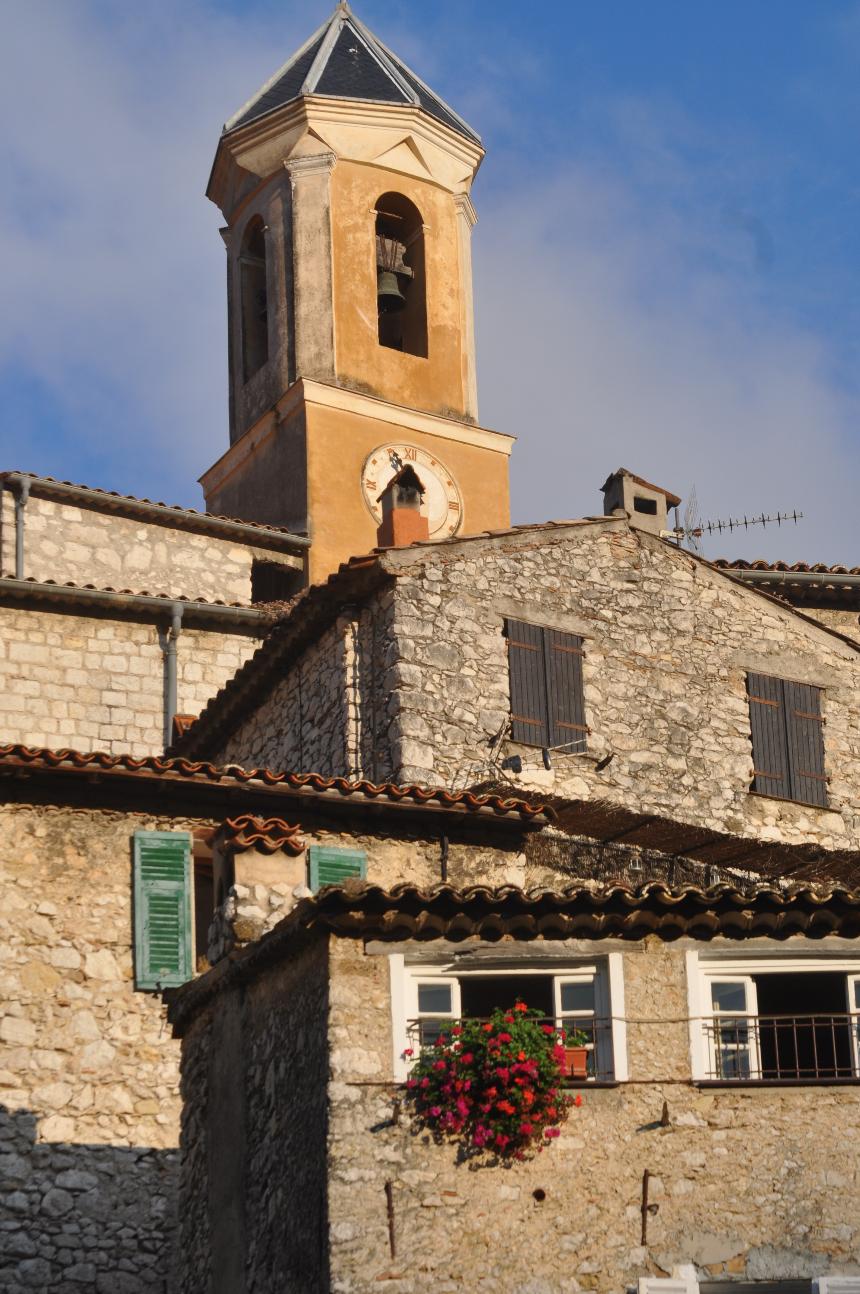 We were told the village of Peillon has many more cats than inhabitants.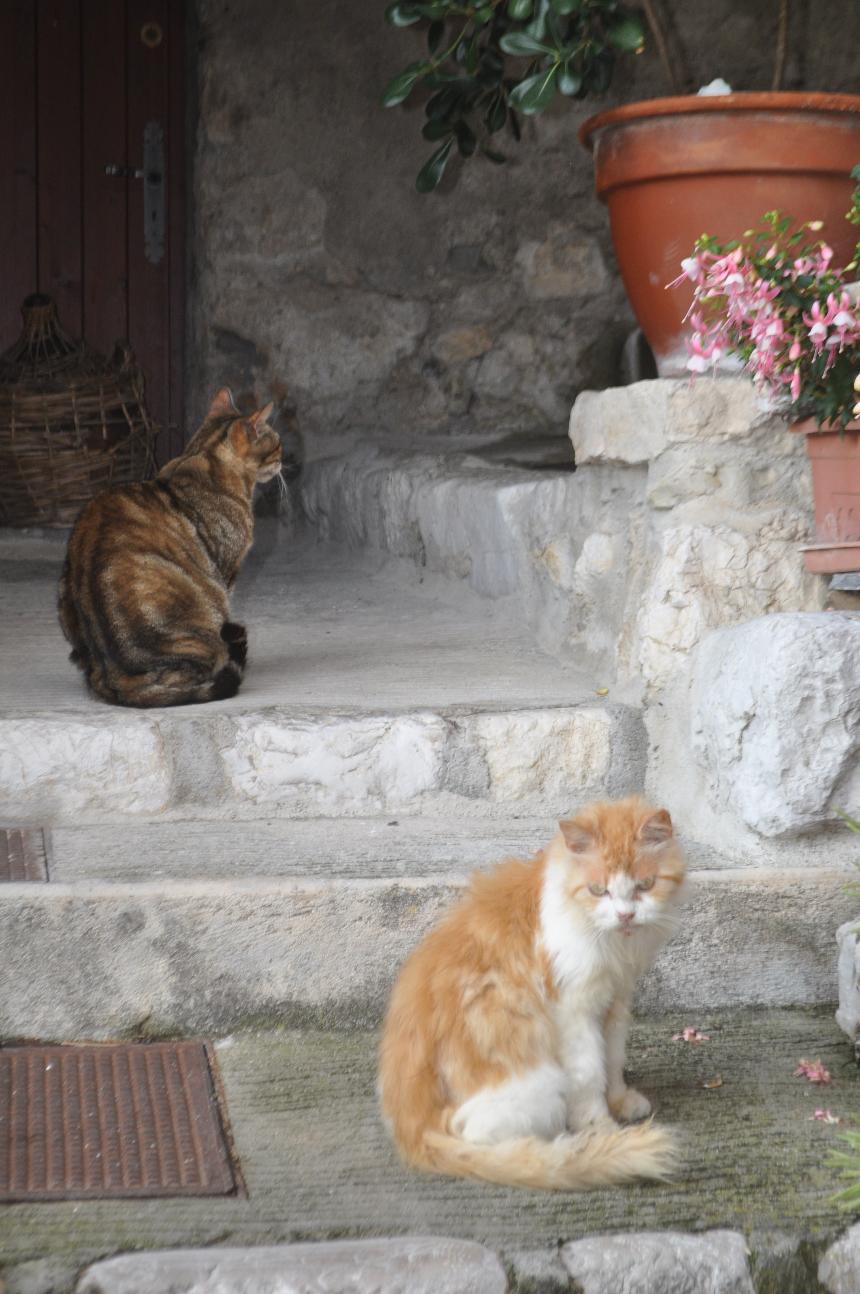 Gayle with her bitter orange wine aperitif.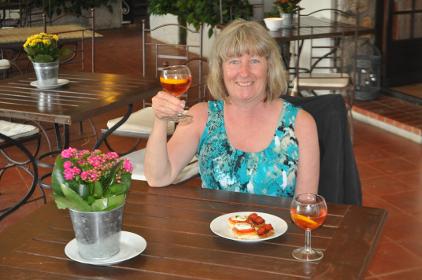 The beautiful interior of the restaurant with lots of copper.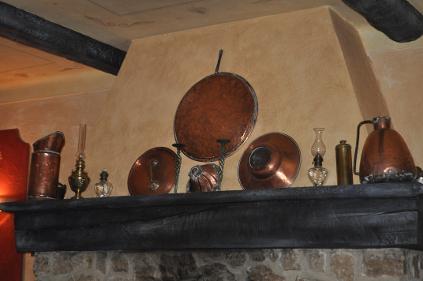 Enjoying our apertif on the terrace overlooking the valley. form the Auberge de la Madone.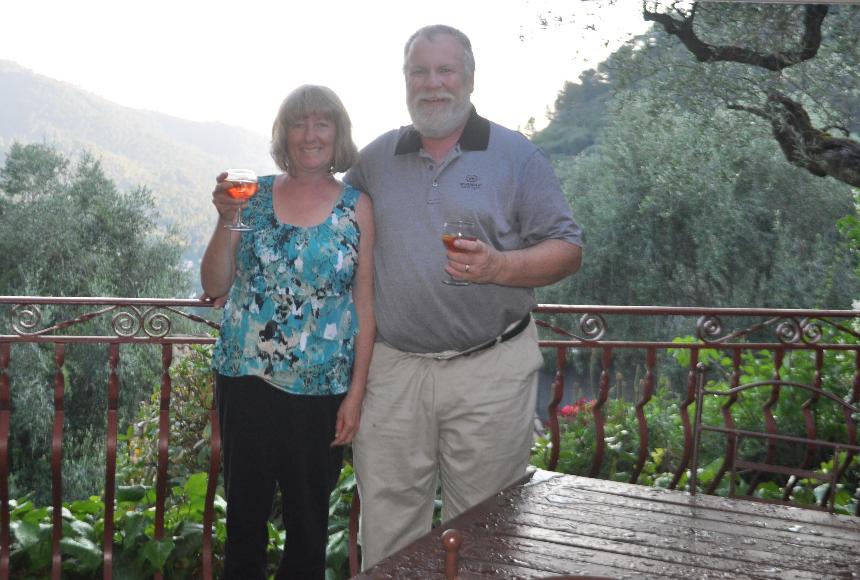 Guinea fowl with a cherry sauce, mushrooms and polenta.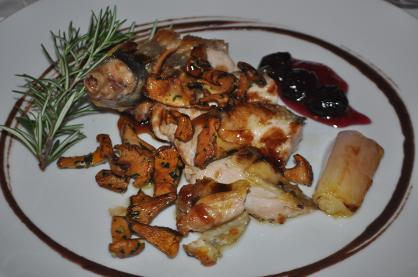 The French certainly take pride in the presentation of their desserts - nice plate as well.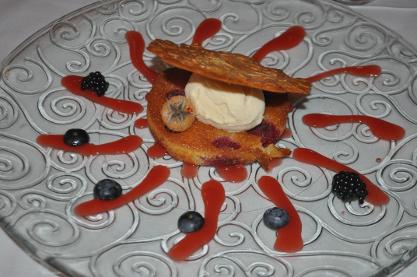 June 28, 2014 - Saint-Saturnin-Les-Apt to Brignoles


While every breakfast was good certainly the most varied and interesting were at Le Mas Perreal. From cherry pancakes to quiche to a Maitfaim, and apples filled sort of omelet, along with all the standard breakfast items - fresh bread, croissants, juice, café au lait, jams etc. makes for an enjoyable start to the day. There may be some culture shock when we return home to our normal coffee and a piece of toast.
Again it was difficult to leave such a nice place but leave we must. Rather than take the most direct route we chose to drive a bit north, around Forcalquier and then straight south to Brignoles, our stop for the night as we needed to return to Nice over the next two days. The drive of course took us past some more lavender fields but the real bonus was a fully in bloom sunflower field. Other than the odd sunflower here and there this was the only full field in bloom, and it was spectacular. We can only imagine what the fields will look like in a couple of weeks.
The afternoon was a drive through both open fields of wheat and corn and some forested areas, winding through moderate mountain gorges to Brignoles where we were very pleased with our stop at La Bastide de Messine, dating back to 1850 when it was a prosperous wine property that also included silk worm farming by the Ladies of the Bastide. General de Gaulle, a friend of one of the Generals who was one of the owners of the Bastide, slept here several times when he came to visit his friend in Provence. The Bastide has been operated as a guest house for 11 years now. We had some time to relax in the afternoon so I took a dip in the pool and soaked in the afternoon sun.
We were somewhat concerned about Nelly's dinner recommendation based on the lack of diners - there were only two other table in quite a large terrace, let alone the indoor area. But we stayed anyway and glad we did as I had perhaps my best meal of the trip (although the first family dinner in Corse and the Michelin meal in Robur would be close behind). The chevre appetizer (Gayle had the same) was good, although not all that large, which had me a bit worried about my plats. But my lamb main course as beyond excellent - a large serving presented beautifully with vegetables in each corner, and the desserts - both were outstanding, again both in presentation and taste. An excellent dinner.
A carved cantaloupe then filled with a cold cantaloupe soup.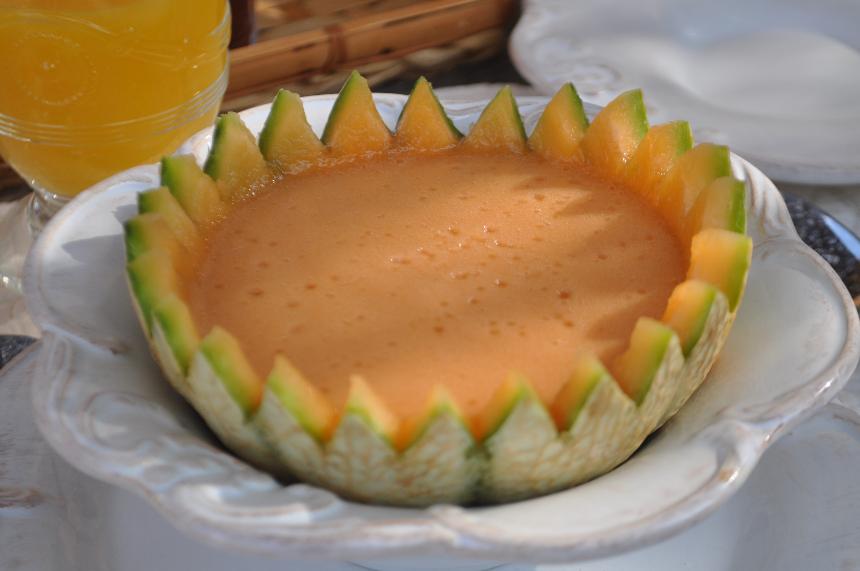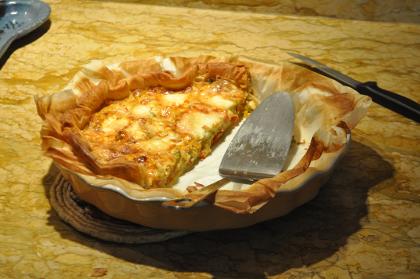 ... and this the Maitfaim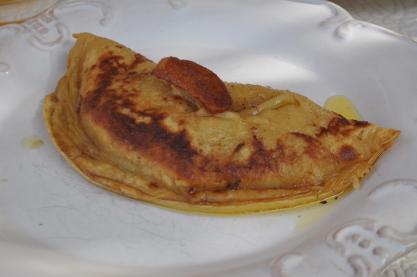 The pool and vineyards at Mas Perreal with another Mas beyond.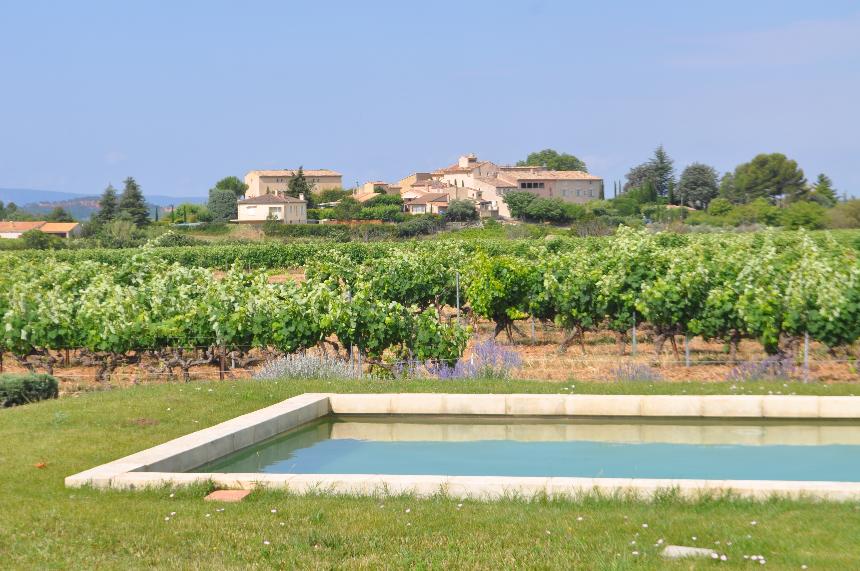 I know that I sort of promised no more lavender photos but here are a final two - promise ... for real.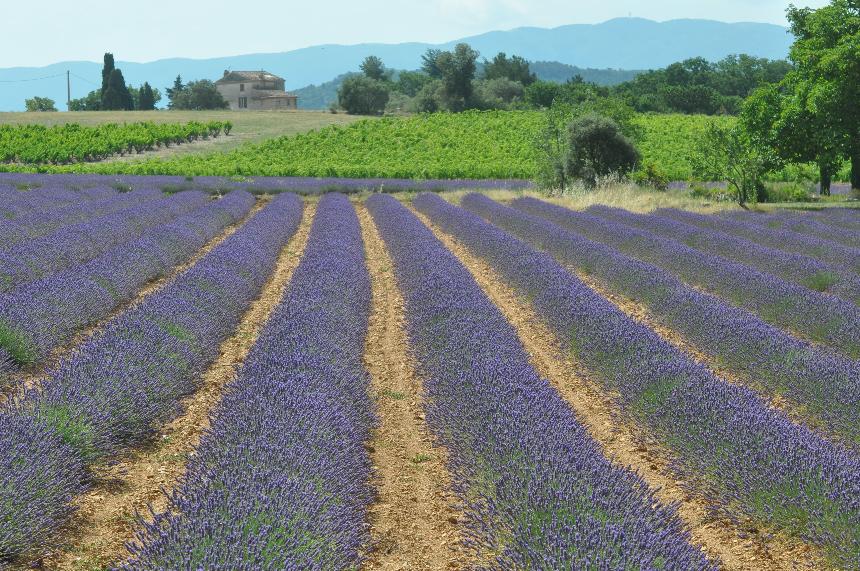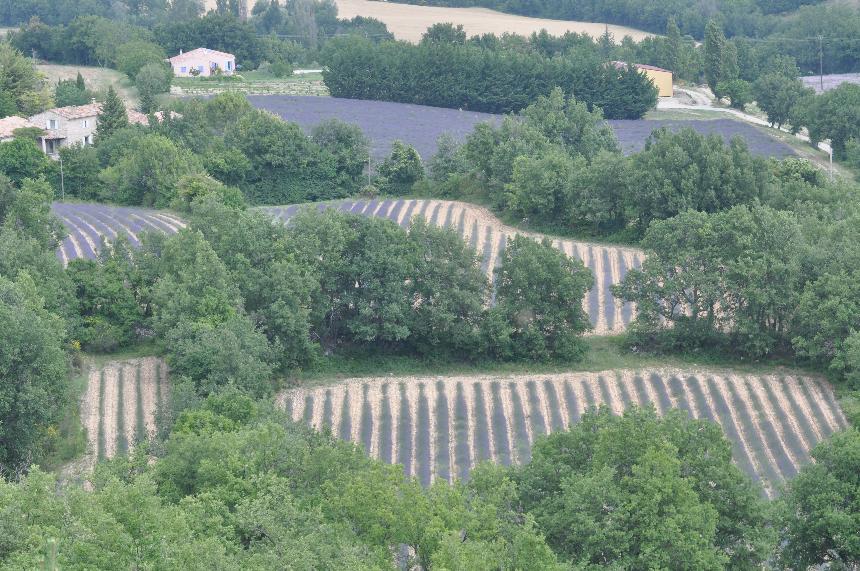 Lots of goats and a stone building - I guess I just like the animals and the stone buildings.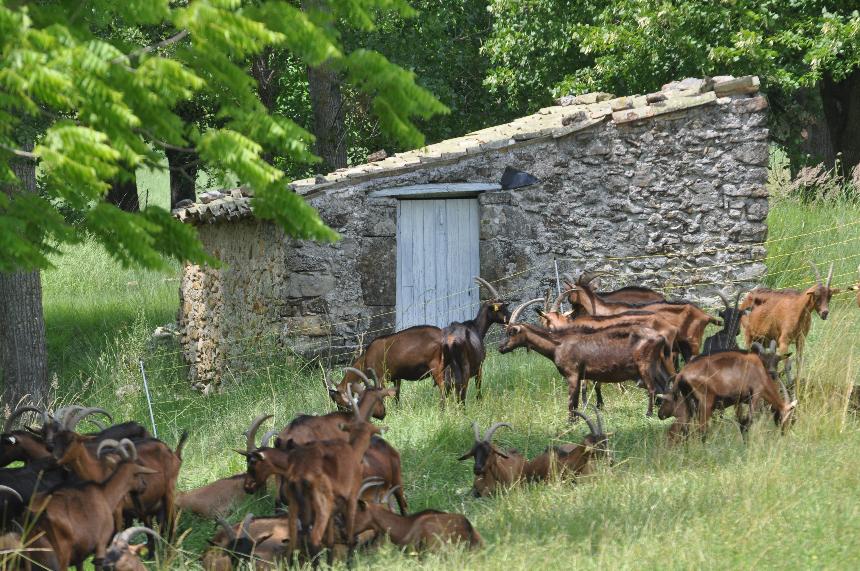 For some reason (a micro climate?) we passed this one (and only one) field with the sunflowers in full bloom.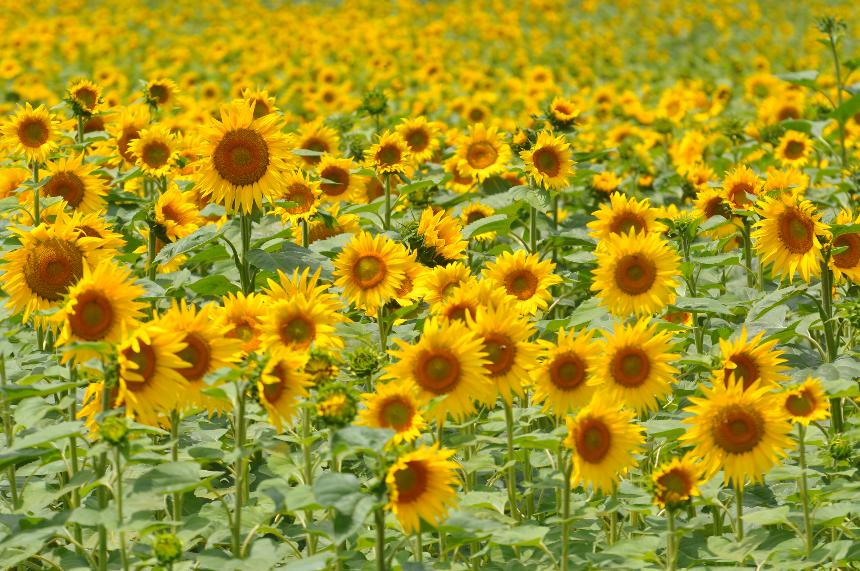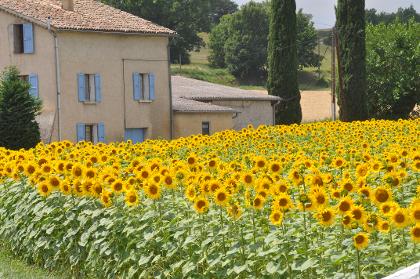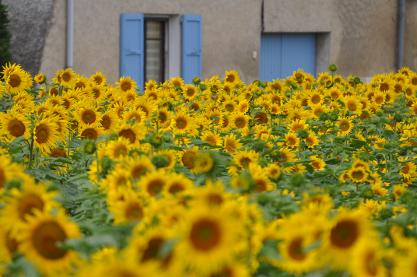 La Bastide de Messine - with its nice pool and attractive shutters on an ivy covered wall.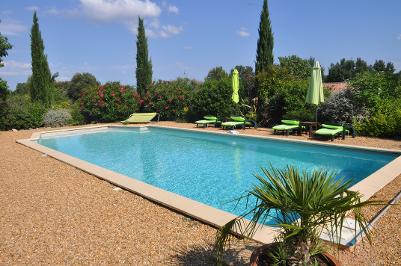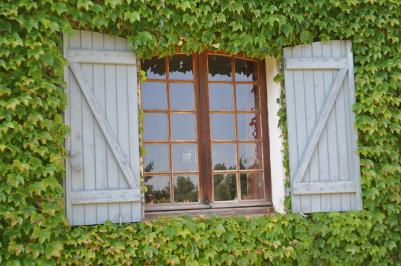 For me possibly the nicest dinner of the trip, with excellent food both in terms of presentation and taste.
We both had the same appetizer, a duo de chevres, one baked in kadaif (a Mediterranean filo-like pastry) and the other on the toast, along with a small salad.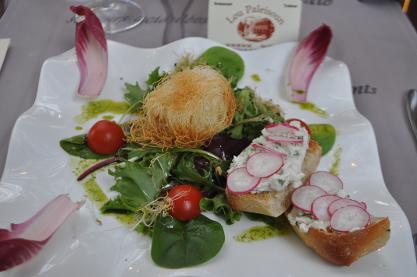 The provencal flavoured millefeuille of chickpea pancake and mountain raised lamb was beautifully presented, and delicious. Simply excellent.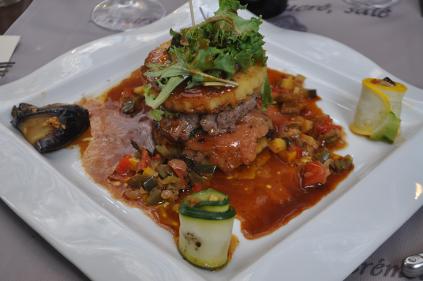 Desserts were absolutely wonderful - on the left my Macaroons glaces aux fruits and on the right Gayle's Moelleux chocolat coeur chocolat blanc; again very attractively presented and tasty.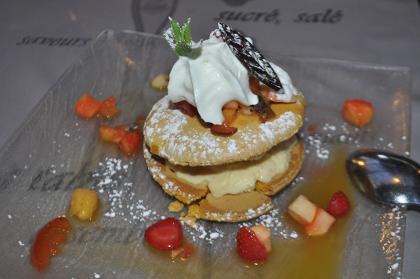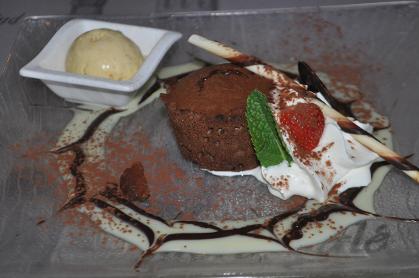 June 27, 2014 - Saint-Saturnin-Les-Apt with a trip to the Lourmarin market



Another nice sunny day we enjoyed another leisurely wonderful breakfast, this time including a delicious quiche, along with another bowl of tasty fresh mixed fruit. Eventually we got on the road and made our way past Apt and over a small mountain range to Lourmarin, another very attractive Provence village where the Friday market was taking place. This market was considerably larger than yesterday's although apparently still much smalller than those in Apt and Aix-en-Provence.

As the market and stores were closing as 1:00 pm approached we wandered through the winding streets of the village, eventually stopping at a cafe for drinks again. It is interesting just to sit and watch the people come and go. The cafes are packed here, particularly on a nice warm sunny day. The money the French must spend on lunches and dinners is hard to imagine as restaurants and cafes always seem busy.

After leaving Lourmarin we took a circuitous route back to Mas Perreal, through a number of other small Provence villages, past Gordes to an Abbey where the lavender fields are supposed to be spectacular ... they were anything but (although we saw some other nice fields a short while later, set against rows of grape vines).

We returned to Mas Perreal where we had a small snack with the leftover food and wine from our picnic dinner the previous day. Then after a dip in the pool and some relaxing sun time we went to dinner again in Saint-Saturnin-Les-Apt at a restaurant with a terrace providing wonderful views of the valley below. The meal was generally good although the gazpacho was nowhere near as good as the one I had a few days earlier. That said Gayle's salad had a nice helping of asparagus and interesting the in-season cantaloup while my duck with also in-season cherry sauce was excellent. Gayle also very much enjoyed her dessert, a Bombe glacee au chocolate noir.



Gayle particularly like this photo of our attractive bathroom door reflected in the attractive bathroom mirror.



The market had everything from clothing to pottery to other crafts to fish and meat, bread and lots of fruit and vegetables.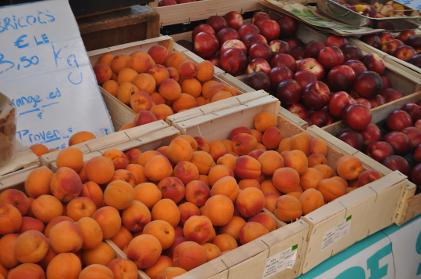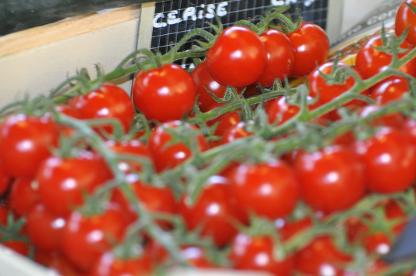 ... and olives ... and tepenades; this one of the right attractively displayed with Santon dolls and lemons encircling a large bowl of olives.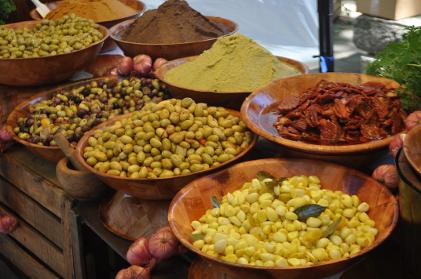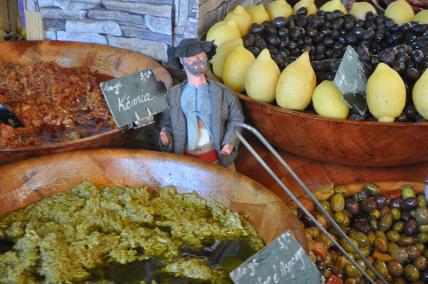 ... and cheese ... lots of cheese.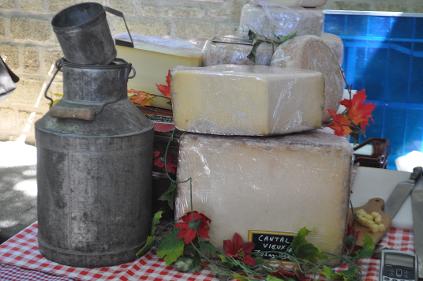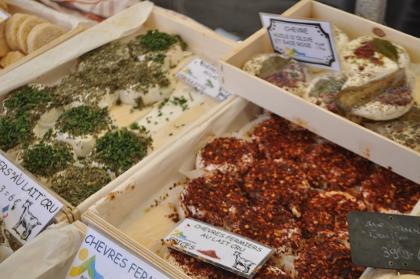 It must be World Cup time - look at the size of that flag!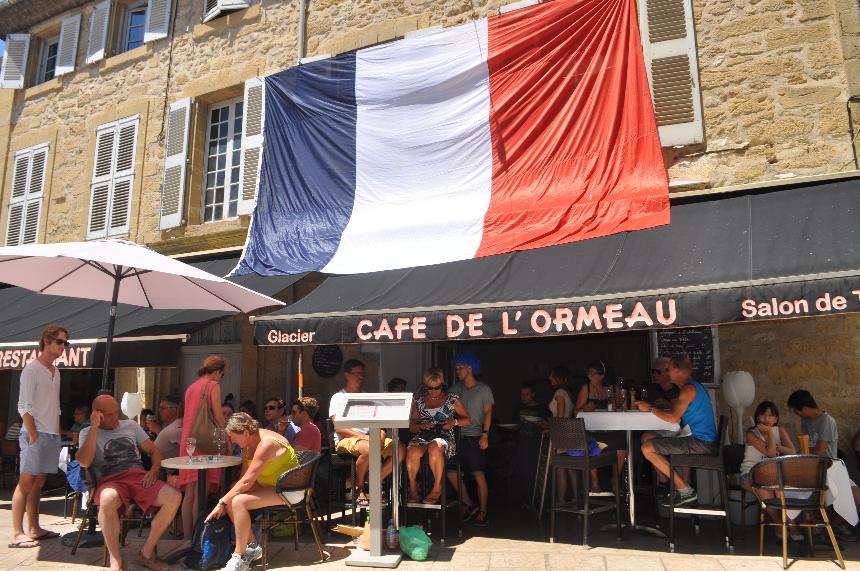 Enjoying another citron pressee at another cafe.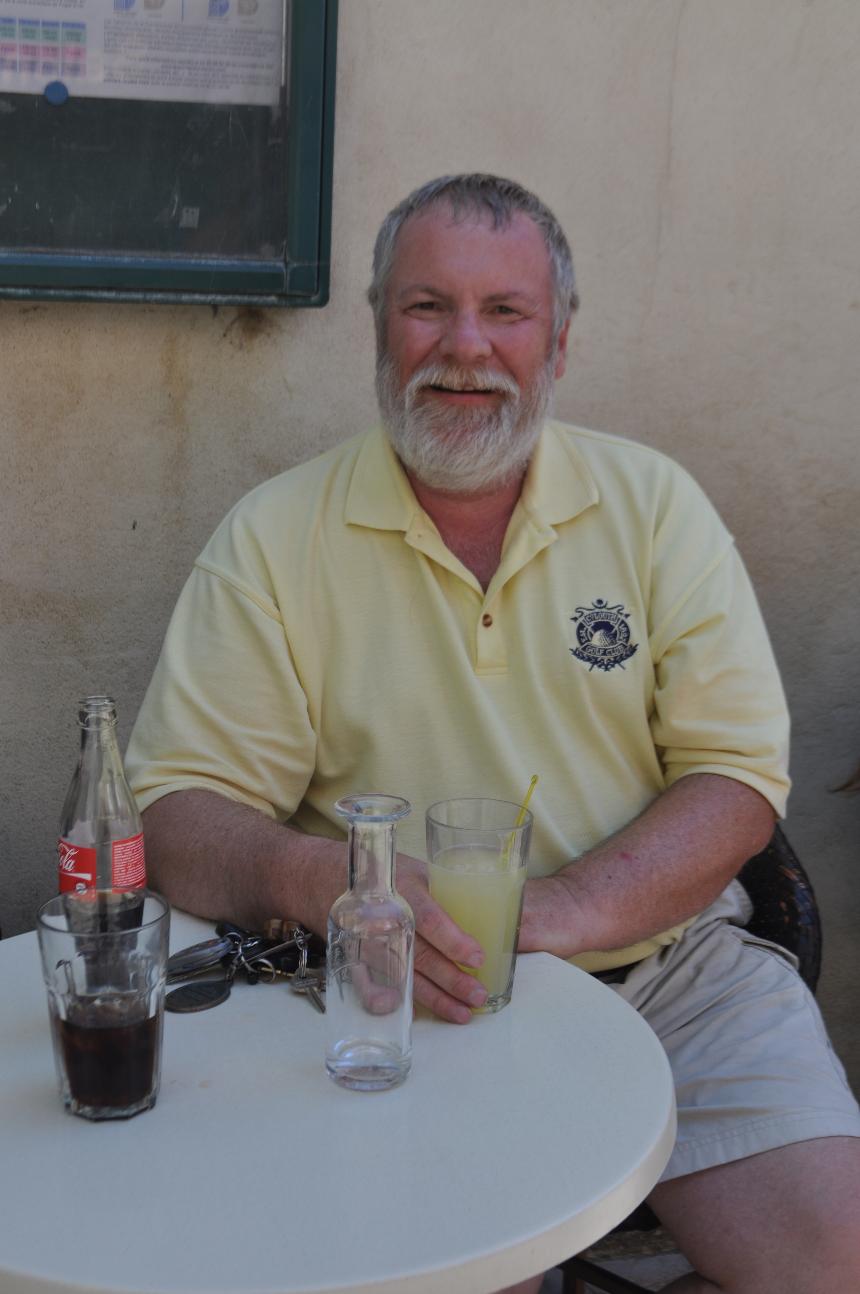 The French certainly love their cafes. On a nice sunny day they are full throughout the lunch hours, as well as most of the rest of the day.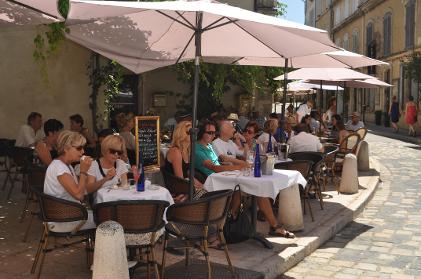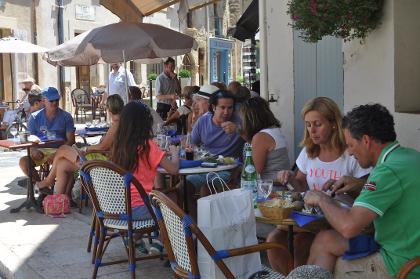 Shops in the small villages are most often well decorated in front, this time with a nice display of lavender.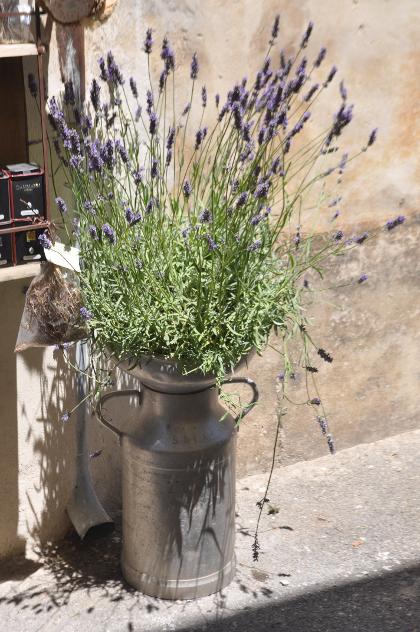 Still too early for the sunflowers we did come upon these in front of one of these circular stone huts we have seen in the area.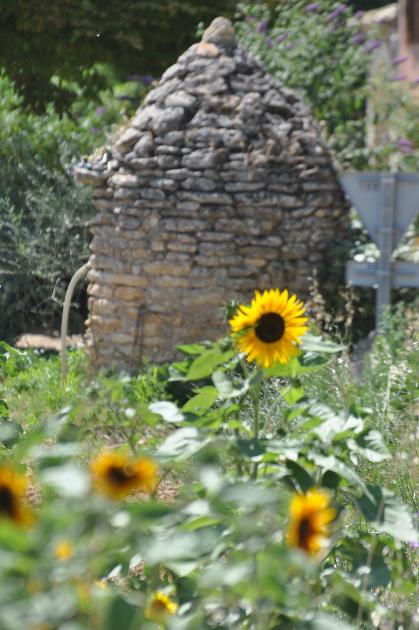 We know you are no doubt tired of more lavender field photos but it is lavender season in this regions of Provence and they are generally in full bloom, these next to grapes vines so more lavender pictures you will have to endure.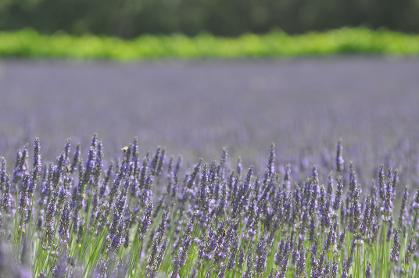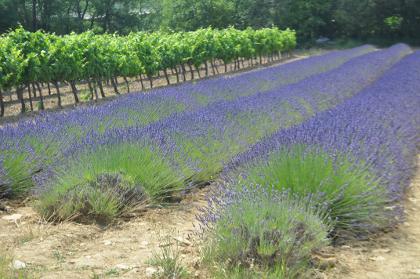 Upon returning we had another petite picnic, finishing off the left-over food from yesterday.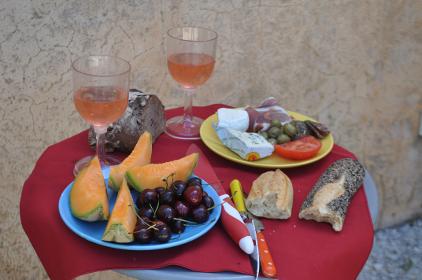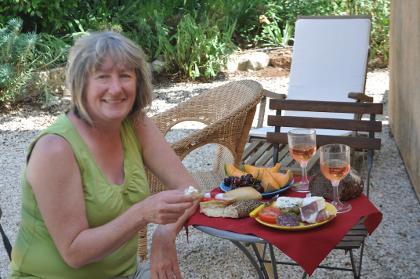 Dinner included another gazpacho that was only mediocre but an excellent duck with cherry sauce and chocolat dessert.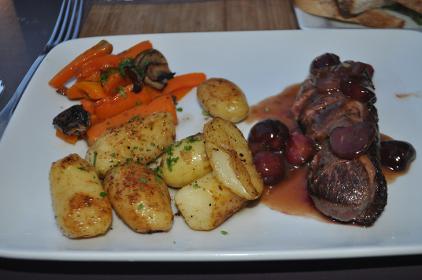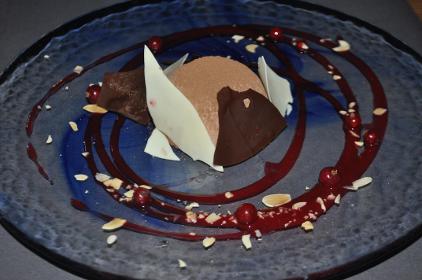 June 26, 2014 - Saint-Saturnin-Les-Apt with a trip to the Roussillon market


Breakfast here at Mas Perreal is somewhat different than the others we have had in France in that in addition to the coffee, juice, breads and jams there is a hot dish served, today cherry (picked on the farm) pancakes, with Quebec maple syrup. As well a beautiful fresh bowl of fruit. The area is famous for its canteloups which show up in many dishes including dinner salads.

After breakfast we drove the 12 km to Rousillon, a down famous for its red-ochre cliffs and stone for the market. Actually somewhat disappointing in that it was very small with for example only one cheese vendor, only one meat vendor etc. The village itself is very walkable and pretty. We stopped in the main square for a drink in a cafe where we both had a citron pressee, essentially very rich pure lemon juice, sour as can be but a very intense flavour. One can cut the lemon with water and add sugar in order that it is a bit more drinkable. It was a nice stop to simply watch others in the cafe or the many tourists and locals wandering through the streets.

We decided to take a night off from restaurant dining, buying some cheese - a fresh goat's cheese and a piece of Roquefort, some meat (jambon and saucisson), olives, tepanade (olive and artichoke), a tomato, a couple of pastries and bread of course to go along with our wine and cherries. In the warm evening sunlight we set out our spread on our terrace and enjoyed a stay-at-home picnic meal.



Roussillon is known for its ochre-rich earth, used by the Romans for producing pottery glazes. These cliffs are just off the street in the centre of the village.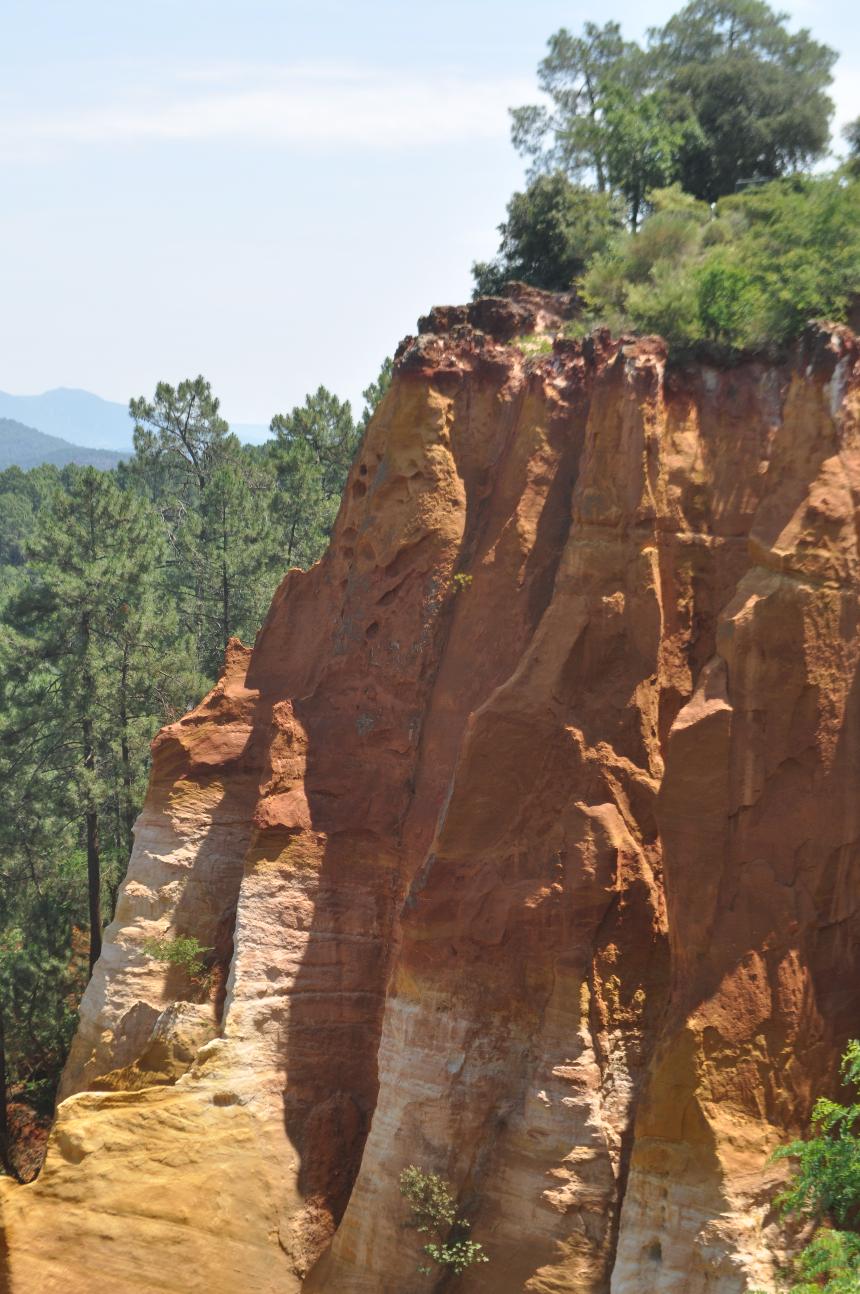 Most of the buildings, and apparently even gravestones, of Roussillon reflect the ochre colour of the reddish stone prevalent in the area.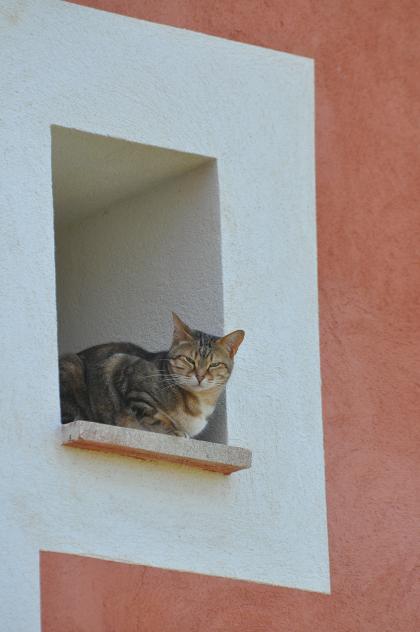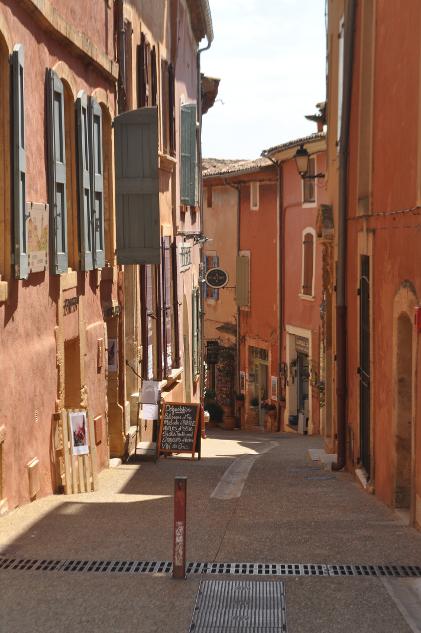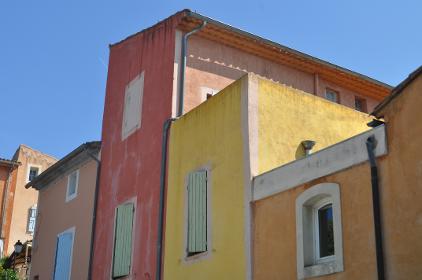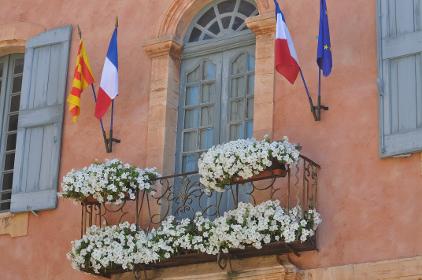 We stopped into a cafe (outdoors of course) for a couple of drinks - citron presses.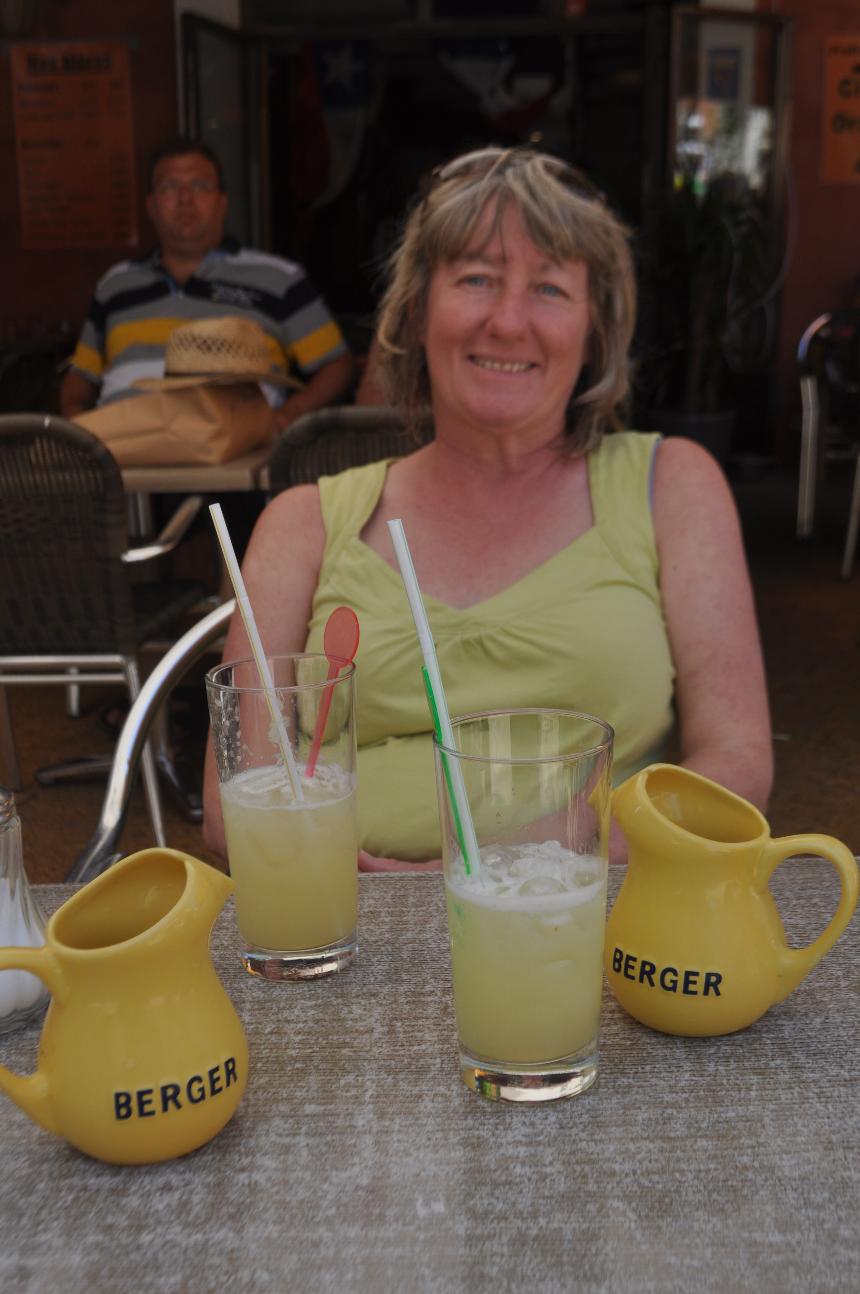 The French certainly know how to look after their dogs - especially those that can read.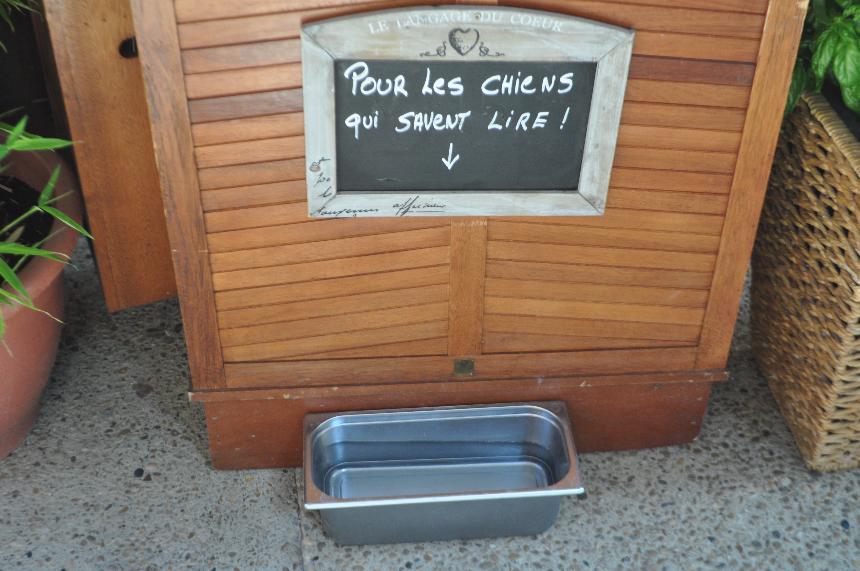 The market in Roussillon is certainly not the largest we have been to but it did have one of most things, including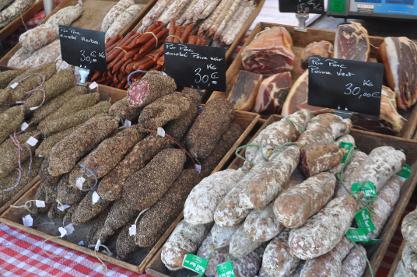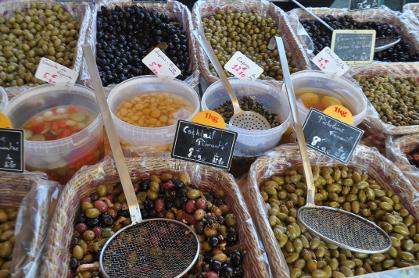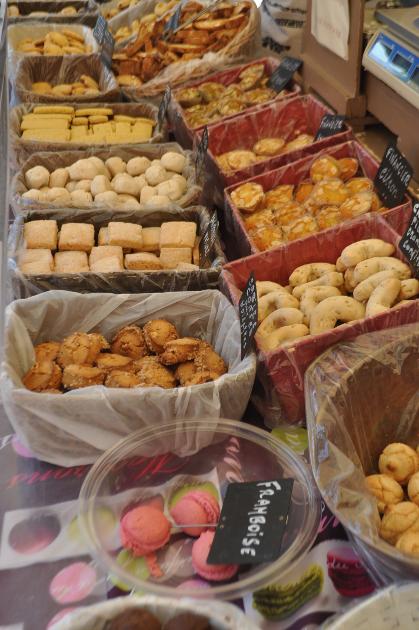 ... and spices and more spices -.a great aroma.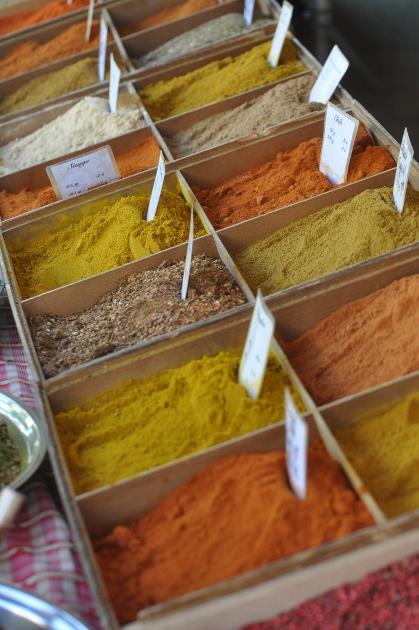 The French are known for setting up a picnic just about anywhere. This one was actually in the parking lot when we returned from the market.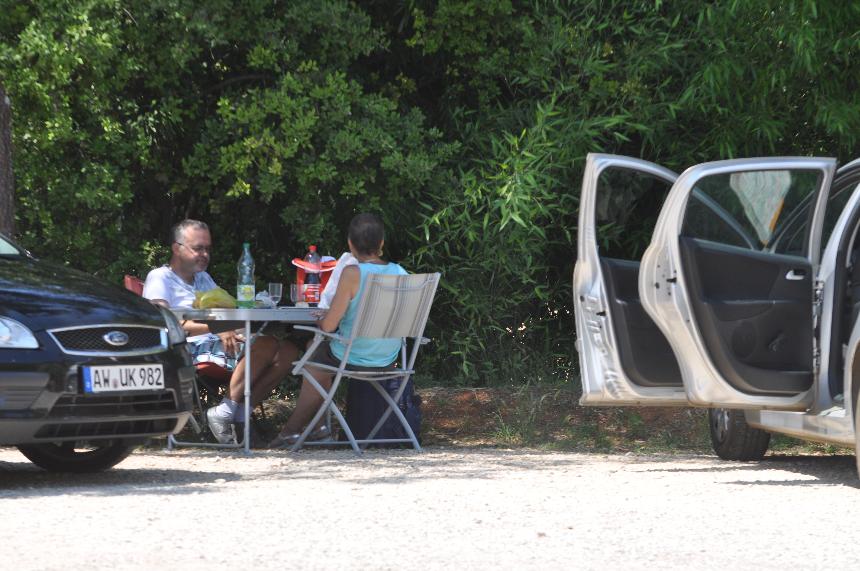 The beautiful Mas Perreal.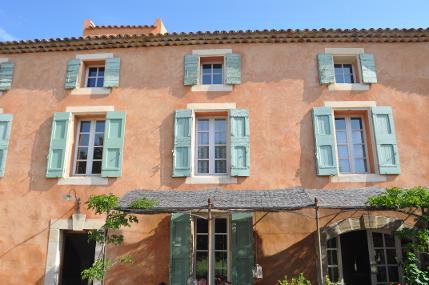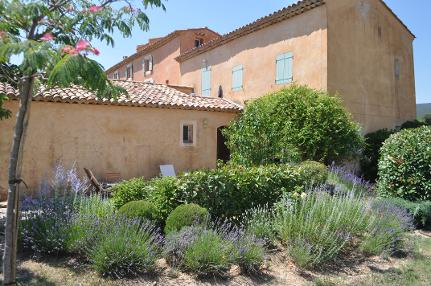 Our large private terrace.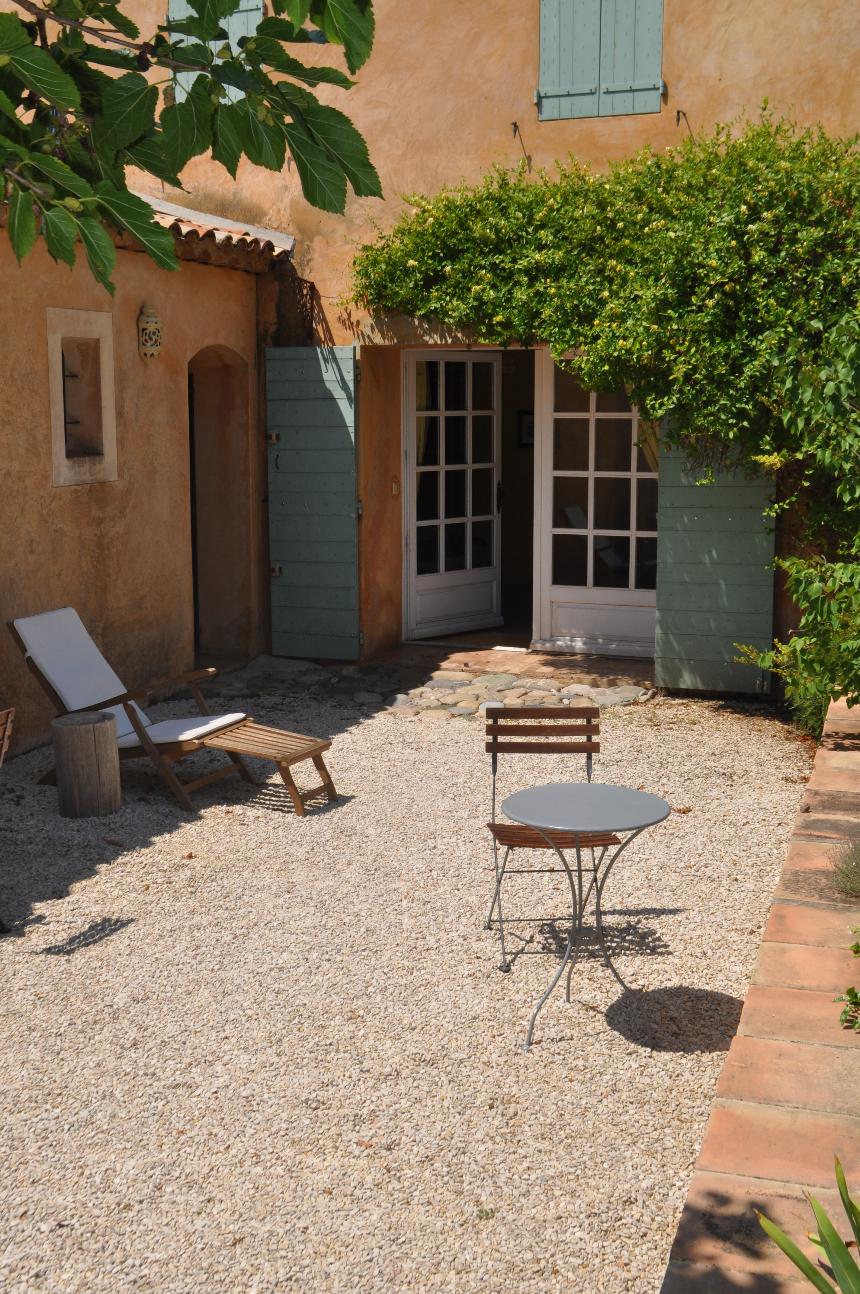 A 'picnic' dinner - bread, cheese, meats fruit, wine, olives, pastries, cakes - very nice.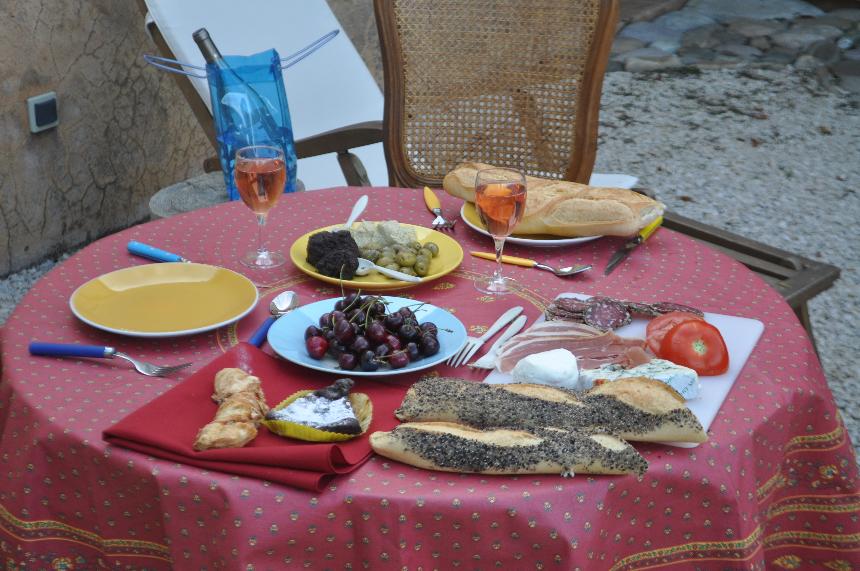 June 25, 2014 - Saint-Laurent-du-Verdun to Mas Perreal, Saint-Saturnin-Les-Apt


So much for the sound sleep. Last night there was a huge lightening and thunder storm with heavy rains - we understand there was significant damage due to floods in Grasse. We enjoyed another nice breakfast, this one with some meat and cheese and a Swiss meusli with a couple from Germany and four young ladies from Taiwan. We spent a considerable time chatting with Tom and Barbara about Les Colombiere - a 'colombiere' is a pigeon with the pigeon coup part of the building having been apparently quite prized, being granted in the day by none other than the king, and the Taiwanese girls about their traveling, Taiwan etc. Before we knew it it was noon.
And then the first phase of our drive turned out to be quite slow as we drove by fields and fields of lavender, the next more photogenic than the last as well as a number of small quaint villages. After Manosque and Apt we turned north to just outside Saint-Saturnin-Les-Apt where we will spend the next three nights at Mas Perreal. The farm is beautiful with a beautiful decorated room, a great private terrace and a nice pool. We enjoyed a welcoming drink along with a couple of pastries we bought in Apt and some cherries we purchased from a fellow selling along the road - a kilo of delicious fresh cherries for only 3 euros.
Being a nice warm sunny evening we decided to walk the half hour into Saint-Saturnin-Les-Apt, taking us by vineyards, cherry trees, some very nice stone homes and a windmill. We had a nice, although not fantastic dinner at a small family run restaurant. The walk back (this time downhill) to Mas Perreal provided some much needed exercise.

The 'colombiere' or pigeon roost at the end of the stables associated with the chateau.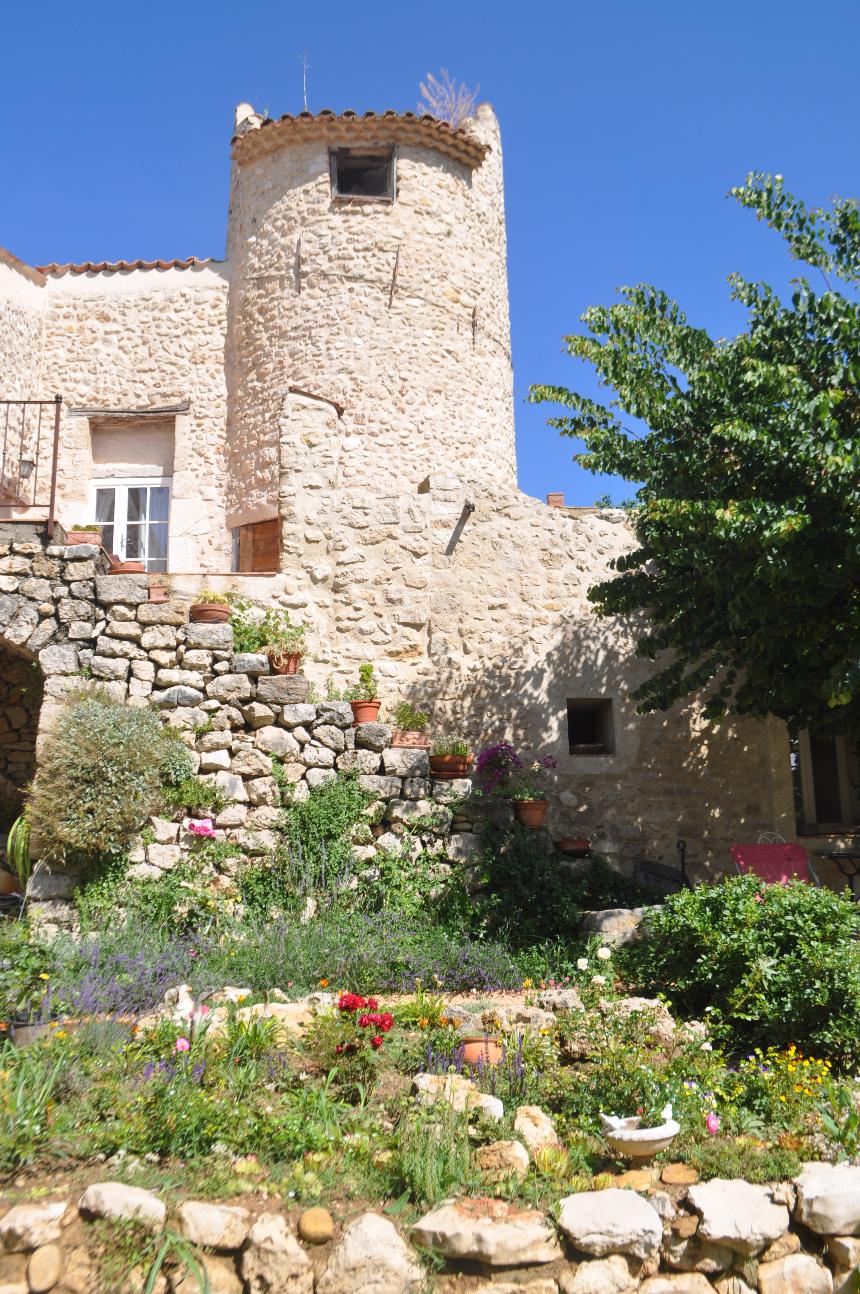 There were four Taiwanese young ladies staying at Les Colombiere. We chatted with them over breakfast and afterwards as each of us were busy taking numerous photos. Very nice young ladies we have from left to right Emily, Ming, Tracy and Mia.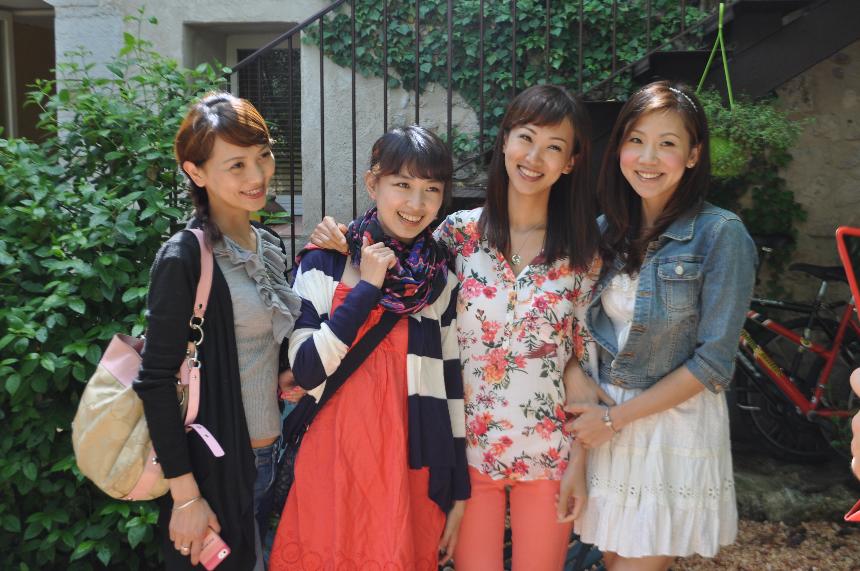 Yes more wildflowers but the fields are full of colour this time of year.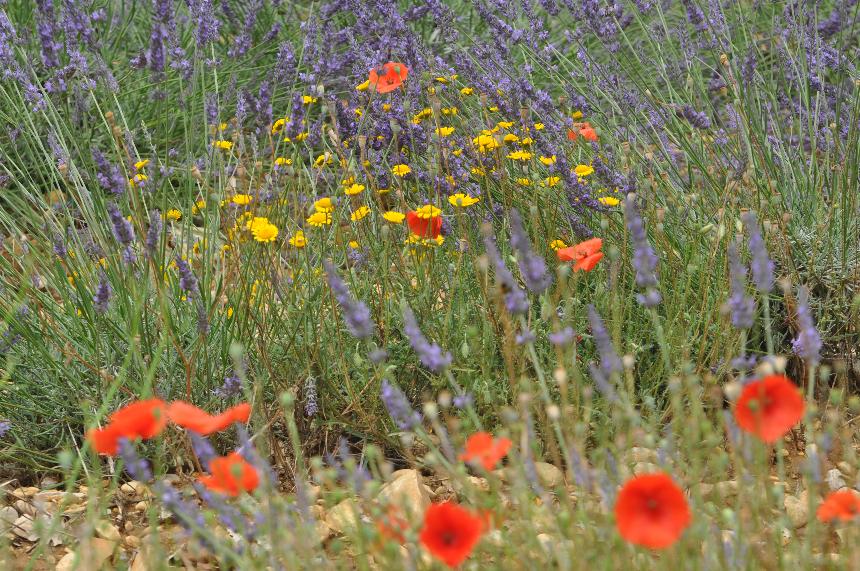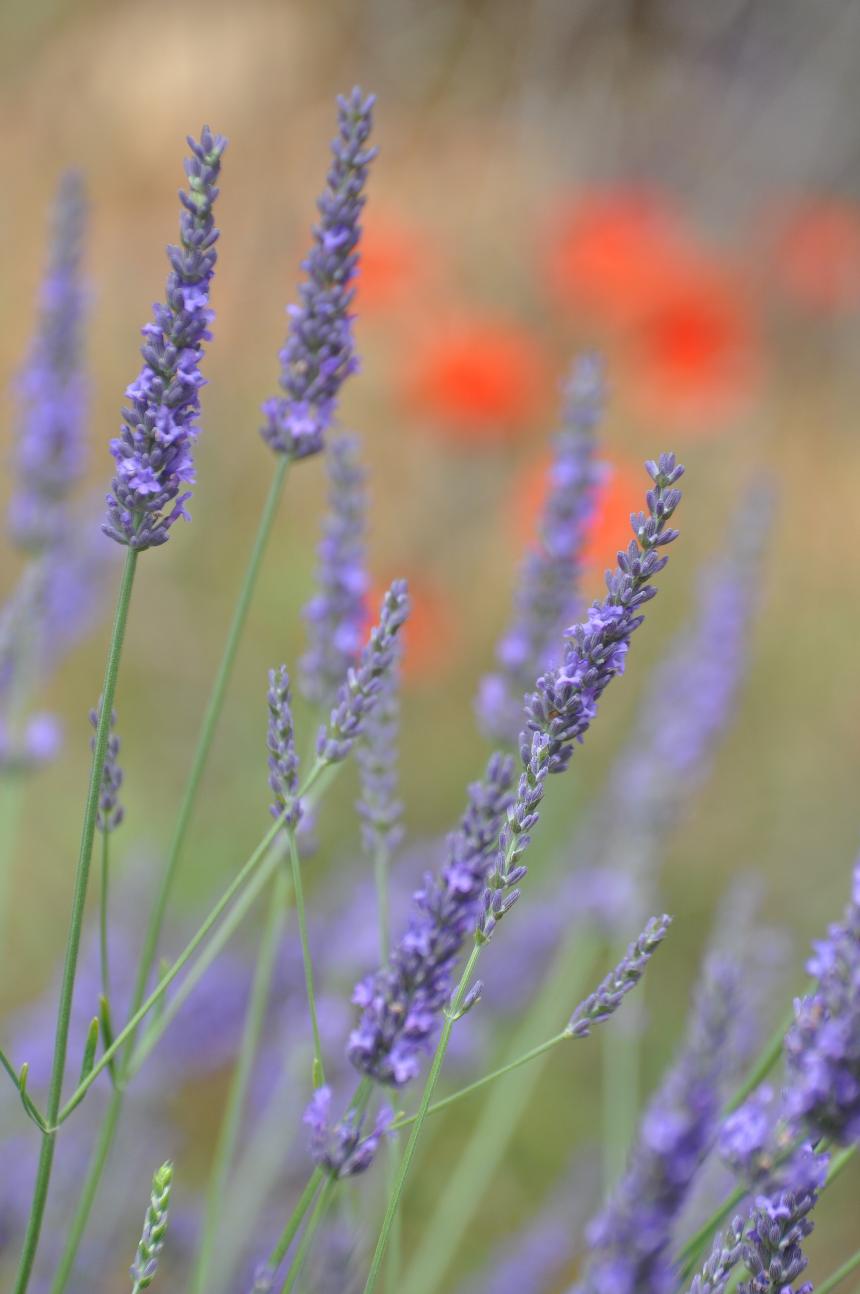 Every field seemed more impressive than the last, and had us stopping numerous times.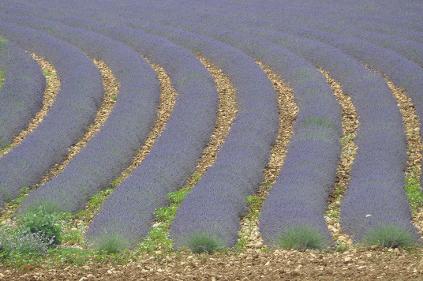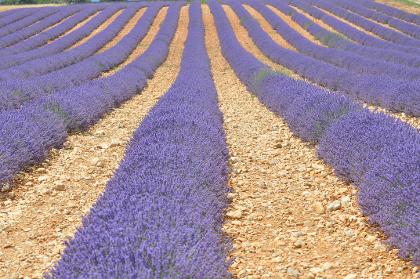 Gayle said if I put a photo of her in front of the lavender in the blog I had to include one of me ... so here we are.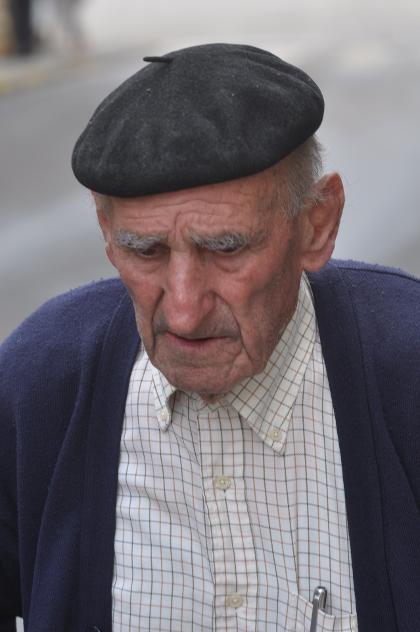 Roadside wild flowers on the hills overlooking Lac Ste Croix - and yes the blue behind the flowers on the left is the lake, not the sky.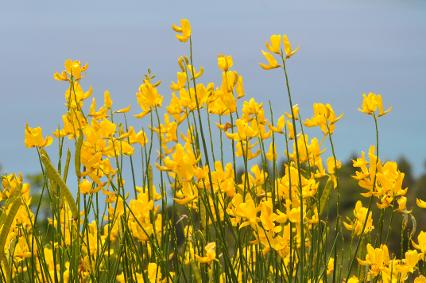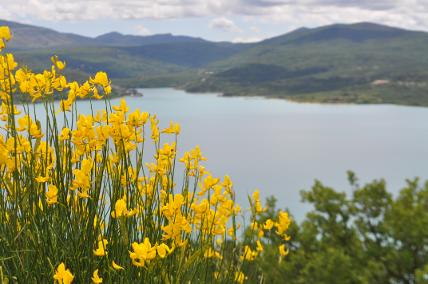 Every day ... actually every village and every few hundred meters brings more brightly painted and attractive shutters.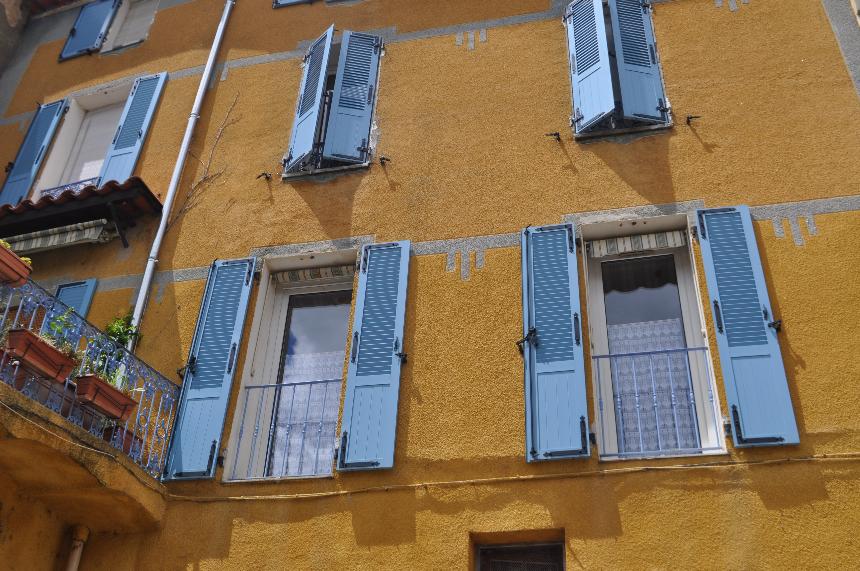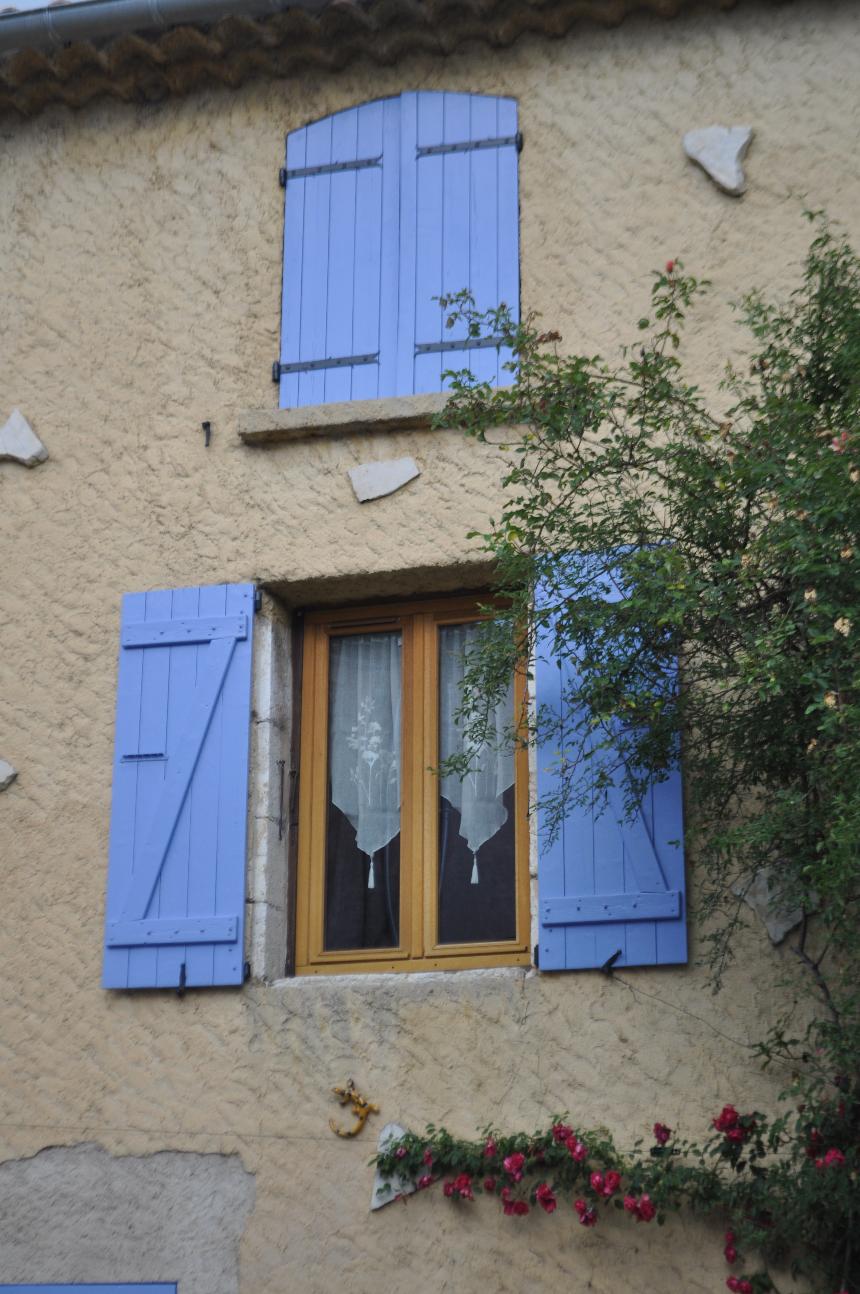 There are places in Provence where the trees are strung along both sides of the road creating a canopy and a tunnel as the branches and leaves grow together.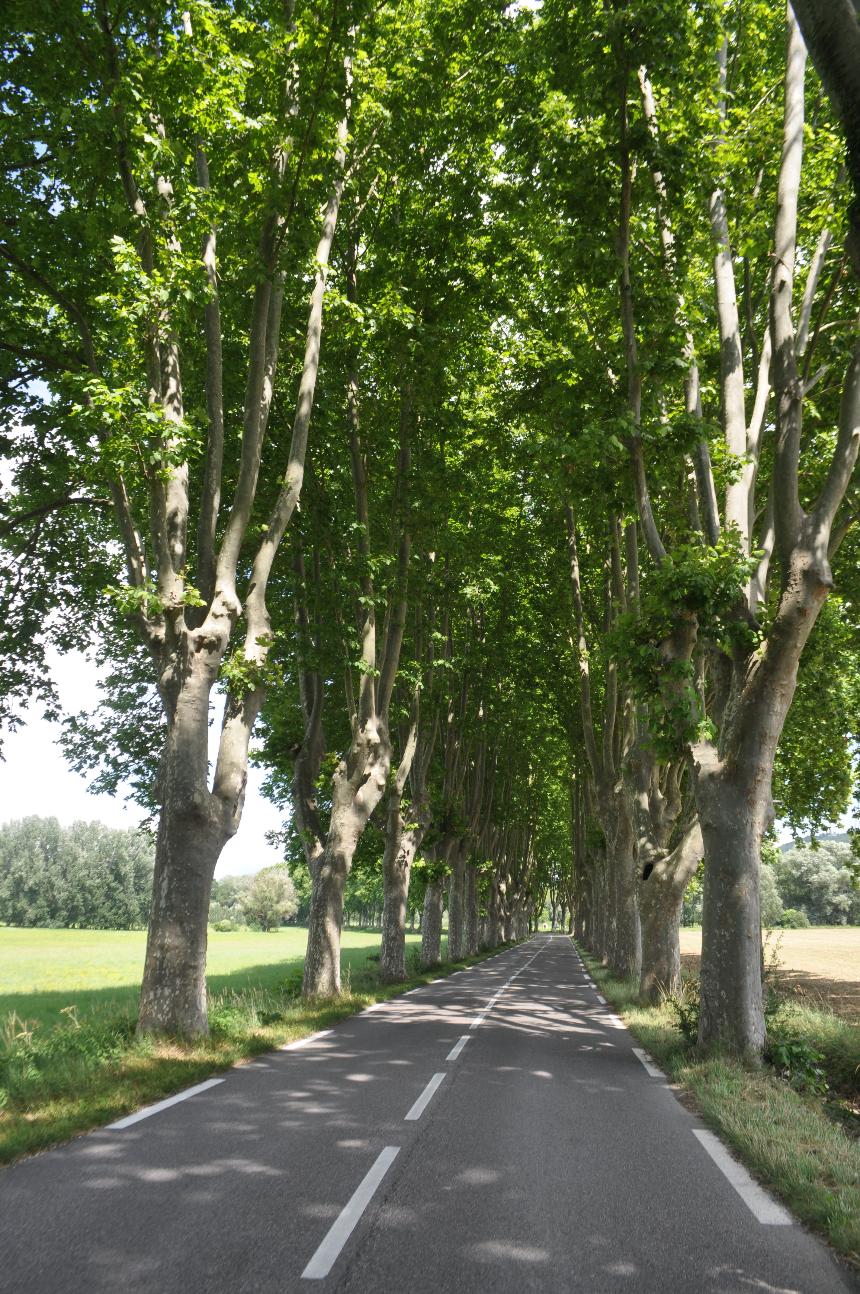 Upon arrival we were offered drinks which along with the bread and pastries we bought and the cherries from a guy parked on the road made for a nice afternoon snack on our terrace.


We have not seen any other windmills but there is this one in Saint-Saturnin-les-Apt dating from the 17th century we came across walking to our restaurant.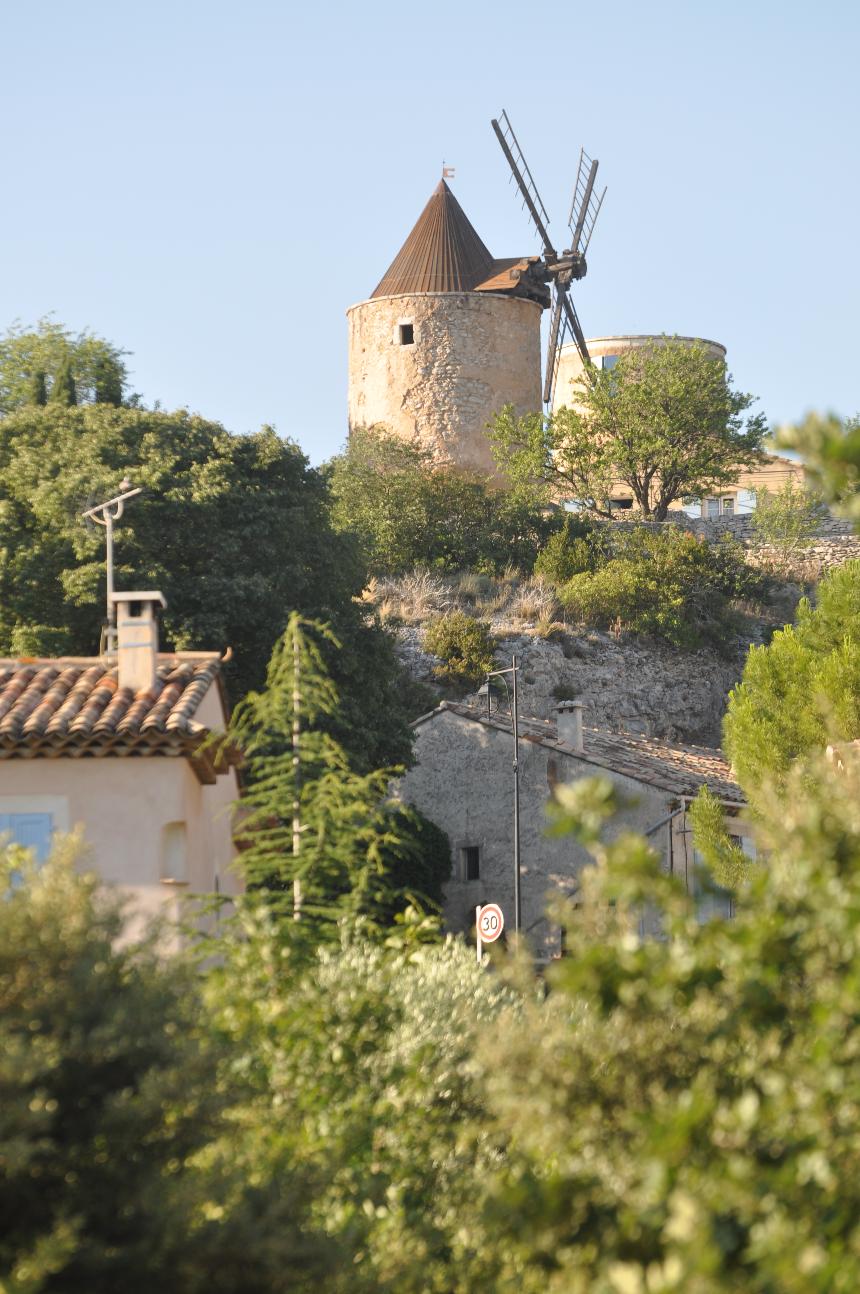 June 24, 2014 - Roure to Les Colombiere du Chateau, Saint-Laurent-du-Verdun


After another filling breakfast - the french toast really was that good - we carefully descended the five kms to reach the 'wider' road. Now wide is only a relative term here in the mountains. One needs to be cautious approaching other vehicles. A few kms up the road we stopped in the village of Roubion,, another attractive mountain village, this with a nearby ski resort.

From there it was through some more alpine terrain with a number of ski resorts. Then it was through the beautiful Gorges de Daluis and over the Col de Toutes Aures - a lot of scenic driving but very little in terms of villages or reasons to stop ... nice mountains and forests but little else. At the end of the valley we came upon a beautiful turquoise lake we later realized was man made with a dam at the other end ... just the same very attractive.

We stopped in Castellane for an hour during which we took a break at a small creperie run by this wonderful older couple. They appeared to be well in to their 70s and you knew they were at the end of their working life as the restaurant was for sale. Small but cute with colourful tables and chairs we shared a delicious buckwheat crepe and a couple of drinks. We window-shopped - there was a nice pottery store as well as a charcuterie and fromage shop but we left empty handed.

We then drove to and through the Grand Canyon du Verdon, another narrow twisty drive along the cliffs ofthe canyon. It was here 34 years ago that Gayle and I rented a paddle boat and spent an hour going up the river - as many were doing today - while traveling through France on our honeymoon. It certainly brought back memories. After exiting the canyon we climbed (a 16 % grade) to a plateau where we were welcomed by rows and rows of vibrant lavender. For most of the next 15 km to Ste. Croix-du-Verdon it was lavender field after lavender field, interspersed with wheat, the yellow of the wheat nicely setting off the purple of the lavender.

It was nother 10 kms or so to our stop for the night Les Colombiere du Chateau in the small village of Saint-Laurent-du-Verdun. Les Colombiere was perfect. Run by a Swiss couple who have settled down after a life on the seas their ability to create a 'Provence' experience was bang on. The rooms are in what was once the stables. Ours, La Lavande, with its high ceilings, blue and yellow theme, wonderful bathroom door, outdoor sitting area.

Dinner is served six nights a week but you guessed it Tuesday is the kitchen staff's day off. So Tom/Barbara made us a reservation back in Ste. Croix-du-Verdun at a restaurant overlooking the Lac de St. Croix. The food was very good starting with a fantastic gazpacho. Gayle had a plat Vegetarienne, a nice assortment of petits legumes and I the lamb. We had a nice bottle of Provence wine to accompany the meal. A bit of a drive back but we made it just before it got dark, a few minutes before 10 pm. Another good day although lots of driving we expected to sleep well.



I could do a whole album on mountain flowers we regularly see as we drive the mountain roads.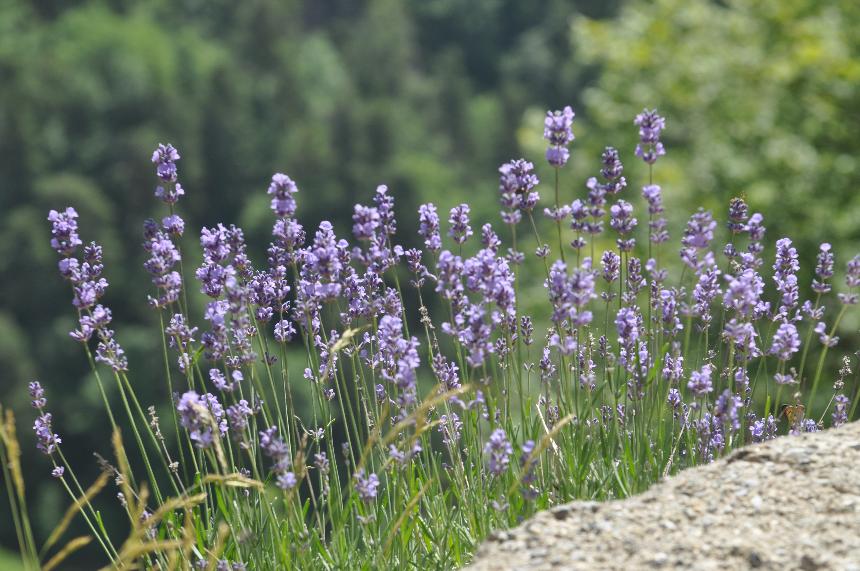 Approaching the village of Roubion.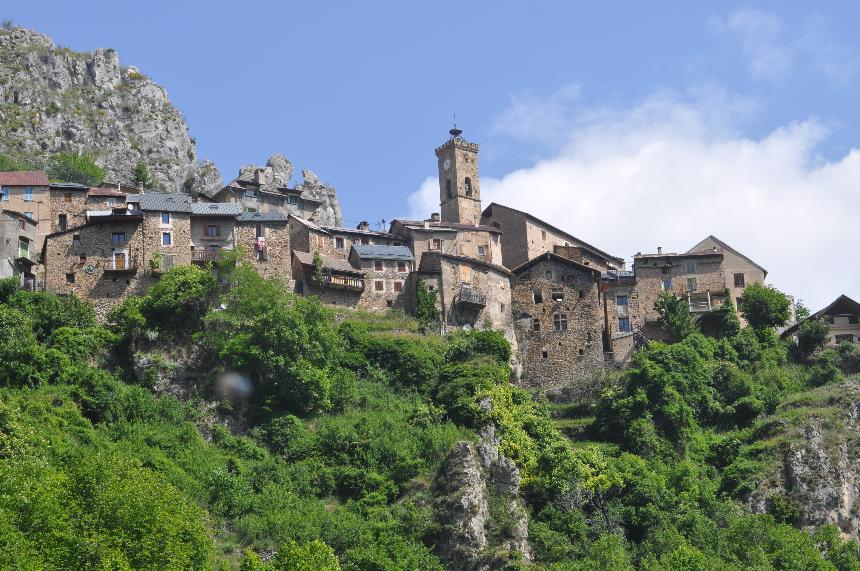 Each of the small villages have memorials to those who lost their lives in both the 1st and 2nd world wars. Being small villages it was striking how many times the same surname appeared, in each war and then both, this one being in Roubion.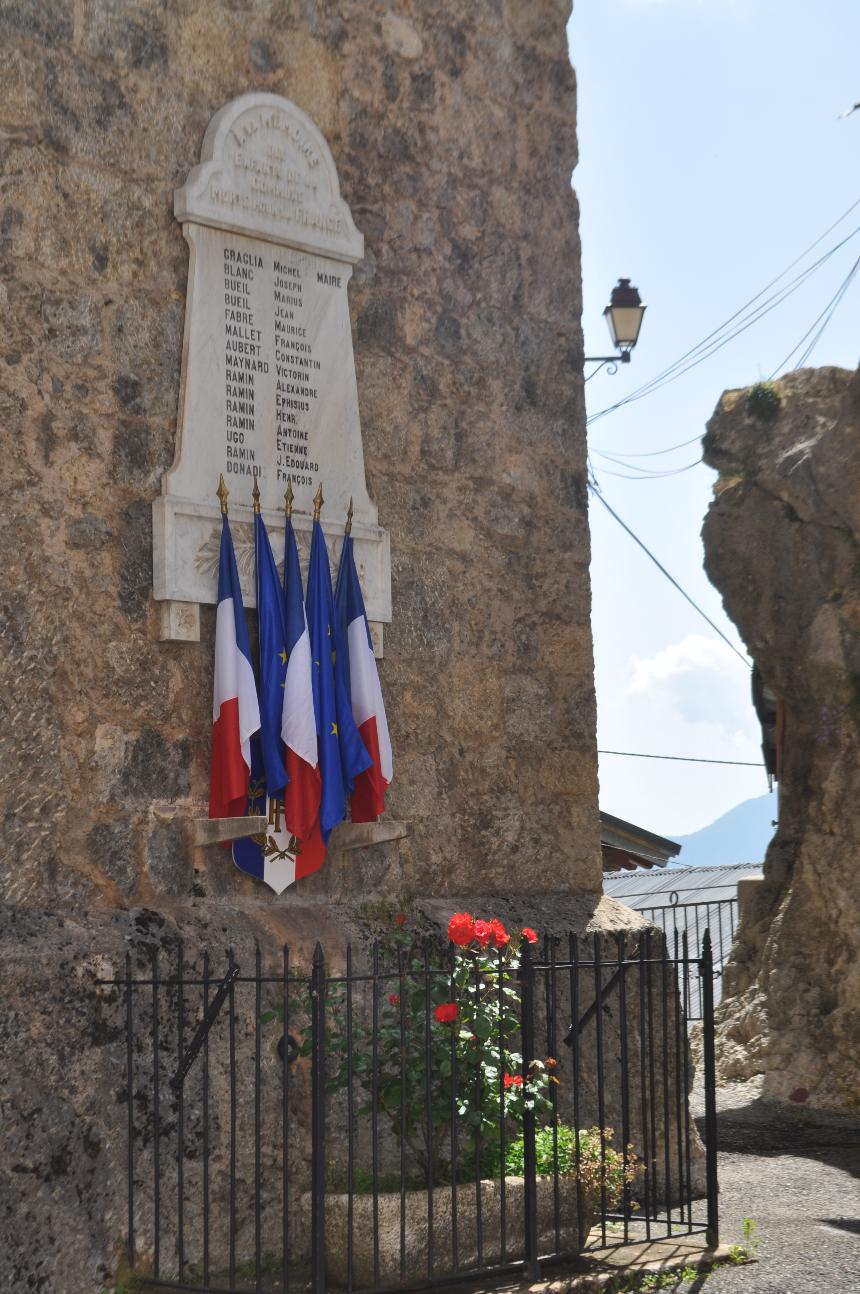 The view down the valley from Roubion. If you look real close you may see Roure perched on one of the slopes on the left.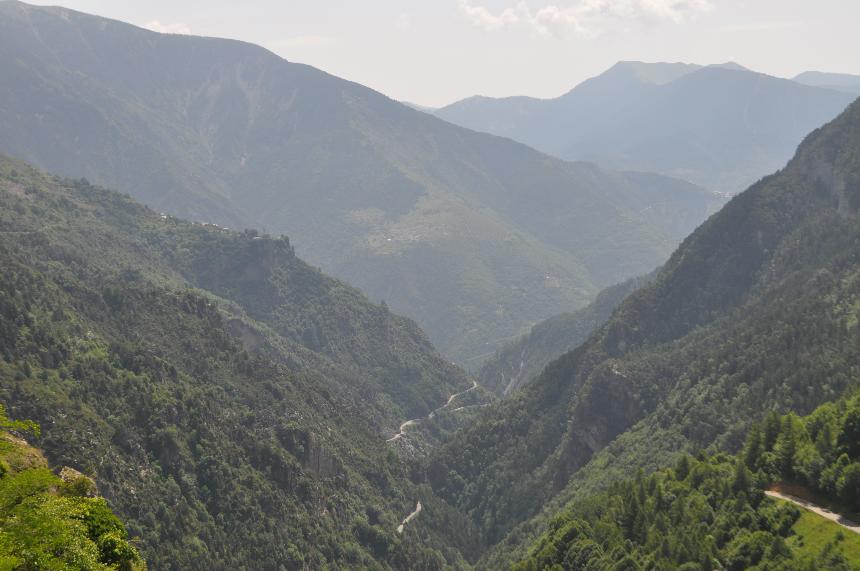 As we came to the bottom of the mountain pass we encountered this beautiful (man made) turquoise lake.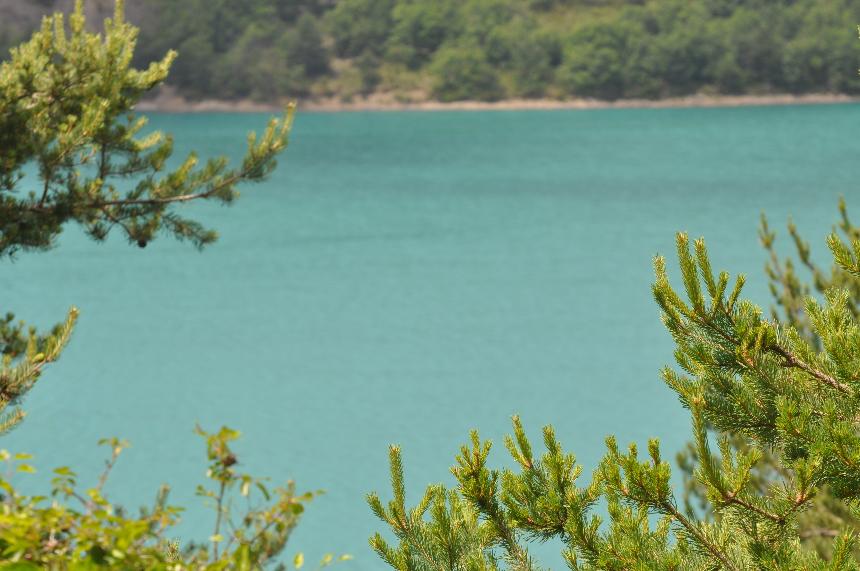 Garlic ... lots of garlic.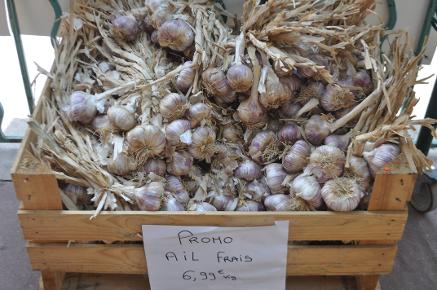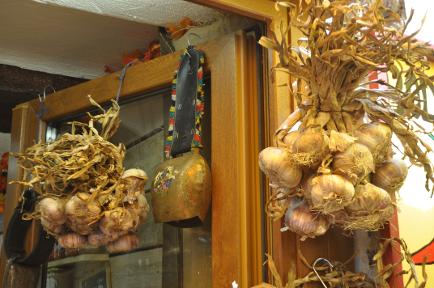 A selection of cheeses at a fromage shop in Castllane.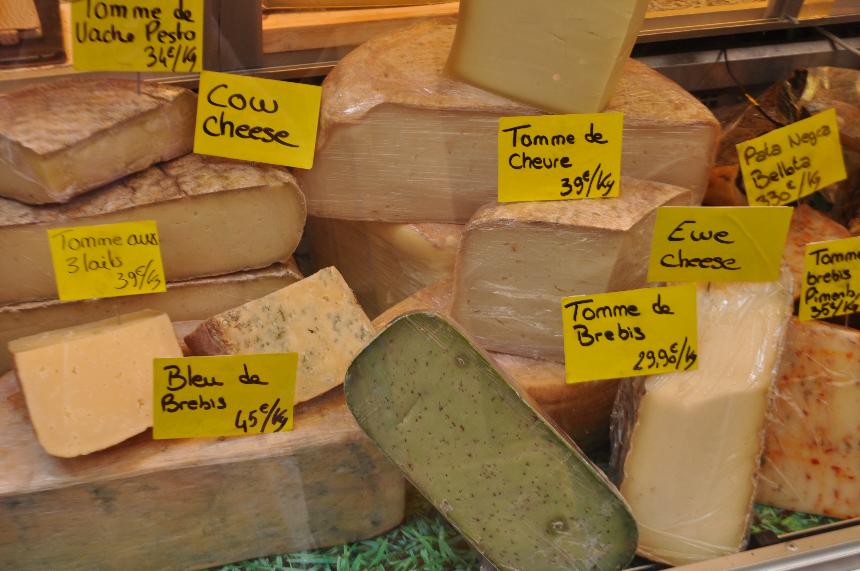 Enjoying a crepe in Castellane.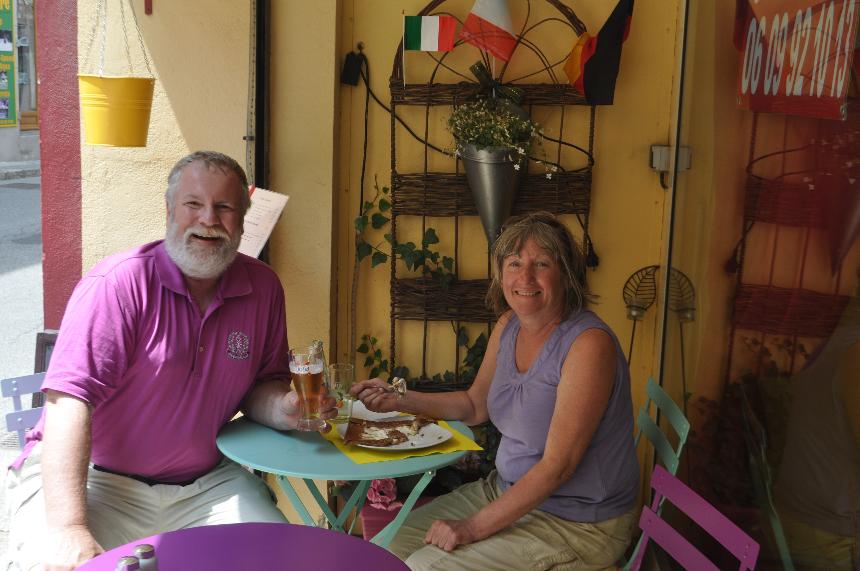 The turquoise river winding its way though the dramatic Grand Canyon du Verdon.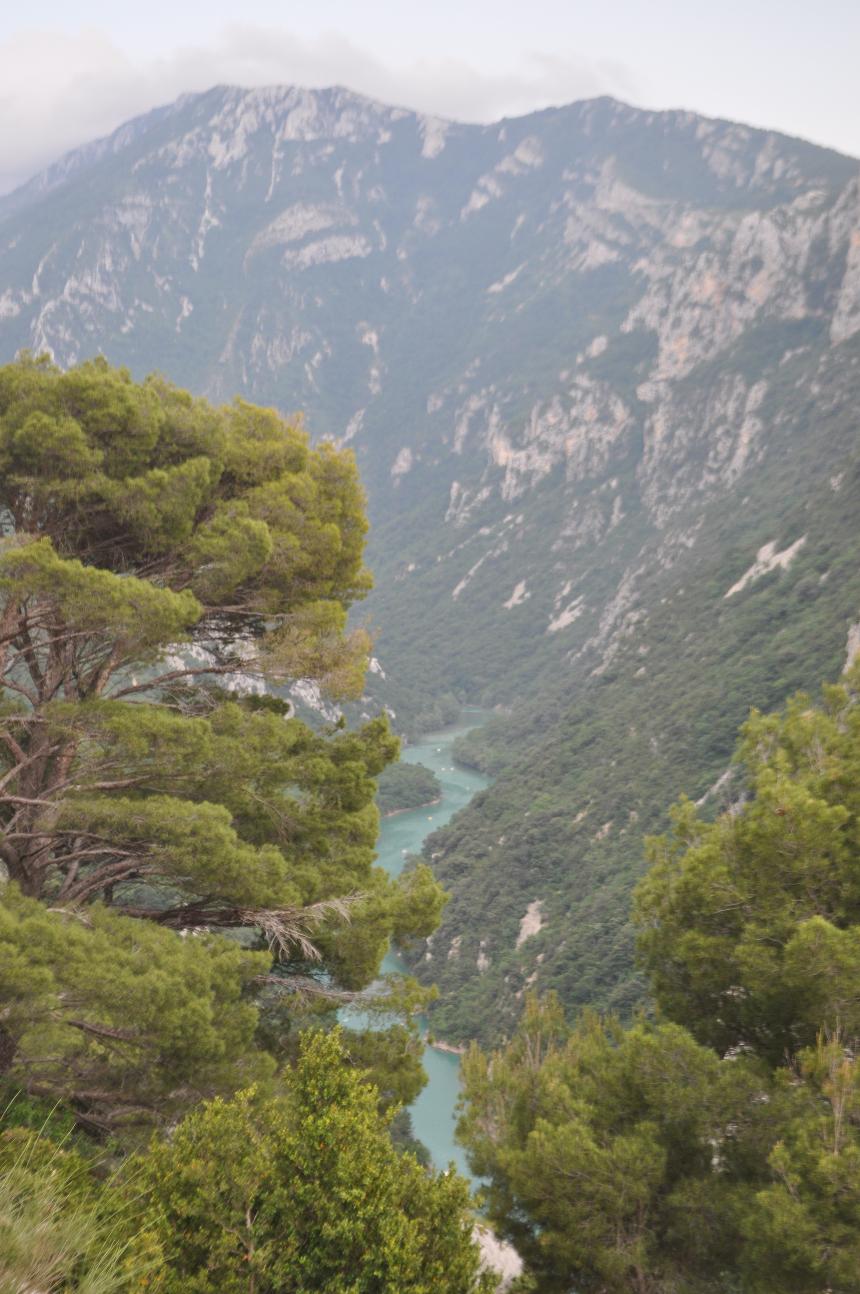 Lavender in full bloom. Not much time made with all the photo stops.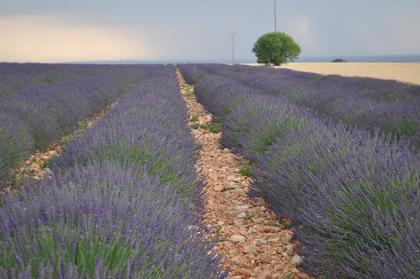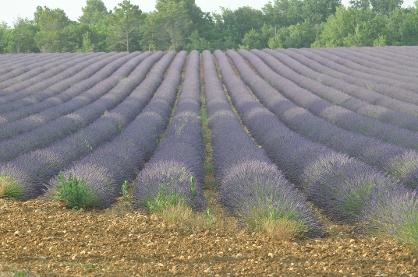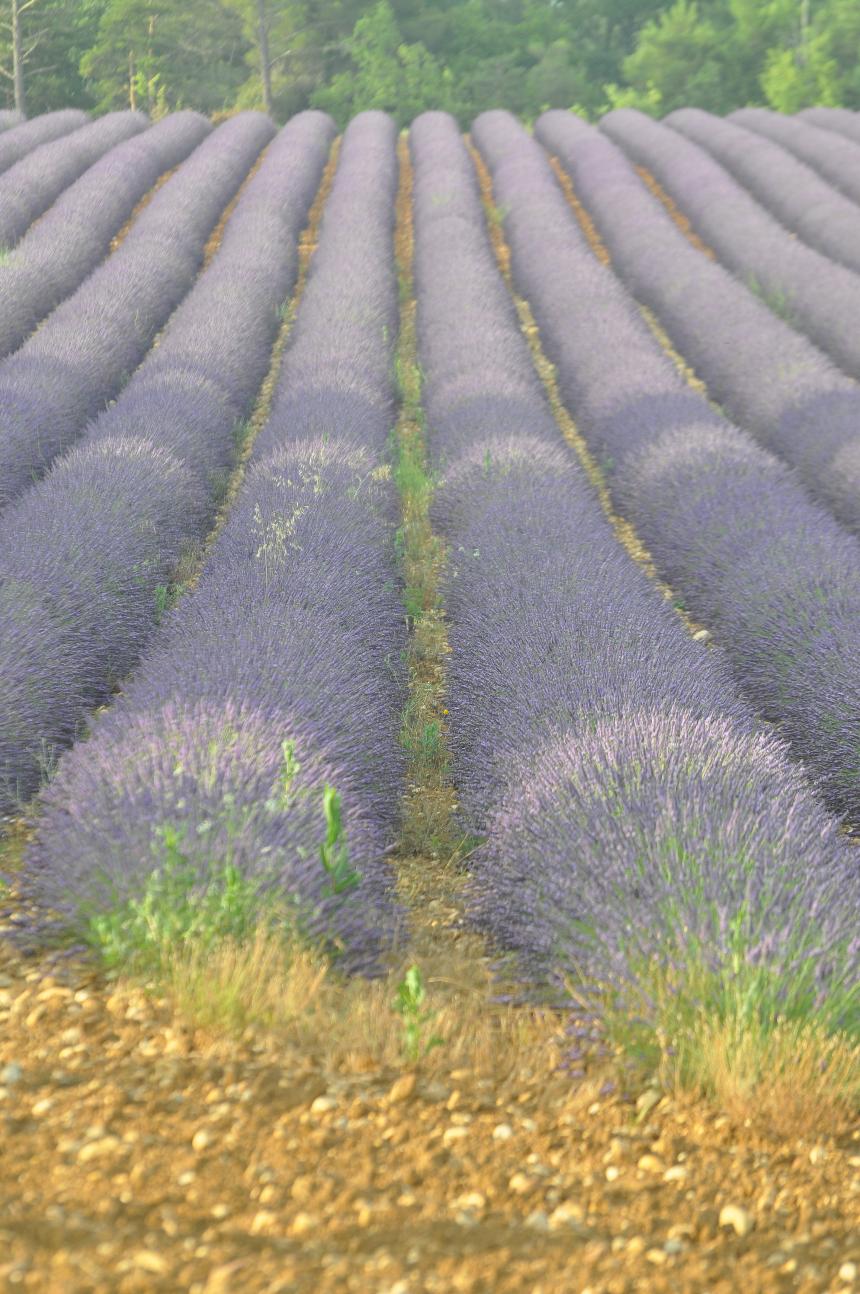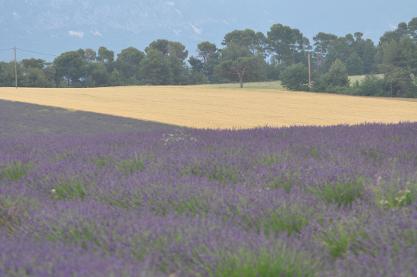 If you have an image of a Provence room this is it - the La Lavande in Les Colombiere du Chateau With a nice high ceiling, decorated in pretty yellows and blues with a nice private outdoor sitting area, for the price paid (86 euros incl. breakfast) this is everything we wanted from a place in Provence.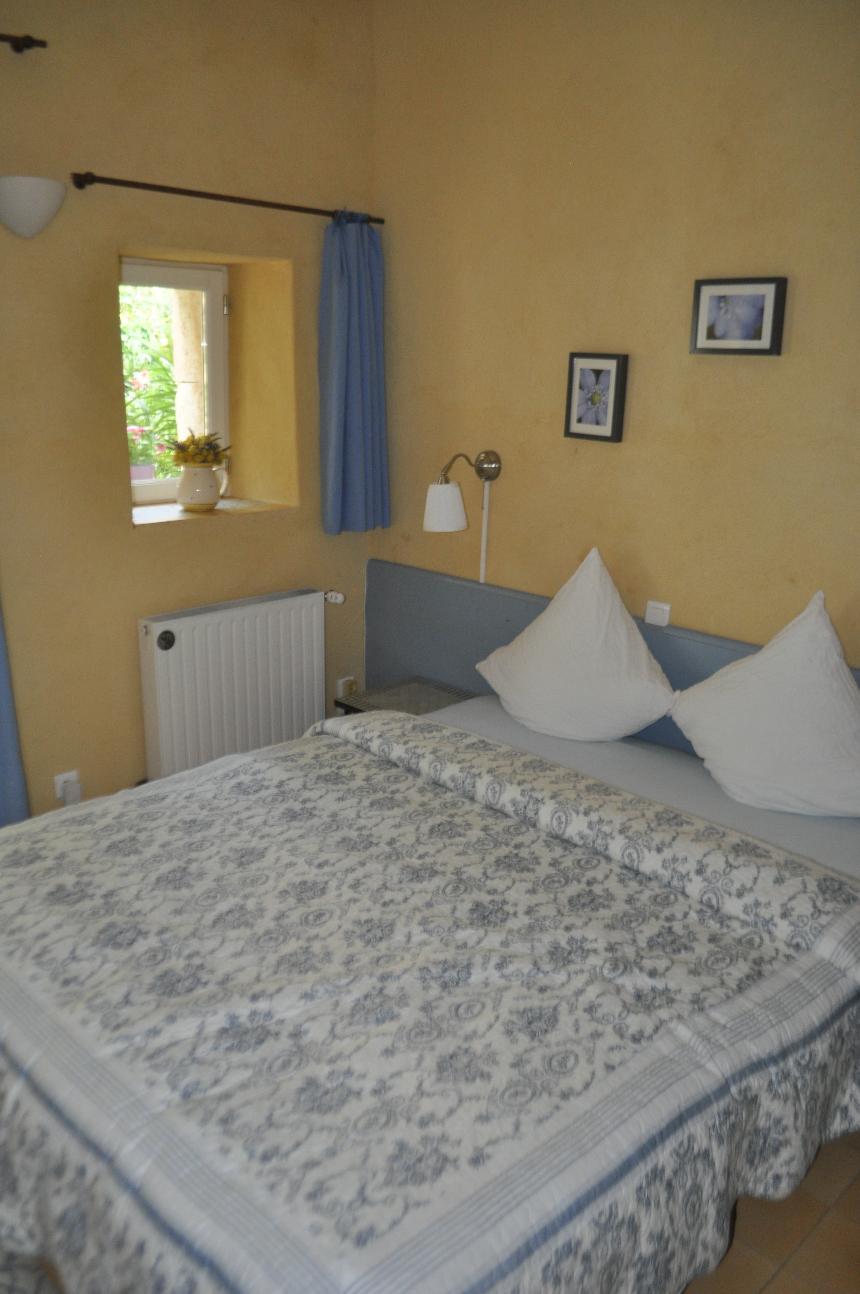 We enjoyed a nice meal at Restaurant Terrace du Lac, overlooking Lac de Ste Croix, with the highlight being La Rafraichissante, a gaspacho de tomate garnished with a variety of fresh peppers and olive oil, served with a lemon basilica sorbet. Anyone who thinks gazpacho is only Spanish would be wrong - this was delicious.



Another stay put low-key day. We started by enjoying a wonderful breakfast, with granola cereal, yoghurt, juice including squeeze your own fresh apple juice, a nice piece of cheese, a selection of fresh fruit, great bread and jams, a banana loaf, and very tasty french toast ... lunch not needed.

We had three options - first, drive through the mountains where really there are few villages and really just more mountains, which while impressive are not that much different than the ones we were enjoying from our room and the village; or second, to hike up the mountain - we'll say we weren't prepared without hiking boots and walking sticks; or third just relax, catch up on the blog, have a glass of wine, relax some more ... we choose option three. We did go for a walk through the entire village - perhaps half an hour. There is not much here - no shops; no epiceries to buy anything ... essentially nothing. It is hard to imagine how this place survives in the winter, let alone anyone be able to drive up in the snow.

Christophe has been granted a star by Michelin for his restaurant. While not at all formal; many guests were in shorts and there was a dog with its owners (and in the morning at breakfast a couple of other dogs - very welcome in both the hotel and the restaurant) the food was excellent, and what we imagine for a Michelin star restaurant - all about the quality and presentation, and not at all about the quantity. The servings were not even close to huge but very attractive and very tasty. In addition to those shown below I also had a sea bass, which I had ordered in Italy and really did not like particularly with all the bones, that was excellent, served over zucchini with an olive olil a la marjolaine sauce. And no bones - just a nice piece of fish. All the dishes were excellent with the dessert being beyond fantastic, the explosion of rich flavours of the chocolate and cherries. Superb.

The day was really nice, demonstrating to us that we don't always need to be on the go (as one is inclined to do when traveling around in another country) and having some relaxing down-time can be every bit as enjoyable.


The delicious breakfast at Auberge le Robur.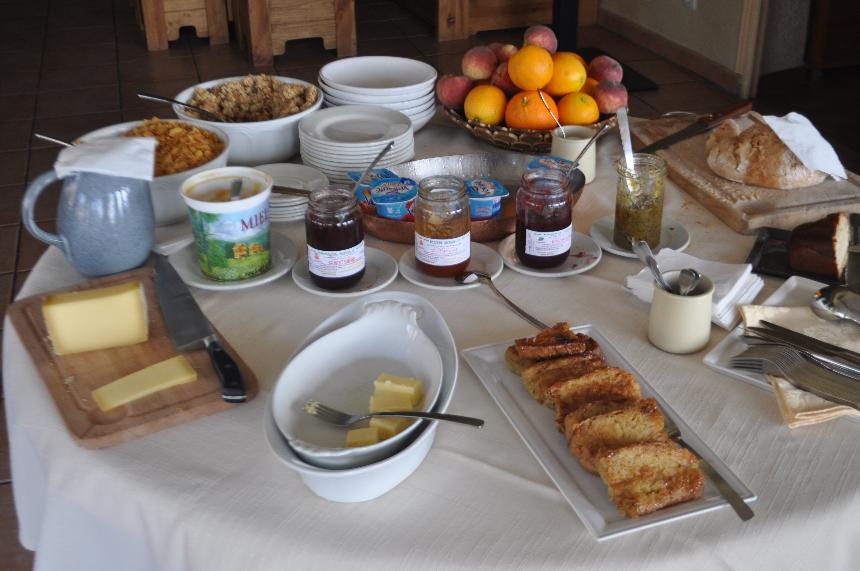 A couple of views looking down the valley - on the left from the restaurant and on the right from the village overlooking the Auberge.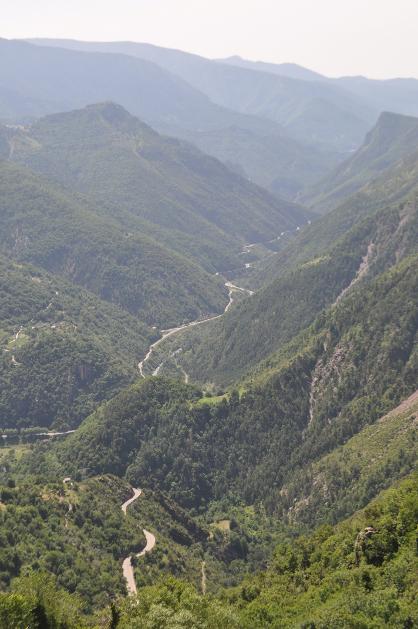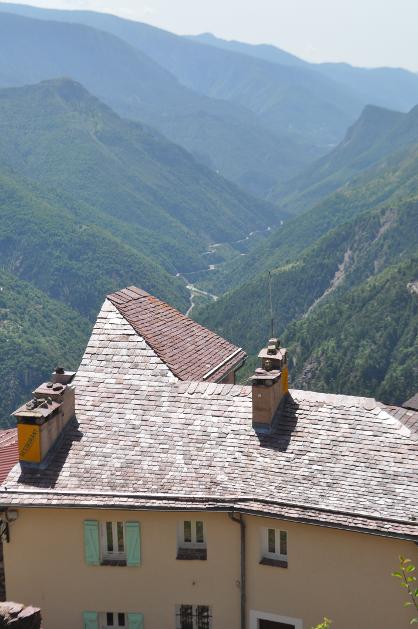 A mountain village with stone buildings of course has to have bright flowers in the garden.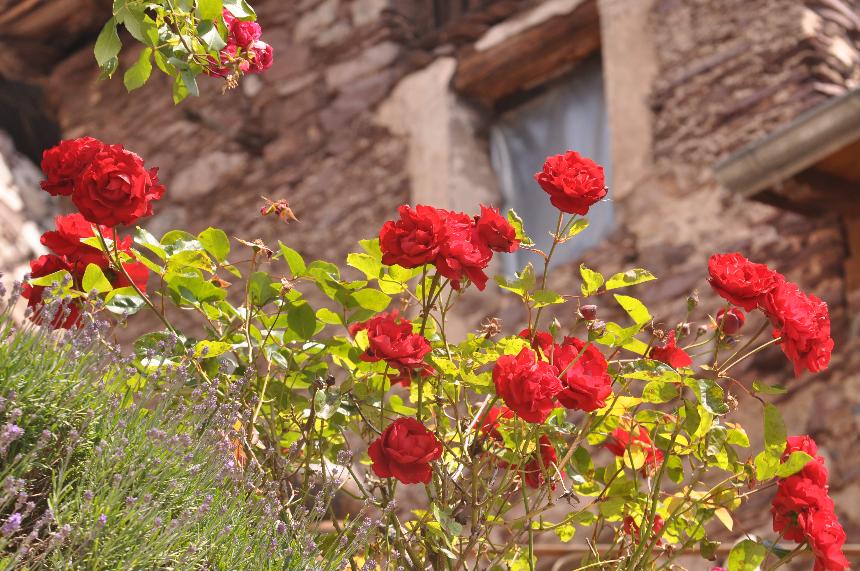 Attractive shutters on a building in Roure.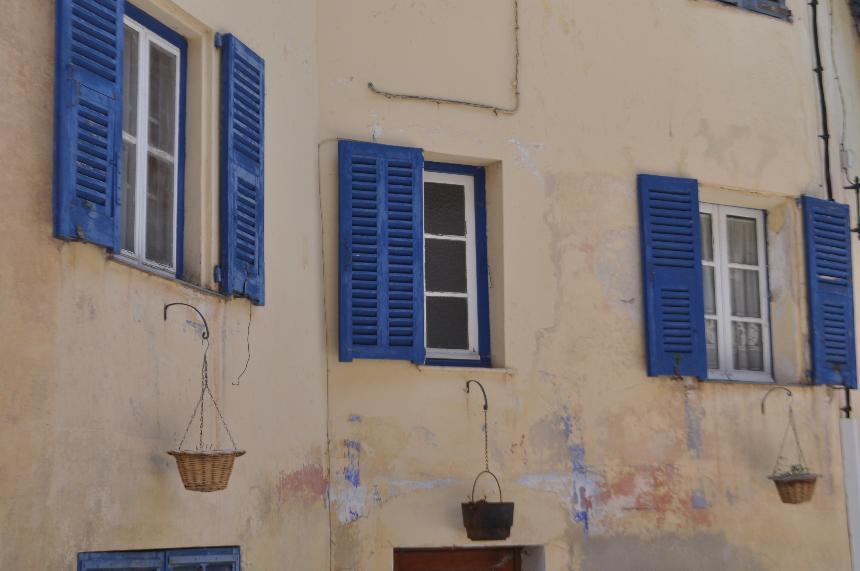 A Michelin star restaurant yet dogs are still welcome to join their owners during dinner.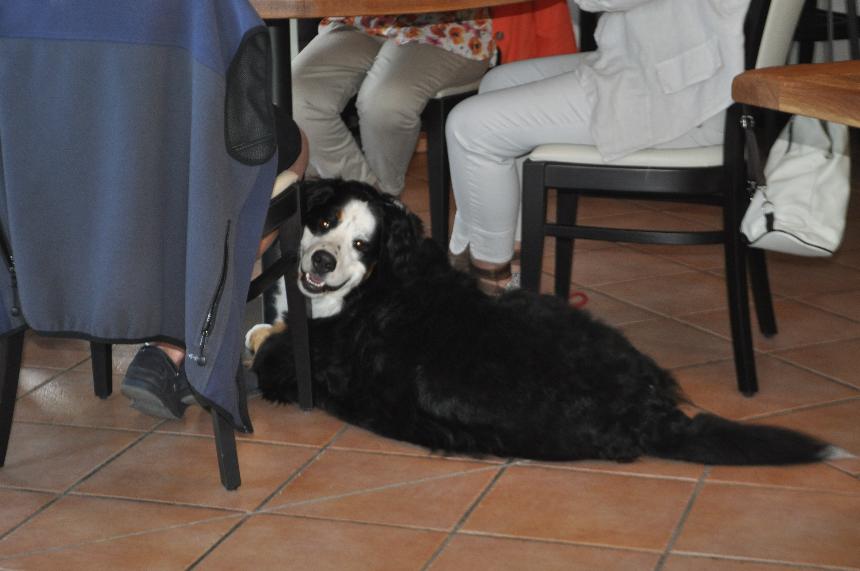 Fleur de courgett farcie de son vert, mousse au view parmesan Regiano.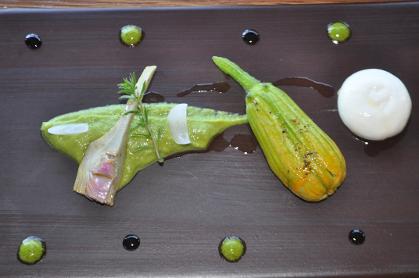 Gros coeur d'artichaut dondant a la barigoule, legumes de la ferme.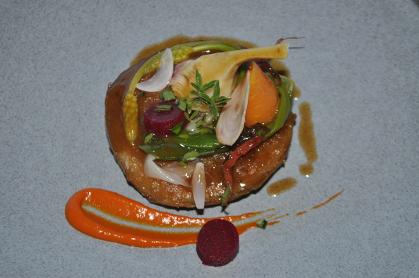 The epaule d'agneau en cuisson douce, citron et pignons de pin, Raviolis aux blettes et jus au romarin (don't the French go out of their way to describe their servings)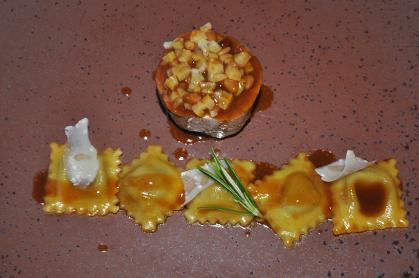 Perhaps the best dessert ever - La foret norie a ma facon. A cream filled chocolate cannelloni, chocalae mouse topped with a cherry and the most intense cherry gelato.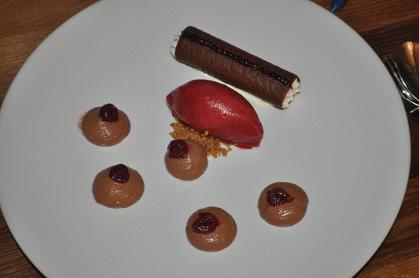 June 22, 2014 - Nice to Roure


Although the flight was on time and our luggage out quickly the car rental process was horrendous. Significantly understaffed for the number of clients it took us over an hour to get our car. Then, although the route looked simple enough - north from Nice into the mountains, getting our of Nice was more challenging than expected. But we did, in spite of one close call where I was cut off in a roundabout and after stopping for directions (fortunately we were on the right road going the right way) we continued through the mountain valley to St. Sauver de Tinee from where we connected to a small, and I'm talking smaller than in Corsica, road that took us the last 5 kms up, and I'm talking virtually straight up - virtually the entire way in first or second gear - never anything more until we came upon Roure, a small mountain village with an indescribable view down the valley.

Having had a large lunch and arriving too late for dinner along the way we purchased a bottle of wine, some bread, pastries and a chocolate mousse which we drank and ate in our room. I admit to being absolutely exhausted after a difficult day of driving.



After finally finding our way up the mountain and the Auberge le Robur this is the view that awaited us as we entered our room.