November 19 / 20, 2011 - Toronto to Grenada (Petite Anse)
After three days in Toronto during which we visited with Steve and Wendy, Mike, Paul Lynch, Roger, Anna and Bill Gazzard, Randy and Judy and Guy and Kelly we drove to London to attend a Juan Martin (a Spanish flamenco guitarist we had seen a couple of times at home). We stayed the night at A ParkView B&B and dropped in the next day on LeRoy and Kathleen. We returned to Toronto from where we flew overnight to Grenada, connecting through Port of Spain, Trinidad.
Having flown over-night we landed quite early at 7:20 am at the airport in the south-west of the island near Lance aux Lepines. We picked up our rental car and drove up the west coast through Grand Roy and Victoria to Sauteurs and Petite Anse, our lodging for all but the last night. In terms of distance it is only 46 kms but these are not exactly modern roads. Even maps.google indicates the drive is an hour and a half - it took us more like two and a half.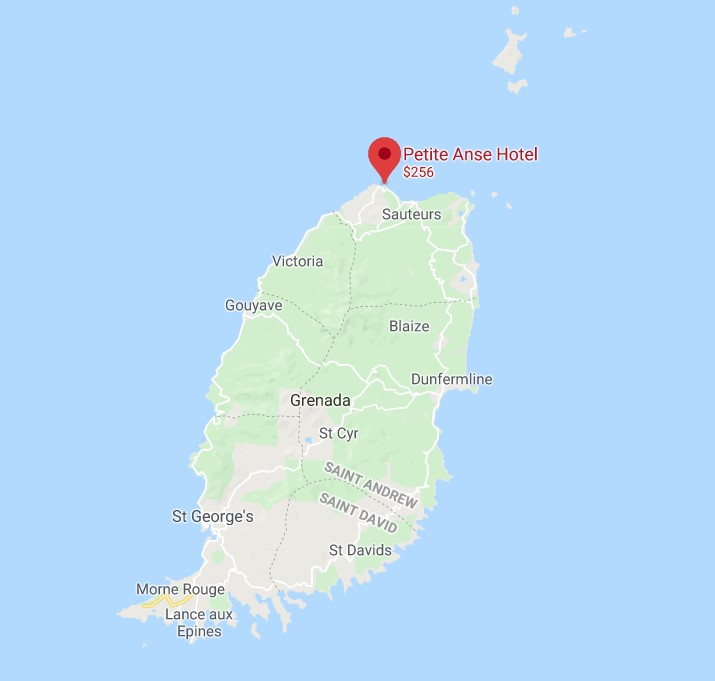 Petite Anse (little cove) is a unique beach front hotel set in a tropical garden. It has a swimming pool, jacuzzi, restaurant and bar. There are 11 bedrooms with their own balcony and spectacular views to the coast of Carriacou and the Grenadines. We were in Pineapple, closest to the beach, i.e. with no-one in front of us. The restaurant, bar and terrace offers amazing ocean views. Fresh produce for the restaurant is cultivated in the luscious fruit and vegetable garden at the old plantation house where the owners Philip and Annie live.
I'm perplexed at how few photos I took the first day, and actually the entire trip. Certainly not my normal number of photos, particularly of our meals. As well I did not record what we ate so this travel blog will be somewhat light in that regard.
Before we start here is the Petite Anse promotional video. Enjoy.
The setting sun providing colour to the sky.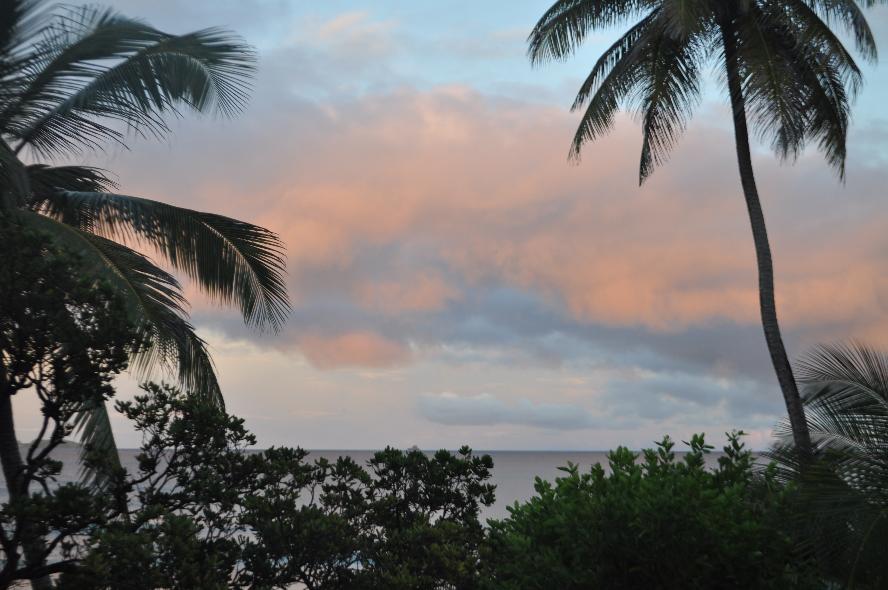 A dinner salad and dessert.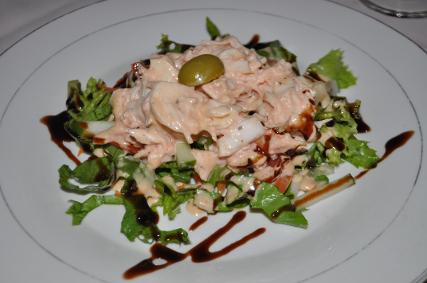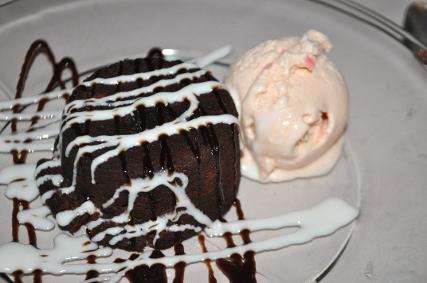 November 21, 2011 - Grenada (Petite Anse)
Today we settled in. This was not a trip to be out and about but rather to relax and enjoy the sights and sounds of the sea from our beach front cottage In spite of having a vehicle the property, the pool, the beach, the views from our terrace really gave us no reason to leave. Today was the first of a number of days where we did pretty much the same thing ... essentially nothing. Some time on the beach, some time in the pool, some time eating, and lots of time just sitting around, admiring the views to the sea.
Our stand alone cottage - 'Pineapple'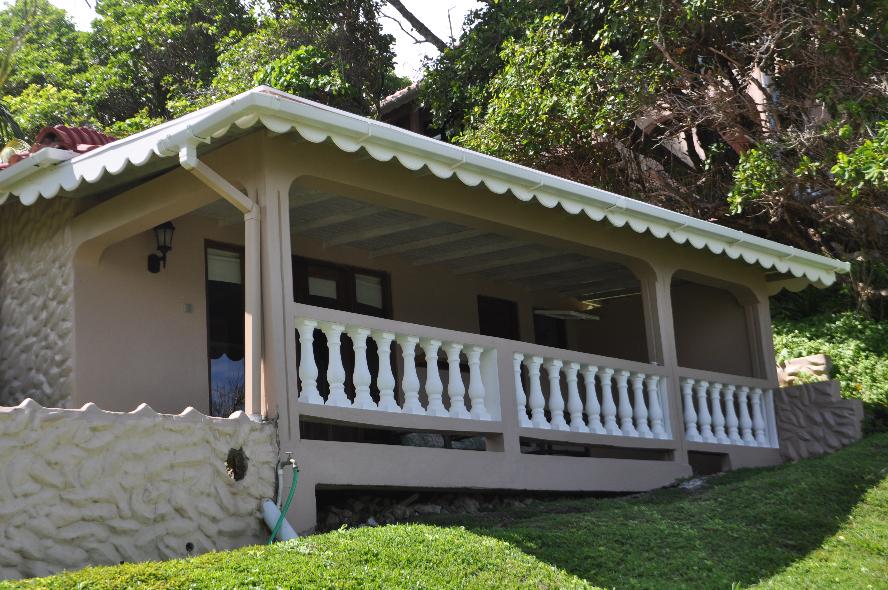 The main / bed room with high ceilings and fan. An attractively painted bathroom sink.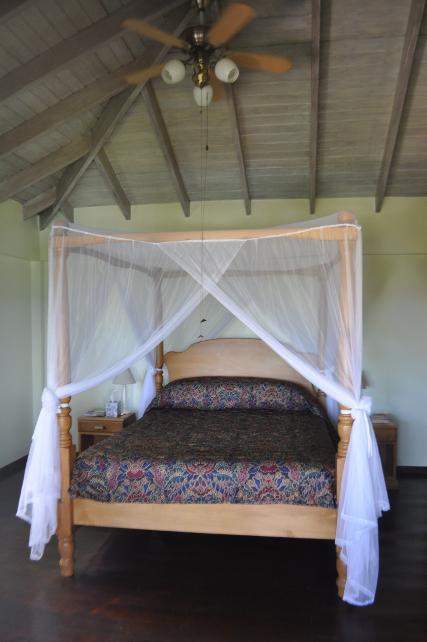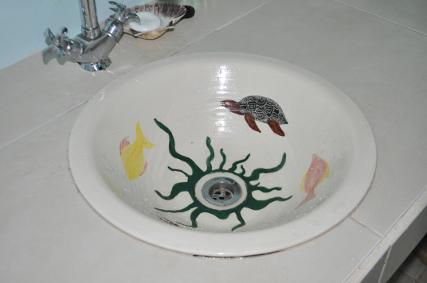 Our terrace with comfy chairs.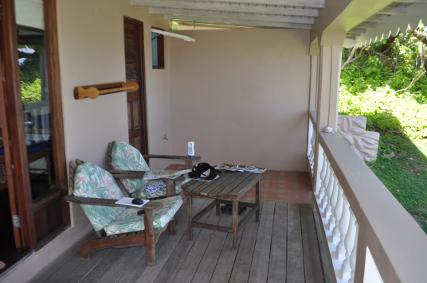 Petite Anse's cove / beach.
Some of the west coast coastline.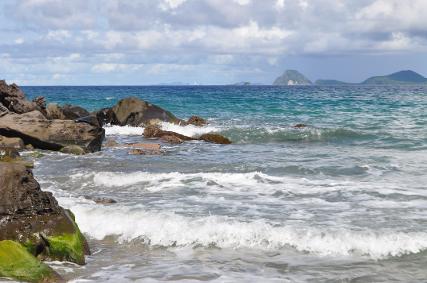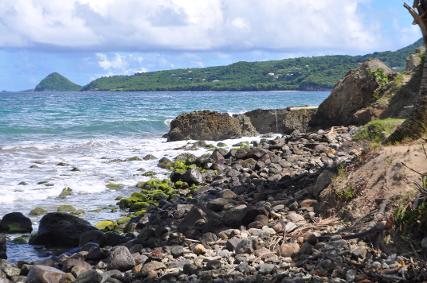 Some first glimpses of Petite Anse's property.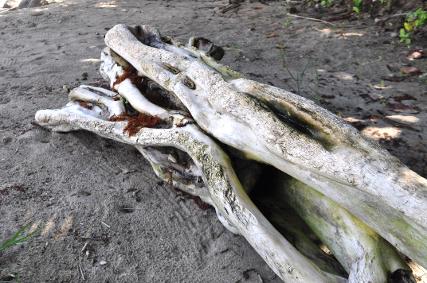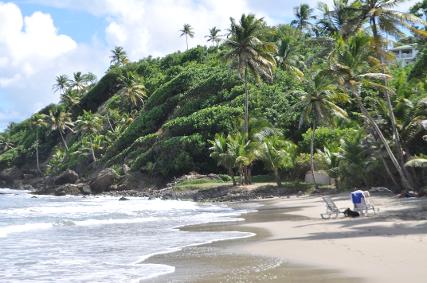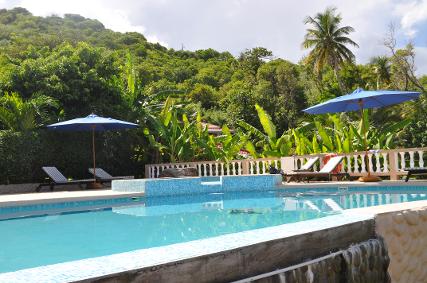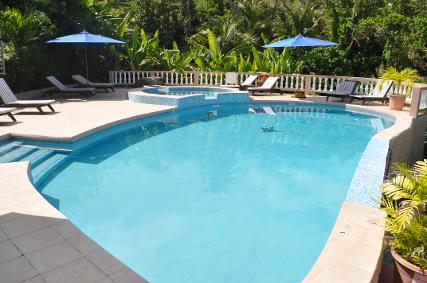 The view from the terrace outside the restaurant.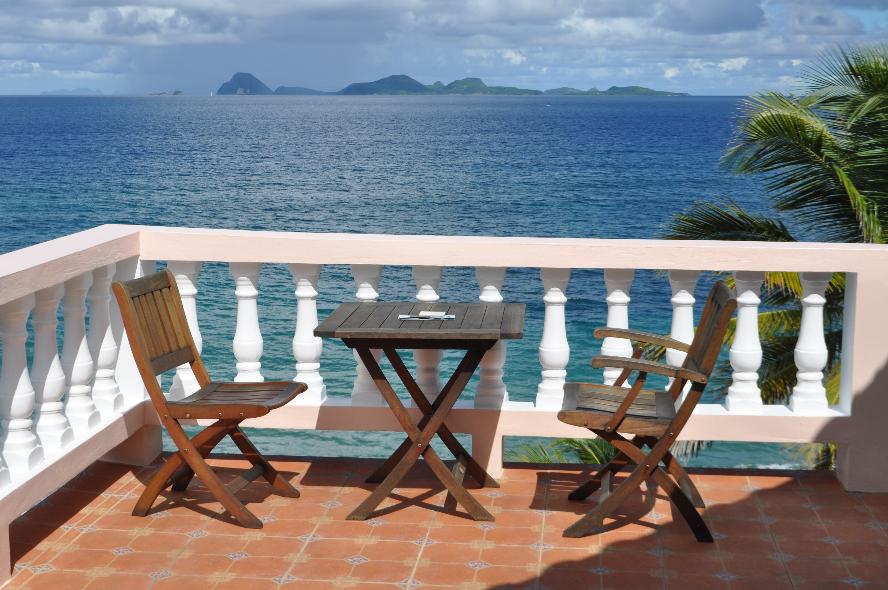 Don't recall (and didn't record) our meals but here you have them.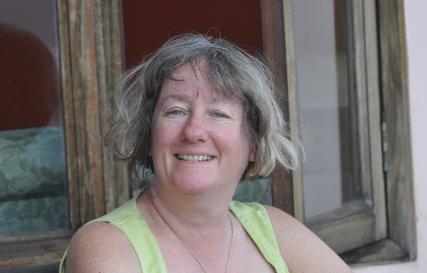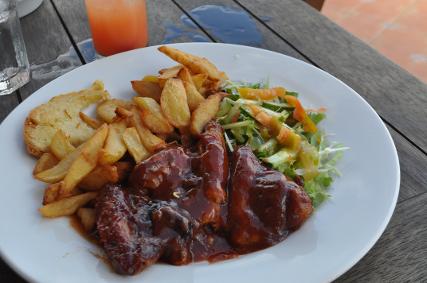 November 22, 2011 - Grenada (Petite Anse)
Basically a repeat of yesterday, enjoying the warmth and the quiet, relaxing ambiance of Petite Anse.
Breakfast includes a selection of freshly squeezed season fruit juices from the Mount Rodney House garden, fresh locally grown fruit salad, a selection of cereals, plain natural yoghurt, local honey, home-made bread, banana bread and a selection of preserves and spreads, some of which are made from the fruit from the garden. There is then the option of an English breakfast of either poached, scramble, fried or boiled eggs, bacon, sausage, baked beans, tomatoes and mushrooms and sometimes home-made black pudding (not that I am a fan). Also available are omelettes, waffles and pancakes, the latter with nutmeg syrup. Another option is the 'Local' breakfast that includes coconut or fried bakes, salt fish or fried fish and 'cocoa tea', made with pure cocoa beans.
Sand crabs. Gayle in the water.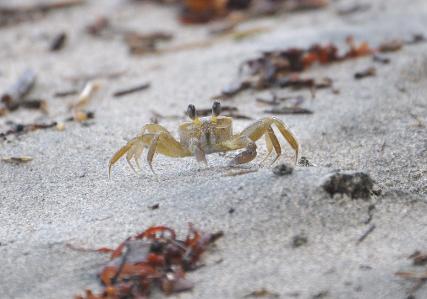 The beach from our terrace.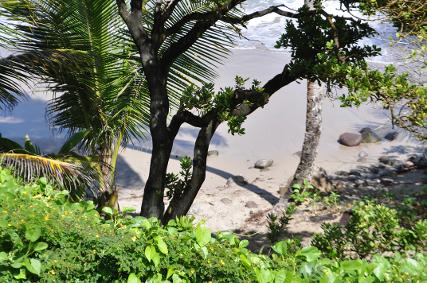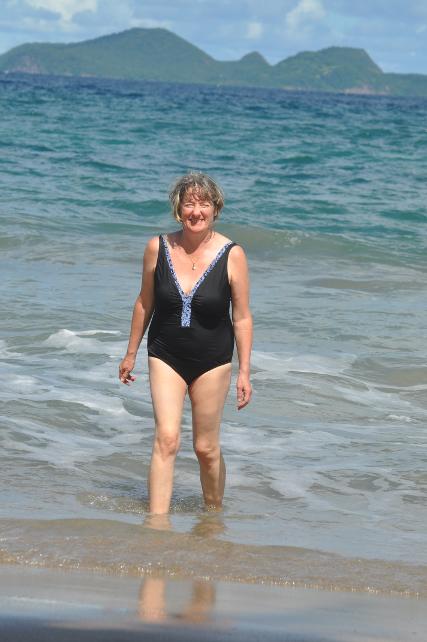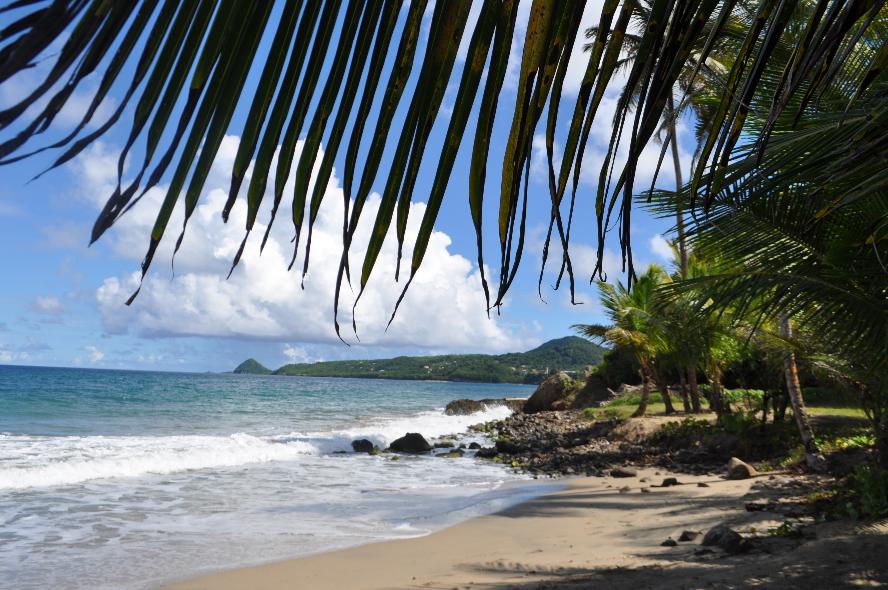 The seas were surprisingly quite rough.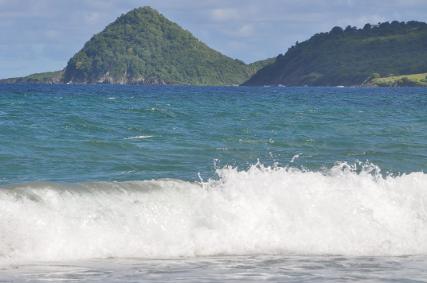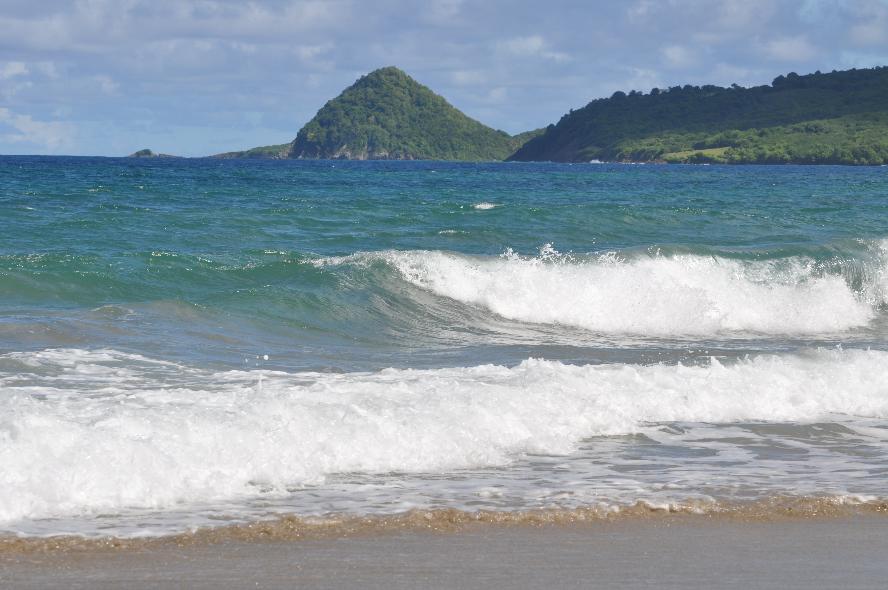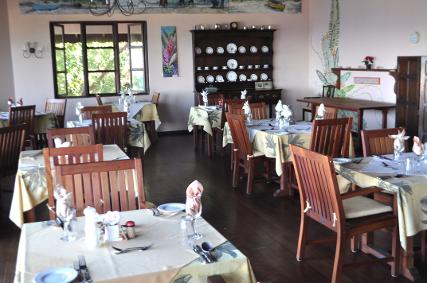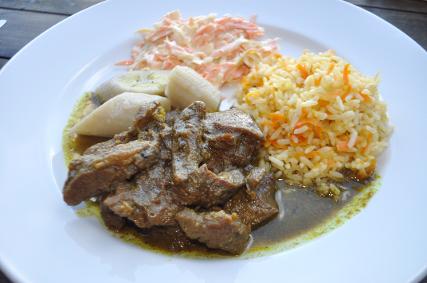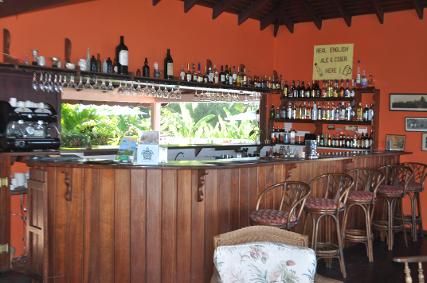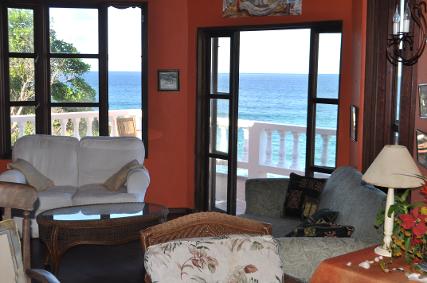 Views from the outdoor terrace off the restaurant.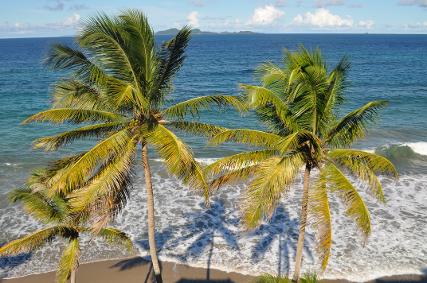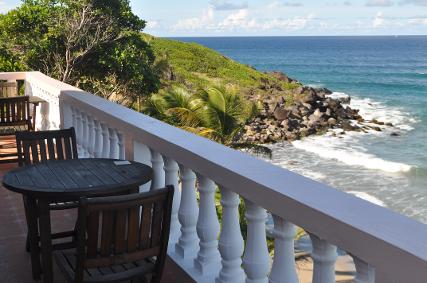 Where the seas were at times somewhat rough we made considerable use of the nice pool.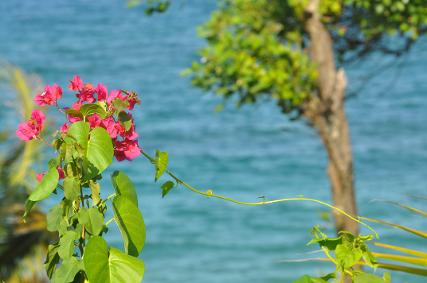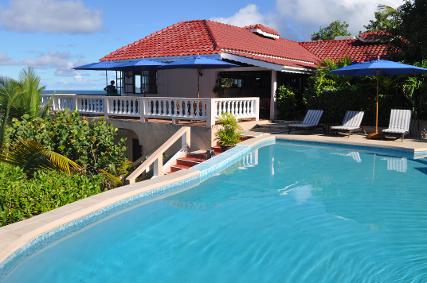 Delicious seafood linguine was a wonderful meal.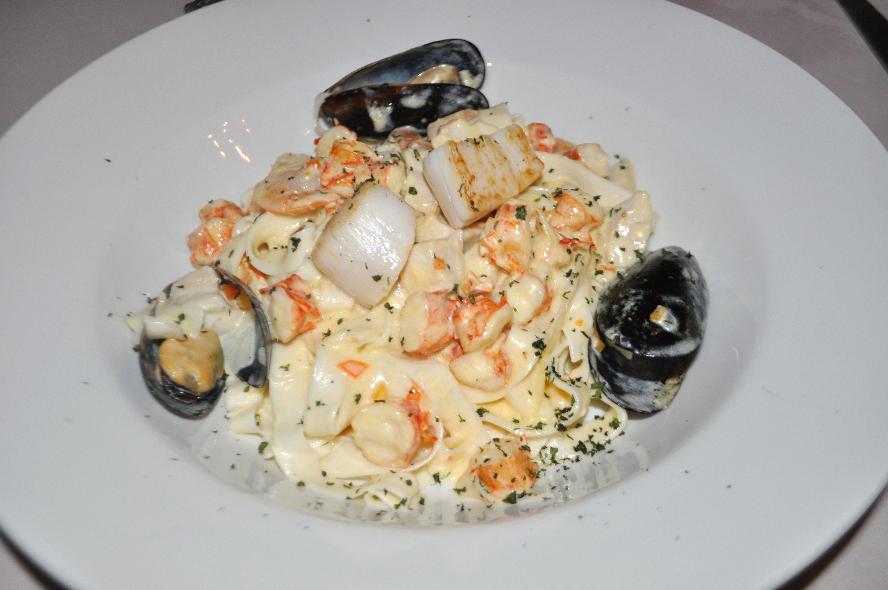 November 23, 2011 - Grenada (Petite Anse)
Just hit the 'repeat' button. Again we stayed on the property today, making the most of our Beachfront cottage. The most popular option these cottages are nestled on the edge of the tropical gardens, overlooking the beach. They include a hand-carved four poster queen sized bed with mosquito nets (although we did not experience any mosquitoes). A (very) short walk takes one down to the palm tree lined beach or up into the garden to the pool and restaurant. The cottage included a hammock, ceiling fan, handmade painted porcelain sink basin, pool and beach towels, mini-fridge, tea and coffee and Wifi.
The day we arrived, as a Board Member of Central Minor Hockey Federation, I became aware of a situation involving the suspension of a young (nine years old) minor hockey player for the alleged actions of his parent. The President of CMHF, decided to take a 'hands' off position, one which I adamantly disagreed with. Gayle and I spent a considerable amount of time discussing the issues of the situation, focusing on the appropriateness of sanctioning a child when he did nothing inappropriate, i.e. whether using the child as leverage to 'bully' the parent into backing off from their concerns was acceptable. While we agree there needs to be procedures in place to address abusive parents / guardians we could not imagine any circumstance where actions against the child could be justified. I spent a great deal of time drafting and exchanging emails with President and Vice-President of CMHF. After returning home we became aware that the Nova Scotia Human Rights Act protects children in exactly this situation. My position ultimately led to my resignation from Central Minor, a judicial review of a decision of the Nova Scotia Human Rights Commission not to proceed with our complaint, an reversal of that decision and an outcome that included a Dispute Resolution Policy to be adopted by Hockey Nova Scotia.
Approaching our cottage. Entrance to the restaurant and terrace.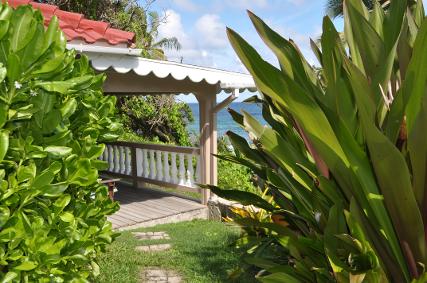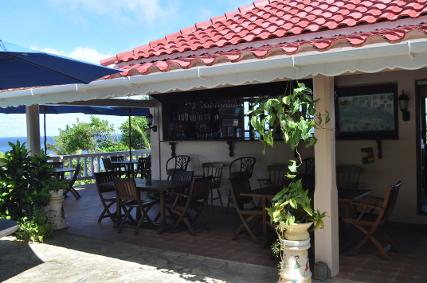 A couple of flowers on the property.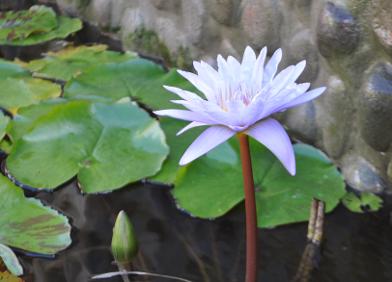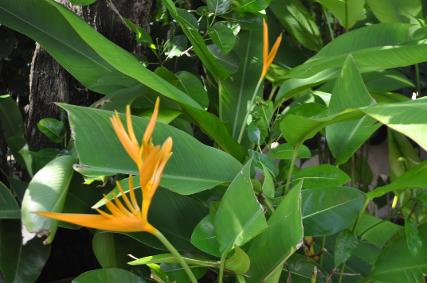 There were lots of coconuts around.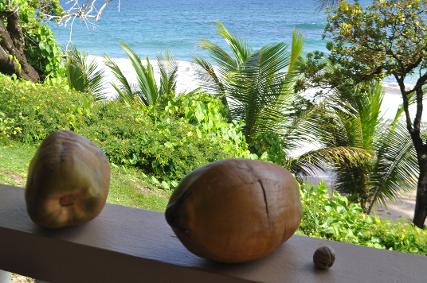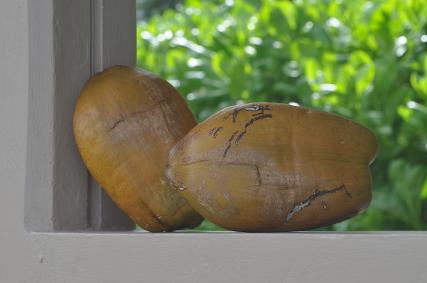 While the weather was generally good - certainly warm - there were times of clouds, but also this rainbow.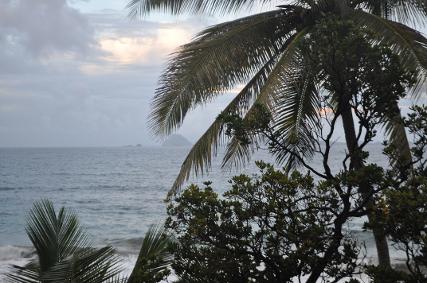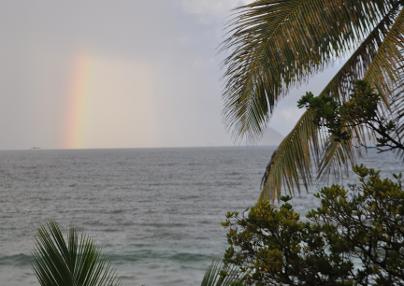 A plate of veggies. A steak for me.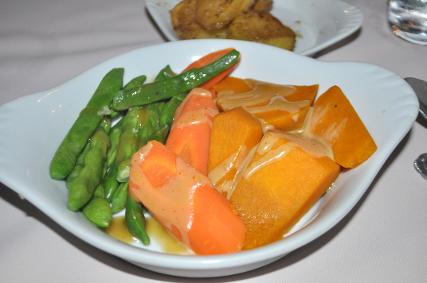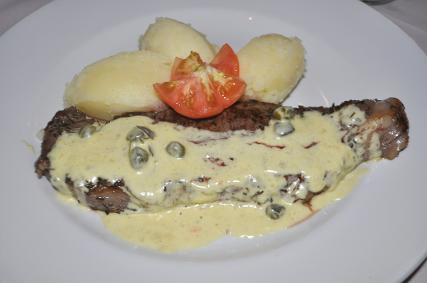 November 24, 2011 - Grenada (Petite Anse) - trip to Belmont Estate
Today we went to nearby Belmont Estate, only 13 km or a half hours drive from Petite Anse.
Belmont is a an historic estate that dates back to the late 1600s when the first French settlers arrive don the island. The estate was a large coffee and sugar producer before changing over to nutmegs and cocoa in the 1800s. Described as an 'agri-tourism product' the 400- acre estate successfully fuses agriculture, history, chocolate-making, and culture. In addition to tours of the the cocoa harvesting, sweating and drying process there is a picturesque tropical garden, a plant nursery, and organic farm, animals (including morocoy (tortoises), mona monkeys (from West Africa) and macaws), a goat dairy and a restaurant serving local cuisine.
Although we did not experience them during our tour there are also occasional cultural events such a s'dancing the cocoa' and drumming. 'Dancing the cocoa' is a spectacle where two estate workers, a man and a woman, dance together in a large copper pot of cocoa beans. After cocoa has been dried, the beans sometimes have a white residue on them - a natural result of the fermentation process, but one that makes them less visually appealing to customers. Before the advent of special polishing machines, dried cocoa was placed in large copper pots and a couple would 'dance' on them to the beat of a drum. The outcome is a couple of exhausted dances and some very shiny cocoa.
Cocoa and chocolate are now the focus of the estate although there are other attractions including the goat dairy and farm. The 100 +/- goats provide mile to produce a light, organic cheese. After enjoying a very nice lunch we purchased some hot sauce in the gift shop. We enjoyed it so much we have since ordered more bottles shipped to us from Belmont Estate.
Welcome to Belmont Estate.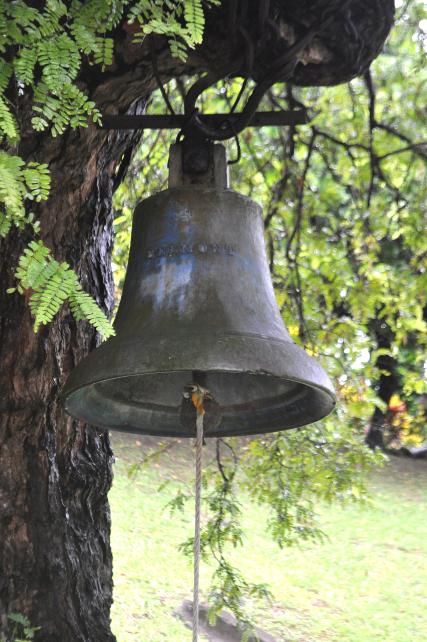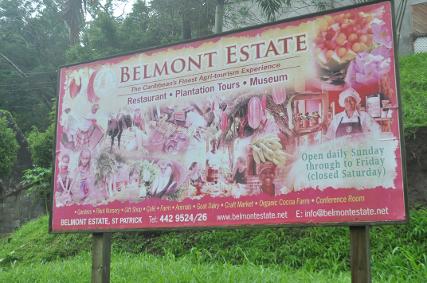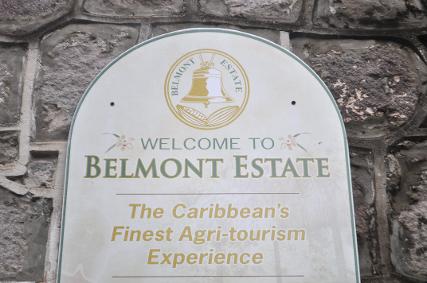 Fruits and spices explained to us on the tour.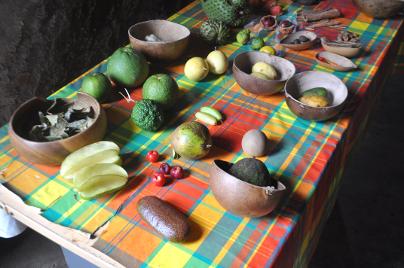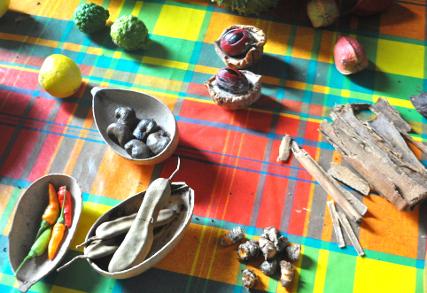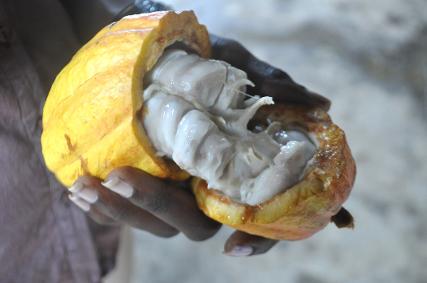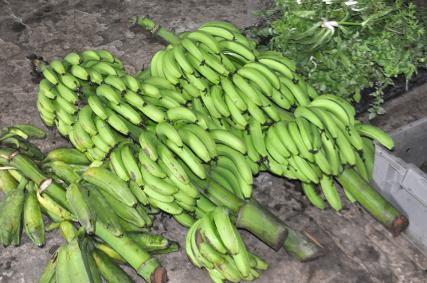 Turning the cocoa beans in order to dry.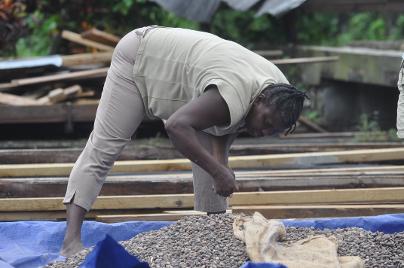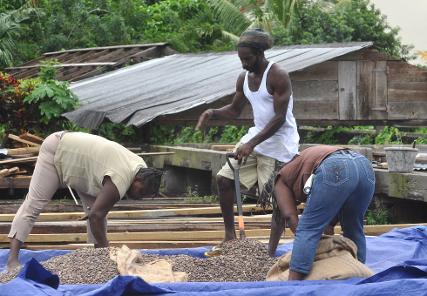 Our tour guide. Samples of chocolate.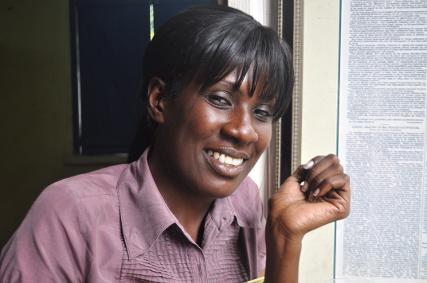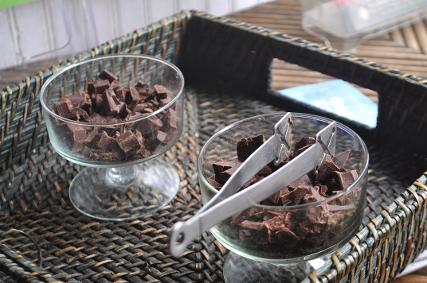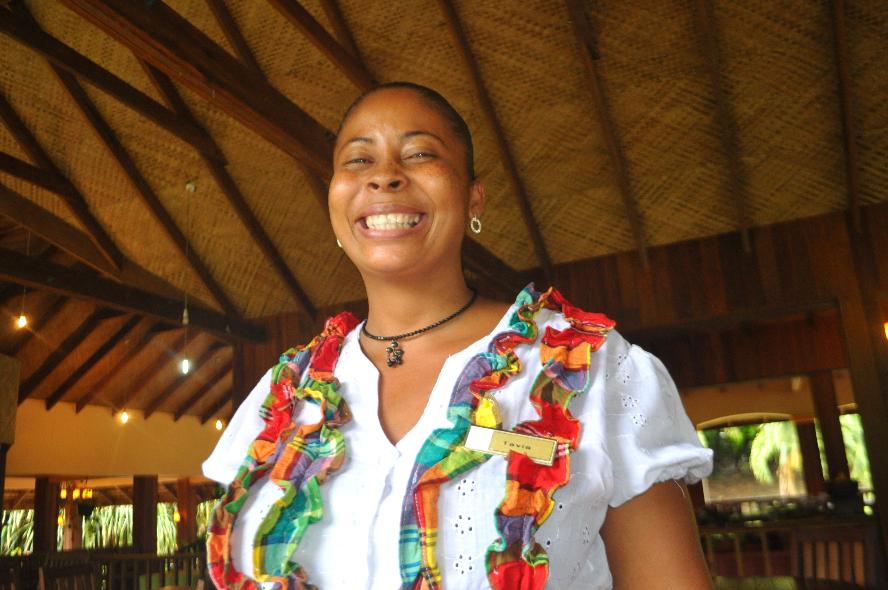 A soup ( likely spinach but not sure?). And a fritter of some sort.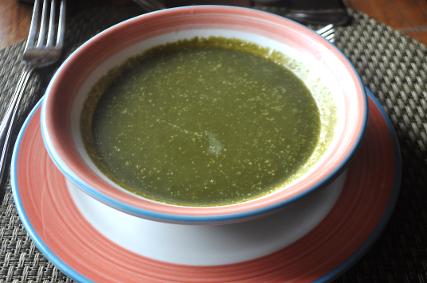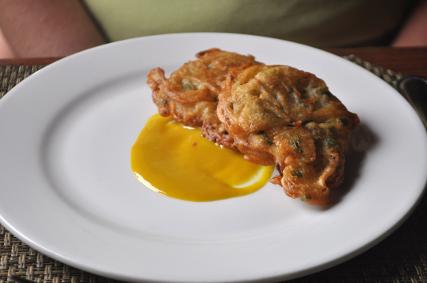 A pineapple smoothie. Of course a chocolate brownie and ice cream.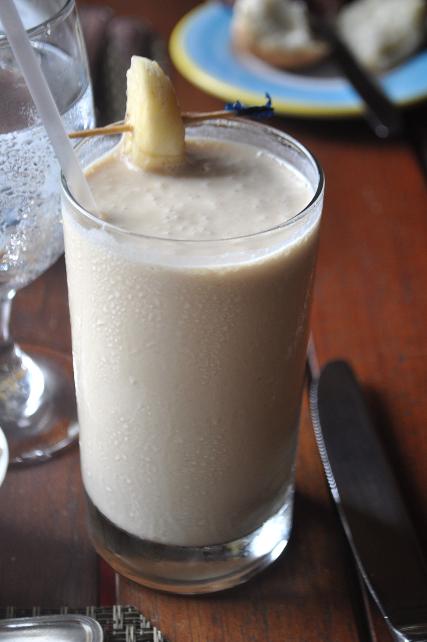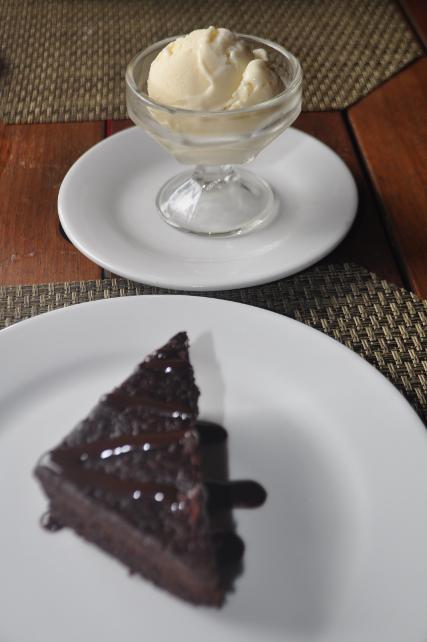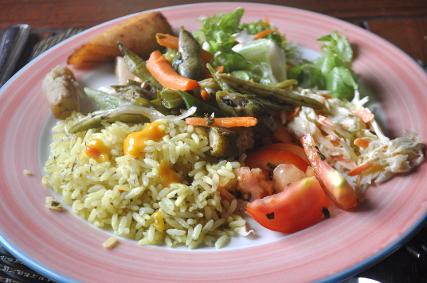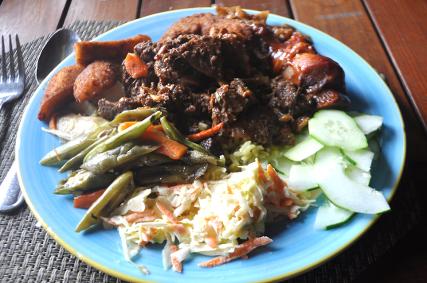 November 25, 2011 - Grenada (Petite Anse)
Another day relaxing and doing pretty much nothing at Petite Anse. To given you a flavour of the food offerings, after the buffet breakfast there is
In addition to the lunch and dinner menus there is a pretty extensive all-day long menu, including
Petite Anse burgers served with pineapple (beef, chicken, fish and veggie)

pizzas

rotis (chicken, fish, seafood and vegetable)

sub sandwiches (tuna, chicken and turkey)

toasted grilled sandwiches (BLT; ham, cheese and tomato; cheese, tomato and herb)

salads (Caesar, Greek, Capreses and mixed leaf and herb)

battered fried fish or chicken

BBQ chicken wings, and

Quesadillas (chicken, fish, seafood and vegetble)
The lunch menu might include starters such as
the soup of the day, with freshly baked bread
salt fish or Callaloo fritters
chicken fingers
shrimp cocktail, and
lobster cakes (in season)
Main lunch dish options are commonly
pan-seared fillet of chicken with Jerk or Cajun sauce,
the fish of the day,
lobster, when in season,
strip loin steak, or
pasta - seafood, carbonara or Alfredo fettuccine, with either shrimp, chicken, fish or vegetables.
Then there is this sampler dinner menu
Starters
seafood chowder
vegetable samosa, or
lobster salad
Main courses
barracuda in a creamy garlic sauce
pork loin seasoned with local herbs and spices in a teriyaki sauce
chicken breast wrapped in bacon, or
spinach quiche in a creamy cheese sauce, baked in a pastry shell
Our recollection was the food was quite good with sufficient choice, attractively plated and presented.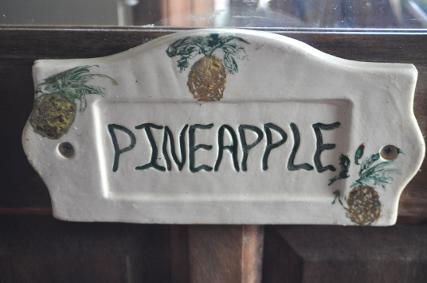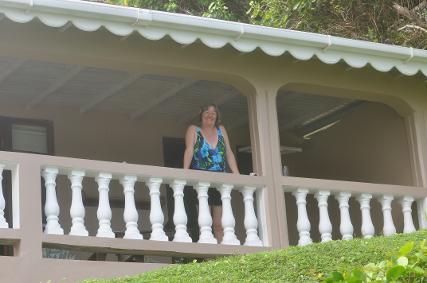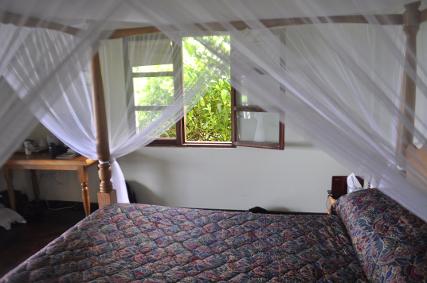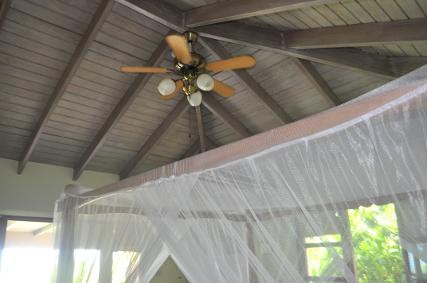 The view from the terrace never got old.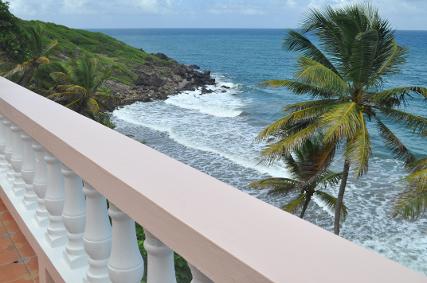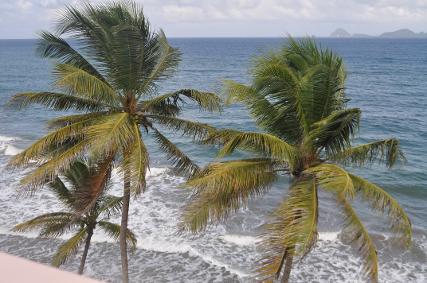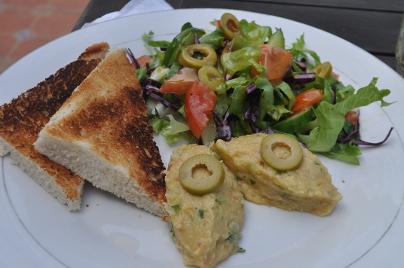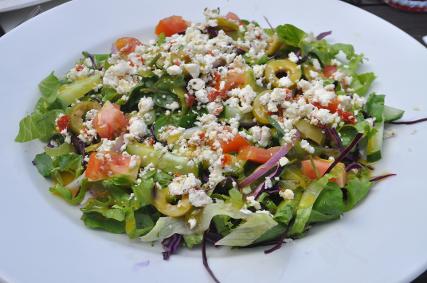 Palm trees, the sea, a Grenadian frog and the terrace.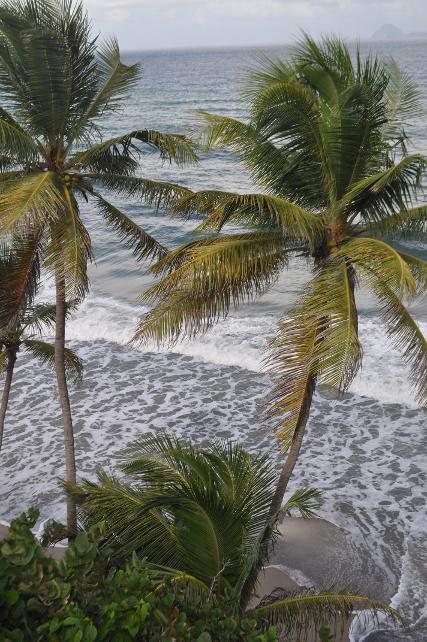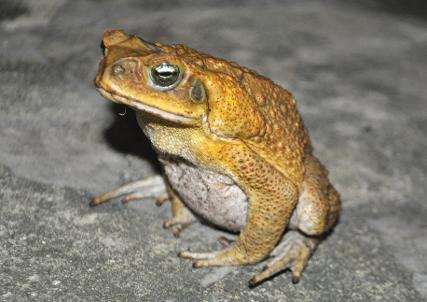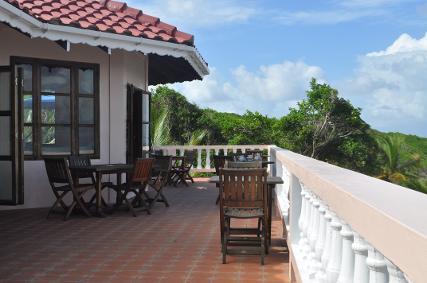 Dinner - the first must have been my appetizer and the ham my main dish.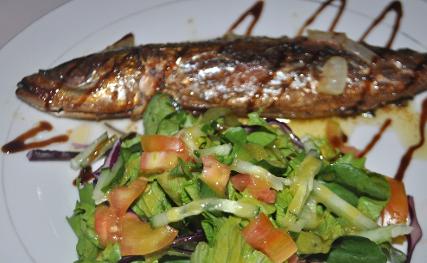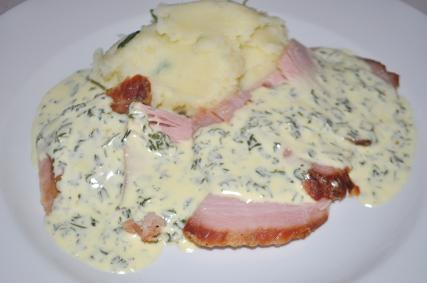 November 26, 2011 - Grenada (Petite Anse)
Our last day was again another day of R&R. Philip and Annie, the owners and managers of Petite Anse invited their guests to their plantation for a very nice gathering / social. A very generous gesture.
With only 13 units Petite Anse has a very personal / boutique feel to it. It is not a full all-inclusive 'resort'. With a spectacular view from every room stretching over to the islands of Carriacou and the Grenadines the property provides an 'idyllic, pristine and romantic' ambiance. Nestled under swaying palm trees in a beautiful tropical garden one overlooks a stunning palm-studded beach where at certain times of the year is is possible to watch for the Leatherback turtle. Petite Anse grows much of its own organic produce for the restaurant and bar
One website offers a number of pros and cons for Petite Anse. We certainly agree with the Pros and actually believe many of the Cons are, for us, Pros.
Pros
beautiful, secluded natural setting on a remote part of Grenada

small, intimate friendly atmosphere with just 13 rooms
quaint, colonial-style cottages
a cozy restaurant and bar with great views of the Grenadine Islands
the quiet, tranquil golden-sand beach
an attractive small pool with hot tub and lovely gardens
it is a long 1.5 hour windy, bumpy drive from the airport - the drive is a small price to pay for the seclusion, peace and tranquility

very isolated location, far from any other bars or restaurants - but the food and bar are both very good

beach can be windy and waters choppy at times - this is very true. Unfortunately the water was generally rough. On the other hand there were lots of shady places on the beach.

no TVs, iPOD docks, or radios (a pro for some) - yes, a Pro for us.

no spa or fitness center - again a con for some but not for us.
For us the Pros far outweigh the cons.
The view from our room. A colourful key / clothes hooks.
About to enjoy time on the beach.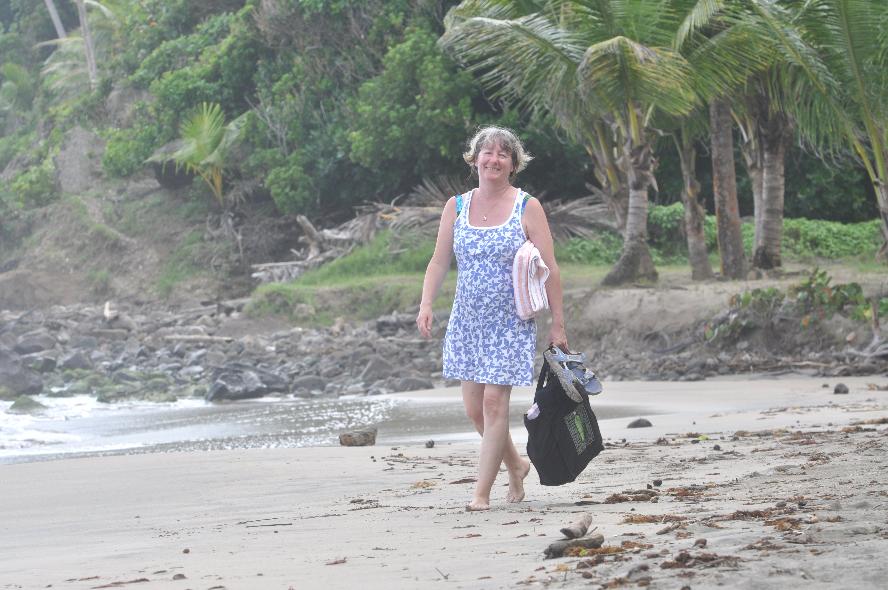 The pool, attractively set in the grounds of Petite Anse.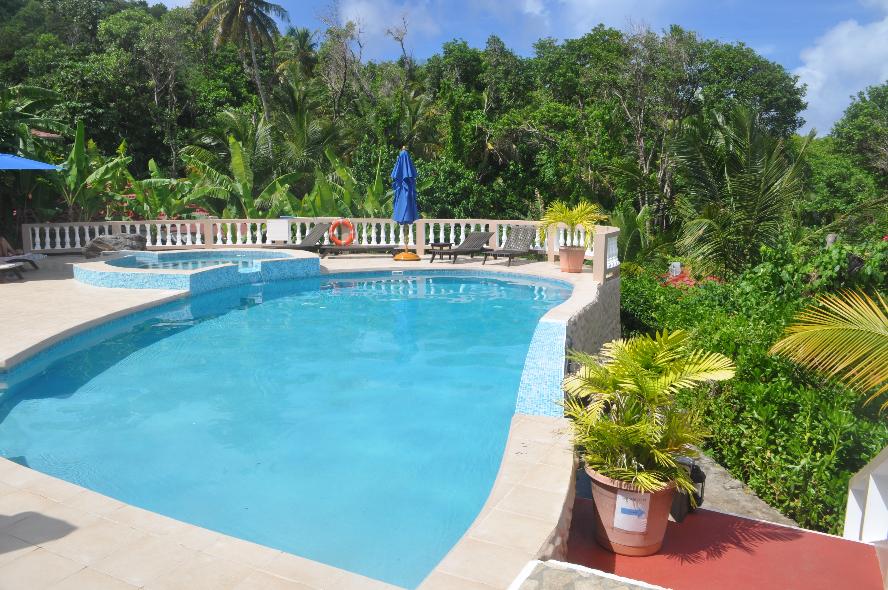 Certainly not Costa Rica but there were birds and some wildlife in the area.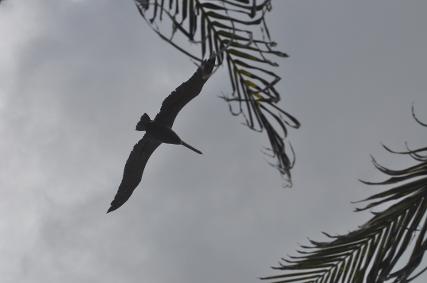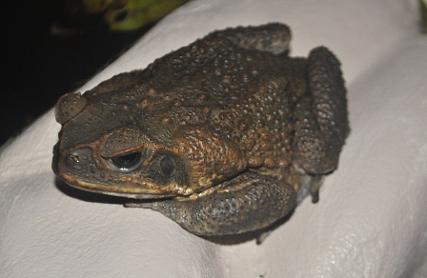 The well-stocked bar. Relaxing in the comfortable lounge.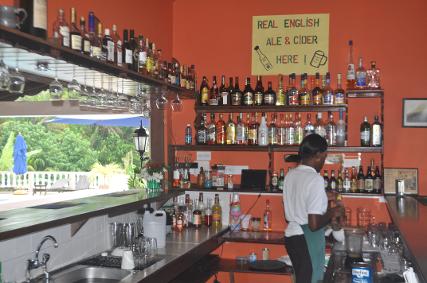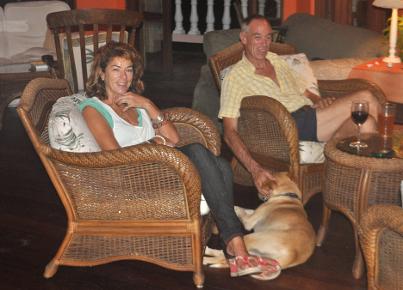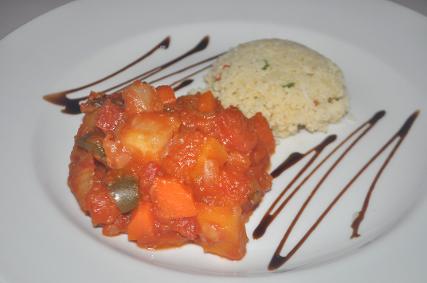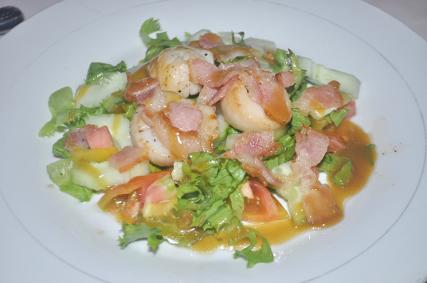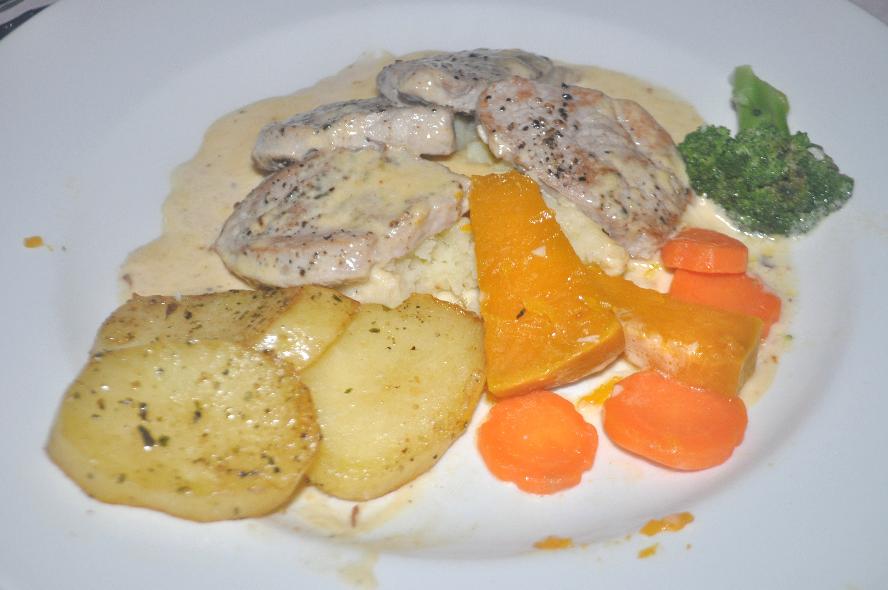 November 27, 2011 - Grenada (Petite Anse)
One final tasty breakfast on the veranda overlooking the sea on a mostly sunny day before we left Petite Anse for the south of the island and a final night at Casa Bella
Ripening bananas and colourful flowers.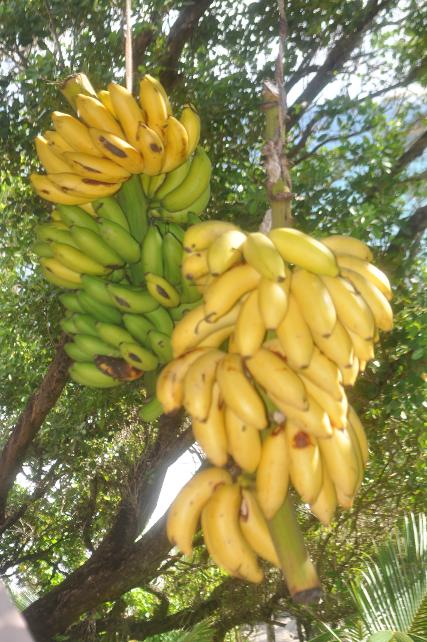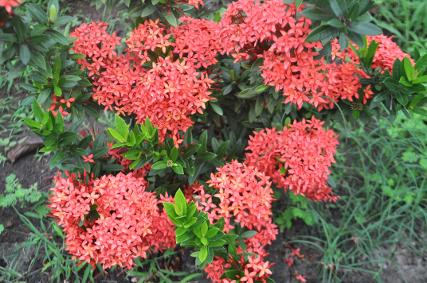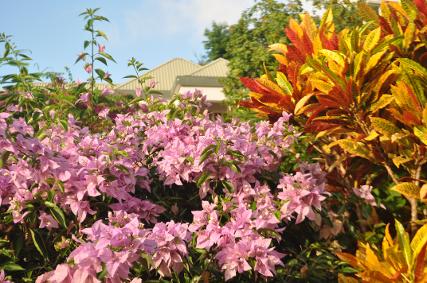 I know there have been a lot of veranda photos but the view from the veranda is spectacular.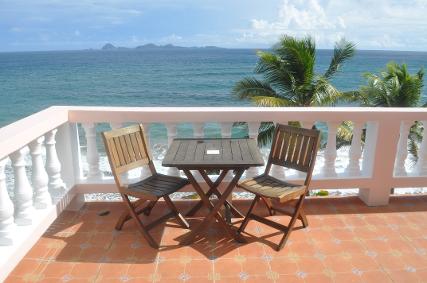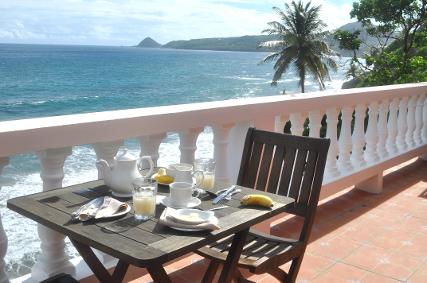 Enjoying breakfast overlooking the sea.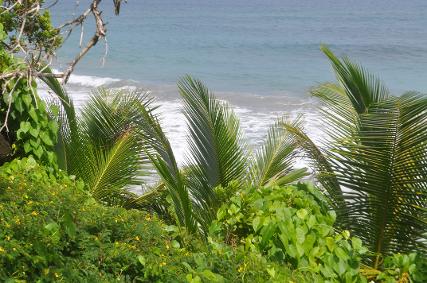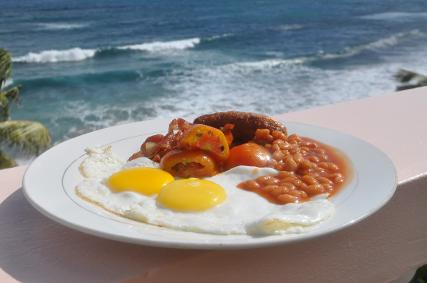 After six nights we left Petite Anse, driving to the south of the island for access to the airport.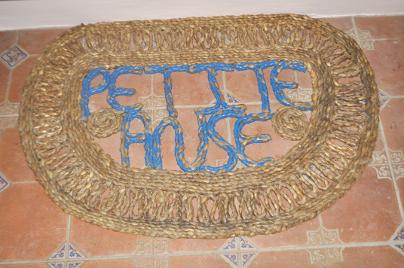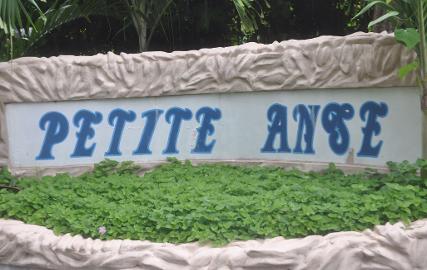 An elderly lady. A vegetable and fruit stand.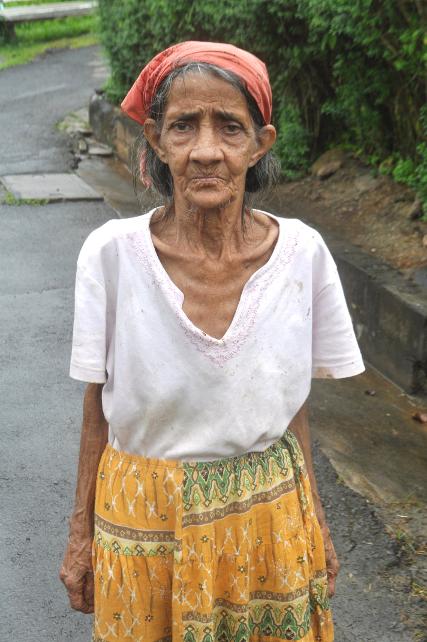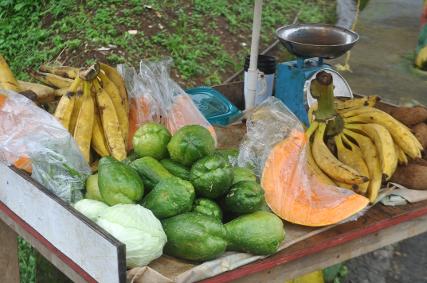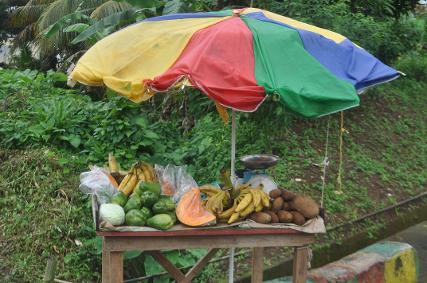 She was very willing to have her photo taken.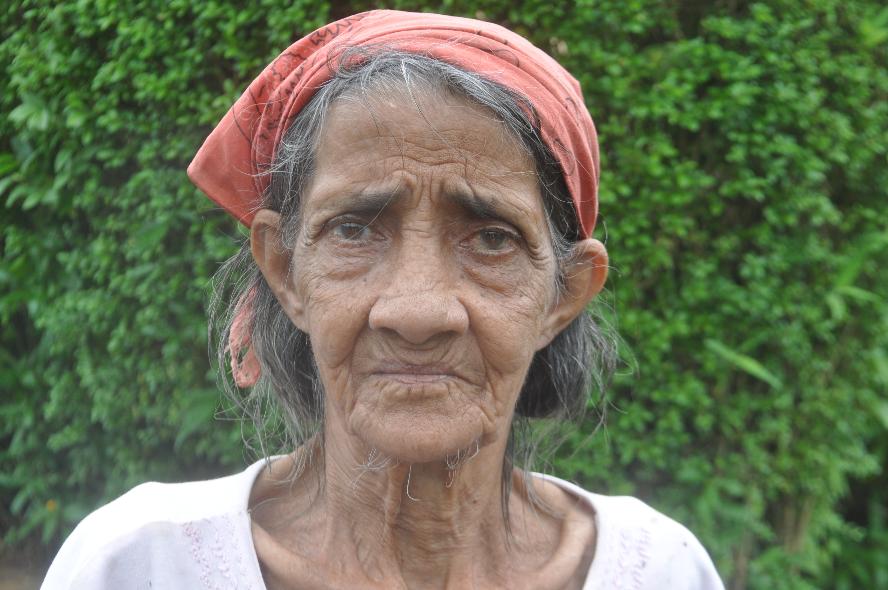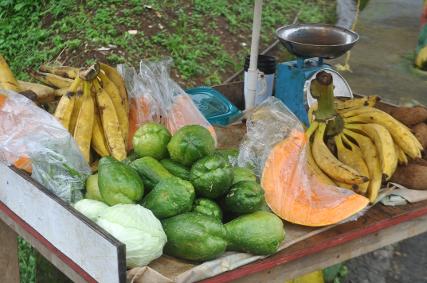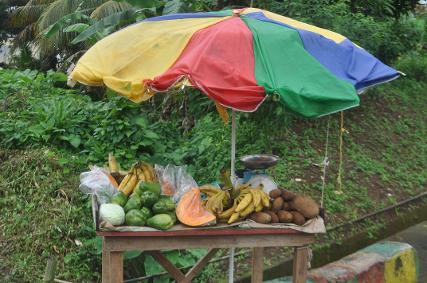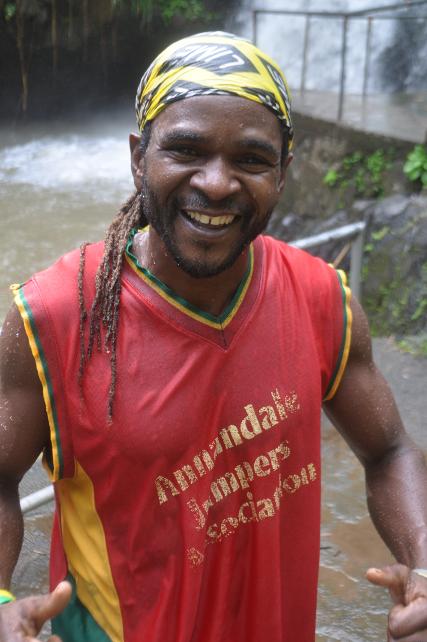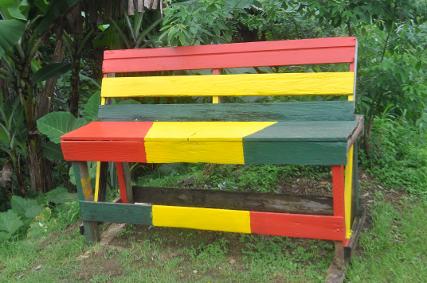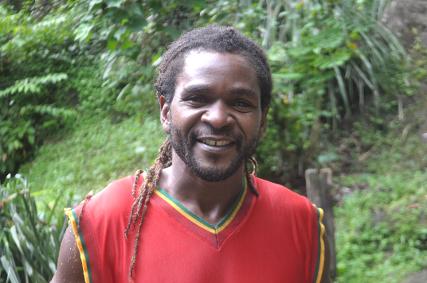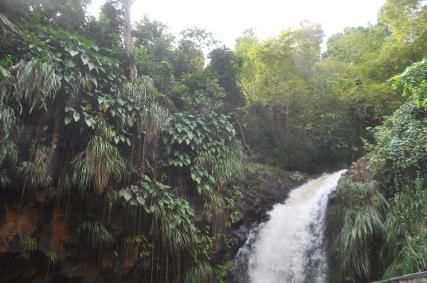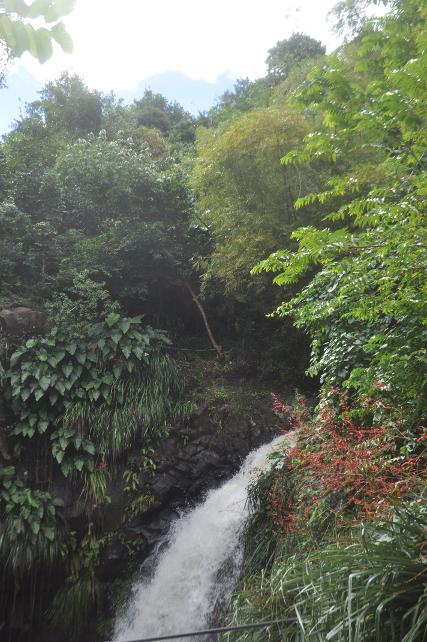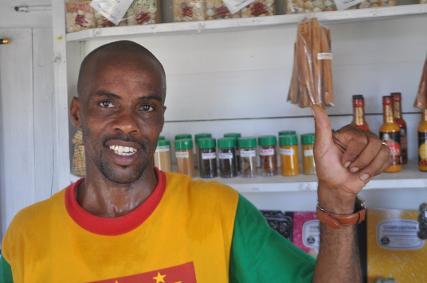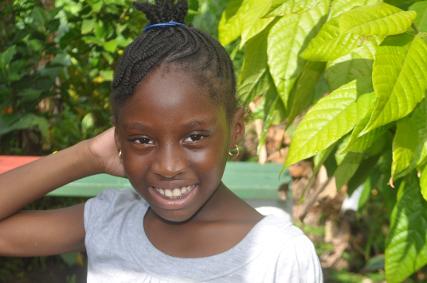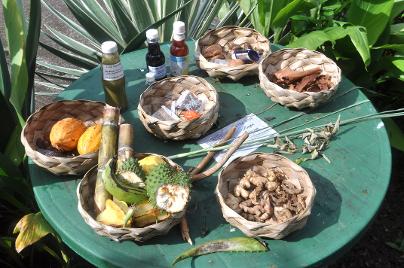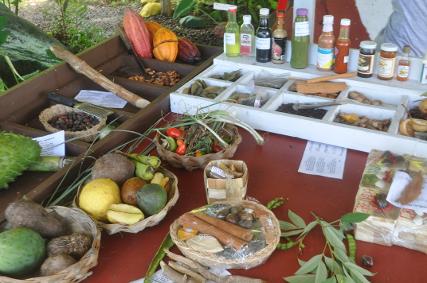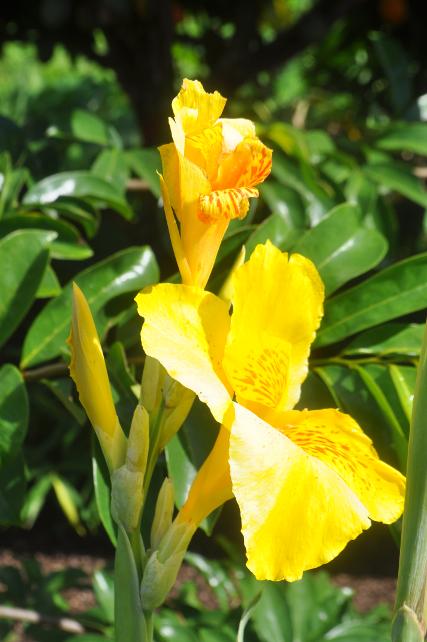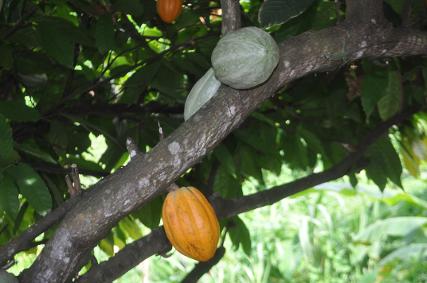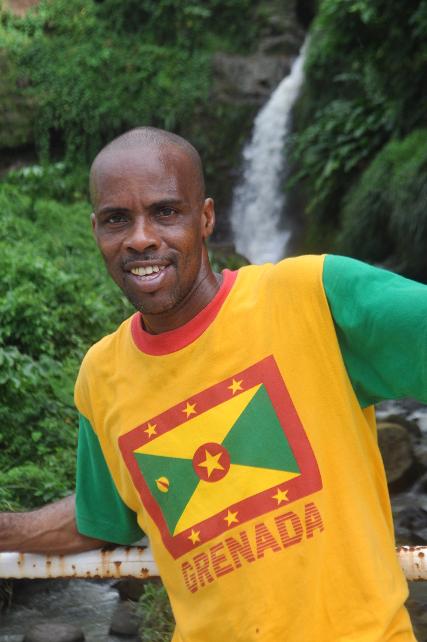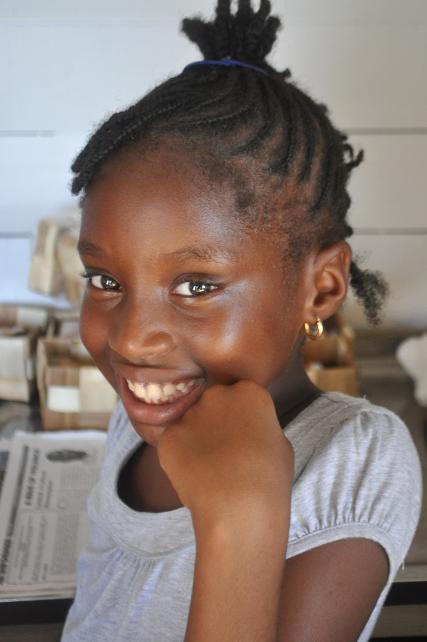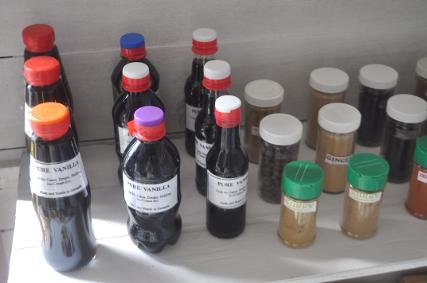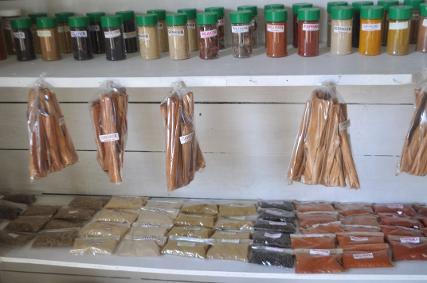 Casa Bella Bed & Breakfast