Next trip / travelogue
Thank you for following our travelogue of Greece. We hope you enjoyed the descriptions of our activities and experiences, along with the photos.
Happy travels, Norm and Gayle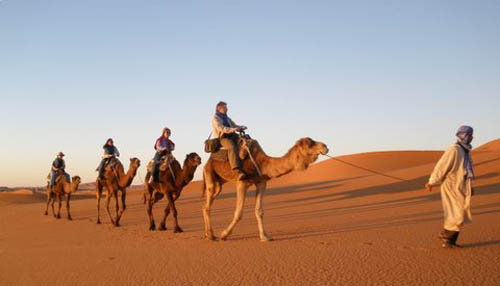 If interested our next trip will be in September / October. We'll be leaving for Morocco September 11th, returning October 8th visiting cities including Rabat, Chefchaouen, Fes and Marrakech. We'll be crossing the Atlas mountains and doing the dessert camel trek with an overnight stay in the dunes. I'm not sure how reliable the internet will be in some parts of Morocco but hope you will return to the site and follow along.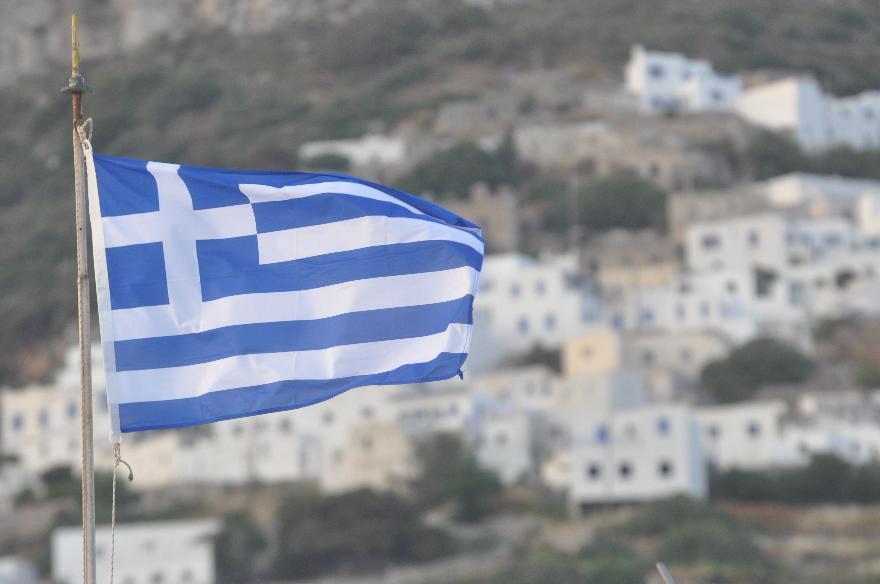 Greece in Review
There it is, a wonderful 24 days in Greece. Some of our most vivid memories include
the generosity, kindness and friendliness of the Greeks, whether just chatting or offering free desserts, cucumbers from their greenhouse, walnuts or parting gifts

Samonas

Giannis playing his lute with the group from Cyprus

raki

Kriti – Konstantinos' soon mother to be cat

fresh orange juice

the crystal clear turquoise waters, including our swims

endless snaking mountain roads, bordered by colourful shrubs and flowers

the spectacular mountain and sea scenery, particularly of Amorgos and Crete

the sounds of the birds, roosters and sheep

the tranquility of staying in mountain villages

the Greek (and Cretan) salads, the octopus and the mountain bread

sharing in the Koufonissi Fisherman's Festival - provided food, wine and entertainment

the walks in Koufonissi, both to town and the wonderful sandy beaches

the wonderful small towns/villages, e.g. Chora in Amorgos

the view to Aegali bay from Pano Gitonia
For the record we thought we would share the places we stayed and some costs of the trip. Except in Chania we stayed in small villages or a few kms outside.
At the time of our trip the exchange rate was more or less 1 euro = $1.45 Cdn
| | | | |
| --- | --- | --- | --- |
| Island | Nearest town | Place | Cost * |
| | | | |
| Paros | Naoussa | Petres Hotel** | 78 euros ($113 Cdn) |
| Koufonissi | Chora | Pambelos Lodge | 60 euros ($87 Cdn) |
| Amorgos | Patamos/Aegiali | Pano Gitonia | 70 euros ($102 Cdn) |
| Crete | Krousonas | Arodamos | 60 euros ($87 Cdn) |
| Crete | Anatoli | Dorovinis | 85 euros ($123 Cdn) |
| Crete | Samonas | Samonas Villas | 130 euros ($189 Cdn) |
| Crete | Kefali | Velanos Villas | 45 euros ($65 Cdn) |
| Crete | Chania | Mama Nena** | 170 euros ($247 Cdn) |
* taxes included; in some cases there were moderately less expensive rooms ** including breakfast
All accommodations that did not include breakfast had small kitchenettes to extensive kitchens.
Traveling in Greece is actually relatively inexpensive in comparison to some other Mediterranean countries. Of course prices vary with the exchange rate and the accommodations chosen but here are the average costs, taxes included, per day of our last few trips, ignoring air fare which can vary considerably.
| | | | | |
| --- | --- | --- | --- | --- |
| Trip | Accommodation | Food | Travel* | Total ** |
| | | | | |
| Spain | $165 | $90 | $52 | $314 |
| Italy | 162 | 92 | 58 | 311 |
| France (Corsica/ Provence) | 160 | 128 | 128 | 347 |
| Portugal/Spain | 204 | 96 | 60 | 367 |
| | | | | |
| Greece | $113 | $64 | $61 | $242 |
* car rental, gas, other non-air travel; Greece includes ferries **incl. small 'other' costs
For example food was 40% less than the average of recent trips to Spain, Italy, Portugal and France. Accommodations of similar quality were 35% less. The average daily cost for food, accommodation, travel, i.e. car rental, gas and ferry in Greece was $242, or nearly 30% less than these other countries.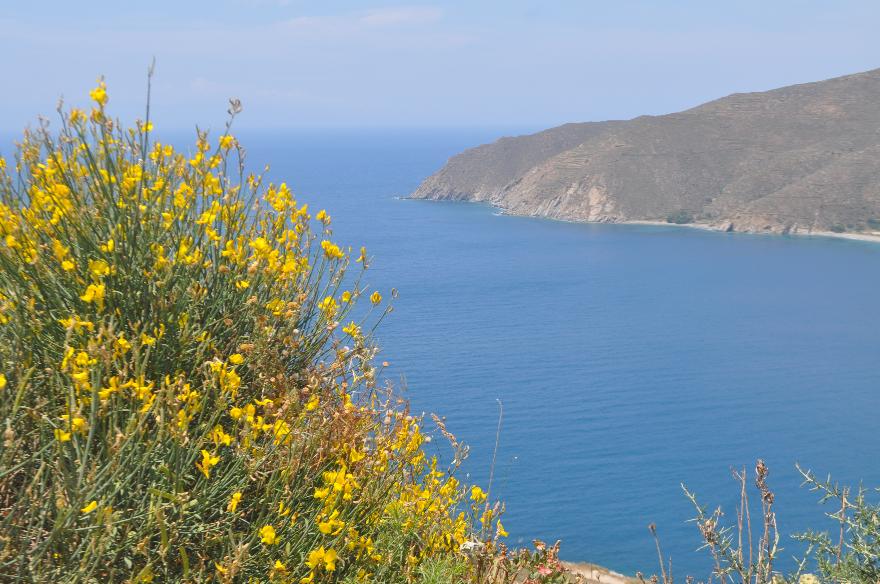 June 18, 2015 – Chania to Athens to Toronto to Halifax
We were fortunate enough to have a little time (half and hour) for breakfast – nice but not as extraordinary as reviews have indicated – the reviewers should experience Samonas' breakfast.
We then took a taxi to the airport for the 50 minute Aegean Air flight from Chania to Athens. After boarding there was a minor technical issue on the Air Canada flight out of Athens that had to be addressed. Unfortunately during the half hour wait a lightening storm passed through Athens further delaying our departure. We eventually left 1 ½ hours behind schedule, arriving 10 ½ hours later and two hours late in Toronto. As a result we missed our connection to Halifax and re-booked on the next flight. After a very long day (awake over 24 hours) we arrived home and pretty much went straight to sleep.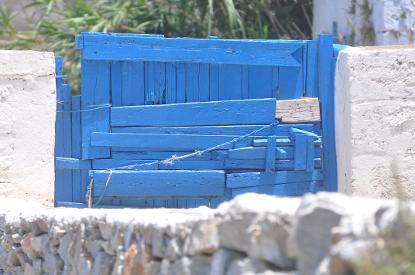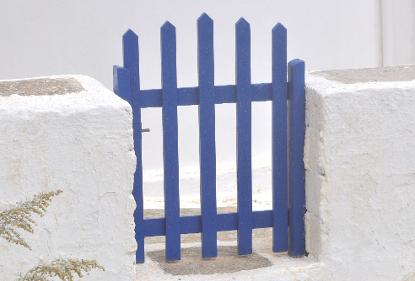 June 17, 2015 – Kefali to Chania
We planned to get on the road early in order to have maximum time in Chania, given we were only there for one night. But who knew it would be so hard to leave? Although we had little left for breakfast (some bread, jam, fruit, yoghurt and coffee) with another perfect morning weather wise we just found it difficult to pack up. But eventually we did and were on the road, for about half a km when we decided to stop at the restaurant in the village and have a fresh orange juice. Our waitress of the other day – Katerina – recognized us which was nice.
After a large juice, enjoying our last views down the valley / gorge we drove perhaps 5 km to Elos where we made another stop at the olive wood shop to take Yioulis up on his offer of a coffee. We spent over half an hour chatting about his background – what he did before carving stone and wood etc. A really interesting character who epitomizes the laid back Greek attitude – at least here on the islands. Perhaps not a life all would aspire to but it is a life Yioulis seems happy with.
All of a sudden it was noon and we were still nearly two hours from Chania. Rather than going up to Kissimos we took the road from Paleochora to Chania which turned out to be a good call. A scenic drive – aren't they all? – along what turned out to be a good road we made some decent time, arriving in Chania 1:30ish.
Our accommodation for the night was the top floor of a small three room boutique hotel/bed and breakfast directly on the harbour of the old town. With Chania's old town being pedestrian only we found the nearby suggested parking area where we parked the car, loaded up with our backpacks and made our way to Mama Nena's. We were met by Matina and Diana, both very welcoming and nice and shown a wonderful room both looking out over the old port along with a terrace on the back side with views to the mountains.
Still being very hot (mid-afternoon) we had a little rest before wandering about the narrow alleyways of the old town of Chania. Although Chania itself is larger than one would think the old town and the harbour is very quaint and attractive with many shops and restaurants wedged in wherever there is any space, often converting plazas and alleyways to a string of adjacent restaurants. We eventually made our way to the harbour where on the far side we plopped ourselves down at a waterfront bar and enjoyed a couple of drinks while watching the people pass by in the late afternoon sun.
We then circled back to one of the recommended restaurants – Portes, where I had confirmed they indeed did have grilled octopus. We had a wonderful meal accompanied by a bottle of Cretan white wine. Stuffed mushrooms and stuffed zucchini flowers – a bit of a gamble as the previous zucchini flowers were not that great – for Gayle. But they were delicious here. I had spicy meatballs with couscous and feta cheese – also excellent and grilled seared octopus – good but not the best octopus of the trip. The bread and olives were again excellent. The meal, excluding the wine, was < 30 euros, a great value. What was equally enjoyable was that we were treated as guests, with very polite service as opposed to the hustle experienced at many of the other restaurants in Chania where there is over the top encouragement, actually off-putting pressure to park oneself. The low key nature here was very refreshing and nice.
With the "on the house dessert' came the traditional small carafe of raki. Having been given and bought some to take home I was interested in the small shot glasses used and the traditional carafe the raki is served in. I asked if I could purchase them. The waiter said he would check and shortly returned with another carafe, full and corked along with two clean shot glasses, telling us they were a gift. Once again the Greek generosity. Of course he received a healthy tip.

With our olive wood gift bags.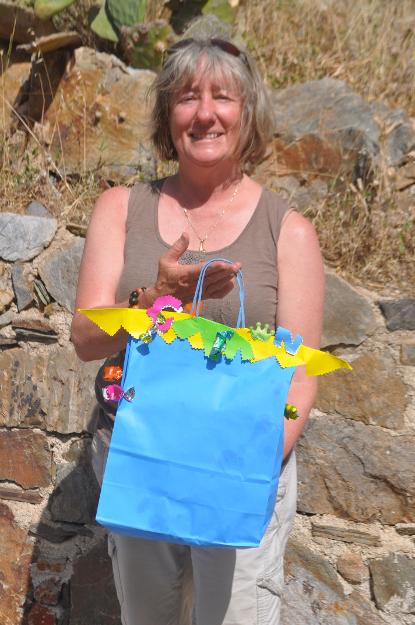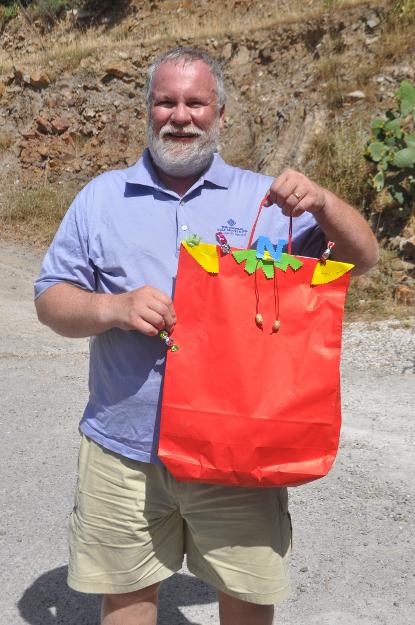 We stayed in the top room of Mama Nena's (the burnt orange building) in the centre, directly overlooking the harbour.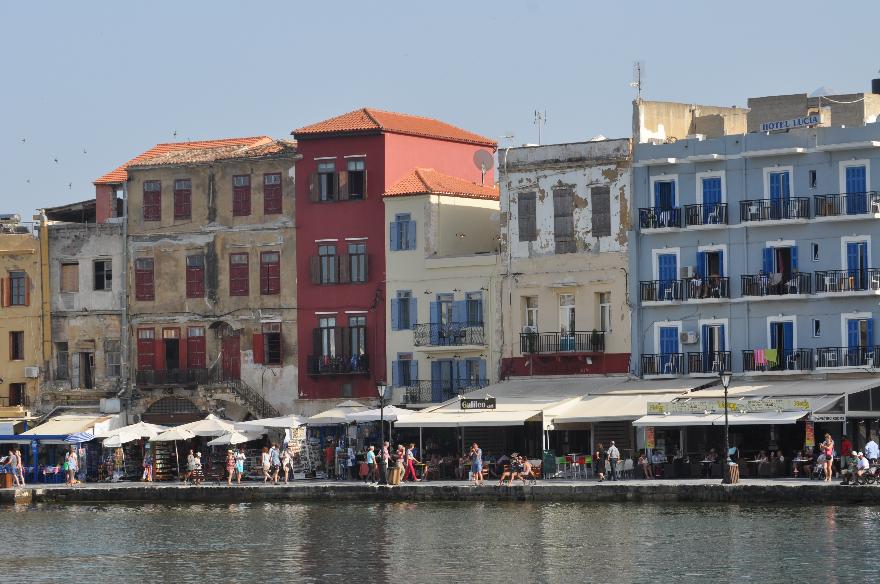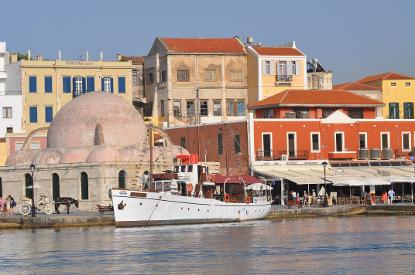 A few photos within the interesting alleyways of Chania.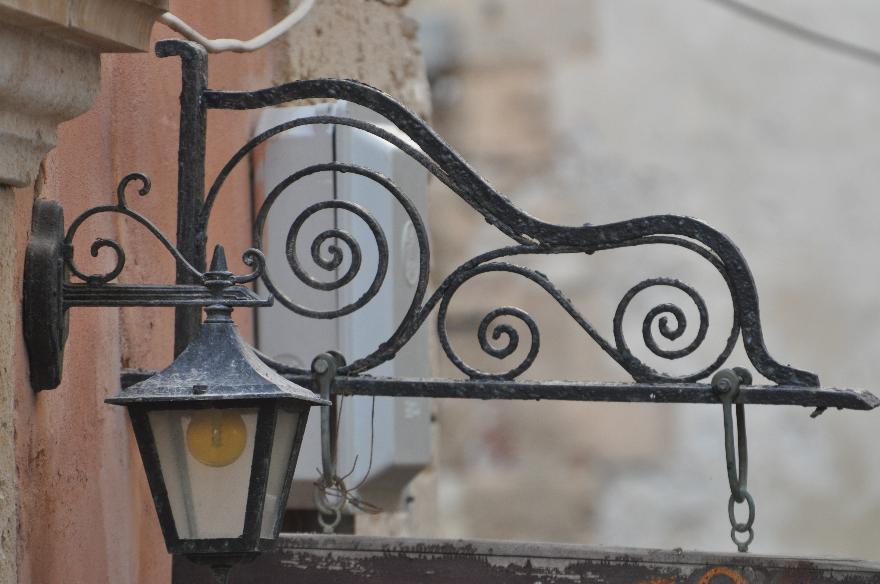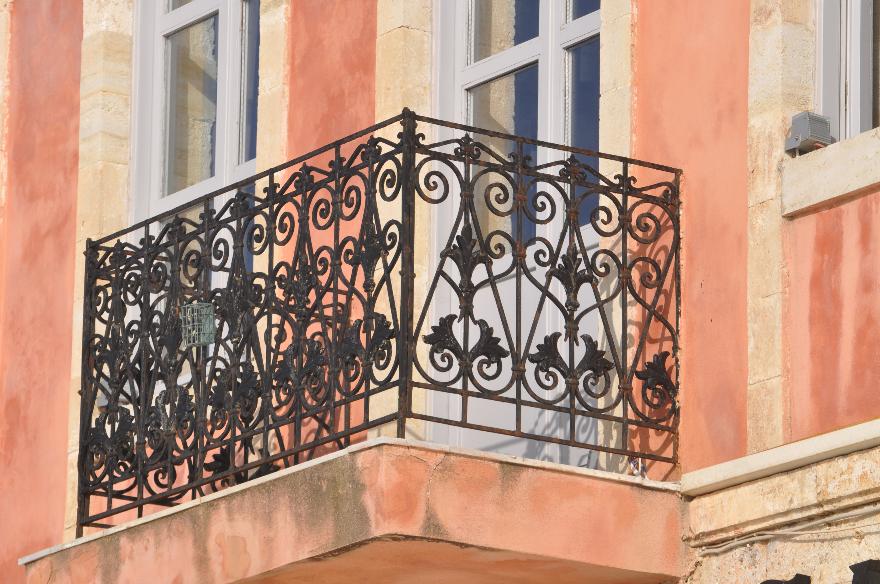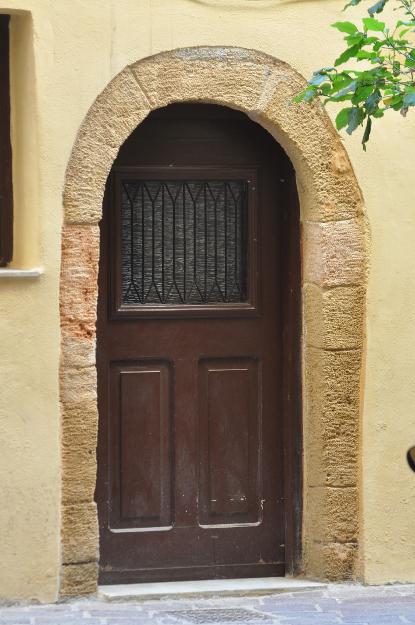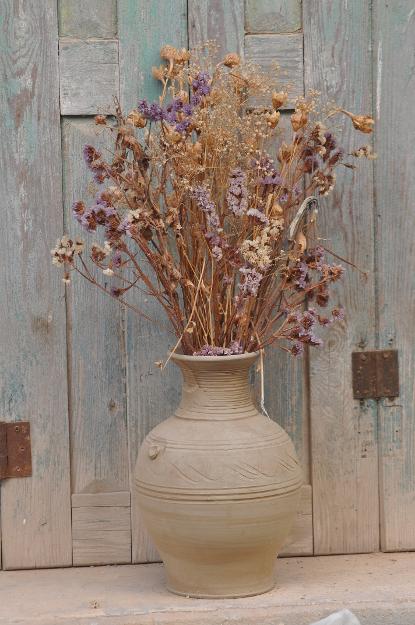 A wonderful last meal - stuffed mushrooms, spicy meatballs with couscous and feta, stuffed zucchini flowers and grilled octopus.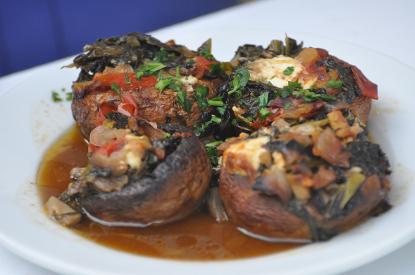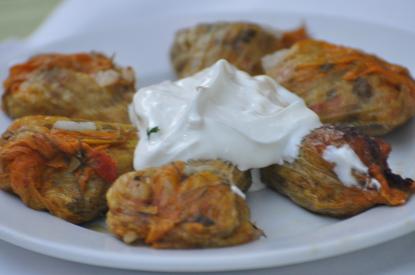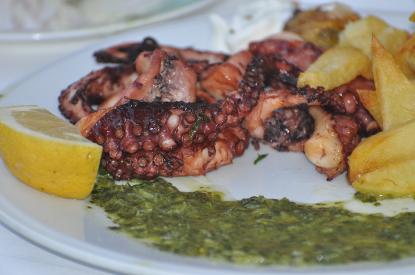 Enjoying that last octopus.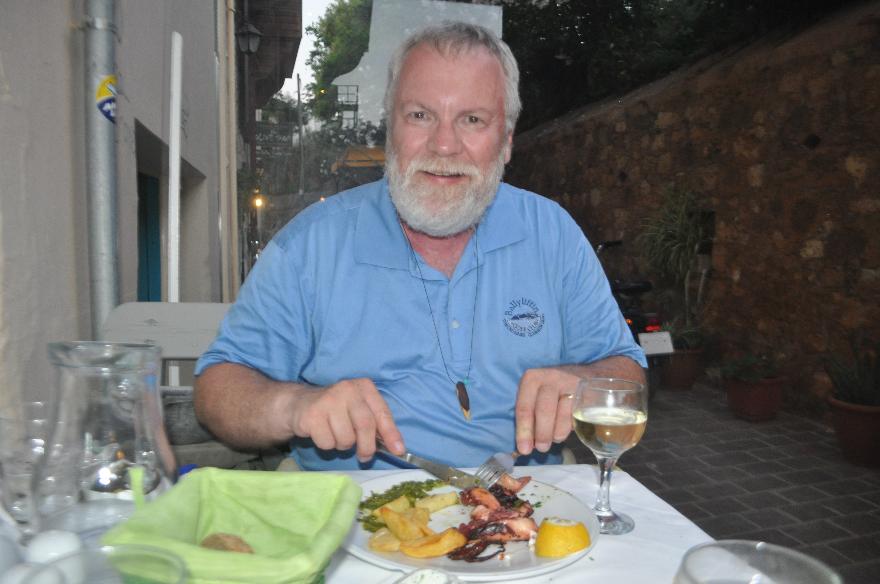 ... and that last glass of wine.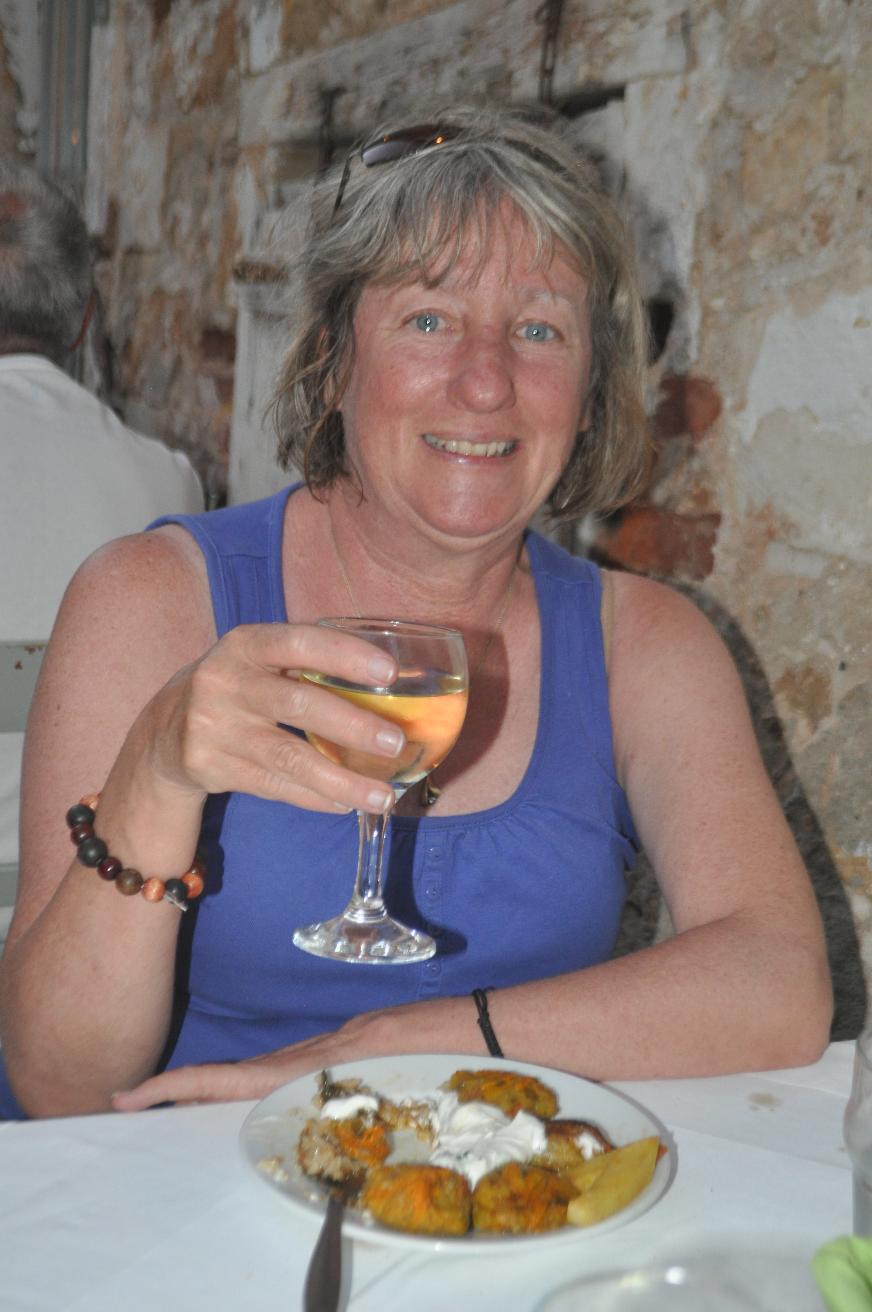 June 16, 2015 – Kefali, with a drive to Elafonisi beach
Once again a similar day … and there's nothing wrong with that. Sitting around Velanos in the morning, eventually having breakfast all the while listening to the sounds of the birds, roosters and sheep while gazing out to the opposite mountain soaking in the warmth of the sun.
Today, again not until late afternoon we went to Elafonisi beach, the most famous of the Crete beaches – a long stretch of nothing but sand. Given the heat of the day – the temperature according to our vehicle's measure reached 34 C – a swim was the perfect plan. We took the less direct route in order to return to Manolis' fresh juice stand to again enjoy the best orange juice in Crete (although honestly every glass of fresh orange juice seemed to be the best in Crete).
Then on to Elafonisi which was even more impressive than we imagined. Easy (free) parking, wide stretches of soft sand, the most gentle drop off and nice warm water. Being so exposed the wind was a bit of an issue with sand blowing into everything. As well the beach was surprisingly crowded for a Tuesday afternoon given how few tourists we had previously encountered – guess they all have been at the beach. What was particularly noticeable was the amount of Russian spoken. This is the second time we have encountered a considerable number of Russians, as announcements were provided on the ferry from Santorini in Russian as well as Greek and English.
We stopped at an excellently rated restaurant on the way back up the gorge. Although the ambiance was very nice with a chicken wandering aimlessly through the grounds and a cat politely sitting on a chair at our table, goats in the caves high up the opposite cliff side the food was mediocre at best – actually quite disappointing given the rave reviews. Not that the food was bad – although the wine Gayle ordered was just terrible, in fact undrinkable, but just not worthy of such praise.
The most popular drink in Crete (and Turkey, Bosnia and other Balkan countries) is raki, similar to Italian grappa, a spirit produced from the solid residue of the grape - the skin, pulp, seed and stem that remains after the fruit is pressed to make the wine. Originally developed as an alternative to absinthe raki is still a potent cousin. In some cases raki is said to have up to 90% alcohol content. Raki is offered after most every meal here in Crete. Although not a great fan of the pure alcohol I felt it rude to not accept the generous offers. On occasion perhaps I was a bit too hospitable. In the mountain villages of Crete the production of home-made raki is a part of life. In a mini mart there was raki for sale in of all things 500 ml (and larger) water bottles. On the way home I bought one for 3 euros ($4.40 Cdn). This is all home-made stuff so it was not surprising to see the manner it which it was bottled.
Being our last night we arrived back at the villa well before dark in order to enjoy the balmy evening on our porch. Life is good.
Another delicious late morning breakfast.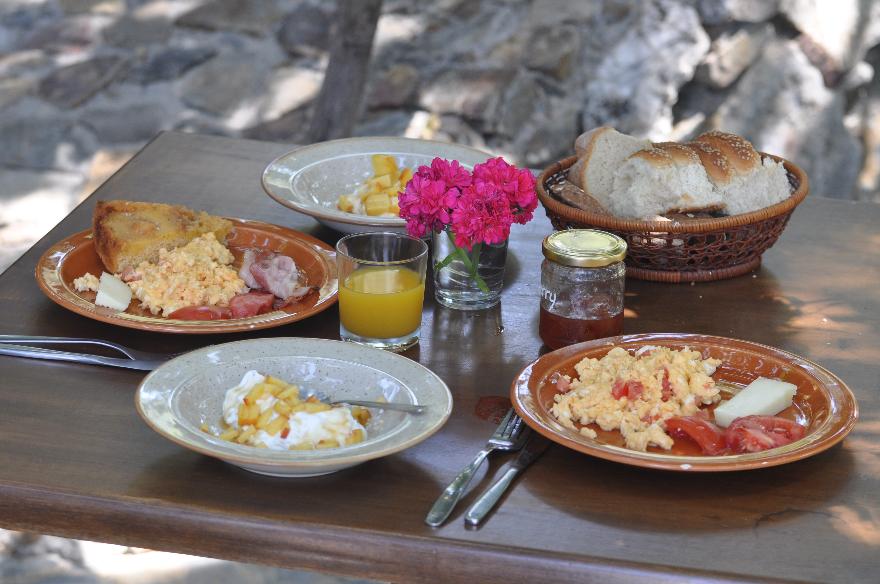 One of the other guesthouses at Velanos Villas.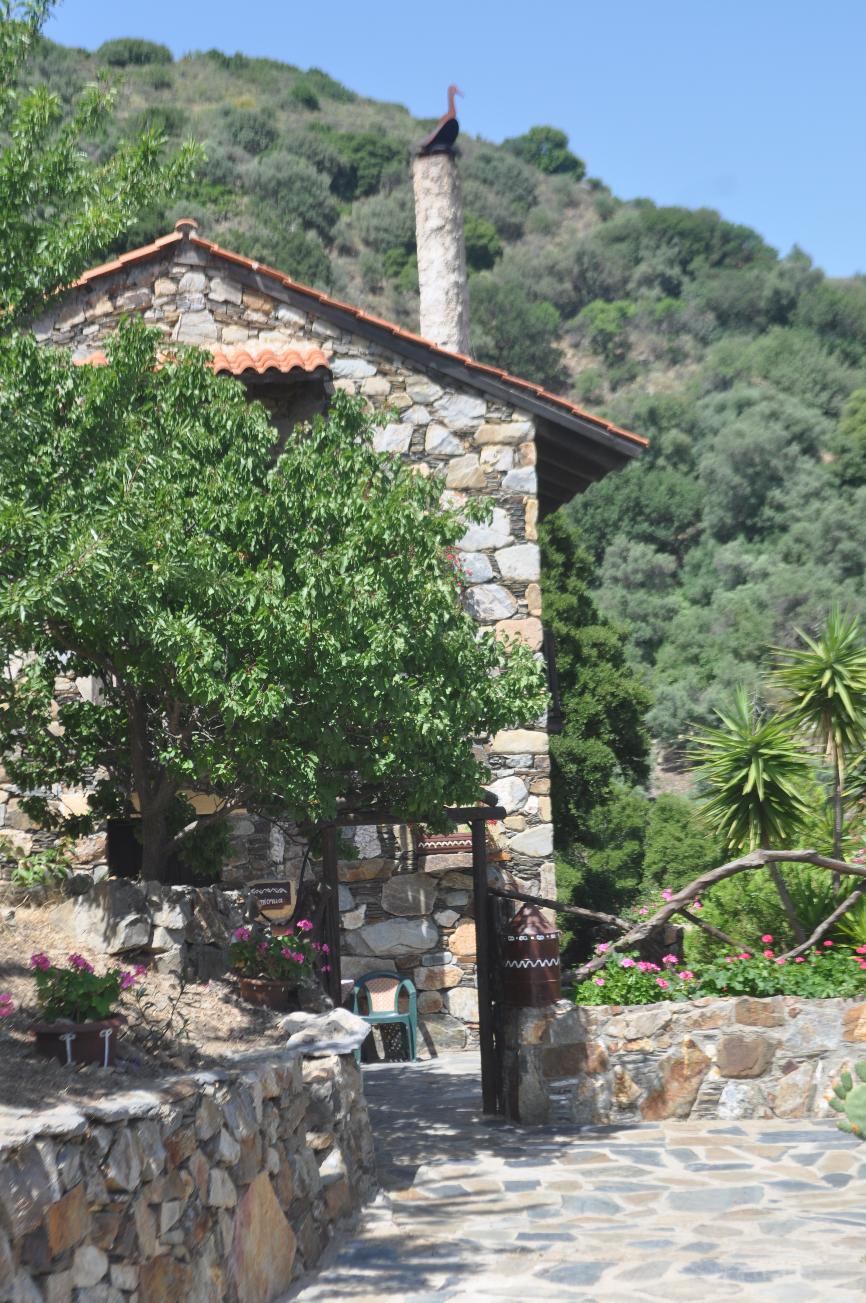 The 2,000 year old Velanidia, or oak tree just off the corner of our villa, providing a nice shady area.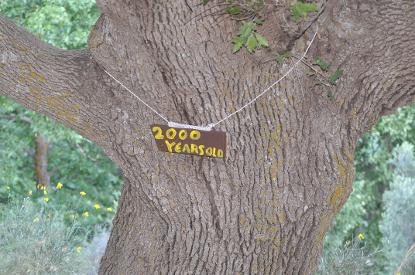 The stone and flowers in front of our guesthouse - Villa Areti.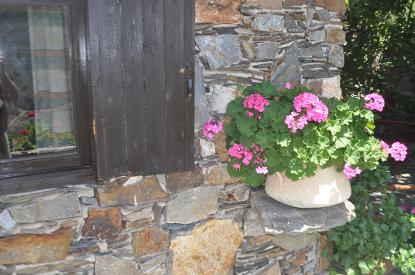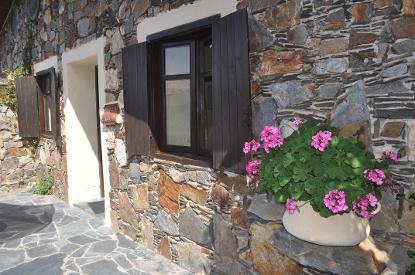 A stone building that has seen better days but appears to be undergoing renovations, it is in a perfect location looking directly down the valley to the sea with no obstructions.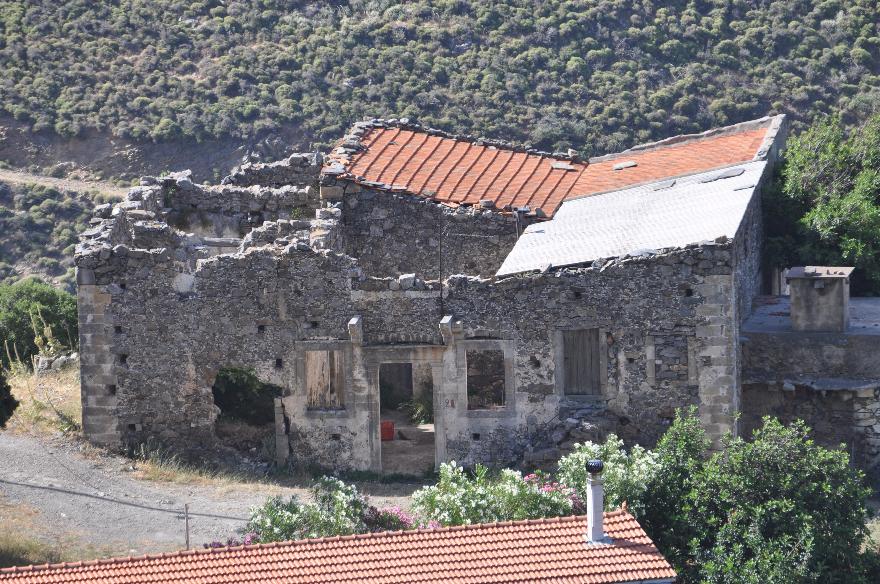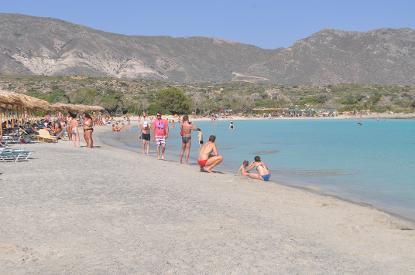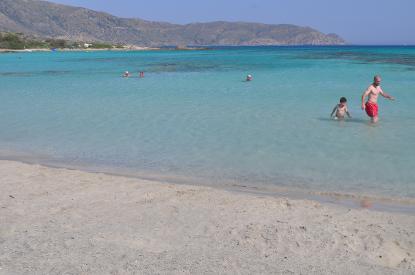 A nice hot clear evening for dinner in a restaurant nicely situated in the valley at the bottom of the gorge.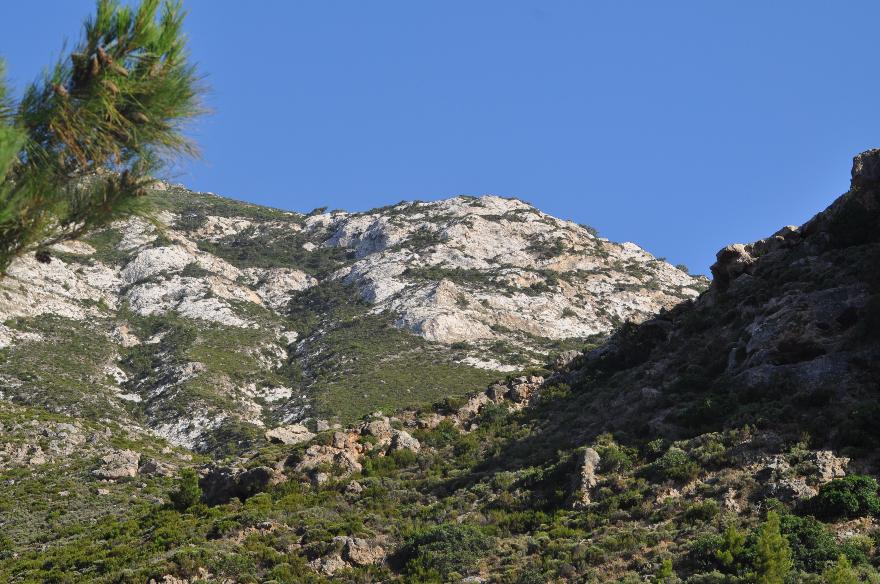 Sitting waiting for dinner.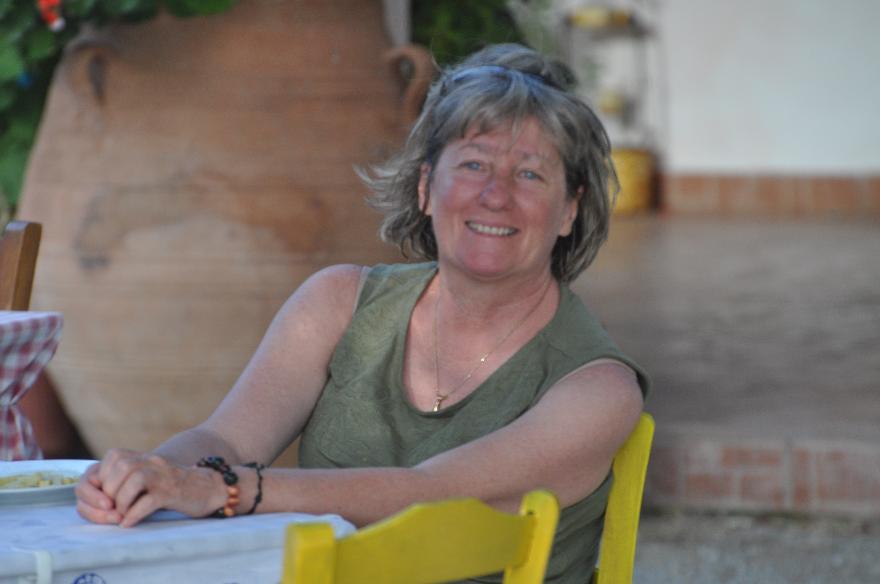 There were three for dinner. Our guest was very polite and respectful.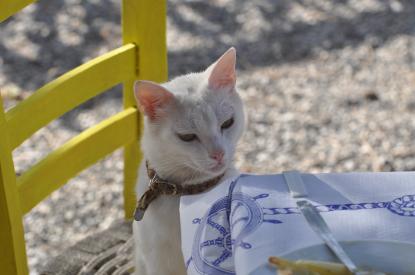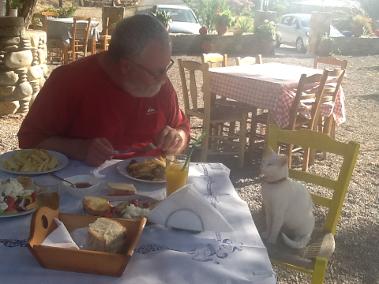 As well this young chicken pranced around the grounds and goats could be seen in the cave of the mountain cliff opposite.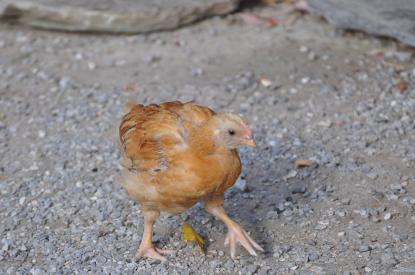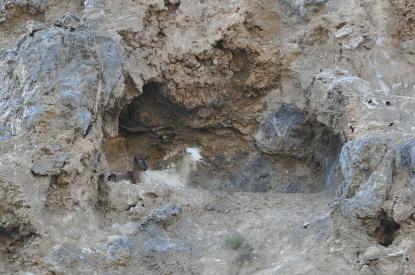 Raki, the potent Greek spirit produced from the solid residue of the grape to make a very powerful drink. These bottles were certainly not produced under government control.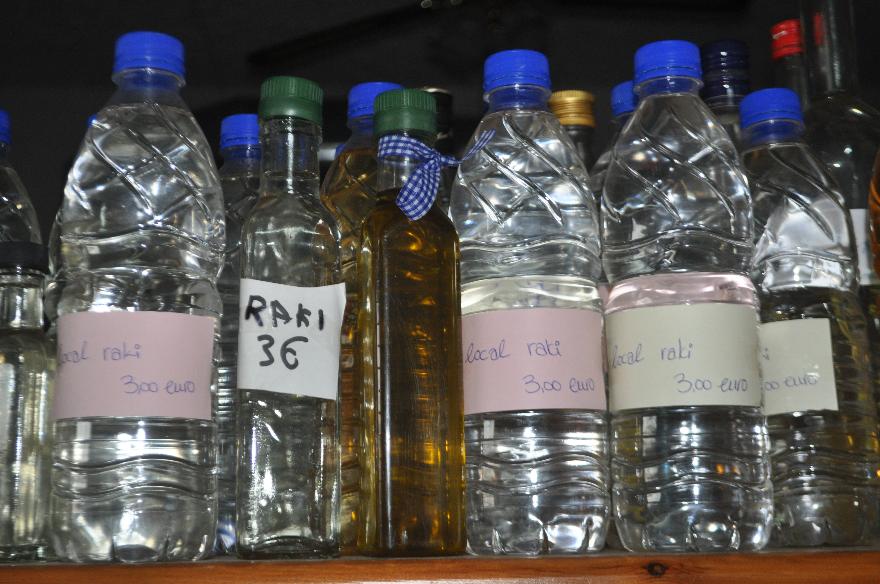 June 15, 2015 – Kefali, with a drive to the coastal towns of Sougia and Paleochora
A bit of same old, same old, but same really good. We awoke to another day of great weather – warmth (actually it eventually reached a high of 34 C) and sun. Another breakfast looking out over the lovely scenery, tranquil and relaxing to the sounds of the birds and chickens Perhaps not for everyone but for us perfection.
Today we decided to go to a couple of towns and beaches along the coast. On the way we stopped in to a funky olive wood shop in Elos run by quite a character Tsouris. As his motto says "When wood met madness". The entertainment value was priceless, and with Tsouris' desire to present gifts in an attractive, personal way it was well over an hour between entering and leaving – one of the best hours of the trip. In the end we did buy a fair bit – a honey pot, a garden Cretan spirit, a plate and a few small gifts. Tsouris packaged each in his personalized attractive bags crafted with detail to add to the look. Into each bag he kept throwing handfuls of candies, all while we were enjoying the cold coffees he insisted we accept. Another experience that we have encountered often here in Greece – generosity and a simple joy for the life one has.
We continued through yet another gorge to the seaside village of Sougia, a laid-back, refreshingly underdeveloped beach community along the south coast. Once a popular remote hippie hangout many nostalgic ex-hippies apparently return each year. This vibe was clear with small tents pitched along the beach. Unfortunately the beach is quite rocky (again thank you water sandals) with a sharp drop-off in the water, which was actually cold in places with chilly currents. The village did seem true to its billing with little to do but re-charge one's batteries.
We decided to move on to Paleochora where the beach is supposed to be much sandier and the drop off very gradual. The drive, again is so spectacular it is very difficult to put into words, and certainly is not captured by photos.
Paleochora is a much larger community – over 2,000 – and the number on the beach was indicative of this. But the beach is so long and expansive it did not seem at all busy. On the east side of town the beach is rocky but on the west beautiful soft sand both on the beach and in the water. We enjoyed a refreshing swim.
After a walk through town, including a stop for two more fresh orange juices we chose a pizzeria for supper as Gayle was craving a Greek pizza. Baked in an authentic wood burning oven the pizza was exactly what she wanted. Being on the water I had a paella but in retrospect this was perhaps not the best choice at a pizzeria. We had a 45 minute drive back to Kefali, arriving just before dark. Another very enjoyable day.
The drive to Kefali and then further down the gorge to Elafonisi.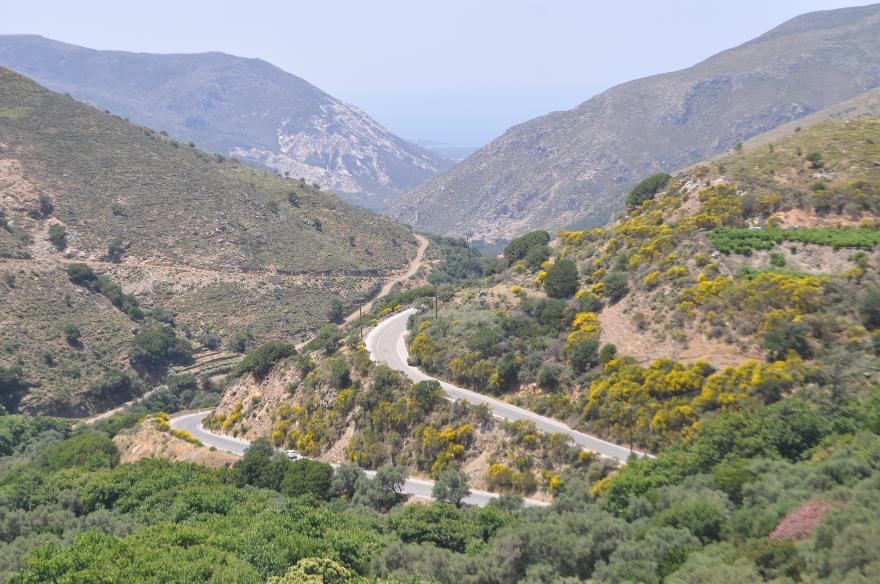 "When wood met madness" - Tsouris the wood carver of Elos.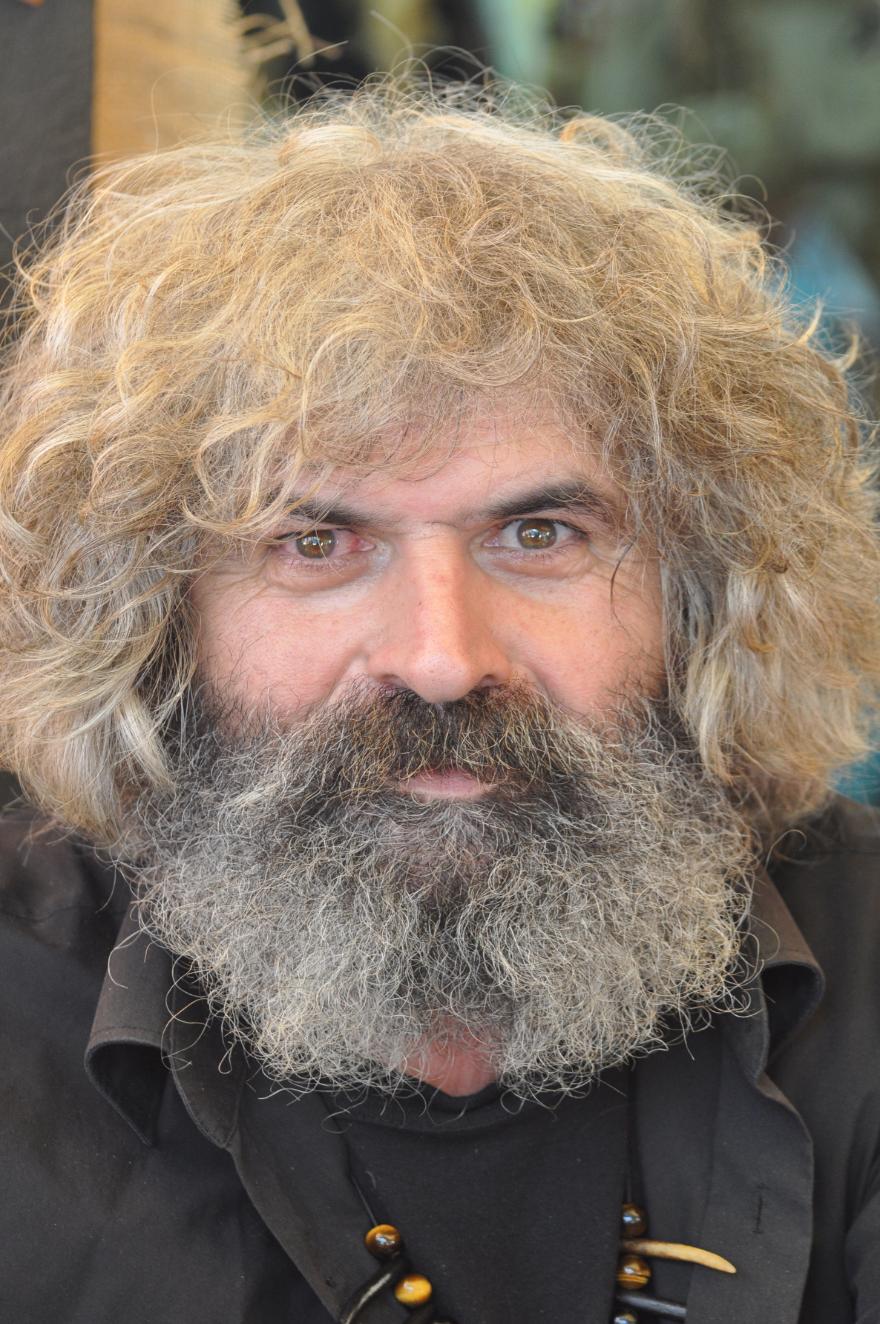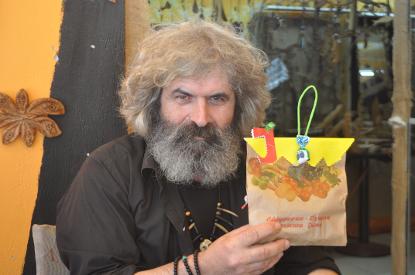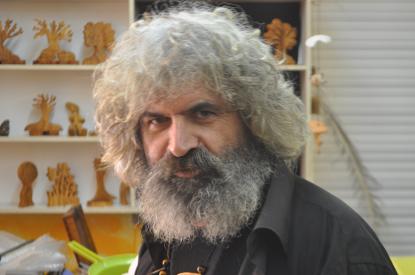 A nice small stone church in the mountains of western Crete.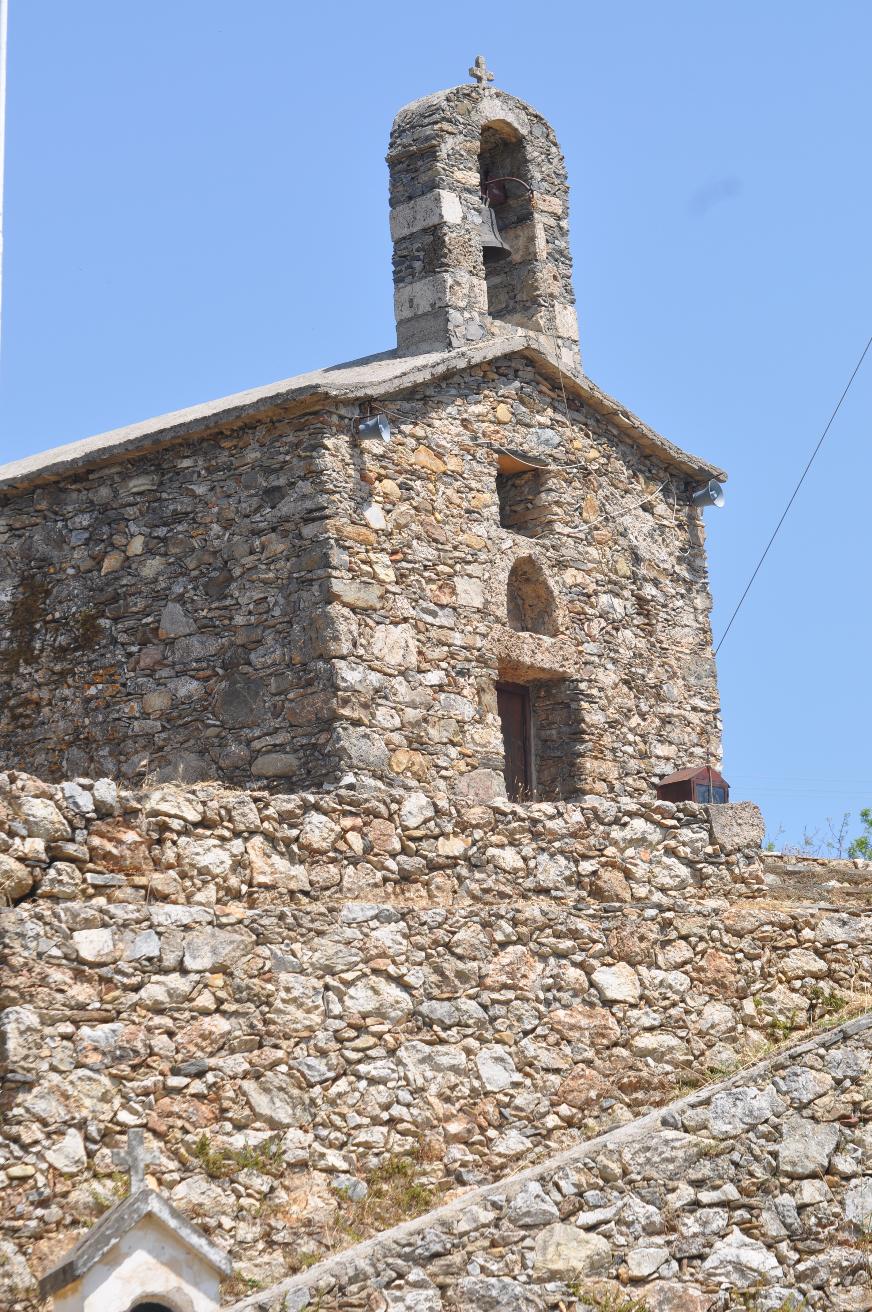 Campers on the beach in Sougia.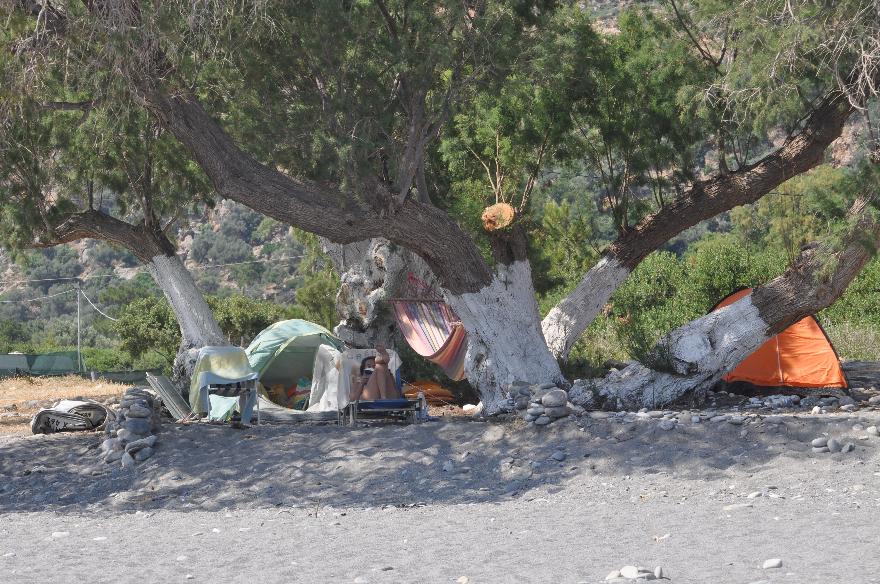 The lengthy but pebbly / rocky beach at Sougia, and a beached 'whale' .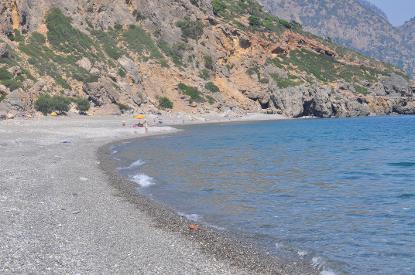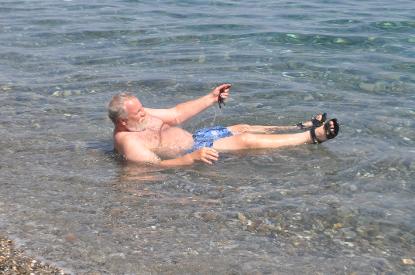 A man and his goats in the mountains between Sougia and Paleochora.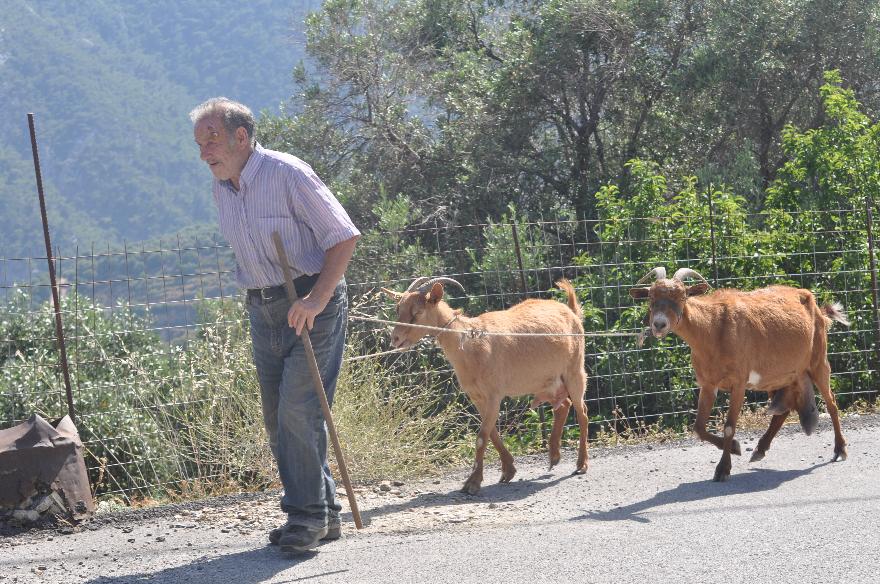 The beautiful long sandy beach at Paleochora.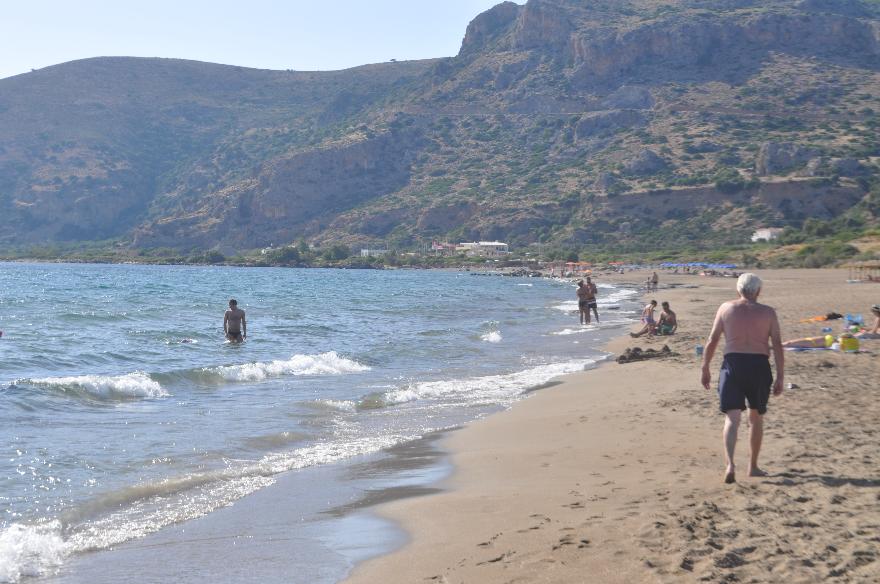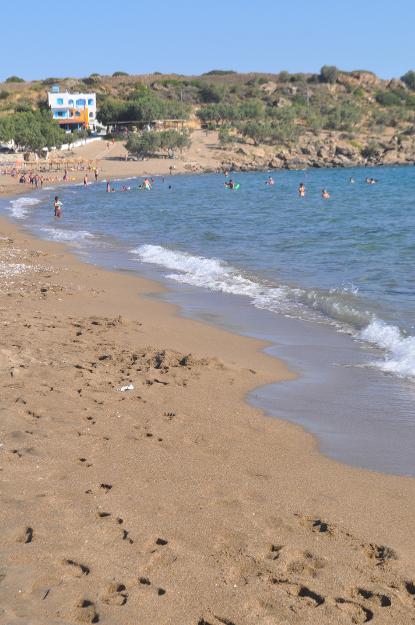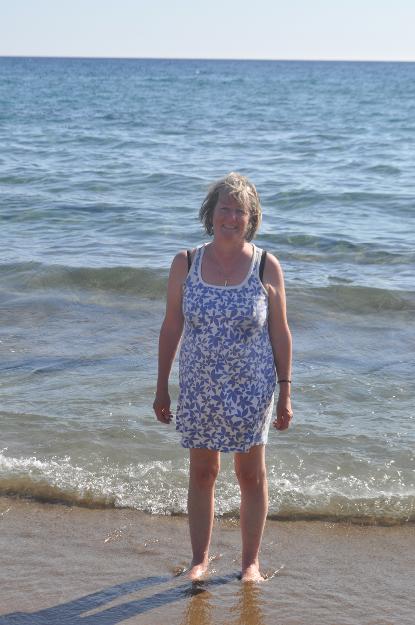 Gayle's pizza was cooked in a traditional wood oven.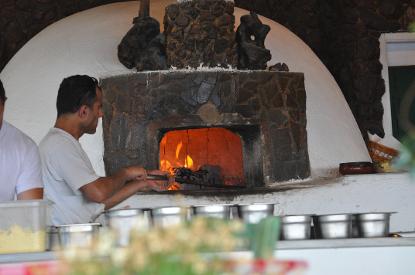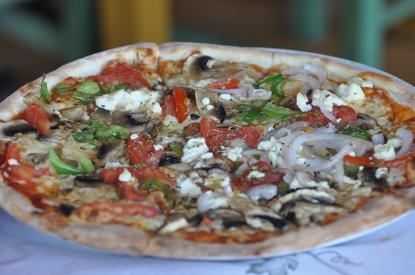 June 14, 2015 – Kefali, with a drive up the west coast of Crete to Sfinari
It is quite relaxing to sit on our stone terrace, enjoying breakfast looking out on the mountain of Agios Dikaios on the other side of the gorge. Jenny who owns/operates Velanos Villas, a set of four traditional guesthouses in the mountain valley near Kefalis is famous for her welcoming cakes, in our case a delicious apple cake.
Velanos is named after the tree 'Velanidia', an oak with the oldest at 2,000 years right next to our villa. We are in one of the two smaller (but actually quite large for two of us) guesthouses the Villa Areti. .
Enjoying both the sun and the views before we knew it it was nearly 4:00 pm. Although we could have easily stayed put we did decide to take a drive up the coast to the village of Sfinari.
On the way we stopped at the peak of the drive for "the best and freshest orange juice in Crete" – Manolis told us so it must be true. While virtually all of the fresh orange juice we have had has been excellent (and cheap at generally 2 euros - $2.90 Cdn for a LARGE glass) there is no doubt the location / view from where Manolis is located is unbeatable – looking down from the mountaintop to the plains and sea below. Manolis is a very entertaining character who made for a fun stop.
After yet again another spectacularly scenic drive we reached Sfinari where we went for a swim. The beach is rocky (thank goodness we brought our water sandals) but there actually were sandy areas once one got in. Plus the water was quite nice and warm.
After the swim we went up to the Sunset Taverna where we ate dinner at the edge of the beach, with the sea and sunset at our door step. We were first provided (free) garlic bread and a number of dips (olive paste; tomato and garlic). Gayle then had a Boureki – a potato, zucchini, fresh soft cheese and tomato pie while I octopus stewed with honey – both ok but not outstanding. We were then provided (again at no cost) small puffy crepes with ice cream, drizzled with honey, all while watching a beautiful sunset. Unfortunately waiting for the sunset meant some of the return trip was in the dark but well worth it.

With a small kitchenette each morning we again made breakfast.



The view from our villa across the gorge to the mountain of Agios Dikaios opposite.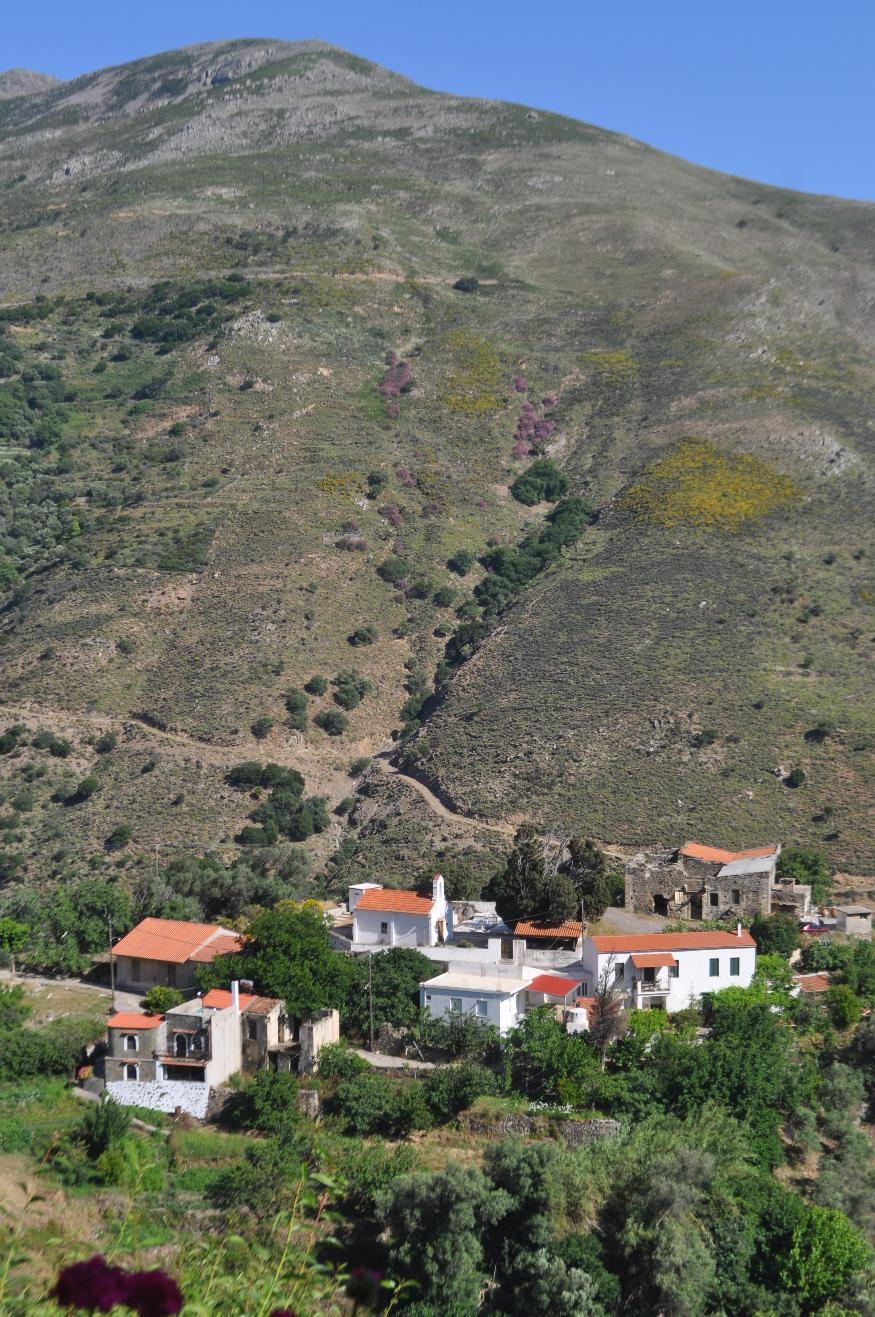 Look what we have ahead of us.


... and it is ... we watched the juice being squeezed ... fresh.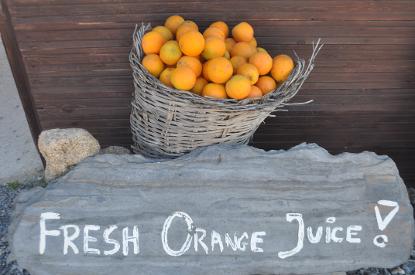 Manolis, who makes the "best" fresh orange juice in Crete.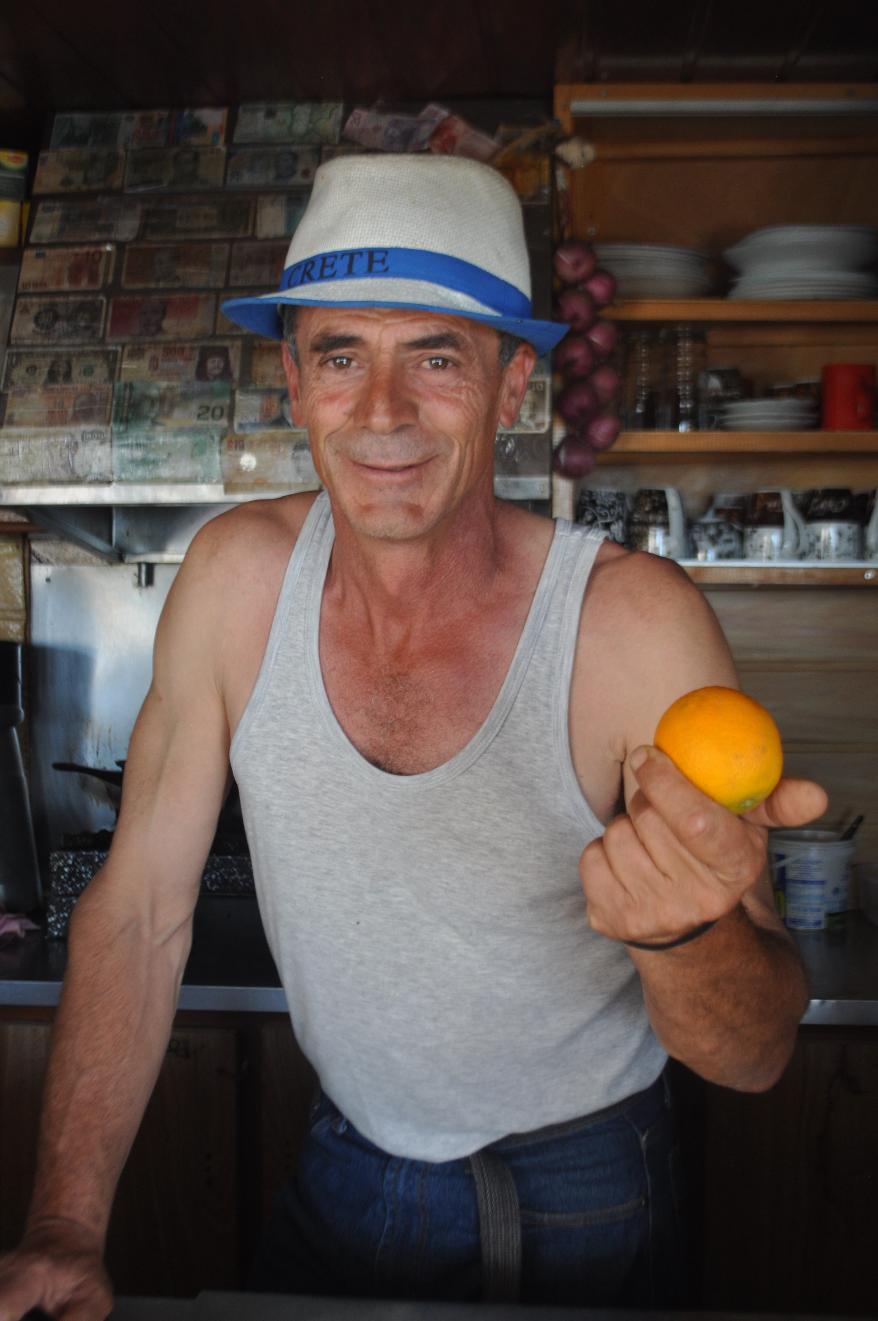 Enjoying our fresh orange juice high above the coast.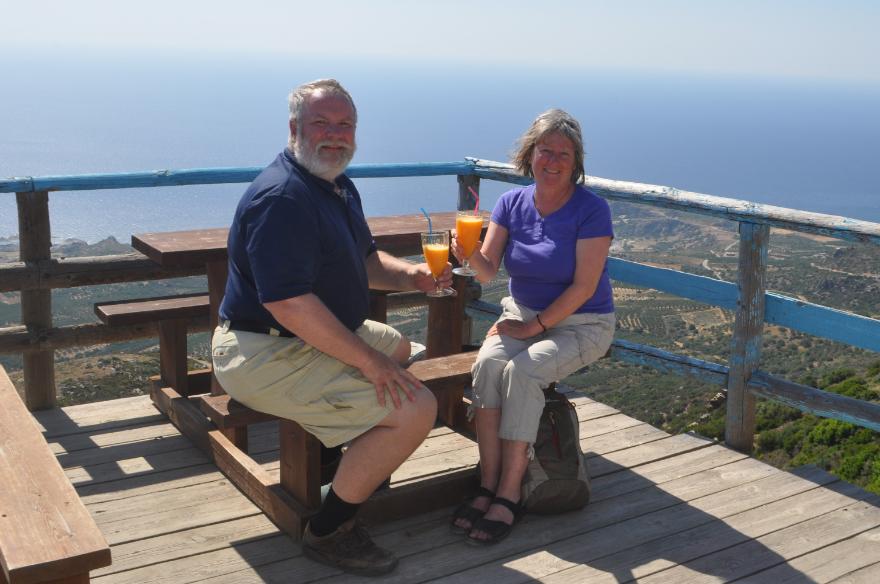 The coastline of western Crete.

Much of the honey produced in the hills is scented with mountain tyme.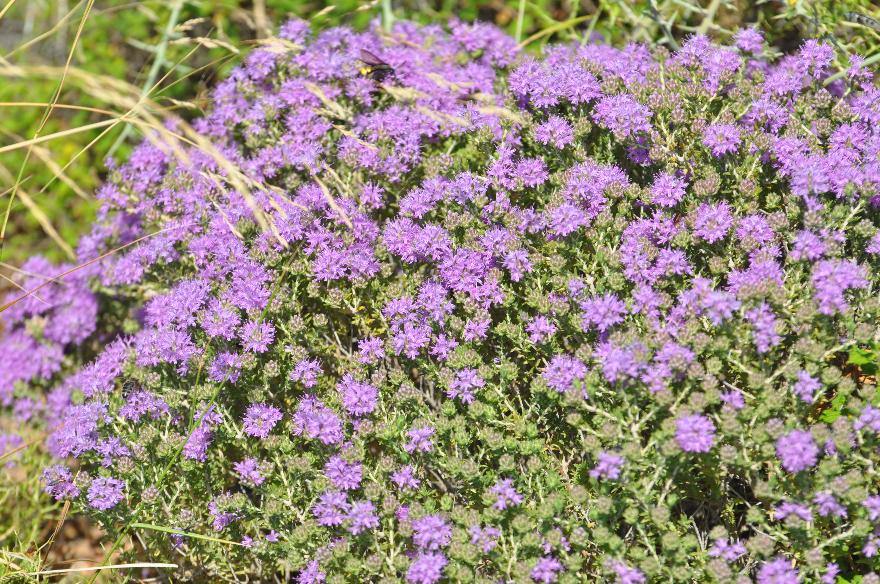 The long, although rocky (albeit once in the water there were sandy areas), beach at Sfinari.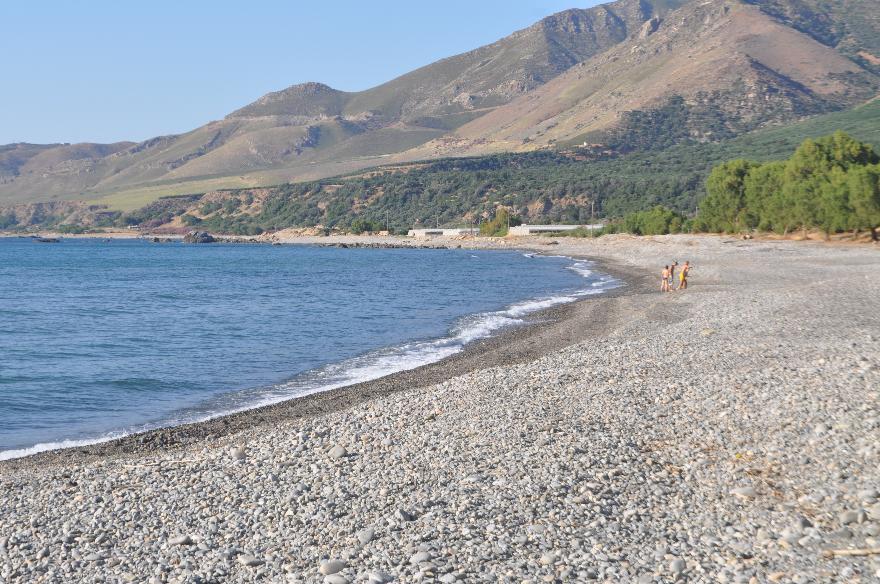 After our swim about to eat at the Sunset Taverna on the beach in Sfinari.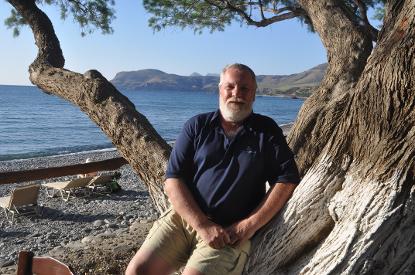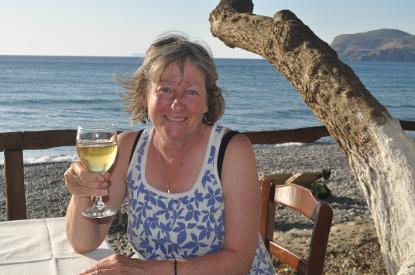 Free dips for our free garlic bread and free crepes with free ice cream - yes we did order and pay for dinner.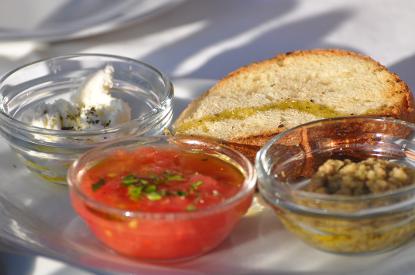 Not so bad with this as the view from our restaurant table adjacent to the beach.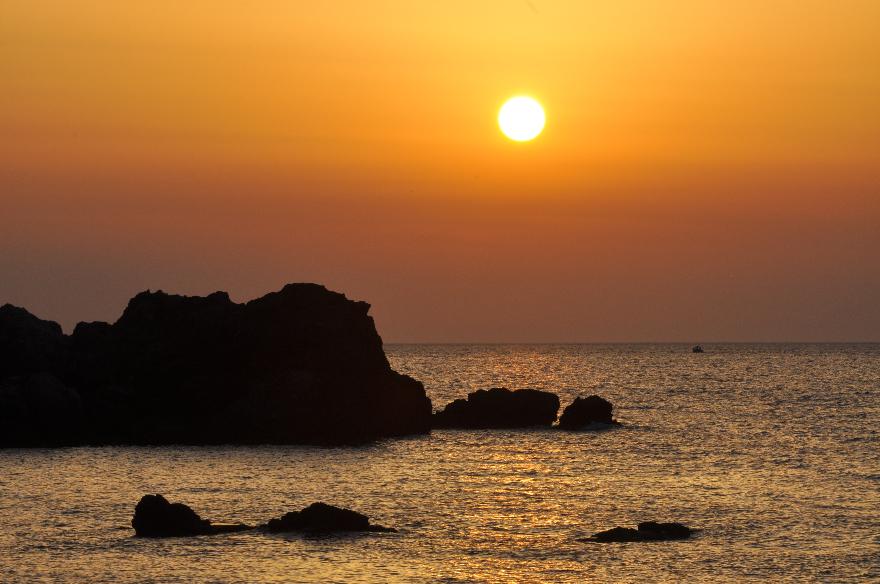 June 13, 2015

– Samonas to Kefali
We knew we would stay as long as we could (noon before checking out) at Samonas Traditional Villas but then ended up chatting with Konstantinos for a considerable period of time afterwards.
Without much else to share today a bit about Samonas and the villas. Samonas, a small village situated at an altitude of 400 meters, in the province of Apokoronas was bombed relentlessly on May 8, 1944 by the attack aircraft of Hitler. The next day the entire village was surrounded by the ground forces of the Nazis who burnt every thing. However the residents did not abandon their homes. In fact they managed to rebuild their village. Today the houses of the village are being restored and some built afresh. Climate conditions in Samonas contribute to the production of agricultural and livestock products. Olive oil, wine, diary products and honey are some of them
Two kms from the village is a 3,000 year old olive tree, designated by the Association of Cretan Olive Municipalities as "monumental". At its base the diameter is 6.7 m and the perimeter 20.05 m.
The property dates back to 1800, being in ruins when bought in 2000. The living room in Mantzourana was originally the wine and olive oil storage area while the downstairs of Dikatamos was the animal shed and feeding area. Historically the large Crete houses were shared by both humans and animals. Goats, sheep, chickens, rabbits, cows and donkeys were all once raised on the property. All residences are built exclusively fro stones and wood. The cypress wood used throughout is from local forests and the stone from local quarries. Antiques, including traditional artifacts, irons clothes, wringers, kettles, scales, scythe and other farm tools along with coins, silver spoons, embroideries and door knockers were collected from all around Crete are displayed throughout the property All the furniture is in the traditional style with most being hand carved.
We stayed in No 5 Malotira, or mountain flower. All rooms are named after a local herb with a plant container with the herb growing fresh just outside the door. All villas are on at least two levels and in our case totaled 75 square meters. It was built with traditional materials in the traditional manner. Not only is there private access to a roof terrace it also has one indoor terrace off the bedroom with panoramic views to the entire Apokoronas area and Cretan Sea along with two other independent courtyards. Yes count them – four terraces!
Not only is the apartment beautiful and exceptionally well laid out / designed, Konstantinos has thought of everything. The kitchen is exceptionally well stocked. Given the absence of any sort of store in the village Konstantinos has provided a small shop with things like milk, juice, oil, coffee, jams, honey, a large selection of wine and other local spirits etc. available to purchase. There is also a large grill and wood oven for those who really want to cook for themselves.
But like all places a really nice building / facility is great but what puts it over the top is the people, in this case Konstantinos and Eva, who meticulously cleaned our room and delivered our breakfast. It is so obvious the pride each have in the villas.
And we can't end without mentioning Exo (or as we called her Kriti) Konstantinos' cat, soon to be mother who knew animal loving guests when she first encountered them. Although we first thought she was homeless and hungry it turns out she is the cat of the villas. We brought her back cream, eggs, ham, bacon, pork, and even a little octopus. She was one happy cat, reminding us of how much we miss our cats and dog back home.
Our room is normally 175 euros, 195 euros with breakfast - $280 Cdn at current exchange rates although being off-season we paid 149 euros or $215 Cdn. This is well above what we have paid at the other places we have and will stay but the value is unquestionable. Sometimes you just have to live by the philosophy "If you don't go first class your kids will".
But we eventually had to move on to our next stop in the very west of Crete, in a mountain village near (approx. 10 km) but not quite to the coast. We drove north to Chania and then straight west along the National Road before south again along an at times quite narrow mountain pass through the Topolia Gorge. Again we are staying in a traditional Cretan house, Velonas, named after the oak tree 'Velanidia' with the oldest at 2,000 years just outside our villa. Very well laid out to be very private we had a spectacular view of the mountain side opposite of the gorge.

The mountains as seen from the rooftop terrace.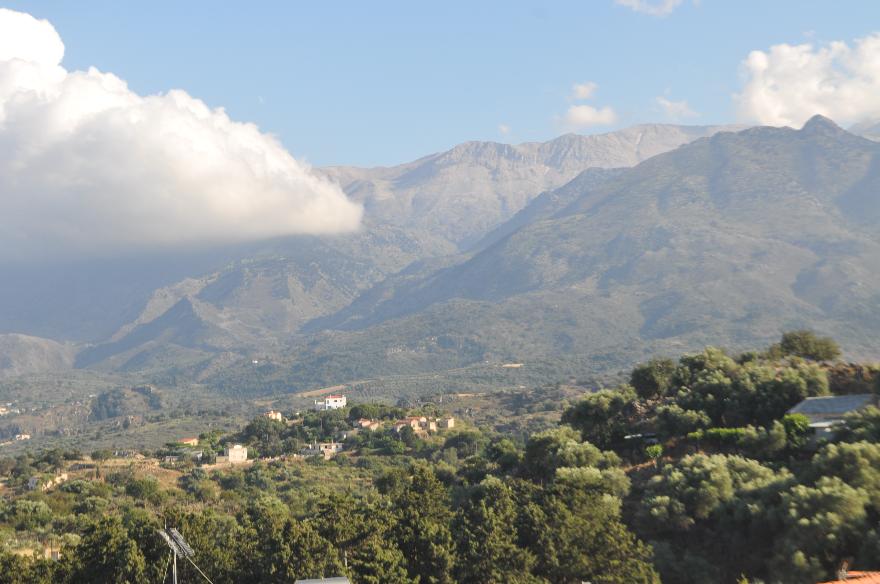 Sunrise from our bedroom terrace.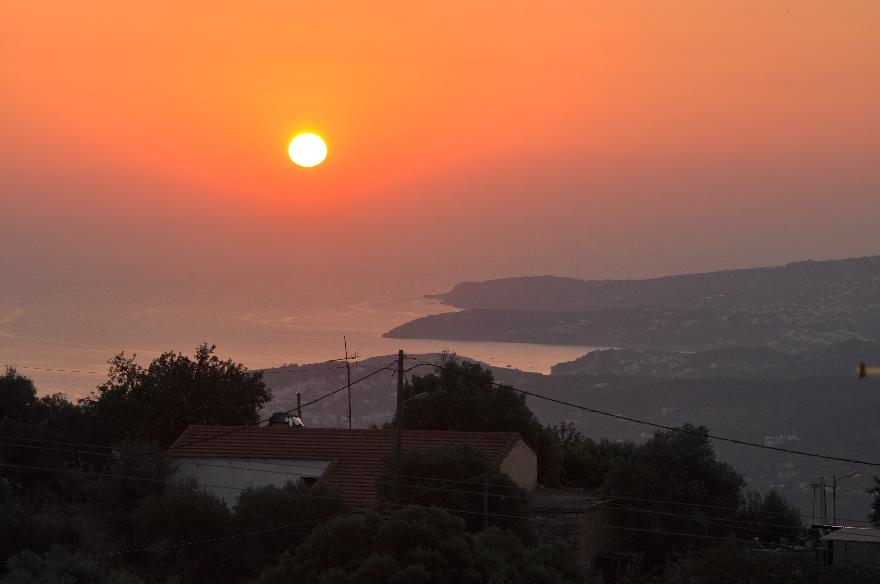 Our nicely appointed bedroom with adjoining terrace.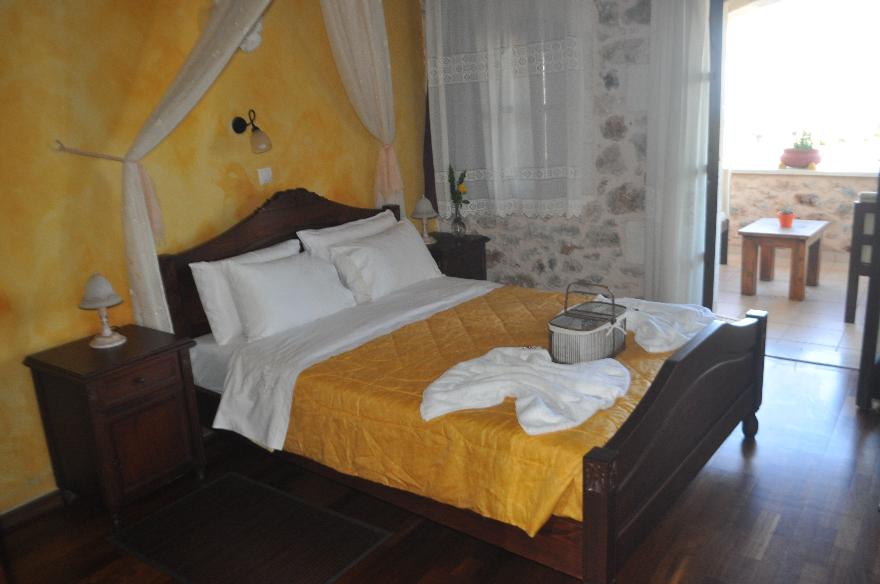 Our villa had four - count them four - separate terraces.


The rooftop terrace with views to the mountains and the sea.



The inside terrace directly outside our bedroom.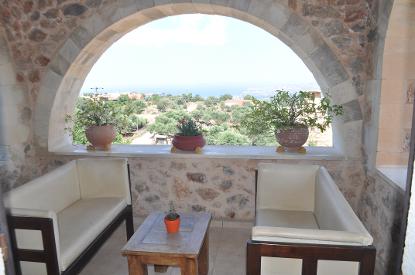 Terrace #3 just outside the door to our villa.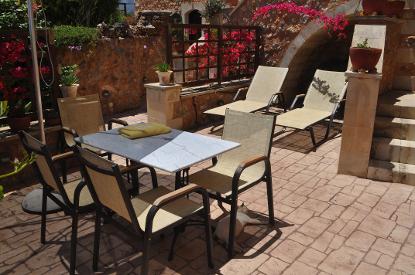 Shaded from the morning sun this lower terrace was great for breakfast.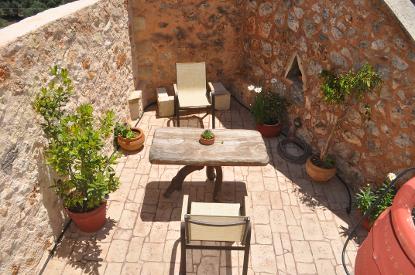 Some of the beautiful stone-work throughout Samonas Traditional Villas ... stunning.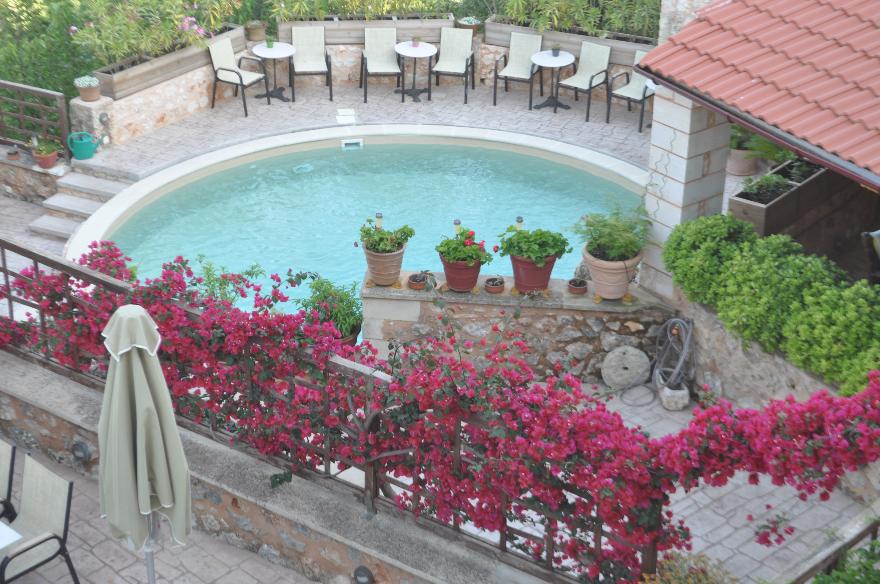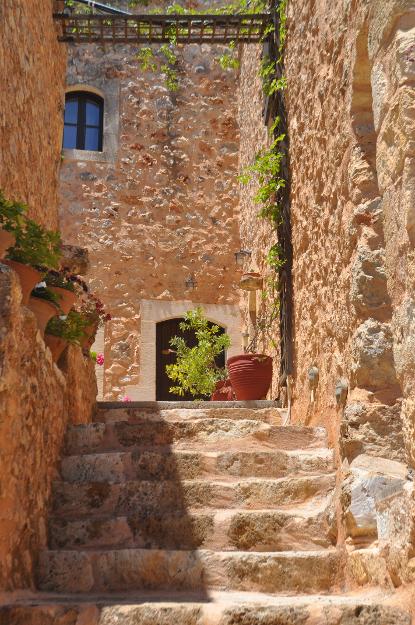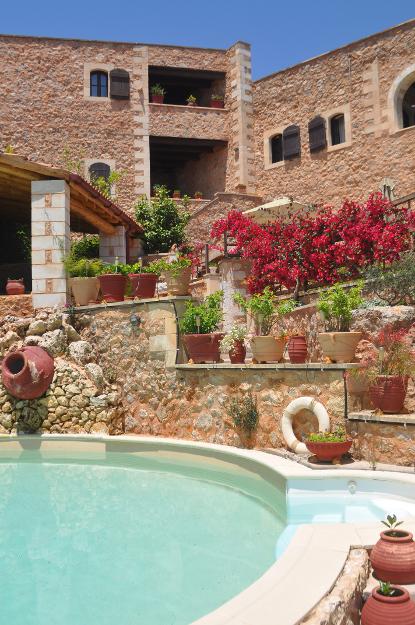 Kriti (aka Exo) who knew a good thing when she saw us.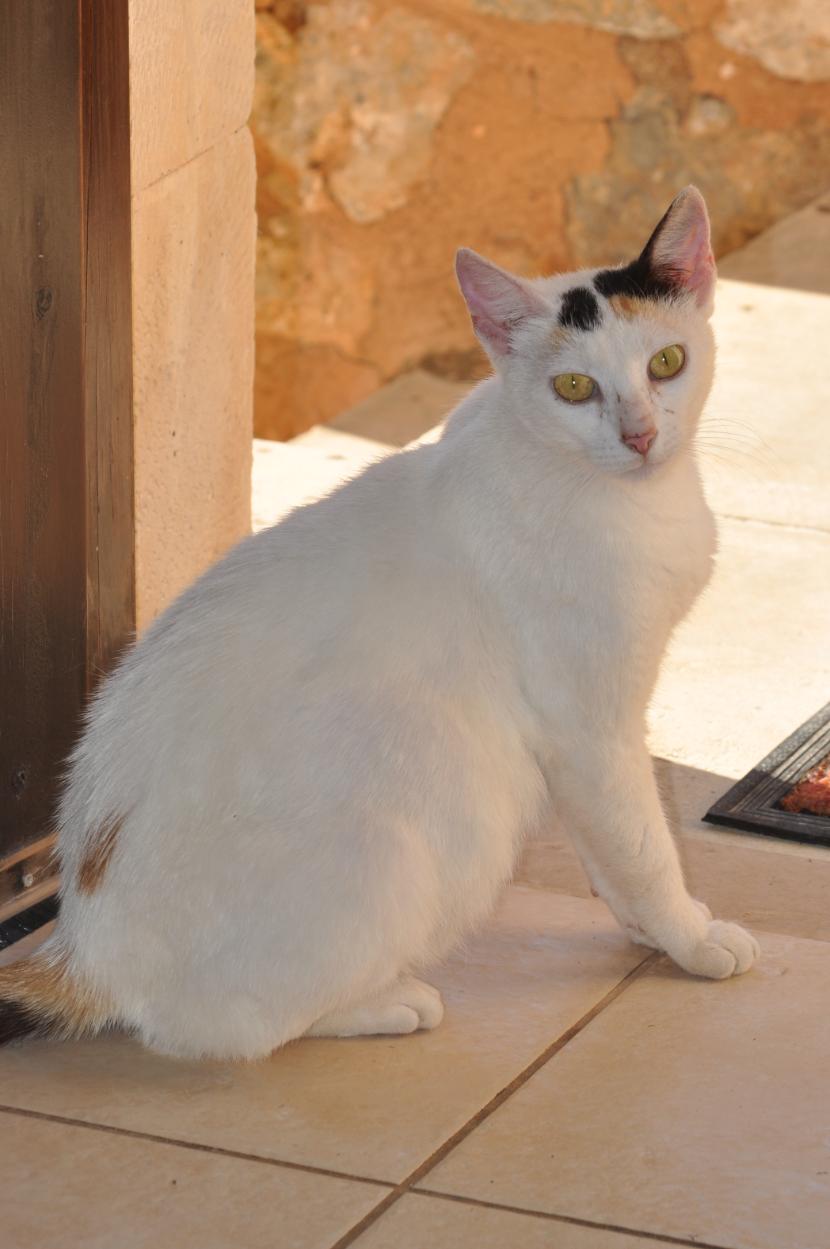 Flowers throughout the property.



The breakfasts at Samonas were different, well presented and delicious. Below is a sampling.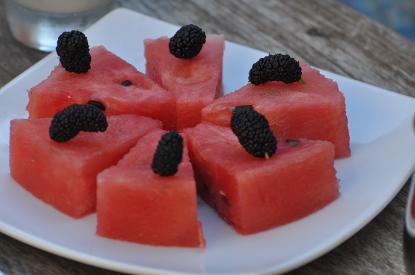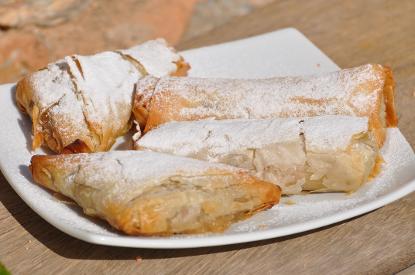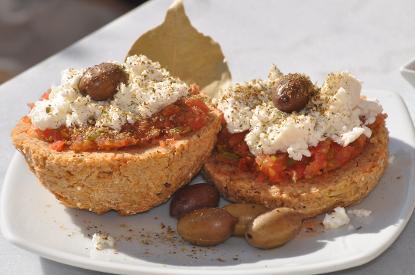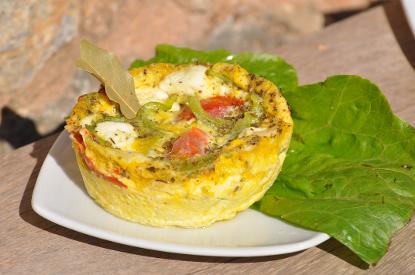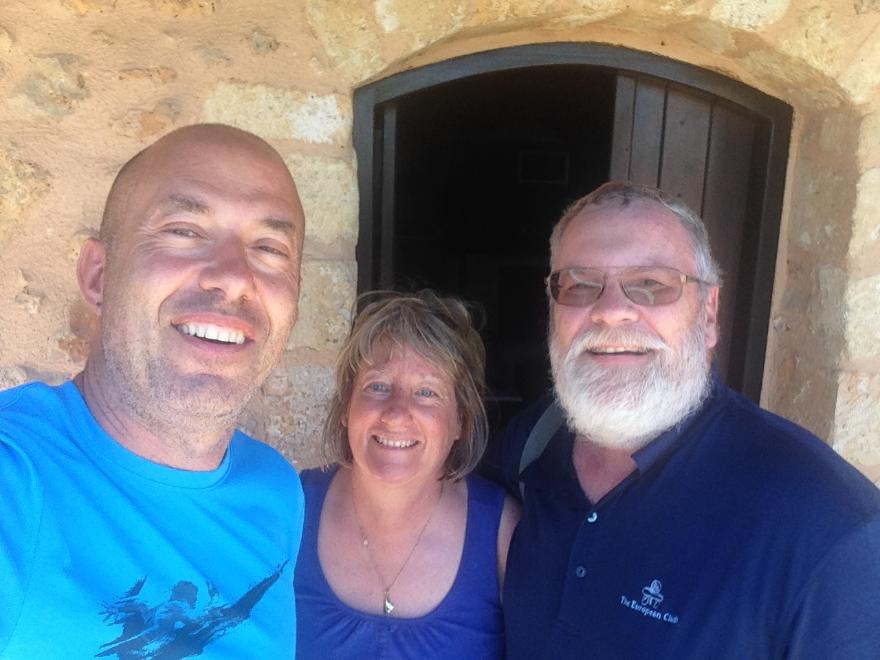 The 3,000 year old olive tree.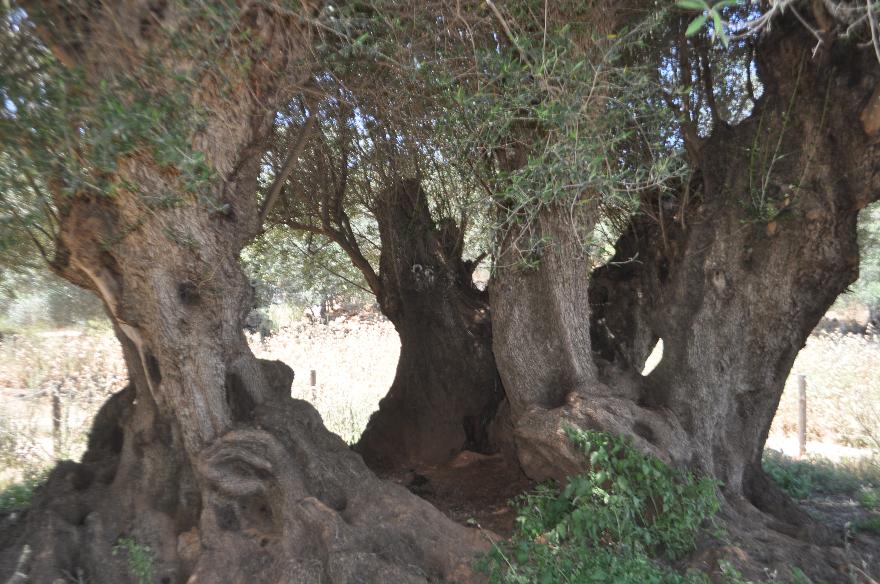 A Cretan salad, different because of the rusk, a hard toasted bread.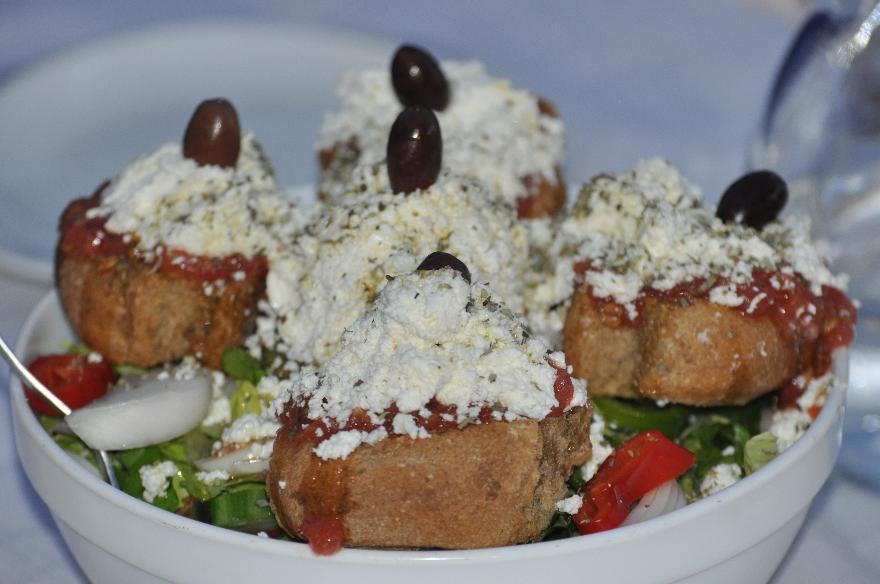 June 12, 2015 – Samonas through the mountains to Frangokastello and Chora Sfakion
A better than average start to the day as we got on the road 'early' - by 1:00 pm.
After another nice, and different, breakfast we again enjoyed the villa and grounds. Often breakfasts are the same and when staying multiple days they get a bit same old same old. What is really nice here is that the breakfast, while standard with coffee, bread and juice is then varied, which is much appreciated.
We asked Konstantinos about a route to take to Chora Sfakion. He suggested a circular route that descended through a different gorge to the east than the ascent from Chora Sfakion. Turned out to be a great suggestion. The drive up was as expected – narrow, effectively one way with some guess work due to the absence of signage. We stopped a couple of what we will call 'mountain men' who were very helpful. No English but lots of hand waving and smiling. Reaching Kallikratis, a small village deep in the mountains we sought out a taverna Konstantinos recommended. Thinking we were out of the village, although the taverna didn't 'feel' like the one we were looking for we stopped nevertheless for a couple of large glasses of very good fresh orange juice. Right we were as less than a km later we came across the 'last' taverna where we stopped again for the lemonade.
From there it was through the mountains until we had to descend. We have driven some interesting mountain drives, in Corsica, Spain, Italy, and Provence but this descent took the cake. Only one lane I wish I had counted the 'S' turns. Straight down, no guardrails Gayle says the vistas were panoramic but I must admit my focus was elsewhere. You only get to make one mistake on a drive like this. After 20 minutes or so we reached the plains below and made our way to Frangokastello. There are a number of beaches along this way and although we stepped in to check out the temperature of the water – actually quite warm – we didn't go in for a swim.
We made our way west along again some scenic coastline to Chora Sfakion, a small port village from where ferries serving village further down the coast depart. It is said the more bullet holes one sees in the passing road signs the closer one is to Chora Sfakion, long renowned in Cretan history for its rebellious streak against foreign occupiers. The coastal port is the exit point for hikers coming off the Agia Roumeli boat after walking the Samaria Gorge. We stopped for some food at a restaurant right on the harbour. Gayle had some zucchini flowers with cream cheese (just ok) and I two plump grilled octopus tentacles. Rather than dessert we were offered some very delicious, although not great for the stomach line, garlic bread. A very nice stop and meal.
If was a little over an hour back up and through the mountains to Samonas where we enjoyed the setting sun from our rooftop terrace.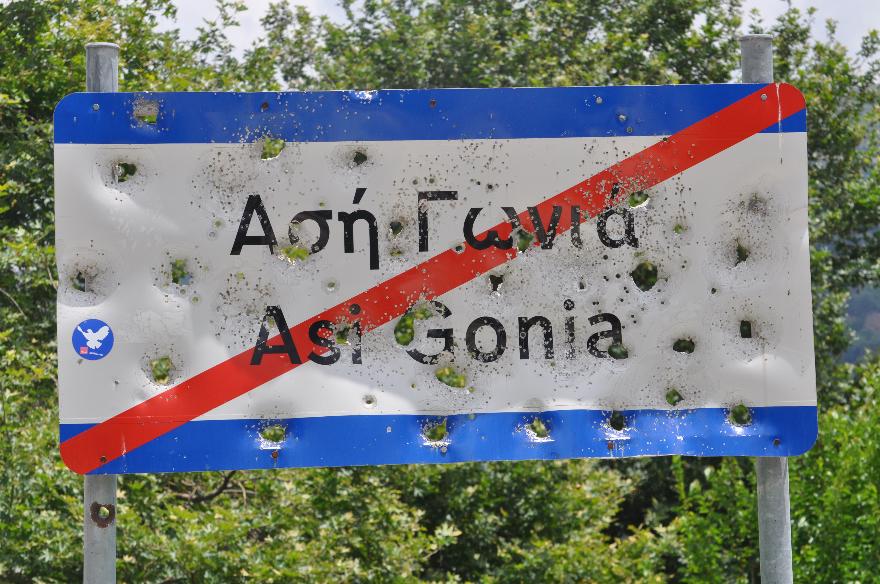 Men of the mountains of Crete.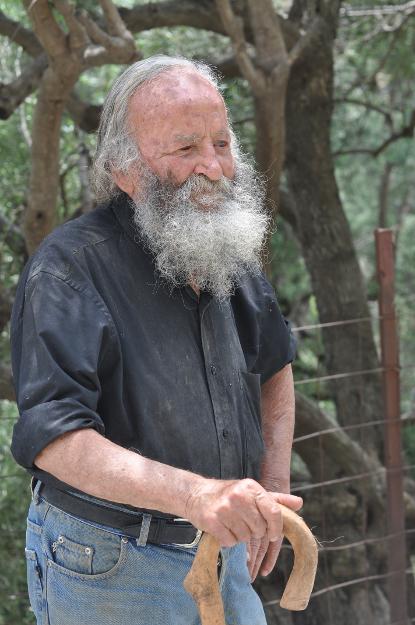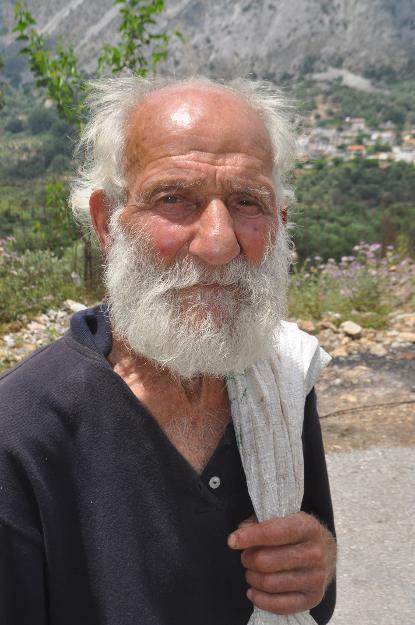 If only Gayle would let me grow my hair and beard out ...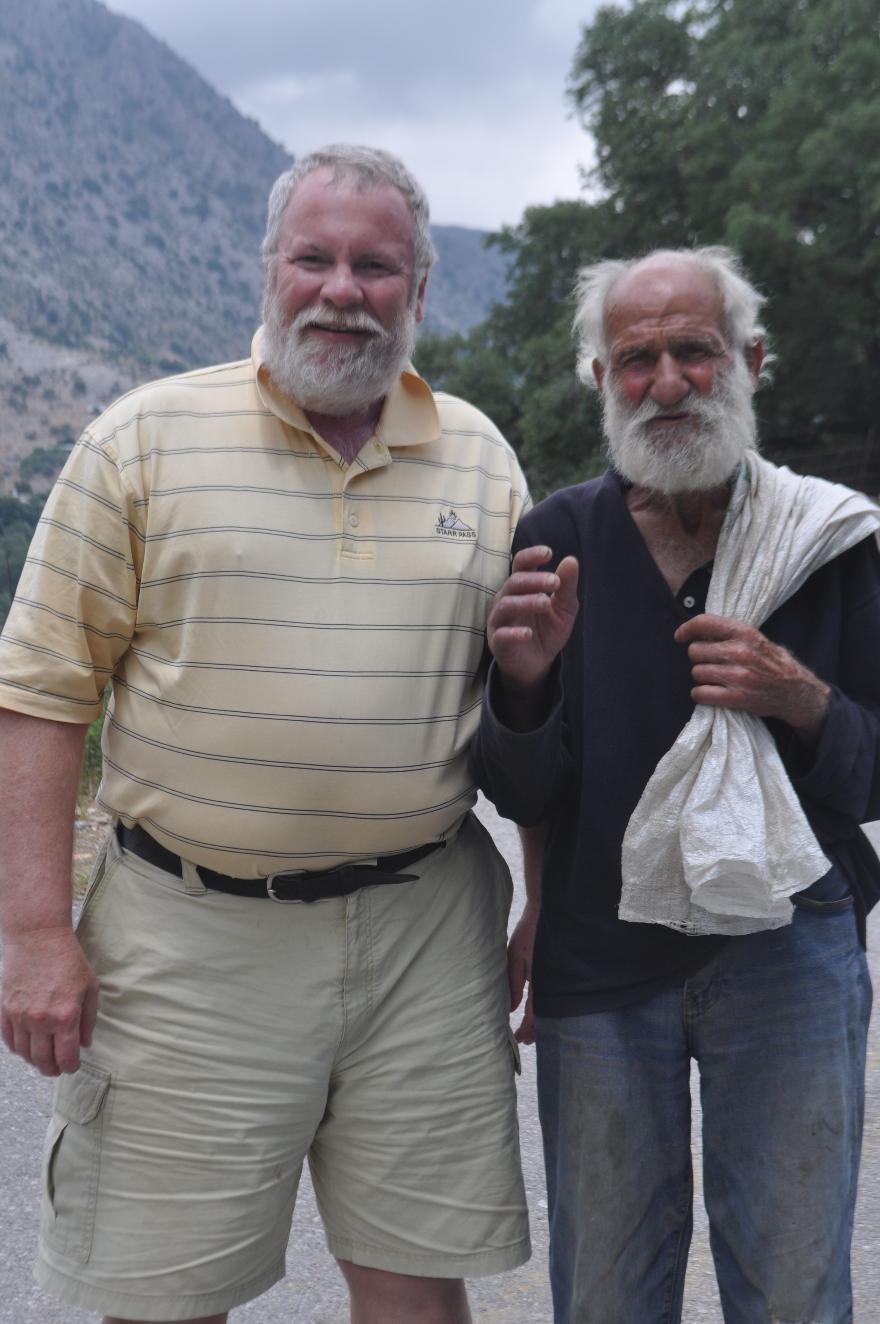 You go up the mountain, right past the sheep, over the ridge, look for the goats then straight ahead until you see the sea, then straight down ... at least that's what I heard him to say. I nodded, smiled and thanked him.

PS 'Canada' meant nothing to this man.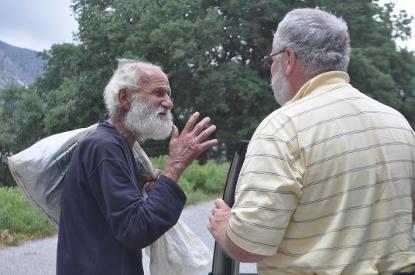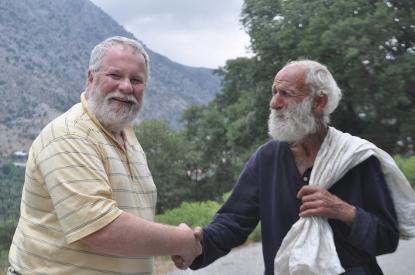 Enjoying a lemonade in a small mountain village.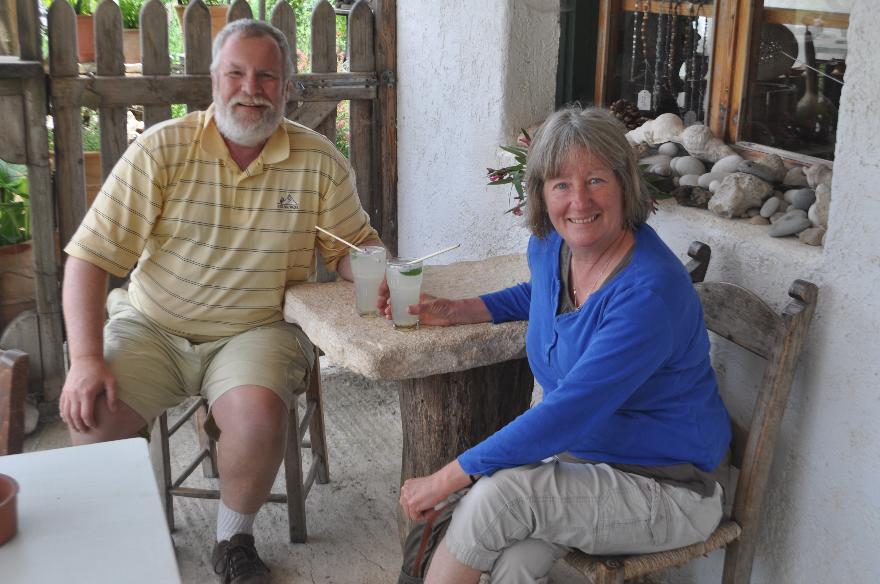 Some times the road signs to the next town don't look too government approved / official, but hey no bullet holes.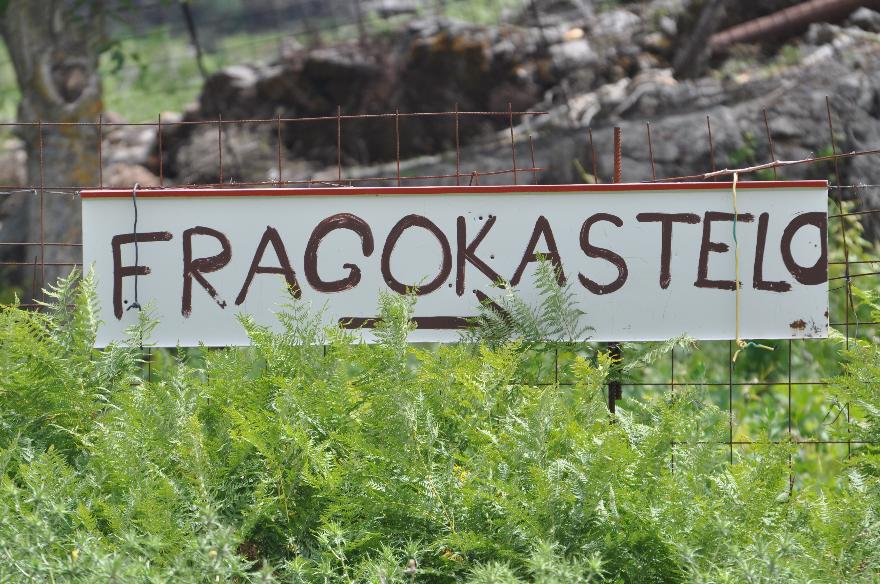 The start of the gorge we had to drive down to reach the coast.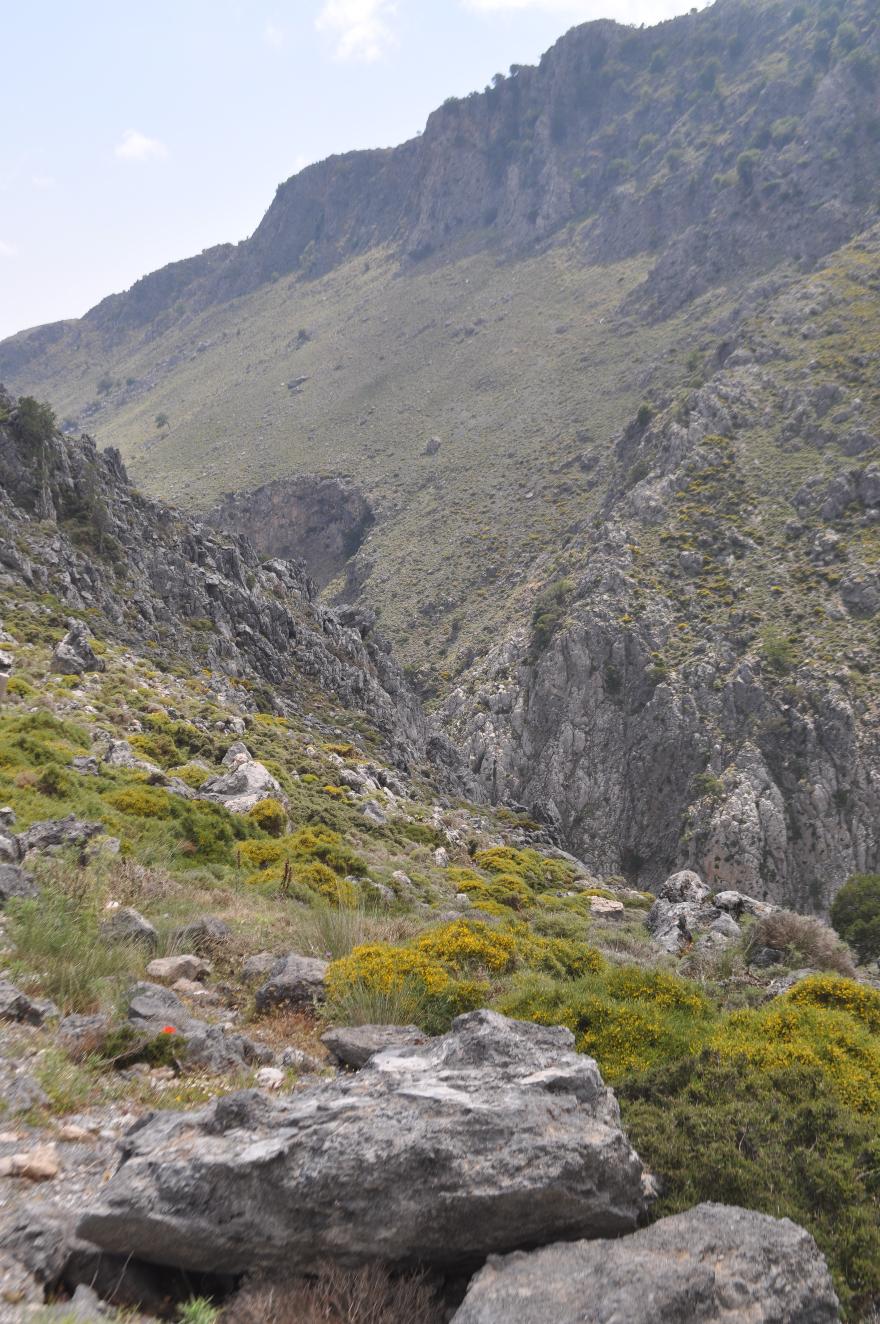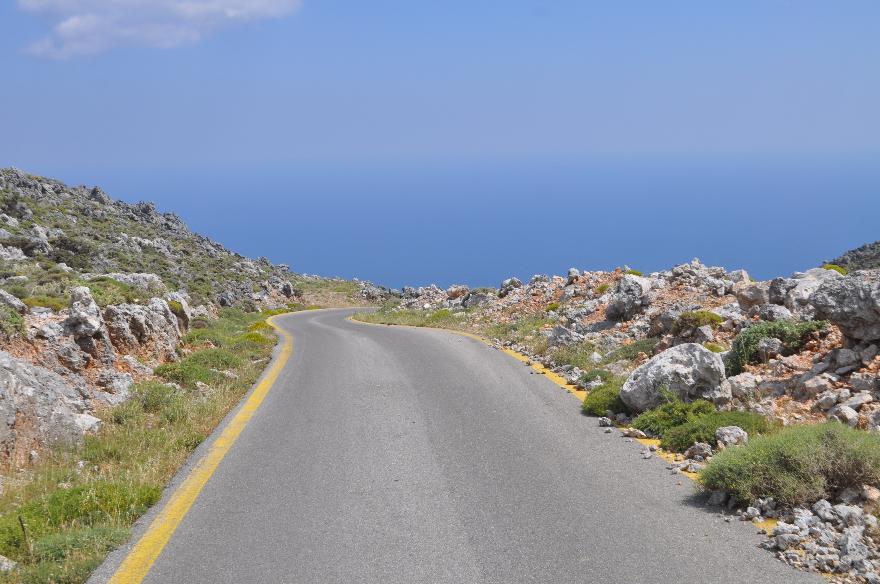 Essentially a single lane road descending the mountainside through a seemingly never ending series of 'S' turns.



A few people in the water at the beach at Frangocastello and a portion of the castle that dominates the landscape.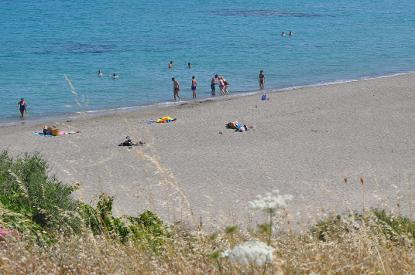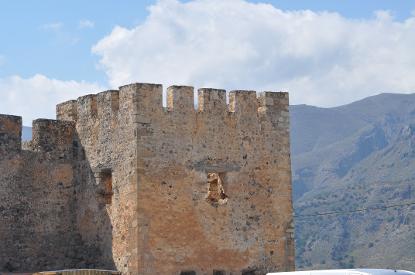 The southern coast of Chania prefecture - first looking east and then into the mountains to the west.


The seaside village of Chora Sfakion, the port for the small ferries that connect the otherwise inaccessible villages along the coast, particularly for those who exit after hiking the nearby gorges.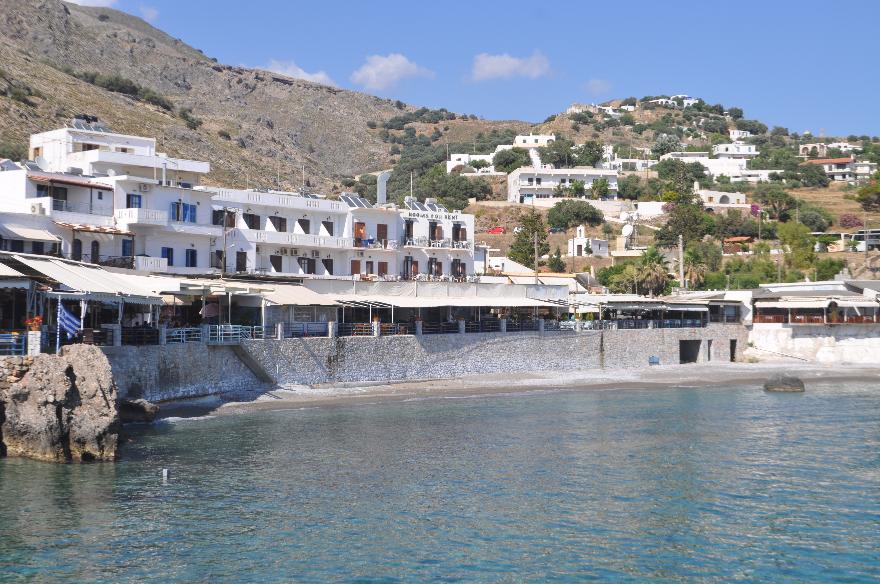 No free dessert tonight. Instead delicious garlic bread as a free appetizer.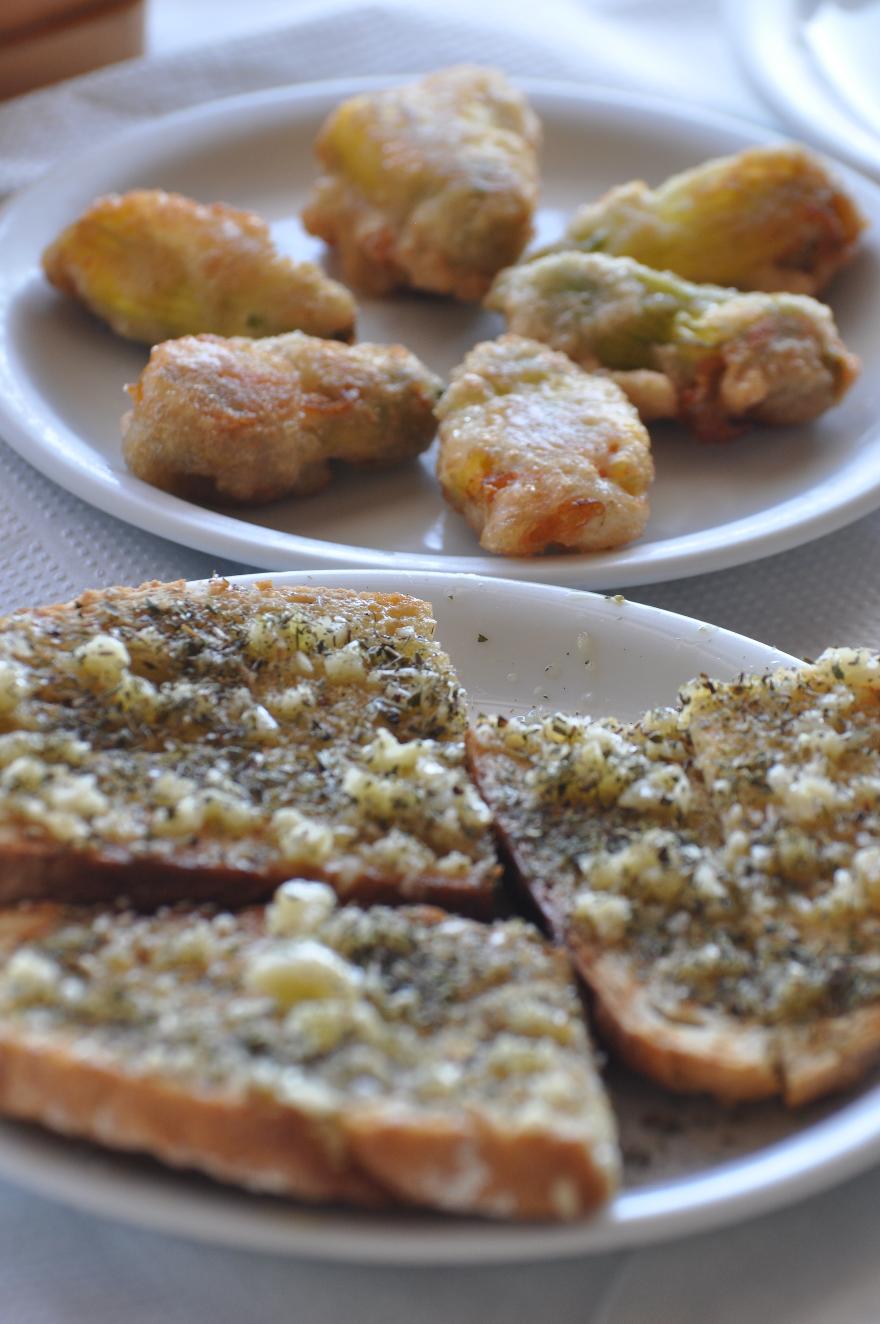 Shortly after retuning, enjoying the evening sun in one of our four terraces, Konstantinos shows up with these cheese pies drizzled with honey. How could we say no?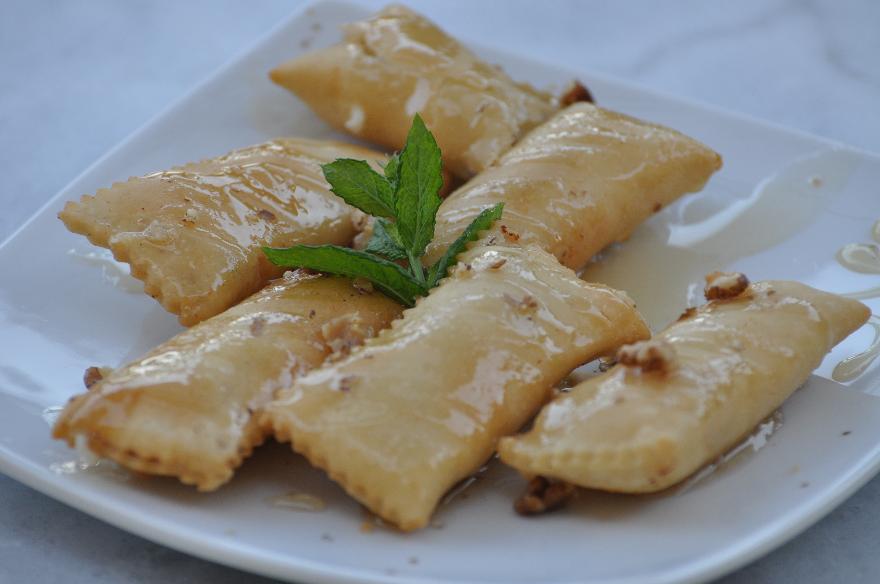 June 11, 2015 – Samonas along with a drive through the nearby countryside
Samonas Traditional Villas is unbelievably nice (more in a day or two), so much so it is really hard to get in the car and tour but by the time 3:00 pm rolled around we broke down and did take a drive.
We first went to the village of Vamos, which was supposed to be a bit of a craft centre – it was not! Then in a smaller village, Gavolachori we visited the local folk museum. Small but interesting it took less than half an hour to pass through the renovated home with artifacts and means of living of the area. It was then to the coast to Almirida, with a number of nice beaches and Plaka where parts of Zorba the Greek were filmed.
We then turned inland with a well rated Tzaneris and Archonitssa restaurant in the mountain village of Drakona our destination. On the way we passed vineyards, orange and lemon trees, olive groves and many sheep and goats. In fact the sheep stopped traffic in the village of Gerolakkos as the shepherd brought his flock down main street (see video below).
Now Gayle keeps trying to get me to eat 'greens' every day but 'kalitsounia with weeds'. Really? "… with weeds"? One has to work, as in driving more twisty turny mountain roads to get to the restaurant but it was worth the effort. The food was very good (including the 'weeds'). Particularly good was a traditional pork pie I had. However when I tried to ask for the name (beyond pork pie) I was provided a 10 minute description, including written support in Greek, of how the pie is actually made (at least that's what we thought she was telling us) – a description of the process. The owner/cook/waitress seemed so excited in my interest she went on and on – we not understanding any of it – when all I wanted was a name for the blog. Instead we get a nice story.

As has become the custom we were again provided dessert – this time a chocolate roll and fresh apricots. The views of the surrounding hills were again impressive but as has been the case we were the only ones eating – hard to understand how these places can make a profit with so few guests.
With the sun setting it was a scenic half hour drive back to Samonas.
Sometimes it is easier to walk your bike.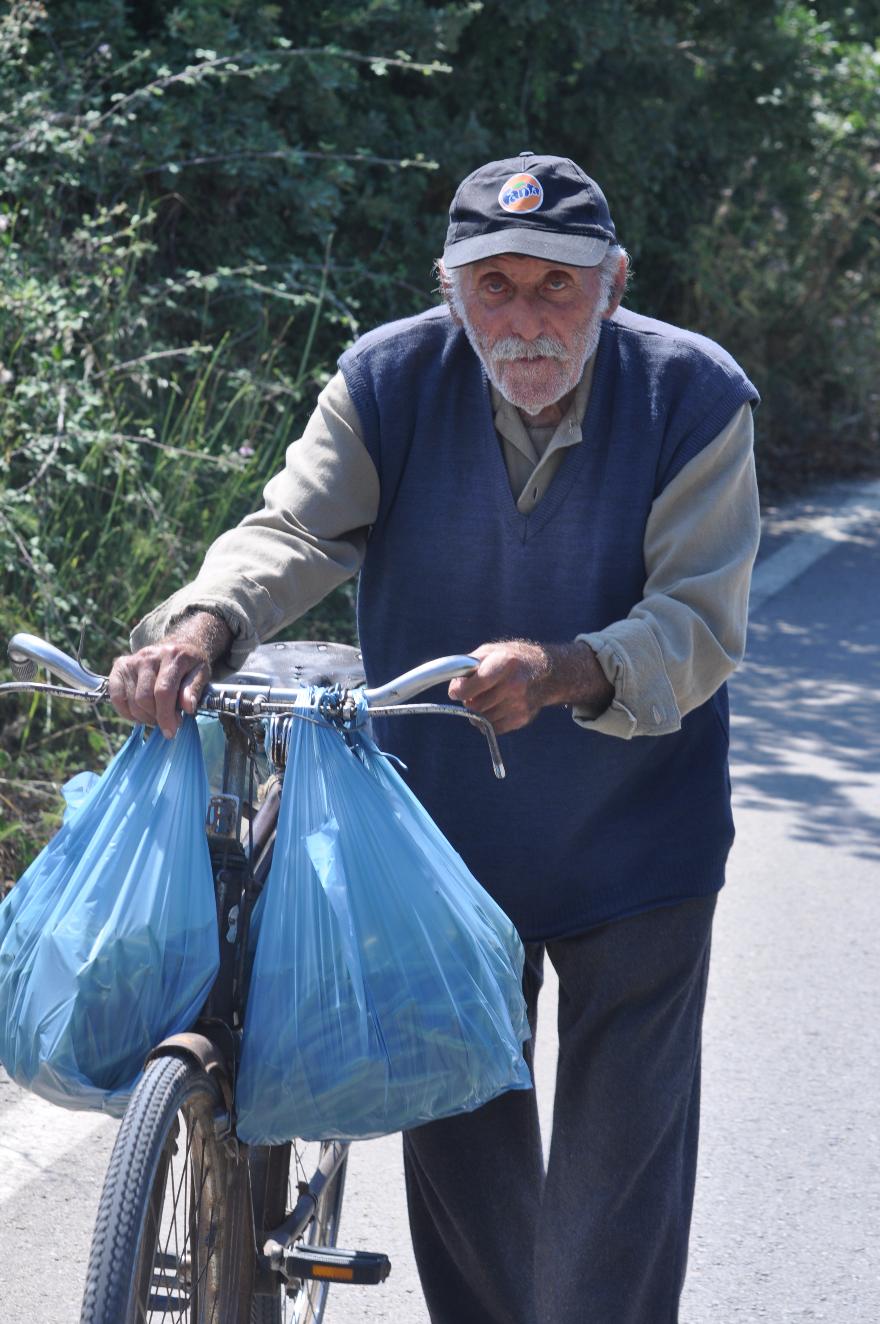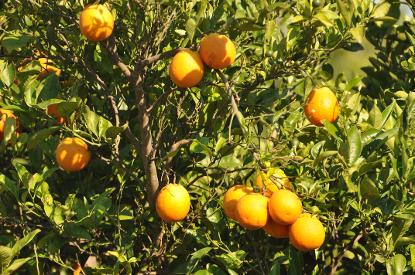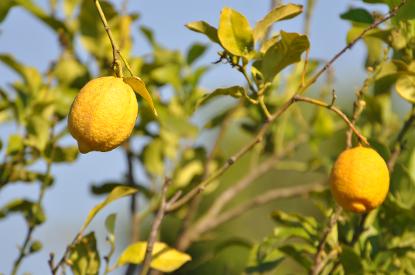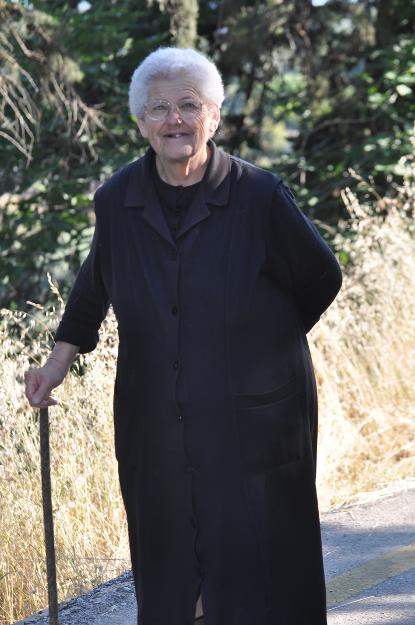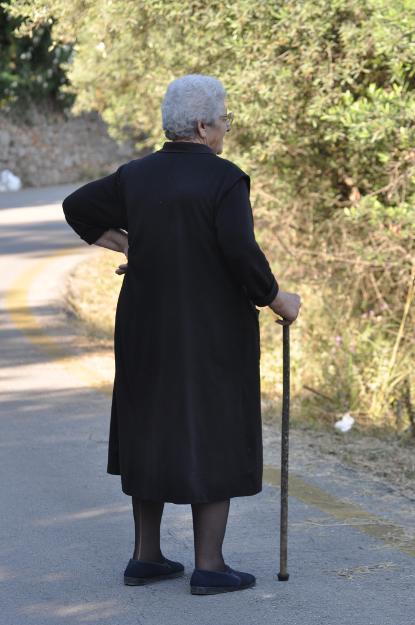 Olive groves as we ascend into the mountains.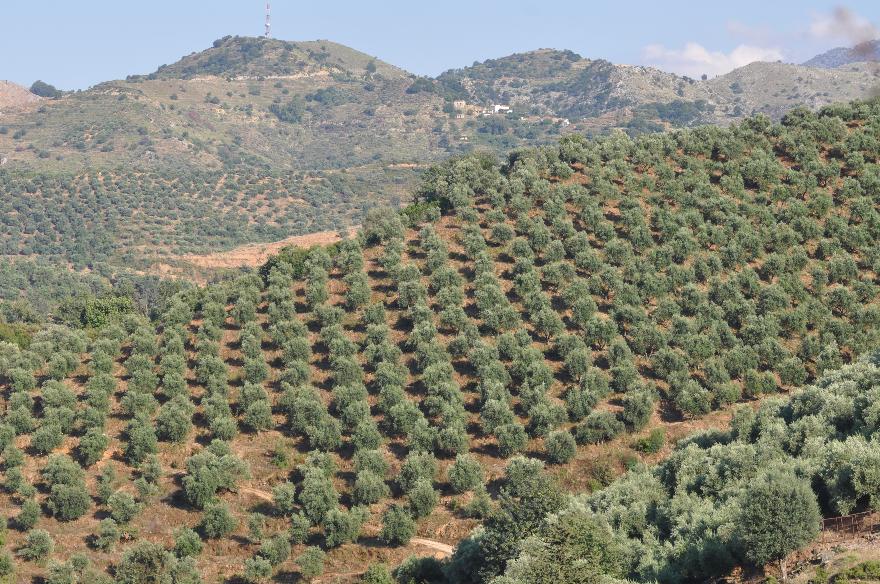 On the mountain roads neither vehicles nor pedestrians have priority - the sheep do!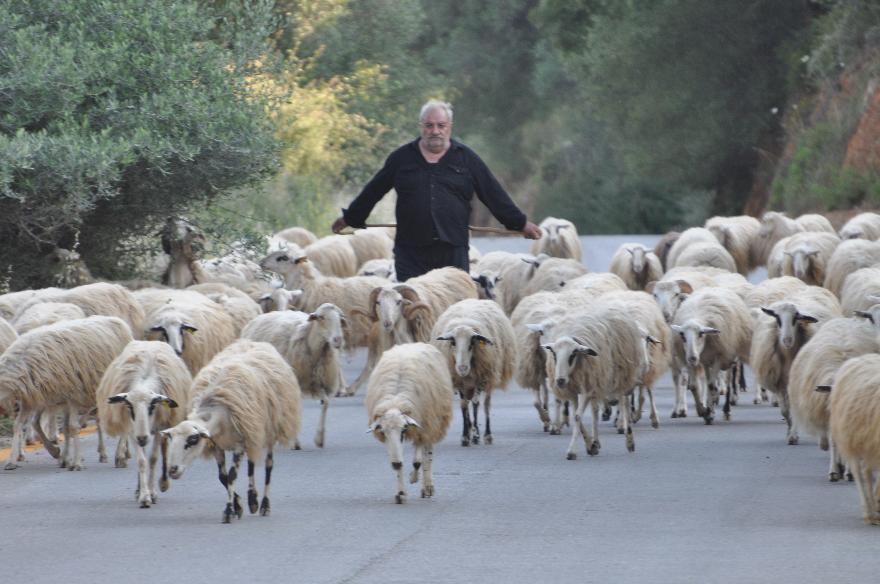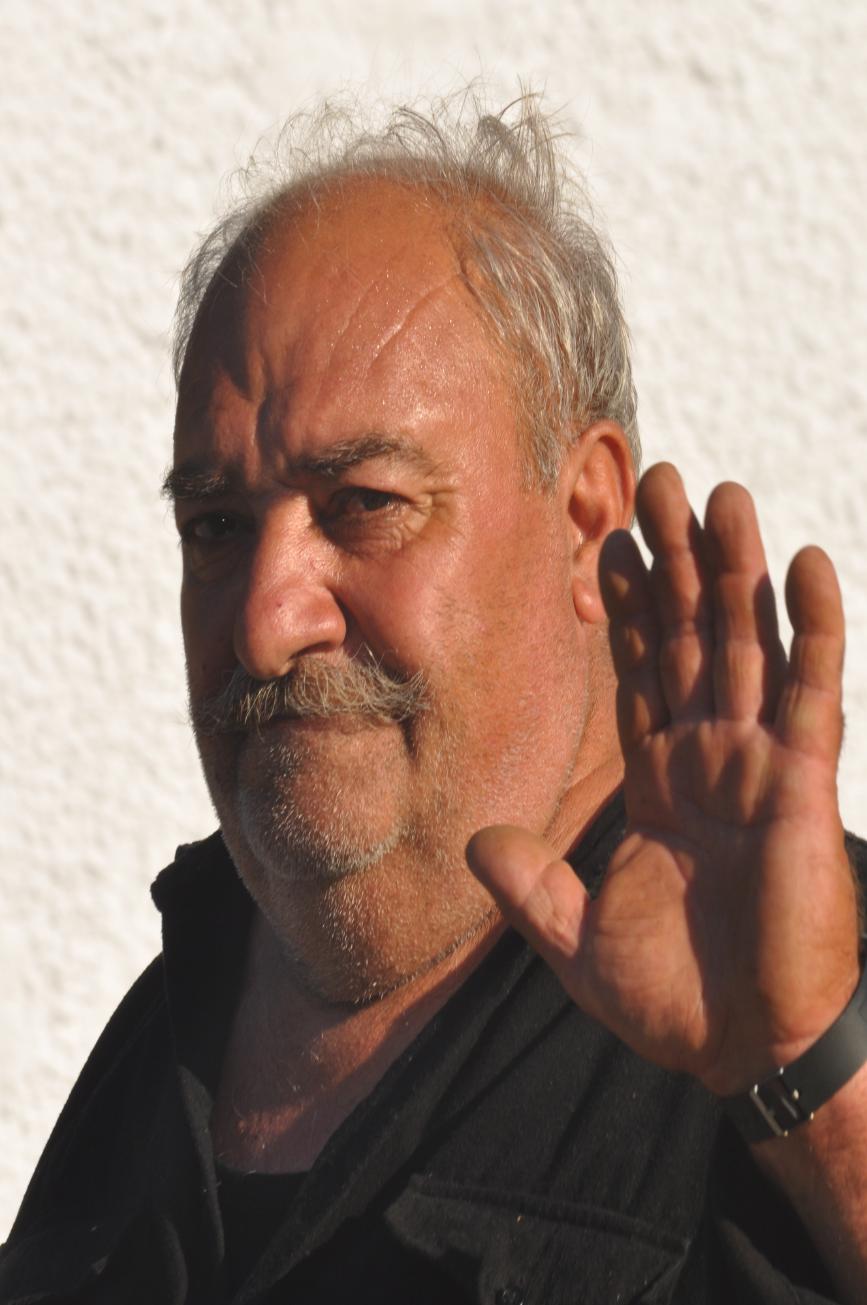 A lady out for a stroll in the mountain village of Drakona.


A unique meal with zucchini patties mountain weed and cheese pies and an unusual but tasty pork pie.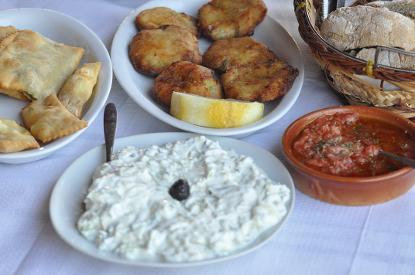 It is custom here in Greece to give guests free dessert, in this case a chocolate roll and fresh apricots.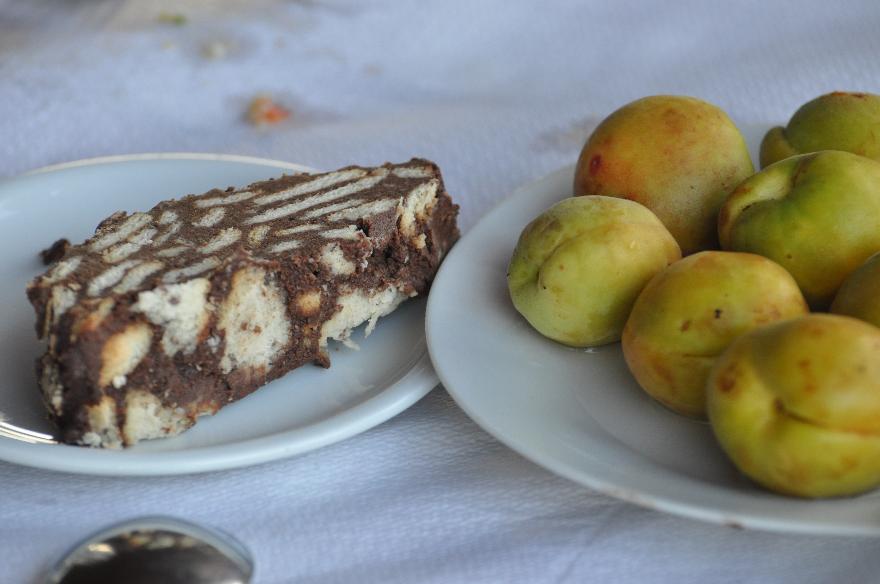 The mountains and panoramic views from our restaurant in the village of Drakona.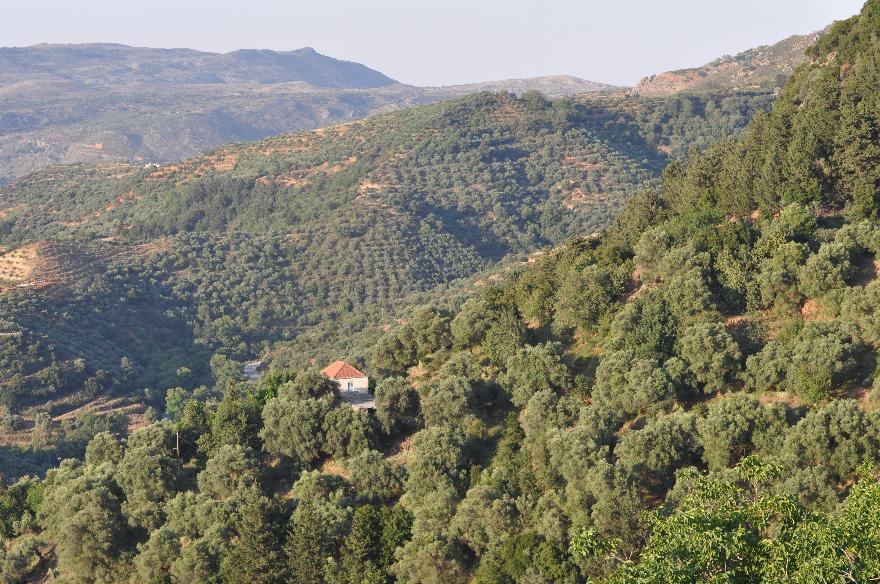 June 10, 2015 – Anatoli to Samonas
Today was a long day on the road with a number of short but interesting experiences. We had a light breakfast and then packed up to leave Anatoli (around 10:30 am). The drive to Males and Mithi, which we had done yesterday was every bit as scenic and enjoyable. Additionally there were some really nice photo ops of elderly women in both towns (see photos below).
We continued through the hills for a while before turning to the coast through the village of Kalami where we saw a women cracking walnuts. After taking a few photos, in the traditional generous manner she handed us a handful of her walnuts to enjoy. After a 5 km stretch of dirt road we reached the coastline where again there were greenhouses squeezed in wherever any space could be found. It is difficult to know how many different crops are grown – we saw tomatoes, cucumbers, zucchini and peppers, and surprisingly lots of bananas. While stopping to photo some bright purple artichoke flowers Gayle started to laugh and laugh. I looked around to see this cucumber poking out of a greenhouse. The fellow working (Manon ?) invited us in where we were given a half dozen cucumbers and some nice basil. Not being able to use all the cucumbers we passed them along to an appreciative cook at the restaurant in Samonas when we ate dinner later that evening.
In Keratokambos, after driving some spectacular coastline we stopped in a seaside taverna for a drink (just coke – I'm driving) and some tzatziki. It was a very nice break right on the sea's edge. We continued along to Tsoutsouros after which one can go no further, then turning inland and crossing the mountains. Although the weather had been beautiful along the coast as soon as we crossed over the mountains the skies opened up with rain like I have never experienced before. It was raining so hard as we passed by Pirgos I had to slow down to approx. 30 km per hour in order to avoid the small lakes forming on the road. However after 20 minutes or so of pounding rain it stopped as quickly as it started.
We still had a lengthy drive to our stop south of Chania. With a commitment to arrive between 5:00 pm and 6:00 pm we were unable to stop at what read to be an interesting folklore museum along the way as well as the mountain town of Spili, which too looking like a nice stop – another day. We continued on the main road north to Rethimno and then west towards Chania. The drive along the coast was again very scenic. Like Corsica the beauty of Crete is one minute you are in the mountains and then shortly thereafter you are back to the coast with the rich blue of the Libyan Sea, Mediterranean Sea or Sea of Crete (not sure where each start and end but they all surround Crete) capturing your view.
We eventually found our way to Samonas Traditional Villas, an absolutely beautiful set of traditional Crete accommodations in the mountain village of Samonas. After checking in we strolled down to the village restaurant where we were the only guests. The owner/cook/server was a very sweet lady, laughing and smiling and trying her best to explain things to us. Although her English was limited and our Greek essentially non-existent we somehow managed to order and enjoy a nice meal. After the meal, as is customary she brought out dessert – in this case some very rich chocolate cake – and raki. More raki. Well of course one needs to be hospitable but perhaps I should have stopped after the first shot. This stuff is powerful. I slept well. Gayle says she is tired of me yelling rakeeeeee in my sleep.
On our rooftop terrace in Anatoli, looking down to the Libyan Sea.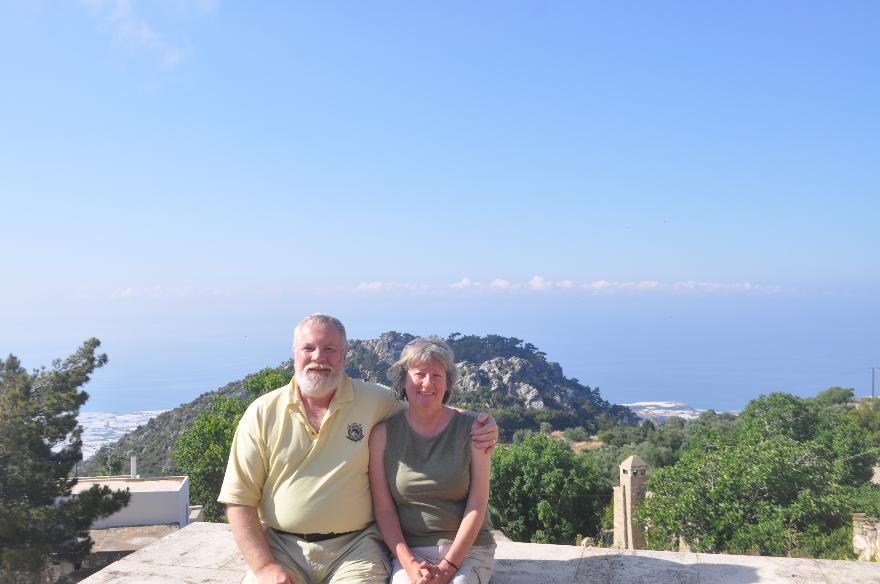 Then 18 and backpacking through Europe/Greece/Crete and now nearly 60 and still backpacking through Greece/Crete.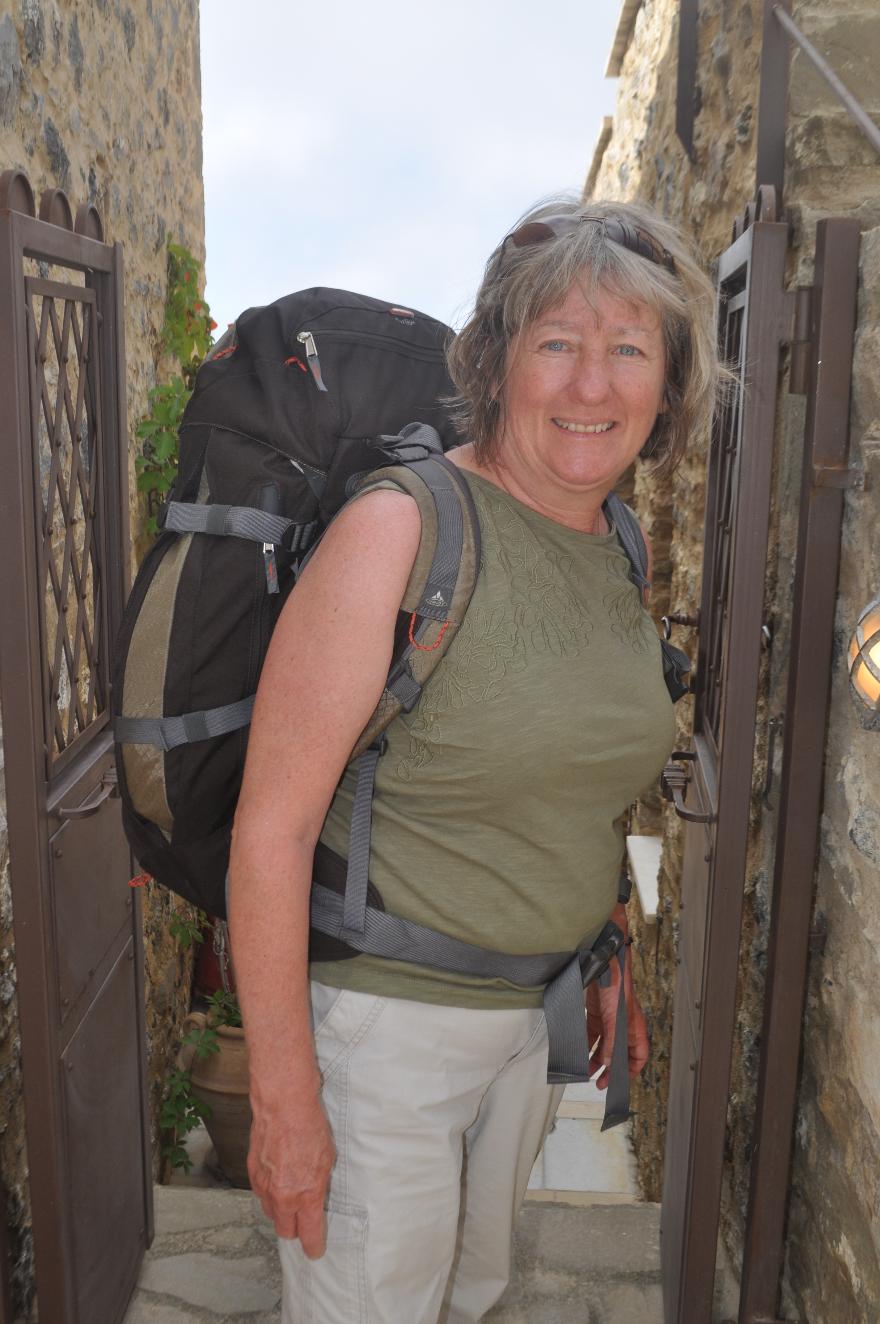 Another cute cat ... and lots of fresh tomatoes.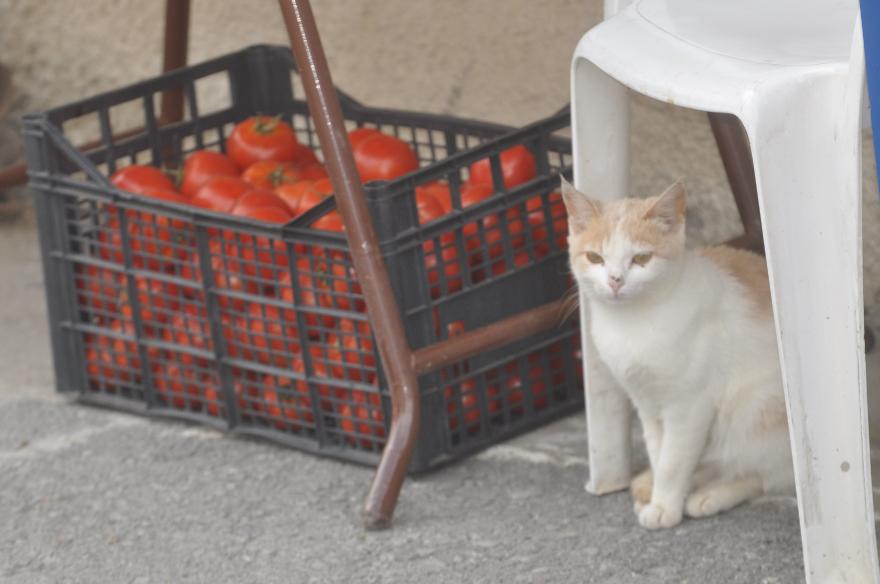 An elderly lady in Males. I respected her wish not to have her face photographed but thought it was ok to take this photo.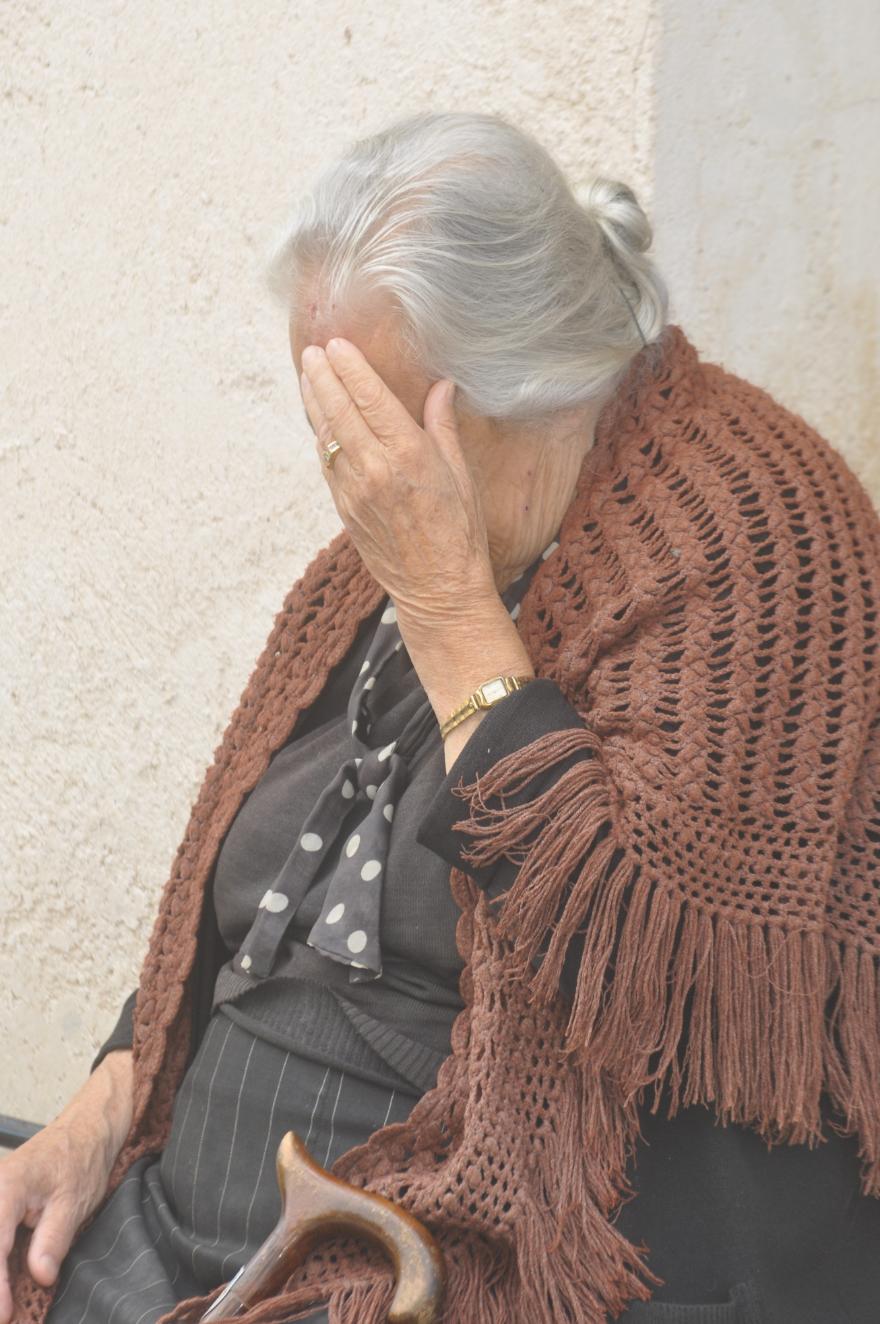 And another elderly lady in Mithi.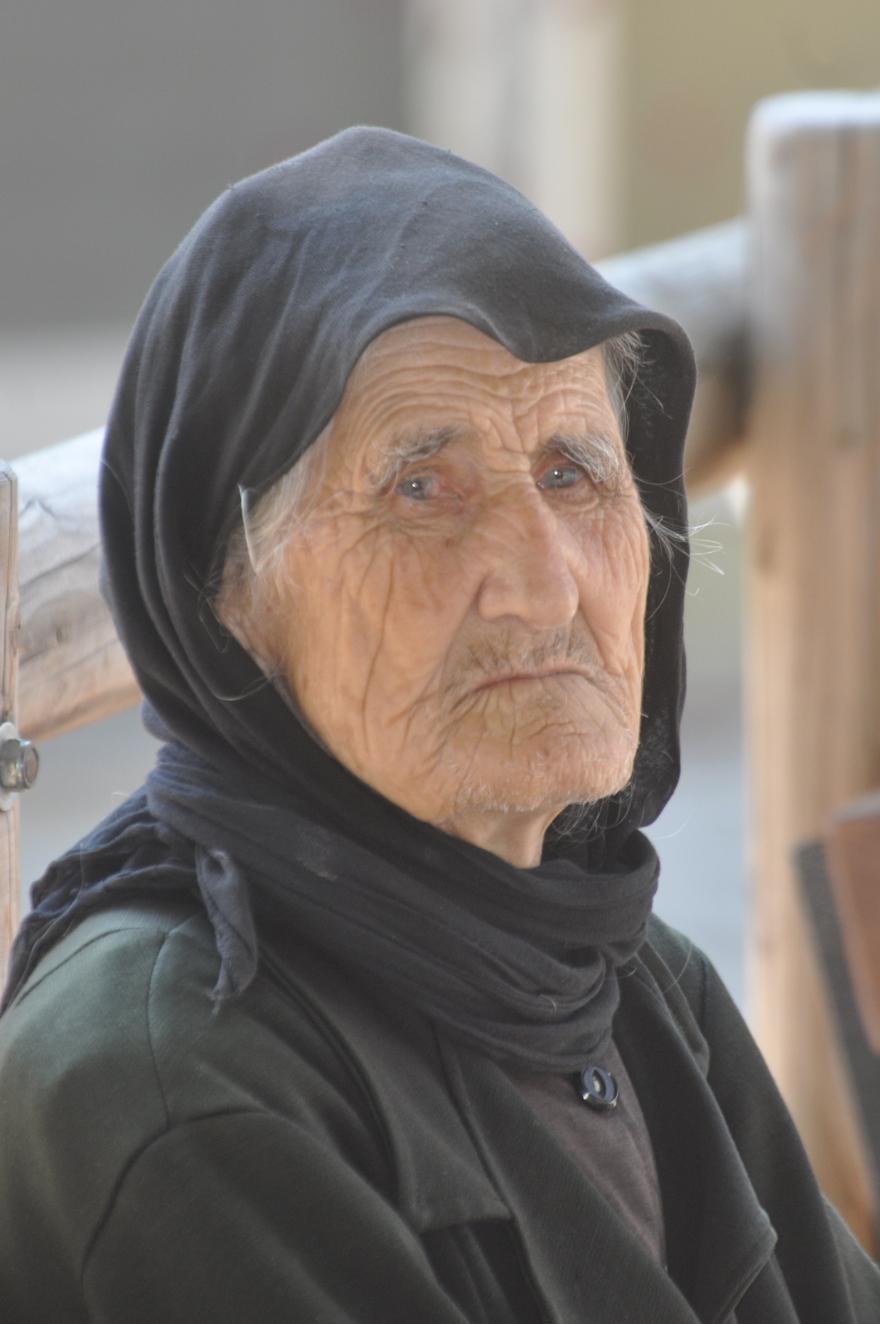 Cracking open walnuts in Kalami.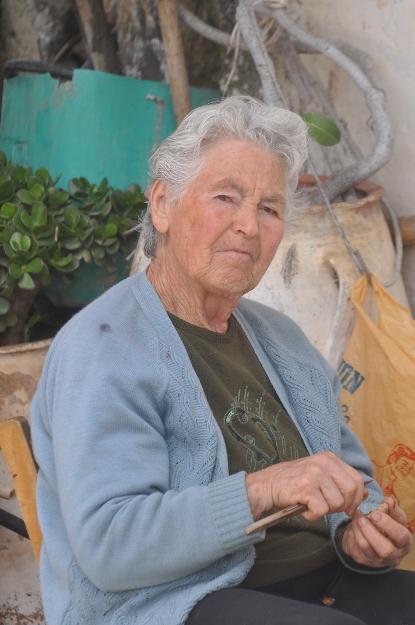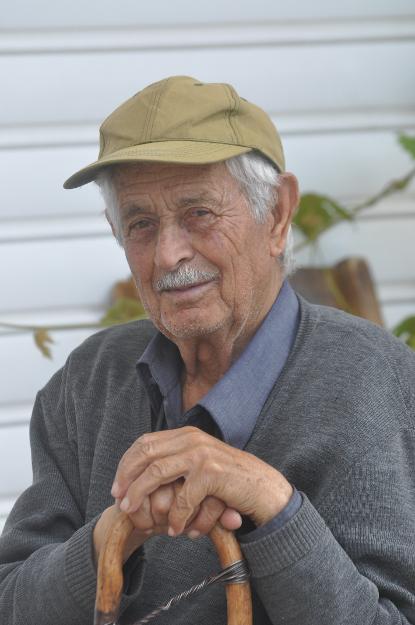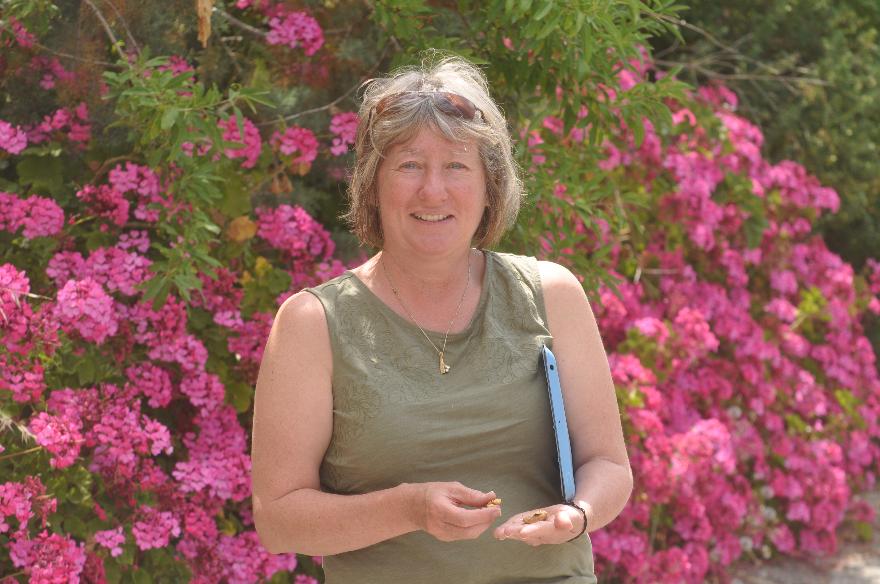 A popular crop in the greenhouses is of all things ... bananas.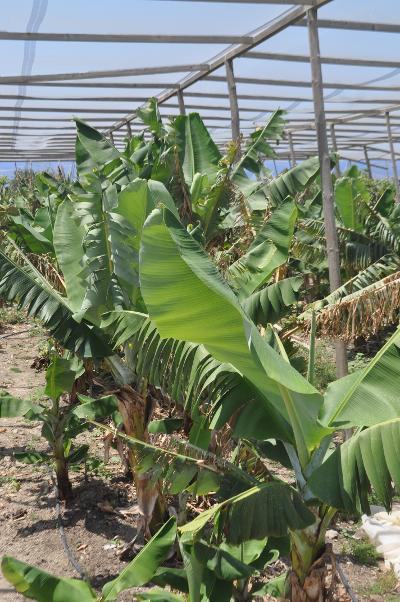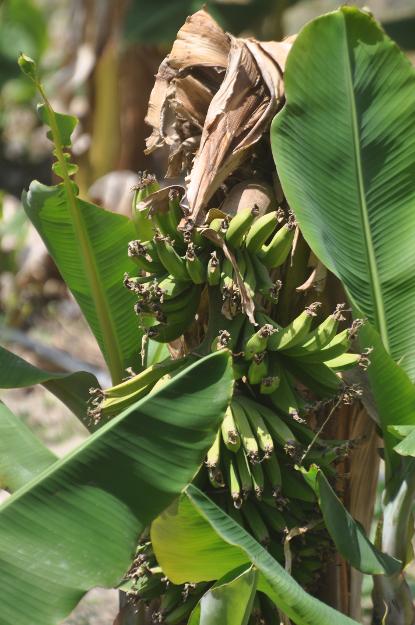 Manon (sp ?) generously giving us cucumbers and fresh basil.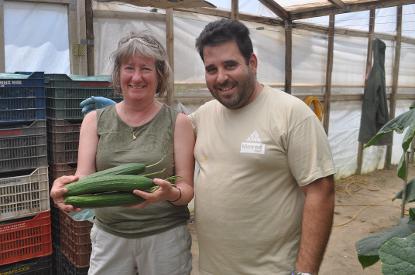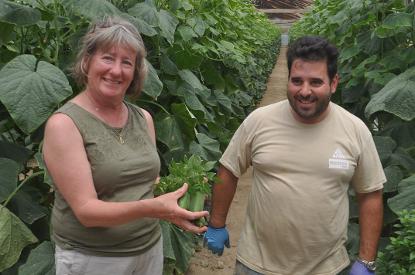 The vibrant flower of the artichoke.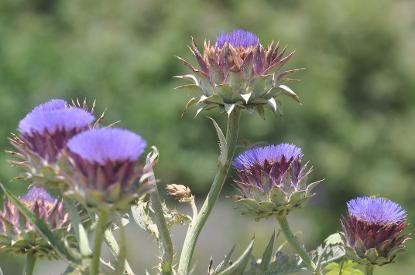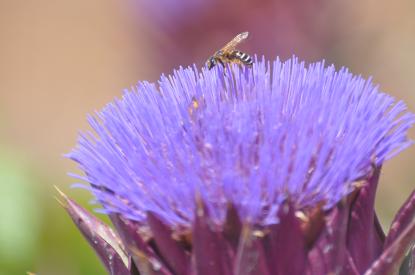 We came right down to the coast where there was this tavern on the water ... so we stopped for a tzatziki and a couple of drinks.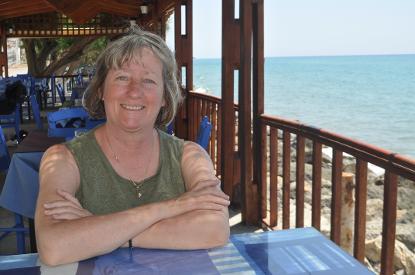 Some of the beautiful scenery of the southern coast of Crete.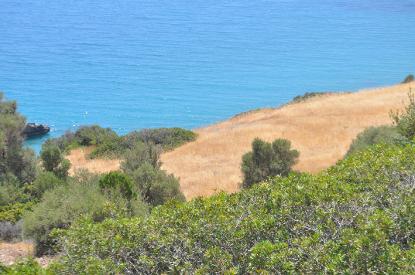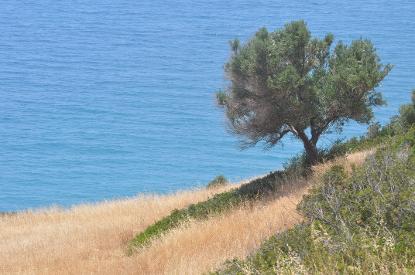 Beautiful coastline and now the Mediterranean Sea near Dermatos.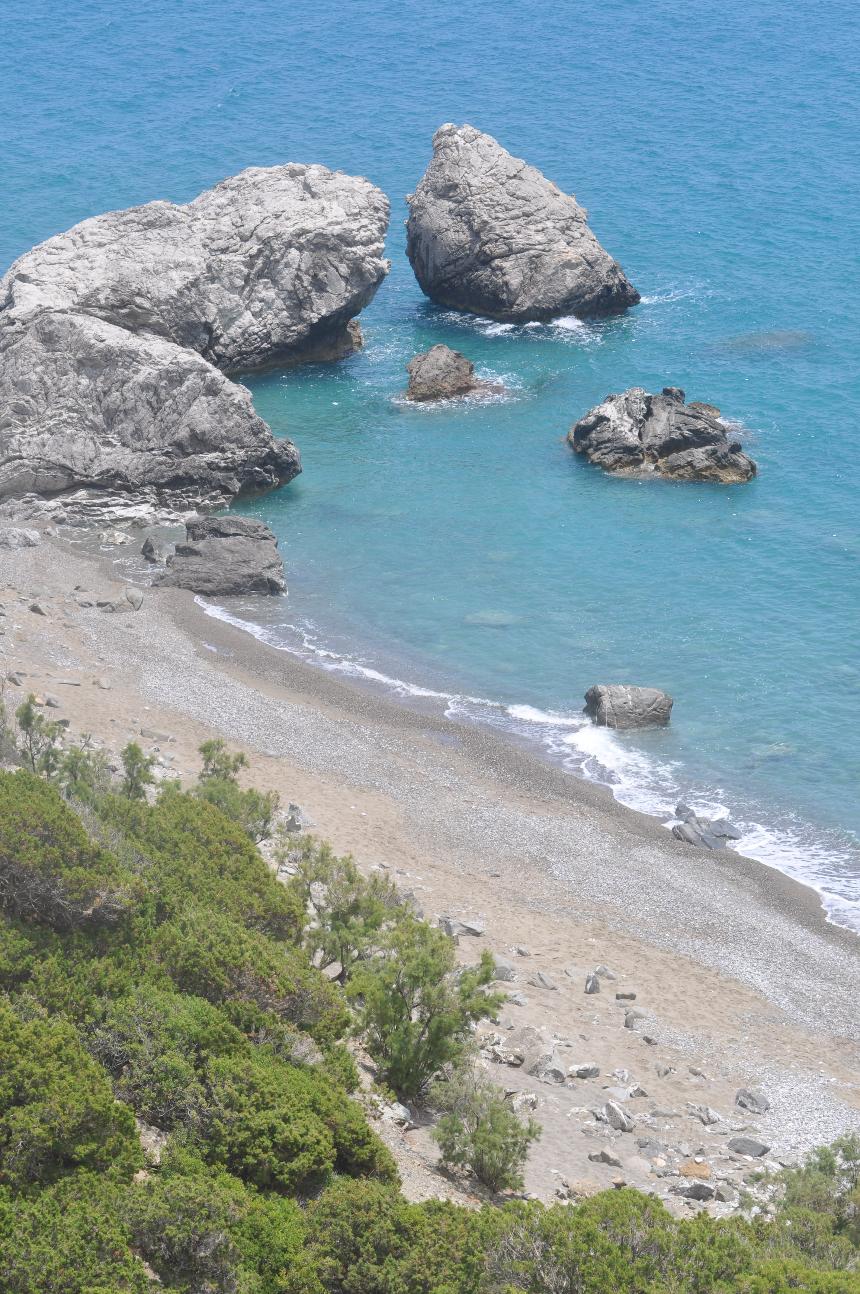 June 10th and still significant snow in the mountains.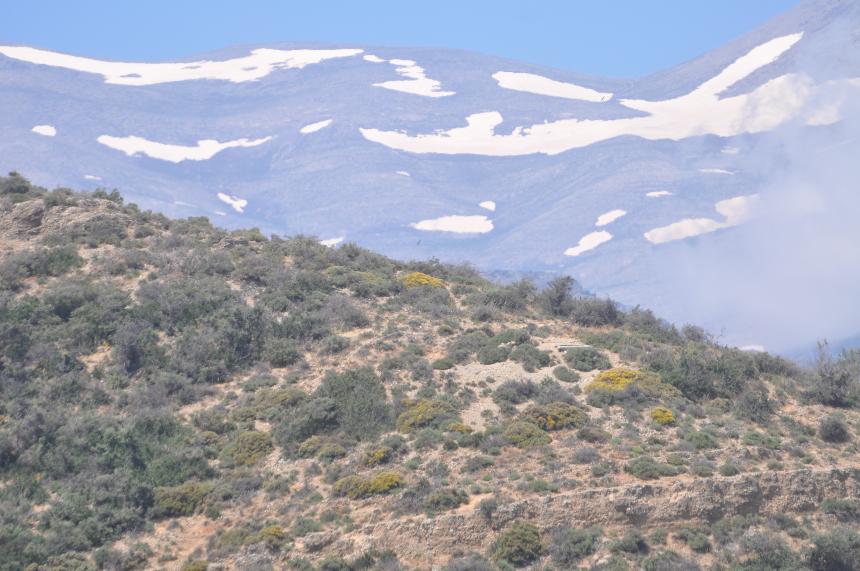 The very sweet lady - minimal English but lots of smiles - who cooked for an served us at the restaurant in Samonas.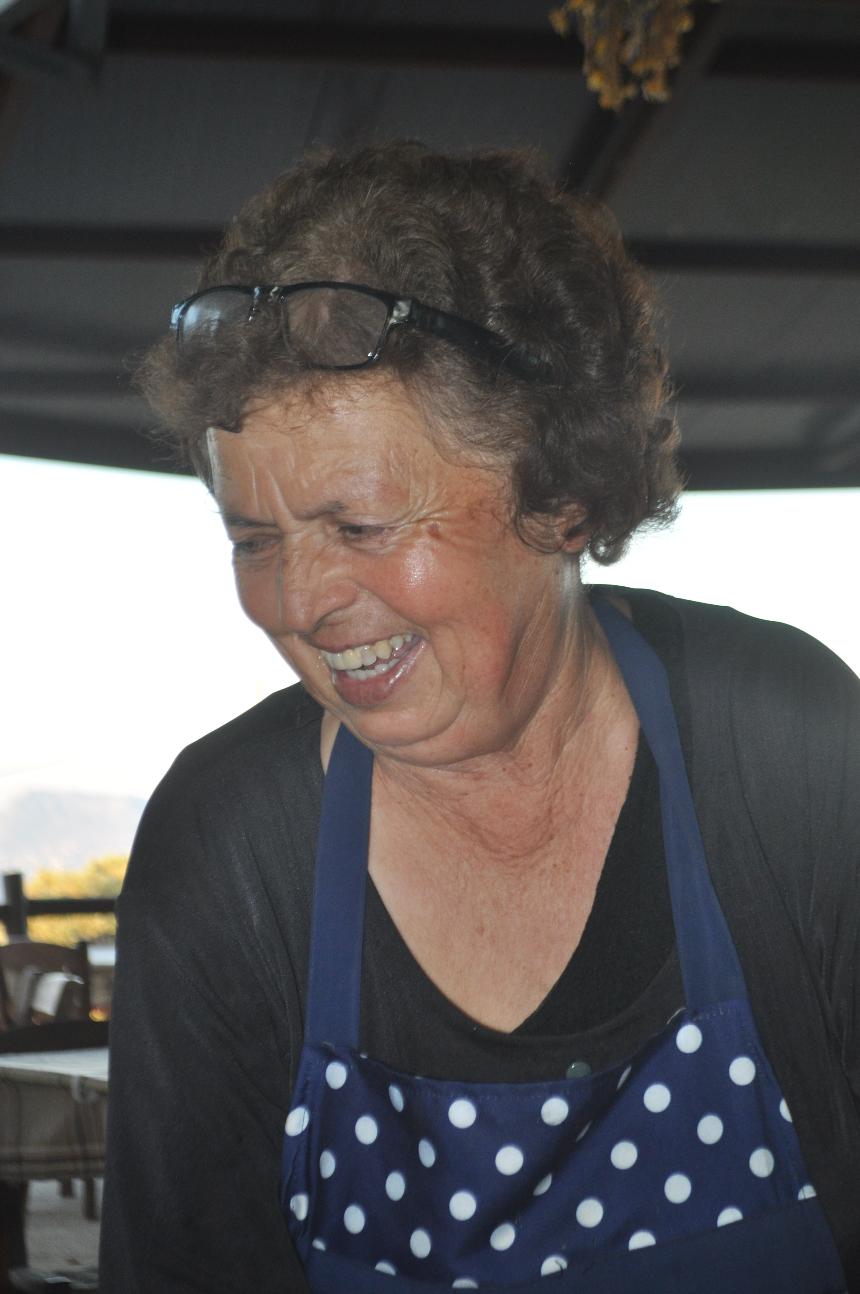 June 09, 2015 – Anatoli, with a trip to the coast and Ierapetra
Again the morning was spent simply enjoying our wonderful Cretan stone house, including the roof-top terrace. Early afternoon we set out on a drive, firsts further into the mountains to Males and then down the Mithi Gorge to Mithi. Simply a spectacular scenic drive through the mountains and olive groves with the sea intermittently visible.
Eventually we made our way to Mirtos and drove past as the road hugged the sea and the mountain cliffs. About 5 km west down the coast is the village of Tertsa, with a few tavernas and a beach. We stopped and enjoyed a late afternoon meal at one of the tavernas. Included were cheese pies served drizzled with honey – very nice. Although there had been clouds and a few showers when in the mountains by the time we reached the coast the sun was out and the temperature on the way up. Enjoying the sun in an out of the way seaside village/taverna was certainly a nice way to pass some of the afternoon.
We returned through Mirtos where we bought a nice olive wood board and then on to Ierapetra where Gayle had stayed many years ago. She wanted to return just to see what the town was like, particularly as the area had taken on a totally different look with the sea of greenhouses. Being the sunniest / warmest region of Crete the area around Ierapetra (and we would discover tomorrow well down the coast) is an agricultural hotbed with greenhouse after greenhouse. Presumably to support the vegetable industry Ierapetra had exploded from what Gayle recalled, into a small and bustling city. Just the same it was nice to return to relive memories of her (more wild) youth.
We returned up the mountain to Kalamafka and then back to Anatoli, again along a very scenic, small, twisty, winding, mountain road to complete our circle and the day.

The interior of a traditional Cretan home - lots of stone and woodwork.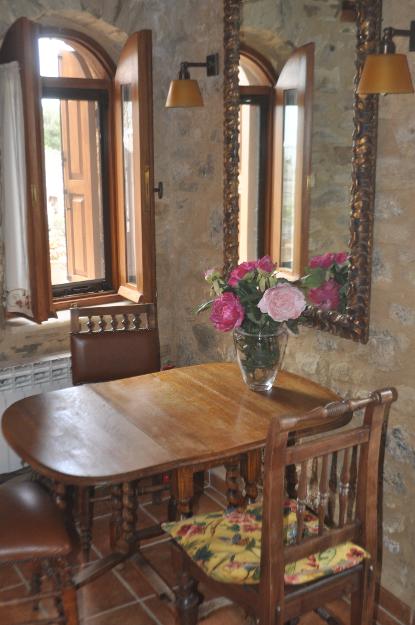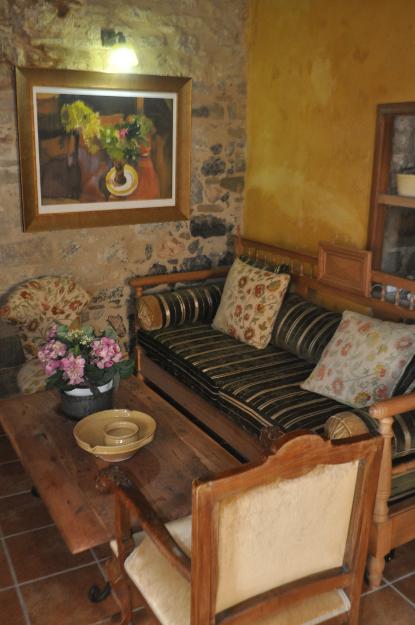 Our rooftop terrace at Smagarda House.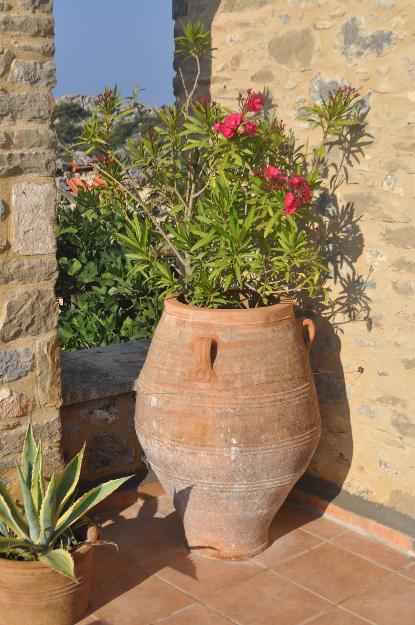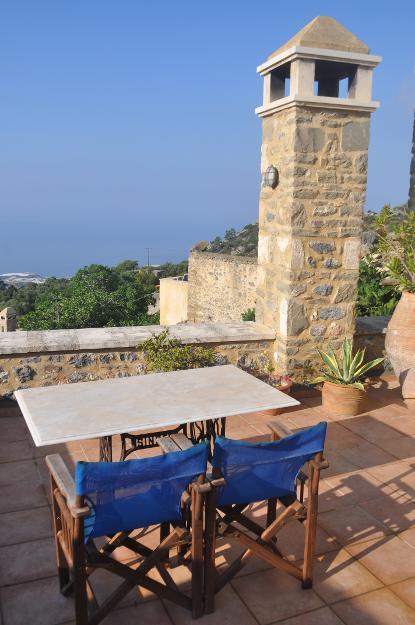 An alley of stone adorned with colourful flowers in Anatoli.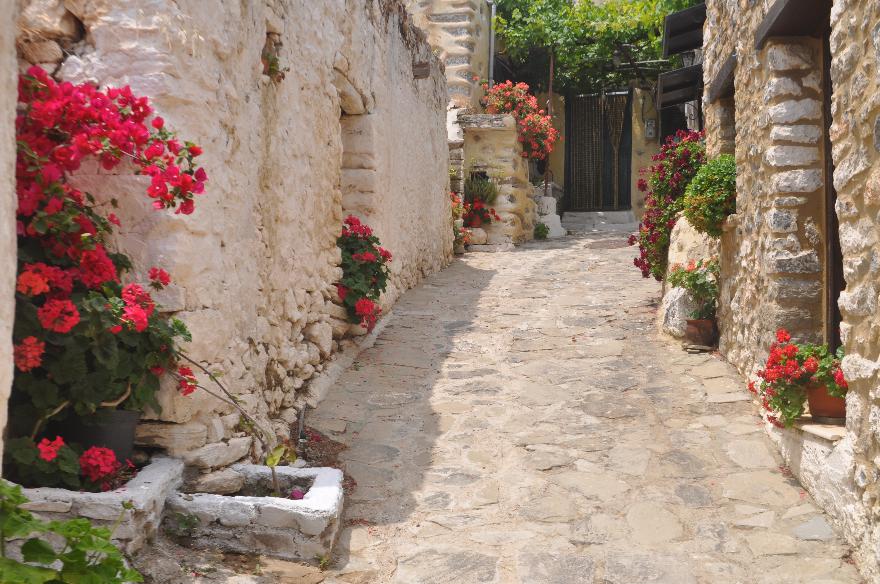 A sea of greenhouses along the coast as seen from the hills of Anatoli.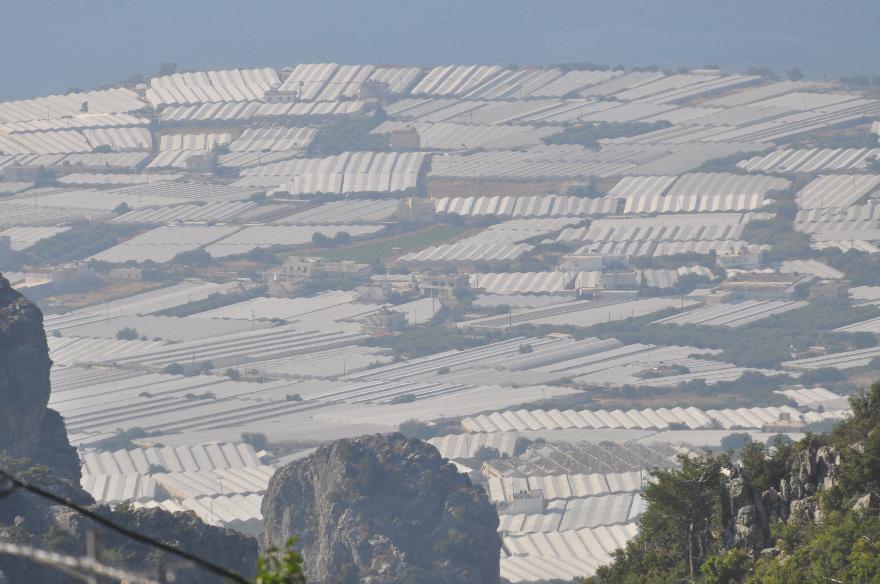 A couple of elderly Greek ladies seen along our journey.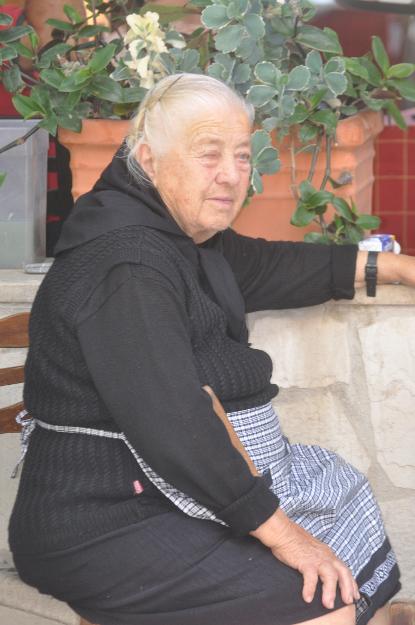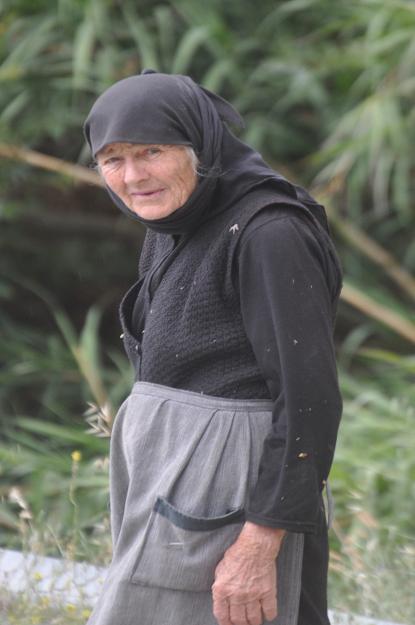 Another Greek meal, this one in a tavern next to the Libyan Sea.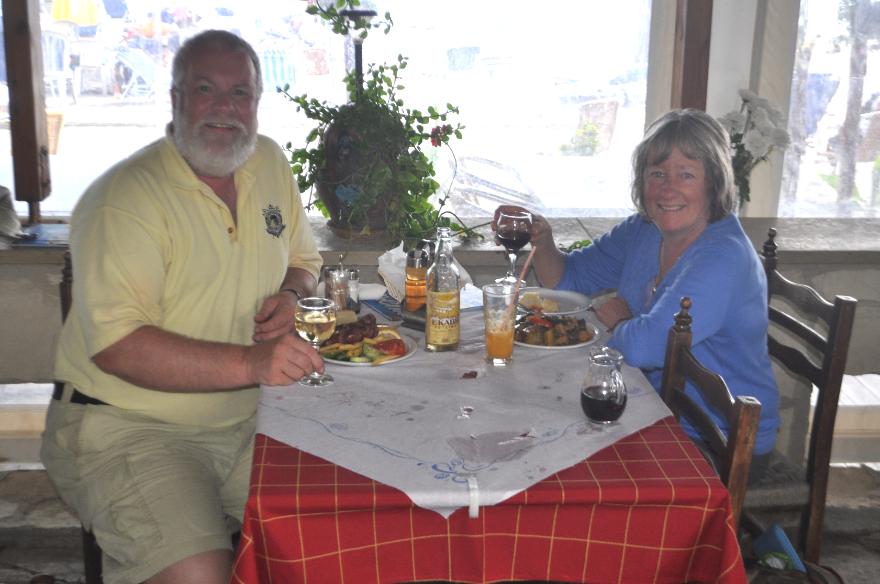 Lunch in a seaside tavern in Tertsa - cheese pies with honey and sausage.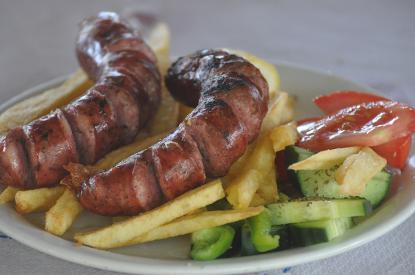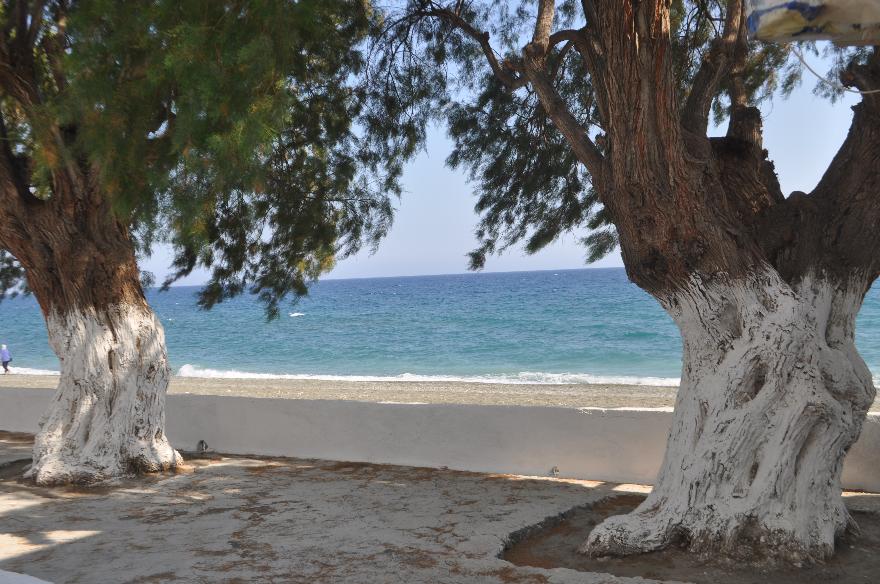 The Libyan Sea coastline near Tertsa.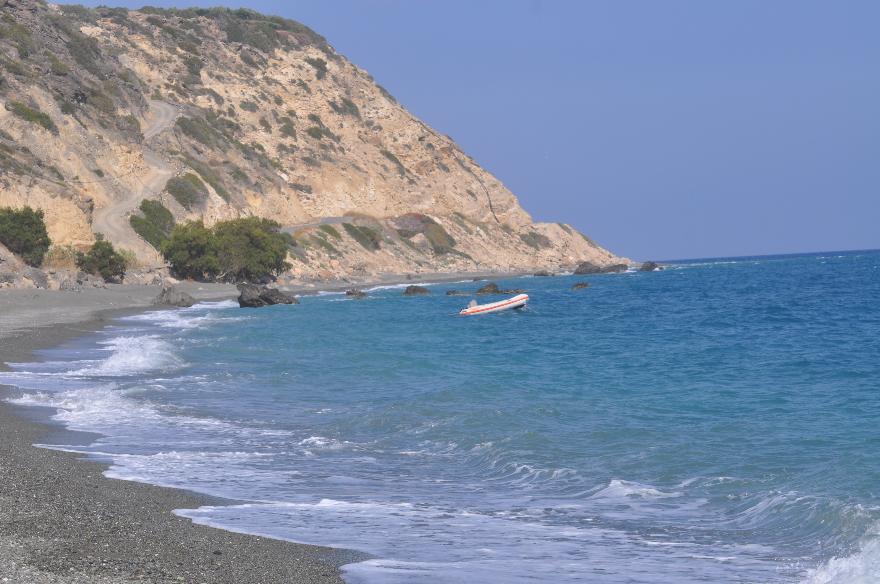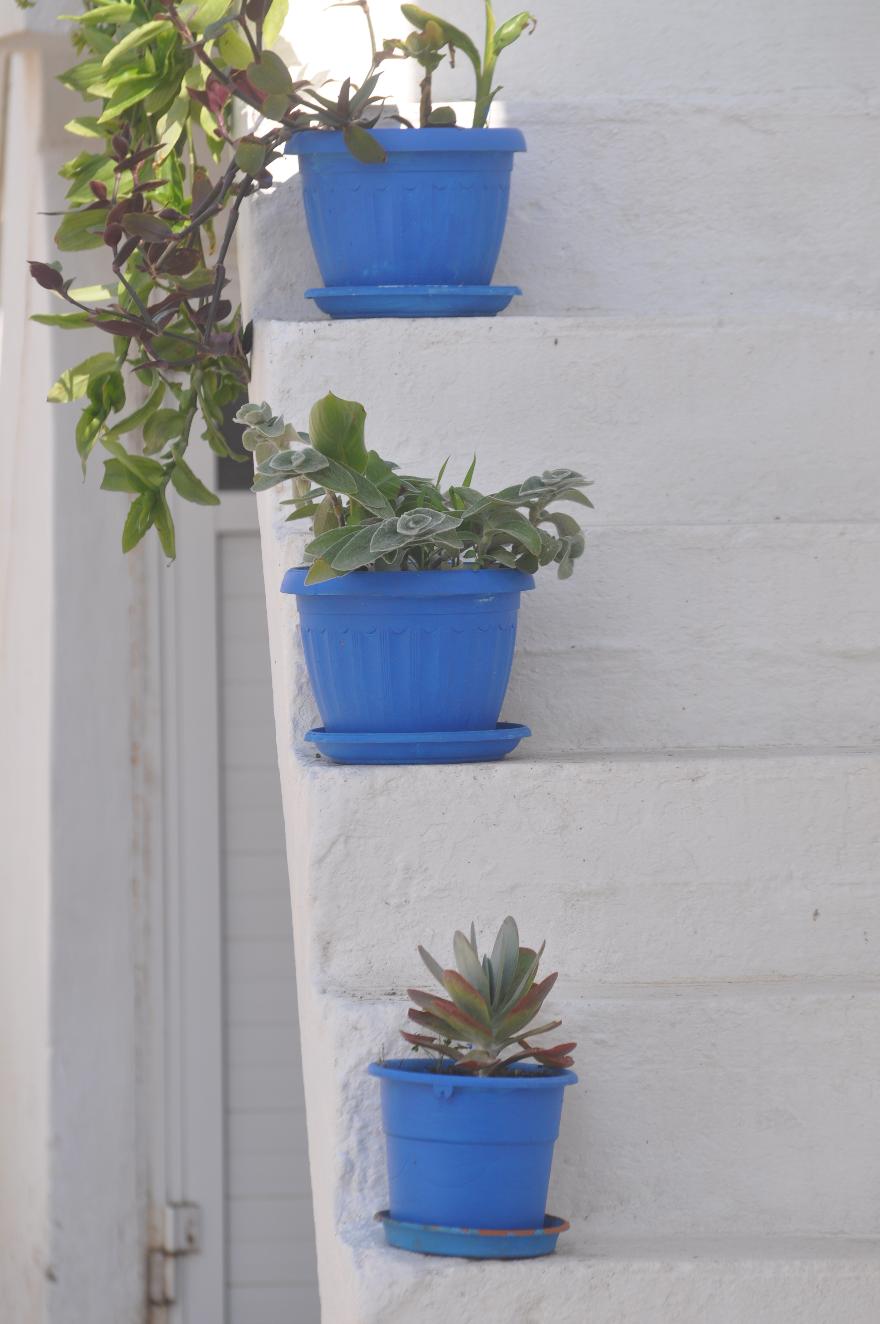 On the way back to Anatoli a truck full of peppers.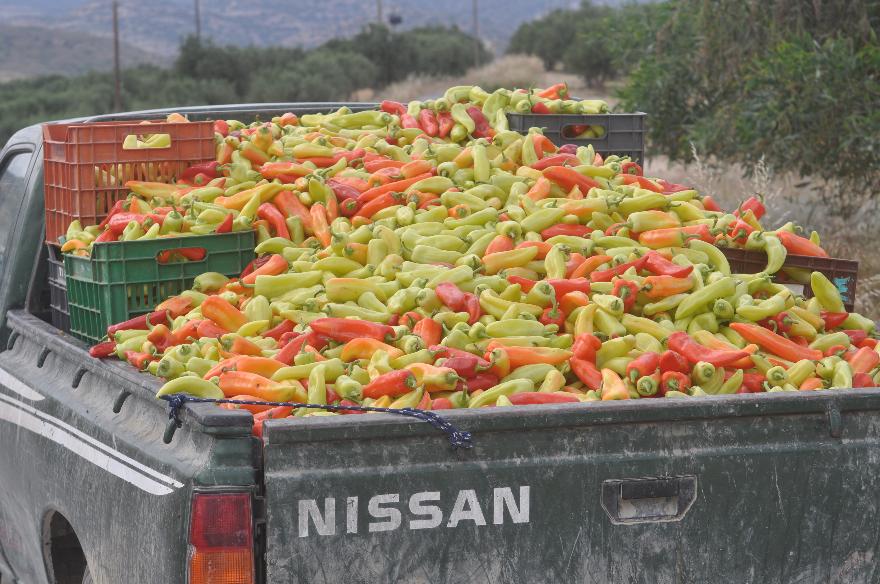 June 08, 2015 – Arodamos to Anatoli (in the hills above Ierapetra)
Primarily another travel day. After the wonderful evening last night we awoke to what appeared to be a nice day. We enjoyed another Cretan mountain breakfast, said our good-byes and then headed down the dramatic mountain. It was really something to see how high we had climbed – arriving in the dark there was no true sense of how high the mountains were or how dramatic the scenery.
We easily made our way down to Krousonas but after that the challenges began. We tried to connect to the 97 and go south, and then east to our destination Anatoli. But our frustration with the road signs in Crete turned out not to be due to the darkness but rather the poor road markings. No matter how hard we tried we kept going north rather than south, eventually making our way back to Heraklion. The ultimate frustration was when we reached a dead end. The places we are staying often advise GPS is unreliable and often misdirects, i.e. I sincerely doubt it would have helped.
So we conceded defeat and got on the National Road to Agios Nikolaos, some 70 km to the east, making excellent time. Just past Agios Nikolaoa we went up into the hills, to Kritsa – unfortunately a commercialized rather than authentic craft/embroidery centre as it once apparently was. From Ktitsa it was south through the mountains and some very scenic roads, although the rain detracted from the drive. We passedthrough some small mountain villages until we reached our destination the traditional village of Anatoli.
Staying in another traditional Cretan home we had to contact an individual to let us in. We asked a fellow passing time in a mini-mart to call which he gladly did. Having to wait 45 minutes for the individual to come and let us in Emmanual insisted on treating us to a drink and a few small snacks. Like every Greek we have met so far Emmanual was very friendly and generous. He would have nothing of us paying. In exchange I promised to mail him the few photos I took of him and another friend passing the afternoon in the mini-mart.
The stone house, particularly for 85 euros ($120 at current exchange rates) is very nice with a fully equipped kitchen – considerably more than the kitchenettes we had elsewhere. With a living area, bathroom and separate bedroom and kitchen along with two terraces – one outside the door and the other on the roof with wonderful views down to the Libyan Sea this feels like a small home. Tranquil and relaxing.

Our wonderful hosts Giannis and Irini.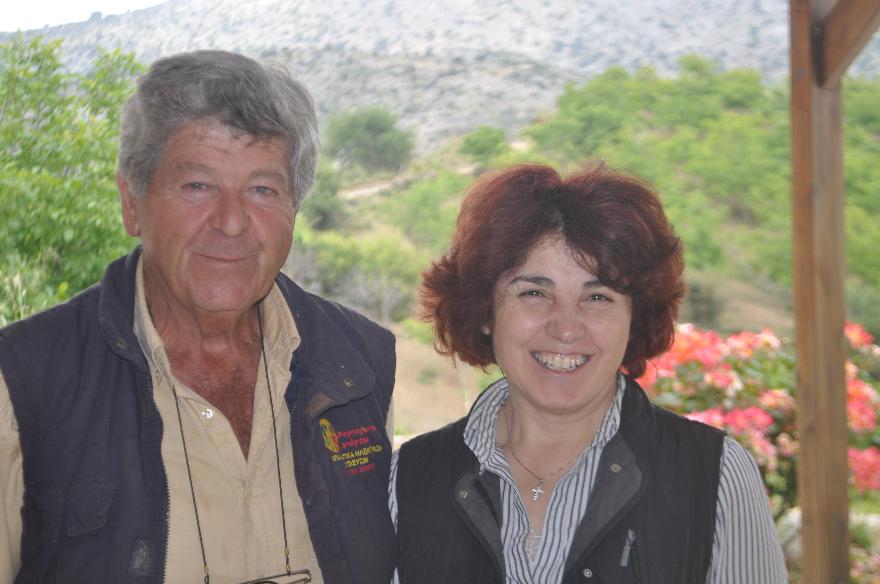 The Arodamos traditional Cretan stone houses and the high ceiling spacious interior of our house.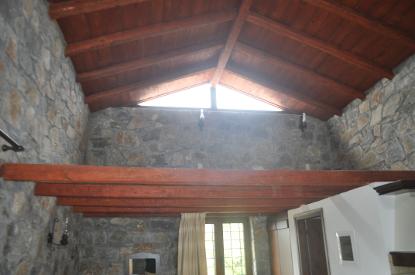 The surrounding valley and mountain peaks, in and out of the clouds.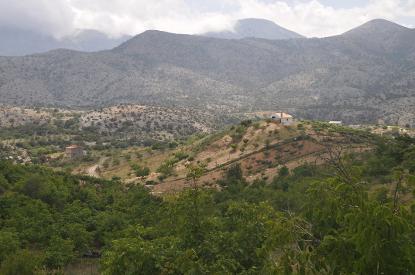 Some of the beautiful roses on the property.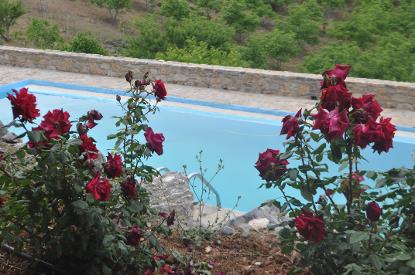 Goats on our walk up to the nearby church and the Arodamos animals.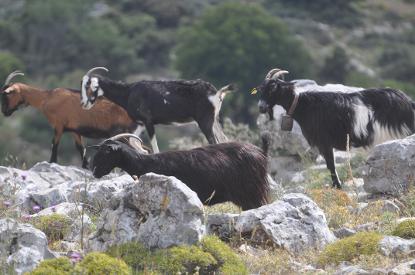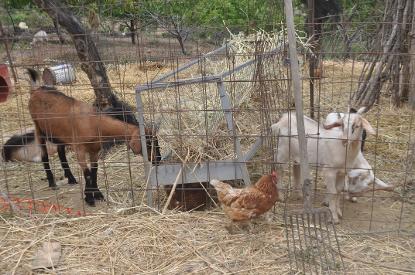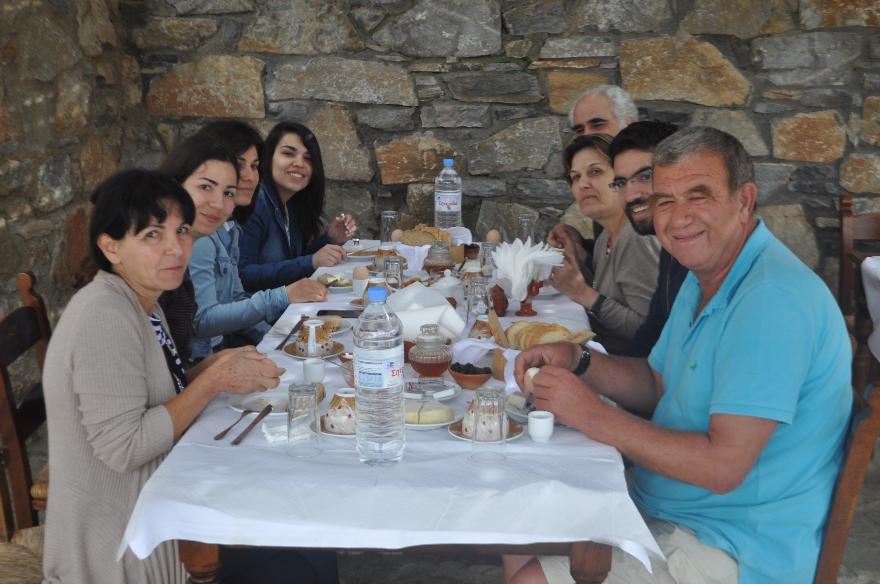 It's one thing to be alert for pedestrians but here in Crete one needs to be attentive to other road users.



Emmanual (on the right) and a friend in the mini mart / hang out.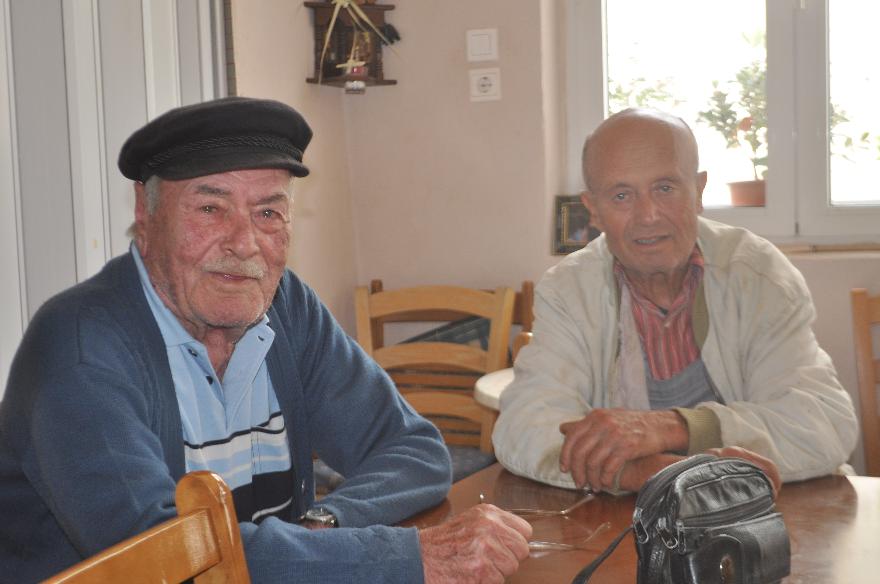 June 07, 2015 – Arodamos, in the central Crete mountains
Gayle had suggested booking two nights here at Arodamos, and what a great decision. First because of the hour we arrived to this out of the way location. Had we left in the morning it really would have been a waste to come all this way. Second, because the place is exactly what we were looking for in a traditional mountain Cretan place to stay, and third because of the evening we enjoyed tonight (read on).
After a nice breakfast that included smoked ham, the excellent cheese we had last night when we arrived, fresh orange juice, scrambled eggs with pumpkin (delicious), a sweetened rice milk dish and hearty bread with quince marmalade we lazed around most of the day – me working on the blog and napping after the excessive raki last night and Gayle photographing the many roses on the property and checking out the animals (dog, donkey, sheep, goats, chickens, geese and a pheasant).
Late in the afternoon we took a short walk to a nearby church. Weather wise it was a mixed day. At times the sun would peek out but most of the day the clouds moved in and out of the mountains, covering and then exposing the surrounding peaks.
Although we were the only guests the previous night two families totaling eight (travelling together) from Cyprus arrived this evening. Although the evening would no doubt have been an experience they being there made it so much more so.
Arodamos is self sufficient, off the grid. Electricity is provided by solar panels and wind. Farm animals provide the food (eggs, milk, meat etc.), there are numerous fruit and nut trees on the property and even the wheat is thrashed to make the bread.
Dinner was a story. Gayle started with the traditional Greek salad and then had a full plate – a stuffed pepper, a stuffed tomato, a stuffed zucchini and dolmades, i.e. stuffed grape leaves. For me it was Survivor Greece. Irini told us the lamb I would be eating was young, only four months old. Although I did not eat every part of the lamb (Gayle tells me that in places the entire, and she means entire animal is eaten) I had parts that I doubt I will ever have again. As a starter I had the liver, grilled. As a child I hated liver (and onions – still do) and while this was not as bad as I expected it would be far from my favourite dish. The main course was excellent – cooked lamb with tender artichoke hearts, and potatoes flavoured with dill – very nice.
But then after dinner the fun began. Irini brought out this … well how can I describe them … little sausage looking things. The Cypriots were encouraging me to eat them, all the time breaking out in laughter. When I asked what I would be eating Irini explained it was the lamb's spleen (well washed she said) encased within the intestine. Really? Before committing to sampling this 'delicacy' I insisted one of the Cyprus girls eat some first. After she did I really had no choice. They said it was better with lemon so lemon it was. The challenge was on. One, two, one and a half, three and down it went. Quite chewy, I'm not sure it was really tasty as my goal was to eat it rather than analyze it, but I succeeded. The second piece, somewhat larger was a little more difficult to get down – by then I had time to actually think about what I was eating – however I managed as well.
But that is where I drew the line. There was also some part of the stomach wrapped with the intestines. After I was told it was not as tasty I said enough is enough. I do think they all thought I was a good sport although for a minute of two Gayle being a vegetarian was looking pretty good.
After dinner Giannis brought out his lute and began playing and singing traditional Cretan folk songs. We were told he was in a band in his twenties and it clearly showed. What made the evening so much better was that the Cypriots knew most of the songs and joined in. Then one of the father's began singing his own songs, and telling stories / jokes. It was a night of song, stories, laughter, and yes Yamos – lots of raki. I tried to keep pace with Giannis although I admit I may have been pouring somewhat less in my glass than his. But still I had more raki than I should have, and when just past midnight Giannis smiled and said "First one of the day!", another shot went down. And it was not the last.
We finished up around 12:30 am –what was a special experience, one that would have been wonderful had we been the only guests but so much better because of the Cypriot families. A truly wonderful evening … except perhaps the 'delicacies'.


(Really) far from professional quality with the lighting not being particularly good but still I took a few videos of Giannis playing and singing, sometimes accompanied by Irini and the Cypriots.



For Gayle a stuffed pepper, a stuffed tomato, a stuffed zucchini and dolmades (stuffed grape leaves).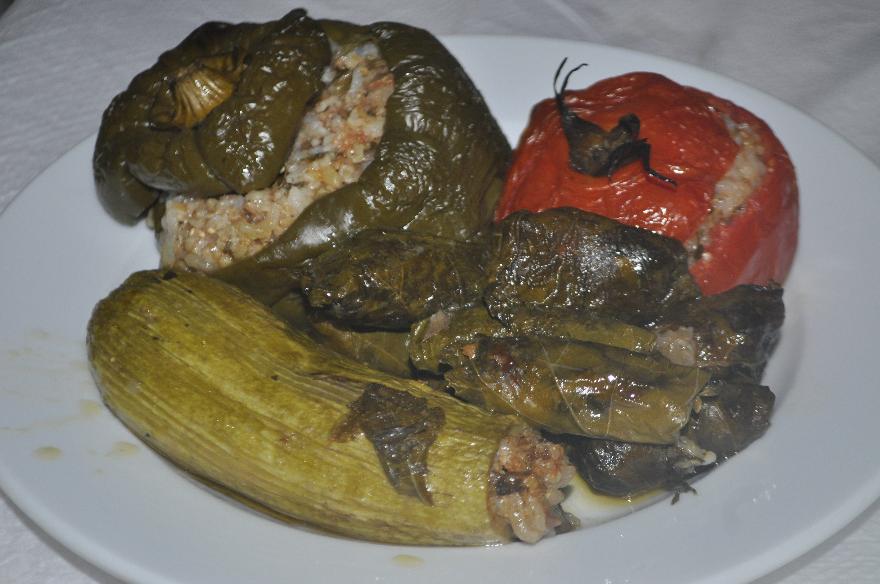 Lamb (four months old) liver and lamb with artichokes, potatoes and dill.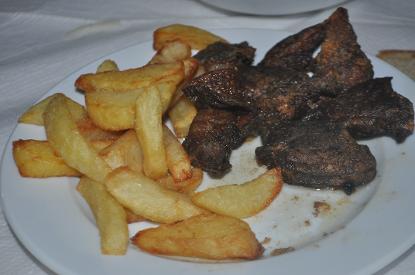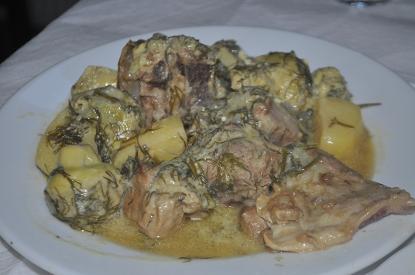 Survivor Greece - on the left spleen within intestine and on the right some part of the stomach wrapped with intestines. I managed to eat both pieces of the spleen but drew the line at trying the stomach whatever.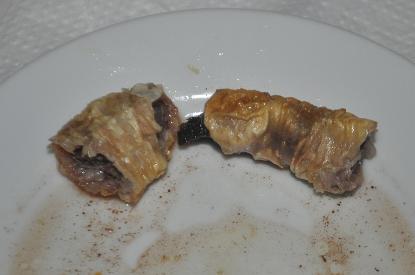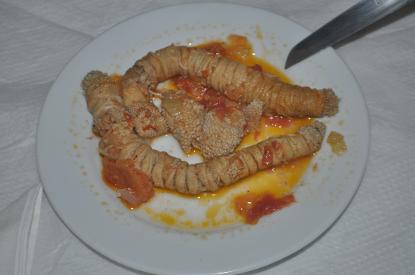 After the Cypriot girl rose to my challenge and consumed her piece of spleen I had no choice but to go through. They said it was better with lemon.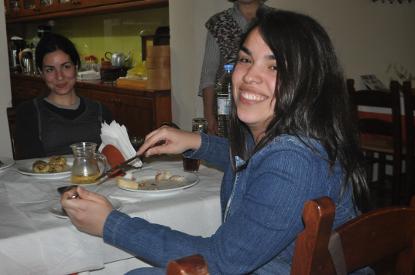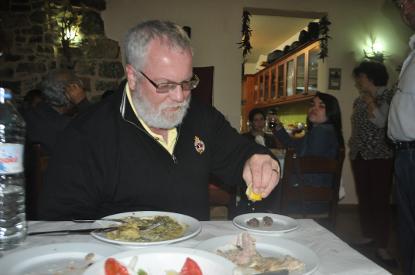 The second larger piece. Ready. Set. ...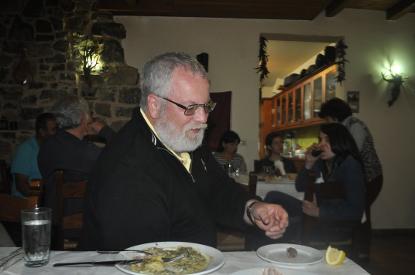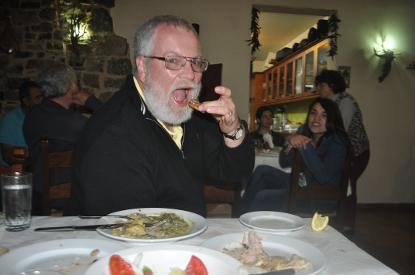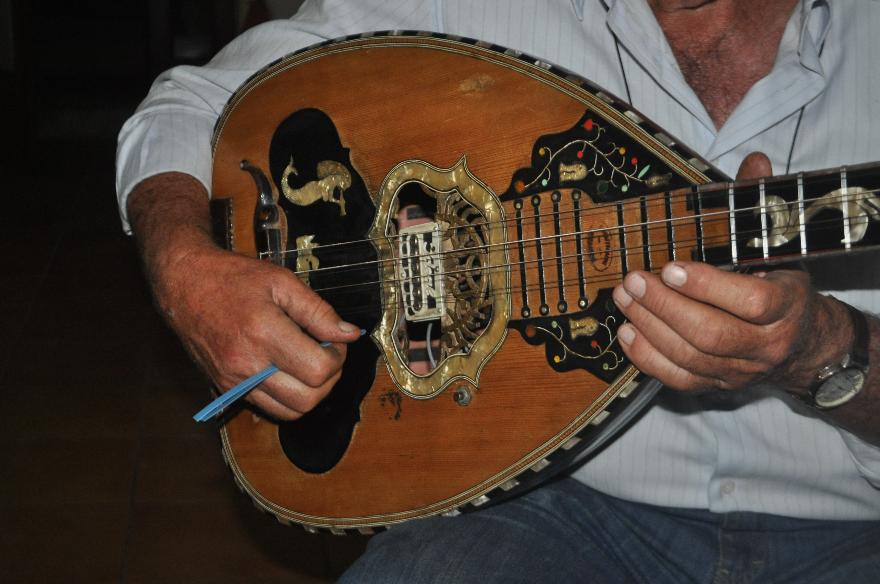 Enjoying Giannis playing and singing. The fellow, albeit with help on occasion from the girls knew the most English, explaining the songs and jokes being told.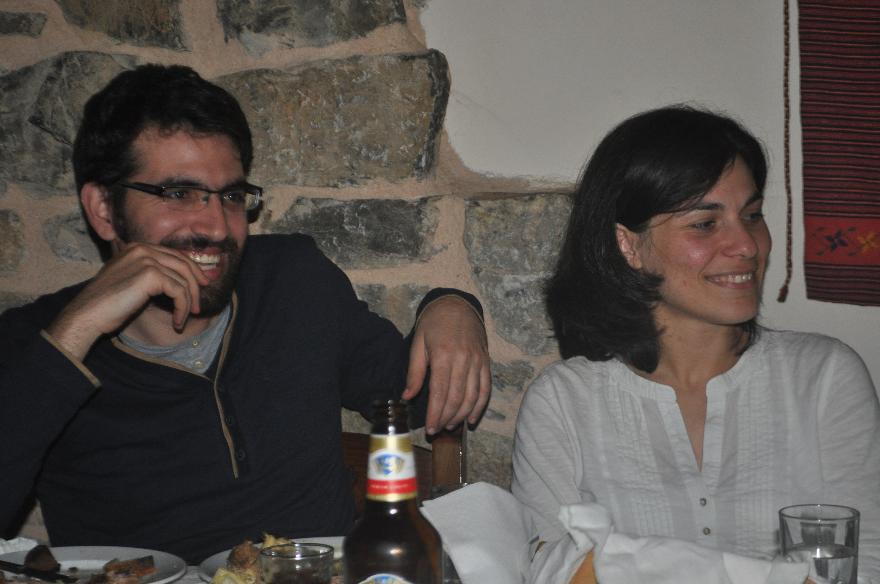 Giannis tuning up for another song.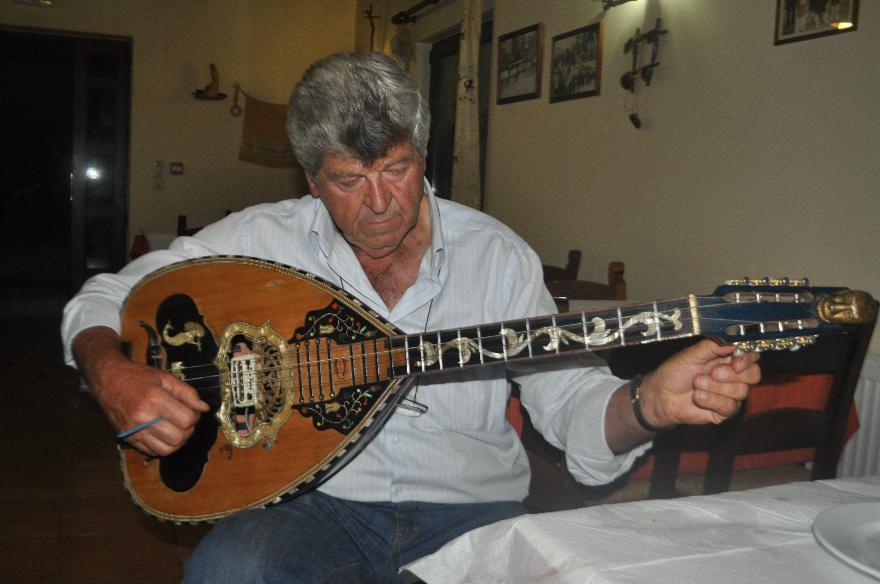 Even while singing Irini found time to make these fresh small cheese pie desserts.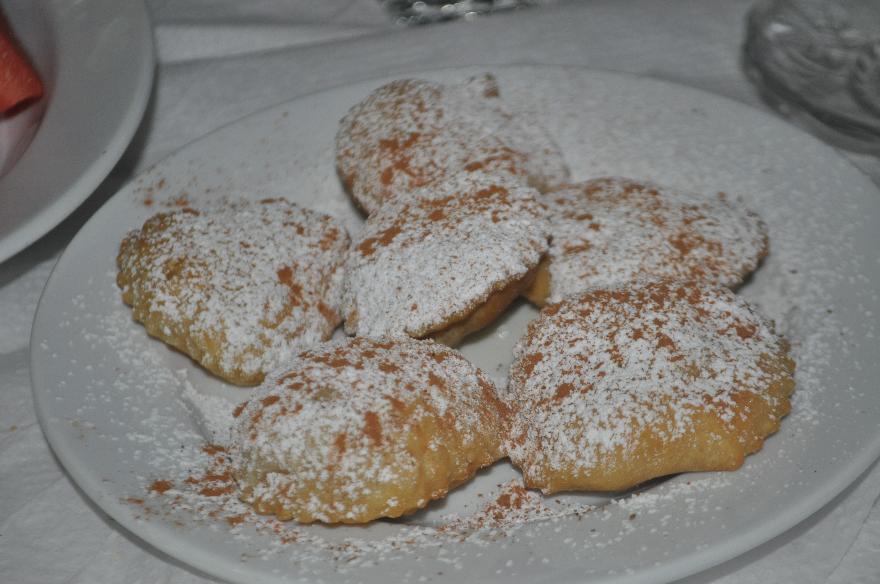 Some of the guests from Cyprus enjoying the music.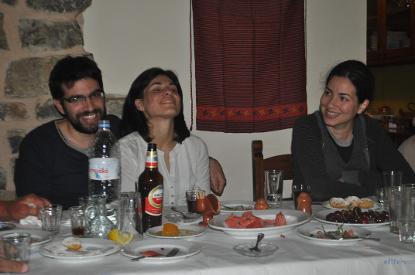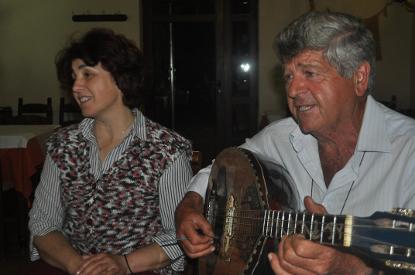 June 06, 2015 – Amorgos to Crete via Naxos - into the mountains to Aradamos
Not a lot to say as this is a travel day, with most of our time on or waiting for ferries. We did get up at 5:00 am in order to finish packing and enjoy a final quick breakfast of eggs and yoghurt overlooking Aegiali bay. Pano Gitonia was a great choice – an apartment with tons of character, a terrace with a spectacular view, a kitchenette to make breakfast to enjoy sitting out on that terrace and an opportunity to meet one's neighbours. We would return without question.
We were down at the dock by 6:30 am, dropped off the car and boarded the ferry shortly after 7:00 am. Unfortunately the first section of the trip, to the island of Danoussa was quite choppy and rough although it improved thereafter. We reached Naxos shortly after noon where we retrieved our tickets for the ferry to Crete and then had lunch, a baked potato stuffed with local fresh soft goat cheese and herbs, stuffed cabbage rolls covered with a lemon sauce, and – you guessed it - large Greek salad.
Unfortunately the ferry was an hour late, not arriving until 4:15 pm. We must have had a replacement ship as this was anything but a fast ferry, losing time throughout the remainder of a trip that stopped in both Ios and then Thira (Santorini). Ultimately rather than arriving in Heraklion, Crete at 6:55 pm as scheduled and driving up into the mountains during the daylight it was not until 9:30 pm before we disembarked. After picking up our car, and finding a gas station as vehicles here are provided essentially empty of fuel we tried to follow the directions to Kroussonas and beyond to Aradamos where we will be staying the next two nights. We got out of Heraklion ok but missed a turn ending up somewhat west of where we should have been, in the village of Tillisos. Being unsure we stopped and asked a shopkeeper. Although he couldn't speak any English he did speak French. My rudimentary high-school French was sufficient that I understood the directions through the back road villages (rather than returning to Heraklion and trying again) – at least I must have understood sufficiently as we found our way to Krousonnas. But we were not finished as we needed to continue another eight kms, the last 1.5 on a rough dirt road, through the mountains in the dark. But finally, at 11:30 pm we arrived, tired and hungry but here.
We were greeted by Irini and Jiannus and provided bread, cheese, fresh cherries, walnuts and raki. And this is not the sweetened Koufonissi / Amorgos raki but the grappa like raki. But of course I could not wimp out and certainly tried to match Jiannus shot for shot. Yamos!.
After a long day – up at 5:00 am, a rough ferry ride, a longer than planned wait in Naxos, a slower rather than faster trip to Heraklion, a drive in the dark rather than the light and a few too many shots of raki it was time to turn in.

Aegialis from Pano Gitonia / Potamos..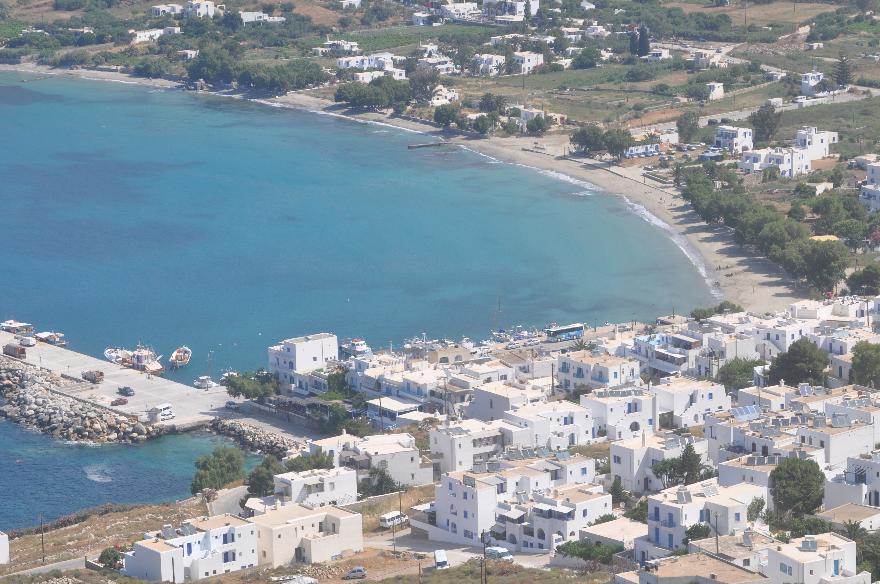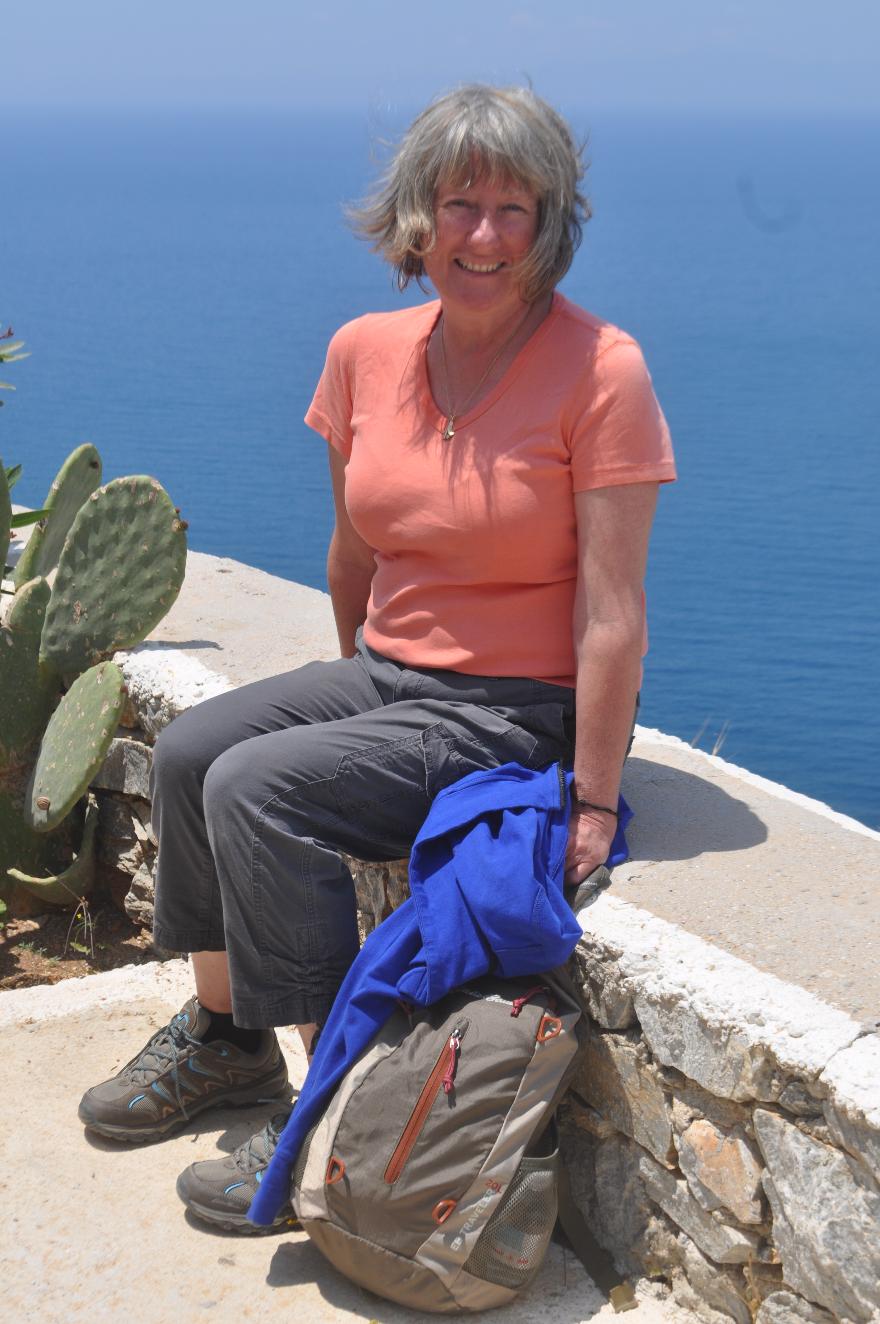 Our apartment and terrace, and looking our our window at Stable 2 next door.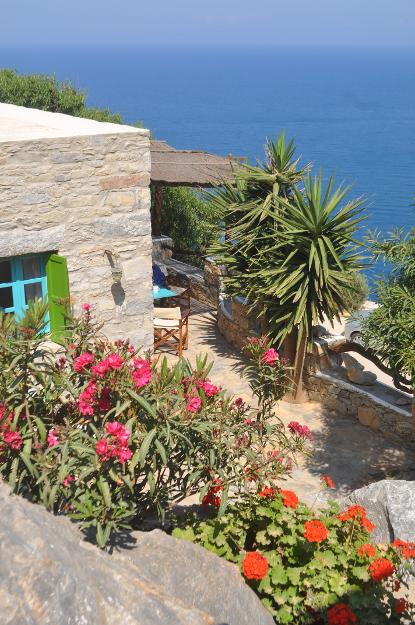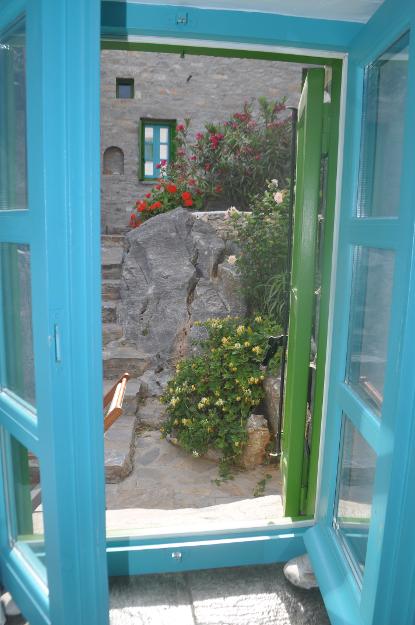 Our terrace and the view of the bay from the terrace.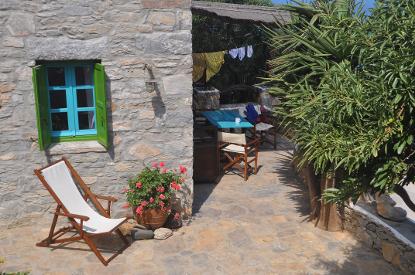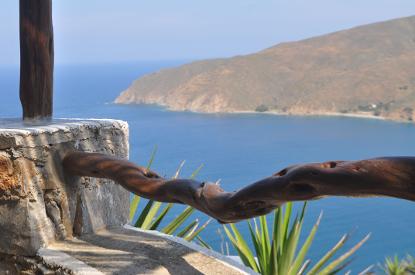 The Skopoletis of the Small Cyclades Line that serves this side of the Cyclades, arriving to take us to Naxos.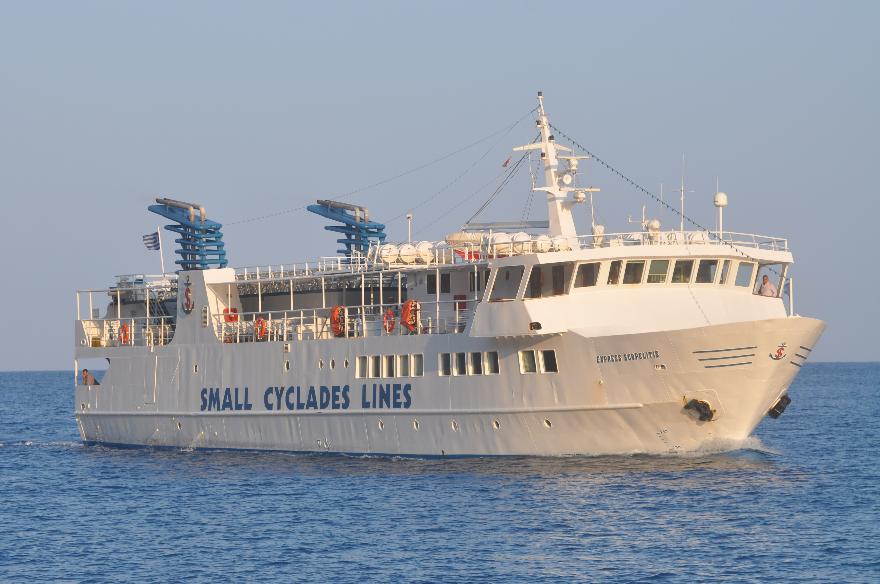 Gayle with our backpacks waiting for the early morning ferry.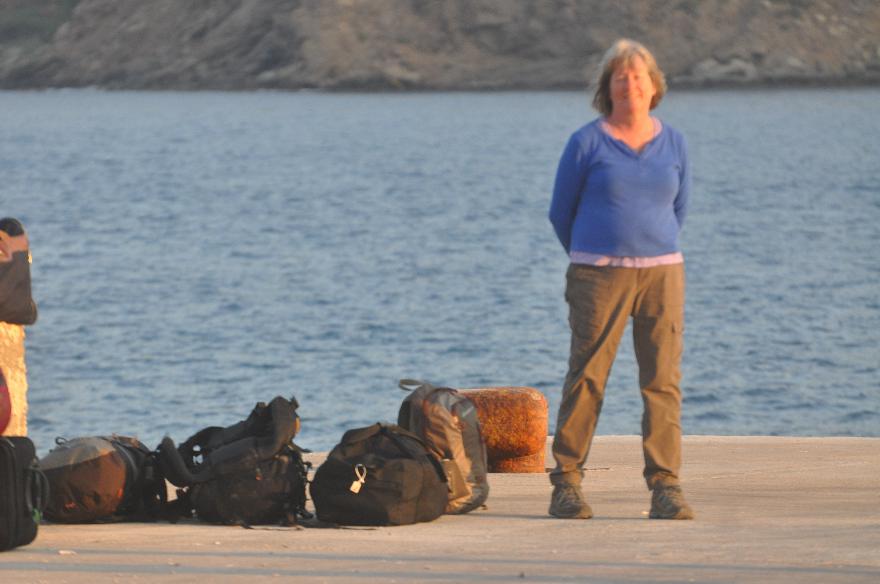 6:30 in the morning this fisherman was mending his nets as we waited for the ferry.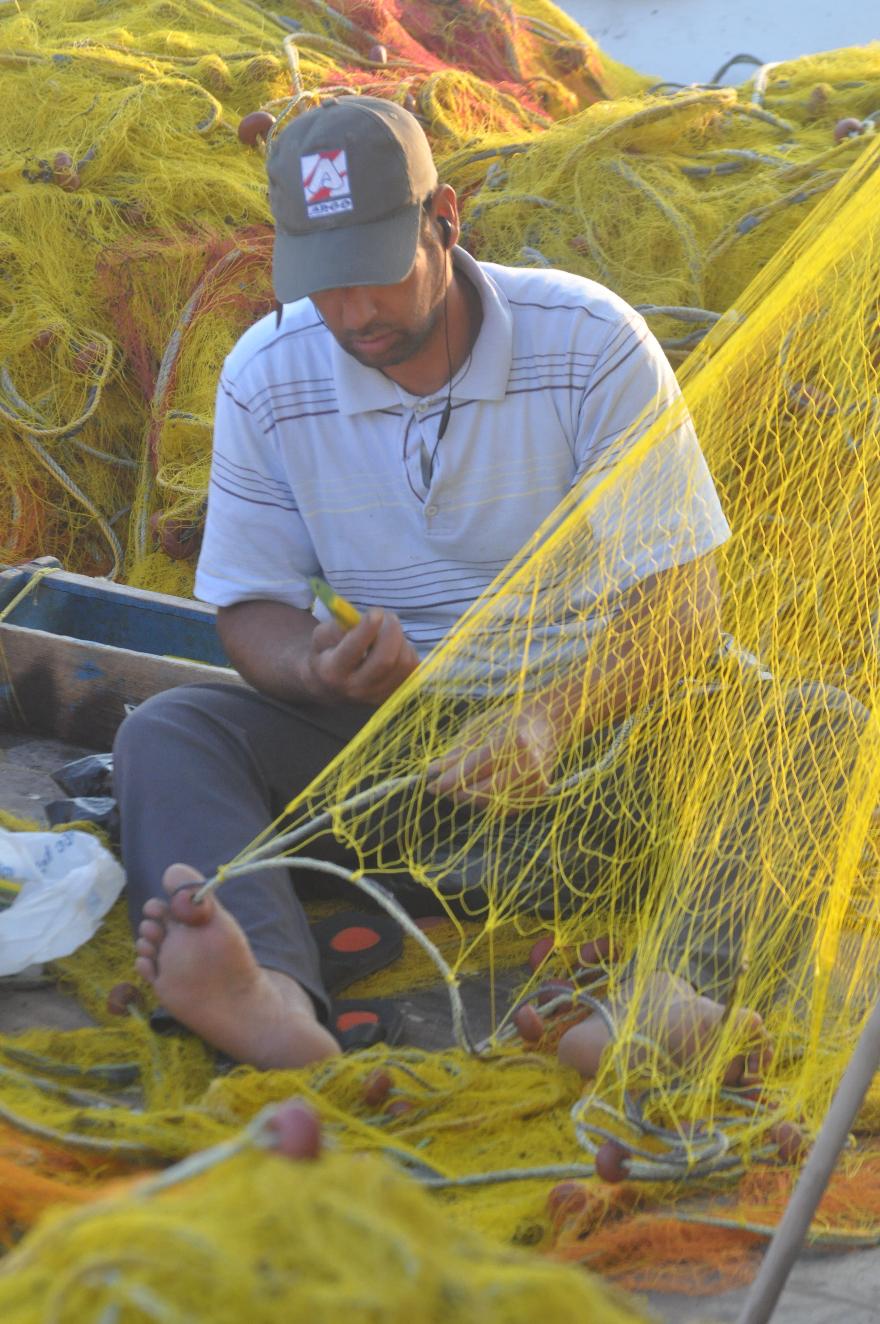 Octopus drying along the quay of Naxos harbour.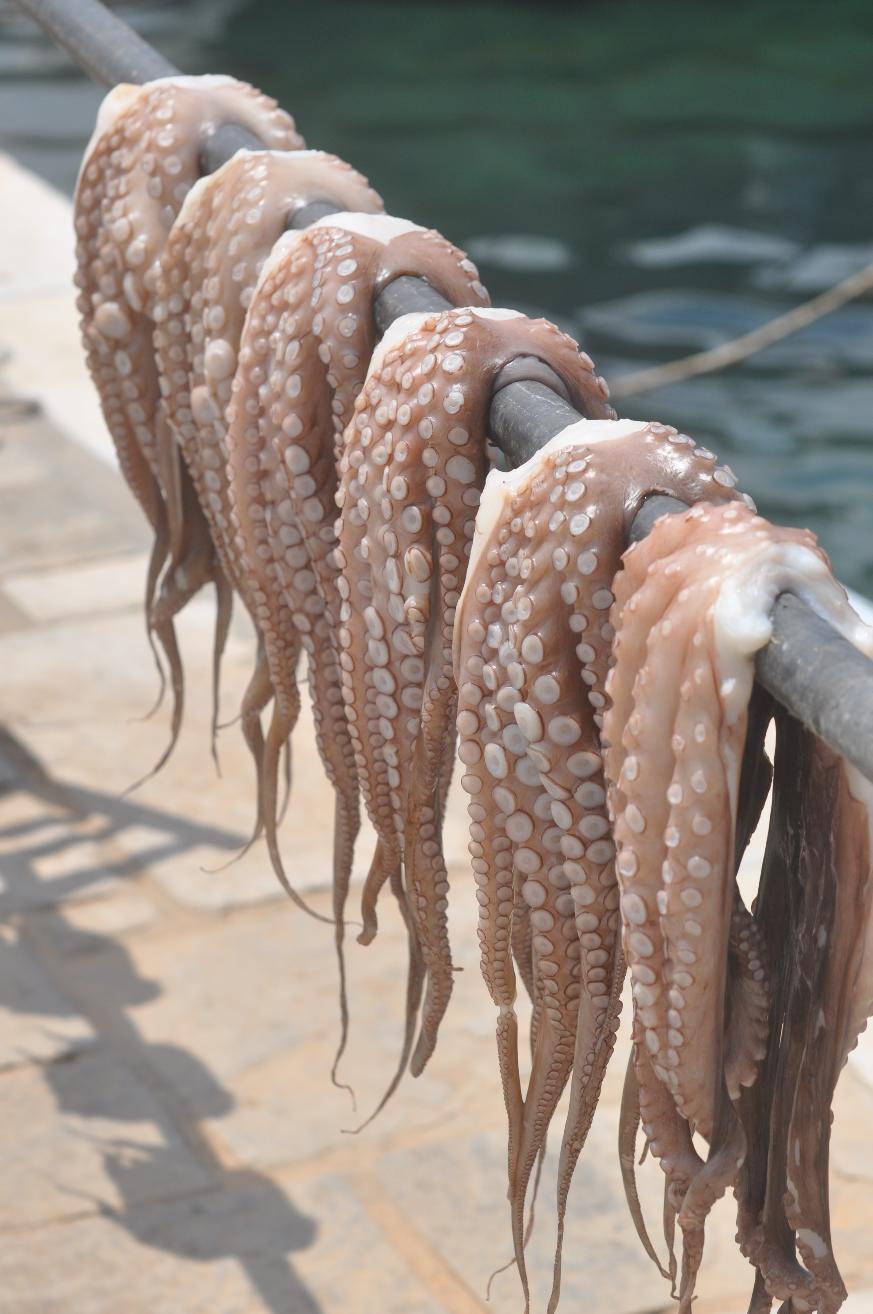 Greek restaurants must not make much on desserts as everywhere we have eaten we have been provided with a free dessert of some sort. This is a simple, but tasty 'milk' pie (did you really want to see another photo of a Greek salad?)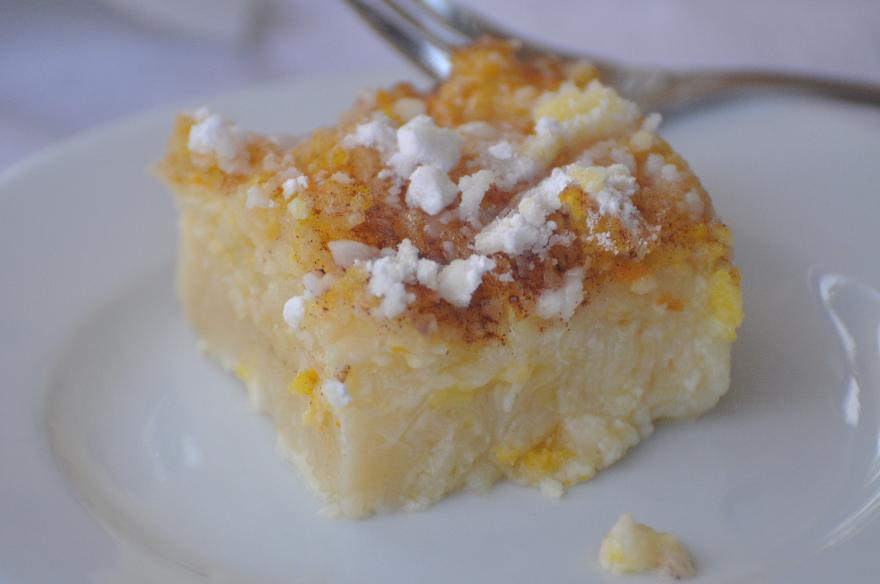 When we finally arrived at Aradomas we were welcomed with cheese, bread, cherries and walnuts ... and raki - the powerful raki, in this beautiful stone restaurant adorned with wall hanging and this musical instrument.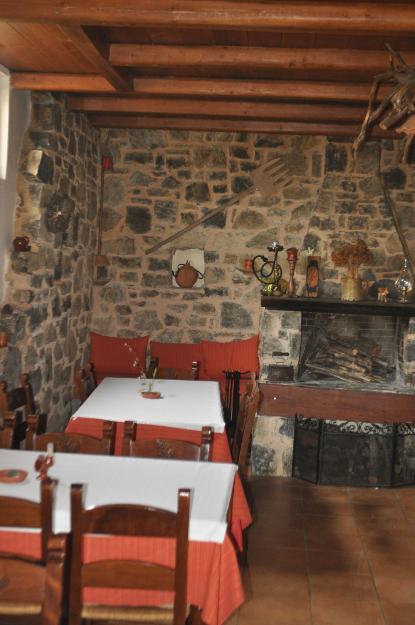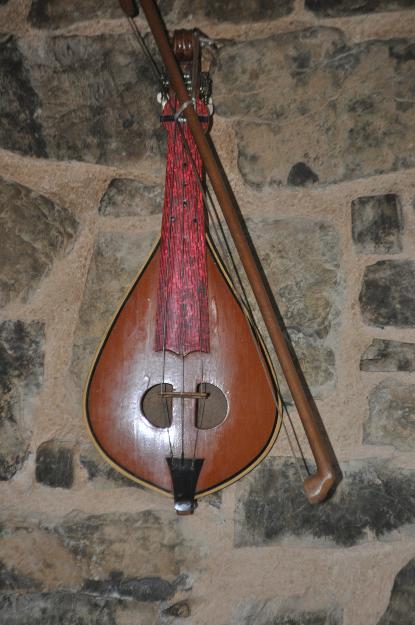 June 05, 2015 – Amorgos – Hozoviotissis monastery and Katapola
The sight to see on Amorgos is the Hozoviotissis monastery, an iconic monastery seemingly embedded into the cliff face high above the sea. The scenery is dramatic. Built on the east coast below Chora the monastery contains a miraculous icon found in the sea below the cliff. One enters through a hobbit-sized door to view a small corner of the monastery. Dating from the 11th century the monastery reported took over 80 years to built, and even that seems somewhat astonishing give it's size and position adjacent to the sheer cliffside. The dress code is modest and strict. No shorts, no mini-skirts, no bare shoulders and no women in trousers. Gayle had to borrow a skirt to cover her capris (see stylish photo below). The monastery is only open until 1:00 pm (and then two hours in the evening) necessitating us to get out earlier than usual – like 11:00 am.

While at the monastery we met a couple from Germany – Regina and Declev and their six month old daughter Helena After taking photos of each other with each other's camera we shared experiences for a while – islands each has visited and like the best. After chatting like one does when travelling we then parted ways. Next we drove down to Katapola the largest town (population 485) of Amorgos. Being a nice warm sunny afternoon we sat down at a restaurant on the quay, next to a number of small fishing boats looking across the harbour to the main part of town to have a couple of drinks. Just as we were about to leave who walks by but Regina, Declev and Helena. We ended up chatting for another half hour. Nice people.

When in Sifnos in 2010 we bought some pottery that we very much like at the potter's studio in the north end of the island. When in Chora the other day a shop had the same pottery. Although we bought a larger serving bowl we returned for a few more smaller bowls. Along with the bowls we purchased a few other things. Being appreciative, like we have experienced elsewhere here in Greece as we were leaving the shopkeeper gave us a bottle of his homemade Psemini Raki.

Although we considered going into the village for dinner where the people at Kamara were nice, the food is good and the view spectacular we decided to return for our meal this evening. We were again proven right on all accounts. The goat in the oven and aubergine in the oven, tomato 'balls' (again patties) and fried cheese were all very good. The sun set which was nice and then being the only guests chatted for a considerable time, the better part of an hour with Sophie, learning how she had moved to Amorgos from Paris 15 years ago, how she and Christoph, born here on Amorgos, opened the restaurant and what life is like on the island for them, Christoph's family and their daughter. It was a very enlightening and informative chat – an interesting, informative and personal way to end our time on Amorgos.
The very impressive Hozviotissis monastery.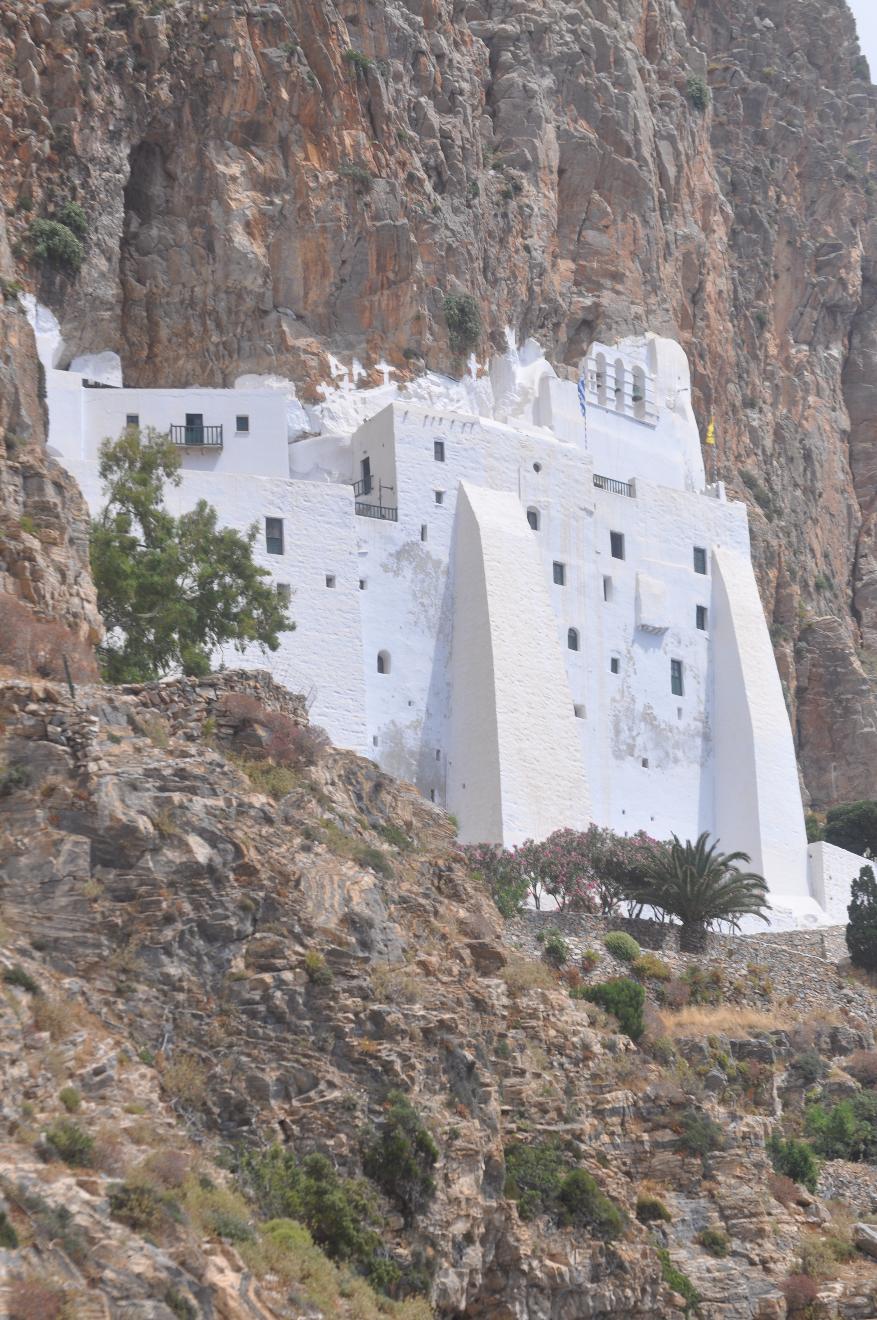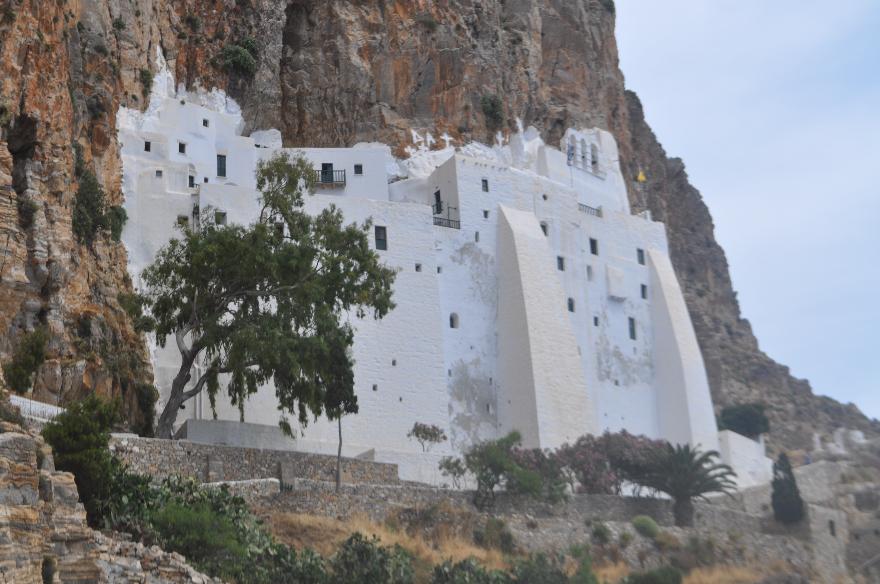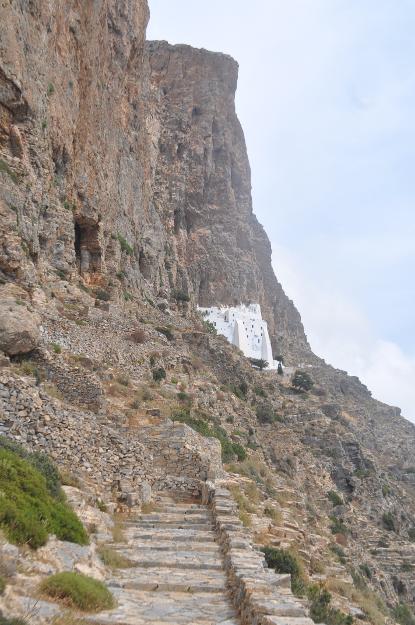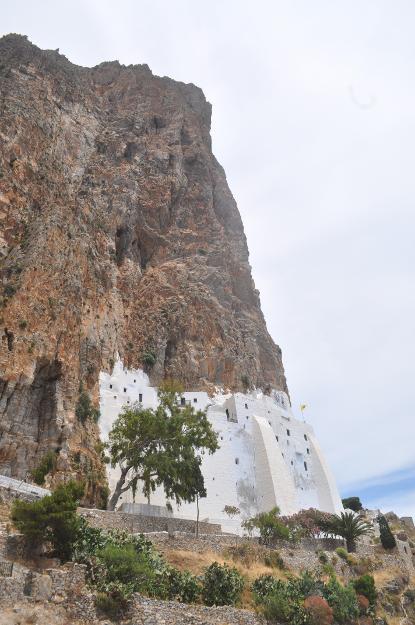 Modelling the skirt Gayle was required to wear as trousers for women is strictly prohibited.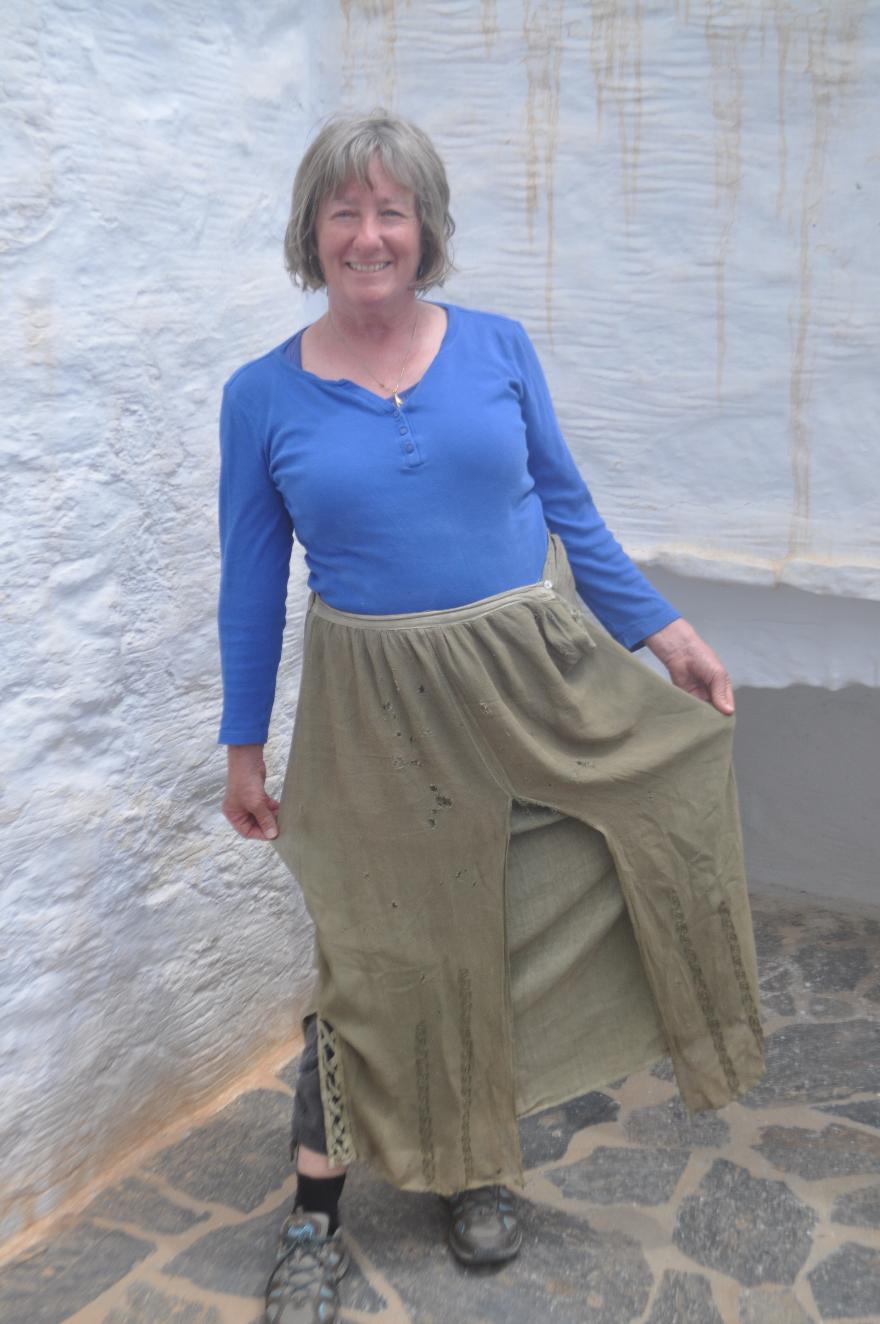 Outside the monastery and enjoying the drink of Psemini Raki offered while visiting.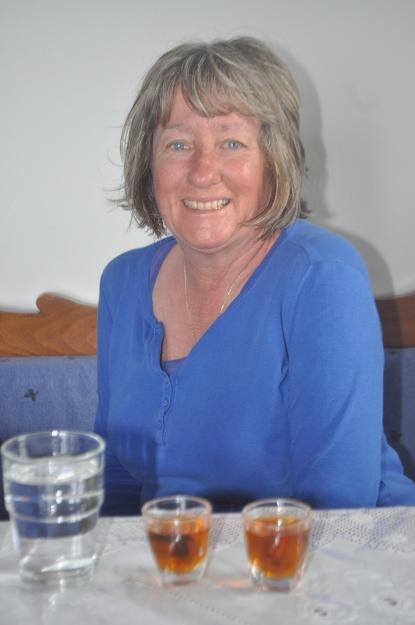 A priest at the monastery.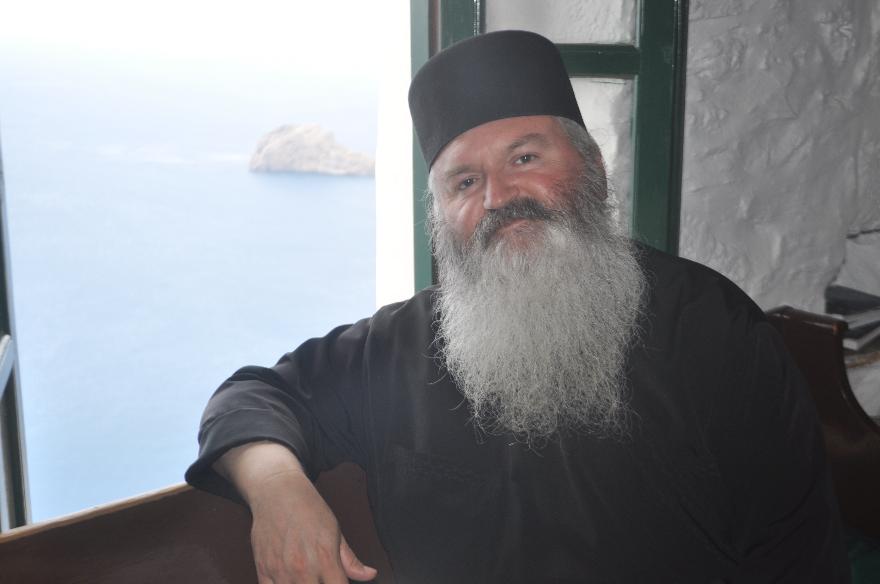 Taking a rest break clumbing the 300 steps to the Hozoviotissis monastery.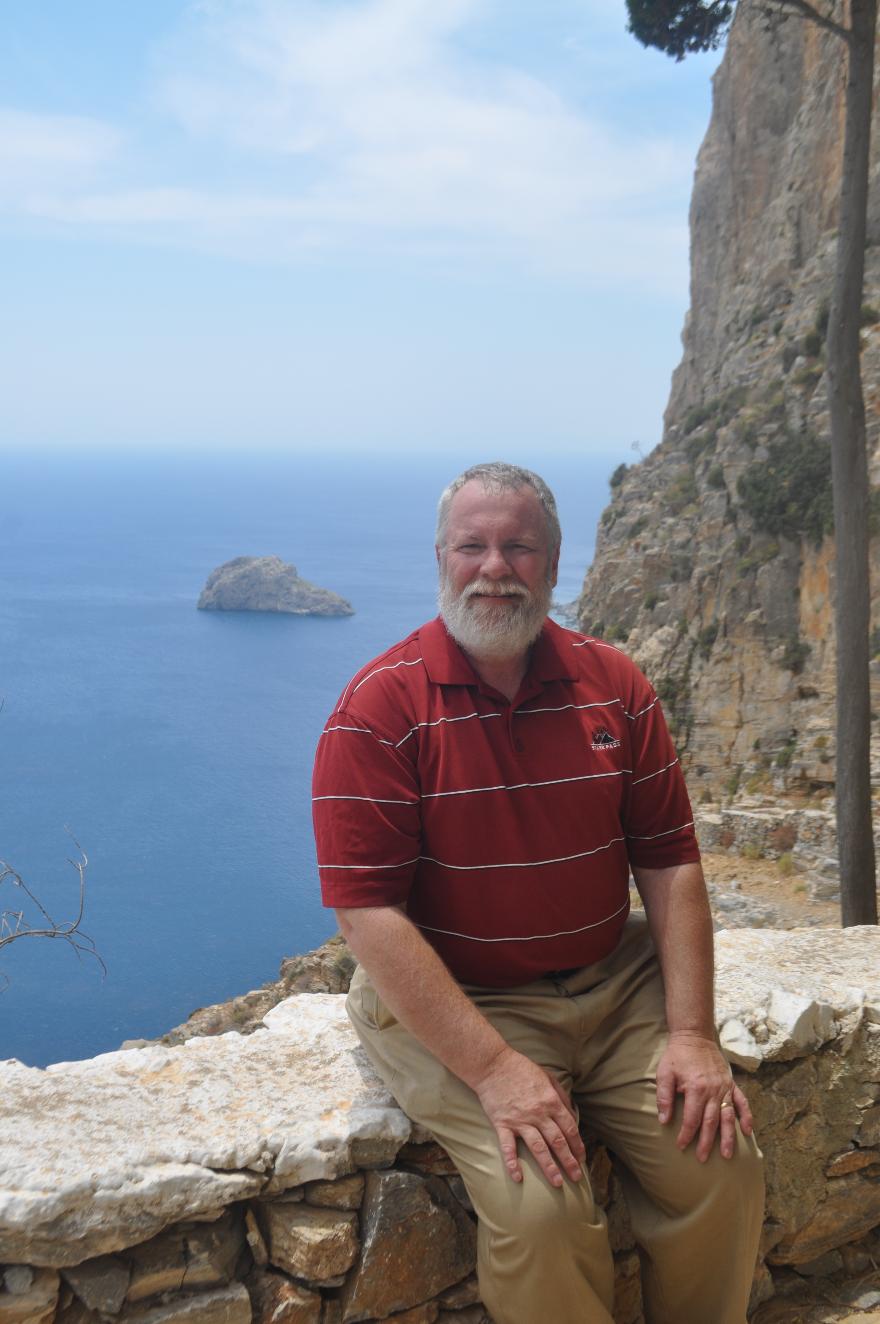 The small Agia Anna's beach and the east cost coast of Amorgos.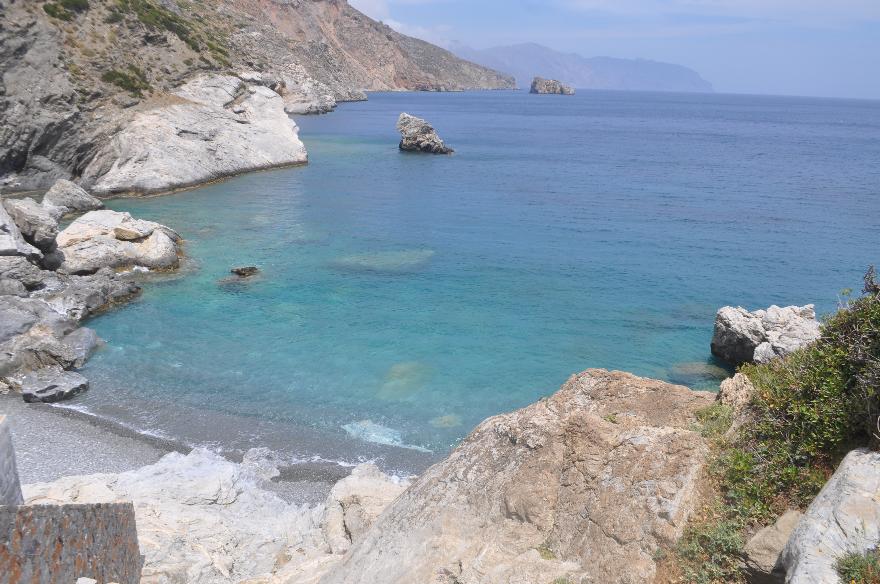 A small church at Agia Anna's Beach, Amorgos.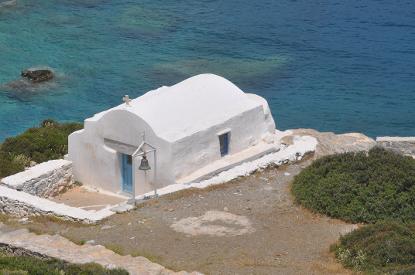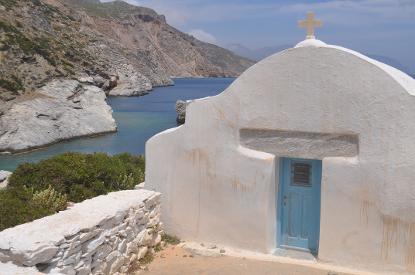 I call this one 'Garlic against a Blue Door'.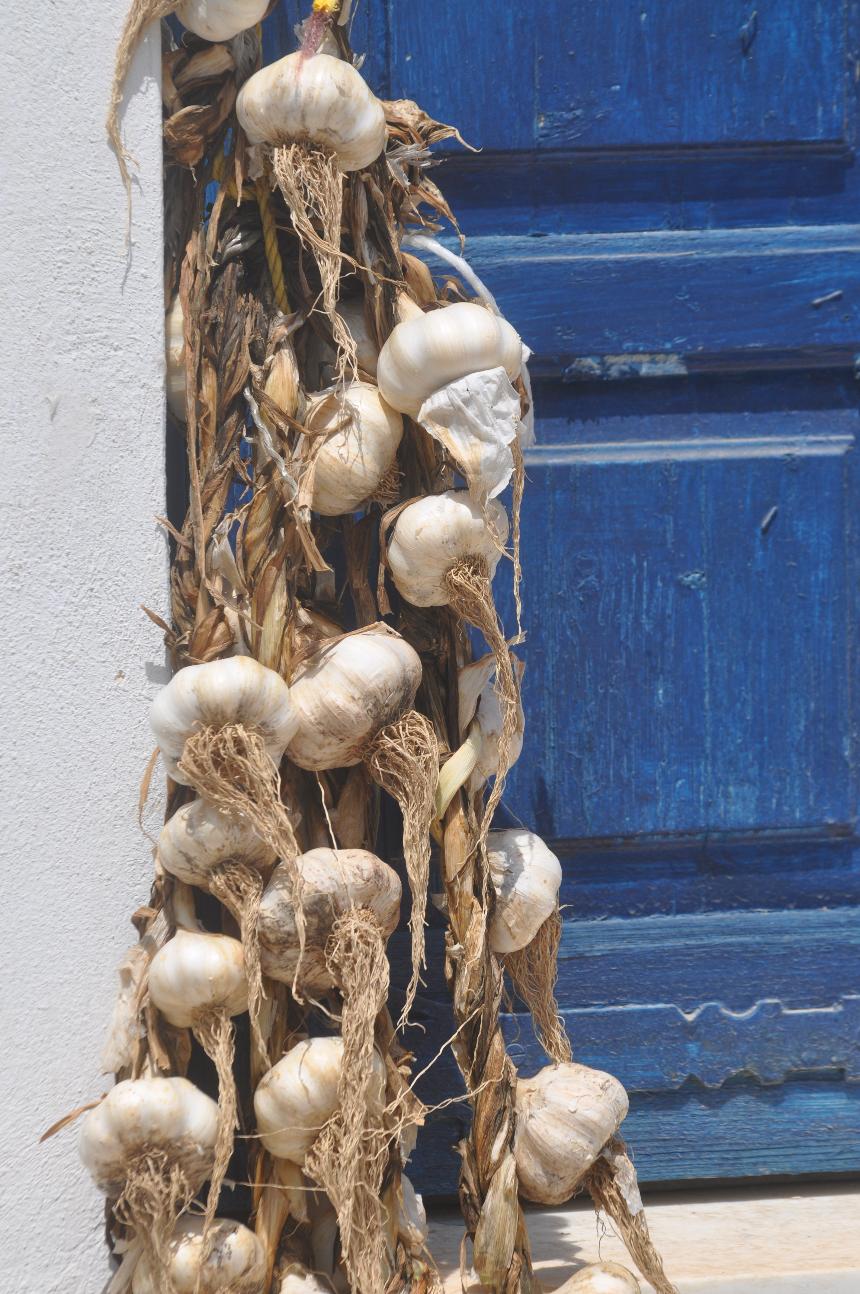 Enjoying a drink in Katapola - the Greek beer Mythos and a glass of wine.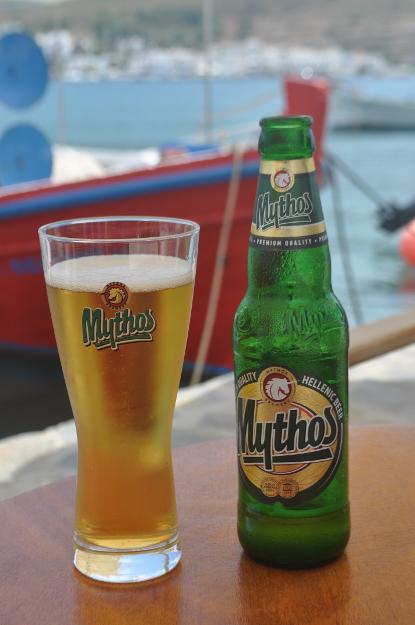 The windmills above the village of Chora, Amorgos.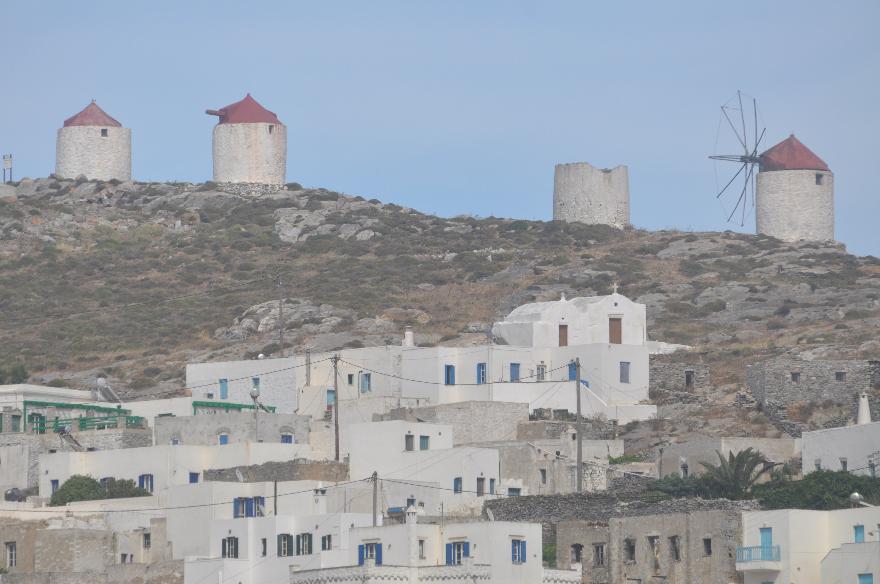 Christoph and Sofie of Restaurant Kamara, where we enjoyed two dinners and a breakfast during our stay in Potamos.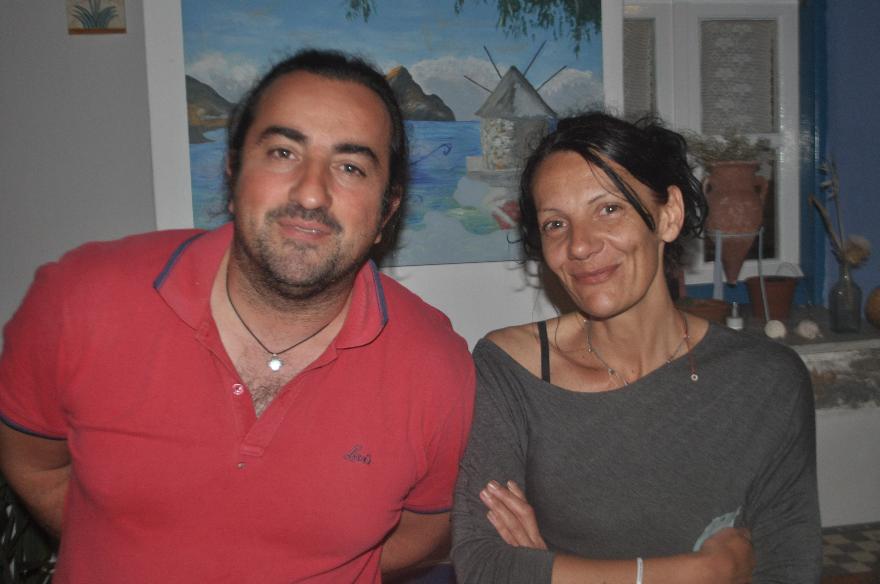 June 04, 2015 – Amorgos and a few of its beaches
Today is our day to drive the length of Amorgos. Again we did not leave until early afternoon driving the approx. 40 km to the south-west tip and beach of Kalotaritissa. A beautiful protected bay there were numerous fishing boats and a few sail boats. Still early in the season there was one couple camping and another few people along the beach but otherwise it was very tranquil.

In the nearby cove of Liberos Bay is a shipwreck of the Olympia, a Cyprus registered ship lost in 1979. We continued to Paradista beach again tucked in a cove. We enjoyed the beach all to ourselves. Although a little wavy being on the north side of the island, with the winds today north to south we nevertheless went in for a short swim. Working our way back we stopped for lunch at a cute roadside restaurant – the standards – tzatziki; greek salad (with freshly picked capers) and grilled poulpe accompanied by a local Katapola white wine – not a retsina but similar.

We then drove through some uninteresting villages before driving down the mountainside to the beach at Mouros Bay. After parking it is still a considerable steep walk down to a pebbly, but surprisingly nice beach, particularly with the sun shining down. We again went in for a swim – cool to get in but quite nice when one does develop the courage to submerge. After a nap (well apparently I napped) under the sun on the beach we climbed back up the steep slope and drove back to Aegialis where we found the travel agency and exchanged our papers for our ferry tickets. Then it was back up to our apartment where we enjoyed the view with a few sweets.

After what was a pretty nice day weatherwise - certainly nice enough for swimming the wind picked up in the evening and cooled things down considerably so much so we had no desire to go out to eat. After working on the blog for a while we called it a night.

As we went to see the donkey we noticed this lady, very proud of her family of cats.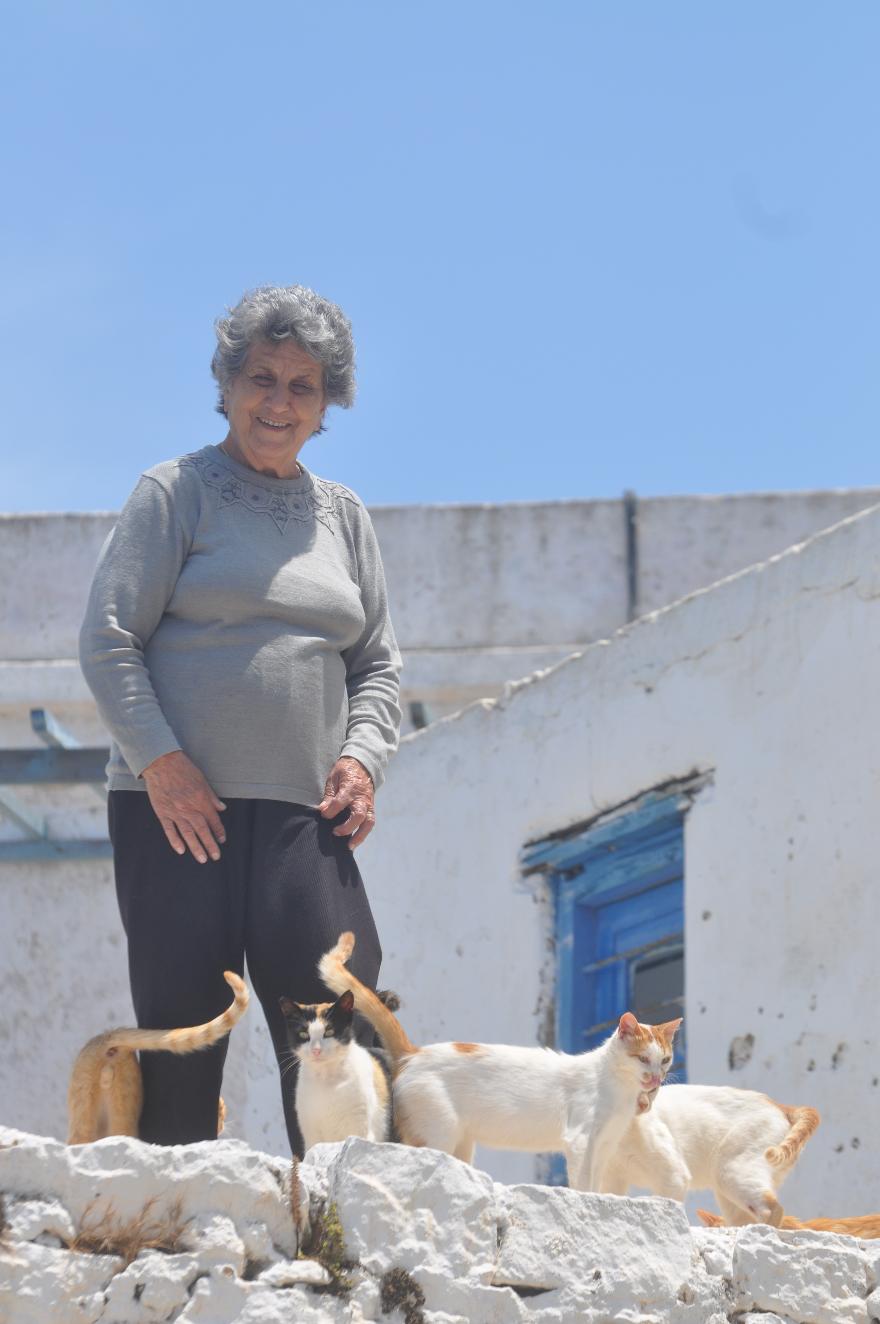 Delivering hay to the donkey.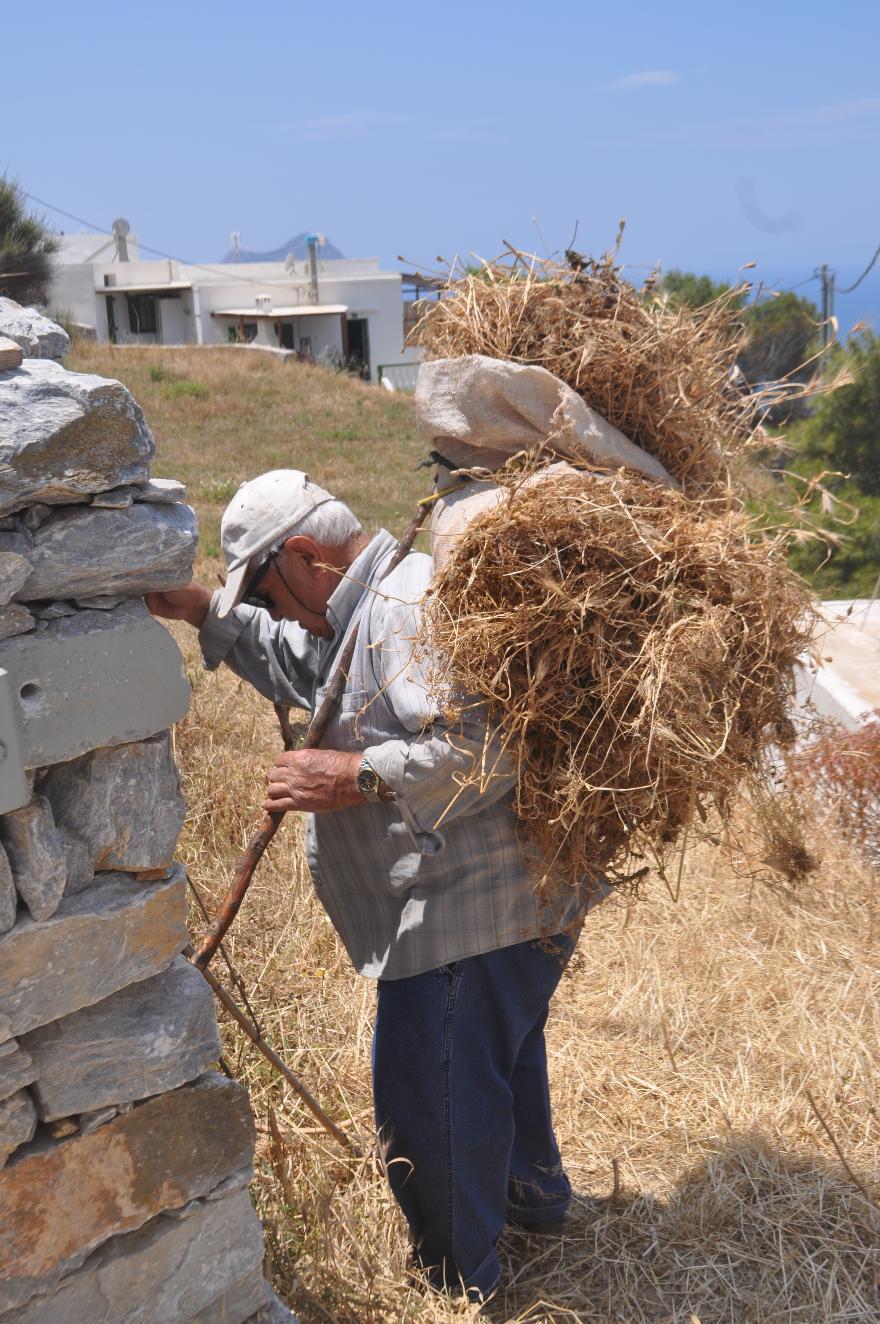 Just above us lives a donkey. Here his owner brings a load of hay for the day and the donkey (or is it a mule?) who literally can reach over to the terrace of the apartment Elouise and Malan were staying in is fed. Certainly this donkey gets a well balanced diet as in addition to the hay Elouise bought him/her apricots and Gayle gave away half our morning peach.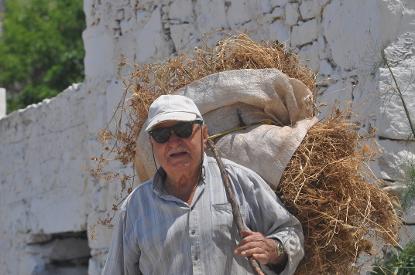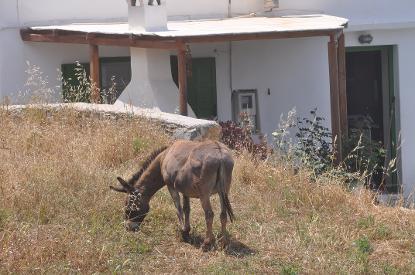 Overlooking Kalotaritissa bay at the very end of the island.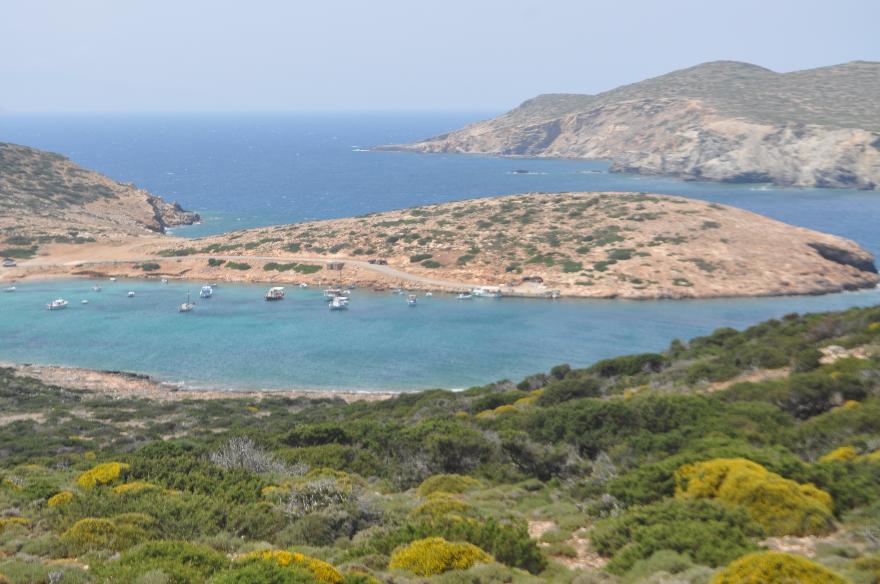 The one road that runs the length of the island at times feels very desolate, and in a cove lies the 1979 wreck of a Cyprus ship.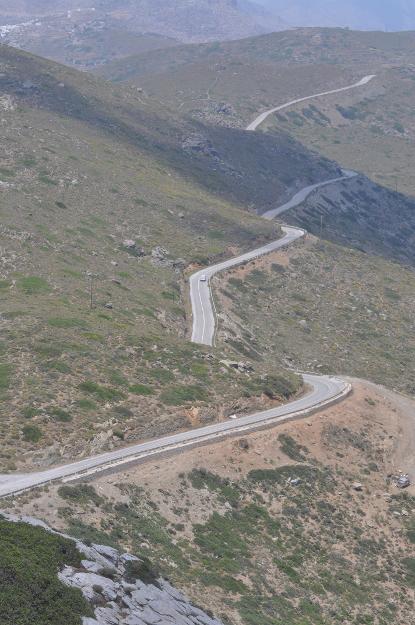 A cute little restaurant out in the middle of pretty much nowhere but a nice little place to stop for lunch.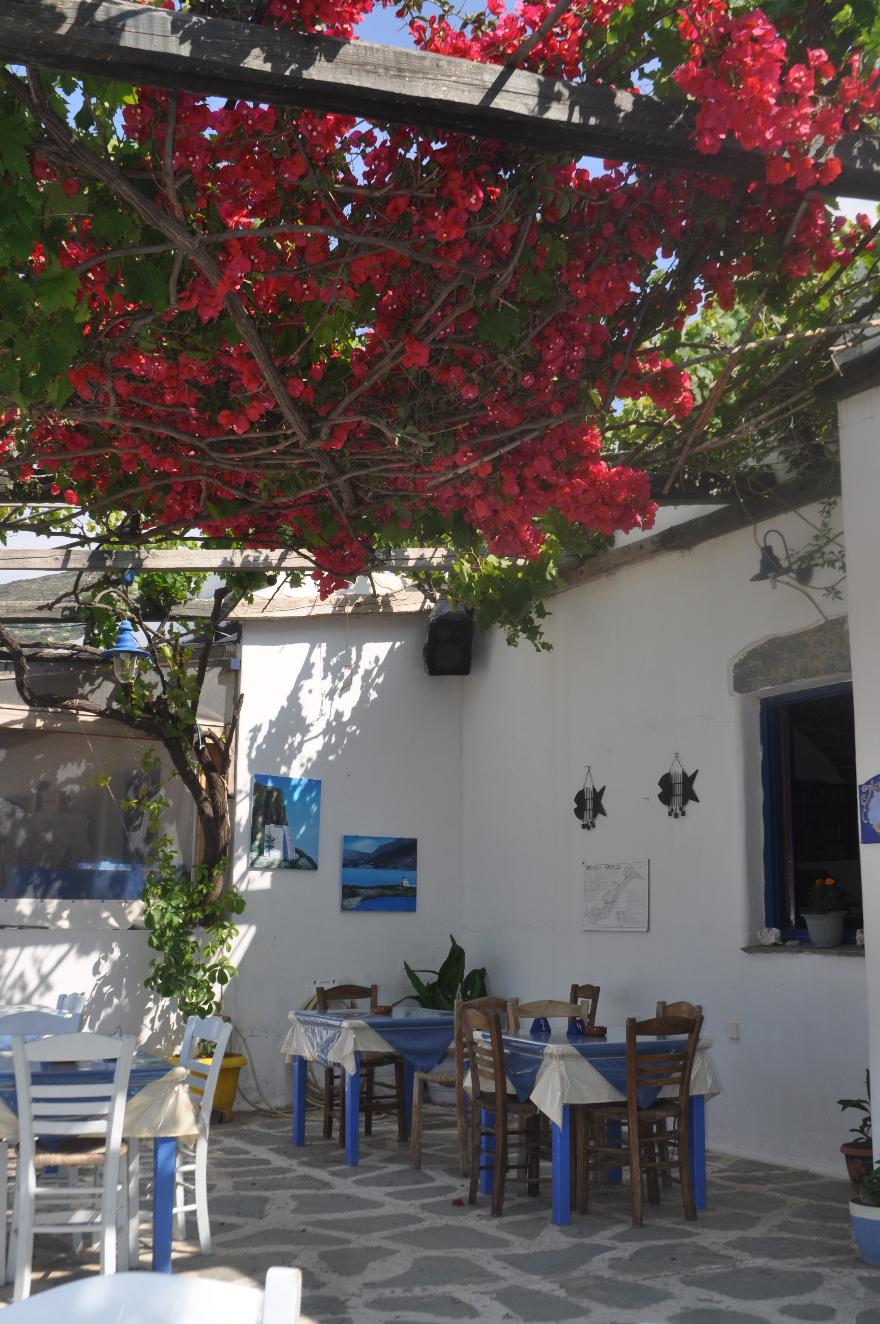 We understand photos of Greek salad and octopus may be getting old but eating Greek salads and octopus never gets old.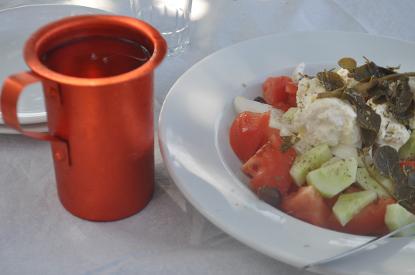 This way to Mouros Beach.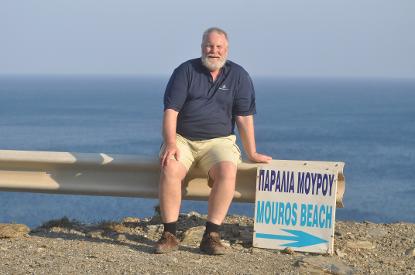 Well actually round the corner and down this way.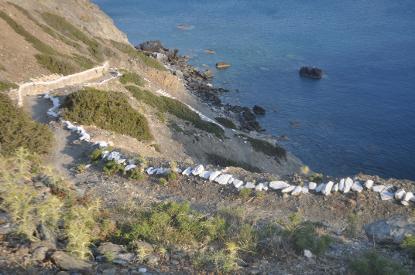 Soaking in the sun on Mouros beach.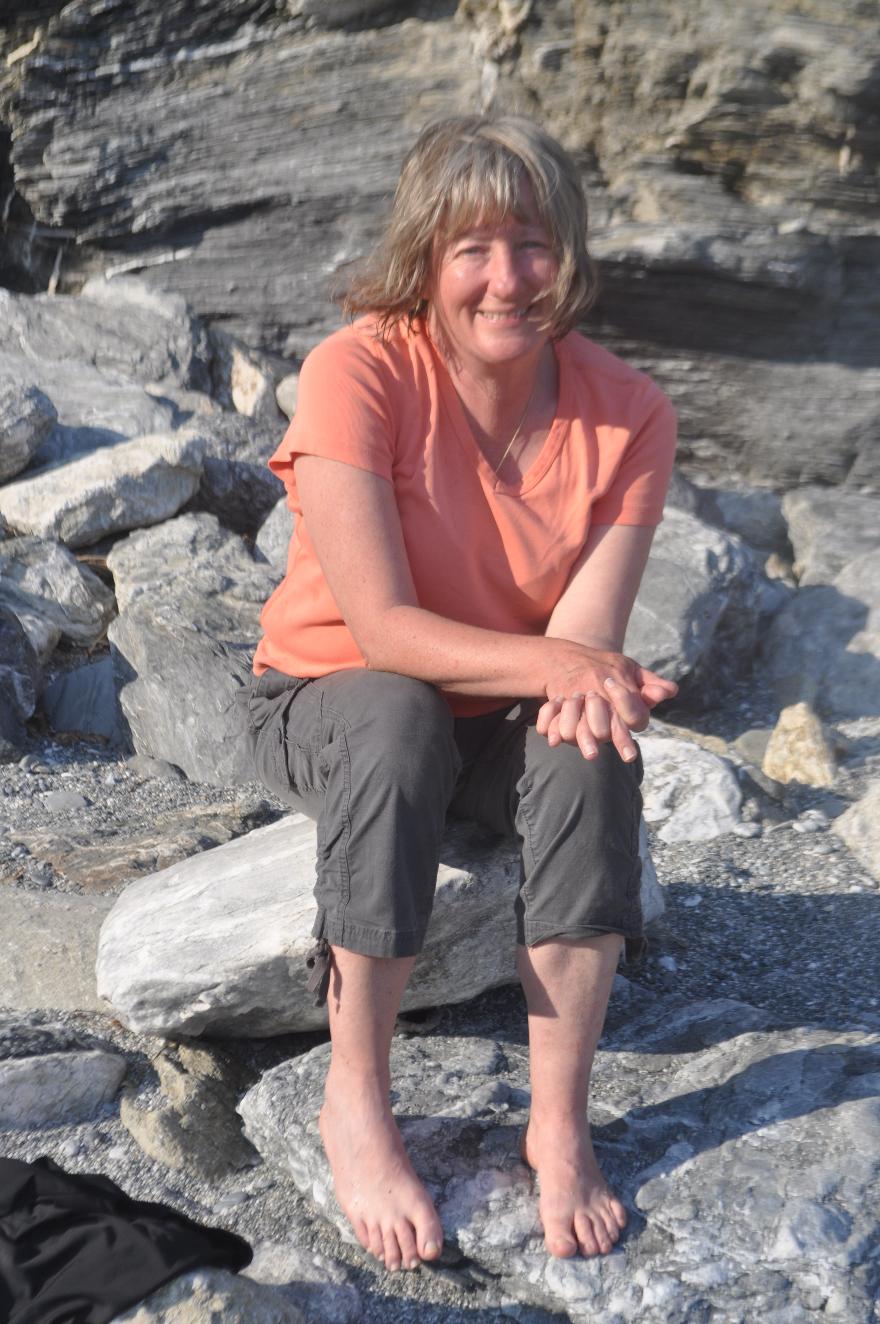 If Amorgos has a native animal it is certainly the goat. While there are cows and sheep this is for sure The Island of the Goat.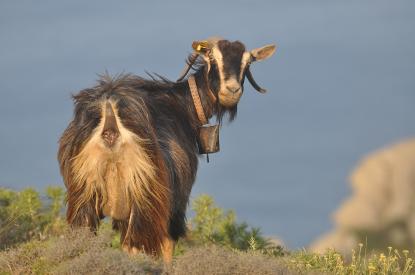 June 03, 2015 – a day trip to Chora, Amorgos
The weather today does not look good. There is a cloud hanging over the bay and nearby hills, it is windy and cool and the forecast is not great. This is not the Greece we were expecting. That said we understand it is even colder back home so we best not complain.

The morning was spent working on the blog and making breakfast. Our apartment again has a small kitchenette (fridge, hotplate, a few pots and pans although no frying pan and cutlery) that is sufficient to make a decent breakfast each morning. We have an egg of some sort, usually with tomato, cheese – in this case a local Amorgan cheese – and some fruit. Orange juice and coffee of course, and being in Greece, a bowl of Greek yoghurt with walnuts and honey. This is one of our favourite times of the day – sitting on our terrace overlooking the bay below, enjoying breakfast. If only it were a bit warmer.

By the time we got around to getting out it was nearly 2:00 pm so we decided to simply go the mountain village of Chora. Amorgos itself is a long thin island of 126 sq. kms but it is perhaps 45 km long and only 3 to 4 km wide. The population is just under 2,000. Chora is the medieval capital of Amorgos dominated by a 13th century venetian castle and a number of windmills. The village is a maze of narrow alleyways with a number of artists shops. The main square has a number of small cafes under the shadow of huge eucalyptus trees located in the middle.

As we stopped to look at a restaurant with a number of people eating outside, in spite of the somewhat cool weather this lady tells us how absolutely wonderful the food is, in particular the goat baked in the oven. We decided to stop and she was right – the goat, which I have usually found to be very boney was delicious, with considerable tasty meat falling off the bone. Served in a tasty broth it was everything she led us to believe it would be. Gayle had the eggplant in sweet and sour sauce – good but did not rival the goat and zucchini balls, that were really more like patties, but no doubt tasted the same. Sitting next to this couple Gayle noticed the woman had a book of wildflowers of Greece, which of course interested her so they got chatting. As it turned out she had noticed Gayle wrapped in her blanket earlier in the day as they walked right past us – they were staying in an apartment just above us at Pano Gitonia as well [as an aside we had heard a mule off and on and it turns out their apartment literally borders the field where the mule stays so close they bought and fed the mule apricots].

Anyway the couple, Elouise and Malan are from South Africa, now living and working in England. It turns out we had much in common in terms of travel interests. They come to Greece pretty much every year, focusing on small islands such as Amorgos (which they have been to before) and Folengandros, an island we visited back in 2010. They had been to Ronda in Spain, as have we and Les Baux de Provence in France, again as have we. We shared travel experiences as the weather did not provide much incentive for further touring. This was a sit in a café and drink coffee kind of day. We spent I'm guessing well over an hour if not closer to two chatting. It would have been nice to continue the sharing of experiences but they are leaving on tomorrow's early ferry.

One of the great experiences of traveling, particularly in Greece where everything moves considerably slower is that on occasion you will run across interesting people like Elouise and Malan. The same thing happened in 2010 on the island of Sifnos where we met a young couple on their honeymoon, Lauren and Craig from Australia. Through Facebook we have kept in touch, following their interesting travels over the past number of years.

We eventually headed back to Aegiali, with most of the drive actually being in the clouds. Having eaten late afternoon we had no need for another meal so simply enjoyed a baklava we had purchased earlier in a bakery. Hopefully weather wise tomorrow will be a better day.

Being a specialty lodging we have a small kitchenette in our apartment - a fridge and a hot plate and a few pots, pans and cutlery, enough to allow us to make breakfast each morning.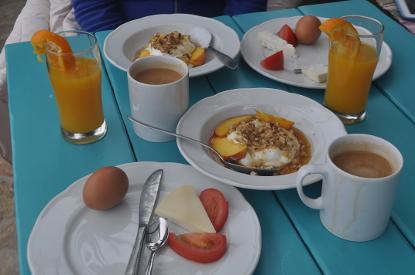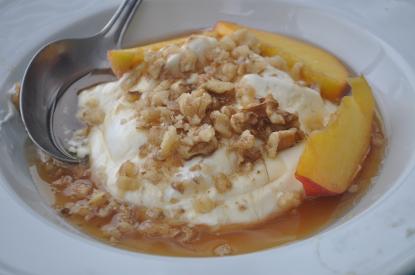 ... and of course someone has to enjoy the breakfast.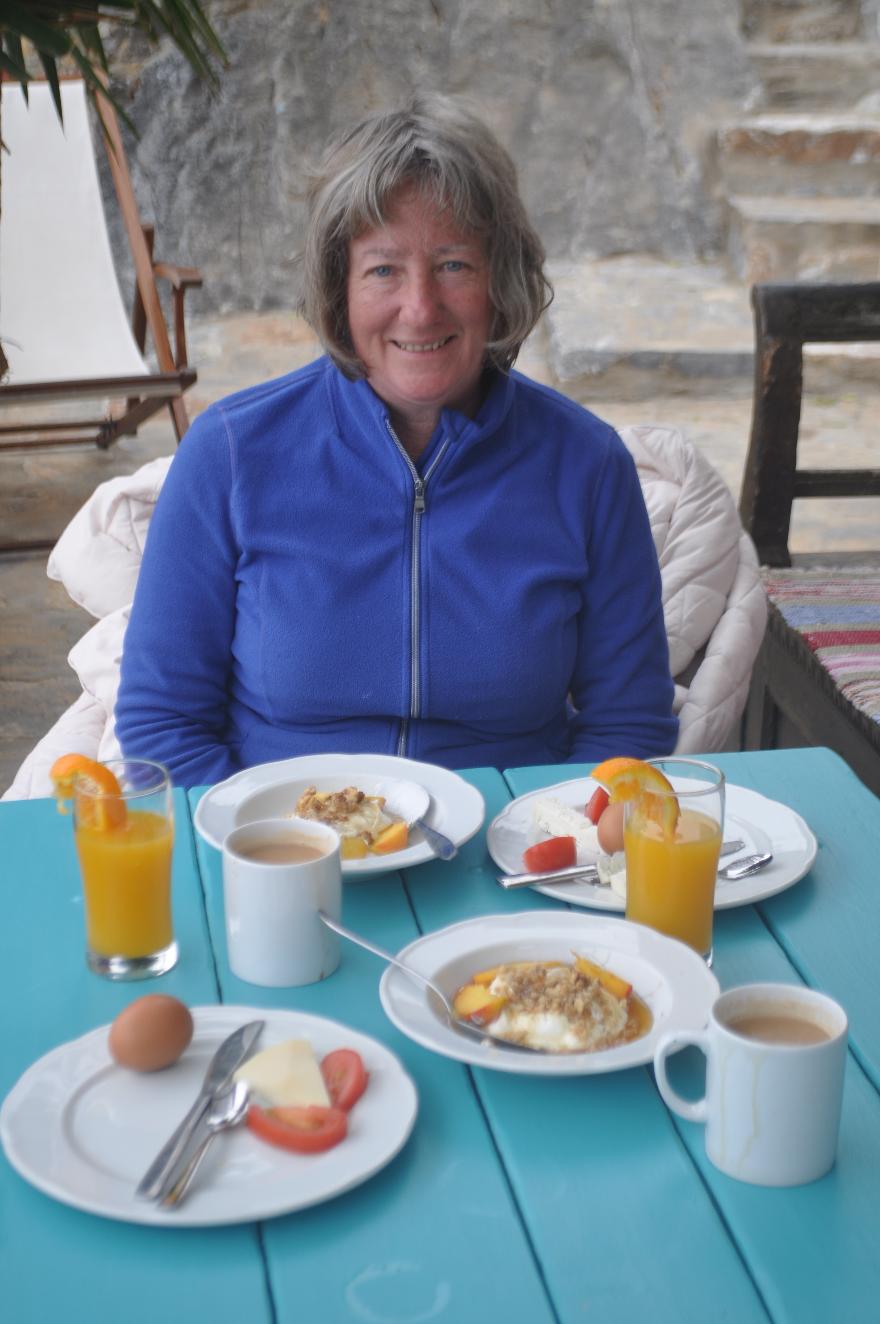 Sights along the drive from Aegiali to Chora - goats and sheep pretty much everywhere and dramatic coastline with the road hugging the mountainside.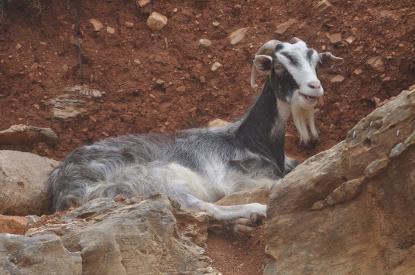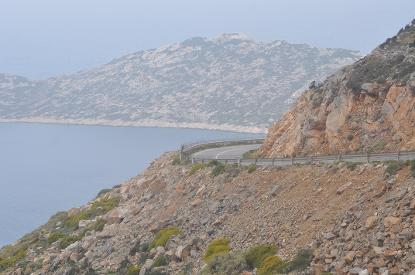 Typical narrow alleyways in the town of Chora.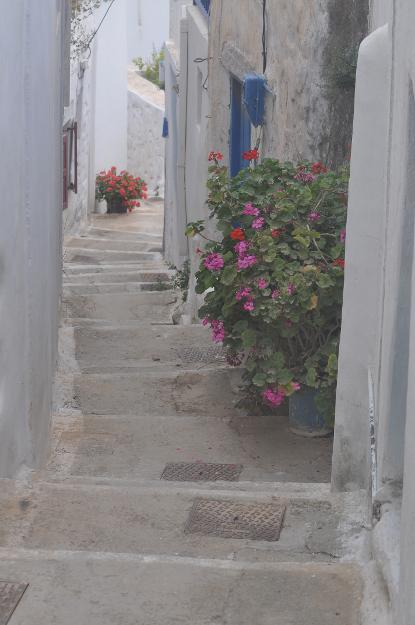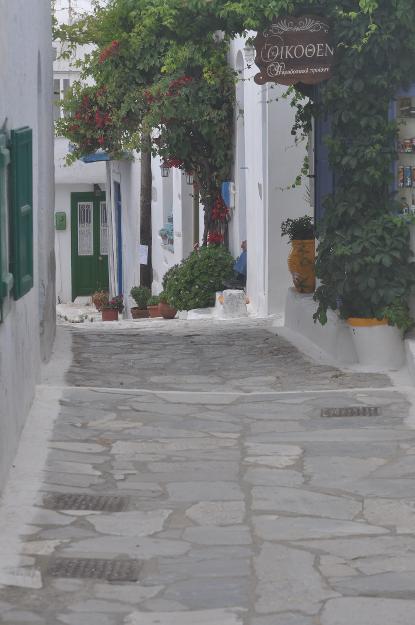 ... and typical blue Greek doors in the village of Chora.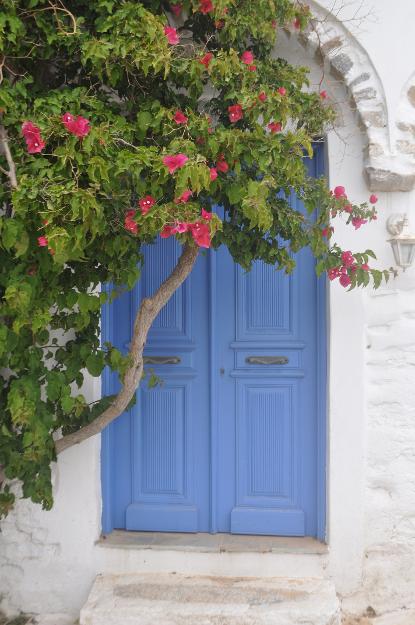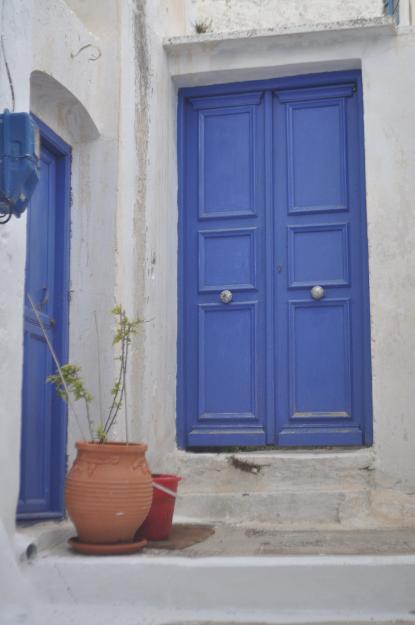 Goat (with rice), eggplant in a sweet and sour sauce and zucchini balls (well really patties).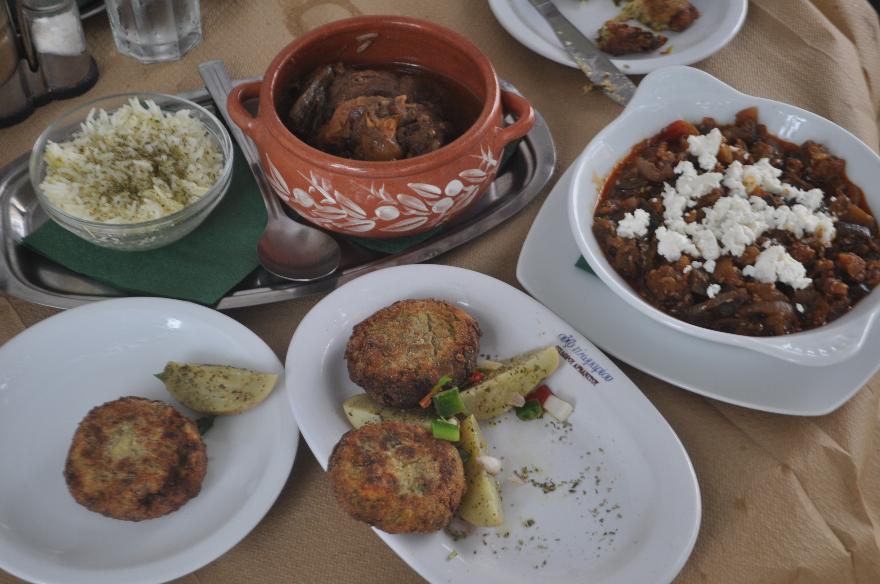 Elouise and Malan, a South African couple (now living and working in England) with whom we chatted about travel for an extensive period of time.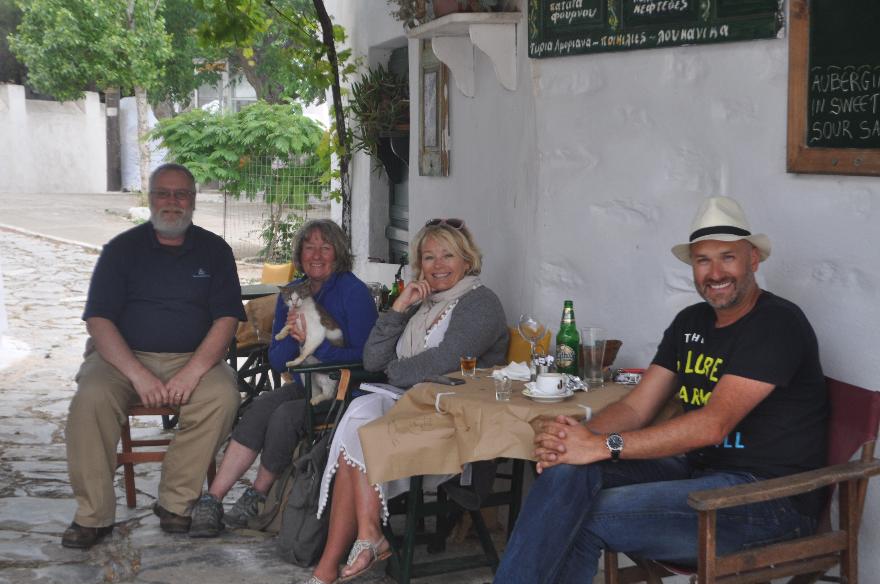 Changing the menu on the board at the restaurant where we stopped for an afternoon meal. Not the great octopus (or poulpe) art work.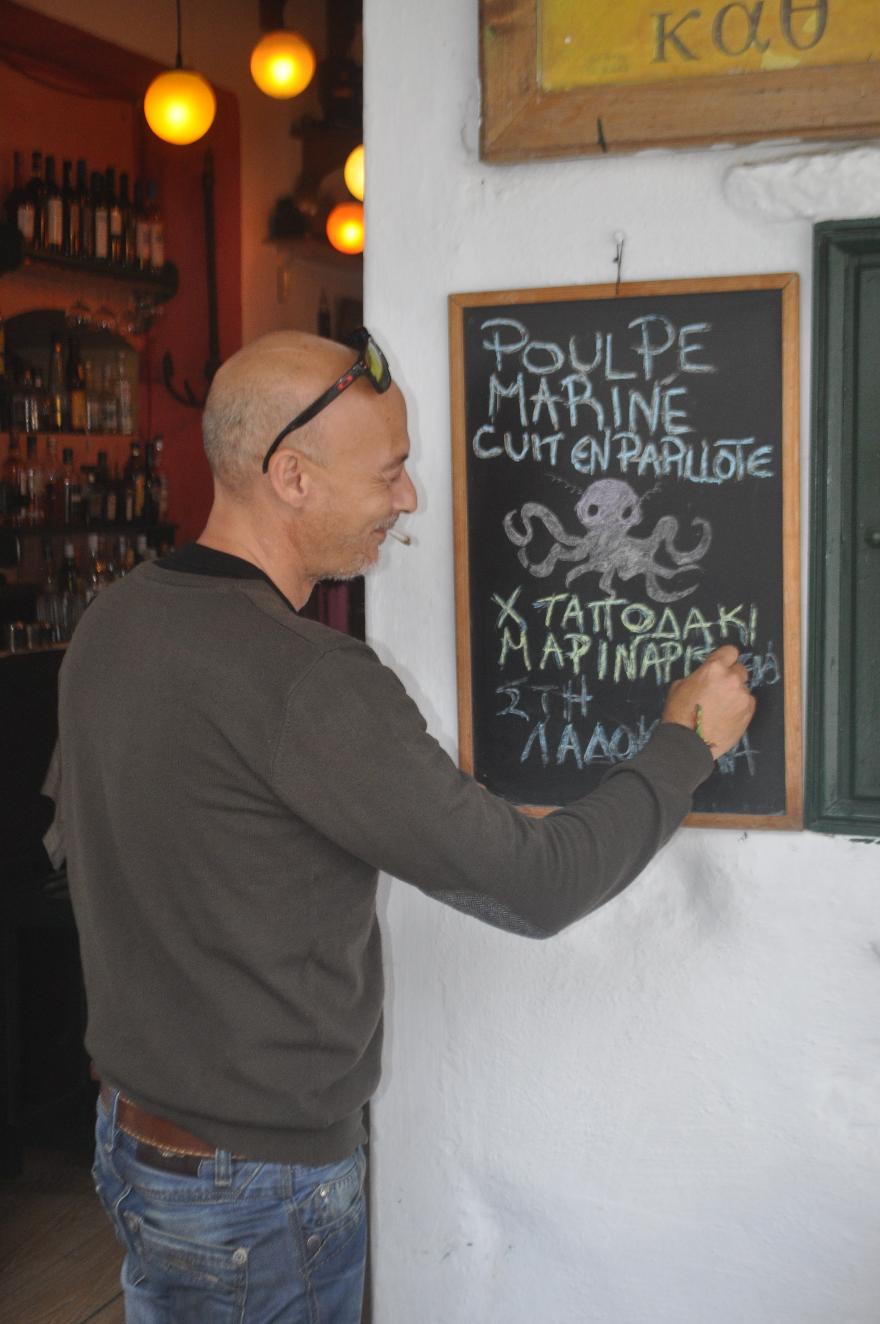 Also seen in the alleyways of Chora.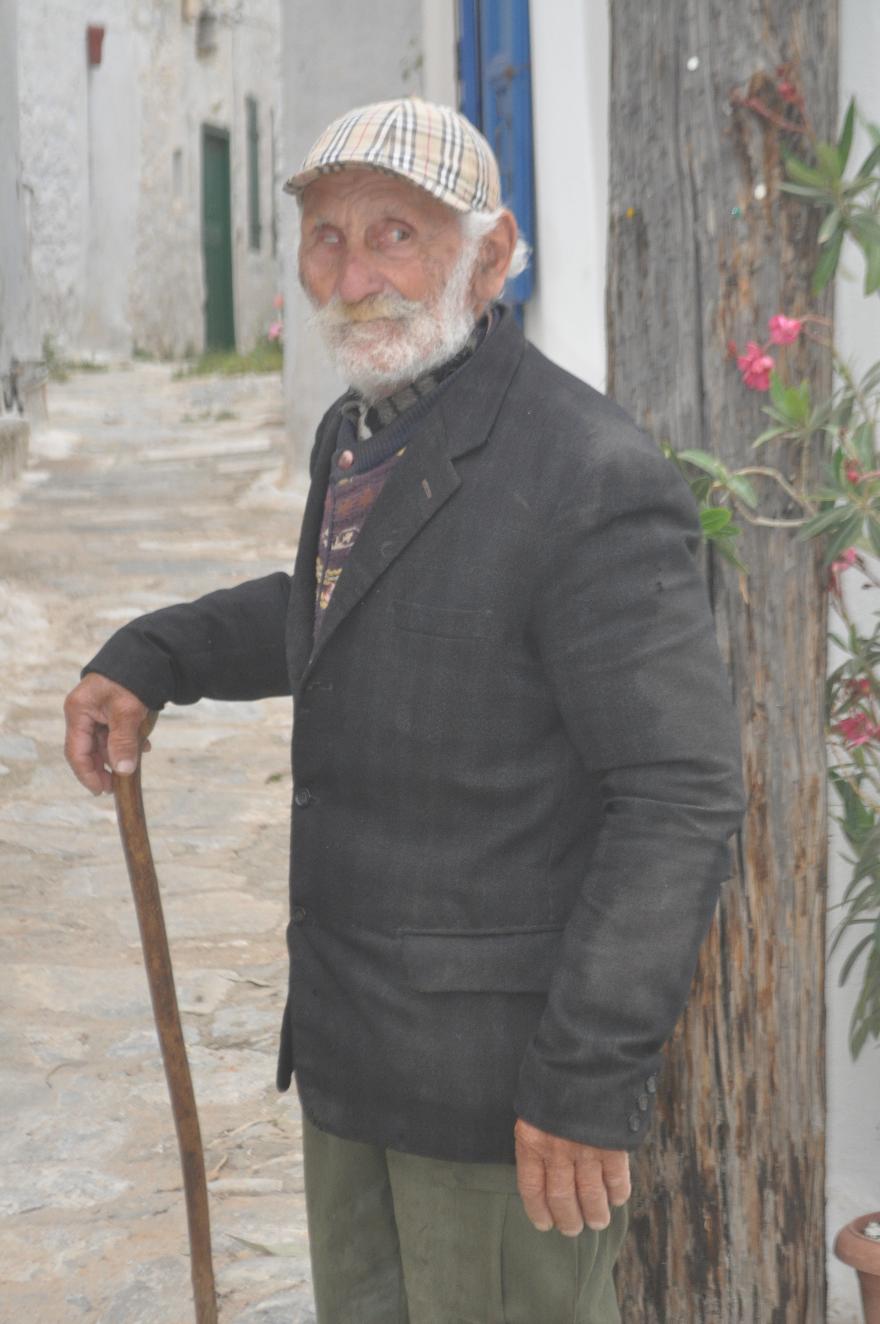 June 02, 2015 – Potamos/Aegiali, Amorgos
Not having a vehicle we have not yet purchased breakfast supplies so again climbed up to the restaurant above us for breakfast. We encountered our first two donkeys, one working hauling hay. The views from the restaurant of the coast line and the donkey below were great as was the fresh orange juice and coffee.
After working on the blog and just enjoying the panoramic views from our terrace it was early afternoon, at which time we hiked down the hill – no where near the seven minutes we were told and quite strenuous on the calves and knees. But down we went, found the car rental company and then wandered through town. A few restaurants and shops, a nice bakery with baklava and orange pie, both of which we bought for later and a market where we stocked up on breakfast supplies for the remainder of our five night stay here.
Pano Gitonia is exactly the type of place we enjoy – a traditional apartment with handmade mirrors and tables, wooden ceilings, stone floors, a marble sink and a few historic photos on the walls creates lots of character. The interior is painted a vibrant turquoise and the views out the windows across the terrace are spectacular. It is hard to imagine we could have chosen any better.
After a relaxing afternoon we drove to the other side of the bay to the village of Tholari. We wondered through the narrow alleys, as is common in the mountain villages of Amorgos, past a few small shops and tavernas. But there was no reason to stay so we returned to Aegiali where we had dinner in Theo's restaurant. In addition to a roof-top option and the indoor sections there were tables in the alleyway outside, where we chose to eat. A nice bottle of Greek wine, tzatziki, a spinach/cheese pie, calamari in home made pesto sauce and grilled octopus made for a nice meal to finish off the day.

The view from our terrace looking down to the town of Aegiali and it's beach.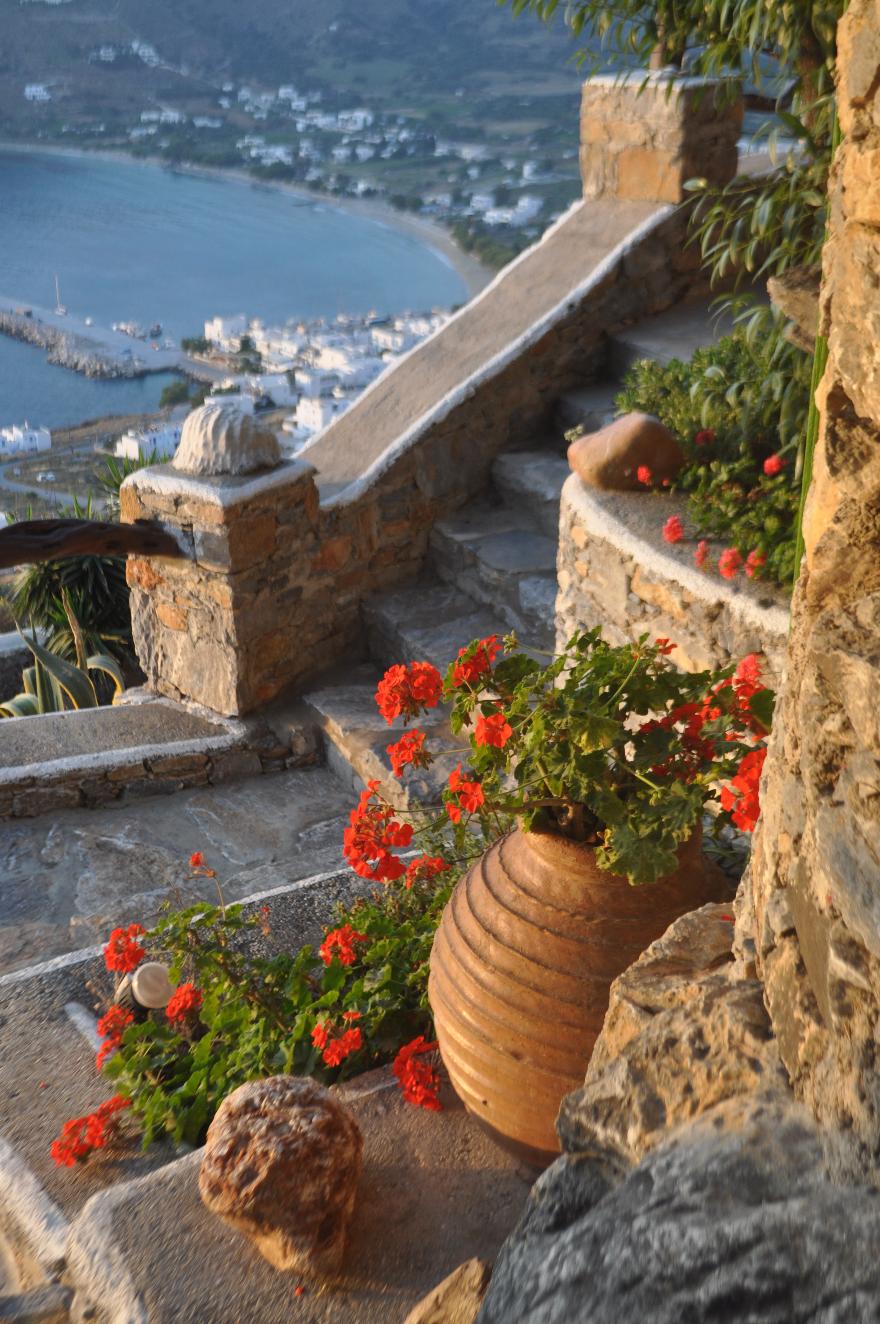 After breakfast at restaurant Kamara.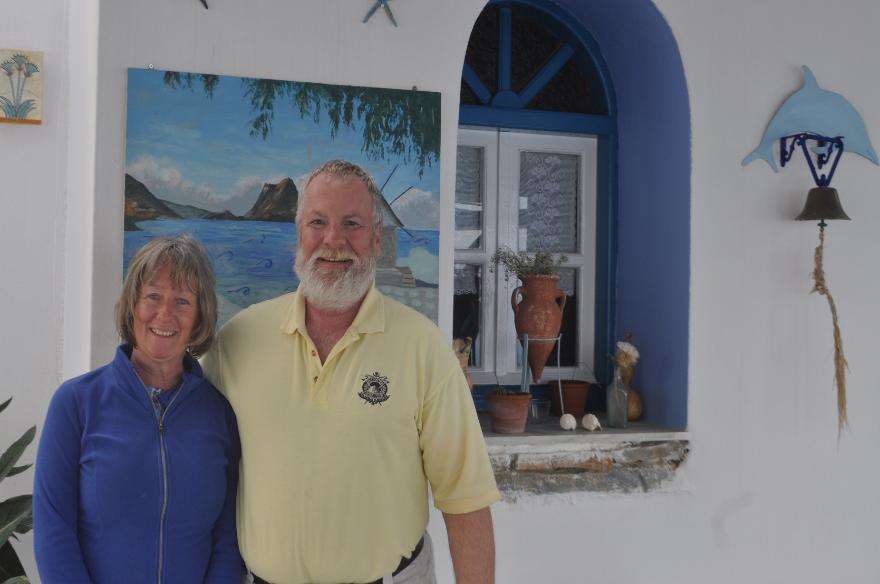 Views from the restaurant in the village of Potamos with expansive views of the coastline and the fellow who served us last night using his donkey to bring in the hay.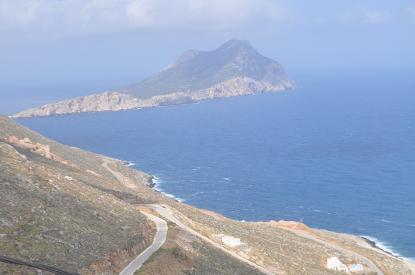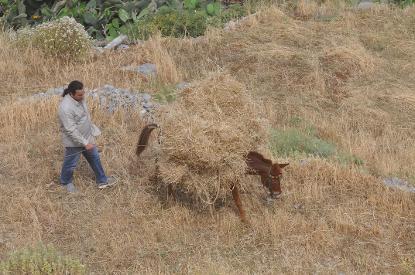 Yet another windmill, this one adjacent to the harbour of Aegiali.



Two of the three donkeys we encountered throughout the day.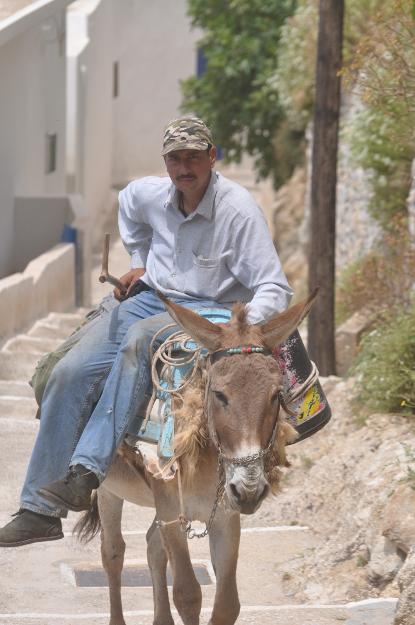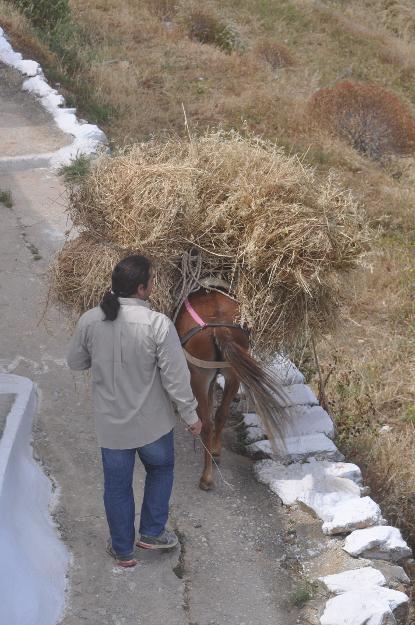 Our traditional stone cottage, originally a stable.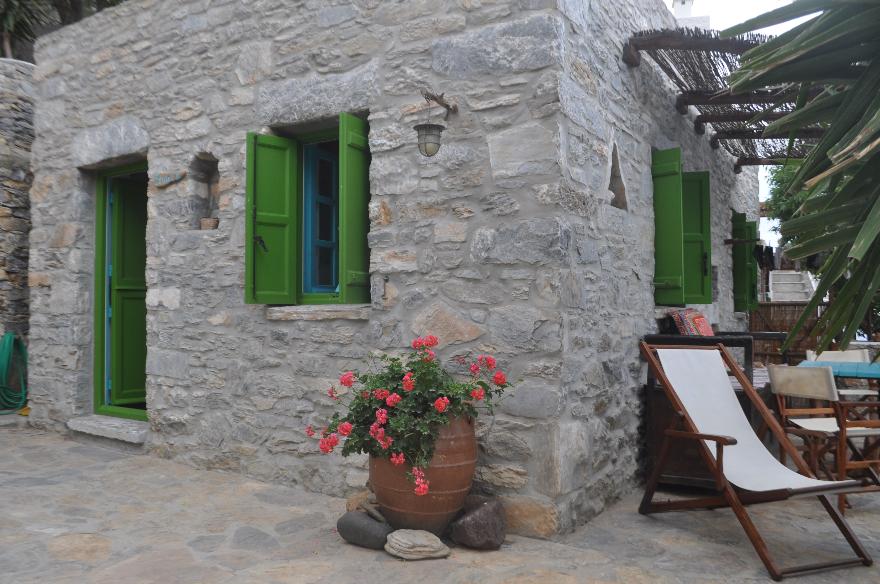 Scenes from out terrace, with the town well below and bright flowers setting off the stone stables.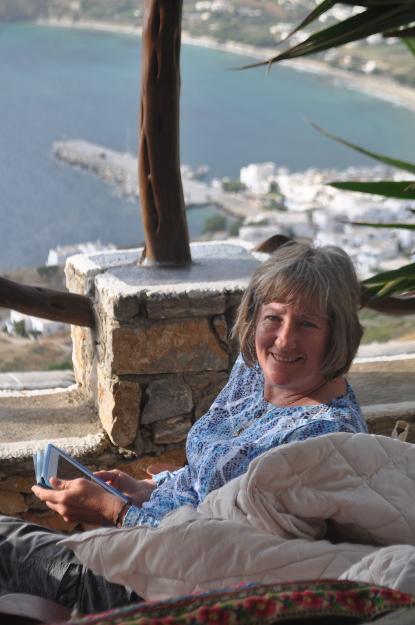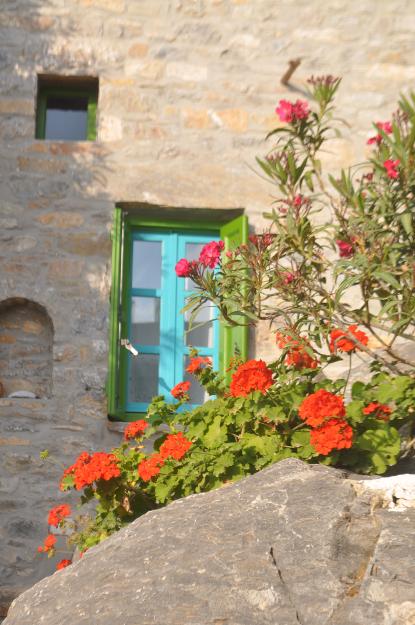 The view of Aegiali and Potamos up the hill from Tholaria on the other side of the bay.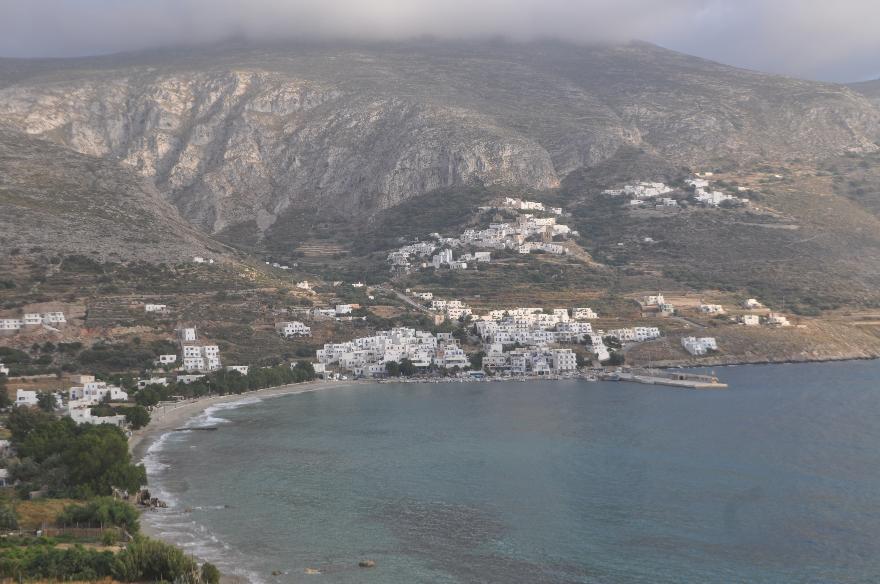 Grilled octopus - perhaps not appealing to some but I really enjoy this popular menu item.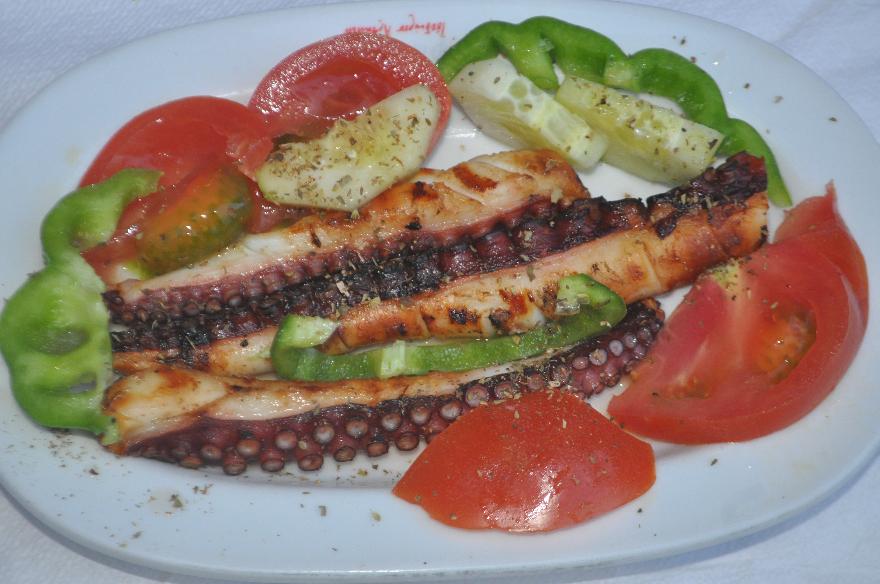 June 01, 2015 – Koufonissi to Aegiali, Amorgos
Today is a travel day, although our ferry does not leave until 4:45 pm, arriving in Aegiali, Amorgos at 7:20 pm via the island of Donousa. We could have gone down to the beach but rather decided to enjoy the sun and the view from our terrace. It was a very relaxing afternoon.
We were first visited by Constantino, Vassiliki and Yiorgos' three year old son and his grandfather. Constantino spent most of his time watering the garden and washing the wall, over and over again. Vassiliki then stopped by and spent a considerable amount of time chatting with us and answering our questions about Koufonissi

yes Koufonissi has a school - from kindergarten through high school,

the population is somewhere between 350 and 400 except in the summer when it explodes into the multiple thousands as tourists invade, particularly those from northern Europe who find Koufonissi a popular destination,

there is a medical resident but no full doctor or hospital,

Vassiliki owns the only pharmacy on the island,

Yiorgos' mother made the Psimeni Raki,

the neighbouring island of Keros is archeologically protected,

the children prepare all year for the Fisherman Festival – it is a HUGE event for them, and

Koufonissi is what Athens is not – tranquil and quiet.
We spent the afternoon just enjoying doing nothing. Yiorgos stopped by around 3:45 p.m. to drive us to the village to pick up our ferry ticket and drop us off at the port. No doubt Yiorgos works hard but he is the ultimate example of a laid-back. life is a fun ride kind of guy, where pretty much nothing is a problem worth worrying over – very refreshing … and entertaining.
As the taverna in front of the port had WiFi we had a coffee and were able to read a few emails until the ferry arrived. A direct route to Amorgos is apparently only 45 minutes but we went via the island of Donoussa and then back to Amorgos, taking 2 ½ hours. We were met at the harbour by Theo who took us to his apartments - Pano Gitonia. You will see a picture of the sunset from our room – the view says it all. Pano Gitonia is located well up a hill in the village of Potamos with spectacular views over the town of Aegiali and Aegiali bay below. There is a restaurant 156 steps above us were we had a light dinner before returning to our apartment for the night.

Our last vision of the beach and harbour of Chora, Koufonissi.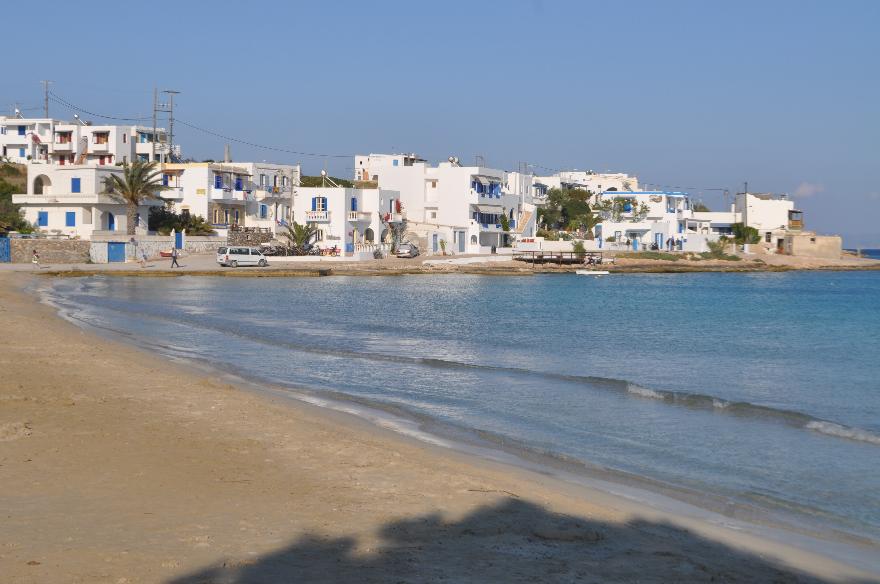 Seeing a number of windmills in disrepair struck us as a similar loss of the past as is experienced with the disappearance of many lighthouses in Nova Scotia. Fortunately this windmill in Chora appears to have been well maintained.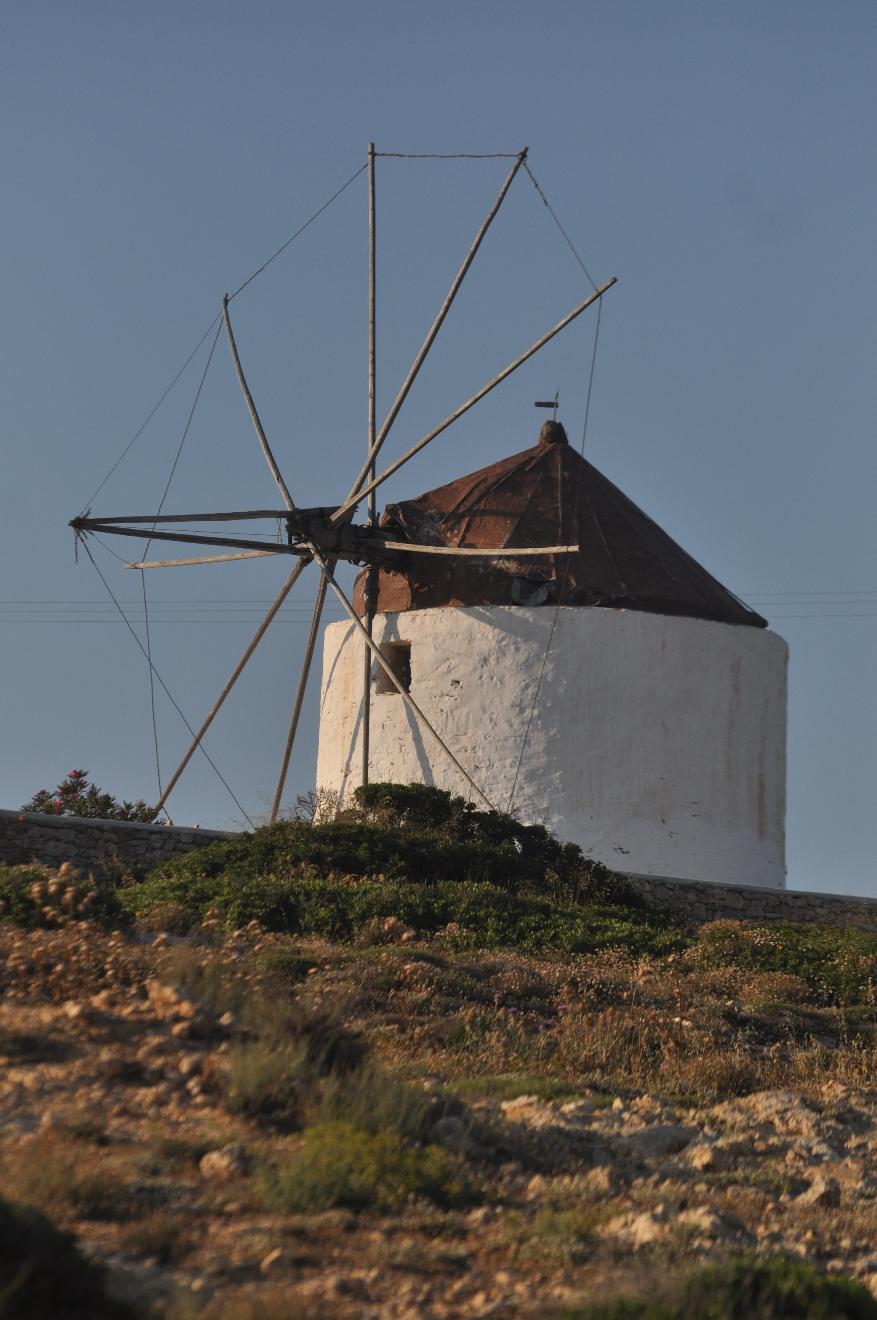 Sites of Chora, Koufonissi - a wreath on a door - very common and a church.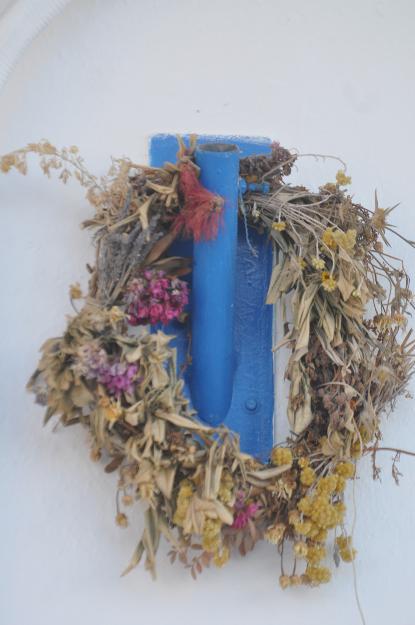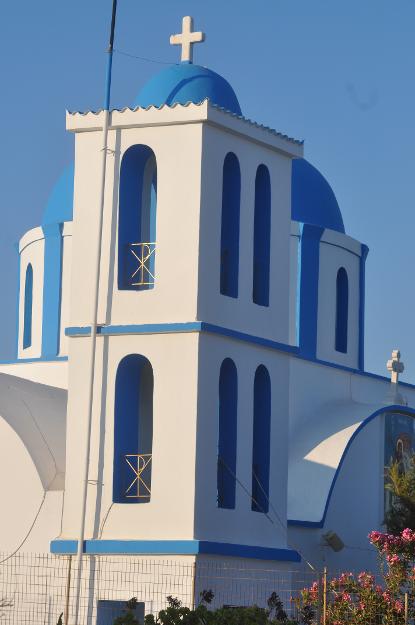 Looking at our terrace and looking from our terrace.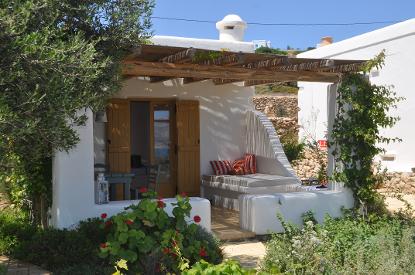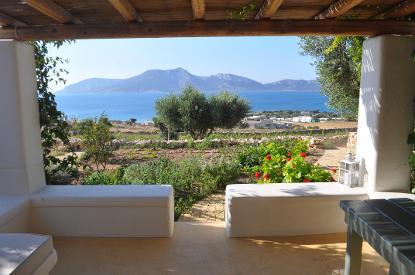 Enjoying the last of the Psimeni Raki, and simply enjoying the slow life of Koufonissi.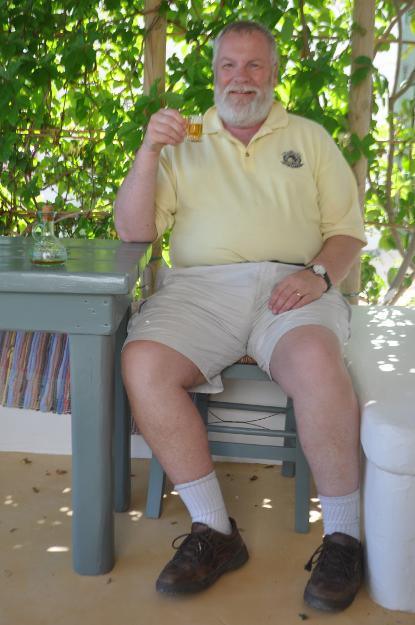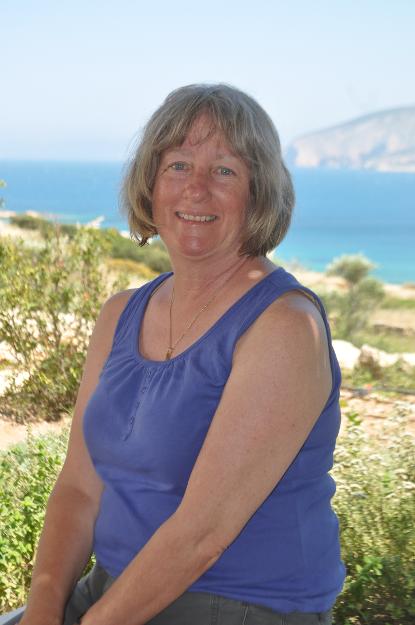 After I helped Constantino fill his water bucket (multiple times) we became best friends - not that I could understand a word he said. It was all Greek to me.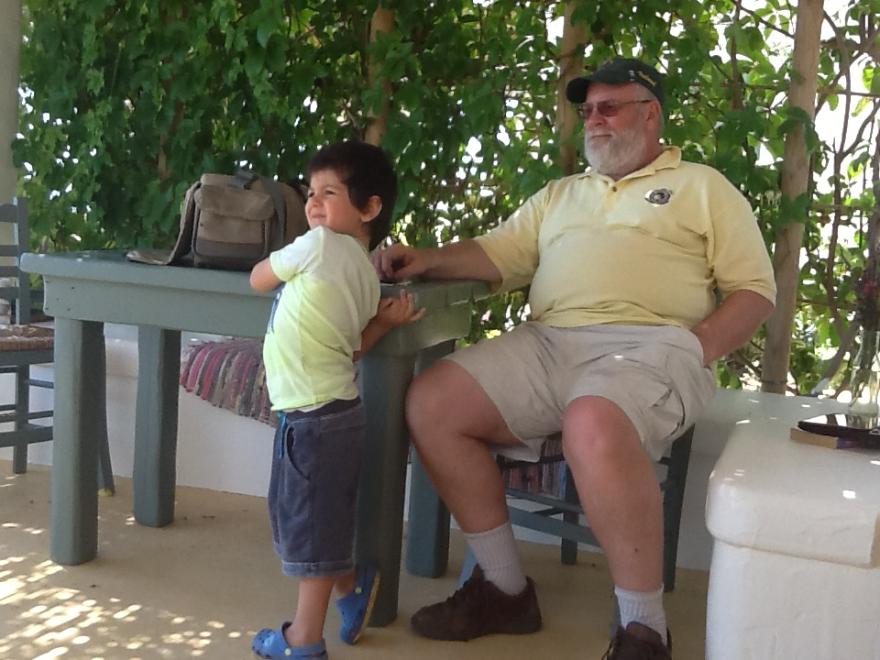 Yiorgos, ever the clown, and Vassiliki, wonderful hosts of Pambelos Lodge.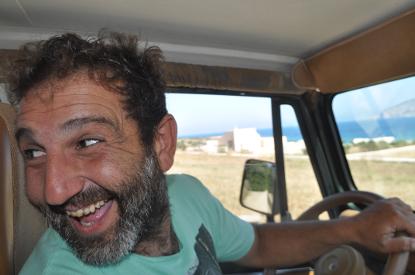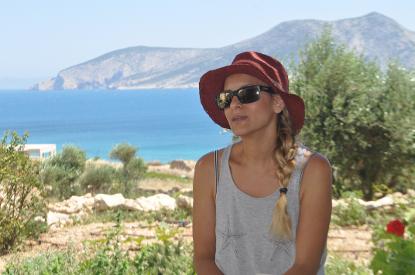 Gayle and Yiorgos, as he drops us off at the port to catch our ferry.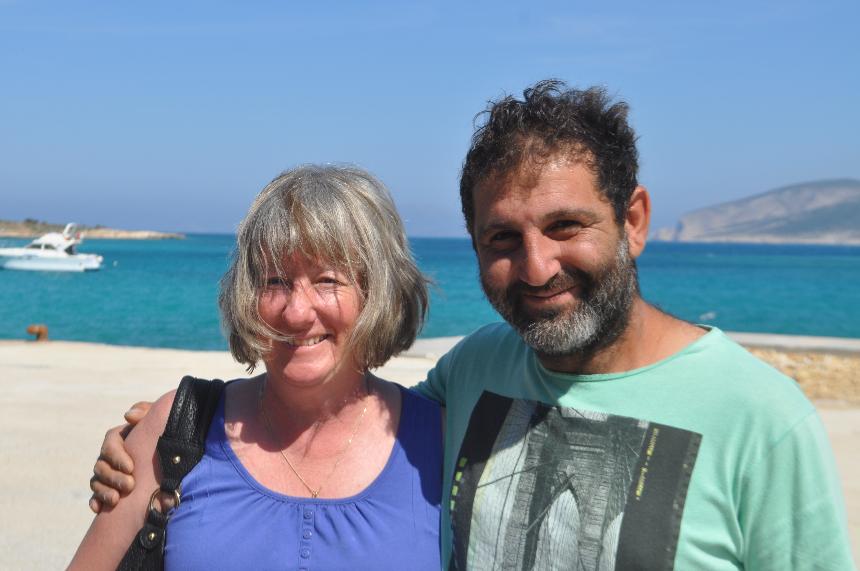 Entering the port of Aeigiali with Potamos, where we are staying the village up the hill, providing spectacular views (see next photo) of the bay.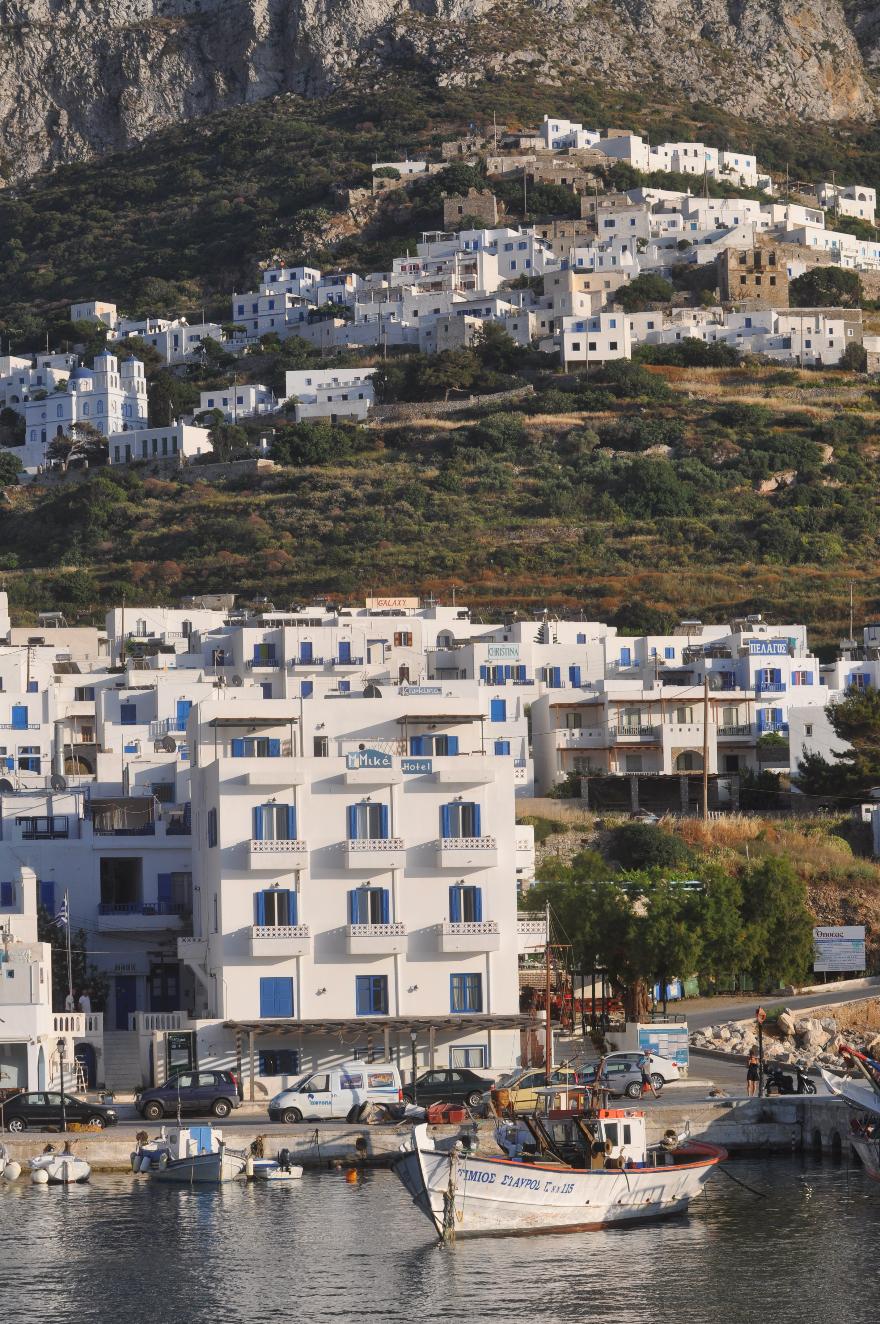 Sunset from our Stable 3 apartment at Pano Gitonia, Potamos (Aegiali), Amorgos. Can it get much better than this he asks rhetorically?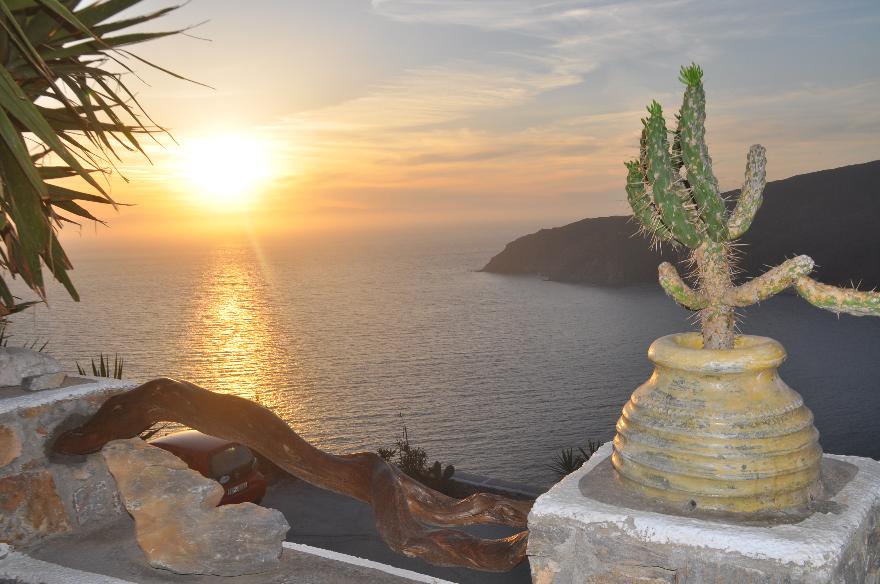 Two elderly woman who allowed me to take their photos - the one on the left in Chora, Koufonissi and the lady on the right in Potamos, Amorgos.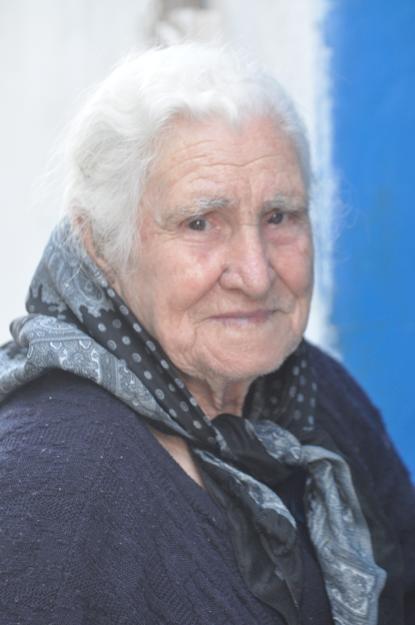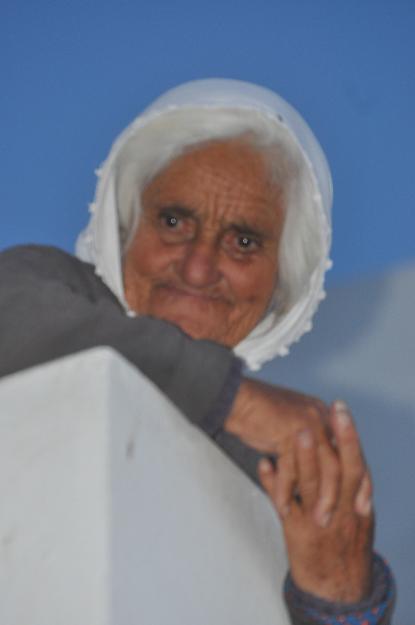 Having arrived in Amorgos of course we had to had an Amorgan salad - attractively presented with the cucumber surrounding the salad and the addition of capers but otherwise essentially a Greek salad.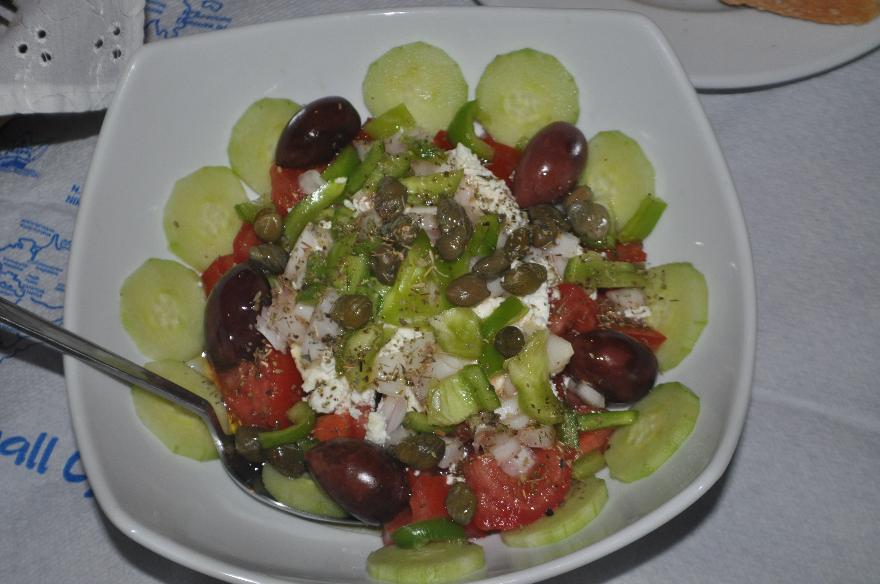 May 31, 2015 – Koufonissi - beaches
We again awoke to more blue sky and another nice day. This is a place to be lazy and lazy we were. Vassiliki tried to solve our internet problem with a portable thumb drive but unfortunately it didn't work so we will be three days without internet, and without the ability to update the blog. But this is Greece and things tend to move slow, including repairs. But we must give credit to Vassiliki and George for doing their best to try to solve the problem.

After another breakfast on our terrace overlooking the beautiful Aegean sea we went down to the beaches for the afternoon, first Platia Pounta beach, just beyond Fanos beach where we were yesterday and then a further 35 minute spectacularly scenic walk around the south-east corner of the island to Pori beach. Here we again had a swim. Both beaches were nothing but sand, not only on the beach itself but in the water as well. Shallow and sandy, perfect for swimming.
Then we went to Kaaopetto, a funky beachside taverna with dogs playing, people enjoying a Sunday afternoon meal and some unusual and off-beat (but enjoyable) music. The one unfortunate observation is that smoking is still very common here. Nearly every other table had at least one, and often many who were smoking. Really it shouldn't be allowed in restaurants, but technically we were outside and it is part of the culture here in Greece. Food here was a little less typical – Gayle had Falafel with hummus and a baked Kefalotyri cheese with sesame and honey, we split a traditional Cretan pasta with fresh tomato, garlic and Mizithra cheese and I had two large grilled local (well nearby Naxos) sausage with some excellent potato salad. Accompanied by a red wine from Paros (interesting we come to Koufonissi to have Paros wine) enjoying a meal overlooking Pori bay was a great way to end the afternoon.

We returned to Pambelos Lodge at sunset after which we enjoyed the Psimeni Raki Yiorgos and Vassiliki provided on our arrival looking out over the (full) moon lit sea. Psimeni Raki is a specialty liquor originally from Amorgos, specifically the monastery of Chorzoviotissa but made throughout the island. Vassiliki's mother-in-law made this version baking and boiling the raki and honey and adding cinnamon, cloves and a number of herbs. A sweet liquor that is somewhat potent. A nice way to end the day.

The beautiful sandy Platia Pounta beach.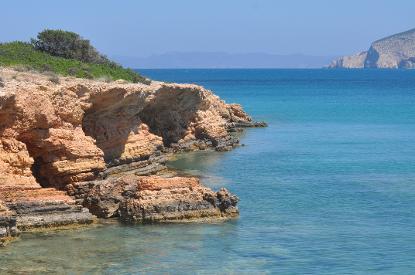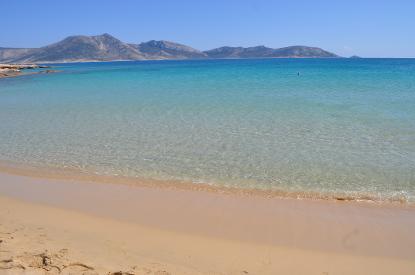 On our walk around the point to Pori bay we encountered this natural pool, known locally as the Eye of the Devil.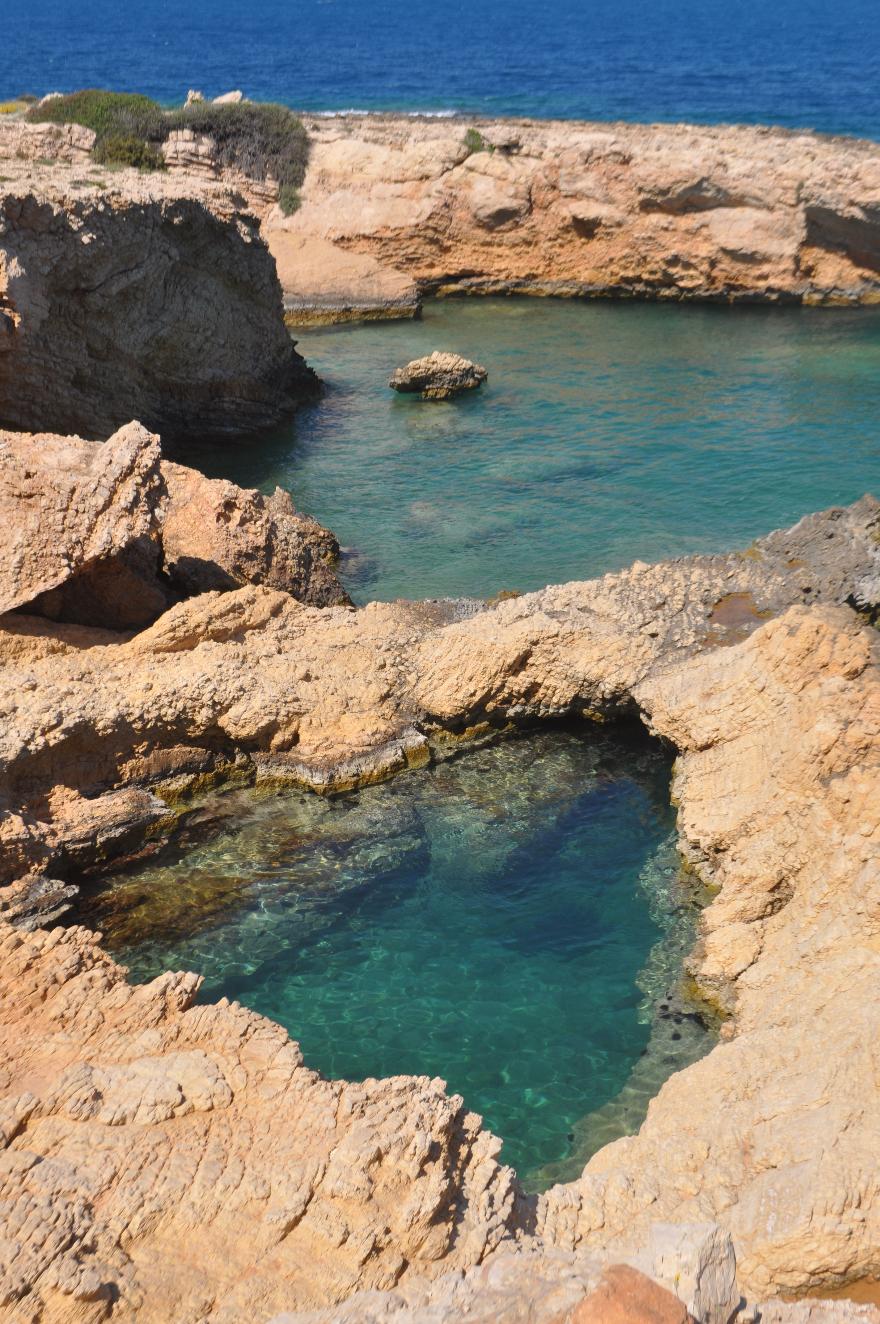 Looking from the restaurant to Pori bay and beach.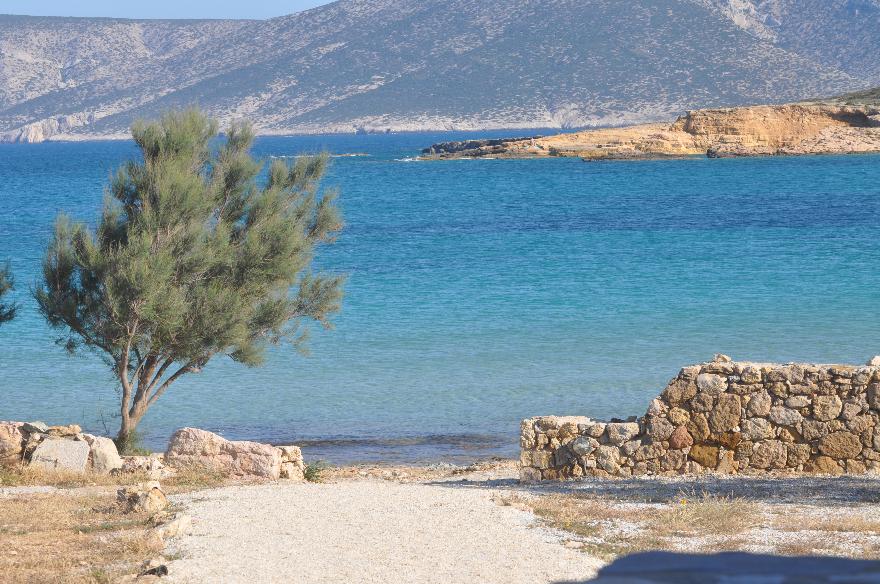 Amused by the four dogs running around the restaurant, having a good time. While some might not appreciate the custom we quite like that dogs and cats are often found in the restaurants of Greece. Makes them more of a family place.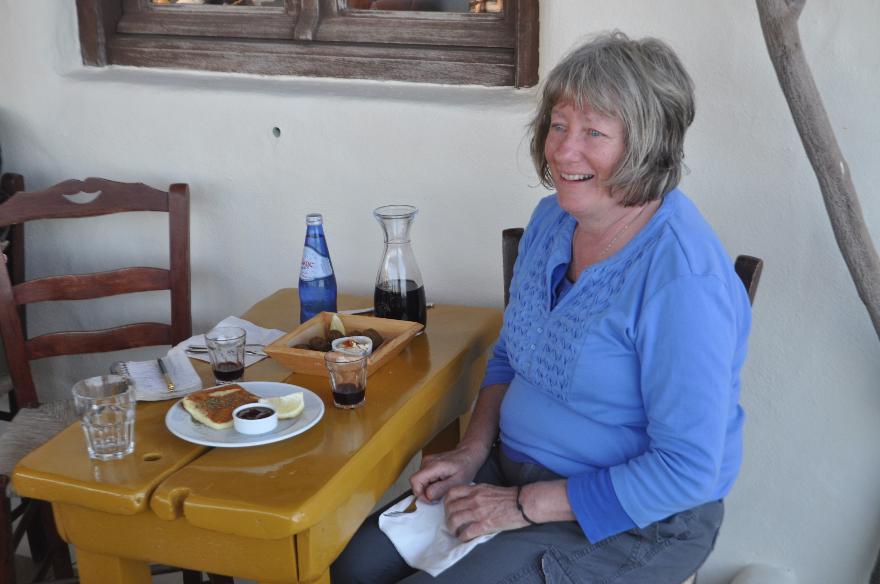 Baked Kefalotyri cheese with sesame and honey and the grilled local (from Naxos) sausage with potato salad at Restaurant Kaaopetto, Pori Bay.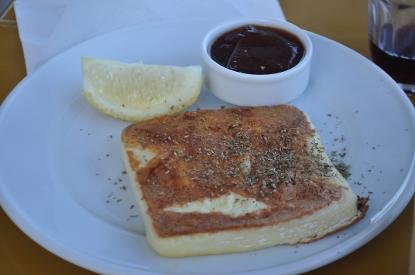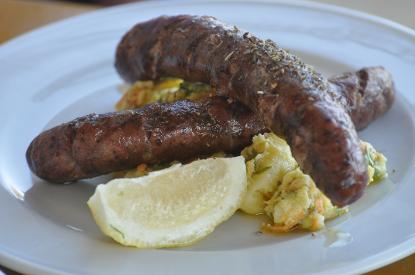 Looking out from our room across our terrace to the uninhabited island (archeologically protected) island of Keros, and the Psemeni Raki we were provided on arrival.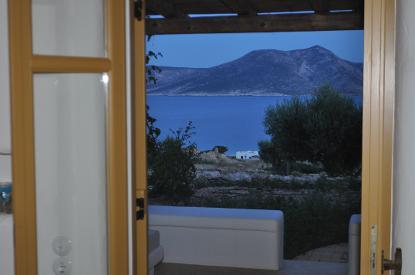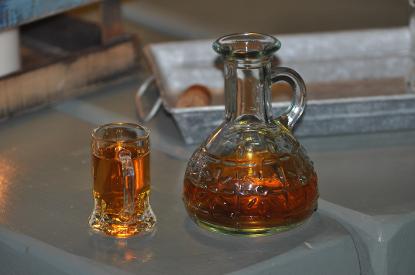 It was a nice evening to sit out so we lit the candles, enjoyed our Psimeni Raki and the view over the moonlit channel.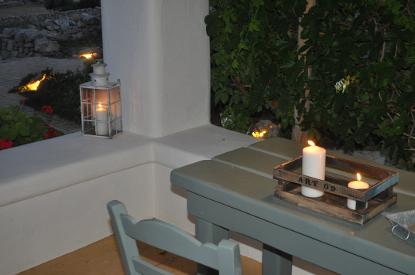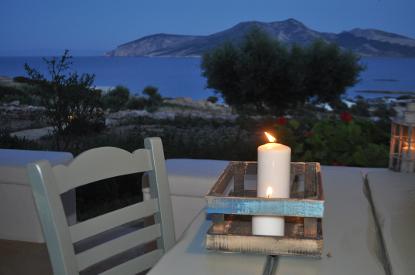 May 30, 2015 – Koufonissi – the Fisherman Festival
We woke this morning to nothing but blue skies and sunshine, and an awesome view from our terrace high enough up the hill to have expansive views of the blue blue water and the island of Amorgos in the distance.

Pambelos Lodge does not have any eating options but does provide a small cooking area (fridge, hot plate, coffee machine, pots, plates and cutlery) in order to at least make breakfast (hence the supplies). We enjoyed (a late) breakfast of coffee, juice, eggs, tomato, fruit and of course yoghurt with walnuts and honey, again with a spectacular view (how many times am I going to mention the view?) over the sea.

Mid afternoon we went down for a swim at the nearest (Fanos) beach – an eight minute walk down the hill. Although the water was still somewhat cold (September would no doubt be much nicer) it was still nice to get in for a dip. And once you got it really wasn't that bad.
We returned for a short while before walking back to Chora town. As it turns out the Fisherman's Festival did not start until 9:00 pm, rather than 7:00 pm as we were led to believe. This gave us time to wander about the small village, with its windmill and narrow primary street (narrow enough that cars are not allowed to enter - although with no police this restriction can be ignored at times). Being early (and hungry) we stopped for dinner at what turned out to be a good choice – lots of locals and good food. Gayle enjoyed a spinach pie and you guessed it a Greek salad, with the local mizithra cheese while I had mousaka and grilled sausage, washed down with retsina.

We then went down to the harbour for the annual Fisherman's Festival. We were told the next day this is really a big event, which certainly seemed to be the case given the number of people for an island with a population of < 400. Apparently the children take the dancing very seriously with competitions against other dance groups of other islands. The festival is an evening of dancing, first performances of traditional Greek dances by children, then teenagers/young adults and finally the adults. Afterwards the public joined in – others from the island and visitors if they wished as the live musicians played non-stop. The footwork was quite something.
Tables were set up with a steady stream of food and drink (all at no cost) provided. At one point a boat, lit by flares, entered the harbour with a number of dignitaries disembarking and then made their way to our table. One gentleman – we called him the King of Koufonissi (although we later found out he was the mayor of Naxos) even stopped to shake my hand – always the politician. I guess with my beard at first glance I must have looked like a weathered fisherman. Certainly everyone was having a great time (the free wine no doubt helped) with the non-stop music, singing and dancing. We left a bit after midnight although many of the young children were still going strong. A full moon provided sufficient light for the 45 minute walk back up the hill to Pambelos.

Homemade breakfast - that's yoghurt with walnuts, honey and fresh fruit in the bowls and the view from our terrace while eating breakfast. Very relaxing.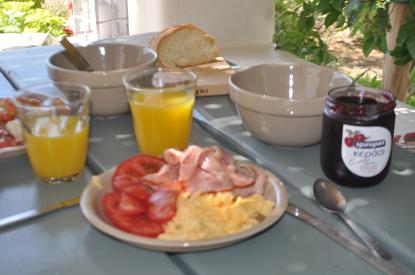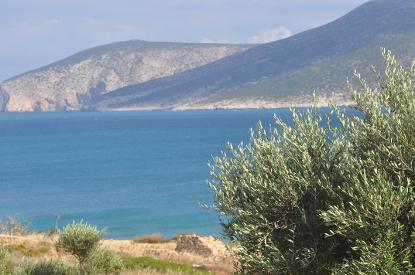 Looking out across Fanos beach, just below (eight minute walk) Pambelos Lodge.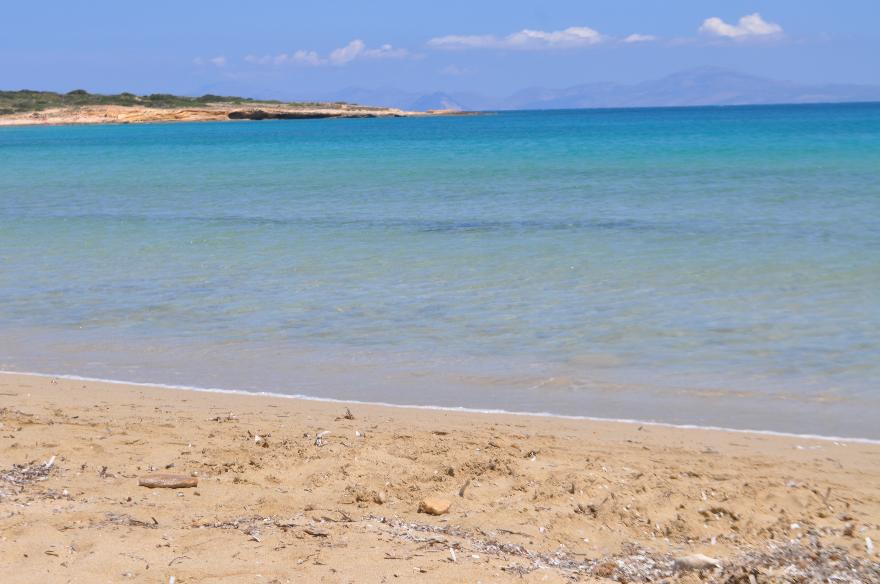 Happy Happy Happy!!! (after getting in the water which is admittedly somewhat cool).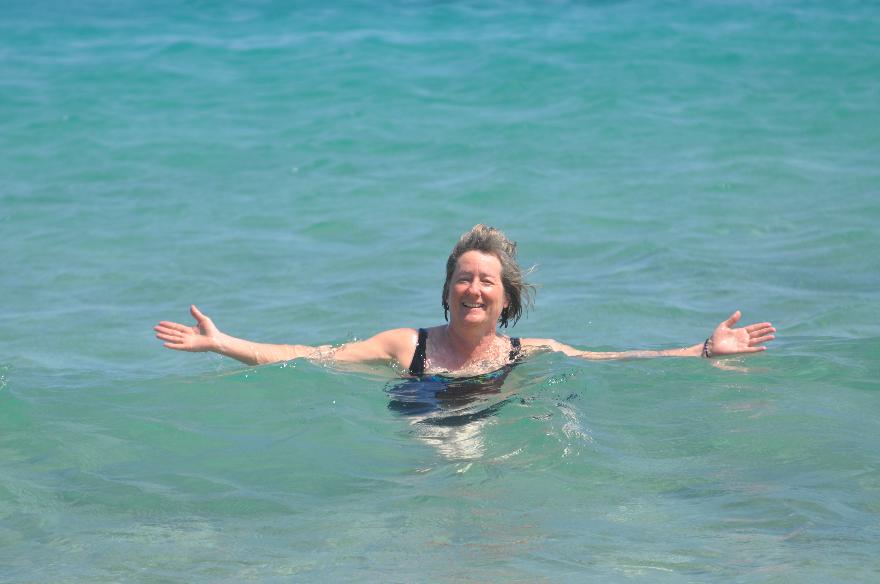 Dinner before the festival - spinach pie and a salad for Gayle and mousakka (and grilled sausage) for me.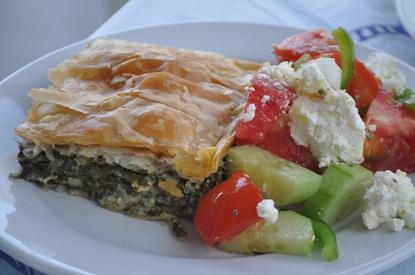 A couple of young dancers preparing for their performance. These are the traditional island costumes of the girls.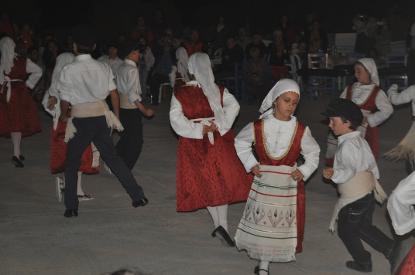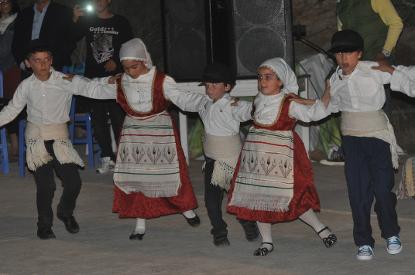 The dancers spanned all ages, from young children to youth to adults.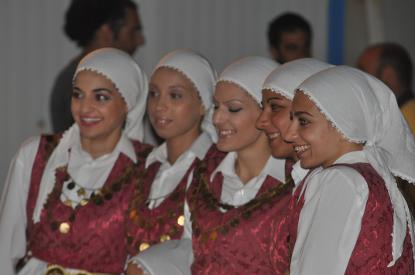 Plates of food and bottles of drink were delivered to the table non-stop. It was sad in a way that there was so much as most went uneaten. And of course there were fresh fish to be barbequed.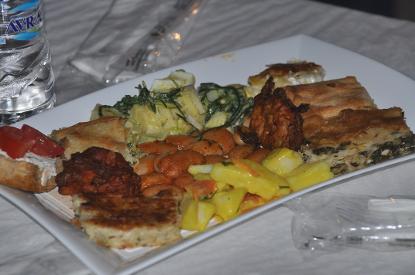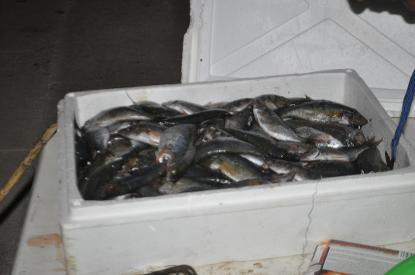 The arrival of the torch lit dignitary boat with the King of Koufonissi, who we later discovered was the Mayor of Naxos, and the nearby amalgamated islands, including Koufonissi.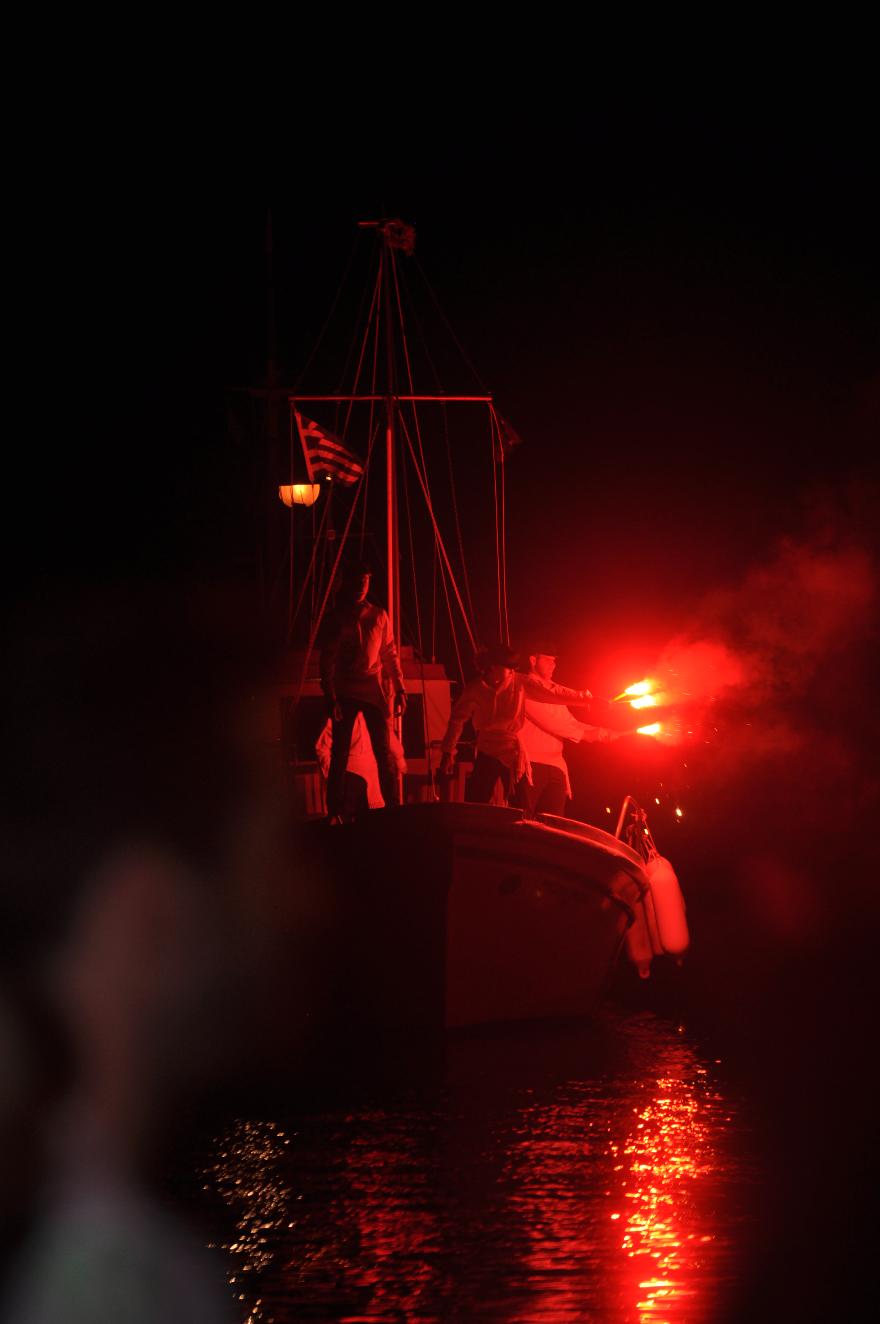 A fisherman enjoying the festival.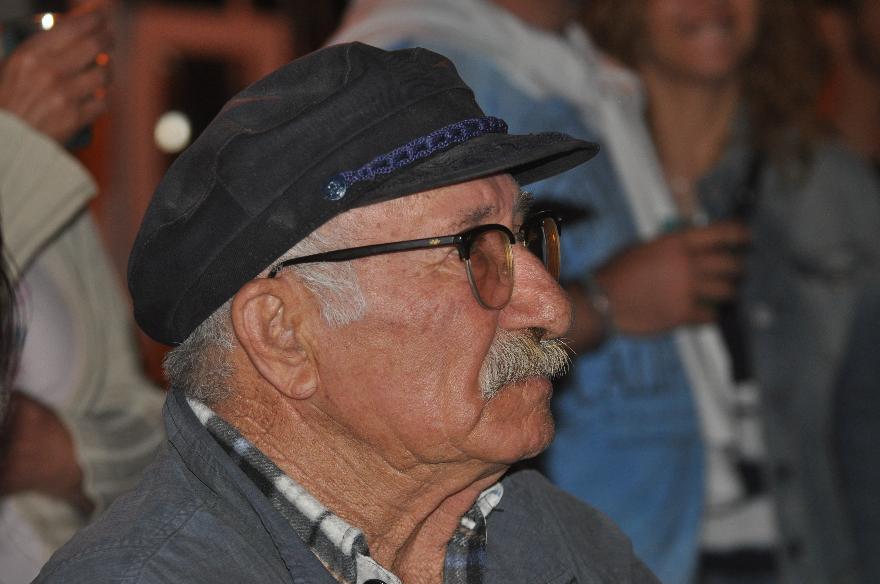 May 29, 2015 – Paros to Naxos to Koufonissi
We took a short drive early this morning to the west side of Naoussa bay (nothing noteworthy), picked up a loaf of bread (only one euro) for later in the day and returned to Hotel Petres for a final breakfast.
Lea was by the pool with her little kitten she and her husband rescued. They were driving up near Lefkas when they encountered two kittens on the road. Unfortunately one had passed on but this little gal, although suffering found a second life. They took the kitten (now named Alise) to a vet where it received some antibiotics for an eye infection and quite rapidly regained her energy. Only four to six weeks old they brought Alise back to Hotel Petres where Clea graciously offered to take in the kitten after Lea leaves in a few days. This was simply a heat warming story of someone doing something really nice. As a tourist, not having any idea as to where to find a vet the easy thing would certainly have been to drive on, but to their credit Lea and her husband (sorry don't have his name) didn't take the easy route. No doubt good karma will follow them.

After another enjoyable breakfast and chat with Clea Sotiris drove us to the ferry in Parikia. The service Clea and Sotiris provide is very impressive, available to pick up and deliver, drive guests to town or the car rental office it all made the stay very easy.
We enjoyed our time on Paros. Perhaps not the most dramatic island but it did not feel overdeveloped. The drive around the entire island was easily doable in a day, including stops at a number of quaint fishing villages. A second day to explore the interior and the ancient capital of Lefkas was enough. One disappointment would be the beaches. Although numerous they were generally very small tucked in coves, and somewhat rocky – we are glad we brought our water sandals for the time we did go for a swim. But our choice of Hotel Petres was perfect. We were worried, it being a 'hotel' it might be a bit impersonal but it was anything but – just a large bed and breakfast, very tastefully done, with a nice size room, a lovely pool, excellent breakfast, availability of some food during the day and evening – a great option – and wonderful owners and staff.
It is a 45 minute ferry from Paros to Naxos, a hub from where we connected to a smaller ferry line – Skopelitis that serves the islands south of Naxos. We picked up our ferry tickets to Koufonissi – a very simple process at a travel agency after having prebooked online and waited approx. one hour for our next ferry to depart. After two hours 40 minutes including stops in Iraklia and Schinoussa we arrived in Koufonissi. The trip was not ideal as the rain we had experienced off and on the past couple of days finally came down in torrents, particularly during the first 45 minutes of the trip. But eventually it stopped and the skies cleared for a nice second half.

We arrived in Koufonissi where we were met by Yiorgos (George) and delivered to Pambelos Lodge, a couple of kms up the hill outside of the port village of Chora. After dropping off our stuff George drove us back to the village to pick up supplies for breakfast. Pambelos does not serve any meals and being a 30 minute walk each way to and from the village (the last part back uphill) one would not want to go out all the time to eat. Although one can rent bikes there are no cars to rent on the island.
We did walk down to the village for dinner (a Greek salad, lamb and potatoes and a stuffed tomato and green pepper) returning just before dark. Unfortunately with the storm the internet was down, and being still cool we called it an early evening.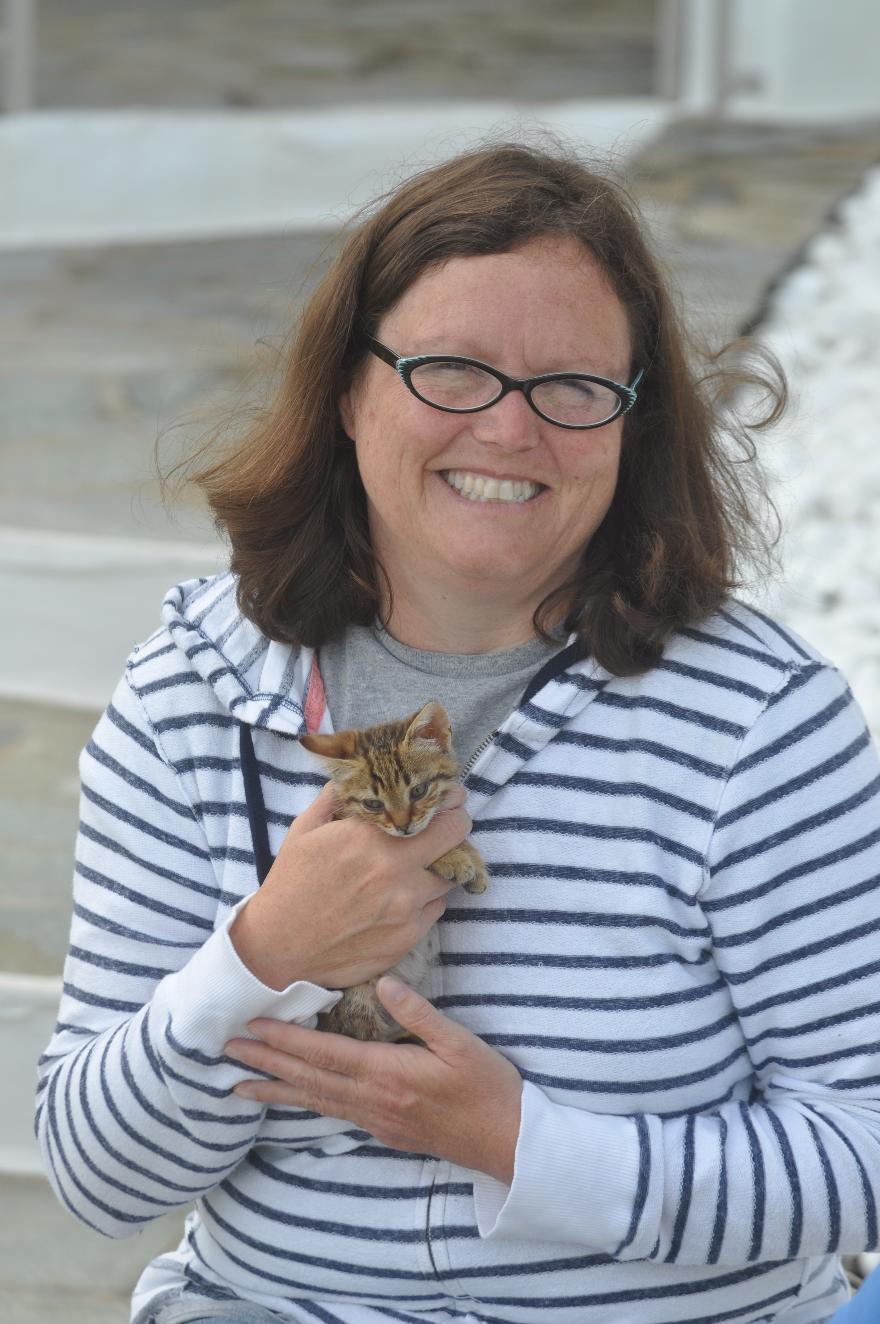 Spinach pies for breakfast, served on a beautiful platter.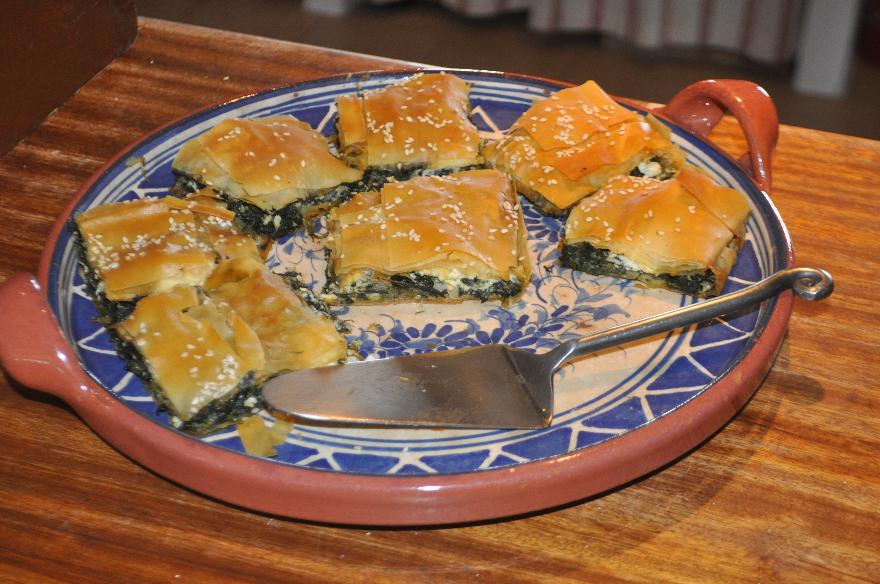 The pool and rooms of Hotel Petres.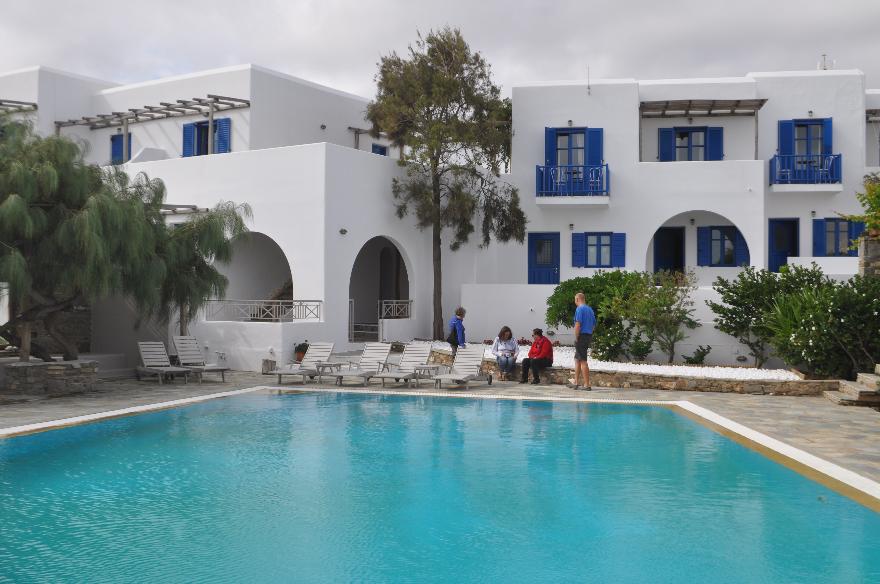 A fellow passenger ... likely not a tourist.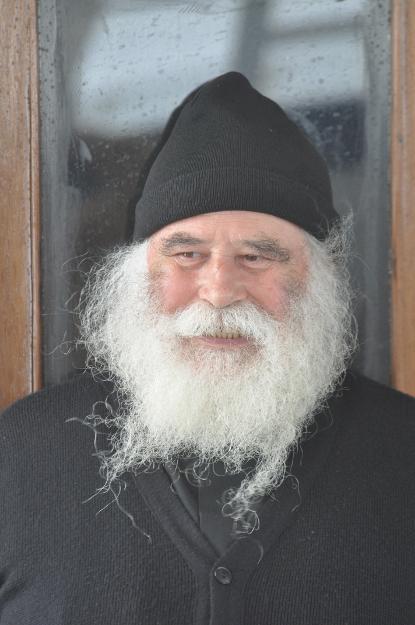 Bundled up on the ferry from Naxos to Koufonissi.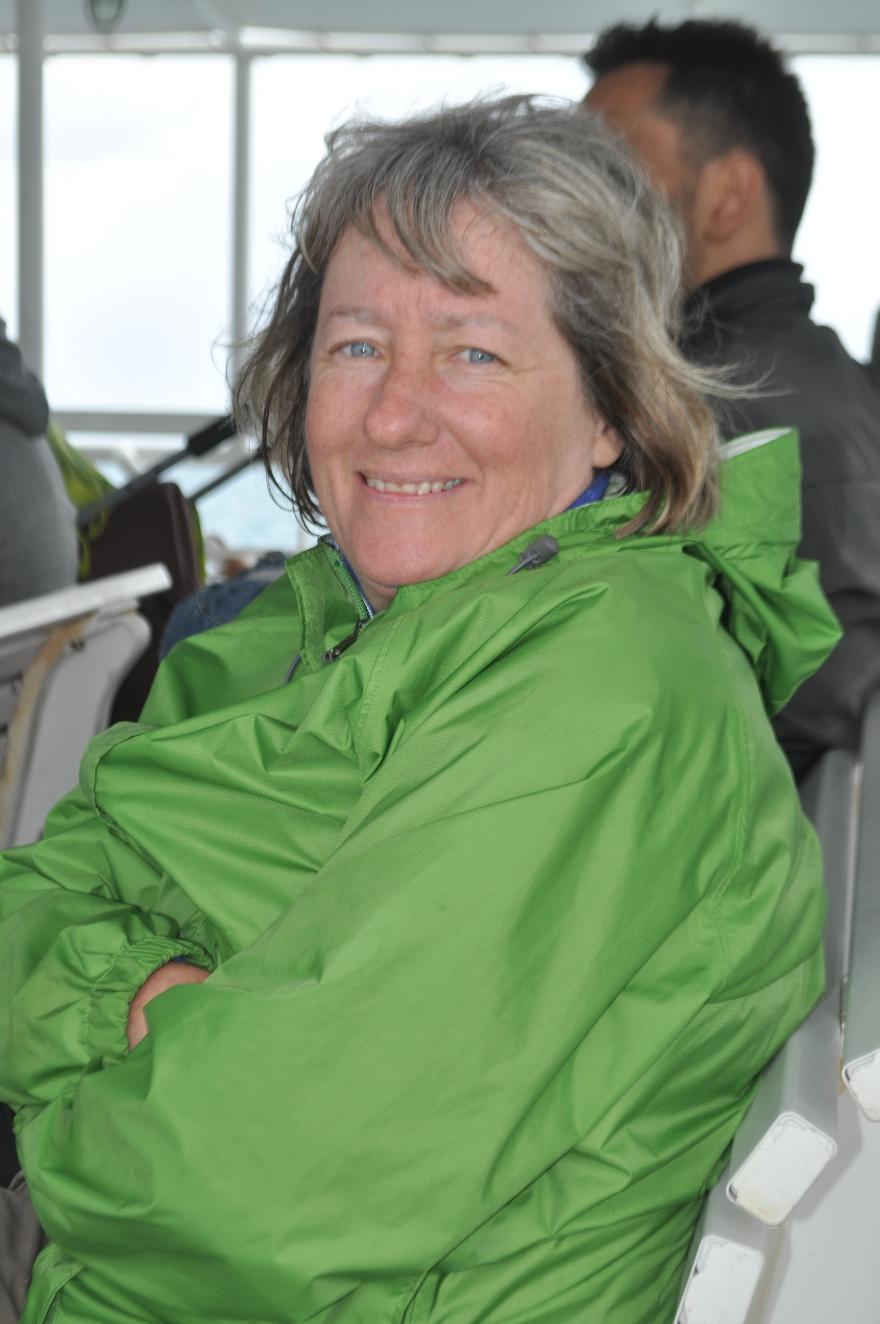 Entering the harbour of Chora Town, the port of Koufonissi.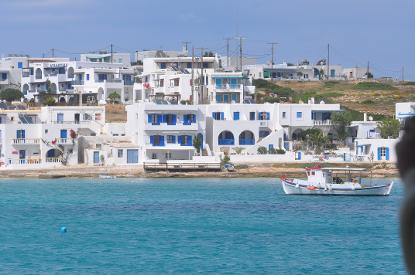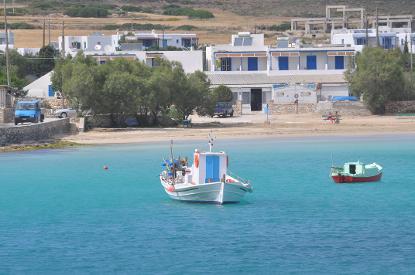 Views from our terrace at Pambelos Lodge.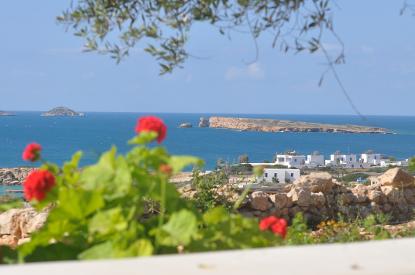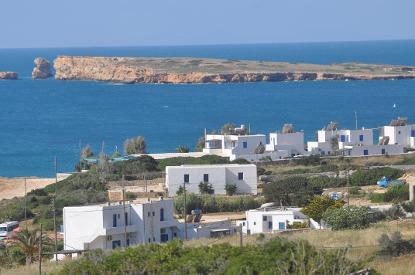 Stuffed (with rice) tomato and green pepper with a few roasted potatoes.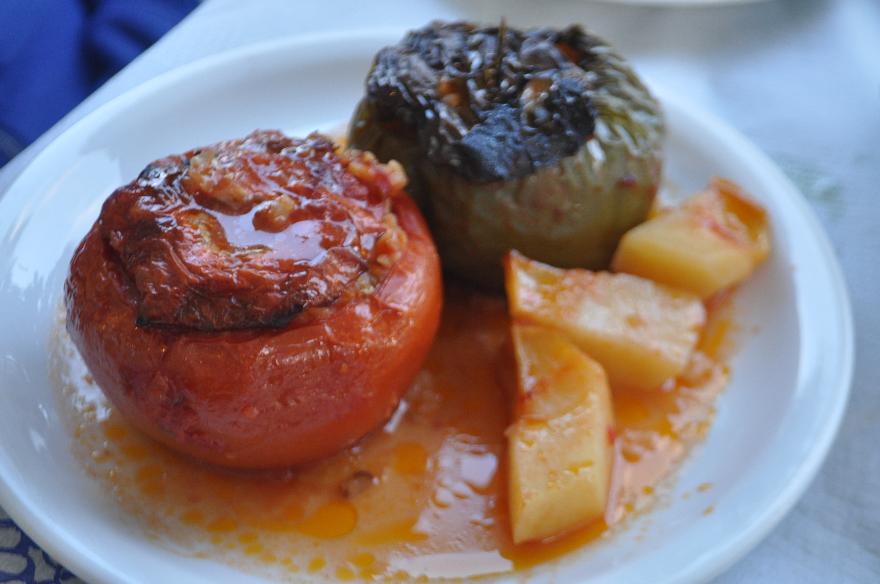 May 28 - through the interior of Paros

Apparently there was extensive thunder and lightening throughout the night ... at least Gayle told me so. She also told me the winds howled during Hurricane Juan as well ... if she says so. But it was raining when we woke with the weather prospects for the day not being great.

After breakfast we drove in to Parikia to pick up our ferry tickets. A typical port town with no reason to stay. We then headed up in to the hills - not nearly as dramatic as some islands but still inland and elevated enough to protect from the pirates back in the day - to Lefkes. This beautiful village used to be the capital of Paros during the Middle Ages and is full of little traditional whitewashed houses, mixed with Venetian architecture, churches dating from the 15th century, and whitewashed windmills. The charm and the beauty of Lefkes is still untouched by mass tourism, which helps it maintain its authenticity.

In old times, when the Aegean Sea was ploughed by pirates, Léfkes was the protected capital city of the island and a network of cobblestone streets linked it to the other villages as well as the ports. A taste of such a distant past can be experienced on the 'Byzantine Road', the best known and best preserved section of the island's old stone paved streets. The Byzantine Road links Léfkes with the small, traditional settlement of Prodromos. It is said that the 'road' was constructed in Byzantine times, about 1,000 years ago, and was part of a central road traversing the entire island, joining a number of towns and ports. We walked a short portion of the road, about 45 minutes, recognizing the more we descended the more we needed to ascend on the way back. With the constant threat of rain we experienced some of the trail but left if for others to do the whole road.

We then took a very scenic drive through the interior, often being able to see the coast and the sea well below us. Unfortunately it was somewhat overcast but still an impressive drive. Reaching the south of the island we then drove up the east coast, eventually returning to the fishing village of Paso Livadi. Although it was raining we did stop in a restaurant for a late-afternoon meal - a vegetable meze plate (feta cheese, marinated olives, cherry tomatoes, arugula, tzatziki, eggplant salad, dolmades, and zucchini patties) that we shared and grilled octopus .... that we did not share. It was very nice, even if inside (albeit with an open front, i.e. no window) to be able to sit next to the harbour and enjoy fresh grilled octopus.

We returned to Hotel Petres where we relaxed before going down for a couple of salads (tomato and grilled eggplant). Unfortunately with the cool temperatures and rain we couldn't enjoy the pool/outdoor areas but so be it.

Tomorrow we leave Hotel Petres and Paros, off to the island of Koufonissi.


Olive trees and stone/rock walls are typical of the interior of Paros.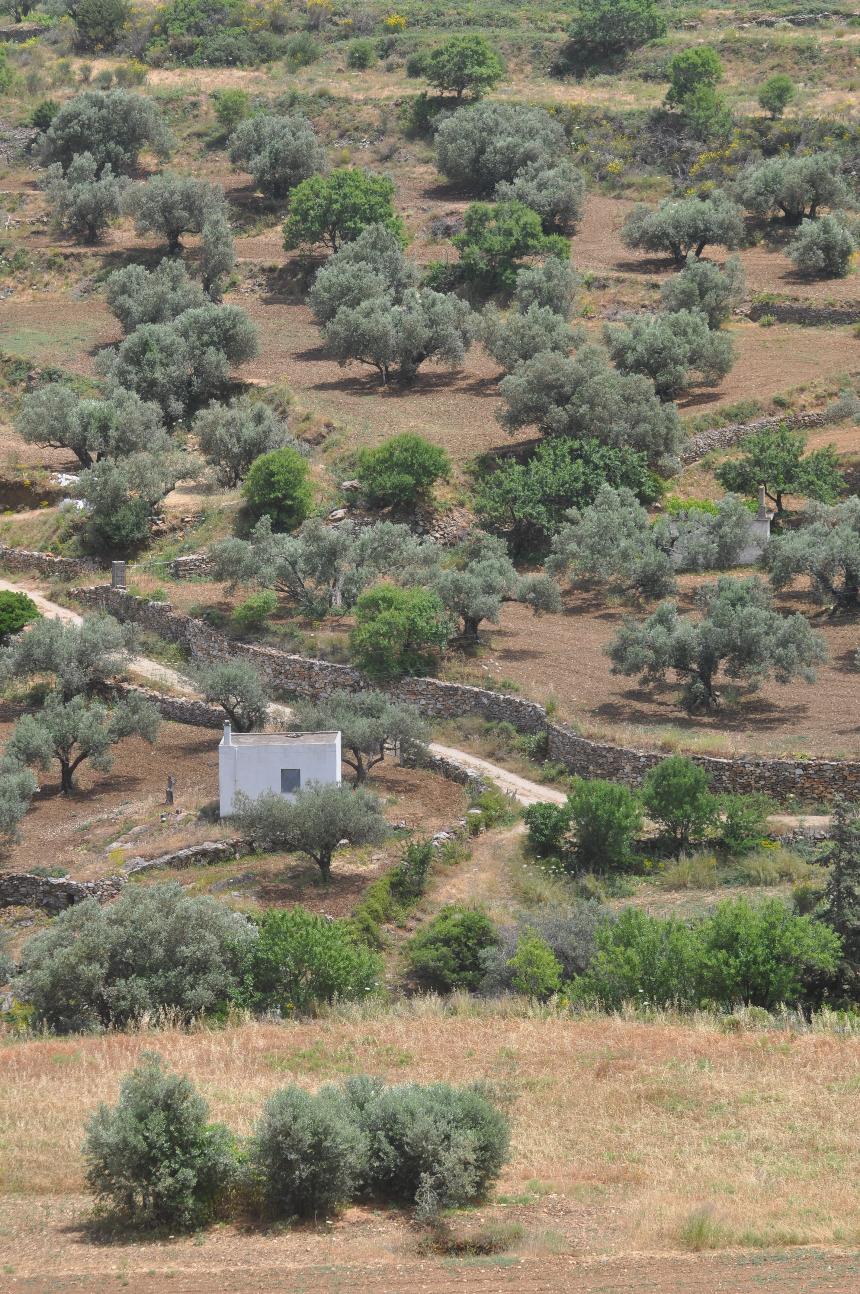 From above Lefkes one can see to the coast and beyond to Naxos as well as one of the windmill bases still standing at the top of a hill.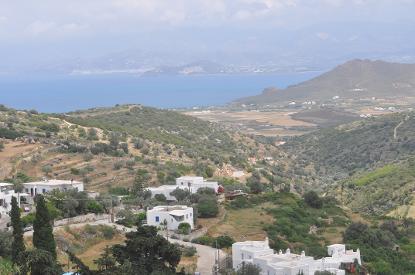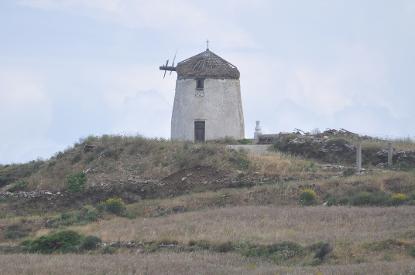 The church at the start of the Byzantine Trail from the ancient Paros capital of Lefkas.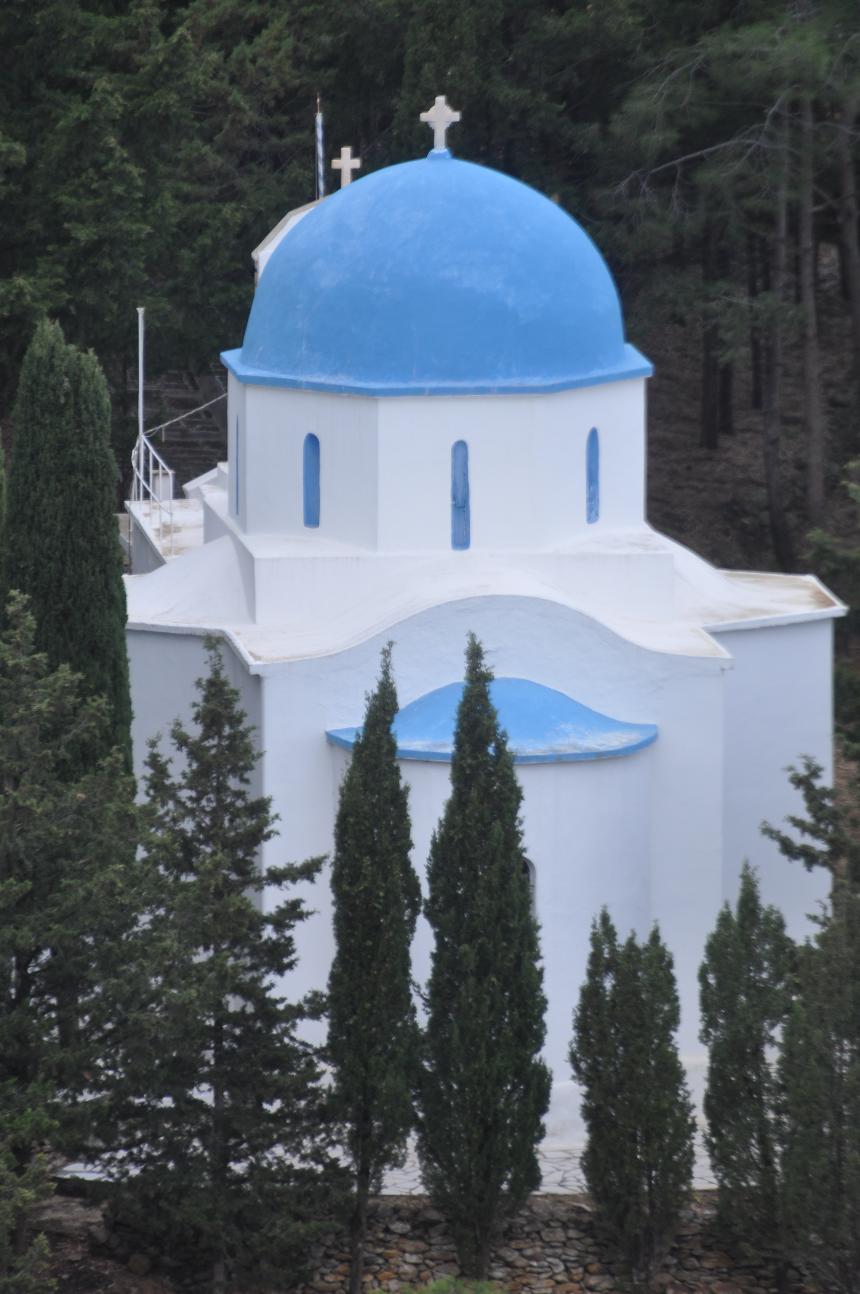 Although we had only seen a limited number of wildflowers on Paros the trail was lined with them.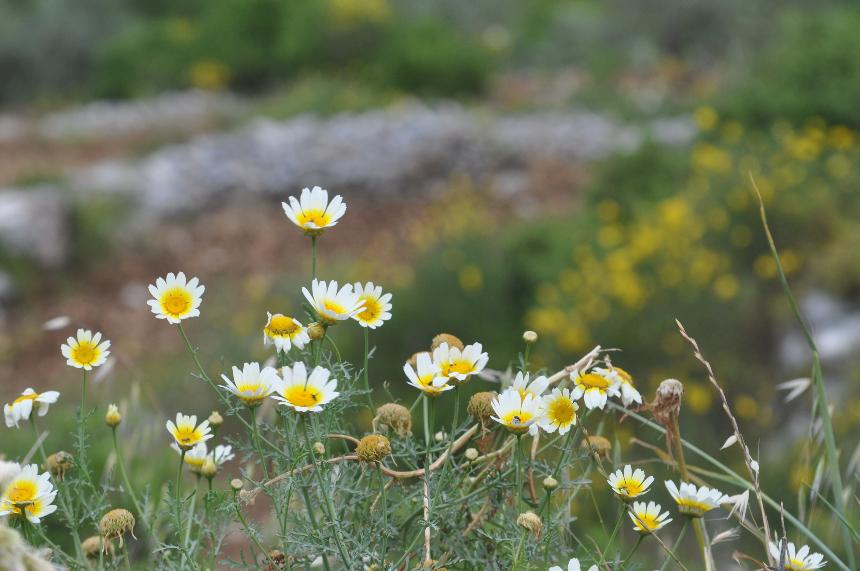 Marble stones, quarried in the nearby hills, along the Byzantine trail from Lefkas to the village of Prodromos.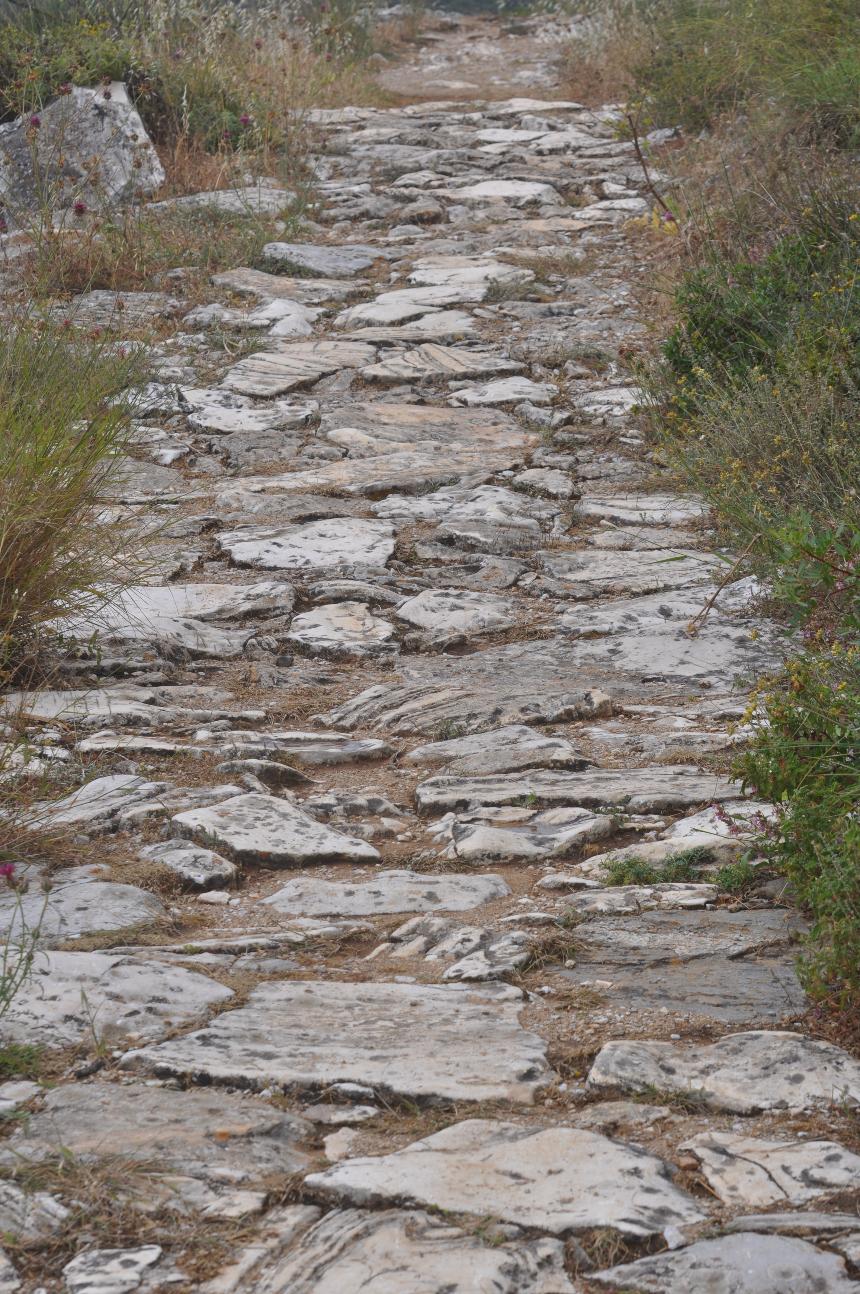 Walking the Byzantine trail.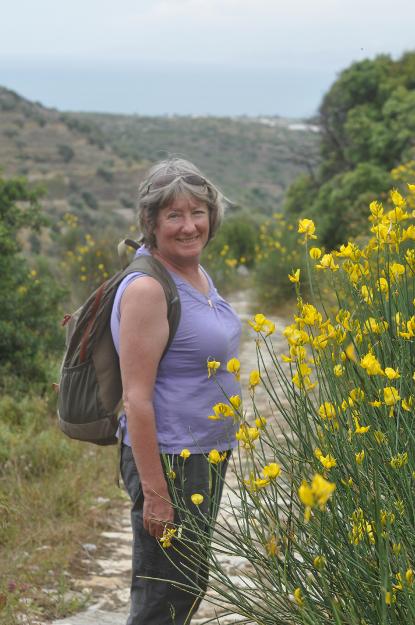 A vegetable meze plate to share and for me grilled octopus.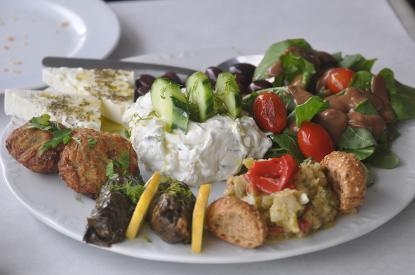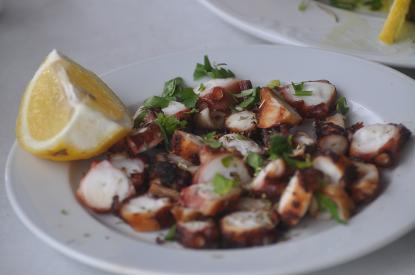 Enjoying a light meal in Piso Livadi, actually inside due to the rain but still with a pretty awesome view of the harbour.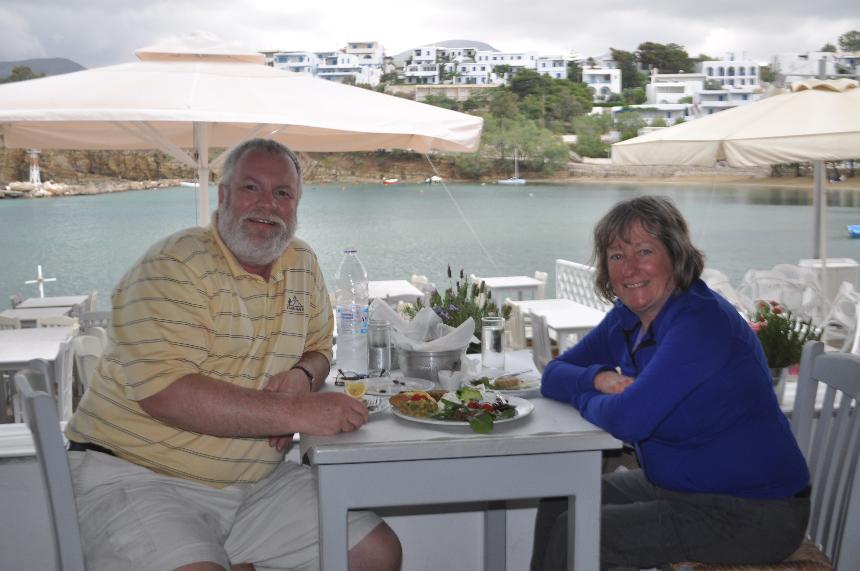 As mentioned the weather has been somewhat unsettled the past couple of days with considerable thunder and lightening, and here a rainbow.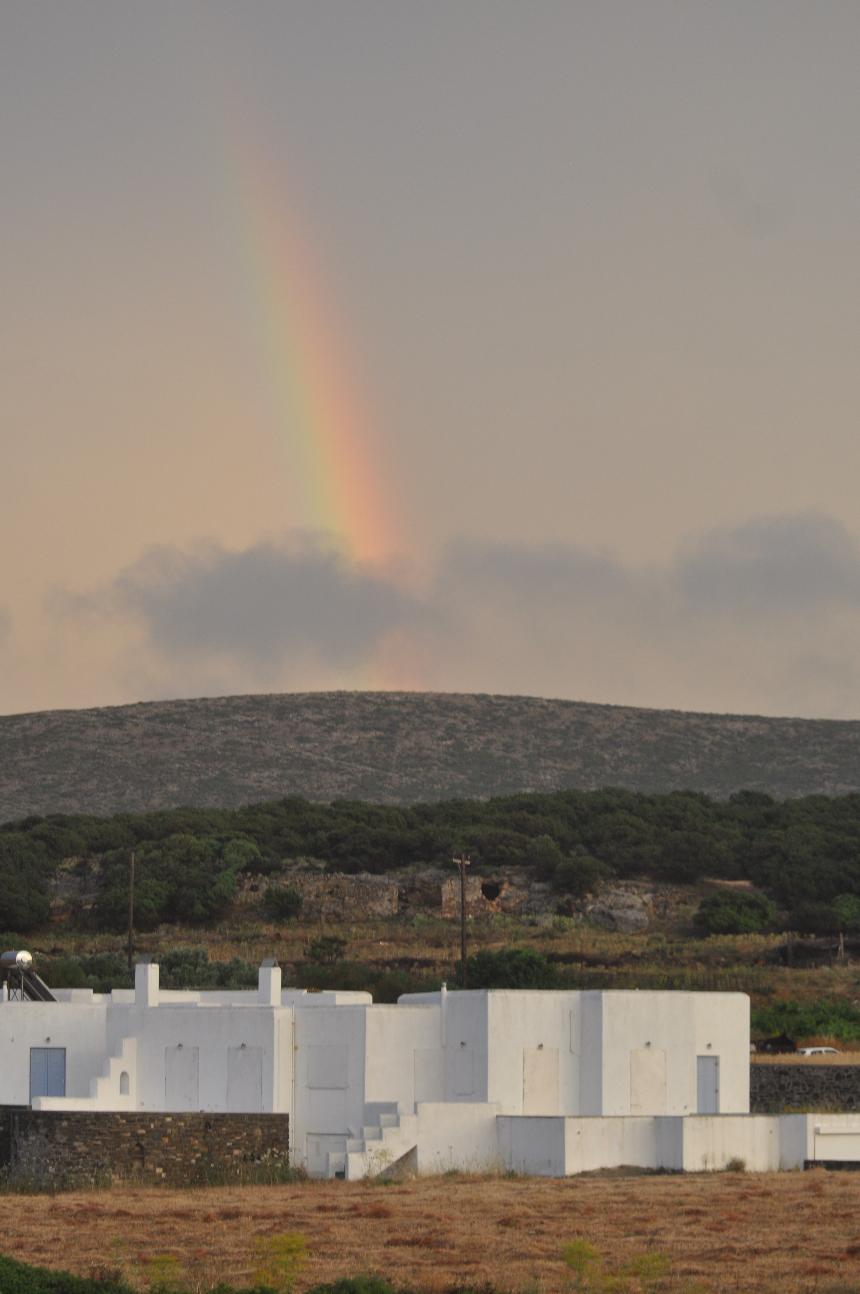 May 27 - around the island of Paros

Our rental car was delivered to us late this morning after which we started our drive around the island. It is a 55 km direct drive, 75 with short detours to fishing villages etc. We went clockwise starting from Naoussa in the north with our first stop being Prodomos, a picturesque small village built in the traditional Cycladic way, full of whitewashed cube houses, tiny white chapels and beautiful churches, all making for some nice photo opportunities. Trying to experience the slower pace of Greek life before leaving we stopped at a taverna and enjoyed a glass of fresh orange and lemon juice.

We then continued on to the fishing village of Pisso Livadi recommended by Eva here at the hotel. It indeed was a nice place, with a sandy beach and numerous restaurants / tavernas lining the harbour. We then drove down the coast until we reached Lolantonis beach where we stopped for a swim in the Aegean sea and a nap under the sun on the beach. The drive around the south-east corner of the island was quite scenic, eventually taking us to another small fishing village - Aliki. Known for its fish taverns Aliki is apparently teaming with tourists in the summer, but this time of the year was very quiet - a few fishermen and and the odd person in the tavernas. With the afternoon sun shining on us we stopped for drinks at one of the harbourside tavernas - retsina for me and for Gayle an ouzo, although the server tried to talk her into a stronger souma, a traditional drink made from figs. Likely a good choice to stick with the ouzo.

Continuing on our way we reached Pounta, from where the ferry leaves for the five minute crossing to Antiparos - a small island just off Paros. At the ferry dock is a restaurant highly recommended to us - not a fish restaurant, somewhat surprising given it was a stone's throw from the water - but a Turkish themed meat focused restaurant. We enjoyed a wonderful meal starting with roasted mushrooms with fresh butter, garlic and cheese, then spinach saganaki, with melted cheese - both perfect for Gayle ... and I enjoyed them too. I then had a spicy (very spicy) grilled sausage. I was warned and right they were - but very tasty. Gayle then had an Imam Bayildi, a dish of whole braised eggplant stuffed with onion, garlic and tomatoes, simmered in olive oil and served at room temperature, while I had Oea's signature dish - a mouth-watering Cappadocian lamb with dried apricots. Some of the most tender lamb I've ever had. For dessert we shared something called Eck-mek. When we asked what it was all we were told was that it was a "government secret". Being adventurous we ordered one. It was very sweet in part due to being soaked in honey. Covered with ice-cream it was really quite nice.

Another really great day, driving around a still rural island, i.e. no sense of any over-development, and taking time to enjoy a few drinks, a nice swim and a great dinner.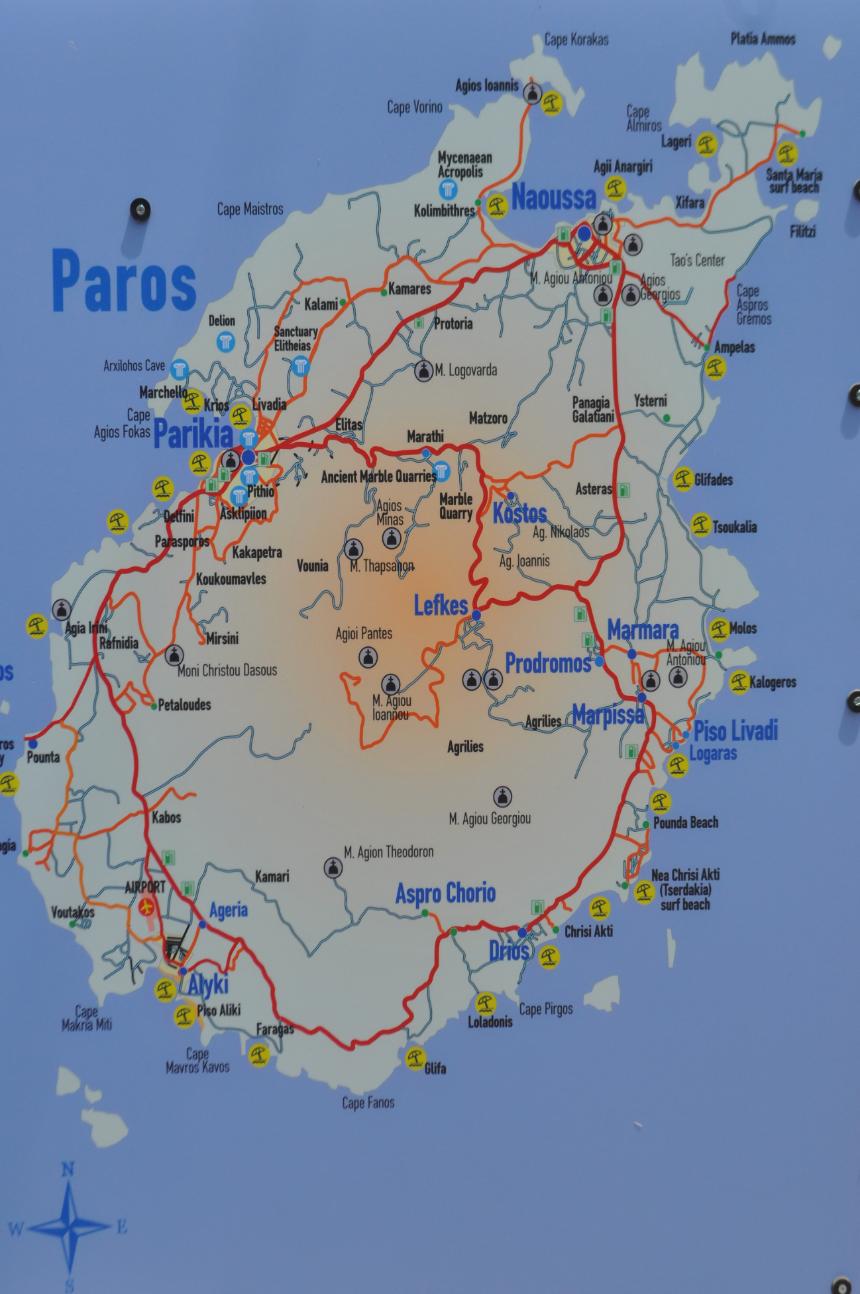 A typical Greek church in the village off Prodromos.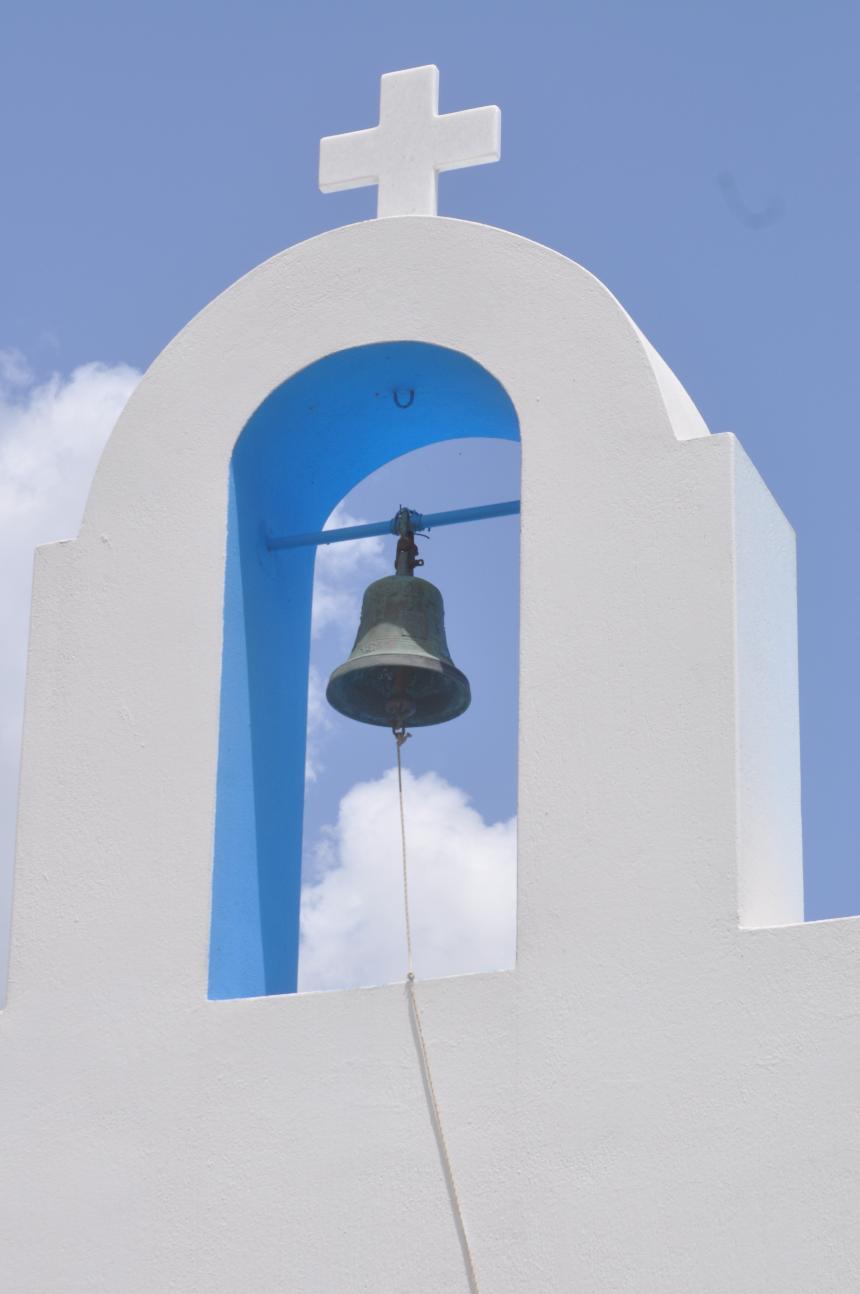 .... and another church attractively set off by the bougainvillea.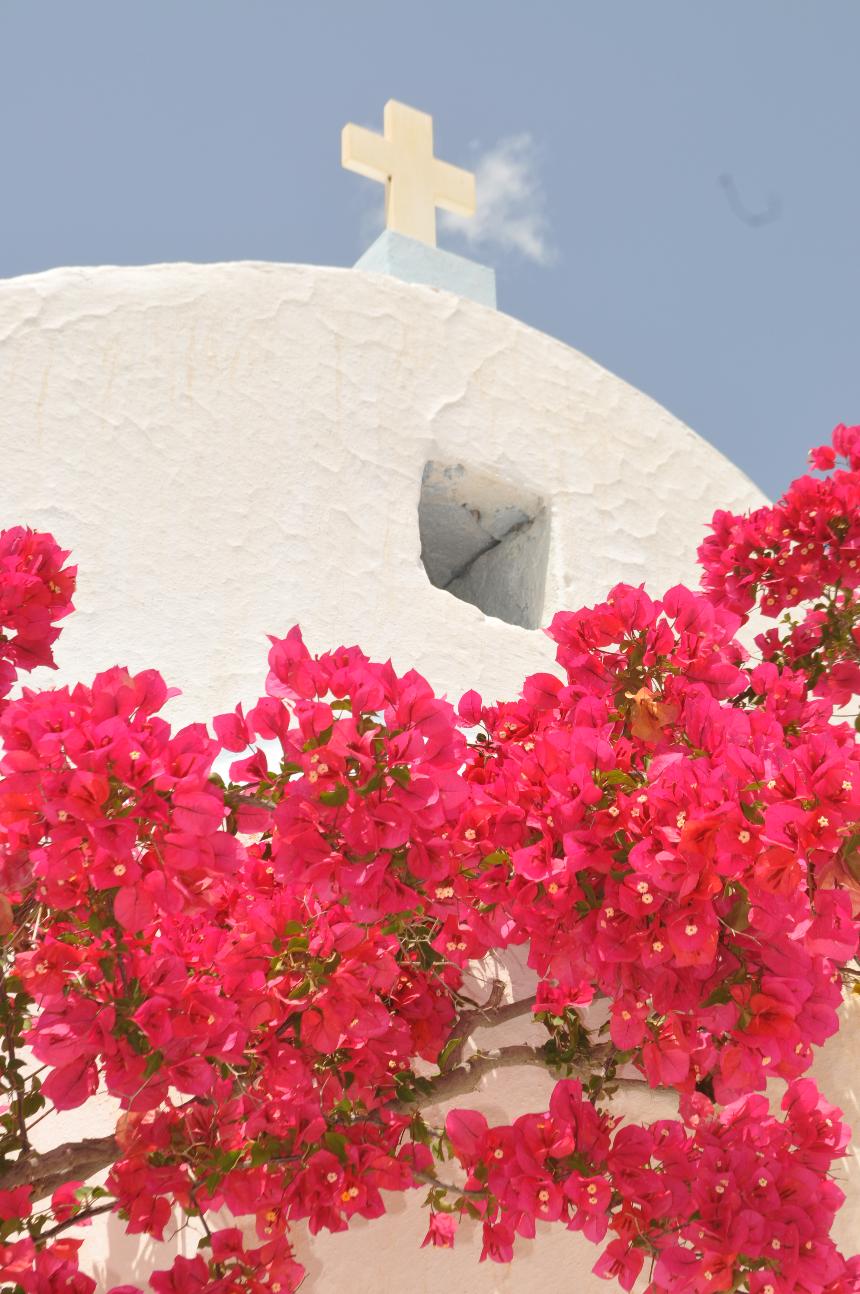 Before leaving Prodromos we stopped for drinks - fresh squeezed lemon and orange juice - only 2 euros each.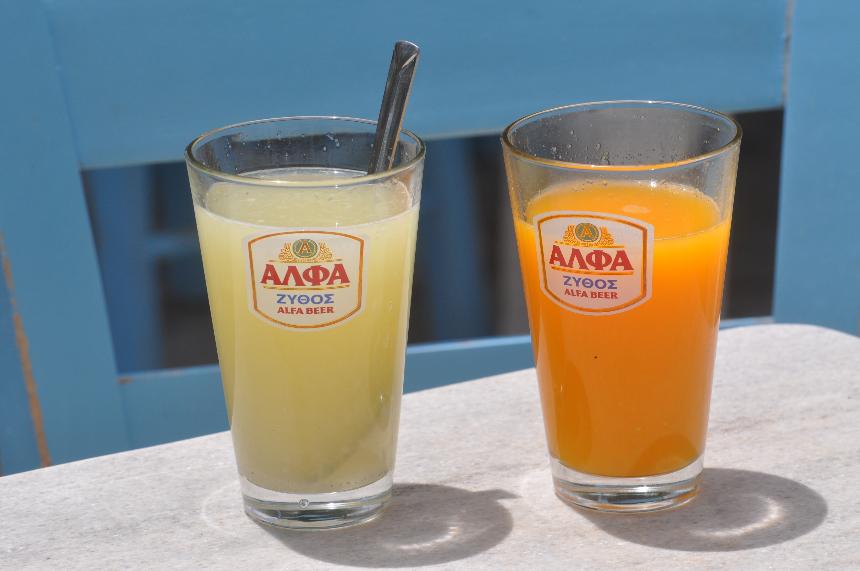 The options for food are many - these are only the highlights, Menus are extensive.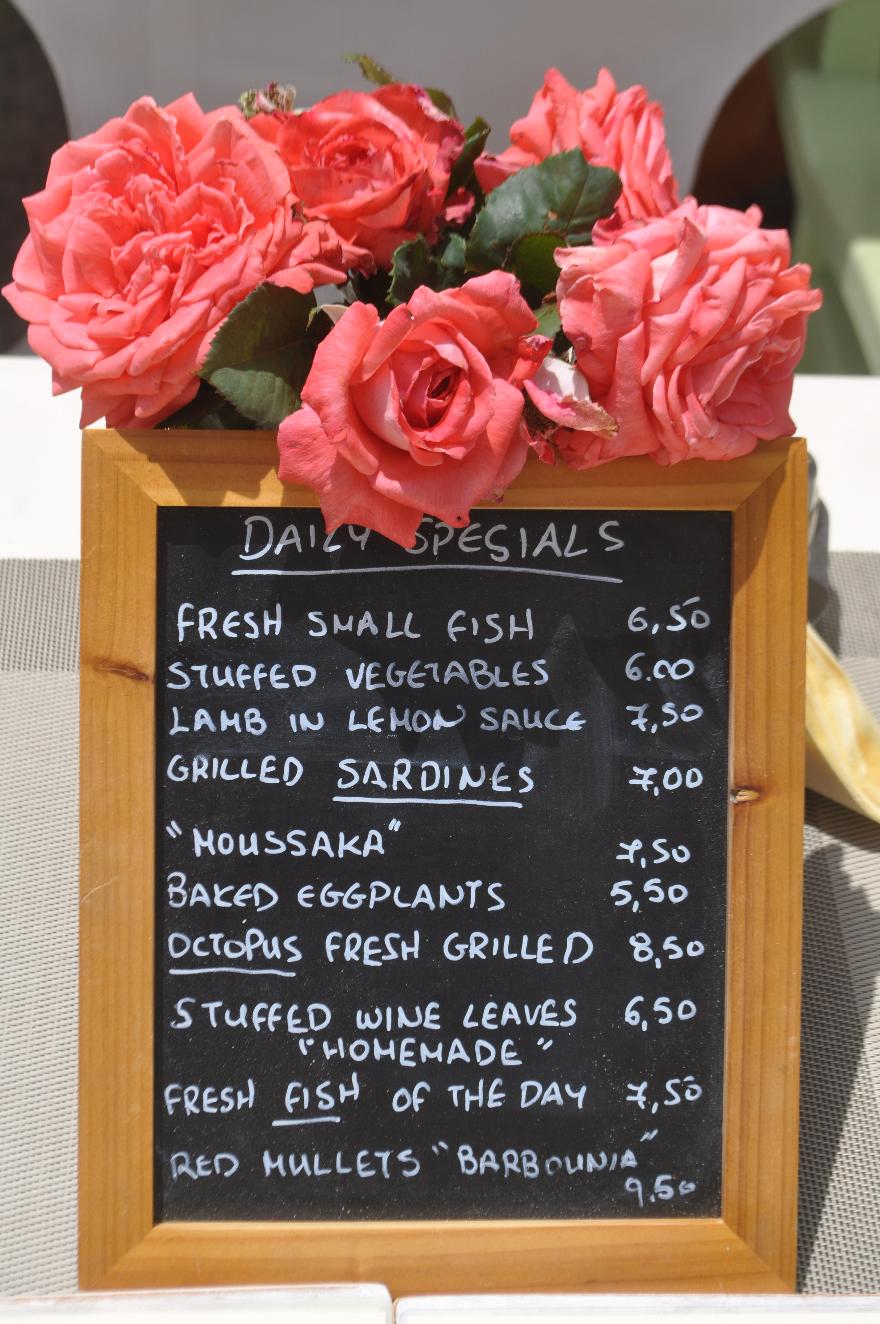 Lolantonis beach where we stopped for a swim in the Aegean.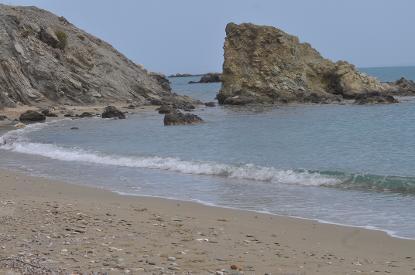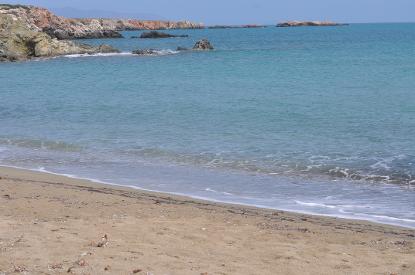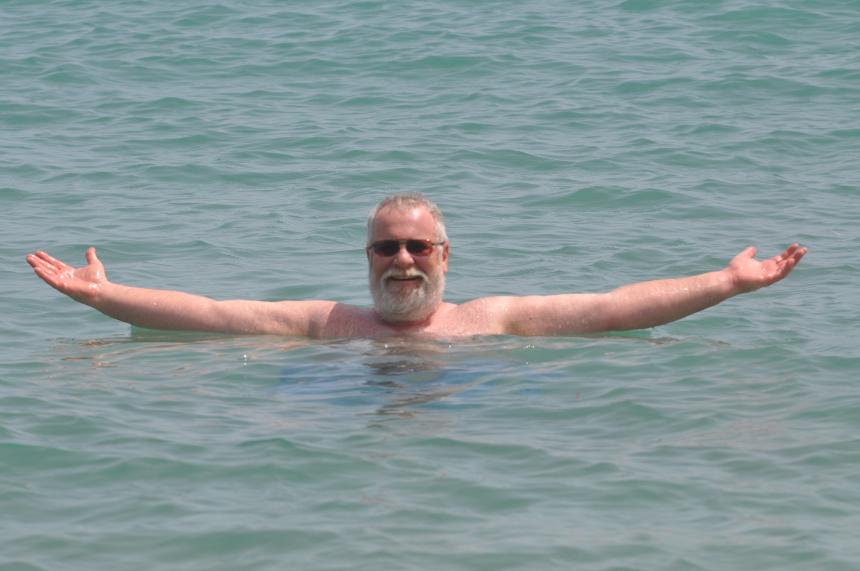 Octopus drying in the fishing village of Aliki.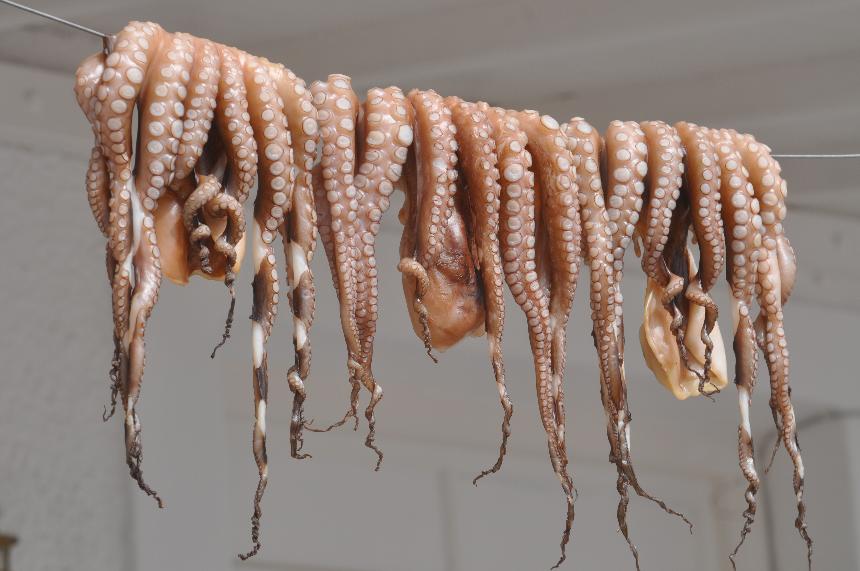 The fishing village of Aliki where we stopped for drinks on the edge of the harbour - Retsina for me and an ouzo (although she passed on the extra strong local ouzo) for Gayle.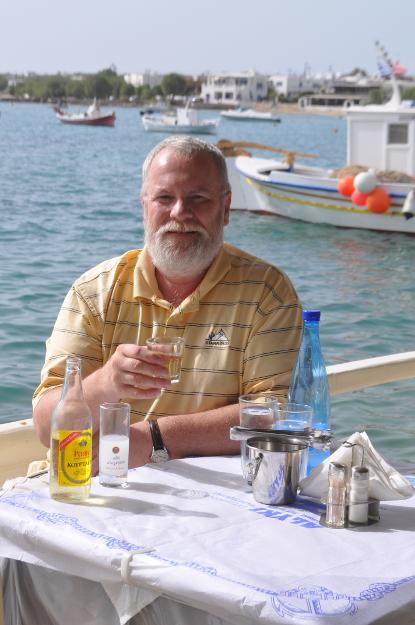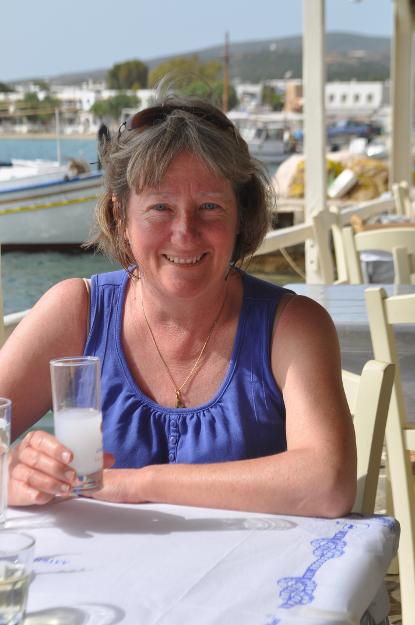 Oea restaurant, overlooking a small harbour of fishing boats with the island of Antiparos further out, where we enjoyed a very good meal.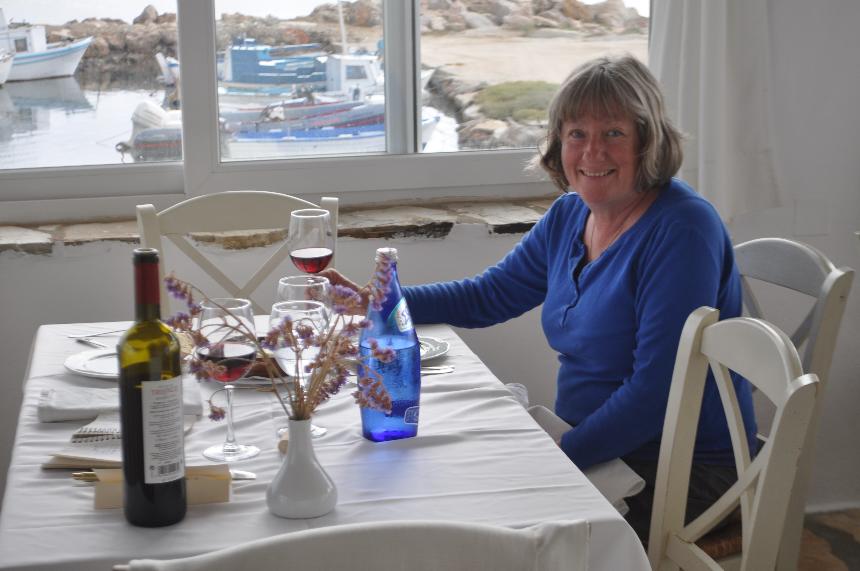 Spinach saganaki with melted cheese, served with wonderful rustic bread.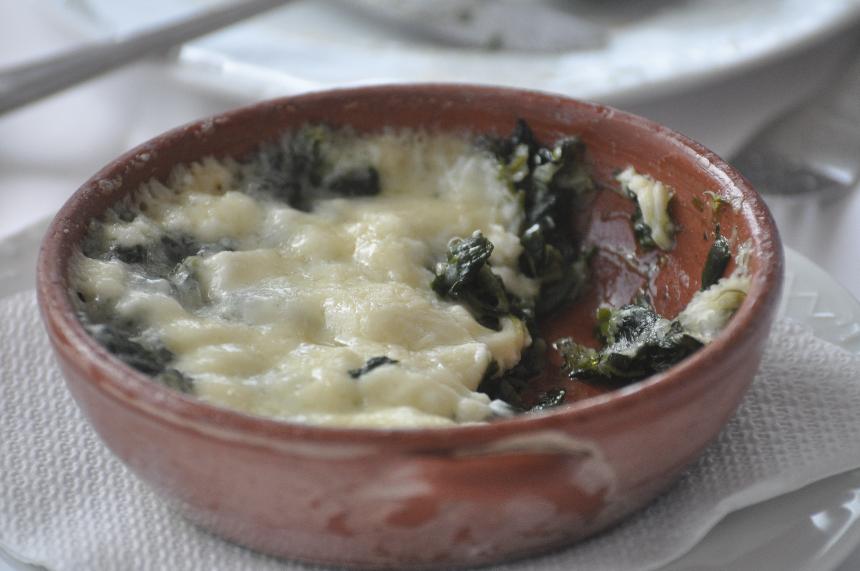 May 26 - Naoussa, Paros

After a good long sleep we wandered down to breakfast - served from a very civilized 9:00 to 11:30, we were of course towards the tail end. Included was fresh cheese, cheese pastries, egg salad, cake, almond cookies, fruit, meats and cheese, a wide selection of bread including a delicious sweet brioche and of course Greek yoghurt with accompanying hibiscus flowers, gobi berries, seeds and cranberries. No one left hungry.

After breakfast Clea drove us in to Naoussa where we rented a car for tomorrow and Thursday. We then wandered through the town, a place that no doubts gets swarmed in the summer based on the number of rooms to let and tables at the numerous restaurants and tavernas, especially on the waterfront where fishing boats were lined up one after the other, some taking on ice and some with fishermen repairing nets. Of course fresh fish is the main on every menu.

We (well I) bought a bottle of retsina for a whopping 3 euros (a nice accompanying drink while working on this blog) after which we went to a bakery and bought two cakes - a Karidopita or walnut cake as well as an orange cake, both soaked in honey ... delicious. We then walked the two kms back to Petres and immediately jumped into the pool for a short swim to cool off.

Late afternoon the skies began to darken and by early evening there was thunder and lightening. Shortly after walking down to dinner the skies opened up, actually first with noticeable hail pellets. It was quite the show with the lightening lightening up the otherwise dark sky and the hail bouncing off the roof. Having had the cakes in the afternoon we weren't overly hungry. Gayle had the aubergine dip again and a Greek salad of tomato, cucumber, onion, olives, capers and feta dressed with olive oil, vinegar and garnished with freshly ground oregano while I the tomato salad - simply tomatoes and olives swimming in olive oil, as well garnished with fresh ground oregano. Tonight we had the white wine which we actually like somewhat more than the red.

All in all a pretty simple and quiet day, but a very enjoyable day just the same.



Among the many other wonderful offerings for breakfast was, you guessed it - Greek yoghurt, served with hibiscus flowers, gobi berries, cranberries and quince marmalade, and of course honey.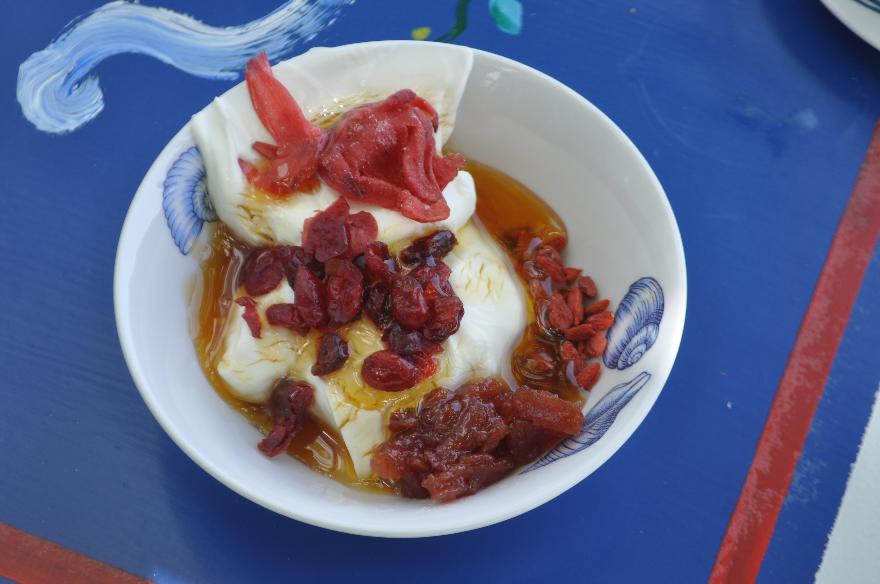 Hotel Petres - first the prolific jasmine hanging from the pergola with its powerful aroma, instantaneously reminding us of the first time we encountered jasmine on the island of Samos 35 years ago and some of the comfortable pool furniture.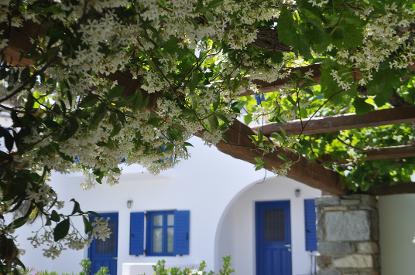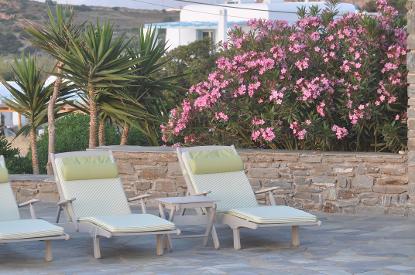 For all you gardeners - some pretty flower pots set off nicely by the blue sky.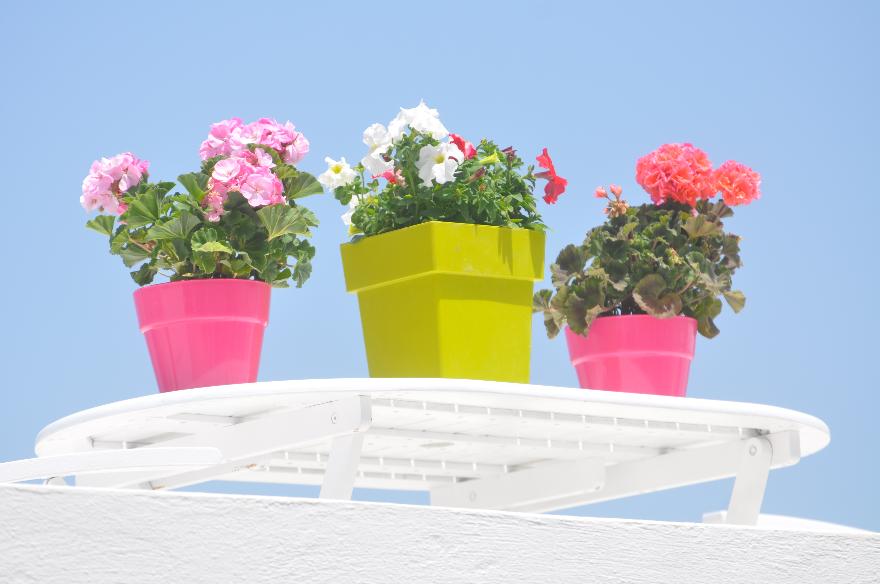 This elderly couple were very accommodating in allowing me to take their photo.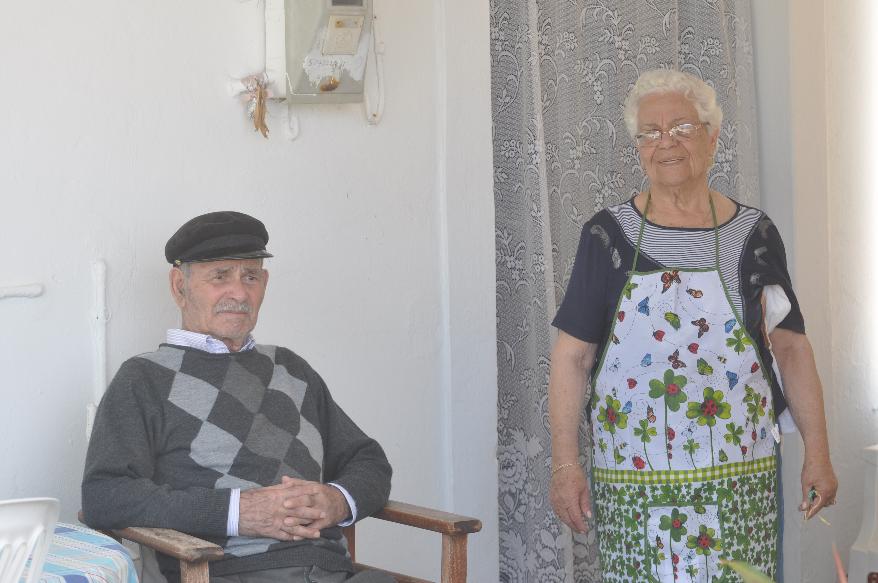 We are told Paros (and Naoussa) are packed with people in the summer, August in particular. Based on the number of rooms to let, as seen here, and the number of tables at the many restaurants and tavernas by the harbour there is no doubt this is the case. Nice to be here off-season.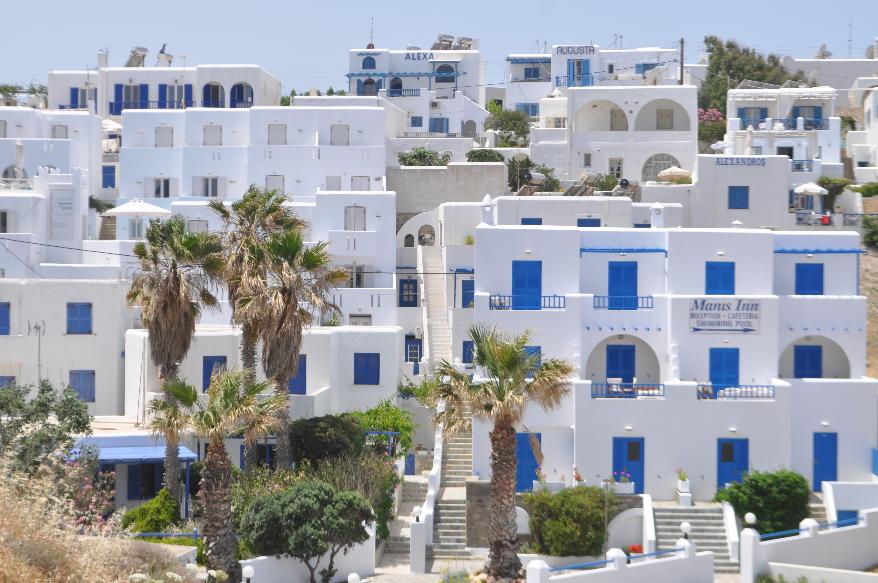 A traditional Greek church in the town of Naoussa.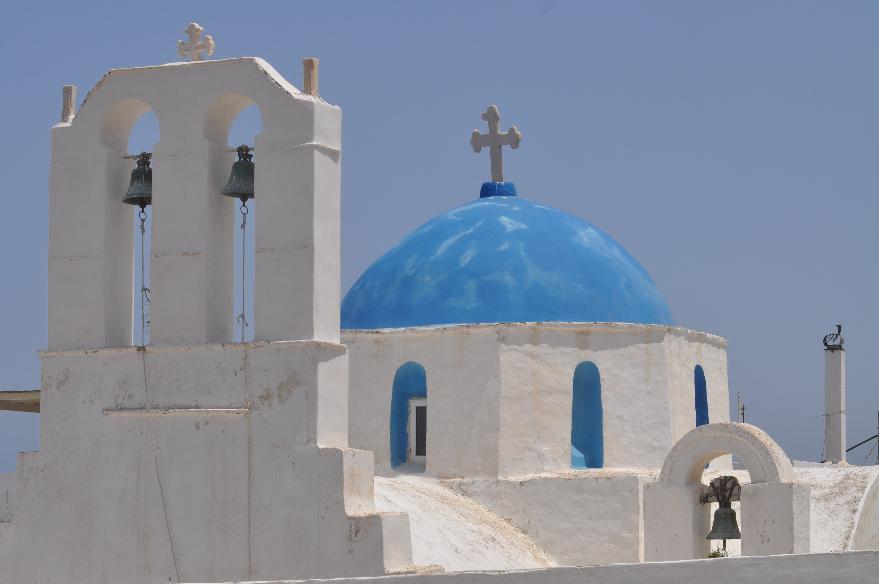 In Naoussa harbour a fisherman mending his nets.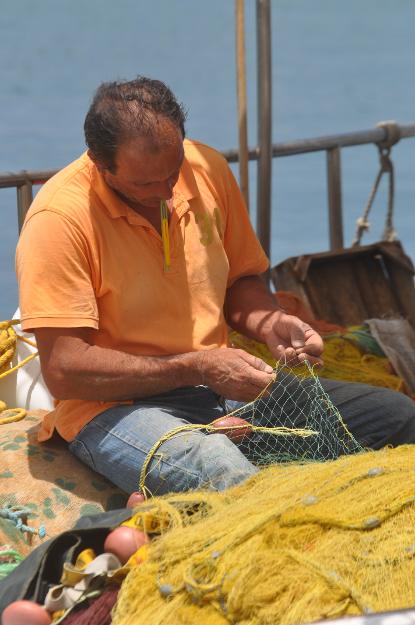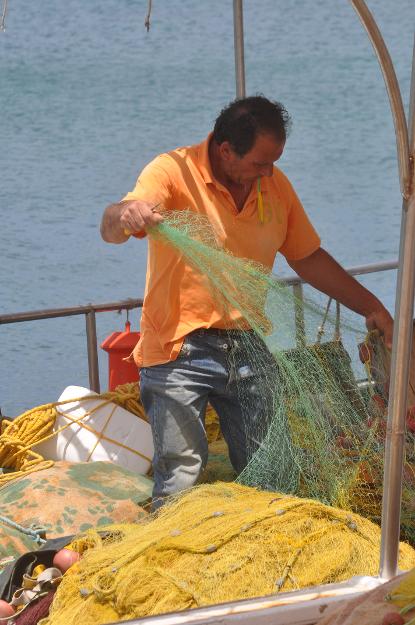 While walking the roads of Paros one must be prepared for all kinds of traffic.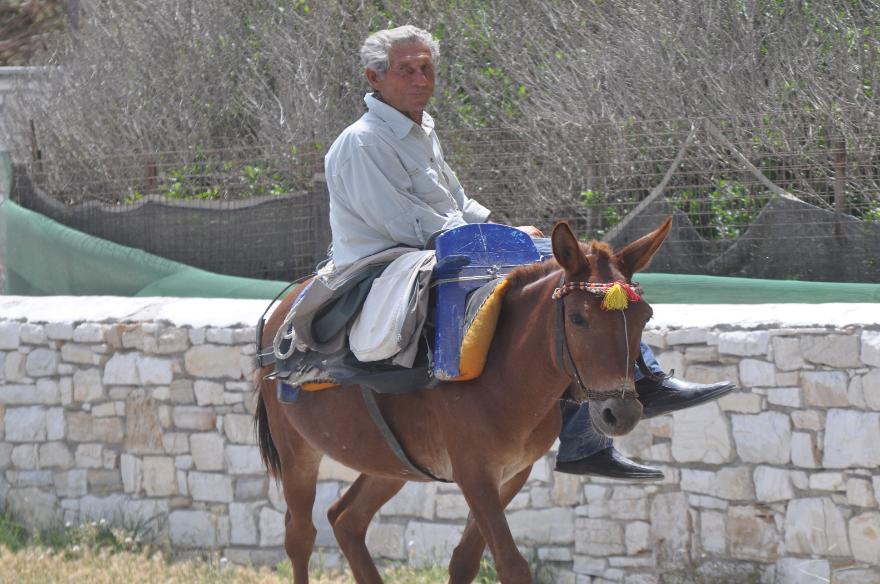 Dinner consisted of the tastiest salads - a Greek salad for Gayle and the tomatoes were so good last night I had a tomato salad - essentially tomatoes, olives and oil flavoured with fresh oregano.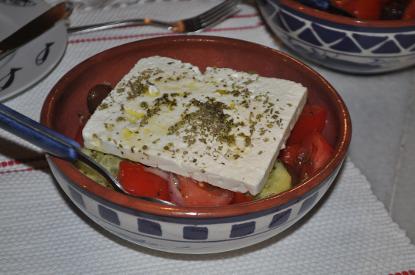 May 24 / 25 - Halifax to Toronto to Athens to Naoussa, Paros

A long day of travel, first from Halifax to Toronto in order to take the direct flight to Athens. Unfortunately we were a half hour late to make the connection to the morning flight to Paros, our first island and as a result had a six hour stay in the Athens airport - not real exciting - before the afternoon flight. The flight from Athens to Paros is only 35 minutes with us arriving at 4:10 pm..

The airport is on the south of the island but Clea was waiting for us to drive us the 25 km to Hotel Petres on the north, near the town of Naoussa. The drive was most interesting as Clea proudly told us of the island, its sights and history, essentially a mini tour. We arrived to Hotel Petres a very nice 16 room establishment where Sotiris checked us in and showed us to our room on the second floor with a nice balcony providing a great view across a wheat field to the Bay of Naoussa.

After a welcome drink and a detailed explanation by Clea of every place to visit and thing to see on the island it was pretty much time for dinner. Having had very little to eat since leaving Halifax we were hungry. Although not a full restaurant the hotel serves a number of starters and salads along with one dish of the day. Today that was a (large) steak and for Gayle a plate of rice with local okra. We had a couple of dips (one spicy feta and the other aubergine with almonds) and then a BBQ aubergine salad and a saganaki with feta cheese, tomato and pepper. The flavour of the aubergine / eggplant and tomatoes are so much better than what we experience back home that even I may come to like aubergine.

For the quantity and quality of food 44 euros was a very reasonable price - a glass of wine was 3 euros, a dip 4 euros, the appetizers 8 and 8.5 and the main dishes amazingly inexpensive at only 9 euros for the steak and 7.50 for Gayle's rice and okra.

Our first impression is that Paros is a tranquil rural island, certainly not built up. We look forward to a few relaxing days here, but after dinner we were of course very tired and crashed quickly.


The view from our balcony to the Bay of Naoussa and the north of the Island of Paros.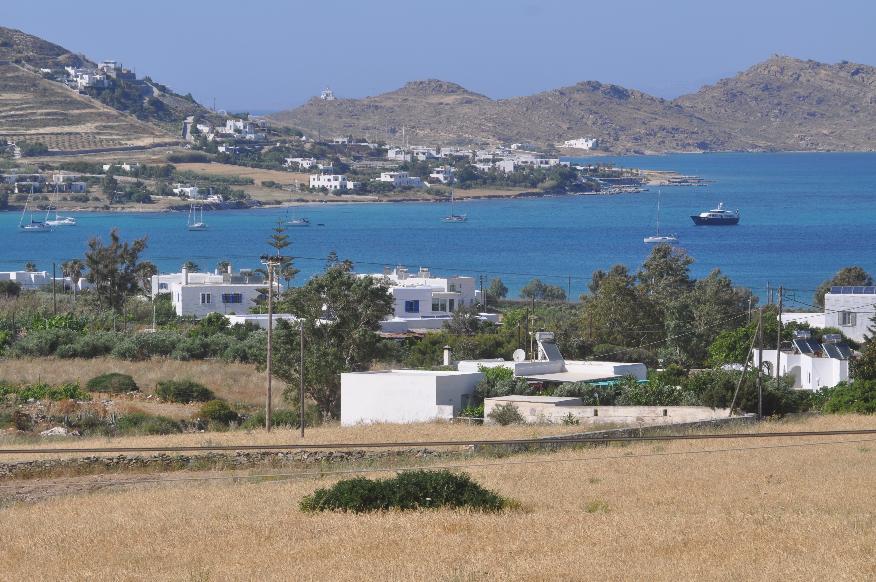 Stairs leading up to our room.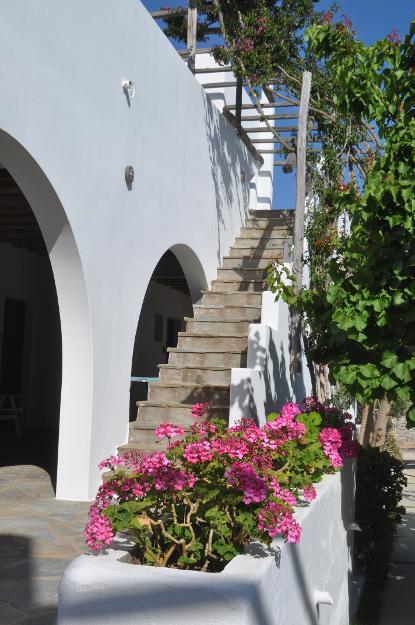 A welcome drink. Surprisingly the hotel does not have retsina - the Greek pine resinated wine although the Greek beer Mythos made for a good second choice.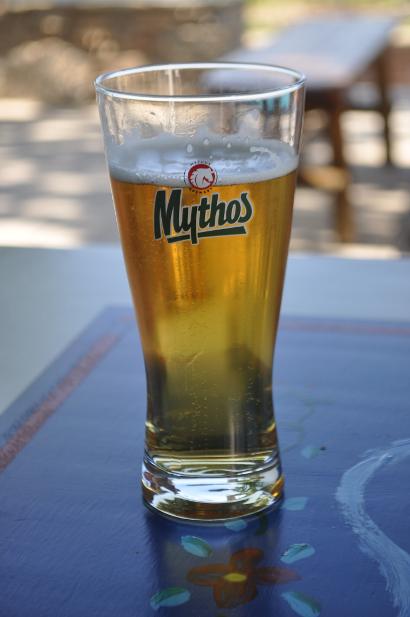 Hotel Petres pool overlooking Naoussa bay.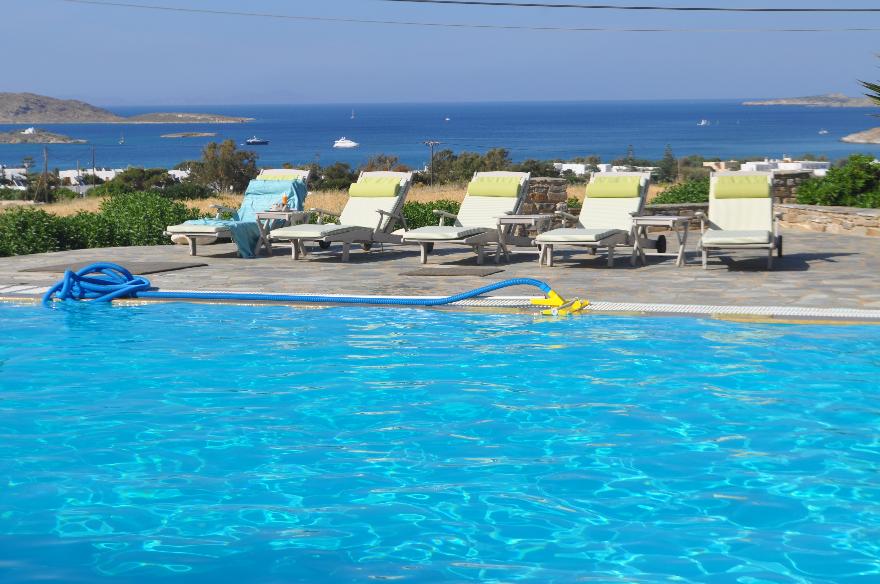 Grape vines overhanging the outdoor dining area.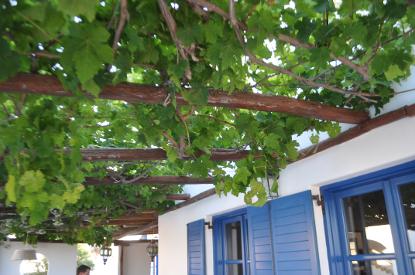 Plates attractively adorning the wall.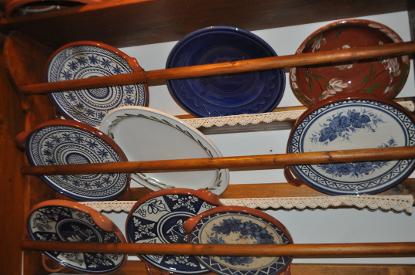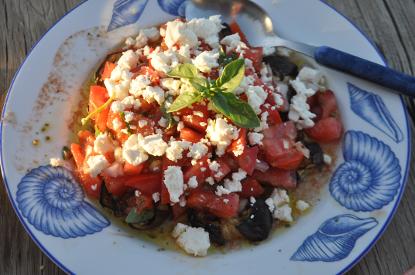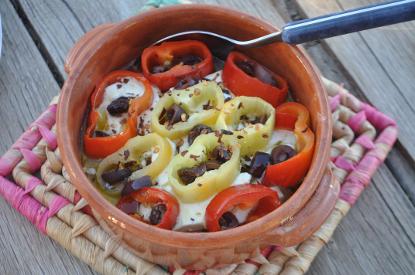 We ate dinner at Hotel Petres - to start of course olives and oil to accompany a spicy feta dip and an aubergine caviar made with almonds - Gayle just loved it. Above left we have an eggplant salad of barbequed aubergine, tomato, feta, and onion dressed with garlic and olive oil, and right a saganaki with feta cheese, tomato and a trio of peppers. Being very hungry as we hadn't eaten all day Gayle had the rice and okra main dish while I a very good steak, also served with okra. All accompanied by a couple of glasses of Greek red wine - ok but a bit rough around the edges. We left dinner very happy ... and full.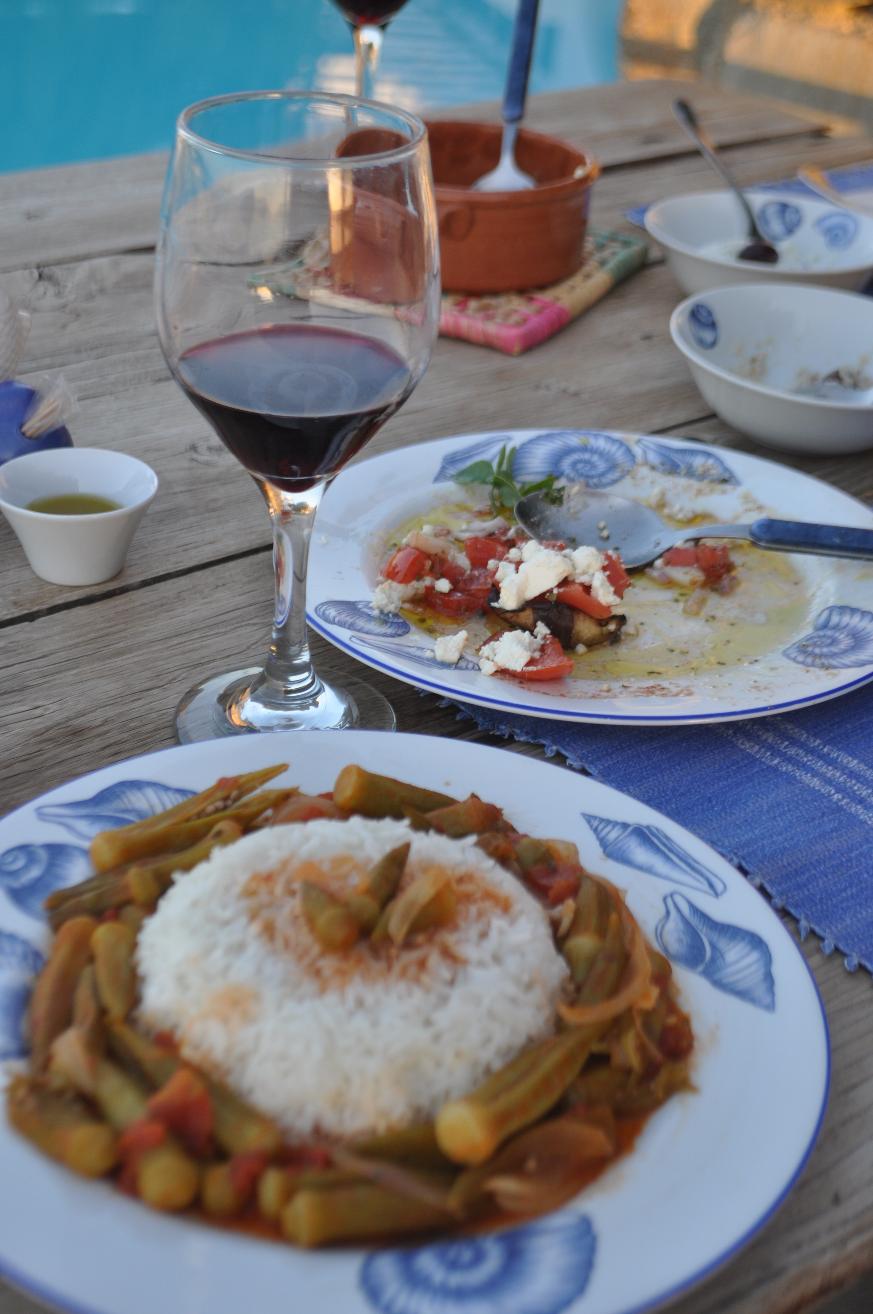 On May 24th we will be off to Greece, to the islands of Paros, Koufonissi (timed to attend the annual Fisherman's Festival), Amorgos and Crete, returning June 18th.
It is again my intention to maintain this blog.
Hopefully the fiscal / debt struggles Greece is experiencing will not disrupt our travels but we will have to see how it goes.
To get you (and us) in the mood here are a few photos from our previous (2010) trip to Greece.