As some of you may know I was chosen in the Masters ticket draw for the opportunity to purchase two tickets to the Tuesday (April 8th) practice round. Some of you may also note that April 8, 2014 is my 60th birthday. So yes the stars appear to have aligned - not only for me but Gayle did not have to agonize over a birthday gift.
While the Masters is the focus of the trip we are taking two plus weeks - the first to travel the coast of South Carolina and Georgia and the second to spend some time in the Great Smokey Mountains of North Carolina and Tennessee.
________________________________________________________________________________________________________________________________________________e
April 17, 2014 - Chester, South Carolina => home

Although there was not a weak breakfast the entire trip, this mornings was perhaps the best with a tasty baked plum accompanied by yoghurt, a good size quiche with tomatoes and delicious roasted potatoes, toast and an apple turnover. After a nice chat with Mark - originally from Manchester, England but now operating a B&B ins Chester, South Carolina - we left for an easy one hour drive to the Charlotte airport where our first flight took us to Toronto, from where we then connected on to Halifax.
The Inn on York Street, through the front gate and massive lawn.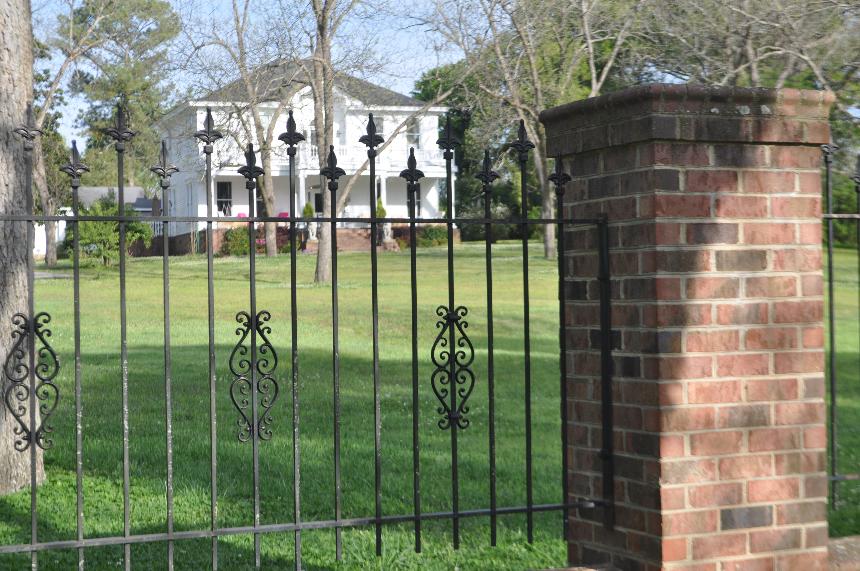 A warm baked spiced plum accompanied with yoghurt. It may not look the best but it was original and delicious.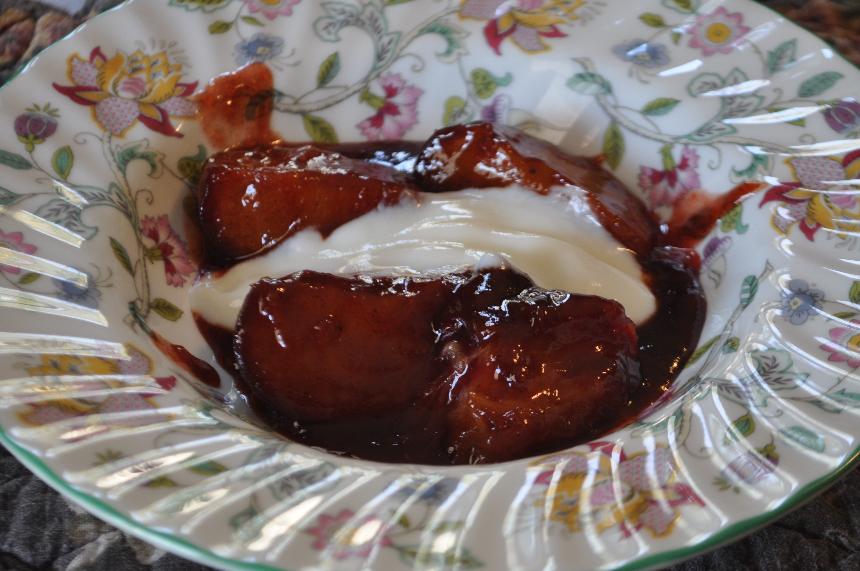 Breakfast at the Inn on York Street.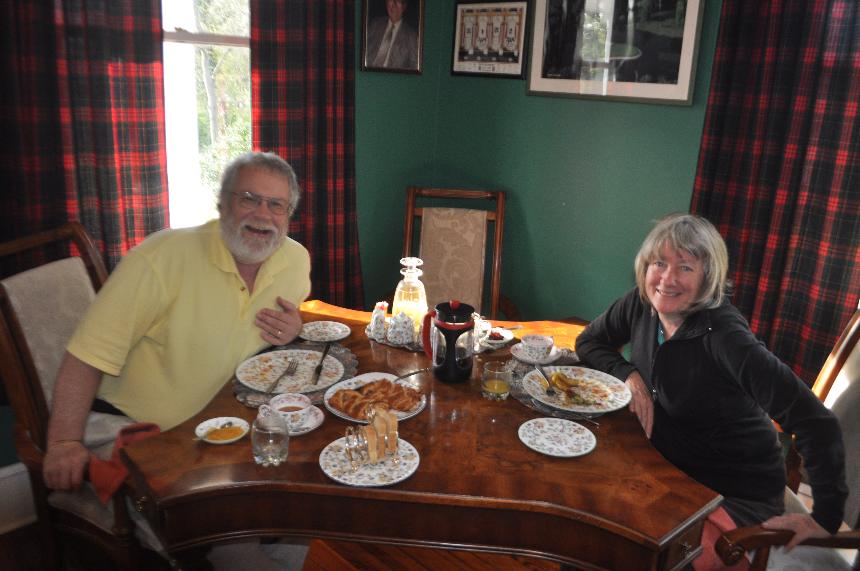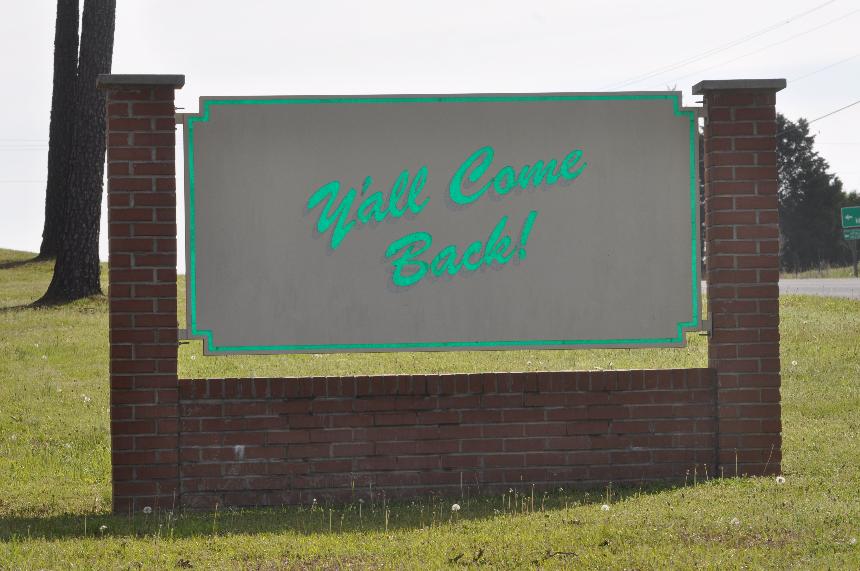 April 16, 2014 - Waynesville, North Carolina to Chester, South Carolina

Being a long driving day, after enjoying another wonderful breakfast - see the creative fruit and yoghurt plate - and a nice chat with a couple from New York who were looking for a retirement home in the area, sharing our Thai elephant photos and video with a young girl working at the B&B and a final sharing of experiences with Mark the owner we were off. Although above freezing it was still cold, as evidenced by the icicles we saw along the roadside.
We rejoined the Blue Ridge Parkway at the same place we had exited the other day, driving another 40 or so miles to the south of Asheville. There we left the Parkway to head south, through North Carolina and on to South Carolina. We passed through some nice rolling farmland/countryside and then by a resort lake area. Afterwards it was a stretch of highway driving to make so time and then a final hour or so again through some nice South Carolina farm country, eventually reaching Chester, South Carolina and the Inn on York Street, another impressive home built in the late 1800s.
Dinner turned out to be quite interesting. There are not many places to eat in this small town and being in the mood for a simple pizza we tried Vinny's Italian a bit out of town. After some effort to find the place - located in a converted convenience store - this diner place was run by Vinny, originally from Sicily and his boisterous partner from New Jersey. They were a riot, so proud of their food and place. They must have been excited to have someone new show up as they provided a free appetizer, a free tiramisu, and then in great Italian tradition some homemade limoncelo. The food was perfect - simple but tasty Italian, with Vinny telling us about his time in the Italian military and then working on Disney cruise ships. Very different, and in many ways entertaining.
A creatively designed fruit cup for breakfast with three different flavours / colours of yoghurt.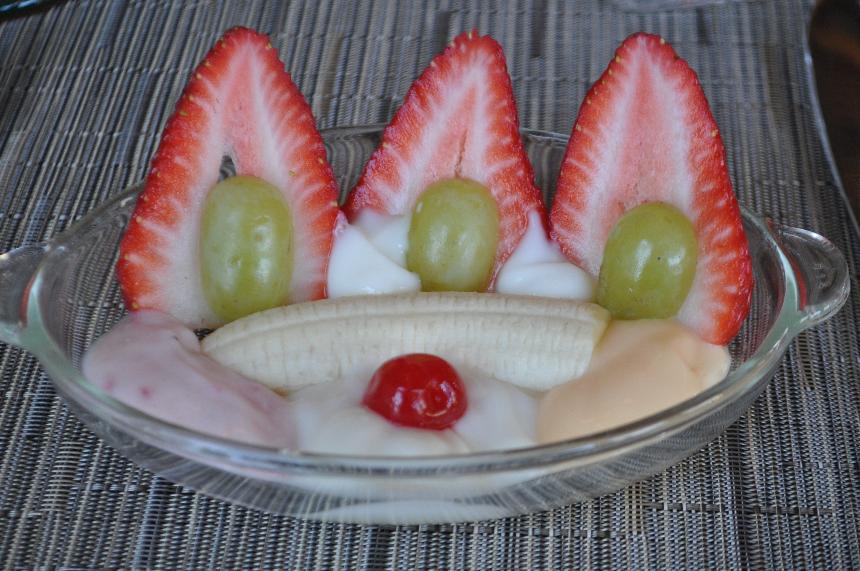 The carving of the wood on the bannister is identical to that of the famous Biltmore Hotel in nearby Asheville, North Carolina, built around the same time.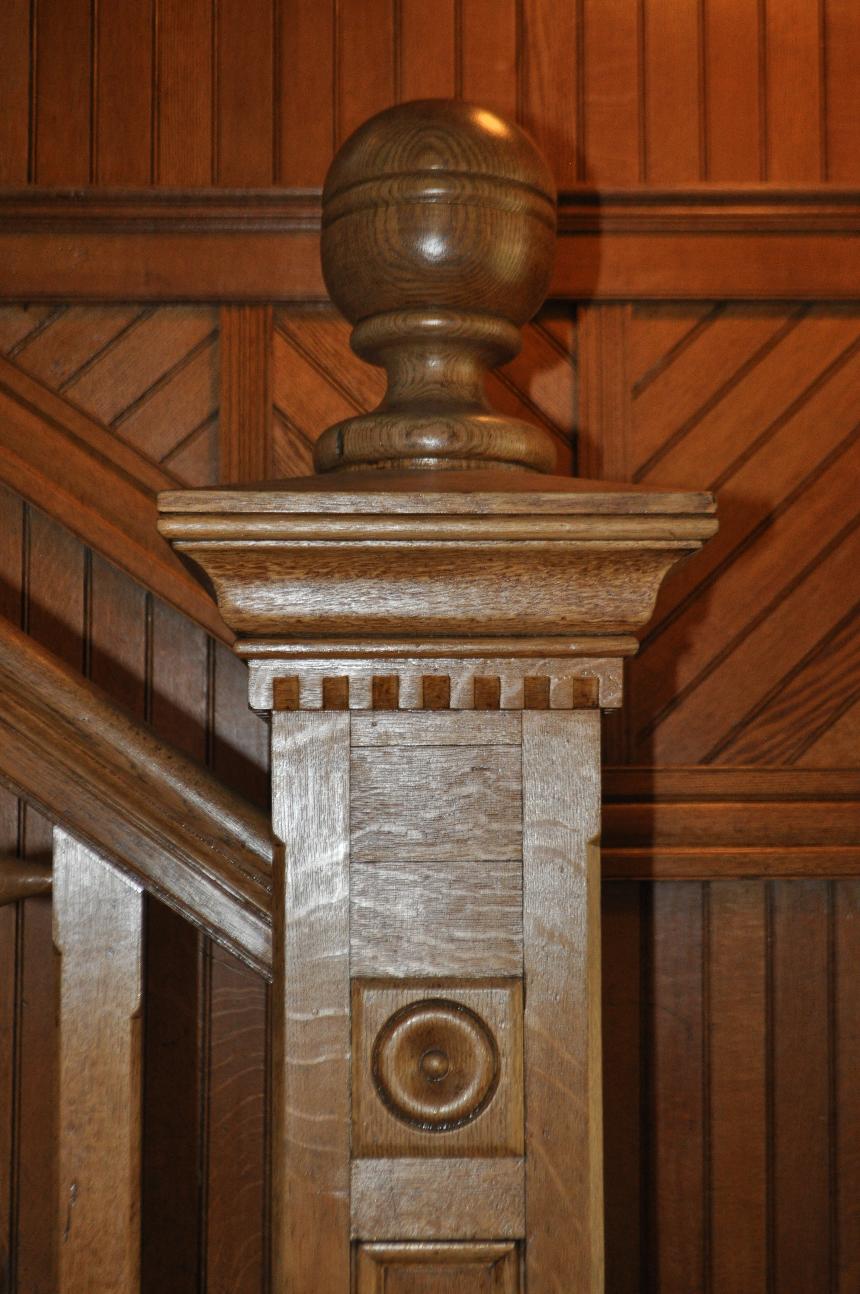 With the temperature having dropped to - 2 C during the night there were icicles along the highway.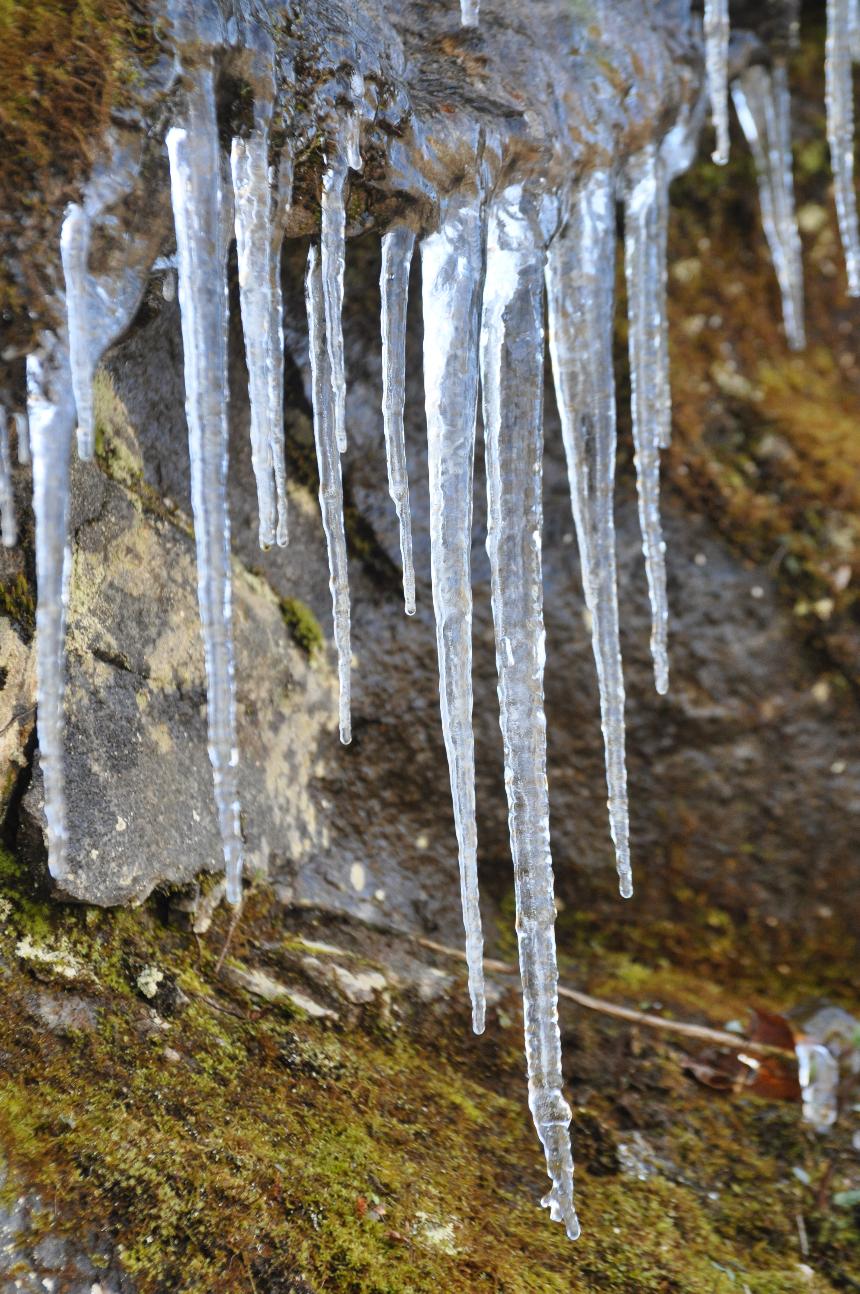 Ice crystals shimming in the morning sunlight.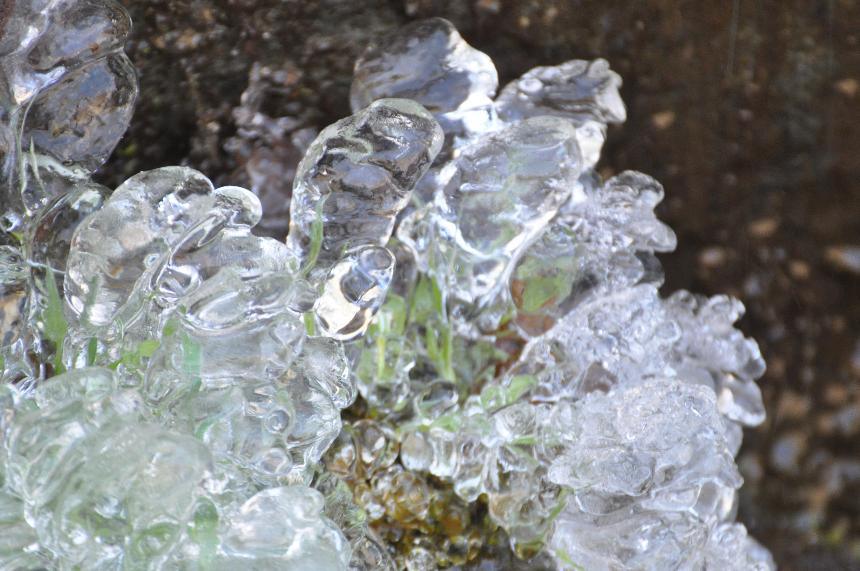 Along another stretch of the Blue Ridge Parkway on another day yet it looks much the same - the haze covering the mountains providing a smokey appearance.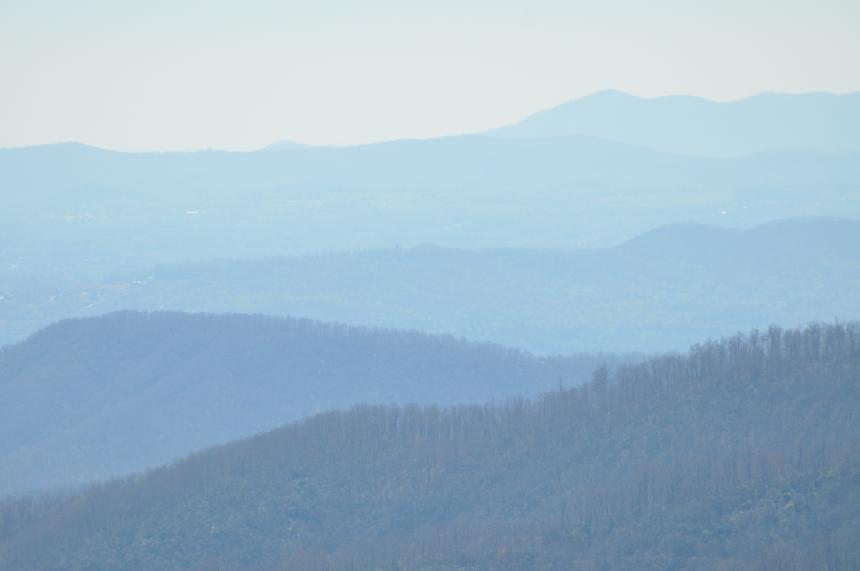 Dogwoods, both white and yellow and a Rosebud along the Blue Ridge Parkway.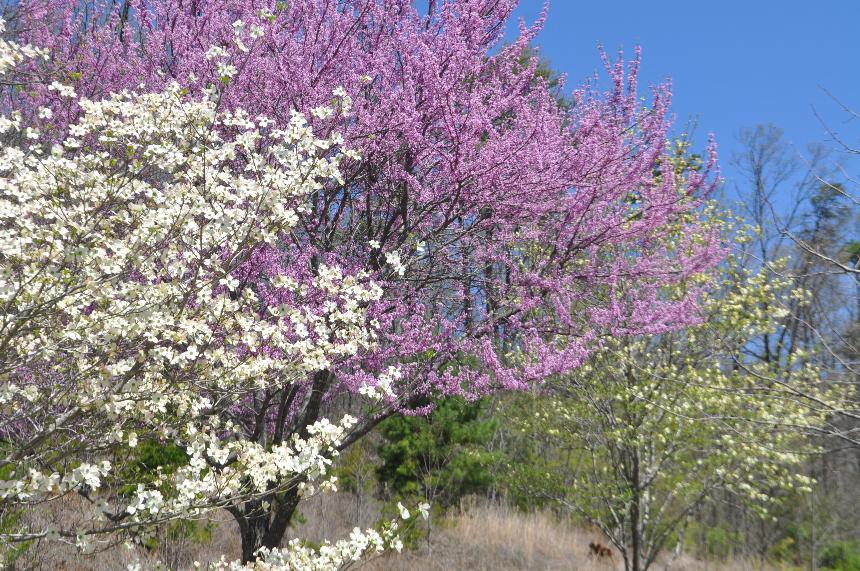 ... and a final photo of a Rosebud - adding considerable colour to the landscape.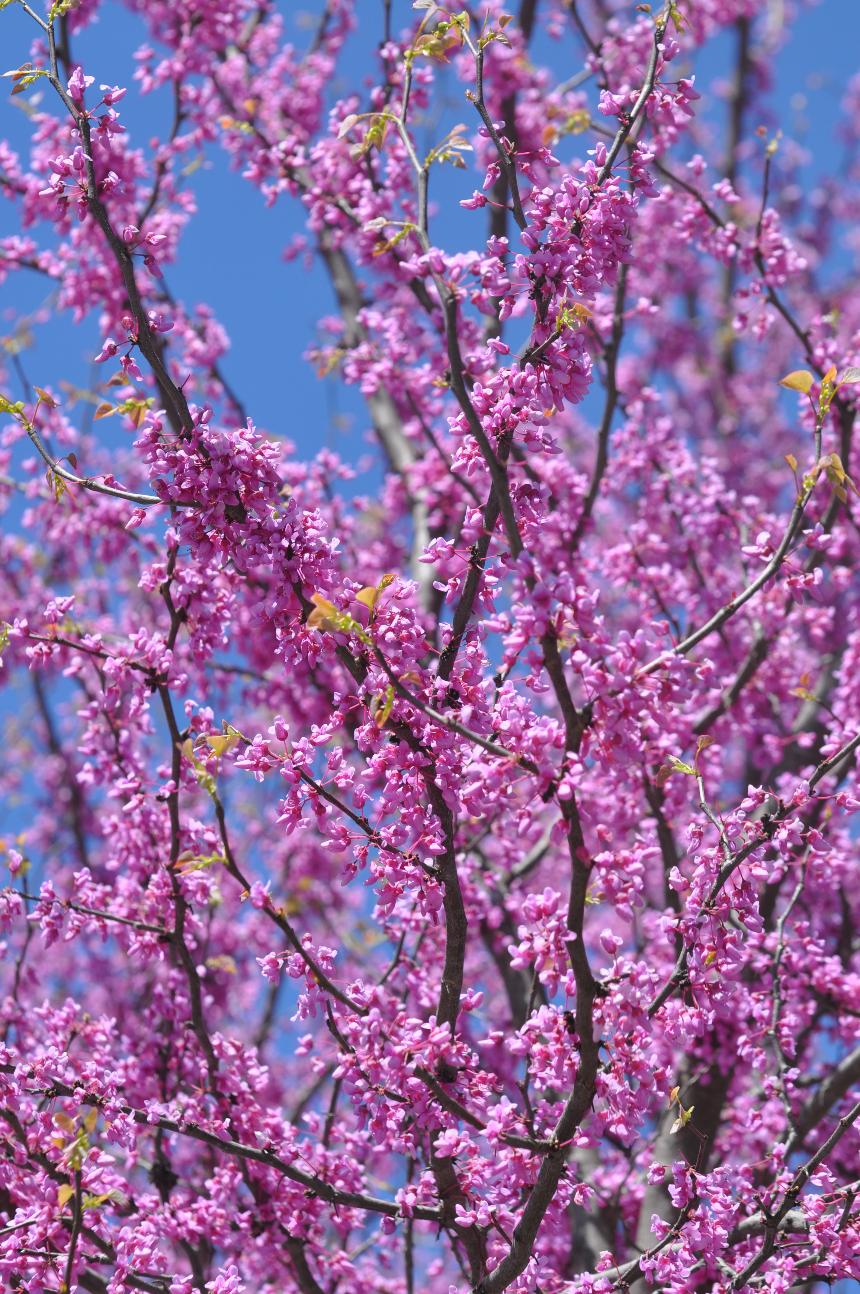 South Carolina folk art - some people don't have enough to do.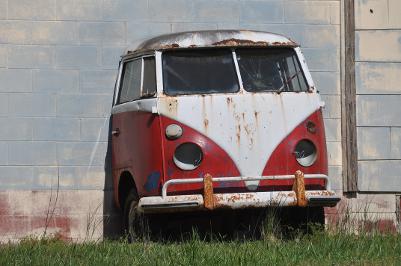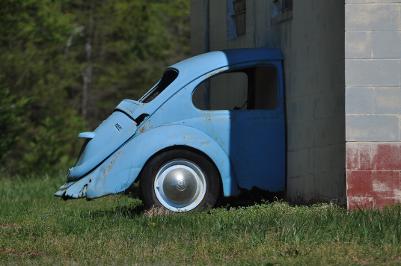 The Inn on York Street (on York Street of course) dating from 1876 in Chester, South Carolina.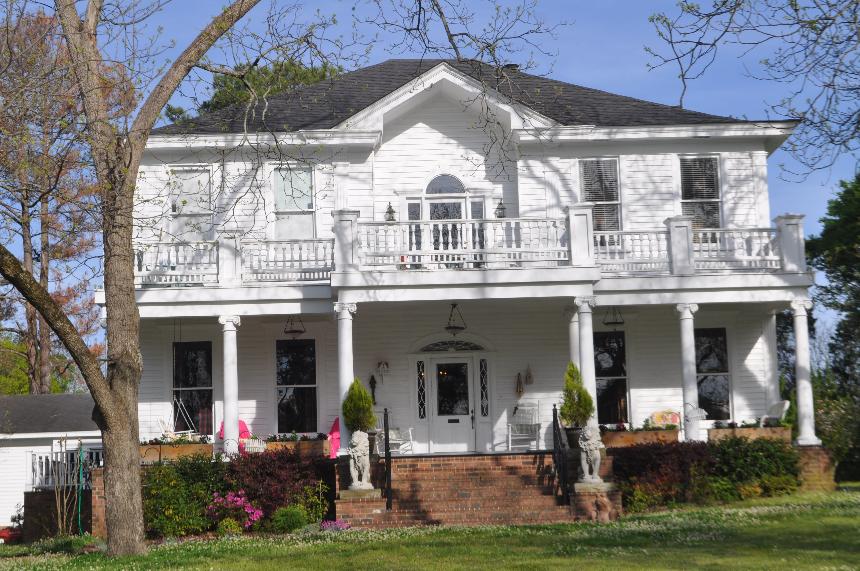 The beautiful foyer of the Inn.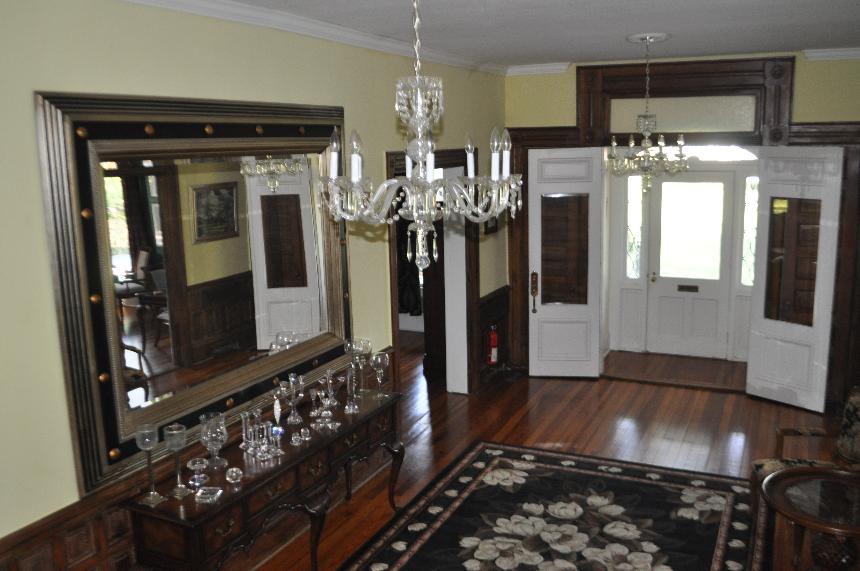 Straight from Sicily Vinny is a character, complete with his home made limoncelo - which actually is very good.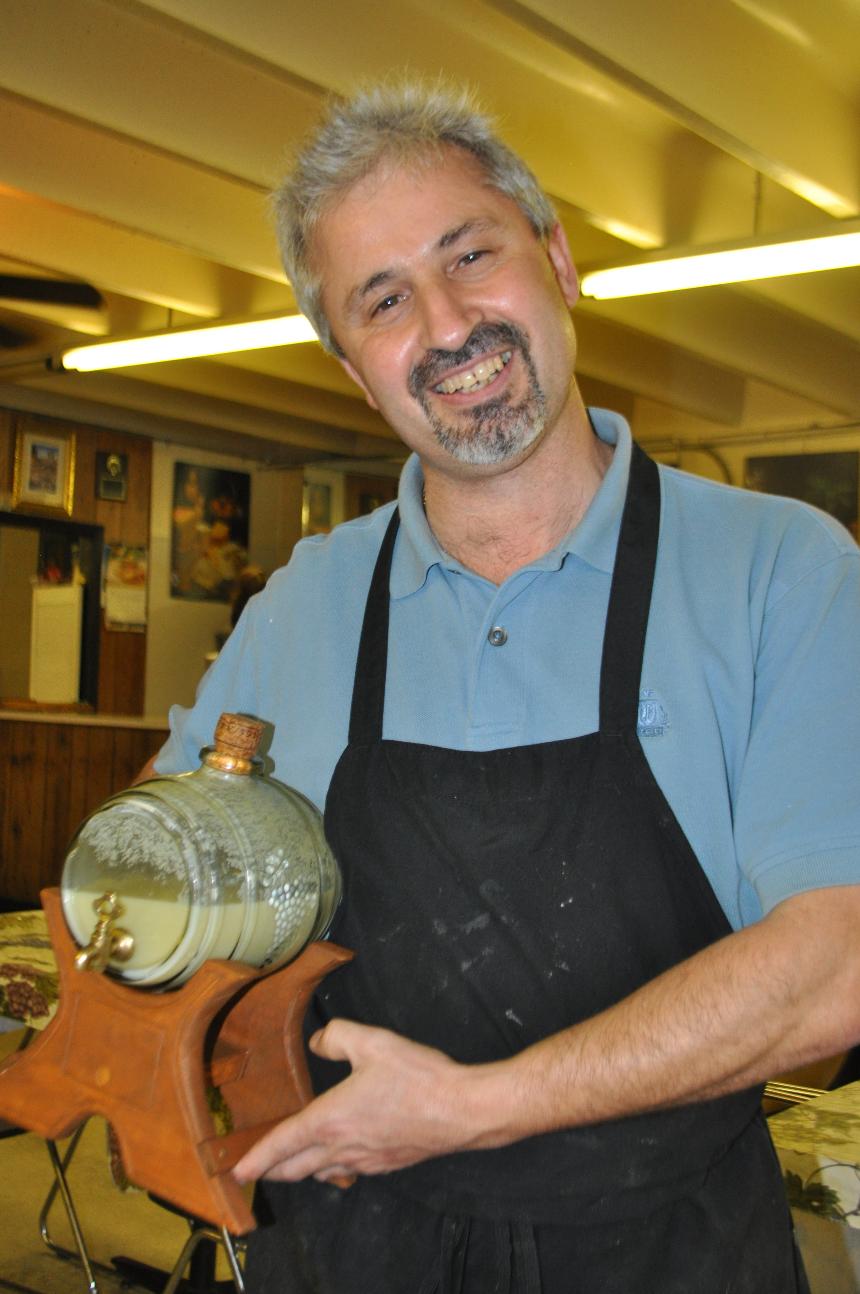 April 15, 2014 - Sevierville, Tennessee to Waynesville, North Carolina

After a stretch of great weather the tide turned today. It started with rain which then, believe it or not turned to snow!!! The temperature dropped to 0 C (and was forecast to drop further to -2 C overnight). Snow in North Carolina in April - not exactly what we were expecting. As a result there were few stops today, although we did wander through a few craft shops, in one of which we bought a Tennessee made doll to add to the collection.
The drive took us along the north border of the Great Smoky Mountains and then through the eastern portion before reaching Waynesville, North Carolina. We arrived at the Andon-Reid B&B, a lovely home built in 1902 offering six spacious guest rooms, a wrap round porch, a beautiful sun-room with a nice fireplace that was very much appreciated this cold day and an extensive recreation area with a pool table, sauna, shuffleboard, darts etc. Our room - Mountain View - as are all the others we saw very tastefully restored. We enjoyed an antique claw-foot bathtub and wonderful views, as the name says of the nearby mountains.
Having arrived early we spent the afternoon relaxing in front of the fire before going out to dinner at a restaurant recommended by Mark, the Sweet Onion, where we enjoyed another great meal. Gayle once again had mushroom ravioli - somewhat simpler than the previous but every bit as tasty while I had the recommended blackberry glazed BBQ short ribs, which were delicious.
A weird day with the snow and much of it sitting around the inn but an enjoyable day none-the-less.
Just another standard superb breakfast - waffles with bananas and peanut sauce, and lots of fresh cream.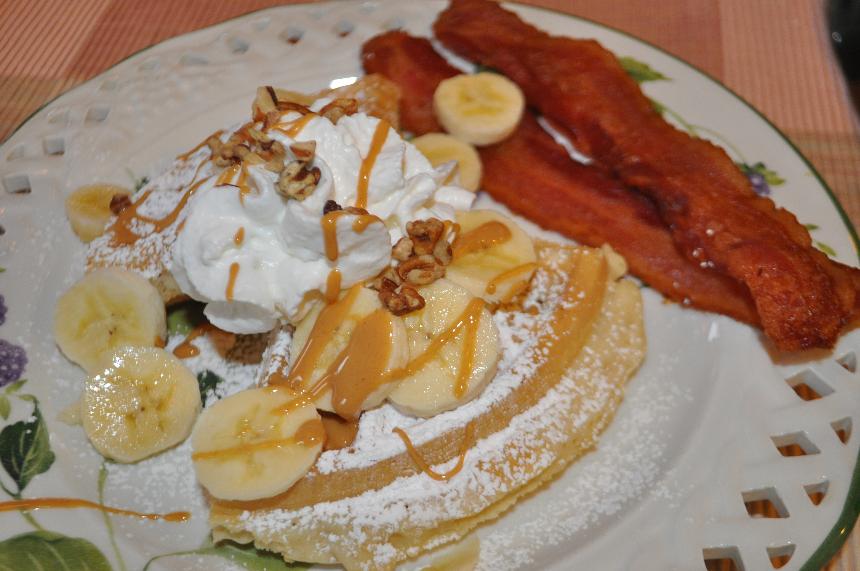 OK, so we came south for sun and warmth ... yet it snowed today with the temperature dropping to zero, and forecast to be -2 overnight. Welcome to spring-time in North Carolina.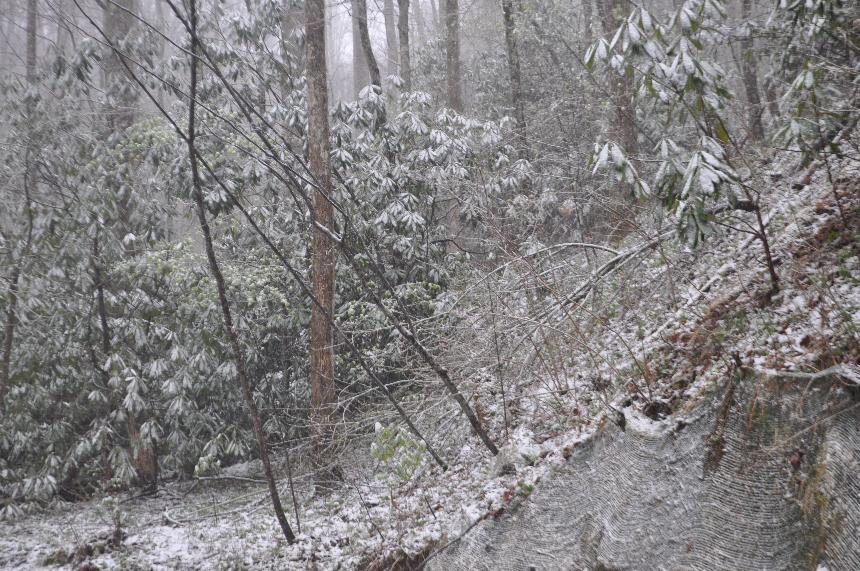 The large sunroom with the fire on - quite necessary given the temperatures were near freezing today.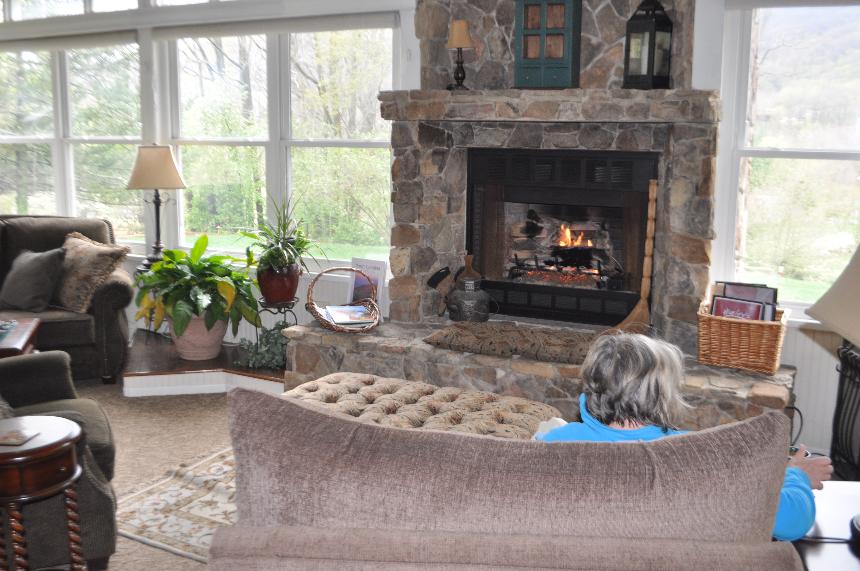 Our bathroom with an antique claw foot tub.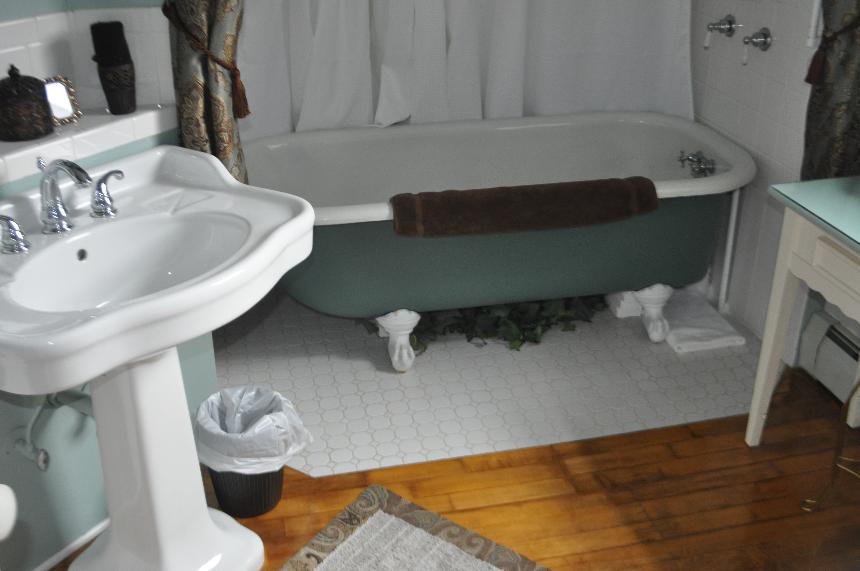 More rocking chairs - extremely popular in this region.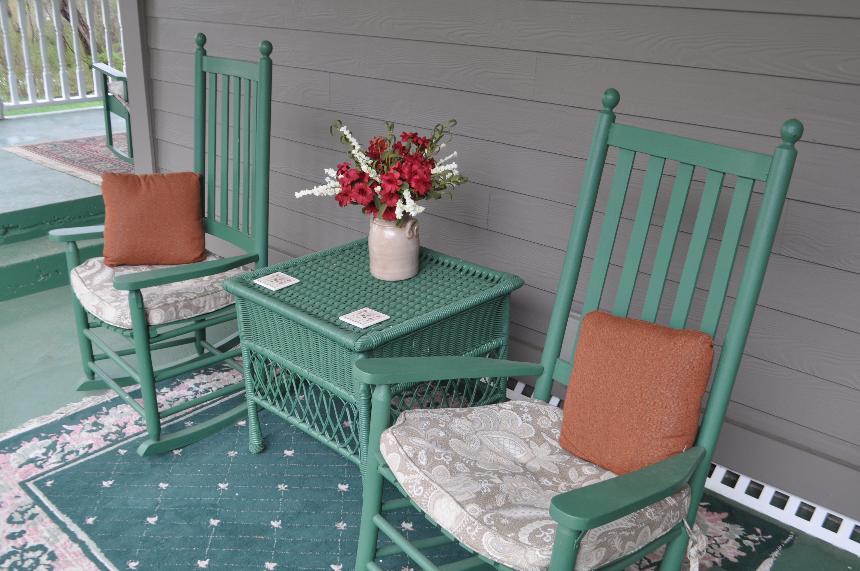 Mark and Kari did not call our room Mountain View without reason. This is what we woke up to.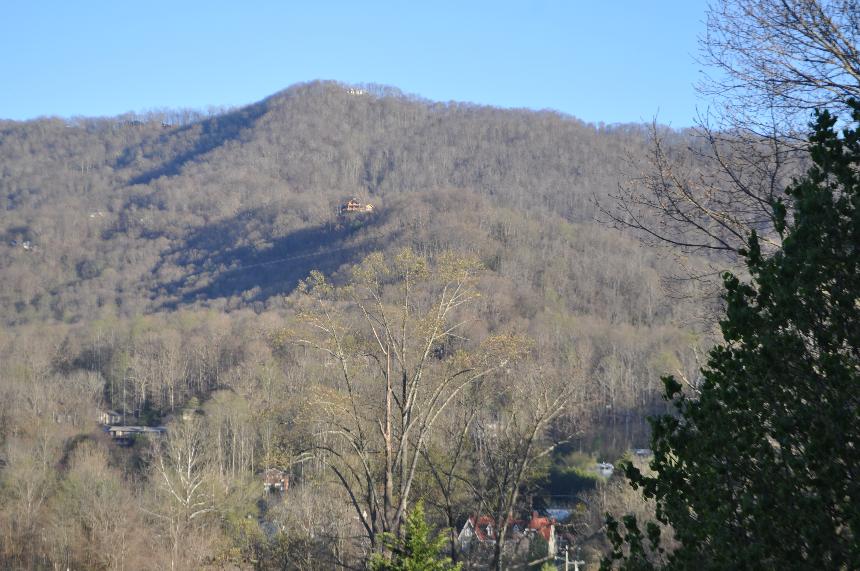 Mark provided a delicious chocolate torte as an afternoon snack.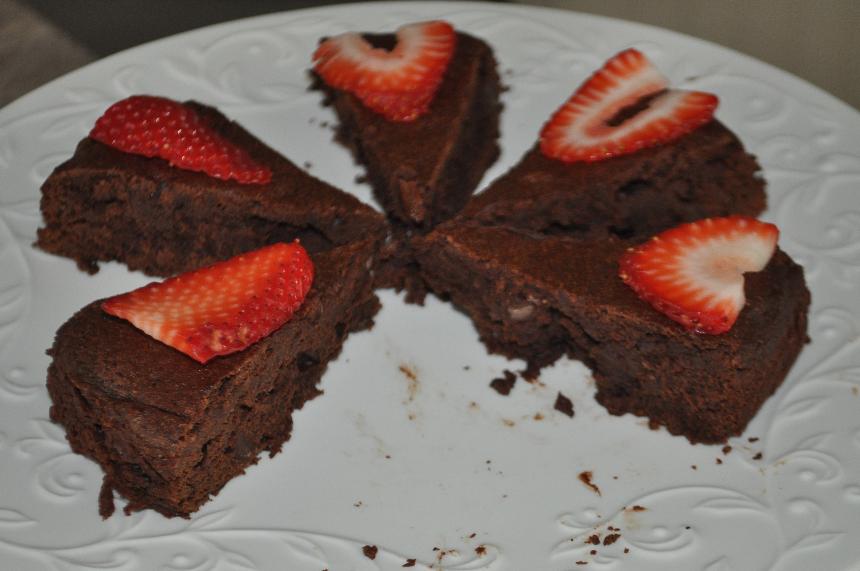 My blackberry glazed BBQ short ribs along with collard greens.

April 14, 2014 - Sevierville, Tennessee and a drive through Great Smoky Mountain Park

We awoke to questionable weather. Although there was light mist we decided to go for a drive to the western portion of the park. Soon after leaving the mist turned to rain and as a result we decided to tour the Great Smoky Mountain Heritage Museum in Townsend. There was an interesting display of Cherokee life; the evolution of park modes of transportation and an informative video on the settlements and history of this end of the park, including the settlement of Glades Cove. As well there were a number of buildings open for touring - cabins, barns, a church and even an outhouse. A worthwhile stop not only for the information provided but also the fact the rain stopped by the time we finished.
We then drove into the Park and up to Glades Cove. The drive is a one way loop with a number of original cabins, churches etc. along the 11 miles. Even more impressive is the drive along scenic highway 73 along the river to Gatlinburg. The wildflowers were quite prominent (the Spring Wildflower Pilgrimage starts tomorrow, running from April 15th to 19th) along with many dogwoods and redbud trees. Gayle was in heaven - kind of like I was at the Masters. I took a number of photos, some of which are below.
We returned through Pigeon Forge and Sevierville, stopping for dinner at the Olive Garden. The OG may not be anything fancy but offers good reliable Italian food. It was then back to Berry Springs Lodge for a soak in our hot tub under a full moon.
Our beautiful room - Holly Springs - at Berry Springs Lodge.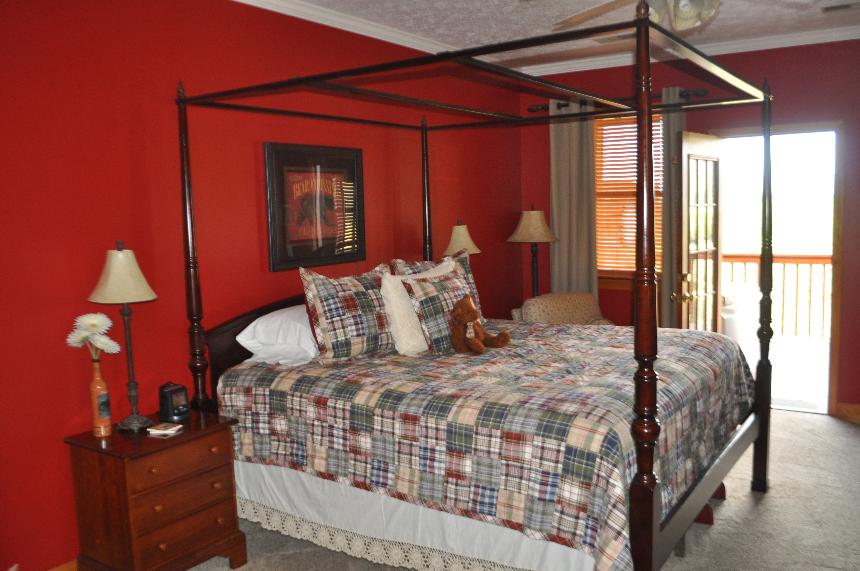 Inside one of the cabins at the Great Smoky Heritage Museum near Townsend, Tennessee just outside the park.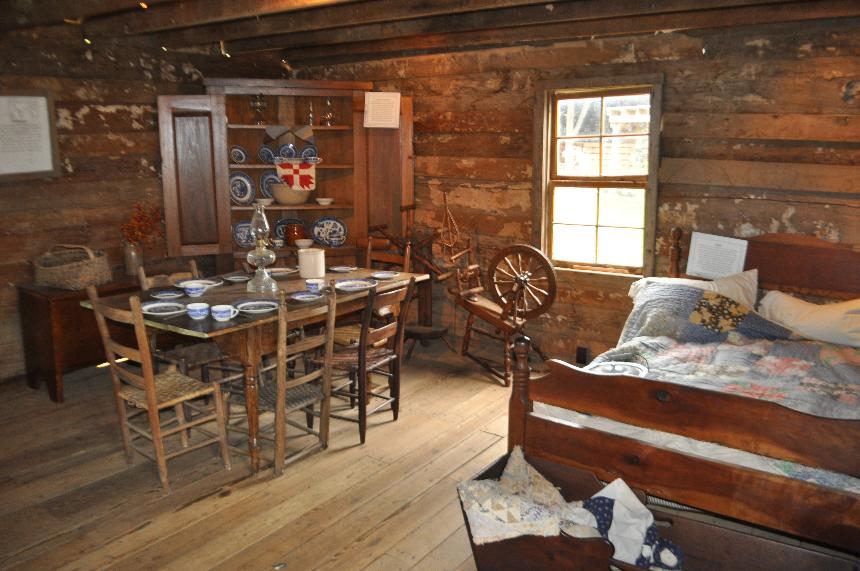 ... and the other half of the cabin - older children slept upstairs; infants and parents here.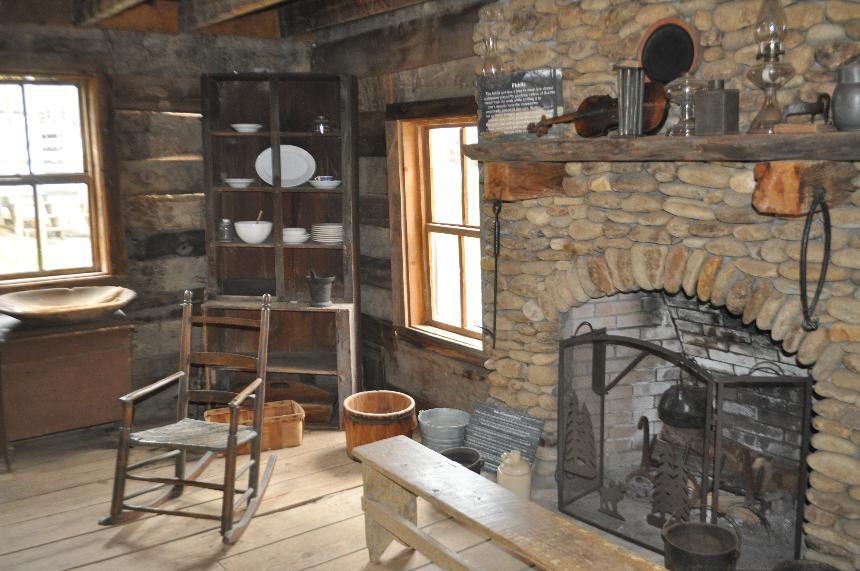 Yesterday it was Gayle in front of the babbling brook. Today it is me.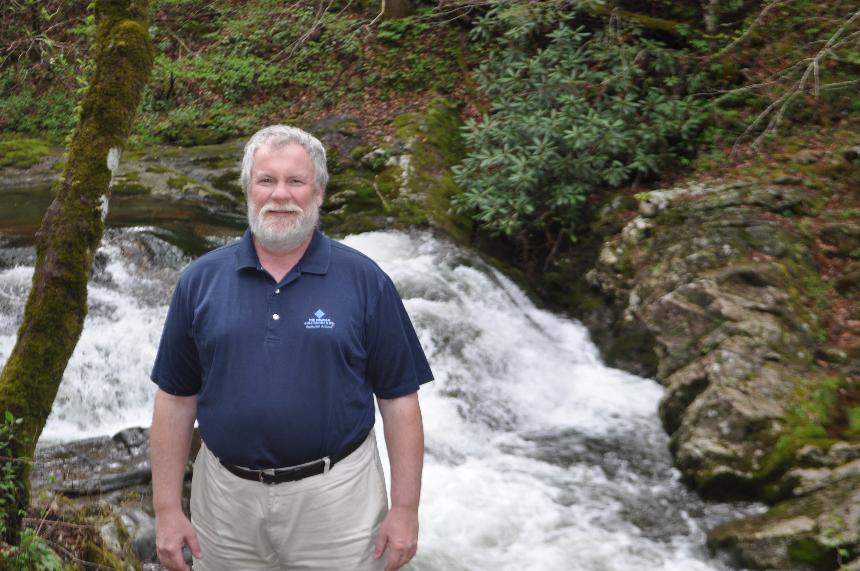 A cabin in Glades Cove and 1800s settlement in the Great Smoky Mountains.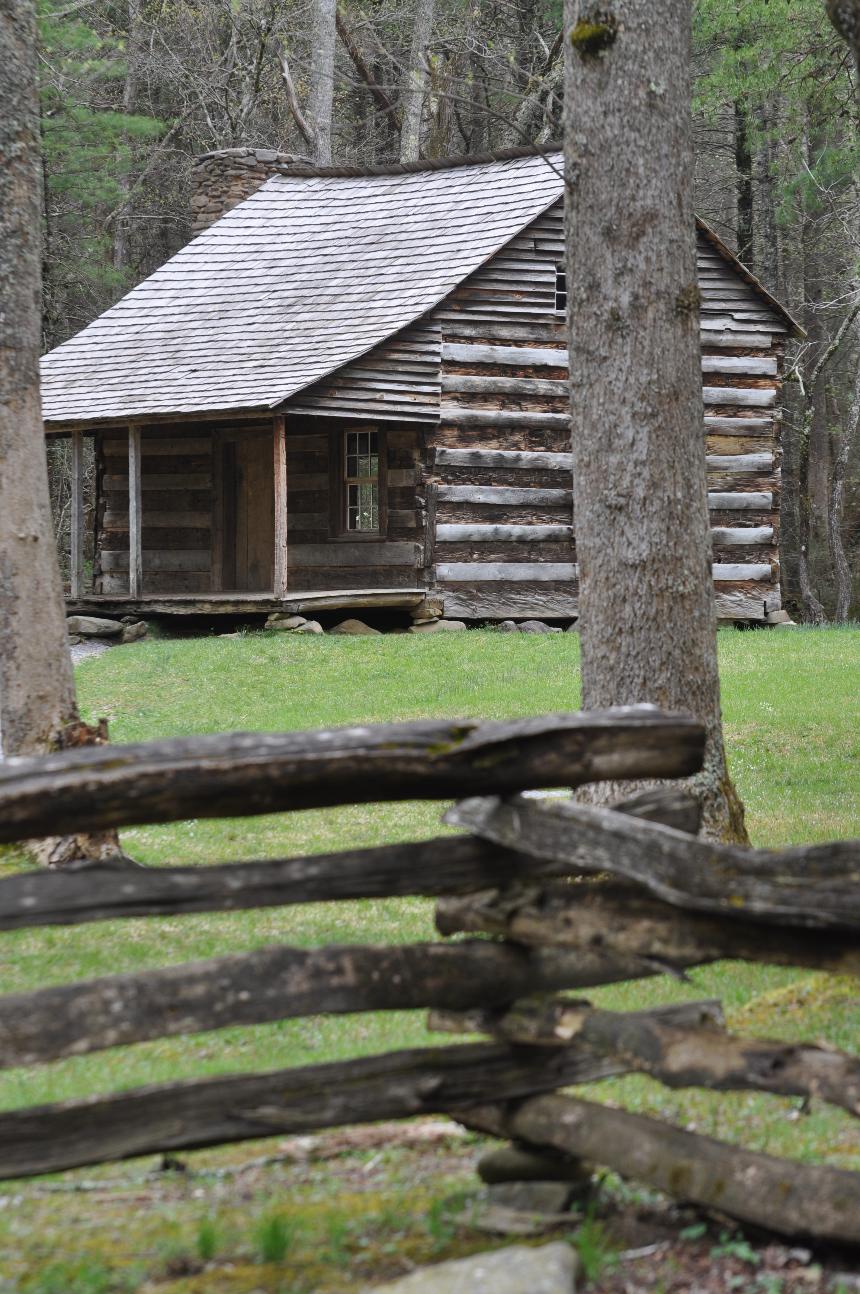 We weren't the only Canadians in the park today.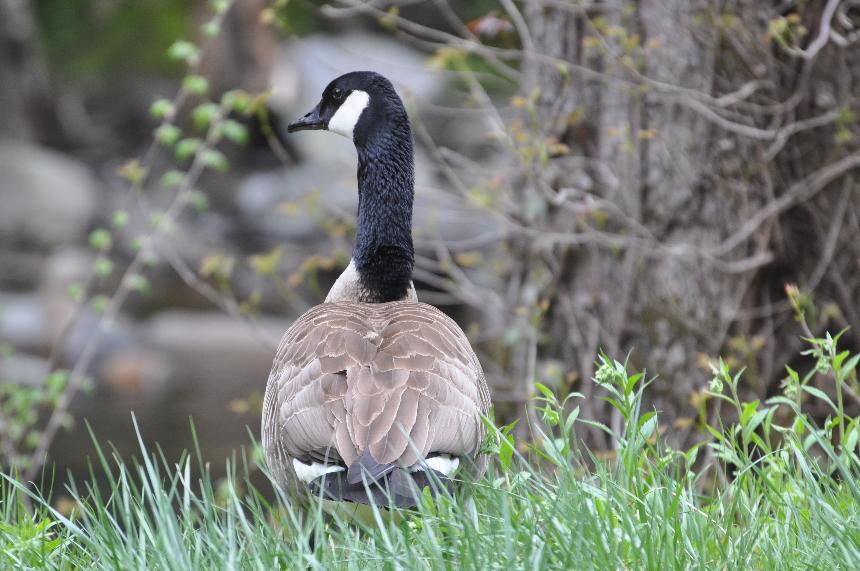 Fire Pink and blue flox (Gayle's best guess).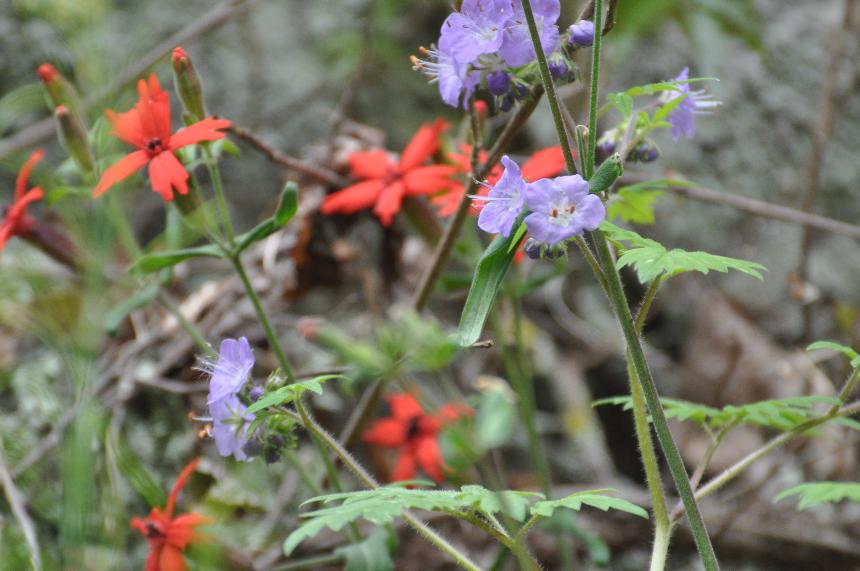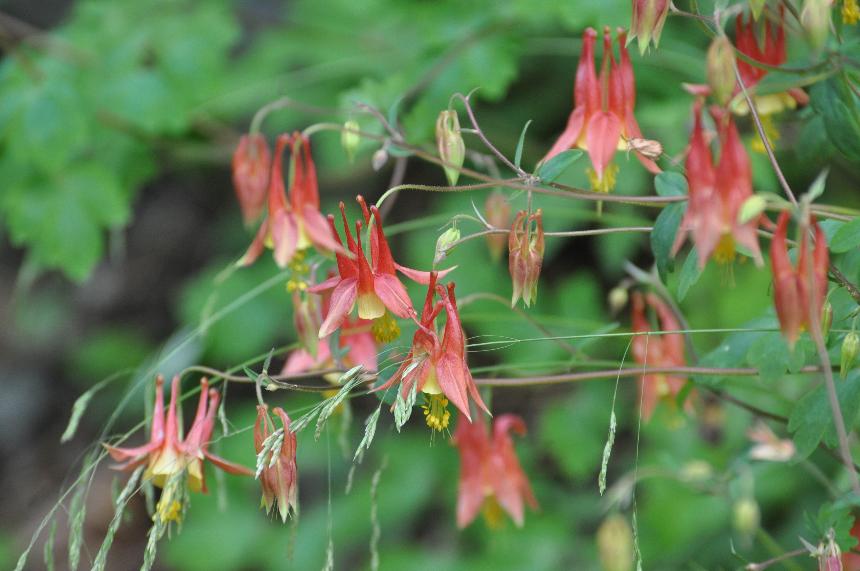 Trilliums, or which there are 12 varieties in the park.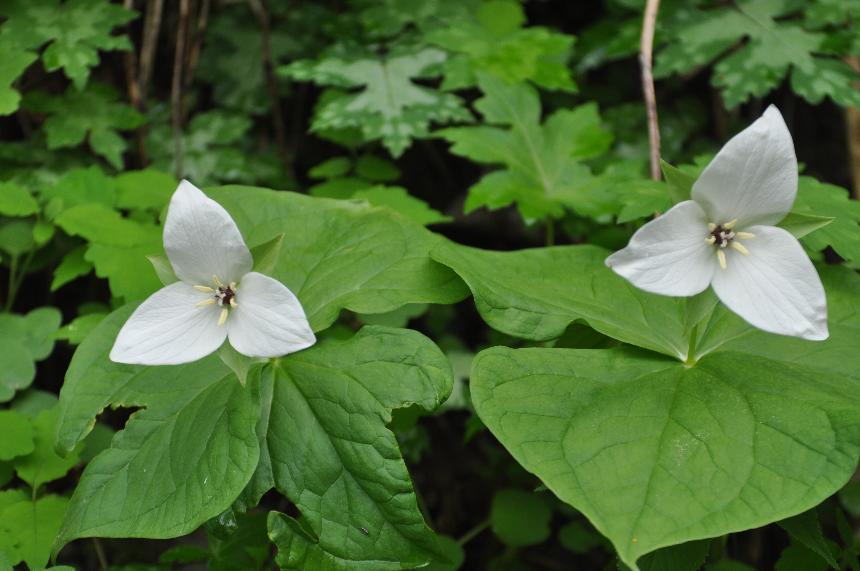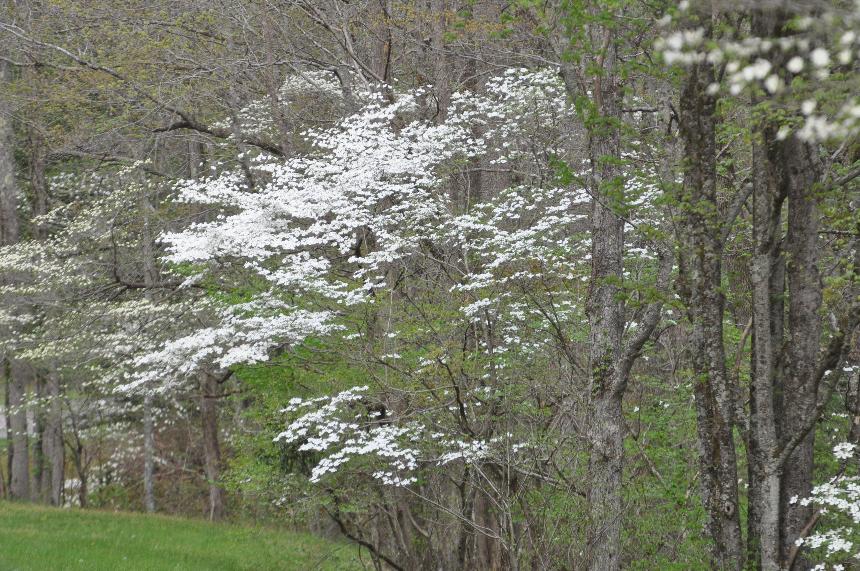 A redbud along the river bank in the Great Smoky Mountains.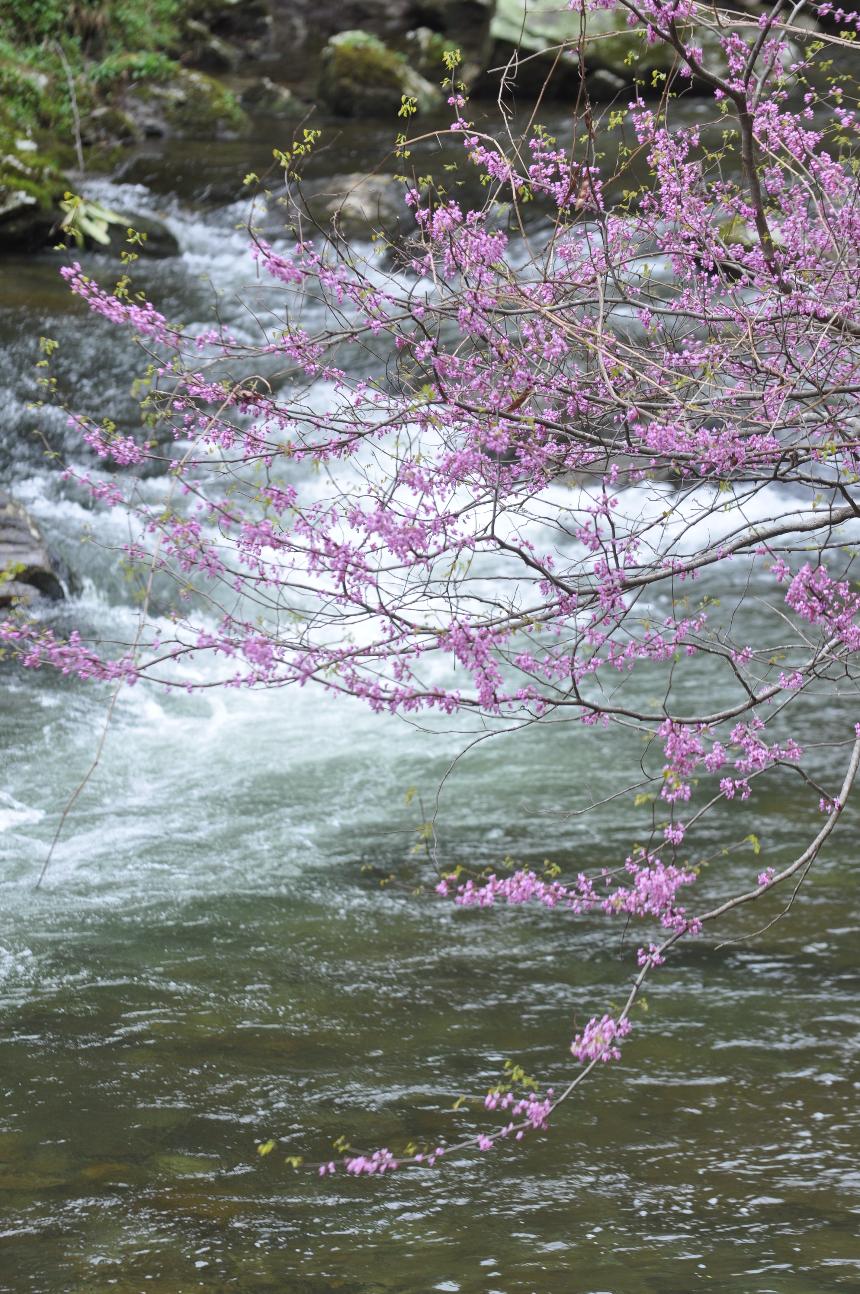 There was a full moon as we enjoyed a soak in the hot tub out on our balcony.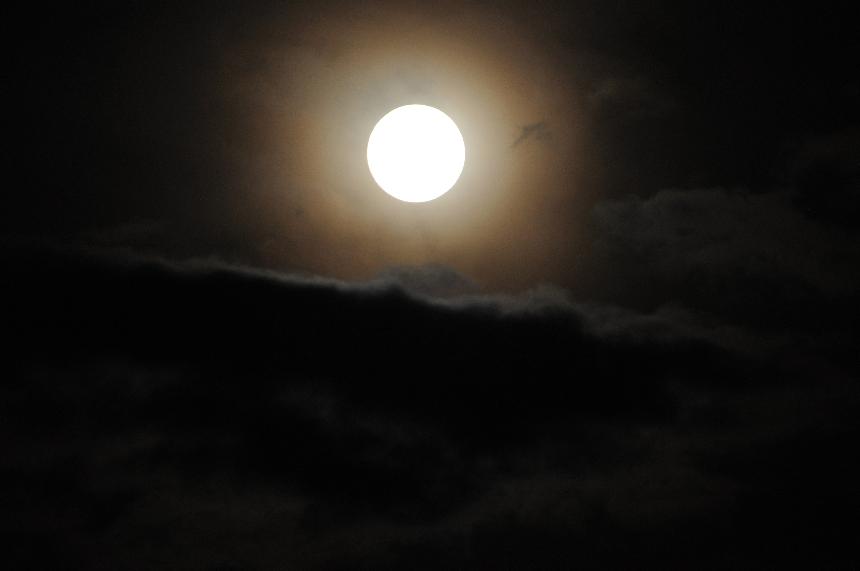 April 13, 2014 - Cullowhee, North Carolina to Sevierville, Tennessee

Another wonderful breakfast and a lengthy chat with Anthony and Cathy as to how a couple from the Bronx came about running a B&B in North Carolina, and we were off again.
Our first stop was the Cherokee Museum in Cherokee, just south of the Great Smoky Mountains. The museum was well done providing insight into the history and life of the Cherokee people. You will see a photo of a traditional basket below - beautiful intricate work but very expensive. The impressive craft center next door to the museum had a number of baskets, starting at $100 for a very small one.
Enjoying another beautiful day - the temperature reached nearly 30 C - we then drove through the park, first stopping at the interpretive center where there were exhibits on mountain life along with a small collection of buildings from the settler days. Crossing in to Tennessee one first encounters Gattlinburg, then Pigeon Forge and finally Sevierville. You have to see this area to believe it. While Gattlinburg is a gentle introduction Pigeon Forge and Sevierville are essentially six miles of solid hotels, outlet stores, arcades, amusement activities, restaurants, box stores, entertainment, cheap trinket craft shops, gas stations, and then more and more of the same, mile after mile. And if that is not enough Dollywood is only a half mile off the strip.
However as bad as this stretch is within a couple of miles one is in a totally different place, out in the country with undulating countryside, ponds, blossoming trees, cows and horses. Our B&B Berry Springs Lodge is set amongst this attractive landscape with a vista over the countryside and mountains that may be the best we have ever experienced.
For the first time you will not see any food photos. We ate at the Applewood Farmhouse, a restaurant whose concept is to beat you down with more and more and more food. With your main course (I had Southern fried chicken) you get soup, salad, your choice of not one, not two, not three but four veggies and then if that was not enough dessert. Some of the food was quite decent, others less so. But definitely more than one should ever try to eat at one sitting. We waddled back to Berry Springs.
The massive stone fireplace at the Rive Lodge B&B.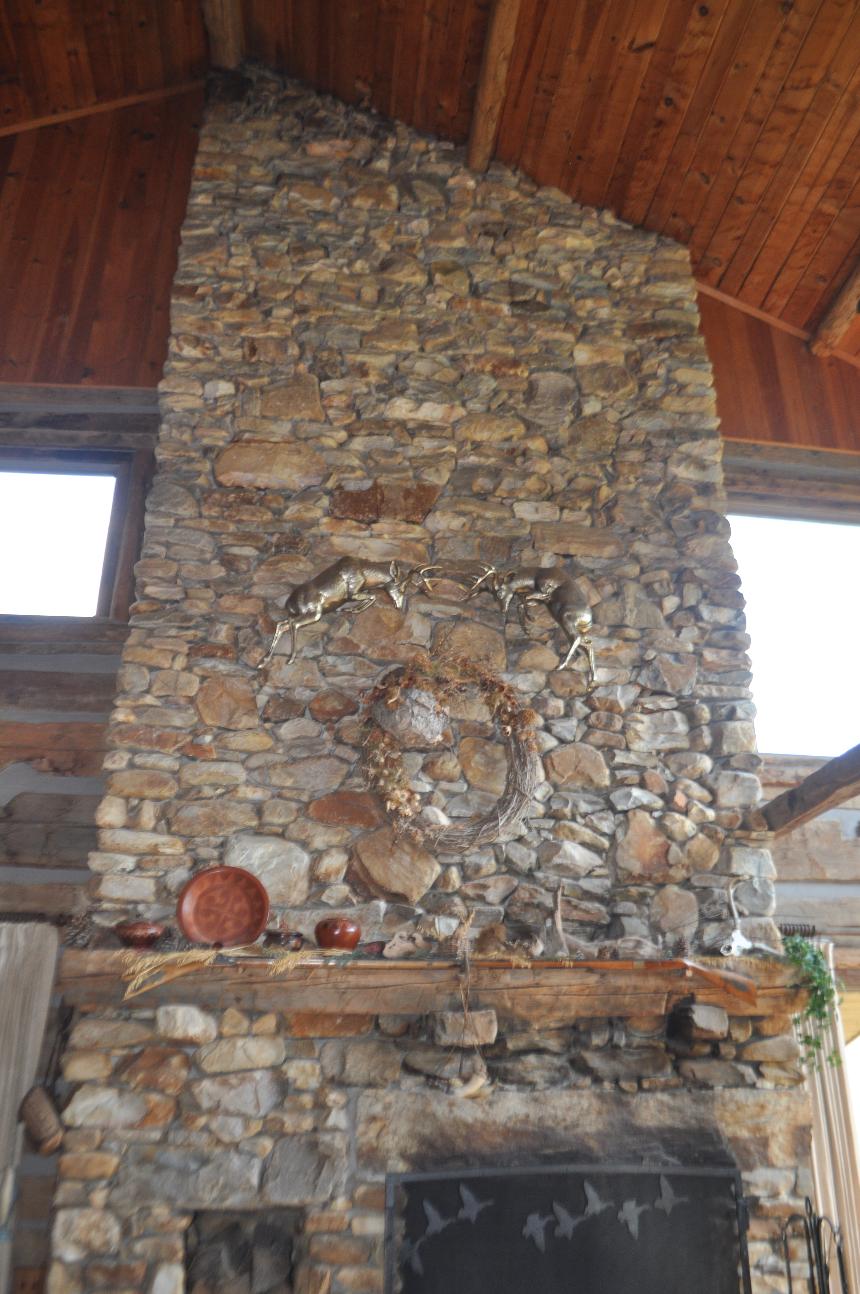 The River Lodge B&B is certainly located in a rural setting as evidenced by this view from our balcony.

Simply a nice photo of a butterfly.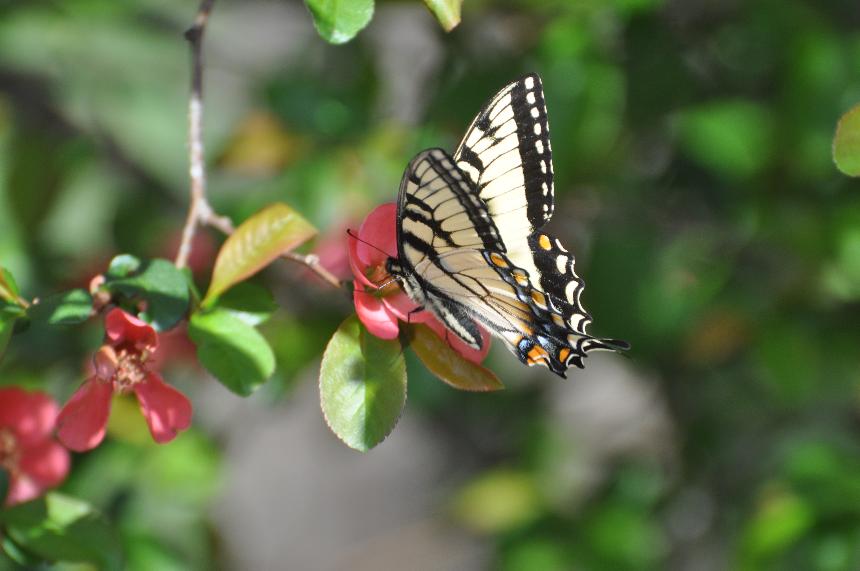 Cherokee representatives who journeyed to England to meet with the King.

One of the intricate and beautifully made baskets at the Cherokee Museum.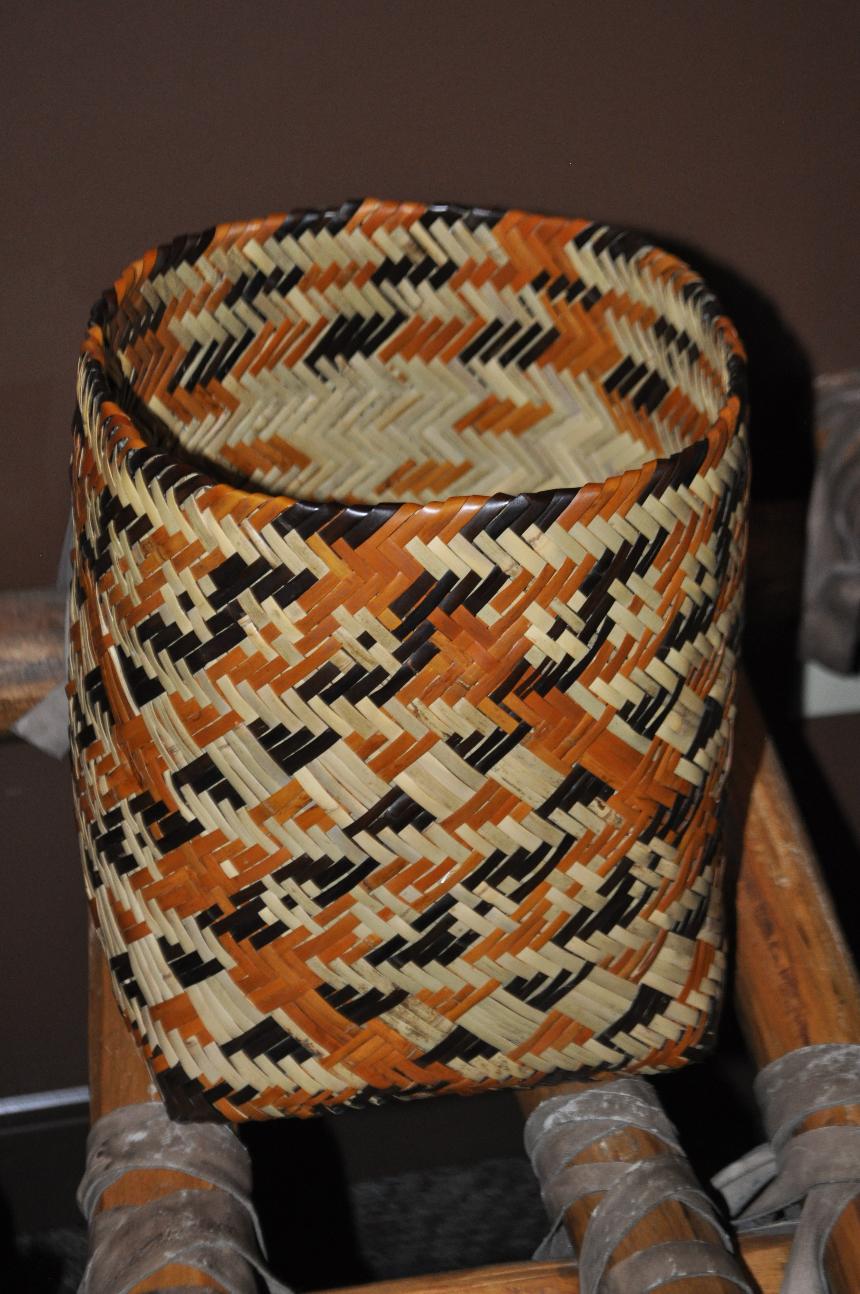 Two gourds ... and two birds.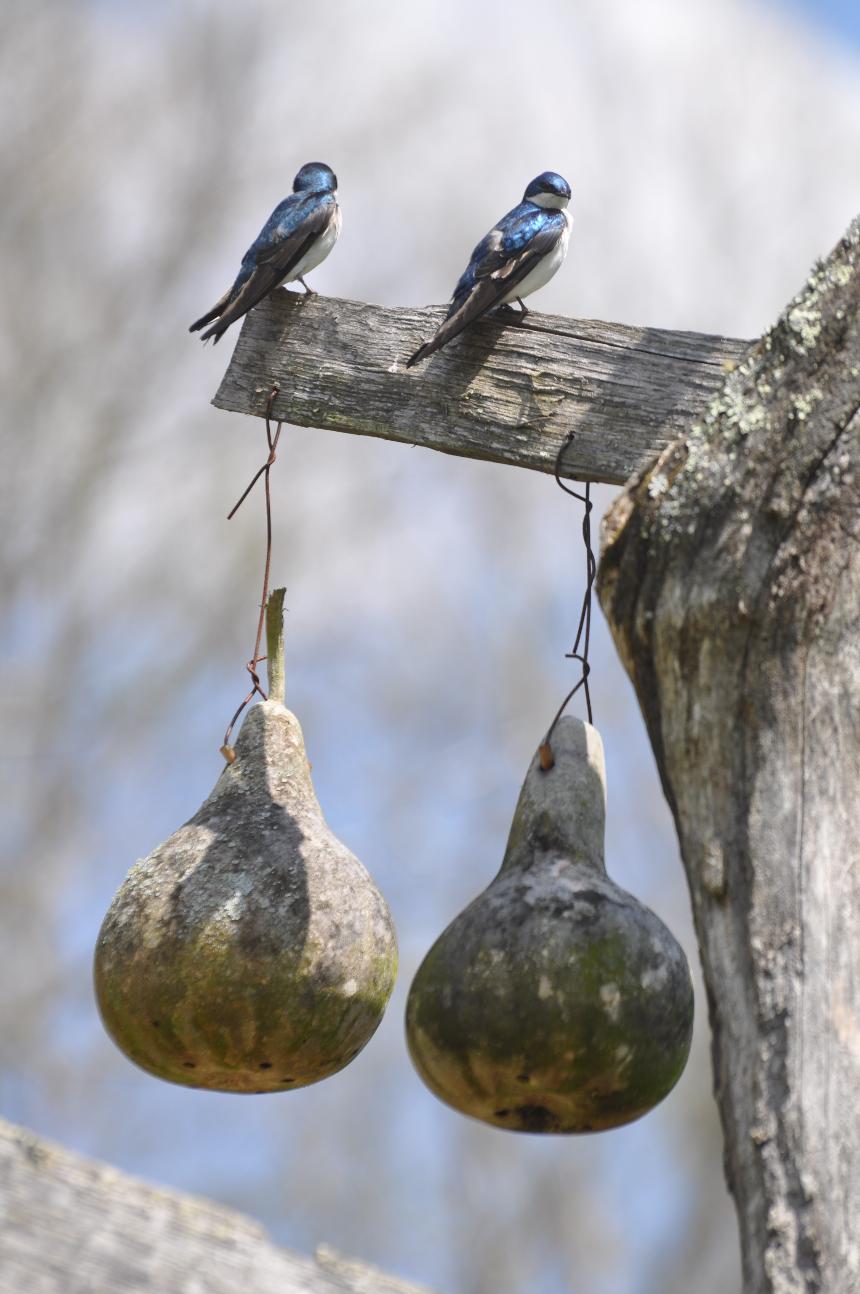 Redbuds and the white dogwood are in bloom this time of the year throughout the Great Smokies and beyond.

One of the many beautiful streams in the Great Smoky Mountains.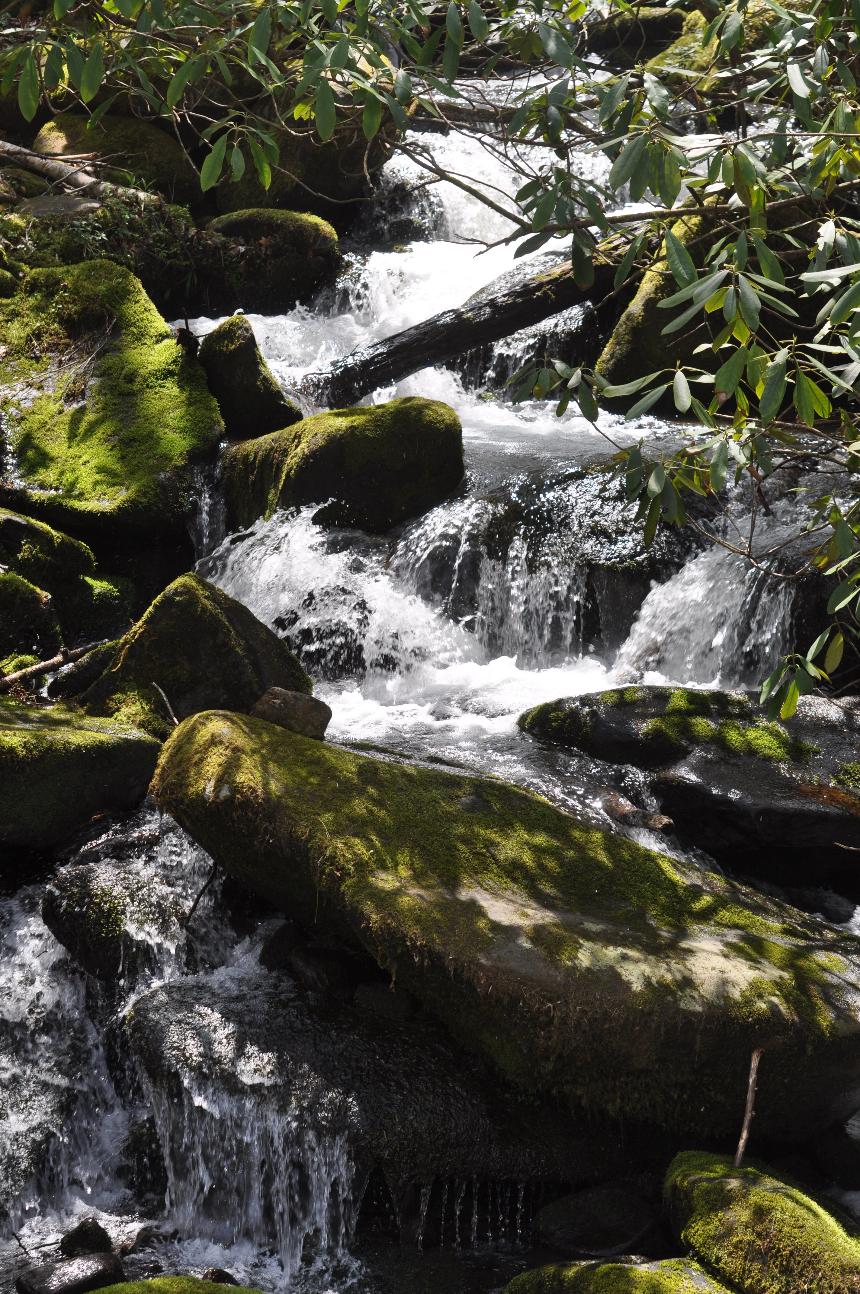 ... and even more beautiful with Gayle providing focus with the stream serving as the backdrop.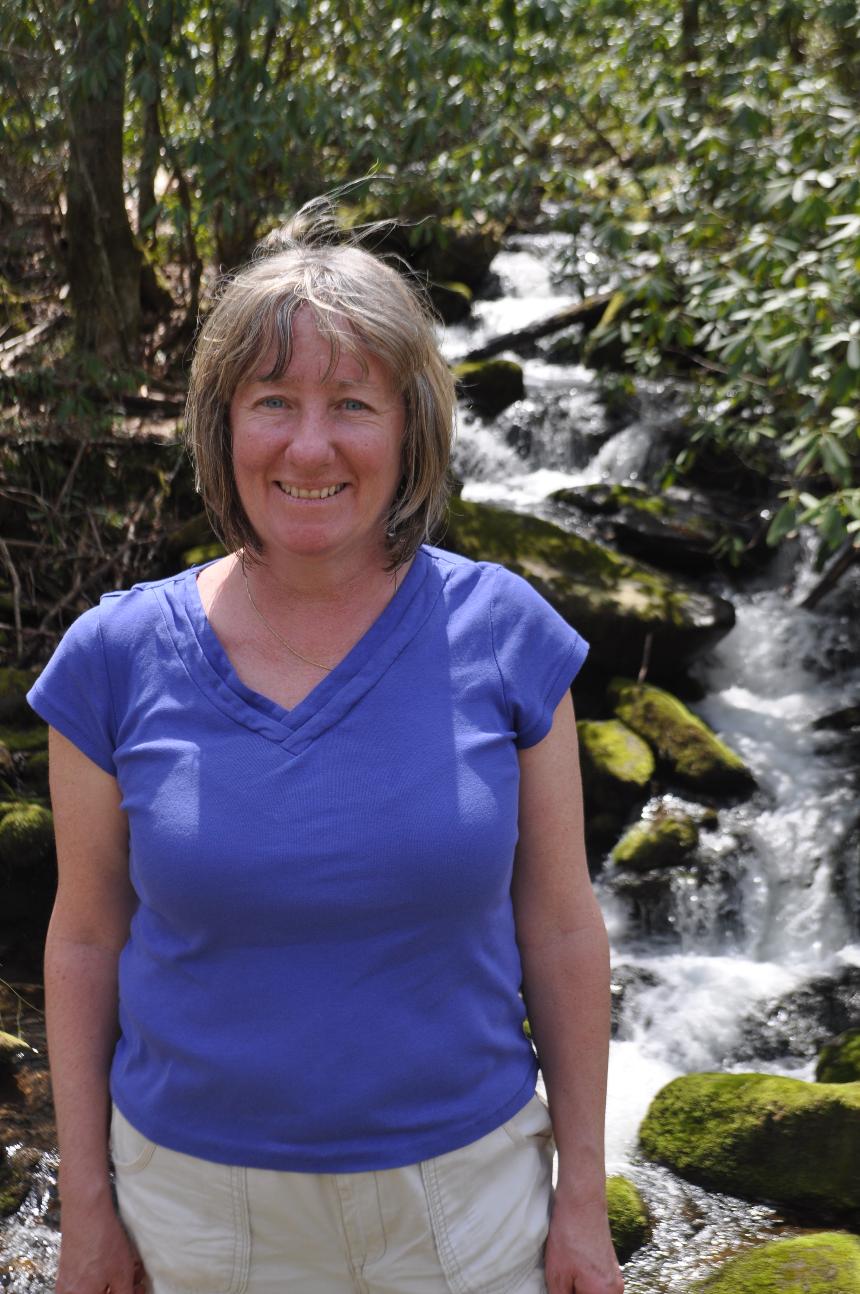 The view from our balcony at Berry Springs Lodge. It is hard to believe we are only a couple of miles from Dollywood and the craziness of Pigeon Forge.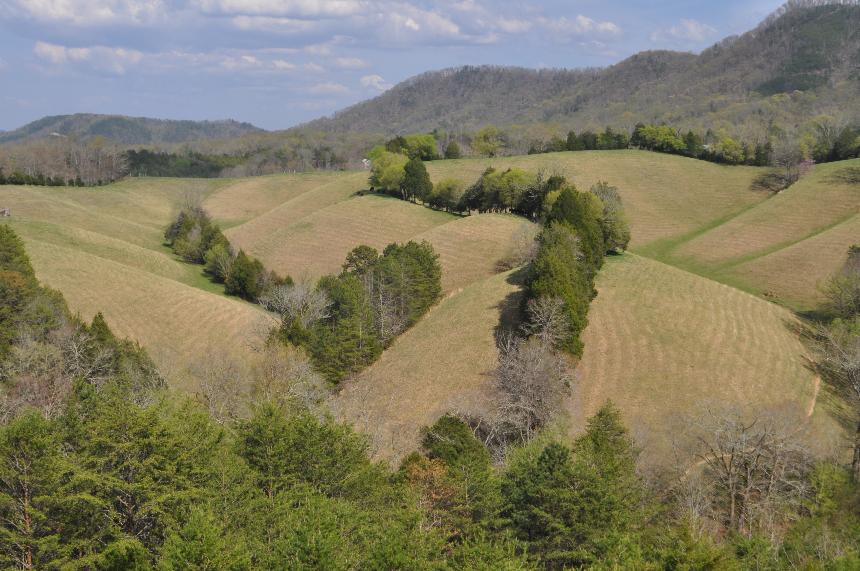 April 12, 2014 - drive a portion of the Blue Ridge Parkway; Cullowhee, North Carolina

The morning started with a delicious breakfast and a nice chat with a lady who lives in Augusta, Georgia who told us of all the philanthropic things the Augusta National members do for the community.
We then went out for a drive, first through the town of Dillsboro where I bought an interesting chicken gourd and then on to Cherokee. We intend to go to the Cherokee Museum but felt we did not have enough time so are leaving it for tomorrow when we will be back in Cherokee.
Rather we took a nice leisurely drive along the first 50 miles or so of the Blue Ridge Parkway. It is certainly clear why these mountains are named the Great Smokies. Even on a nice day such as we had there is a haze as one looks out to the rolling mountains. They really do look 'smoky'. The other thing that is very noticeable is the number of rhododendrons. In places they simply blanketed the hillsides, they were everywhere. Not blooming until June they will no doubt be a site to see, given the number growing along the road and the riverbanks. The drive along the Parkway, and then through Pisgah State Park was very impressive.
We then completed our circle by passing through a number of resort communities to Cashiers and The Orchard restaurant where we enjoyed one of the nicest meals we've had in quite a while. Our shared appetizer was creative and tasty with a nice size piece of creamy goat's cheese garnished with sun-dried tomatoes, roasted garlic, and olives. Gayle then had a delicious mushroom ravioli with asparagus in a tasty cream sauce while I a very well prepared steak with a bourbon glaze, smothered with mushrooms. The accompanying mashed potatoes lacked creativity but the steak was wonderful. We are sure dessert would have also been excellent but we were too full to even consider some of the enticing options.
All in all a relaxing and enjoyable day.
Cathy and Anthony provided a delicious breakfast - excellent apple topped pancakes - very tasty.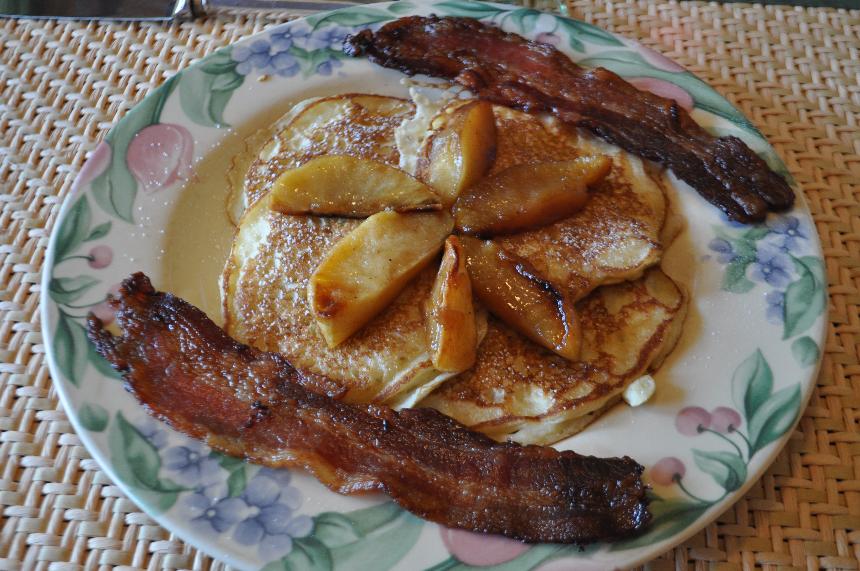 Pretty blossoming trees outside the River Lodge B&B.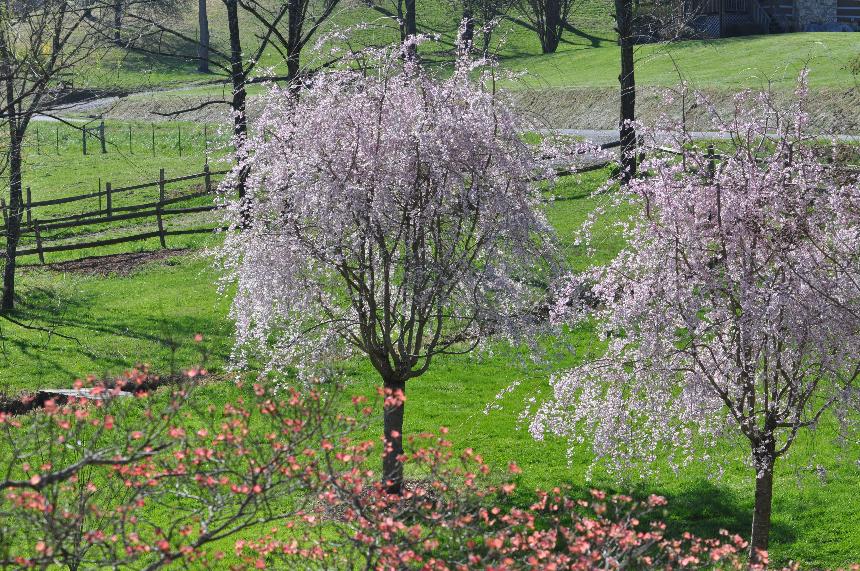 This gives some perspective of the size of the rhododendrons, covering both sides of the road.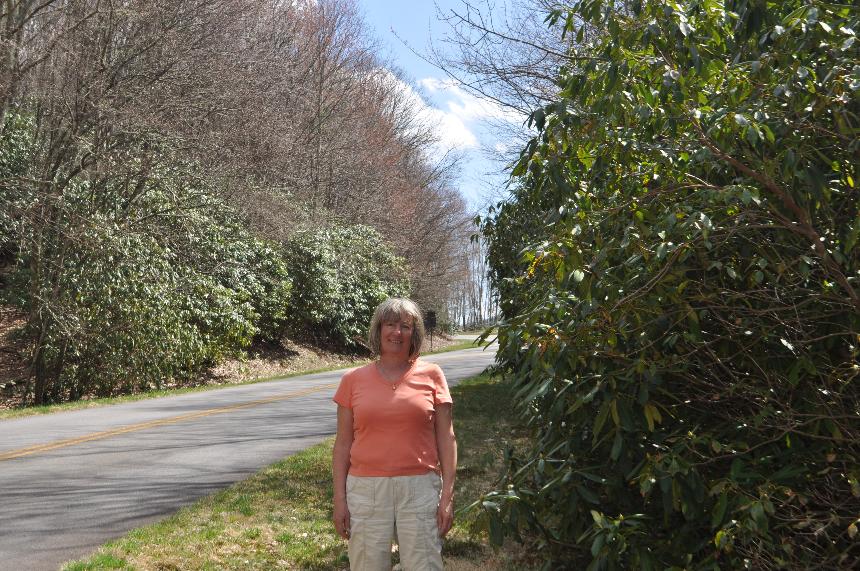 Hillsides like this, entirely covered with rhododendrons are commonplace in this region.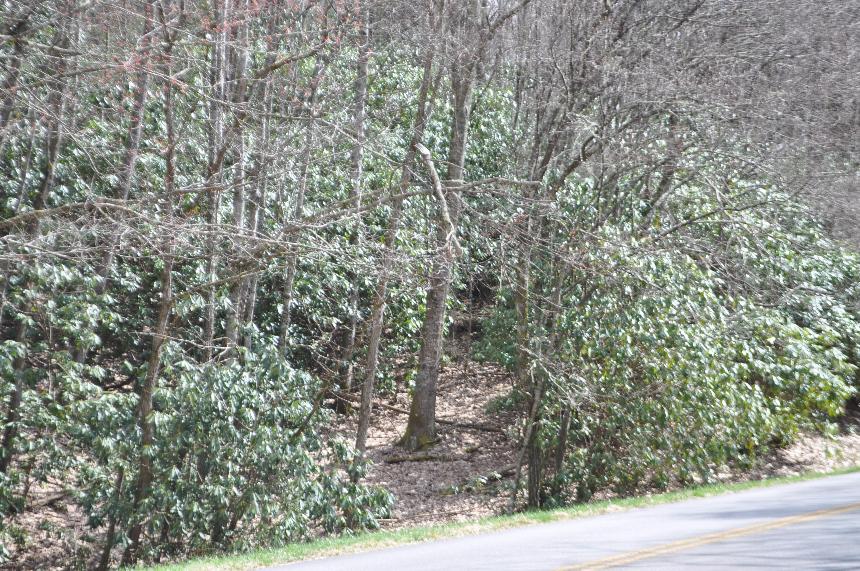 The drive along the ridges of the Blue Ridge Parkway is a very impressive, scenic trip.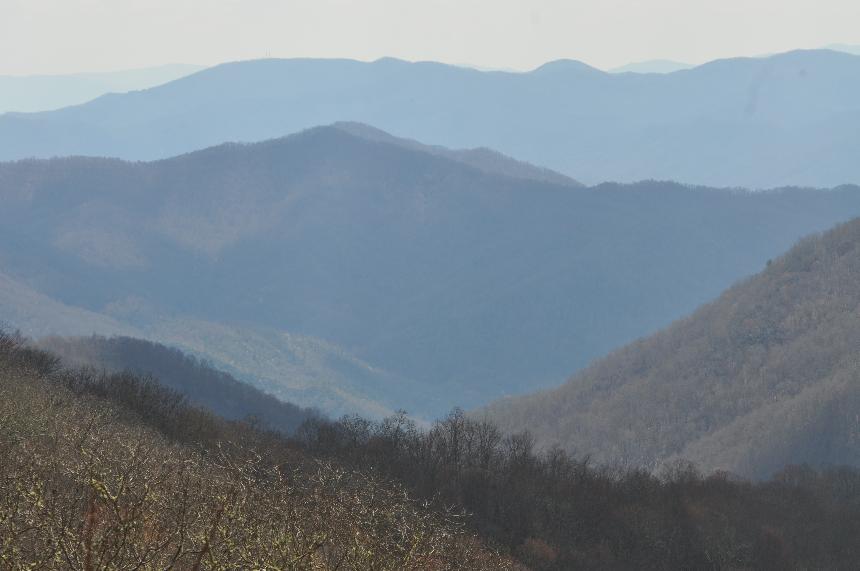 Along the Blue Ridge Parkway in the Great Smoky Mountains of North Carolina.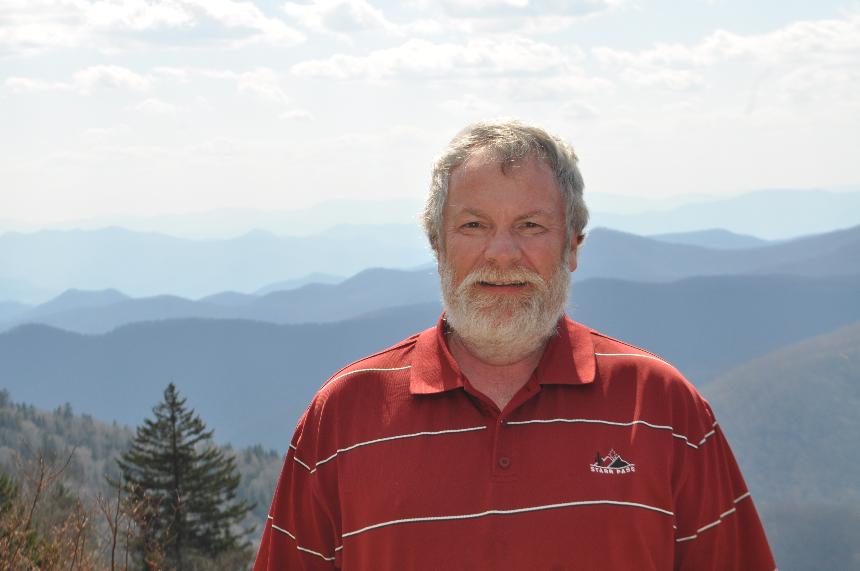 ... and this is why they are called the Great Smokies. On this clear warm day a haze covers the mountains.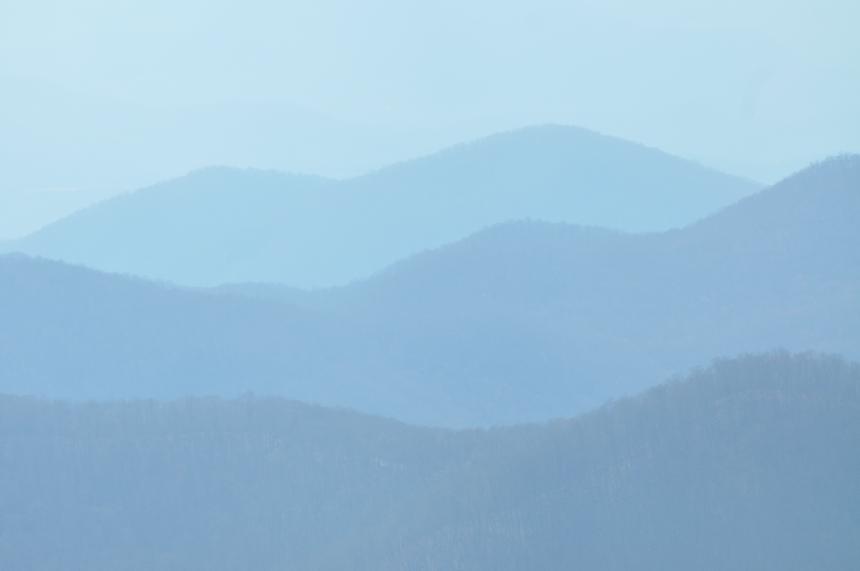 Many of the roads meander along rivers, this one in Pisgah State Park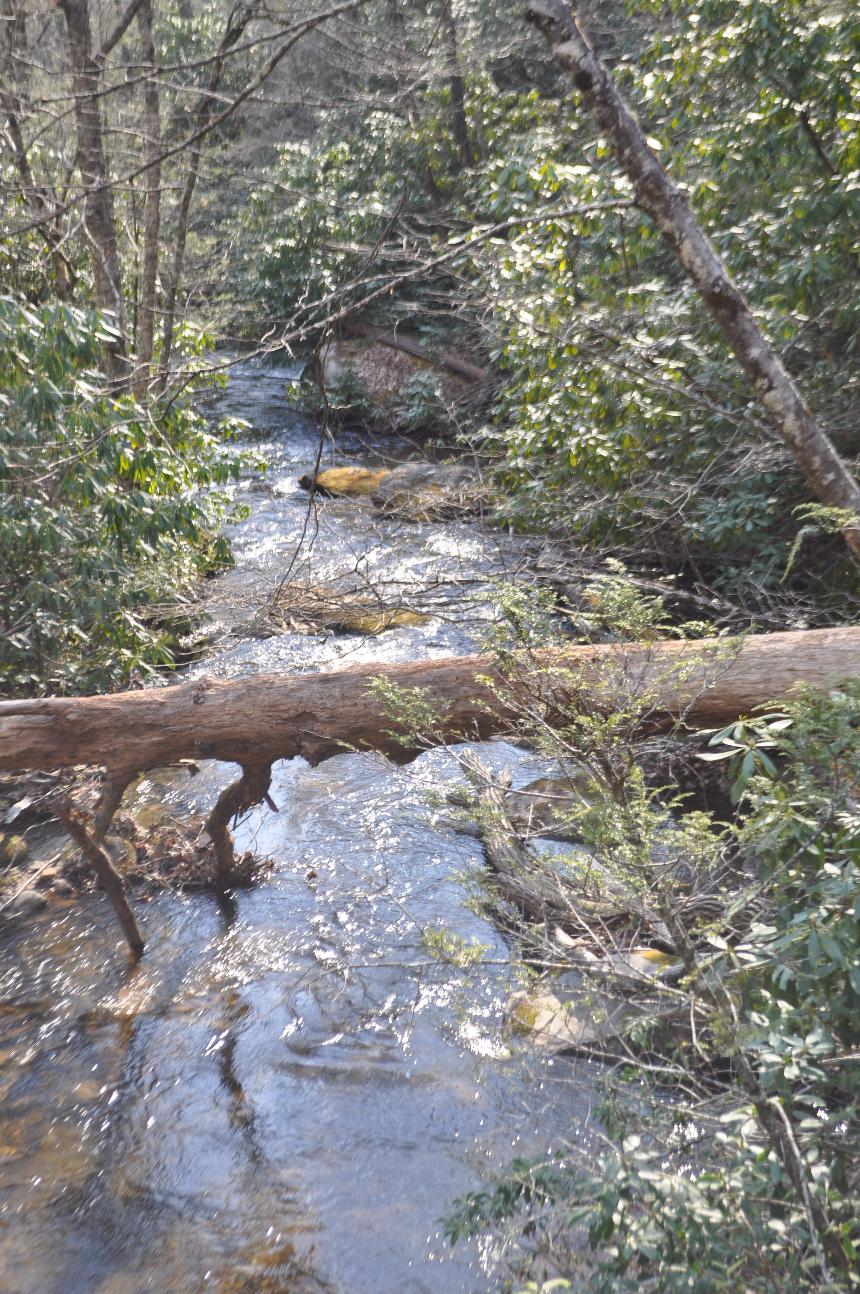 We shared a wonderful appetizer - with creamy goat's cheese, olives, sun-dried tomatoes and roasted garlic.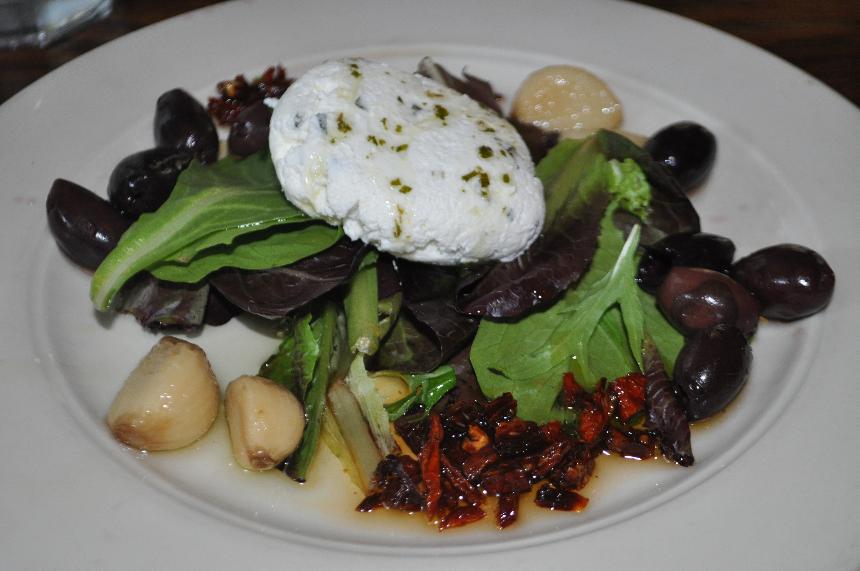 Mushroom stuffed ravioli with asparagus, sun-dried tomatoes and spinach in a cream sauce - excellent!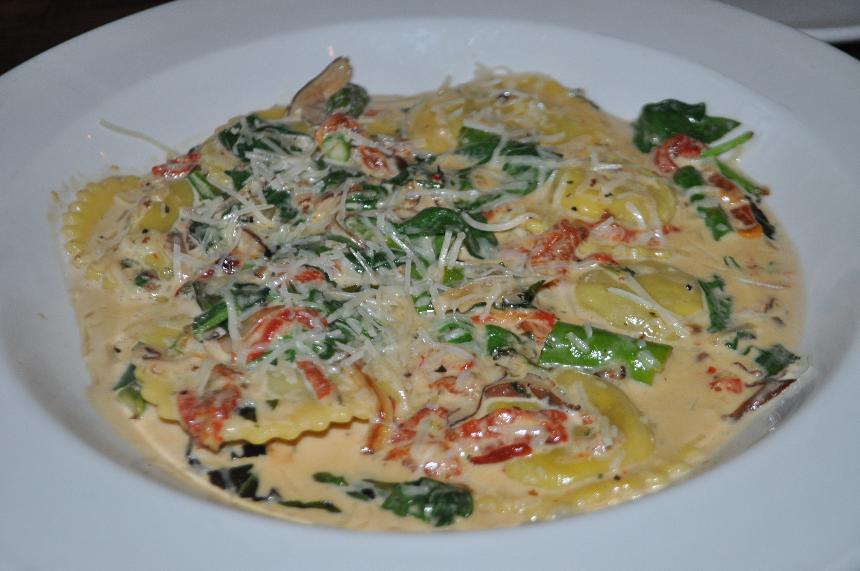 April 11 , 2014 - Clarkesville, Georgia to Cullowhee, North Carolina

We continued our drive north through Sautee and Helen (a Swiss themed village nestled in a valley) on to North Carolina. We enjoyed a very pretty drive along Highway 64 to Highlands (we were told Highlands has the most millionaires per square mile in the US) and Cashiers and then along the Tuckasegee River valley to our bed and breakfast - the River Lodge B&B on the river. The beautiful home with a massive stone fireplace and huge wood beams is owned and run by a very nice couple from the Bronx. The verandah outside our room has a wonderful view of the river, animals and valley. Very tranquil and peaceful.
Again Mexican for dinner. Certainly not a fancy place, and the margaritas were mediocre at best but the food, with a wide selection of vegetarian options - was extremely good; somewhat more interesting than normal Mexican food.
We've seen a number of water-wheels in the region.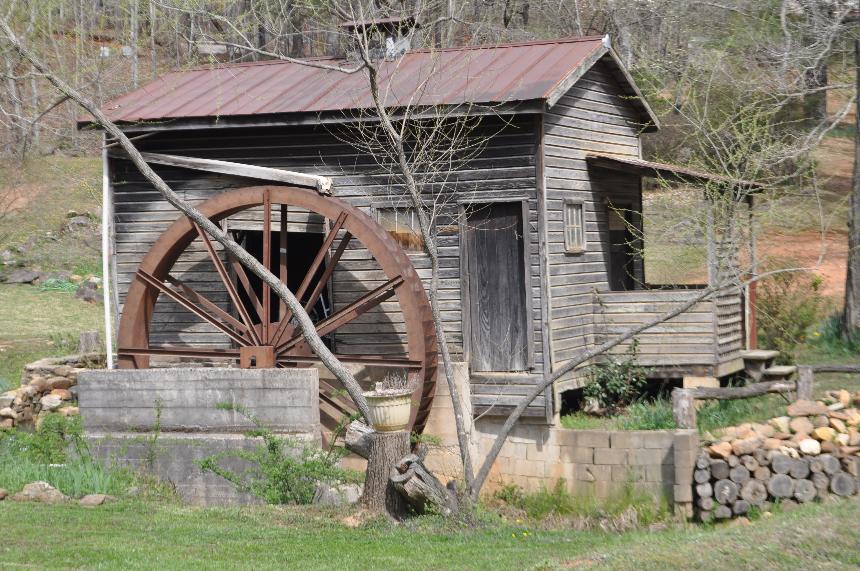 Beautiful spring blossoms.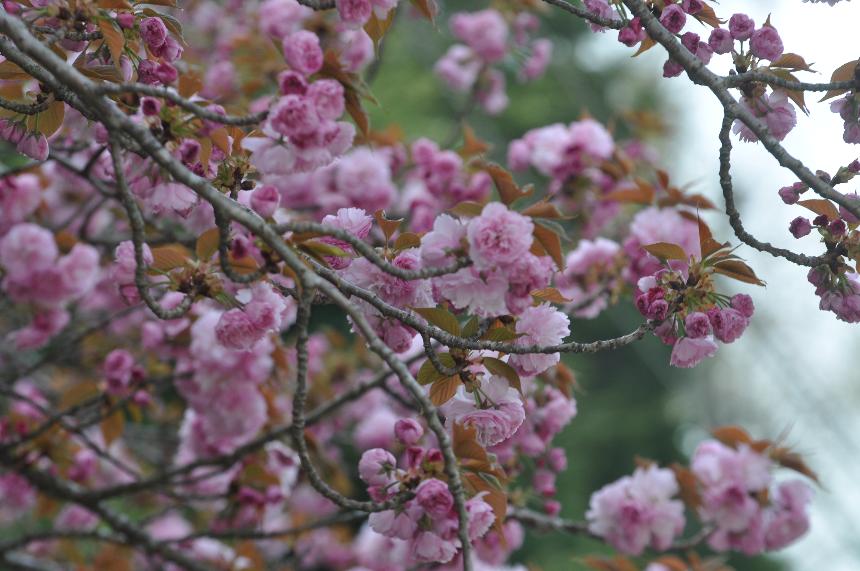 We've seen signs for 'funnel cakes' and now funnel cake mix at this mill we stopped at. Apparently they are somewhere between a doughnut and a waffle but we have yet to actually have one.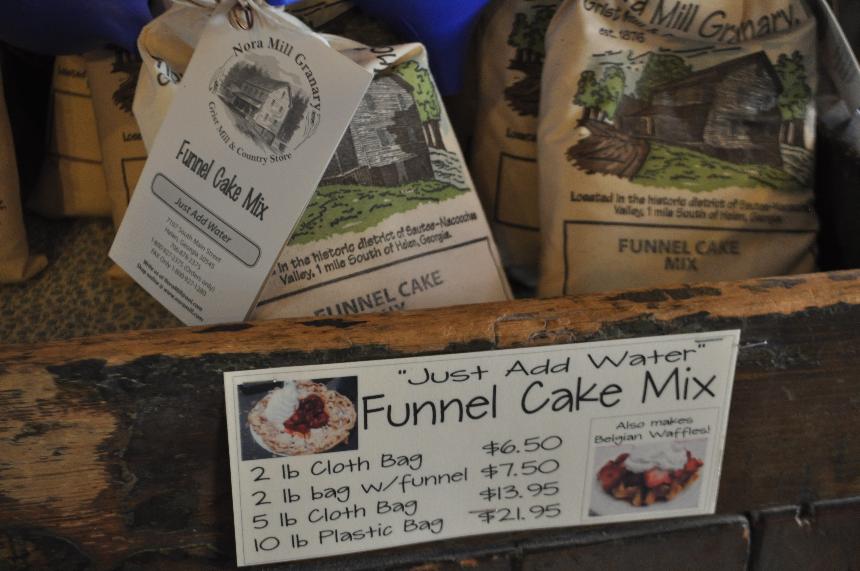 Don't know why but we were somewhat surprised to see a covered bridge.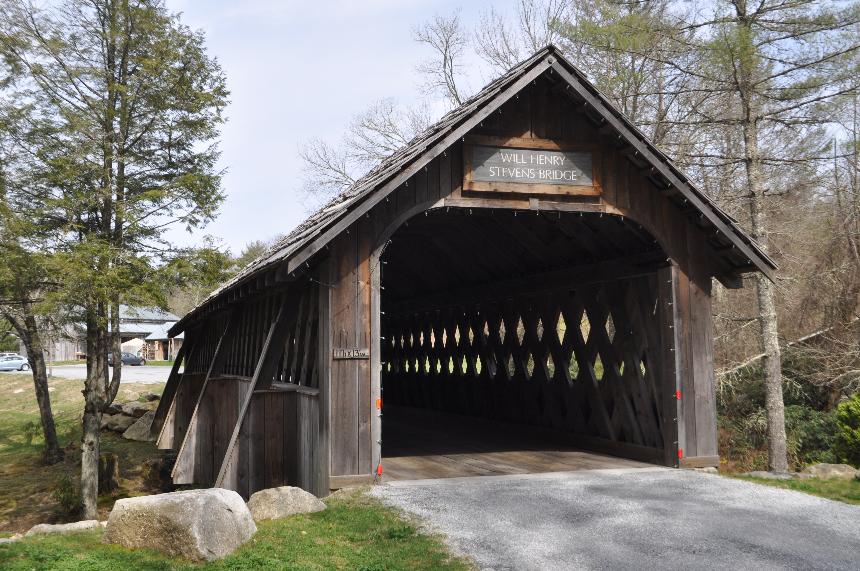 Crossing into North Carolina and approaching the Great Smoky Mountains we encountered some beautiful countryside, including a number of waterfalls.

Our interesting Adirondack themed room at the River Lodge B&B, overlooking the valley and the Tuckasegee river.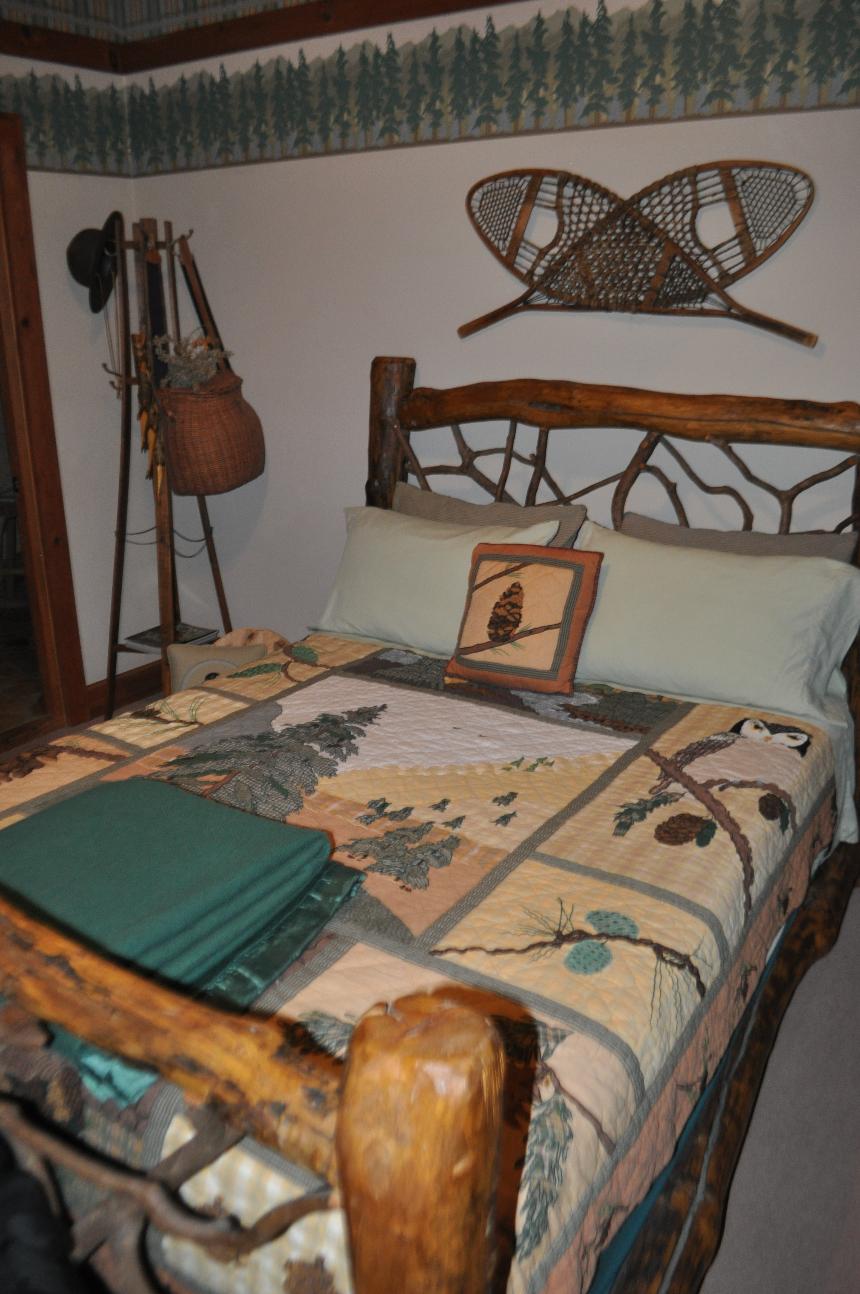 Mexican again for dinner. The restaurant was certainly far from fancy, and the margaritas were not all that great bu the food was really very good, including this vegetable chimichanga topped with fresh avocado.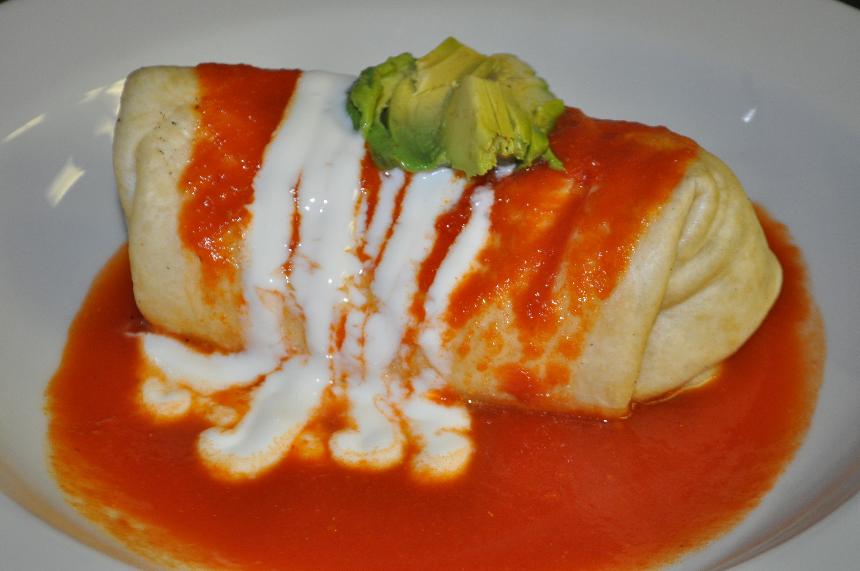 April 10 , 2014 - Glen-Ella Springs Inn - Clarkesville, Georgia

We were going to spend the afternoon driving through the nearby countryside - there are apparently a number of nice lakes nearby - and some of the towns in the area but another warm, sunny day made the alternative of simply relaxing at the Inn (listed on the National Registry of Historic Places) too tempting. So relax we did - me primarily catching up on the blog, wandering the property and chatting with a nice couple from Atlanta, and Gayle reading and resting. It was a wonderful, tranquil afternoon.
We then enjoyed another superb dinner, seated in an area with a beautiful view of the garden. Gayle enjoyed a nice spicy vegetable pasta dish while I had a superb rack of lamb. We somehow found room to share a molten lava chocolate cake for dessert. The food here is everything it claimed to be - delicious and very well presented.
Another of the porches at the Inn, with of course more rocking chairs.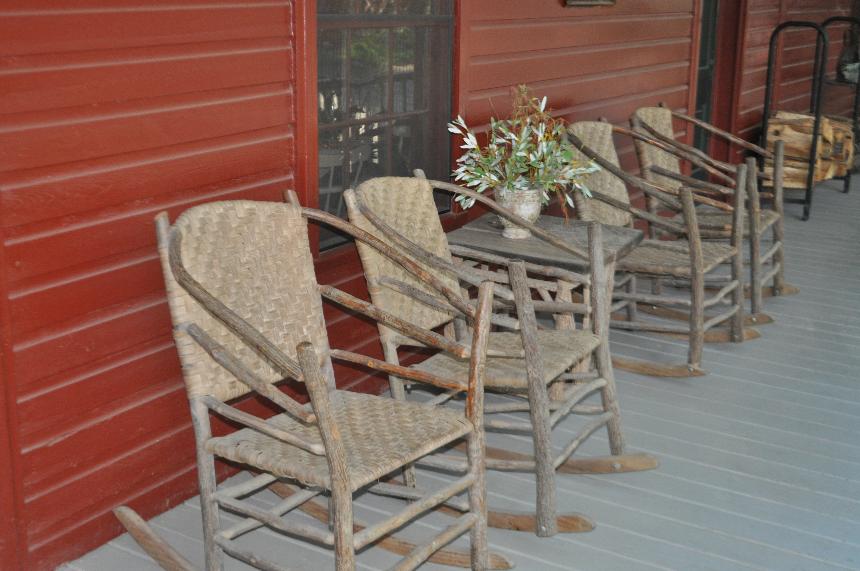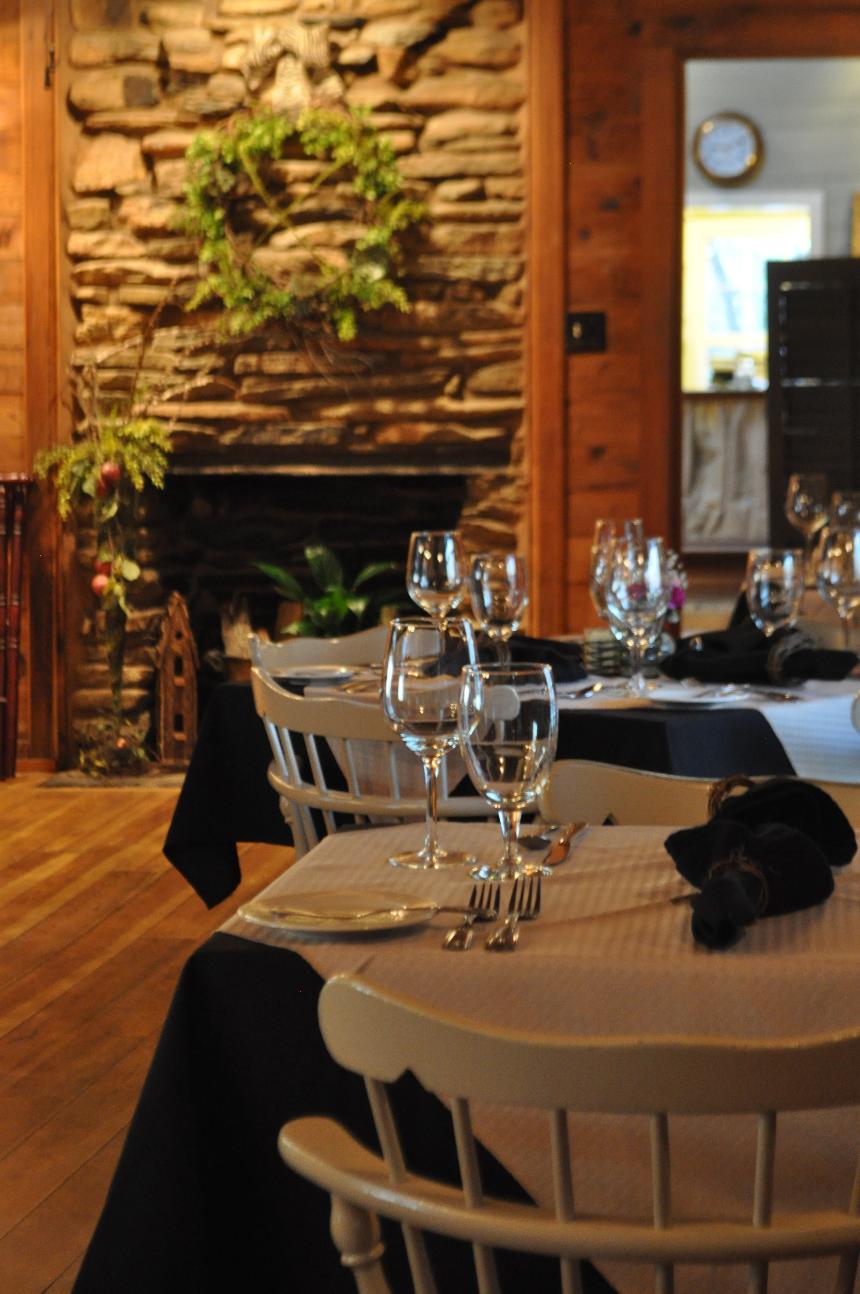 Glen-Ella Springs Inn as seen from the meadow.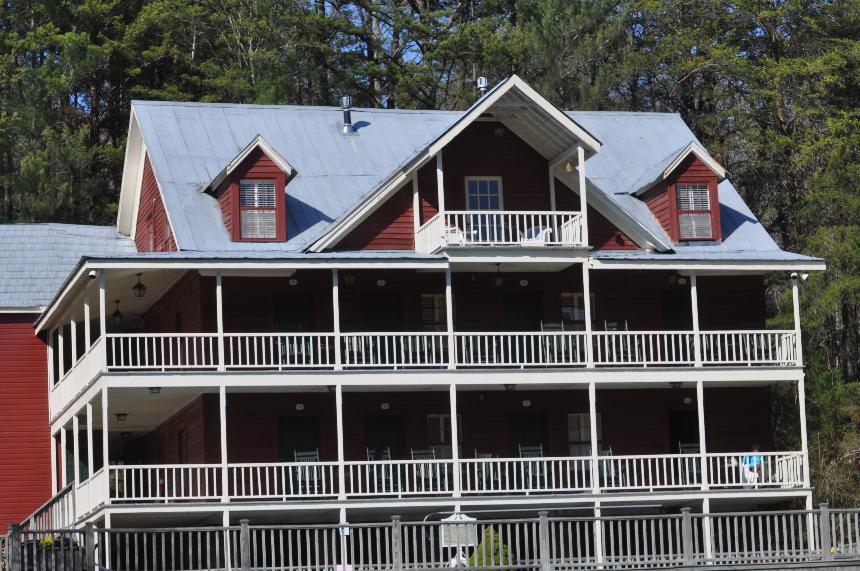 Enjoying the afternoon sun on the porch outside our room.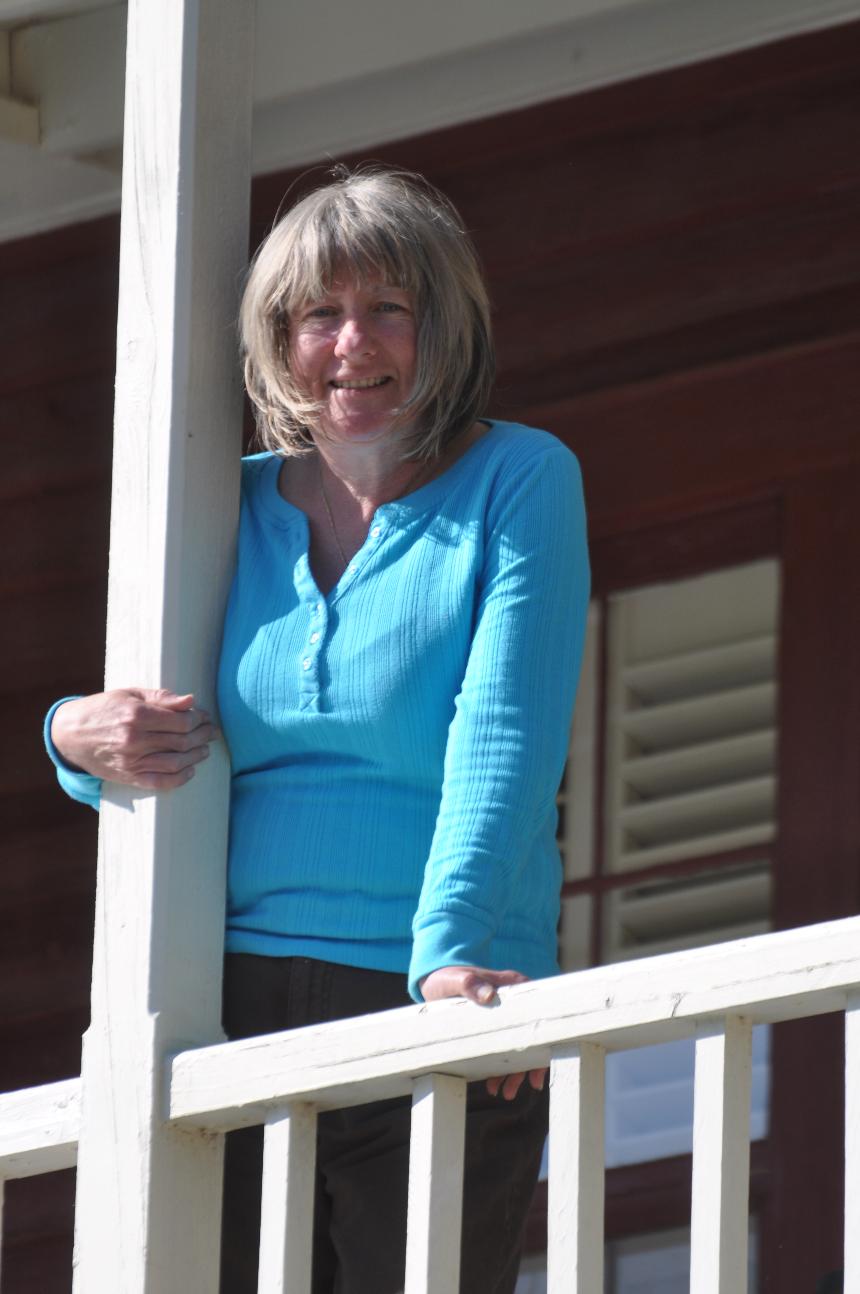 Rack of lamb with a creative sweet potato fritter and green beans- fantastic!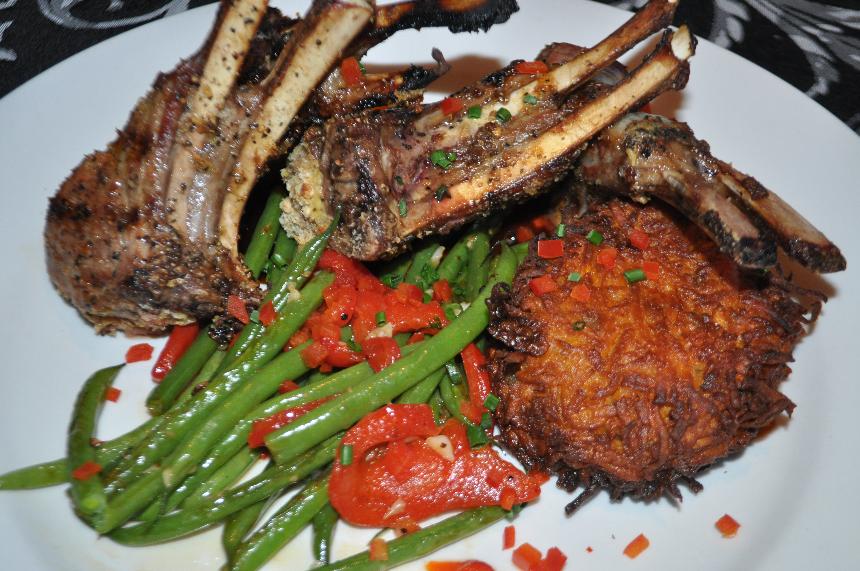 Molten chocolate lava cake - worth the 13 minute preparation time.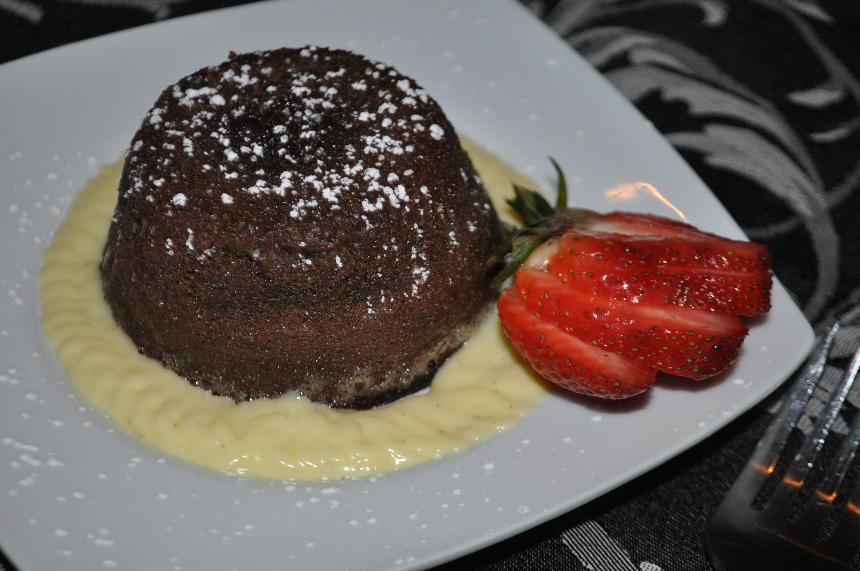 April 9 , 2014 - Waynesboro, Georgia to Clarkesville, Georgia

Today was our longest drive of the trip. After a nice long chat with Nancy the renovations of Wisteria Hall and her Civil War Christmas dinner re-enactment we headed north, ultimately to Clarkesville, Georgia. The drive was moderately interesting although not certainly not outstanding. We stopped for a coffee and sweets in a small town but otherwise drove straight through until we arrived at the Glen-Ella Springs Inn where we will be staying for two nights.
Set out in the countryside Glen-Ella is a 16 room inn dating from the late 1800s. The inns rustic, yet elegant rooms were not luxurious, but very nice. The property is beautiful with spectacular gardens and an open meadow leading to a stream the borders the inn. Sitting in the comfortable rocking chairs soaking in the late afternoon sun was wonderful. The gardens are very impressive, providing an attractive setting for the many weddings hosted at the Inn. The dining is presented as 'fine' and it certainly was. Everything we had was extremely well prepared and presented, and of course was delicious. Our meal the first night was comprised of a very tasty spinach salad with walnuts and goat's cheese and a nice raspberry sauce, a creative vegetable Wellington for Gayle accompanied by unique smoke flavoured beans, pecan crusted trout for me and to finish the meal - creme brule (mostly for Gayle). It was indeed a memorable meal.
A morning tip of the (Masters) hat to you.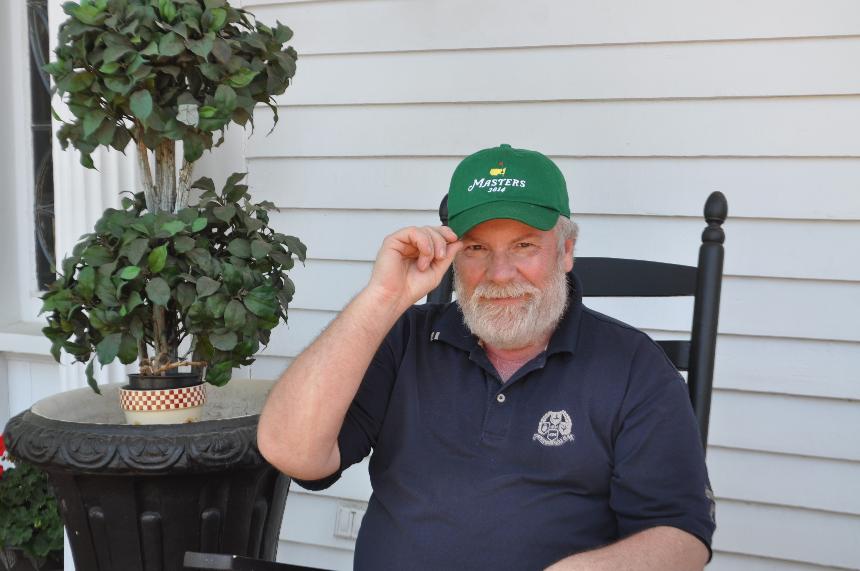 There was not much along the drive today but this wisteria did catch our attention.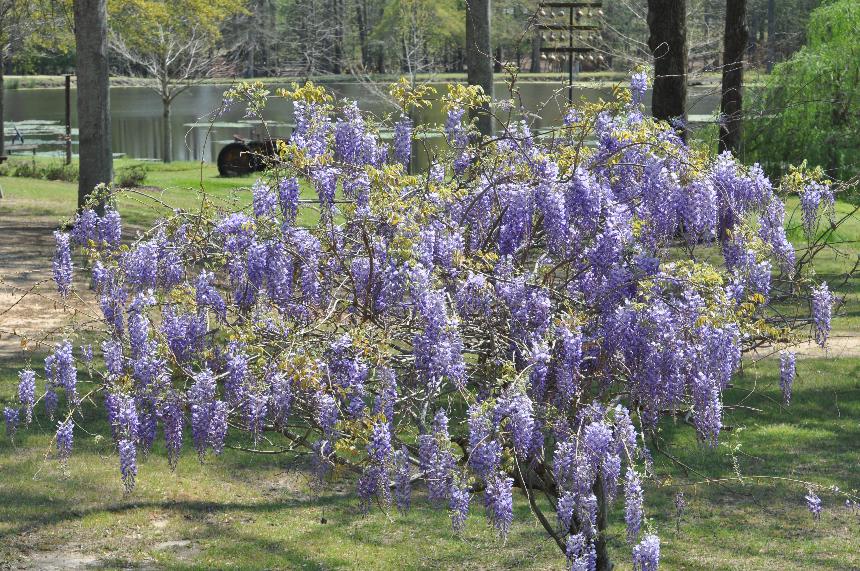 Listed on the Registry of Distinguished Inns of North America the Glen-Ella Springs Inn,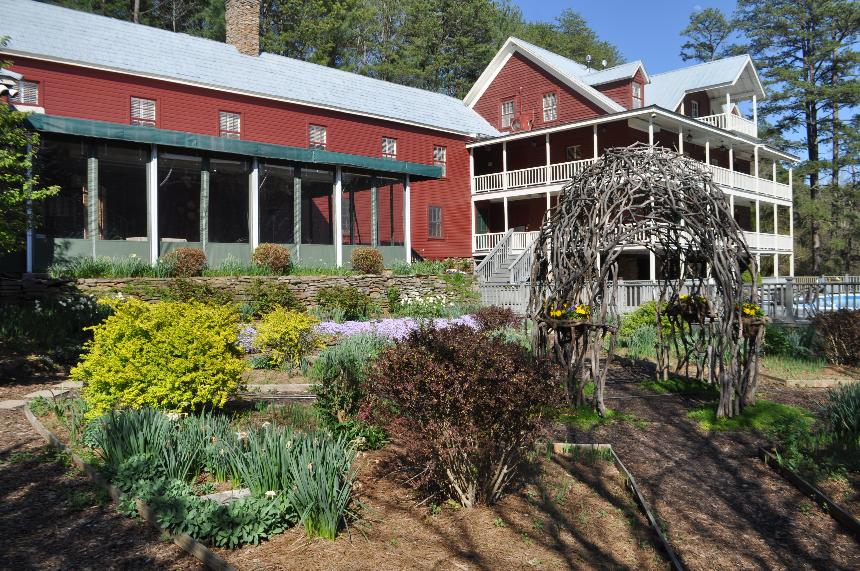 Rocking chairs lines up on the porch.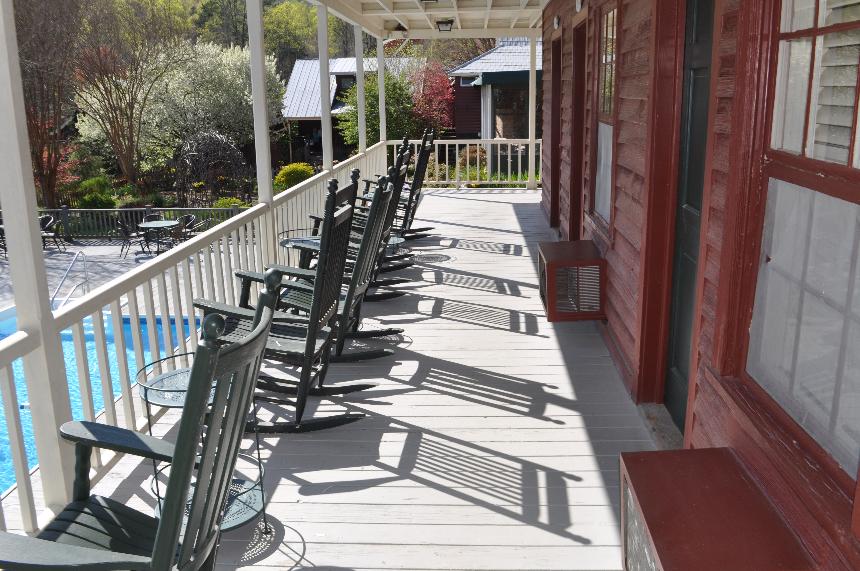 The beautiful gardens attracted bees and butterflies.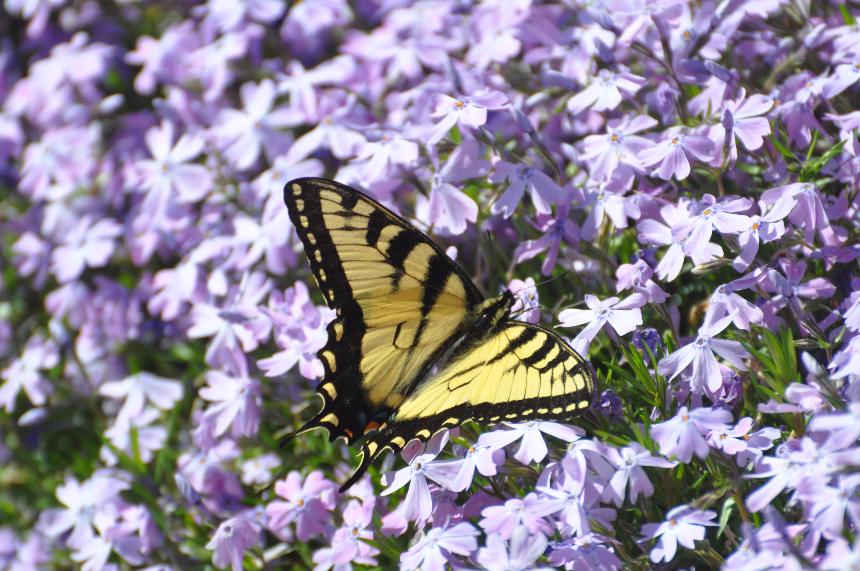 ,Under the vine trellis in the Glen-Ella Spring Inn gardens.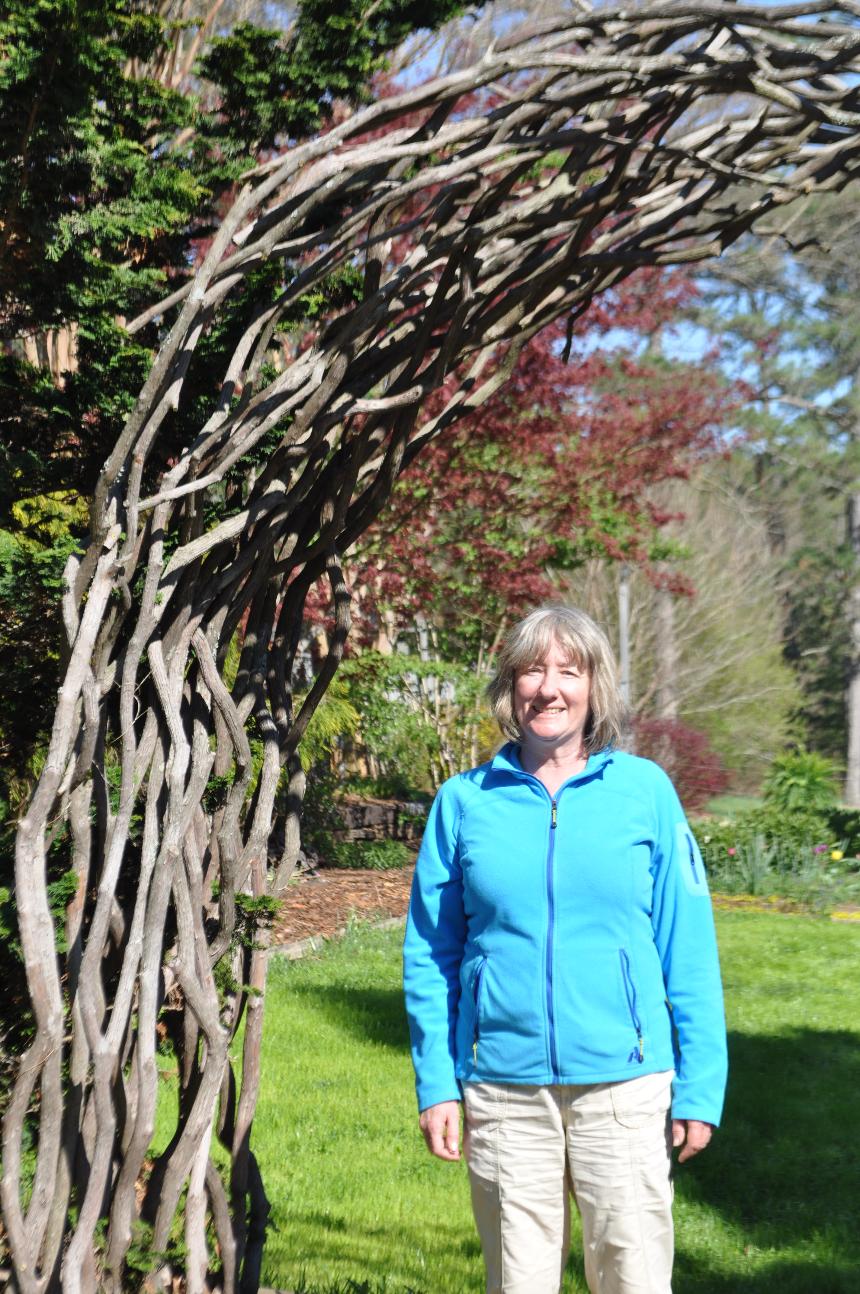 Enjoying a delicious dinner at Glen-Ella Springs Inn.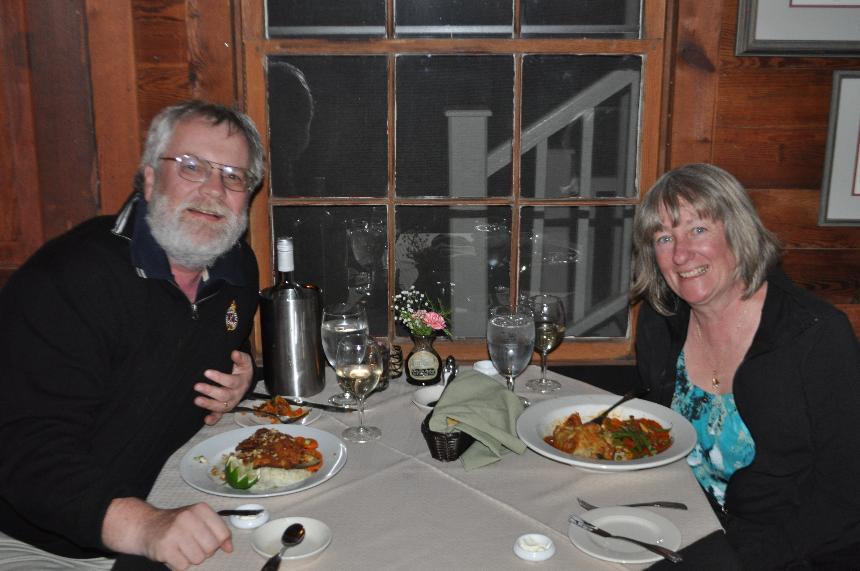 A very nice spinach salad with walnuts and goat's chees accompanied by a raspberry sauce.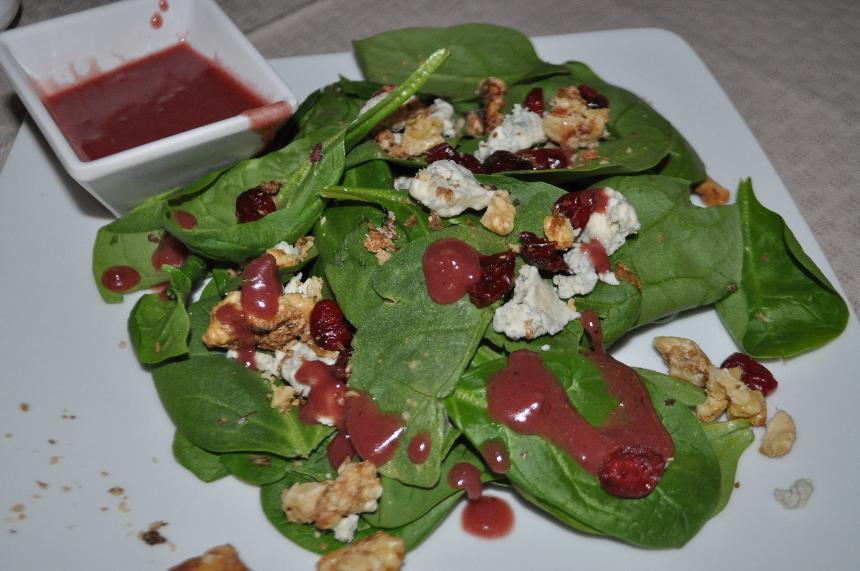 Trout is very common on the menus in this area - this one pecan crusted.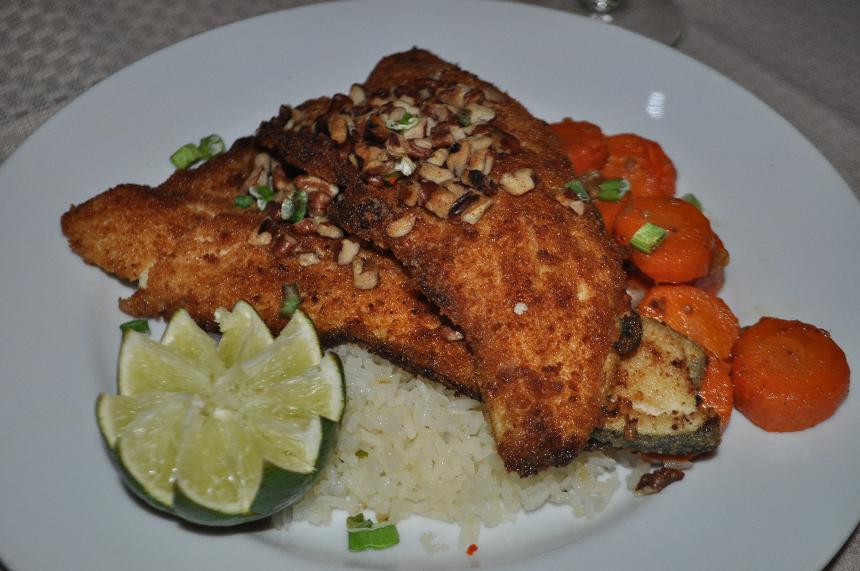 Gayle's curried vegetable Wellington with smokey beans - a creative wonderful dish.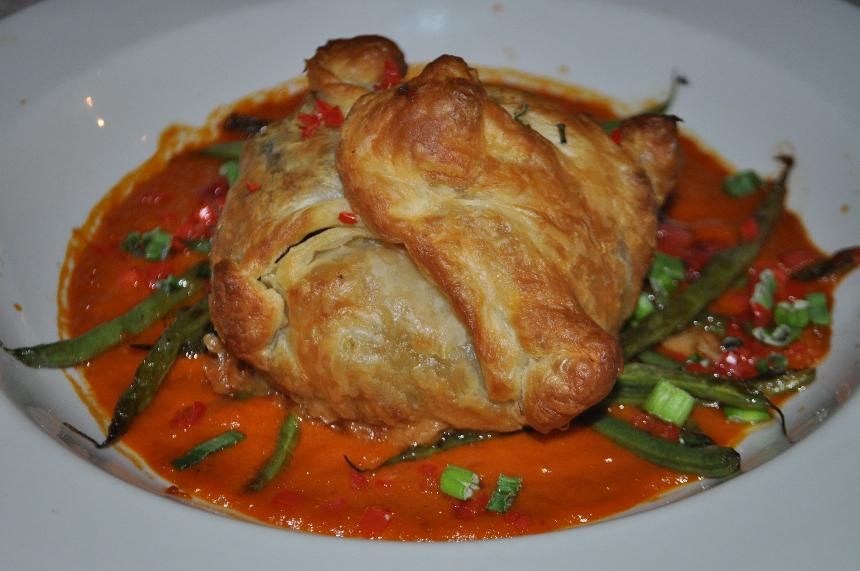 April 8 , 2014 - Augusta National at the Masters, Augusta, Georgia

We're here. For those who might not know after trying for four years I received an email last summer that said something like 'Congratulations you have won the opportunity to purchase two tickets to the Tuesday practice round at the Masters on April 8, 2014.' Not only was this great news on its own for those who might not know April 8, 2014 was my 60th birthday! The stars certainly aligned.
The drive in from Waynesboro was quite easy, taking about 45 minutes. We approached the course from the back residential side where there were many very nice homes, well landscaped with azaleas and other plants. No problem finding the parking (which is free by the way) and the entrance to the course - we entered from the back side first encountering holes 6 and 16.
Augusta National was originally a nursery which is the reason each of the holes is named after a plant. It is estimated that since the course was built, more than 80,000 plants of over 350 varieties have been added to teh August National landscape. The property is truly magnificent, with each hole a picture unto itself. The grounds are large with wide fairways and considerable room between each hole (it is said two courses would normally be built in the same space). The course is deceptively hilly, with virtually each hole rising or falling. And while there are relatively few bunkers on the course they are massive. The other notable feature is the mounding around most every green.
We walked every hole except 14 and did not take the time to see the par 3 course or Magnolia lane. We saw many notables included Phil Mickelson, Rickie Fowler, Jason Dufner and Dustin Johnson (playing together), Mike Weir (who had a hole-in-one on the 16th) and Graham Delaet, Tom Watson, the Stadlers (Craig and Kevin), Keegan Bradley, Webb Simpson, Matt Kutcher and many others. But the day was not so much about the players as it was the course. One benefit of attending a practice round is that you can bring a camera, which is not allowed during tournament rounds. I took many photos of which a small sample follow.
The other thing about Augusta National is the very reasonable concessions. Sandwiches start at $1.50 each (egg salad and pimiento cheese) and reach a startling $3.00 each for more elaborate options (ham and cheese on rye was $2.50). Drinks (lemonade, pop, iced tea) were $1.50 and beer $3.00 (or $4.00 for imported) all in nice souvenir cups with a Masters logo. and speaking of Masters logos - the golf shops were just crazy, particularly mid-day with so much to buy - you name it they had it, including a new item this year ... Masters' dog collars.
After Monday's rain out (thank goodness we had tickets for Tuesday. We heard patrons would receive a refund and tickets to next year's tournament but still ...) the weather was very nice - warming up through the day but never too hot. Although the feet and legs were sore after the long walk it was so worth it. We finished back at the 16th where there is practice round tradition of skipping the ball off the water. As the PGA says these guys are good as virtually all we saw were successful with Ryan Moore coming within inches of a hole-in-one.
It was truly a great day for a golfer.
... at Augusta National and the Masters.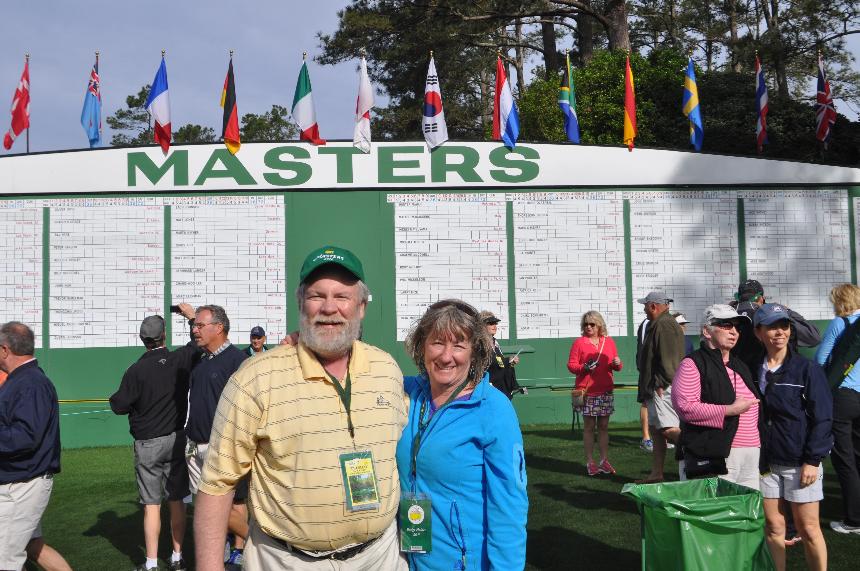 Just in case one is lost. Actually it was startling how many times I overheard someone say 'This is the so and so green or hole' or ask me (why me I'm not sure) which hole this was. You would have thought those coming to the Masters would have a much better knowledge of the course.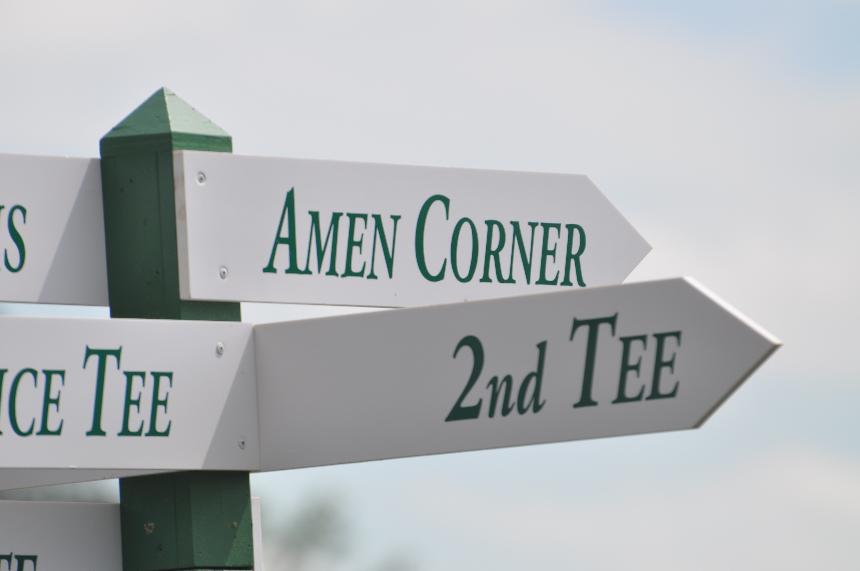 Phil practicing on the 8th (Yellow Jasmine) green. Apparently a couple of holes earlier (6th) a patron was razzing him as to whether he could get up and down from behind the green. Phil took the bait and bet the patron. He chipped to 7 ft below the hole but missed the uphill putt. Not carrying any cash he had to 'borrow' some from one of the caddies ... and paid the patron $5.

Tom Watson and Jimmie Walker after teeing off on 12.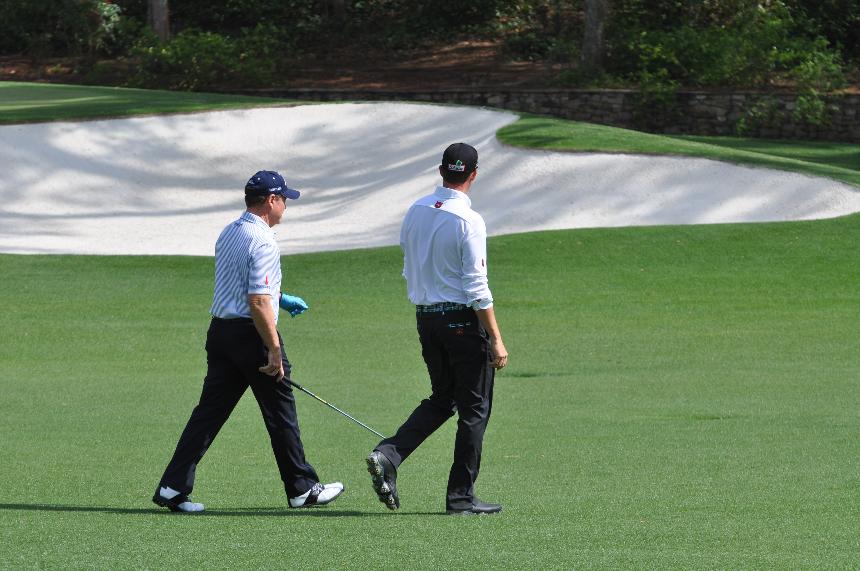 Gary Woodland and Matt Kutcher (clearly a fan favourite) waiting for Tom Watson to hit on the 16th.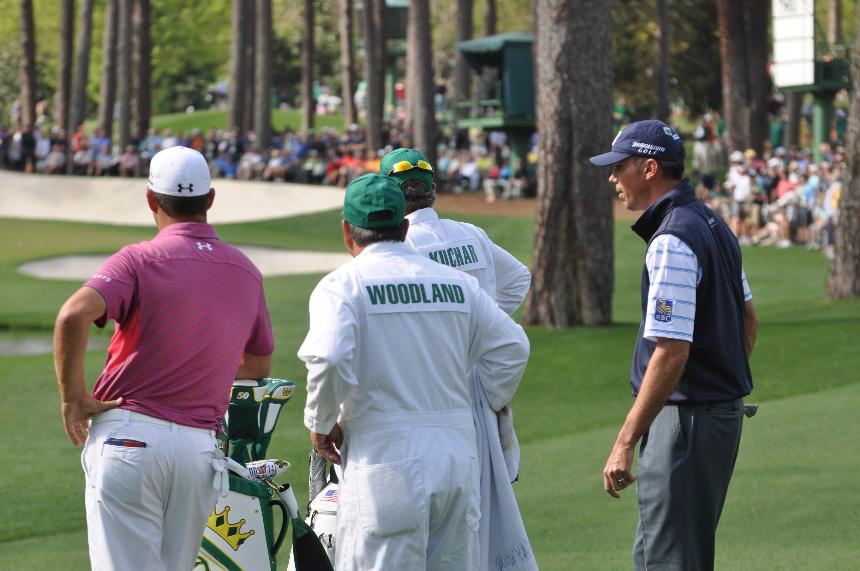 Mike Weir and Graham Delaet walking down the 2nd fairway.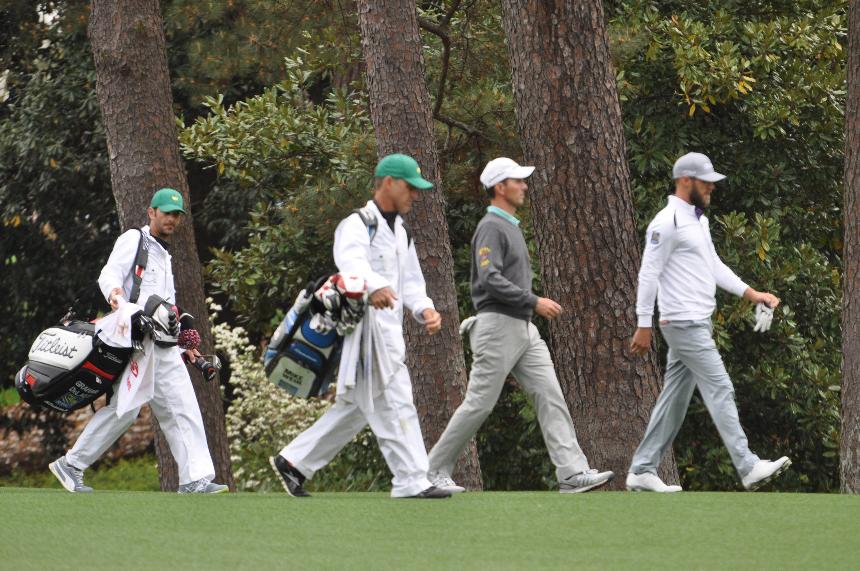 Due to the cold and extended winter in the south the azaleas were clearly not at their peak. One regular Masters azaleas assessor gave them a 6 out of 10 this year. The 13th hole alone has approximately 1,600 azaleas planted.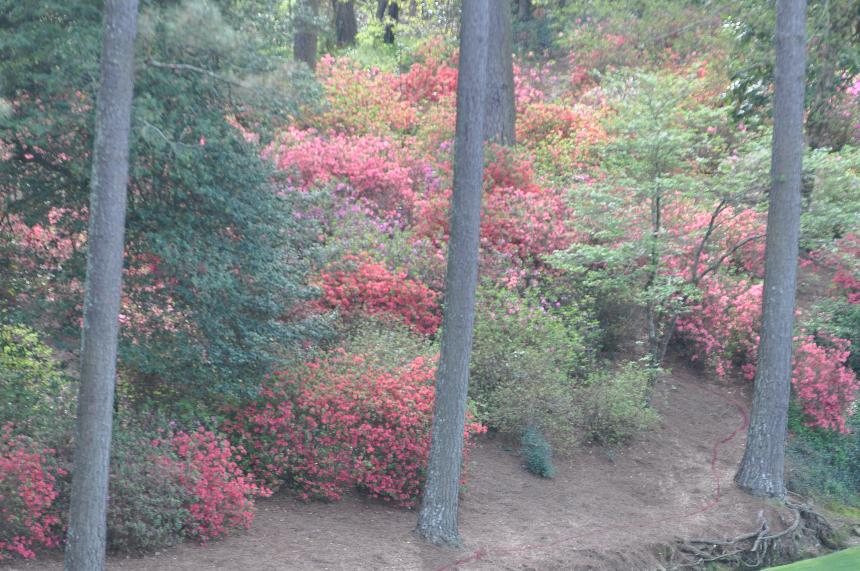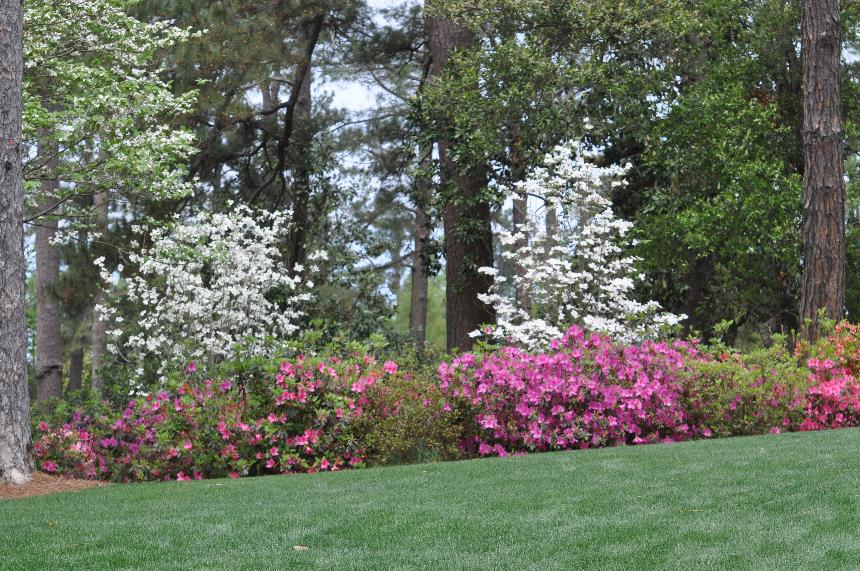 The 6th (Juniper) green on the left; the 16th (Redbud) on the right.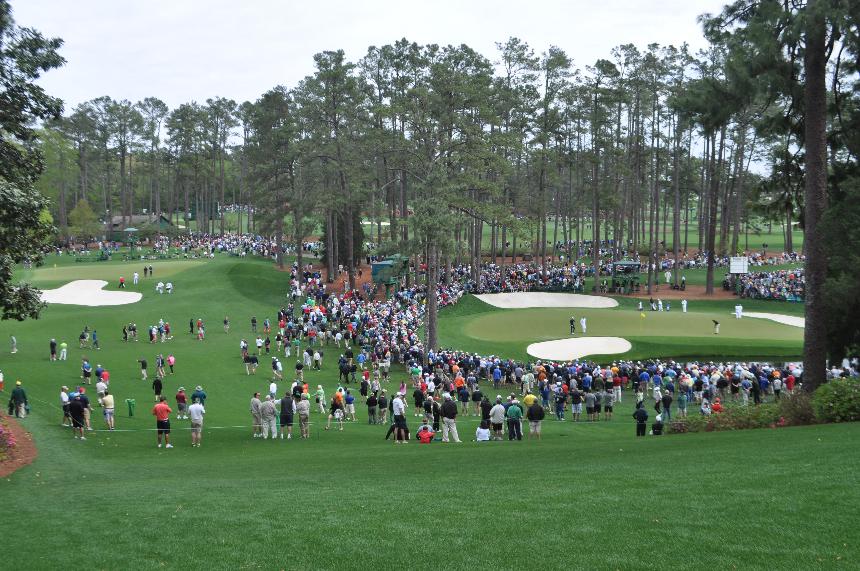 The 10th (Camellia) at Augusta National. While the fairway Mackenzie bunker does not come into play (unless of course I was playing) it does make this one of the more visually spectacular hole on the course, which is saying something given how beautiful the other holes are.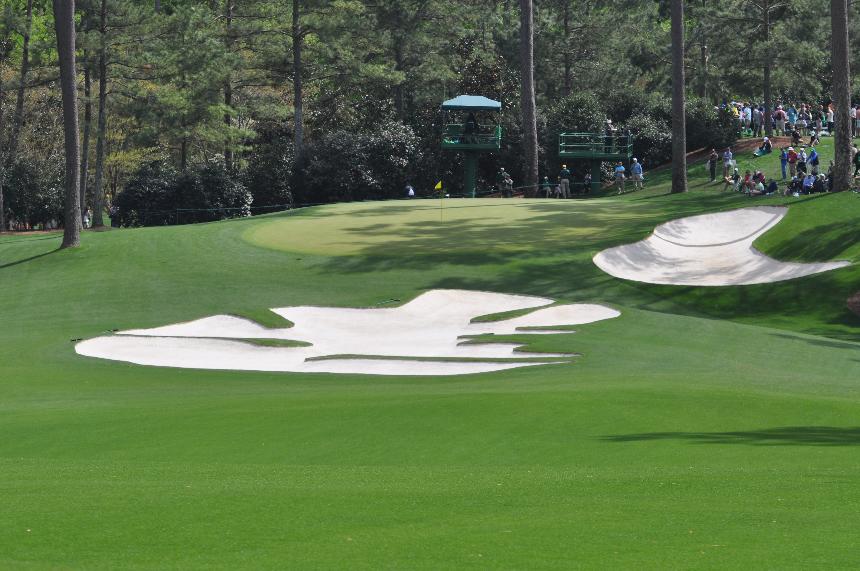 Looking back up the 10th fairway from behind the green.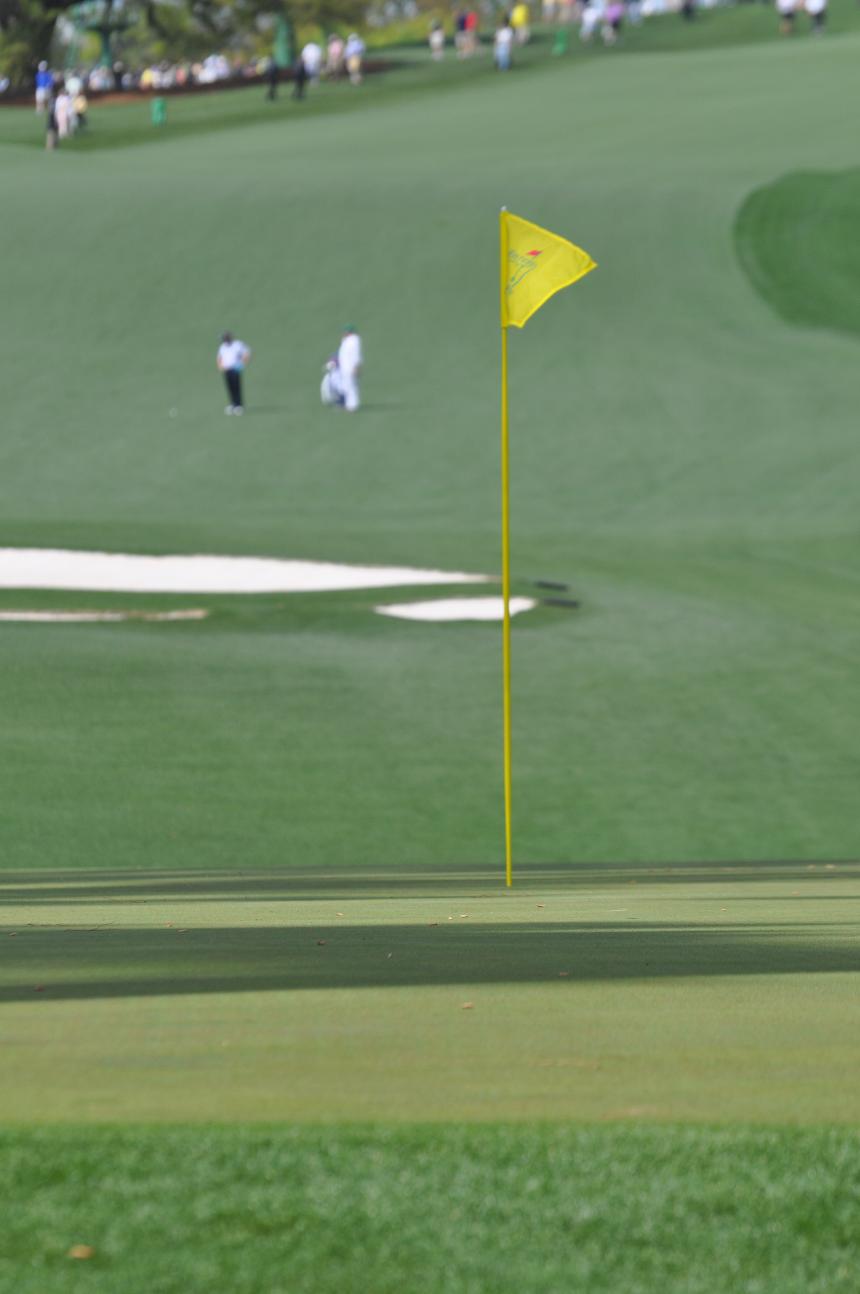 The 11th (White Dogwood) green with the Ben Hogan Bridge to the 12th green on the right.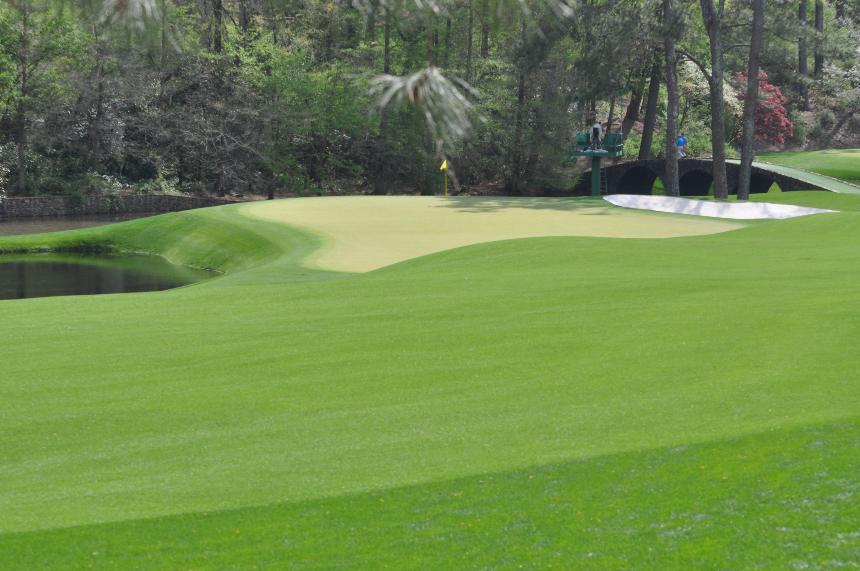 The famous 12th (Golden Bell) hole at Augusta National.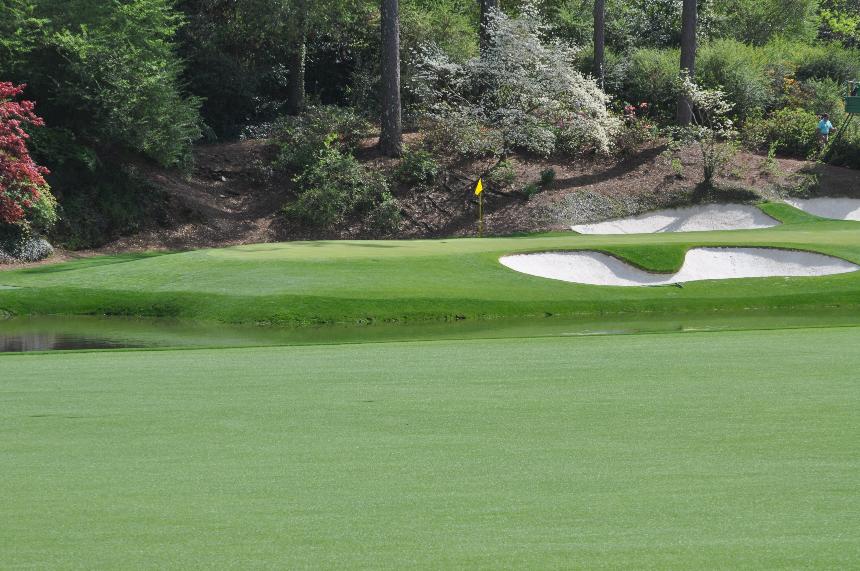 The 12th green over my shoulder.

The view back up and across the 13th fairway to the 12th green.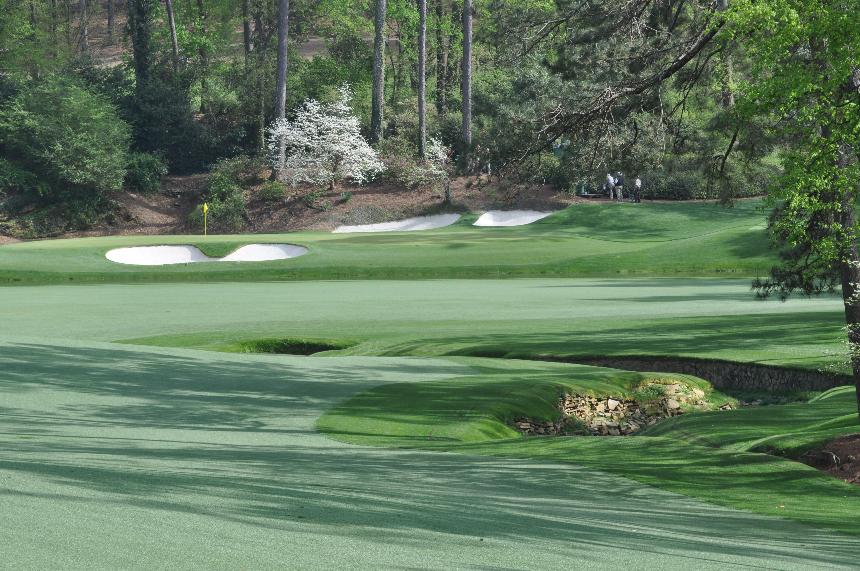 Looking down the 13th (Azalea) fairway to the green - so picturesque with the three massive traps behind.

The 13th green. Regrettably due to the cold winter the azaleas were not yet in full bloom.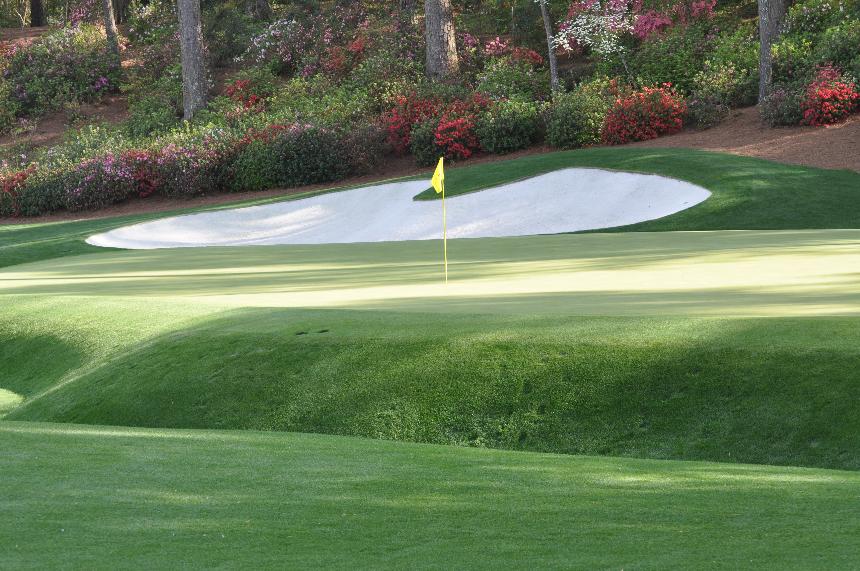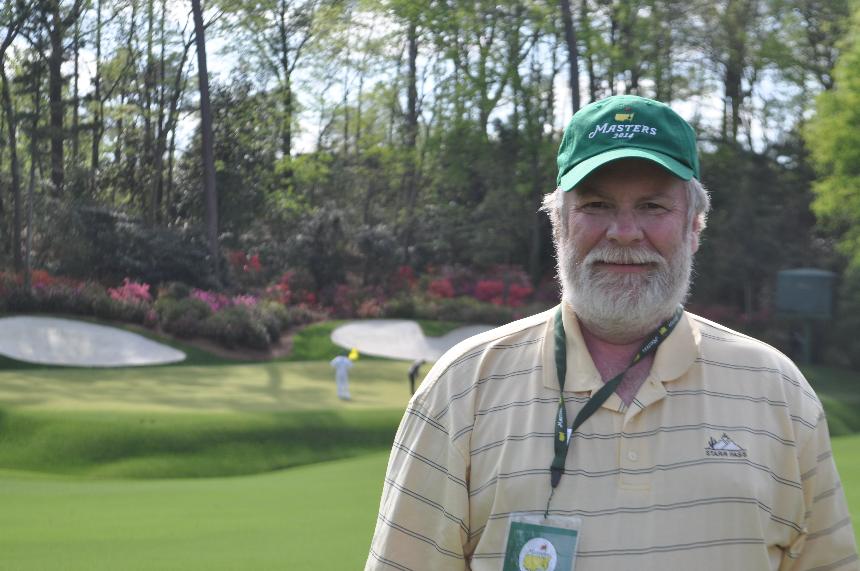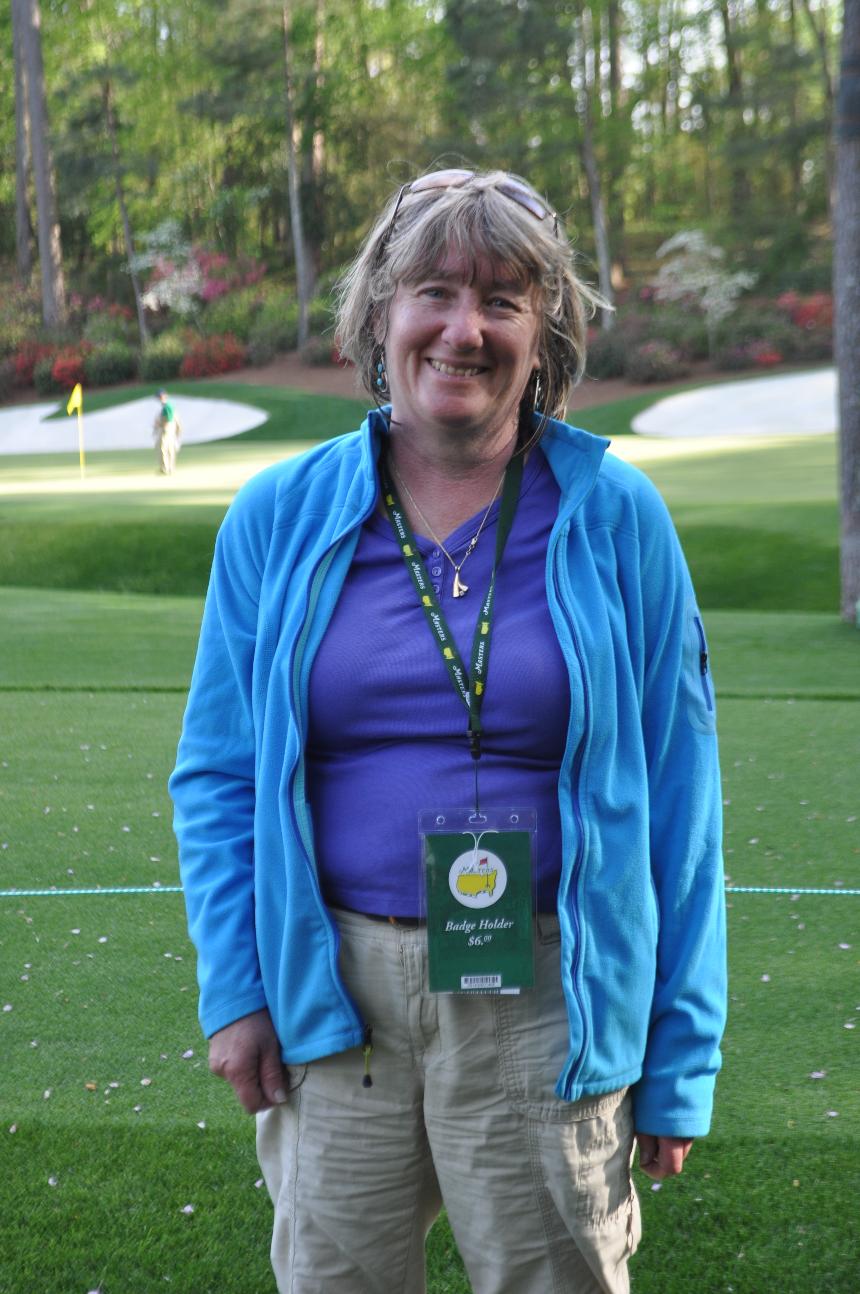 This will look quite different Sunday afternoon.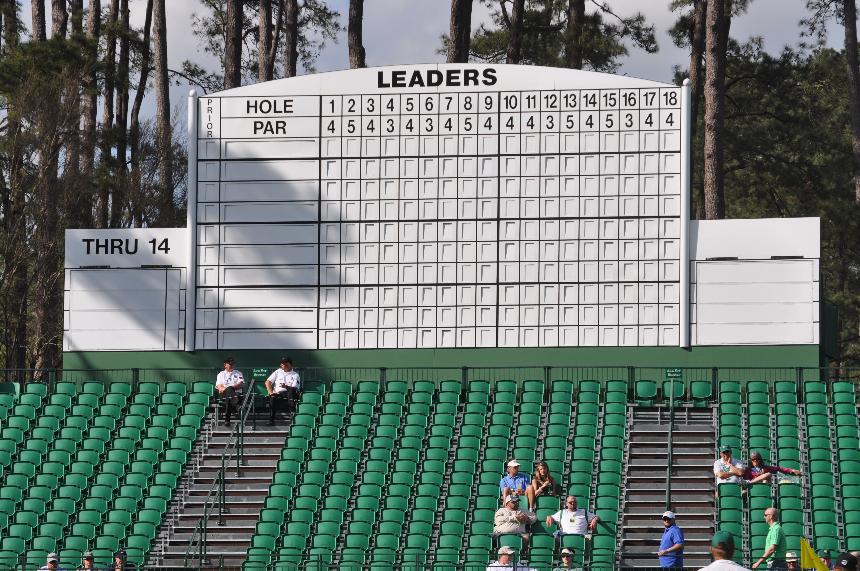 In front of the 15th (Firethorn) pond and green.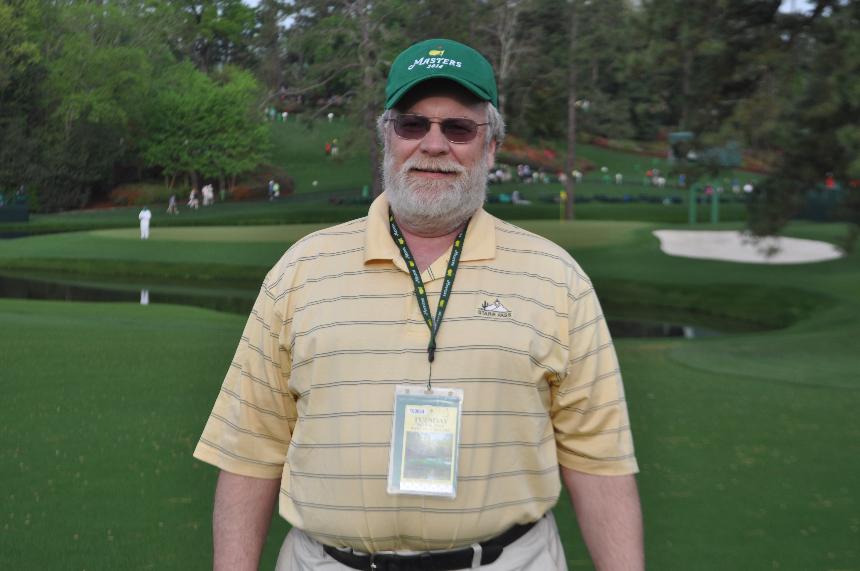 16th (Redbud) green where Mike Weir made a hole-in-one during Tuesday's practice round and Ryan Moore just missed doing the same after 'skipping' the ball off the water.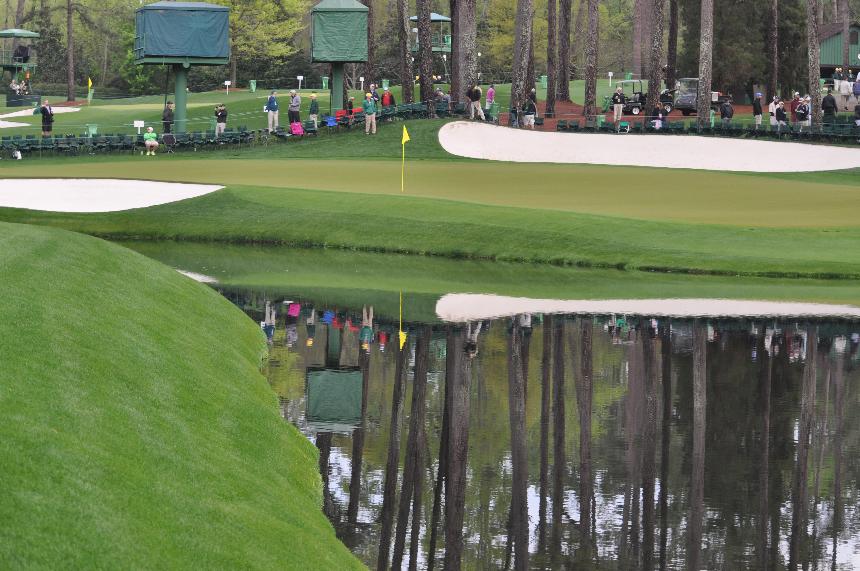 The chute from the 18th (Holly) tee box.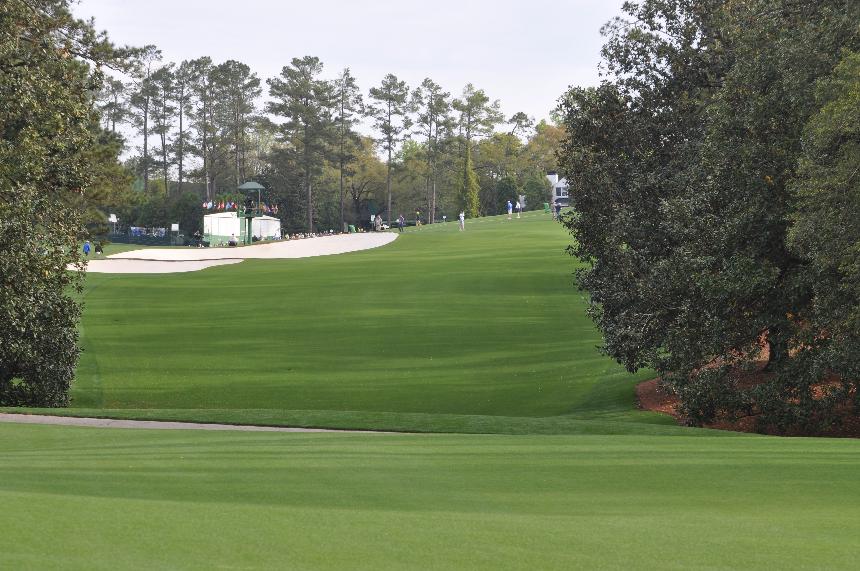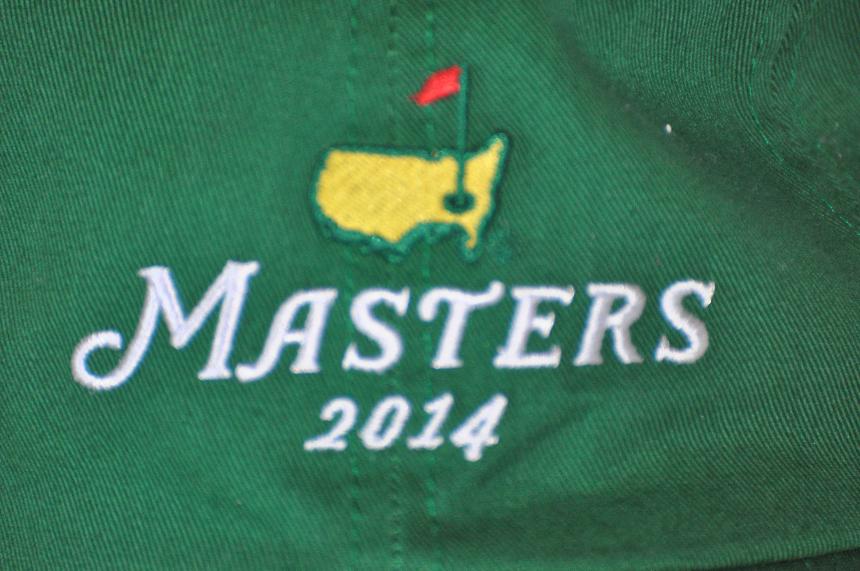 April 7 , 2014 - Richmond Hill, Georgia to Waynesboro, Georgia

We enjoyed yet another nice breakfast - fresh fruit and pancakes again - both seem popular at the B&Bs here in the south and then wandered around the wonderful property, enjoying the azaleas and the sounds of the birds.
The drive north to Waynesboro was fairly direct and actually quite boring. The most interesting part of the drive were a few road-side cotton fields along the way ... but otherwise pretty flat and non-descript. We arrived in Waynesboro mid afternoon. Hotels in Augusta - and we are talking the very basic Days Inn, Quality Inn, Holiday Inn Express run $450 to $550 per night during Masters week. Rather than pay that we found what turned out to be a wonderful home, beautifully restored and filled with interesting antiques for 'only' $265 per night 45 minutes south of Augusta. In retrospect staying here was a great decision. Very nice owner (who provided us a full breakfast at 6:00 am) in a very interesting and lovingly restored home. And although we did get up early the next morning we were still in the parking lot by 7:40 am and at Augusta National only a few minutes after the gates opened.
The only minor downside is that on Monday's there are not many restaurants open in Waynesboro. We did find another good Mexican restaurant, and although it was Mexican two nights in a row it was very good. Then it was early to bed in order to be up and out early the next morning for the big day.
What a sight to wake up to in the morning - step out on the terrace and enjoy. Naming the room the Azalea Terrace was no doubt very easy.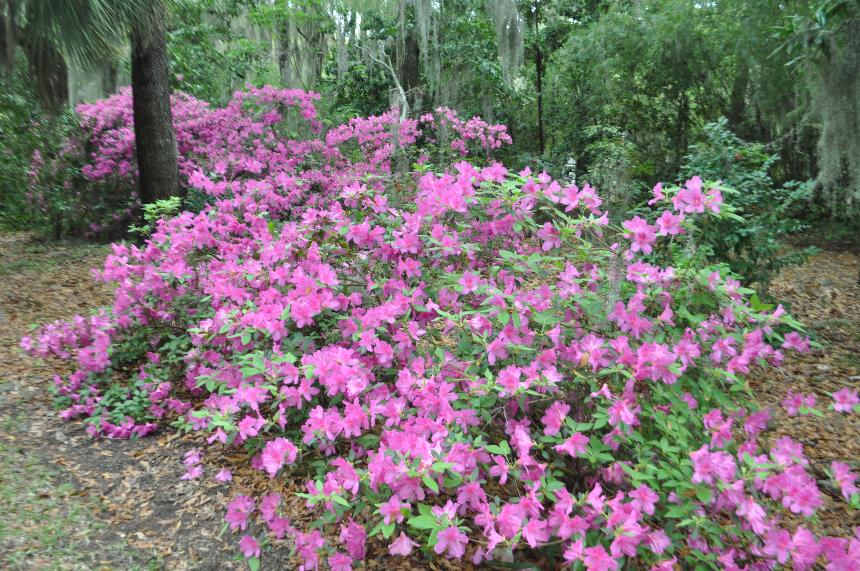 Enjoying the wildlife - we did see a few egrets - from the gazebo near the marshland at Heron Cove.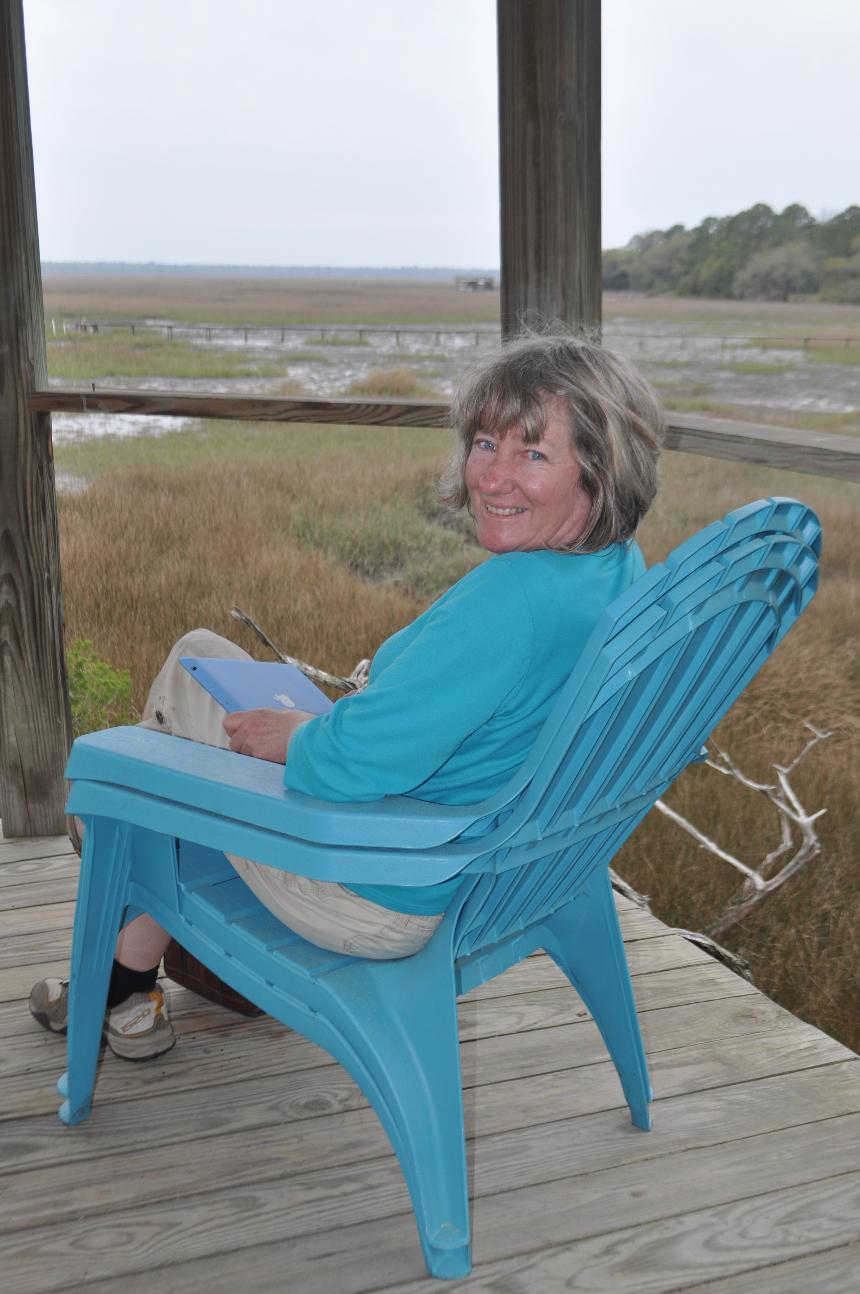 Although the day started out ok and we saw some cotton growing in fields along the route later on it started to rain, and then really rained. I guess it started earlier in Augusta accompanied by thunder and lightening necessitating the closure of Augusta National at 10:00 am. Thank goodness our tickets were for Tuesday rather than Monday!

Wisteria Hall in Waynesboro, Georgia, an immaculately restored American Greek Revival mansion, circa 1900, although Nancy indicated the home may have been started earlier.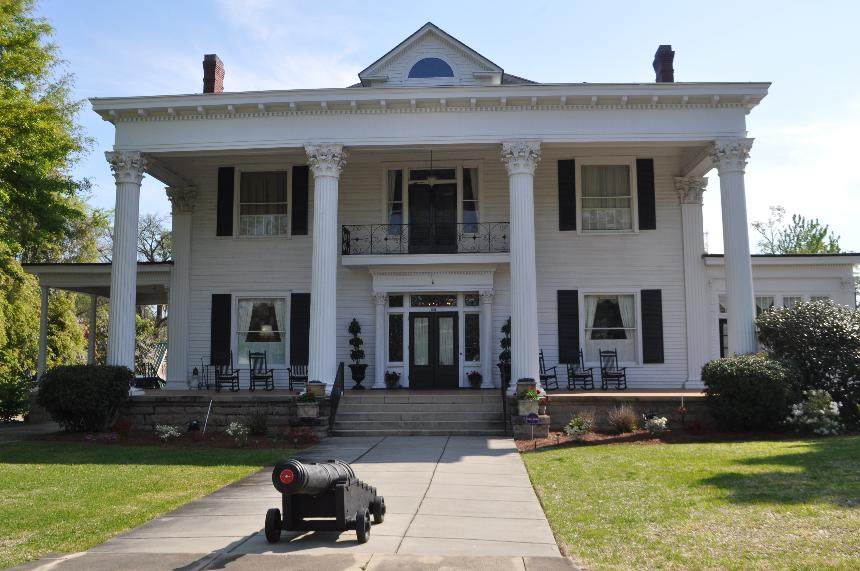 Wisteria Hall's sitting room. Every room was equally decorated with interesting antiques, furniture and paintings.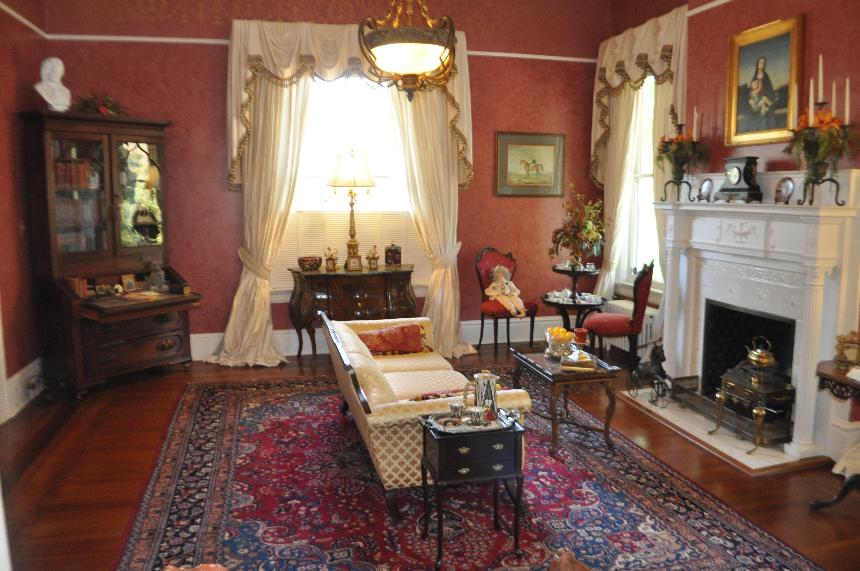 One of the interesting stories Nancy, our hostess shared with us was the Civil War Christmas re-creation they presented for a number of years (http://www.georgiamagazine.org/archives_view.asp?mon=11&yr=2008&ID=2025), complete with actors and actresses, and soldiers camped outside. The Hall was illuminated by candlelight and kerosene lanterns. Each room has a vignette with actors playing characters from the Civil War; generals in the dining room plan their strategy for the Battle of Waynesboro.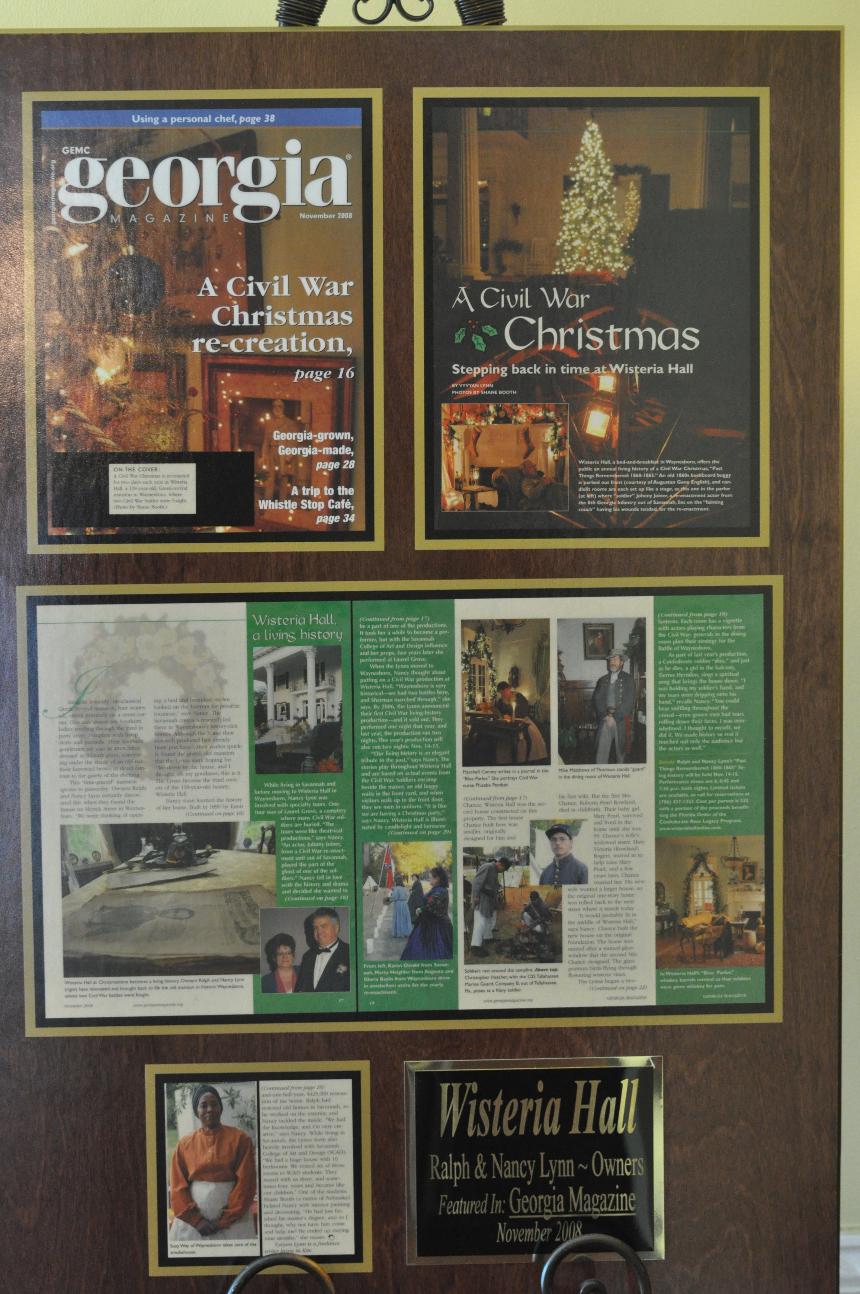 When we took the Gullah tour in Charleston we encountered these blue bottle 'trees'. The trees are used to keep evil spirits or 'haints' out of one's home. They even are effective on a particularly nasty goblin known as a "plat eye" -- in Gullah culture, the evil spirit of someone improperly buried. The spirits supposedly come out at dusk and are beckoned inside by slanting light refracted through the sparkling blue bottles. Once inside, the spirits are trapped. Some say they are vapourized when the bottles are flooded with morning sun. Others say the spirits simply cannot escape the bottle and that you can hear them moaning in agony when the wind blows through the tree branches. We didn't hear any moaning but did see this blue bottle tree behind Wisteria Hall.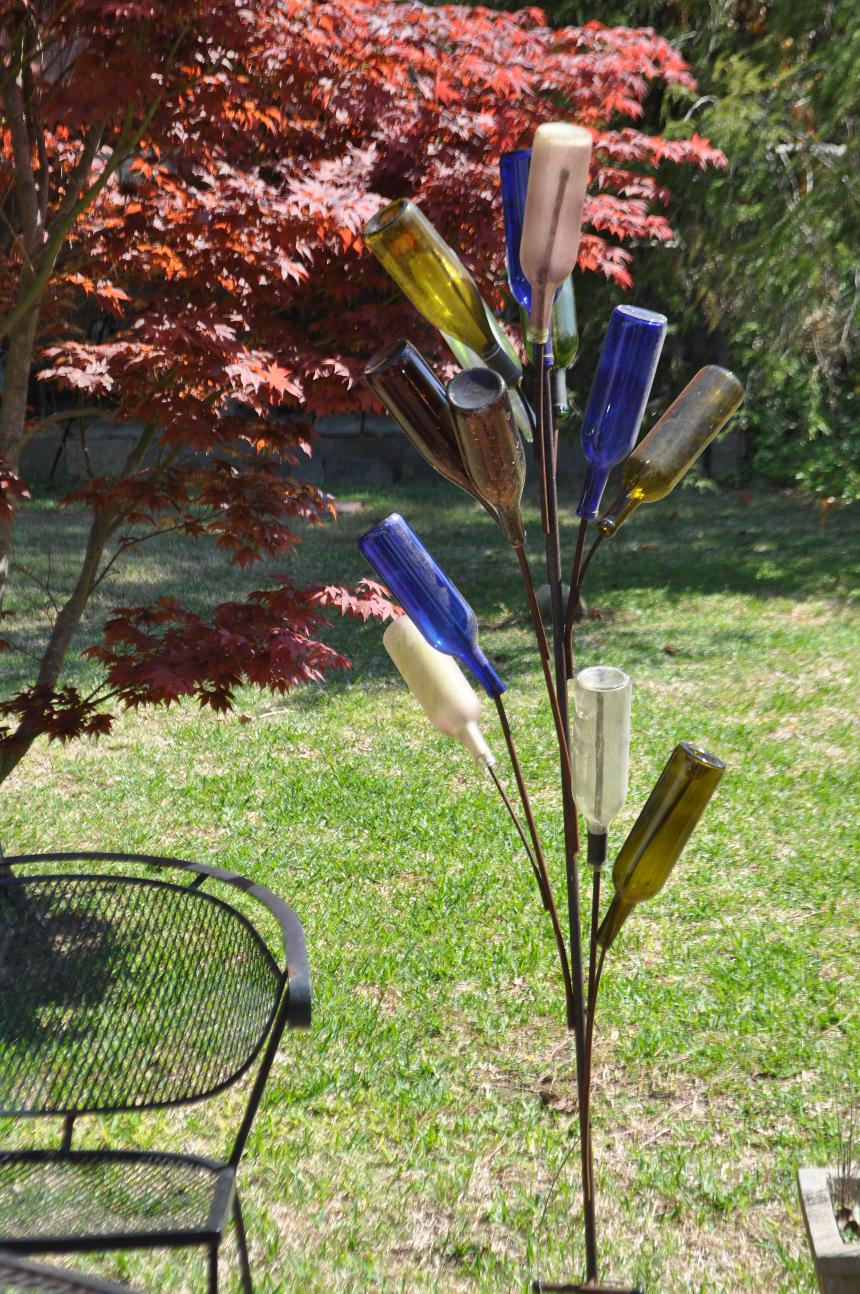 Enjoying the rocking chairs on the front porch of Wisteria Hall.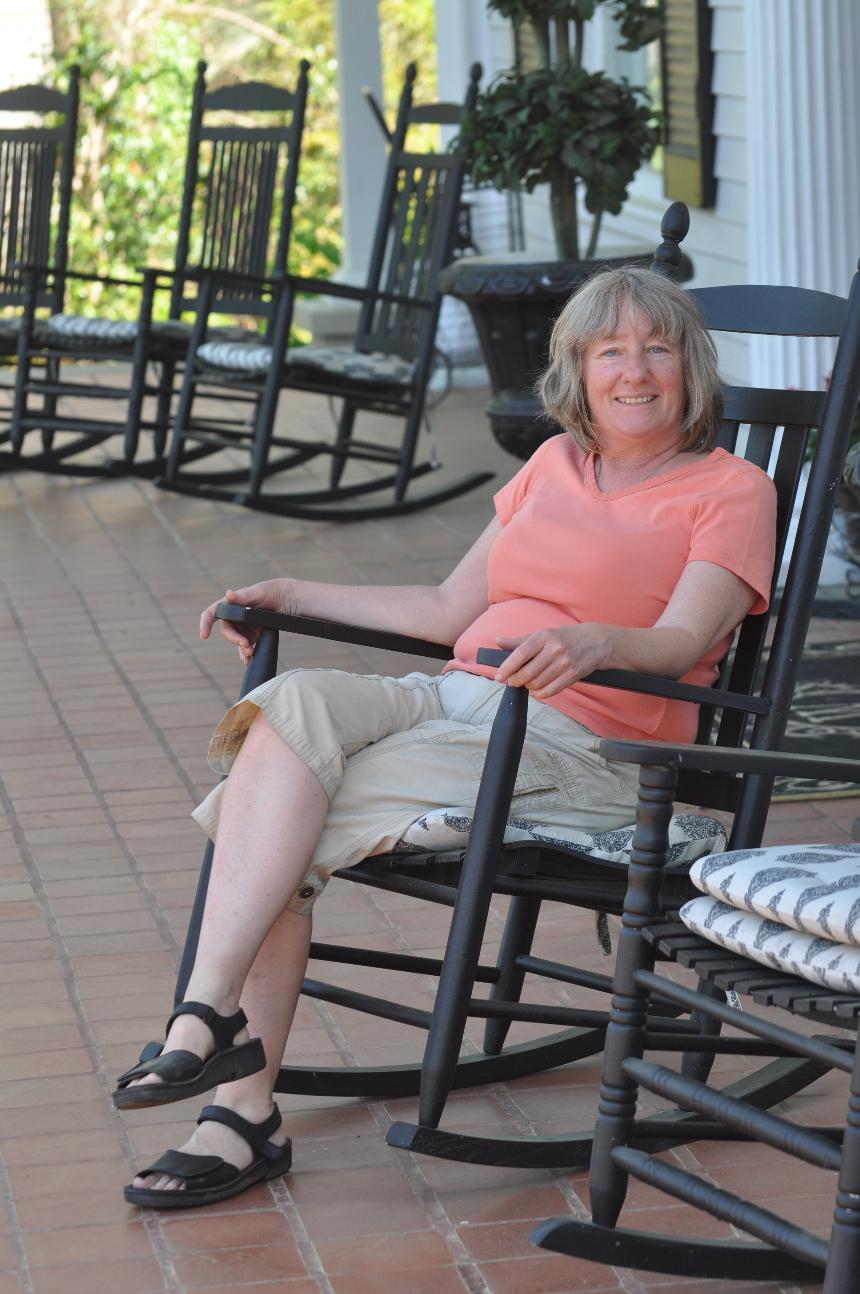 ... and of course a B&B named Wisteria Hall needs to have wisteria ... and it does.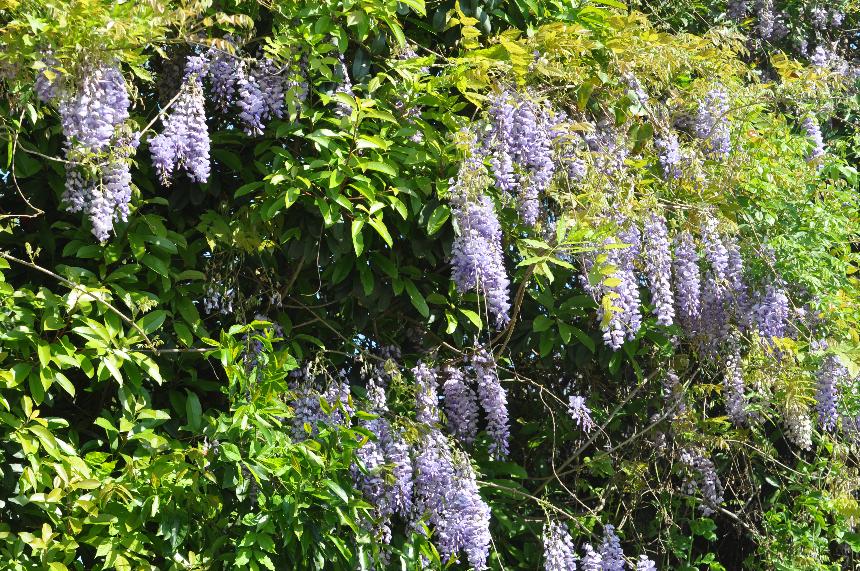 April 6 , 2014 - Savannah, Georgia to Richmond Hill, Georgia

After five nights in cities, quite unusual for us, today we left Savannah and drove a short (40 minutes) distance south and into a rural area - to a bed and breakfast that while was in a very modern house was located on the edge of a wetlands amongst peace and tranquility. Azaleas, dogwoods, magnolias - Heron Cove B&B at Silverstream Plantation has it all. Birds, including owls through the night could be heard at all times.
The owner was very interesting - a lawyer who worked 800 feet from the twin towers, escaping through the dust and soot, having been dragged into a building gasping for breath as he ran from the collapsing towers he had an 'awakening' - gifted the business to his partner and moved south. Unfortunately his then wife took ill and passed away not long thereafter. Now remarried Steve and Ginny run this 'escape from the city' bed and breakfast. Nearly 12 miles from the nearest town (and restaurants) one can truly relax here. We spent much of the afternoon sitting on the porch doing just that.
We did go back to Richmond Hill for dinner - choosing to eat Mexican. El Potro is a very simple, basic Mexican restaurant with good, inexpensive food (and good inexpensive margaritas). We very much enjoyed our meal.
Heron Cove Bed and Breakfast at Silverstream Plantation.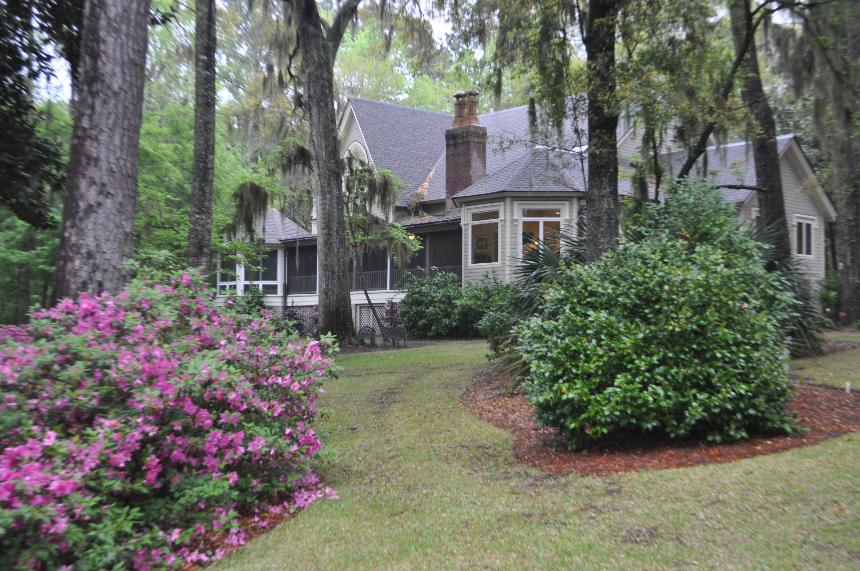 View from the house to the bay and marshlands, full of wildlife including a considerable number of birds.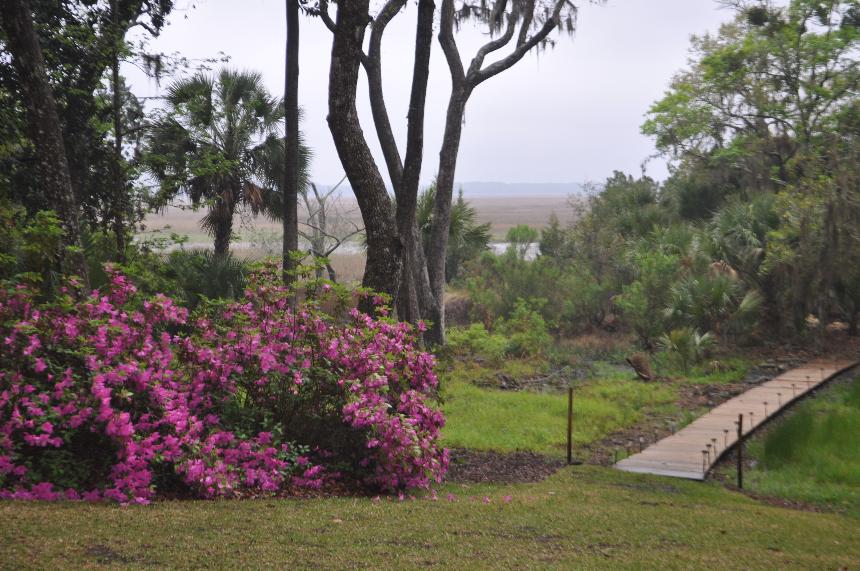 Our room - Azalea Terrace - has this amazing view of the numerous azaleas and a couple of 100 ft high 100 year old magnolia trees which will no doubt be spectacular when in bloom.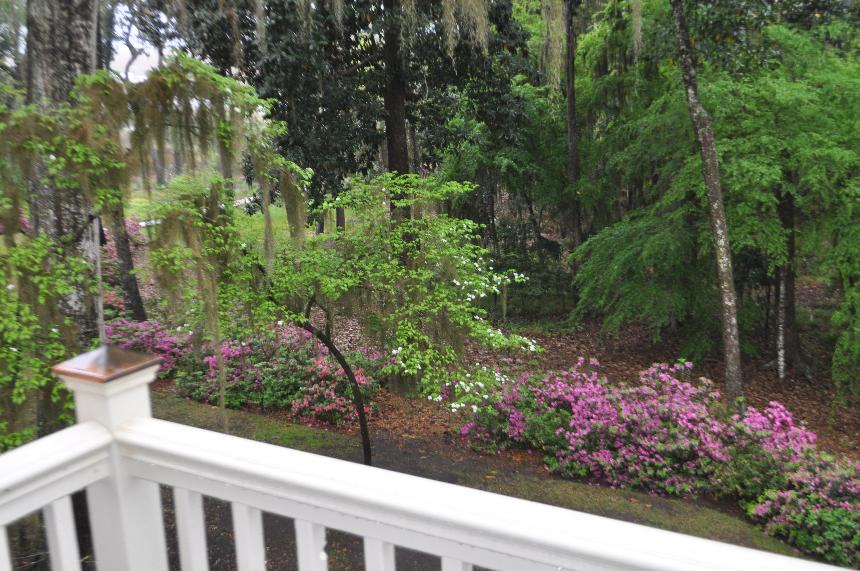 The view of the azaleas through the dining room windows.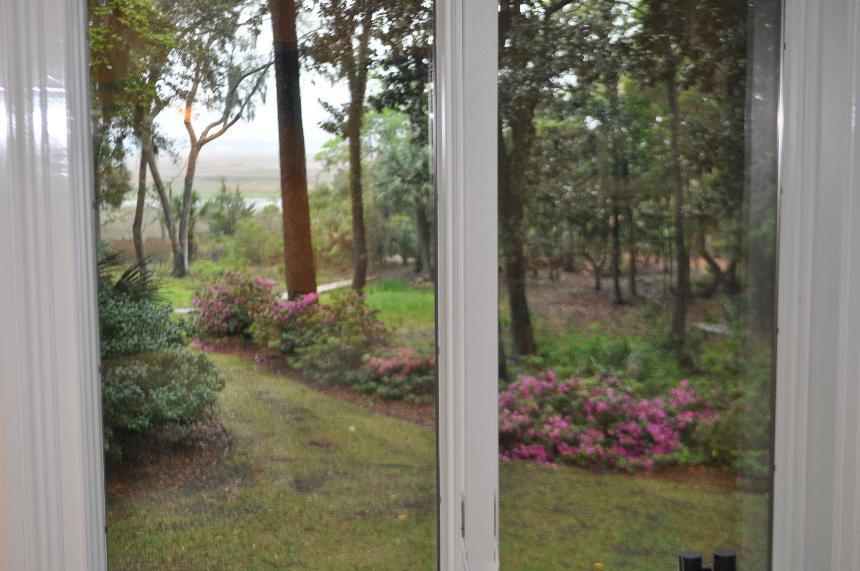 Simply enjoying the view from the lovely screened in porch, overlooking nature.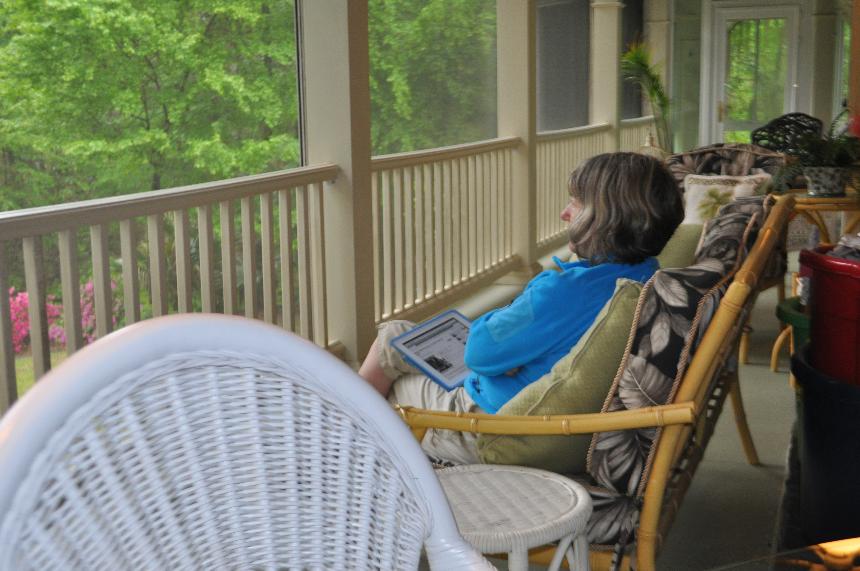 Swamp vegetation, including many palm trees along the edge of the marshlands at Silverstream Plantation.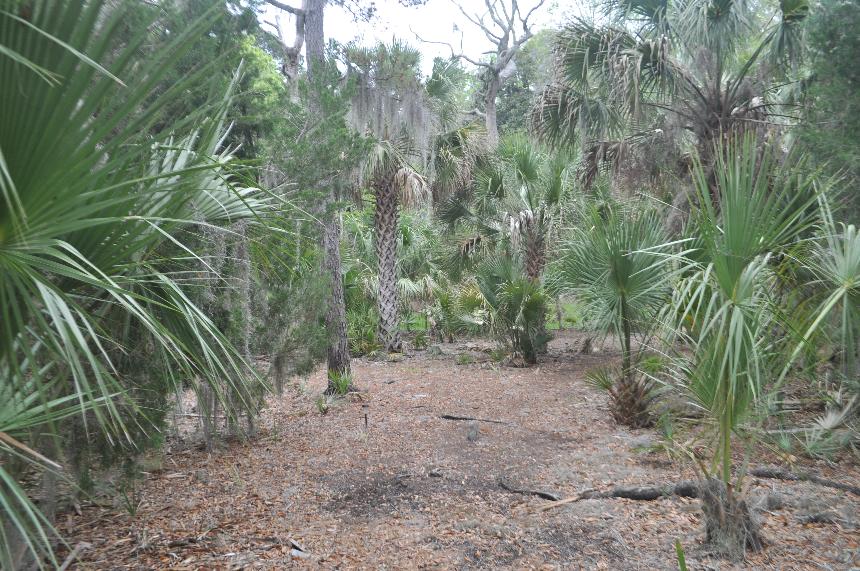 Gayle's bean enchilada, cheese burrito and rice at El Potro.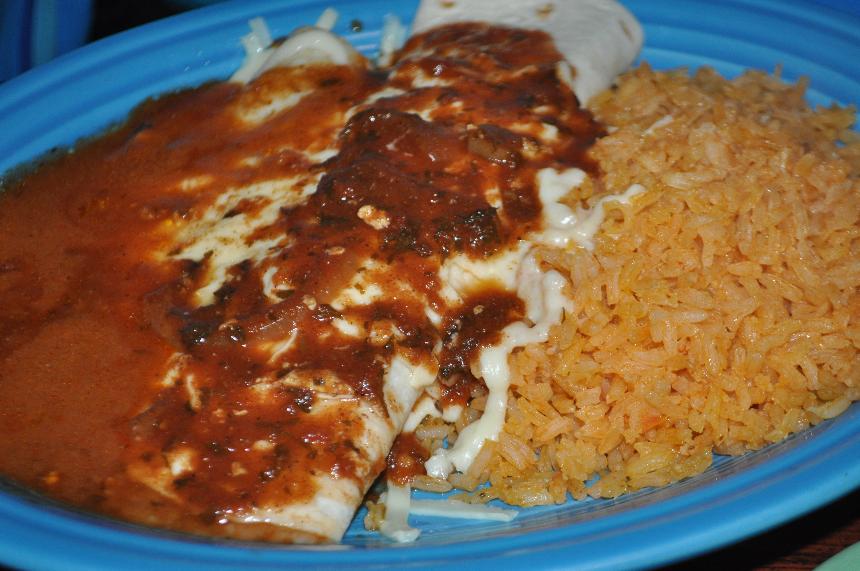 April 5 , 2014 - Savannah, Georgia

Today was our day in Savannah. Our Inn did not serve a hot breakfast but rather provided drinks and food (English muffins, cereal, yoghurt, baked goods etc.) for one to serve themselves using the kitchenette at the time of our choosing. It was actually a nice change. After breakfast we walked the short distance to Old Savannah Tours, a 90 minute trolley tour of the historic district of Savannah. Savannah, established in 1733 is the oldest city in Georgia. Savannah's downtown area, which includes 22 park-like squares is one of the largest National Historic Landmark districts
in the US. Downtown Savannah largely retains the origin town plan prescribed by founder James Oglethorpe
(a design now known as the Oglethorpe Plan
). The tour took us throughout the historic district past many of the parks, a number of churches, including where Martin Luther King Jr. first gave his We have a Dream speech and by numerous movie locations, including that of Forrest Gump.
After driving along the Riverfront the tour ended at Market Center from where we walked back past a number of the sights we had seen to our Inn where we enjoyed a leisurely late afternoon. After another very nice wine and cheese (well actually wine and cheese and shrimp and pizza and meats) hour we went for a casual dinner at the local Crystal Beer Parlor, established in 1933. With no reservations we waited approx. one hour to be seated. This is Savannah's second oldest restaurant, opened during the Great Depression. Nothing fancy other than an extensive selection of beer, a number of them local to Savannah and good solid food - a nice veggie burger for Gayle and gumbo followed by blackened shrimp for me.
Another beautiful warm day made for perfect walking weather through what is a very walkable downtown core to this city. Historic Savannah is indeed impressive with its numerous parks, wide streets with flower dominated medians. churches, massive homes and trees everywhere, many live oaks with Spanish moss hanging from virtually every branch.
The open air Old Savannah Tour trolley that took us throughout the historic district - past parks (and there are a lot), churches, historic homes, restaurants, the market area and along the river. Another interesting and informative (almost too much information) tour.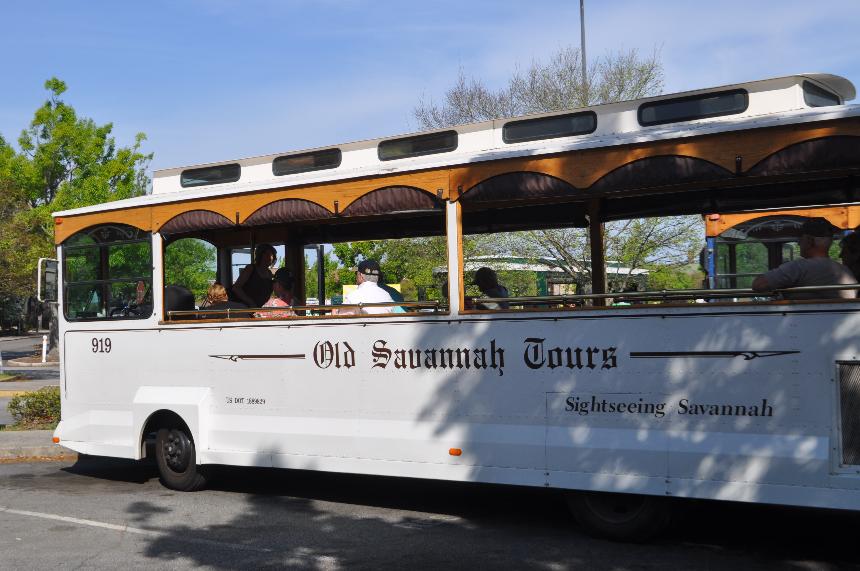 Like Charleston there are many wrought iron gates throughout Savannah, many of them covered in ivy and/or wisteria, as here.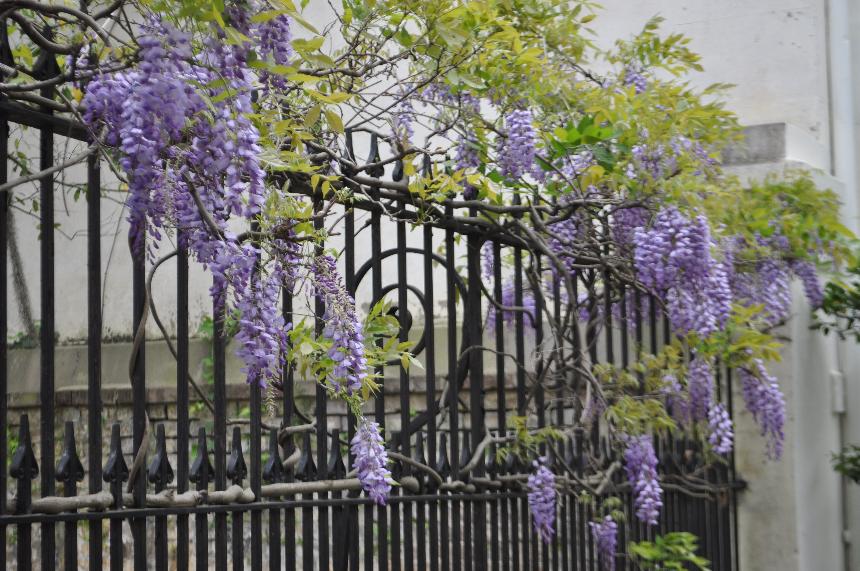 Dogwood and azaleas dominating the median of a Savannah street - very common and attractive.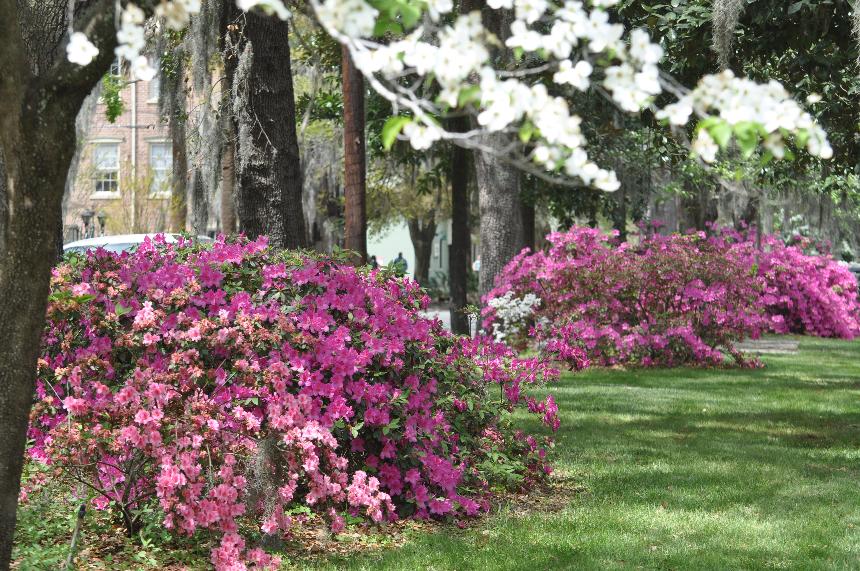 Another beautiful old Savannah home.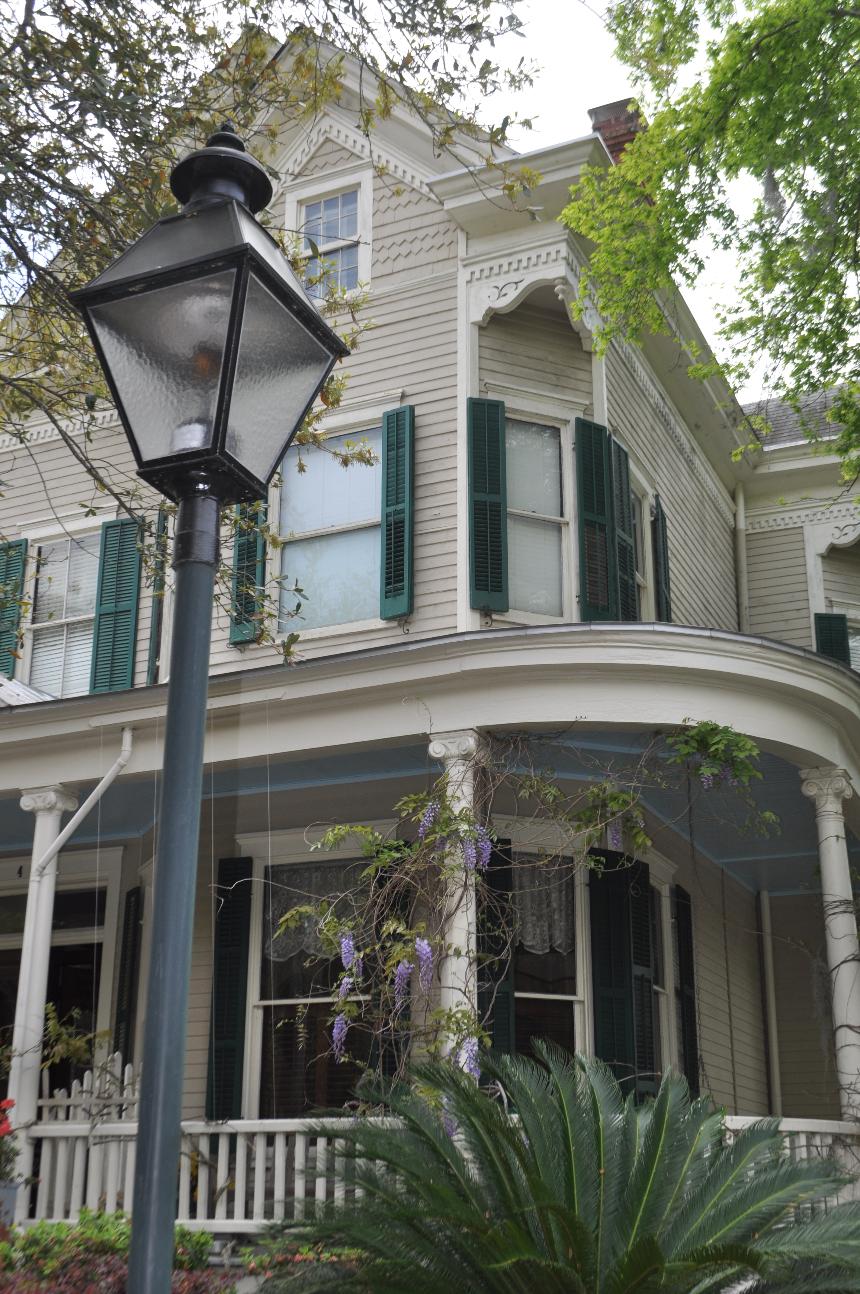 The Zeigler House Inn sitting room where we enjoyed our wine and cheese and chatted with other guests.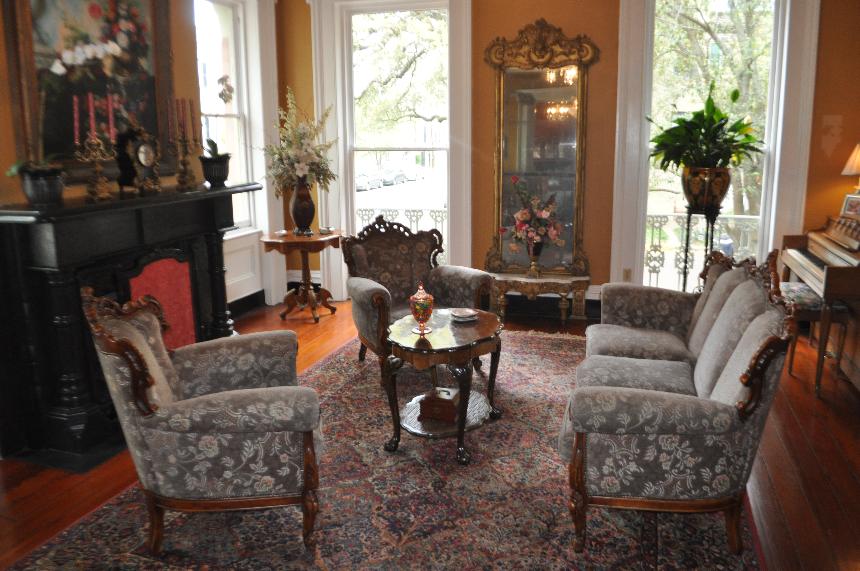 Jackie goes all out for her cocktail hour each evening. Beyond the wine these delicious shrimp; a pizza like flat-bread with smoked duck and arugula plus baked brie and wine. We almost didn't need dinner.

For me blackened shrimp, sweet potato fries and a local dark beer and Gayle a good veggie burger - a nice meal ant a local beer parlor.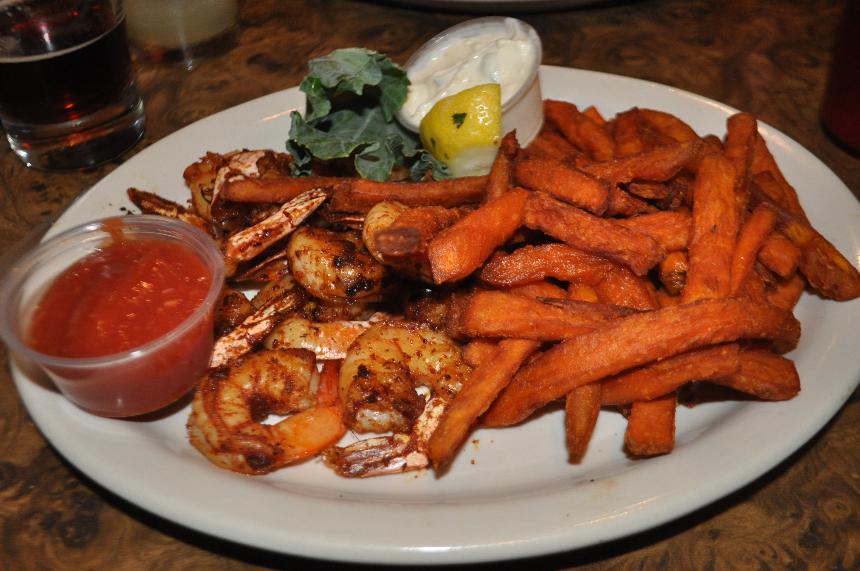 April 4 , 2014 - Beaufort, South Carolina to Savannah, Georgia

We started the day with a delicious breakfast at the front bay window table looking out over the front yard of the Cuthbert Inn and beyond to the bay. After checking out we took a horse drawn carriage tour of Beaufort providing a nice overview of the history of Beaufort with its summer homes for those working on the outer island to escape the heat of insects of the summer. They flocked to Beaufort and built these homes, each seemingly larger and more lavish than the previous in order to demonstrate their wealth and importance. Charlotte, our driver and tour guide did a great job, being very informative.
After leaving Beaufort via a couple of nearby islands we drove south past Hilton Head Island and on to Georgia and Savannah. It was relatively easy to get into Savannah crossing a large bridge from which one can see the massive shipyards. We were told Savannah is the third largest shipping port in the US. We quickly found our place - the Zeigler House Inn - on West Jones Street in the historic district. A beautifully restored home we had one of the street level apartments with its own entrance and a nice private outdoor seating area. After a short walk through the nearby neighbourhood just to get our bearings we enjoying a nice cocktail hour with wine and some great finger foods, listening to a tour guide tell us about the ghosts and other super-natural experiences of Savannah. Afterwards dinner - decent but not outstanding - and then back to the Zeigler House Inn to call it a night.

The sun glistening through the Spanish moss hanging from a tree in front of our Bed and Breakfast.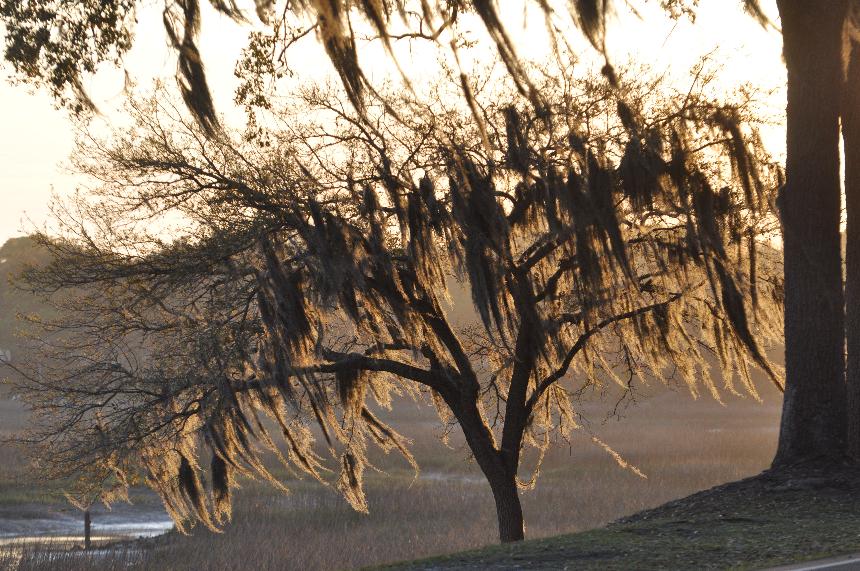 Pancakes with an orange Grand Marnier sauce for breakfast.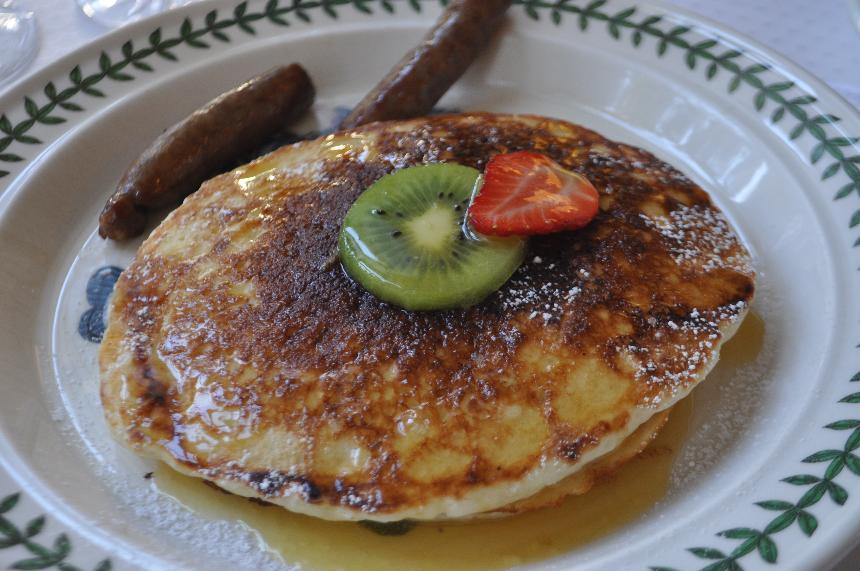 The back side of the Cuthbert House with huge trees covered with Spanish moss - exactly like we imagined the coastal South to look.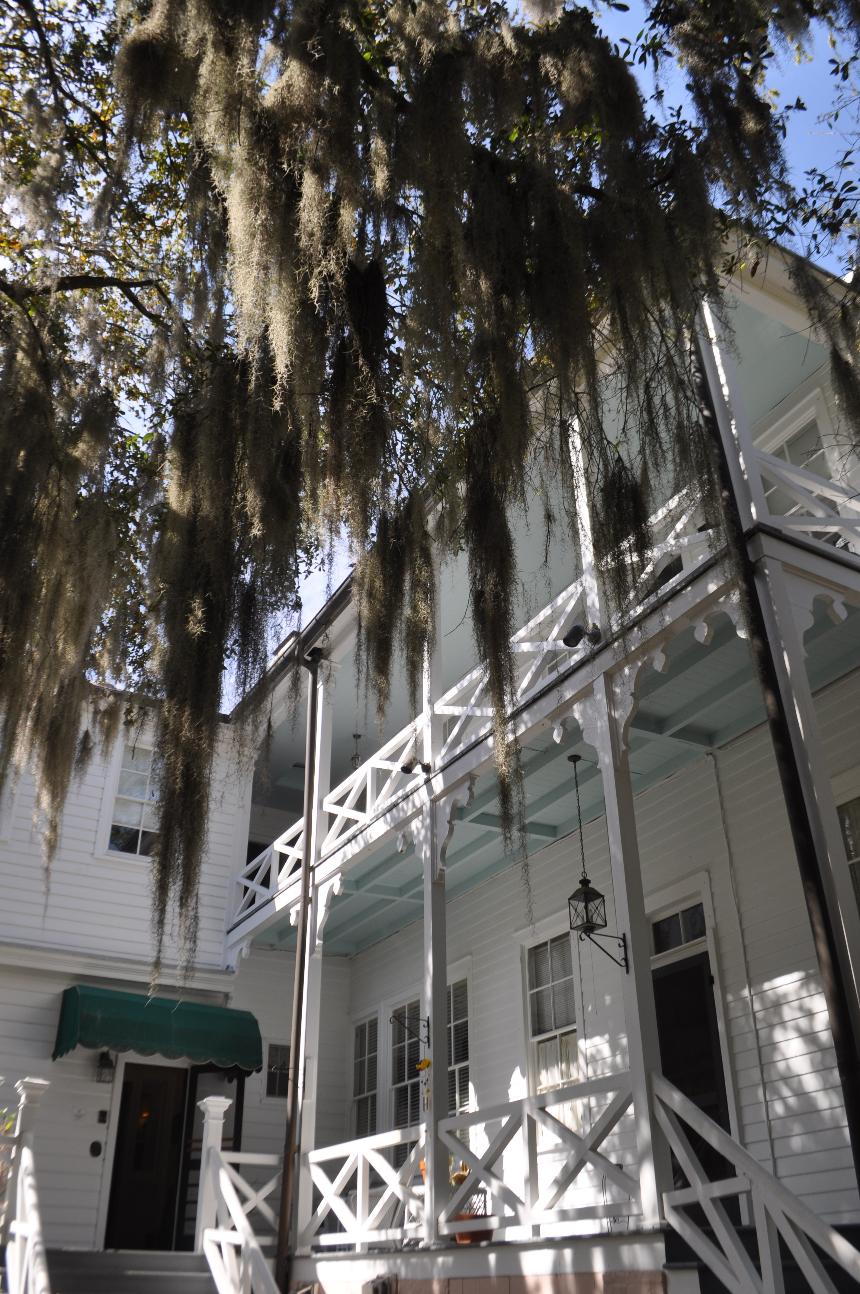 Another great sunny day on the verandah outside our room at the Cuthbert House, Beaufort, South Carolina.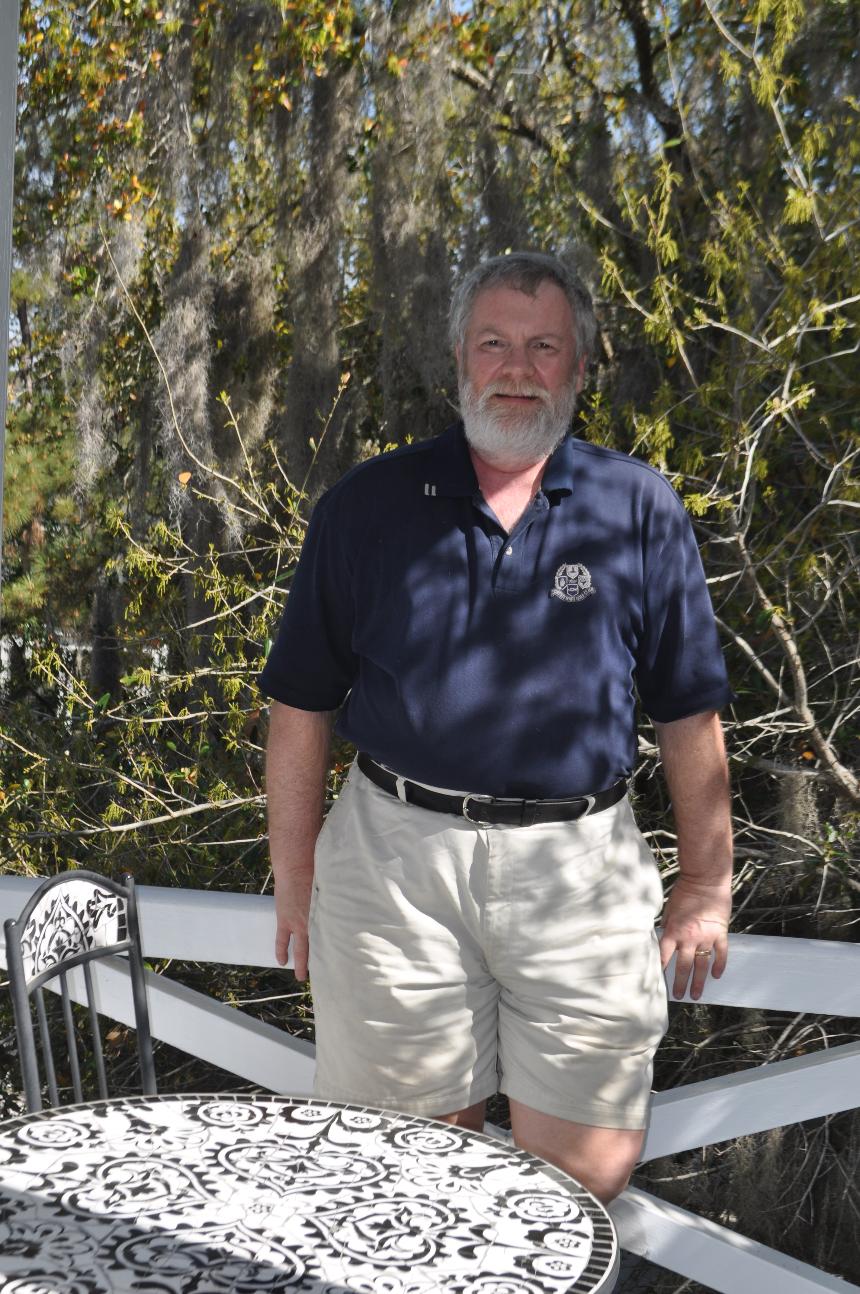 We did the Southurn (yes the spelling is correct) Rose carriage tour in Beaufort. Charlotte our guide was informative and enthusiastic about her city. We passed a number of churches, historic summer homes and set locations for movies such as Forrest Gump and a number of others. Jake our horse was very cautious of traffic making sure to stop and look both ways at every intersection.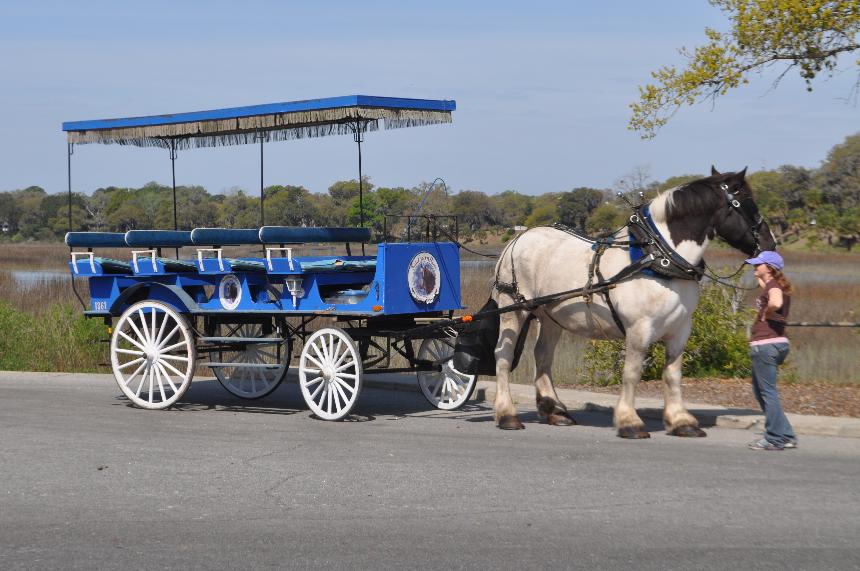 One of the endless numbers of grand old homes in Beaufort, South Carolina, with Spanish moss hanging off the live oak trees.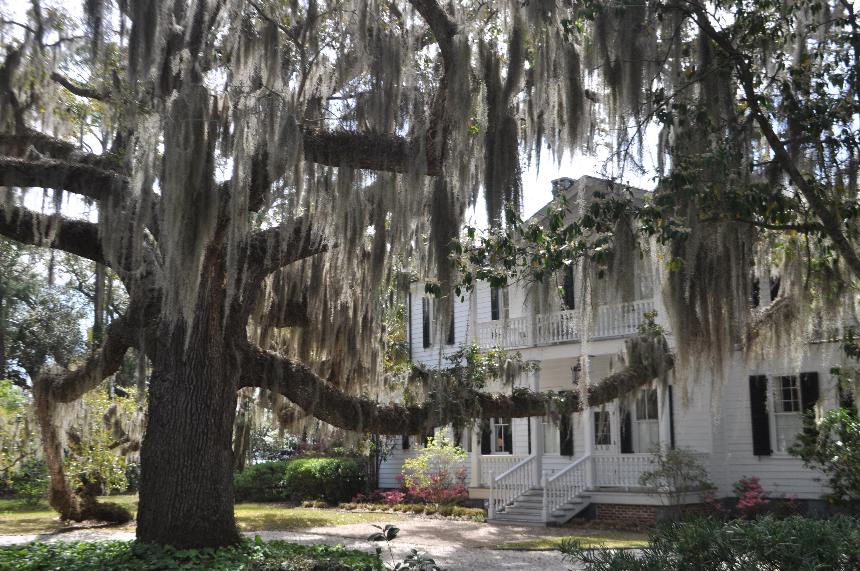 We stayed at the Zeigler House Inn, a beautiful c 1850s home on Jones Street West in historic Savannah, impressively restored to a wonderful inn.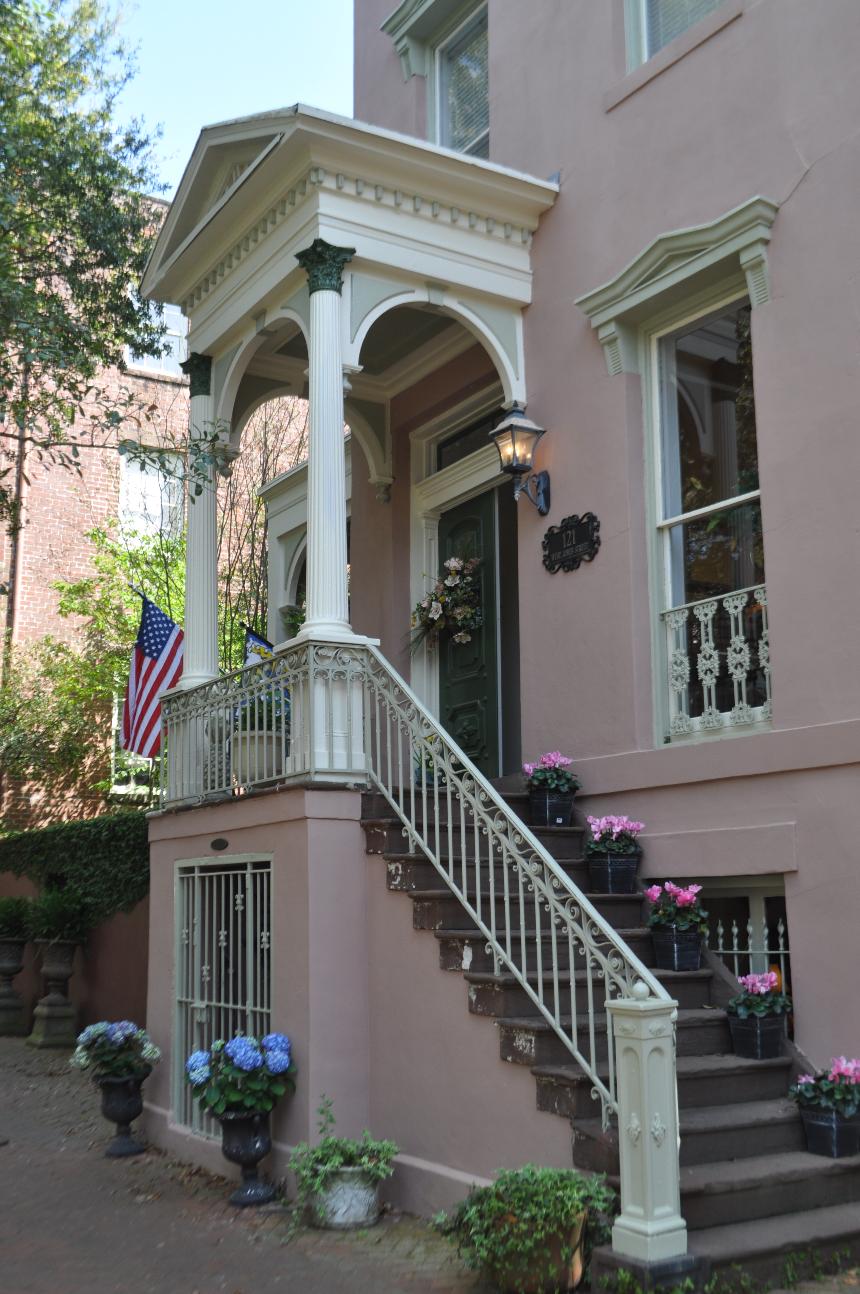 Our Lafayette room / apartment, attractively decorated in Provence yellows and blues, it included a small kitchenette and nice outside terrace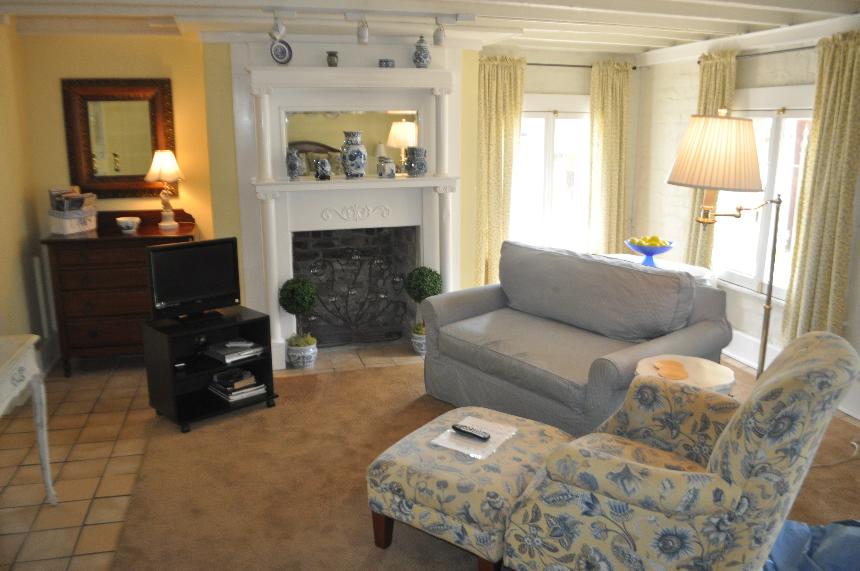 Gayle's attractively presented salad (although the balsamic vinagerette was too overpowering).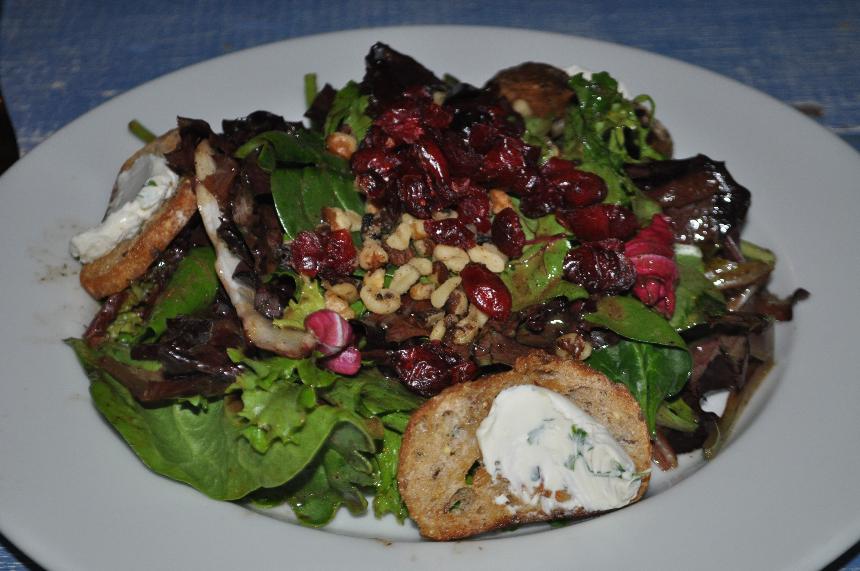 April 3 , 2014 - Charleston, South Carolina to Beaufort, South Carolina

We left Charleston this morning for a relatively short (approx. one hour) drive to Beaufort (pronounced Buufort). Along the way we stopped at the Magnolia Plantation, apparently America's last large-scale romantic style gardens. The gardens at Magnolia Plantation are of such beauty and variety that they have brought tourists from around the world to view them since they were open to the public in the early 1870s. However, many parts of the gardens are much older, some sections more than 325 years old, making them the oldest un-restored gardens in America. As the plantation has stayed within the ownership of the same family for more than three centuries, each generation has added their own personal touch to the gardens, expanding and adding to their variety. Today there are various varieties of flowers from camellias, daffodils, to azalea's and countless other species in bloom year round, with the climax of incredible beauty building towards the spring bloom, which we of course were able to view.
In addition to the gardens there is a tour of the plantation house, a nature tram ride (both of which we took), a boat trip, a walk through a swamp and a tour of slave quarters (all of which we did not do). A worthwhile stop to experience a plantation dating from the late 1600s.
We then drove south to Beaufort where we stayed at the Cuthbert House that began its history over two centuries ago, when it was built as a retreat from the rigors of plantation life. The Cuthbert family, successful indigo and cotton planters, built their fine Federal style house in 1790. To the classical style they added an elegance and airy spaciousness, the legacy of their West Indies migration from Scotland. The house served Cuthbert family descendants until captured along with all of Beaufort, SC by Union (Yankee) forces in Nov 1861.
The Cuthbert House is listed on the National Register of Historic Places and has been restored to its original splendor, standing grandly in the heart of Beaufort's historic district.
After enjoying a glass of wine and chatting with other guests during social hour we walked along the bay front the short distance to downtown where we enjoyed a simple meal at the Old Bull Tavern.
__________________________________________________________________________________________________________________________________________

Vegetation at the Magnolia Plantation, just outside Charleston, South Carolina.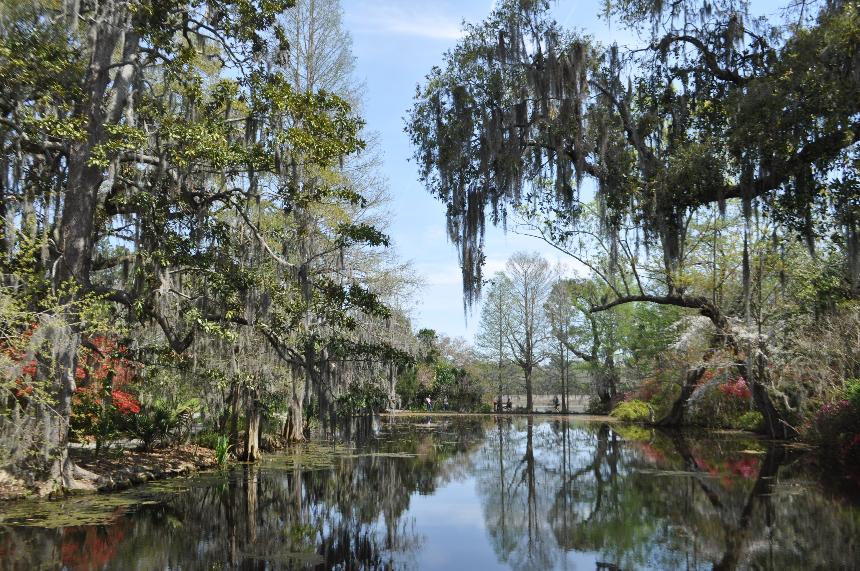 One of the attractive bridges throughout the grounds of the Magnolia Plantation - flowers, ponds, Spanish moss, a plantation home on the banks of the Ashley river.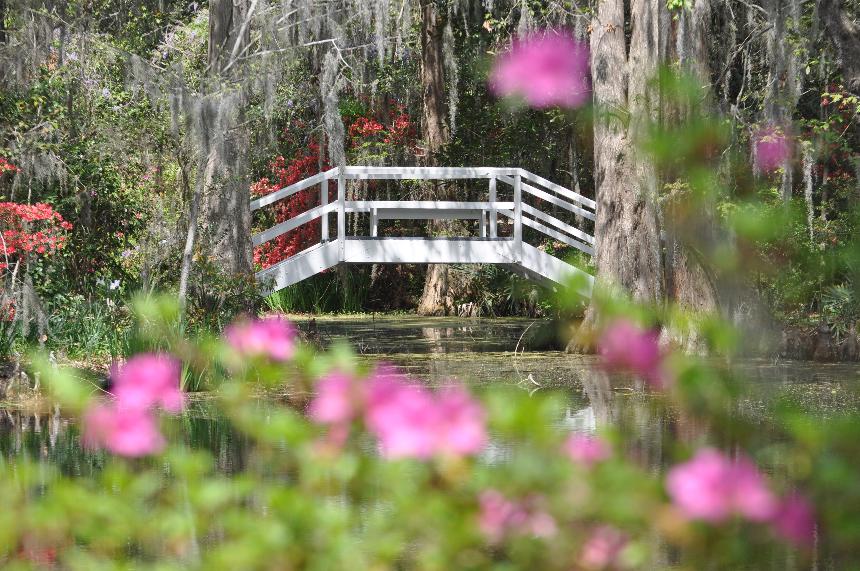 Azaleas in full bloom at Magnolia Plantation. Can't wait for Augusta National.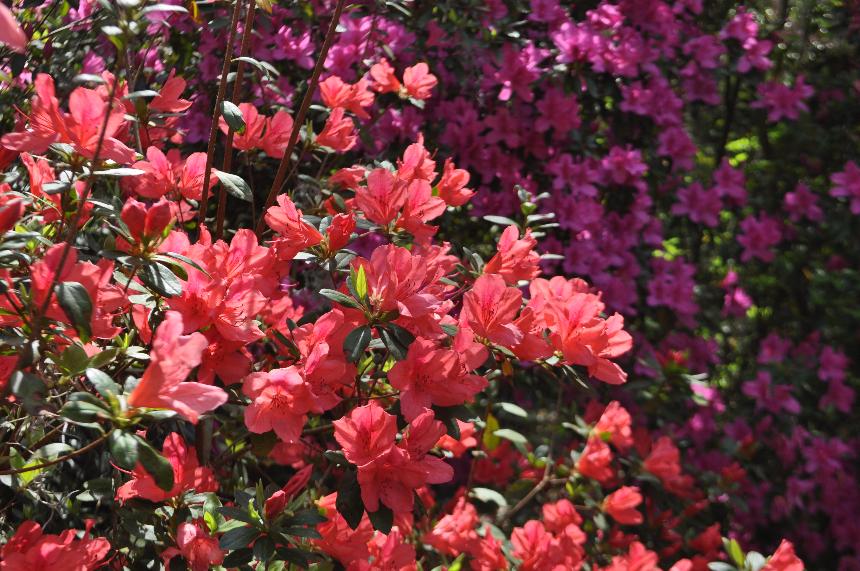 The gardens at Magnolia Plantation included a Conservatory with a number of orchids.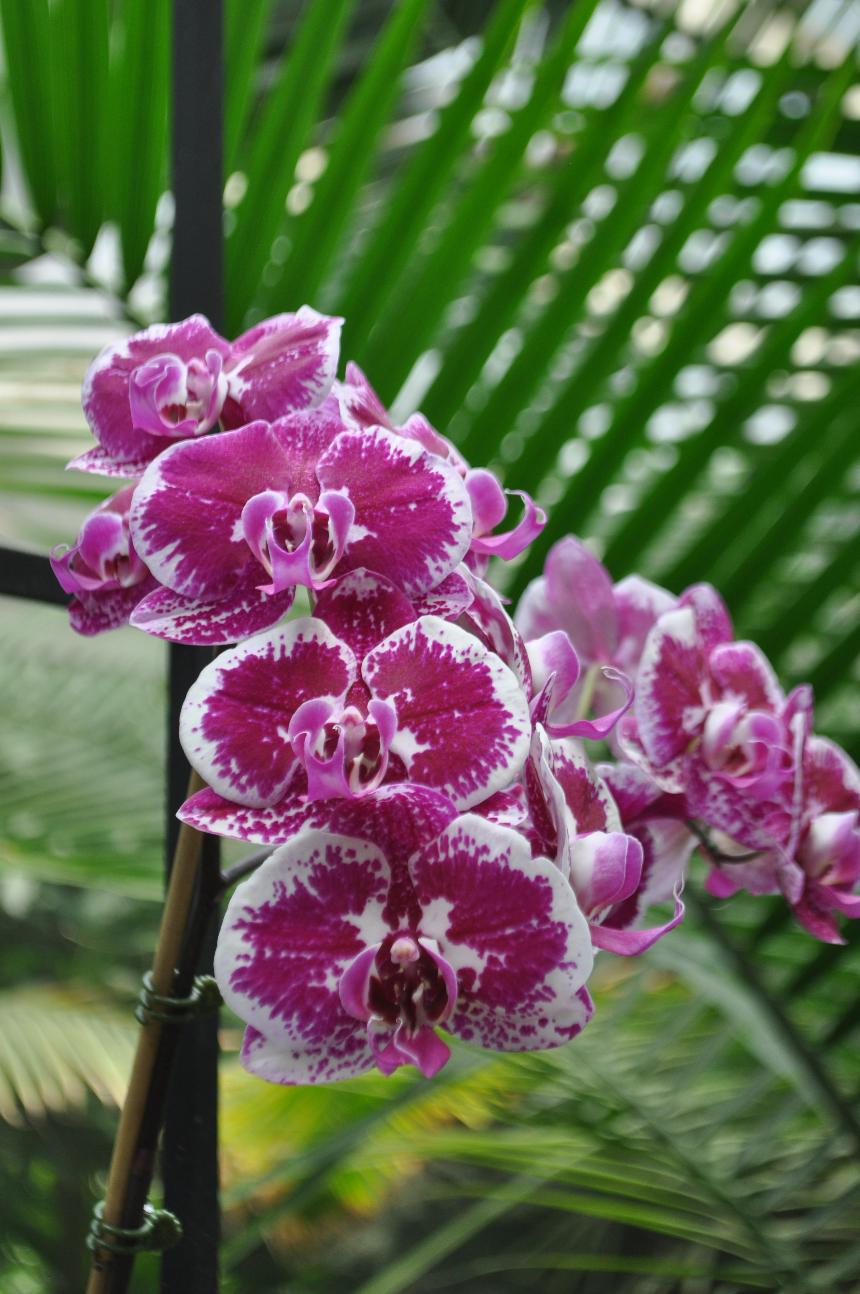 Beauty everywhere one looks.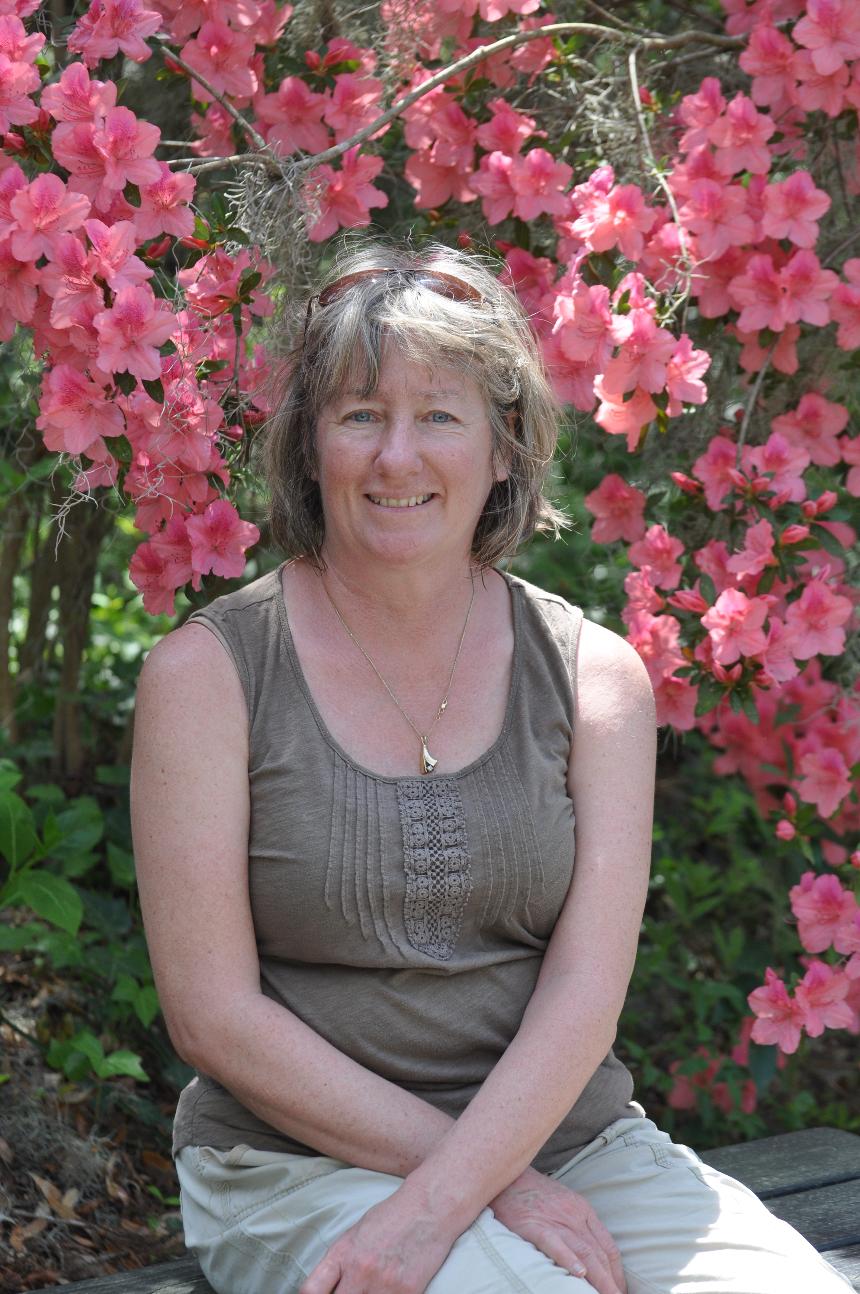 The Drayton family home at Magnolia Plantation, built, burned, re-built, burned again and then re-built once again. The current main House – the core of which was built prior to the Revolutionary War near Summerville, South Carolina was floated down the Ashley River to Magnolia after the Civil War. The home provides a glimpse of plantation life in the 19th century and beyond. Ten rooms are open to the public, furnished with early-American antiques, porcelain, quilts, and other Drayton family heirlooms.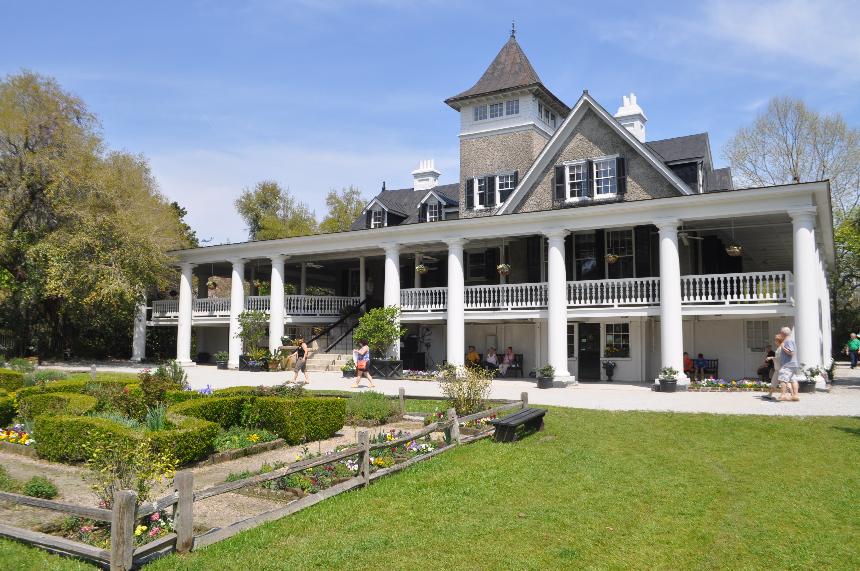 Wildlife at Magnolia Plantation as seen on the nature tour.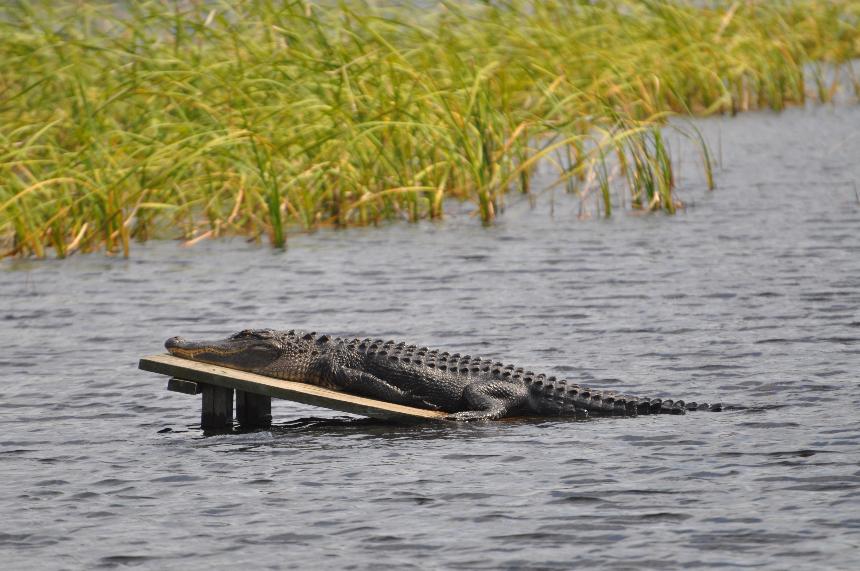 Spanish moss (neither Spanish - although reportedly named after its similarity to Spanish beards - nor moss) is very common throughout the south.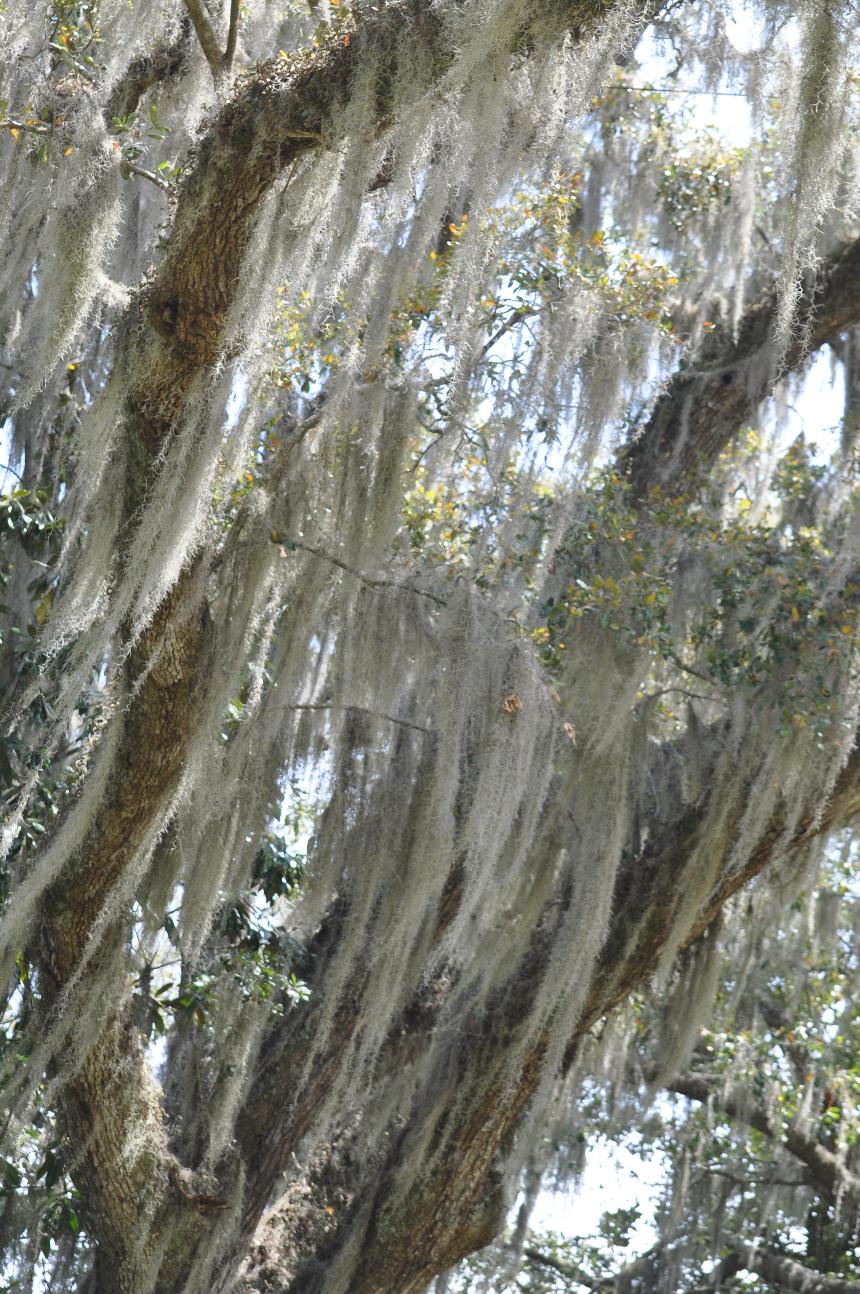 The Curhbert House B&B, a wonderful inn overlooking the bay of Beaufort ... southern charm.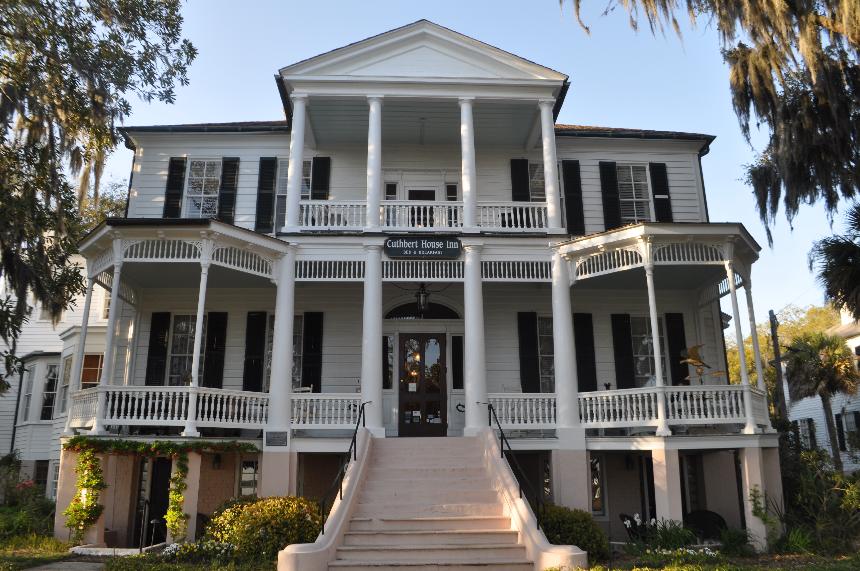 The view from the front porch of the Cuthbert House across the marsh to the bay beyond.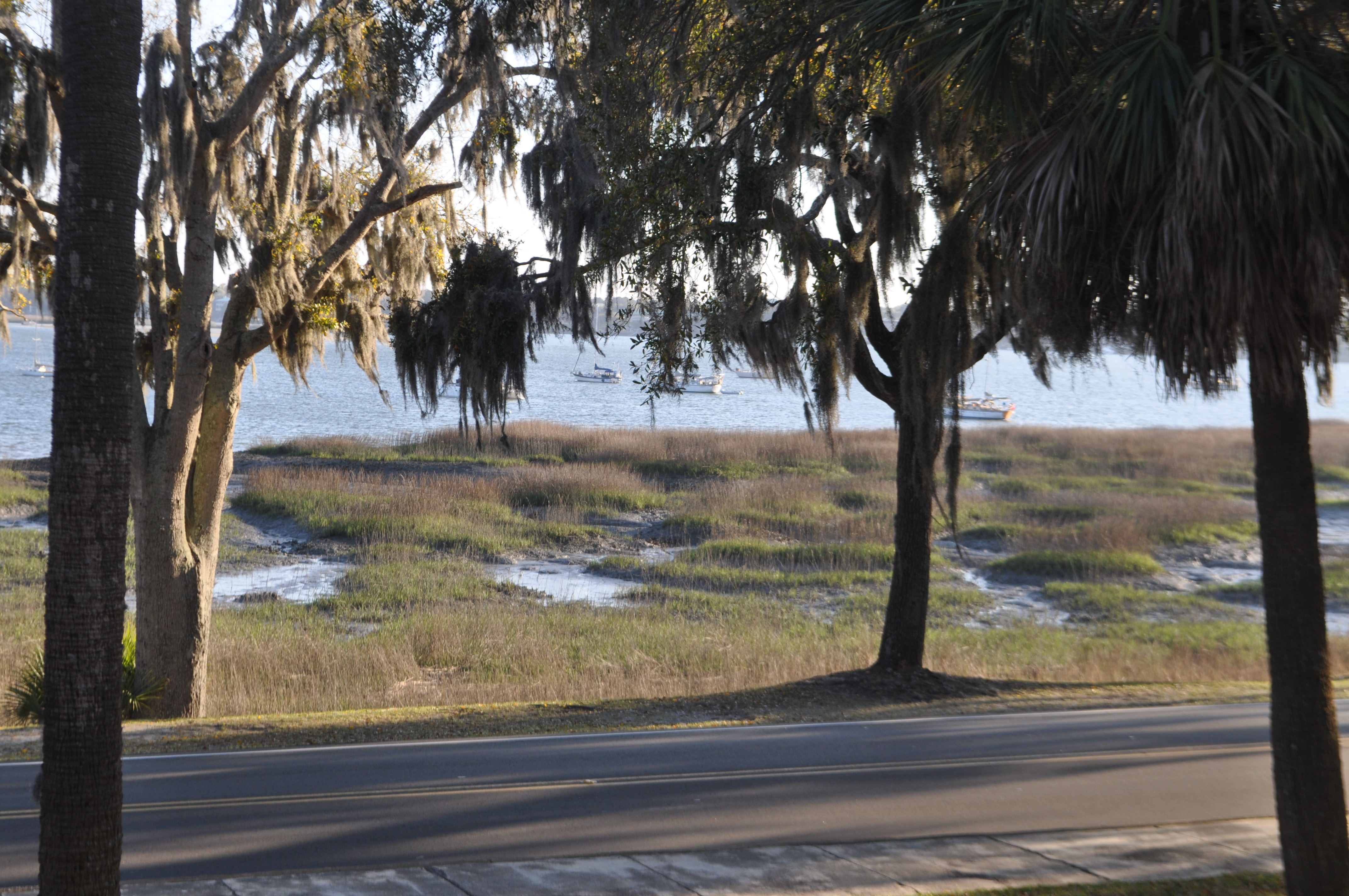 April 2 , 2014 - Charleston, South Carolina

After a wonderful breakfast, including a nice chat with two women from Illinois (the nice thing about B&Bs are some of the interesting people one meets) we started a nice long walk that ultimately ended up at the Visitors Center where we took the Gullah tour - a two hour tour of Charleston presented by Alphonso Brown
The language and culture still thrive today in and around the Charleston/Beaufort, South Carolina region. Gullah Tours explores the places, history, and stories that are relevant to the rich and varied contributions made by Black Charlestonians. As the name implies, the Gullah language is featured on much of the tour. Alphonso Brown, a native of a rural community of Charleston, fluent in the Gullah language and familiar with many of the Gullah customs presented a very interesting tour of the city.
We then walked back towards our B&B (with stops for an ice cream and fruit smoothie) buying a traditional sweet-grass basket from a vendor along the way. We deciding to take the tour of the Calhoun Mansion, a private residence of immense size (24,000 square feet) filled with an extensive collection of art, chandeliers, furniture etc. Something one has to see to believe it can't really be described but as just one example there were a couple foot stools that were actual stuffed elephant's feet.
We enjoyed another nice dinner (although I wasn't crazy about the restaurant but the food was excellent) with Gayle enjoying a fantastic vegetarian plate and I a local seafood over grits dish. A nice stroll back to our B&B afterwards brought an end to a busy day.
_________________________________________________________________________________________________

Throughout the historic area of Charleston there is one beautiful home after another - all very large, with expansive porches, immaculately maintained.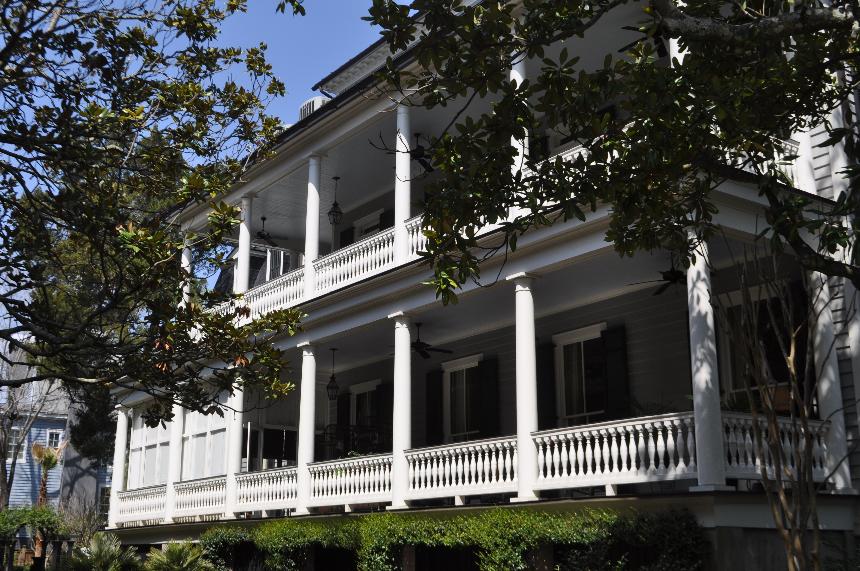 Horse drawn carriage tours throughout the historic districts of Charleston are very popular.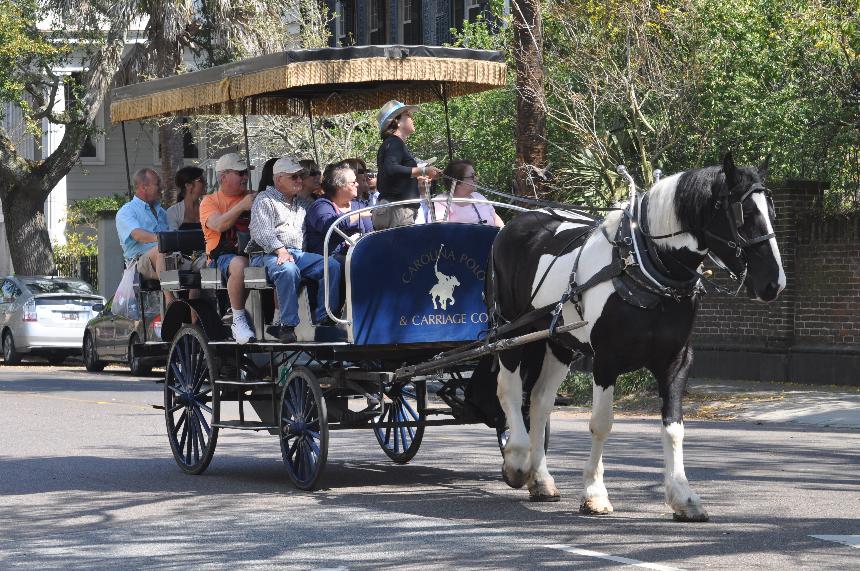 Alphonso Brown, our guide for our Gullah Tour - an informative two hour tour of Charleston. Alphonso basis his tour around the recognized Gullah language (also called Sea Island Creole English and Geechee) a creole language
spoken by the Gullah
people, an African American
population living on the Seas Islands
and in the coastal region of North and South Carolina, Georgia and northeast Florida
. The language is derived from west and central Africa, creole, Jamaican and English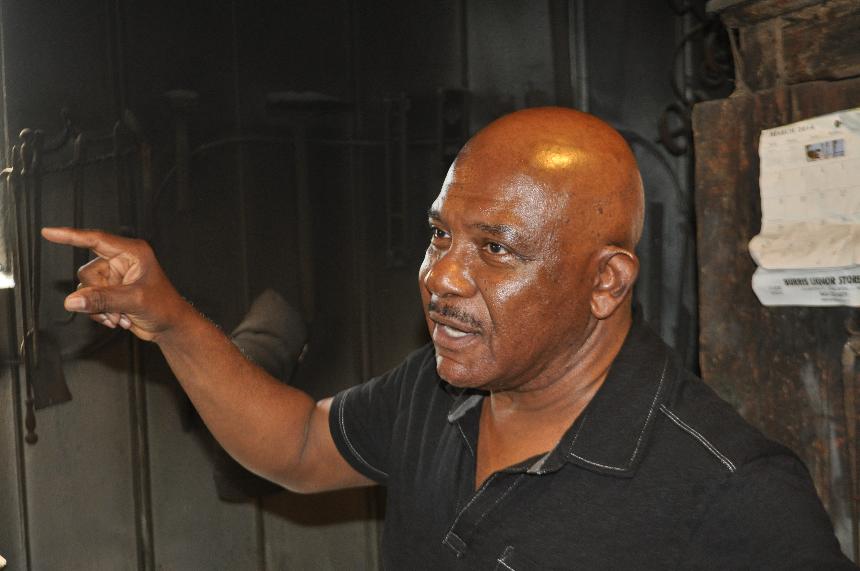 Philip Simmons, master gate-maker of ornamental iron - famous not only throughout Charleston but known well enough that he was invited to meet with President Reagan.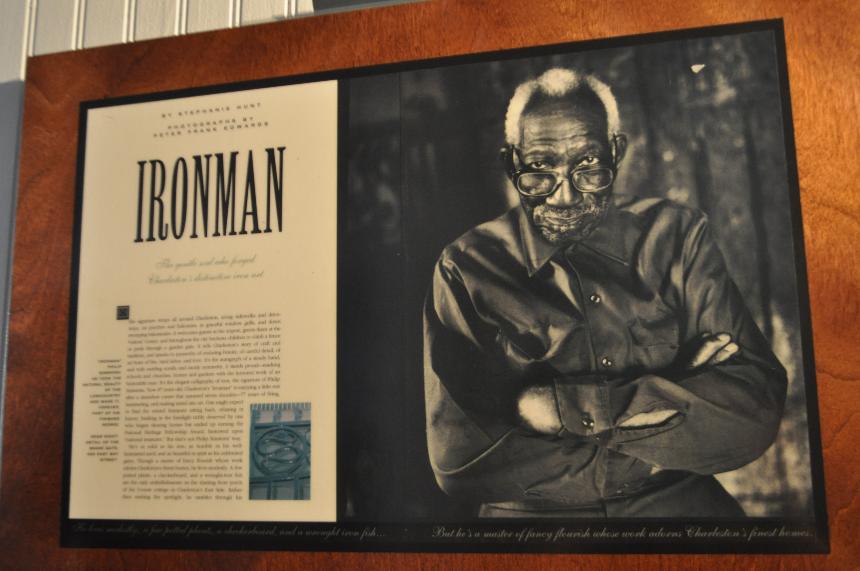 One of Philip Simmons's gates.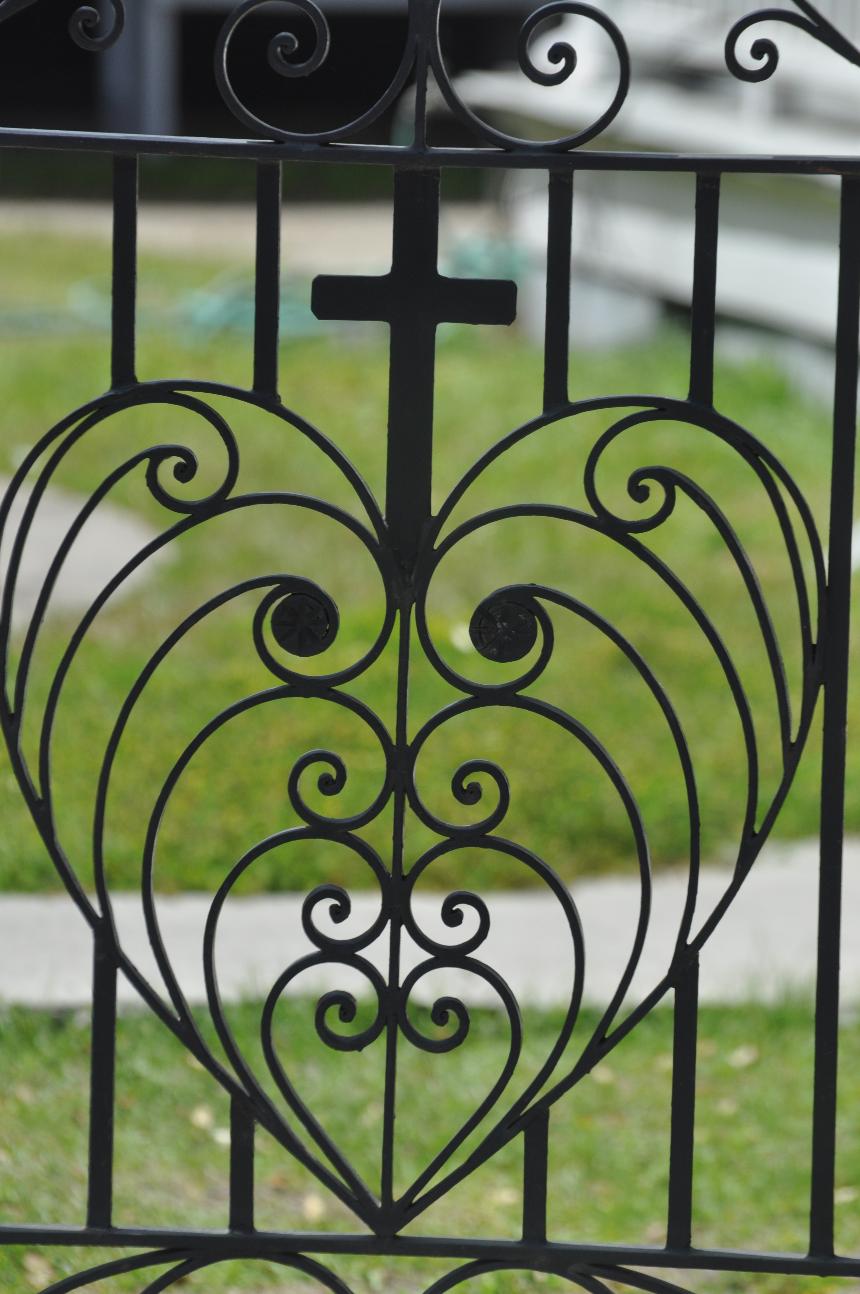 Gayle in front of the Calhoun mansion a 24,000 square foot home that we toured.
Nothing else on the Charleston Peninsula compares to the Calhoun Mansion. Boasting a striking Italianate design, the Calhoun Mansion is the largest residence in Charleston with 35 rooms, a grand ballroom, Japanese water gardens, 35 fireplaces, 75 foot high domed stair-hall ceiling, three levels of piazzas, ornate chandeliers, a 90 foot cupola, and many more wonderful surprises.
The Calhoun Mansion was called by the Charleston News and Courier, at the time it was built, the "
handsomest and most complete private residence in the south
." This outstanding home was built in 1876 by George W. Williams for $200,000. It is currently a private residence with an unbelievable collection of unique pieces acquired around the world. Interesting but I'm still not convinced the half hour tour was worth $15 each.
The living room of the Phillips-Yates-Snowden house. The appealing thing about this home / B&B is that it is very much lived in with cats and a dog wandering around. Our hosts Annelise and Jack were very welcoming and hospitable.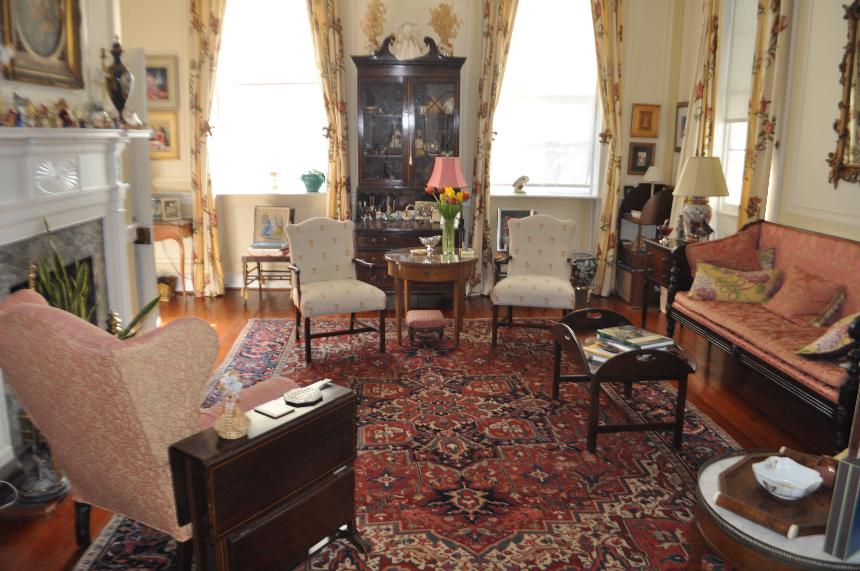 The beautiful porch, or as we were told they say in Gullah - "piazza" - of our Bed & Breakfast,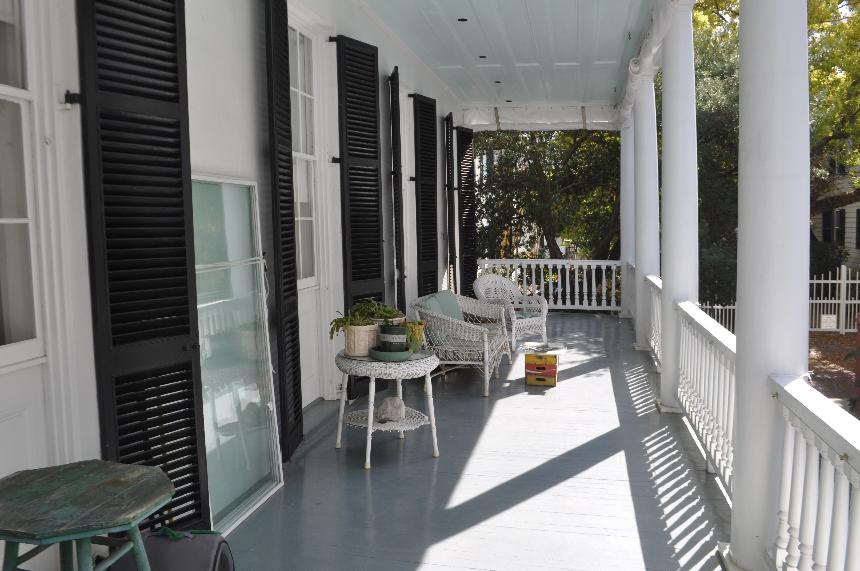 We ate at Magnolias, another recommended restaurant. Although the food was very good the ambiance and service were not as nice as at Cru Cafe - a bit too up-scale. However Gayle did have one of the nicest vegetarian plates she can recall, with artichokes, mushrooms, tomatoes etc. - she said it was simply delicious. I also had a very well prepared meal - a specialty of the region - seafood over grits. Very very good.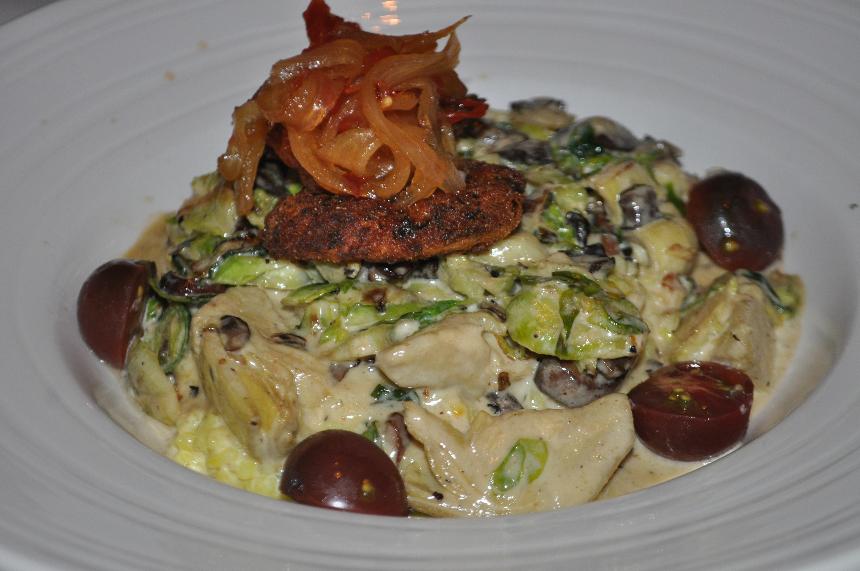 April 1, 2014 - Halifax to Charleston, South Carolina

The icy-rain the morning of departure necessitated de-icing of the plane which resulted in a late arrival in Boston. We just made our connection. It was then on to Charlotte, North Carolina where we caught a flight to Charleston, South Carolina, our first stop for two nights. Definitely having Savannah, Georgia on our itinerary we added Charleston and Beaufort - both very good decisions. In fact we probably would place Charleston at the top of the list.
We found our Bed & Breakfast - 15 Church Street or the Phillips-Yates-Snowden house easily and were warmly greeted by Annelise who provided a wonderful overview of the city and its history. Annelise provided a number of dinner recommendations from which we chose the Cru Cafe. We enjoyed a great meal sitting out on the porch - it is in the mid 80s here - baked brie, gnocchi with sausage and mushrooms, a large walnut salad for Gayle and a fantastic maple-glazed duck for me, all accompanied by a few glasses of nice wine and an over-the-top flour-less chocolate torte for dessert. We 'partially' worked off the meal with a nice walk - this is most definitely a walking city - back to our B&B to end a good start to the trip.
_________________________________________________________________________________________________

The Phillips-Yates-Snowden house at 15 Church Street in the historic area of Charleston, South Carolina. Circa 1842 the property was originally owned by Captain Timothy Phillips during the Revolution. The Yates family constructed the present house in the early 1840s. The house served as a hospital during the Civil War during which time it was struck by four cannonballs, two of which are now mounted on the gate posts. It is notable for its Adam style paneling by Thomas Pinckney and ironwork by Charleston iron-wright, Philip Simmons, his most recent addition (1998) being the basement gate at the front. The Earthquake of 1886 leveled the 4th story, which was rebuilt with a Mansard roof. Subsequent to this, the structure was reinforced with "earthquake rods", bolts running through the house between the exterior walls. Almost 100 years later, in bringing the structure up to code, this same technology was used with the addition of nine more bolts.

Our room was at the front of the top floor - those three windows you can see.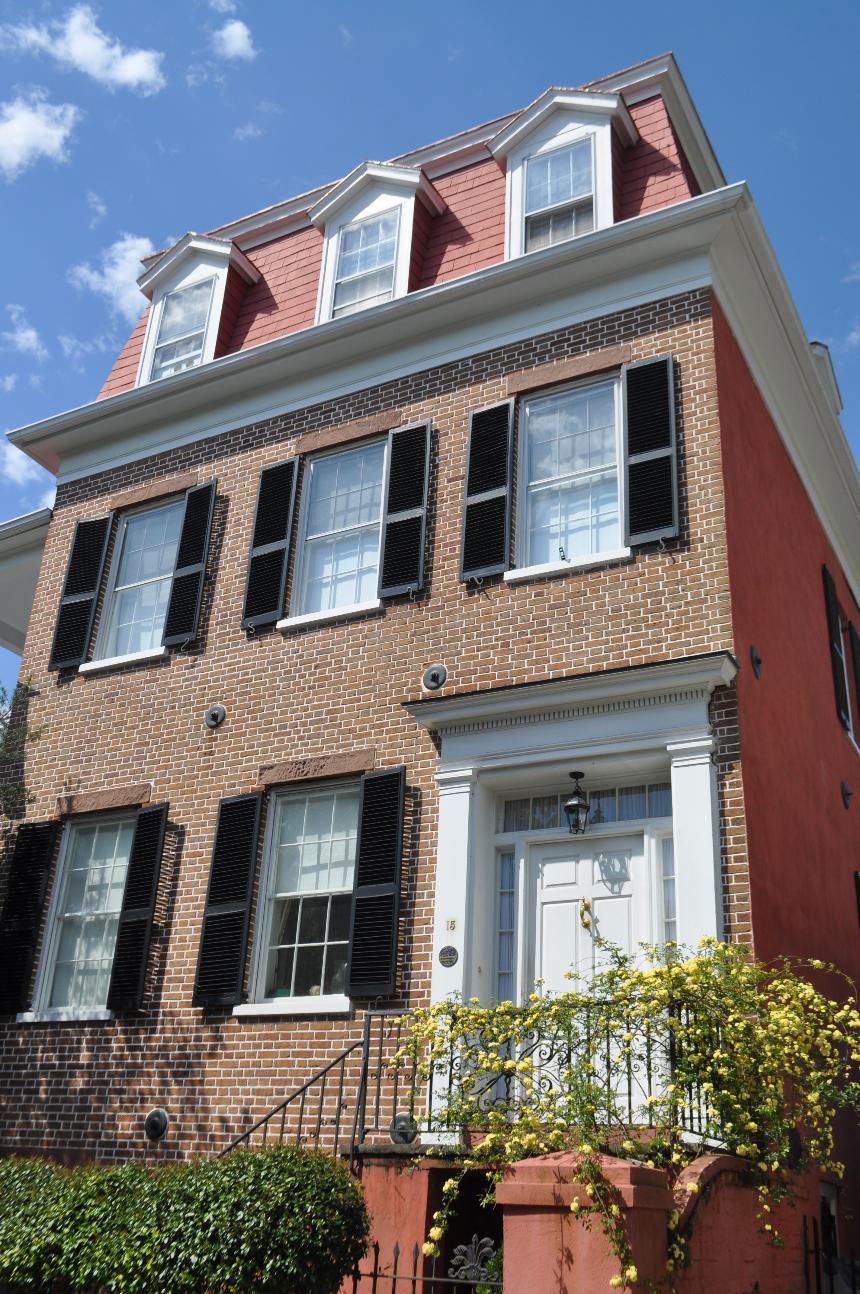 The 'Rose' room - large and very light with numerous windows. Being on the second(top) floor nice views were available. The wood floors were nice along with a large bathroom. Note the collection of sweet-grass baskets above the bed.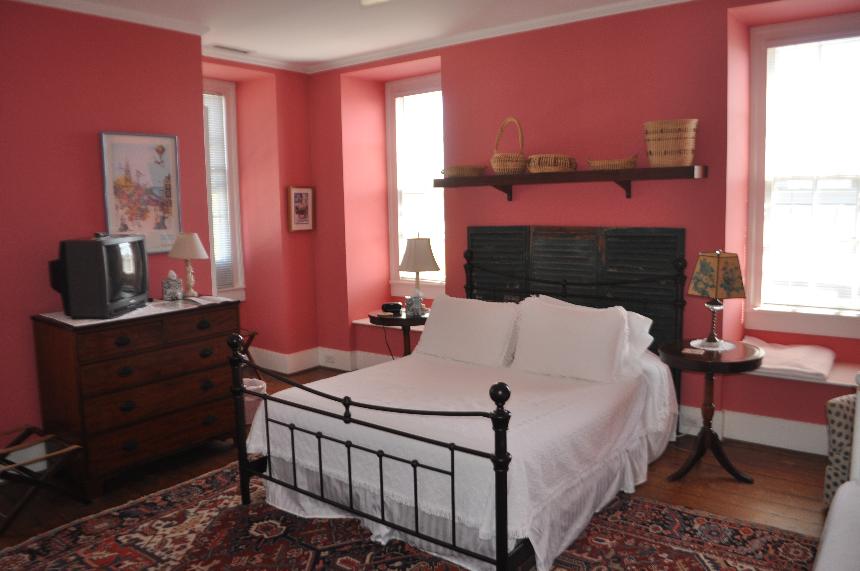 After an early morning and a day of travelling it was nice to arrive at our historic Bed and Breakfast in Charleston, South Carolina.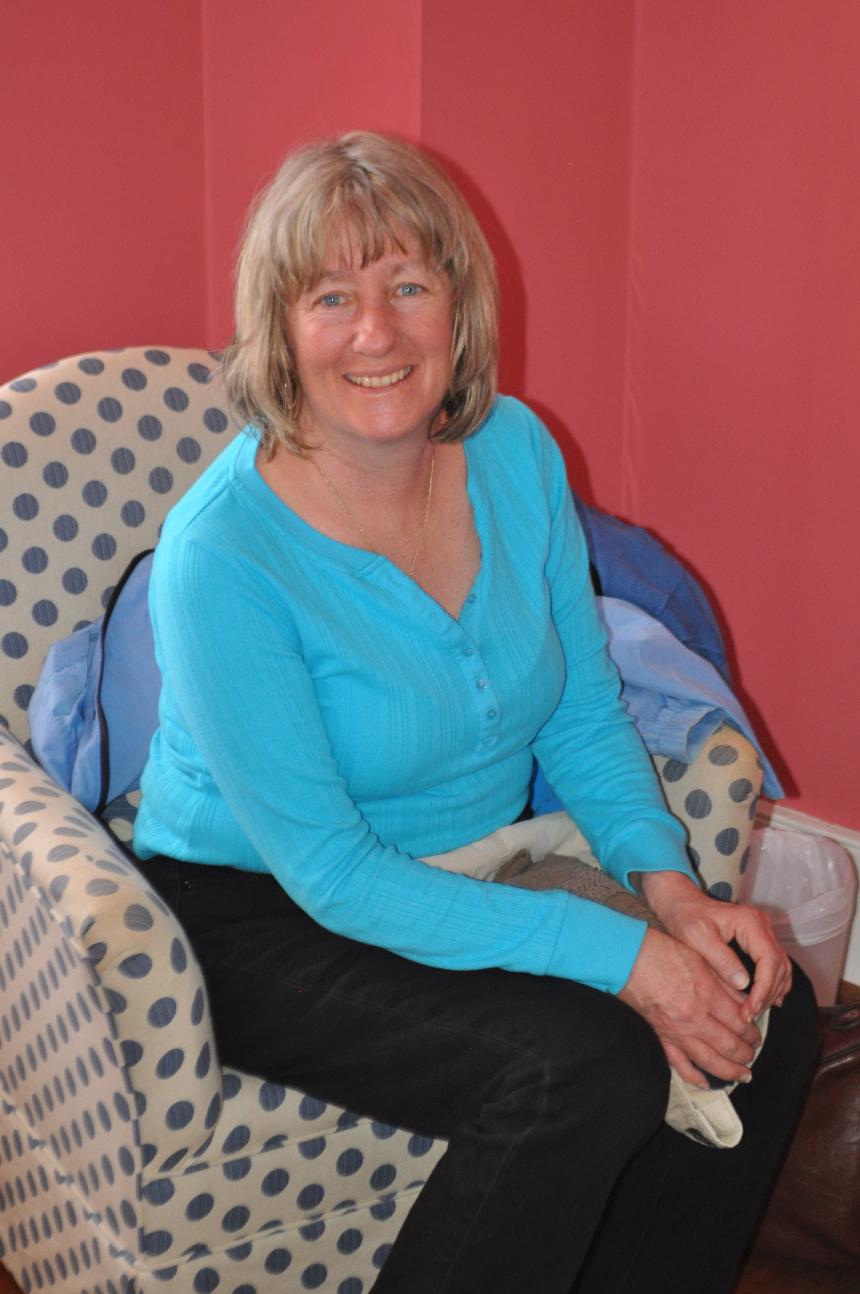 An 'average' - seriously this is just average - home in the historic district of Charleston as seen from the window of our room at our B&B.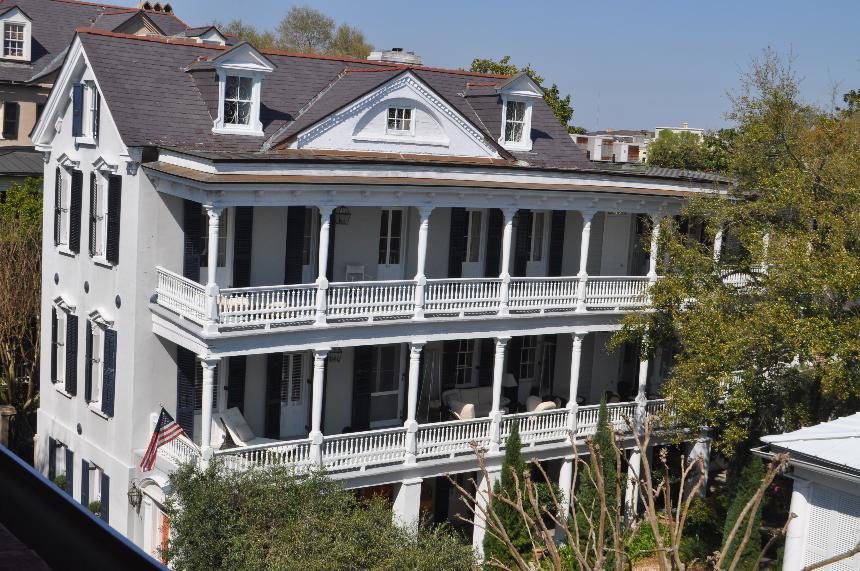 The still cobble-stoned Chalmers Street, on which is located the Old Slave Mart Museum (behind which auctions for slaves were held) and numerous other historical homes and buildings.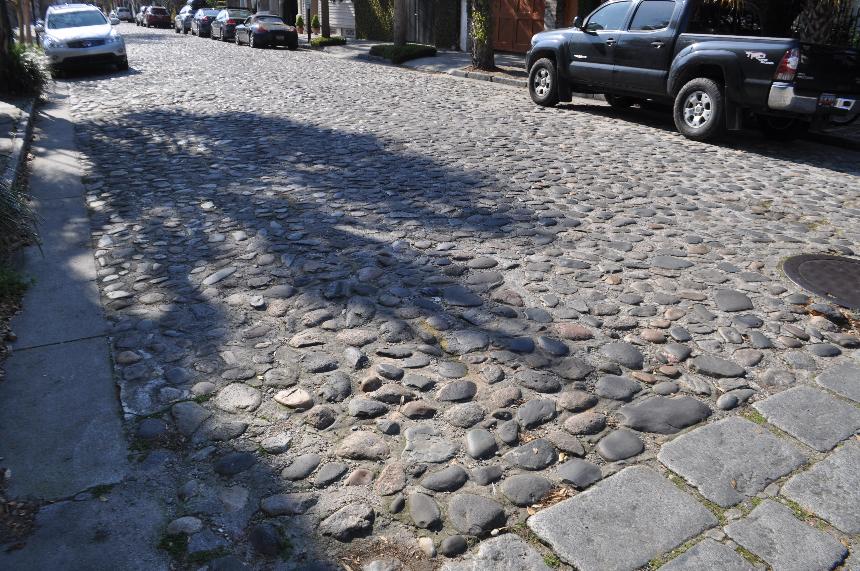 The 'new' Customs House, built from 1853 through 1879, with construction interrupted due to costs and the Civil War. The original is located just down the street.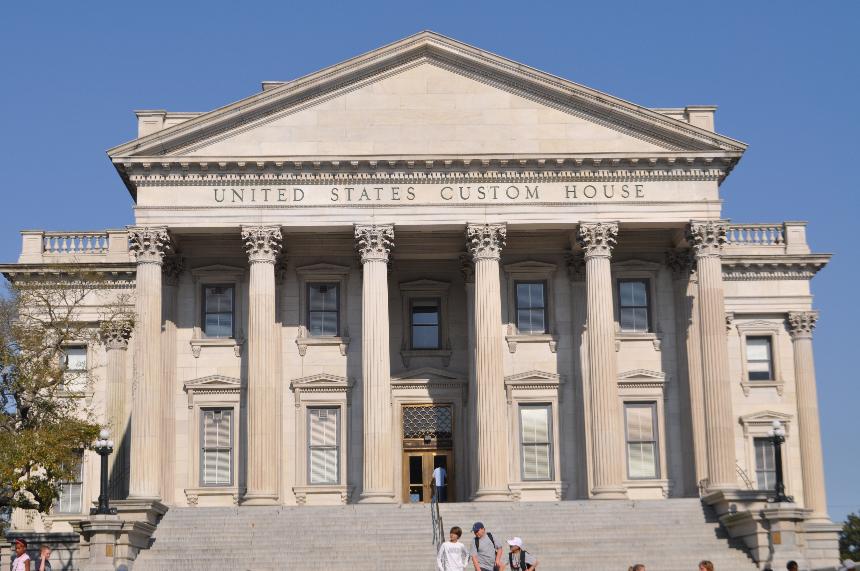 One of the many many churches in Charleston, often dating back to the 17th and 18th centuries.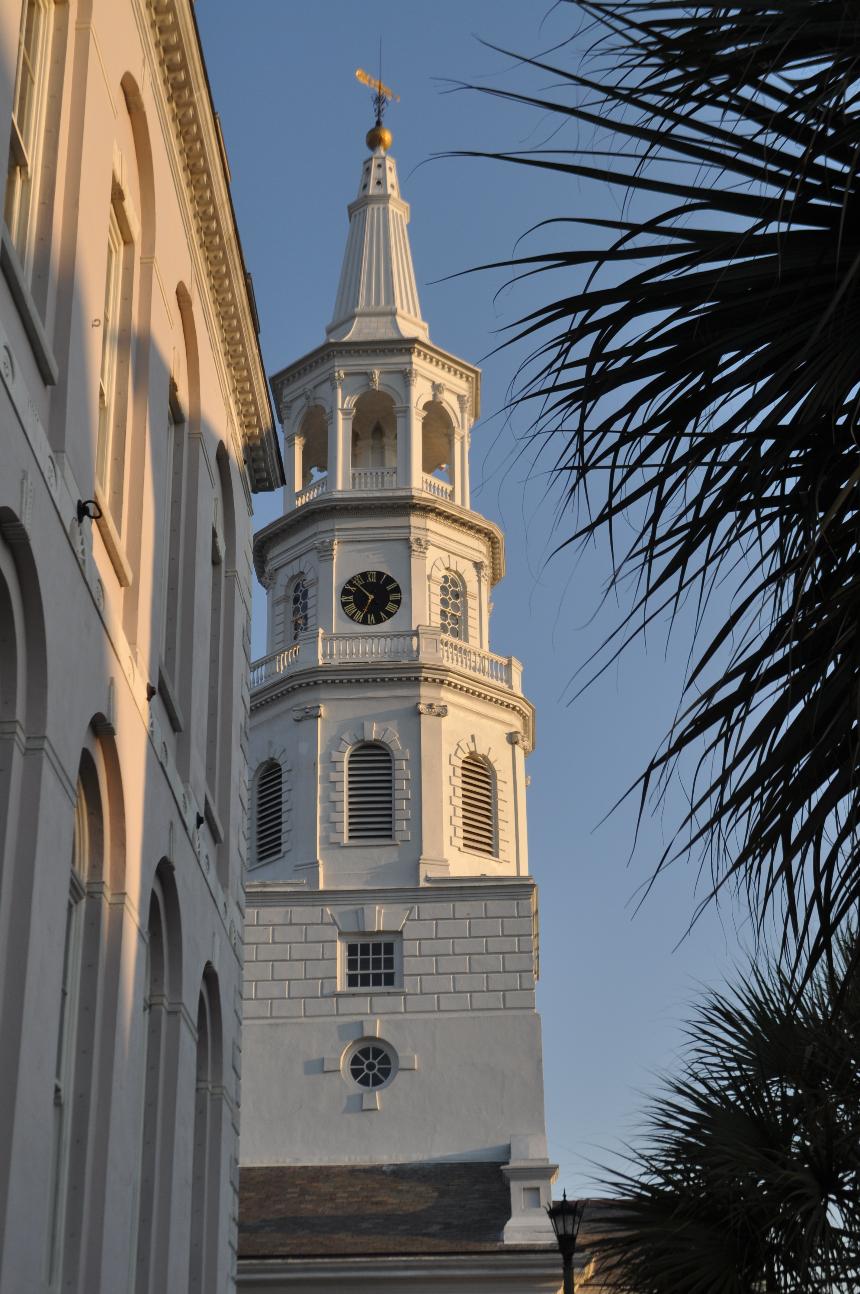 A delicious flour-less chocolate torte - with just a dollop (although Gayle suggests it is more like a mountain) of real whipped cream - finished an excellent meal.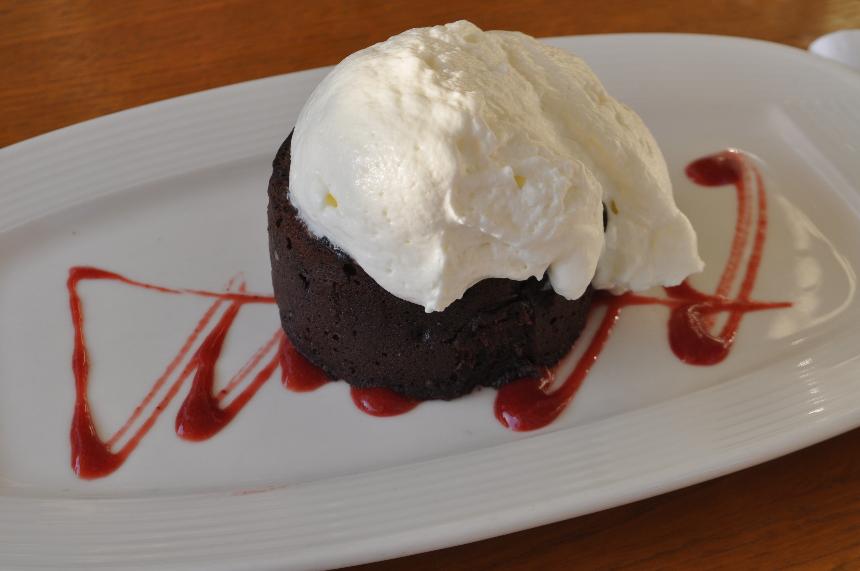 Gayle and the setting sun over the Cooper river, Charleston just a short distance from our Bed and Breakfast.