Memories of Andalucia:
the birthday greeting (card) from KLM
other birthday acknowledgements - champagne; desserts at Cafe Het Paleis and the cava at Gravina 51
Cortijo La Haza - worth a repeat visit some day
Patriek's excellent cooking / meals
Flamenco de Triana, including the walk over Rio Guadilquivar to the Triana area of Sevilla

the Alcazar; the intricate buildings and relaxing in the gardens
preparations for the Semana Santa (Holy Week) ceremonies
great service from Rafael and another enjoyable meal - pulpo ; lamb; artichokes and asparagus risotto - at Polear
our meals at Barra Castizo, including the dancing / singing cook
a number of wonderful tapas (pulpo in vichychoise; beef tenderloin; spinach and garbanzo beans) in Sevilla
strolling through the pedestrian friendly streets of Sevilla
flamingos - totally unexpected
the donkey refugio, including friendly Colino
Gravina 51, including its fantastic breakfasts
the white villages
the ever-present songs of the birds
the stunning, seemingly never ending rolling green countryside - covered with olive trees
the wildflowers
the many wonderful people we met
Christel the flight attendant on our original KLM flight
Werner and Anna,
Monica and Ramon, the Finnish couple from the Basque area, all at Cortijo el Guarda
Bernadette and Patriek at Cortijo La Haza, and
Manu on our flight to Amsterdam
the sheep and goats, particularly when they take over the roads
dinner at Frank's in Arriate, and

KLM business class upgrade from Amsterdam to Toronto
and of course
the beauty of Cortijo el Guarda and its surroundings
the warm hospitality of Miranda and Hans
enjoying possibly our last visit to Cortijo El Guarda,
Hans' scrambled eggs, and really the entirety of breakfast, and

being thankful for a last opportunity to visit with Miranda, Hans and Sam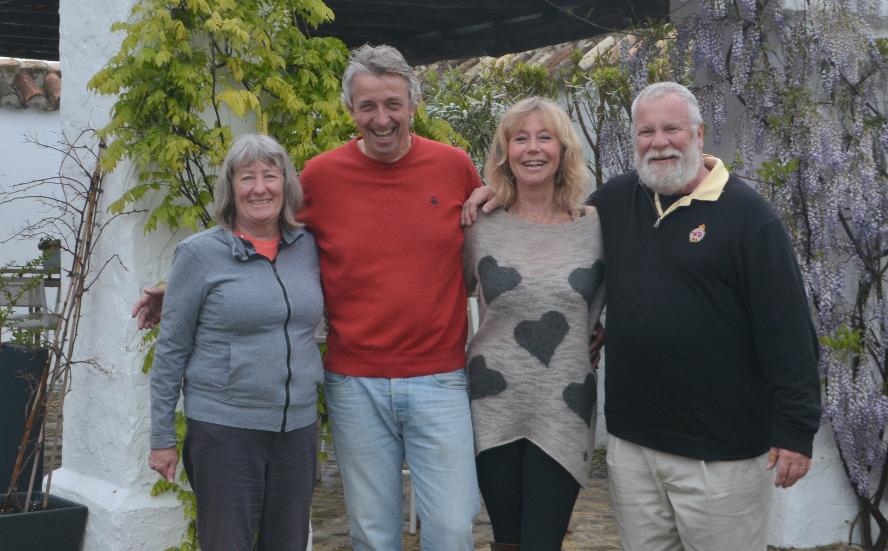 This was a trip we hadn't plan to take. But when we heard Hans and Miranda had sold the cortijo we started to consider the possibility. Then when timing lined up with my 65th birthday, er I mean 65th anniversary of my birth ... we said why not? Being in the middle of tax season we knew we couldn't go for too long but decided 11 days was doable. And it turned out to be another great decision - we enjoyed a wonderful memorable trip and in the end I got the tax returns that needed to be done done.

Expenses (based on average exchange rate 1 euro = $1.55 Cdn):
Here are the costs of the of the trip (excluding airfare)
$ 2,496 lodging ($227 per night)
$ 1,107 food ($101 per day - primarily dinner and a few groceries / tapas)
$ 304 car rental ($201 rental or $18 per day) plus fuel ($103)
$ 80 entrances

$ 140 miscellaneous (primarily tips)
$ 4,127 for 11 days
The average cost per day (lodging, food, vehicle and miscellaneous) was $375.
Lodging ranged from a low of 96 euros to a high of 227 euros. Here is a list of where we stayed, their location, the amount we paid and links to their websites.
227 euros Gravina 51 Sevilla http://www.hotelgravina51.com/en/
96 Cortijo La Haza Iznajar https://cortijolahaza.com/en/home/
120 Cortijo el Guarda Alcala del Valle http://www.el-guarda.com/en/the-cortijo/MTIyOQ--
132 Hacienda de Los Jinetes Carmona http://www.haciendalosjinetes.com
Of course staying at a nice place in Sevilla comes with a price. 227 euros, or $350 Cdn is a chunk of change but we were very happy with our choice - a nice hotel in a nice location. Cortijo La Haza was a great spot as well, particularly with the availability of delicious well prepared meals each evening. Cortijo el Guarda - there is no need to say anything, and Hacienda de Los Jinetes served its purpose - a decent place within easy and quick access to the airport.
The lodging costs varied considerably with the average of $227 being in line with previous trips to Spain ($228 average in 2018 and $250 in 2017). The important thing is we were extremely happy with each place we stayed.
Overall, the average cost of this trip was the lowest of the past five to Spain. Not by a lot but still the lowest. The following reflects all costs other than airfare to/from and souvenirs, i.e. they include lodging, food, vehicle rental, fuel, miscellaneous and tours, if any.
$421 - 2013 Spain (Andalucia)
$399 - 2014 Portugal and Spain (Extramadura and Andalucia)
$408 - 2017 Spain (Andalucia, Murcia and Majorca)
$380 - 2018 Spain (Basques, Pyrenees and Menorca)
$375 - 2019 Spain (Andalucia)
Apr 19, 2019 - Jinetes/Carmona to Sevilla to Amsterdam to Toronto to Halifax

Normally we would have very little, if anything, to say for our travel day home. However this time is an exception. Smooth arrival at the Sevilla airport where we boarded our Transavia flight to Amsterdam. A very nice young woman, Manu - from Vancouver, sat in our row. We spent the nearly three hour flight talking about travel, of which she has done a considerable amount. The time 'flew' by (we know bad pun). Although I didn't get a photo there were a number of massive fields of colourful tulips as we approached Amsterdam.

We said good-by to Manu and settled in to a restaurant for our four hour layover. During that time I noticed that our boarding passes, with the seats were side by side they actually were not in the same row. Upon arriving at the gate I went to the desk to see if our seats could be changed. While waiting I noticed our name on a board, which seemed strange. The thought of an oversold flight crossed my mind. When I asked about the row change, and whether we might be able to get an aisle seat, the women, with a huge smile said "Yes I can get you together and with an aisle seat, and I think you're going to really like what you have". And then she noted the flight was delayed 20 minutes so there was still time for a quick visit to the KLM Crown Lounge. Yes we were bumped up to Business Class!!!!! Gayle was sooooo exciting, as was I.
Our first thought was that Christel, out attendant from our flight over had somehow orchestrated this. Fortunately we had her email from when she offered us a Sevilla restaurant suggestion, so after returning home contacted to tell her of our great fortune and inquire as to whether she said anything to do with the upgrade. She replied saying "I have to admit that I had NOTHING to do with your upgrade ;-) But what a pleasant surprise!! You both deserved the upgrade! It was a pleasure to have you on board and hope to see you again on one of your future travels!". It is not that we have flown KLM often - once back from Morocco - so it is not that we are frequent KLM flyers. We guess it will remain a huge mystery as to why us. Gayle suggests it was just good karma in return for all the volunteer crosswalk work I do but regardless it was wonderful. We were in the upper deck of a 747 (of course a first for both of us) where we enjoyed the luxuries (and better food and drinks) of business class. Life is beyond good! Thank you KLM!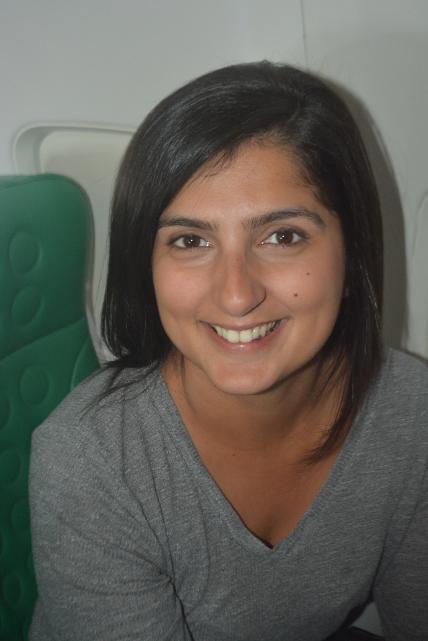 Manu, who we met on our Transavia flight from Sevilla to Amsterdam.
We had a four hour layover in Amsterdam. We spent most of our time in a restaurant working on the travel blog and catching up on emails. We grabbed a bit of food, a mushroom soup and fries with the traditional Dutch mayonnaise rather than ketchup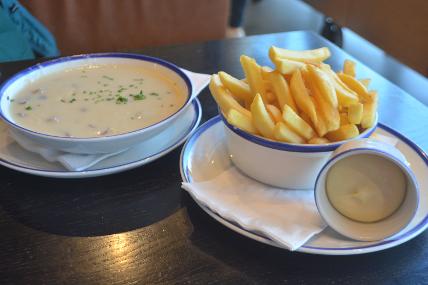 With World Business comes access to the KLM lounge.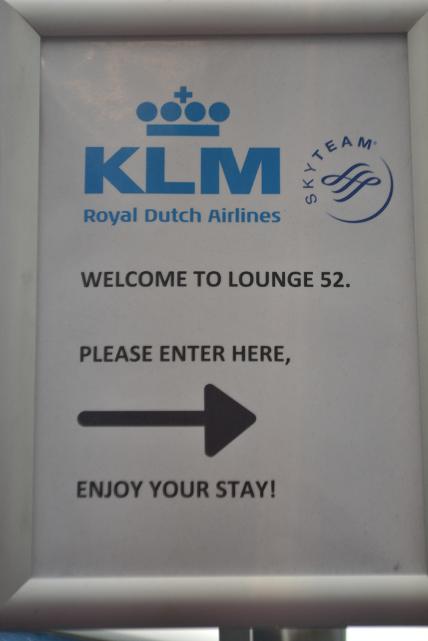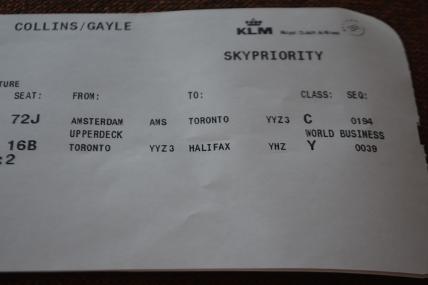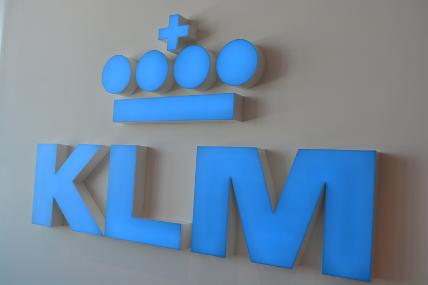 We only had a very short time, but enough to grab a couple of glasses of cava and some mushroom finger foods. Someone seems pretty happy!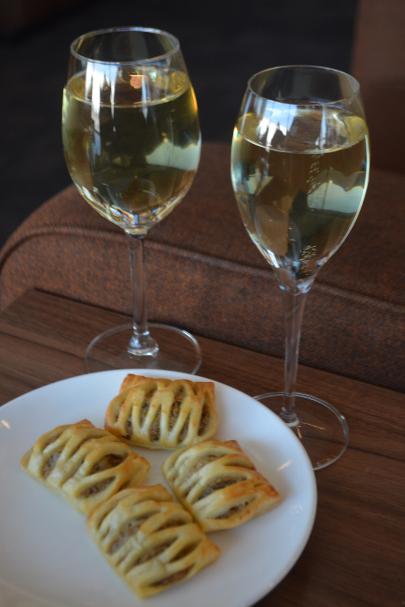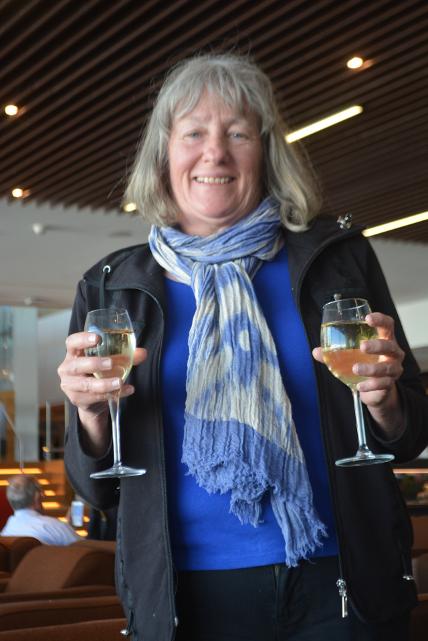 Two levels on the 747 - our business class being on the upper deck.
Some pretty good food - lamb medallions for me with veggies and roasted new potatoes and some very tasty sweets for dessert (as the upgrade was last minuter there was no special vegetarian meal for Gayle).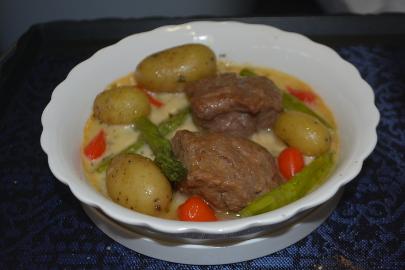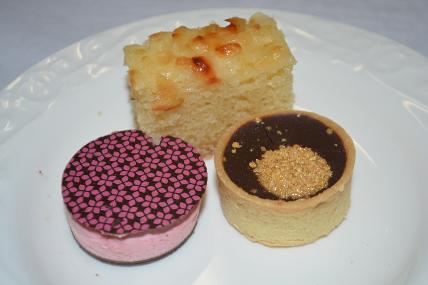 Enjoying our experience in business class and a final photo of our seats as we begin to deplane.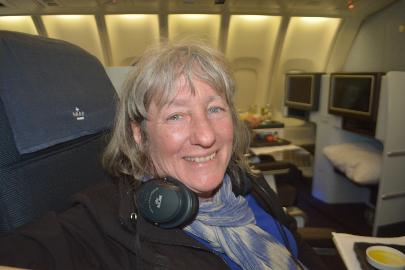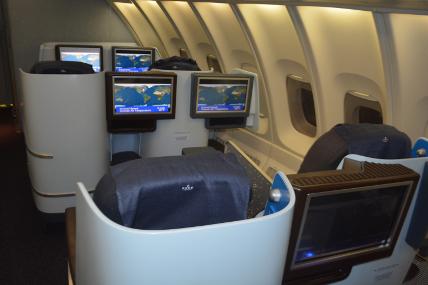 April 18, 2019 - Alcala del Valle to Jinetes (just north of Carmona)

It was time to say goodbye to Miranda, Hans and Sam. Over four stays we have spent two weeks (14 nights) at Cortijo El Guarda (one night in 2013; three in 2014; five in 2017 and again five this year). We have stayed at many wonderful and memorable places over the years, having met many wonderful and memorable hosts. But for some reason Miranda, Hans, Sam and Cortijo El Guarda top that list.
The cortijo itself is stunning, with loads of character starting with the ancient cobble stones throughout the courtyard. The surrounding countryside is beautiful with its olive trees to the north, west and east and the lone trees (see trip banner above) on the hilltop, accentuated with red poppies in the spring. There are flowers throughout, naturally wild outside the walls of the cortijo and many potted plants inside.
On warm sunny days breakfast can be eaten outside; otherwise inside at the long communal table. Freshly squeezed orange juice - we see the bags of oranges - a continuous supply of good coffee, cereal, a variety of fresh fruit, the best (and we do mean the best) bread, meats and cheeses, a tortilla or fritatta and Hans' wonderful scrambled eggs. There is never a need for lunch.
Except for the first visit we have enjoyed the 'fig' room - a nice large room with a large fig tree just outside the door. The room (and we're assuming all rooms) has one of the most comfortable beds we have ever had the pleasure of sleeping in with snugly duvets and down pillows. Pure pleasure. The bathroom is huge with a nice large shower.
Dinner, served Monday, Wednesday and Fridays is also a wonderful experience. Traveling in April / May and late September it was only warm enough to eat outside once. But eating inside at the communal table has its benefits as guests interact with each other. Occasionally, but not often, language can be problematic but I only recall once where that was the case. Many of the guests are from the Netherlands and Belgium but we have encountered others from Germany, France, various regions of Spain, Canada, the US, Mexico, Finland and no doubt others we have forgotten. Most all spoke decent English. The meals were unique (for example oxtail; beef and pork cheeks) and delicious. Gayle was extremely pleased with the quality and creativity of her vegetarian meals.
Will we return? Perhaps. The new owners may also be wonderful and certainly the cortijo is special. But it will be different without Hans, Miranda and Sam. We'll see. We have said it to many but it is worth repeating - while Hans and Miranda are no doubt thankful for our business it is we who are so fortunate and appreciative that they had the vision to acquire and restore the property, to provide travelers such as us the opportunity to experience the area and their hospitality. Dank je.
The drive, at least most of it was very scenic, through rolling countryside covered with wild flowers and, of course, olive trees - lots and lots of olive trees. Along the way we passed the Via Serrana, a part of the Camino de Santiago. The Via Serrana runs from the southern tip of Spain, actually Gibraltar, through Jimena de la Frontera and Ronda to Seville to connect to the Via de la Plata and on to Santiago de Compostella. It is a relatively undiscovered new camino route.
We passed through Moron de la Frontera, Arahal, and finally Carmona before reaching our destination of Jinetes and Hacienda de los Jinetes, an historic hotel, set in a 16th-century former royal house, featuring a distinctive Baroque style. The Hacienda has great potential but could use some 'tlc', or at least an outside paint job. There are extensive gardens and an equine theme throughout. While walking through the gardens we met a Dutch fellow with whom we had a nice chat, a chat that continued after dinner with his wife. Dinner was decent, although not outstanding. A tasty chorizo on toast to start us off followed by soups - Gayle's tomato was very good but my mushroom less so. Gayle then had the 'typical' spinach of Carmona - good but not as great as that in Sevilla, and me a shoulder of lamb brazed in the Old Style. Again good but not great. We did enjoy a nice Rioja 2013 Yllera with dinner.

We then did our final packing in preparation for our early morning departure and our flight home.
The cortijo's courtyard with its water fixture, olive urn and cobble stones.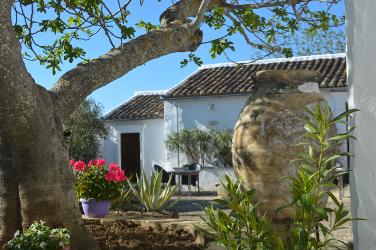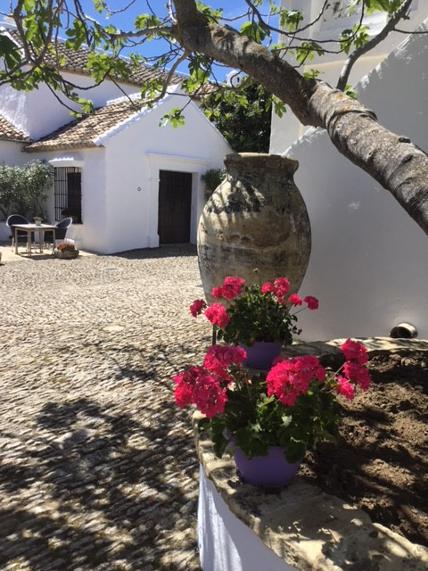 Hans, Miranda and Sam (with his favourite ball).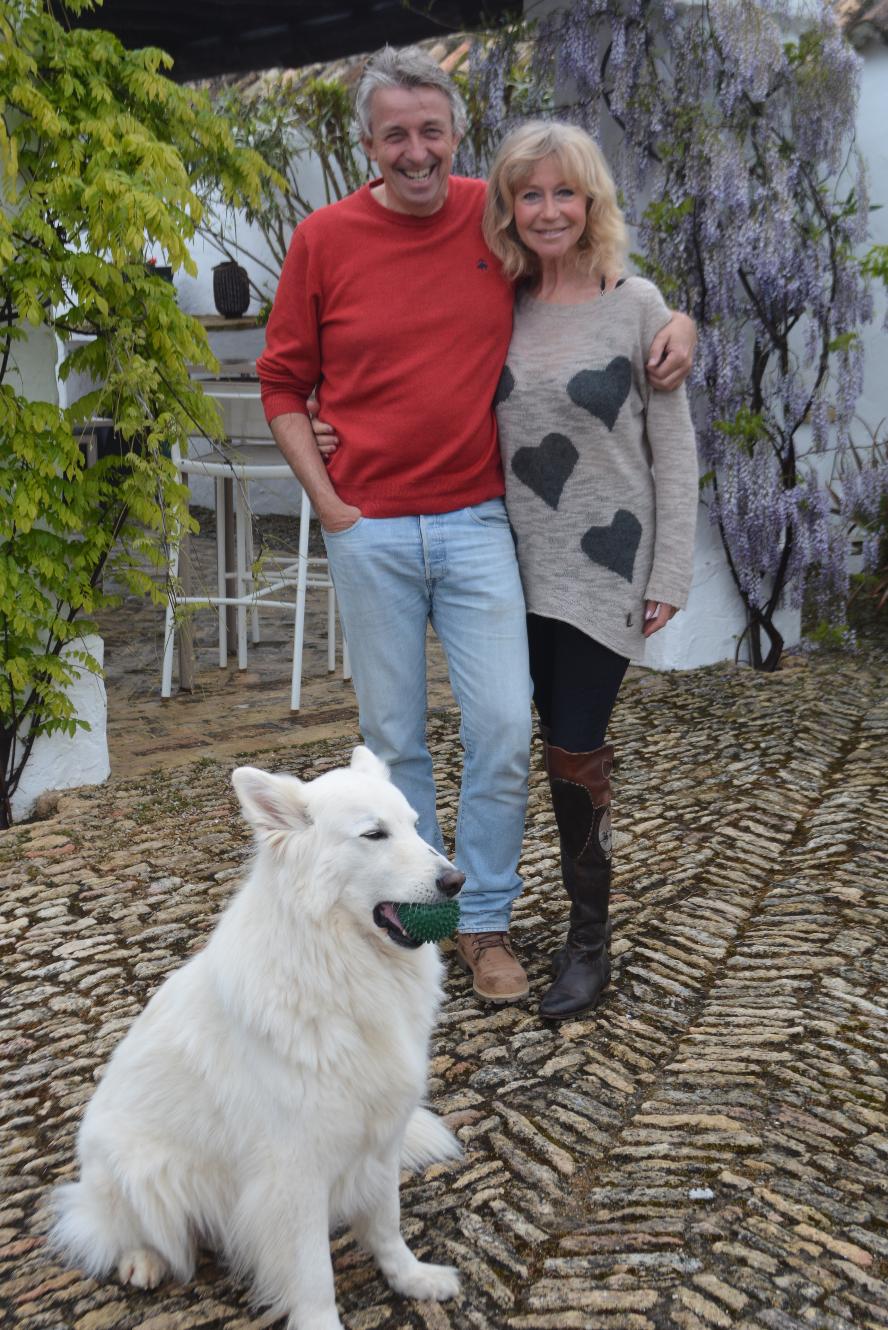 Preparing our morning scrambled eggs and yet another cup of coffee - generally every morning was a three coffee morning.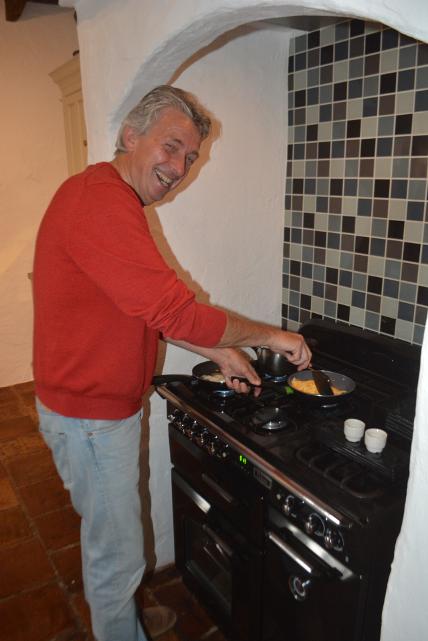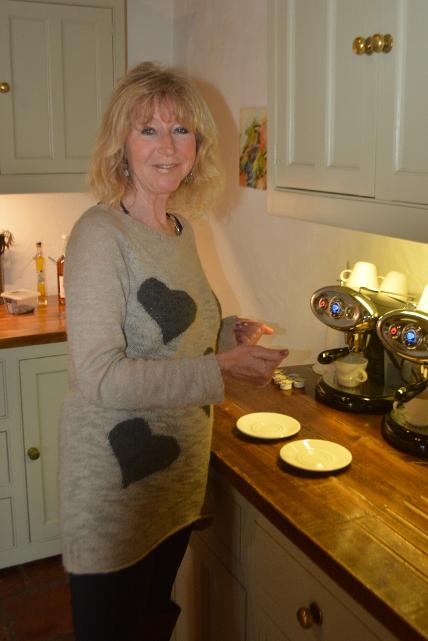 The four of us ... and Sam.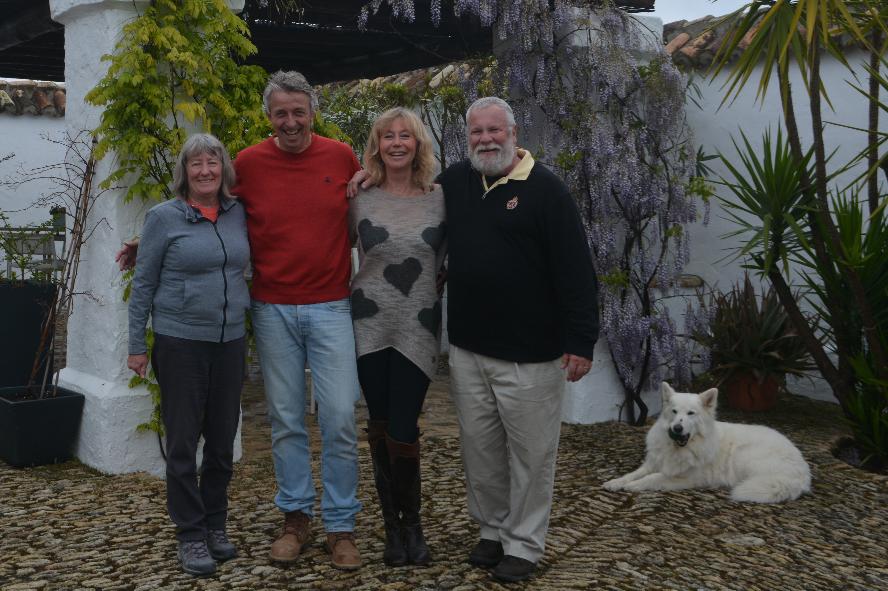 There are now many Camino de Santiago routes throughout Spain. The Via Serrana runs from Gibraltar to Seville.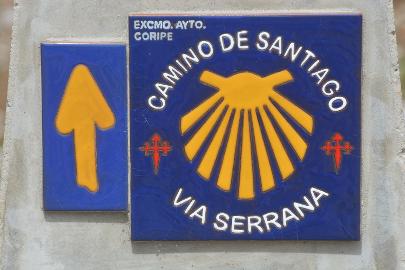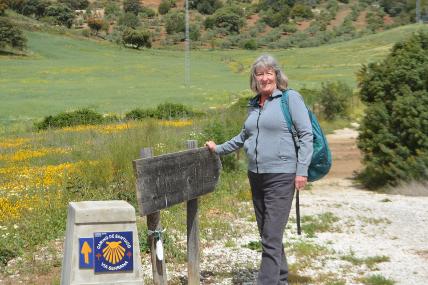 And guess what - more olive trees.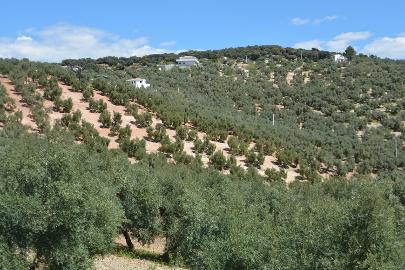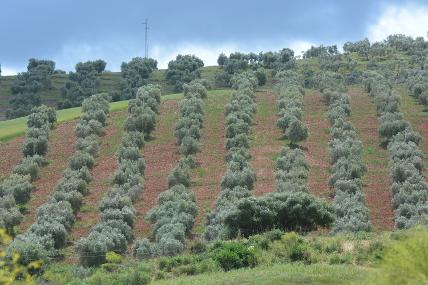 ... and more ditch flowers.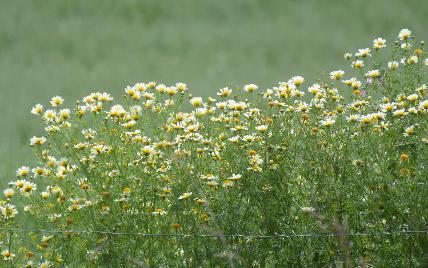 If Waldo is a dog where's Waldo?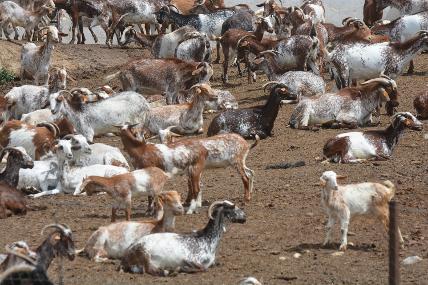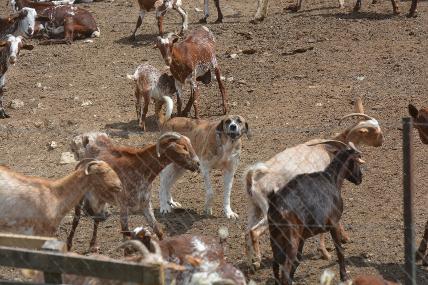 The historical and charming Hacienda de los Jinetes is a hotel of baroque style following the style of the Sevillian haciendas. Tracing back to the 16th century there are two towers in the main façade around a central courtyard.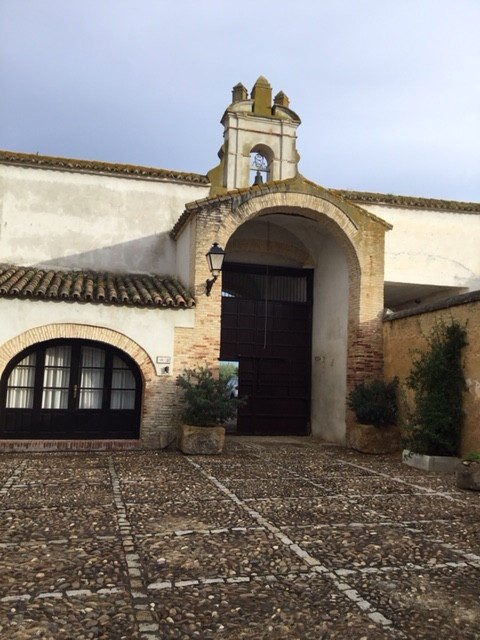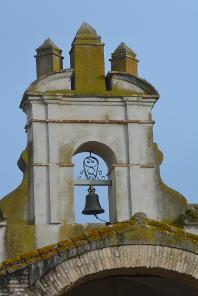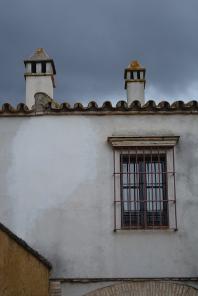 An old press and an stylish claw-foot tub in our large bathroom.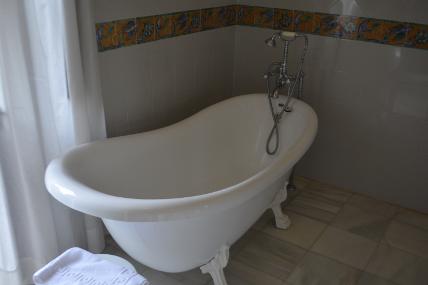 Some of the interiors of the hacienda - lots of antique furnishings.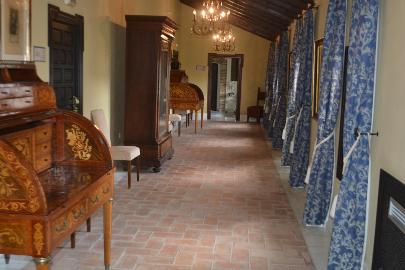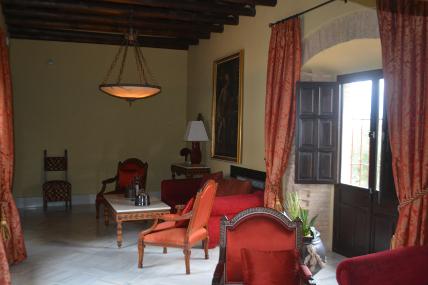 The expansive gardens along with reminders this is an equine region, including the hitching ring in the inner courtyard.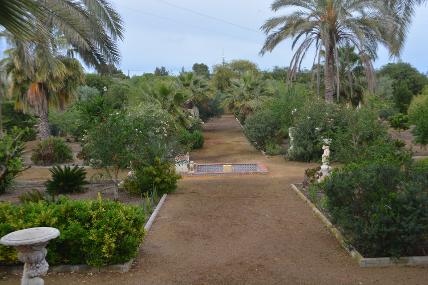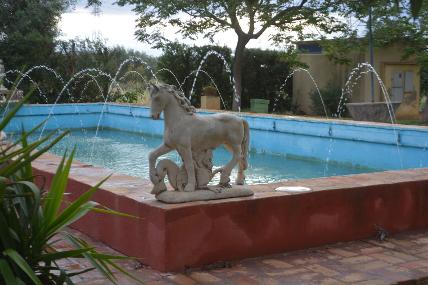 To start I had chorizo on toast - very nice; after which Gayle had a flavourful home-made tomato soup and I a so-so mushroom soup.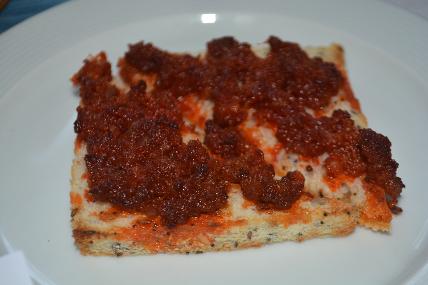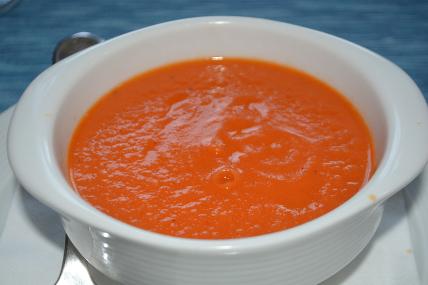 A local spinach and garbanzo bean dish for Gayle. And lamb shoulder with mushrooms and potatoes for me.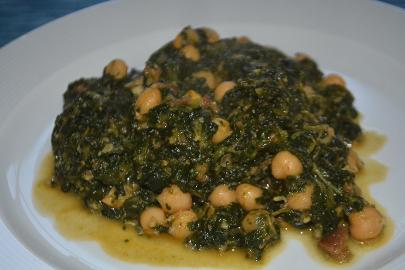 April 17, 2019 - Alcala del Valle - with a drive in the surrounding countryside

Another leisurely day. We slept in - it's nice breakfast doesn't start until 9:00 am - enjoyed another great start to the day and then just hung around. Unfortunately the weather took a turn for the worse, cloudy and somewhat cooler. Not so much sitting outside today.
We decided to take a drive in the afternoon - a counter-clockwise trip from Cortijo El Guarda to the 384; and then west to Olvera where we took the 342 toward El Gastor. Along the way we encountered a shepherd taking his tribe of goats from one field to another, and just as we were about to leave after having taken a number of photos and a short video, a large flock of sheep took over the road, followed by their shepherd and a dog in training - more photos and another short video. El Gastor is one of the many white villages of the region, After driving through the pretty village we continued on to Algodonales and then to Zahara de la Sierra, a village we had visited back in 2013. Finally it was along the Embalse, across to Montecorte, on to Sentenil de Las Bodegas and finally back to Alcala del Valle and Cortijo El Guarda to complete the circle.

We returned late afternoon, worked on the travel blog a bit and then headed over for the 8:00 pm dinner. Tonight's table included Werner and Ann and the Dutch couple again and us. Replacing the young Finnish couple were another young Basque couple - Ramon and Monica. Monica is actually from the Philippines, but of Basque heritage as many Basque fishermen settled in the Philippines. The very first Spanish voyage to the Philippines, led by Magellan, included many Basque. Juan Sebastian Elcano, the first to circumnavigate the world was Basque, including most of his crew. The 1565 voyage of Urdaneta-Legazpi expedition were also Basque. Today many of the largest and most successful companies in the Philippines are Filipino-Basque owned, or were founded by the Basques. Who knew? We learned much from the nice Basque couple.
We have said many times before (2013, 2014 and 2017) how much we enjoy the experience of eating at Cortijo El Guarda. The beautifully set table; the quality of the cooking; the service of Hans and Miranda, including her explanations of each dish, the wine and the 'forced' (a really good thing as it is hard not to chat with at least some of the other guests when we are all at one large table) opportunity to meet and chat with other travelers all make for wonderful evenings. We are so thankful we have been able to experience a number of these over the years.
Tonight we started with a cauliflower and potato dish for the vegetarians - beyond Gayle there was one other at dinner - and a unique, colourful salad of fish and shrimp for the others. For our main courses I enjoyed beef cheeks with some wonderful potatoes and Gayle a delicious vegetable lasagna.
We will miss the El Guarda dinners but so grateful to have chosen the cortijo years ago and had the experiences we did.
The church overshadowing the town of Olvera.

This is the one case where we believe the cloudy grey sky is more photogenic with the white village than would have been a bright blue sky.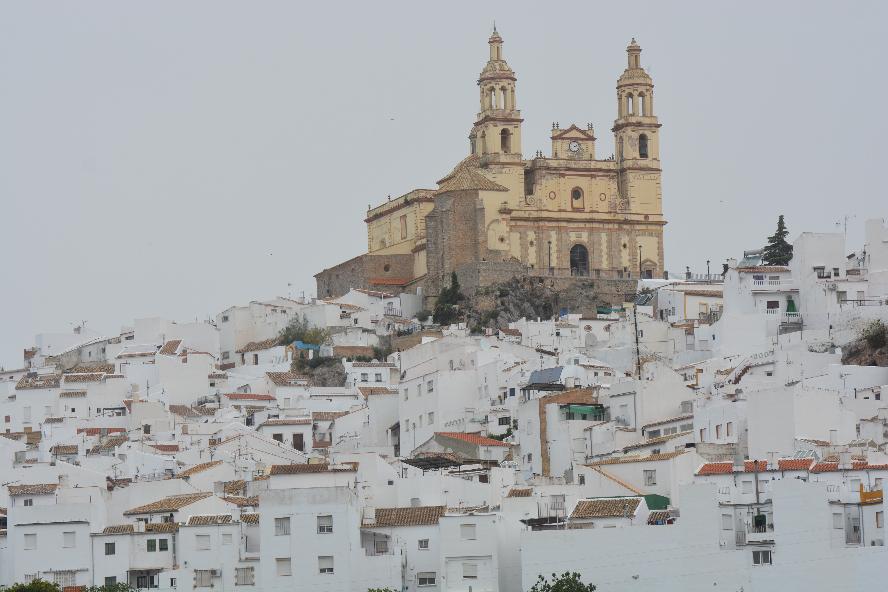 Finally vehicles are not in control of the roads.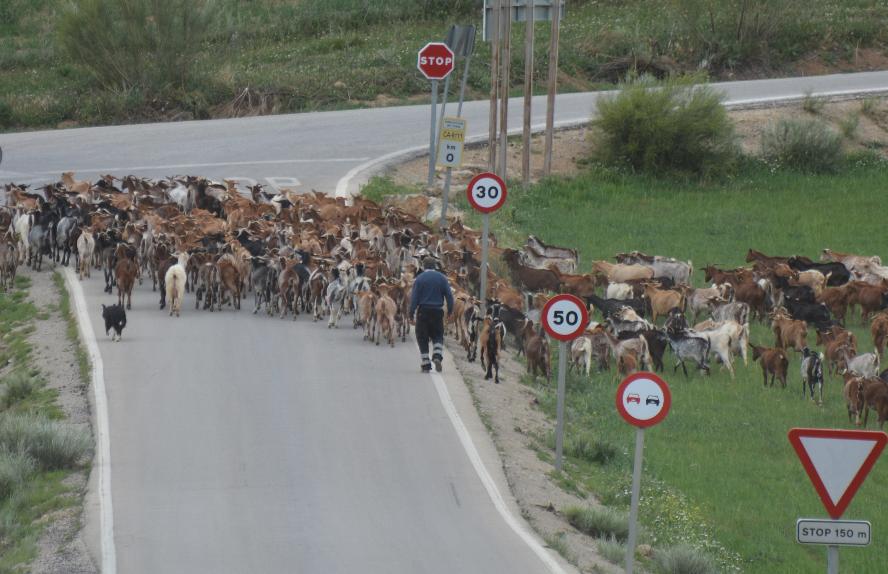 Goats, goats and more goats and their shepherd.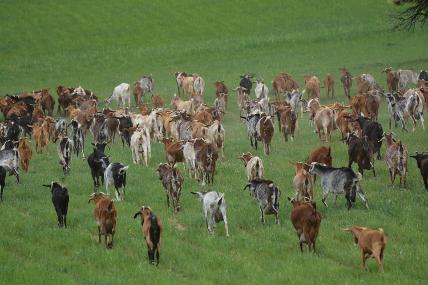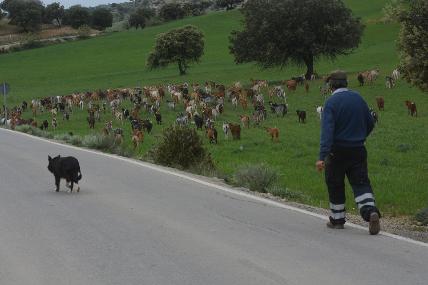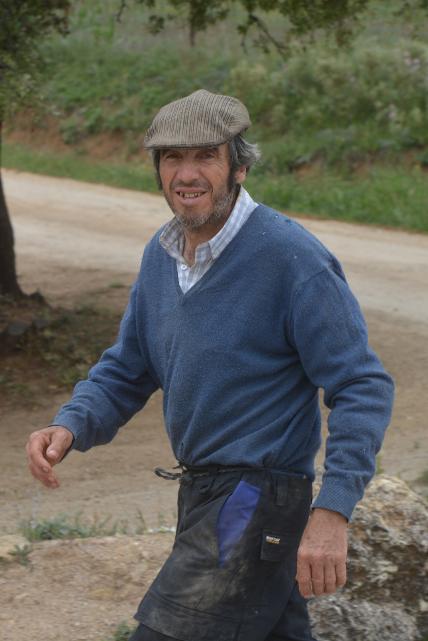 And then it was this flock of sheep taking over the road.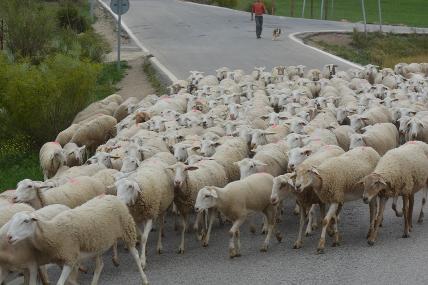 A couple of videos of goats and sheep in the countryside of Andalucia.
The village of El Gastor and a tree on a hill that caught my eye.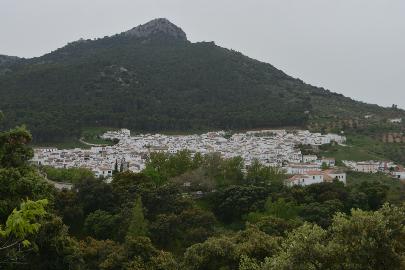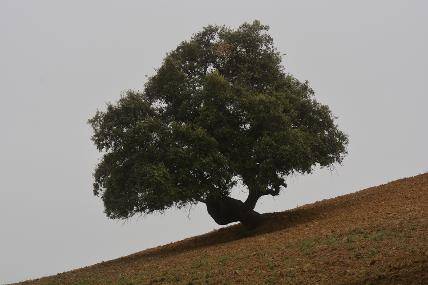 A typical street in El Gastor, one of the traditional pueblos blanco (white villages).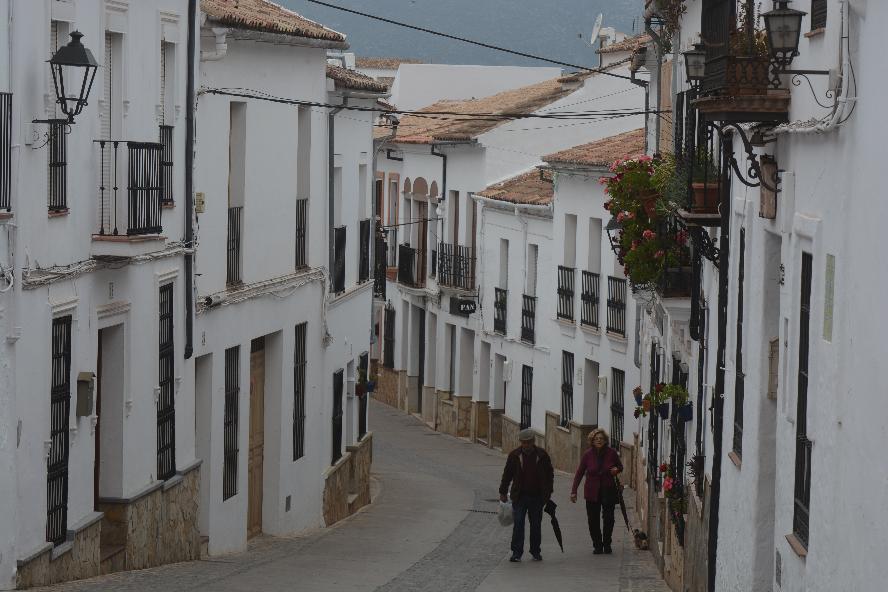 First course was a unique salad of avacado and fish for me and a potato and cauliflower dish for Gayle.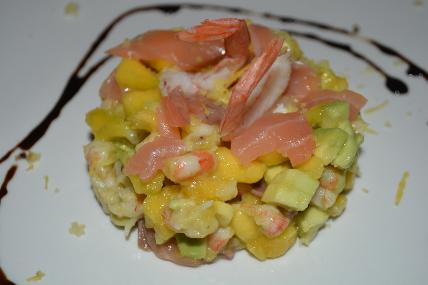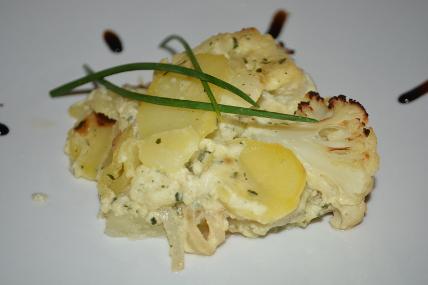 Vegetable lasagna for Gayle and beef cheeks with potatoes and broccoli for me.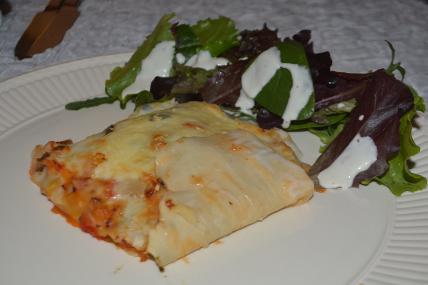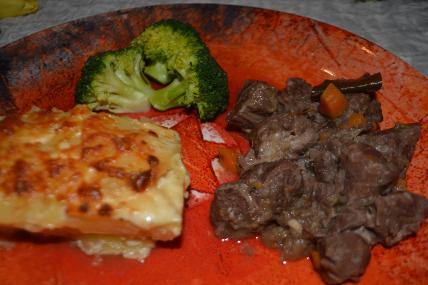 April 16, 2019 - Alcala del Valle - afternoon in Sentenil; dinner in Arriate

After another 'do nothing' morning we decided to take an afternoon drive to nearby Sentenil, unique in the rock overhang that covers much of river's east side. Setenil de las Bodegas is known for its whitewashed houses built into the surrounding cliffs. The town's hilltop castle was once an Arab fortress. Torreón del Homenaje tower offers views of the town and countryside. Southwest, the ancient Ruins of Acinipo include a Roman theater. We enjoyed a glass each of sangria and a interesting artichoke tapa. In that it was Semana Santa (Holy Week) the village was very busy, so much so that we were lucky to get a table. Just a short, but pleasant stop.

For dinner Miranda recommended El Muelle de Arriate, aka Frank, after the owner. Frank, another native of the Netherlands, is a very hands on owner, providing detailed dinner suggestions from an extensive menu. The restaurant is located in the town's old train station. In the summer guests dine on the terrace while enjoying the spectacular views over the valley towards the mountains of the Sierra de Grazelama. Here you can sample the homemade dishes by the platform with the opportunity to see a wave from the engineer of the passing last train of the day.

We started with a glass of cava each. Then it was on to our starters, a salad for Gayle and two tapas for me. Gayle had a wonderful (albeit large and filling) ensalada de queso de cabra frito con mermelada casera de mango (a salad with goat cheese wrapped as a 'present' in phyllo with a balsamic drizzle and an accompanying mango marmalade ... topped with an edible pansy) while I had a couple of tapas - first a quesos de cabra a la plancha con foie y mermelade de zanahoria con jengibre (another goat cheese with marmalade of carrot and ginger) - delicious; and then Gambas (shrimp) swimming in al ajillo (garlic). For her main course Gayle had a Milhojas de verduras con setas, aciete de trufa y mozzarella - a stack of layered vegetable with truffle oil and mozzarella. I had the Cochinillo con verduras salteadas con ajo, rodajas de patatas fritos y un pure tibia de manzana (suckling pig with sauteed vegetables, fried slices of potatoes and a warm puree of apple). The wine list included a Muga but unfortunately there was none. Rather we each had a glass of Hada Pujanza Rioja 2012 - a nice second choice. Both dishes were beautifully presented and very filling, so much so that dessert was out of the question, which was a shame given the interesting options. Quite an impressive meal for 72.25 euros ($112 Cdn).

The drive home was the better part of half an hour, including the remarkably narrow street of Arriate.

A blossoming tree in Alcala del Valle and another field of ditch poppies.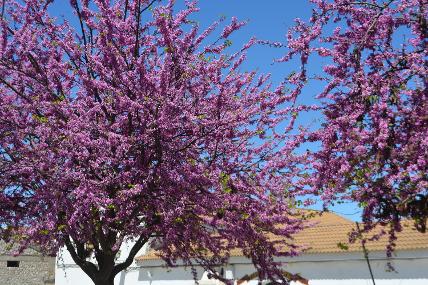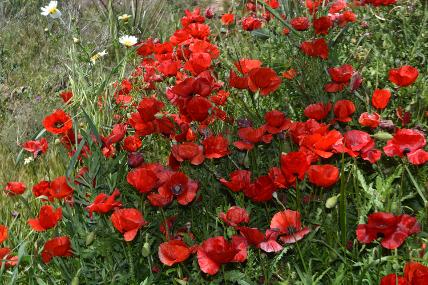 The unique rock 'roof' along the river in Sentenil.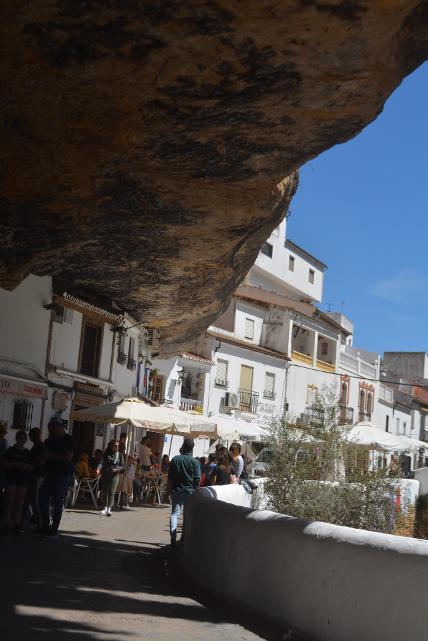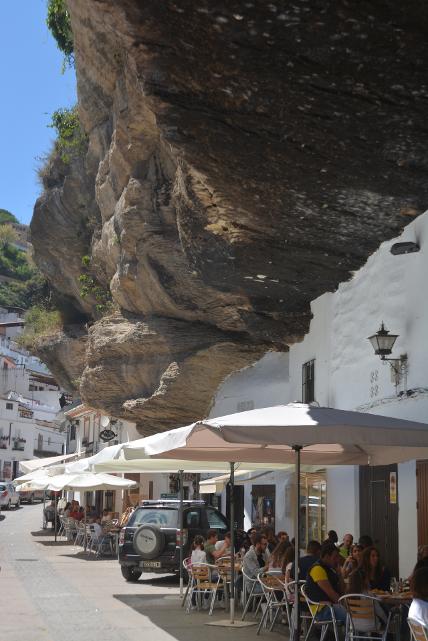 Flower pots on one of the bridges crossing the small river flowing through Sentenil.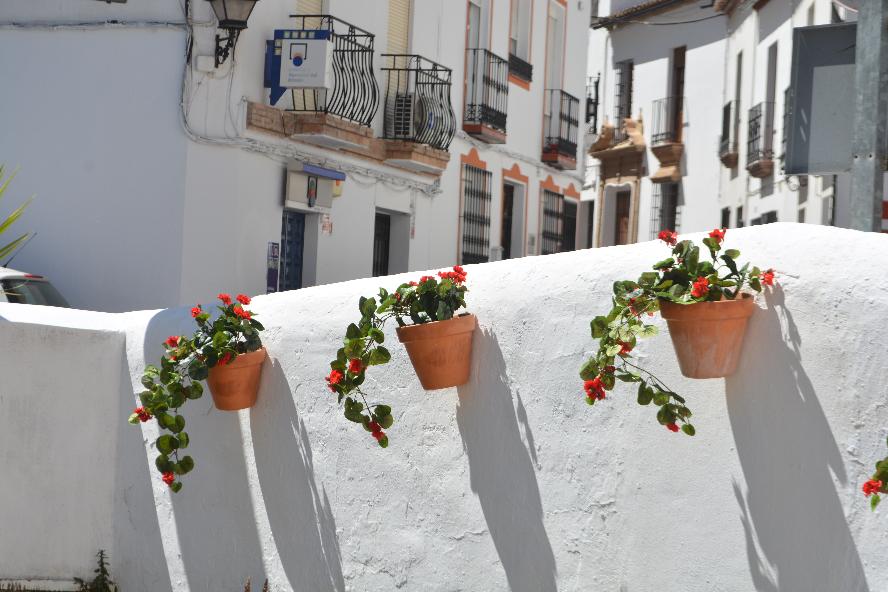 Sentenil's walkway of bars and restaurants. The view from high above.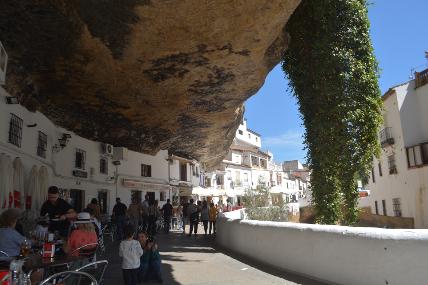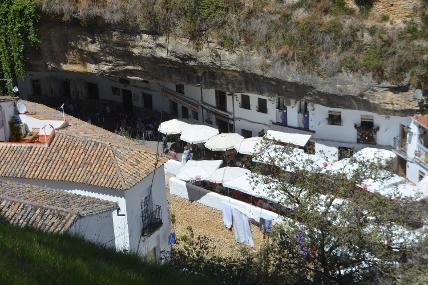 We stopped for a drink (sangria) and an artichoke tapa at Bar La Tasca.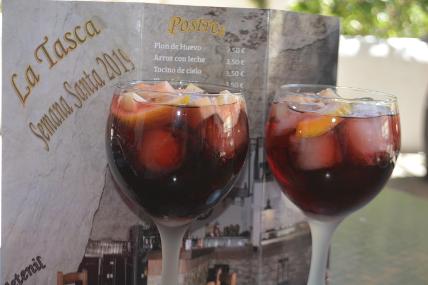 The matador / bull theme of El Muelle de Arriate, aka Frank.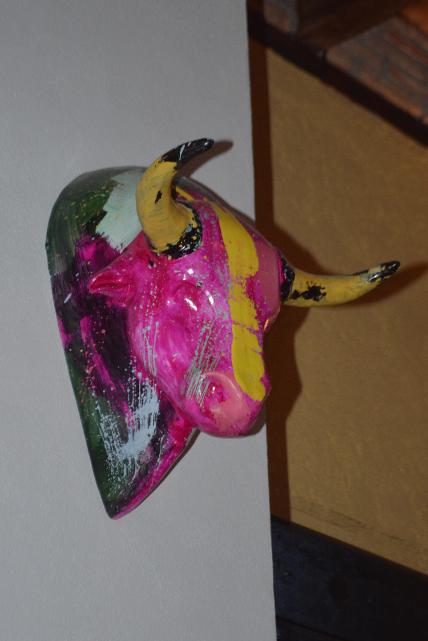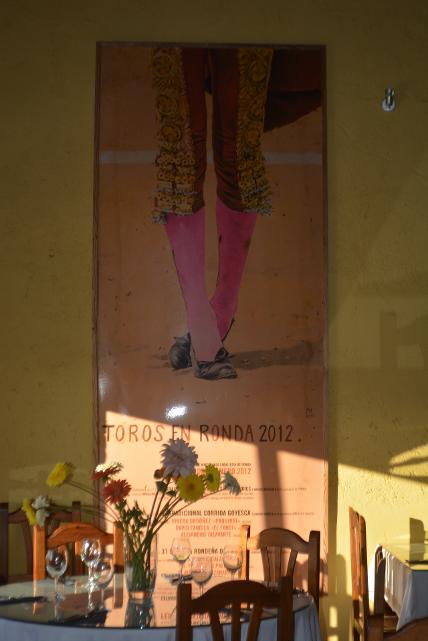 A glass of cava before what turned out to be a wonderful dinner.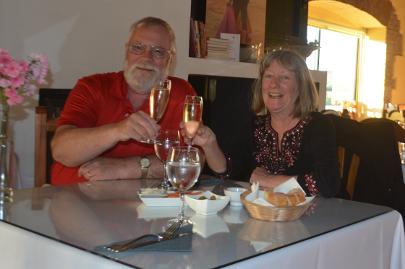 Gayle's goat cheese salad with mango jam and an edible pansy.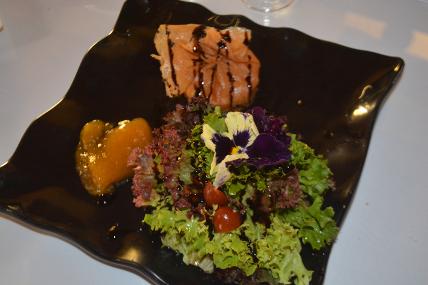 My tapas of baked brie on a slice of apple with jam and gambas / shrimp sizzling in garlic oil.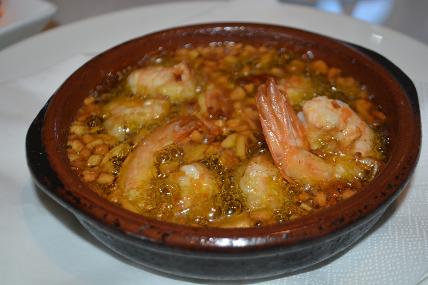 Suckling pig with potatoes, apple puree and a selection of vegetables.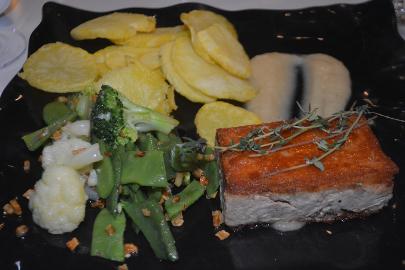 Gayle enjoyed a beautifully presented tower of vegetables with a large slice of mozzarella.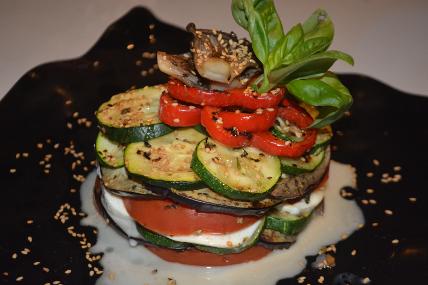 And after all that there was absolutely no room for dessert.
April 15, 2019 - Alcala del Valle - Cortijo El Guarda

Today was pretty much entirely spent at Cortijo El Guarda. The fact it was sunny and warm helped. The only outing was to get our tire fixed. The tire pressure light had been going on and we had been adding air but this morning it was flat. Hans called Luis who came out to add some air. We drove into town where re plugged a small hole. On site visit and tire repair for a ridiculous 5 euros. We tipped 100% and still felt he was being short-changed. Can you imagine a garage sending a guy out 6 kms, adding air and then fixing your tire for $5?
As mentioned it was a bright sunny day allowing us to eat breakfast outdoors. Breakfast is consistently delicious and filling starting with freshly squeezed orange juice and coffee. There is fresh fruit, cereal, a selection of meats and cheeses, a changing tort and the best bread, not only on this trip, but pretty much any place.
We spent the day lounging around - working on the travel blog, enjoying the warmth (mid 20s) and sun and just relaxing. It was great.

Dinner was at Cortijo El Guarda this evening. It is always nice to eat on the property, to be able to enjoy a bottle of wine with no driving involved. We enjoyed a dinner of cod on a bed of pureed spinach and pork in a mushroom sauce for me and for Gayle a pasta with broccoli and cherry tomatoes and a curried tofu with rice and asparagus. Dessert was a nice crumble tart. Dinner is at a long (beautifully set) table where guests are somewhat forced to interact with each other - a really good thing. Tonight, in addition to us there was a Dutch couple, four from Belgium and a young Finnish couple (now living in the Basque region of Spain) with their 14 month old son. We spent most of our time speaking with Werner and Ann, two of the Belgium guests - excellent English - and the young Finnish couple who also spoke fluent English. A nice meal with interesting conversation.

There is no better way to start a day than enjoying a large, delicious breakfast in the sunny courtyard of Cortijo El Guarda.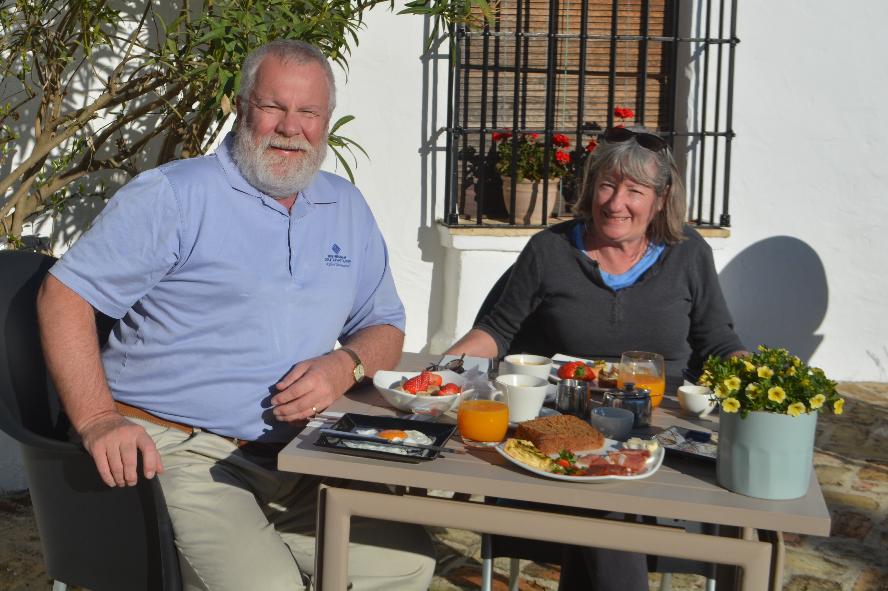 Cereal, coffee, fresh-squeezed orange juice, fantastic bread, meats, cheese, a tart, jams, eggs and a wide selection of fresh fruit.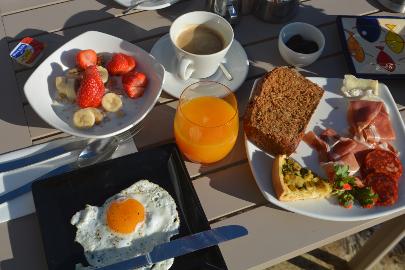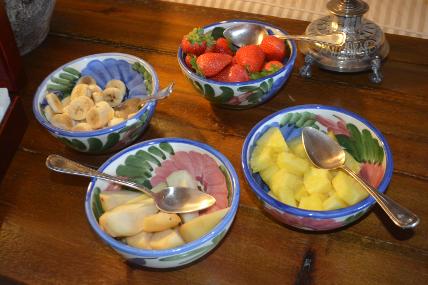 Cereal with fruit and as Gayle says morning after morning "Hans makes the best scrambled eggs". I agree.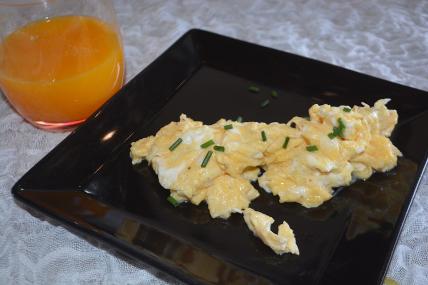 Cortijo El Guarda - so photogenic against the bright blue sky.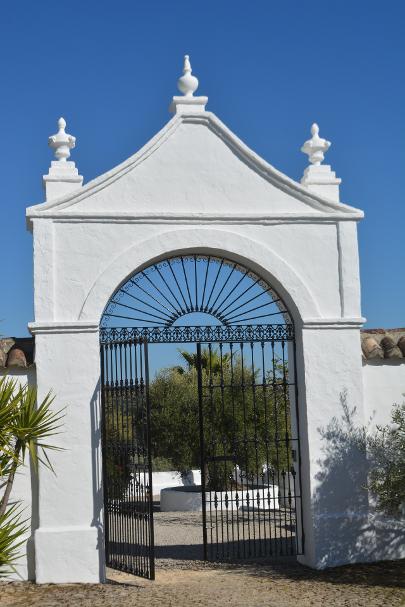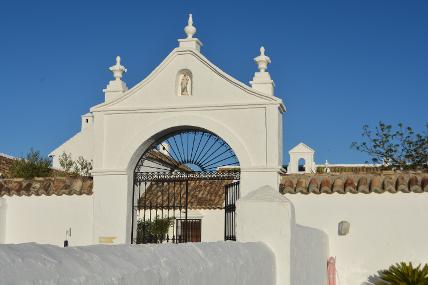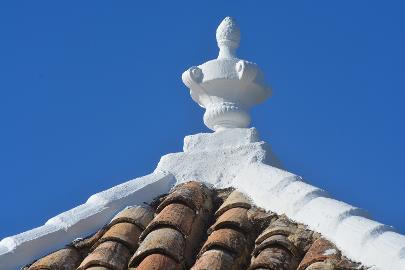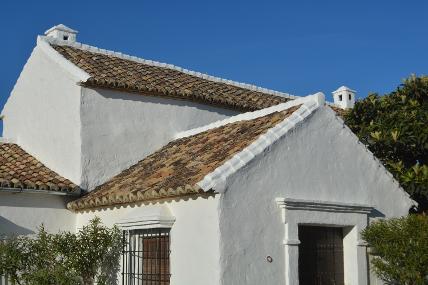 Handsome Sam, Miranda and Hans' Swiss Shephard.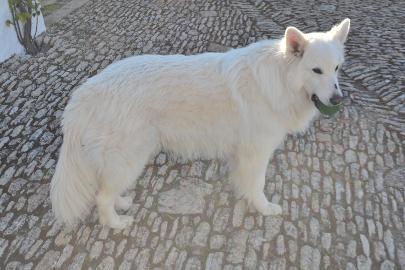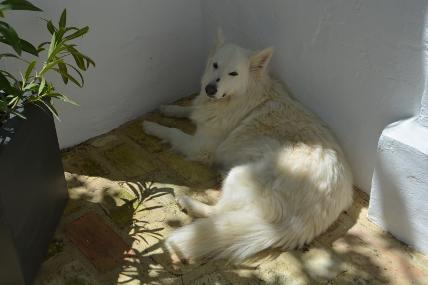 The interior courtyard of the Cortijo. Angeles, the always smiling housekeeper.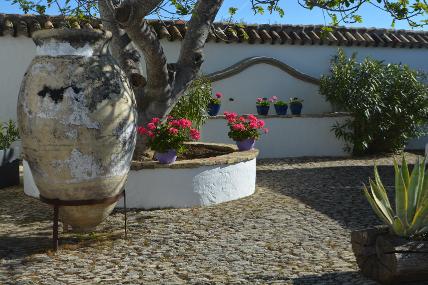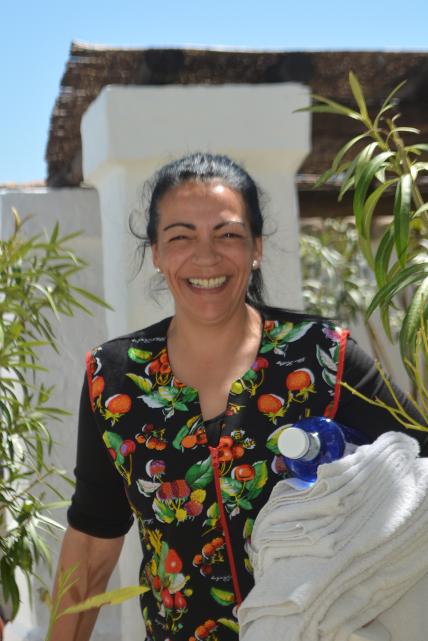 Enjoying an afternoon at Cortijo El Guarda, beautified with colourful flowers.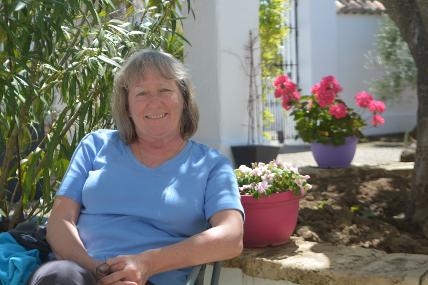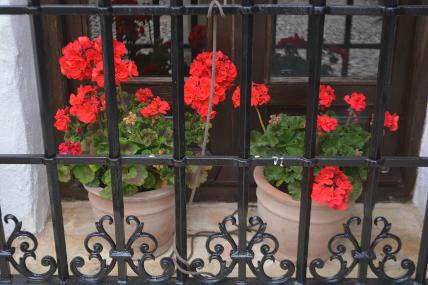 The dinner table is always so exquisitely set.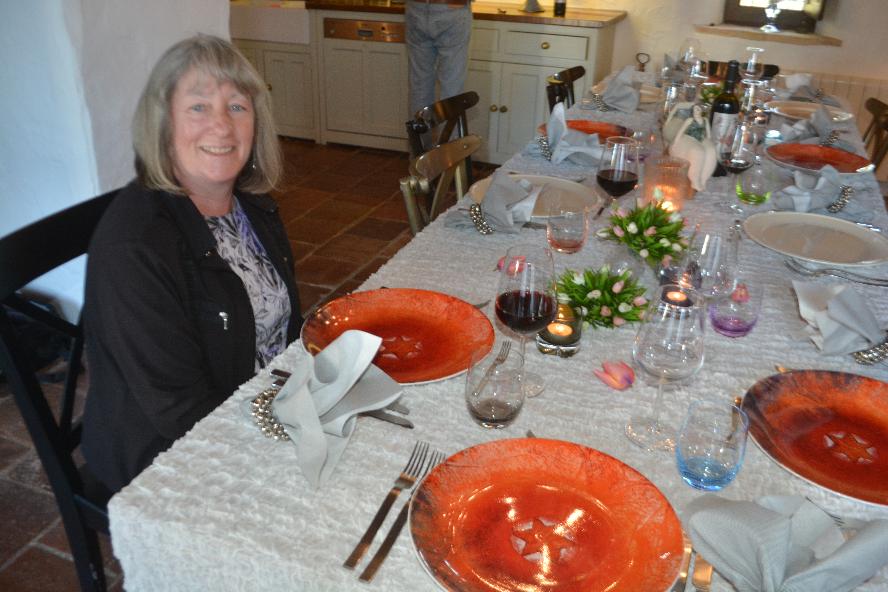 Cod with bacon on a bed of spinach. Pasta with broccoli and cherry tomatoes.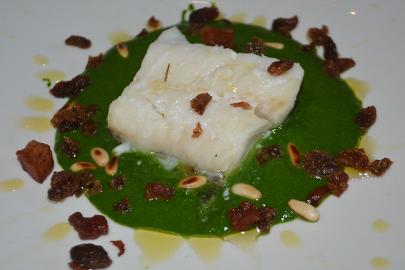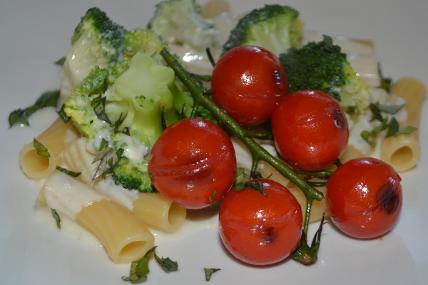 Pork smothered with mushrooms along with in-season asparagus.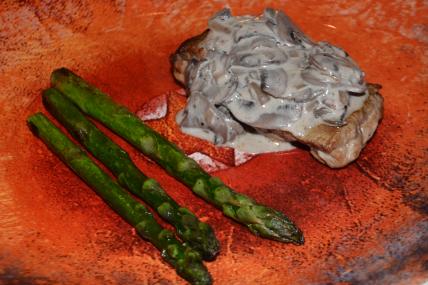 Tofu in a curry sauce with rice and asparagus.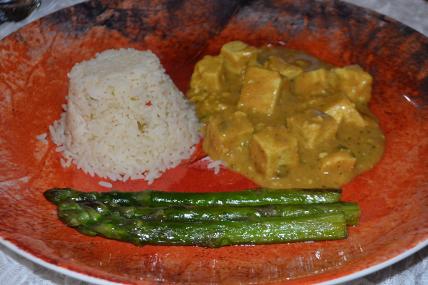 A crumble tart covered with fruit..
What we don;'t see here are the other guests with whom we chatted throughout dinner - a nice young couple from Finland now living in the Basque region with their 14 month old son; Werner and Ann from Belgium; another two Belgium guests and a Dutch couple.

While language can sometimes become problematic things seem to have a way of working out such that all have someone with whom they can talk.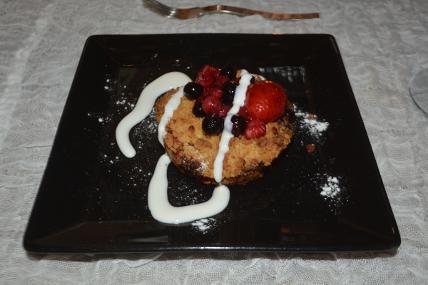 April 14, 2019 - Alcala del Valle with a day trip to Fuente de Piedra

Yesterday we picked up a brochure for a donkey refugio and then passed a nearby flamingo reserve. We decided to return to check both out. The drive was through some wonderful countryside. Although the wildflowers were not as prolific as previous trips that were a month or so later, they were starting to bloom with considerable colour in some ditches.
We made our way to Fuente de Piedra where we found the Refugio del Burrito on the edge of town. We had less than an hour (they closed at 4:00 pm rather than the 4:30 pm indicated on the brochure) during which we wandered the property seeing the many donkeys that have been rescued and now cared for by the Refugio.


El Refugio del Burrito was established in 2003. Over 50 million donkeys and mules exist in the world. Many need care and protection from a life of suffering and neglect, whilst others have a vital role to play in human survival and happiness; they are at the heart of everything done at El Refugio del Burrito.
We met Colino (meaning short tail) among some of the other 300 donkeys at the sanctuary. Just as the refugio was closing a worker waved us over to an area where we saw a young foal, only three weeks old. Of note is that the mother of the new guest is Artemisa, a survivor donkey rescued on the 14th of January, among corpses, in Villanueva de Algaida. The mother was so skinny that it was believed she would give birth months later, but surprise. The new birth provides hope and encouragement to staff to continue with their efforts.

Afterwards - well after taking a number of photos of the excellent crosswalk infrastructure in Fuente de Piedra - we stopped briefly a the flamingo reserve in a large lagoon south of the town, home to a number of beautiful pink flamingos. The lake of Fuente de Piedra is the biggest of Andalucía, and offers a privileged environment for the flamingo breeding. |It is also a wintering and migratory place for many other birds.

We returned through some very scenic rolling countryside and headed into Alcala del Valle and Polear, a restaurant at which we had eaten twice before. Rafael, our server, actually remembered us from two years previous. We had another wonderful meal - grilled pulpo/octopus and a rack of lamb for me and artichokes and asparagus risotto for Gayle. For dessert Gayle had a bit of a different spin on creme brule - with a liquer covering rather than the traditional flamed crispy topping, and me rice pudding, with a 'surprise' - some 'exploding' something or other - impossible to describe and very strange and different but enjoyable. Another great meal.
A selection of wild flowers.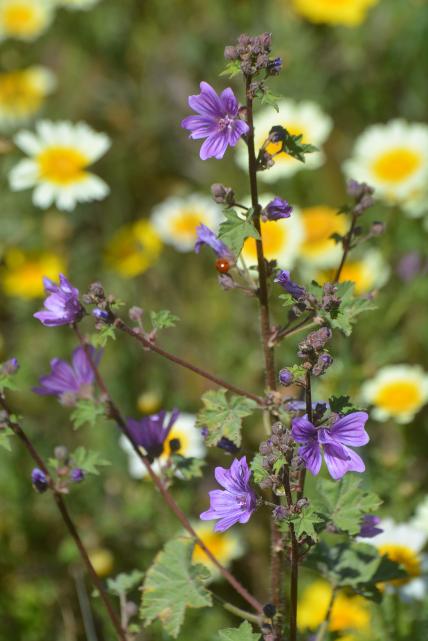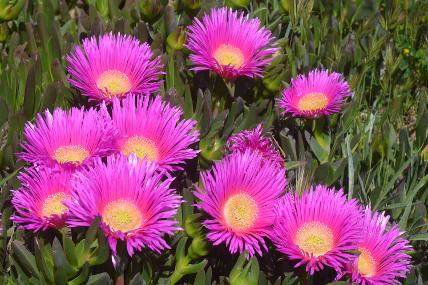 Red poppies were prominent.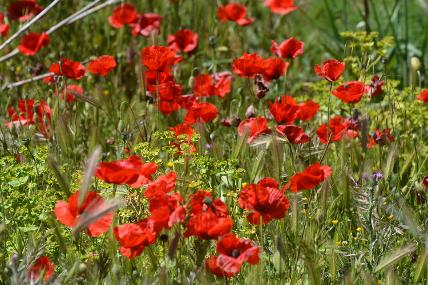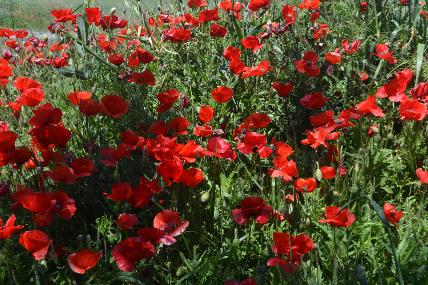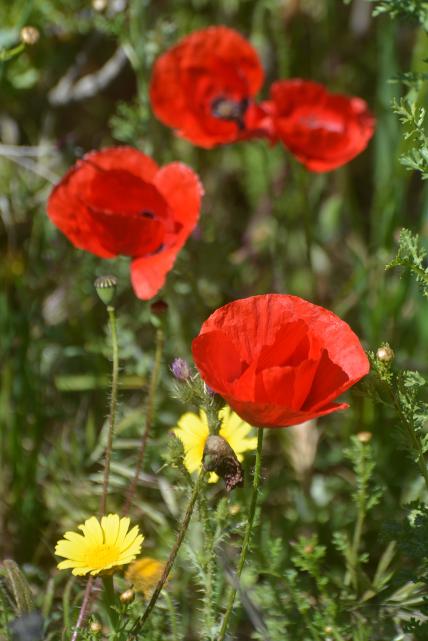 The Refugio del Burrito with a mural painted on one of the walls.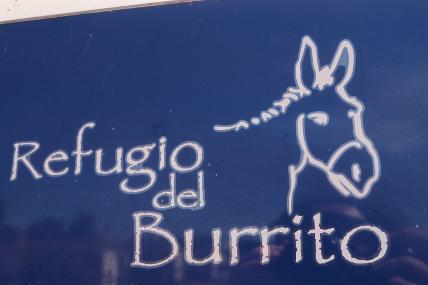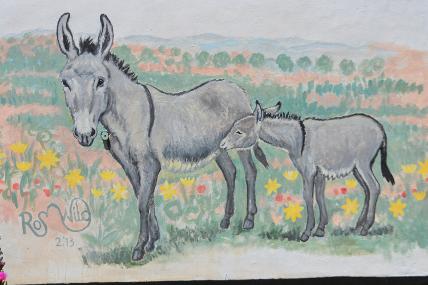 A selection of the many rescued donkeys at the refugio, including on the right - Colino.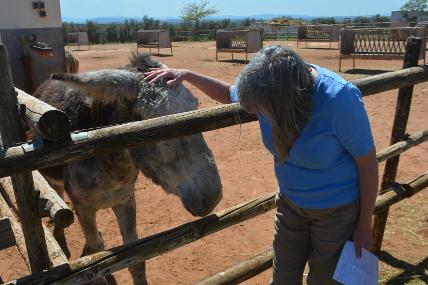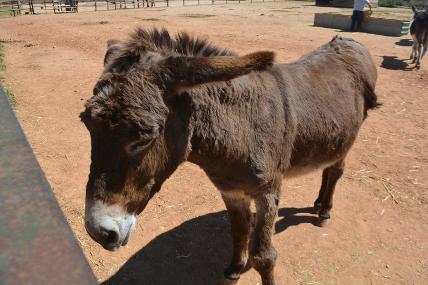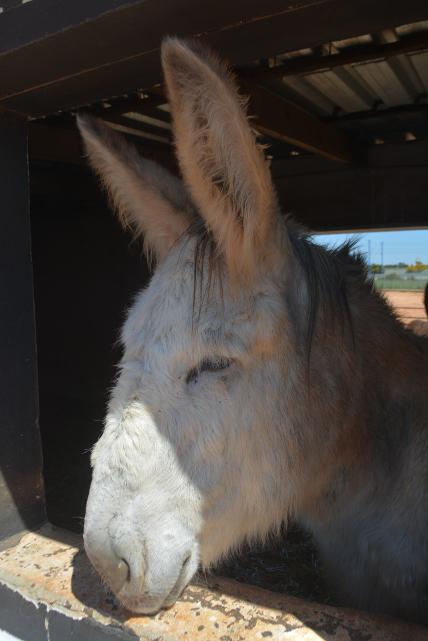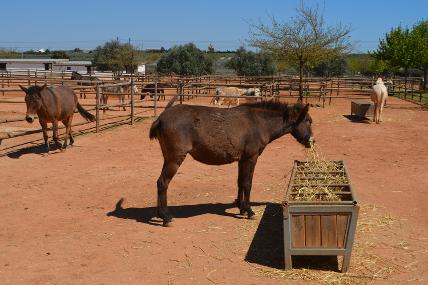 ... with Colino (can't see from this angle but meaning short tail)
The baby foal with mom - only three weeks old.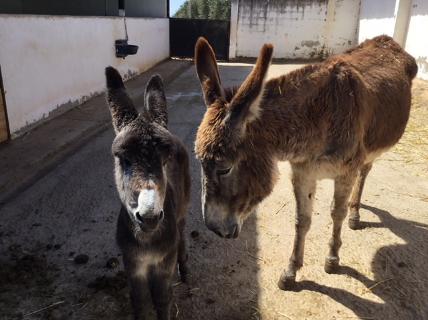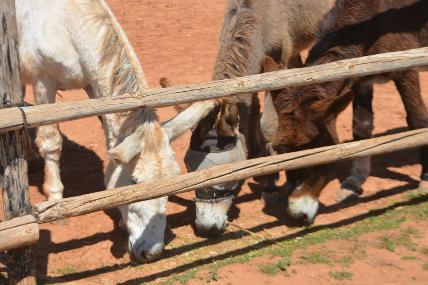 Not at the refugio but interesting to see a horse being ridden on the sidewalk.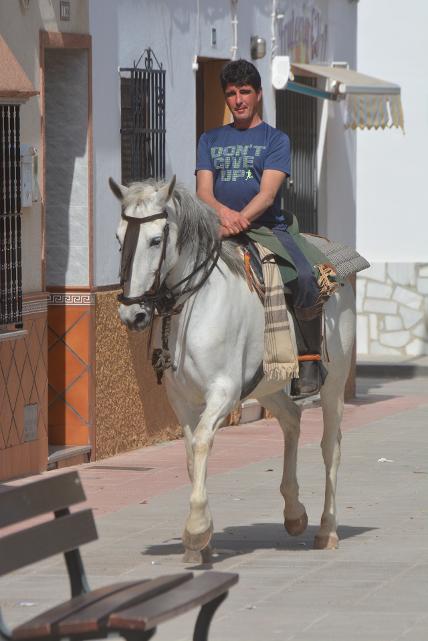 Pink flamingos and other water fowl at the Fuente de Piedra Lagoon.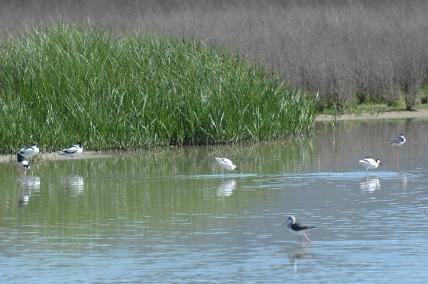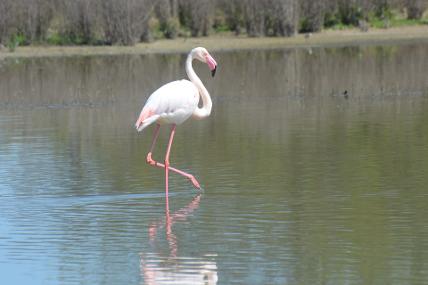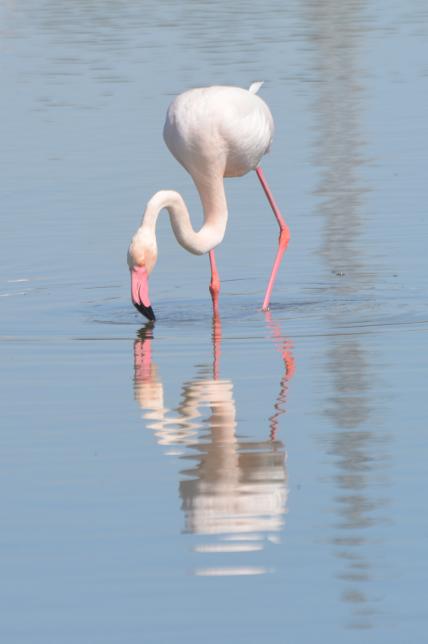 Enjoying dinner at Polear with artichokes stewed in a lemon broth covered with cheese and asparagus risotto.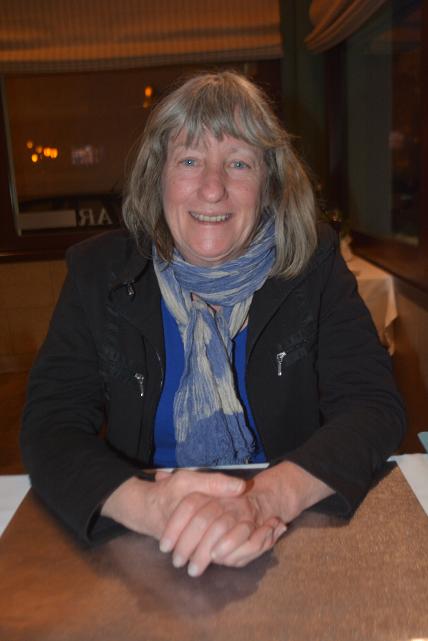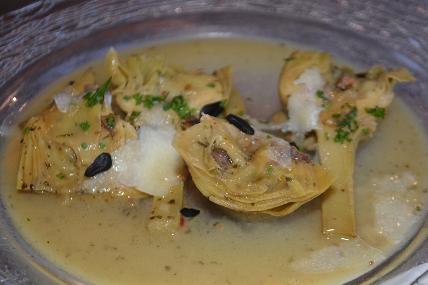 An amuse-bouche of tomatoes, pepper and for me fish.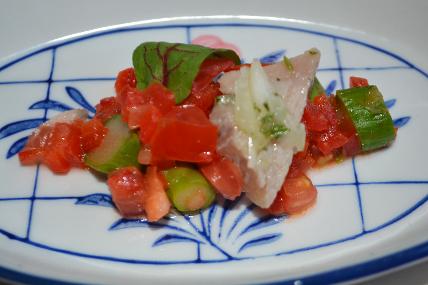 Grillled octopus - perhaps not for everyone but perfect for me.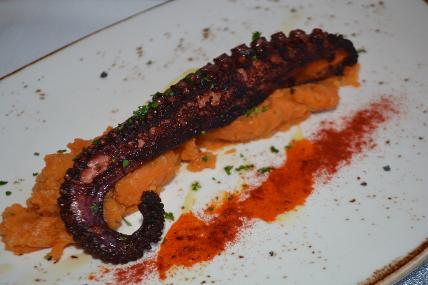 A delicious rack of lamb.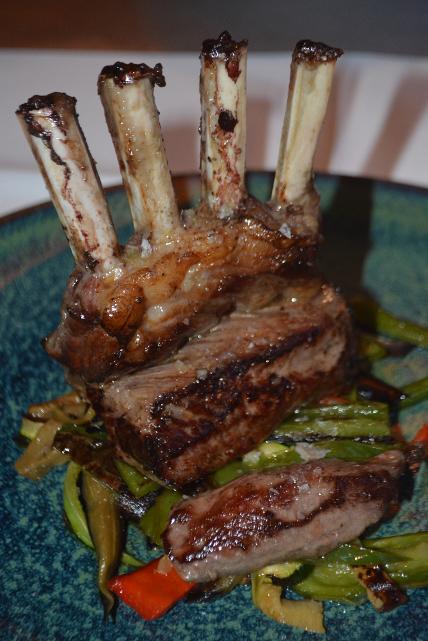 And for dessert traditional Spanish rice pudding (with a 'surprise' and a non-traditional liquered creme brule.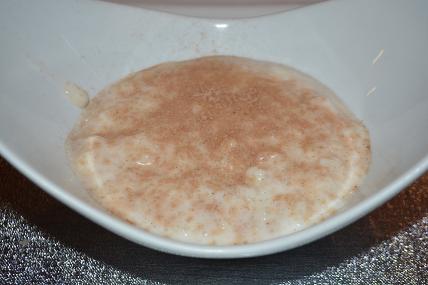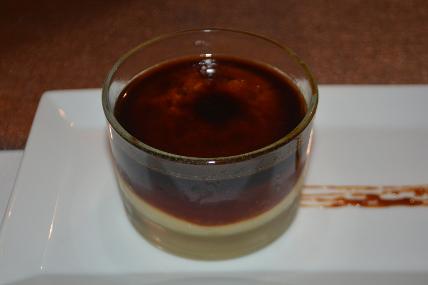 April 13, 2019 - Iznajar (Cortijo La Haza) to Alcala del Valle (Cortijo El Guarda)

We were awake early for a decent sunrise seen from our balcony. One of the things we really noticed here were the sounds of the birds - never-ending chirping - so different than back home. We again enjoyed breakfast, packed and headed on our way. Our room, Bernadette and Patriek, Patriek's cooking and generally everything about Cortijo La Haza was wonderful. If we are ever back in this area, which we hope to be, we will certainly stay here again.
We stopped for a short walk in the town of Antequera for an hour plus on the way to Cortijo El Guarda. Didn't climb up to the castle but stepped into the Cathedral and strolled through the town.
As we continued on our way we passed a marsh area, home to a flock of flamingos. There is a nearby sanctuary that we intend to visit tomorrow.
We arrived a Cortijo El Guarda shortly after 3:00 pm, greeted by Miranda, Hans and Sam. After a nice chat we unpacked (we will be here five nights) and then headed into Alcala del Valle for the Fiesta de Esparrago (the annual asparagus festival). The festival was certainly well attended, perhaps too much so as it was difficult to squeeze between the many, including a large number of strollers and young children. We didn't stay that long due to the crowds, returning to the centre of the town and Sabor Andaluz for dinner. The restaurante had a special Feria del Esparrgo 2019 menu from which we ordered, including two asparagus dishes and a traditional rabo de toro (oxtail) for me. Then it was back to El Guarda to settle in to our 'Fig' room - our favourite room adjacent to a fig tree.

Morning sunrise as seen from our balcony and some of the colourful flowers and their pots on the property.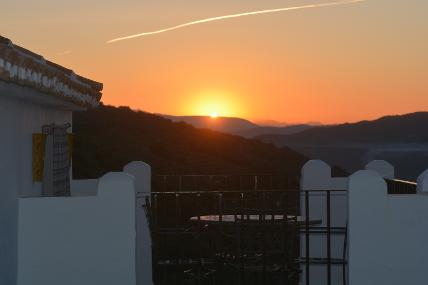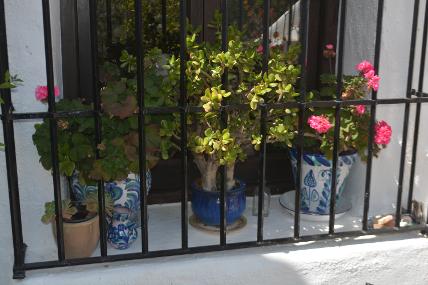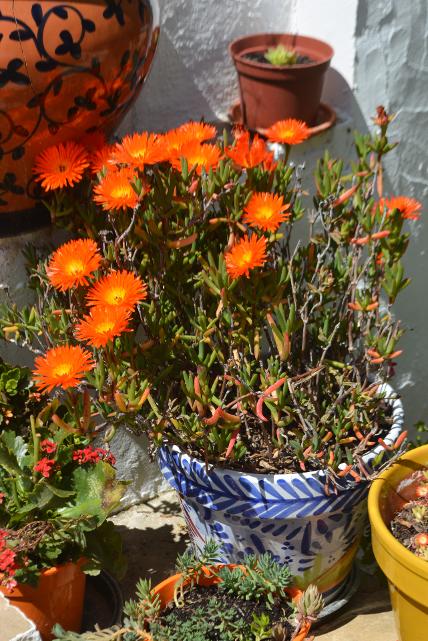 Our balcony. Really noticed is the sounds of the birds.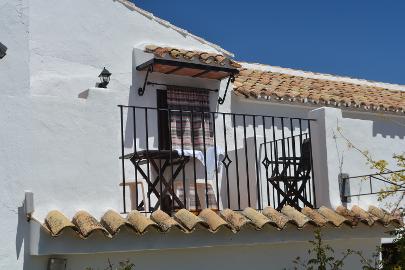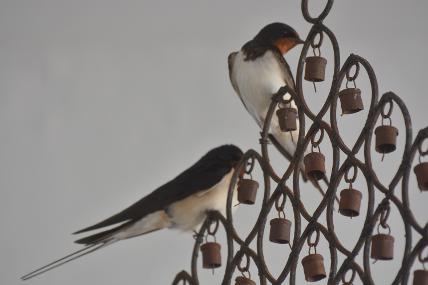 A typical plate of the region with a pomegranate design. Our hosts Bernadette and Patriek.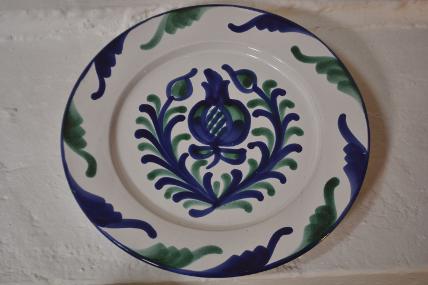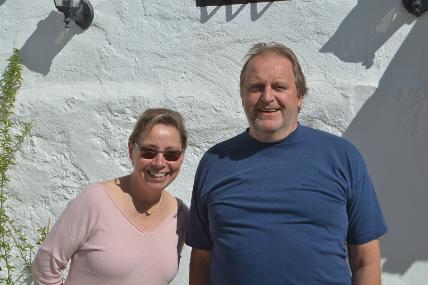 Some images from the town of Antequera.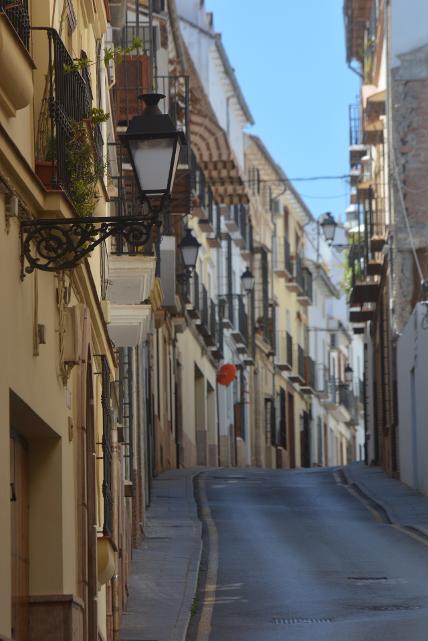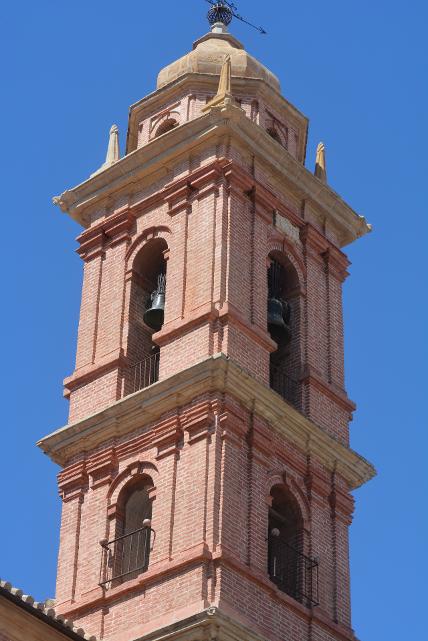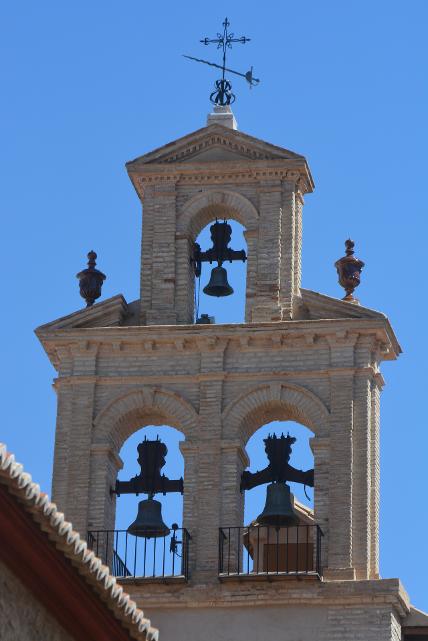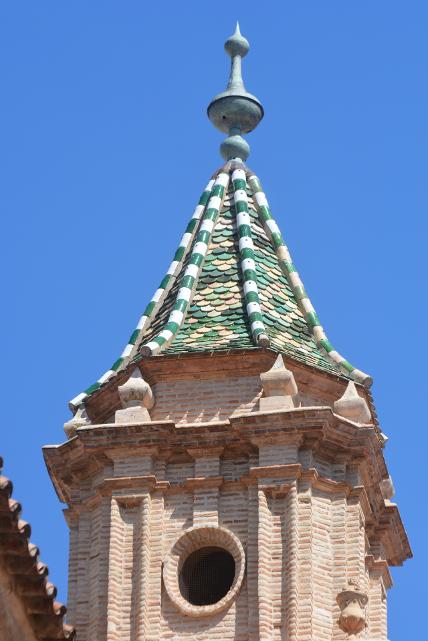 Getting ready for Semana Santa (Holy Week).
A few of the beautiful balconies in Antequera.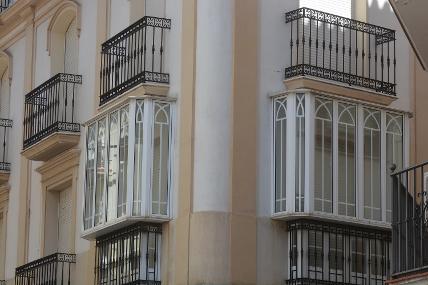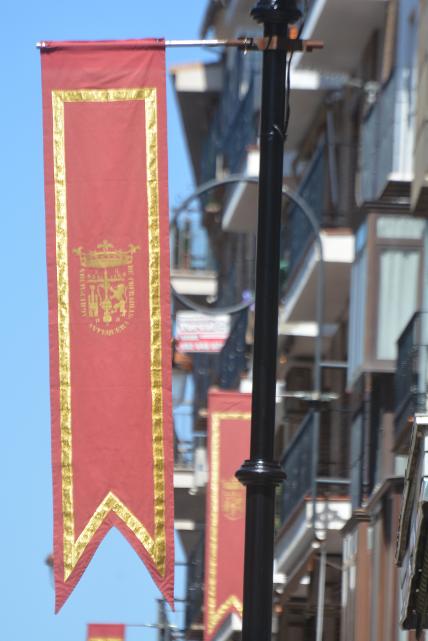 We passed a marsh area that is home to a flock of pink flamingos.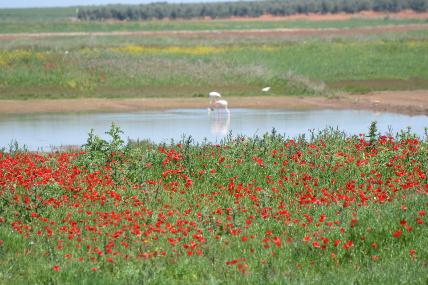 This weekend is the Fiesta de Esparrago here in Alcala del Valle.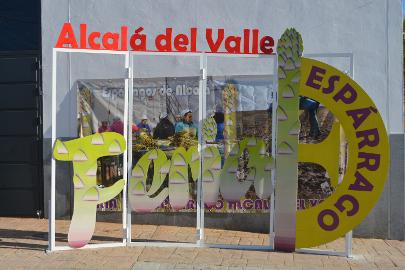 Lots of pastries (among other foods and drink) at the Fiesta de Esparrago.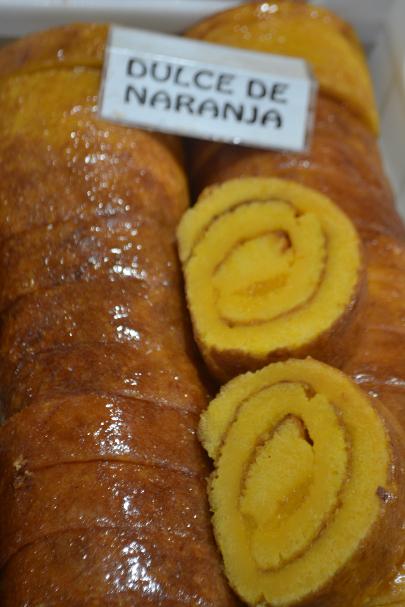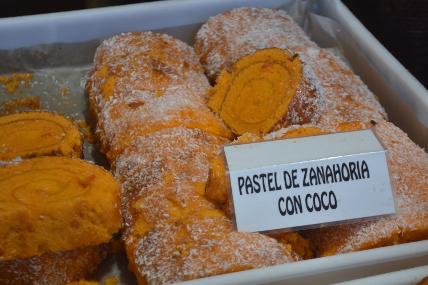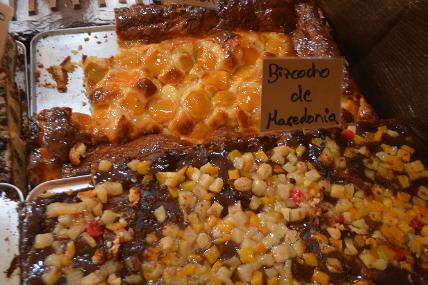 Our restaurante, Sabor Andaluz, had a special menu for the Feria del Esparrago.

The owner Jose with a supply of asparagus.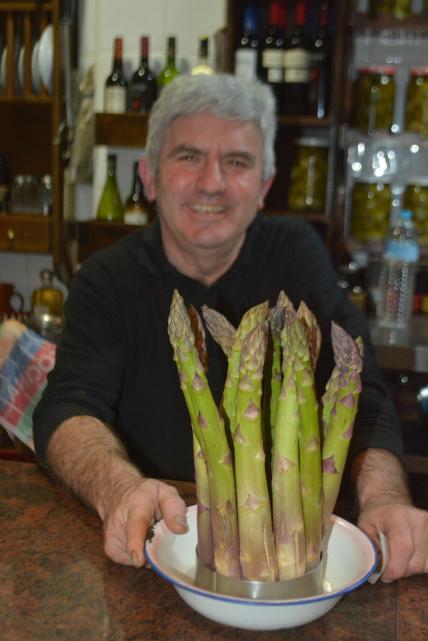 Esparragos en escabeche, altramuces y uneces. Esparragos a la brasa pa untar en Romescu.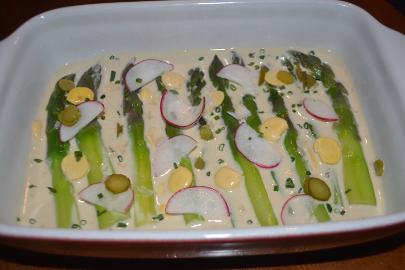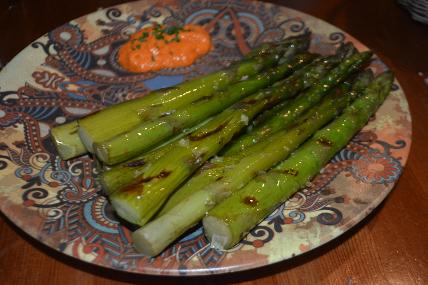 Some nice copper in the restaurant. Rabo de toro guisada de forma tradicional.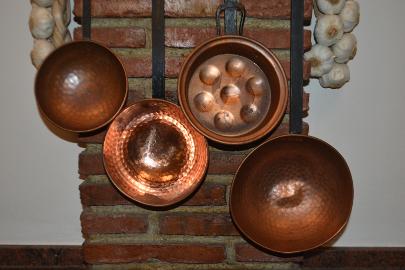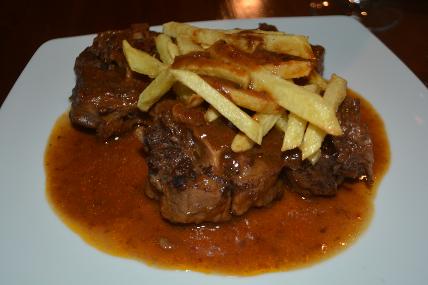 April 12, 2019 - Iznajar (Cortijo La Haza)

After our time in Sevilla we decided to stay put today. We could have gone for a drive around the Iznajar area but really only expected to see more miles and miles of olive trees. So rather than hitting the road we stayed at the cortijo, enjoying the numerous sitting areas. Unfortunately it is still too cold to use the pool - beautifully situated with fabulous view of the olive tree covered hills.
'La Haza' in Spanish means plot of land. The farm is over 250 years old, having been operated as a boutique lodging since 2000, the last 13 years of which by Bernadette and Patrick. They must promote well in Holland as all of the other guests were from the Netherlands.

During the day we were kept company by the cortijo's three cats -TJ, Popsie and Lexi, who like us spent most of their time napping. We particularly liked our time in the hammock.
Dinner was again superb. with Gayle starting with a visually attractive couscous with cinnamon and puree tomato while I enjoyed beef carpaccio with caper and pine nuts. For our main courses I had trout from Rio Frio (on the way to Granada) with broad beans, Serrano ham and potatoes. Gayle had a tagliatelle with roasted cherry tomatoes that exploded in the mouth, courgettes and oyster mushrooms. One of the nicer dishes she recalls for a very long time. Dessert was again chocolate based - this time an 'After eight' chocolate pot. Delicious. The meal was accompanied by another bottle of Navaldar Crianza / Rioja 2014 - we enjoyed the wine so much the night before we had the same again.
It is so great to have meals at our lodging. A great dinner with no drive back, simply a climb of the stairs to our room.

Entrance to Cortijo La Haza.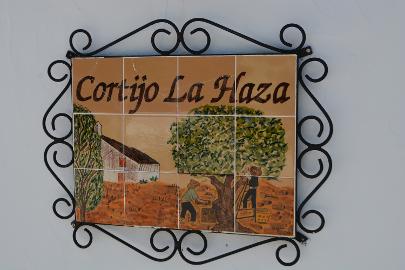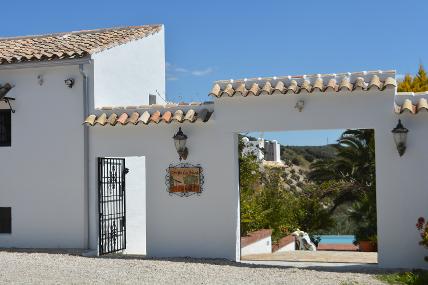 Breakfast at Cortio La Haza.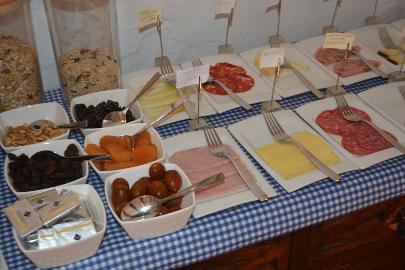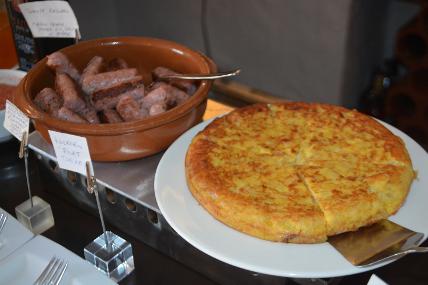 The pool and inner courtyard.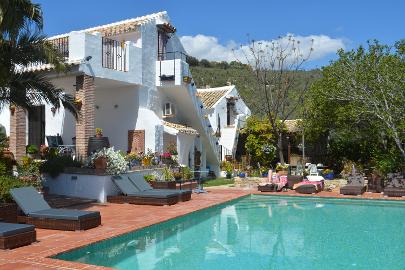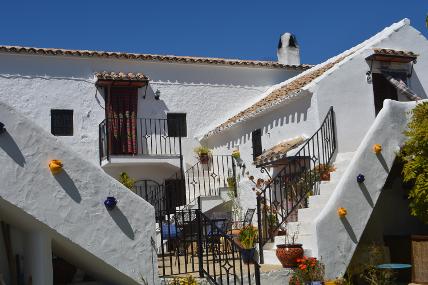 A view of the olive covered hills through colourful irises.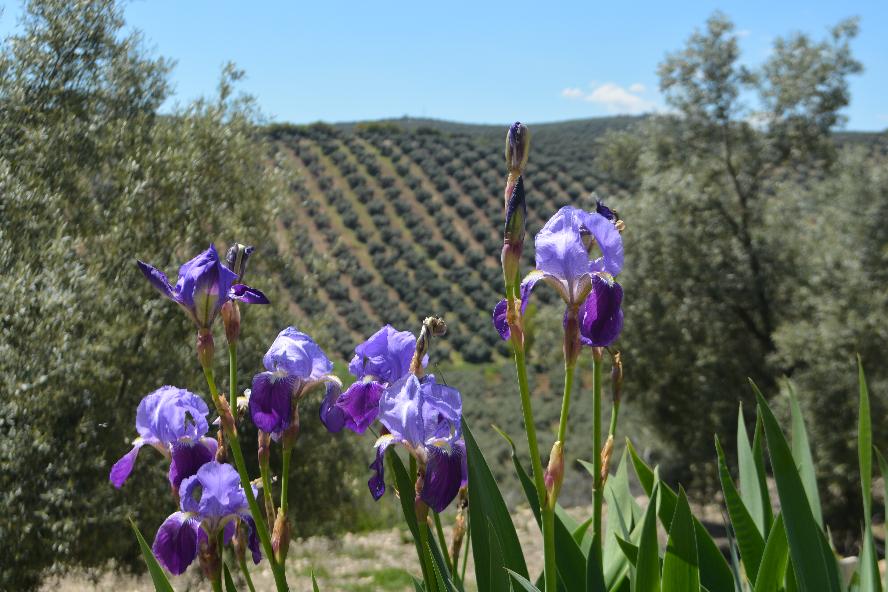 Perhaps we should have called the blog 'Life in a Hammock'! (ok we couldn't get TJ in the hammock but he certainly understands the concept of napping).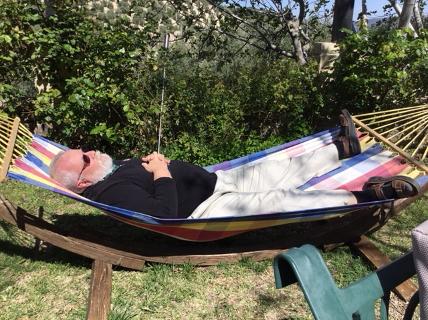 Popsie on the right and TJ and Lexi on the left - the Cortijo's cats.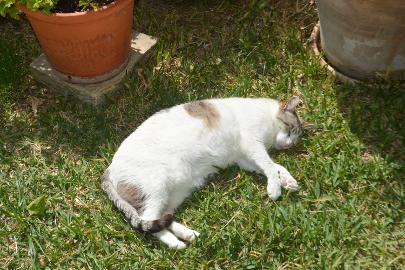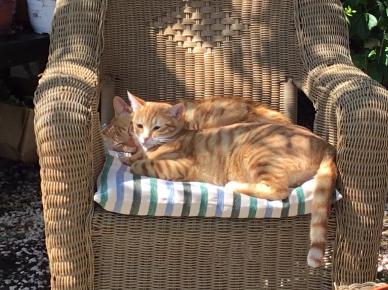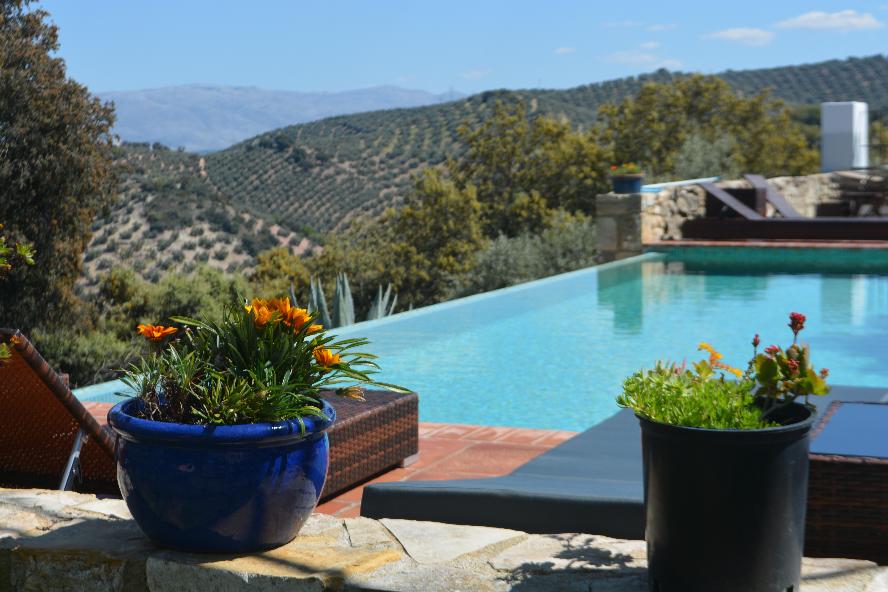 Couscous with cinnamon and pureed tomato.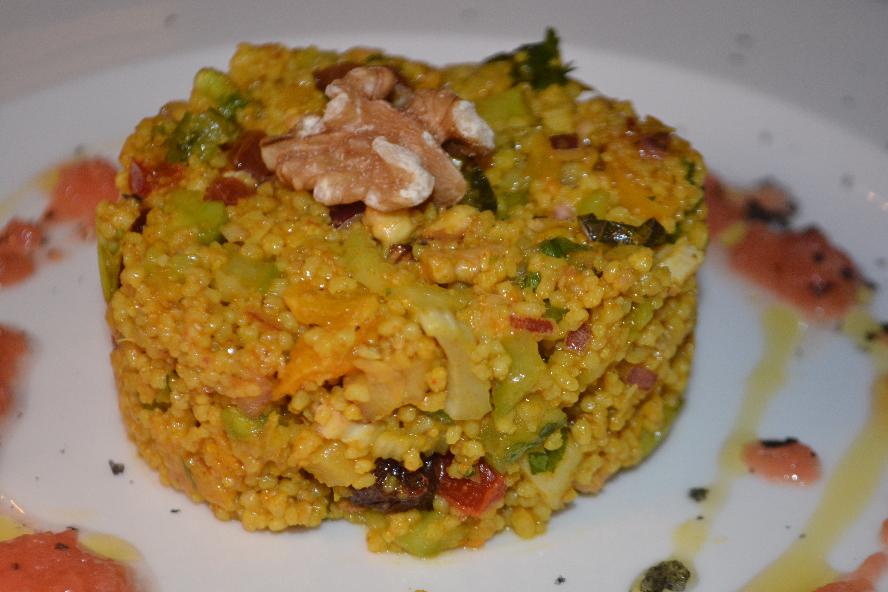 Beef carpaccio with capers and pine nuts. Trout with broad beans, Serrano ham and potatoes.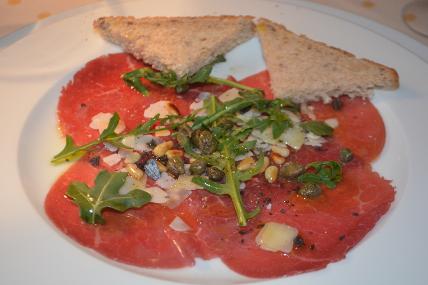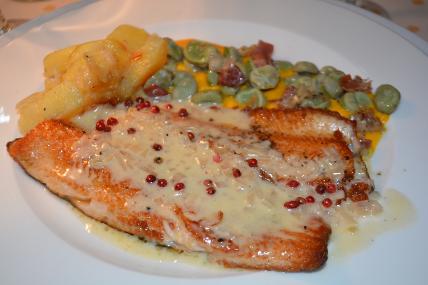 Tagliatelle with cherry tomatoes, courgettes and oyster mushrooms.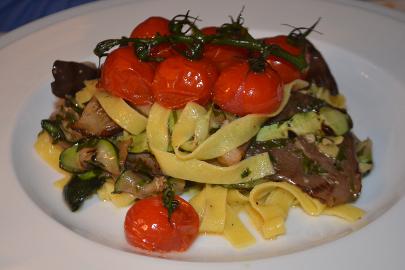 An 'after-eight' chocolate pot.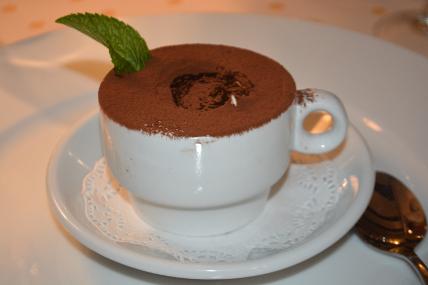 April 11, 2019 - Sevilla to Iznajar (Cortijo La Haza)

We enjoyed one more delicious breakfast at Gravina 51. The photos below only present a small sampling of the options available at breakfast. It was extensive, certainly avoiding the need for any form of lunch. We then packed and checked out. We had arranged for a drive to the airport where we picked up our rental vehicle. The whole process was very easy and well worth the 20 euros.
We drove east, past Carmona, south-east through Marchena and then east again to Estapa. From there we drove through Puente Genil, Lucena and Rute before approaching Iznajar from the north. We easily found Cortijo La Haza, our home for the next two nights, located approx. 10 kms south of Iznajar.