September 25, 2014 - Alcala del Valla, Andalucia, Spain to Portugal
Another nice breakfast, a leisurely pack, a little more chatting, some photos and it was after noon before we finally left Sam, Miranda, Hans and Cortijo El Guarda. We had high expectations upon arriving and all were met or exceeded. Our room was large and wonderful with a beautiful terrace ... and a nearby fig tree; the pool looked nice but it was too cool for us to use; Sam was fun keeping a firm grip on his ball; Hans and Miranda were absolutely wonderful hosts; the cortijo itself is immaculate and the breakfasts and dinners were top notch. We were certainly sad to leave.
But leave we must for a long drive to Portugal. We passed Olvera - a very photogenic pueblo blanco (white town), turned north towards Seville, took a cross road west where we encountered a shepherd and his flock of sheep, and then continued on to Seville. The drive around Seville was interesting as traffic was stop and go. Fortunately signage was good so we were able to connect to all the right roads. From Seville it is a pretty straight and easy drive to Portugal. For the second time today we saw a shepherd, this time a fellow on a horse with a dog that looked very much like our Toledo. We stopped in the town of Niebla surrounded by a 2 km town wall, dating from the Middle Ages. It was an interesting walk through the quiet town, a nice 30 minute break from driving. As we continued west towards Portugal we encountered a number of orange groves along what was for the most part a flat route.
Late in the afternoon we approached the Portuguese border bringing an end to our time in Spain. Here are our most vivid memories:
our accommodations - each of the Paradors were very impressive but the warmth and personality of the Alonso at the Finca la Ramalossa, Geru at Molinos de Fuenteheridos and Miranda and Hans at Cortijo El Guarda are special memories
the tranquility of Molinos de Fuenteheridos with its moss covered trees; the babbling brooks and the chestnut trees

the meals at both Finca la Ramalossa and Cortijo El Guarda
the isolation and solitude of Finca la Ramalossa
the lengthy chats wth Alonso

the surprisingly great meal at Polear in Alcala del Valle
the nice people we met at El Guarda, especially the Belgian couple - Vera and Niko
the animals - pigs; sheep; goats; horses; cows; donkeys; deer - we saw them all; many times
the olive groves and generally beautiful countryside/dehesas with its cork and acorn trees
Sam and Hans and Miranda and the Cortijo el Guarda
the shepherds and their sheep and goats (more than we expected)
goats using the crosswalk
the numerous rainbows (although that does mean we encountered some rain)

We very much look forward to returning in the not too distant future.

Sam, Miranda and Hans - thank you for making our stay so enjoyable.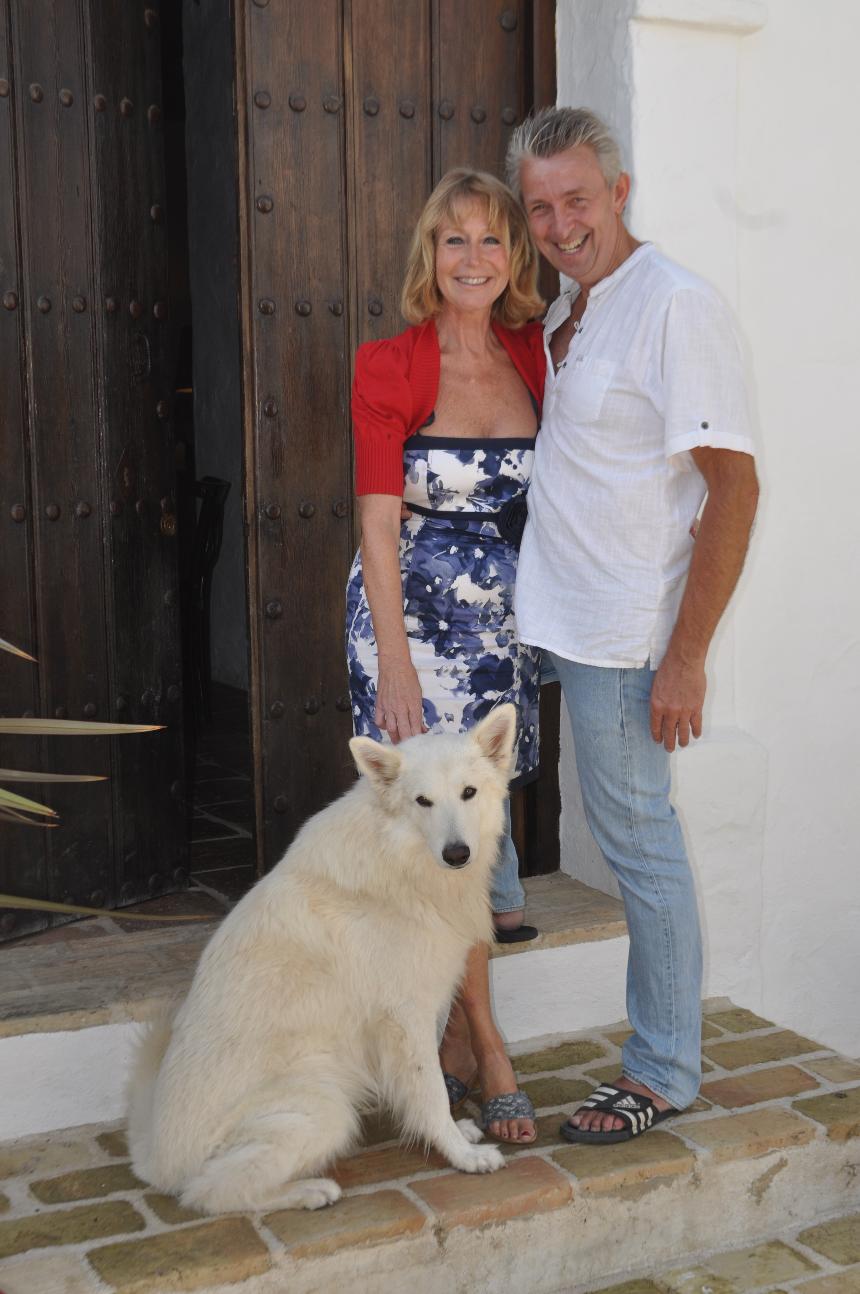 I know you have seen a number of olive grove photos but in some way I find them attractive, so here is one more on the drive from Alcala del Valla to Olvera.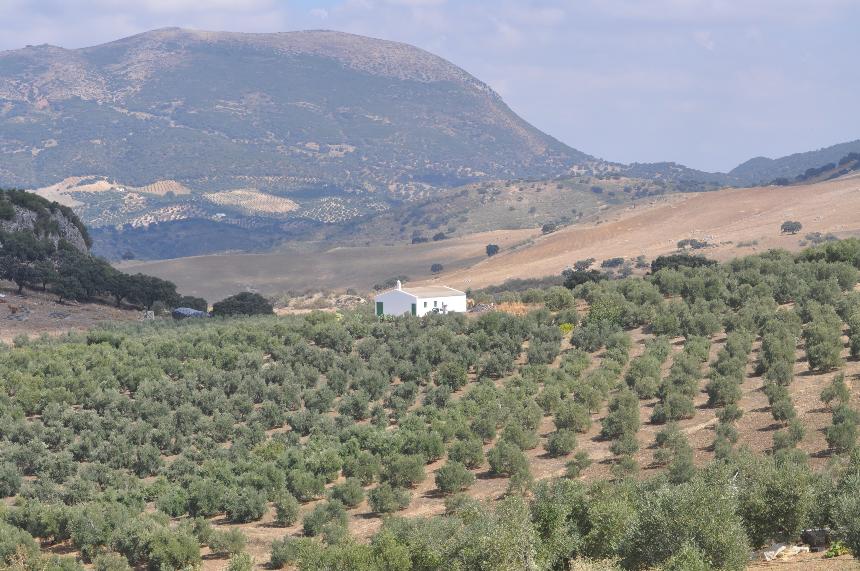 The impressive pueblo blanco of Olvera, with its dominant cathedral.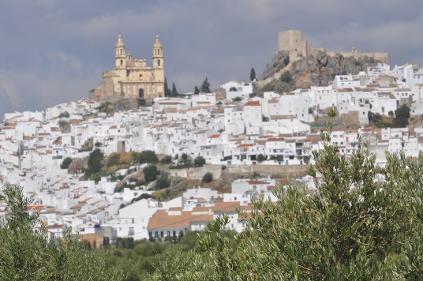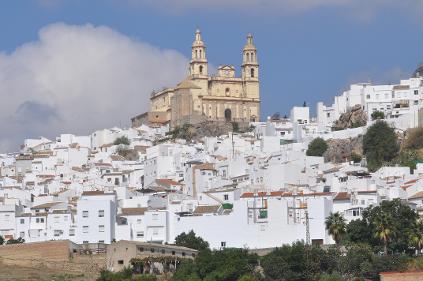 A field ... a hill ... and sheep.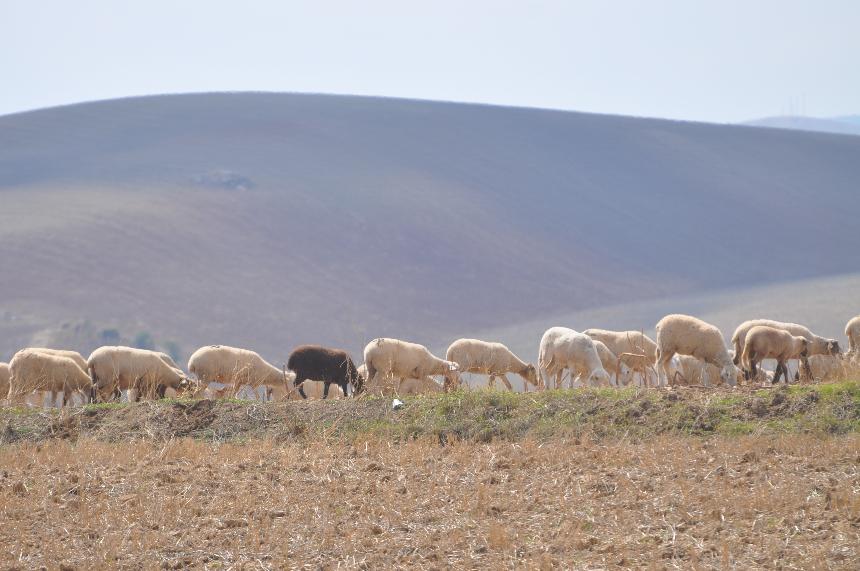 The shepherd's dog had a similarity (size and colour) to our Labradoodle Toledo.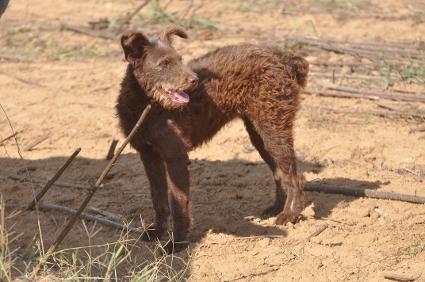 One of the church bells in Niebla and the doors of the Iglesia de Santa Maria de la Granada within the walls.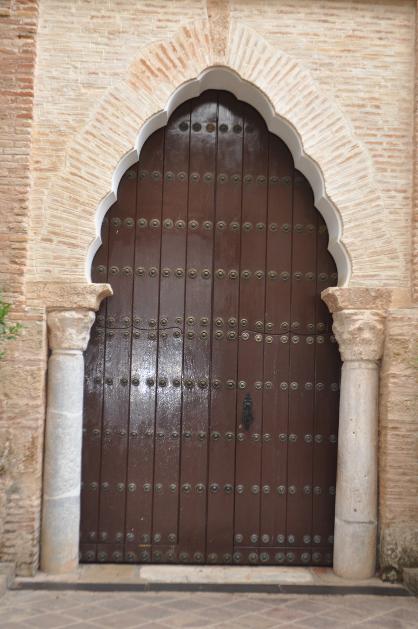 A quiet (and I mean really quiet) street n Niebla.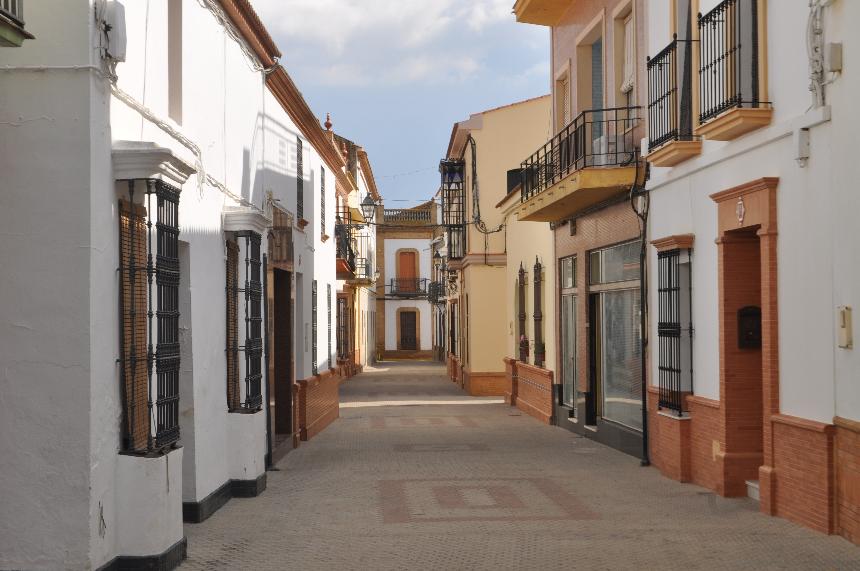 As we approached the west of Spain and near the Portuguese border the oranges were ripening on the trees.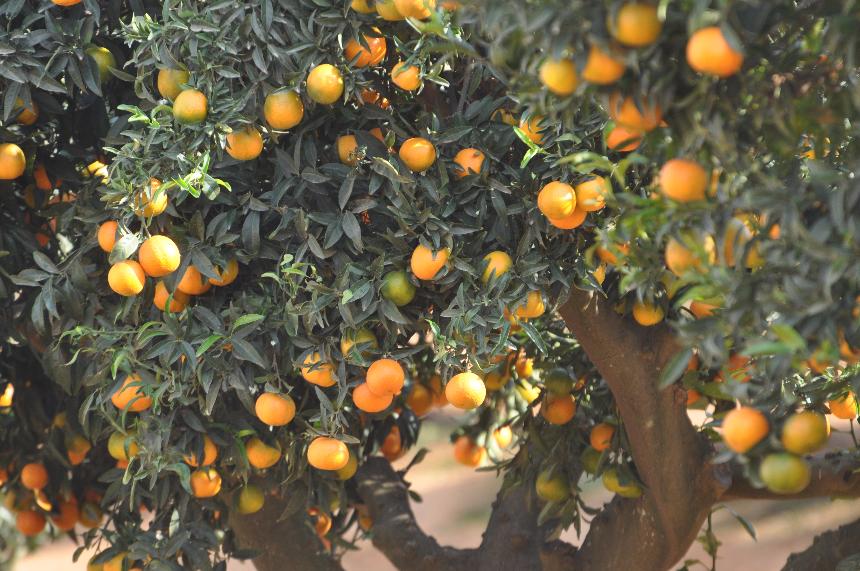 September 24, 2014 - Alcala del Valla
Another iffy weather day as it was unusually cool for Andalucia, and with the intermittent showers did not provide much incentive for getting out. So a little about the cortijo - this authentic 500 year old farm house, in order to keep its traditional style was renovated with reclaimed materials and preserved antique features. The history of the place dates back many centuries during which time it had several functions, more recently being the gate-house to a huge neighbouring estate once owned by the bishop of Seville and the Duchess of Alba. The true 'heart and soul' of the cortijo is its huge cobbled courtyard, surrounded on four sides by traditional whitewashed walls. This place really is beautiful.
But as nice as the cortijo is it is the hospitality and interest Miranda and Hans (and Sam the Swiss Shepherd) take in their guests. Our previous visit was a short one-nighter that did not really provide us the opportunity to chat. From crosswalk safety to hockey human rights Hans and Miranda were interested in our stories as were we of theirs, including their travels and plans. In some ways the so-so weather was a blessing in that it gave us no real reason to leave the cortijo. Rather we relaxed and enjoyed our stay. Sitting on the terrace outside our room under the fig tree is a wonderful way to let time pass.
However late in the afternoon we decided to go for a bit of drive. Not 10 minutes after we left did the skies not open and the rain came down ... a lot of rain. Yet the strange thing was that the sun was shining on nearby mountain sides (which regrettably by the time we reached them were then covered in rain). However we were fortunate enough to see a couple of rainbows, one of which was particularly vibrant. The rain stopped half way through the drive, the rest of which was quite scenic if you like the browns and cork/acorn/olive trees of Spain.
We again had dinner at the Cortijo, and again it was excellent. A lovely cauliflower with ginger and chicken (no chicken for Gayle) soup, a colourful and flavourful paella and then chicken stuffed with goat's cheese with a blue cheese dressing and for Gayle a nice vegetable curry with brown rice. Dessert was a chocolate cake filled with rich chocolate cream. We had the same Rhonda wine we enjoyed the first night - yes a repeat but it was very nice so why not?
Gayle was sitting next to a Belgian couple, Vera and Niko and enjoyed a nice conversation with them. I joined later and we chatted about economies, life in Belgium versus Nova Scotia, social benefits, deficits and debt unemployment etc. - all very interesting. A very nice couple who also returned to Cortijo El Guarda after enjoying a stay a number of months earlier.
This experience here at El Guarda feels like it is as good as it gets.

Beautiful bowls containing a variety of fruit and my plate of breakfast items, including ham, salmon, goat cheese etc..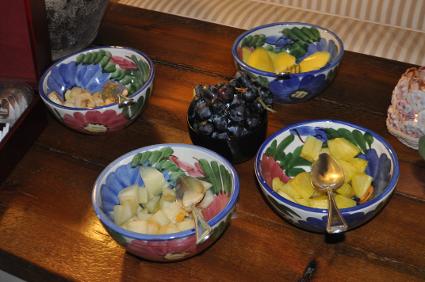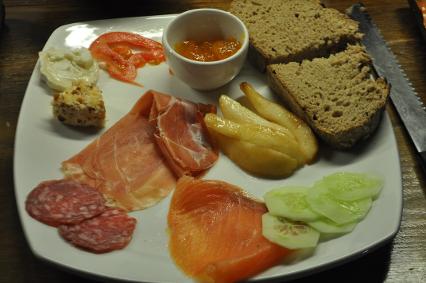 The front gate of the cortijo - first looking out from inside and then in from outside.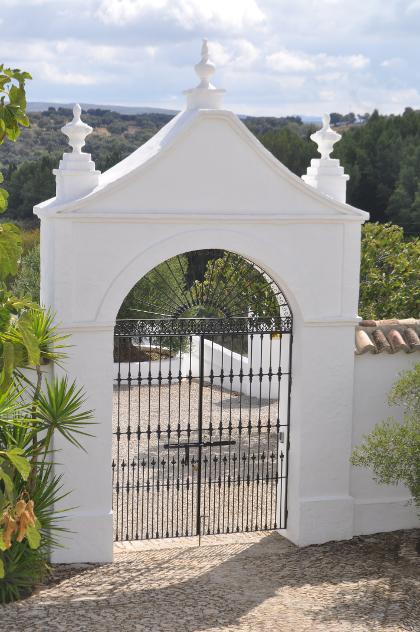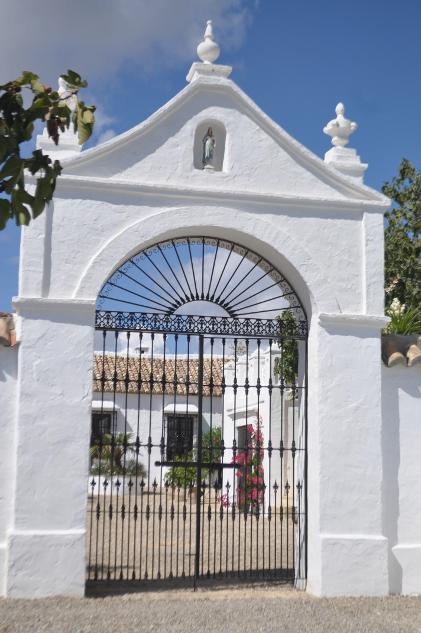 Everything here at the cortijo is beautiful.



Sam - Hans and Miranda's beautiful Swiss Shepherd.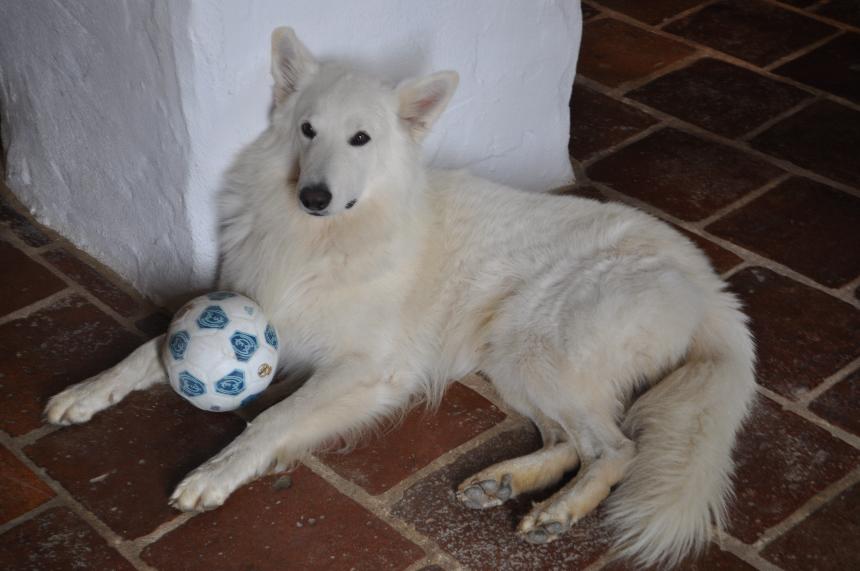 The landscape near Cuevas del Bacerro, just east of Ronda.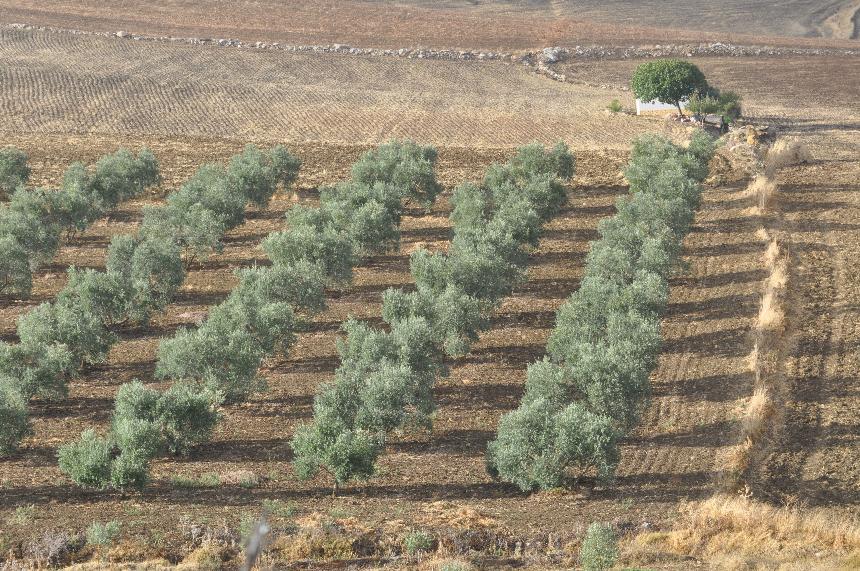 A rainbow near Benaojan, near Ronda.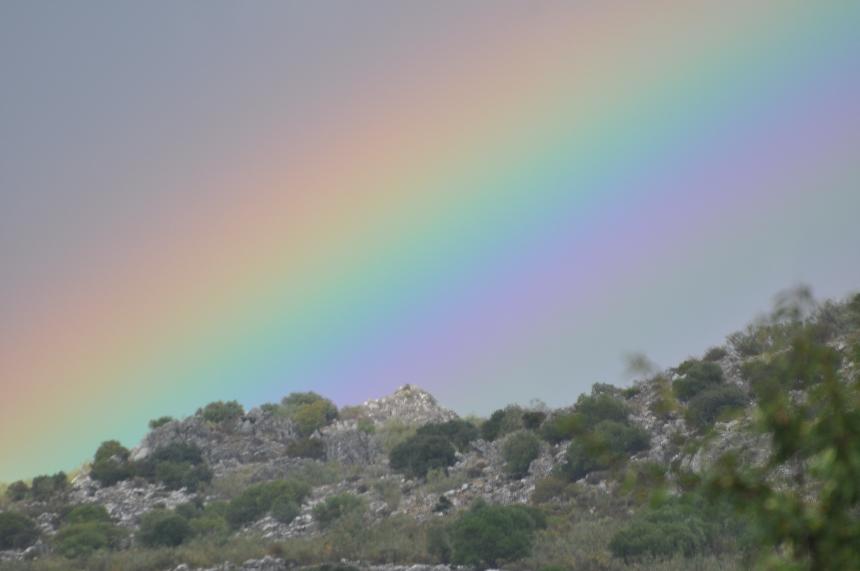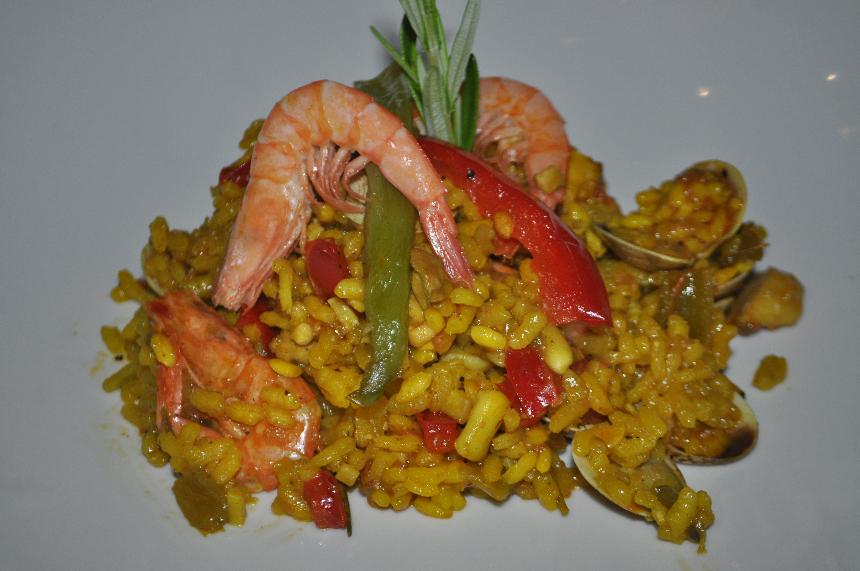 Gayle's nice vegetable curry with brown rice and for dessert a delicious chocolate cake filled with creamy warm chocolate.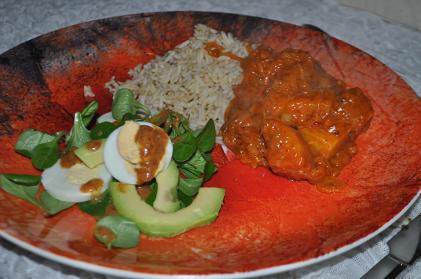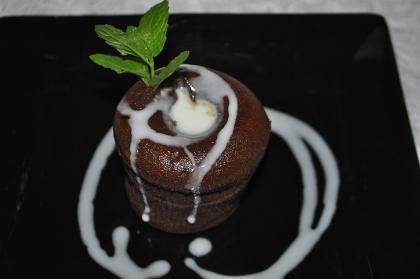 September 23, 2014 - Alcala del Valla

Today was a funny day. Quite cold in the morning the afternoon experienced sporadic showers. As a result we spent a considerable amount of time in our room. But this stay we enjoyed the 'fig' room, a room with a large fig tree just outside the door and a very nice terrace. We had reserved the fig room the one night we were here in April 2013 but due to a misunderstanding it was not available - things happen and really the room we had was wonderful as well. But the spacious 'fig' room is very nice with lots of windows, light and air - we are happy to be staying in it.
So the weather did allow me to catch up on the blog and a few emails. As dinner was not available here at the cortijo tonight Miranda made us a reservation at a restaurant they recommend in town. We left a few hours before our reservation to visit some of the 'pueblos blanco' or white villages of the area. The first, Setenil de las Bodegas is interesting in that many of the homes and businesses are built into enlarged natural caves of a huge overhanging rock that extends along the narrow river gorge of the Rio Trejois. Given the evidence of other nearby cave-dwelling societies, such as those at the Cueva de la Pileta west of Ronda, where habitation has been tracked back more than 25,000 years, it is possible that Setenil was occupied much earlier.
From there we drove through scenic hilly olive groves to Torre Alhaquime, another pueblo blanco where we parked near the square at the top of the village. Being early evening many locals were out in the square, chatting on the park benches. This provided a great opportunity for a few more 'people' photos. Although a number of ladies would have nothing to do with me - shooing me off - a number of gentlemen were happy to have their photo taken.
The scenic drive continued as we circled back to Alcala del Valle and the Restaurant Polear. We must say first impressions were not good. There were perhaps nine tables, only two of which were set in a very modern, boring room with the worst music one could imagine. But we assumed Hans and Miranda would not send us to somewhere that did not have great food (and the TripAdvisor reviews supported that view) so we stayed. And we are so glad we did. The food and service were superb. Gayle started with a pumpkin soup while I enjoyed a tasty octopus leg. When octopus is well prepared, i.e. grilled it is delicious. Then Gayle had an unusual dish - an egg yolk in a well of whipped egg whites on a base of beans - unbelievably creative, and I a wonderful rack of lamb. A cake of hot chocolate for dessert followed by a complimentary liqueur, this time rum with orange, lemon, honey and cinnamon - home made we were told - brought a wonderful meal to an end. The drive back to the cortijo was a short 10 minutes.

One minute the skies are a vibrant blue ...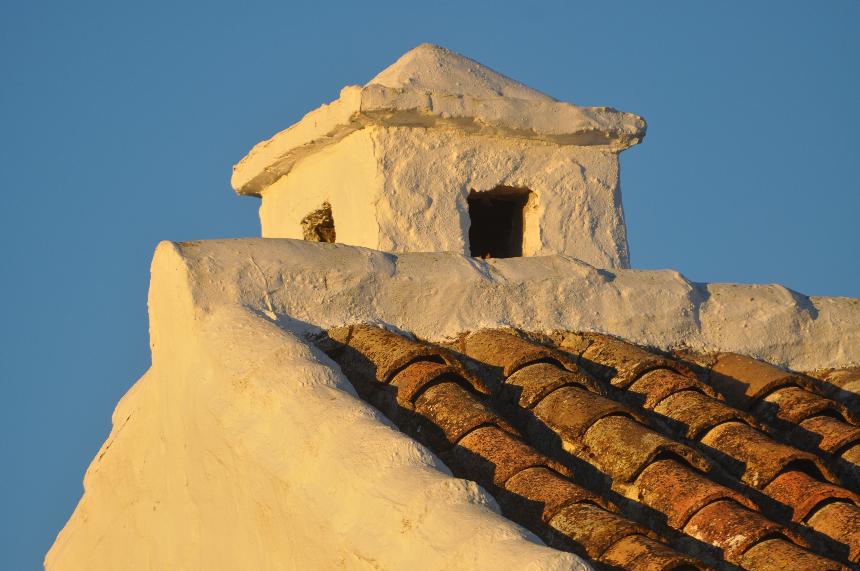 ... and 20 minutes later looking in the same direction the skies were black ... with a rainbow. Both photos of the beautiful Cortijo el Guarda.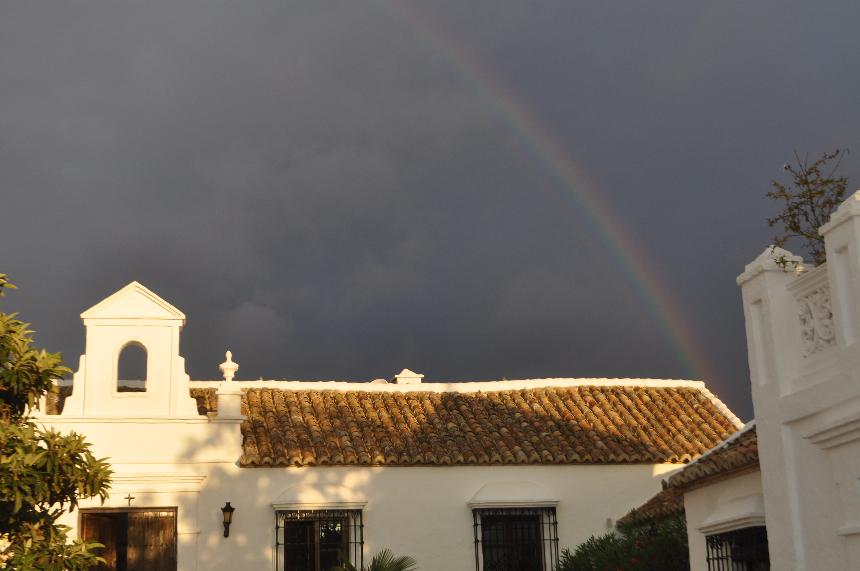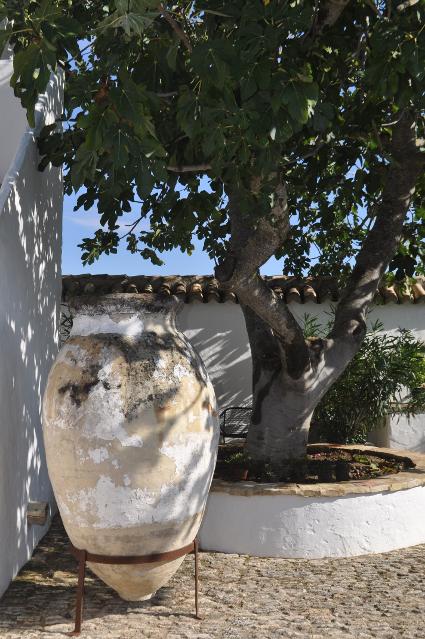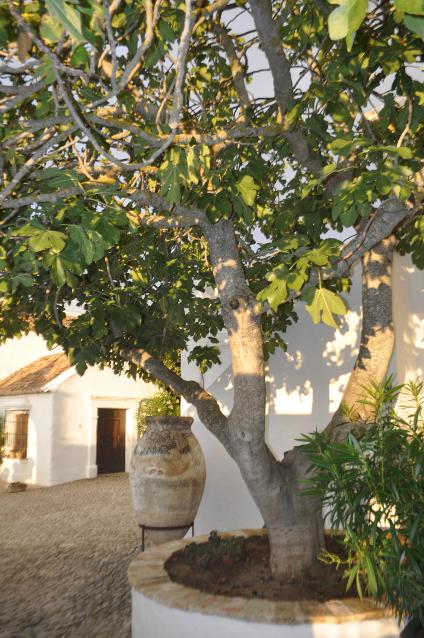 Both the provinces of Extremadura and Andalucia are known for their pork products, including wonderful Iberian ham.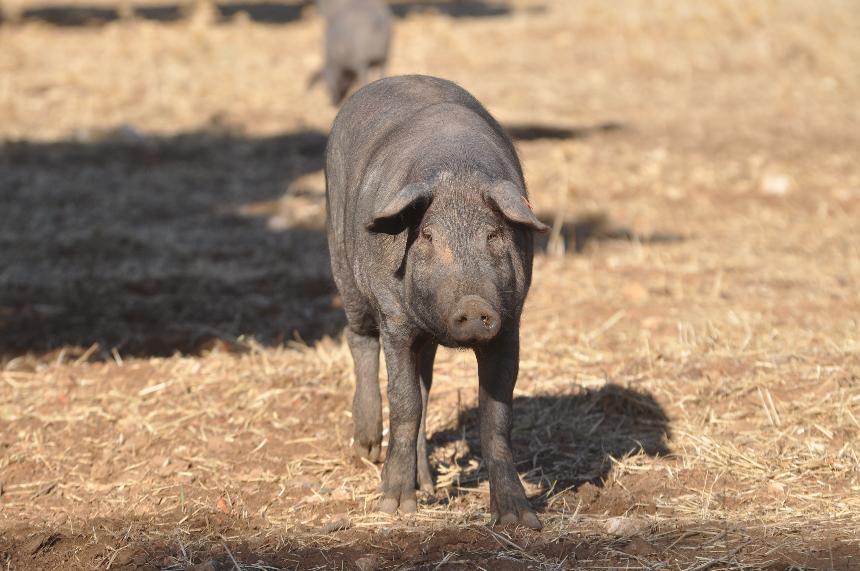 The interesting village of Setenil de las Bodegas where homes and shops are built into the rock wall.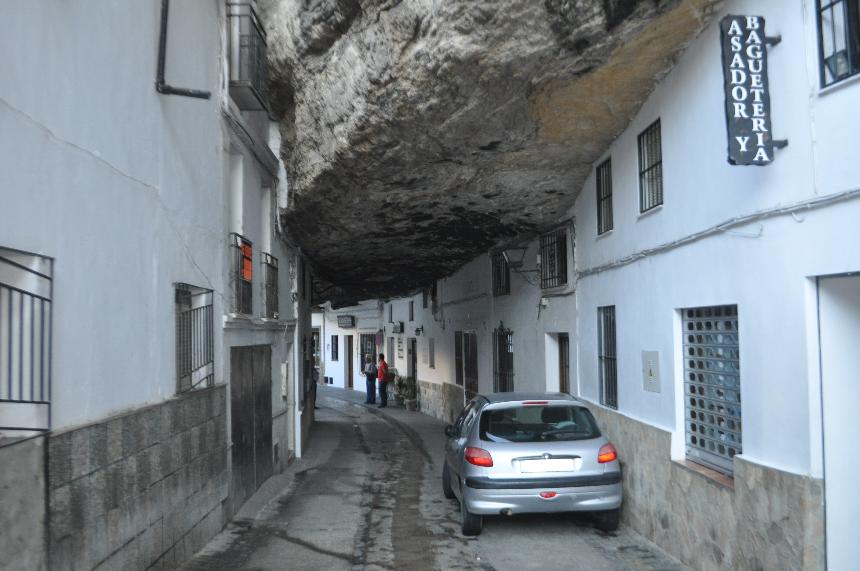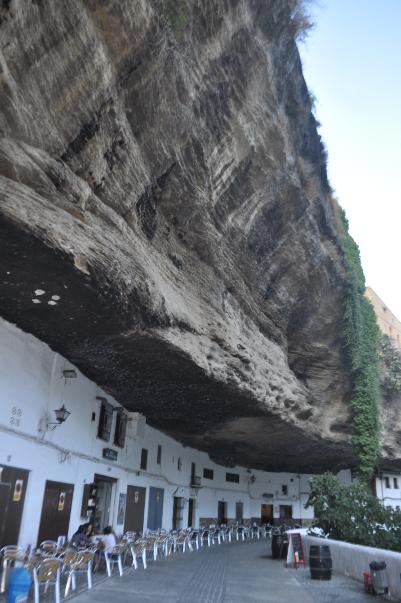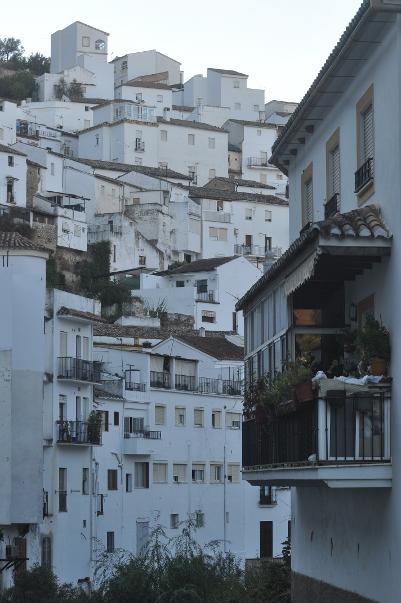 Great people photo opportunities in Torre Alhaquime.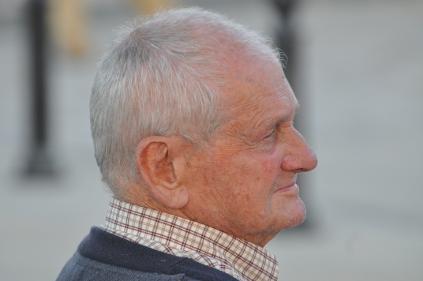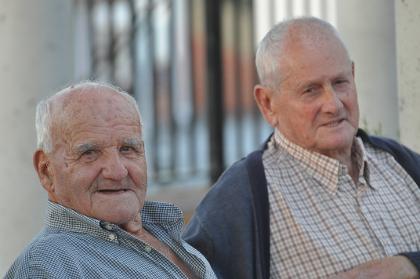 Just mention pulpo (octopus) and you have my attention. This was nicely grilled.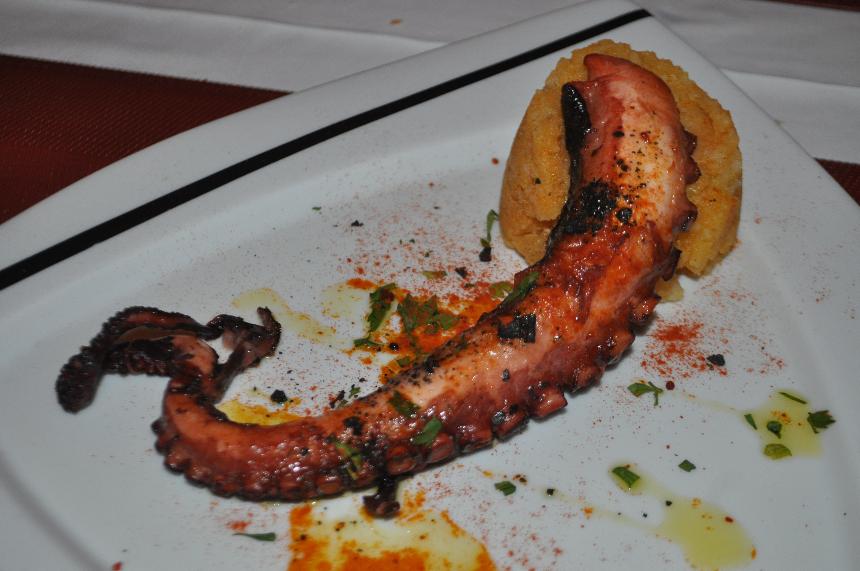 Gayle's pumpkin soup and my rack of lamb.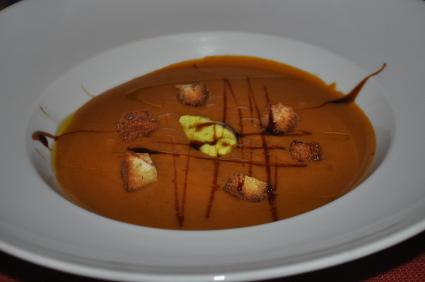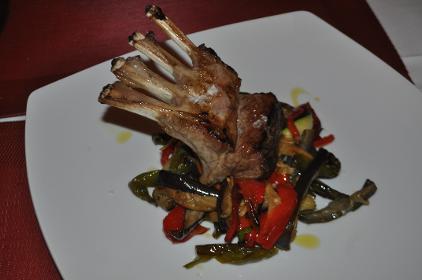 September 22, 2014 - Fuentehoridos, Andalucia to Alcala del Valla, Andalucia
After two nice days at Molinos de Fuenteheridos and the very friendly and accommodating nature of Geru our Romanian host we left for our next stop, and our only three nighter the Cortijo El Guarda.

The drive from Fuenteheridos south towards Seville was very picturesque, through the rolling hills where farm animals were a common site. As we swung north of Seville we encountered massive orange groves along with fields of cotton. At Lora del Rio we turned south for a stretch across very flat and mostly barren plains until we reached the town of Osuna, a town that "dazzles with its beautifully preserved baroque mansions and impressive Spanish Renaissance monastery filled with art treasures". As our tour book goes on to say "This startling tableau unfolds like a mirage amid an otherwise empty landscape, as if its cache of architectural and artistic gems were no big thing". I'm not sure about all that but there were a number of impressive churches and the narrow streets were an interesting drive.

After a short stop we continued on through what was a wonderfully scenic stretch to El Sauceo and Almargen before finishing at the cortijo near Alcala del Valle. The rolling hills covered with olive groves (and wind turbines) were particularly attractive, with the silvery-green of the olive trees nicely offsetting the chalky soil of the area.
We were of course warmly greeting by Miranda, Hans and Sam (the dog) upon arriving at El Guarda. Of all our travels to Europe this is the first place we have returned to. We had spent one night here in April 2013 and were very impressed, not only with the attractiveness of the cortijo and the wonderful dinner we enjoyed but most importantly the friendliness and helpfulness of Miranda and Hans. One only has to check out their TripAdvisor reviews (120 excellent 1 very good as of September 2014) to understand what a well received bed and breakfast they provide here in Andalucia.

After catching up, including a perhaps too long explanation of why I am involved in crosswalk safety, we got ready for dinner which is served three nights a week, two of which we will be here for. Dinner was every bit as great as we remember. There were four other couples - one from London, one from Amsterdam, another from Belgium and another from Germany. We started with a tasty gazpacho and then a piece of cod smothered with caramelized onions garnished with carrots flavoured with anise and basil. Gayle of course did not have the cod - she was provided amazing stuffed roasted red peppers with a pimento sauce. I can say, having had a taste it was excellent. Gayle then had a potato dish with tofu curry, a few onions and cheese while the rest of us had pig's cheeks, which Miranda told us, and she was right, has the texture and taste more of beef than pork. Last time I was here I had Rabo del Toro - bull's tail and now pig cheek's - very interesting.
With Miranda's assistance we enjoyed an excellent regional wine from nearby Ronda - in fact so much so that I think for the first time Gayle had more of the bottle than did I. The memorable dinner continued with a cheesecake for dessert.

Early on I had a nice chat with the dutch fellow (whose English is very good) beside me and then continued with a well travelled English couple across the table. The evening was every bit as memorable as was our previous stay here. We look forward to repeating in a couple of nights.

Now if only the rain would stop and the weather warm up everything will be perfect.


The white homes and orange tiles of Aracena. There are a number of these 'white' towns in Andalucia.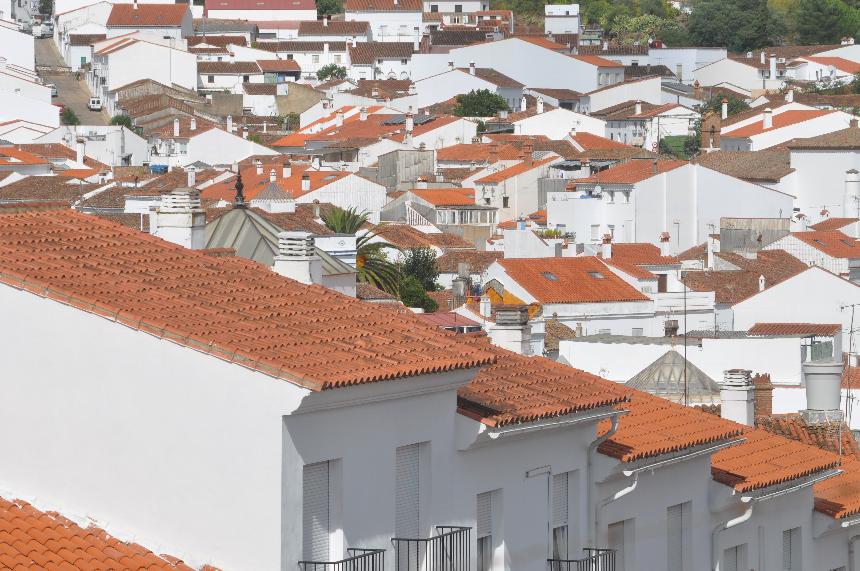 Remember the cork in Portugal? The area around Aracena is also one of significant cork harvesting with trees dotting the countryside.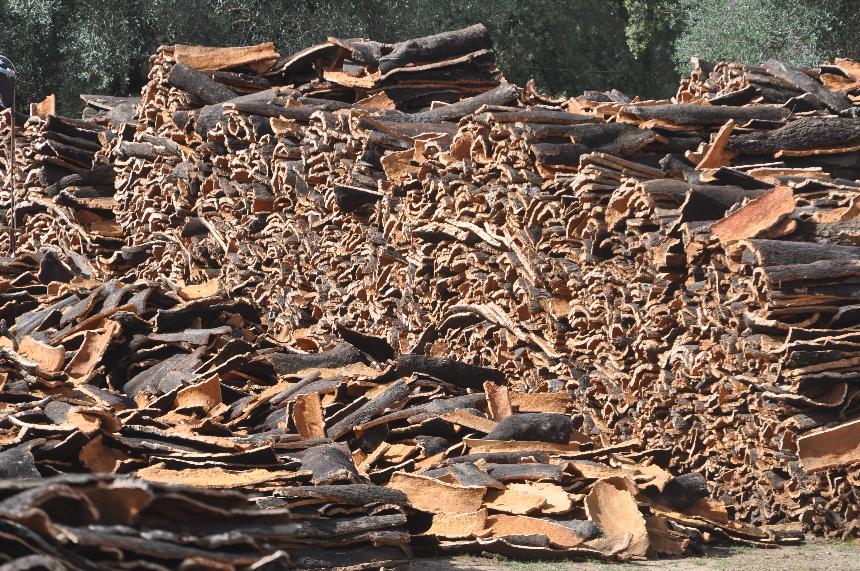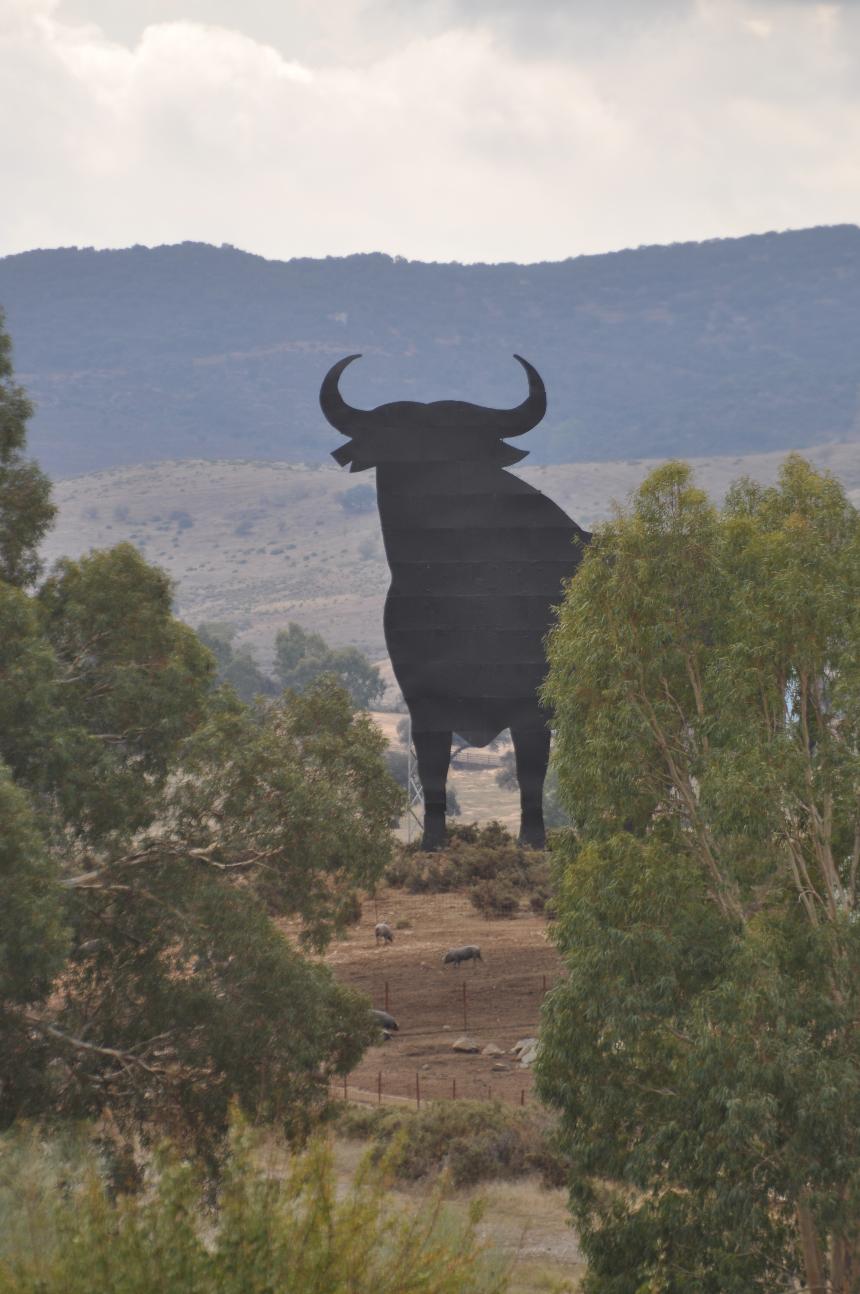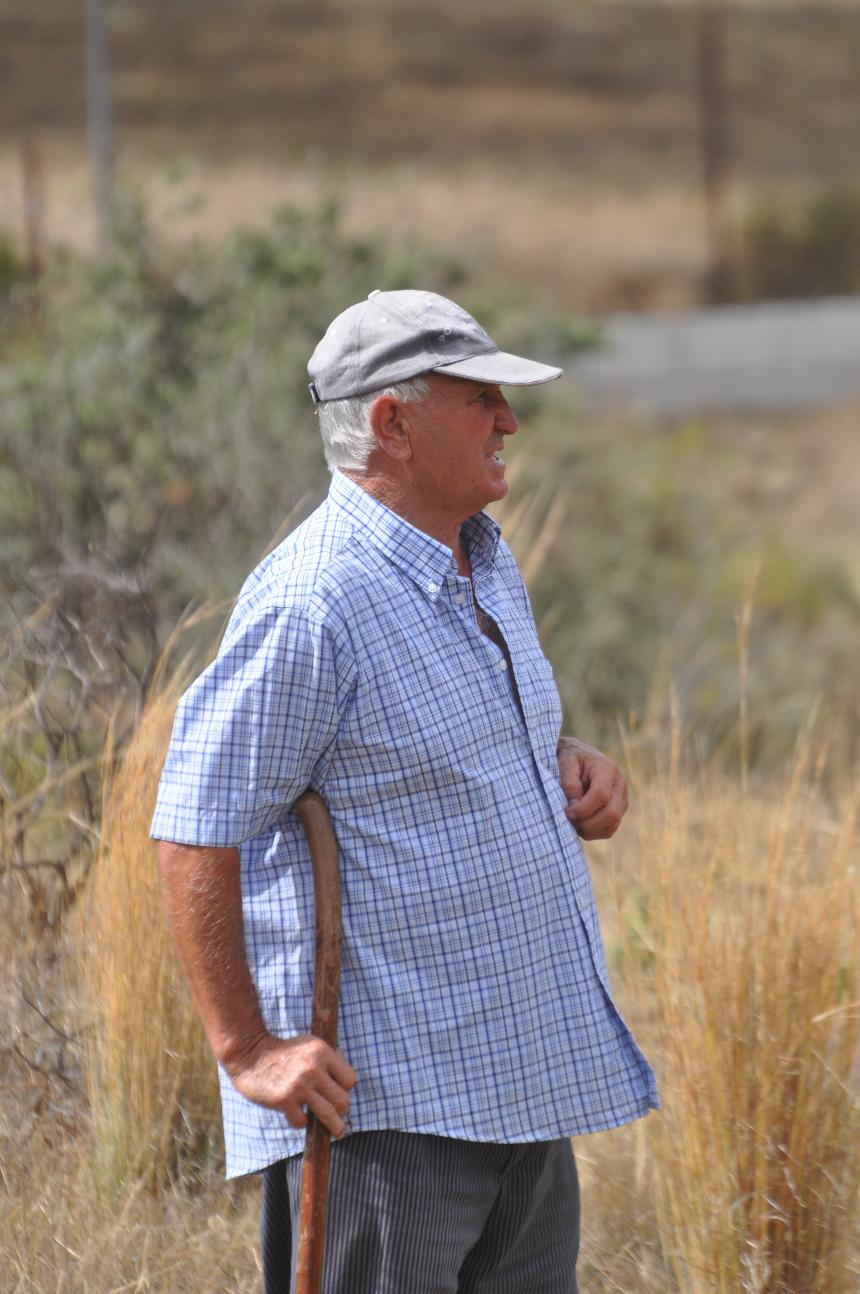 Some suggest cities have become too car-centric. Not here where the goats obviously have priority on the roads.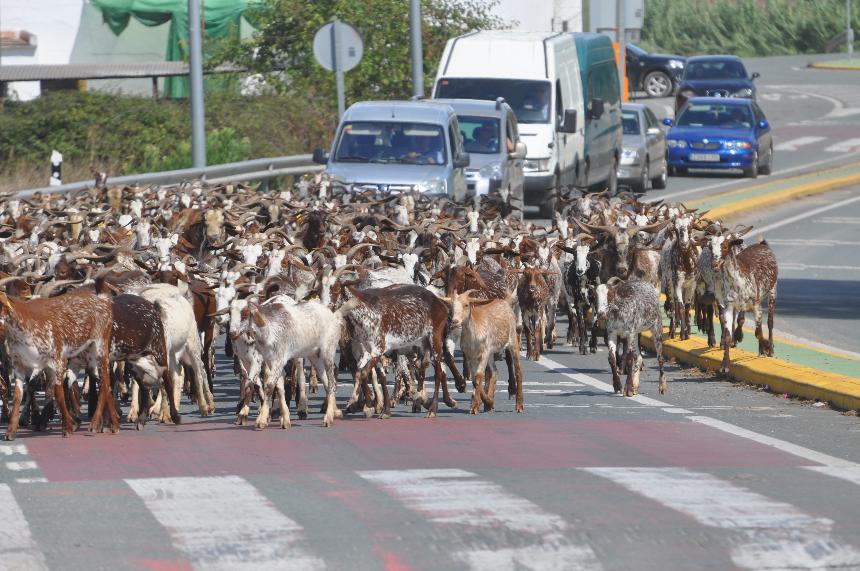 Clearly well trained on the rules of the Spanish Motor Vehicle Act the goats crossed at the marked crosswalk.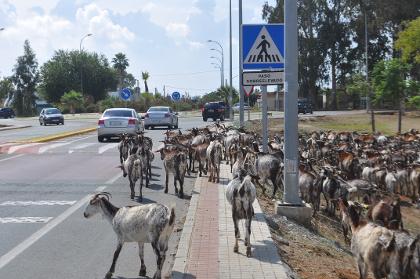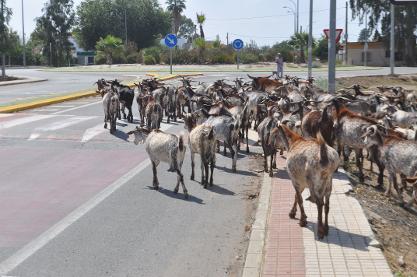 Churches in the town of Osuna.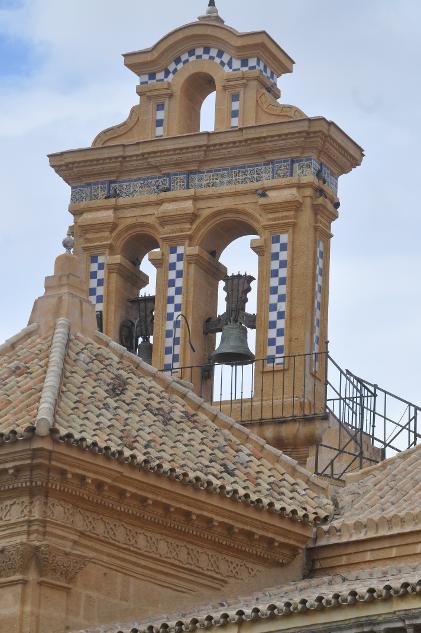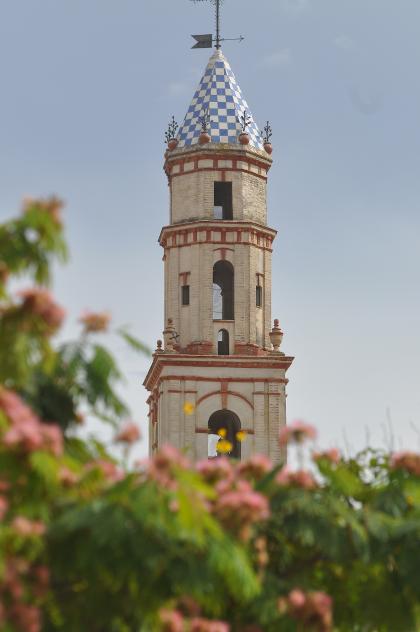 The olive groves on the drive between Osuna and Almargen.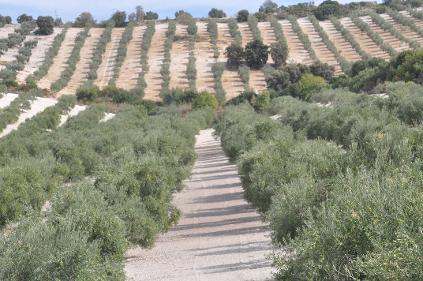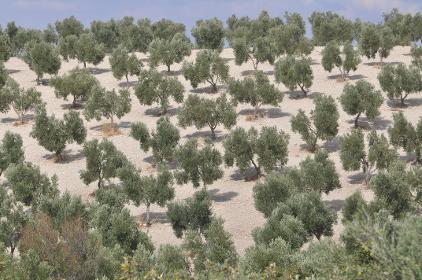 Sunset over the Cortijo El Guarda.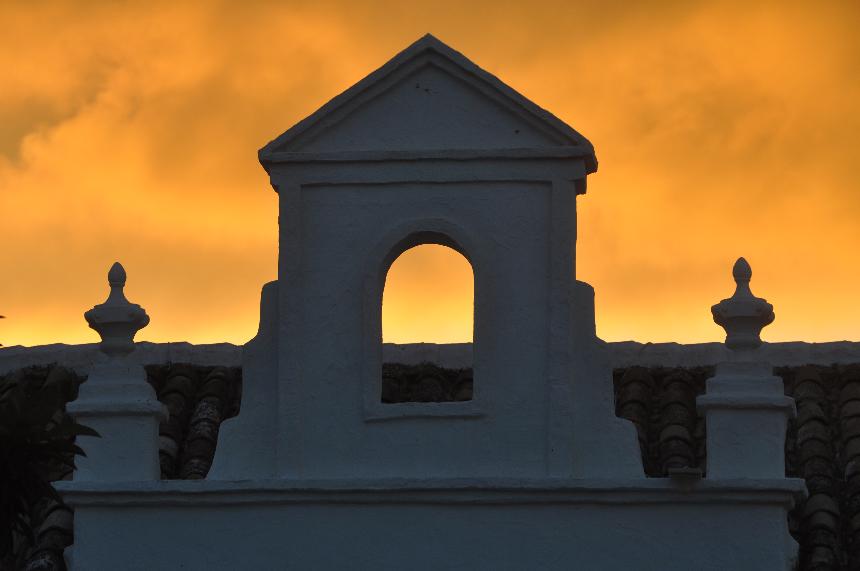 My appetizer, cod with caramelized onions, carrots, anise and basil and Gayle's stuffed red peppers with pimento sauce.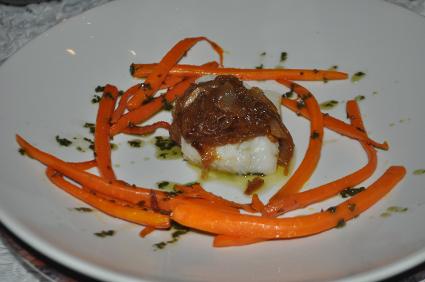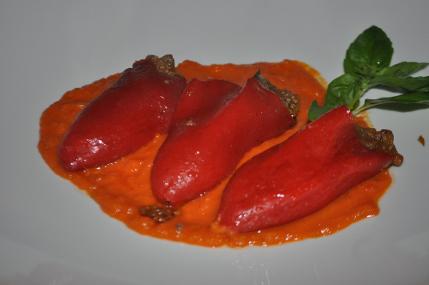 ... and we finished the meal with a delicious cheesecake.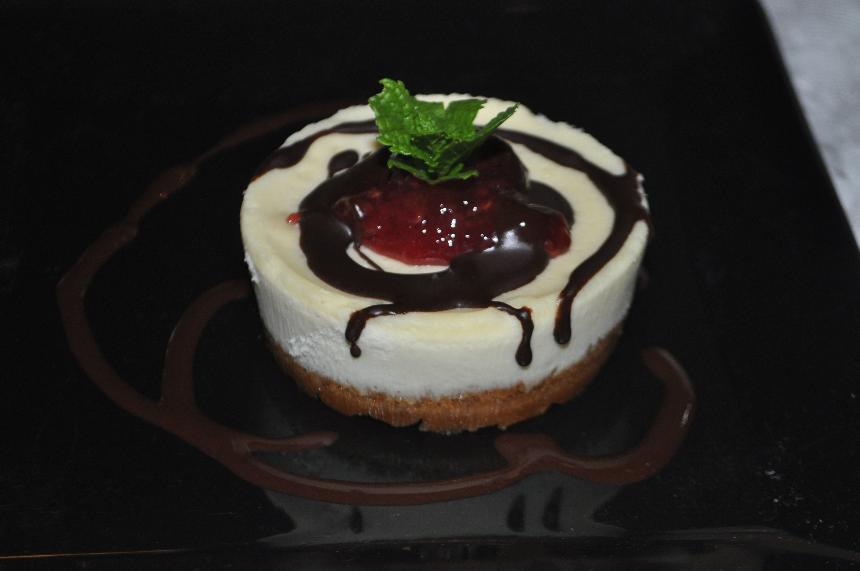 September 21, 2014 - Fuentehoridos, Andalucia

For the most part this was a stay put day. Being so serene and peaceful we wanted to simply enjoy the Molinos but decided to take a short drive to a couple of the nearby villages. First Alajar and then Castano del Robledo, each a quaint village of narrow cobblestone streets with a small square and of course the dominant church.
Mid-afternoon in Alajar on a Sunday was quite busy with many out at the outdoor cafes and bars. The area, the Parque Natural Sierra de Aracena y Picos de Aroche, is comprised of rolling hills popular with hikers. The landscape is covered in chestnut and acorn trees, perfect for the grazing Iberian pigs. By the time we arrived in Castano del Robledo unfortunately is was too late for lunch - the restaurant looked wonderful and was recommended by Lonely Planet but it was not to be.

We drove on to Funteheridos where we picked up a couple of pastries before returning to the Molinos. And just in time as shortly after the skies opened and for nearly two hours it just poured rain. But it did clear later in the evening allowing us to return to Fuenteheridos for dinner.

It was a simple quiet day, but that is really quite nice now and then while travelling.
The breakfast building of the Molinos de Fuenteridos.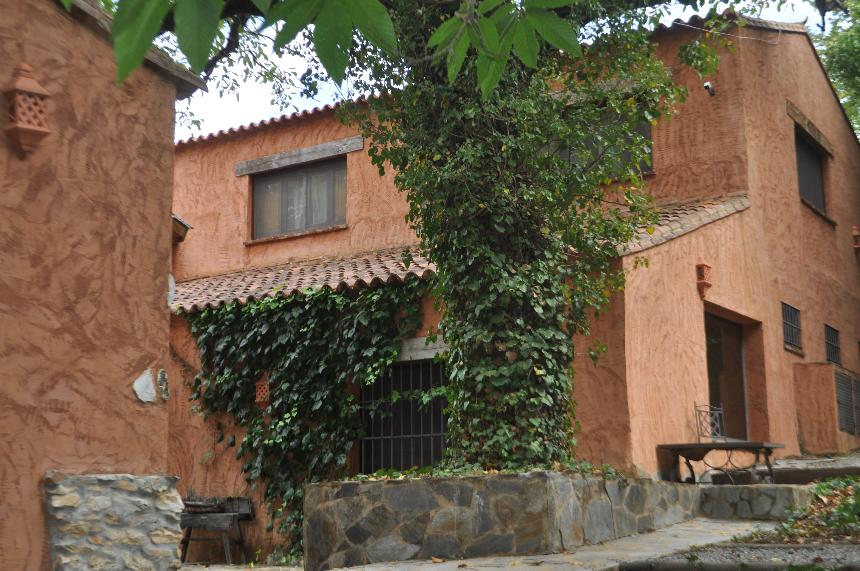 A few of the interesting and attractive items around the Molinos.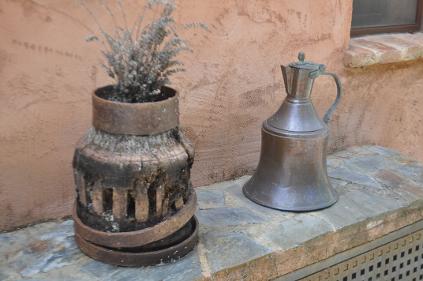 On the left a small portion of the inside of the salon, or original olive mill (it is impossible to capture the expansiveness of the room with a photo) and on the right the attractive breakfast room.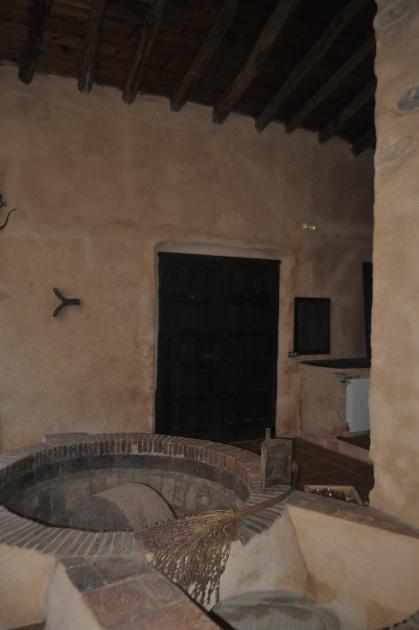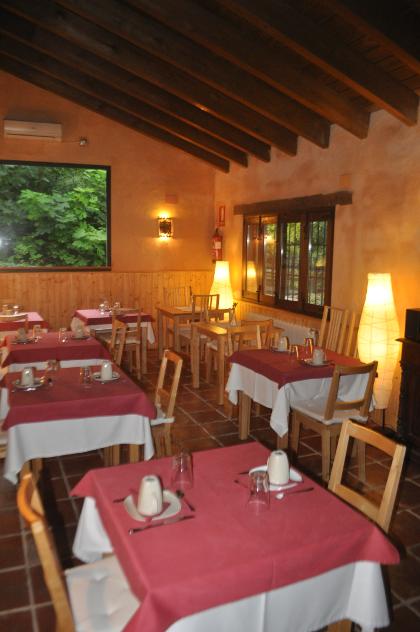 Fresh fruit and a tasty lemon loaf are just a couple of the breakfast items.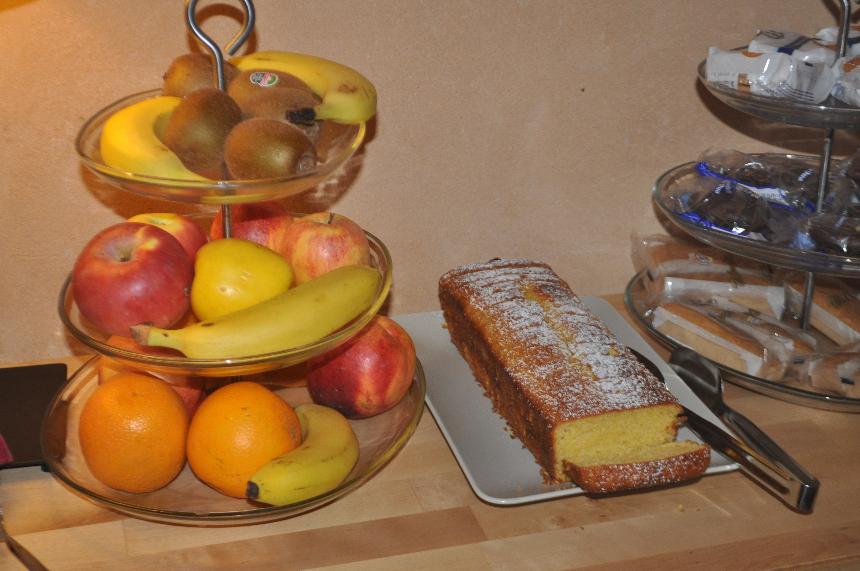 The waterfall on the property of Molinos de Fuenteheridos, the source of the constant pleasant sound of the babbling brook that flows from the falls.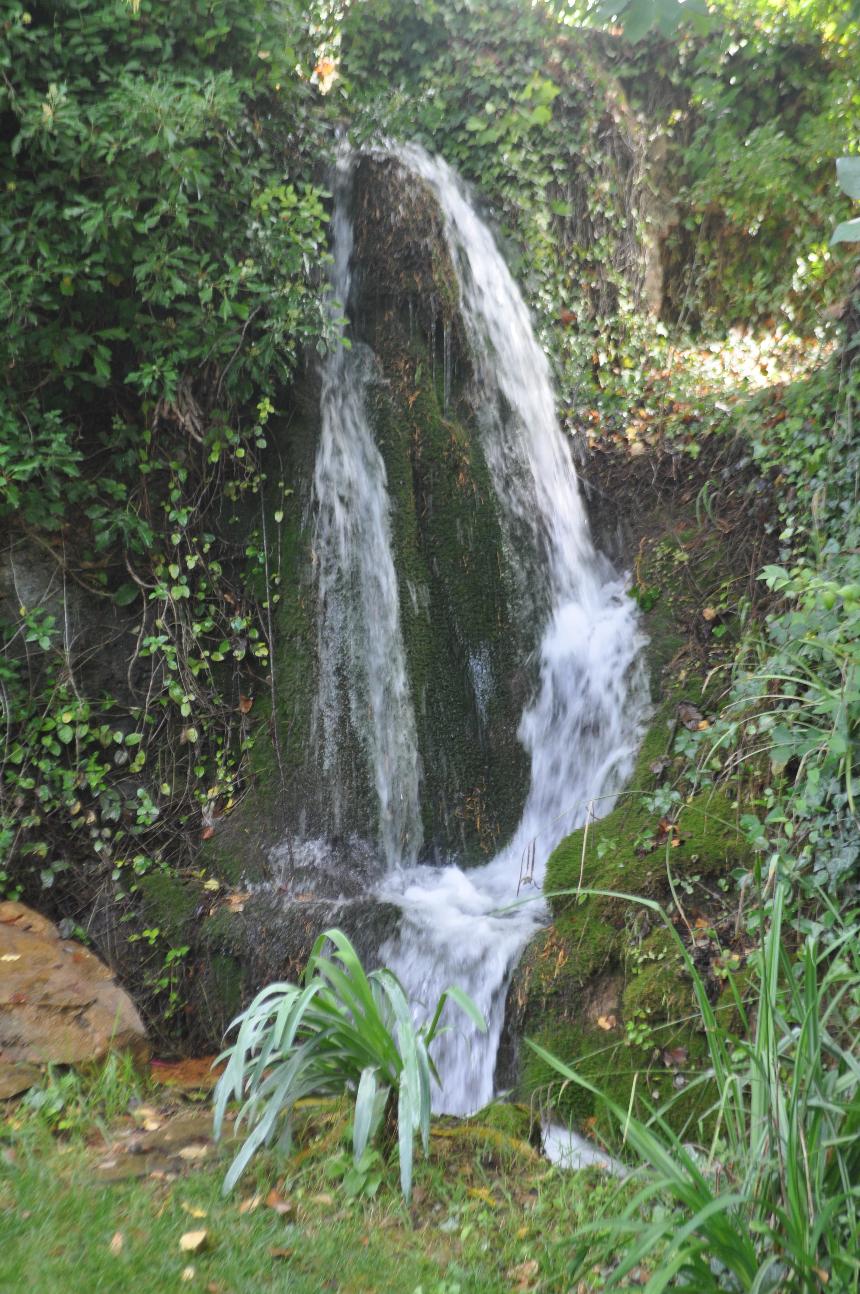 Chestnuts are very common throughout this area.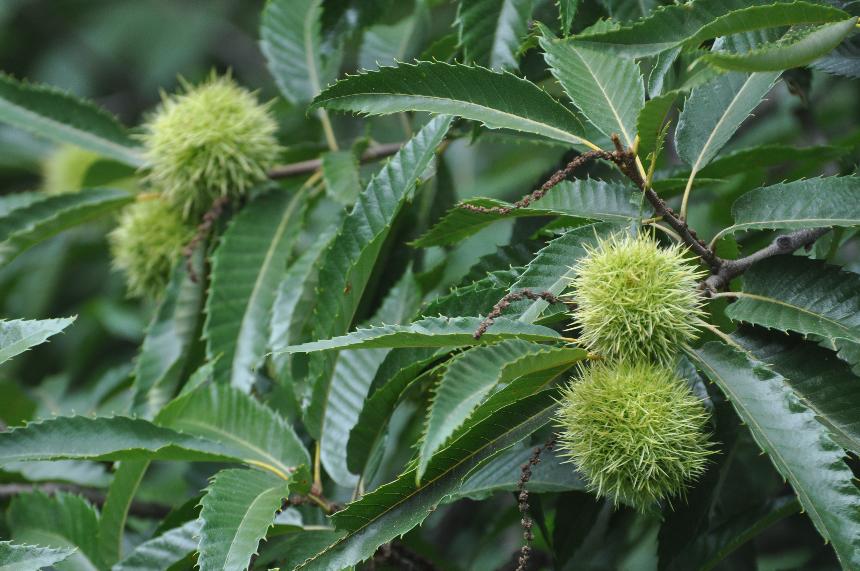 Plates adorn the outside of this house in Alajar.



One of the small roads in Castano del Robledo. Always interesting (mirrors turned in) to drive through these small villages.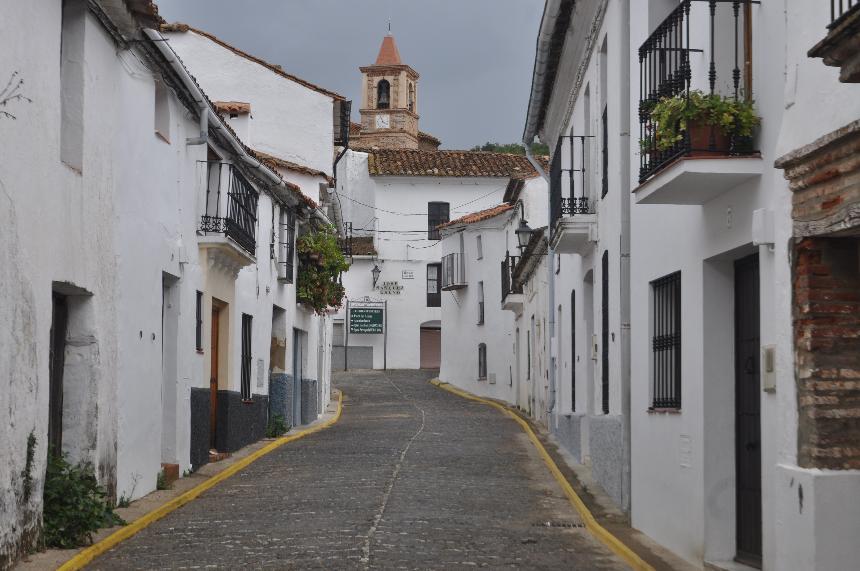 In the village of Castano del Robledo we encountered this Spanish water dog who clearly does not want Gayle to get away (check the dog's foot holding Gayle's down).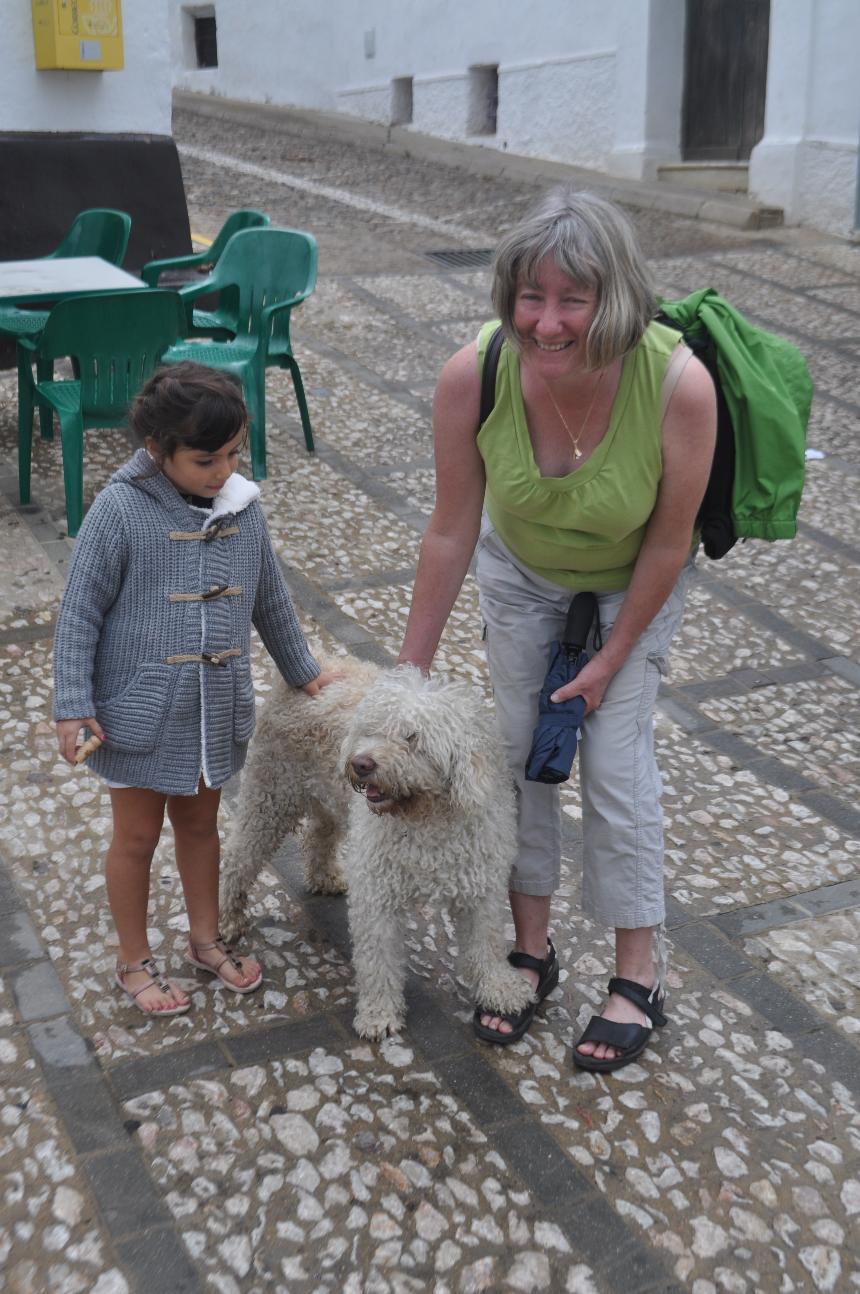 Churches in the small villages of Alajar (left) and Castano del Robledo (right).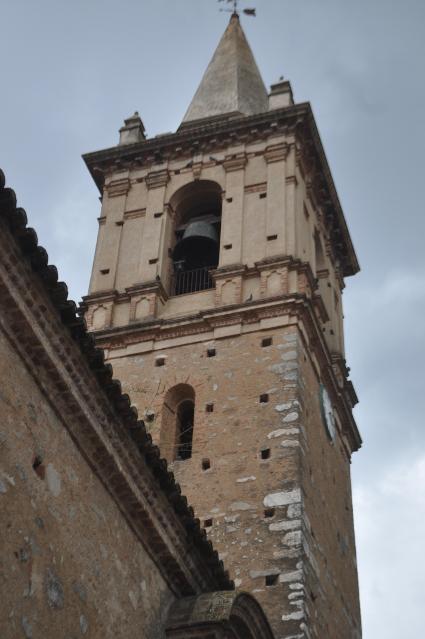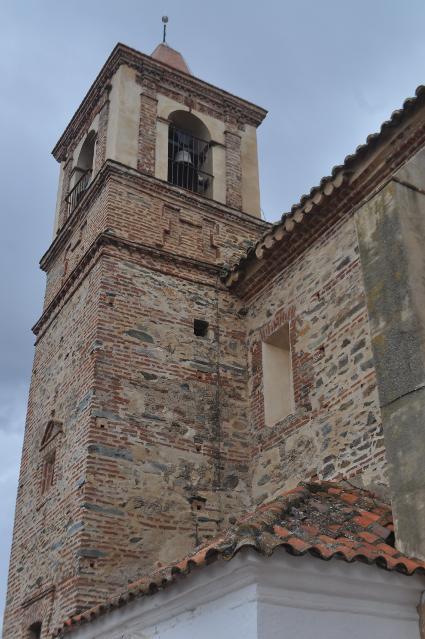 The church in Fuenteheridos lit up at night.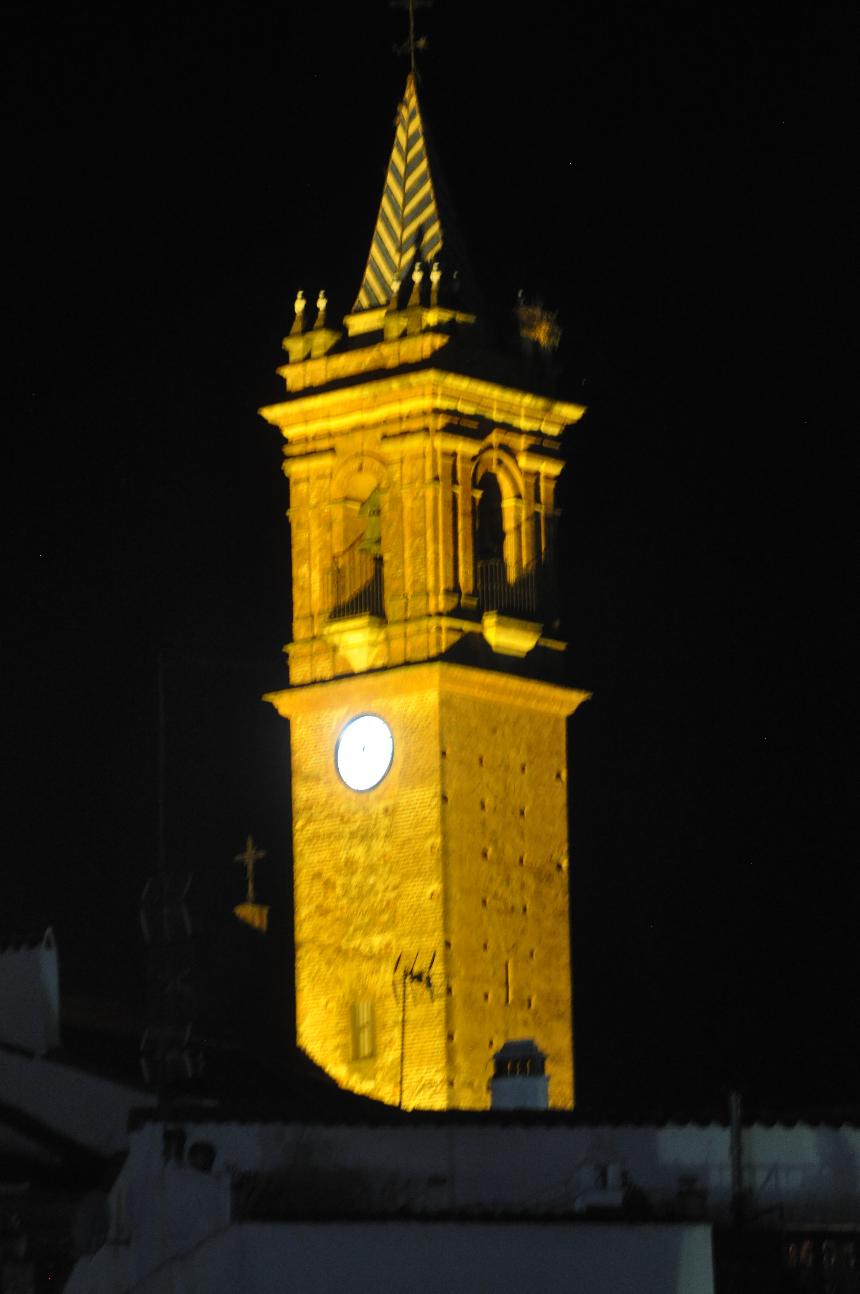 No dinner photos today but we were in a pastry shop when someone bought two trays of mixed pastries.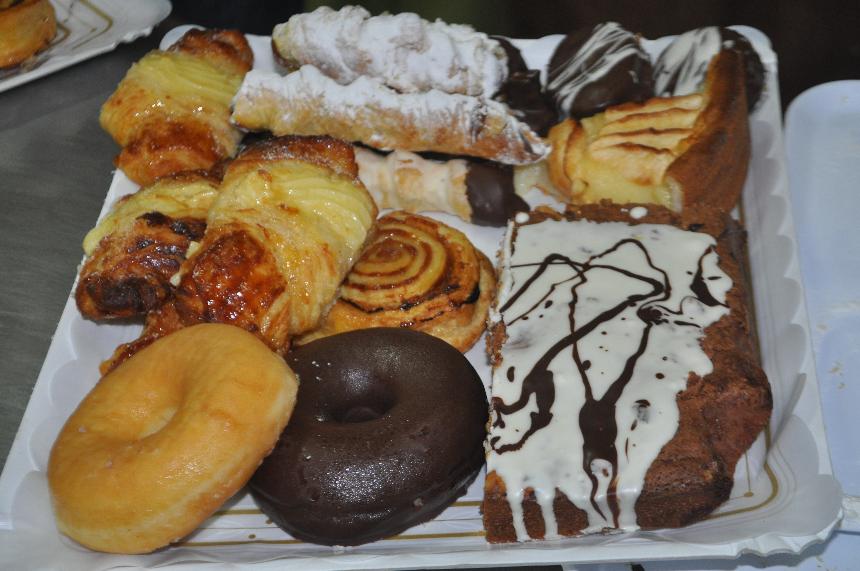 September 20, 2014 - Guadalupe, Extremadura to Fuentehoridos, Andalucia

Being our last parador breakfast of the trip I filled up on the fresh orange juice which I have to say is the best of all the places we have stayed - pousadas in Portugal or fincas or molinos. After a stroll through the parador's well maintained gardens we left for what is expected to be our longest drive of the trip at just over 300 km.
Most of the drive was flat, through the dehesa of Extremadura during which we made pretty good time. Except for one village in which we missed our turn, then missed it again when we backtracked, then got twisted around in the narrow streets before finally getting back on the right road the drive was easy. Although there was not much along the way it was quite scenic if you like fields of cork trees contrasted against the golden grasses or brown dirt, which fortunately we do. It was not until we entered Andalucia that we encountered some smaller, narrow twisty roads as we drove through the mountainous Sierra de Alarcena. While it slowed us down a bit it was nice to be back into the hills, with sheep and pigs common under the cork, acorn and chestnut trees.
After a couple of wrong turns we found the Molinos de Fuenteheridos, an old olive mill originating from 1662 where we will be staying the next two nights. The Molinos is again just the kind of place we love - in the country, peaceful, quiet, fresh air the sounds of birds and a babbling brook (just like back home) - perfect.
However the molino does not serve dinner so we walked the 20 minutes into the nearby village of Fuenteheridos where we had a nice meal of solomerjo, a version of gazpacho, a revuelta of eggs and mushroom for Gayle and solomillo (Iberian pork) with a ham sauce for me. Our waiter was particularly helpful, actually going back into the kitchen and bringing out a sample of salmoerjo to try while we were trying to understand what it actually was, i.e. like gazpacho but not gazpacho. After dinner the waiter brought over some liqueur which was nice. The (downhill) walk back to the molino after dinner was a good way to end the day.

One of the orange (there are also lemon) trees in the interior courtyard of the Parador de Guadalupe.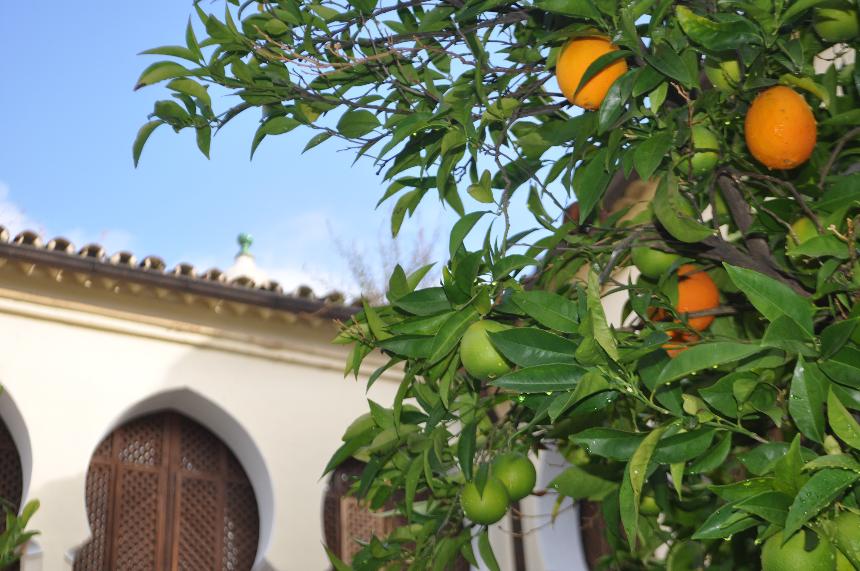 A number of additional photos of the parador or the monastery.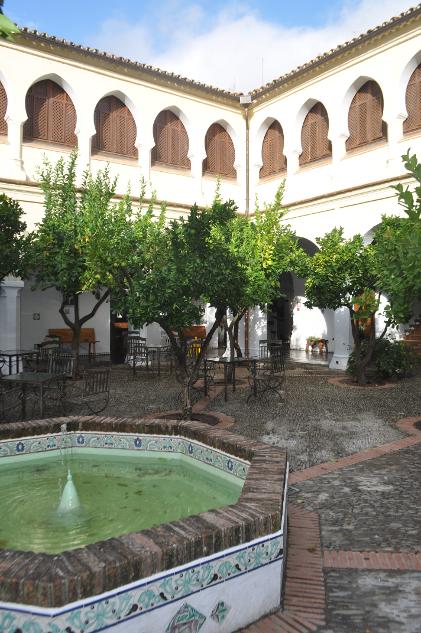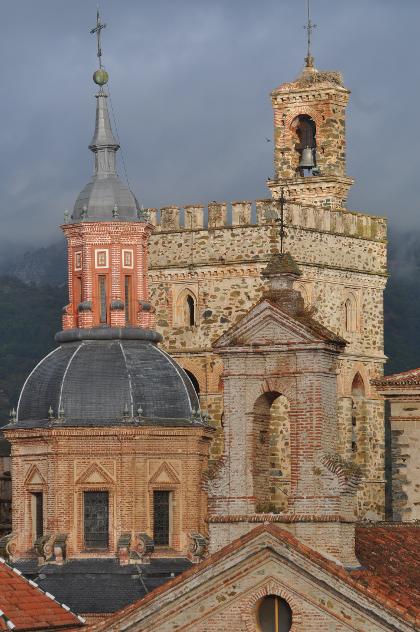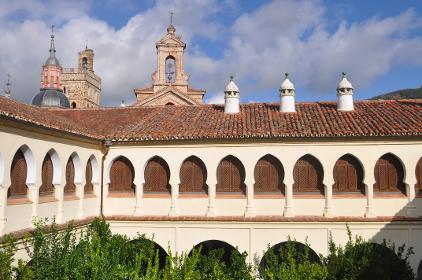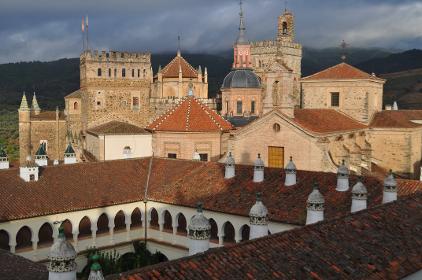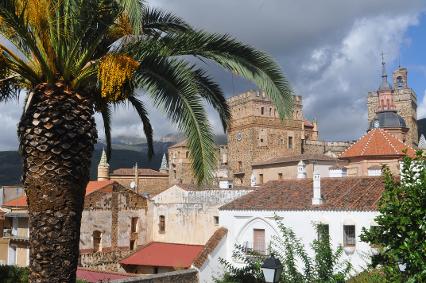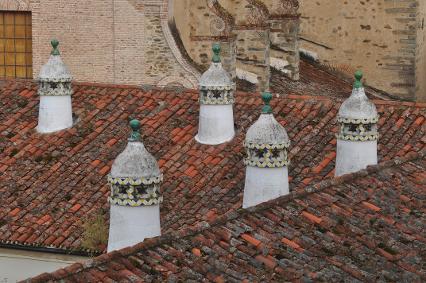 Only a small portion of the Royal Monastery of Santa Maria de Guadalupe.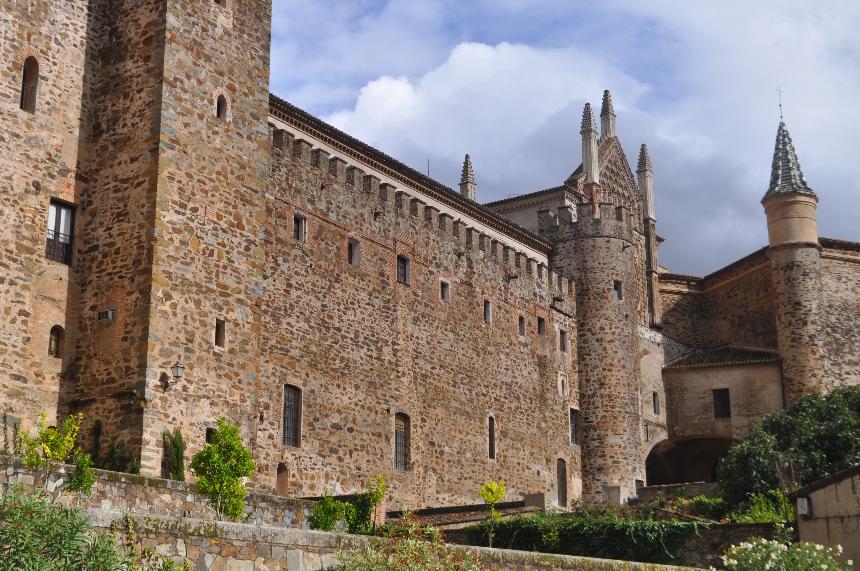 Another bakery with so much to tempt one.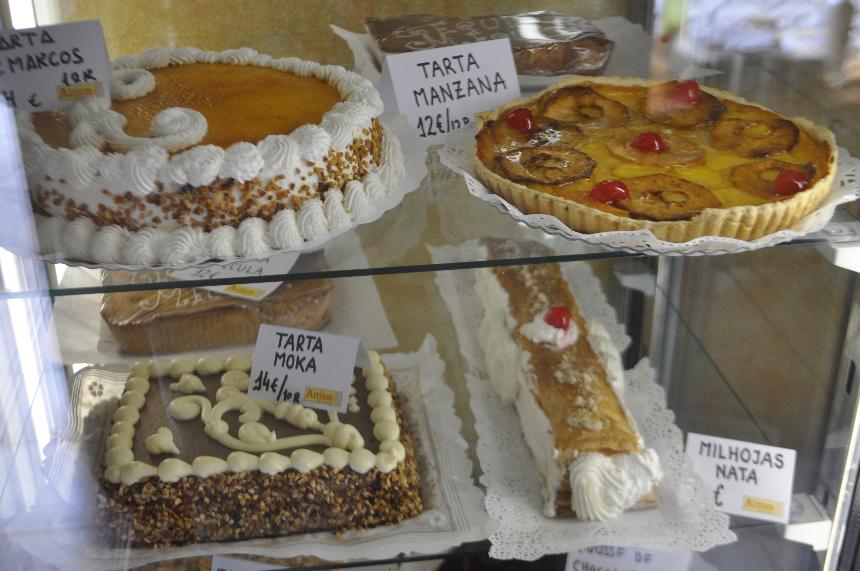 Cork trees on the dehesa in southern Extremadura.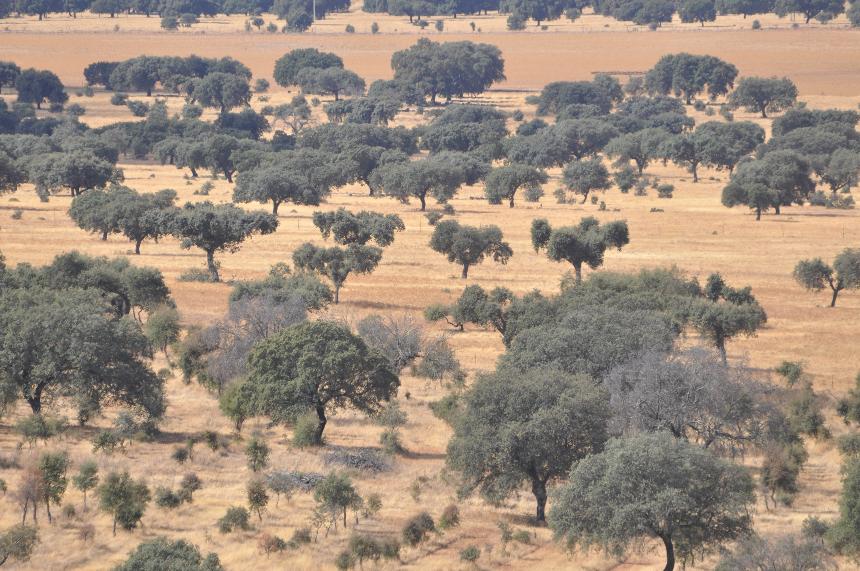 Salmorejo, the Andalucian version of gazpacho, this one with egg and ham, and a roast pepper salad with cheese and olive oil.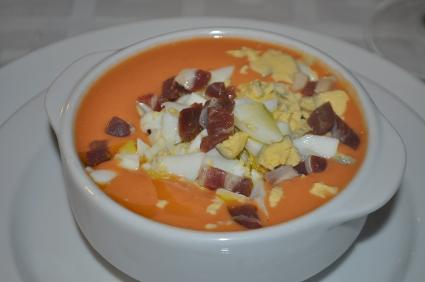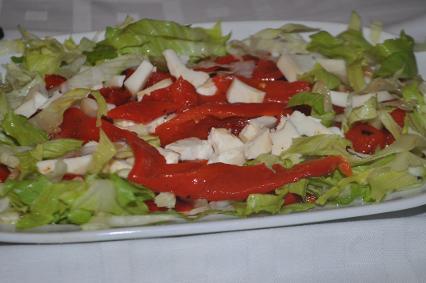 As seems to happen with reasonable frequency (not sure if it is because we are English speaking and obviously tourists or whether it is just a Spanish thing) we were again offered an after dinner liqueur, this time butterscotch, which was very much to Gayle's liking.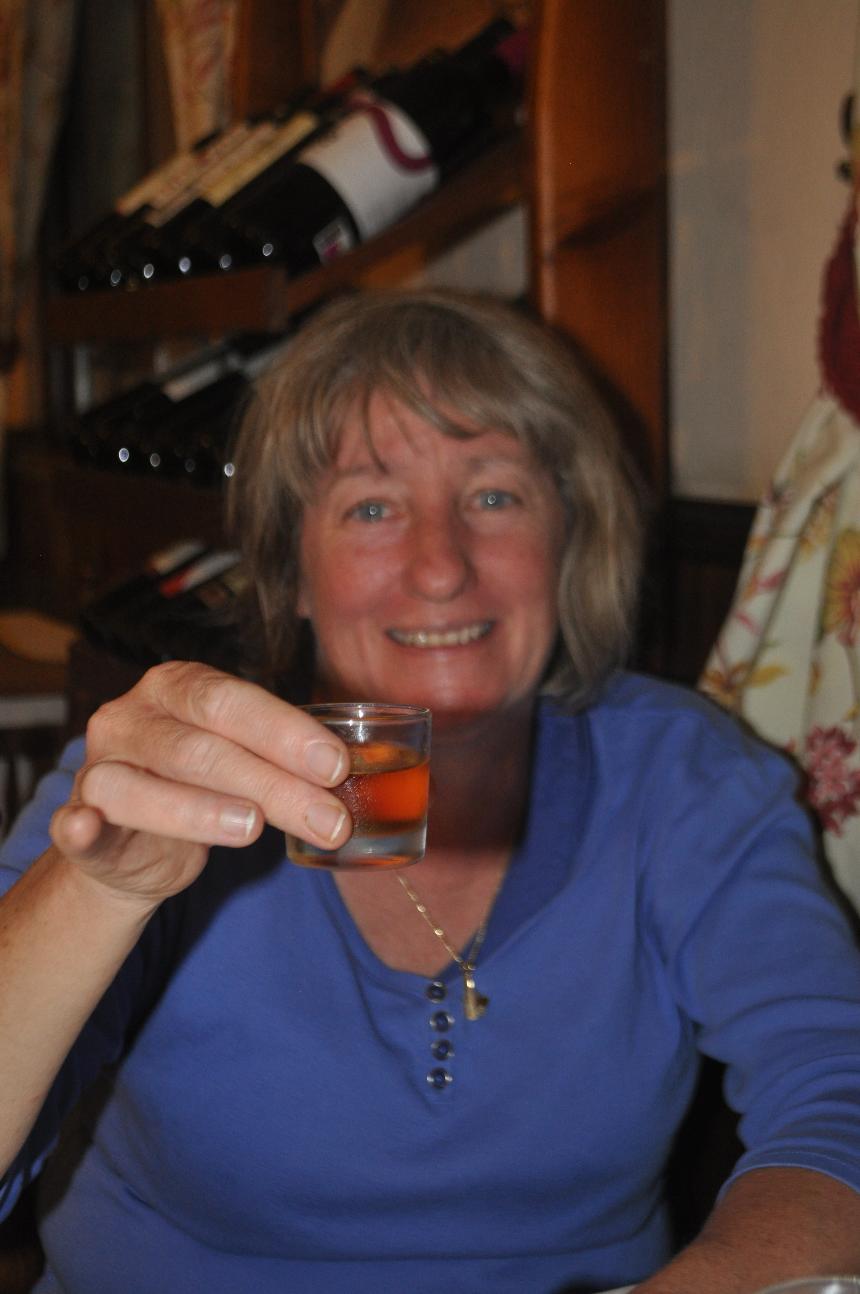 September 19, 2014 - Plascencia to Guadalupe, Extremadura

We enjoyed breakfast in an amazing dining room here in Plasencia. The ceiling is rich dark wood and then tiled walls surround the large space. Tapestries, chandeliers and other artwork added to the beauty of the room.
We left Plasencia and drove south and then east to Guadalupe, where one finds the Royal Monastery Santa Maria de Guadalupe, one of the most important monasteries of Spain for over four centuries. The monastery has its origins in the late 13th century when a shepherd discovered on the bank of the Guadalupe river a statue of the blessed virgin that had apparently been hidden by local inhabitants from Moorish invaders in 714. The shepherd then built a chapel on the site. King Alfonoso XI declared the church at Guadalupe a royal sanctuary and undertook an extensive rebuilding program until 1389 when monks took over the monastery. The monastery complex is made up of four parts - church/basilica, auditorium building, Mudejar cloister and Gothic cloister.

We arrived in an absolute downpour but as is the case here in the hills the weather changes quite rapidly. The Parador de Guadalupe did not in any manner disappoint. Upon entering our room and stepping on to our balcony we were greeted with a wonderful views over the parador and monastery to the mountains beyond. With its lovely interior courtyard filled with lemon and orange trees the hotel enjoys an incredible location on the site of the Royal Monastery of Guadalupe, a World Heritage Site.
Guadalupe is a quaint medieval village with cobbled streets, home to an extremely valuable area of artistic and historical importance from the 15th and 16th centuries. We enjoyed a nice stroll through the village where we bought a couple of pieces of copper and a pottery dish. Again raining we decided to eat at the parador where Gayle enjoyed another creative salad and I finally had a delicious meal of lamb.

It is all very good.

The restaurant at the Parador de Plasencia, with its amazing ceiling, tapestries and tile work.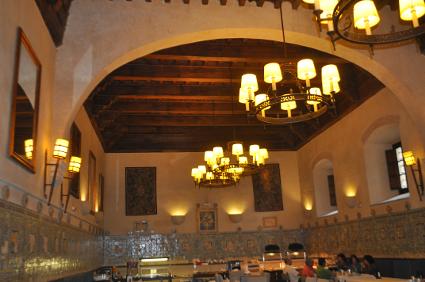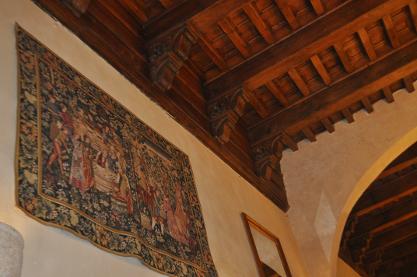 A wide selection of meat, cheese, tortilla, migas, pastries are only a portion of what is available at breakfast at a parador.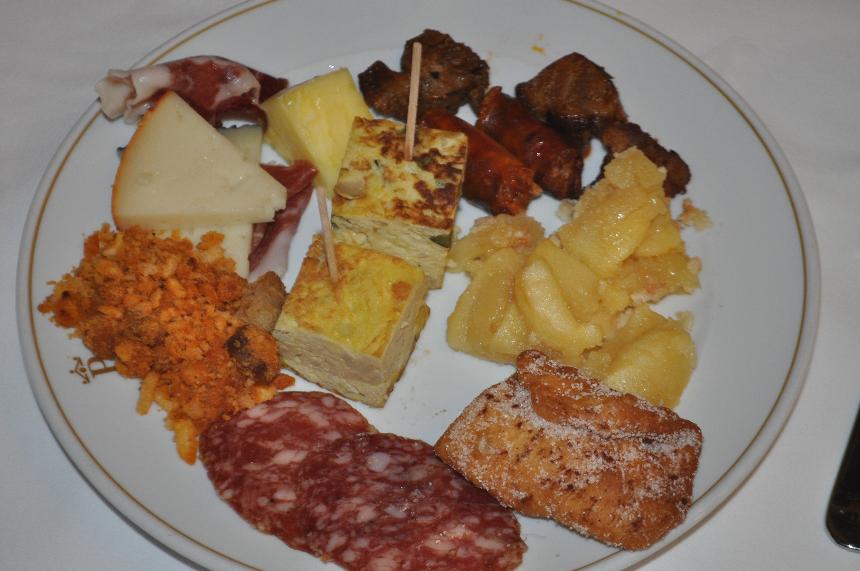 Some of the beautiful stone and tile work at the parador.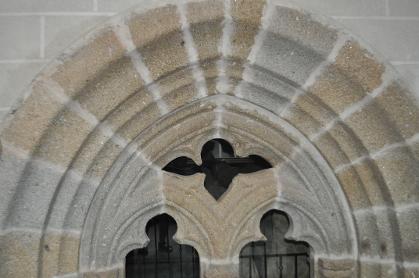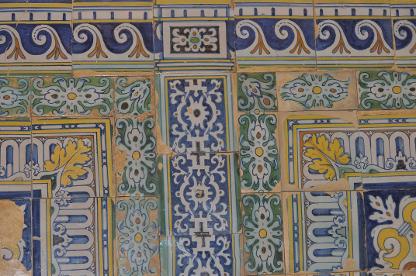 Gayle in one of the many nice sitting areas at the Parador Plasencia and then caught photographing a bunch of pigs - the things we will stop to take pictures of.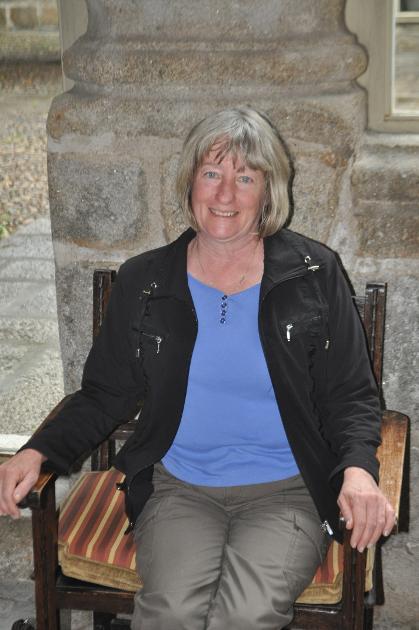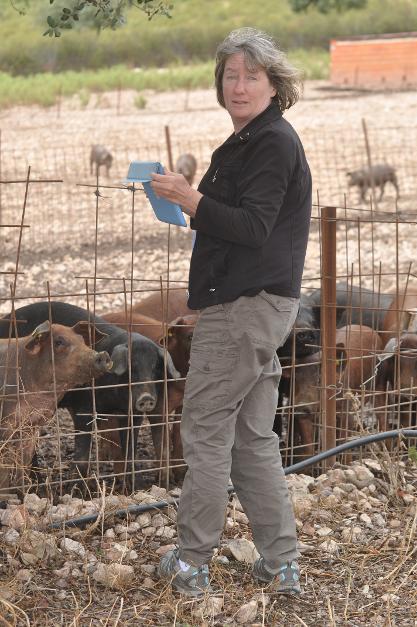 A stand alone cork tree in a field of grain.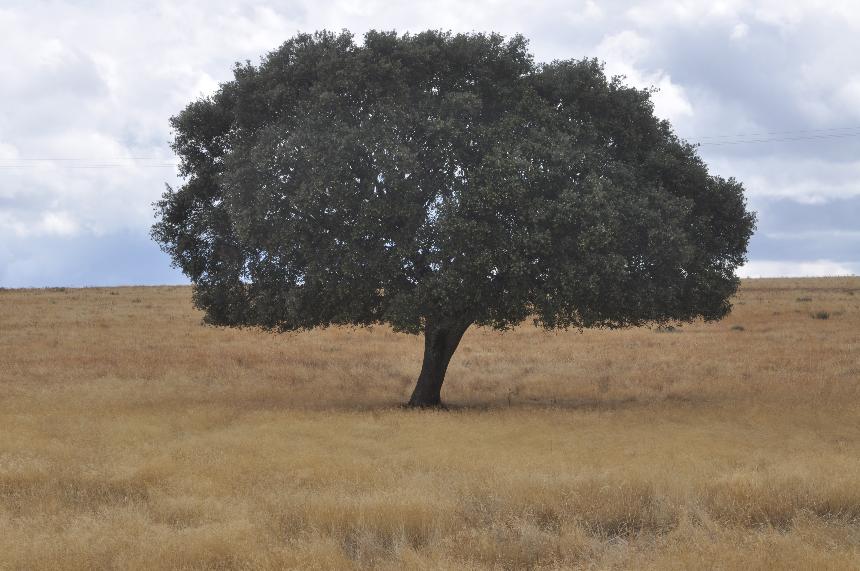 So we enter our room and step out on to our balcony and these photos are what we see - can it get any better than this?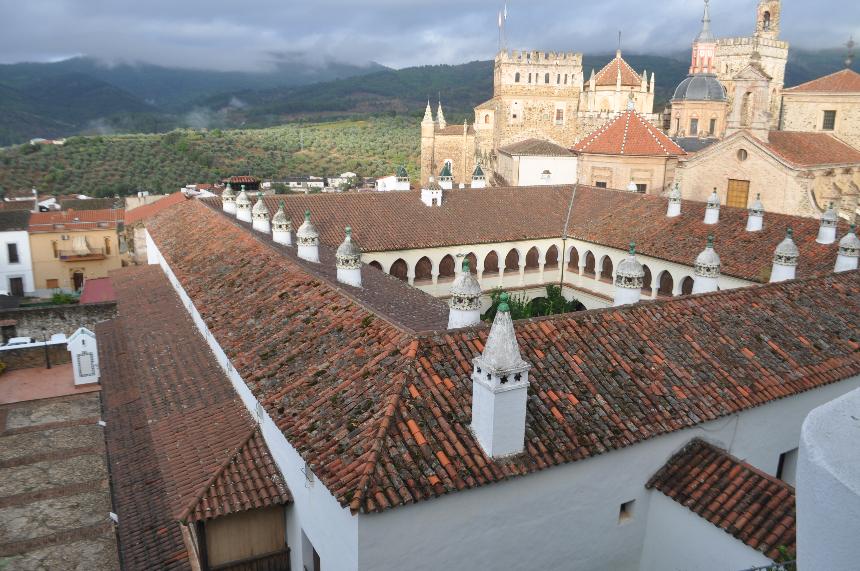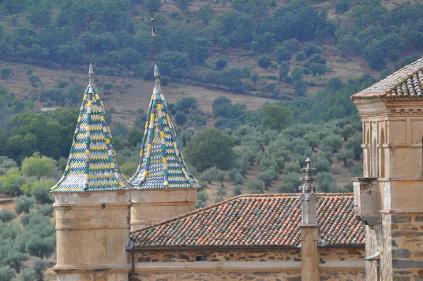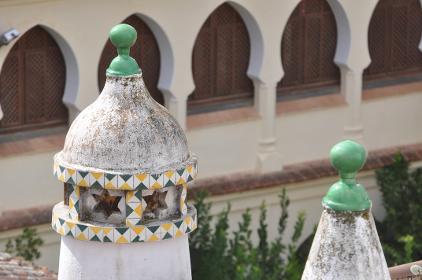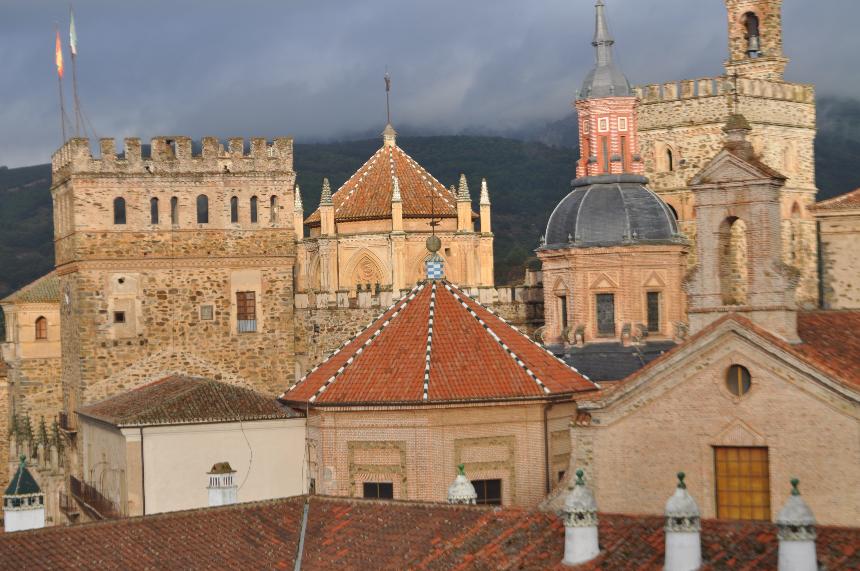 Beautiful tile in our room.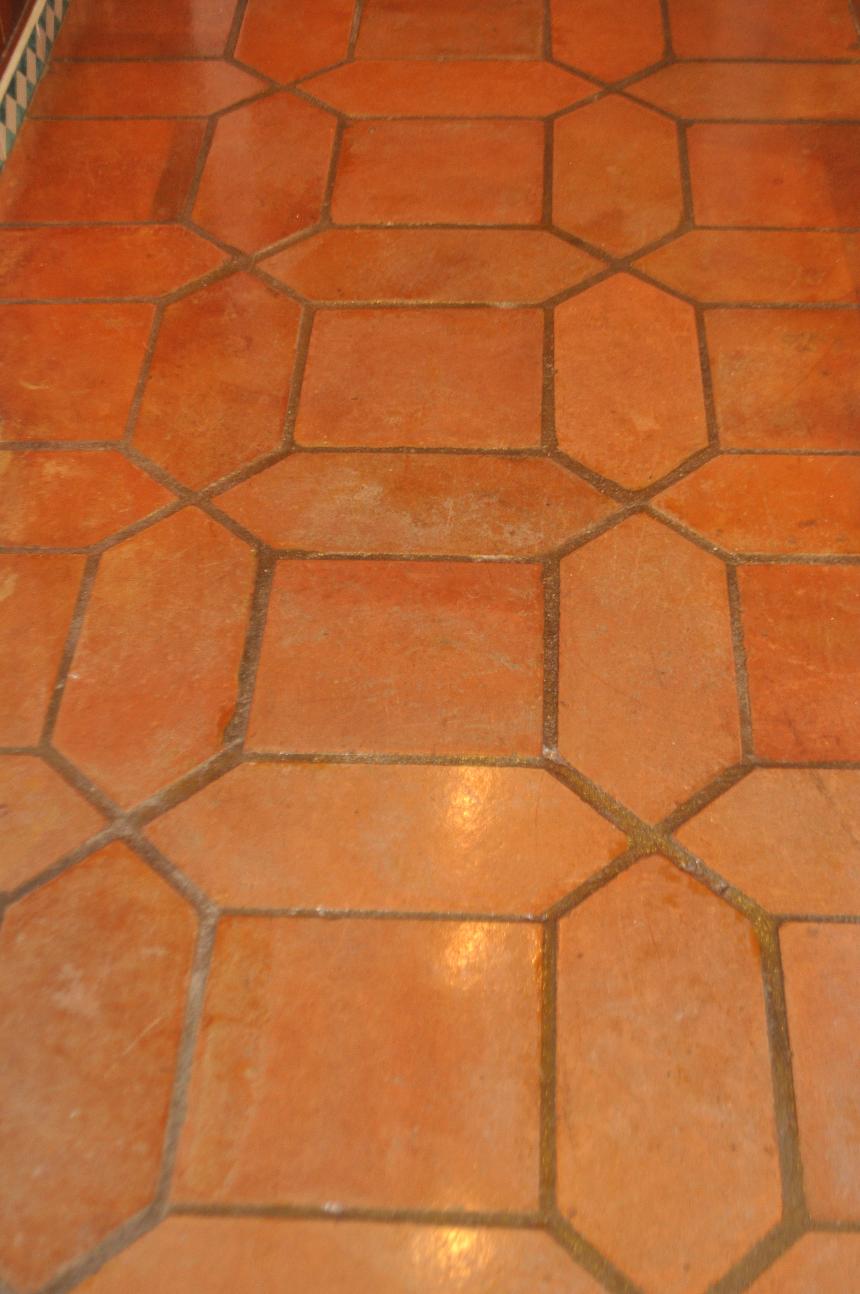 Sometimes one is just in the right place at the right time as I was as this gentleman was walking towards me on a street of Guadalupe.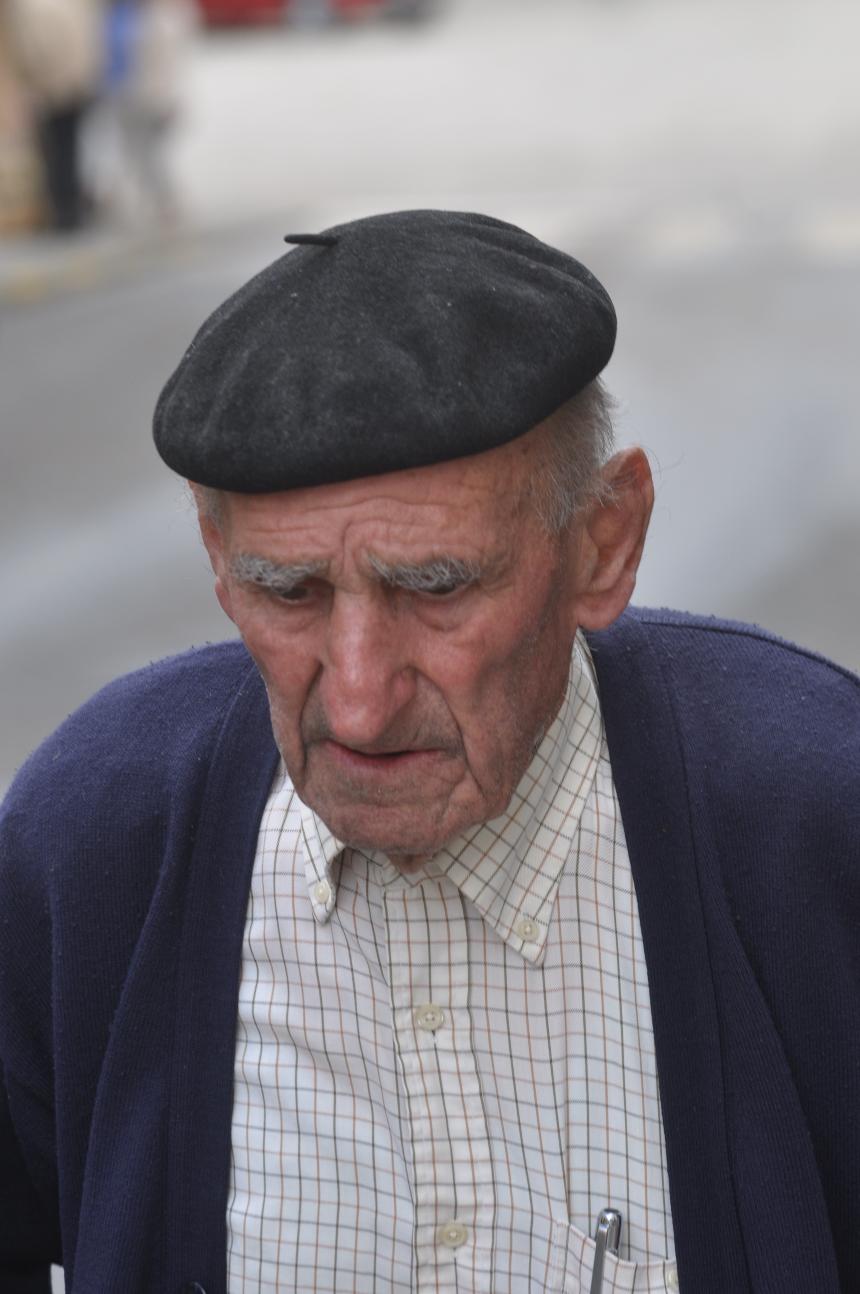 Fortunately each salad Gayle orders is different, and very nicely presented. I enjoyed a selection of Extremadura Ibericus - ham, sausage etc.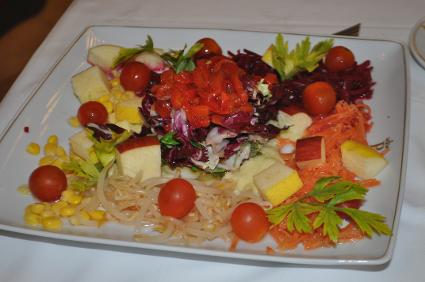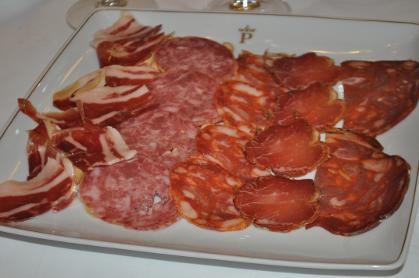 Carret de Cordero Asado with potatoes, apple and padron peppers.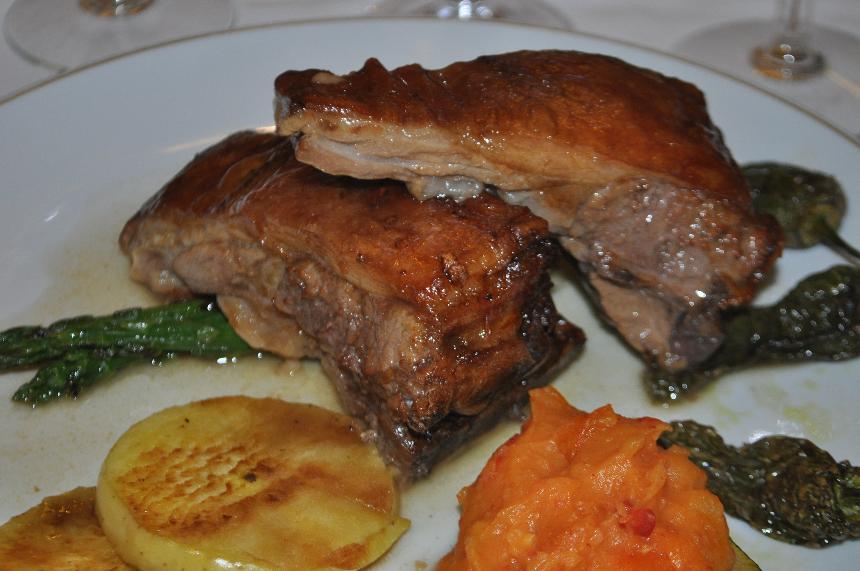 September 18, 2014 - Ciudad Rodrigo to Plascencia, Extremadura

We awoke to another cloudy and rainy morning. After breakfast we left for Plasencia. Alfonso had suggested visiting the village of La Alberca along the way, a town that has existed since before the arrival of the romans. Stone buildings, twisting narrow alleys, lots of shops selling lots of stuff but especially jamon (ham) and a buzz of activity, even in questionable weather made this a nice stop.
We then drove south over the Sierra de Gata ridge and descended the valley to flatter plains and on to Plasencia where we were staying at one of the few historical paradors left on our list. We had had lunch here back in 2007 but not actually stayed at the Parador. The Parador is in the old quarter occupying the Santo Domingo Monastery built in the 15th century. Thick stone walls, vaulted ceilings and beautiful decor exist in the Gothic style interior. The Parador is outstanding - just an awesome building. The historic part of the city is within the remains of medieval walls, with fortified towers and gates. The town also boasts one of the most representative groups of historic buildings in the area, highlighted by the Romanesque Old Cathedral and the newer Gothic and Renaissance New Cathedral.
Again we decided to eat at a restaurant rather than the parador. We found what looked like, and turned out to be a good choice - the Restuarante El Chamizo. Although not at all busy the food was very good. We shared a Torta del Casar - cheese baked with pimenton de la Vera. Then Gayle had Croquetus de espinacas y queso azul con mermelada de piquillas (spinanch and blue cheese croquettes with "piquillos" peppers jam) while I had the Presa de cerdo iberico con salsa de bellota - Iberian pork loin in acorn sause which was very good. Dessert was a flan de cerezas (cherries). Afterwards the owner, who showed us his restaurant as we were looking around in the afternoon offered us a couple of licors - the first a herb liquour and the second, which we really liked made from acorns. The nice thing about going out for dinner is the stroll back to the parador - nice after a meal.

Climbing the stairs of the tower for the views from the top.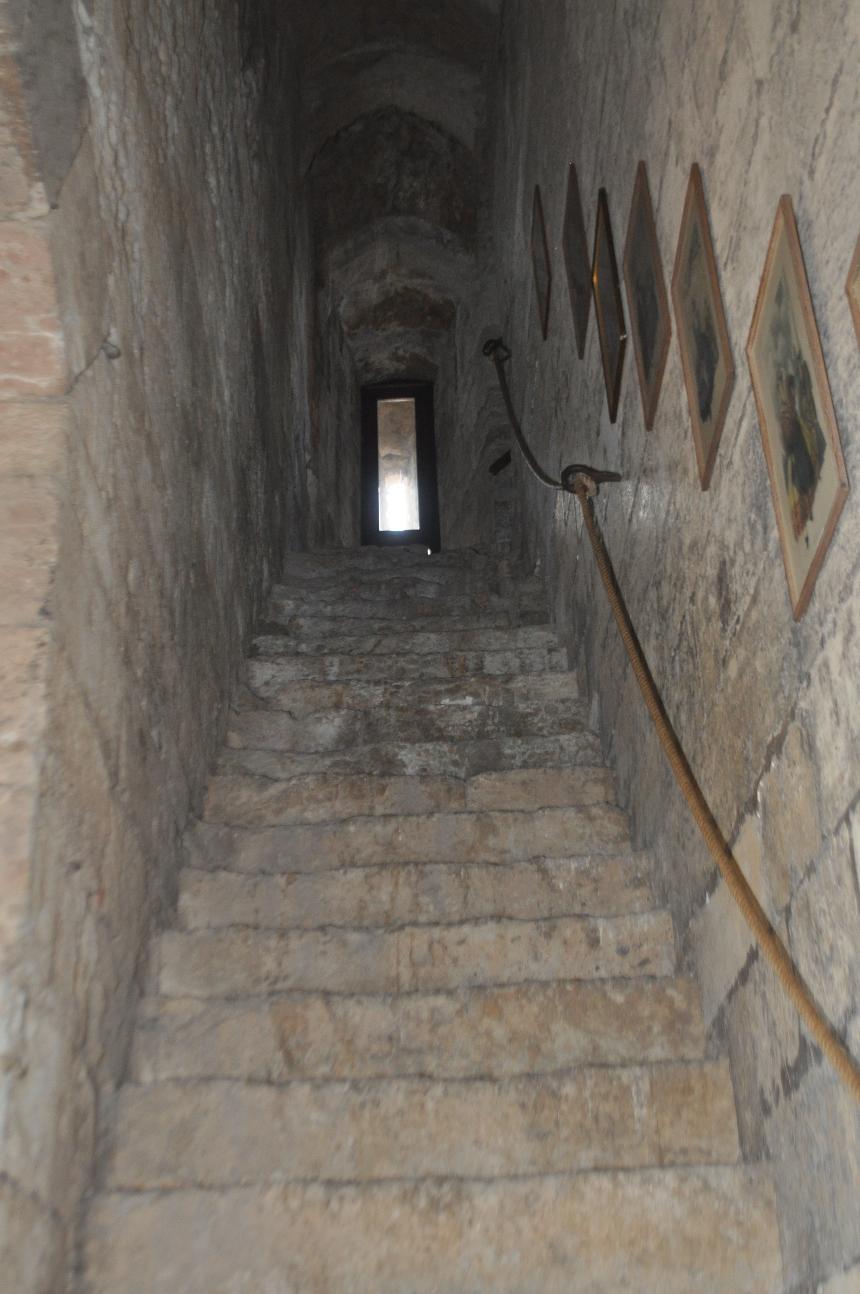 One of the windows with a great view of the town as we ascended to the top of the tower.



The historic (inside the castle walls) town of Ciudad Rodrigo as seen from the top of the Parador's tower.



These historic buildings are often adorned with beautiful tapestries - on the left in the Parador Ciudad Rodrigo and on the right in the tourist office in Plasencia.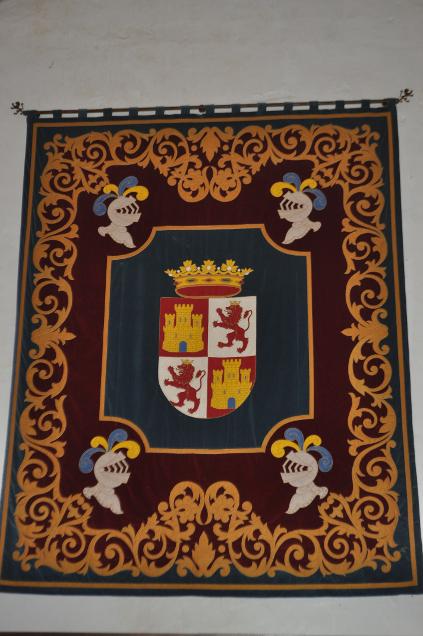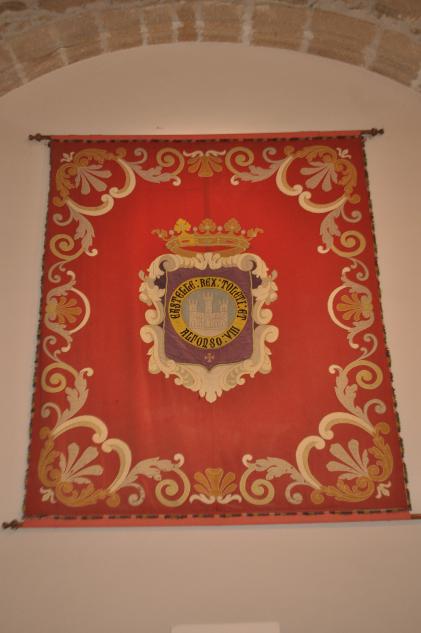 I could not convey the circular nature of our room from inside but this outside photo does a good job. You can see a couple of our small windows.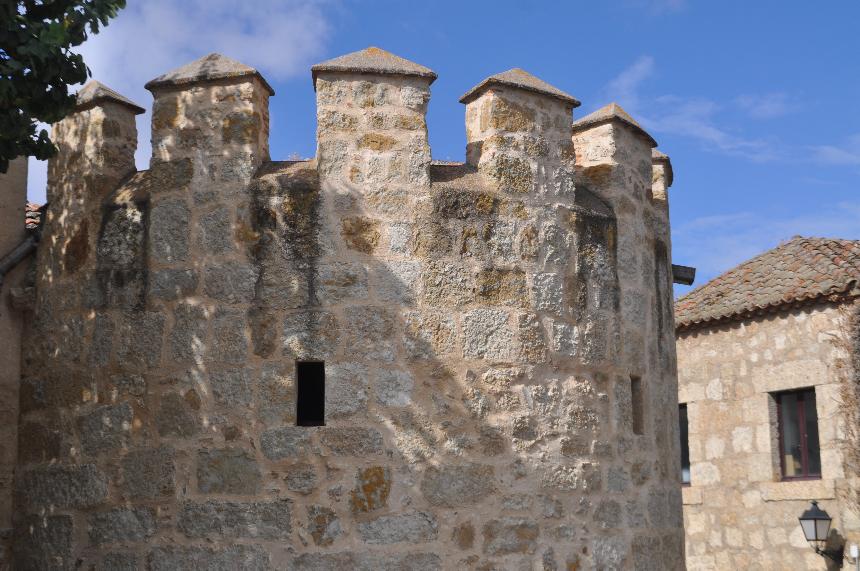 Another elderly fellow, enjoying a rest on a bench in Ciudad Rodrigo.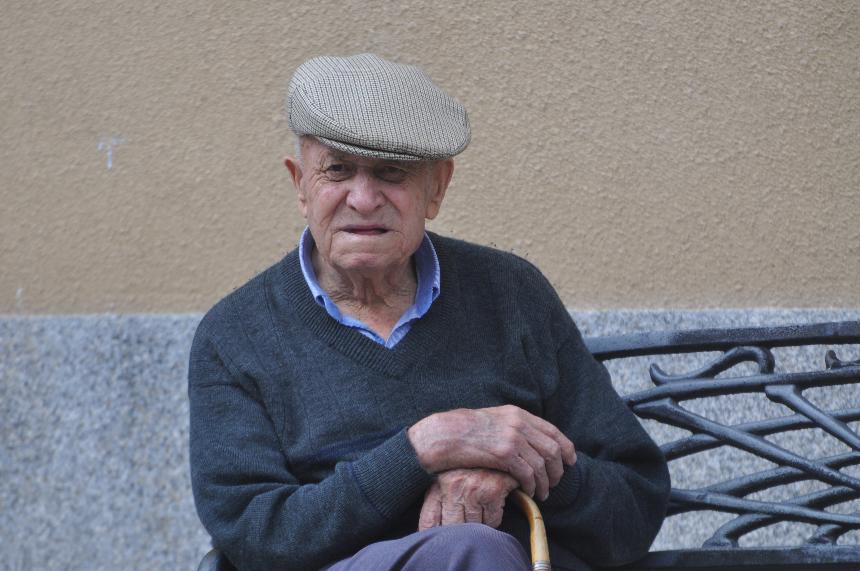 A stork nest on a simple but attractive church in one of the many small villages we passed through.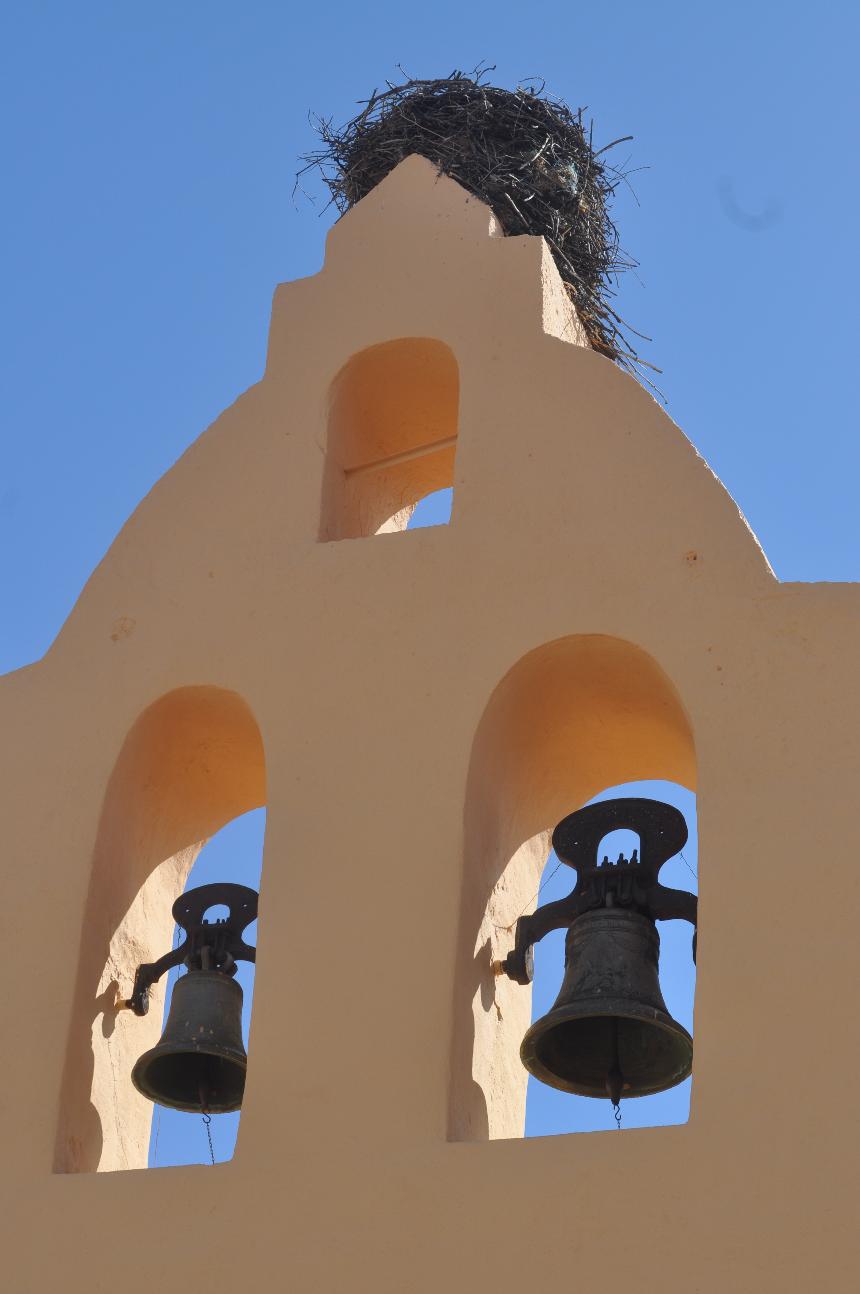 The Plaza Mayor of the interesting town of La Alberca.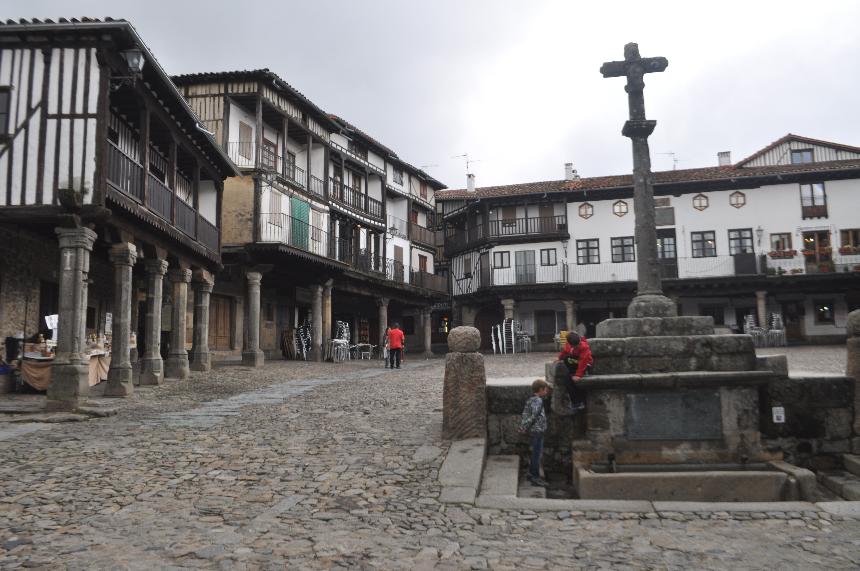 A break in the otherwise cloudy day provided for a nice photo of the inner courtyard of the Parador de Plasencia.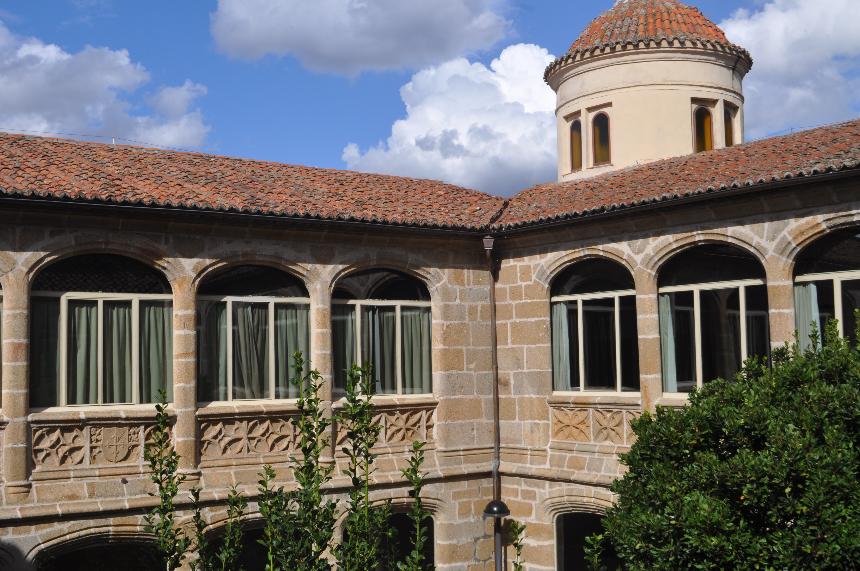 The beautiful interior of the cloister of the Parador.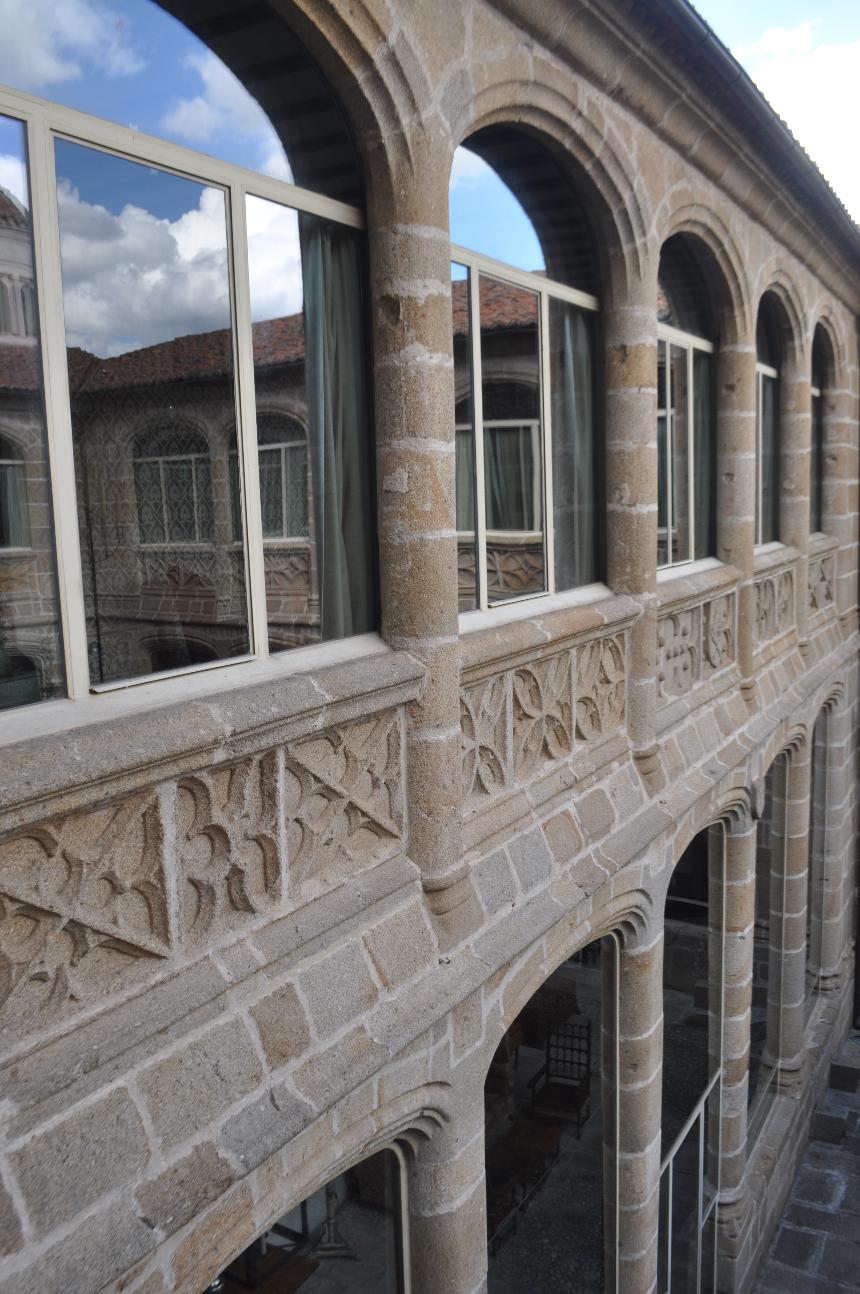 One of the many gargoyles on the cathedral of Plasencia.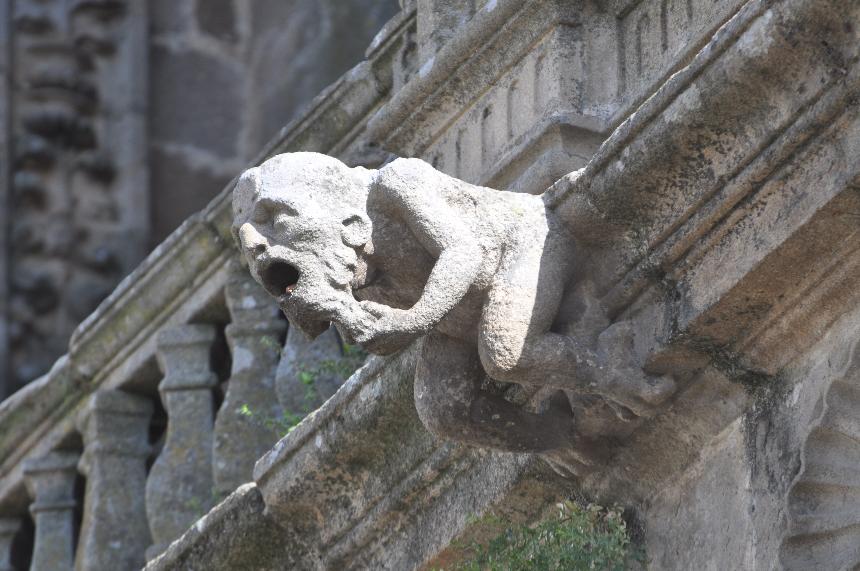 Dinner included a Torta del Casar - a baked cheese with pimenton and a cherry flan for dessert.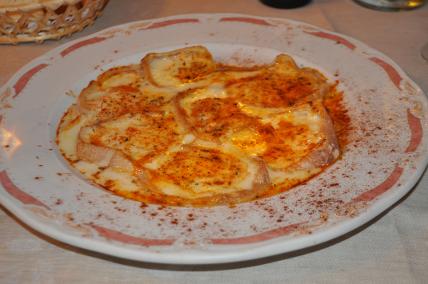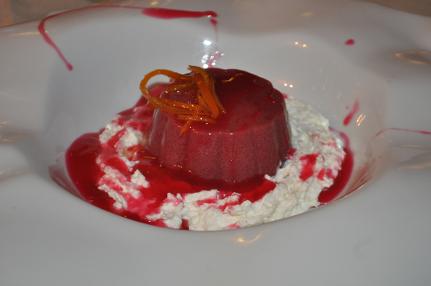 After dinner the owner offered us a couple of Extremadura licors - one of herbs that was so-so and the second bellota, or acorn, which was quite nice.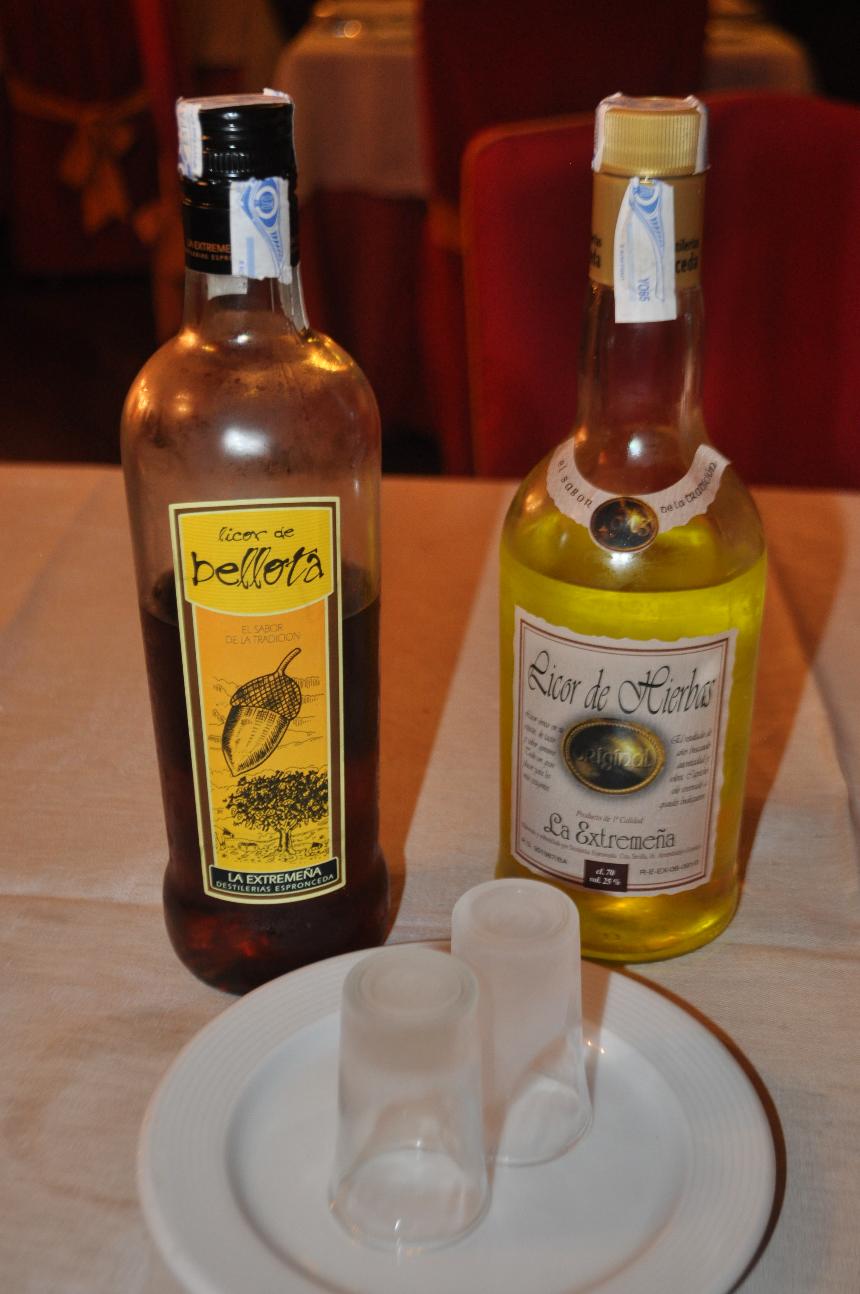 September 17, 2014 - Ciudad Rodrigo, Extremadura

Today was entirely spent in Ciudad Rodrigo, a relatively small compact town inside historic walls. During breakfast we were fortunate enough to see a vibrant rainbow - the photo does not do it justice. After the heavy rains of yesterday we were hopeful the weather would improve but that was not the case as it rained on and off much of the day. During one break we did take a walk through town, outside the walls to a computer store where I had to buy a new mouse as I foolishly left the one I had at one of the pousadas in Portugal. Fortunately I was successful in finding a replacement.
Most of the afternoon was spent enjoying the ambiance of the parador, and catching up on this blog. Later in the afternoon we went out to check a few restaurants. While our meal last night in the parador was decent it was not outstanding. That would be one comment re these paradors. While the historic buildings are something to see with furnishings and art that are very impressive the food is often middle of the road. So we decided to eat at another restaurant in town. We chose Meson La Paloma, a very busy spot - with every table full, most with locals which is always a good sign in a restaurant. The food was on the whole better than the parador and less expensive. I started with a pulpo (octopus) salad while Gayle had gazpacho - both very good. Then Gayle had a nice salad while I had a piece of beef stuffed with jamon (ham) and queso (cheese), also both very good. The wine was very nice and quite reasonably priced, which all made for an enjoyable meal. A short walk brought us back to the parador where we called it a night.
The lounge we 'had' to walk through to get to the restaurant for breakfast ... not too hard to take.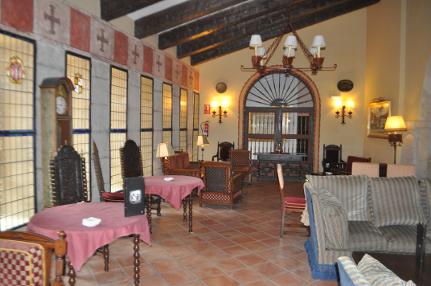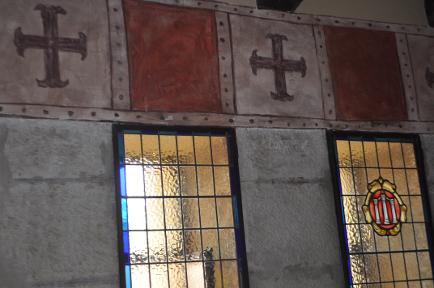 An early - well perhaps not that early - morning rainbow as we were eating breakfast.



Ciudad Rodrigo's church as seen from the edge of the (dry) moat encircling the town.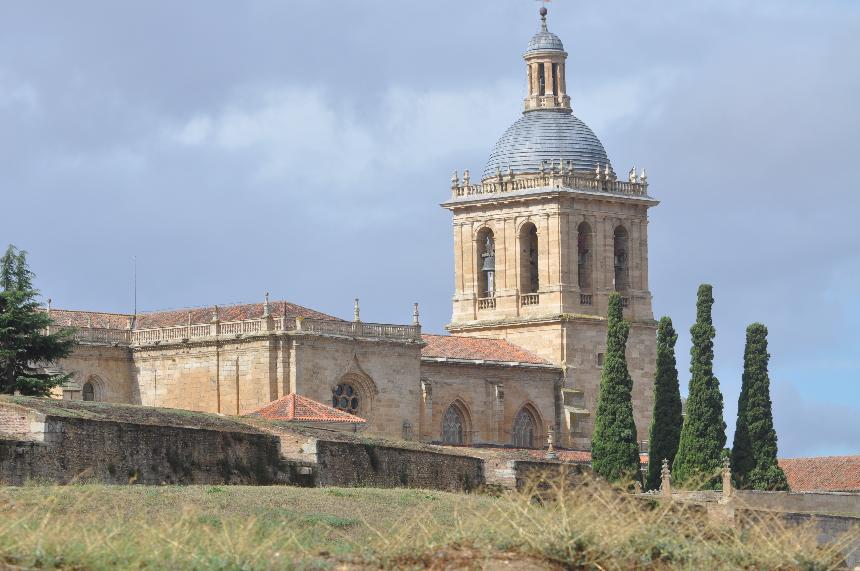 On the left on of the entrances to the historic area of Ciudad Rodrigo and on the right the central Plaza Mayor.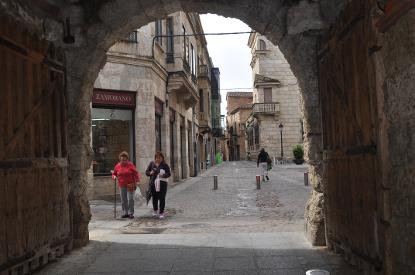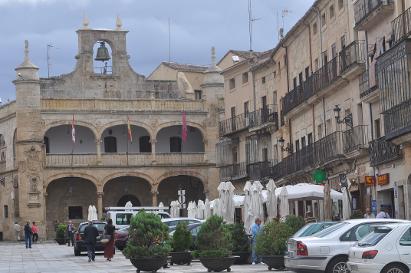 This region of Extremadura is known for its hams and other smoked meats.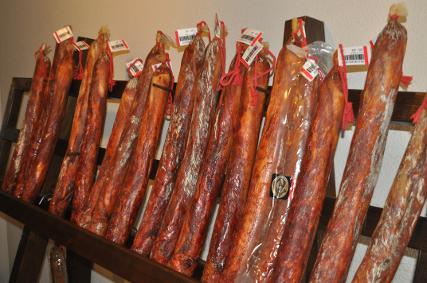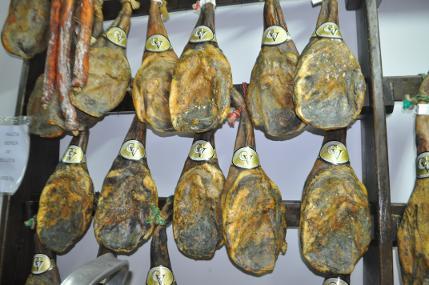 The river Agueda and the plains beyond as seen from the walls of the Ciudad Rodrigo castle.



The Ciudad Rodrigo castle, first by day and then at night.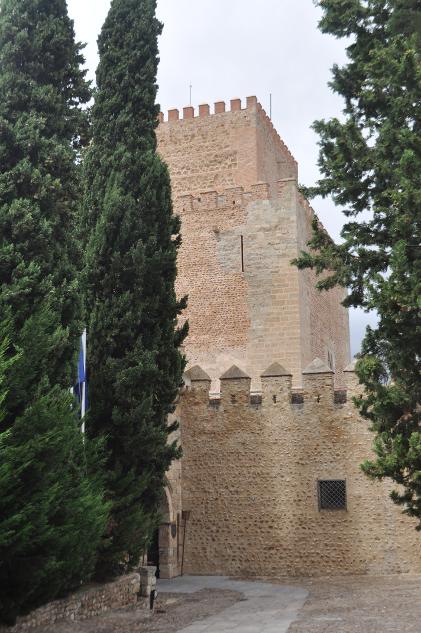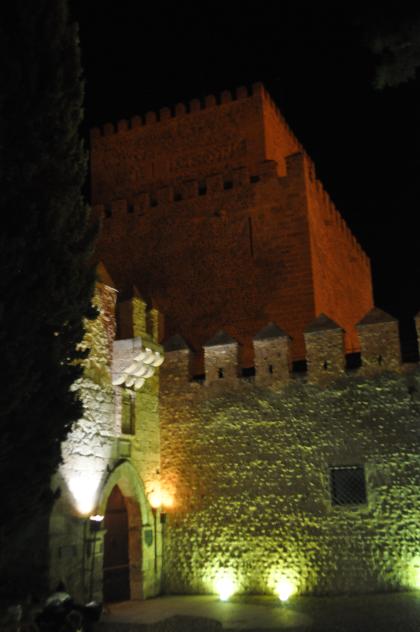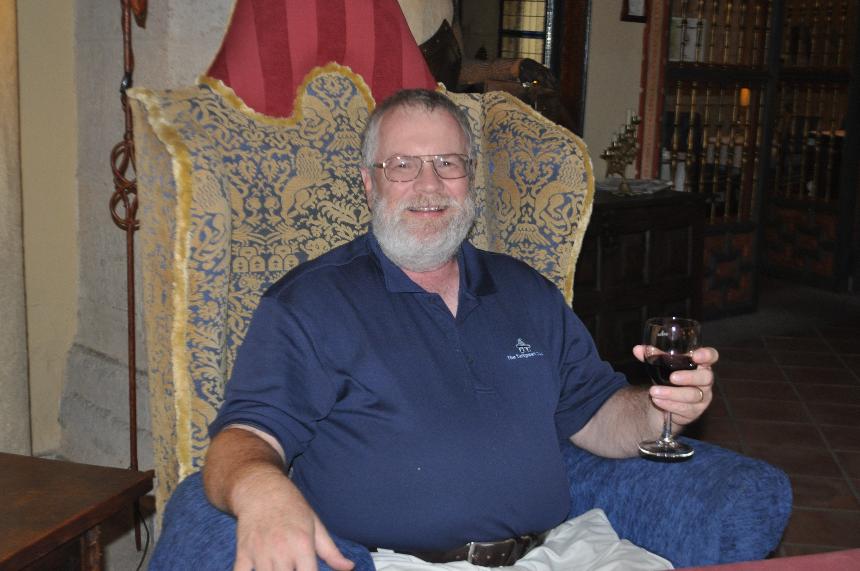 The busy Meson La Paloma and Gayle's nice salad.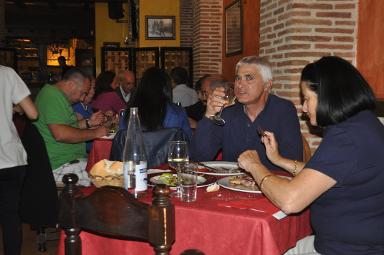 September 16, 2014 - Finca La Ramallosa, Extremadura to Ciudad Rodrigo

After another filling breakfast and another long chat with Alfonso, part of which was him providing a number of suggestions of places to see along our route, we packed up and left our little oasis. Being out on the farm, in a quaint stone cottage was tranquil and relaxing. The only noises were the birds and the bells of the sheep passing nearby. Amazing.

After returning to the main road we stopped at two recommended places - the small village of Trevejo and nearby San Martin de Trevejo. San Martin was interesting for its church and buildings with wood posts extending out over the narrow streets. Although we encountered a brief shower we were able to take cover and soon thereafter the sun broke out highlighting the town square.
From San Martin de Trevejo it was a short (less than one hour) straight drive to Ciudad Rodrigo, first through some pine forests and then back to the open plains. In a relatively small town the Parador de Ciudad Rodrigo is located in the Salamanca area. The Parador once the castle fo Henry II of Trastamara overlooks the town from atop a high precipice. The keep stands above the Agueda River plain offering wonderful views of the countryside of the Campo Charro region. The impressive lounges with great photos, tapestries and other artifacts, the stone arcades in the dining room, the stained glass and the suits of armour all combine to create a very medieval feeling.
Late in the afternoon the skies opened and it poured. Fortunately we were indoors catching up on the blog after our couple of days without internet access. Later in the evening we ate in the Parador. A beautiful restaurant with good, if not outstanding food. Gayle had a nice large salad and I the Pollo de Corral Deshuesada en Guiso de Pepitoria (the Spanish sure like long names for their meals), a regional dish of free range chicken with hard boiled egg and potatoes. Our room is very interesting being in a turret and therefore semi-circular in design. The castle walls eliminate any views through the very small but many windows that provided protection for the castle. An excellent choice of place to stay.

The massive stone fireplace in the restaurant. The center top stone itself weighs over 300 kg and was acquired from a church in Bourgos.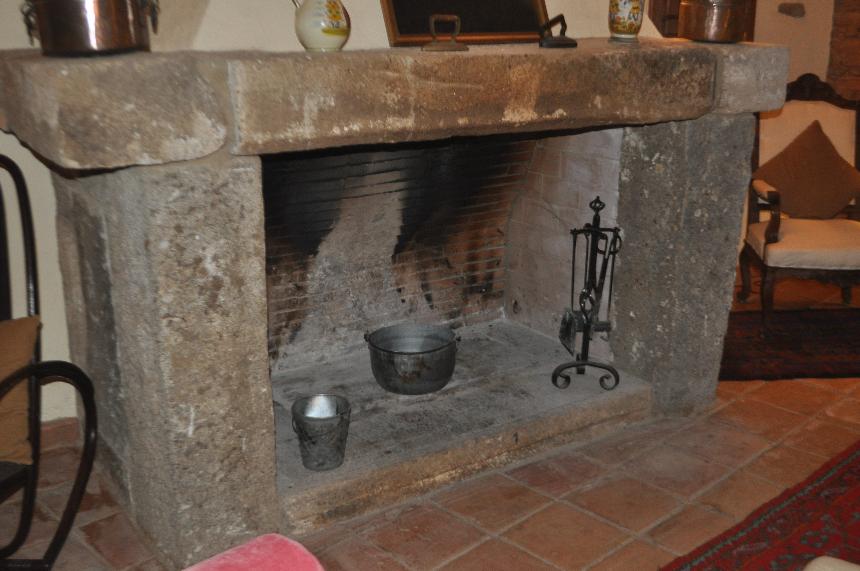 Left: Sheep on the front left to himself "I wonder why this guy is so interested in us".
Right: Sheep on the front left to to his friend "Very strange this guy taking all these hotos of us. You would think he never saw a sheep before."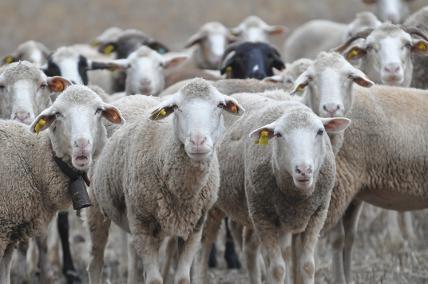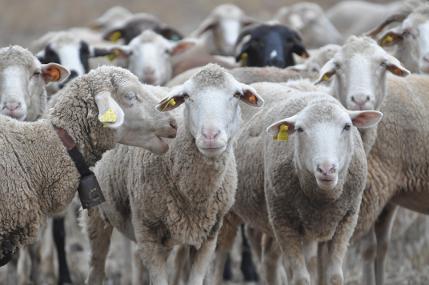 ... and where there are sheep there are most often sheep dogs.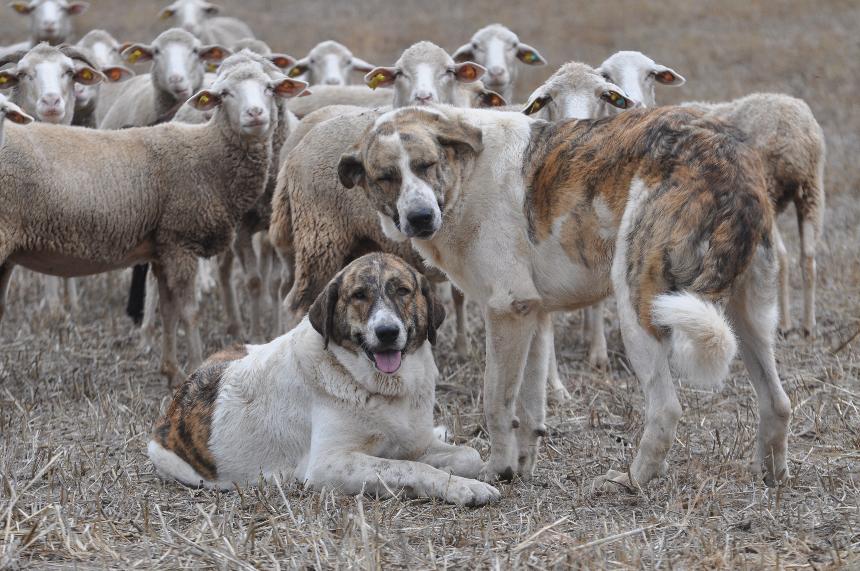 After a brief shower the sun spotlighting the Plaza Mayor in San Martin de Trevejo.



Flower pots covering the wall of this stone building in San Martin de Treveyo.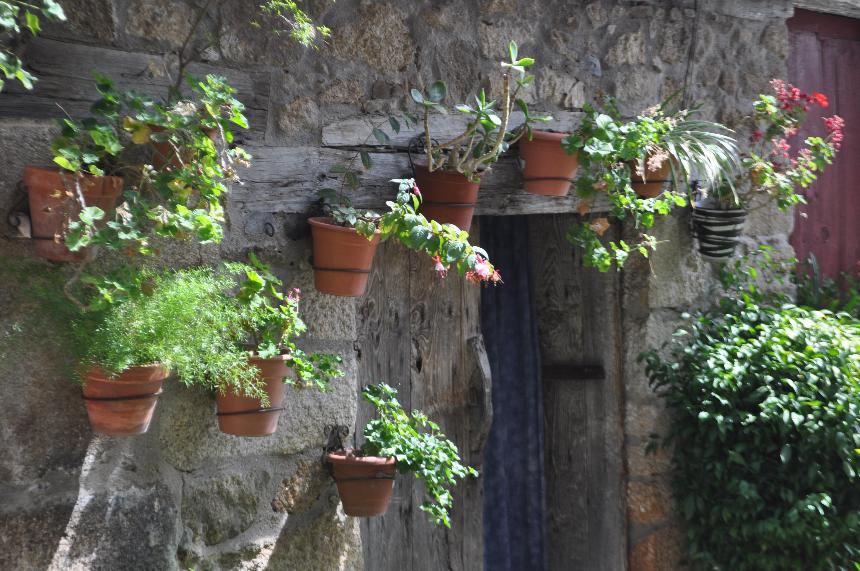 One of the parador's lounge areas.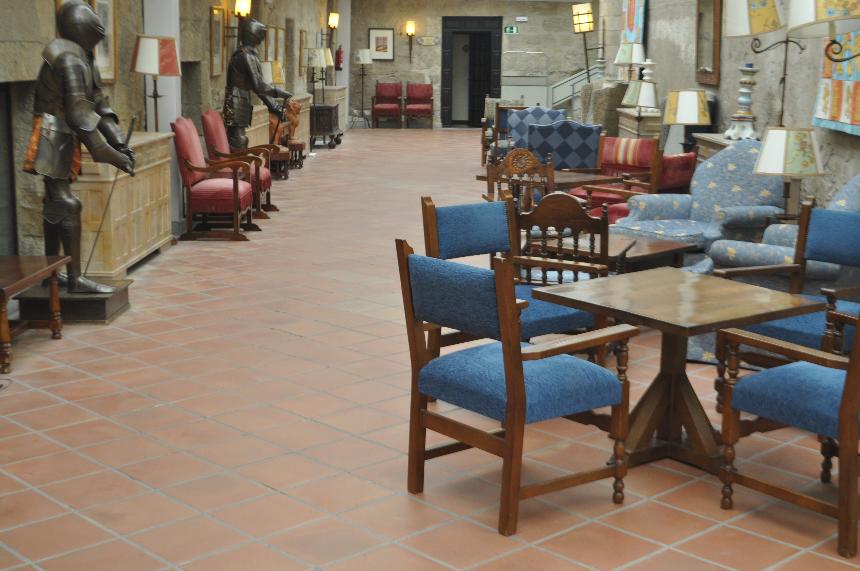 This is why we love historical paradores - the amazing tapestries and this suit of armour.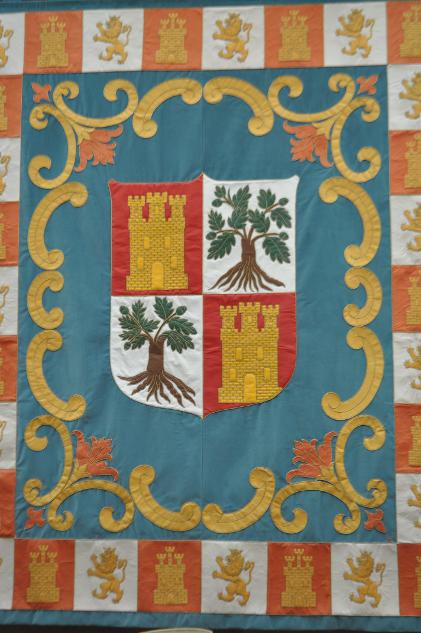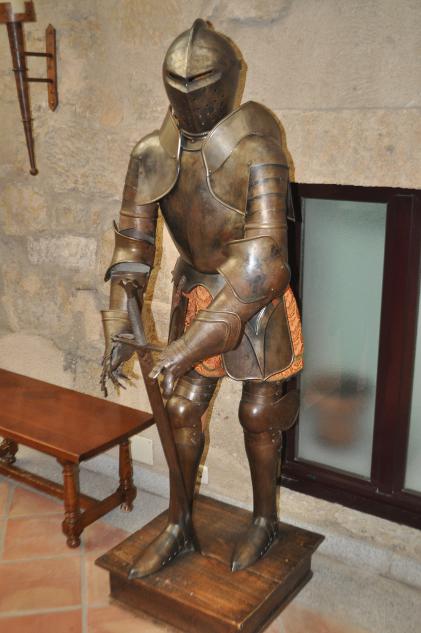 Mirrors often provide for interesting photo opportunities - this one of a lounge area of the Parador.



We ate at the Parador with Gayle having a very nice large salad and me the regional chicken dish.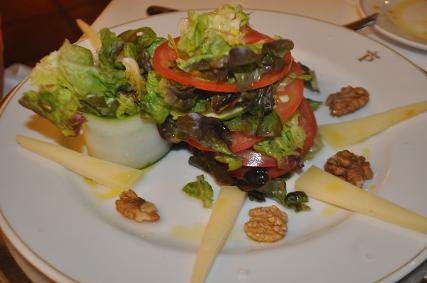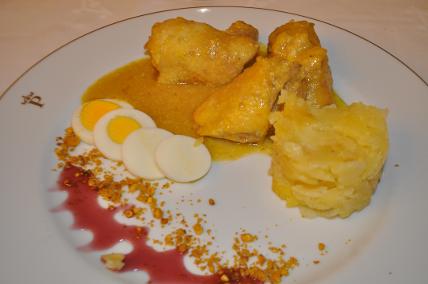 September 15, 2014 - Finca La Ramallosa, Extremadura
Today we stayed put. First we slept in, barely making our 10:30 breakfast (good thing we had pushed it back from 10:00). By the time we finished both breakfast, which included three dried meats, two cheeses, Alfonso's migas (fried bread crumbs with other leftovers), croissants, cakes, jams, cereal, juice, fruit and coffee and another nice long chat with Alfonso noon had passed us by and the rains began. Unfortunately the rain and cloud cover played havoc with the satellite internet availability leaving us with little to do but relax and wash some clothes - although Gayle rightly questioned how they were going to dry in this damp weather.
After the rains ended mid afternoon we took the 20 minute walk to now abandoned hamlet nearby. A 93 year old had lived alone there until recently but poor health now has him at a home in town. The hamlet, once a vibrant home to a number of families was pretty run down - much as Finca la Ramallosa was before Alfonso and his wife bought and restored the property. The restaurant is in what was once the barn. Without a roof the structure did have one very good in-tact wall (behind the photos below) and has been beautifully restored into something quite amazing. We wandered to the hamlet, enjoying the vistas of the surrounding dehesa with its oak and acorn trees. The walk was good on an otherwise do nothing day.
Dinner again was excellent with a traditional tomato and goat cheese, drizzled with olive oil starter, an attractive, beautifully displayed and tasty spinach pie with a curry sauce, mushroom risotto (always enjoyable) adn an interesting regional leche frita, or fried milk (which was much better than it sounds) for dessert.

Breakfast, set up on a 150 year old table Alfonso hunted down specifically for this purpose.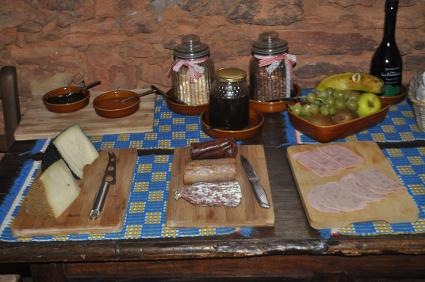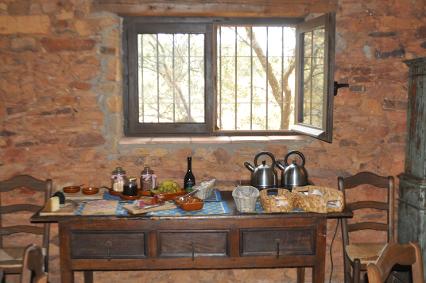 Our cottage - Alconorques, or Acorn.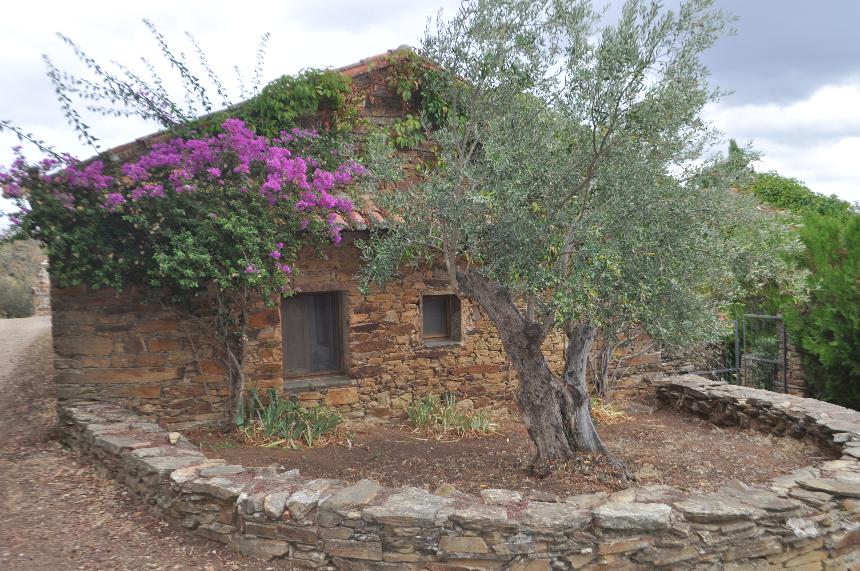 A stone wash basin in front of one of the cottages.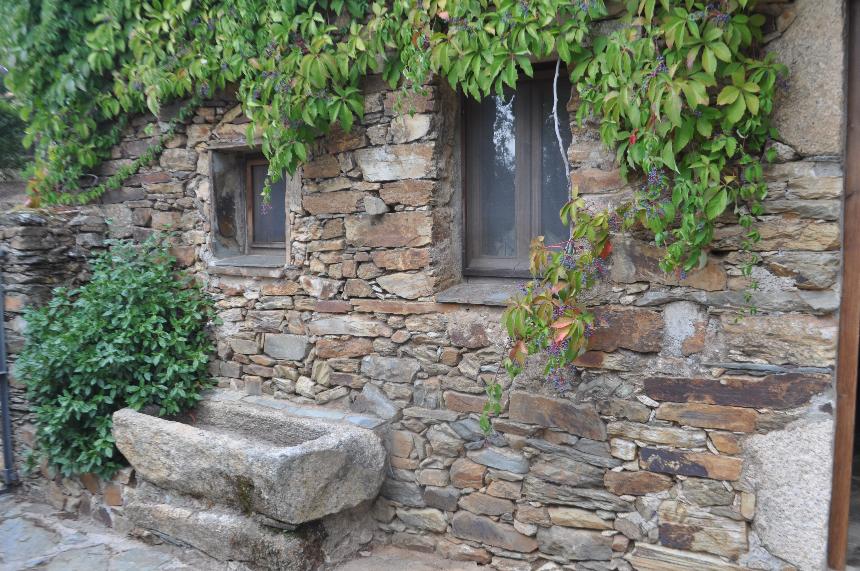 Although in September most flowers in Portugal and so far in Spain have disappeared but the Finca had a number still vibrantly in bloom.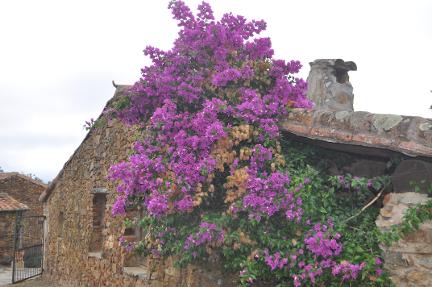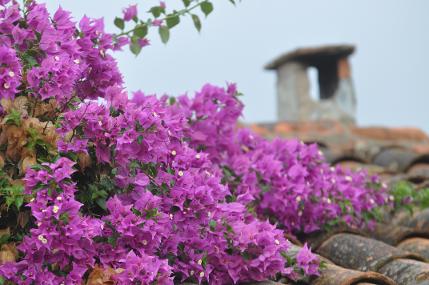 Some of the farm products for sale. Of course we bought a bottle of olive oil.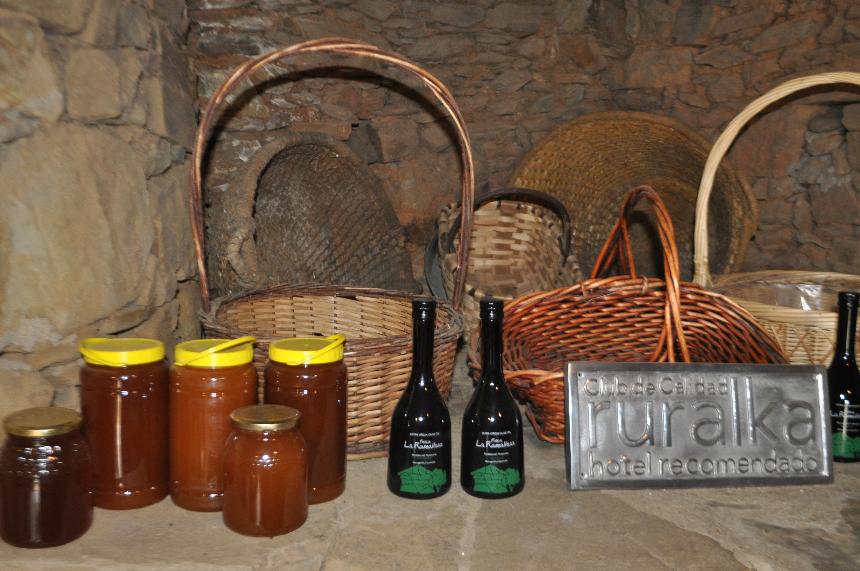 Literally only meters from our cottage this straggler is trying to catch up to the rest of the flock as they graze in the olive grove.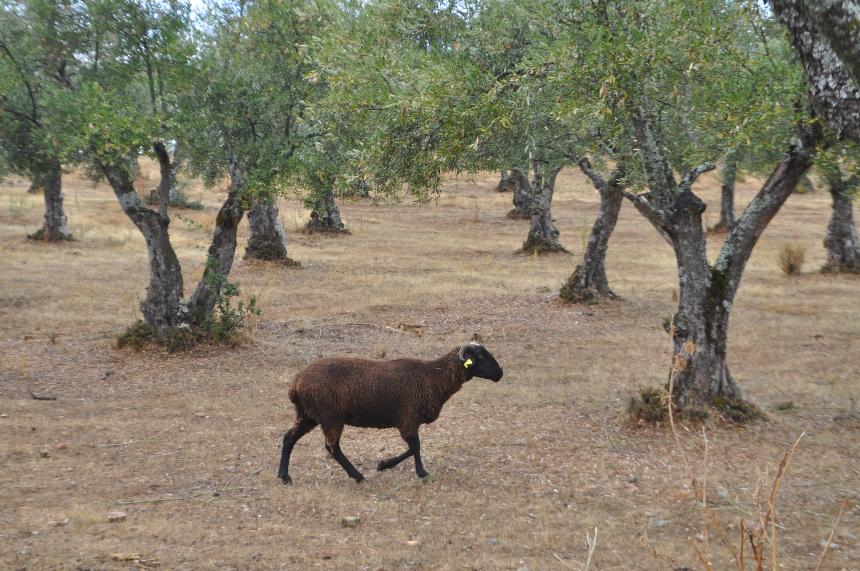 An olive grove along our walk to the nearby hamlet.



The view across the dehesa from the front of the abandoned hamlet.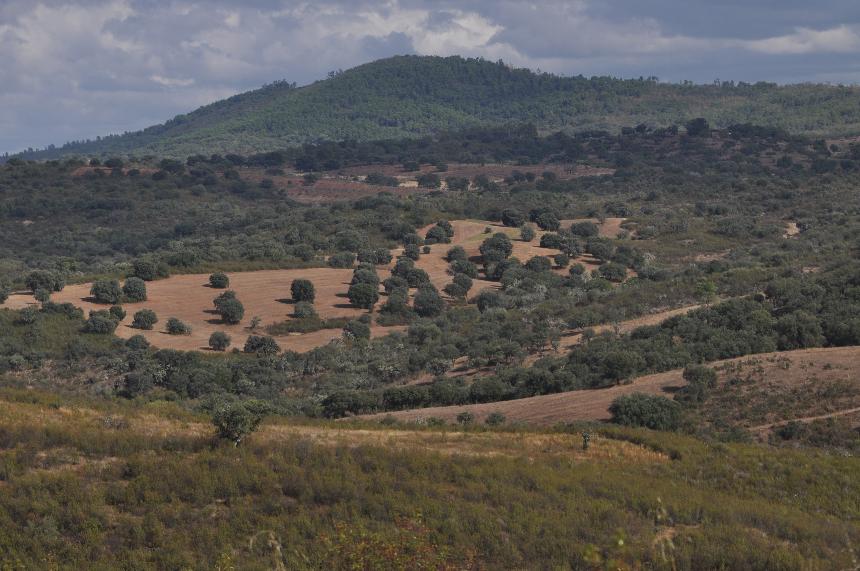 The frame of a window beautifully set in the stone and more ruins of the hamlet.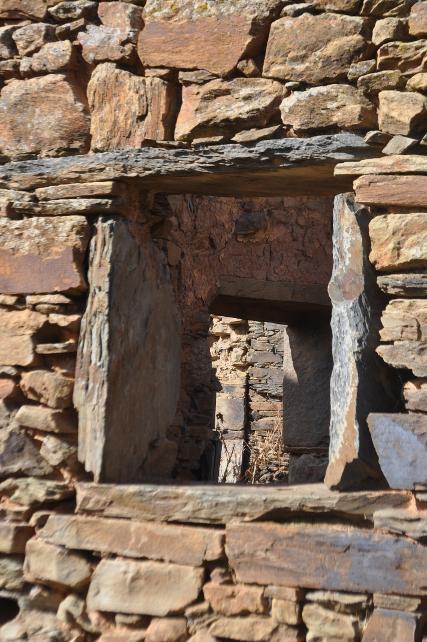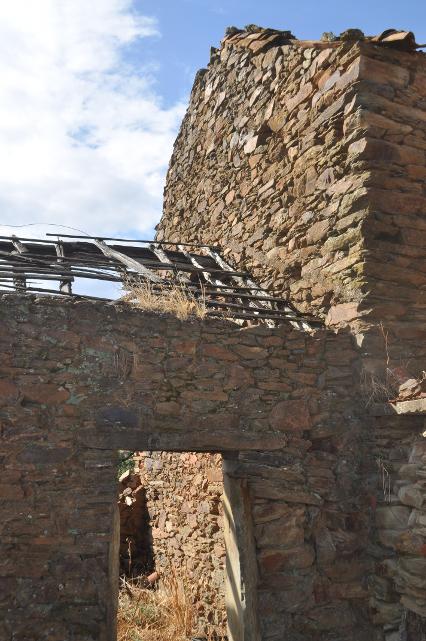 The oven and the entrance to the now abandoned hamlet.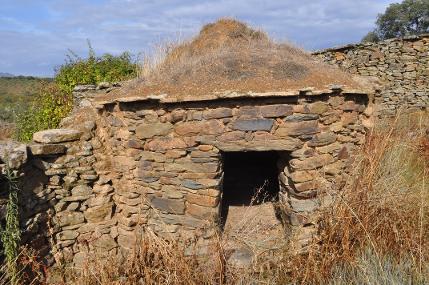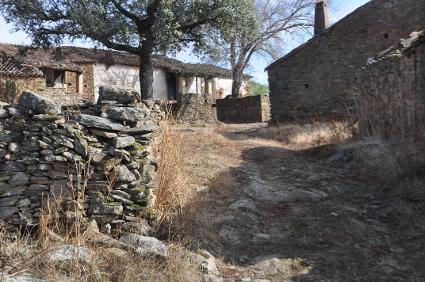 Alfonso opening our wine - and a very nice wine it was; local from Extremadura.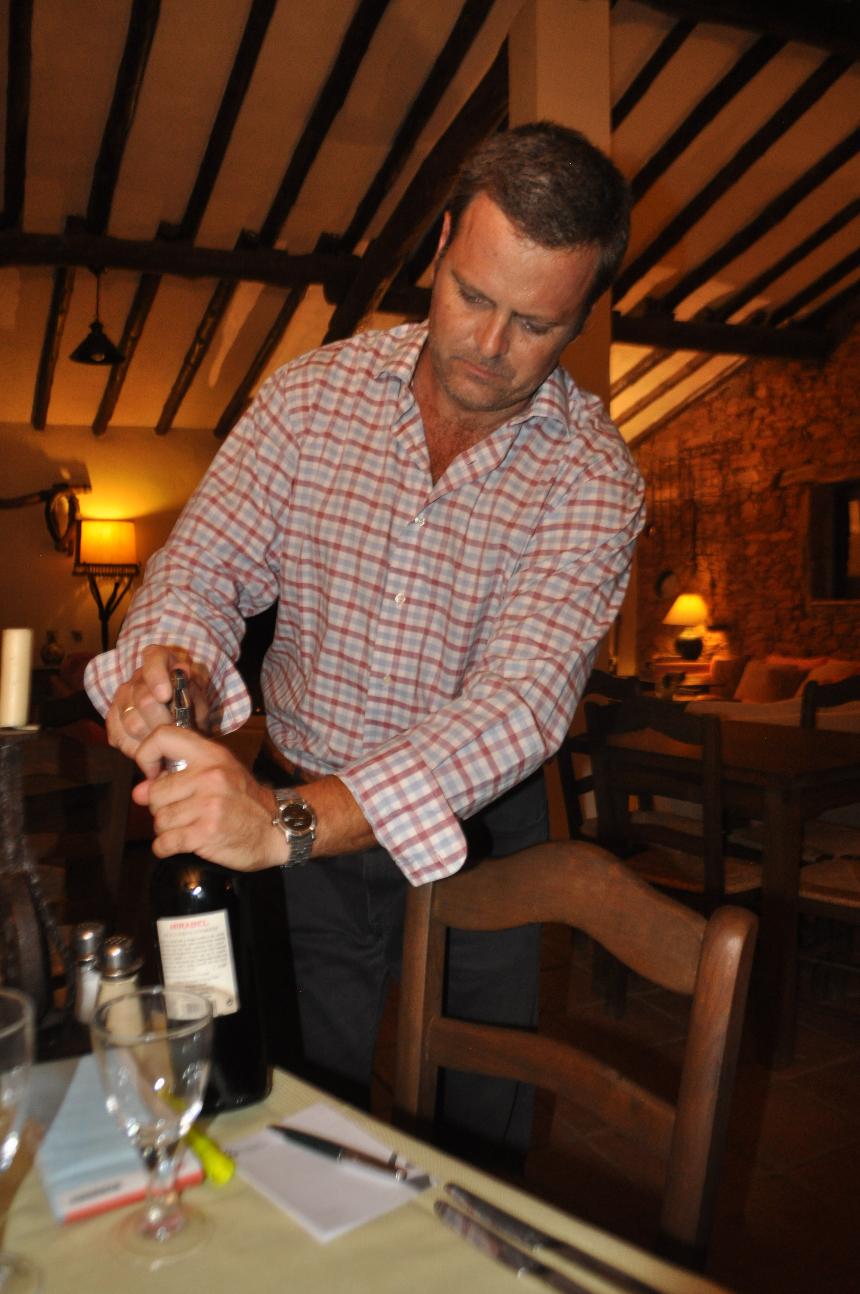 And another wonderful dinner including a very tasty spinach tart with pine nuts and a curry sauce, and then a traditional leche frita (fried milk) with a cherry sauce.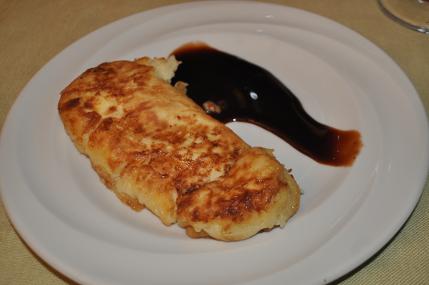 September 14, 2014 - Portugal to Finca La Ramallosa, Extremadura
We crossed into Spain late afternoon and easily found the road into Finca la Ramallosa. The only issue was the 'road' is 6 km of dirt rocks and such. As each km passed we knew more and more this was going to be isolation at its utmost. First and second gear all the way and 20 minutes later we finally arrived.
Alfonso was waiting for us, showed us around including our large stone cottage and the 200 year old barn converted to the restaurant. We had time to walk to the top of a hill to see a nice sunset.
Dinner was fixed and turned out to be delicious. We started with roasted red pepper tarts. I'm sure I've had something better but cannot recall what or when. They were so tasty. Then a bowl of fresh roasted tomato soup, garnished with cream and olive oil, and a local dish of fried potatoes and mushrooms over a couple of fried eggs, all covered with a black truffle sauce. We then finished with a refreshing tangerine sherbet and a few chocolates.
Alfonso is a talker, very proud of his finca and this part of Extremedura. With quite good English we chatted for well over an hour about the finca, the restoration, the nearby hamlets, the landscape and on and on. It was all very interesting, with more to come tomorrow and the next day.


The landscape as we crossed into Spain.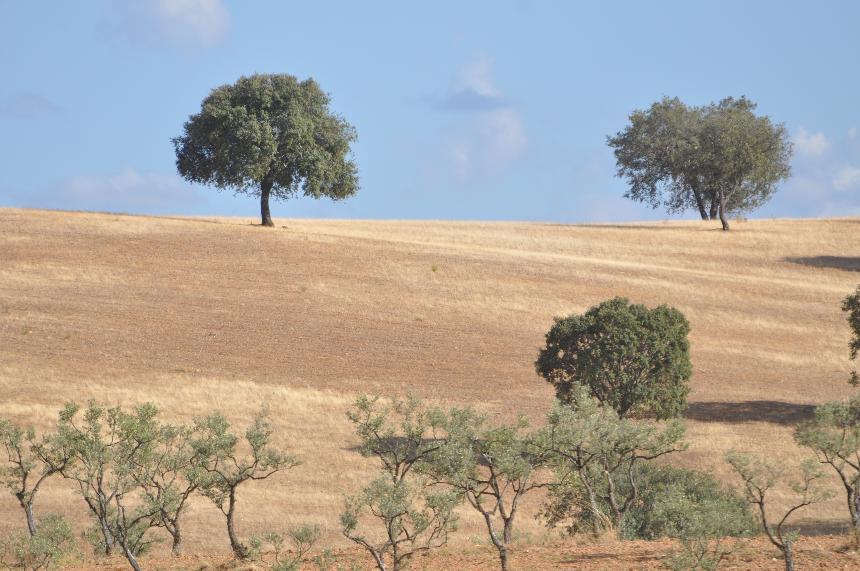 Sunset (looking west to Portugal) over the finca.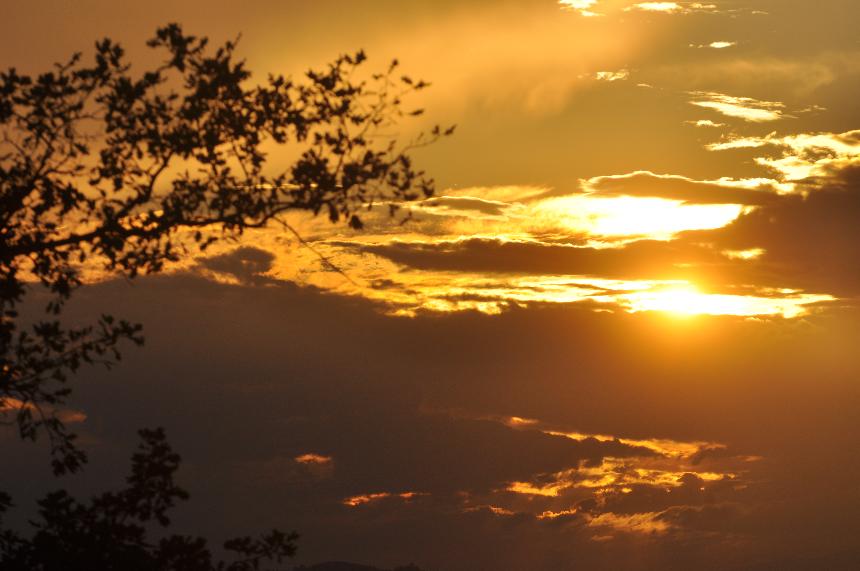 We were the only guests at the Finca this evening so had a nice quiet dinner. The roasted red peppers were to die for and the roasted tomato soup was amazing - so fresh the tomatoes.