Our memories of Costa Rica 2022:
We enjoyed another great and interesting trip to Costa Rica with a number of wonderful memories, including:
spiders, frogs, snakes and numerous other creepy crawlers at Golfo Dulce Retreat (GDR)

frogs in the GDR pool at night

the huge Ceiba and Matapalo Fig trees

the blue morpho butterflies

the sounds of the insects, birds and howler monkeys
the monkey mayhem of the playful Squirrel monkeys
the Capuchin monkeys throwing the mangos near Hacienda El Rodeo
the dolphins following us on our mangrove tour
Gayle getting up and out well before sunrise on a regular basis to listen to wildlife
our beautiful private cabina at GDR
breathtaking sunsets at Playa Matapalo
the lush rainforest of the Osa peninsula
the jungle funghi and many garden flowers
Lee (the snake man) and Margaret at GDR
actually seeing a Fer-de-Lance - thanks to Lee for spotting him/her
the views to the ocean from El Castillo
our beautiful suite at El Castillo
the wonderful welcome and chat with Maite, the owner of Exotica, an excellent restaurant in Ojochal

a return to El Express del Pacifico for two more wonderful meals / reconnecting with Daniel and Darleny

the sloths in the trees at Jardins de Los Monos
flying on a 12 seater from Golfito to San Jose

our wonderful hosts, especially Chantelle, Simon, Lettika, Guillermo and the friendly staff at El Castillo

6:30 am coffee and cookies delivered to our cabina

Geronimo

the spectacularly coloured Scarlet Macaws, both flying along the coast at El Castillo and near the lodge of GDR

the Boruka art - masks and place mats

Playa Matapalo (and other) beaches

donating beanie babies to staff at El Castillo, two children at a rental car agency in Uvita, and Chantelle at GDR

the pounding afternoon rain storms at GDR

Gayle in her hammock at our Cabina at GDR
Andy and Chaney and Augustine - our guides at GDR

the delicious multi-course vegetarian meals, capped off with homemade gelato at GDR

GDR's late afternoon tea-time with cake, followed later by creative cocktails
the waterfall trek through the rainforest
seeing and listening to the glass frog
the Bioluminescence tour
the crocodiles in and on the banks of Rio Esquina
being chosen for a special line rather than enduring the overflowing / full customs hall
the history of Hacienda El Rodeo and Guillermo's obvious pride in his family's legacy

Gallo Pinto and lots and lots of fruit and fruit drinks / smoothies for breakfast
Enjoy the playful antics of a troupe of Squirrel monkeys.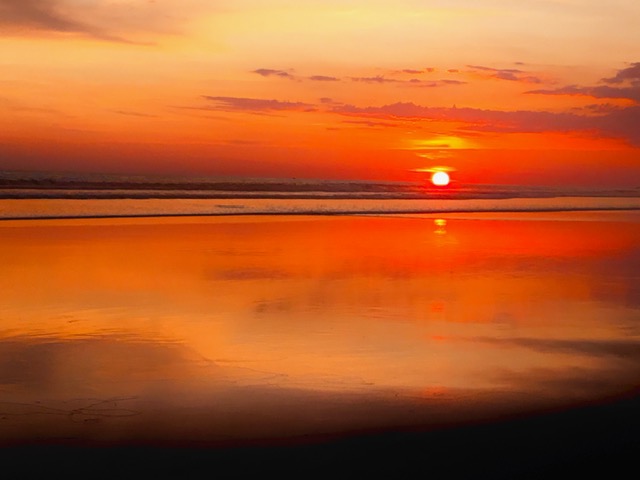 Expenses (based on average exchange rate 1 US$ = $1.27 Cdn):
Here are the costs of our trip:
$ 769 airfare, including the SANSA Golfito to San Jose flight, albeit we booked with Aeroplan
$ 7,433 lodging ($1,599 for the eight nights other than Golfo Dulce or $200 per night plus $5,437 or $906 per night at Golfo Dulce)
$ 795 food ($99 per day for eight dinners at other than Golfo Dulce including wine, as breakfasts are included in lodging; $12 per day at Golfo Dulce Retreat for drinks)
$ 1,570 vehicle ($1,450 or $181 per day for the vehicle plus fuel of $120)
$ 148 a Boruka mask and placemats
$ 521 tours (waterfall trek; mangrove and kayak; sunrise boat; night tour and camera trap) all at
Golfo Dulce Retreat)
$ 444 miscellaneous - primarily tips at GDR plus antigen tests plus phone
$11,680 for 14 days
The total cost was $10,764, excluding airfare, souvenirs and pet sitting (i.e. lodging, food, entrances, vehicle and miscellaneous) or $768, clearly and by far the most we have ever spent on any trip.
Following are the average costs of our four previous trips to Costa Rica.
$383 in 2017 (17 days)
$410 in 2018 (5 days)
$325 in 2019 (19 days)
$345 in 2020 (24 days)
Some background is in order. Gayle had found Golfo Dulce Retreat a few years ago and really wanted to go, in-spite of the fact that at $590 US at that time ($900 Cdn per night) the price was considerably greater than anything we had spent anywhere before, that being 324 euros (or approx. $500 Cdn) at Lupaia in Tuscany. But we decided to go for four nights in 2021 for Gayle's 65th birthday. Sadly the trip was cancelled due to Covid-19. With two years of not travelling, and the resultant savings 'in the bank' we decided to treat ourselves. After all it has been said "If you don't go first class your kids will". So we extended our stay to six nights in order not to rush by doing too much. Is any place worth $900 per night? Tough question. Certainly the experience was top notch - our cabina was excellent, very private being immersed in the rainforest; Chantelle, Simon, and the entire staff were excellent, the food, even if there was no meat served, was interesting and very flavourful. It was perfect for Gayle. The tours were informative, educational and interesting. Yet GDR is not pretentious - it is, as Gayle labelled it - 'Barefoot Elegance'. We met some very nice people, easy to do in the small intimate environment, and made a great connection with Andy who we had crossed paths with five years ago at Lookout Inn. In spite of the price 174 of 174 reviews on TripAdvisor are 'Excellent', which is very telling of what guests experience at GDR. We are very glad we spent the $ in order to have the experience. Golfo Dulce Retreat would be a wonderful place to return to.
One observation is the relatively expensive food in Costa Rica, and now vehicle rental. One might expect in a Central American country food to be cheaper than here in Canada. While there is the option to eat at less expensive local 'sodas', prices in restaurants and even supermarkets are generally comparable to Canadian prices. Vehicle rental, which was quite reasonable pre Covid-19 has skyrocketed, with prices more than 3 x what they were as recently as 2020.
Lodging ranged from a low of $95 US$ to a high of $615 US$. All included breakfast, while the $615.00 at Golfo Dulce Retreat included all meals and a few tours, although we added additional tours as well.
Here is a list of where we stayed, the amount we paid (in US $)and a link to their website.
$ 130 Jardins de Los Monos Playa Matapalo www.jardindelosmonos.com
$ 316 El Castillo Ojochal www.elcastillo.com
$ 615 Golfo Dulce Retreat Golfo Dulce, Osa Peninsula www.golfodulceretreat.com
$ 95 Hacienda El Rodeo Ciudad Colon www.haciendaelrodeo.com
As is our practice we communicate and book directly with each place, and in doing so save the establishment the booking commission. As well often we are known to staff when we arrive.
A reminder of our observations if visiting Costa Rica:
always rent a 4 x 4 SUV if only for the greater clearance, and
never arrive at a place at night - ok to return from a restaurant but don't drive an unfamiliar road at night
And finally as they say throughout Costa Rica ... enjoy the Pura Vida! (the Pure Life)
I wish I could smile like Gayle. :-) but I am happy drinking my coffee in the rainforest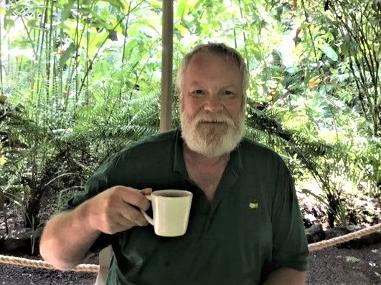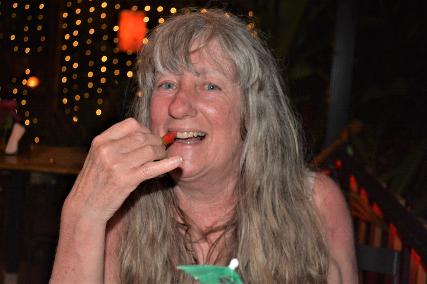 April 10, 2022 - Hacienda El Rodeo, Ciudad Colon to Montreal, Canada
Our host Guillermo is the 5th generation to own, live in and operate the Hacienda. The old mansion on the property is around 100 years old. Their lands are within the 'El R
odeo Protective Zone' such that its forests constitute the main private ecological reserve in the country, thanks to the vision of Guillermo's father Don Cruz Rojas Bennet. Approx. half of the 600 hectares of land was donated in 1978 in order that the University for La Paz (the Peace University) could be built in the area. The Rodeo continues to be a valuable scientific, tourist and educational resource for the inhabitants of the Central Valley of Costa Rica.
We enjoyed a final breakfast and stroll around the property, packed and headed back towards the airport to drop the vehicle off. Traffic was light resulting in us getting to the car rental and then shuttled to the airport in plenty of time. We boarded our flight on time, arriving in Montreal on time as well.
However our only glitch of the trip happened when our baggage, which we needed to pick up to clear customs, took an inordinate amount of time to reach the belt. We assumed we would miss our connection until the rep at the baggage belt told us our flight had been delayed and we should make it. But by the time we went through security and reached the gate we were literally seconds late. The agent had just closed the door when we arrived and would not open it for us, and another couple. Very frustrating. To their credit Air Canada provided hotel and meal vouchers (although the $10 per meal feels like it was the same as in the 1980s) although in reality the issue was with baggage handling, and not Air Canada. We were re-booked to go through Toronto the next day but upon arriving at the airport there were two seats on the direct afternoon Montreal to Halifax flight. We took them, arriving home late afternoon to bring our trip to an end.
There will be one more post, summarizing our memories of the trip, costs and providing links to where we stayed, and perhaps one more monkey video.
Our last breakfast in Costa Rica, after the fruit plate of course.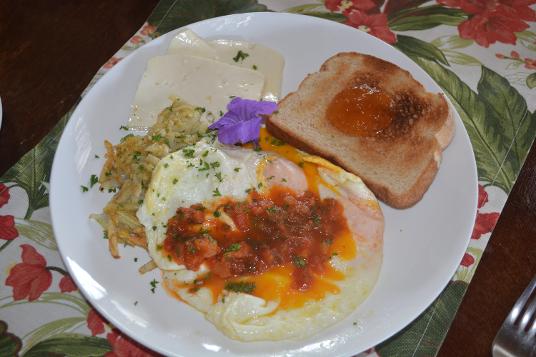 The ceiling of our room, purposefully showing the different eras of paint throughout the generations.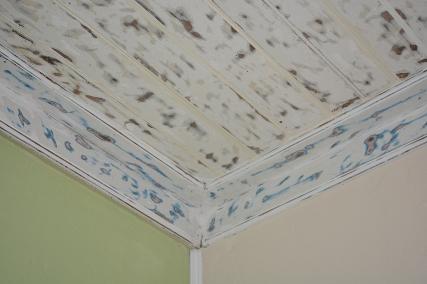 Wonderful artifacts, including this table also with its layers of paint and a very old telephone.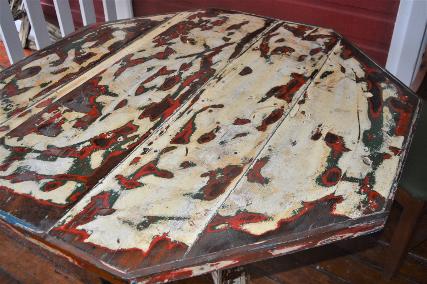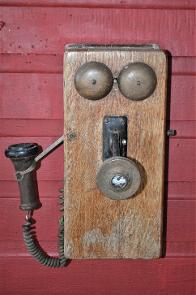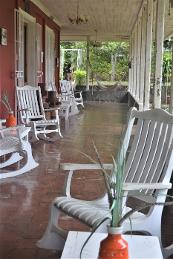 Horses being rounded up and brought back to their stables.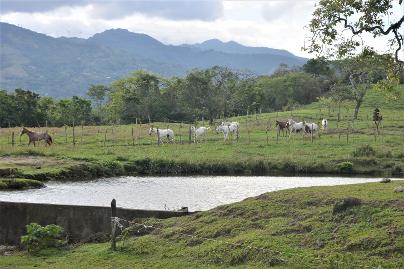 This truly is horse country, with lots of opportunities to ride.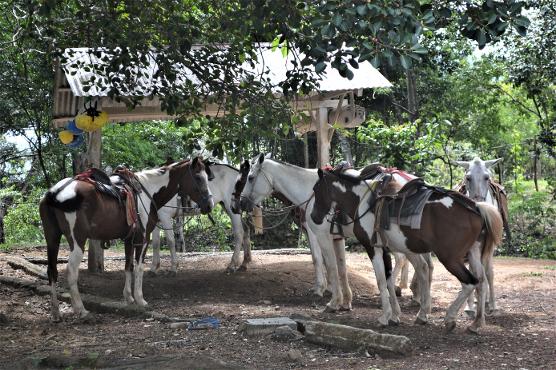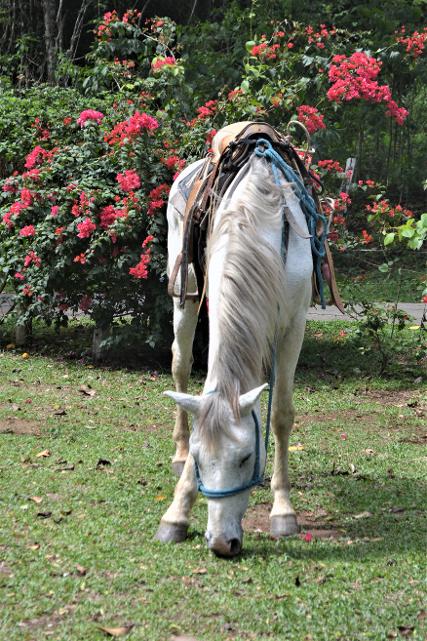 Service with a smile. Guillermo. The Hacienda El Rodeo sign at the gate.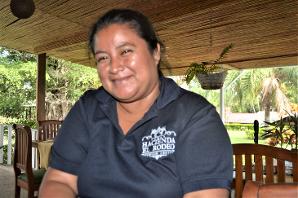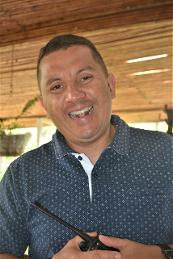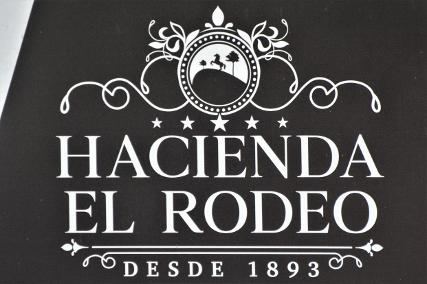 April 09, 2022 - Hacienda El Rodeo, Ciudad Colon
We booked two nights near San Jose as at the time we needed Covid-19 PCR tests in order to return to Canada. Subsequently the rules changed such that no testing was required. We were quite relieved with the change and the fact we did not have to worry about testing, uploading results etc.
We had a reasonably large room which provided a great opportunity to dry out our clothes that were still damp from the humidity of the Osa.
We started our day with a great breakfast, including a huge fruit plate each, and then an excellent plate of scrambled eggs, grilled cheese, plantains and a large bean-filled empanada.
On occasion the Hacienda rents out its grounds to groups. Today was one of those as there was what appeared to be a birthday celebration in and around the pool. Lots of children and joyful laughter.
In the early afternoon we headed out on a drive that was intended to do a loop south, then on to Ciudad Colon and then back to the Hacienda. However within a few kms the paved road ended, with a dirt road taking over. Having only a car rather than a 4 x 4 with greater clearance we decided not to risk the drive, turning around and simply driving the 5+ kms to Ciudad Colon. A reminder to always get a high clearance vehicle in Costa Rica.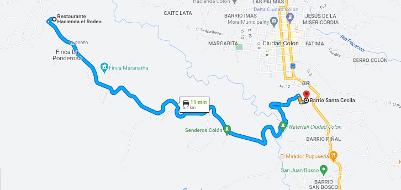 On the way we stopped to take a couple of photos of the coffee bushes we saw on the way in. While walking under a tree I heard the sounds of something dropping. Turns out is was a huge mango tree in which a number of Capuchin monkeys were dropping (or Gayle said were throwing at me) the mangos. I got out quickly as one would most definitely be hurt if struck by a mango.
We returned to Hacienda El Rodeo where we were treated with an afternoon coffee and baked good - a delicious cinnamon bun covered with almonds.
The Hacienda has a spectacular front veranda with comfortable rocking chairs, a perfect spot for Gayle to spend the rest of the afternoon, while I worked on this travel-blog. The location also provided a great vantage point for enjoying the colours of the sky after the sun set.
Guillermo, the 5th generation owner of the property, spent time telling us about those who came before him that built and operated the hacienda. He then showed off his culinary skills by preparing us a delicious meal of traditional black-bean soup and pasta with zucchini, and for me a nice piece of grilled pork in a pineapple glaze.
Although we really didn't do much today we were again ready to turn in early ... and did.
Breakfast started with a large fruit plate each, including what looks like an orange but is actually a passion fruit, followed by eggs, plantains, grilled cheese and a delicious bean empanada, and a fresh juice and of course lots of Costa Rican coffee.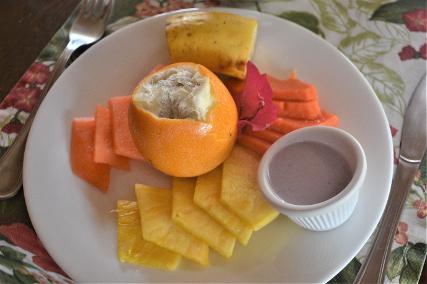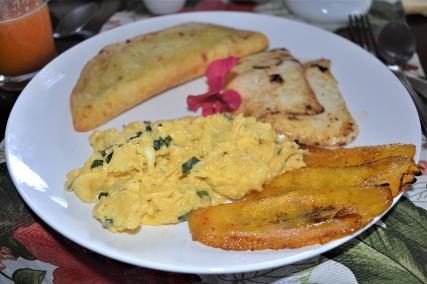 The gardens in the front of the hacienda.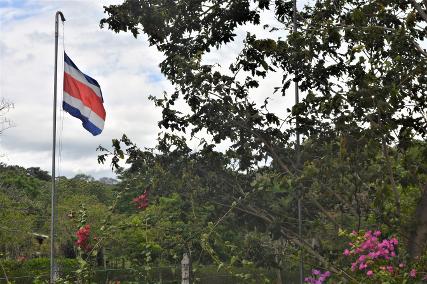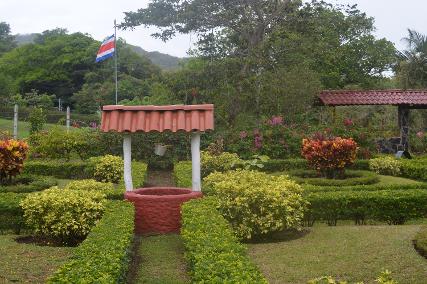 This is horse country, where they start riding at an early age.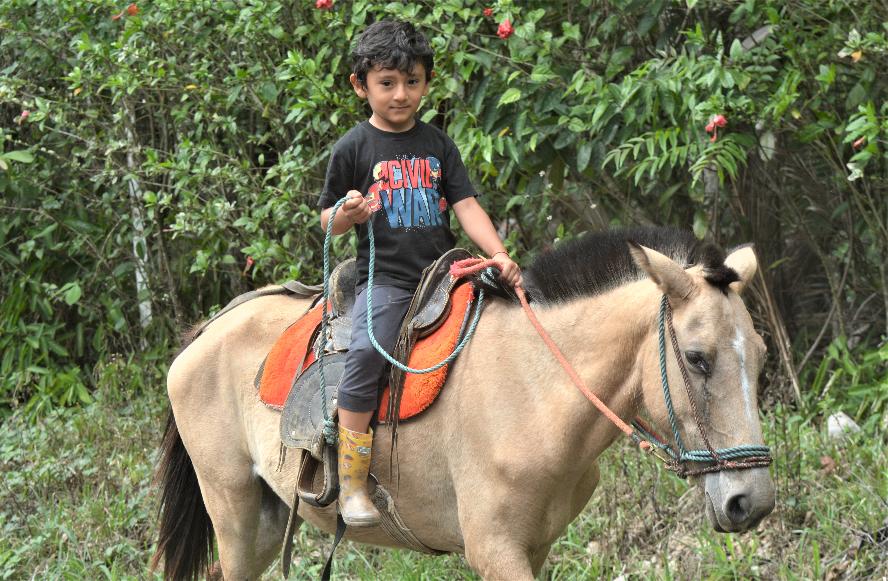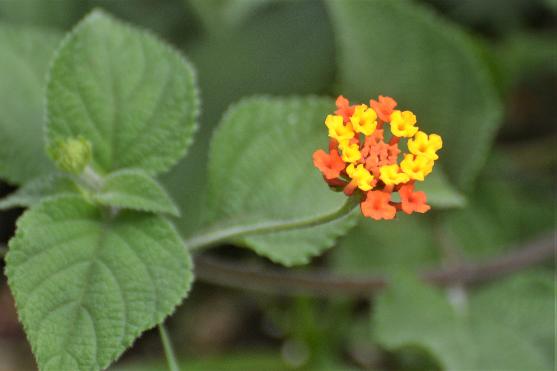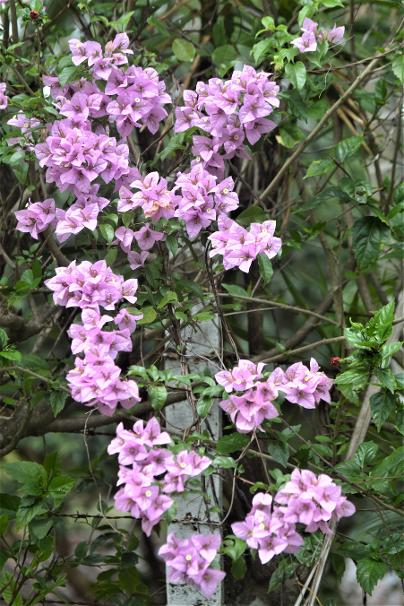 Coffee bushes. The start of the growth of the coffee bean.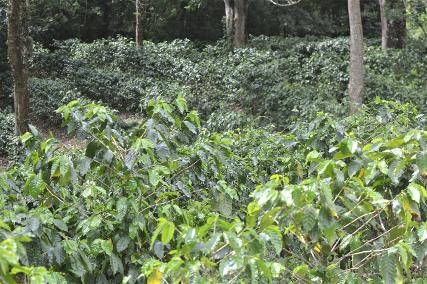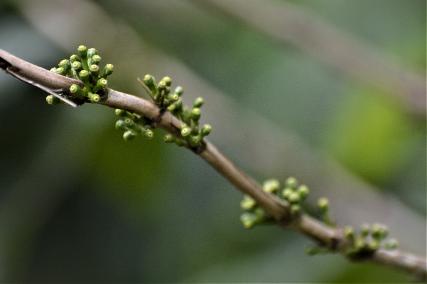 Best photo I could get of a mango throwing (Capuchin) monkey in the tree and then the aftermath of the monkeys discarding the mangos.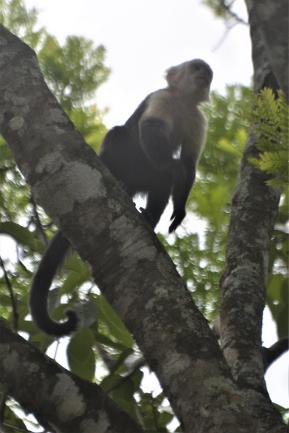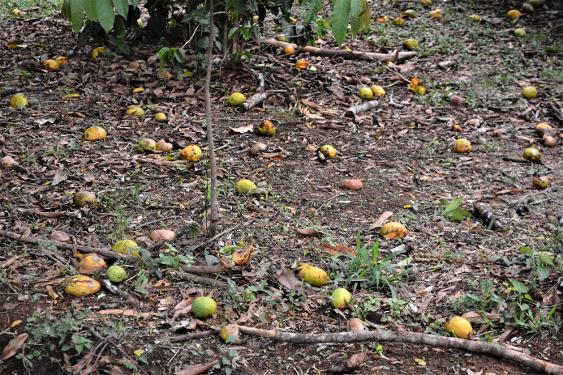 Mid-afternoon we were treated to coffee and an almond covered cinnamon bun.
The outdoor eating area as seen from the pool. Palms reflecting in the pool.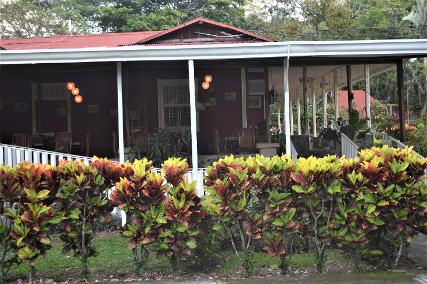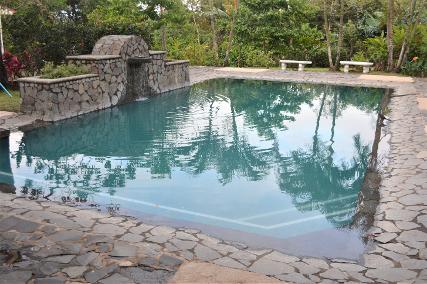 Photos and artwork adorned the walls.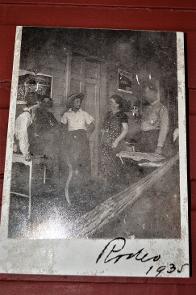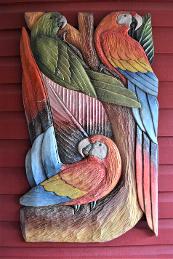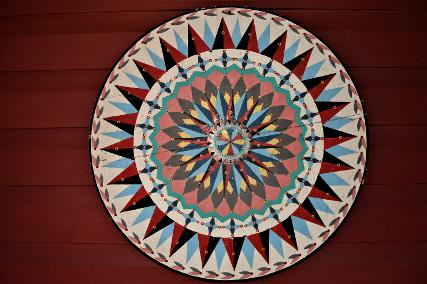 Rocking chairs on the front of the hacienda, lit up by the setting sun. Gayle catching up on the day's news.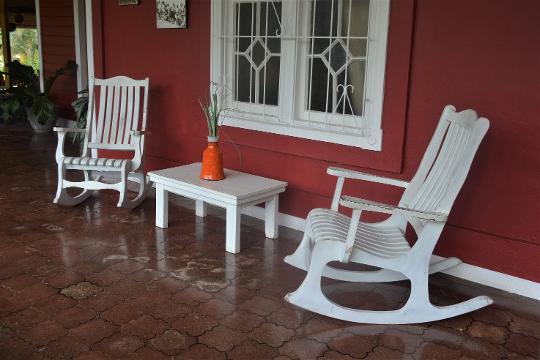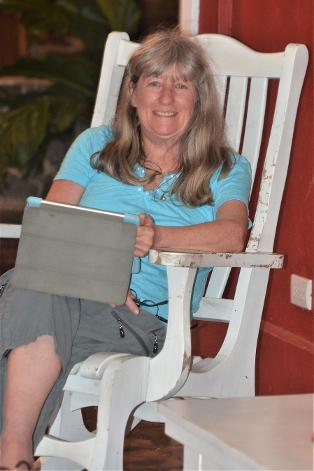 Sunset over the hacienda.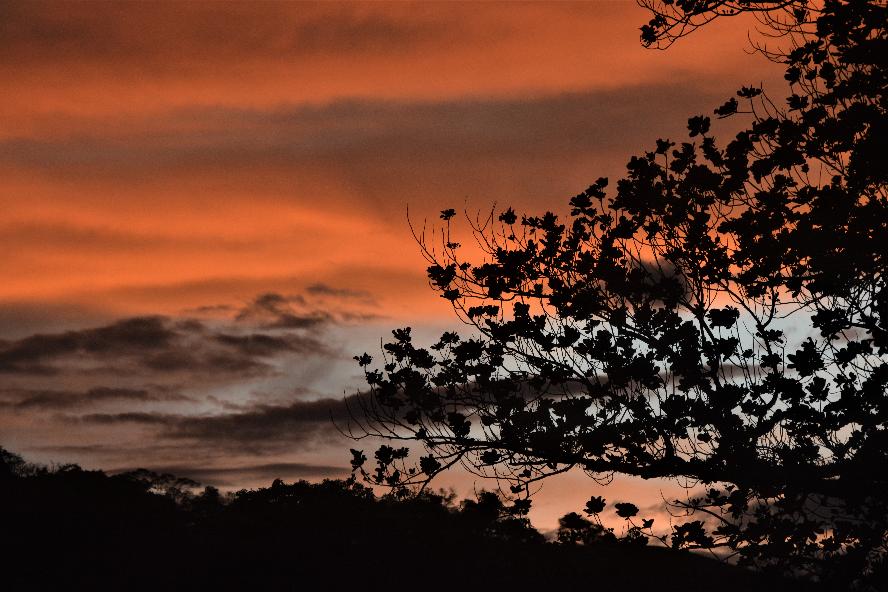 Our server this evening. A traditional black bean soup.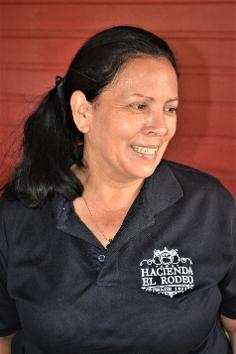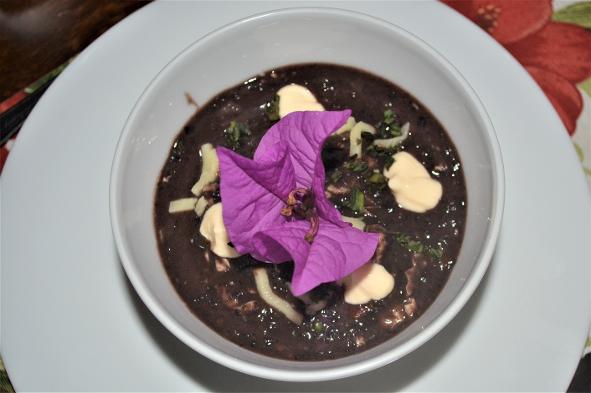 Gayle had a beautifully presented pasta dish with zucchini.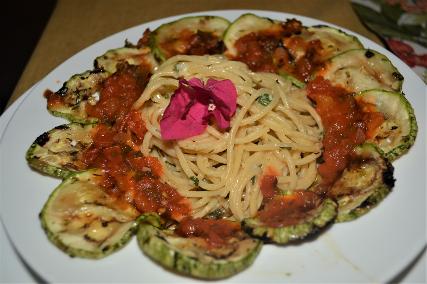 To mine was added a piece of pork smothered in pineapple.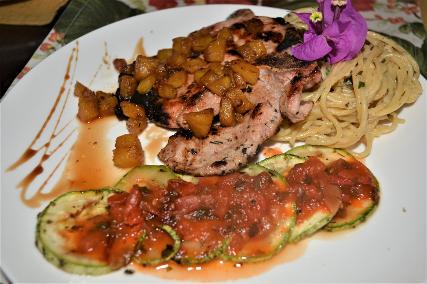 April 08, 2022 - Golfo Dulce Retreat to Hacienda El Rodeo, Ciudad Colon
Our last morning at Golfo Dulce Retreat. Early morning coffee, another listen to the wildlife, a final breakfast, a stroll to the pool, enjoying the colourful flowers - it was all good.
At 10:00 am we said our goodbyes to Simon y Chantelle (and Geronimo) before being boated the half hour or so to Golfito in order to catch our Sansa flight to San Jose.
In the mid 20th century Golfito was a major banana growing region, which resulted in it being a major port of southern Costa Rica. But a combination of worker unrest, declining foreign markets, rising export taxes and banana disease led to the closing of the United Fruit Company in 1985. Palm oil plantations have replaced the old banana plantations, and due to their success more and more land is devoted to growing this palm. Tourists began to arrive in the mid 1990s with sport fishing becoming the most important tourist attraction.
The Golfito airport is, how best to say this, small, with virtually no security. There is extreme attention to the weight of bags and passengers for the 12 seat plane, but otherwise we neither saw nor experienced any security re our luggage or us, i.e. no metal detectors.
The flight was delayed one hour due to the impact of a cargo plane crash at SJO the previous day but beyond that it was a smooth 50 minute flight. After taking off from the short runway we headed north over the Golfo Dulce seeing where Golfo Dulce Retreat was - we could see the beach but the rainforest covered all buildings - and then Rio Equinas. We then flew up the coast past Uvita, Domincal, Quepos, and Jaco and then on to San Jose.
After picking up our rental car, with very heavy traffic a drive that should have been 45 minutes was about an hour and 15 minutes to our next stop - Hacienda El Rodeo beyond the town of Ciudad Colon. Although we were the only guests the first night dinner was available - tasty soups - vegetable for Gayle and chicken / carrot for me followed by plates of rice, salads and for me grilled beef. Nothing fancy but good, solid food, enjoyed with a bottle of Spanish Tempranillo wine. First impressions are that this is a good place to stay.
PS Today was the 68th anniversary of the day of my birth. It was great to spend the day first in the rainforest, then flying up the coast of Costa Rica and ending with a nice bottle of wine at the Hacienda!
Our last morning in the Rainforest.
We were both up early to listen to the howler monkeys in the distance and the awakening birds serenading us with their 'music'.
Coffee and cookies arrived on schedule - not the best photo but Gayle wants a visual reminder of the delicious shortbreads we enjoyed each morning.
And as you can see our cabina is set amongst the lush plants of the rainforest.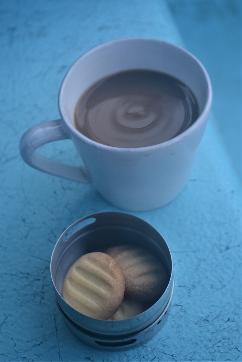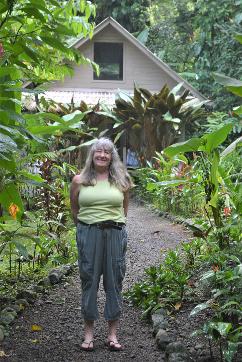 More flowers seen throughout the property, including the lobster claw.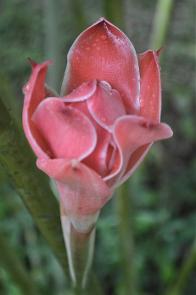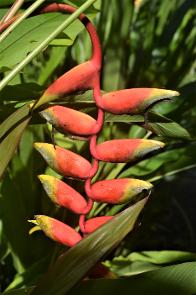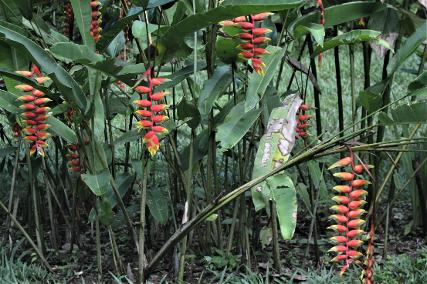 A banana tree near the pool. A video starting in the lodge, then walking the path to our cabina.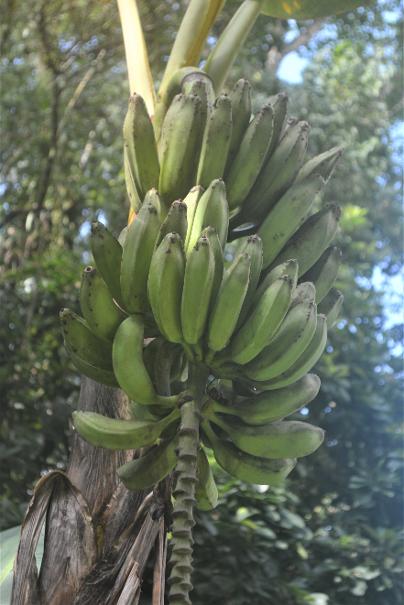 The Golfo Dulce Retreat pool.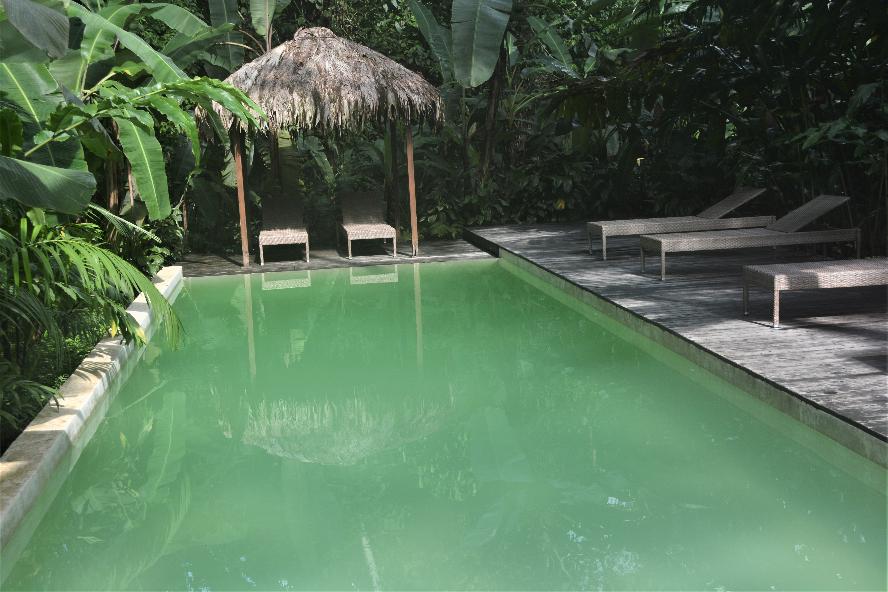 Photos of the interior of the lodge, including the table of Boruca art, 'our' table - which we had for the entirety of our stay, the view to the path to the pool, and one of the seating areas.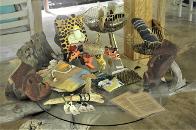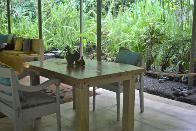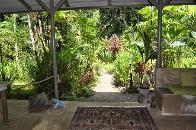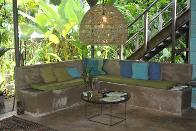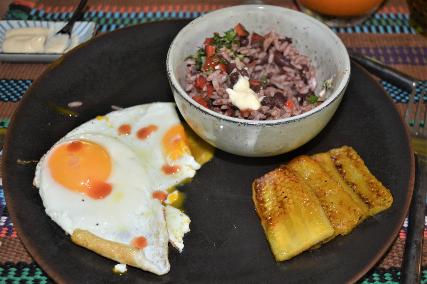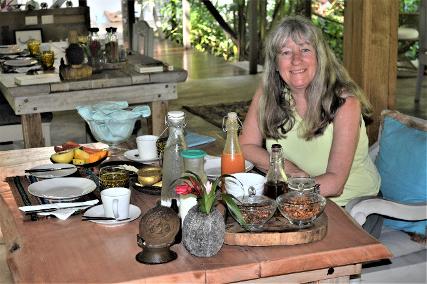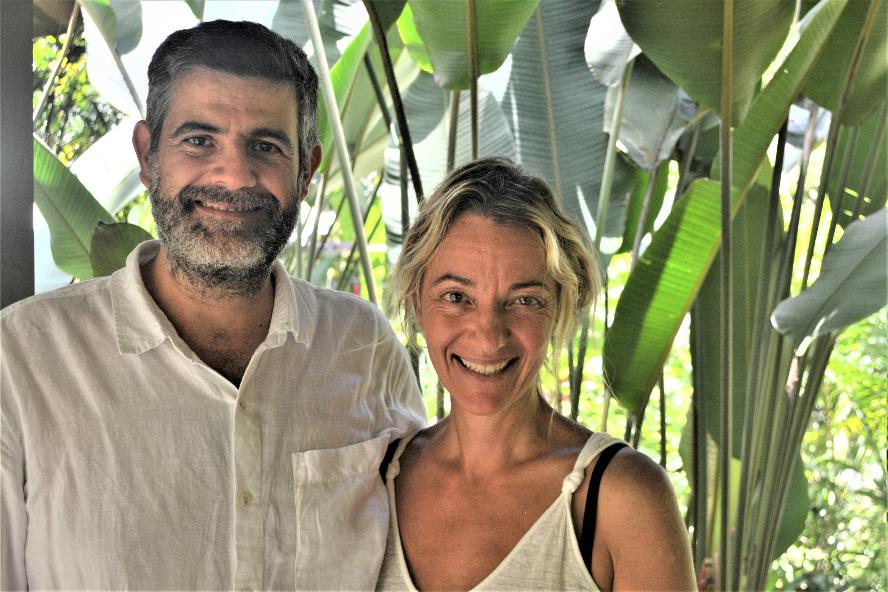 Simon explaining something to us, and Chantelle with Geronimo, who, having been at the beach to greet us, also made the trek to say goodbye as we were leaving.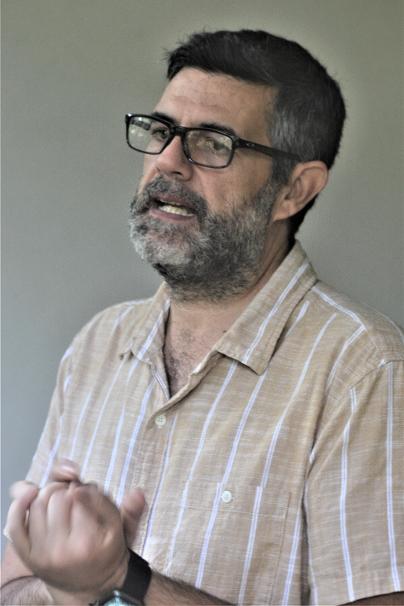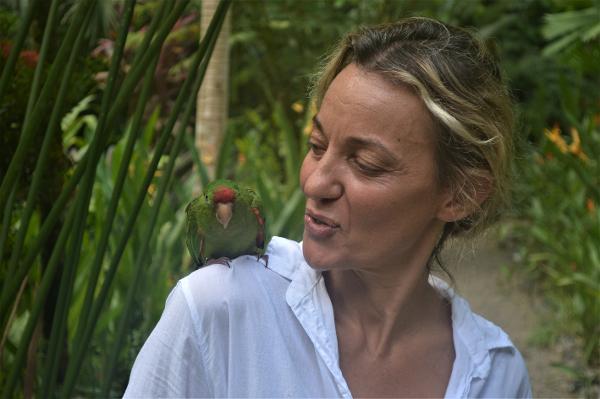 Goodbye Golfo Dulce Retreat.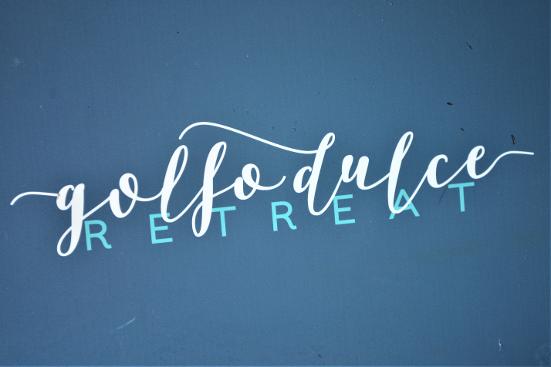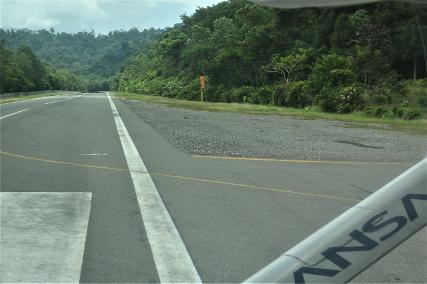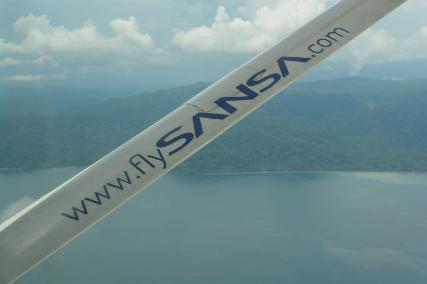 The Golfo Dulce after lifting off from Golfito.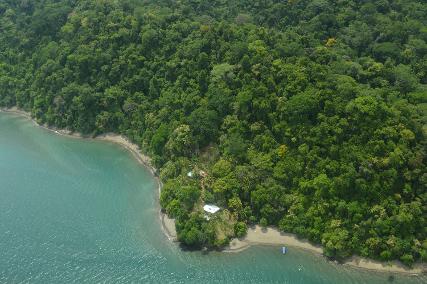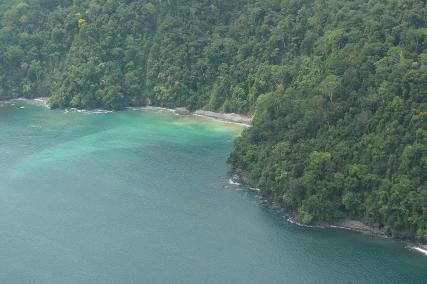 More aerial shots - on the left Golfo Dulce Retreat (beneath the rainforest growth), then Rio Esquinas, and finally a couple of beaches near Uvita.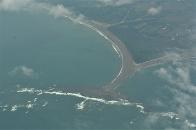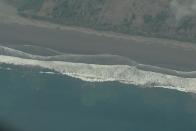 Not much separation of pilots and customers in this 12 seater. On the San Jose tarmac.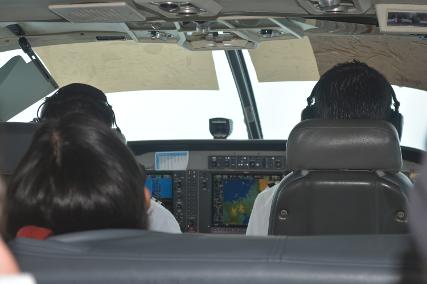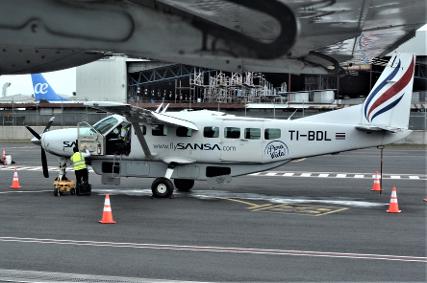 The outdoor eating area at Hacienda El Rodeo. A vegetable soup for Gayle.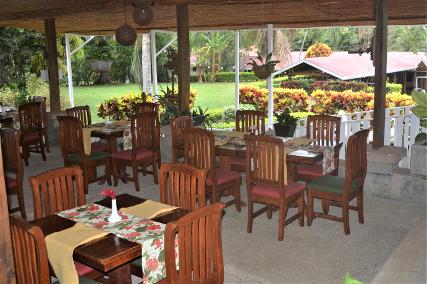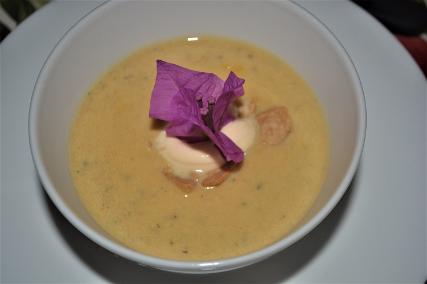 Chicken and carrot soup for me. Grilled beef with rice and salads.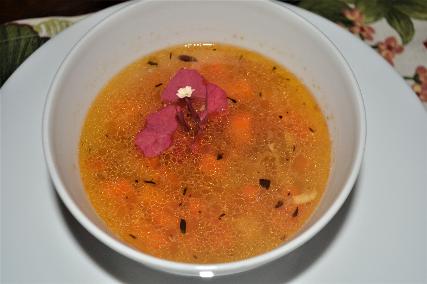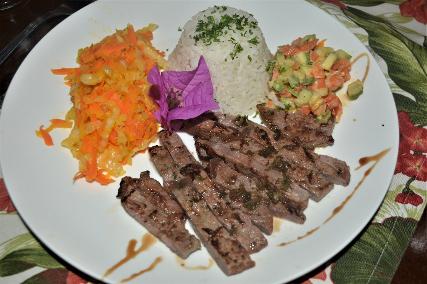 April 07, 2022 - Golfo Dulce Retreat, Golfo Dulce - camera trap retrieval
Lots of videos in today's post. First are four short 'sounds of the rainforest' where one can hear the 'music' of the insects, birds, frogs and if you listen carefully in the first one - howler monkeys. In person the sounds are more pronounced but the camera, in video mode, did a reasonable job picking up the noises of the rainforest.
Next there is Gayle enjoying her hammock time very (5:30 am ish) early in the morning, again with the soothing sounds and the hammock rocking her to a peaceful state.
Then there is a video of our cabina. No commentary but rather a 'tour' of the outdoor areas, including the tub and shower, the bathroom and bedroom and then the deck before wandering to the front of the cabina to capture some of the lush rainforest in which we were immersed.
Later you will see a video of a number of squirrel monkeys happily at play. So cute.
After breakfast Andy took us on a 45 minute (each way) hike to where a motion activated camera is set up to capture animals that pass by a peccary bathing hole. As it turned out the camera was not operating properly so there were no animals visible during our stay. However Simon, while spending a good amount of time sharing with us the many types of wildlife in the area shared a YouTube video of previous camera captures. It is quite something to understand the variety of animals in the area.
After the hike we went down to the beach for a swim in the Golfo and some relax time in the beach hut. The water of the Golfo is very warm. Unfortunately there are what we believe were small jellyfish that can enjoy feasting on those that take their space. Quite irritating and limiting re our time in the water. When we got out Augustine was hanging around with a pail. Turns out he had a dead (or at least so he told us) coral snake. Just the same we kept our distance.
After another very nice lunch of
Frittata di Patate e Cipolle - a traditional Roman frittata with free range local eggs (we know, the chickens are everywhere), potatoes and onions cooked in extra virgin olive oil,
Insalata di Cavolo e Lenticcie - green and red cabbage with lentils and apples in a balsamic vinegar dressing,
Pizzette all' Aglio - flatbreads with fresh garlic , butter and parsley, and
watermelon as the day's tropical fruit
staff put out some papayas for the squirrel monkeys. In addition to feasting on the fruit the monkeys were very active, enjoying a great old time playing with each other. Very entertaining. Later that afternoon we saw another troupe (or perhaps the same one) swinging in the trees behind our cabina. Between hearing the howlers each morning and seeing the squirrels at play this is monkey paradise.
The afternoon was spent relaxing, and listening to another downpour. Soon tea-time came and then cocktail hour - tonight was a Tropical Mo - Flor de Cana rum, coconut, fresh pineapple and fresh lime, followed by dinner of
Zuppa di Ceci e Farro - chickpea soup and whole emmer wheat with herbs and aged Parmigiano,
Pesci ai Pomodorini - locally caught Pacific Sierra mackerel slowly cooked in extra virgin olive oil with mini-tomatoes,
Contorno di Verdure - supposedly steamed green beans but obviously a different salad of cabbage and other ingredients, and finally
Gelato al Cioccolato - ice cream made with Costa Rican cacao topped with caramelized roasted almonds - a nice refreshing dessert for our last night
As is the custom after another leisurely dinner it was a stroll back to our cabina and another early turn-in, no doubt the consequence of rising so early in the morning.
Simply rainforest sounds - howler monkeys (if you listen carefully), glass frogs, birds and insects.
The videos are short - 37, 27, 7 and 10 seconds respectively.
The peaceful life at 5:30 am in the rainforest. An agouti just outside our cabina.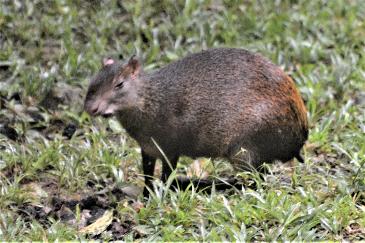 The view from the deck. A 'tour' of our cabina.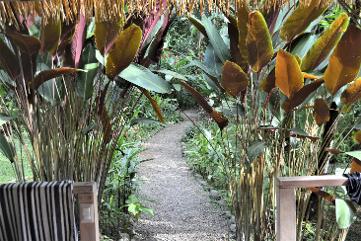 While at the camera trap Lee and Margaret wandered by while on one of the walks through the property.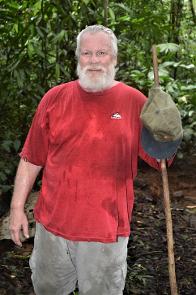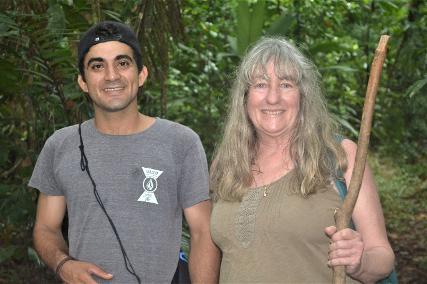 Gayle and I with Andy at the camera trap.
Notice the sweat on my shirt - it was very humid.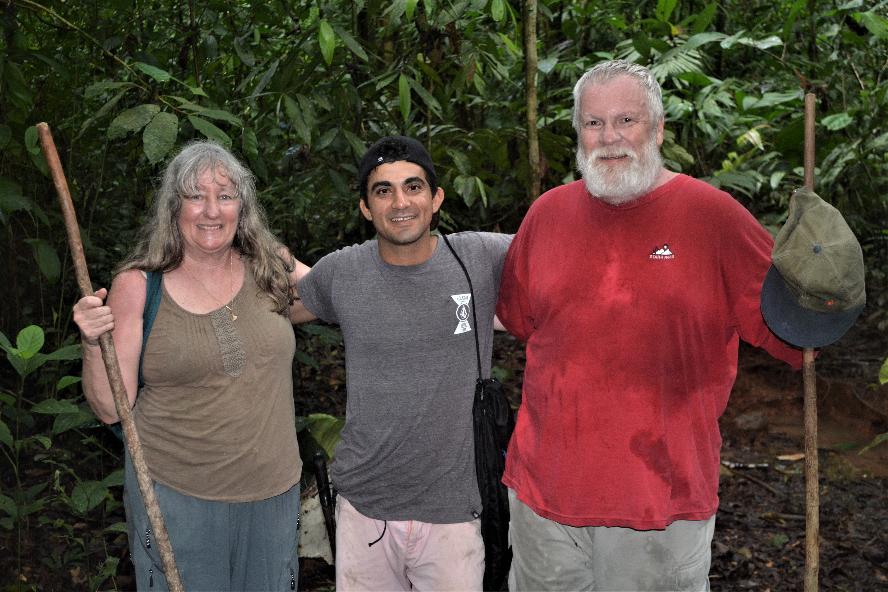 What's a trek in the rainforest without observing a number of interesting mushrooms.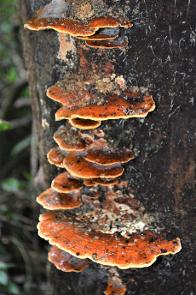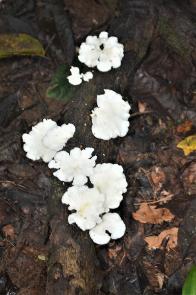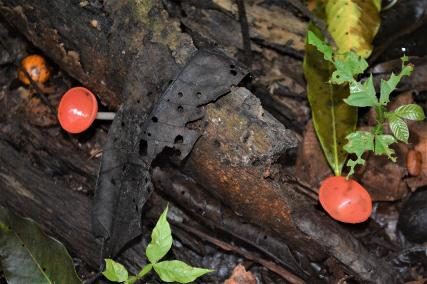 Frittata di Patate e Cipolle Insalata di Cavolo e Lenticcie.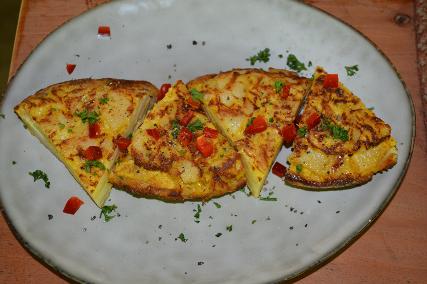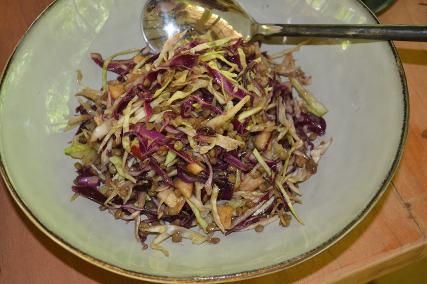 Pizzette al' Aglio - flatbreads with garlic, butter and parsley.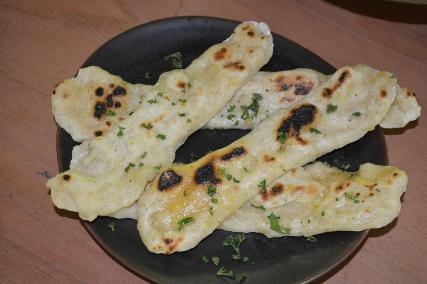 Carambola (aka star fruit).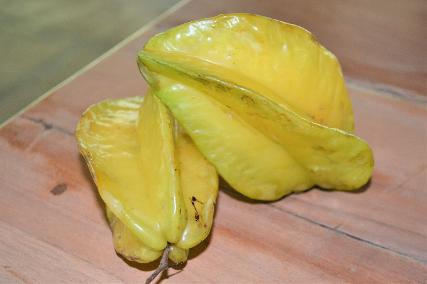 The caterpillar we often saw on our walks - it appears to be a plant until it surprises you by moving.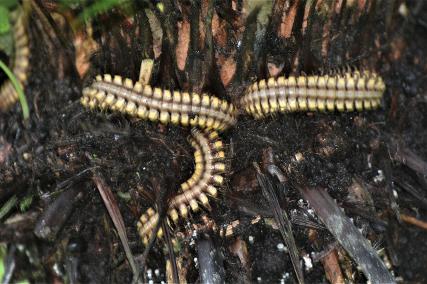 A Strangler Fig tree and vines growing in and around a tree.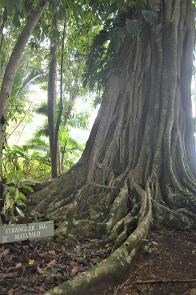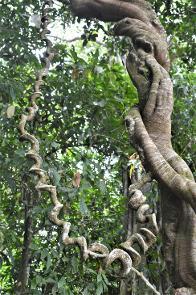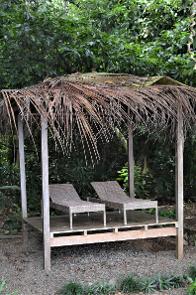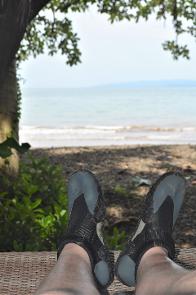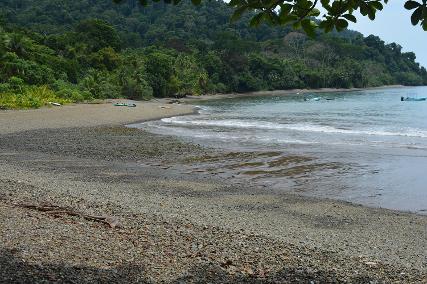 The venemous coral snake (left: the underbelly; right: the top). Fortunately this one was dead, or at least so said Augustine.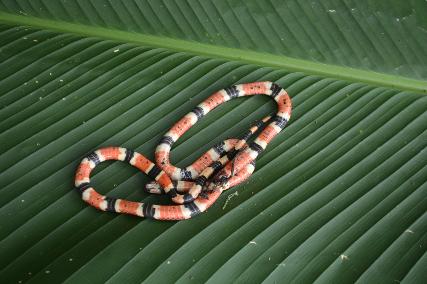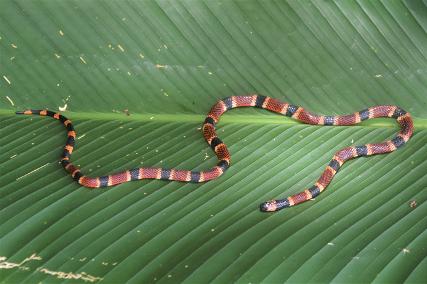 Some of the colourful rainforest flowers seen on our treks or around the lodge.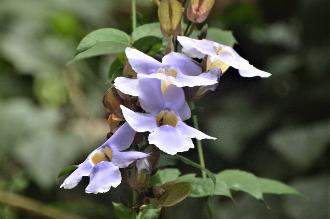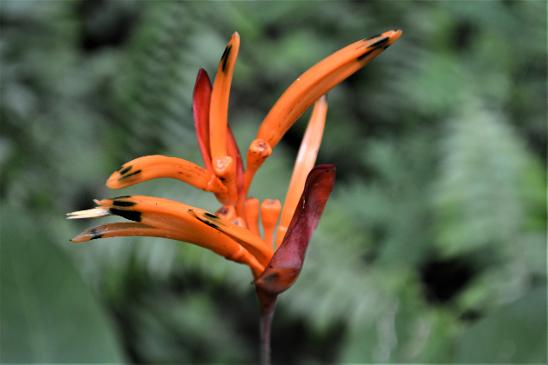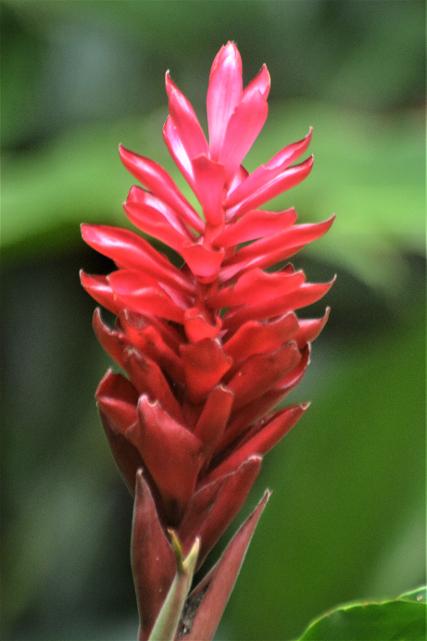 There were a troupe of Squirrel monkeys near the lodge - we think the papayas put out for them might have been the calling card. While most of the photos are of this troupe at the lodge the photo at the top right is of a monkey seen just outside our cabina.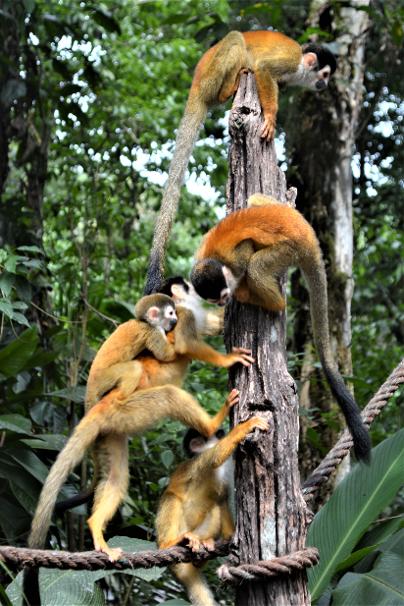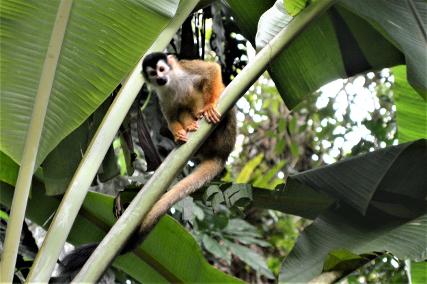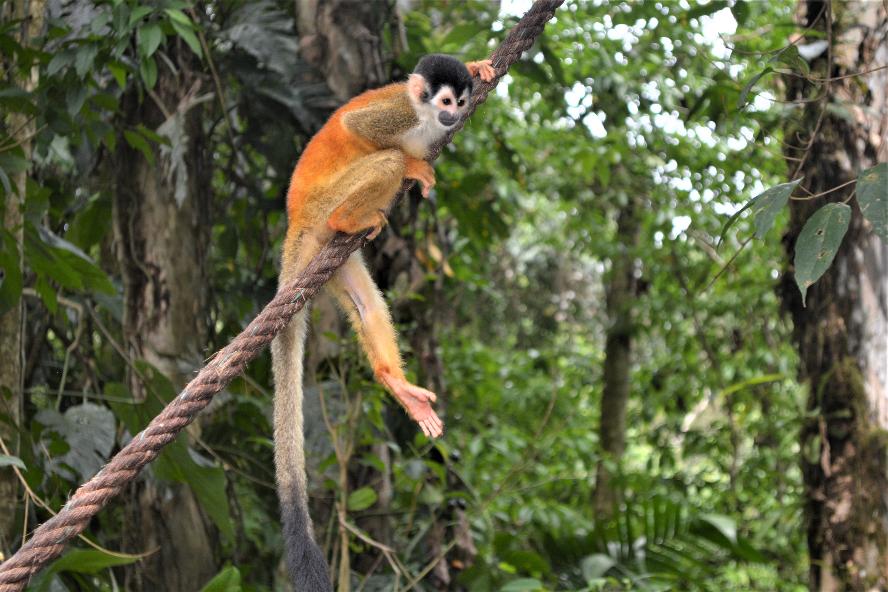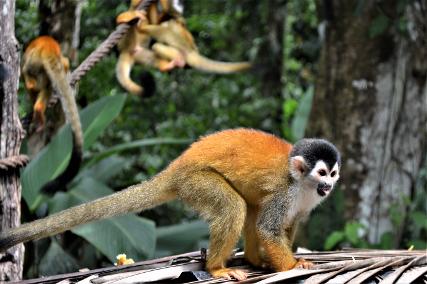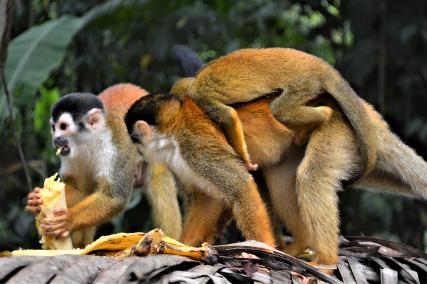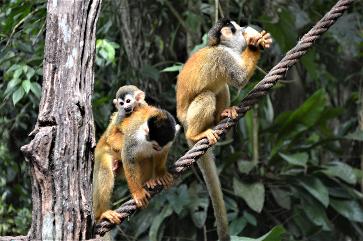 Tropical Mos. Zuppa di Ceci (chickpea) e Farro (emmer wheat).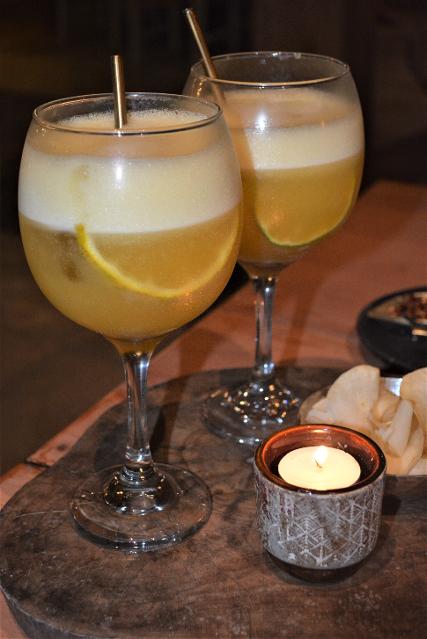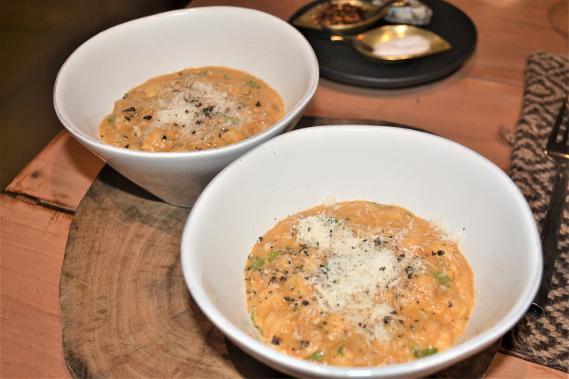 An eggplant dish for Gayle. Locally caught Pacific Sierra Mackerel for me.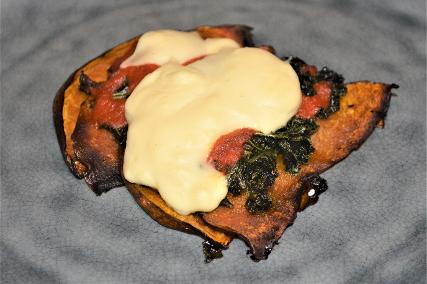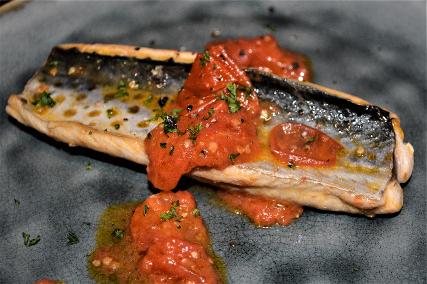 A salad with dinner. Costa Rican cacao with roasted almonds ice cream.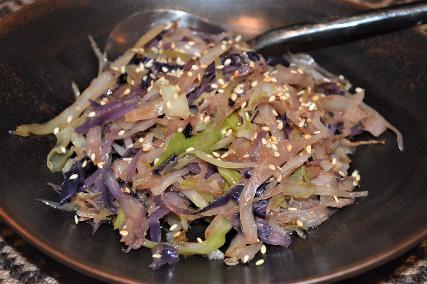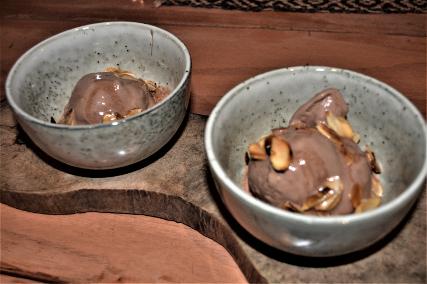 April 06, 2022 - Golfo Dulce Retreat, Golfo Dulce - early morning sunrise tour
Normally to be down to the beach by 6:30 am would be a big deal but not here where Gayle is regularly awake at 5:00 am when the birds begin to serenade with their morning songs.
We had a choice of artisanal fishing, a sunset or sunrise boat tour. We choose the latter, essentially a leisurely 1 1/2 hour early morning boat ride down the coast of the Golfo Dulce, relaxing with our morning coffee and observing many birds (pelicans, scarlet macaws, toucans, and others). Along the way we saw a small waterfall and a lot of lush rainforest coastline. No sunrise to speak of but a nice way to start the day, culminating with a swim in the Golfo before returning for breakfast. We again had Chaney as our guide - very friendly and helpful in observing the wildlife. Even after the tour he retrieved a Ylang-Ylang flower that generated such a wonderful aroma, somewhat similar to jasmine.
On our walk back to the lodge for breakfast we came across a blue-morpho butterfly. We had seen a couple (or the same one a few times) around our cabina. The blue-morpho is beautiful, especially when the light glistens off its wings It is among the largest butterflies in the world, with wings spanning from five to eight inches. Many are coloured in metallic, shimmering shades of blues and greens, not the result of pigmentation but rather iridescence through structural colouration. The scales of the morpho's wings reflect incident light leading to colours that appear to vary with viewing angle.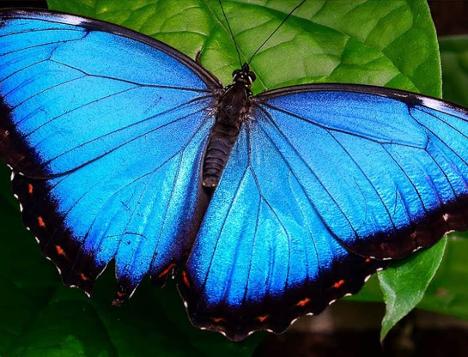 The above photo is not mine (borrowed from a website) although there are a couple below that, while not in great focus, are photos of a butterfly we enjoyed watching.
_____________________________
We enjoyed another nice lunch of
Riso Integrale con Verdure - brown rice with roasted vegetables, sunflower seeds and shavings of aged Parmigiano
Formaggio Gigliato - Costa Rican cheese from the Turrialba volcano region grilled with polenta flour
Insalata Mista - a fresh salad of lettuce, cucumbers, and carrots with a dressing of extra virgin olive oil and balsamic vinegar, and
the standard fresh tropical fruit
After lunch Gayle went back to the cabina while I stayed to take some photos - particularly of a beautiful Scarlett Macaw who was hanging around the lodge, eating leftover pasta from the previous evening - so cute. It then started to rain, and I mean rain. It dumped for perhaps a couple of hours. I felt so bad for the family that was out on the Mangrove Tour. But then after all this is the rainforest.
Tea time included a sumptuous chocolate cake followed by dinner of
Brushetta al Pomodoro - crusty bread with fresh tomatoes, basil and extra virgin olive oil
Pasta al Pesce in Bianco - linguine with for me locally -caught fish, capers and lime zest topped with crunchy bread crumbs, and for Gayle basil and olive oil
Melanzane alla Parmigaina - baked layers of eggplant, tomato sauce and Costa Rican buffalo cheese served with a green salad, and finally
Gelato al Maracuja - homemade ice cream with fresh Costa Rican passion fruit.
I enjoyed my meal with a Costa Rican craft beer in the coolest bottle, also flavoured with passion fruit.
Although we took the night tour a couple of nights previous photos of the spiders, frogs, toads and snakes are posted below.
Each day starts at 4:00 am with the sounds of the insects followed by howler monkeys around 4:45 am, just before light, and then at 5:00 am by the songs of the awakening birds.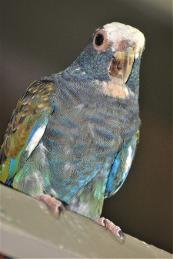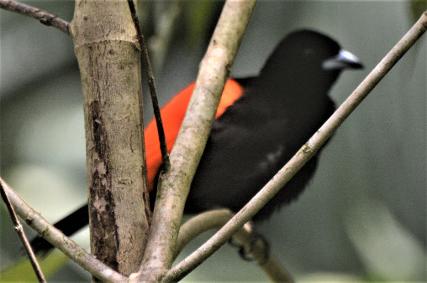 Off we go for our early morning boat tour. Leaving at 6:30 am our morning coffee, normally delivered to our cabina, was delivered to the boat.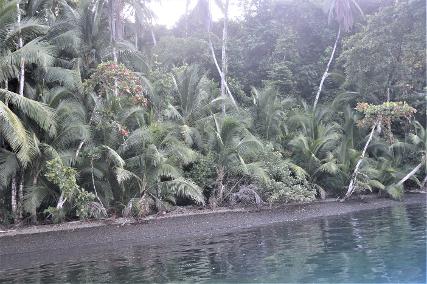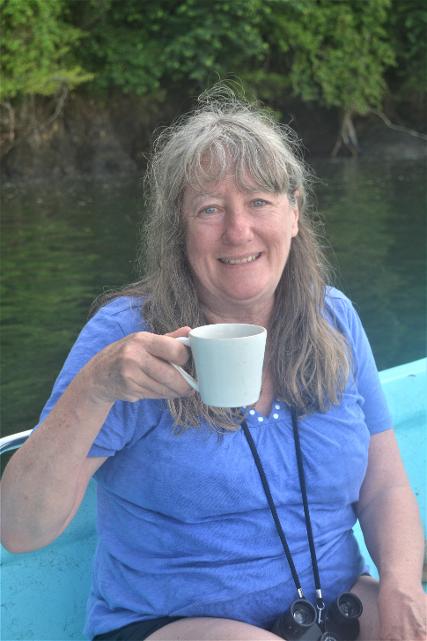 The peaceful and calm Golfo Dulce during our early morning sunrise boat tour.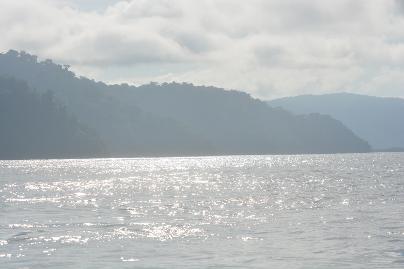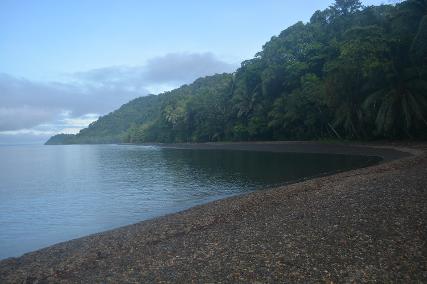 Scenery along the Golfo Dulce coastline.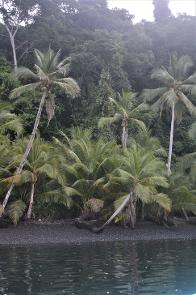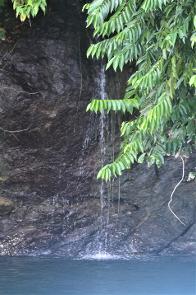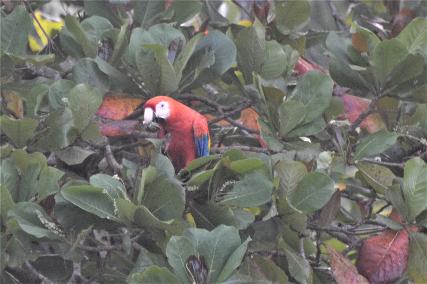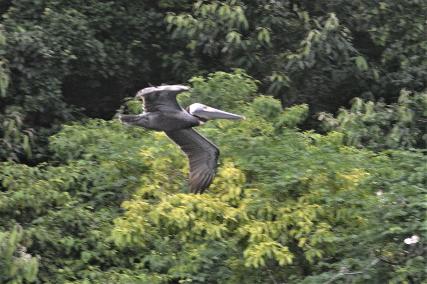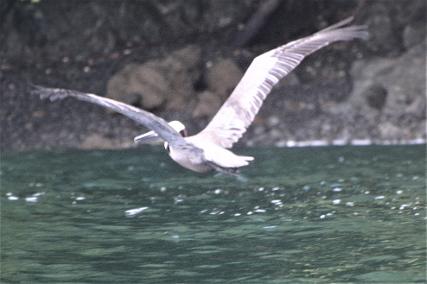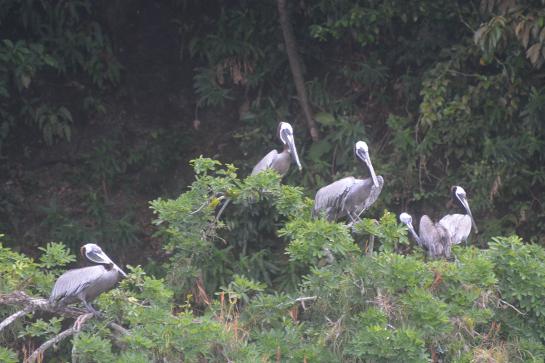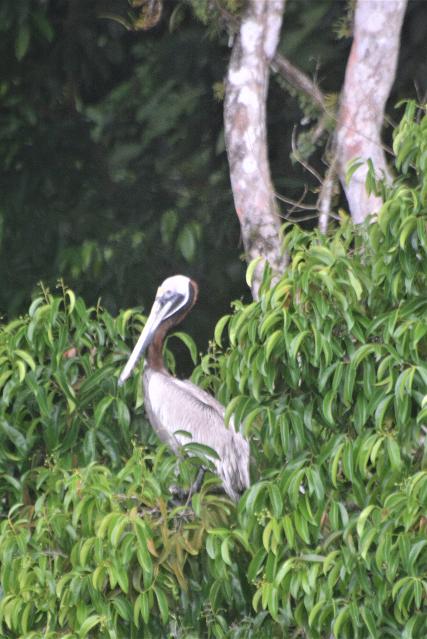 After our early morning boat ride.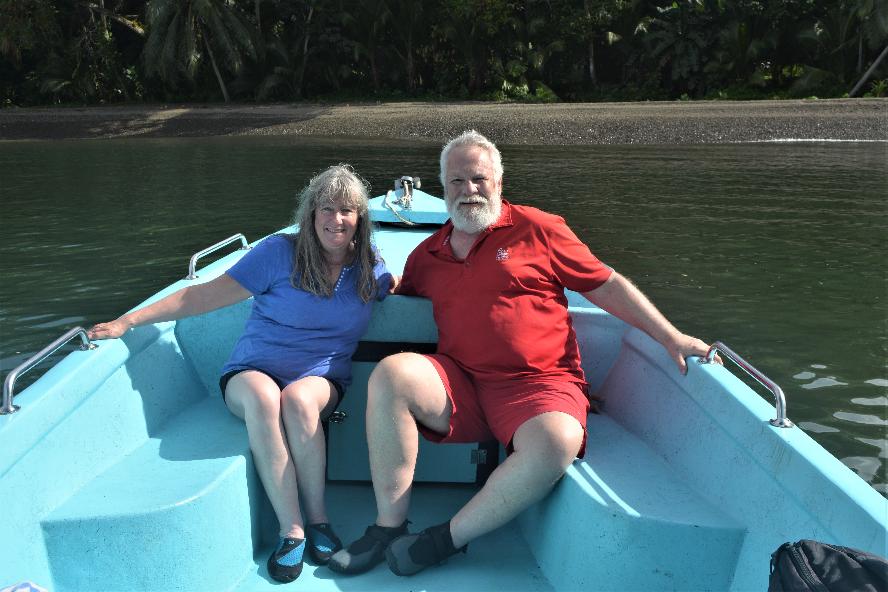 Virtually impossible to get an in-focus photo of the quick moving and rarely stationary blue morpho butterfly, a number of which we saw during our stay at GDR. I was pretty happy to be able to get these shots.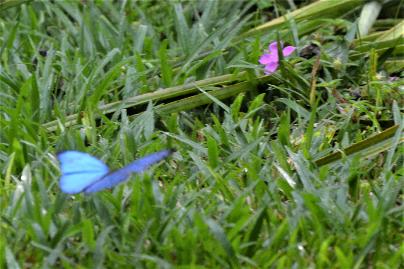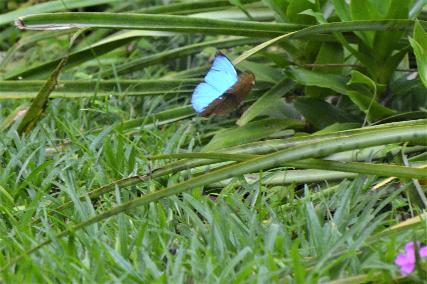 Palms growing from coconuts Red ginger The fragrant Ylang-Ylang flower.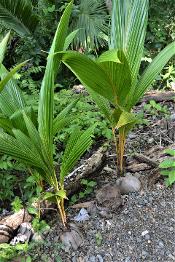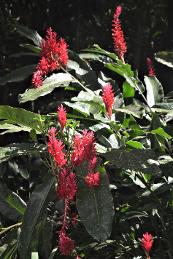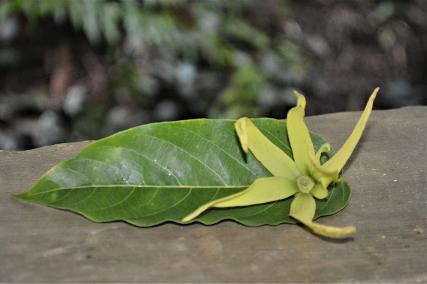 Lots of chickens roaming freely around the property.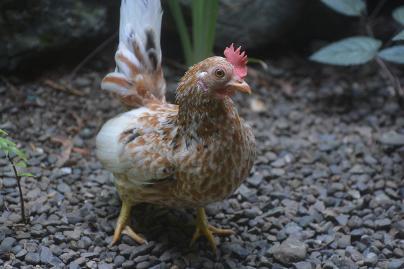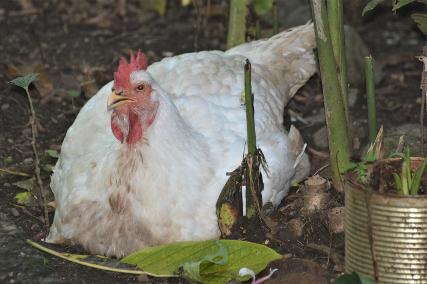 The free range chickens provide eggs for GDR. The brown rice dish, topped with Parmigiano.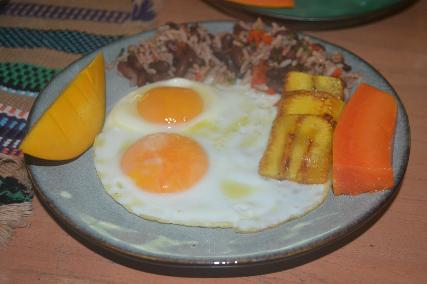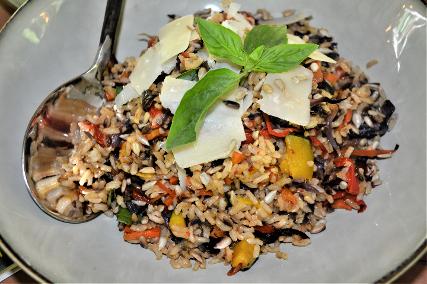 Cheese from the Turrialba grilled with polenta flour with a passion fruit condiment.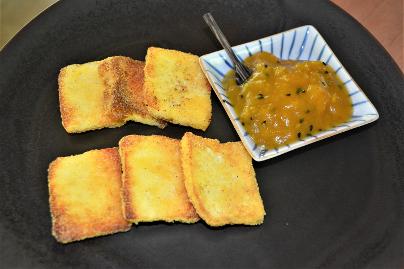 Brown rice with roasted vegetables, the grilled cheese and a salad.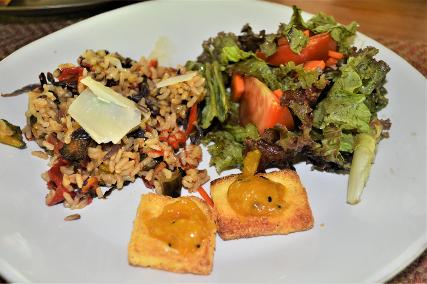 Seeing bright vibrant coloured scarlet macaws never gets old. This one is enjoying some left over pasta.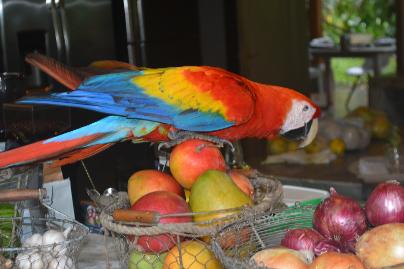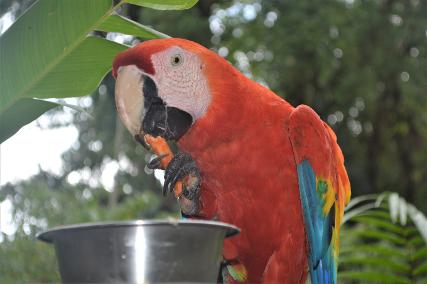 Most afternoons this guy / gal hung out around the lodge.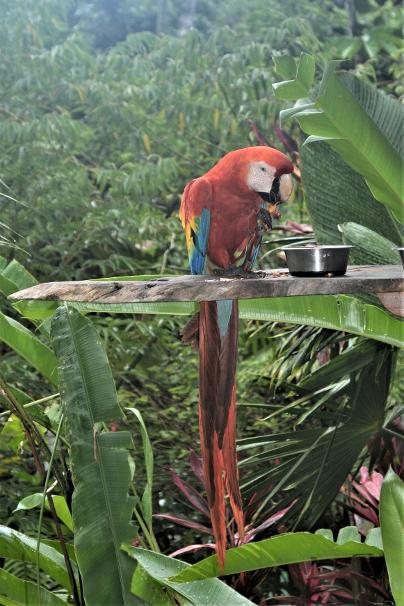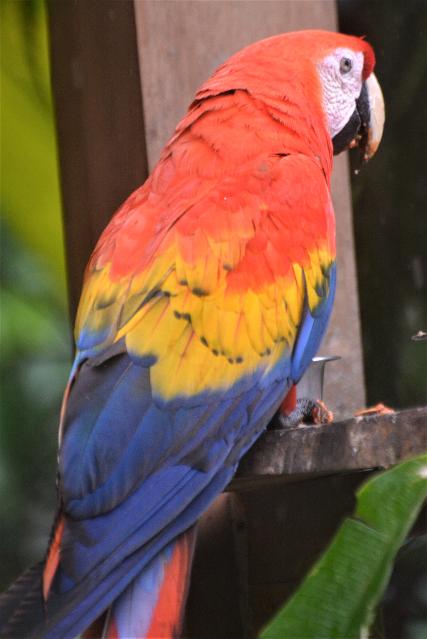 Just gorgeous with his / her vibrant colours.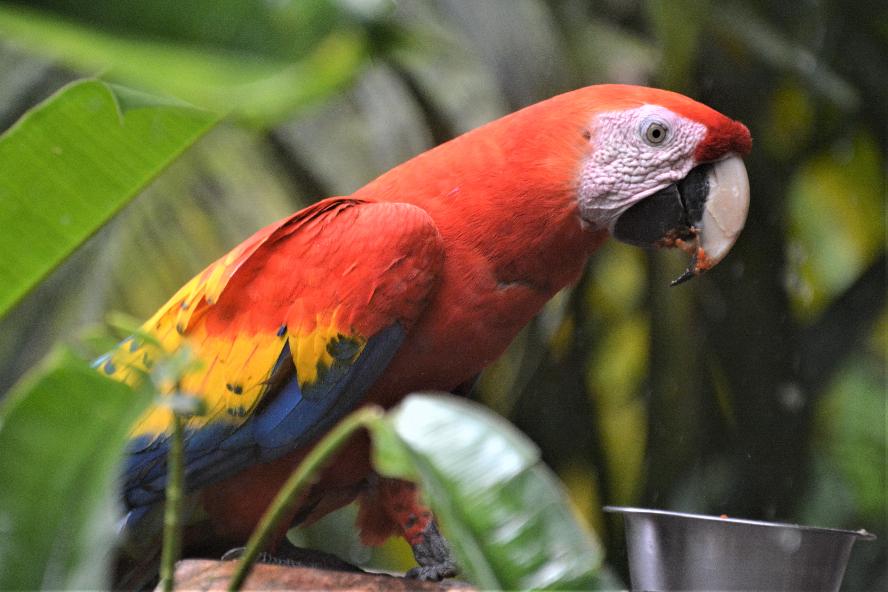 In April (shoulder season) it more often rains for an hour or so in the afternoon / early evening. Listen to the video.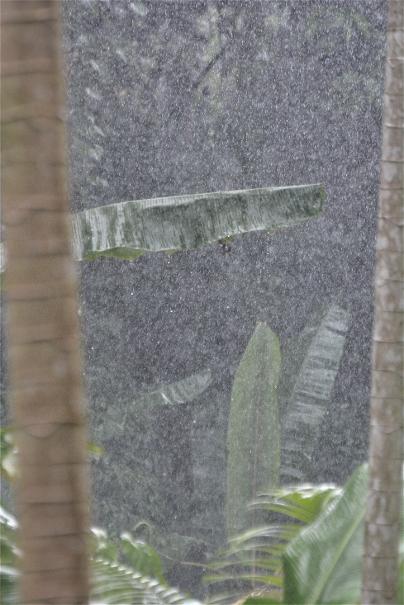 NAGTA with chocolate cake, a Costa Rican craft beer and Brushetta Al Pomodoro.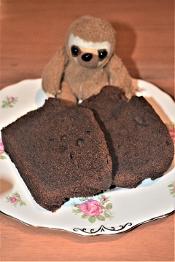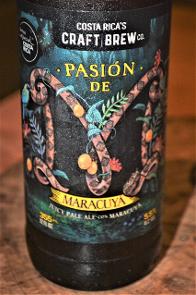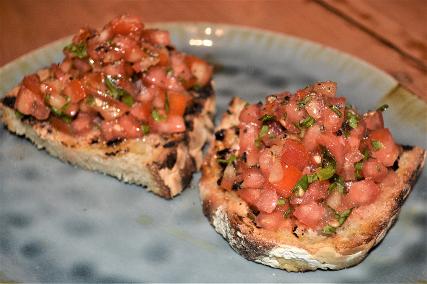 Linguine - with fish and capers for me and basil and oil for Gayle.
Baked layers of eggplant, with tomato sauce and Costa Rican buffalo cheese.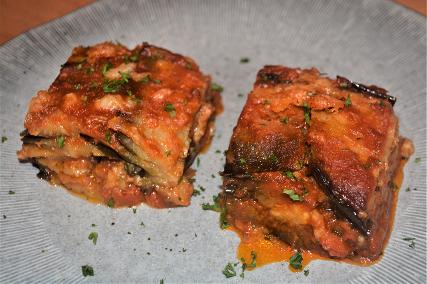 The night tour included spiders, frogs and snakes, along with other creatures of the night.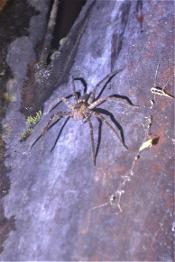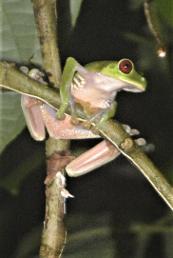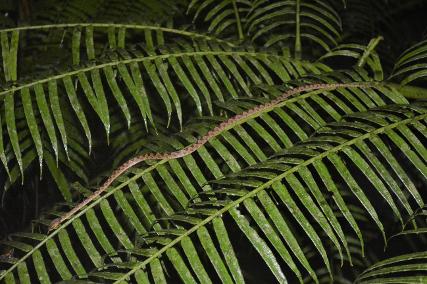 More frogs, including the translucent glass frog.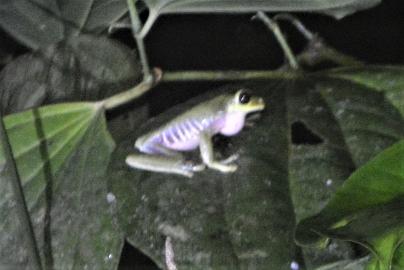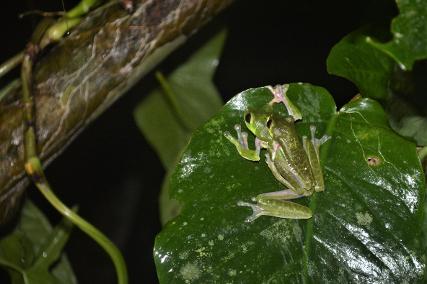 Swimming in the evening is a no-no as not only are there frogs in the pool, and toads on the deck but the highly venomous Fer-de-lance snakes are often nearby, hunting the frogs. Best to just stay away.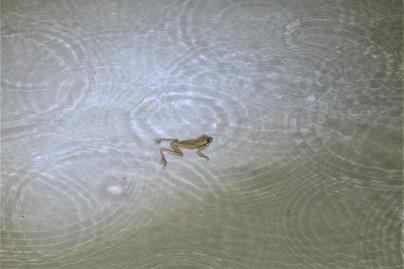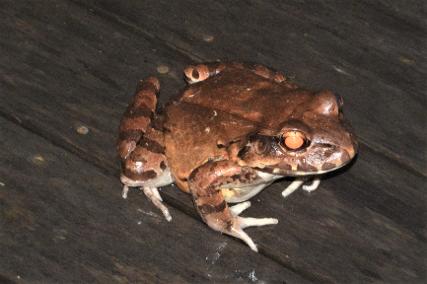 April 05, 2022 - Golfo Dulce Retreat, Golfo Dulce - Mangrove Tour
This morning was relaxing and quiet before we had an early lunch in advance of our afternoon mangrove boat and kayak adventure.
Lunch was again very tasty, consisting of
Tortilla Rustica ai Broccoli - a savoury butter pastry tart of broccoli and Pecorino Romano cheese
Insalate di Carote - a fresh salad of carrots, orange and roasted sunflower seeds
'Patacche' di Plantano Verde - traditional Costa Rican flattened green plantains 'patacones', and
fresh tropical fruit
We headed out to the north of the Golfo Dulce to the secluded estuary of the Rio Esquinas. Along the way we were treated with a bonus of a pod of dolphins, first just the tops of their fins in the distance but then they came closer and closer, eventually following our boat in its wake. There is a separate dolphin and whale watching tour but we benefited with both tours rolled into one.
While it lightly rained as we were boating up the Golfo it stopped by the time we reached the river. Beyond the mangroves lining the Rio Esquinas there is and we saw a wide variety of wildlife, including crocodiles (we saw two), monkeys (we saw both Squirrel and Capuchin), white ibises, boat billed herons, pelicans and other birds (we saw many). There are apparently also boa constrictors but we (fortunately) did not encounter any.
Once up the river the kayaks came out. With my arthritic knees I decided they would likely be too cramped in the kayak so had Andy paddle with Gayle. Lee and Margaret, who we were getting to know after taking the Waterfall hike with them yesterday also took to the water. Meanwhile Chaney slowly boated me along the banks of the river where we saw a number of monkeys, birds and lizards.
This was a tour I took back in 2017 when we stayed at nearby Saladero Eco Lodge. Unfortunately Gayle was not feeling well and as a result did not go on the tour then, so it was nice for her to be able to do so this time.
After arriving back at GDR we went for a swim in the warm waters of the Golfo before dinner. Unfortunately the cloud cover was too significant for a colourful sunset. We therefore returned to the lodge where we enjoyed another afternoon tea, and then late cocktail time, tonight featuring a flavourful Margarita.
Dinner started with
Zuppa ali Lenticchie - lentil soup served with croutons, aged Parmigiano and crispy rosemary. I am normally not a big fan of lentil soup but this was delicious. The soup was then followed with
Dorado Fritto - locally caught Mahi-Mahi served in a herb crust with a homemade mayonnaise
Melanzana - coated eggplant with a spicy tomato sauce for Gayle
Contorno di Verdure - baked broccoli, lime zest and toasted almonds, with roasted potato wedges and rosemary, and
Sorbetta alla Papaya - a very colourful homemade sorbet of fresh Costa Rican papayas, 'mandarin' limes, and mint.
After another active day with lots of fresh air sleep came quick and easy.
Lunch consisted of a broccoli torte, carrot salad and plantain 'Patacche'.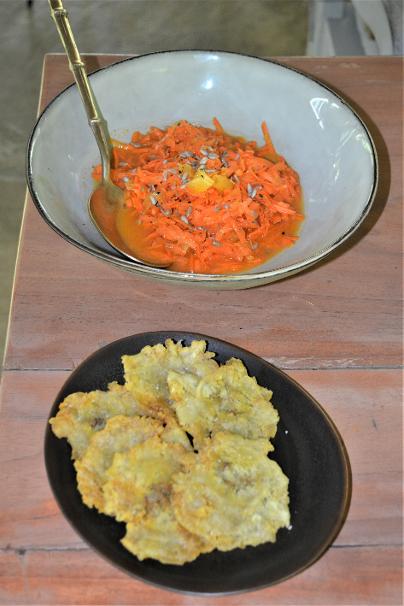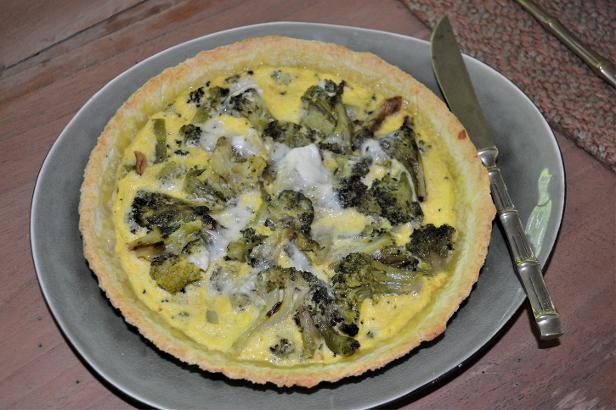 As we headed out there were a number of pelicans around the GDR beach.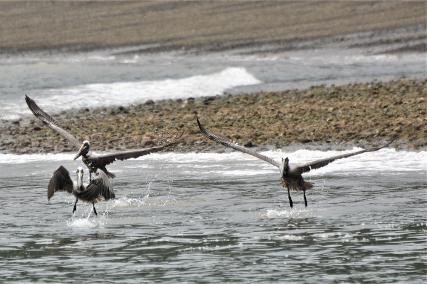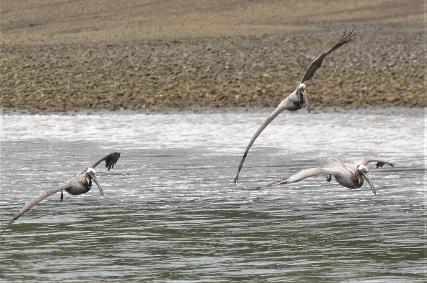 Some of the dolphins swimming around and then following our boat.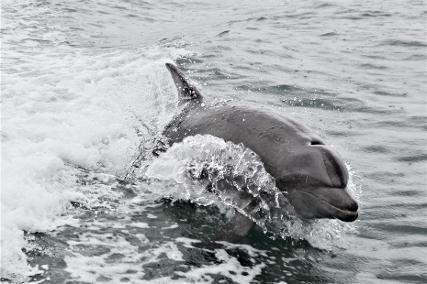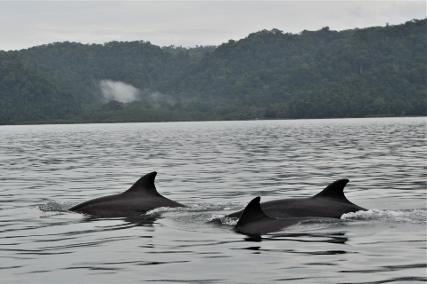 A video of the dolphins following the boat.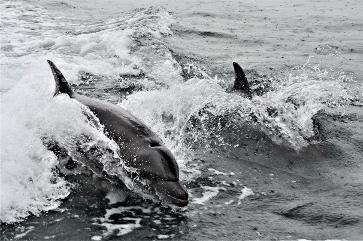 The shoreline and low cloud cover as we boated to the Rio Esquinas.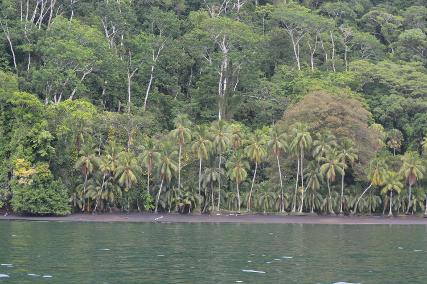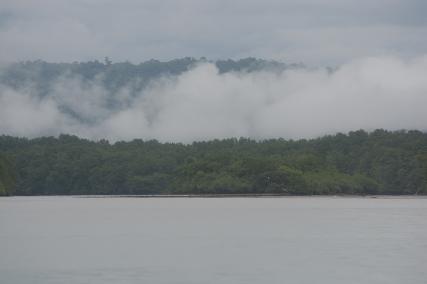 Our guides for the mangrove tour - Andy (left) and Chaney (right).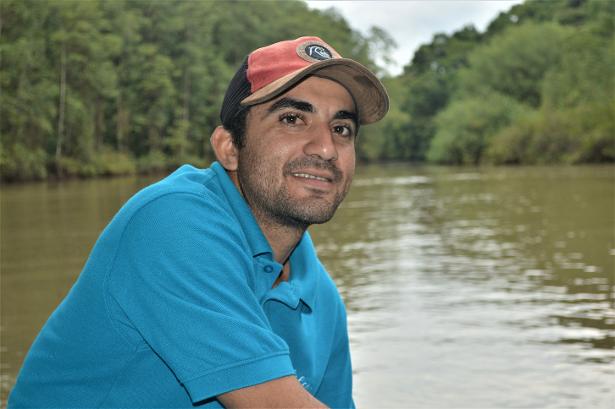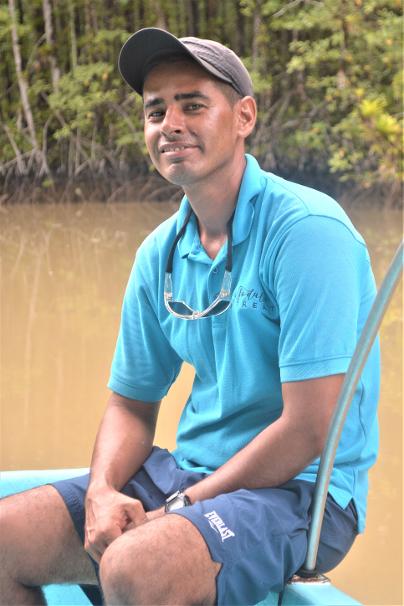 There are black, red and white mangroves along the river.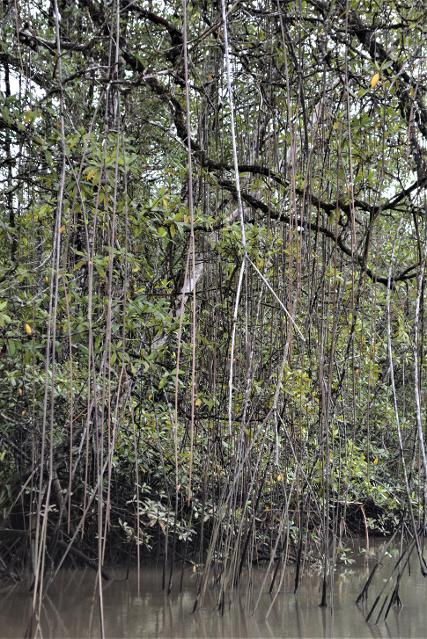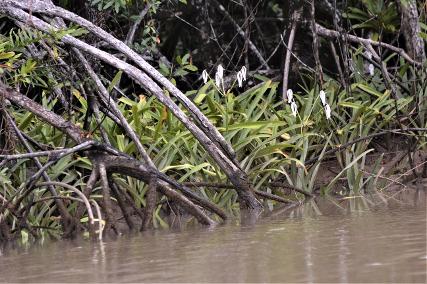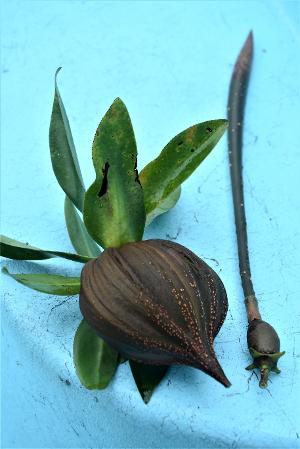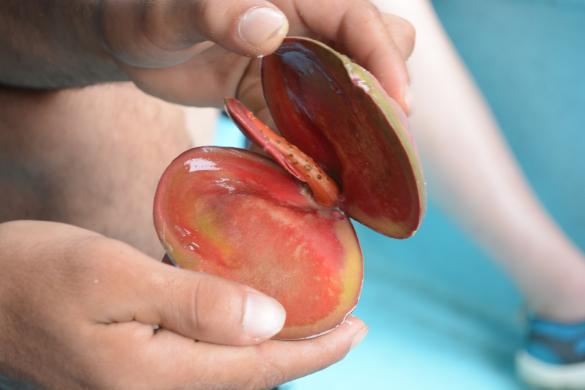 More wildlife (there is a small crab in the photo on the left) along the river banks.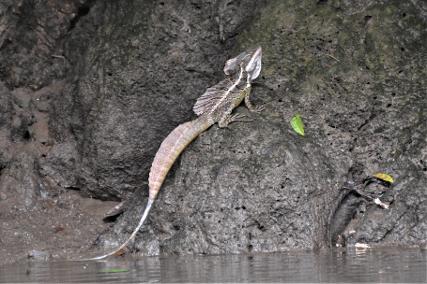 Yes there were crocodiles - at least these two that we saw.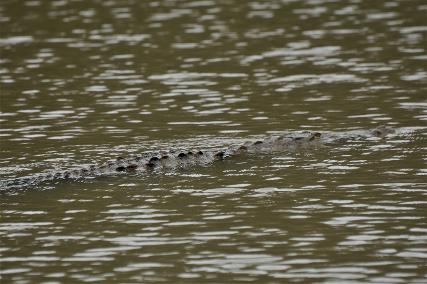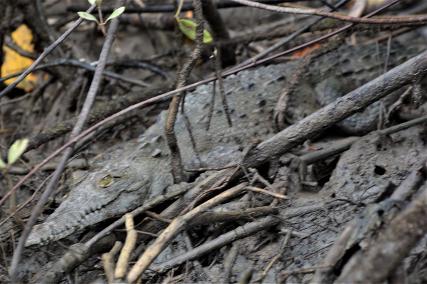 The calm river bordered by mangroves and rainforest. Lee and Margaret in their kayak.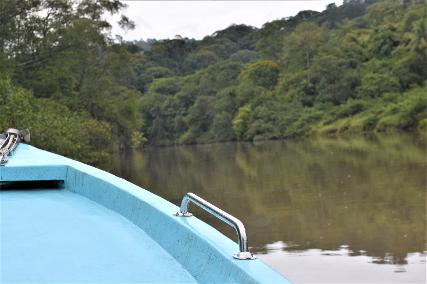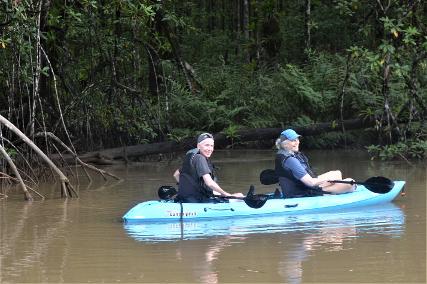 While the others were kayaking Chaney took me up and down the river where I saw a number of monkeys.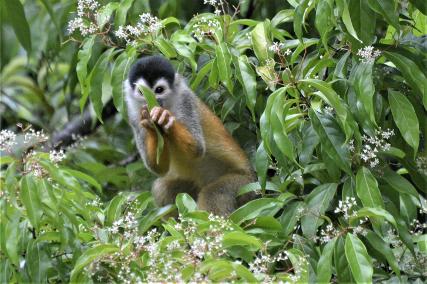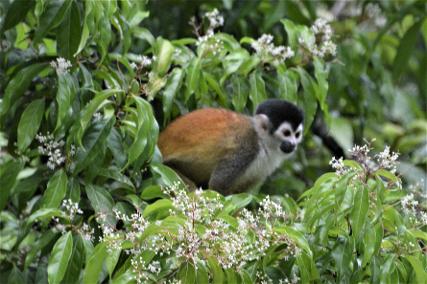 Mostly Squirrel monkeys ... ... but also a few Capuchins.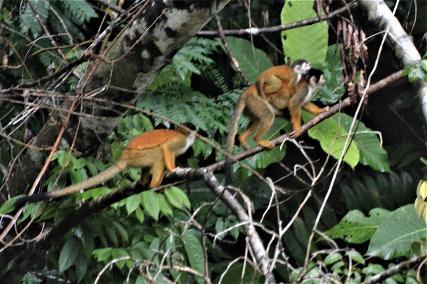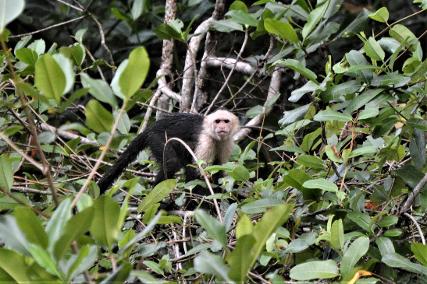 Some of the beautiful birds including this boat-billed heron on the right.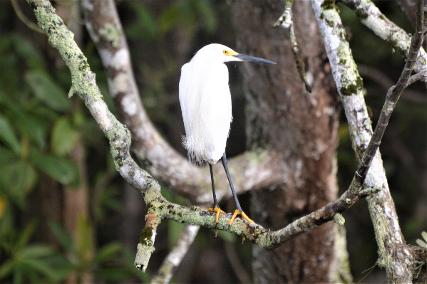 Birds, rainforest and palms along our ride back to GDR.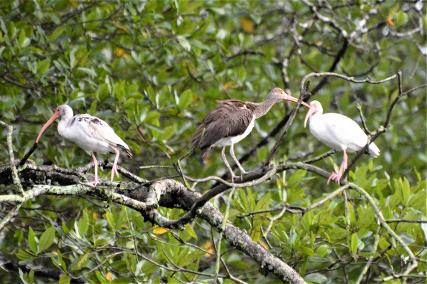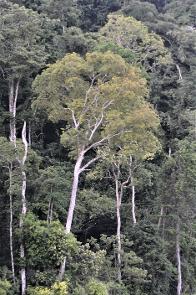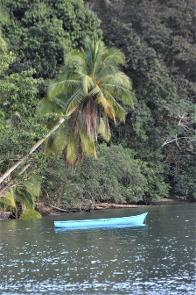 The sun started to recede on our boat-ride back. Sadly it was too cloudy for a colourful sunset.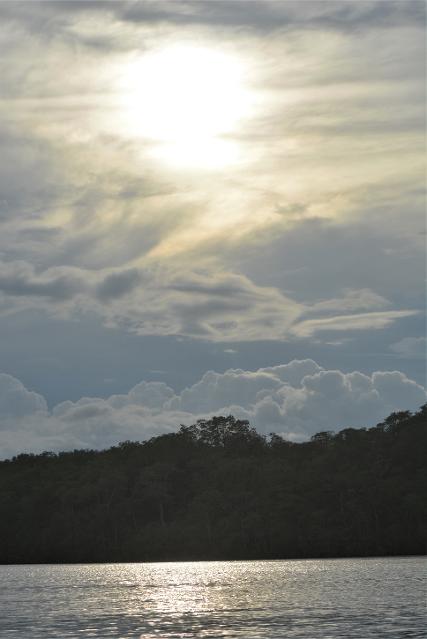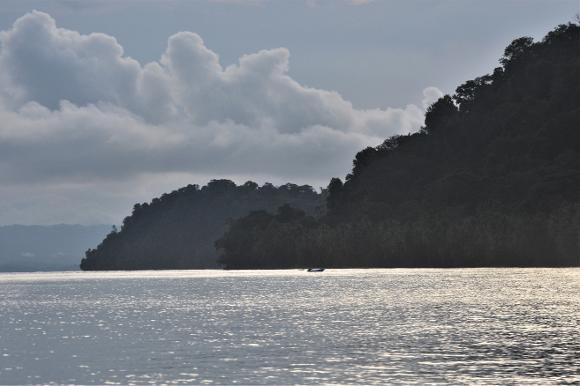 The cocktail of the night - Margaritas. Lentil soup with croutons, Parmigiano and rosemary.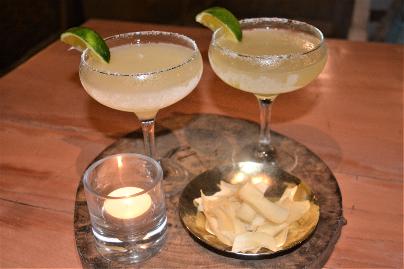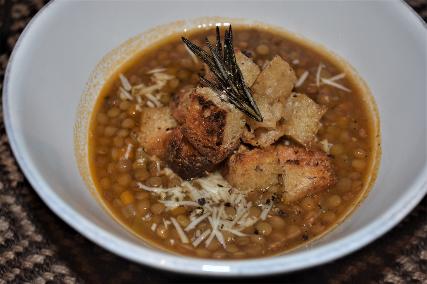 Mahi-Mahi in a herb crust. Grilled eggplant with a spicy tomato sauce.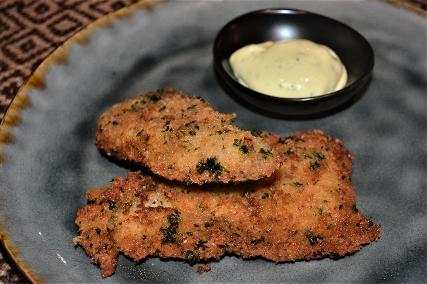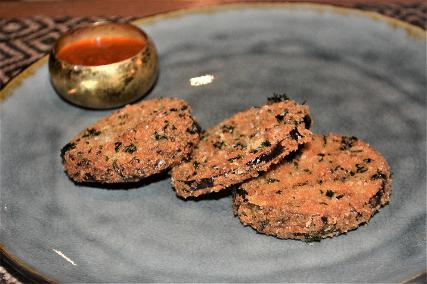 Eggplant, roasted potatoes and baked broccoli. Fresh Costa Rican papayas sorbet.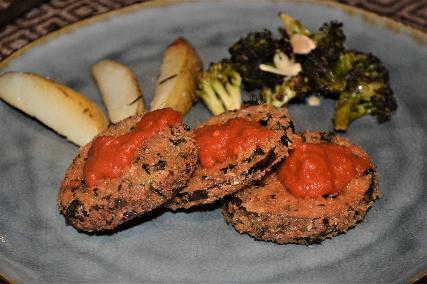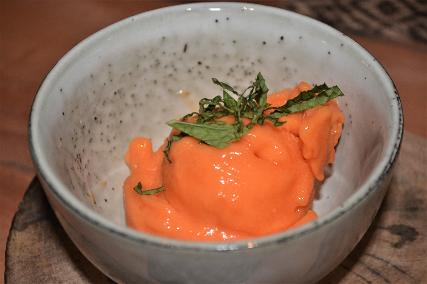 April 04, 2022 - Golfo Dulce Retreat, Golfo Dulce
This morning, after breakfast, we went on a 3 1/2 hour rainforest walk to a waterfall. Augustine, a 65 year-old originally from Venezuela was our guide, accompanied by Andy with whom we crossed paths five years ago at Look-Out Inn where he was the bartender. There were numerous stops for monkey sightings and photos of rainforest life (vines, caterpillars, snakes, bugs, the massive Ceiba tree, and lots of mushrooms). Most of the walk was along a decent trail although as we approached the waterfall we had to cross a brook a number of times. After an hour and a half we reached the waterfall. With our clothes soaked, we took the opportunity to refresh under the cascading water.
Shortly after we began the walk back Lee (we were on the hike with Margaret and Lee, two other guests from Brooklyn) spotted a Fer-de-lance coiled up on the trail. Camouflaged near some similarly coloured leaves the Fer-de-lance is found from southern Mexico to northern South America. It is the most dangerous snake of the region. Although Chantelle said no one has been bit she was very clear on the need to continually be on the lookout for this, and other snakes, always having a light at night and constantly checking the paths as walking. As well an evening dip in the pool was a no-no as the Fer-de-lance were often present hunting the frogs in the pool. One of the interesting stops was at a kerosene tree where Augustine scraped some bark and lit it a-blaze. Who knew.
Upon returning we immediately headed to the pool to cool off. Shortly thereafter we observed a troupe of perhaps 30 Squirrel monkeys playfully playing in the trees next to the pool. Very entertaining.
For some reason I neglected to take photos of lunch - Polpettine di Ceci (chickpea fritters); Couscous Mediterraneo (couscous with raisons, nuts and fresh peppers); Insalata Mista and fresh tropical fruit - perhaps because I was sore and tired from the hike. That probably also explained the extended afternoon nap.
We returned to the lodge for afternoon tea which included delicious banana bread and a very nice dinner that started with Polenta al Rosemarino (cornmeal tortillas served with crispy rosemary and a spicy tomato dip) followed by Pasta alla Norma (served in a classic Sicilian sauce of eggplant, tomatoes and basil with plenty of aged Parmigiano). I was somewhat leery of how apparently undercooked my locally-caught tuna was - it was only seared and served with extra virgin olive oil and cracked black pepper accompanied by a mustard mayonnaise, but it was delicious - no doubt the best fish I enjoyed at GDR. Dessert was home-made ice cream with Costa Rican pan-roasted pineapples flambeed in Flor de Cana golden rum.
After dinner we joined Augustine on a night walk to see frogs, snakes, spiders and other creatures of the night. I did the first half but bailed due to my knee. Gayle continued down to the beach where she so much enjoyed the bioluminescence of the waves in the Golfo. Given the volume of photos of the waterfall walk we'll post the night walk photos another day.
Early morning (6:30 am) coffee delivery.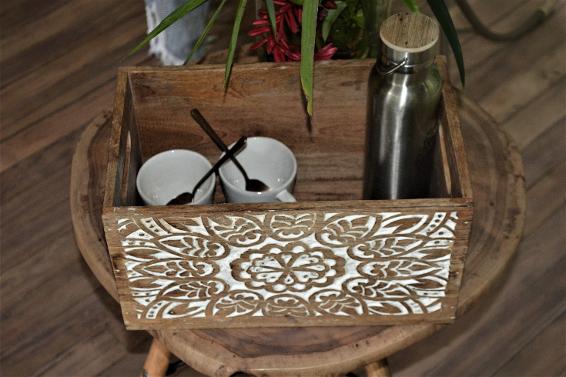 A passion fruit (so we think) on a tree beside our cabina.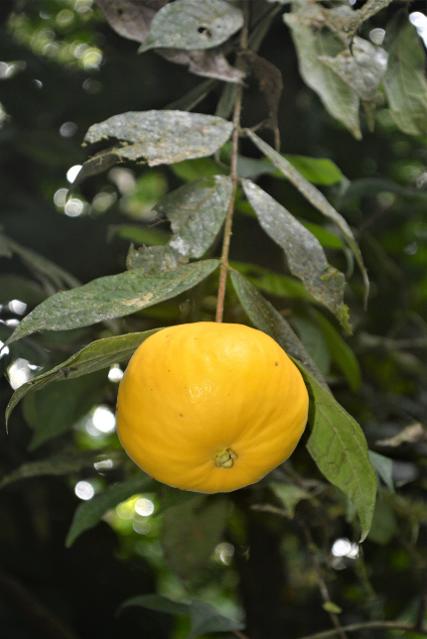 In addition to Geronimo there were a couple of other parrots that hung around the lodge.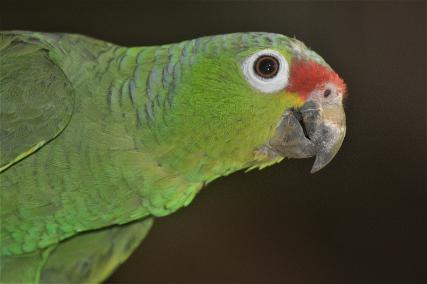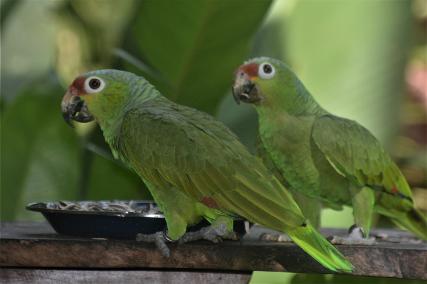 And as well this Scarlet Macaw was perched in a tree next to the lodge.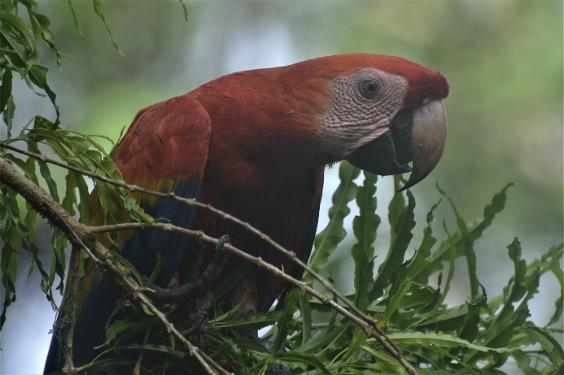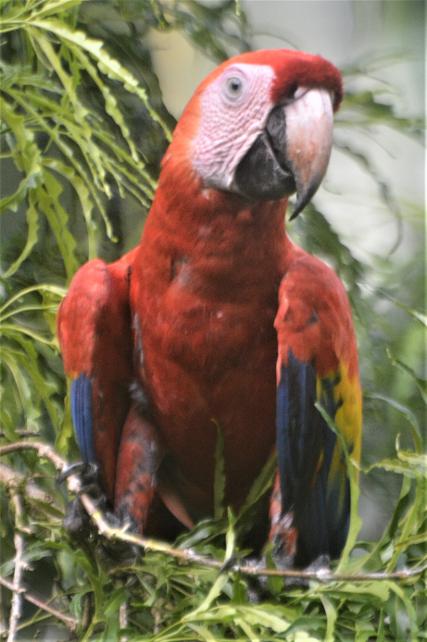 Gayle is immensely interested in mushrooms, making our jungle walk a wonderful source of those we saw. This is but a small sampling.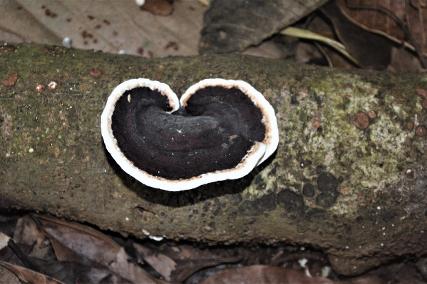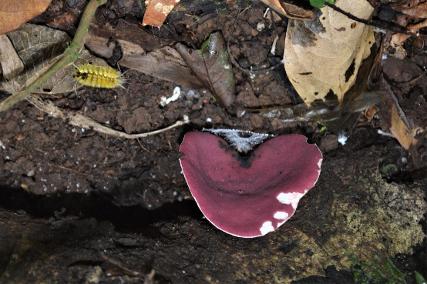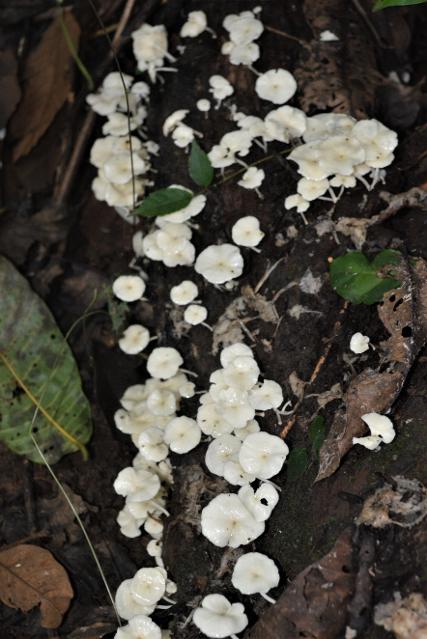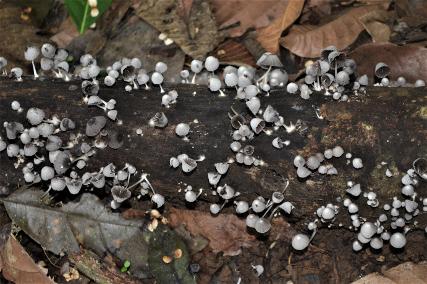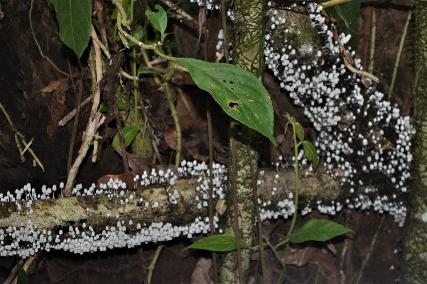 Augustine Gayle crossing a small river bed A frequently seen caterpillar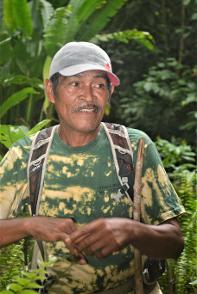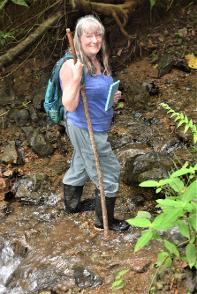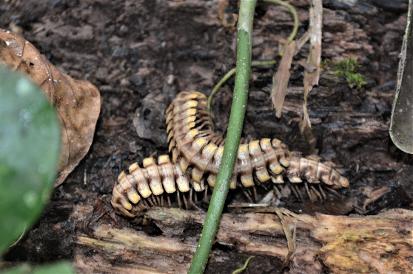 The rainforest is full of interesting vines.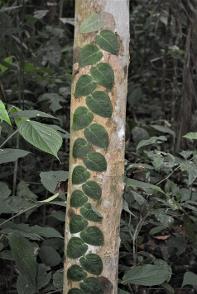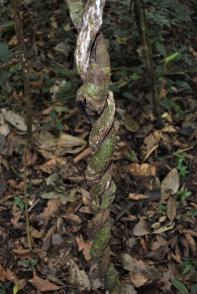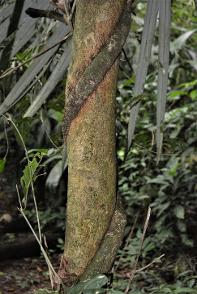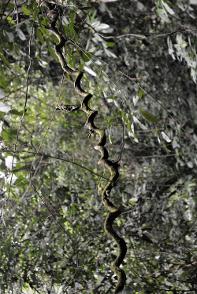 Tree berries of some sort. Bugs ... lots of bugs.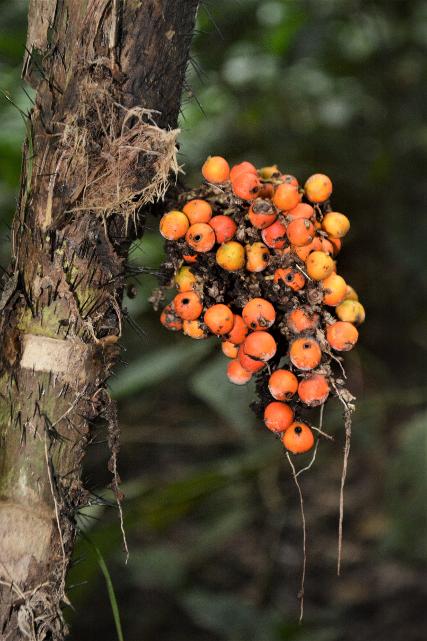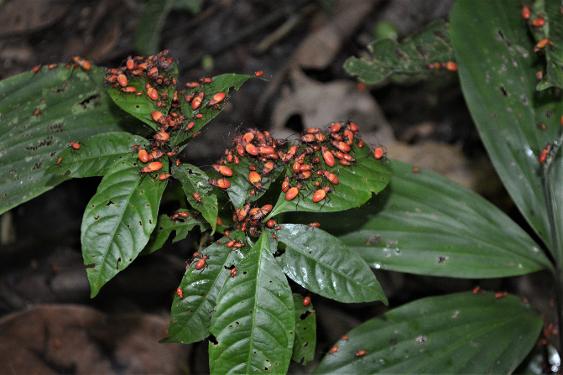 After an hour and a half we finally made it to the waterfall where we were refreshed under the plummeting water.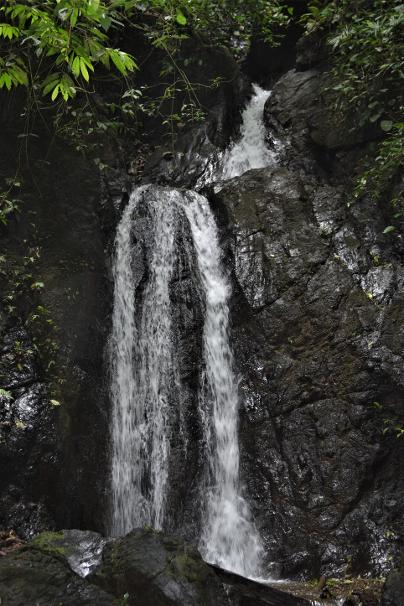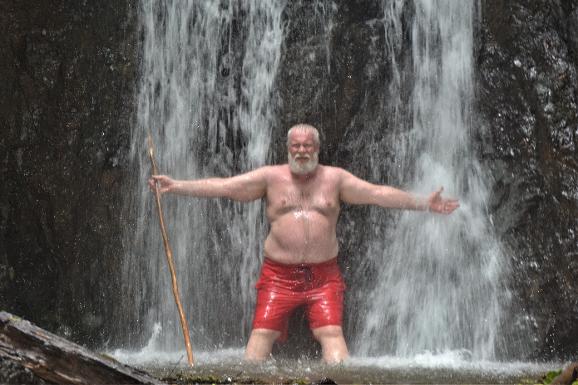 The rainforest is home to a number of snakes.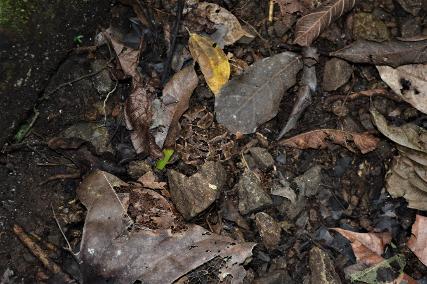 The most venomous of which is the Fer-de-lance, one of which we stepped over (fortunately he/she was coiled up
and inactive) on our return from the waterfall. And no I was not this close - the benefits of photo cropping.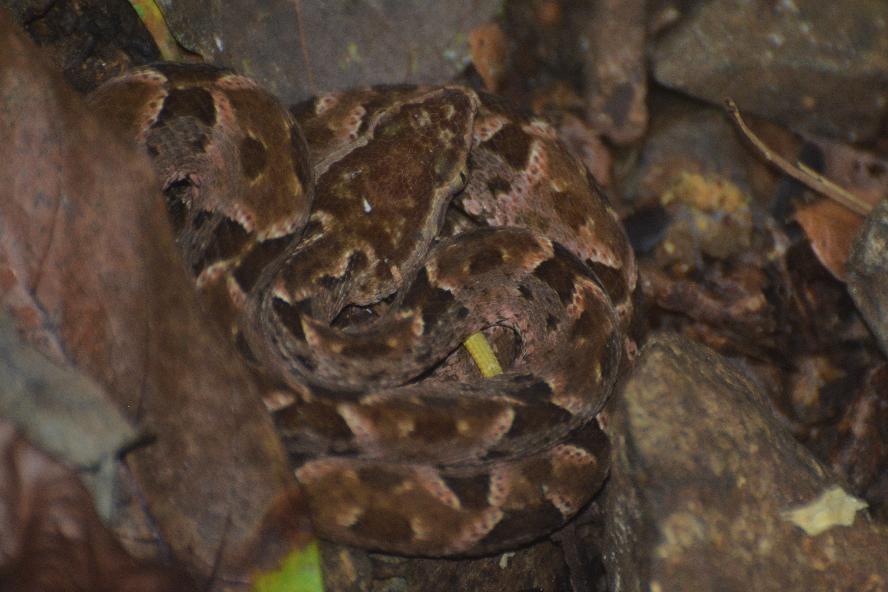 A huge Ceiba tree. Augustine lighting kerosene. Andy.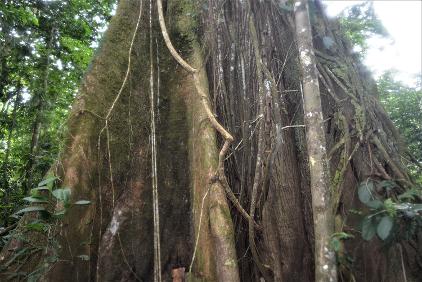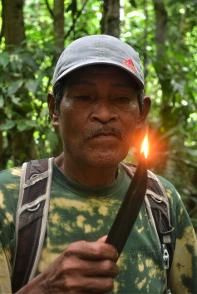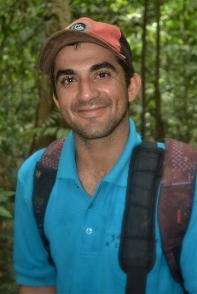 Upon returning we were greeted with this troupe of squirrel monkeys near the pool.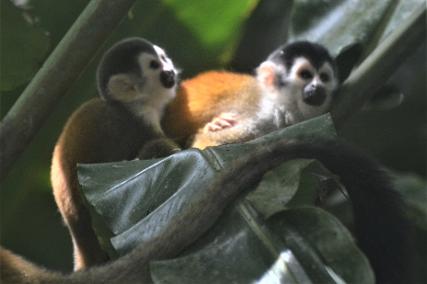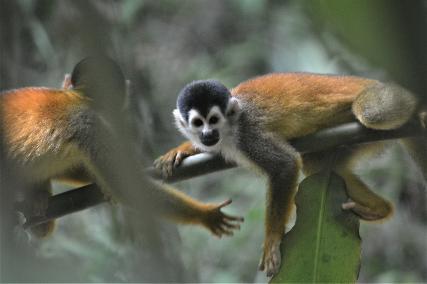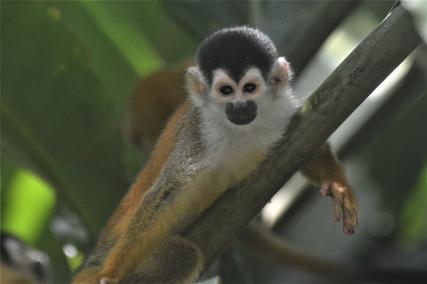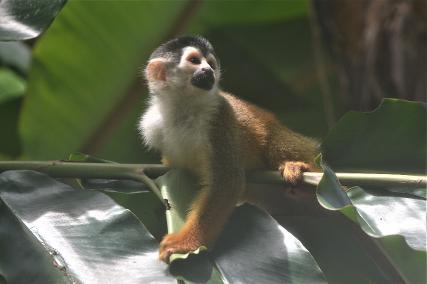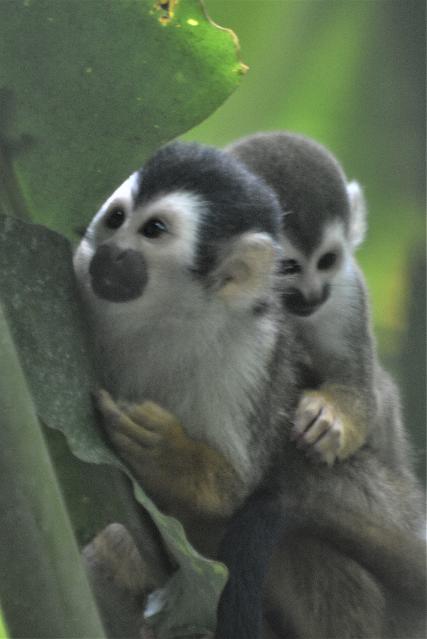 Delicious banana bread at afternoon tea. Polenta al Rosemarino with spicy tomato dip.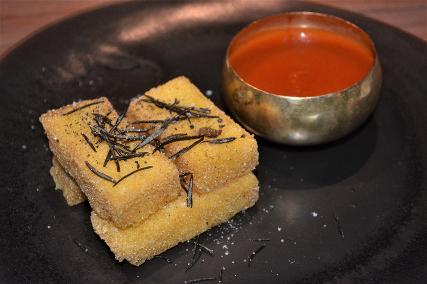 Pasta alla Norma in a classic Sicilian sauce. Tonna alla Piastra - seared locally-caught tuna.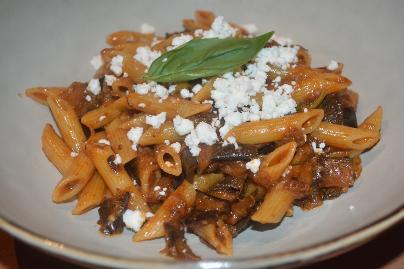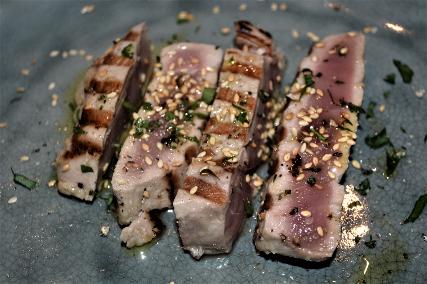 Sweet potato and zucchini. Gelato all 'Ananas (pineapple).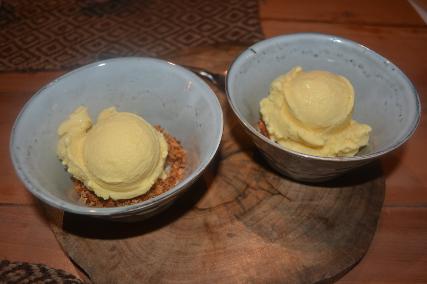 April 03, 2022 - Golfo Dulce Retreat, Golfo Dulce
Although we have activities planned virtually every day today is a day with nothing. We were hoping to visit the Osa Wildlife Refuge - just up the coast but the owner / tour guide left for the US this week for her mom's 100th birthday, resulting in our visit being cancelled,
and a free day.
As turned out to be the case every morning Gayle was up shortly after 4:00 am to listen to the awakening of the howler monkeys and the transition between the night sounds (primarily insects) and the day sounds (primarily the many species of birds.) Relaxing in her hammock is her early morning - well before it turns light around 5:30 am - happy place.
Around 6:30 am coffee, and a few small cookies, is delivered to our cabina, the signal for me to finally roll out of bed. While the wi-fi is very good at the lodge it does not exist at the cabinas so we would wander down to the lodge 7:30 ish to check emails etc. in advance of our 8:00 am breakfast. Breakfast is comprised of a very nice plate of fresh fruit (papaya, mango, watermelon, pineapple and passion fruit), a fruit juice, coffee, Costa Rican cheese and Gallo Pinto (rice and beans), plantains, and eggs, either scrambled or fried. It is a very nice and filling breakfast but unfortunately was identical all six days. Some variety would have been nice.
Our cabina is beautiful - very private in a corner of the property with a wonderful outdoor shower and large tub, all surrounded by lush vegetation and flowers. There is lots of storage space, a comfortable bed with netting - absolutely necessary given the creepy crawlers present, even on occasion when doors are carefully closed. After all it is the rainforest. There is a useful desk and a large deck with the hammock and a couple of chairs. Of course no air conditioning but a very helpful fan. Also plenty of lighting, somewhat surprising given we are off the grid.
Animals are ever present - with a peccary, a couple of curassows and a few agoutis seen next to our cabina. We heard the howler monkeys every morning and one day saw a troupe of squirrel monkeys playing in the trees behind. Plus the insects, butterflies, including a blue morpho, and the birds provided us with exactly the experience we were looking for.
Simon y Chantelle have a nice collection of Boruca masks and art, some of which is for sale. There were a number of masks actually used in the Boruca festival / ceremony. Very impressive. We ended up purchasing three sets of placemats.
Lunch is vegetarian and both flavourful and unique. Normally while travelling, after a large breakfast it is very unusual for us to have lunch, but not the case here as we were very well fed. Details of our meals will be provided in the photos.
We enjoyed a lazy (sloth ish) afternoon that included a swim in the pool. Late afternoon (5:00 pm) there is tea and a baked good, followed by a cocktail at 7:00 with a special tropical drink each day. Then at 7:30 pm is a four course dinner based on Italian cooking (both Simon y Chantelle are from Rome), often including a pasta and for those of us who are not vegetarians - fish. No meat is served at GDR. Dessert is either an ice cream or sorbet, again of tropical fruit flavour.
Afterwards it was back to the cabina - no swims at night due to the frogs in the pool and the poisonous fer-de-lance around the pool hunting the frogs - and in to bed by 9:00 ish. One wouldn't think a day of doing virtually nothing would have us tired but the heat and the humidity no doubt takes its toll.
A welcoming arrangement of flowers. The hammock.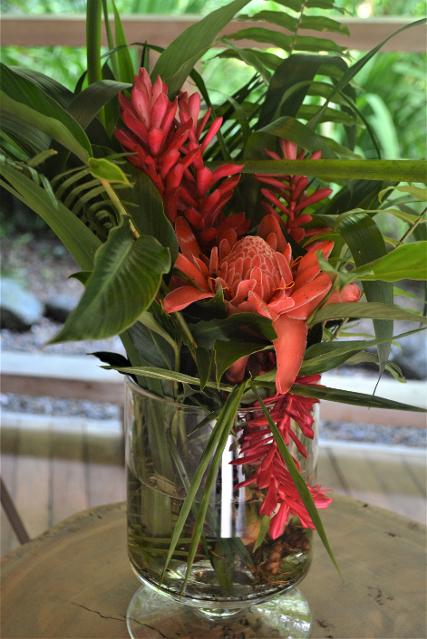 The bathroom area, also with flowers. Our 'netted' (very comfortable) bed.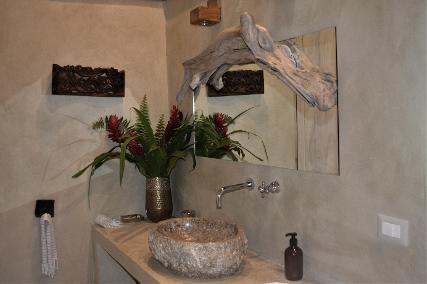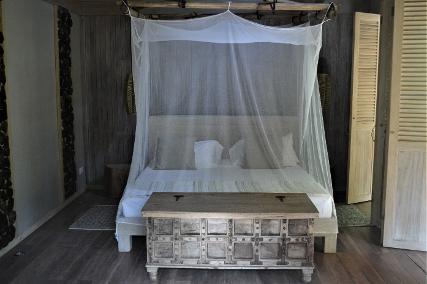 The outdoor shower and tub.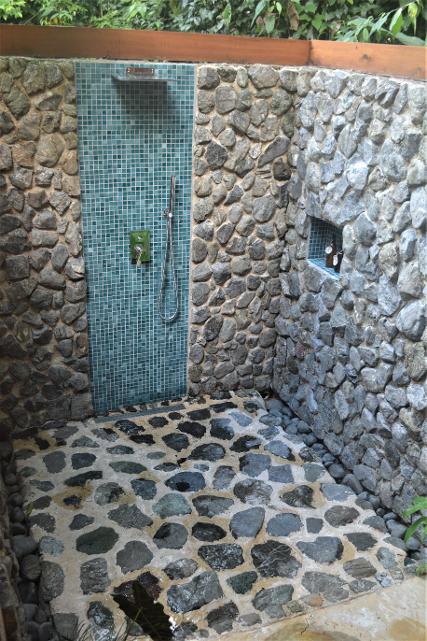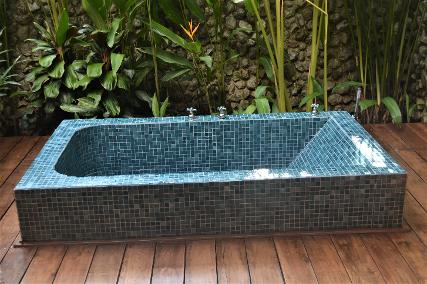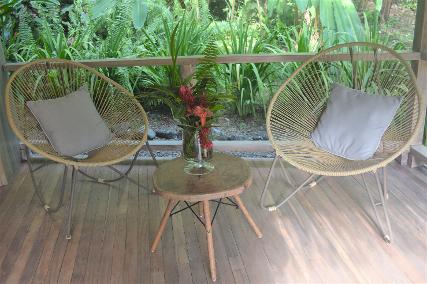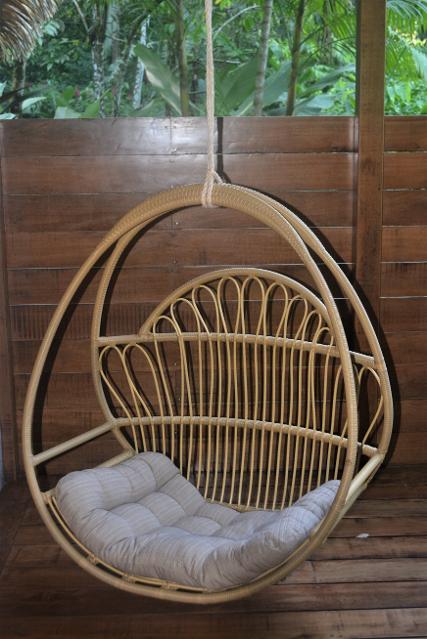 Breakfast starts with a lovely selection of fruit. Gallo Pinto.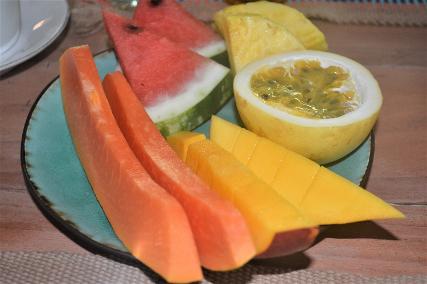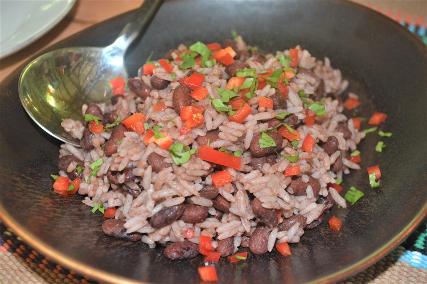 Plantains. The plated breakfast, this morning with scrambled eggs.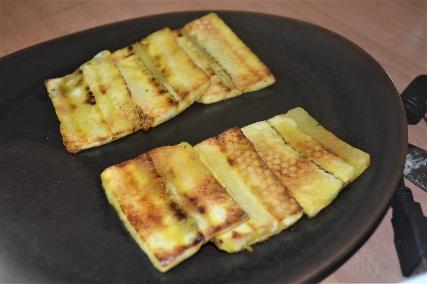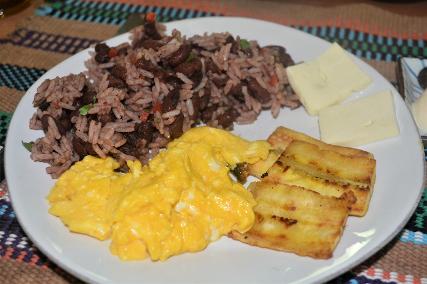 This peccary was just outside our cabina.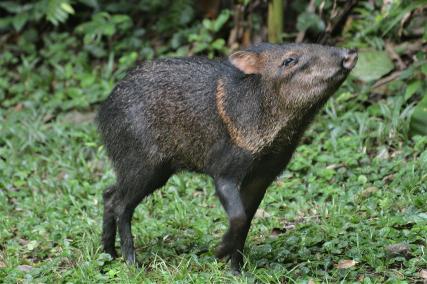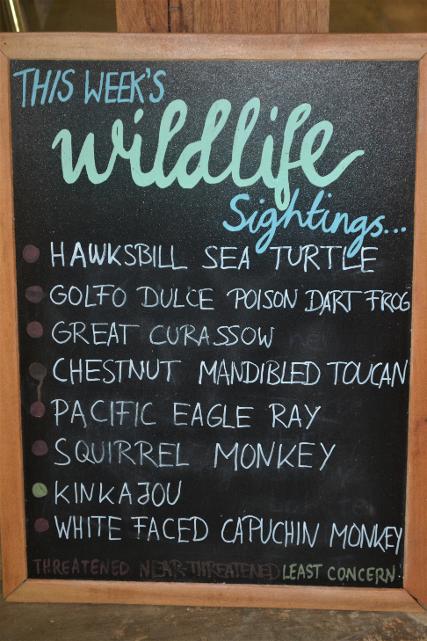 Colourful flowers and a small pineapple 'plantation' can be found on the property.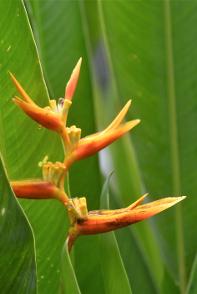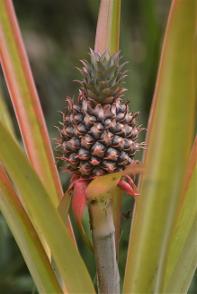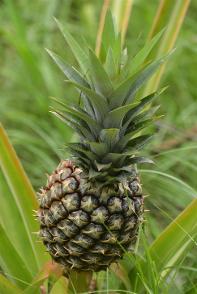 Fresh fruit at the kitchen.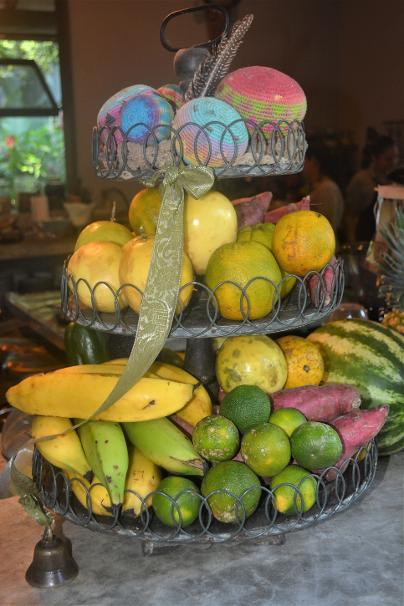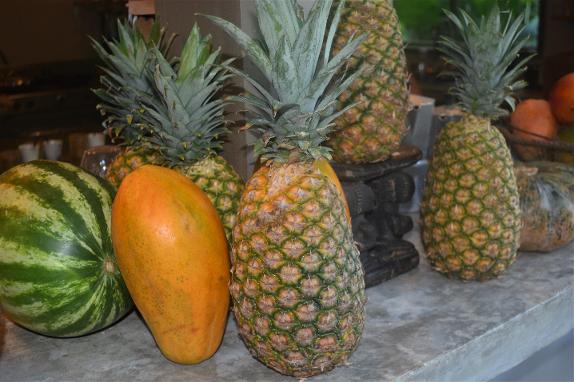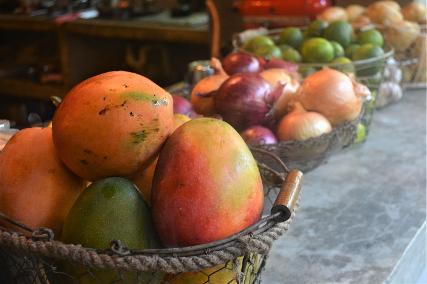 Lunch was comprised of Couscous Gigante, with mint, basil and parsley, and Frittelle di Yuccu, fried patties of shredded casava root, served with a hot starfruit sauce.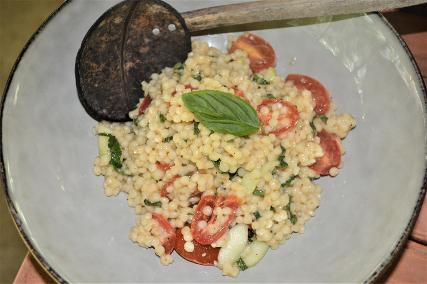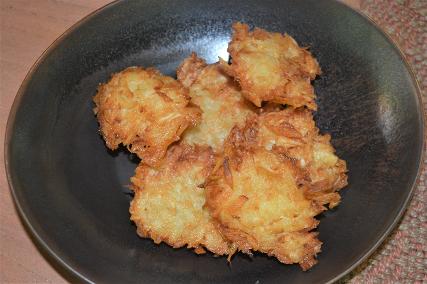 Plus Croccette di Camotes - patties of sweet potatoes, mature cheese and spring onions with a yoghurt and natilla sauce.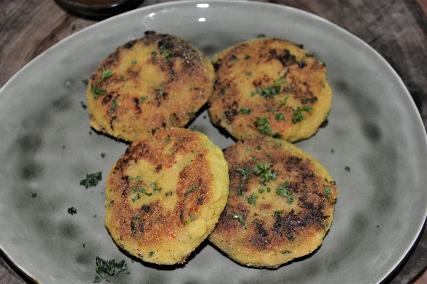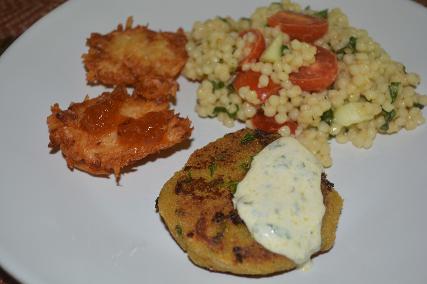 Geronimo, the character he is, was very interested in our travel blog, insisting his presence be prominent.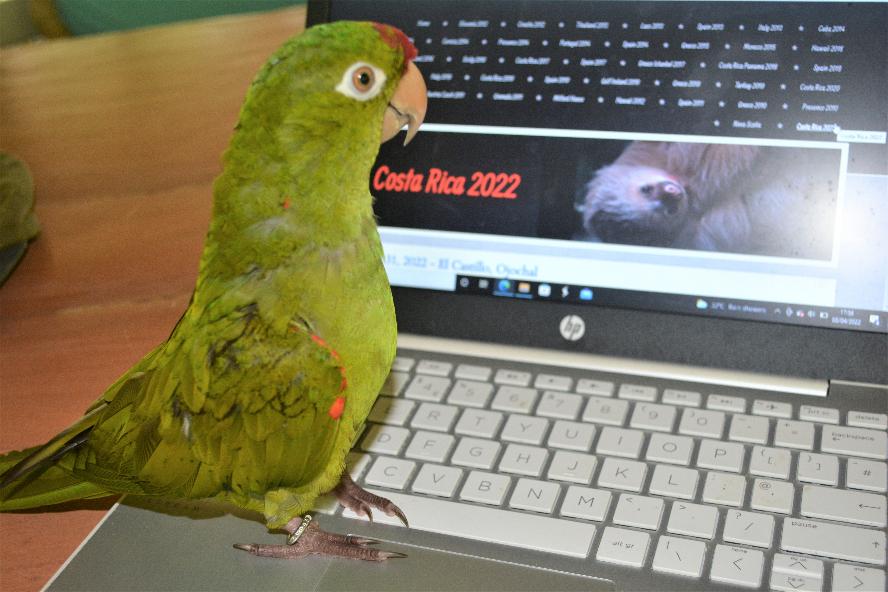 The beautiful Boruca art and masks.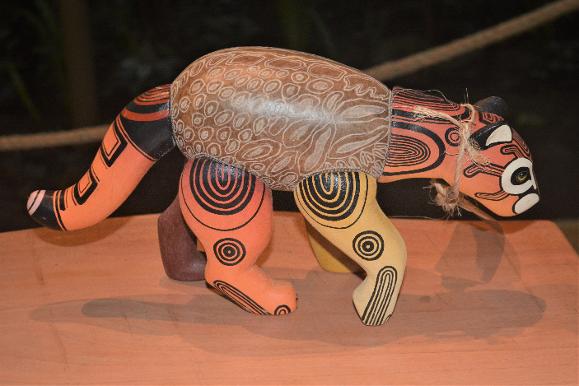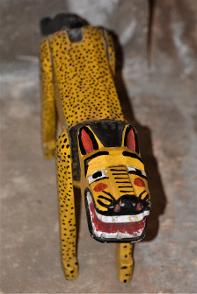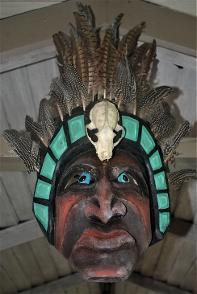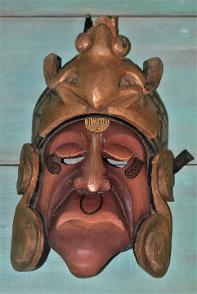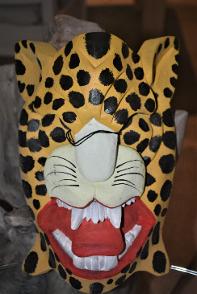 Tonight's tropical cocktail of the day - the Passion Fruit Mojito.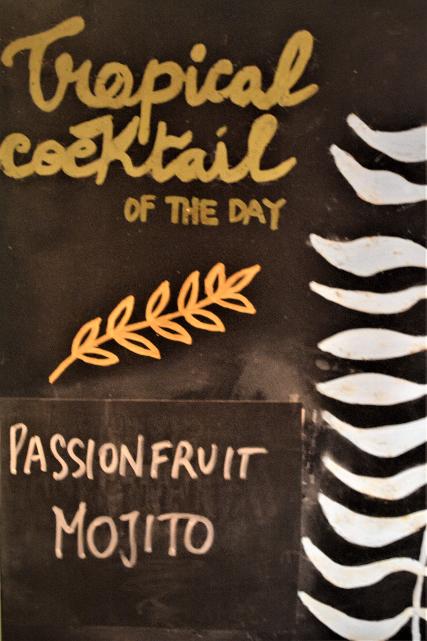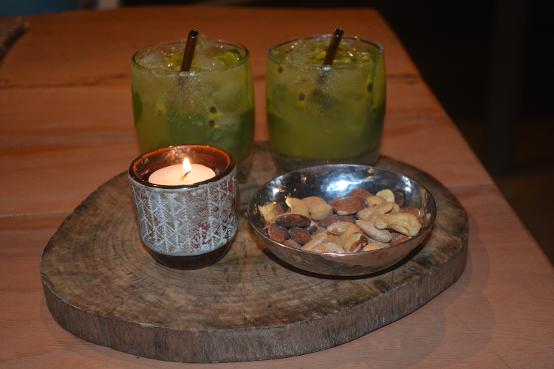 Dinner began with Fagiolie Brushettina, a traditional Borlotti bean soup.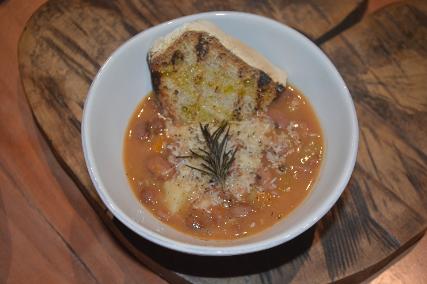 I had Pesce alla Mugnaia, locally caught Pacific Sierra mackerel cooked in a mandarina lime.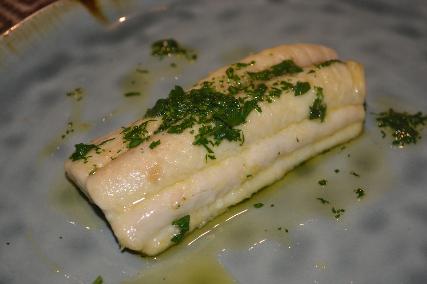 While Gayle enjoyed a stuffed portobello mushroom.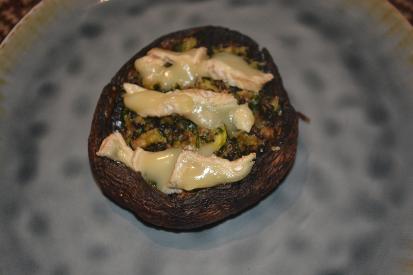 Accompanied by roasted sweet potatoes and steamed green beans.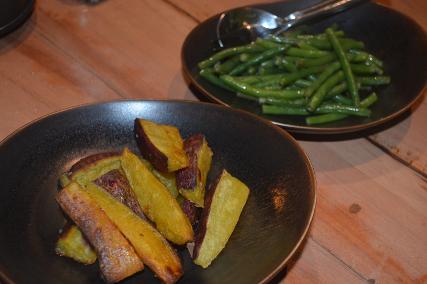 My full dinner plate (with some of Gayle's mushroom). Watermelon sorbet for dessert.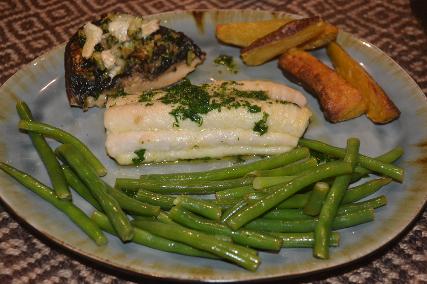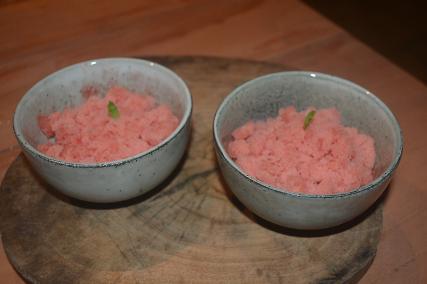 April 02, 2022 - El Castillo, Ojochal to Golfo Dulce Retreat, Golfo Dulce
Today is moving day, After seeing the sunrise we had breakfast a bit earlier than normal in order to drive back to Uvita to drop off our rental car. Long story but we could not get a vehicle with Alamo/National/Enterprise, the only company with an office in Golfito. Rather the best we could do was a drop off in Uvita, with Adobe requiring us to either hire a private driver or take the bus. We chose the latter for what turned out to be a 2 1/2 hour trip with a number of stops along the way.
As we did the previous two trips we brought a number of beanie babies to give away to a local school. We decided to offer some to staff with children working here at El Castillo. They were very excited and happy to receive the beanie animals for their children / grandchildren, or in Nicole's case future child.
Absolutely no problem dropping the vehicle off. A fellow at Adobe then drove us to the bus station where we boarded a bus that had originated in San Jose. Upon arriving in Golfito we got a taxi for the short drive to Banana Bay Marina where we had arranged to be picked up by someone from Golfo Dulce Retreat (GDR).
The boat ride was perhaps a tad over half an hour in what was apparently somewhat rough waters. The coastline was scenic, densely covered with palm trees and other thick rainforest vegetation. We saw a number of pelicans during the trip.
Simon was on the beach to greet us and take us 200 metres into the rainforest and GDR. But before we took very many steps we were met by Geronimo, the resident parrot. Geronimo was 'released' back into the wild but didn't take, ultimately finding a home here. His favourite landing spot is one's shoulder (more often men than women) although it is not uncommon for him to perch on one's head, as Gayle well knows. Upon reaching the lodge Chantelle took over, with welcome drinks and an excellent explanation of the details / tours of our six night stay. She then escorted us to our very nice (upgraded) cabina (one of four cabinas on the property) with outdoor shower and oversized outdoor bathtub, very private in the corner of the property.
Golfo Dulce Retreat has 172 TripAdvisor reviews. ALL 172 are excellent, of course one of the reasons we chose to stay here. In spite of the price being (considerably) more than any other place we have stayed the plan was to stay four nights in February 2021 for Gayle's 65th birthday. Sadly COVID derailed that plan. But with the savings from two years of no international travel we decided to stay six nights. With 100% Excellent reviews, and raves about the generally vegetarian meals (some fish but no meat) we were confident we would enjoy a wonderful stay. And we were right.
Late afternoon (at 5:00 pm) there is tea with a baked item. Then each evening (at 7:00 pm) there is a special cocktail, followed by dinner at 7:30 pm. Tonight's dinner was comprised of
Tartina con Zucca Verde - Rye bread with grilled green pumpkins, extra virgin olive oil, mint and cracked black pepper
Pasta al Ragu di Pesce - home made fettuccini in a slow cooked sauce of tomatoes and locally caught fish topped with lime zest
Verdure al Forno - crusted pumpkin wedges with soured cram; roasted eggplants with breadcrumbs, fresh tomatoes and parsley, and
Gelato alla Crema - home made ice cream with Costa Rican vanilla pods, accompanied with a home made biscotto.
Dinner was exactly as the reviews claimed it would be - delicious. Just the right size of servings given the four courses.
After dinner we did the bioluminescence tour. After the sun sets the Golfo Dulce hosts an amazing light show from an alternative light source - tiny micro-organisms in the upper layers of the sea that glow when the water is disturbed. A passing dolphin, a boat's wake or a hand running through the water creates a streak of light, betraying the presence of dinoflagellates, i.e. tiny unicellular algae. Our trip included a swim in the Golfo where our movement in the water created some amazing light.
After a long day (for us) it was straight to the cabina and bed, although not before encountering a large toad and a decent sized spider. After all we are in the rainforest!
It took three days but I finally found the right location / angle for the sunrise.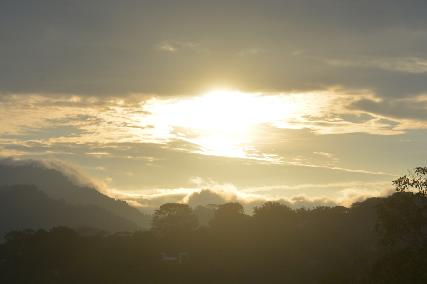 The corner of the pool overlooking the coast.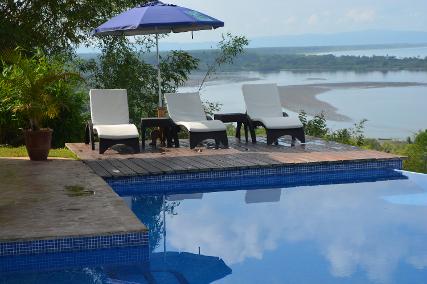 Coffee, juice and fruit - it never gets old. French toast with fruit.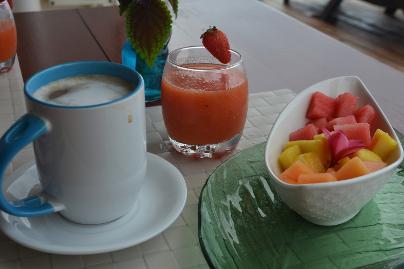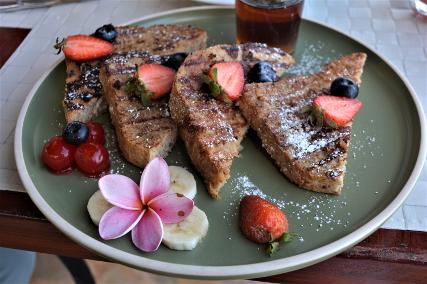 A couple of views of the back of El Castillo - on the right is our second balcony.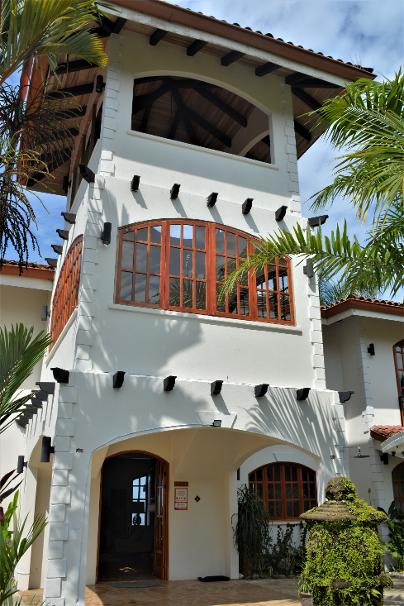 The view to the mountains and vegetation just outside the hotel.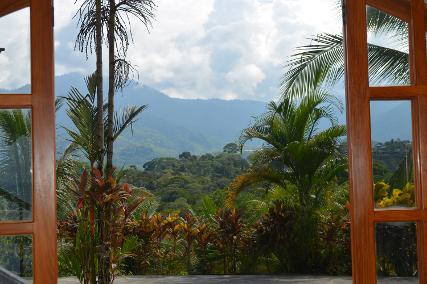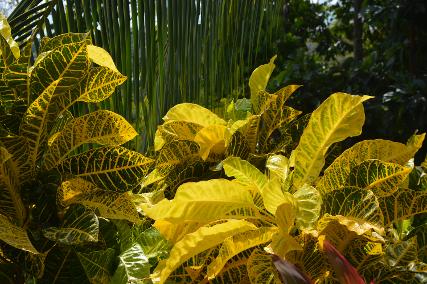 Kristy, Kelly, Nicole and Sirleny, with their beanie babies.
This trip included car, plane, boat and here bus.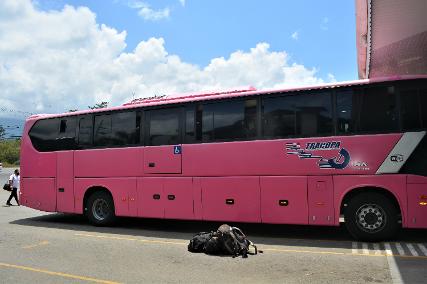 Banana Bay Marina in Golfito where we were met and boated to GDR.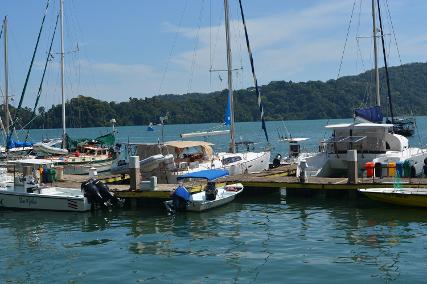 Pablo, our boat pilot, and our first glances of the vegetation as we left Golfito.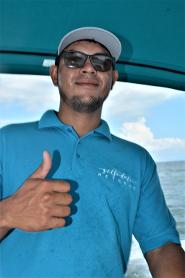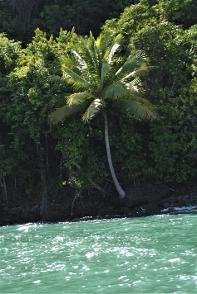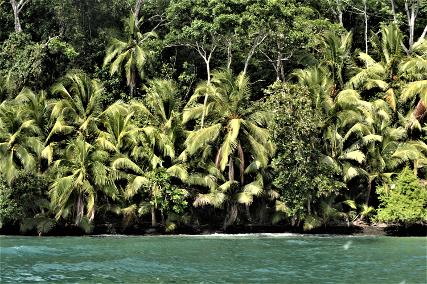 Some of the rainforest along the Golfo Dulce (pronounced Dulsay).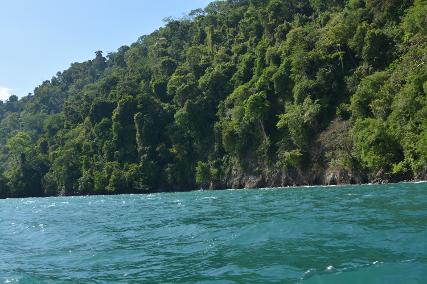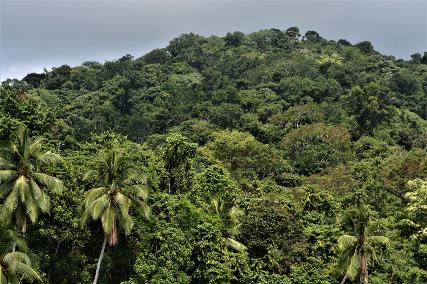 We spotted a number of pelicans sunning in the trees.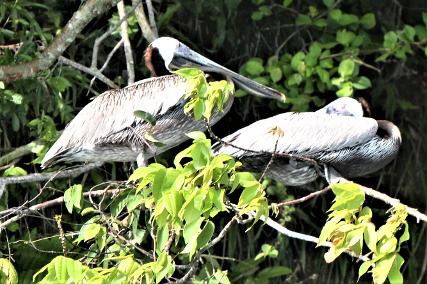 We were welcomed by Simon ... ... and a refreshing tropical drink.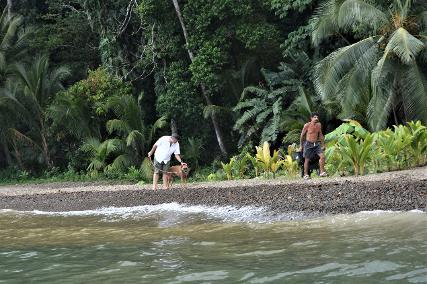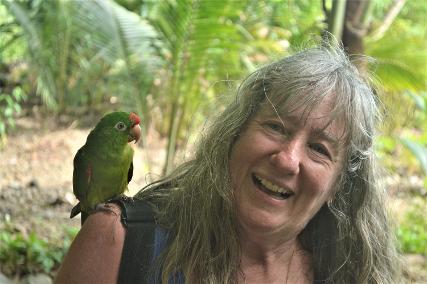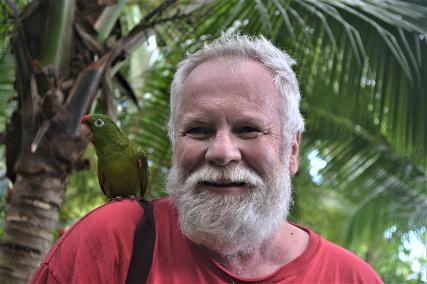 Gorgeous colourful flowers. Approaching our cabina.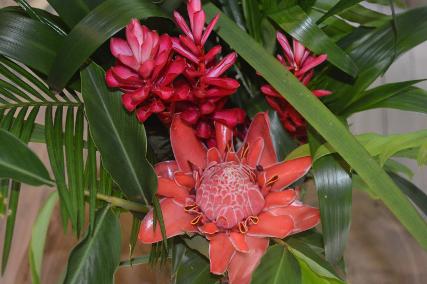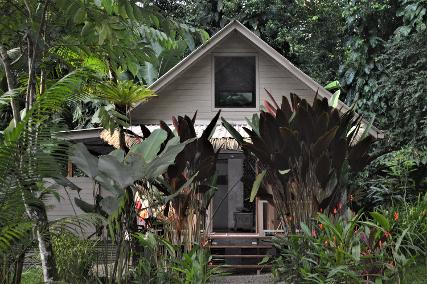 Each evening there is a cocktail of the night - tonight the Canchanchara.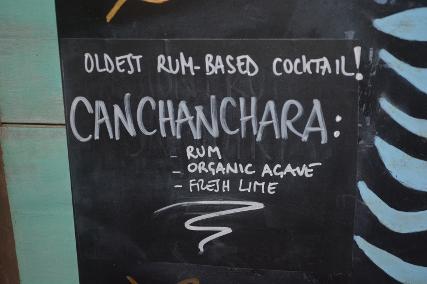 Rye bread with grilled green pumpkins, EVOO, mint and cracked black pepper.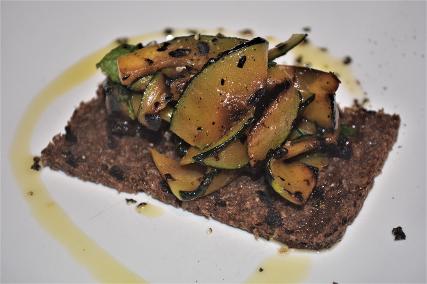 Roasted eggplants with breadcrumbs, fresh tomatoes and parsley.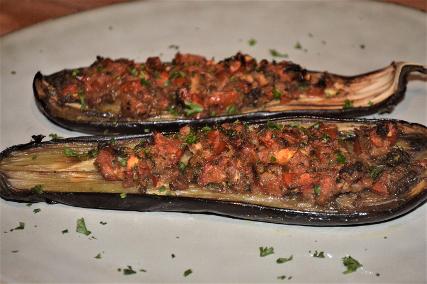 Crusted pumpkin wedges with soured cream.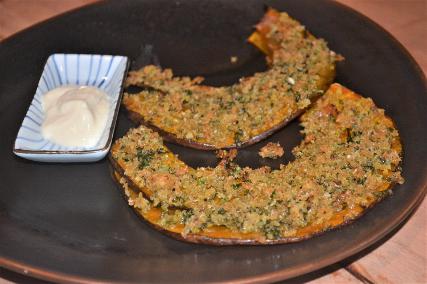 The main course was a pasta - mine al Ragu di Pesce (fish), Gayle's with no pesce.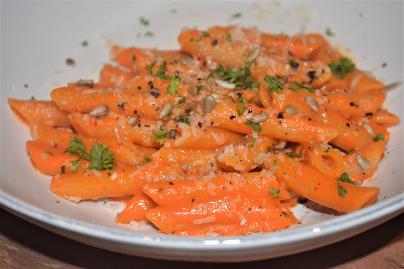 Ice cream with Costa Rican vanilla pods, accompanied by a home made butter biscotti.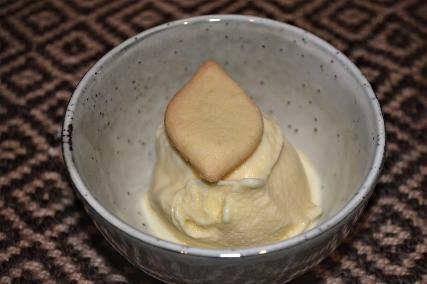 The Golfo Dulce Bioluminescent light display.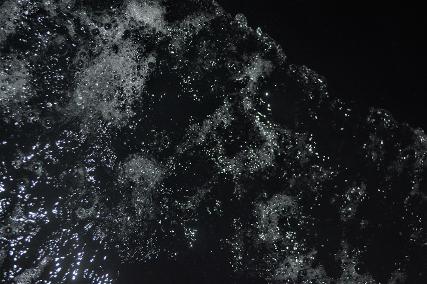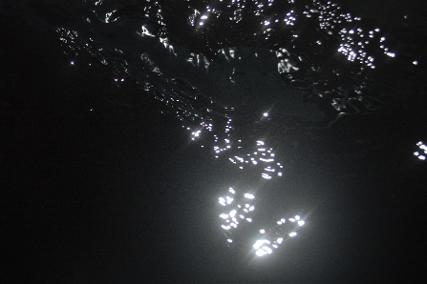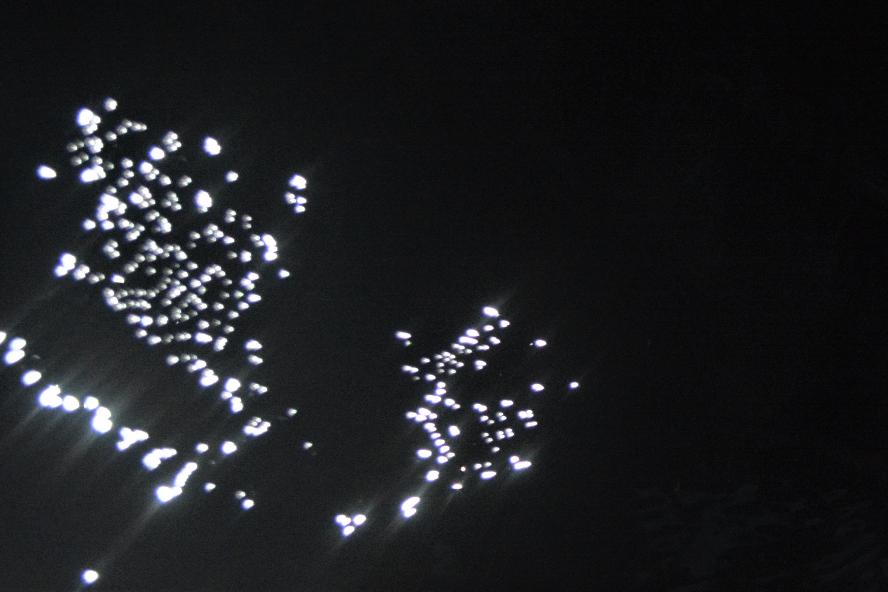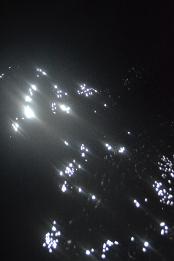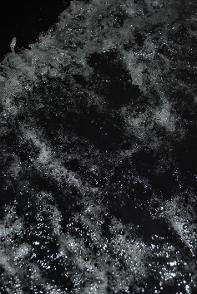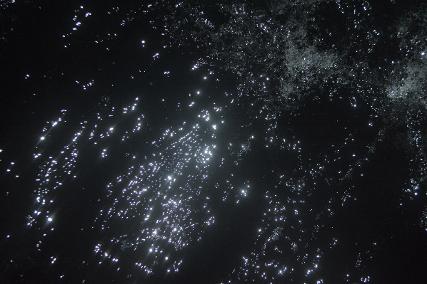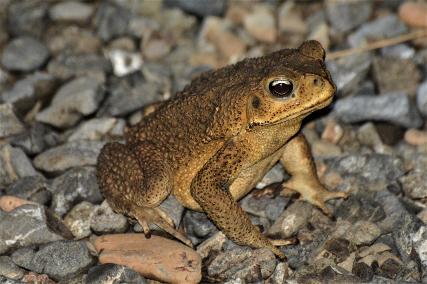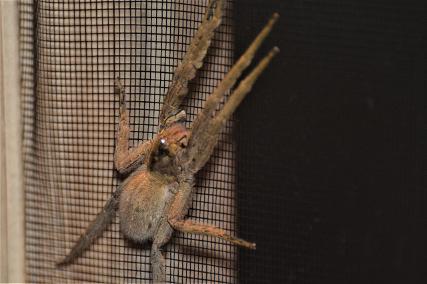 April 01, 2022 - El Castillo, Ojochal
Pretty much a carbon copy of yesterday - watching for birds (we saw a number of Scarlett macaws and pelicans), breakfast, pool time, and a sloth nap, but then late afternoon we did go out, first to nearby Playa Ventana to see the sunset. Nothing spectacular but some very interesting clouds and colours in the sky.
For dinner we returned to a place we ate at in 2020 - Exotica. Owned and operated by a family from Montreal we enjoyed a very nice meal then and were equally impressed this time. I started with the Costa Rican ceviche, made with local sea bass, while Gayle enjoyed a Margarita. Gayle then had the Pasta Strogonoff of fresh vegetables, cream, wine and vodka sauce while I enjoyed chicken in peanut sauce accompanied by jasmine rice and vegetables. For dessert I could not resist the Exotica Lime pie, In addition to the food being tasty the presentation, particularly the accompanying flowers, some of which were edible were especially impressive. The service of Maitay and staff were very welcoming and attentive, We were very glad we returned,
Coconut palms full of coconuts outside the back of El Castillo.
A train of leaf-cutter ants near our breakfast table.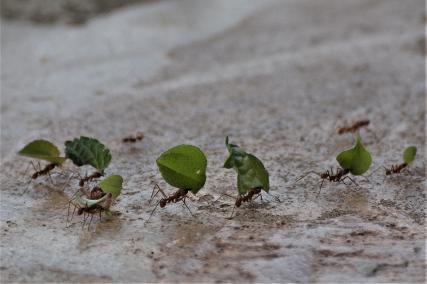 Gayle spends a considerable amount of time listening and looking for wildlife. Upon siting Scarlett macaws I get the alert to try to get a decent photo given their distance from us (these are all cropped to enlarge).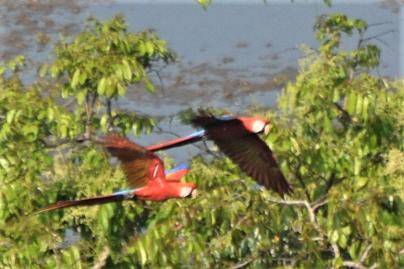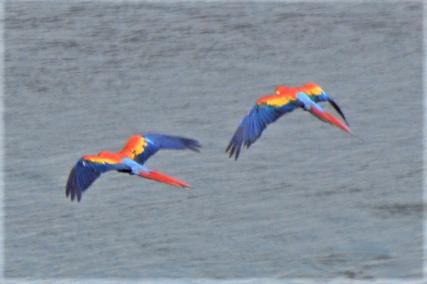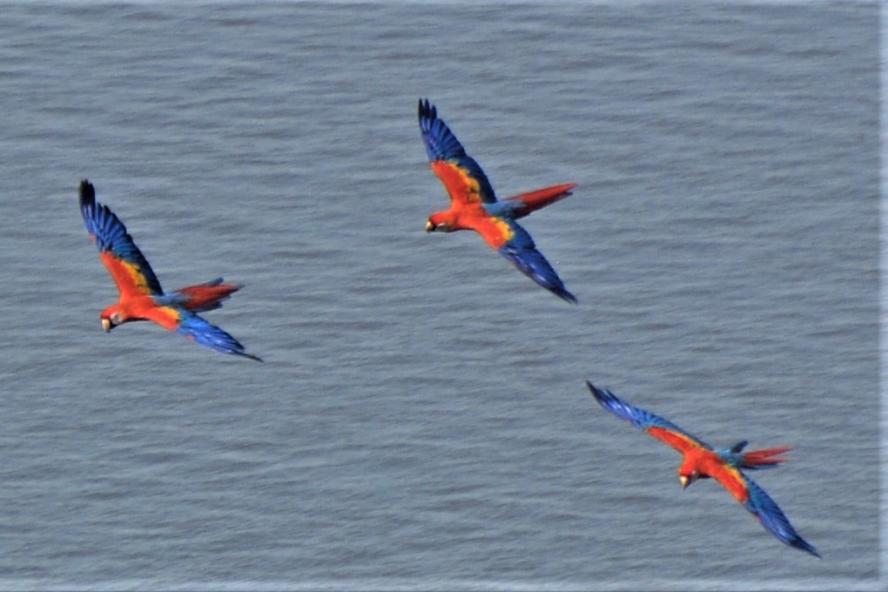 One of the resident vultures.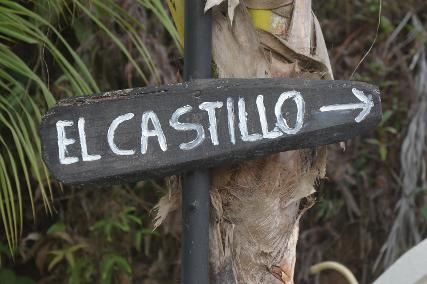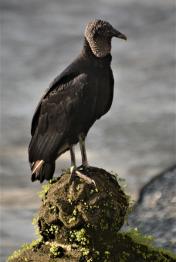 Pelicans, pelicans and more pelicans.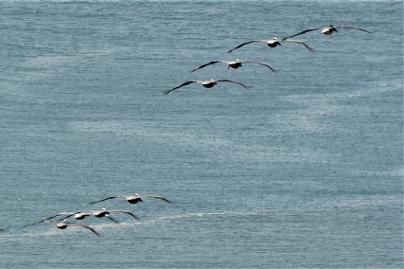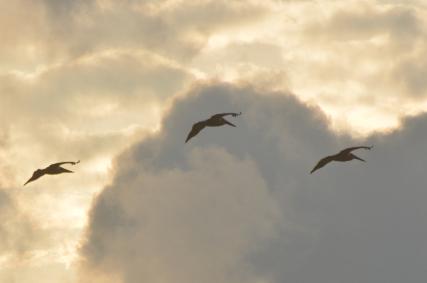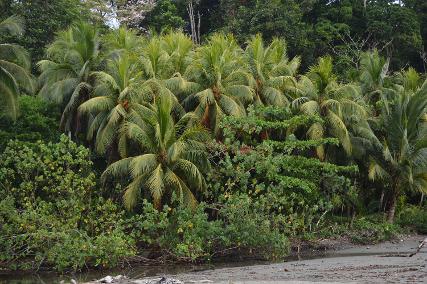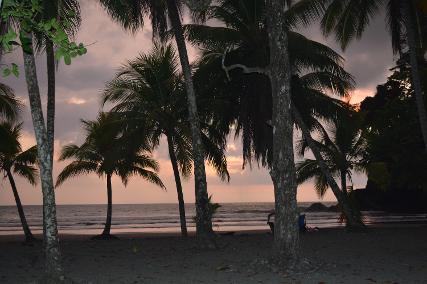 While it was dry on Ventana playa it was clearly raining off-shore.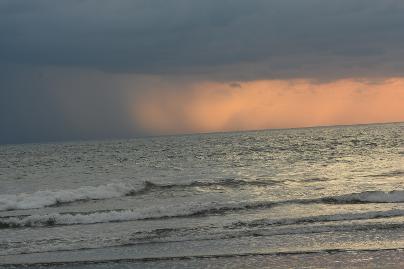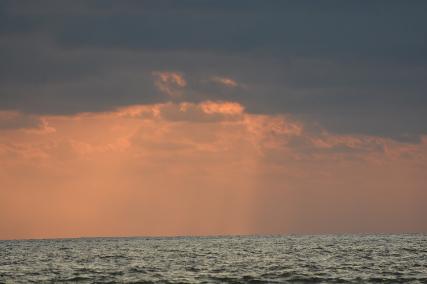 Perhaps not the all time best sunset but some very interesting colours with the dark clouds.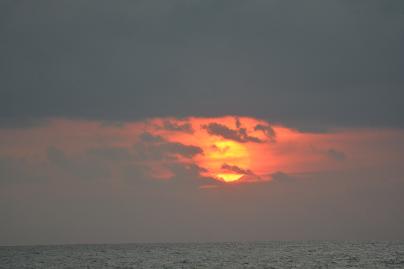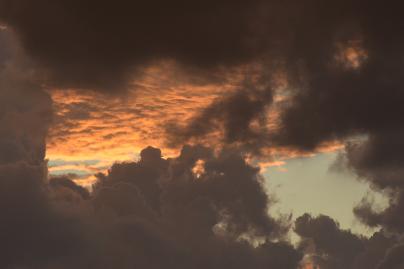 A pineapple and passion fruit smoothie, a Margarita and eating the edible (good for the digestion) flower.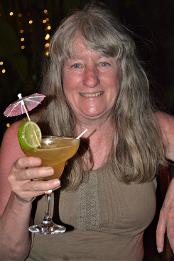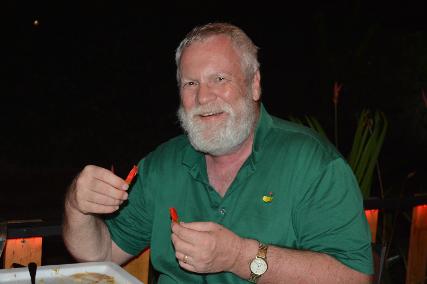 Pasta Strogonoff for Gayle. Chicken in peanut sauce for me.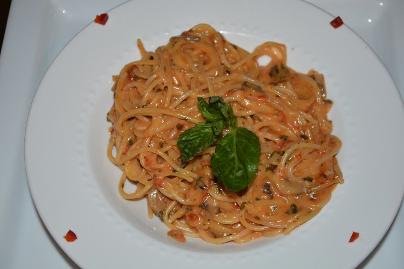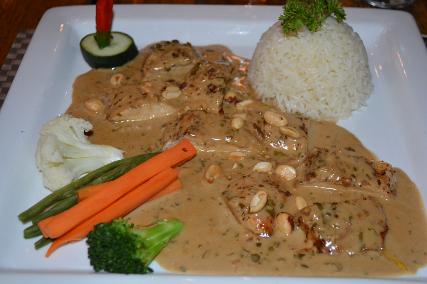 Ceviche for an appetizer. Lime pie for dessert.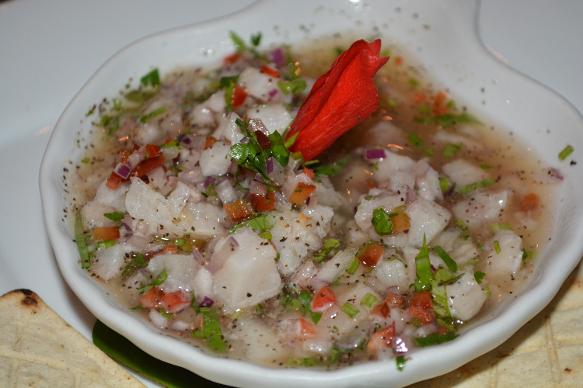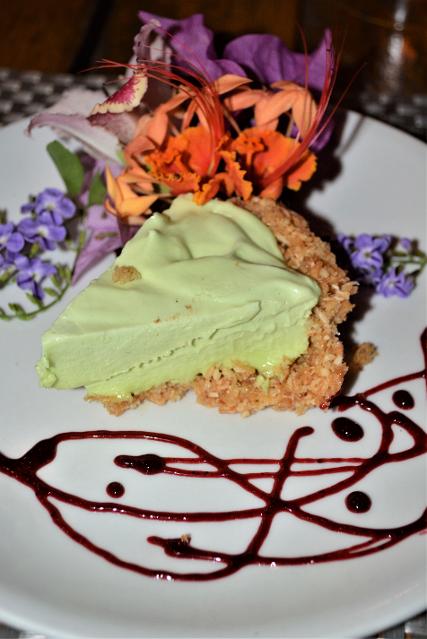 March 31, 2022 - El Castillo, Ojochal
A very quiet and relaxing day - we never left the hotel.
Gayle was again out listening to the sounds of the wildlife after waking shortly after 4:00 am. She loves hearing the sounds of the insects and birds awakening. I enjoy the sounds as well, but not enough to get up at that hour. That said I was still up by 6:30 am, well before normal back home.
We enjoyed a great breakfast - lots of fruit, fruit juice, coffee and a considerable selection of breakfast dishes. We both chose the gallo pinto - the traditional Costa Rican breakfast of rice and beans, fried eggs and plantains.
Then a number of swims and lots of time on the balcony enjoying the views. Ok perhaps there was a nap thrown in, given the early hours we were up.
All the staff here at El Castillo have been wonderful but we especially connected with Luis, who actually spent three years in Toronto playing music
We ate dinner at El Castillo again as the food so far was quite good. Gayle had the mushroom risotto, with a salad and nice toast bread, while I had the JUMBO garlic shrimp with potatoes smothered in cheese sauce and a variety of steamed vegetables. Another tasty meal.
A very chilled out, pura vida, enjoyable day.
Breakfast included a large bowl of fresh fruit, a fruit drink (today watermelon) and of course coffee.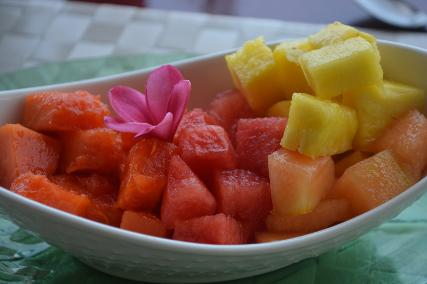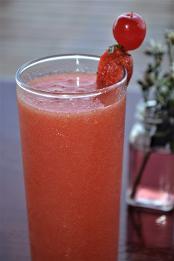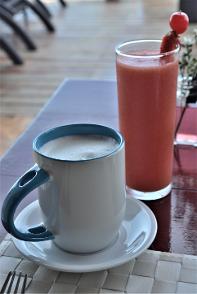 Our first breakfast of gallo pinto - rice and beans with a tortilla, fried eggs and plantains.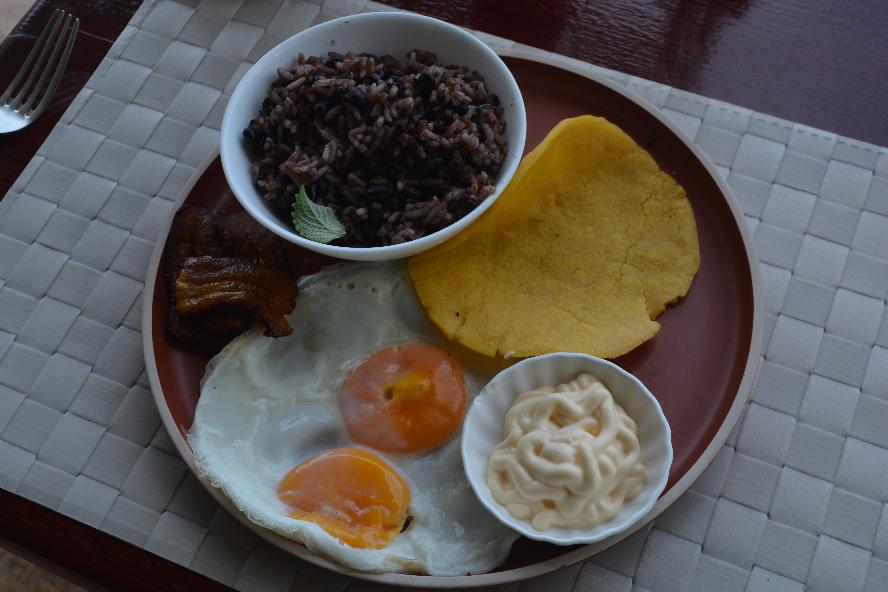 Looking south from our balcony. Looking north from our balcony.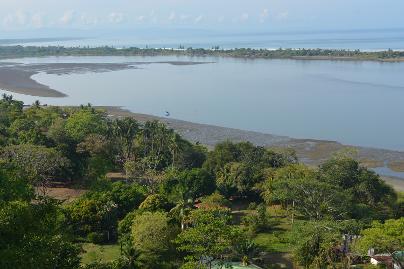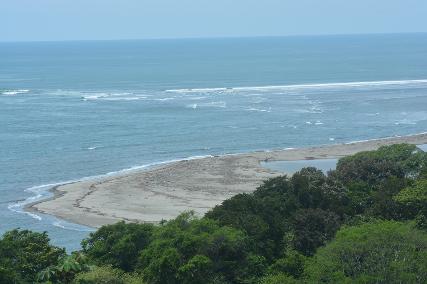 The view from the indoor eating area. The outdoor eating area.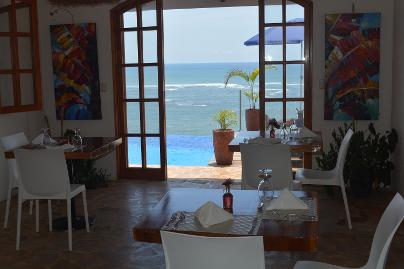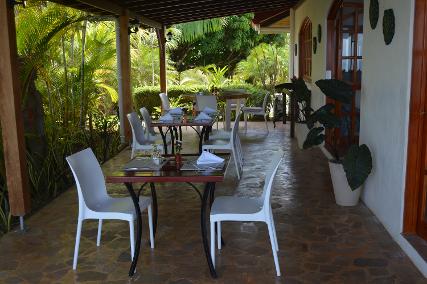 The hotel's gorgeous infinity pool.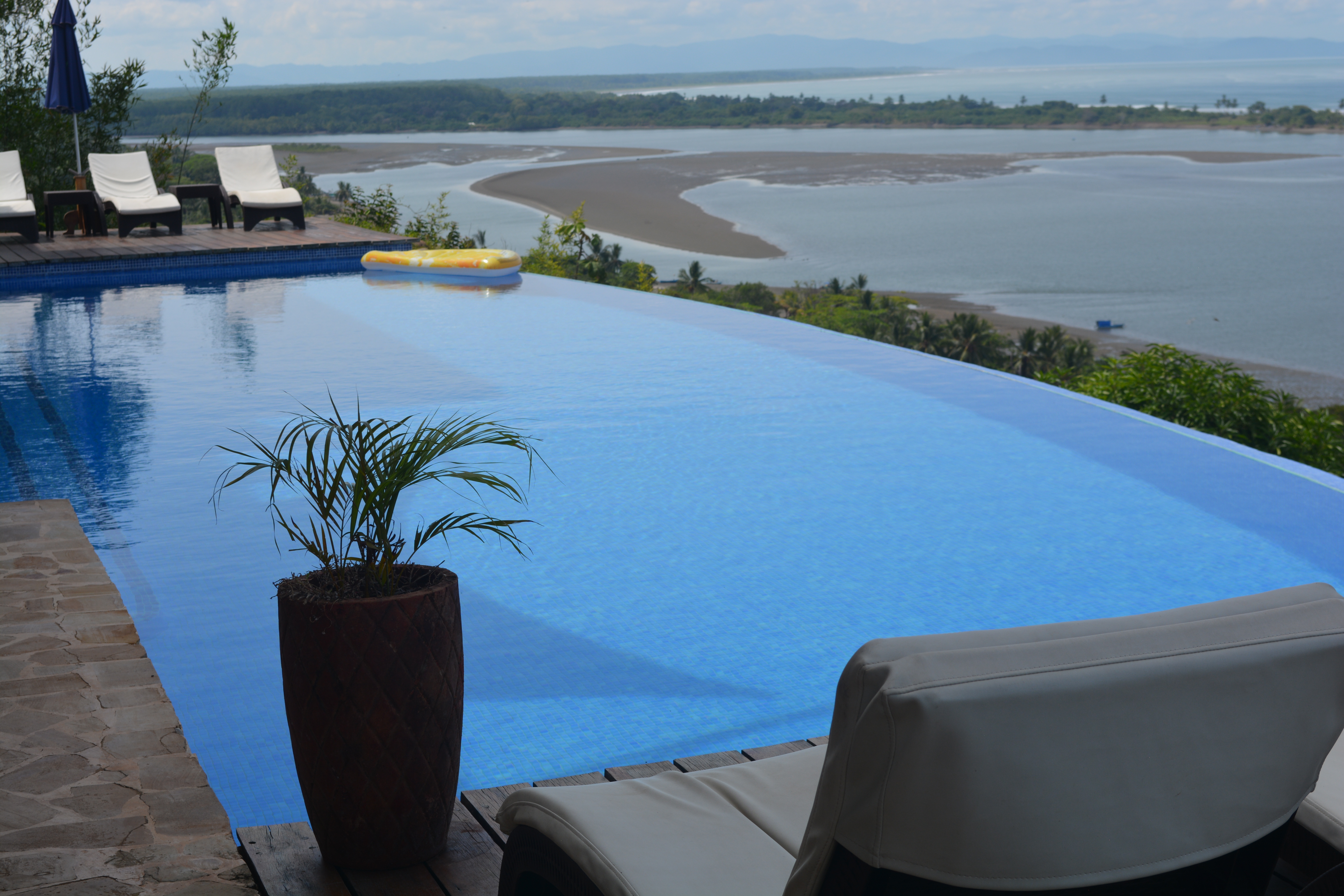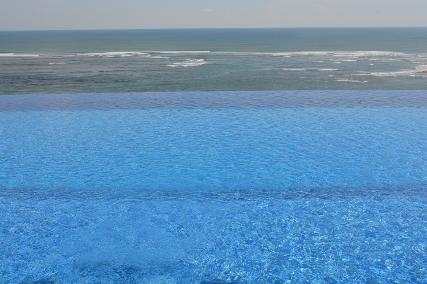 The oceanside of El Castillo. A Pina Colada. Luis.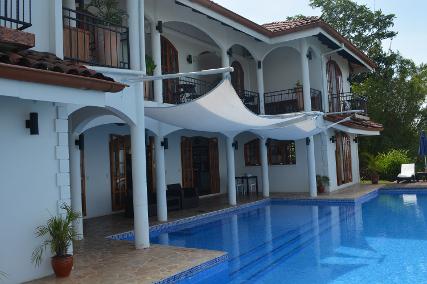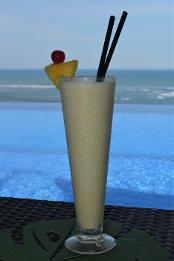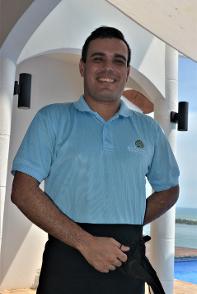 Our small but nice balcony and the view from our room.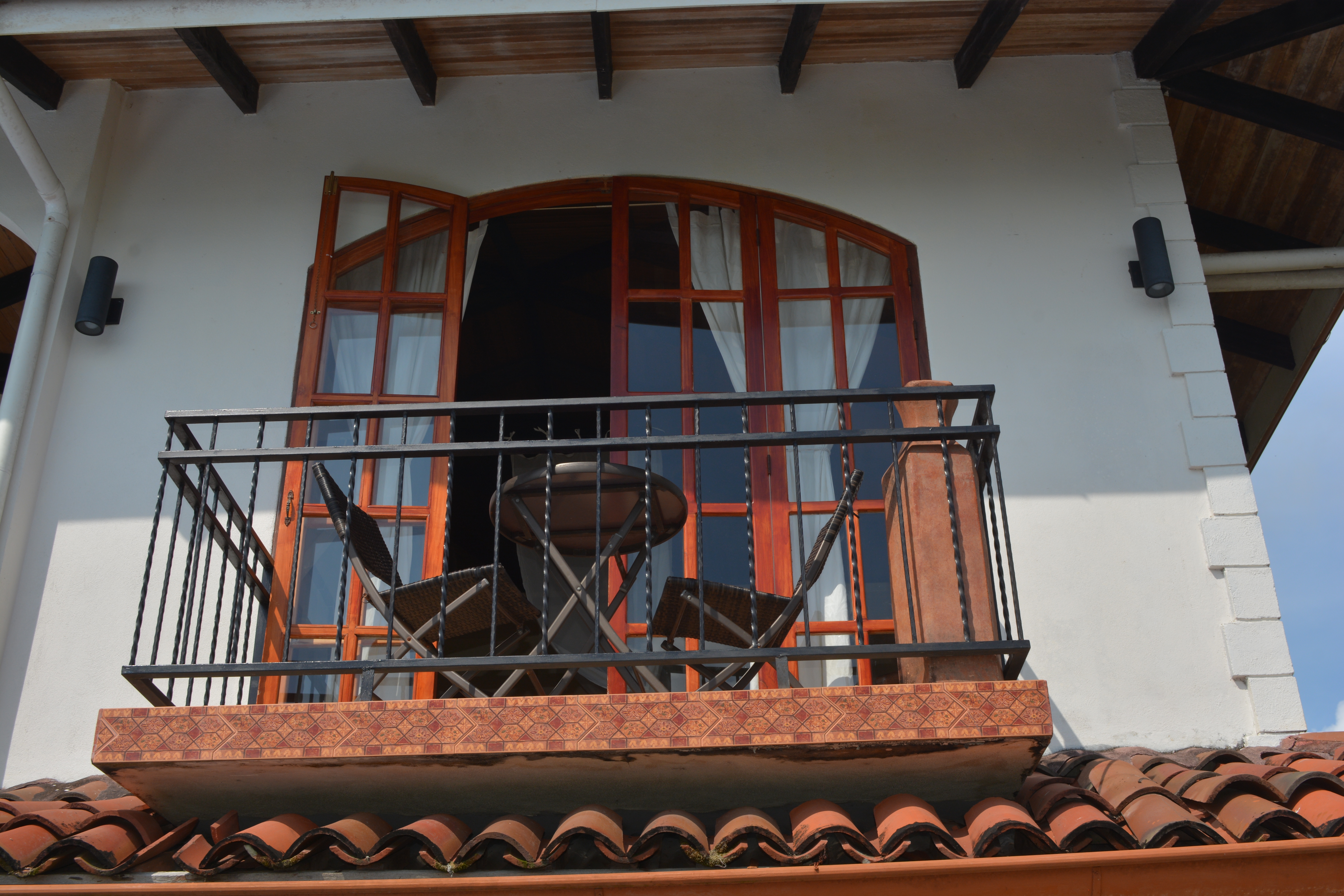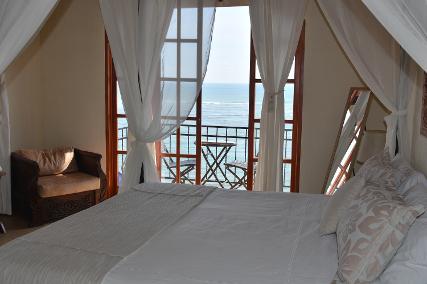 A bit of sunlight peaking through the clouds but after that nothing but black skies - no visible sunset this evening.
It's the rainforest in Costa Rica - you have to expect bugs and stuff.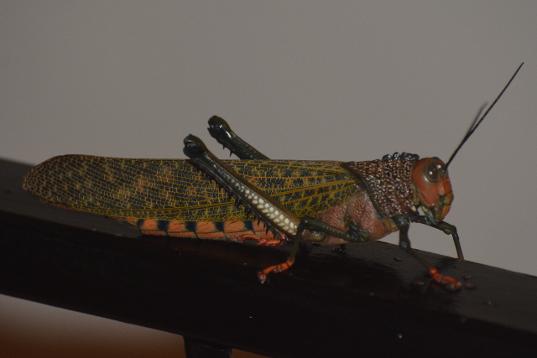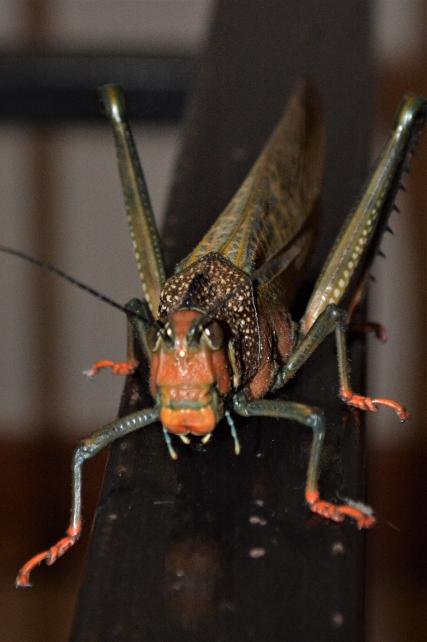 Mushroom risotto and salad with toasties.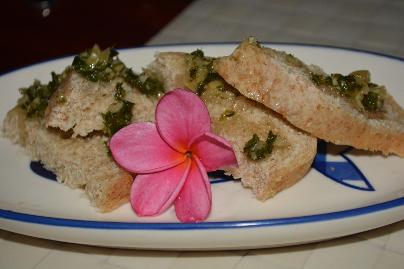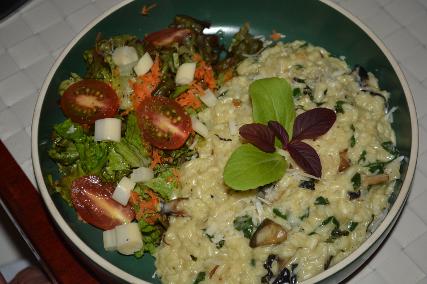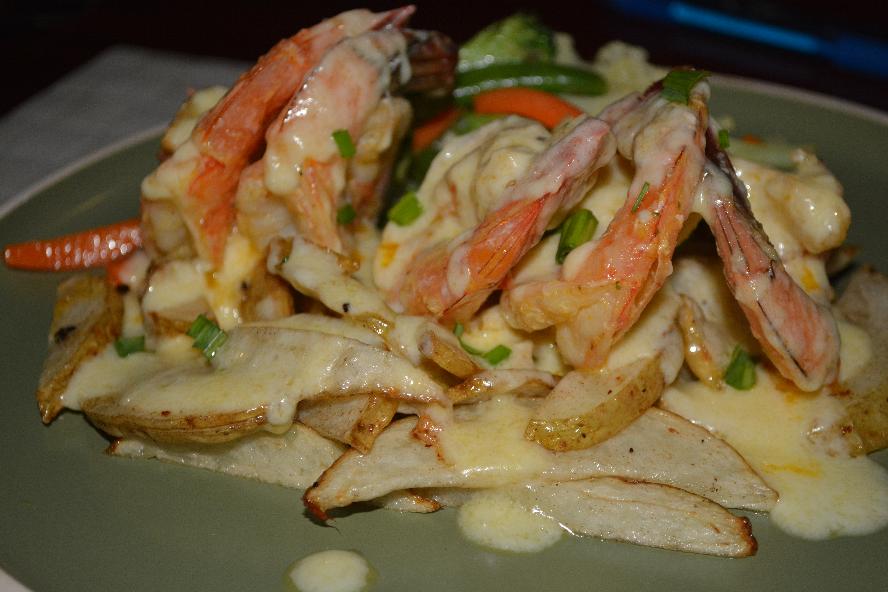 March 30, 2022 - Jardin de Los Monos, Matapalo to El Castillo, Ojochal
This is our last morning at Jardin de Los Monos. After breakfast we packed up, had a quick swim and headed out. Los Monos is the only place we have returned to in Costa Rica. It is fairly priced, with wonderful grounds filled with plants - hence the 'garden' - that attract birds and butterflies. Abutting the jungle the sounds of the insects and birds is mesmerizing, especially as they awake in the early hours of the morning. Gayle just loves getting up at 4:00 am ish to enjoy the sounds, while I prefer to sleep! In addition the sloths (pointed out by Lettika) and monkeys add to the experience. Breakfast is very good, it is a short walk to an absolutely beautiful beach with gorgeous sunsets and near to a wonderful restaurant. We highly suspect we will be back.
Lindi and Alex had mentioned they stopped in at a gallery at Pacific Edge Eco Lodge to look at some Boruca masks, one of which they bought. The Boruca are an indigenous tribe from a bit further south, inland and up in the mountains from Palma Norde. We had been near the turn off to their village on a previous trip but did not take the difficult drive up the mountain. The owners of Pacific Edge have a close relationship with the community, providing an outlet for the sale of their authentic products, primarily masks and textiles.
The Boruca are best known for their skills as craftsmen, using indigenous items to create beautiful artifacts. Using balsa and sometimes cedar wood, they carve masks, make bows, arrows, drums, knives, jewelry and other objects. Attractive baskets are woven with natural fabrics, coloured with dyes of their own formulation. Traditionally the men do the carving and the women the weaving, The women also add beautiful embellishments by painting and decorating the wares.
Pacific Edge, just past Dominical, is only a km off the highway so we went up to take a look. Not only did we buy a small mask but have put the ecolodge on our list of possible places to stay on a future trip.
We continued south through Uvita, where we bought our bus tickets to Golfito, and on to Ojochal where we easily found El Castillo, our home for the next three nights. El Castillo is a beautiful Spanish colonial building a bit off the beach at an elevation that provides spectacular views of the ocean both north and south. The refreshing breezes are a nice bonus. All rooms are ocean facing, with balconies. We also have a balcony in the back looking out to the mountains and jungle. First impressions were very impressive, with the only downside being the existence of some road noise, especially trucks. Service is very attentive. Our welcome passion fruit drink was a nice touch.
We ate dinner here at the hotel. Gayle had the Quesidillas with a Margarita for a Mexican themed meal while I had the Peruvian ceviche followed by Arroz con Pollo, a rice dish with chicken. A very nice meal enjoyed outdoors.
Our sense is that we are going to spend the better part of the next two days here at the hotel, given the views, the pool, the service and the food. Really there is not much reason to leave.
Vegetation around the breakfast area, including bromeliads growing on trees.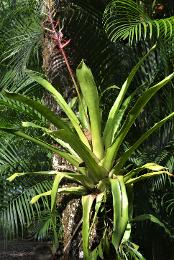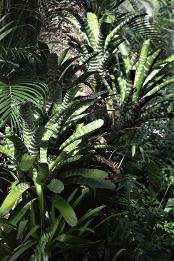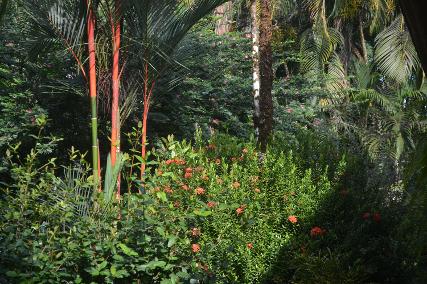 Butterflies and flowers around the pool.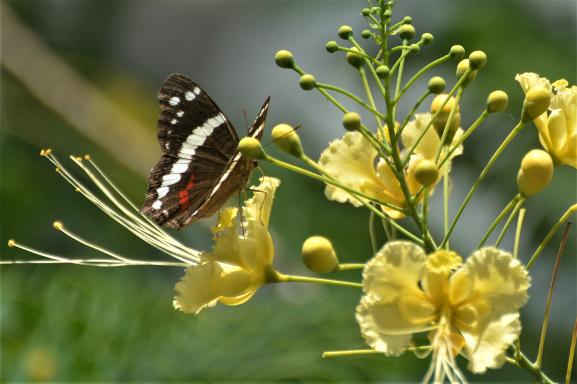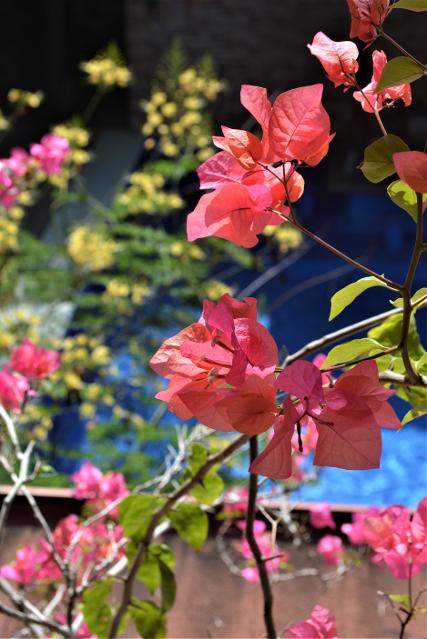 Beautiful Playa Matapalo - ok perhaps the sign isn't beautiful but the beach and area certainly is.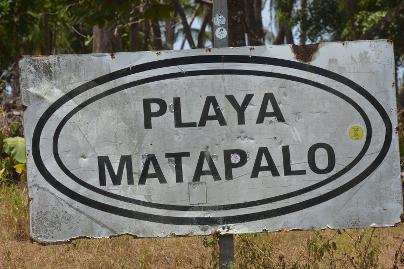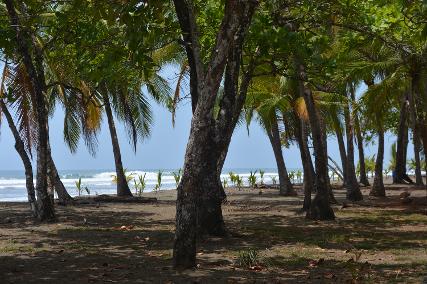 A fascinating tree with roots extending to the ground,
a very well camouflaged lizard, and
a termite nest.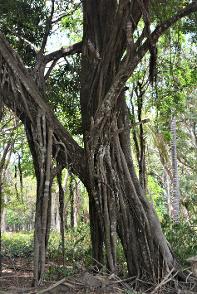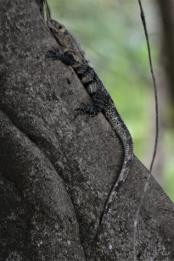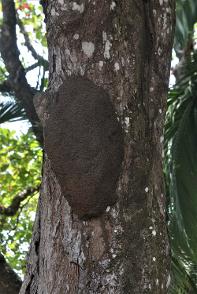 There are lots and lots of coconuts here - both in the trees and on the ground.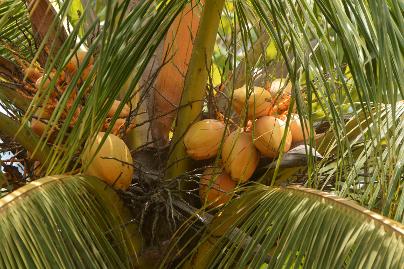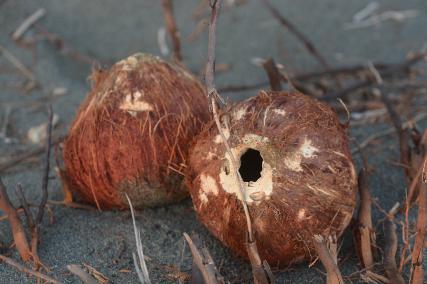 Some colour along the roadside.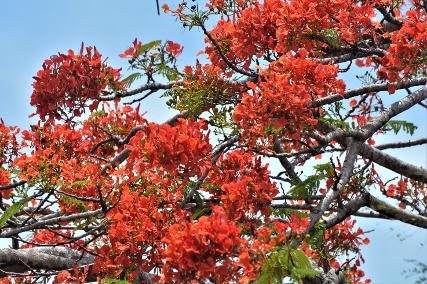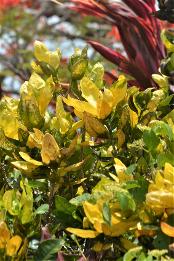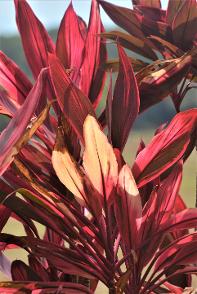 While most of the ranches are in the north of CR there are a few here south of Matapalo.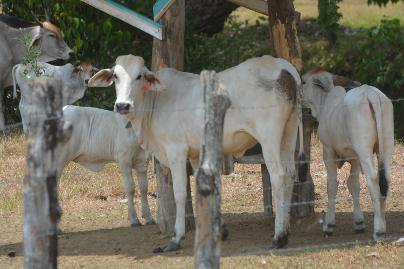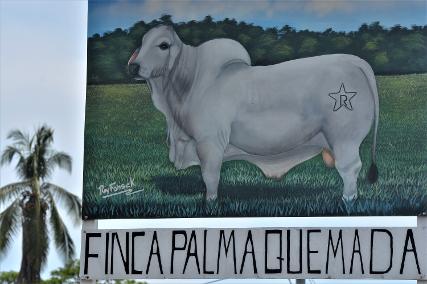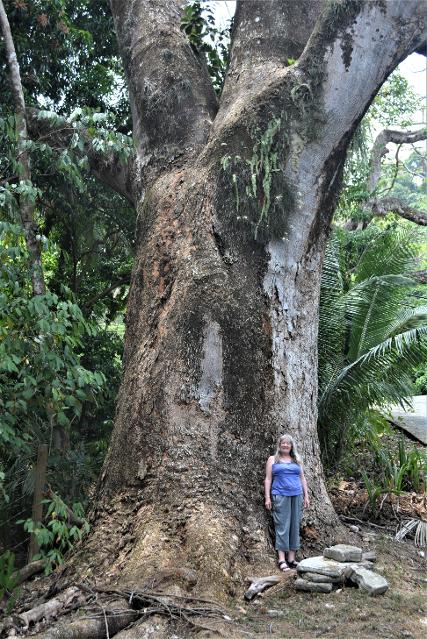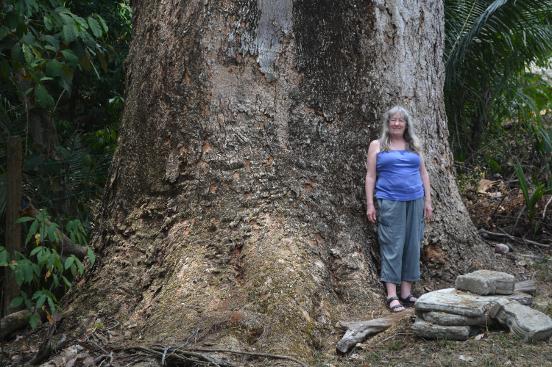 A reclaimed and redesigned Boruca sign. An article re the gallery in a local magazine.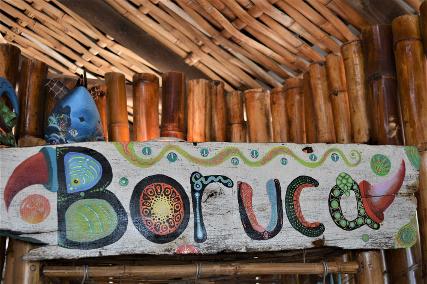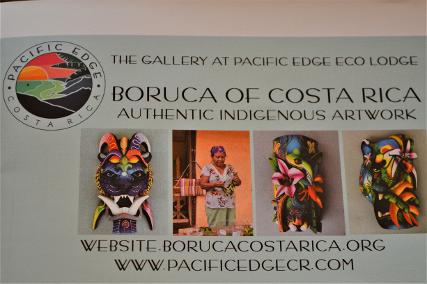 A few of the Boruca masks and woven items. We bought the mask in the middle.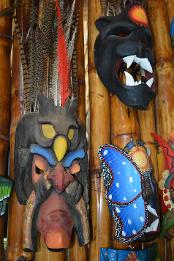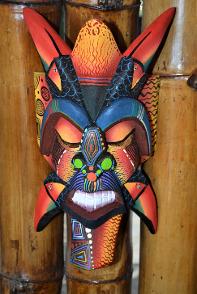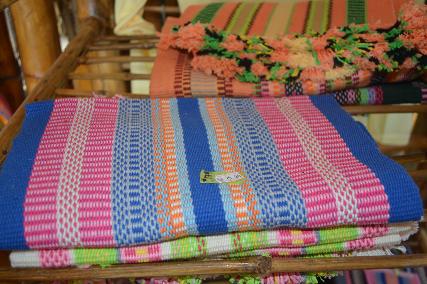 View of the coastline from Pacific Edge Eco Lodge.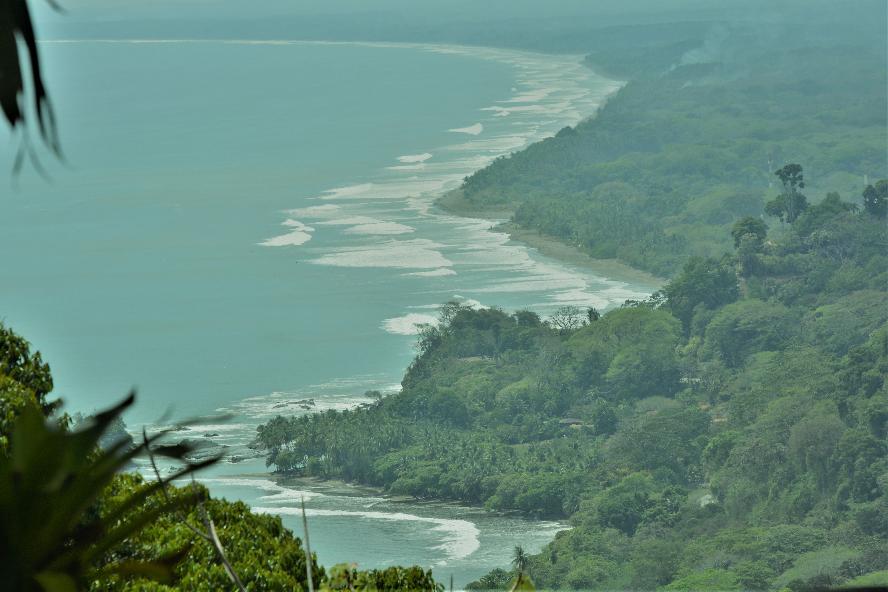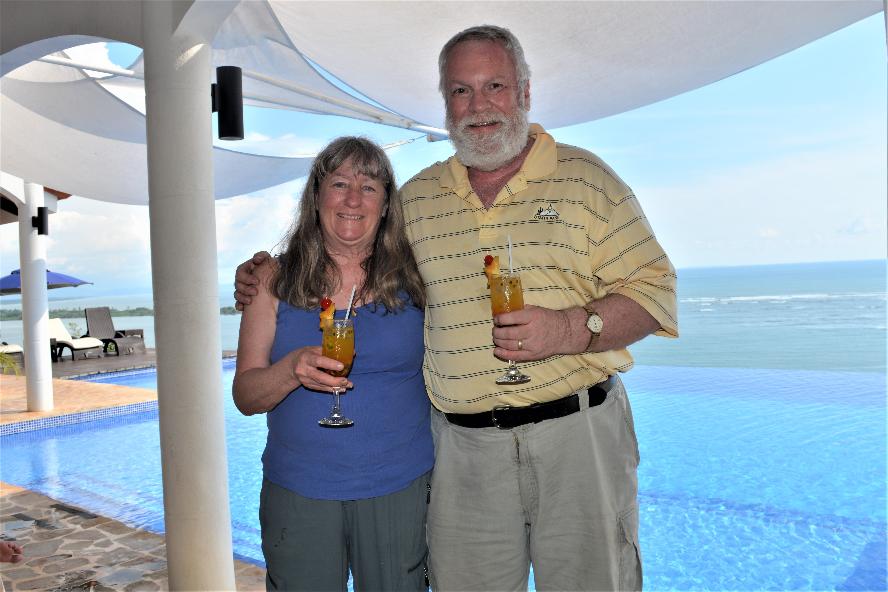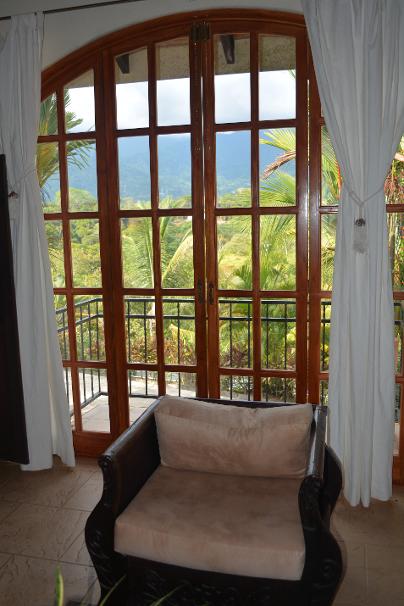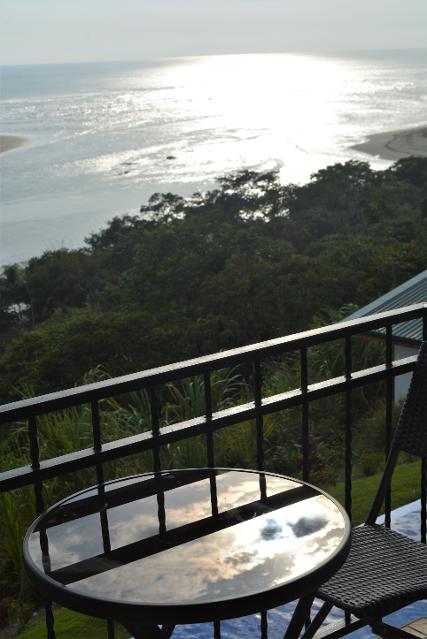 Another stunning sunset this evening.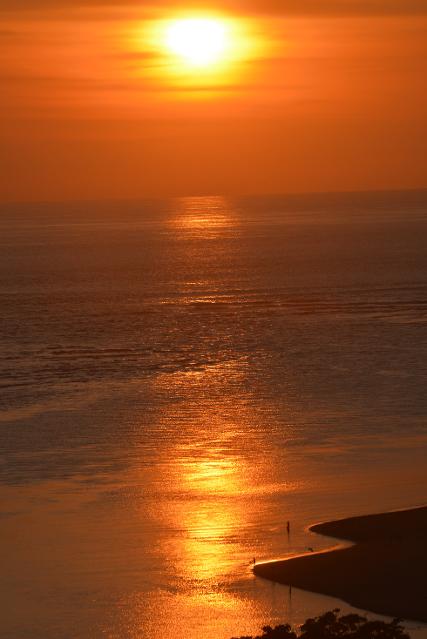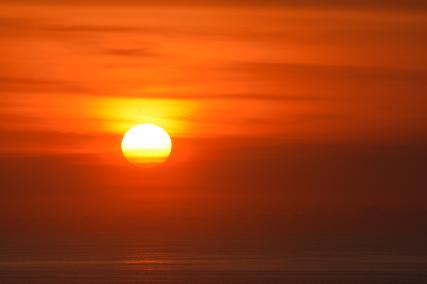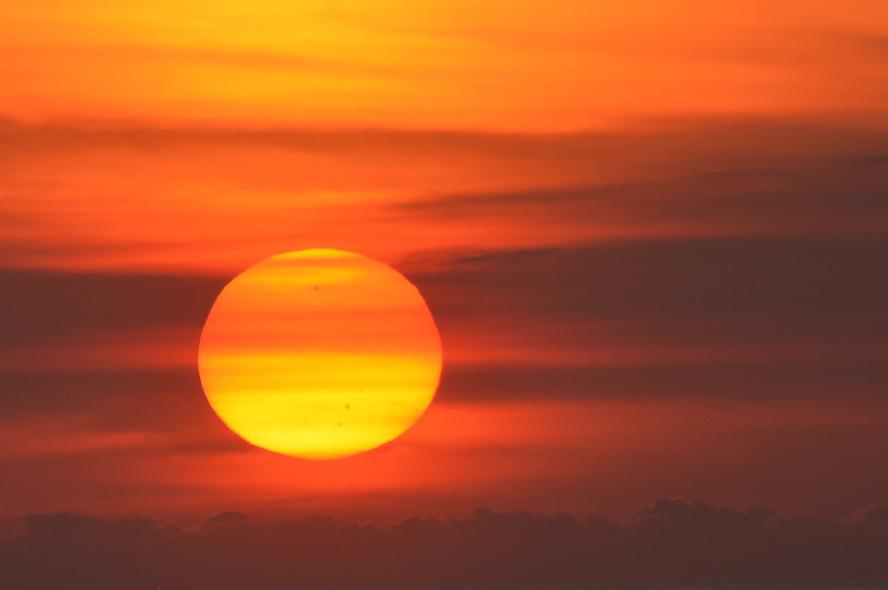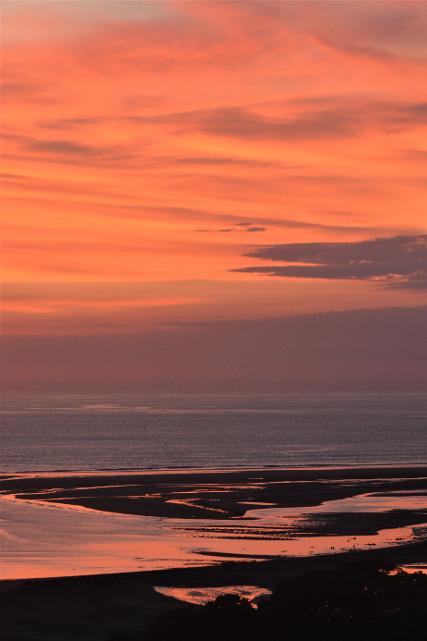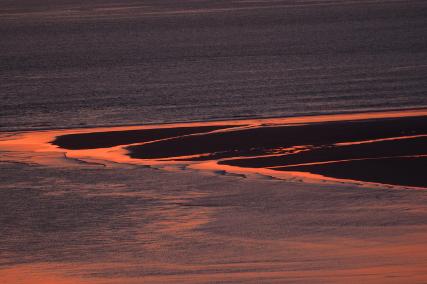 As time passed the sky became even more colourful.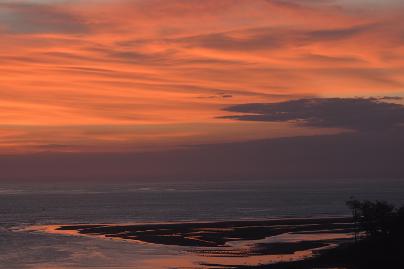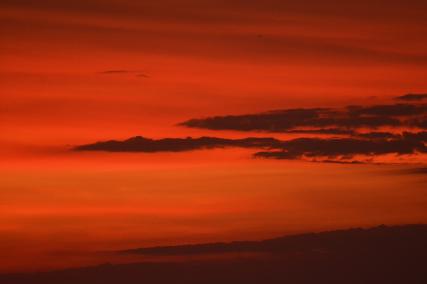 Gayle went Mexican tonight, first with a Margarita and then the Quesidillas.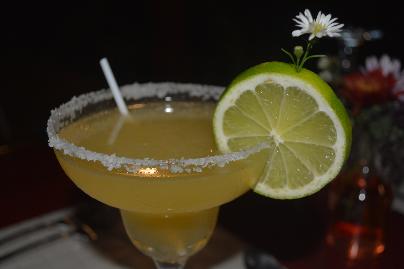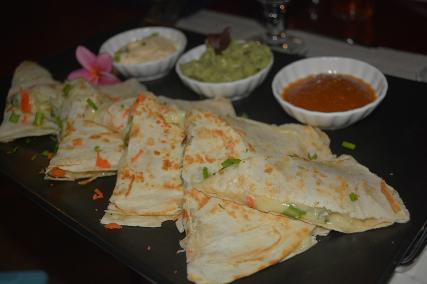 I started with the Peruvian ceviche with sweet potatoes and plantain chips, followed by the Arroz con Pollo.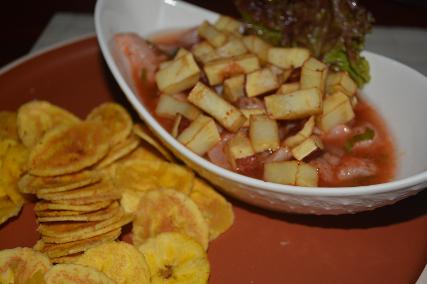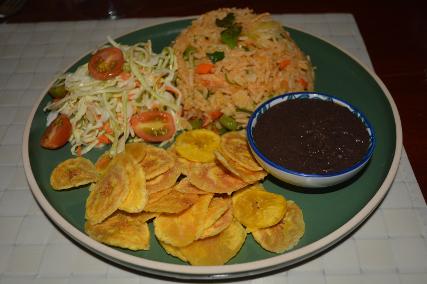 March 29, 2022 - Jardin de Los Monos, Matapalo
Once again we were true to our mantra of 'sloths on vacation'. Due to our reputation our friends gave us a gift of a journal book consistent with the theme. We again didn't go anywhere other than twice to the beach - once in the afternoon and then again at sunset. Otherwise it was relaxing by the pool, working on the travel blog, or catching 40 winks.
No sloths or monkeys today but the house cat graced us with his/her presence and we enjoyed watching the many butterflies flittering around the shrubs near the pool.
We tipped our toes in the ocean - ok perhaps our calves and thighs as well - no swimming but we did splash around in the exceptionally warm waters. We later returned for another spectacular, very colourful sunset.
For dinner we of course went back to El Express del Pacifico where we enjoyed another wonderful meal. Gayle reverted to pizza - after all if not it would have been two consecutive meals of other than pizza and she couldn't have that, while I had another steak, with salad and potatoes. Daniel's steaks, cooked outdoors over a wood fire are superb - very tender and tasty. We again closed the restaurant after a nice chat with Daniel and Darleny. They mentioned they were moving to a place closer to Matapalo's beach over the next few months (rent was being increased significantly) but assured us the rustic ambiance would not change. We assured them that if / when we are back in the area we would again join them for more great meals.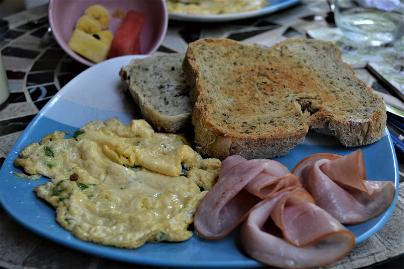 The journal book our friends Linda and Bill gave us as a gift.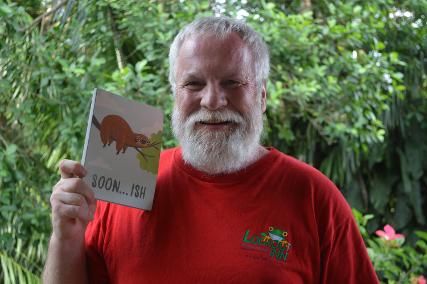 Our room as seen from the pool. The view down to the pool.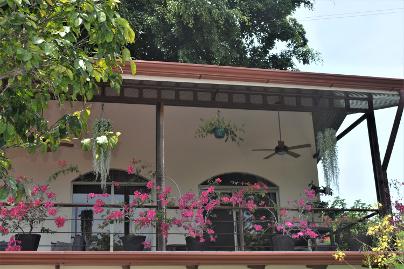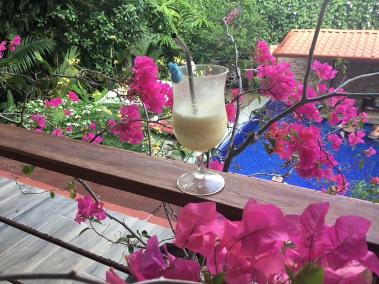 Butterflies and a dragon fly.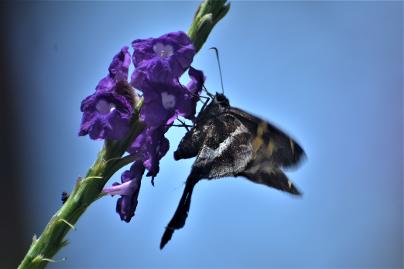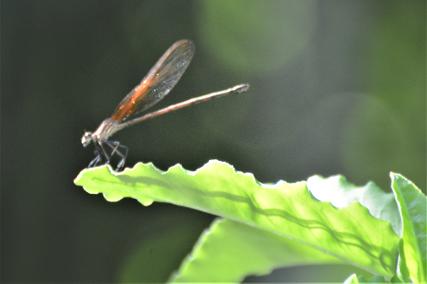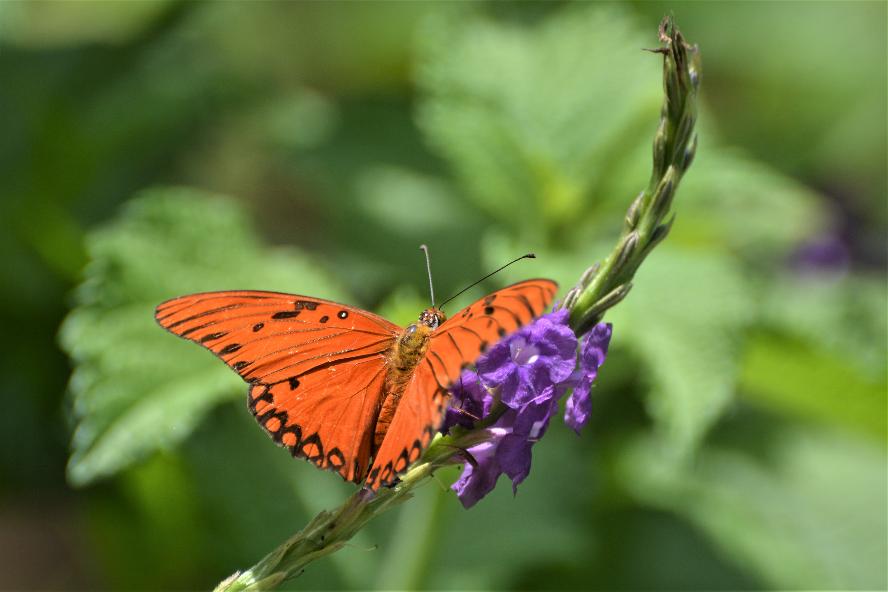 Not every animal here is wild.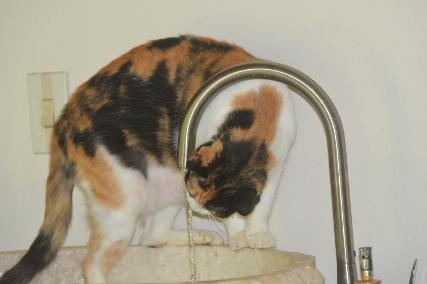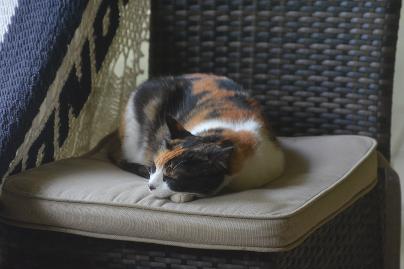 Yes we got in the ocean, the very very warm ocean.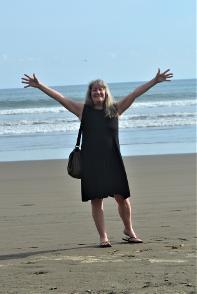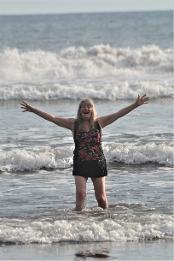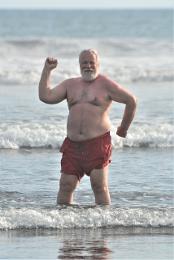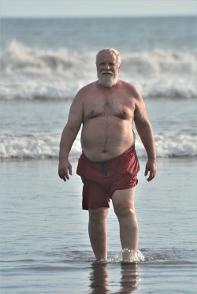 Playa Matapalo, first looking south (on the left) and then from the same spot looking north (on the right).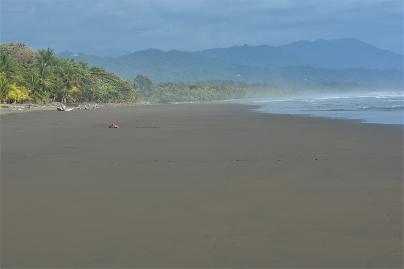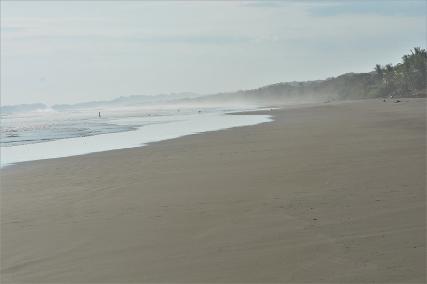 It is going to be another great one.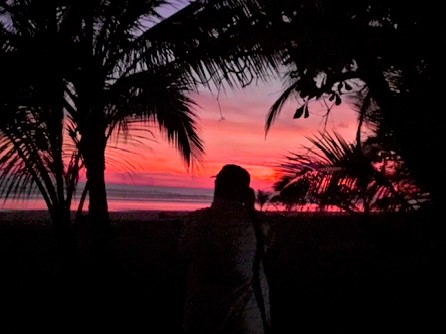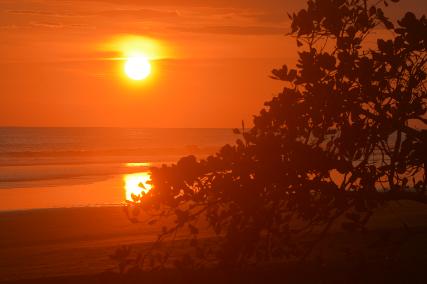 Another very impressive sunset.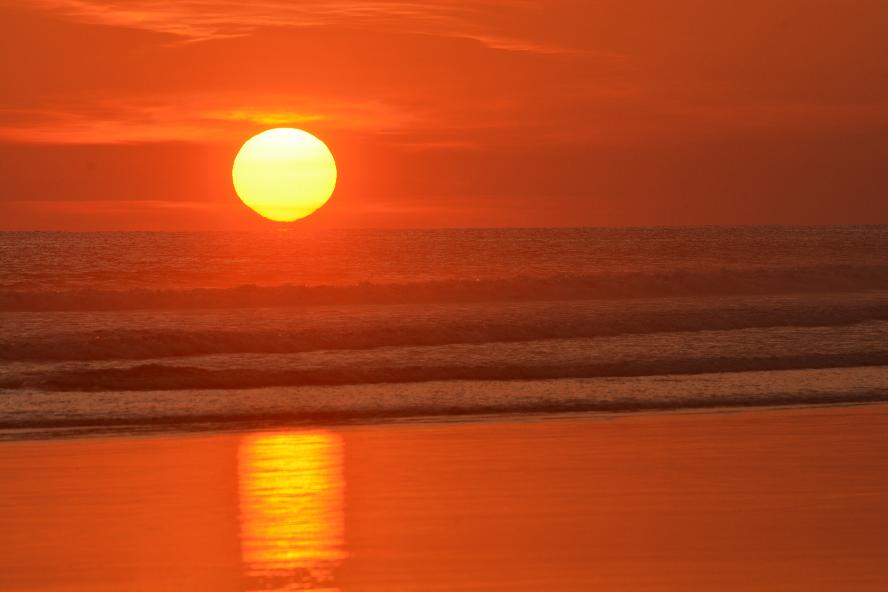 Perhaps 20 minutes after the sun set the sky turned orange throughout.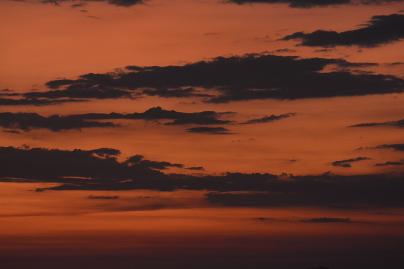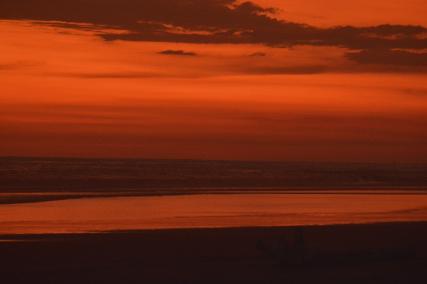 El Express del Pacifico - a tad rustic but great food.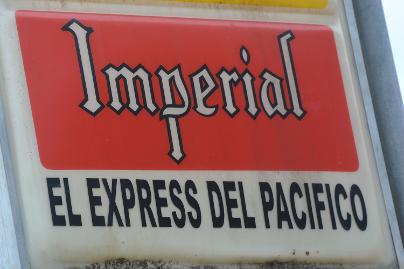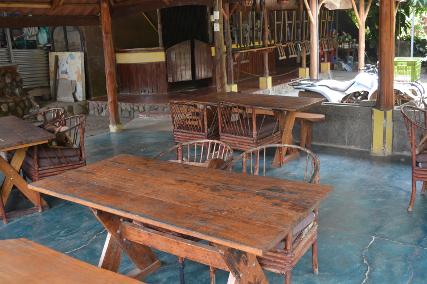 Enjoying a glass of wine before dinner.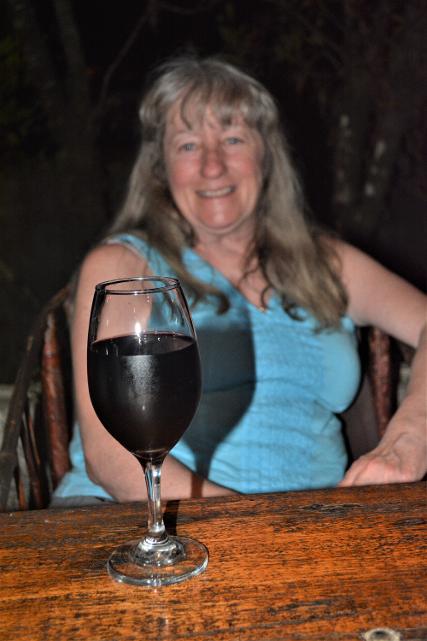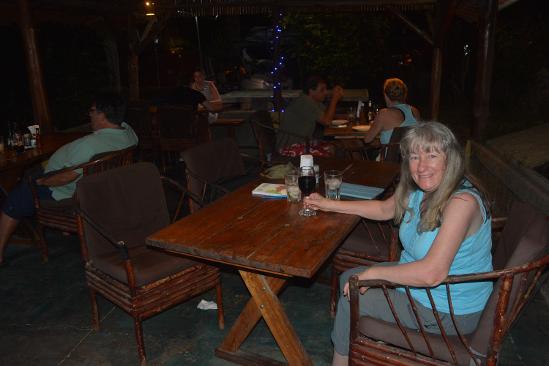 The salad that accompanied my meal. Gayle's vegetarian pizza.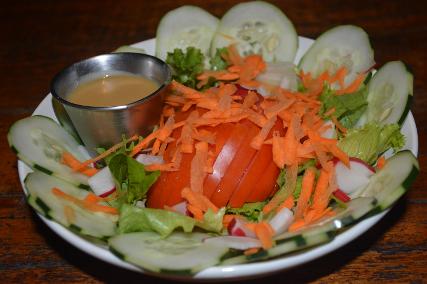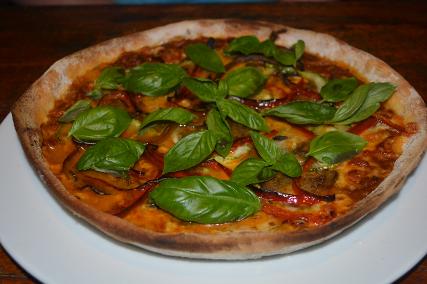 Steaks are cooked over wood in an outdoor firepit. Tonight was a Rib-eye, again with peppercorn sauce.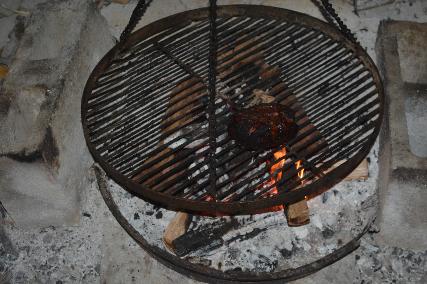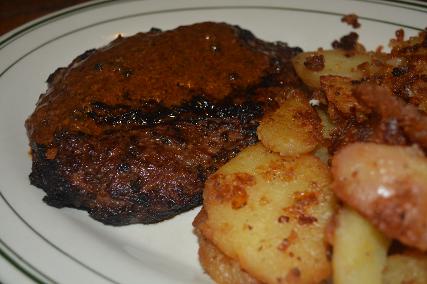 March 28, 2022 - Jardin de Los Monos, Matapalo
While it may seem like a waste to be spending north of $200 a day (the costs of rental vehicles have increased dramatically - what cost us $56 a day two years ago (pre COVID) is $202 a day this trip - same 4 x 4 vehicle) on a rental vehicle that was used only once to go to dinner we are not here to race around to see a gazillion things, but rather to relax.
We started with a very nice breakfast comprised of a large glass of orange juice, either a fruit bowl (some combination of mango, papaya, watermelon, pineapple and banana) or a fruit smoothie, the choice of three styles (sunny side, scrambled or omelette) of eggs accompanied with ham, and either home-made bread or pancakes, all with Costa Rican coffee.
Before breakfast we asked Lettika about the sloths. She took a look around and pointed out three to us and the other guests. So nice to see a few sloths in their natural habitat our first morning. Part of our three sloth breakfast.
s
Then a swim and some relaxing time watching the multitude of butterflies or just listening to the sounds of the insects and birds. Time working on the travel blog followed by a siesta and then back to the pool to cool off. It is not excruciatingly hot but at 30 C with a fair bit of humidity it is certainly warm. The air conditioning in the room is very much appreciated.
The past two trips to Costa Rica we brought 50+ beanie babies to donate to a school. We offered a few to Dama, the cook / housekeeper who did such a wonderful job preparing our room, the Suite where we moved to for the last two nights, for her grandson.
Shortly after 5:00 pm a troupe of monkeys crossed the property, literally running over our roof and then across a wire the leads into the jungle that abuts our unit. It is very hard to get decent photos given how quick the monkeys move but I was able to get a couple. Then it was down to Playa Matapalo (a 5 minute walk) to enjoy the beautiful sunset. The setting sun painted the sky with a rich orange hue.
Afterwards we drove the 2 km to El Pacifico, a restaurant - well that may be giving this open air outdoor eating establishment more credit than most would expect - where we ate all three nights when here two years ago. Daniel and Darleny didn't remember our names but certainly did remember us. We again had enjoyable chats with each. No written menu and no prices - Daniel goes through everything he has this evening - if not fresh, it is not on the menu, hence why there is no written version. We started with a Caprese salad after which Gayle had a cream pasta with mushrooms and carrots while I the tenderloin steak with roasted oregano potatoes accompanied by a red cabbage / apple side. The extra large servings were every bit as delicious as we remembered. Of course we will be returning tomorrow evening.
In the afternoon we met a pleasant and interesting Canadian couple, Lindi and Alex, from Vancouver, nearing the end of their three week honeymoon here in Costa Rica. Very well travelled we enjoyed a nice chat in the pool and then suggested El Pacifico as an option for them for dinner. We did see them at the restaurant where we continued our chat. Lindi has a big day planned for Alex tomorrow, it being his birthday.
Back to Jardins de los Monos to call it a day.
Entrance to Jardin de los Monos (Garden of the Monkeys).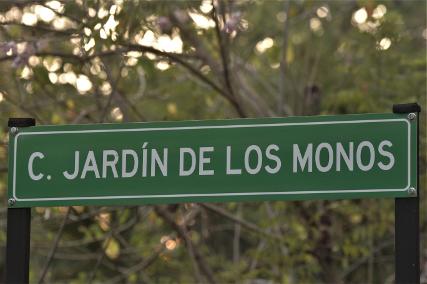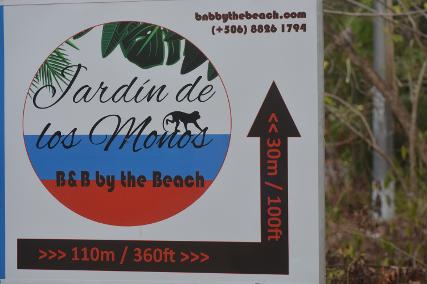 One of the branded hammocks. And the nice size pool.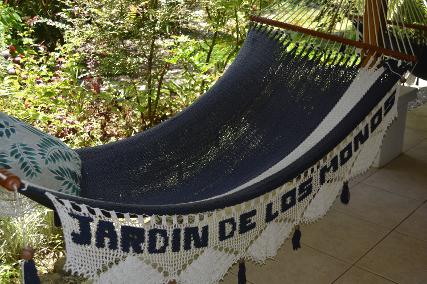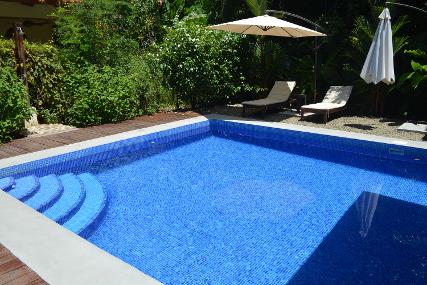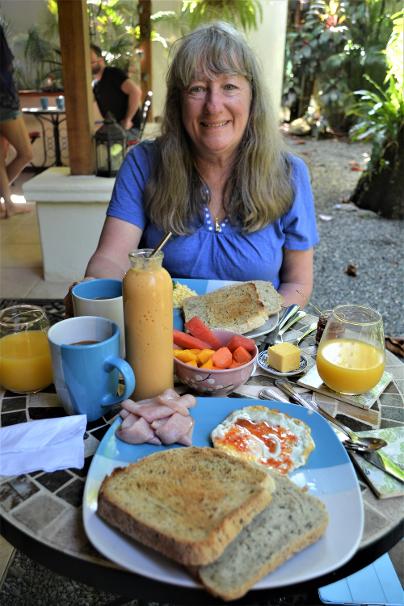 Breakfast started with fruit, or a fruit smoothie, orange juice and then a choice of egg and either homemade bread with jams or pancakes, of course with Costa Rican coffee.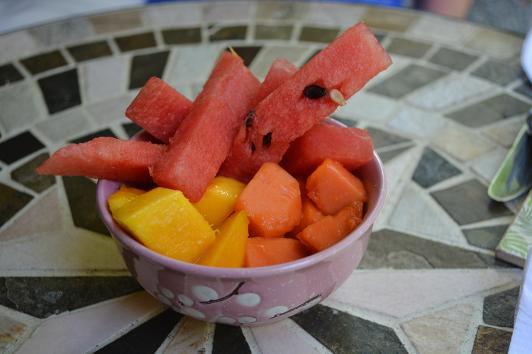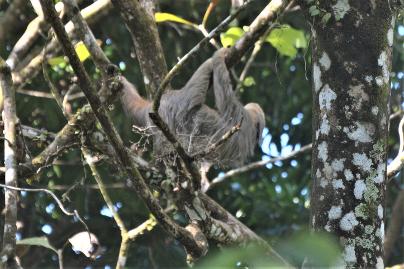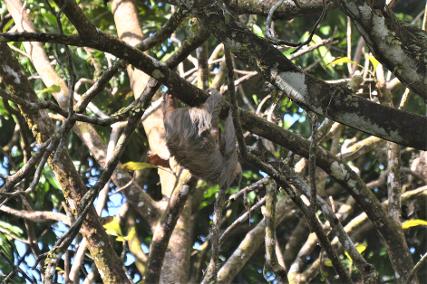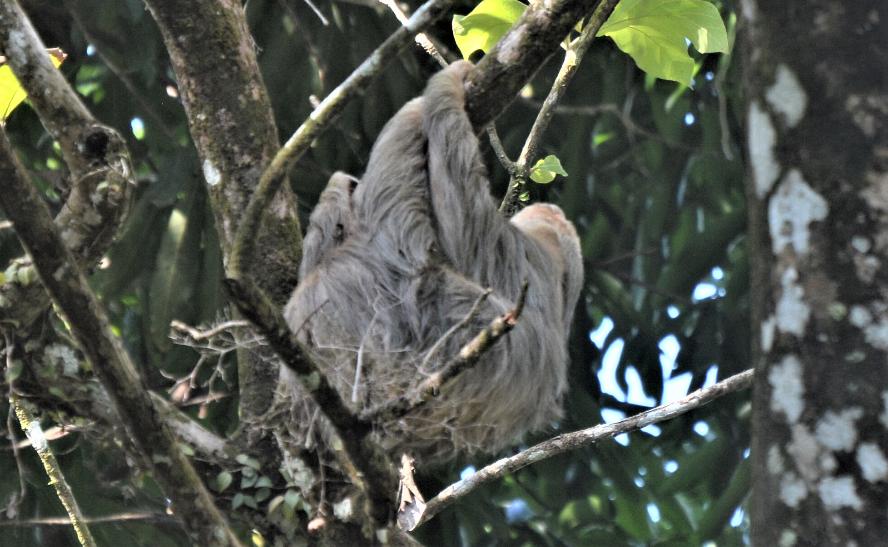 The Junior Suite (where we were the first night), including the very large screened n outdoor space.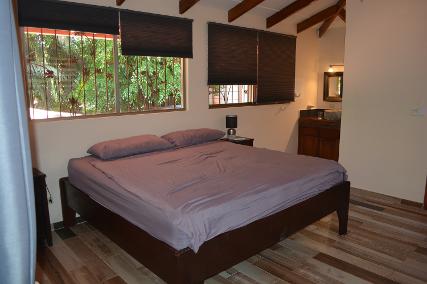 It is called 'Jardin' for a reason, with a wealth of flowers on the grounds.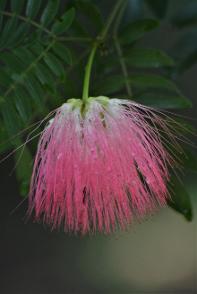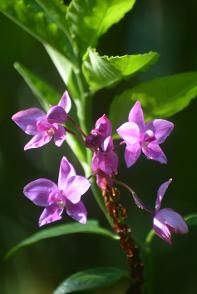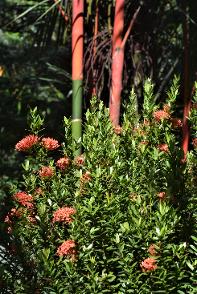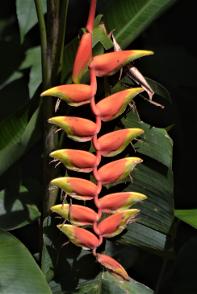 Our suite was so well presented.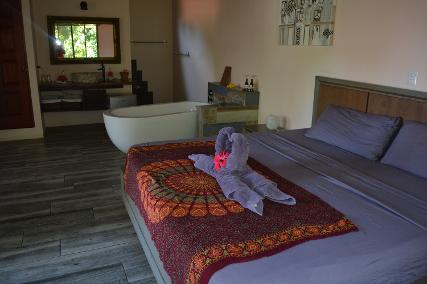 The cook / housekeeper Dama with her beanie babies.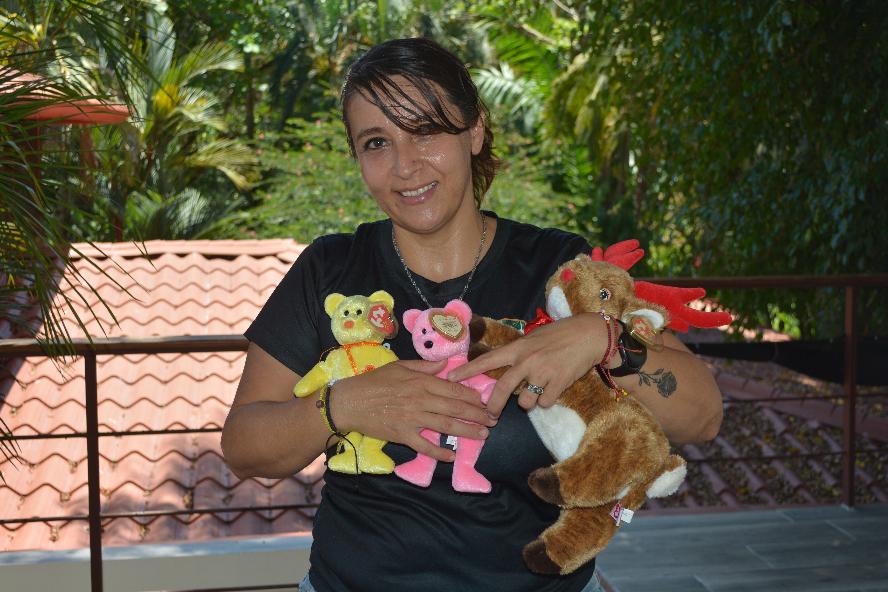 Just before heading down to the beach a troupe of white faced monkeys crossed the property.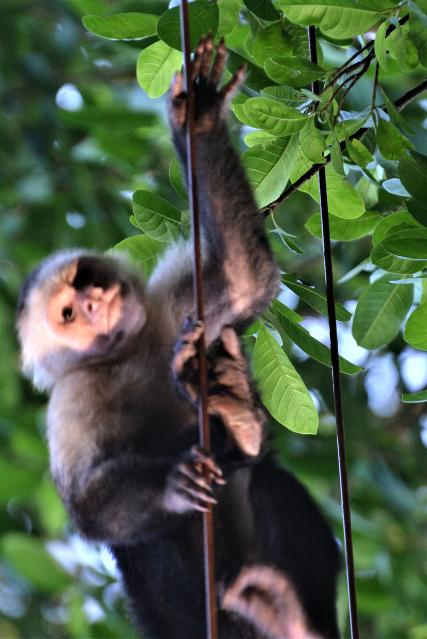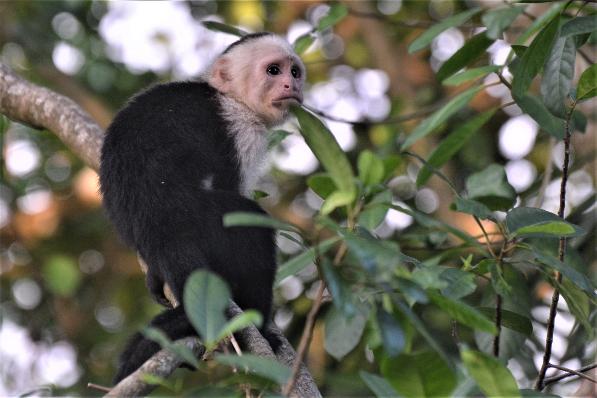 Each evening we wander down to the beach to watch the waves and wait for the sunset.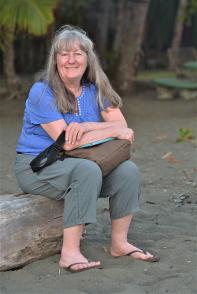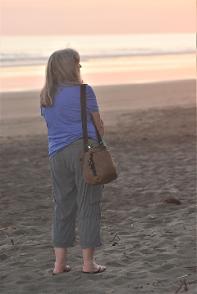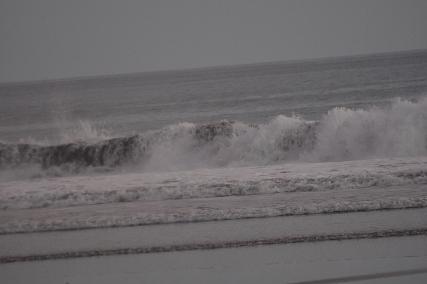 As the sun is about to set.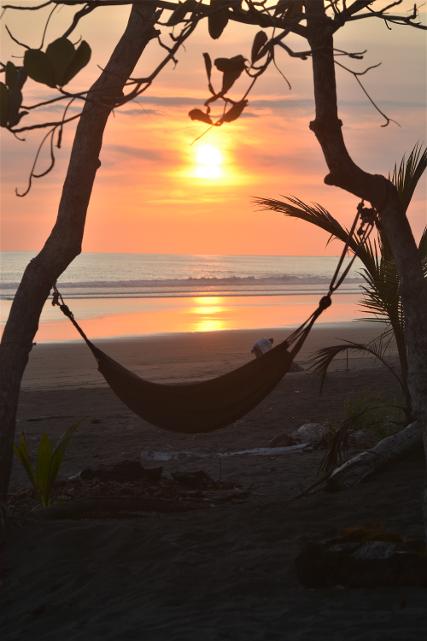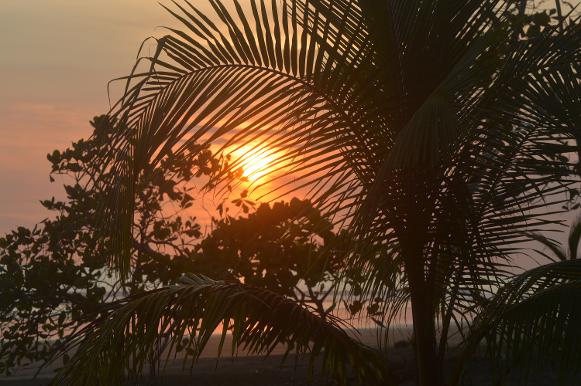 Sunset over Playa Matapalo.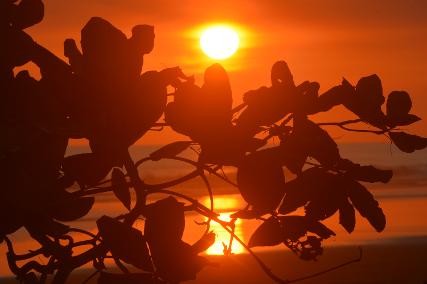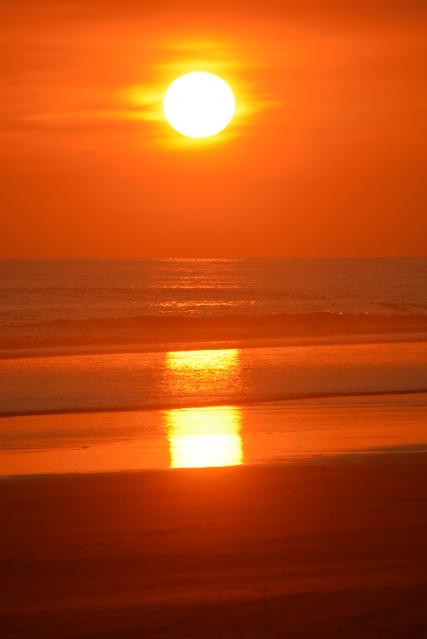 The ever smiling Darleny Lindy and Alex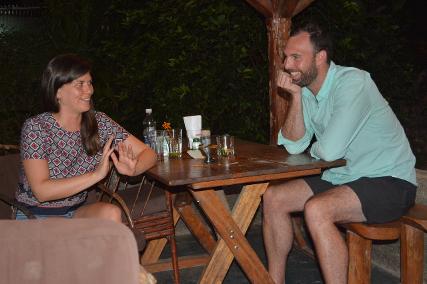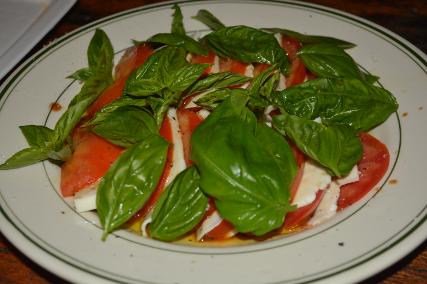 Gayle's vegetarian pasta with mushrooms and carrots.
Tenderloin steak with peppercorn sauce and roasted potatoes with oregano.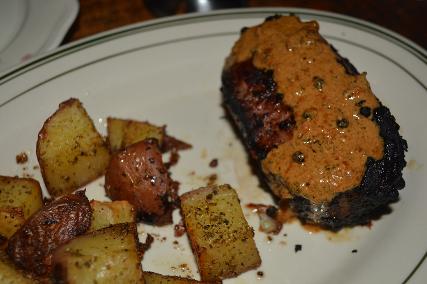 March 27, 2022 - Halifax via Toronto to San Jose, Costa Rica
Jardin de Los Monos, Matapalo
Well we're taking the plunge. After four cancelled trips and over two years without being outside Nova Scotia we decided it was time. We had a trip to Costa Rica (CR) booked for February 2022 but with Omicron we decided in December to cancel. Perhaps it was the winter, or the increasing Nova Scotia numbers, but a month ago we decided to rebook. We got a good Aeroplan deal and had a couple of deposits already on the books (from our cancelled 2021 trip) so off we went.
It was a long day starting with a 3:00 am departure from home for a 5:00 am flight to Toronto. From there we connected to a 4 1/2 hour flight from Toronto to San Jose, CR. It was snowing when we departed Toronto meaning de-icing and a half hour late arrival in San Jose, just before noon local time.
We were told it would be two hours to clear immigration. Subsequently a couple we met said it took them three. It appeared it would be near that as the 'holding' area was jam packed, with a long line of people outside in the hall. Just after we got in line a women came by and asked perhaps 10 to 15 of us to come with her. We were perplexed but followed. She directed us to another line that had wheelchair symbols, although none of us where using a wheelchair. We did observe the common characteristic did seem to be age. We were through in 45 minutes. We guess it can be beneficial to be, or appear to be, 'less young'. We retrieved our luggage very quickly and then found the Adobe (our vehicle rental) rep to be shuttled to the off-site depot. Another half hour + and we were on the road.
In spite of having driven the route a couple of times we missed a turn-off and stayed on Highway 1, taking us a bit north-west, rather than south-west on a slower road. The 'oops' probably adding an hour to what was supposed to. be a three hour drive to Matapalo. Unfortunately this meant we arrived in the dark, having to drive through a pelting rainstorm, missing the sunset but there will no doubt be lots more to enjoy.
We checked into our boutique hotel Jardin de Los Monos (garden of the monkeys), a place we stayed for three nights in 2020, and obviously liked as we returned. We then went down the road to grab something to eat at a truly local spot. The food was much better than we were expecting, enjoyed with intermittent power outages as considerable lightening was present.
The day was beautiful in San Jose but then the rainstorm hit near Quepos. Temperatures generally ranged from 30 C to 34 C and we were reminded of the humidity upon sitting outside in our terrace.
All that said we are so happy to be travelling again and be back to one of our favourite countries. We are very much looking forward to the next two weeks.
The immigration hall was jam packed in spite of all booths being open. Thank goodness we got pulled out for our 'special' service.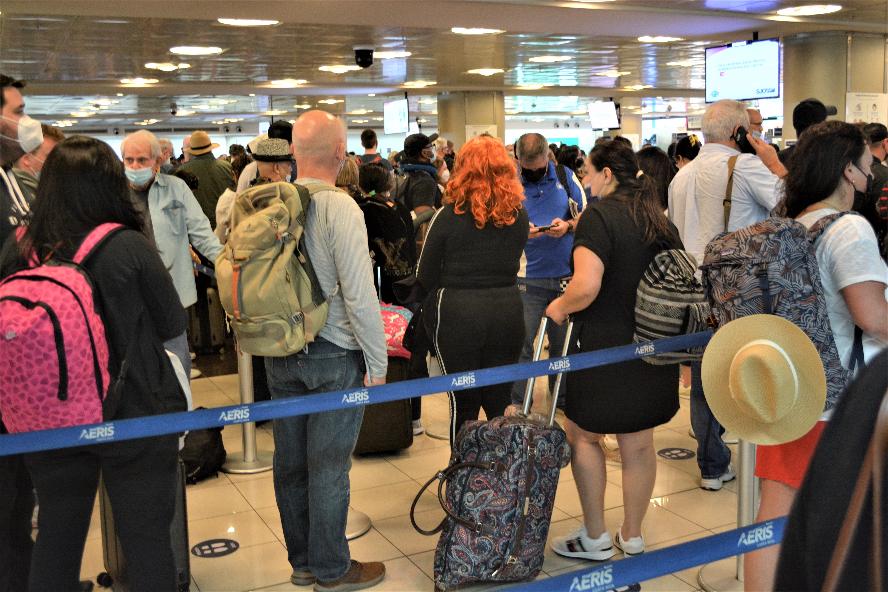 We should have taken Highway 3 through Orotina and then south on the 34 but by mistake did a bit of 'exploring' by staying on the #1 that took us a bit north before we hooked into the 27 and then 34 for the rest of the drive south.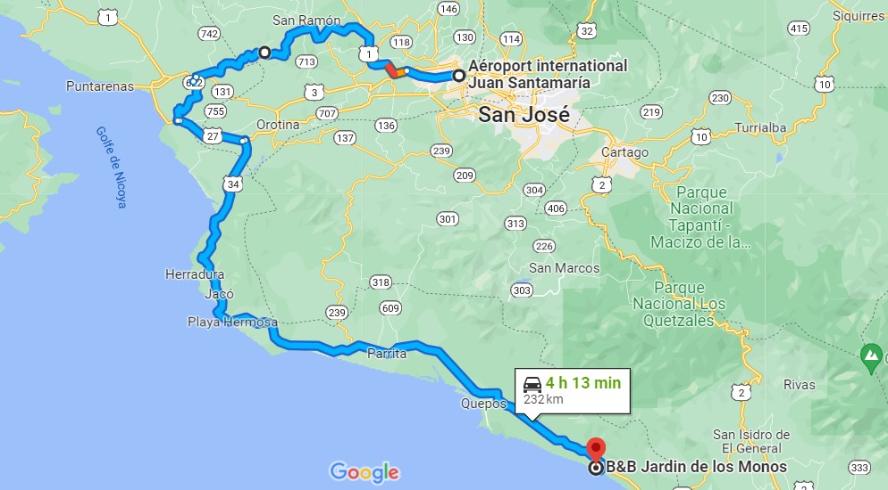 One thing we have noticed is that generally there is less colour as compared to when we are here in February. However as seen below that is not to say there is no colour if one is attentive.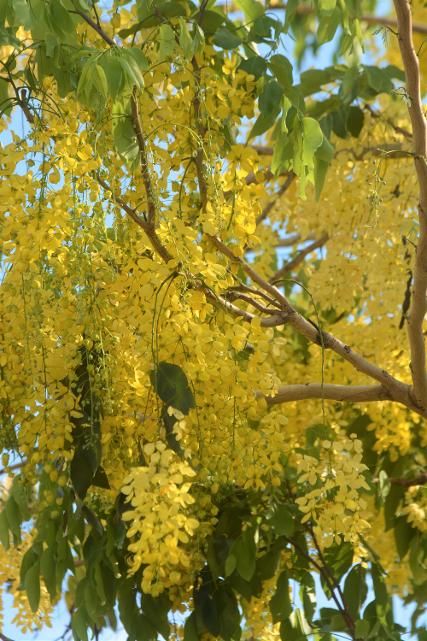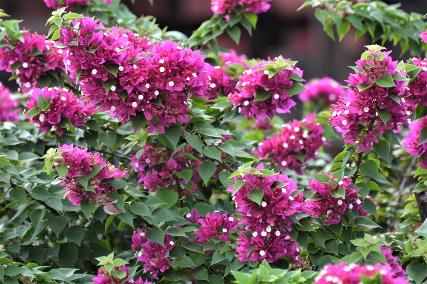 Gayle saw these huge fruits as we were driving. We're not sure what they are - like a breadfruit but smooth on the outside.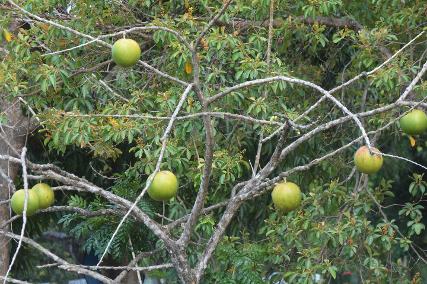 Being a Sunday we saw many enjoying the day, flying kites in parks or enjoying a stroll on the beach.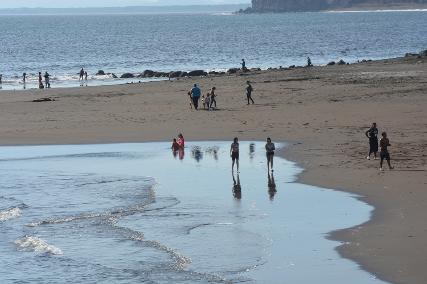 Further south, just past Tarcoles was this women selling fish on the roadside.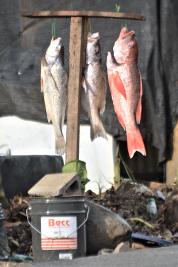 Further along there was this beautiful yellow Gold Trumpet tree, with a blanket of flowers beneath, and across the road mangoes growing.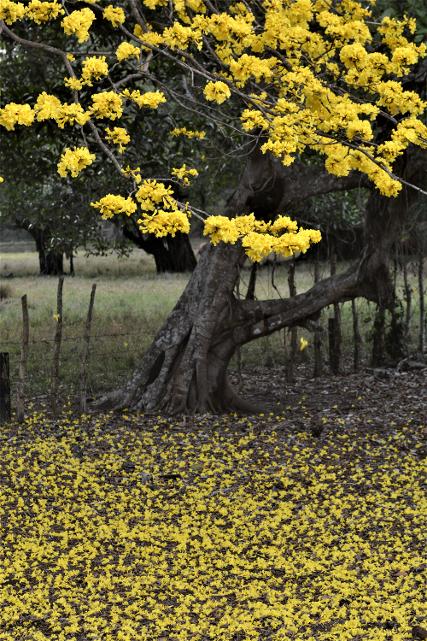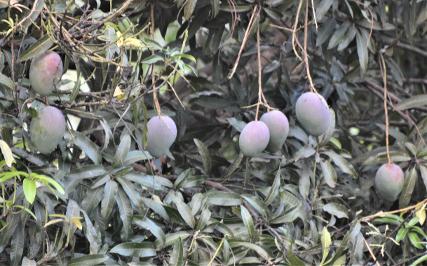 We ate at a truly local restaurant - A Kachete - certainly nothing fancy but very good food and wonderful service, especially as our waitress did not understand a word of English. But we/she managed.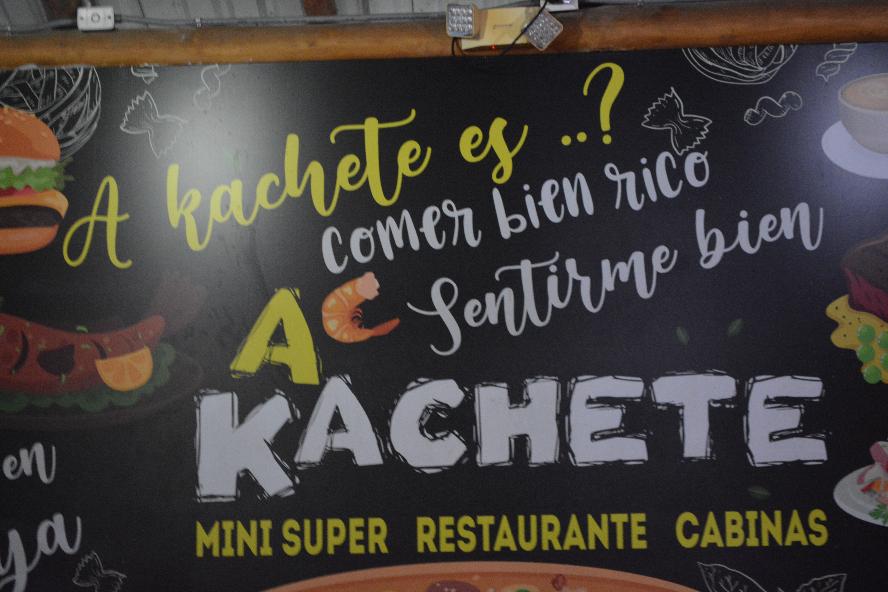 Gayle was welcomed to CR with a Margarita and then a delicious matching Margarita pizza.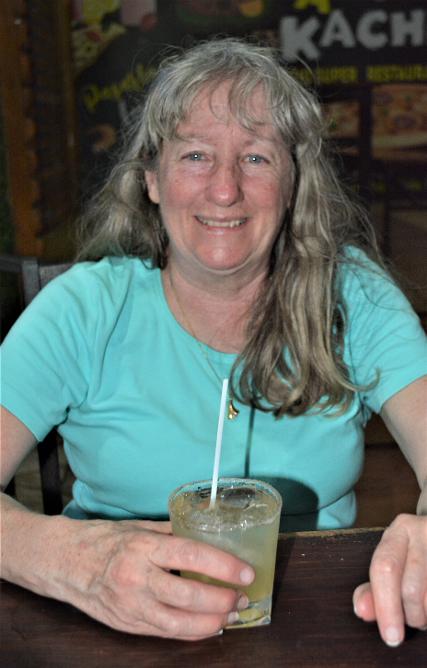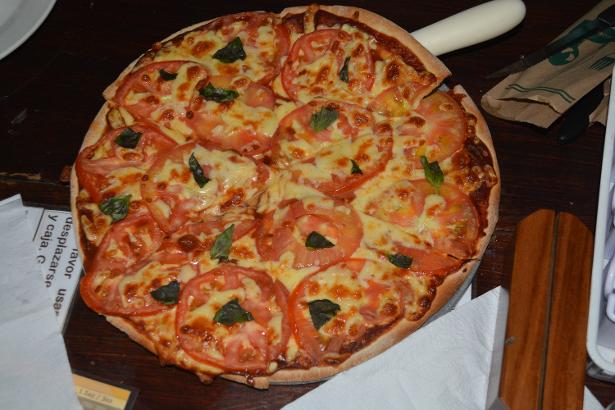 While I had a large and equally delicious serving of pasta alfredo con camarones (shrimp), accompanied by a
CR beer.