September 14, 2018 - Symi (Pedi harbour and Chorio)

After a nice breakfast and a relaxing morning we went up to the village of Chorio, the upper part of Symi some 400 steps from the port side, considerably fewer from the back side from where we entered. There are a number of alleyways and narrow steps worth exploring. At the top is an ancient acropolis on top of which is a fortress along with a watch-tower from which signals were sent to the island of Rhodes in the day. Of course there are many churches and superb views over Gialos, the island and the Aegean Sea. We wandered through the alleyways, eventually stopping for a drink and treat at the Olive Tree cafe. Very interesting drinks, served with pasta rather than plastic straws, and delicious cakes (I had a lemon poppy seed while Gayle a plum cake). A nice place to stop with its views down to the sea. In spite of sun and high temperatures it was actually quite pleasant walking through Chorio with the many shaded alleyways and breeze.

We returned to Pedi from where we took a water taxi to Marina beach in the next cove. This was no doubt a nice beach here at some time in the past but it has been built up with an upscale restaurant and bar and sun beds one after the other on multiple levels leaving very little open area to access the beach. We found a spot from where we entered for a swim. The water was again wonderful - very warm; so while the 'beach' was disappointing the swimming was certainly not.
For dinner we drove back to the port side and up a narrow 'road' to Haritomeni Greek Taverna, a nicely situated taverna up the hillside with spectacular views back down to the port and the beautifully coloured homes. It was a challenge to find a parking spot on the road but we finally prevailed a bit below the taverna. Our server, from Greek heritage but having been born and grown up in Australia was a wealth of knowledge ... a real talker. We enjoyed some tzatziki, a standard starter with home made bread, after which Gayle had roasted potatoes and a huge serving of baked aubergine, chick peas and tomatoes. My meal was meat based, first with the village sausage and then traditional Greek meat balls, all accompanied by large glasses of white wine and retsina. A careful drive back to Pedi along the narrow roads in the dark after which we called it a day.
__________________________________________________________________________________________________

The very creative interior wall with a 'door' and 'window' separating the sleeping area from the seating and rest of our room.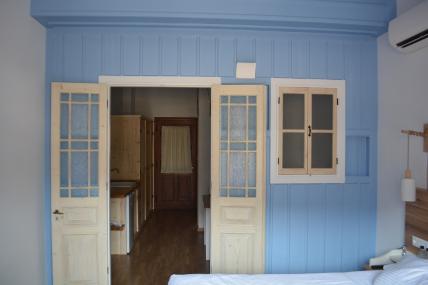 The view from our balcony out to Pedi harbour.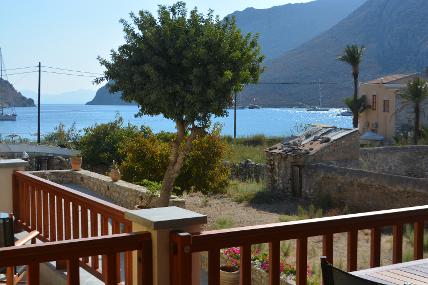 Brightly painted buildings throughout Chorio, the old town.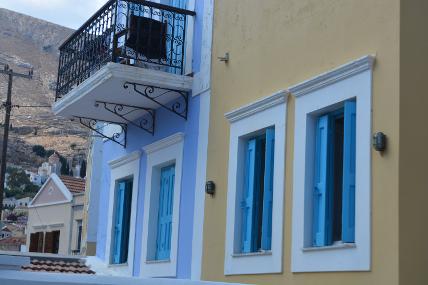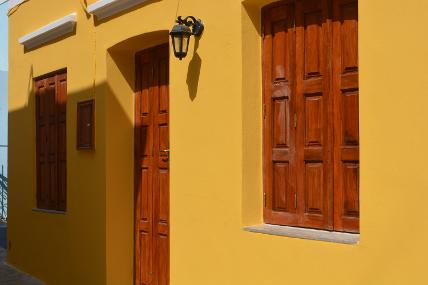 A few older gentleman passing their time in Chorio.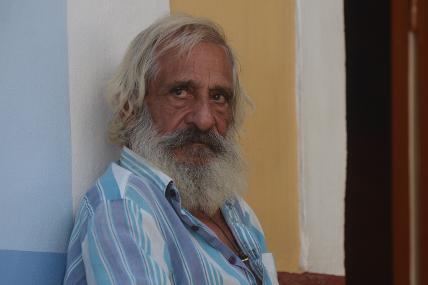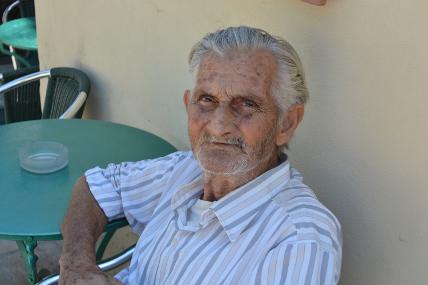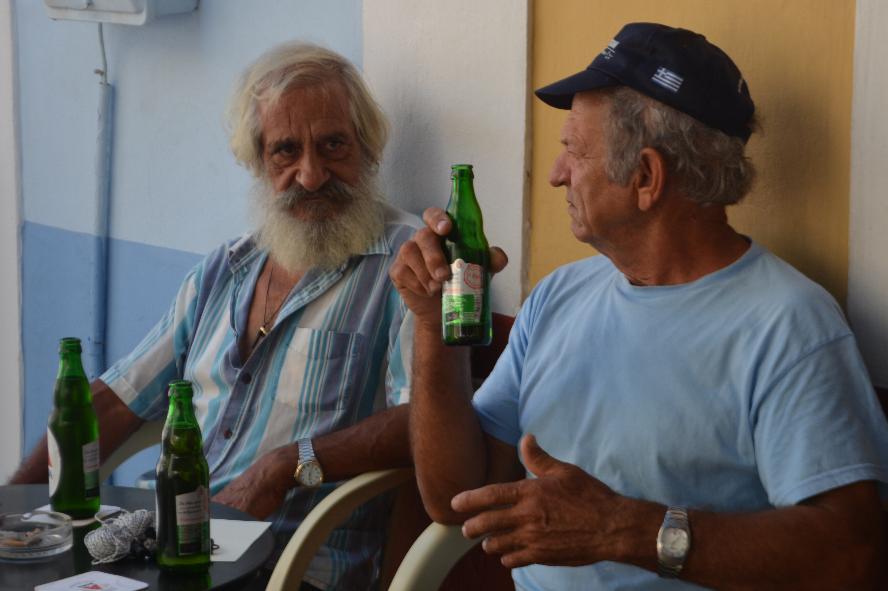 Traditional Greek blue everywhere - the doors, the trim on the buildings, the sign, the sea, and even the sky.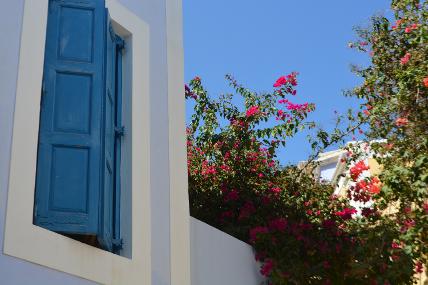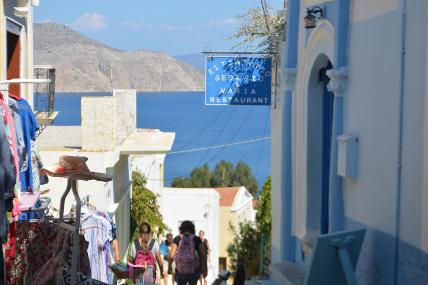 A door knocker that caught my eye and one of many blue painted doors framed by a pomegranate tree.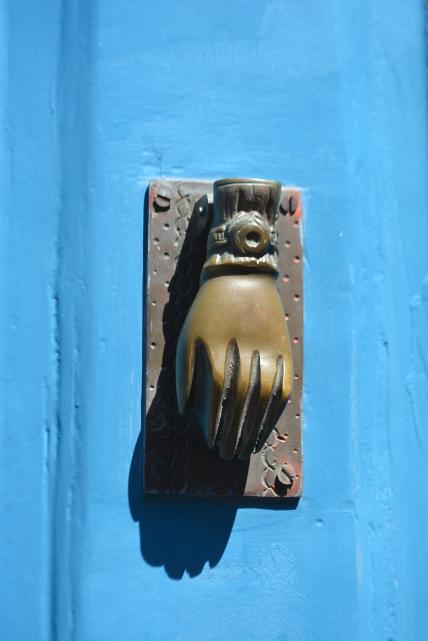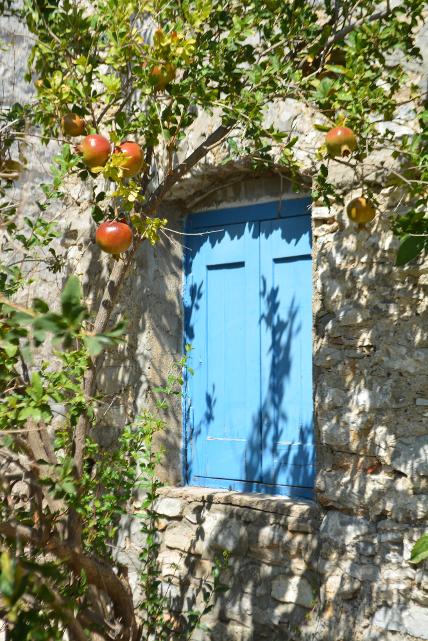 More doors, and steps and bougainvillea and flower pots and Gayle taking a photo in Chorio.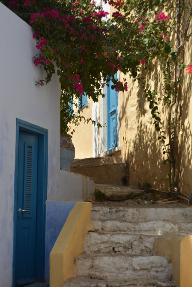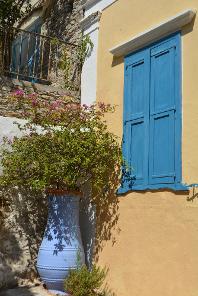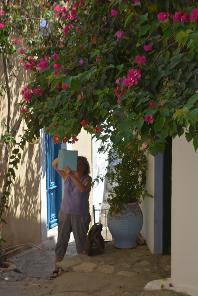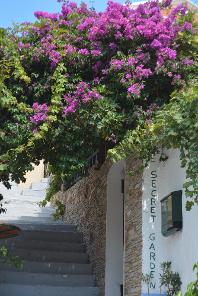 Our cafe stop at the Olive Tree with my orange, carrot, lime and ginger drink with the pasta straw, Gayle's cafe latte, a plum cake and a piece of lemon poppy seed cake with a nice view of the sea below.
A few of the homes around Pedi harbour as we took our water taxi to Marina beach.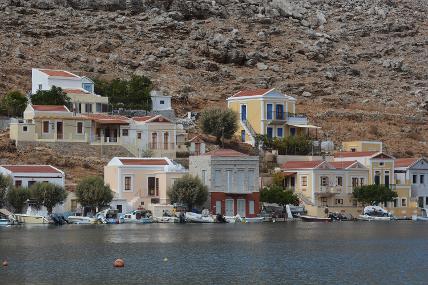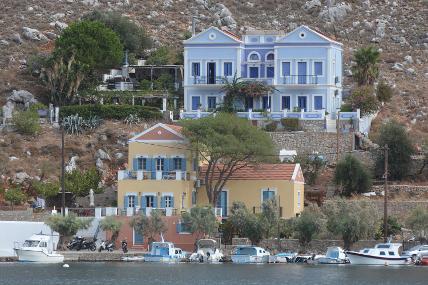 We began our meal with tzatziki after which Gayle had roast potatoes (not fries) and this dish of baked aubergine with chick peas and tomatoes.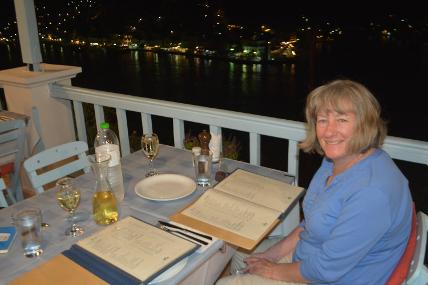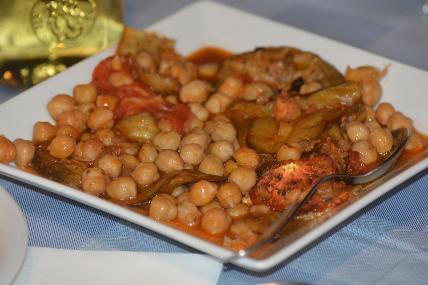 A meat based meal for me tonight -Village sausages and Greek meatballs.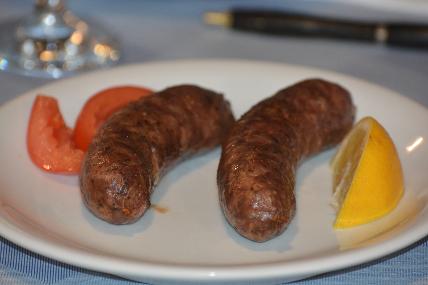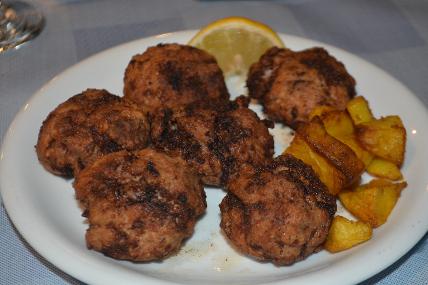 September 13, 2018 - Symi

We spent the morning at Thea Apartments mostly enjoying the views across the harbour to the multi pastel-coloured homes from our balcony. Perhaps there are too many photos below but the port is so attractive I couldn't stop taking picture after picture.
At noon Panos arrived and delivered us to our car rental where we had arranged for a vehicle for the next two days. We drove up and over a ridge and then back to down to the harbour of Pedi where we will be staying the next two nights - at Asymi Residences. Thea apartments had a room for us on the 12th and 15th but being full on the 13th and 14th we needed to find an alternative. It actually worked out quite well as we experienced a quieter village.

In the afternoon we drove to the other end of the island and Marathounta beach. The twisting turning drive took us all the way to the top of the mountains from where the views back to Gialos and Chorio and the surrounding sea were very impressive. Going to a beach one knows that after ascending steeply at some point you must descend, again steeply here on the island. We made our way to the pebbly beach where free chairs were available. We enjoyed another swim as well as watching the goats wander up and down the beach checking out the backpacks for 'treats'. Not sure of the definition of a goat treat as we saw one nibbling on the corner of a person's book.
There is a taverna on the beach where we had a meal. Gayle had a Greek salad (of course) and french fries while I had grilled feta cheese and then goat meat in tomato sauce (to the best of my knowledge not one of those on the beach earlier). We then enjoyed the scenic drive back to Pedi and our lodging, Asymi Residences.
__________________________________________________________________________________________________

The attractive pastel coloured homes of Symi.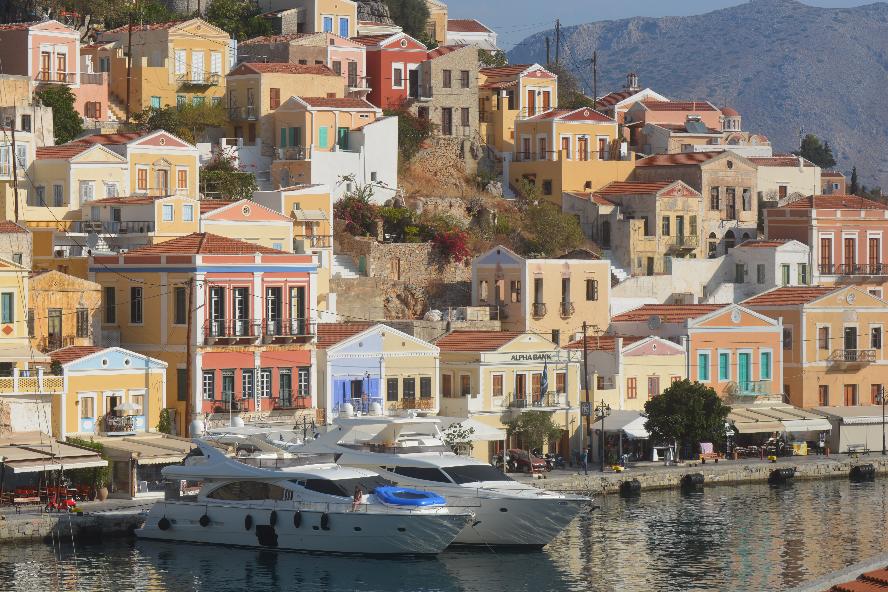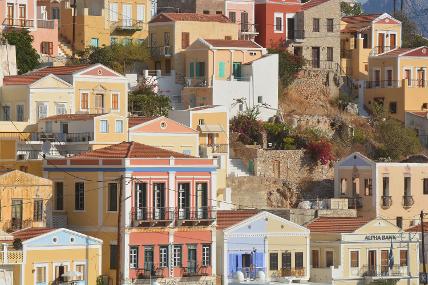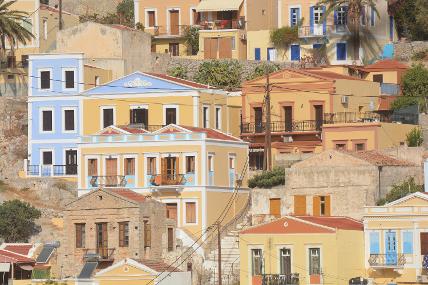 The harbour with its clock tower at the entrance.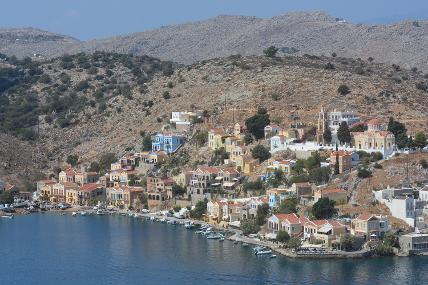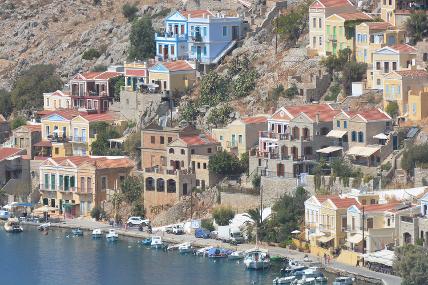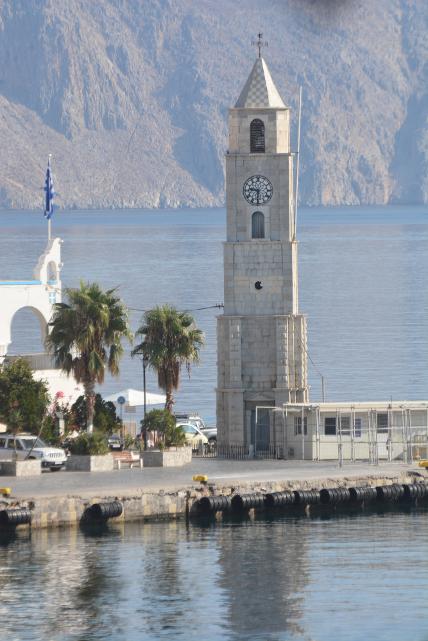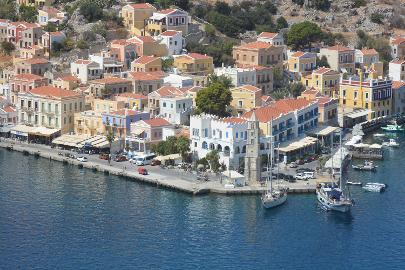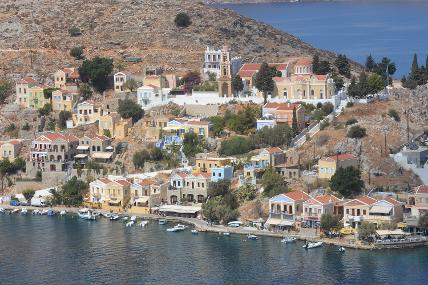 A wall of the multi-coloured pastel homes of Chorio, Symi.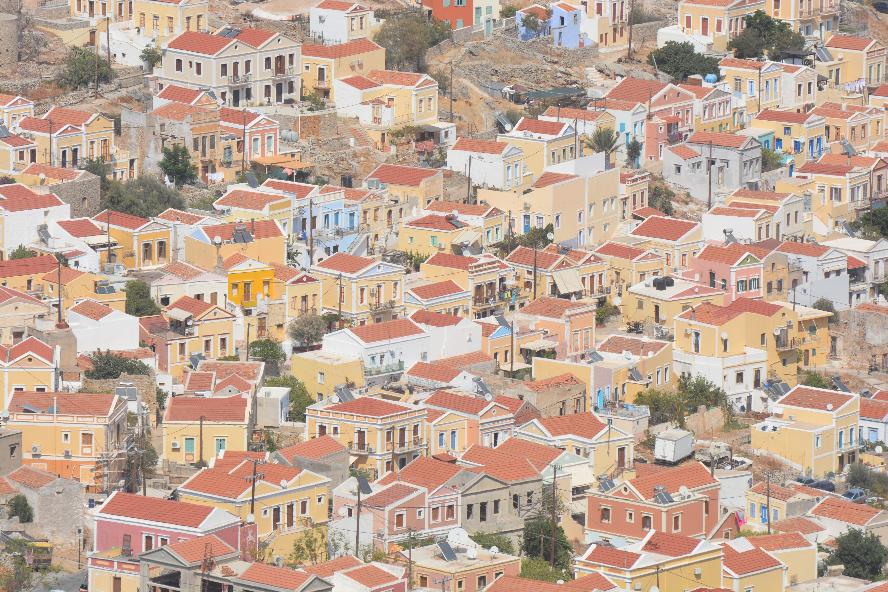 The port of Gialos with its many boats... ... and one of a number of churches.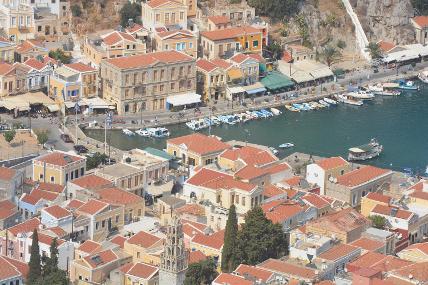 A view from the mountains across Chorio to the sea.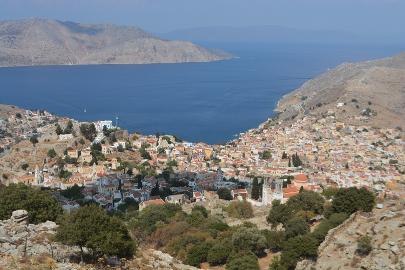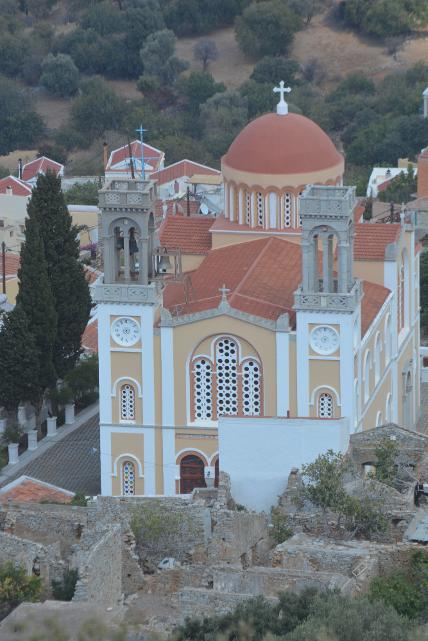 One always needs to be alert driving on these small islands as you never know what one might come across - in this case a number of horses marching up the road.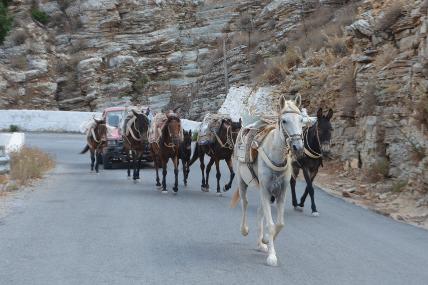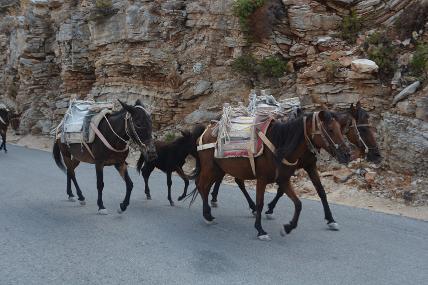 Marathounta bay and beach as seen from high above on the drive through the mountains.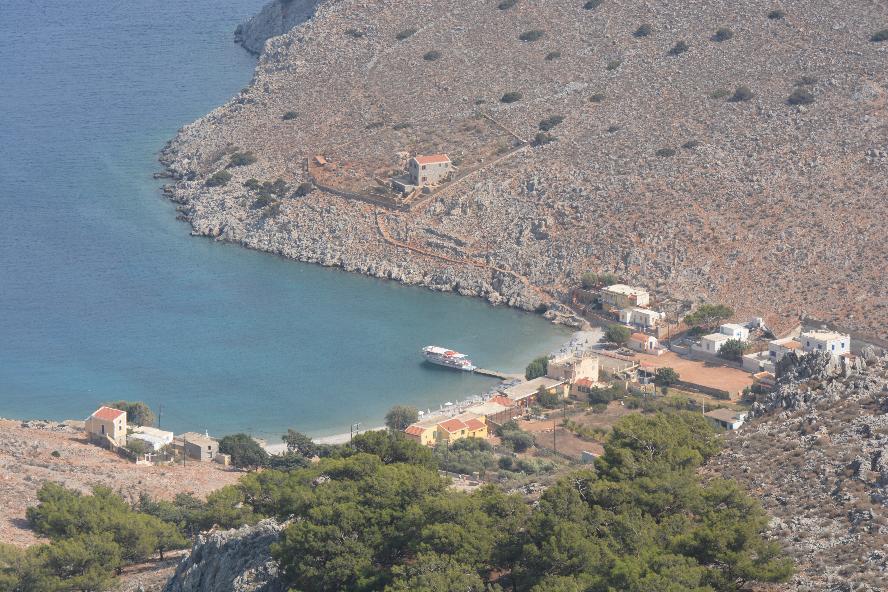 There were a few goats strolling nearby and along the beach, goats that did not hesitate to check to see whether there was any food left around the sun-beds, one even going so far as to nibble a book.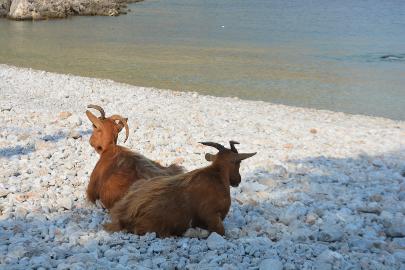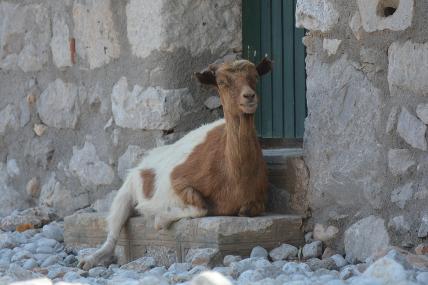 Chilling in the water of Marathounta bay The view out the bay from Taverna Marathounta.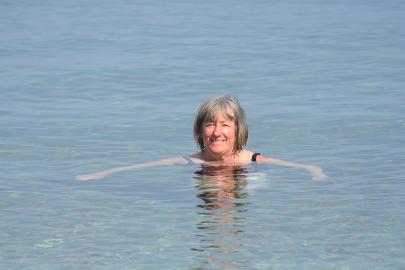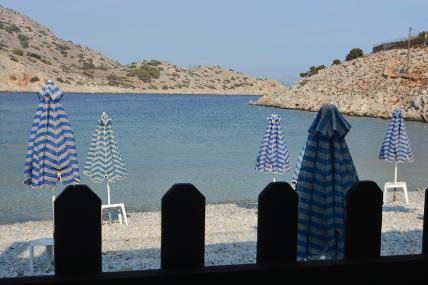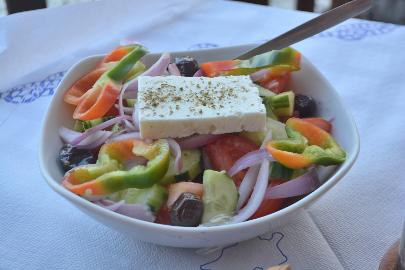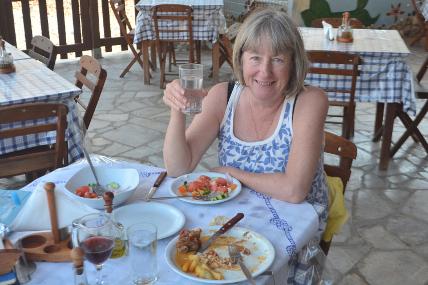 Goat meat with tomato sauce - 'A Greek Specialty' ...and some watermelon (with seeds!) to finish our meal.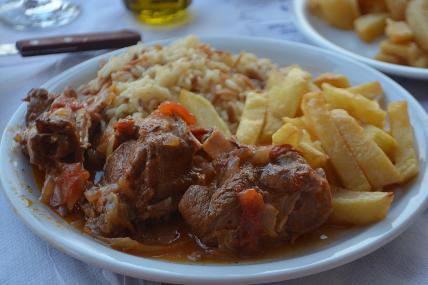 September 12, 2018 - Rhodes to Symi

After a long travel day and a late dinner we certainly were not early to rise. But we eventually made our way down to breakfast, albeit we were the last ones. With our ferry not until 1:00 pm and the great flexibility of John and his staff it was no problem. Another delicious, filling breakfast of yoghurt, cereal, some meat and cheese, cheese and spinach pies, an egg, lots of fruit along with coffee and fresh squeezed orange juice (yes Wendy more freshly squeezed orange juice!)
Over a leisurely breakfast we had a great chat with George, a university student studying hotel management who was working at Zacosta's for the summer. George provided top-notch service and was even receptive to a few tips for taking photos. After separating our stuff in order to leave a couple of bags - since we are returning here in a few days due to the ferry schedules - George delivered us to the port in the golf cart. We felt a bit on display to the many tourists strolling through the cobble stoned streets of Rhodes but the convenience of being delivered to/from the port was wonderful. A really appreciated extra that reinforces the fact we made the right decision returning to Zacosta.
The ferry to the island of Symi was only 50 minutes. Upon arrival we were met by Panos who manages Thea Apartments, where we were staying our first night. We settled in, spending most of the afternoon just admiring the view across the harbour from our terrace, catching up on emails, working on the blog, and ok perhaps having a nap.

Early evening we went for a stroll looking for a restaurant / taverna, ending up at To Spitiko where we had a nice meal including both tzatziki and an aubergine salad dip, an avocado salad with walnuts and apple and grilled octopus. Did we say how happy we are to be back in Greece?
_________________________________________________________________________________________________
Gayle about to start breakfast.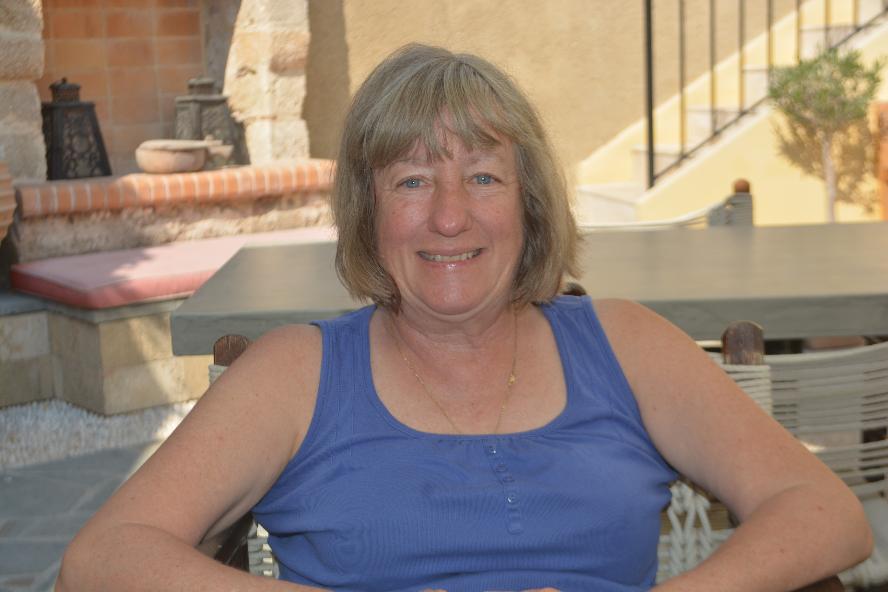 Cheese and spinach pies ... and fruit and freshly squeezed orange juice.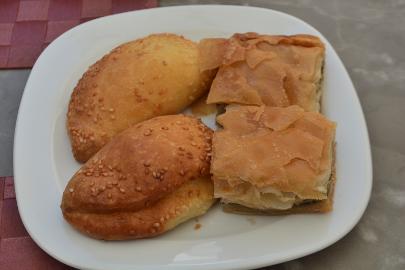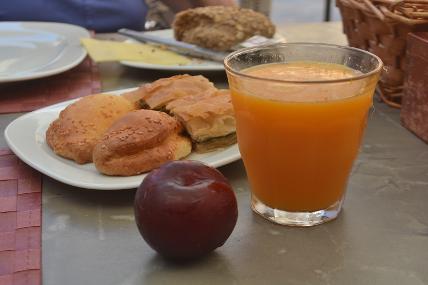 Smiling and happy to be back in Greece with the sky solid blue and the sun shining.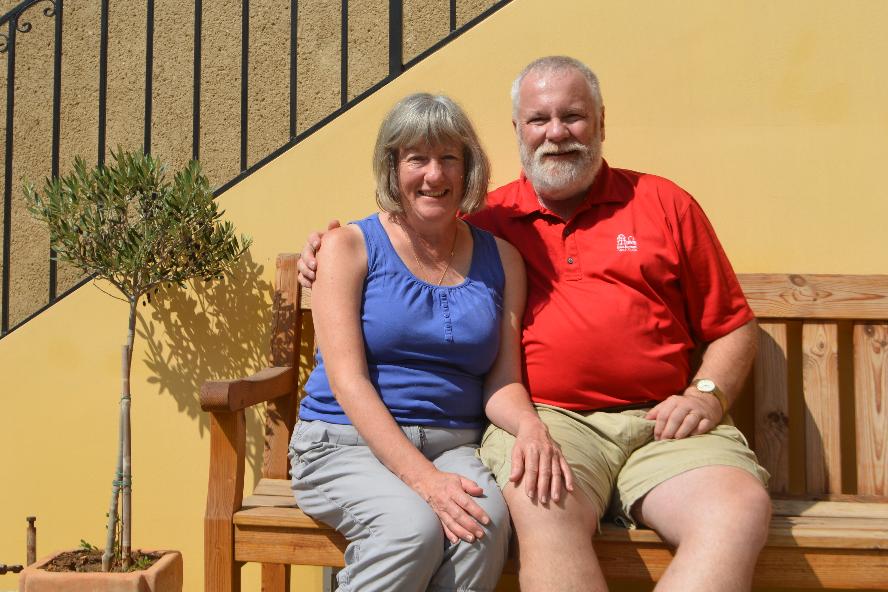 Either Gorge has great service instincts, or John has taught him well, or both.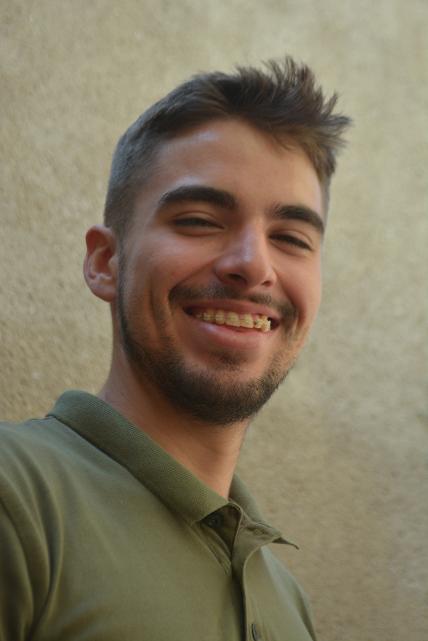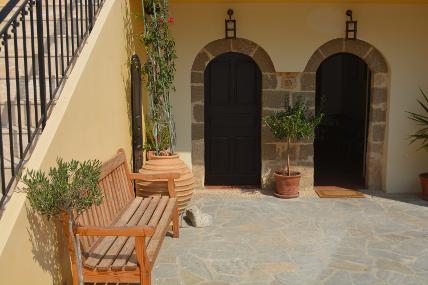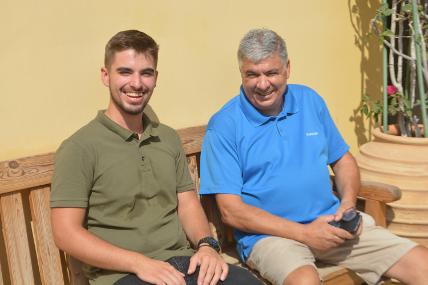 A couple of shots of old Rhodes, with the narrow cobble-stone 'roads' and stone buildings throughout.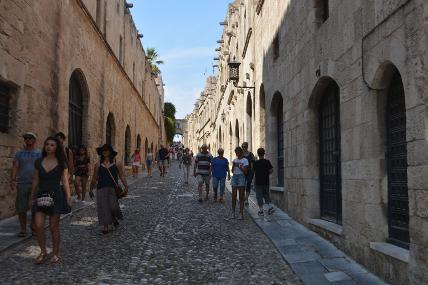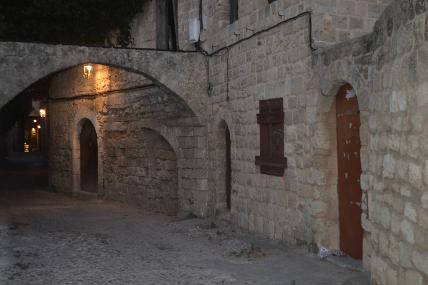 Our first glimpse of the attractive buildings as we entered Gialos, Symi's main harbour.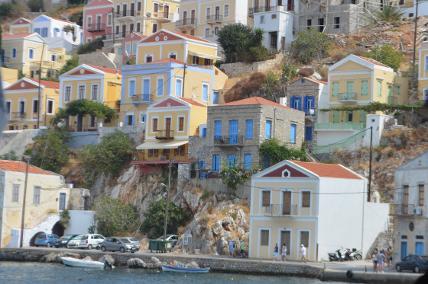 One of he many large yachts in the harbour.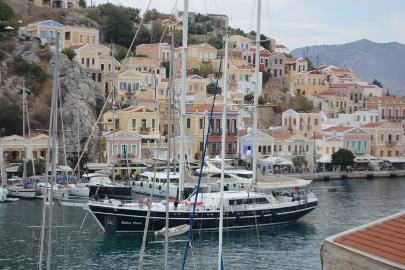 The fabulous view of the harbour from our terrace.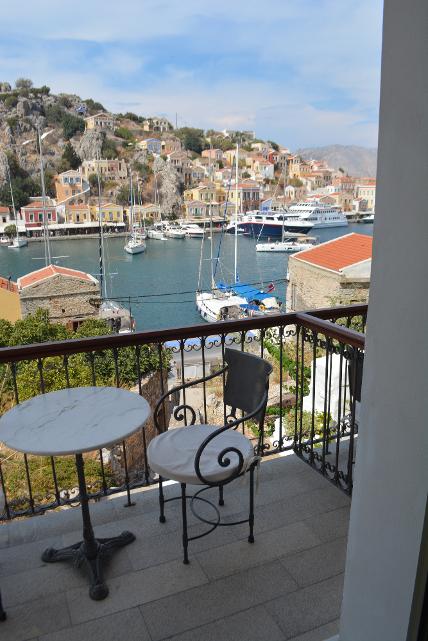 Dinner at To Spitiko started with aubergine dip and tzatziki.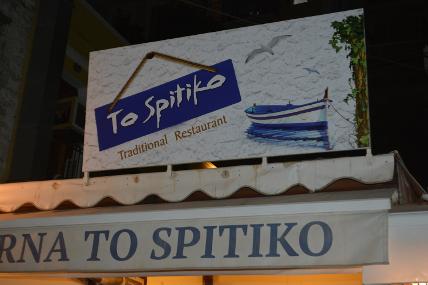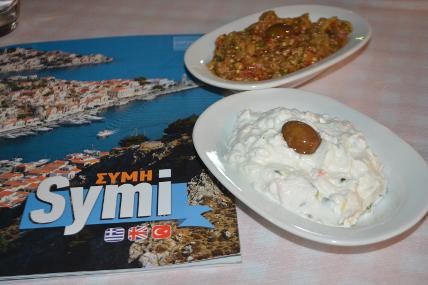 ... and then continued with an avocado, apple and walnut salad which Gayle very much enjoyed and a delicious (no fat; all meat) grilled octopus which I thoroughly loved.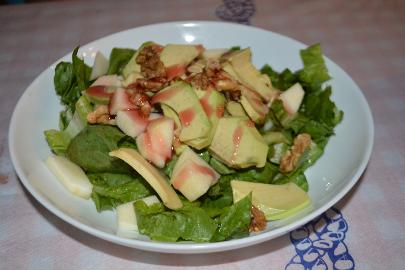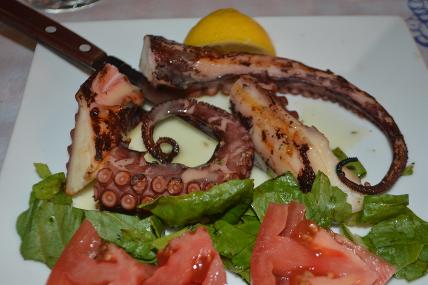 September 11, 2018 - Brugge to Brussels to Athens to Rhodes

Another long travel day. We woke at 6:00 am and were on the road by 6:50 am for the two plus hour drive to Brussels airport. There were a few spots where we were slowed done (construction and approaching Brussels) but had plenty of time to return our vehicle and check in for our Aegean flight to Athens. We had a 3 1/2 hour layover in Athens before boarding the 50 minute flight to Rhodes.
We took a taxi to one of the gates of the old city where we had arranged to meet John from Zacosta Villa Hotels. John had a golf cart to transport us and our luggage to the hotel. Not having much food all day, after checking in we found a restaurant/taverna for our first Greek meal. So nice to be back in Greece!
________________________________________________________________________________________________

John recommended nearby Ouzokafenes where we enjoyed a nice meal in a wonderful setting .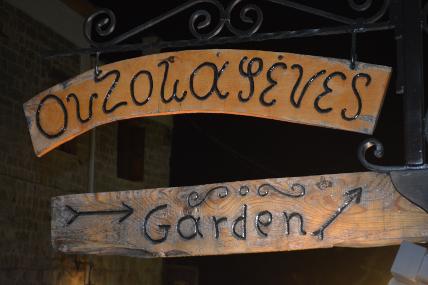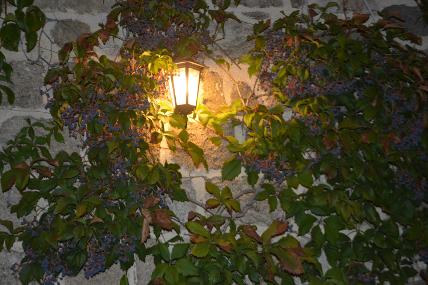 Of course Gayle's first dish was a Greek salad. The huge serving of cheese was much appreciated. I started with a traditional sausage and a bottle of Retsina, a
Greek white resinated wine made for at least 2,000 years. Its unique flavor is said to have originated from the practice of sealing wine vessels with Aleppo Pine resin in ancient times.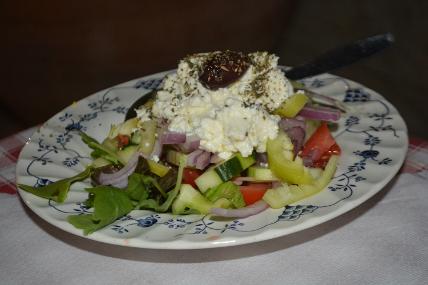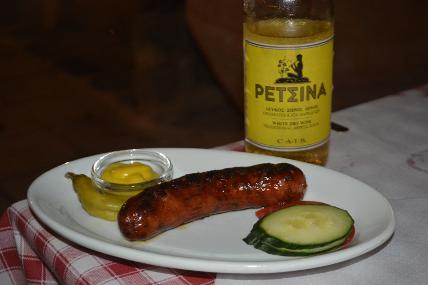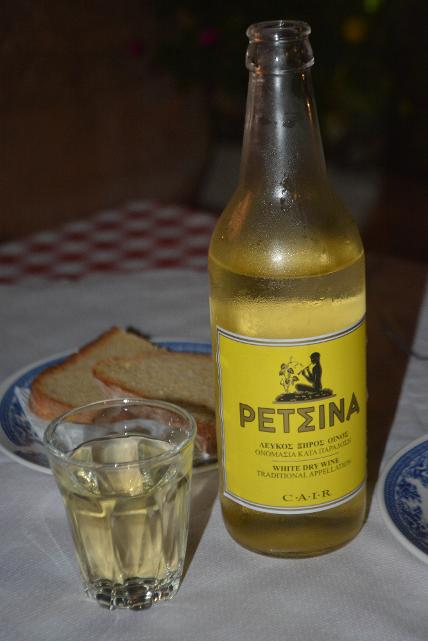 Then for our second courses Gayle had Ouzokalenes Auburgines, which she thoroughly enjoyed and I what I believe was the best Mousakas (served in a ceramic bowl) I have ever had.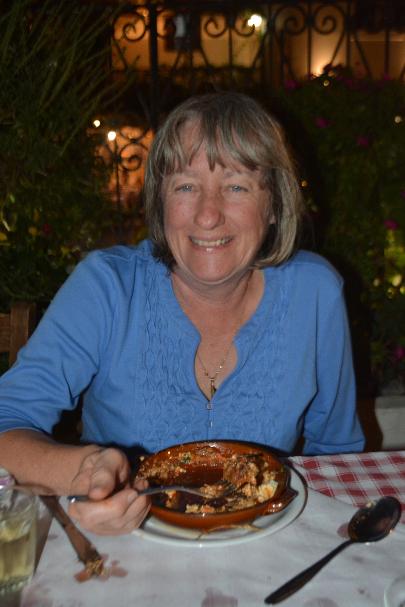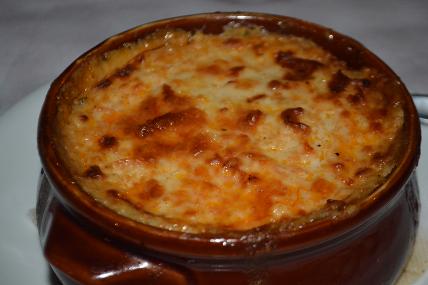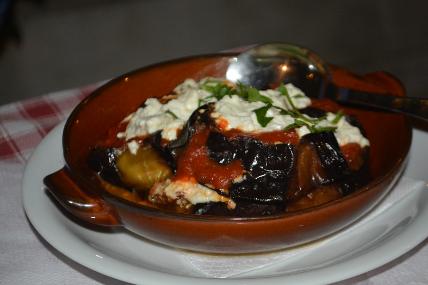 September 10, 2018 - Brugge, Belgium

We enjoyed a good long sleep - much needed - not making it out to breakfast until nearly 10:00. The bread, pastries, fruit selection, chocolates (yes chocolates for breakfast) and fresh orange juice were all great, as was the waffles covered in cream and blueberries. The owner Tine, and her Pyrenees Sheepdog Pickles dropped in for a nice chat. She shared with us some of the history of the building, i.e. in the 12th century the house was at the very edge of the city with the bottom unit used to store ice from the canal in order to keep the fish that were unloaded at this point fresh. Later, in the 15th and 16th centuries the building became a brewery with the breakfast area being the spot where the kegs of beer were stored.

The plan was just to walk about, admiring the attractive buildings covering various architectural periods and styles. . We walked over more cobble stones than I believe we had in the entirety of our lives, crowded with pedestrians and cyclists. In fact one needs to be particularly aware of the cyclists who are much more prominent than vehicles. We saw a number of unique building facades, many dating from the 17th and 18th centuries. Brick was the predominant construction material with most every building being of brick. There were statues and gargoyles to be seen along the way. We passed, but did not climb the Belfry in Markt square, and then the City Hall in nearby Burg square, a square that was inhabited as far back as the 2nd century AD. In the 9th century it became the base of operations of the Count of Flanders. The Palace of the Liberty of Bruges was the place from which the surrounding countryside was governed from the Late Middle Ages until 1795. Then the buildings were occupied by law courts for nearly 200 years. To the left of the 14th-century city hall is the old Court of Justice, a rare example of Renaissance architecture in Bruges.
Canal Deluxe provided us with a coupon for a two hour city walking tour. We decided to take the tour although we bailed about three-quarters of the way through as the group started to head back to City Hall, from where we departed. Our guide provided considerable history of the buildings and people of Flanders. One of the interesting opportunities was to be taken through the basement of a hotel just off one of the corners of Burg Square where the stone footings of the cathedral, destroyed by the French in 1799, have been uncovered and restored.

On our way back we decided to stop for a hot chocolate. We almost went to one place but thankfully went on as we found The Old Chocolate House where we got a table outside. You know this must be a decent place if the fellow doing a tour on a horse carriage mentions it to his clients on the way by. A really memorable approach - you order the type (white, milk or dark based on the percentage) and quality of chocolate. They then bring you a cup (made of chocolate of course) filled with the nibs of your choice. You then dump the nibs and/or the cup depending on whether you want to eat it on its own, stir it around and there you have your hot chocolate. Of course that was not going to be a sufficient indulgence for our last afternoon in this chocolate / waffle heaven so one order of a Belgian waffle with fresh strawberries and plenty of whipped cream. Three days later Gayle is still talking about it. And we didn't even make it up the the second floor Chocolate Bar - get it they have a chocolate 'bar' upstairs.
We returned to our B&B around 6:00 ish and then found out the restaurant we were considering was closed. Being tired and sore - half a day of walking on cobble stoned streets is tough for those of us with less than perfect knees - and not that hungry from the waffle and hot chocolate we ended up staying in. But there was one last surprise as I purchased an 'I Love Brugge' chocolate bar when I went in to pay that I left on Gayle's pillow. She was indeed surprised and pleased. And no doubt a fill of chocolate is one of the best ways to end one's day.
__________________________________________________________________________________________________
Breakfast included fresh orange juice, a wide selection of fruits, breads, delicious small puff pastry quiche like things, cereal, yoghurt, and of course waffles, these with blueberries and cream all served in an attractive breakfast area that still has the pillars from the brewery housed here back in the 17th /18th centuries.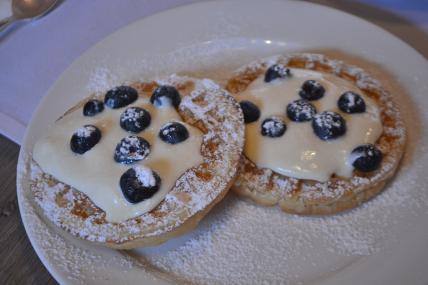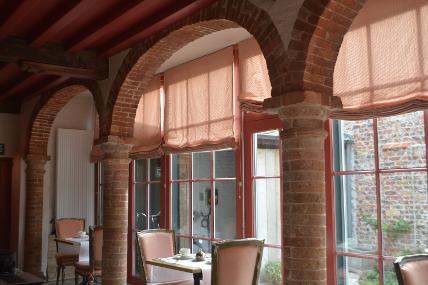 One can barely walk half a block without coming across either another waffle shop or chocolate shop, or more times than not both.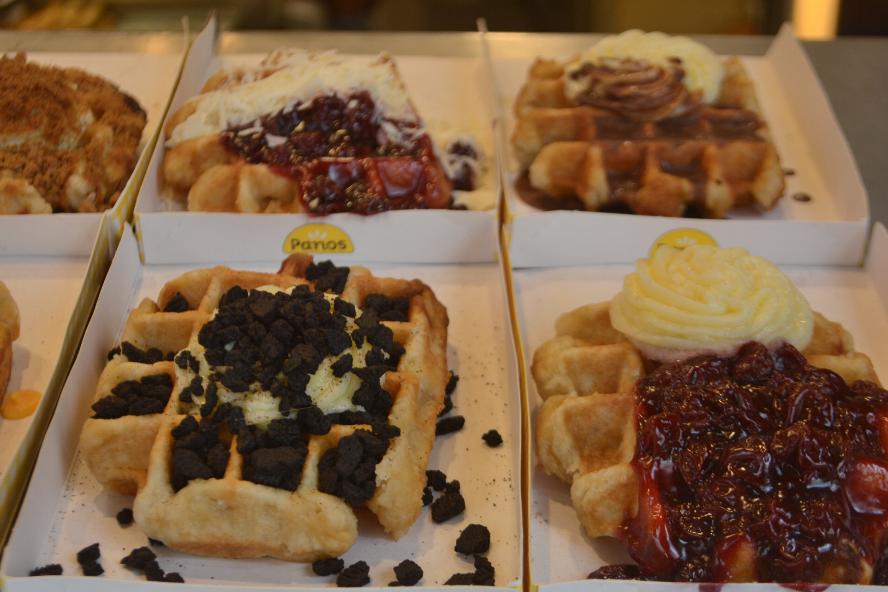 A tower and gold statue in front of the Duke's Palace hotel, and a random gargoyle on the top of another building.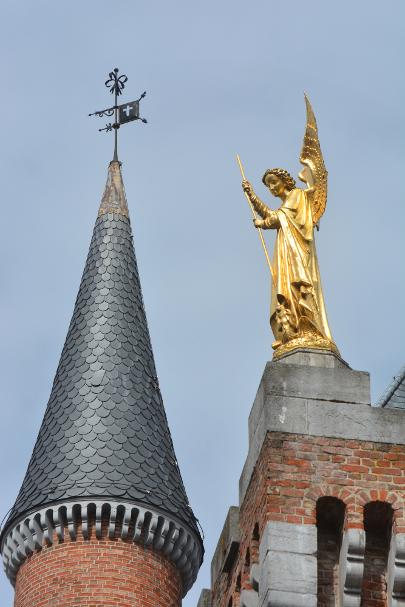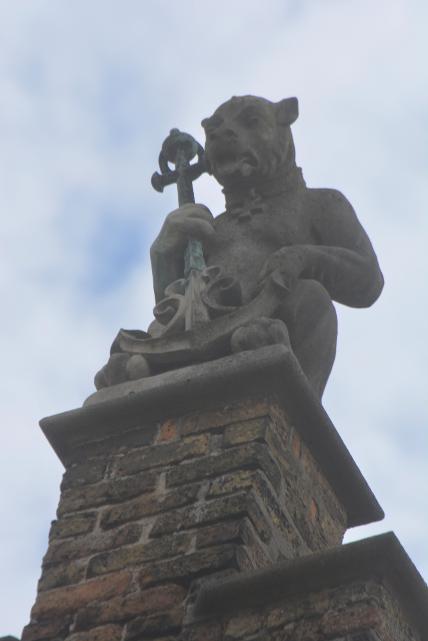 Attractive buildings, most often of brick with flowers and other interesting designs and info, e.g. year built as part of the front wall.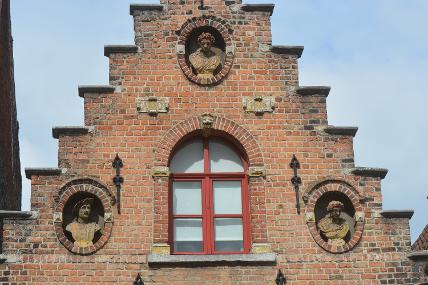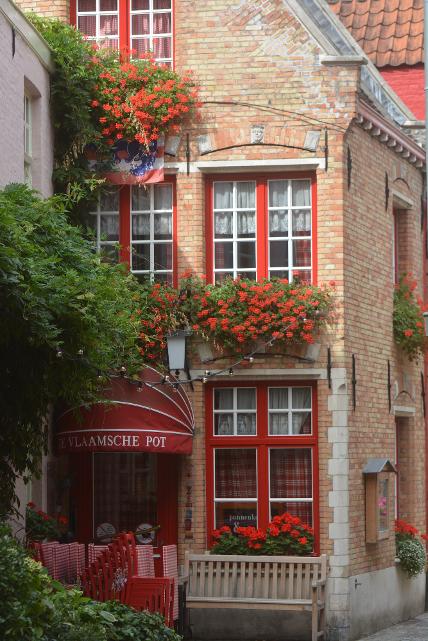 Interesting cobble stone streets predominantly used by pedestrians and cyclists. Vehicles were few and far between.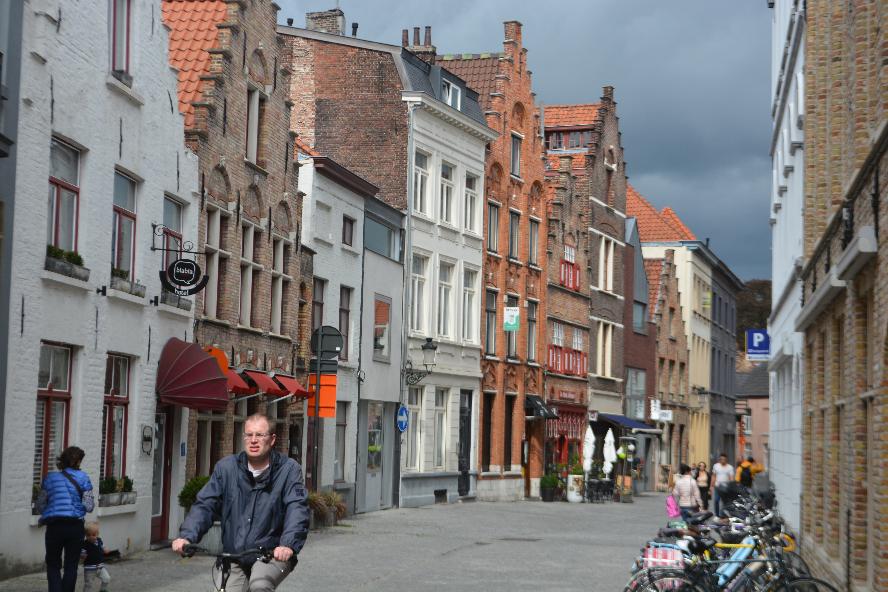 More of the interesting architecture on the facades of many/most of the buildings in central Brugge.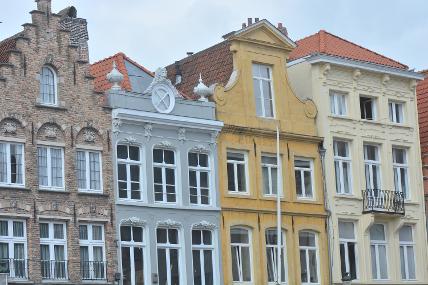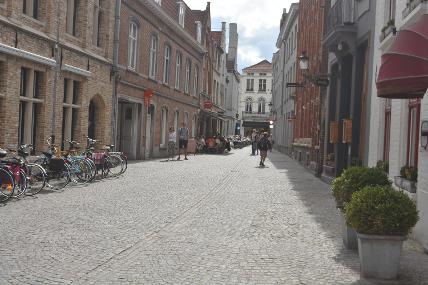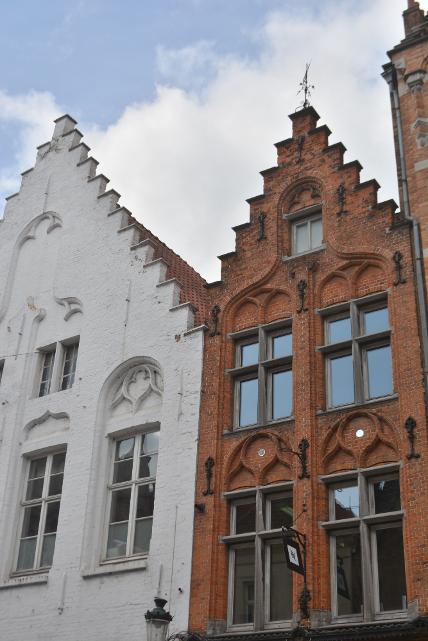 A couple of the dominant / interesting buildings bordering Burg Square, with the Brugge city hall on the right.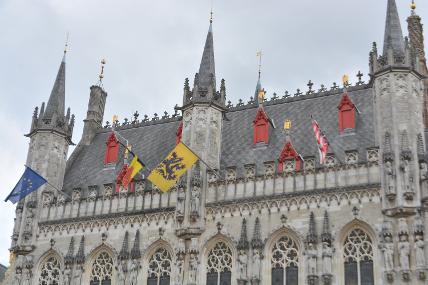 Canals with buildings built right to the edge.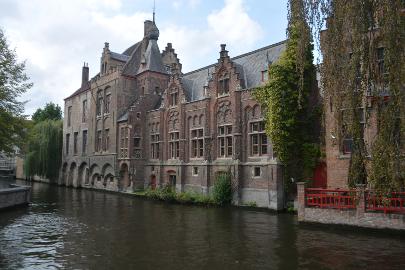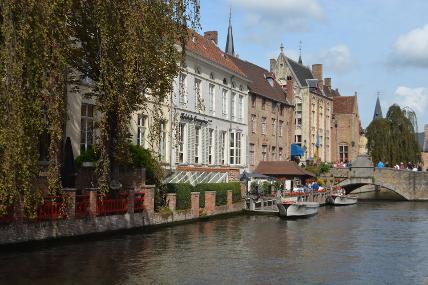 Chocolates, waffles with chocolate and of course the Chocolate Kiss.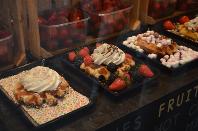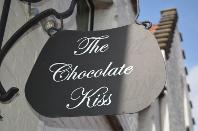 The smallest window in Brugge used by officers to identify boats entering the city in order to collect taxes.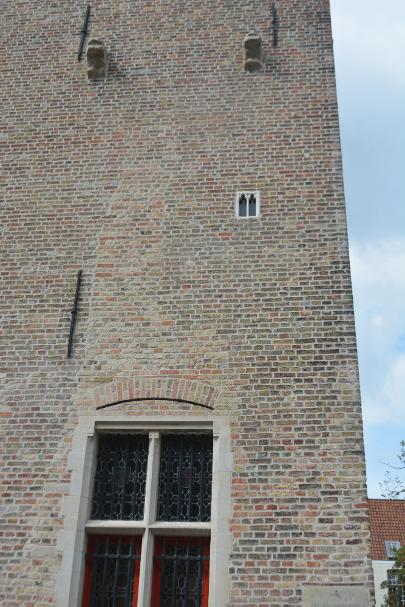 Another of the many churches here in Brugge.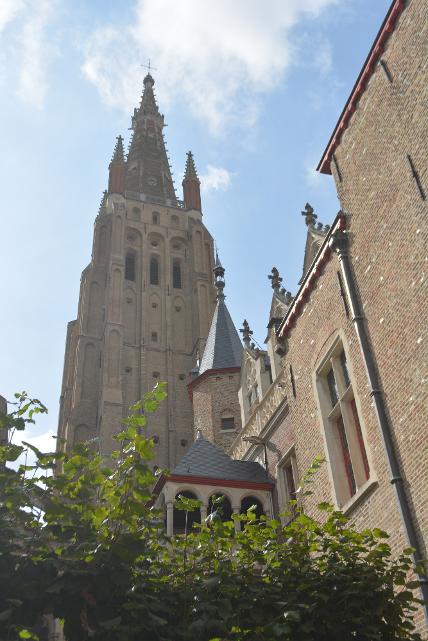 On our way back to our B&B we stopped at The Old Chocolate House for a hot chocolate .. and a waffle. We chose extremely well, thoroughly enjoying the 'make it yourself' hot chocolate.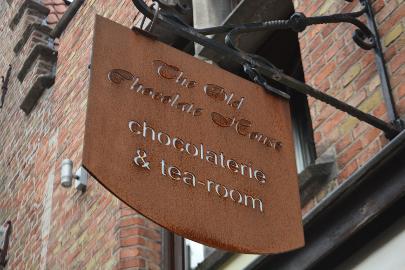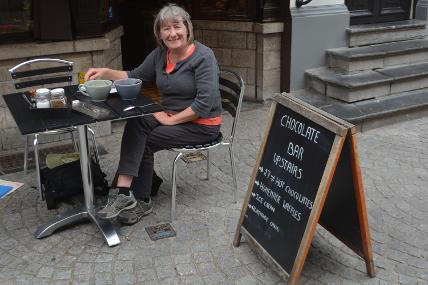 Of course one can't stop at a cafe/chocolate shop without also indulging in a Belgian waffle with fresh fruit and a pile of freshly whipped cream.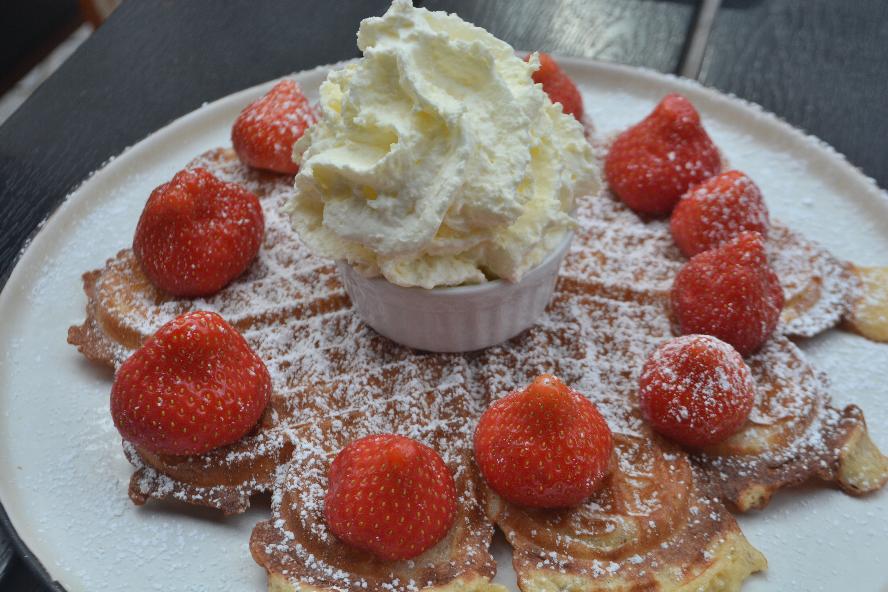 What a unique process - after choosing the quality and concentration (white, milk or dark) you take the chocolate nibs in these chocolate cups on the left and you drop them in the hot milk. The chocolate sinks quite quickly after which one stirs it and voila ... hot chocolate.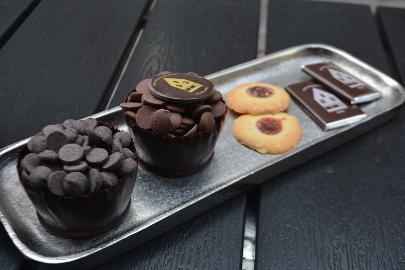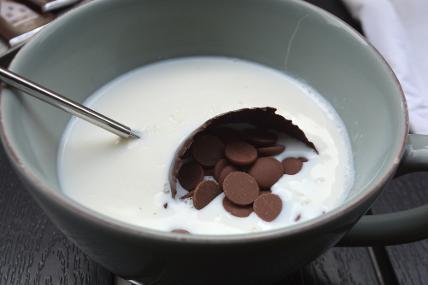 About to enjoy my hot chocolate.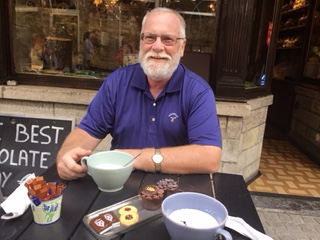 What better way to end the day other than with a 'surprise' I Love Brugge chocolate bar on one's pillow.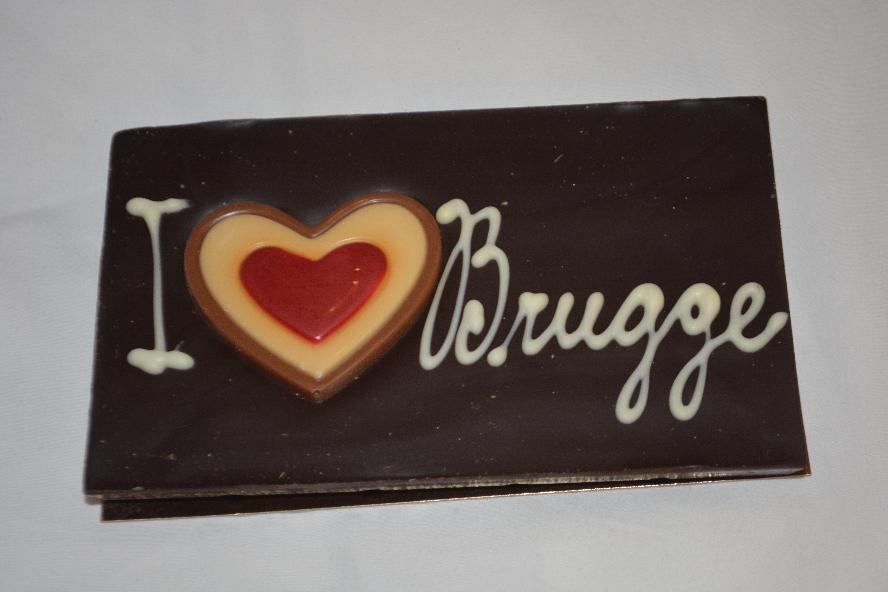 September 08/09, 2018 - Halifax to Iceland to Brussels to Brugge
Because we are flying home on Aeroplan points we needed to find a one way ticket to Europe. The best we could do had pros and cons. We found a great fare with Icelandair - $404 without luggage and $479 with (we checked in one bag) meaning we did not have to backtrack to Toronto or Montreal but rather flew east from Halifax. However it did mean a three plus hour stop in Keflavik, the airport outside Rejykavik before continuing on to Brussels. As well we could not make the connection on to Athens the same day, whether through Brussels, Amsterdam, Munich or any other European destination of Icelandair. Rather than spending a night near an airport we decided to take the opportunity to visit the city of Brugge in Belgium. We had heard great things of this UNESCO world heritage city, characterized by cobblestone streets and canals much of which was built between the 12th and 15th centuries. As a result the city of approx. 120,000 has a feel of being in a medieval fairy-tale.
We were a bit late, landing in Brussels at 1:40 pm after which we picked up a rental car and headed the 1 1/2 plus hours north. The drive is really not all that scenic - primarily flat with a few fields of corn. Once off the main highway we immediately noticed how cycling friendly the area was with bike lanes adjacent to virtually every road.
Being noticeably hungry we stopped a few kms outside of Brugge at a cafe. Gayle could not resist a Belgian waffle with fresh strawberries while I had Belgian fries with traditional mayonnaise. We then entered the city and quite easily - it probably helped that it was Sunday - found our lodging the Canal Deluxe B&B where we were met by Anna. The Canal Deluxe is located, you guessed it, right on one of the canals of Brugge. We were very impressed with our room - Gustaphe - with its view of the canal on the one side and a nice garden on the other. The building dates from the 1100s when it was an unloading point for ice and fish. Later in the 15th/16th century it served as was a brewery.
Although exhausted to the point where we could have easily napped we knew if we did we would no doubt be out for the night, so we pushed ourselves to wander the city and find a restaurant. First impressions were very positive as we walked the cobblestone street to the main Markt square where located is the 13th century Belfry with its 47 bell carillon and 83 metre Tower providing views across the entire city. We eventually found a place to eat where I had a dark Belgian beer with a Flemish stew while Gayle had a veggie quiche. It was nice that it was warm enough to sit outside for dinner.
We returned past lit buildings and a multitude of chocolate and waffle shops to our B&B where we immediately crashed.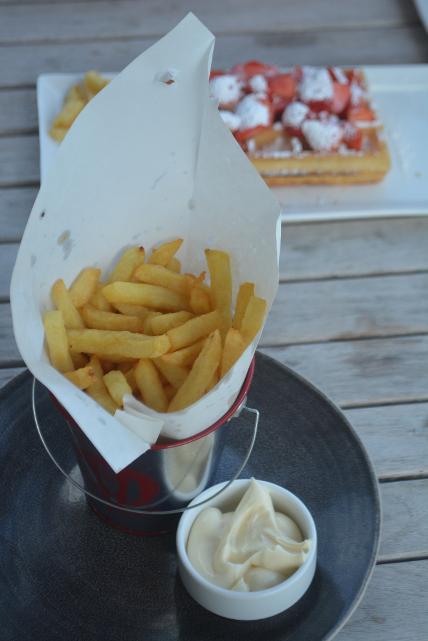 Of course with the opportunity to enjoy a Belgian waffle -
a variety of waffle with a lighter batter, larger squares, and deeper pockets than ordinary American waffles originally leavened with yeast as opposed to baking powder that is now often used - with fresh strawberries and a large bowl of whipping cream (not shown).
While Gayle enjoyed her waffle I had a small bucket of Belgian fries with the traditional mayonnaise.
And of course we might have sampled each others..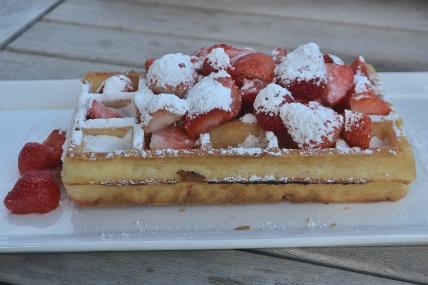 Part of the pretty garden outside our room where we enjoyed our welcoming drink - a glass of wine for Gayle and a a local Belgian beer, a Brugge Zot, for me.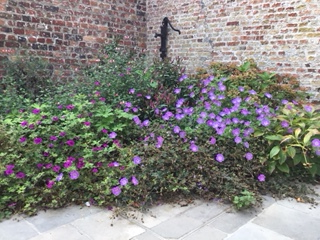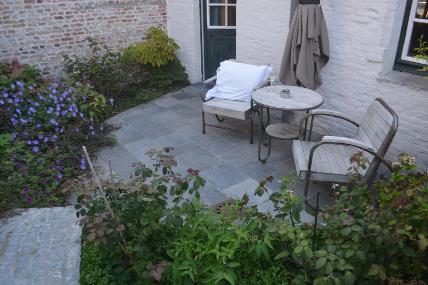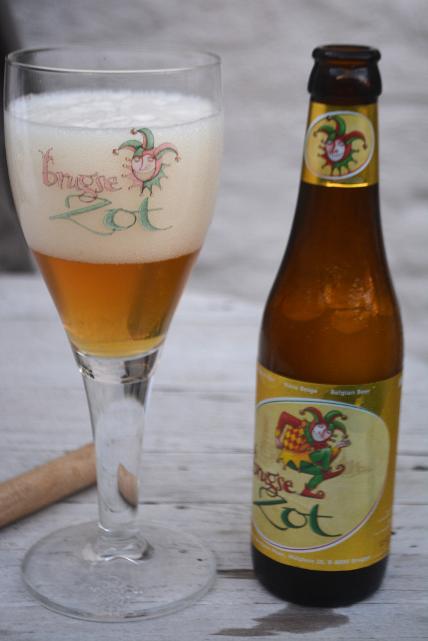 The views (left and right) out our window to the canal - note the canoe docked nearby.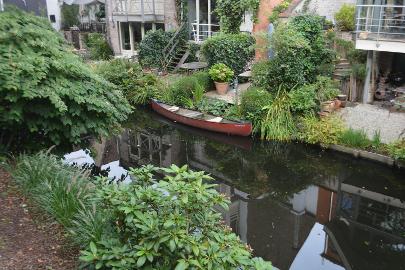 Our room, Gustaphe, had unique and interesting light fixtures near the bed and the most beautiful chandelier near the fireplace and comfy formal chairs. With the high beamed ceilings the space was very open.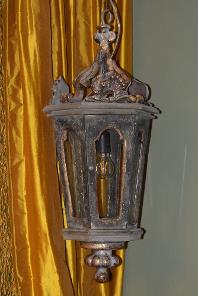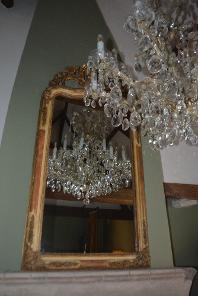 A number of the very traditional buildings lining the streets of Brugge.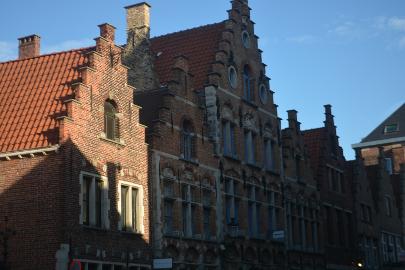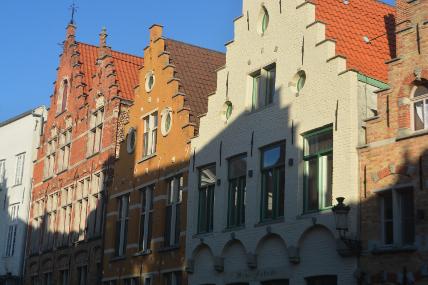 Belgium in general and the city of Brugge are known for their chocolate. There are shops everywhere with all shapes and sizes of chocolates.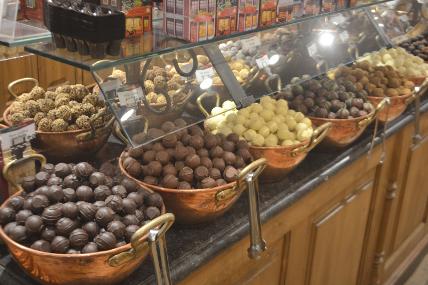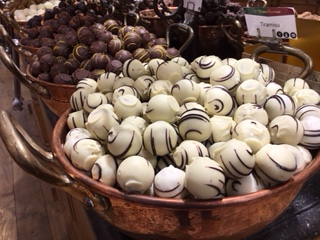 Some of the buildings on the city centre's Burg square.
The dominant Belfry, having burnt and been rebuilt numerous times.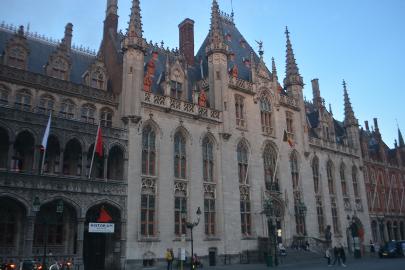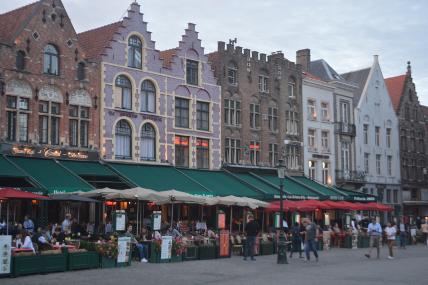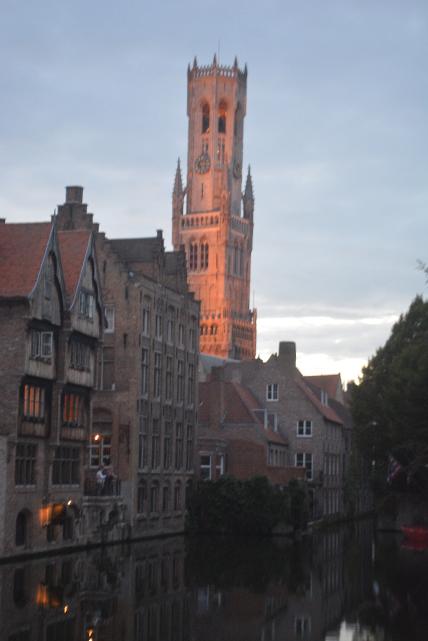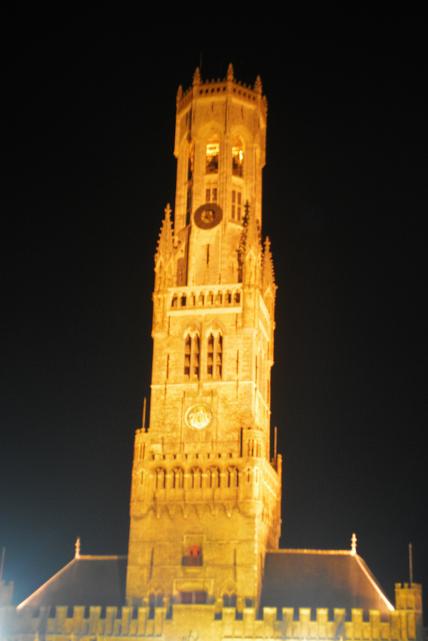 A glass of wine, a dark Belgium beer and my Flemish stew. Unlike french beef stews made with wine a Flemish stew relies on the deep, dark flavour of Belgian abbey-style beer.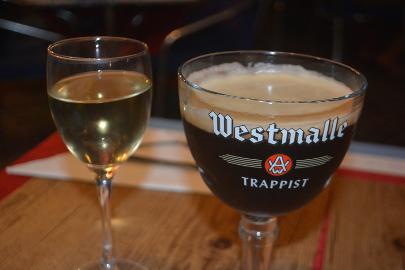 Our next adventure, after a couple of nights in Bruges, Belgium (Sept 9 and 10) will take us back to the Dodecanese Islands of Greece, where we spent six nights on the island of Rodos in 2010.
We will again be flying in to Rodos, but only staying the night due to ferry scheduling. We will be returning to Zacosta Villa Hotel, within the old walls, arriving on the late flight from Athens. Early the next afternoon we are off to Symi (north of Rodos) for four nights. We then need to return to Rodos for a night as there is no direct ferry to Tilos that coincided with our itinerary. Then it is off to Tilos (north-west of Rodos) for three nights, after which we are on to the island of Chalki (Krevatia on the map) for three more nights and then south-west to Karpathos for the last six nights of our time in Greece.
From Karpathos we then fly, through Athens, to Rome for the second part of our trip - in central Italy.