February 12, 2018 - Isla Pastores (Finca Vela Lodge)

A surprising number of photos given we essentially again did very little today. Our one activity was a tour of the Finca with Herve, who identified and told us about the many plants and flowers and the work being done to clean out the jungle and plant in particular cacao. During the hour plus walk through the top of the farm, including a trail cut out in the jungle, up and down some significant hills we came across a green and black frog and a few butterflies, including a large blue morpho. Isla Pastores actually does not have many animals present – a few sloths at the eastern end but otherwise not much.
After the tour Herve asked one his staff to get us a fresh coconut from which we enjoyed the coconut water.
Again we spent the afternoon pretty much just hanging out at our cabin other than our attempts to stand up paddleboard (SUP). Given the calm waters of the cove we thought it the ideal opportunity to give it a try. Gayle, as you will see was actually quite skilled, being able to first stand up and stay standing up and second actually manoeuvre and turn the board. I'm attributing it at least in part to the dancing she did in her younger days. We expect the kids to be pretty proud of their mom's achievement. Now I on the other hand am another story. Perhaps it is the excess weight, the weak knees or I'm just not a cut out for SUP but I was unable to even get up on the board. Now I gave up pretty quickly after awkwardly falling into the water but hey I at least tried, if unsuccessfully. In my case we expect the kids (and no doubt some if not all other readers) to have a good laugh.
In addition to the regular fish there were flying fish – at times 'flying' a distance of six plus feet (perhaps half a foot above the water) with multiple jumps along with a number of sting rays just off our dock. Very cool.
Dinner was again enjoyable with a unique beet root puree that was surprisingly much better then expected. The main dish was lightly saffroned rice with vegetables interspersed and for me chicken. Very nice. Dessert was ice cream with a caramel drizzle.
Some work on the travel blog (the internet is actually quite good here as they have installed a tower to receive a decent signal) to the sounds of the insects and birds brought an end to another quiet and relaxing day.

Herve and Raphael, one of the workers.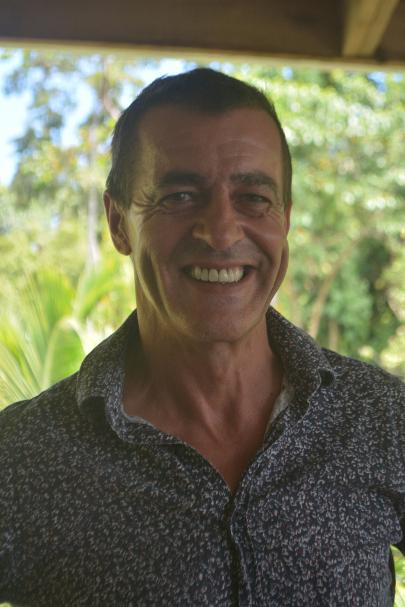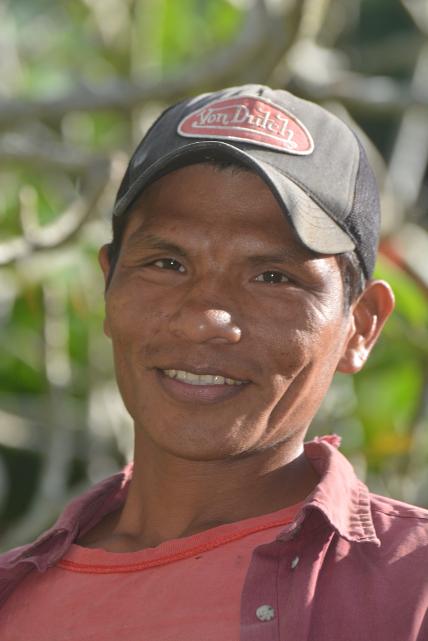 Cacao pods - the right one on the left photo actually being infected by a fungus, hence the brown colour.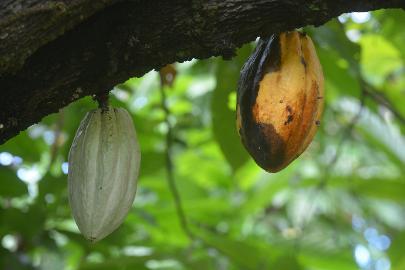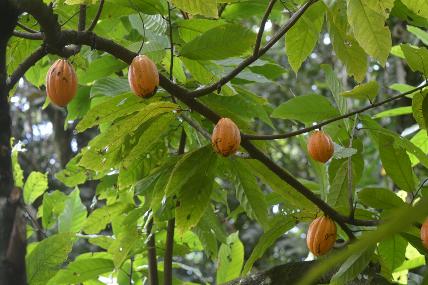 A ripening cacao pod with new flowers adjacent.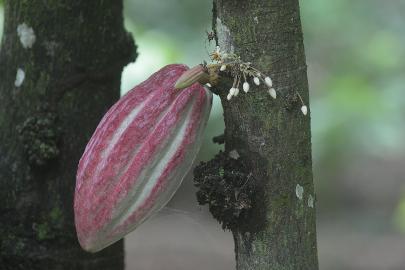 The inside of a pod - a pulpy membrane covering the cacao seed that ultimately is ground into chocolate.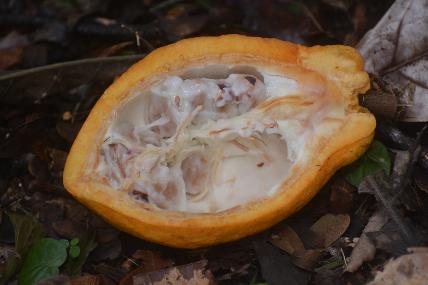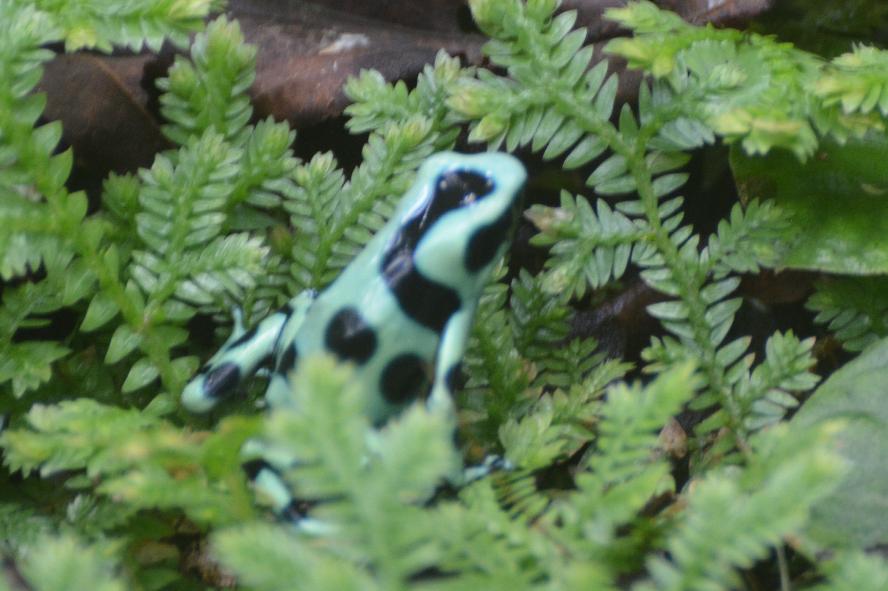 A coconut tree sprouting from a coconut ... and a huge jackfruit.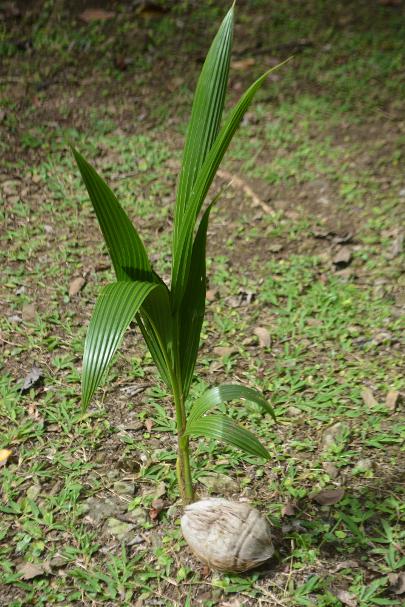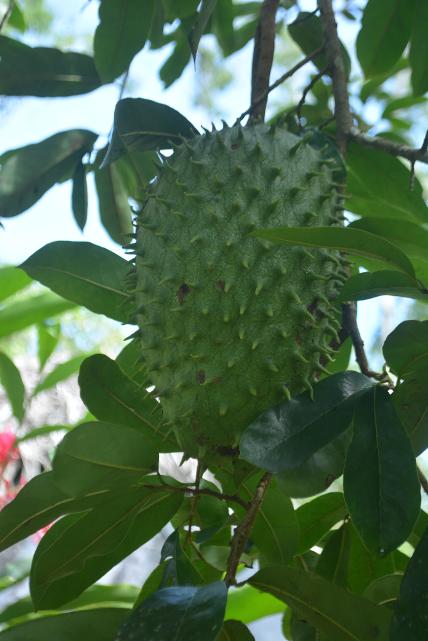 Below is a Heliconia, otherwise known as lobster claw.

To the right is a Bird of Paradise.

Unfortunately we don't know what the other two on the right are, other than they were colourful.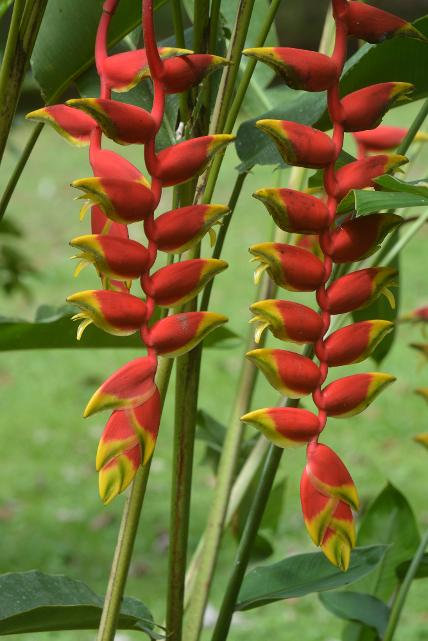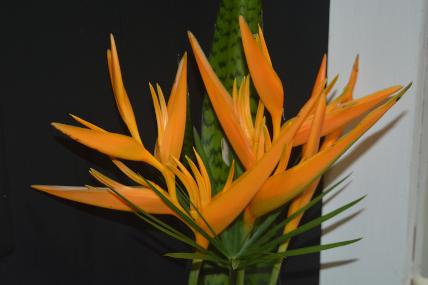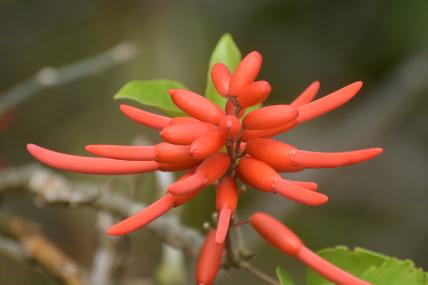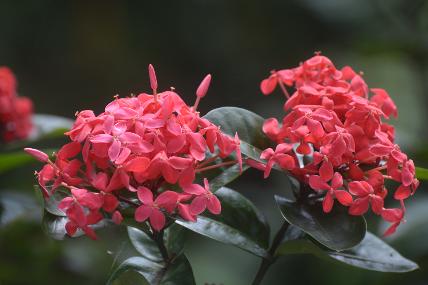 No clue what this one below is ... but on the right ... a pineapple.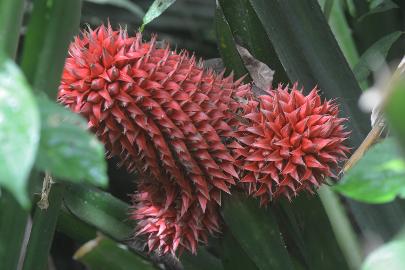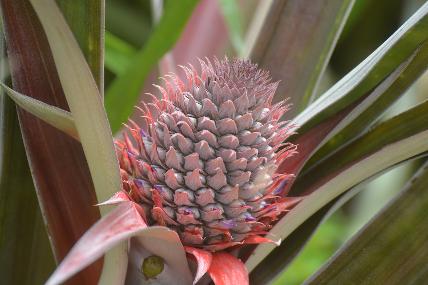 Star fruit, ready to eat off the tree ... and some form of lemon.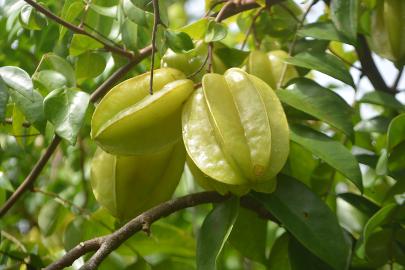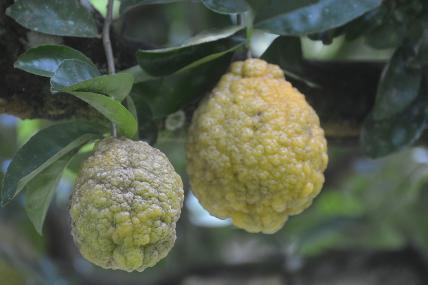 After our tour we were treated to some fresh coconut water.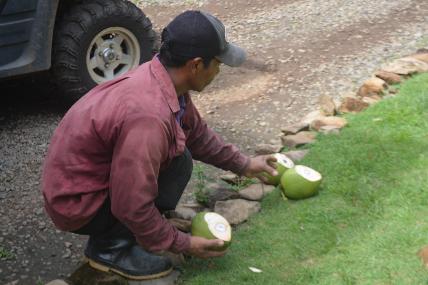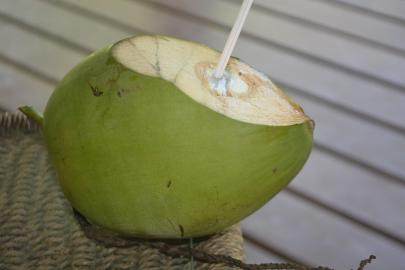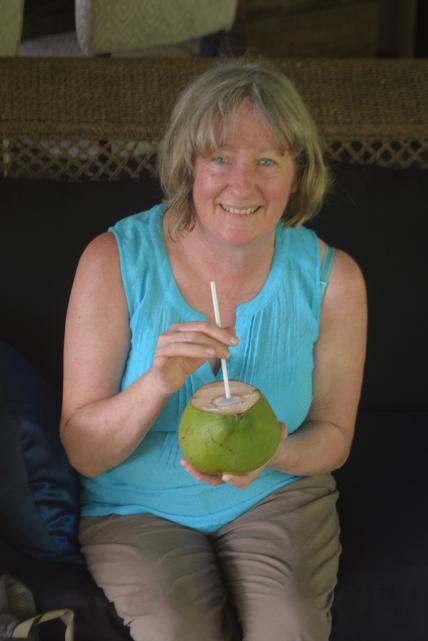 Although somewhat distorted by the water there were many starfish at the end of the dock and a few sting rays right off our deck.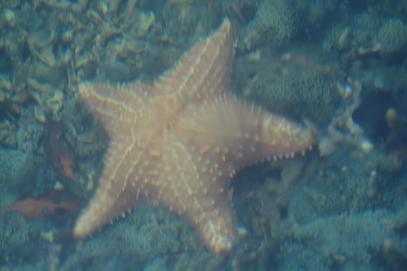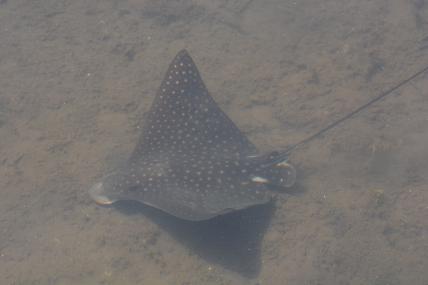 At this point I wasn't sure she was going to figure out how to turn and come back ...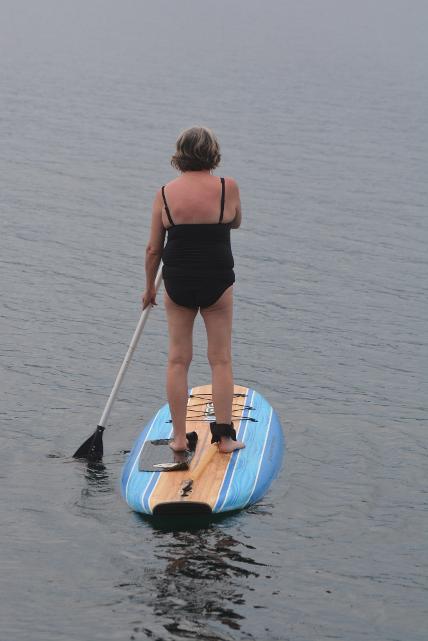 ...but she did - very impressive for a first timer.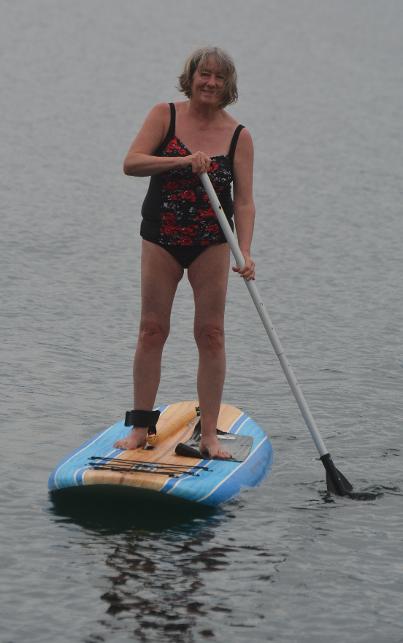 ... and a not so elegant effort at stand-up paddling ... actually I'm thankful there was no one else on the dock to witness my embarrassing effort.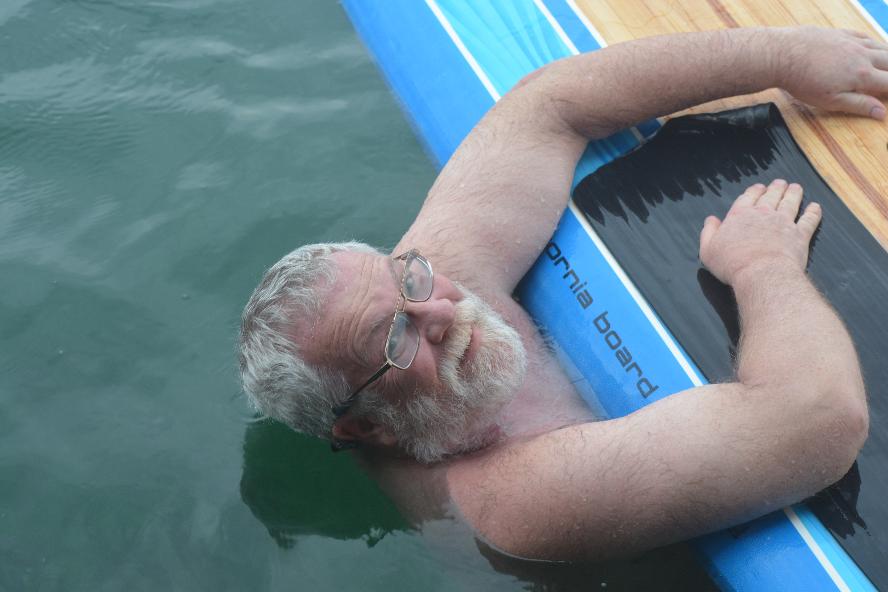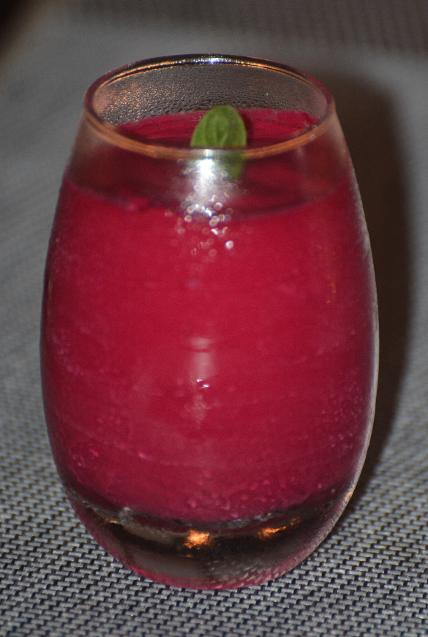 Continuing with the unique appetizers we were served a creamy beet root puree in a glass. It was surprisingly much better than expected.

For the main course we had a rice dish, mine with chicken and Gayle's without - again very tasty and filling.

Dessert was ice cream with caramel sauce.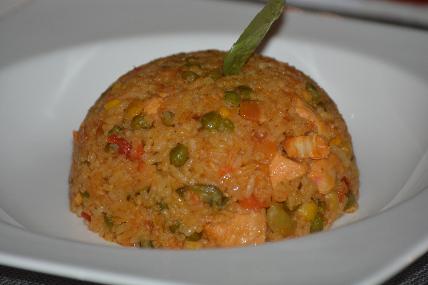 February 11, 2018 - Isla Pastores (Finca Vela Lodge)

When at an isolated lodge such as Finca Vela for the most part there is little to do other than relax. Internet access was good which allowed some work on the travel blog. The weather was generally good with a few isolated showers. We were able to swim off the end of the dock and although we didn't use them there were traditional wooden cayucas (canoes) and kayaks available. The only downside were the chiggers and chitras, or no see ums, very small biting insects that were present, particularly in the morning and early evening. Insect repellent and smoke coils helped but still a nuisance.
In order to eat we got our exercise – 137 steps up and 137 steps down, for breakfast, lunch and dinner. Ines, Herve's daughter was the face of the lodge, as her English was the strongest. As well as serving all meals and drinks she shared the journey that brought the family to Isla Pastores and answered any questions one might have.

After breakfast we took a short stroll around the lodge, seeing some different fruits such as the ackee, a fruit of a mixed blessing. Unripe ackee contains a poison called hypoglycin, so preparers must be careful to wait until the protective pods turn red and open naturally. Once open, the only edible portion is the yellow arilli, which surround always-toxic black seeds. Luckily they were not served. As well as there were clementines (or calamondin) trees, similar to oranges in appearance but a cross between a sour mandarin and a kumquat, producing a very tart fruit, so much so they make biting into a lemon seem like nothing at all.
Gayle tried stand up paddle board with success. Her dancing skills must have contributed to her being able to balance as I was considerably less skilled (photos in tomorrow's post).
We had lunch although in retrospect did not need any more food. The main dish for dinner was lasagne, again very well prepared with a most flavourful lemon pie for dessert. Afterwards we fell asleep to the sounds of the insects.

The end of the dock where it is easy to swim among the fish, the rays and the starfish, kayak, paddle board etc.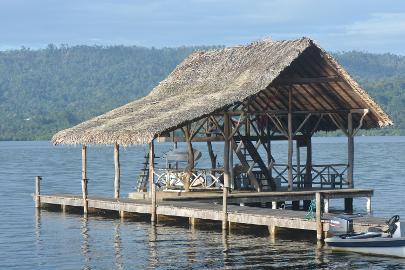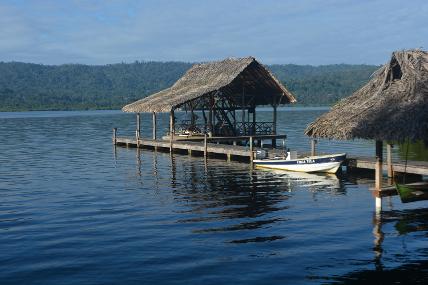 Unlike many other resorts or lodges in the area Finca Vela has a pool, great for those in the upper cottages who might not want to descend, and then re-climb the hill in order to swim in the sea.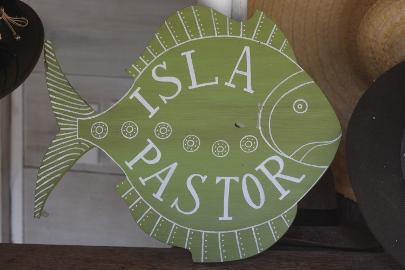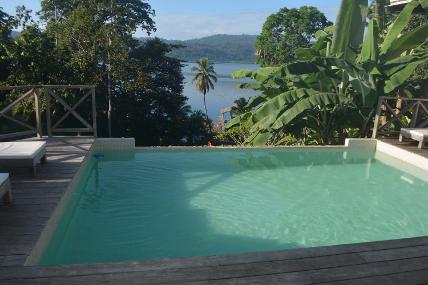 Fresh fruit, including passion fruit in the bowl and a standard breakfast with tostones - twice fried plantains.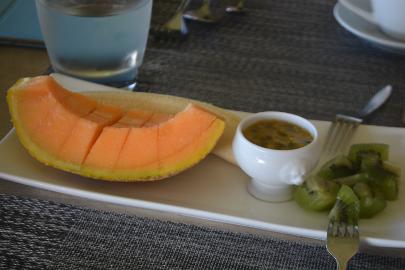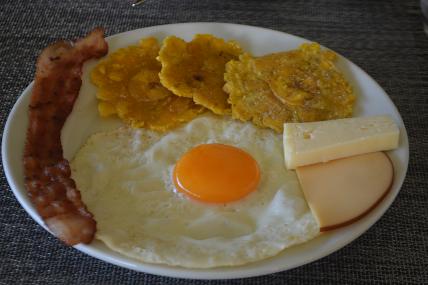 Ines, the face of Finca Vela Lodge.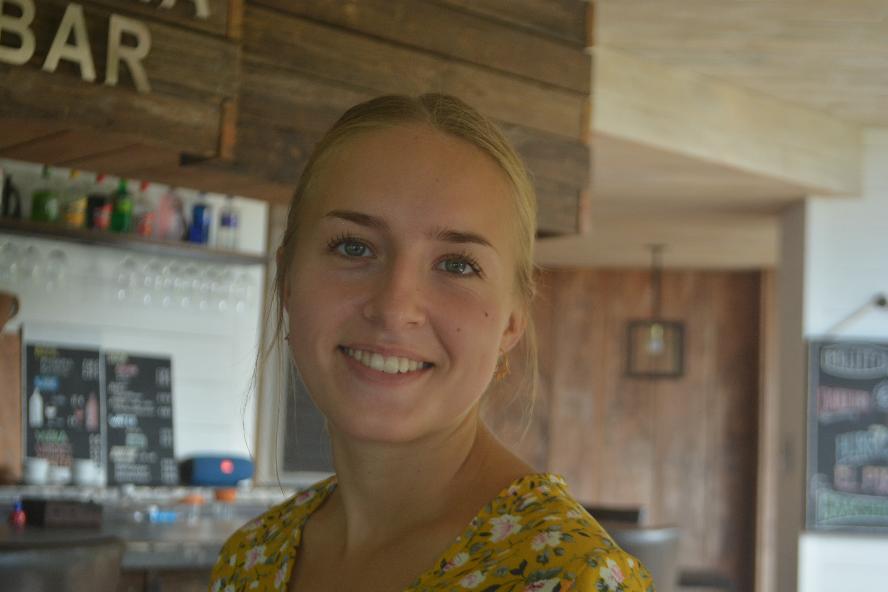 The unforgettable view from the lodge.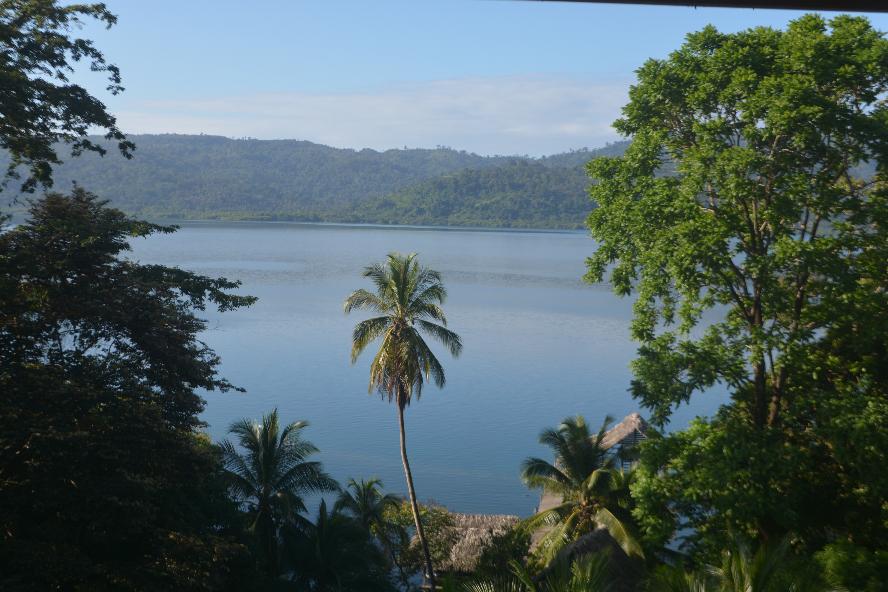 What a setting for breakfast, lunch and dinner.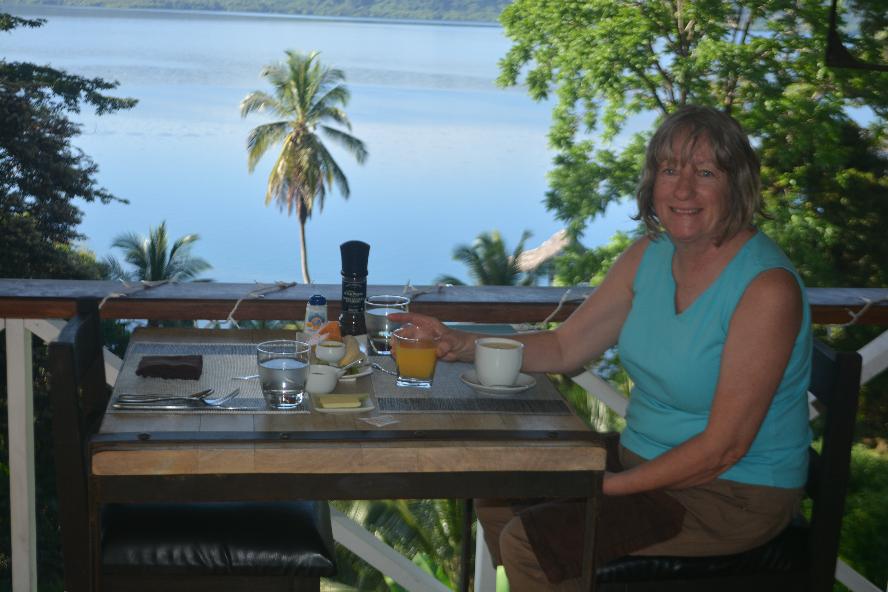 The toxic ackee fruit and the extremely tart looks like an orange but isn't clementines.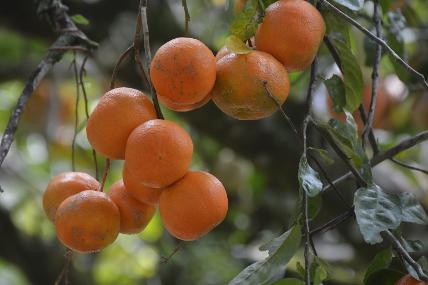 The coastal shores are full of mangrove.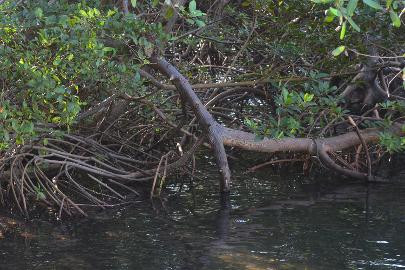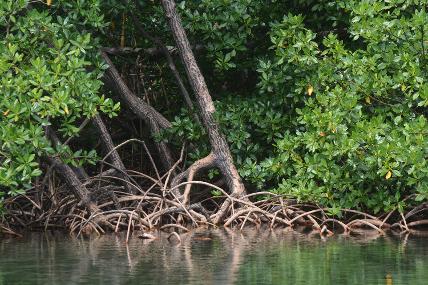 Just a wonderful cottage set amongst the palms right on the water's edge.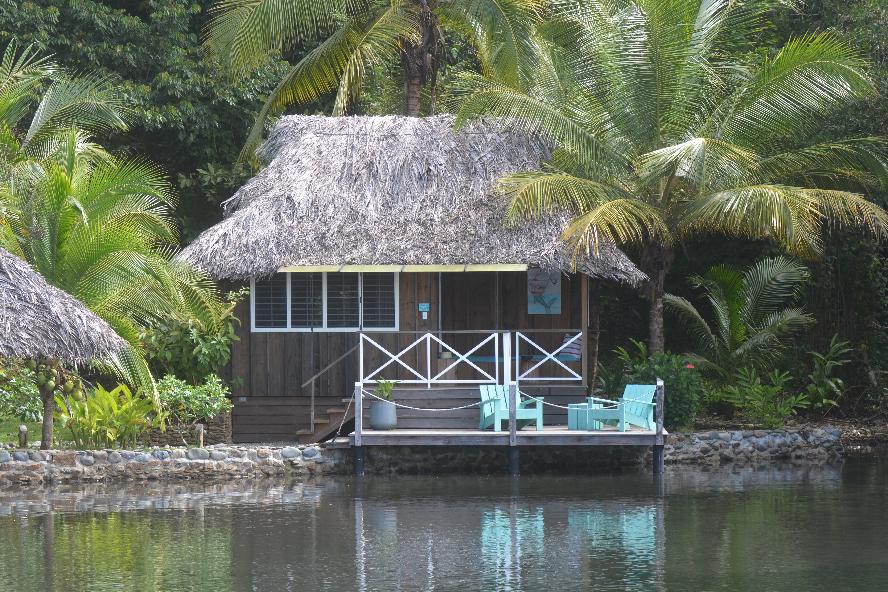 A couple of further views of the Pelican cottage.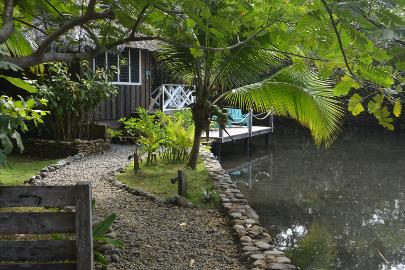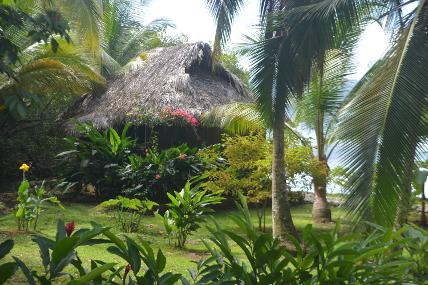 Beautiful flowers at dinner, a banana smoothie and a pina colada.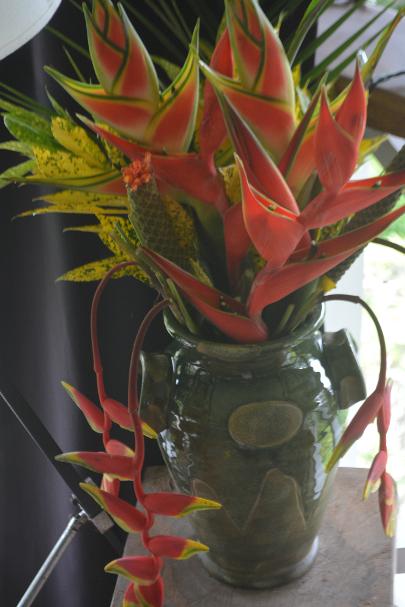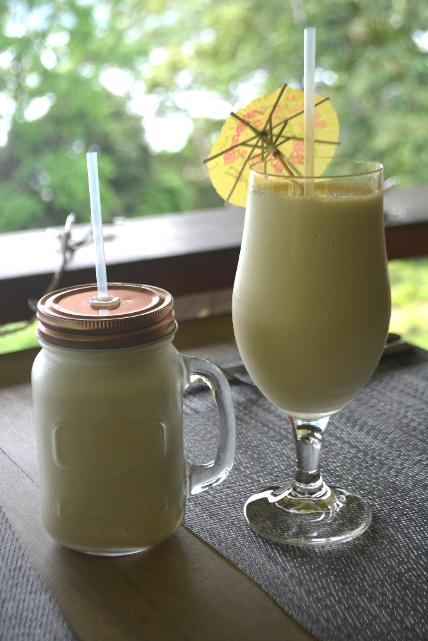 Delicious little muffins as our dinner appetizer ... and the best lemon meringue pie for dessert.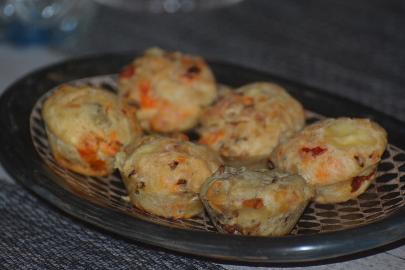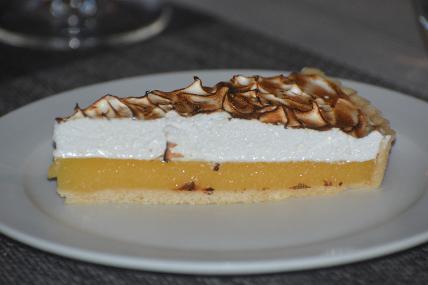 Feb 10, 2018 - Puerto Viejo (Hotel Banana Azul) to Isla Pastores (Finca Vela Lodge)

We decided to take the shuttle from Puerto Viejo to Almirante (Panama) only to find out all three (noon; 8:00 am and 6:00 am) were fully booked due to Carnivale in Bocas del Toro the next four days so we ended up taking the local bus with numerous stops along the way. Nice enough bus with locals along with their children and babies being the primary travelers. It took us about an hour and a half to reach Saixola at the border where we had to pay an $8 each Costa Rican exit fee before crossing a bridge on foot to enter Panama. After immigration we got a shuttle ($10 each) for the one hour drive to Amirante where we were dropped off at the Restaurant Tropical Happy where we had a drink (served by a truly happy fellow) while waiting to be picked up by Herve from Finca Vela Lodge. Right on time we took a smooth 10 to 15 minute boat ride to Isla Pastores where we were met by Ines and shown to our cottage – Pelican – right on the water. Almost if on cue shortly after arriving a pelican actually swooped by to do a little 'fishing'. Interesting it was the only one we saw for the rest of our stay.
After settling in we ascended the 137 steps to the lodge/restaurant where we were served an excellent meal, prepared by Ines' mom Karine and boyfriend Allan. They continued to demonstrate throughout our stay what excellent cooks they are. After Gayle enjoyed a strawberry daiquiri and I a passion fruit smoothie we started our meal with a pea soup followed by a pork dish in a rich mushroom sauce (no pork for Gayle). Dessert was a delicious banana crumble.
The best way to describe the lodge, and the entire Finca is 'elegant'. Beautiful lighting, nice dinner music – certainly not rustic eco-lodge living.
137 steps back down to our cottage and we called it a night.


Ronald, our always smiling server at Banana Azul




Roberto who was very helpful as we tried to book a shuttle to the border.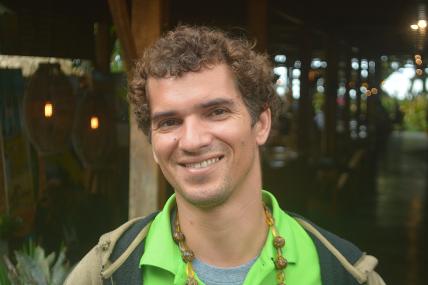 Selling bananas on on the streets of Puerto Viejo. About to cross the bridge over the river in to Panama.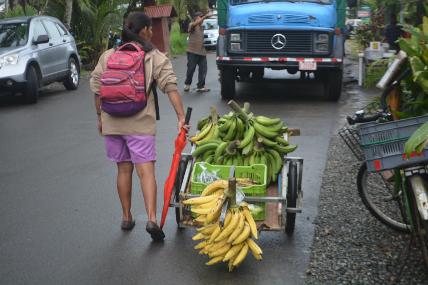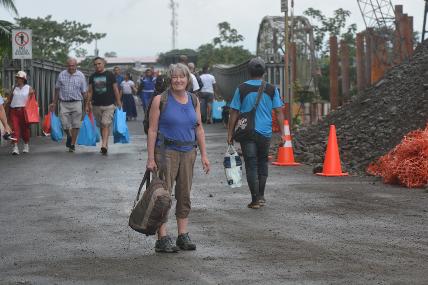 A local crossing in to Costa Rica with her son. ... and a tourist about to cross in to Panama.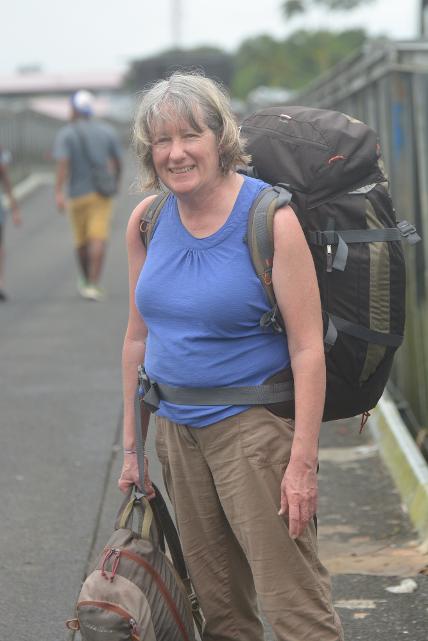 Restaurant Tropical Happy, where we were met by Herve to take us to Finca Vela Lodge.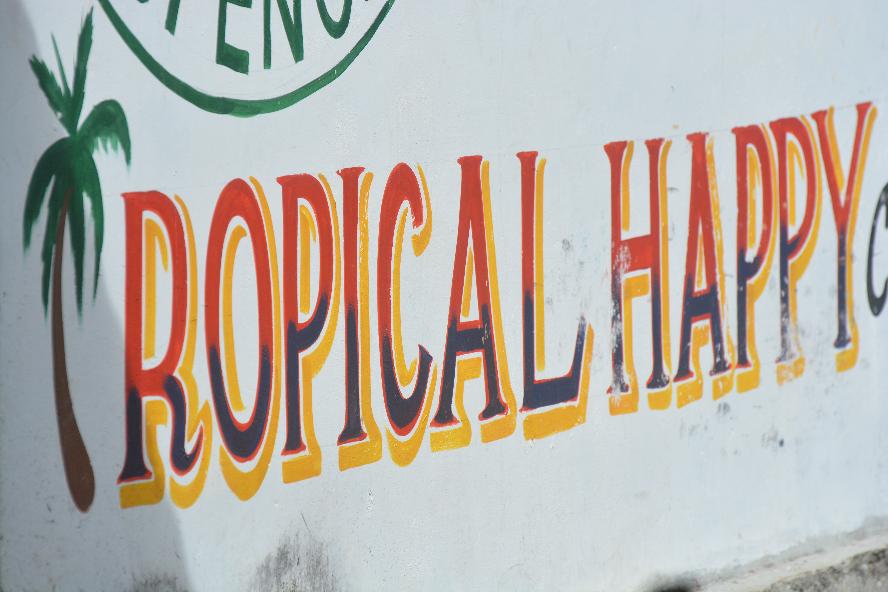 Finca Vela Lodge - Isla Pastores.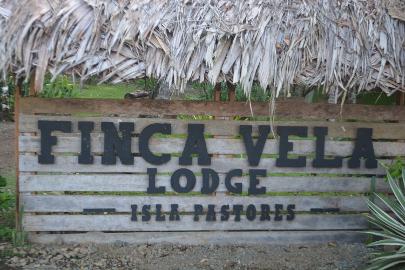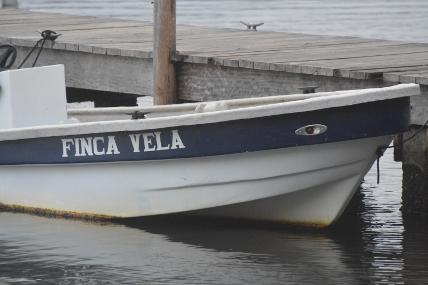 Our first look at the lodge after a 10 - 15 minute boat ride from Almirante.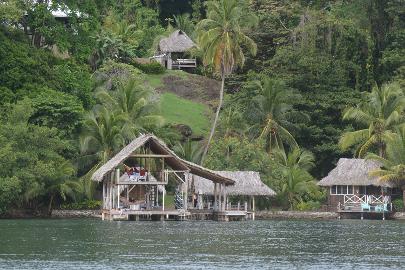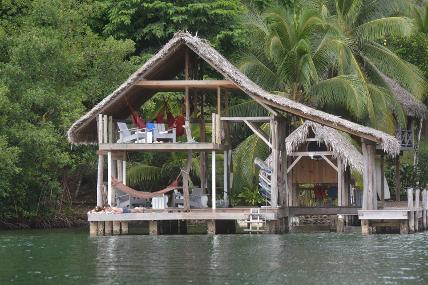 ... and then our first look at our cottage for the next three nights, right on the water.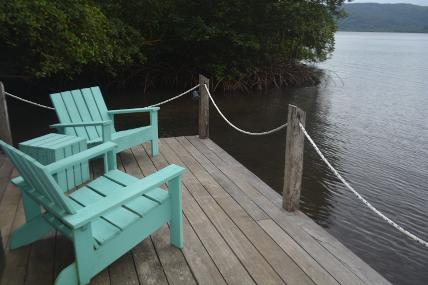 Our cottage is named 'Pelican' for good reason. Not long after arriving one landed in the water nearby. In the evening there was this other bird. Interestingly we did not see them again during the rest of our stay.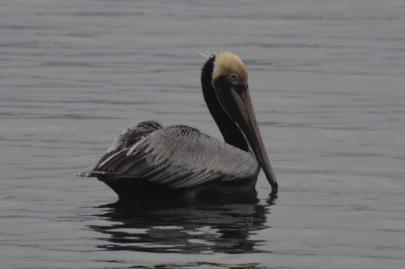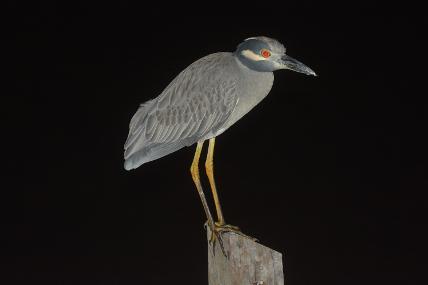 A pre-dinner strawberry daiquiri followed by a delicious and filling meal of
pea soup
pork in a rich mushroom sauce, and
a banana crumble

An excellent music in a wonderful elegant setting accompanied by nice dinner music.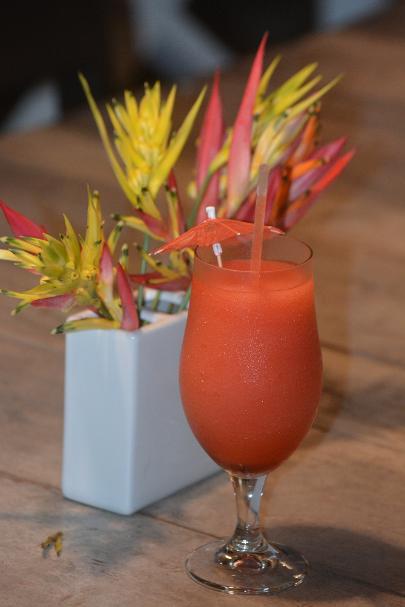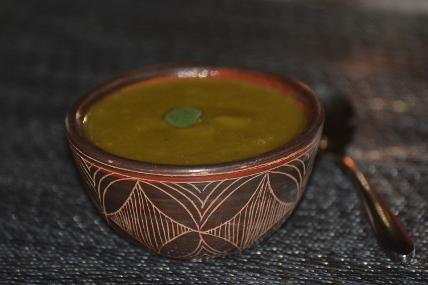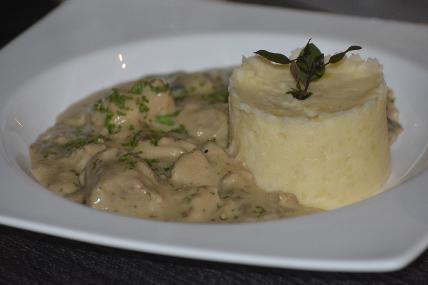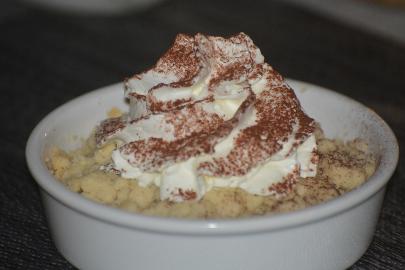 Feb 9, 2018 - Puerto Viejo (Hotel Banana Azul)
This is becoming a habit – spending Gayle's birthday in some hot destination.
After another night of heavy rain we got up a bit earlier to spend some time having our first coffees on the beach, watching the waves and as it turned out a couple of surfers. After breakfast we drove about 20 km north, just past Cahuita National Park to the Tree of Life Wildlife Rescue Centre where we wanted to see some sloths if even not in the wild. Unlike reports of some other sloth sanctuaries the animals here are rescued from abandonment, or from those who tired of having inappropriate animals as pets. In some cases they are injured and will never leave the facility but in many others they are being rehabilitated to be re-introduced into their natural habitat. As well as the animals and birds this is also a botanical garden with plants, flowers and fruit trees. This was a perfect combination for Gayle. The 1 ½ hour tour by Janil was very informative and interesting. While the parrots, and peccaries and coatis and jacarundi and monkeys and turtles were all interesting the highlight for us was of course the sloths. We saw four, the first two in the wild, one who just hangs out at the refuge and another who after being released decided to stay close by. Then in a contained area were Snowball and Woolly, two sloths who came to the facility a year and a half ago at the age of four months when their mother was killed. It is expected they will be released back into the nearby jungle in another four months or so. It was an enjoyable, very worthwhile tour and an effort we were happy to support.
We returned to Banana Azul where we spent the late afternoon at the beach, snacking on a plate of nachos accompanied by a couple of Coco Loco tropical drinks.
We then headed out to confirm the bus schedule for our trip to the border tomorrow morning and wander a bit through Puerto Viejo. The latter was curtailed by a flat tire (for which three locals helped us change it) but we were able to make it to our dinner reservation at La Pecora Nera on time. We enjoyed a wonderful meal starting with the traditional glass of Prosecco for Gayle for her birthday. We shared a huge bruschetta, half with prosciutto and half without. Gayle then had a delicious (and large) bowl of gnocchi with tomato sauce and basil. I went with the Plato Minto de Pescado (mixed fish plate) figuring that being on the coast the fish would be pretty good. It was a superb dish with wonderful spices, thoroughly enjoyable. It was hard to believe but we were each so full we passed on dessert – no tiramisu for Gayle on her birthday – shocking.

Nothing like starting your birthday with a coffee on the beach watching and listening to the pounding waves.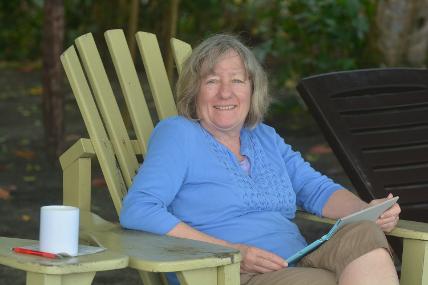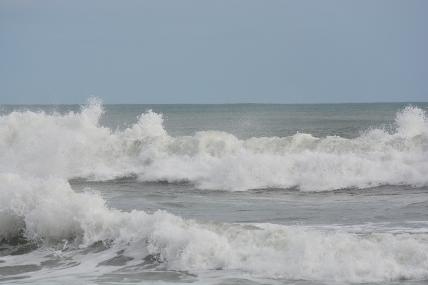 ... and watching the surfers ride the waves.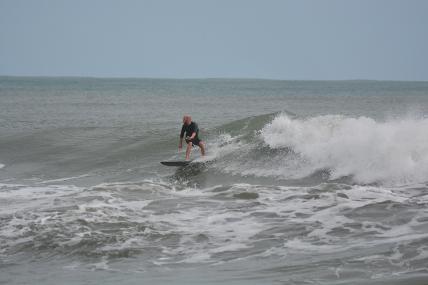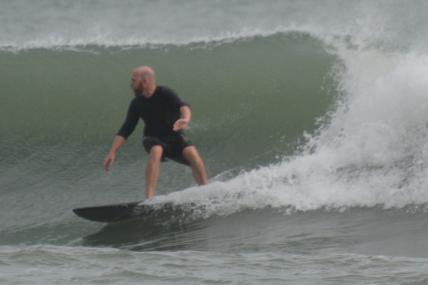 The Tree of Life (www.treeoflifecostarica.com) botanical gardens and wildlife rescue centre - an ideal activity for Gayle's birthday.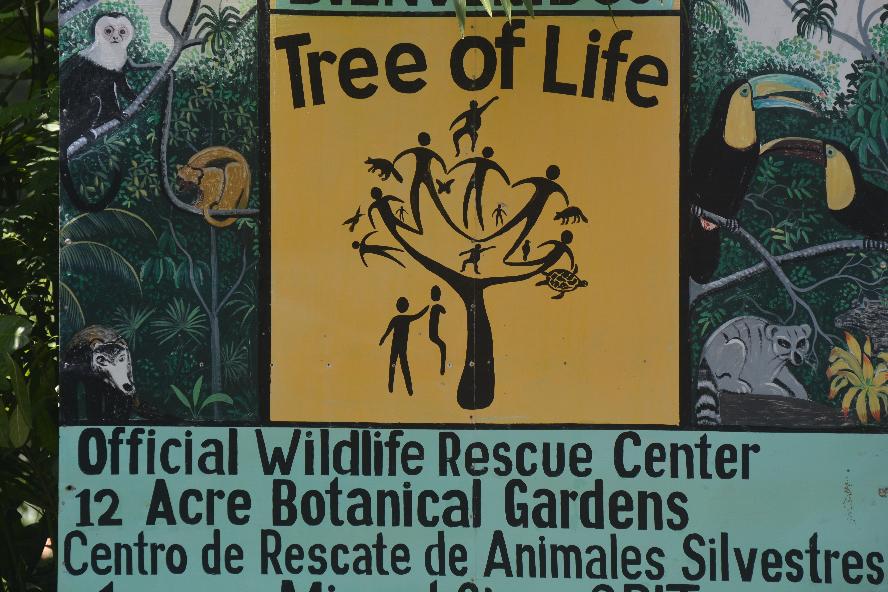 These are Noni, from a tree in the coffee family. Those on the left are on a tree at Banana Azul while those on the right were part of Tree of Life tour. The fruit, is also known as cheese fruit because of its strong aroma of off cheese. The fruit, including its stems, leaves, bark and roots is used for medicinal purposes.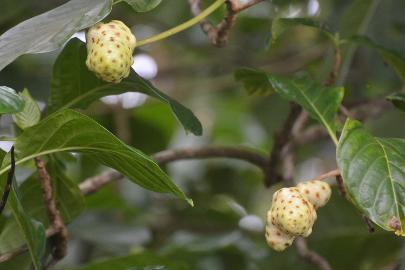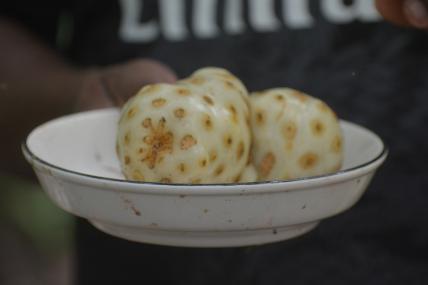 Achiote, or lipstick fruit, a spice and used as body paint.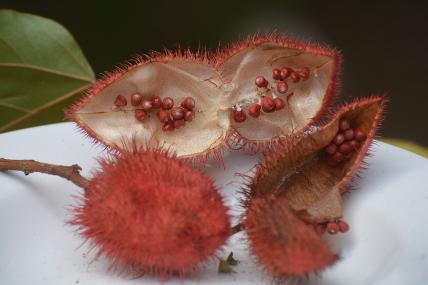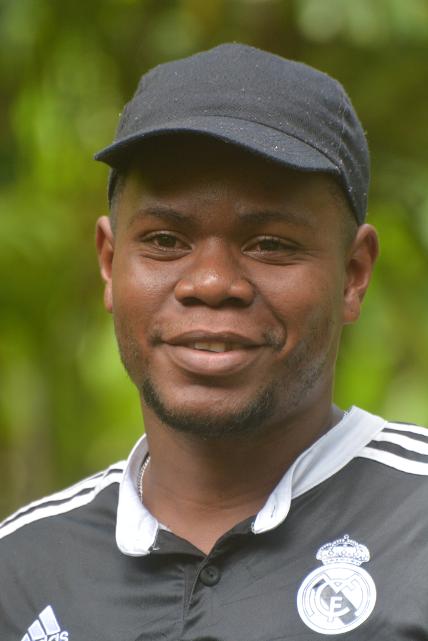 A couple of parrots and a sloth that was released but remains in the area - just hanging out.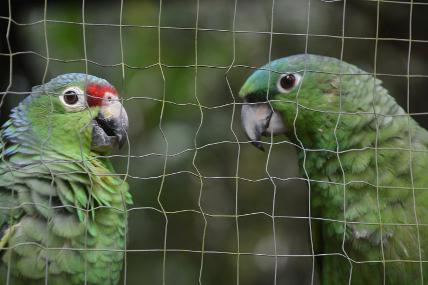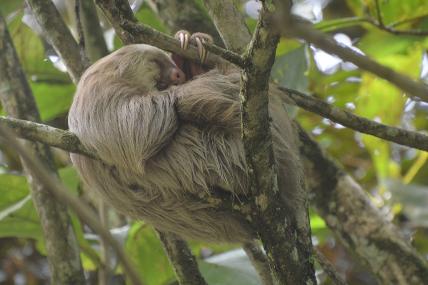 Snowball (trivia fact - Snowball was the name of my (Norm's) cat when I was a child) and Woolly.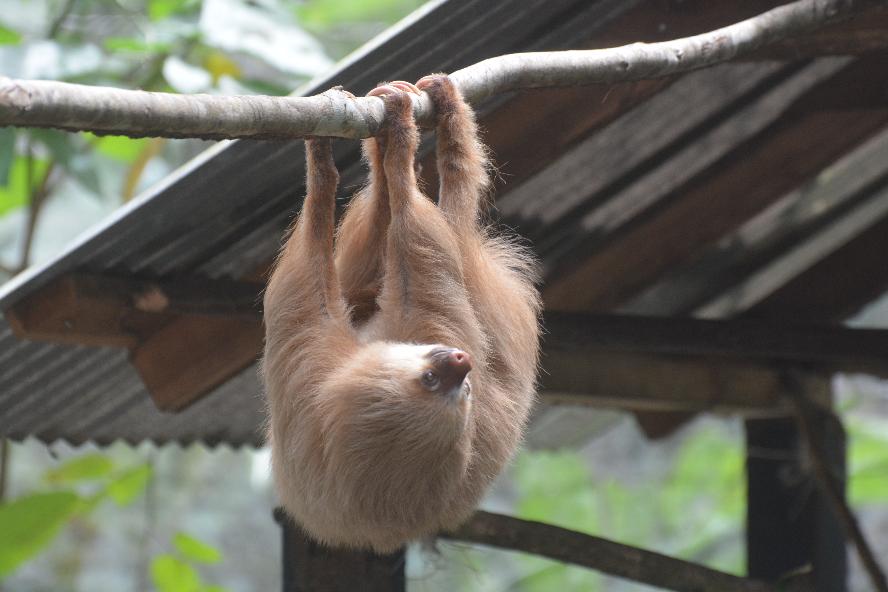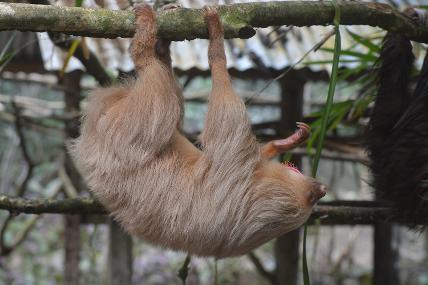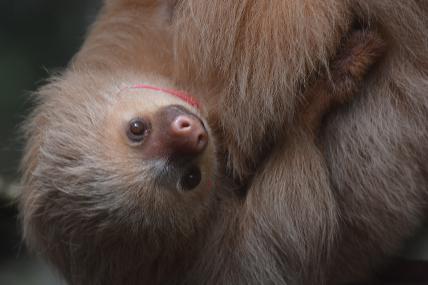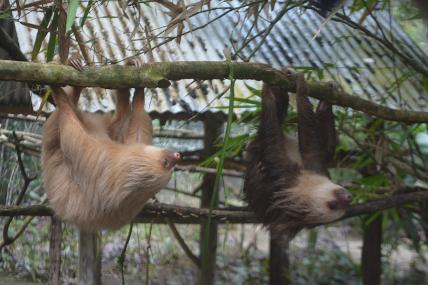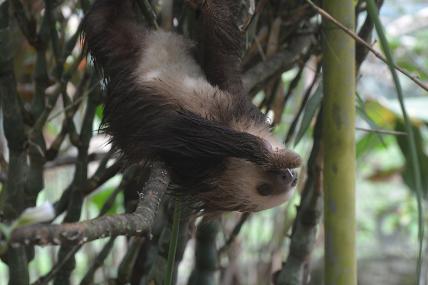 A botanical gardens; a wildlife rescue centre and a few sloths - the perfect birthday experience.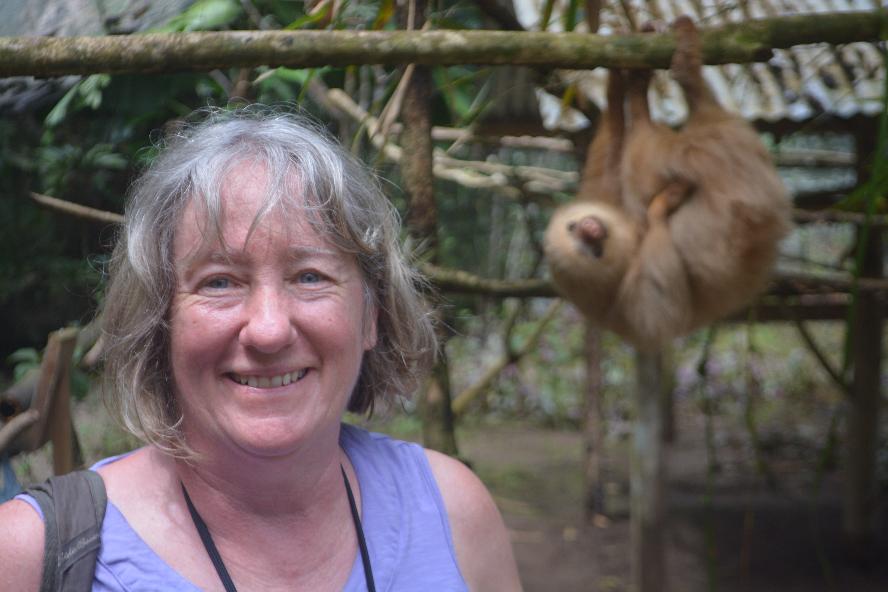 A rescued spider monkey (there were also capuchins) and Gumba the peccary who grew up as a pet in a house near Limon.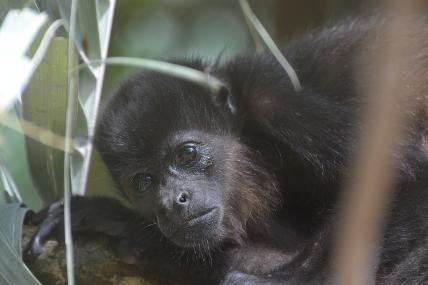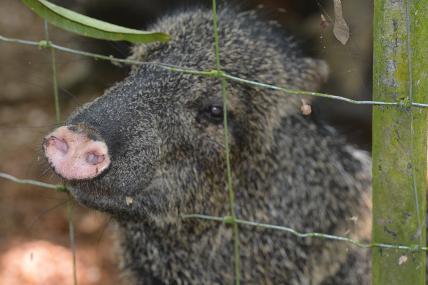 ... and then a number of turtles.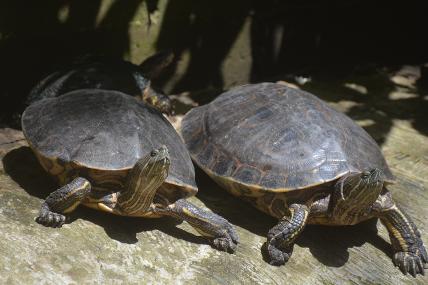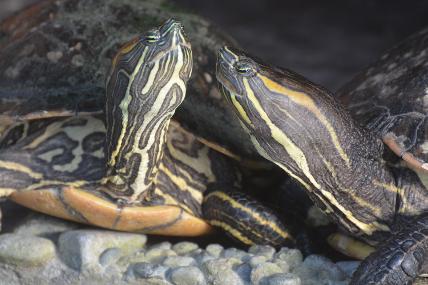 After the tour we returned to Banana Azul where we enjoyed a plate of nachos and a couple of coconut drinks (Loco Coco) while watching the waves.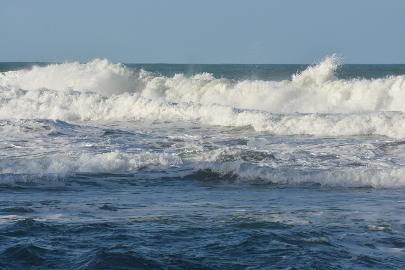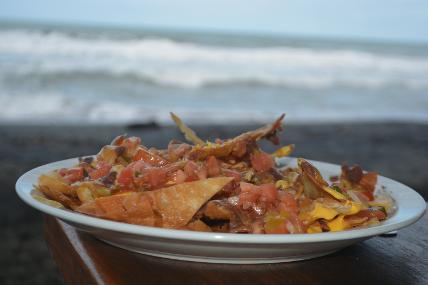 Gayle enjoying a glass of birthday Prosecco and the impressive bruschetta we shared.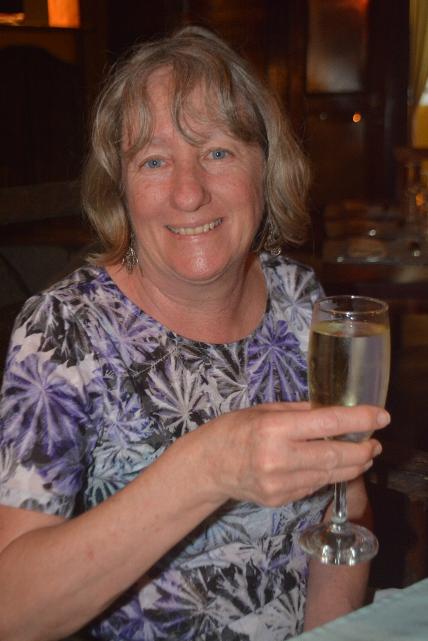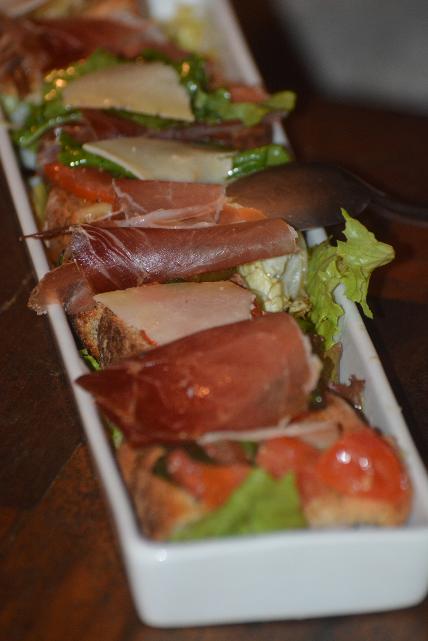 Some pre-meal bread and wine with candle light.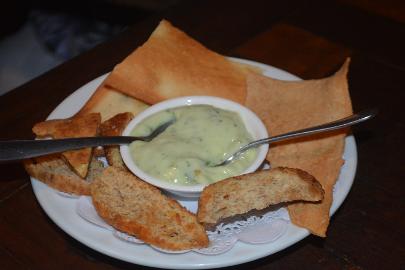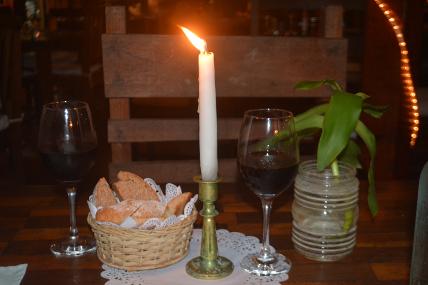 Gnocci con Salsa de tomate y albarhara (gnocchi with tomato sauce and basil).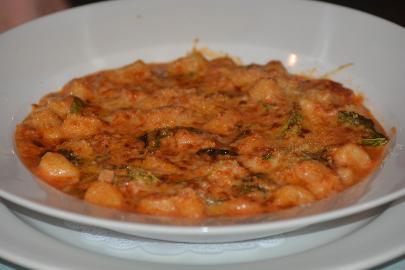 Plato Mixto de Pescado (fish mixed plate).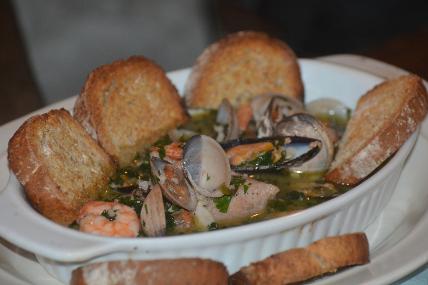 Feb 8, 2018 - Puerto Viejo (Hotel Banana Azul)
Did it ever rain last night!
Just pounding off the roof of our cabin for hours.
We figured there could be no more but turned our to be wrong.
After a little time on the beach simply watching the surf we had breakfast – sour sop juice and fresh fruit (watermelon, papaya and pineapple) along with a choice of one of four items. Gayle had the breakfast tipico and I the pancake special.
Afterwards we went back to our room to relax, and work of the travel blog. Just as we were about ready to leave to go into Puerto Viejo to just wander around the skies opened again, raining for most of the afternoon. Eventually we did take a short drive to find a highly rated restaurant where we made a reservation for the next night. We returned … slowly … as Puerto Viejo is full of pedestrians and bicyclists, most walking and riding on the road. With cars parked haphazardly one has to be very alert, and drive slow to weave one's way between the obstacles. We returned and ate again at Banana Azul enjoying a nice meal – the soup was a spicy tomato; Gayle had a tasty basil penne pasta and I a beef tenderloin with a South American chimichurri sauce.
All in all a pretty quiet do nothing day.

Some of the beautifully landscaped grounds at Banana Azul.



Like Quelitales there were a number of birds around the property, attracted by the fruit provided.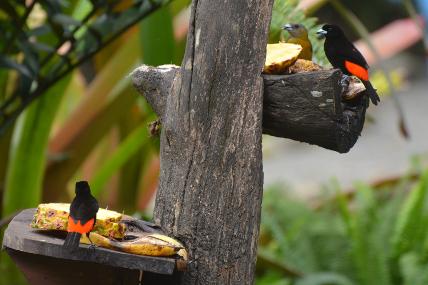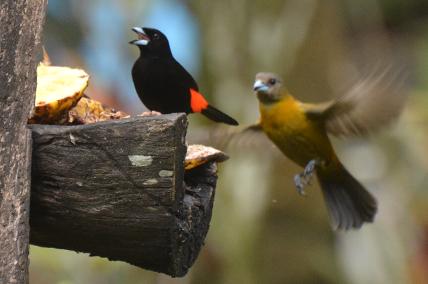 Items 1, 2 and 3 were fixed with a rotating 4th breakfast item - today pancakes, then a burrito and our last morning a tortilla. And it is never too early to start your morning with a drink, although for us it was only coffee :-).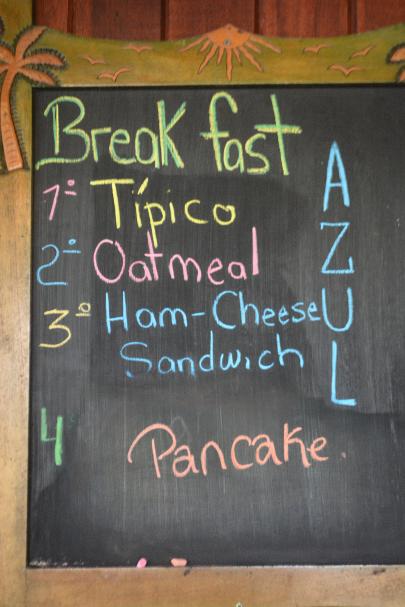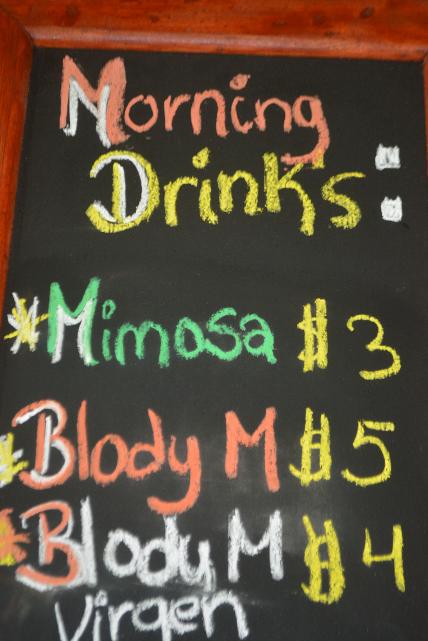 We were in the 'Tree-house' which wasn't exactly a tree-house but a large open upstairs apartment with two bedrooms, a light bathroom, a small but complete kitchen and a large open 'living' area with a hammock.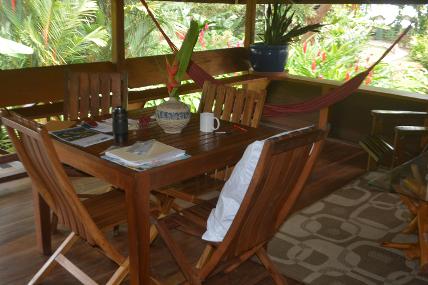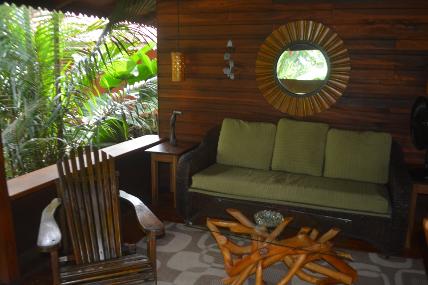 And of course we know who was going to enjoy lots of hammock time.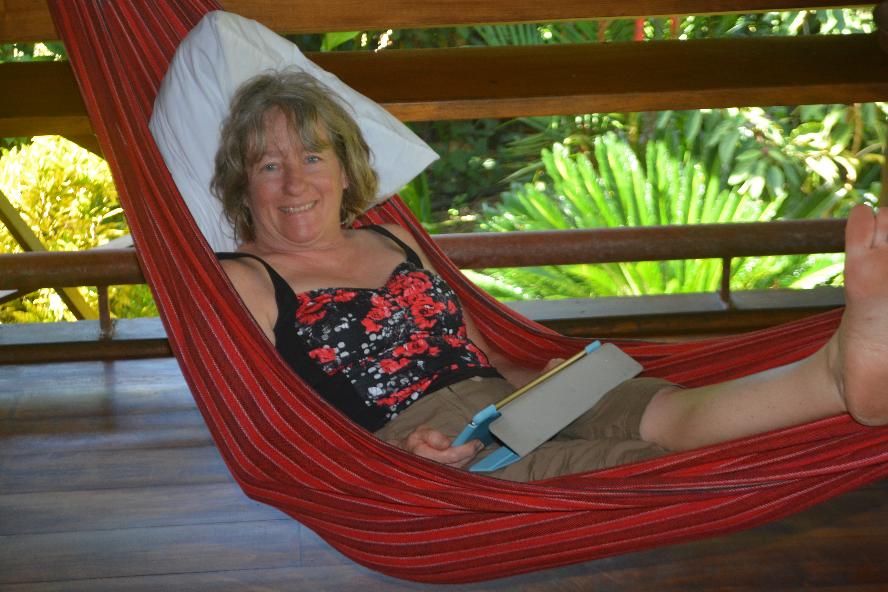 Most of the other rooms were above the eating area.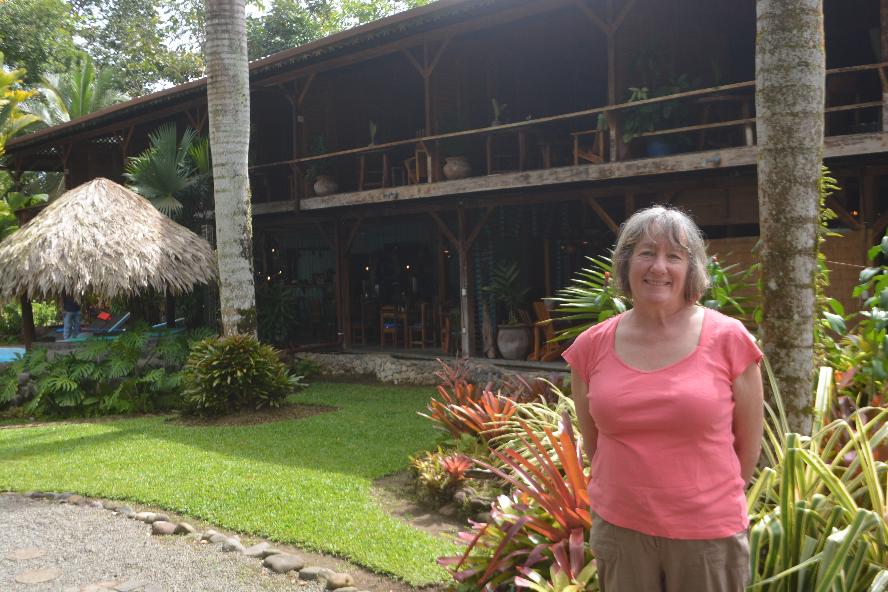 Red bamboo just outside our room and a colourful (unknown) flower.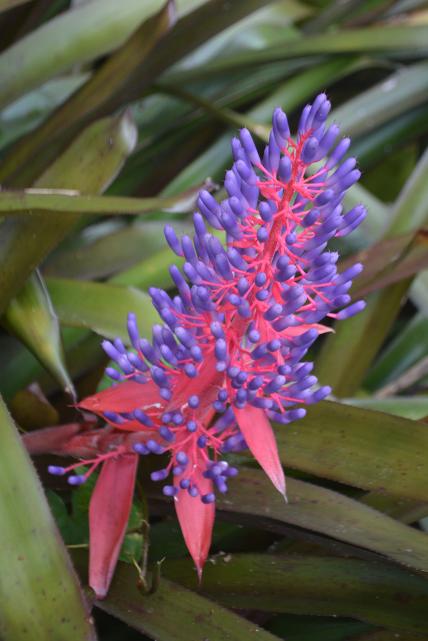 During the afternoon the gardener showed up to make us a new flower arrangement.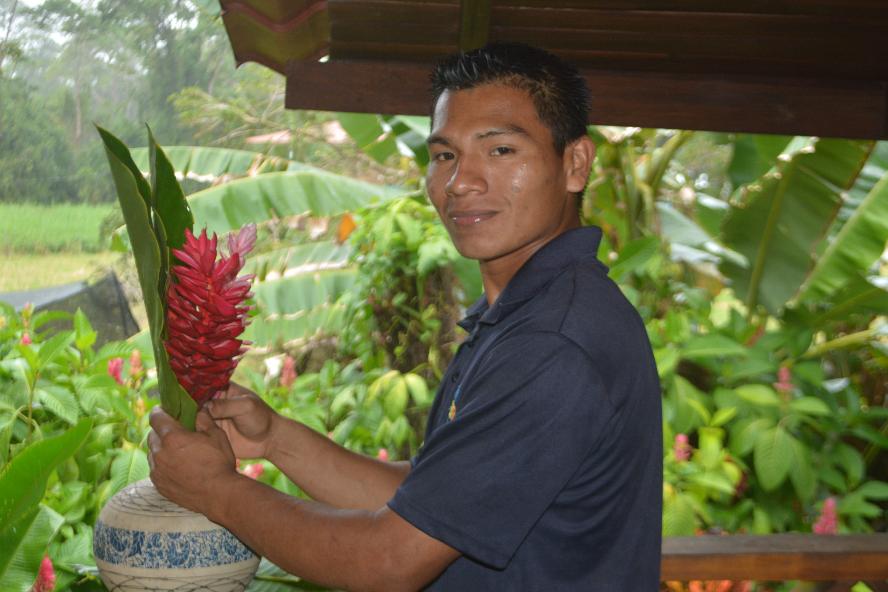 On the left the arrangement in our room made above and on the right one in the restaurant - stunning.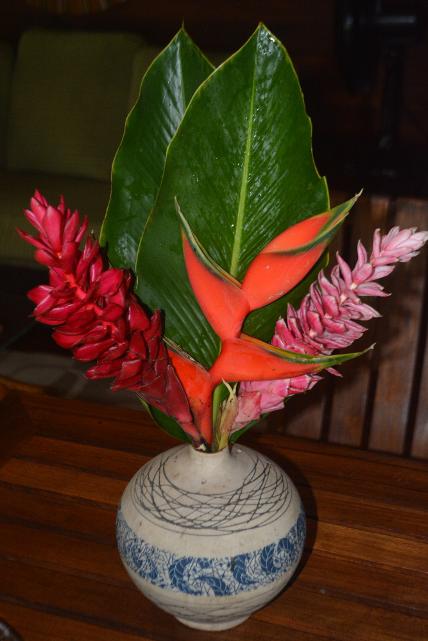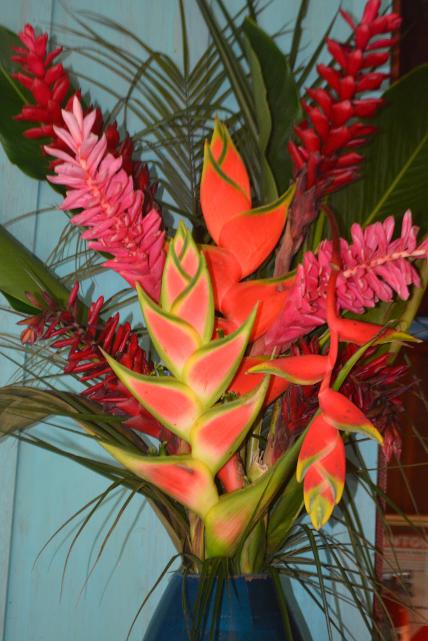 More of the grounds and the pool.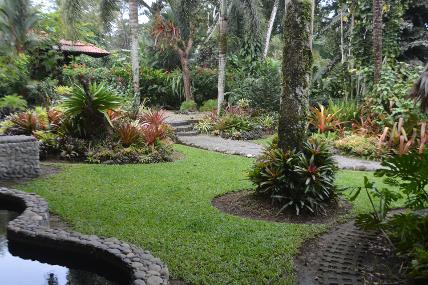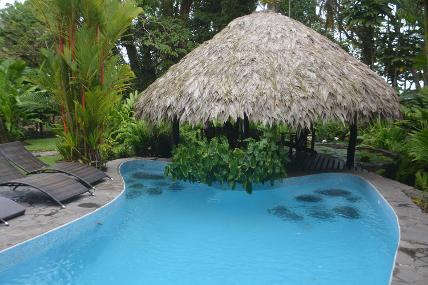 ... and in the pond there were a number of turtles.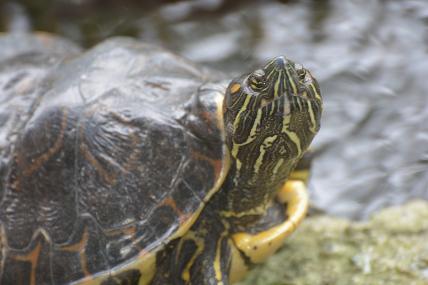 My main course was a beef tenderloin with a South American chimichurri sauce.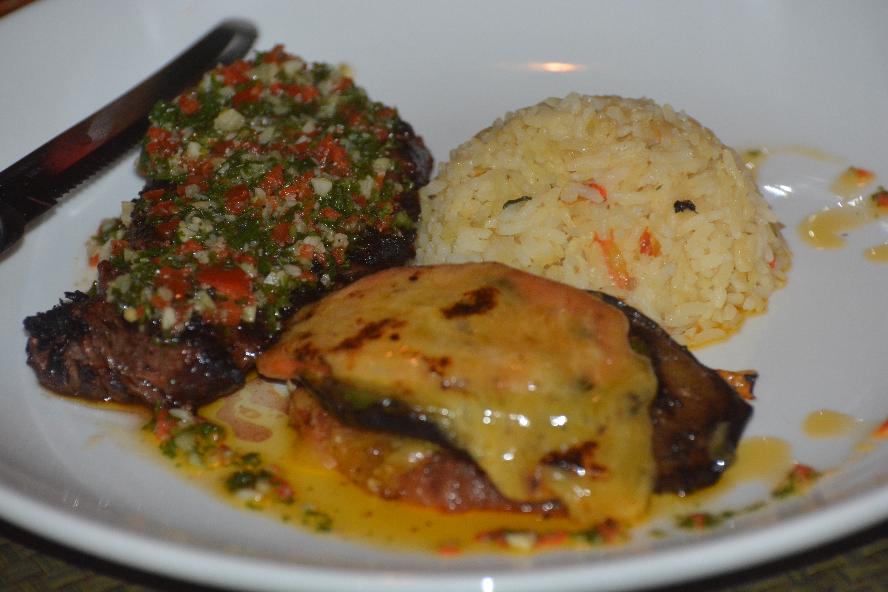 Feb 7, 2018 - Cachi (Hotel Quelitales) to Puerto Viejo (Hotel Banana Azul)
A bit warmer this morning as we wandered down to breakfast served by Didier (sorry we didn't take a photo of you Didier to include on the travel blog.) Another tasty breakfast, more birds outside our window and a demonstration by Xenia of her towel art – the alligator, a monkey, a frog – she can do it all. We then had a nice chat with Jose about his interests in cooking and our collective travels - in fact Jose has posted this travel blog on his Facebook page and we are now 'friends'.
Although the distance to Puerto Viejo is not all that great we left for what was apparently a four to five hour drive … and it was all of that. The problem is the roads are only two lanes, twisting and turning and winding up and down hills and valleys. All nice and fine until one gets behind a farm tractor or an 18 wheeler or is held up for nearly 30 minutes for road paving. In the end it did take the full five hours. The first few hours was a pretty drive, past Turrialba and on to Siquirex with vistas of valleys and mountains and fields of coffee. Shortly thereafter the land flattened out as we passed large banana and pineapple operations. Approaching the Port of Limon the number of trucks and containers was unbelievable, stacked everywhere along the road.
At Limon we turned south, heading down the coast to Puerto Viejo, with the Caribbean sea and its consistent waves on our left. We stopped along the way at a roadside stand to purchase a couple of bananas – given the location and the small size they seemed expensive but we were a bit hungry so nice to have. We arrived in Puerto Viejo late afternoon, easily finding Hotel Banana Azul. A small 14 room hotel set in a lush environment with gorgeous landscaping and gardens. The beach is only 50 or so metres from the lodge and while nice and sandy the surf is consistently significant – and yes there were some surfers out riding the waves. Between the surf and the signs warning of riptides swimming is not in the cards although the hotel has a small pool.
Dinner was good although not of Casa Jose Restaurant quality. With dinner there is a salad bar and soup (tonight was a nice pumpkin). I had chicken in a coconut and coriander sauce – very nice while Gayle was less enthused with her 3 mushroom and spinach vegetarian lasagne.

Some of the lush vegetation just outside our cabin.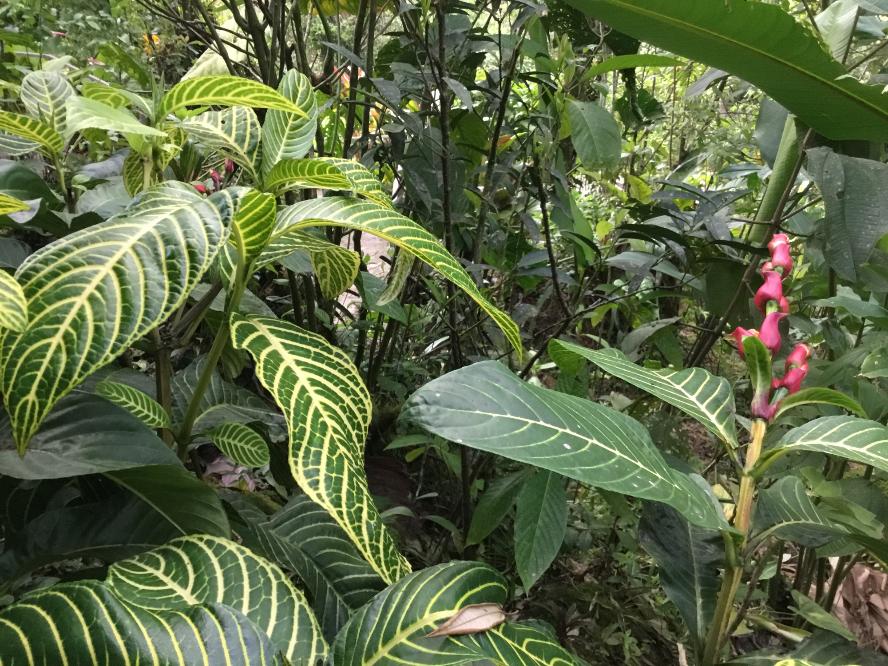 Another bird of sorts - a bird of paradise.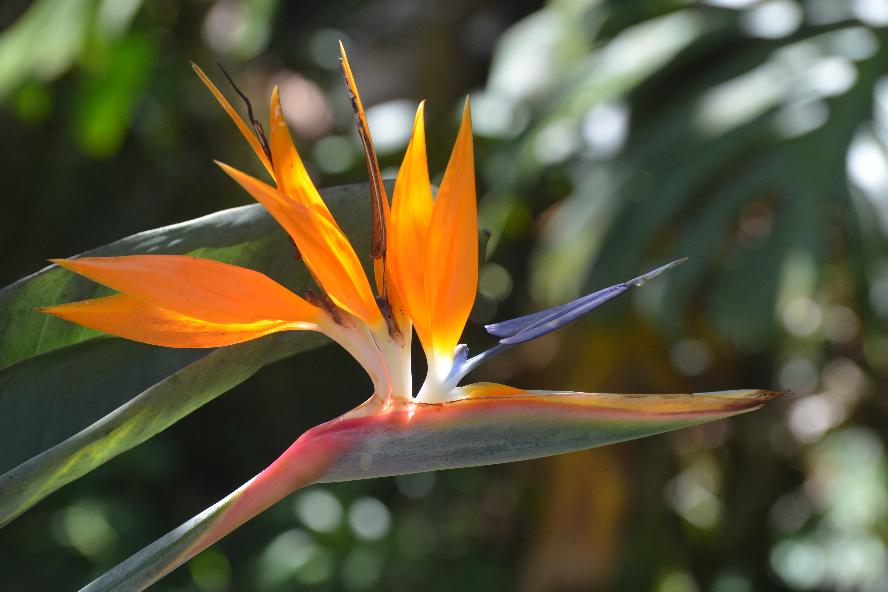 ... and a couple more 'real' birds outside our breakfast window.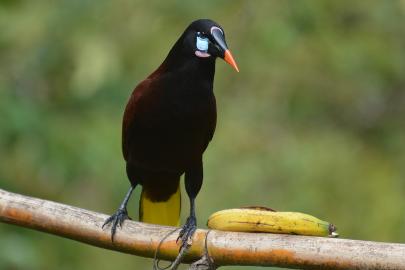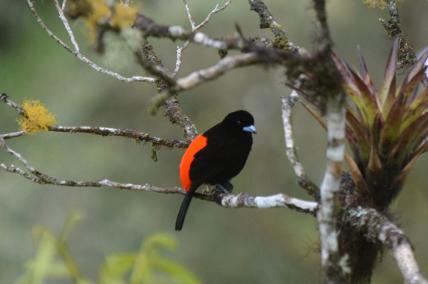 Eggs as you like them - for me another omelette and for Gayle a pair of fried, with a 'cat's face'.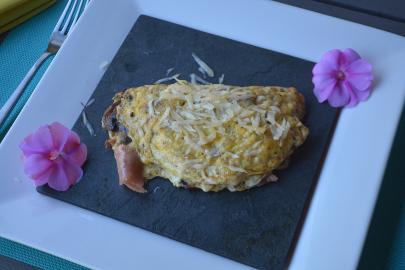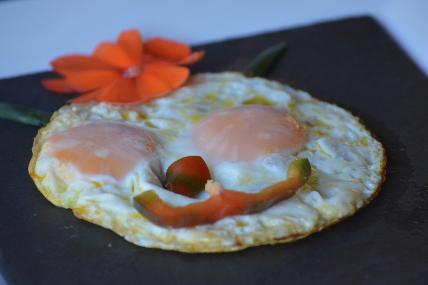 Jose having a laugh with NAGTA and Xenia with one of her amazing towel animals.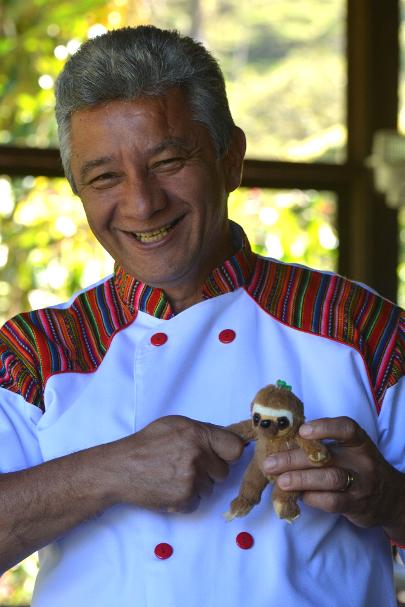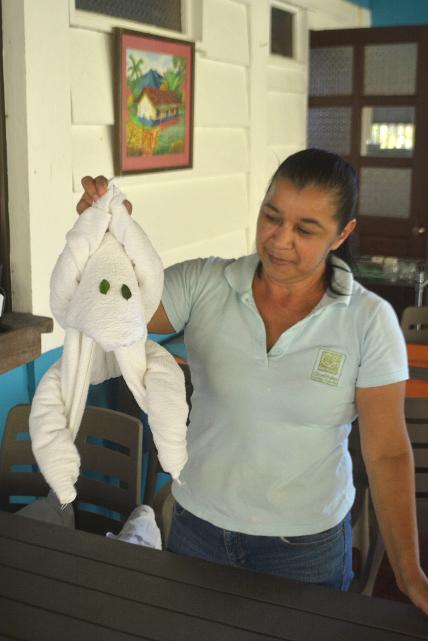 Gayle and Xenia, and Jose in his spiffy Peruvian chef's jacket.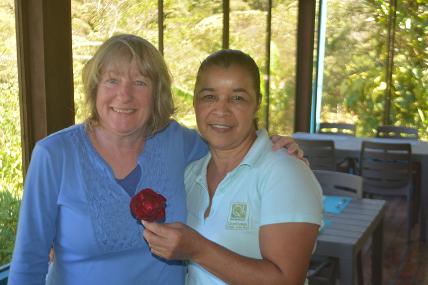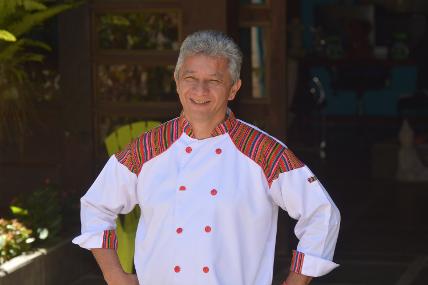 Our new friend Jose (thank you Didier for the photo).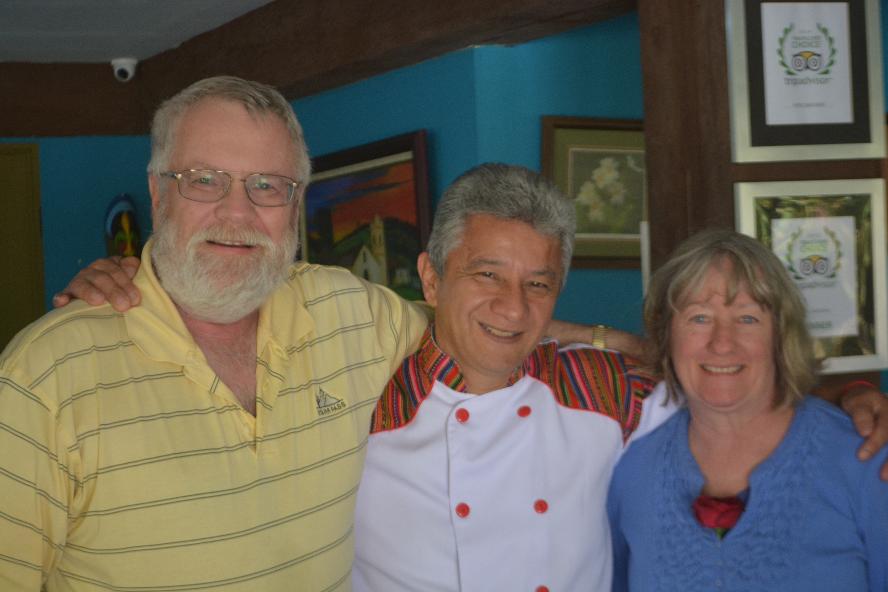 Looking up the valley from Cachi, the town at the bottom- right to Hotel Quelitales virtually at the top of the valley running diagonally to the left.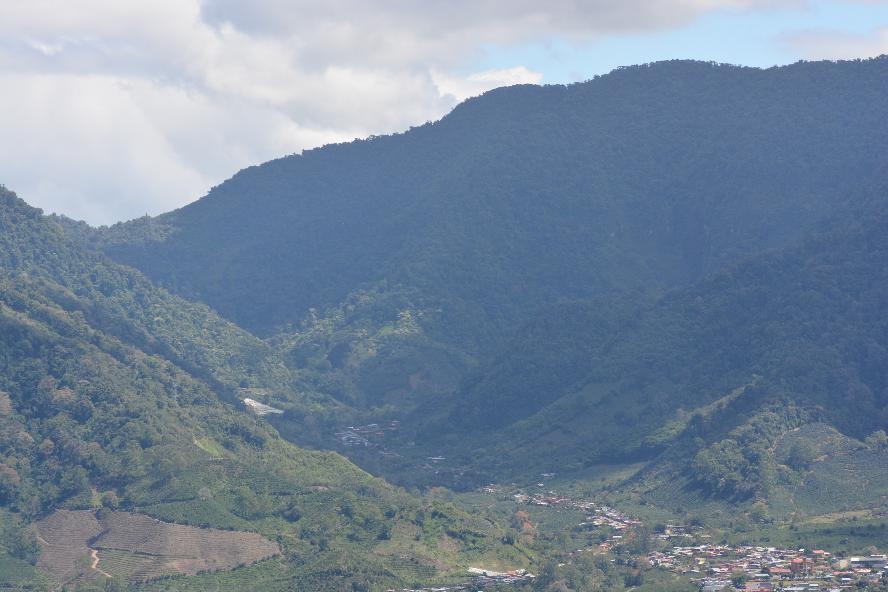 South of Limon our first view of the Caribbean Sea, with its significant waves and surf.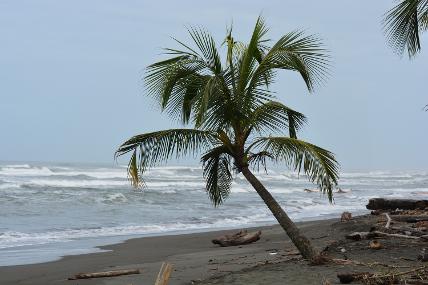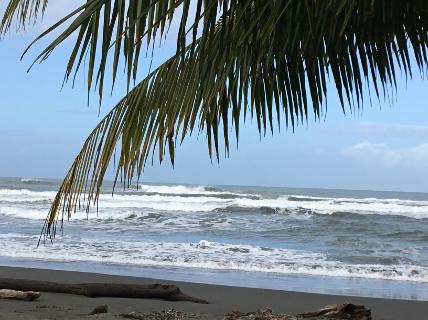 Being a bit hungry we stopped at this road-side stand and bought a couple of (small) bananas.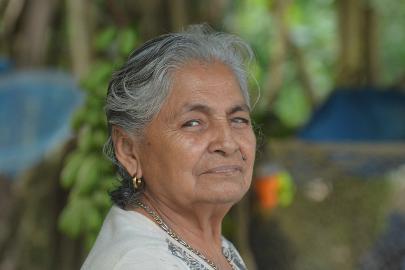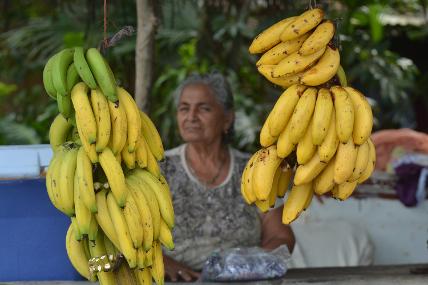 Welcome to our home for the next three nights - the Hotel Banana Azul in Puerto Viejo.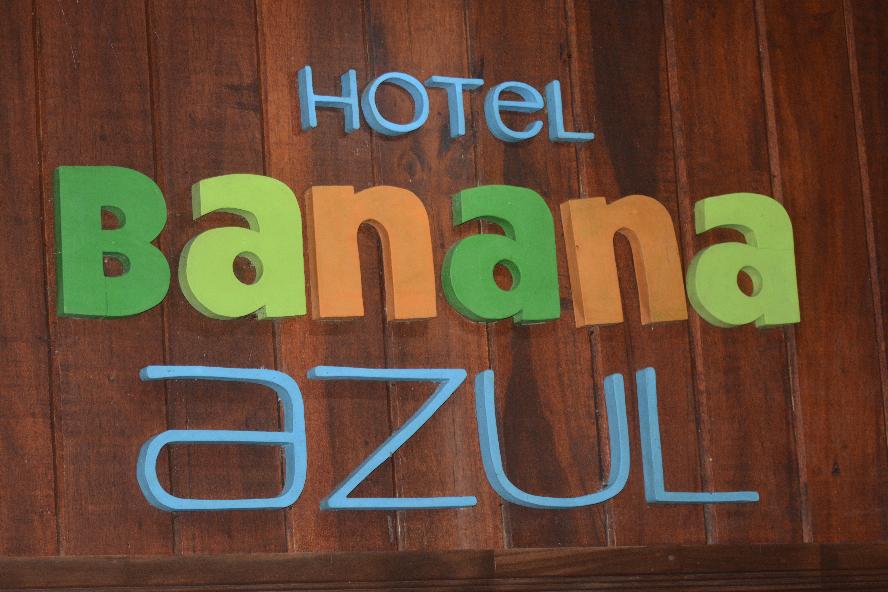 Just what the doctor ordered - my very own stress free zone!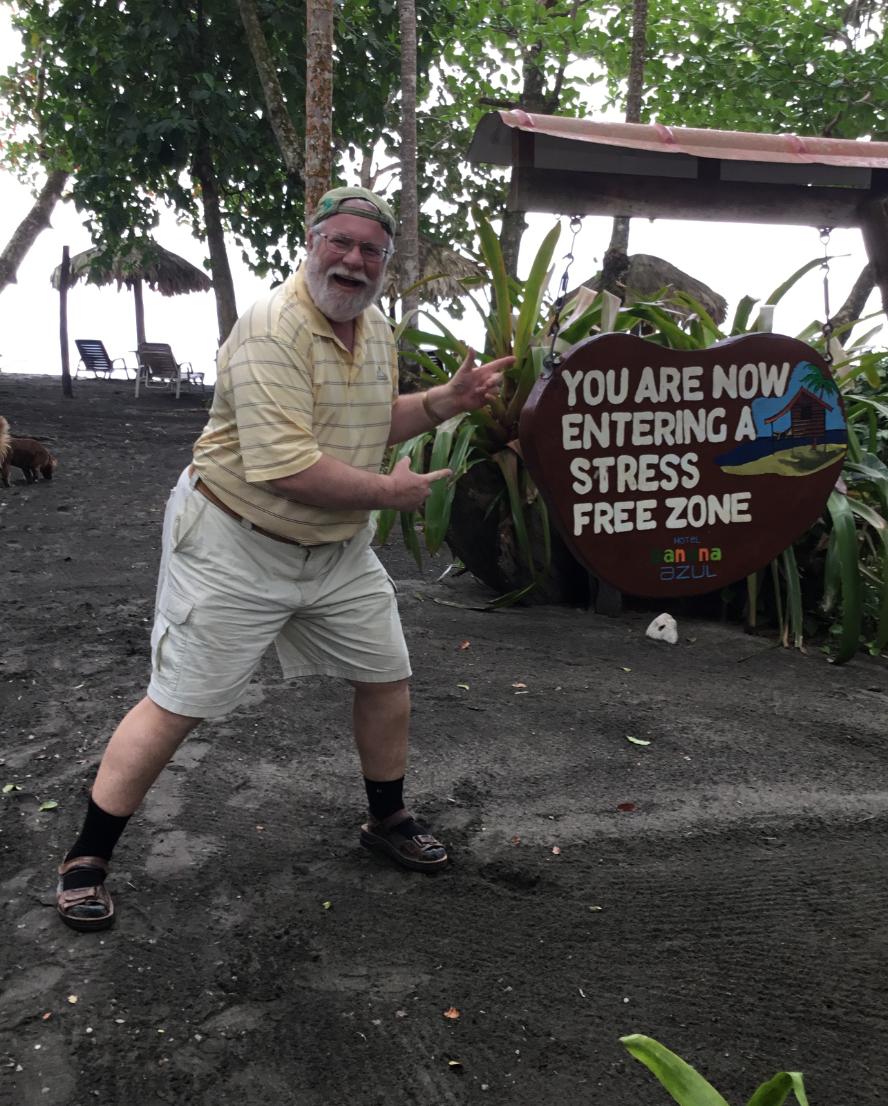 A Pina Colada to start the beach phase of our trip, and then dinner of soup (pumpkin) and salad. Gayle then had the three mushroom and spinach vegetarian lasagna (not great) and I the chicken in a coconut and coriander sauce (which was quite good).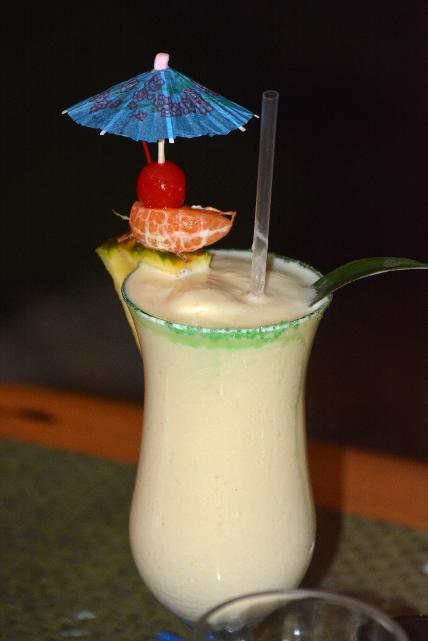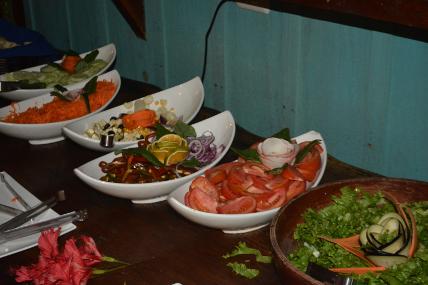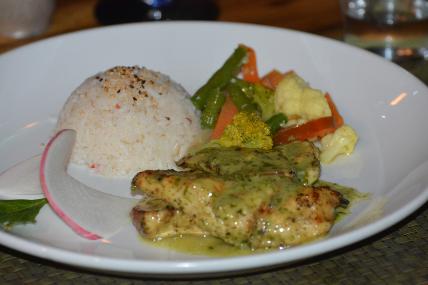 Feb 6, 2018 - Hotel Quelitales in the cloud forest above Cachi
There is no question it is cool up here in the cloud forest such that the hot water bottles provided by Jose were quite welcome, as you will see in a photo below. Now let us tell you about NAGTA, who you will see bundled up in his down sleeping back (ok the arm of my jacket), peacefully sleeping on one of the hot water bottles. NAGTA you say? Yes our friends Bill and Linda have this little elf guy they call SKID (Spending Kids Inheritance Dollars). After mentioning we consider ourselves 'sloths on vacation' – slow moving without trying to do every activity under the sun they bought us this toy sloth that we have named NAGTA (Norm And Gayle Traveling Abroad). We plan to have some fun seeing what situations little NAGTA can get himself into, the first being hogging our hot water bottle.
An interesting component of our Colibries cabin is the outdoor shower. In retrospect we regret not taking the photo with the water running but you get the idea.
Breakfast was both tasty and filling, starting with a fruit plate (watermelon, pineapple, papaya and banana) followed by your choice of eggs – we both had a mushroom and cheese omelette, me with bacon and a large bowl of gallo pinto. Gallo pinto is the typical Costa Rican rice and bean breakfast dish. We had fond memories of starting the day with gallo pinto and Jose did not disappoint with a delicious version.
Here at Quelitales there are a variety of birds, including the colourful oropendola that make these somewhat strange hanging nests. As well there are ducks, geese and chickens wandering around the property.
After a very short (< 5 minute) walk to the 72 metre waterfall we just lazed around our cabin until later in the afternoon when we decided to take a drive through Cachi and around the lake back to Paraiso and then completing the circle back to Quelitales. All driving here takes considerably longer than it appears from a map – this trip 1 ½ hours. But we did see the oropendola nests and took a photo of a fellow just hanging out on the roadside with his two dogs.
We returned for another delicious dinner. I again had the Caldo de Pollo con Quelites (yes it was that tasty) and then the Trucha Casa Jose (Envuelta en hoja de banano rellano de camarones y tomate) – trout stuffed with shrimp and tomato cooked in banana leaves. Unique, the trout was excellently prepared and a great choice. For Gayle Jose made a 'Chef's Special', a Thai themed spring roll with mushrooms and tomato – as Jose said "Made from the heart". Dessert was a very impressive Bananos flambeados con brandy – ice cream with a dash of chocolate and almonds covered with bananas flambéed in brandy. Jose's meals here at Hotel Quelitales are reason enough to visit.
Back to our room where I completed the first day of the travel blog and then to sleep.

NAGTA all toasty and warm in his 'sleeping bag' enjoying the heat of his (our) hot water bottle.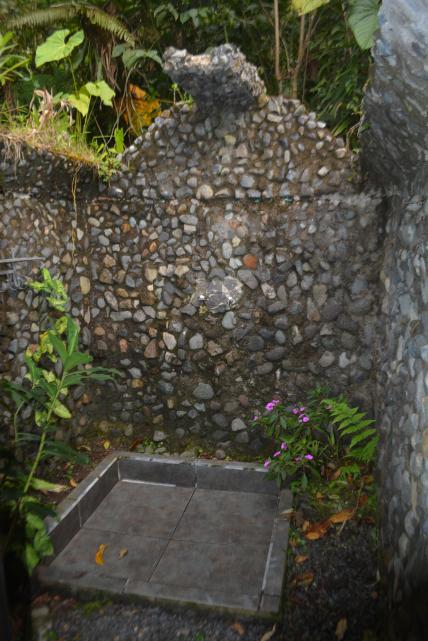 A traditionally painted Costa Rican cart at Hotel Quilitales.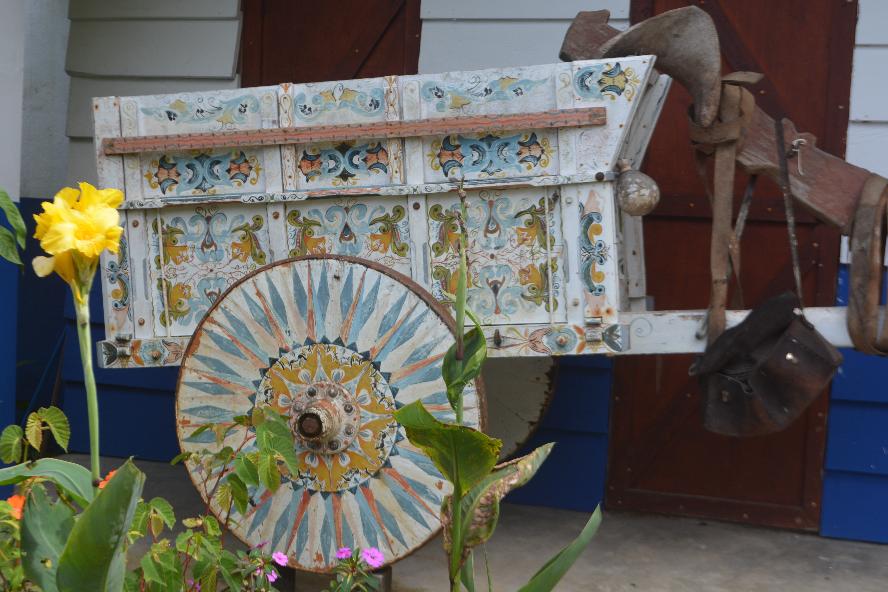 A mushroom and cheese omelette with bacon and edible flowers.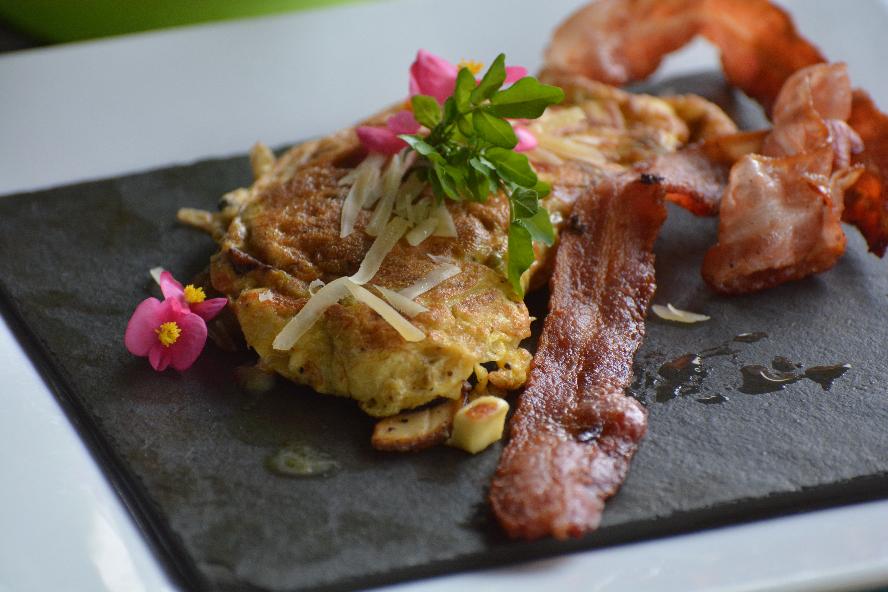 Gallo pinto - perfect for breakfast.



From our breakfast table a variety of birds frequented the trees (and bananas) nearby.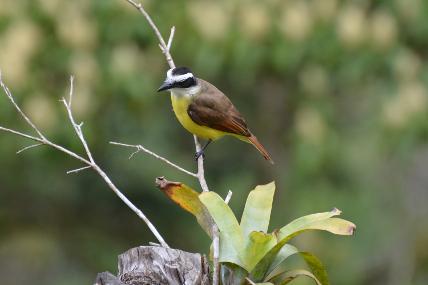 The Costa Rican oropendola and their unique elongated nests.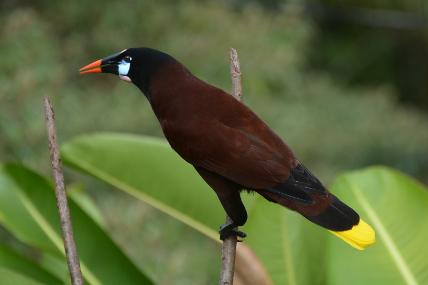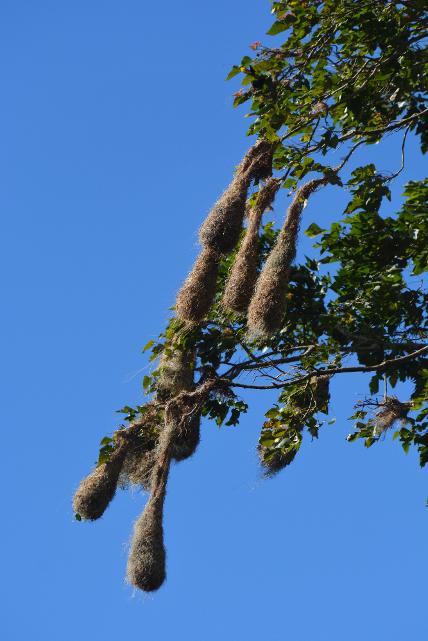 ... and the ducks and chickens.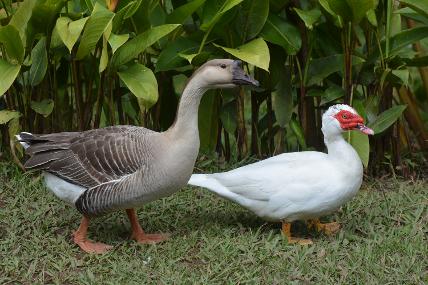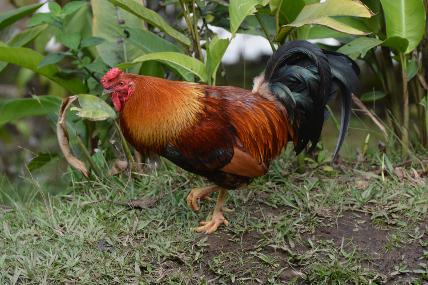 Looking down the valley from Hotel Quelitales.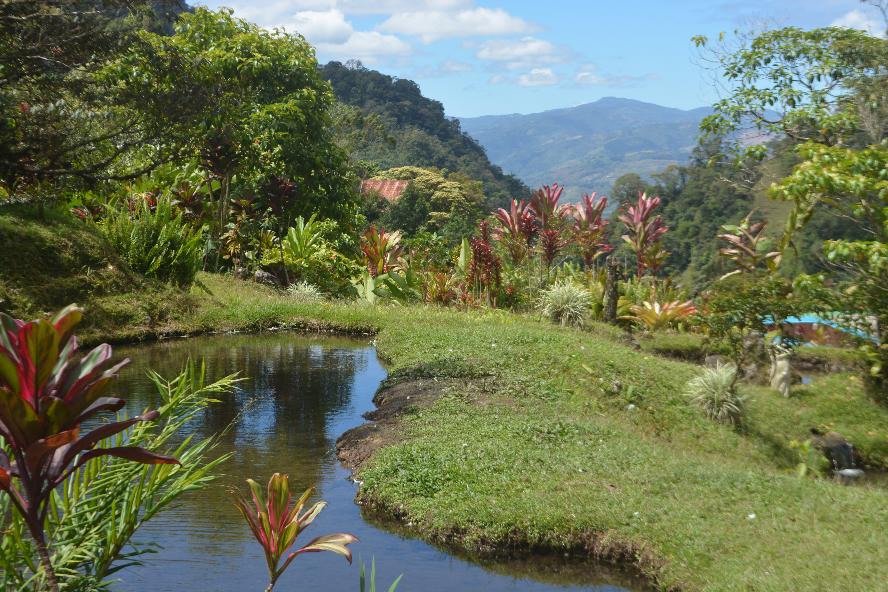 A fellow we saw on our drive - he was happy to have his photo taken when asked.



Jose's creation "from the heart" for Gayle - Thai inspired with mushrooms and tomatoes.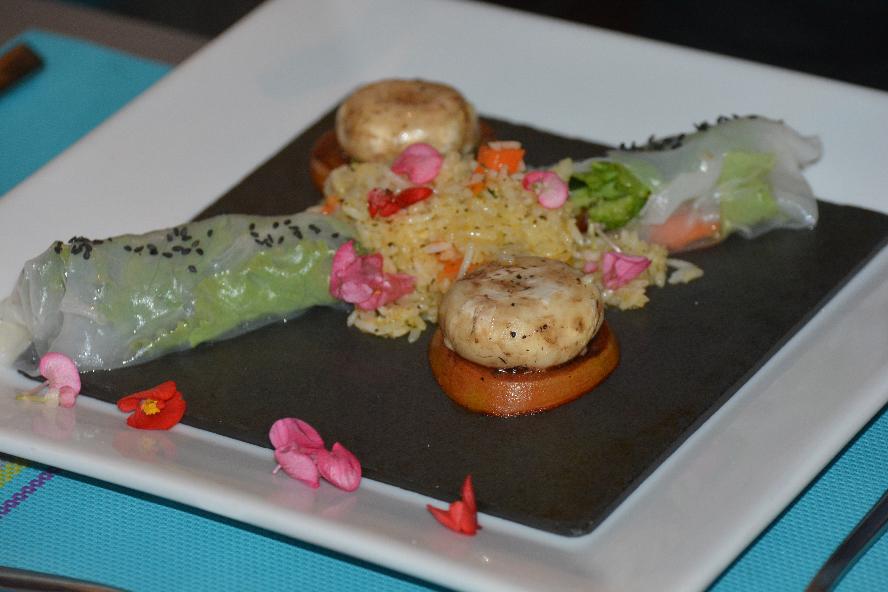 Jose serves trucha (trout) caught fresh in his pond in one of four ways. I went with the Trucha Casa Jose and while no doubt the others are also excellent I chose well - trout with shrimp and tomatoes cooked in banana leaves.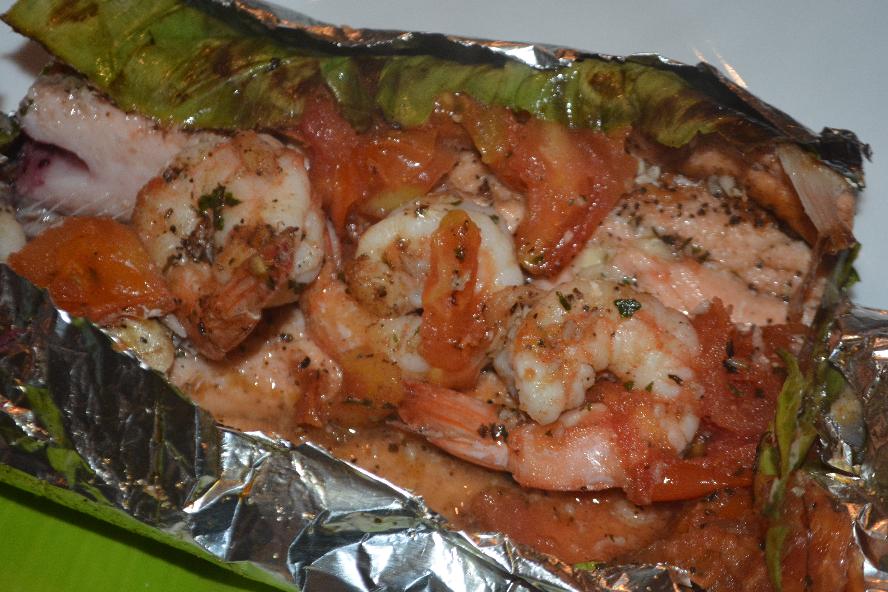 First there is the ice cream with some chocolate and almonds, then Jose flambéed the brandy with the sauce and bananas to create Bananos flambeados con brandy - absolutely delicious and a wonderful way to end another superb meal.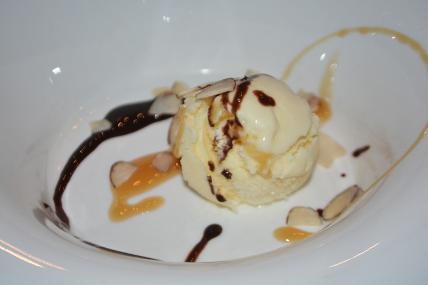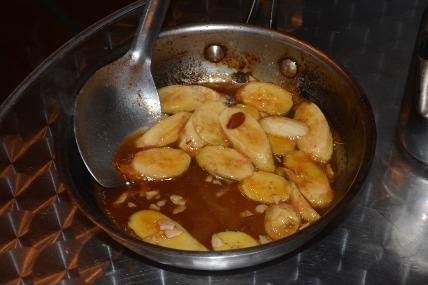 Feb 5, 2018 - Hfx to Montreal to San Jose, Costa Rica to Cachi (Hotel Quelitales)
Today was a long travel day. A 5:50 am flight to Montreal necessitated us getting up at 3:00 am. Although there was heavy rain it was quite warm so no issue with departing on time. We made our connection in Montreal where after deicing we left on the 5 ½ hour flight to San Jose. After a slow process getting through immigration we had no problems finding the shuttle to our vehicle rental – a 4x4 which is pretty much necessary if getting off the main roads here in Costa Rica.
The drive from the airport through San Jose and then on to Cartago and Paraiso and up into the mountains was only 64 km but took 2 hrs and 10 minutes. One missed turn but instinctive navigational sense quickly got us back on the right road. When we arrived (at 4:40 pm) Jose told us we actually made good time.
Hotel Quelitales, near Tapanti National Park is at a relatively high elevation, over 1,350 metres (4,000 ft.), and as a result somewhat cool with temperatures in the mid to high teens – certainly not shorts weather. This is not the hot coast of Costa Rica (that will come in a couple of days) but up in the mountains, in the cloud forest where the slopes are covered with lush rain forest and waterfalls abound, including a 72 metre one within view of our cabin. Our cabin, Colibries, is isolated providing plenty of privacy. The rain forest encircles the cabin, with the moist lush vegetation growing right up to the wrap around deck. The cabin itself is large with lovely wood floor and colourful prints on the walls. There are numerous huge picture windows providing lots of light and views of the rain forest. The bathroom opens to an outdoor shower, reminiscent of those in Hawaii. We love it.
Being quite exhausted from the early morning and somewhat stressful drive after a quick unpack we headed down to the lodge for dinner. The food was remarkably good, prepared by Jose at his aptly named Casa Jose Restaurant. We each enjoyed a soup - Gayle a local squash and me a flavourful chicken broth over eggs mixed with the green flower of the quelites, or local squash. The menu doesn't have any explicit vegetarian dishes but Jose made Gayle a nice penne pasta with cheese, hongos (mushrooms) and tomato sauce. I thoroughly enjoyed my Parilla, a large cut of beef served with potatoes and bananas and side sauces of tomato and butter/garlic. Delicious. We accompanied the meal with a nice Carmenere wine from Chile and finished with Crepe de Baileys - a crepe with ice cream and bananas covered by Baileys with almond sauce. If only all our meals here in Costa Rica and Panama will be any where near this good.

As we were leaving after our meal Jose asked us to wait a minute or so after which he provided us with a couple of hot water bottles. With the cabins not being heated and it getting a bit cool up here high in the hills it was a very thoughtful gesture, as was the flashlight he provided. Of course it did not take us long to turn in and fall fast asleep.


After driving through/around the hectic city of San Jose and then the busy towns of Cartago and Paraiso we left the populated areas and were soon in our element - narrow rural roads with its own traffic obstacles. It is certainly not only pedestrians one needs to be alert to here in Costa Rica.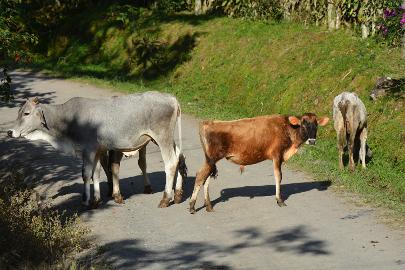 Although hot at the airport and during our drive, as we left San Jose to the east we began to ascend the mountains, eventually reaching Cachi and Hotel Quelitales located at 1,350 metres (over 4,000 feet). There was no doubt we were in the cloud forest.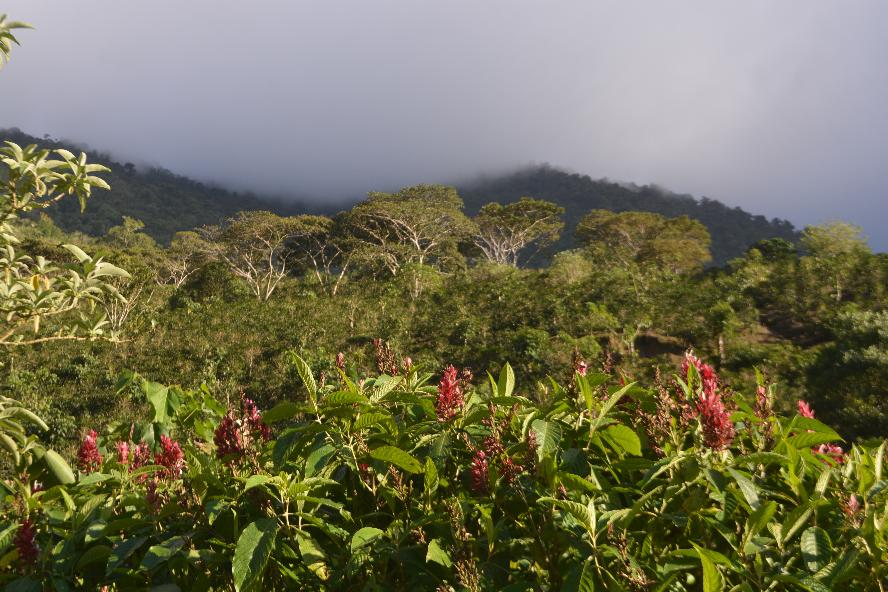 Hotel Quelitales is located at the end/top of a valley that descends from a ridge over which this waterfall emerges. Yes the telephoto lens helps but indeed we can see, and constantly hear this waterfall from our deck.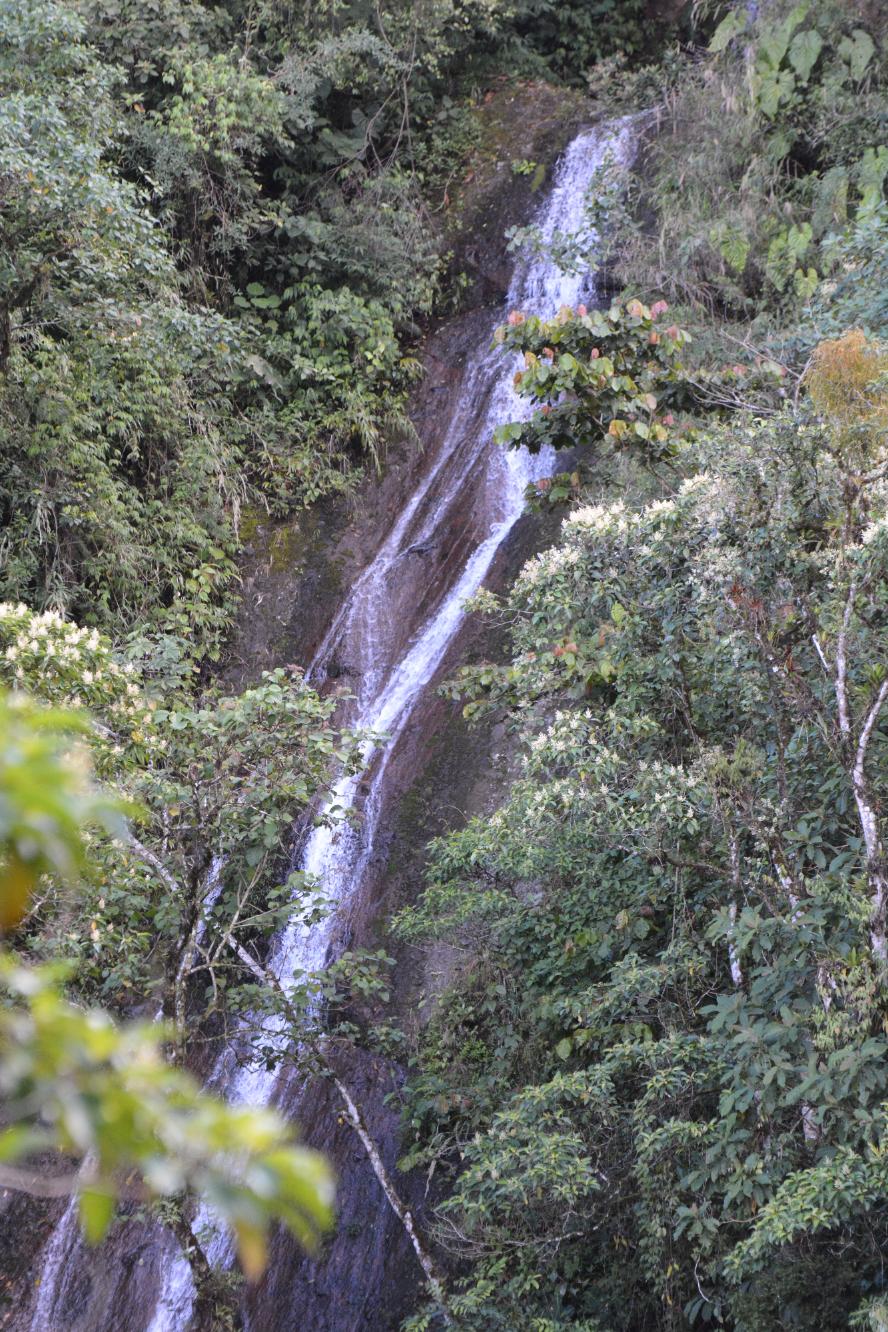 While most of what we see from our deck are the lush green foliage of the rain forest every so often there is a splash of colour provided by flowers such as these.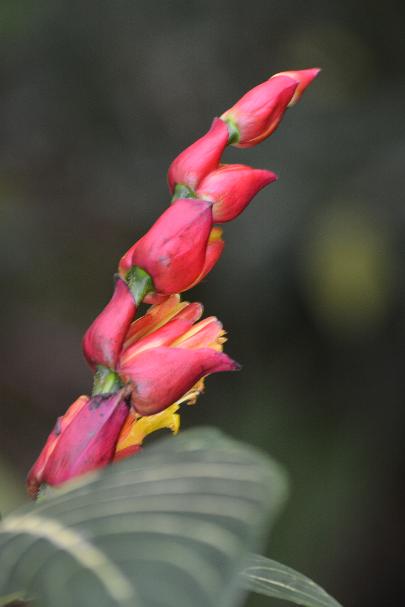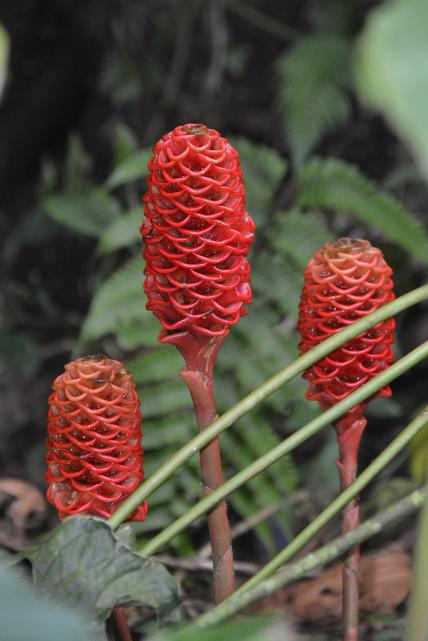 Our cabin Colibries, is extremely private with a wrap around deck, beautiful wood floors, lots of windows (and light) and an outdoor natural shower. All very impressive, not to mention the view of the waterfall.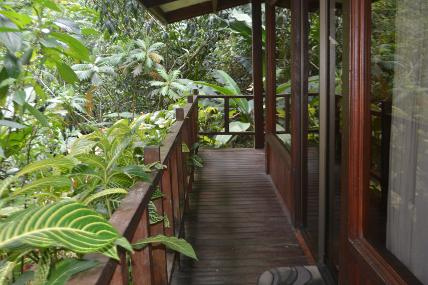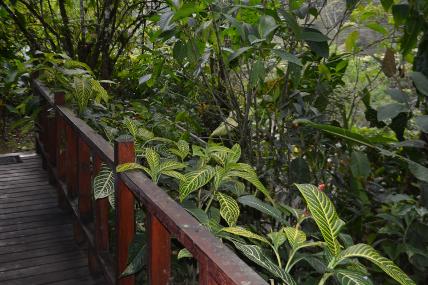 A large bed with nice artwork and a huge window to the lush vegetation just outside.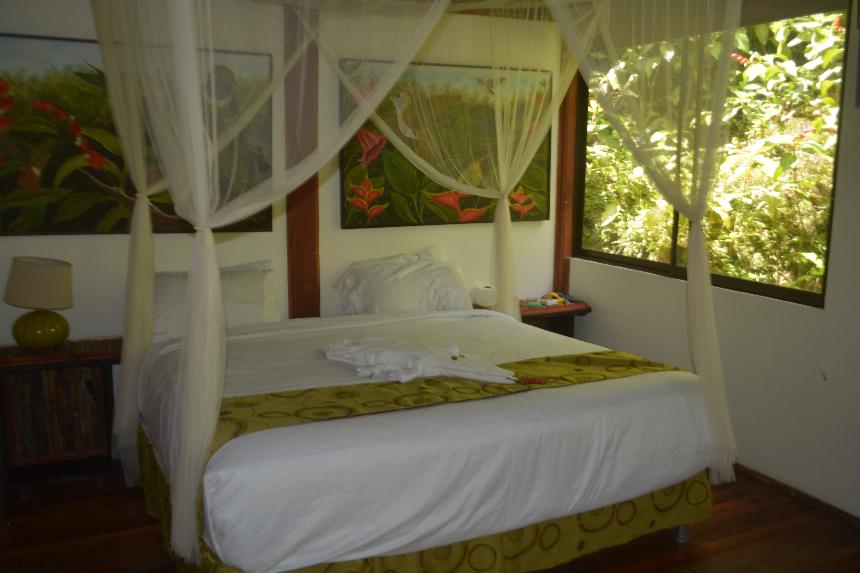 Very impressive towel creations (and yes the elephant has fresh flowers on her head).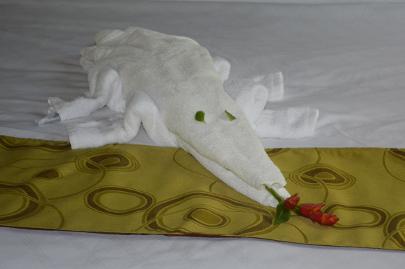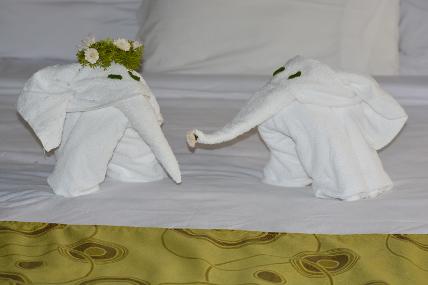 The inside of our cabin, with nice comfy chairs and looking outside to our deck on the edge of the rain forest.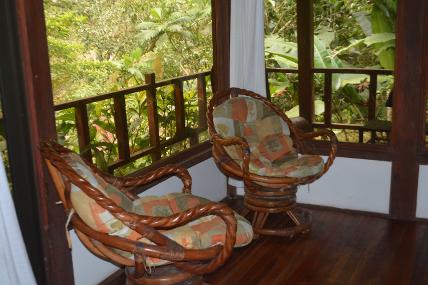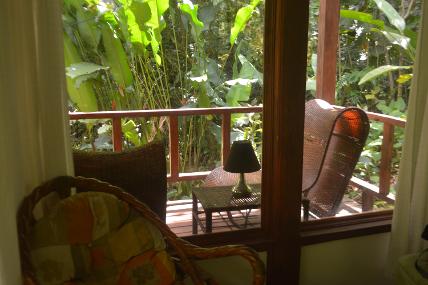 My bowl of Caldo de Pollo con Quelites (a soup of rich chicken broth with the flower of green squash in egg) and below for Gayle a vegetarian penne with hongos (mushrooms), tomato sauce and cheese, all served by Eli.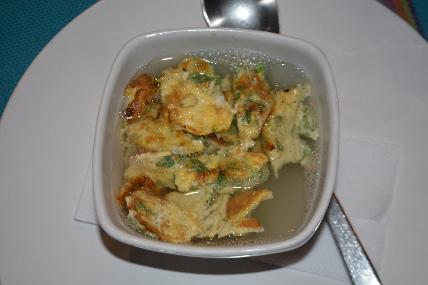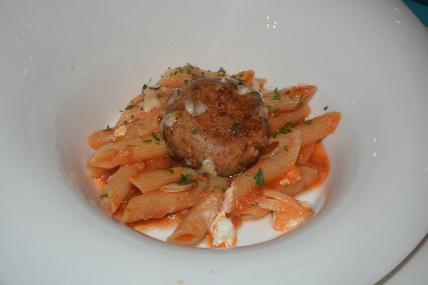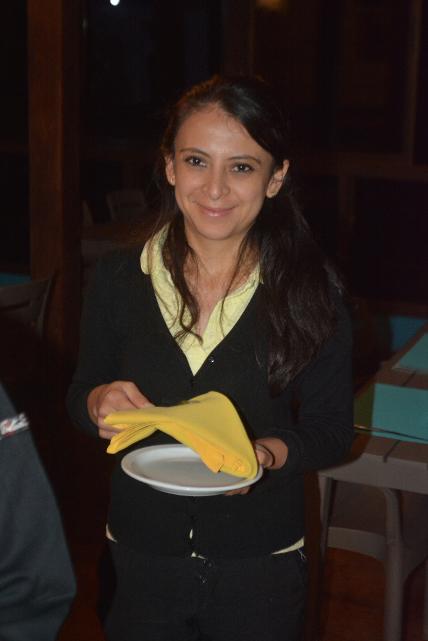 Jose pouring the broth over the egg/squash to create my Caldo de Pollo con Quelites.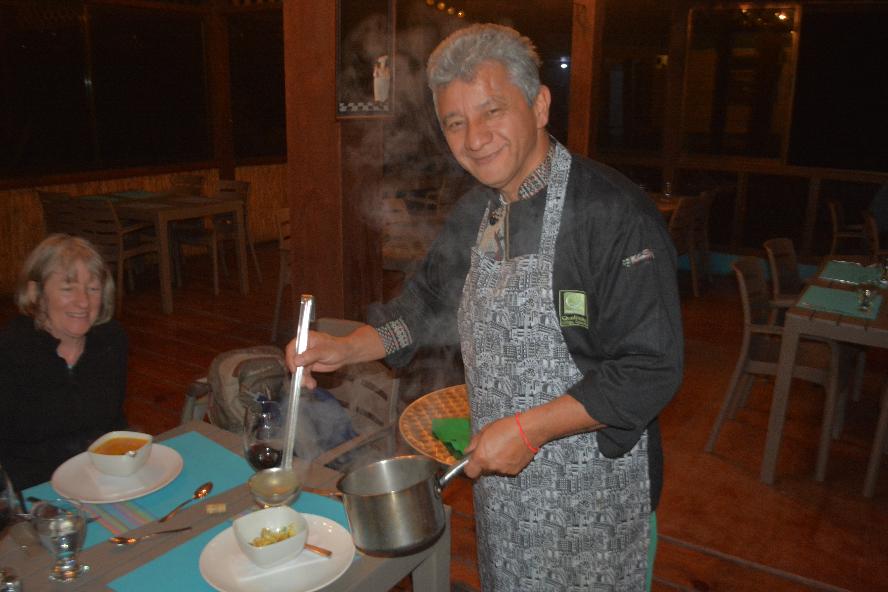 Parilla - Montado sobre carne de papas salteadas y banano maduro, acompanado con chimol y chimichurri.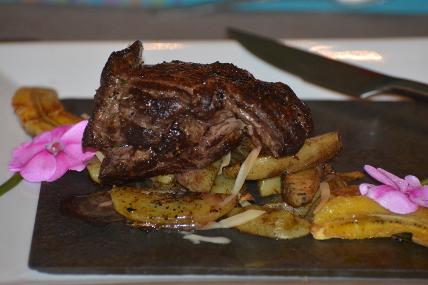 Crepa de Baileys - Rellenas de halado y banadas en salsa calente de Baileys con almendras.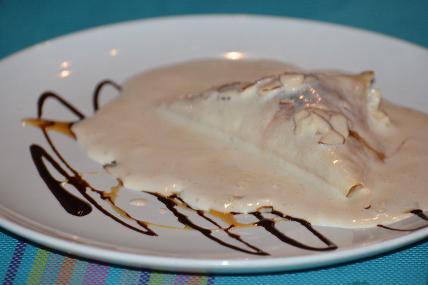 Having enjoyed the south (Pacific side) of Costa Rica so much last year, especially the wealth of wildlife we have decided to return again this year. This time we will be visiting the Caribbean side for five nights in Costa Rica and then crossing the border into Panama and the islands of Bocas del Toro for eight nights prior to spending our last three nights in Panama City.
Last year internet service either did not exist or was so slow it was not possible to maintain the travel blog. We completed it after we returned home. We expect it will be the same this trip but will see. If interested here are the places we will be staying.
Hotel Quelitales Cachi Cartago www.hotelquelitales.com
Hotel Banana Azul Porto Viejo www.bananaazul.com
Finca Vela Lodge Isla Pastores, Bocas del Toro www.fincavela.com
La Loma Jungle Lodge Bahia Honda, Bocas del Toro www.thejunglelodge.com
Casa Cayuco I|sa Bastimentos, Bocas del Toro www.casacayuco.com
Casa Sucre Panama City www.casasucreboutiquehotel.com
Riande Aeropuerto Panama City www.riandehoteles.com