February 14, 2020 - Villas en el Bosque, Ojochal to Casa Horizontes, Drake Bay
Our last morning at Villas en el Bosque we again enjoyed a nice breakfast. Gayle could eat Gallo Pinto every day for the entire trip and never get tired of it. While packing Mauricio let us know of a troop of monkeys that were around the lodge. We raced down to see a number prancing around, some of the them snagging a banana or two. It was fun to watch them up so close.
We left for a three plus hour drive to Drake Bay, just on the edge of Corcovado National Park, the largest national park in Costa Rica comprising approximately 1/3 of the Osa Peninsula. It is widely considered the crown jewel in the extensive system of national parks and biological reserves spread across the country The ecological variety is such that National Geographic has called Corcovado "... the most biologically intense place on Earth in terms of biodiversity."
Our drive took us south through Palma Norte and on to Piedras Blancas where we turned west at a garage (this will become important later) into the Osa Peninsula. After 45 kms we then turned on to a dirt road that took us to Drake Bay. The 'road' was actually not as bad as we were led to believe. During the dry season it was no problem, including the three small streams we had to cross. That said one definitely needs a SUV for the clearance, and ideally a 4 x 4, which we had.
We found Casa Horizontes without too much difficulty and as directed hiked up the steep 'road' to the lodge where we were greeted by Renaildo who took us to our cabin. There are a number of small rooms in the lodge but we had a beautiful large cabin, the best aspect of which was the wonderful balcony with a great view down to the bay.
We booked the 'with dinner' option each night and glad we did. The meals were good solid home Costa Rican home-cooked meals, comprised of a salad, steamed vegetables, plantains and red snapper for me and a stuffed tomato for Gayle. One glass of wine and a dessert - tonight a fruit salad - were included. Good value for $16 US.
The Wifi here appears to be excellent but as has become our practice here in CR we were lights out by 8:30 pm.
After enjoying another wonderful breakfast of gallo pinto, eggs, cheese and plantain we returned to our room to pack.
However Mauricio knocked on our door to tell us there was a troop of monkeys around the lodge. To this point, while seeing monkeys on our hike to the beach we had not seen any around the lodge. We were treated to a considerable troop that provided excellent photo opportunities, particularly as they went after the hanging bananas. It was fun to watch them.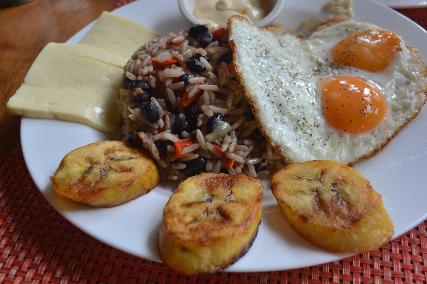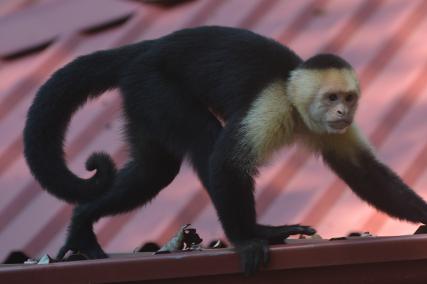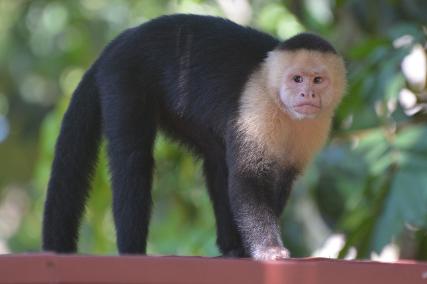 Mauricio, the gardener, maintenance guy and animal spotter, and more monkeys.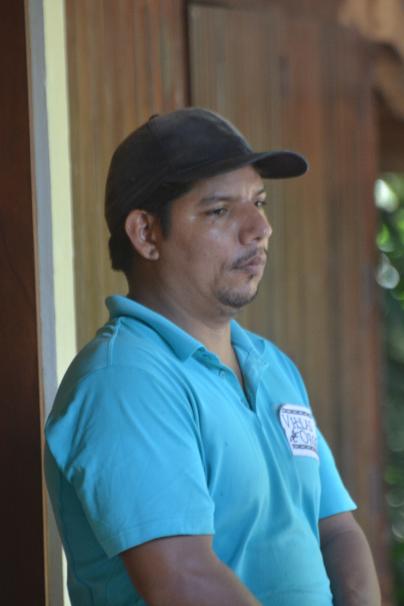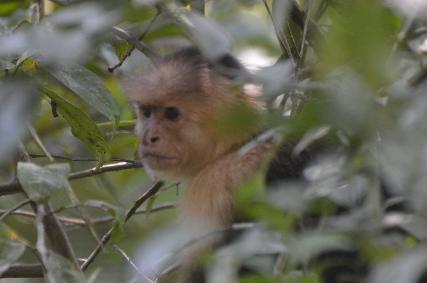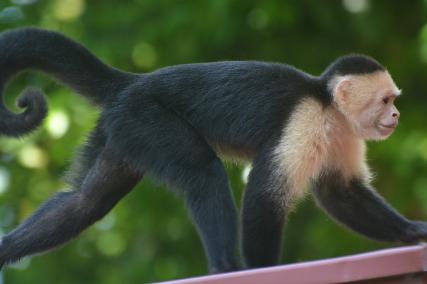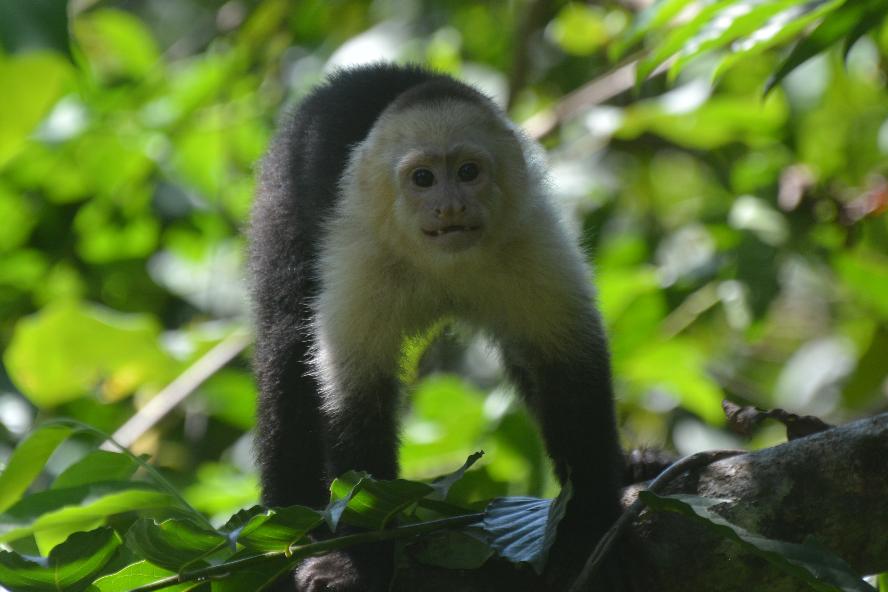 Ooh ooh, a supply of bananas.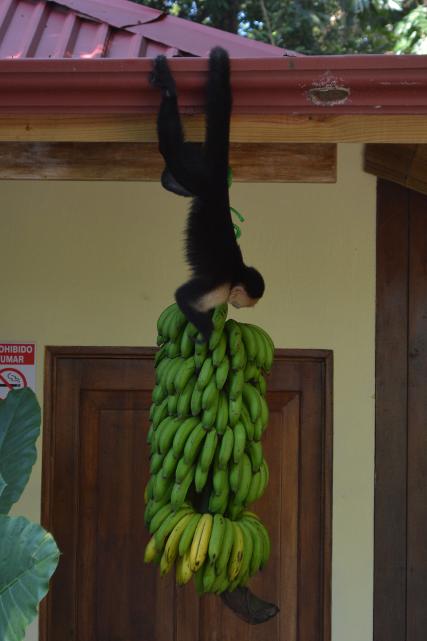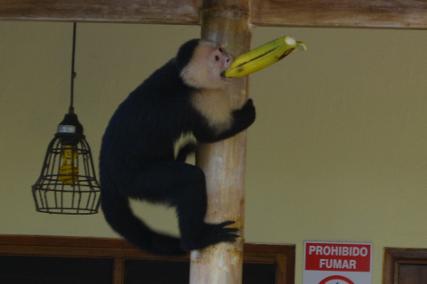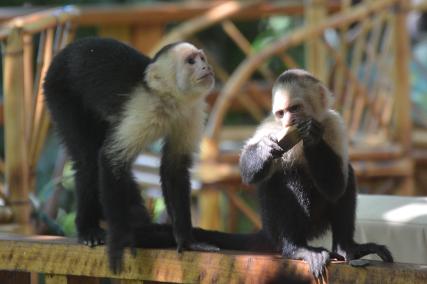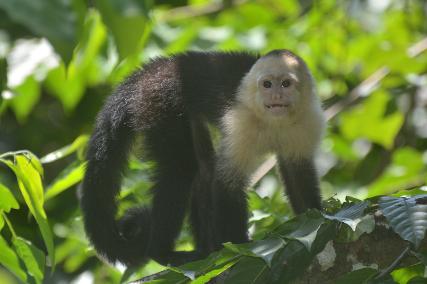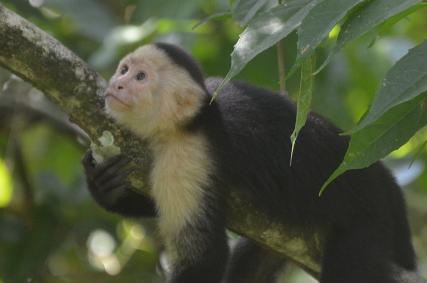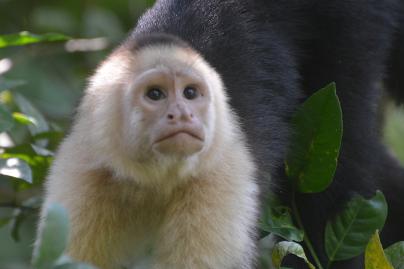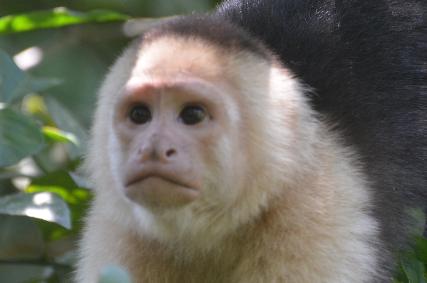 Our drive today took us from Ojochal south to Piedras Blancas, then west into the Osa Peninsula and the north on a 30 km dirt road to Drake Bay.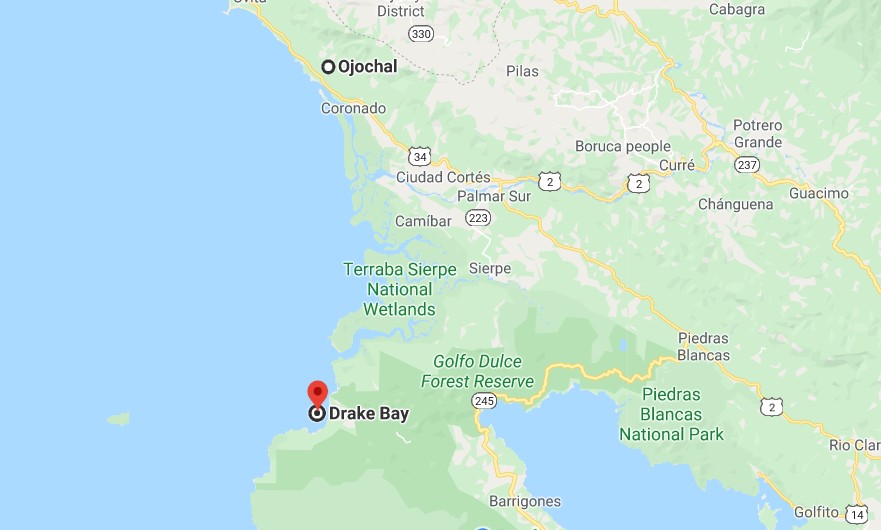 Waterfowl in one of the streams we had to cross.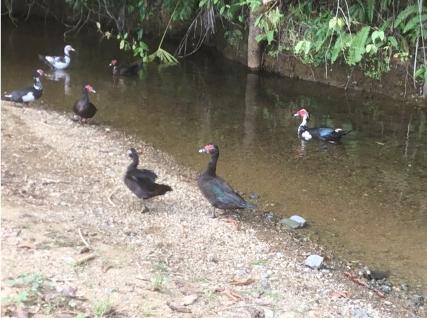 The first of three streams we needed to cross. The last stream where we took a short video.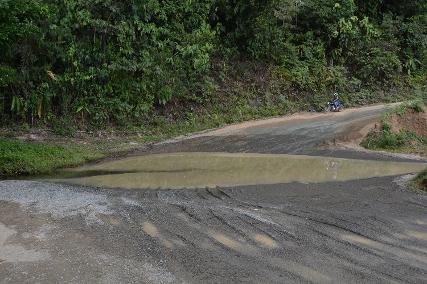 The view from our cabin to Drake Bay. Our balcony, complete with hammock.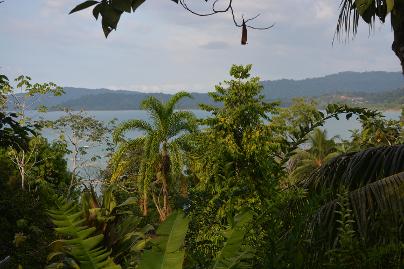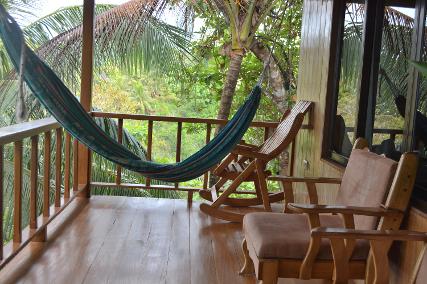 For me red snapper … … and for Gayle a stuffed tomato.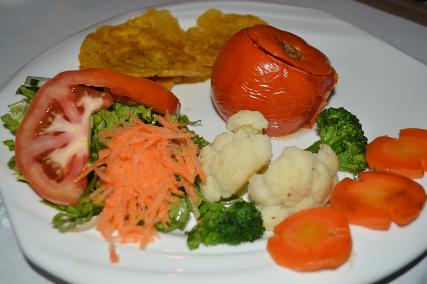 February 13, 2020 - Villas en el Bosque, Ojochal
Pretty much a repeat of yesterday with two exceptions - we took a hike through the rainforest to the beach and we ate at a different restaurant.
The hike was in theory 600 metres each way - '15 minutes' we were told. Perhaps as the pelican flies but not as we walked. Thankfully John suggested we take a walking stick, which both of us did, and very thankful for having done so. The walk starts with a steep descent from the lodge. Fortunately there are a set of crude steps that made the going somewhat easier. From there it was pretty flat to the ocean but the ground was uneven with a considerable number of roots and protruding growth.
About half way Gayle noticed movement in the trees. It was a troop of perhaps a couple of dozen white faced capuchin monkeys. We enjoyed watching and attempting to photograph them for 15 minutes or so. Photos are difficult as on automatic setting the focus is most often on a branch or leaves rather than the monkey, and if changed to manual the distance makes it difficult to get the setting / focus just right. So while not perfect I though some of the photos were decent.
We continued through the rainforest, along a river (where we saw a few birds) and eventually (after 45 minutes) reached the ocean, where we met a Swiss couple also staying at Villas en el Bosque. They actually were in the water but with the waves we chose not to go in (those Swiss are some tough). With a couple of shorter photo stops we returned in half an hour. The full hike was an hour and a half. The hot humid temperatures were a challenge as was the ascent returning to the lodge but we made it - the highlight being the monkeys. That said upon our reurn it took us only seconds to jump in the pool.
For dinner we went to Exotica, the third of the recommended restaurants in Ojochal. The outdoor setting was beautiful with nice background music. The presentation / plating of the food was something else, everything served with flowers, some of which were edible. Gayle started with an appetizer of Avocado with pineapple and citric mayonnaise while I had the Costa Rican ceviche (marinated fish in lime juice). Then it was Pasta Strogonoff - fresh vegetables, cream wine and vodka sauce for Gayle and The Thai Pot with seafood, coconut milk and curry for me. We couldn't resist a bananas flambe for dessert which we shared.
The drive back was a tad longer tonight - more like three minutes. Again, with the heat we were soon to bed.
Gayle spotted a troop of white face (Capuchin) monkeys that we watched swing from tree to tree.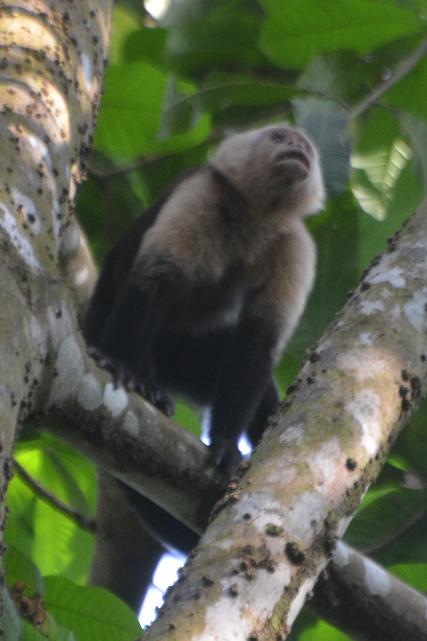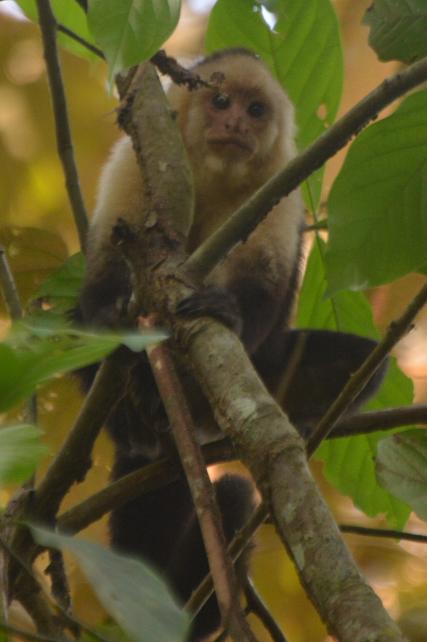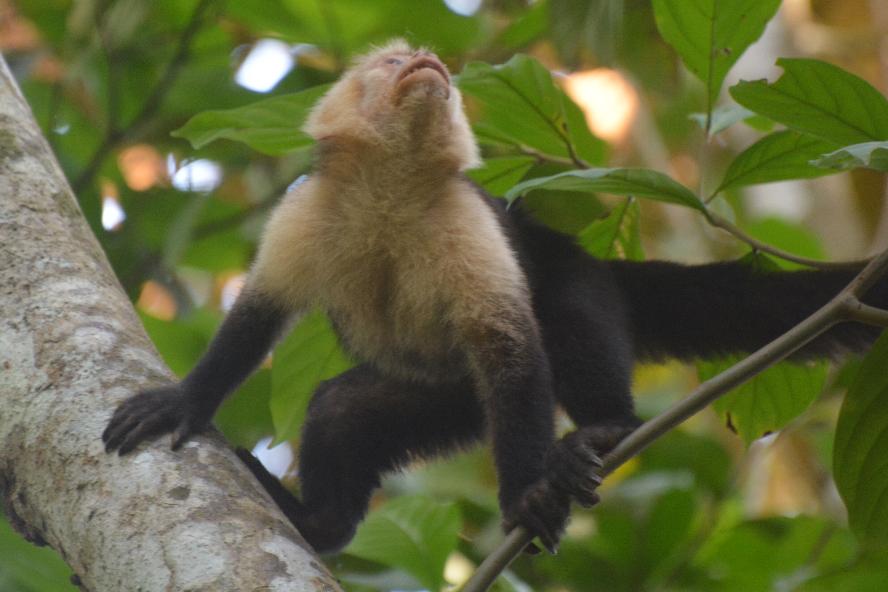 There were some massive trees in the jungle, some with fascinating root systems.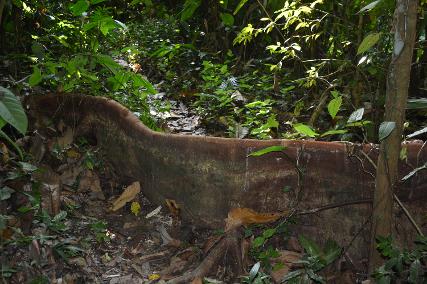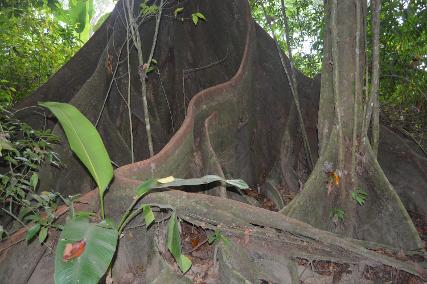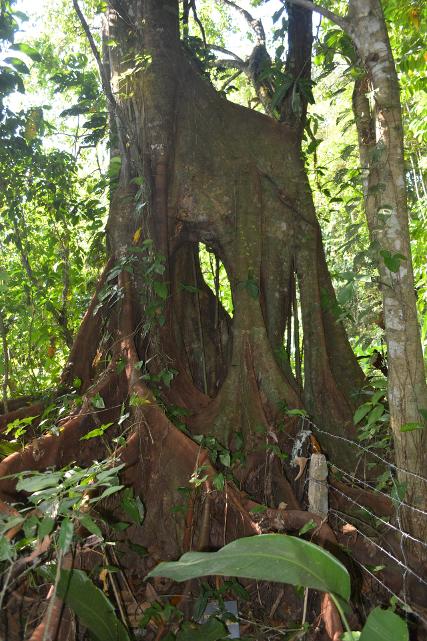 We made it - to the Pacific Ocean. To be greeted by a flock of pelican.s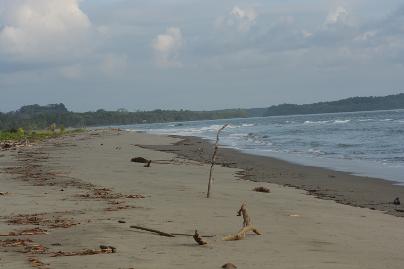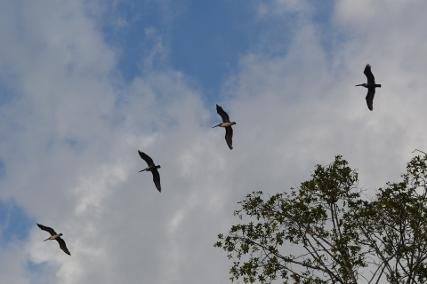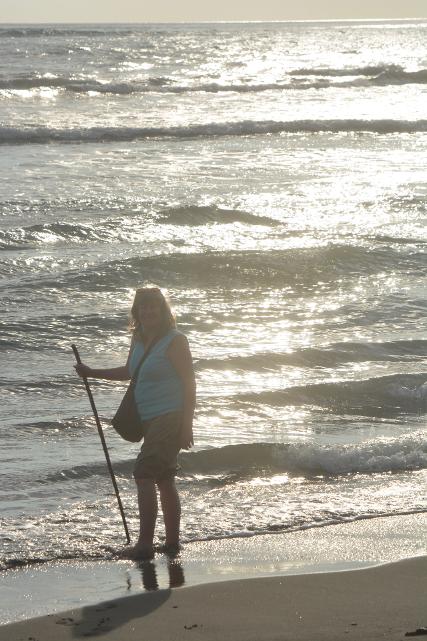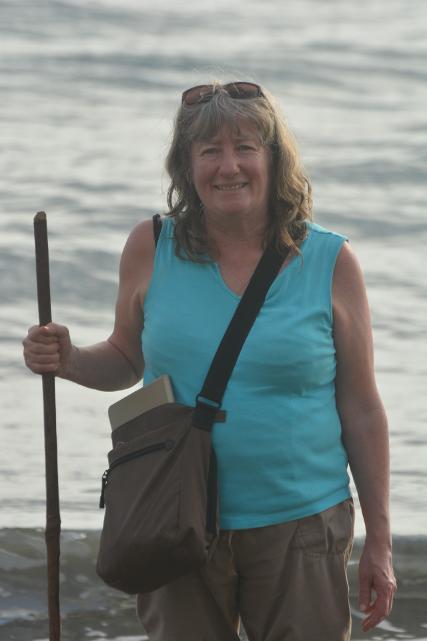 Some waterfowl seen on our hike.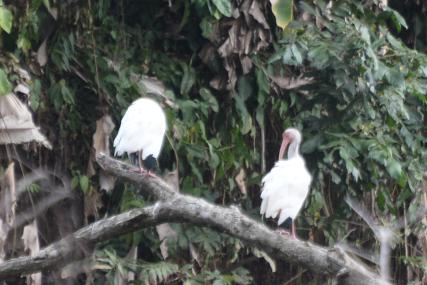 About to climb back up the steep steps to en el Bosque. Crossing the one 'bridge' on the hike.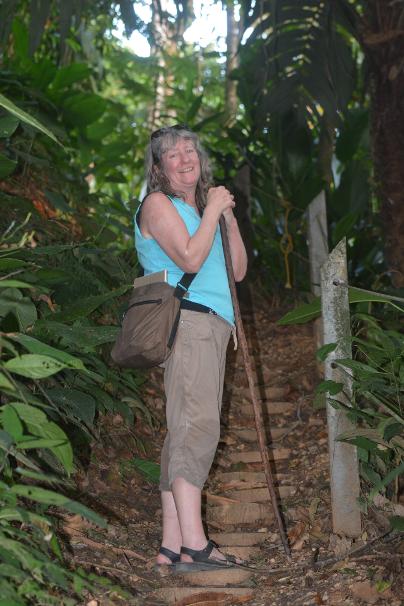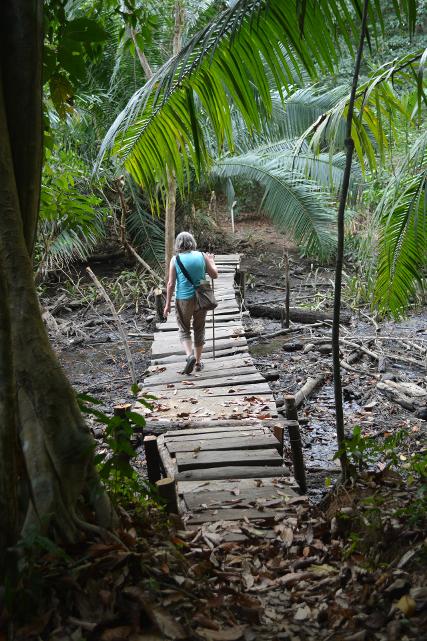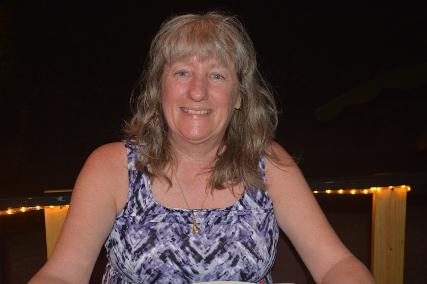 A strawberry Daiquiri for Gayle and an orange and pineapple smoothie for me.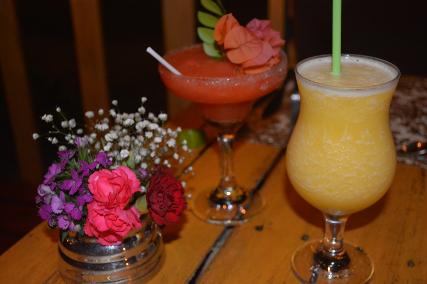 Avocado with pineapple and citrus mayonnaise. Pasta stroganoff.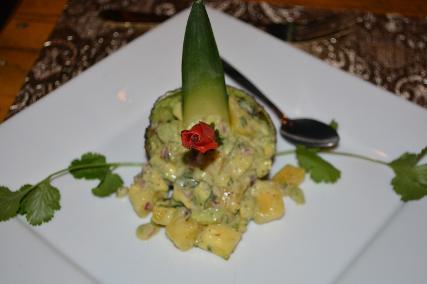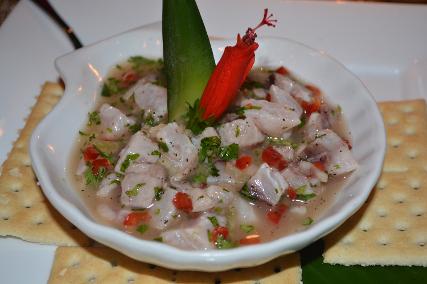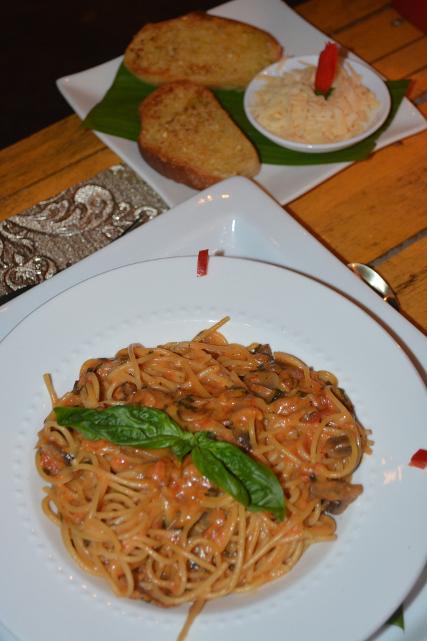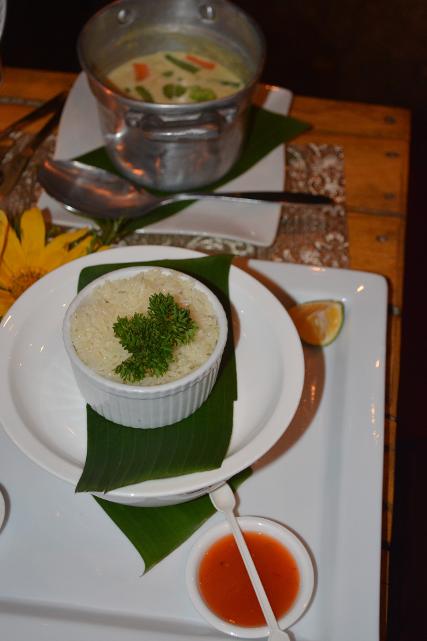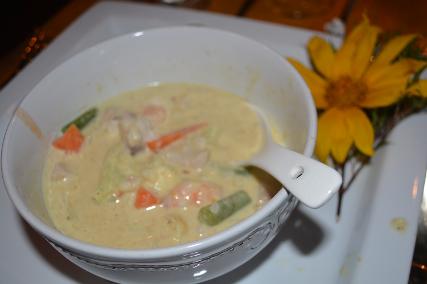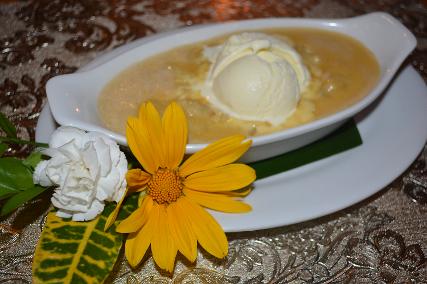 February 12, 2020 - Villas en el Bosque, Ojochal
Consistent with our slothful approach to vacationing we spent the day stationary - well we did go to the lodge for breakfast and we did have a couple of swims, but otherwise it was working on the travel blog or sitting on our balcony listening to the sounds of the insects and birds. Early in the morning we did hear the howls of howler monkeys but have yet to see any monkeys (or sloths) here.
Again, absent the annoying sounds of the traffic, the property is wonderful embedded in the jungle with a nice view out to the ocean. The landscaping is beautiful with shrubs throughout and a nicely designed pool. The lodge deck, recently expanded, hangs out over the jungle.
Dinner was at Citrus where there food was very good, although somewhat expensive. Gayle started with Le Chevre Chaud, a warm goat cheese salad with glazed apples, honey and mustard dressing. Excellent. I had a designer ceviche, the Salpicon de Pescado Citrus, fresh fish tartare with passion fruit, coconut milk, ginger and avocado. Both appetizers, were beautifully presented. Gayle then had the Spaguetti del Sol, spaghetti in a creamy sauce with white wine, sun dried tomatoes, Kalamata olives and fresh mushroom sauce while I the Pollo Curry Citrus, an Indian chicken curry in a coconut milk with dried plums and plantain, bananas with Jasmine rice. Again, both were excellent. We shared a Mousse Belga, a Belgian chocolate mousse with brandy - decent but not as good as the Belgian chocolate mouse Filip made at Las Nubes.
A short two minute drive had us back at Villas en el Bosque where, after a not so exhausting day, we turned in for the night.

A spider in a web over the pool. A cricket on the rail at the lodge.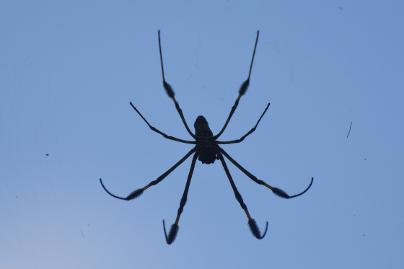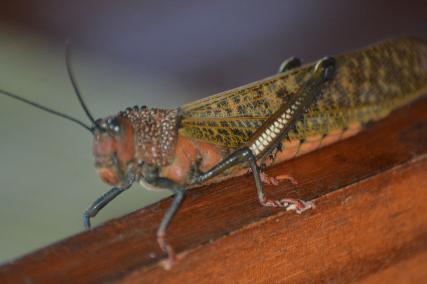 Banana pancakes for me. Gallo pinto for Gayle.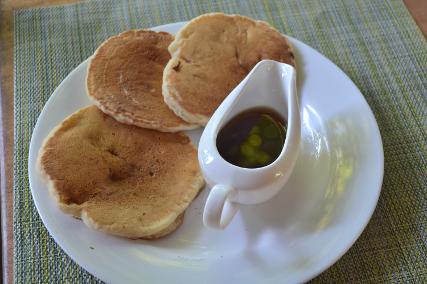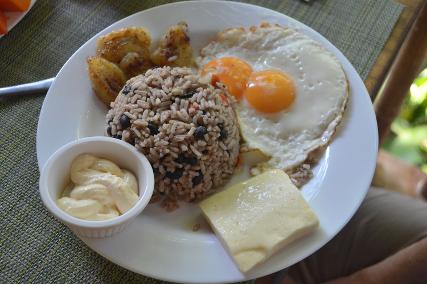 A wonderful plate of fruit - today pineapple, watermelon and papaya. Other days included banana and cantaloupe.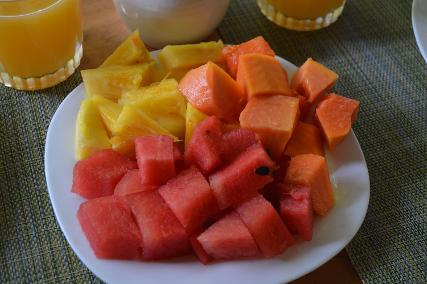 Gayle enjoying her favourite breakfast - gallo pinto.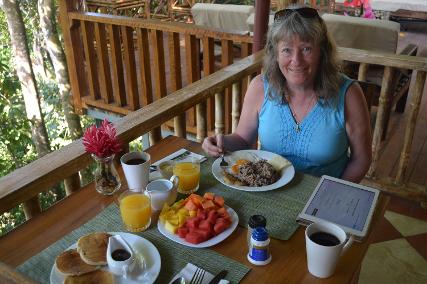 Coconuts and a new deck extension over the jungle.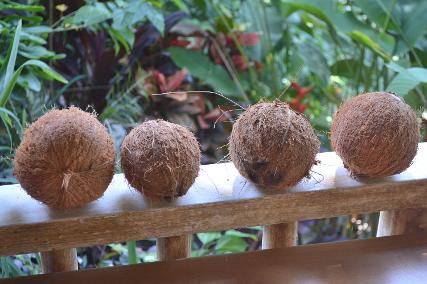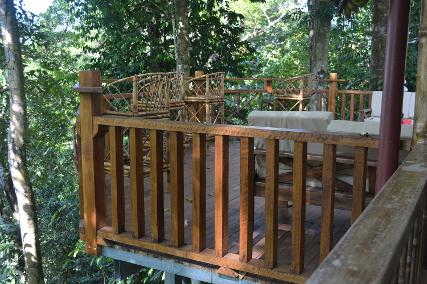 Lots of jungle, from our balcony and the lodge.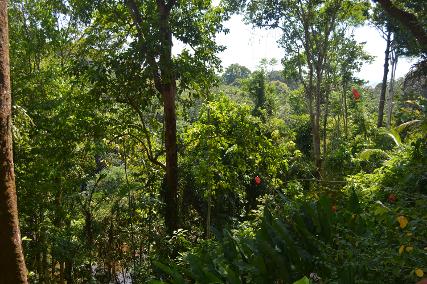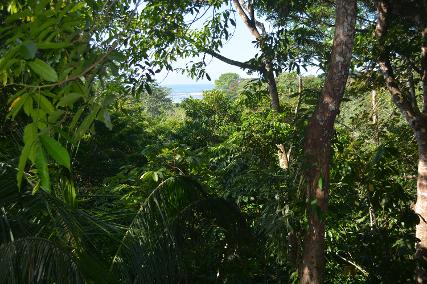 The view of the Pacific ocean from the deck of Villas en el Bosque.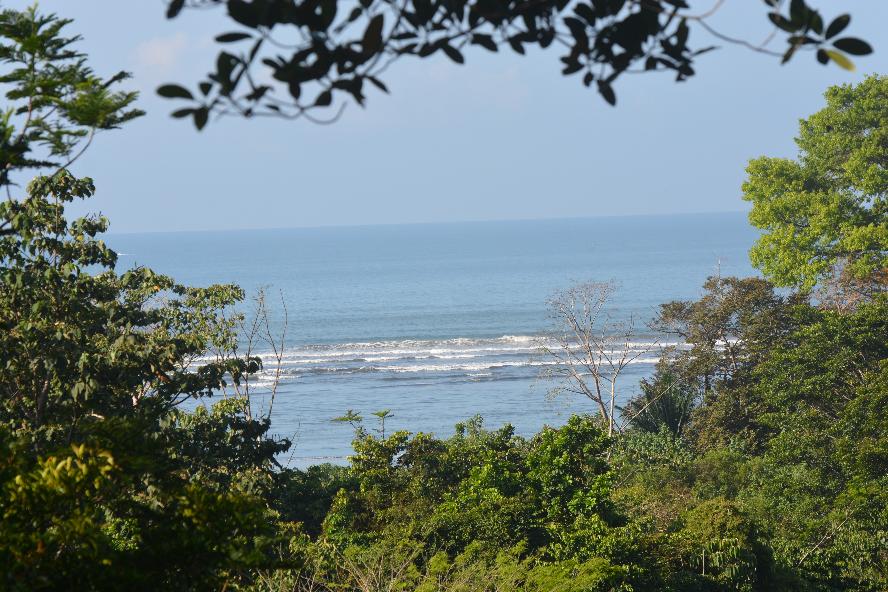 There are many colourful shrubs and flowers on the property.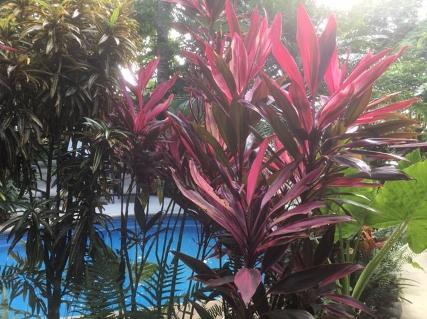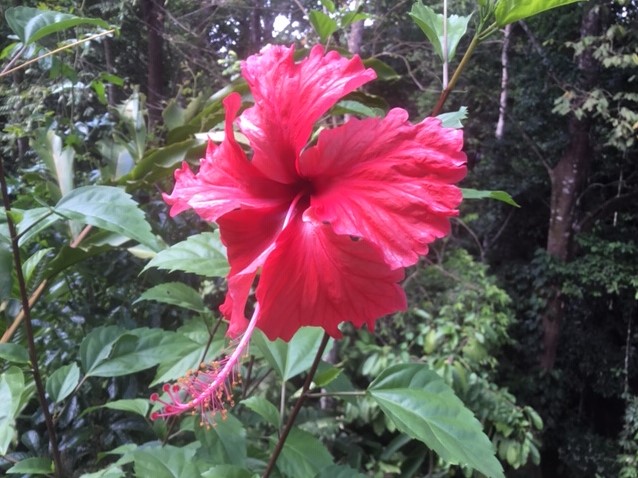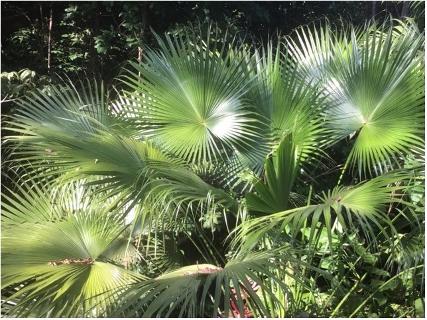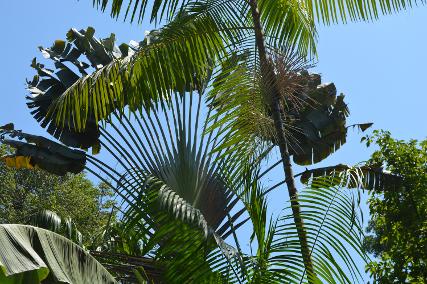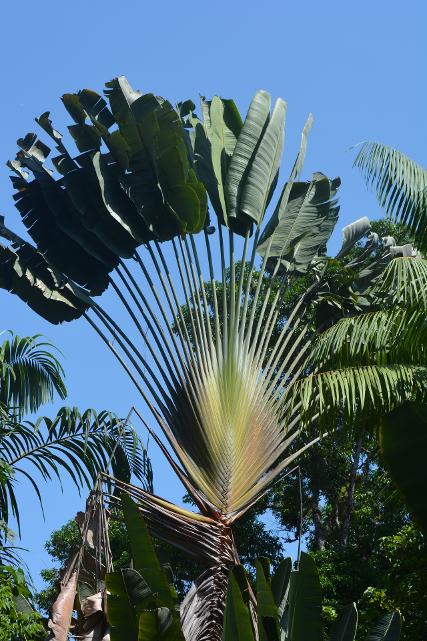 Villas en el Bosque's refreshing pool.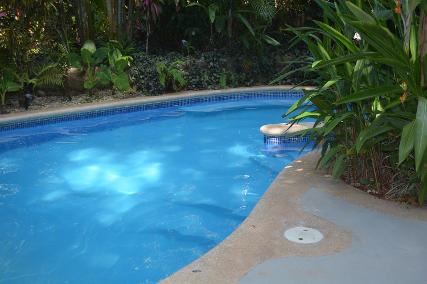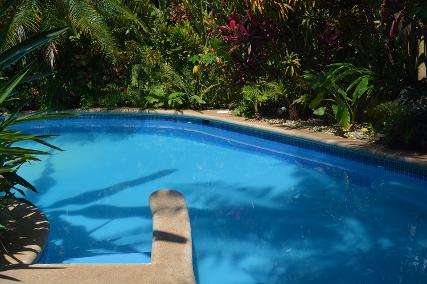 Tonight we ate at Citrus where Gayle started with an excellent Le Chevre Chaud salad.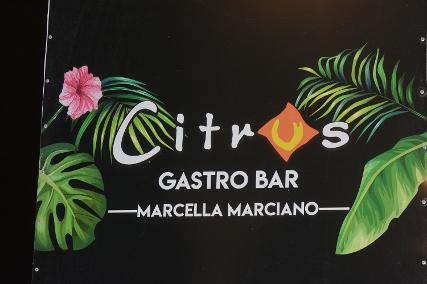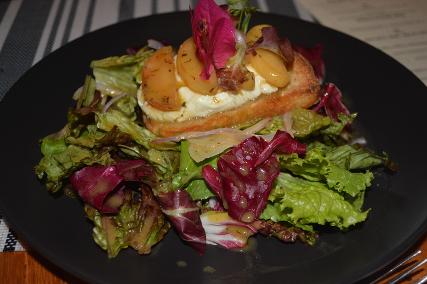 Salpicon de Pescado Citrus - the chef's ceviche. Spaguetti del Sol.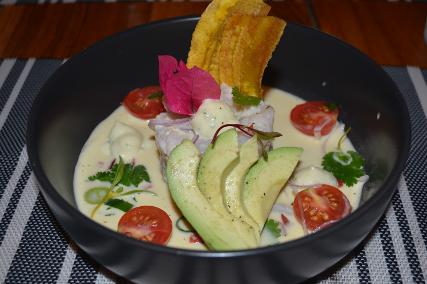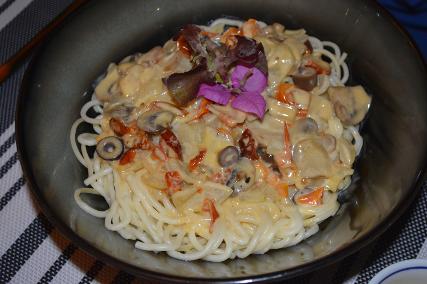 Pollo curry citrus - chicken curry in coconut milk. Mousse Belga - Belgian chocolate mousse.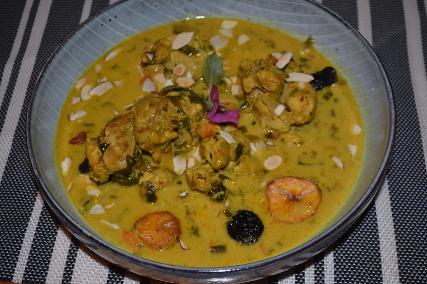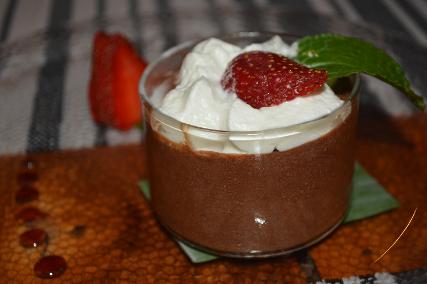 February 11, 2020 - Las Nubes to Villas en el Bosque, Ojochal
After four days of super relaxing doing nothing we left Las Nubes, having no trouble on the 25 minutes trip down the mountain. The only tricky part was a stream that did not appear very deep but had a couple of large rocks protruding in the middle requiring me to align the tires to drive over the rocks. Success.
We returned to the coast where we turned south for an easy one hour drive to Ojochal and our next stop - Villas en el Bosque (villas in the forest), a beautiful property with a nice view to the ocean. The landscaping here is extremely well done (gracias Mauricio). There is also a nice pool to refresh in, very welcome given the humidity. We were greeted by Kerry and John, both very welcoming and eager to assist in providing suggestions and making reservations. The only down side will be the excessive noise from the nearby highway, particularly the large trucks using their air brakes.
There are apparently a number of nice restaurants nearby. We chose Heliconia where Gayle had the Veggie sandwich of grilled vegetables (zucchini, eggplant an, sweet pepper) covered with creamy goat cheese and olives, capers and pesto on home-made bread. I had the Churrasco, a grilled cut of beef with green peppercorn sauce served with spicy potato wedges and vegetables. Service was somewhat slow but the food was very good,
Besides a cricket the only guest we had in our room was this lizard. He (or she) wasn't actually as big as this cropped photo appears.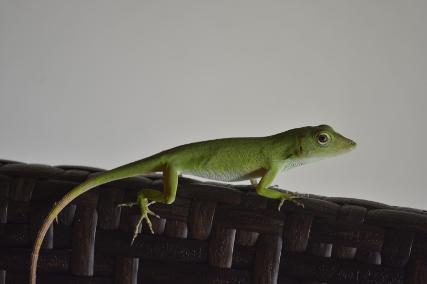 Our breakfast plate of freshly baked bread, meats and
cheese, along with juice and coffee.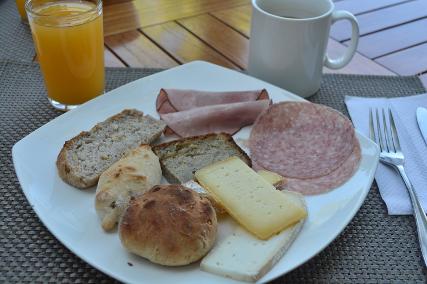 That's one big leaf! Red bamboo just outside our cabina.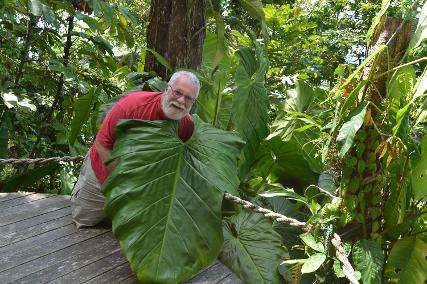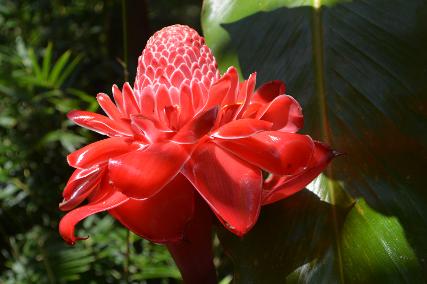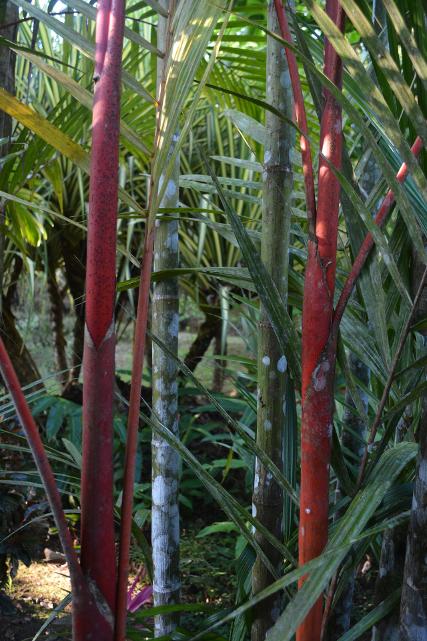 Some of the roads getting to and from Las Nubes.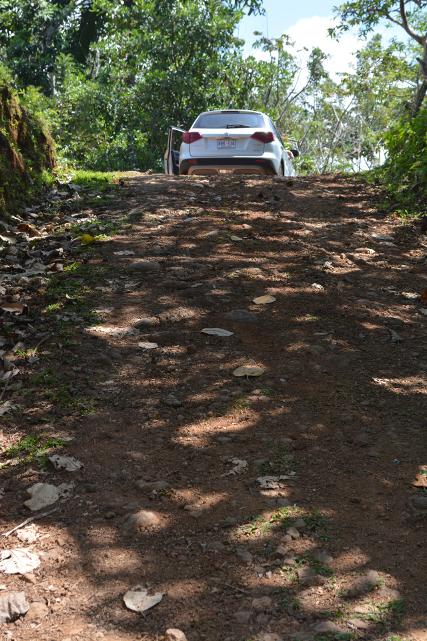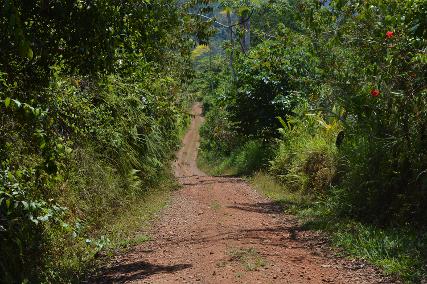 A bit tricky as I had to line the tires up with the rocks due to the amount they protruded from the stream.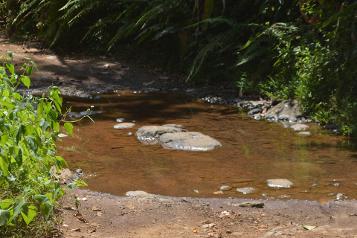 From Las Nubes down the mountain back to the coast and then south along the 34 to Ojochal.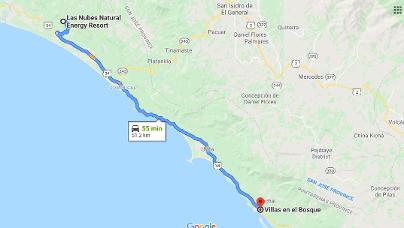 Our lodging for the next three nights - Villas en el Bosque (forest).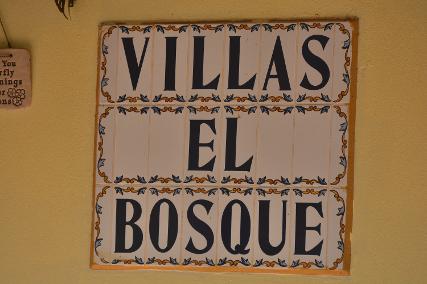 Our balcony looking directly into the jungle.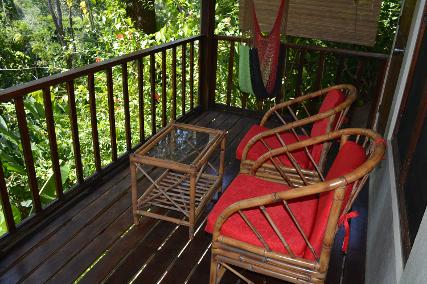 Not quite a Las Nubes sunset but still nice. We ate dinner at heliconia.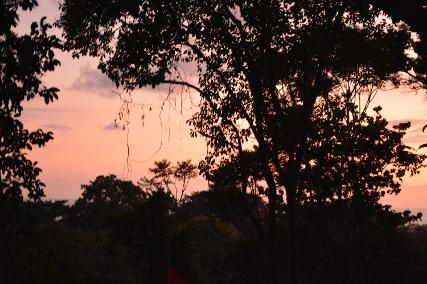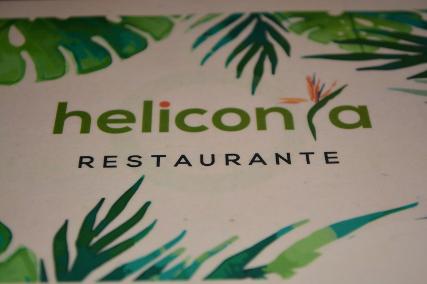 Gayle had a grilled vegetable sandwich while I the Churrasco - a grilled cut of beef with green peppercorn sauce.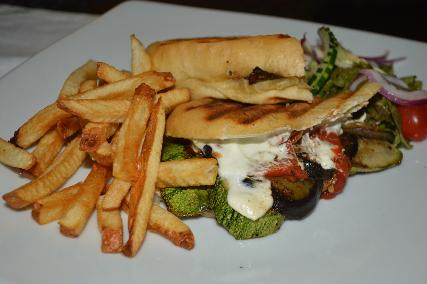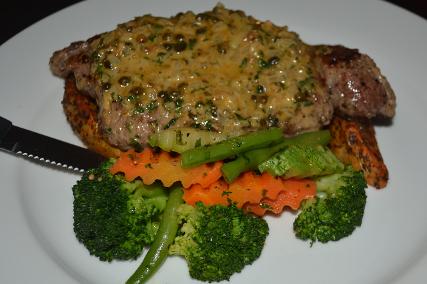 February 10, 2020 - Las Nubes Natural Energy Resort
After breakfast of tasty crepes Rosie (originally from Austria) took us on a garden tour pointing out various fruits such as guanabana (sour sop), grapefruits, pineapple and noni as well as pepper pods, which were particularly hot. It was so easy to tell what a passion Rosie has for nature and plants.
We were again treated to the toucans and constantly hear the sounds of the insects and birds but other than the toucans and a few small lizards, a number of blue morpho butterflies and a poison dart frog we did not see much wildlife. Only on the final morning did we hear howler monkeys. That said Fabiola and her friends saw a puma on their drive back to the lodge, a rare sighting.
Filip, a chef / event planner from Belgium moved to Costa Rica 15 to 20 years ago and purchased this property. He reinvented himself, while still being able to use his culinary talents for his guests, through building the resort. The property and ambiance is extremely soothing. When we read 'Natural Energy Resort' we mistakenly considered it may be a yoga retreat. Turns out that is not the case - rather it is simply a relaxing environment in which one can chill out while re-booting your energy. Filip's partner Fabiola is Costa Rican. She is a vet with a unique practice - essentially a vet making house calls with a mobile surgery facility. Her concern for animals and birds was evident when a hummingbird bumped into a window. Fabiola took the stunned little fellow (or gal) and released him (or her) in the jungle.
Pre dinner we had a delicious gazpacho, made with watermelon after which we enjoyed another colourful sunset. Dinner was vegetarian cannelloni for Gayle and Osa Buco with pesto pasta for the rest. A delicious Belgian chocolate mouse with mango slices for dessert followed by a homemade limoncello as two of the three couples (including us) were departing tomorrow. As was the case each night we also enjoyed a tea-like drink of infused herbs from the garden - lemon grass, peppermint and another herb we don't recall.
It was then down the hill to our cabina for another restful sleep to the sounds of the jungle.
Rosie and Gayle on the garden tour.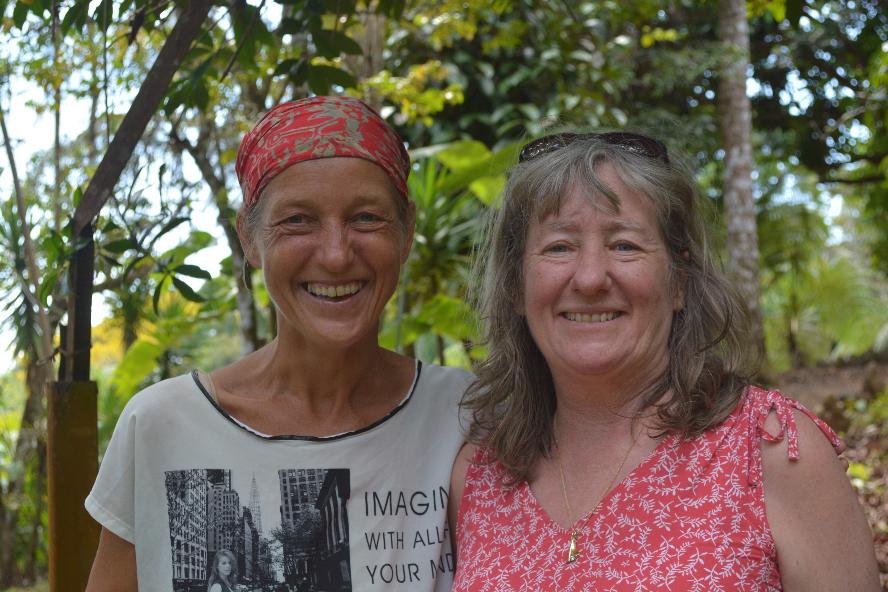 (Very hot) pepper pods and a sampling of the colourful flowers here at Las Nubes.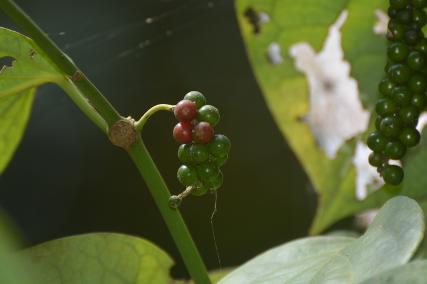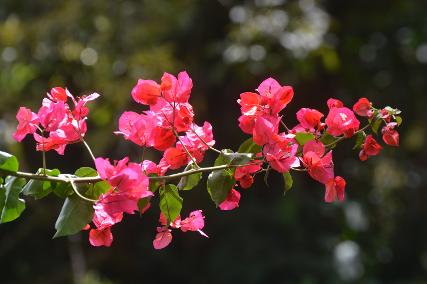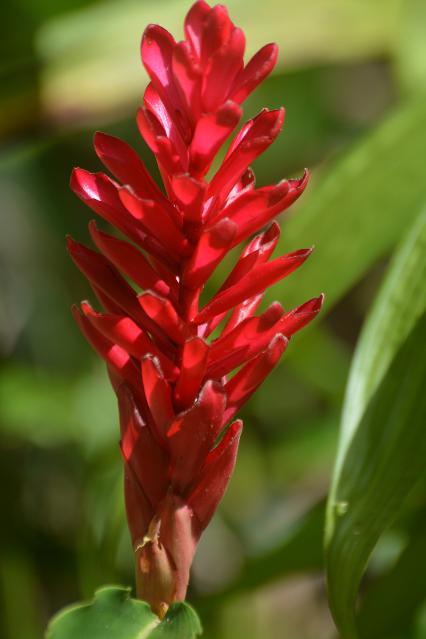 Fan palms and roots that created a very interesting pattern of shadows.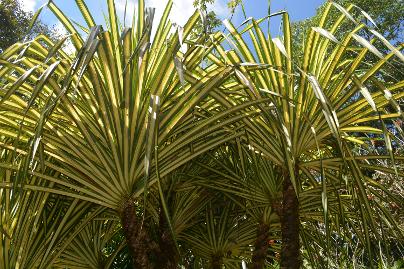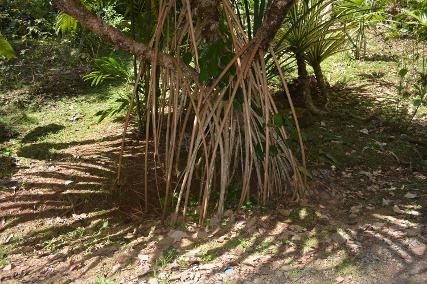 Grapefruits and a pineapple.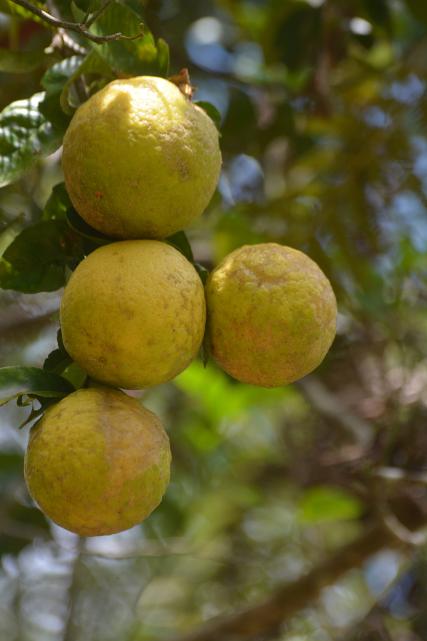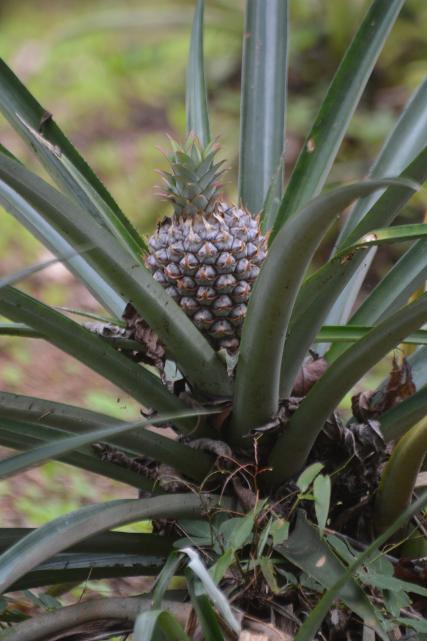 A guanabana, also known as sour sop. A (very stinky) noni fruit.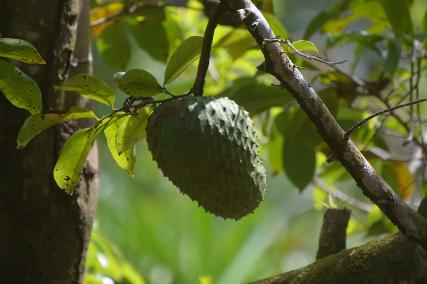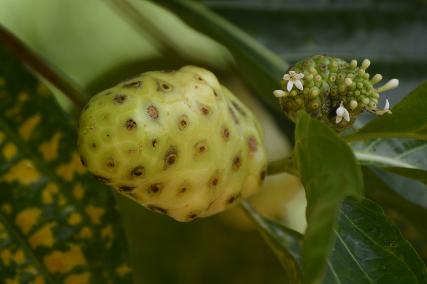 For breakfast today - crepes. Me munching on a piece of wild herb similar to coriander.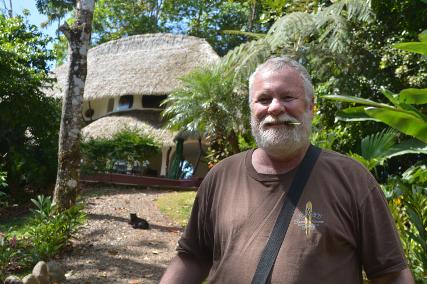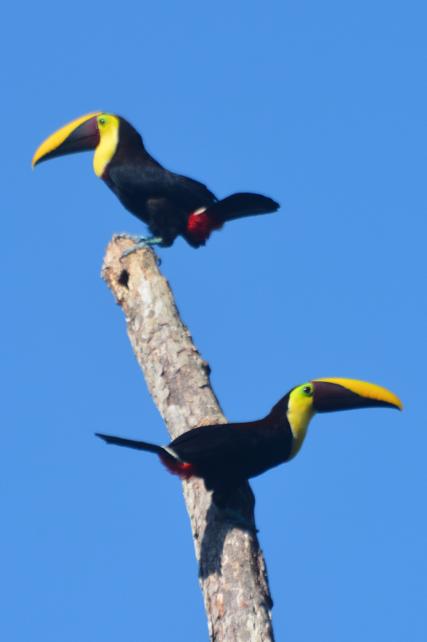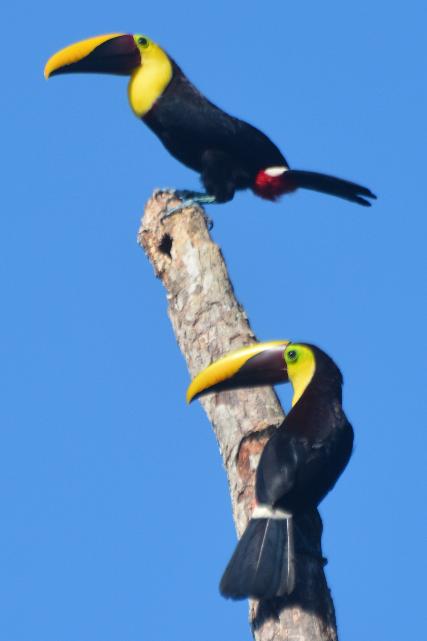 The path leading from our cabina up to the lodge and then a number of photos of Las Nubes lodge.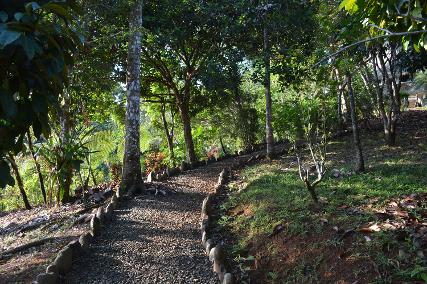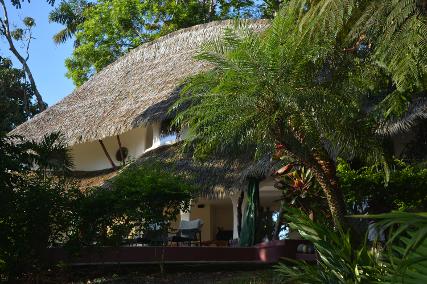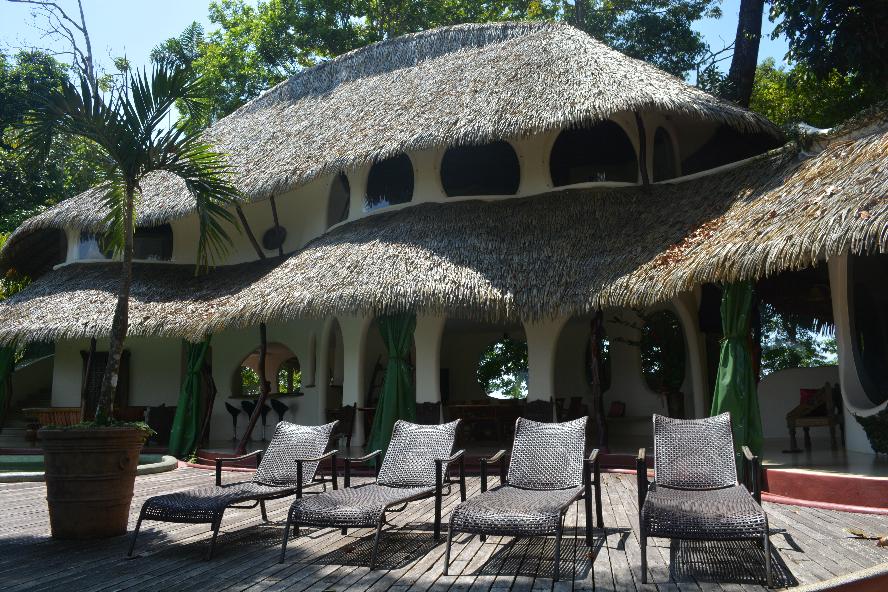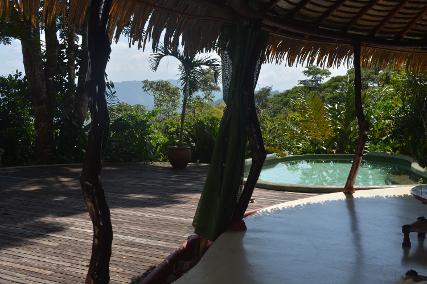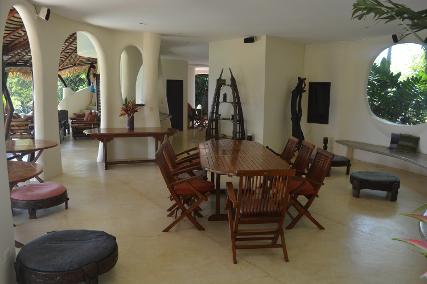 Filip and Fabiola, owners of Las Nubes, and friendly wonderful hosts to their guests.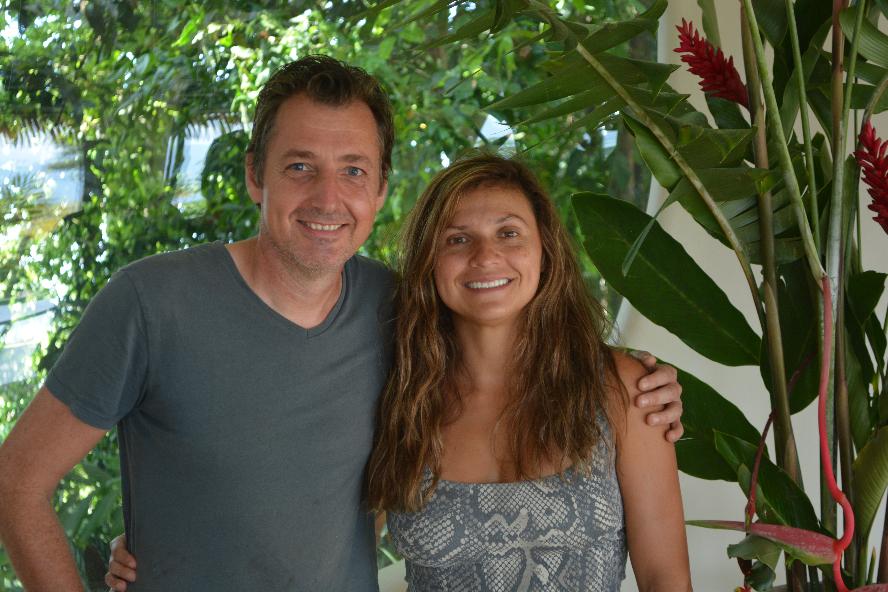 Another evening - another gorgeous sunset.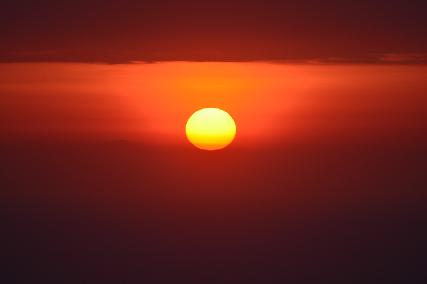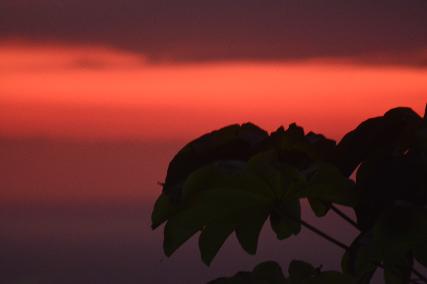 Gazpacho was our tapas tonight. For Gayle vegetable cannelloni.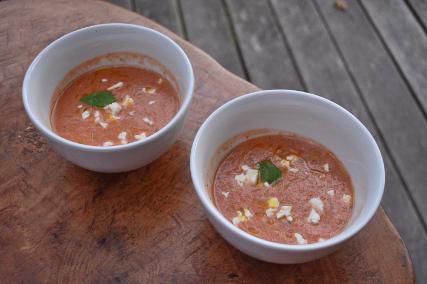 Osa buco and pesto fettucinni. Belgian chocolate mousse with mango.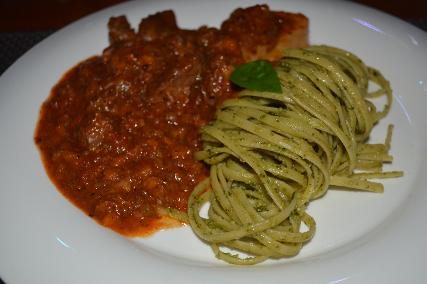 February 9, 2020 - Las Nubes Natural Energy Resort
As has been the case for the past three years, and now for a fourth Gayle has enjoyed her birthday in Costa Rica. Beyond that there is not too much different today to report. We began the day with breakfast on the platform overlooking the land below and ocean beyond. We continued a nice chat with Katrin and Carlos. After that it was a lot of relaxing with a dip in the pool. Gayle enjoyed a Margarita, generously provided by Filip 'on the house' in recognition of her birthday.
Included are a number of photos of our cabina. Some (including Katrin) expressed concern about the open aspect of the room. As Filip says animals have no particular desire to interact with humans - there is nothing to be worried about. We did have two visitors - one cicada and a teensy lizard. Hey it's the jungle. The bed had excellent netting meaning no worries at all while sleeping. The cabina itself was huge - circular in design with a high (we guessed 60 feet) conical ceiling. The deck also was huge, on the edge of the jungle. A very unique and private lodging.
We had purchased a bottle of Spanish cava that we had with Filip and Fabiola late afternoon with our black bean sauce, taco chips and olive tapas.
Dinner was risotto - mushroom for Gayle and seafood for the rest of us. Delicious, so much so that I had left-overs for lunch the next day. Dessert was a fruit Panna Cotta, capping off another excellent meal shared with a couple from Chicago who quite courageously drove up to Las Nubes in the dark. As they said a bit of a white knuckle drive but they did make it so all was well.
Gayle, being up early, got the prime spot to enjoy breakfast.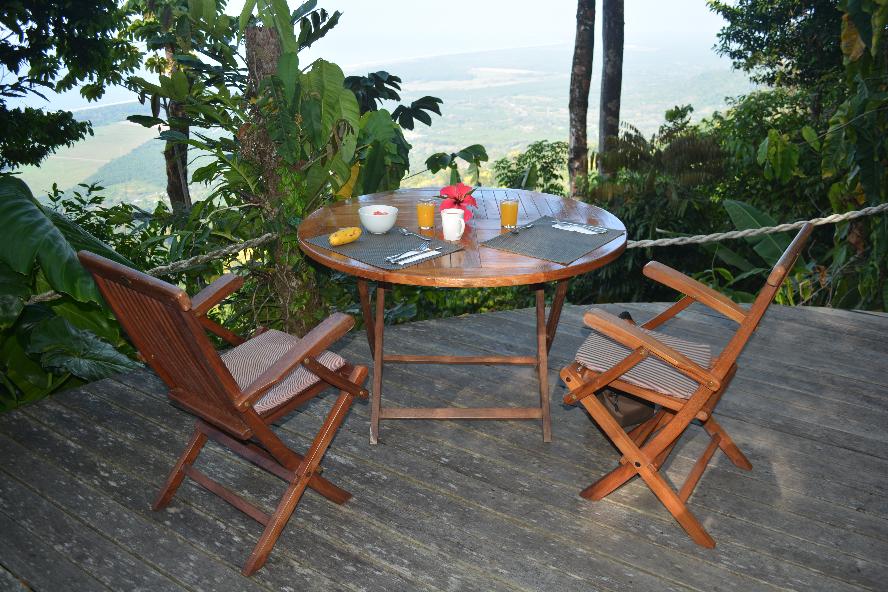 And here we are enjoying the breakfast AND the view.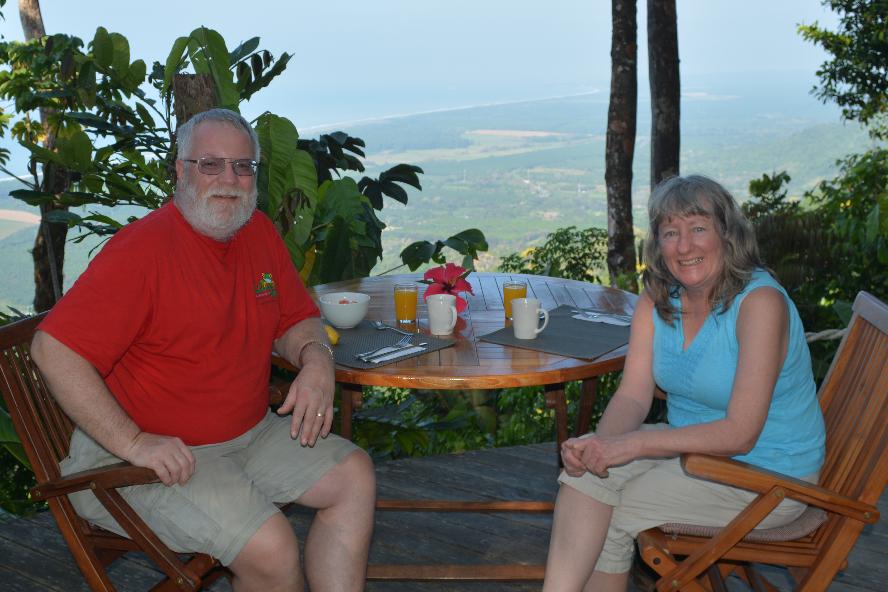 Katrin and Carlos. Meat, cheese, fresh bread incl. banana bread, juice and coffee.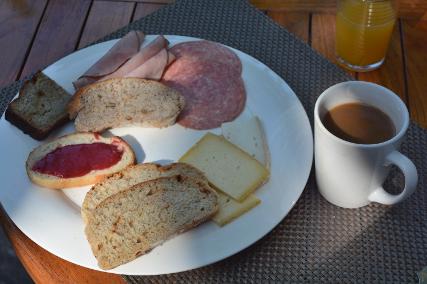 A toucan graced us with his (or her) presence (yes the photo is cropped - he (or she) was not really this close).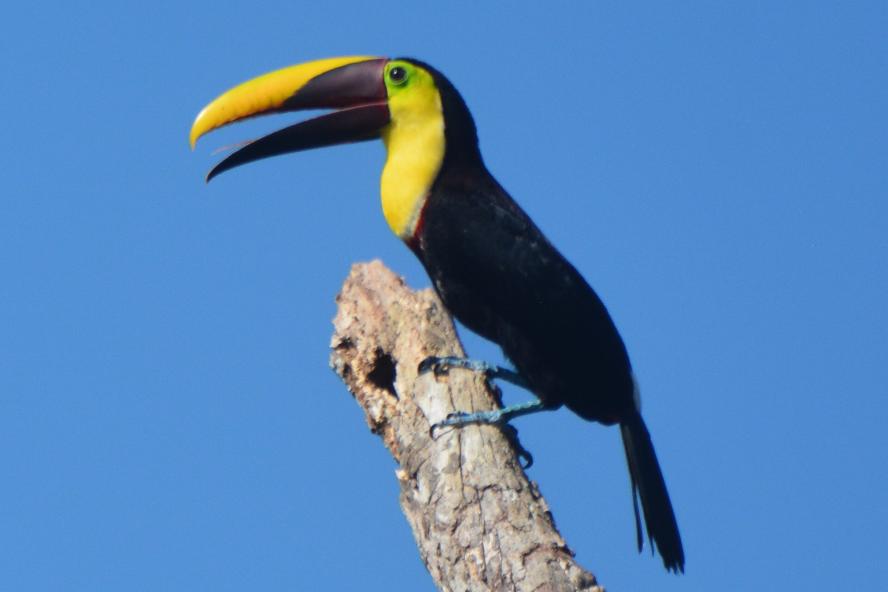 Some of the colourful flowers on the property.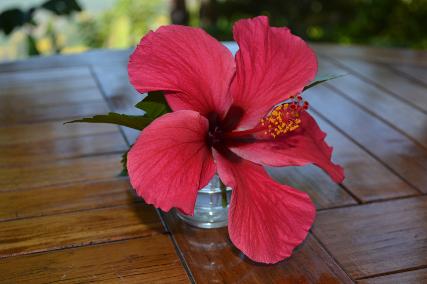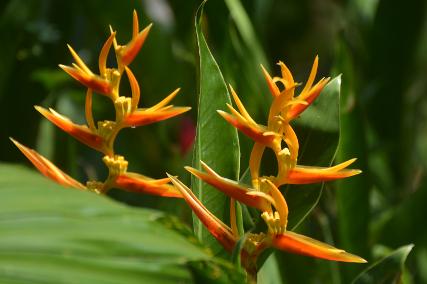 Enjoying a margarita. Fruit used in the preparation of drinks and meals.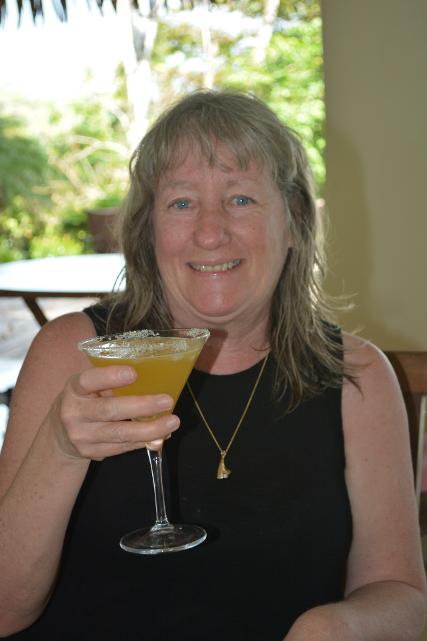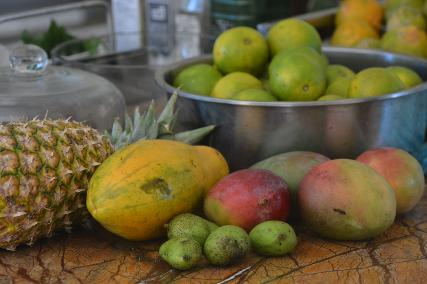 The pool overlooking the mountains.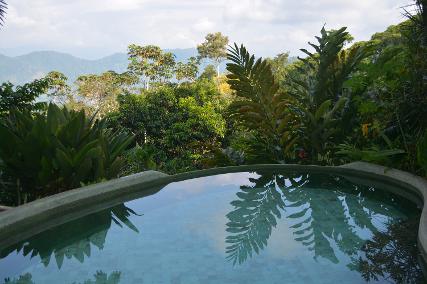 The entrance to our cabina. The conical roof (actually made of a plastic thatch).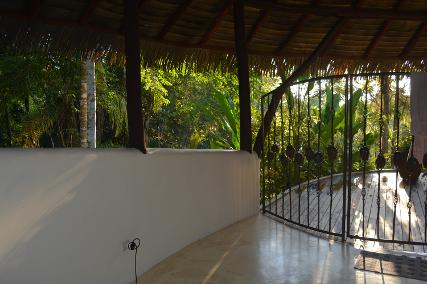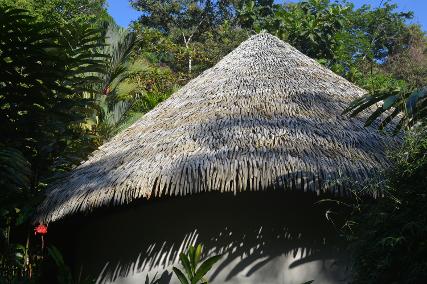 The expansive deck area with a comfy hammock.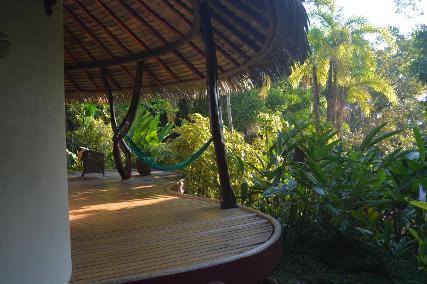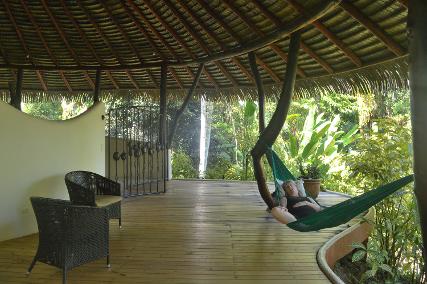 A partial wall leaving open viewing to the rain-forest. The view out another open air space.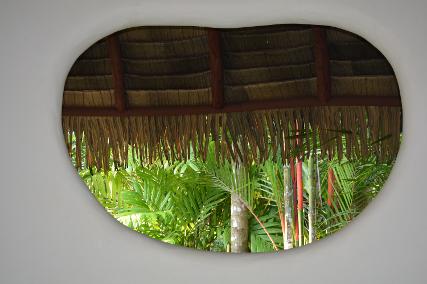 The conical roof of our cabina.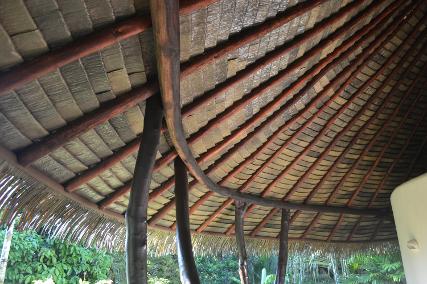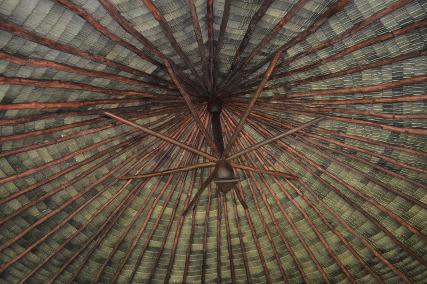 A hummingbird that was stunned after flying into a window … rescued by Fabiola.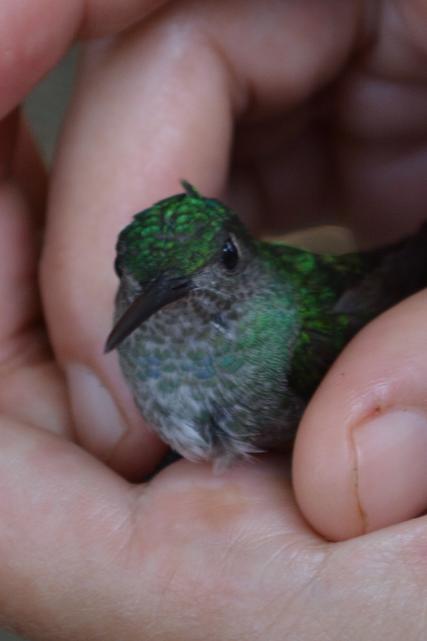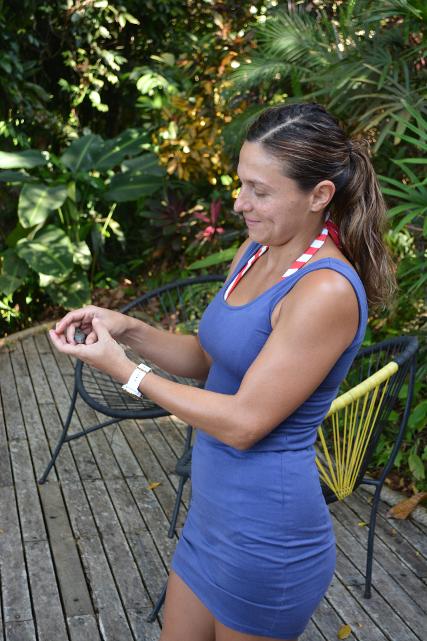 Constantly stirring the risotto. The finished product - a spectacular seafood risotto.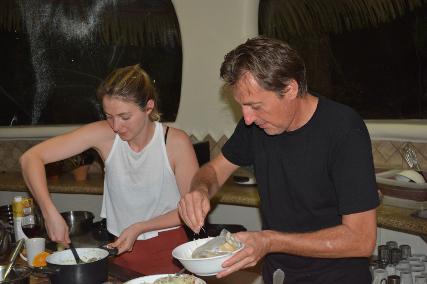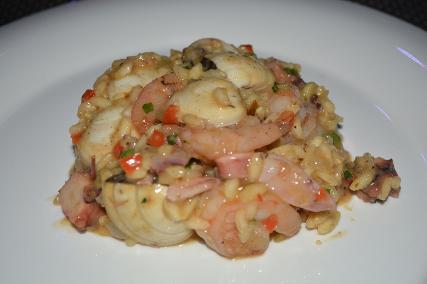 The mushroom risotto. A fruit and yoghurt panna cotta with roasted almonds.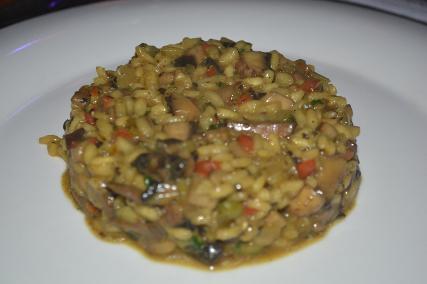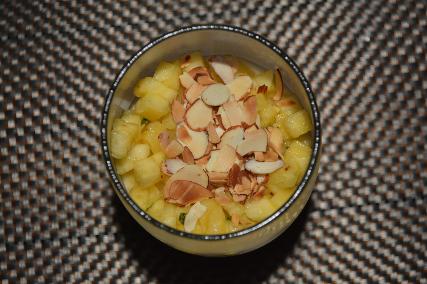 February 8, 2020 - Las Nubes Natural Energy Resort
As we have said our days of go go go are in the rear view mirror. We are here to simply relax, to hang around the pool and enjoy the isolation of Las Nubes. We have no plans to leave (it is a 30 minute drive down a narrow rock strewn 'road' with the need to then drive back up again). So why bother? Sit back and listen to the sounds of the jungle, have a dip in the small but refreshing pool, work on a Sudoku and the travel blog, and perhaps have a drink.
Due to the sounds of the birds (and the never ending noise of the insects) Gayle was up very early (5:30 ish) - me not so much. She enjoyed wandering up to the lodge where coffee was available shortly after 6:00 am to listen to the chatter of the birds while watching the sun rise over the mountains.
We enjoyed a very nice breakfast - not elaborate but very good and filling, delicious freshly squeezed orange juice, cereal, fruit including tasty bananas, yoghurt and today's main dish - huevos rancheros - eggs on a tortilla with a pepper salsa and avocado. Unlike dinner where we all eat together generally breakfast is on one's own although those down on the platform often will end up chatting.
The Wifi here is decent - actually perhaps somewhat better than expected. Fine for emails etc. and actually strong enough to allow the uploading of photos for the travel blog. Not super quick but better than some places which allowed some progress on the blog.
There are four resident cats - adorable and friendly but not intrusive. The two that were most present were Borgia, who certainly presented himself as the 'boss' and Buddah, who we think really was in charge.
Late afternoon Filip serves tapas on the platform - tonight roasted red pepper and hummus softened with baked eggplant, along with homemade bread. Usually I am not a big fan of hummus but this was absolutely delicious. Also staying tonight was a nice young couple - Katrin, originally from Germany and Carlos, a Costa Rican born in the Osa peninsula. Carlos was very knowledgeable about his country and familiar with many of the places we had stayed.
Tonight's dinner was tagine - vegetarian for Gayle and chicken for the rest of us, along with zucchini. Dessert was bananas flambe. Once again an excellently prepared meal that we very much enjoyed.
After a day in the heat, in spite of having done virtually nothing we hiked down the hill to our cabina were we turned in early, prepared to do pretty much the same tomorrow.
Gayle was up early (5:30 am to 6:00 am) every morning (me I like my sleep) to enjoy a coffee overlooking the mountains to the east and the sun-rise, before enjoying breakfast.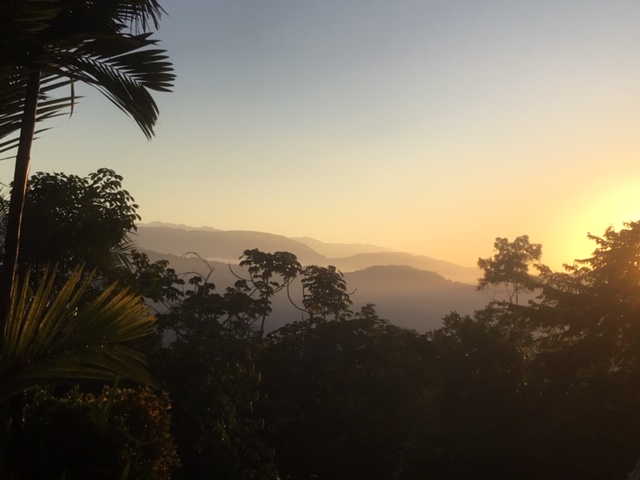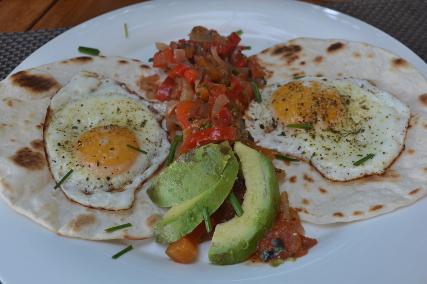 Borgia and Buddah, two of Las Nubes four cats.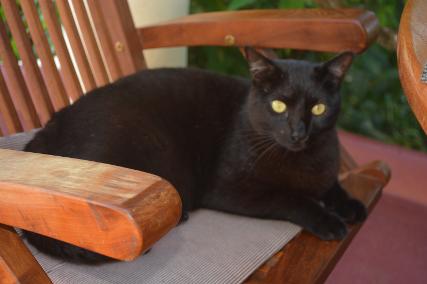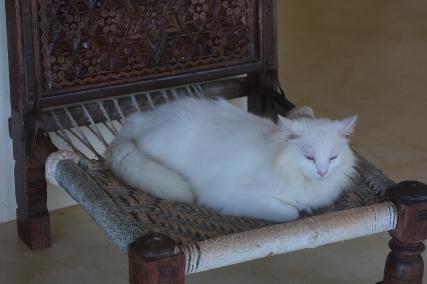 Vistas to the coast from the viewing / breakfast / tapas platform.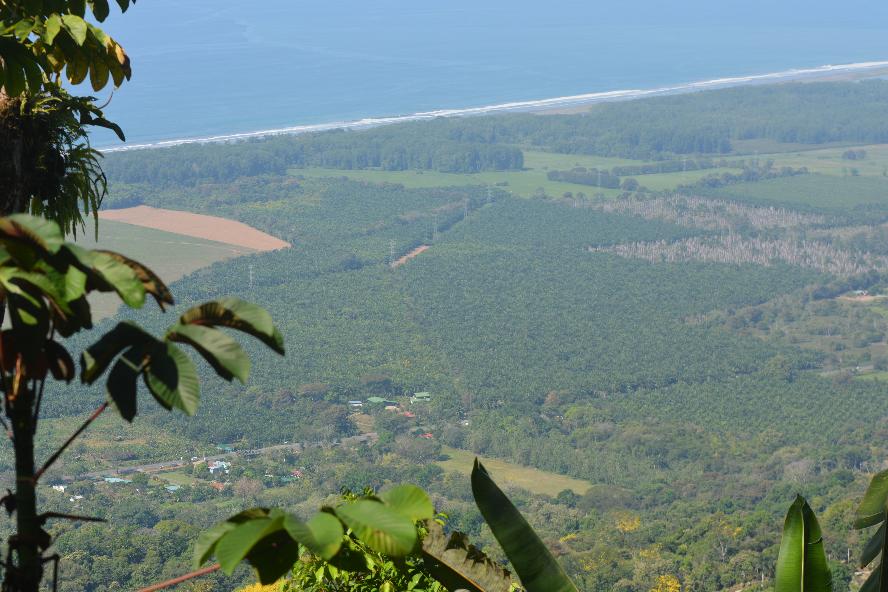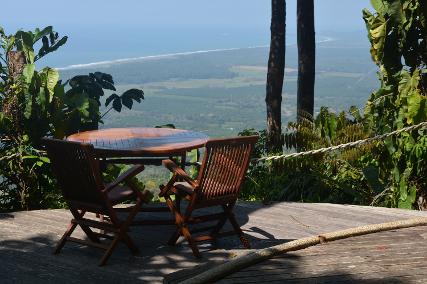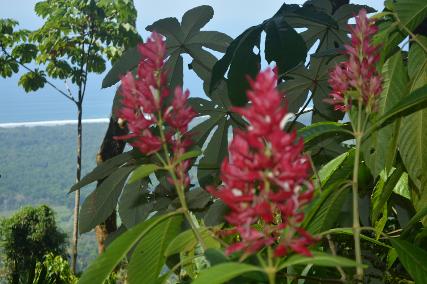 Tapas of roasted red peppers and hummus with a touch of eggplant added. Excellente!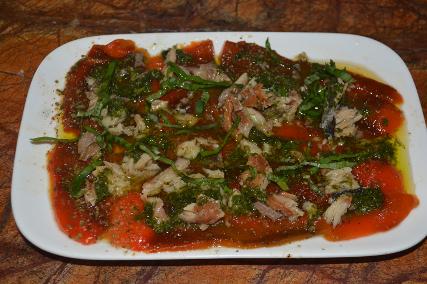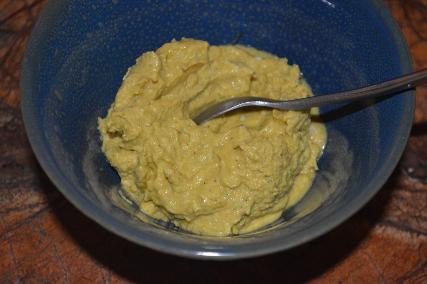 Sunsets over the Pacific Ocean as seen from Las Nubes.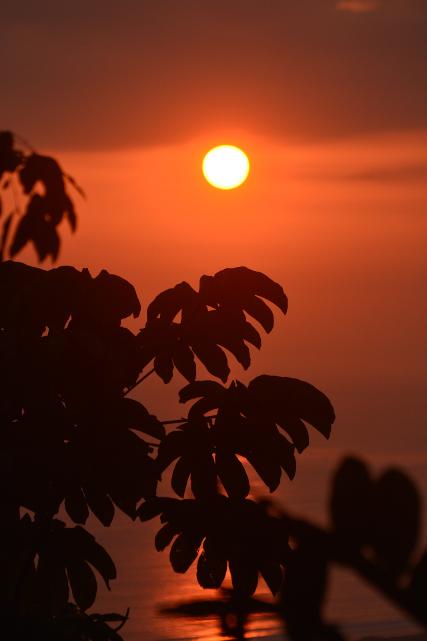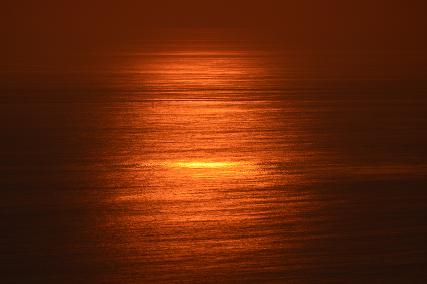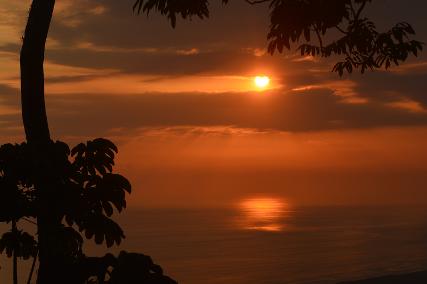 Dinner tonight was tagine - both vegetarian and chicken versions.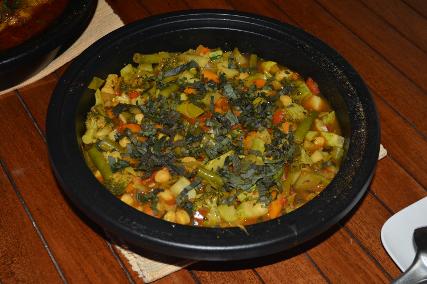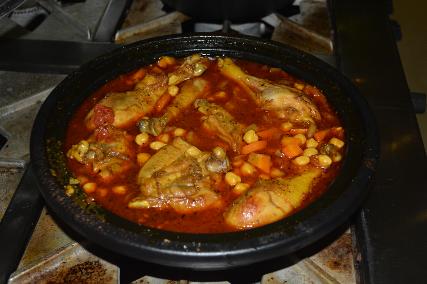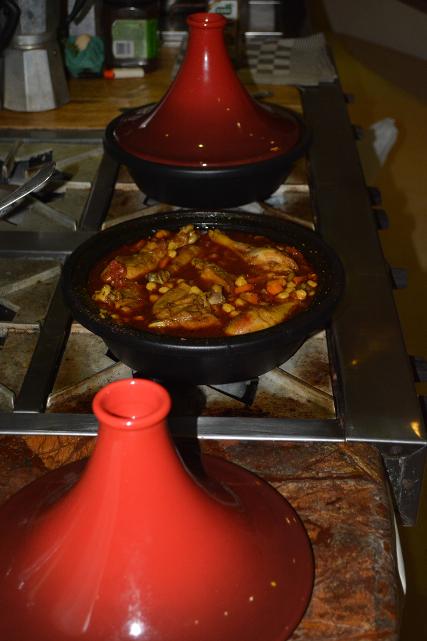 Grilled zucchini ... … and bananas flambee for dessert.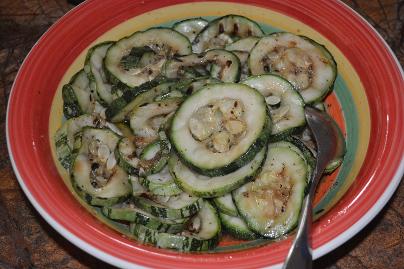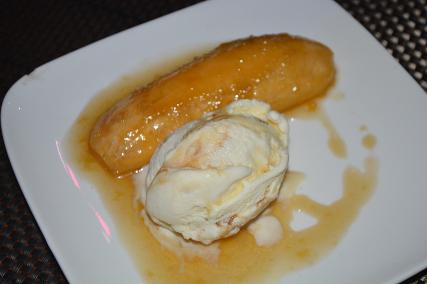 February 7, 2020 - Atenas to Las Nubes Natural Energy Resort
We were up early due to the sunrise, the chirping of numerous birds and the need to be at breakfast at 7:30 am sharp! One group sitting at 7:30 was somewhat unexpected but turned out to be perfectly fine. Having everyone eat together was also a good experience - an opportunity to meet and chat with other guests / travellers.
Not being in any particular hurry to leave we worked on the blog and just relaxed until late morning when we packed up and headed out on what was a reasonably long trip - nearly three hours without stops but more like five to six with a detour into Playa Herradura to exchange money at a Scotiabank. While there we enjoyed a gelati as it again reached 34 C and picked up a few provisions, including a bottle of Cava for Gayle's birthday in a couple of days.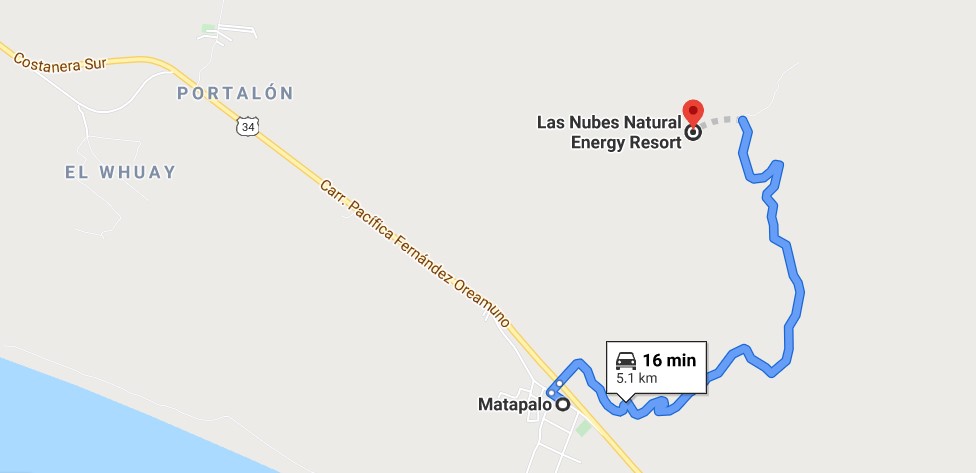 Along the way we also stopped at the Tarcoles river under which there are often a gathering of crocodiles, We walked out onto the bridge from where we were able to see three of them in the water below. Later on we came upon a number of palm oil workers returning with their water buffalo. After the banana blight of the 1940s the area reinvented itself with the production of palm oil. By the 1970s the African Palm oil industry was prospering in Quepos. The African Palm produces largs pods of palm oil kernals. The oil is used in many everyday products such as lipstick, cosmetics, candies, margarines, industrial lubricants and soaps. The pods are harvested when bright orange-red from trees that can live over 200 years.
Along the way, in addition to the crocodiles and water buffalo we saw a number of birds including scarlet macaws, toucans, vultures and pelicans. About 25 km south of Quepos we turned onto a one lane dirt 'road' that ascended the mountain for 7 kms to an elevation of 500 m and Las Nubes Natural Energy Resort. With many protruding rocks and one stream, and not a super powerful 4 x 4 (but an SUV 4 x4 which is absolutely necessary to get to these off road places) it was a challenging drive but one we made. Admittedly though the drive will reduce any incentive to leave over the next few days.
Felip greeted us with welcoming drinks on a platform that looks down the mountain side out to the ocean - very peaceful and relaxing. We were taken down to our open air cabina where we settled in before returning to the lodge for dinner, another communal seating. Felip, a chef in his former life prepares wonderful meals for his guests - tonight a tasty baked salmon for me and a coconut vegetable curry for Gayle. The food was exceptionally good - with a wonderful mixture of spices ... delicious.
What is particularly noteworthy here in the jungle is the never-ending sounds - the cicadas, other insects and birds constantly filling the air with noise.

Breakfast was served early - at 7:30 am with all guests eating together at a communal table. Food was served on large attractive platters. Coffee and juice of course, a large selection of fruit, eggs with rice, beans, cheese and avocado and delicious coconut sticky buns. Quite the international gathering with a couple from Michigan, another couple from BC, two ladies from Denmark and a young couple from Zagreb, Croatia enjoying their honeymoon, along with us. It was nice to meet and share experiences over a delicious breakfast.
To the right a plate of a wide variety of fresh fruit.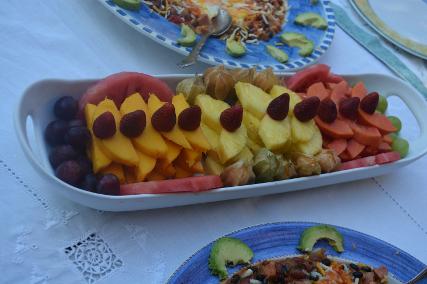 Eggs with beans and sausage and avocado The eggs, fruit plate and coconut sticky buns.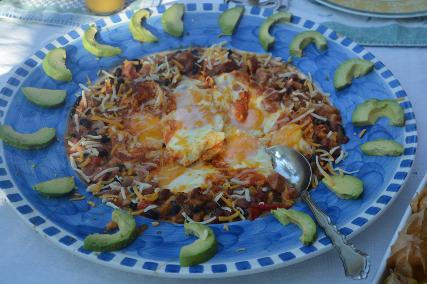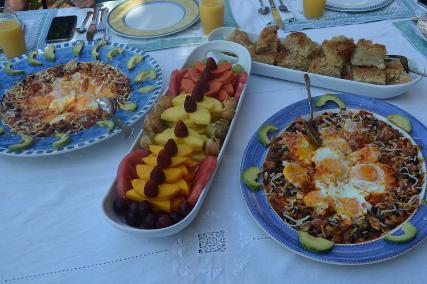 The breakfast table as seen from the terrace above. All guests enjoying breakfast together.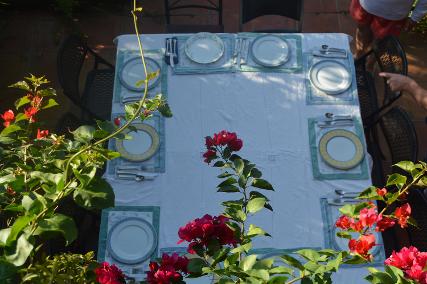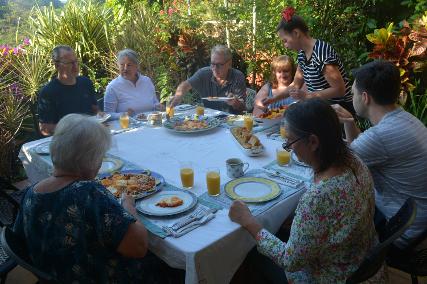 More colourful vegetation. Enjoying a gelati in Herradura.
Relaxing in the hammock at Eden Atenas.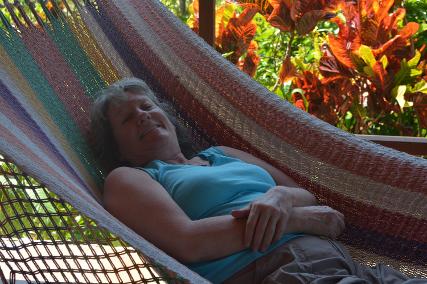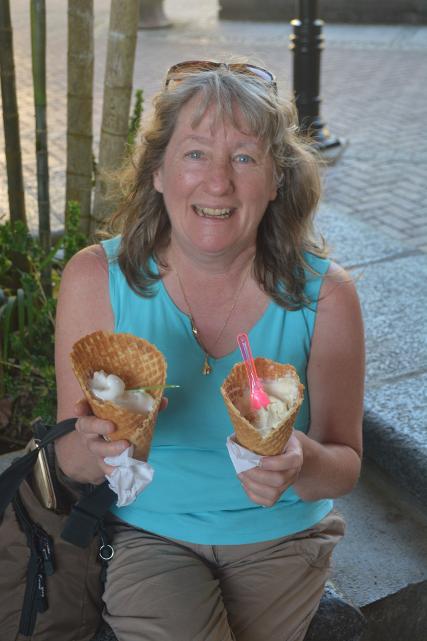 A crocodile in the Tarcoles river. Fresh fish being sold on the roadside near Jaco.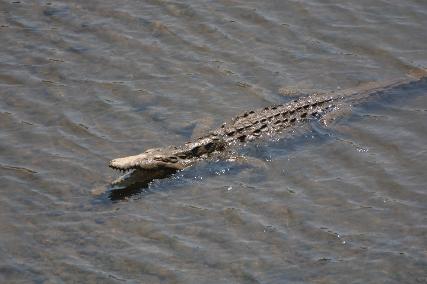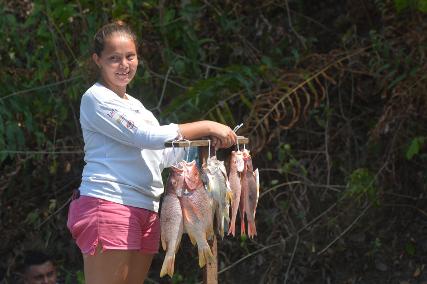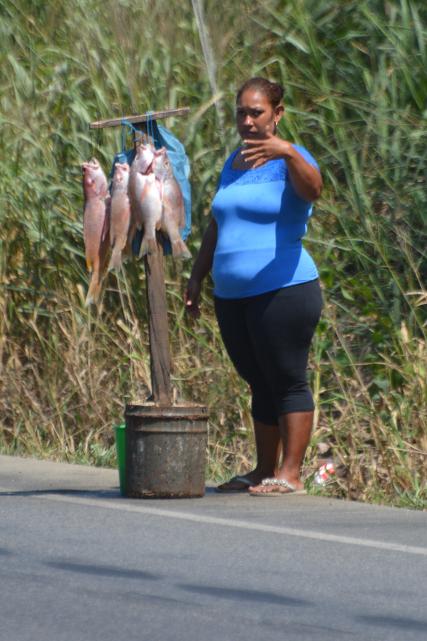 Some of the Costa Rican coastline. The beach at Playa Herradura.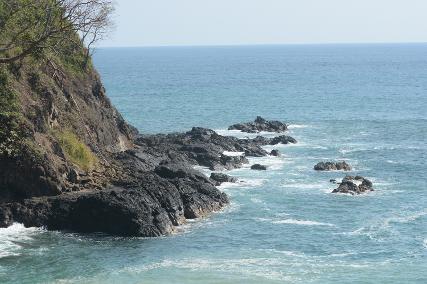 One of the long beautiful beaches along the Pacific coast although not conducive to swimming due to the waves and rip tides.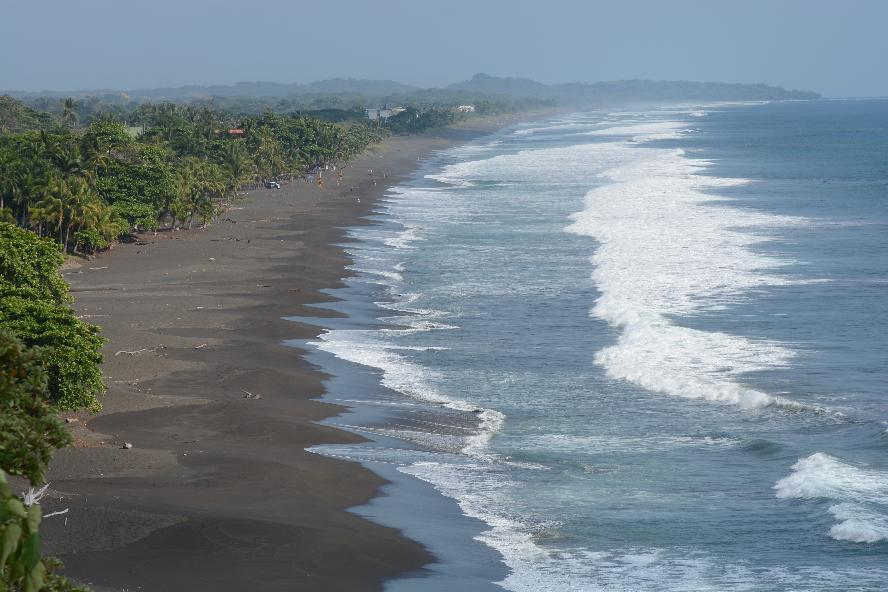 A toucan (not the best photo in part due to the grey sky - wait until tomorrow) and a pelican.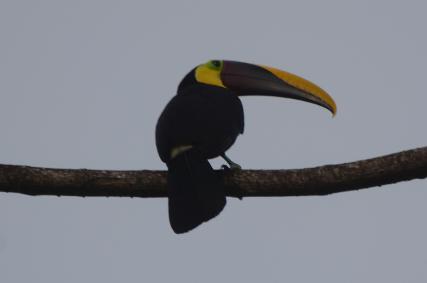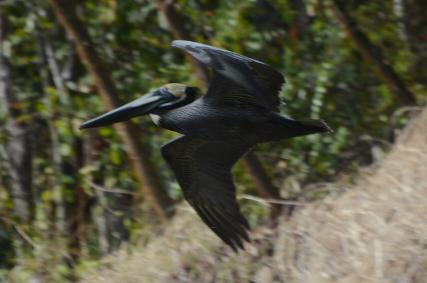 While stopped to take a photo of the beach (above) Gayle heard the distinctive cry of the scarlet macaw, of which there were many in the nearby trees.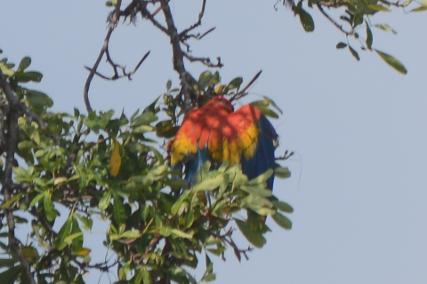 Water buffalo used to transport the pods of the African Palm used to produce palm oil.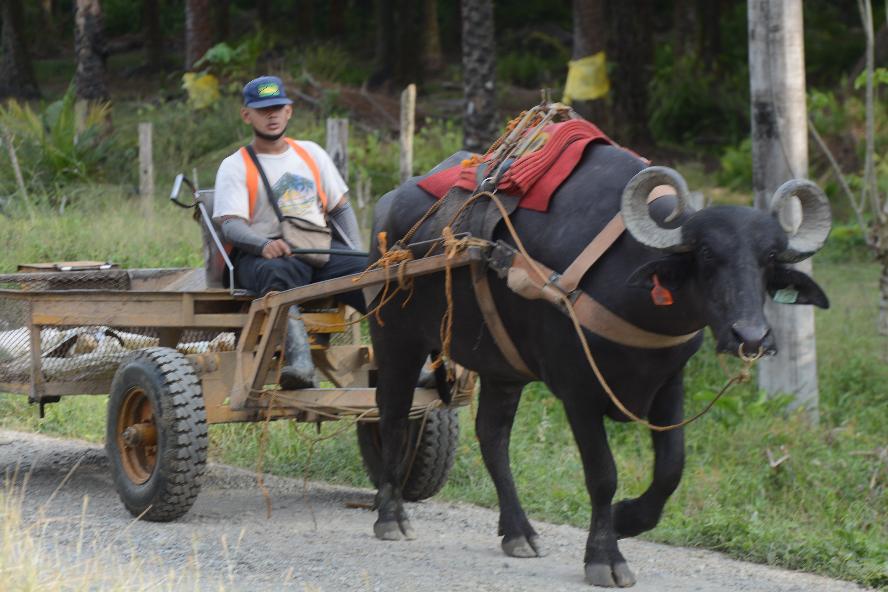 A couple of the sights seen on the trip up the mountain (Las Nubes is at 500 metres) including our first toucan sighting and one of the many cortez amarillo trees with its bright yellow flowers.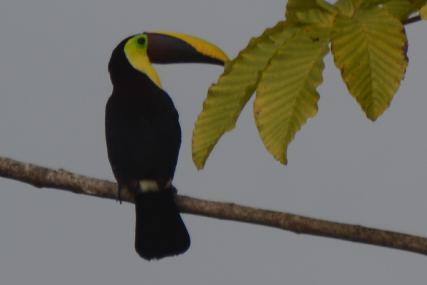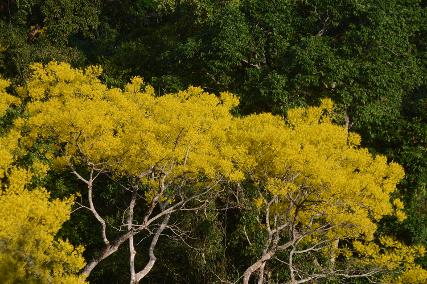 After 7 km of challenging driving on a one lane 'road' full of protruding rocks and one stream we arrived at Las Nubes to be welcomed by this message.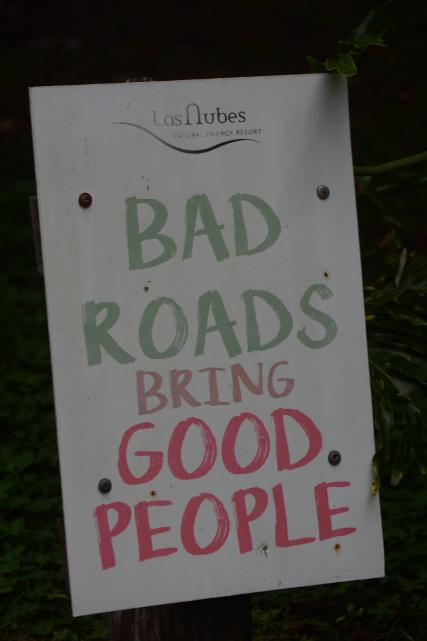 Day 2 and a moss covered monkey. Some very tall bamboo.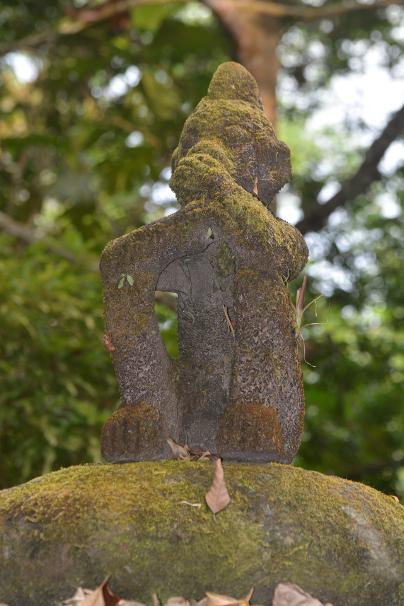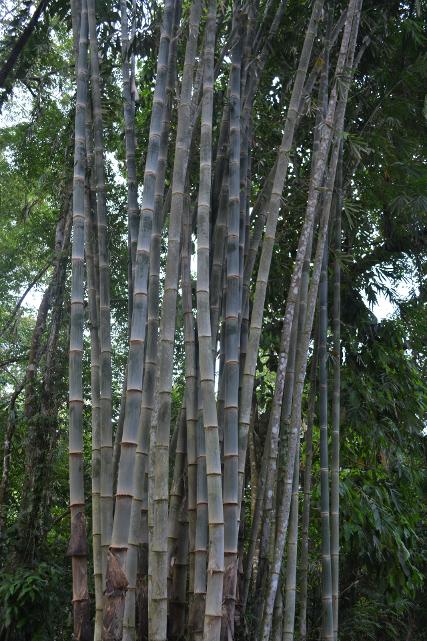 After a challenging drive up the mountain it was nice to enjoy a welcoming drink - a glass of wine for Gayle and a Belgian (Filip is from Belgium) beer for me.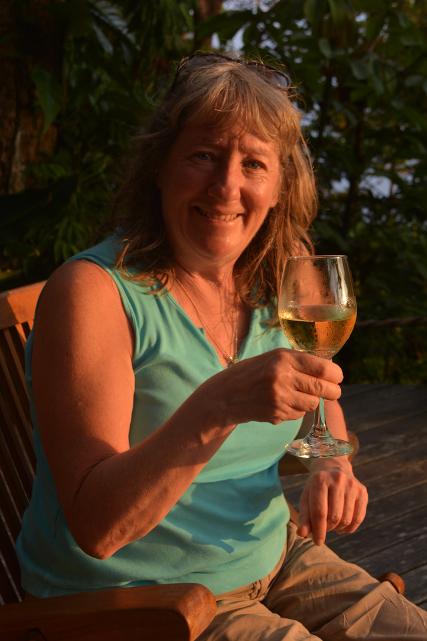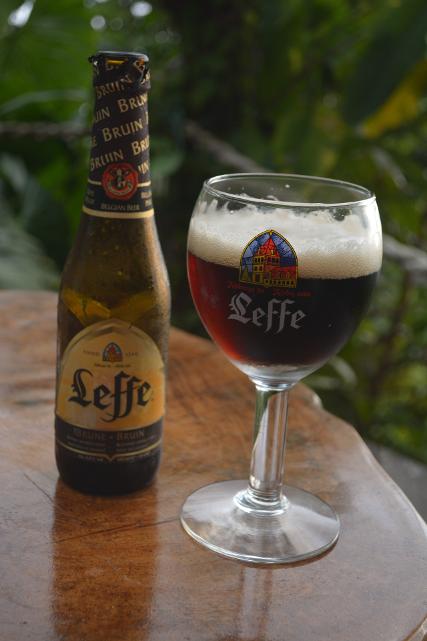 The first sunset of the trip - very colourful and impressive, as seen from the deck of Las Nubes.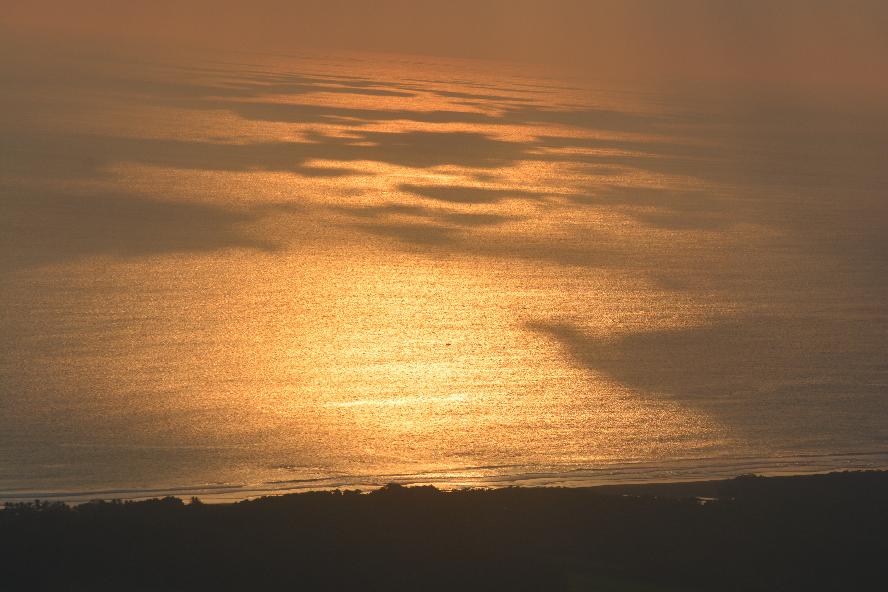 Dinner was a coconut vegetable curry for Gayle (and one other vegetarian) and salmon for the rest of us.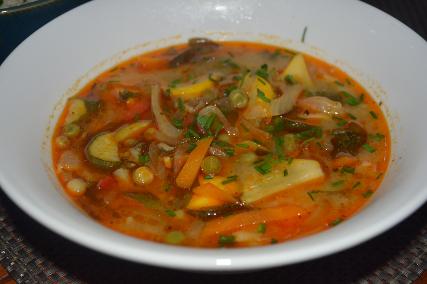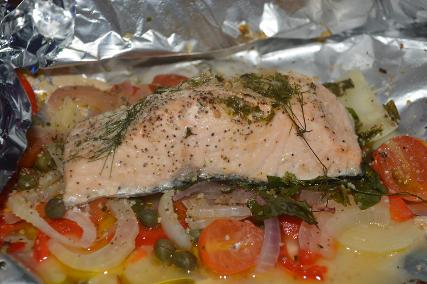 February 5 to 29, 2020 - Costa Rica
If you have followed our travel blog you will know we have been to Costa Rica the past three years. This will make it four in a row. We are returning to the Pacific coast, south to the province of Puntarenas, more or less the route travelled in 2017. Although we very much enjoyed the places we stayed on that trip we have chosen different lodgings this time - a bit of variety. Again generally three or four nights at each - seven lodgings in total.
February 5, 2020 - Halifax to Toronto to San Jose, Costa Rica
We left Halifax mid day on a flight to Toronto from where we connected to a flight to San Jose, scheduled to arrive at 9:40 pm. Being late in the evening we decided to stay at a near-by airport hotel - the Hampton Inn. Although the flight was 15 minutes late the shuttle process was extremely efficient. The Hampton Inn was your standard airport hotel - nothing memorable but easy to get to; clean; a good sleep. In retrospect we were very pleased with our decision not to try to driver somewhere at night.
February 6, 2020 - San Jose to Atenas
Of course being adjacent to the airport we were awoken by the early morning planes, but all in all not that bad. We then had the included
breakfast (with traditional Costa Rican gallo pinto - rice and beans). No doubt it will not be our best breakfast of the trip but being hungry it filled the void.
We then took the shuttle back to the airport where we found another shuttle to Alamo where we had arranged for a vehicle rental - a 4 x 4 SUV in that a couple of our lodgings will be a off the beaten track, requiring the higher SUV clearance and its 4 x 4 driving functionality. This process was easy and we were soon on our way.
Below is a map of more or less the route of our trip - essentially out to the coast and south through Puntarenas. Although not shown on this map we will be driving into Drake Bay, an isolated community in the rainforest adjacent to Corcovado National Park.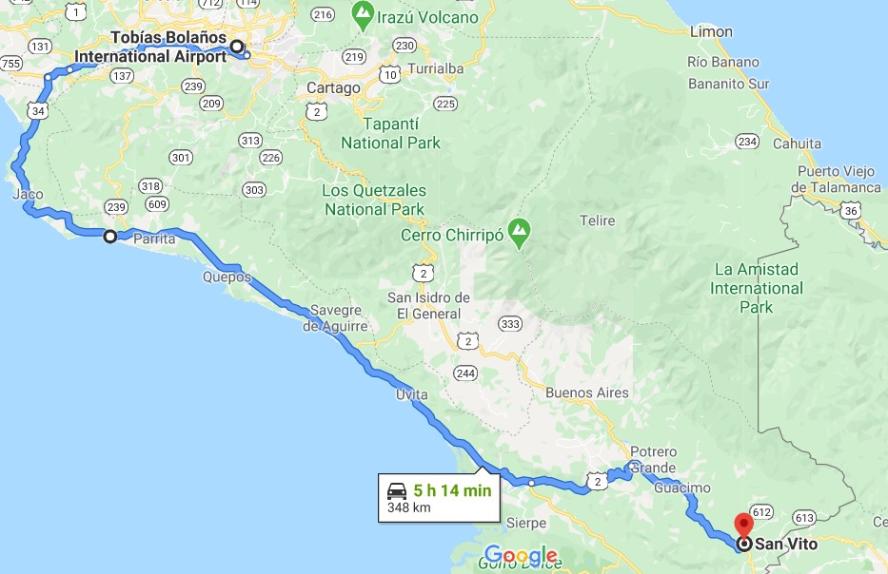 Day 1 was very relaxing - no rush leaving the hotel and a short hour drive to our first stop. Fortunately we knew to have a bit of local currency - colones, necessary to pay the road tolls encountered along the way. Our place was a little tricky to find but my printed maps got us close enough that along with directions from a girl in a puperia (a small local food and provisions store) who fortunately spoke some English, we found our lodging reasonably easily.
Rather than a longer first day drive we chose to shorten the journey and stay at Eden Atenas, where we will also stay our last night leaving a short 45 minute drive back to the airport. We arrived 1:00 ish, checked in and enjoyed a very relaxing afternoon.

Eden Atenas is a small boutique hotel with six rooms. We stayed in the Monkey room although we did not encounter any monkeys. The closest we came was this painting on the wall over the bed.
T
he building has a very nice wrap-around terrace with the Monkey room having a wonderful view across the valley. Very comfortable rocking chairs provide a relaxing means of enjoying the views of the countryside, the vibrant flowers that cover the property and the sounds of the birds - even if there was not a monkey to be seen or heard.
Our hotel room had a number of these artistic Costa Rica designs on the wall.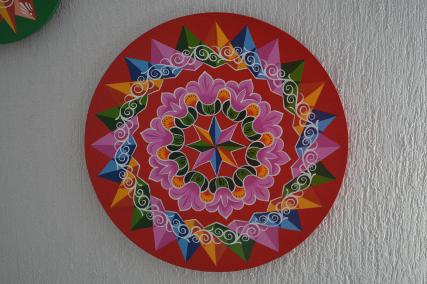 Approaching a toll booth there were numerous locals weaving in and out of trafic selling their goods - sun hats and sunglasses and coconut water and pastries and who knows what else.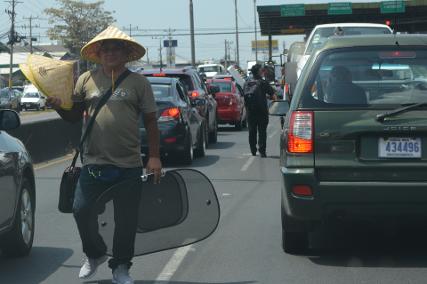 A hammock and rocking chairs, all looking out to the valley and lush vegetation beyond.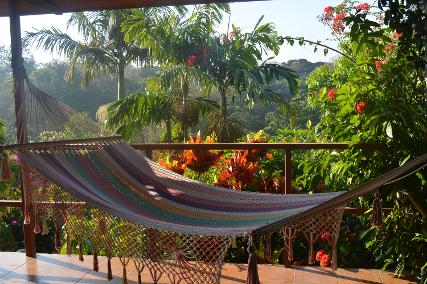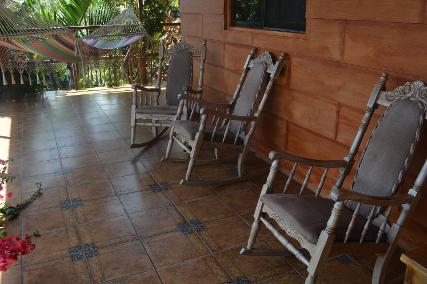 Our first place (we're not counting the Hampton Inn) … our first Buddha. We expect this to be a zen trip.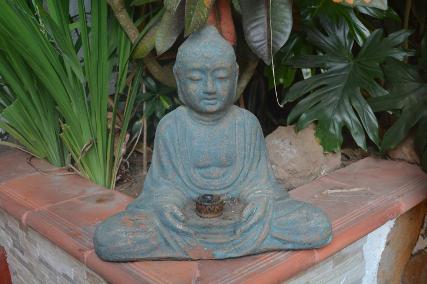 Lily and Max, the two very friendly resident shepherds, both of whom love to catch water splashed at them. There is a nice pool at Eden Atenas, very much appreciated as the temperature (at least according tho the temperature guage in the vehicle) reached 34 C.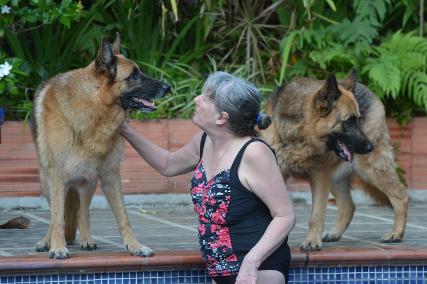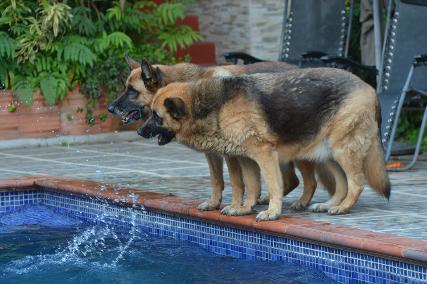 As the name suggests this is an eden, with lush vegetation, colourful shrubs and flowers, and numerous chirping birds.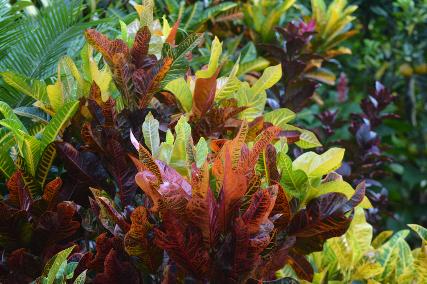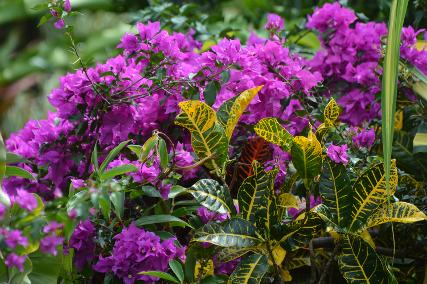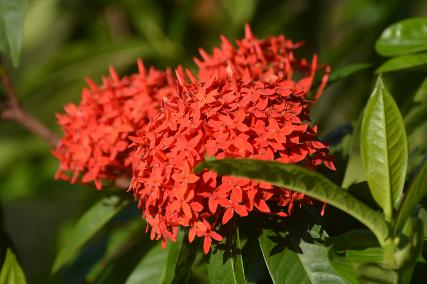 Our hosts Jan and Avtar (and another guest who ate there last night) recommended La Finca as the place to eat in Atenas. It is primarily an Italian restuarant / pizzeria - somewhat unexpected in rural Costa Rica but decent. We started with an Ensalada Caprese that came with a generous serving of pesto.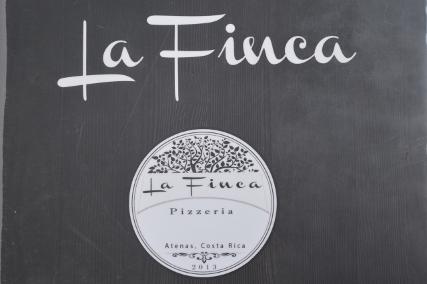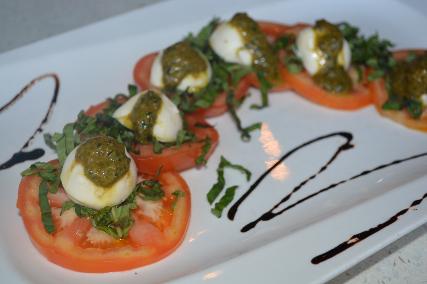 Gayle enjoyed a Vegetariana pizza …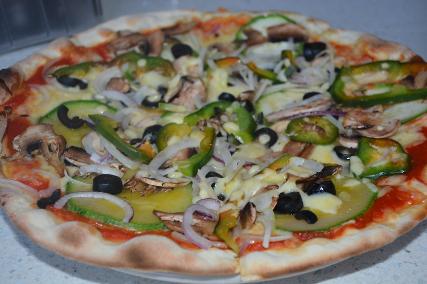 … while I had the Fettuccini Alfredo with some nice cheese / garlic bread.